Whoever Said Famous Quotes & Sayings
List of top 100 famous quotes and sayings about whoever said to read and share with friends on your Facebook, Twitter, blogs.
Top 100 Whoever Said Quotes
#1. Whoever said white men had little dicks was dead ass wrong. - Author: Mz. Lady P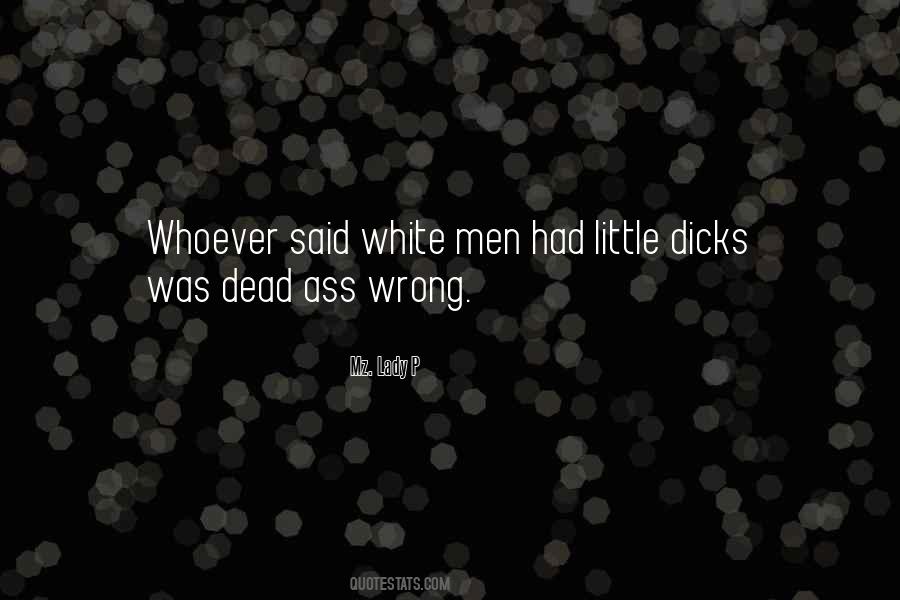 #2. Henry unpacked the car and loaded himself up with everything they'd brought, little bags and big ones, a string tote, a knapsack.
As he started up the driveway, his girlfriend said, "Do you have the wine, Hank?"
Whoever Hank was, he had it. - Author: Melissa Bank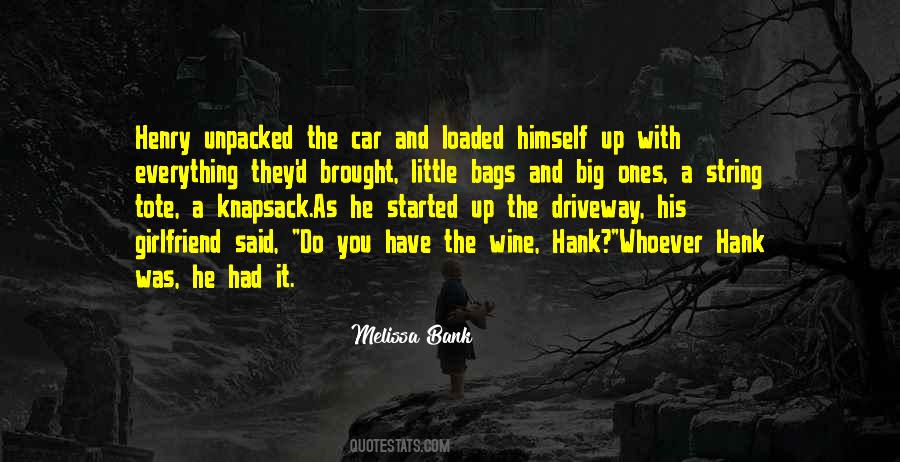 #3. Whoever said "Success is 80% Joy and 20% Hardwork" must have chased the latter 20% not ignoring the first 80%. Follow the Joy route and the power is already lost. - Author: Priyavrat Thareja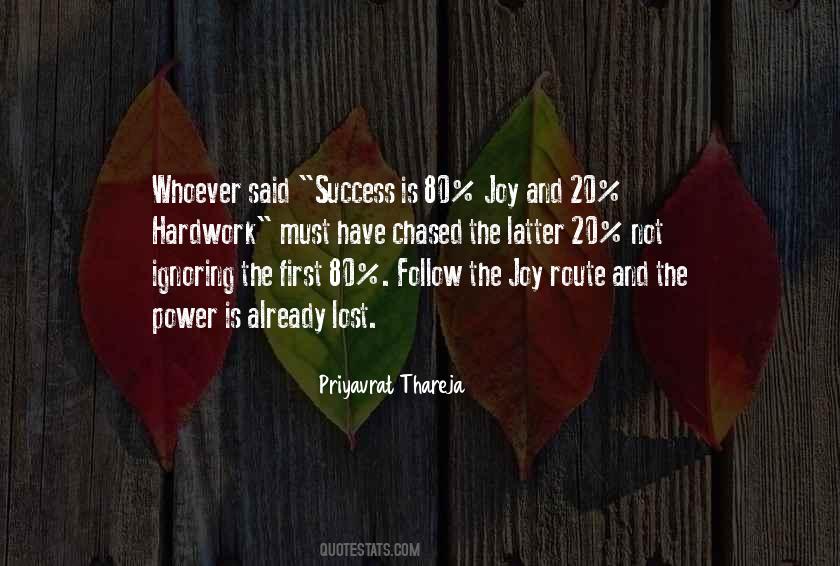 #4. Whoever said anyone has the right to give up. - Author: Marian Wright Edelman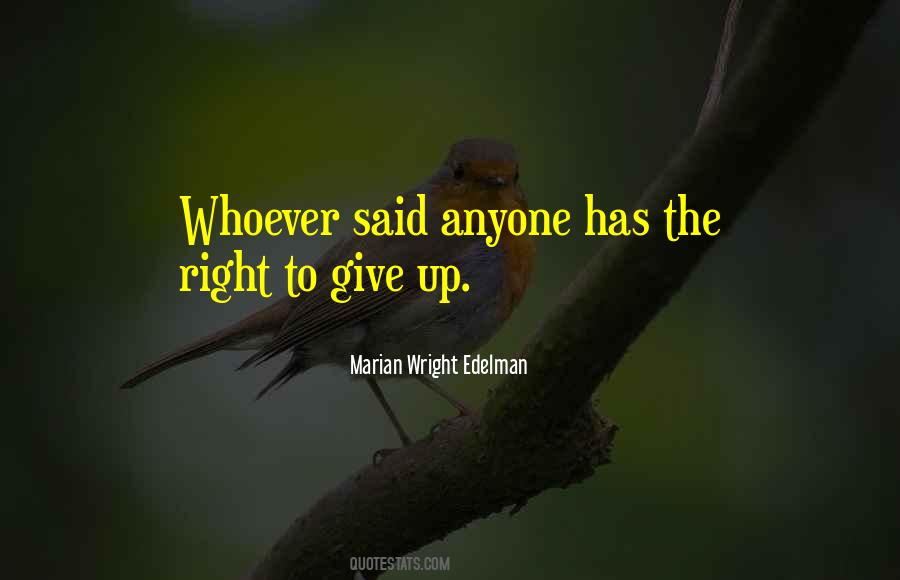 #5. I told you I don't care! I said again and again! I don't care! Whoever you are. Whatever you do. Rank or nobility, they have nothing to do with me. I just want to be with you! I've told you many times! - Author: Shoko Hidaka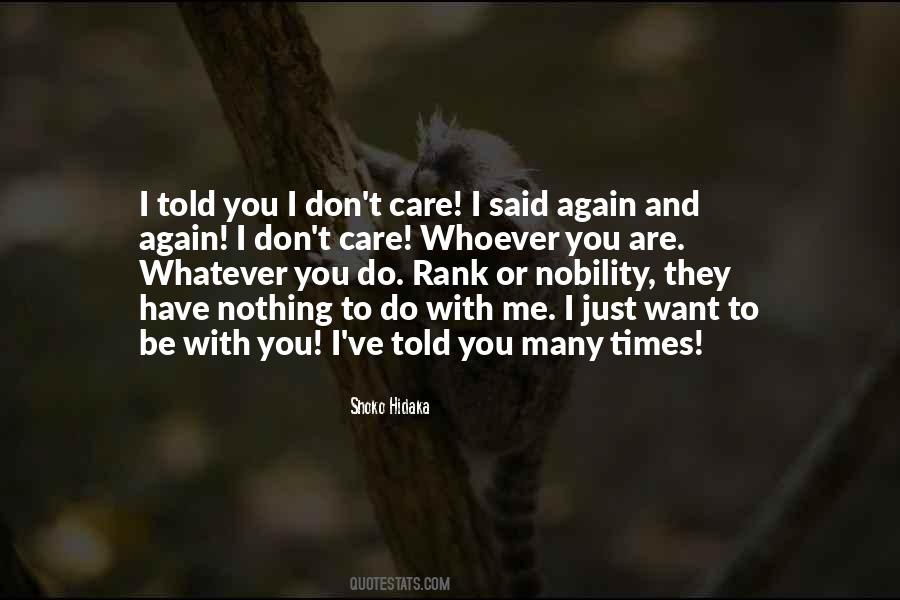 #6. Whoever said death couldn't be measured was wrong. Death was a football field. Death was a sprint. Death was measurable distance I wasn't fast enough to reach. - Author: M.R. Merrick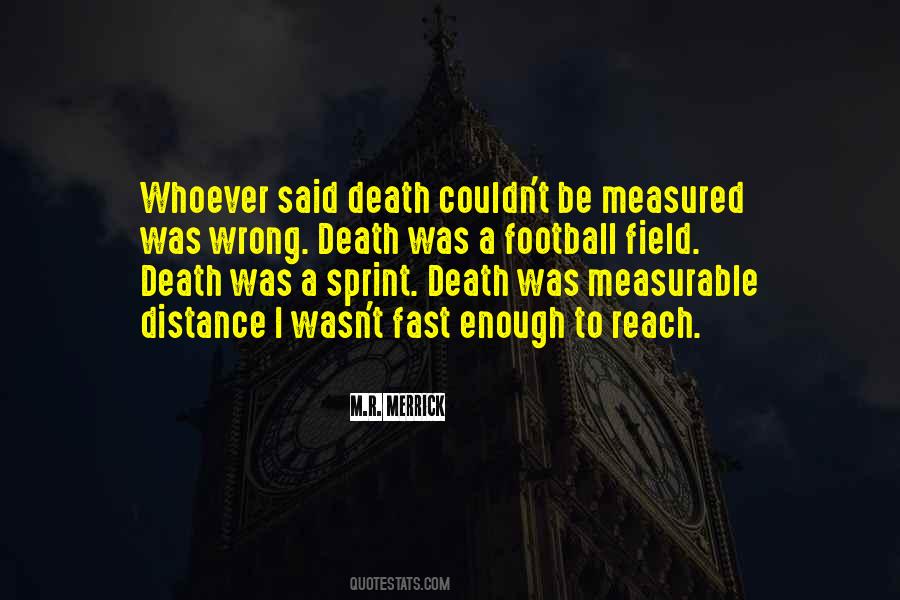 #7. In one of the greatest invitations ever offered to man, Christ stood up amid the crowds in Jerusalem and said, "If anyone is thirsty, let him come to me and drink. Whoever - Author: John Eldredge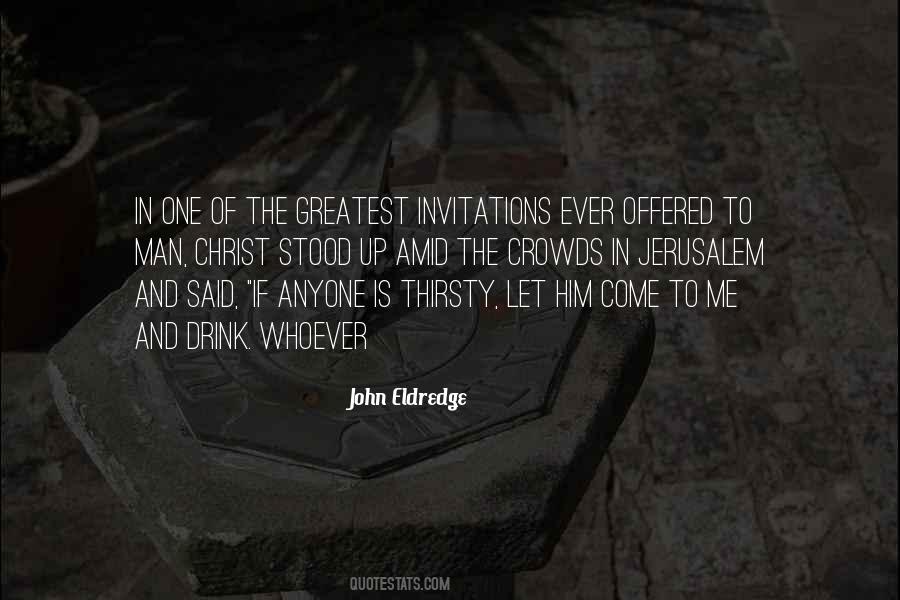 #8. Whoever said ignorance is bliss must have died a horrible death with a really surprised look on his face. - Author: Lisa Shearin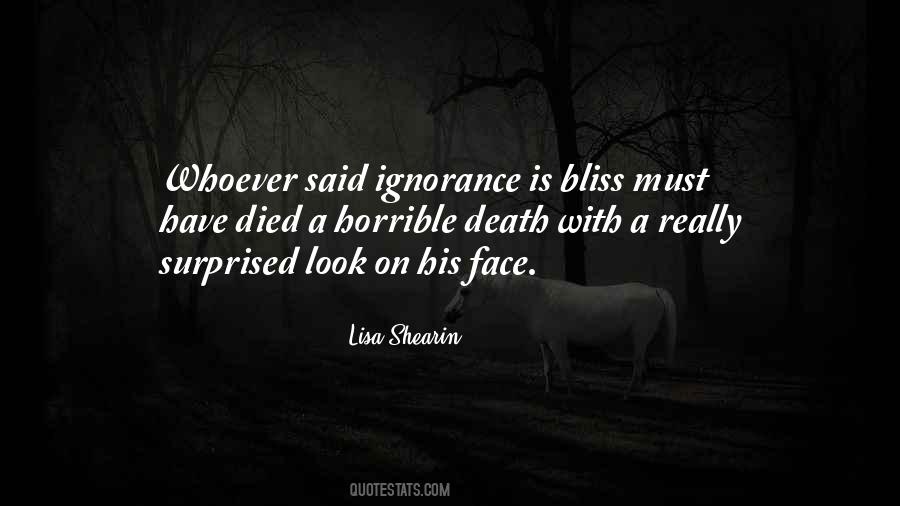 #9. Whoever said happiness needs a plan? - Author: Robert Holden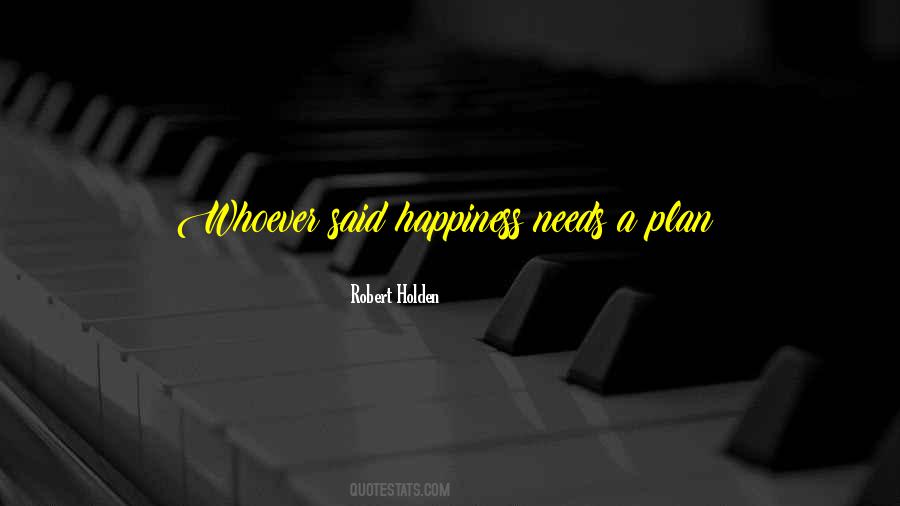 #10. Whoever said that the truth will set you free was full of shit. - Author: Melyssa Winchester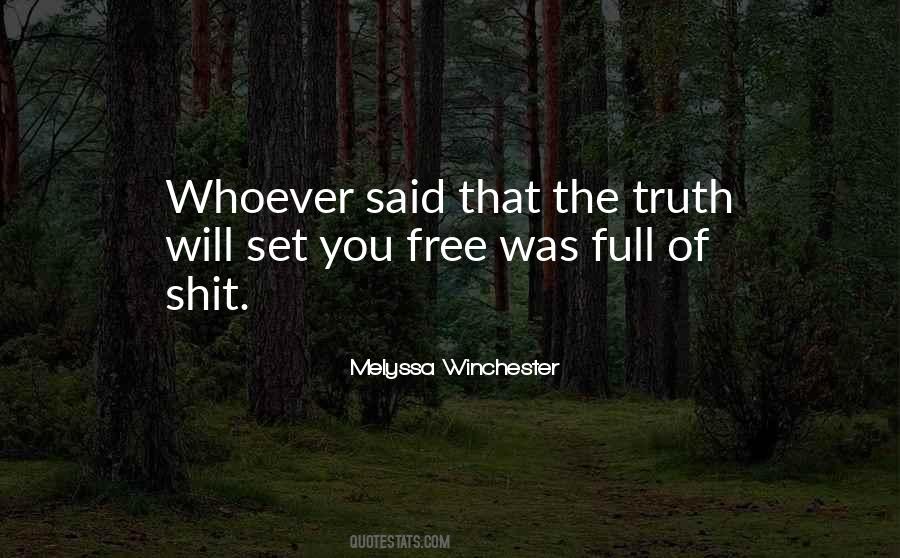 #11. Whoever said death was fair? - Author: Rick Riordan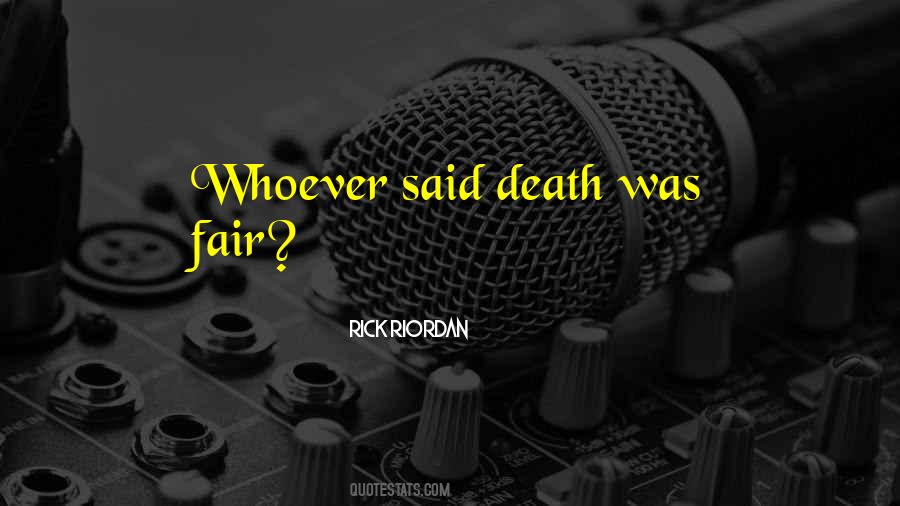 #12. Jesus said to them, I am the bread of life; whoever comes to me shall not hunger, and whoever believes in me shall never thirst. - Author: Anonymous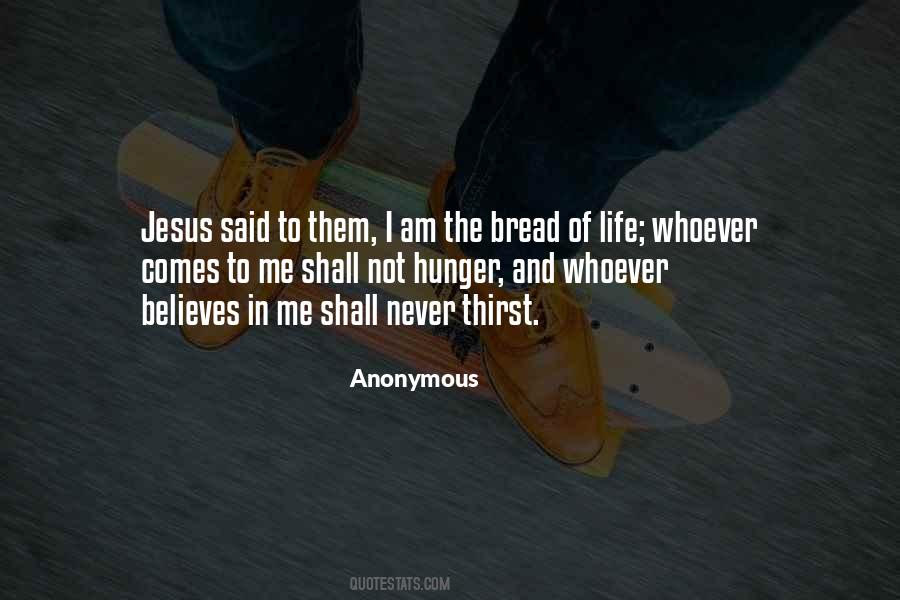 #13. Whoever had said that the hand rocked the cradle ruled the world must have has a Southern,born bred mother. - Author: Sherrilyn Kenyon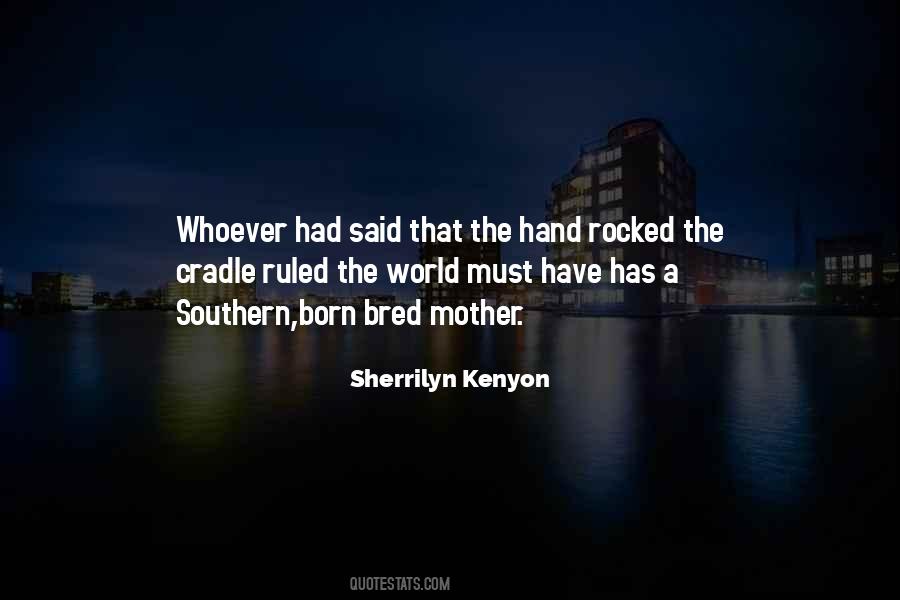 #14. Its other name was Satis, which is Greek, or Latin, or Hebrew, or all three
or all one to me
for enough ... but it meant more than it said. It meant, when it was given, that whoever had this house, could want nothing else. - Author: Charles Dickens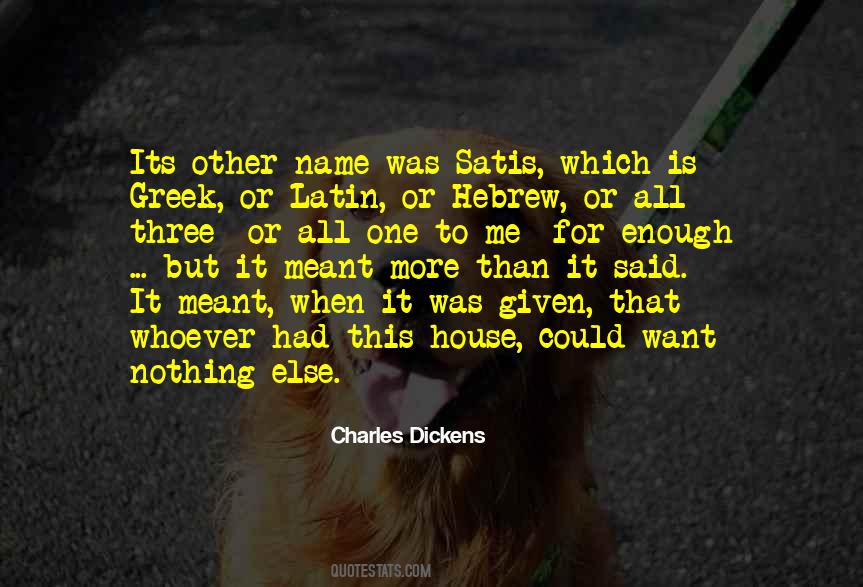 #15. I believe," he said, "that there is a special place in hell for those who steal truth. And that man - whoever he is - I hope he is burning there. - Author: Courtney Milan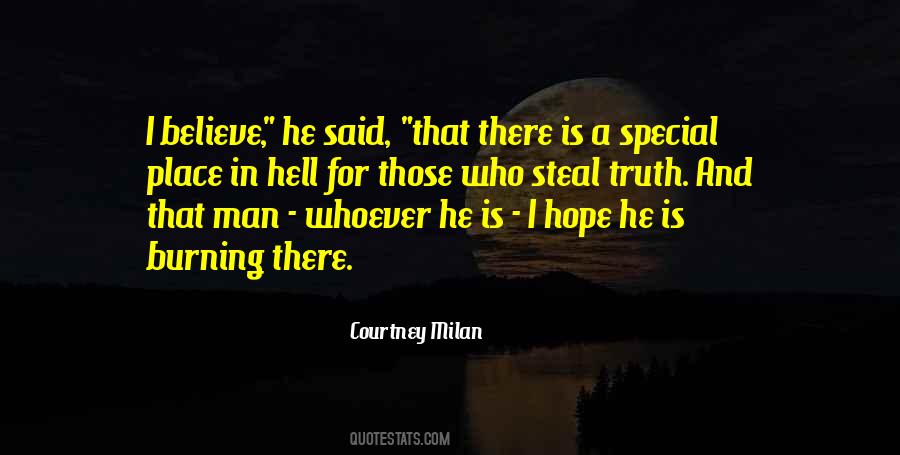 #16. Whoever said nothing is impossible obviously hasn't tried nailing Jell-O to a tree. - Author: John Candy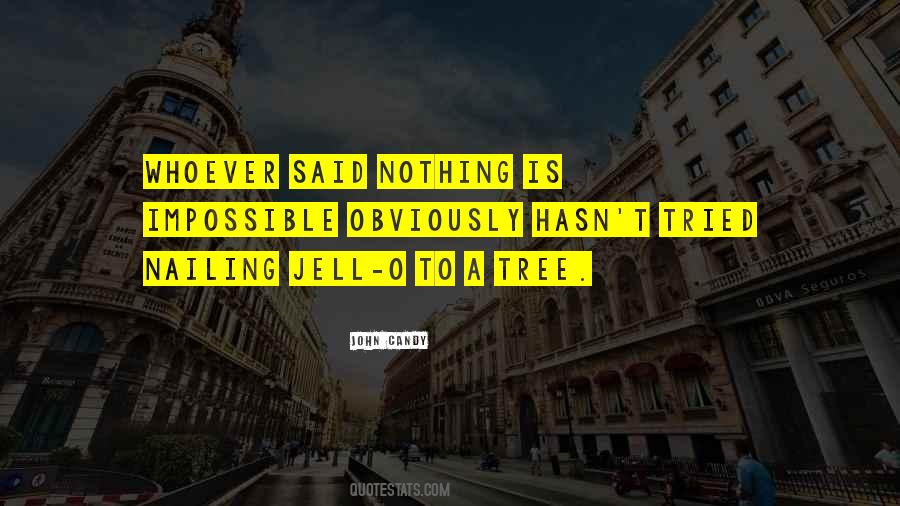 #17. Submission to duty and God gives the highest energy. He, who has done the greatest work on earth, said that He came down from heaven, not to do His own will, but the will of Him who sent Him, Whoever allies himself with God is armed with all the forces of the invisible world. - Author: James Freeman Clarke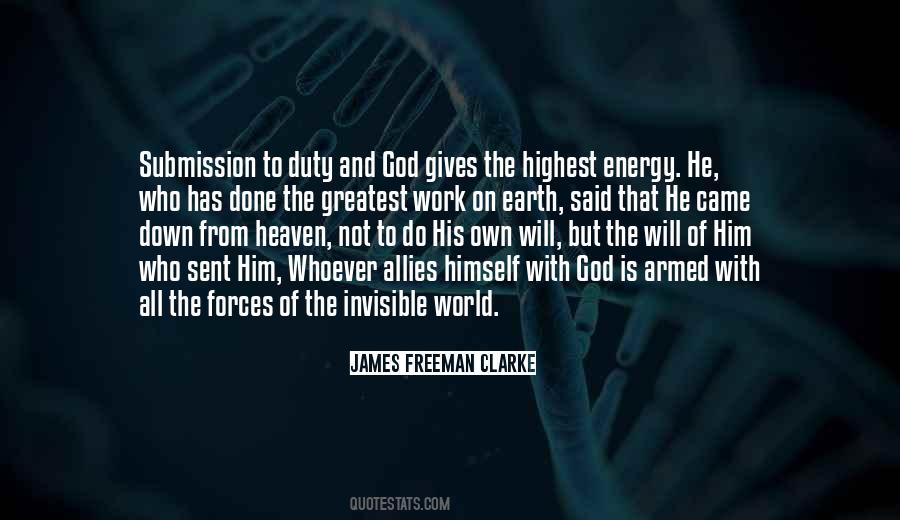 #18. Whoever has said these things is a fool." "Aye, but the words of a fool hold weight with other fools. - Author: Samantha Holt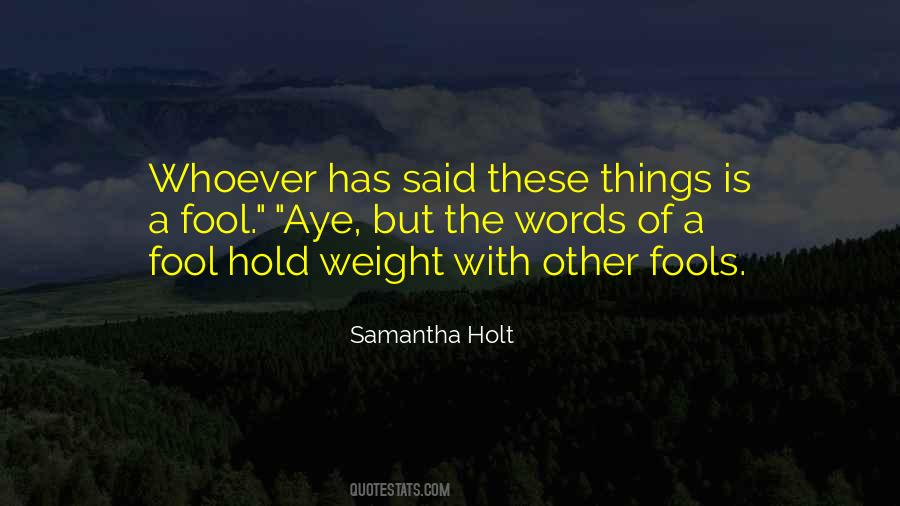 #19. See, whoever said I was an autocrat was clearly mistaken. I represented the height of representative democracy where everyone gets a vote. Mine just counted for more than all the other ones combined, when you read the final tally; that's all. - Author: Luke Sky Wachter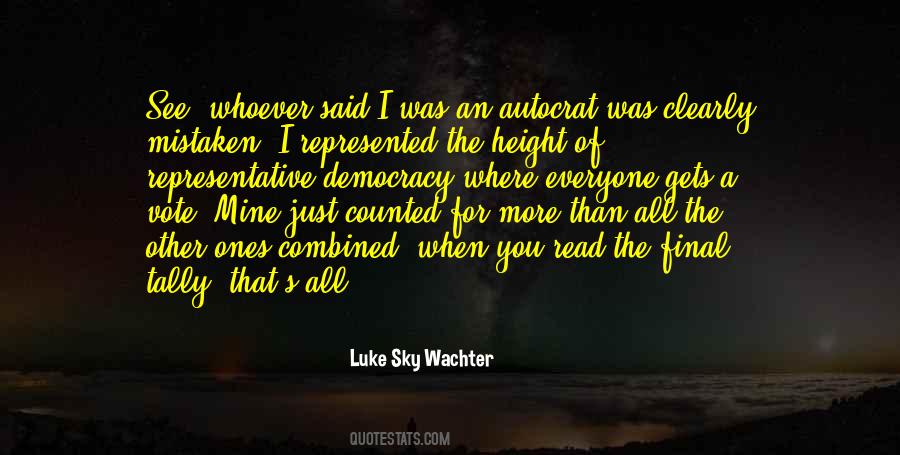 #20. She was glad she had been scarred. She said that whoever loved her now would love her true self, and not her pretty face. - Author: Cassandra Clare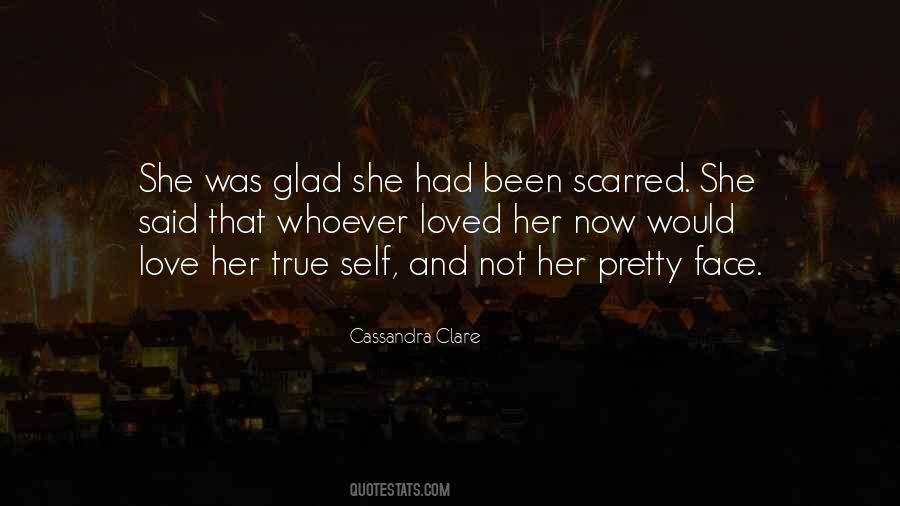 #21. Whoever said that childhood is the happiest time of your life is a liar, or a fool. - Author: Carlos Ruiz Zafon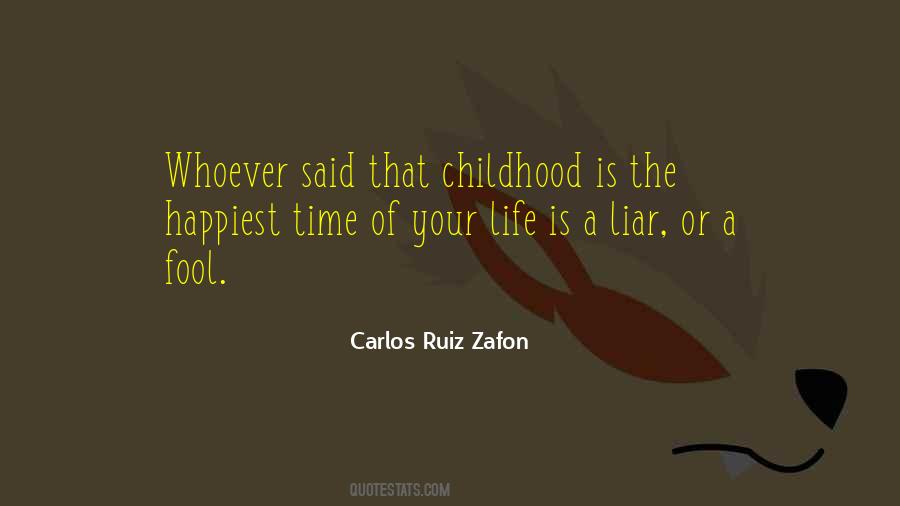 #22. Our lesson for today, boys and girls, is the more things change, the more things change. Whoever said the more things change the more things stay the same was obviously suffering severe mental retardation. - Author: Stephen King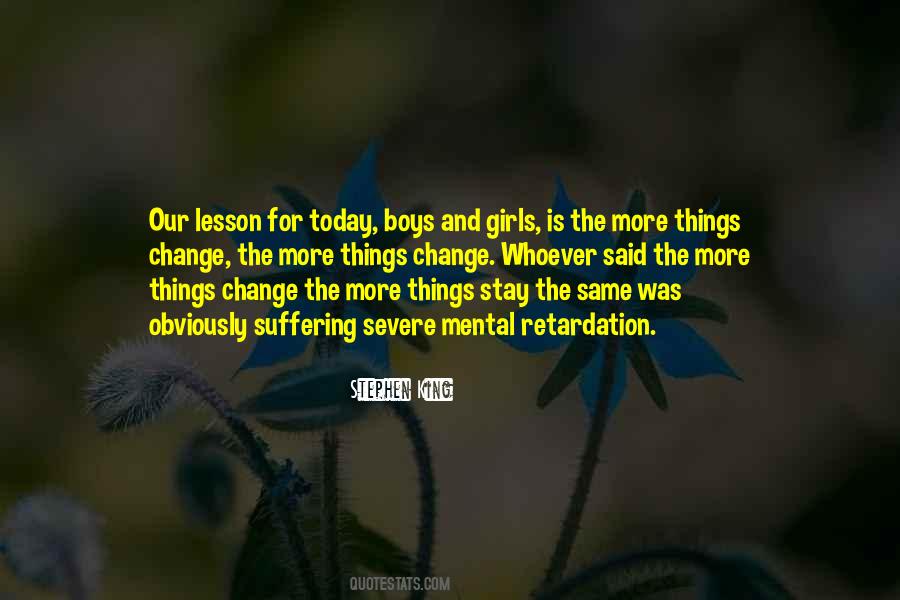 #23. I started boxing for exercise, and on the very first day, the trainer got in the ring with me and said, 'Whoever controls the breathing in the ring controls the fight.' I immediately passed out. - Author: Garry Shandling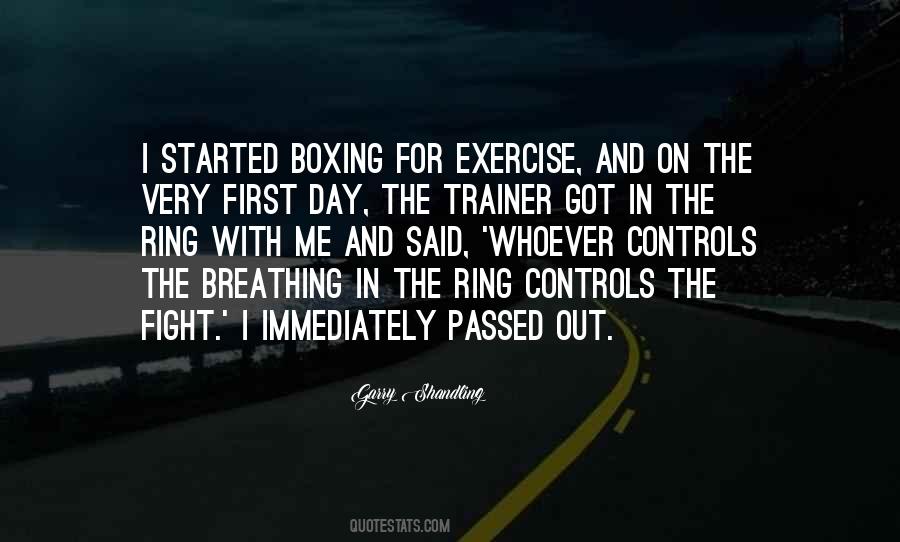 #24. George Orwell said, "Whoever controls the past controls the future," by which he meant that history is incredibly important in shaping the world view of the next generation of people. - Author: Howard Zinn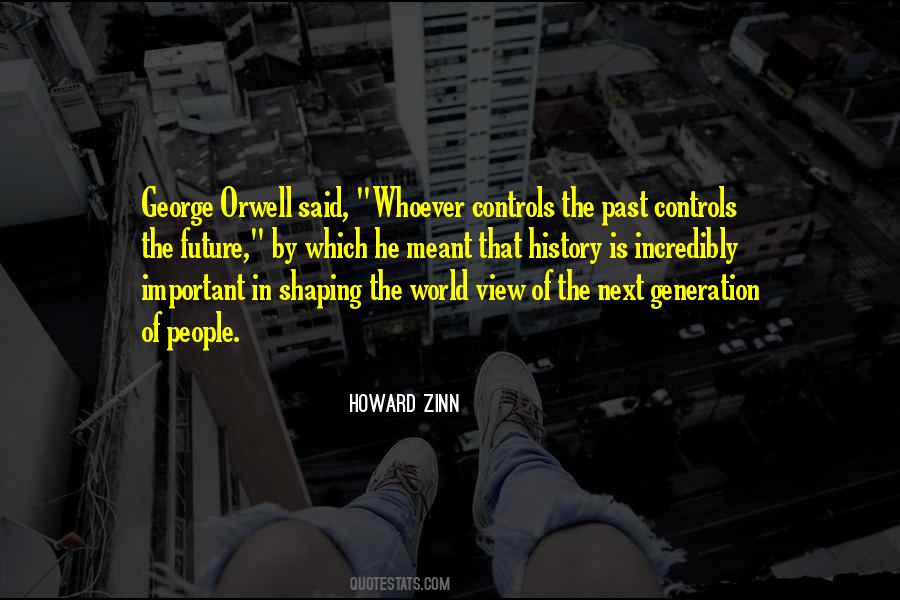 #25. When I was a child I was told that whoever swallowed a hock-bone would one day own land," she said. "Have you tried that? I was told a sheep's hock-bone bought a croft, a cow's an estate. - Author: Halldor Laxness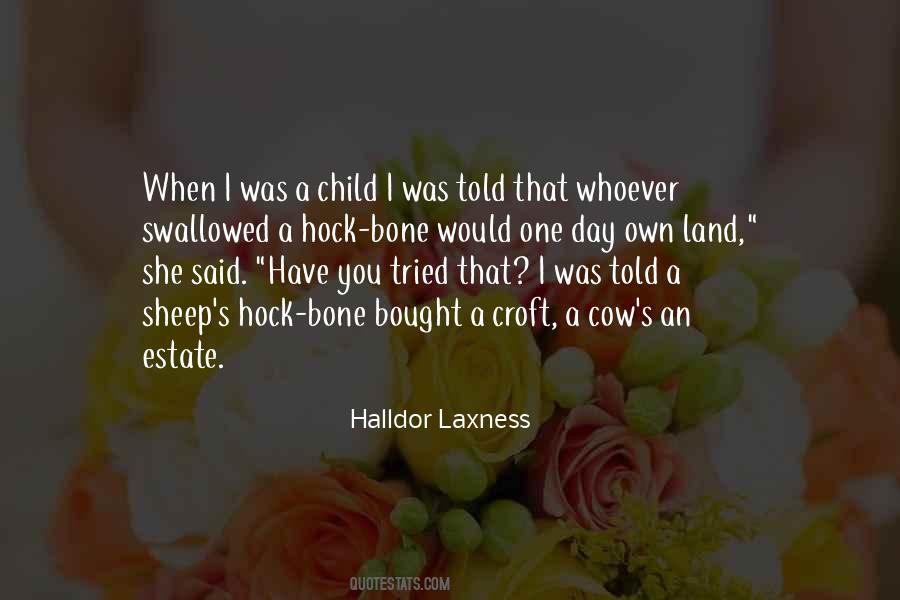 #26. Whoever said the truth hurts was being an optimist. The truth is an excruciatingly painful son of a bitch. - Author: Colleen Hoover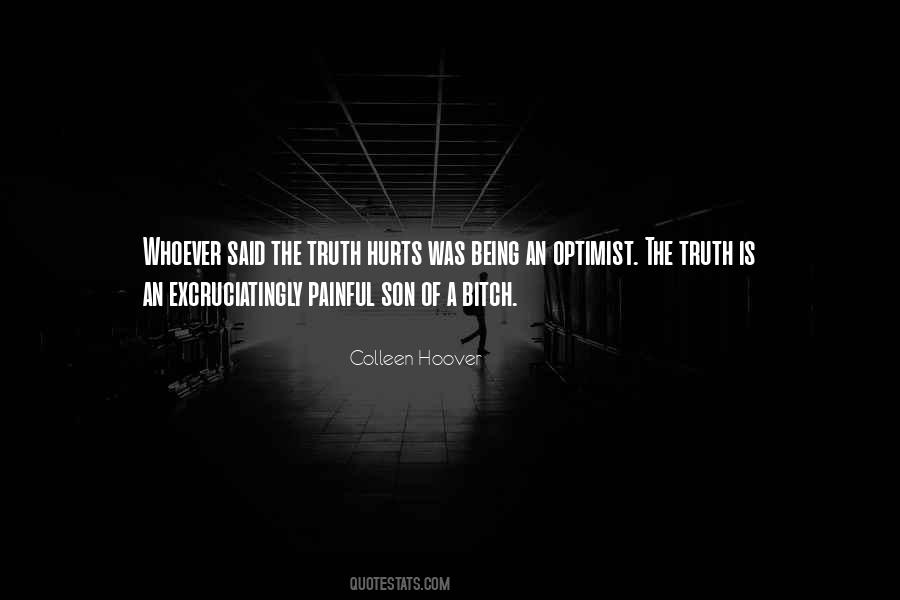 #27. Whoever said ignorance was bliss was shortsighted. - Author: Jeaniene Frost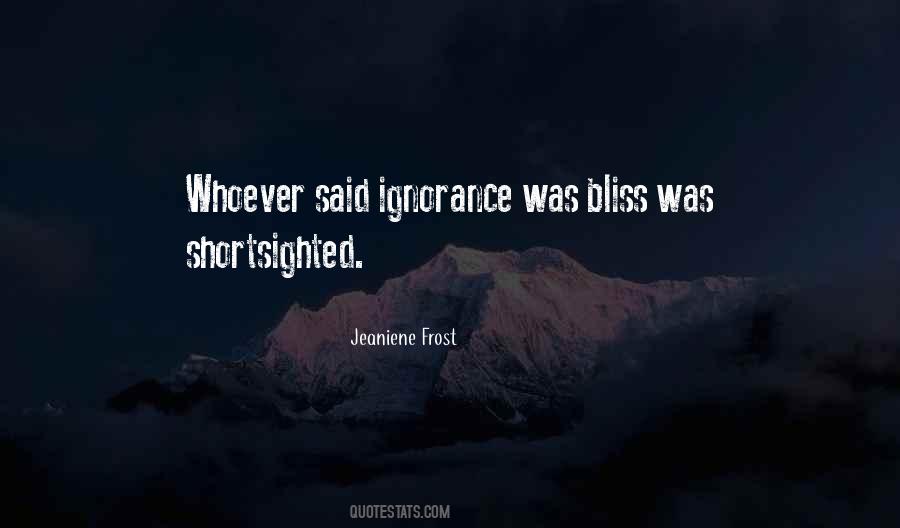 #28. Whoever said laughter is the best medicine had clearly never tasted scotch. - Author: Anne Taintor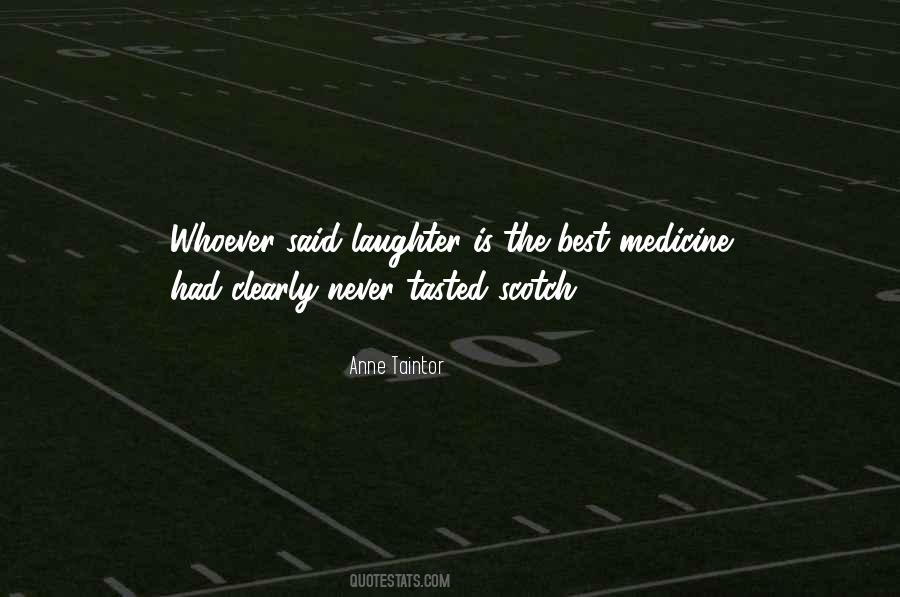 #29. And of course a bit of whoever we want to change into." "Excuse me?" said Ron sharply. "What d'you mean, a bit of whoever we're changing into? I'm drinking nothing with Crabbe's toenails in it - - Author: J.K. Rowling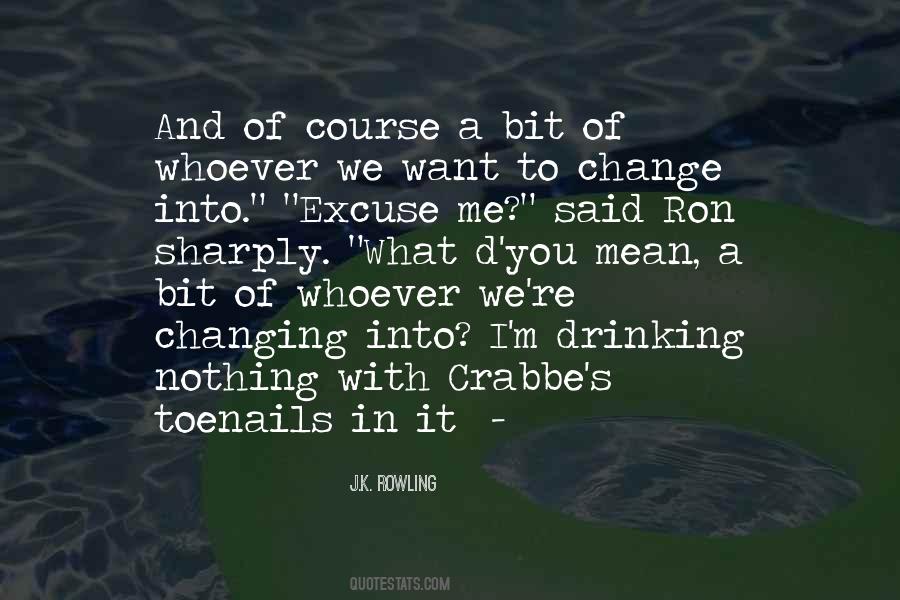 #30. Whoever said the truth sets you free never told the truth. - Author: Leonard Pitts Jr.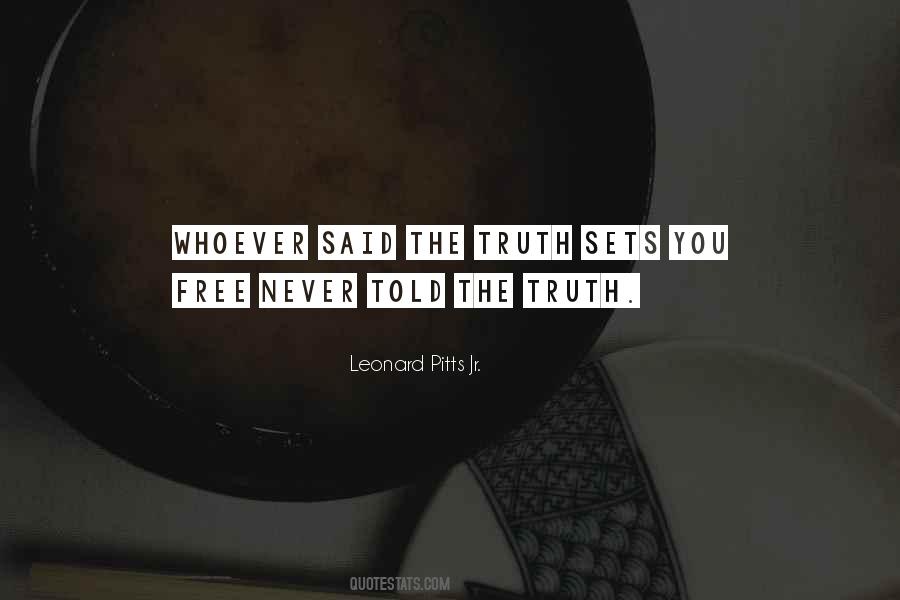 #31. Whoever said that a drunk mind speaks sober thoughts...was clearly still drunk off their ass.


-Jackson 'Blame It on the Pain - Author: Ashley Jade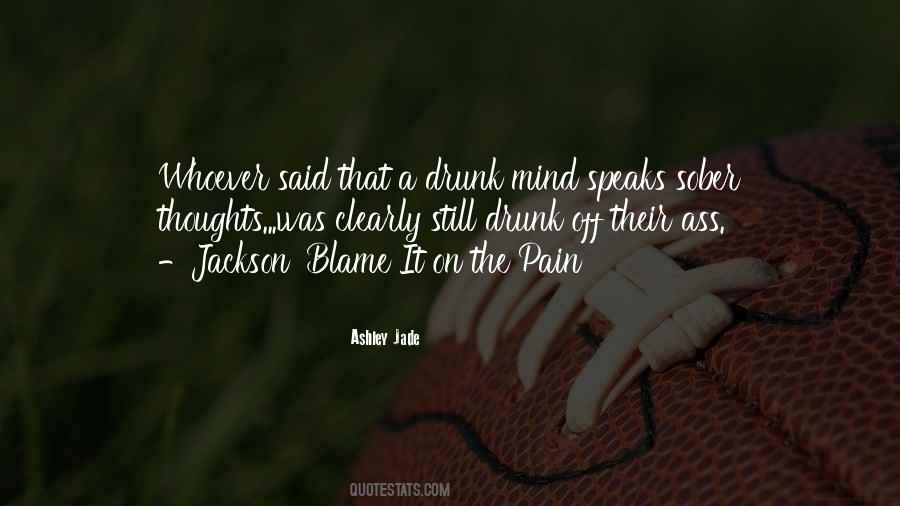 #32. I agree with whoever said Spice Girls are soft port. They're the antichrist. - Author: Thom Yorke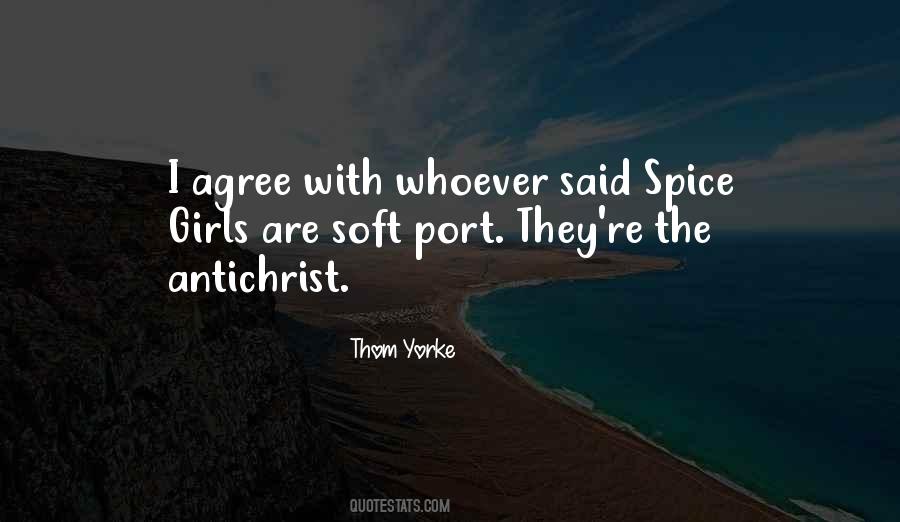 #33. But, if this guy, or whoever he was, he is, or he will be, can't handle you at your worst, they sure as hell don't deserve you at your best. Enough said. - Author: Nina Ardianti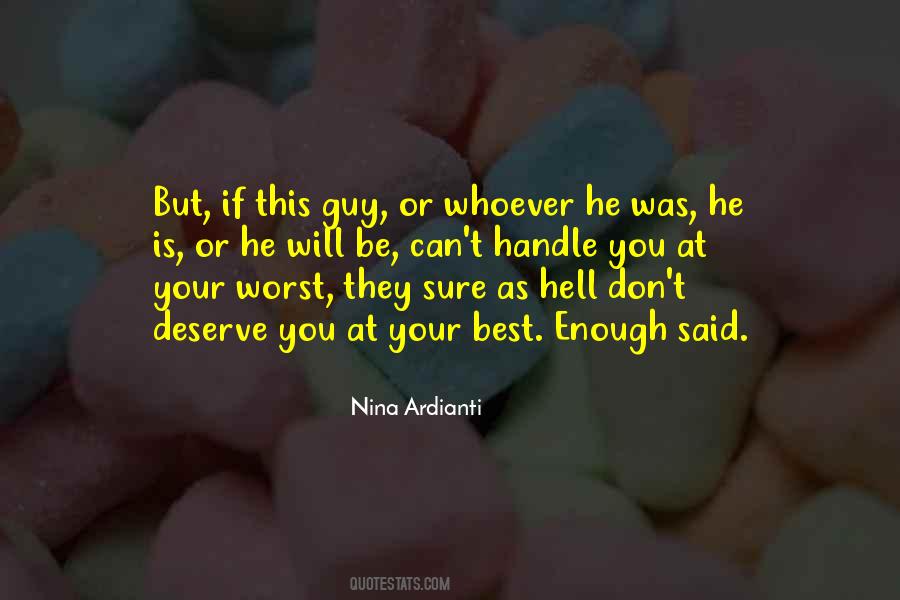 #34. I hadn't seen Jennifer in a week. Absence doesn't make the heart grow fonder.Whoever said that was a damn fool. Absence makes the heart suicidal. Take my heart for example. It hadn't stopped hurling itself against my ribs - at odd times, day or night - for a week. - Author: Penny Reid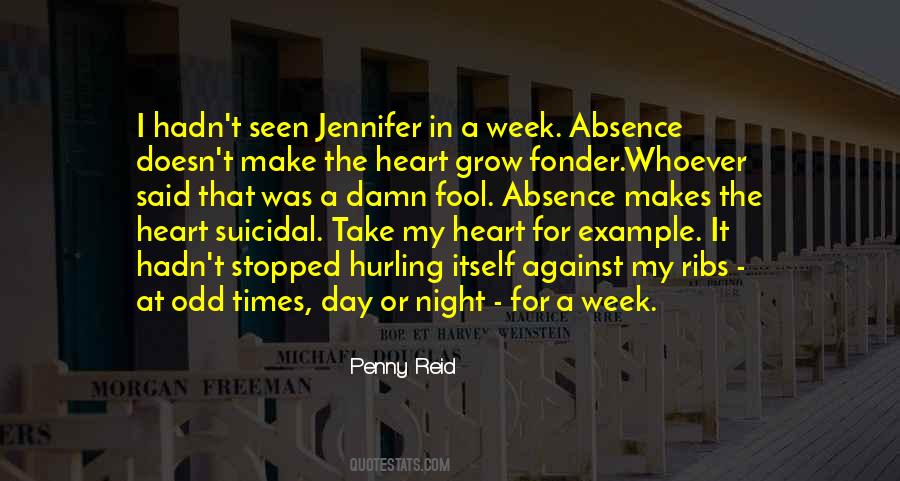 #35. Let him be whoever he thinks he is," she said. "That's all anybody could hope for in this world. - Author: Terry Pratchett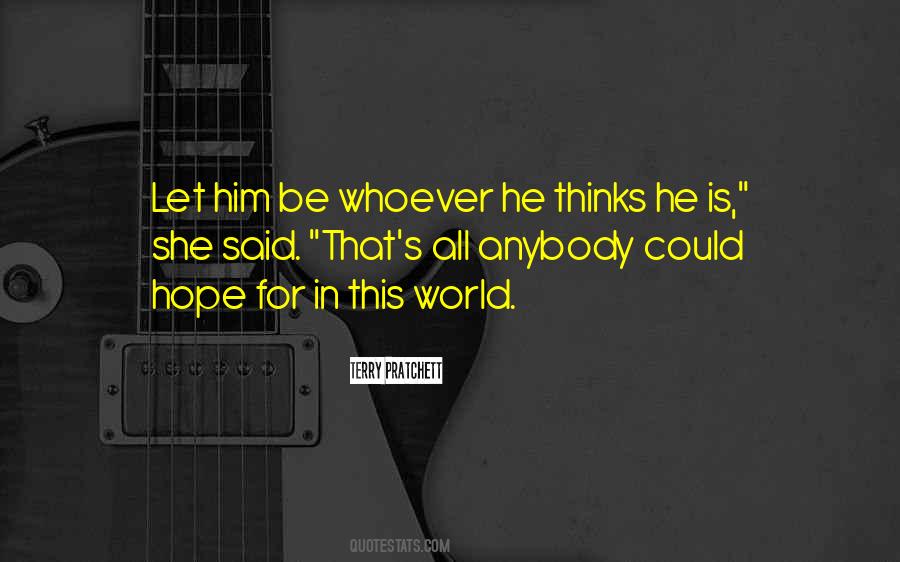 #36. Whoever said that war was glorious had obviously never fought in one. - Author: The Snow Spirit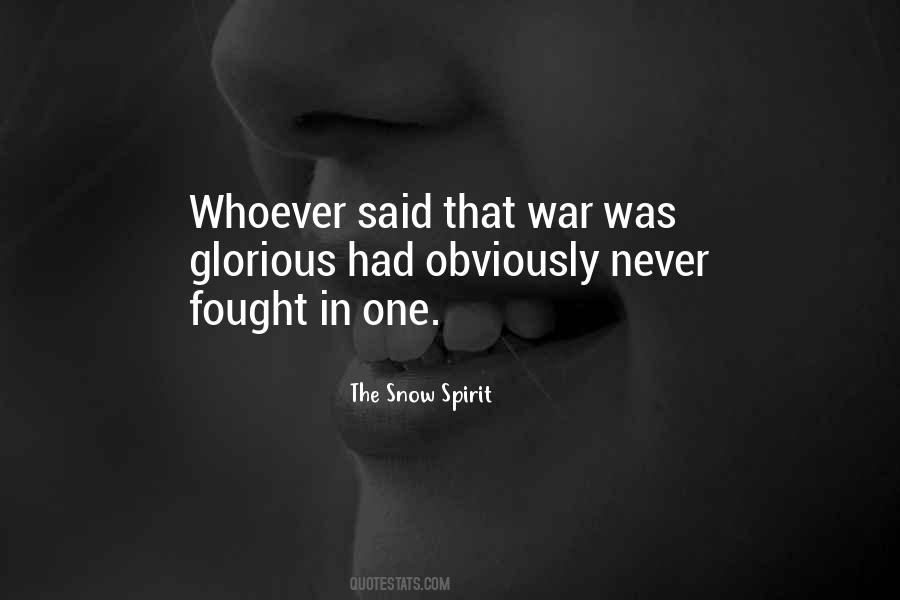 #37. And Moses said, If you should disbelieve, you and whoever is on the earth entirely - indeed, Allah is Free of need and Praiseworthy. - Author: Quran 8 42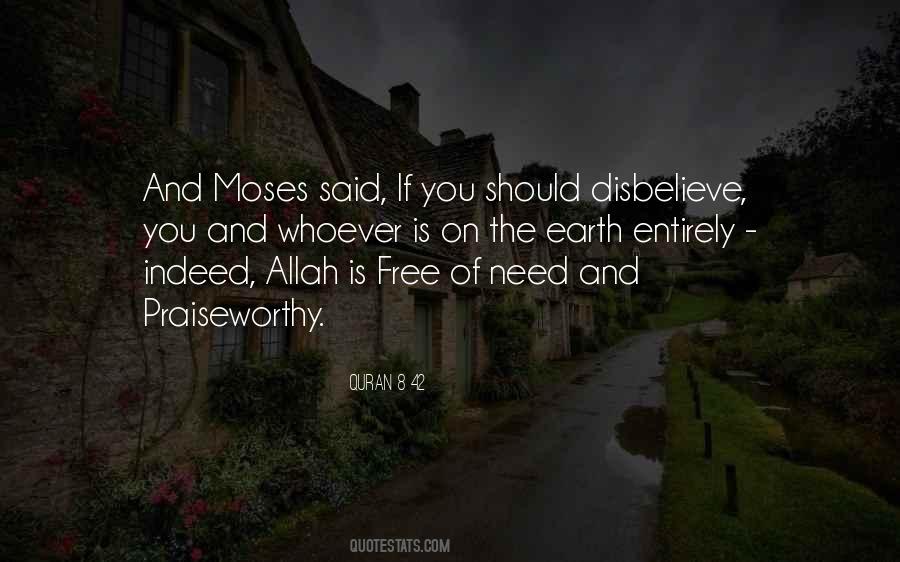 #38. Grandma said [ ... ] when you come on something that is good, first thing to do is share it with whoever you can find; that way, the good spreads out to where no telling it will go. - Author: Forrest Carter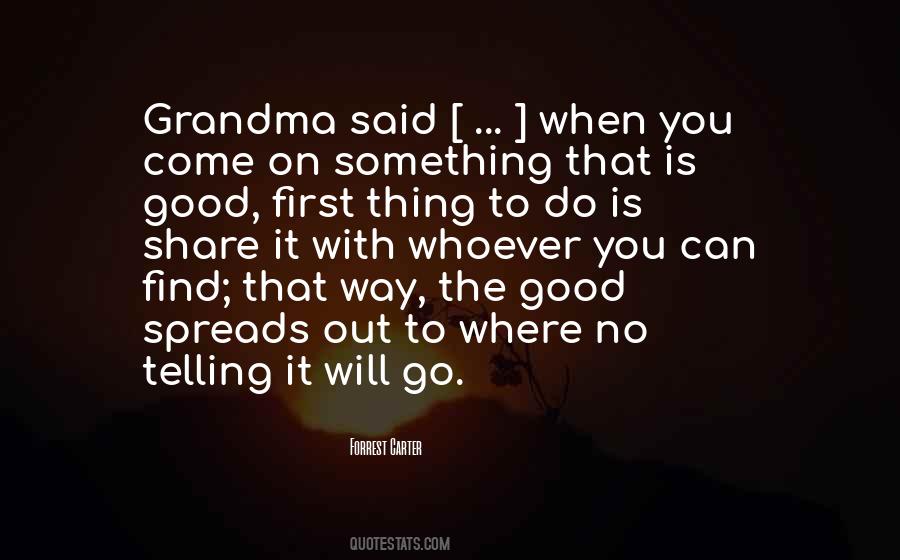 #39. Electricity can be dangerous. My nephew tried to stick a penny into a plug. Whoever said a penny doesn't go far didn't see him shoot across that floor. I told him he was grounded. - Author: Tim Allen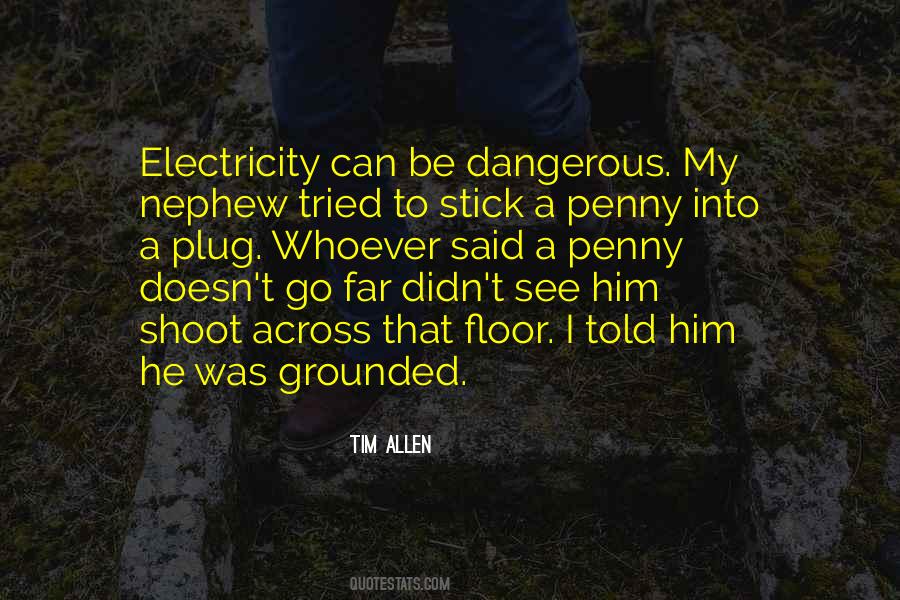 #40. Whoever said there's no such thing as a stupid question never looked carefully at a standardized test. - Author: Alfie Kohn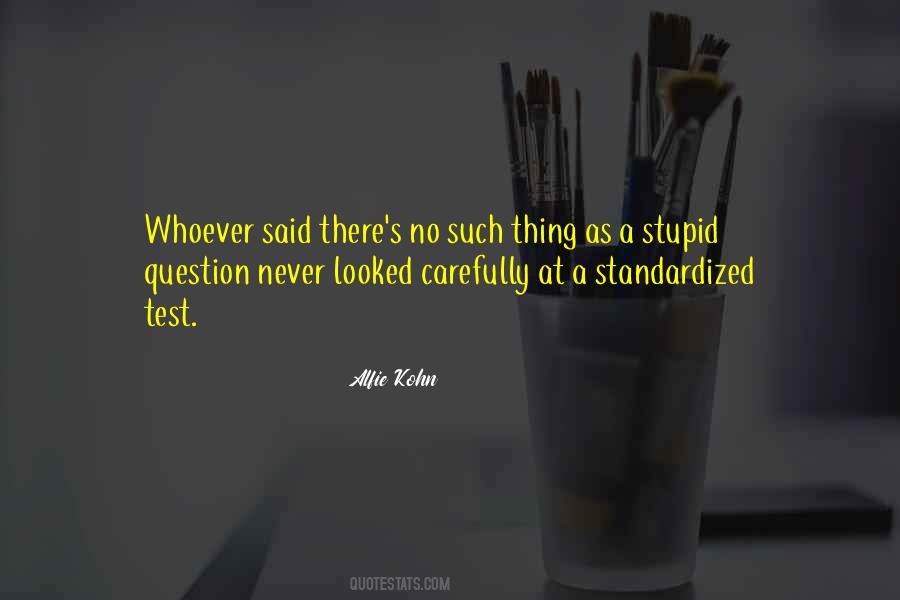 #41. Whoever had said that appearances were deceiving was only partially right; they could also be deadly. - Author: Julie McElwain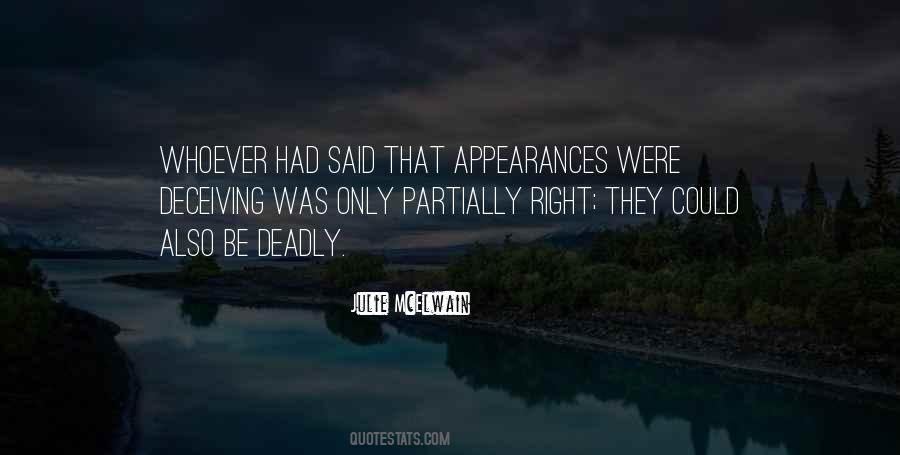 #42. Whoever said men
hit harder when women
are around, is right.
Word for word,
we beat the love
out of each other. - Author: Yusef Komunyakaa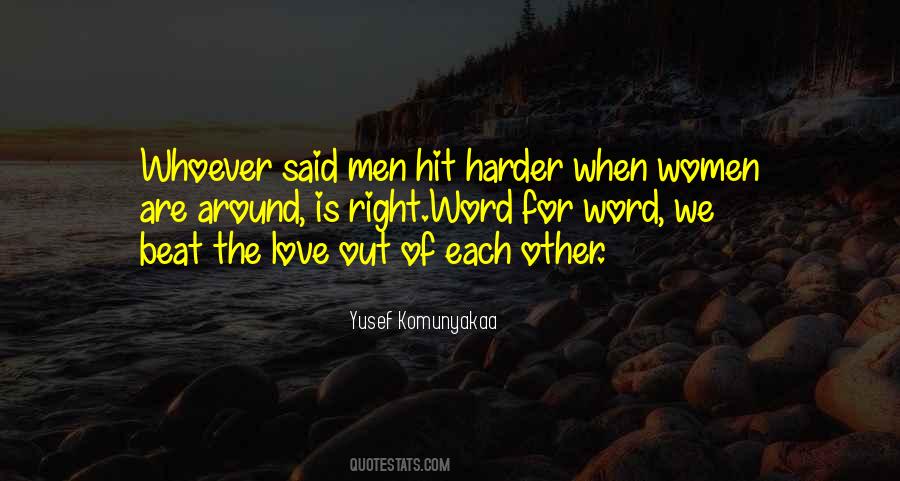 #43. Whoever said it was better to have loved and lost was completely full of shit. - Author: Paula Stokes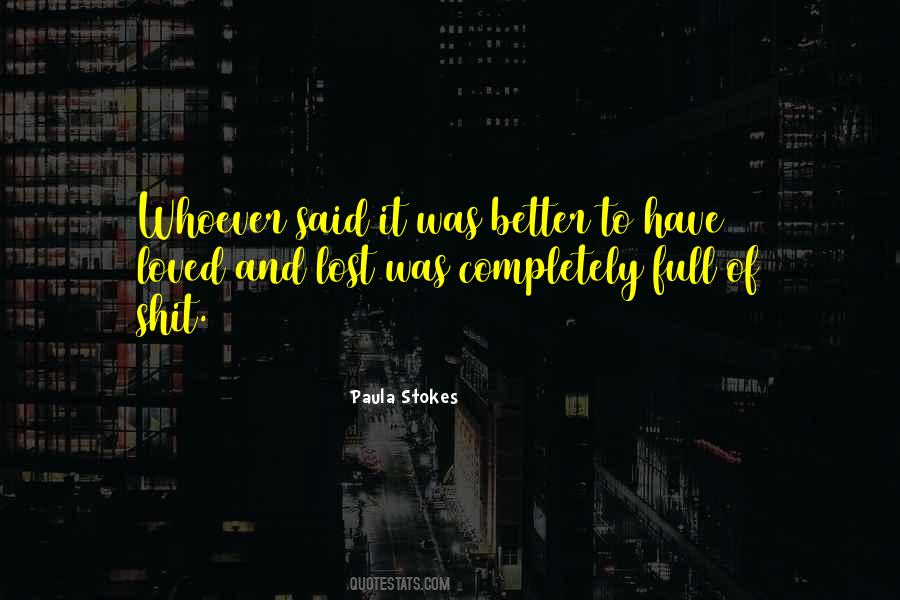 #44. I have said this in the past and I will continue to repeat it as long as I live: Whoever tries to hurt our national unity is my enemy until the day of judgement. - Author: King Hussein I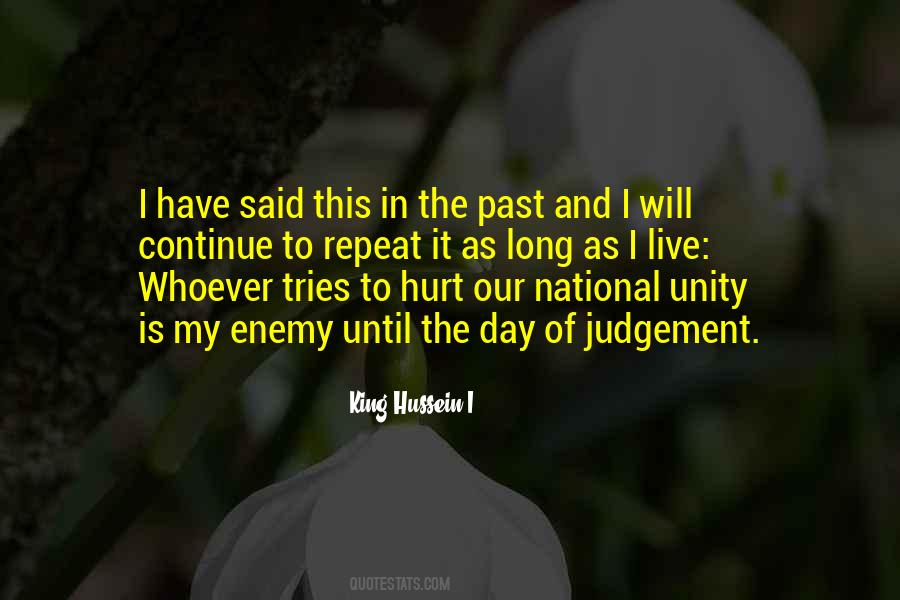 #45. Whoever said that artists shouldn't pay attention to their business was probably someone w/their hand in some artist's pocket. - Author: Jay-Z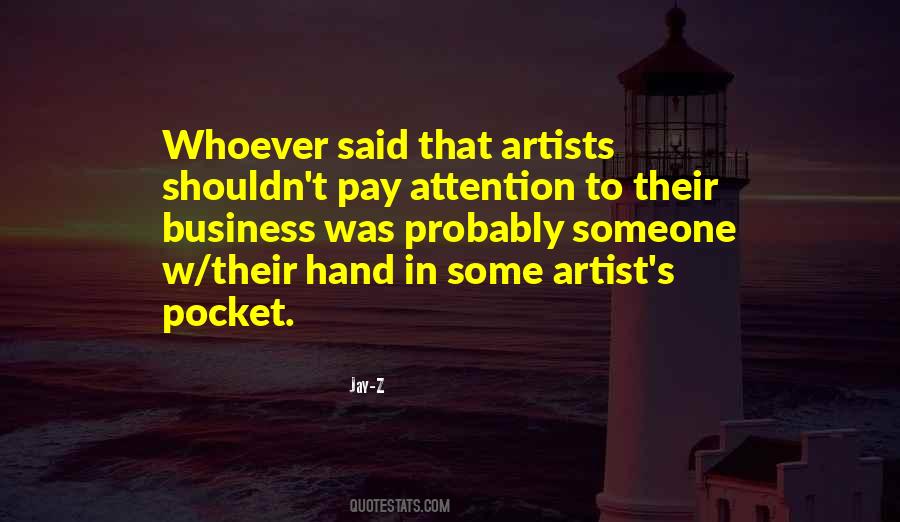 #46. One can,' said Ernest 'remain unmoved before a cloud as before an automatic ticket machine. I don't like poetry, I don't like flowers, I don't like machines, I don't like sugar, I don't like pepper, I don't like what you like.' This was addressed to whoever attacked Ernest. - Author: Robert Desnos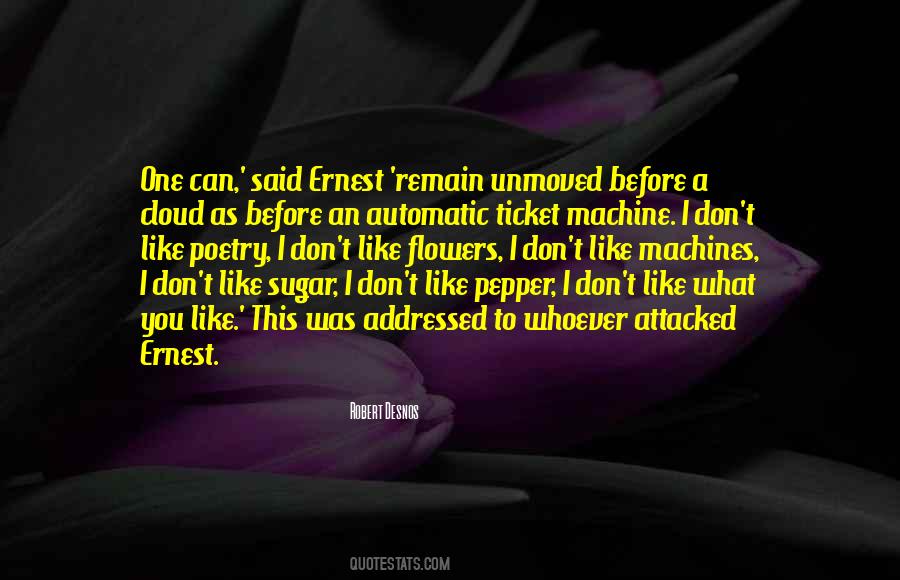 #47. My precious brothers and sisters, I come to you today speaking on behalf of Christ, His love and His mercy for us all. Jesus came to set the captives free. And He Himself said that whoever the Son sets free, is free indeed ... We love you with Christ's love, unconditionally and always. - Author: K.P. Yohannan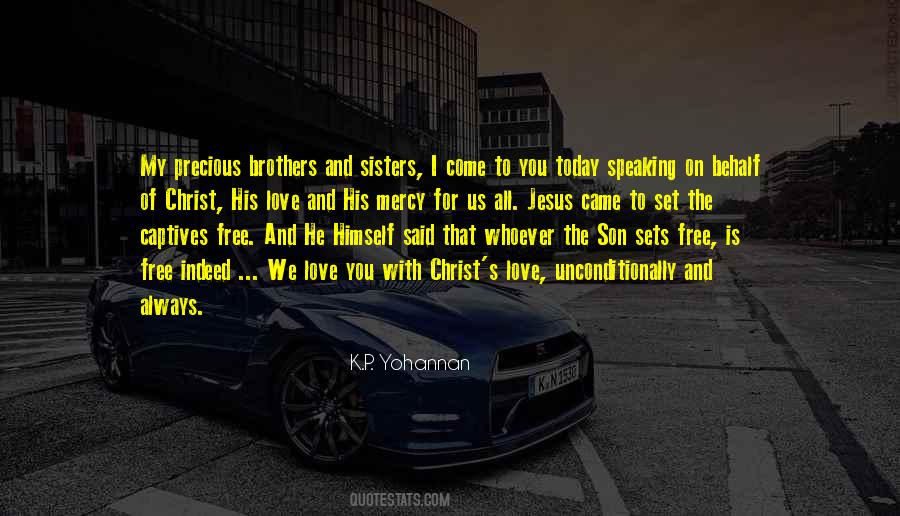 #48. For those of us who spent our careers competing with David Broder, the hardest thing to abide was the inevitable comparison. If someone said Jack Germond - or Jules Witcover or Walter Mears or whoever - 'is a pretty good political reporter,' the default response would be, 'but he's no David Broder.' - Author: Jack Germond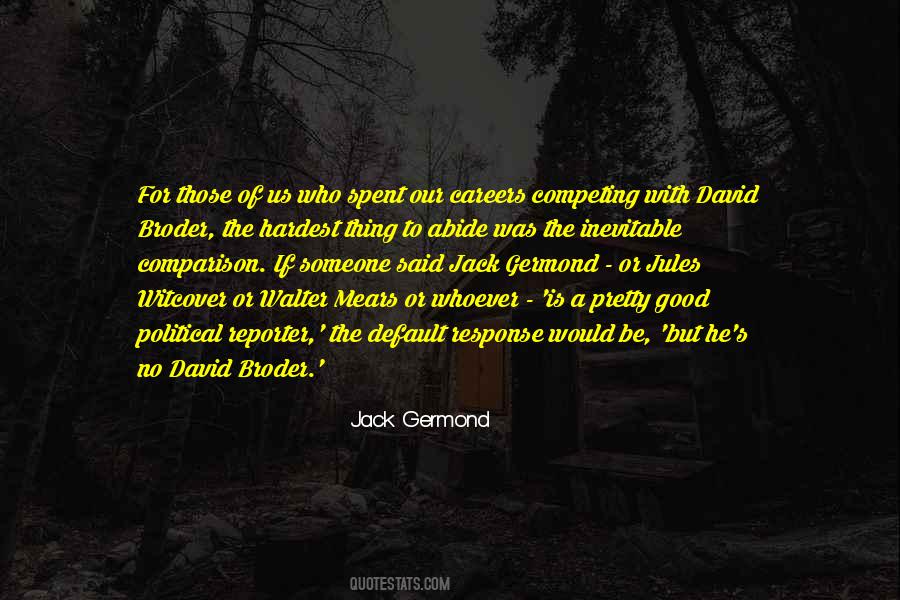 #49. Whoever said money can't buy happiness simply didn't know where to go shopping. - Author: Bo Derek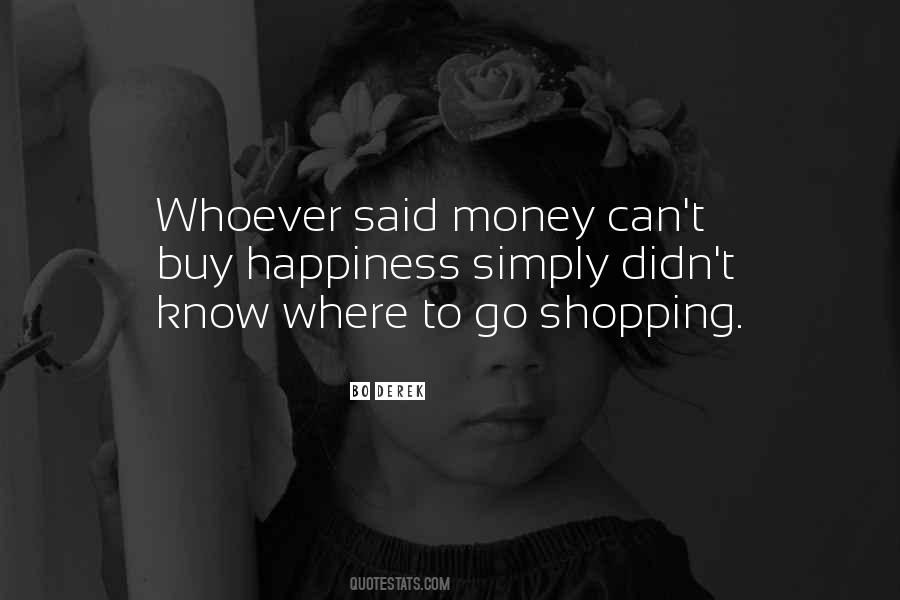 #50. I see the same sky above me, the same stars and moon, but nothing will ever be the same for me, because I love you." Whoever said love was grand evidently had never been in love. - Author: D.F. Jones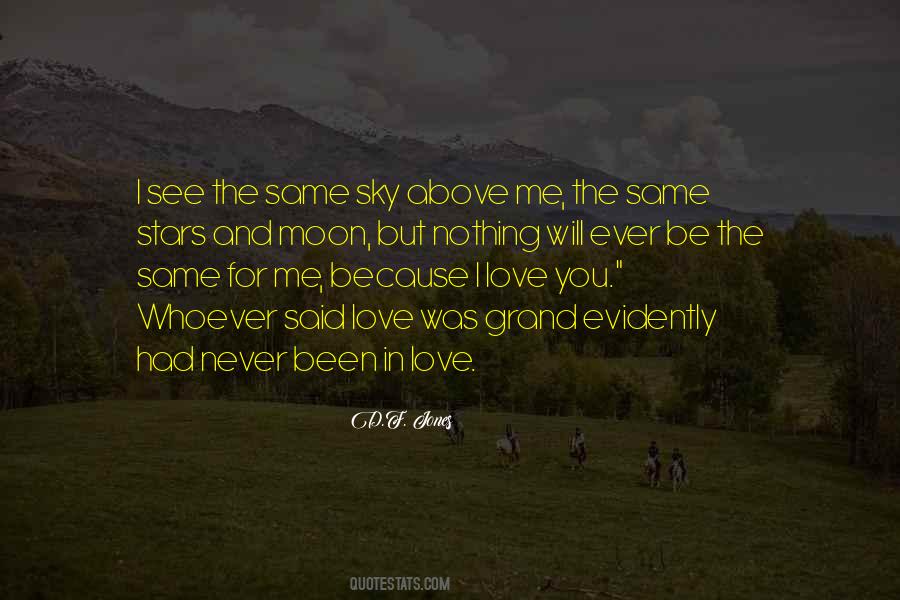 #51. Whoever said a good agreement was a compromise neither side was completely happy with just had poor negotiators. - Author: Wesley Chu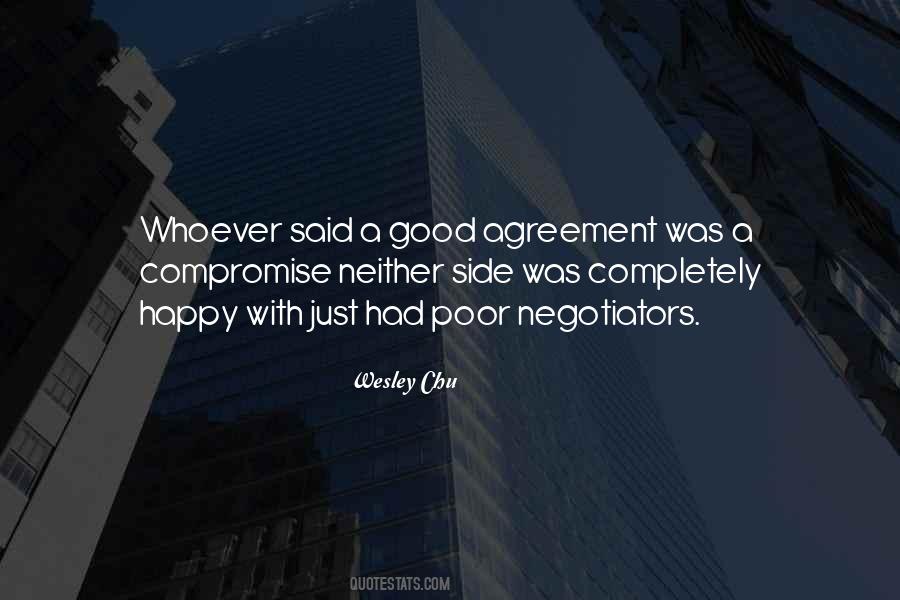 #52. These houses had been plunked down with an alarming randomness
unevenly spaced, on crooked lines, like whoever had designed the place had said, We'll just follow this cat, and wherever he sits down, we'll build something. - Author: Maureen Johnson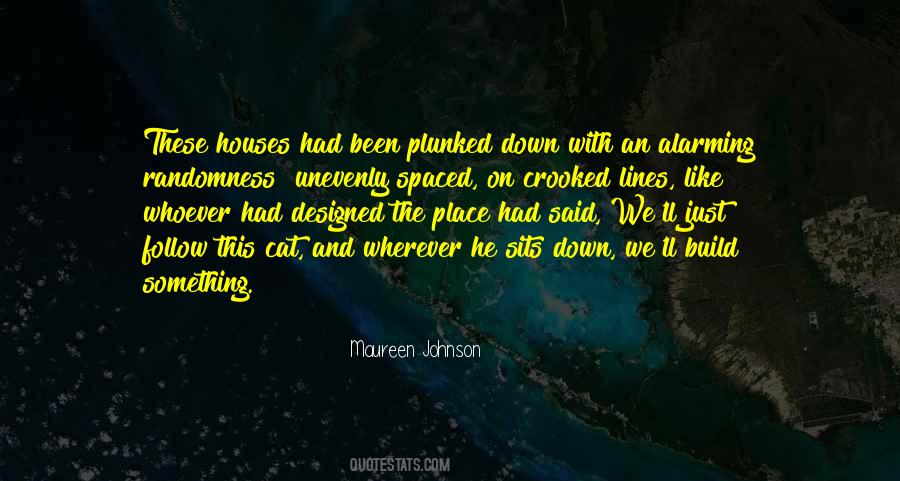 #53. Everything that is true is God's word, whoever may have said it. - Author: Huldrych Zwingli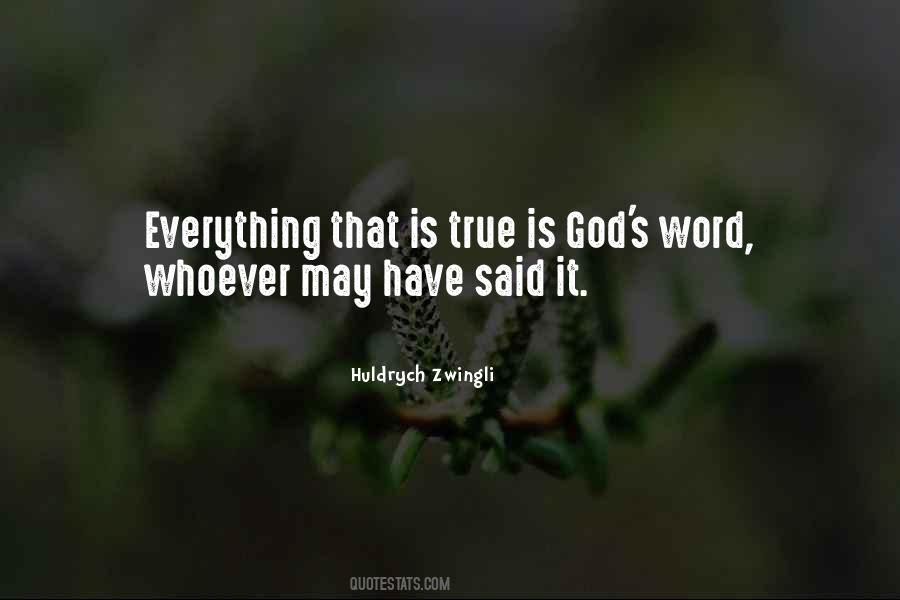 #54. Whoever said that a straighten hand was more dramatic than a healed heart? - Author: Ted Dekker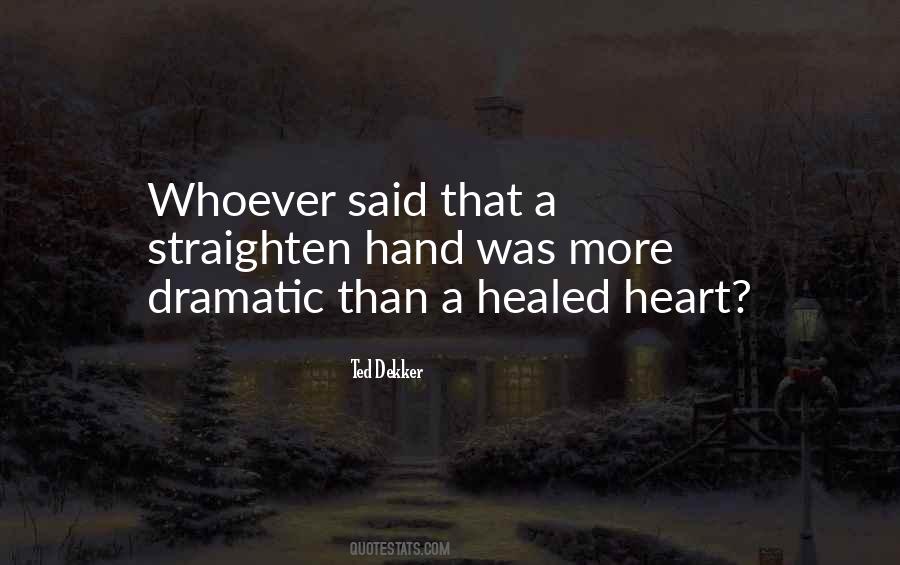 #55. My biggest fantasy was to have a pie thrown in my face, and I always said whoever did that, that's the guy I'd marry. - Author: Sarah Shahi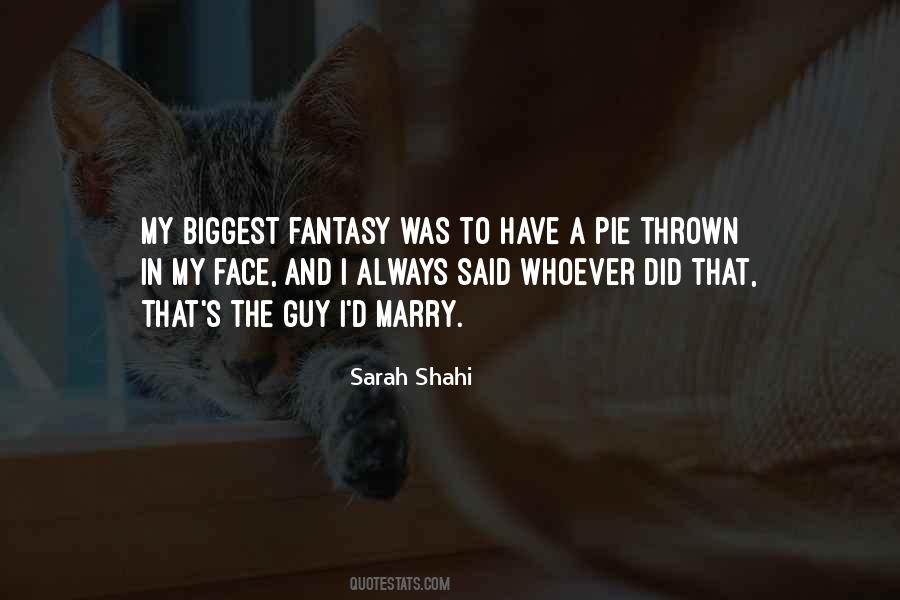 #56. Whoever said the pen is mightier than the sword obviously never encountered automatic weapons. - Author: Douglas MacArthur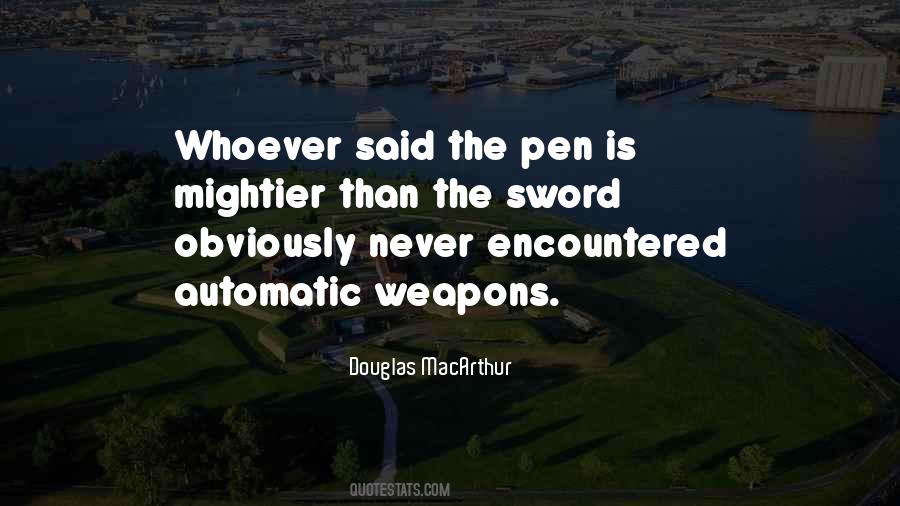 #57. Whoever said running in the morning gives you energy never had a day job that involves customer service. - Author: Caroline Kepnes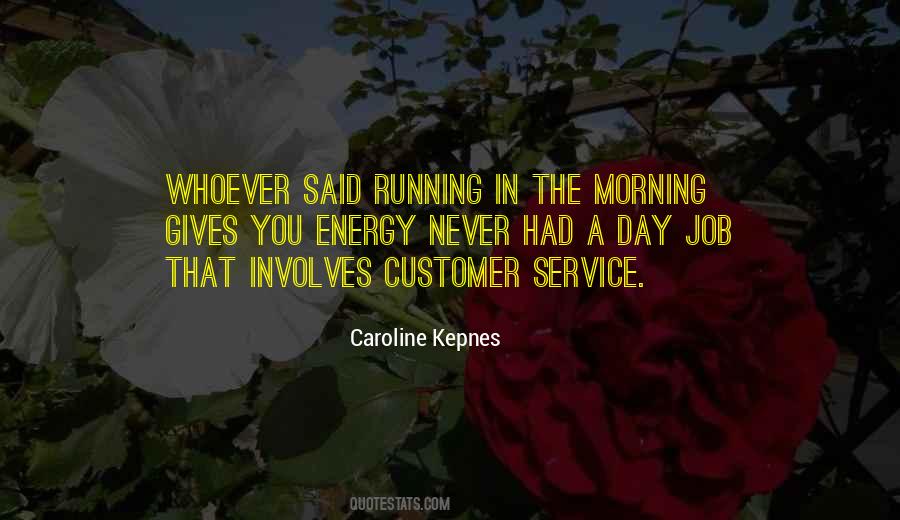 #58. Whoever said blondes have more fun hasn't met me. - Author: Heather Dubrow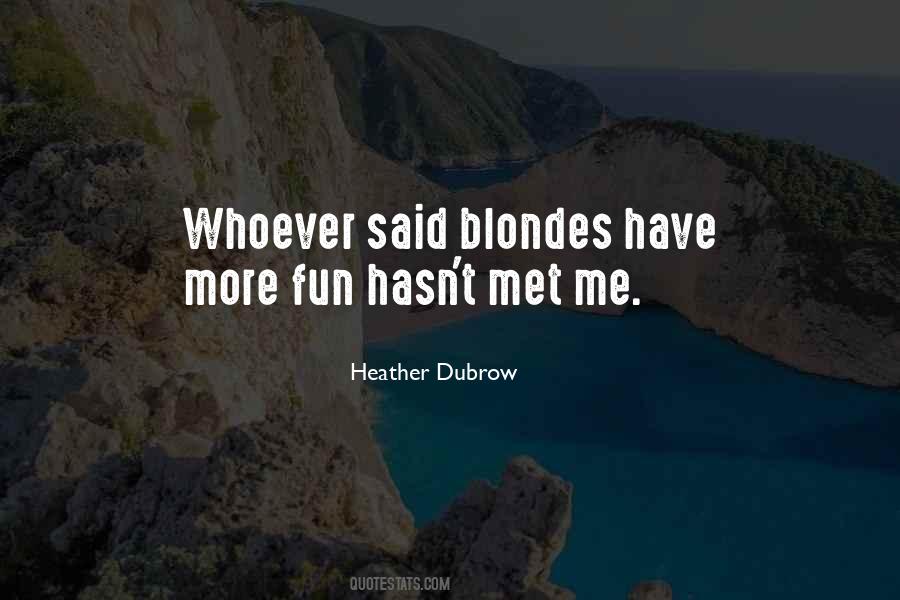 #59. Whoever said it is better to have loved and lost than never to have loved was full of crap. - Author: Rachel Vincent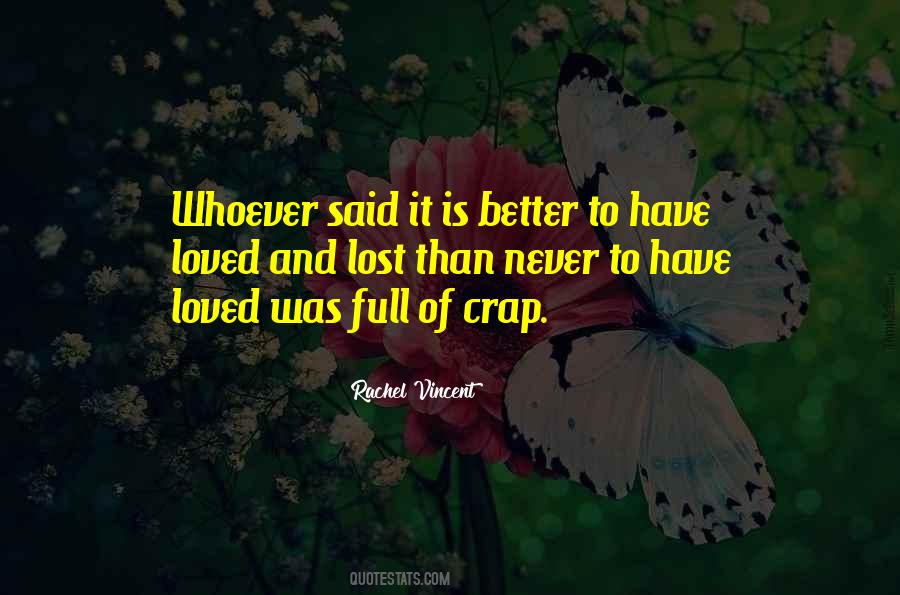 #60. Ah, these double meanings," she said. "Who invented the English language, I wonder? He did not do a stellar job of it, whoever he was. - Author: Mary Balogh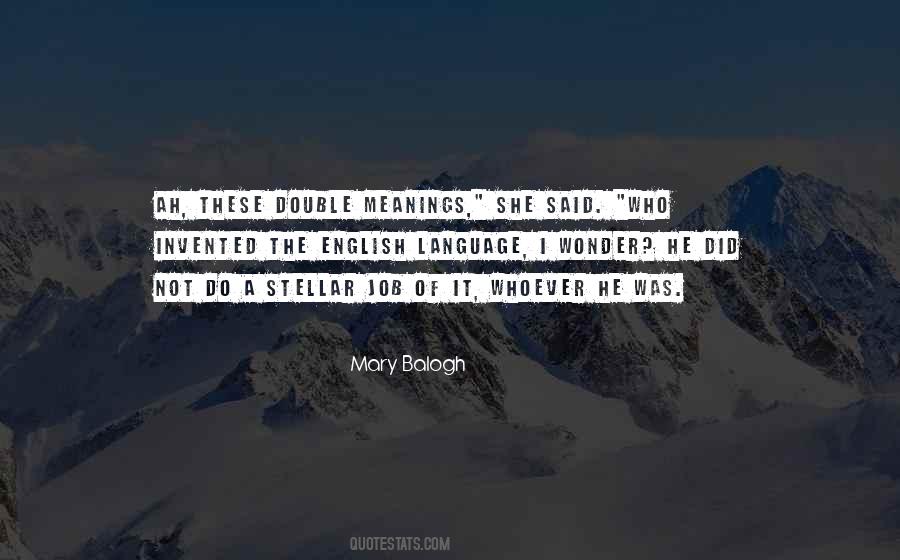 #61. Whoever said life without love isn't worth living didn't own an iPhone. These things are great. - Author: Dov Davidoff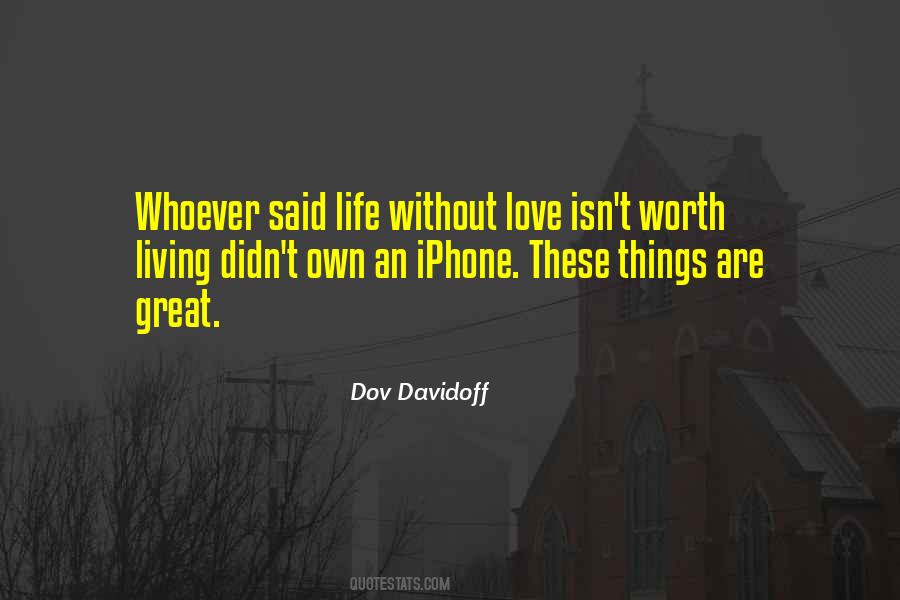 #62. Whoever said that a soft answer turneth away wroth had never worked in a bar. - Author: Terry Pratchett
#63. Whoever said misery loves company was full of shite. Whatever can go wrong will go wrong, however ... that guy was onto something. - Author: Stephen King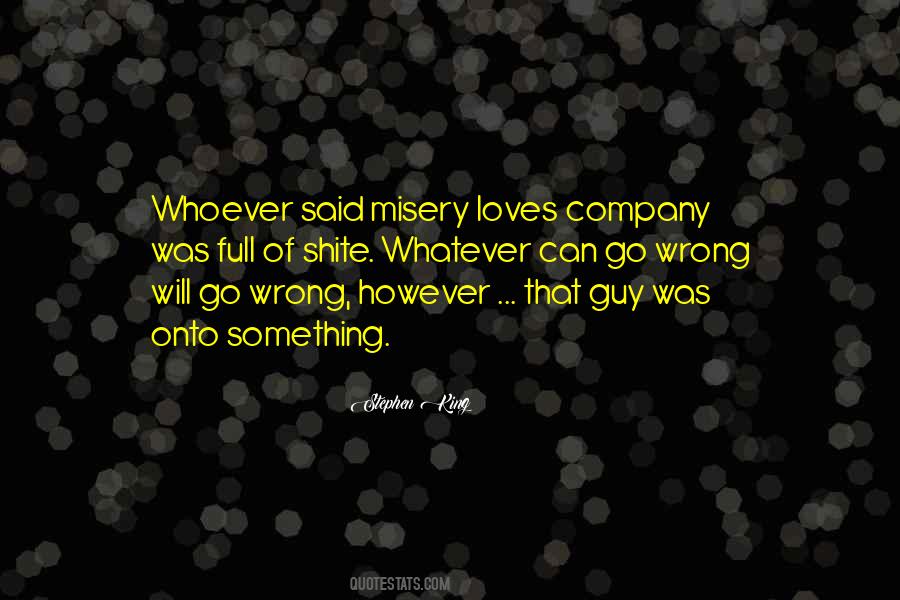 #64. Who was it who said, "I hold the buying of more books than one can peradventure read, as nothing less than the soul's reaching towards infinity; which is the only thing that raises us above the beasts that perish?" Whoever it was, I agree with him. - Author: A. Edward Newton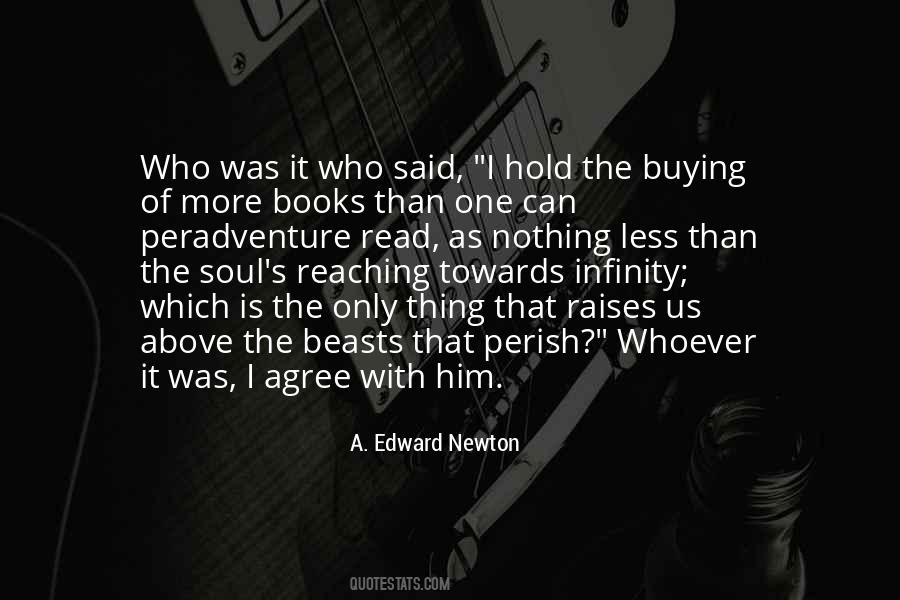 #65. It is told that the great Angelo, in decorating a church, painted some angels wearing sandals. A cardinal looking at the picture said to the artist: Whoever saw angels with sandals? Angelo answered with another question: Whoever saw an angel barefooted? - Author: Robert Green Ingersoll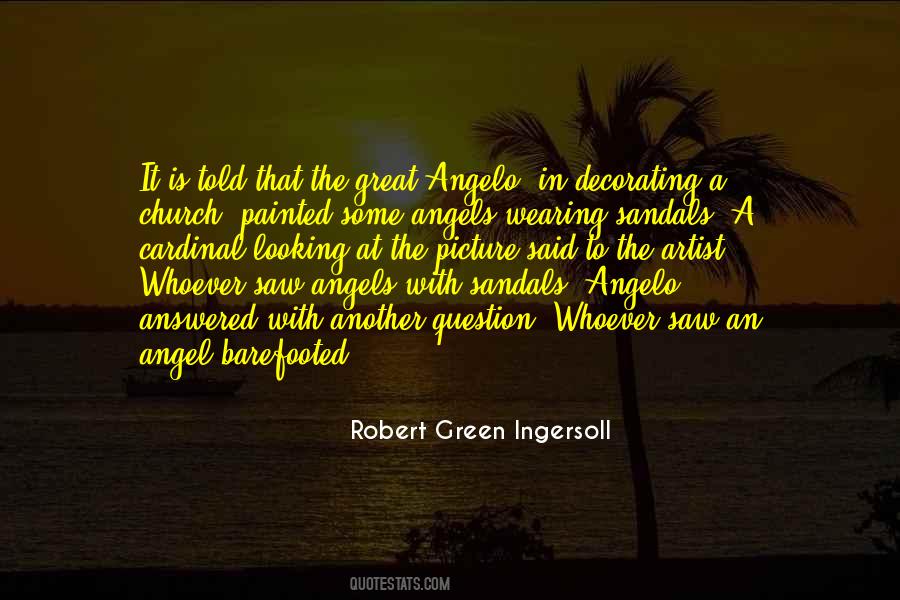 #66. I was really upset. I felt like they tried to limit me, whoever 'they' may be. So I just said to myself third quarter I'm going to come out and do what I do. - Author: Shaquille O'Neal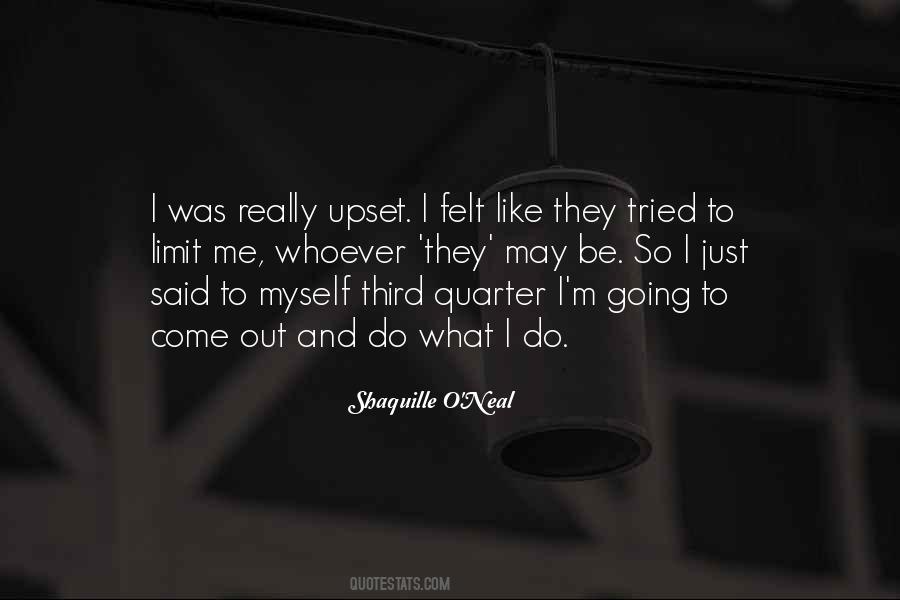 #67. Whoever said "violence doesn't solve anything," had never given a right dickhead a pasting in a car park before. G - Author: Mark Jackman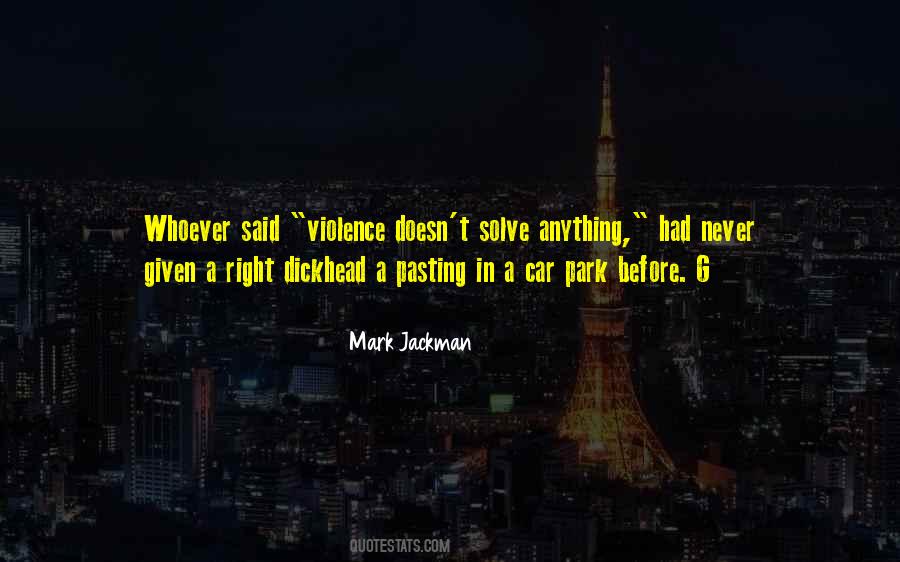 #68. Boys are the cash of war. Whoever said: we're not free spenders- doesn't know our like. - Author: John Ciardi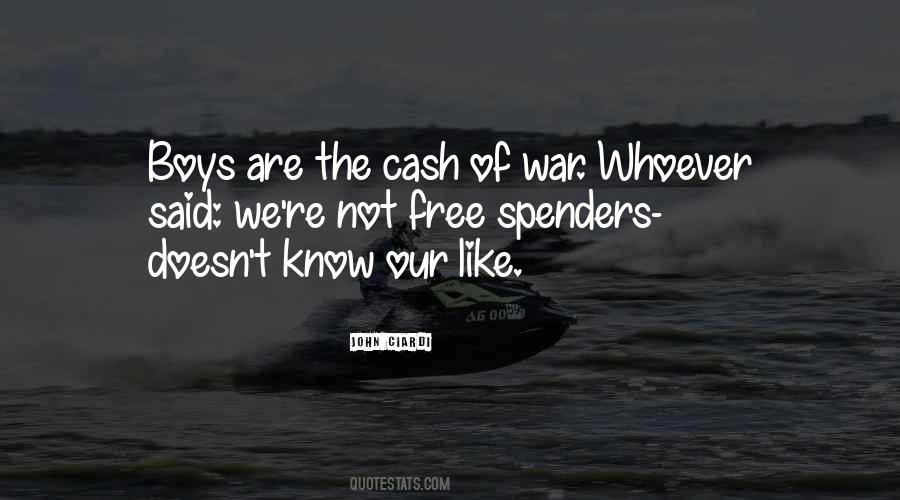 #69. Said He, whoever exalts himself, shall be humbled, and he who is humbled shall become exalted. - Author: Leo Tolstoy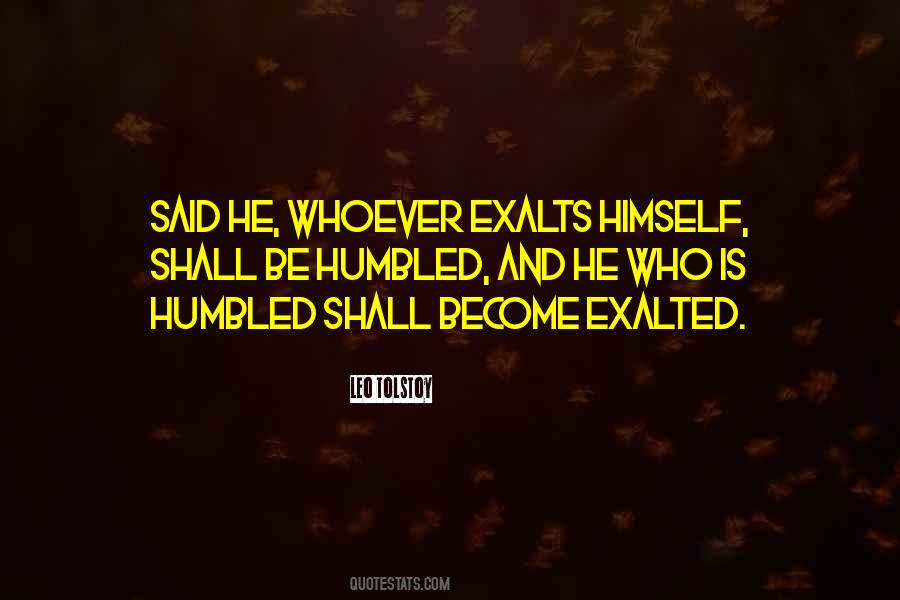 #70. Whoever said love conquers all was a fool. Because almost everything conquers love - or tries to. - Author: Edna Ferber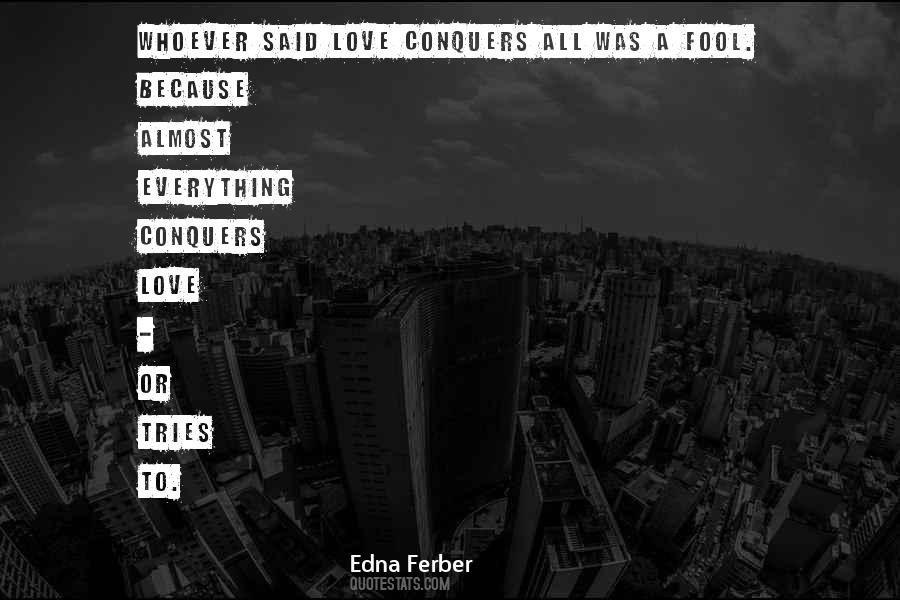 #71. The Netherlands is a wonderful country," said Sigerius. "If you're determined to be a bad egg, there's a great big professional circle of friends ready to help you. Whoever doesn't have the balls to just get out and work, but does have a criminal record, is given a nice subsidized job. - Author: Anonymous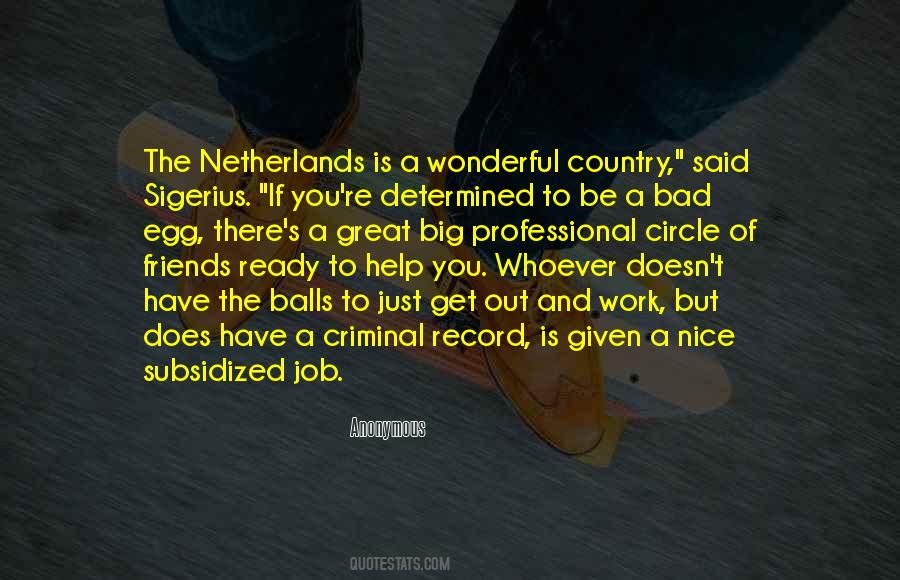 #72. I remember asking one of my agents, like, 'Hey, is this Instagram thing good for models, or is it bad?' And they said, 'No. Keep doing it. Heidi Klum, or whoever, has millions of followers, and that doesn't hurt them.' So, I kept with it. I think it definitely helped. - Author: Charlotte McKinney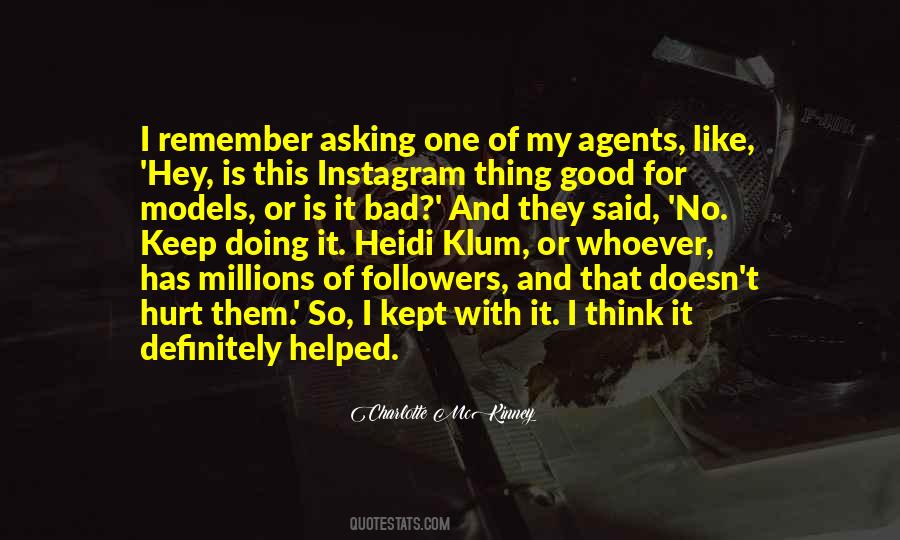 #73. Whoever said "When in Rome, do as the Romans do", has never driven a car there. - Author: Lev L. Spiro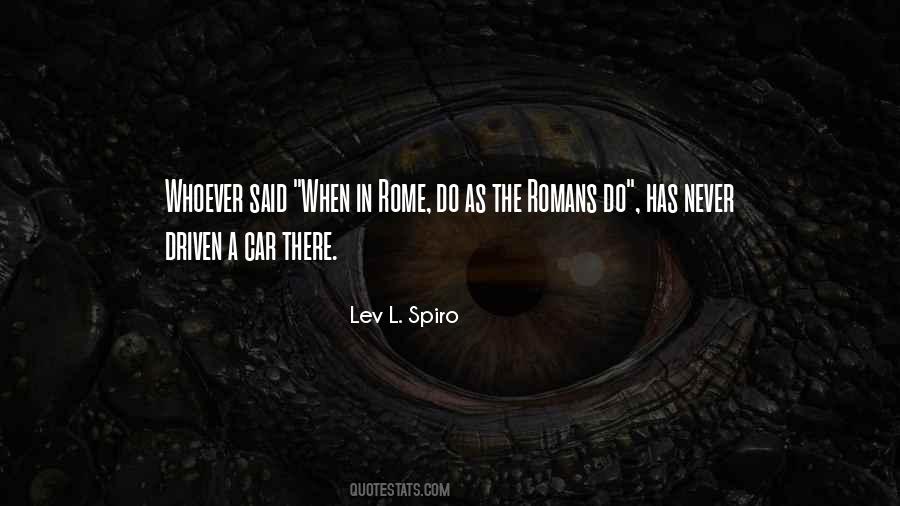 #74. When my son was murdered, people asked me how I felt about God and what had happened to my son. I said, 'No, you can't go there. You have to understand that there is a devil, and he works 24/7. Whoever murdered our son was with the devil.' - Author: Bill Cosby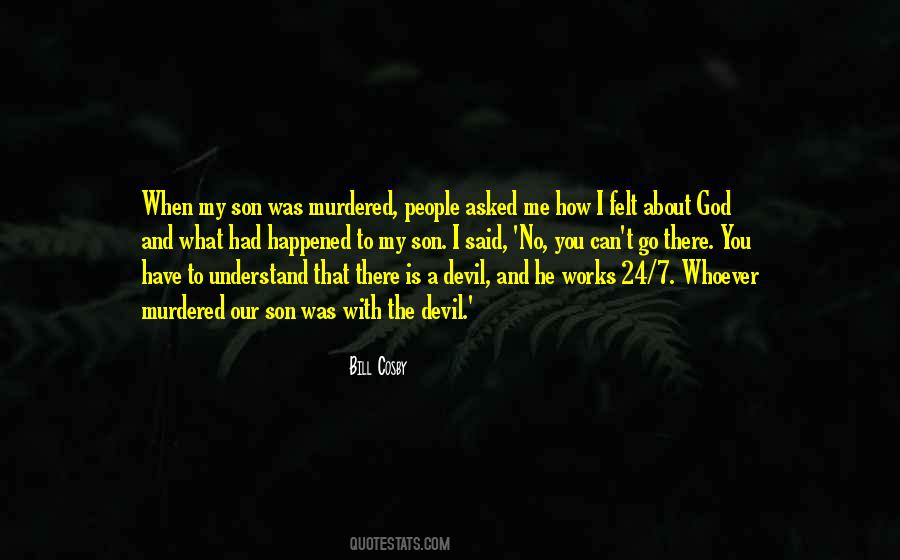 #75. She always said yes to whoever asked her out. It wouldn't have occurred to her to say no. - Author: Liane Moriarty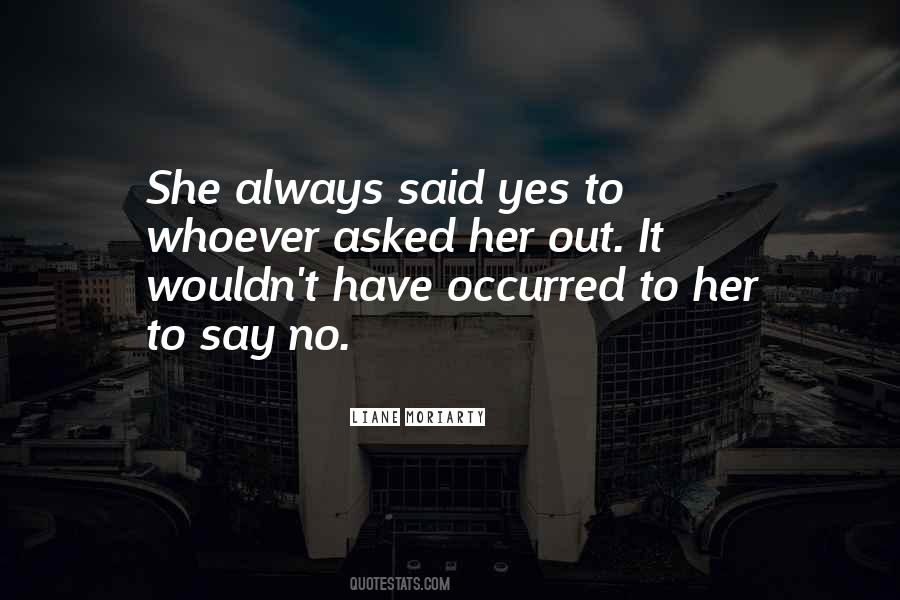 #76. Whoever said you can't buy Happiness forgot little puppies. - Author: Gene Hill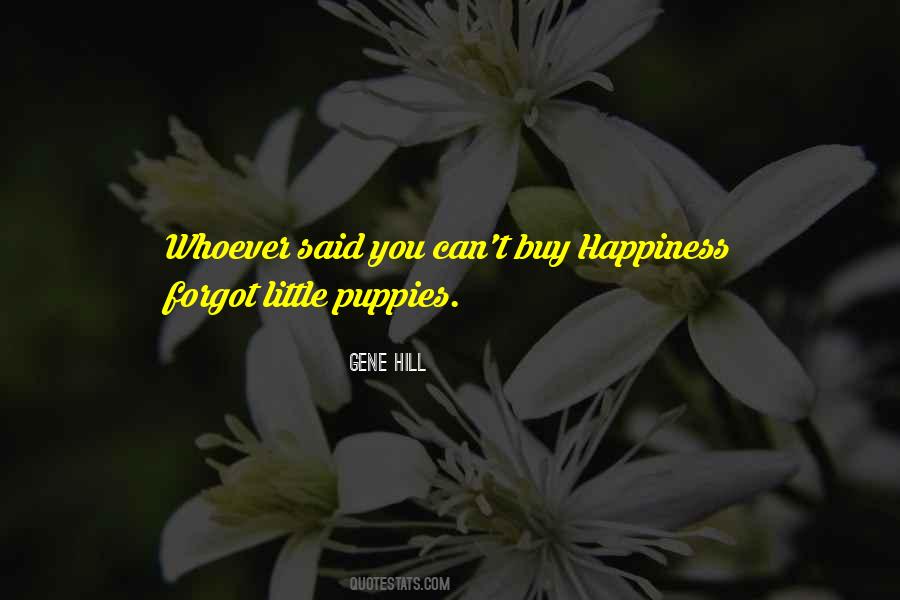 #77. Whoever said technology would replace all paper obviously hasn't tried wiping their bottom with an iPad. Q. How do you find Will Smith in the snow? A. You look for the fresh prints. Q. Why should you never date a tennis player? A. Because love means nothing to them. - Author: Hudson Moore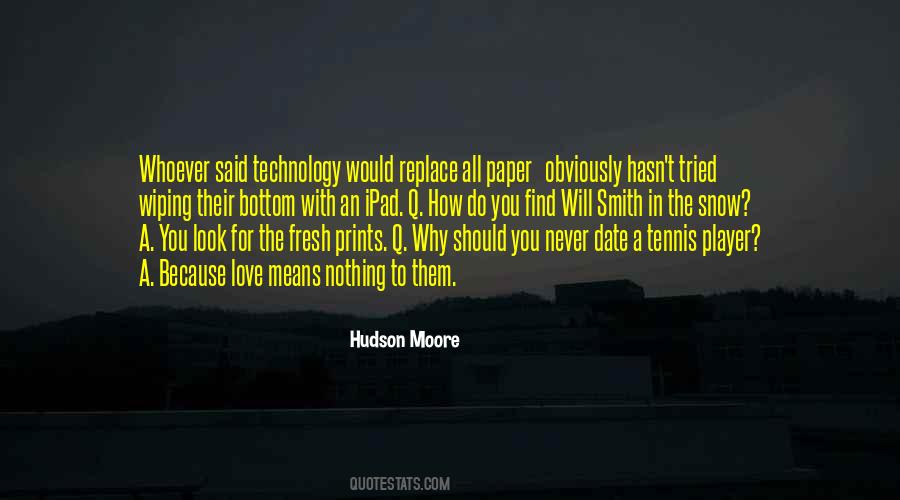 #78. I'm pretty sure whoever said, people are wonderful spent very little time with people. - Author: Dov Davidoff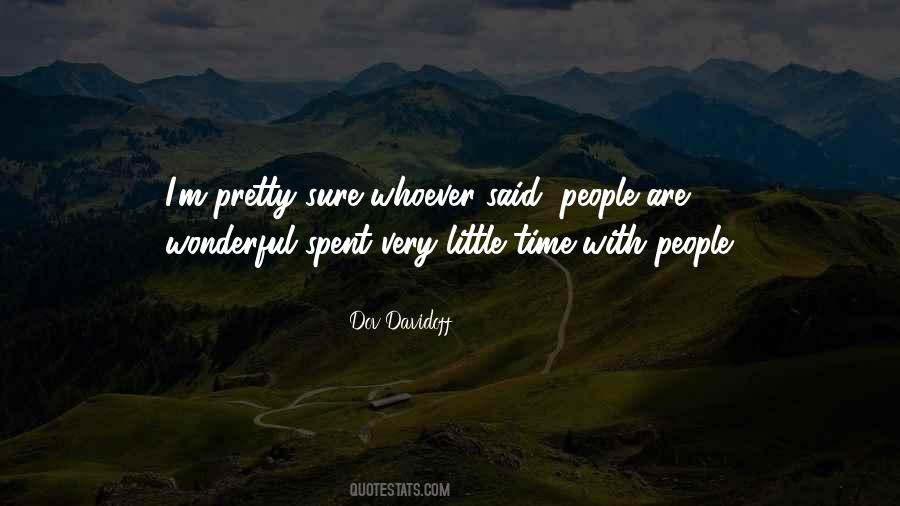 #79. Whoever Jon's mother had been, Ned must have loved her fiercely, for nothing Catelyn said would persuade him to send the boy away. - Author: George R R Martin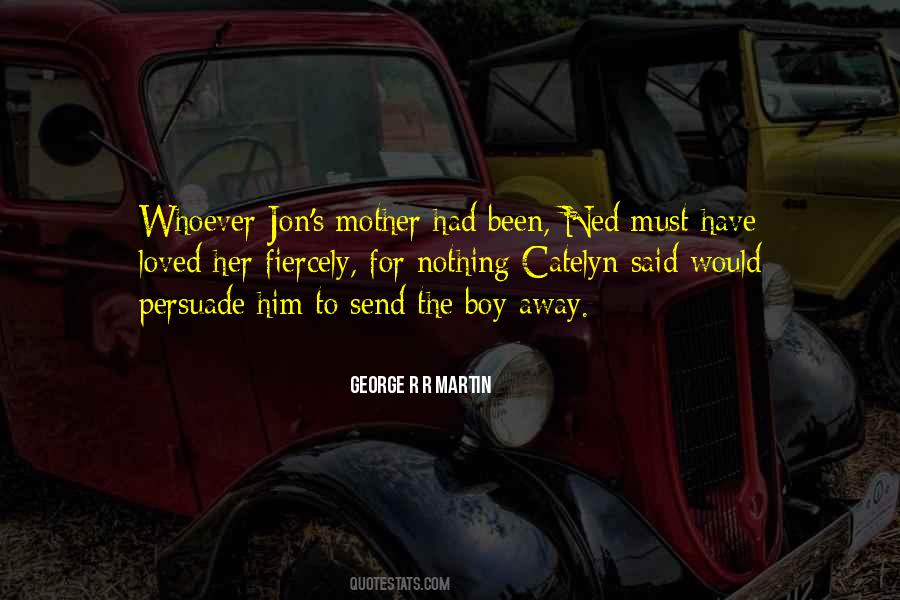 #80. Mister whoever-the-fuck you are," said Shadow, just loud enough to be heard over the din of the engines, "there isn't enough money in the world. - Author: Neil Gaiman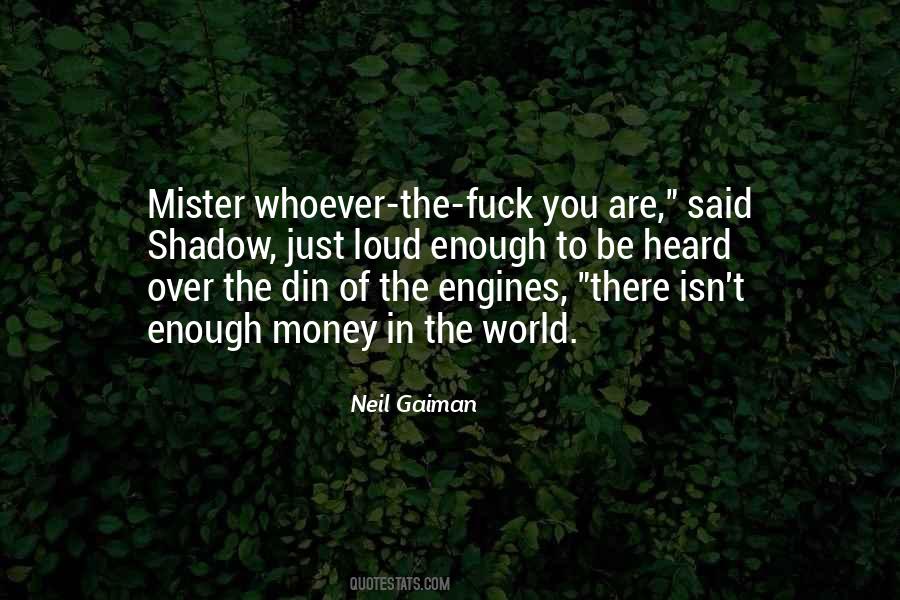 #81. Whoever said love is blind is dead wrong. Love is the only thing that lets us see each other with the remotest accuracy. - Author: Martha Beck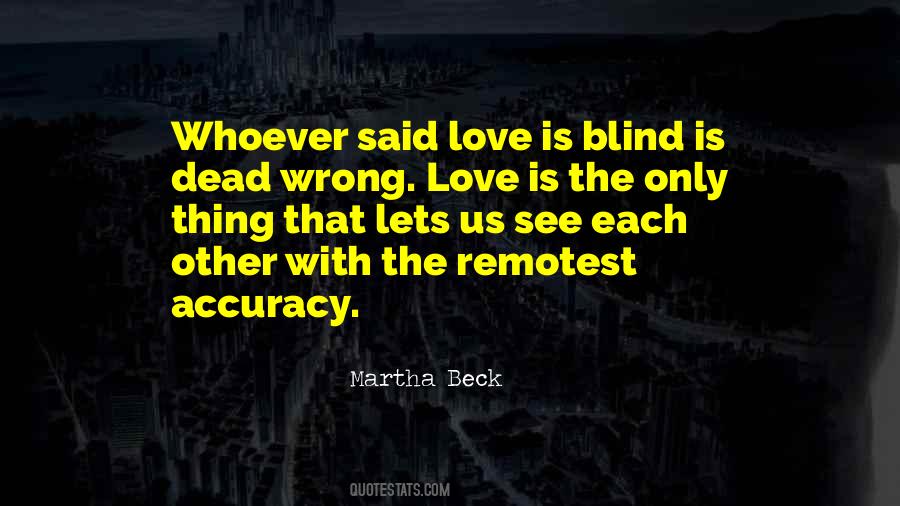 #82. What the hell is so funny?"
"First of all," she said, her confidence growing, "they're not my MASTERS. I don't have a MASTER. Second, they don't need a battalion to take you down. And third
and this is really the most important point
whoever said I came alone? - Author: Derek Landy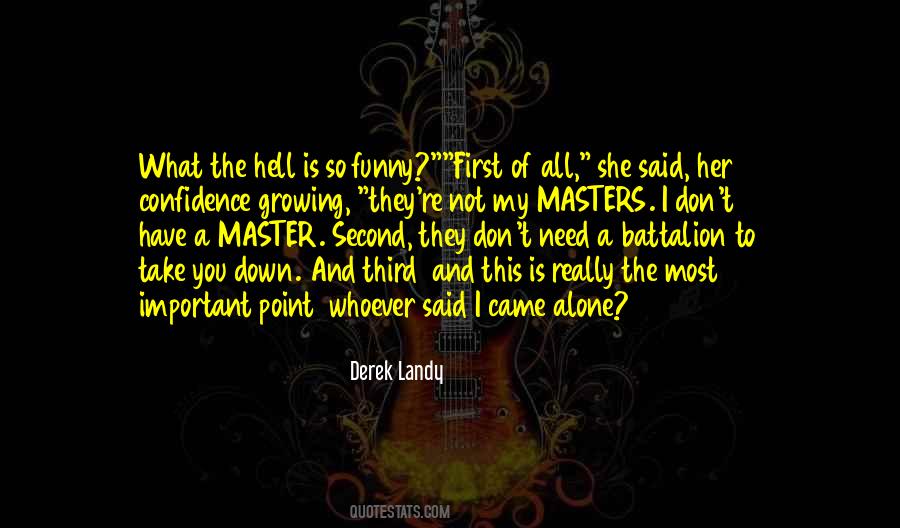 #83. Okay, time in. I can yell at whoever I want!"
"You really can't," Gary said. "It's unattractive on you. Some people pull off the angry look. You're not one of them. - Author: T.J. Klune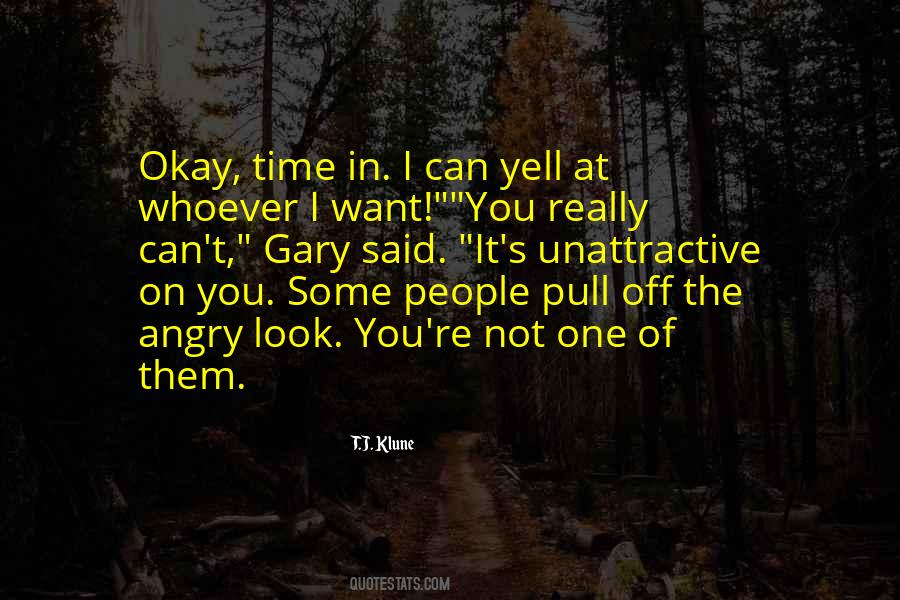 #84. Whoever said that the past isn't dead had it backward. It's the future that's already dead, already played out. - Author: Gayle Forman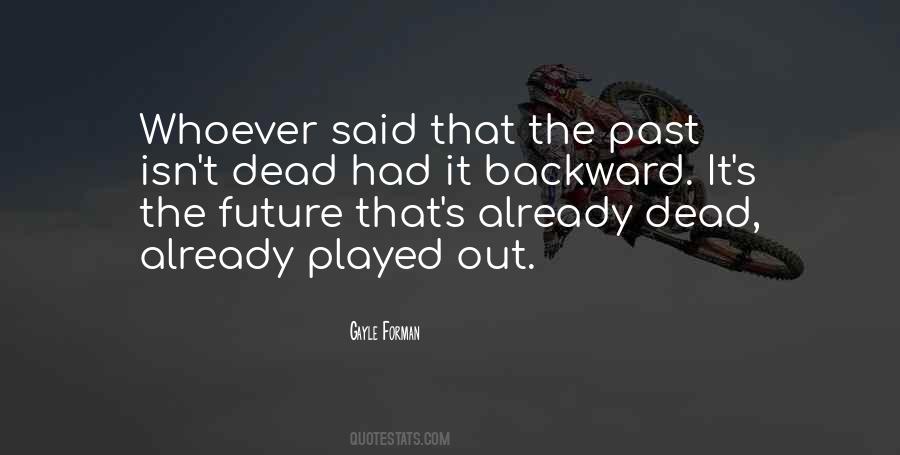 #85. I seek the truth," Shallan said. "Wherever it may be, whoever may hold it. That's who I am. - Author: Brandon Sanderson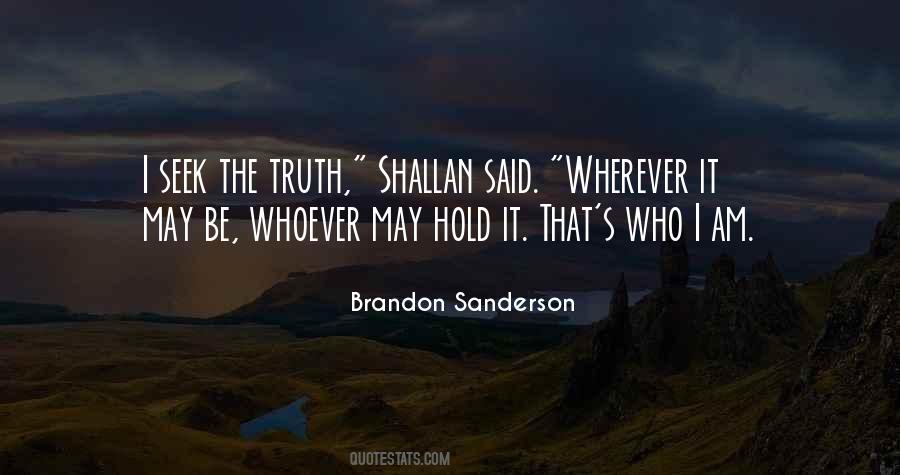 #86. I just want you to know,' said the girl, coldly, 'that whoever you are and whatever you intend with me, I shall give you no aid of any kind, nor shall I assist you, and I shall do whatever is in my power to frustrate your plans and devices.' And then she added, with feeling, 'Idiot. - Author: Neil Gaiman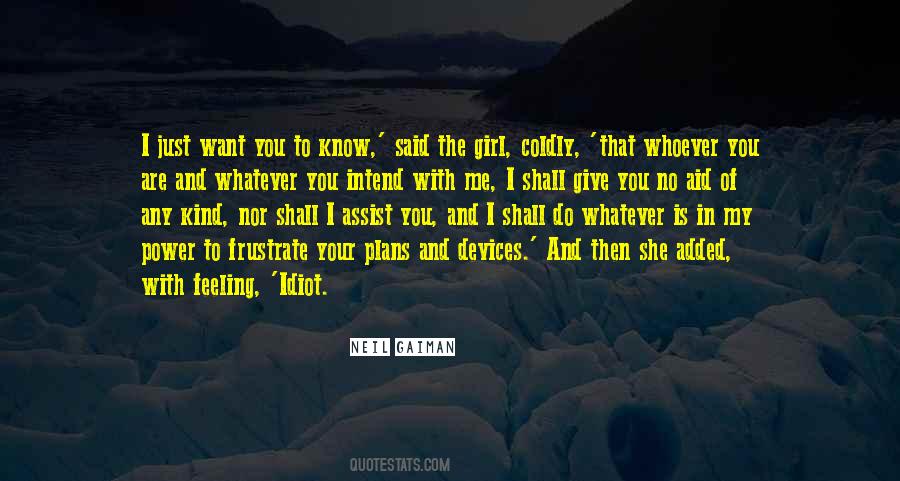 #87. He said, You know, whoever hurt you
dies every time they look in the mirror.
That is how they pay."
She crossed her arms.
"And one day, Maria, you will die too,
but there's no reason for you to die
every day. - Author: Toby Barlow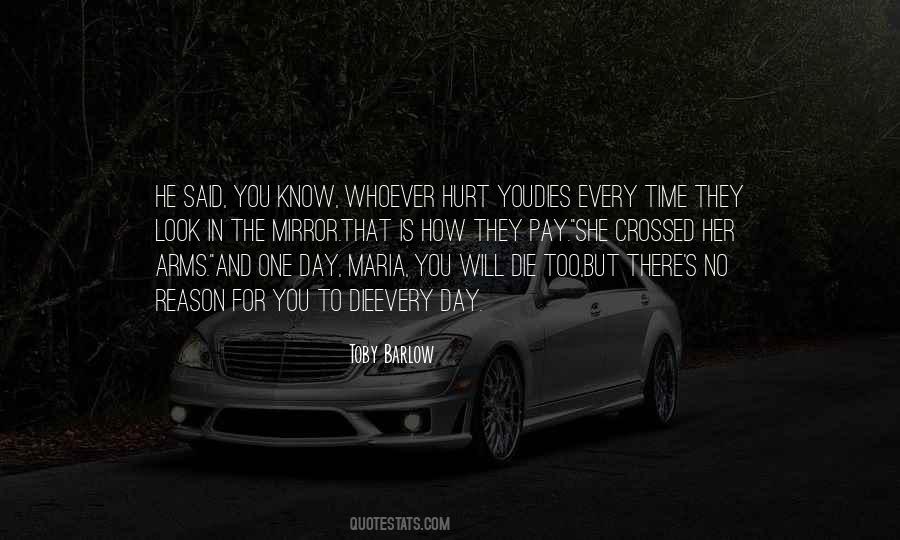 #88. Han thought again of mystical energy fields and said a quiet thank-you to whoever or whatever might be looking out for them - Author: James S.A. Corey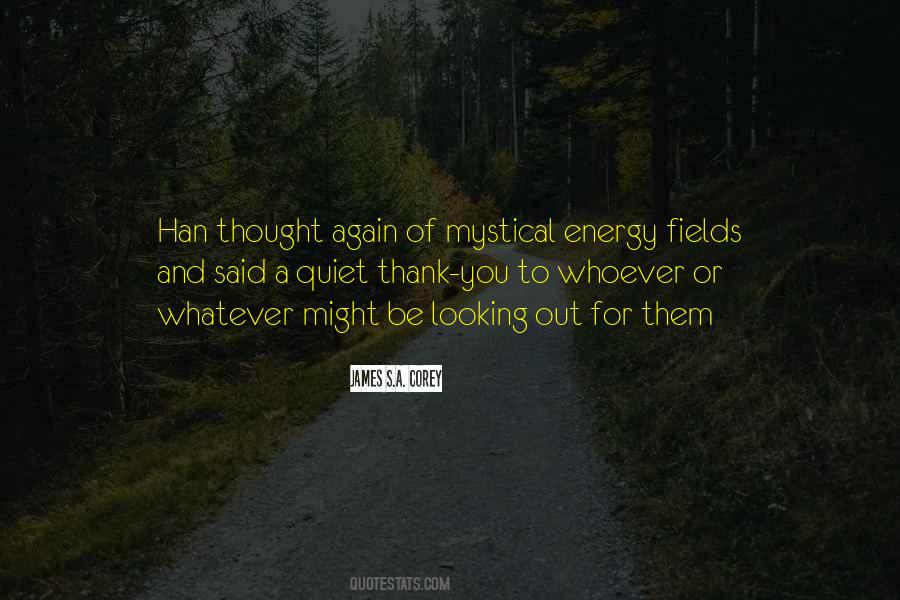 #89. It got to the point where I sat on the side of the bed in a hotel room in London in early-1990 and said to whoever or whatever: 'If you are there will you please contact or leave me because you are driving me up the wall'. - Author: David Icke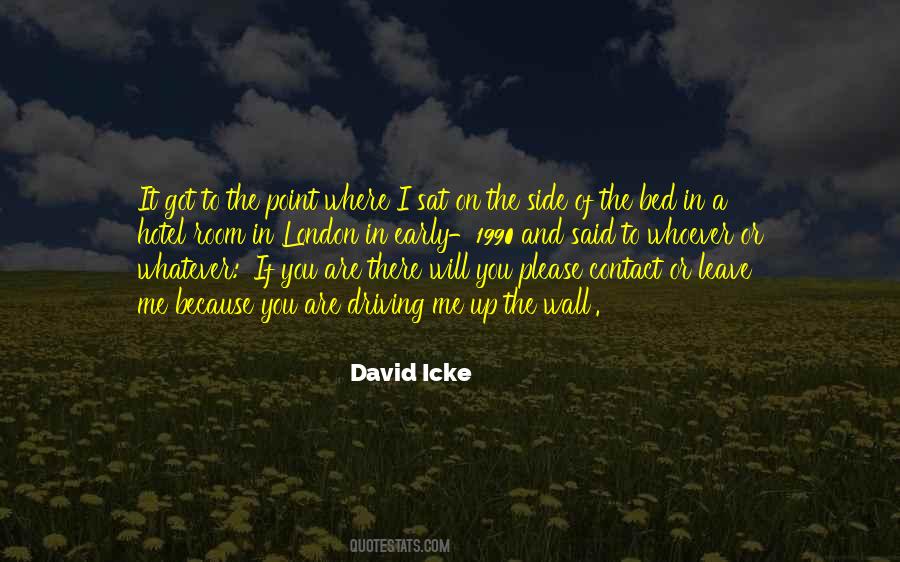 #90. When I look at my eighty-five-year-old face in the mirror today, I think, "You're never going to look better than you do today, honey, so smile." Whoever said a smile is the best face-lift was one smart woman. - Author: Anita Diamant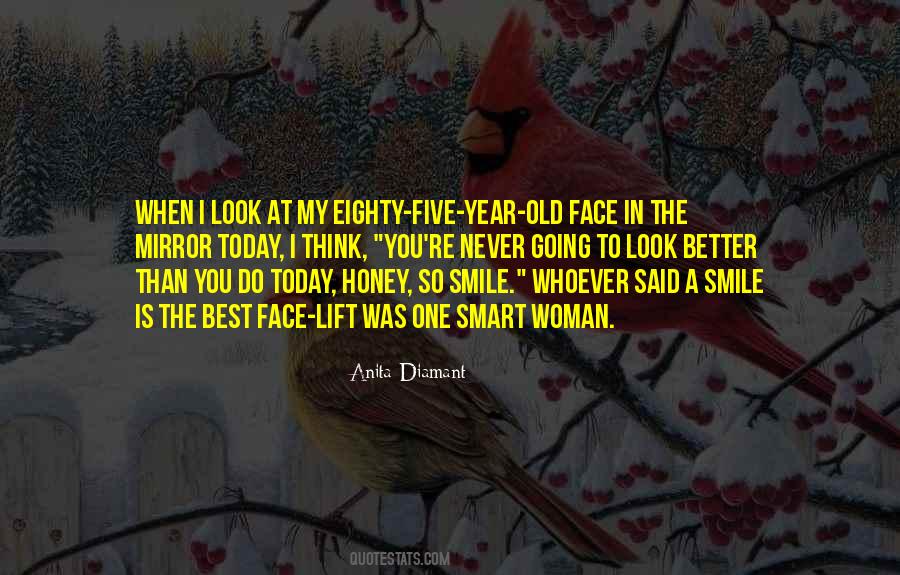 #91. People are being really picky about the upcoming election. I read that Americans do not want the next president to be a first-term senator, be over 65, or have a former president in the family. Then the Secret Service said, 'Hey, whoever slips through slips through. No promises.' - Author: Jimmy Fallon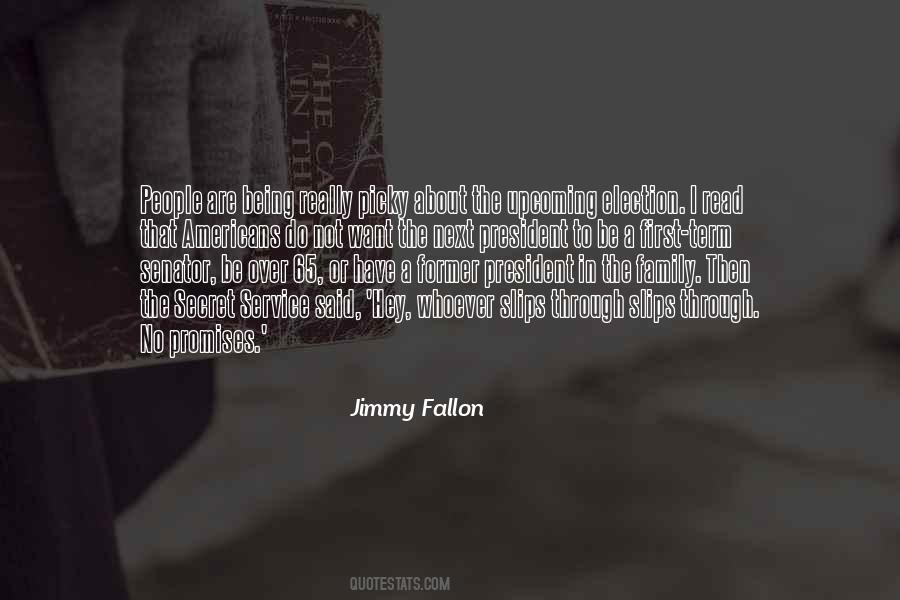 #92. Such nonsense!" declared Dr Greysteel. "Whoever heard of cats doing anything useful!"
"Except for staring at one in a supercilious manner," said Strange. "That has a sort of moral usefulness, I suppose, in making one feel uncomfortable and encouraging sober reflection upon one's imperfections. - Author: Susanna Clarke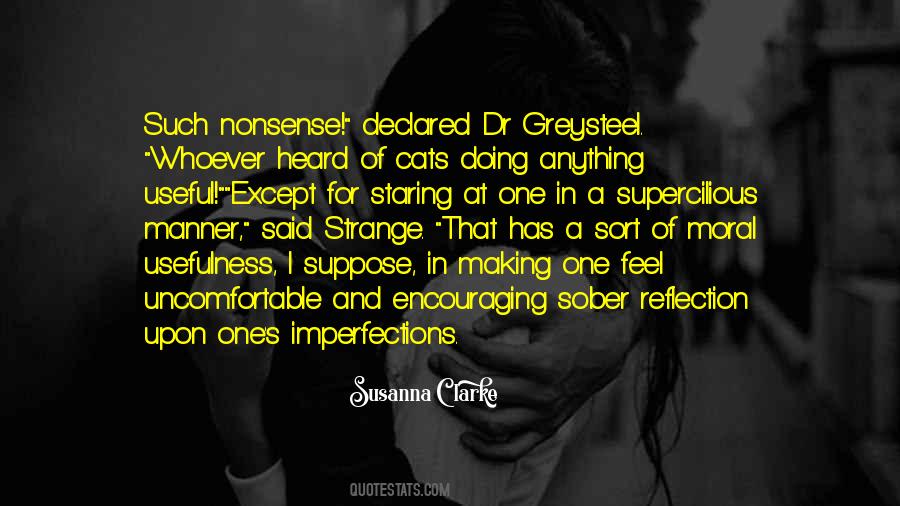 #93. Whoever said that time blunts all pain did not quite understand that bluntness can wound as grievously as sharp points and edges; - Author: Neel Mukherjee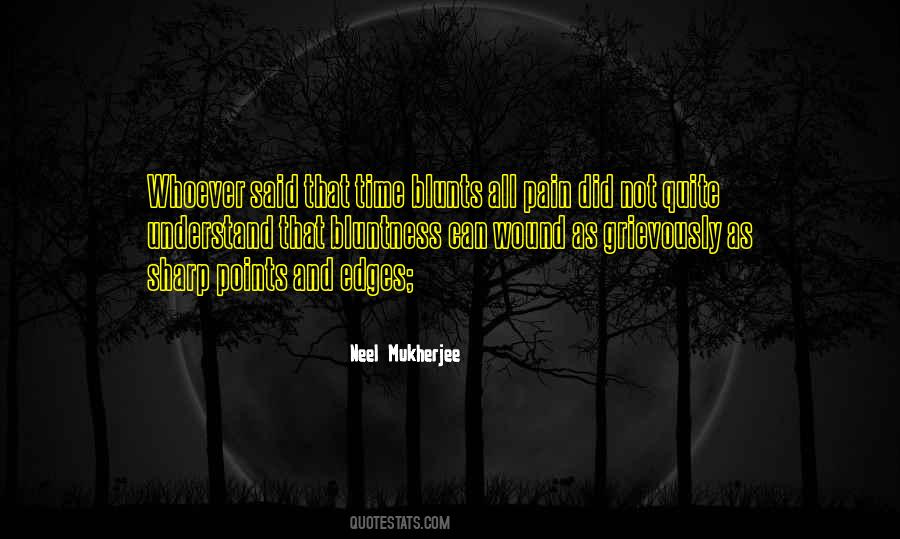 #94. Whoever used to hang out here, they must have been pretty tiny," I joked.
Dex turned his flashlight on me. "Um, Iz, pretty sure they weren't standing up," he said, and I blushed. - Author: Rachel Hawkins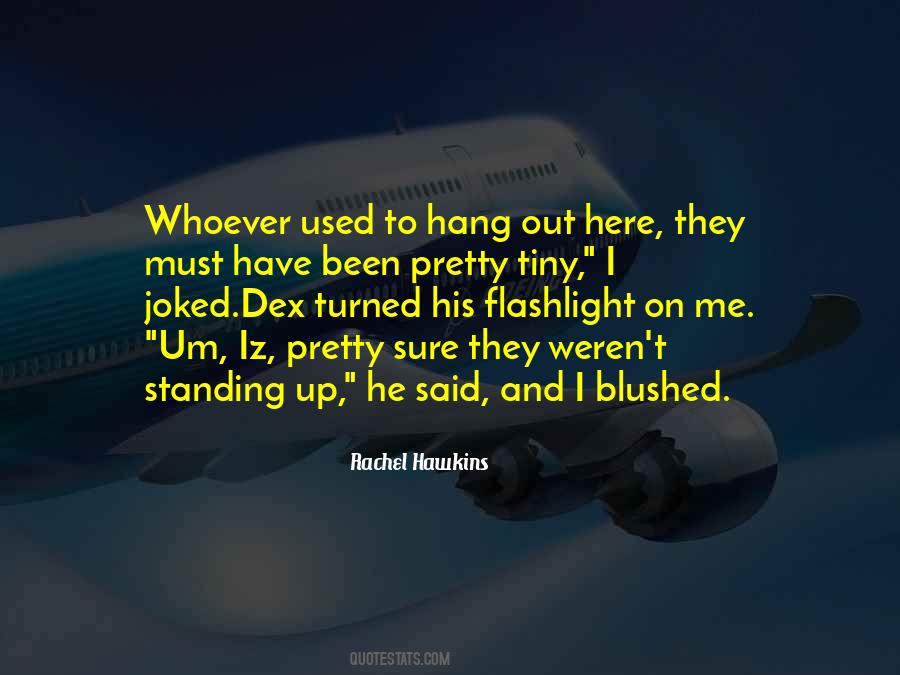 #95. Woody Allen once said that 'I don't want to achieve immortality through my work. I want to achieve it through not dying.' This is certainly a very wise wish! Whoever grasped the triviality of anything besides the existence is a wise man indeed! There is no substitute for life! - Author: Mehmet Murat Ildan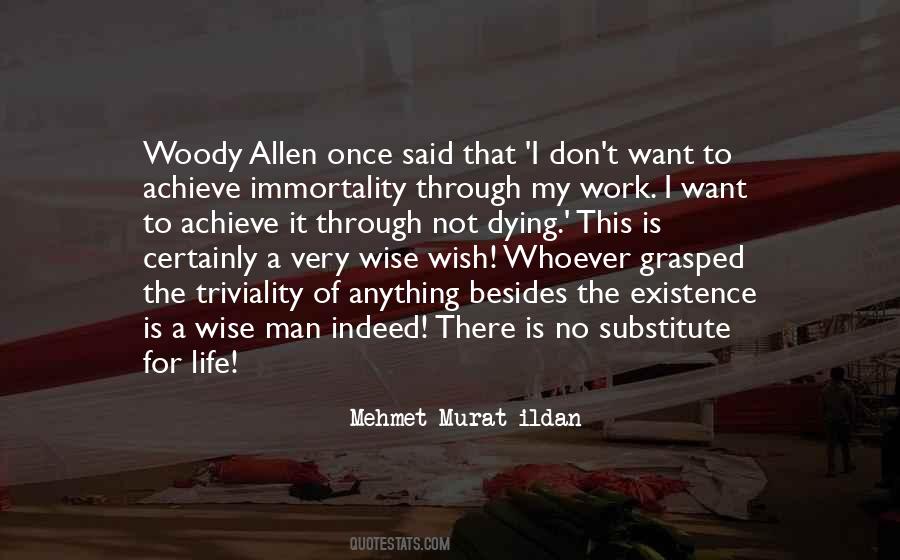 #96. Whoever said progress was a positive thing has never been to Florida or California. - Author: Rita Mae Brown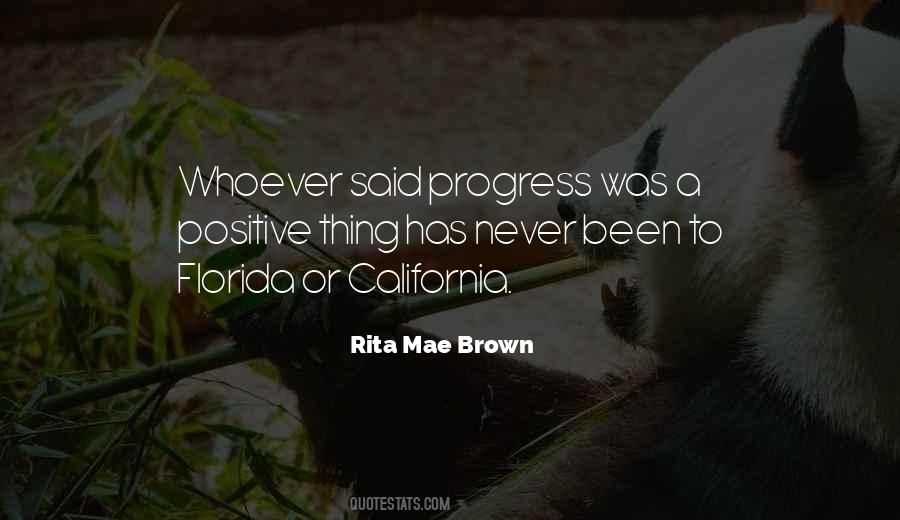 #97. Whoever said diamonds were a girl's best friend sure hasn't read a good book. - Author: Savannah Gostlin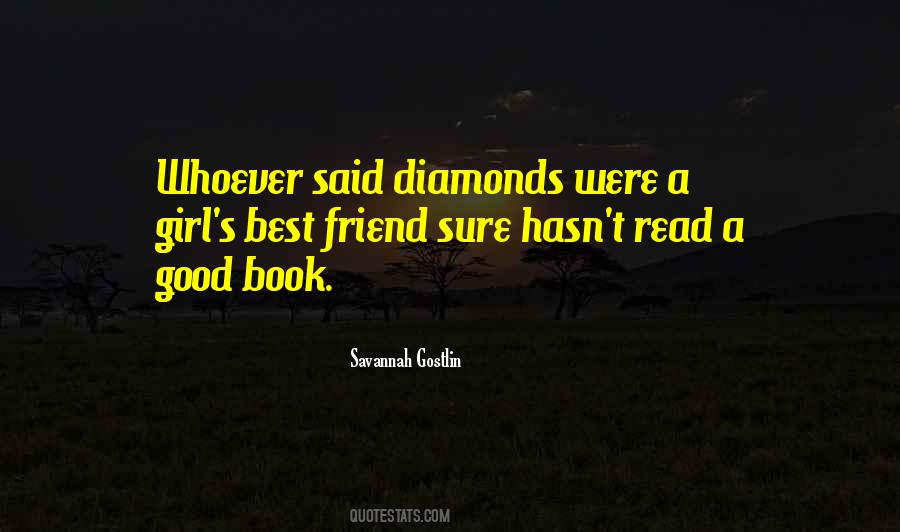 #98. Whoever said there are many girls in the world lied.There is only one - Author: Retshepile Kenneth Mongali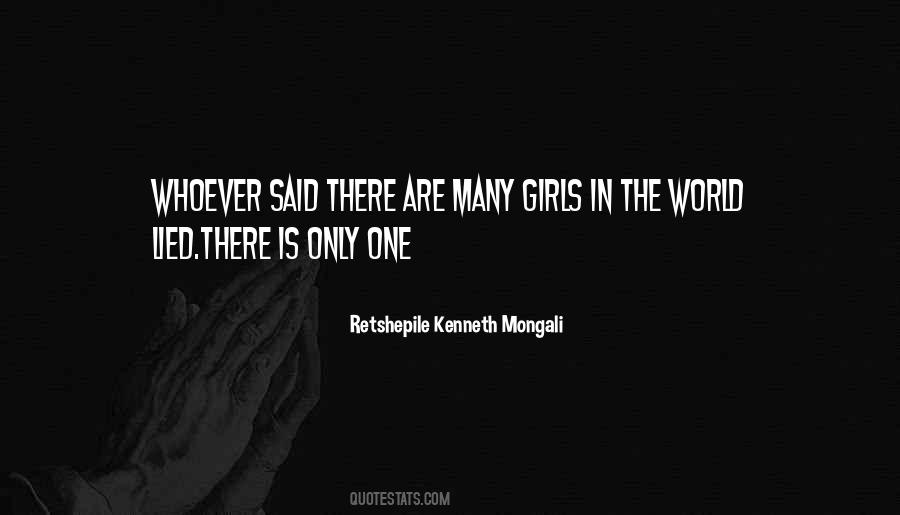 #99. Jesus said to her, I am the resurrection and the life. Whoever believes in me, though he die, yet shall he live, and everyone who lives and believes in me shall never die. - Author: Anonymous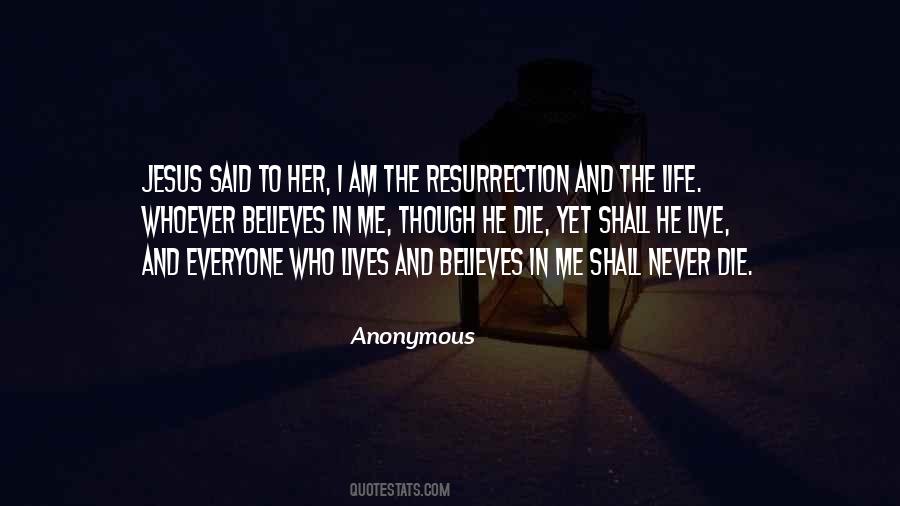 #100. Whoever said, "I'll give you the world," to their significant other, must have had bad intentions. - Author: Anthony Liccione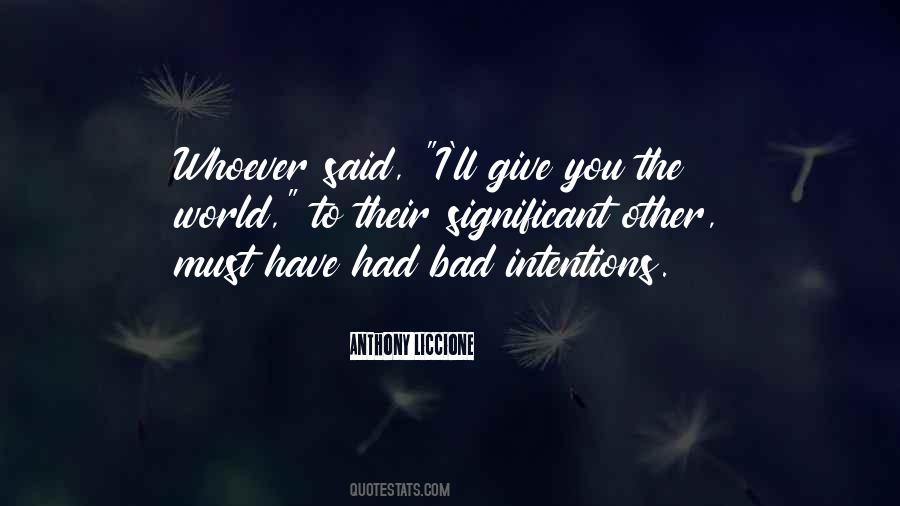 Famous Authors
Popular Topics