She Said I Said Famous Quotes & Sayings
List of top 100 famous quotes and sayings about she said i said to read and share with friends on your Facebook, Twitter, blogs.
Top 100 She Said I Said Quotes
#1. I can see that you're in need of an accomplice," Thorne said, straightening his jumpsuit. "And lucky for you, I happen to be a criminal mastermind."
She glowered at him. "Go away."
"That's a difficult request in this situation. - Author: Marissa Meyer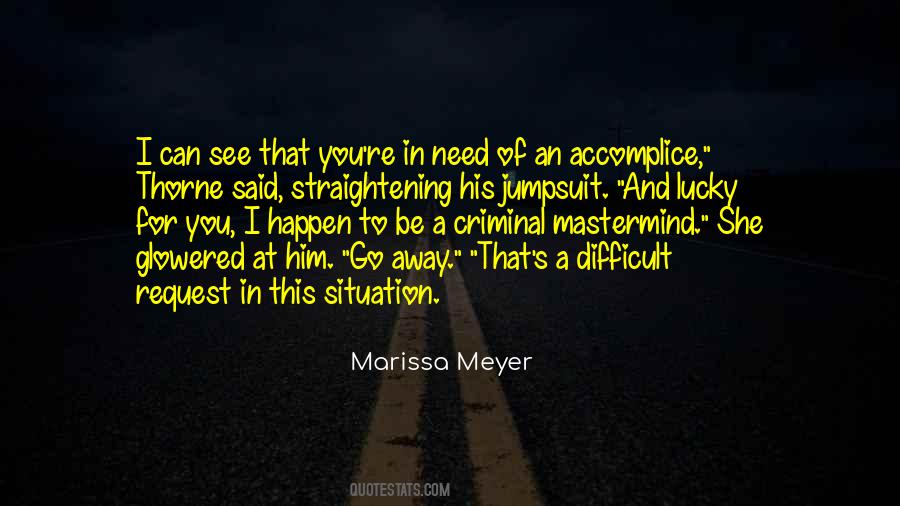 #2. Don't act like a protagonist Raghu, be human," she said.
"Like Salman?" I asked and chuckled, she didn't react though. - Author: Kavipriya Moorthy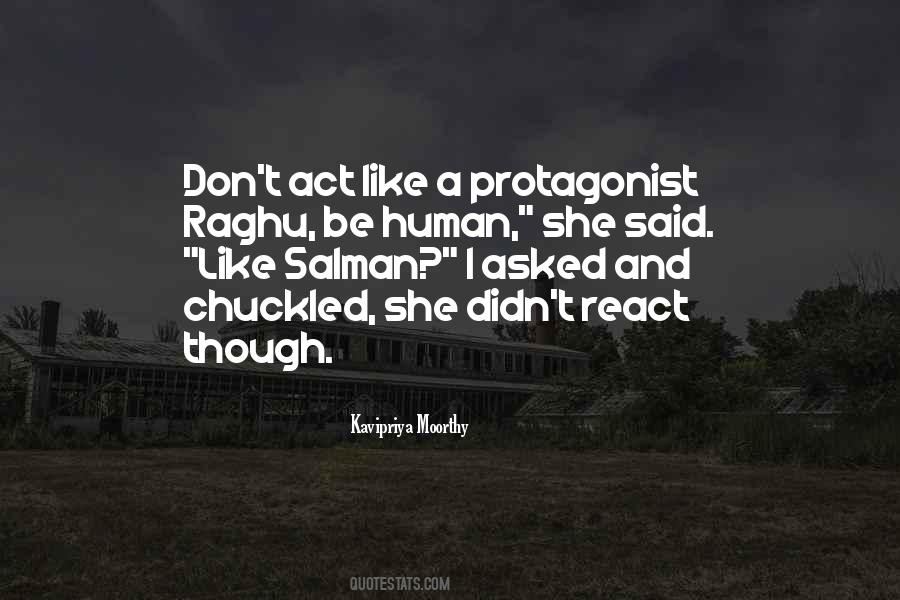 #3. I hope I don't," she said. "But she said - Laoghaire - " She stumbled on the name. "L'heery," Ian corrected. - Author: Diana Gabaldon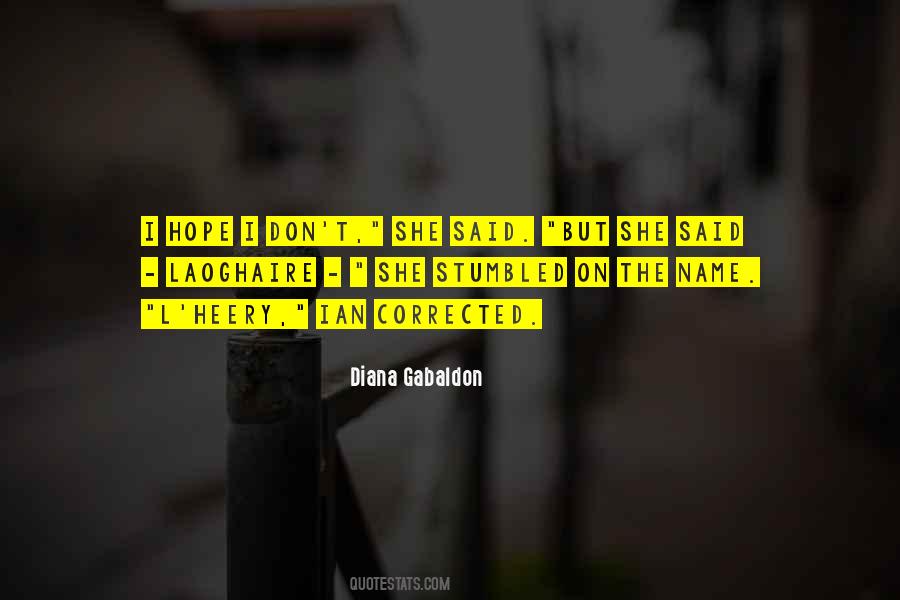 #4. Your ghost,' she said, 'Nicholas Nickleby. Do you think he might still be at the crime scene?' 'How should I know?' I said. 'I don't even believe in ghosts. - Author: Ben Aaronovitch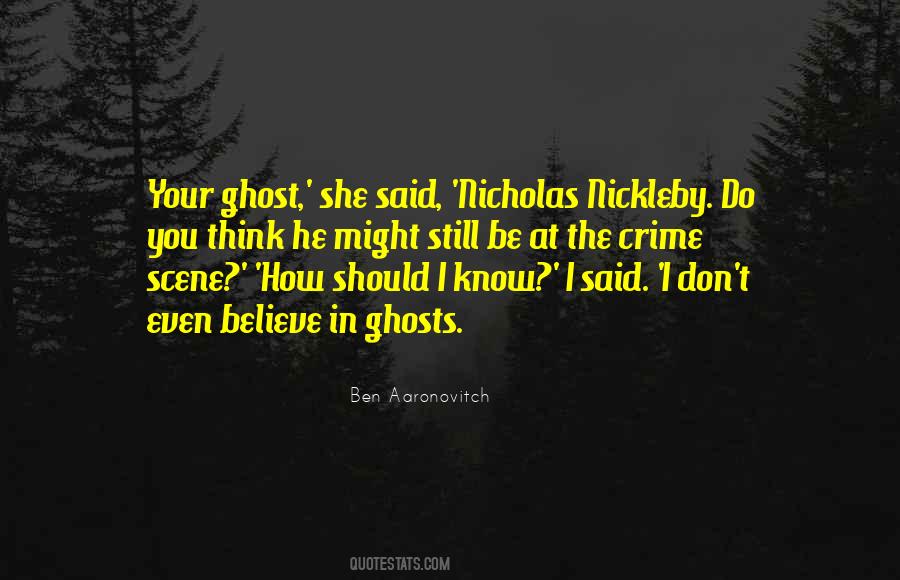 #5. Chrissy," she said. Her voice was quiet, measured. I thought I detected something in it, some new emotion. Fear. "Describe Ben to me. - Author: S.J. Watson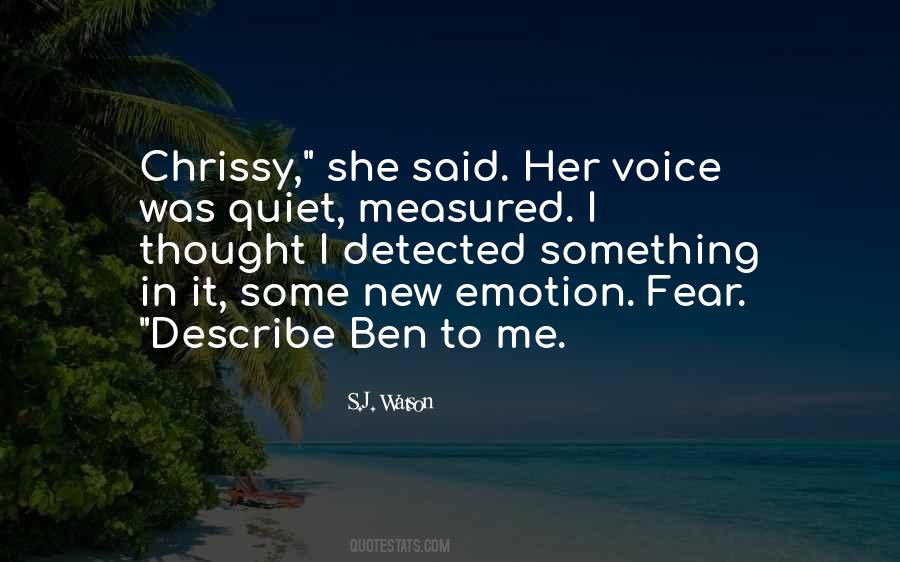 #6. I wanted to see who this Yeats person was, and I said to my mother, 'I want a book by this person.' And she bought it for me, and a lot of it was over my head, but I had it. - Author: Patti Smith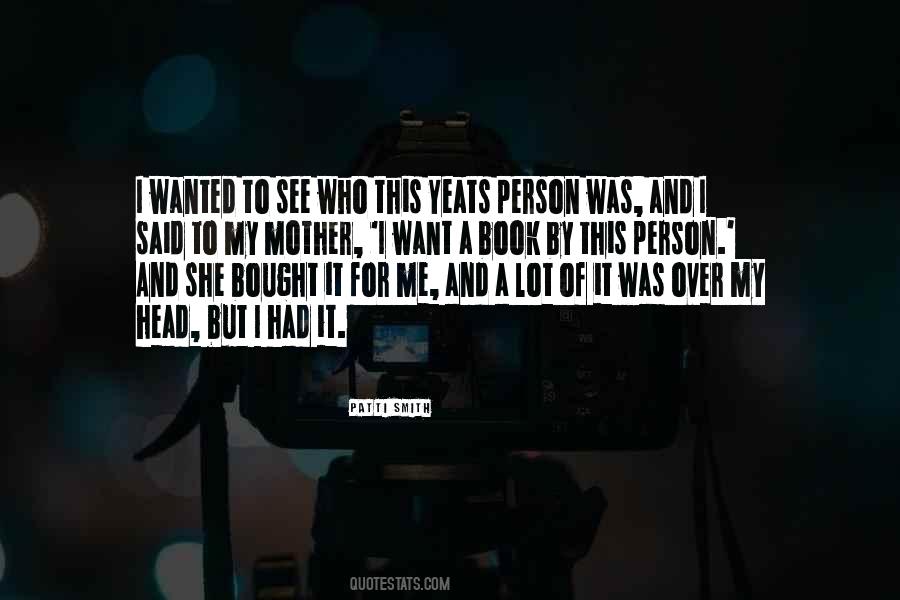 #7. Well, she asked him questions about his age and his attainments. The fact that he was a Catholic gave her pause, but when I explained to her that the present Pope was a well-meaning sort of chap, she said she was prepared to meet him halfway. - Author: Elizabeth Cadell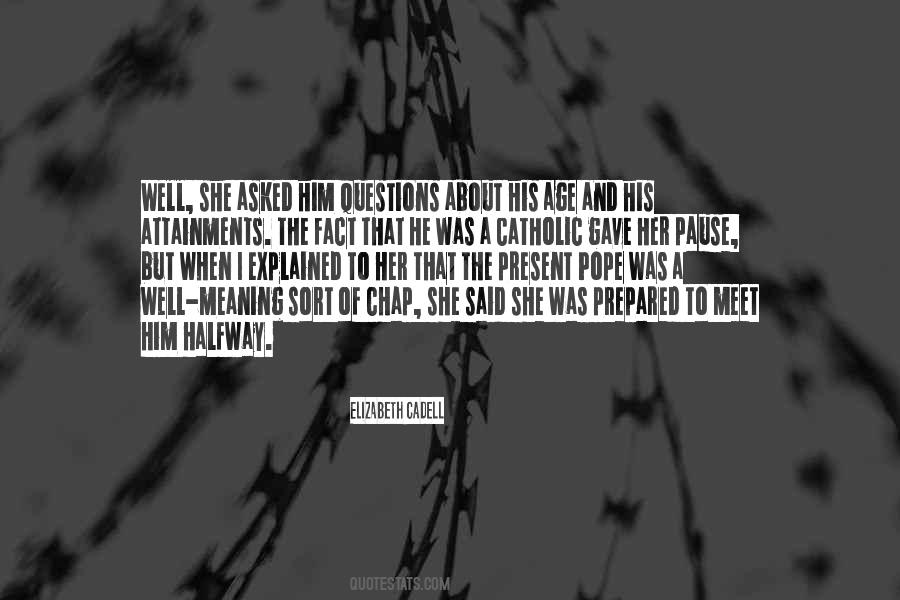 #8. She ran her hand over the dash.
"You're petting my car," Hunter said, turning the key. "I usually charge for that. - Author: Ophelia London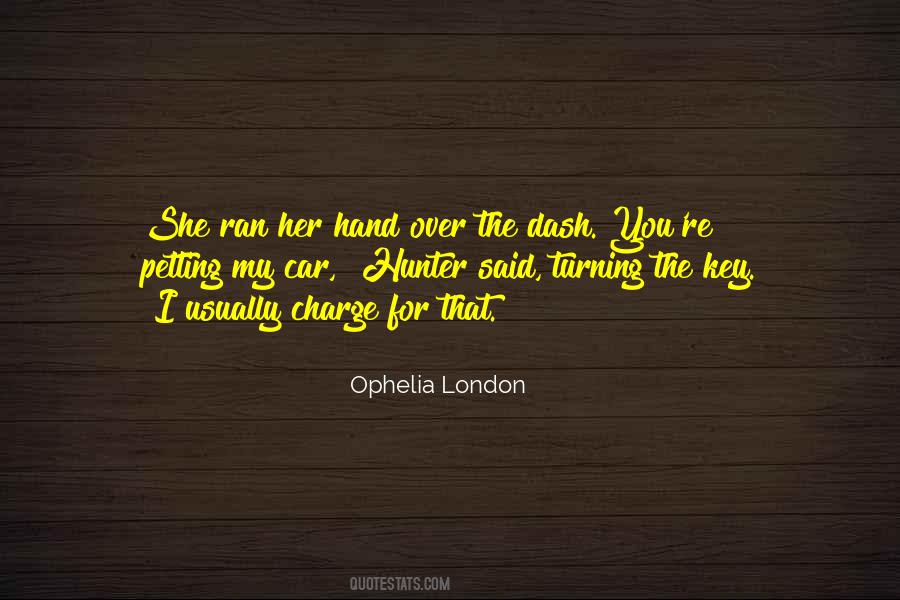 #9. She looked over my shoulder once while I was texting, which was already annoying, and when I wrote lol she made a very clear point to me about how I was silent and not laughing out loud, not at all. I said it was just an expression, and that I was laughing out loud inside my own mind. - Author: Aimee Bender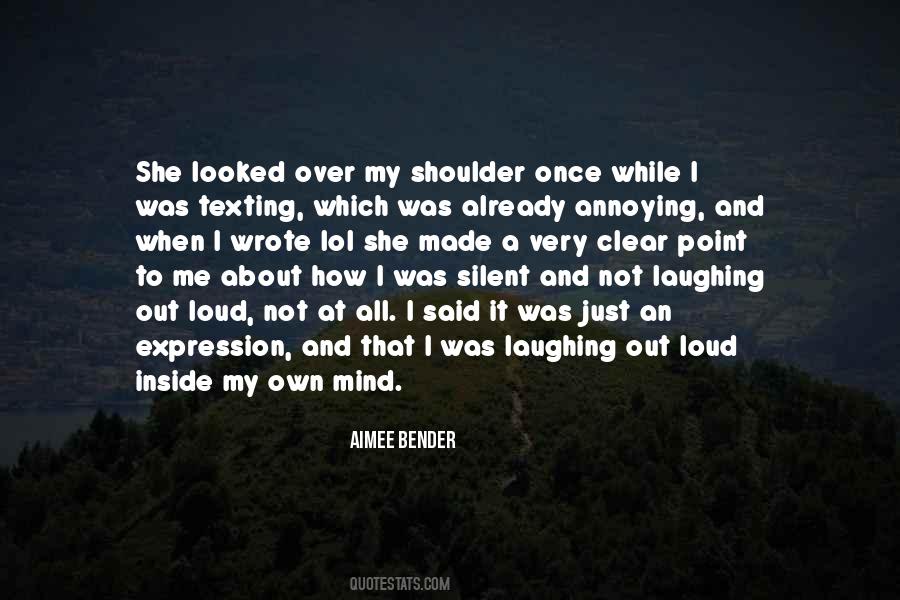 #10. I'd give you the moon right now," she said.
Levi's eyes flashed happily, and he hitched up an eyebrow. "Yeah, but would you slay it for me? - Author: Rainbow Rowell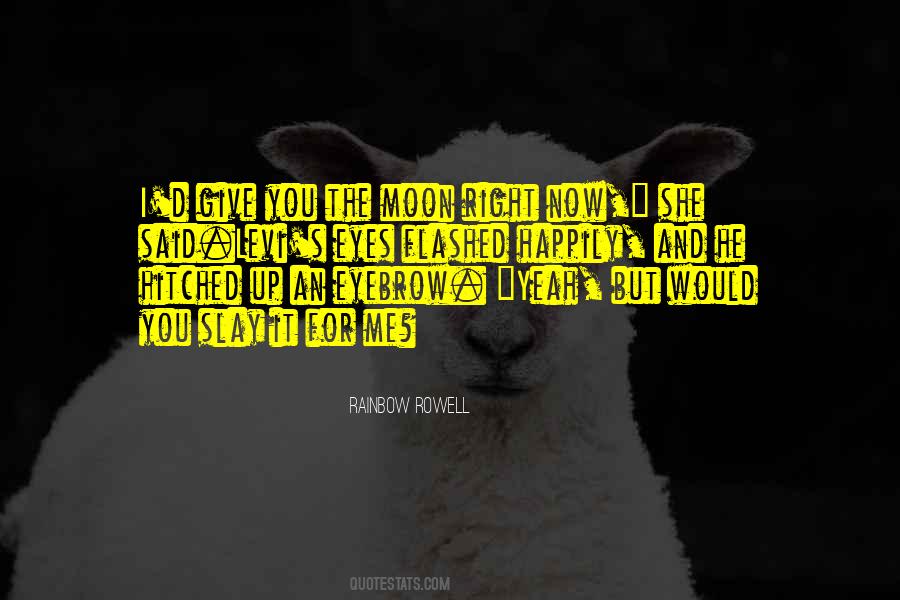 #11. Mama said it's probably because of Suzanne, and that you are never the same after a child dies. That made me wonder what she was like before Clover died, because I don't think I really knew my own mother until I had children, and if she was different before, I don't remember. - Author: Nancy E. Turner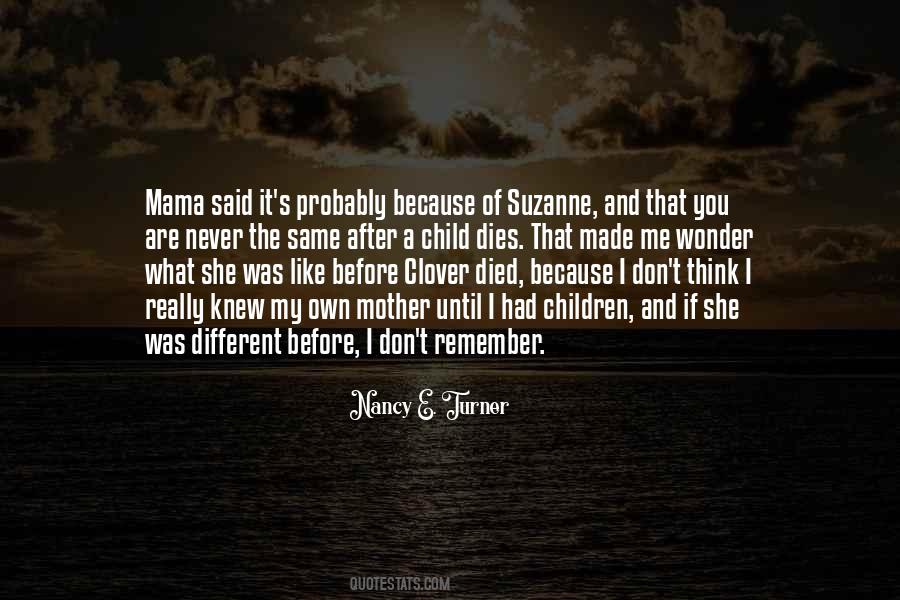 #12. We have every book you'll need," Mr. Reynolds said with a wink behind his Coke-bottle glasses. "Just ask." "Every book I'll ever need? Sounds like Heaven," she said with smile. "It's a library," he said. "To me it's the same thing." That - Author: Tiffany Reisz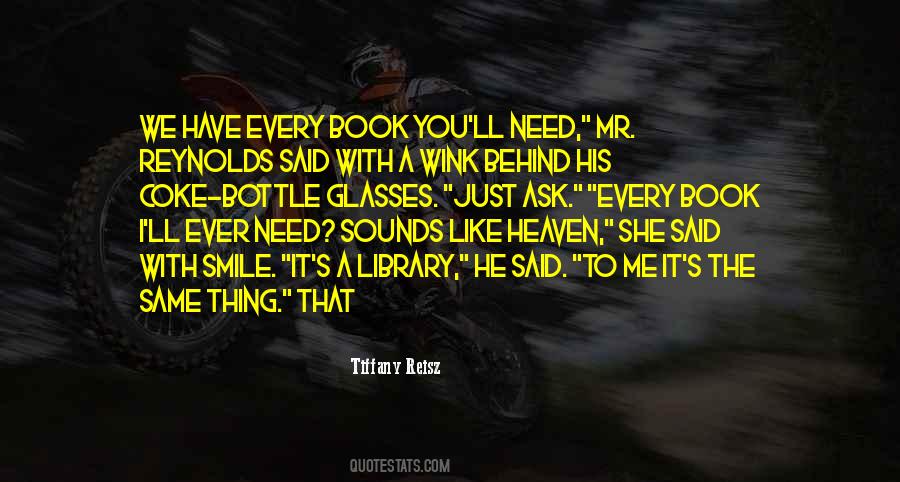 #13. I asked my date what she wanted to drink. She said, 'Oh, I guess I'll have Champagne.' I said, 'Guess again.' - Author: Slappy White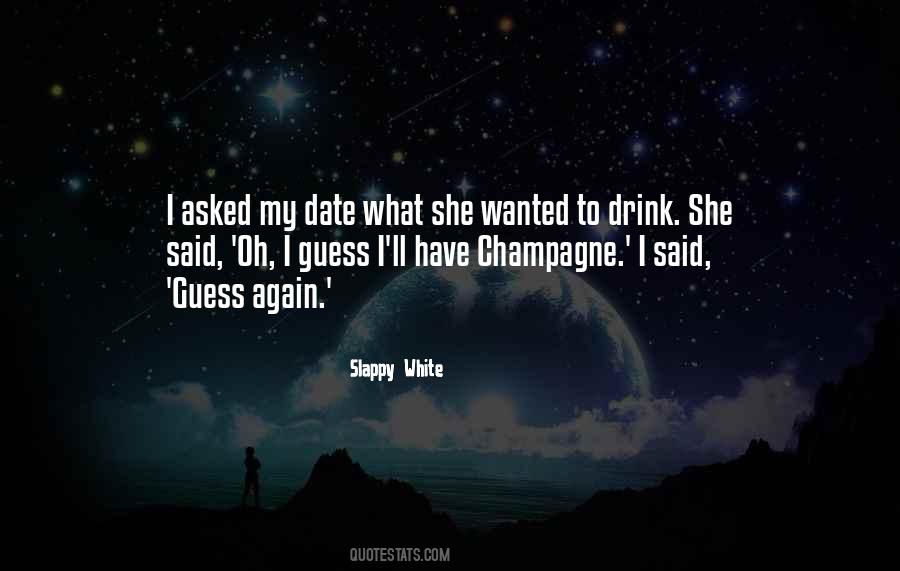 #14. For years, I'd never understood what it meant when people said they felt like laughing and crying at the same time, until now. (...) I was waking up every morning - reaching for her, rolling over in bed at night to pull her closer, but she was never there. - Author: Whitney G.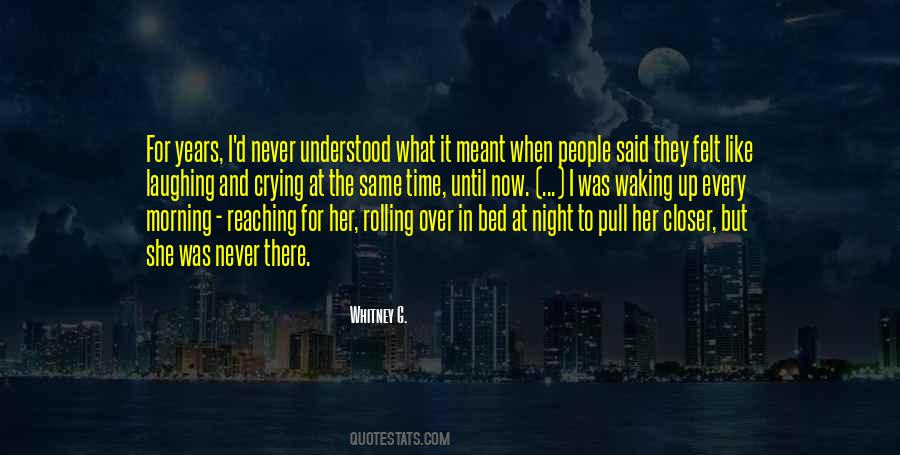 #15. I am beginning to think there are two kinds of people," she said. I waited. "Those who forgive themselves too easily but will not forgive others."
"And?" I asked.
"Those that forgive others too easily but will not forgive themselves. - Author: Deb Caletti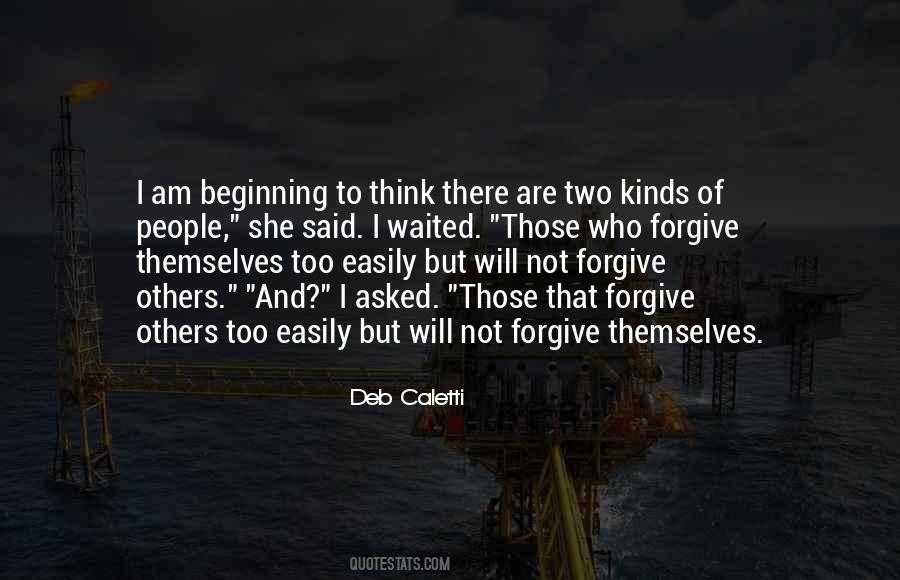 #16. I'm not named after the character,' she said. 'I'm named after the entire opera. - Author: Julie Orringer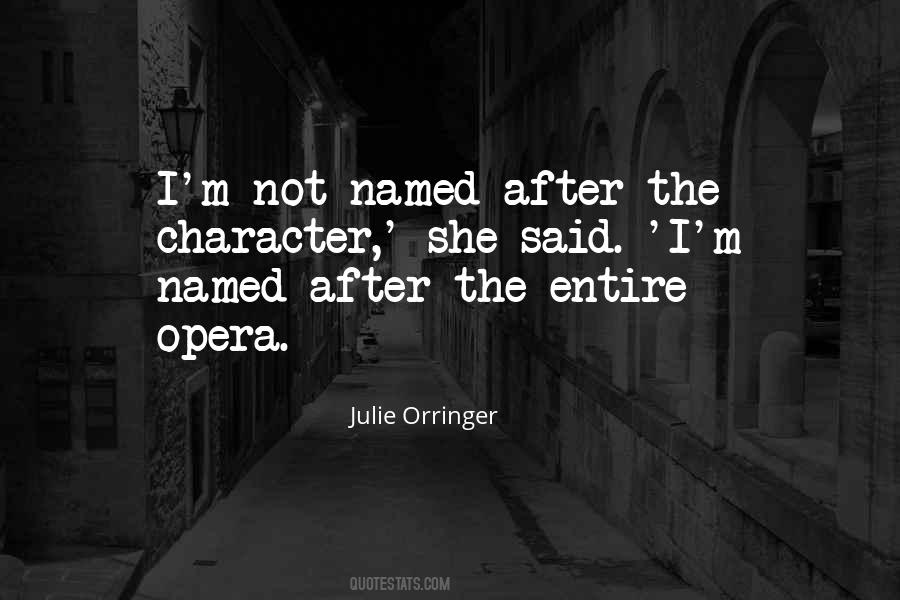 #17. The End
"I don't know what to say," he said.
"It's okay," she replied, "I know what we are - and I know what we're not. - Author: Lang Leav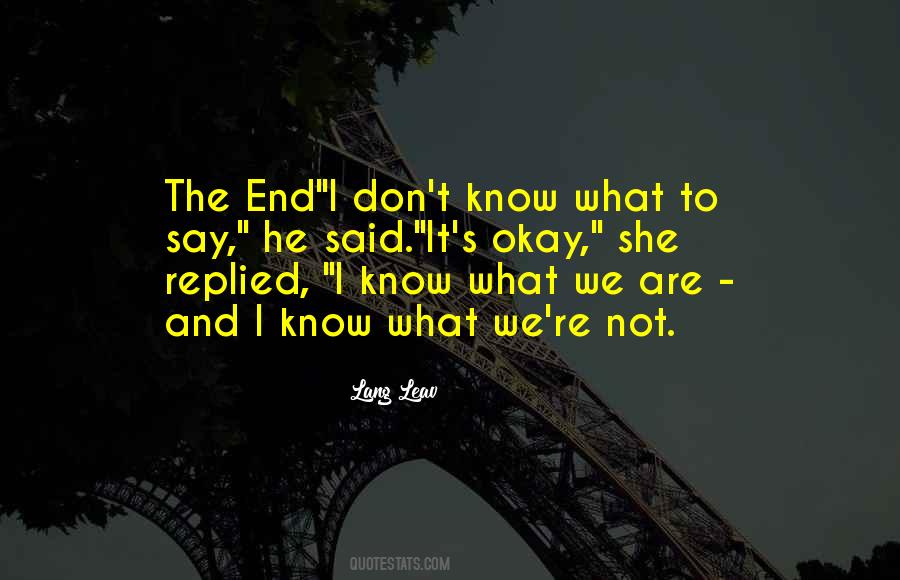 #18. You're very attractive," I said, certain I would have been blushing had I the blood to do so. "That is, for someone who is encased in flesh." Nice pink envelope you have there, I thought. She - Author: J.R. Rain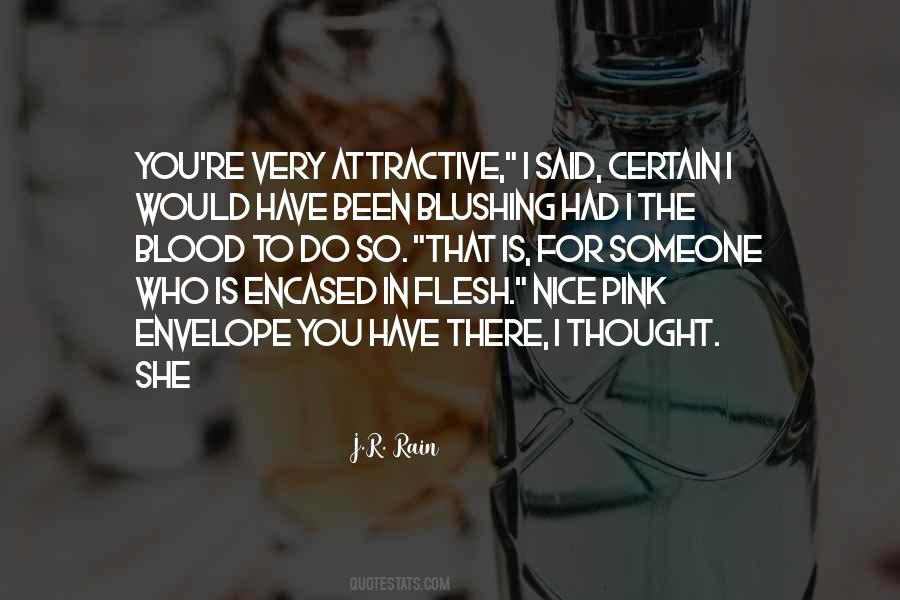 #19. ...A mule kicked him in the head." She paused, and then said, "I always wondered if he provoked it. Deliberately."
Radzin snorted. "Suicide by mule?"
"Everyone knew that animal had a temper."
"There would be a dozen better ways to do it. - Author: Helene Wecker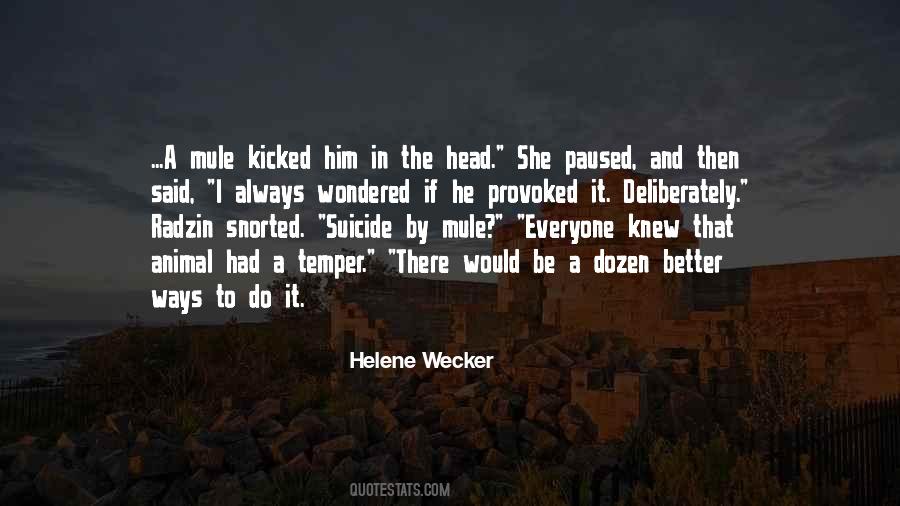 #20. What's this?" Amarantha said, her voice lilting despite the adder's smile she gave me ...
"Just a human thing I found downstairs," the Attor hissed, and a forked tongue darted out between his razor-sharp teeth. - Author: Sarah J. Maas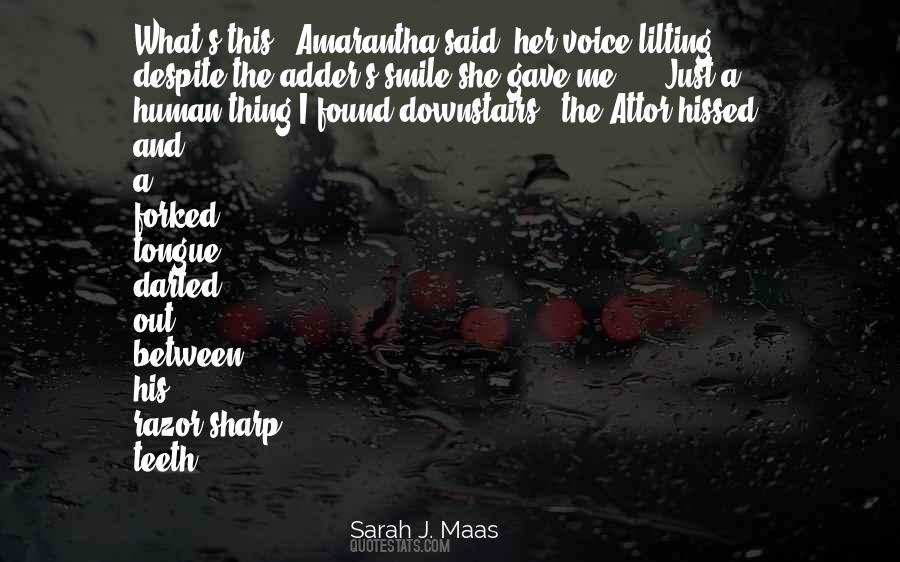 #21. Oh no, oh no,' she said through her tears, 'I'm so in love with love,' and, intelligent and outstanding in so many ways, perhaps just because she truly was intelligent and outstanding, she rejected the world as it was. - Author: Albert Camus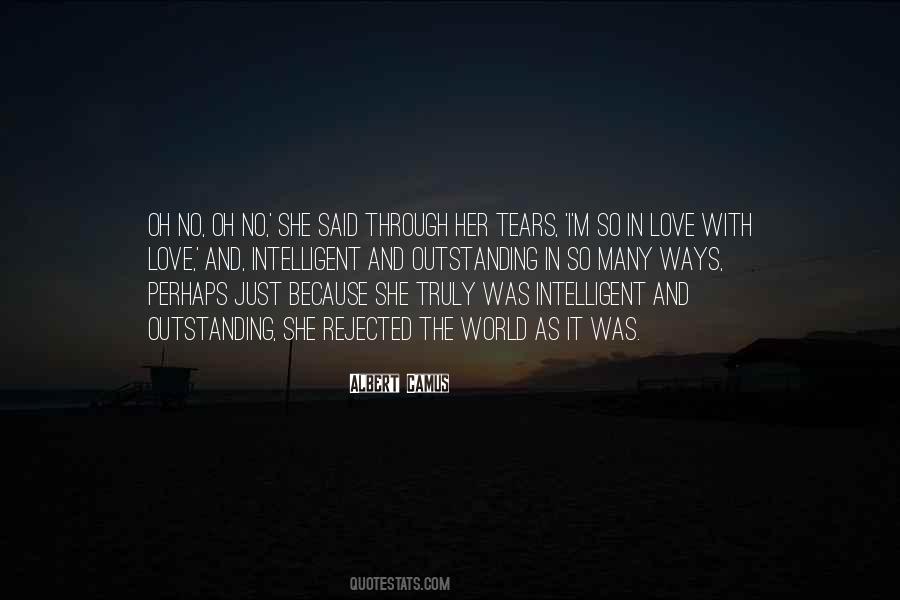 #22. Here," he said,holding out a dark mink coat. "Thought you might be cold."
"Where did you-"
"I yoinked it off a broad coming home from the market back there.Don't worry,she had enough natural padding already."
"Bill!"
"Hey,you needed it!" He shrugged. "Wear it in good health. - Author: Lauren Kate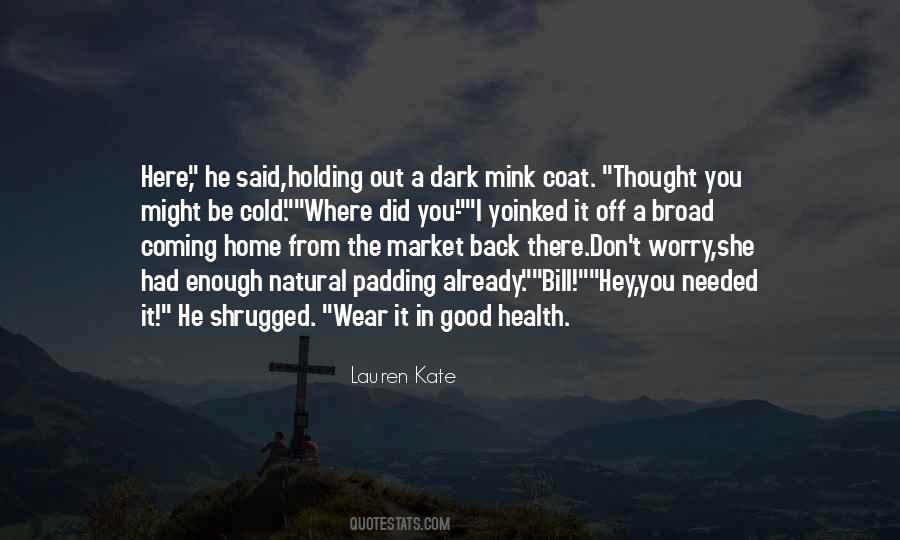 #23. Besides, as a patriotic citizen, I have serious issues with shadowy government conspiracies." "Jess, we are a shadowy govern - " "Ones that aren't mine," she said. "God, do I really need to qualify that? Some things should be obvious. - Author: Craig Schaefer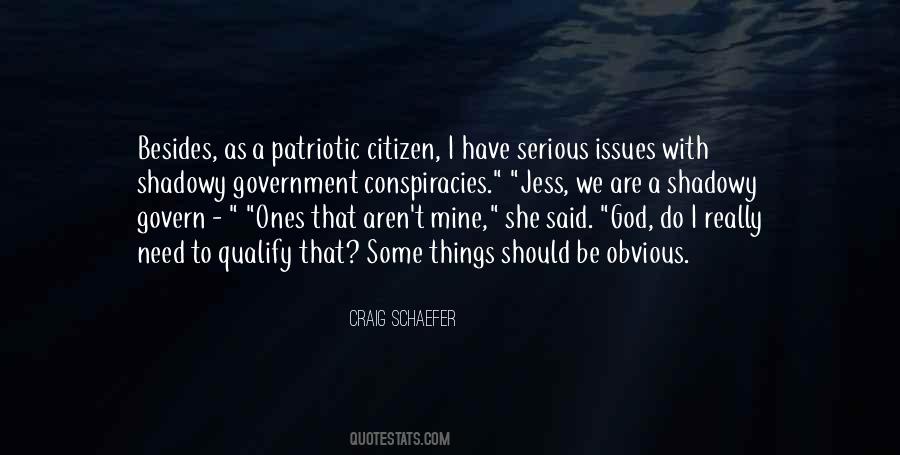 #24. Nothing left but true: "You're gravity I can't escape." His sore heart labored beats in the darkness. "What am I supposed to do with that?" she said. "What you can," he said. "What you want. - Author: James Grady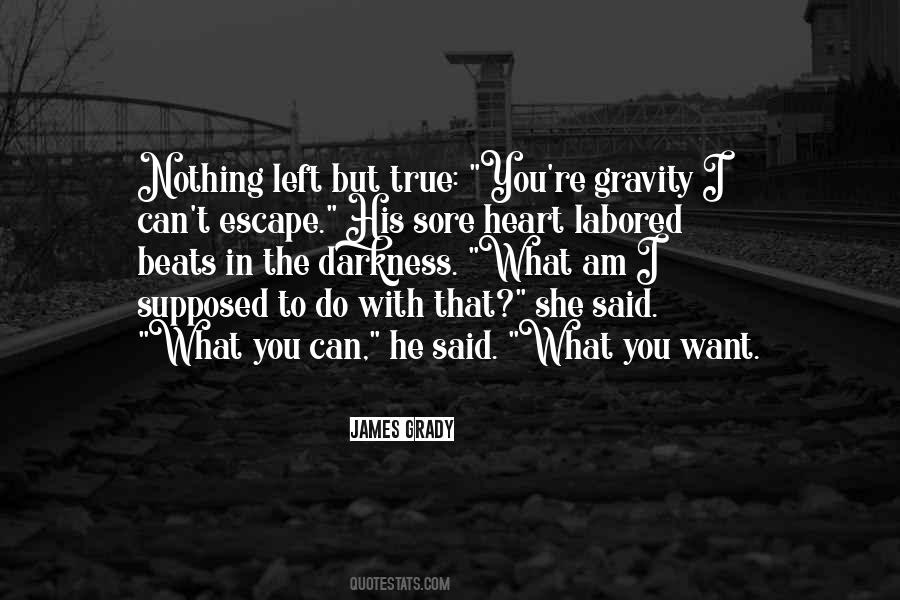 #25. Well that wasn't too bad," I said, leaning against my car.

"Yeah, maybe for you since I had most of his weight."

"Well, you're a lot stronger than me."

"Oh, whatever, Aislin, you're just as strong as me," she said, rolling her eyes. - Author: Raven Hudgins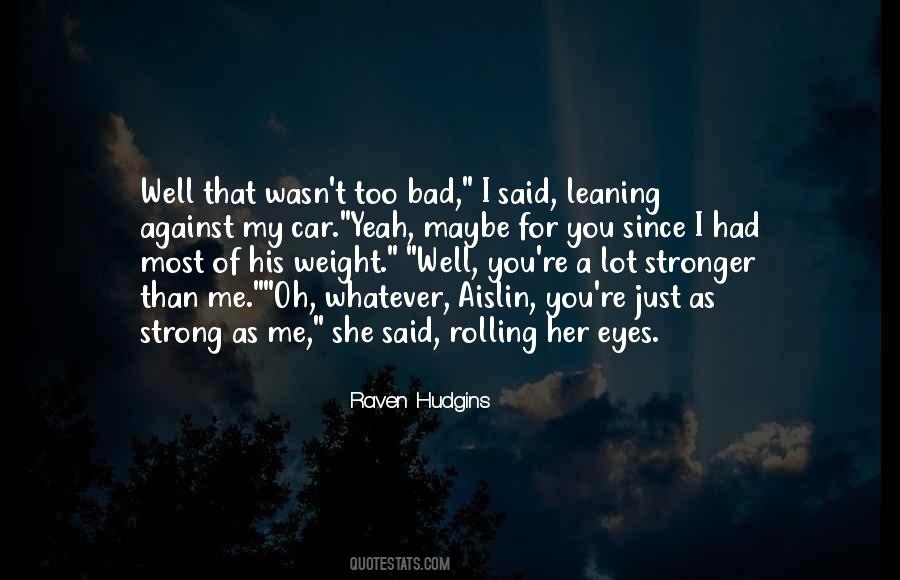 #26. What do we do now?" Gansey asked.
From the other room, Calla bellowed, "GO BUY US PIZZA. WITH EXTRA CHEESE, RICHIE RICH."
Blue said, "I think she's starting to like you. - Author: Maggie Stiefvater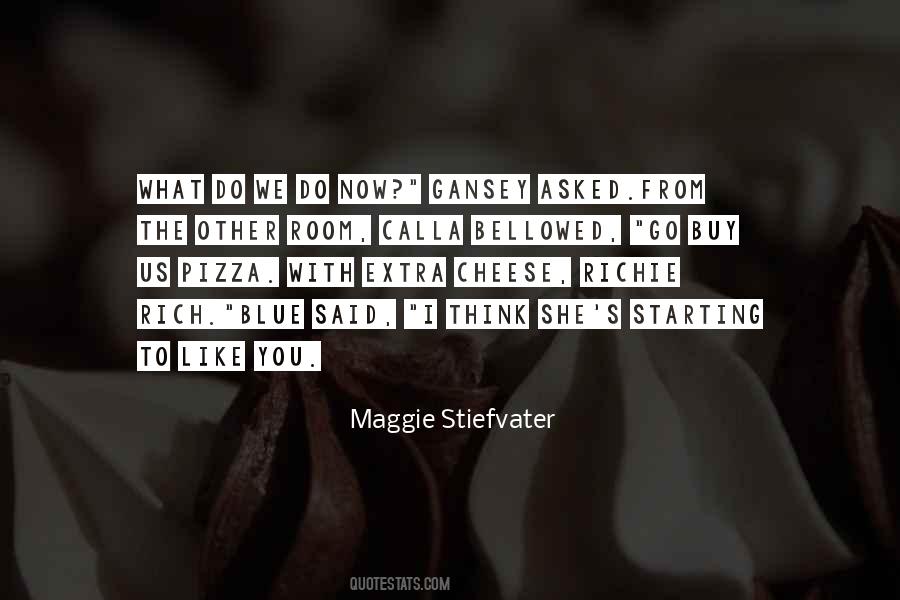 #27. Zerbrowski said, I only ever understood one woman, and she was kind enough to marry me so I didn't have to decipher anyone else. - Author: Laurell K. Hamilton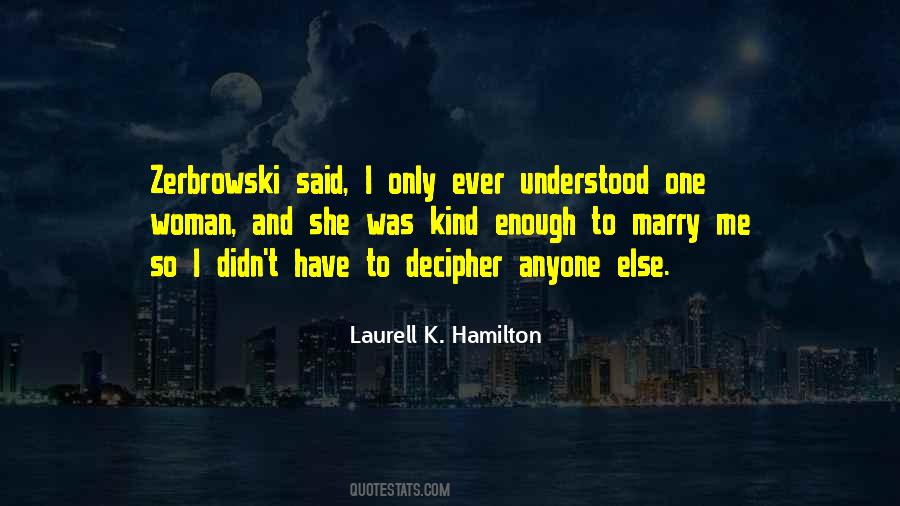 #28. My wife, aside from being amazing in general, was really the catalyst in this, and I really owe a lot of the move to New York to her. She reminded me I've always wanted to do move to New York for theater and said, 'Let's stop talking about it and do it.' - Author: Josh Cooke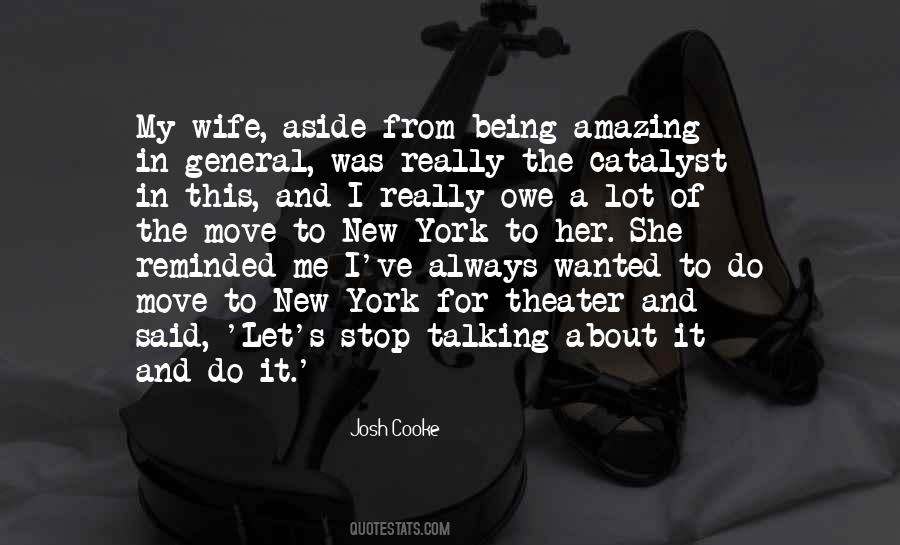 #29. Enough! We have enough enemies as it is! There are worse things out there to face!"
Celaena slowly turned to him, her face splattered with blood and eyes blazing bright. "No, there aren't," she said. "Because I'm here now. - Author: Sarah J. Maas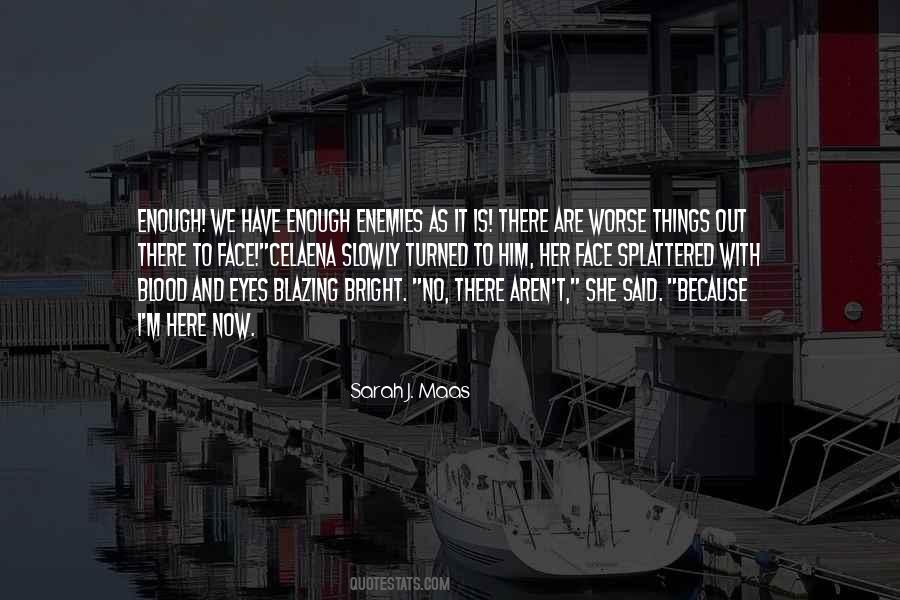 #30. There must be no concealment," she said. "Alas! We have had too much already. And besides there is nothing in all the world that can give me more pain than I have already endured, than I suffer now! - Author: Bram Stoker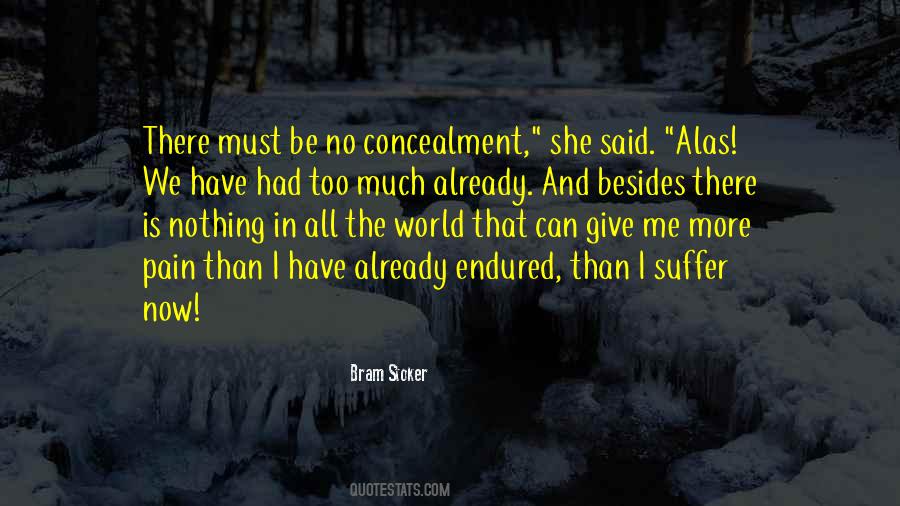 #31. Till now I have always, thank God, been my children's friend and had their full confidence," said she, repeating the mistake of so many parents who imagine that their children have no secrets from them. - Author: Leo Tolstoy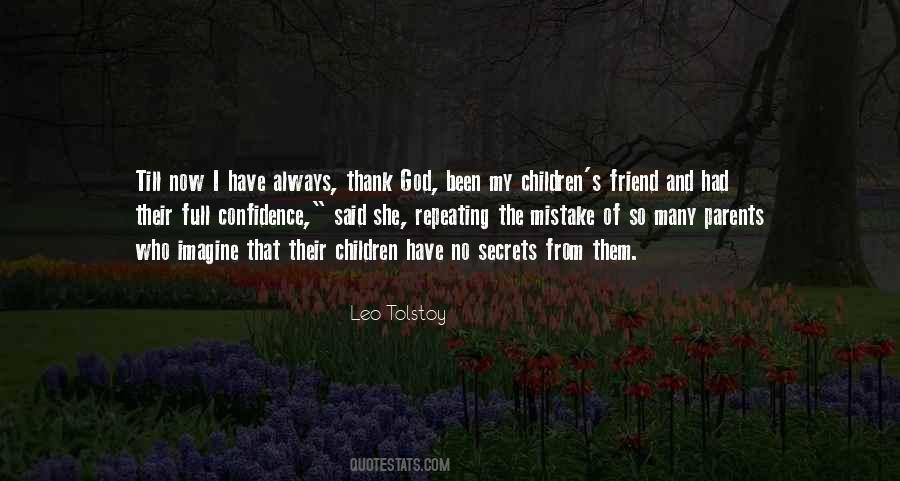 #32. You are a devious woman, Blackthorn,' she said.
'I prefer the term strategic thinker. - Author: Juliet Marillier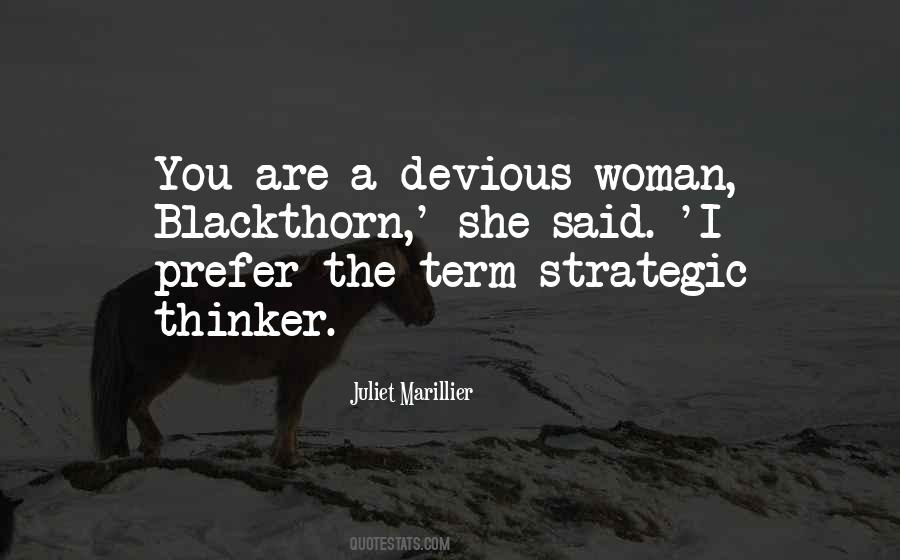 #33. I never realized that life could be as difficult for a beautiful woman as it is for a plain one," he said.
"Life can be difficult for everyone," she replied.
"Misery makes no distinction between prince and pauper. - Author: Patricia Grasso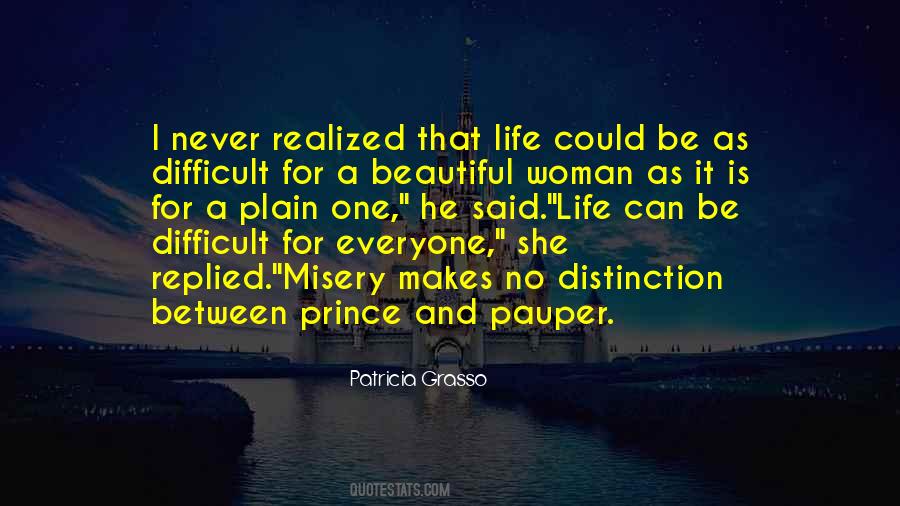 #34. Miss Volker," I said about as politely as I knew how, "do you think you will outlast the rest of these original people?" "I have to," she said. "I made a promise to Eleanor Roosevelt to see them to their graves, and I can't drop dead on the job - so let's get going. - Author: Jack Gantos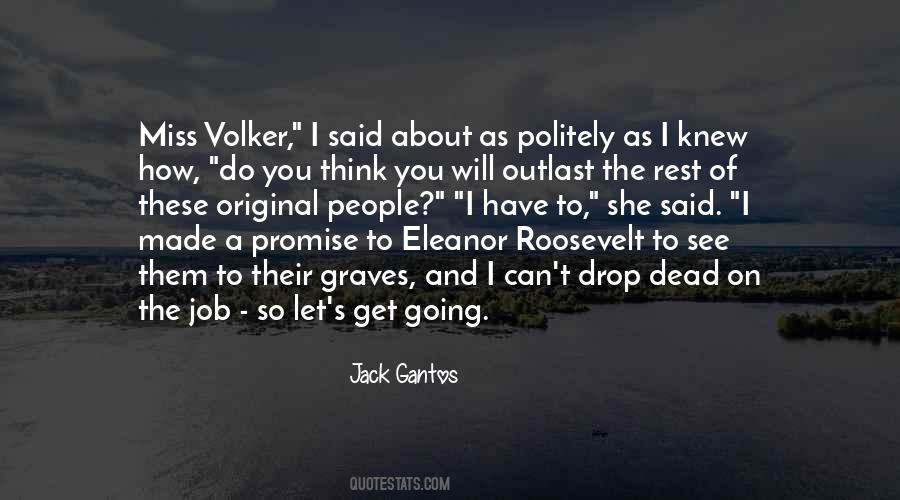 #35. I went to the doctor last week. I said: 'Can I have some sleeping pills for the wife?' He said: 'Why?' I said: 'She's woke up.' - Author: Les Dawson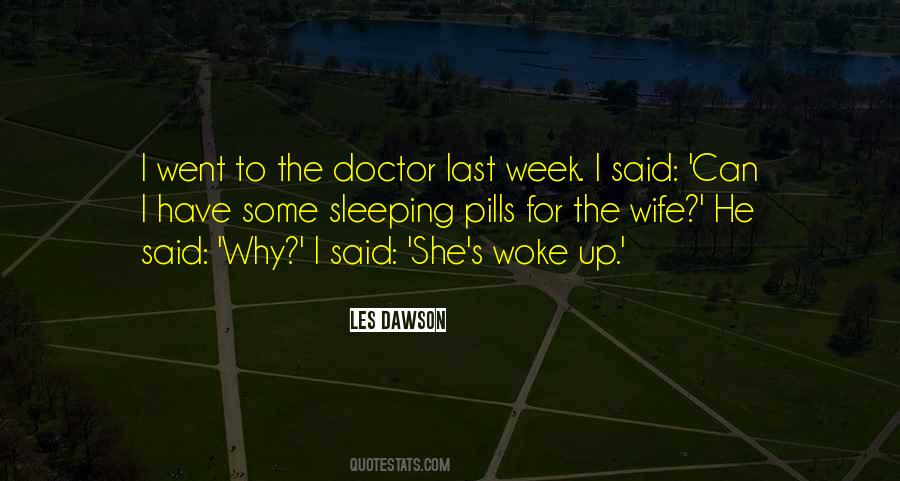 #36. Cursing? Do you mean hunter?" It was her best guess, for Taiga had grimaced when she used it, as though the word hurt her to say. "Nope," said Taiga, kicking the dirt with one boot. "I mean wife. - Author: Catherynne M Valente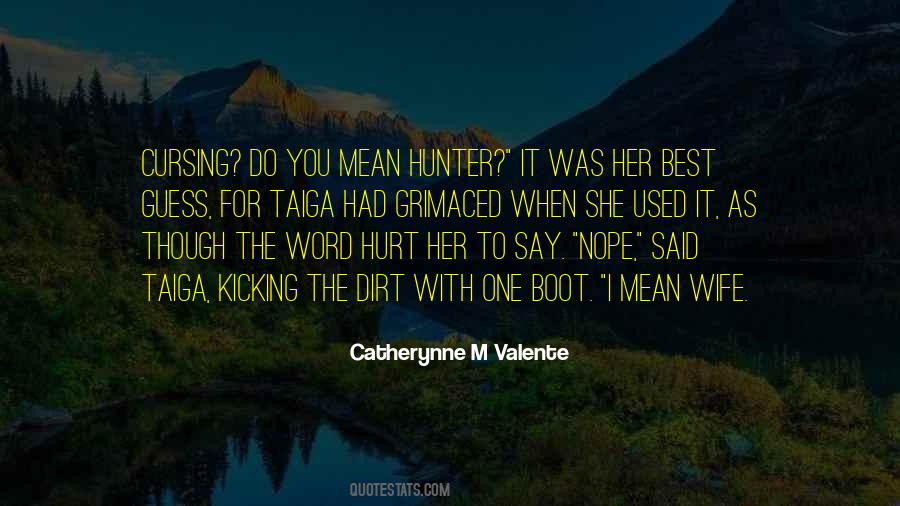 #37. When I reached for the button on her jeans, she smacked my hands away. "I think I can do that," she said. "Are you sure?" I teased. "Because I'm here at your service and taking your jeans off is something I feel I'd be exceptionally wonderful at." Her lips twitched. "I'm sure you would be. - Author: J. Lynn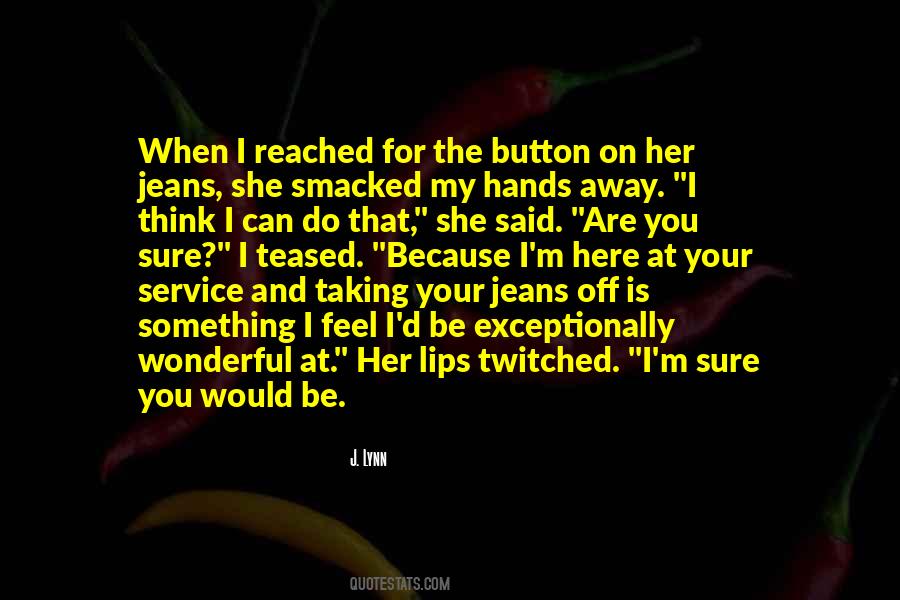 #38. Carrying lockpicks was one bad sign. On the other hand, Owl was taking long enough getting the lock open she almost counted as honest.
"I'm not going to offer to do that," he said. "It'd just annoy you."
"If you do not wish to annoy me, be silent. I'm trying to be quiet about this. - Author: Joanna Bourne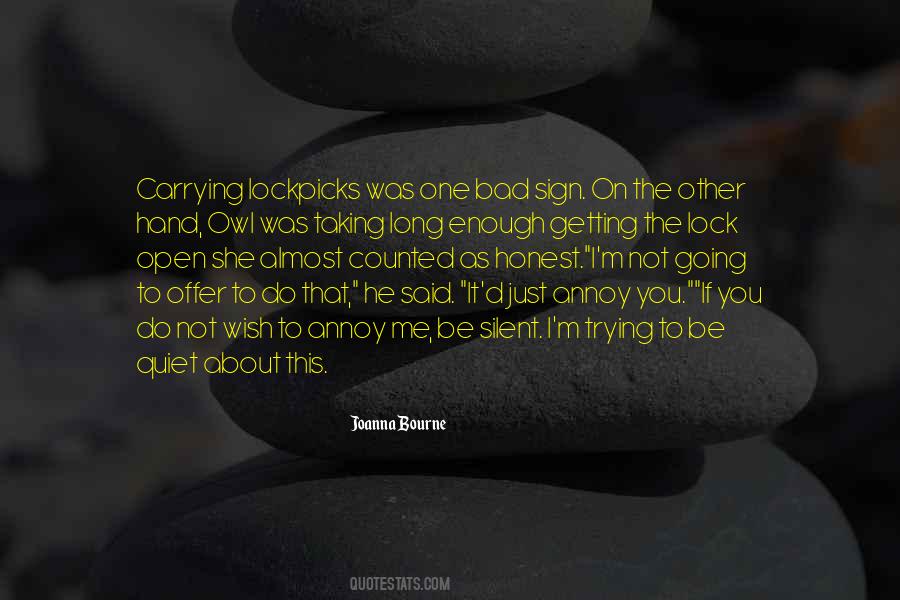 #39. She lifted her head. "It's easier," she said, slowly, "to be angry on someone else's behalf than on my own. And yet I find I have a well of anger in me, that I have been filling for years from my own hurts. If I spill it out in defense of another, I can deny it's mine. - Author: Emma Bull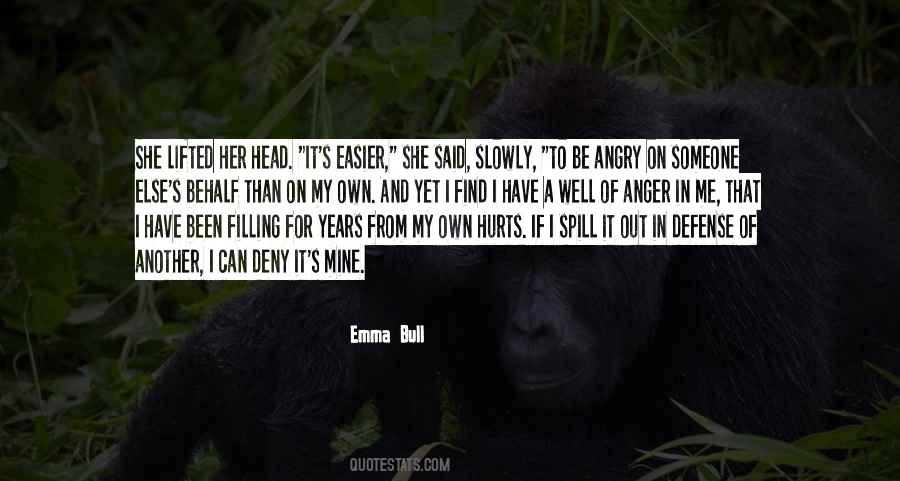 #40. Morgause laughed as she mounted her horse with some help from a footman. "I see through your protests, Merlin. You are quite amorous of me, I know it." Merlin looked like he swallowed a frog. "Lady," he said. "Wise, old lady. Please depart lest I be forced to help you depart. - Author: K.M. Shea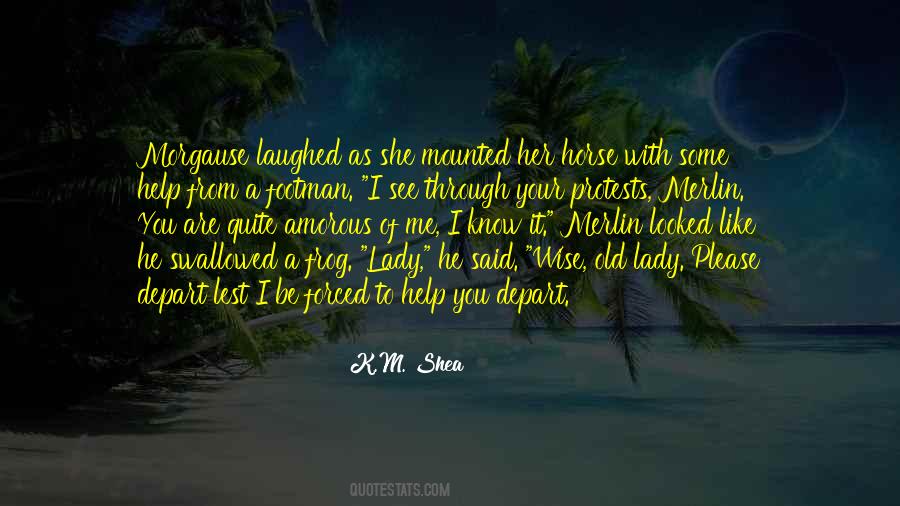 #41. My mom said I wasn't allowed to date until I was sixteen, but I broke that rule. She found out and said, 'I'm disappointed in you.' - Author: Justin Bieber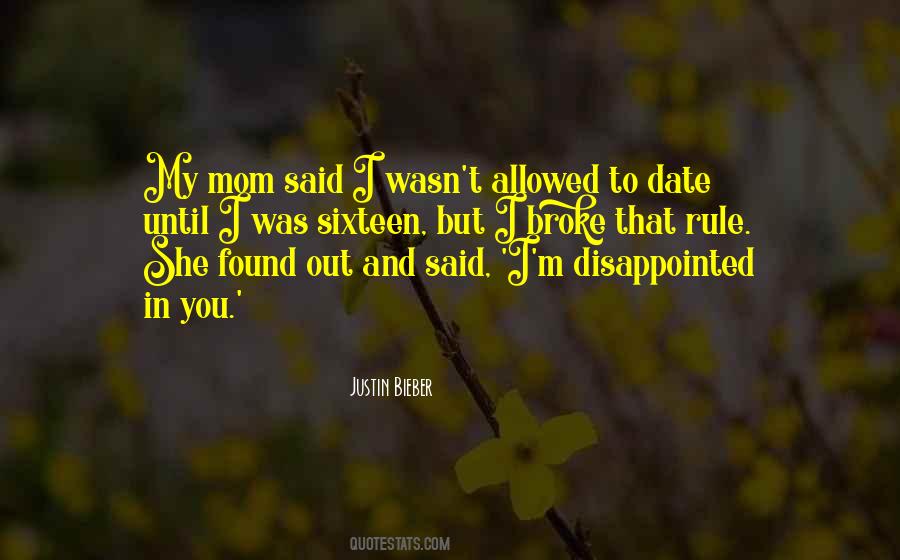 #42. I wouldn't like to meet you when you've got a revolver, said Margarita with a coquettish look at Azazello. She had a passion for people who did things well. - Author: Mikhail Bulgakov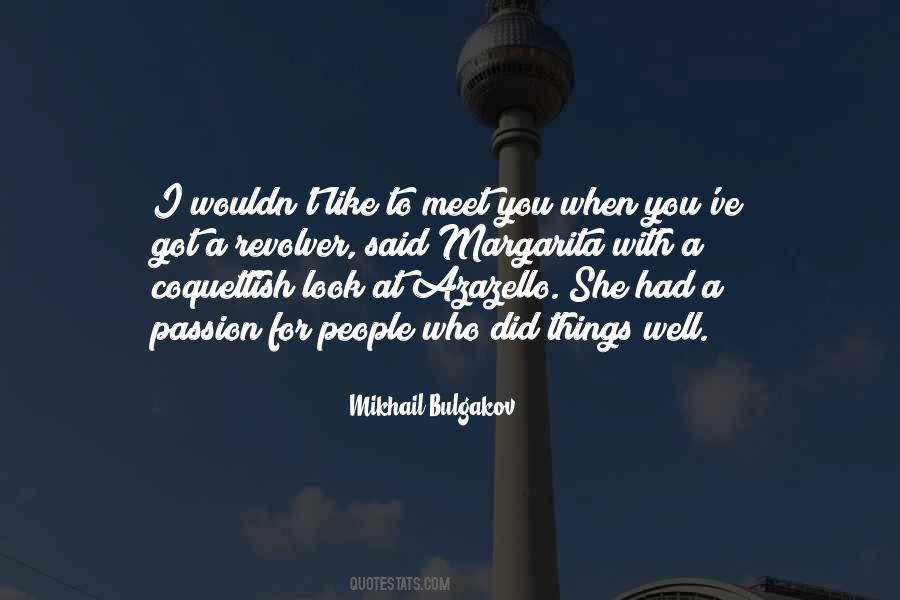 #43. Mum was thinking 'bout going back to study creative twatting writing. She had a novel in her, whatever the fuck that meant. She was going to do all the stuff that having me when she was twenty had stopped her from doing. She said I'd made her tits little and taken away her identity. - Author: Caroline Smailes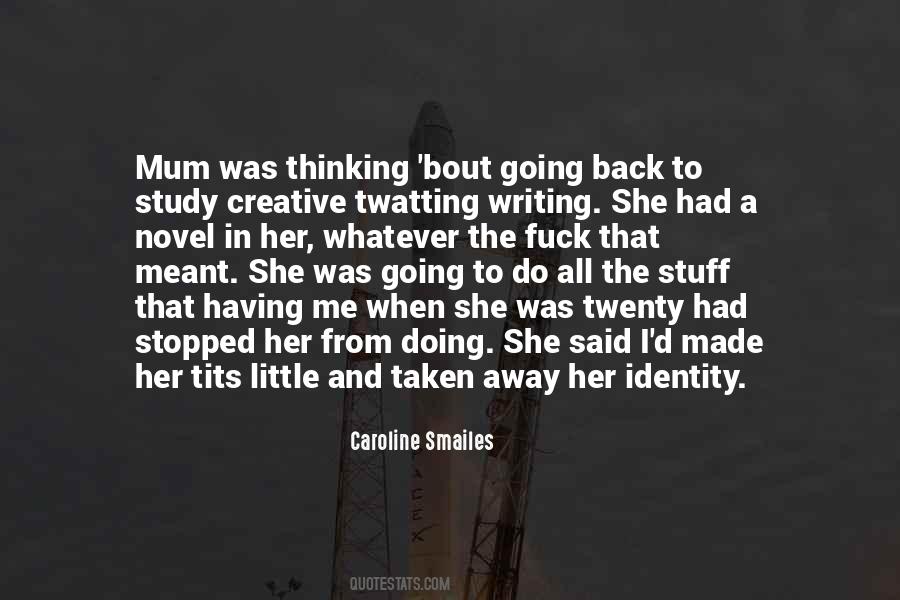 #44. I deserve passion," she said. "I deserve to be loved- in every way. I deserve a man who'll give his whole heart, not the part he isn't using at the moment.. - Author: Loretta Chase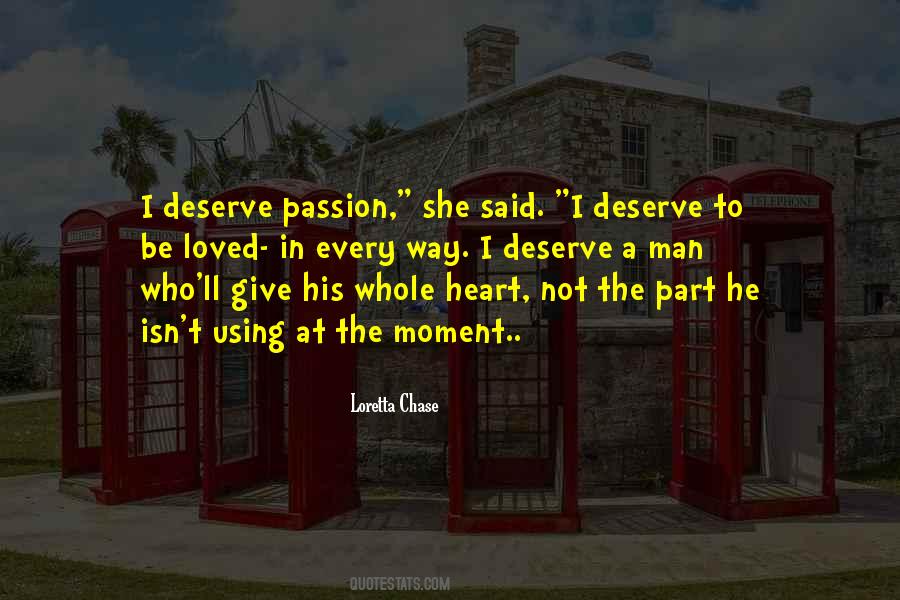 #45. I canna let you die like Da," he said softly.
"And yet ye canna let me live," she replied. - Author: Madeline Martin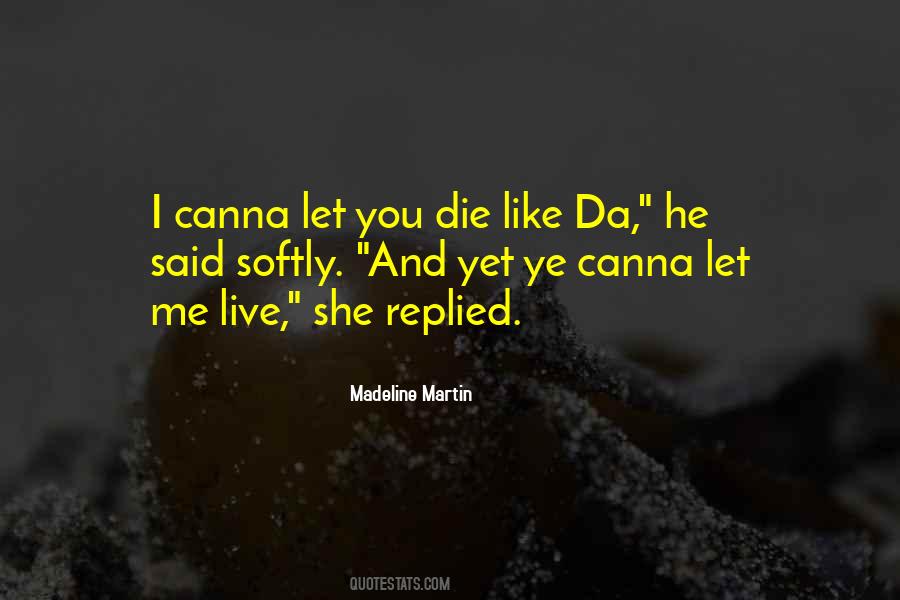 #46. I said: 'I'm throwing in my job, and I'm going to write a book.' Everyone thought: 'She's off her trolley,' and it was quite crazy, really. I'm just lucky that it came off. - Author: Sara Sheridan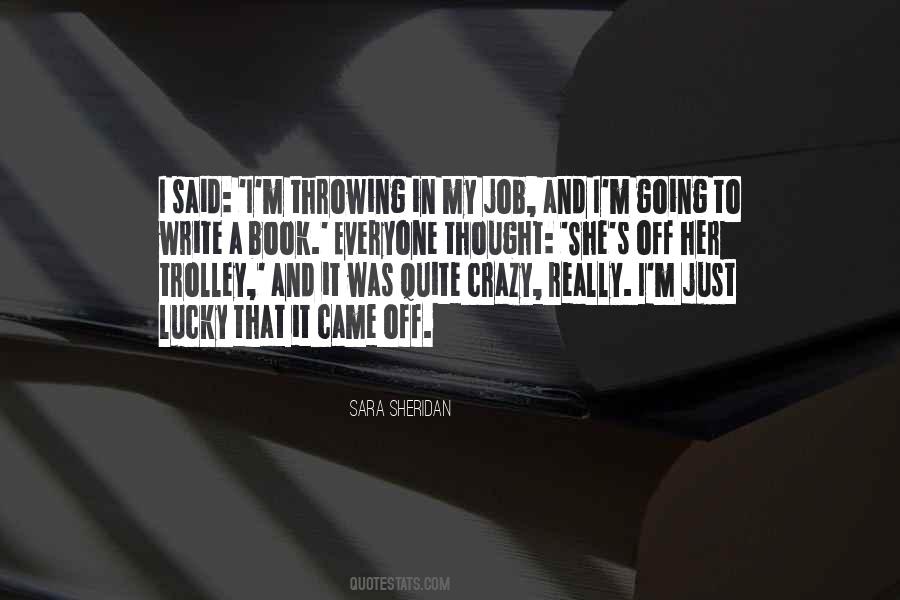 #47. Daphne felt something wild and wicked take hold. "Let's walk in the garden," she said softly.
"We can't."
"We must."
"We can't. - Author: Julia Quinn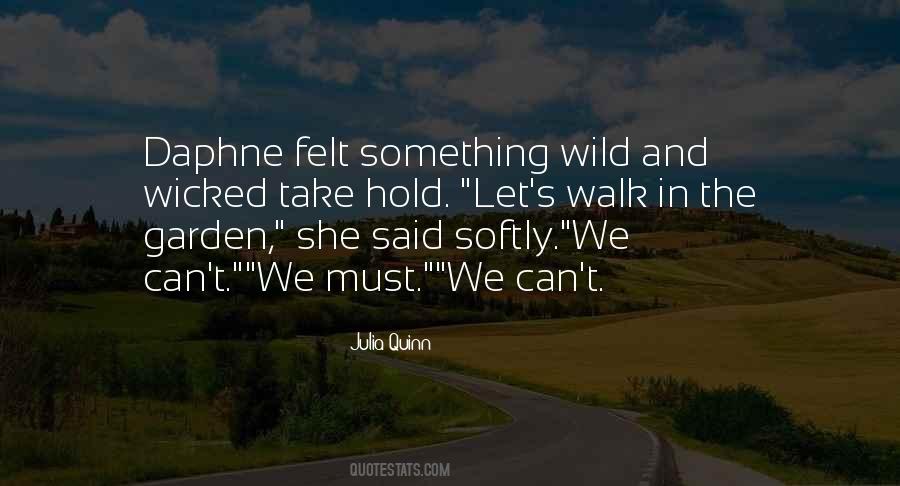 #48. Because I said so." She paused again. "Sweetheart, I know you're an adult, but adults are like vampires. The older ones are much more powerful. - Author: Karin Slaughter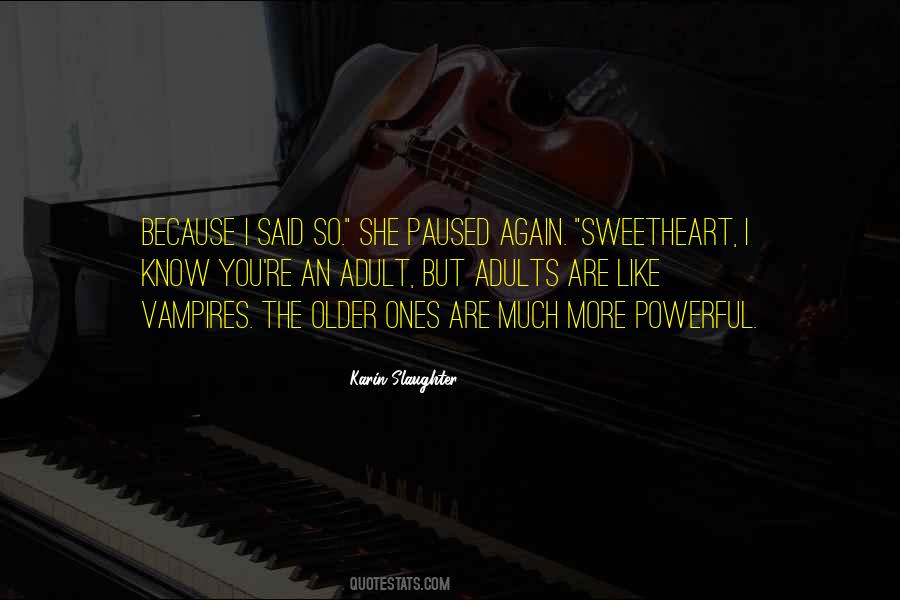 #49. I think secrets often come out. I spoke to a friend who is a therapist and I asked her if there were people who came to her and admitted to doing horrible things and she said, 'More than you know.' - Author: Alice Hoffman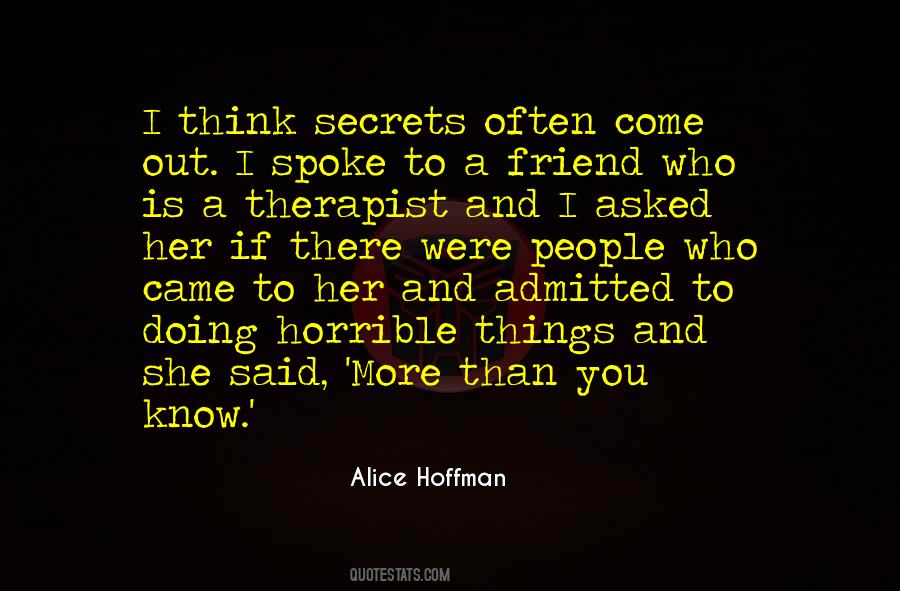 #50. When I told my mom I was going to audition for 'The Hobbit,' she said, 'Well, you've always loved Tolkien.' And she was right. - Author: Richard C. Armitage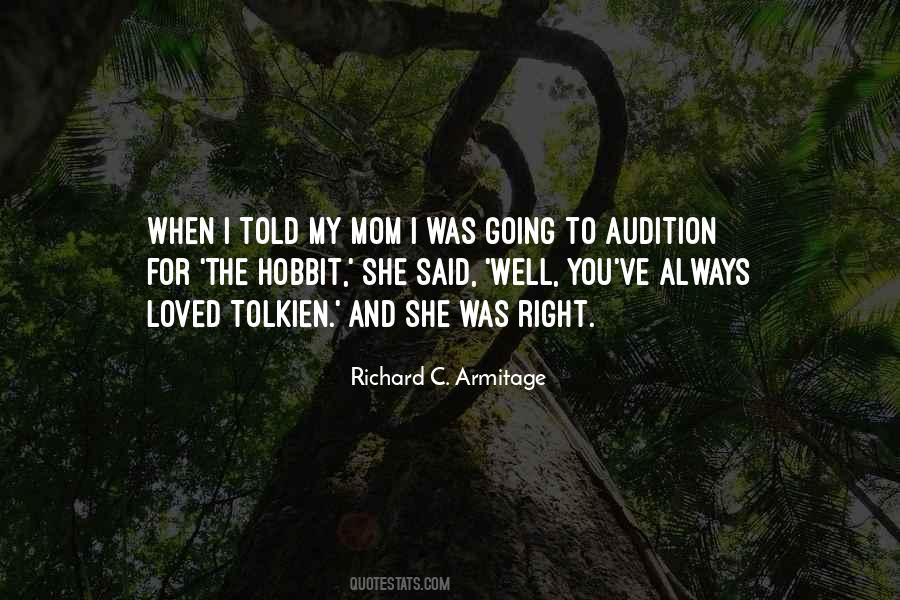 #51. I was burned out from exhaustion, buried in the hail, poisoned in the bushes,
blown out on the trail; hunted like a crocodile, ravaged in the corn,
"Come in," she said, "I'll give ya shelter from the storm." - Author: Bob Dylan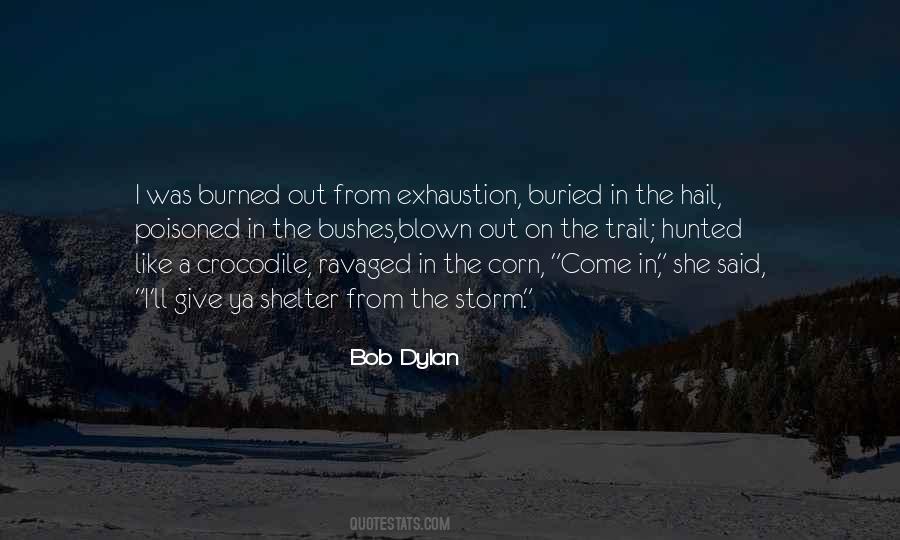 #52. Mother Teresa said that she couldn't imagine doing her work for more than thirty minutes without prayer. Do you and I have work that we can't imagine doing for thirty minutes without prayer? - Author: Gary Haugen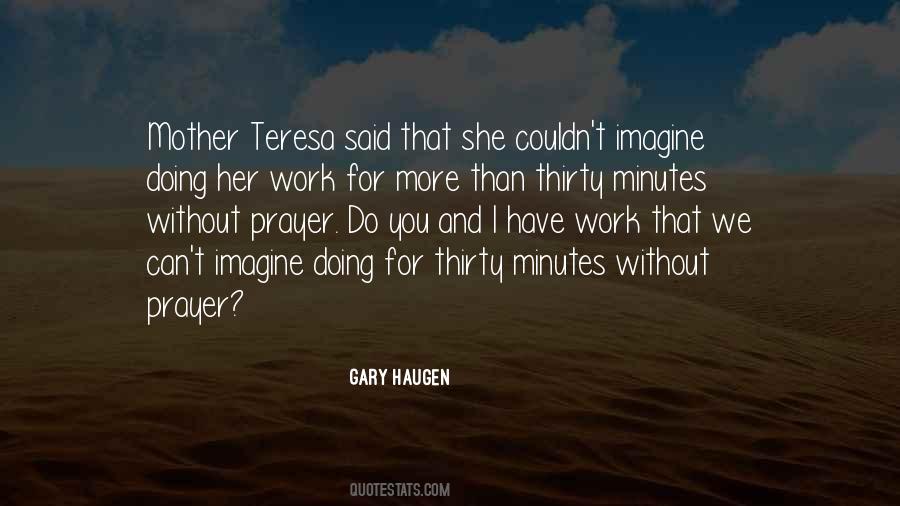 #53. You're toying with one of my people,"
she said coldly, watching impassively as he lifted her hand to his mouth.
"You never used to be cruel"
"I used to have a heart," he drawled "and then someone broke it. - Author: Sylvia Day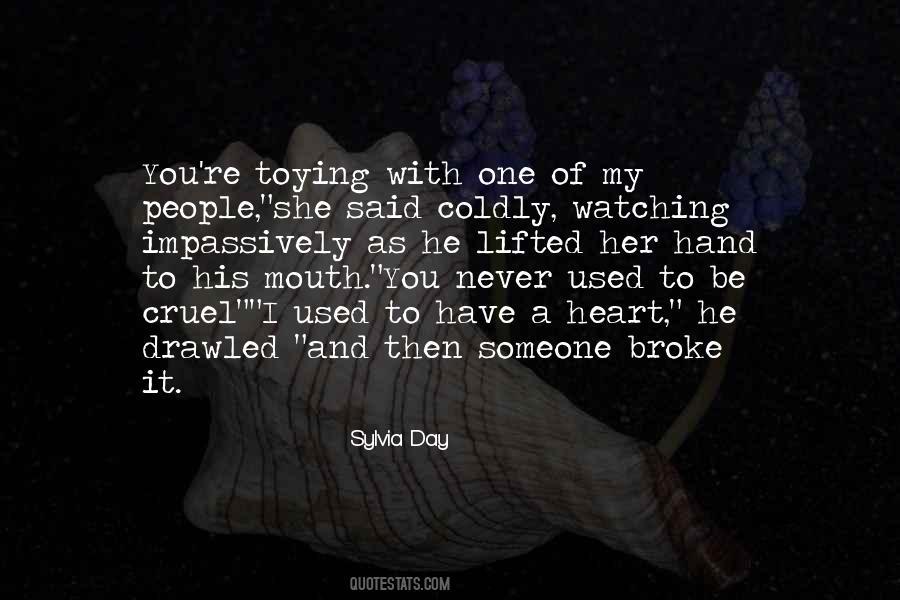 #54. I'm sorry," he said remotely. "For what just happened between you and me." She - Author: J.R. Ward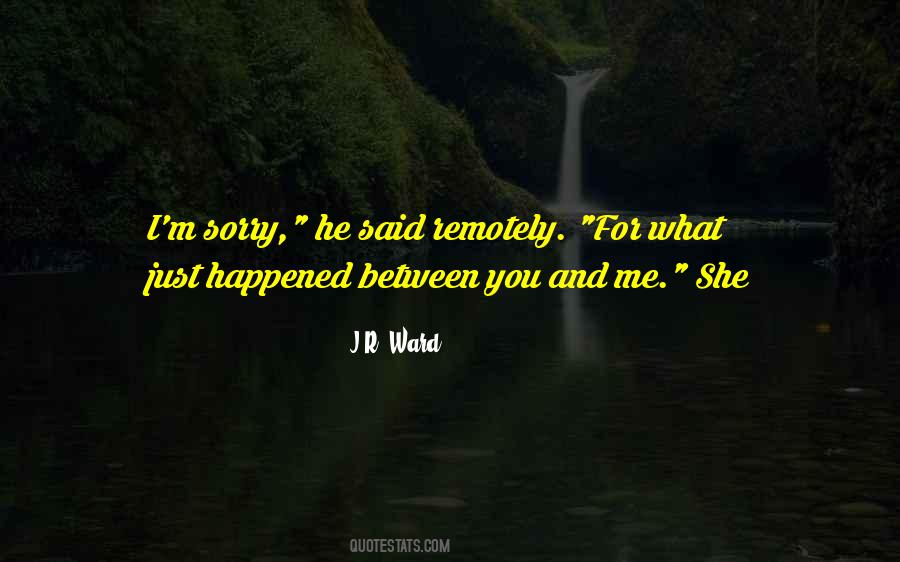 #55. Enjoy the movie. I hear the guy gets the girl" I said, my tone bold and flirtatious.
"Which guy?" She laughed, playing along. I could hear her smile through the phone. It felt good to make her smile. Really good.
I paused before answering, "The one who deserves her. - Author: Melissa Brown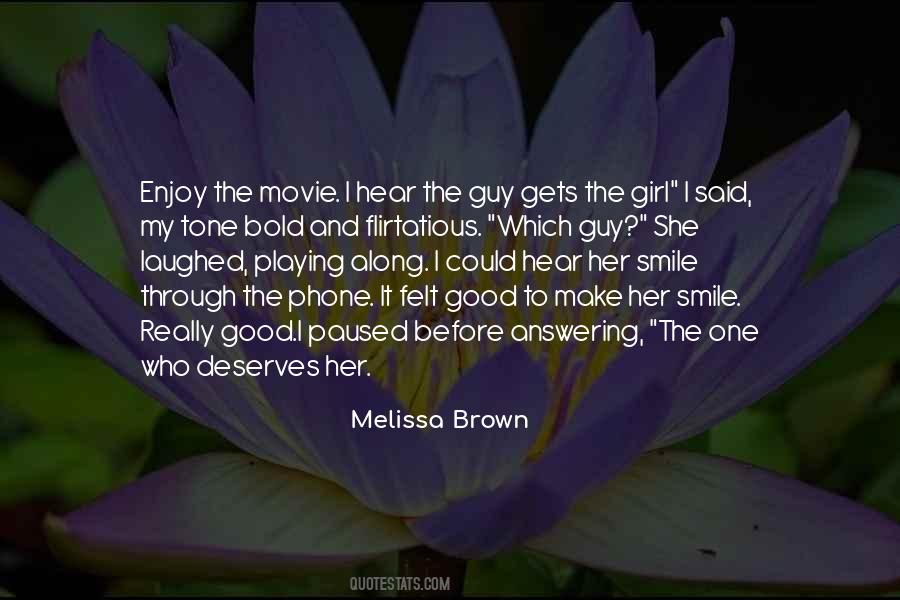 #56. My God, is this a date?" Jeff had asked when I asked if I could bring her along.
"I don't know," I said. "She might still be happily lesbian. - Author: Jefferson Bass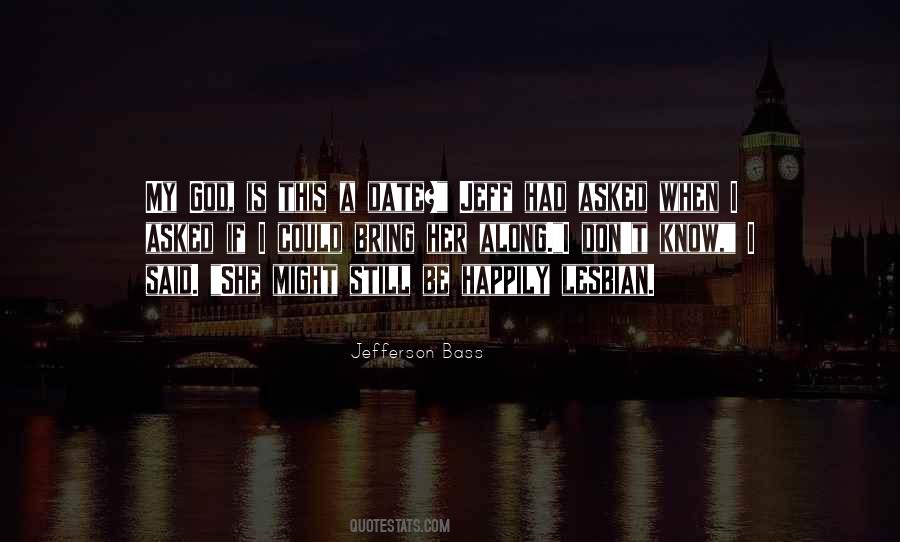 #57. And I really wanted to see you, too," she said. "When I couldn't see you any more, I realized that. It was as clear as if the planets all of a sudden lined up in a row for me. I really need you. You're a part of me; I'm a part of you. - Author: Haruki Murakami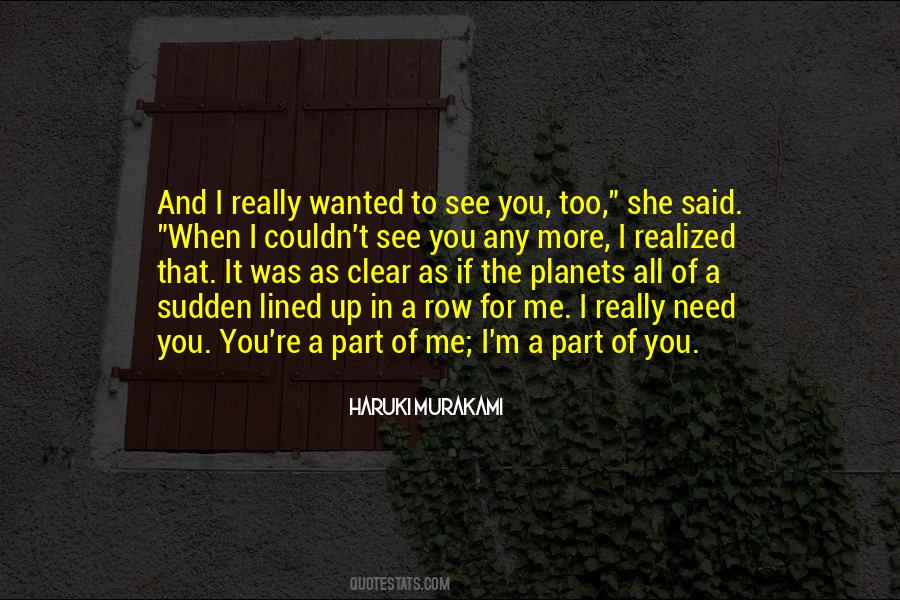 #58. I almost envy your horse," she said, "because these thighs hug him all day."
-Rebecca to Jake - Author: Lorraine Heath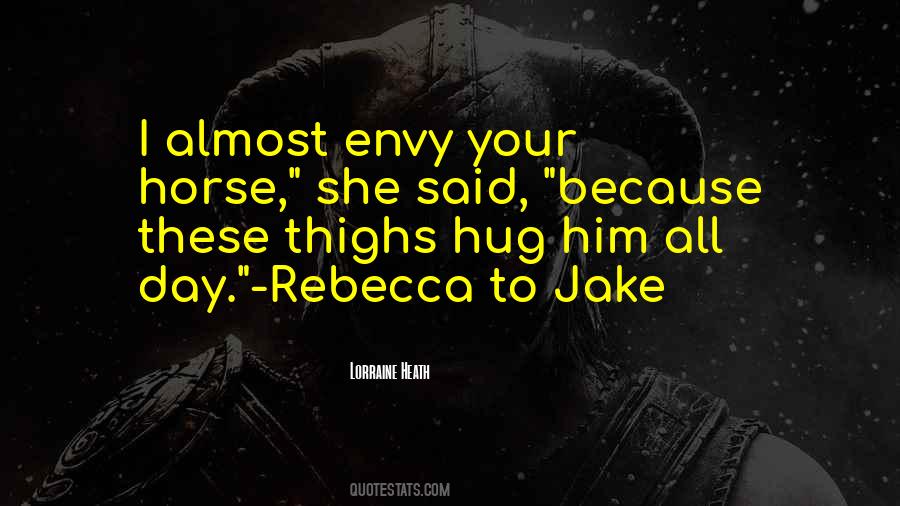 #59. Jessie Wallace was the first time I erupted. She was late, she was young. She's not like that any more. I lost my temper. It was silly and I burst into tears and ran up to the producer. I said I had been terrible and amateur. - Author: Barbara Windsor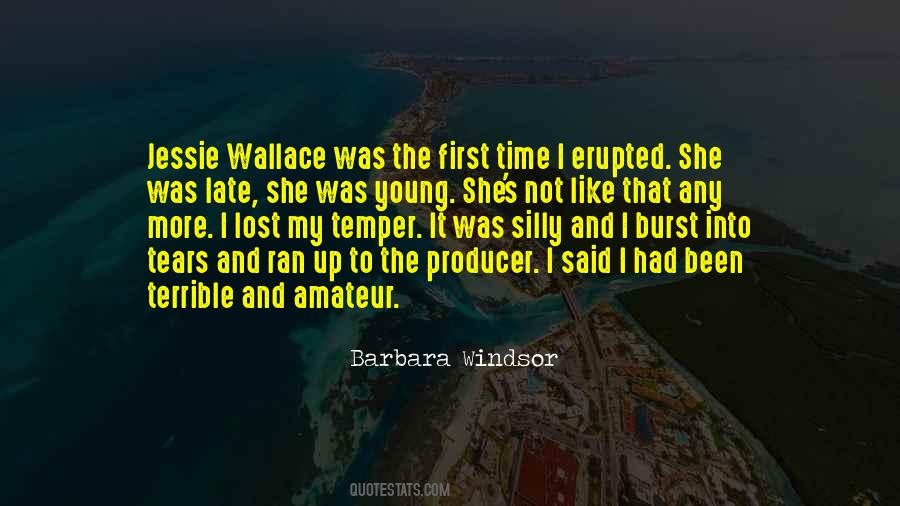 #60. How do you like your eggs?" she said. "Hard or soft?"
"Hard," he bit out. "Why am I not surprised. - Author: J.R. Ward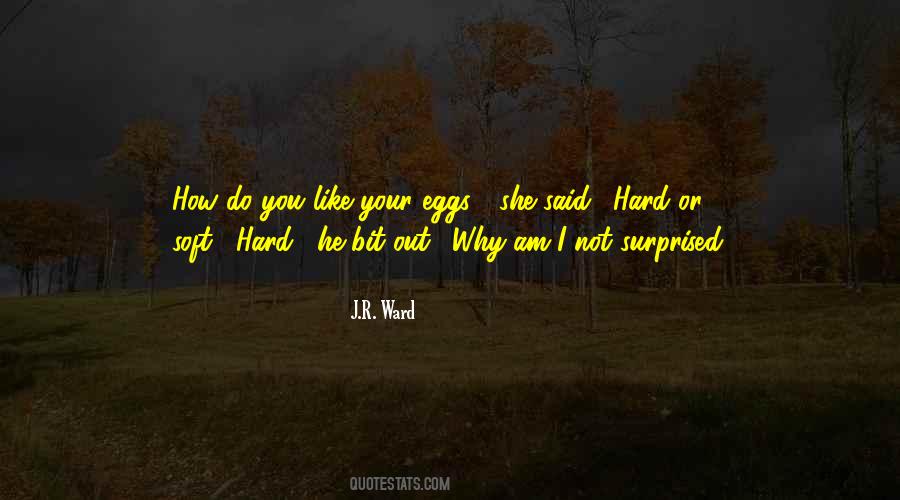 #61. Ah," she said, "that's ever so much better," and took both boots and shook them out over the sink. "My stomach is full and I'm warm inside and out and it's time I went home. - Author: Madeleine L'Engle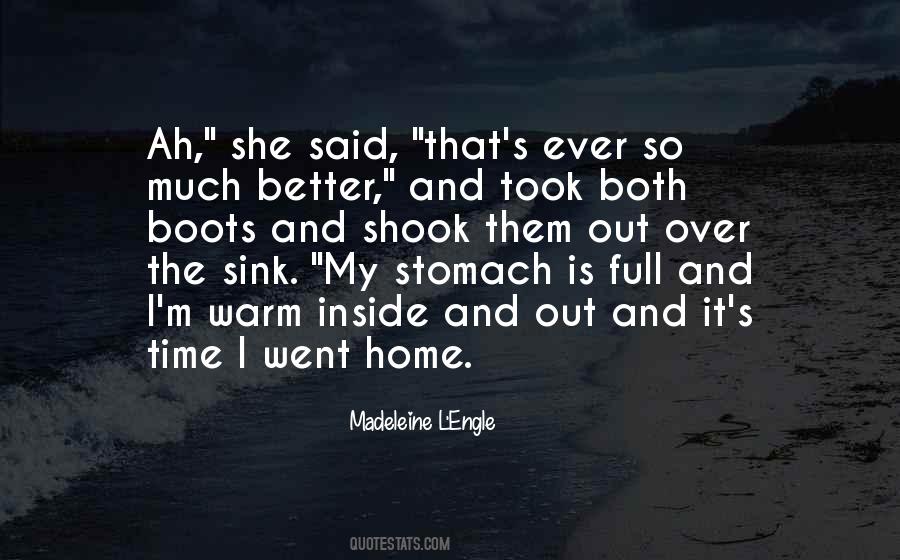 #62. But you hardley even know him"she said."He could be a serial killer"
"I did have that thought.I checked the apartment out,but if his got an ice cooler full of arms in it,I havent seen it yet.Anyway he seems pretty since. - Author: Cassandra Clare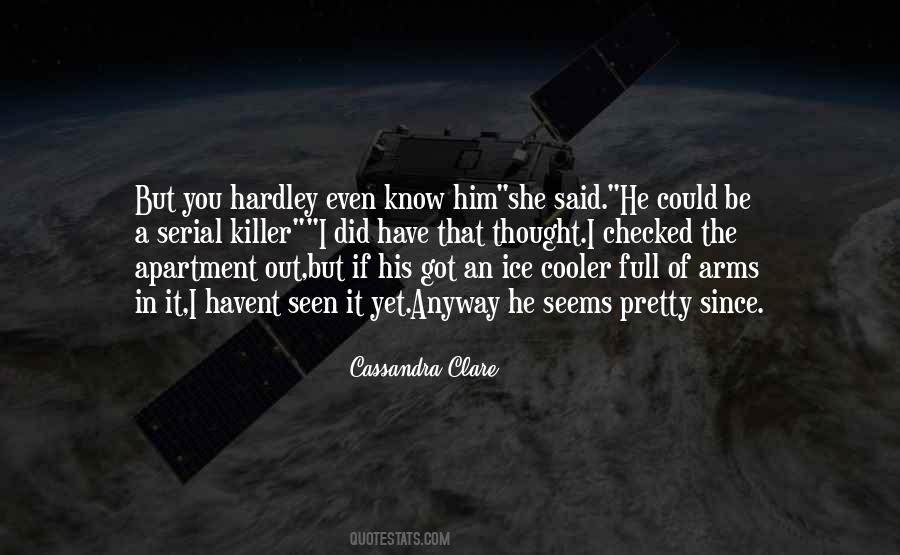 #63. I love you," he said against her lips. "I love you, too," she said but the words that always seemed so big felt small now. What was love when put up against war? - Author: Kristin Hannah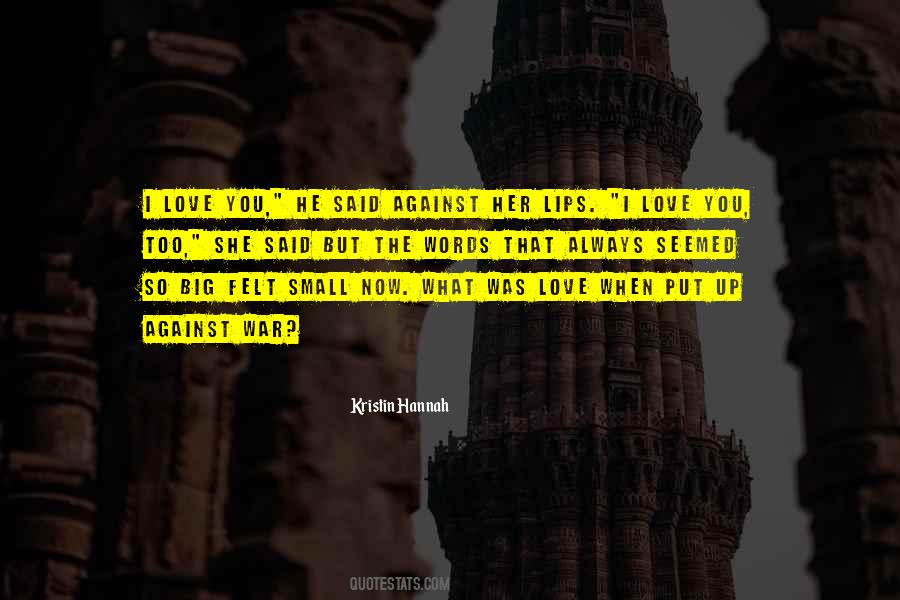 #64. Maybe you're the one that gave me up to the Darians at Oden's Ford."
"Right," she said, staring up at the ceiling. "And then I turned around and rescued you. You know women - changeable as a day in April. Sometimes we just can't make up our minds. - Author: Cinda Williams Chima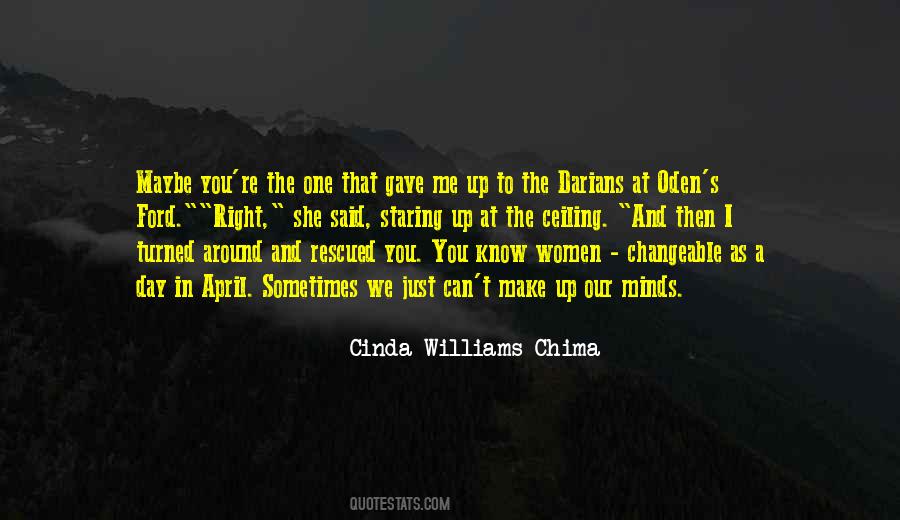 #65. God, I'm scared,' he said, quietly. She almost said, 'Oh, stop. I hate scared people. - Author: Elizabeth Strout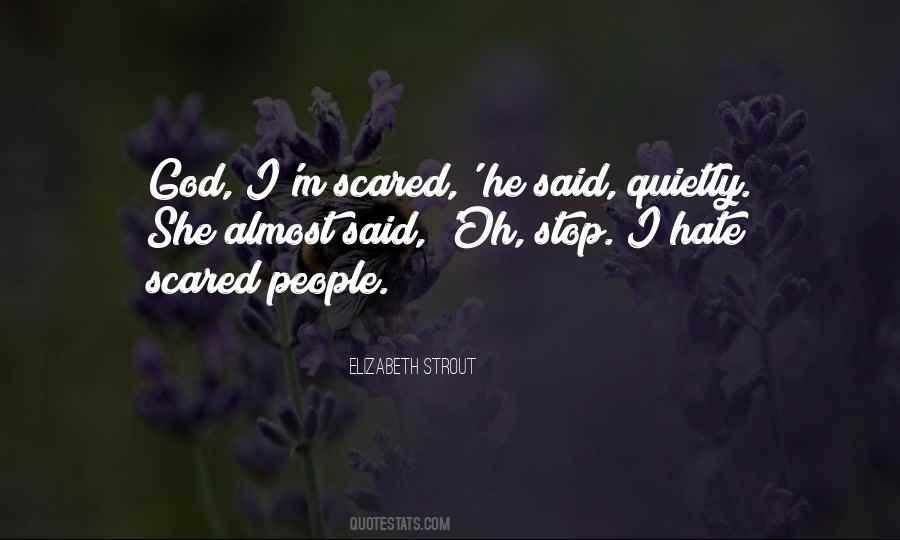 #66. Doesn't he have any daughters?' Emma muttered.
'He has no use for them,' said Mark. 'They say he has girl children killed at birth.'
Emma couldn't prevent a flinch of anger. 'Just let me get close to him,' she whispered. 'I'll show him what use girls are. - Author: Cassandra Clare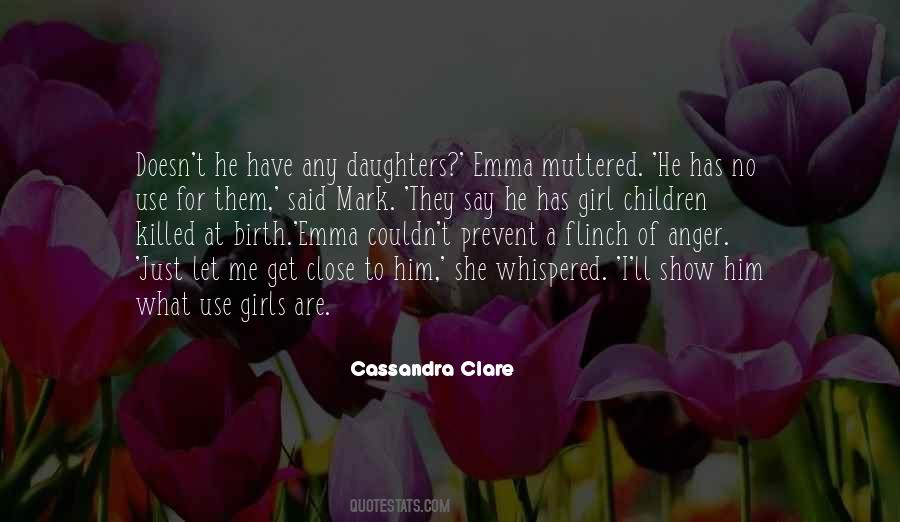 #67. I preach on specific sins because people are not convicted by sermons on sin in general. It was when our Lord said to the Samaritan woman, 'Go call thy husband ... ' (John 4:16), that she really faced up to her sinfulness. - Author: Vance Havner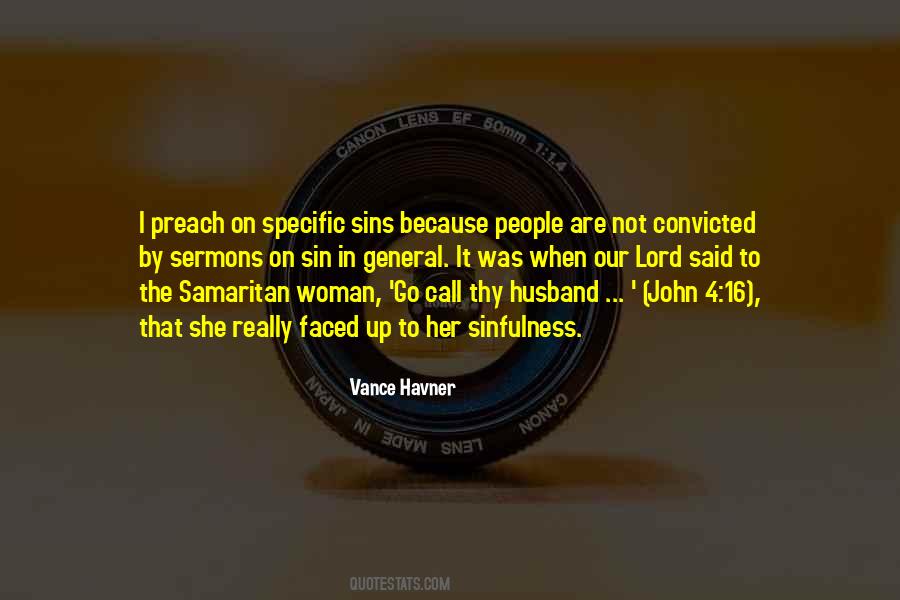 #68. Everything about this is embarrassing" she said. "D'you know how embarrassing it is to mention good and evil in a scientific laboratory? Have you any idea? One of the reasons I became a scientist was not to have to think about that kind of thing. - Author: Philip Pullman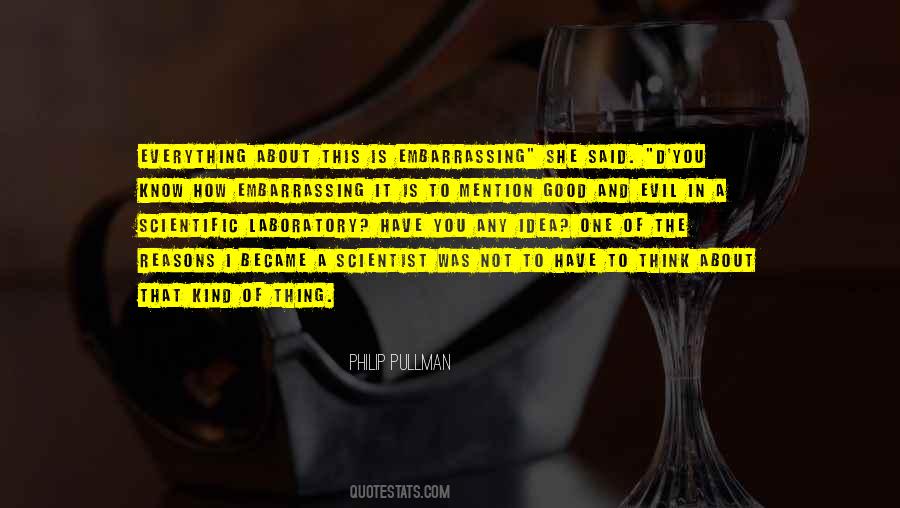 #69. Can I ask what you're reading?" ... She turned the book so the cover faced me. Wuthering Heights. "Have you read it?" She said. I nodded. I could feel the pulsating beat of my heart behind my eyes. "It's a sad story." "Sad stories make good books," She said. "They do. - Author: Khaled Hosseini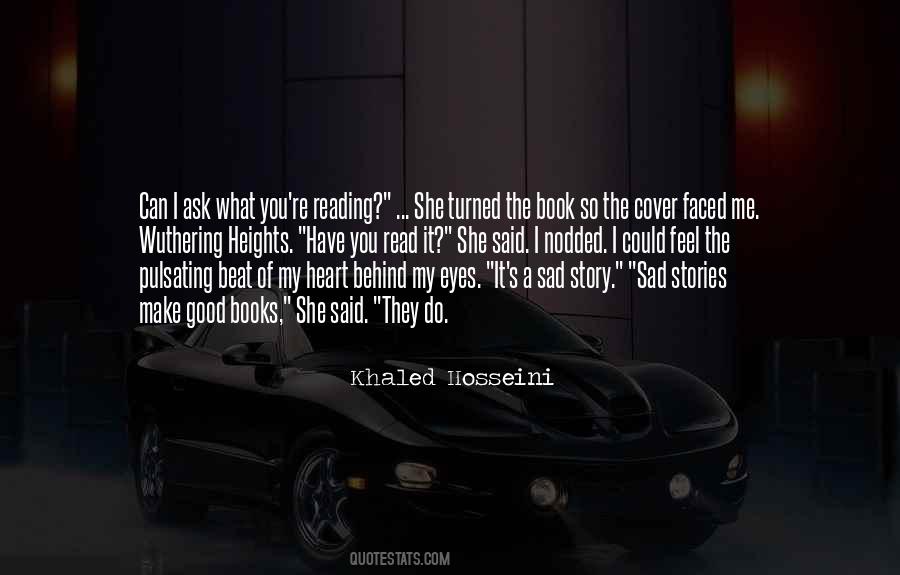 #70. Nix," I said, and her name was a poem. She tilted her face up to the dawn; my lips met hers. She pressed close to me, and then there was no past, no future - only now. No her, no me. Only us. - Author: Heidi Heilig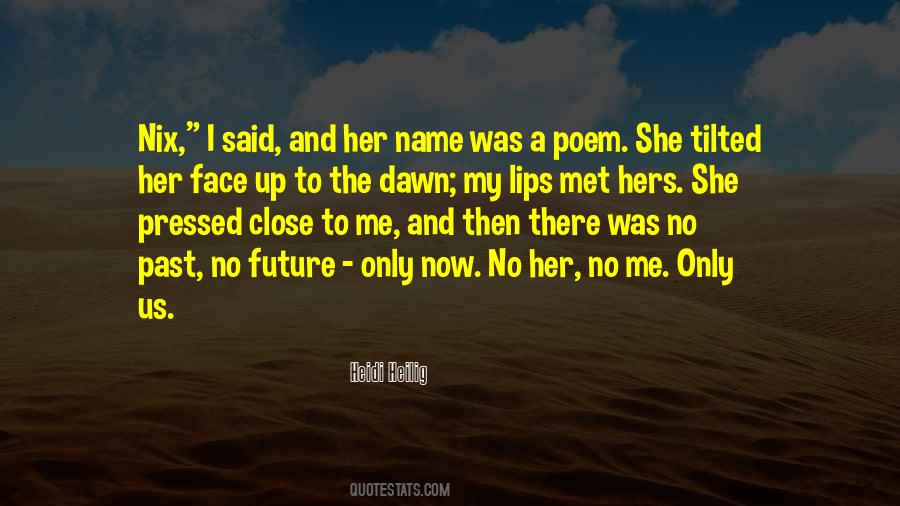 #71. I'm wondering if you can speed this story up a bit," Ms. Jordan said. "I spilled pudding on Missy Trillin's head while she was taking a pee." "I see." Ms. Jordan nodded. "Now I think we're getting somewhere. - Author: James Patterson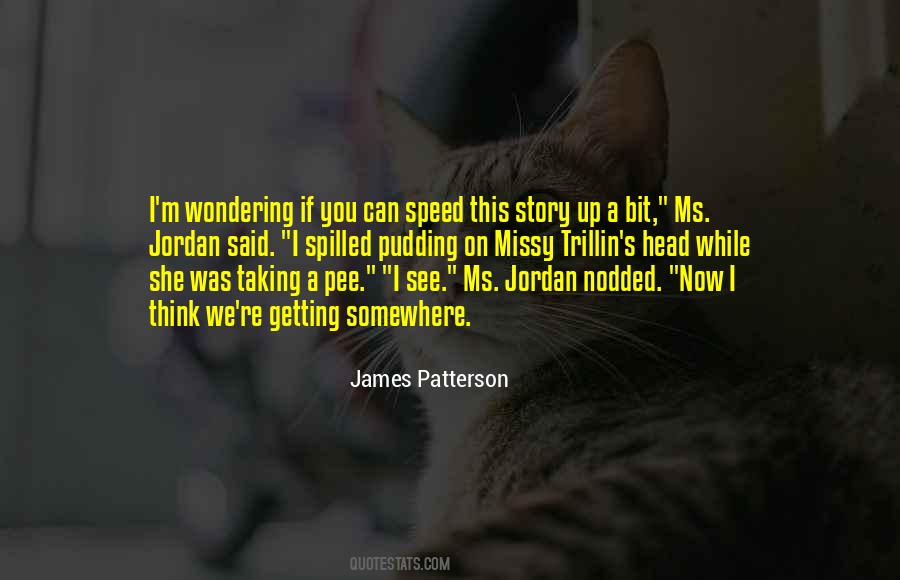 #72. Missus said I was the worst waiting maid in Charleston. She said, "You are abysmal, Hetty, abysmal." I asked Miss Sarah what abysmal means and she said, "Not quite up to standard." Uh huh. I could tell from missus' face, there's bad, there's worse, and after that comes abysmal. - Author: Sue Monk Kidd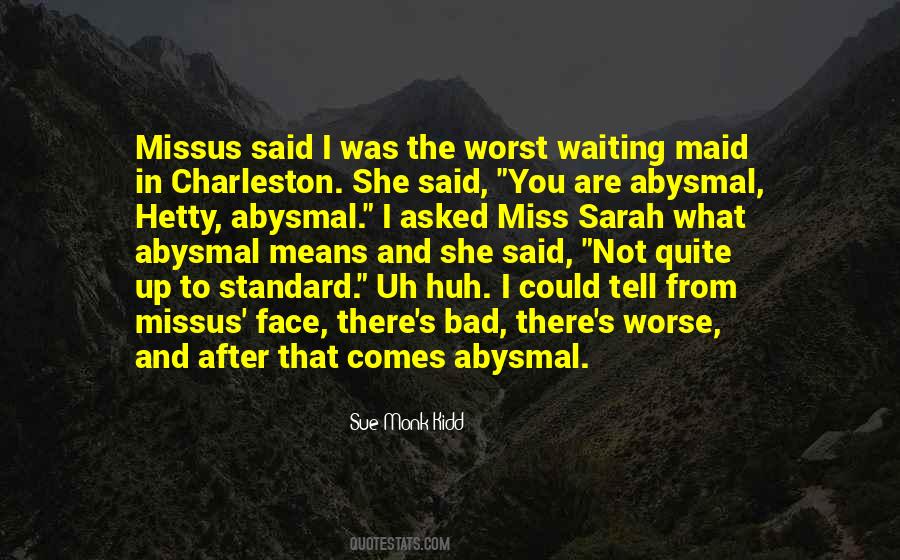 #73. Don't be embarrassed,' she said, throwing an armful of clothing on the hook. 'I don't faint at the sight of a naked man. Triss Merigold, a friend, says if you've seen one, you've seen them all. - Author: Andrzej Sapkowski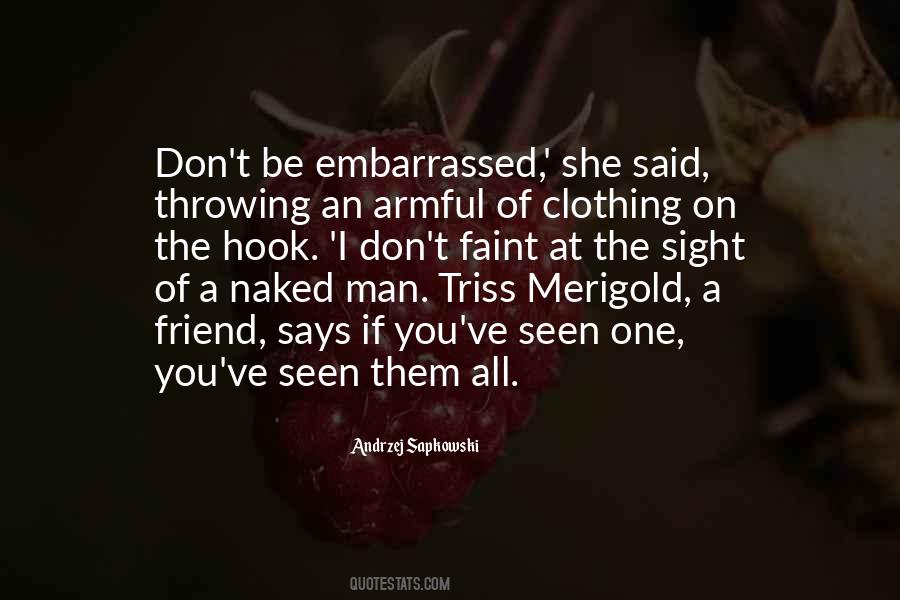 #74. Well, she said, "The reception of the semen is the height of ecstasy. I want it always, constantly." Isn't that extraordinary? - Author: D.M. Thomas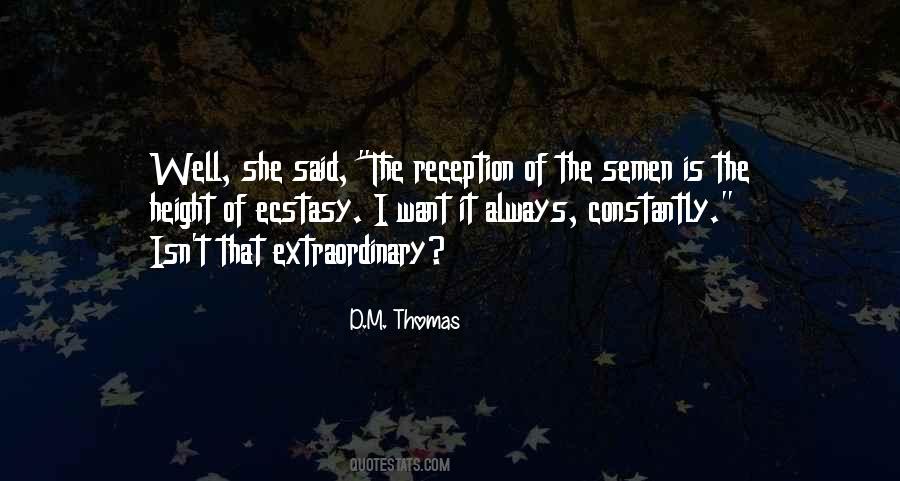 #75. The Boy should watch where he's going," she
said.
"Rachel should not manifest in doorways," I
replied. - Author: Maggie Stiefvater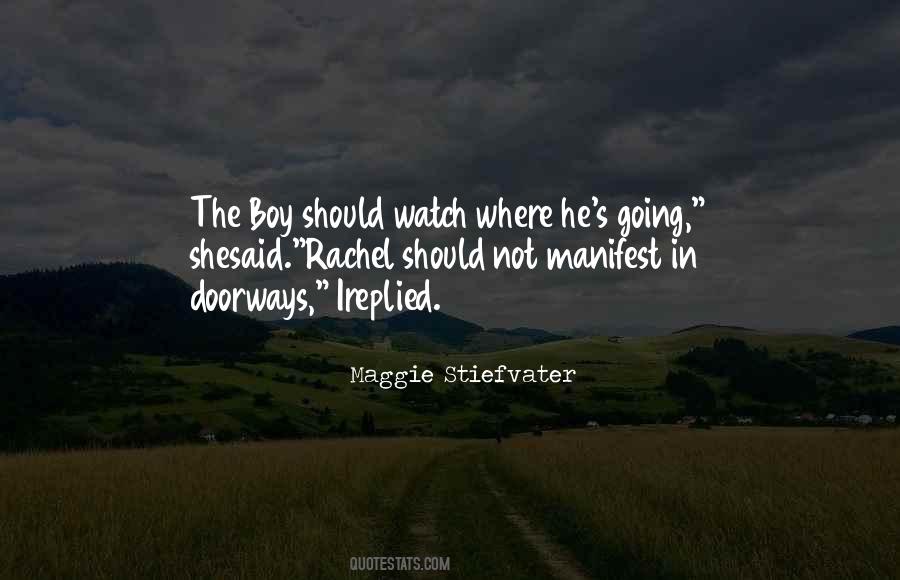 #76. Sure. Waffles are fine. How come you didn't ask me what I wanted?" "I'm asking you now." "They're fine," Janine said again. Sighing, she turned back to the computer. I stuck my tongue out at her and ran downstairs. "Waffles are fine!" I told Mimi. - Author: Ann M. Martin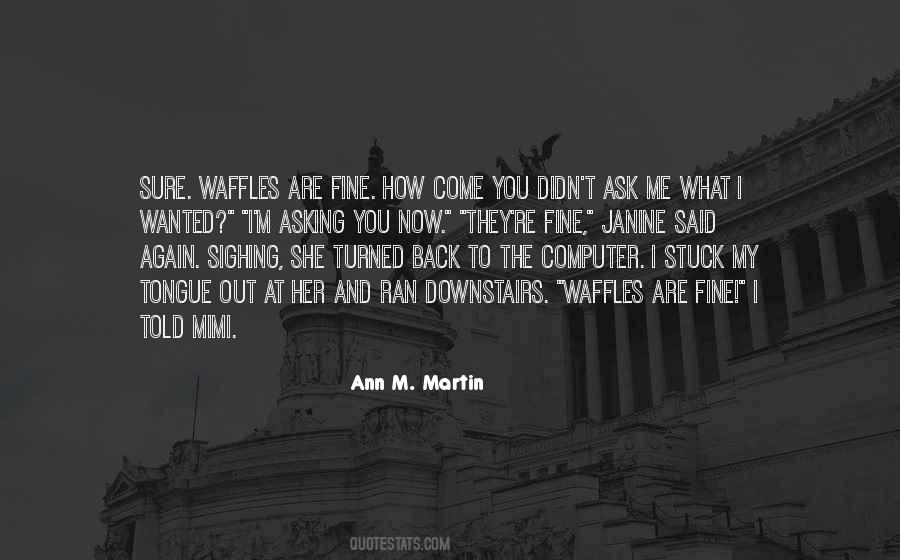 #77. We're not quitting until I'm satisfied you know what you're doing," he said in a low voice.
"Until we're both satisfied," she corrected.
Killing. Him. - Author: Roxanne Snopek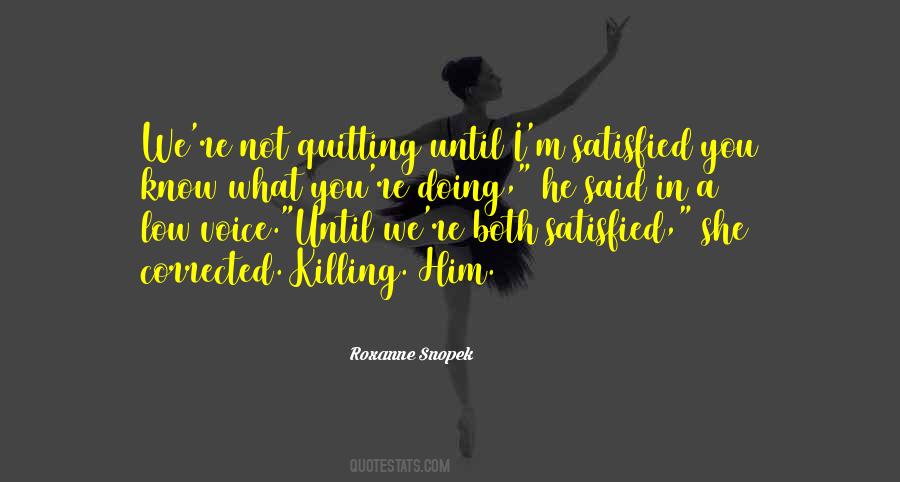 #78. She had said one time, make a choice and do it like Hercules. So if that is all of what is being offered, the idea is to always do it like Hercules and I always followed her advise and now I'm here talking to you. - Author: Harvey Keitel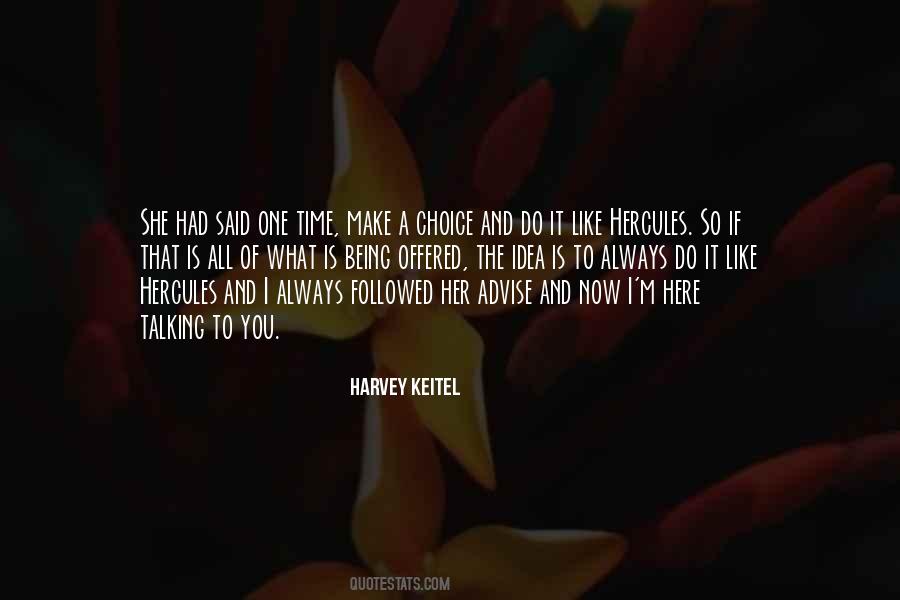 #79. I'm sorry. I can't serve him that item," the waitress said, only somewhat surprising her since she had a pretty good idea why.
"Why not?" she found herself asking anyway out of curiosity to see if she was right.
***
"Because he's a Bradford," the woman explained with a shrug. - Author: R.L. Mathewson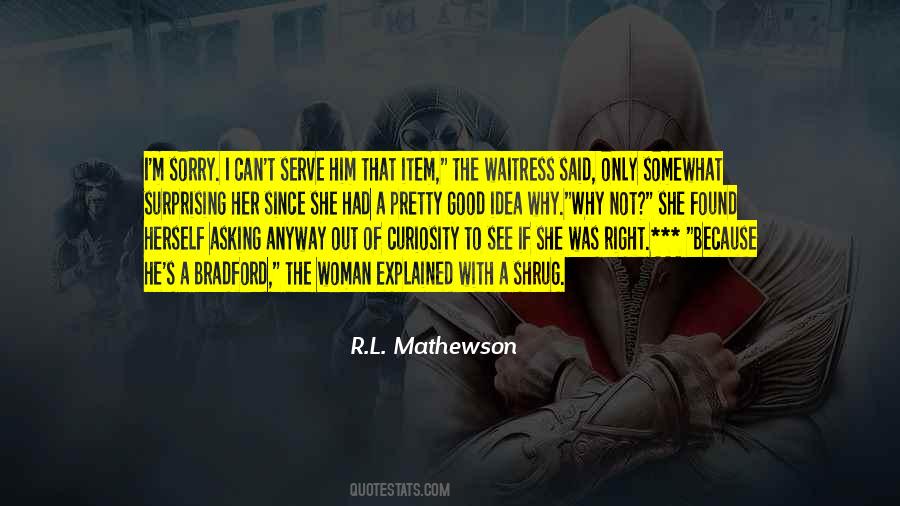 #80. I looked up and she said, "You have to believe I did everything a reasonable person would do. Maybe I didn't reach my hands into toilet water, but I did everything else I could. - Author: Charlie Close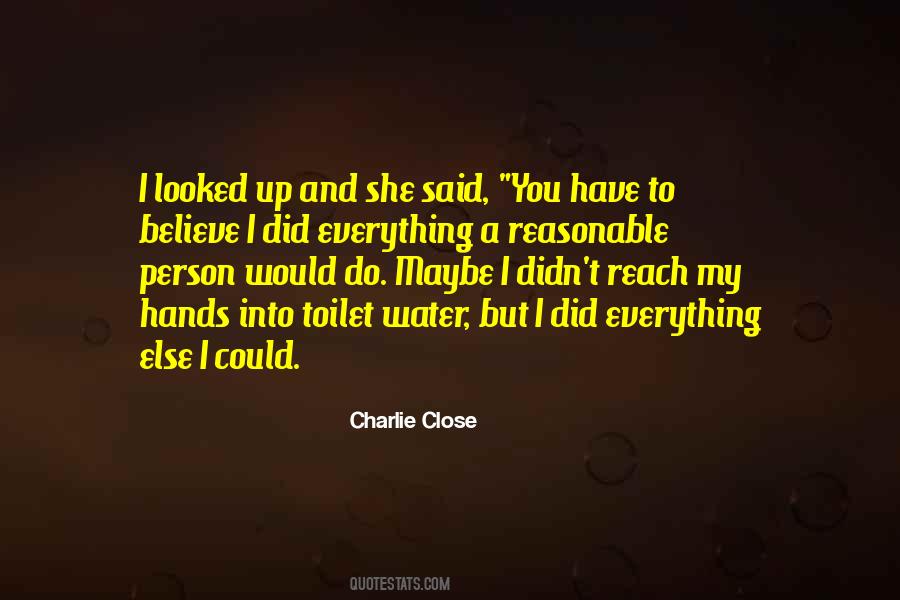 #81. She caught me looking at her.
'What?' she asked.
'Your lightness,' I said, hardly knowing what I was saying. 'It's disarming. - Author: David Levithan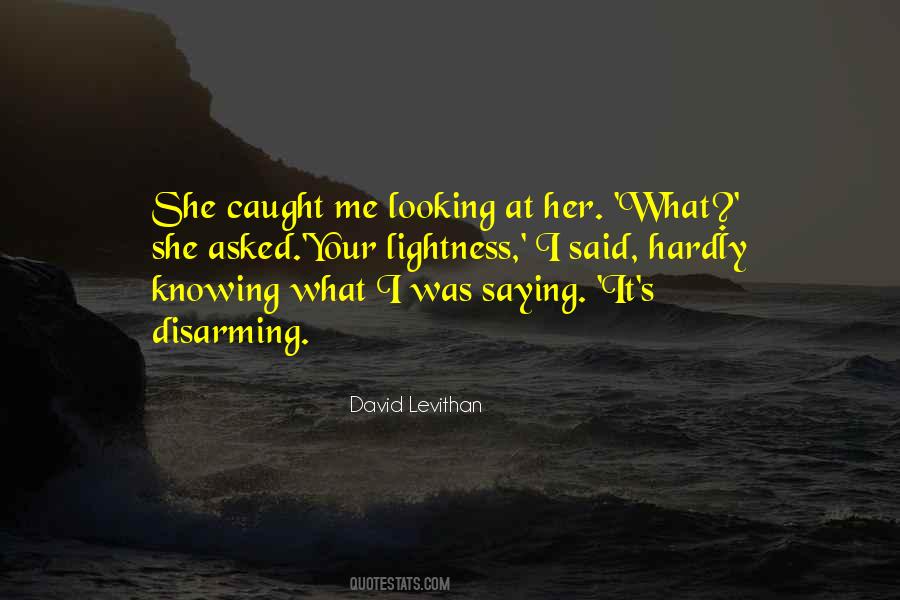 #82. You want me to invite him to dinner."
"I want you to invite him to dinner," she agreed.
"You know," he said, "most gay men don't have mothers who are this enthusiastic about their love lives."
"That's probably true," she said. "You're one of the lucky ones. - Author: Matthew Haldeman-Time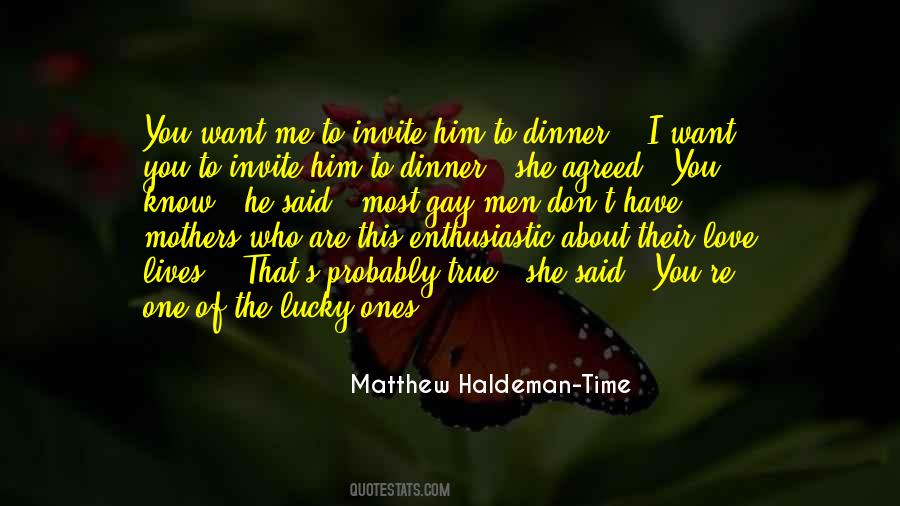 #83. I thought Marilla Cuthburt was an old fool when I heard she'd adopted a girl out of an orphan asylum," she said to herself, "but I guess she didn't make much of a mistake after all. If I'd a child like Anne in the house all the time I'd be a better and happier woman. - Author: L.M. Montgomery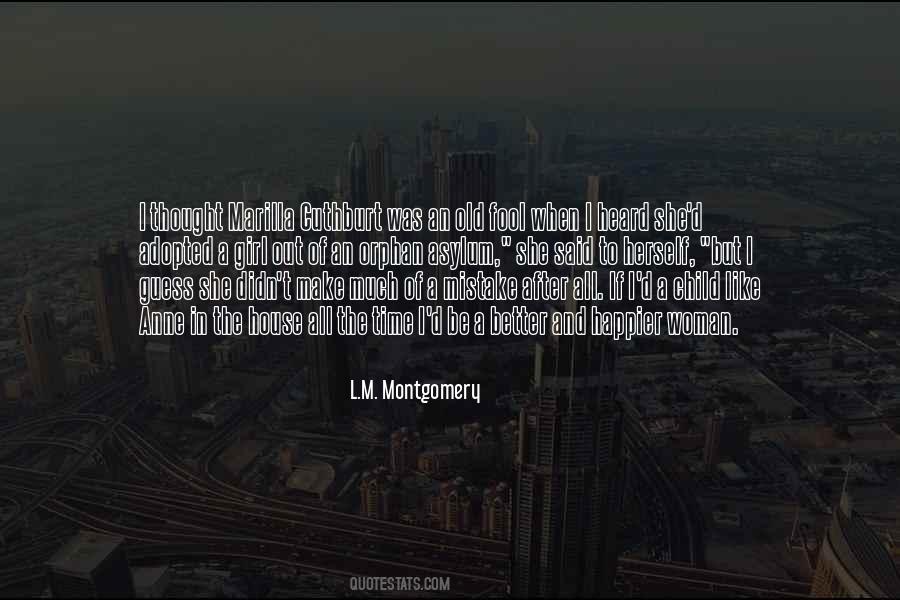 #84. I said kiss me again." A sultry smile curved her lips. "Would that be such a difficult task to perform?"

Christ almighty, she wanted him to kiss her again. And she was ordering him to do so. - Author: Monica Burns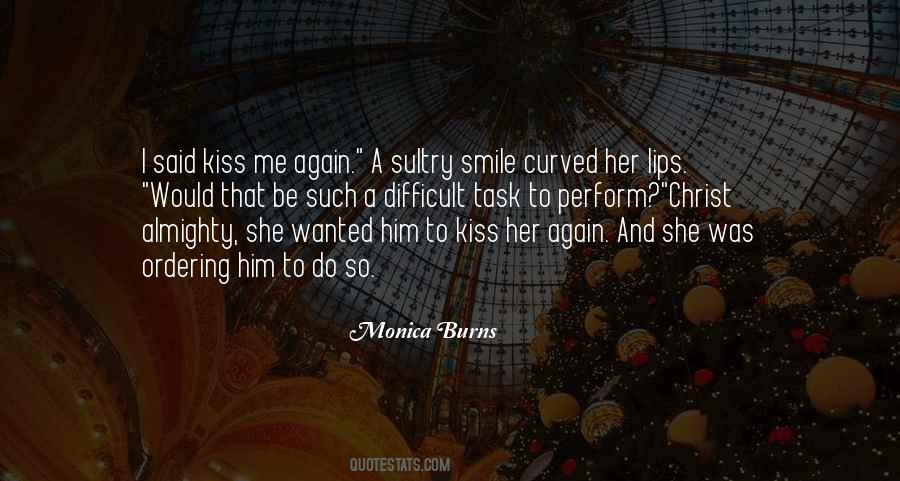 #85. I once thought the three most important words in creation were 'whatever proved necessary,'" he said. "And now?" she gasped against his mouth. "Now I know I was wrong. The three most important words in creation are 'I love you - Author: Gena Showalter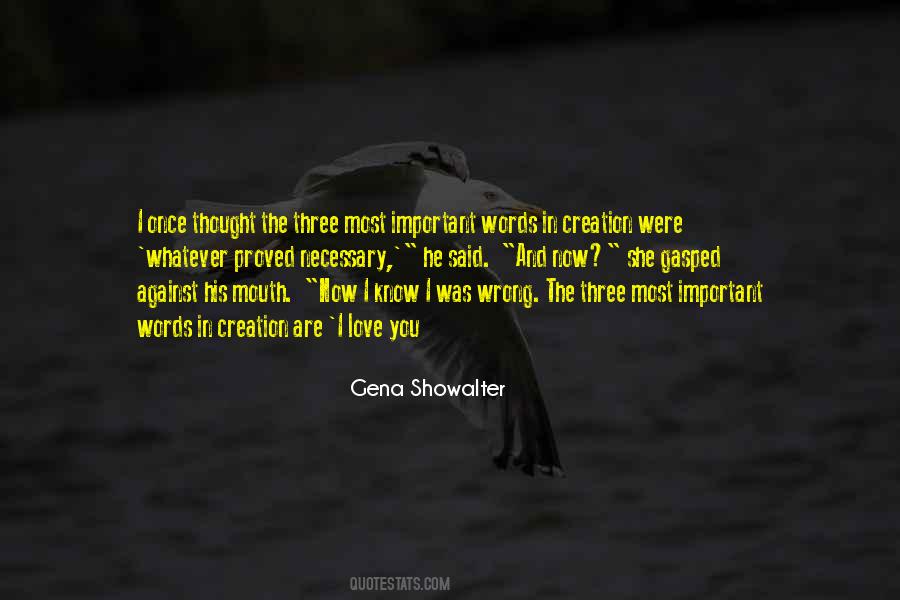 #86. One of the most touching things my mother said to me was that if I ever wanted to come back to live in India, she would build me a home and go out and work hard so that I could be happy. - Author: Saroo Brierley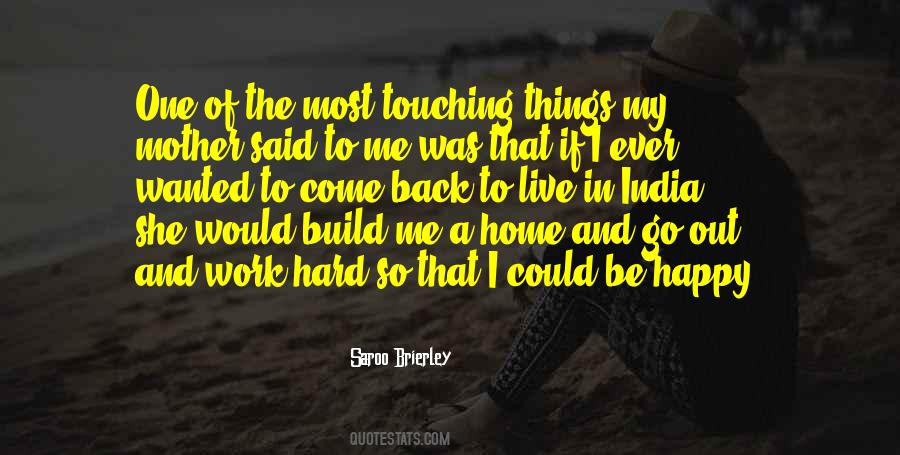 #87. Perhaps in body I am not quite as real as you," he said, then looked alive, making him once again seem real, even though she knew that if she tried to touch him, she could not. "But my thoughts and emotions are as real as yours. My soul, Mia Randall, is as real as yours. - Author: Suzannah Daniels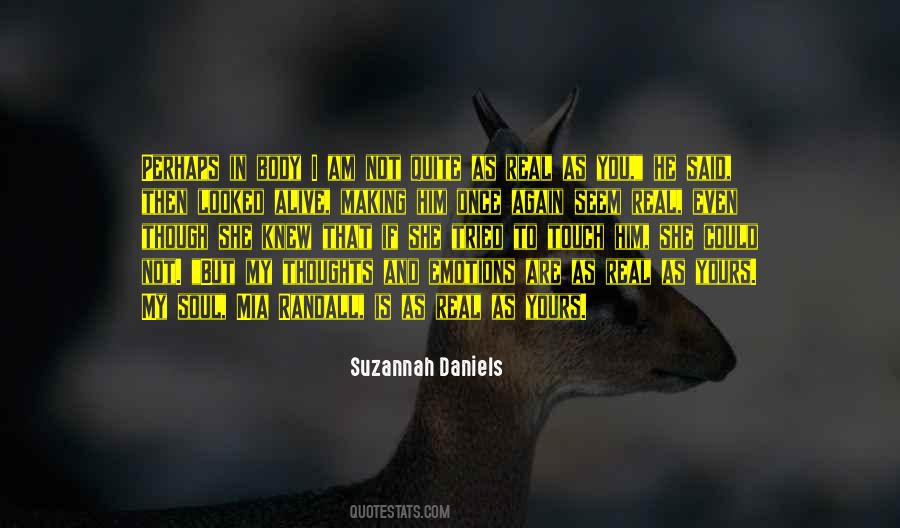 #88. She is deranged," I said, "but so so playful. - Author: Jonathan Safran Foer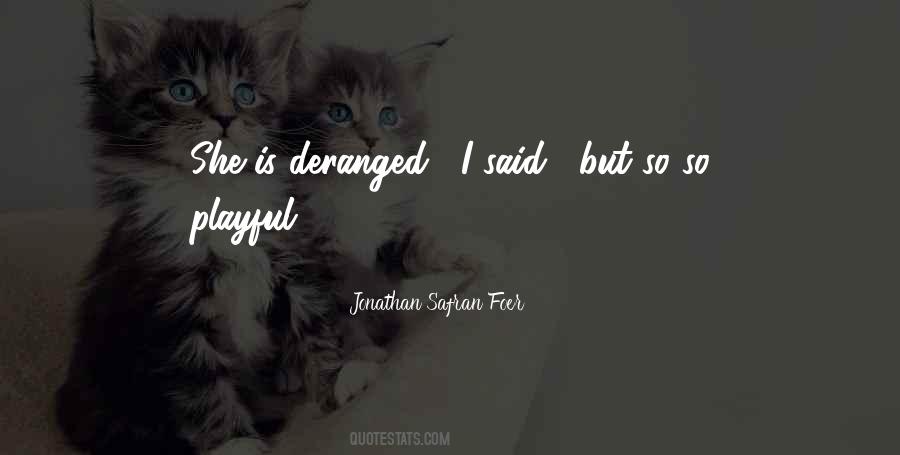 #89. Smack me if we ever get that awful."
"But I smack you so often," she said, "how will you know that's what I'm smacking you for?"
"We shall work out a smacking code. - Author: Gina Damico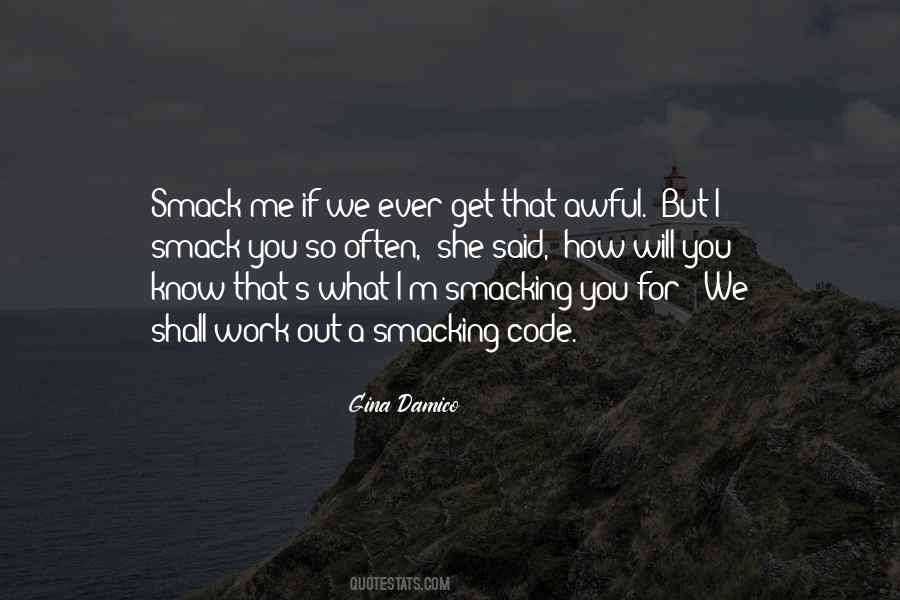 #90. ...She squeezed Niall's hand and bleakly said, "I don't want you hurt."
"Oh, Serena, that's all I have to know." And with that, he kissed her so passionately, she felt as though she had fae transported to the moon and back... - Author: Terry Spear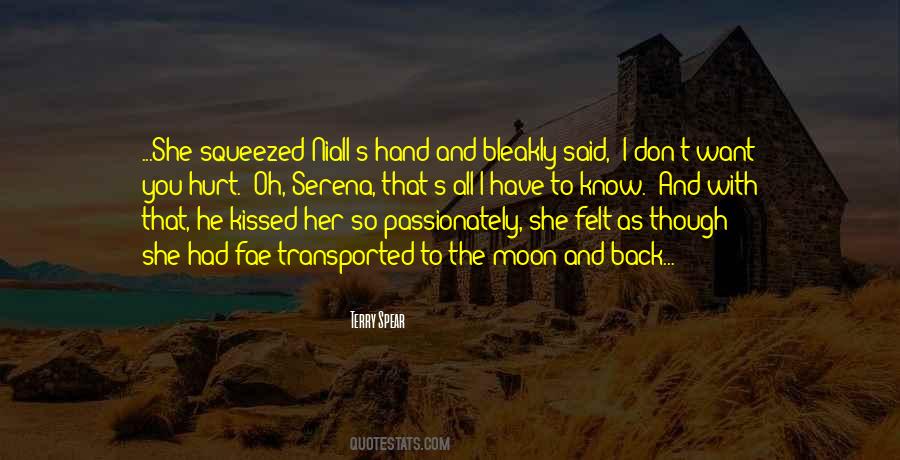 #91. Thanks for being the kind of person who likes to pick up a book. That's a genuinely great thing. I met a librarian recently who said she doesn't read because books are her job and when she goes home, she just wants to switch off. I think we can agree that that's creepy as hell. - Author: Max Barry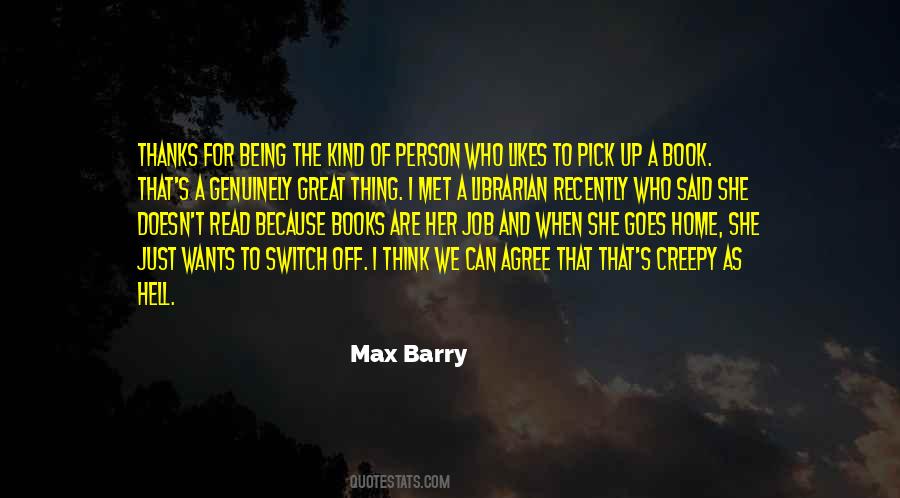 #92. If she can't stand the heat, she needs to stay out of the kitchen," Mr. Rush insisted.
"Or you could air-condition the kitchen," I said. "Or at least install a fan to ventilate some of the fumes. - Author: Jennifer Echols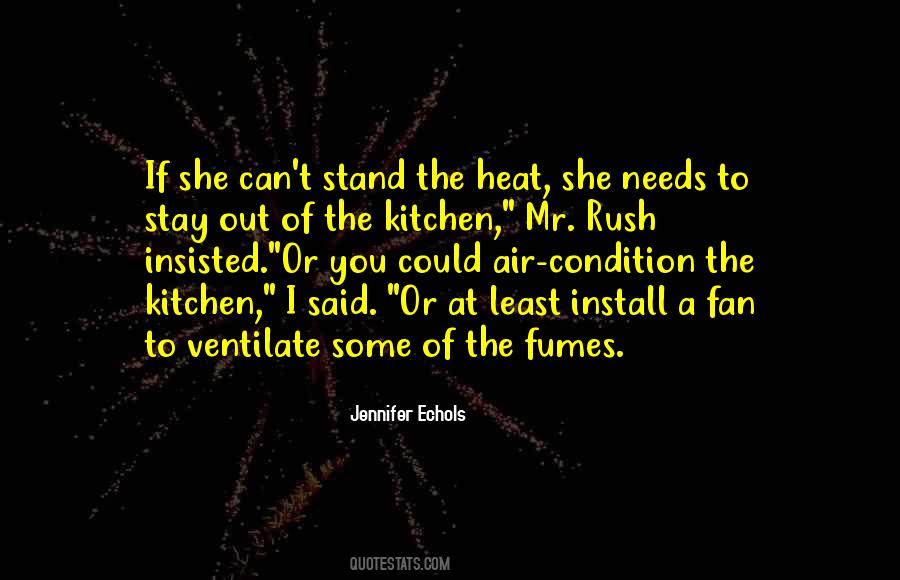 #93. It's funny. I thought she'd live through anything."
Charlie said, "Me too. I figured even if there was a nuclear war, it would still leave radioactive cockroaches and your mum. - Author: Neil Gaiman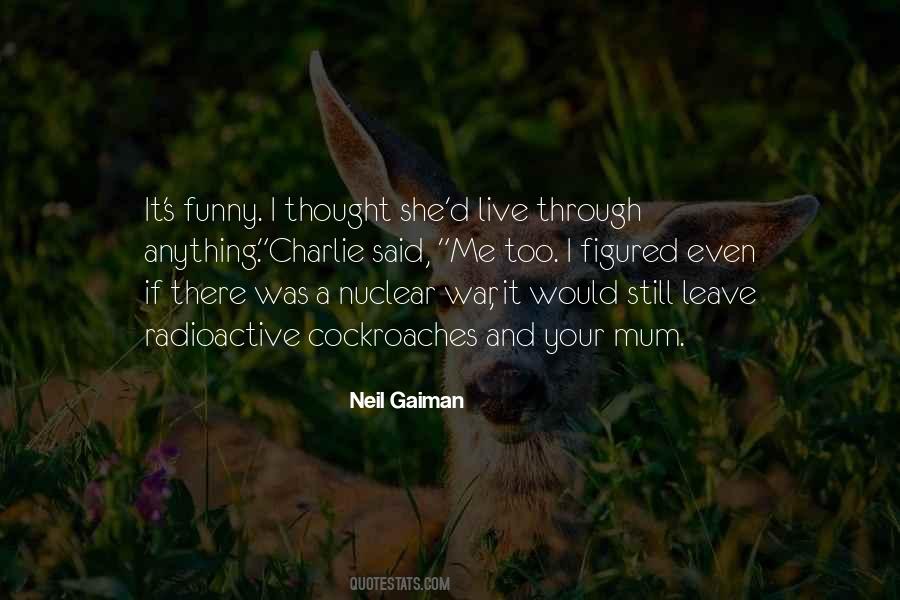 #94. All life is a rhythm," she said as I sat up. "All death is a rhythm suspended, a syncopation before life
resumes. - Author: Samuel R. Delany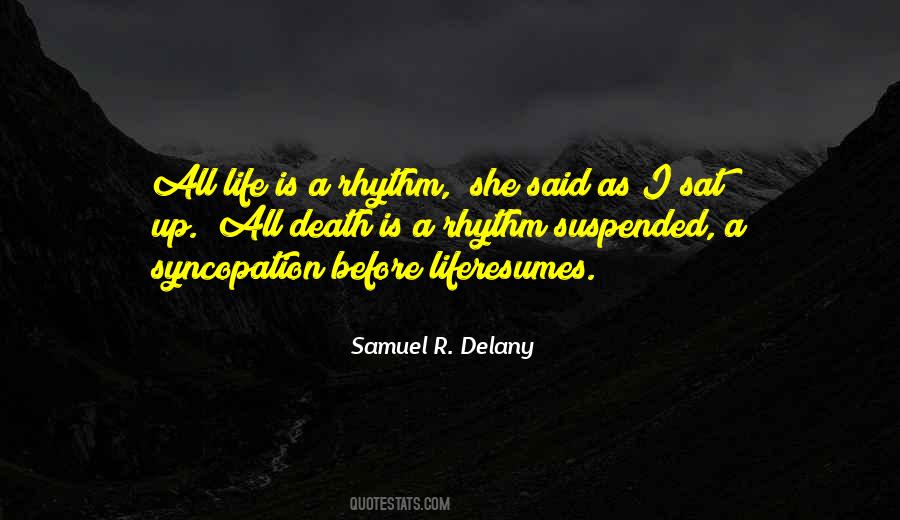 #95. It always seemed to me," she said at last, "that it must require a great deal of courage to be an artist, if only because the creative process is such a lonely one. I should imagine it must be all the more difficult for a woman. - Author: Richard Yates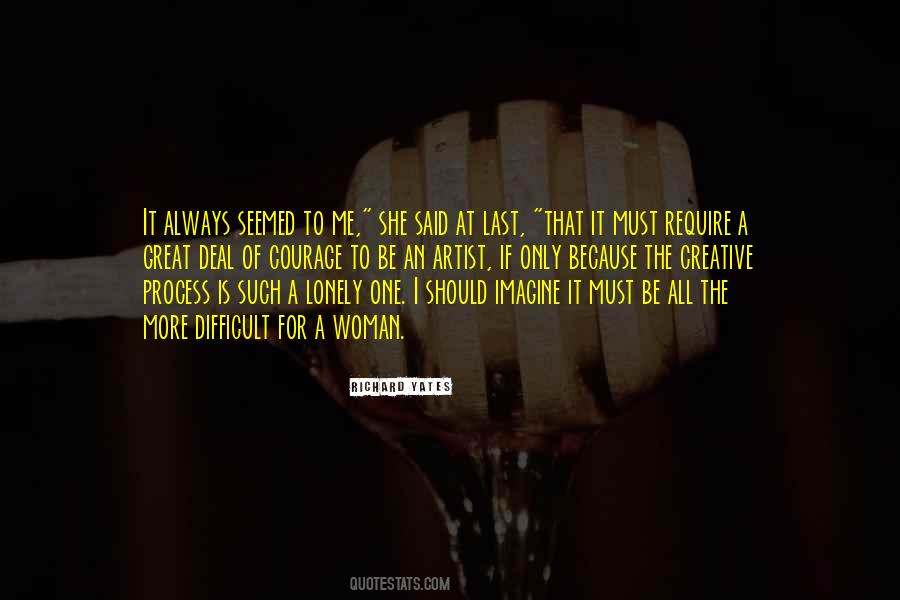 #96. Loved her?! I never even touched her," he said.

"That's the problem with men, Jack," she said, "you think that love has to start in the fingers. - Author: Kevin Alyn Elders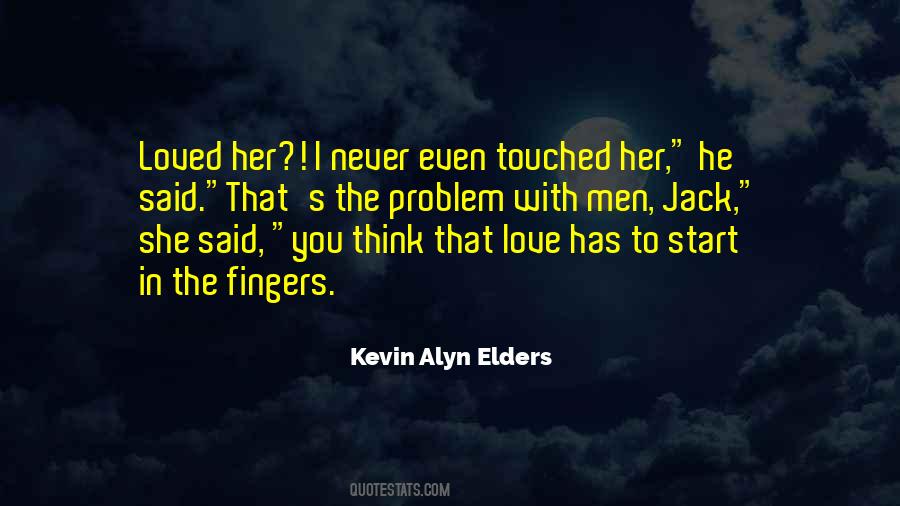 #97. I have spent my life waiting for something to happen,' she said. 'And I have come to understand that nothing will. Or it already has, and I blinked during that moment and it's gone. I don't know which is worse - to have missed it or to know there is nothing to miss. - Author: Tracy Chevalier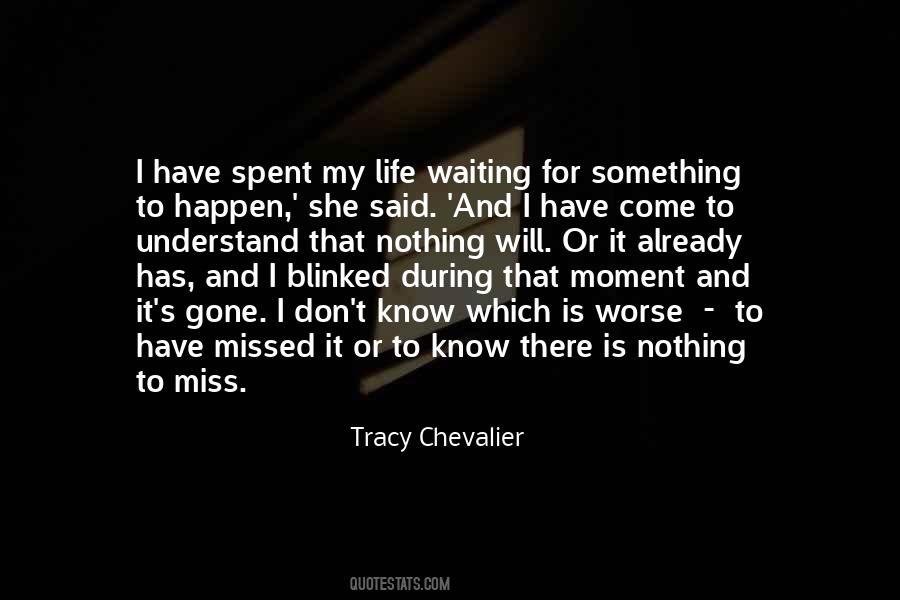 #98. I grew up climbing mountains in Montana and Wyoming and my wife and I were engaged on top of a mountain peak: Hyalite Peak in Montana. It was a 15-mile hike to get to the top of that, round-trip - thankfully, she said yes. - Author: Steve Daines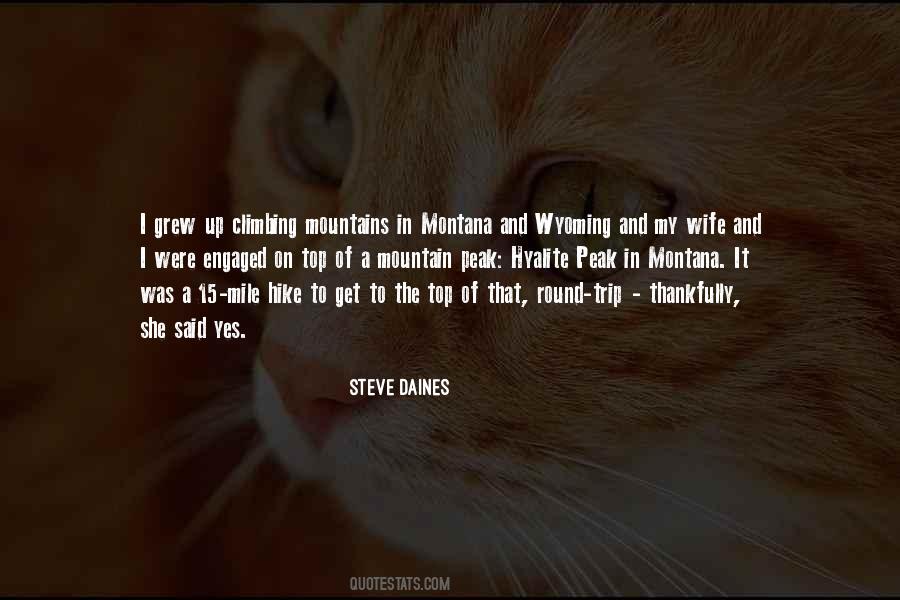 #99. Camille's tear-streaked face flashed for a moment with triumph. "I knew it," she said. "Whatever else you might say, whatever lies you tell, you hate our kind. Don't you? - Author: Cassandra Clare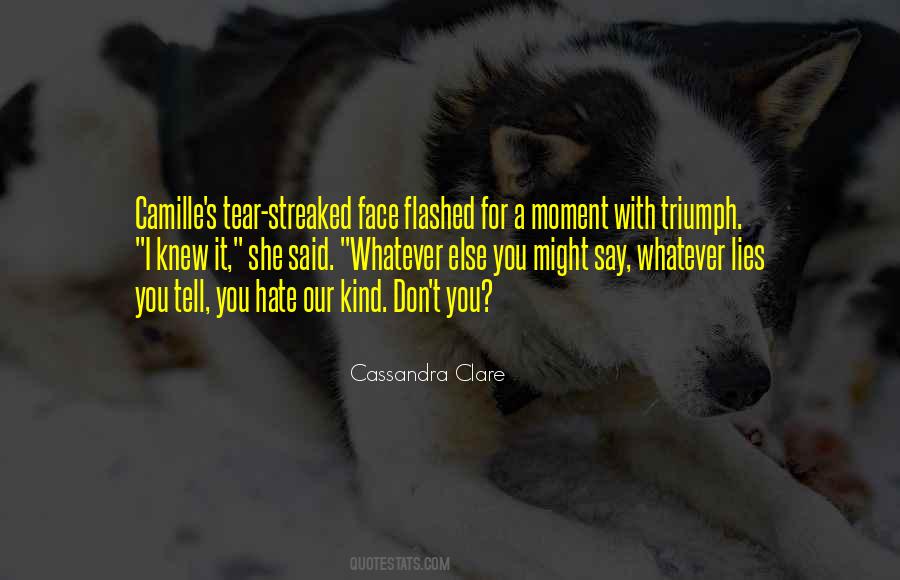 #100. Aden, I'm not fixed, she said, the words holding despair. You were never broken. There's nothing to fix. - Author: Nalini Singh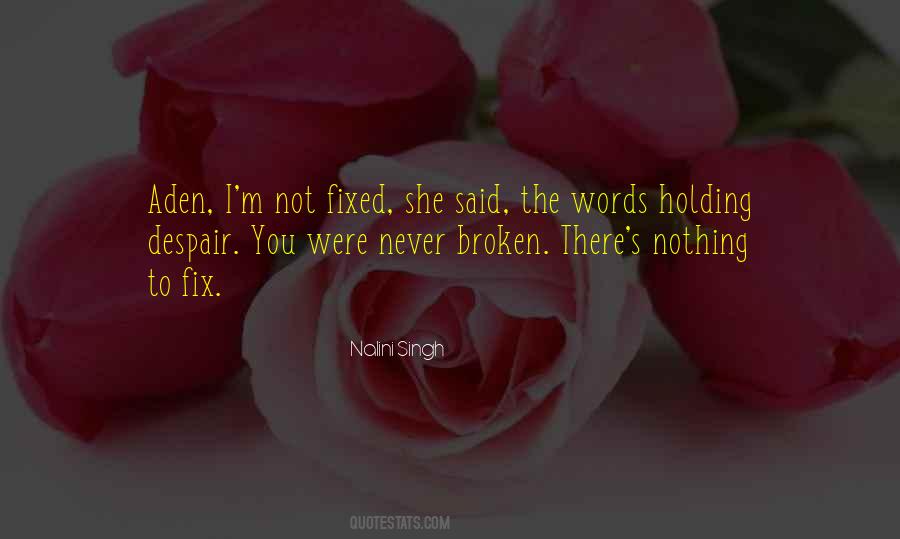 Famous Authors
Popular Topics