Something Nice Famous Quotes & Sayings
List of top 100 famous quotes and sayings about something nice to read and share with friends on your Facebook, Twitter, blogs.
Top 100 Something Nice Sayings
#1. These days I have to be extra nice in stores. It never fails that whenever I look as bad as I can possibly look or I am sort of cranky because the store is out of something, that is precisely the time when someone one will recognize me and say: 'I really like your show.' - Author: Lauren Graham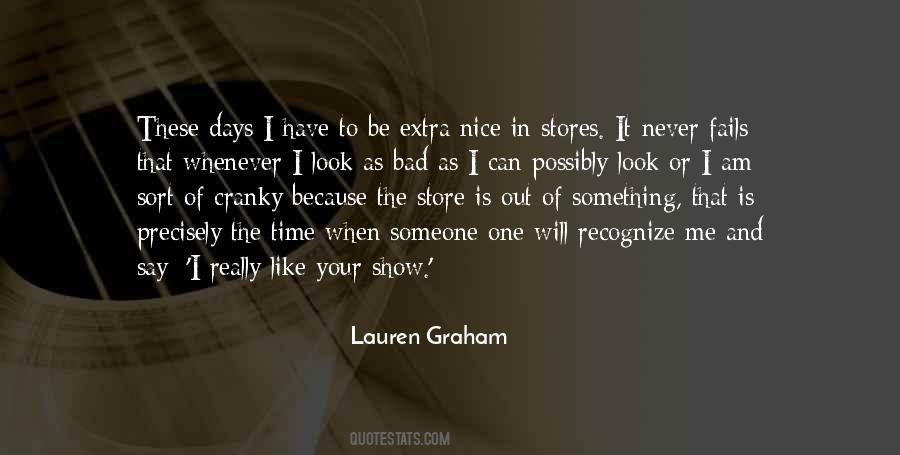 #2. Please tell me you aren't one of those people who subscribes to the 'say something nice or stay silent' philosophy. - Author: Gena Showalter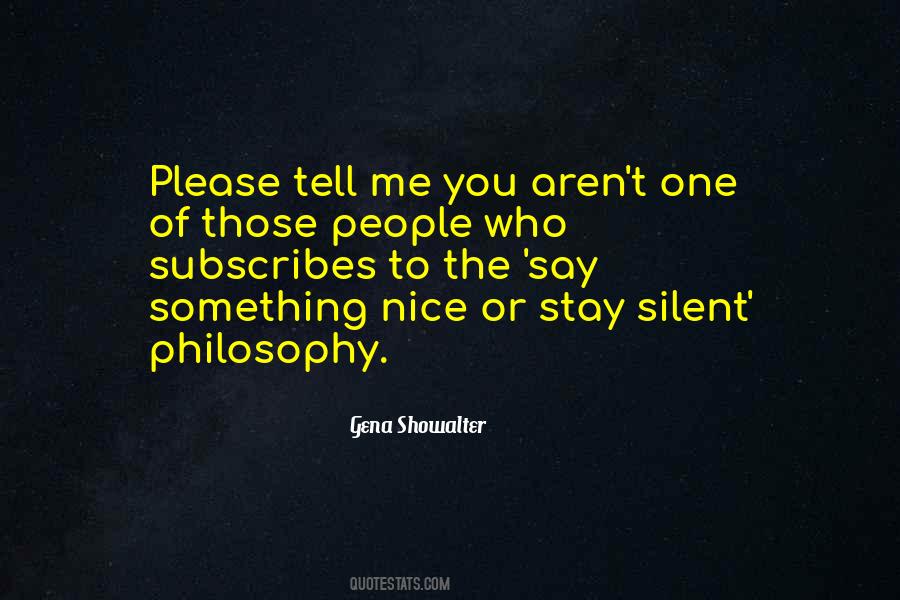 #3. It's nice to always have a job and not be floating out in the ether waiting for whatever the next big thing is. So, in that way I hope there's no a shelf-life for great shows. On the other hand, you don't want to be working on something that's reached its peak and become irrelevant. - Author: Mary Elizabeth Ellis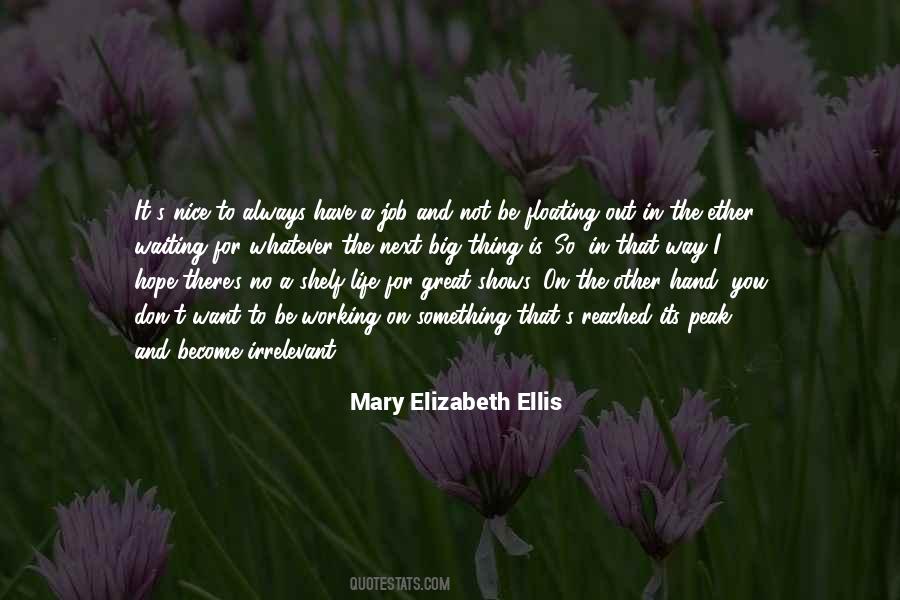 #4. But it is nice to know that you have other races lined up, because sometimes you can get so focused on your next marathon that it can become kind of unhealthy in some ways. So it's nice to have something else to slap you in the face and say, all right, there is life after the Olympics. - Author: Ryan Hall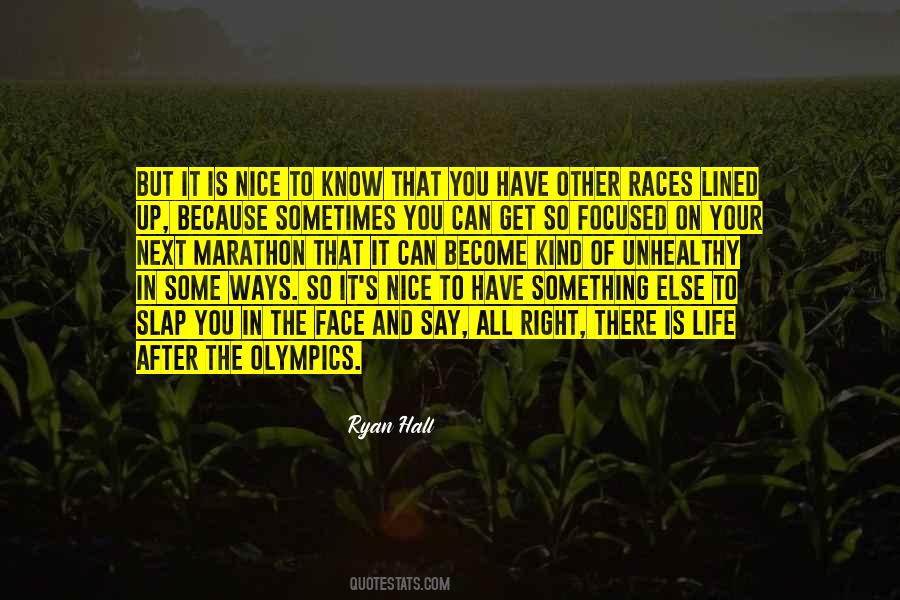 #5. It's really nice to go down to an extremely low-budget movie, but that is very daring and courageous and try something different, where the roles usually are more complicated. - Author: Stellan Skarsgard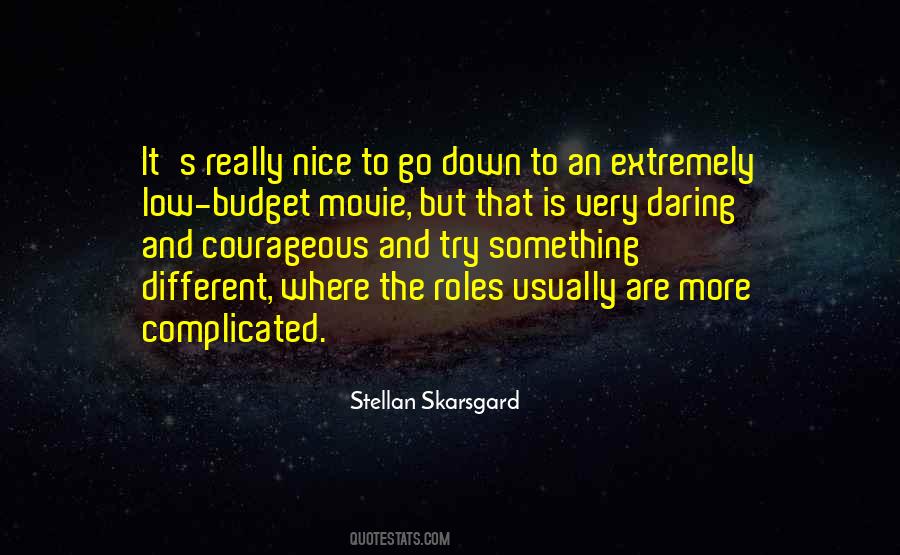 #6. But there's something missing in them, even the nice ones. It's like they're permanently absent-minded, like that can't quite remember who they are. - Author: Margaret Atwood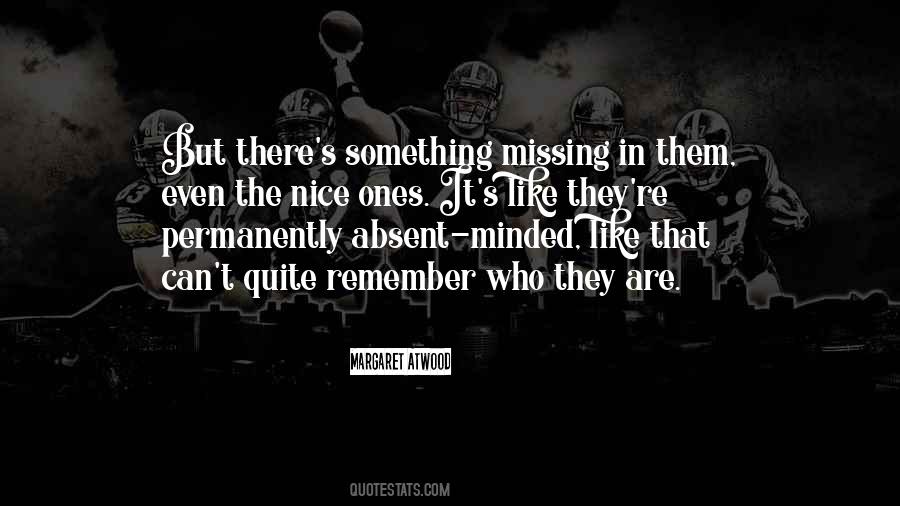 #7. I don't care what it takes. I'm tired of being pretty and nice ... I want to DO something. - Author: Brandon Sanderson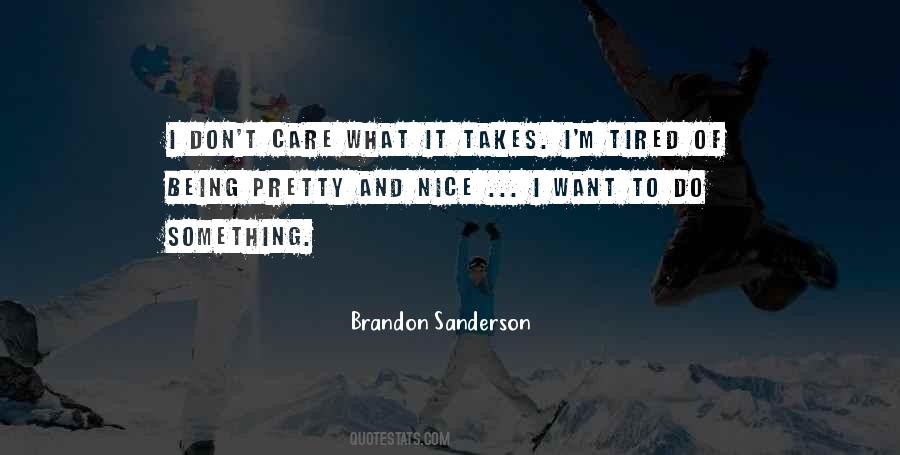 #8. There was something nice about a man who was absorbed by a good book. - Author: Maya Rodale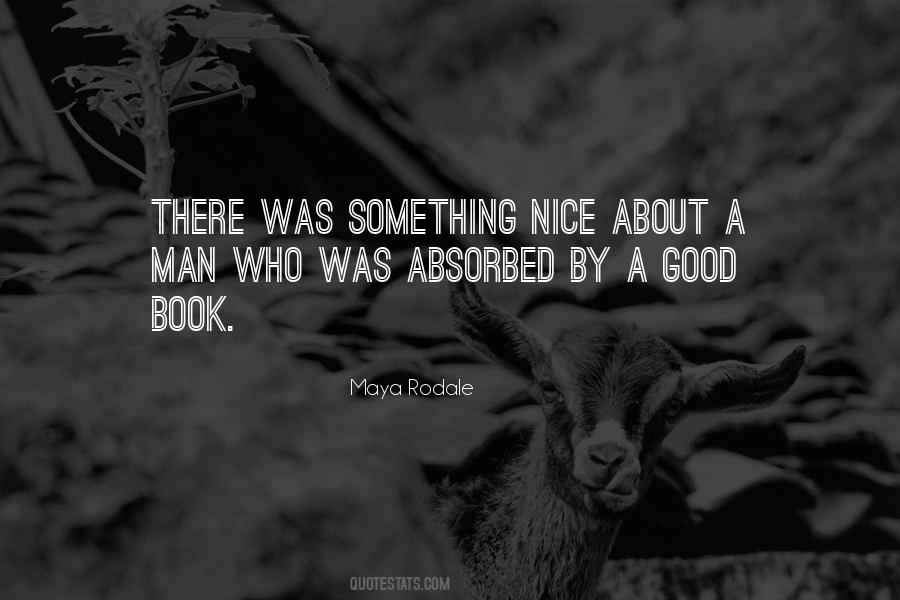 #9. I have a right to my anger, and I don't want anybody telling me I shouldn't be, that it's not nice to be, and that something's wrong with me because I get angry. - Author: Maxine Waters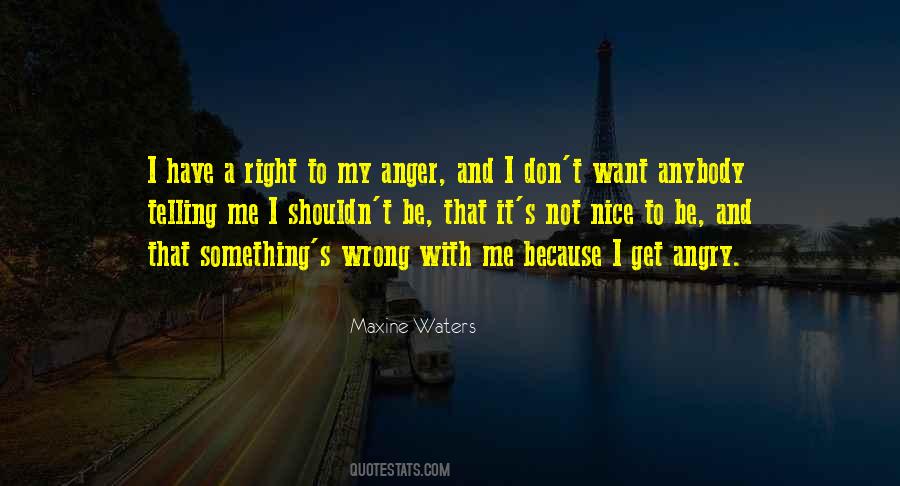 #10. It is a nice sunny day; his bunions have stopped hurting. There is always something to celebrate, in Gerrit's view. - Author: Deborah Moggach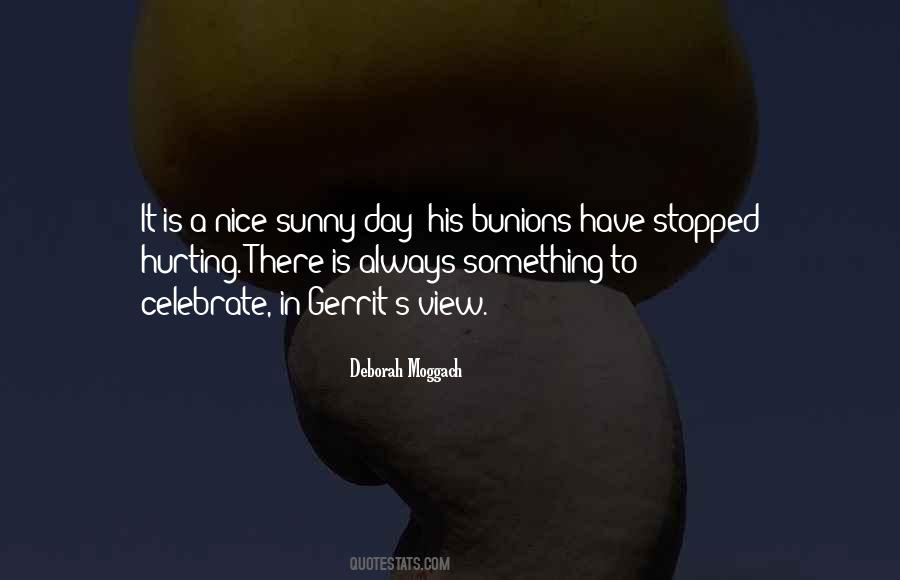 #11. Just when you've squared up to the solemn realisation that life is a bitch, it turns round and does something nice, just to confuse you. - Emily Spitzer, The Better Mousetrap - Author: Tom Holt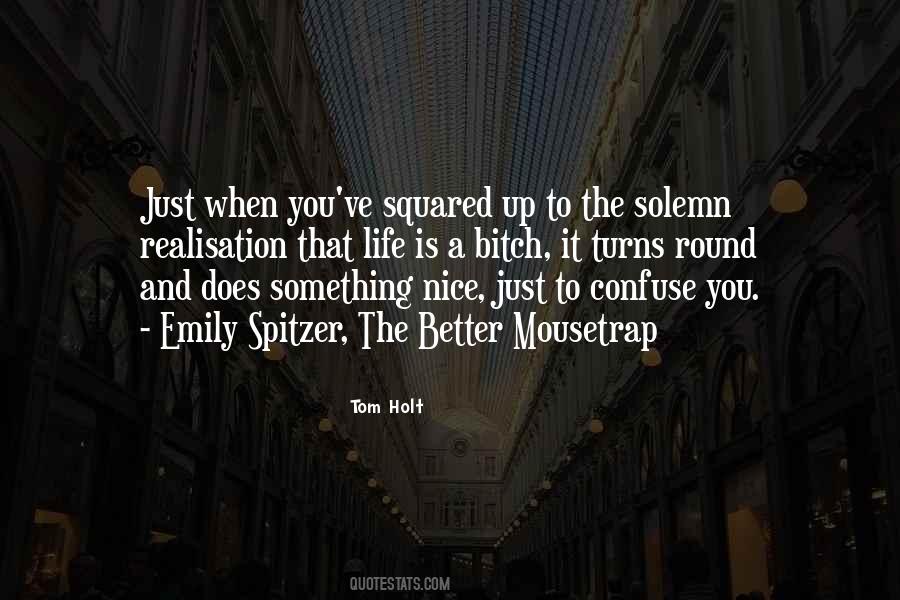 #12. I'd paint long strips of canvas and abandon them on the beach, or put bread out in geometric patterns for the pigeons downtown. I wanted people to find something nice and intriguing to puzzle over. Then I'd go back to see if the things were still there, or if anyone would notice. - Author: Jenny Holzer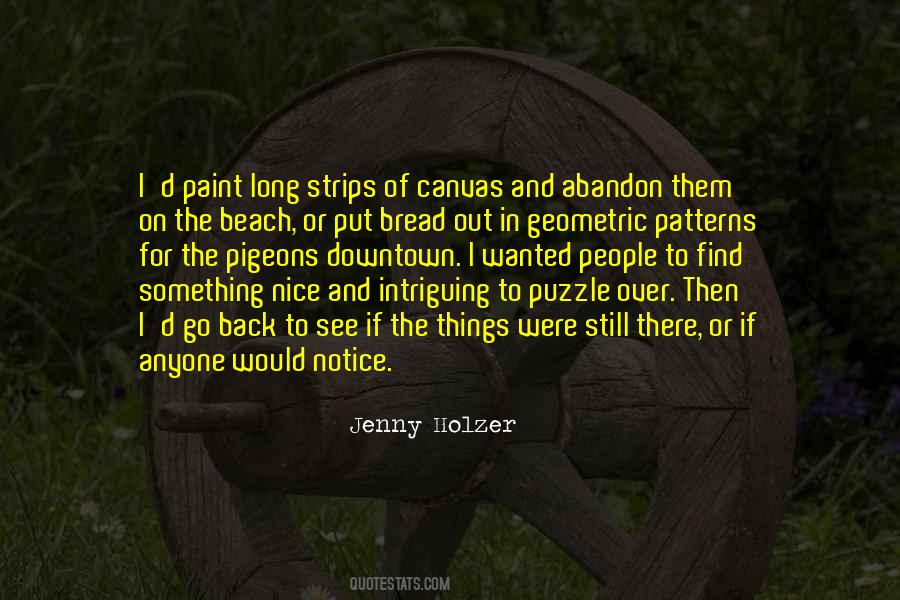 #13. I'm a Libra. If someone compliments me, I'll say something nice to them. I like to give out compliments. - Author: Amber Rose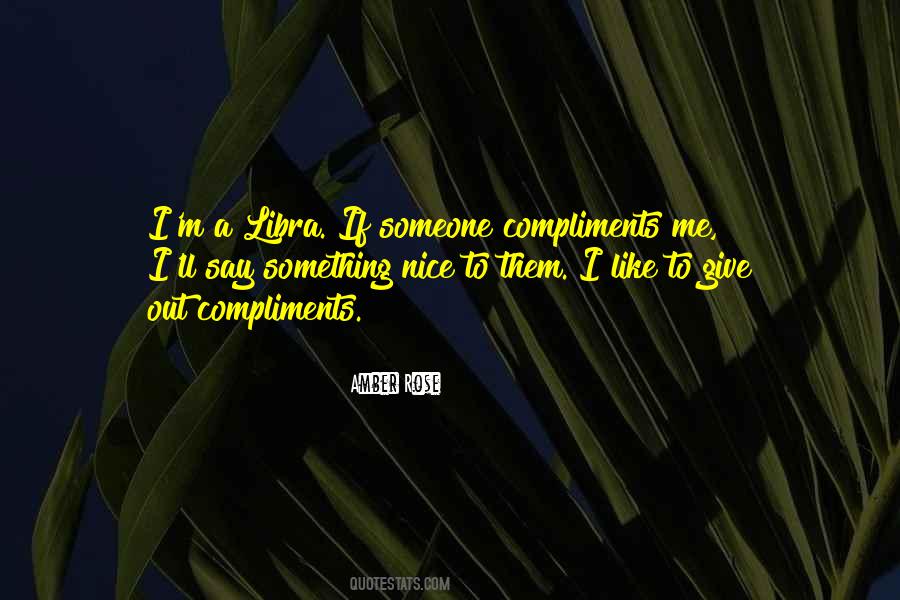 #14. Trust your instincts, Dad always says. If something feels dodgy to you, if someone feels dodgy, you go with dodgy. Don't give the benefit of the doubt because you want to be a nice person, don't wait and see in case you look stupid. Safe comes first. Second could be too late. - Author: Tana French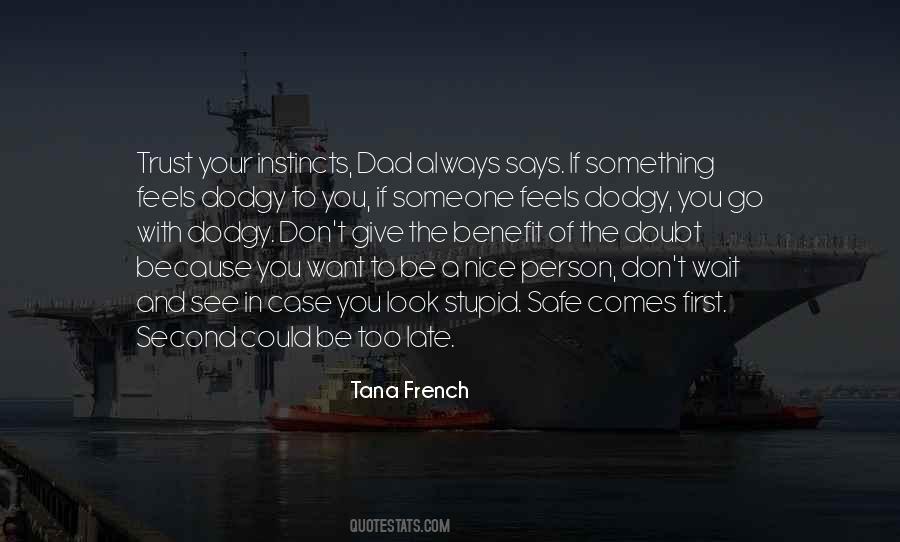 #15. I was just trying to make a nice little movie ... It wasn't until I saw it all put together that I realized this was something remarkable. - Author: Mike Nichols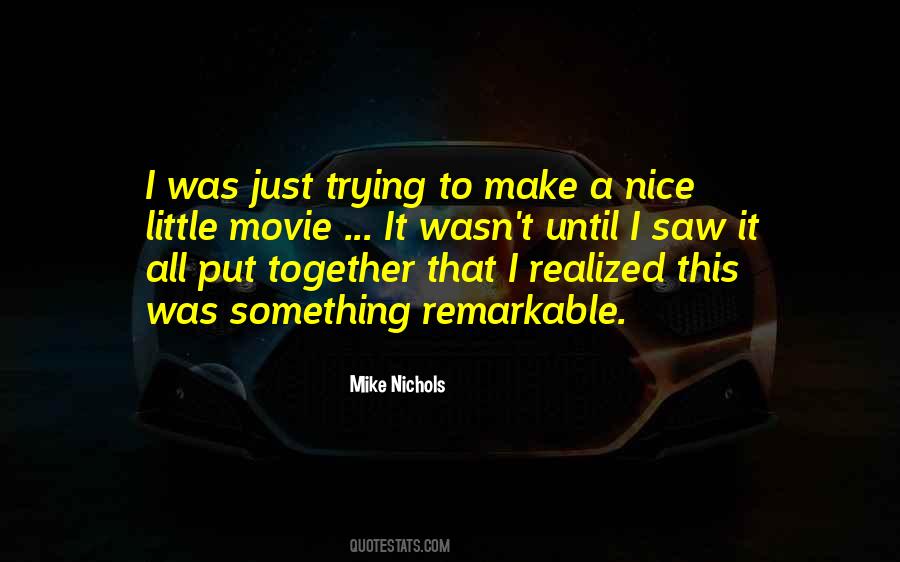 #16. My parents are always a great litmus test. Based on the amount of shrieks my mother gives when we're out in public, her constant shock when somebody comes up and says something nice. - Author: Rick Hoffman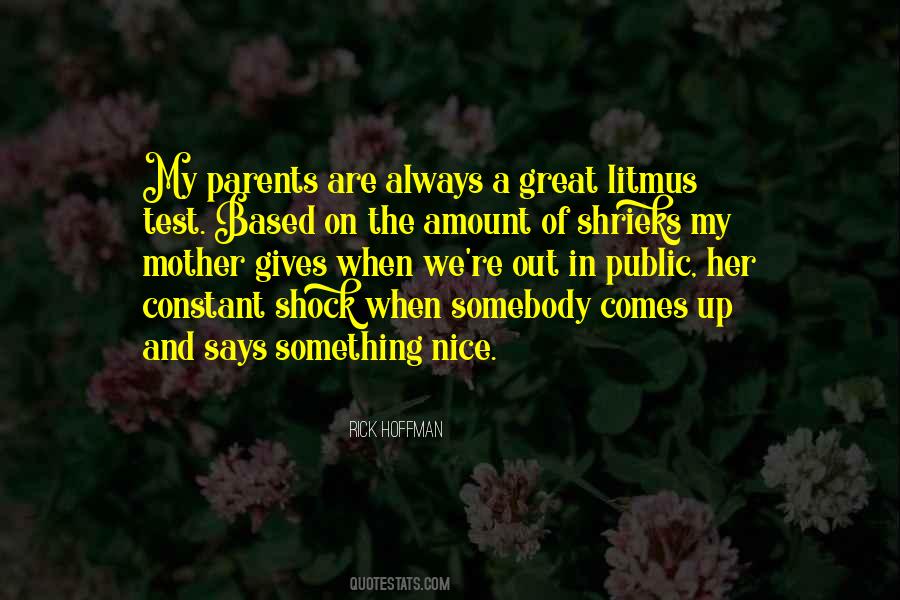 #17. I wouldn't change Buffy for anything and I wouldn't change the course in which she has evolved but it is nice to be able to do something that is a little different. - Author: Sarah Michelle Gellar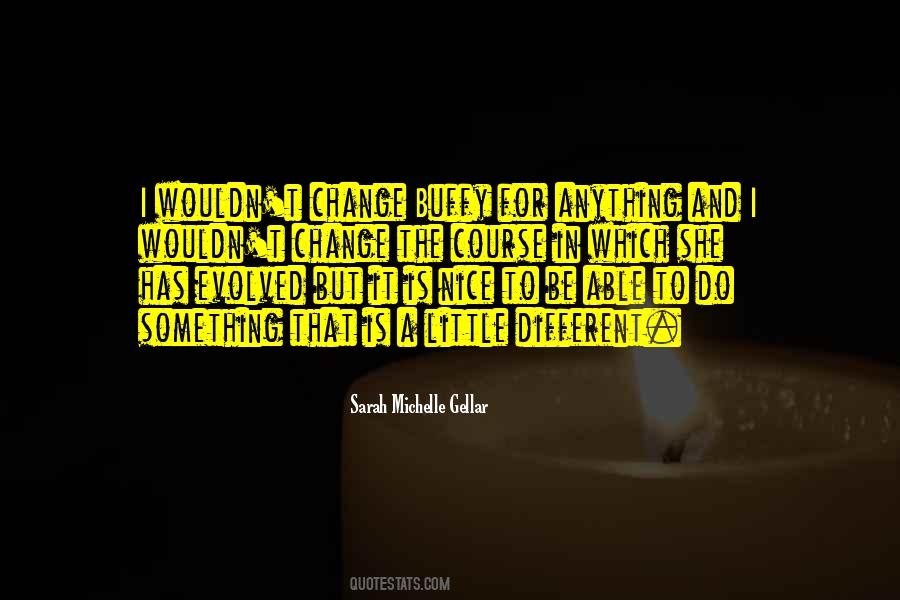 #18. It is not often that I have two options to choose from. It is nice to be compelled towards something, otherwise one drifts through life unimpeded.
Bhanggi - Author: Faiqa Mansab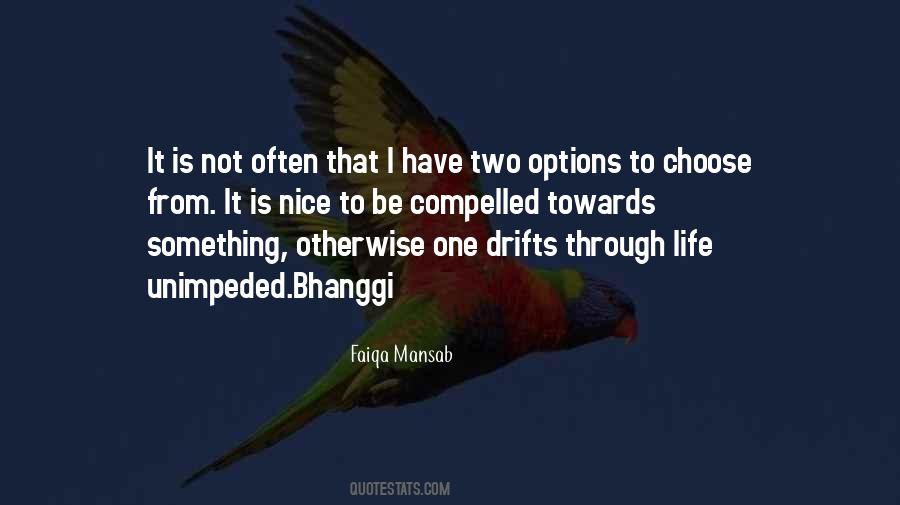 #19. The seconds pass. I know what's going on because it's the same thing that always happens: give me something nice, something I love or want or need, and I'll find a way to grind it into dust. - Author: Jennifer Egan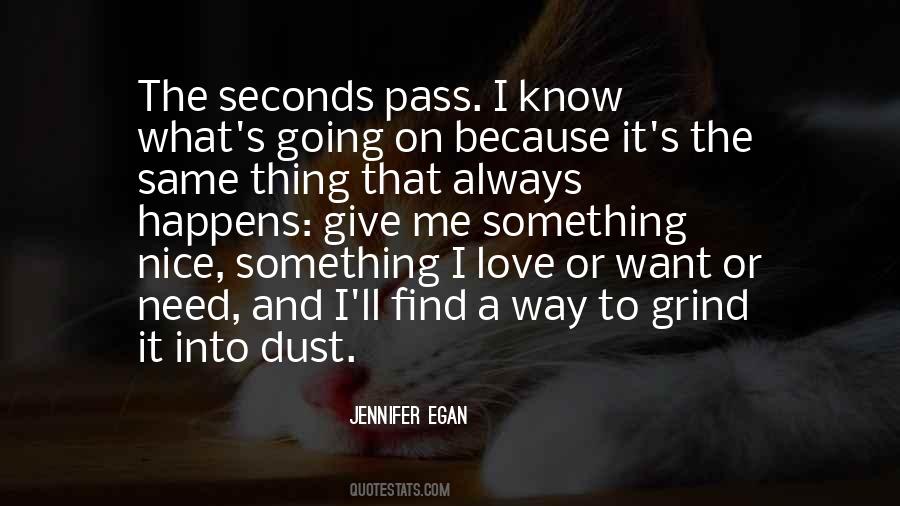 #20. The album is a thing that you can hang out with between shows. I think that it's really nice to give people something they can enjoy in a private situation or walking around, just as the soundtrack of their lives. - Author: Alex Ebert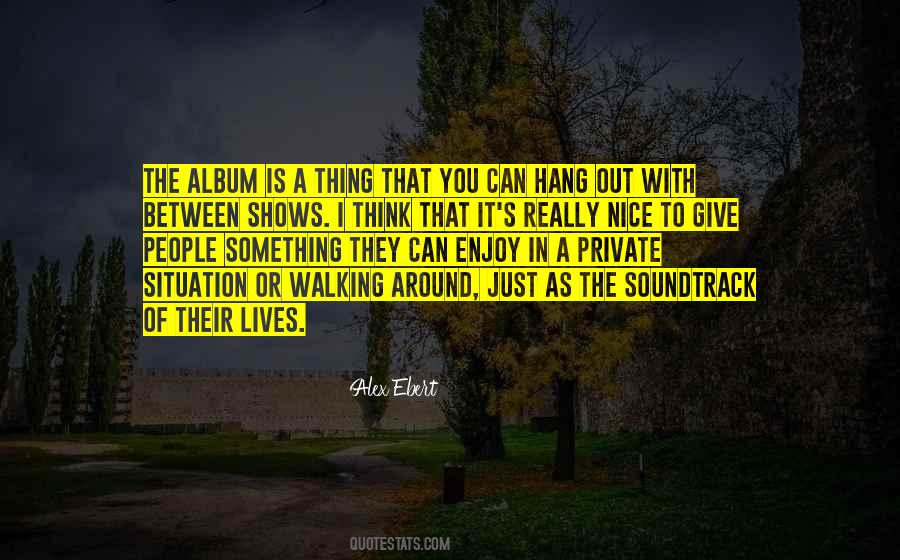 #21. We don't do movies for the industry. We do movies for the fans, for the people. If the industry give you a trophy or not, or pat you on the back or not, it's nice, but it's not something you should dwell on. - Author: Ice Cube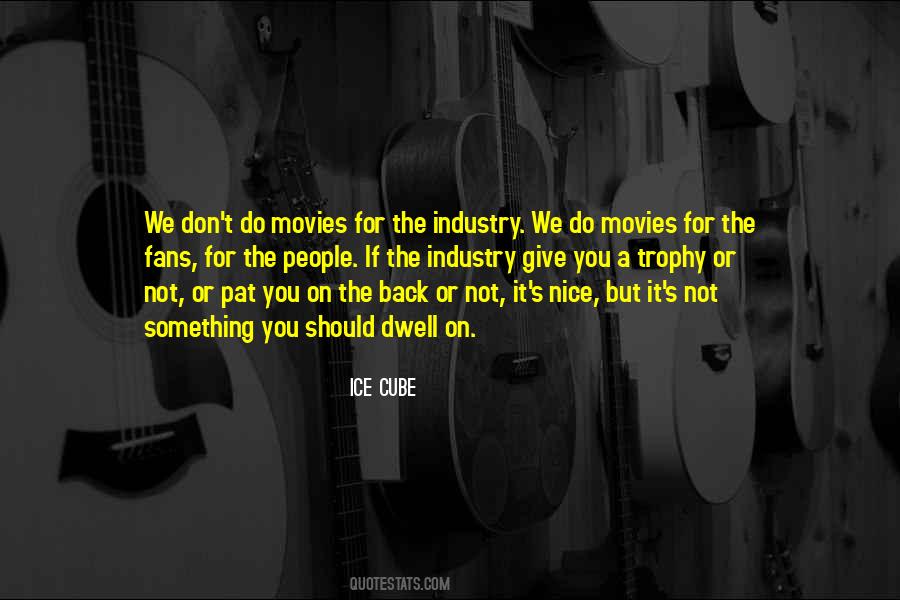 #22. It's nice to be recognized, but it's not great to have it too conspicuously recognized, if you see what I mean. Gold records on the wall, or titles after your name, it's just not something ... I don't feel that great about it. - Author: Ian Anderson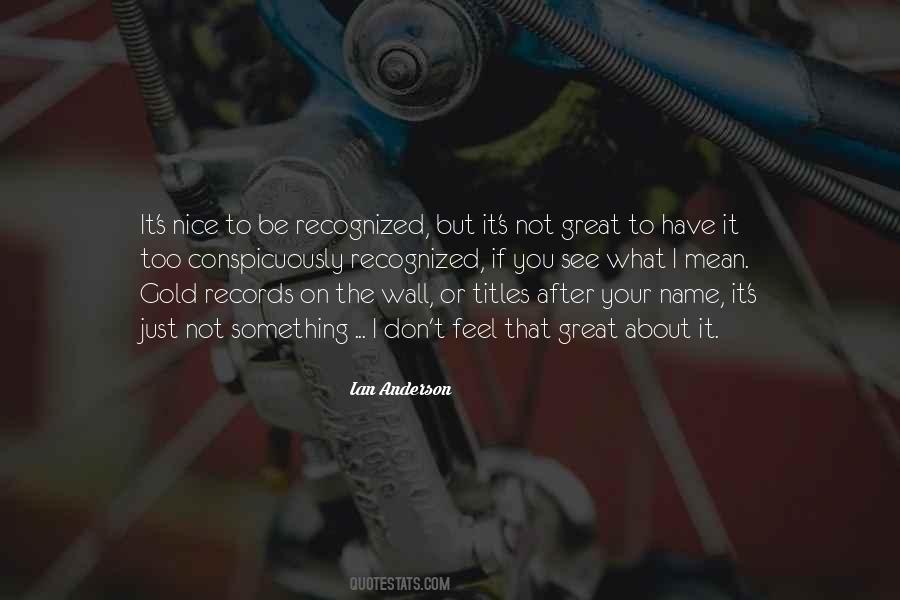 #23. There are a lot of nice details that are exclusive to C. Wonder, which are the status C. Wonder gold buttons and the tassels. We want the customer and the loyal client to just really know that when they come to C. Wonder they're getting something that's super wearable but is also really luxurious. - Author: Brad Goreski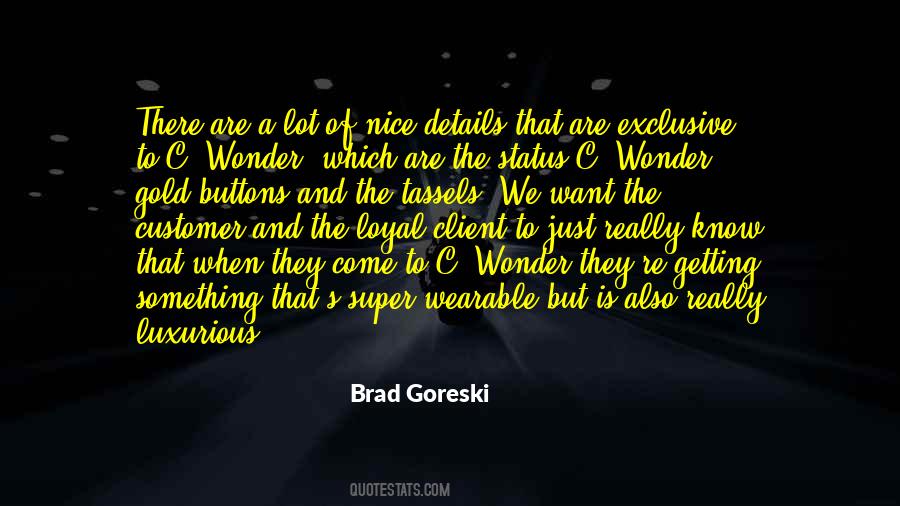 #24. Night after night, my mom had us name three nice things our siblings had done for us, and each night we were somehow able to come up with something. And - Author: Nicholas Sparks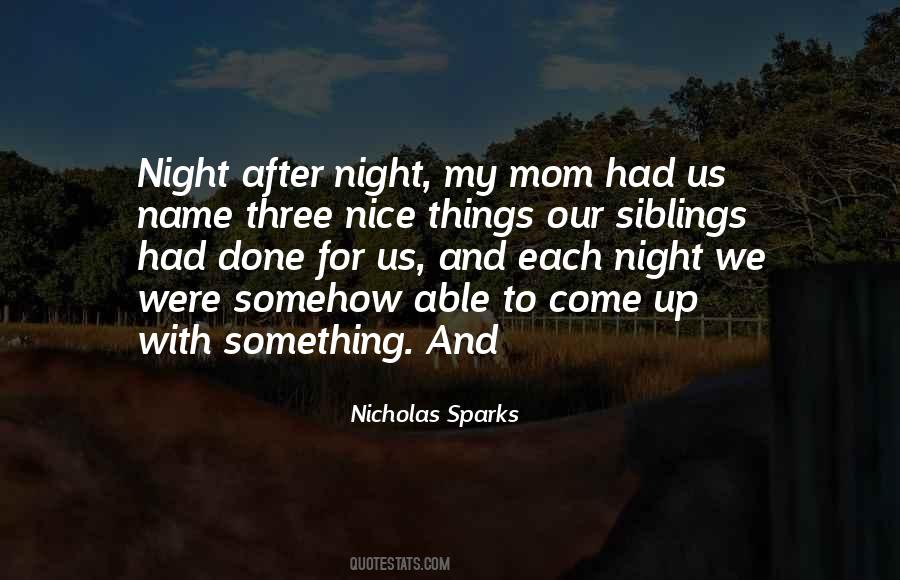 #25. I wouldn't last the night without the walls between us. Her touch, those lips, I craved them. How could I let her go, to even think of leaving her alone? I dragged myself away, and told her to dress in something nice. A minute longer, lost in those lips, and my plan would've been over. - Author: Rae Z. Ryans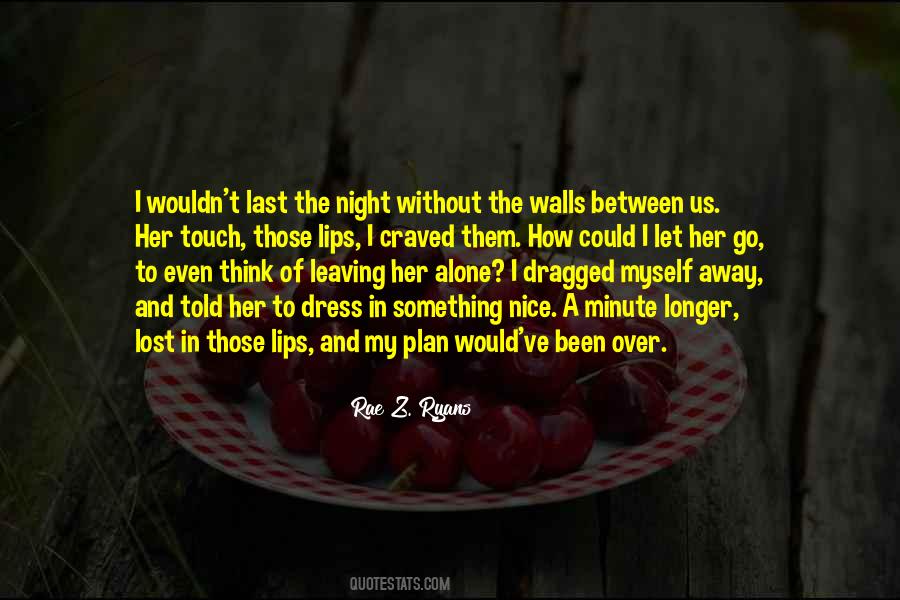 #26. I love Snoop. I worked with him on 'Old School,' and he's very accessible. He's very kind. He's always nice to everyone, to the crew. He's always got something positive to say. He's very childlike and loves to come and play. So, I had fun working with him. - Author: Vince Vaughn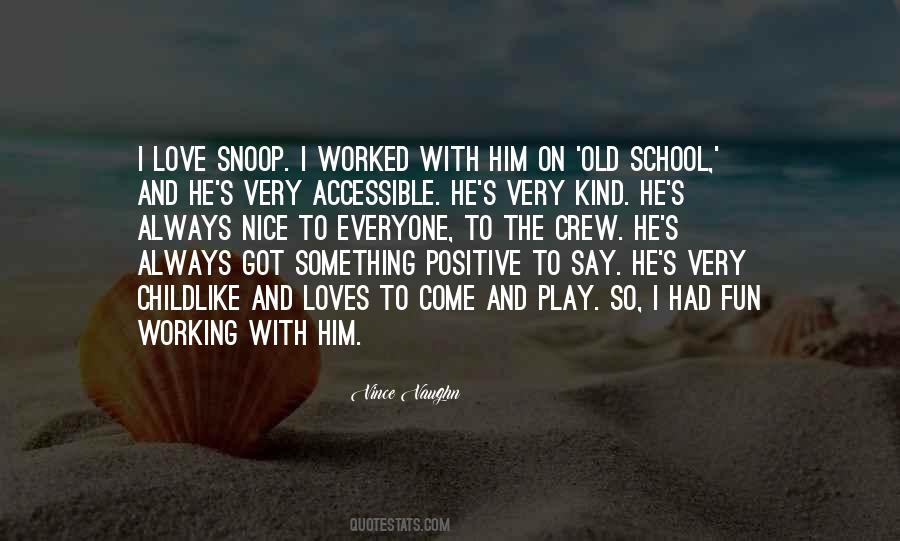 #27. When I talk with people, I don't even see what they are wearing ... No, I recognize it if it's something particularly nice and interesting. I see the exception. - Author: Miuccia Prada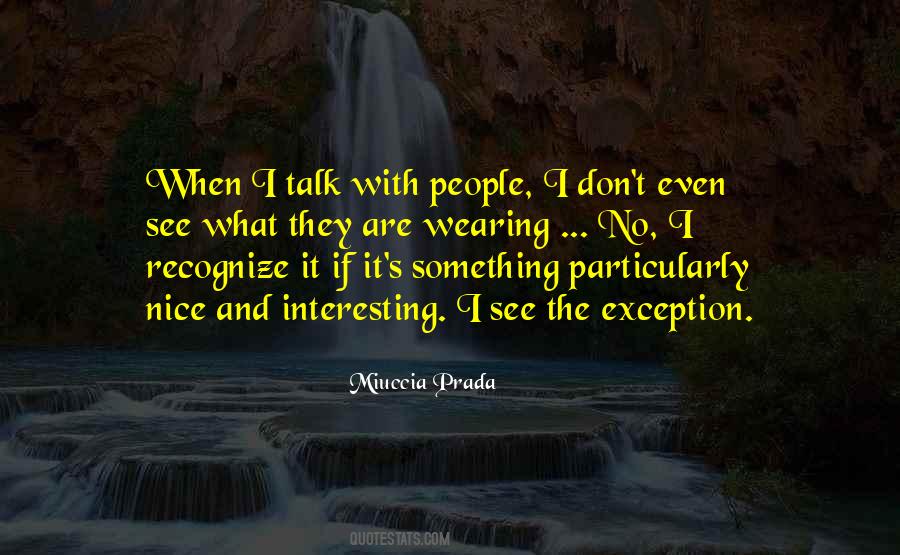 #28. It's nice to see something more pathetic than I feel right now. - Author: Chuck Palahniuk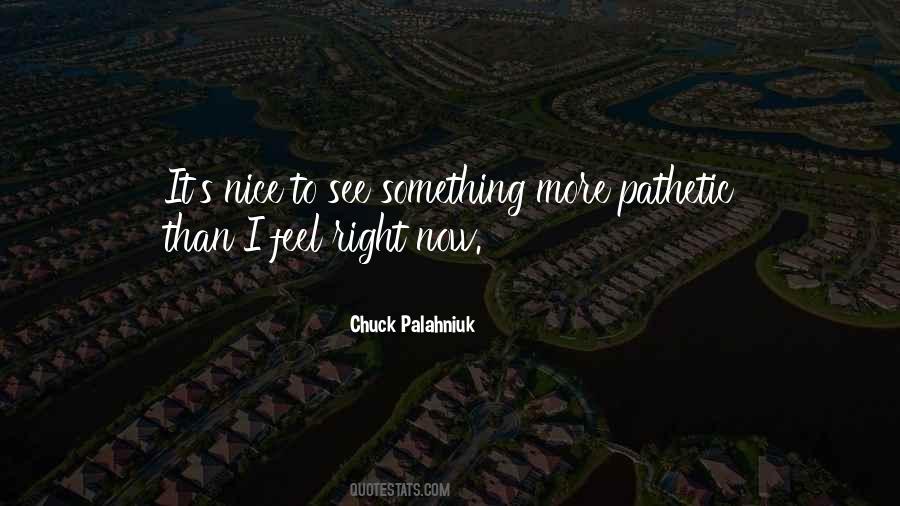 #29. I improvise whenever I feel it's important, or whenever I think that something's there. It's nice to have a script that's so well-written that I don't have to improvise. I mean, I used to have to re-write whole movies; this is kind of nice. - Author: Bill Murray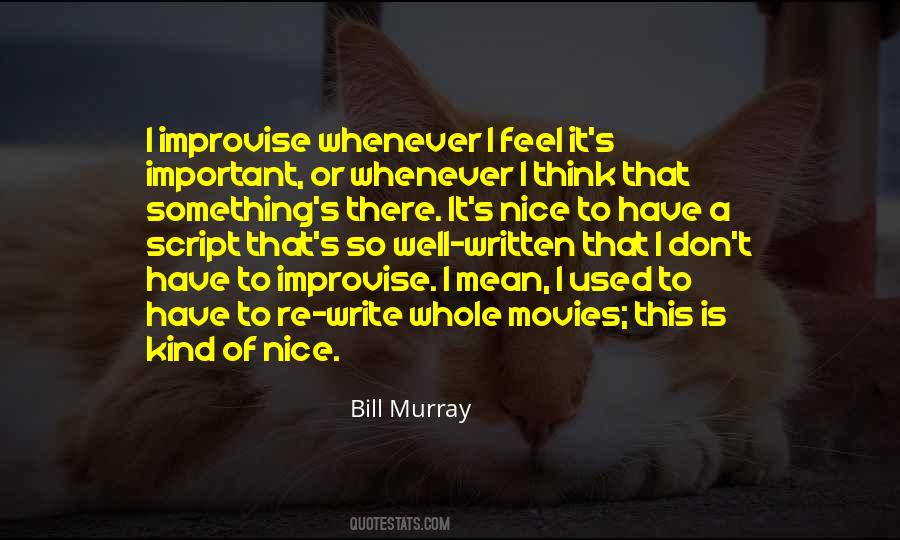 #30. I see the booing as a nice bit of banter and at least it means the fans aren't bored. It's quality. I enjoy it to be honest and I'm getting it even more than Robbie Savage, which is really saying something. - Author: David Bentley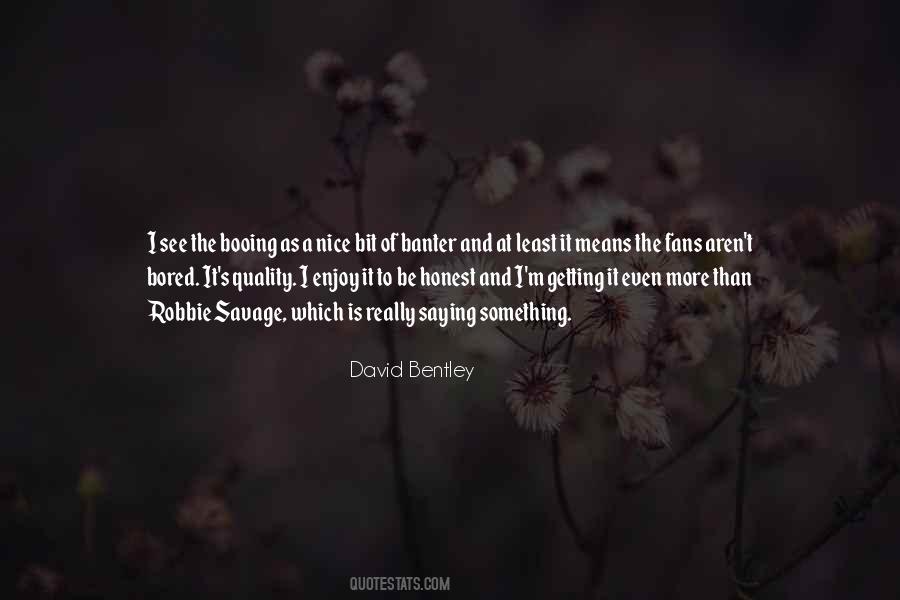 #31. When you do something good for the people, you give a nice colour to the pale world! - Author: Mehmet Murat Ildan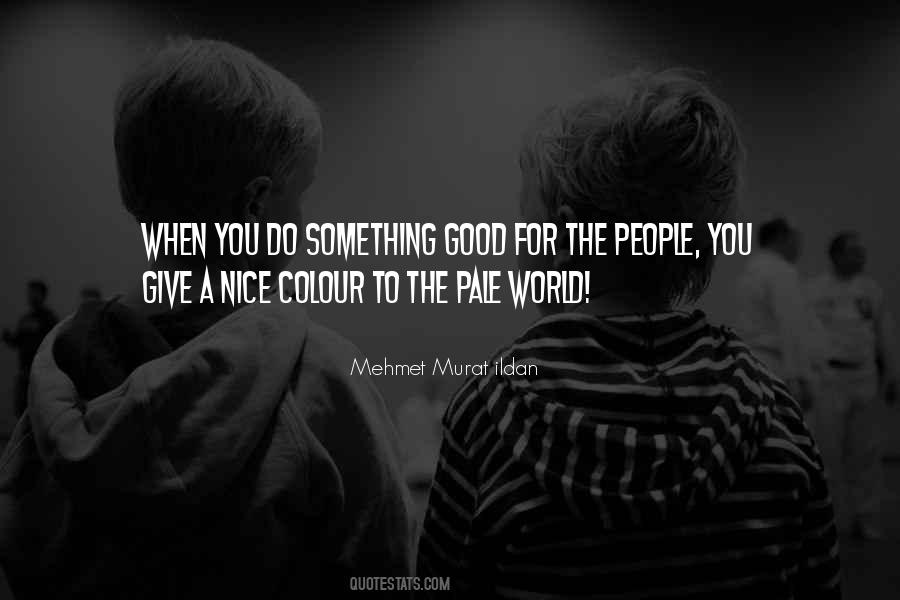 #32. I don't really worry about the size of the part much any more. It's nice to have more time to work on the character, and to have big scenes to play. But if there's something playable there, and if it's interesting to do, then that's nice. - Author: Alan Alda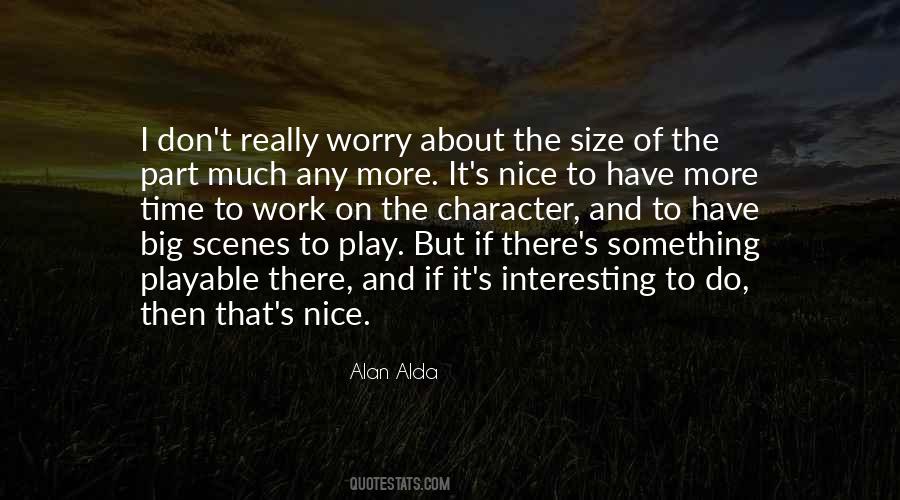 #33. Intent and dreaming is nice but its not, will never be enough. If you want something bad enough in life then you must fight for it or go after it. Life doesn't just come to you. - Author: R.M. Engelhardt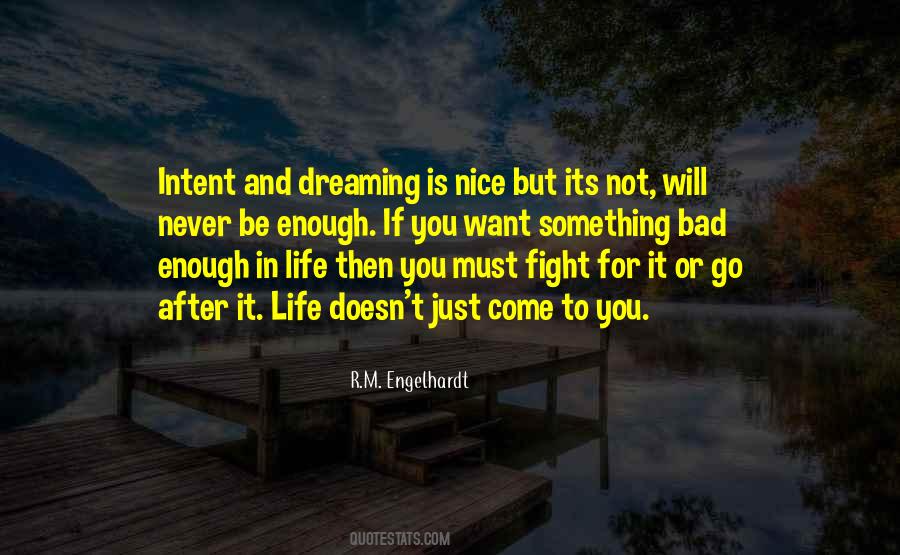 #34. I have an iPod, but I do still love CDs. There's something nice and tangible about a CD. I'm a mixture of old and new - I love my sewing machine, but I've also embraced new technology. The iPad is what did it for me - it's extraordinary. - Author: Twiggy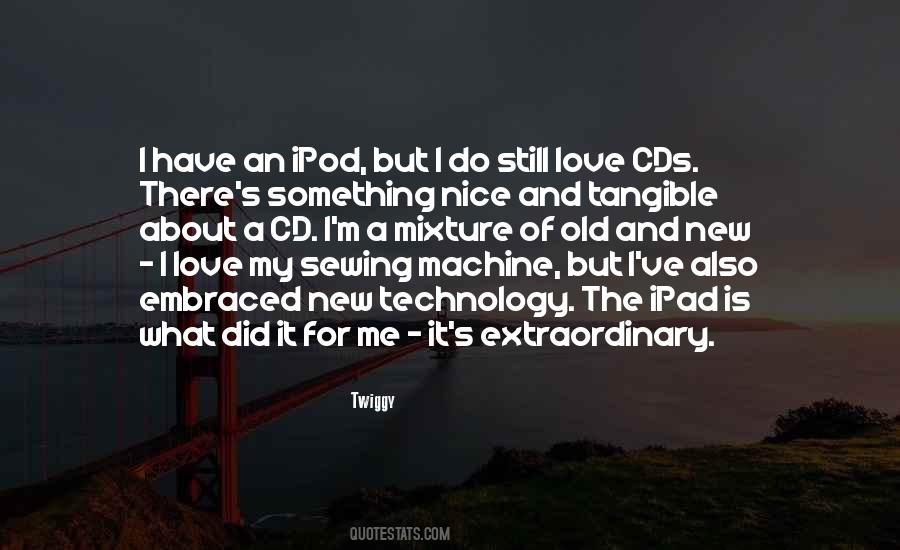 #35. When people try to hide things from you, they shouldn't be nice to you. They ought to ignore you or throw a pie at you or do something other than smile. - Author: John Donovan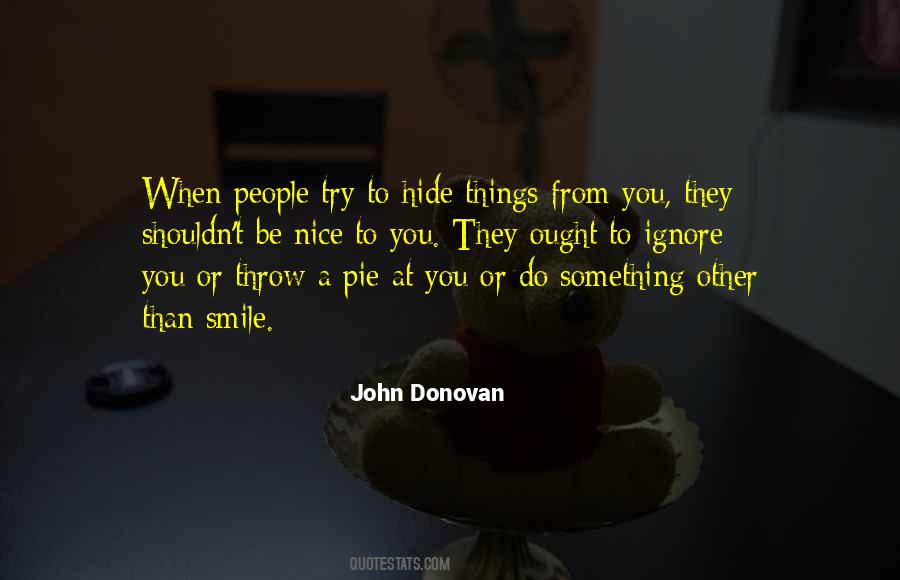 #36. Everything comes from a weird place that I don't understand. I make a piece of art just to prove that I exist in my own way. And I can't make something nice. I have to make something that makes me uncomfortable. - Author: Josh Smith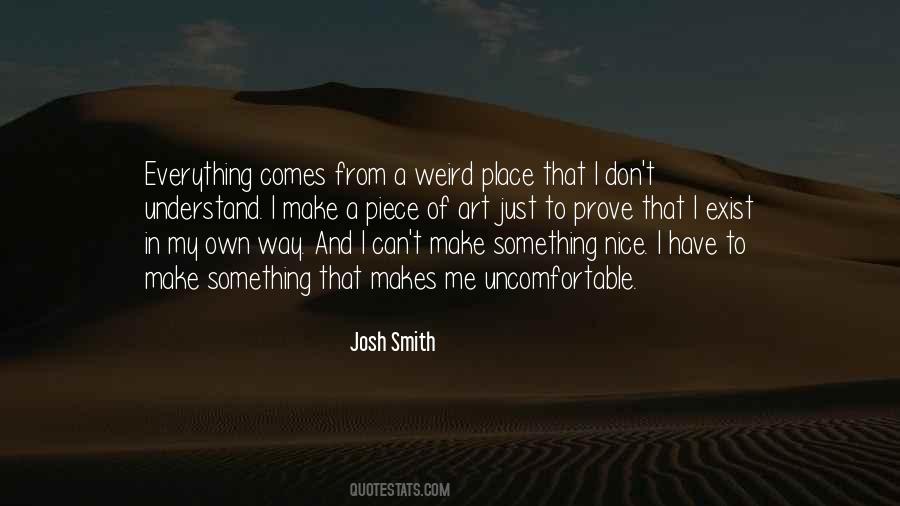 #37. It's a nice fantasy life, she said when I was done. Well, I'm living it, so it's more than a fantasy. What about love? She took off her bandanna, loosing her blond waves. Don't you have someone you love? Why would I go do something like that? - Author: Norman Ollestad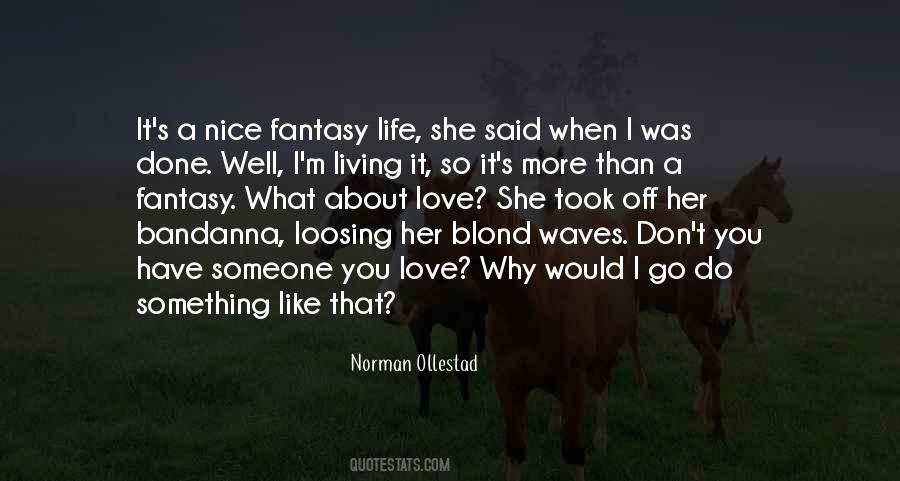 #38. I don't even use profanity when I'm angry. I think people expected I'd have written a nice romance or something. - Author: Mary McGarry Morris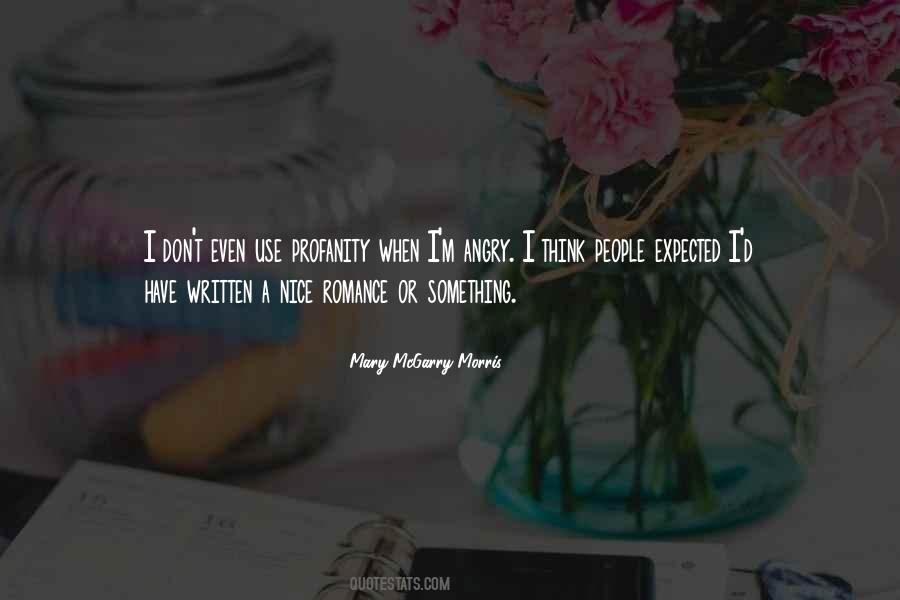 #39. There's something nice about out-and-out children's books with no sex and a happy ending - Ransome, Streatfeild, that kind of thing. - Author: Jo Walton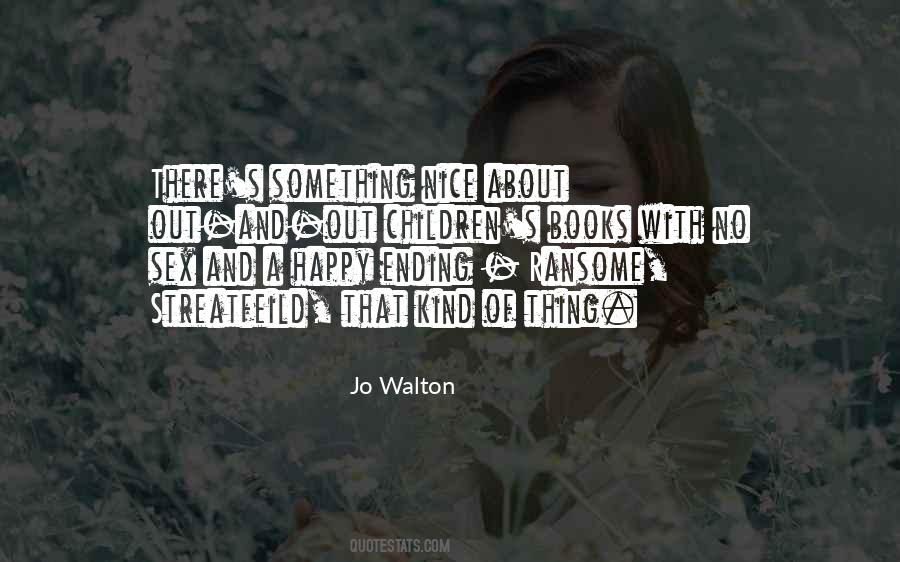 #40. And she learned to do that, be very nice to people she knew quite well were the Enemy, and even like them sometimes: it didn't mean you weren't going to Get them, because they were bound to do something that would remind you what they were sooner or later. - Author: C.J. Cherryh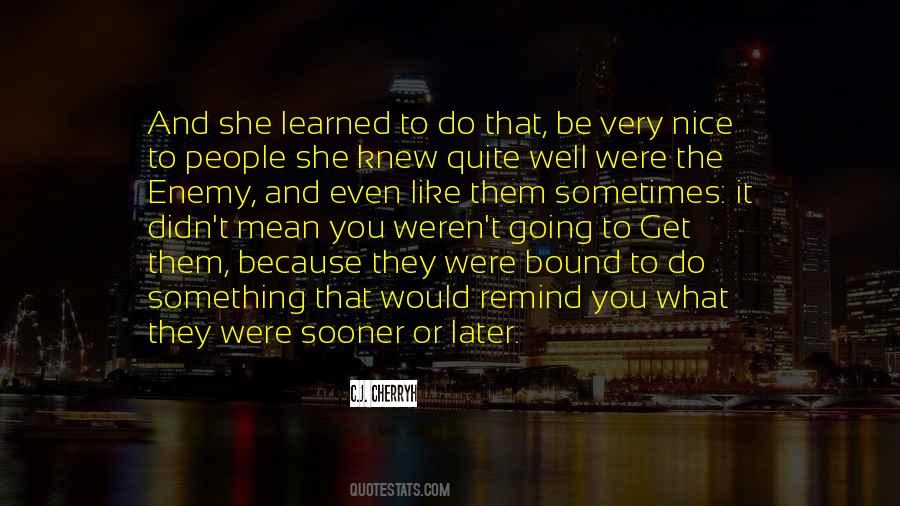 #41. Some of the cruelest men in the world were born with silver tongues. They could charm a bird right out of the sky, only to break its wings. And no men, nice or cruel, offer favors lightly - not strangers. Not to young women. Not without expecting something back in return. - Author: Nenia Campbell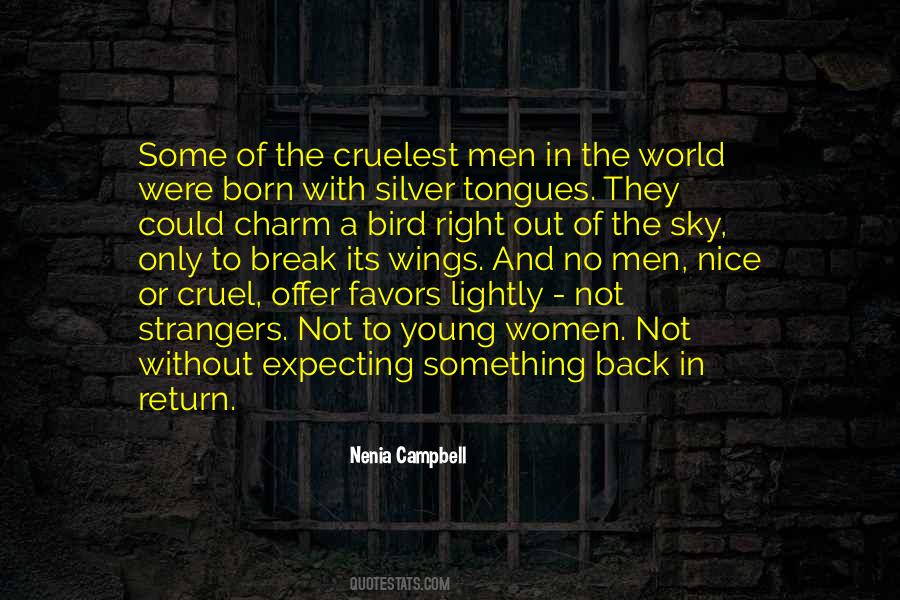 #42. You know, your family's exactly like I imagined them. Exactly like you." "What's that supposed to mean?" "You're like the blackbirds. The blondbirds." "Very funny." "They're very nice. You always talk like they're Norwegian hillbillies or something. - Author: Jean Thompson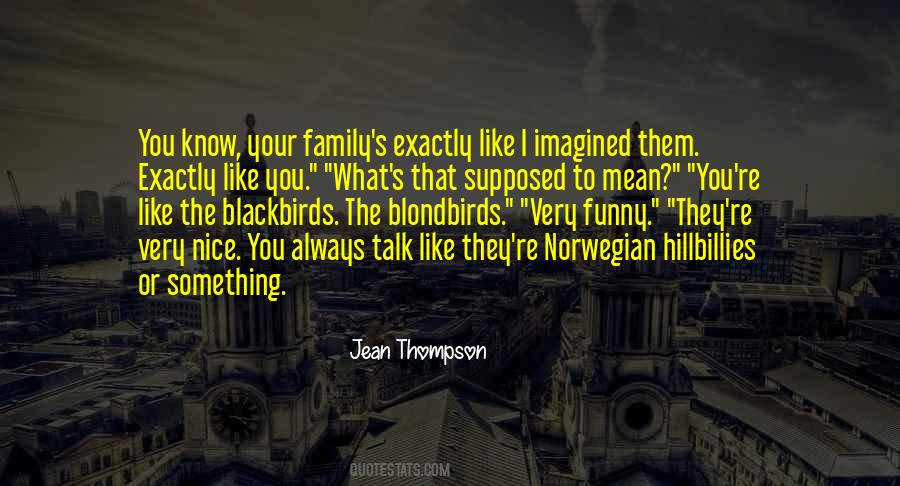 #43. I think there's going to be something that happens now, where books move in two directions, one toward digitized formats and one toward remembering what's nice about the physicality of them. - Author: Jonathan Safran Foer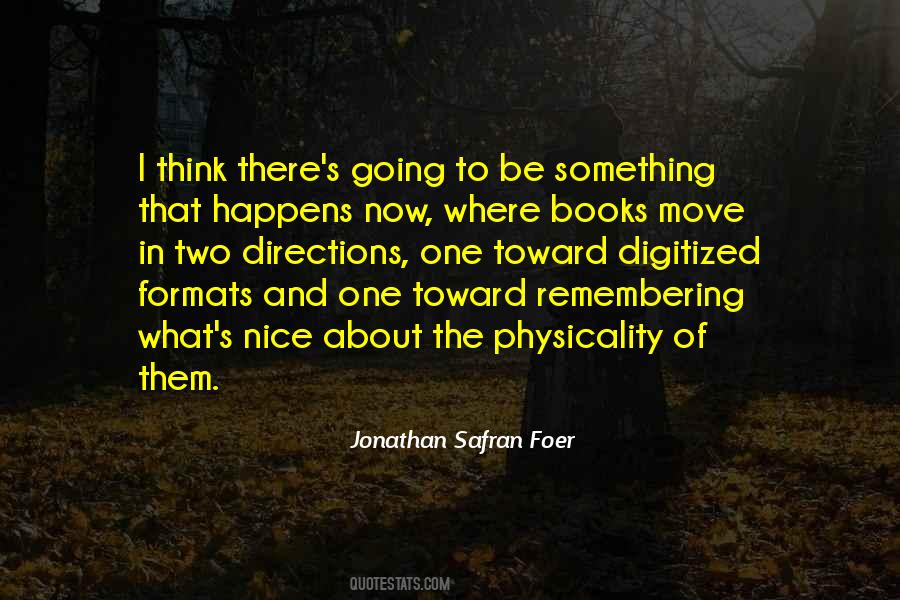 #44. I realize that I want something more. Success is great, but then you also wake up in your hotel room at four in the morning and you're like, wouldn't it be nice to have someone here with me. - Author: Alicia Keys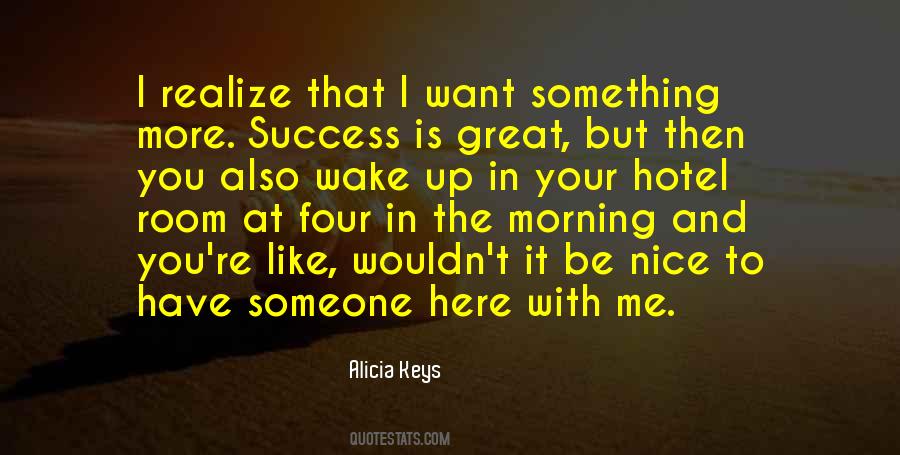 #45. My mum always said if you can't say something nice, say something memorable. - Author: Samantha Young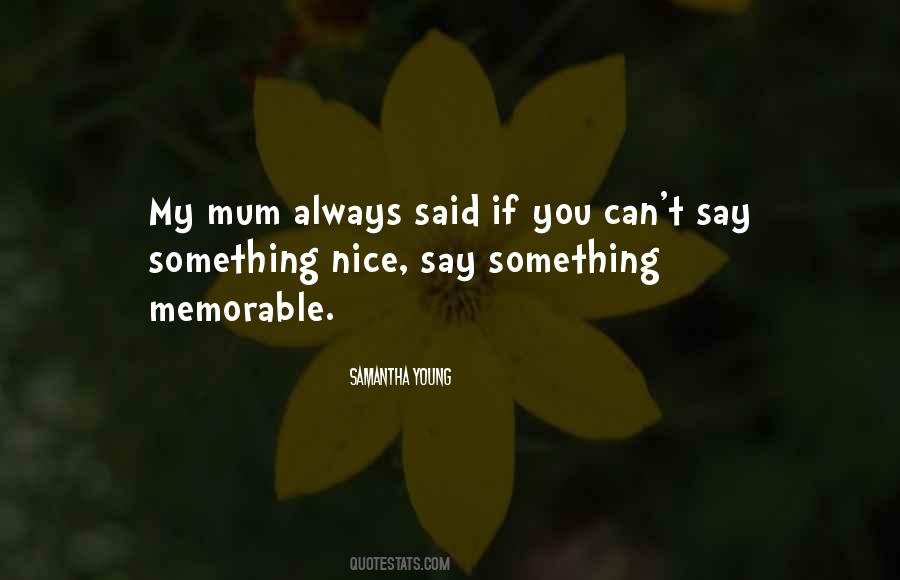 #46. It would be nice to see a fashion range that is geared towards a vibrant, sexual, confident 50-something. - Author: Marie Helvin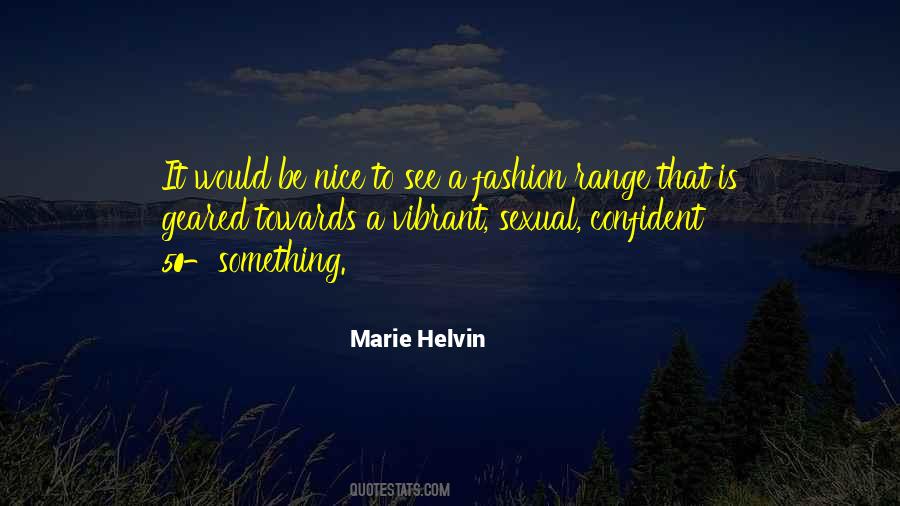 #47. All good New Orleanians go to look at the Mississippi at least once a day. At night it is like creeping into a dark bedroom to look at a sleeping child
something of that sort
gives you the same warm nice feeling, I mean. - Author: Sherwood Anderson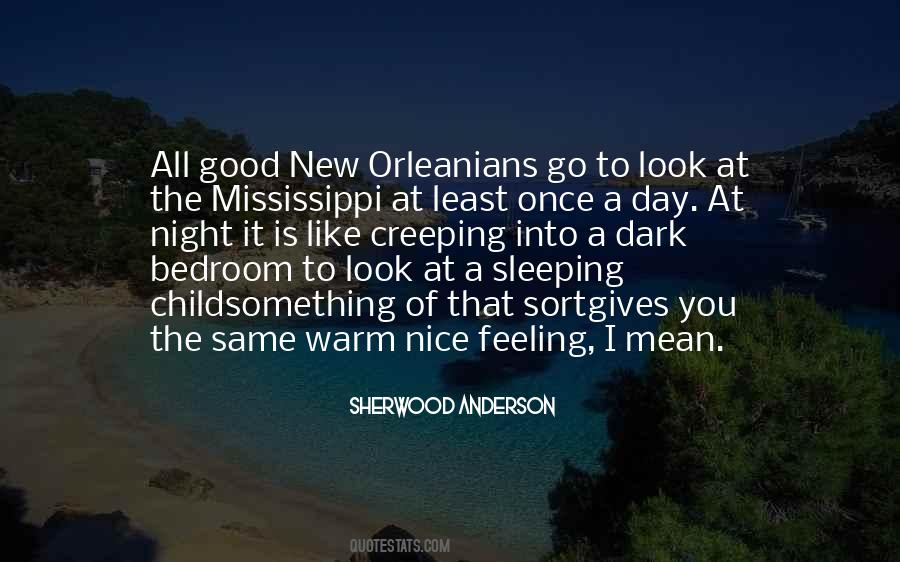 #48. When I sold my first business, I wanted to do something nice for my dad. I wanted to give my parents a bunch of money, but they wouldn't take anything from me. They were so happy for me; they felt they didn't need money. - Author: Robert Herjavec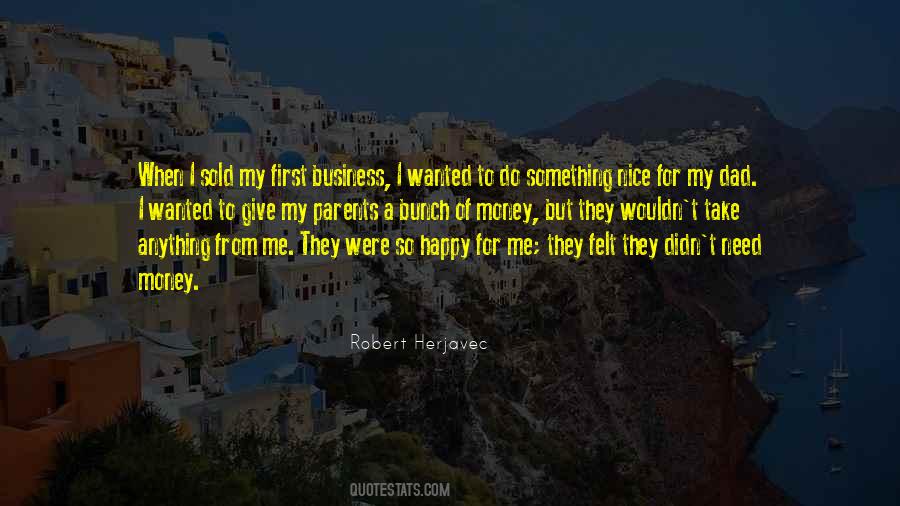 #49. Girl you spent time with not drinking and screwing. Girl you hang out with when you could have been doing something else. Girl you spent quality time with. Girl you do nice things for. Girl you want to smooch all night."
He laughs once. "I guess that makes you my girlfriend. - Author: Elle Casey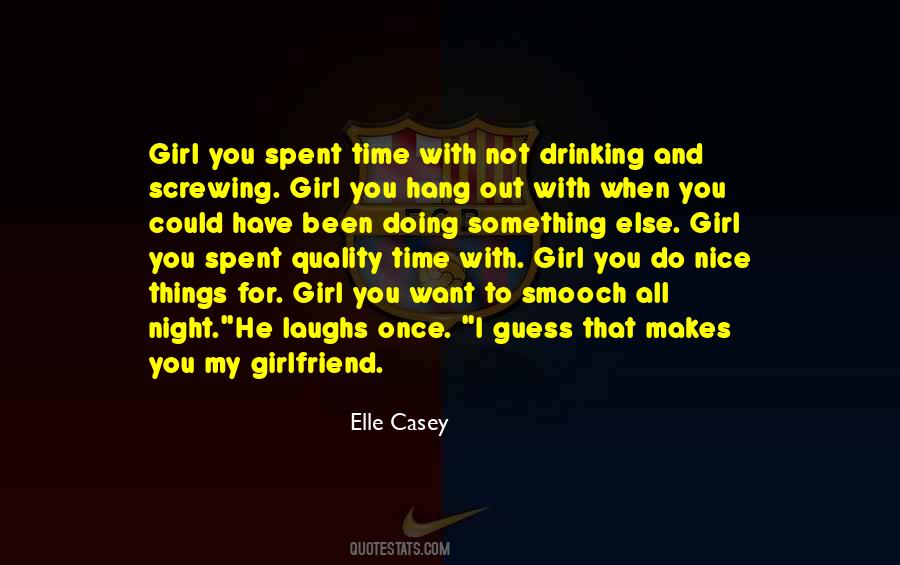 #50. It's easy for people to come in when they think you're in a hot moment of your life, but it's really nice also for people who believe in your work for the long term and are there not when something hip's happening at that moment. - Author: Patricia Arquette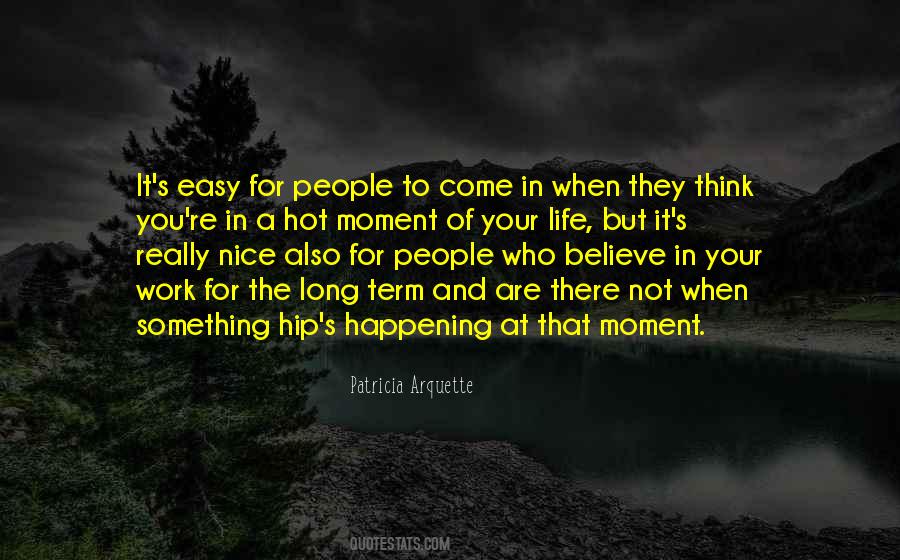 #51. When I auditioned for 'Jessie,' I knew that Disney Channel basically will do 100 episodes of a show if it's a hit; they'll stick with something. It's a great network to work with because they make a nice big commitment to a show. - Author: Kevin Chamberlin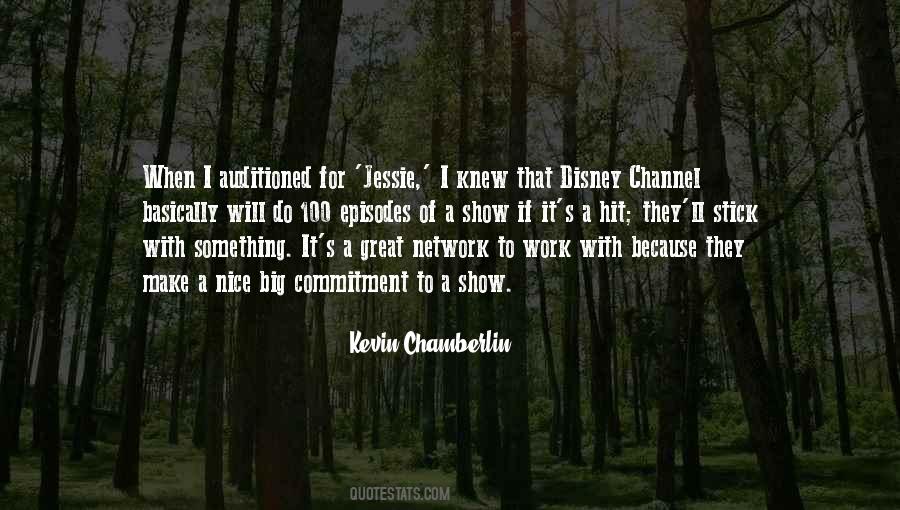 #52. The nice thing about money is that you can do good things with it. I still feel like if something needs to be done or we need to raise money for someone on death row, we can find ways to do it. - Author: Eddie Vedder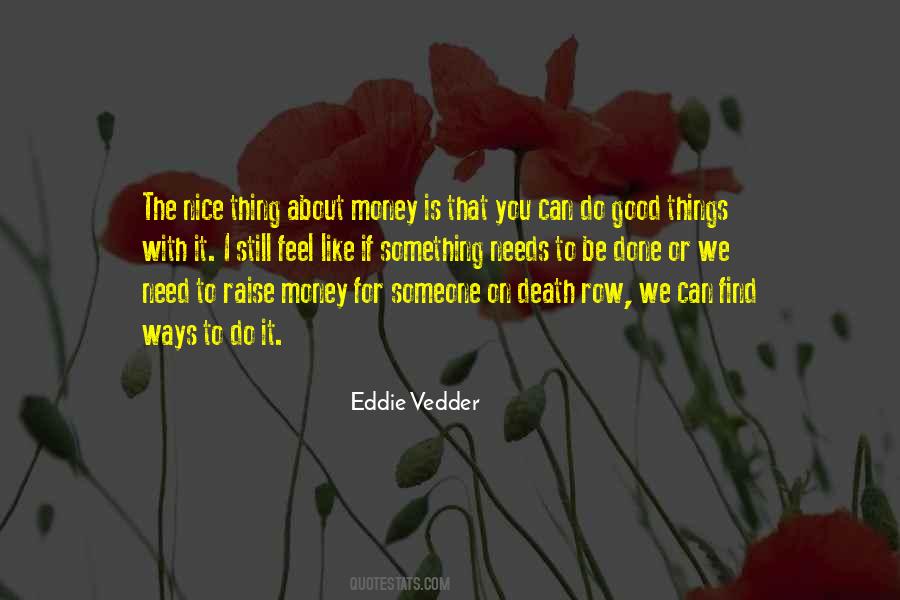 #53. Having a very serious thematic element in the lyrics and then juxtaposing with something really triumphant and just a big beat to dance to is a nice contrast to having a dark message. - Author: Brendon Urie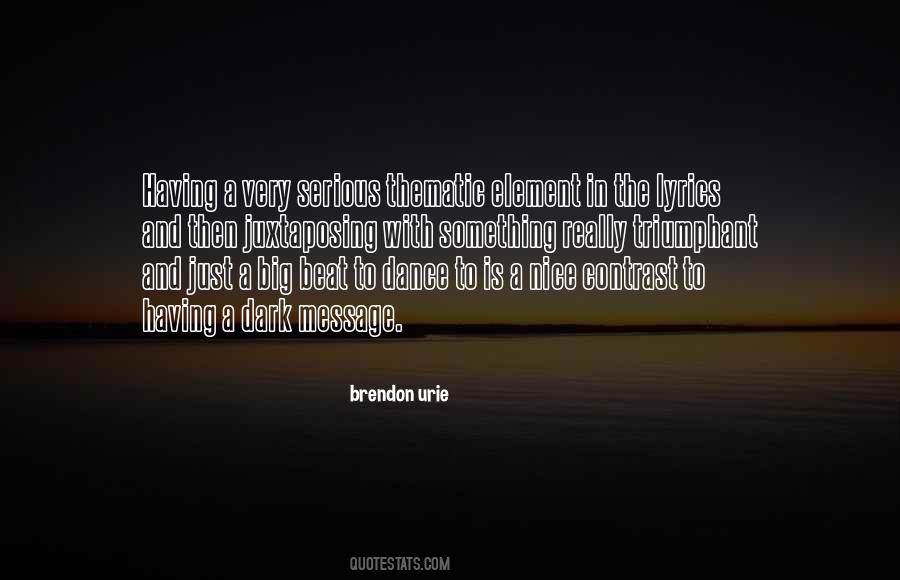 #54. Pity all newlyweds. She cooks something nice for him, and he brings her flowers, and they kiss and think: How easy marriage is. - Author: Mignon McLaughlin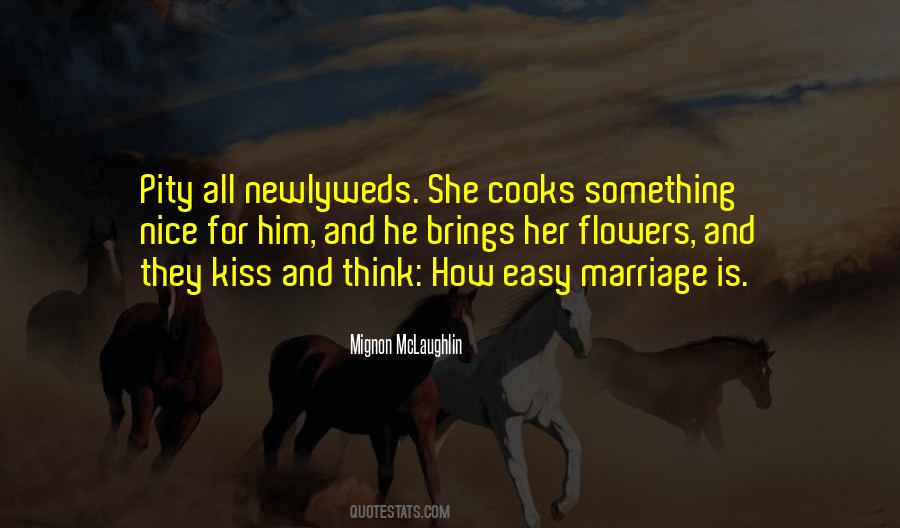 #55. I feel like the so-called bad guys are never totally bad. I guess it's the closest thing I can do to reality: people act nice but nobody really is nice. We all have to balance that with something dark. - Author: Vincent Cassel
#56. If you're making a cake, you don't just make the cake and have it look nice and have nobody tastes it. But that doesn't take away from your ability to execute what you do as well as you can and to have it be something for many. - Author: Mel Gibson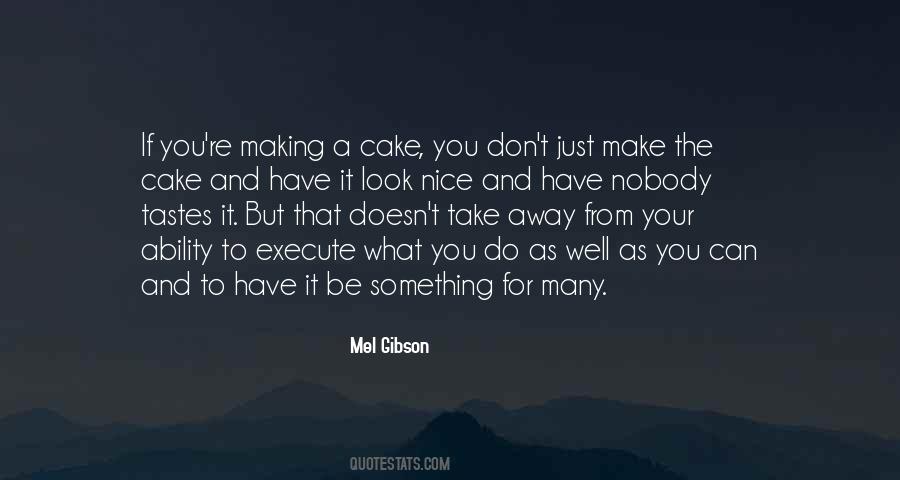 #57. If it's true, does it have to be nice? If you have something true to say, but you don't say it because you just want to be nice, isn't that sort of like a lie? - Author: Megan Hart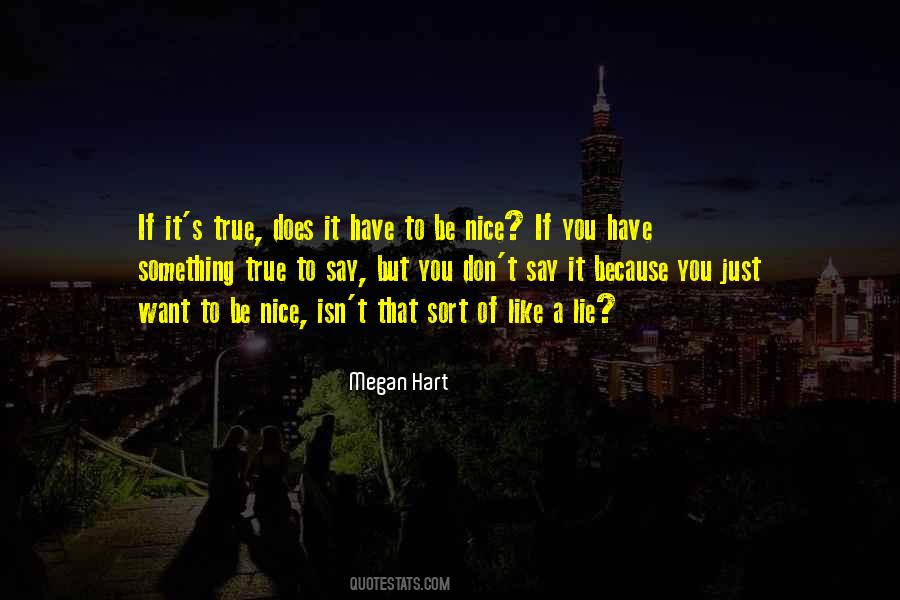 #58. I was raised as a Christian, where all you're taught is to be humble, even if you did something right. Politics is the complete opposite of: you do something a little nice, and you tell everyone. - Author: Grace Meng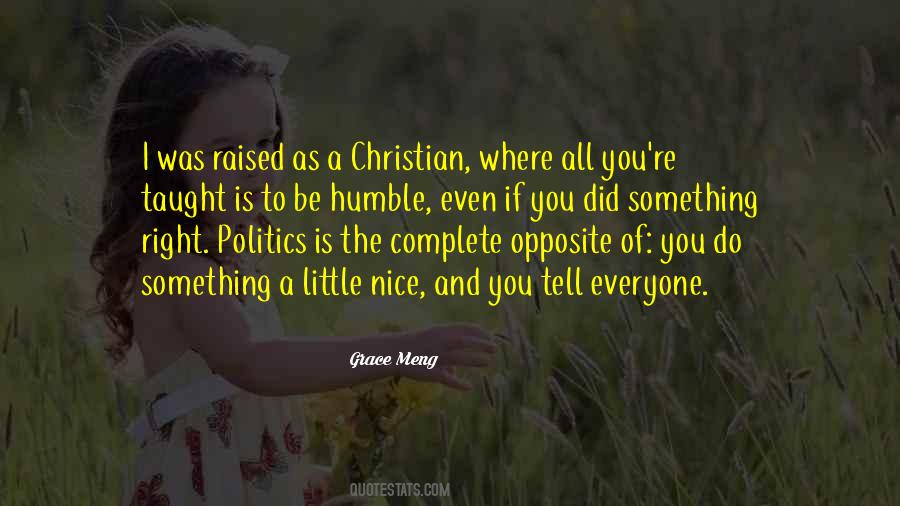 #59. When I want to read something nice, I sit down and write it myself. - Author: Mark Twain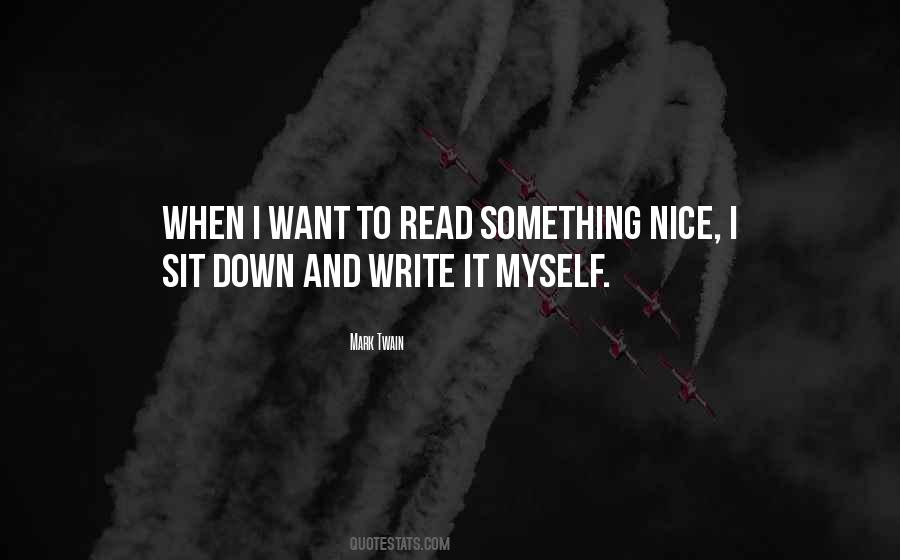 #60. Banquets are always pleasant things, consisting mostly, as they do, of eating and drinking; but the specially nice thing about a banquet is, that it comes when something's over, and there's nothing more to worry about, and to-morrow seems a long way off. - Author: Kenneth Grahame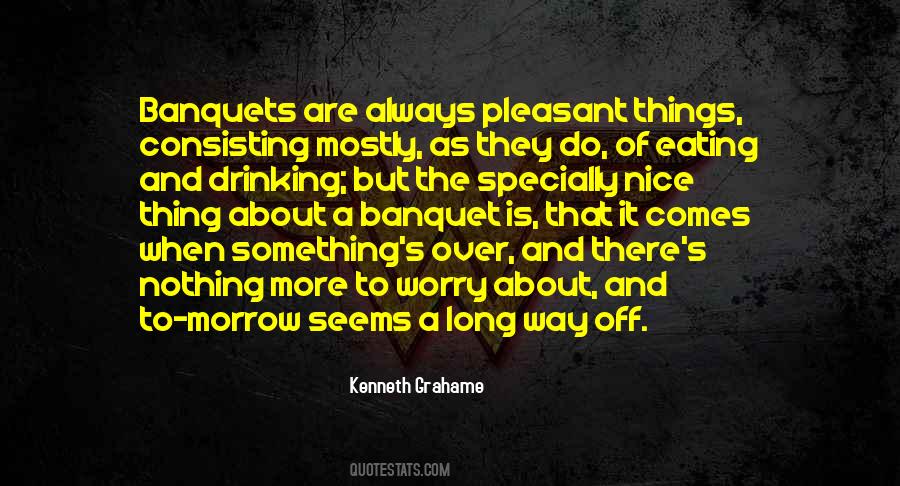 #61. We don't sell a watch to give time. We sell a piece of art. We sell an object that represents something to you, you know. It's like you have a nice shirt or a nice jacket. It's like a luxury accessories that can be considered like shoes or like handbags for ladies. - Author: Ricardo Guadalupe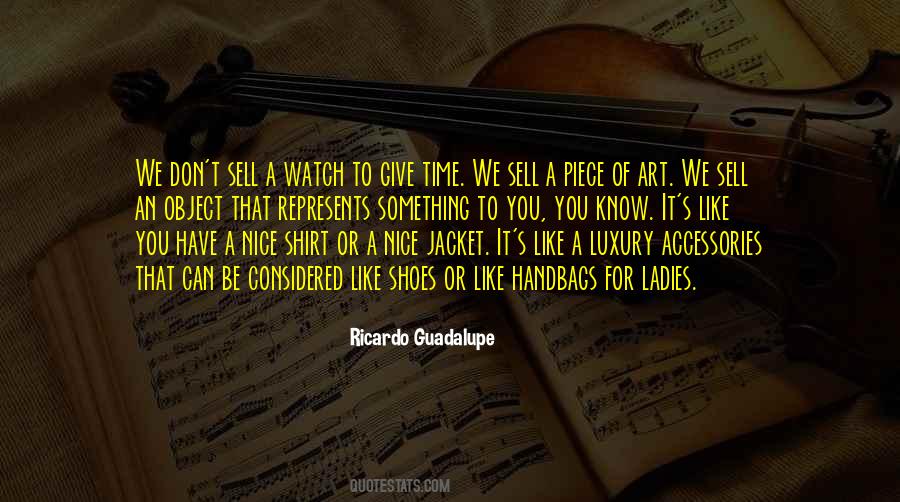 #62. Dear me, what an unsatisfactory world it was! When one did find a nice kind of life something or somebody always seemed to shove you out of it just as you were beginning to enjoy it. - Author: Hugh Lofting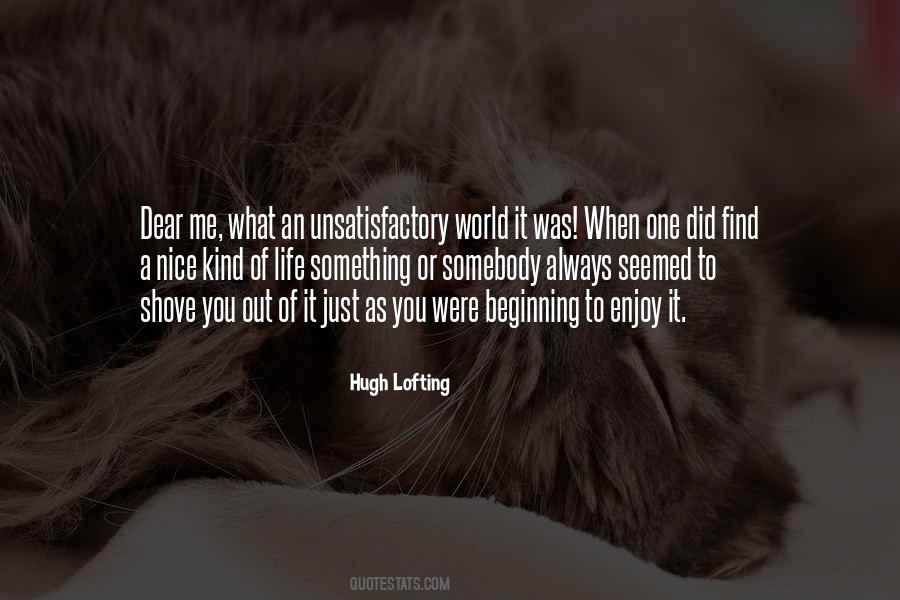 #63. She shrugged. "She's nice and I think she can't help it." Zara gave me a look of censure and went back to her strawberry ice cream. Something along the lines of: Only a real dickhead would make fun of how someone talks, you idiot. - Author: Raine Miller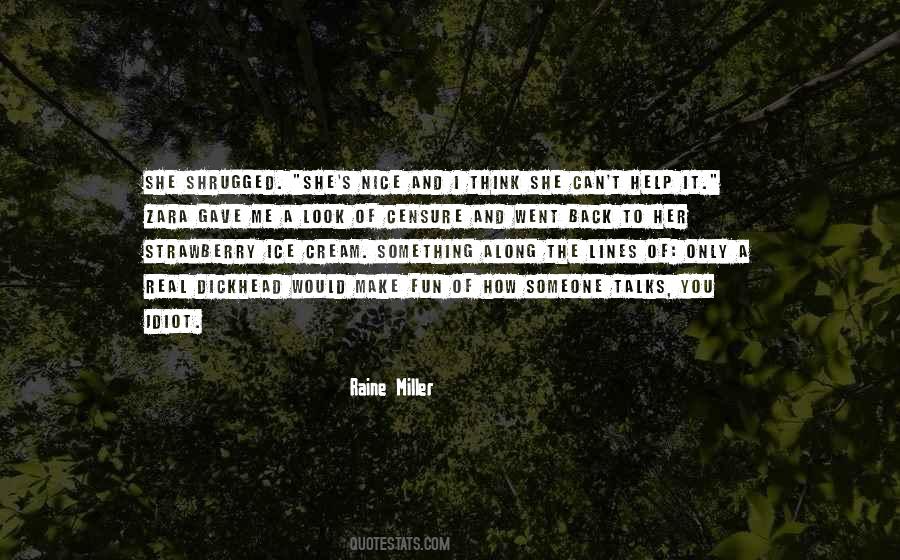 #64. We always have something running in the back of our thoughts. What's running behind yours?
Right now I was thinking about how nice his eyes looked, but I'd shave my head before I admitted that. - Author: Jennifer L. Armentrout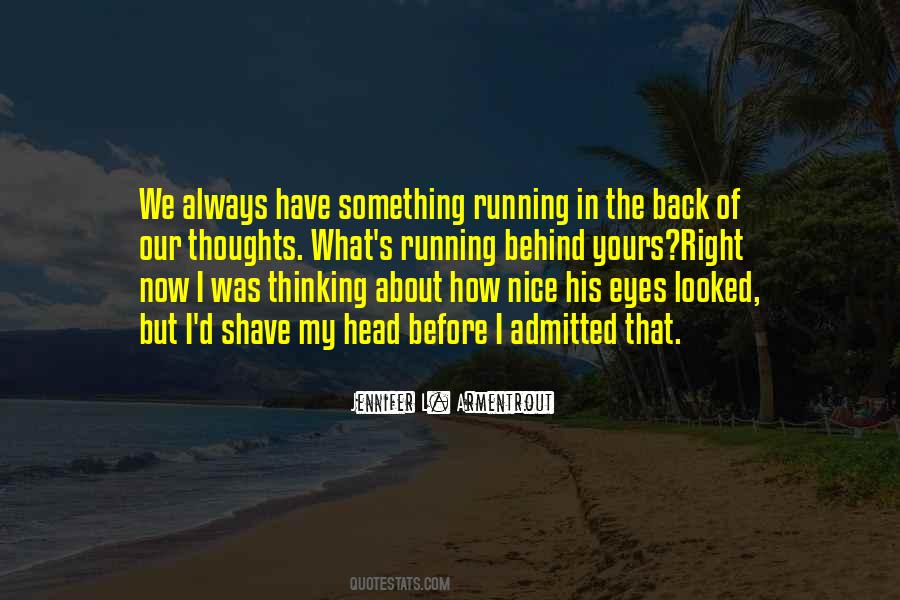 #65. What do you know about women?
They smell nice, they don't like to be told they can't do something, and, when they're naked, they hold some sort of mystical power that overrides our brains and makes us do and say things that would normally be inconceivable. - Author: Katie MacAlister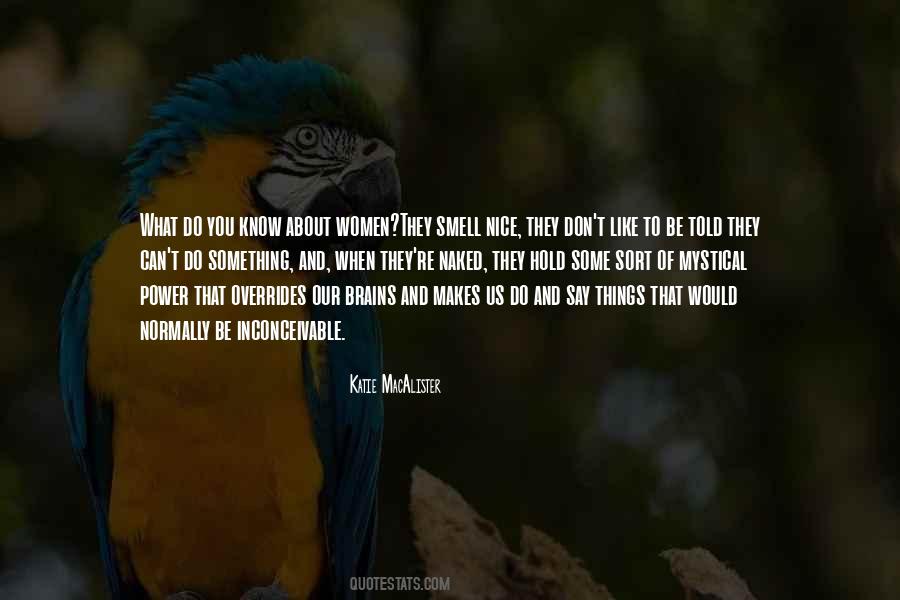 #66. I have done a bit of recording and the songs are available on iTunes, and I've got some nice comments. It's something I enjoy doing, but I'm not looking for a singing career any time soon. As long as one person gets enjoyment out of it, I'm happy to make it available. - Author: Tom Felton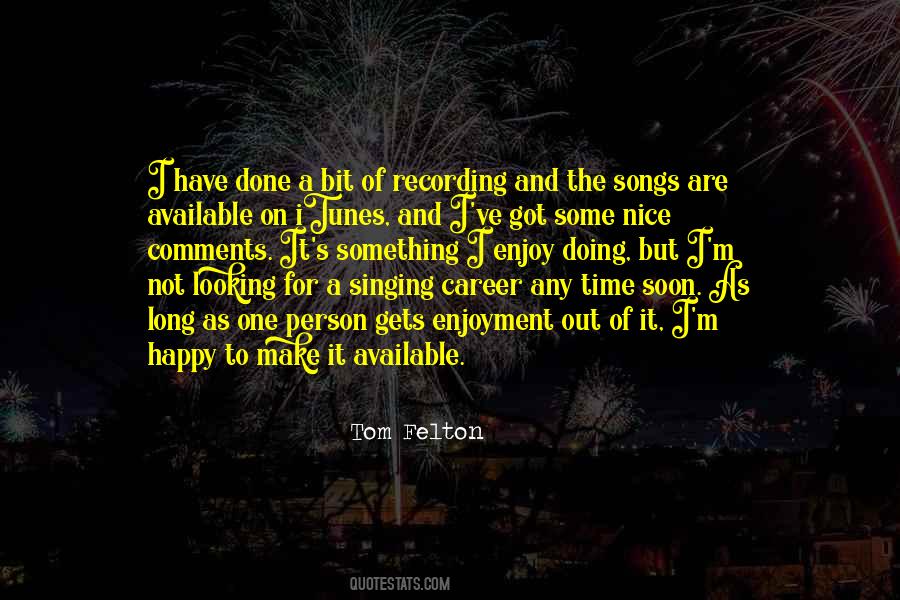 #67. Colleen had this idea -- a faded, crumpled, smudged idea -- that being nice counted for something. - Author: Lauren Tarshis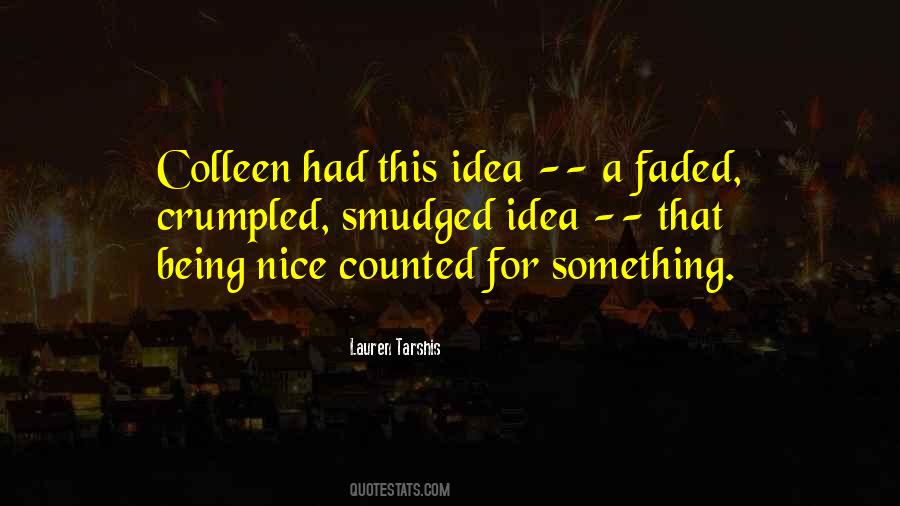 #68. They really are something else together."
"Something else? That's the nice way of saying they're bat shit crazy."
"Hey! You listen here, woman."
"You can listen to my foot up your ass if you call me woman again. And you can take that to court. - Author: J. Lynn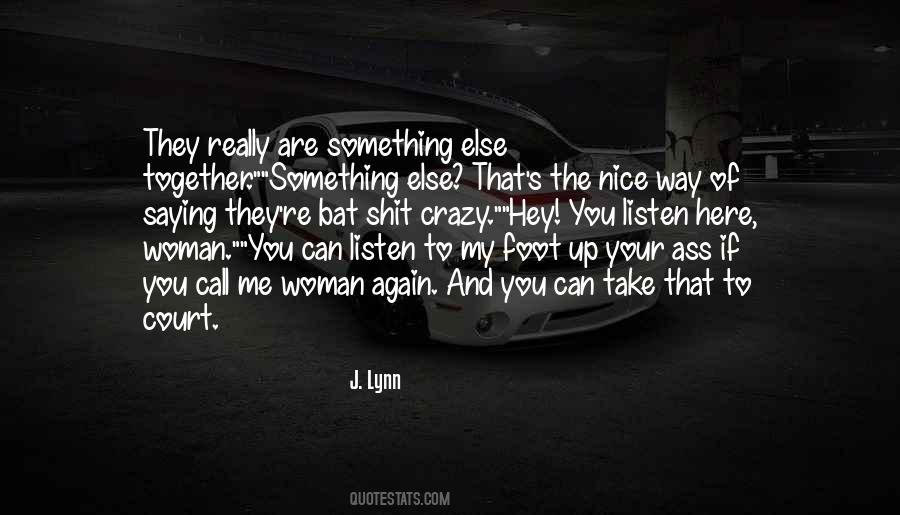 #69. In Heaven, I believe my dad is somewhere doing something nice. I feel I've been too lucky to travel this far without somebody guiding me. - Author: Katherine Jenkins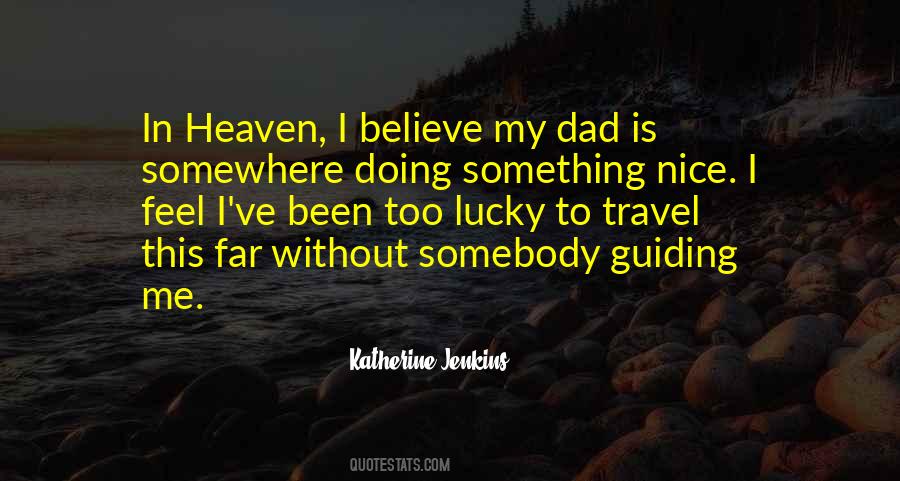 #70. Doing something nice for myself is not selfish. - Author: Christine Morgan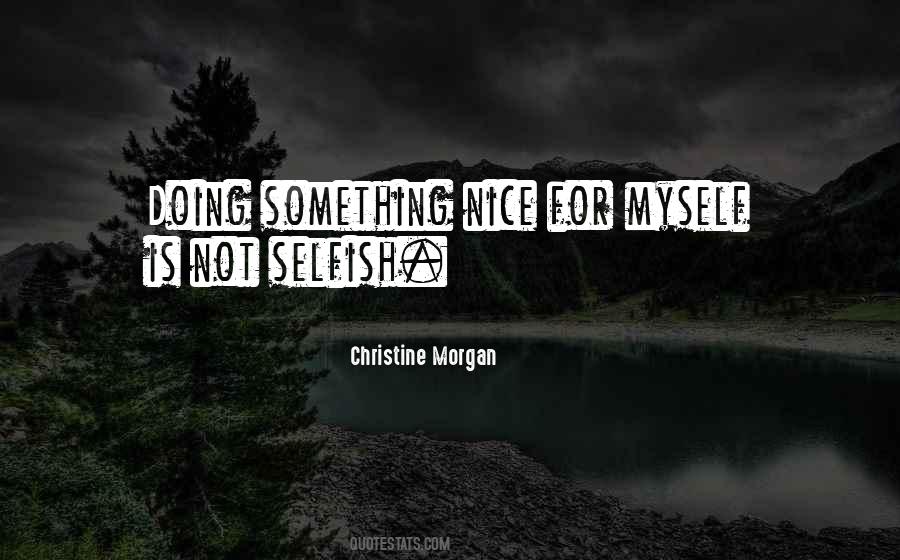 #71. She'd felt like being nice cost her something, even if it was just feeling a little bit lesser, every time she smiled without meaning to. - Author: Sarah Rees Brennan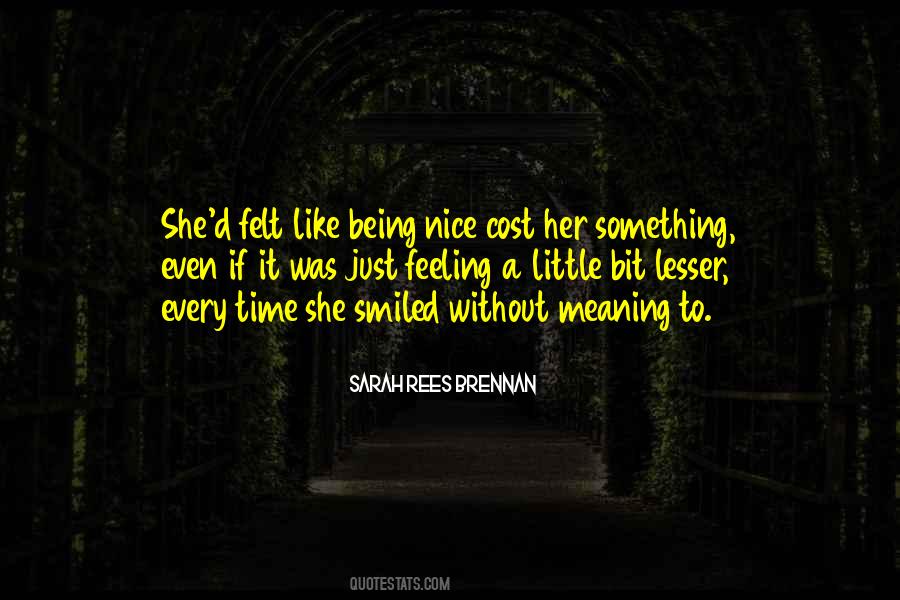 #72. I think when something becomes a comfortable genre, it's against what street art stood for in the beginning - breaking out of genres and taking art out of galleries. Now street art is in the gallery, and it's all made up into a nice, packaged concept. - Author: M.I.A.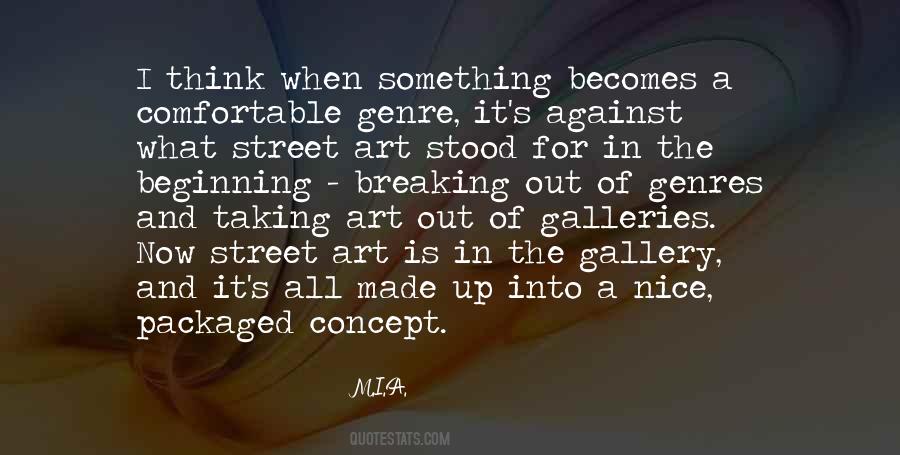 #73. What a degraded cosmos. What a case of something starting out nice and going bad. - Author: George Saunders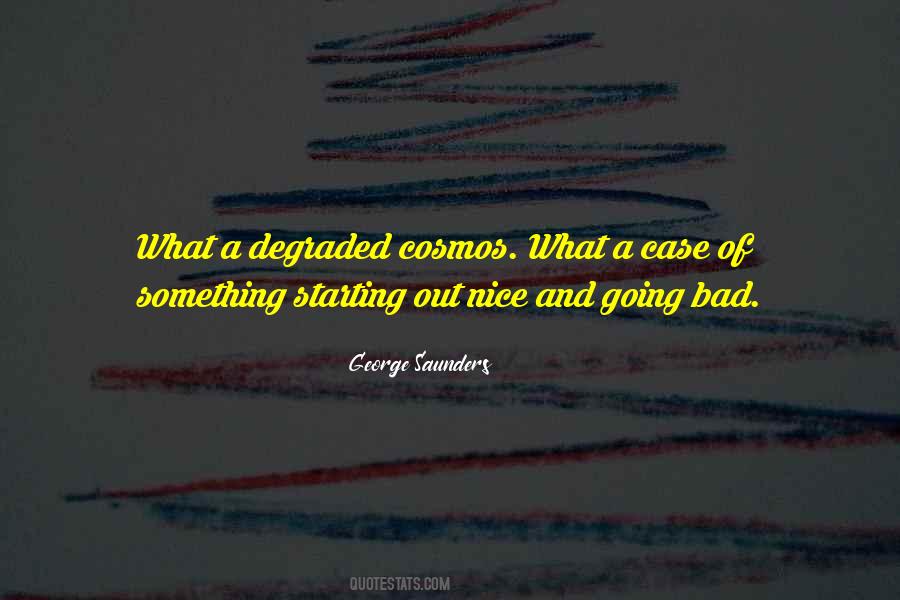 #74. I wanted to do something nice so I bought my mother-in-law a chair. Now they won't let me plug it in. - Author: Henny Youngman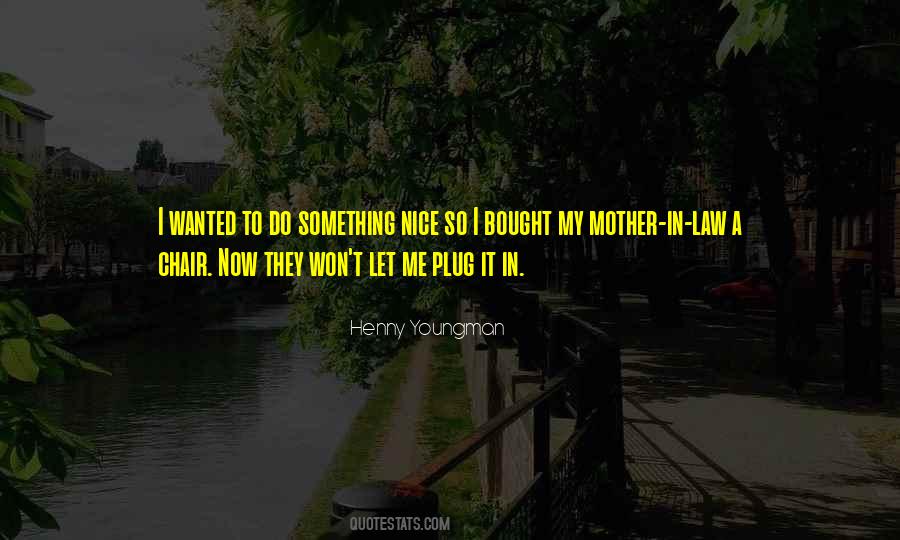 #75. I work a lot, and it's kind of like, you meet people, and you just click. It's not like I'm looking at something and thinking: 'South Park' - how do I get on that?' I just became friends with those guys first. They're nice guys. - Author: Bill Hader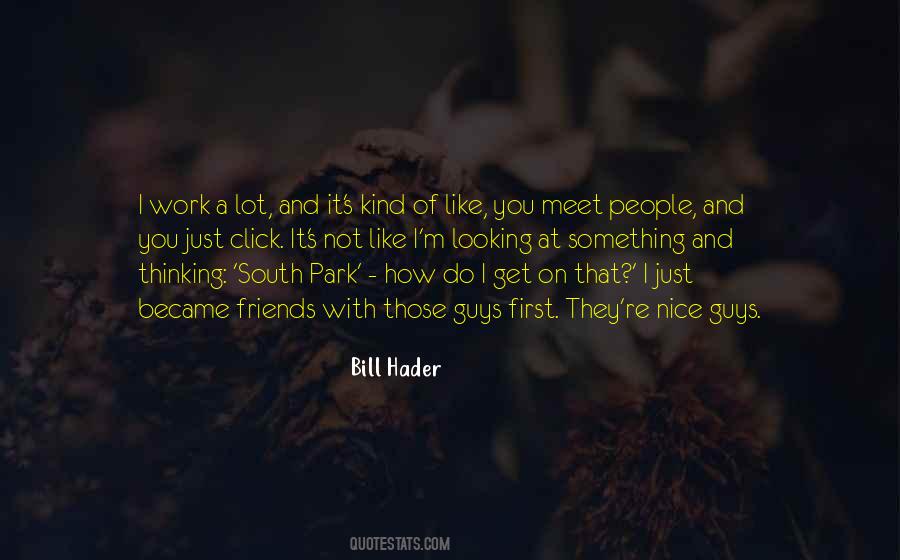 #76. There's nothing that feels better than to do something nice for somebody. I mean nothing feels better. - Author: Wayne Dyer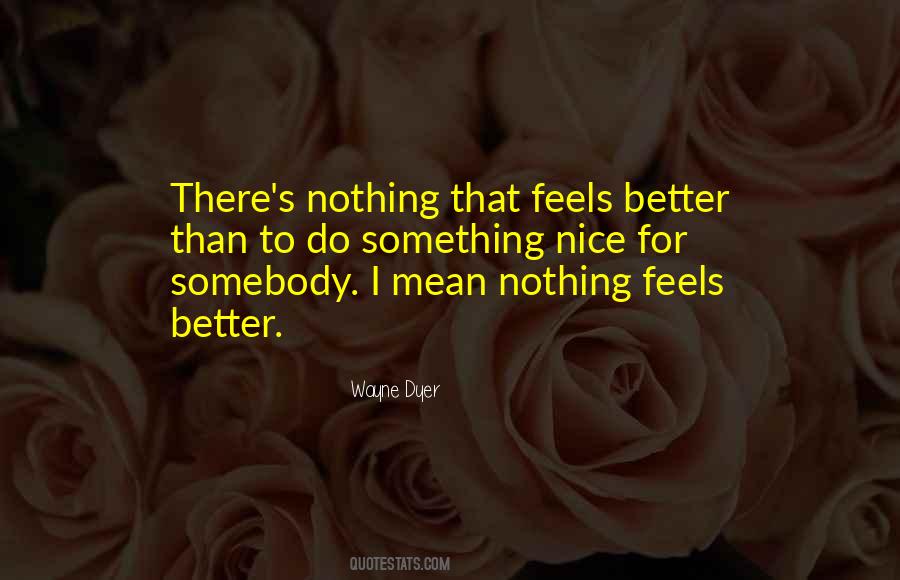 #77. The joy of just being involved in something, of being part of a big process, just as a human being, it's nice to be part of people who are in the same enterprise, heading for the same goal, rather than, 'Oh this is all about me and my role. The story's about me.' - Author: Ciaran Hinds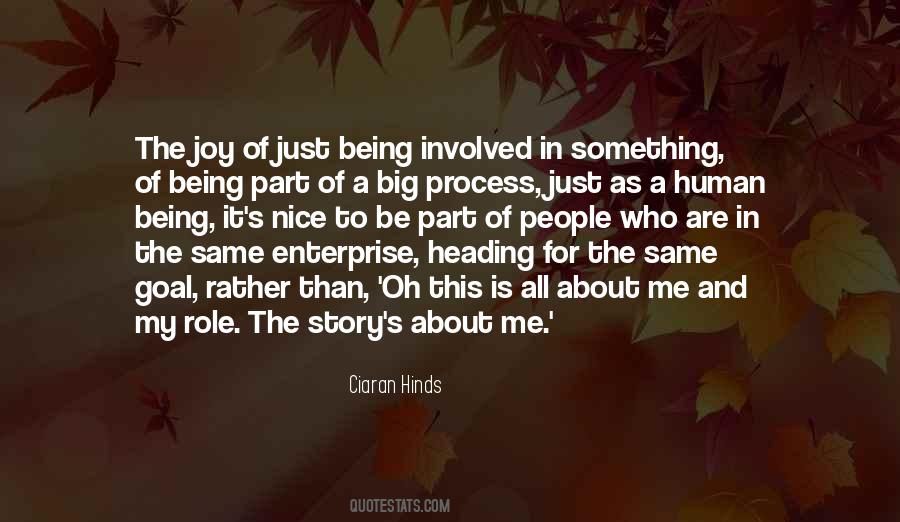 #78. How did you fare with the Queen?" he asked.
"I have no idea," I said honestly. "Everything she said was perfectly nice, but the whole time she was looking at me as if I were something her dog spit up. - Author: Leigh Bardugo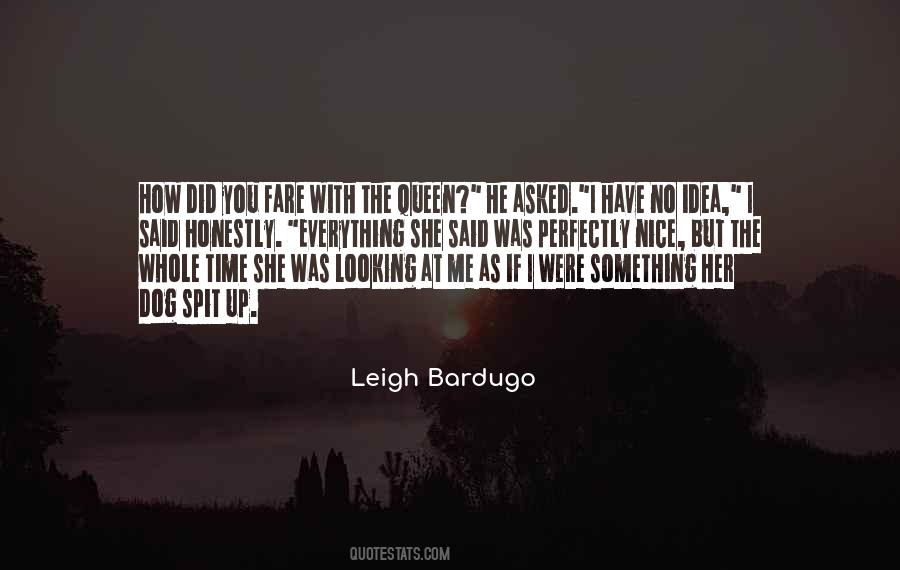 #79. I'm very honored and thankful if someone says something nice about my playing, but in general I'm very critical of what I do. - Author: Billy Sheehan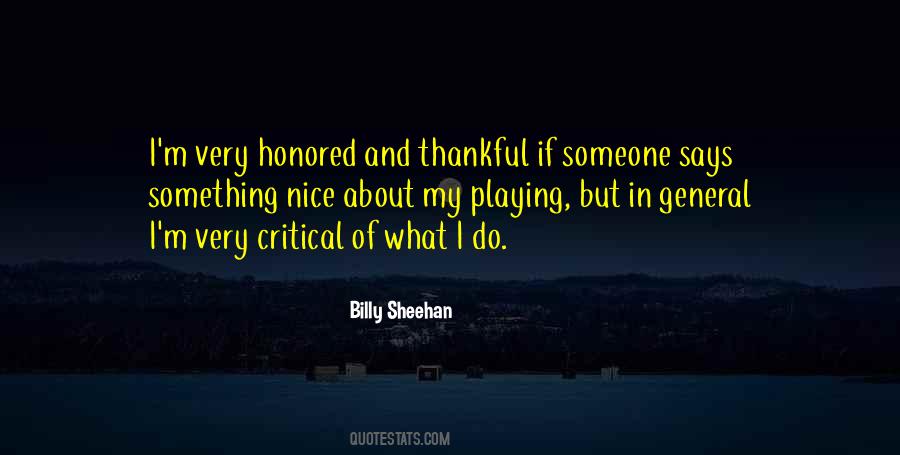 #80. London 'Harry Potter' premieres are very special events: There is this sense of love and ownership and pride, and it's just palpable. It's a very different feel from an L.A. premiere. It's nice to be a part of something that's so positive. - Author: Michael Goldenberg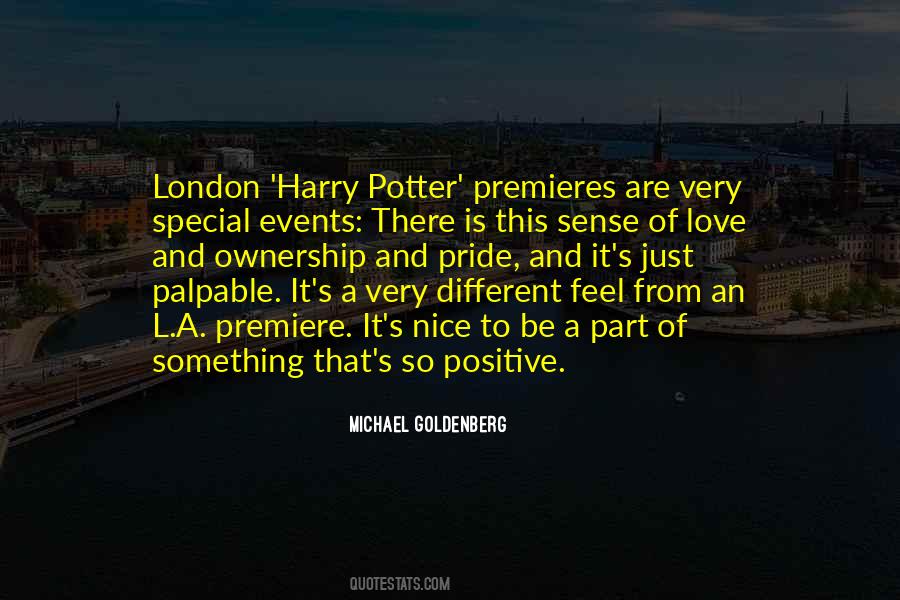 #81. When life puts rocks in your way, build something nice with them. - Author: Volksweisheit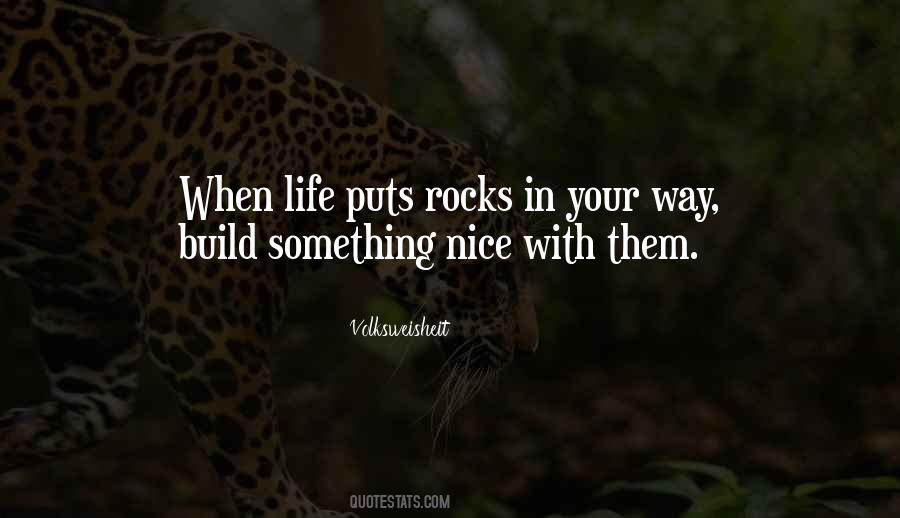 #82. Starship Troopers was great. It was great fun to work on something with blue screens and big budget special effects. Denise Richards was nice to look at too, of course. - Author: Neil Patrick Harris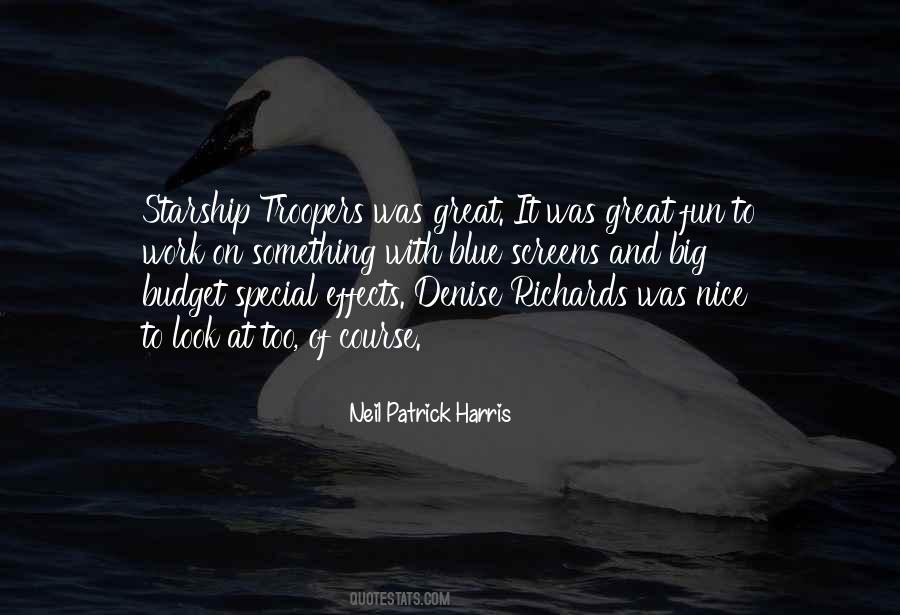 #83. There was something pleasant about an empty classroom. Of course, as any teacher would point out, one nice thing was that there were no children in it. - Author: Terry Pratchett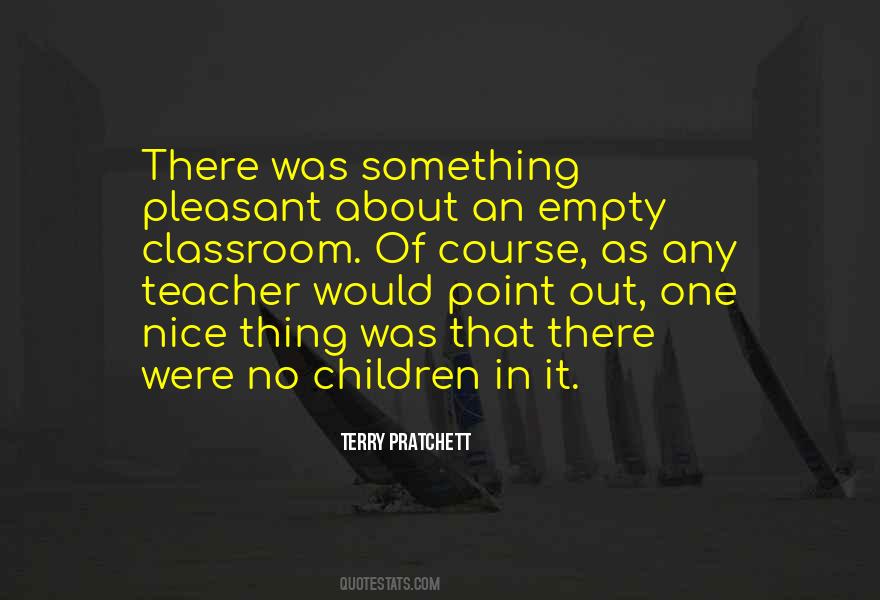 #84. Muscles don't make the man.
True, darling, but they give you something nice to hold on to. - Author: Dannika Dark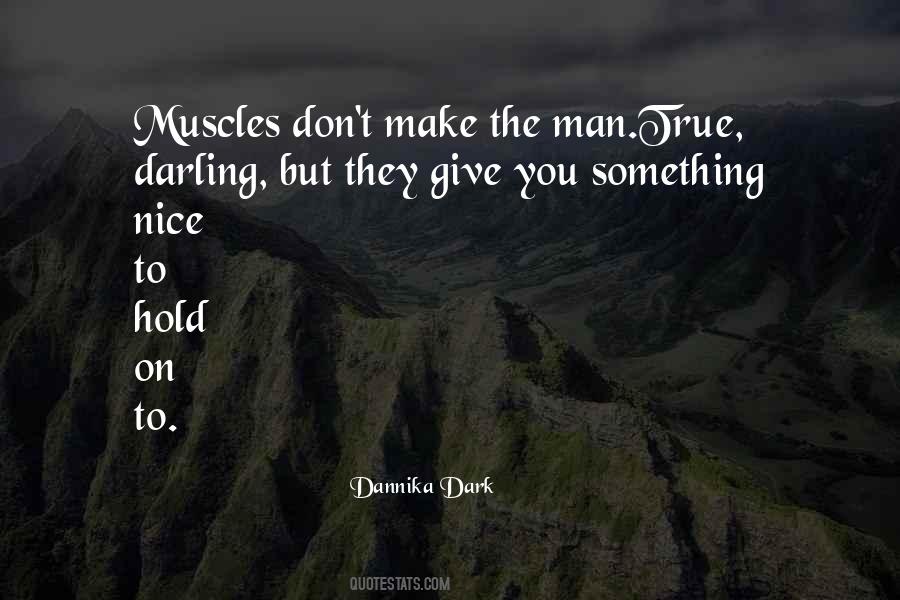 #85. I know you've got something nice in your pocket, George; give her some, - Author: Louisa May Alcott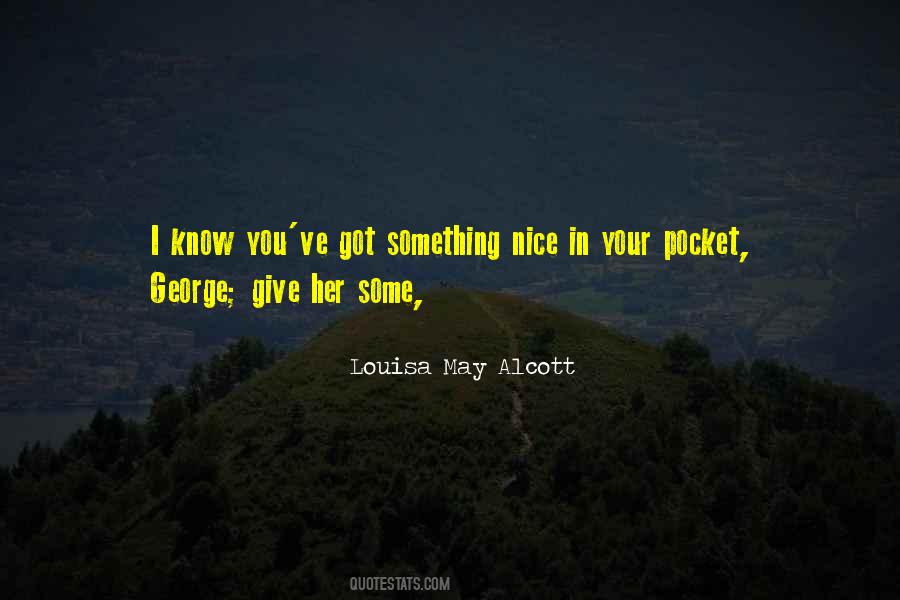 #86. Self-discovery is realistic. It's not built on ideas and philosophies. It's what works. Philosophies are nice if you like philosophies. But self-discovery is predicated on something that really brings you into enlightened states of mind. - Author: Frederick Lenz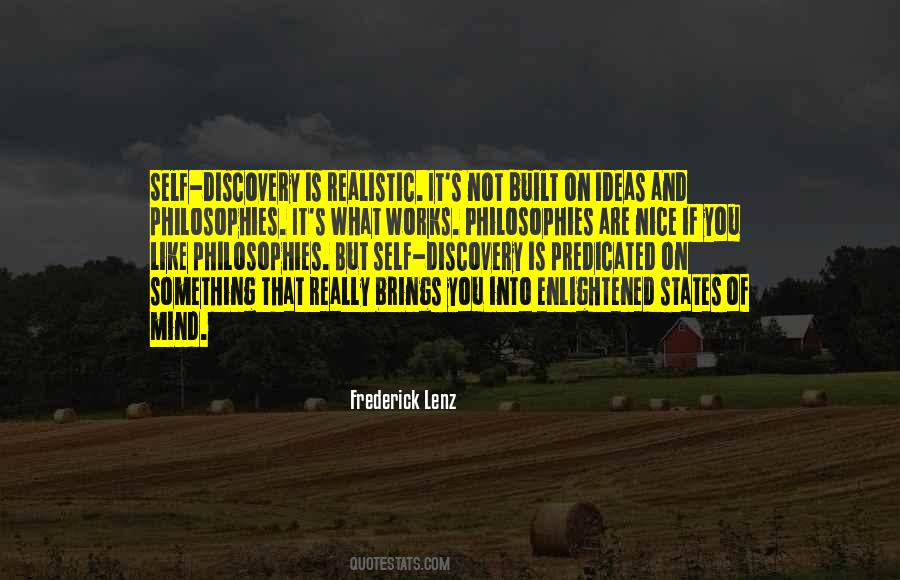 #87. Typical" Kisten said, his eyes dramatically sad. "Try to do something nice for a person, cheer her up, and what do I get? Abused and robbed. - Author: Kim Harrison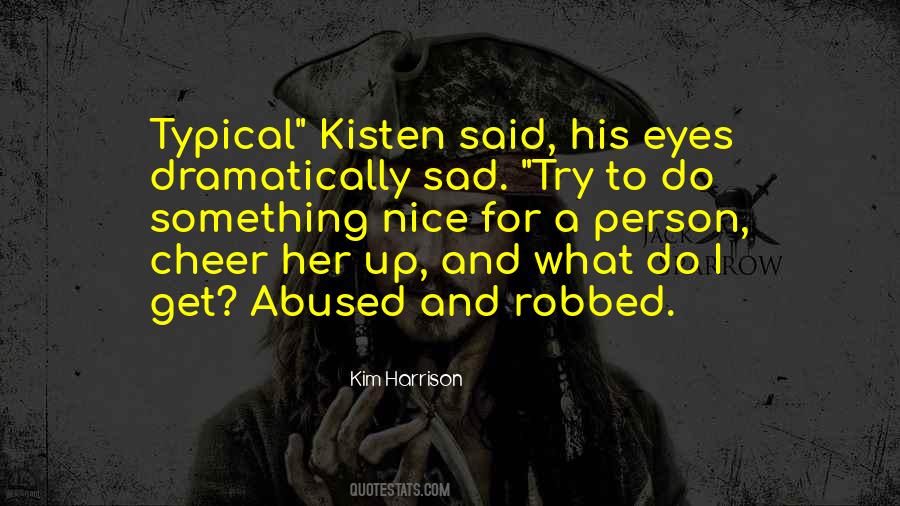 #88. To be able to explore the genre of the musical is nice. It was great to be able to sing professionally, for the first time, and dance, which was something that I did growing up, but I had not done for many, many years. - Author: Penelope Cruz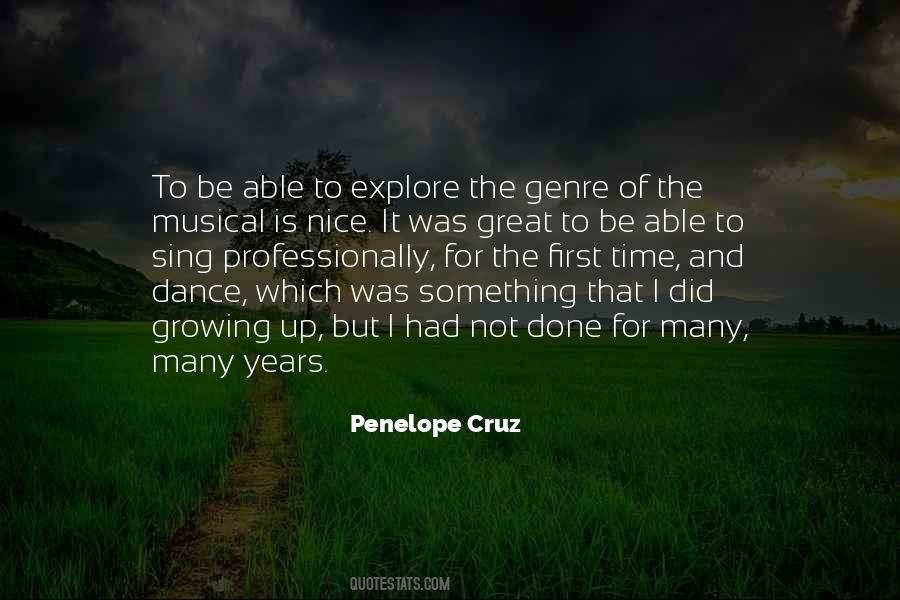 #89. It's a reflex, something that's been ingrained in me. Do no harm. Be nice. You catch more flies with honey than vinegar. - Author: Mindy McGinnis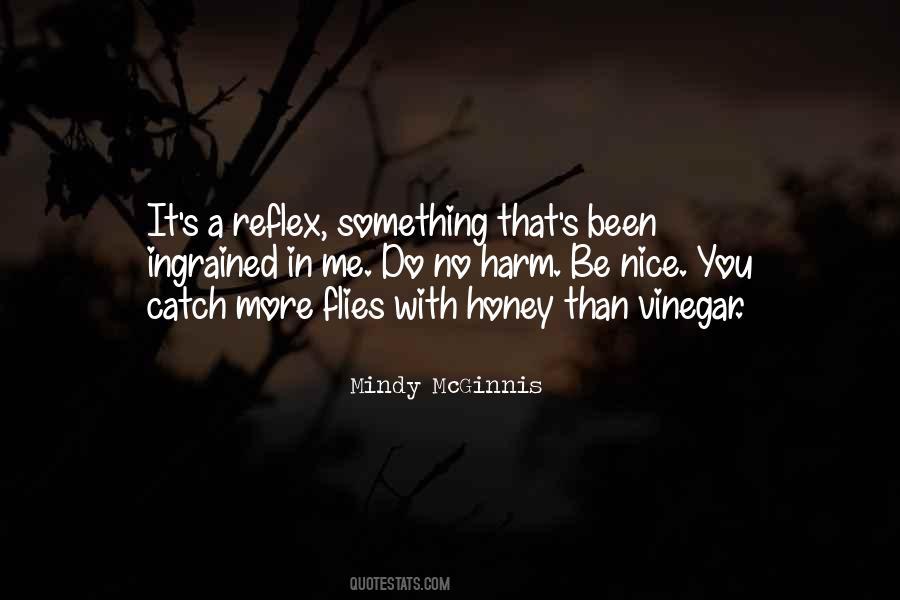 #90. Why is it that they can only come up with one model of spaceship? You would assume such intelligent creatures could, once in a while, put out something in a nice powder blue and shaped like a footstool or maybe like France. - Author: Cuthbert Soup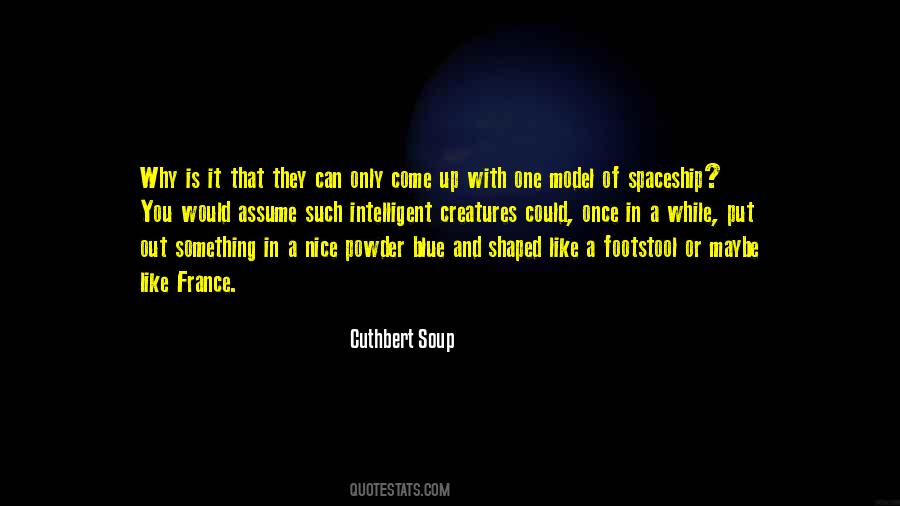 #91. I guess you're coming as my date now." Simon shoved the phone into his pocket.
"I'm secure enough in my masculinity to accept that," said Jordan. "We better get you something nice to wear, though," he called as Simon headed back into his room. "I want you to look pretty. - Author: Cassandra Clare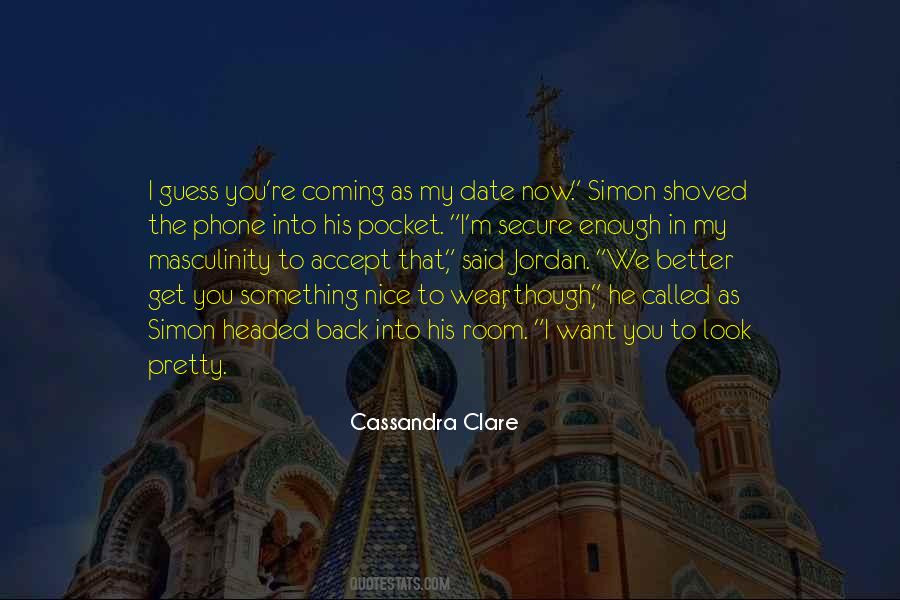 #92. I would never wear anything with a logo. That I really find difficult. It's a frustration that I'll find a nice shirt or something and it's got 50 prints of the logo on it - why do they do this? - Author: Norman Foster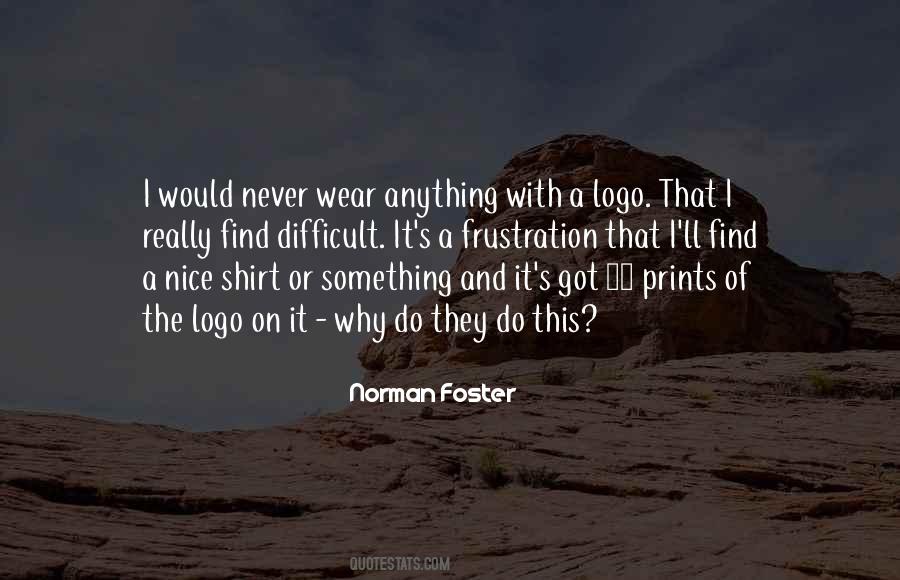 #93. I wanted to have something good to remember about today," she replied quietly. "Something that wasn't petty and mean. Sometimes you have to provide such moments yourself. - Author: Tamora Pierce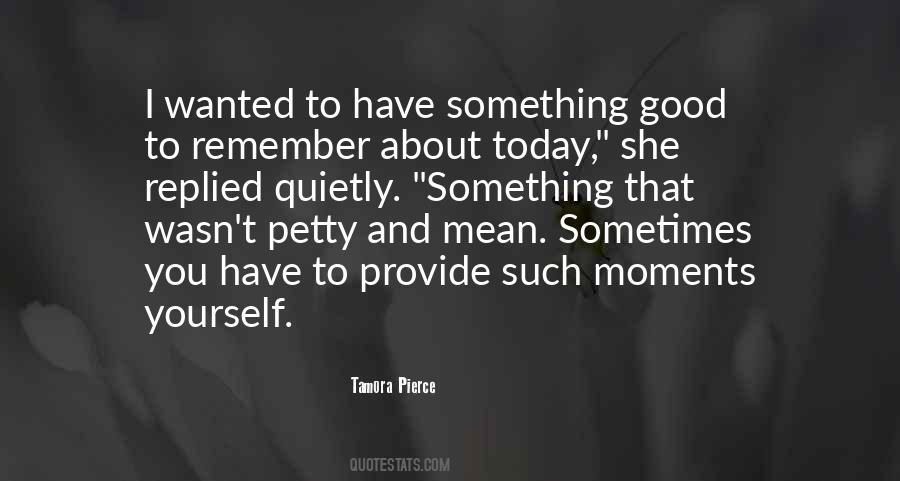 #94. If I had five million pounds I'd start a radio station because something needs to be done. It would be nice to turn on the radio and hear something that didn't make you feel like smashing up the kitchen and strangling the cat. - Author: Joe Strummer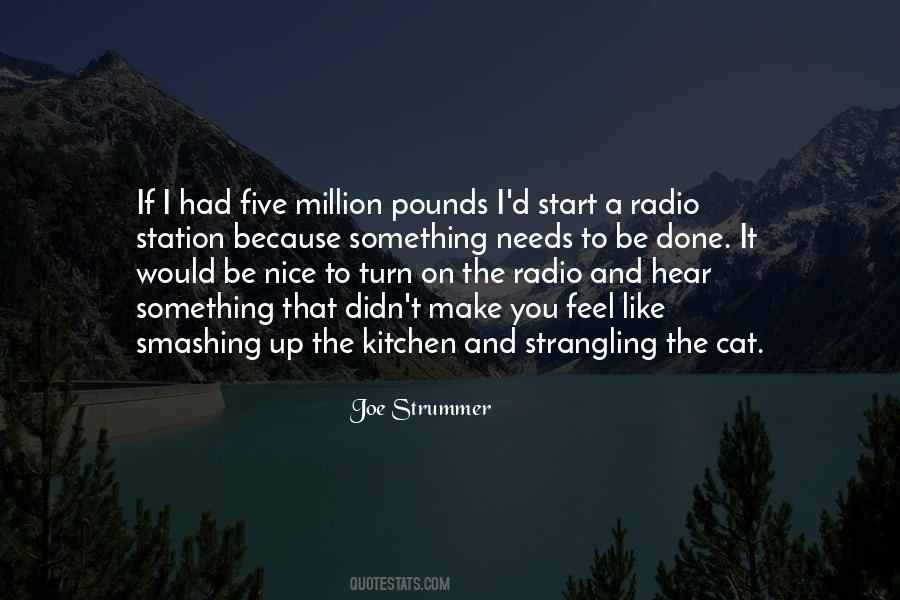 #95. It's like living at an airshow, unless you have something against airplanes, golf, guns, motorcycles, nice cars or drinking. - Author: Brian R. Norris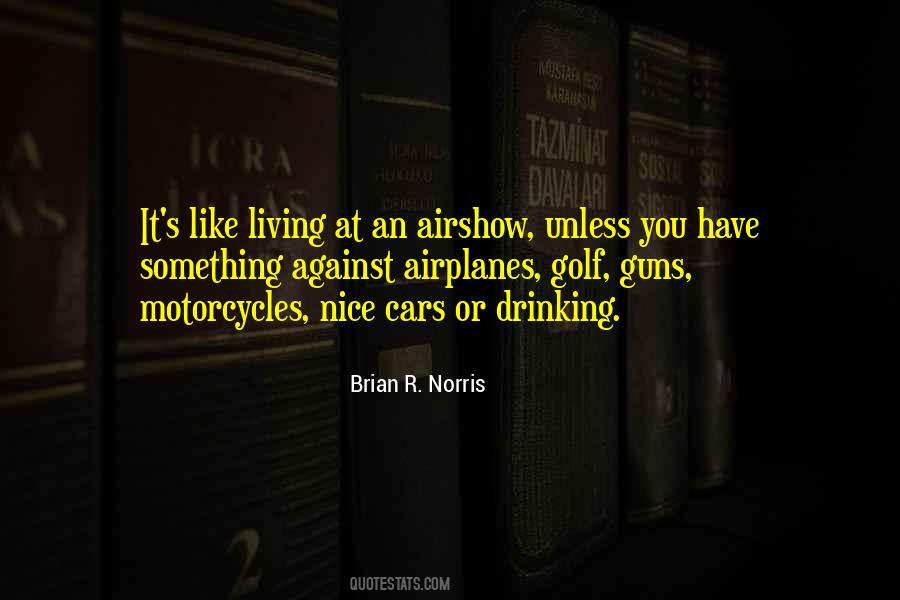 #96. I am really attracted to films. It's nice to do something new, all the time. That's why I like being an actor. - Author: Jane Levy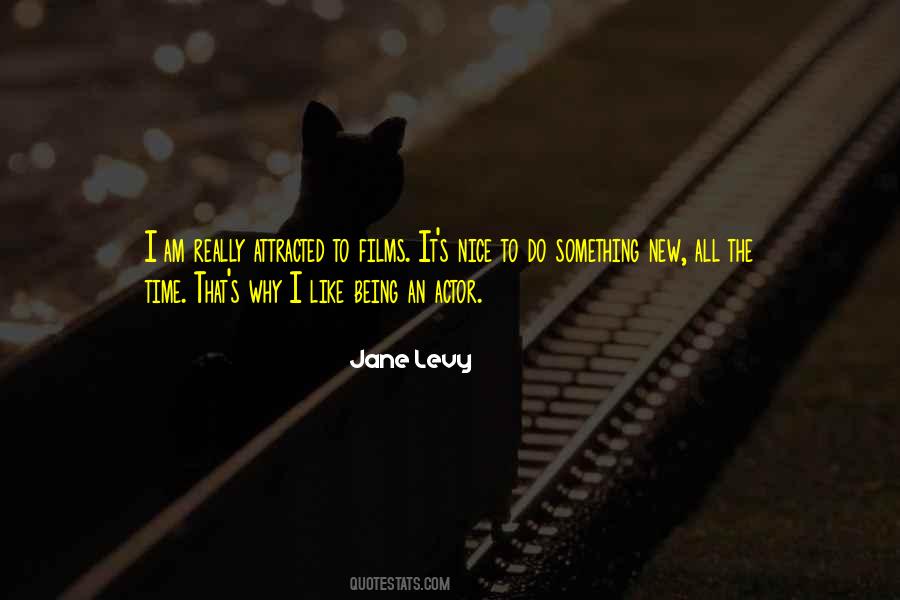 #97. Hell, I suppose if you stick around long enough they have to say something nice about you. - Author: Ava Gardner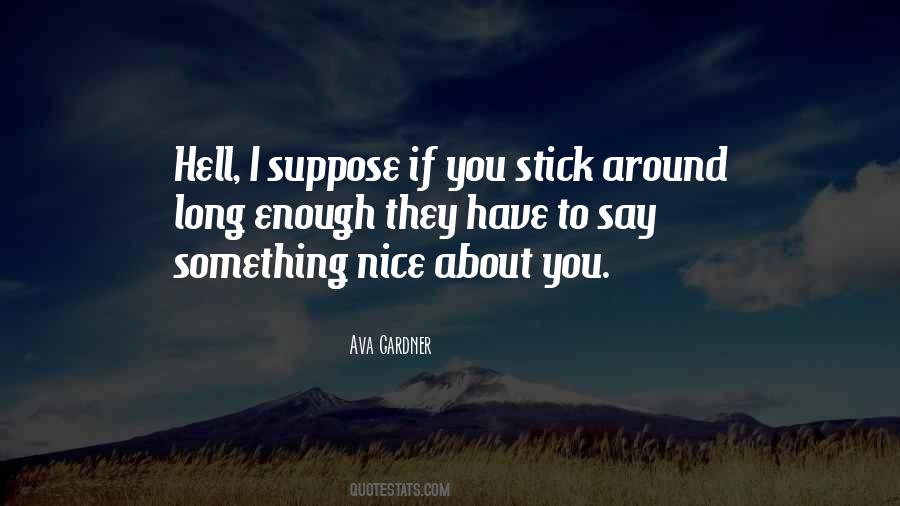 #98. It's always overwhelming when you get a nice response to something, because you really invest in these projects, and you can't help but really care what other people think. - Author: Shelley Conn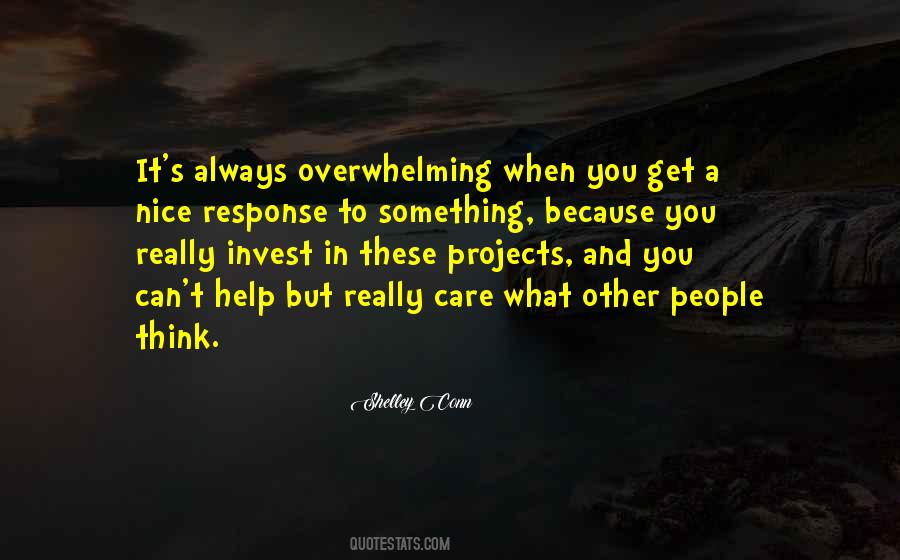 #99. Modesty is a bright dish-cover, which makes us fancy there is something very nice underneath it. - Author: Douglas William Jerrold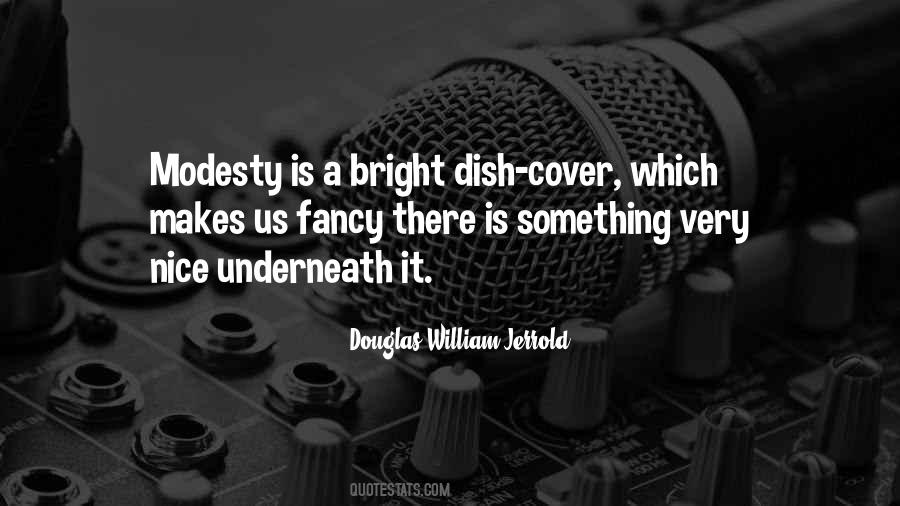 #100. I feel there is something nice about not talking. Like you can say more by actually saying less. - Author: Ryan Gosling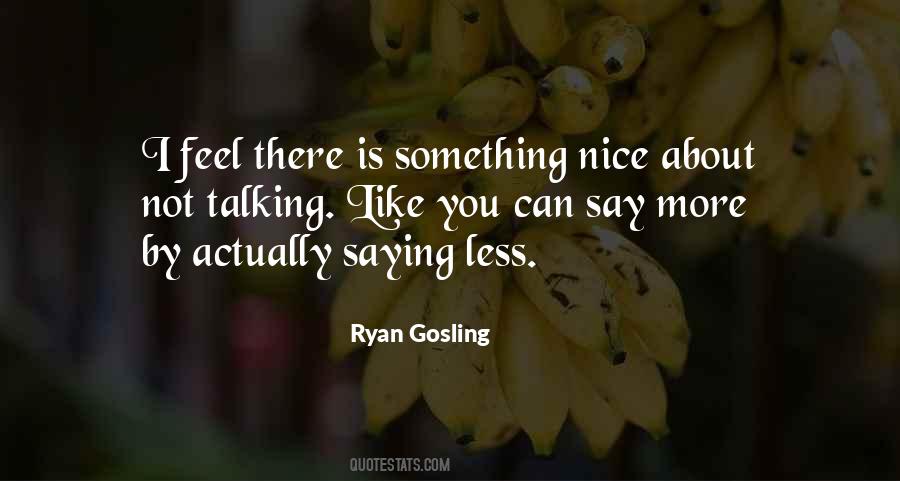 Famous Authors
Popular Topics