Relationship Problems Famous Quotes & Sayings
List of top 97 famous quotes and sayings about relationship problems to read and share with friends on your Facebook, Twitter, blogs.
Top 97 Quotes About Relationship Problems
#1. Scary is time passing and sickness and dying and regret and isolation and loneliness and relationship problems - as opposed to a guy in a hockey mask, which didn't seem that scary. - Author: Charlie Kaufman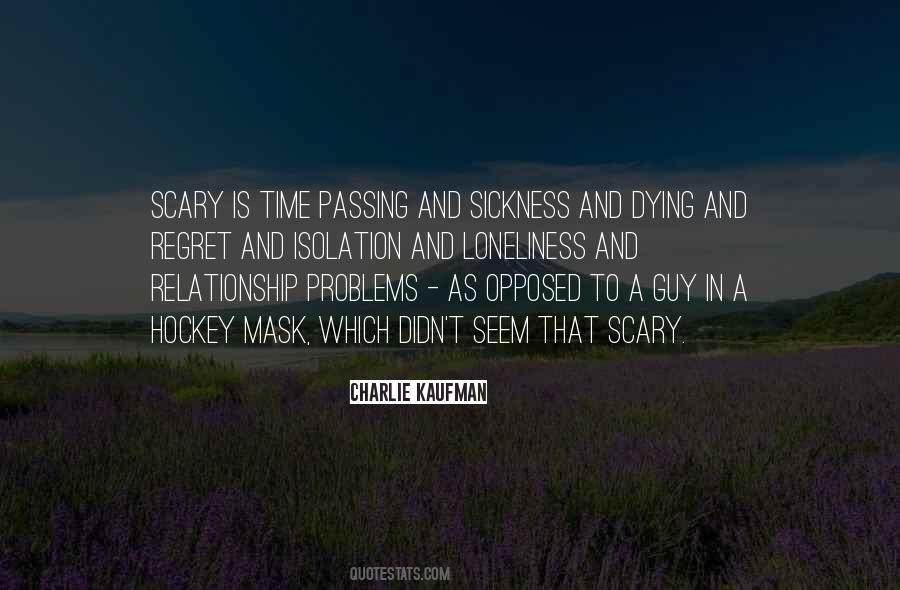 #2. The thing is, every relationship is different, and when you start talking about your problems, other people tend to talk about theirs. - Author: Khloe Kardashian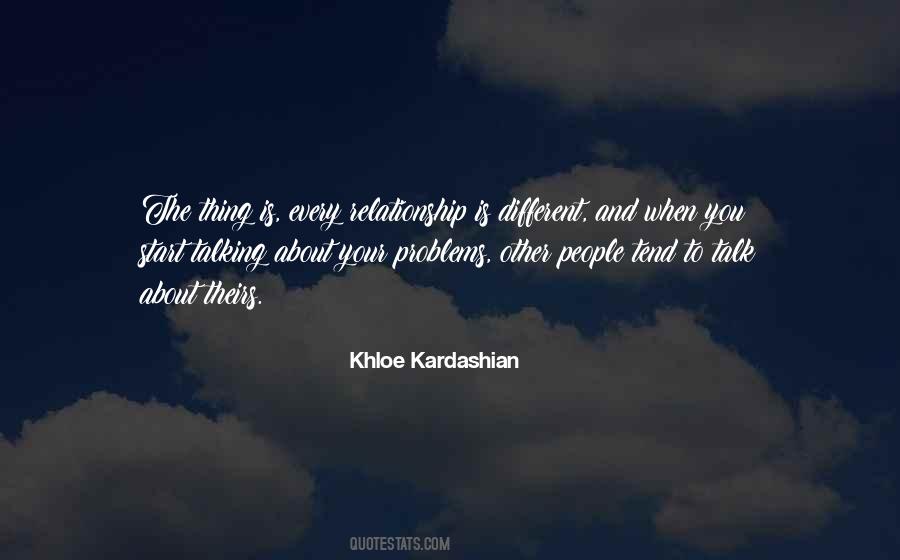 #3. There is nothing spiritual about a marriage that uses guilt, blame, shame or religious manipulations to keep a relationship together. - Author: Shannon L. Alder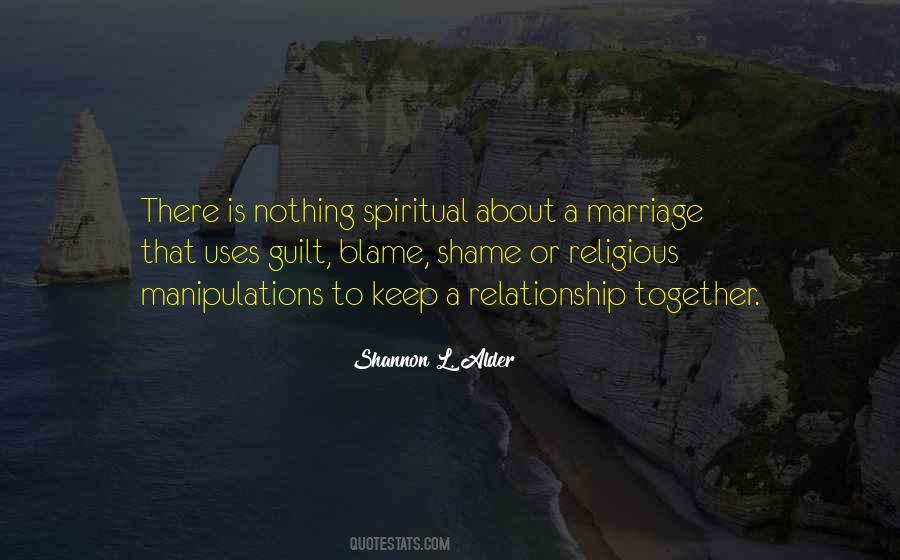 #4. A relationship is so much easier when you make a conscious decision to accept that you only have each other. That said, problems with your mate should only be discussed within the confines of your union. - Author: Carlos Wallace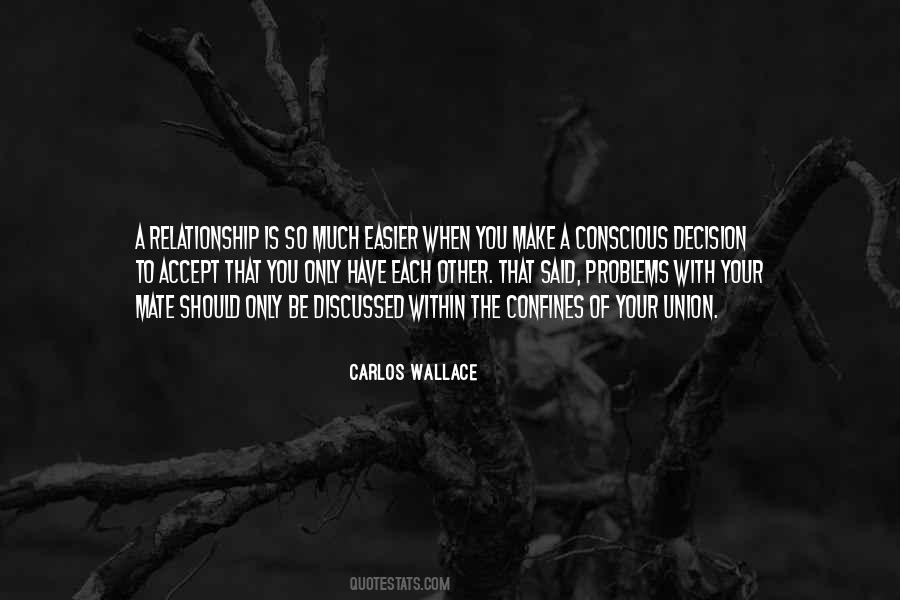 #5. Relationships survive on trust, and if that is broken at any point, it's pretty much the end of the relationship. Besides, inability to communicate leads to problems. - Author: Yuvraj Singh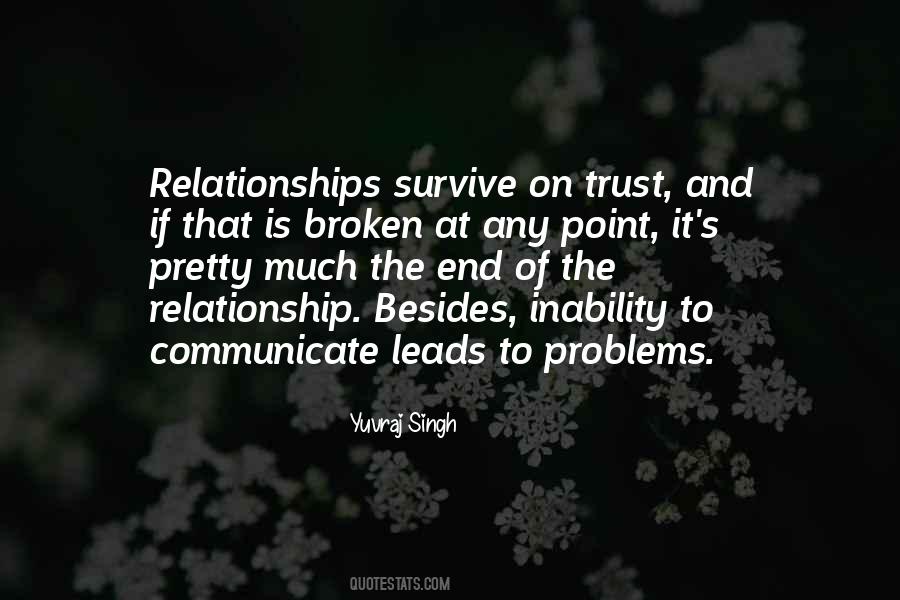 #6. Fear is the root of all evil. Better live a single day fearlessly than living a long but fearful life. Especially, never fear another human being. Fear is the root of all relationship problems. - Author: His Holiness Divas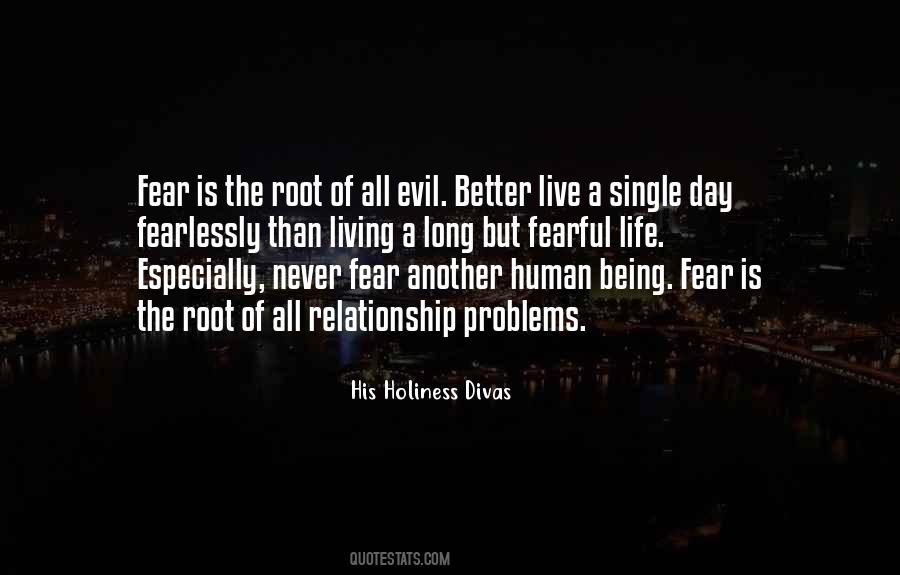 #7. Love always doesn't come across as bad, but it always has two sides. - Author: Auliq Ice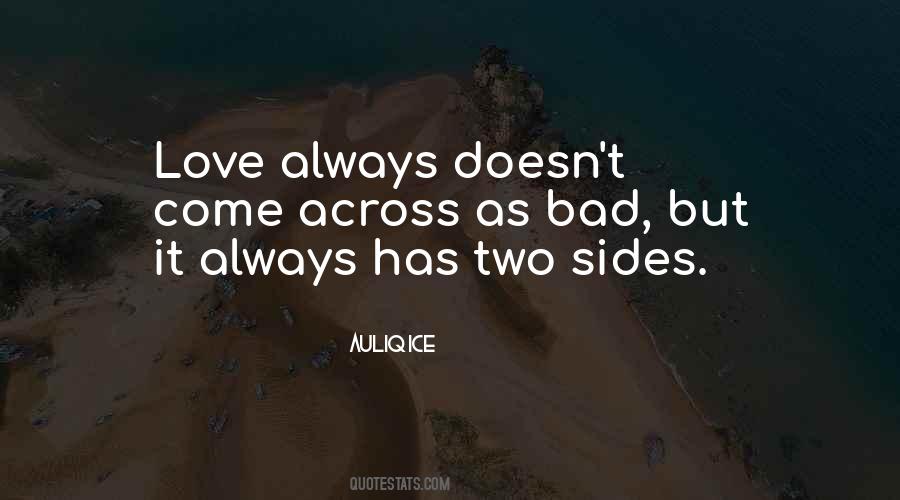 #8. Every man who has an idol or admires someone can recognise its themes. It's not only a film about the relationship between fans and idols, it's also a love story, a story of a man who is depressed, who has problems in his relationship with his teenage step-children. - Author: Eric Cantona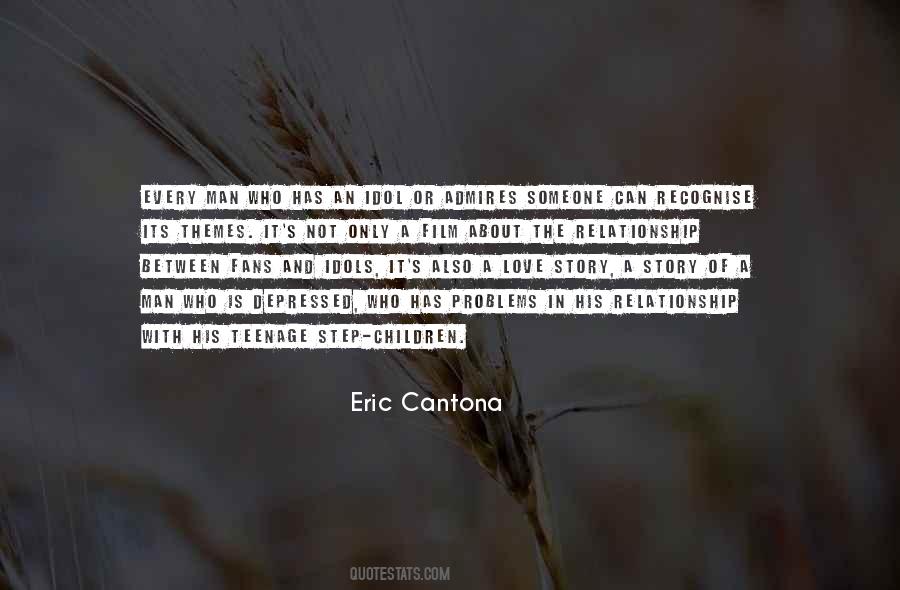 #9. Many of your relationship problems are not really relationship problems. They're personal problems that spill over into relationships. - Author: Rick Warren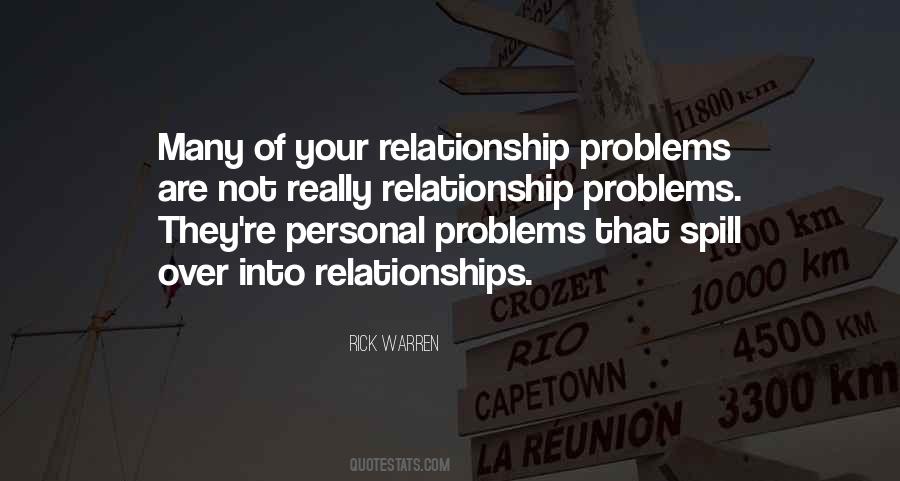 #10. There are absolutely no problems between me, my dad and my sister. Obviously I grew up with just my mum, but my relationship with my dad is just fine. - Author: Norah Jones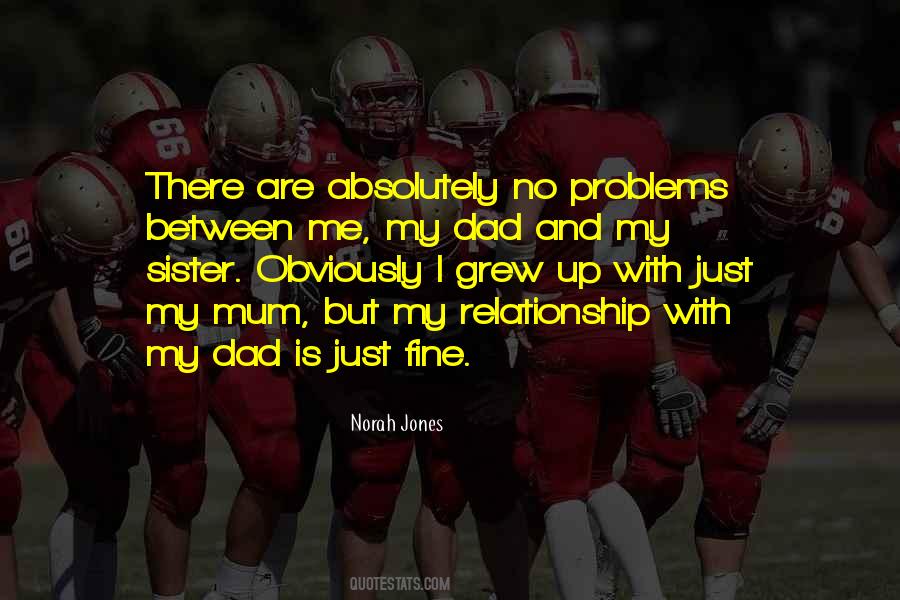 #11. If spacious stillness is missing, the relationship will be dominated by the mind and can easily be taken over by problems and conflict. If stillness is there, it can contain anything. - Author: Eckhart Tolle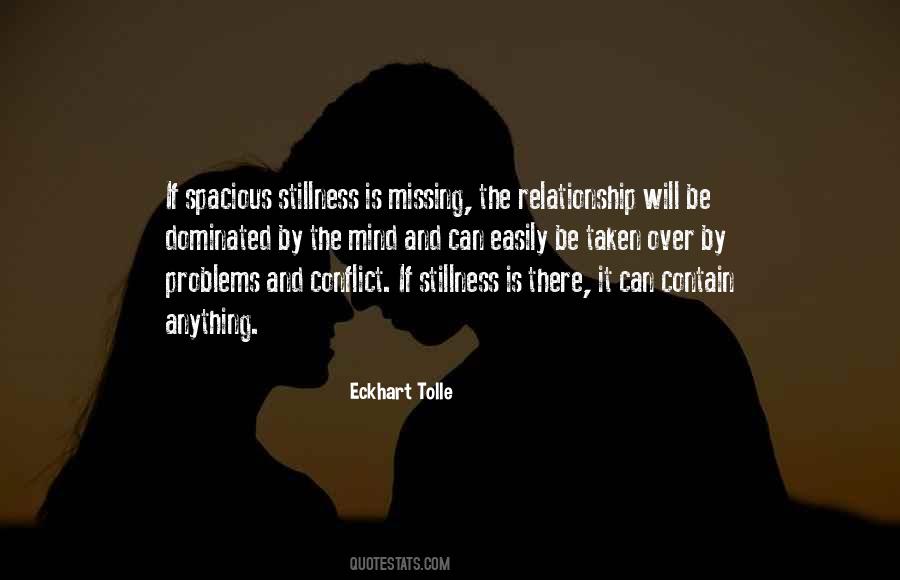 #12. Not necessary that every problem has a solution, you have to live with 'some' problems..rather than forcing a solution and doing a blunder, live with it.. People always have solutions for 'your' problems but none for their own.. - Author: Honeya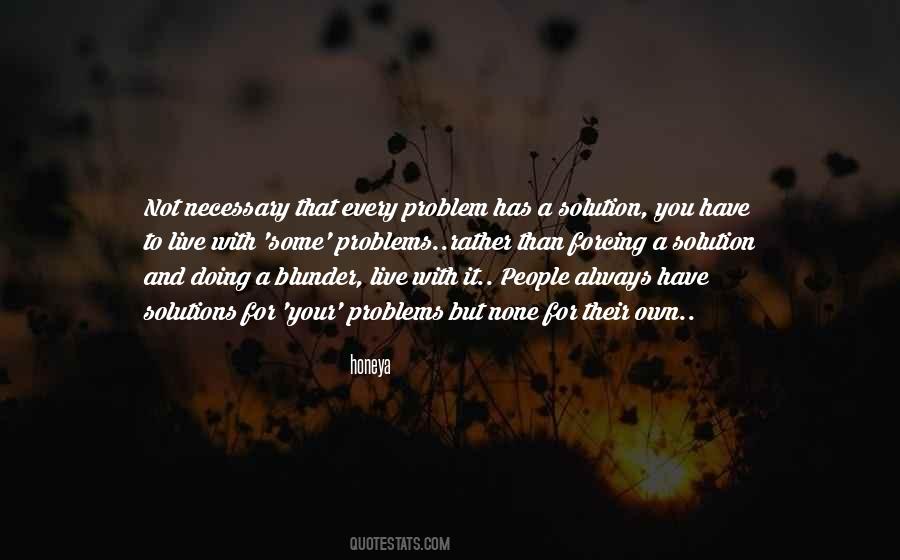 #13. Confrontation is what happens when you are less than honest and you get caught. - Author: Barbara Delinsky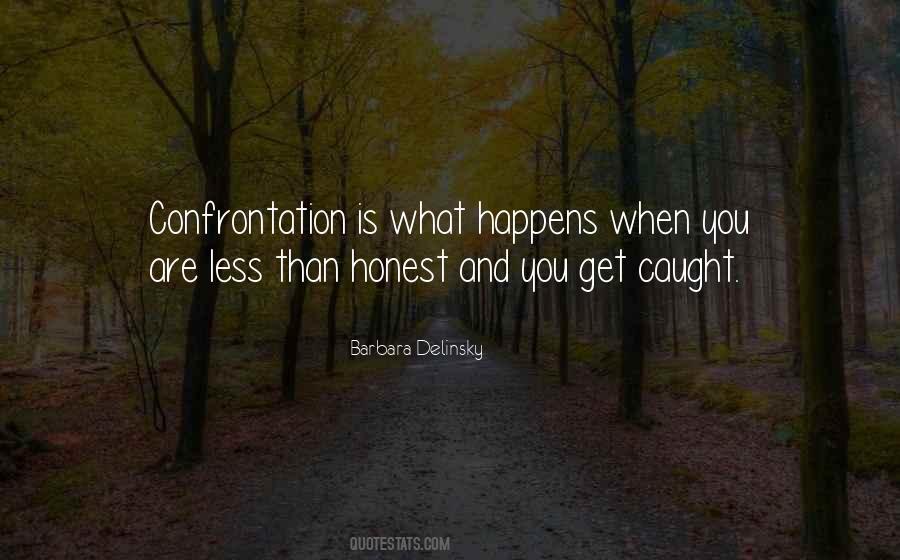 #14. Every relationship has its problems, but what makes it perfect is if you still want to be together when things go wrong. - Author: Isabelle Peterson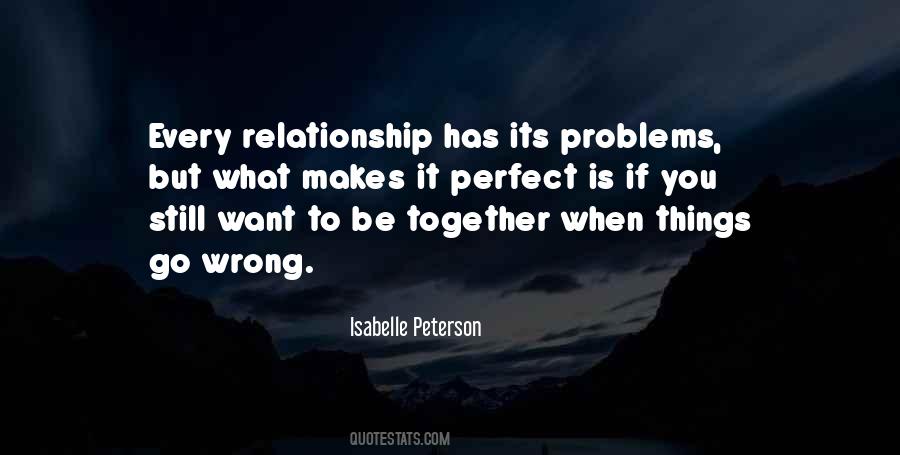 #15. Hate was the other side of love, wasn't it? That's what passion was like with her - to the highest of highs and the lowest of lows. We traveled to heaven and hell together. Earth wasn't in the picture, and that was a problem. - Author: Jess C. Scott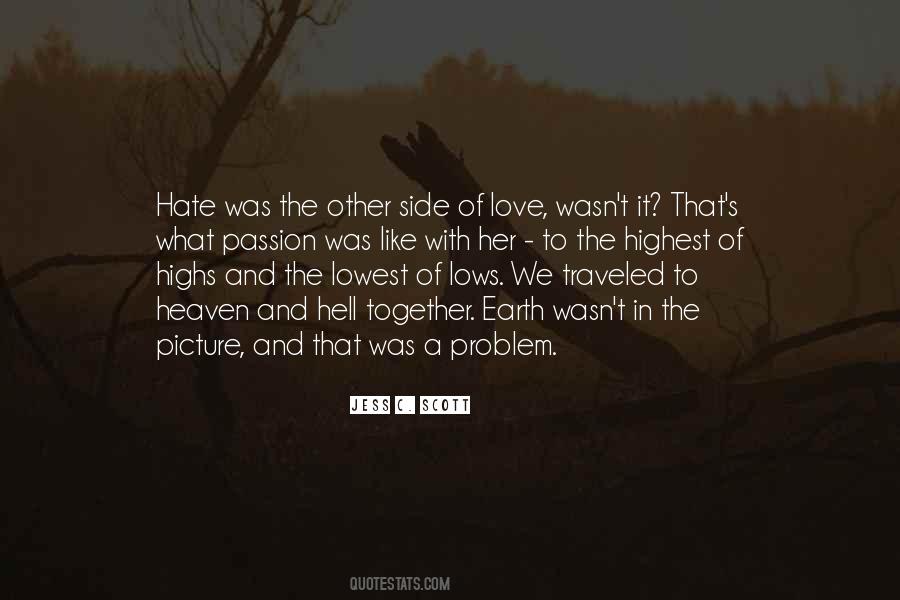 #16. I want to make people feel certain ways when they listen to my music. Whether it's partying or going through relationship problems or grinding or getting dressed and feeling fly. I want to be who I am and have emotion in my music that affects people. - Author: Tyga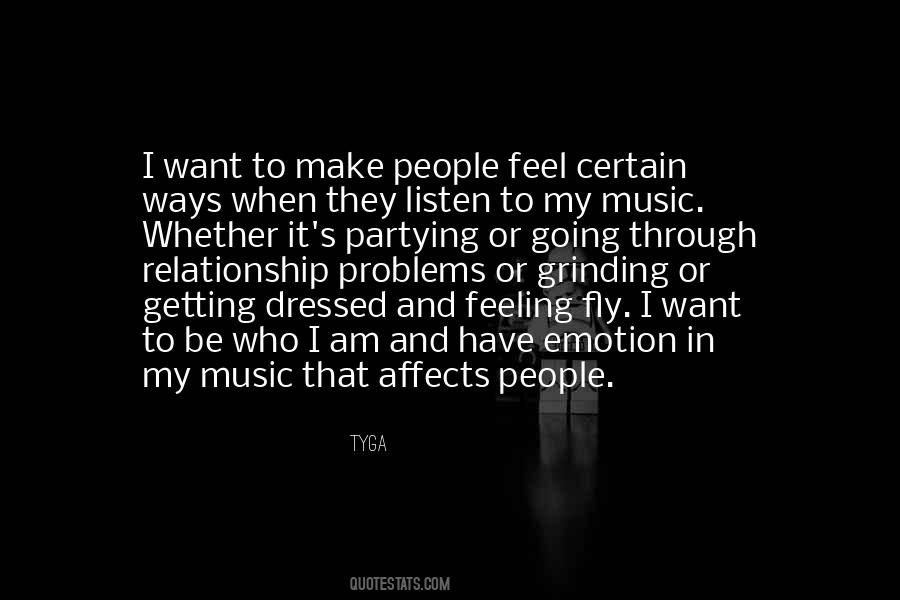 #17. The world always said to just be yourself, but it turned out when Evelyn was herself, no guys were at all interested, so she was left with games of make-believe, expressing enthusiasm for whatever the men wanted to do, be it rock climbing or going to a cheese-beer pairing or a Knicks game. - Author: Stephanie Clifford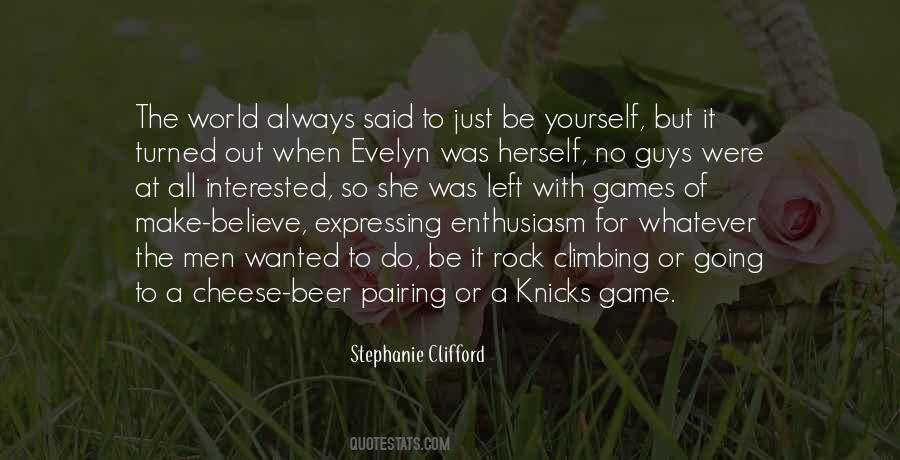 #18. Many of our problems with anger occur when we choose between having a relationship and having a self. - Author: Harriet Lerner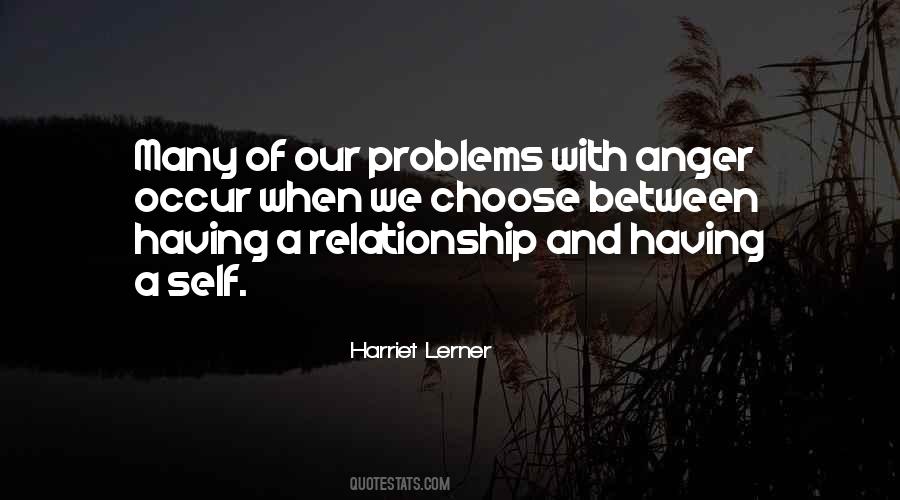 #19. Very early in life, it seemed to me that there was a relationship between the problems of the Negro people in America and the Jewish people in Russia, and that the Jewish people's problems were worse than ours. - Author: Langston Hughes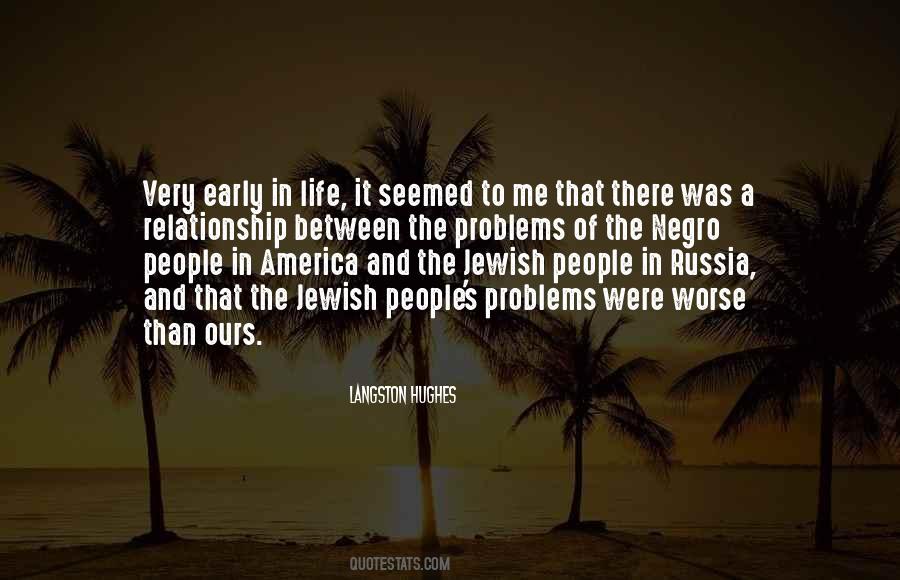 #20. The only person you should ever fear losing in a relationship is you yourself. - Author: Miya Yamanouchi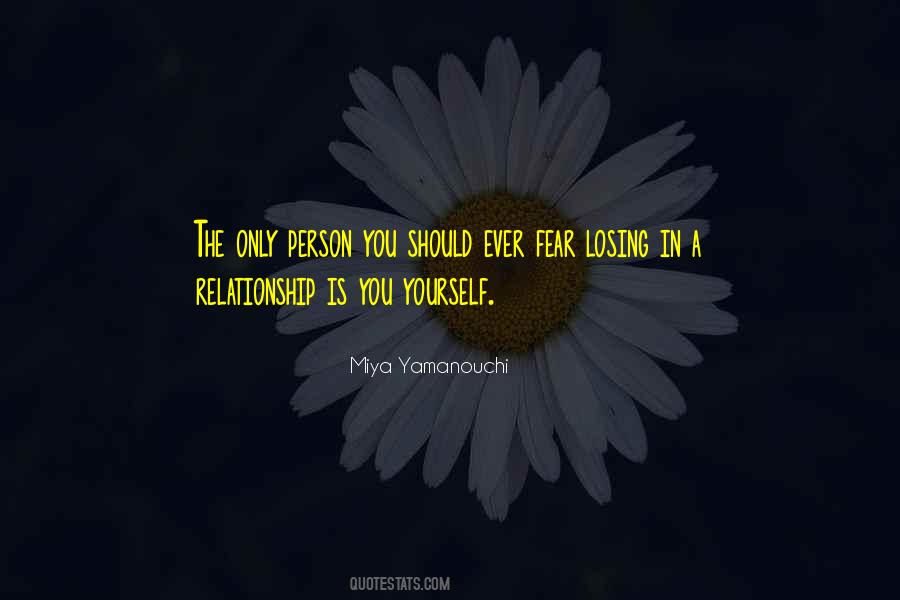 #21. I've been in a long and happy relationship for 22 years and it's never inspired me to write anything. It's too good - nothing to say. Problems, conflict, that's what makes for good stories. - Author: Emma Donoghue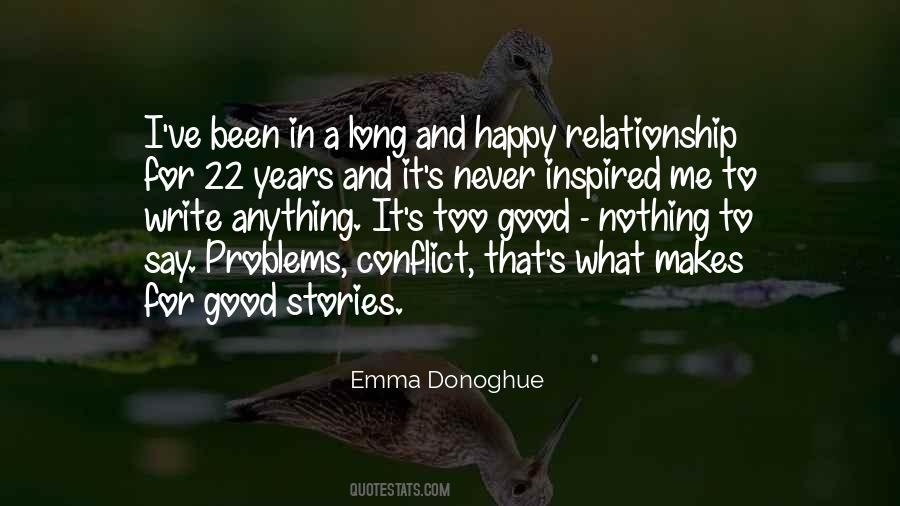 #22. Being single has its ups and downs, and being in a relationship has its ups and downs. It depends on how you balance it and how you handle your problems within your relationship. - Author: R. Kelly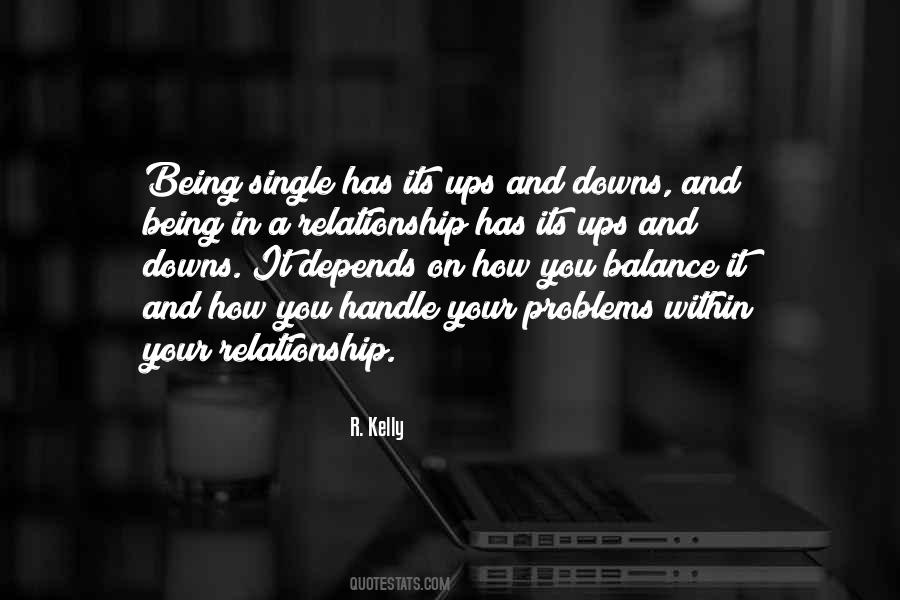 #23. Relationship math suggests that It is rare for two people to enter marriage and one person is to blame for everything that goes wrong - Author: Johnnie Dent Jr.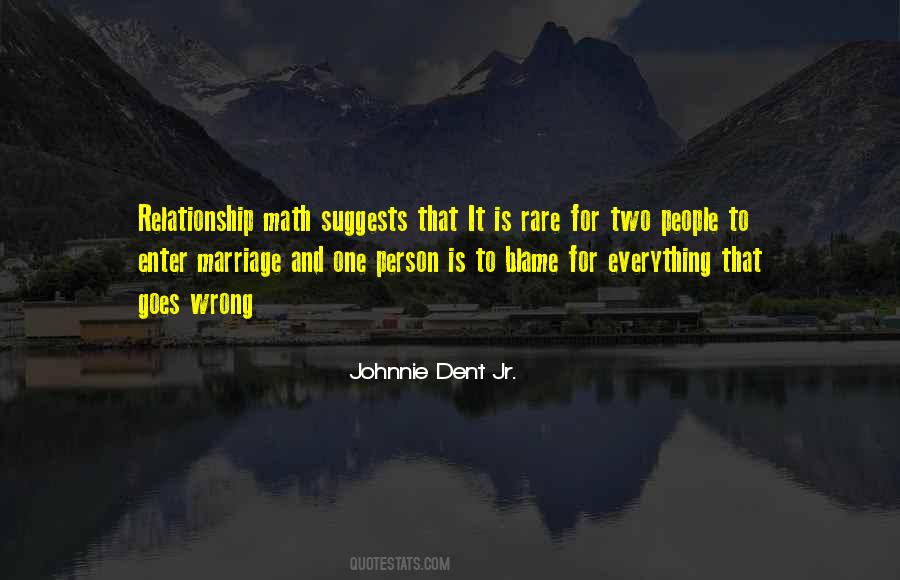 #24. If anyone's depressed for any reason, whether a relationship has fallen apart or they're having money problems, wearing feathered wings and a tutu takes you into a whole other world. A whole new woooooorld, a world of bright and shining stars! - Author: Richard Simmons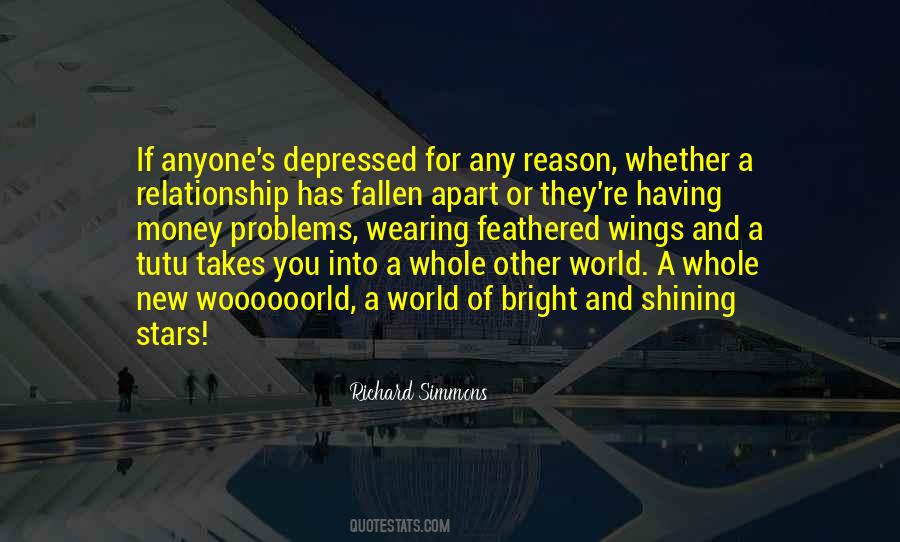 #25. We talk about things. We talk about nothing. - Author: Andre Agassi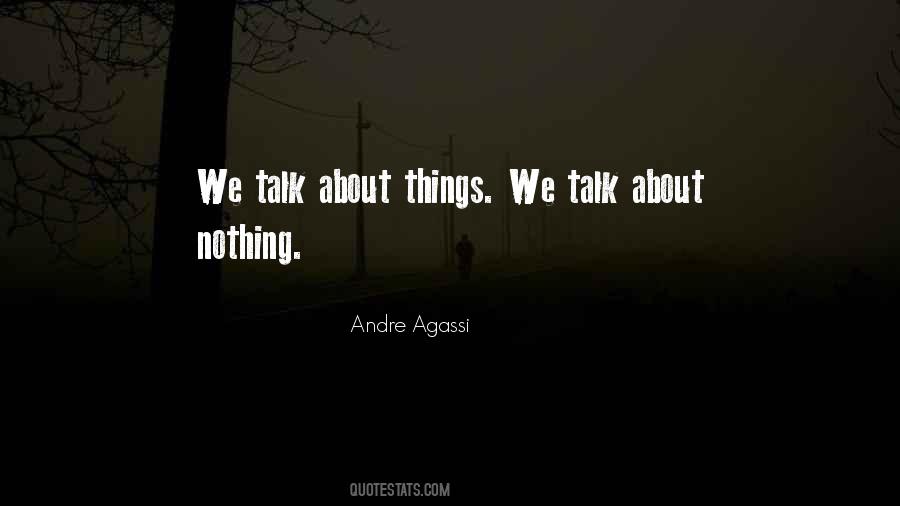 #26. Problems in relationship occur because each person is concentrating on what is missing in the other person. - Author: Wayne Dyer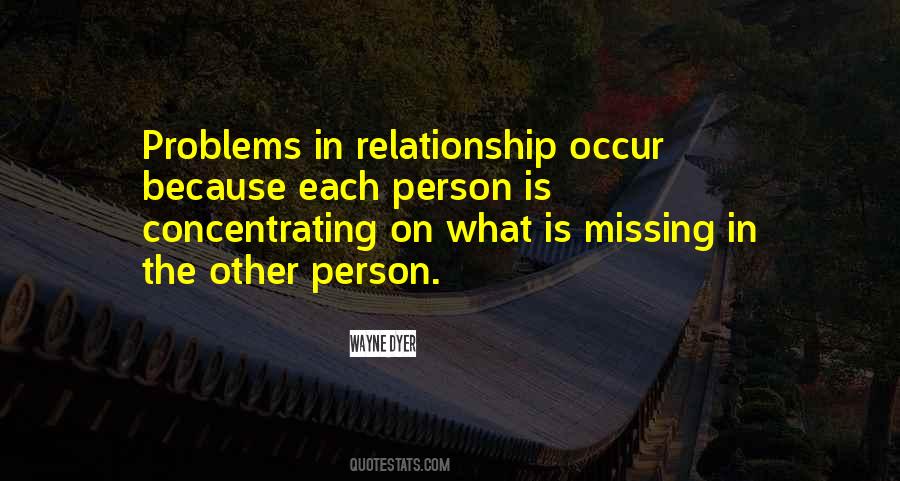 #27. But, like anyone in love, Madeleine believed that her own relationship was different from every other relationship, immune from typical problems. - Author: Jeffrey Eugenides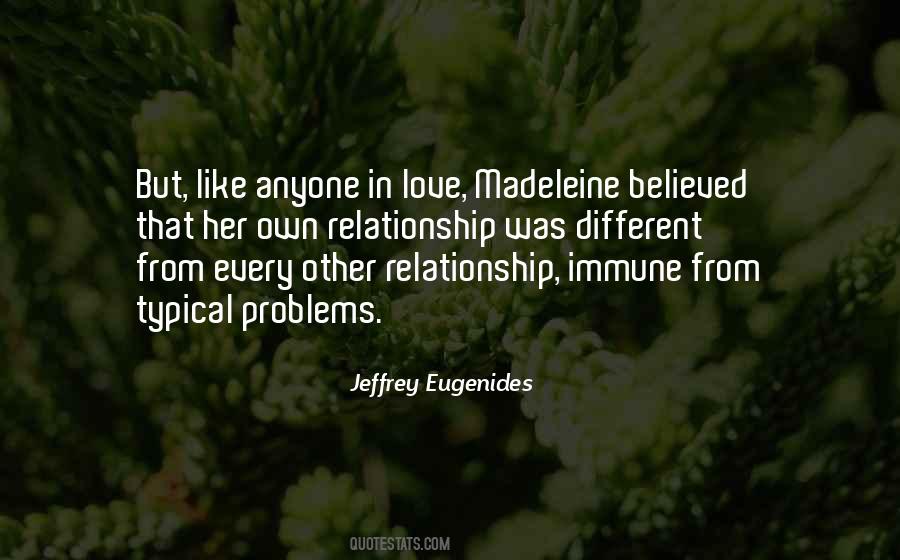 #28. It is easy for Christians to have the false impression that once we have established a relationship with Christ, which we believe sets us right with God, the problems of life will somehow scoot away or they will slowly be removed from our lives. - Author: Charles R. Swindoll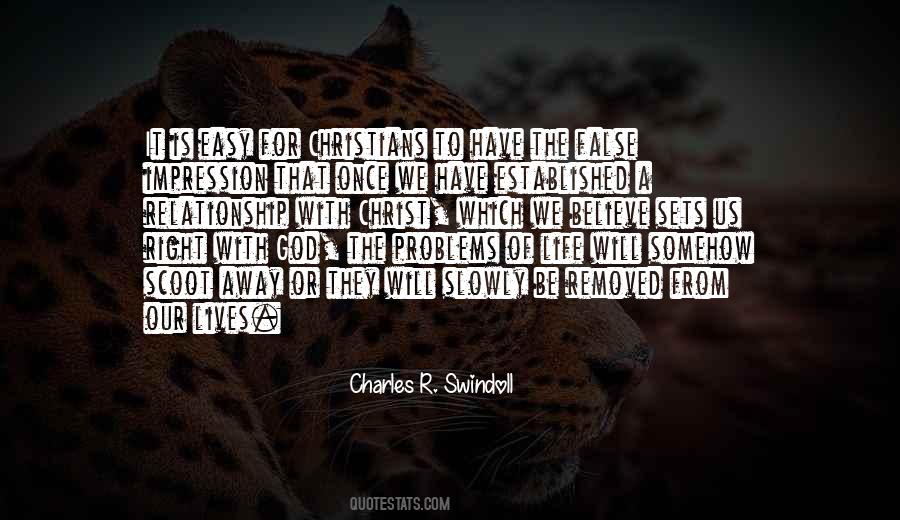 #29. he believes it is, overall, a wiser approach to life's problems. After all, how can you pick up something new - a new career, a new relationship, a new outlook on life - without first letting go of the old? It's like trying to pick up a bag of groceries when your hands are already full. - Author: Eric Weiner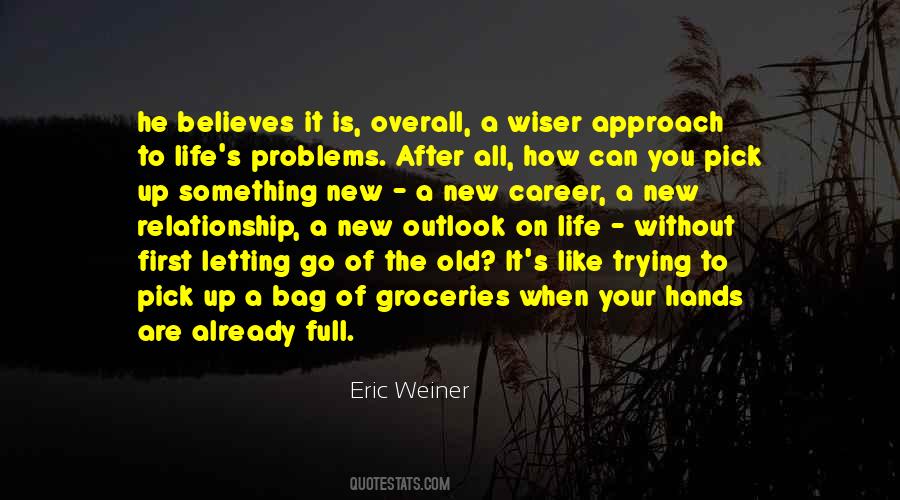 #30. I knew we were having problems when you put those piranhas in my bathtub again. - Author: Al Yankovic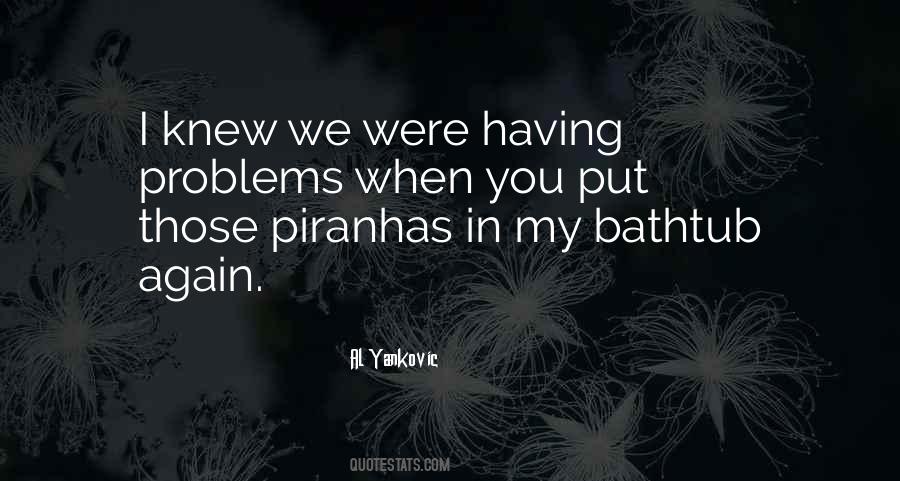 #31. Hooking up with people who do not care about your happiness or you; is a serious and big decision. If you do decide to hook up, you must have a good reason for it just as you would to have a relationship. - Author: Shahla Khan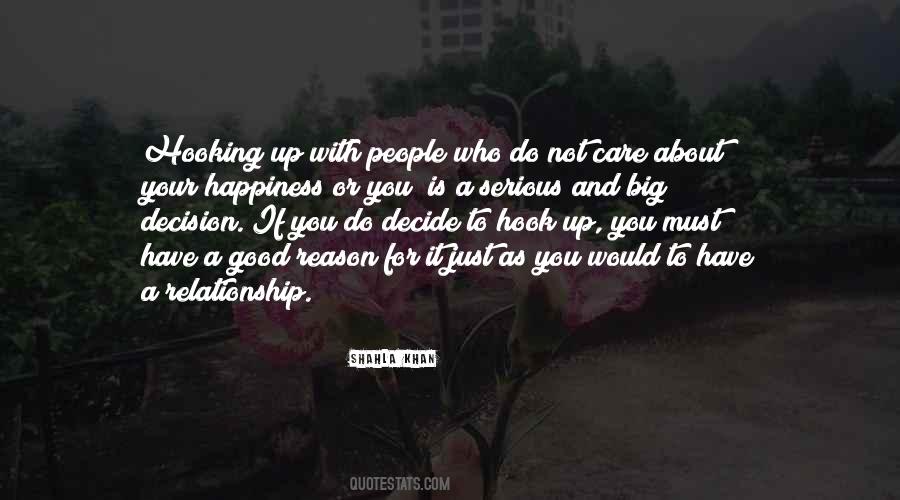 #32. We are trained to analyze problems and create solutions. We forget that marriage is a relationship, not a project to be completed or a problem to solve. - Author: Gary Chapman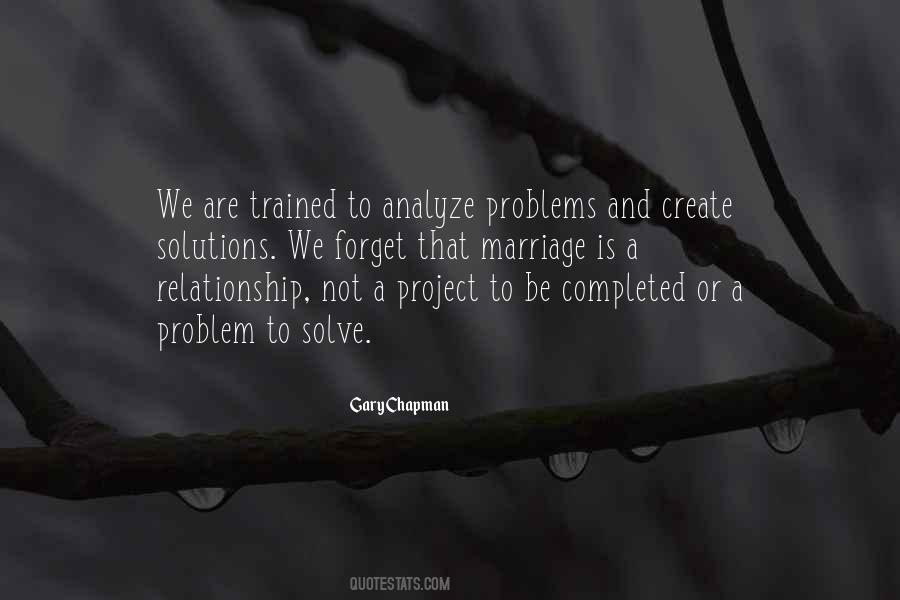 #33. When you're twenty-three and you fall in love, you tend to think that love will supersede any problems. But no matter how much you love somebody, no matter how desperately you want a relationship to work, life can act as an oxidizer and corrode it to pieces. - Author: Tiffanie DeBartolo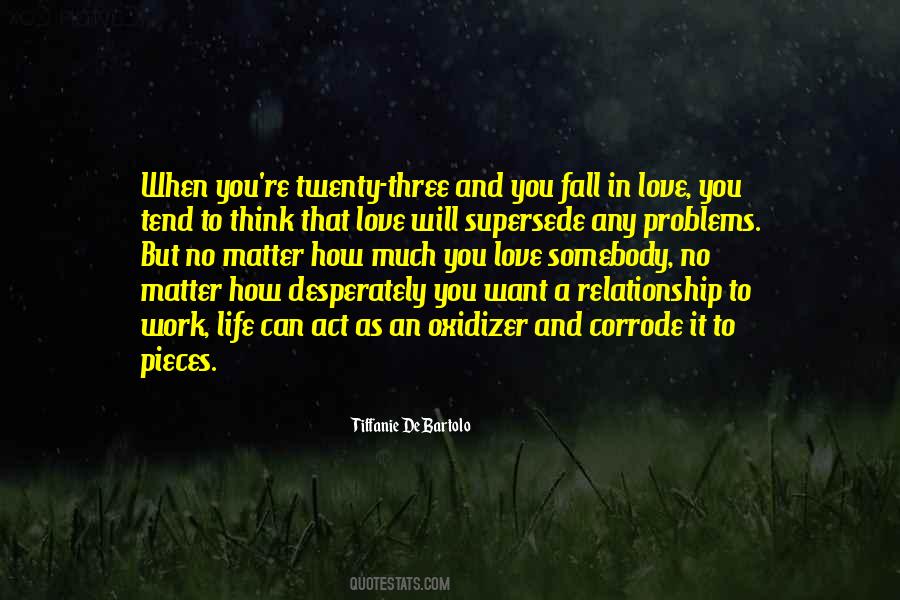 #34. Problems are solved from the inside out not the other way around. - Author: Vivian Amis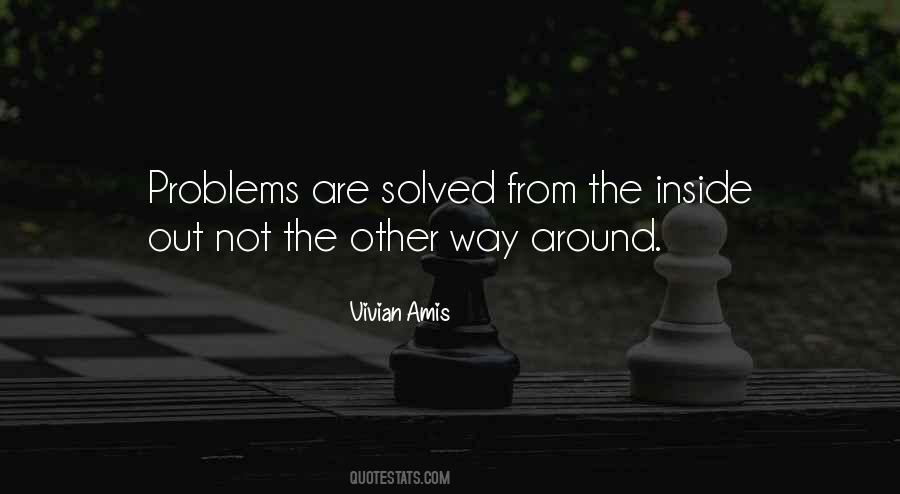 #35. I don't want to be just a voice on the phone.
I have to get to know these guys face-to-face and develop a sincere relationship.
That way, if we run into problems in a deal, it doesn't get adversarial.
We trust each other and have the confidence we can work things out. - Author: Wayne Huizenga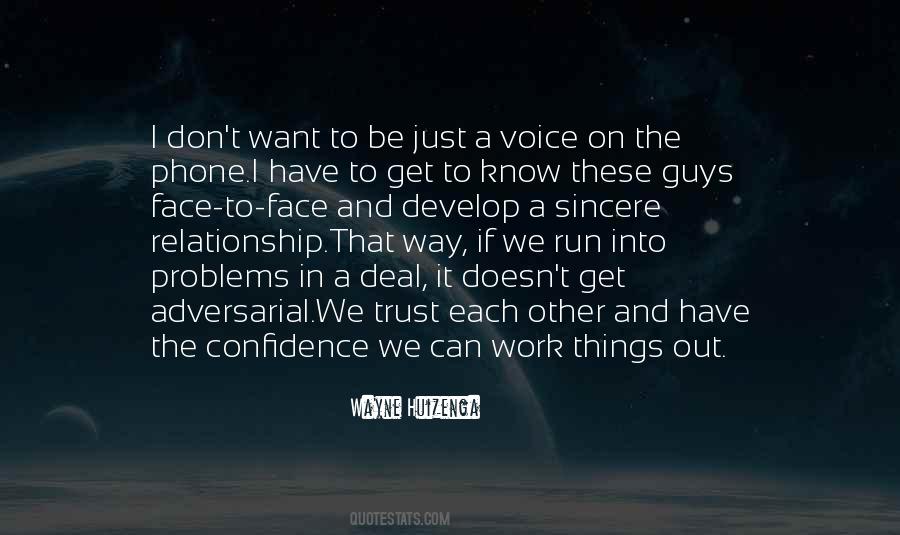 #36. You can't hold on and let go to (at the sametime) of you worthless, unhappy, failing relationship - Author: Joanne Williams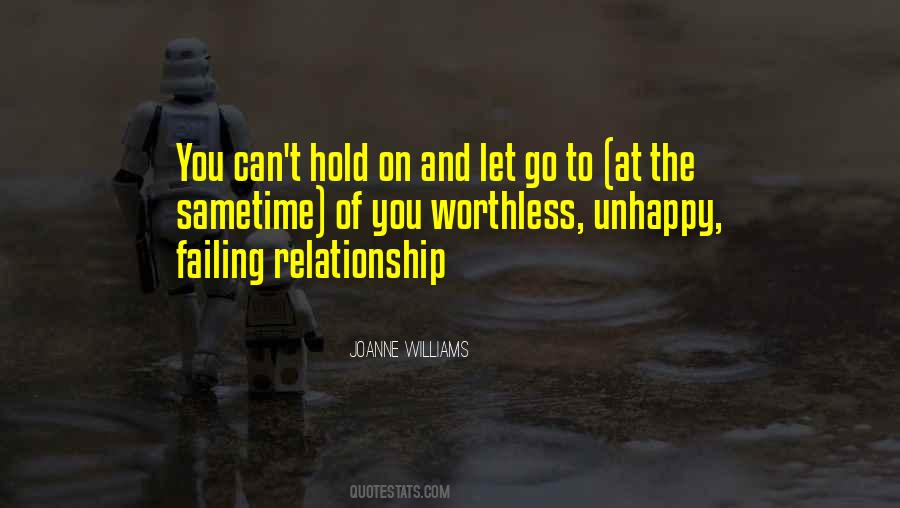 #37. If love breaks more than a heart, maybe it's a sign and time to step out. - Author: Anthony Liccione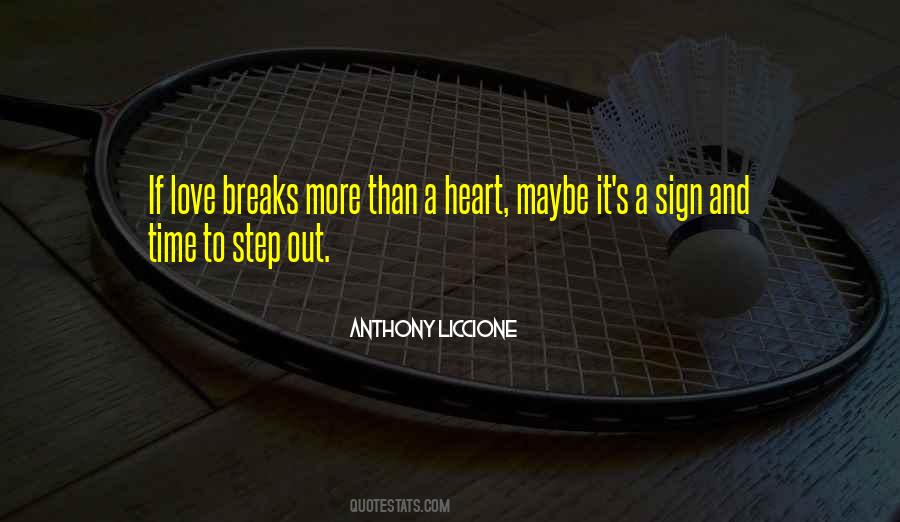 #38. Either, you are in love with someone or you're not. Fear is complicated, not love. - Author: Shannon L. Alder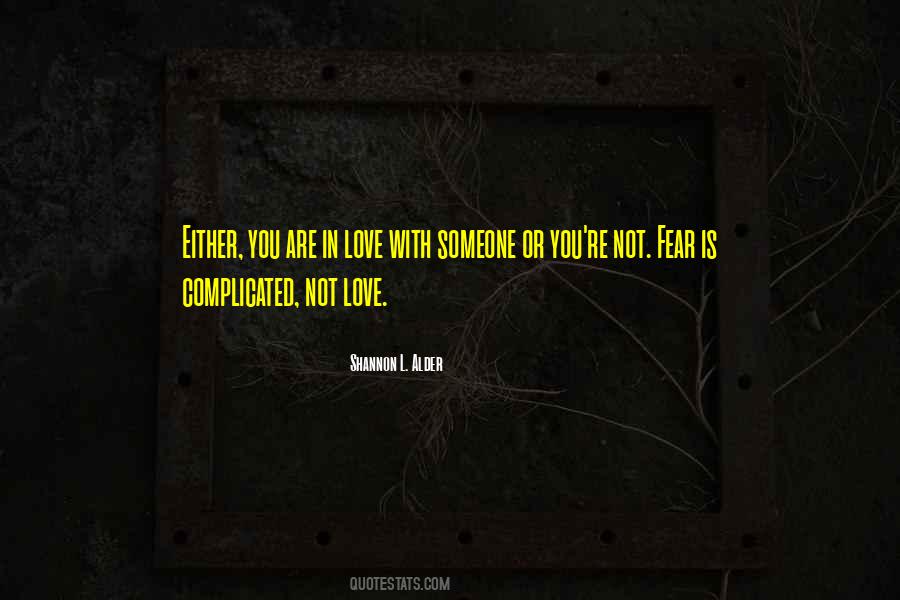 #39. Nice Girl Syndrome: Nice girls suffer from "the disease to please" - they put their needs behind everyone else's. - Author: Beverly Engel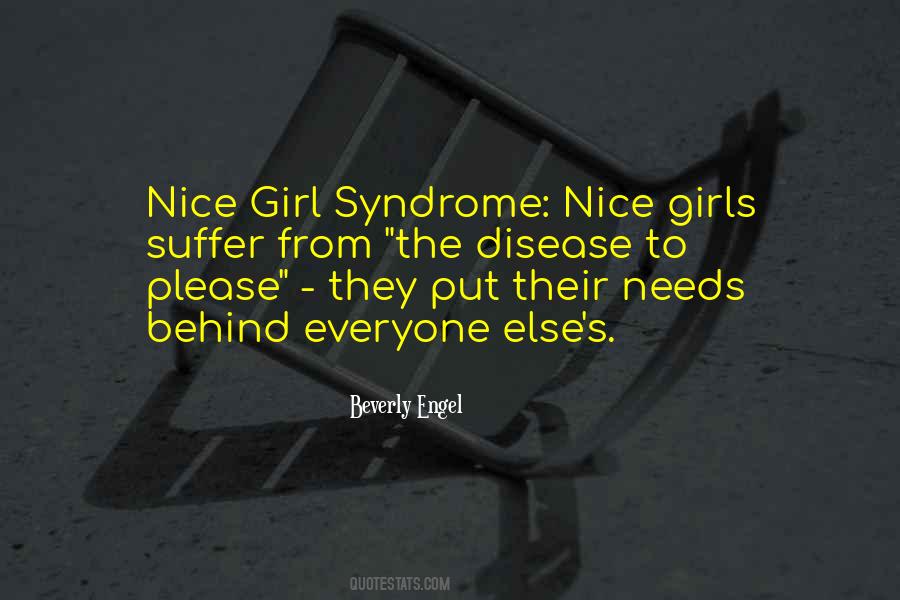 #40. In a relationship the way to overcome problems, is to focus our attention on higher principles that can help us transcend them. - Author: Radhanath Swami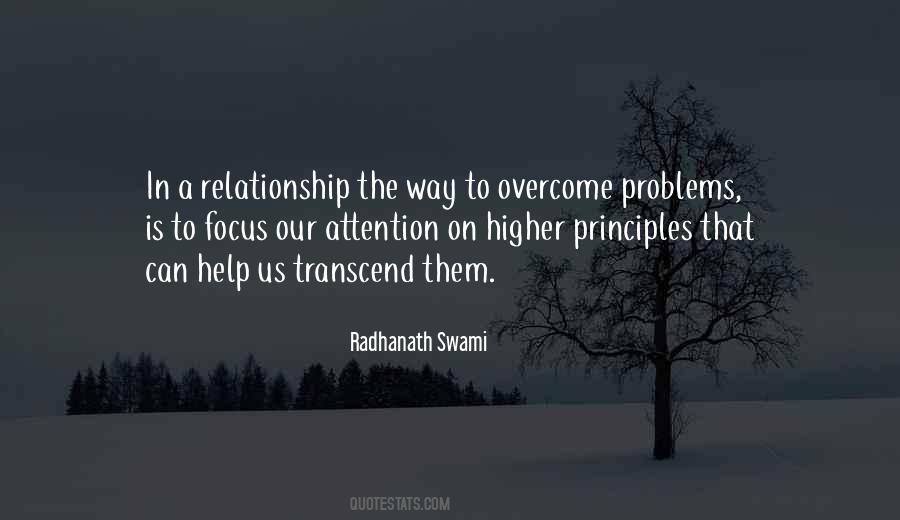 #41. It's important to work through things in a relationship. You can't just give up because you're frustrated. It's most important to talk things through together. And that, for me, has been the way I've best resolved problems in the past. - Author: Taylor Lautner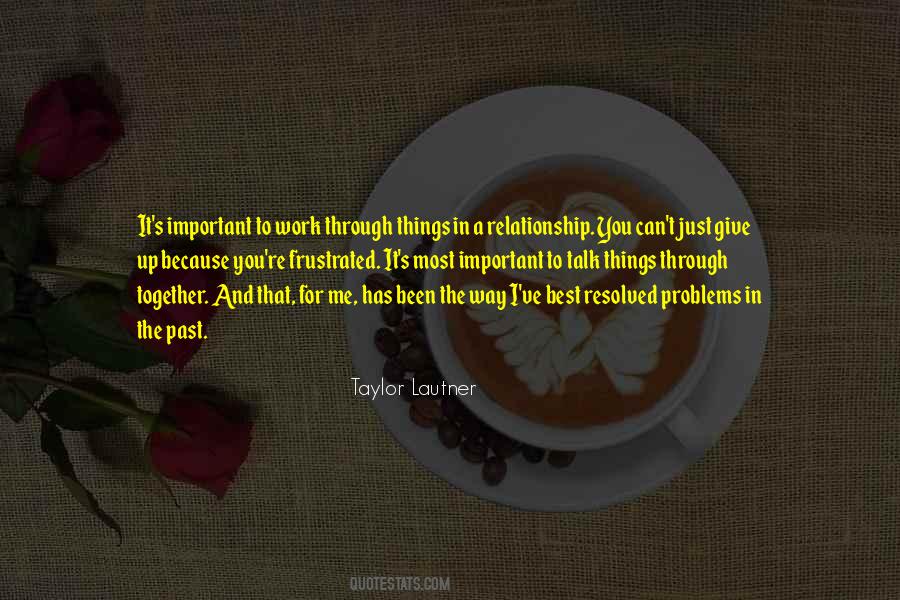 #42. Don't discuss your relationship problems with friends. Your zombie problems are another story entirely. - Author: Jesse Petersen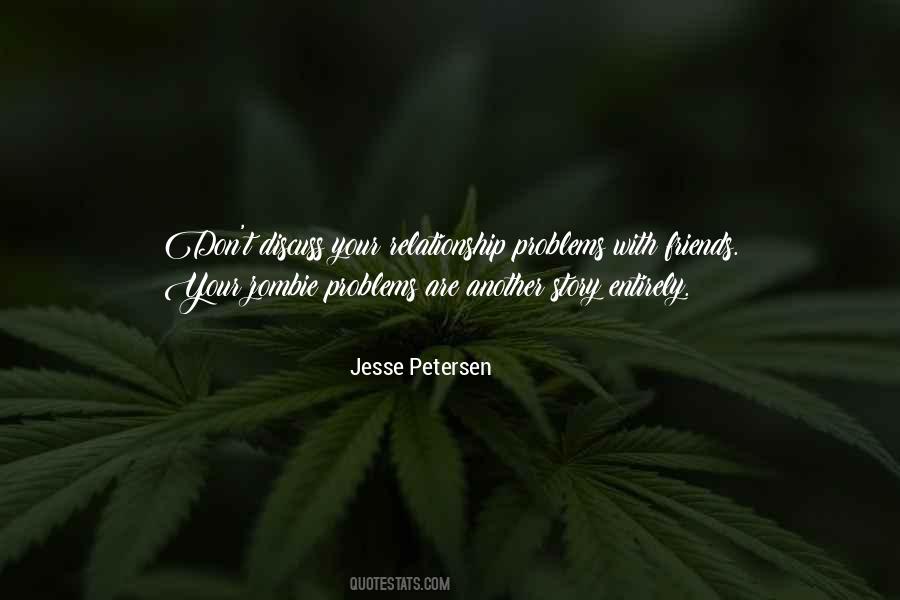 #43. A good relationship is not a refuge from your problems, but an oasis where you can grow better as a person. - Author: Shon Mehta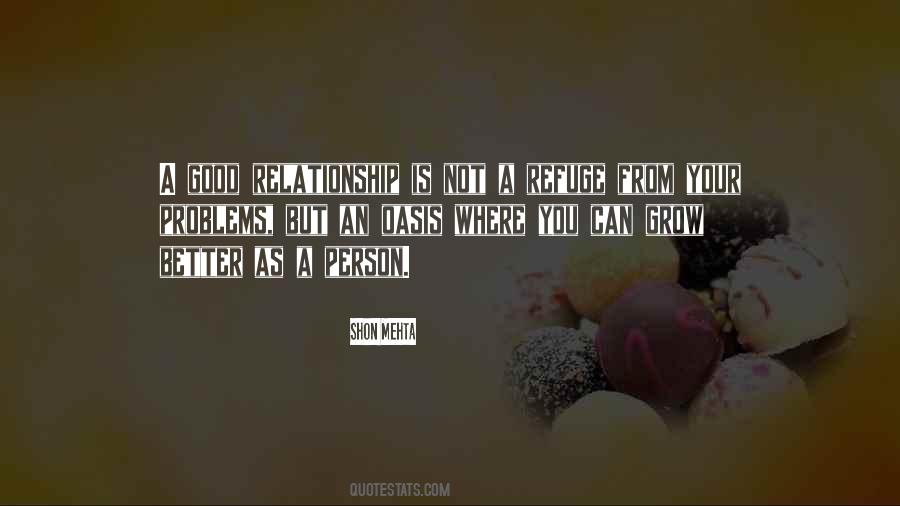 #44. The best way to remain in your relationship is to keep other people out of your relationship. - Author: Carlos Wallace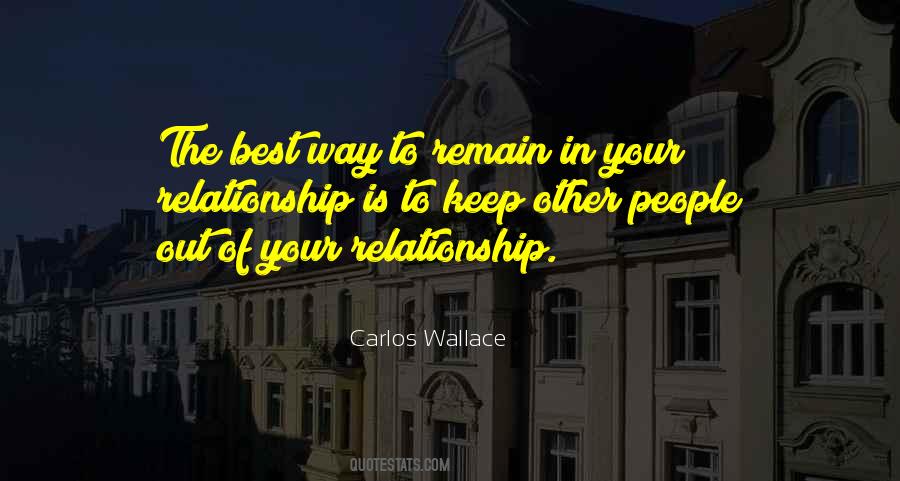 #45. If you can't be happy and content by yourself then you shouldn't be in a relationship. - Author: Evan Sutter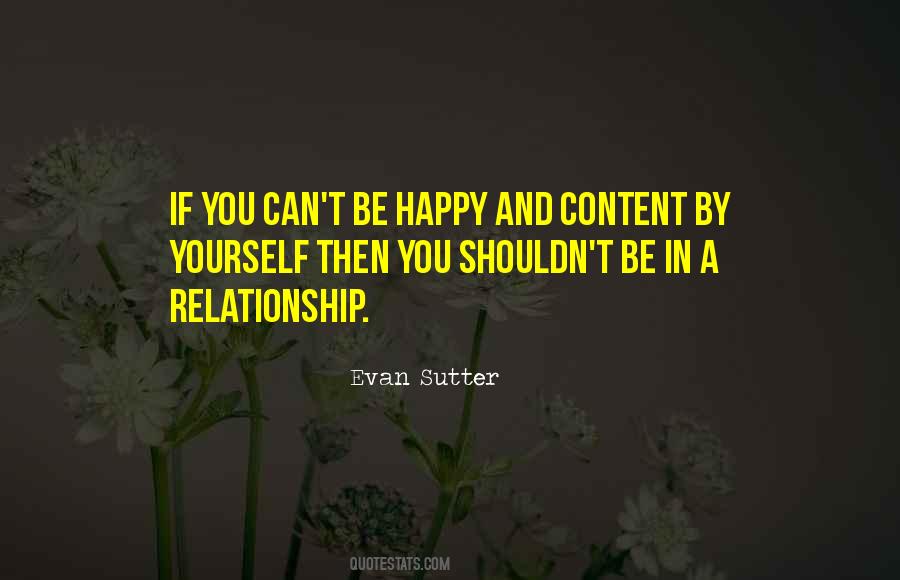 #46. Secrets are festering parasites to a relationship, devouring their hosts from within, leaving behind a empty hollow husk of what once was. - Author: Mark W. Boyer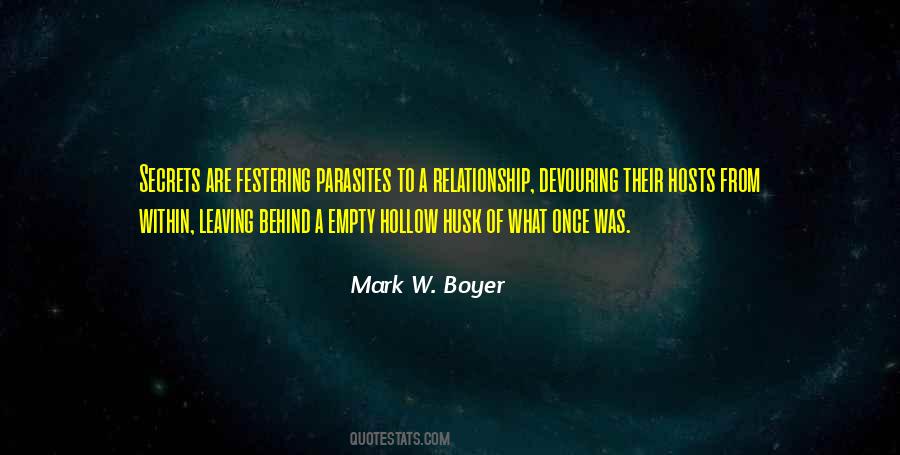 #47. I'd give up everything for him, but then what? He has no job, I have no money, and we both live in a box. Love sucks. - Author: H.M. Ward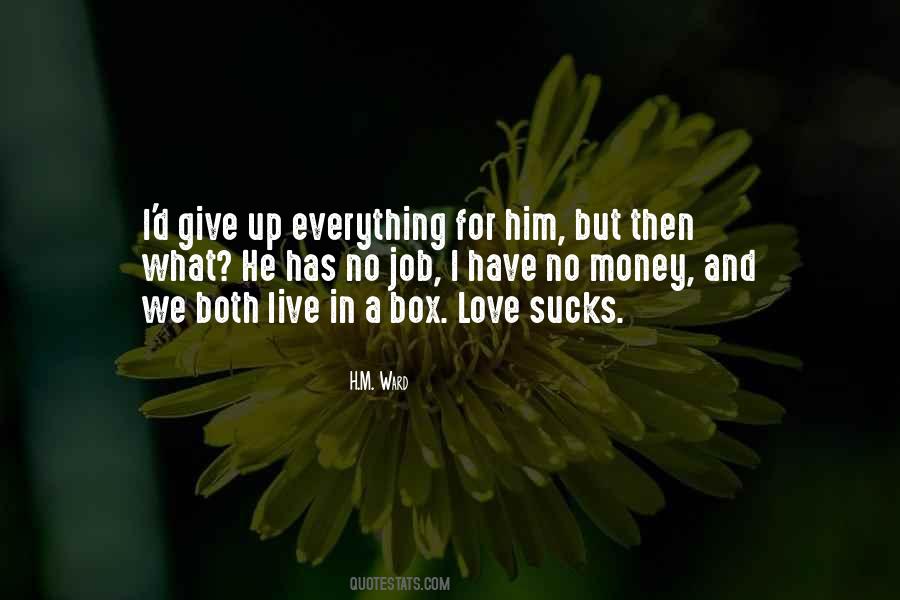 #48. Art problems are problems of human relationship. - Author: Josef Albers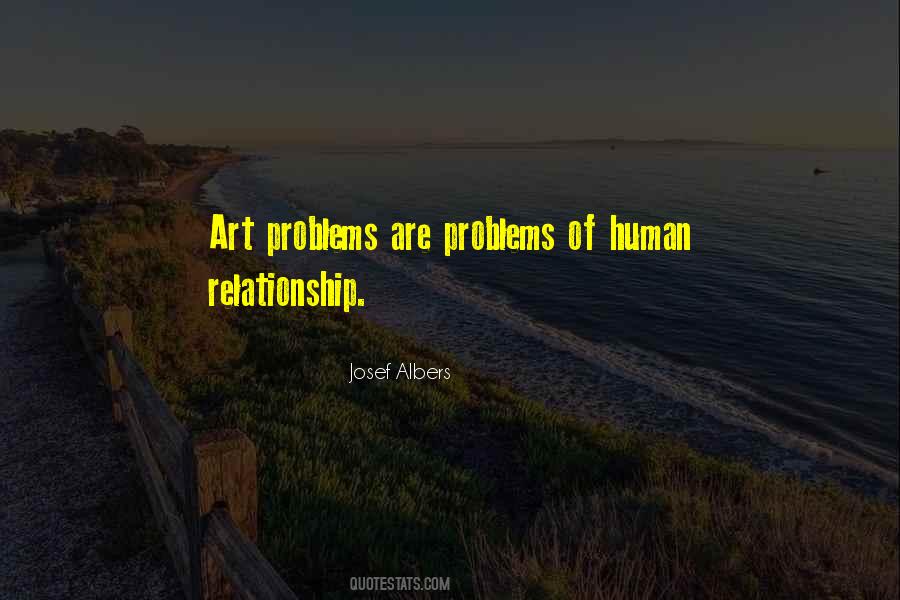 #49. Remember: You are the common denominator in all your relationship problems. Wherever you go, your pesky repeated issues go - until you shed a blazing light of insight upon them. - Author: Karen Salmansohn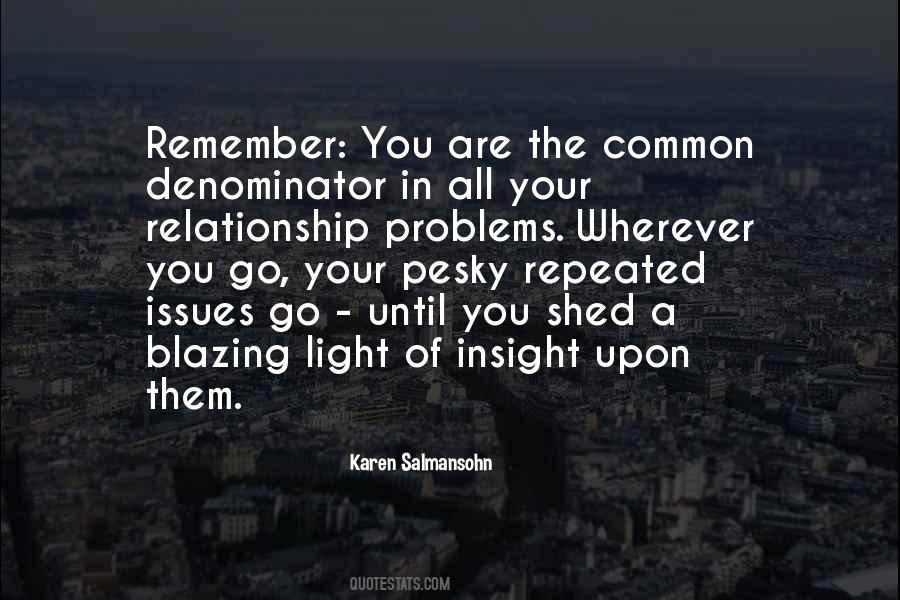 #50. When a relationship hits a crisis, the natural response is to try to fix it as quickly as possible. But in the panic, it is very easy to get confused about the true nature of the problems and head off in the wrong direction. So the first step is to truly understand. - Author: Andrew G. Marshall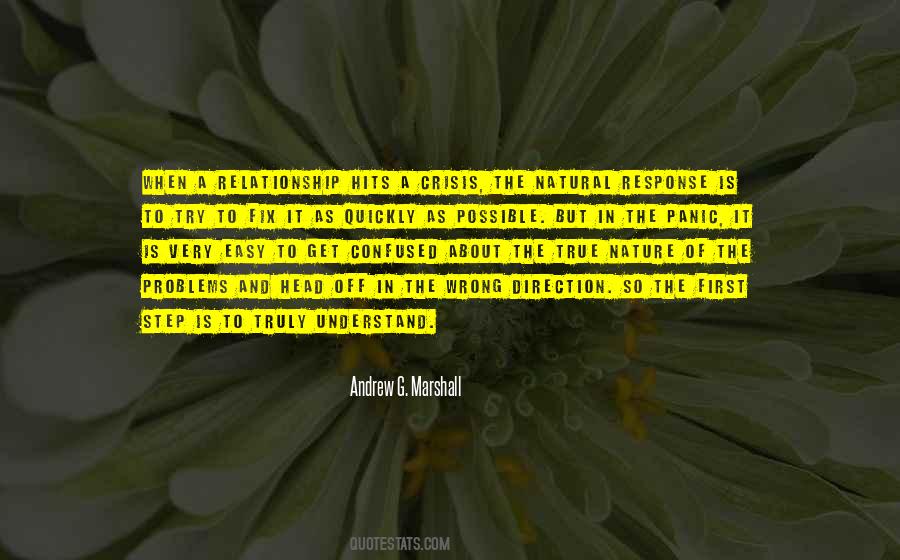 #51. Because', she said, 'your problems are not real problems. You're dating two beautiful girls at once. Think about it. That's like ... having rock-star problems.'
'Having rock-star problems may be the closest I ever get to being an actual rock star. - Author: Cassandra Clare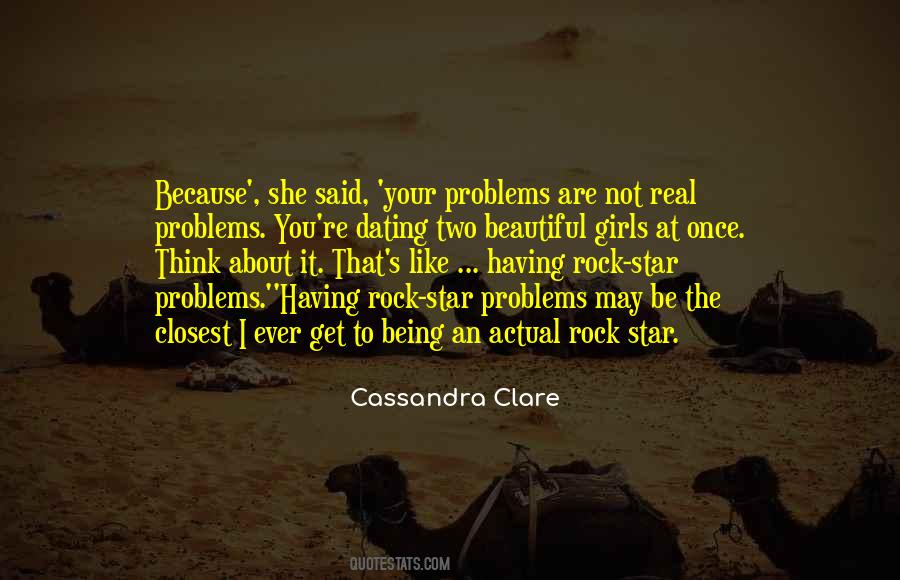 #52. I can't write about rich people having relationship problems and breaking up in New York. I don't know that world of Terrence McNally. I knew I had to write people who talk the way I talk. And they talked very different than Terrence McNally. - Author: Lucy Alibar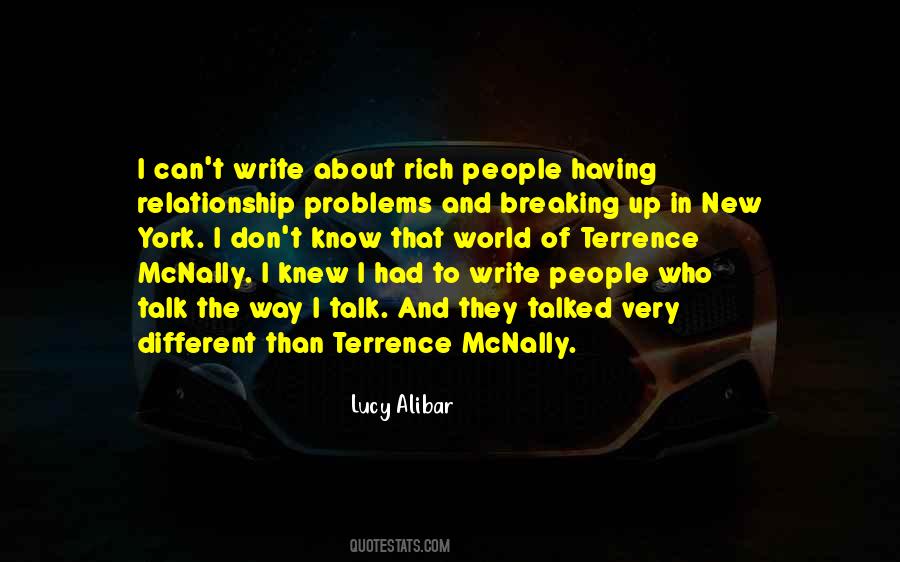 #53. You can tell how often a person thinks of you by how often they tell you they think of you. - Author: Mark W. Boyer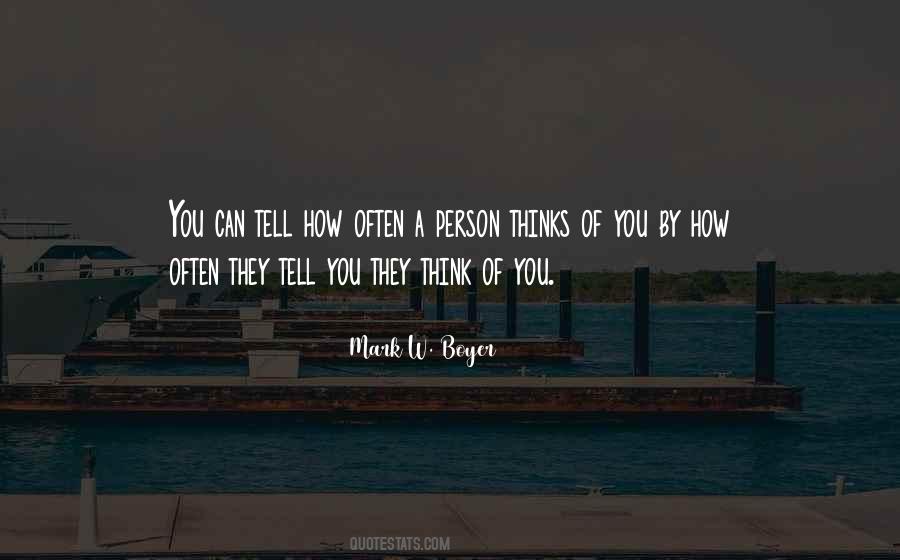 #54. I help so many people with their relationship problems everyday but when it comes to myself - I have no one to turn to. Ironic. isn't it? - Author: Hasti Williams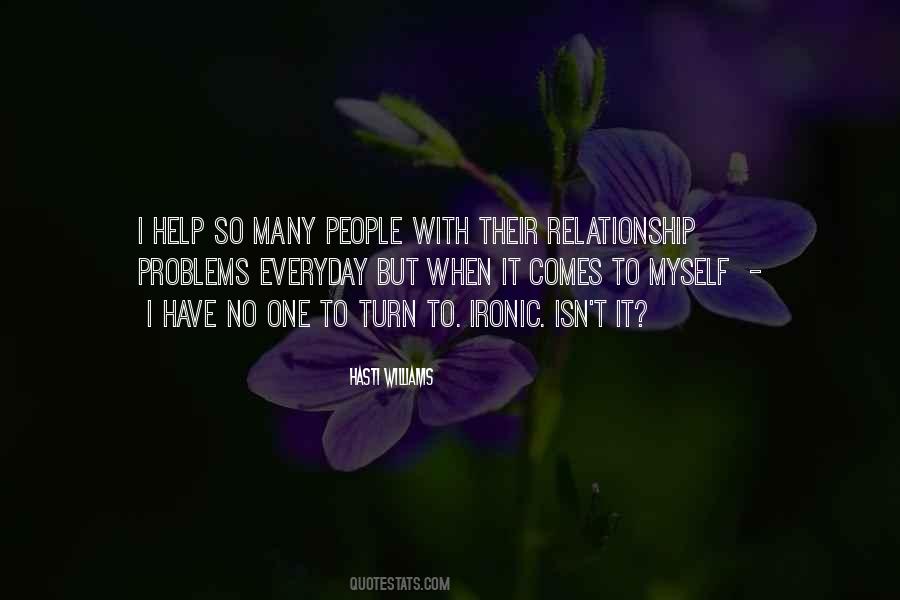 #55. I'm still going to make mistakes, but I don't have any problems with publicly professing my faith now. It just took me a long time to get to the right place in my relationship with Christ. - Author: Scott Stapp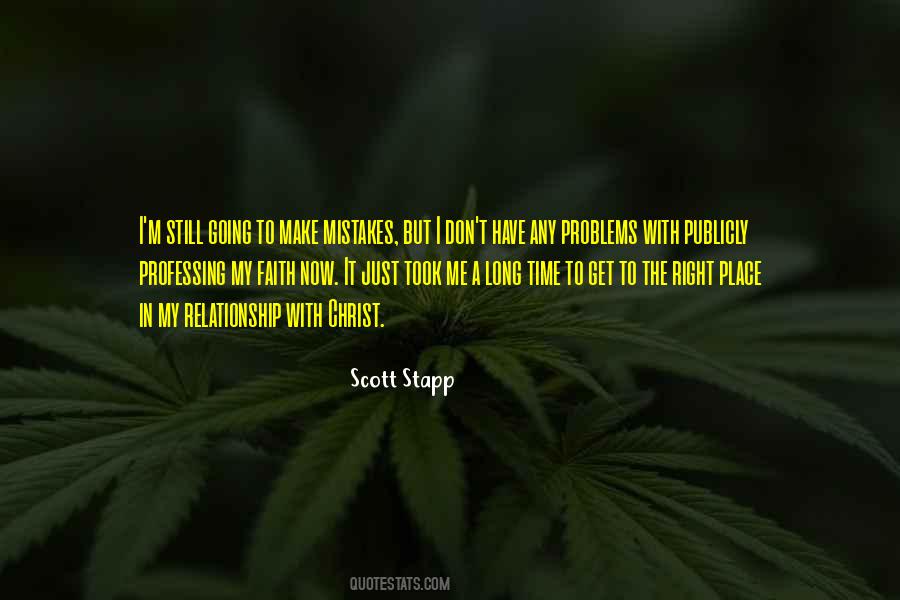 #56. Your solution lies not in finding favor before men but before God. Learn to seek Him for your problems and His favor will meet you. - Author: Paul Gitwaza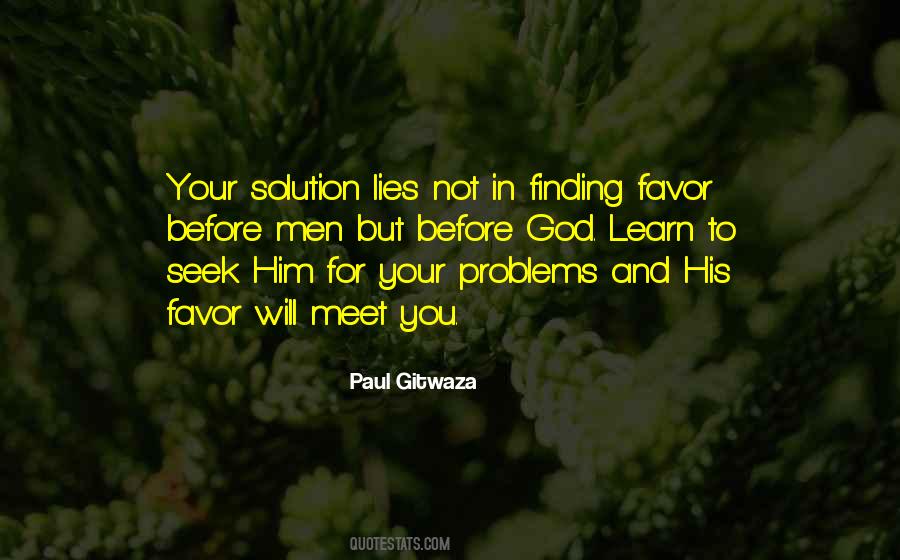 #57. If you feel that you can solve others problems, then please, work little more on your own problems and solve them first. - Author: Honeya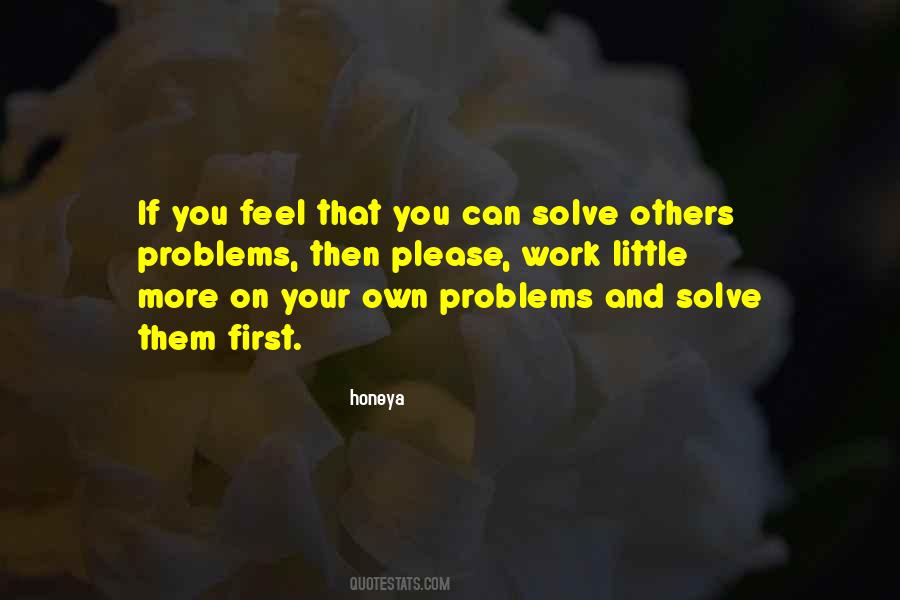 #58. In order to satirize adequately, I think you need to bring people down to Earth and be like, 'Yeah, these people drink coffee and have tummy troubles and they go to the bathroom like anybody else, and they all have relationship problems, if they even have relationships.' - Author: Anna Chlumsky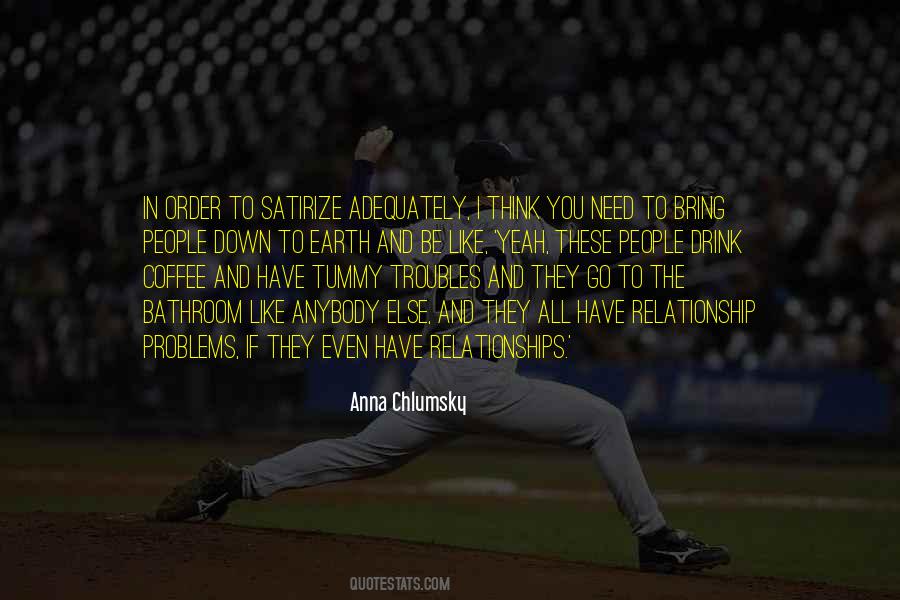 #59. Emotional quotient is far more important than intelligence quotient. We live with people, not with math problems. - Author: Saru Singhal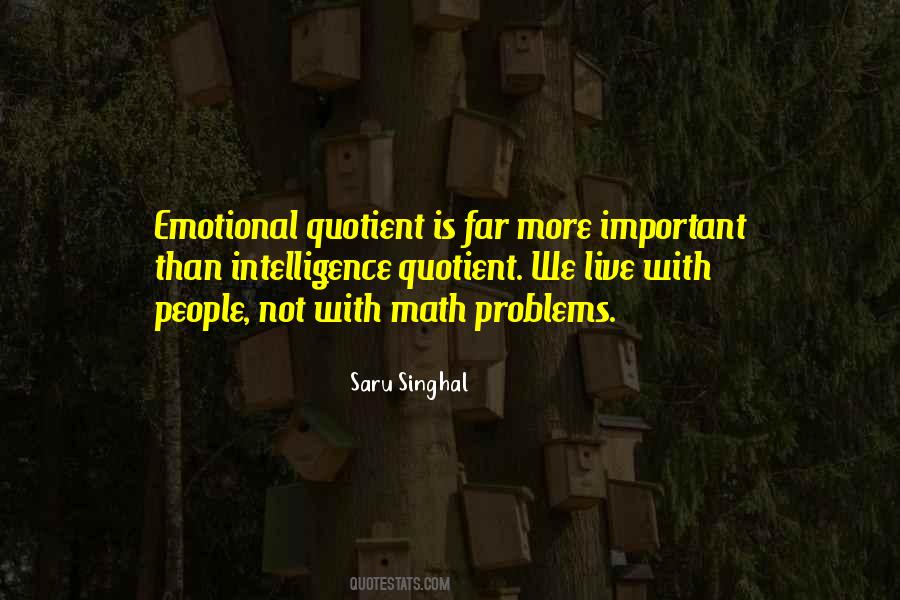 #60. Why would he want you when he could have me?... I'm your yesterday and you're my tomorrow. - Author: Angel Gelique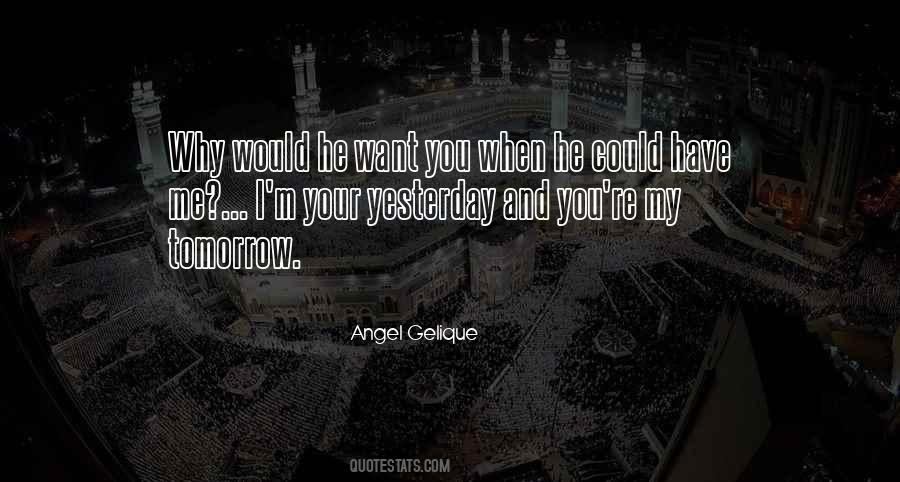 #61. Diana and I had a very good relationship with no personal problems. The only problem we did have was with the media, and the only place we could have any real privacy was at Kensington Palace, as they could not get to us there. - Author: Hasnat Khan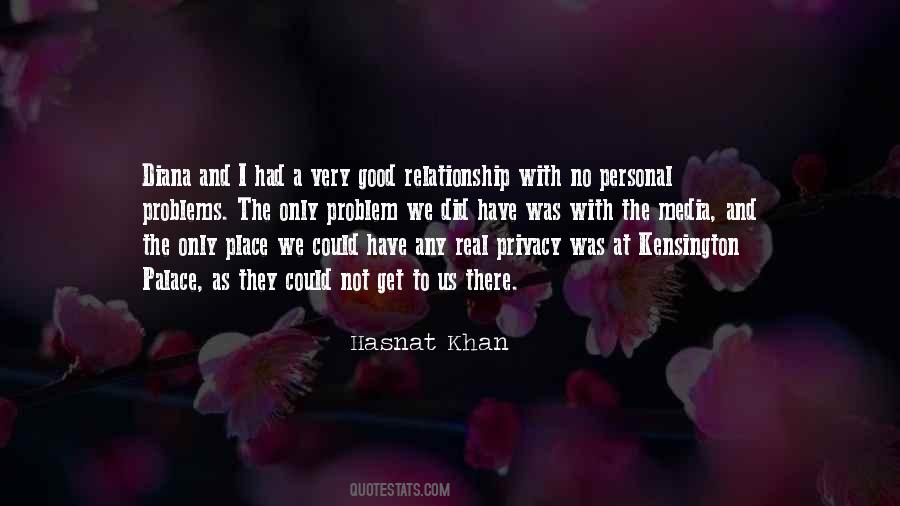 #62. You have built a human relationship on the foundation of asbestos. - Author: Greg Sestero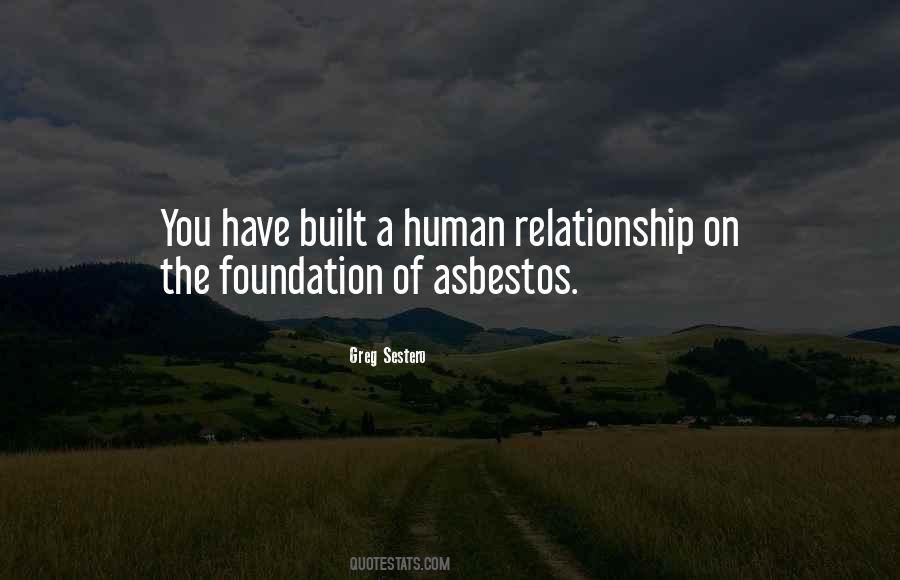 #63. Attraction, confession, unison and finally the real face of it all. I wonder why do people go blind in love and come to their senses only when it's too late! - Author: Shilpa Sandesh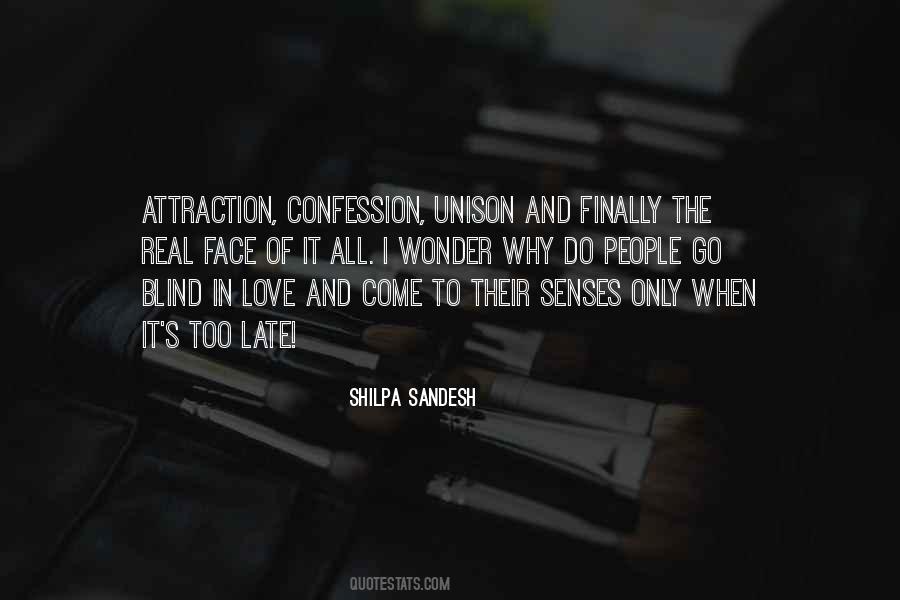 #64. You jump right over anything in the past, and you don't analyze problems. - Author: Art Garfunkel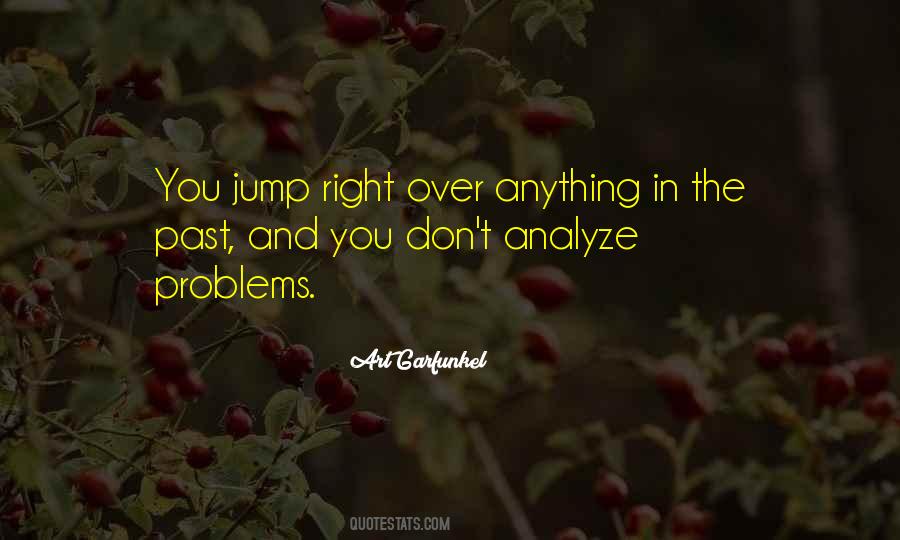 #65. My experiences in life are getting bigger and better. The more stuff I do, the more stuff I talk about - having kids, traveling, going through relationship problems, dealing with things in my own family. All that stuff builds character. - Author: Kevin Hart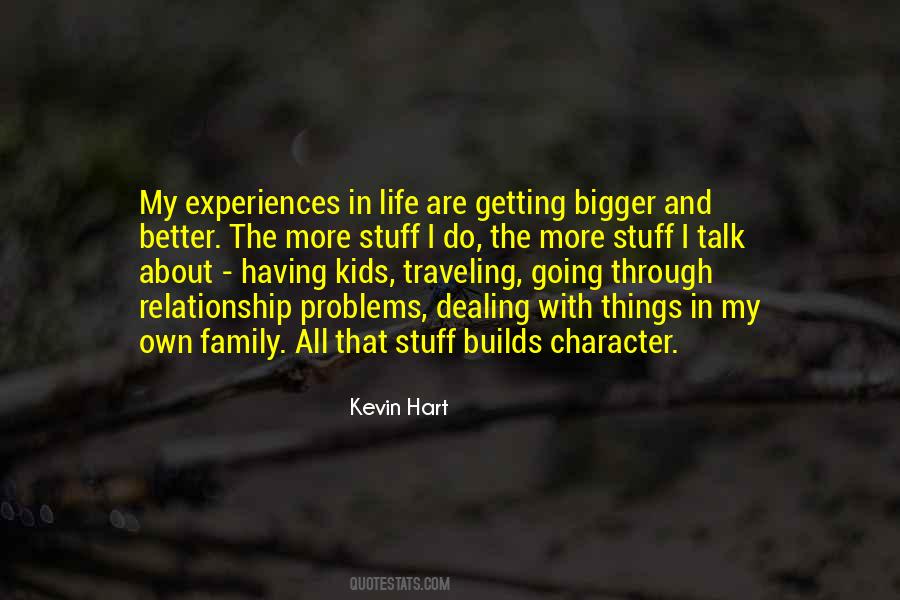 #66. It is fine to commiserate with a man about his bad experience with a previous partner, but the instant he uses her as an excuse to mistreat you, stop believing anything he tells you about that relationship and instead recognize it as a sign that he has problems with relating to women. - Author: Lundy Bancroft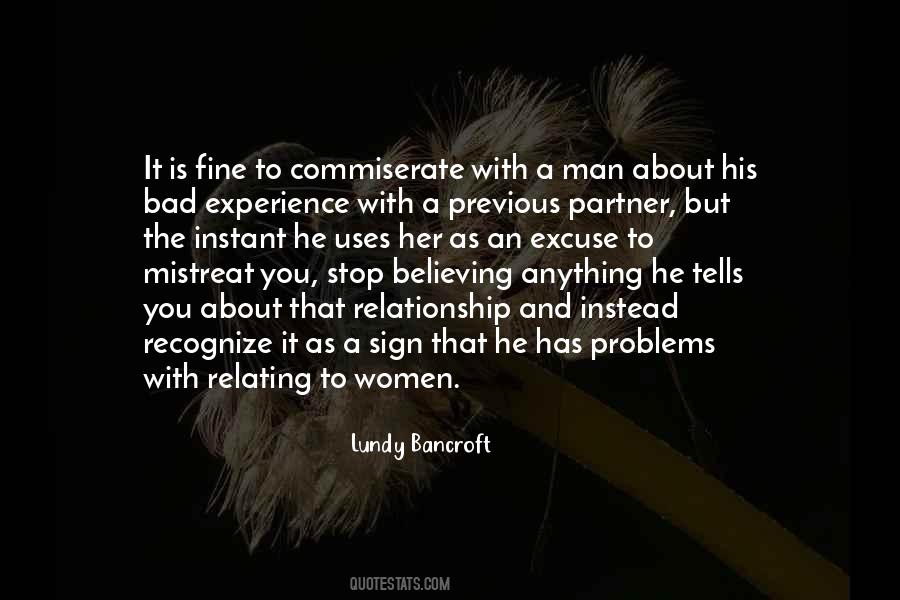 #67. Sorry! But I'm not a game played when ever you want to play it! - Author: Gina Karablieh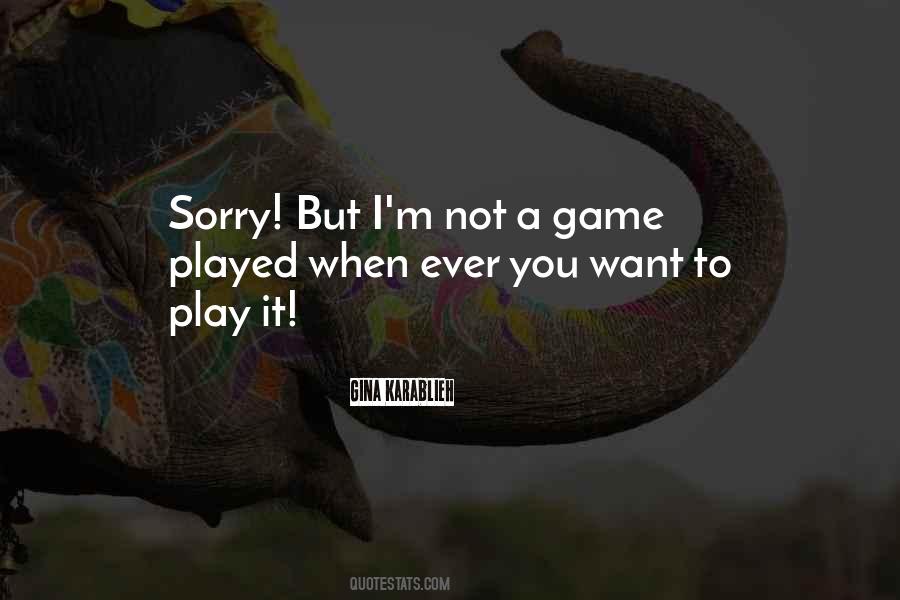 #68. Courage means to keep working a relationship, to continue seeking solutions to difficult problems, and to stay focused during stressful periods. - Author: Denis Waitley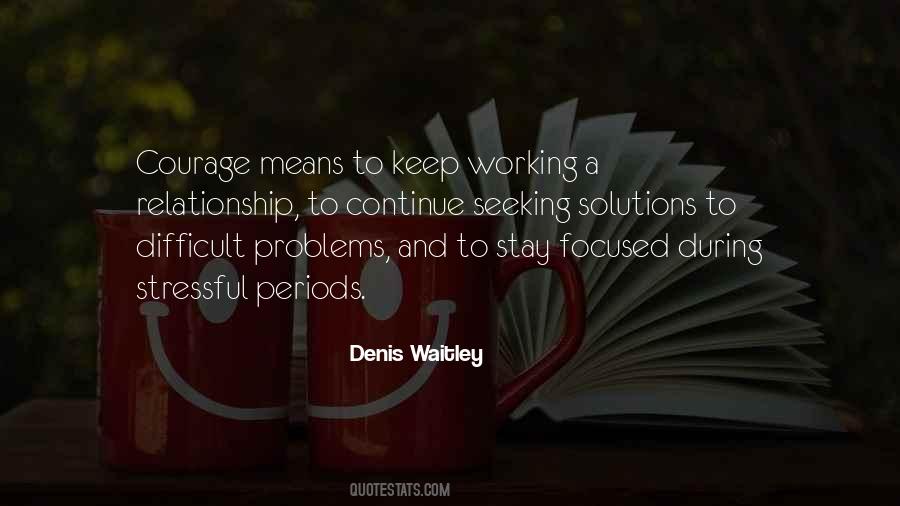 #69. Our problems sometimes show the degree of our relationship with God. - Author: Paul Gitwaza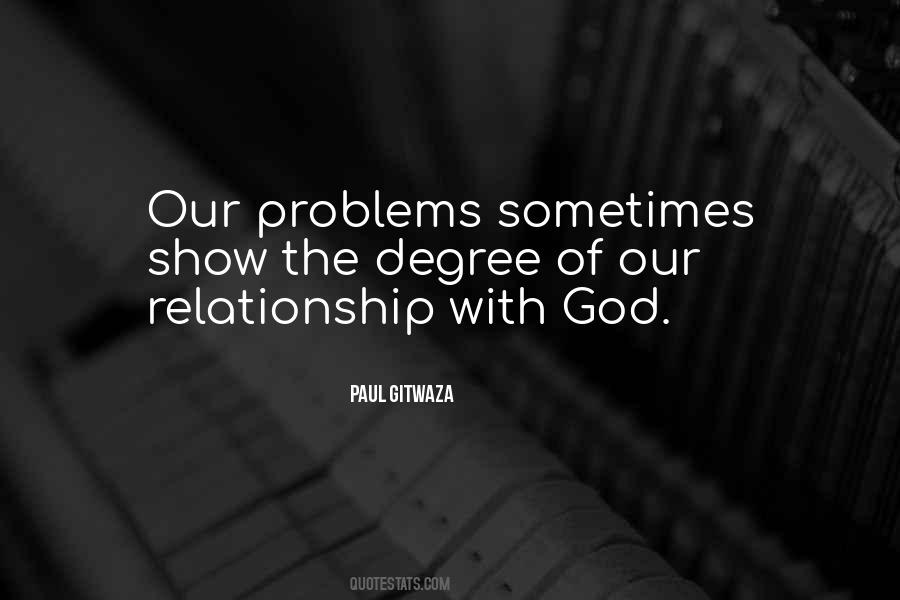 #70. Chicken, yeah, that's me. I'd rather fight an old rogue-vamp in my underwear, with my bare hands, than deal with relationship problems. - Author: Faith Hunter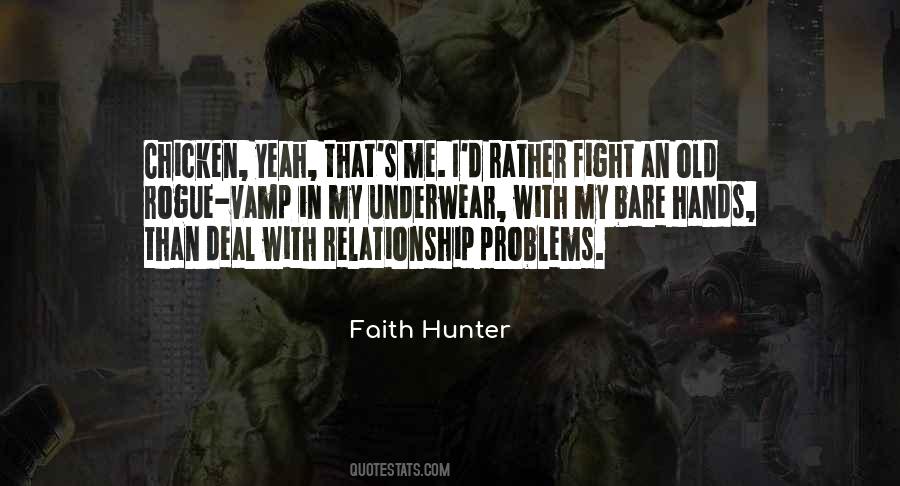 #71. [S]he'd realized that he had loved her only because she belonged to him. - Author: Lauren Oliver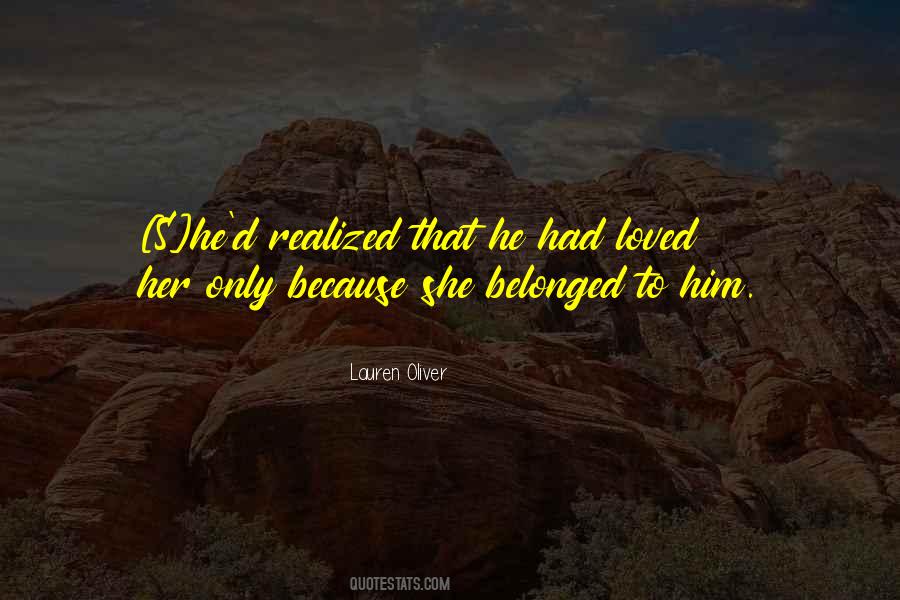 #72. The relationship of the two problems is rather the reverse. To a great extent disarmament is dependent on guarantees of peace. Security comes first and disarmament second. - Author: Ludwig Quidde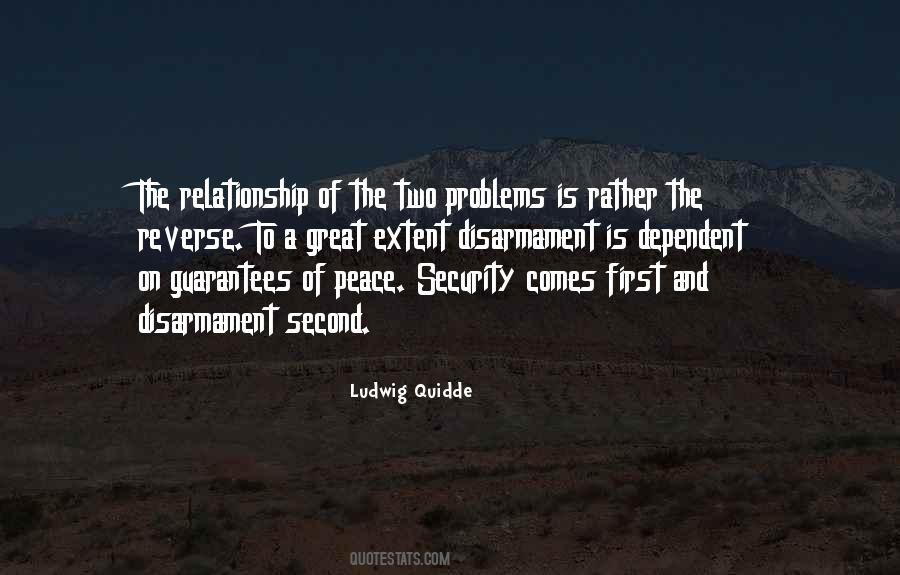 #73. Never give up. Things will get hard. No relationship is easy. You have to work through your problems as if tomorrow isn't guaranteed, because it's not. Never go to bed angry and always make sure you say I love you every chance you get. - Author: Teresa Mummert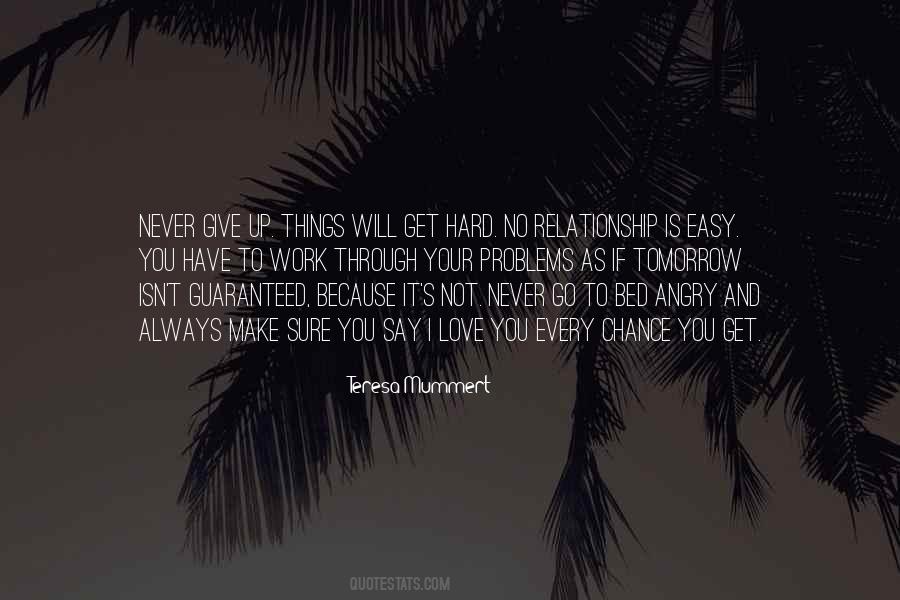 #74. This is where the will to grapple with our hard and pressing environmental problems begins: in relationship to something other that you love beyond any utility, beyond any logic. - Author: Susan Freinkel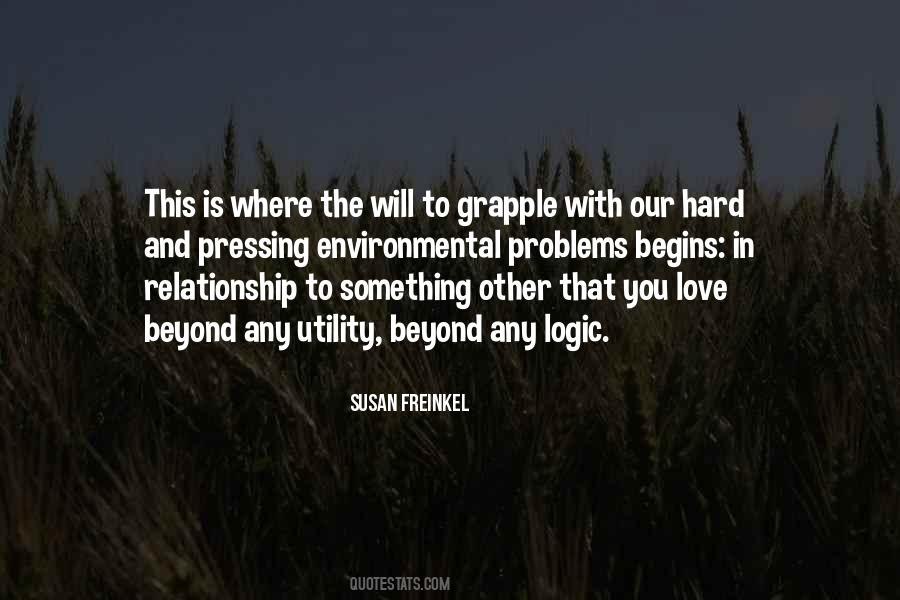 #75. I've learned that sometimes a smile represents the greatest form of deceit. - Author: Michael Gilbert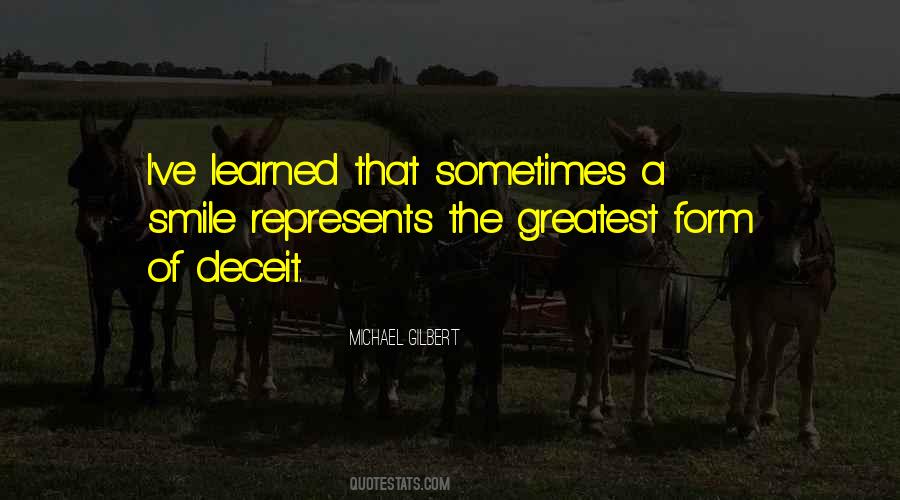 #76. Given all the stress and pressure, some people would fake it. They'd want to join the club, so they'd get together with another lonely person and stage a fake soul mate encounter. They'd marry, hide their relationship problems, and struggle to present a happy face to their friends and family. - Author: Randall Munroe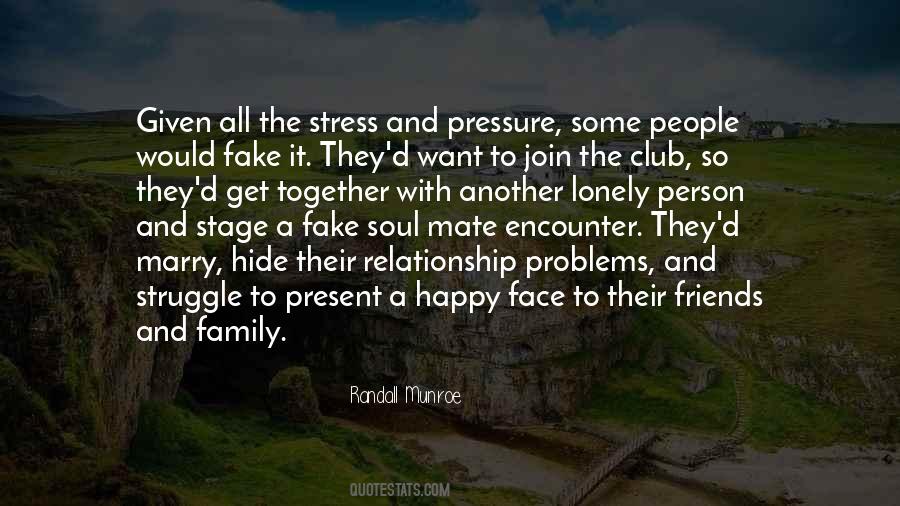 #77. My relationship with my wife is fraught with all of the problems that any couples face, but there is a sense of humor that we have about it and a real desire to want to make it better. - Author: Joe Swanberg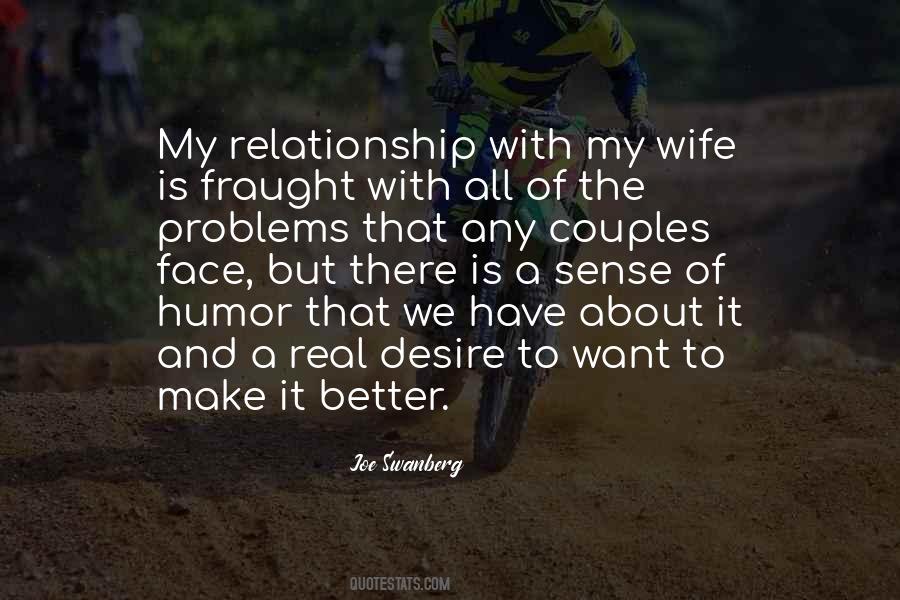 #78. True happiness comes not when we get rid of all of our problems,but when we change our relationship to them, when we see our problems as a potential source of awakening, opportunities to practice, and to learn. - Author: Richard Carlson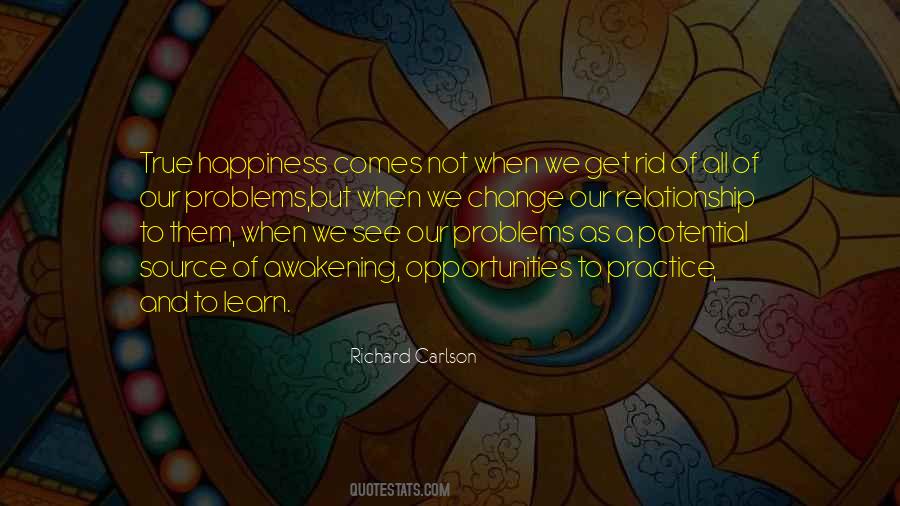 #79. Rather than deal with problems in relationships, I've always moved on. That's why I'm one of the very few survivors as a woman, you know. - Author: Yoko Ono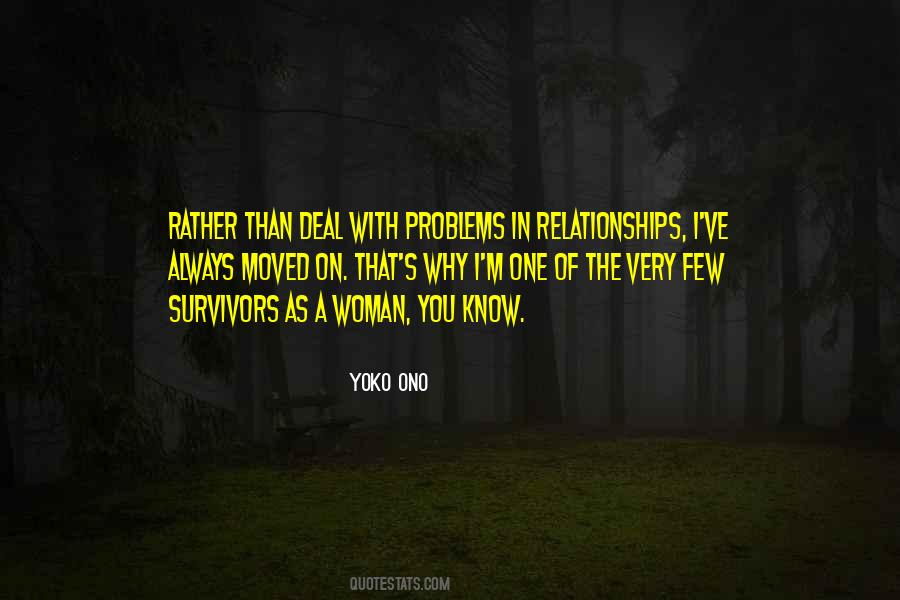 #80. Conflict can and should be handled constructively; when it is, relationships benefit. Conflict avoidance is *not* the hallmark of a good relationship. On the contrary, it is a symptom of serious problems and of poor communication. - Author: Harriet B. Braiker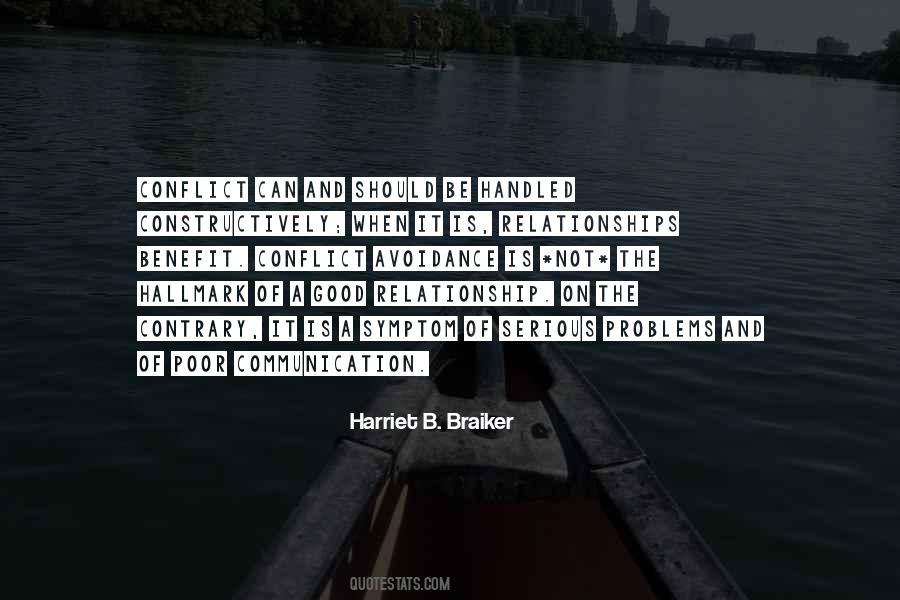 #81. We saw what happened in Jimmy Carter's administration. President Carter was a good man with the best of intentions. But he came to Washington without a good working relationship with Democratic members of Congress, which played a big part in his administration's problems. - Author: Jim Hunt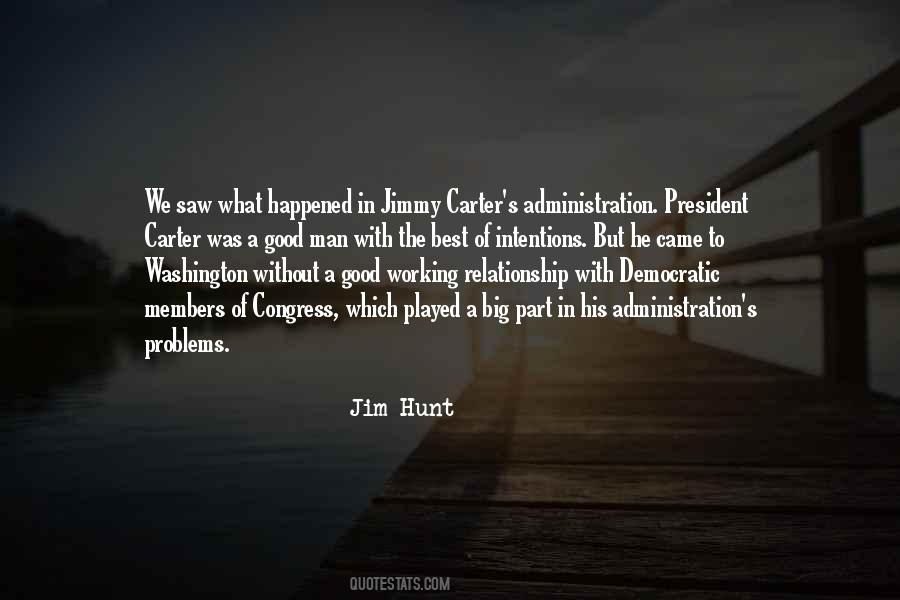 #82. I think all family businesses are difficult and fraught with problems because you have that family relationship to get over. But my dad has been so supportive, we've managed to work around that. - Author: Nell Newman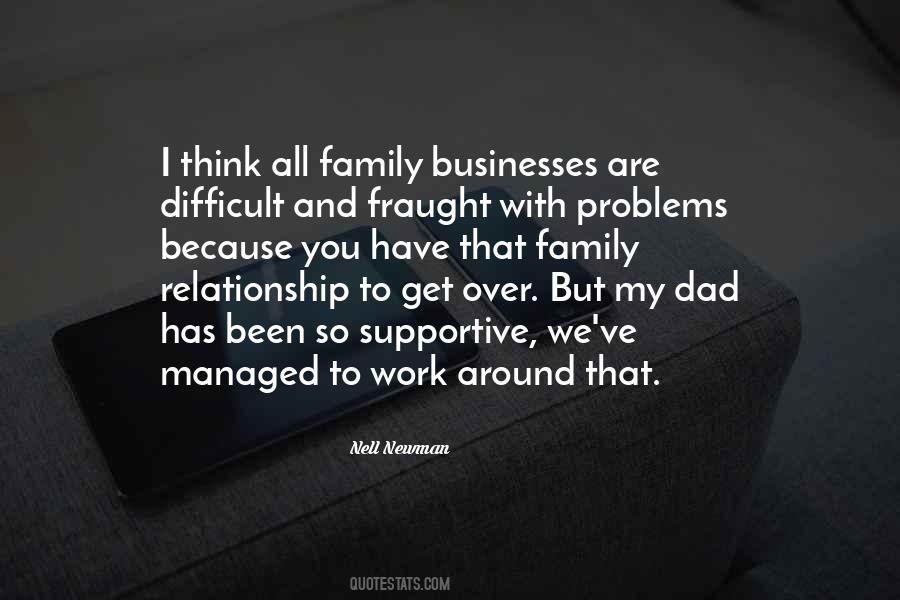 #83. I'm so damn tired of you blaming me for that accident. It happened. Could have been you instead of me. It could have happened to anyone. It just so happen that it happened to us. - Author: Francois Houle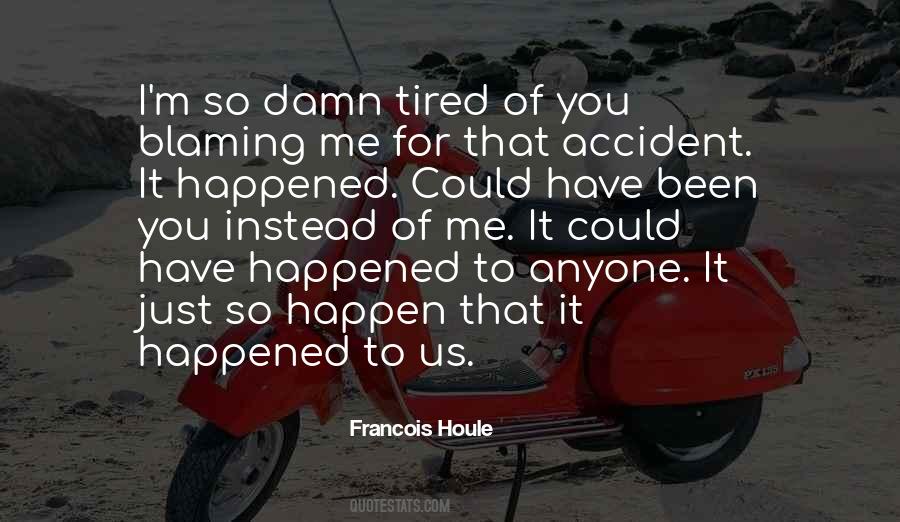 #84. Every relationship has problems but when those problems arise you have to realise that they don't mean your relationship is broken, it's just a little bent. Bent things can be fixed and like so your relationship can too. The first step however is realising that. - Author: Johnny Depp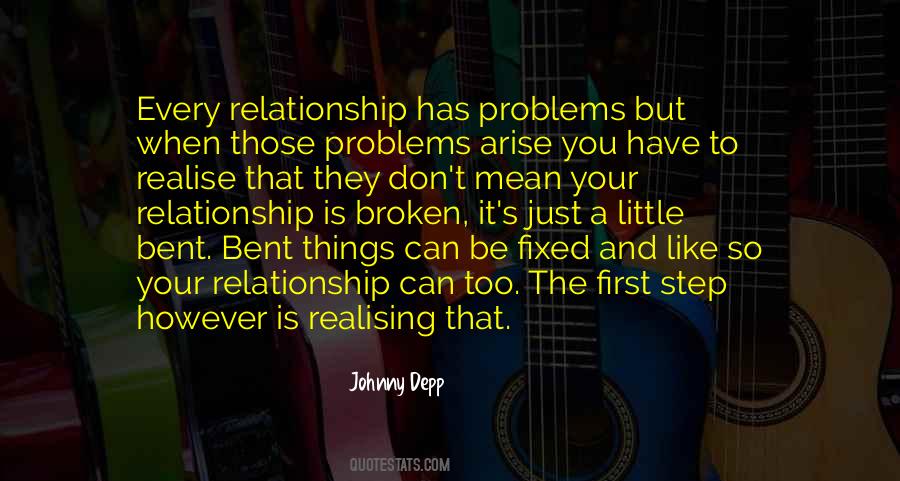 #85. Hopefully, he'll be able to persuade Hades not to kill you. That wouldn't be conducive to the start of a good relationship. - Author: Rosanna Leo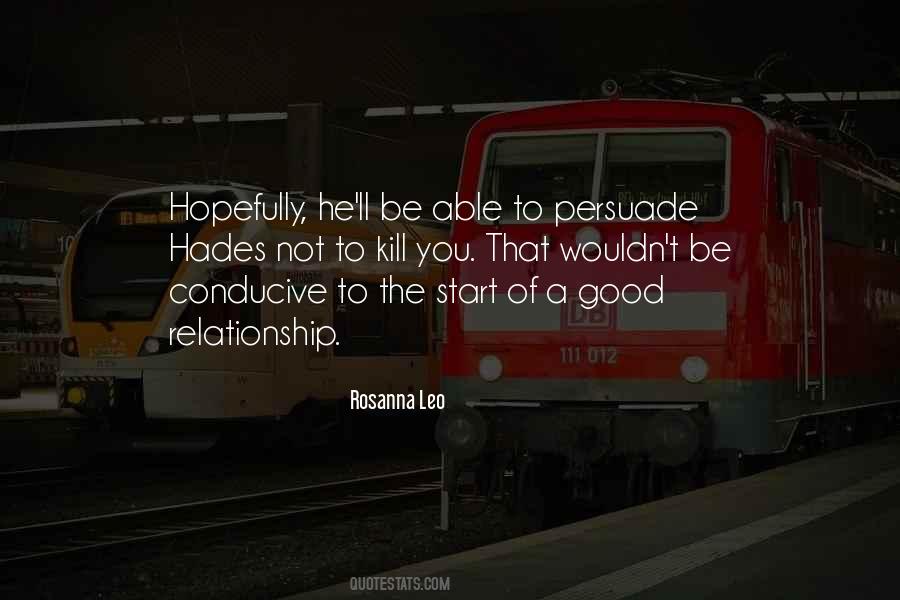 #86. That was the problem with love. It never happened on your terms, it happened on theirs. - Author: Shannon L. Alder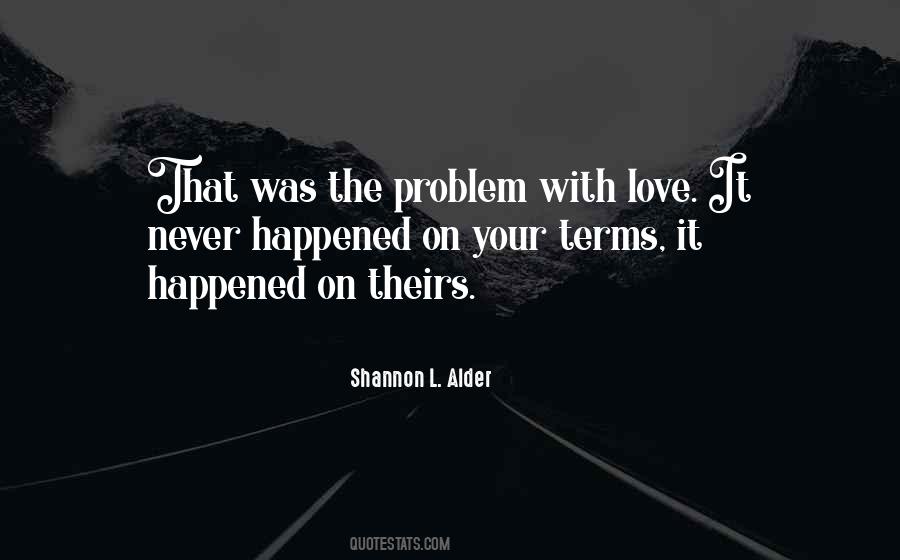 #87. Most marriage problems are not really marriage problems, they are God problems. They can be traced back to one, or both, having a poor relationship with God, or a faulty understanding of him. An accurate picture of God is vital to a healthy marriage. It's vital to everything. - Author: Francis Chan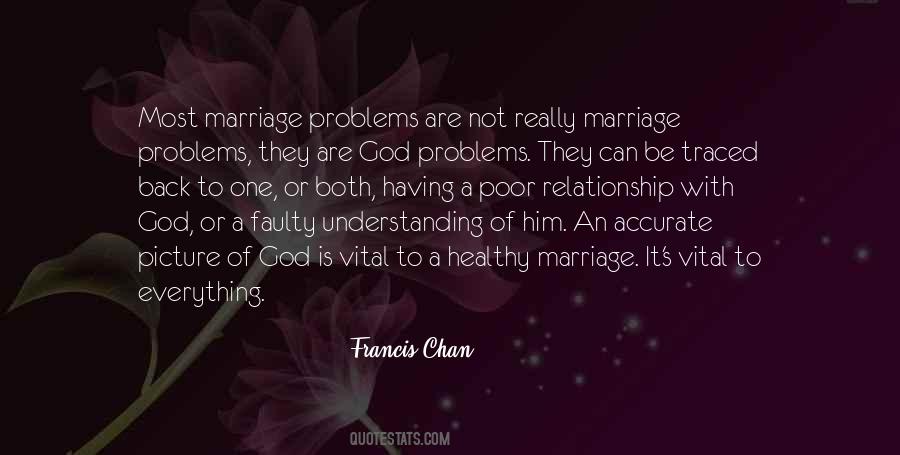 #88. She was strikingly ignorant, but he had known that from the start. What he had not known was how quickly her ignorance would cease to seem charming and would begin to seem contemptible. - Author: Robert Silverberg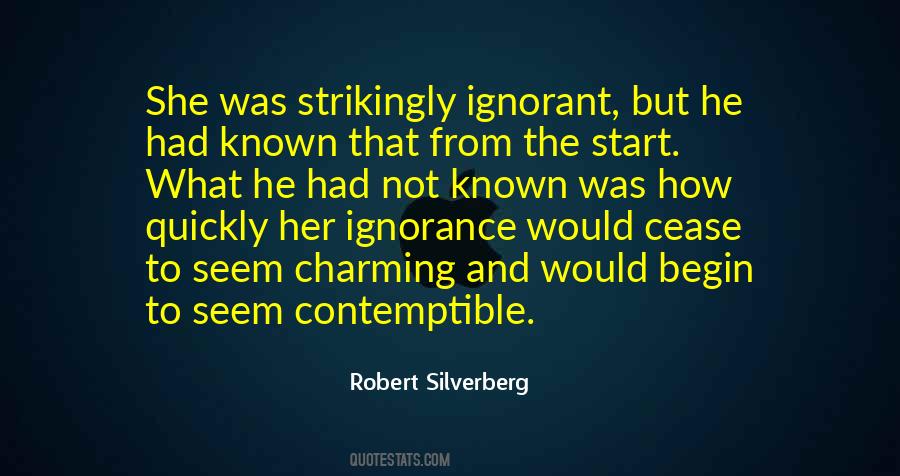 #89. There is a very simple relationship between increased socioeconomic rifts in the society and increased violence, criminality, war, increased lack of trust between people, health problems and social exclusion - but it seems to be very difficult for people to understand this simple relationship. - Author: Swami Dhyan Giten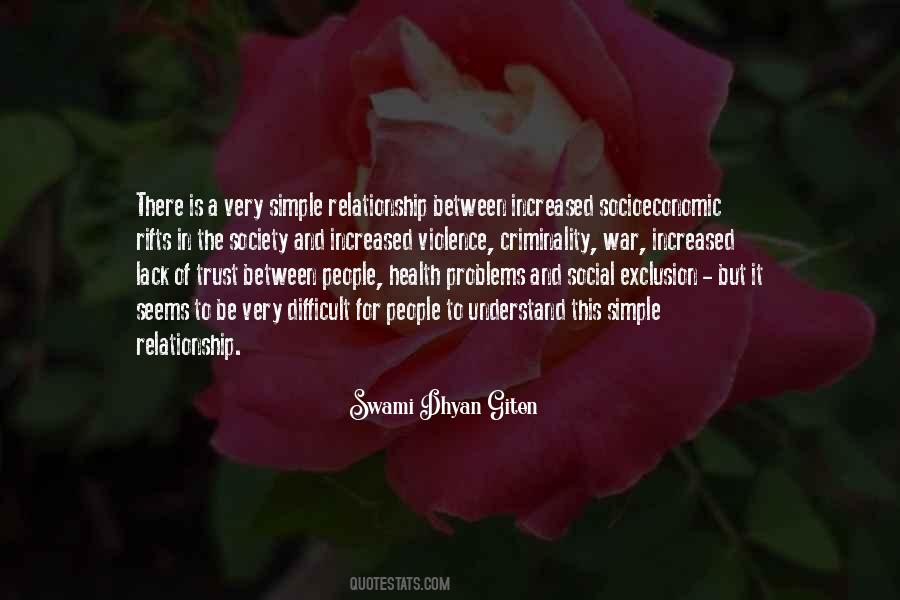 #90. All our problems are theological ones, William Temple said. All of them have to do with our relationship to God and his to us, and this is precisely why it makes sense to come to God with them. - Author: Elisabeth Elliot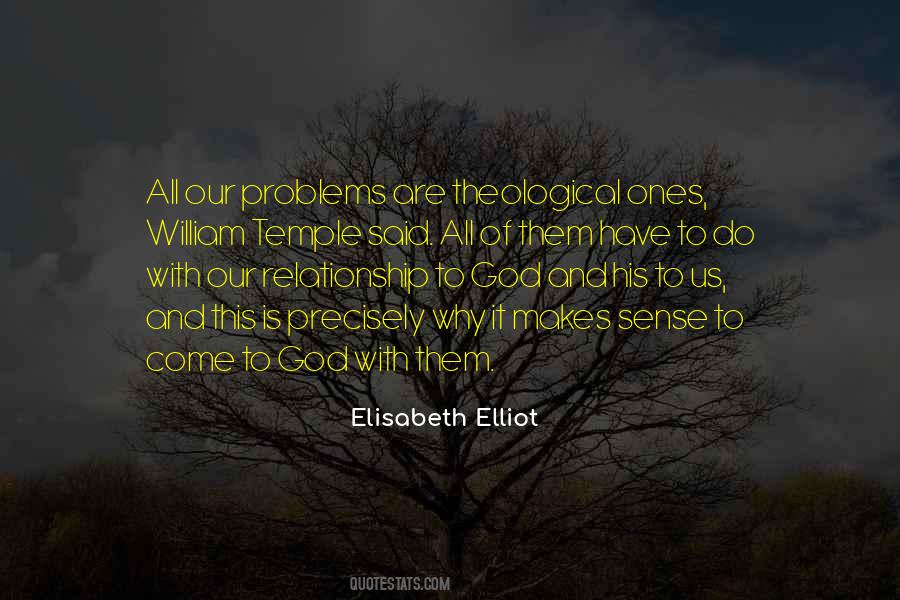 #91. A flirtatious soul misses the point of intimate trust relations. - Author: T.F. Hodge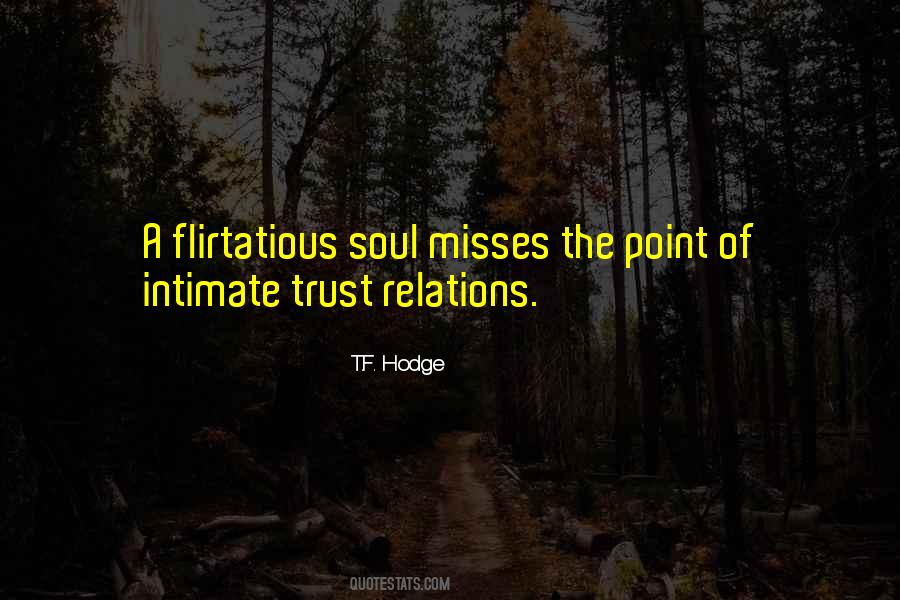 #92. YOU are the creator of your experience, therefore: all problems must be met within YOU. - Author: Vivian Amis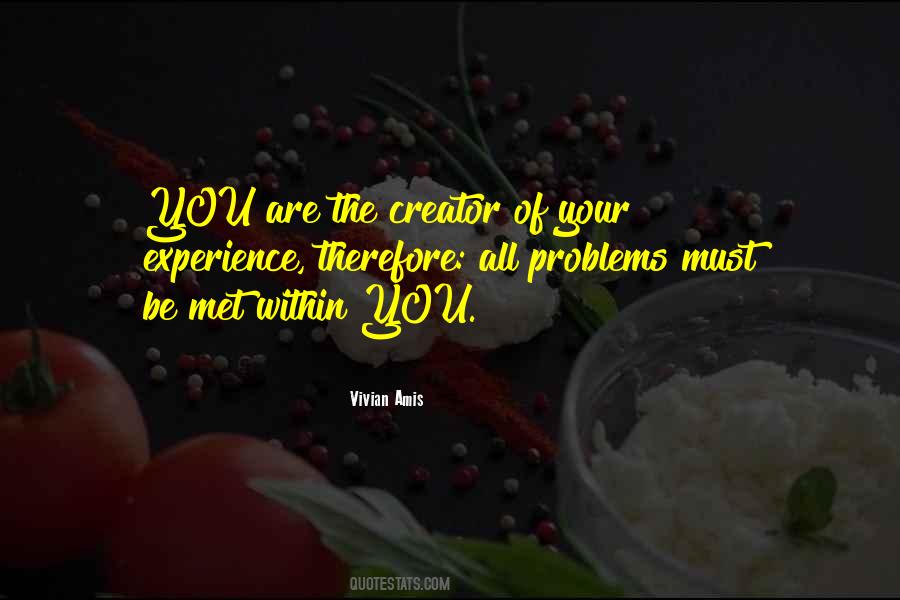 #93. Most people have lost that relationship with Nature; they look at all those mountains, valleys, the streams and the thousand trees as they pass by in their cars or walk up the hills chattering, but they are too absorbed in their own problems to look and be quiet. - Author: Jiddu Krishnamurti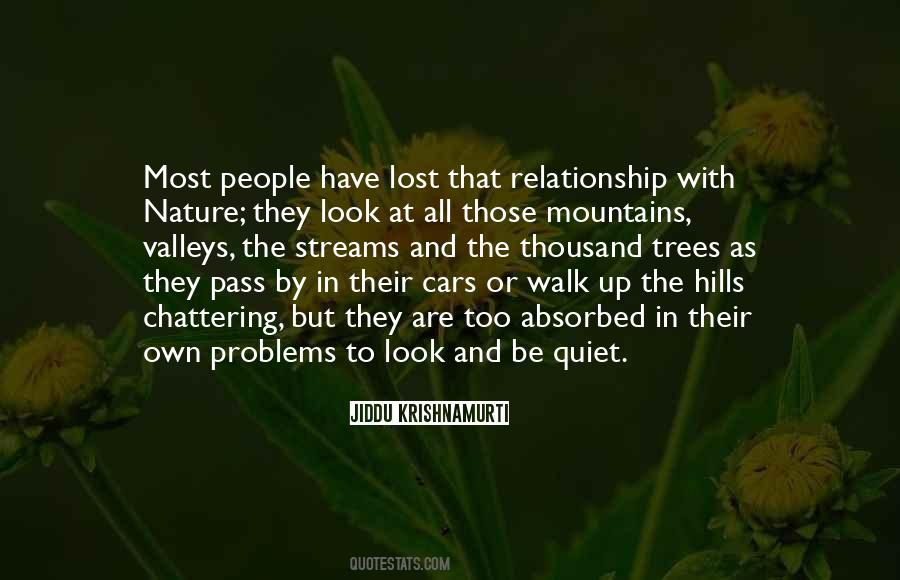 #94. You could help someone else in a relationship. you could strengthen them and support them. but you couldn't actually do everything for them. you couldn't solve all their problems. - Author: Richelle Mead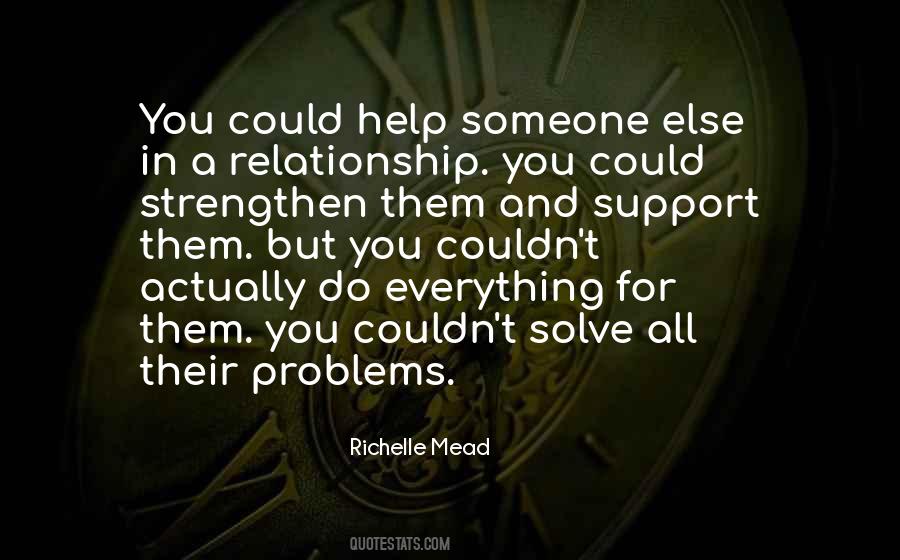 #95. Marriage problems are relationship problems, they are the result of how two people interact with each other. You may abandon a troubled marriage, but you will still bring the way you interact with others along with you. - Author: Mark Gungor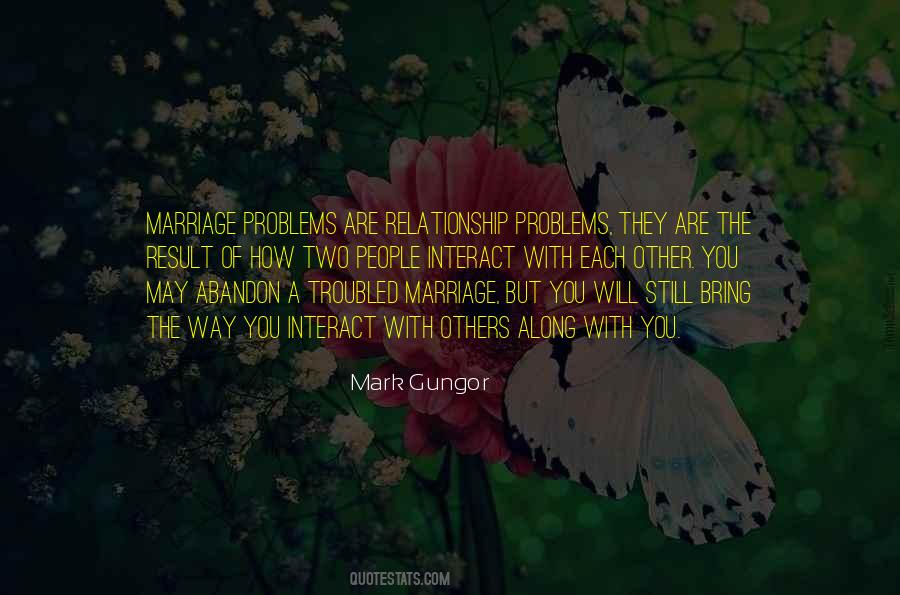 #96. Therapy is not to 'talk about' things, but to change the person's life, and to relieve suffering, such as depression, anxiety, or relationship problems. - Author: David D. Burns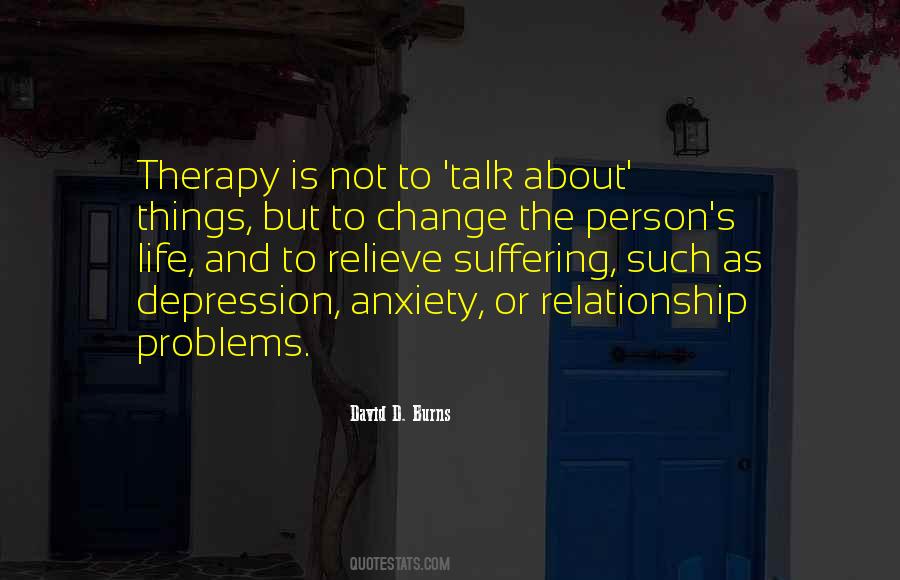 #97. Relationships are the flavors of life. - Author: Pawan Mishra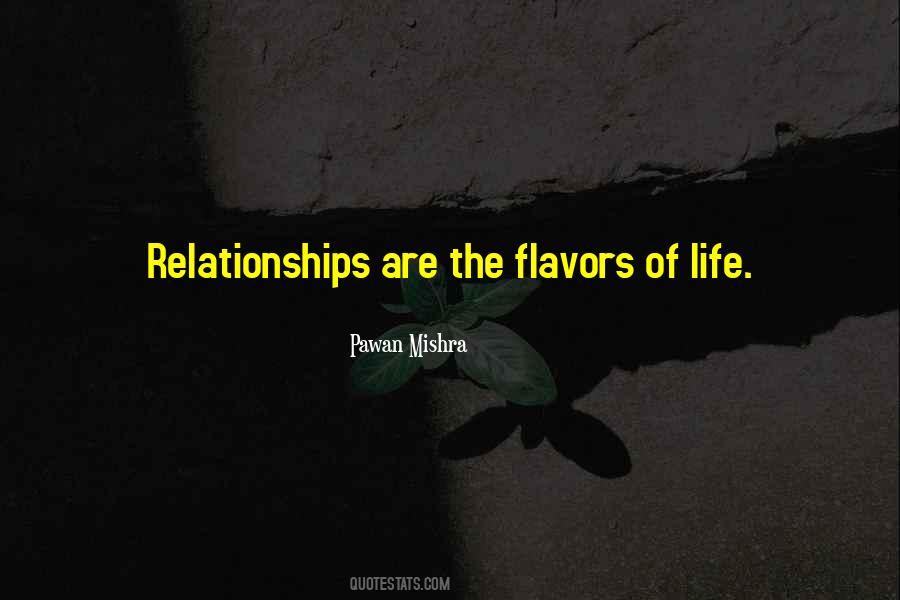 Famous Authors
Popular Topics