Half Full Famous Quotes & Sayings
List of top 100 famous quotes and sayings about half full to read and share with friends on your Facebook, Twitter, blogs.
Top 100 Quotes About Half Full
#1. My dad's half-Lebanese, my mom is full Lebanese. I'm three-quarters Lebanese. Irish-Lebanese. - Author: Tom Shadyac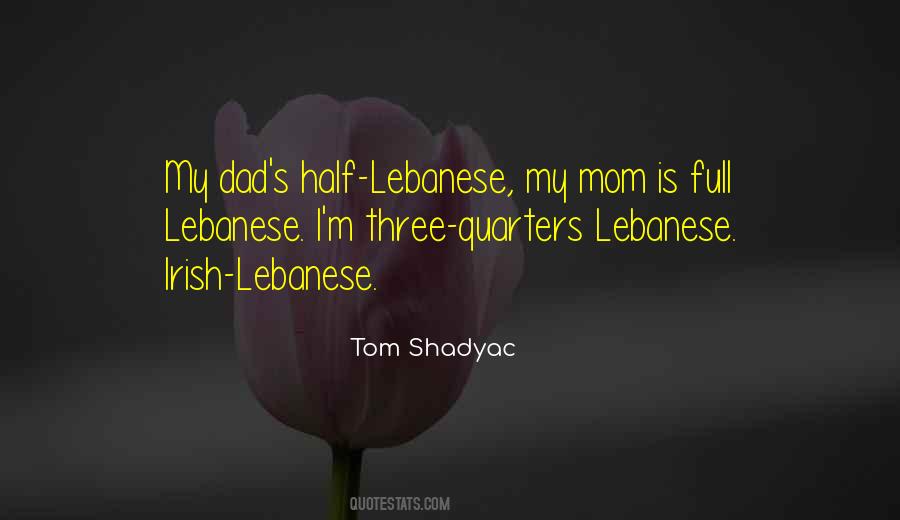 #2. I'm very much a glass-half-full person. - Author: Brian O'Driscoll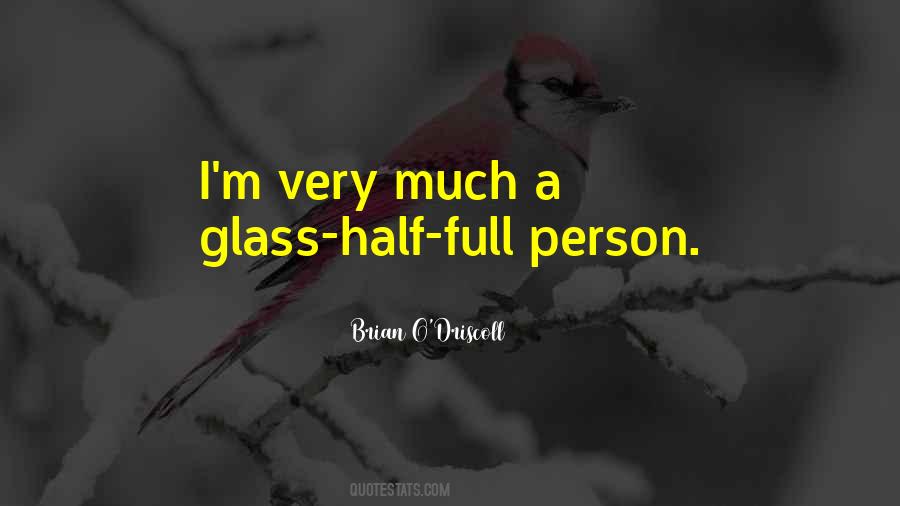 #3. We simply can no longer afford to deny the full potential of one half of the population. The world needs to tap into the talent and wisdom of women. Whether the issue is food security, economic recovery, health, or peace and security, the participation of women is needed now more than ever. - Author: Michelle Bachelet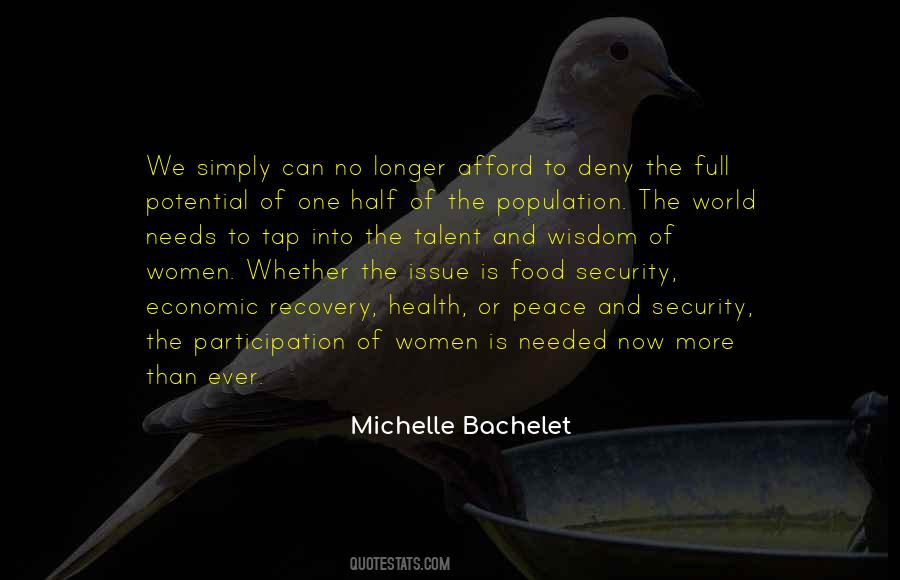 #4. I believe if we had half our companies and half our countries run by women, and half our homes run by men, things would be better. We know our companies would be more productive. If you use the full talents of the population, you're more productive. We know our homes would be happier. - Author: Sheryl Sandberg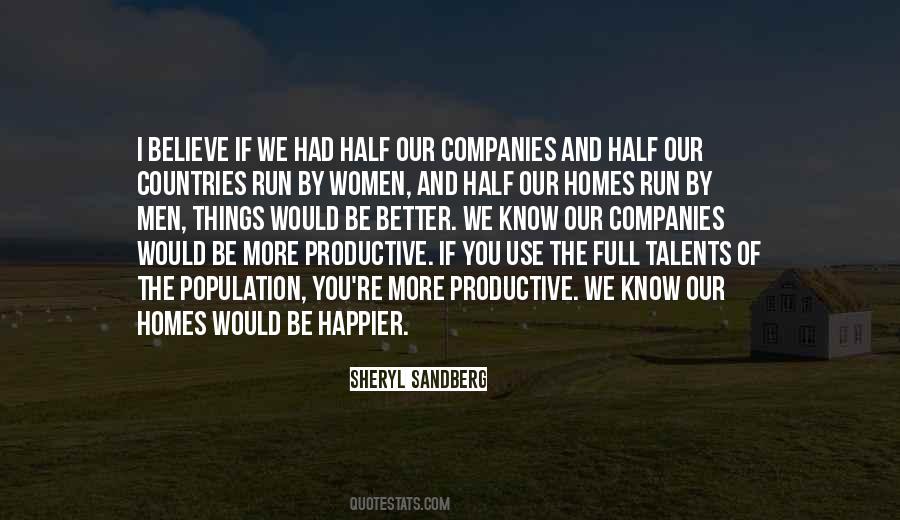 #5. He can read and write, but he doesn't get what he's read. He's half-baked. The country is full of people like him, I'll tell you that. And we entrust our glourious parliamentary democracy - Author: Aravind Adiga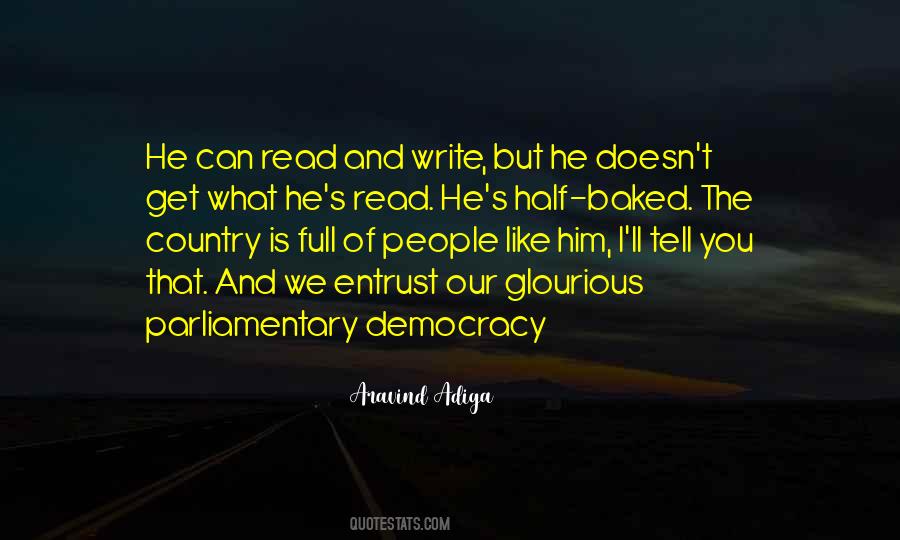 #6. What I am arguing, in effect, is that the full democratic system of the second half of the fifth century B.C. would not have been introduced had there been no Athenian empire. - Author: Moses Finley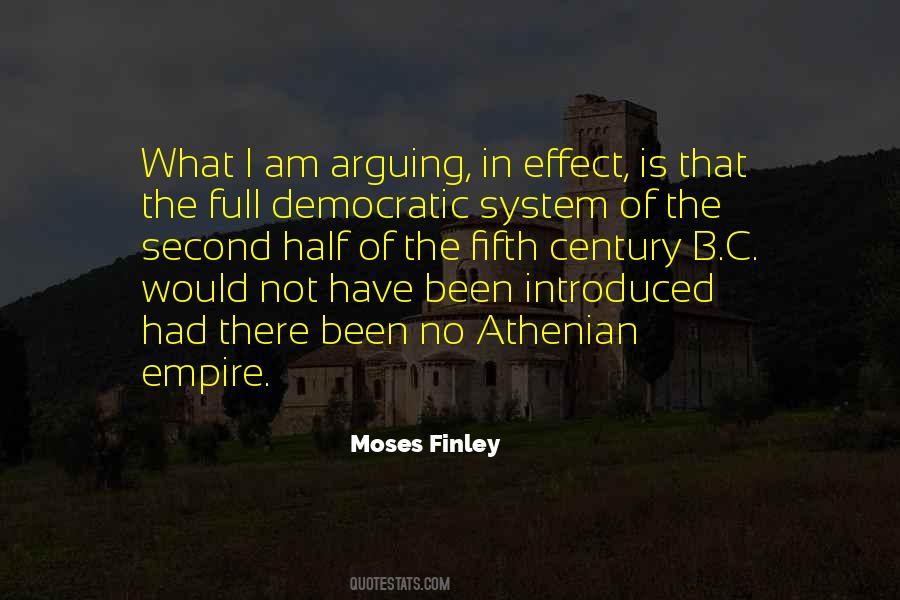 #7. I'm a glass-is-half-full person now, and your sorry ass is still in half-empty country. - Author: Janet Evanovich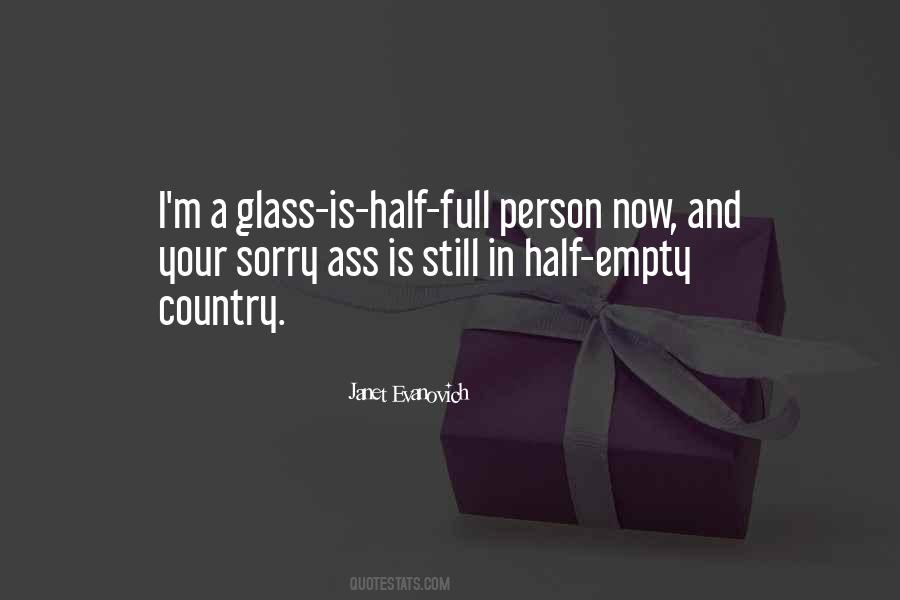 #8. After expressing his appreciation that his glass is half full rather than being completely empty, he will go on to express his delight in even having a glass: It could, after all, have been broken or stolen. - Author: William B. Irvine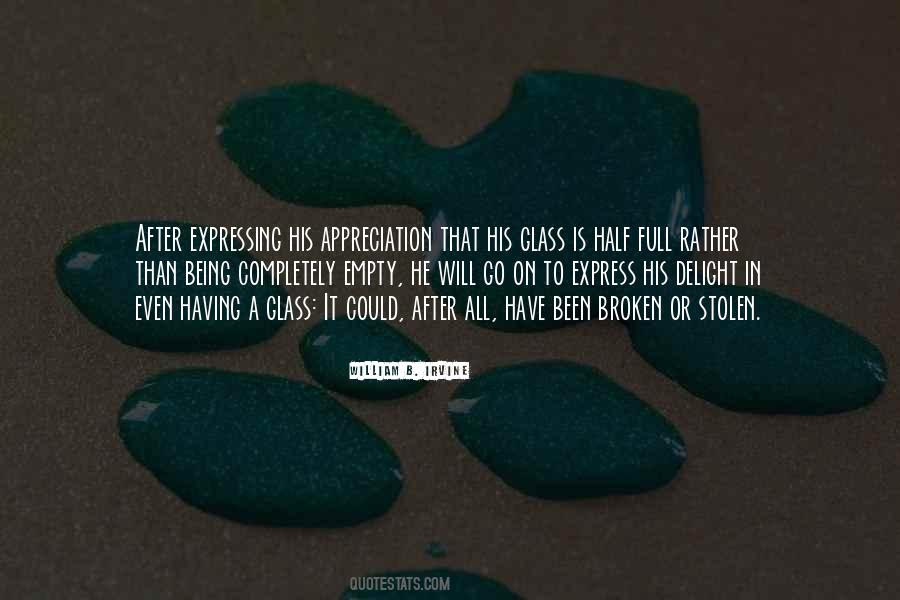 #9. A lover makes you smile like children smile. That smile that was only meant for you. The half smile. The big shiny smile full of teeth and white enamel and pink gums. The smile that fades in the distance as I drive away in a taxi again. - Author: Jann Arden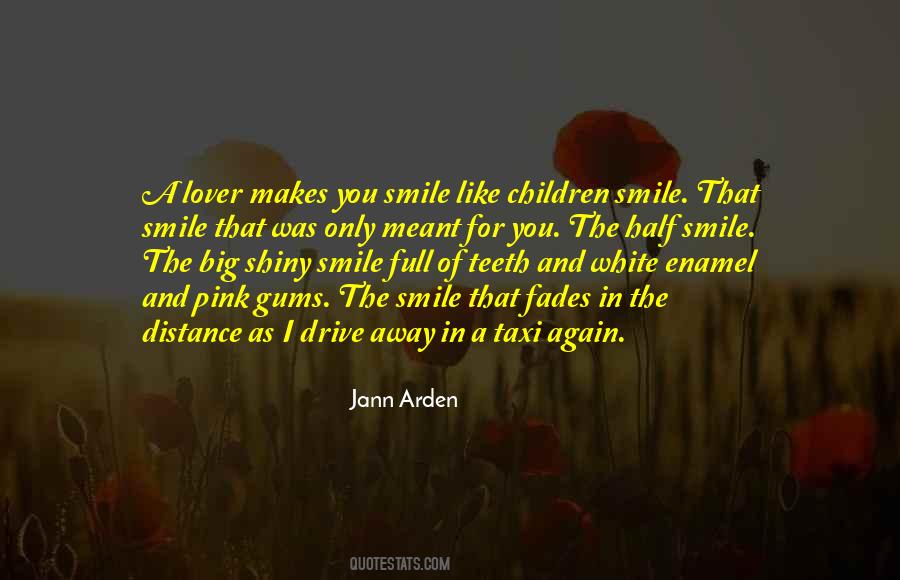 #10. 99% of the people in the world would say there's something that they'd like to change about their lives, because nothing's perfect, and nobody's perfect. I suppose I could look at the glass half-empty instead of as half-full. - Author: Morris Chestnut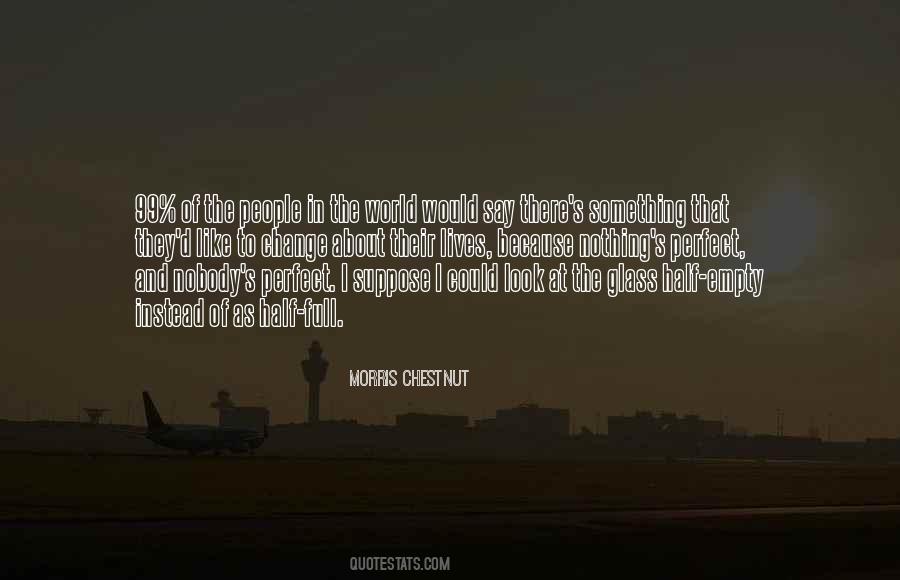 #11. Sometimes,
I doubt the courage
My bones are made of

And then,
A breath finds her way in
And her way out

The half-way-almost-full moon
Smiles down;

My heart sighs
And quietly whispers:
I remember. - Author: Bryonie Wise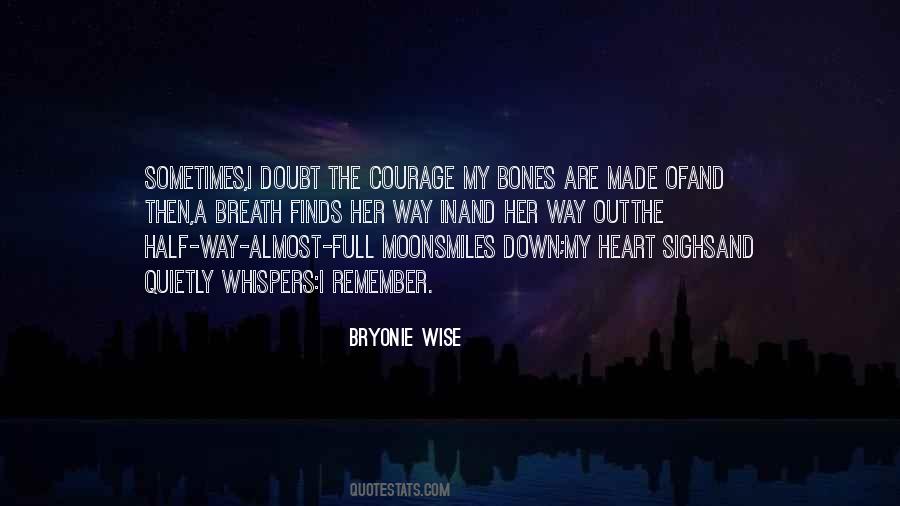 #12. You're the type who thinks of the glass as being half full, instead of half empty. "No," she said, "I'm just grateful for the glass. - Author: Richard Paul Evans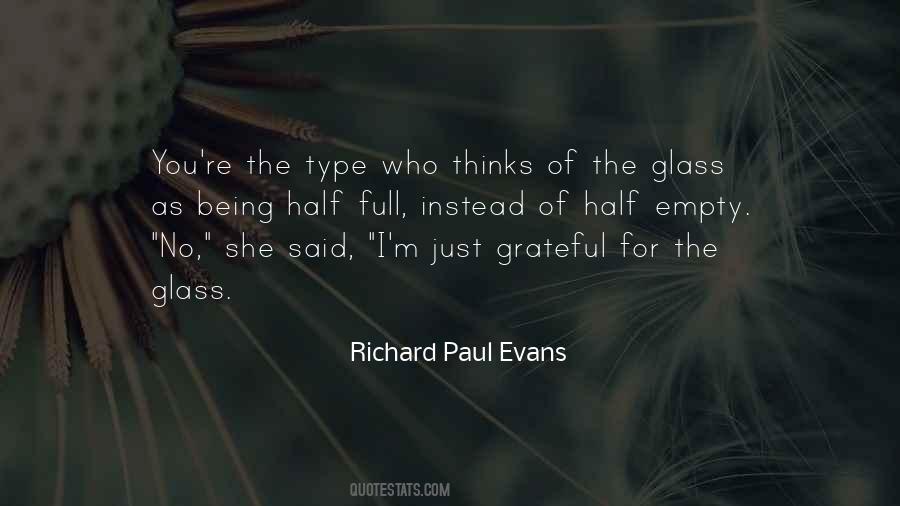 #13. He was a glass half full kind of person and she was ... what? The glass is going to break before you can even pour kind of person. Yikes. - Author: Erin McCarthy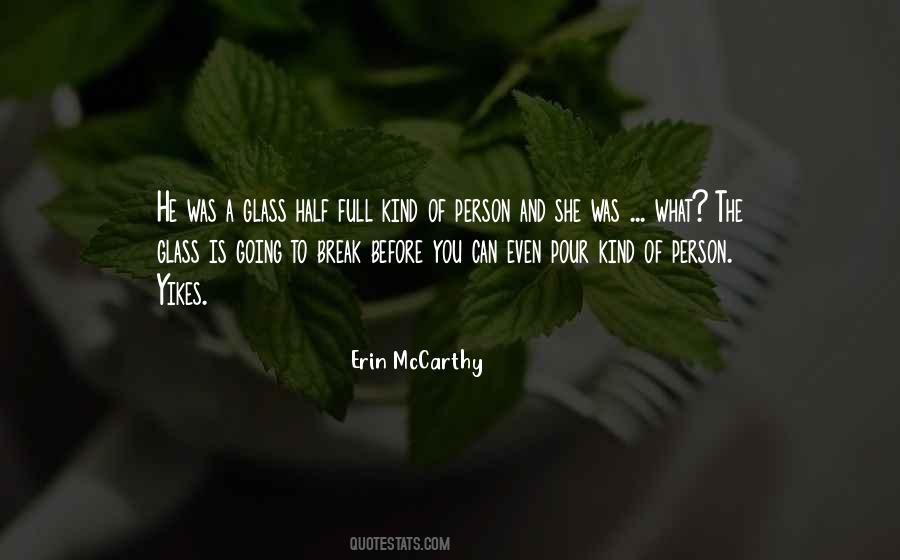 #14. What you seek in vain for, half your life, one day you come full upon, all the family at dinner. You seek it like a dream, and as soon as you find it, you become its prey - Author: William Gaddis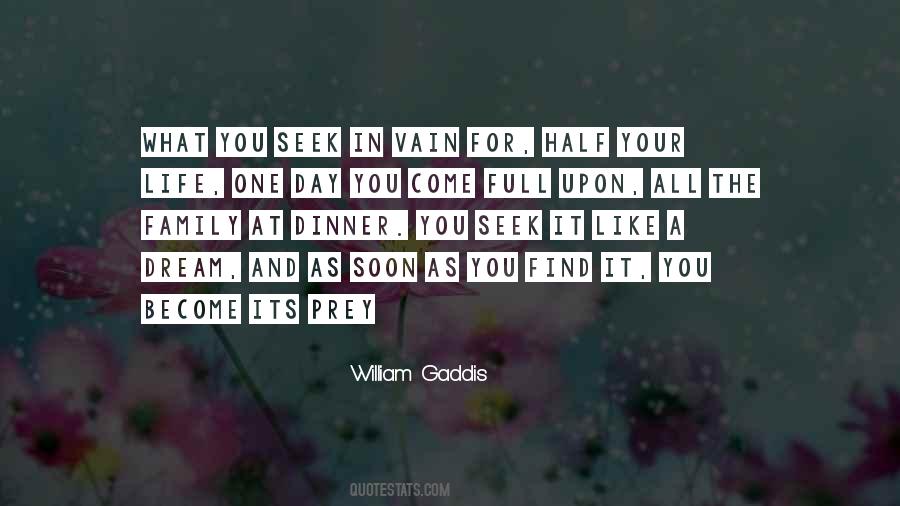 #15. Love comforeth like sunshine after rain,
But Lust's effect is tempest after sun.
Love's gentle spring doth always fresh remain;
Lust's winter comes ere summer half be done.
Love surfeits not, Lust like a glutton dies;
Love is all truth, Lust full of forged lies. - Author: William Shakespeare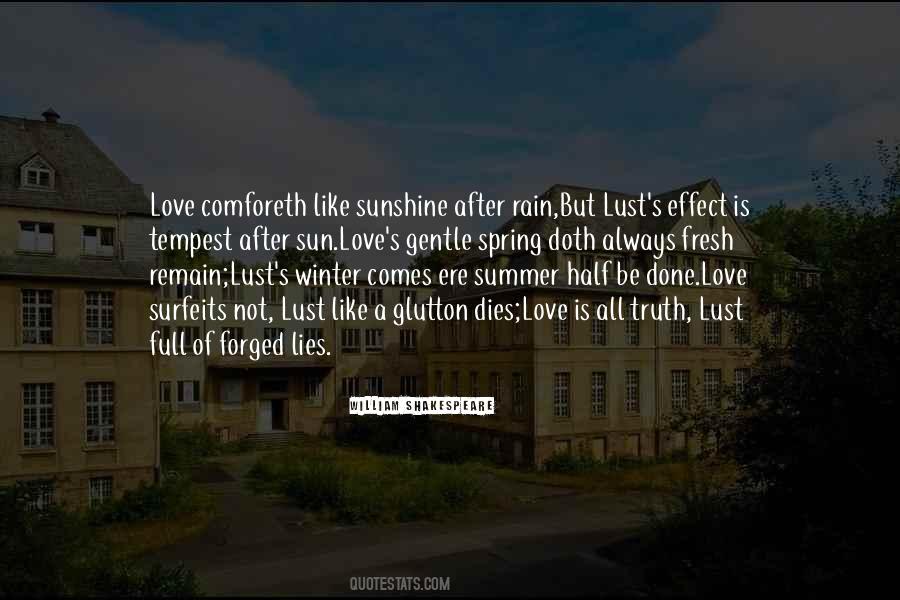 #16. In Illinois, where legislators are paid $45,000, plus as much as $10,000 for leadership work, about half are full-time politicians. - Author: Bill Dedman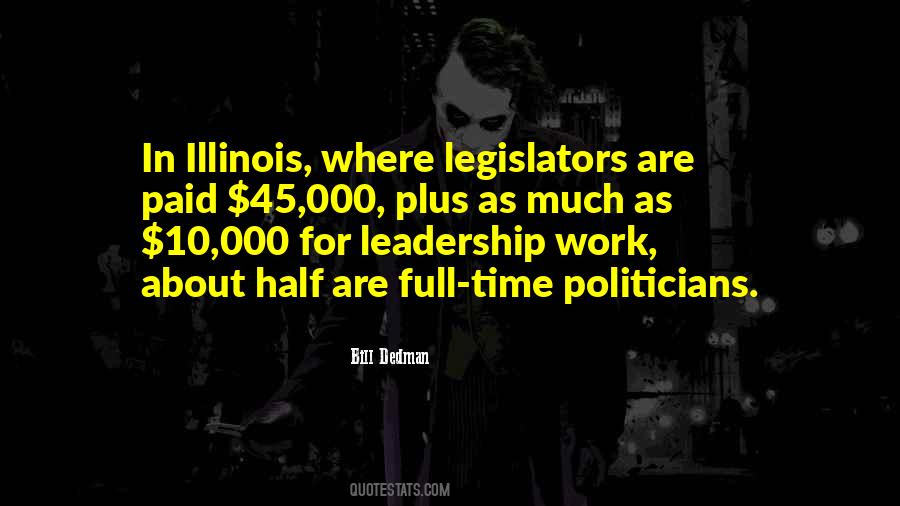 #17. Conversation in real life is full of half-finished sentences and overlapping talk. Why shouldn't painting be too? - Author: Edgar Degas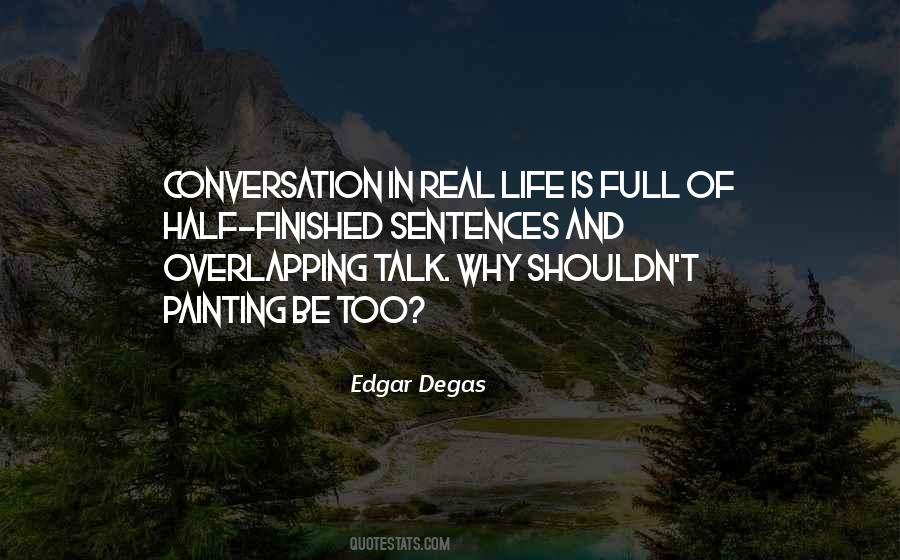 #18. When my creative side isn't being fulfilled, I see it affect me in a negative way and I'm not able to become that father/husband/man that I want to be. So it's almost like this dark half that you have to satiate in order to become full, in order to become a good person. - Author: Frank Iero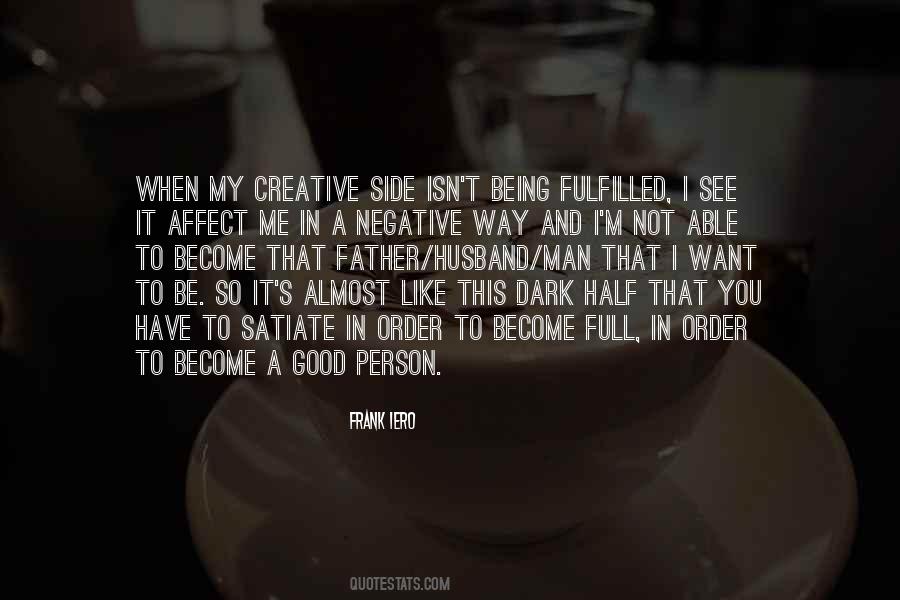 #19. You don't want to get too ahead of yourself and go out thinking you can play stadiums every night, and they end up being about half-full. - Author: Jason Aldean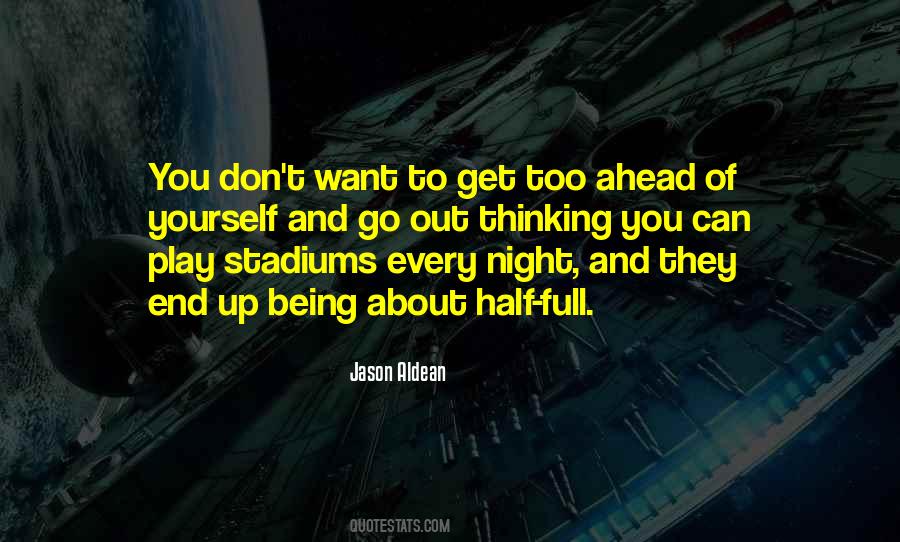 #20. [My mum] was always like that: grateful for life itself. Her glass was not only half full, it was gold plated with a permanent refill. - Author: Sarah Winman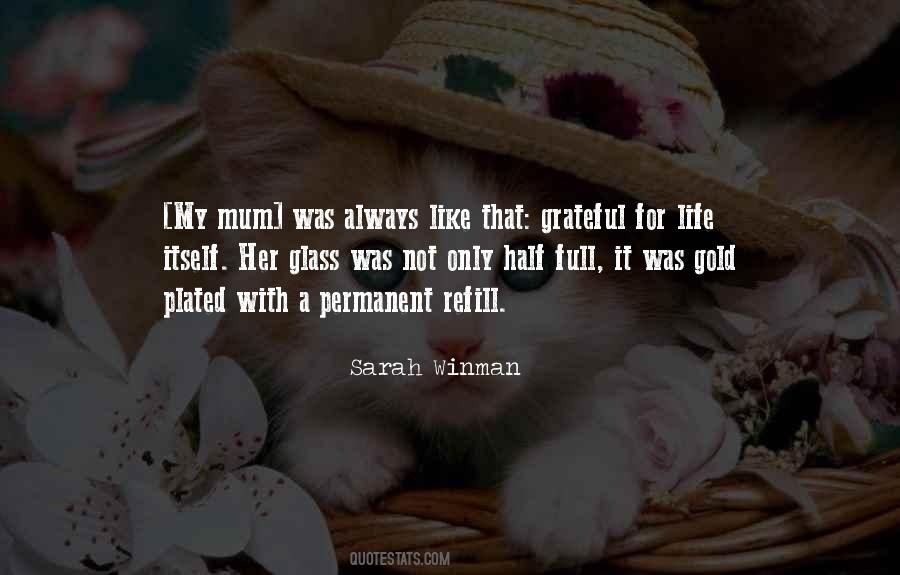 #21. I wanted to see something in full daylight; I was sated with the pleasure and comfort of the half light; I had the same desire for the daylight as for water and air. And if seeing was fire, I required the plenitude of fire, and if seeing would infect me with madness, I madly wanted that madness. - Author: Maurice Blanchot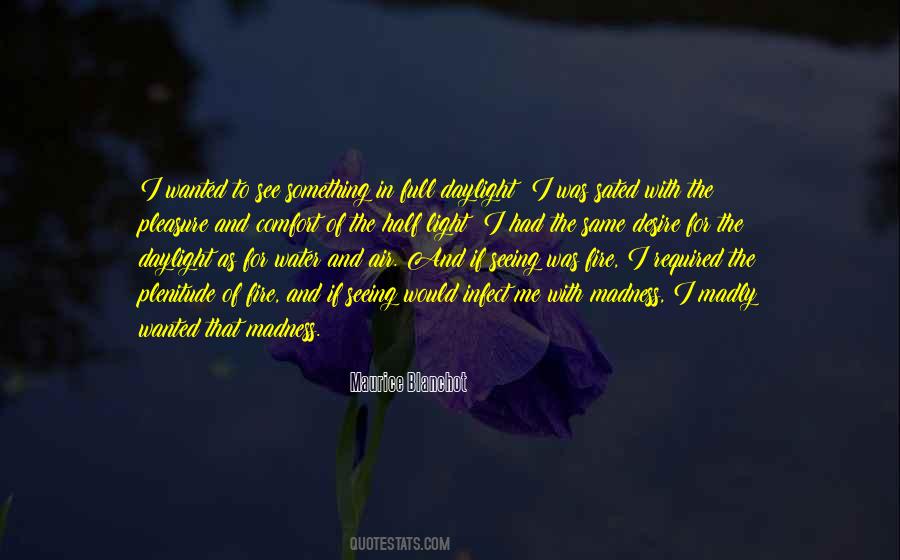 #22. I really liked doing a number of the projects and directors, and etc., etc., I knew about half-way through that I would never be doing that again. It's just not me. I really am happy as a part-time film composer, not a full-time film composer. - Author: Danny Elfman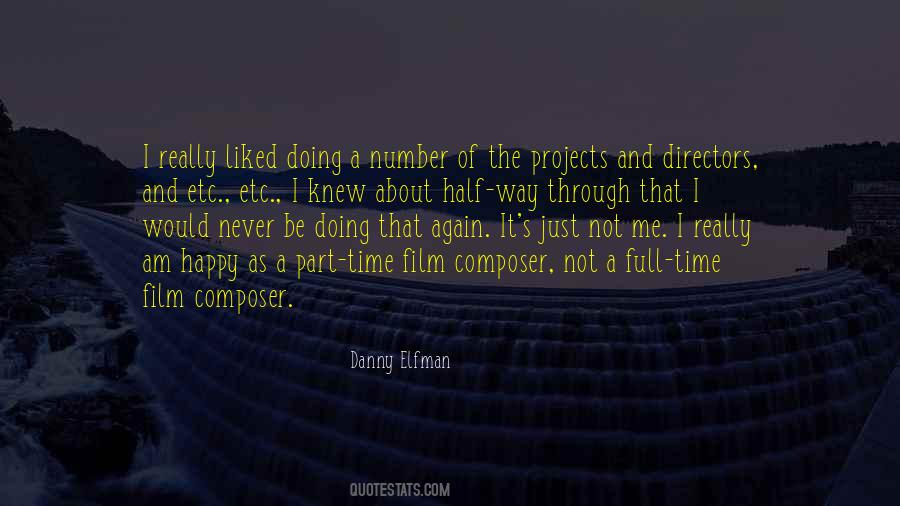 #23. We are at a crossroads in the music business: with the rise of the internet, the world we live in has changed, and the past is not coming back. But I see the glass as half-full: the internet and social networking are new avenues for the next Bob Dylan to be born on. - Author: Jon Bon Jovi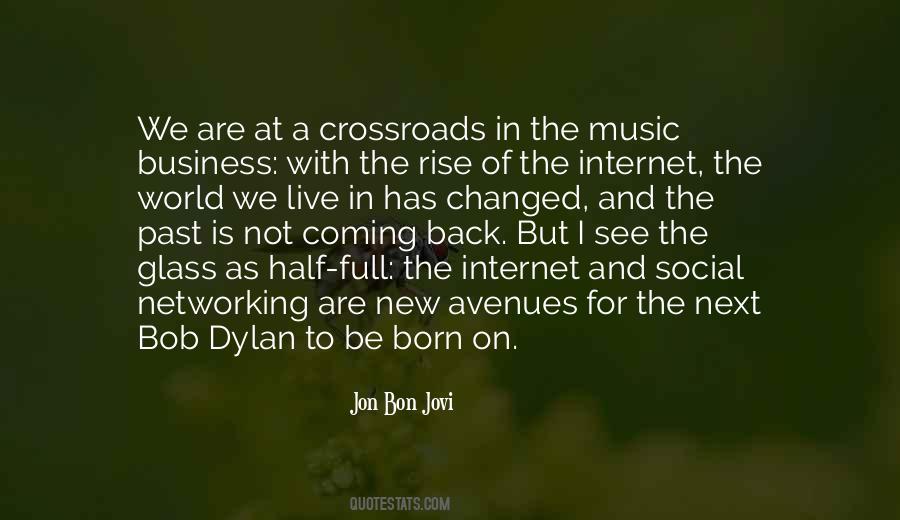 #24. My mom was an enthusiastic, positive, glass-is-half-full type of person and that is how I live my life and I owe that to her. She was an amazing woman. - Author: Kliff Kingsbury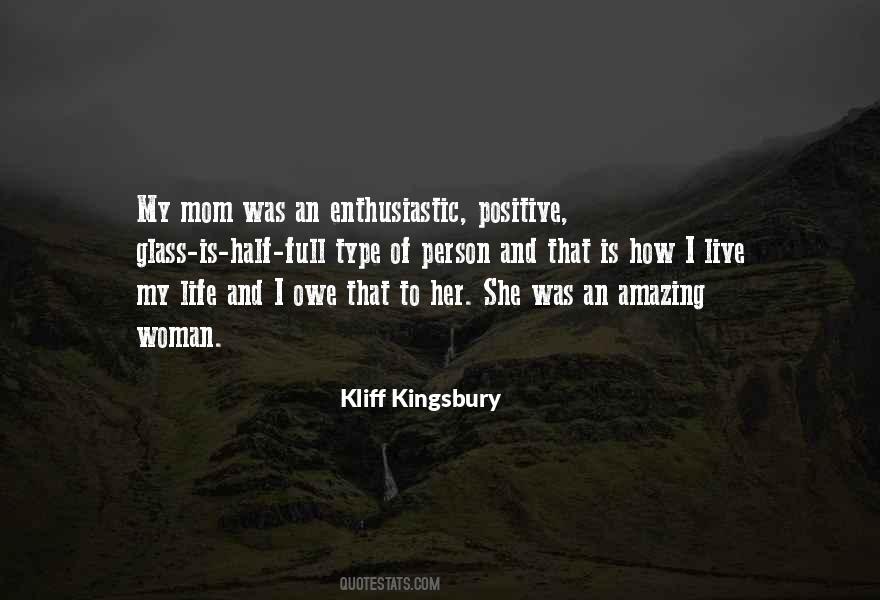 #25. In a world of full of manipulation, half-truths and lies, the conspiracy theory is often a safer bet than the official story. - Author: Gary Hopkins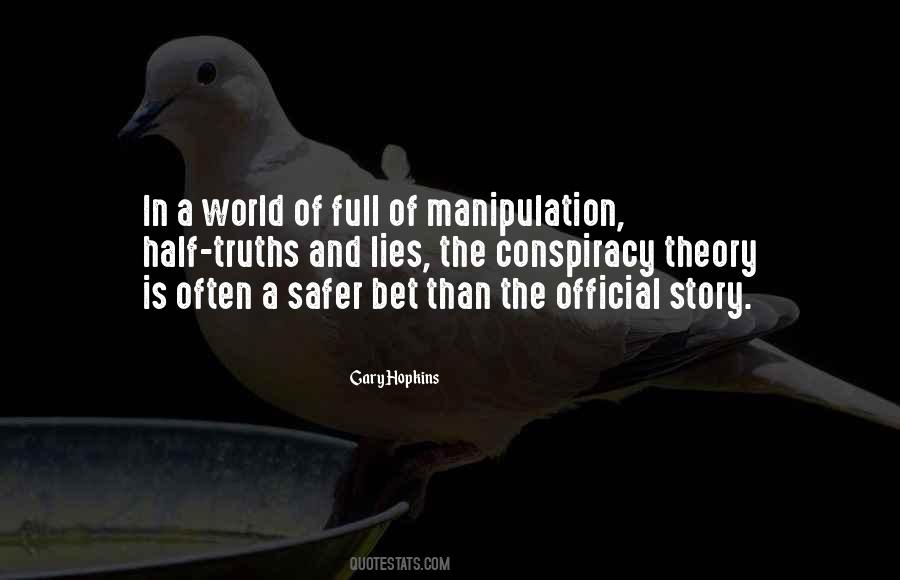 #26. The cup is half full, sunshine and flowers and I try to act like I agree, but really I'm pissed someone dumped out half of my drink. - Author: Nyrae Dawn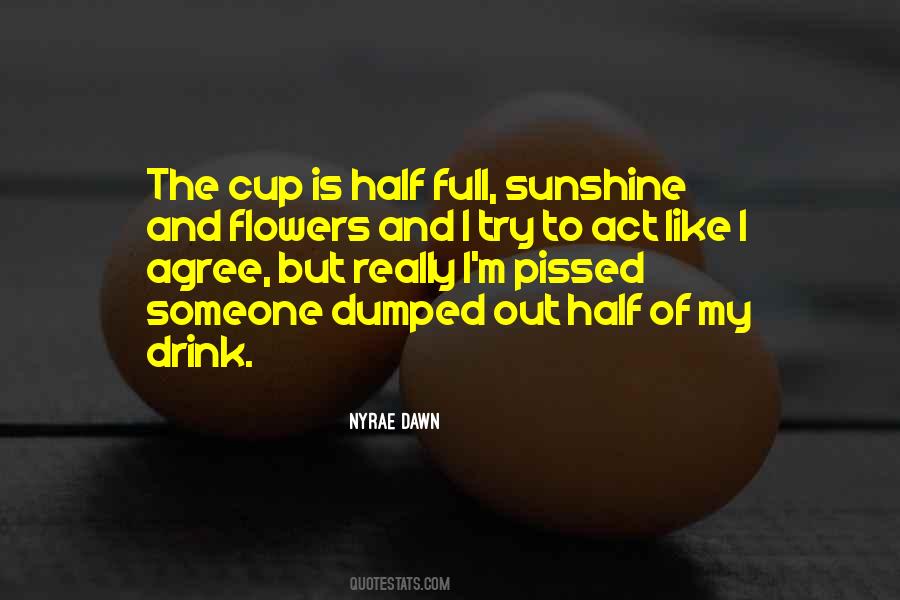 #27. Some people grumble that roses have thorns; I am grateful that thorns have roses. - Author: Alphonse Karr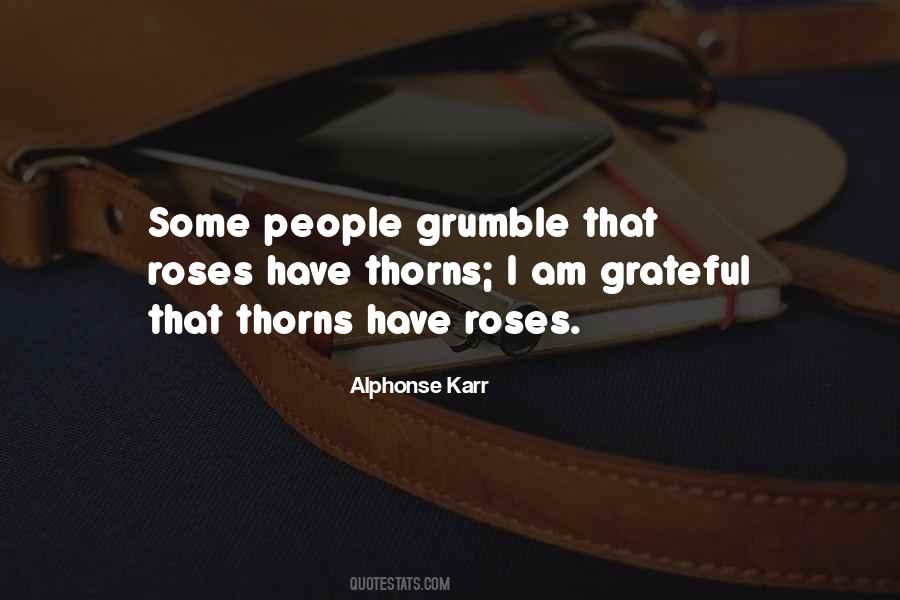 #28. One thinks of lard as a kind of pure high saturated fat but it is only 41 % saturated, while it is mostly (47 %) MUFA, predominantly oleic acid, the main fat in olive oil. So it is a question of whether you think that lard is half full of SFA or half empty. - Author: Richard David Feinman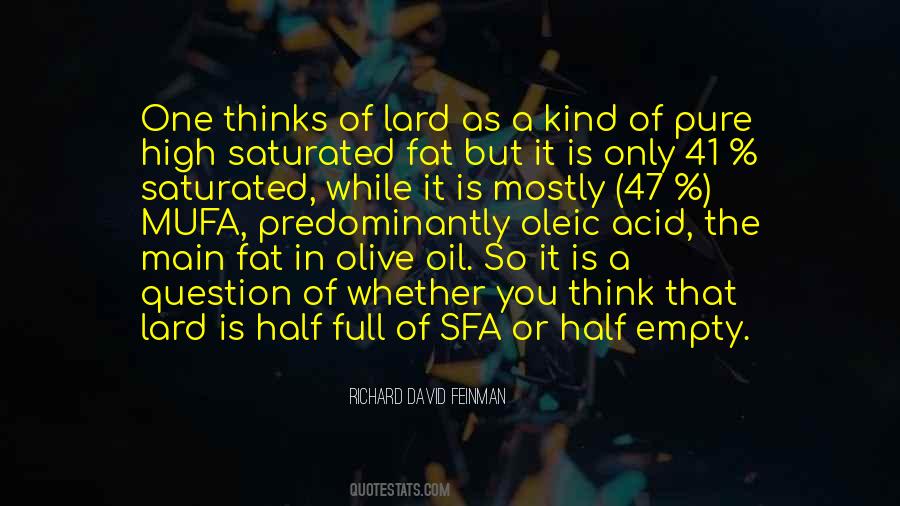 #29. Some people think of the glass as half full. Some people think of the glass as half empty. I think of the glass as too big. - Author: George Carlin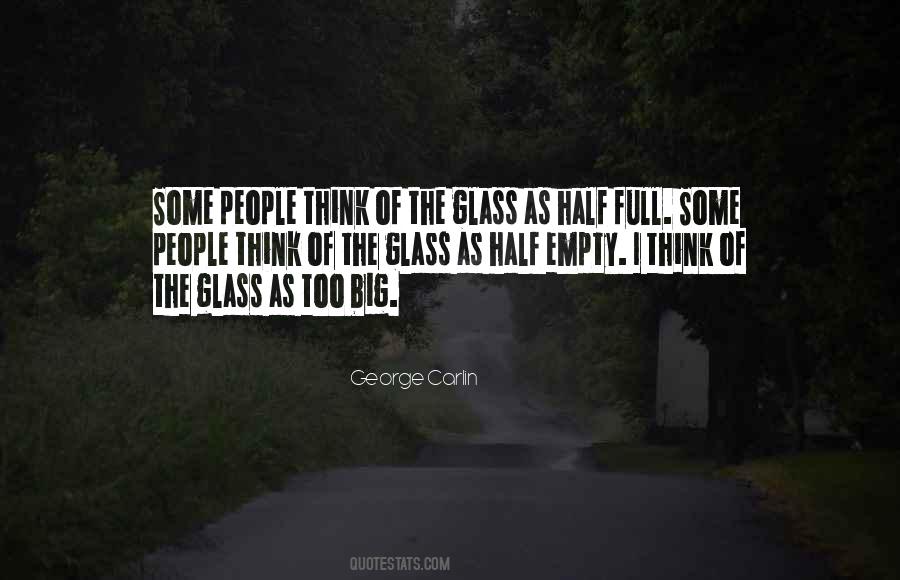 #30. Sleep is a patch of death, but three in the morn, full wide-eyed staring, is living death! You dream with your eyes open. God, if you had the strength to rouse up, you'd slaughter your half-dreams with a buckshot! But no, you lie pinned to a deep well-bottom that's burned dry. - Author: Ray Bradbury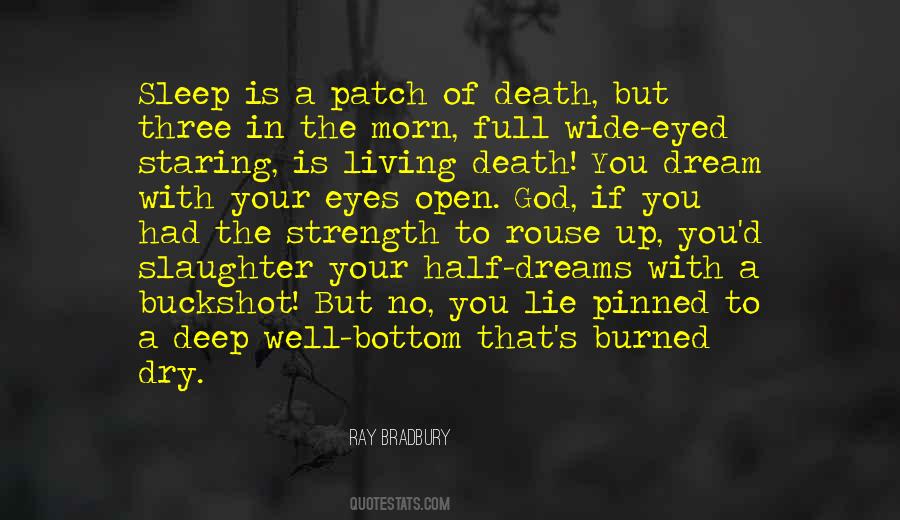 #31. I will allow others to be there for me. I will share my feelings. I'm not allowed to fake it! I will view the world as a positive place. The cup is half full, not half empty. - Author: Ronnie Sellers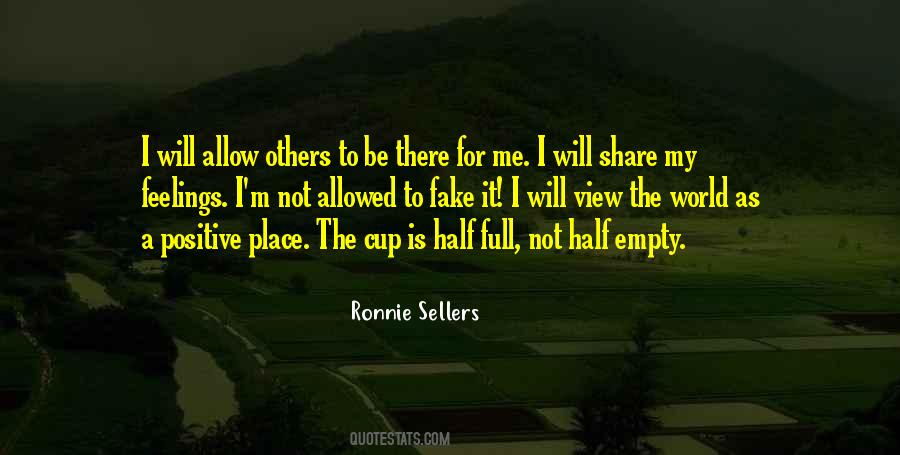 #32. I have rooms full of little dongly things and don't want any more. Half the little dongly things I've got, I don't even know what gizmo they're for. More importantly, half the gizmos I've got, I don't know where their little dongly thing is. - Author: Douglas Adams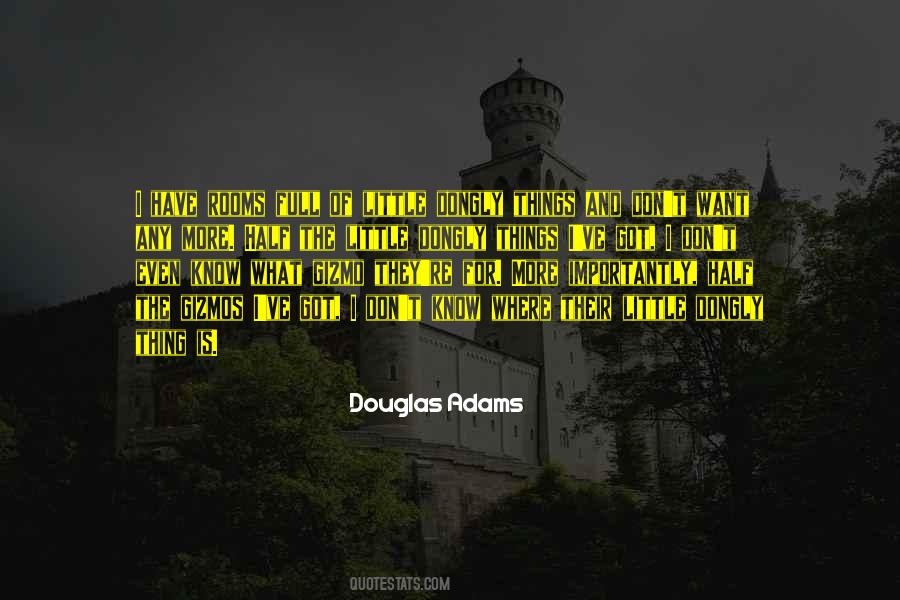 #33. Russia," Emilio would say, "is full of frozen, heartless pricks. If you wanna beat 'em, you gotta be able to tough it out in their kinda conditions. So basically, you gotta know how to not bust your ass on a shitload of ice while half frozen and drunk. - Author: Santino Hassell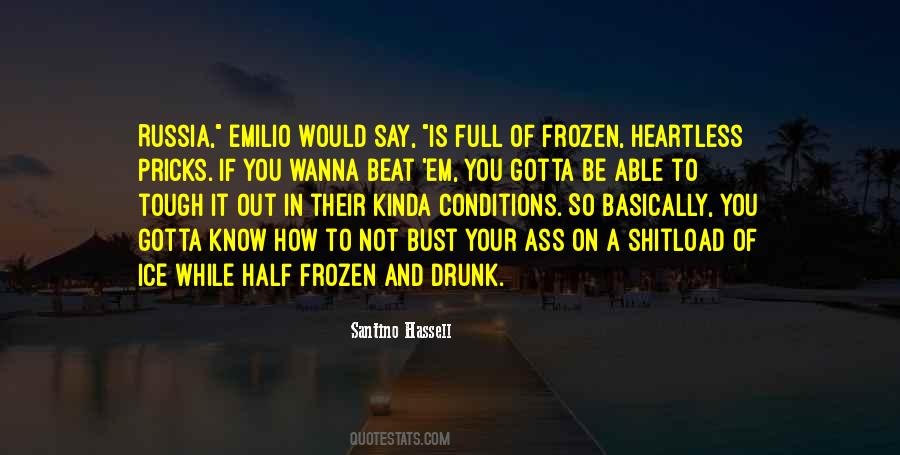 #34. If my cup won't hold but a pint and yourn holds a quart, wouldn't ye be mean not to let me have my little half-measure full? - Author: Sojourner Truth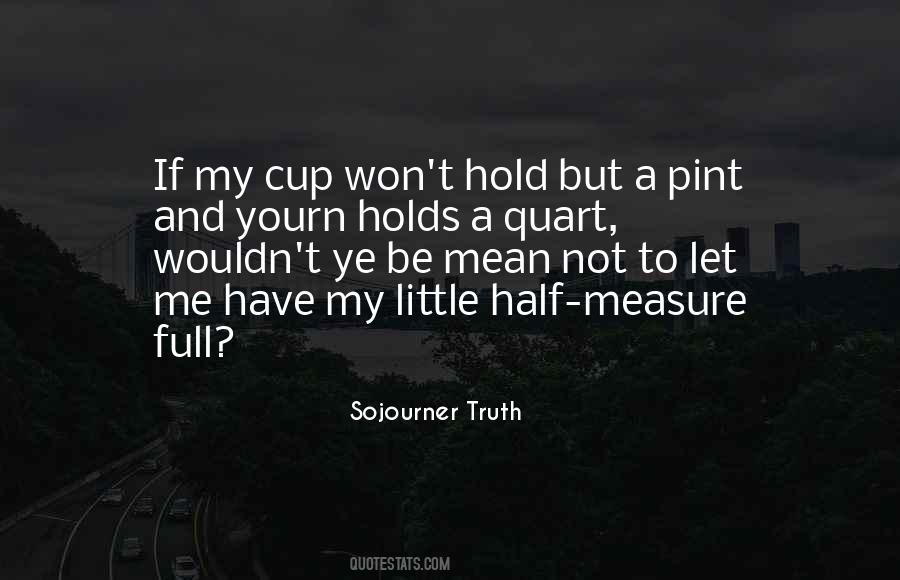 #35. Optimists see the glass as half full.
Pessimists see the glass as half empty.

Experiential trainers see the whole glass and its context. - Author: Bogdan Vaida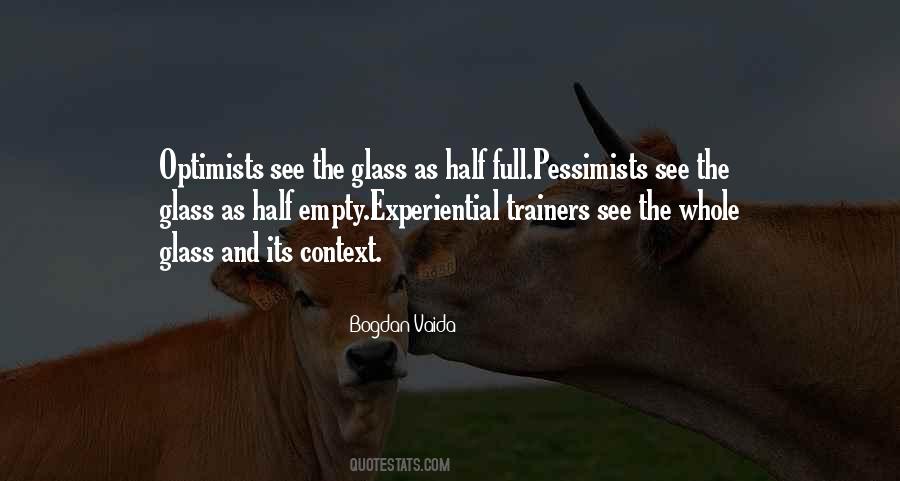 #36. She was plain except when she laughed. She was someone on the subway. She wore loose skirts and plain shoes and was full-figured and maybe a little clumsy but when she laughed there was a flare in nature, an unfolding of something half hidden and dazzling. - Author: Don DeLillo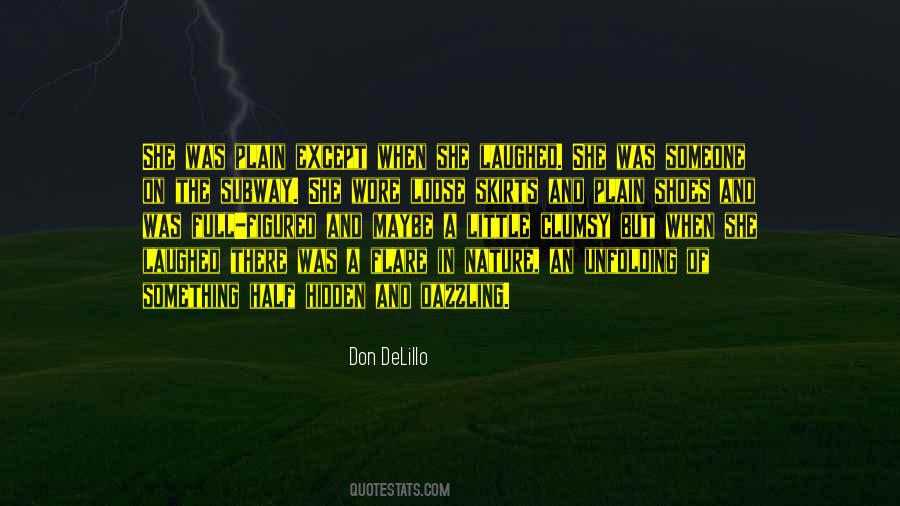 #37. Some people look at a glass and see it as half-full. Others look at a glass and call it a dragon. - Author: Jon Stewart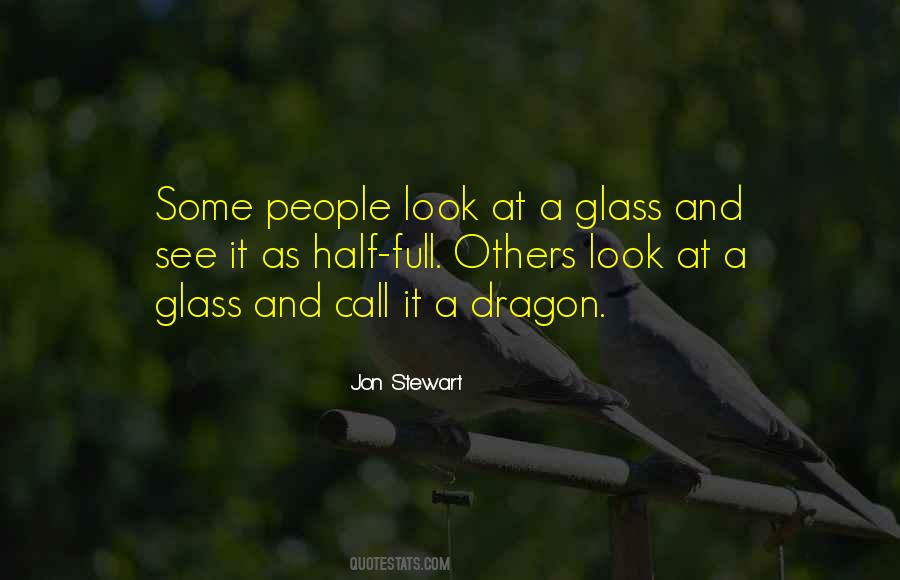 #38. Its 106 miles to Chicago, we got a full tank of gas, half a pack of cigarettes, its dark, and we're wearing sunglasses.....hit it... - Author: John A. Saunders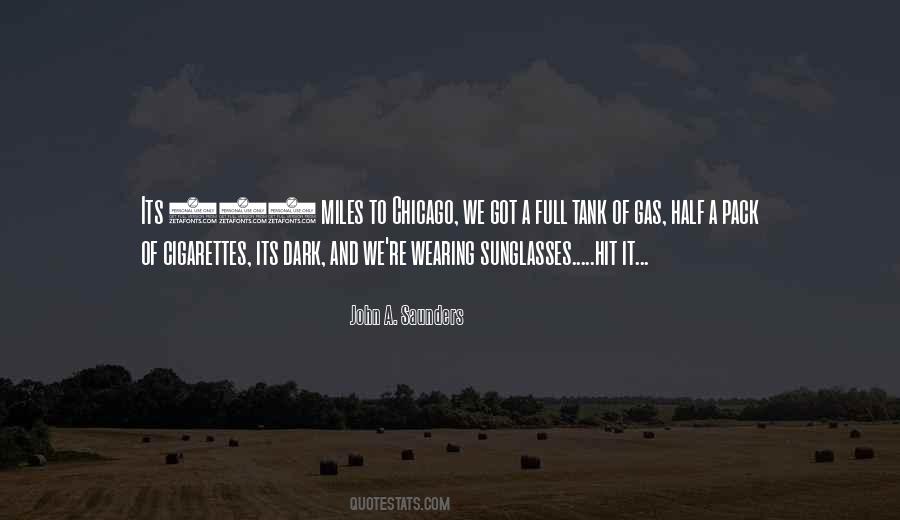 #39. You're just Little Miss Optimist, aren't you? Do you come with accessories, like a glass half full and lemons to make into lemonade, too? - Author: Rachel Caine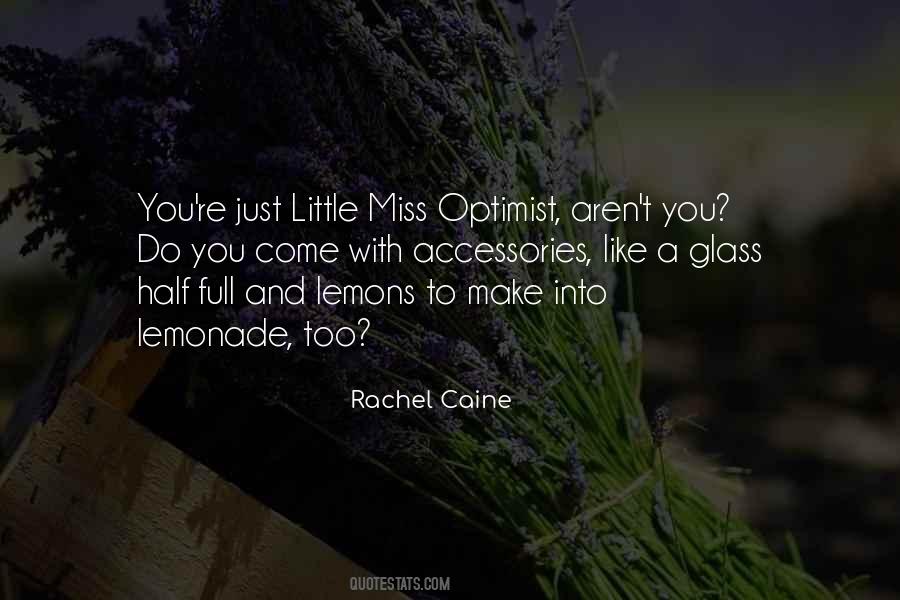 #40. My kids and I figured out that there's a third kind of person, and I don't know what you call them, but it's somebody who sees that the glass is always full because it's half full with water and half full with nothing, so that's the third kind of person. I don't know what it is. - Author: Louis C.K.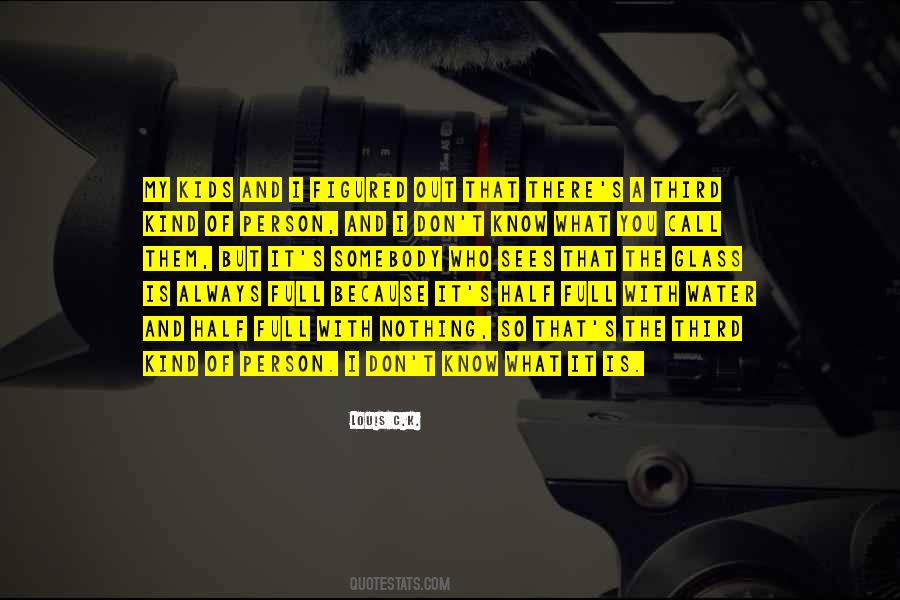 #41. The eye is always half-full. - Author: Arthur Slade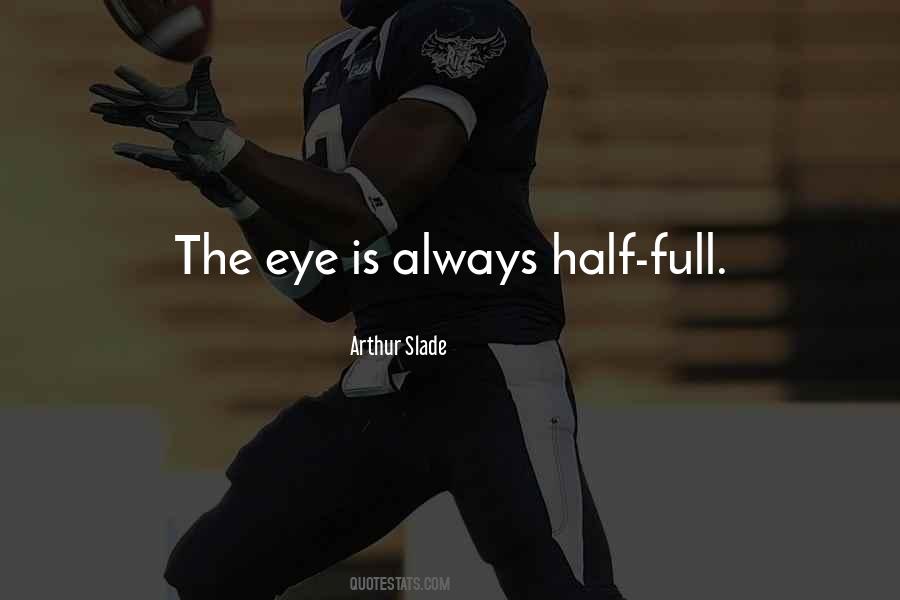 #42. triremes with a half deck for carrying full sail and more sailors - Author: Christian Cameron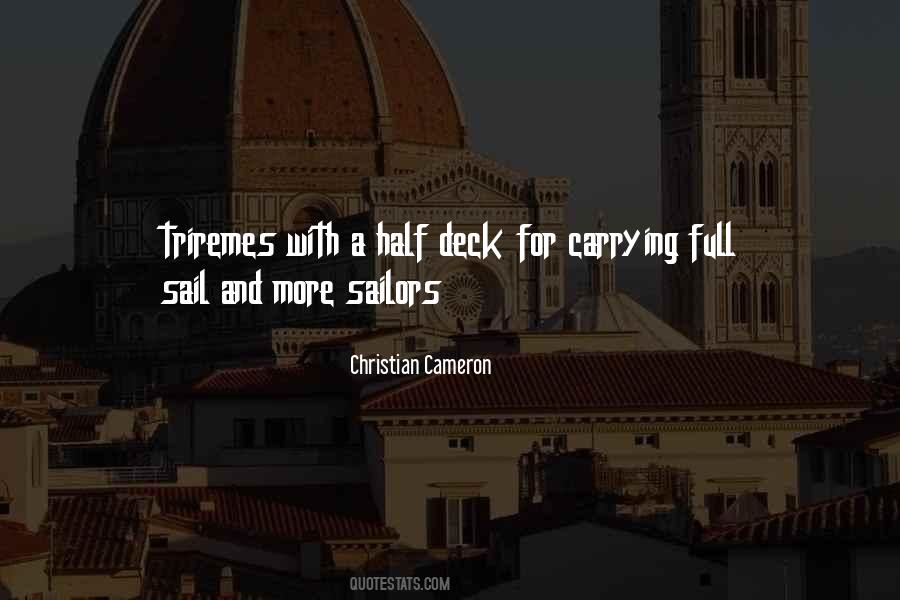 #43. I've always been blessed with confidence. I am a glass-half-full person. My first movie, 'Private Benjamin,' got turned down by every studio until the very last one, but I just kept thinking, 'Why are you people not seeing that this is a hit movie? What is wrong with you?' - Author: Nancy Meyers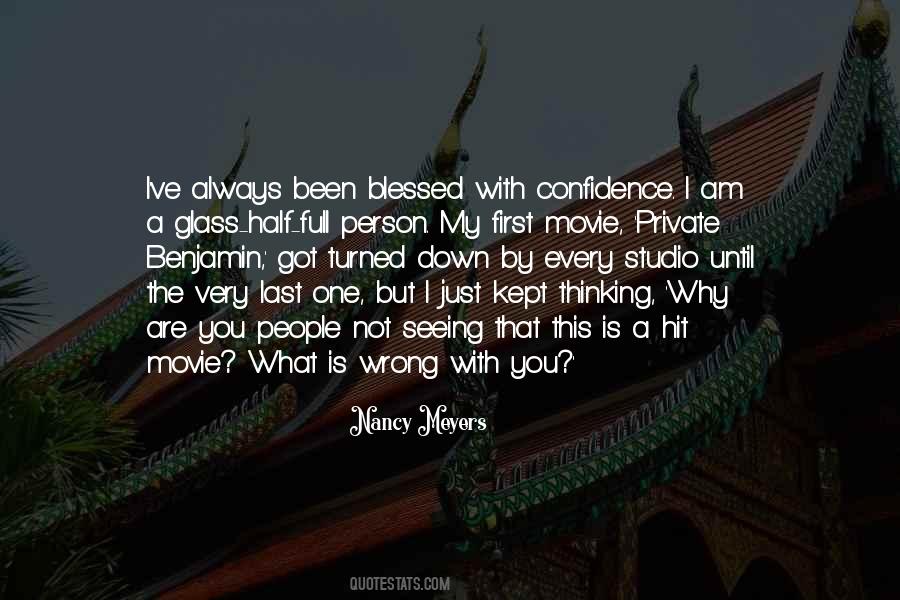 #44. i'm a realist, miss randall. if you show me a glass, i see it as neither half-empty nor half-full. i see enough water to drown a man, if i can find a way to put it in his lungs. - Author: D.L. Snell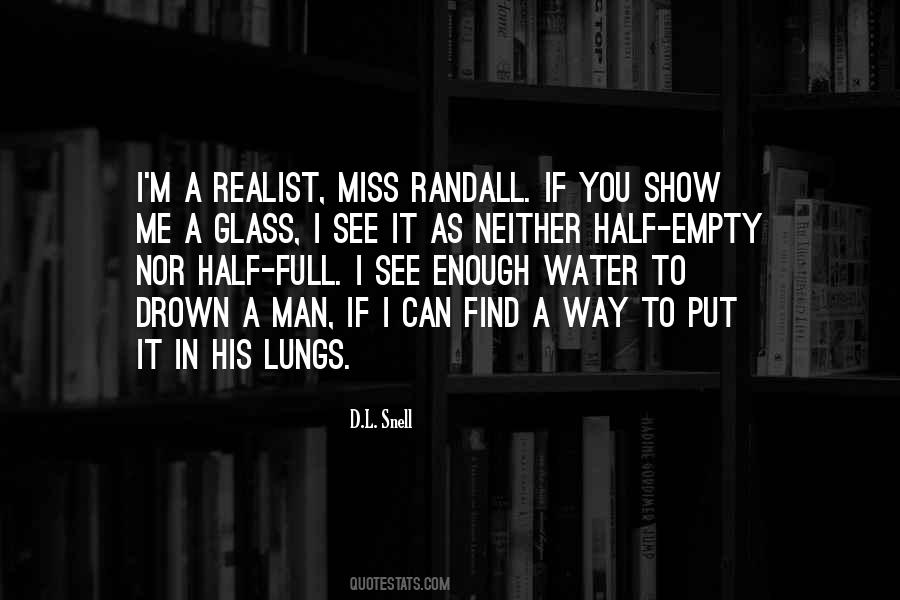 #45. Carolyn Maloney is really constantly thinking, "How do we improve things?" You know, sees the glass always half-full, and you have to be an optimist to work in Washington. So that's what I - we admire so much about her. - Author: Eleanor Smeal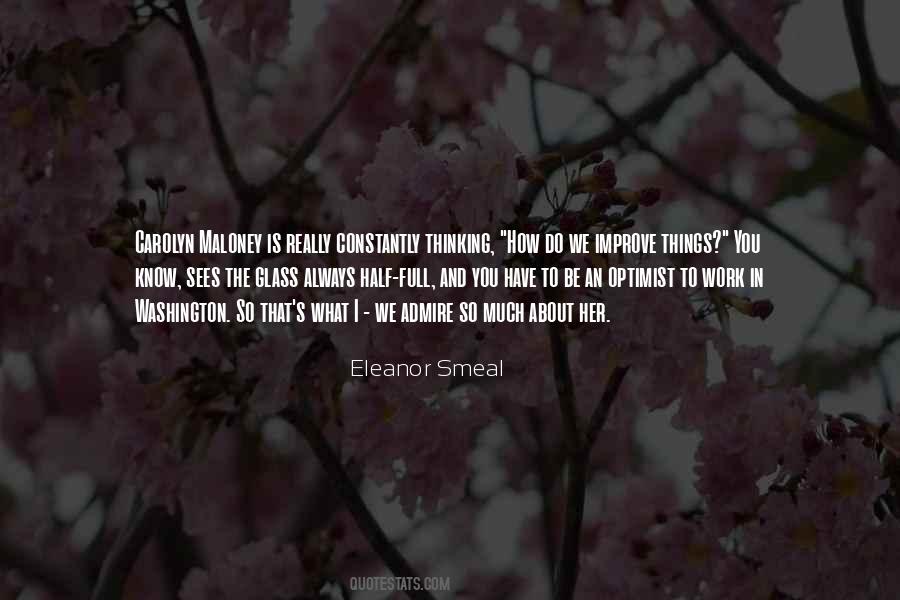 #46. Pardon me for finding the glass half full. - Author: Rupert Giles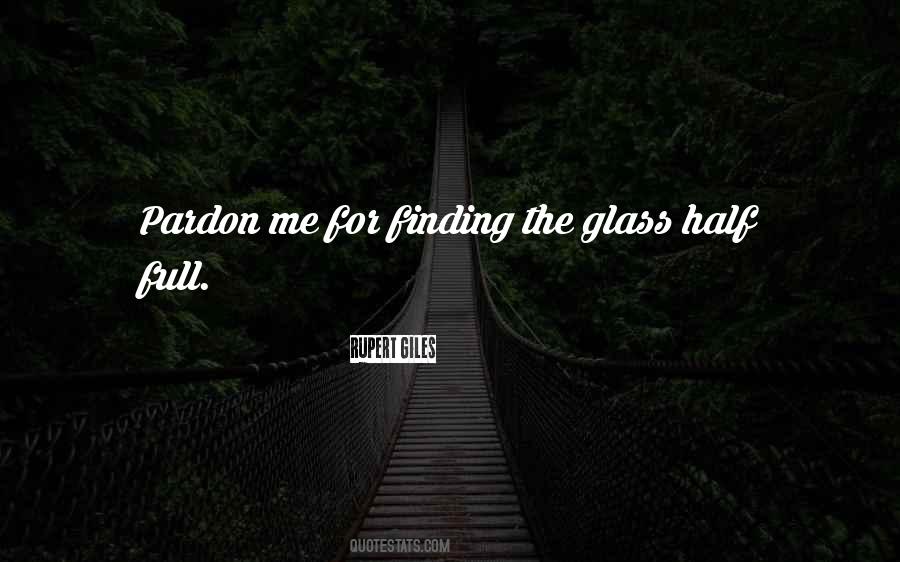 #47. I am too full of life
to be half-loved. - Author: Ijeoma Umebinyuo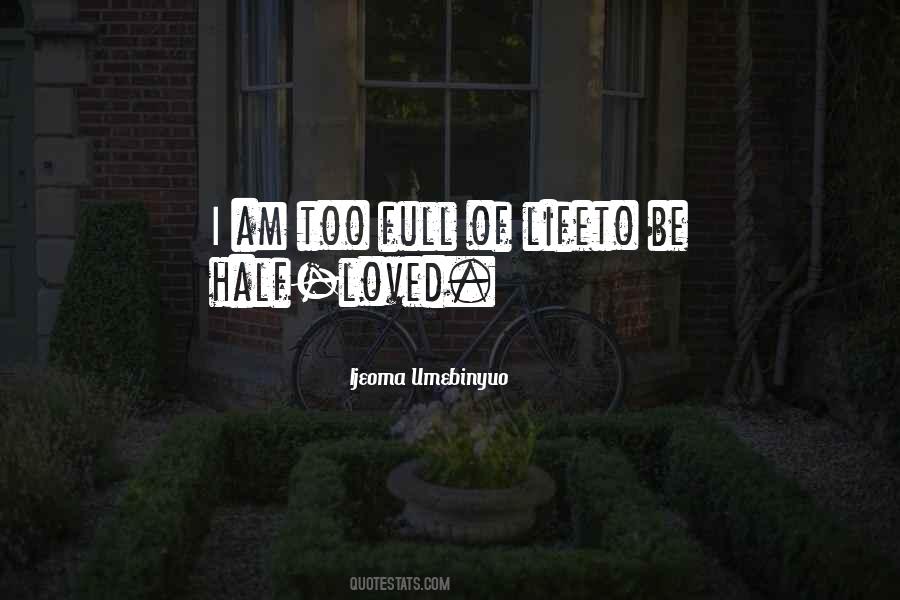 #48. He isn't bashful, but an asshole who'd sooner smash his glass because it was half full. - Author: Gordon P. Bois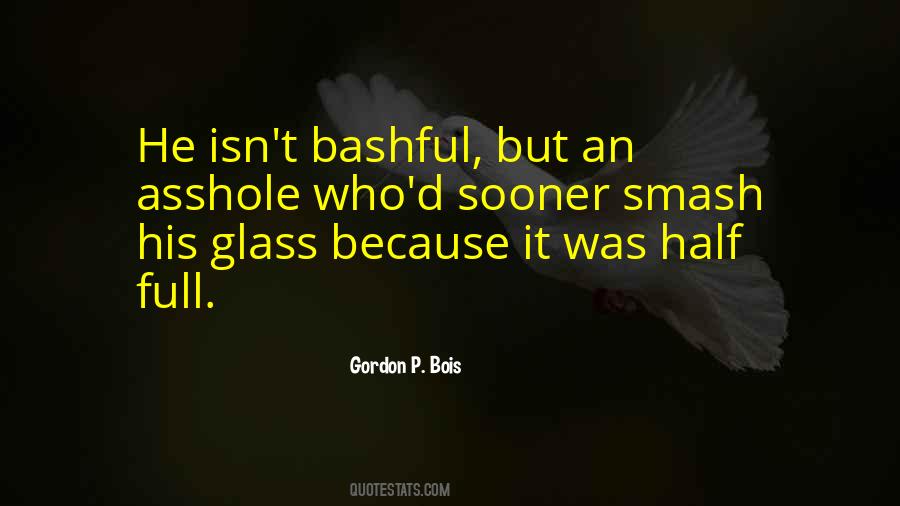 #49. My deceased patients have taught me over the years to believe in the glass half full, to make good use of the time we have, to be generous - that was their lesson for the Uber-mind, and it was free. 'Do that,' they said, 'and then perhaps death shall have no dominion.' - Author: Abraham Verghese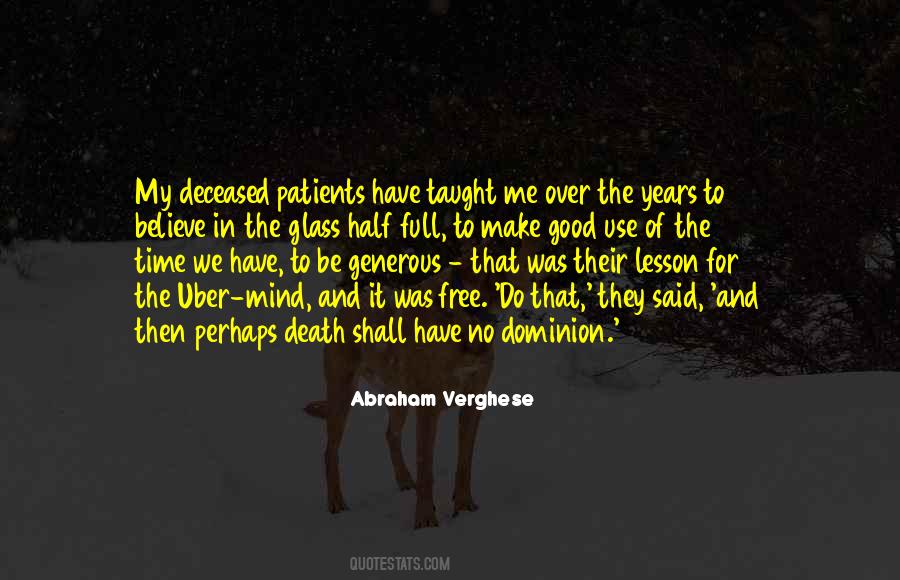 #50. This living stuff is a lot. Too much, and not enough. Half empty, and half full. - Author: Diane Keaton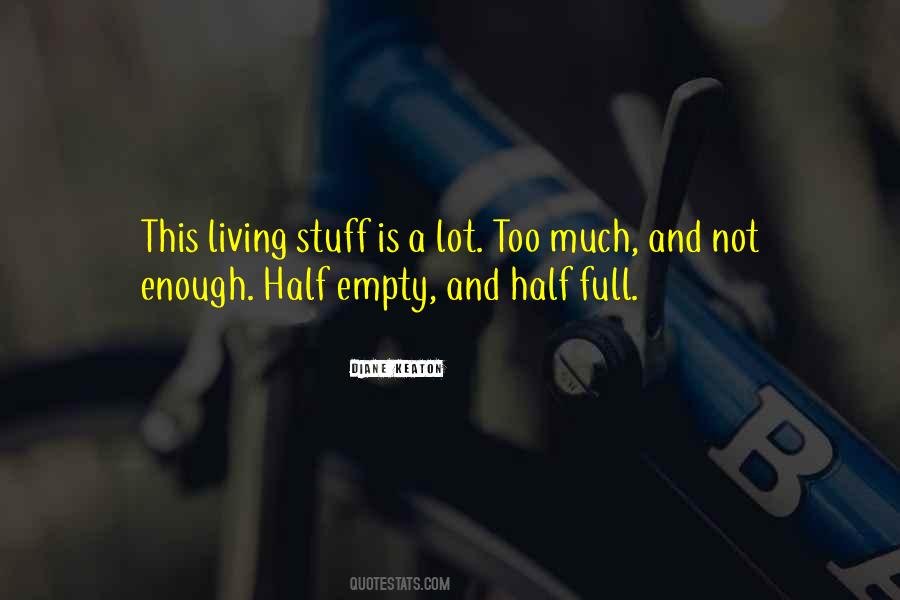 #51. I see the glass half full ... but of poison. - Author: Woody Allen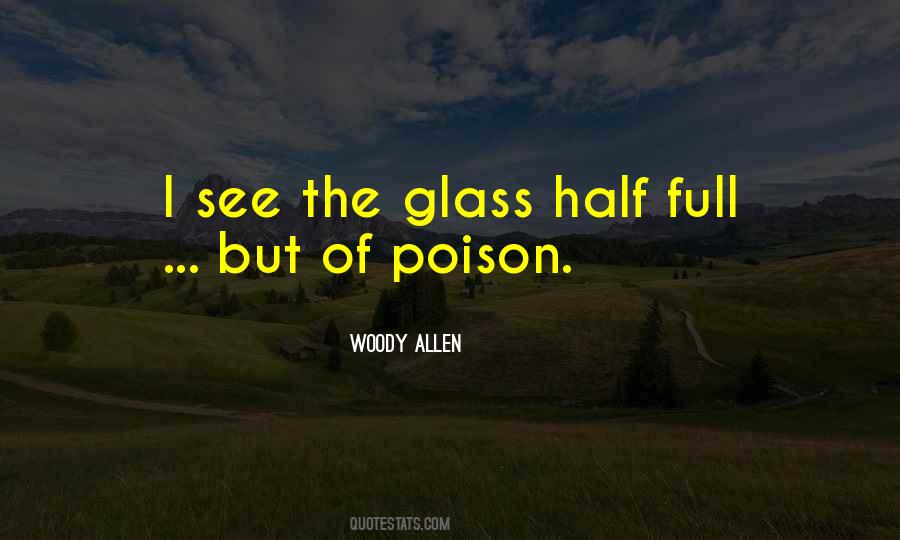 #52. I never quite understood the question that says, is the glass half empty or half full? What's the difference? Eventually it'll end up empty and in the trash. - Author: Cyndi Goodgame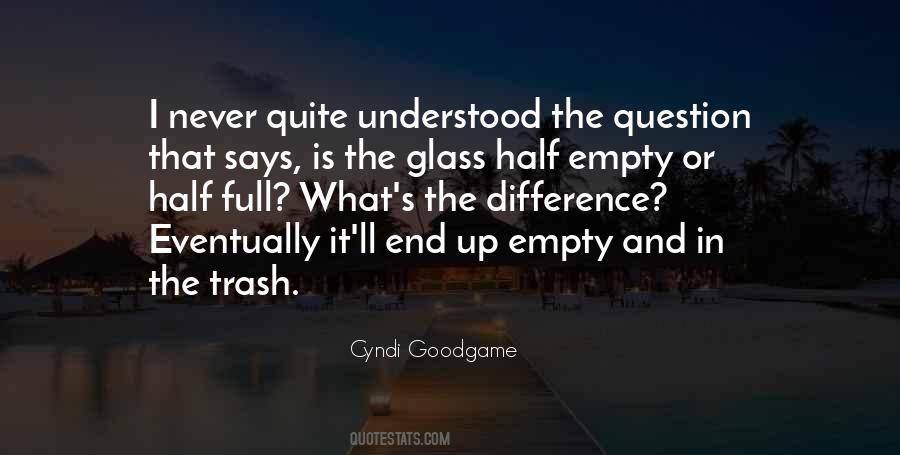 #53. Glass half empty, glass half full. Well, either way you won't be going thirsty, count your blessings not your flaws ... - Author: Lauren Aquilina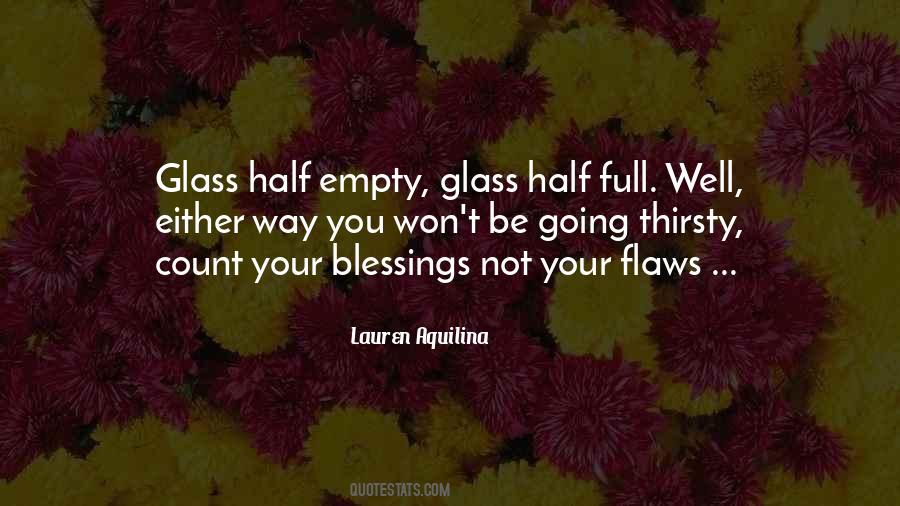 #54. Half-liberty comes with wisdom, full liberty with death. - Author: Austin O'Malley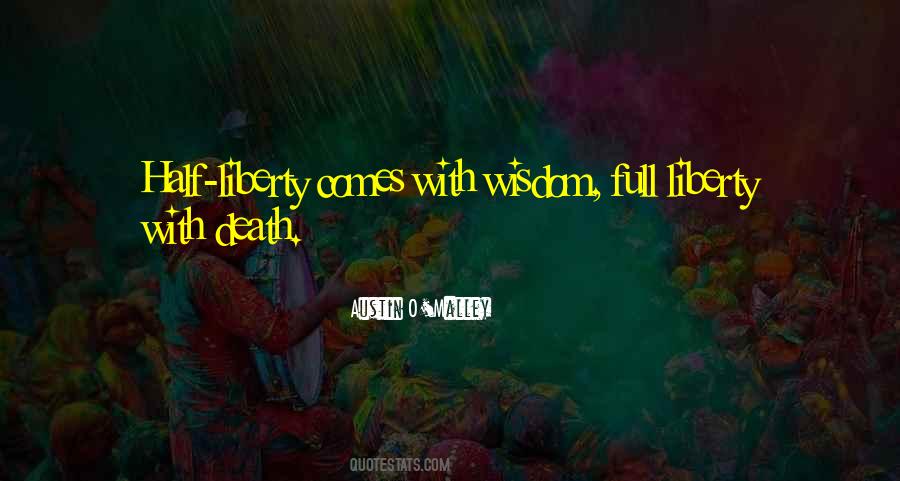 #55. Some people see the glass half full. Others see it half empty.
I see a glass that's twice as big as it needs to be. - Author: George Carlin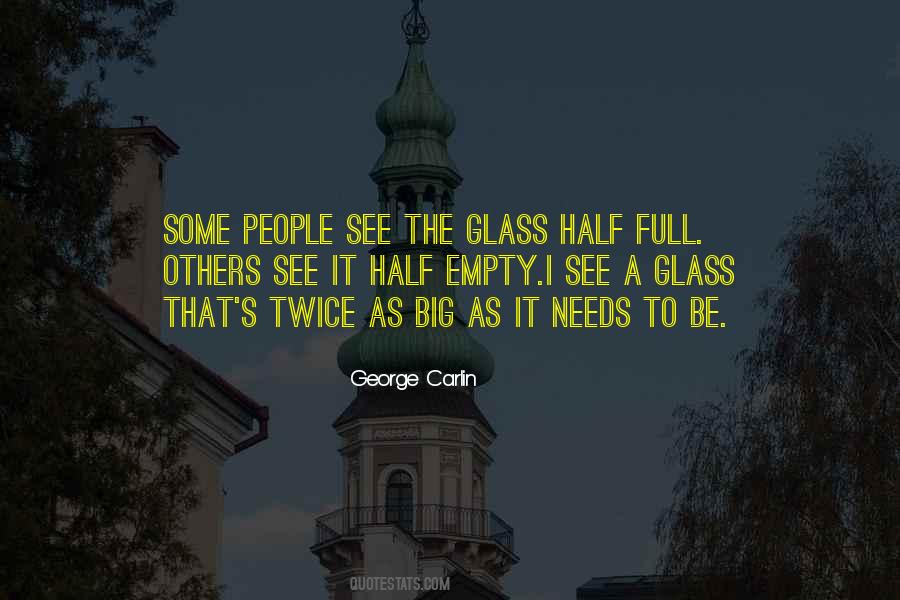 #56. I think that the vice president is a person reflecting a half-glass-full mentality. - Author: George W. Bush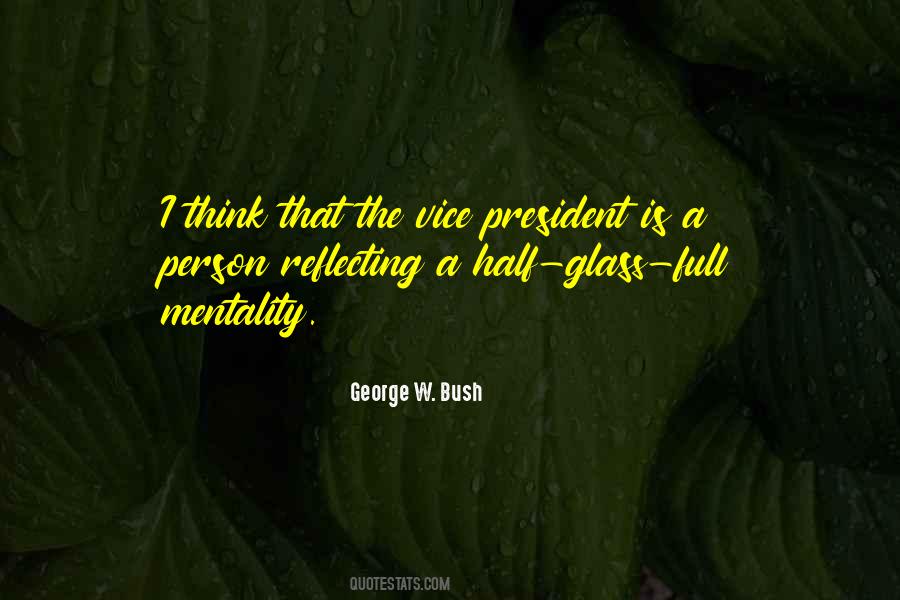 #57. Perception can be one-sided or variant: "Glass half empty or half full." There usually is more than one way of perceiving. Thoroughly check your inner dialogue. - Author: T.F. Hodge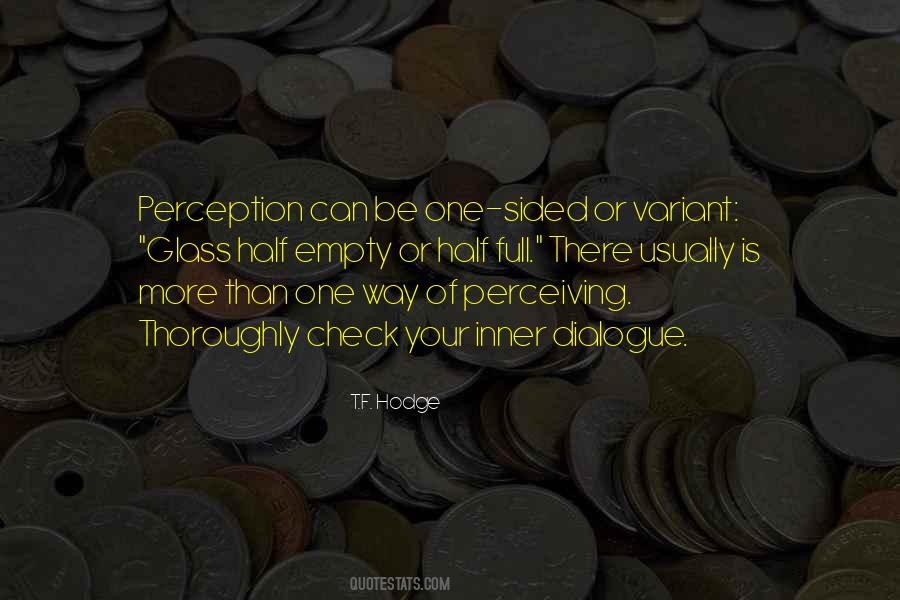 #58. If general perception changes from seeing the glass as 'half-full' to seeing it as 'half empty' there are major innovative opportunities. - Author: Peter Drucker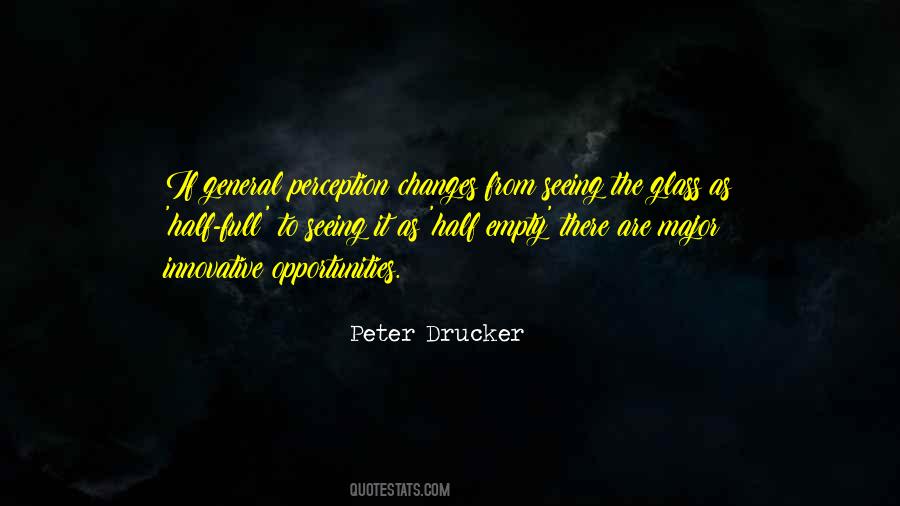 #59. If time, like money, could be laid by while one was not using it, there might be some excuse for the idleness of half of the world, but yet not a full one. For even this would be such an economy as the living on a principal sum, without making it purchase interest. - Author: Laurence Sterne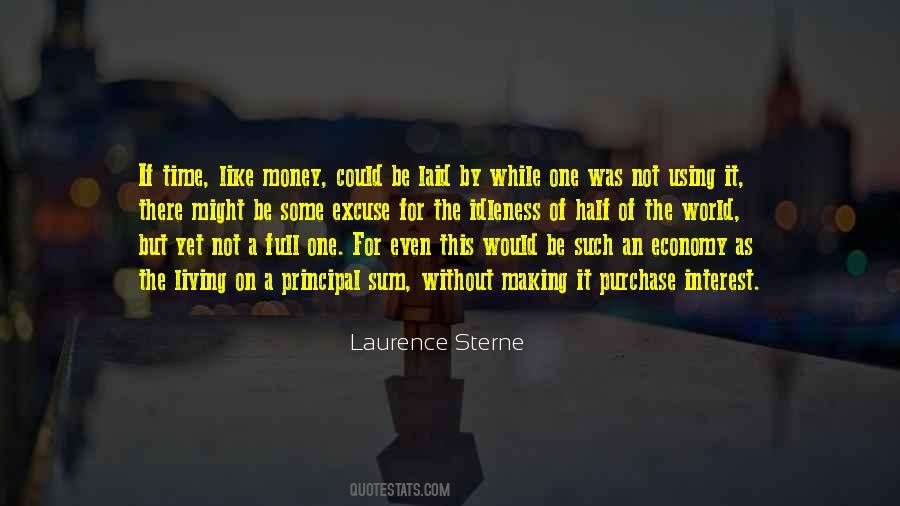 #60. I don't play full court anymore. I just play half-court. - Author: John Ashcroft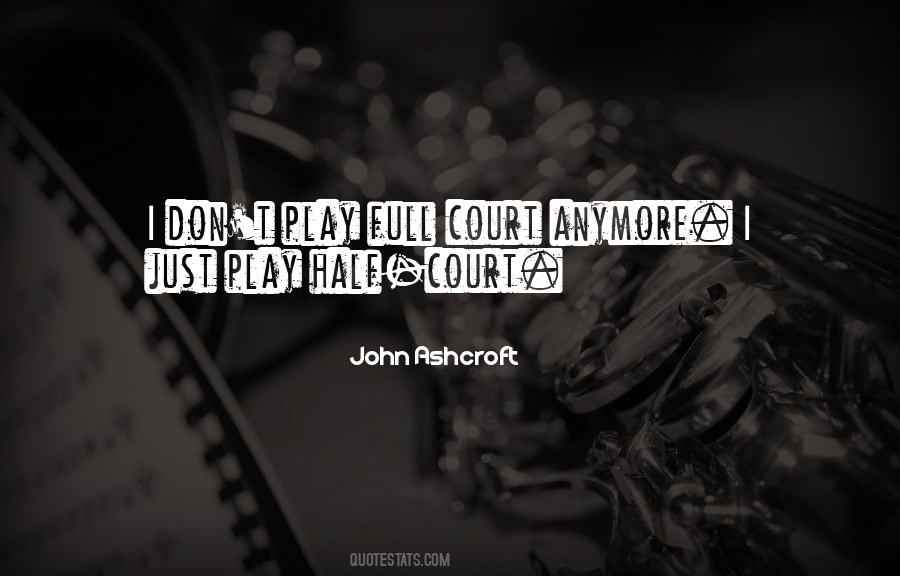 #61. I'm a confirmed negaholic. I don't just see a glass that's half full and call it half-empty; I see a glass that's completely full and worry that someone's going to tip it over. - Author: Peter McWilliams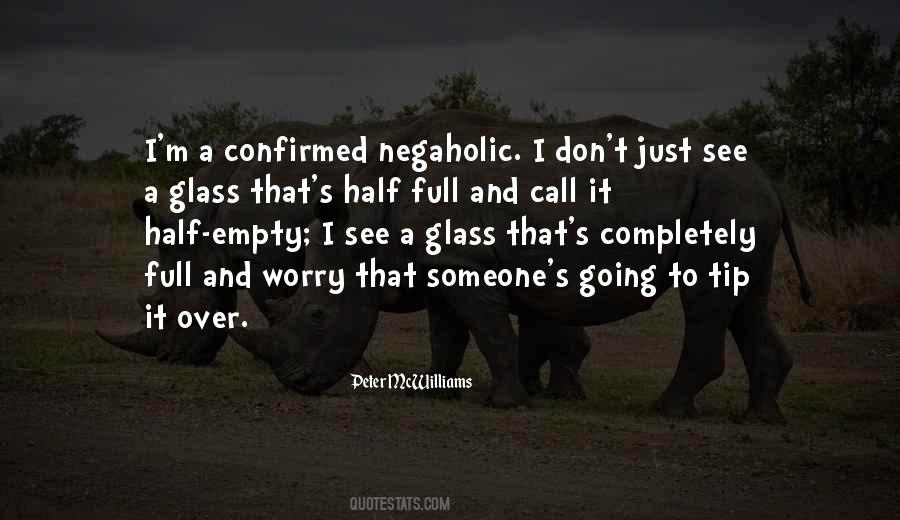 #62. I like to see the glass as half full, hopefully of jack daniels. - Author: Darynda Jones
#63. I don't listen to anybody's full record anymore and when I did, I don't think I listened to the whole record. I'm sorry, and I don't care who it is, if it's the Beatles, I can't listen to an hour and a half of anybody straight so I guess that's just my personal preference. - Author: Tommy Lee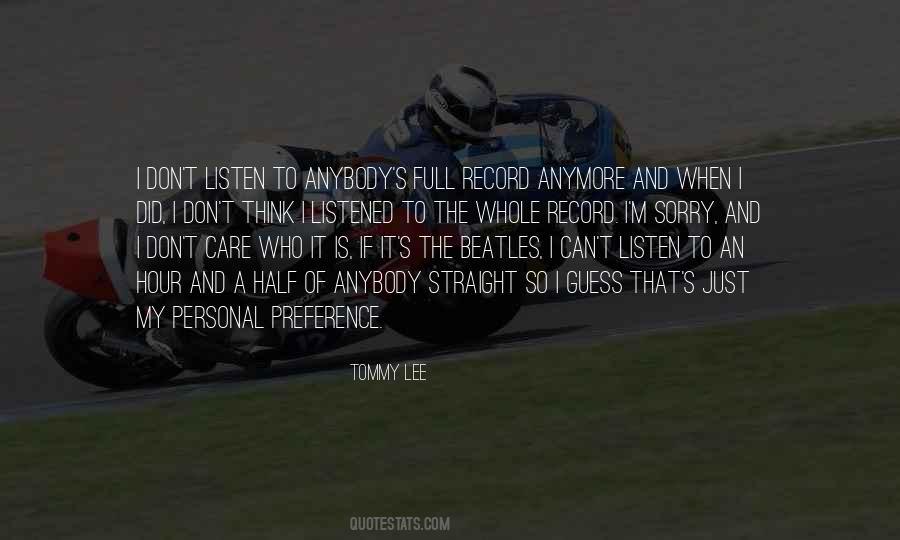 #64. Some say the glass is half full and blush,
Some say it's half empty and sink,
I feel you are in the midst of,
reaching out for another awesome drink! - Author: Jasleen Kaur Gumber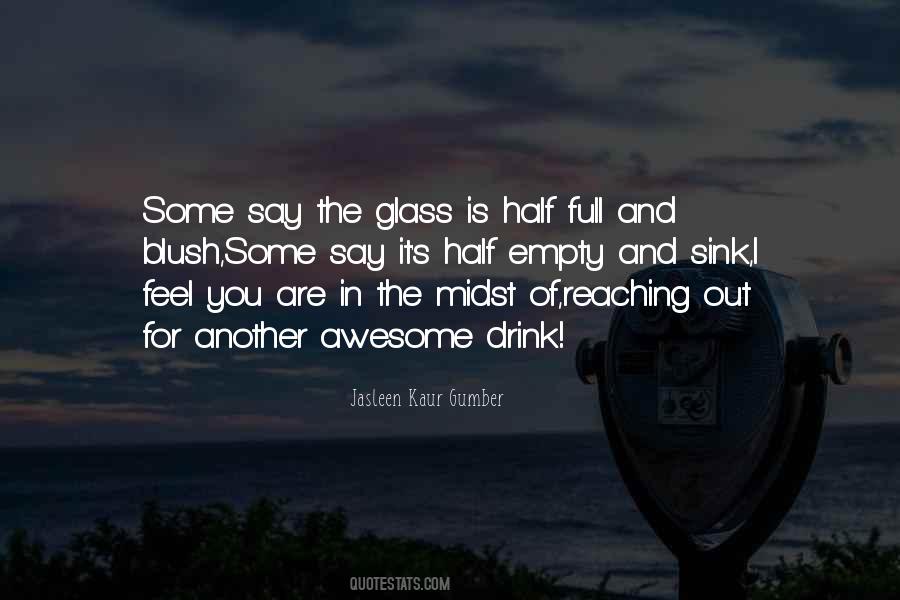 #65. American history offers no parallel to the friendship between John Adams and Thomas Jefferson, spanning the first half century of the Republic ... The publication, in full and integrated form, of the remarkable correspondence between these two eminent men is a notable event. - Author: Dumas Malone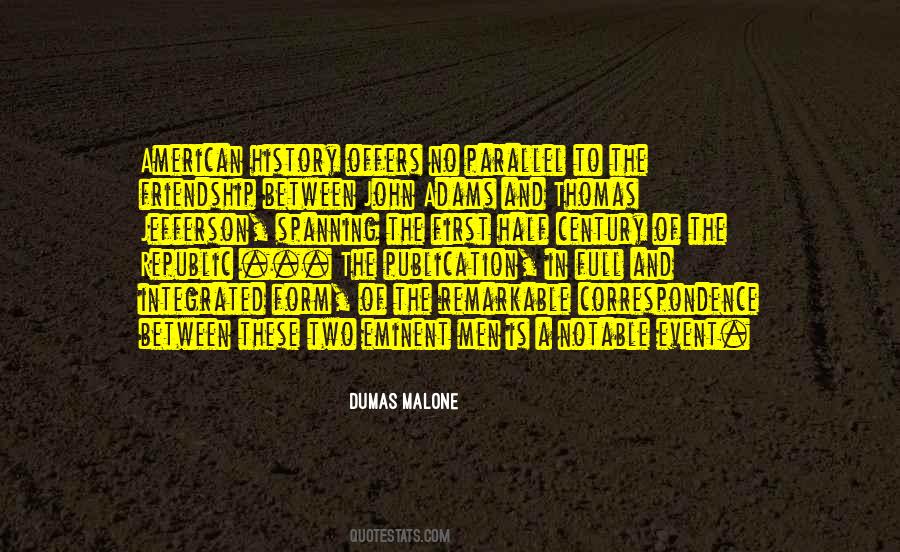 #66. People who live under fascism are not only miserable but they're full of shame. You just don't go in and inject democracy into them. They're half crazy with their own ... - Author: Norman Mailer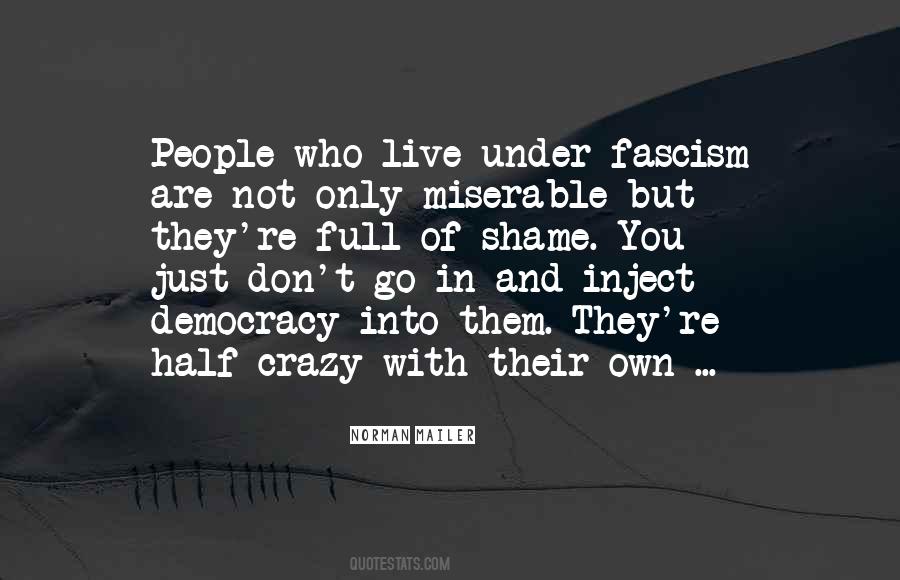 #67. Lhyn watched her with a smile. "You do realize that's your fourth cup and it's not even midmeal. Shouldn't you be starting a bit lower than full addict level?" "I am a full addict; what's the use in pretending? Besides, it's only three and a half cups. - Author: Fletcher DeLancey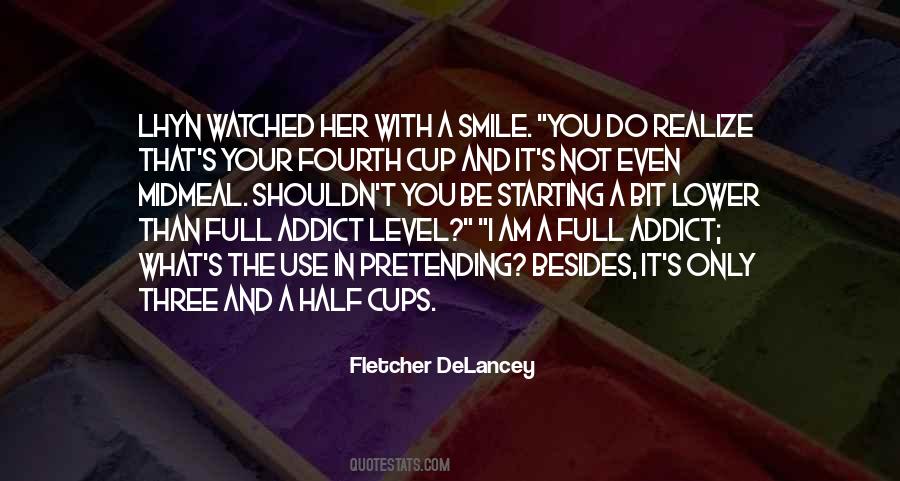 #68. I'm a positive thinker and actor. I look at a glass; a negative person sees the glass and says: too bad it's half empty ... I look at the same glass and say: Hallelujah!! It's half full!!! - Author: Maya Angelou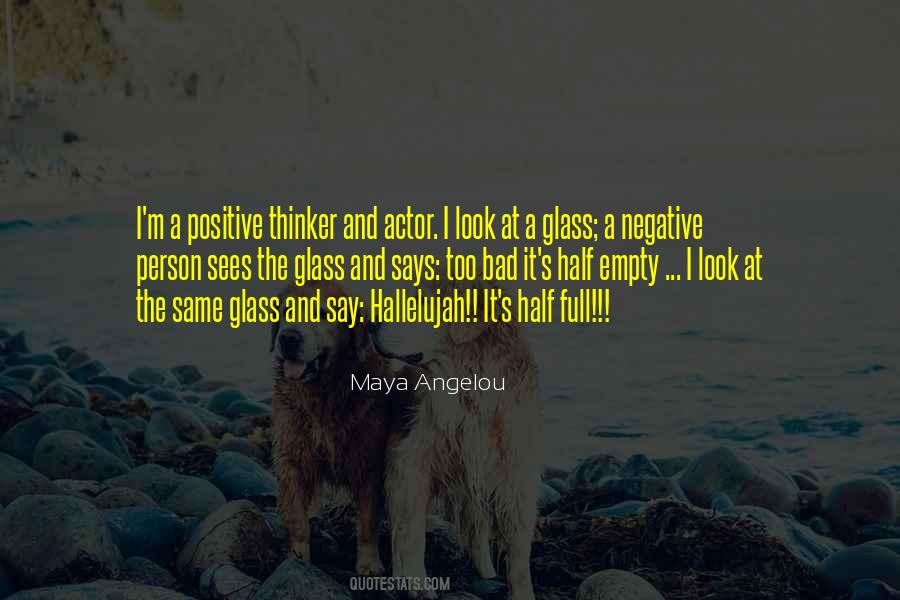 #69. It doesn't matter if the glass is half full or half empty. I am gonna drink it through this crazy straw. - Author: Joey Comeau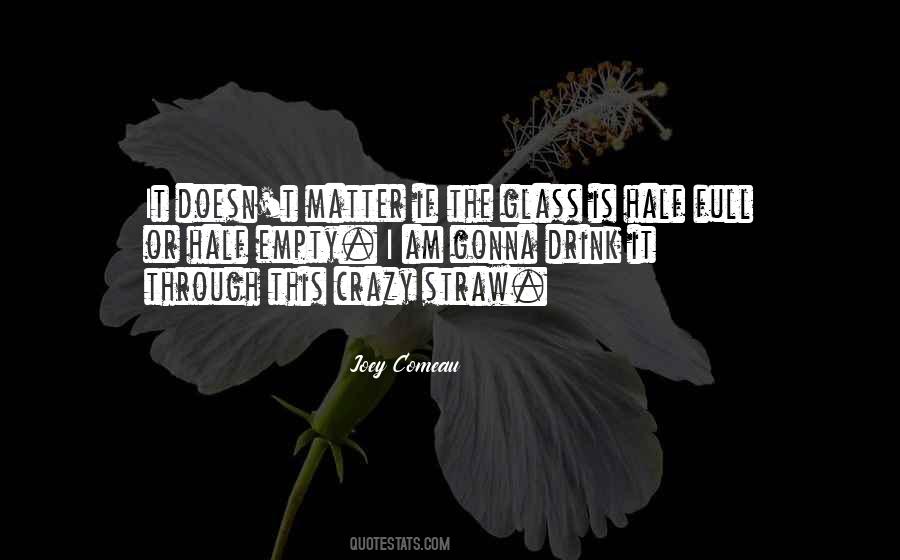 #70. Naturally, for a person who finds his identity in something other than his full organism is less than half a man. He is cut off from complete participation in nature. Instead of being a body, he 'has' a body. Instead of living and loving he 'has' instincts for survival and copulation. - Author: Alan W. Watts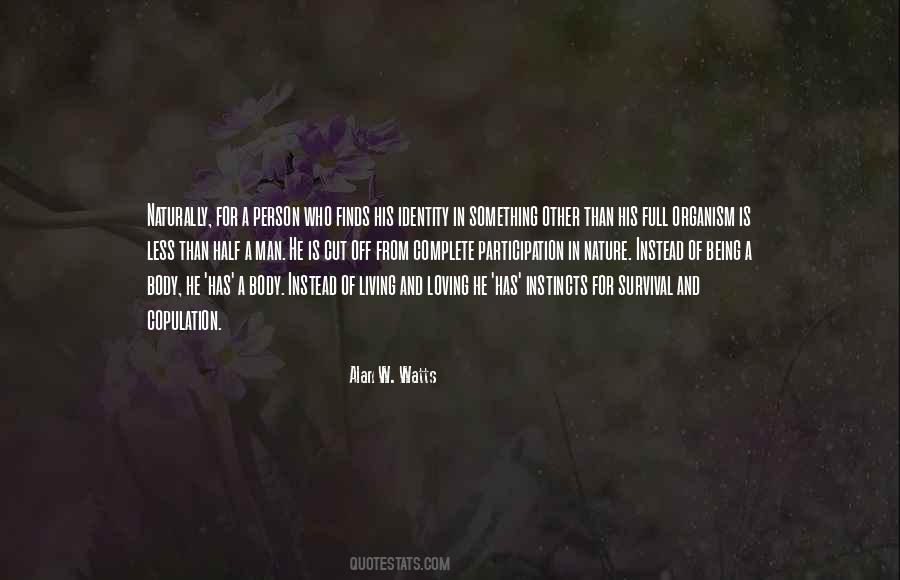 #71. The world was full of such madmen in those days. Imprisonment is not the way to deal with such people; half measures merely feed their pride. Leave 'em alone or hang 'em, in my opinion. Or better still, pack them off to the Americas, and let them starve. - Author: Iain Pears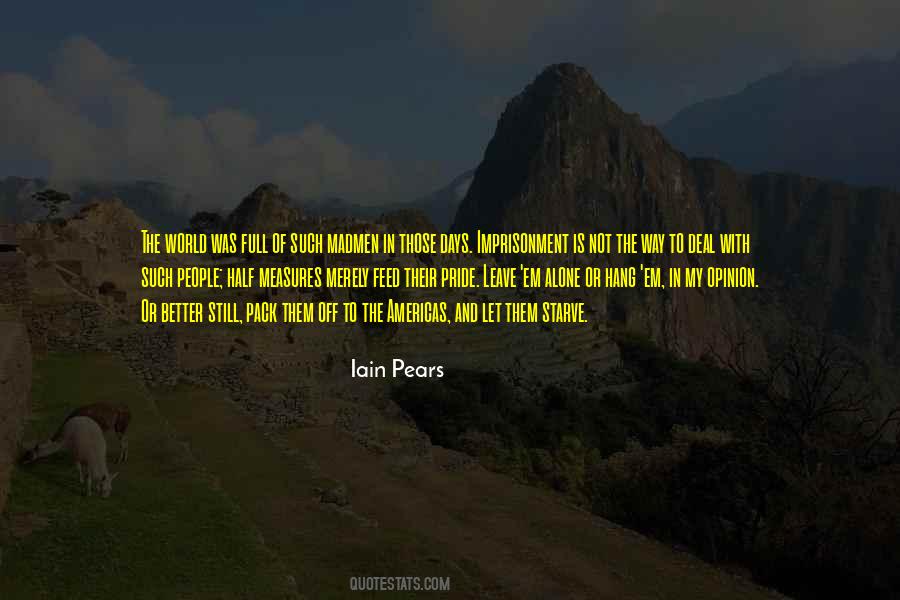 #72. I've watched you now a full half-hour; Self-poised upon that yellow flower And, little Butterfly! Indeed I know not if you sleep or feed. How motionless! - not frozen seas More motionless! and then What joy awaits you, when the breeze Hath found you out among the trees, And calls you forth again! - Author: William Wordsworth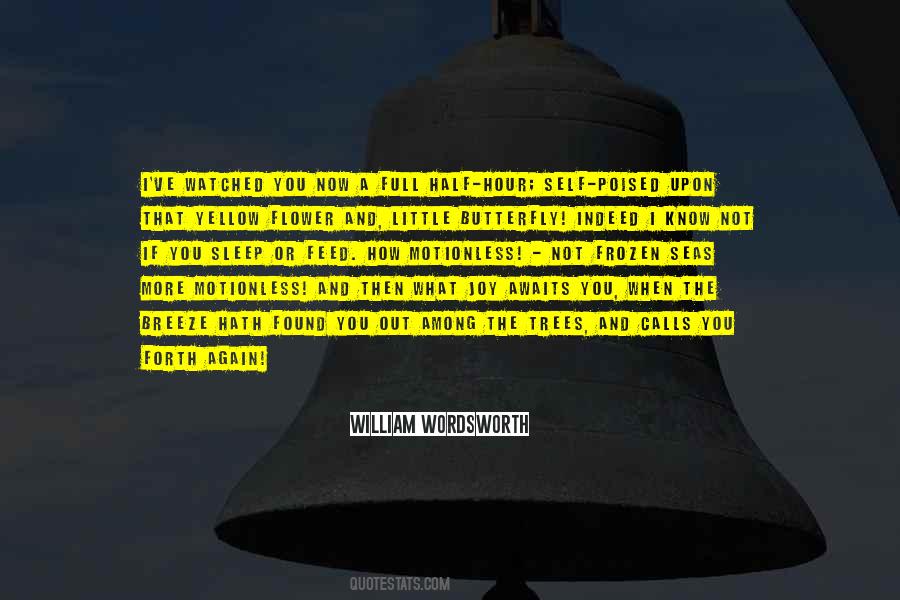 #73. Call it "the New Year's resolution effect" - it's why gyms that were crowded in January are only half full in July and why so many slightly used guitars are available on Craigslist. So - Author: Anders Ericsson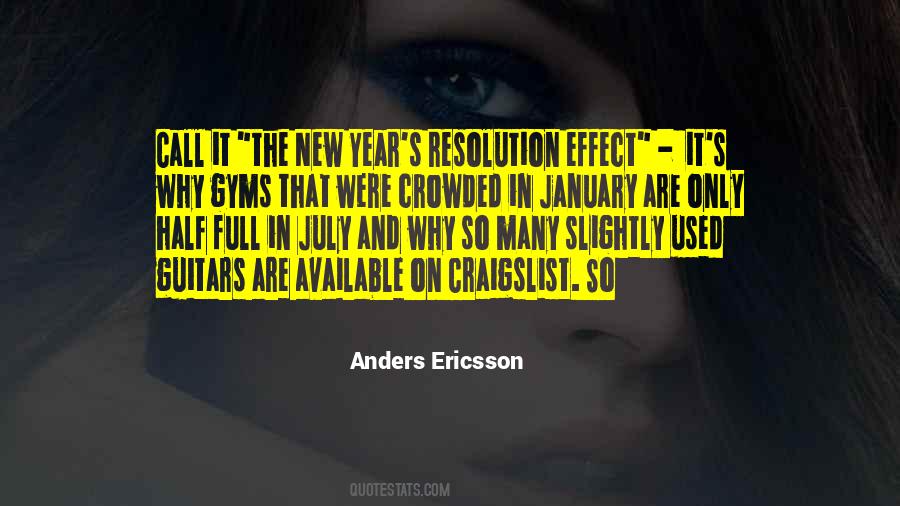 #74. A life lived at less than its full potential is a life half wasted. - Author: Tony Clark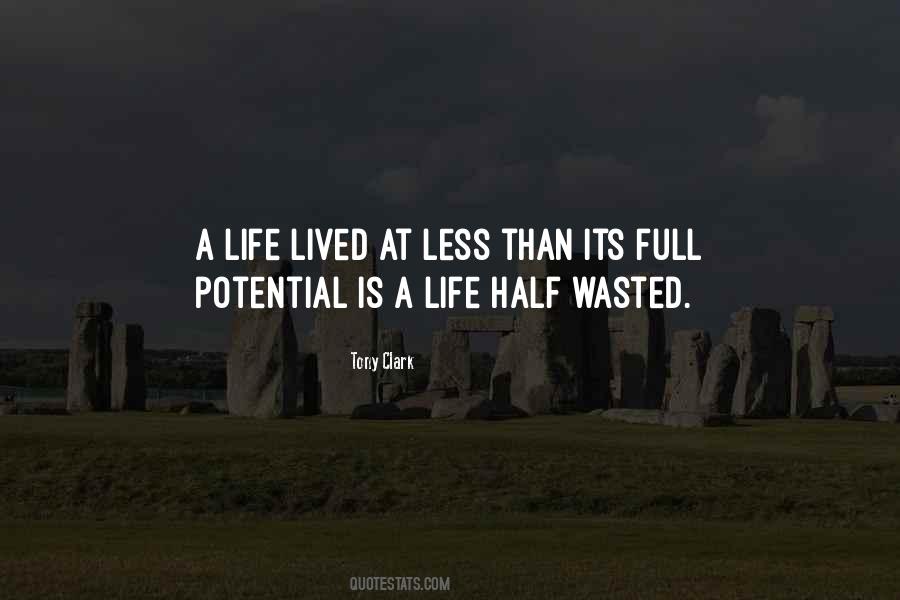 #75. Shouldn't you have today off? Isn't it Sunday?"
"I've a half day off ever' three days. I'll be out temorra afte'noon."
I snort. "A half day?"
God, that's ridiculous. She doesn't even get a single full day off? What is Alex, some kind of slave driver? Jeez. - Author: Mandy Hubbard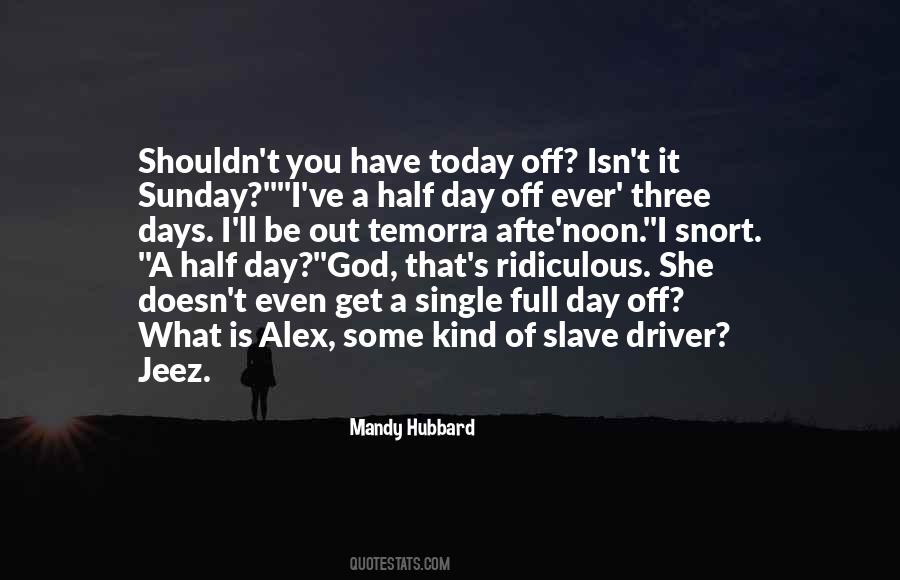 #76. Cognitive therapists focus on getting patients to see the glass as half-full rather than half-empty. Being positive has become rather a fetish. A more radical tactic would be to abolish the need for evaluation and just accept the glass as it is, whether it be cracked or brimming. - Author: Gwyneth Lewis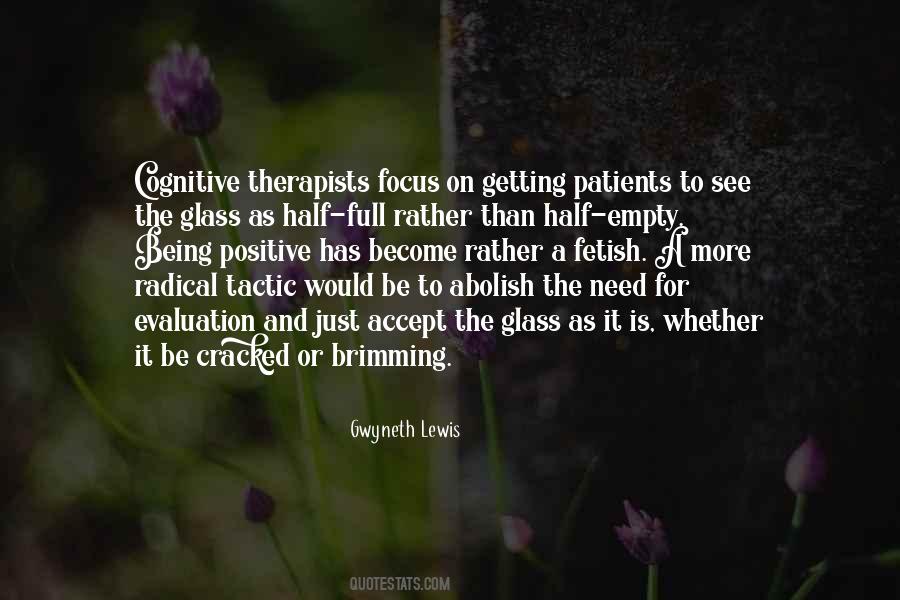 #77. Some see the glass half full, some see it half empty, and some see it crawling with toxic alien parasites who want to devour your pancreas. - Author: James Alan Gardner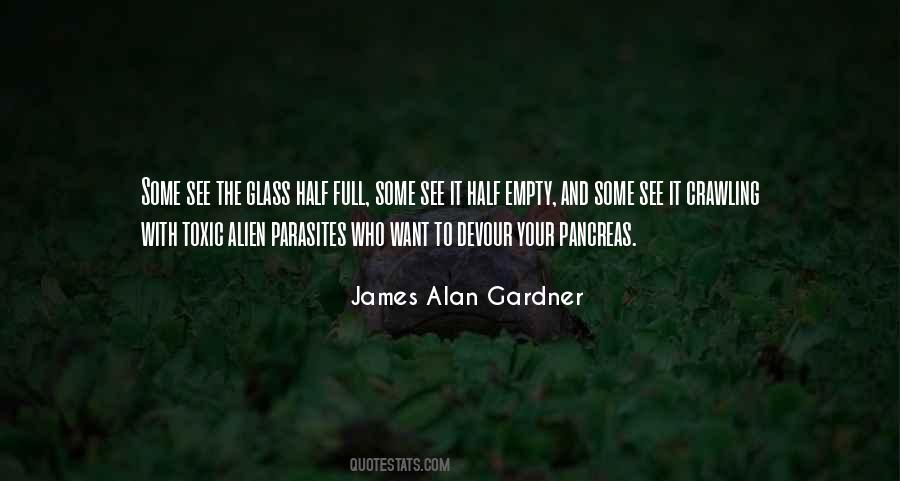 #78. How often one reads a contemporary full-length novel and thinks quietly, mutinously, that it would have worked out better at half or a third the length. - Author: Ian McEwan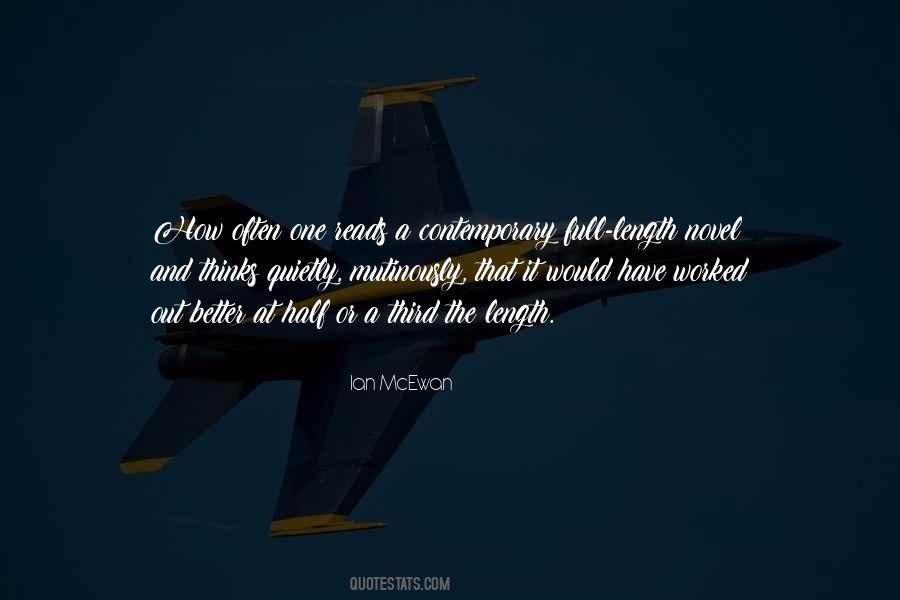 #79. There was a certain liberation in talking to a man who didn't have a full grasp of English. She could tell him anything and half of it would fly right past him, especially if the words came tumbling out fast enough - Author: Anne Tyler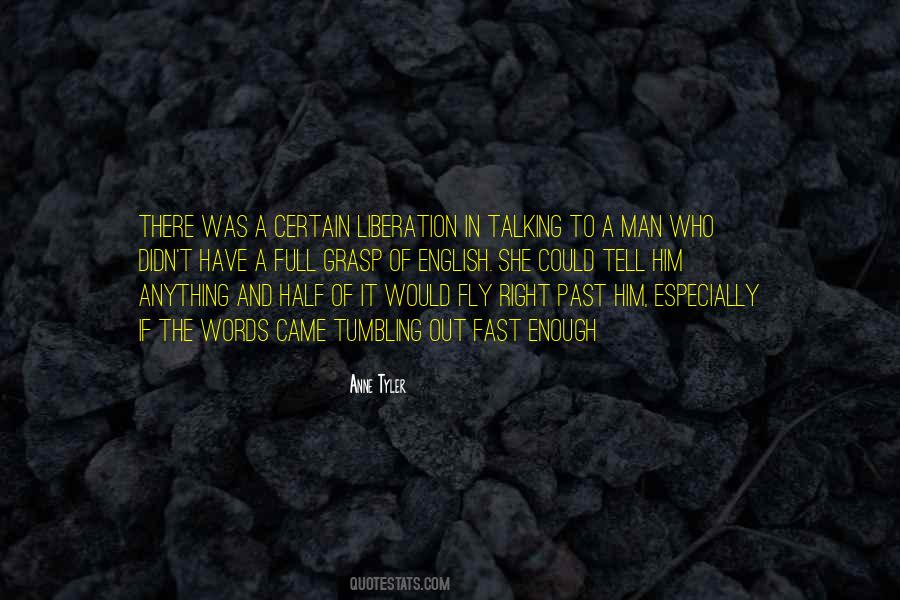 #80. Her people, the Half-Lights, were the by-blows of the full-blood Magicians and humans. As such, they were outcasts from both kingdoms. Their magic was too unpredictable for the magicians, and too magic - period - for the humans. - Author: Susan Scott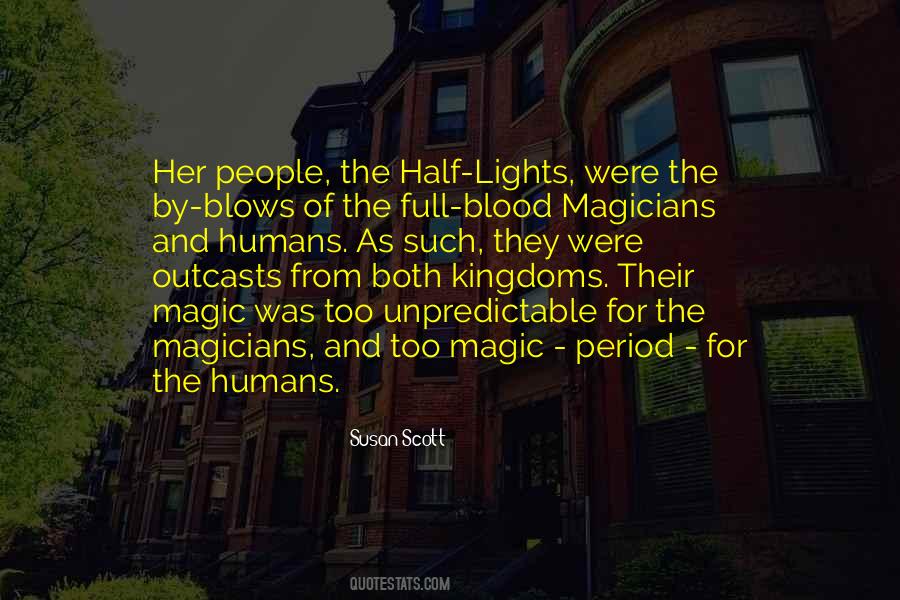 #81. Life is so sweet even though it is full of lies and half truths... - Author: Janvier Chouteu-Chando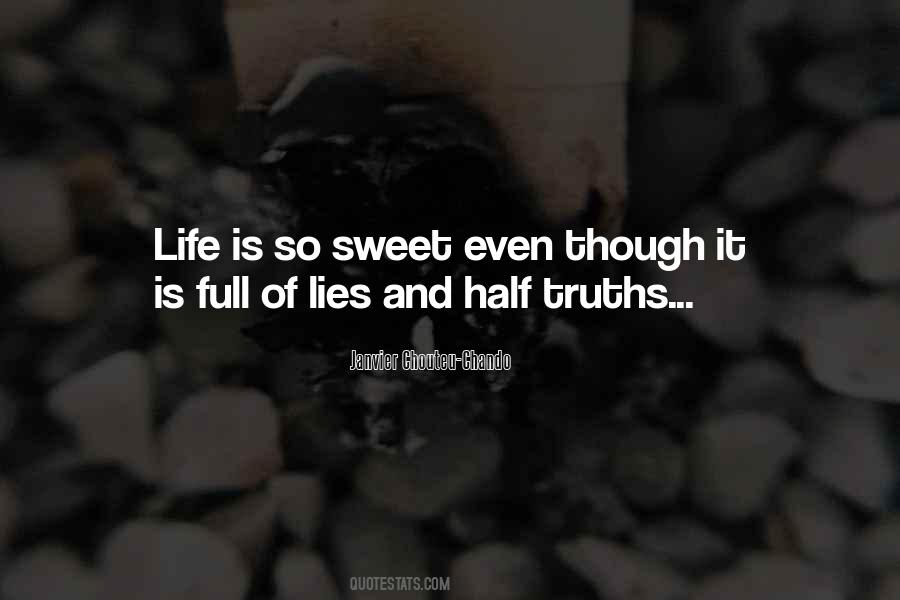 #82. I am very fortunate. I am a glass-half-full eternal optimist type to the point of being a moron. But I would never presume to know how hard it goes for others. How, for some people, just getting though the day is an incredible effort that can hardly be borne. - Author: John Niven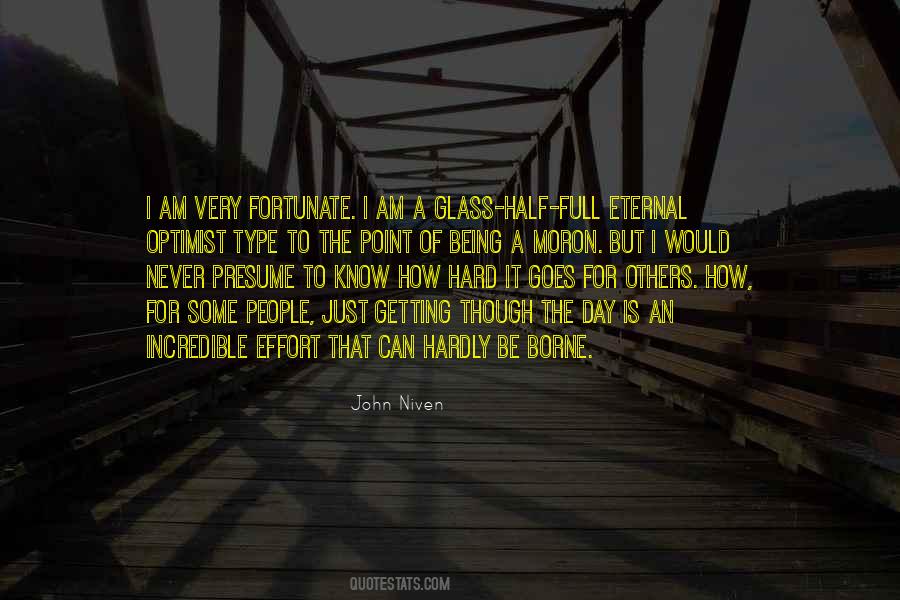 #83. Half full, half empty, what the hell difference does it make? If there's something in the damn glass, drink it. - Author: Nora Roberts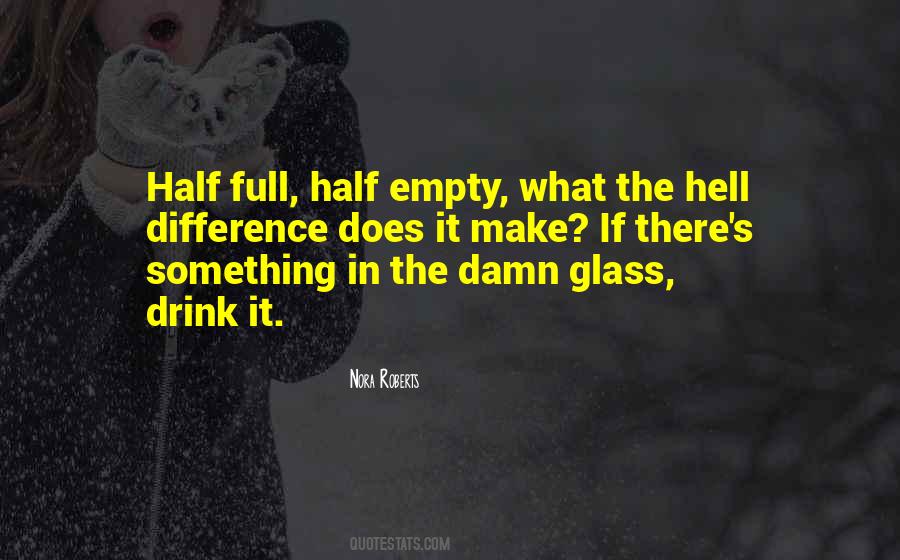 #84. Never settle for half the story, and make-up and imagine the rest. Get the full Story! - Author: RYCJ
#85. I'm going to give you a sentence, a full sentence with a noun and a verb and a possible agitate. I don't like all these judges running around with their half baked sentences, thats how you get salmonella poisoning. - Author: Michael Buckley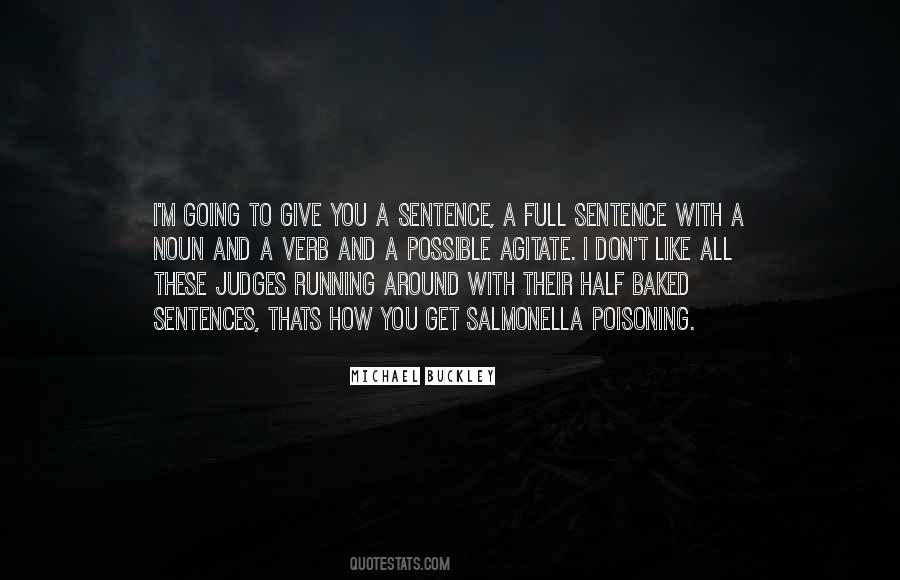 #86. My first novel was turned down by half a dozen publishers. And even after having published five or six books, I wasn't making enough money to live on, and was beginning to think I'd have to give up the dream of being a full-time writer. - Author: Ian Rankin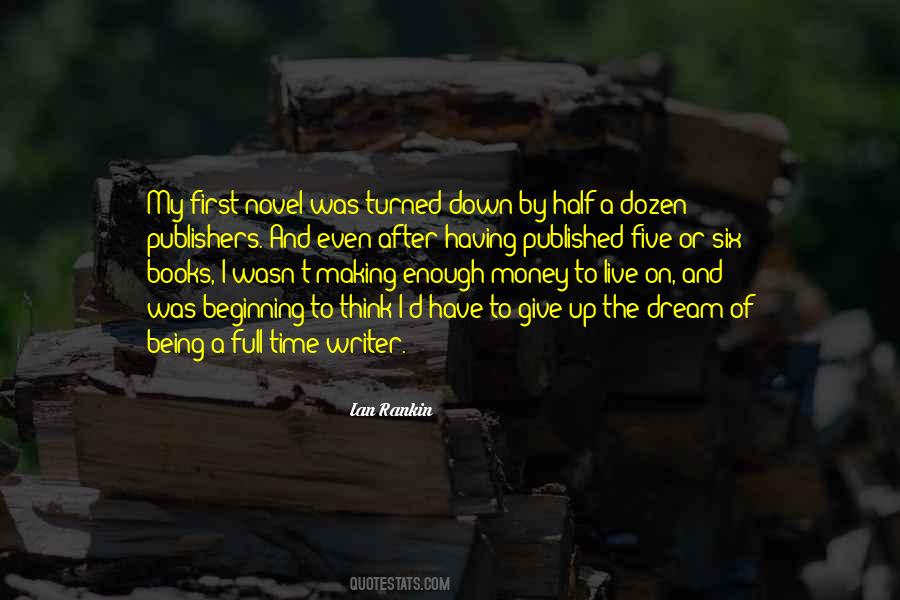 #87. Doesn't matter if the glass is half-empty or half-full. All that matters is that you are the one pouring the water. - Author: Mark Cuban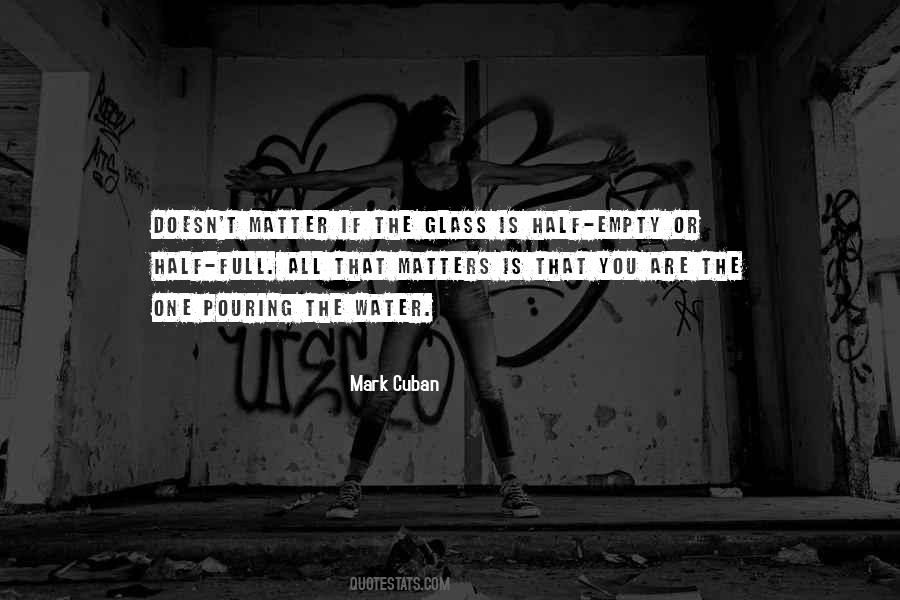 #88. The night is full of shadows and half truths - Author: Mark Jackson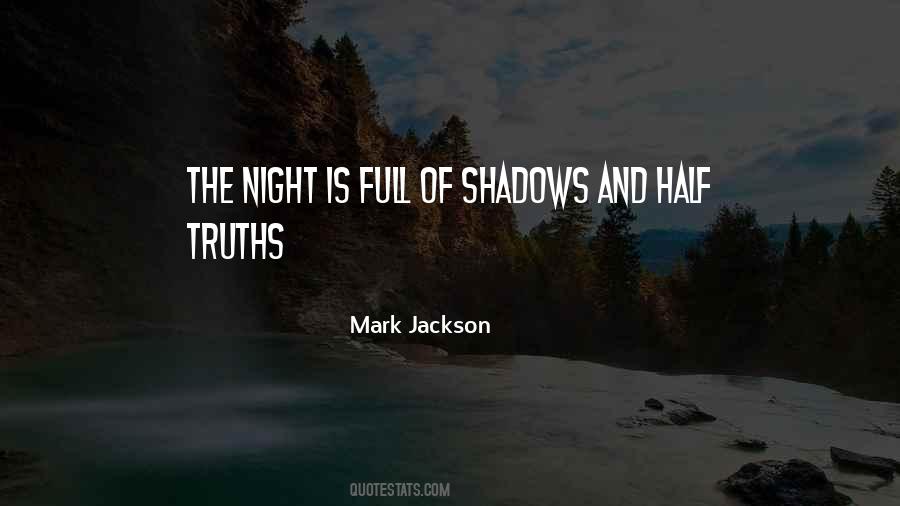 #89. My attitude goes back to my childhood. I used to audition for theatrical roles, and you can't stand out in a room full of ambitious eight-year-old girls by acting the wallflower. I realised then that I couldn't do things half-heartedly. - Author: Jessie J.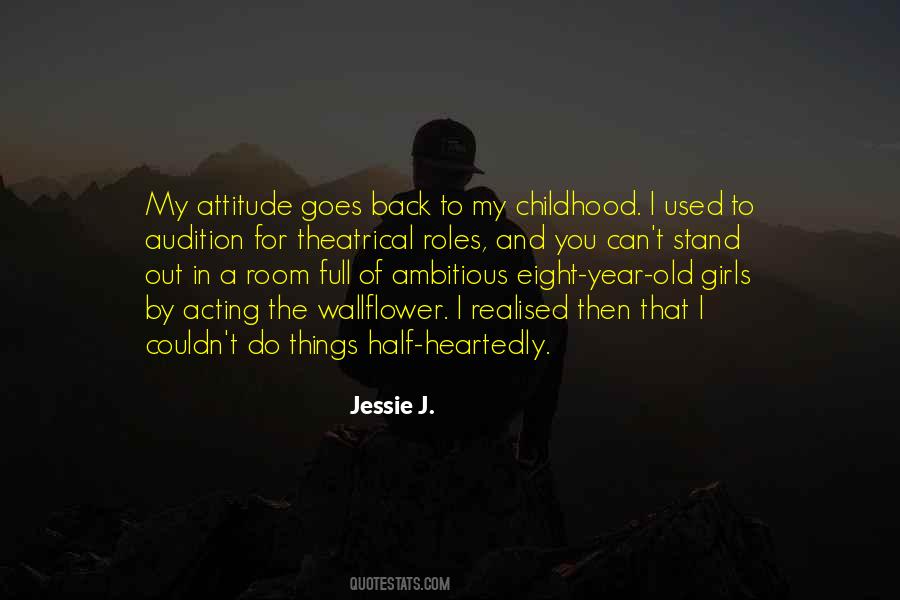 #90. Today a minimum wage earner has to work a day and a half just to pay for a full tank of gas. That is simply shameful. - Author: Bill Pascrell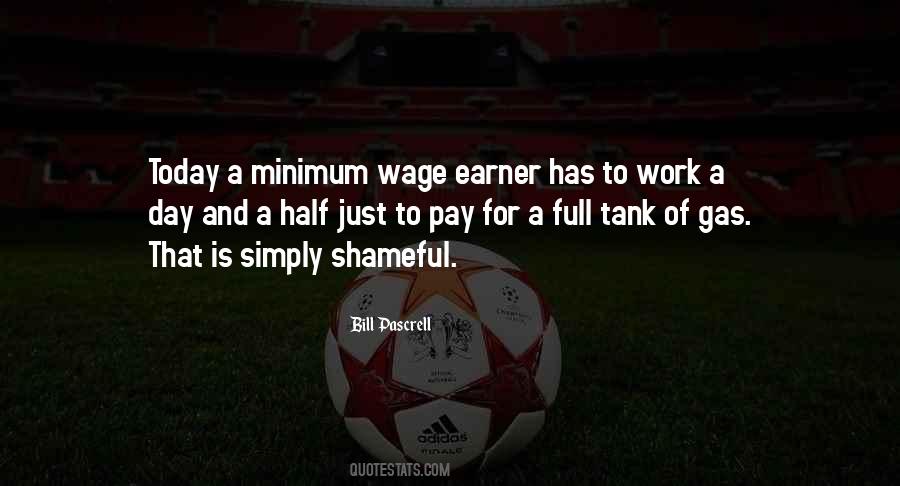 #91. This is the kind of writer who gets the ball rolling in his search for the holy grail, but finds that it's neither magic bullet nor a slam dunk, so he rolls with the punches and lets the chips fall where they may while seeing the glass as half-full, which is easier said than done. - Author: Steven Pinker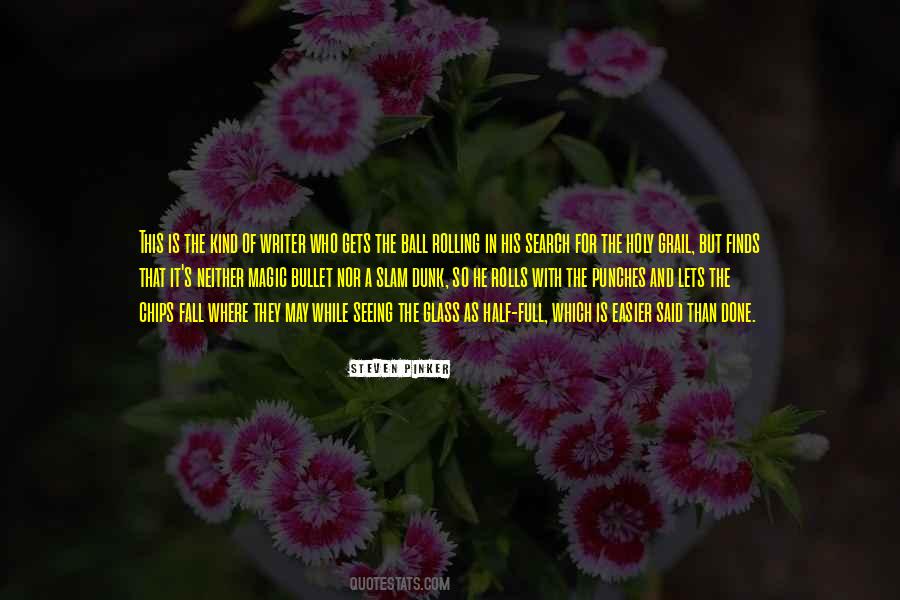 #92. A thankful heart is never half-full or half-empty, but always overflowing with love. - Author: Wes Fesler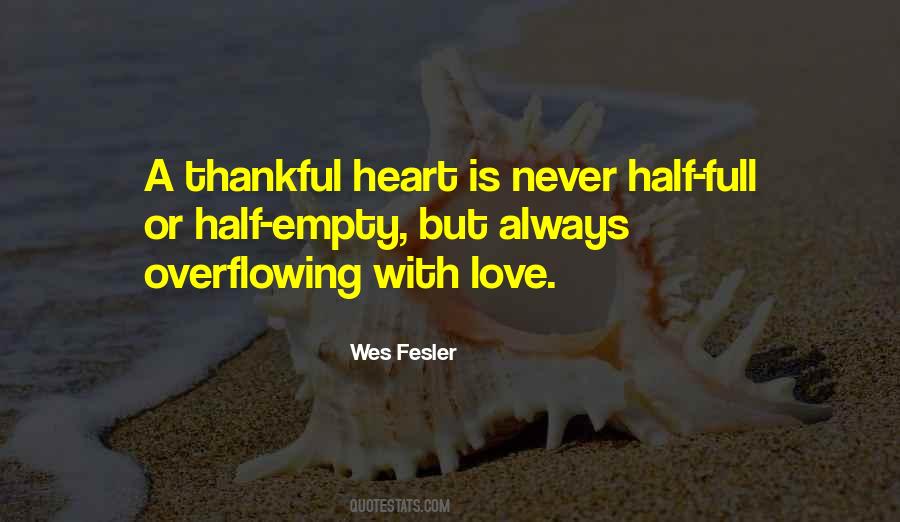 #93. Half the time he seems autistic, the rest of the time he's like a lizard jacked full of lithium and speed. These things do not promote love in most of us. - Author: Warren Ellis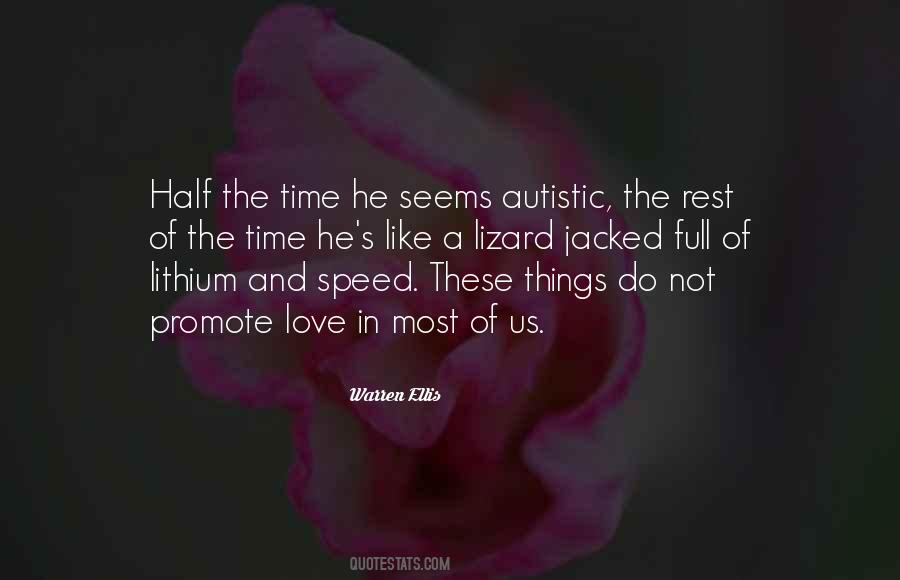 #94. Half my life is full of sorrow,
Half of joy, still fresh and new;
One of these lives is a fancy,
But the other one is true. - Author: Adelaide Anne Procter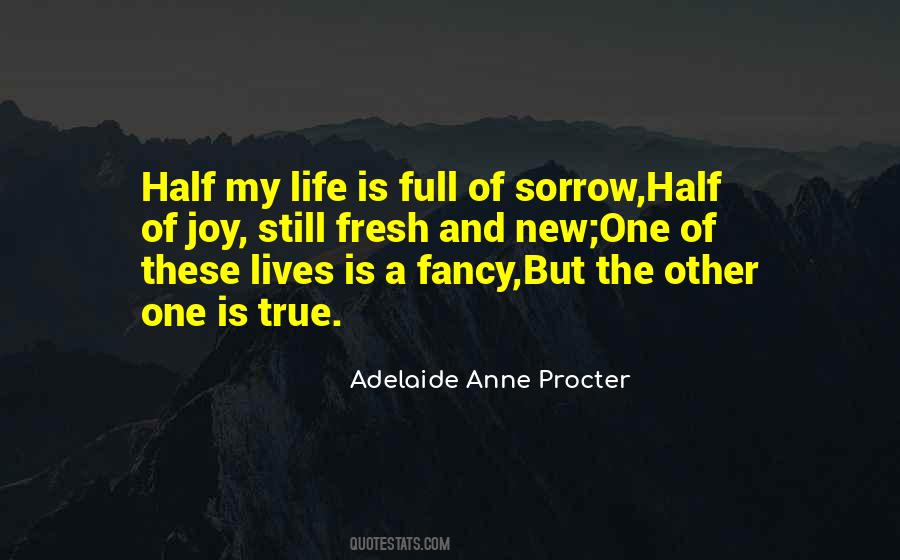 #95. The glass is neither half full or half empty but merely too large for the contents. - Author: Chris Byrd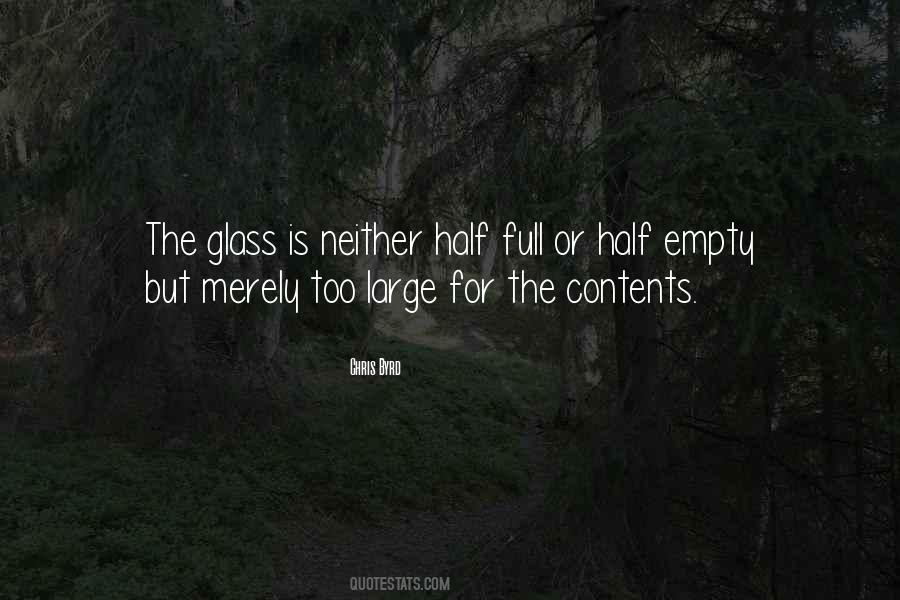 #96. I've always been a glass-half-full as opposed to a glass-half-empty, and the day that changes is the day I should leave. - Author: John Key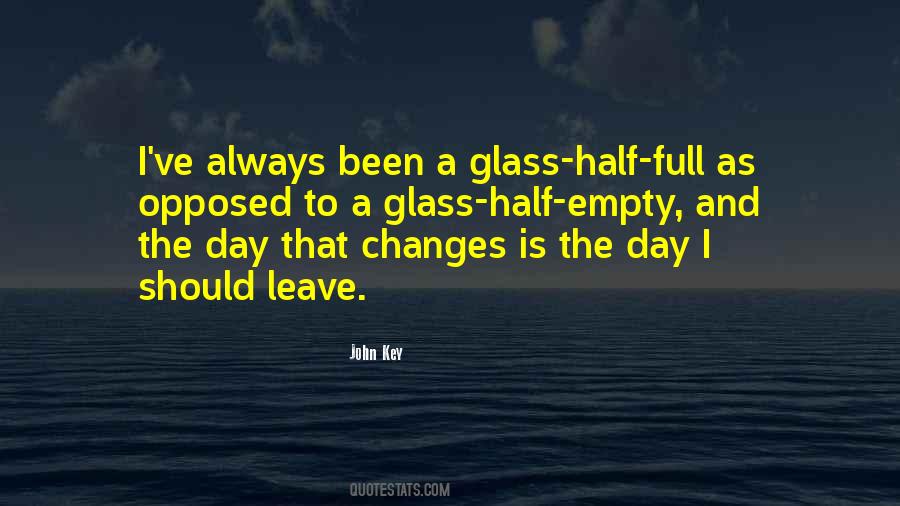 #97. We cannot succeed when half of us are held back. We call upon our sisters around the world to be brave, to embrace the strength within themselves and realize their full potential. - Author: Malala Yousafzai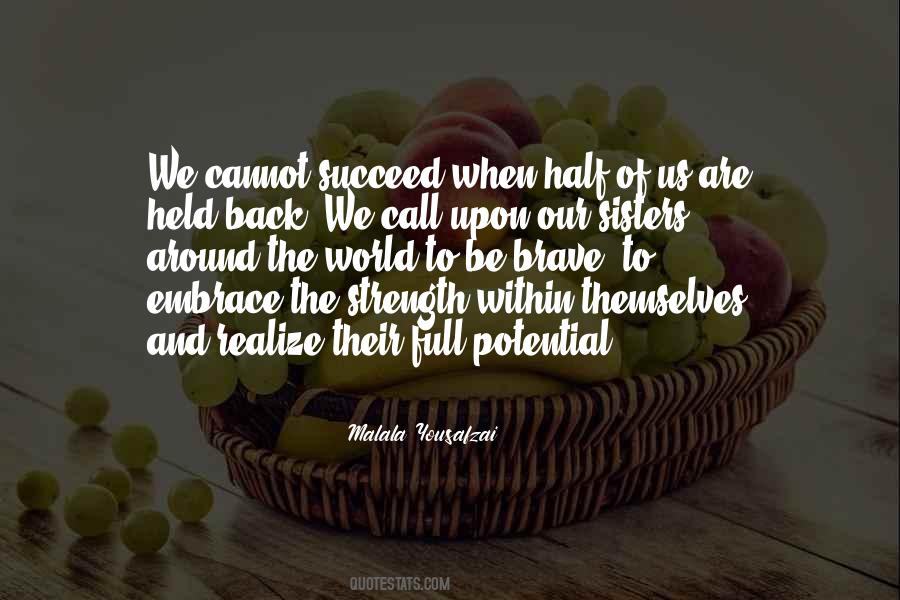 #98. Glass half empty, glass half full, glass too small? - Author: David Mitchell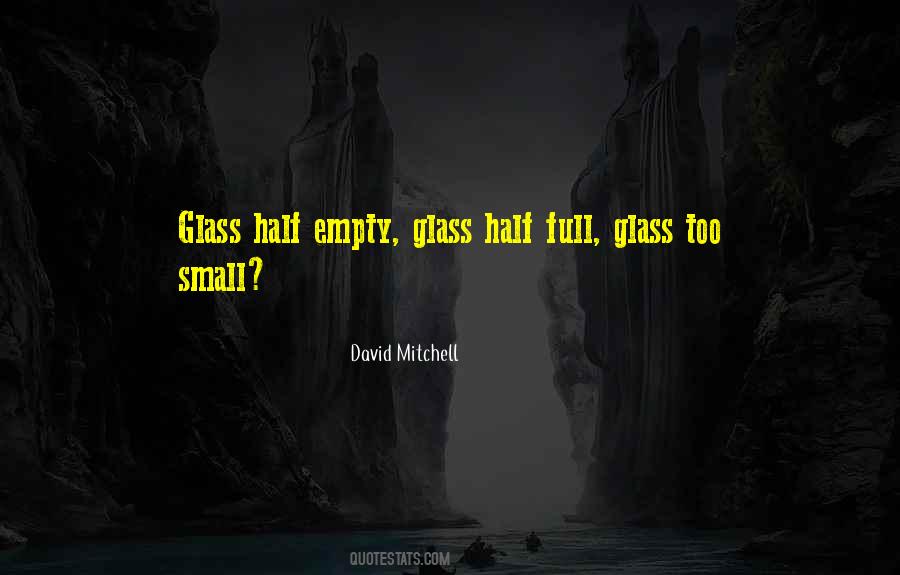 #99. Of course you are. Emotions are totally irrational half the time." Her ice blue eyes lock onto me. "But you have full control over how you deal with them. Acknowledging that something is irrational and refraining from taking it out on someone is the best thing to do. - Author: Kelley York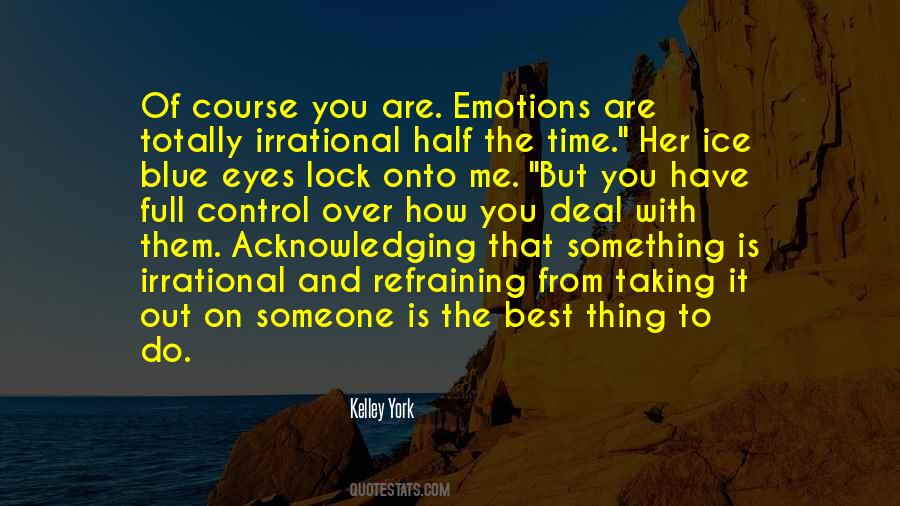 #100. Was there no one over thirty-five who had not some secret agony, some white-faced fear? Half one's life one walked carelessly, certain that some day one would have one's heart's desire: and for the rest of it, one either goes empty, or walks carrying a full cup, afraid of every step. - Author: Helen Waddell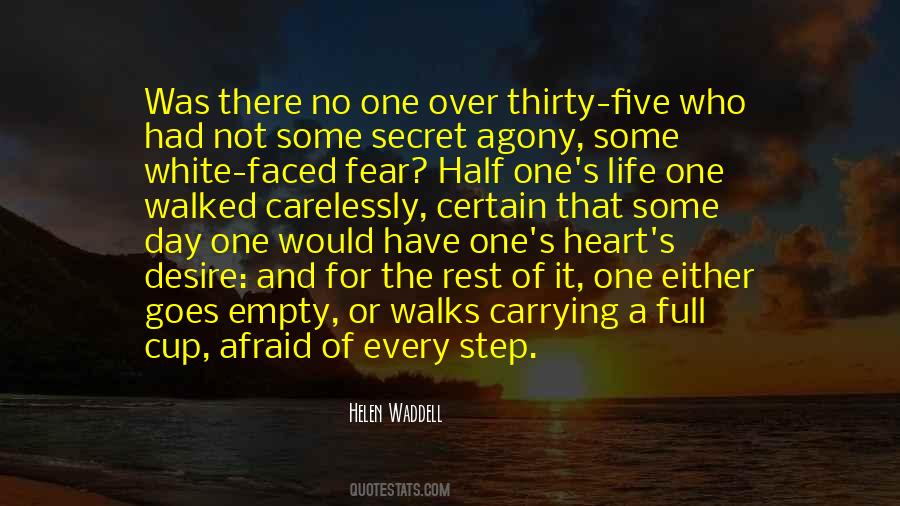 Famous Authors
Popular Topics