Your Friends Love You Famous Quotes & Sayings
List of top 100 famous quotes and sayings about your friends love you to read and share with friends on your Facebook, Twitter, blogs.
Top 100 Your Friends Love You Quotes
#1. Sometimes friends do go from us-it will happen more and more as you grow up, Chugg. But if you really love your friends, they're never really gone. Somewhere they're watching over you and they're always there inside your heart.
-Martin - Author: Brian Jacques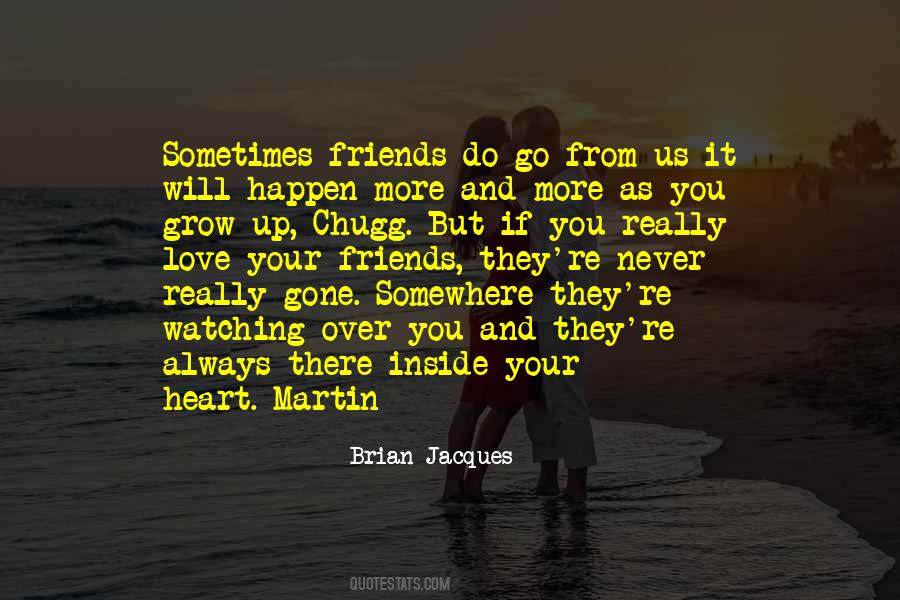 #2. If you really search your heart, I think you'll realize that we were never right for each other as more than friends." ~Grace, Ch.28 - Author: Mia Sheridan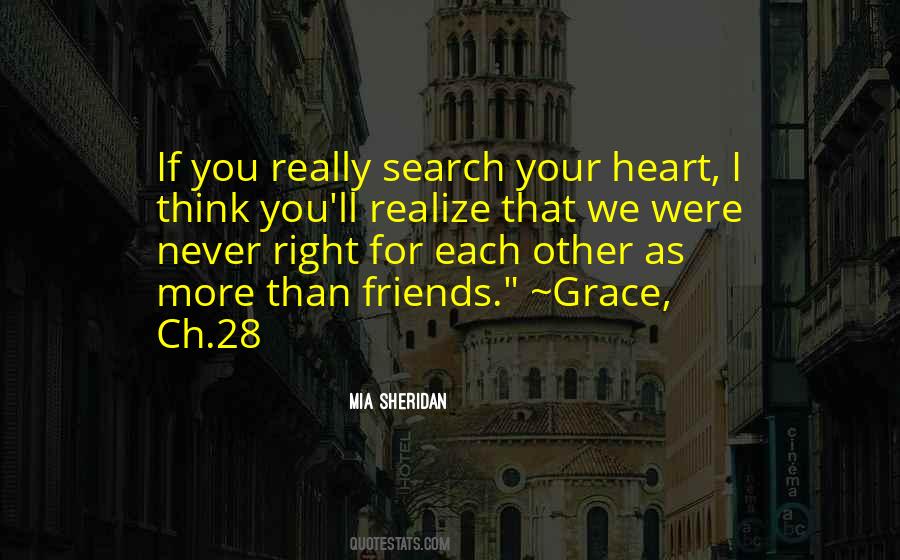 #3. The closer you get to excellence in your life, the more friends you'll lose. People love you when you are average, because it makes them comfortable. But when you pursue greatness, it makes people uncomfortable. Be prepared to lose some people on your journey. - Author: Tony Gaskins Jr.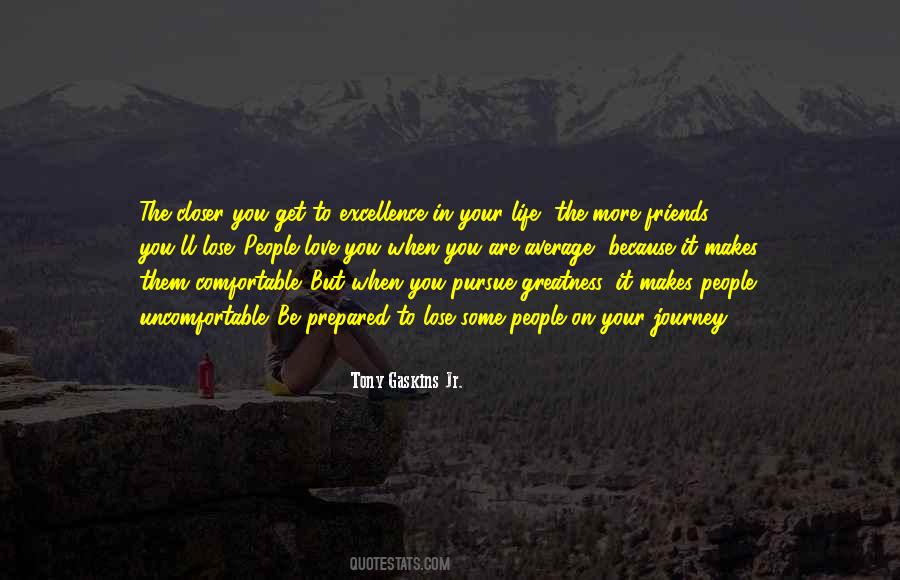 #4. You will meet a lot of people in your life; some laugh with you, others will laugh at you; some will love to clean your mess, others will love to mess you up! Love all, but choose carefully the one who stays close to you forever! - Author: Israelmore Ayivor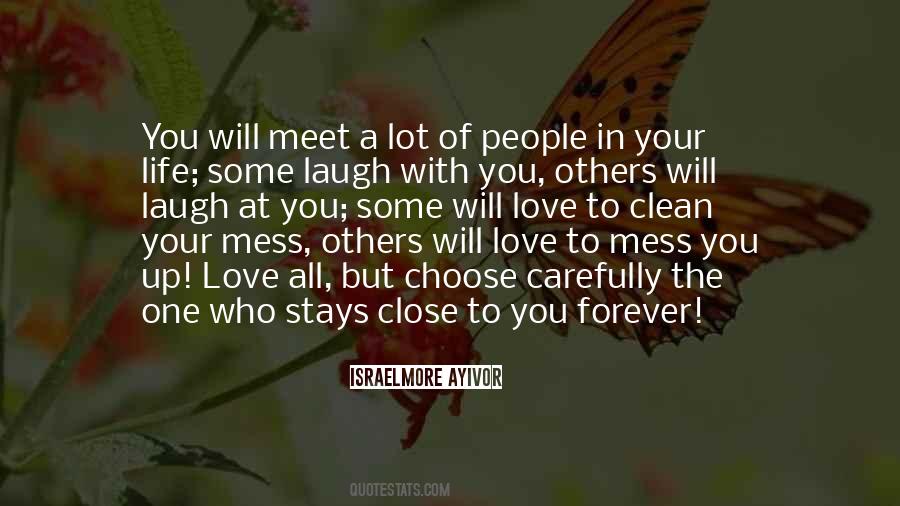 #5. That's what friends are for. The people who aren't in your life 'cause they're related, or hot for you. They just love you. - Author: Christos Gage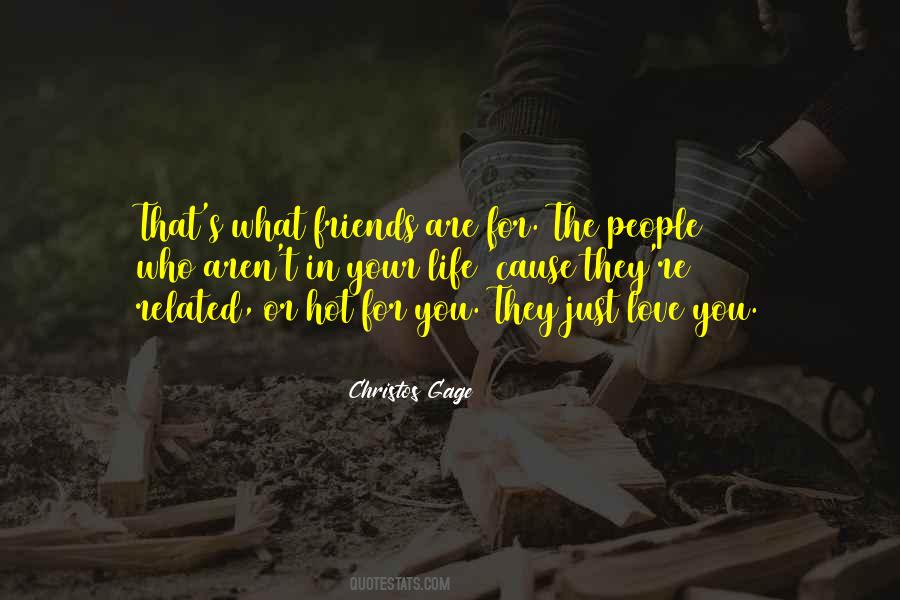 #6. Regardless of what you plan on when you fall in love, significant others come and go in your life. Your friends are it. My friends are my everything. - Author: Sophia Bush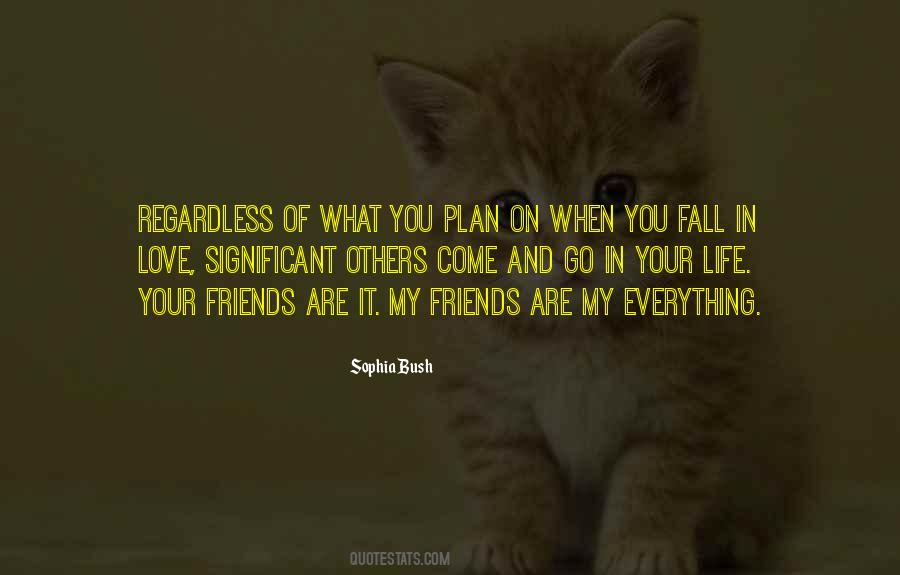 #7. If you can't be honest with your friends and colleagues and loved ones, then what is life all about? - Author: Sophie Kinsella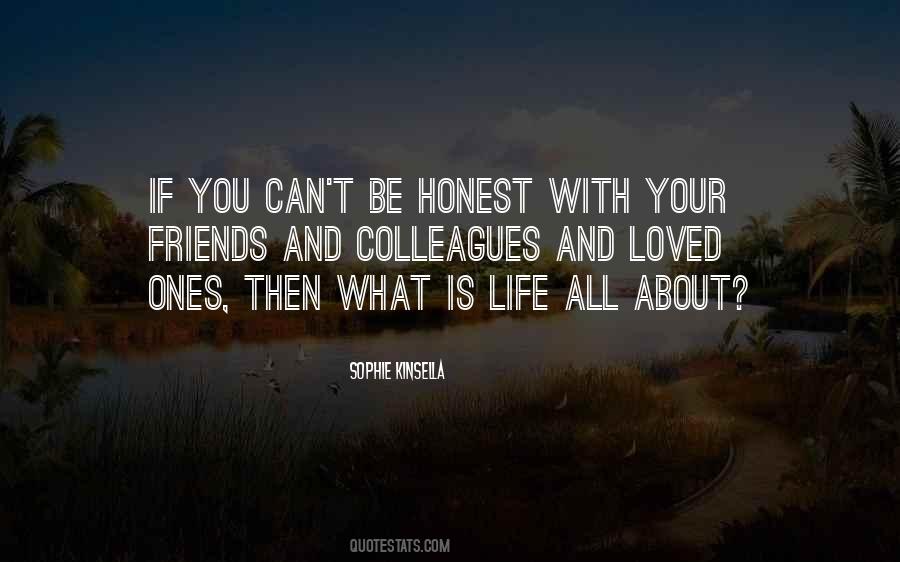 #8. When someone's success makes you as happy as if it were your own, you know you've found someone worth holding on to. - Author: Charlotte Eriksson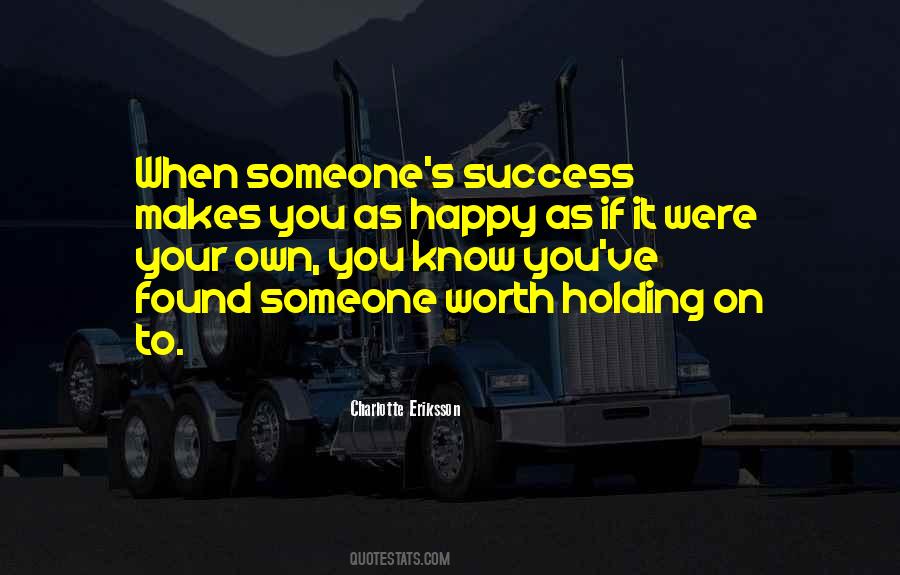 #9. Hold dear and true friends close to your heart, it matters not where you find them, only that you treat them with love and respect always. - Author: L.M. Fields
#10. If you love friends, you will serve your friends. If you love community, you will serve your community. If you love money, you will serve your money. And if you love only yourself, you will serve only yourself. And you will have only yourself. - Author: Stephen Colbert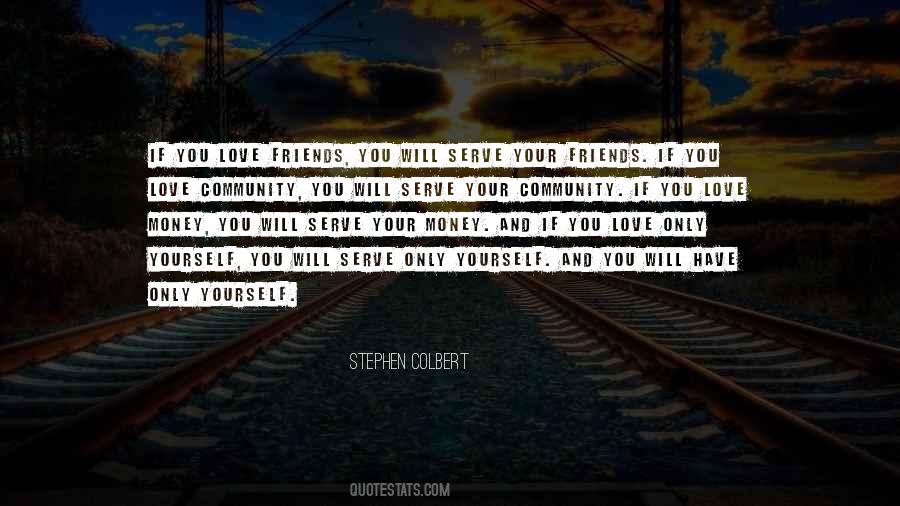 #11. I have faith in us as a family, and our friends. I think we will survive because we don't wish to harm anyone. If you ever need something to believe in, believe that to stand and fight for the people you love is the most honorable thing you can do with your life. - Author: Jessica Fortunato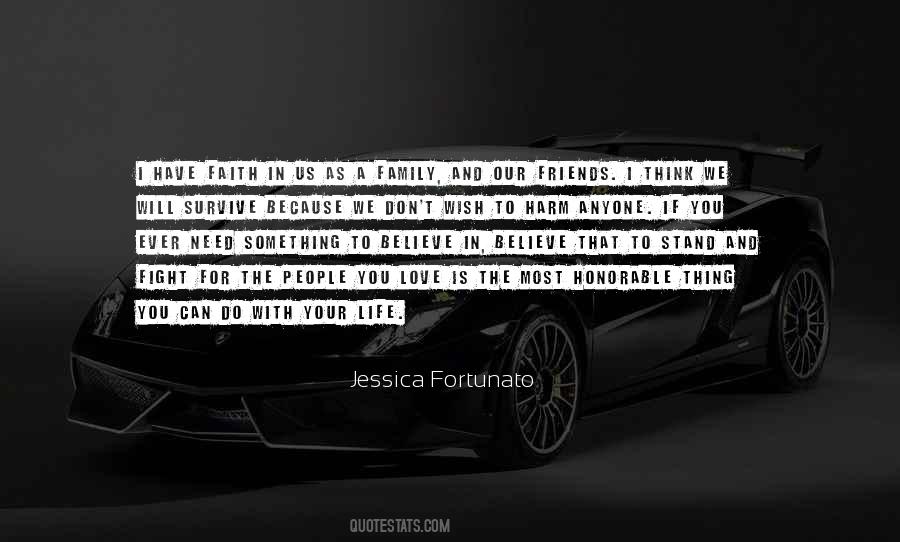 #12. It doesn't matter how many friends I have because my best friend is God. And, he is a Super Friend. People come and people go, but God's love for you will remain the same. Embrace it, Cherish it, and Spread it everywhere you go. Let your light shine brightly for all the world to see. - Author: Amaka Imani Nkosazana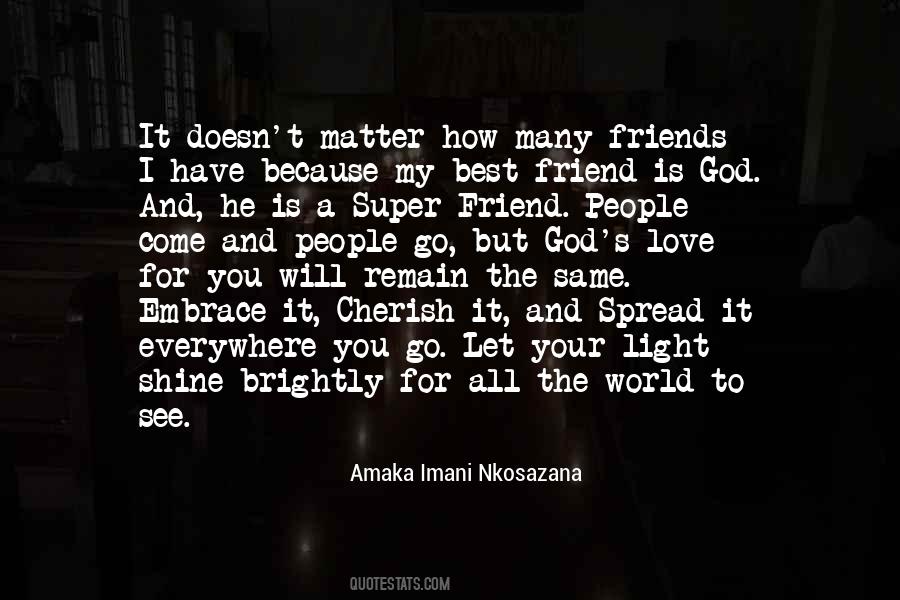 #13. You must act in your friends' interests whether it pleases them or not; the object of love is to serve, not to win. - Author: Woodrow Wilson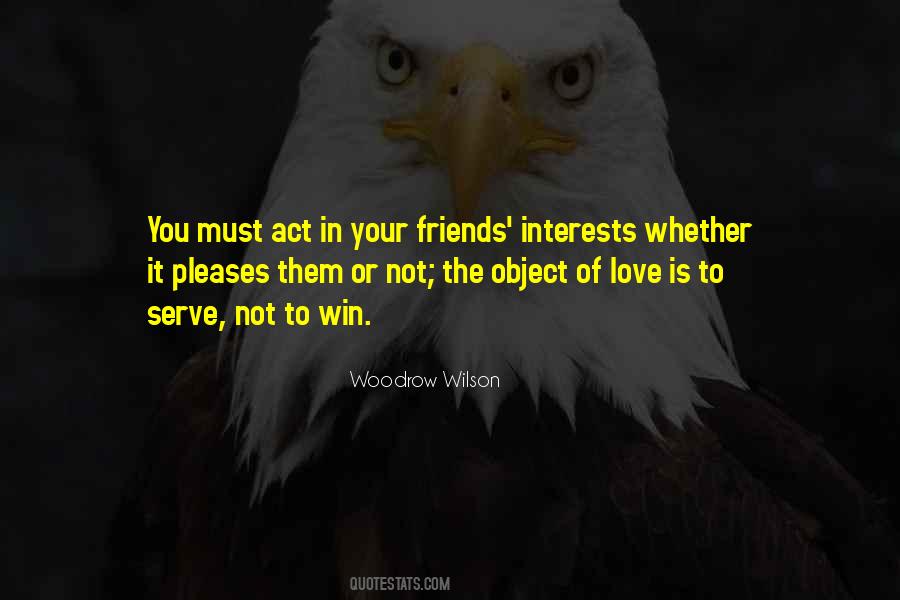 #14. With brothers you become friends. Some you hang out with more than others. You talk to one about the other a little more. You get mad at them. Then, you love them. Then, you apologize. You have to apologize whether you want to or not. You have to. That's your brother. - Author: Tito Jackson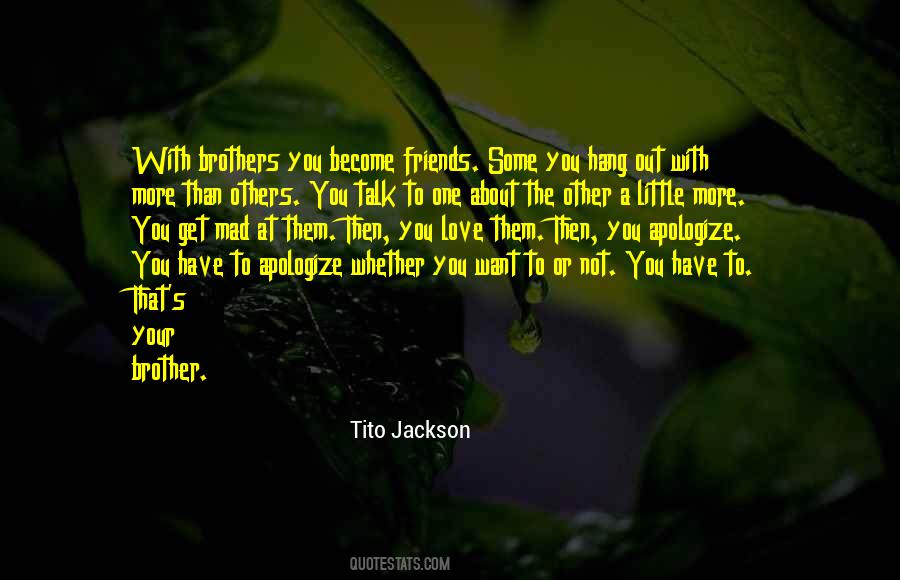 #15. You are friendly and outgoing, and you love people. You will most enjoy writing a blog. Select a fab online ID and share your exciting, DIVALICIOUS life with your friends. - Author: Rachel Renee Russell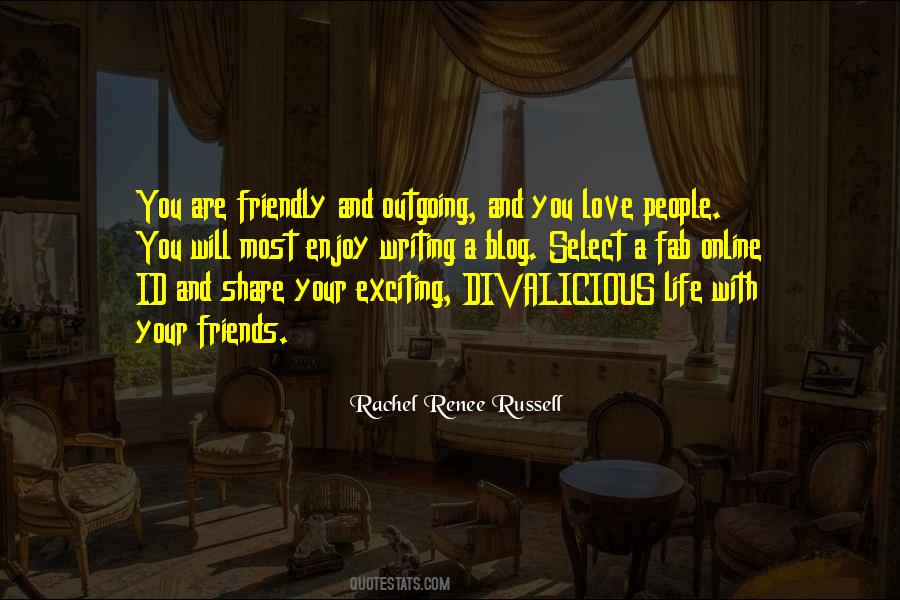 #16. If you lived in a provincial town like Torre Annunziata, where there was nothing to do in the evening but go to the movies with your friends, the cinema was a world of fantasy. I had always been in love with it. - Author: Dino De Laurentiis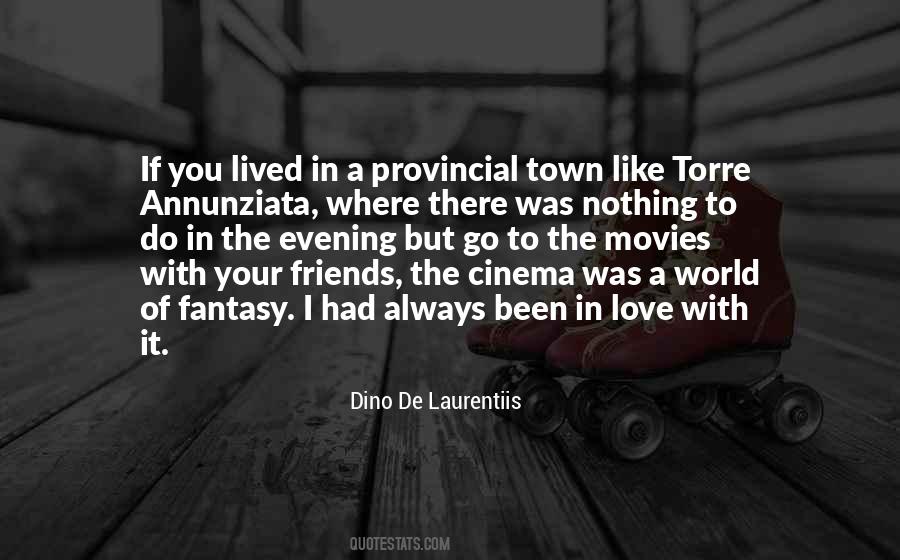 #17. Maybe it'll stop you trying to be so desperate about making more money than you can ever use? You can't take it with you, Mr. Kirby. So what good is it? As near as I can see, the only thing you can take with you is the love of your friends. - Author: Lionel Barrymore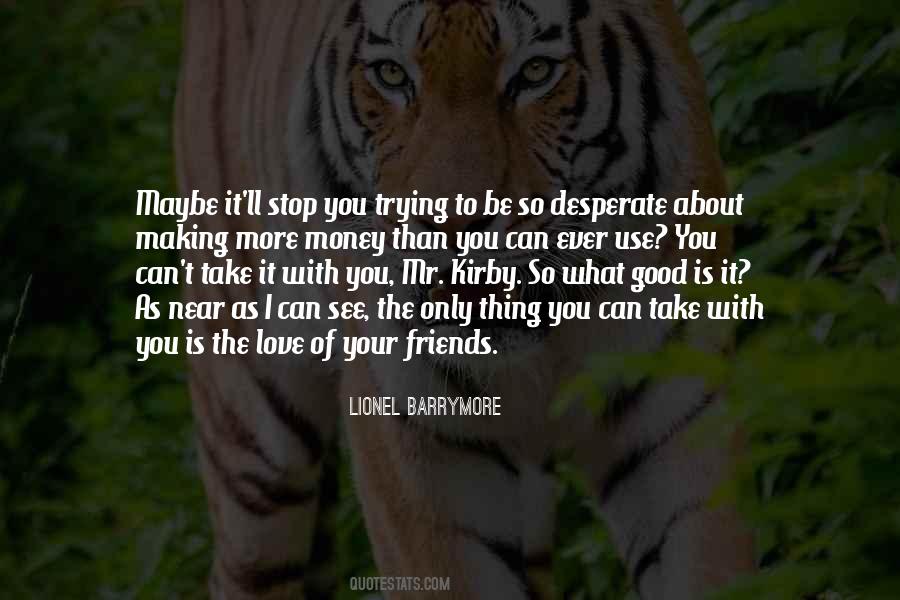 #18. If you want to know what your child is doing, look at their friends, they wouldn't be friends with them if they weren't doing the same things. - Author: Catie Hartsfield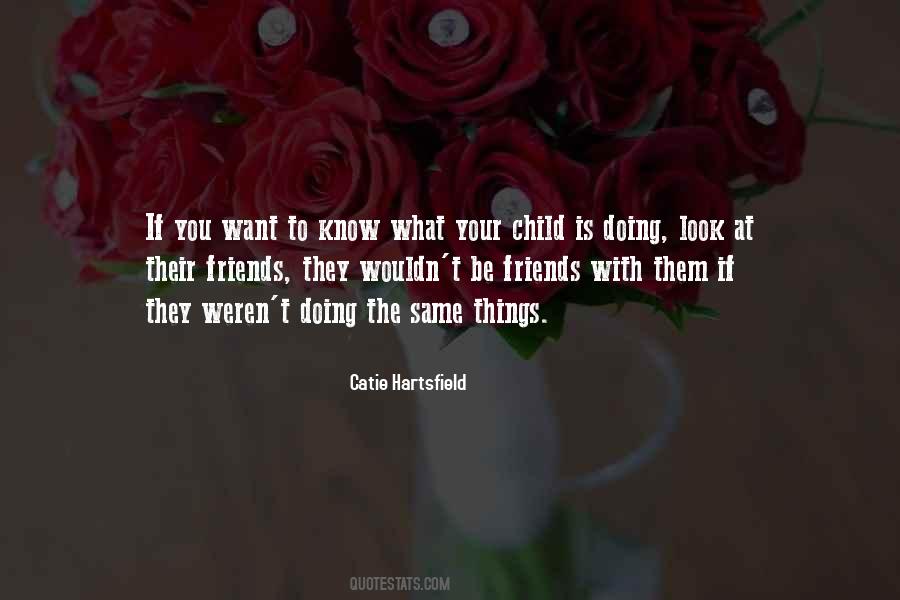 #19. You are you because you love the way the world looks through your camera. You are you because of the way you love your friends and family. Not because some scar is on your body. That's a part of your history and what helps form what you believe in. not what defines you. - Author: A.M. Willard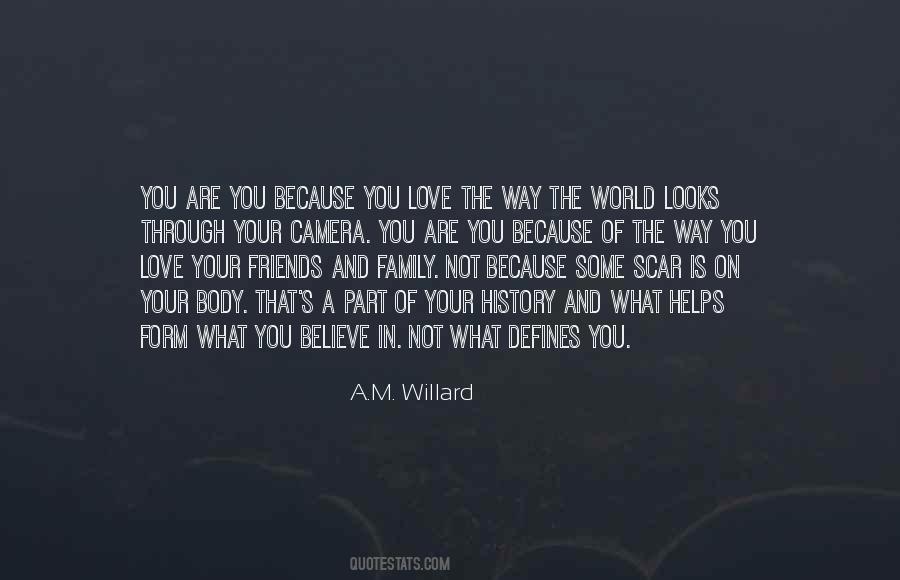 #20. No one was perfect. But we all did the best we could. I guessed you had to forgive when you could, move on when you couldn't, and love your family and friends for who they were instead of punishing them for who they weren't. - Author: Sarah Mlynowski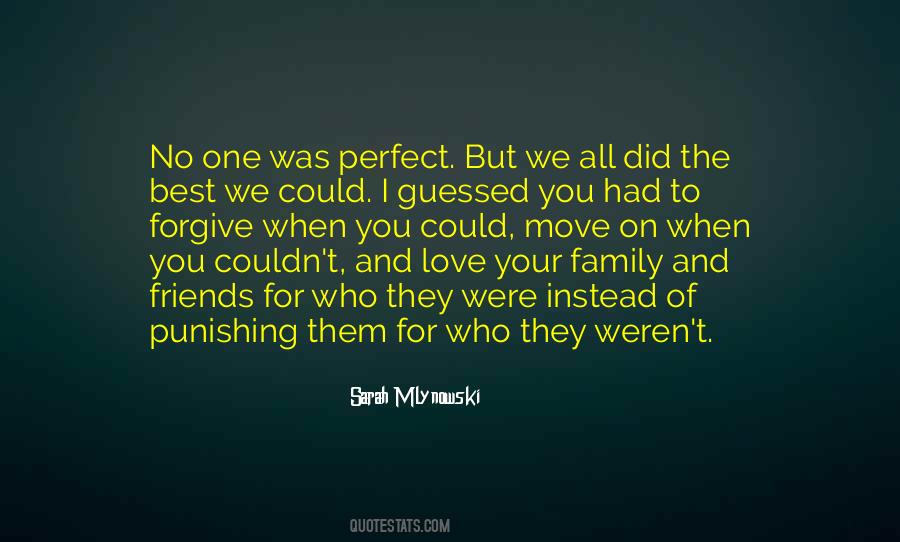 #21. The truth is that most of your Facebook friends are too busy counting their own 'likes' to pay attention to you for more than a few seconds anyway. Unless you happen to be a kitten who's in love with a baby goat, in which case you should hire a publicist immediately. - Author: Meghan Daum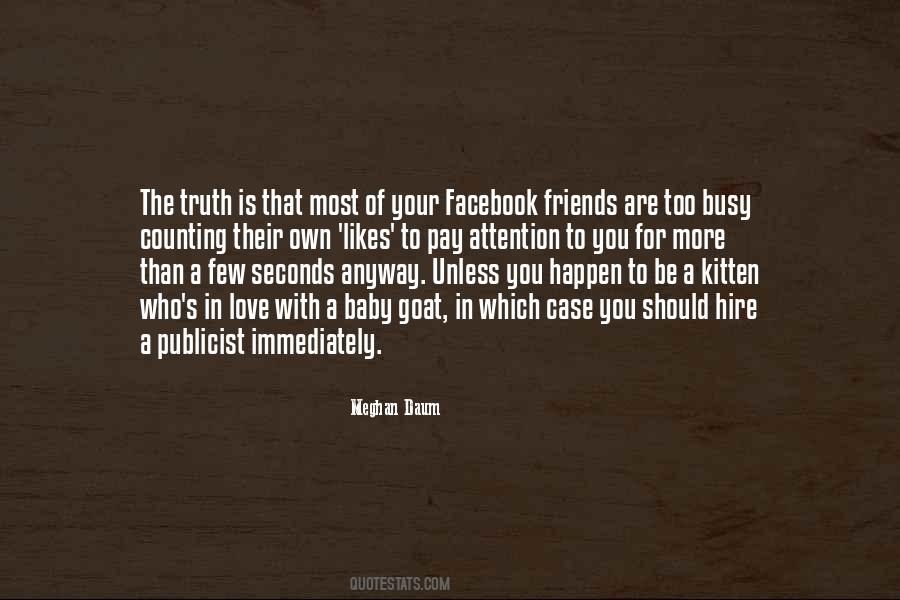 #22. Love is at the heart of the world, just as it is at the heart of your life. Your relationships with your lover, your family, your friends, and the world around you define the quality of your emotional wholeness and reflect your relationship with yourself. - Author: Sebastian Pole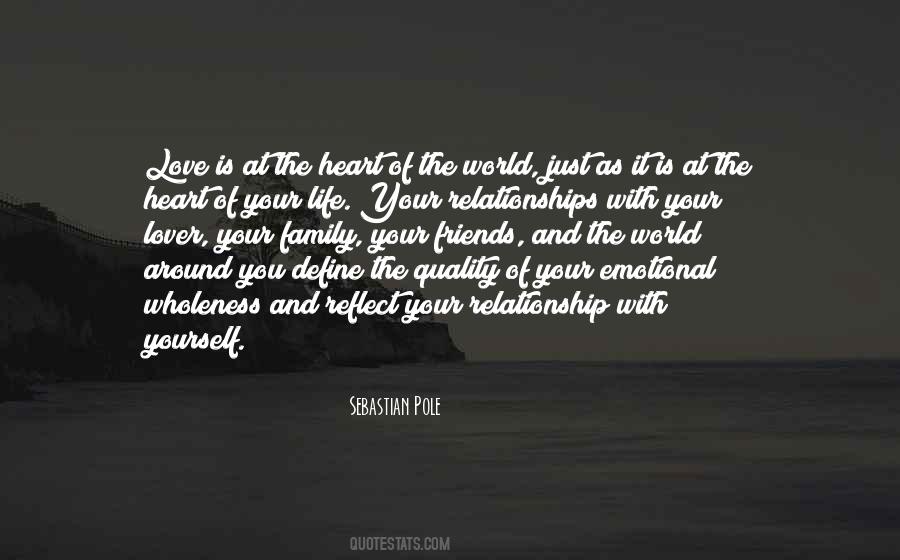 #23. You can pick your friends, but you don't pick who you fall in love with. - Author: Sudeep Nagarkar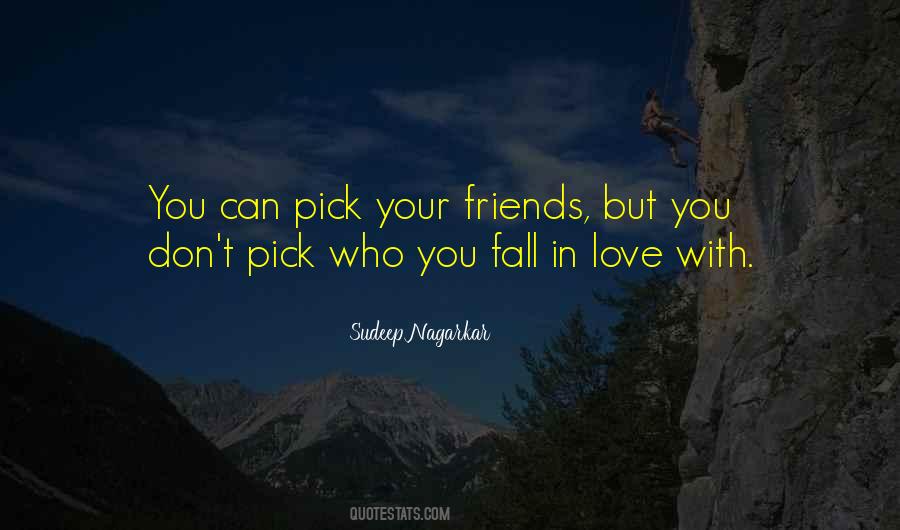 #24. You'll let him talk you out of your dreams. That's what love does sometimes- talks you out of your dreams." "Not me," Katie said. "Jack would talk me into my dreams. - Author: Patti Callahan Henry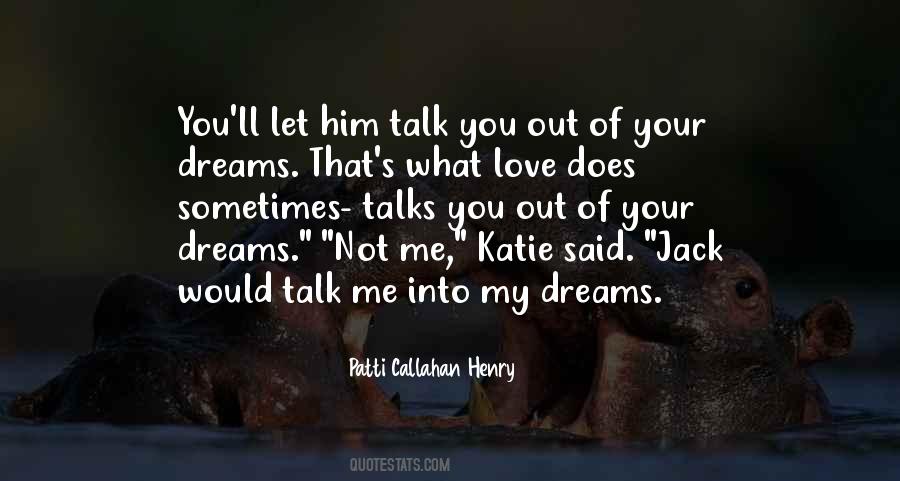 #25. Your truest friends are the ones who will stand by you in your darkest moments
because they're willing to brave the shadows with you
and in your greatest moments
because they're not afraid to let you shine. - Author: Nicole Yatsonsky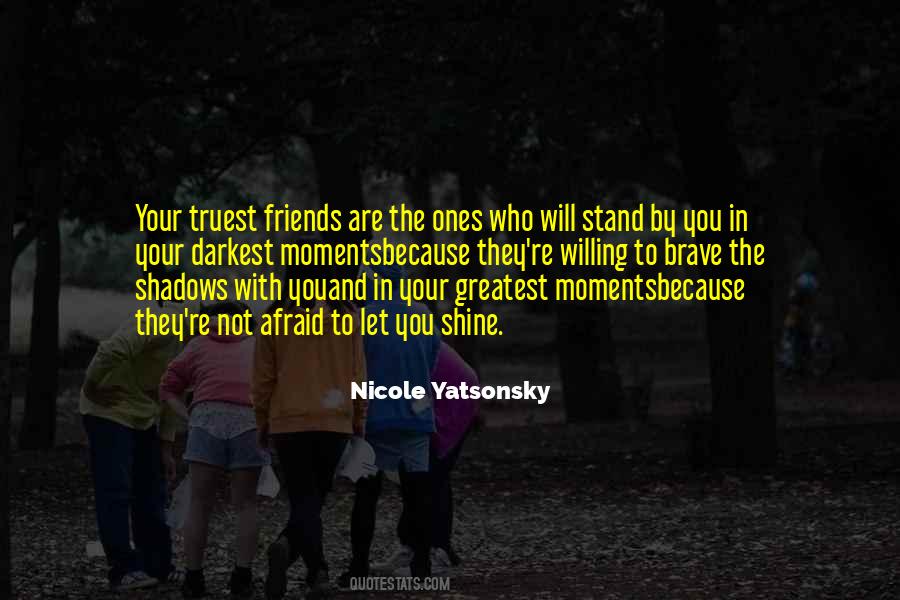 #26. Love is when Looking at a glance at you
I found laughter in my eyes, Thoughts turns into jewels Where luster of your aura dwells - Author: Seema Gupta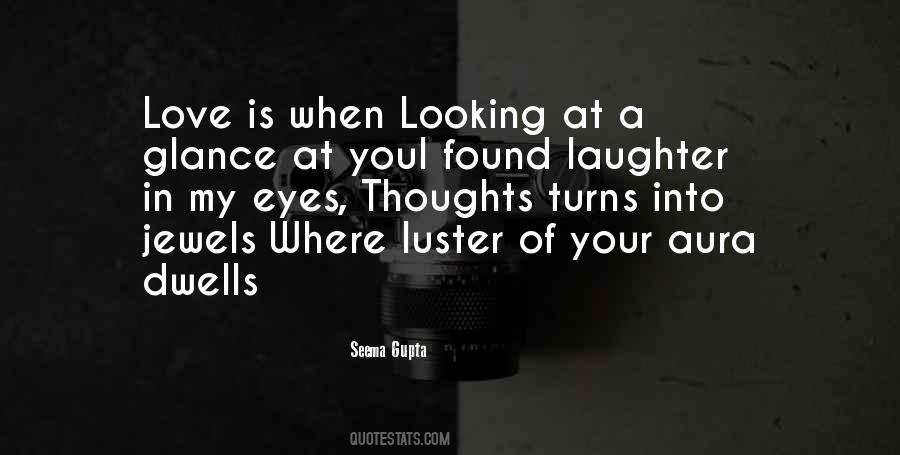 #27. You can spend your life judging people or, you can spend it making friends. Take your pick. - Author: Carroll Bryant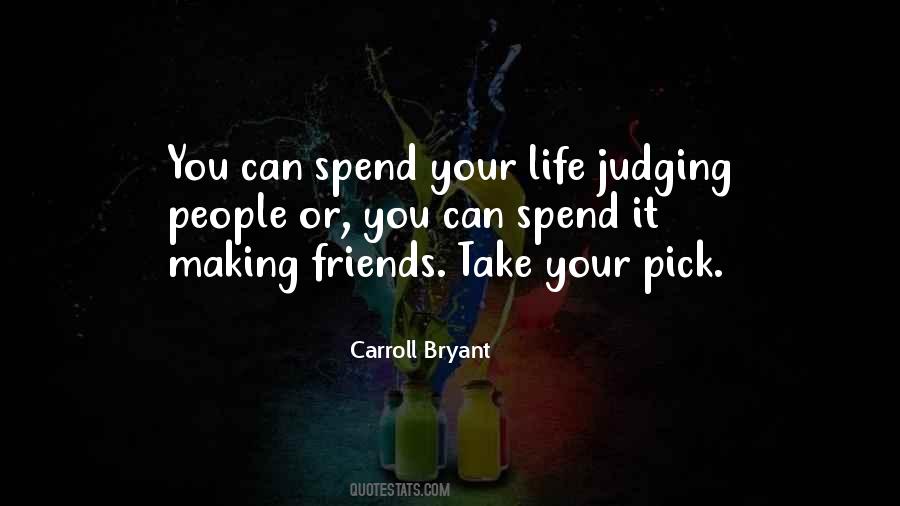 #28. True love is wanting to spend the rest of your life with someone you would sometimes also like to strangle. - Author: Crystal Woods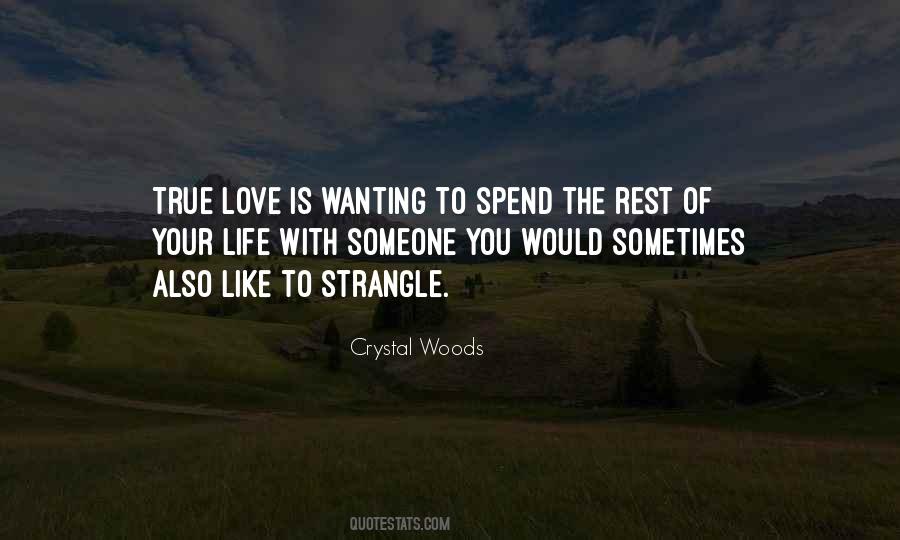 #29. The decision to move to the second post-college city (or suburb, or town), however, is usually made independent of friends. No matter if you do it for love, career, family, or school, the second move is on your own terms. - Author: Rachel Bertsche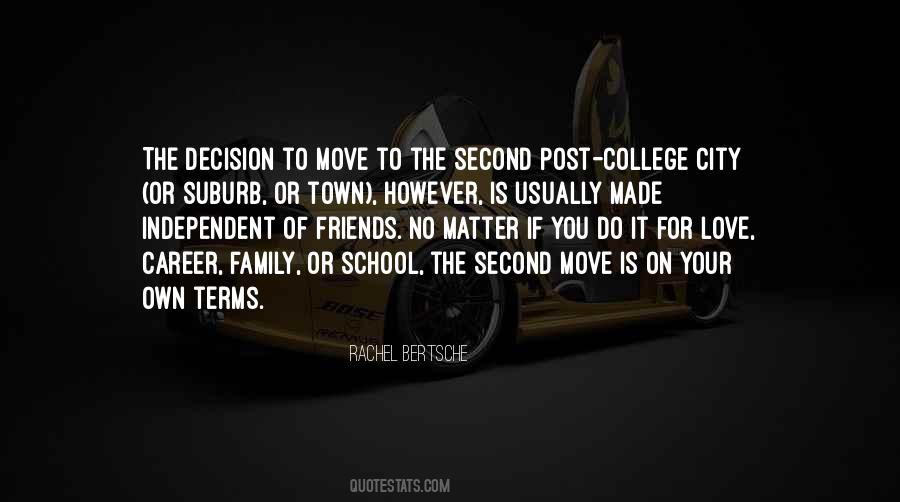 #30. Every aspect of your life, whether it's a task or relationship, personal or professional, will be based on love and joy. And when you get right down to it, nothing else really matters. - Author: Martha Beck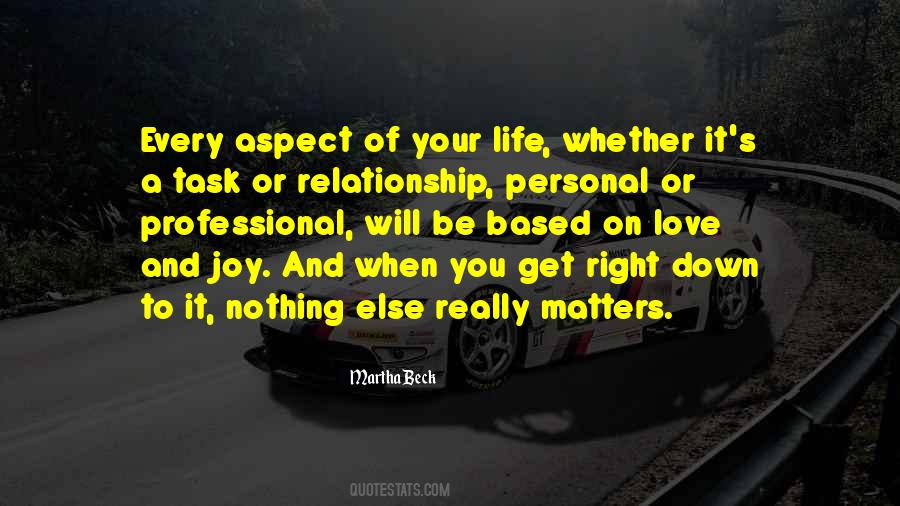 #31. The nearest I can make it out, "Love your Enemies" means, "Hate your Friends" - Author: Benjamin Franklin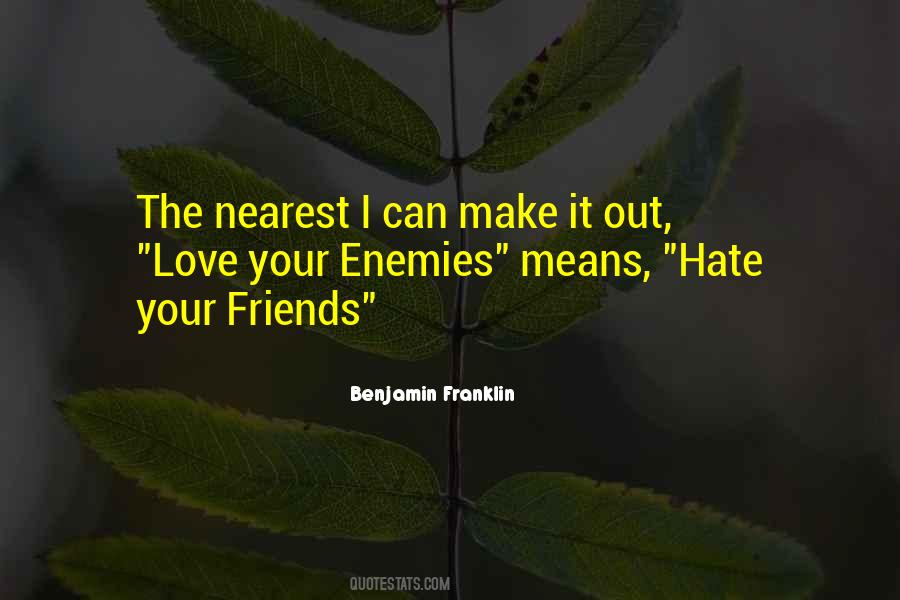 #32. You can ache for where you come from, and it's homesickness. A relationship, and it's heartbreak. But is there a word for missing your friends like that? - Author: Emery Lord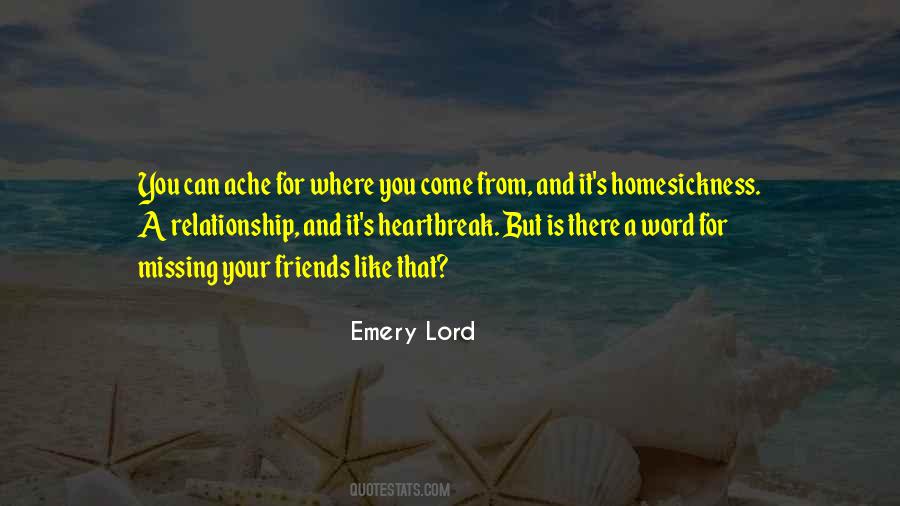 #33. Friendship is a beautiful blessing. You may love your friends and they may love you, but that doesn't mean they should have unexamined influence in all areas of your life. - Author: Steve Maraboli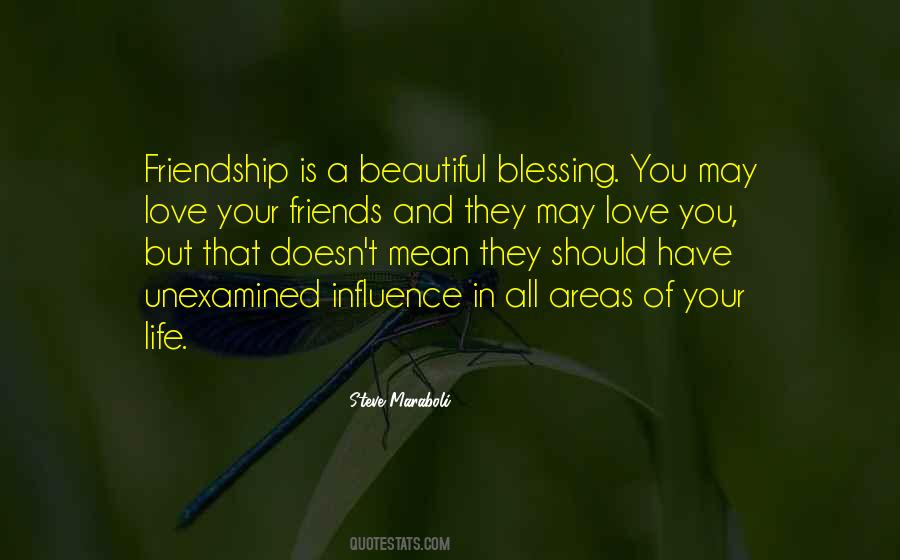 #34. So just as you shower love and affection and attention on the husbands, wives, parents, children and forever friends who surround you, you have to do equally with your life, because its yours, its you, and its always there rooting for you, cheering you on, even when you feel like you can't do it. - Author: Cecelia Ahern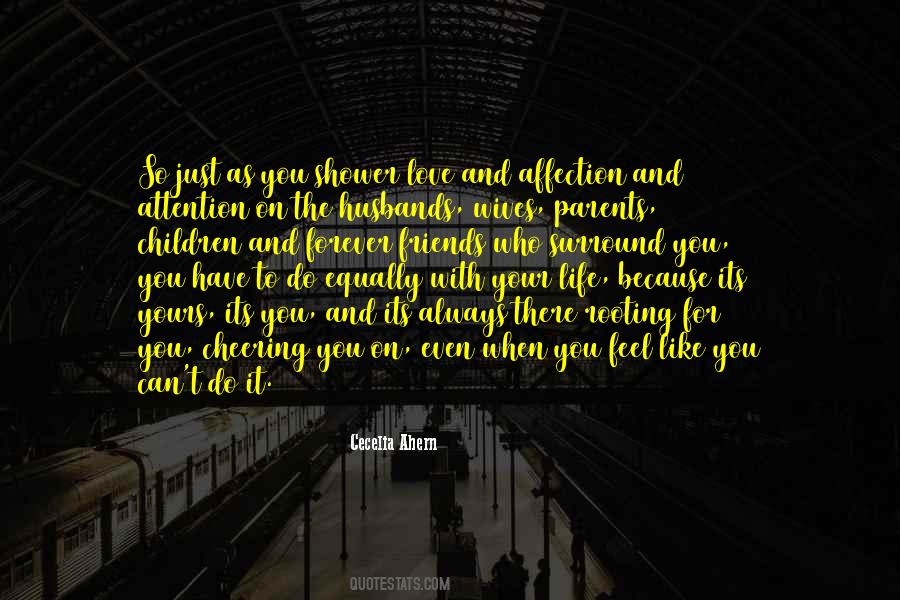 #35. The message to me was simple: you might change your whole life and lose love, but real good friends are REALLY fucking hard to come by, specifically if you live a life of intergalactic adventure. - Author: Ryan Britt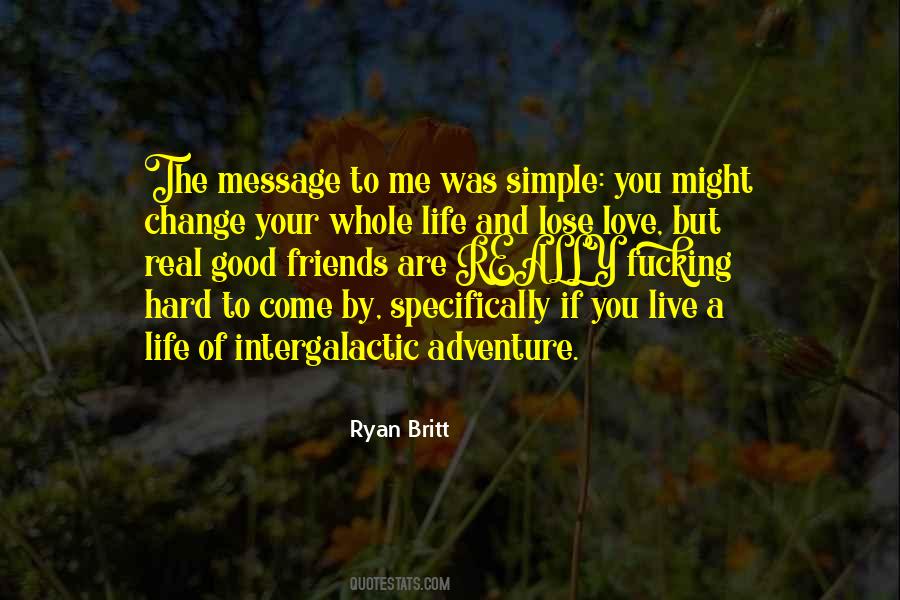 #36. I guess you can be yourself, whatever that means-the best and worst of you. And they love you anyway. You can fight, but even when you're mad at them, you know they're not going to stop being your friend. - Author: Jennifer Niven
#37. I won't lie to you and make you believe what's evil, is making love, and making friends, and meeting God your own way ... the RIGHT way. - Author: Phil Anselmo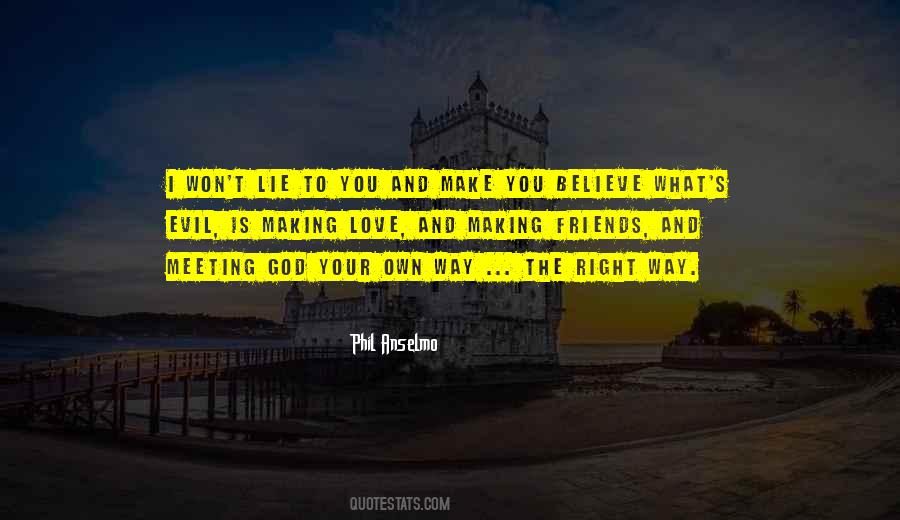 #38. My co-founder and great friend Glynnis MacNicol is only a chat box away and gives me the support (and tough love!) needed to remember who I am and what I'm worth. You can't be your own cheerleader all of the time. Be there to support your friends and let them support you. - Author: Rachel Sklar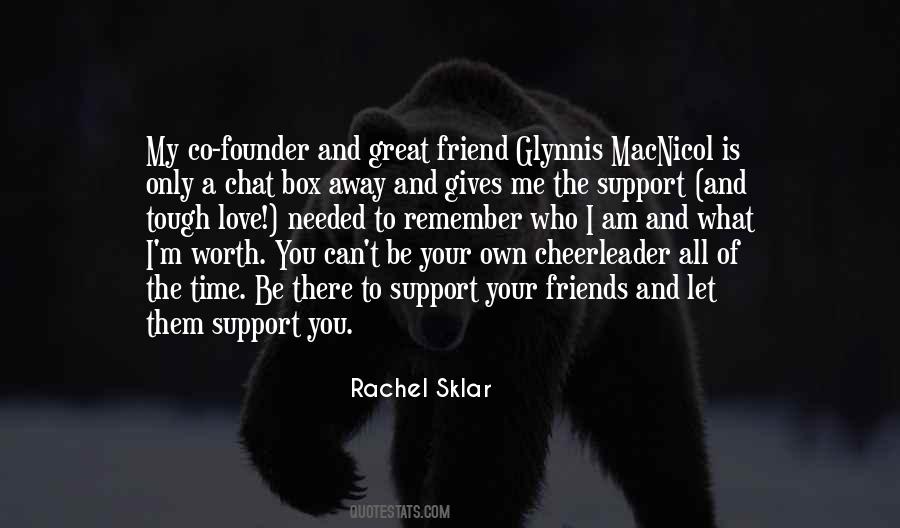 #39. Your friends love you for who you are. Your family loves you for what you are. - Author: Mokokoma Mokhonoana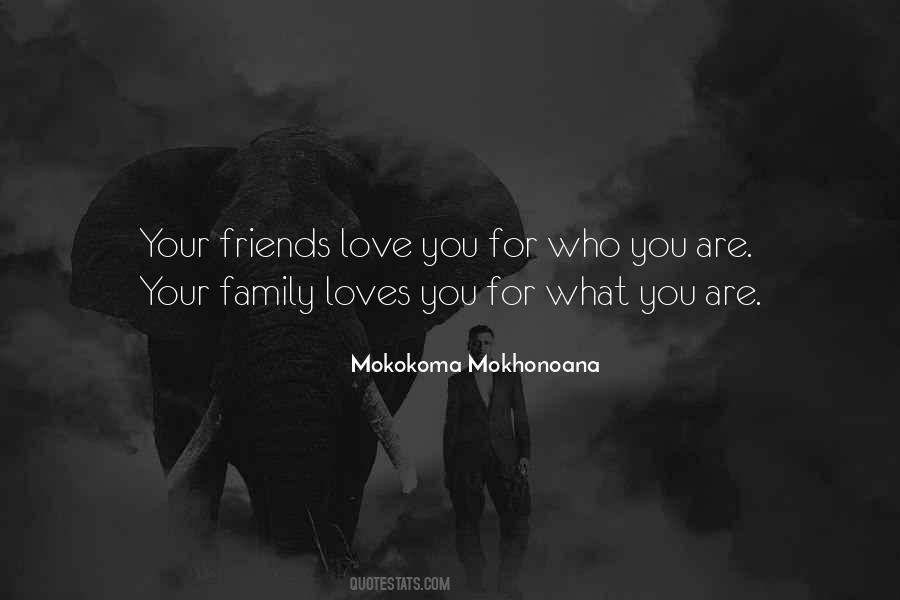 #40. Remember that when you're young and your career feels like the most important thing, the most important thing is love and the relationships you have with people - boyfriend, friends and family. It's good to remember that. - Author: Josephine De La Baume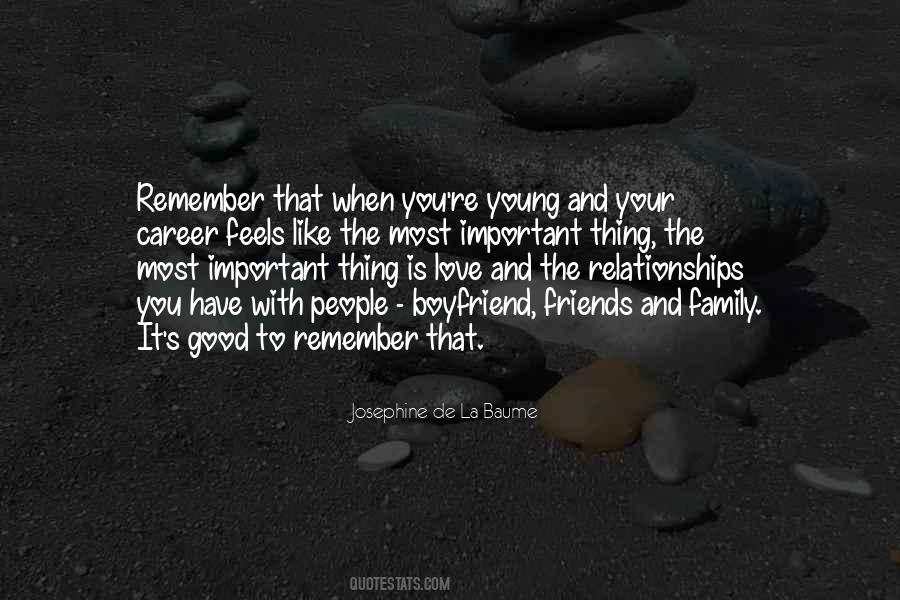 #41. Your friends may love you in private but your enemies will hate you in public. - Author: Mark Twain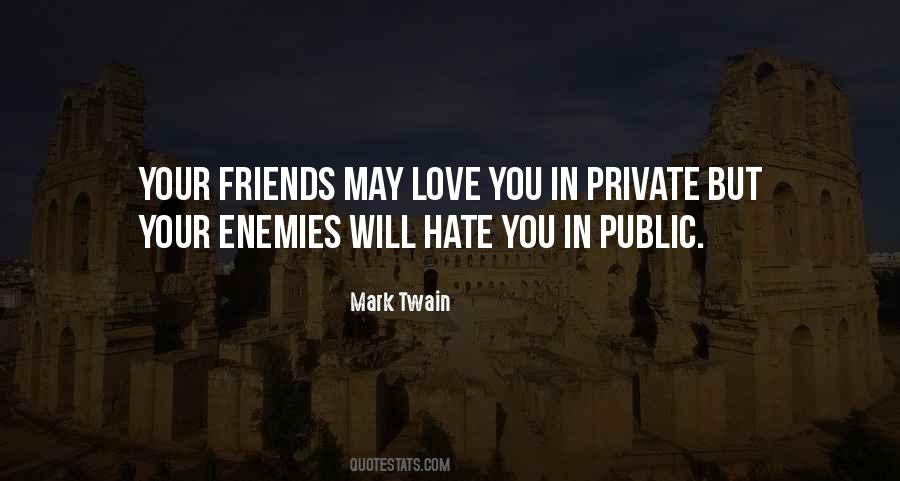 #42. It melted my heart, no matter how much strangers love you, like you or praise you but if your closer ones believes in you and your dreams, then you have a life, which is worth it, there is nothing better than friends and family. - Author: Shaikh Ashraf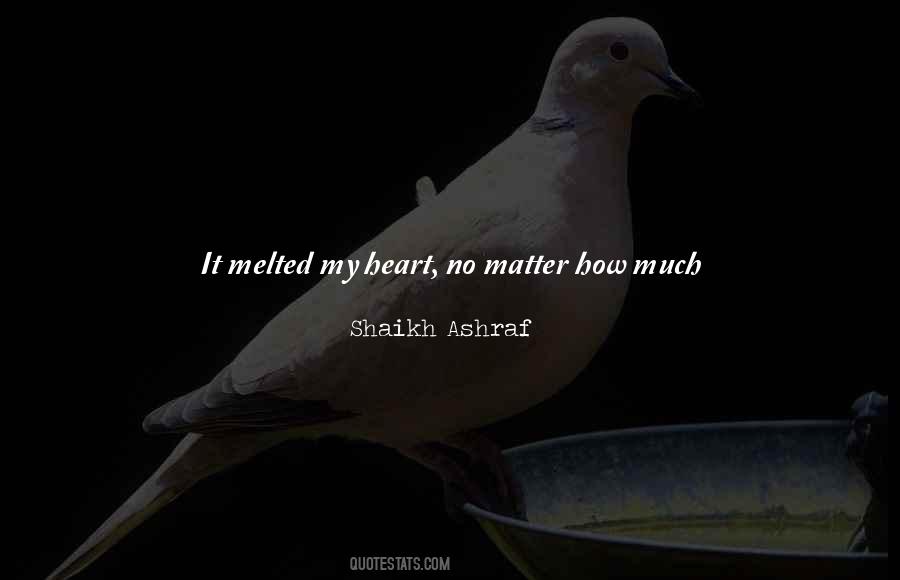 #43. When you don't act right to your family and friends, that's bad, but they also have the opportunity to experience the 'good' side as well. Disappointing the fans is an entirely different thing because the fans love your music and save up money to see you in concert. - Author: George Jones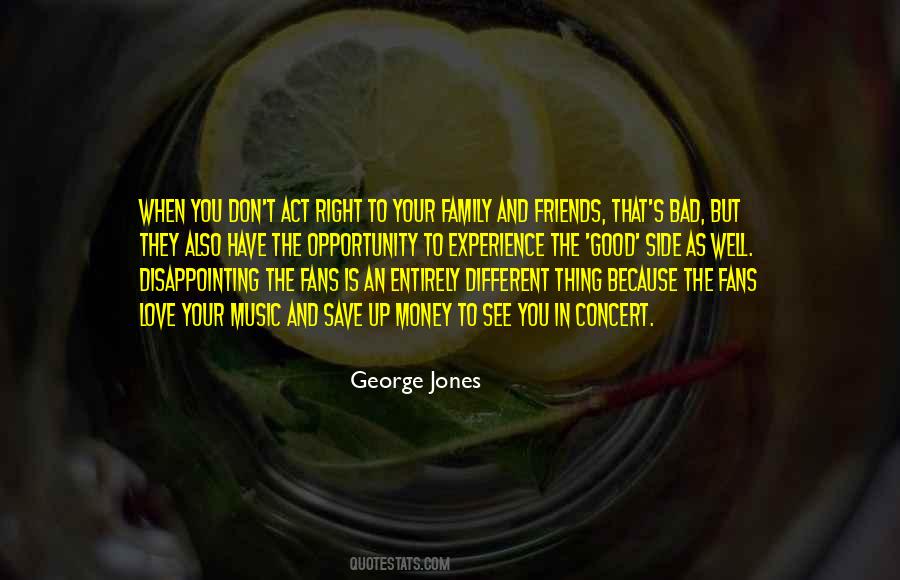 #44. Are you doing what your heart desires, or living up to society's expectations, what friends and family think?
Because the moment you start doing what you love, what you truly feel in your heart, all your cells start working for you. - Author: Ralph Smart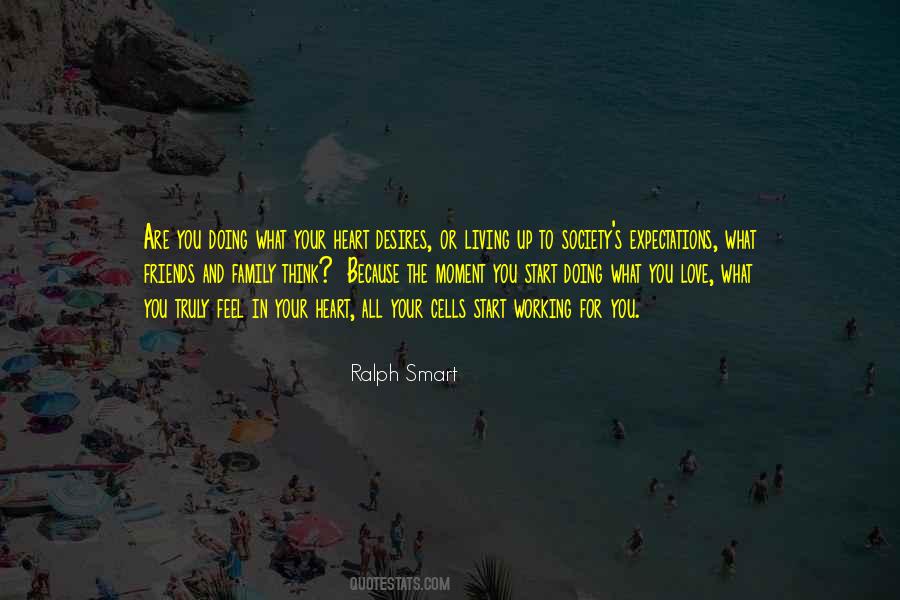 #45. Sooner or later you've heard all your best friends have to say. Then comes the tolerance of real love. - Author: Ned Rorem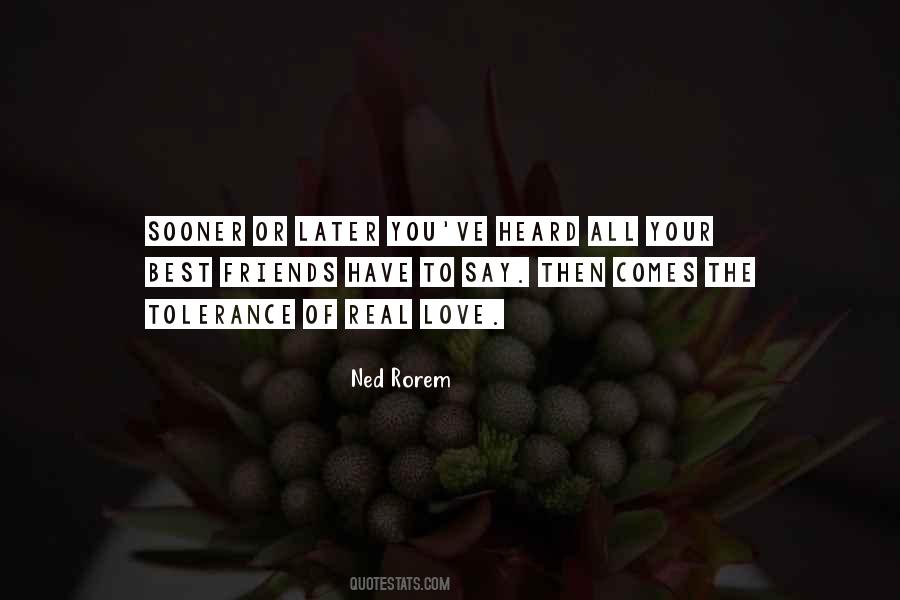 #46. Maybe, if you can't get someone out of your head they were never meant to leave. Perhaps, they were meant to help change you into the person you have been waiting to become. - Author: Shannon L. Alder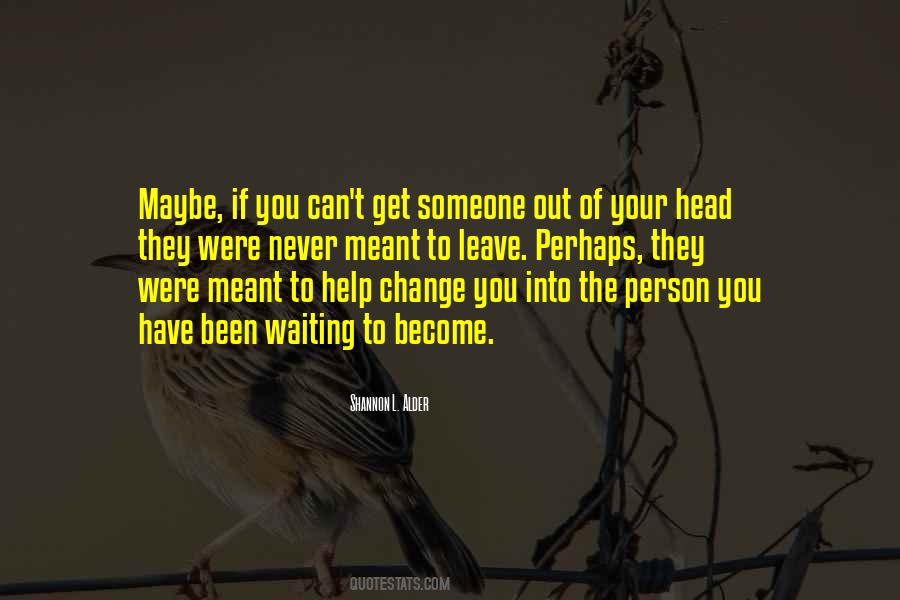 #47. Make space in your life for the things that matter, for family and friends, love and generosity, fun and joy. Without this, you will burn out in mid-career and wonder where your life went. - Author: Jonathan Sacks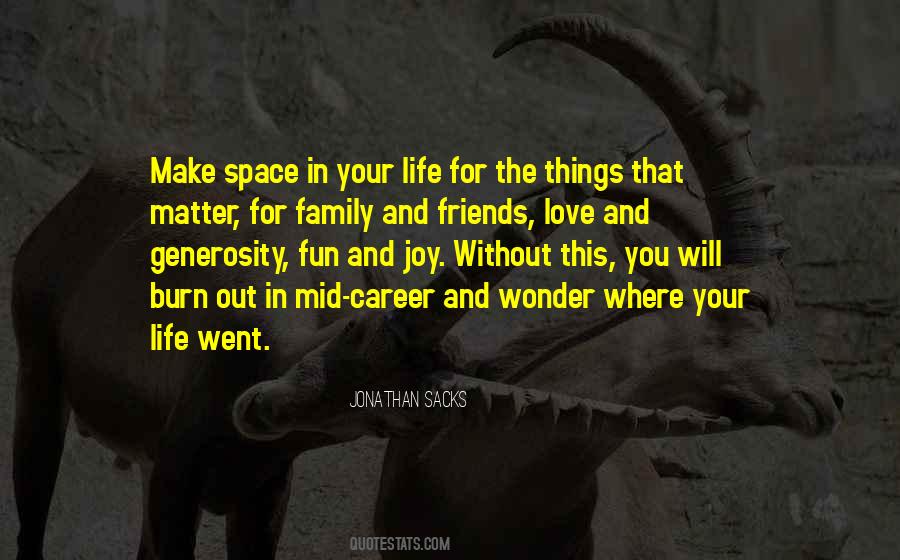 #48. I have friends who have children, and they have told me how remarkable it is to have a new life that is a piece of your own flesh anf blood. But I
"
"I realized that I didn't love her because she was a piece of me, I loved her because she was a piece of you. - Author: Julia Quinn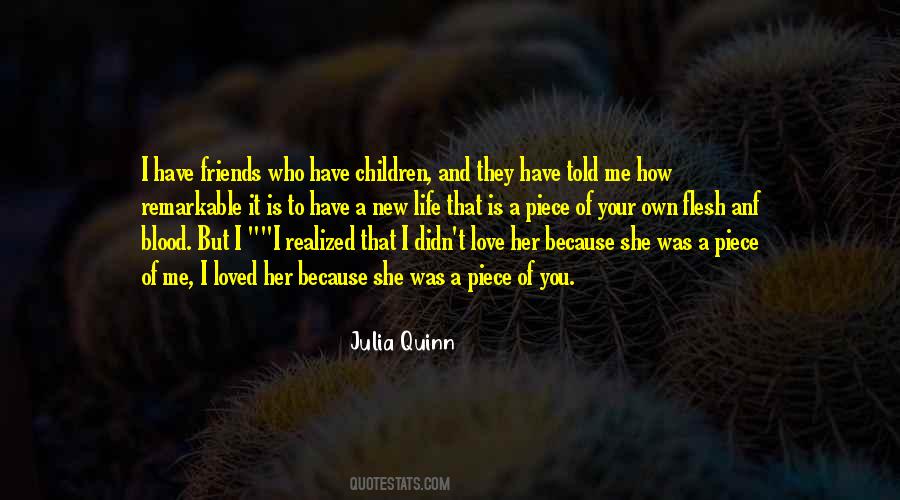 #49. Am I on your walk of shame? You did sleep with the right MacGregor, didn't you? - Author: Michelle M. Pillow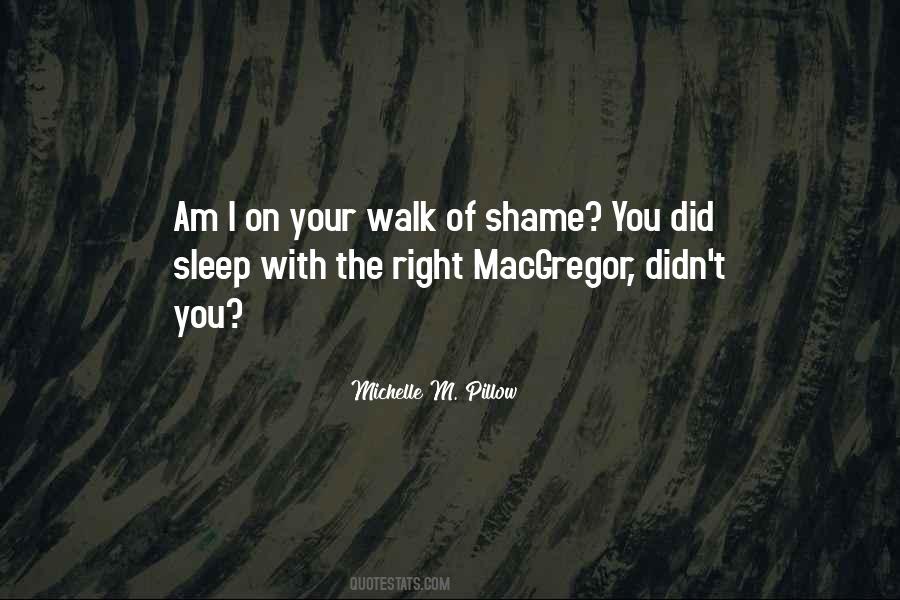 #50. When you're alone is when you can count your friends. - Author: Stephen Richards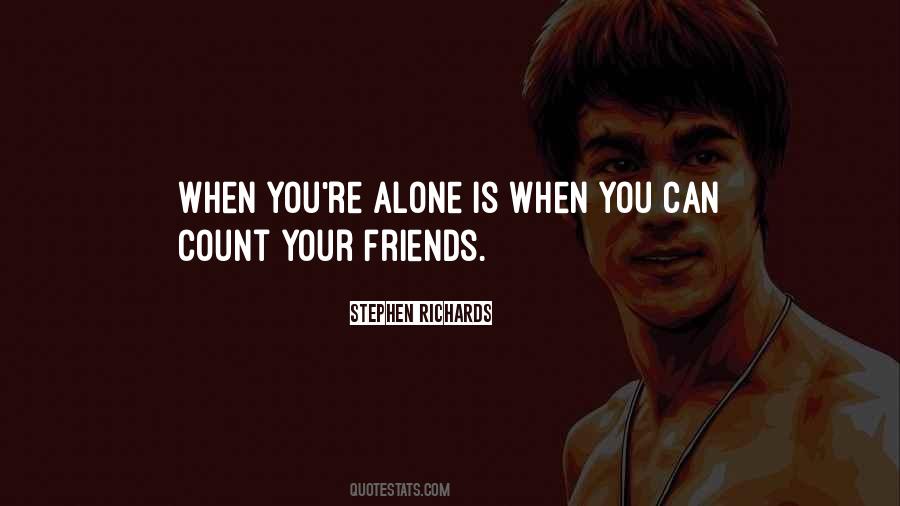 #51. I don't really like politics that much. And I like the order and simplicity of sports. They have an ending. You can argue with your friends about it, but in the end you still like sports. I almost love the fantasy world of sports more than the real world. - Author: Norm MacDonald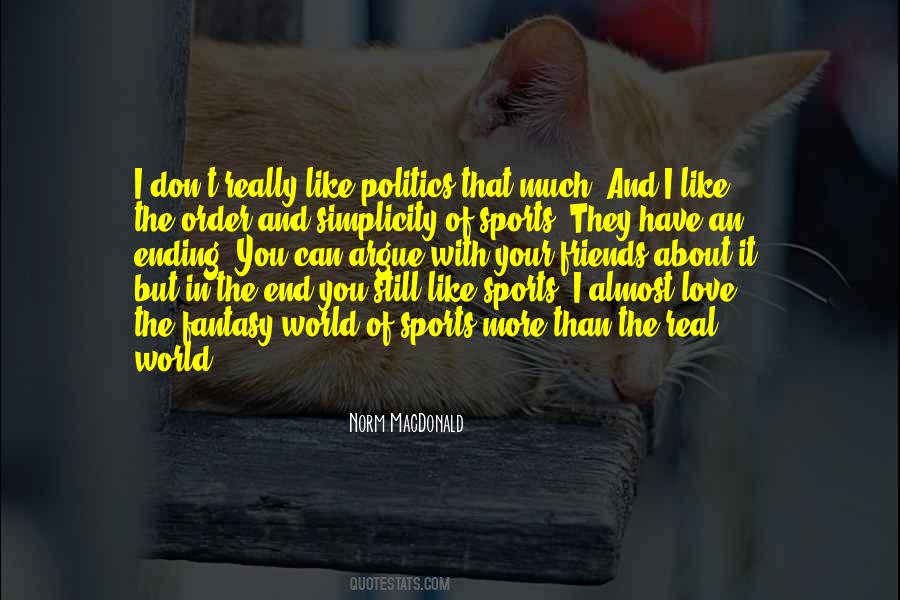 #52. A true friend has your best interests at heart and the pluck to tell you what you need to hear. - Author: E.A. Bucchianeri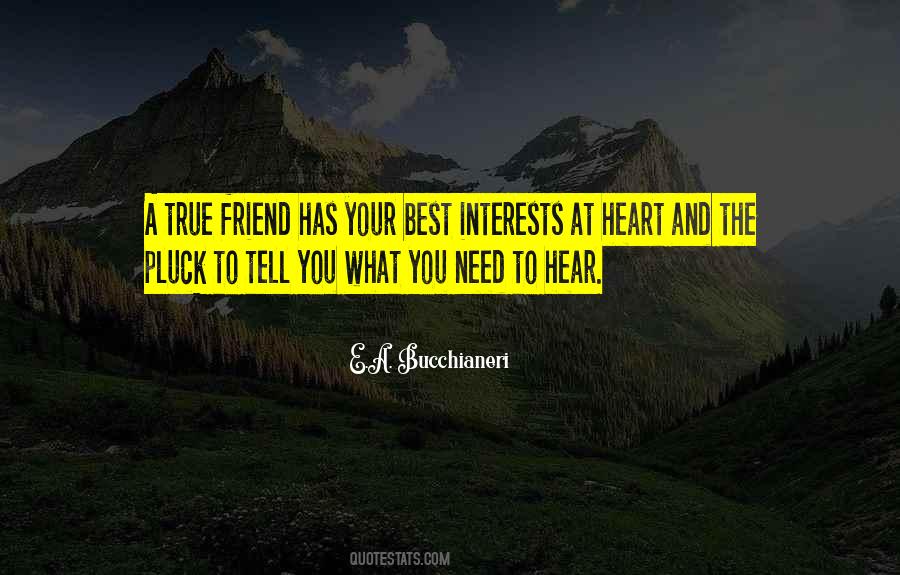 #53. I like my life alone. I mean, I love being with friends, and I love kissing and loving someone to pieces. But it's hard to find someone who doesn't ultimately start judging you and your choices. - Author: Sarah Silverman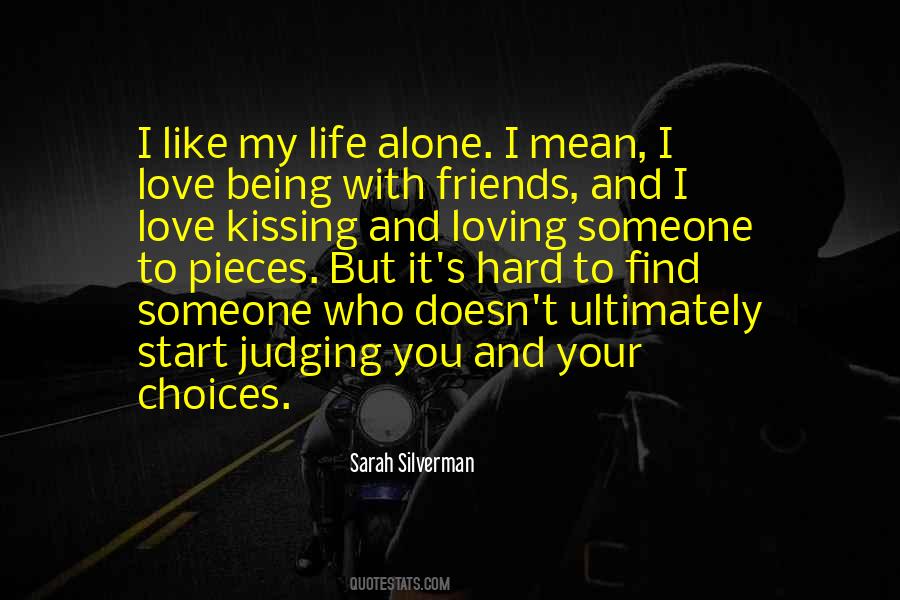 #54. Yesterday, when I took the stage for the sixth time, I read a poem about unreliable friends, people you love and feel bonded to but can never truly trust. It was about feeling alone and vulnerable, and never being able to fully let your guard down. - Author: Tamara Ireland Stone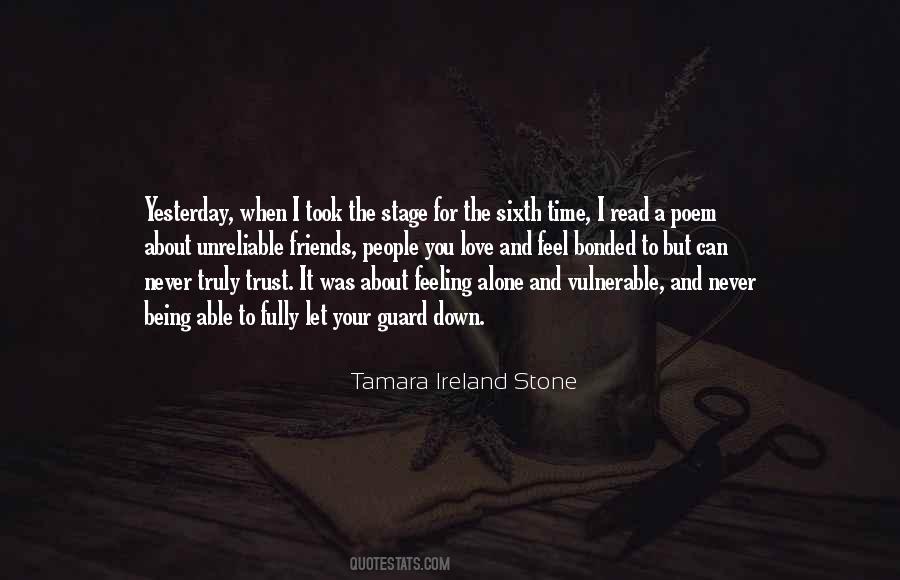 #55. If you have friends or family who are not practicing, give them your company and not your judgment. They need your patience and your love. Allah is sufficient for judgment and He subhanahu wa ta'ala is a perfect Judge. We are not. - Author: Nouman Ali Khan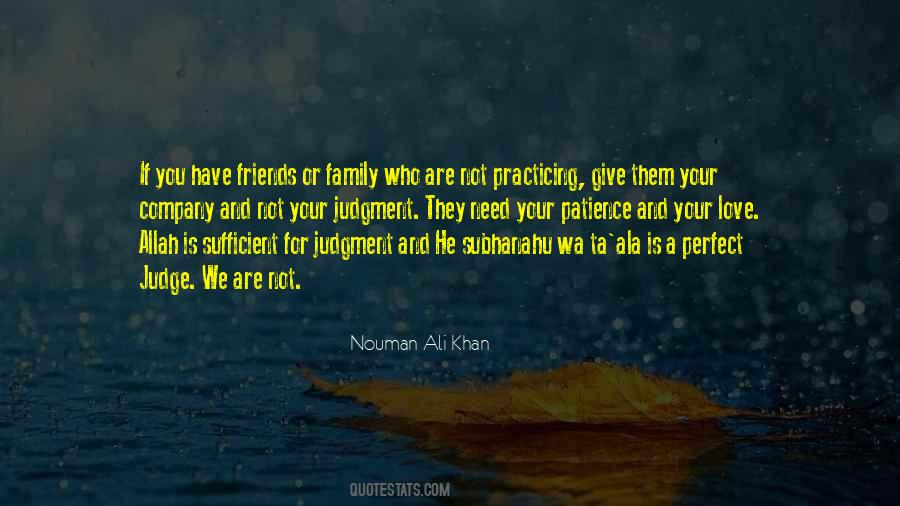 #56. I can't wait for that one girl to come in and kick your feet from under you. You think you have things organized, sorted. [ ... ] When that one girl comes along, I'm going to say I told you so, and give you no bloody sympathy when you've turned into a lovesick strop. - Author: Christina Lauren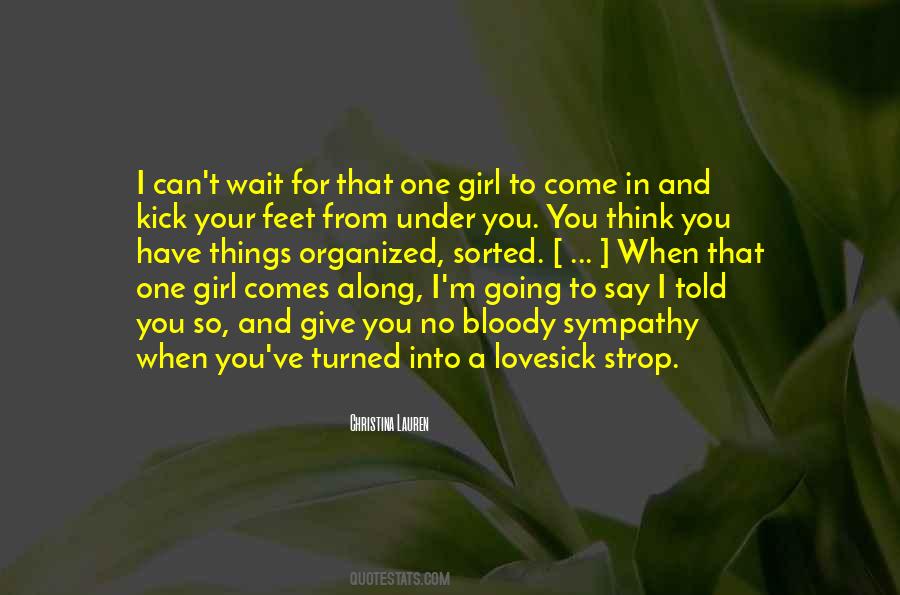 #57. When my son was growing up, I was always guilty, no matter what I did. Make decisions and be happy with the decisions you've made. I tell myself, in the long run, it's the love, the quality of relationships that you have with your family, your friends and giving back to the community that matters. - Author: Padmasree Warrior
#58. Stop rejecting that unique pathway that was designed exclusively for you. Embrace your destiny, respect yourself and love others. - Author: Auliq Ice
#59. There are plenty to love you so try to be satisfied with Father and Mother, Sisters and Brothers, friends and babies till the best lover of all comes to give you your reward. - Author: Louisa May Alcott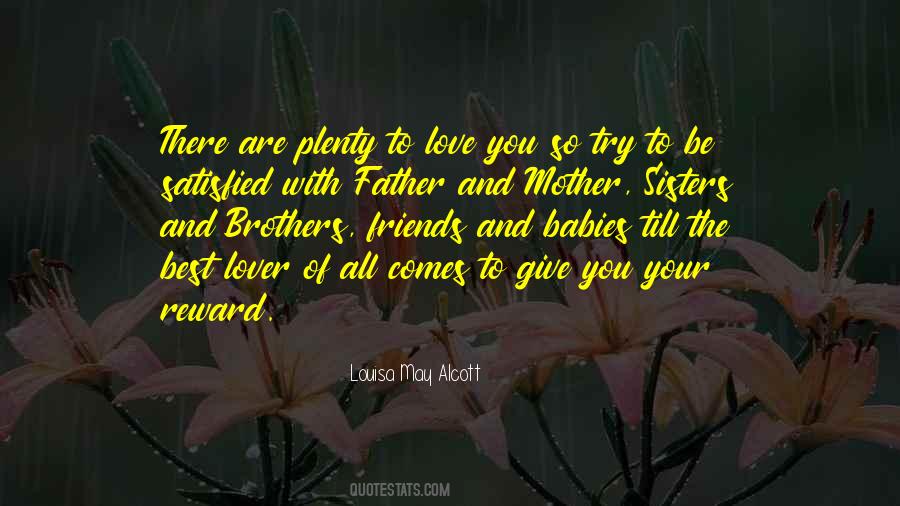 #60. Keep playing games. Make time to play games with your friends and family, because it's surprisingly heartbreaking to wipe a thin layer of dust off a game you love, before you put it back on the shelf because the real world is calling you. - Author: Wil Wheaton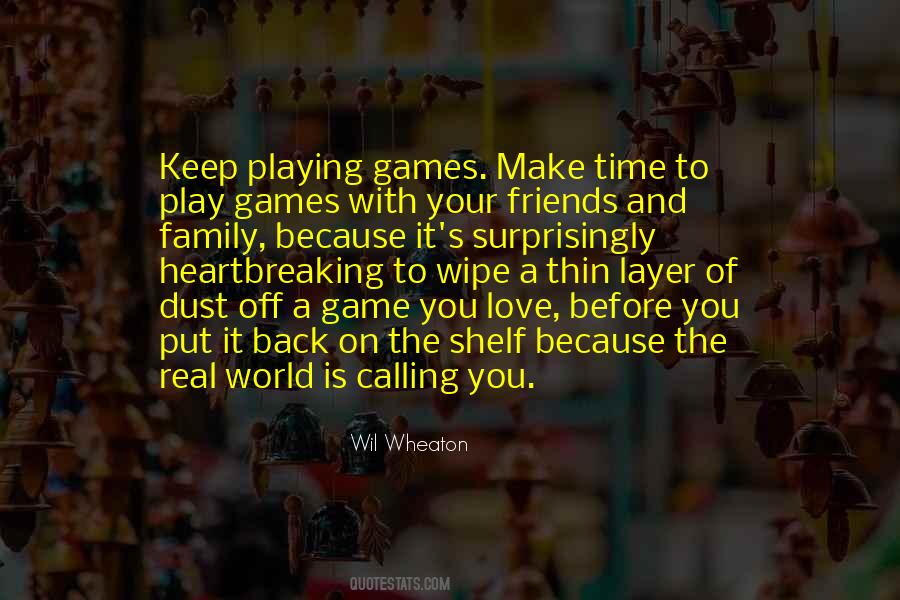 #61. Because the thing is, you don't fall in love with your best friends girl - Author: Jay McLean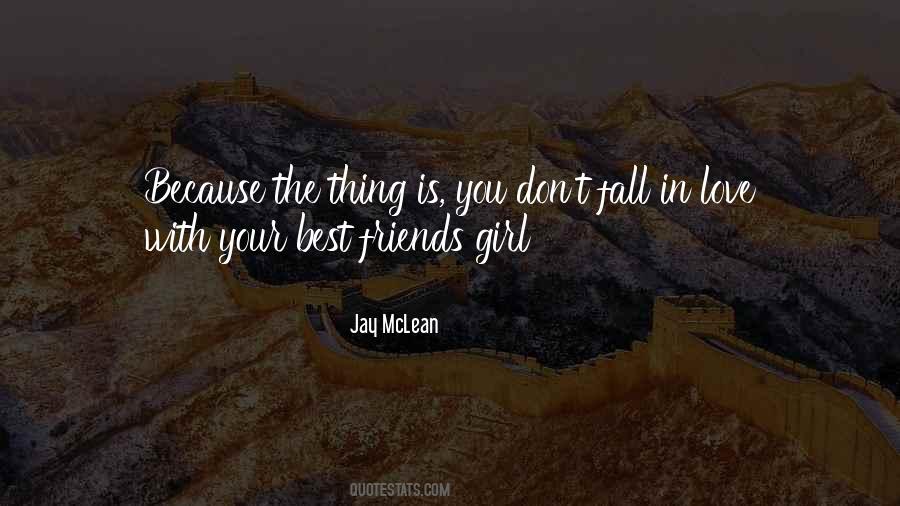 #62. Your imaginary friend isn't the problem, Amanda. The problem is that you don't seem to have any real friends. - Author: Rebecca McNutt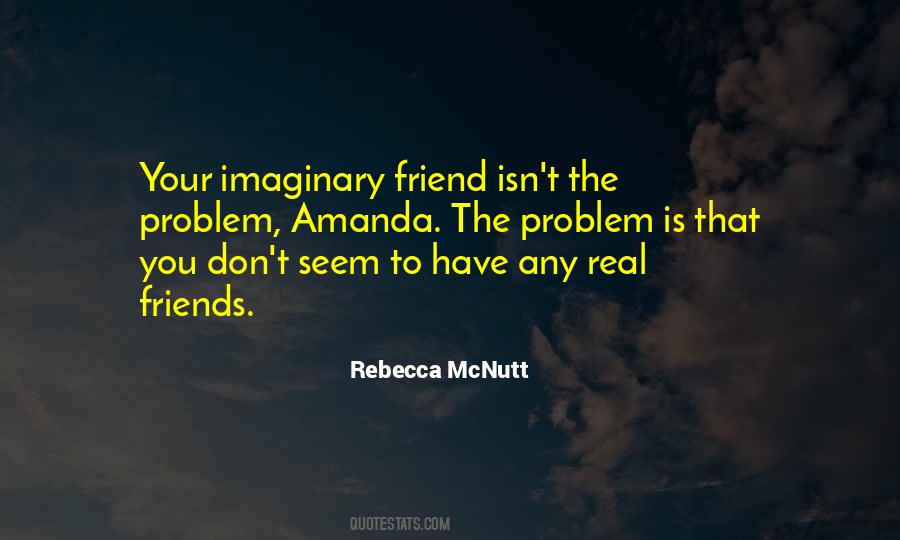 #63. I love music and I love musicians and when I hear something that's great, I always say it's like you go to a movie and you can't wait to tell your friends about it. - Author: Zach Braff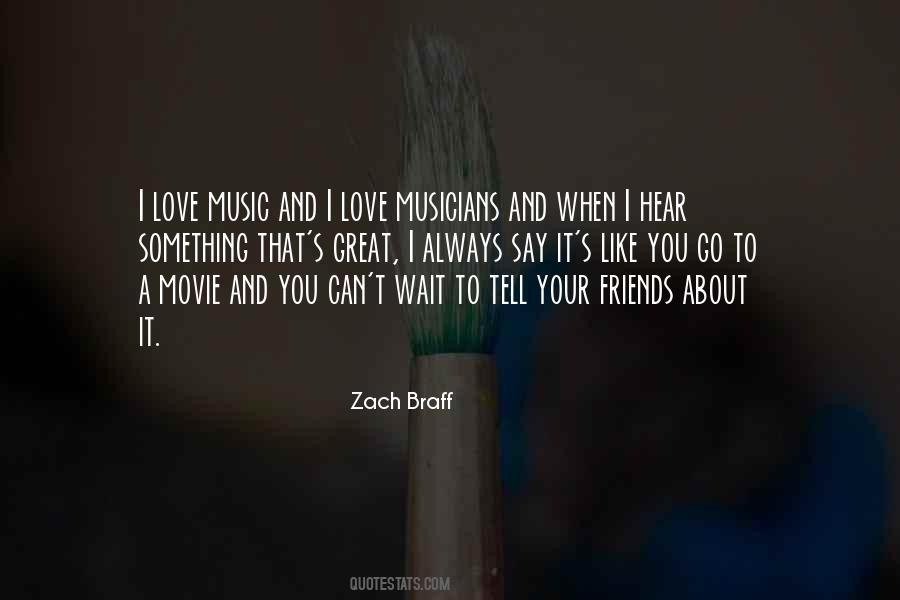 #64. I used to say ... 'Don't sweat the small stuff
not even the big stuff.' At the end of the day, none of it matters but your own joy, your own spiritual journey that you go on, God, your loved ones, your friends, your animals. These are the things you've got to cherish and love and embrace. - Author: Christina Applegate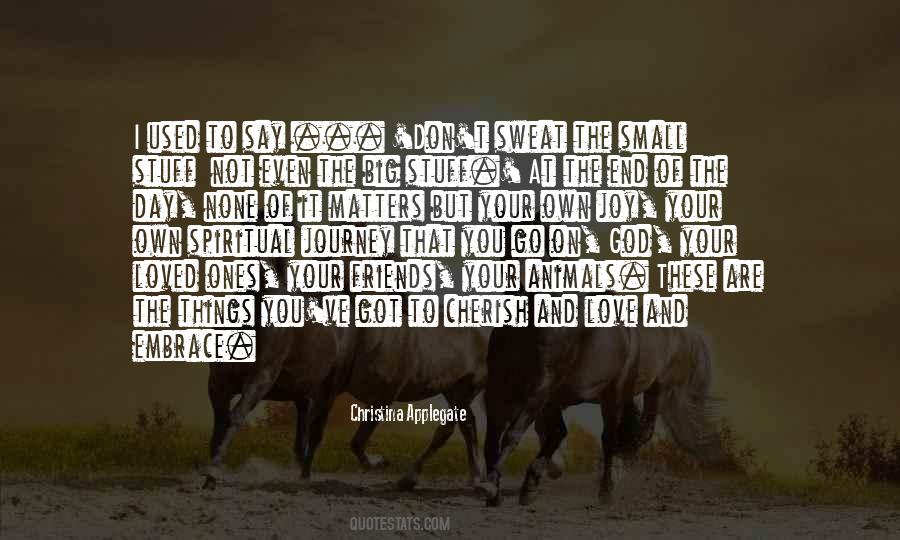 #65. You get so much more out of life by being supportive and having loving friends who are there for you. Good friendships can make your heart light; it can make you feel giddy; it can make you feel like when you fall in love. - Author: Poppy Delevingne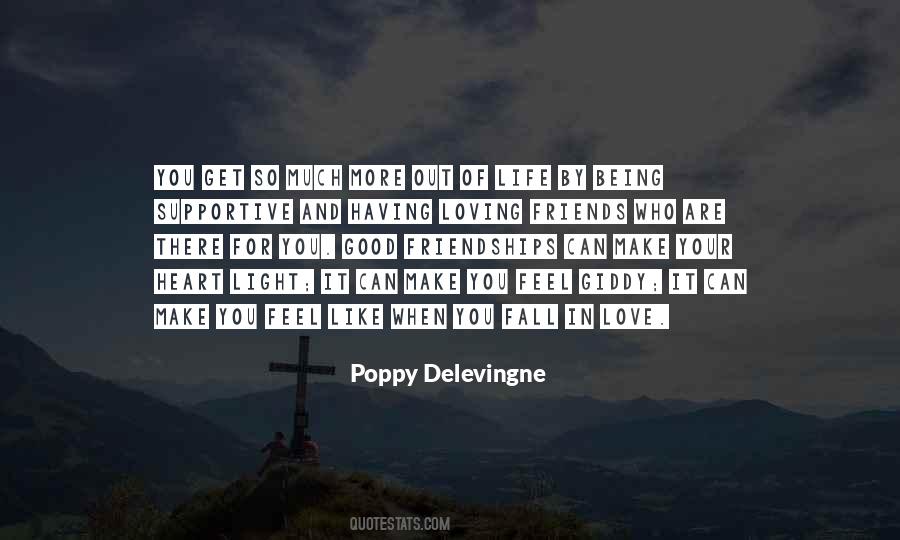 #66. Love is for friends & pets ... and family ... only if they really love you as unconditionally as your friends and pets. - Author: Pauley Perrette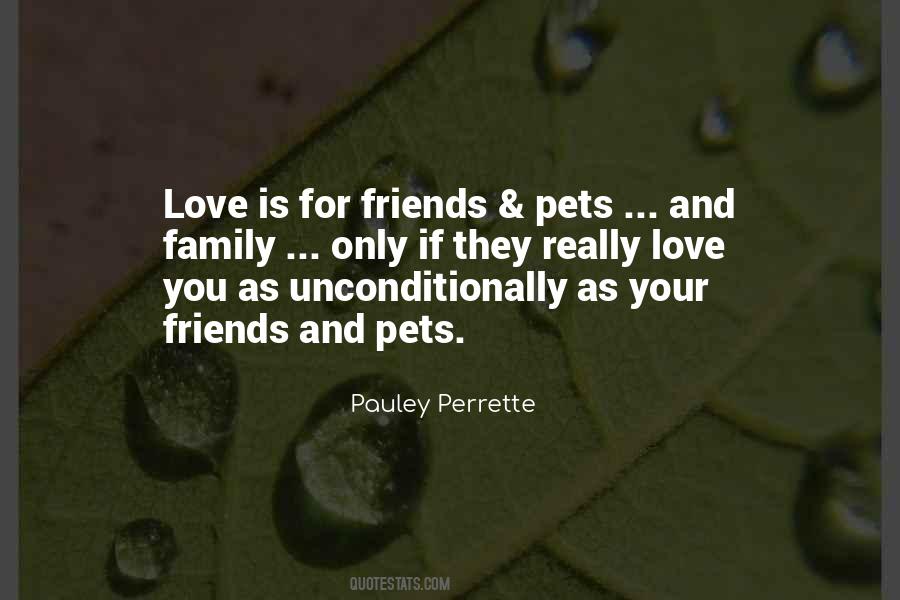 #67. Though the trials of life are never easy, someone to stand with you and help you with your burdens is one of the true essences of living. It is well that two should join together to face life as friends as well as lovers. - Author: Micheal Rivers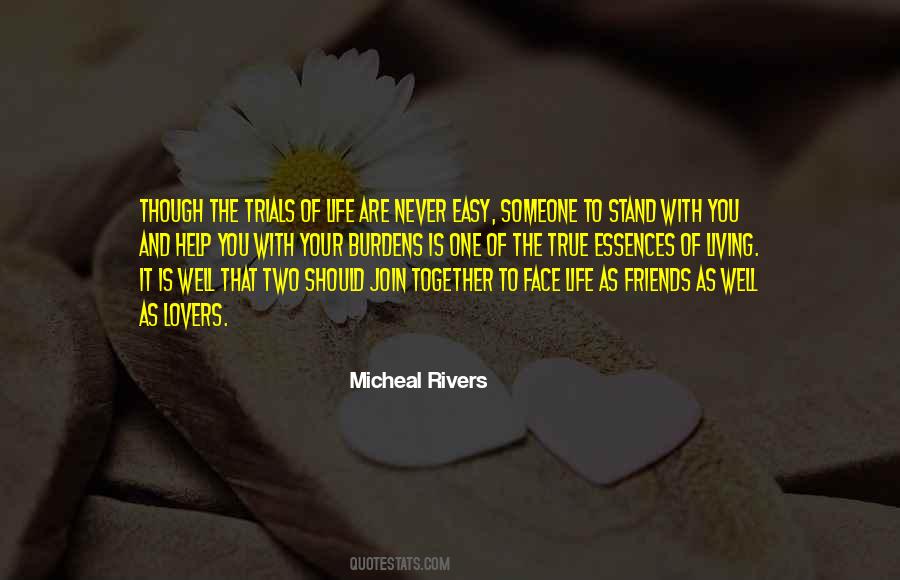 #68. A friend drops their plans when you're in trouble, shares joy in your accomplishments, feels sad when you're in pain. A friend encourages your dreams and offers advice
but when you don't follow it, they still respect and love you. - Author: Doris Wild Helmering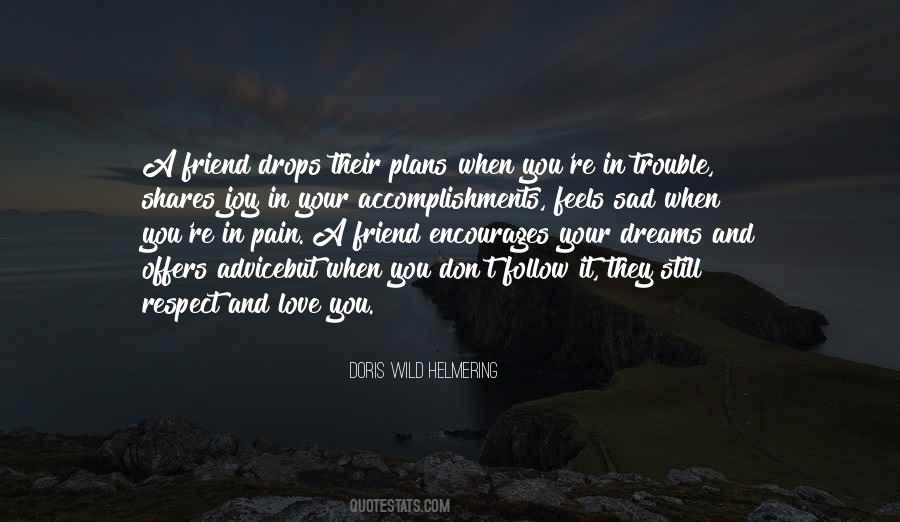 #69. Part of what I love about games is that, even if you're best friends with somebody, it gives you these sort of moments where you get to interact on a completely different level. You all agree to these abstract rules, but there's nobody holding a gun to your head. - Author: Rich Sommer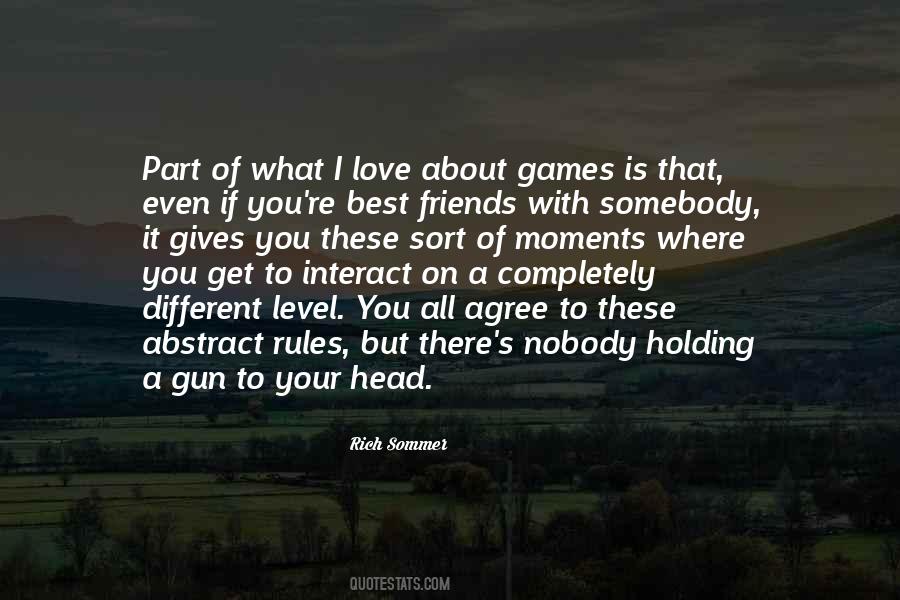 #70. I still love things that you don't even need to pay for. Going to the beach and being around five of your friends and having a good time means so much more than going out and spending hundreds of dollars. - Author: Maria Sharapova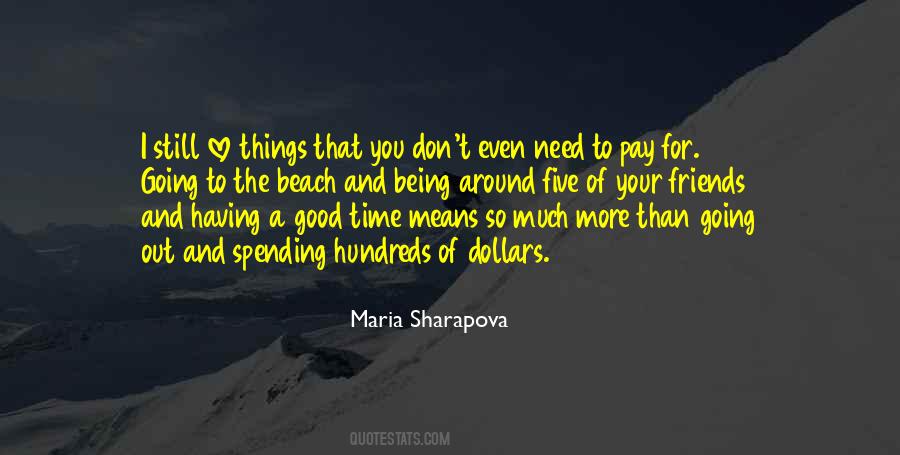 #71. That your friends have those opinions, however, does not mean that they don't love you or value you as a friend or otherwise think you are one of the best people they know. - Author: Cheryl Strayed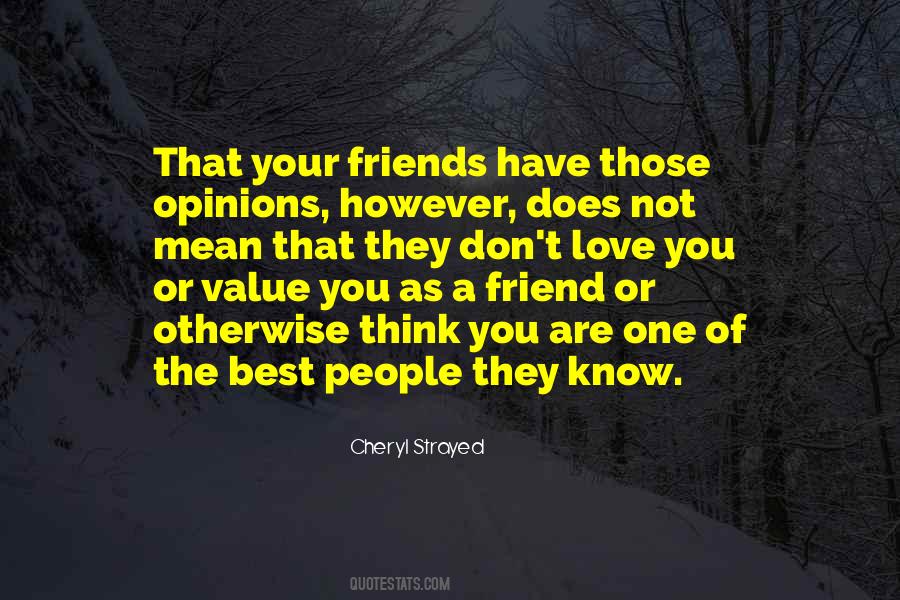 #72. You know what your problem is? You want everything to be shitty. You have a sister who loves you. Friends who love you. I love you, Heather. - Author: Lauren Oliver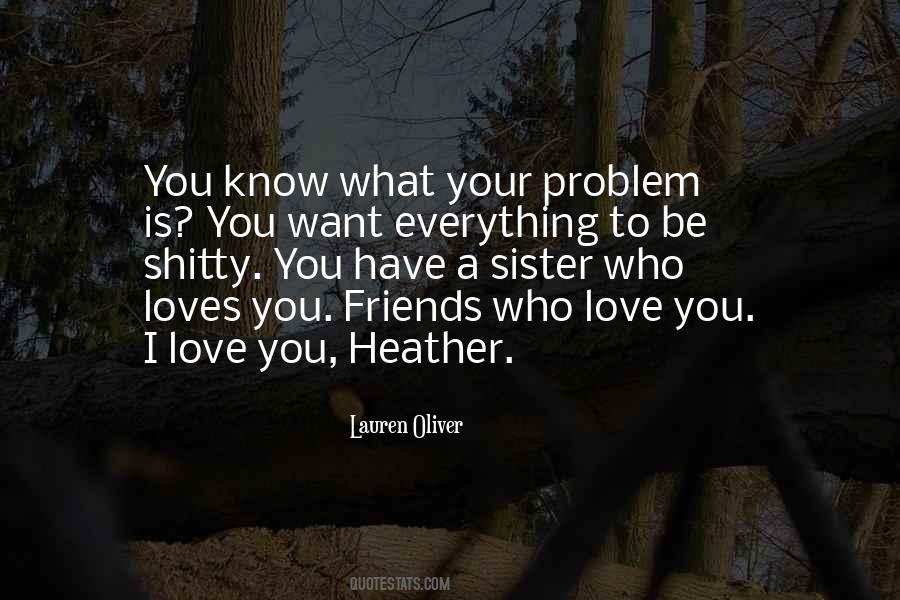 #73. To douchebags!" he said, gesturing to Brad. "And to girls that break your heart," he bowed his head to me. His eyes lost focus. "And to the absolute fucking horror of losing your best friend because you were stupid enough to fall in love with her. - Author: Jamie McGuire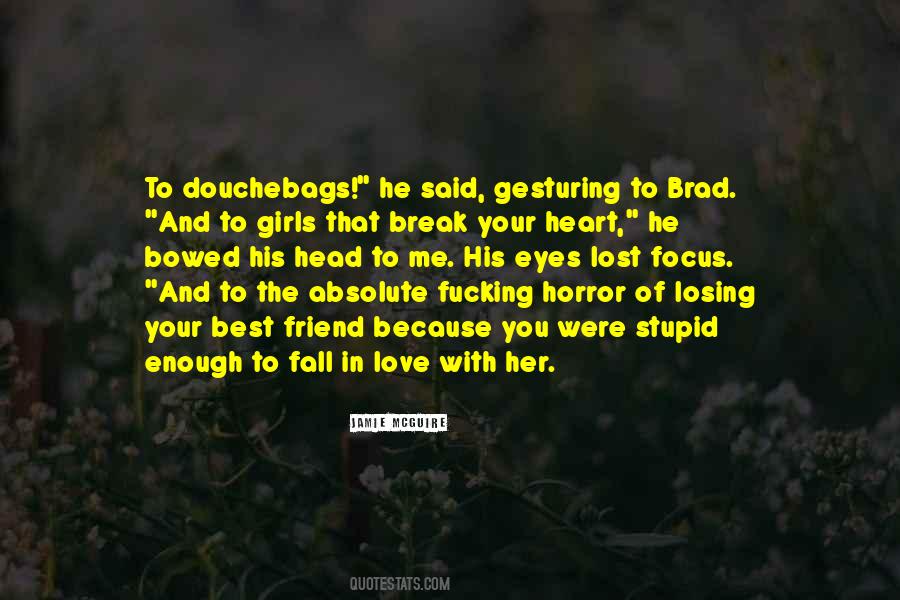 #74. While friends and lovers mourn your silly grave, I have other uses for you, darling. I love the dead. - Author: Alice Cooper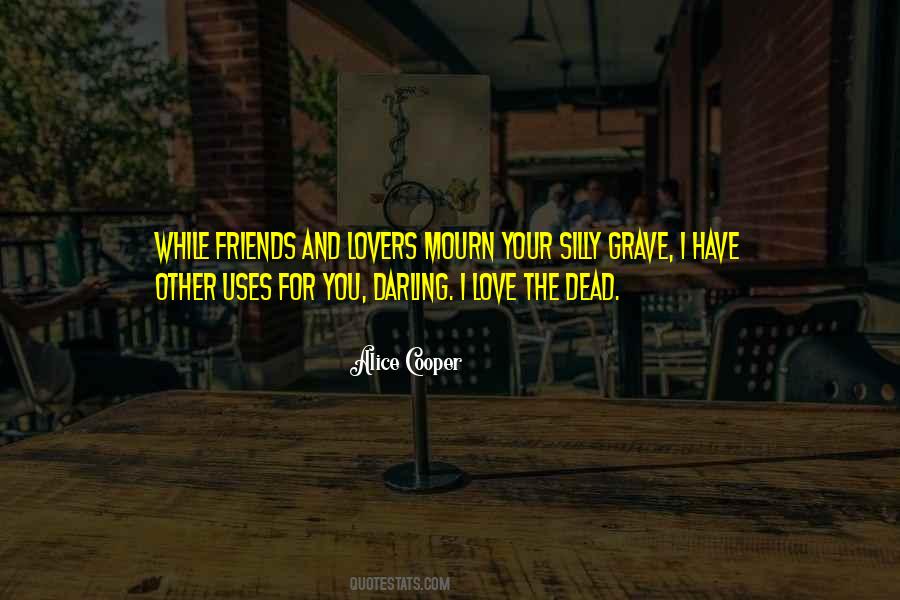 #75. If you don't love acting more than anything else, don't do it. It's not a normal life. It will take you away from your family, friends and life in general. - Author: Johanna Braddy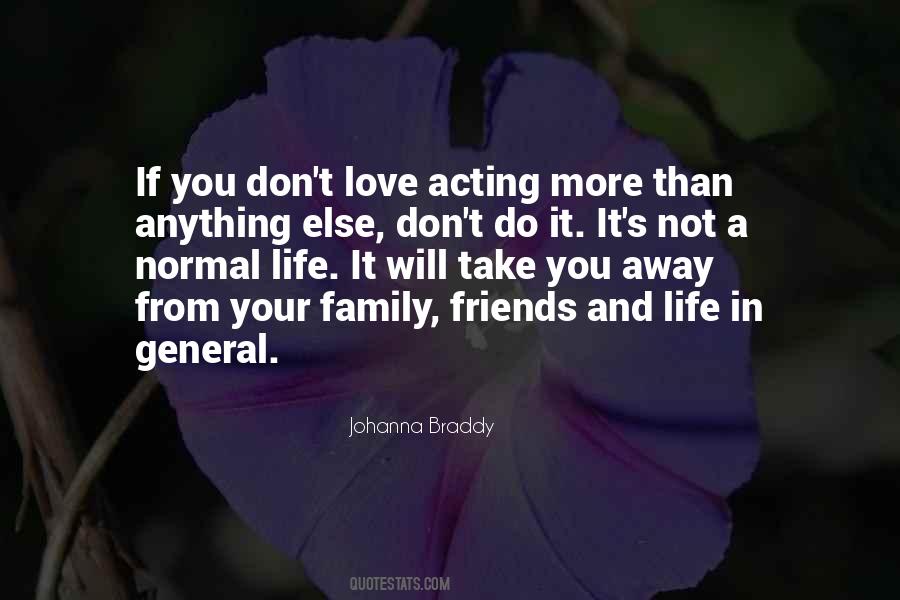 #76. Love your friends' kids, even if you don't want or like children. Just do it. - Author: Roxane Gay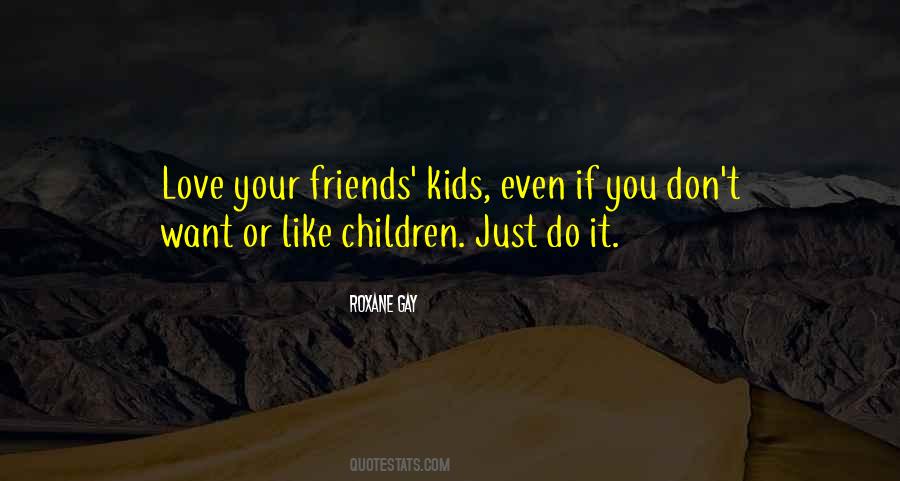 #77. Love is the most precious gift in life. Be grateful for all the love and support you get from your parents, your family and friends. Because nothing is as precious as receiving true and devoted love" - Monsieur Jac Couture - Author: Lily Amis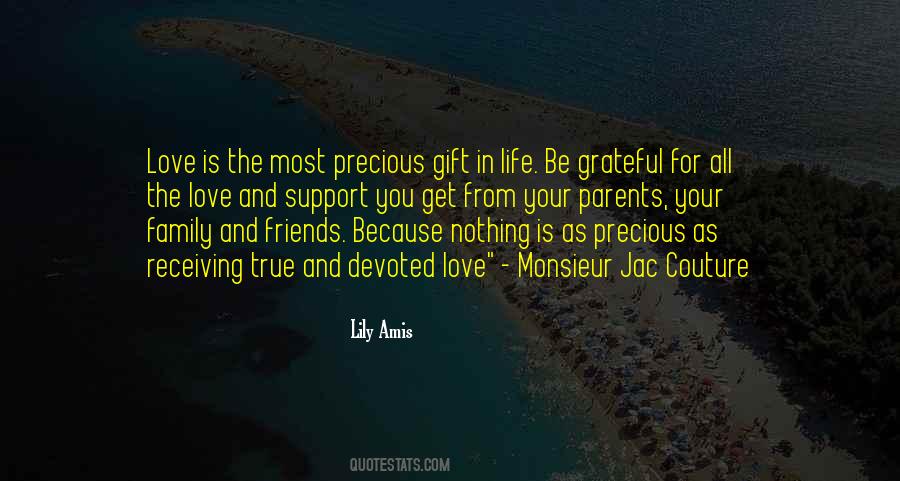 #78. Well, first of all, making films is a collaborative process. You need people. You need people you trust and love and who are your friends. People you can work with. - Author: Sean Durkin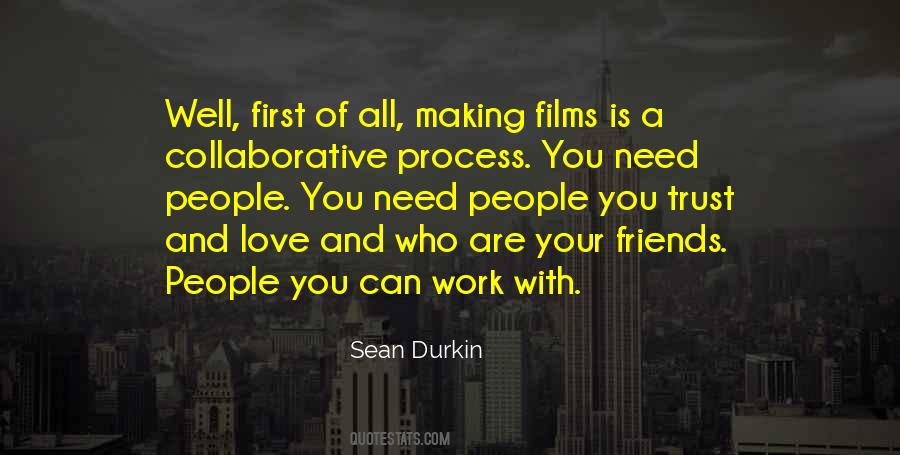 #79. So do not feel obligated to visit your grandparents, or call them, or be there for them in any way for Senior Citizens Day. They love you unconditionally, and are very lonely since all of their friends are dead, but that was never enough to make you care about them. So why should this holiday? - Author: Mo Pete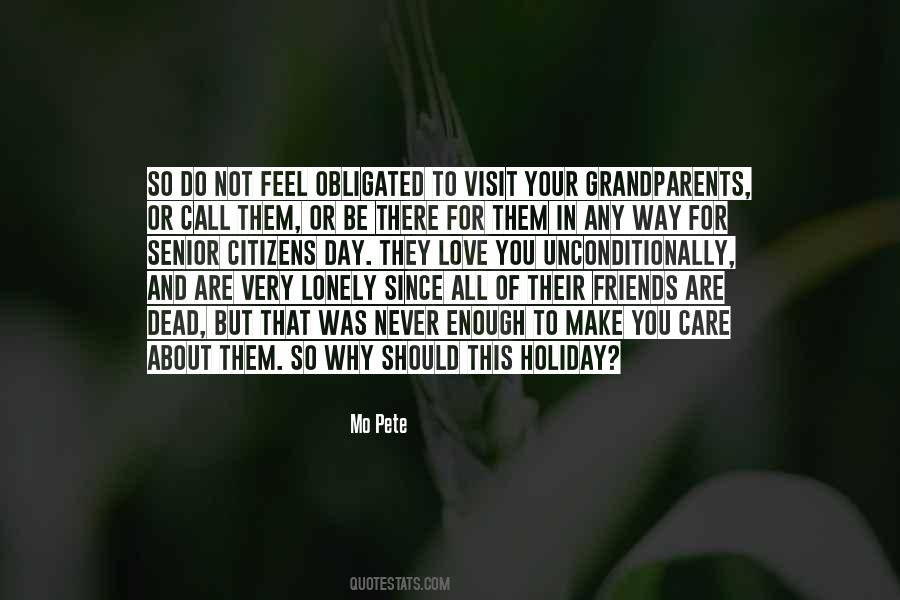 #80. Just be honest and true to yourself. If your friends around you love you, they'll wish you the best and want only what's going to make you happy. - Author: Meagan Good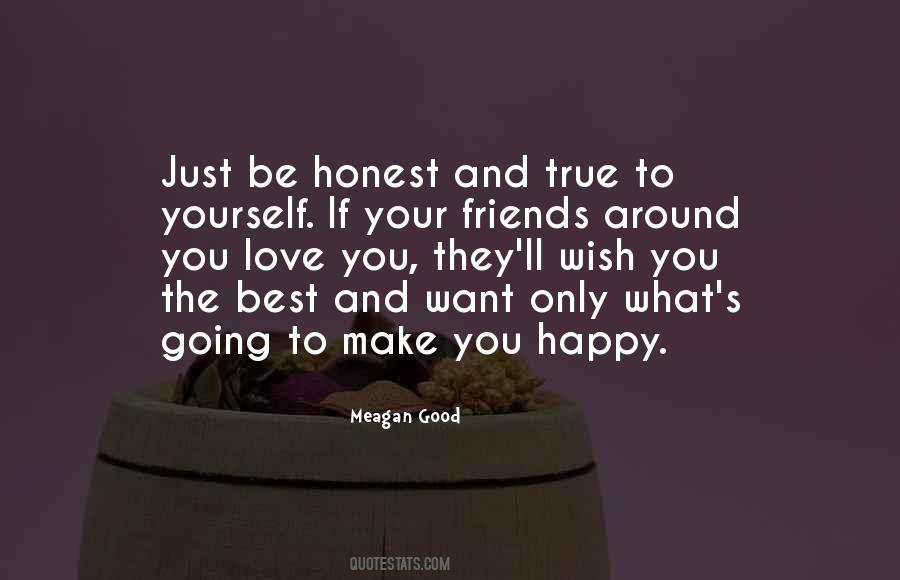 #81. Won't you be my girlfriend
I'll treat you good
I know you hear your friends when they say you should
'Cause if you were my girlfriend
I'd be your shining star
The one to show you where you are - Author: NSYNC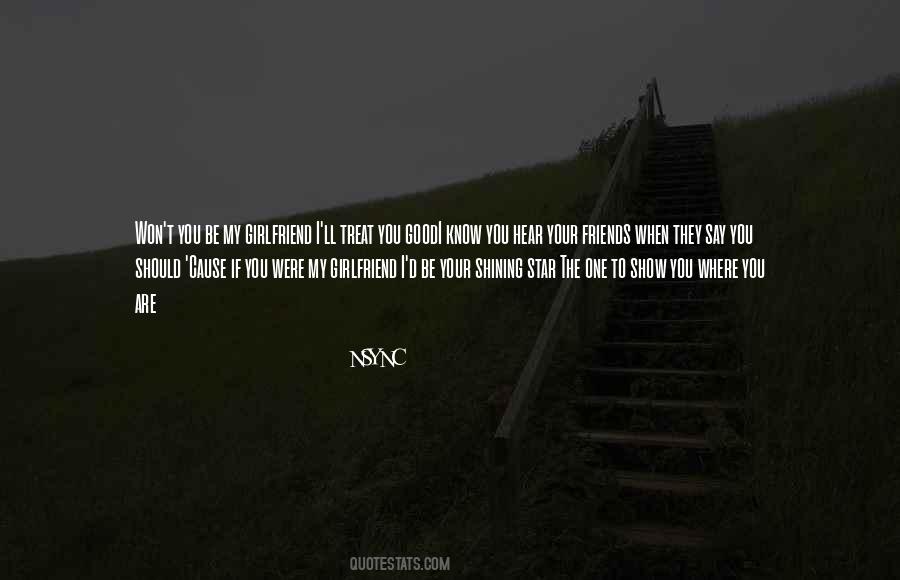 #82. Appreciate what is in front of you, cherish your family and friends. tell them you love them each and every day! Remember, it can all change in the blink of an eye. Live without regret! - Author: Karen Gibbs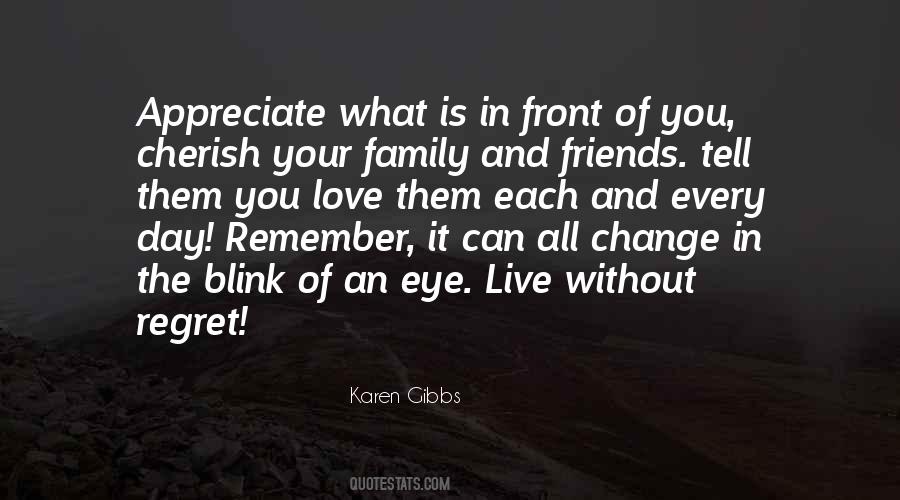 #83. Find someone you care enough about to help you control your drinking. Preferably yourself. - Author: Robert Black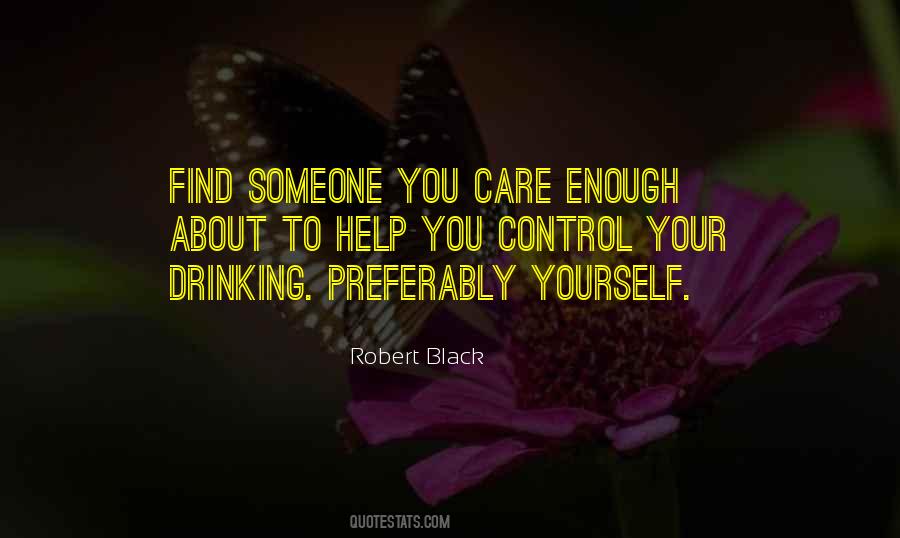 #84. I learned that saying you love your friends isn't enough: that love is a verb - it requires Acts of Love. It is all about the doing, not the saying, and now I make a point, every day, of emailing or phoning or making a plan with those I love. - Author: Jane Green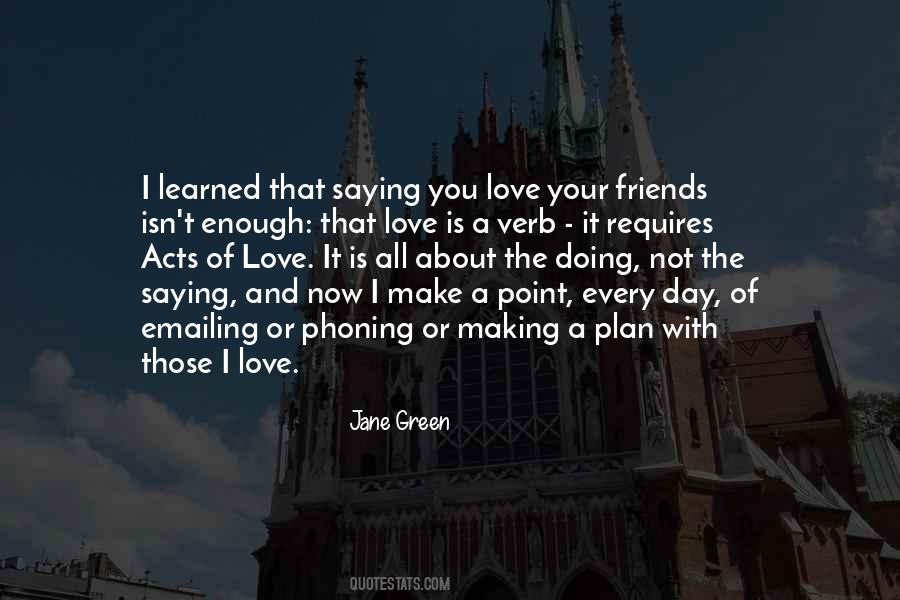 #85. I'm lucky that I've never been bullied personally. There are always going to be kids who are mean and say stuff, but the people that matter to you - the people you love, like your parents, your siblings, and your friends - those are the people you should listen to. - Author: Kendall Jenner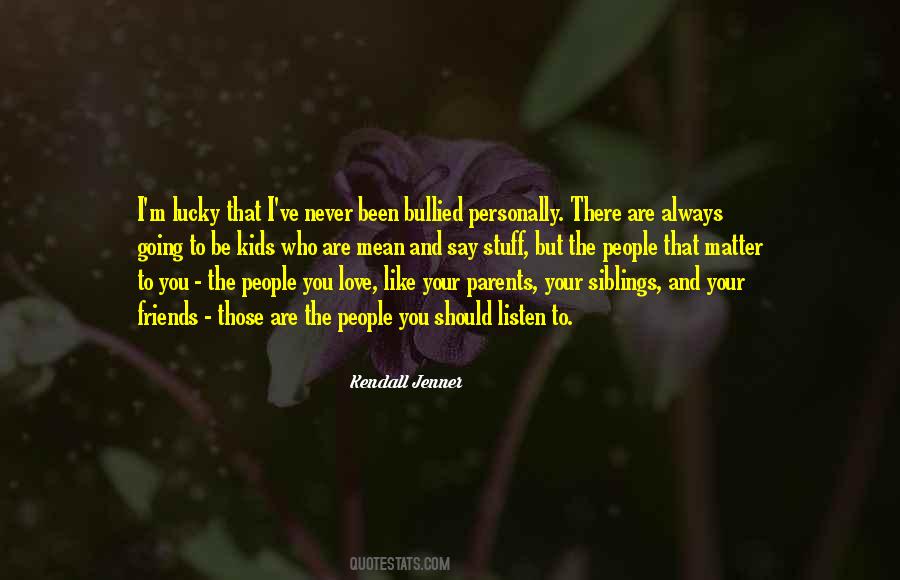 #86. Fill your life with trustworthy friends, and don't drop them should you fall in love. They can be your guides should you lose track of what is important. - Author: Barbara "Cutie" Cooper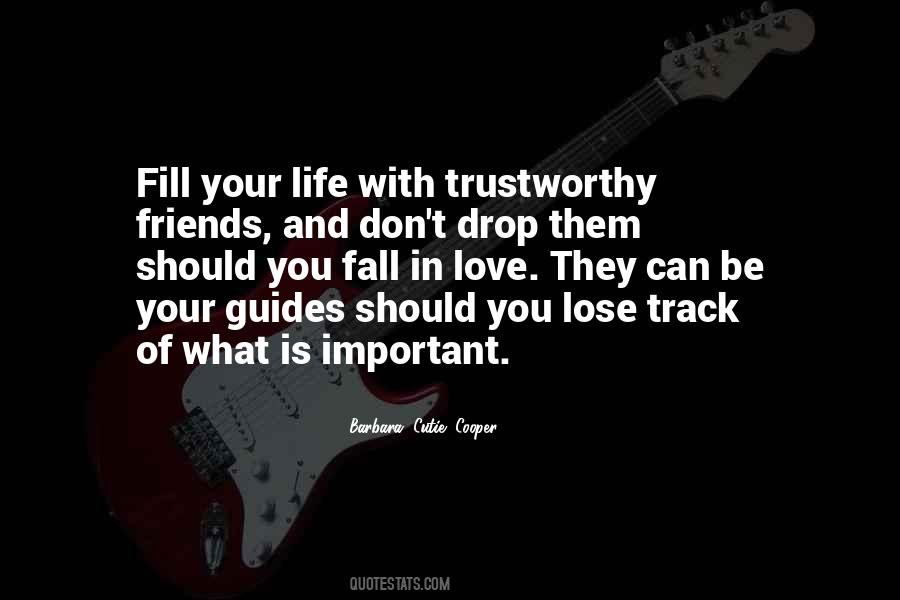 #87. There's a Tibetan saying: 'Wherever you have friends that's your country, and wherever you receive love, that's your home.'" There - Author: Dalai Lama XIV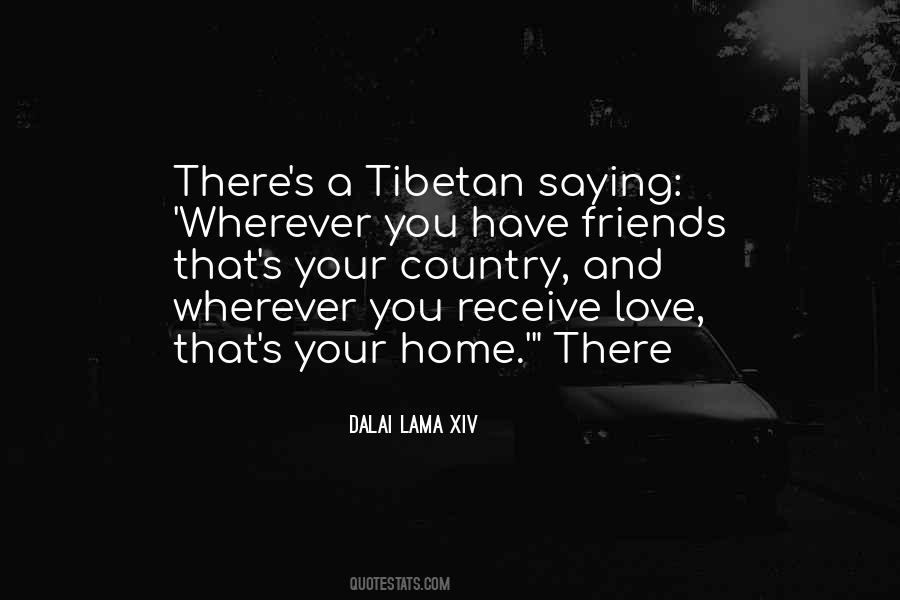 #88. To my mind, the only possible pet is a cow. Cows love you. They will listen to your problems and never ask a thing in return. They will be your friends forever. And when you get tired of them, you can kill and eat them. Perfect. - Author: Bill Bryson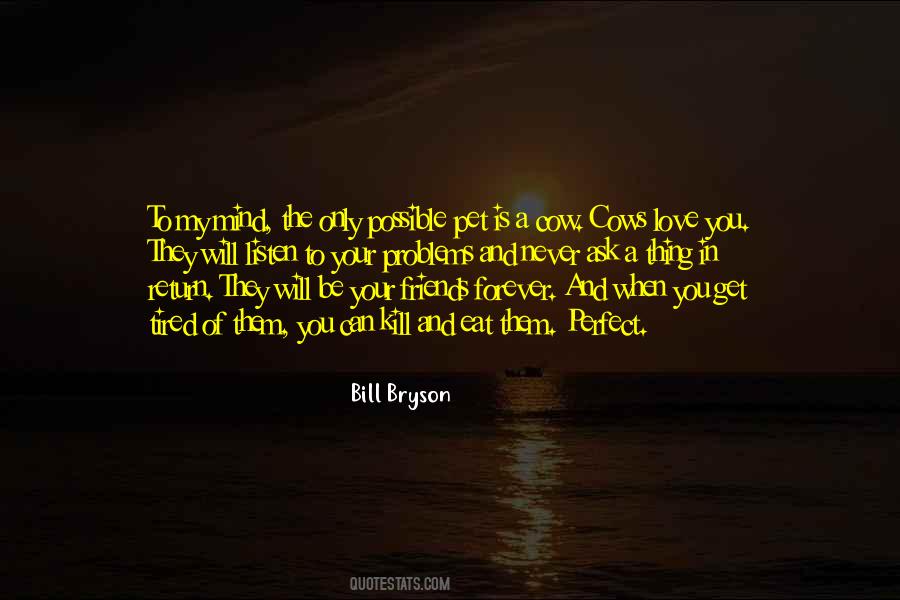 #89. Love yourself as you love your neighbour. If you love your neighbour with a heavy heart, love yourself too with a heavy heart. - Author: Israelmore Ayivor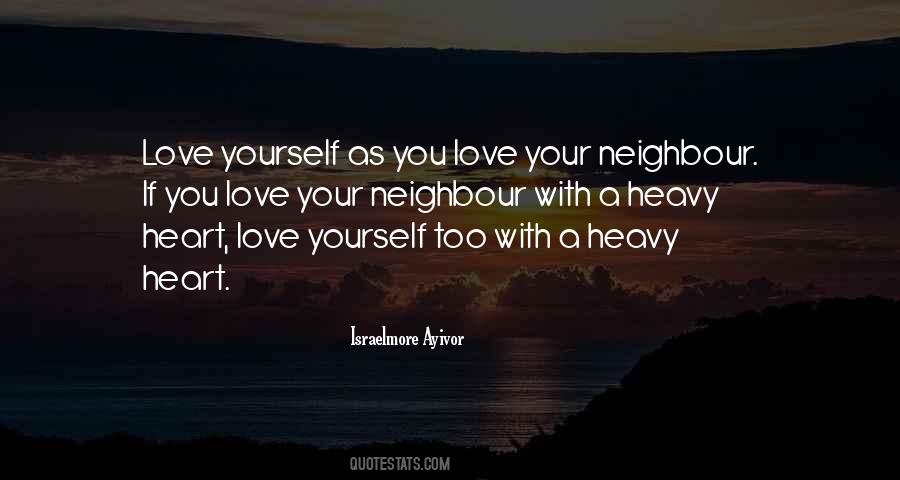 #90. Celebrate the people in your life who are there because they love you for no other reason than because you are YOU. - Author: Mandy Hale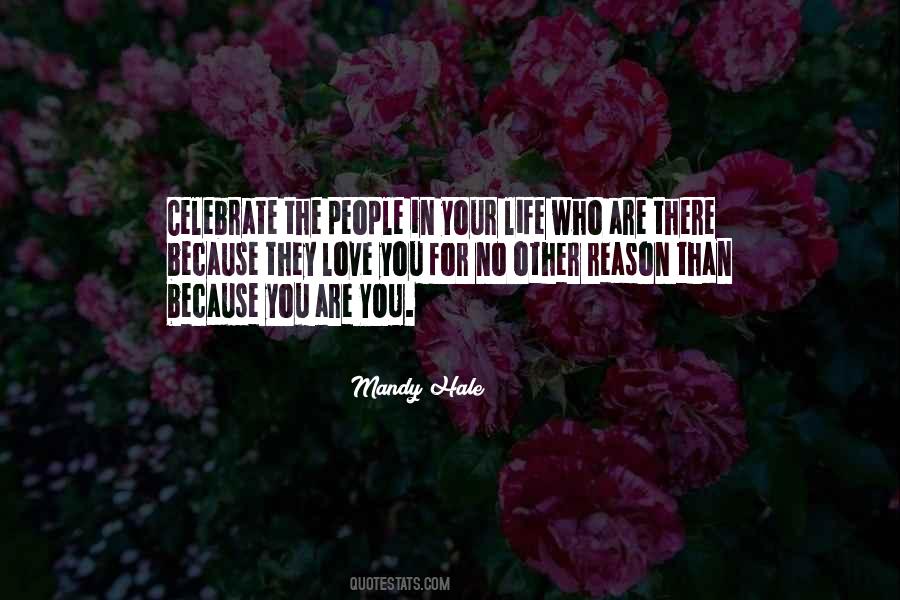 #91. Ask questions then talk over answers, shout loudly you love everyone, try and hug people, confide in them that you are a sheep, offer them the last grass in your pockets.
Then watch with a smile as they pretend you aren't there, and whisper you must be crazy, because you want to make friends. - Author: Craig Stone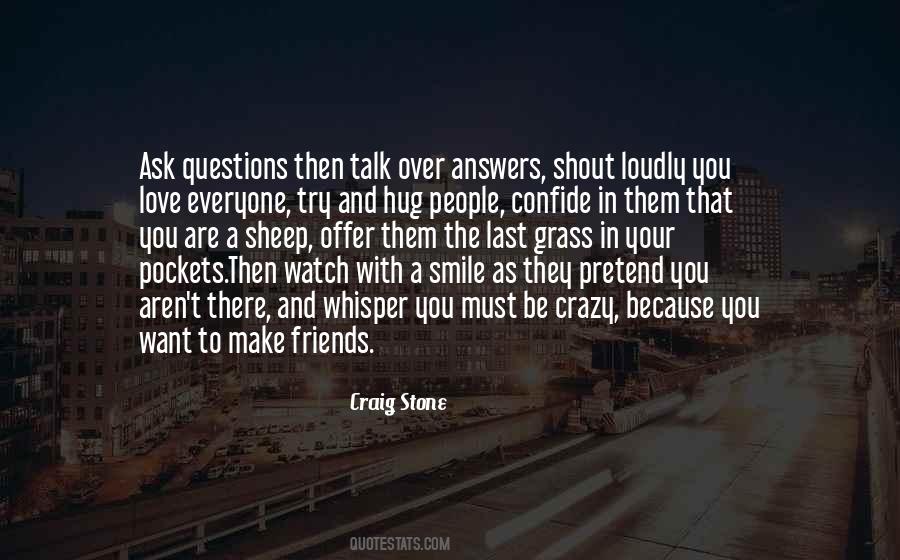 #92. Have you felt it too? Have you seen how your best friends love everything about you- except the things that count? And your most important is nothing to them; nothing, not even a sound they can recognize. - Author: Ayn Rand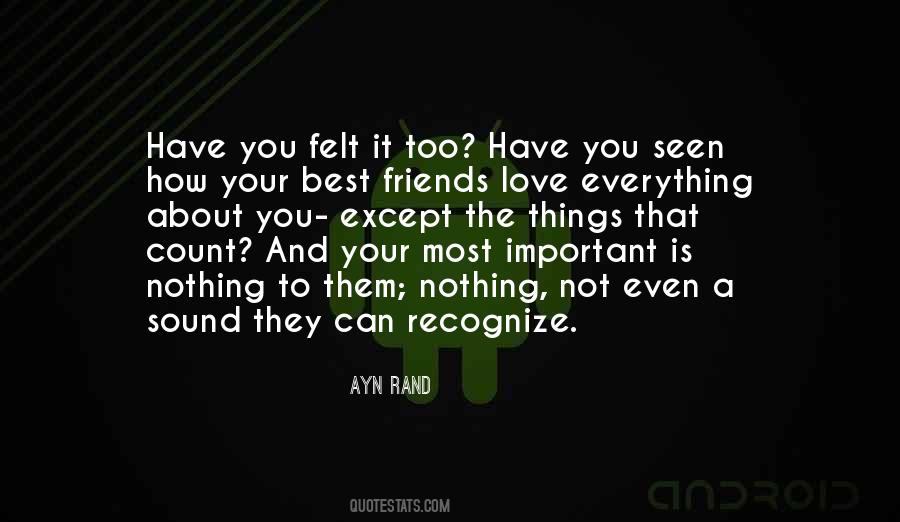 #93. If you're truly friends, then you don't just offer a little whisp of your love. You unzip your chest, reach in and pull your heart out and says, "It's all yours - please keep it beating. - Author: Toni Sorenson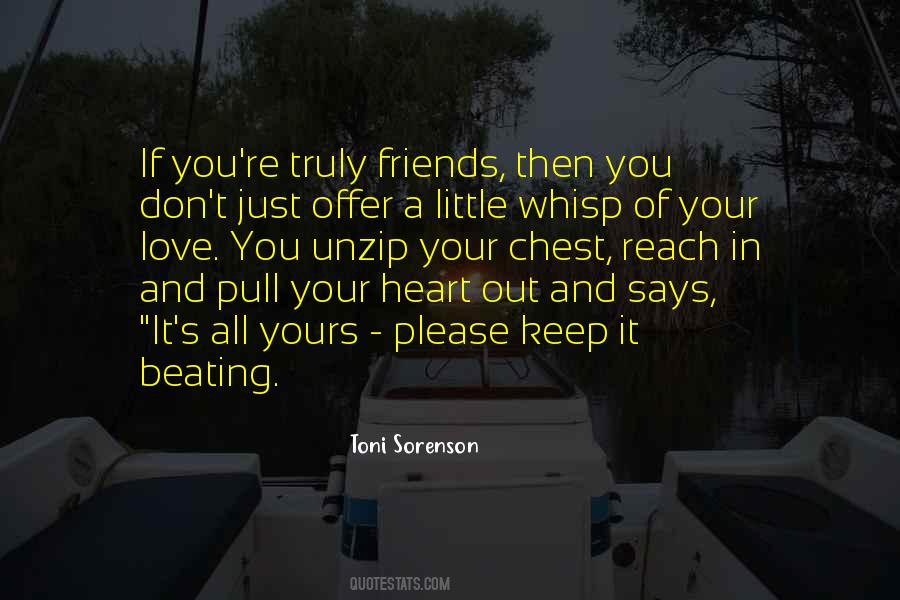 #94. Invest in friendships but be aware of those who only love your public success for personal gain. People who really love you cover your private failures! - Author: Chris Marvel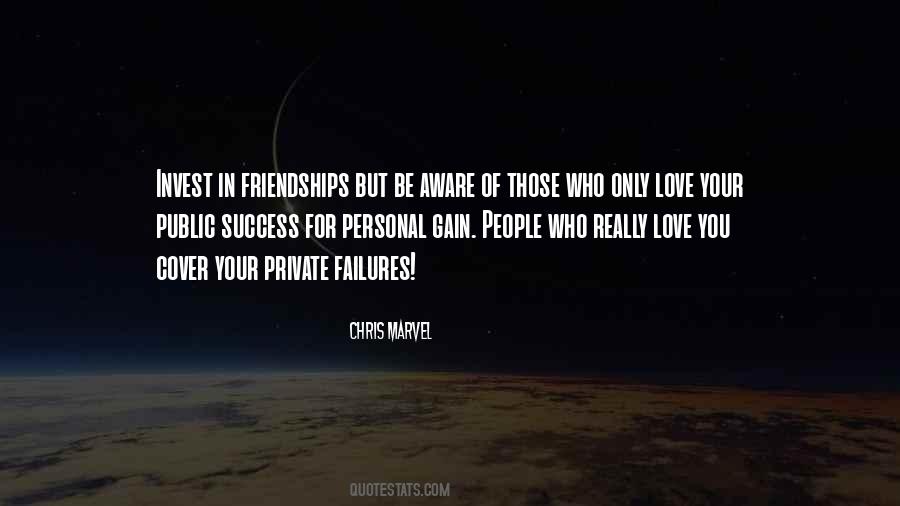 #95. Keep one thing in your mind; your school & friends can never teach you properly ,how to be a good husband & father. - Author: Srinivas Shenoy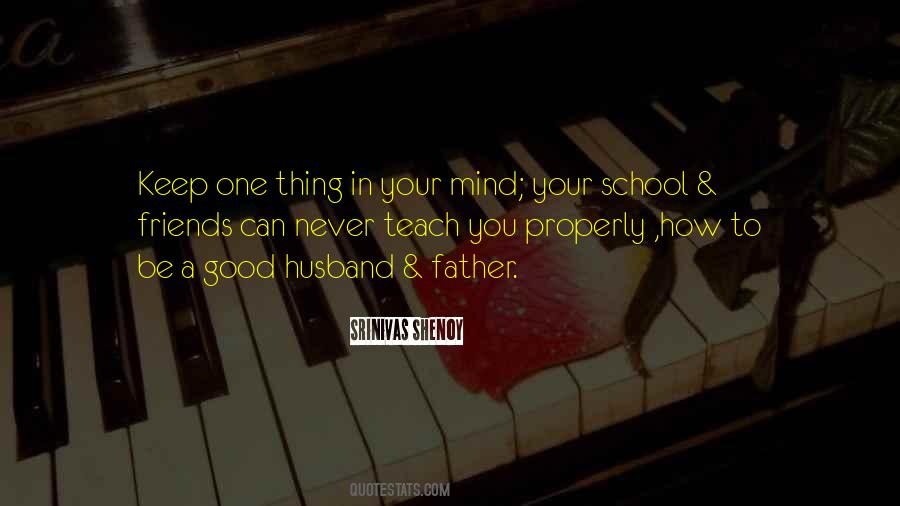 #96. I usually end up falling for one of my really good guy friends because I know everything about them, and you fall in love with their personalities, and it makes them become attractive to you in your eyes. - Author: Colbie Caillat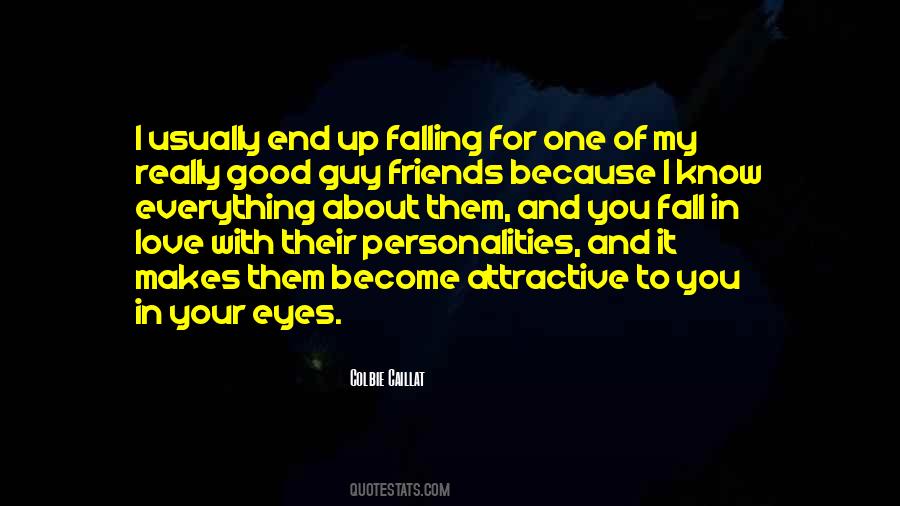 #97. Writing is like sex. First you do it for love, then you do it for your friends, and then you do it for money. - Author: Virginia Woolf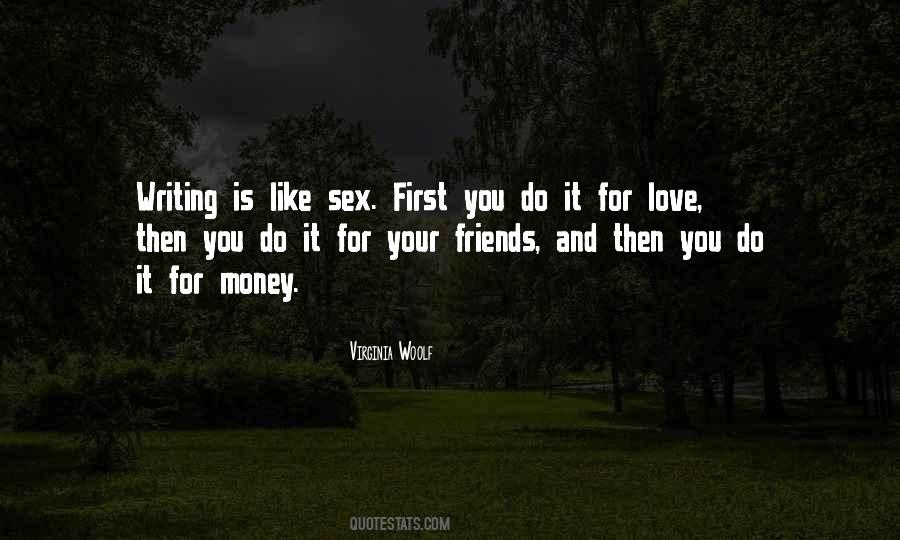 #98. Dear Heavenly Father, thank you for new friends, and for this evening of fellowship. We ask that you guide our conversations, and that they'll be pleasing to you. We thank you for this food and ask your blessing on it, and on the hands that prepared it. In Jesus' name, Amen - Author: Virginia Smith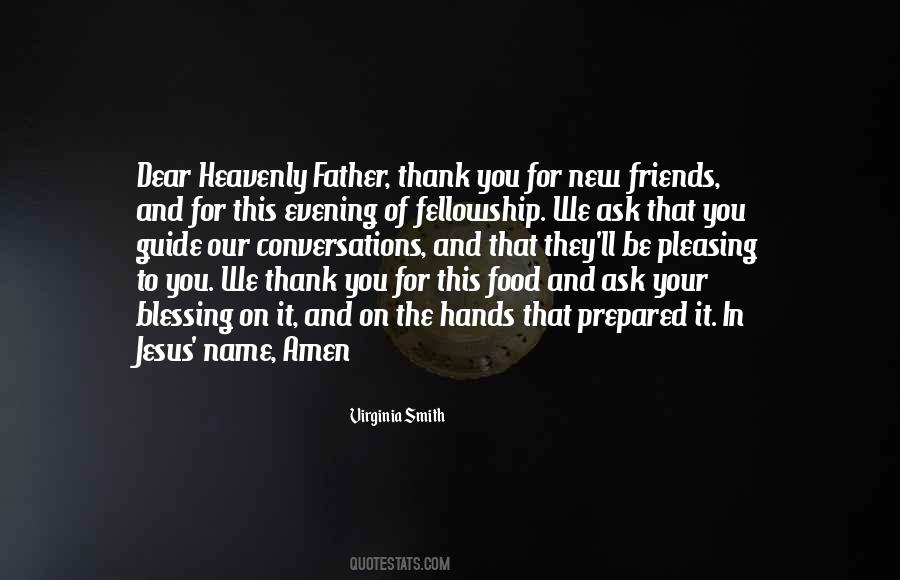 #99. The stranger might laugh and seem to enjoy the writing, but you hug to yourself the thought that they didn't quite understand its force and quality the way you do - just as your friends (thank heavens) don't also fall in love with the person you are going on and on about to them. - Author: Stephen Fry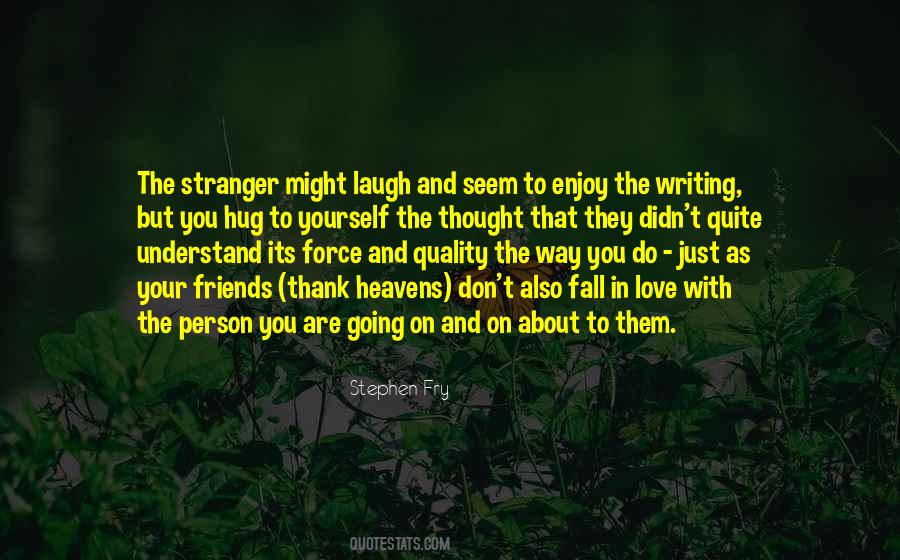 #100. Who and what you affiliate your life around will likely determine who you'll become. - Author: Jonathan Anthony Burkett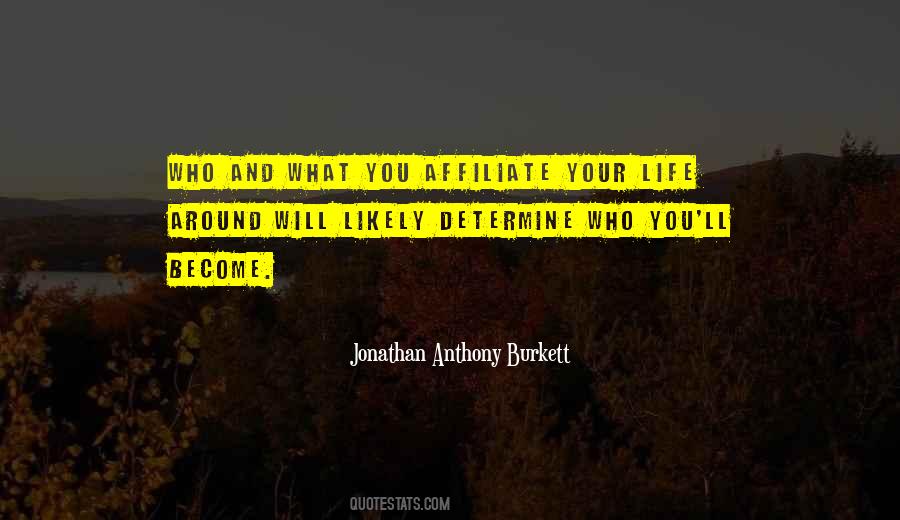 Famous Authors
Popular Topics