That's Like Saying Famous Quotes & Sayings
List of top 100 famous quotes and sayings about that's like saying to read and share with friends on your Facebook, Twitter, blogs.
Top 100 That's Like Saying Quotes
#1. There's a saying that you can't put a price on a human life, but that saying is a lie because we have. We have, and it's so much lower than you would think. Yes, human life has its price like anything else, and will continue to do so for as long as it doubles as a commodity. - Author: Nenia Campbell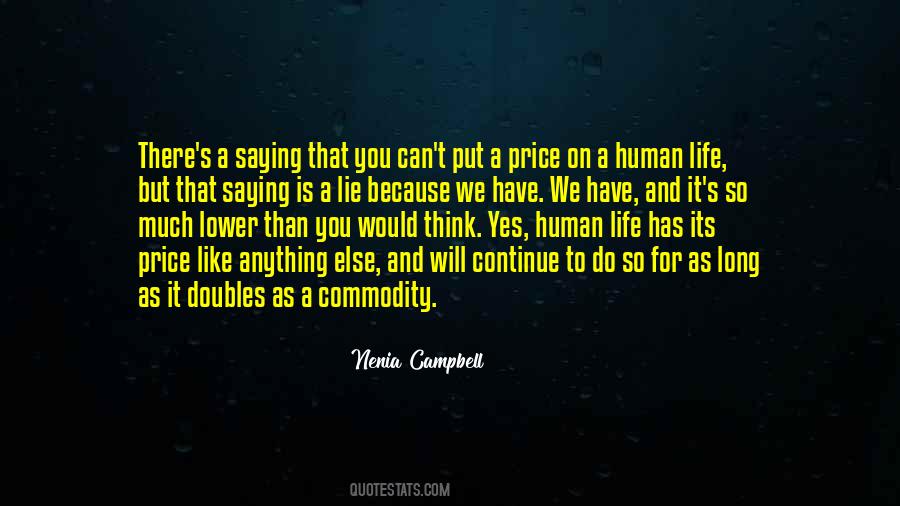 #2. Why should I be depressed? I've got enough money. I've got a job. People like me. There is no to be depressed. That's at stupid as saying there is no reason to have asthma or there is no reason to have the measles. You know you've got it. It's there. It's not about reason. - Author: Stephen Fry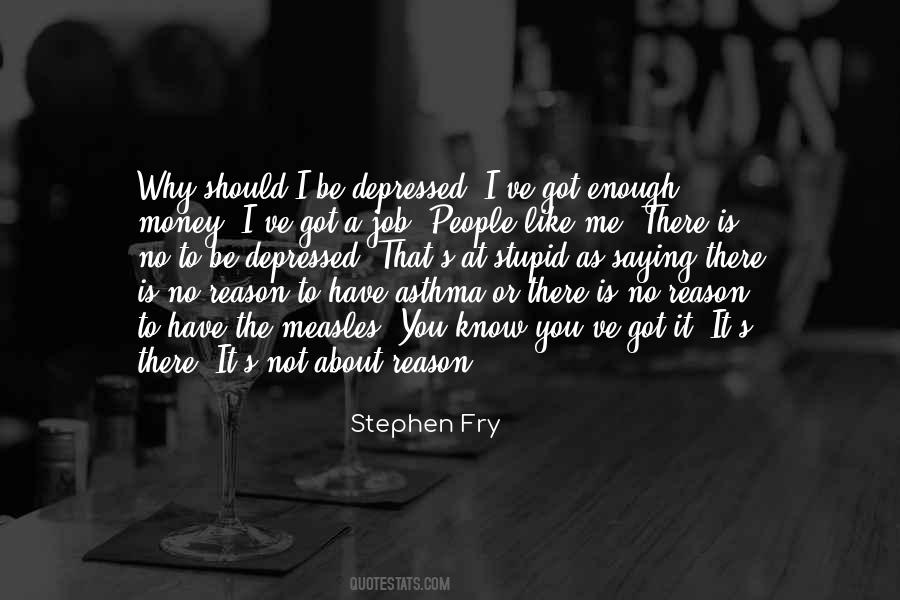 #3. If you're saying the same line 10 times and making it look like you just came up with it, that's acting. - Author: Joan Rivers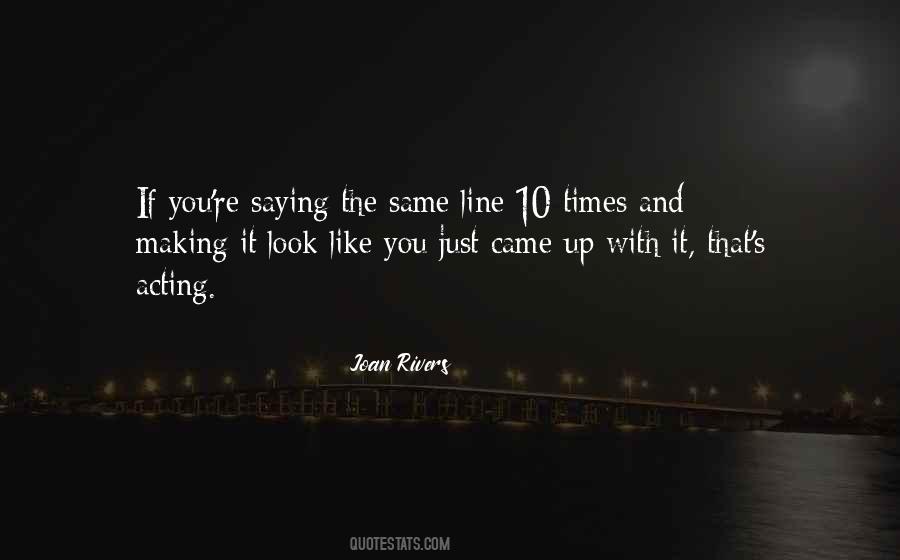 #4. More often than not he wore jeans with at least half a dozen holes, flip-flops that made him look like he was heading to the beach and a T-shirt, usually with a snarky saying. Today's offering was Heavily armed, easily pissed. - Author: Maya Banks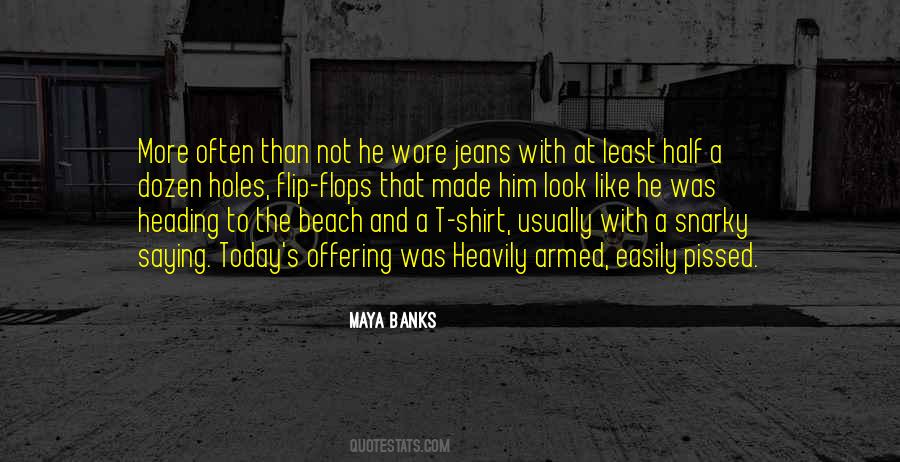 #5. It's hard to overstate how utterly mad it is for a Fed chairman in the age of the global economy to claim that a weak currency only affects tourists. It's a little bit like saying a forest fire only really sucks if you're a woodpecker. - Author: Matt Taibbi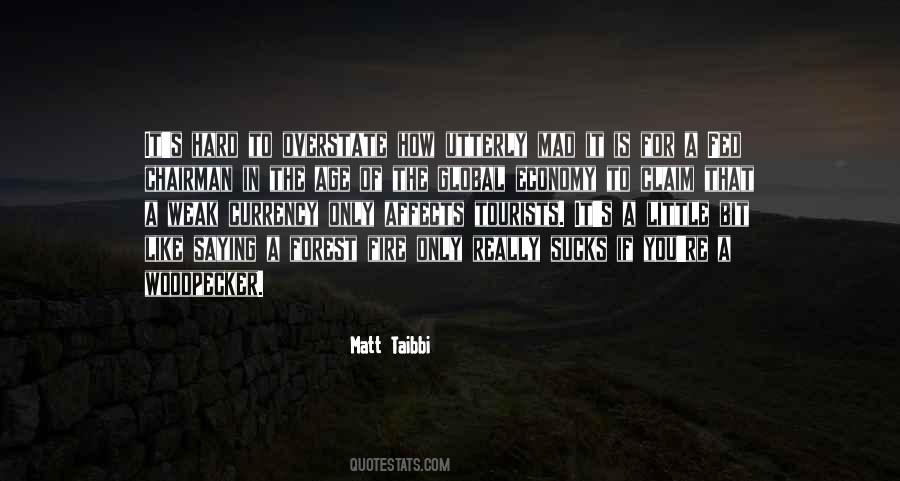 #6. I always laugh at these companies that have these rules saying, 'You're only allowed to have this or that on your desk.' It's no fun to work at a place like that. - Author: John Lasseter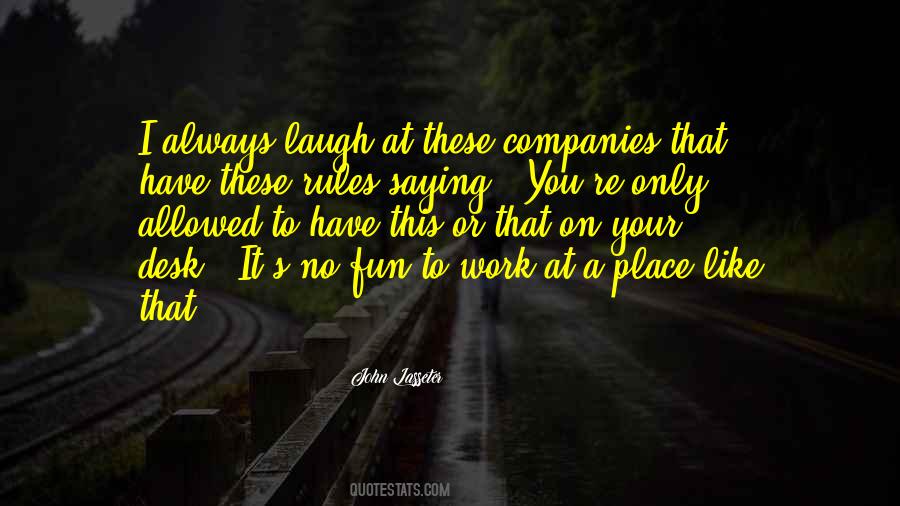 #7. She always called him Luca, in the Italian manner, and said it with that funny trans-European intonation, the accent oddly placed on the first syllable: 'Where's Loo-ka?', just like Audrey Hepburn saying, 'Take the pic-ture,' in Funny Face. - Author: Adam Gopnik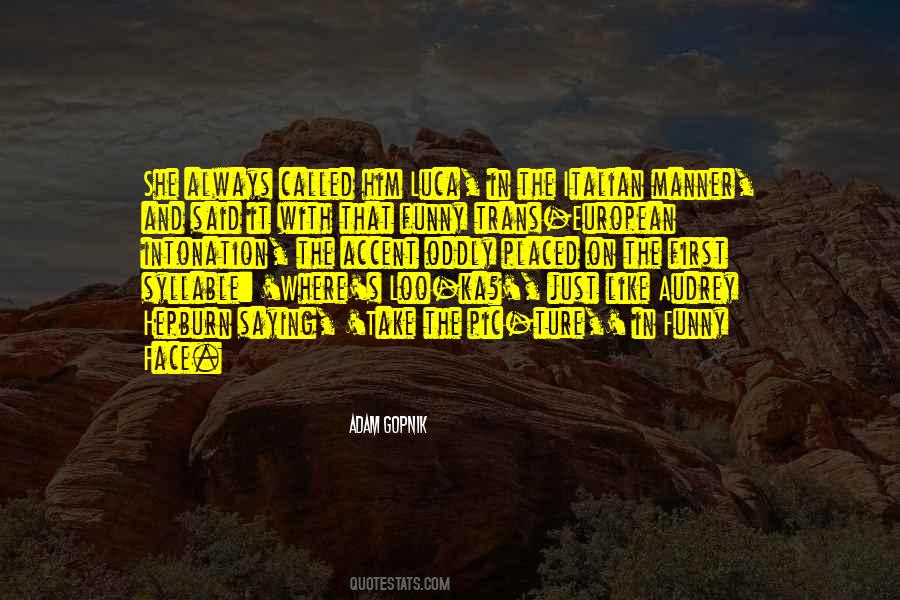 #8. I know right a way there's a person that's very insecure; that he's trying to out do me. And, ah, like I was saying before, if you give one-hundred percent of your best, and you may have fault, but there is nothing you can do, because you gave one-hundred percent. - Author: Lou Ferrigno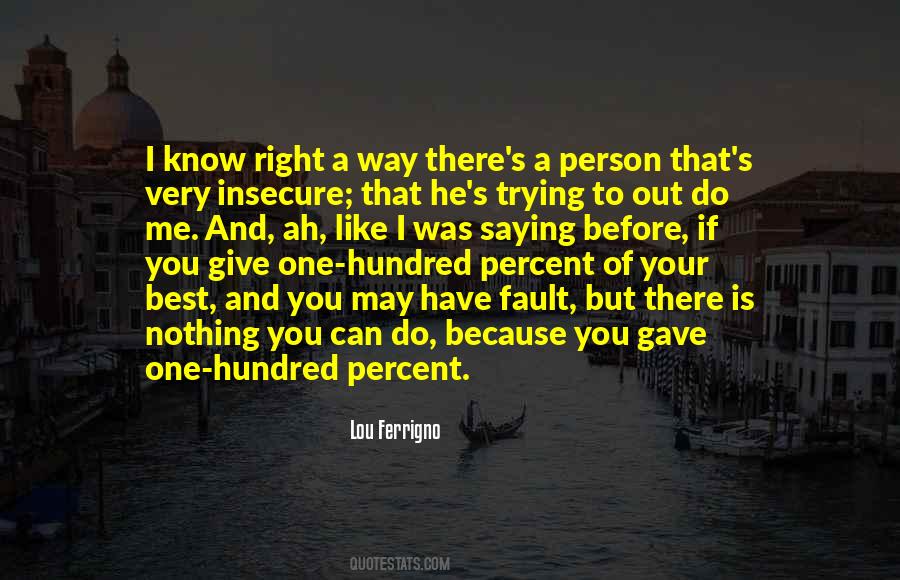 #9. from the poem Holographic Personality Disgrace:

Some people are such assholes that saying, "Look, again, I'm sorry I cut off my thumb and glued it to your baby's head because I thought you'd like him better as a unicorn" means nothing to them. - Author: Sam Pink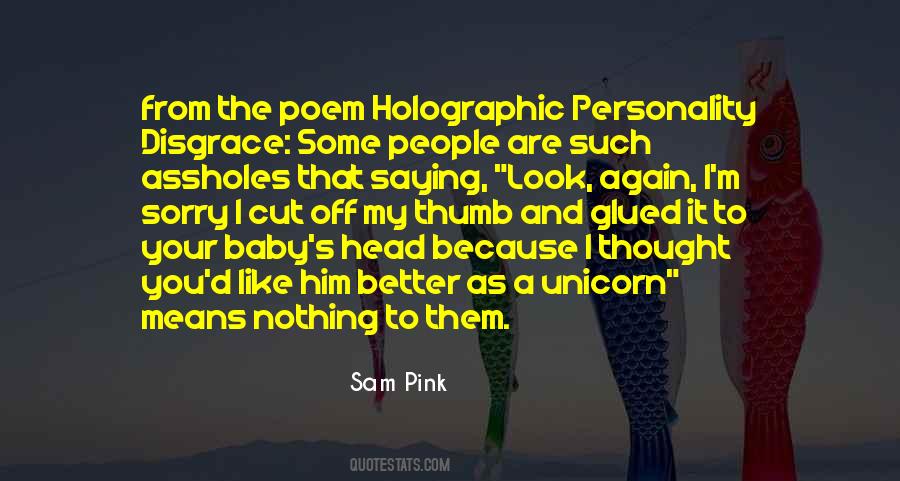 #10. Molly stood up. You made an error! She felt like saying. A bad throw. So what? It's a baseball game. A game. Who really cares? A bad throw? In the great scheme of things? A bad throw? Of course she didn't say that. She understood that your own errors always feel tragic. - Author: Mick Cochrane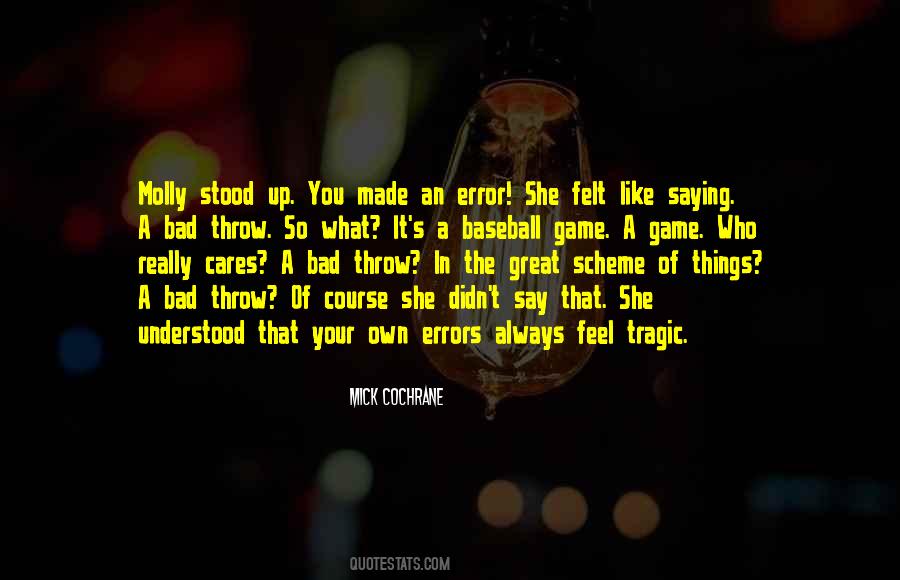 #11. I totally understand the promotional aspect of our show and the business end of it. We're putting something out there that we're really proud of. It's not like we're saying, "Hey, come watch our show," because it sucks. - Author: Angie Harmon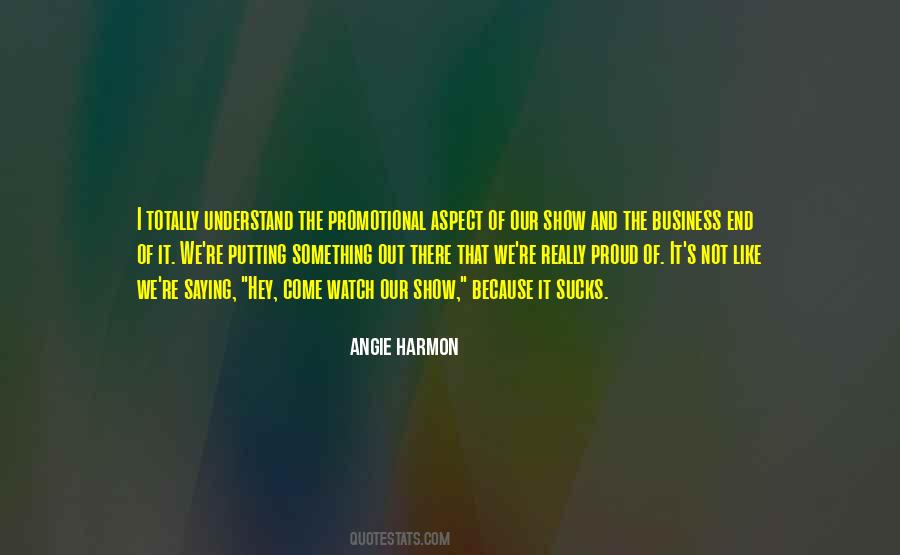 #12. The notion that we won the war against Iraq is like saying we won a war against Arizona. I mean, the fact of the matter is it's not that big of a country. Nobody, I don't think, had any notion that we would do anything but win it. - Author: Carol Moseley Braun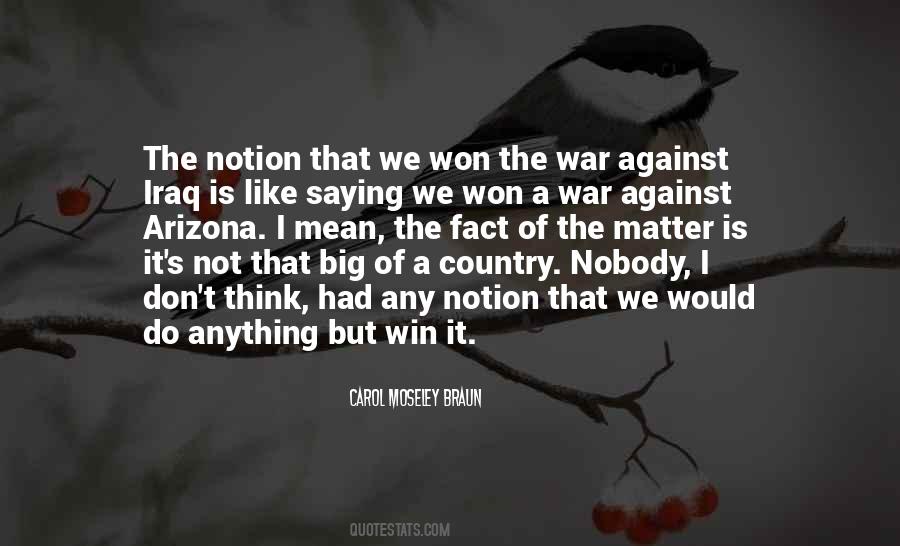 #13. My game is really played above time. I don't say that like I'm saying I'm ahead of my time. I'm saying, like, if I'm on the court and I throw a pass, the ball that I've thrown will lead my teammate right where he needs to go, before he even knows that that's the right place to go to. - Author: LeBron James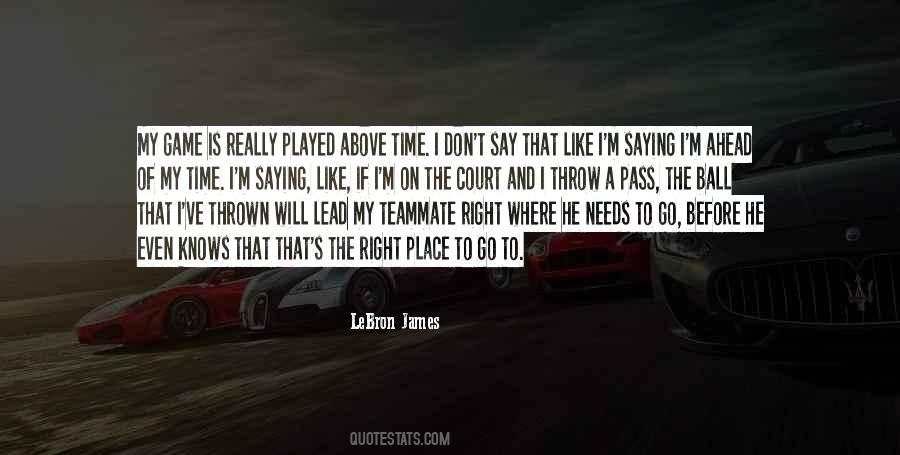 #14. Never apologize for saying what/how you feel. Cuz' that's like saying, "Sorry for being real". - Author: Scott Ginsberg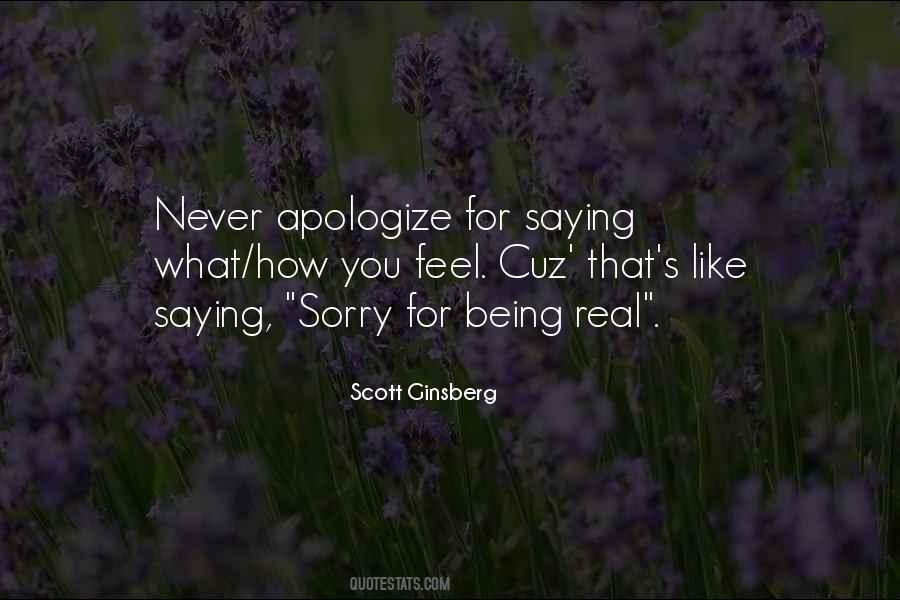 #15. I'd like to say I'm R&B's savior. Whether that's the truth or not, I'm definitely going out there with my mic and my shield to declare, 'I am here to save R&B.' I will have the people saying, 'Sir, there is a man at the musical gates saying he is here to save R&B.' - Author: Jamie Foxx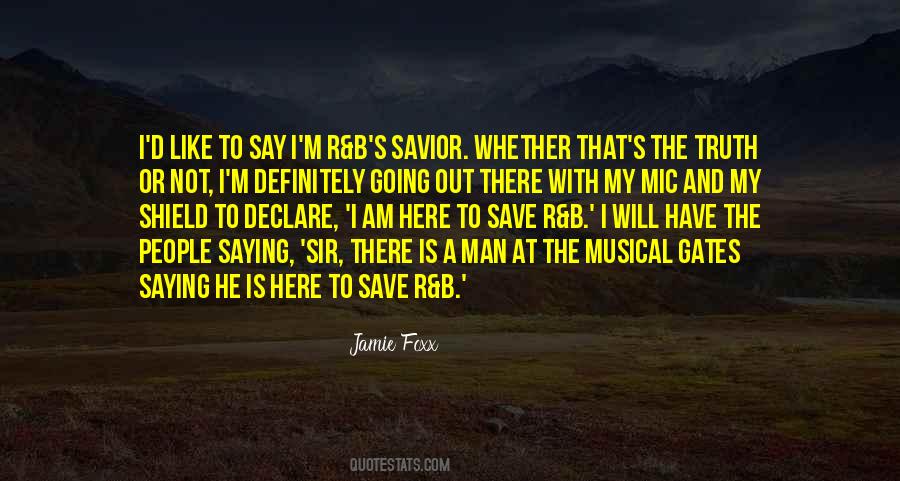 #16. If you like everything, that's basically just saying that you don't really like anything. - Author: Morgan Matson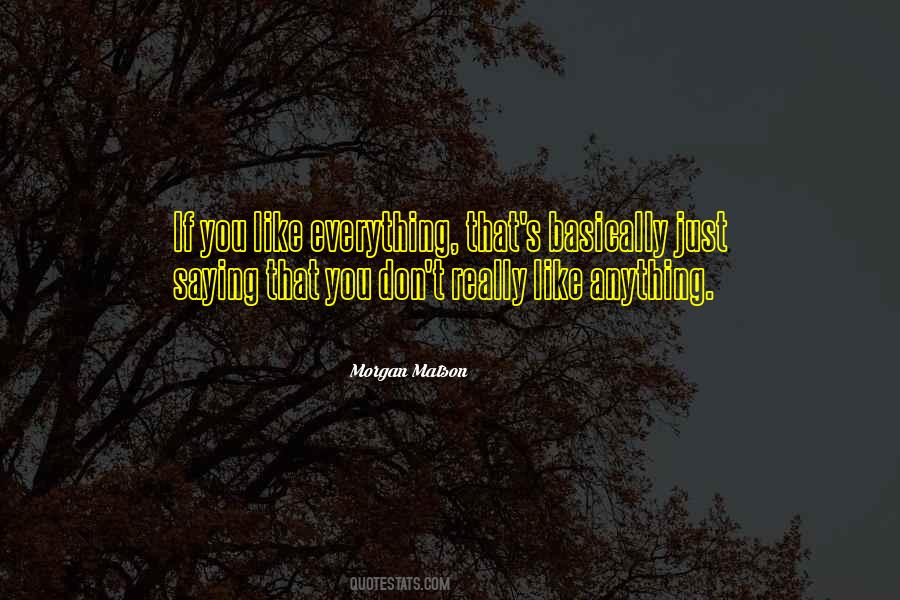 #17. I really think that everybody would like to be an actor. Why wouldn't they? It's great work if you can get it. The one thing that prevents most people from saying, 'I'm just gonna go to Hollywood!' is that it seems unrealistic. - Author: Ben Affleck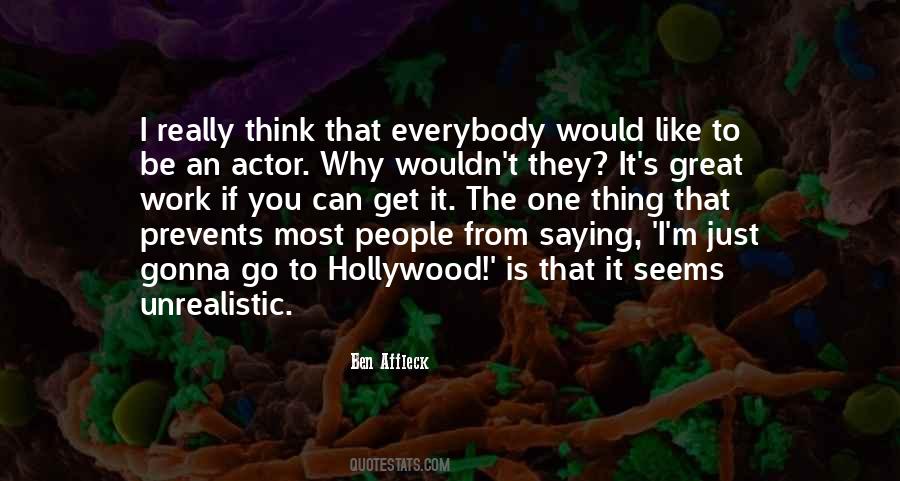 #18. My mom's collard greens. No one else in the world can make them like hers. I'm not just saying that because she's my mom. She's got some Mississippi secret. I could seriously eat them every day. - Author: Santigold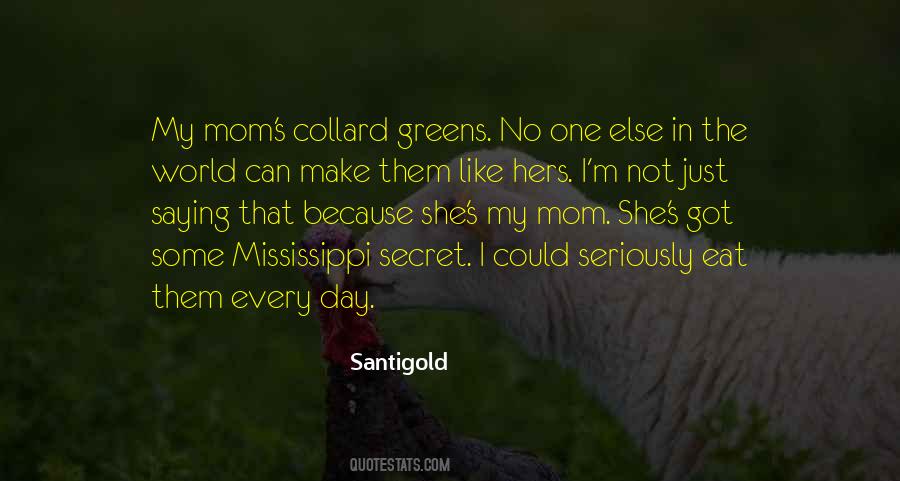 #19. What science is all about is a process. It's like saying, "Well, is it important for people to know that World War II happened?" Well it's part of what makes us who we are. And so, there's basic bits of science we need to know. - Author: Lawrence M. Krauss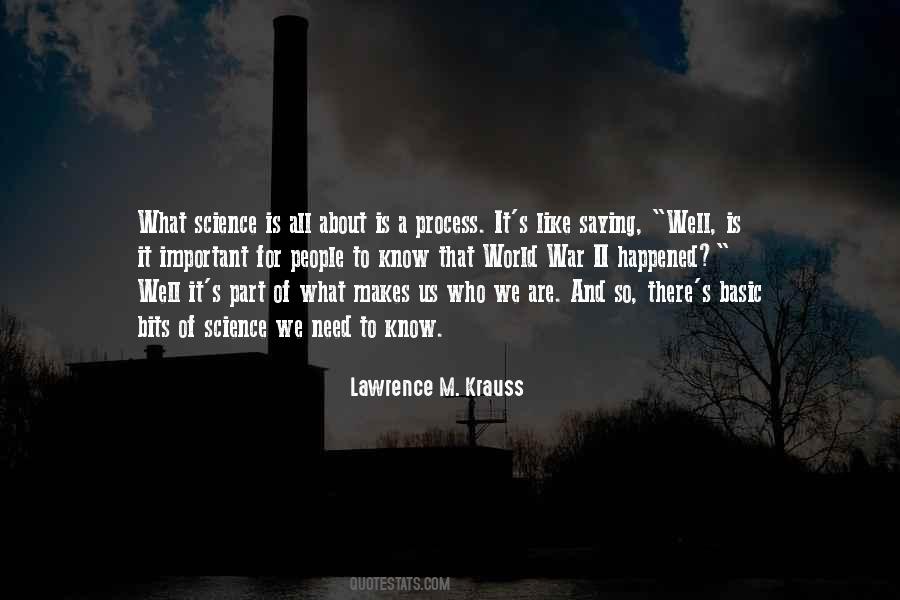 #20. The idea is that the woman's heritage and background are just as important as the man's. Many women see taking a man's name as a gesture of symbolic oppression. It's like saying to the woman, 'Who you are as a person isn't as important as who I am. - Author: Rhoda Janzen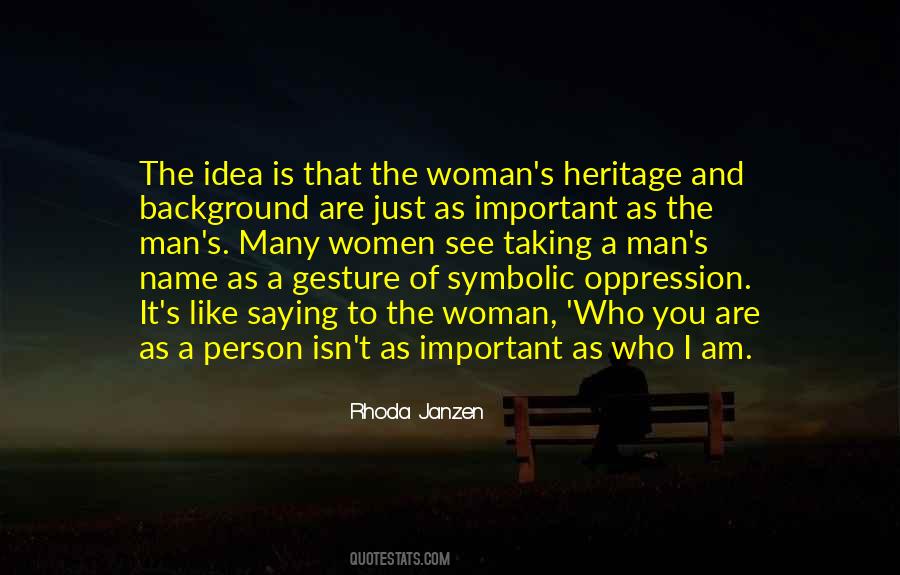 #21. My heroes are guys like Tom Hanks, Leonardo DiCaprio, and Matt Damon. These are amazing actors with amazing careers that every actor should aspire to. I'm not saying I'm going to get anywhere close. It's not going to be an easy feat. I'm just in awe of their careers. - Author: Dylan O'Brien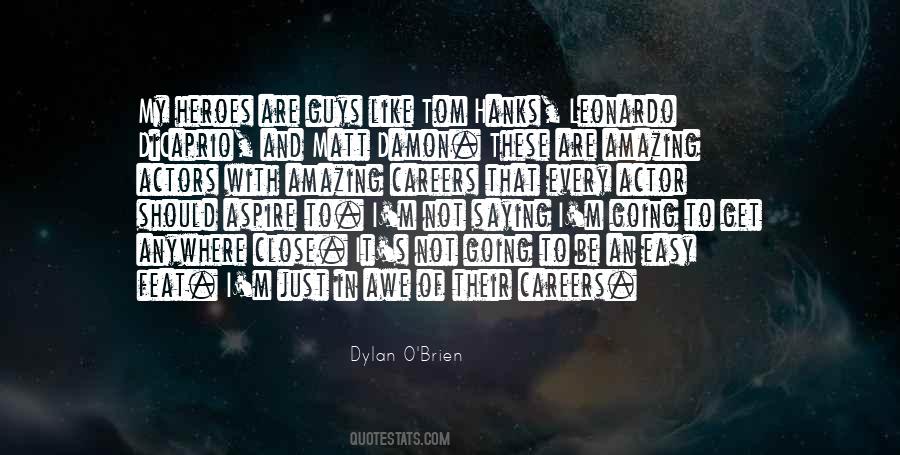 #22. I'm a cat! Cats don't go round feeling *sorry*! Or guilty! We never *regret* anything! Do you know what it feels like saying, 'Hello food, can you talk?' That's not how a cat is supposed to behave! - Author: Terry Pratchett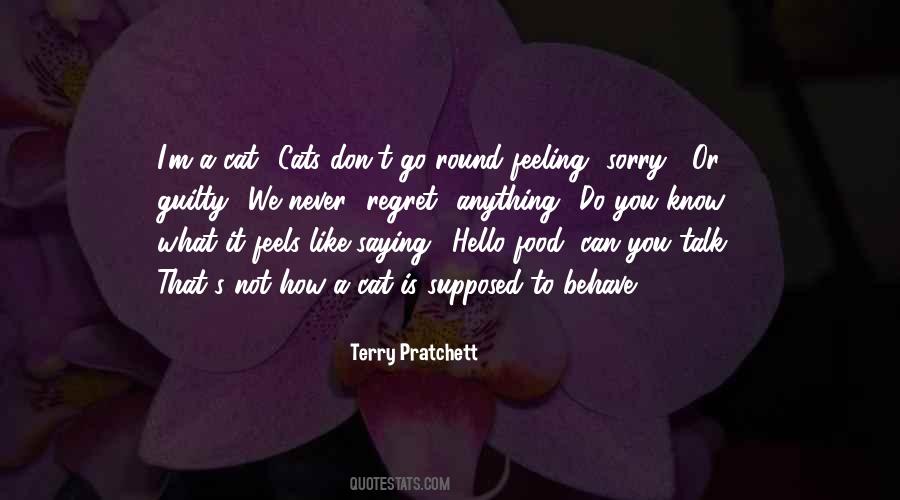 #23. We know our son. We know he's not a pedophile like some of these newscasters are saying. That is not true. - Author: Joseph Jackson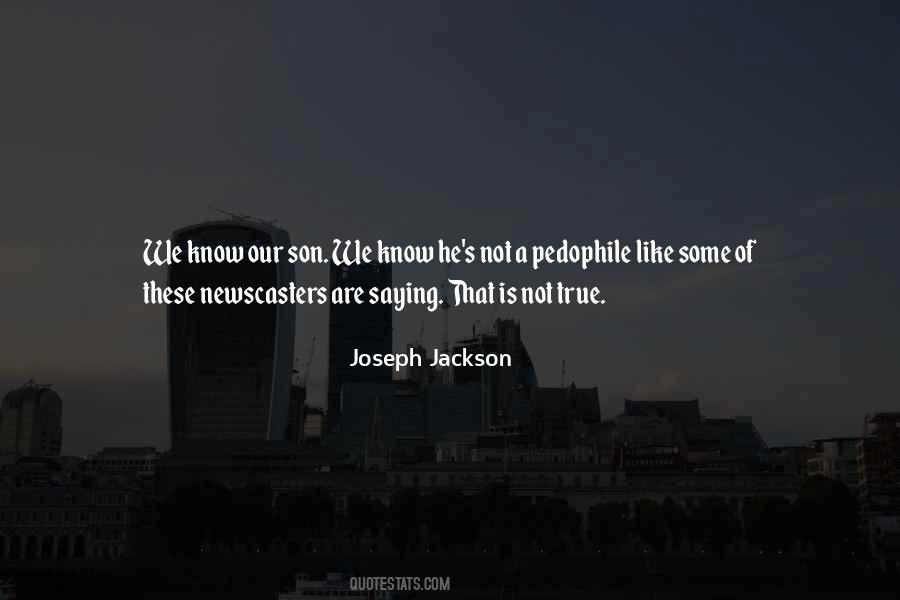 #24. Again I think my gift is bringing hope to everybody, and I don't want someone to look at me and say, "I would listen to him, I like what he's saying, but he's this or that politically and that turns me off." - Author: Joel Osteen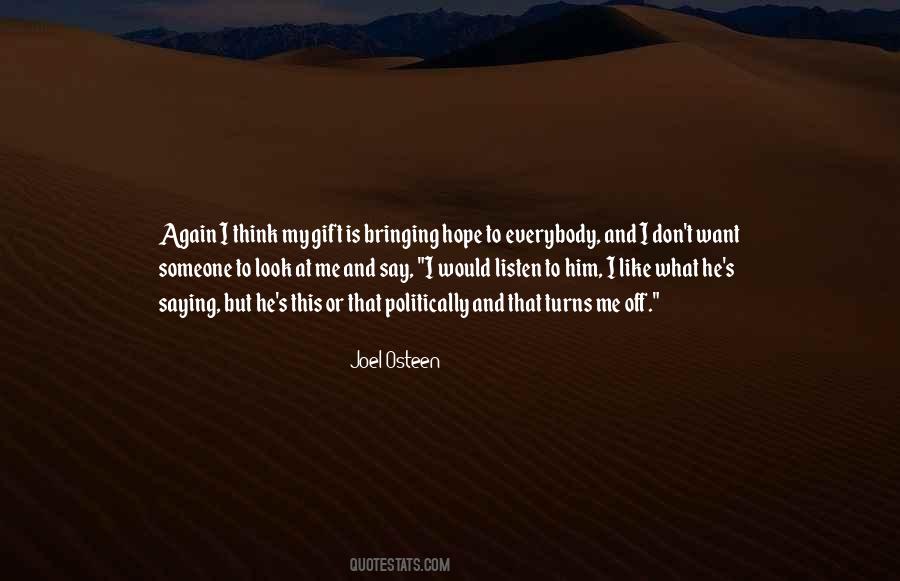 #25. To say that life is nothing but a property of certain peculiar combinations of atoms is like saying that Shakespeare's Hamlet is nothing but a property of a peculiar combination of letters. - Author: Ernst F. Schumacher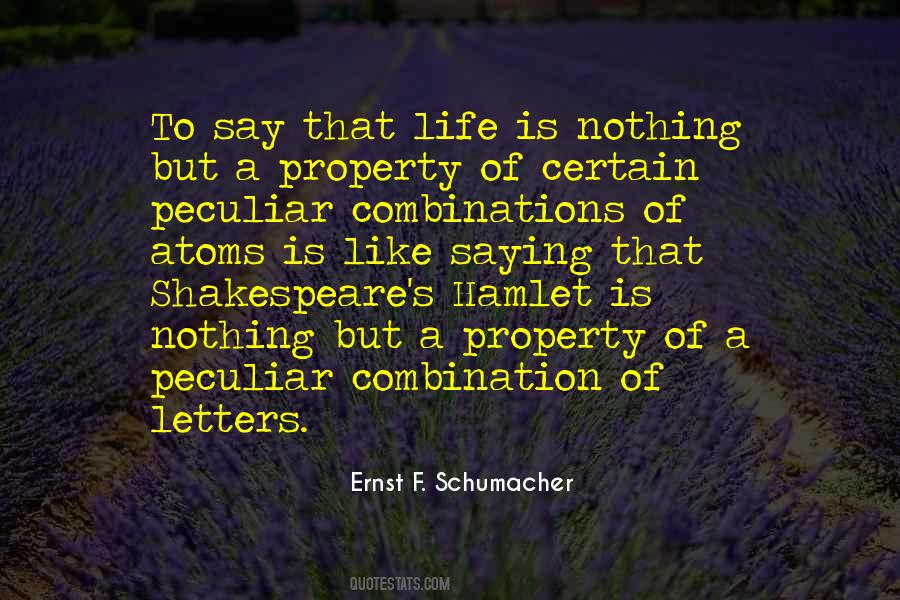 #26. I don't like getting myself in hot water. But suddenly I find that every minute I have to stop and think about what I'm saying. I can see what's going to happen. I'm going to have to stop giving interviews because I'm always saying the wrong thing. I don't want that to happen. - Author: Joanne Woodward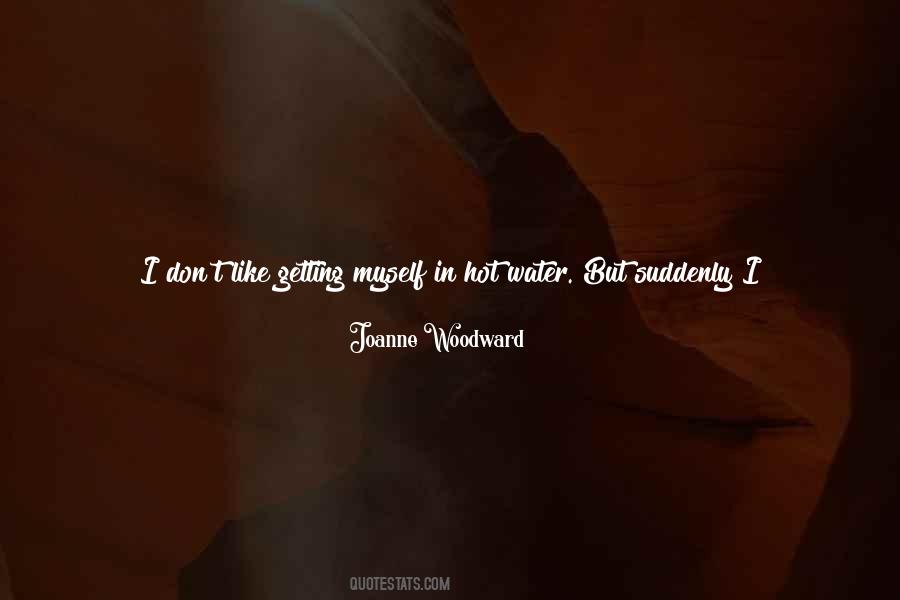 #27. Forget words like 'hard sell' and 'soft sell.' That will only confuse you. Just be sure your advertising is saying something with substance, something that will inform and serve the consumer, and be sure you're saying it like it's never been said before. - Author: William Bernbach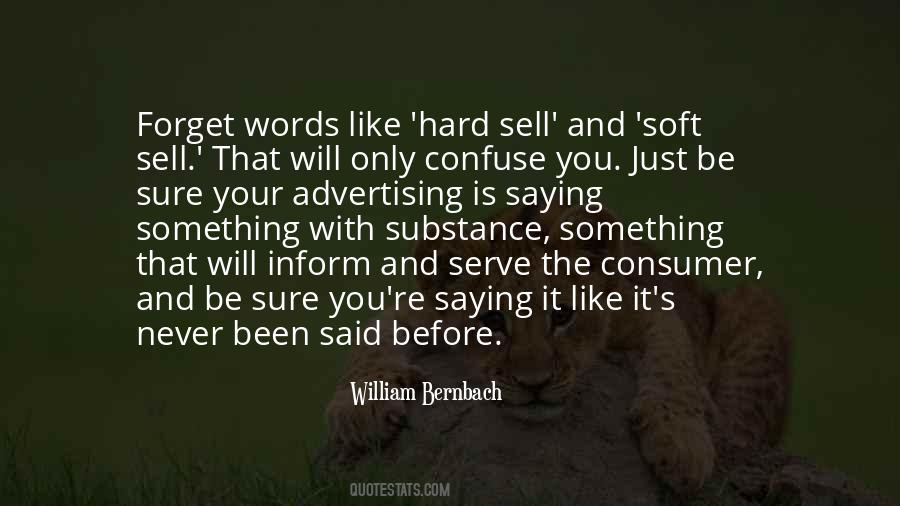 #28. I don't really control the story. I just let it go where it wants to go. I have no idea what's going to happen in the end or who's going to live, so it's kind of like me saying, "I don't know, guys! Just wait." That's what I'm doing! - Author: Veronica Roth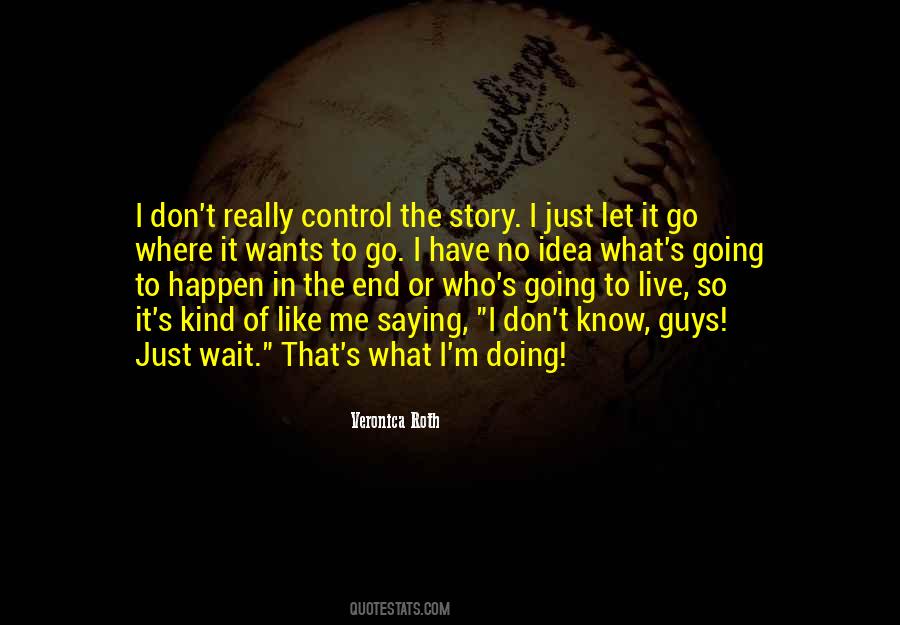 #29. I made the decision that I was going to make rap music in, like, fourth grade, so it's been something I was saying for a long time. - Author: Chance The Rapper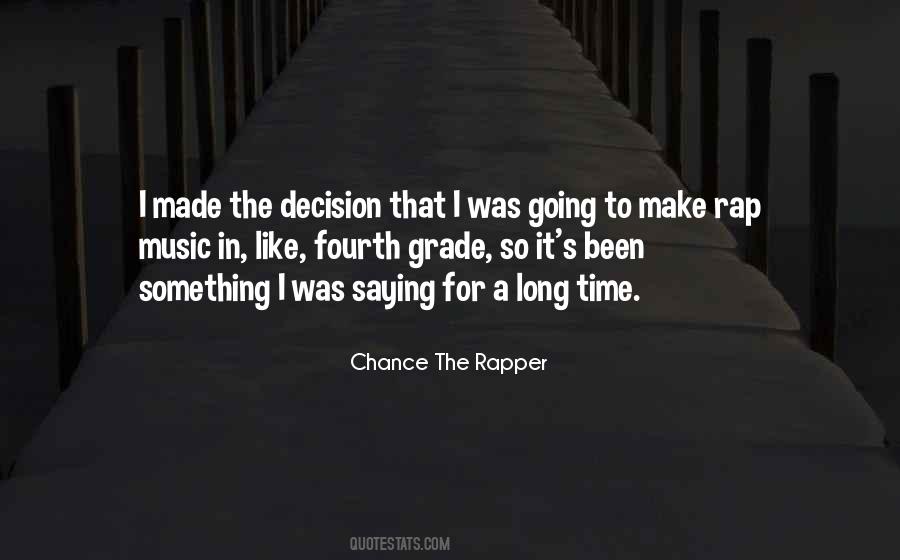 #30. have a strict rule against dating men like that. I don't want to be the Luke to anyone's Yoda, you know what I'm saying? - Author: Julie Johnson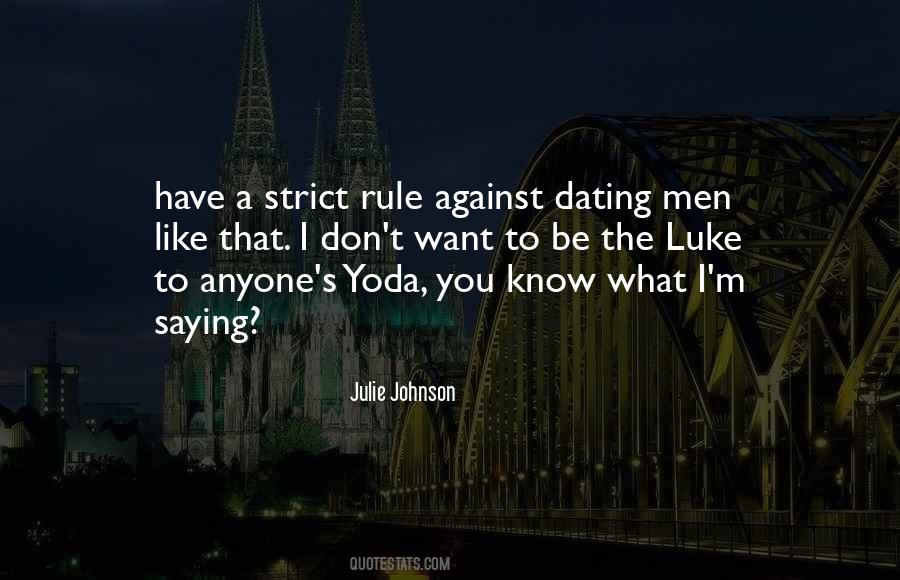 #31. But we don't have to react. That's what I'm saying. A police force, like a government, should be above that. Just because we're provoked doesn't mean we have to act.
Still Life - Author: Louise Penny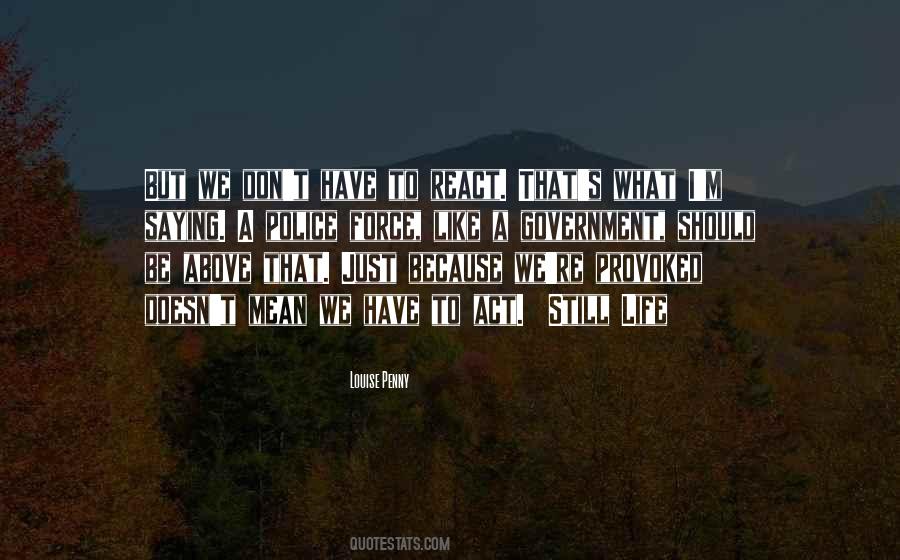 #32. It seems like it has kind of taken off where people are saying 'oh it's a female character' and it just kind of grew. But my intent in saying that was humour. You know, you have to show Link when you create a trailer for a Zelda announcement. - Author: Eiji Aonuma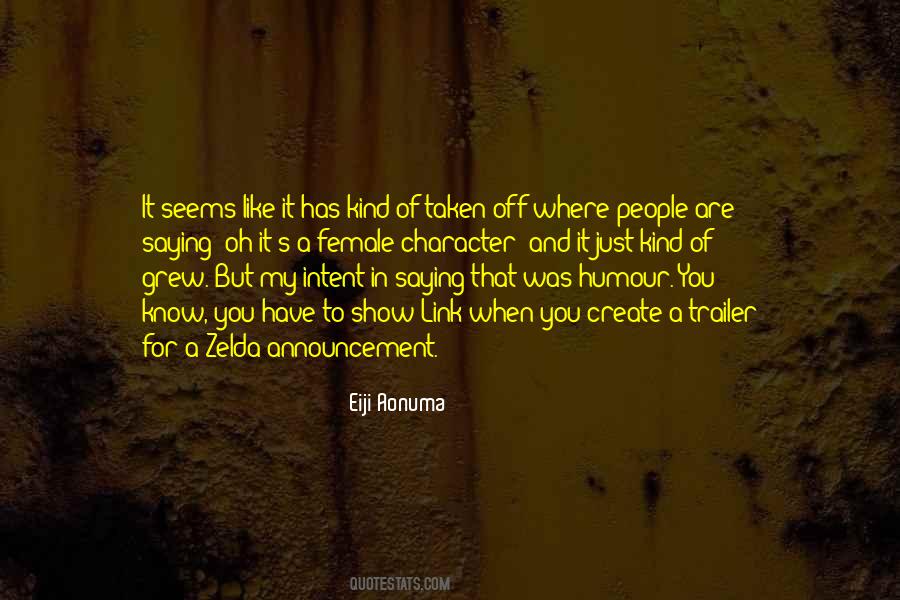 #33. Fred nodded and said, "So what you're saying is, if we all die, that's not even the worst-case scenario."
John replied, "I'd still like to shoot a little higher than that, Freddy. - Author: David Wong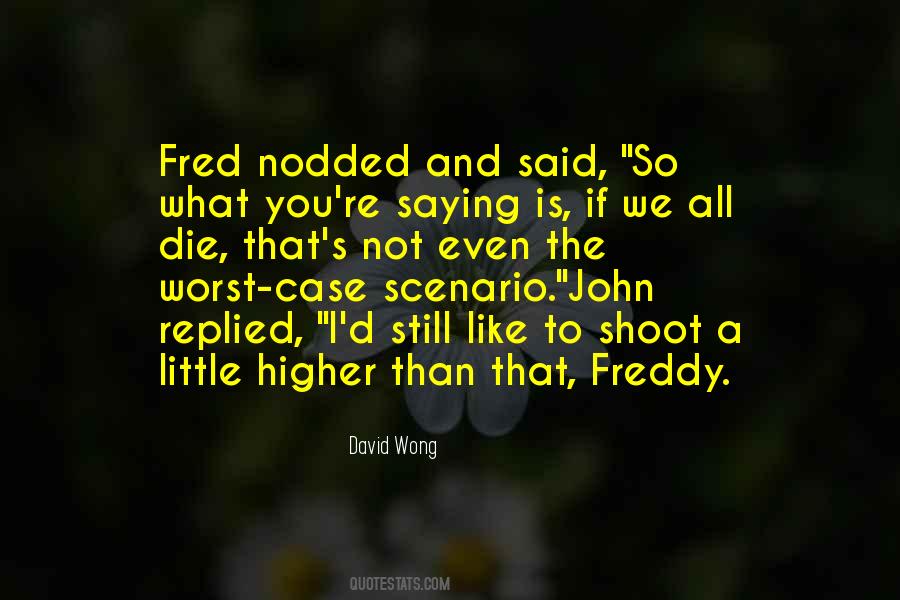 #34. Do I like living with Daniel's family? No. Would I ever tell him that? No. I know I'm all about honesty and saying what I think, but sometimes people are more important than the truth. - Author: Linda Gerber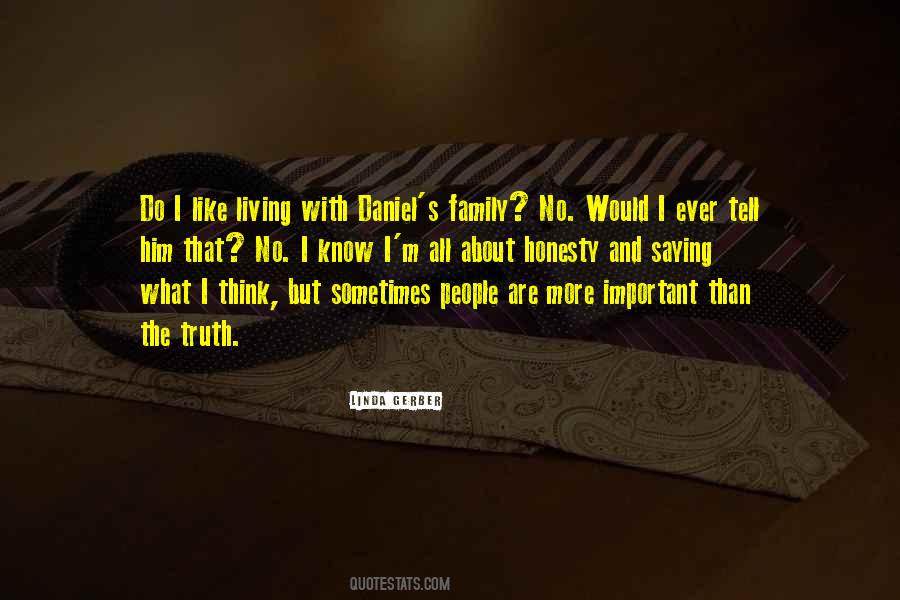 #35. I thought about that old saying, how we can never go home again. But I think it's more like a piece of us stays behind when we leave
a piece we can never reclaim, one that awaits our next visit and demands that we remember. - Author: Beth Hoffman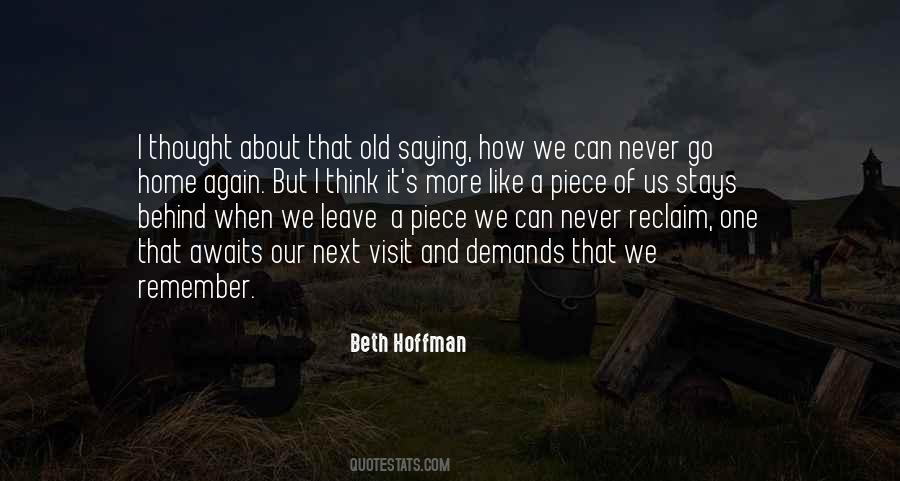 #36. There's this inherent screenplay structure that everyone seems to be stuck on, this three-act thing. It doesn't really interest me. To me, it's kind of like saying, 'Well, when you do a painting, you always need to have sky here, the person here and the ground here.' Well, you don't. - Author: Charlie Kaufman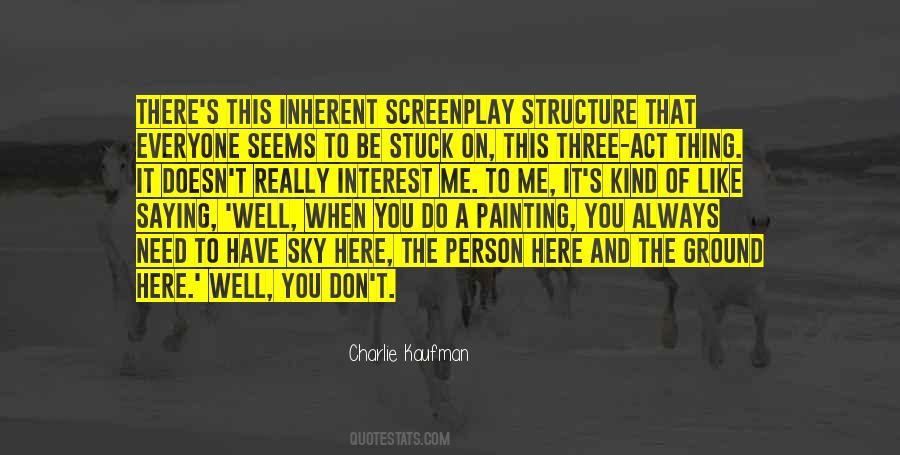 #37. Marriage is what marriage is ... It's like going out and saying, 'That tree is a car.' Well, the tree's not a car. A tree's a tree. Marriage is marriage. - Author: Rick Santorum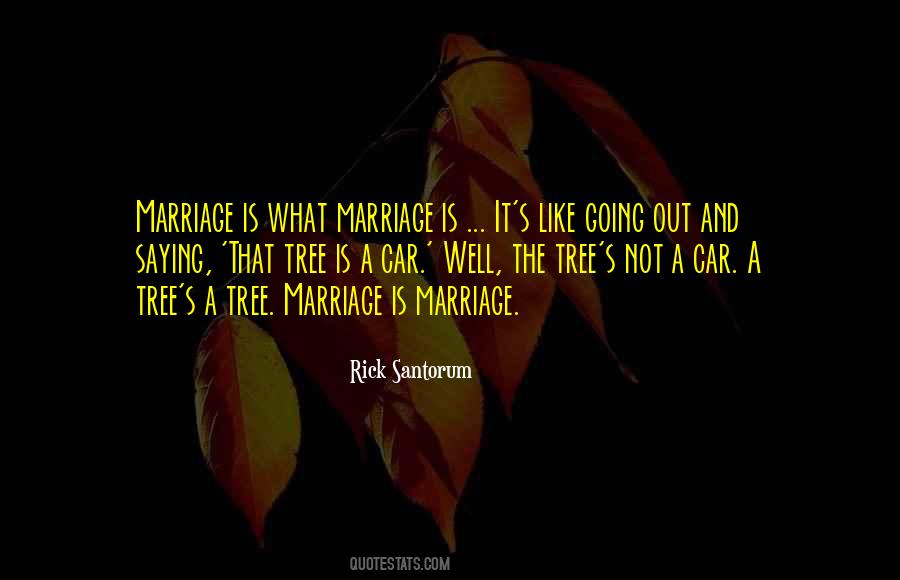 #38. Stop saying things like that! You can't ... tell me all of that and then walk off like it's no big deal! You're killing me ... Offer me something or offer me nothing,
but stop trying to play both sides. - Author: Tiffany Snow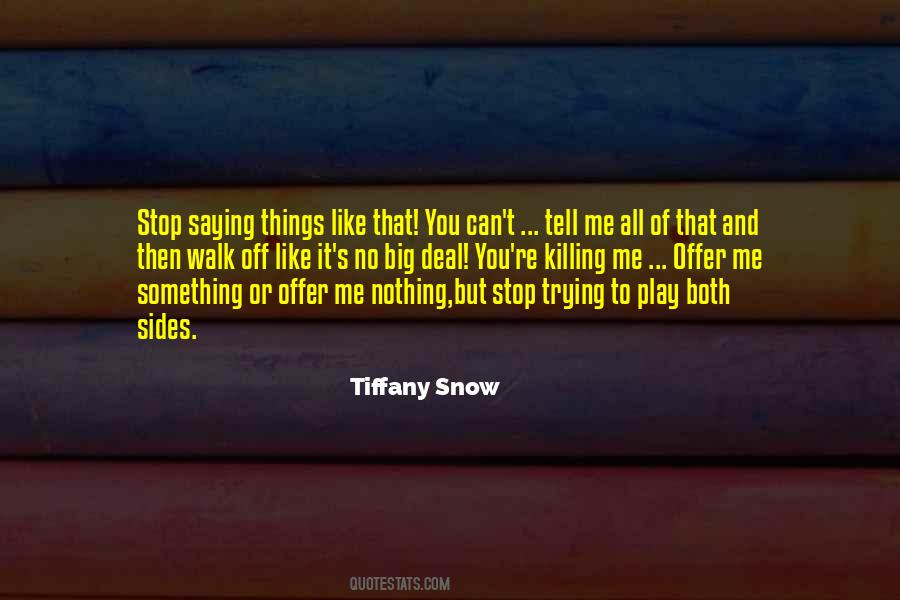 #39. You called me on the phone, saying you were alone,
But that's a lie because I heard your moms breathing on the phone.
And if you really like me, let your moms know
She should mind her business ... before I let go. - Author: K-Solo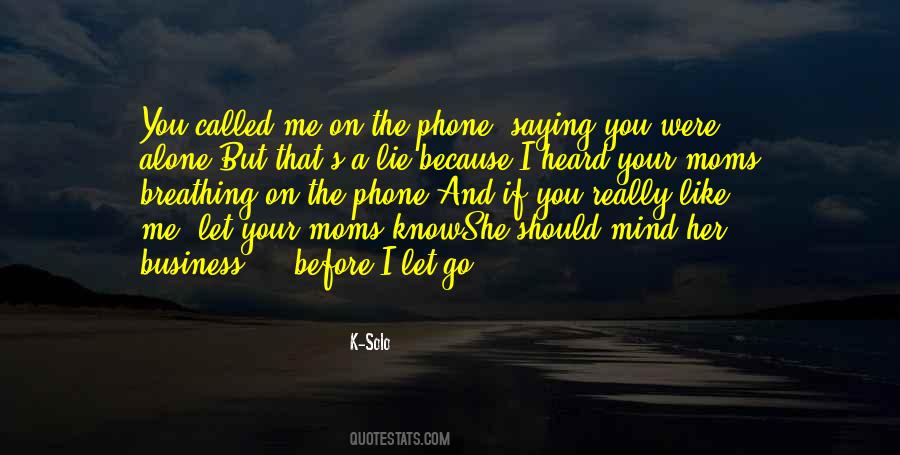 #40. Catch-and-release, that's like running down pedestrians in your car and then, when they get up and limp away, saying
'Off you go! That's fine. I just wanted to see if I could hit you.' - Author: Ellen DeGeneres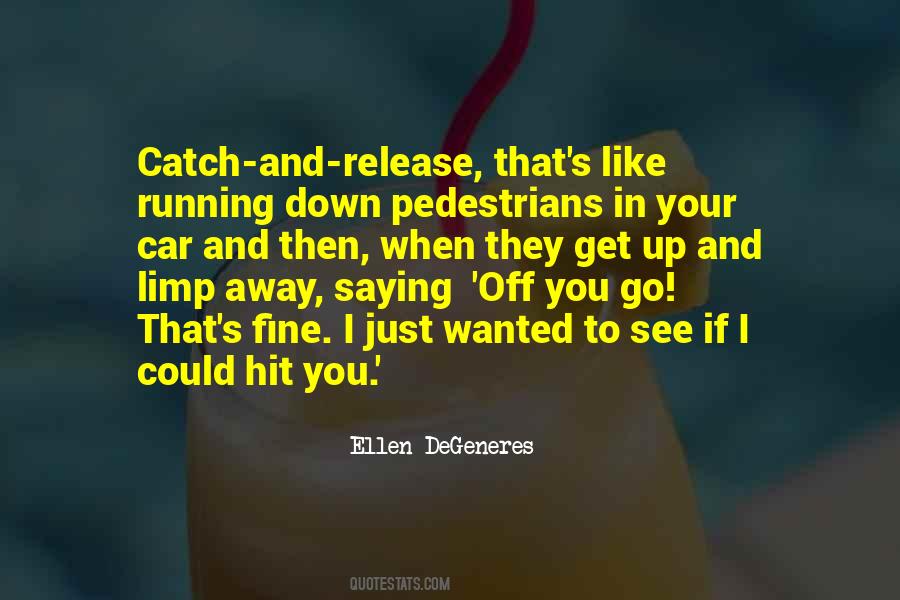 #41. I really don't listen to anyone that I'm not proud of saying that I listen to. Even if it's something a little bit more unexpected, I didn't get too deep into the Waka, Gucci records, but I like those with pride. - Author: Solange Knowles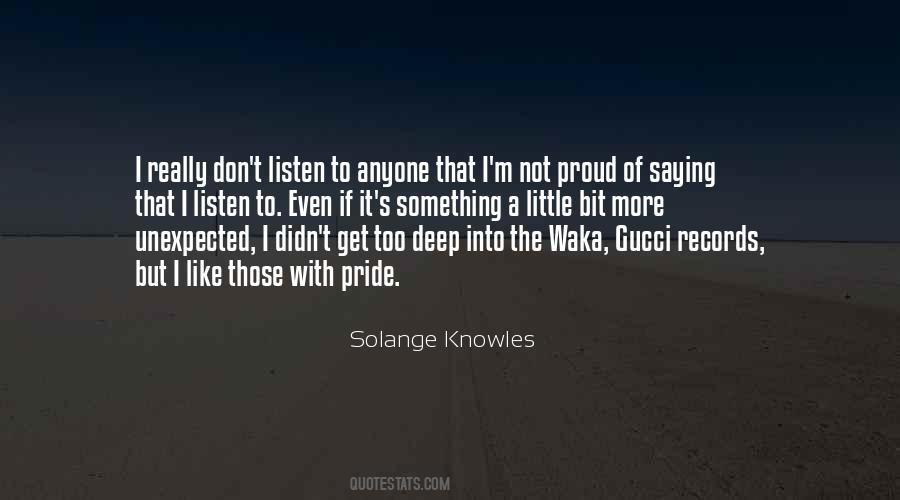 #42. I think I should get a bigger between-the-song persona, so then I'm not wandering around the stage like some mad old auntie that's saying hello to people and falling over. - Author: Florence Welch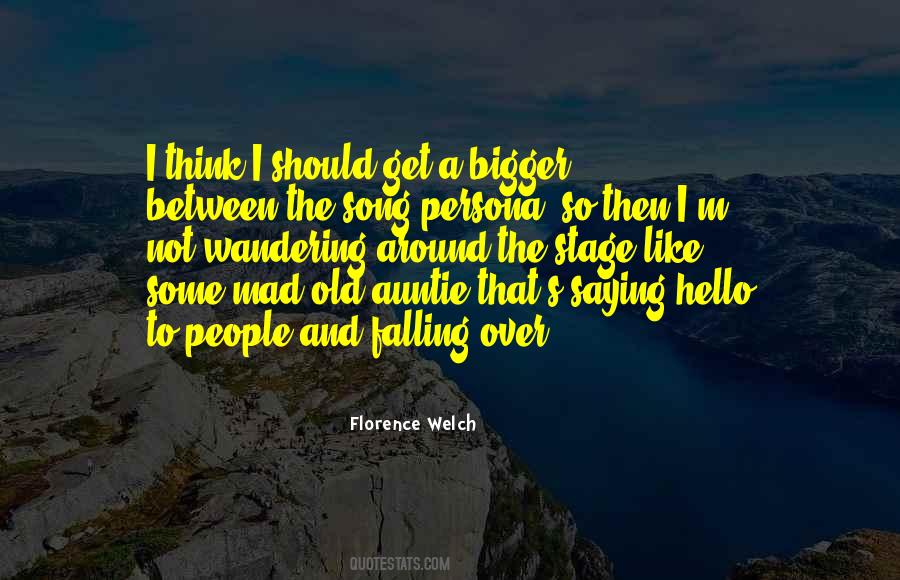 #43. I think men spend so much time passing for being men. There's a sense among many writers of color that the most invisible figure that was sitting between all of us was the nerd. But it was the thing we weren't saying, that people were afraid to say, like, "Yo, what we do is nerdy by definition." - Author: Junot Diaz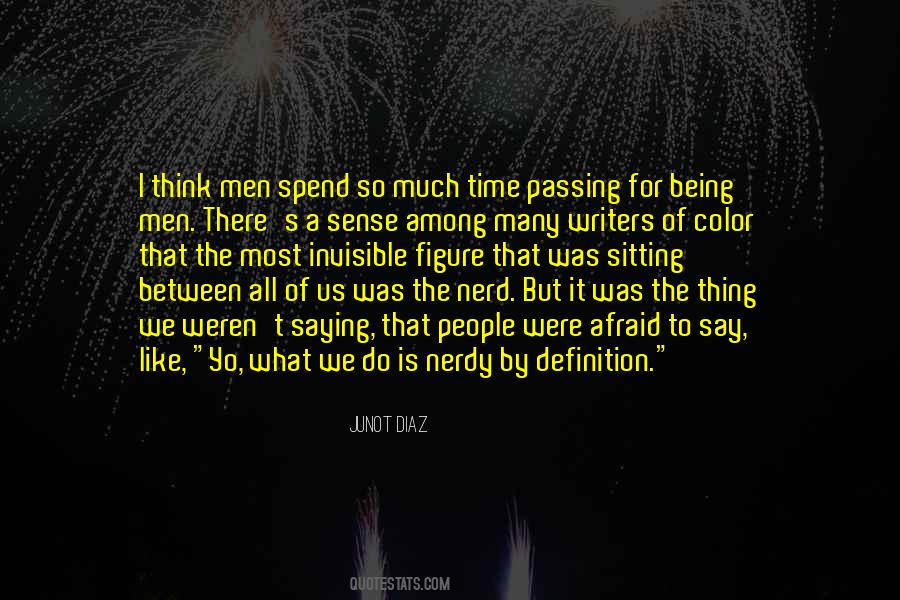 #44. Donald Trump got in some trouble for saying that John McCain is not a war hero, and said, 'I like people that weren't captured.' Not good. In fact, Trump's people are telling him to lay low for a while until this all combs over. - Author: Jimmy Fallon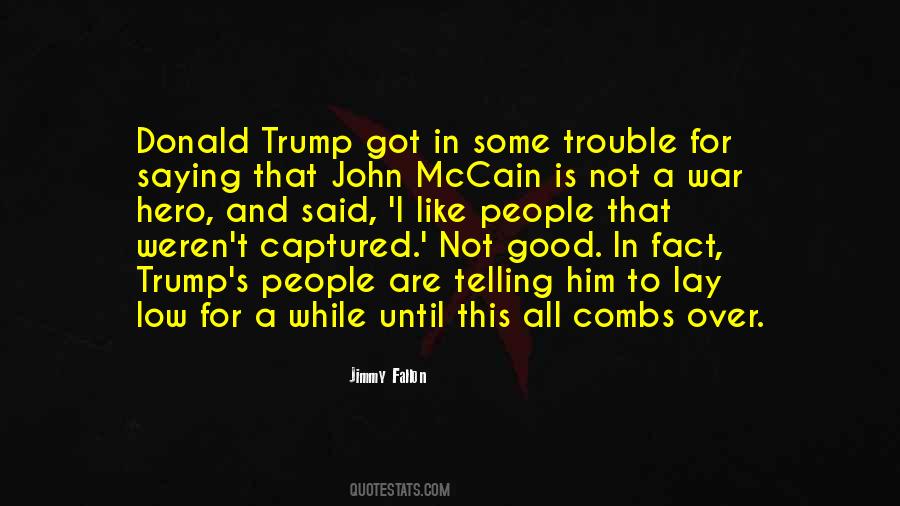 #45. I'm sorry. I behaved like a jerk.
You did.
Is that forgiveness?
I'm not sure. I think it's an acknowledgment of imperfection. And an admission that I believe time is too short to hold a grudge. - Author: Janet Mullany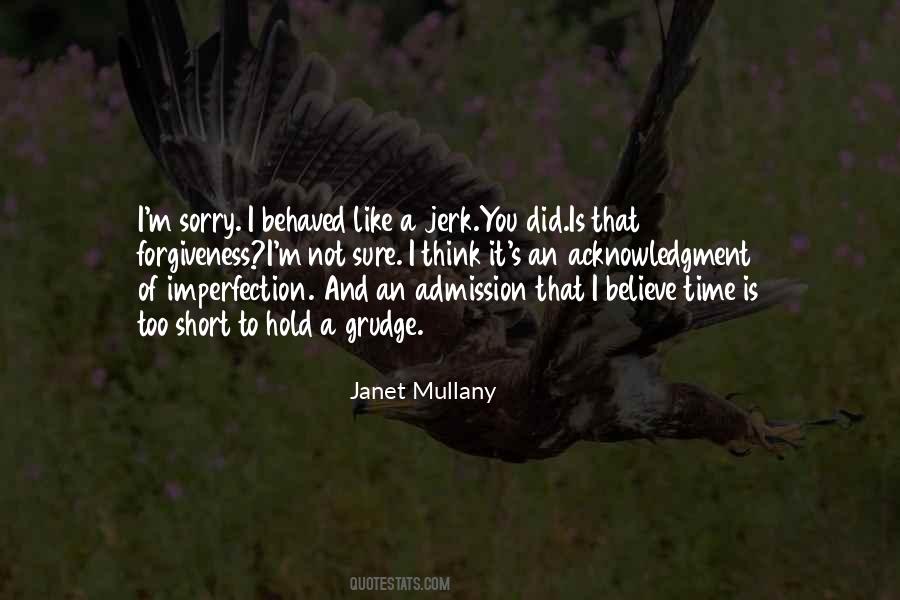 #46. No matter how much makeup I wore, people just kept saying "Yes, sir! Would you like tea with that, sir?" "Yes, I would like tea. Why don't you put it on my breasts?" "Certainly. Tea for this man's breasts! Anything else, sir?" - Author: Eddie Izzard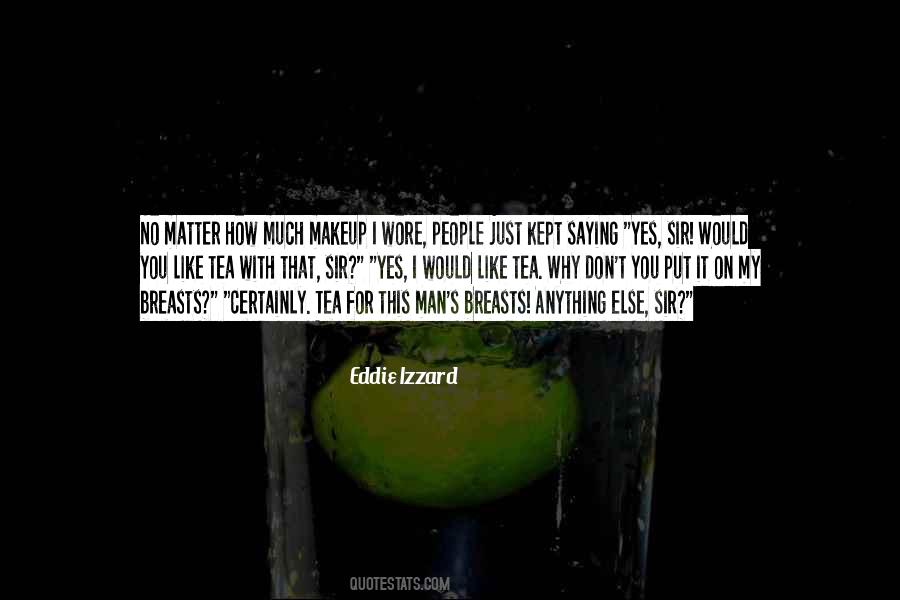 #47. Worry is really just a form of atheism. Every time you worry, you're acting like an atheist. You're saying, "It all depends on me." That's just not in the Bible. - Author: Rick Warren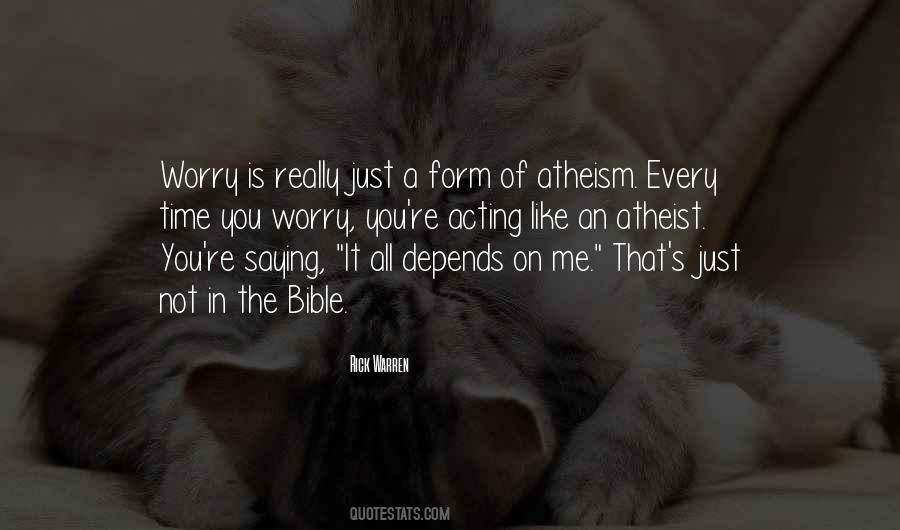 #48. People are afraid of failure - they don't like to work so hard and have people keep saying, 'No.' I think that's what people fear most. - Author: Russell Simmons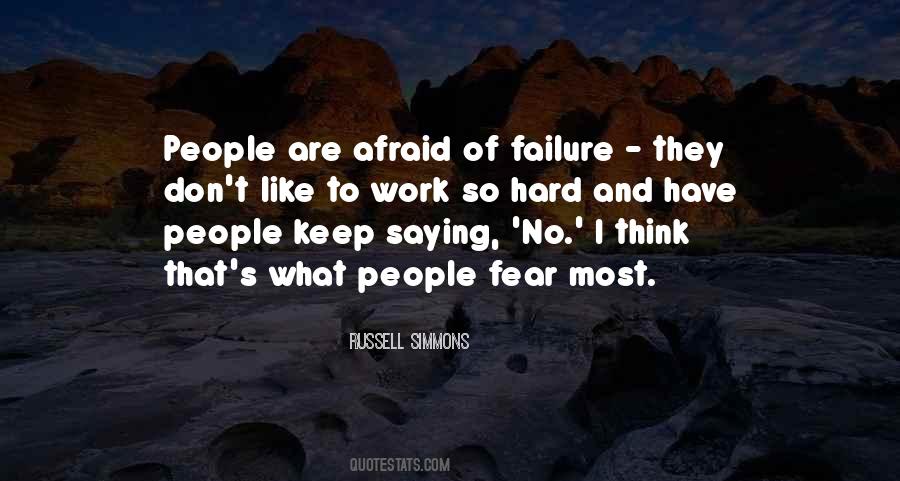 #49. I remember, like, literally saying - watching some cowboy-and-Indian movie with my mother, and I go, so, if we were back then, we'd be the Indians, right? She goes, yup, that's who we'd be. We wouldn't be those guys in the covered wagons. We'd be the Indians. - Author: Quentin Tarantino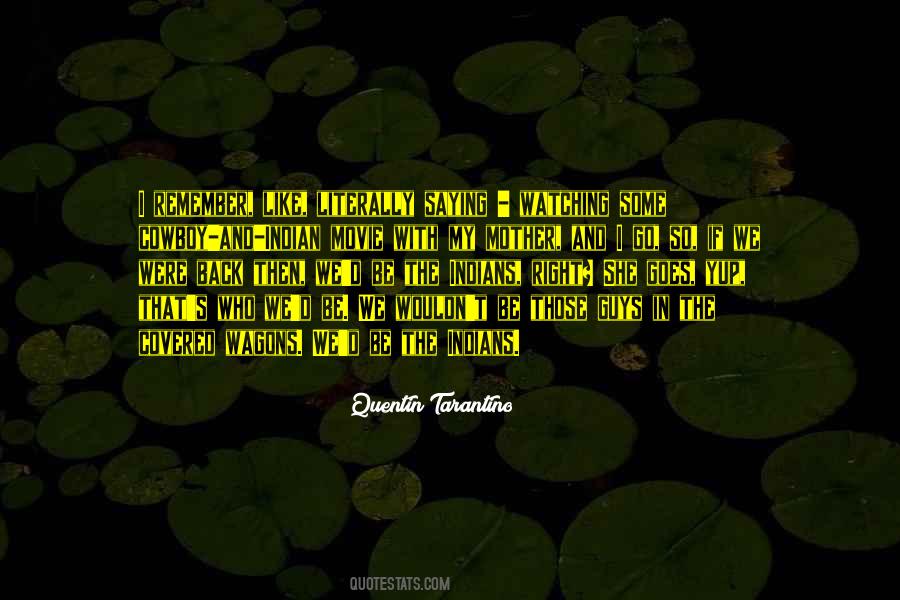 #50. Yes, etiquette is hypocritical. Yes, it does inhibit children - if you're lucky. But the idea that it's elitist and irrelevant is like saying language is elitist and irrelevant. - Author: Judith Martin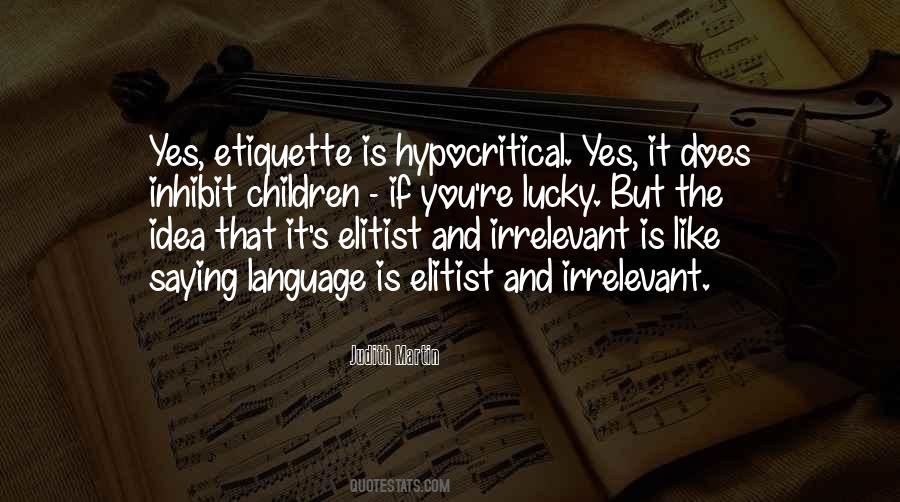 #51. Your favorite kind of cake can't be birthday cake, that's like saying your favorite kind of cereal is breakfast cereal. - Author: Aziz Ansari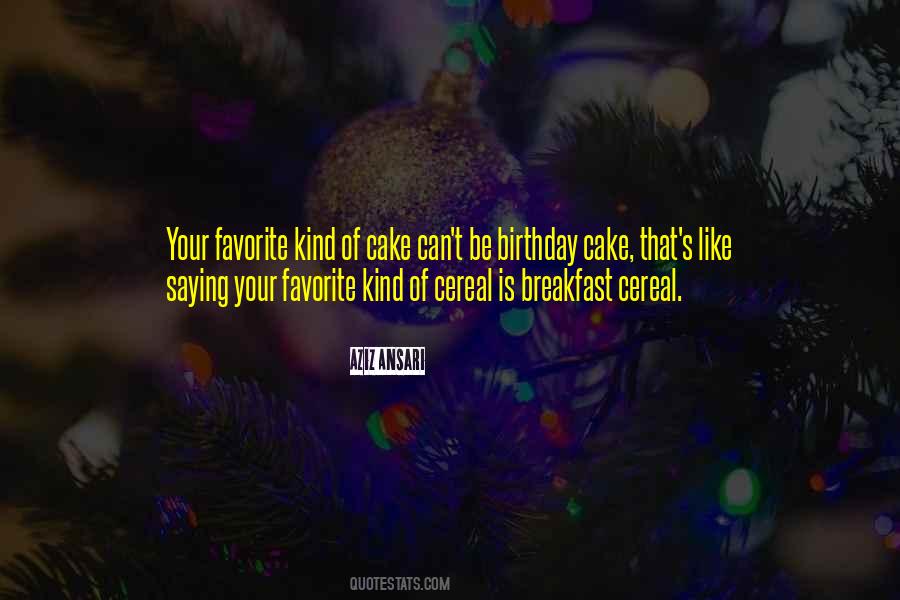 #52. Being a leading man ... that's like saying, 'I want to be astronaut.' That's not going to happen. - Author: Steve Carell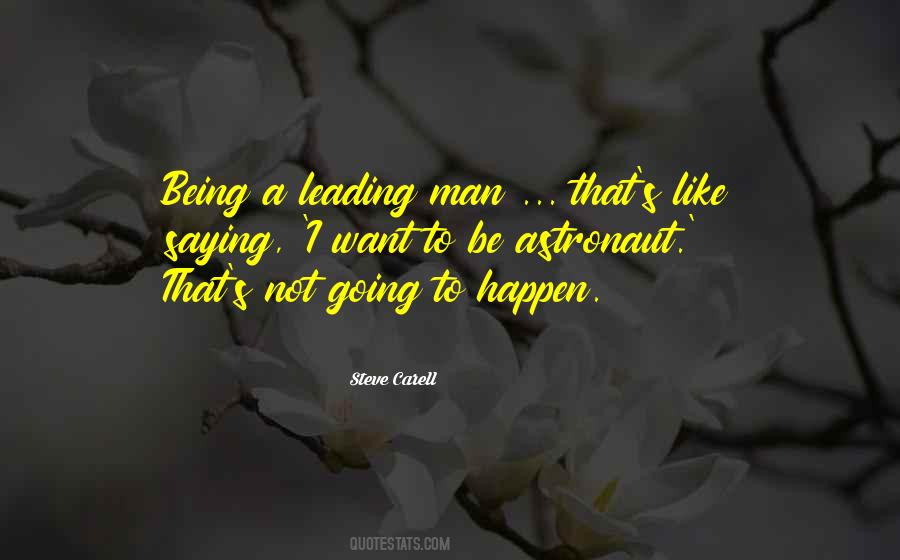 #53. Obama's the most thoughtful-sounding president I can remember. He seems to be saying what he wants to say, and that is a great relief. He always sounds like he's thinking about what he's saying while he's saying it, and that's a rare thing in politicians. - Author: Roy Blount Jr.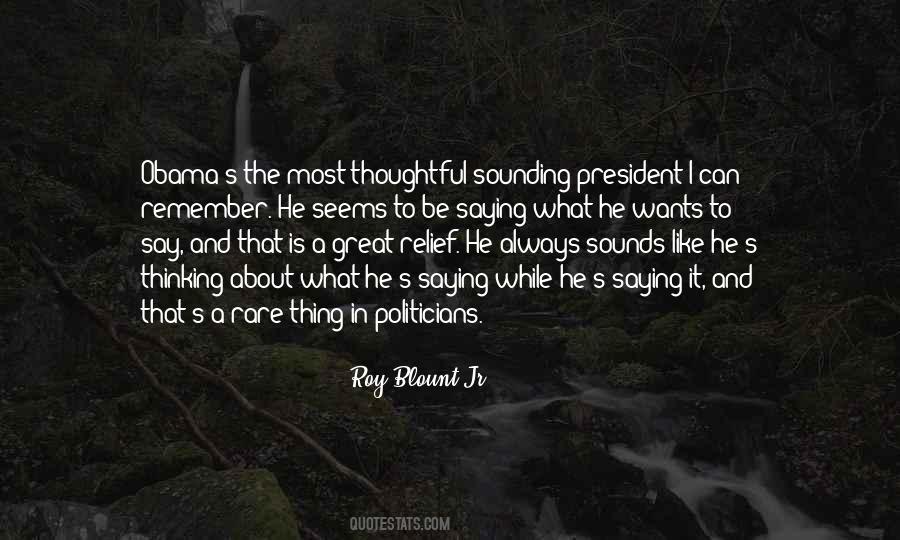 #54. In terms of romantic films, all-time romantic films, I really like 'Gone With the Wind.' And I realize I sound so cliched saying that, but there's something so absolutely romantic about it. - Author: Freida Pinto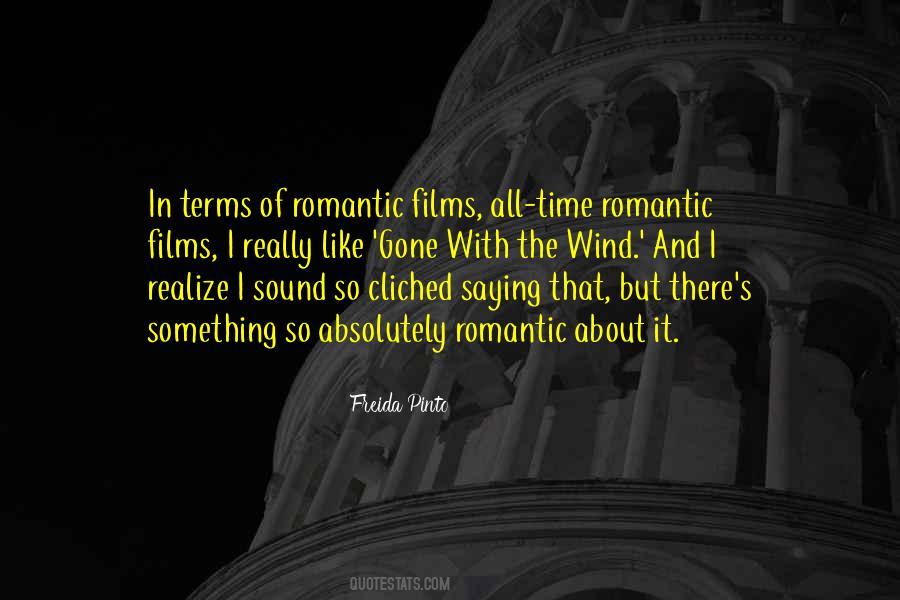 #55. The beauty Snow White's got has nothing to do with him. She's scarred up and suspicious and shameless. Her pretty's not for him. It's like saying the moon's got a fine figure on her. Maybe true, but what good is that to a man? Snow - Author: Catherynne M Valente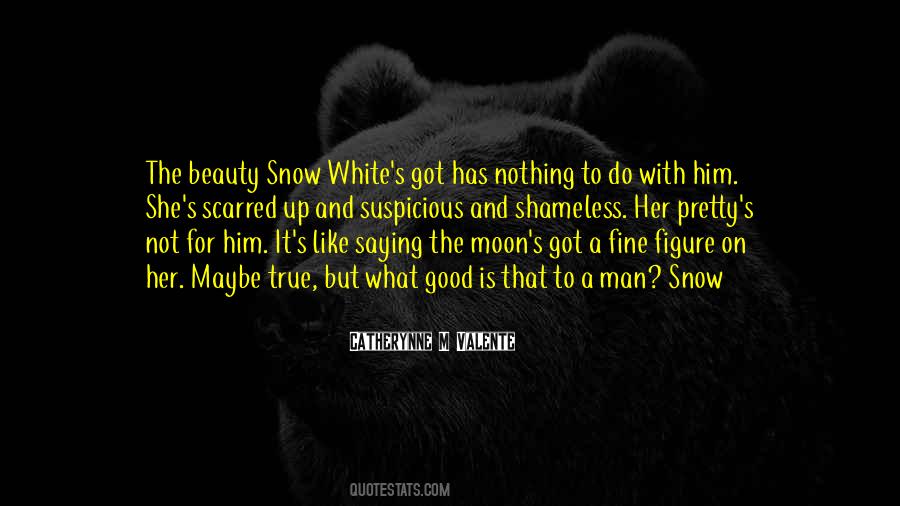 #56. Why does everybody say 'feminist' that way?" "What way?" "The way Dooney kept saying 'herpes' after health class last year. Like it's this terrible, unspeakable thing. - Author: Aaron Hartzler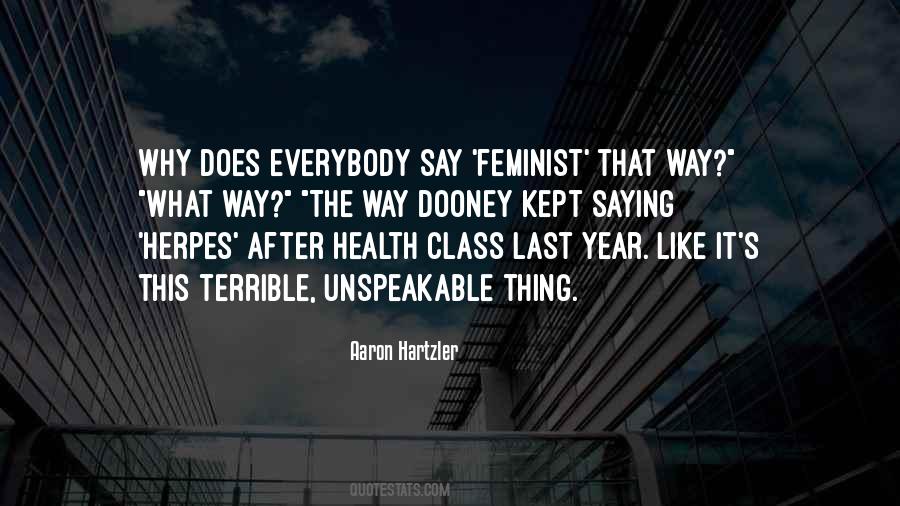 #57. "Isn't it fun getting older?" is really a terrible fallacy. That's like saying I prefer driving an old car with a flat tire. - Author: Katharine Hepburn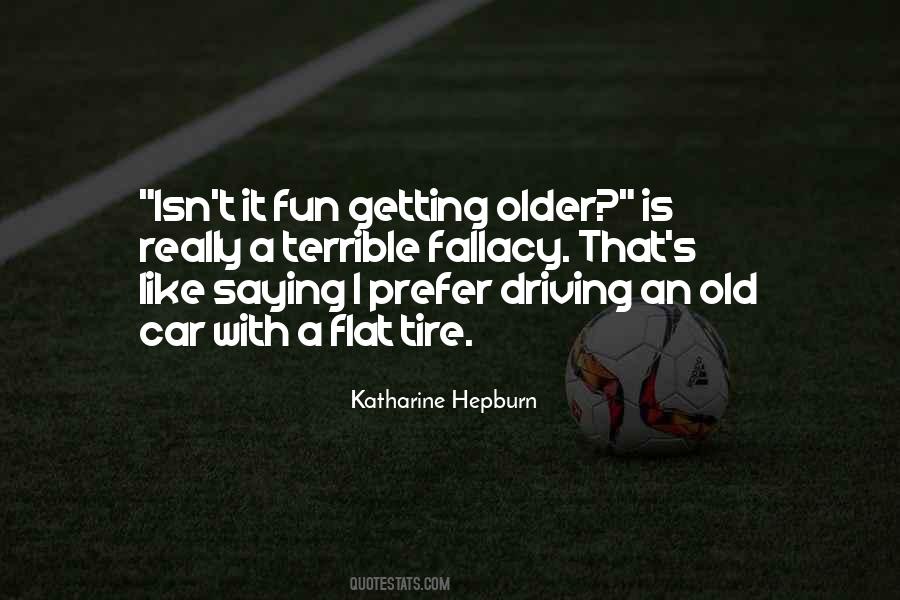 #58. You're right, Halt,' she said, and he nodded acklowledgement of her backing down.
'Nice to hear someone else saying that for a change,' Will said cheerfully. 'Seems like I've said those words an awful lot in my time.'
Halt turned a bleak gaze on him. 'And you've always been right. - Author: John Flanagan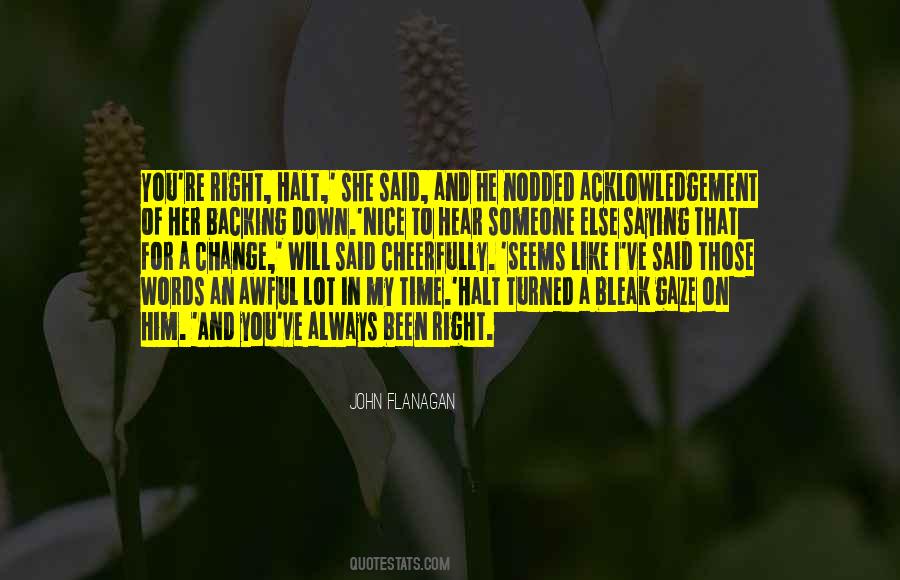 #59. He feels like saying that of course there's lint on Mr. Wiggly, or dust at any rate, or maybe rust; what does she expect, because as she is well aware Mr. Wiggly has been on the shelf for some time. - Author: Margaret Atwood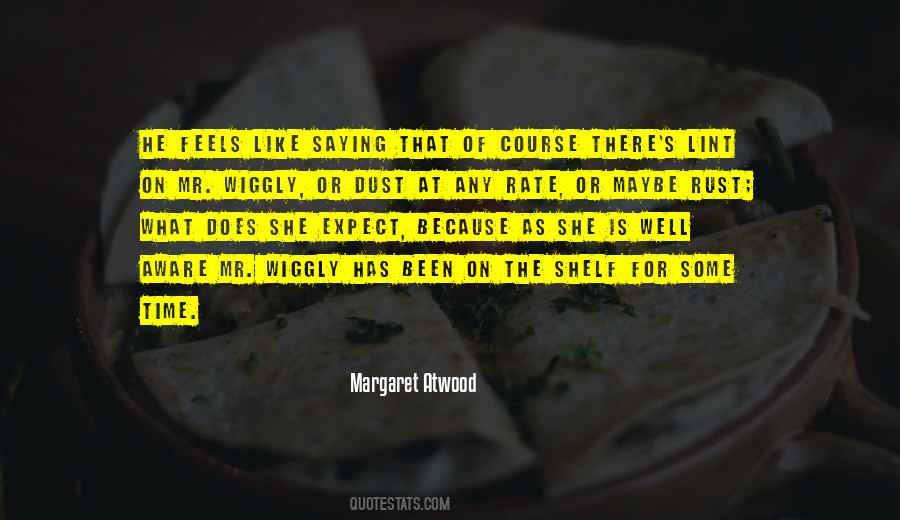 #60. Radio is more powerful the closer we mimic the way we actually speak to each other. That's why Howard Stern is such a great radio talent. People on his show are actually speaking to each other. You might not like what they're saying, but they're real conversations. - Author: Ira Glass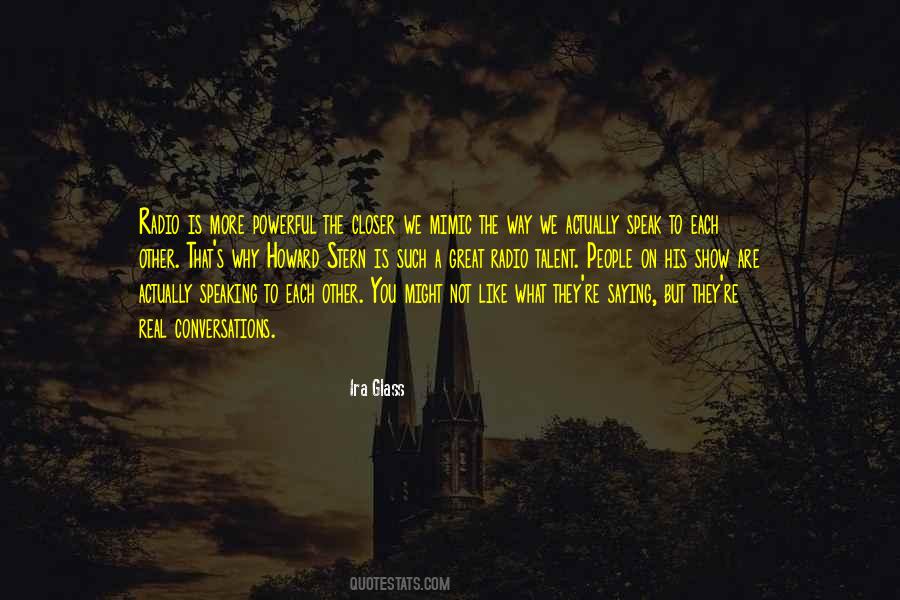 #61. Most artists are always fighting for their fame. They have that fear, like the saying goes, "out of sight, out of mind." They need to keep themselves out there. I have never had that fear. If I have any fear, it's not doing enough to reach people. - Author: Chuck D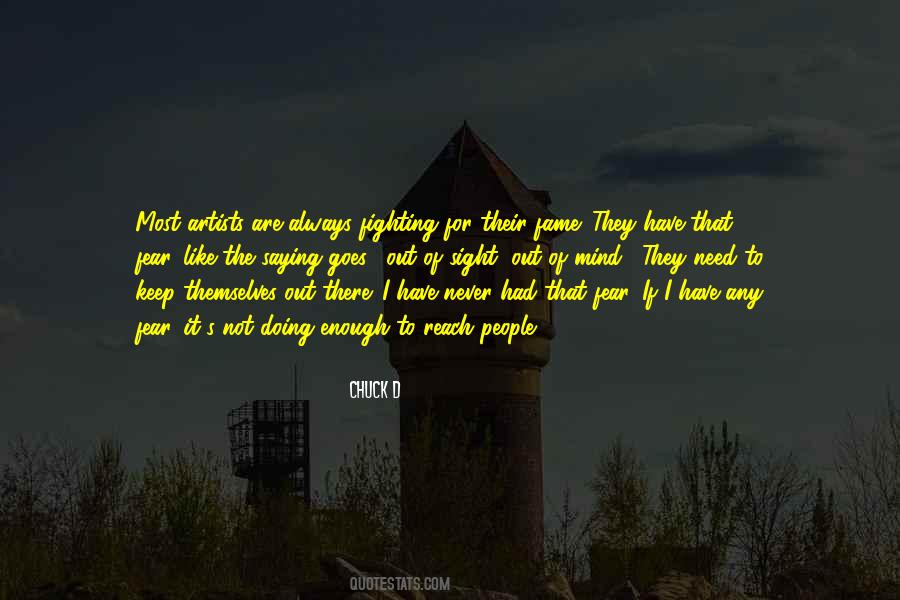 #62. No really, Lainey. Give it a chance. Millions of readers can't be wrong."
"That's like saying millions of boy-band fans can't be wrong," I mutter, but I flip through a few more pages. - Author: Paula Stokes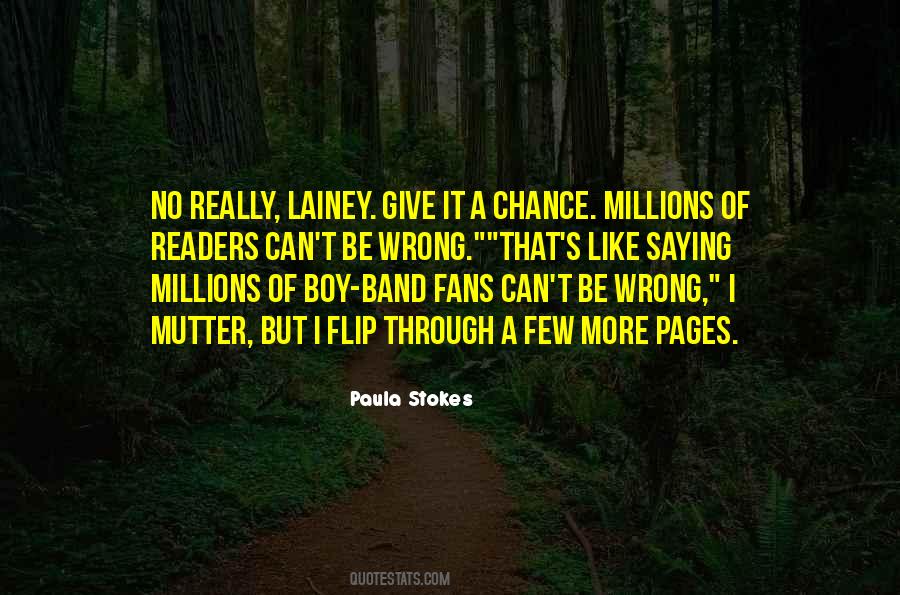 #63. Yeah, like this one carny up in Fargo. It had a big sign saying 'See the Siamese twins,' and everybody pays a buck, thinking they're gonna see two people hooked together. And when they get there it's a cage with two Siamese kittens in it. Like that. - Author: Connie Willis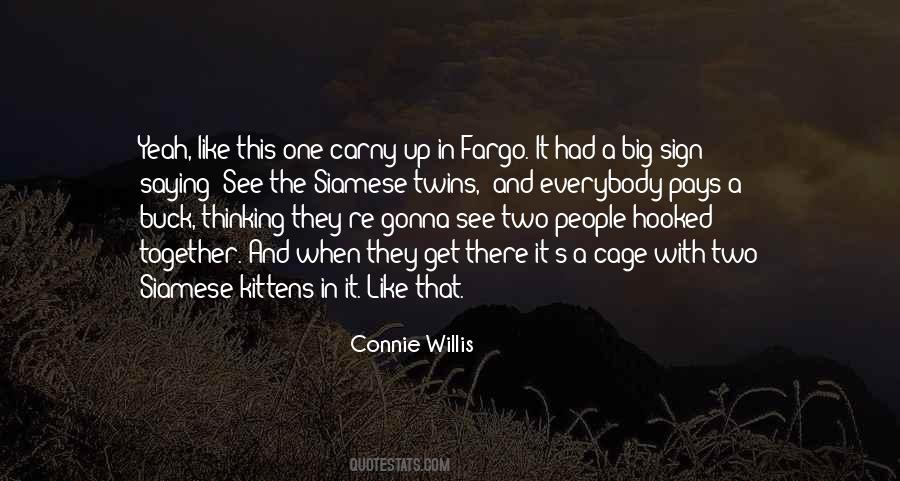 #64. God, you have a beautiful laugh, and your smile. Jesus, it knocks the breath out of me."
"You can't talk to me like that, nobody says things like that to a woman he just met. It's insane."
"I just did. And I plan to keep saying them until you believe every word. - Author: Maya Banks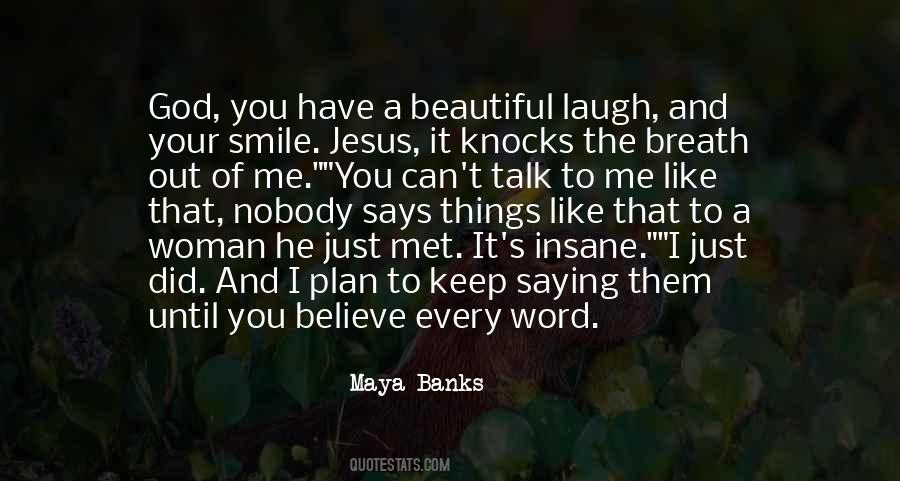 #65. And people are always saying: 'Well, you go to Hollywood and you get yourself a film career or a TV series, and then you can do anything you want. Because then you've got the clout.' That had always sounded like a lot of hooey to me, but now I think it's true, unfortunately. - Author: Kathy Bates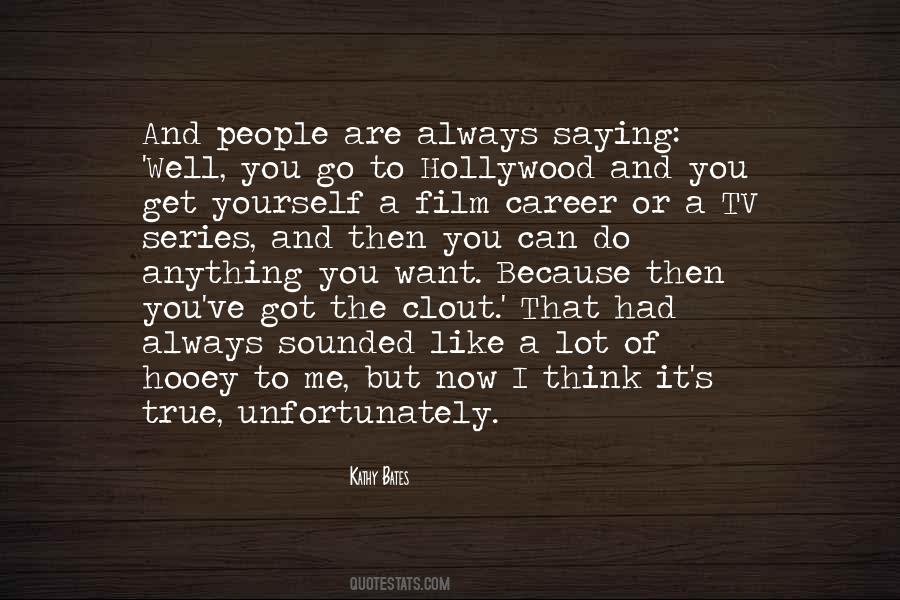 #66. It's innate in me to be a blue-dog Democrat. I'm not saying I'm right or wrong, but that's what I am. My wife and I and our family will do everything we can to support Obama. I like his ideas, I like his energy, and I like the statement he would make for our country to the world. - Author: Tim McGraw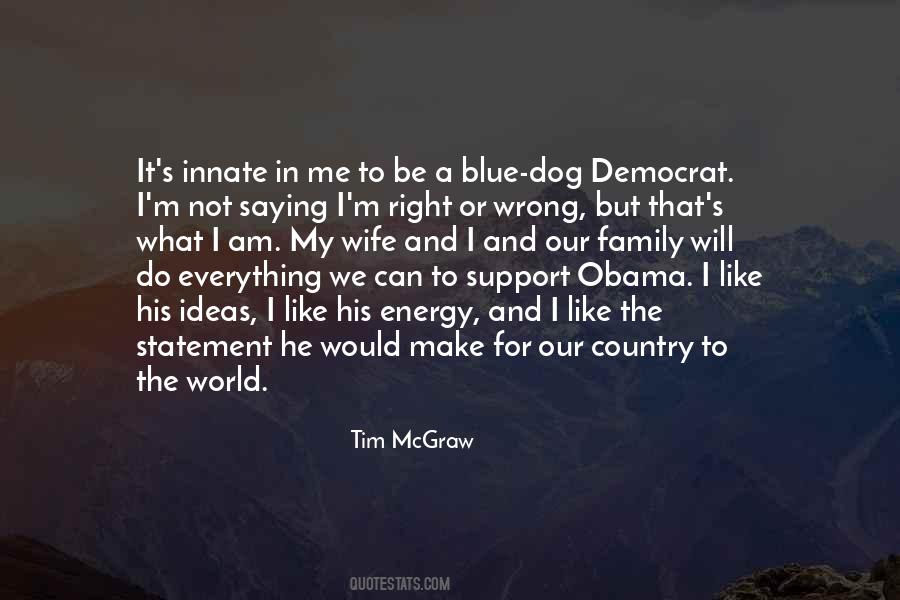 #67. Those words had been the bane of my childhood, a constant reminder that nothing turned out right, not just for me but for anyone, and that's why someone had invented a saying like that. So we'd all know that we'd never have what we needed. - Author: Gillian Flynn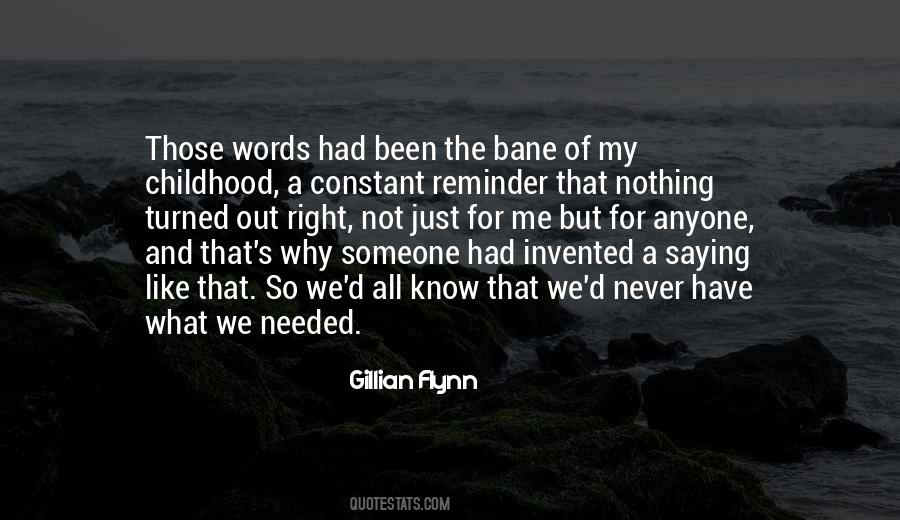 #68. I'm pretty captivated by reality TV and I know that as an actor I probably shouldn't be saying that, but it's what I like to watch. - Author: Nikki Cox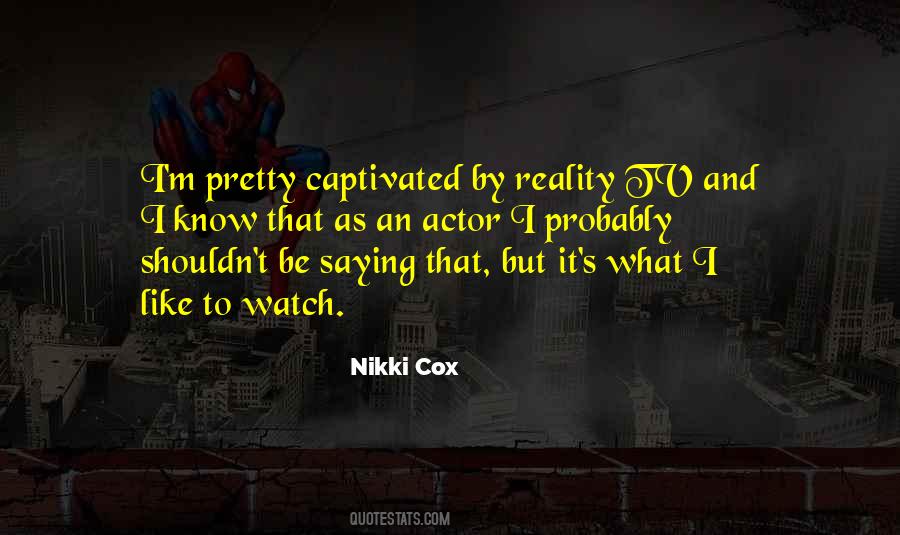 #69. I know I'm too thin right now, so I wouldn't want any young girl looking at me and saying, 'That's what I want to look like.' - Author: Nicole Richie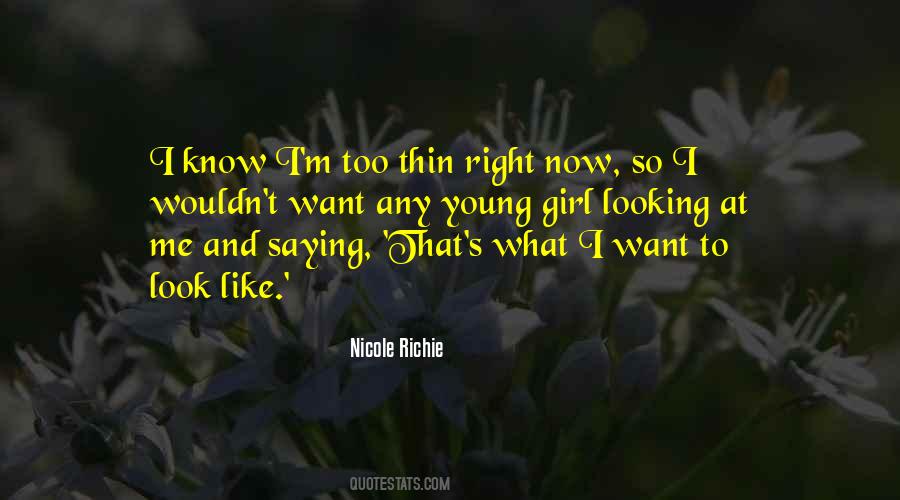 #70. There's a lot of terminology, like "washes whiter than snow," and these things which when they're said in a uniracial congregation, they just go fine. But when they're said in a mixed congregation, some people will get offended and wonder, "Why are you saying that? What are you saying?" - Author: Michael Emerson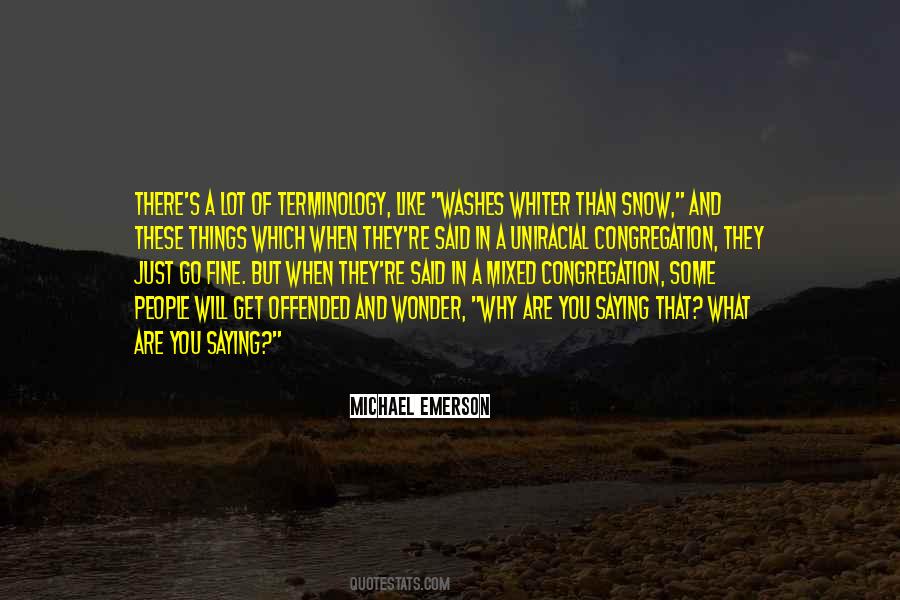 #71. Most people ask me questions based on a previous interview. That's not an interview. It's like they're just saying my quotes back to me. - Author: Kirsten Dunst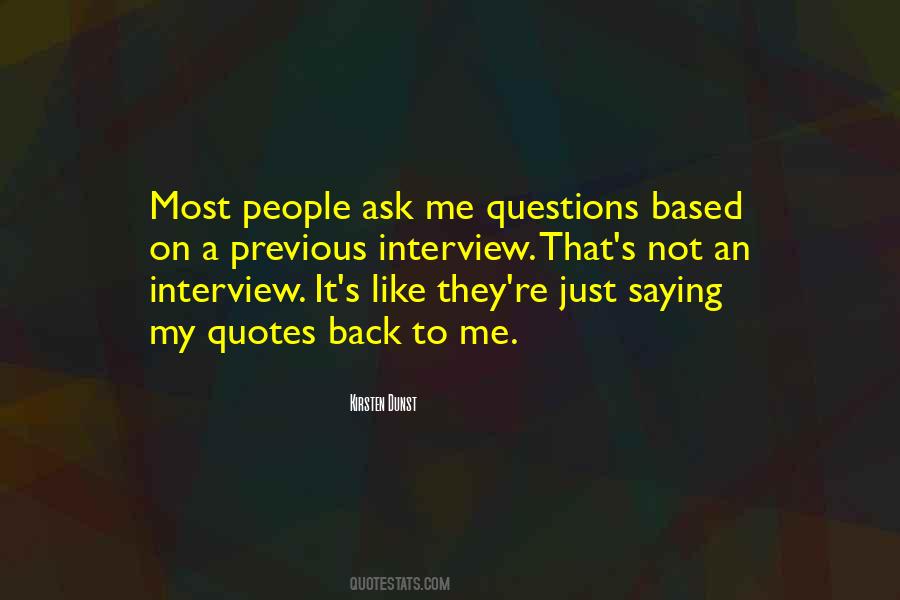 #72. It's like that old saying: You can't please anybody, so you might as well be alone. (Actually, I don't think that's the saying. I think it's actually, You can't please everybody, so you might as well just please yourself. Whatever. They're both exhausting.) - Author: Jen Cross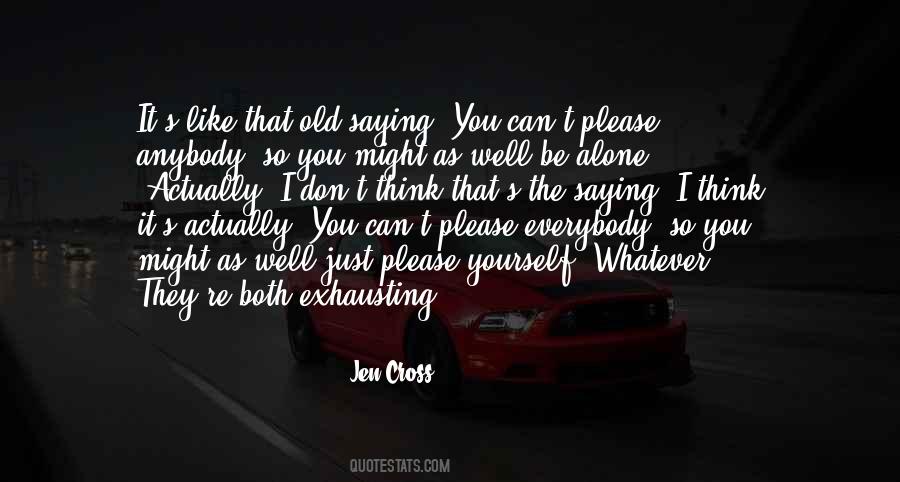 #73. I didn't like filtering the story through me, saying, 'Reader, you'll be safe with me. While it gets a little dangerous, it'll be okay because, after all, you're with me, because I'm a warm convivial voice. But let's be entertained by this horrible stuff.' I didn't like that. - Author: Michael Winter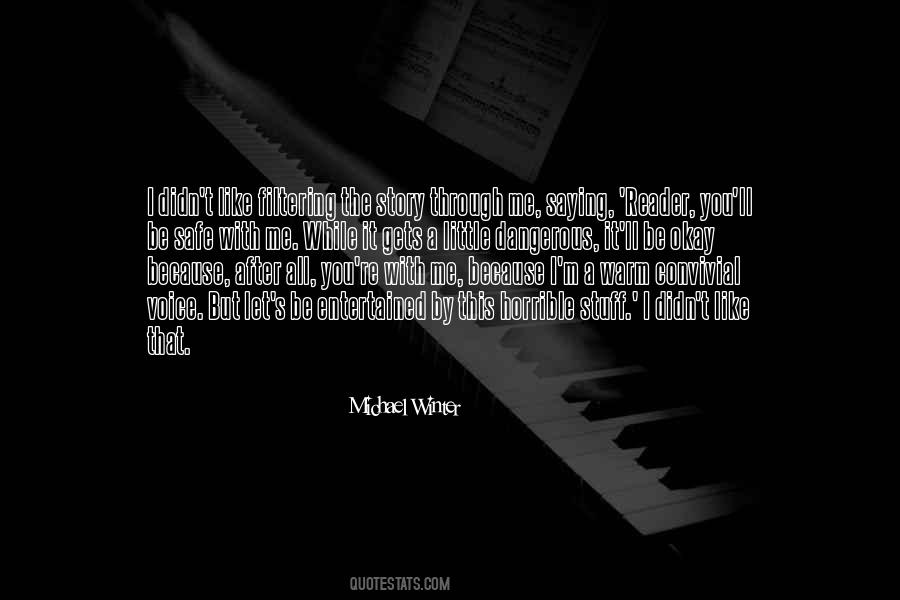 #74. Posing on the red carpet feels like you're selling something that has nothing to do with you. If you do it with someone else, it's like we're saying, 'Oh! We come as a pair! Would you like to buy both of us? We're available for weddings and Bar Mitzvahs!' - Author: Carey Mulligan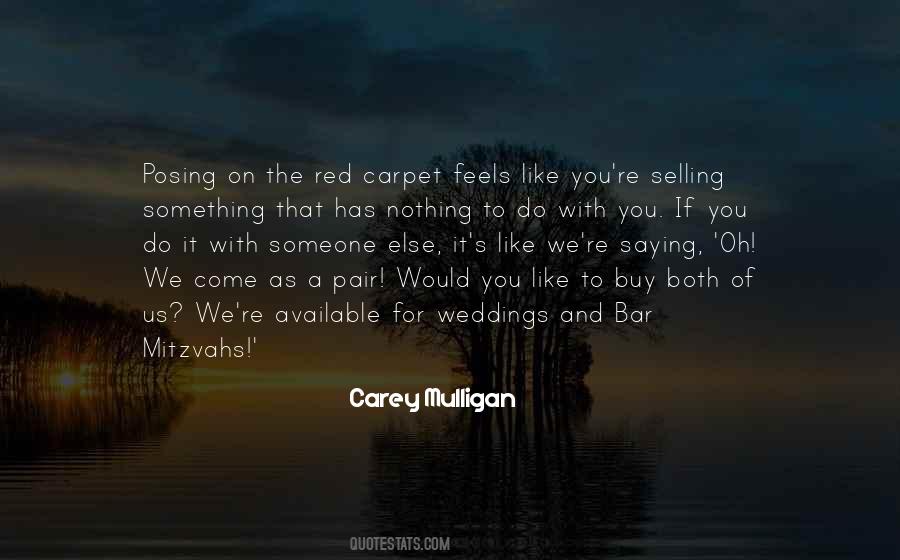 #75. That's stupid. That's like going to someone who's just won the lottery, taking their money, and saying, 'Look, let's just go back to how things should be. It's better that way. - Author: Stephenie Meyer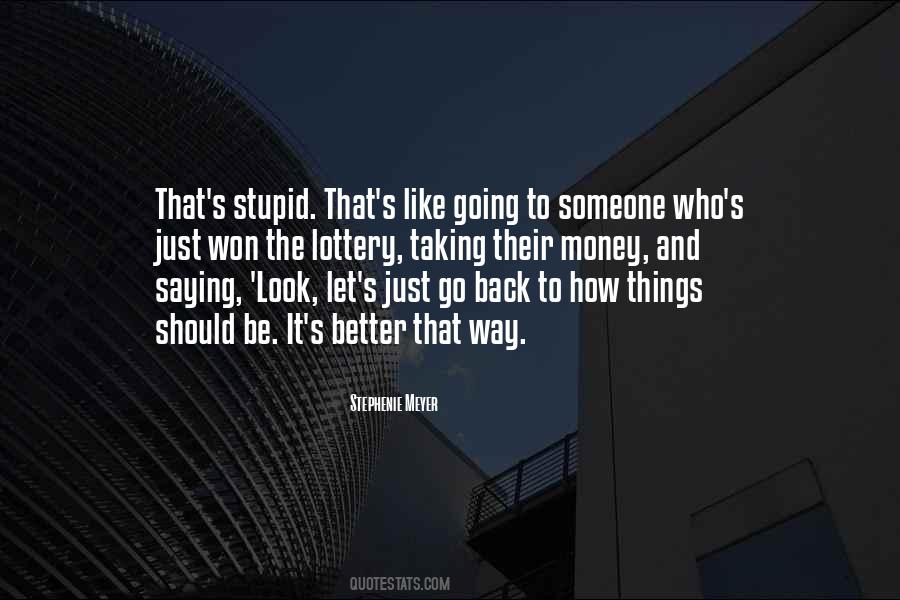 #76. Here's what bothers me about adults. They say we're supposed to be the bigger person and lie there like road kill while the bullies repeatedly run us over. That we're saying more by taking the abuse and staying silent, than sticking up for ourselves. I don't see it that way. - Author: Lauren Hammond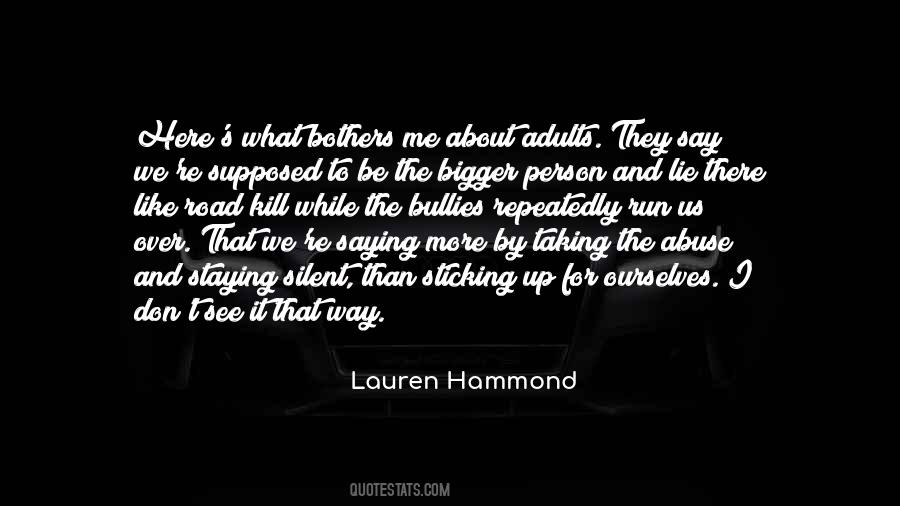 #77. The NRA made an ad saying that Obama is elitist because his kids have armed guards. Yeah, that crazy Obama thinking his kids need special protection. I love the NRA accusing anyone of being paranoid. It's like a septic tank saying, 'You need a mint.' - Author: Bill Maher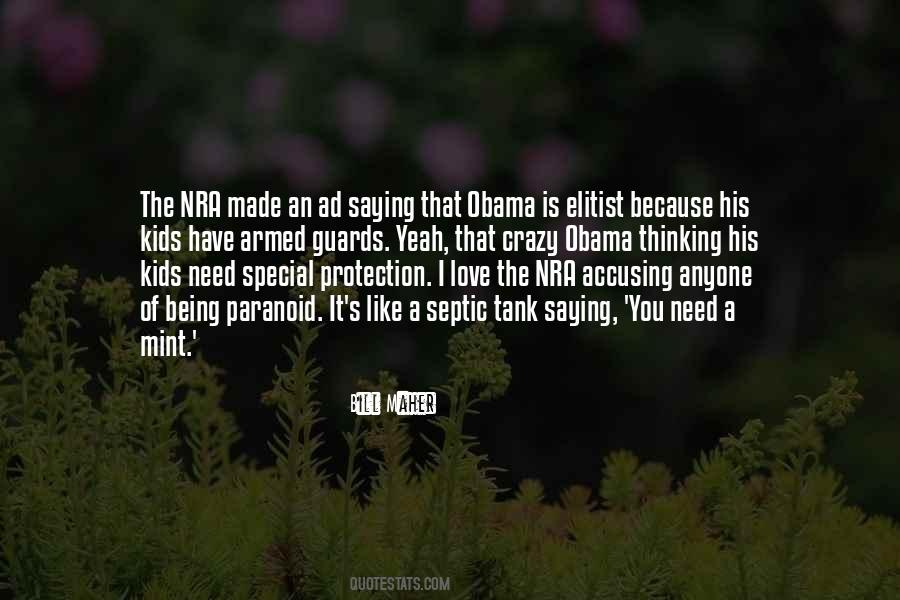 #78. I felt him on a different level. I shied away from saying a soul-deep level even though that's what I suspected. His energy charged mine. Kind of like a battery being plugged in. It was impossible not to feel his presence. - Author: Cambria Hebert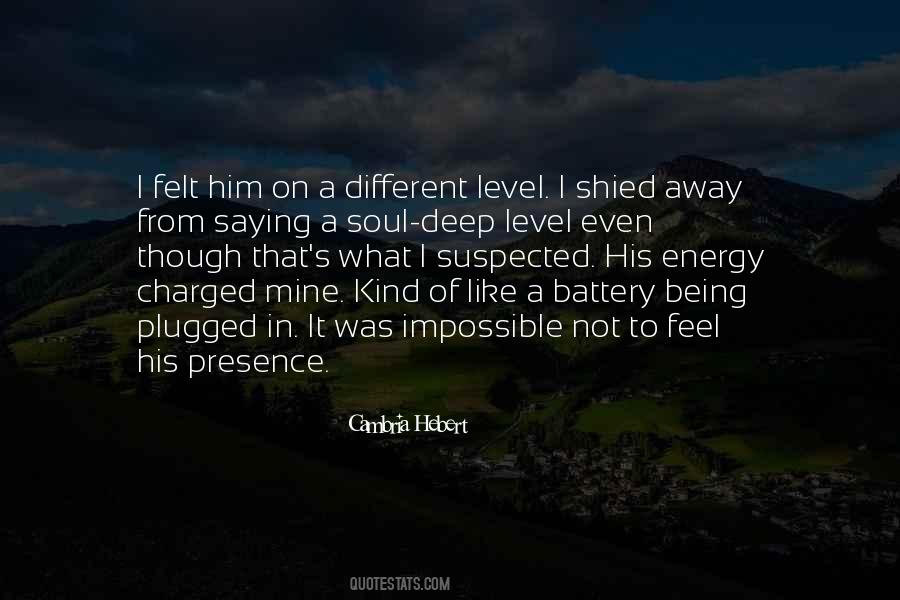 #79. Kate is going to die. It took me a long time to be able to say that. We all are going to die, when you get down to it, but it's not supposed to be like this. Kate ought to be the one saying goodbye to me. - Author: Jodi Picoult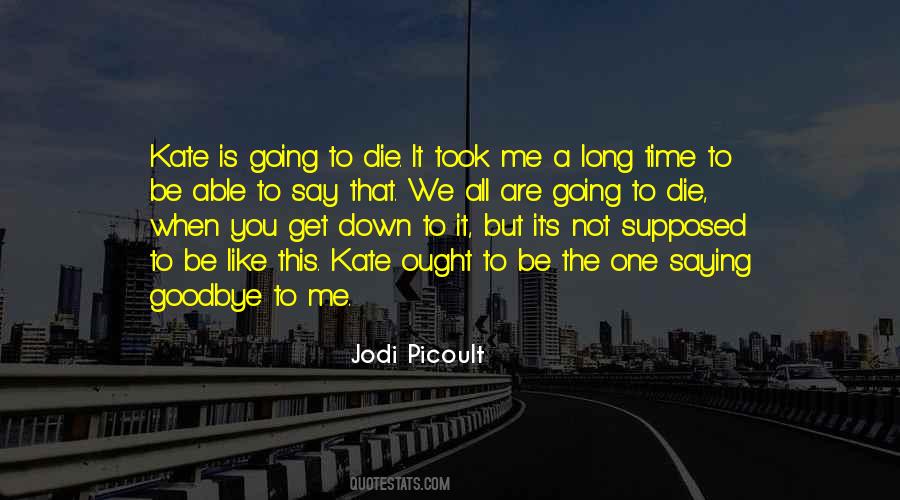 #80. To this day, I've found that it doesn't matter what a guy looks like if he's really funny. His sense of humor makes him attractive. On the other hand, you don't hear men saying, 'No she's not pretty, but is she ever funny!' - Author: Catherine O'Hara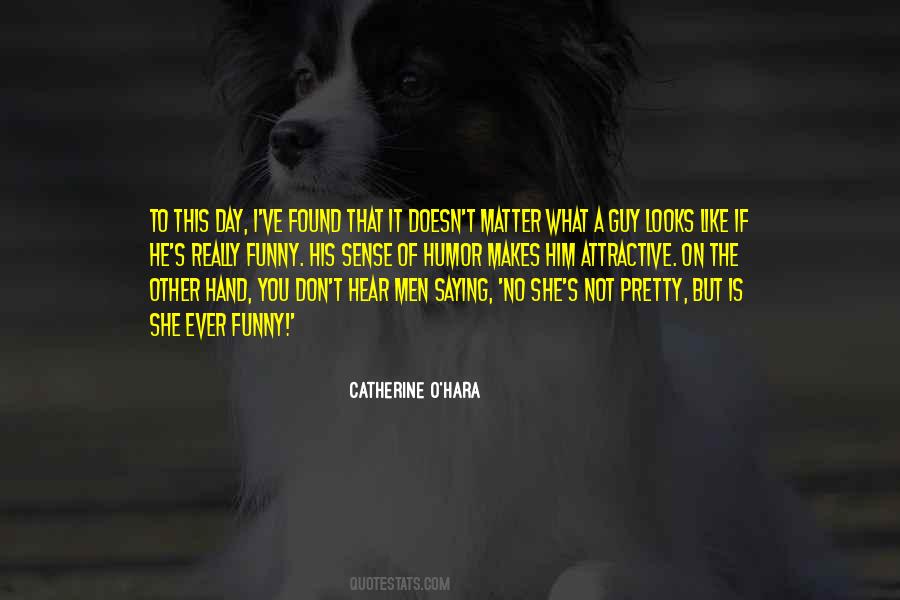 #81. It's interesting to see what people are saying about me. I like keep up with the latest rumors! A while back there was a rumor that I was going to do a film with Demi Moore about the takeover of Commodore computers! - Author: Warwick Davis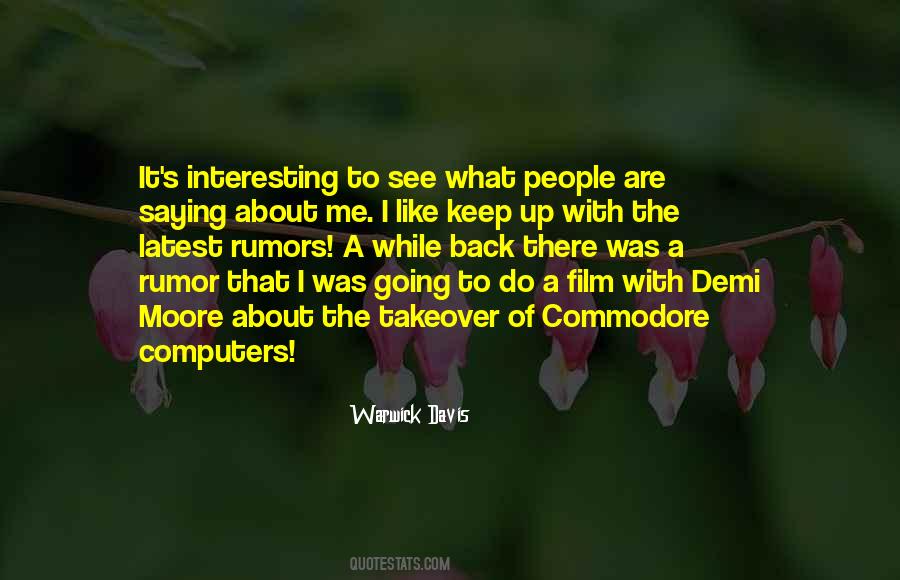 #82. My mother complained about the Parisians' habit of bumping into tourists on the narrow sidewalks. 'Am I bumping into them?' she asked, perplexed. 'I feel like such a clumsy American.' 'No, no,' I corrected. 'That's their way of saying hello. - Author: Kate Betts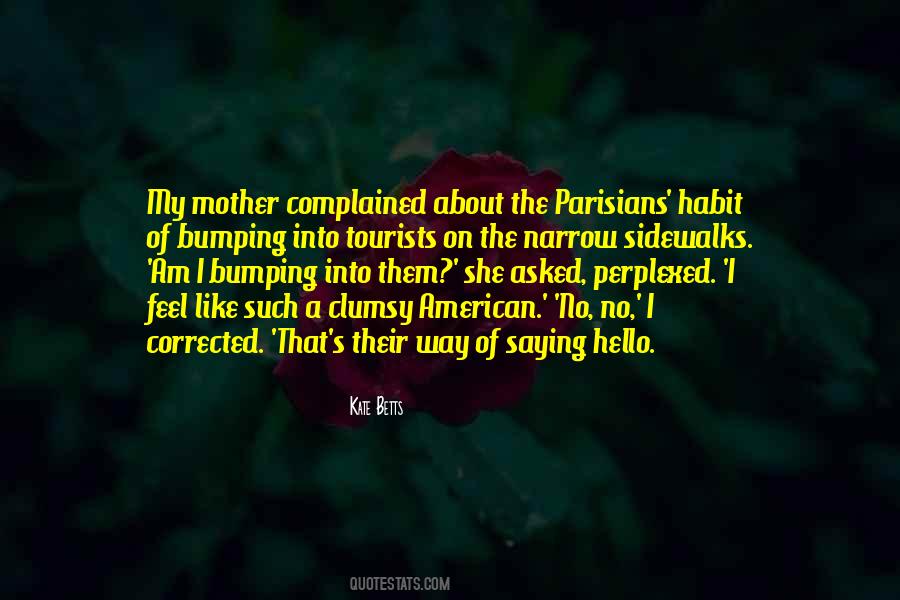 #83. Just after Kim Jong Il's death, the official news agency put out an article saying that under Kim Jong Il's rule, the people had been like naive children without a care in the world. - Author: Brian Reynolds Myers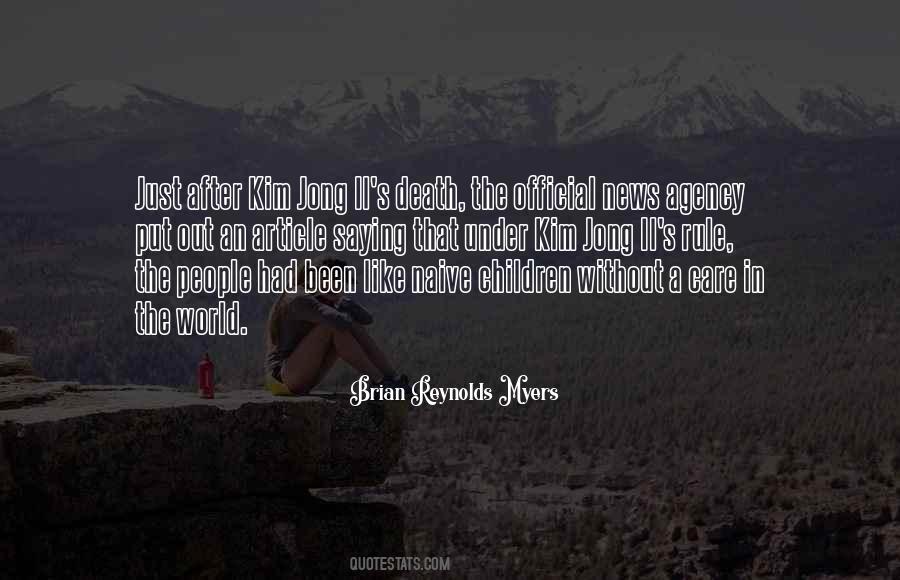 #84. It sounded nothing like the classic "That's all folks" that the character did. So everytime I'm asked to do it - and nine out of ten "Looney Tunes" shows ends with Porky coming out saying "That's all folks" - I'll say to them, which one do you want? - Author: Bob Bergen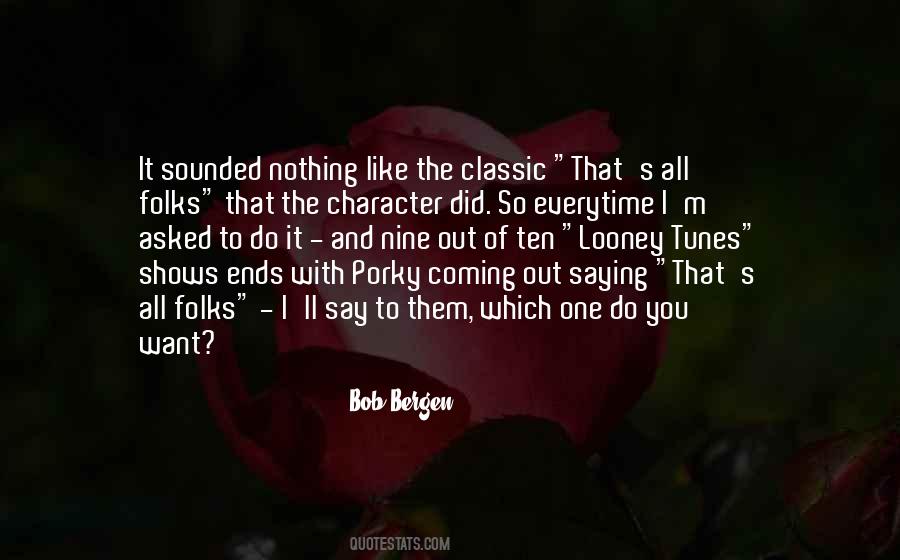 #85. Saying it's hard is ultimately a justification to do what seems like the easiest thing to do
have the affair, stay at that horrible job, end a friendship over a slight, keep loving someone who treats you terribly. - Author: Cheryl Strayed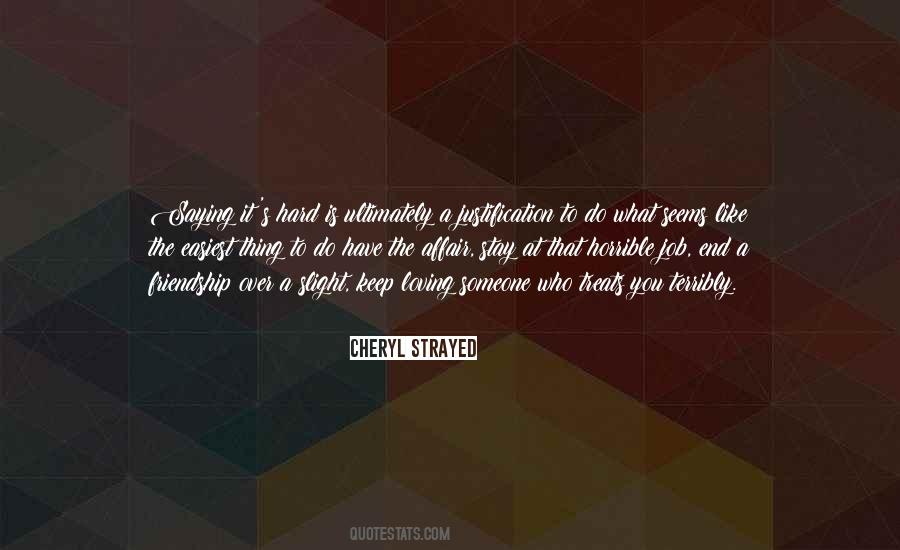 #86. Saying you have a political solution is like saying you can write a pop song that's going to stay at the top of the list forever. I don't have many illusions about this, but I'm not cynical about it. - Author: Bruce Sterling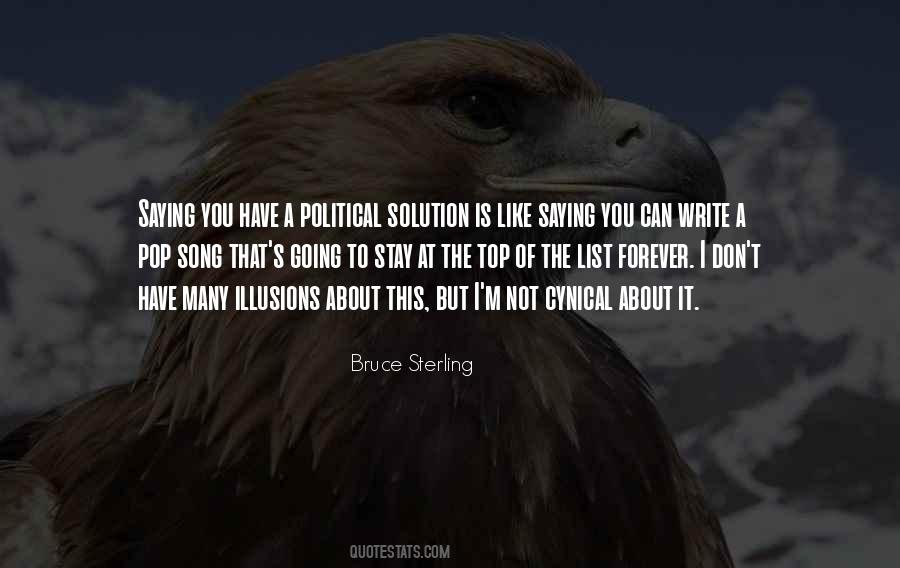 #87. Yes, they're a little biased there, I agree. Mike smiles at this understatement, knowing as I do that saying they're a little biased in Mudd's favor at the Mudd-family-run Mudd home in Maryland is like saying cheese steaks are kind of associated with Philadelphia. - Author: Sarah Vowell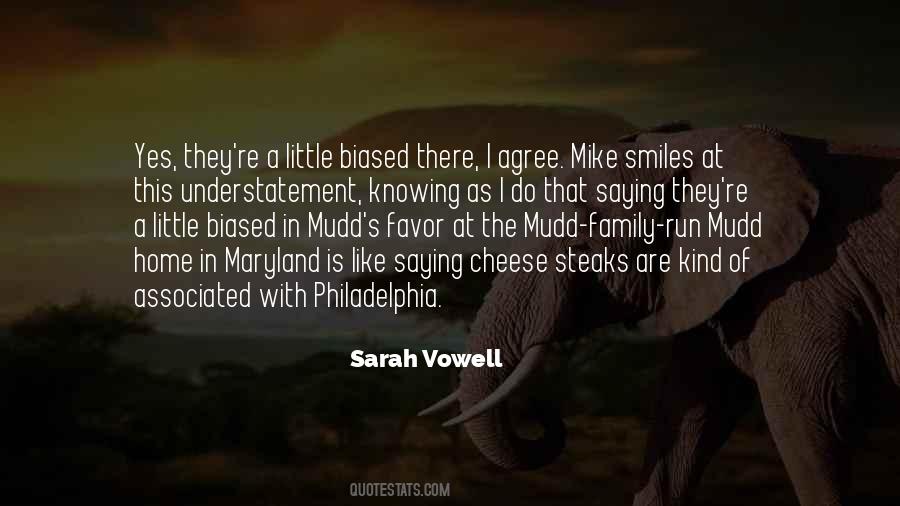 #88. I didn't know any successful actors in Kenya, so I felt like I could get away with going to college to study film more easily than I could with saying, 'I want to be an actor.' That's what I did. - Author: Lupita Nyong'o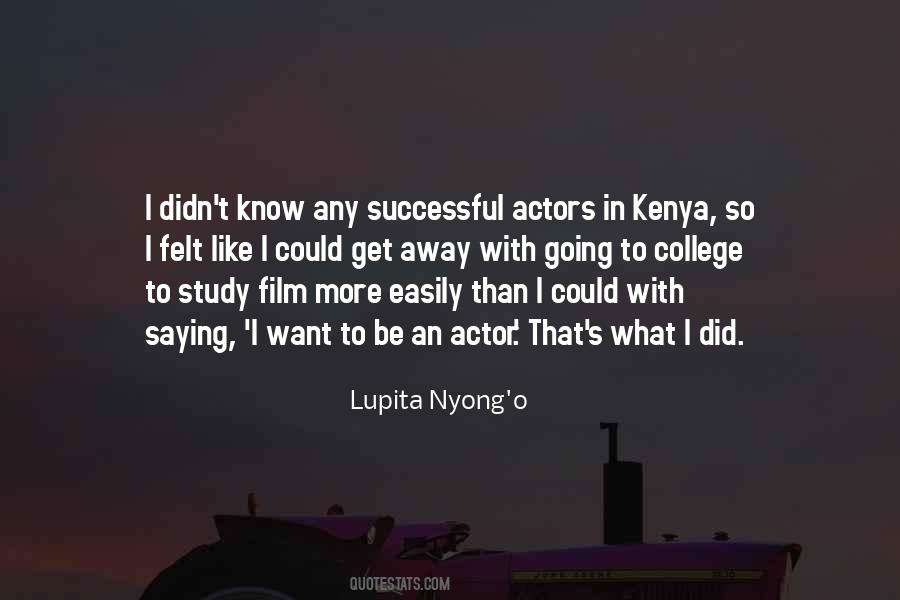 #89. Stop saying you're not racist because you have a friend that's black. That's like saying you're not a pedophile because you have a friend that's a kid. - Author: Daniel Tosh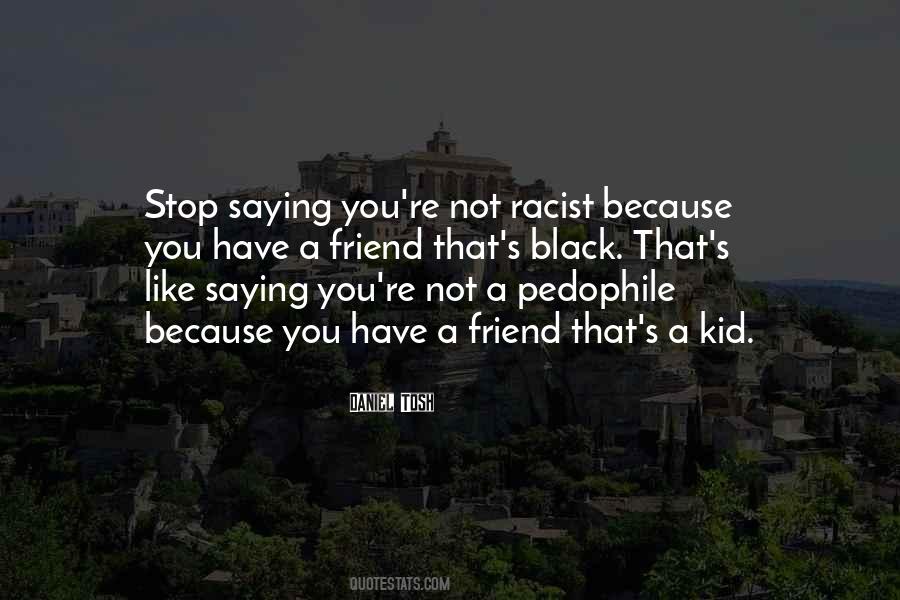 #90. It seemed like someone was always leaving someone, like that's the way the world worked - people were born and people died, people left and people came. It was like the world was saying you can't have everything you want at the same time. - Author: Jacqueline Woodson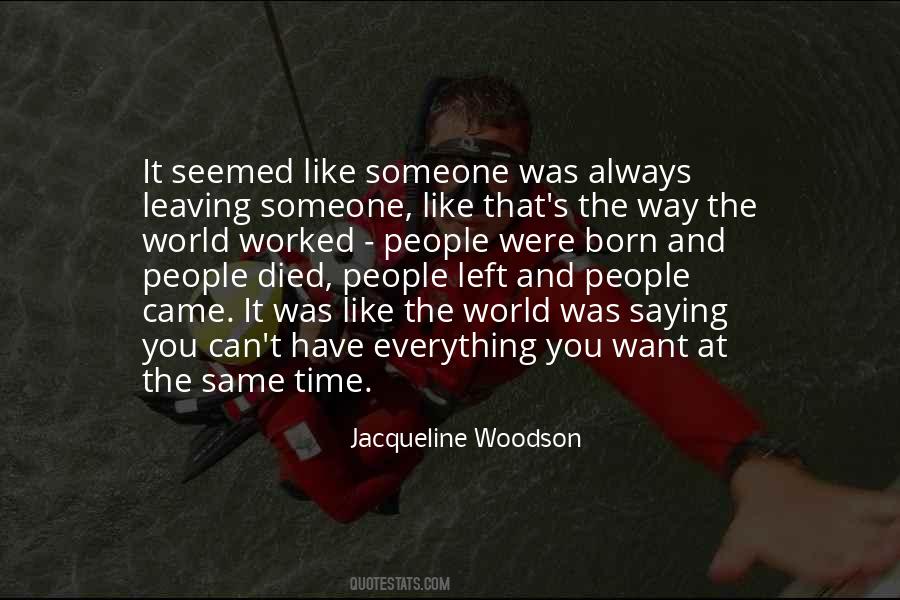 #91. There's a saying in my business that there are two kinds of coaches - those who have been fired and those who haven't been fired yet. That's kind of like prostate cancer. Every man will have it if he lives long enough. - Author: Bobby Bowden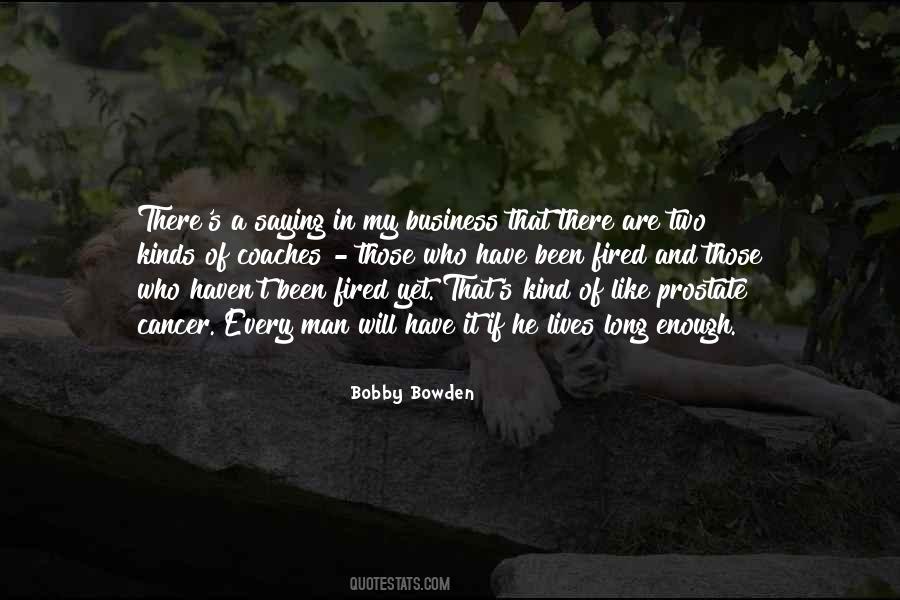 #92. Art like that doesn't need words. That painting tells you something by pulling you into it and pushing you out and you know what it's saying without words being spoken. - Author: Cath Crowley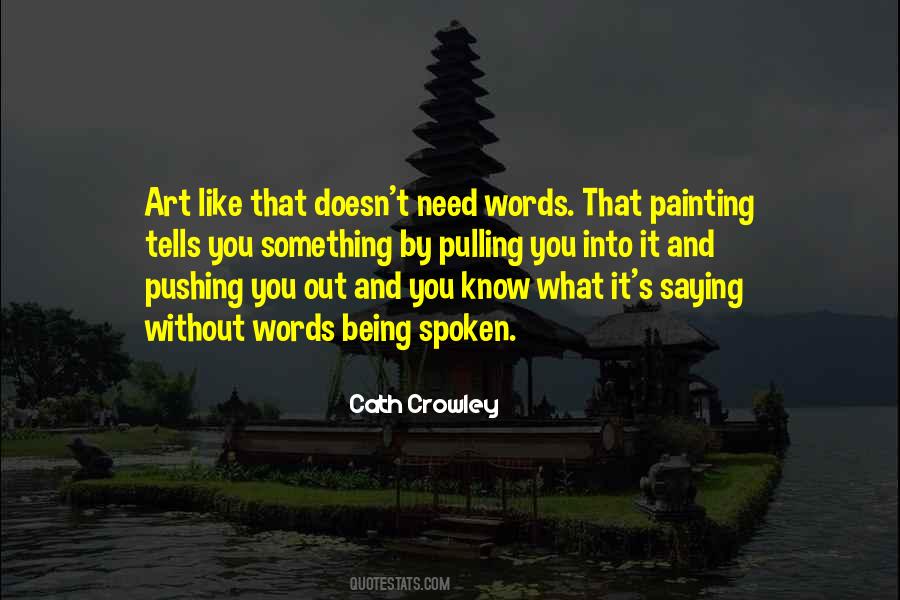 #93. When someone in power declares that something is broken that means it's actually fine. What they're really saying is, "Let's change this so I like it and ruin it." Nothing is ever broken. - Author: Greg Gutfeld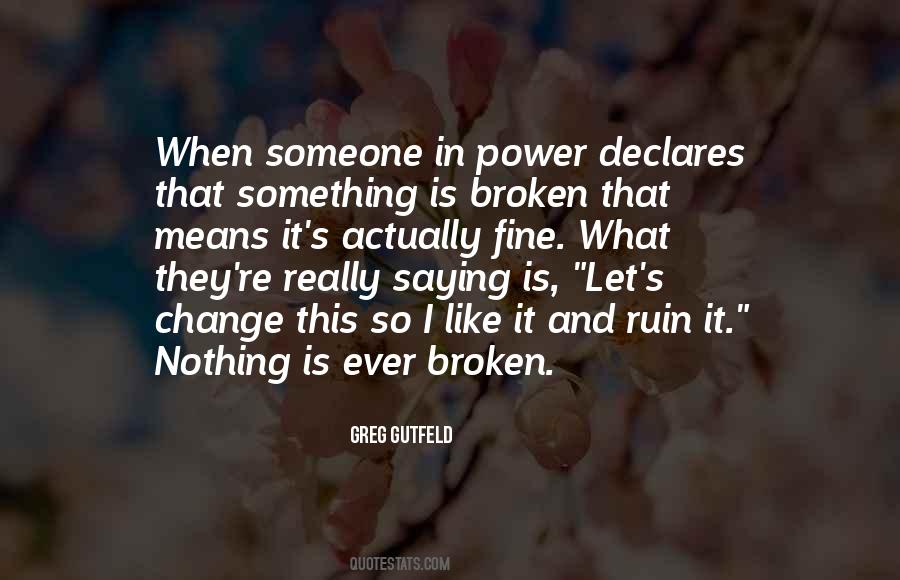 #94. My boyfriend's an idiot," I say as soon as he lurches away.
"A cute idiot," Ally corrects me.
"That's like saying 'a cute mutant.' Doesn't exist. - Author: Lauren Oliver
#95. It's frequently said that there is 'no reason' for such 'military-style weapons' as the Bushmaster to be available to citizens. But isn't that a lot like saying there is no reason why any civilian should drive a military-style car like the Hummer? - Author: Glenn Beck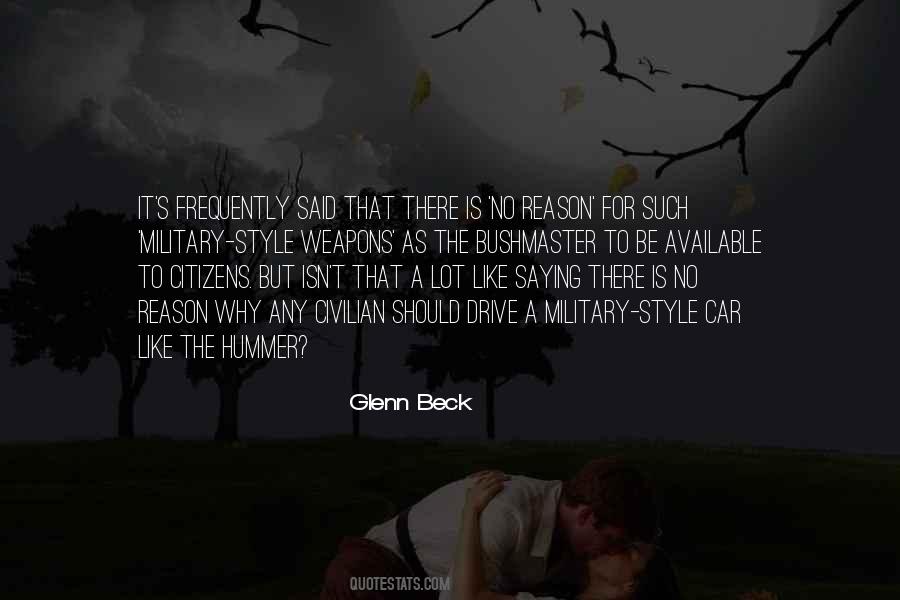 #96. FDR once said he was like a cat, that he would pounce and then relax. That's much harder to do in the 24-hour cable world, because it's almost like the press demands of you to be saying something or doing something every day. - Author: Doris Kearns Goodwin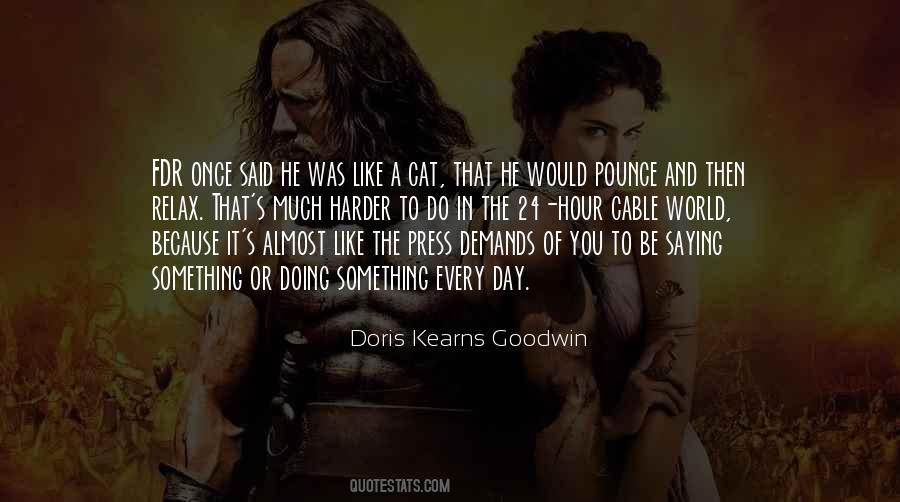 #97. I like that feeling in your brain when you've got seven things that you're holding in one moment-you heard that person cough, you heard that person laugh, you're also saying your line, you're also listening to the person who's talking to you. - Author: Sarah Paulson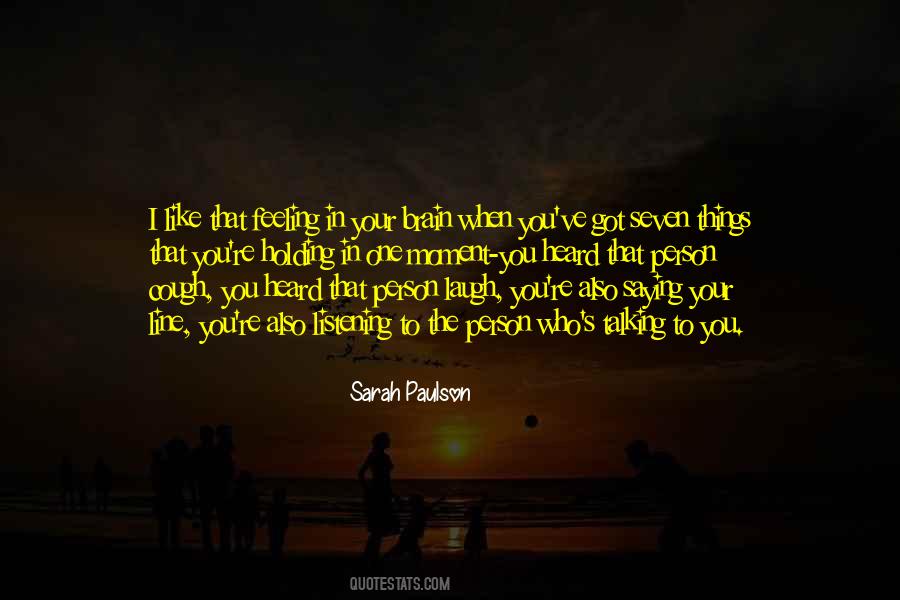 #98. You're not very good at being contemplative," Milo said. "You always sound like some bad caricature of a philosopher, like those fortune cookies with 'Confucius say' or the Nietzsche guy from Mystery Men that's always saying 'when you walk on the ground, the ground walks on you. - Author: Amanda Hocking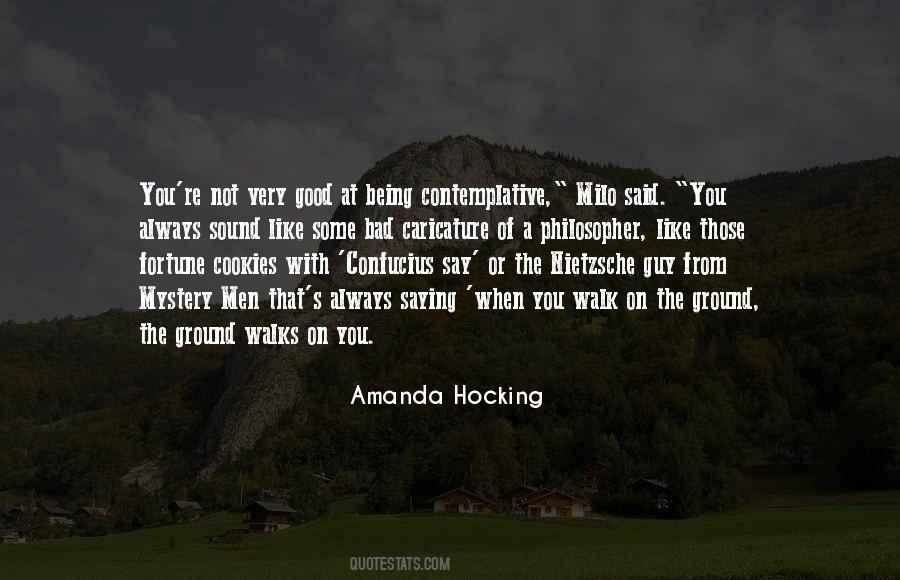 #99. I love Twitter, but some people use profanity so much that at some point it's like saying, 'Pass the salt.' - Author: Bill Cosby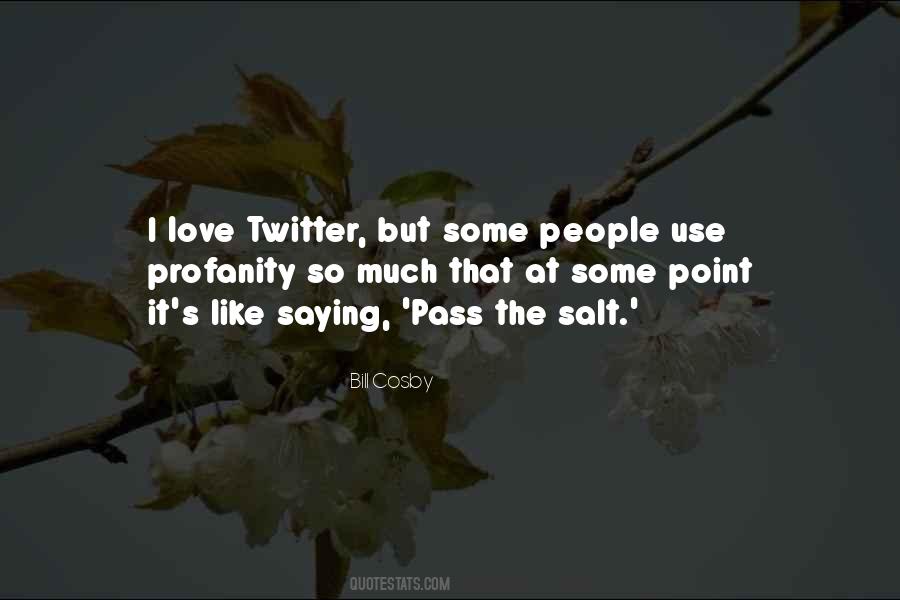 #100. He was tongue-tied in the presence of a fourteen-month-old baby. All the things he thought of saying, like 'Who's Daddy's little boy, then?' sounded horribly false, as though he'd got them from a book. There was nothing to say, nor, in this soft pastel room, anything that needed to be said. - Author: Terry Pratchett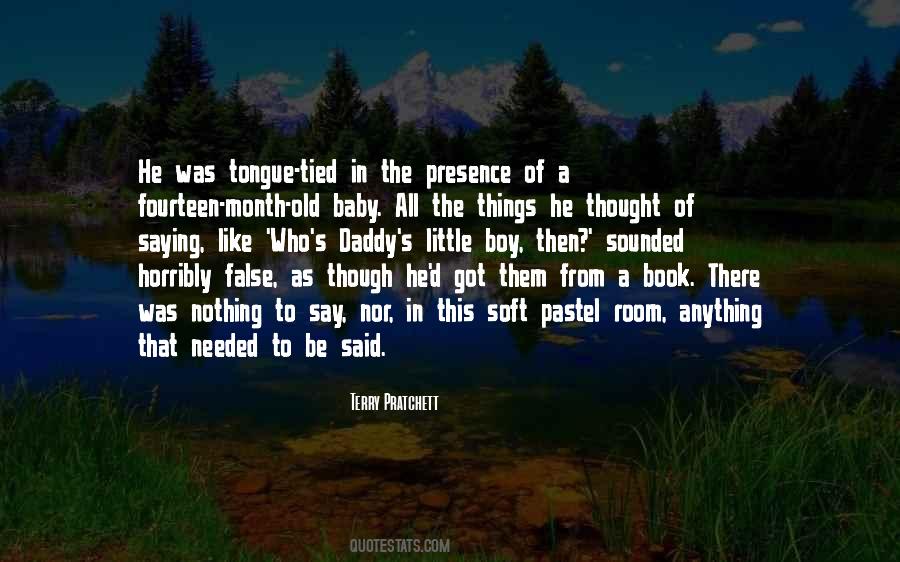 Famous Authors
Popular Topics