Sentence Famous Quotes & Sayings
List of top 100 famous quotes and sayings about sentence to read and share with friends on your Facebook, Twitter, blogs.
Top 100 Sentence Quotes
#1. The rules of capitalization are so unfair to words in the middle of a sentence. - Author: John Green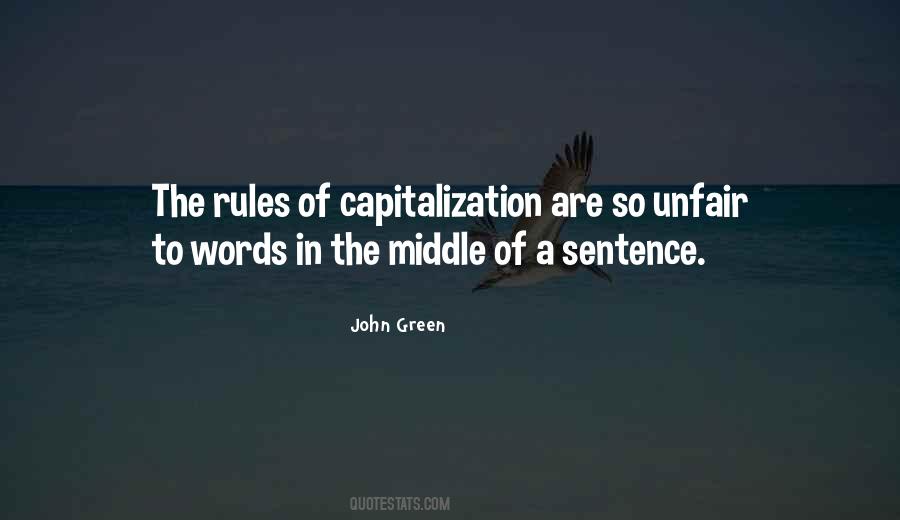 #2. I am going to New York whether you like it or not," I hiss. "Don't count - " I hang up, cutting him off mid-sentence. - Author: E.L. James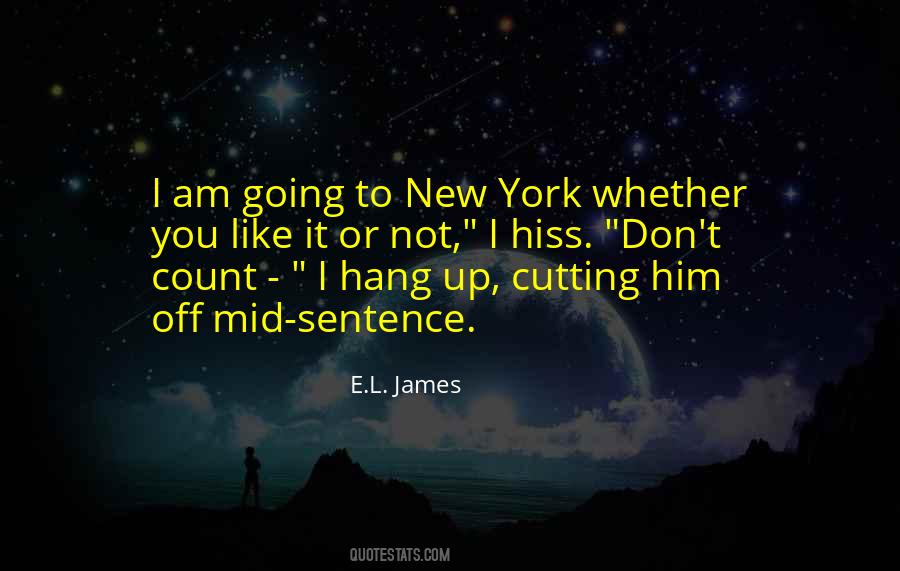 #3. Is it something I said?" Jane asked. And if so, which sentence? There had been so many of them, after all. - Author: Courtney Milan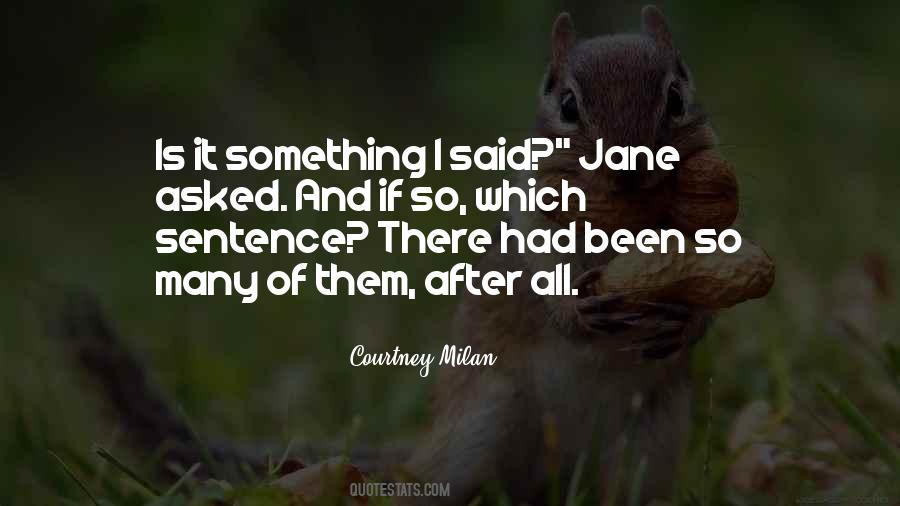 #4. There was absolutely zero discourse between me or anybody at the studio with the NFL. None. The only exchange was one-sentence e-mails trying to arrange a meeting, before deciding to cancel the meeting. Period. End of story. - Author: Peter Landesman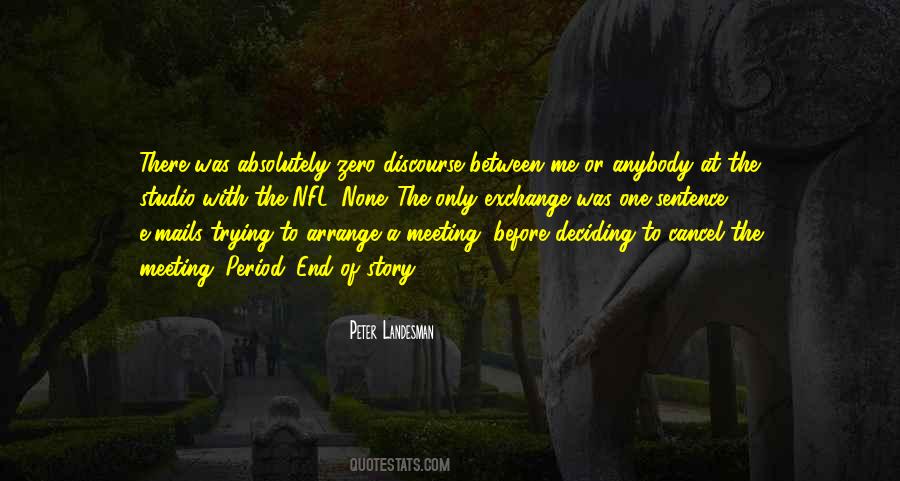 #5. I'll have a sentence in my head that's kind of beautiful and interesting, but I'm not sure why or where it's coming from. So it's kind of funny, because when people point out patterns or themes, it's the exact opposite of my film school experience. - Author: Don Hertzfeldt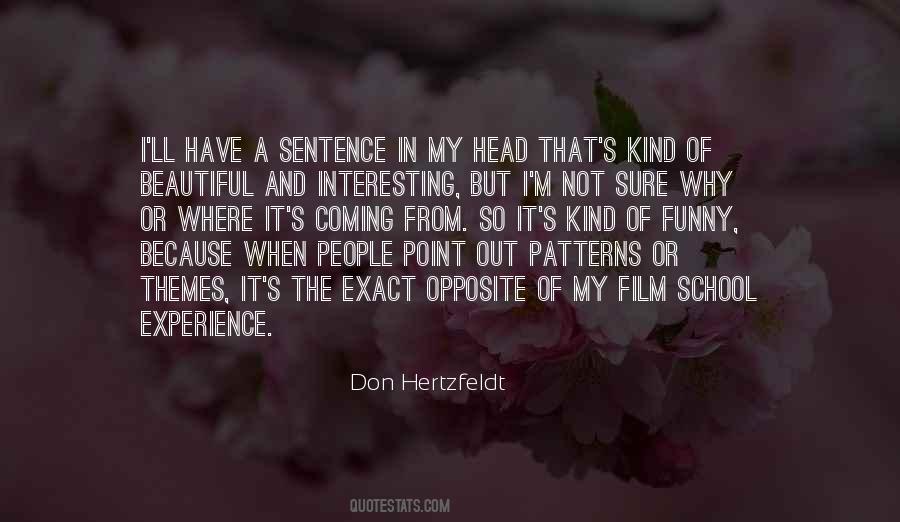 #6. Whenever you listen to a piece of music, what you are actually doing is hearing the latest sentence in a very long story you've been listening to - all the pieces of music you've ever heard. - Author: Brian Eno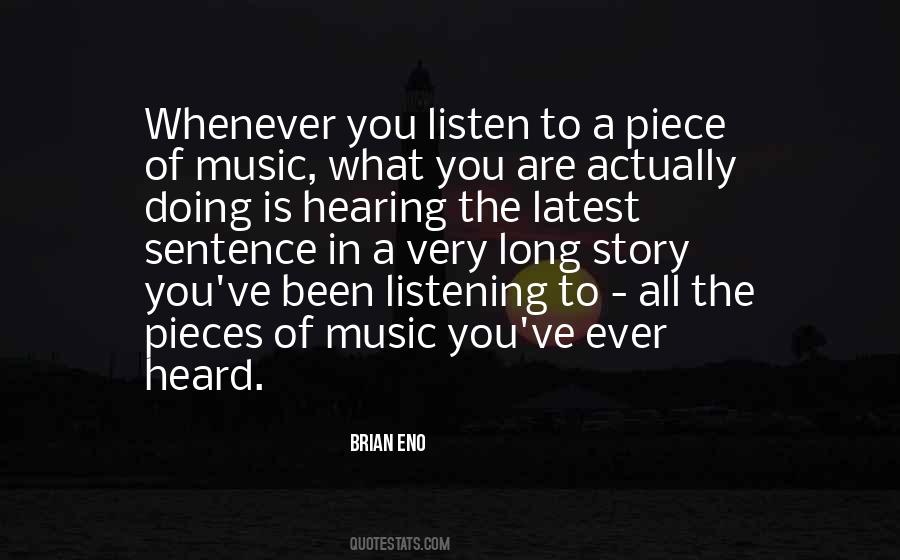 #7. With my fiction, I focused on chapters and overall conceptions, while in poetry, I crawled along in the trenches of each sentence, examining every word for a sign of a deeper significance. - Author: Philip Schultz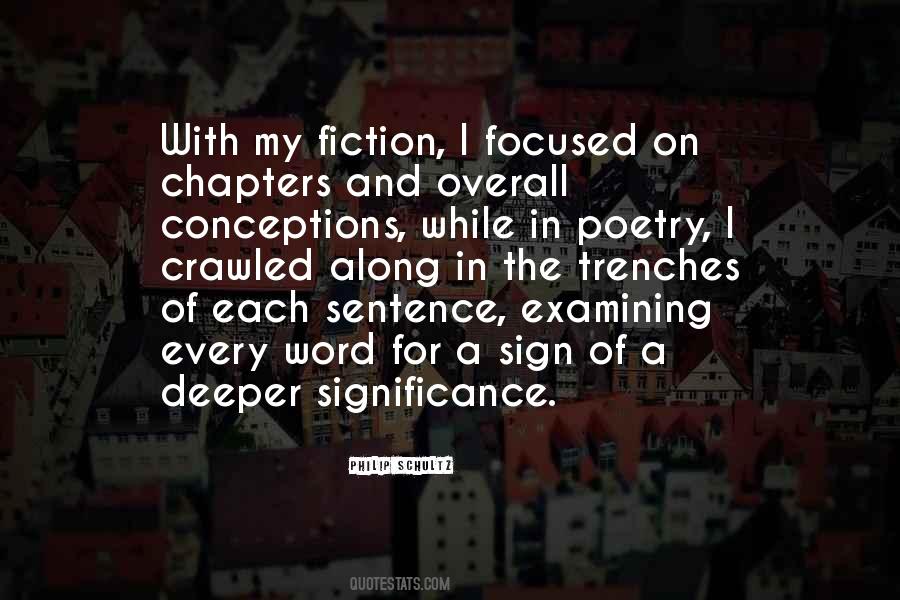 #8. Although I'm afraid I don't get too many clients these days! - Author: Patrick McCabe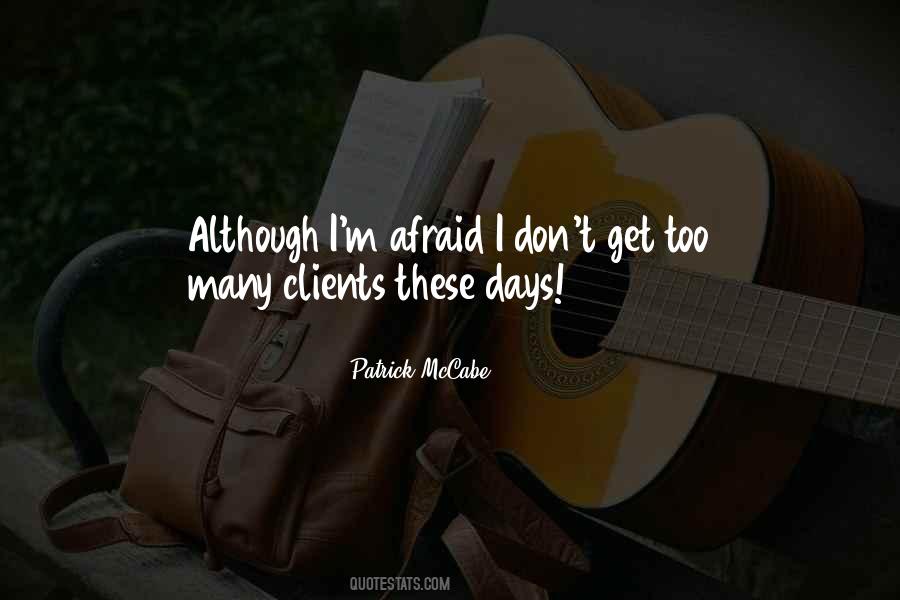 #9. Forget I ever referred to my mother and screwing in the same sentence. That's just ... wrong. On so many levels. - Author: Emma Chase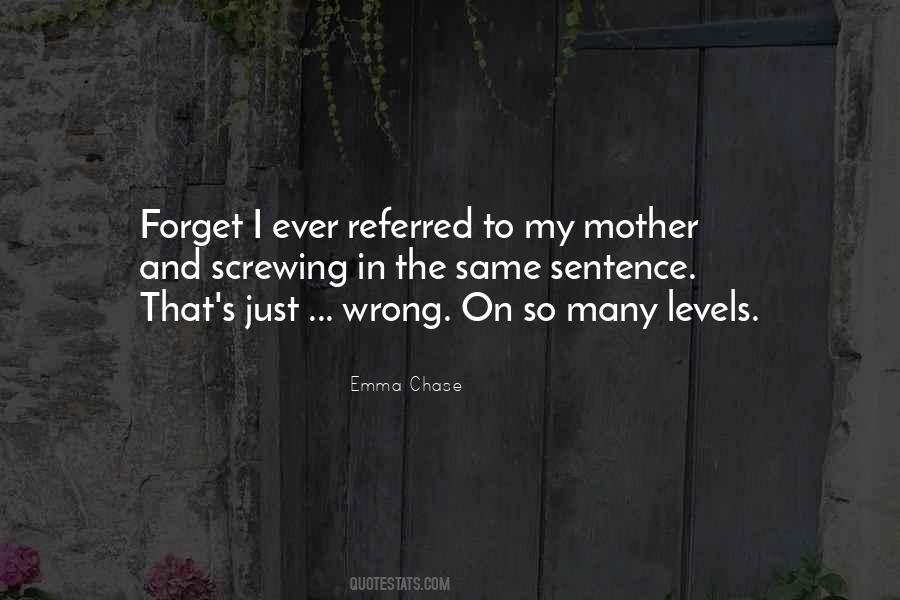 #10. You might reduce Lombardi's coaching philosophy to a single sentence: In any game, you do the things you do best and you do them over and over and over. - Author: George Halas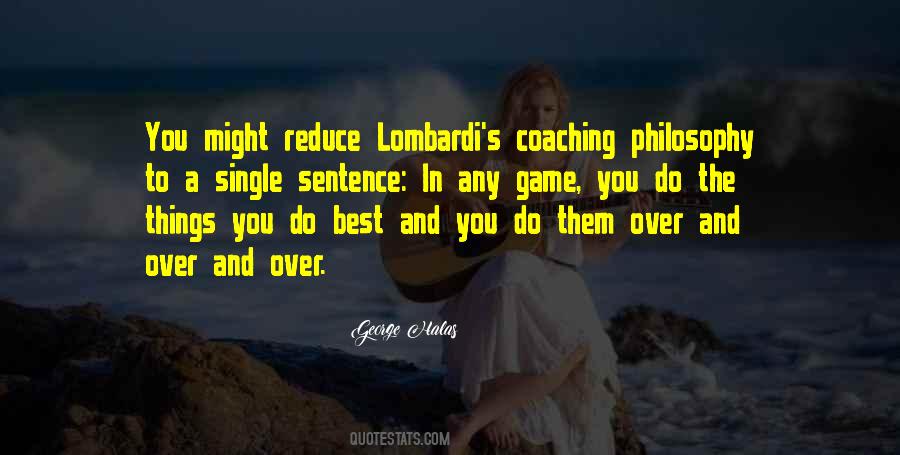 #11. I remember hating having to cross over the Broadway Bridge again, having to leave the peninsula neighborhood and go back to my apartment in downtown Boston. - Author: Michael Patrick MacDonald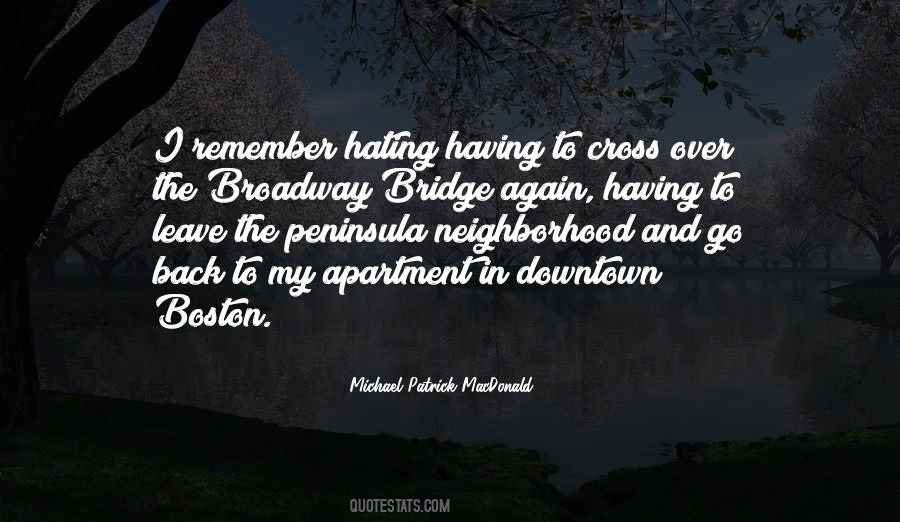 #12. The writing in Mission to Paris, sentence after sentence, page after page, is dazzling. If you are a John le Carr fan, this is definitely a novel for you. - Author: James Patterson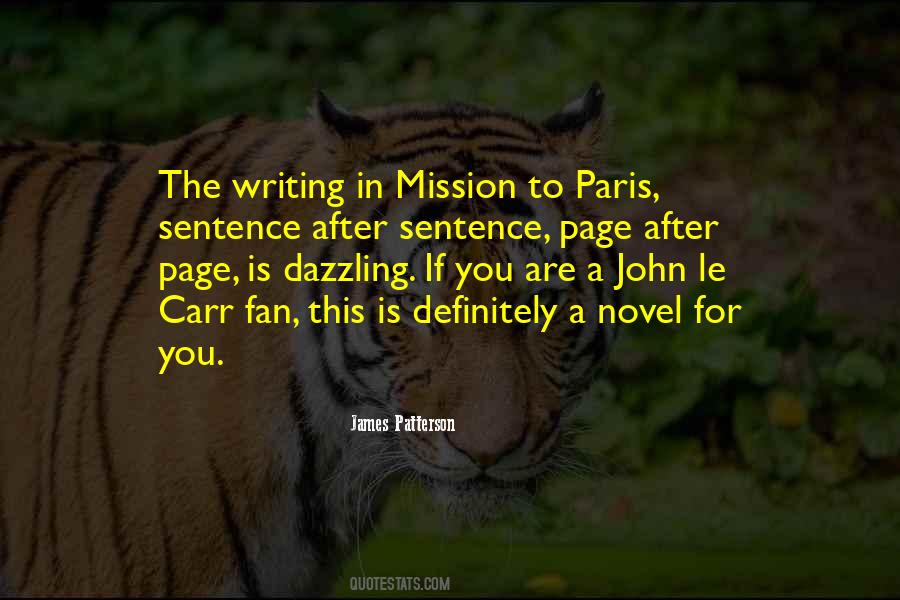 #13. The end of an unclouded day. Almost a happy one. Just one of the 3,653 days of his sentence, from bell to bell. The extra three were for leap years. - Author: Aleksandr Solzhenitsyn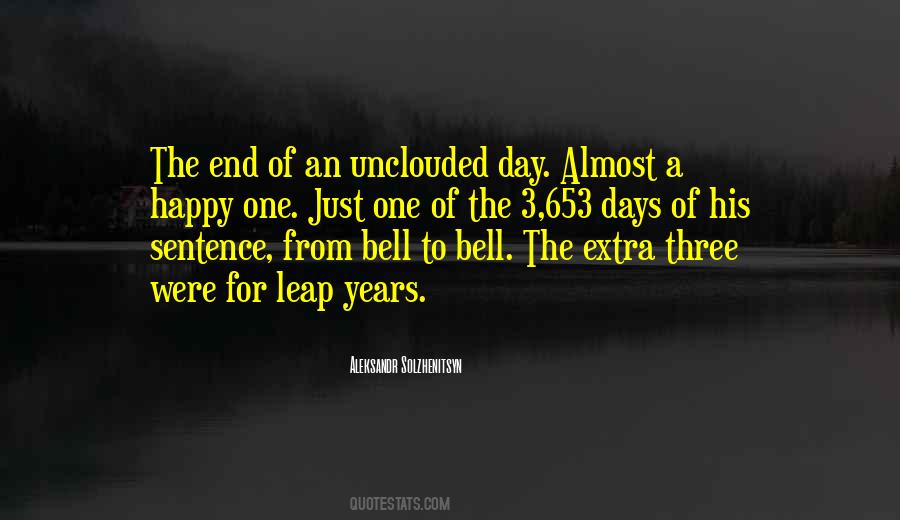 #14. But sometimes it takes only a photograph and a sentence to make an author cry himself to sleep even years after the photograph was taken. - Author: Lemony Snicket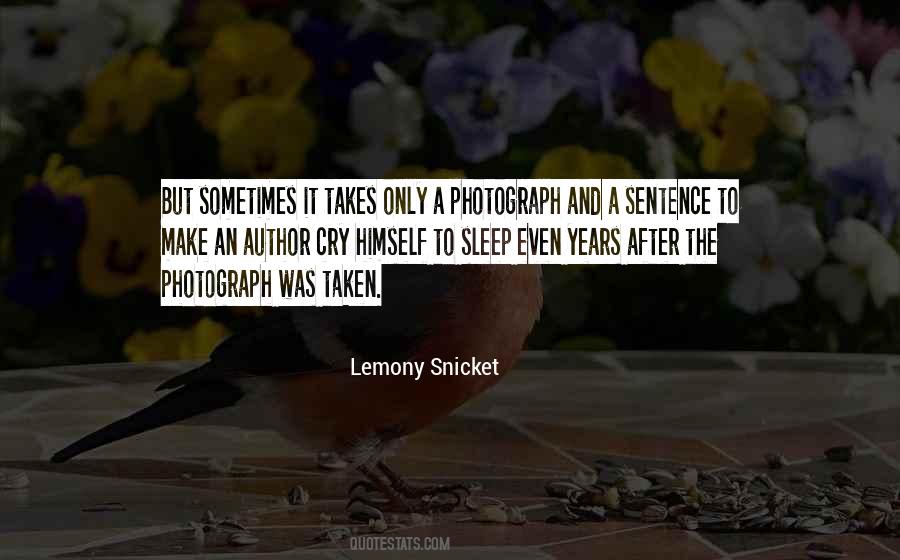 #15. I learned in therapy the word "No" is a complete sentence. - Author: Jaycee Dugard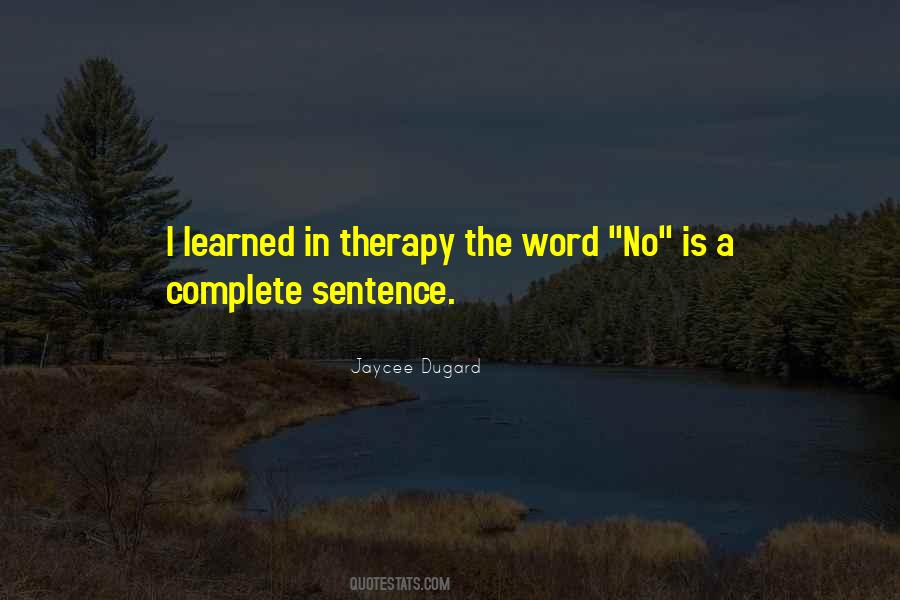 #16. Where did you find the whipped cream?" he asked. "You had milk, I had science," said Jack. "It's amazing how much of culinary achievement can be summarized by that sentence. Cheese making, for example. The perfect intersection of milk, science, and foolish disregard for the laws of nature. - Author: Seanan McGuire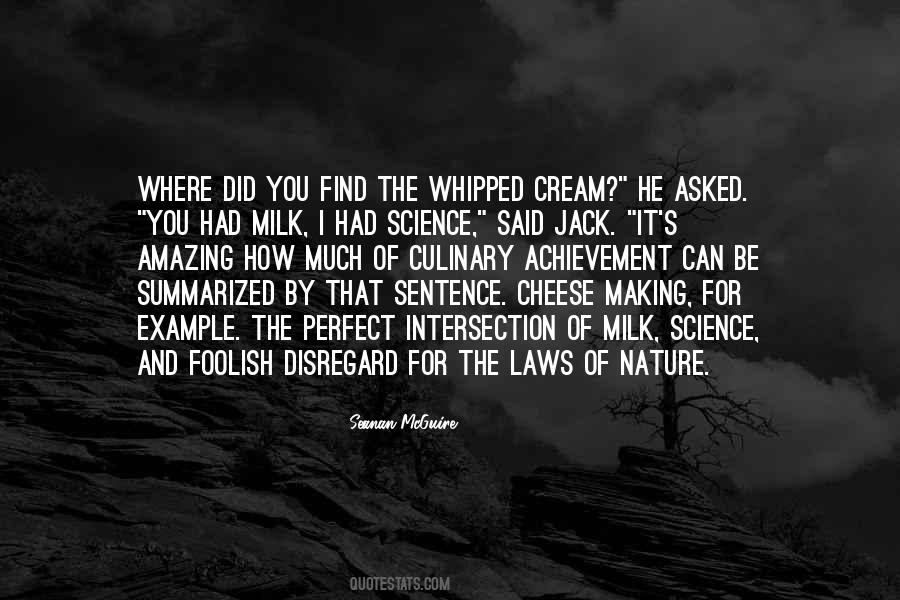 #17. From above, start with the privileged view. - Author: Maureen Howard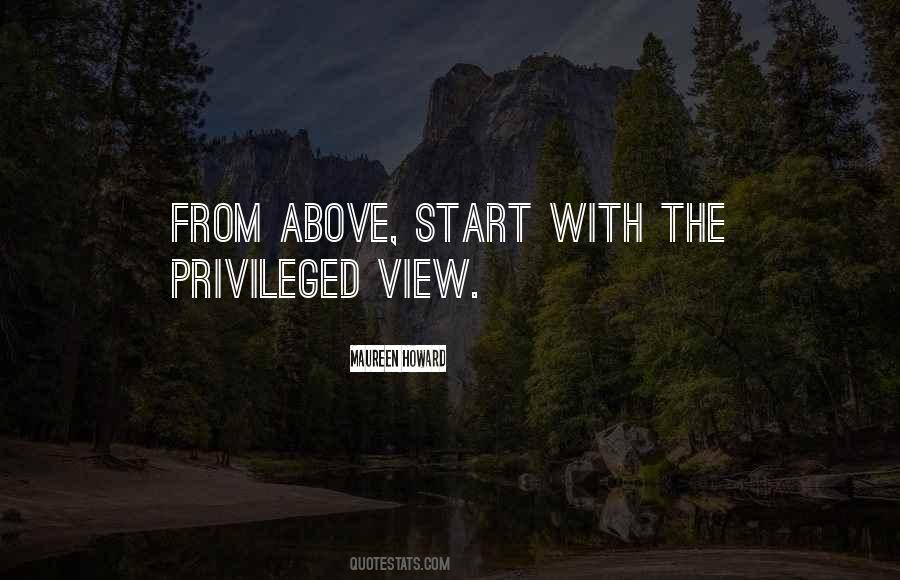 #18. 'High Concept' means a book or a film whose core idea can be stated in a single sentence, such as 'Arnold Schwarzenegger and Danny DeVito are twins.' Or, 'Arnold is pregnant.' - Author: Martin Cruz Smith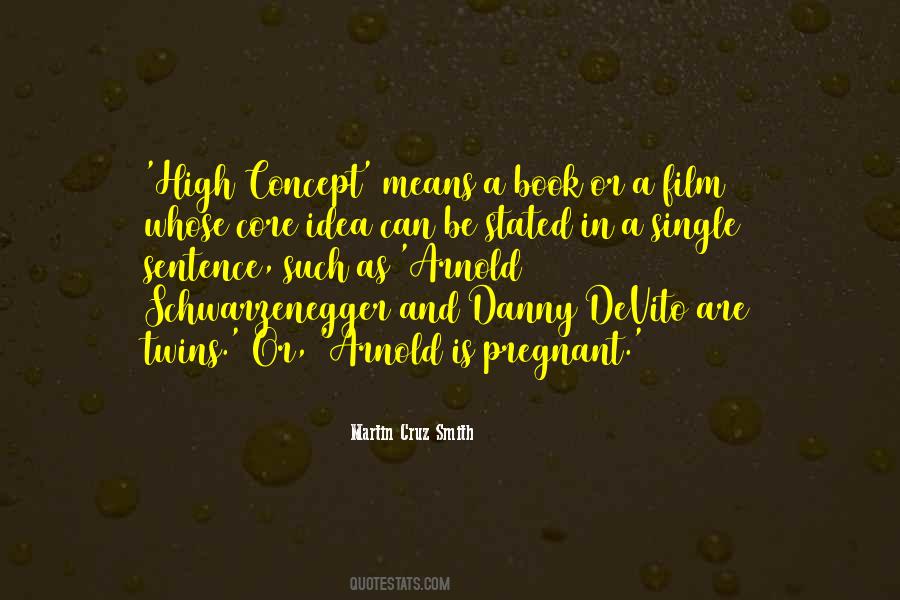 #19. A perfectly healthy sentence, it is true, is extremely rare. For the most part we miss the hue and fragrance of the thought; as if we could be satisfied with the dews of the morning or evening without their colors, or the heavens without their azure. - Author: Henry David Thoreau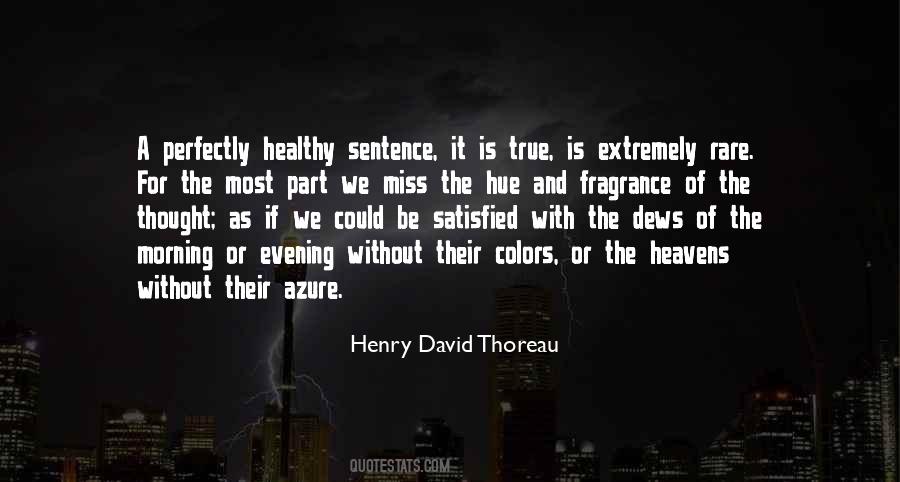 #20. I don't want someone taking half a sentence or paraphrasing me ... Just too much risk. - Author: Jason Calacanis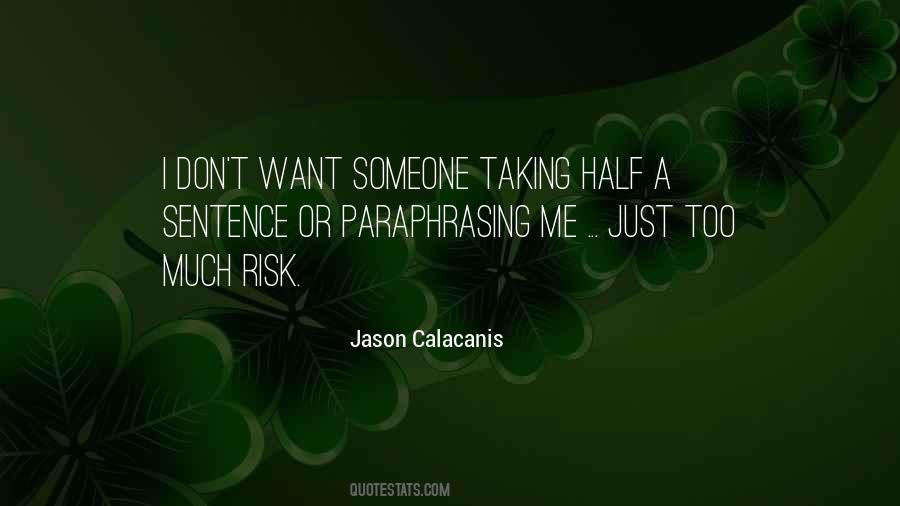 #21. It would be tedious to attempt a phonetic reproduction of Mr. Sage's utterances. Enough to say that they were genteel to a fantastic degree. "Aye thot Aye heeard somewon teeking may neem in veen," may give some idea of his rendering of the above sentence. Let it go at that. - Author: Anonymous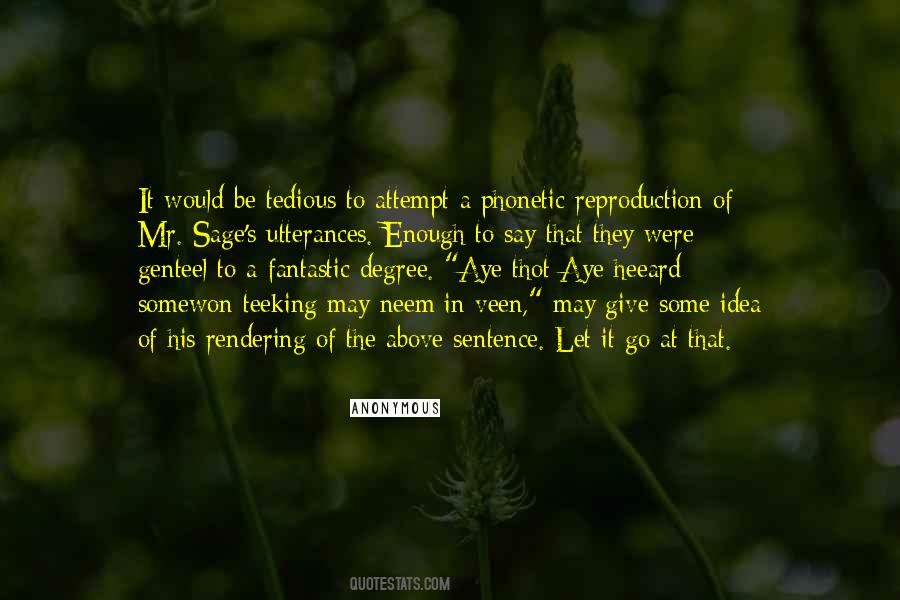 #22. 'Dreams From My Father' reveals more about Obama than is usually known about political leaders until after they're dead. Perhaps more than it intends, it shows his mind working, in real time, sentence by sentence, in what feels like a private audience with the reader. - Author: Jonathan Raban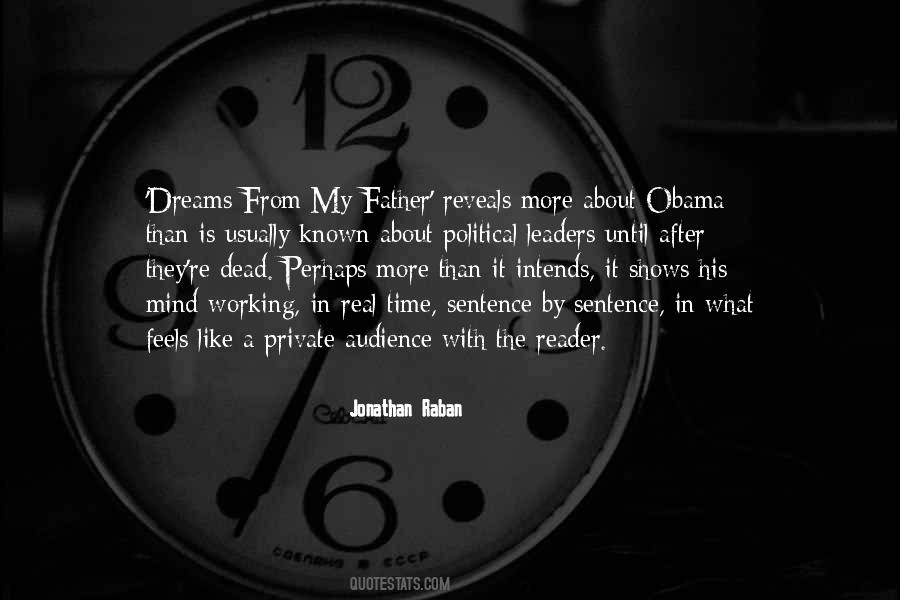 #23. Some memorizers arbitrarily associate each playing card with a familiar person or object, so that the king of clubs is represented by, say, Tony Danza. The grand masters associate each card with a person, an action, or an object so that every group of three cards can be converted into a sentence. - Author: Joshua Foer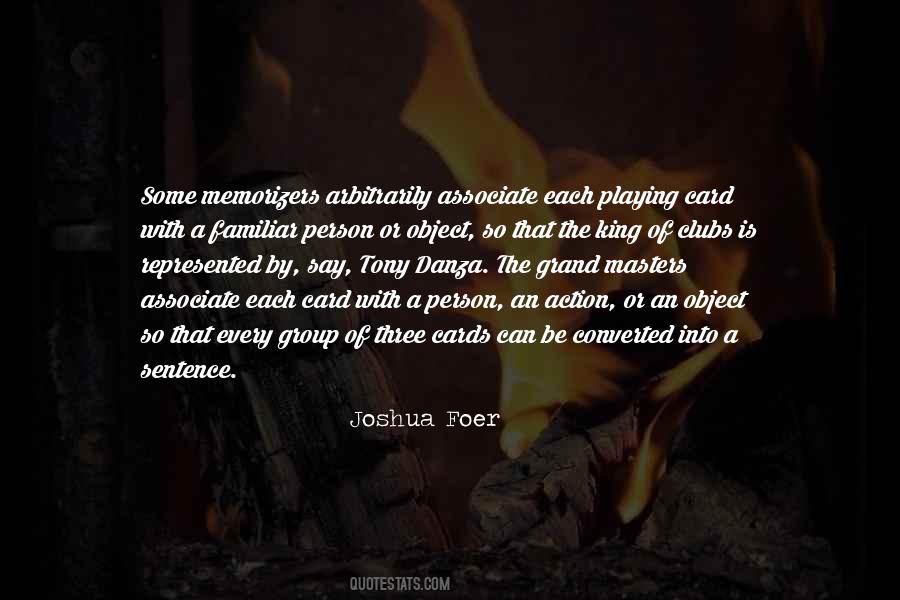 #24. And in the last sentence I would like also to mention that Poland is one of the countries with which the United States has run strategic dialogues since last year. - Author: Marek Belka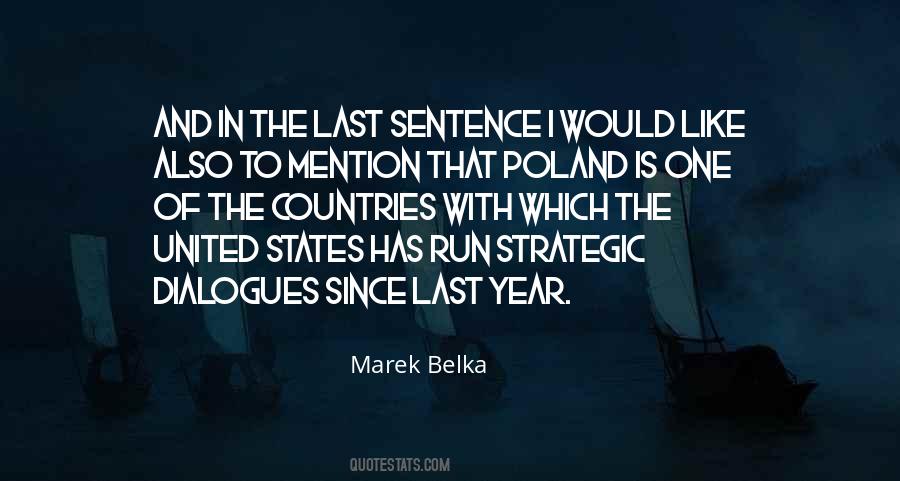 #25. I have a horror of the blank page. I simply cannot write on a blank page or screen. Because once I do, I start to fix it, and I never get past the first sentence. - Author: Charles Krauthammer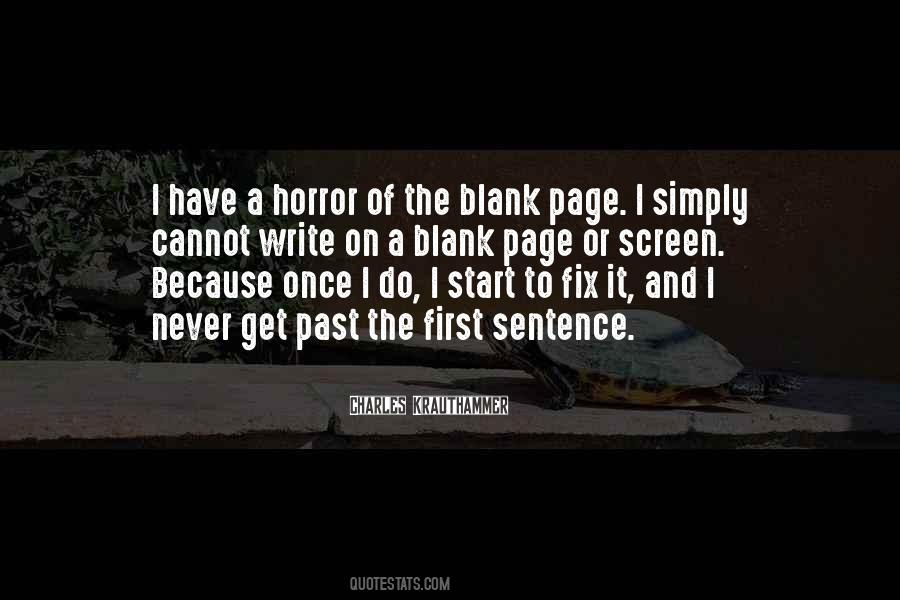 #26. Sentence-by-sentence basis - that it's okay if a person - Author: David Foster Wallace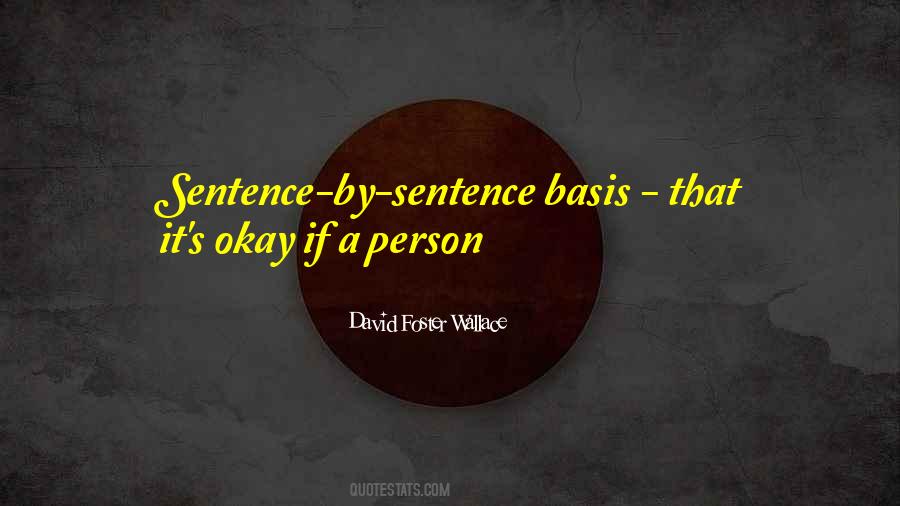 #27. If words had weight, a single sentence from Death would have anchored a ship. - Author: Terry Pratchett
#28. There are some wives who require but a sentence. There are some who require a book. You, Miss Clarke, would require volumes. - Author: Sally Cabot Gunning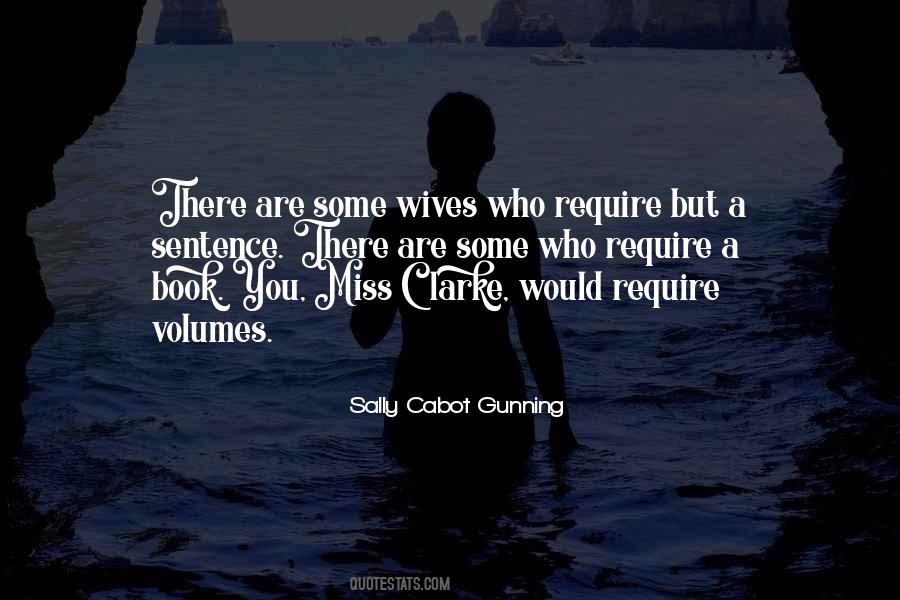 #29. Whatever the pedagogical merits may be of feeding children misinformation, it is inappropriate for adults. There is nothing wrong with beginning a sentence with a coordinator. - Author: Steven Pinker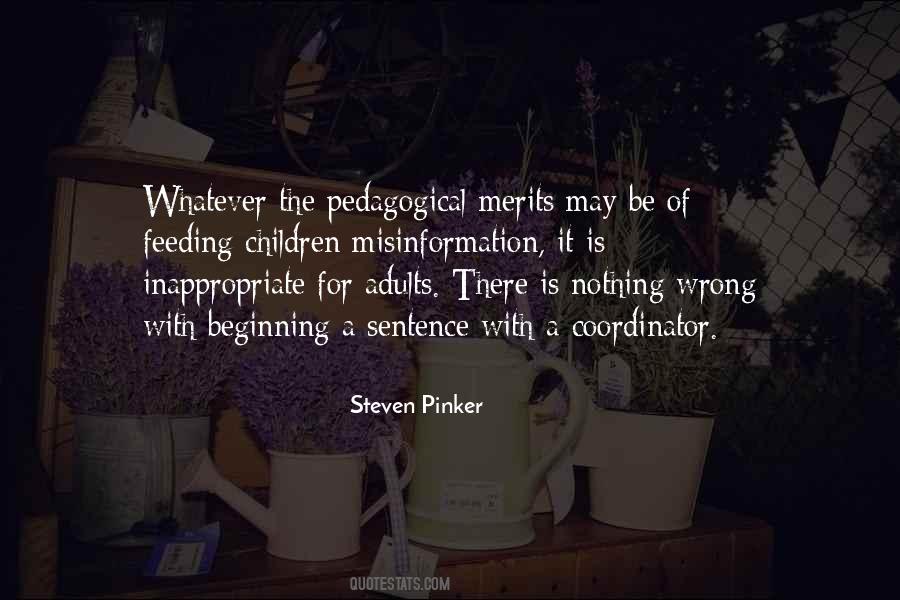 #30. Flaubert's famous sentence, "Madame Bovary, c'est moi" ("Madame Bovary, she is me"), in reality means, " Madame Bovary, c'est nous" ("Madame Bovary, she is us"), in our modern incapacity to live a "good-enough" life. - Author: Sophie Barthes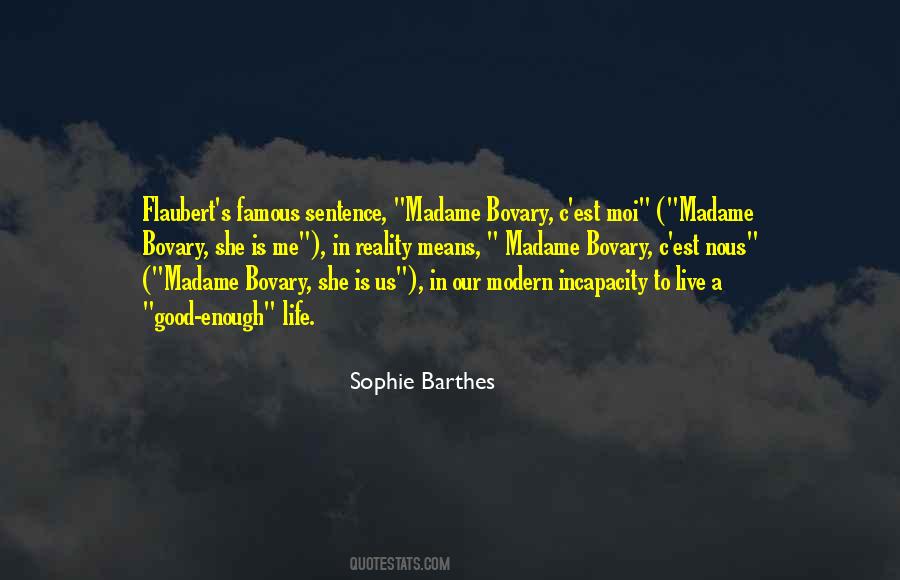 #31. Two women chasing him, ready and waiting for his call and the one that had buts at the end of every sentence was the one who turned him inside him out with a simple kiss. - Author: Carolyn Brown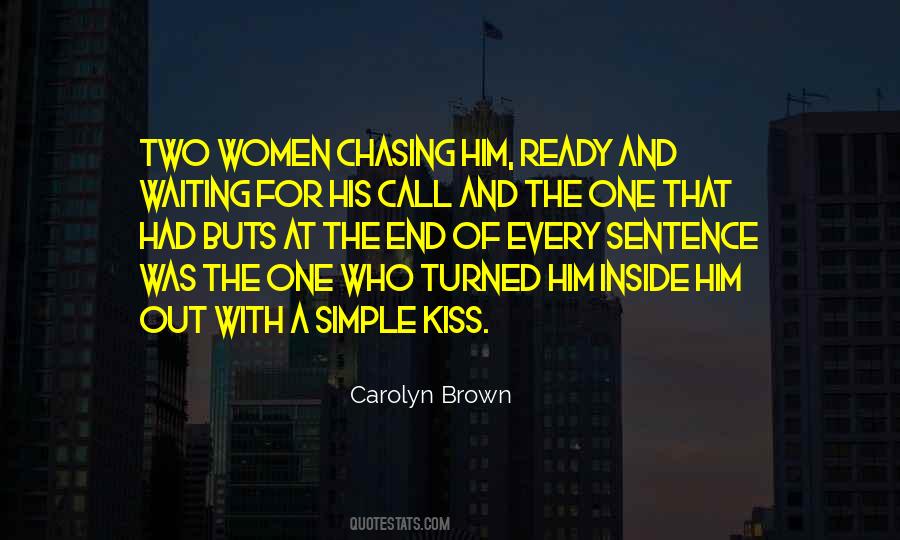 #32. The most difficult thing about writing; is writing the first line. - Author: Amit Kalantri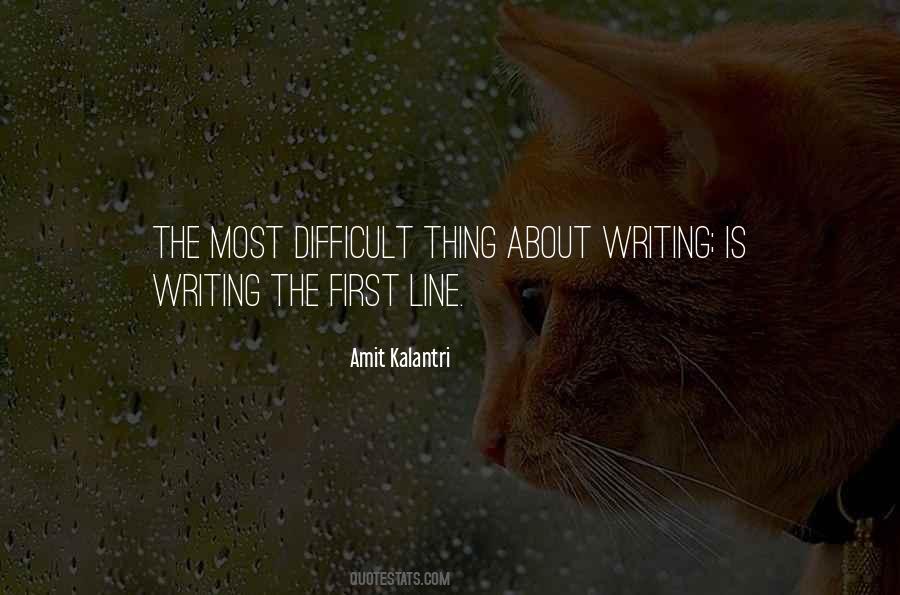 #33. There is no one way to render an idea. Let's explore how masters of the sentence play with length and style to make their sentences distinctive. - Author: Constance Hale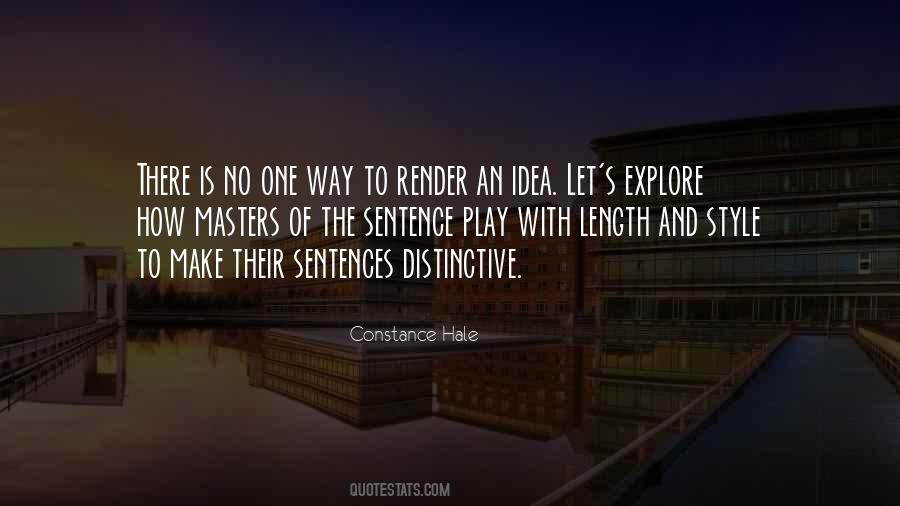 #34. A sentence that clots in your mouth is unlikely to flow in your mind. - Author: Mal Peet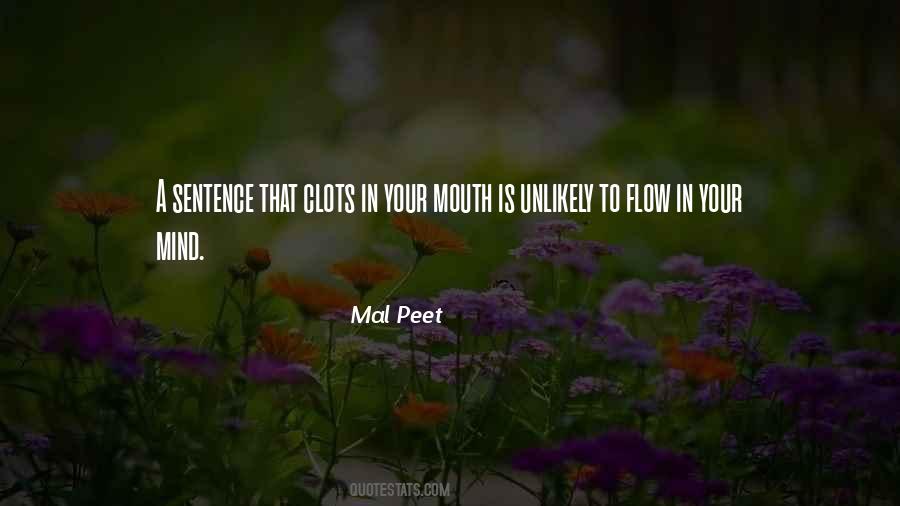 #35. If I had to define a major depression in a single sentence, I would describe it as a genetic/neurochemical disorder requiring a strong environmental trigger whose characteristic manifestation is an inability to appreciate sunsets. - Author: Robert M. Sapolsky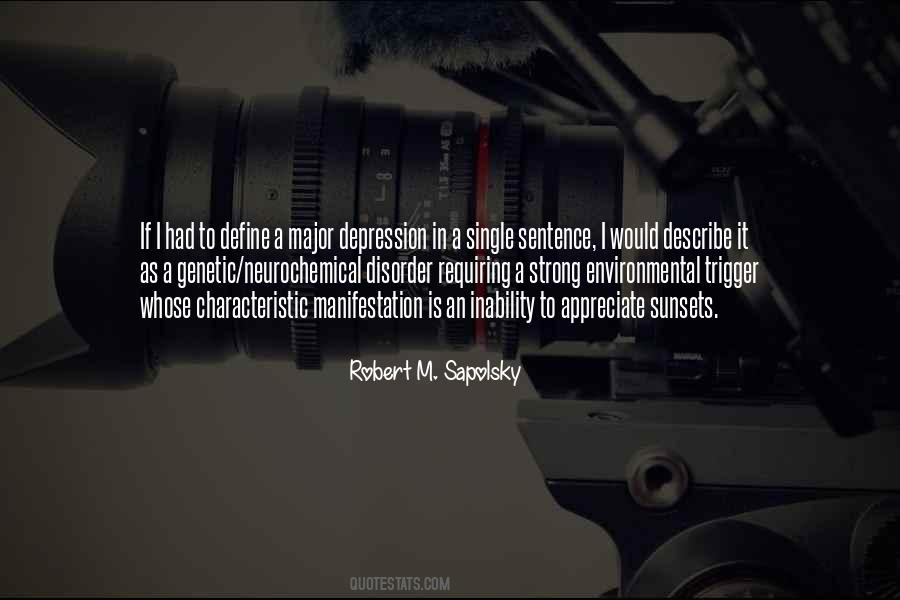 #36. My reasons for coming to get married in Calcutta are complicated, and it's very hard to put it into a sentence. People ask me why. To me, it just felt like a very natural and exciting decision. - Author: Jhumpa Lahiri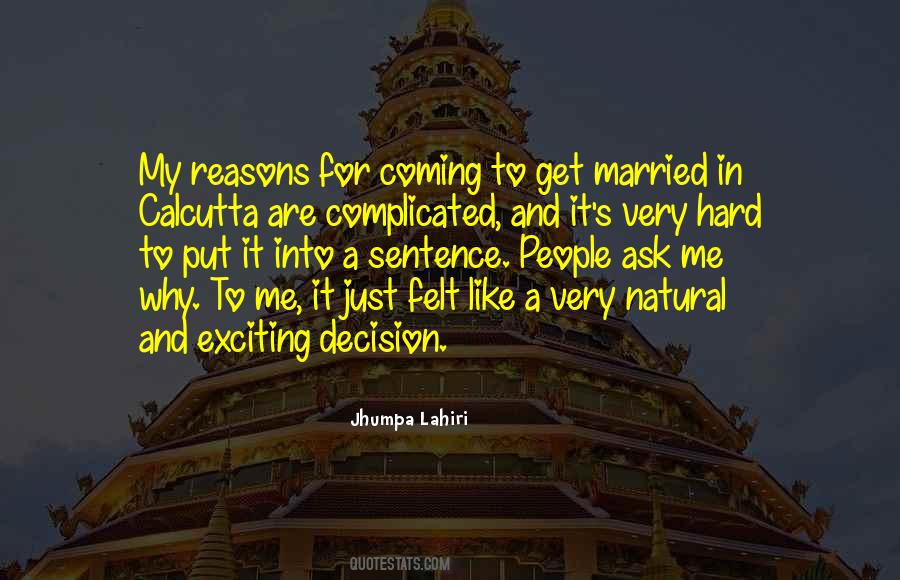 #37. Having a soft major is nowhere near the career death sentence that so many make it out to be. The world is changing, and the U.S. economy with it. Our economy is shifting to a service- and information-based economy, and soft majors are already becoming more and more valuable. - Author: Tucker Max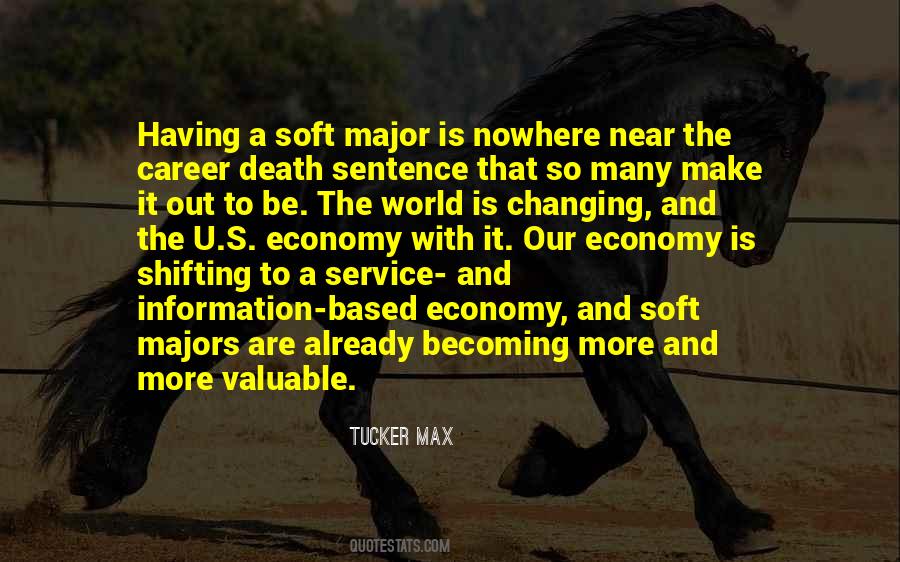 #38. He was a teacher with good thinks of the life and education but he espress with a sentence. - Author: Paulo Freire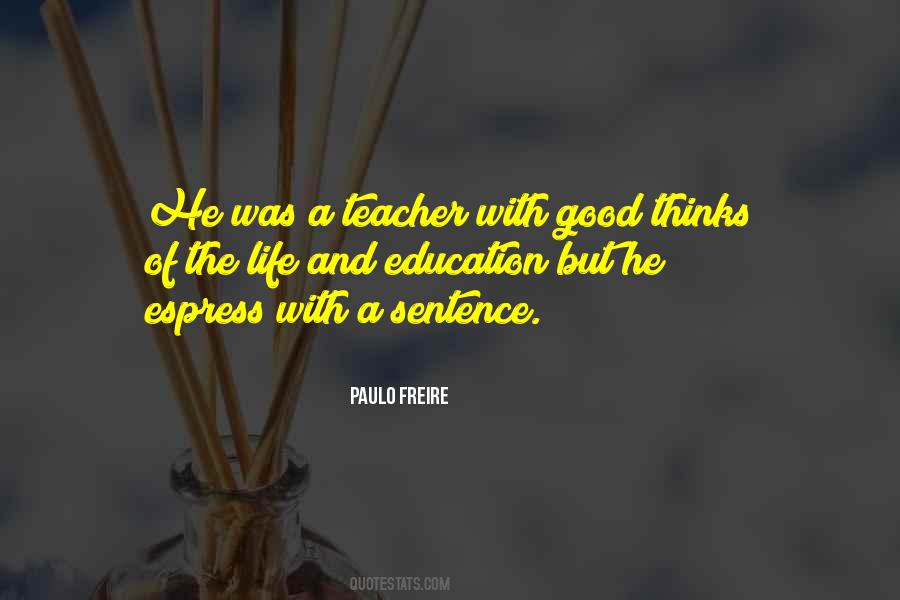 #39. It is important that gang members are aware that if they engage in aggravated assault, maiming, kidnapping, or manslaughter that they will receiving a minimum sentence of 30 years. - Author: Albert Wynn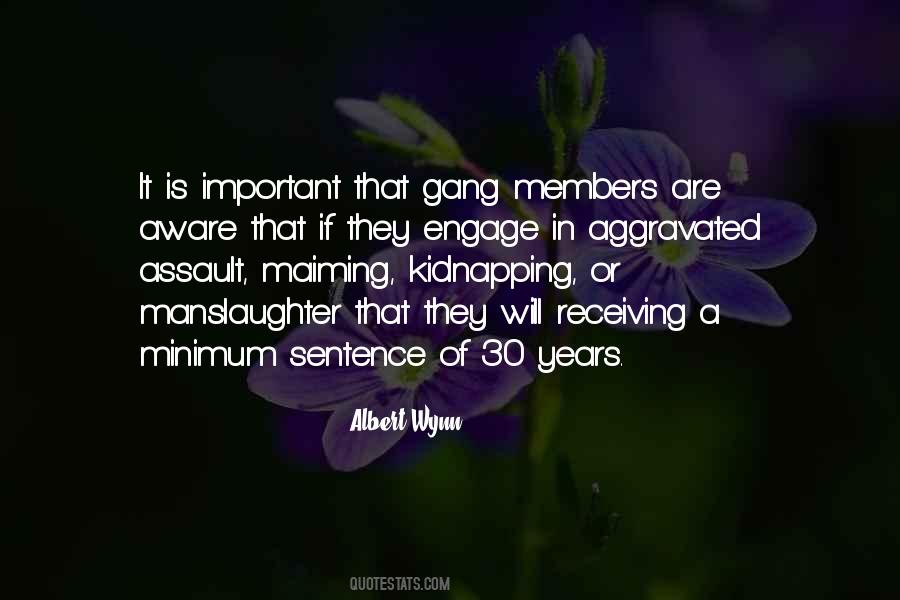 #40. I wouldn't ever write the full sentence myself, but then, I never use goto either. - Author: Larry Wall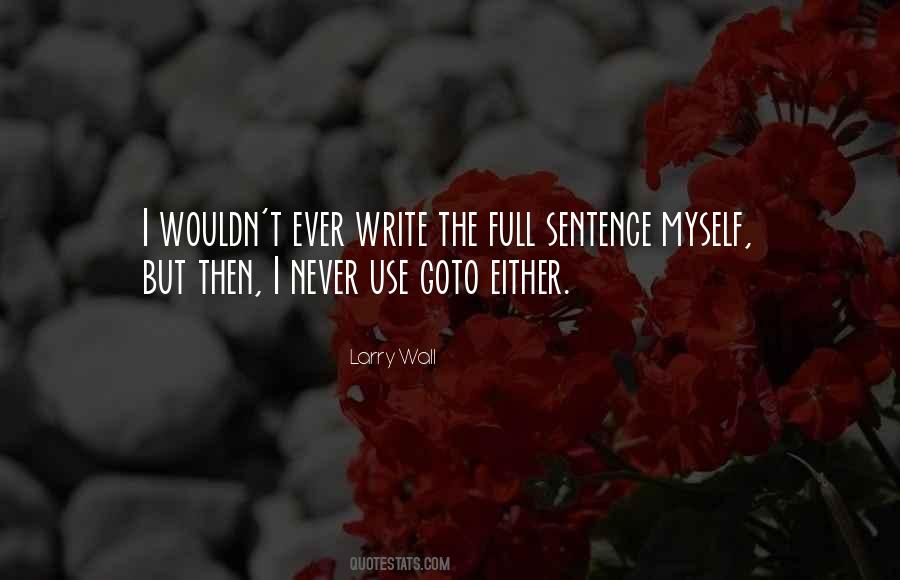 #41. When I go about my own politics, I meet Tea Party supporters who I can work with in Congress, that I find common ground with. I find Tea Party supporters who won't let me get a sentence out without judging me. To say that there is a 'Tea Party supporter' is a gross generality. - Author: Cory Booker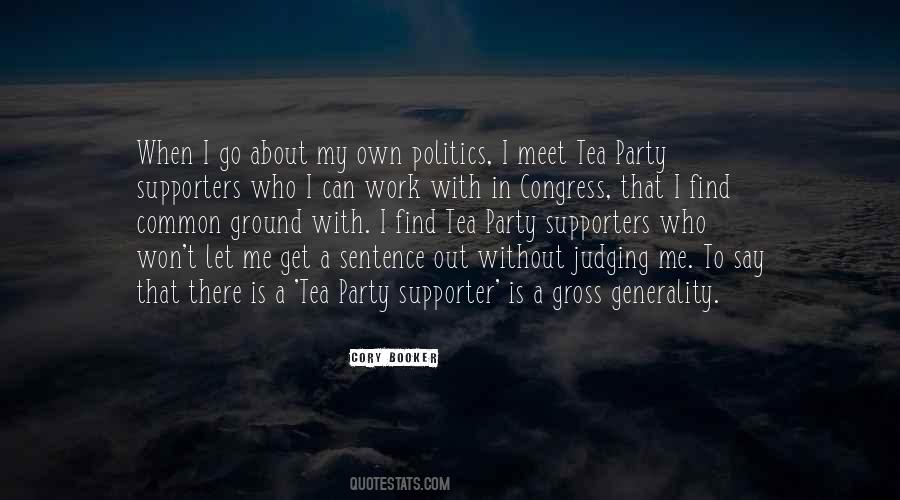 #42. I'm the final clause in a periodic sentence, and that sentence begins a long time ago, in another language, and you to read it from the beginning to get to the end, which is my arrival. - Author: Jeffrey Eugenides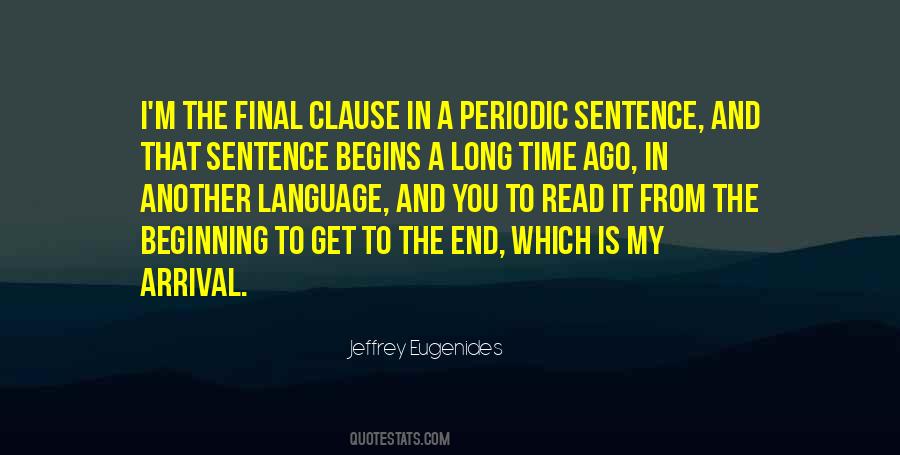 #43. I am slow. A sentence often takes an hour to compose before I throw it out. What can you do? - Author: Edith Pearlman
#44. Whenever I write anything that sets up controversy its meaning is distorted almost instantly. Even the editorial writers of newspapers seem to be unable to understand the plainest sentence. - Author: H.L. Mencken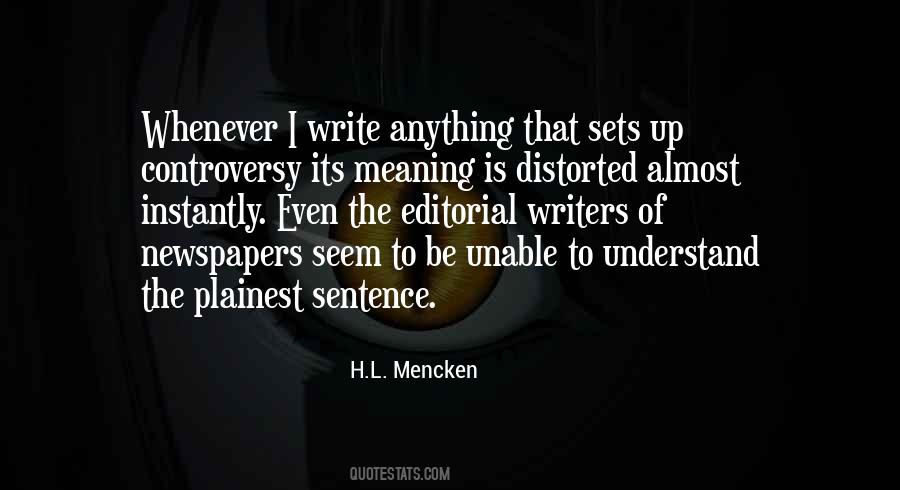 #45. The script of 'Shogun' was so tight that you could not take a word out of a sentence, you could not take a sentence out of a scene, and you certainly couldn't take out a scene without putting ripples right through the back or the front of the overall story. - Author: John Rhys-Davies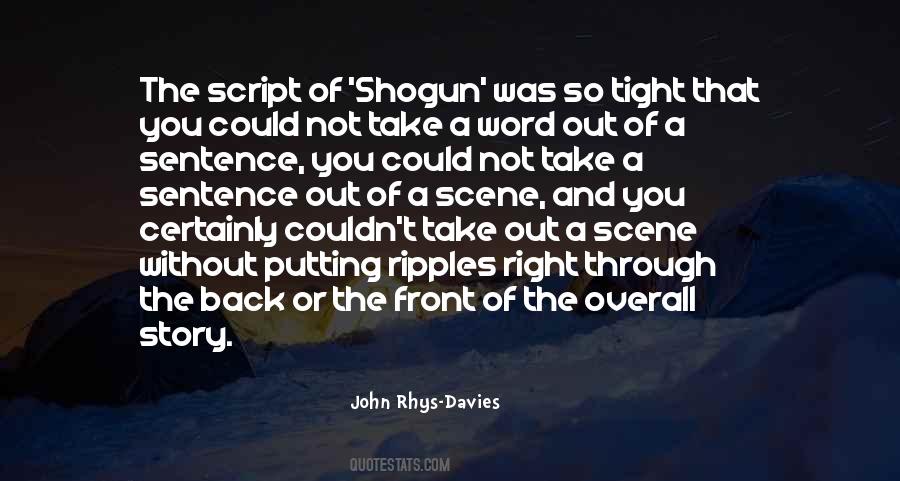 #46. Sometimes, reading a blog, which I do infrequently, I see that generations of Americans have been wilfully crippled, and can no longer spell or write a sentence. - Author: Alice Walker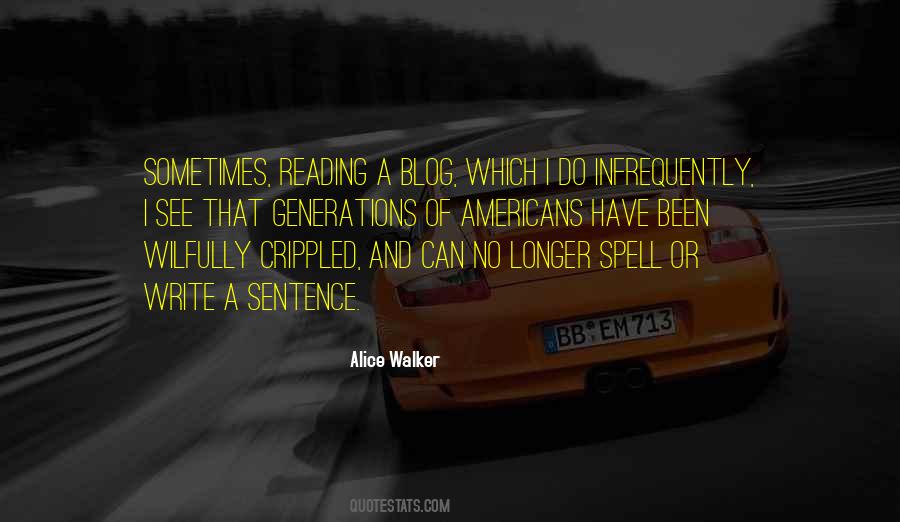 #47. Getting fired from work is not a death sentence - Author: Sunday Adelaja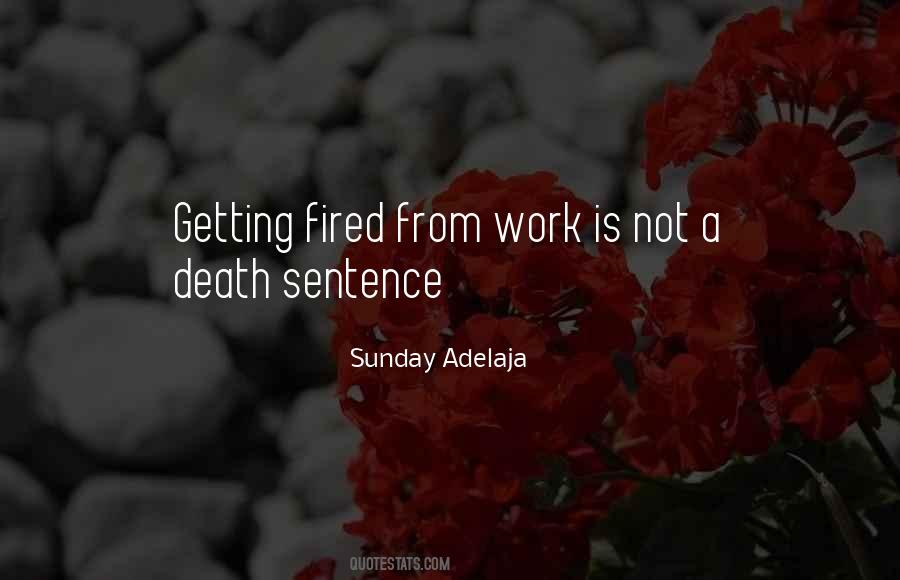 #48. It is not easy to stand at the bar of public opinion and receive the verdict of condemnation; but what will it be to stand at the bar of God who is greater than all, and to receive from him the sentence of damnation. - Author: Charles Haddon Spurgeon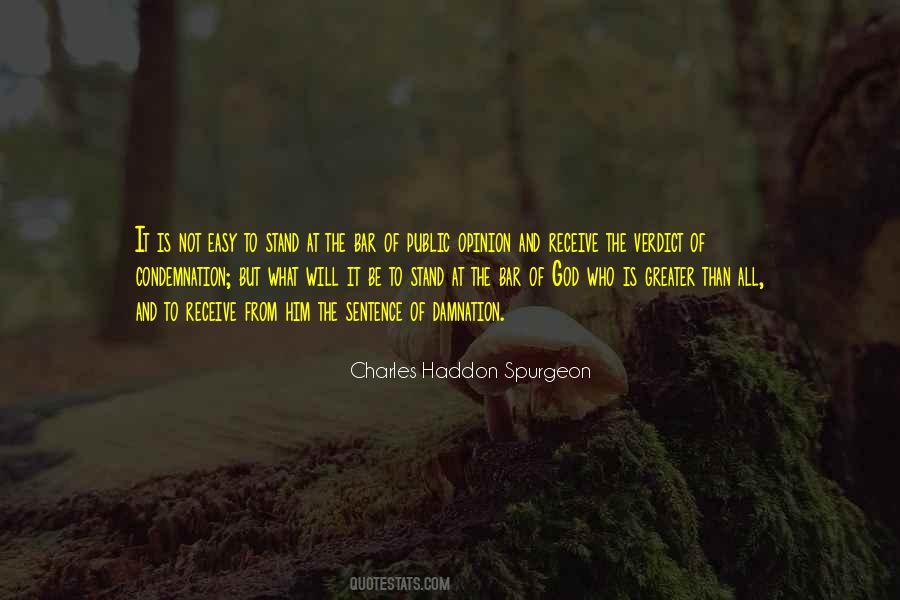 #49. But it's not safe and I can feel him slipping away, so I just get out one more sentence. "Stay with me."
As the tendrils of sleep syrup pull me down, I hear him whisper a word back but I don't catch it. - Author: Suzanne Collins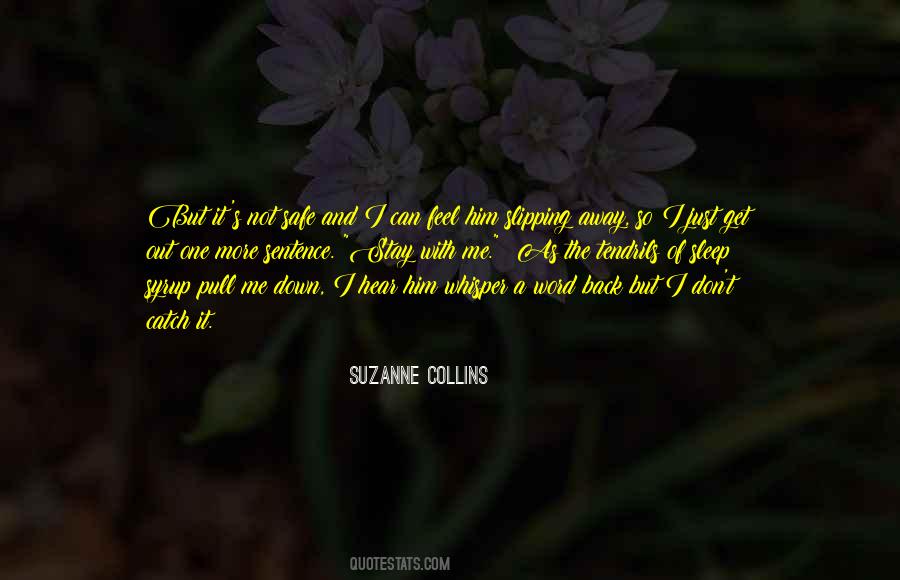 #50. Our spirit is not dependent on the brain or body. It is eternal, and no one has one sentence worth of hard evidence that it isn't. - Author: Eben Alexander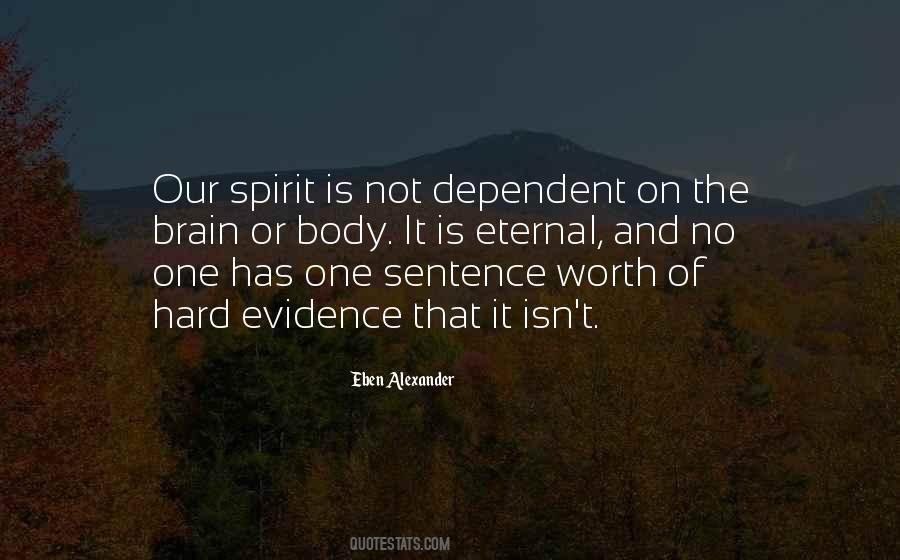 #51. I read my sentence - steadily ... - Author: Emily Dickinson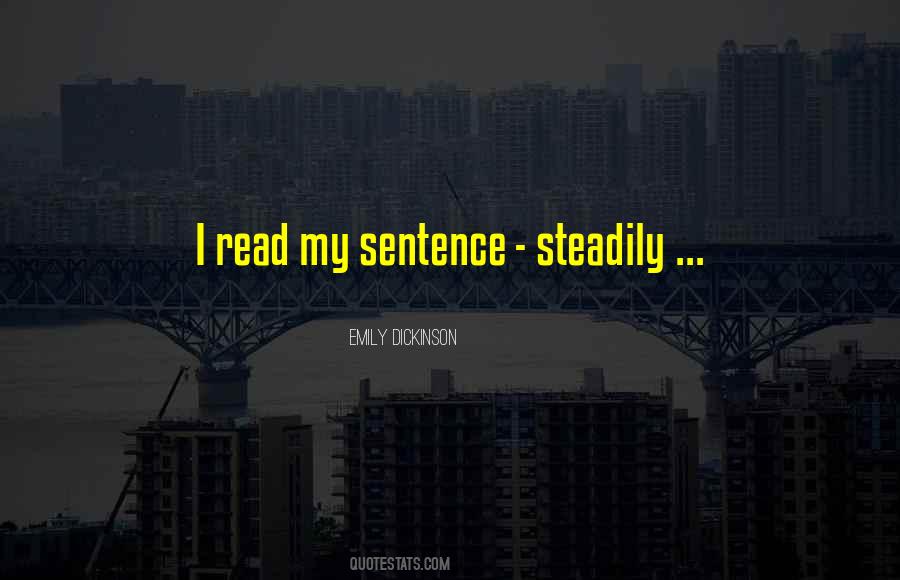 #52. Don't get discouraged if you're hammering away at a sentence or a paragraph or a chapter, and it keeps coming out wrong. You're allowed to get it wrong, as many times as you need to; you only need to get it right once. - Author: Tana French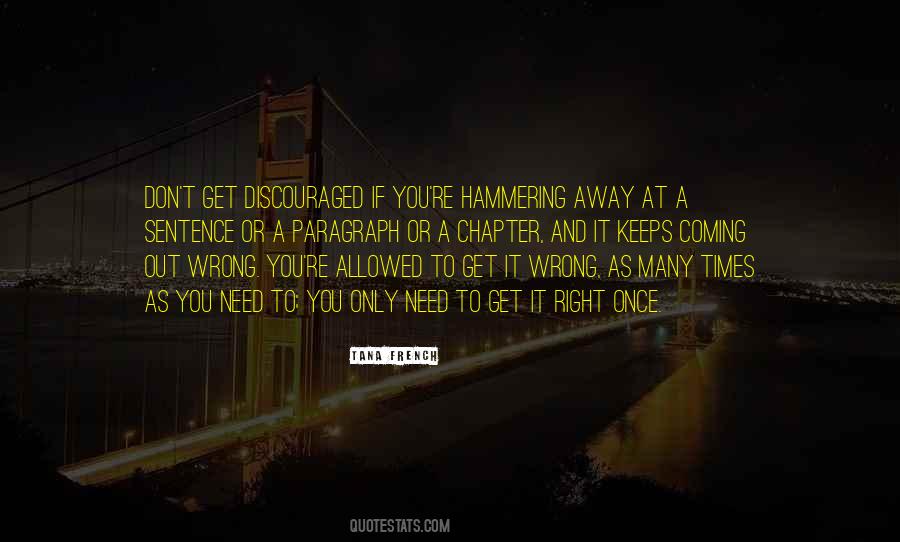 #53. Stammering is different than stuttering. Stutterers have trouble with the letters, while stammerers trip over entire parts of a sentence. We stammerers generally think of ourselves as very bright. - Author: Bob Newhart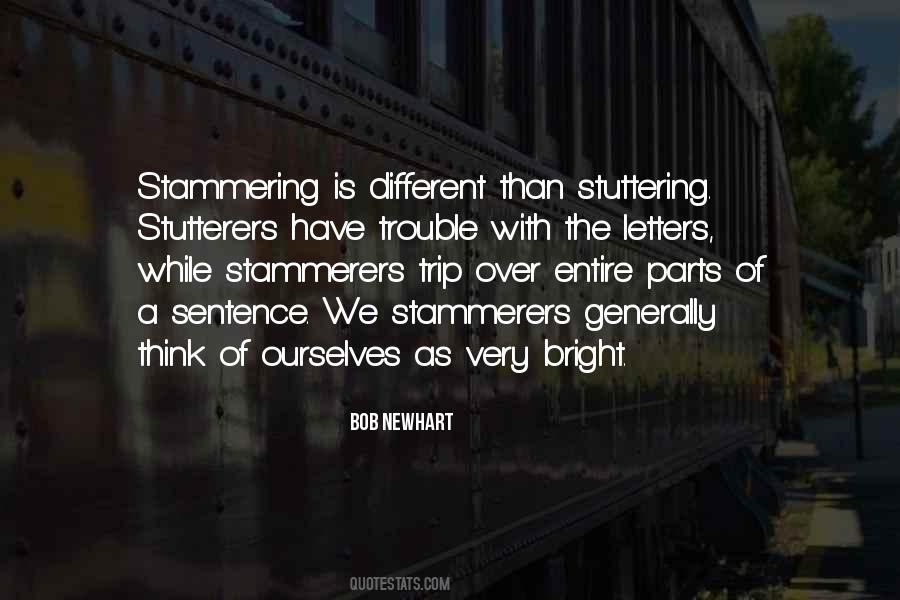 #54. You can't show me a sentence, word, or phoneme that is meaningless; by its nature, language is packed with meaning and emotion. - Author: Kenneth Goldsmith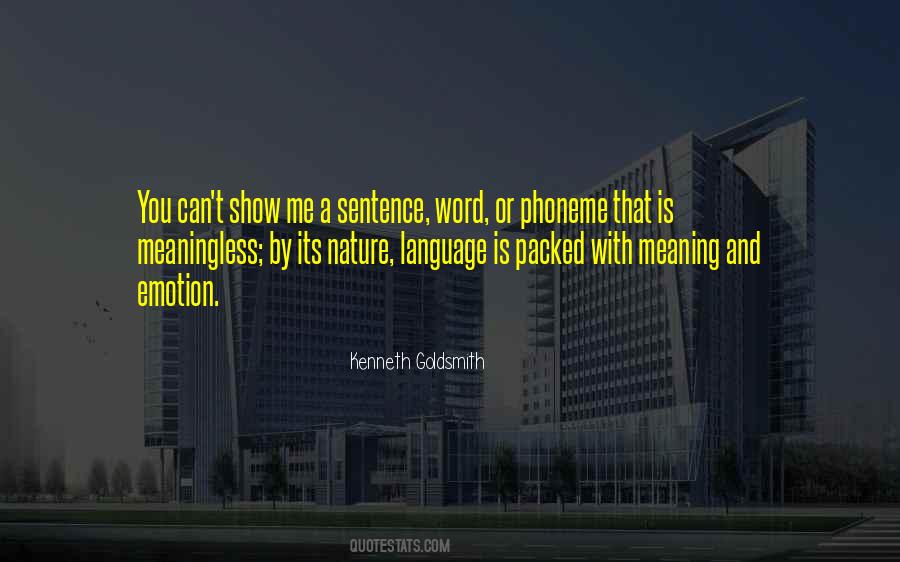 #55. People have been kind enough to compare me to Celine Dion, Mariah Carey and Whitney Houston. I think it's amazing that they even put my name in the same sentence. - Author: Leona Lewis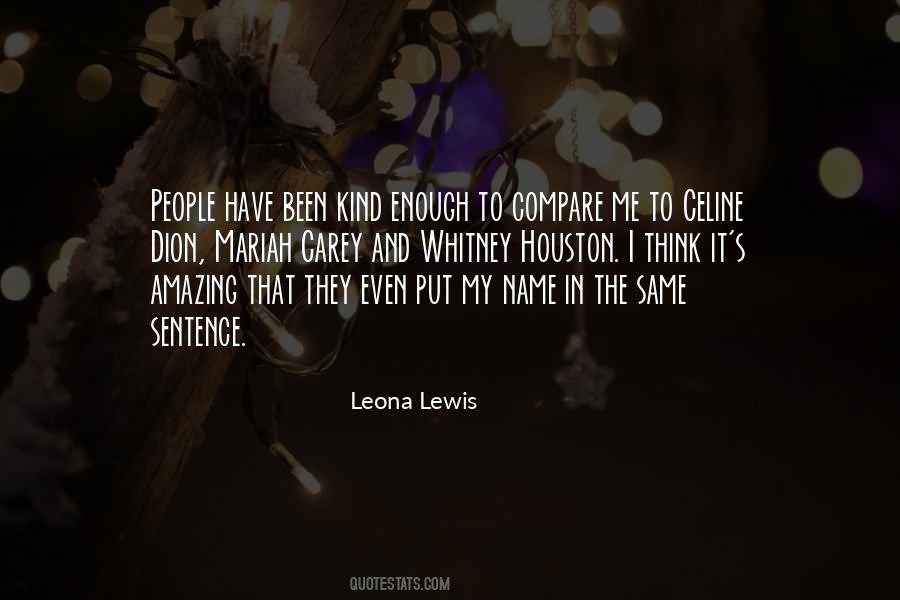 #56. Fletcher in the flesh did not, by most accounts, appear to be the crackpot that that sentence suggests. - Author: Anonymous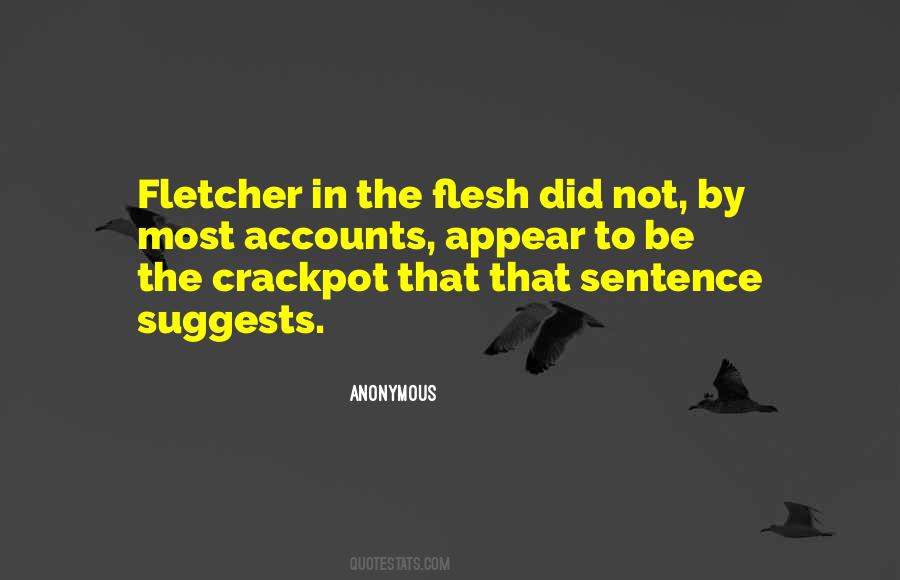 #57. I not only couldn't read but often couldn't hear or understand what was being said to me - by the time I'd processed the beginning of a sentence, the teacher was well on her way through a second or third. - Author: Philip Schultz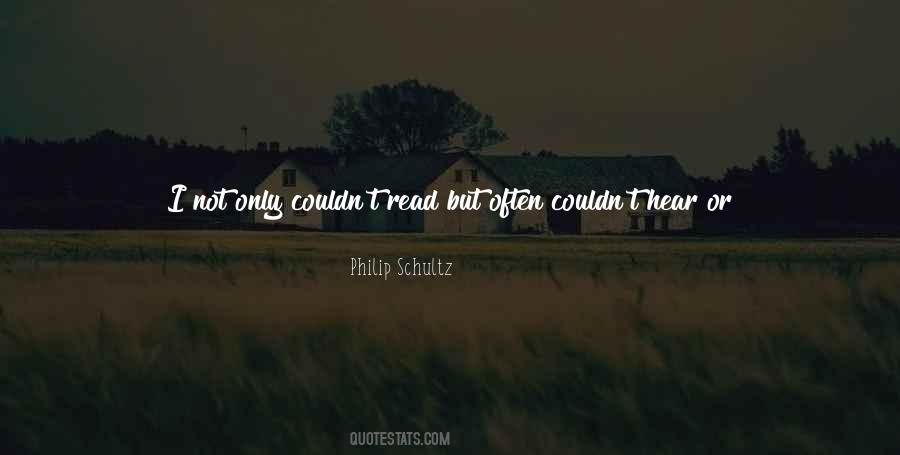 #58. No one dared do it before, not in front of the King (opening sentence) - Author: Gordon Thomas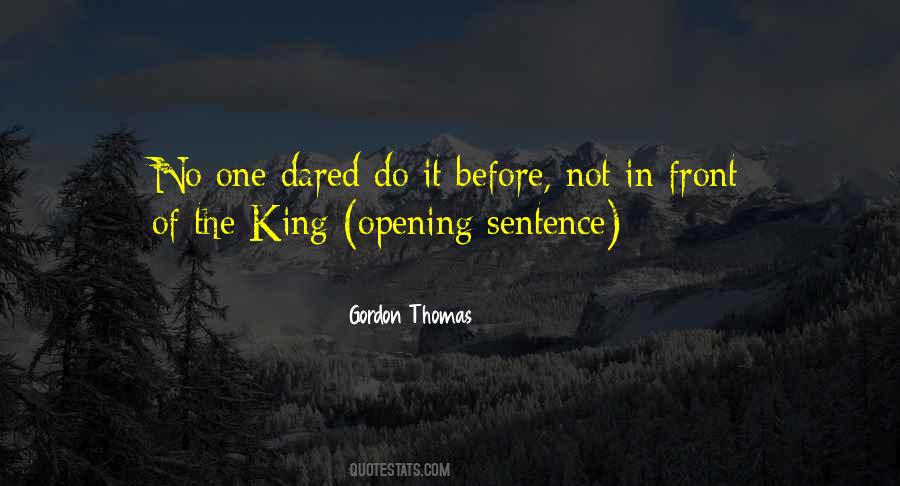 #59. This sentence consists of eleven words, twenty-three syllables and seventy-four letters. - Author: Charles Pearson
#60. A screaming comes across the sky. - Author: Thomas Pynchon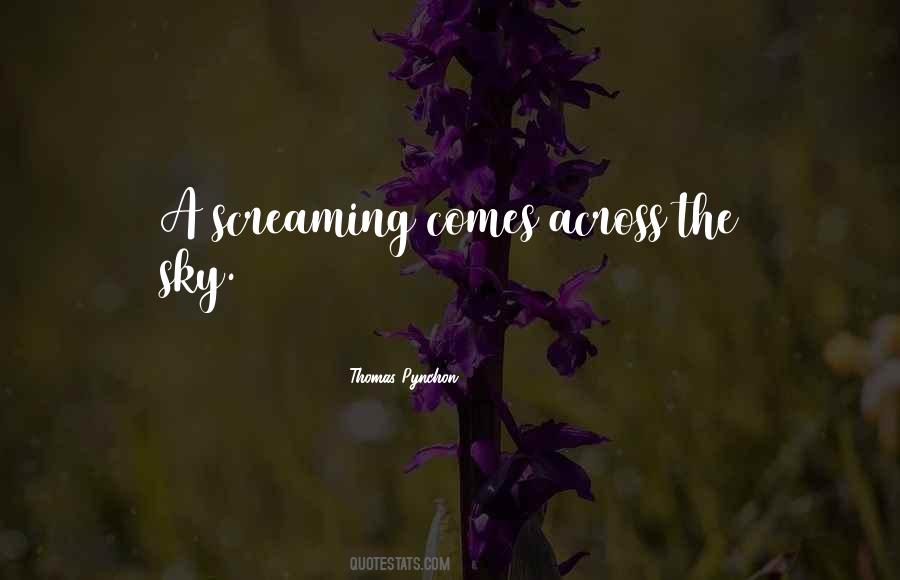 #61. There is nothing in discourse that is not to be found in a sentence. - Author: Roland Barthes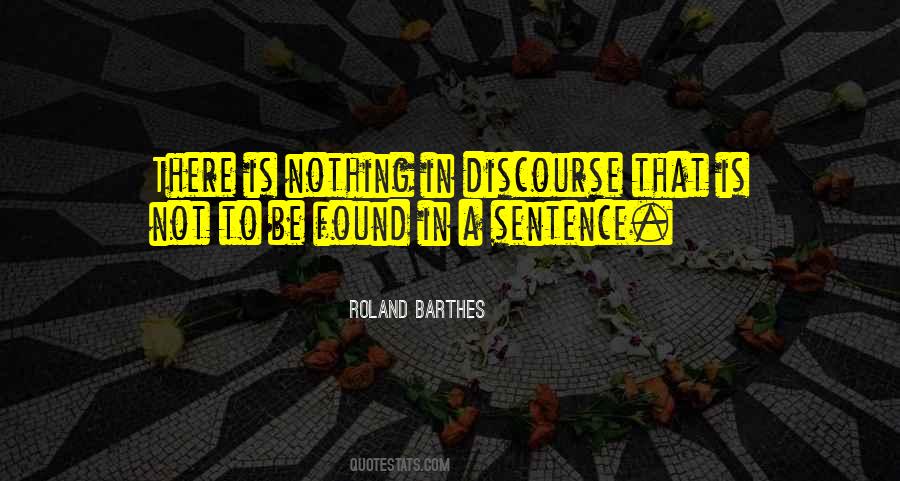 #62. nearly fourteen billion years ago, all the space and all the matter and all the energy of the known universe was contained in a volume less than one-trillionth the size of the period that ends this sentence. Conditions - Author: Neil DeGrasse Tyson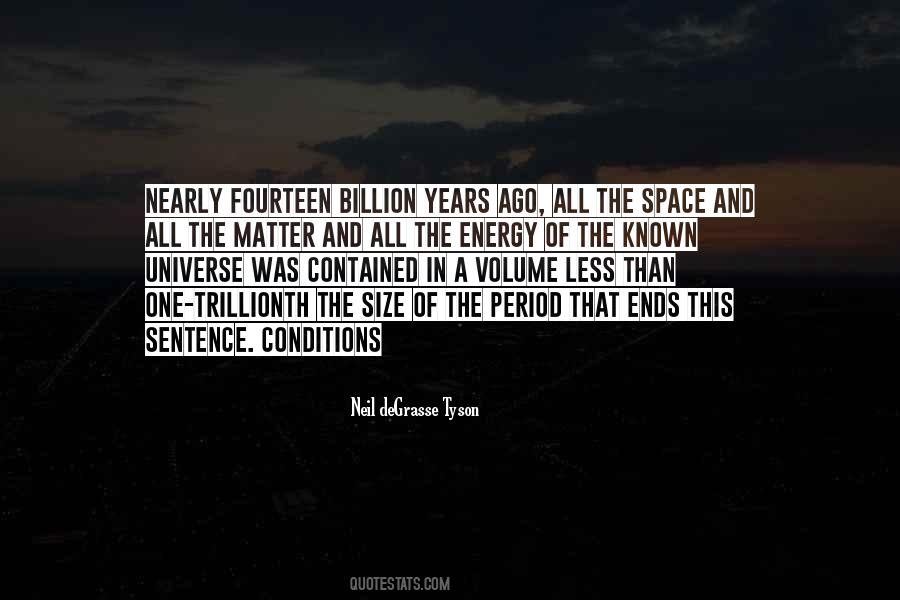 #63. Ilium, New York, is divided into three parts. - Author: Kurt Vonnegut Jr.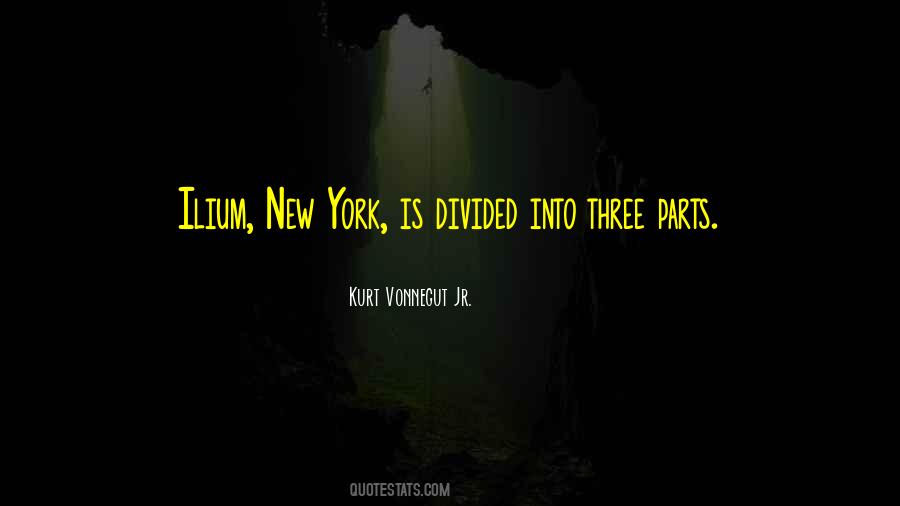 #64. It makes a great difference in the force of a sentence, whether a man be behind it or no. - Author: Ralph Waldo Emerson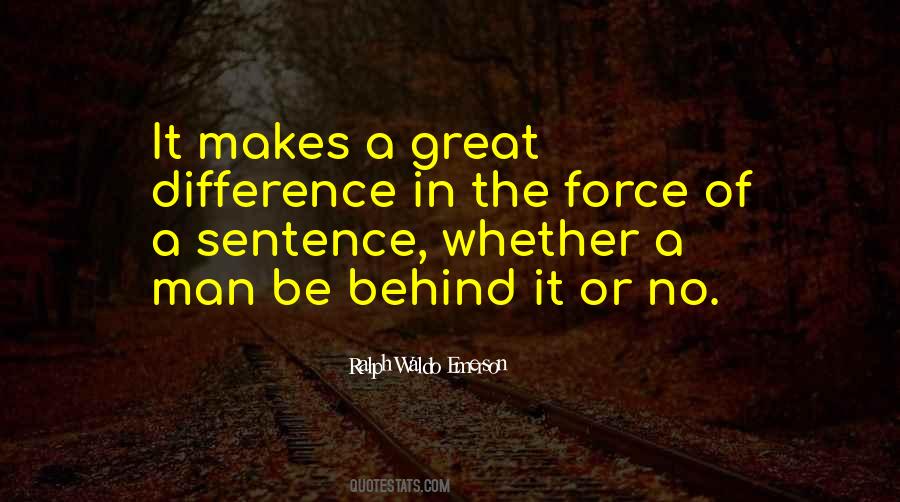 #65. Ran "Inchon" - it is a brutal but gripping picture about the Korean War and for once we're the good guys & the Communists are the villains. The producer was Japanese or Korean which probably explains the preceding sentence. - Author: Ronald Reagan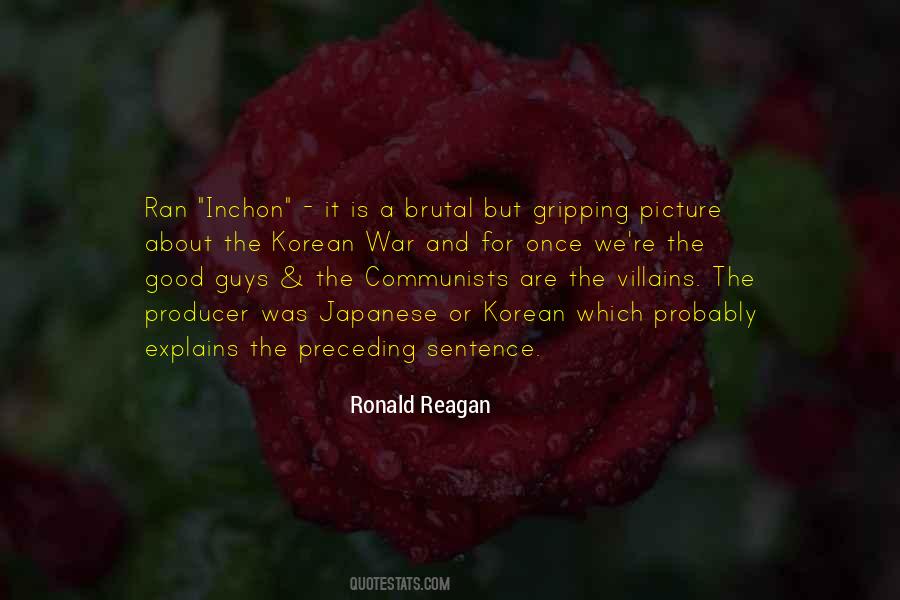 #66. Read every sentence you write out loud. If it sounds boring, kill it. - Author: James Altucher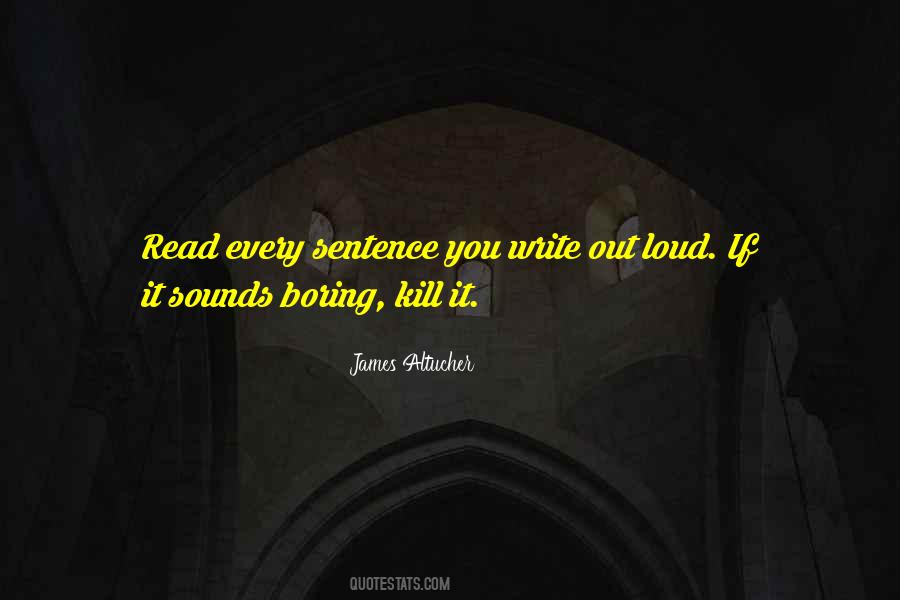 #67. When you want to say something very important, tell it with a short sentence! There is no time for long stories! - Author: Mehmet Murat Ildan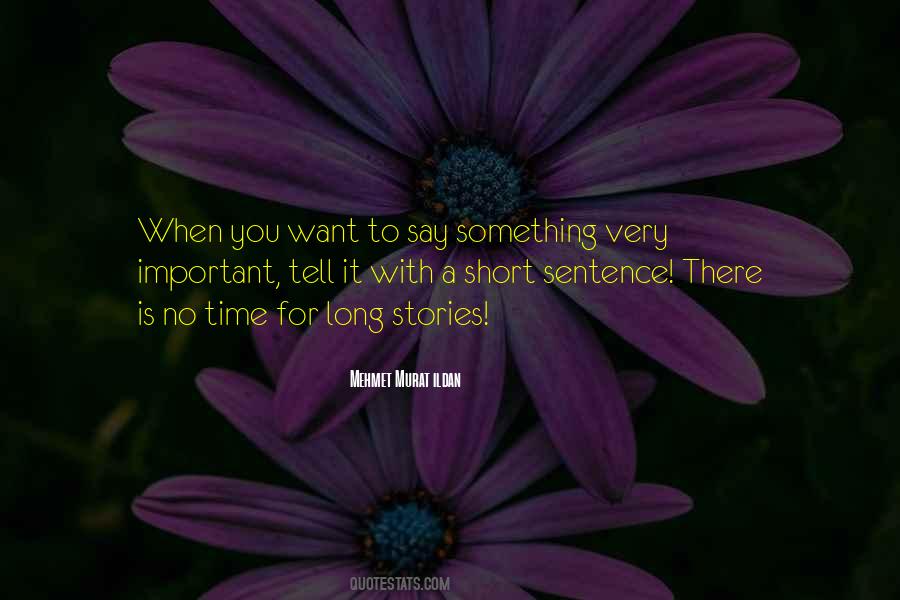 #68. It has taken me years of struggle, hard work, and research to learn to make one simple gesture, and I know enough about the art of writing to realize that it would take as many years of concentrated effort to write one simple, beautiful sentence. - Author: Isadora Duncan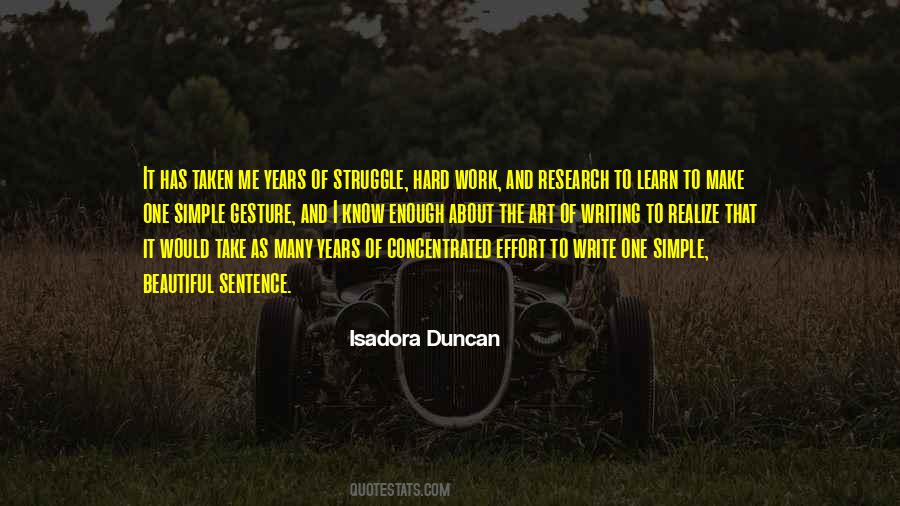 #69. Can a Filipina be depicted as smart without having to shout all the time? Or down-to-earth and honest without having to start every sentence with a snarky 'Hay nako' or 'Alam mo bah'? - Author: Arnold Arre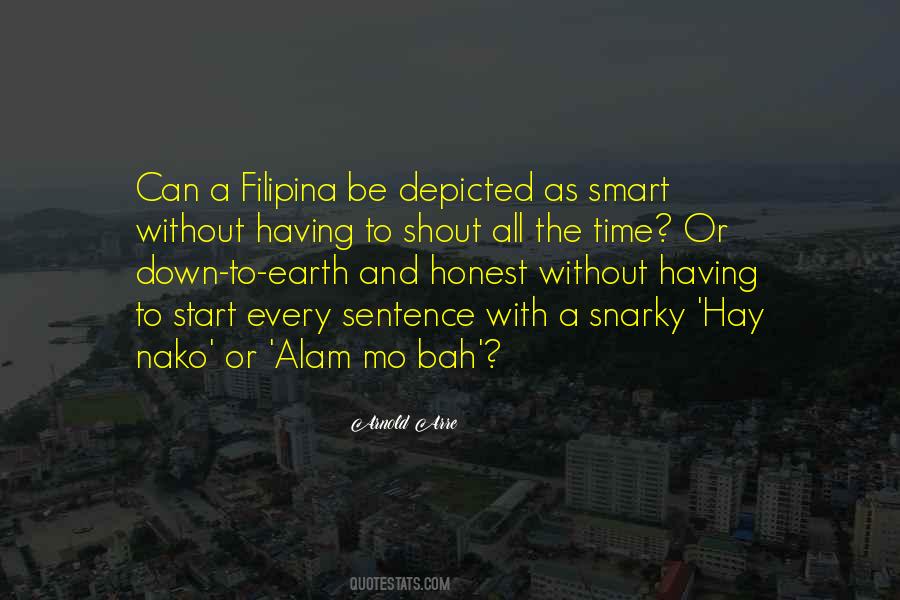 #70. As writers we must, from our very opening sentence, speak with authority to our readers. - Author: Michael Cunningham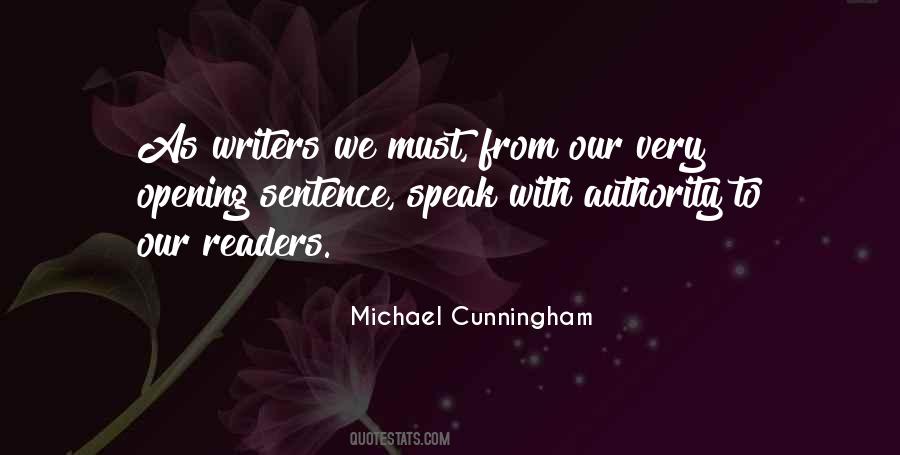 #71. By the time we were knit in our mothers' wombs, our lives were like open books before Him
every sentence read, every paragraph indented, every chapter titled, every page numbered. He knew it all in advance
all the sin, all the selfishness, every weakness. Yet He chose to love us
lavishly. - Author: Beth Moore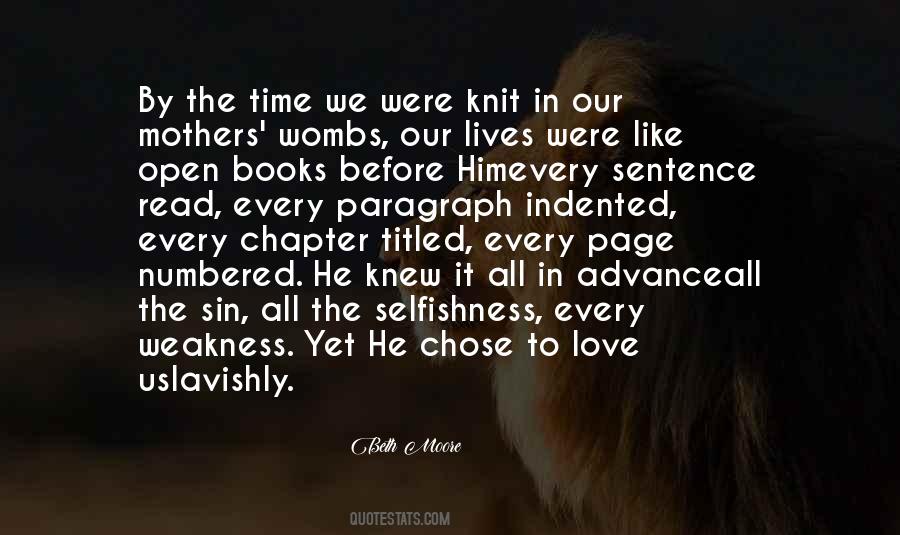 #72. Bob Riley, a kind soul who "treads lightly in this world," is in the 22nd year of a federal life without parole LSD sentence. - Author: Benjamin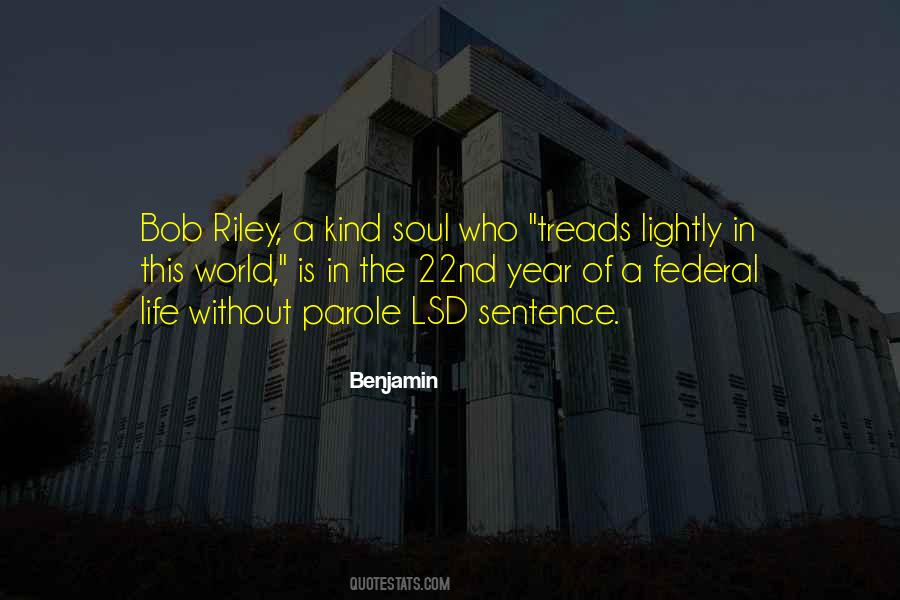 #73. I would prefer to have gum on my face than own up to the fact that I accidentally got gum on my face. And of course one sentence out of every ten that comes from my mouth is probably not one hundred percent true. - Author: Alicia Thompson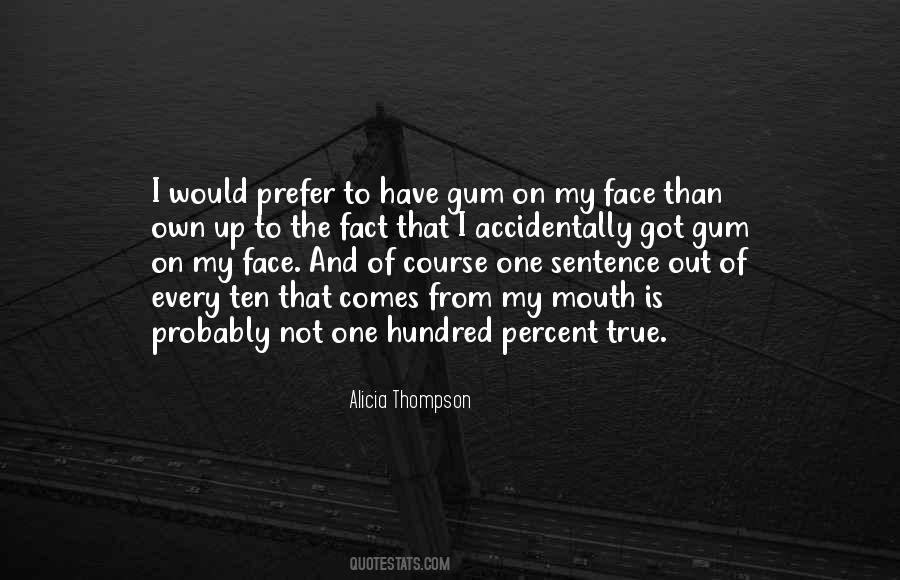 #74. There was no way that sentence was coming out of my mouth. - Author: Melissa Kantor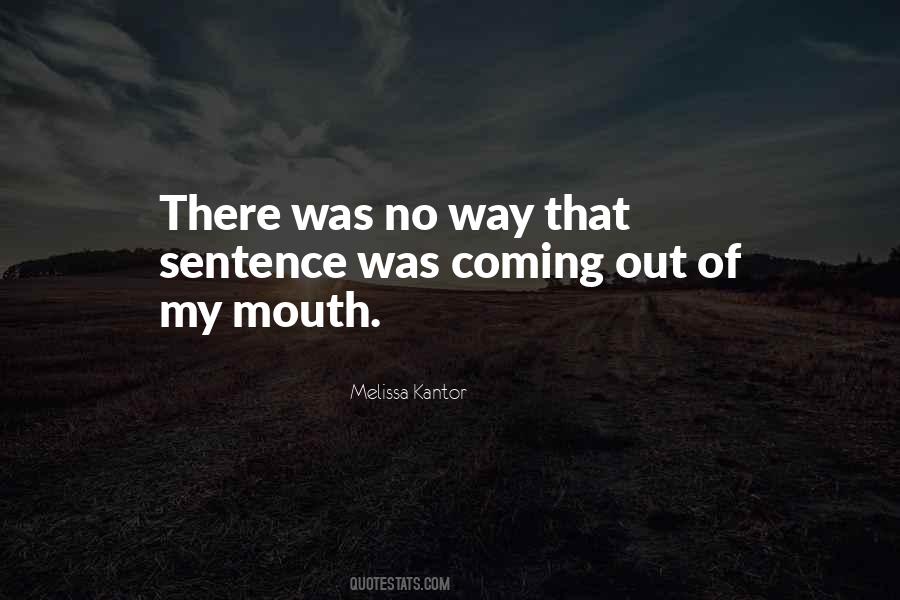 #75. Humans like to look. I think that voyeurism and exploitation are often used in the same sentence. But, in my opinion, voyeurism is a beautiful and delightful thing. There is nothing more intimate than really looking at someone. - Author: Laurel Nakadate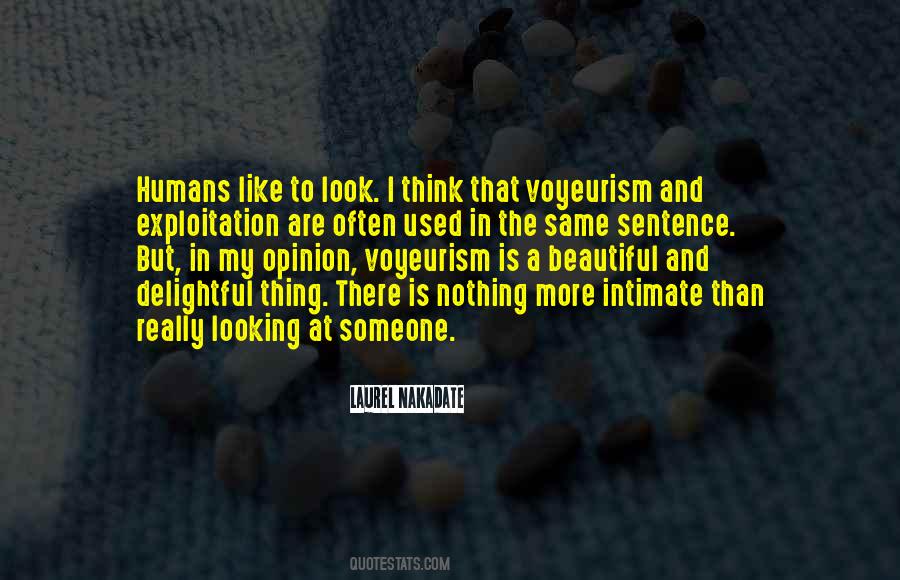 #76. The verdict of this court is that the accused are guilty of witchcraft. The maximum penalty the law allows is to be burned to death.However, in view of your previous good background I am disposed to be lenient. I therefore sentence you to be burned alive. - Author: Richard Curtis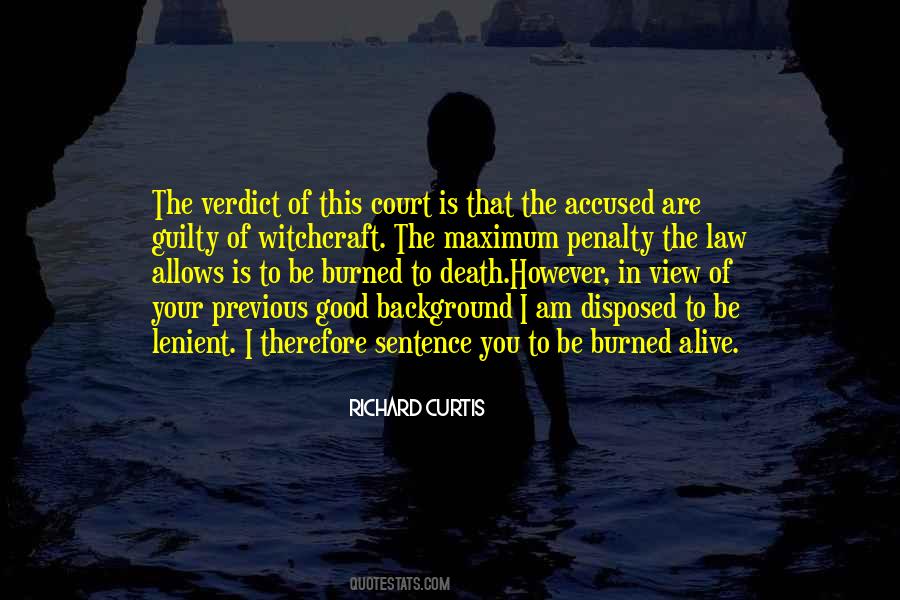 #77. Recognize him as such, too. Yes, he had disobeyed his queen. So had many others, who'd never been punished so harshly. Had the crime he'd committed merited a death sentence? There were other Seelie who felt as he did, who wanted a return to - Author: Karen Marie Moning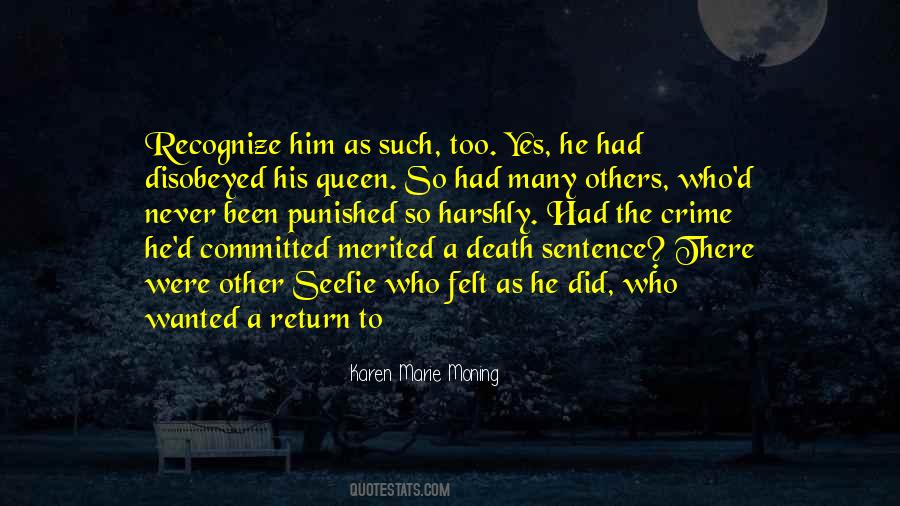 #78. I was 40 before I learned that 'No' was a complete sentence. - Author: Kathy Ireland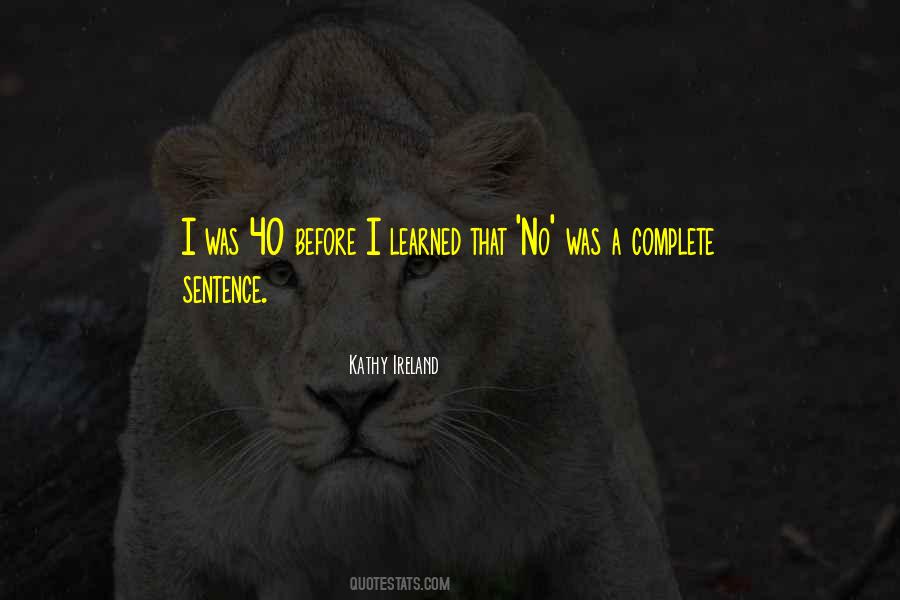 #79. Too many times people portray God as the ultimate judge, waiting to sentence us for our sins. The truth is, he is a loving husband who compels us with his love and not fear. - Author: Jefferson Bethke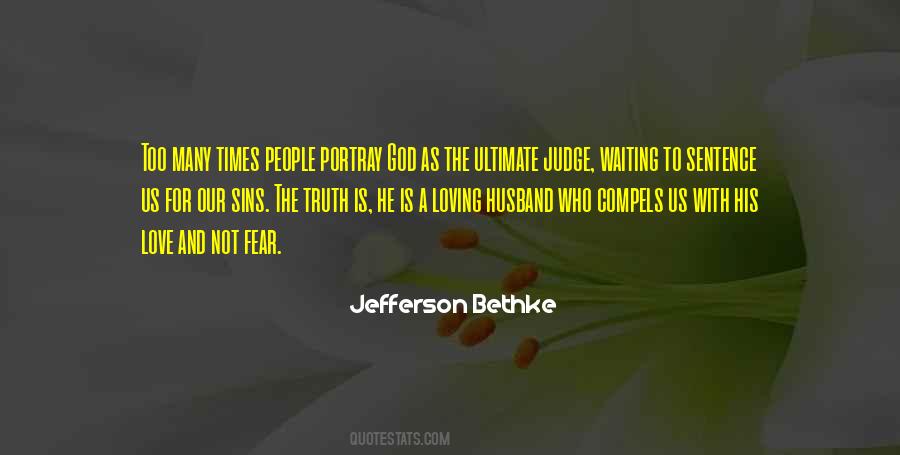 #80. A death sentence was a death sentence, no matter how carefully it was worded. - Author: Robert Ferrigno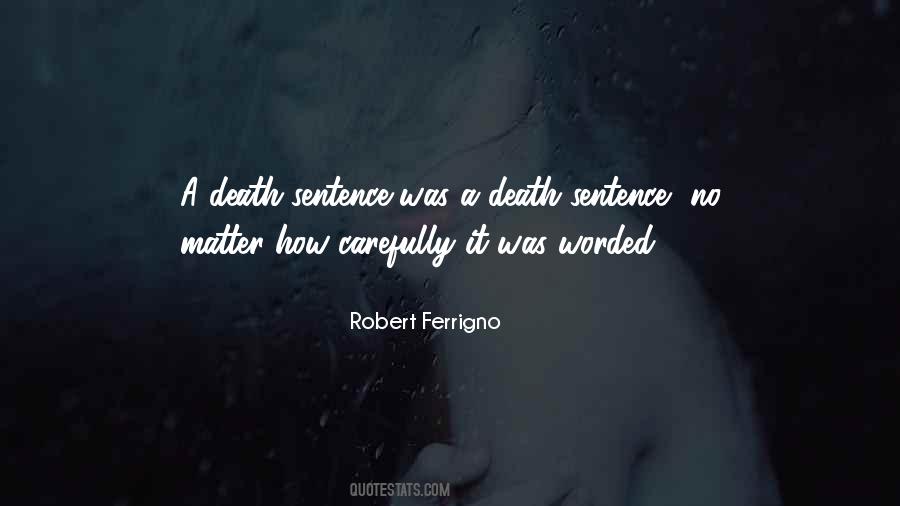 #81. Now, with the message sent, the words said, she wanted to call them back, to censor, to rearrange them, to make a prettier sentence, a fairer explanation of her soul. - Author: Ray Bradbury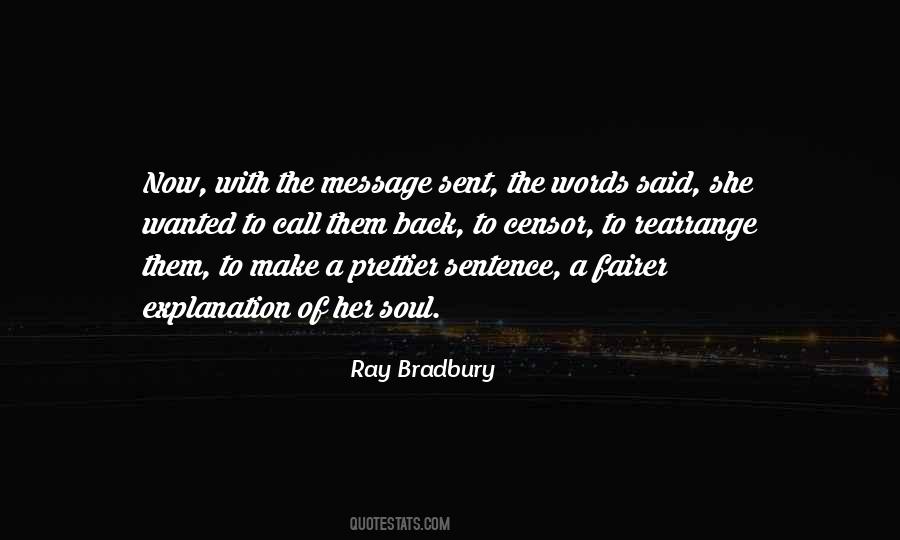 #82. The thought of the word church and the word marketing in the same sentence makes me sick. - Author: Rob Bell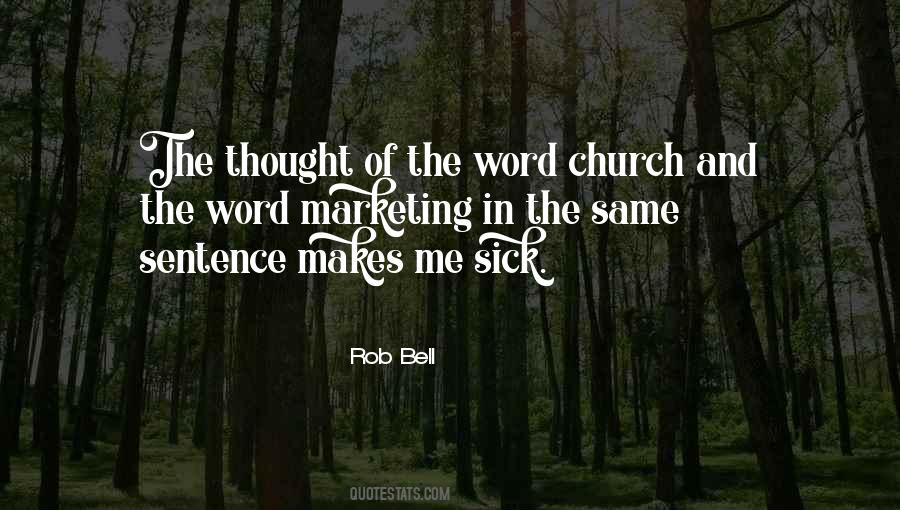 #83. Here's your first problem," he said, pointing at a sentence. "'Religion is the opium of the people.' Well, I don't know about people, but I think you'll find that the opium of pirates is actual opium. - Author: Gideon Defoe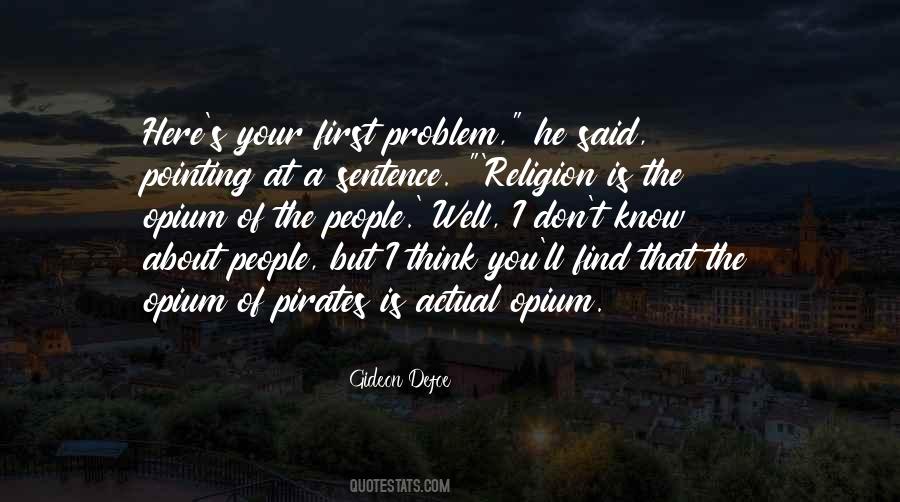 #84. Capitalism stands its trial before judges who have the sentence of death in their pockets. They are going to pass it, whatever the defense they may hear; the only success victorious defense can possibly produce is a change in the indictment. - Author: Joseph A. Schumpeter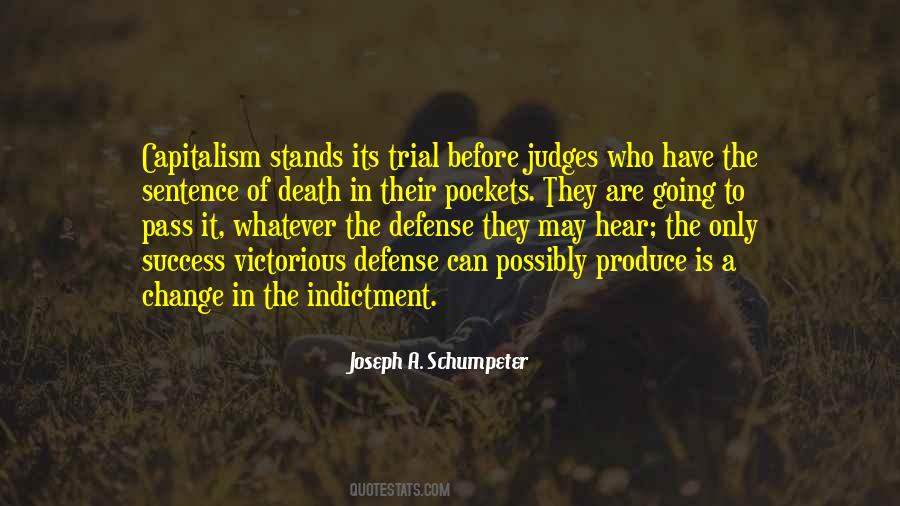 #85. I really enjoy acting. At home I can't even finish a sentence, and here I am reading these wonderful lines. I think it must be every housewife's dream, to be an actress part-time. - Author: Meg Tilly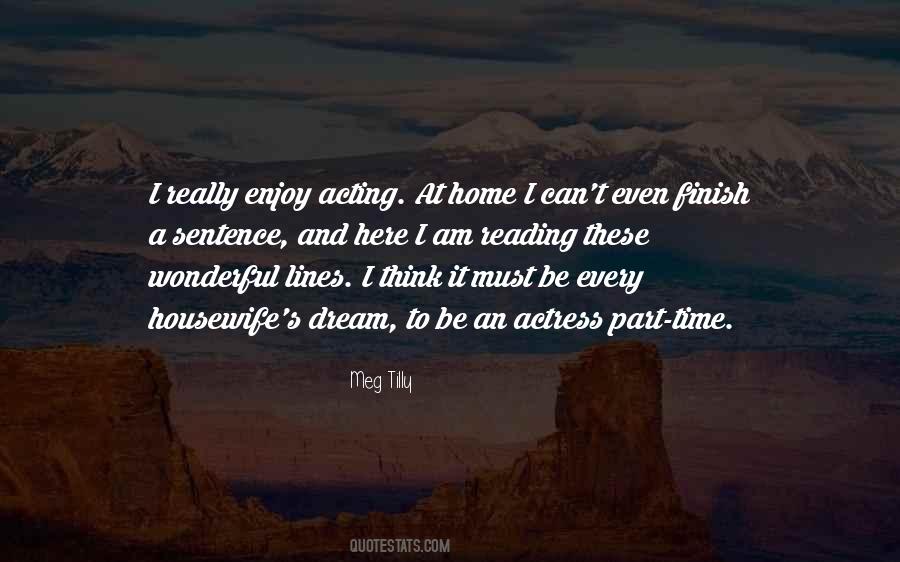 #86. I love you", once you say this sentence to a girl, it signifies that you have a responsibility towards her. - Author: Yixing Zhang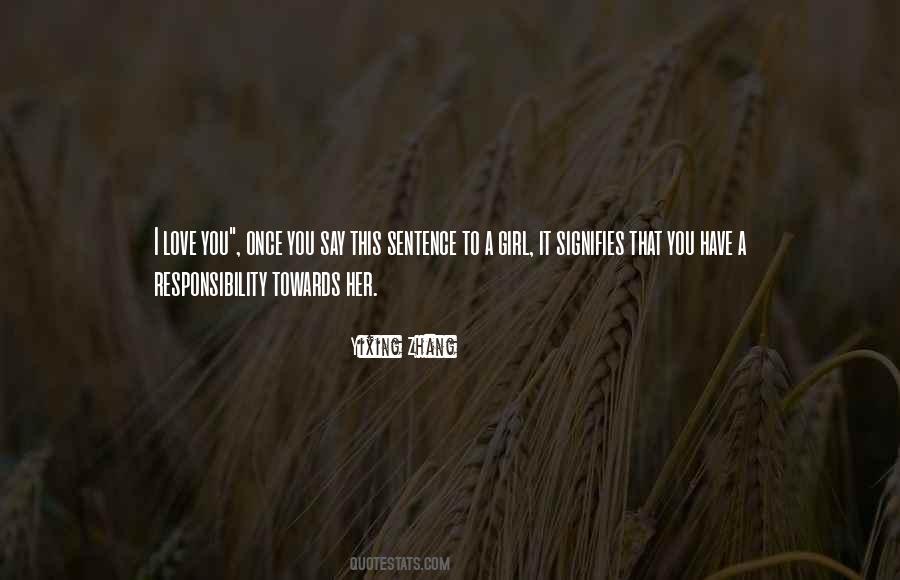 #87. I drank that sentence and began to glow. - Author: Gary Soto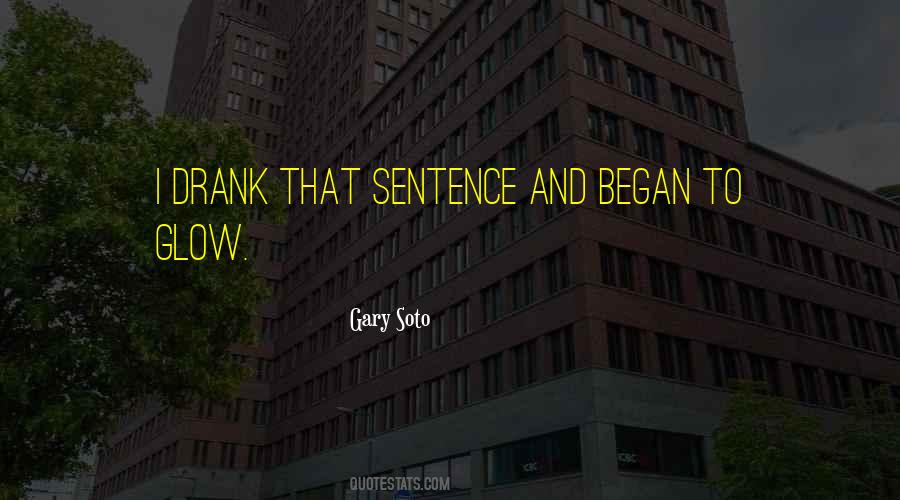 #88. Max flashed me a flirtatious smile. "Why don't you come and join us, me and you could -"
"Don't even finish that sentence, Slap-head."
"Hey, I told you, call me Max."
"While you're being a wanker, you're Slap-head. - Author: Suzanne Wrightt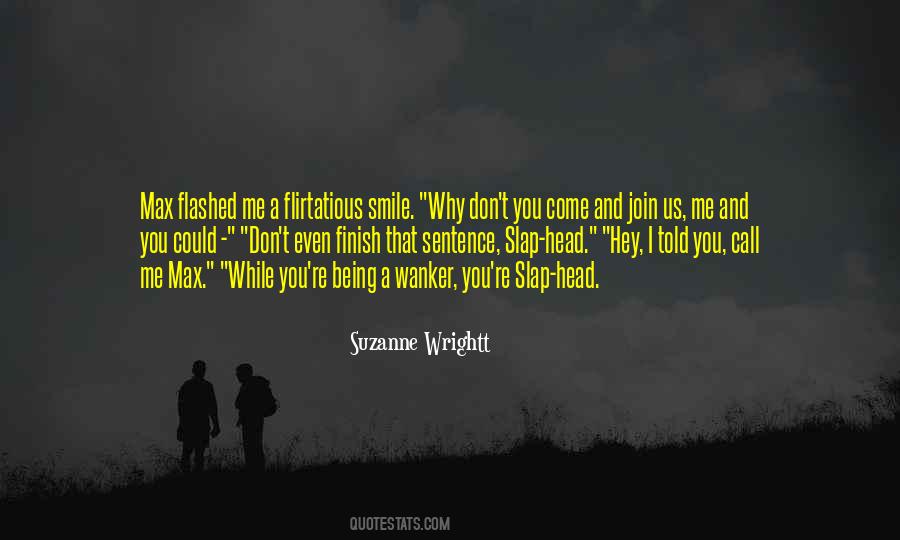 #89. 'TIME's spell-check always admonishes me whenever I compose a sentence in the passive voice, a warning that is often ignored by me. - Author: Richard Corliss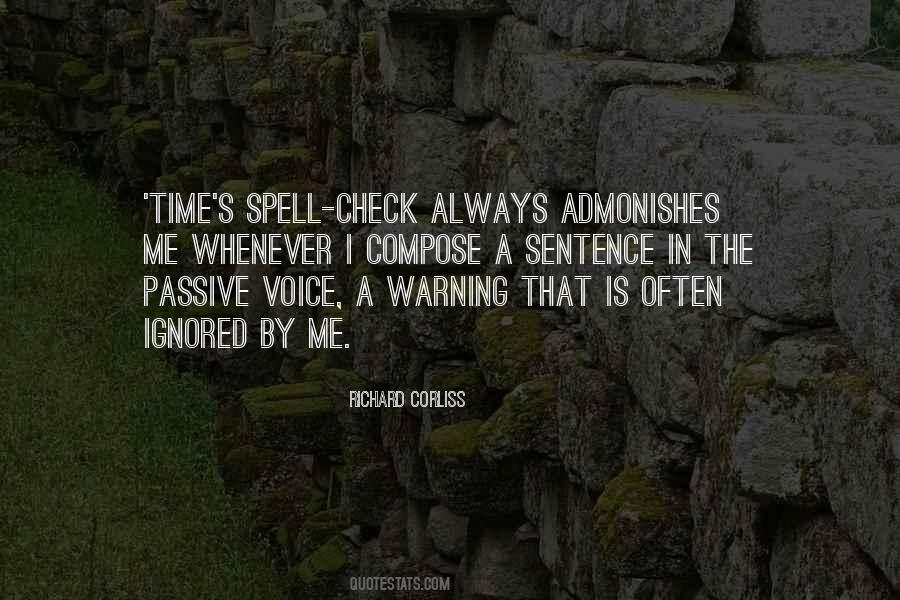 #90. If I had to cram all my tournament experience into one sentence, I would say, Don't give up and don't let up! - Author: Tony Lema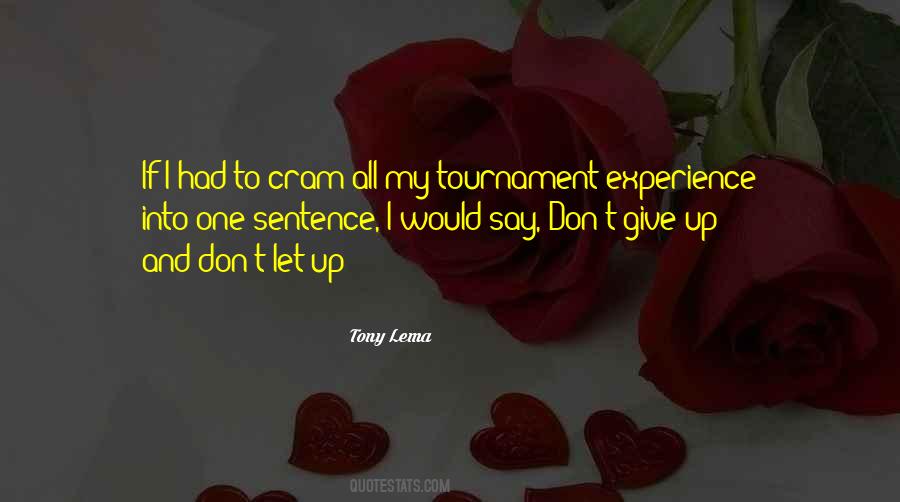 #91. When I start, I have a feeling for the characters, and maybe the shape of the story. Sometimes I might even have the last sentence in mind. But, no book I've ever written has ever ended the way I thought it would. Characters disappear, others come forward. Once you start writing, everything changes. - Author: Paul Auster
#92. How To Read This Book
If you're reading this sentence then you've pretty much got it. Good job. Just keep going the way you are. - Author: Demetri Martin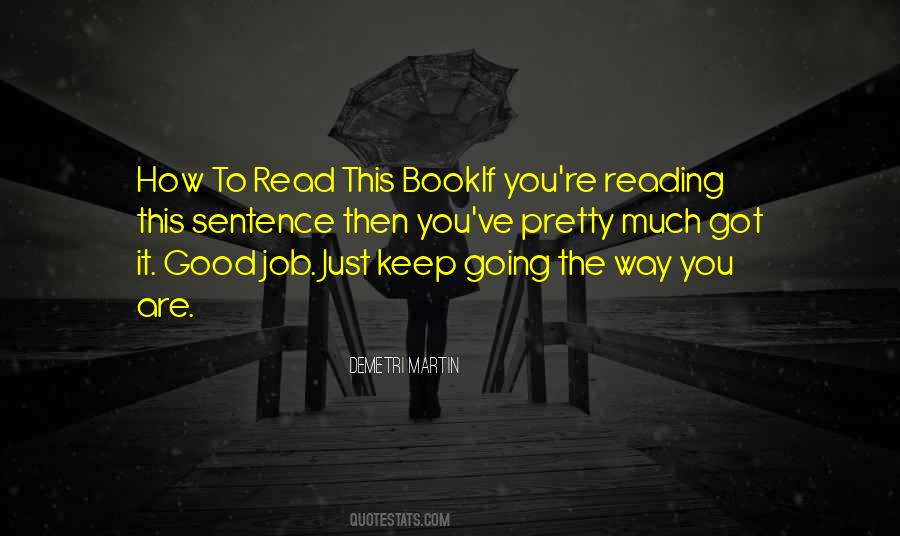 #93. I've heard it said: 'By his home you shall know him'; and we all know that we must pay attention to anyone who reverses the subject and auxiliary verb in his sentence. - Author: Steven Brust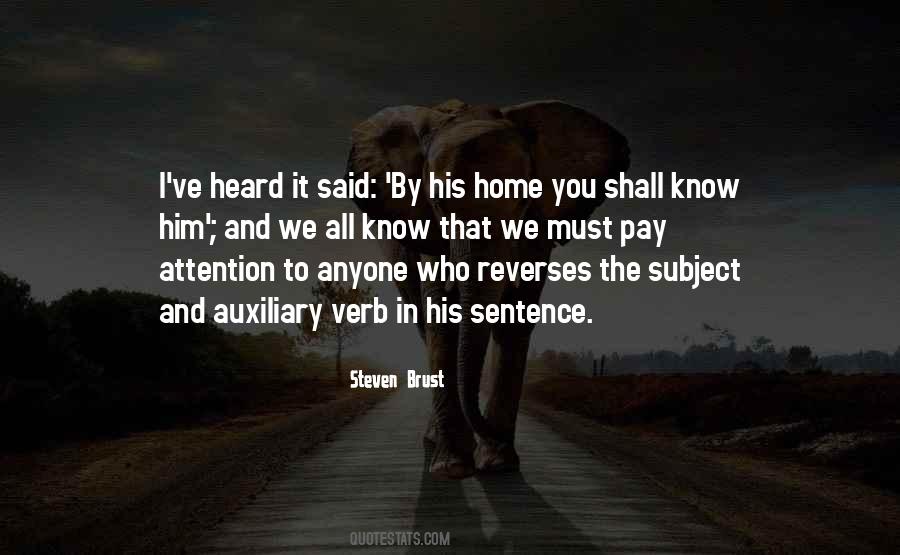 #94. Whenever you speak to someone, you are presuming the two of you have a certain degree of familiarity - which your words might alter. So every sentence has to do two things at once: convey a message and continue to negotiate that relationship. - Author: Steven Pinker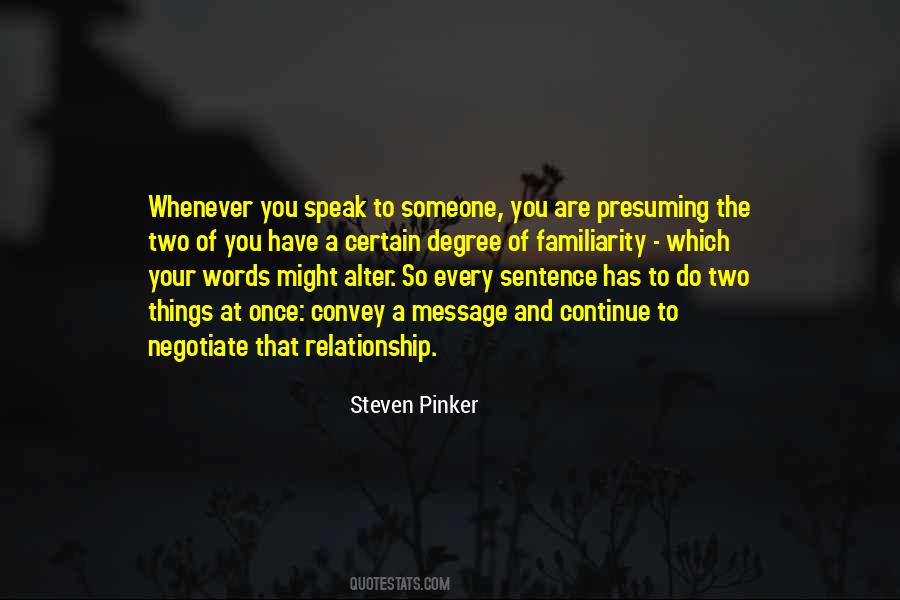 #95. Words have weight, sound and appearance; it is only by considering these that you can write a sentence that is good to look at and good to listen to. - Author: W. Somerset Maugham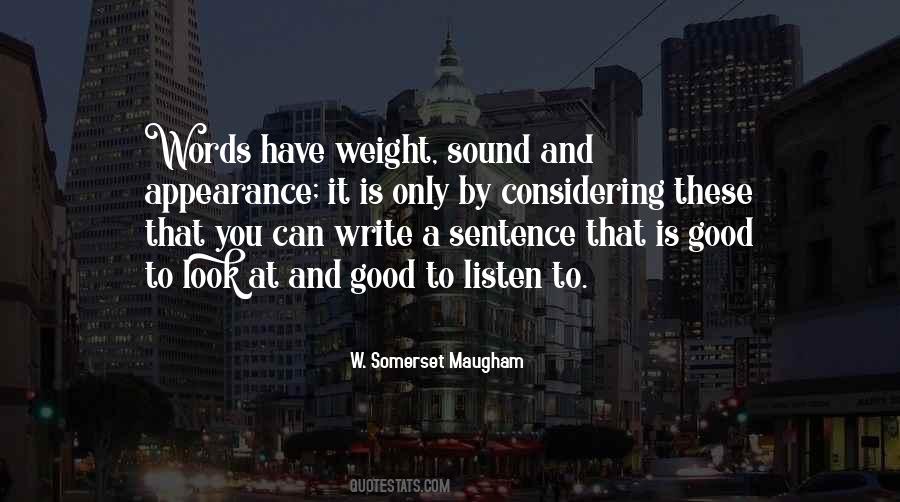 #96. In one sentence, I'd describe myself as indescribable. But, I wouldn't end it with a period. I'd end it with three dots. - Author: Jason Schwartzman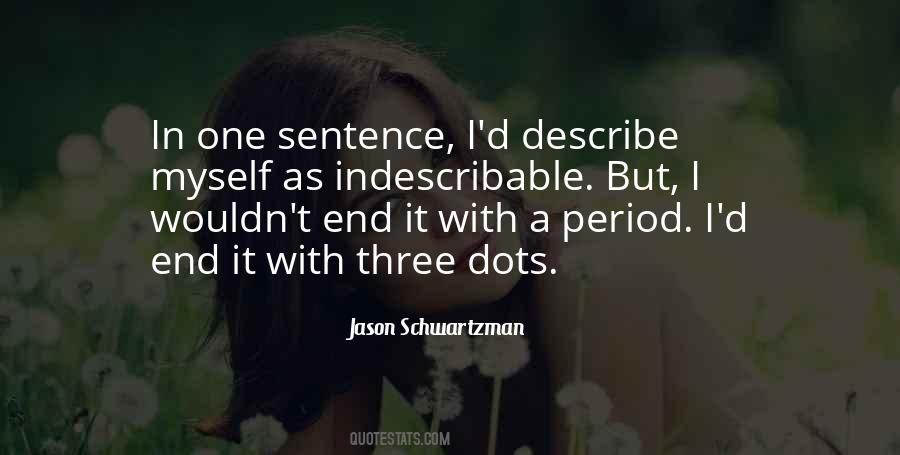 #97. It was morning, and the new sun sparkled gold across the ripples of a gentle sea. - Author: Richard Bach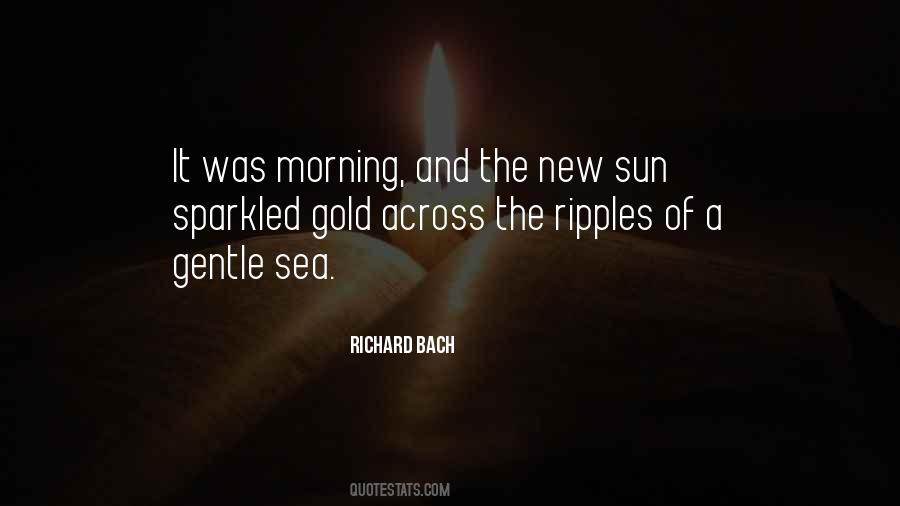 #98. When I say a spoken Hebrew sentence, half of it is like the King James Bible and half of it is a hip-hop lyric. It has a roller-coaster effect. - Author: Etgar Keret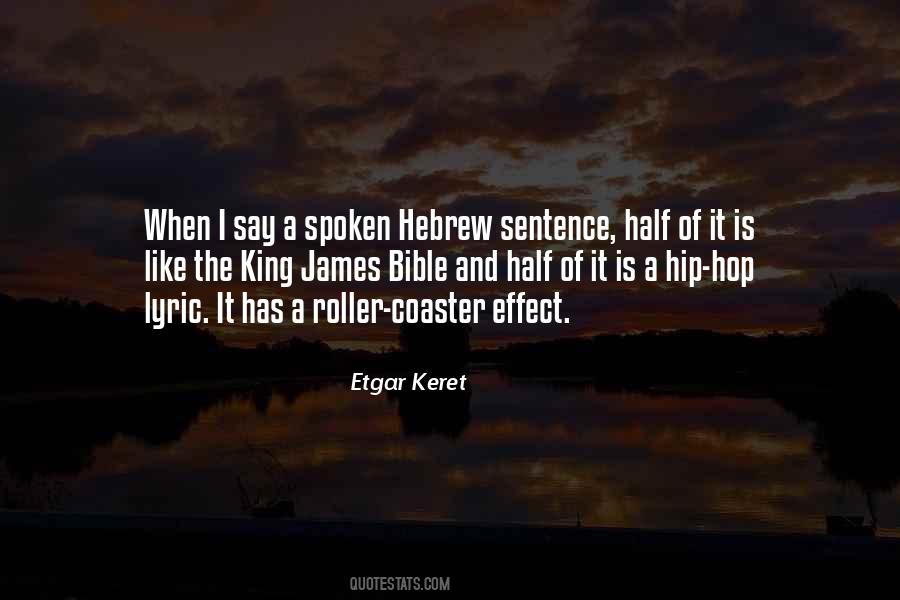 #99. If I have any advantage, maybe, as a writer, it is that I don't think I'm very interesting. I mean, beginning a novel with the last sentence is a pretty plodding way to spend your life. - Author: John Irving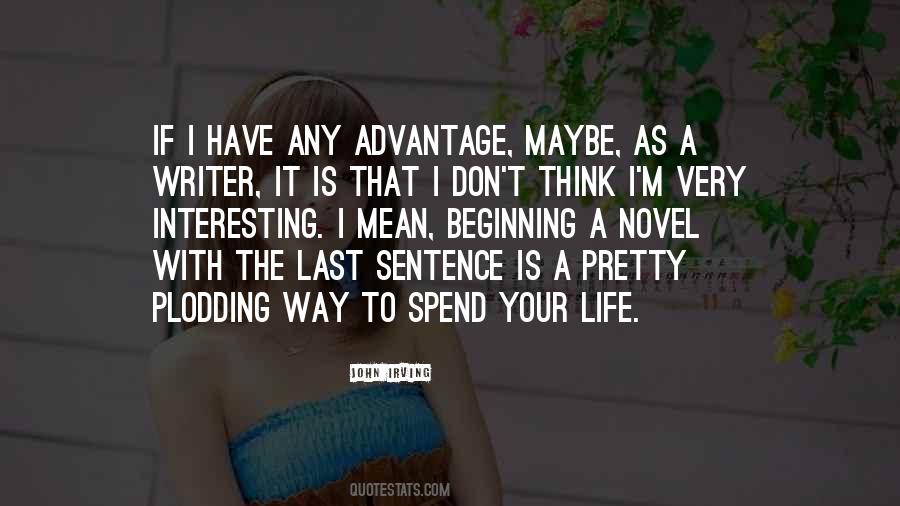 #100. That's the hardest thing to do-to stay with a sentence until it has said what it should say, and then to know when that has been accomplished. - Author: Vivian Gornick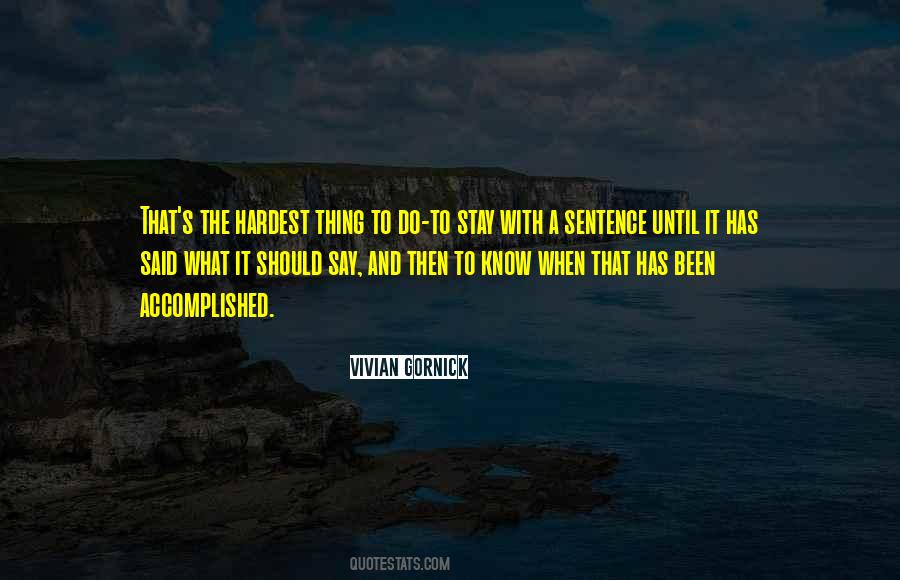 Famous Authors
Popular Topics