Weekend Famous Quotes & Sayings
List of top 100 famous quotes and sayings about weekend to read and share with friends on your Facebook, Twitter, blogs.
Top 100 Quotes About Weekend
#1. Had an amazing weekend hanging with my pals. - Author: Victoria Justice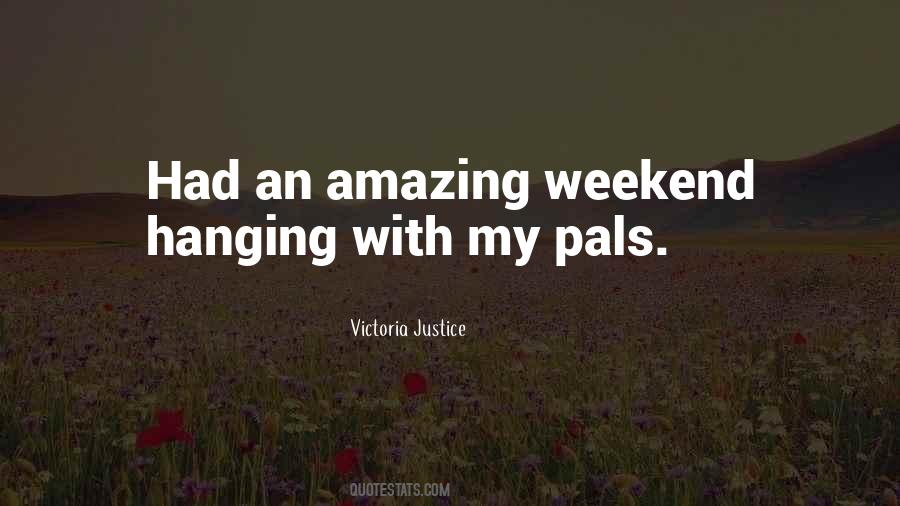 #2. The music I was always attracted to and the shows I was really into like, you know, those weekend Don Kirshner shows, "Midnight Special," those shows, I remember watching those and the music was just on; it was the greatest radio stations. - Author: Bobby Cannavale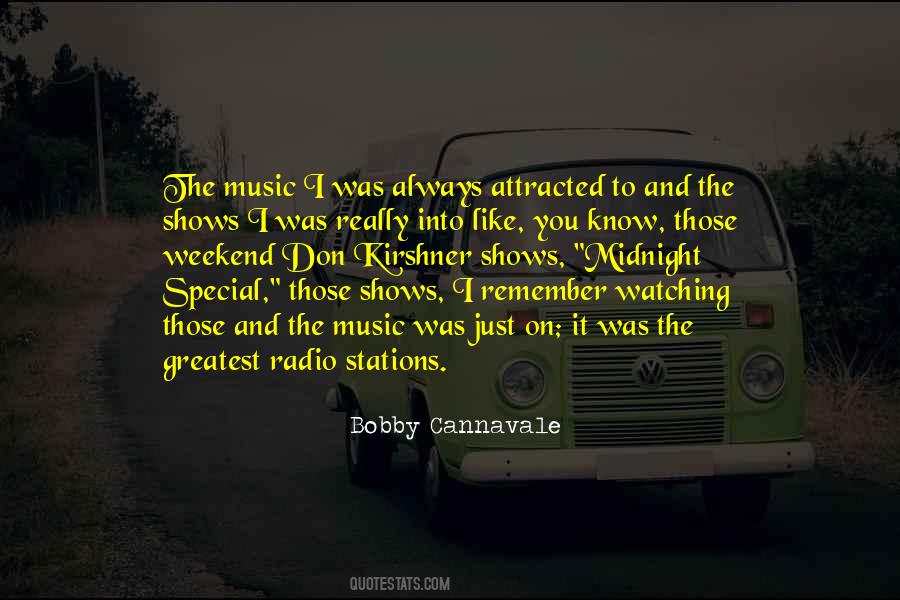 #3. Most people live in the city and go to the country at the weekend, and that's posh and aristocratic, but actually to live in the country and come to London when you can't take it any more is different. - Author: Damien Hirst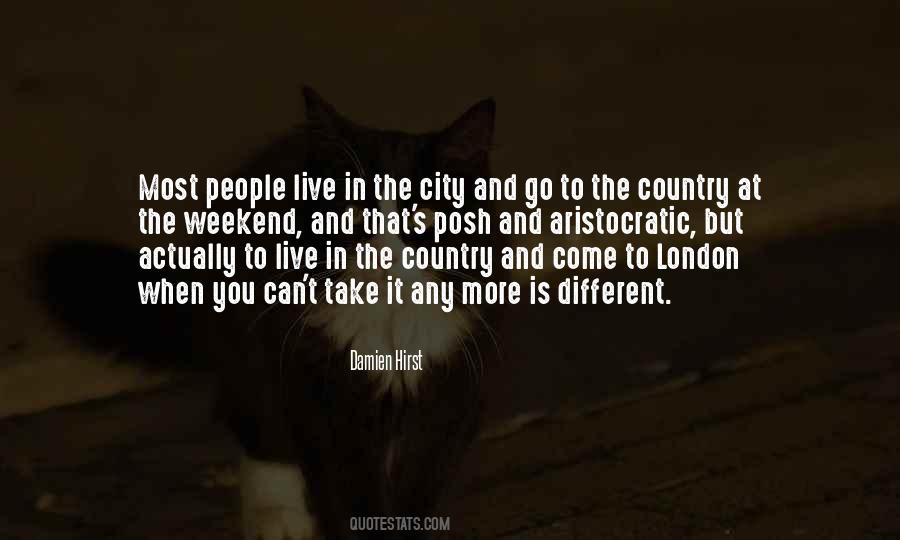 #4. I like to dance, but it's not my weekend activity. I'm not a clubber. - Author: Ewan McGregor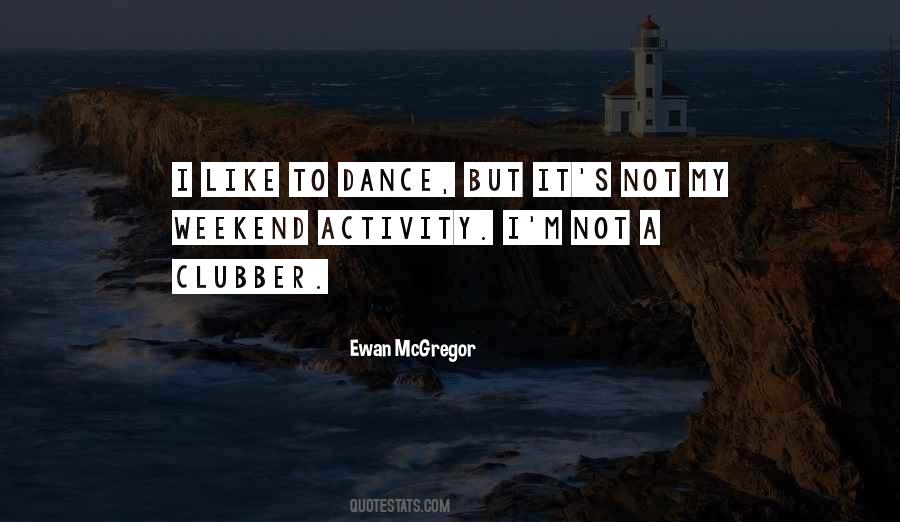 #5. I'm glad you're quitting the bar."
"You are?"
"Yeah. I've never liked you working there, and I miss you at the weekend."
"Why didn't you say anything?"
"Because you seemed happy. It's sort of my life mission to make sure you stay that way," he teased. - Author: Samantha Young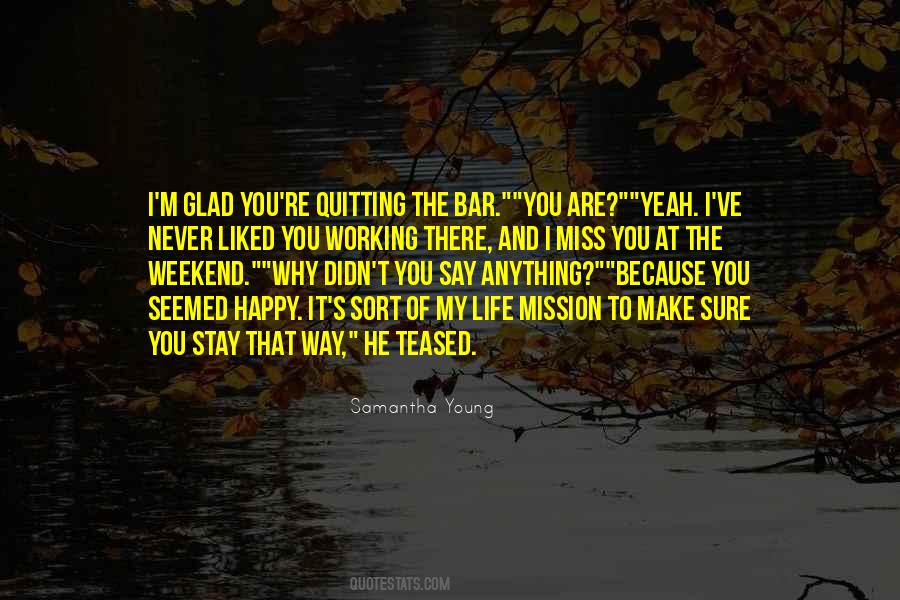 #6. Money doesn't make you special, it makes you lucky. Be generous, be crazy, be outrageous. - Author: Eve Ensler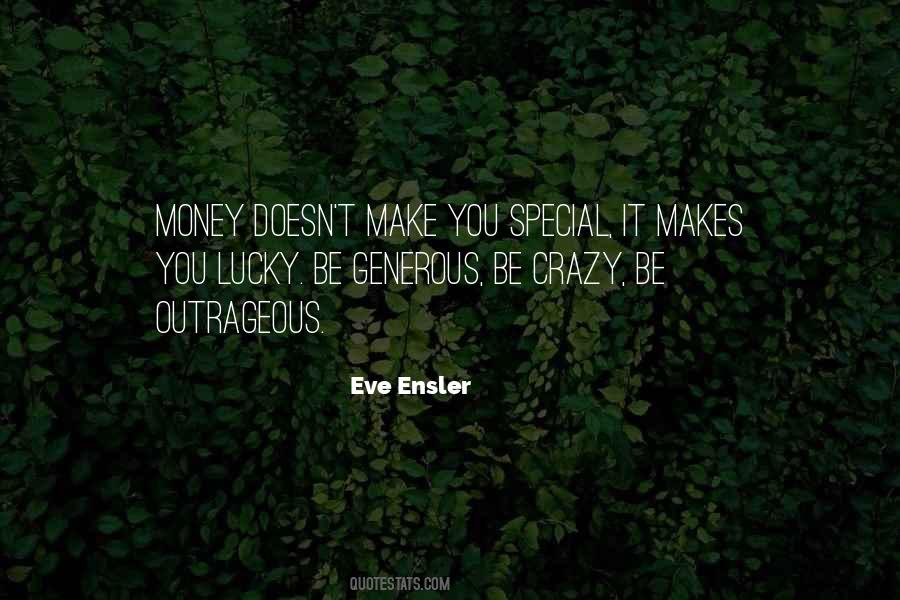 #7. The club thing is a world people can associate with, letting your hair down at the weekend. - Author: Billy Boyd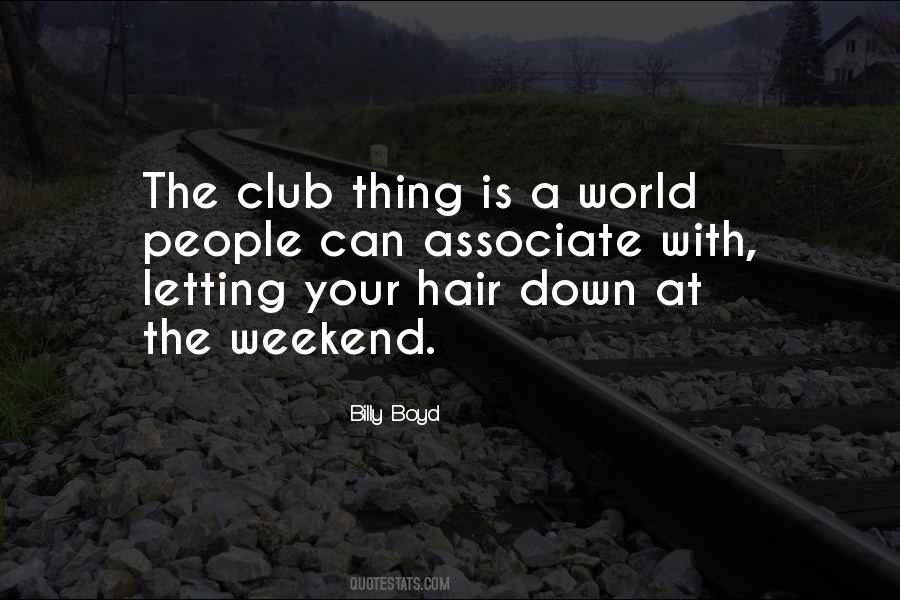 #8. When Sunday loses its fundamental meaning and becomes subordinate to a secular concept of weekend dominated by such things as entertainment and sport, people stay locked within a horizon so narrow that they can no longer see the heavens. - Author: Pope John Paul II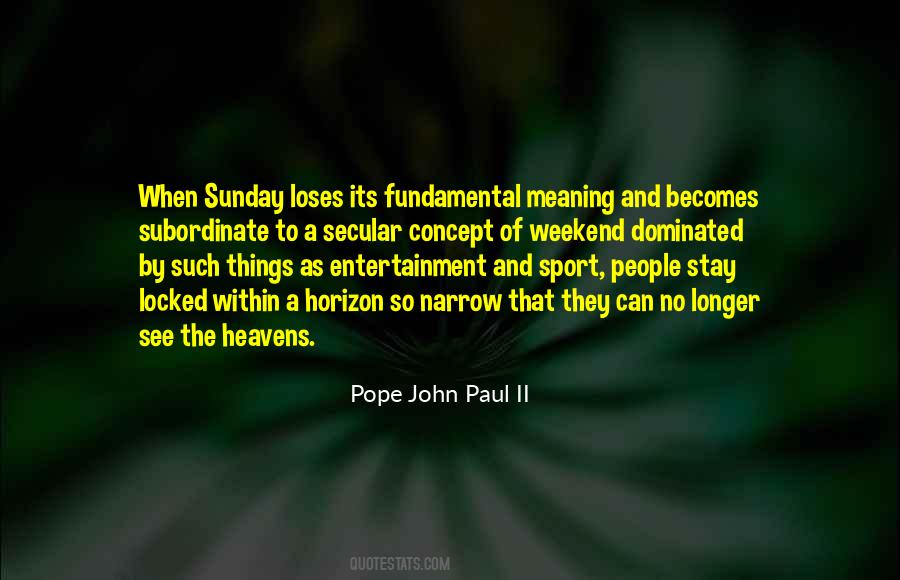 #9. The town I grew up in was at least fifty percent Jewish, so every weekend in the 7th grade, we went to Bar and Bat Mitzvahs. - Author: Vanessa Bayer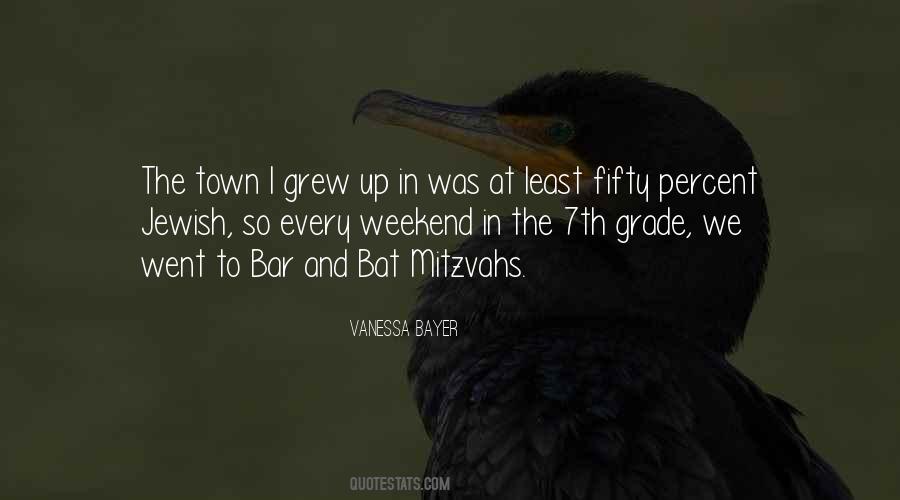 #10. As a kid, I thought movies were boring. My parents would hire VHS recorders for the weekend and watch Bollywood movies. I'd get bored and go out to Stoke Newington common to play football. - Author: Asif Kapadia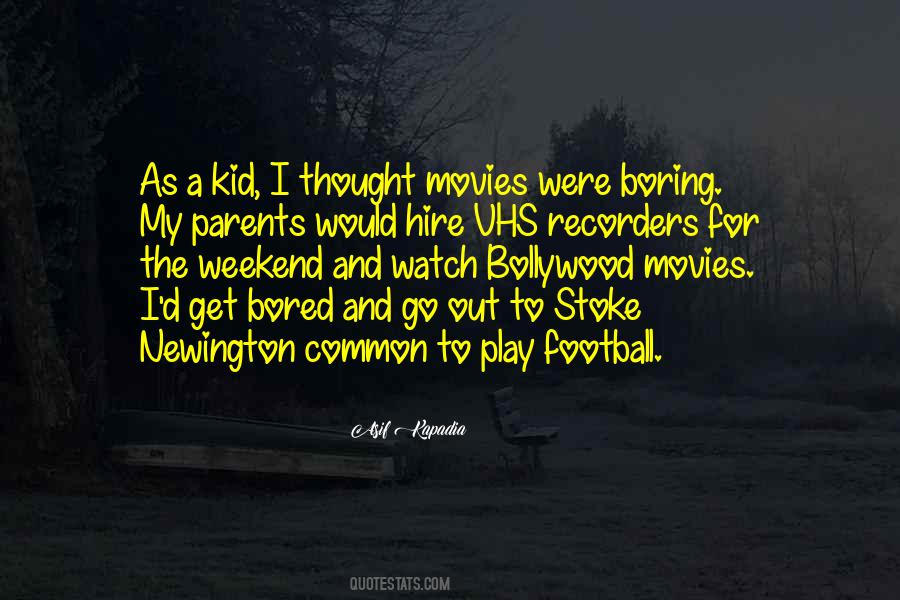 #11. Audiences are so much more sophisticated than they've ever been. They expect a lot more. I don't think because it's an hour of your Thursday night rather than an hour and a half of your weekend that you should be gypped at all in quality. - Author: Maggie Q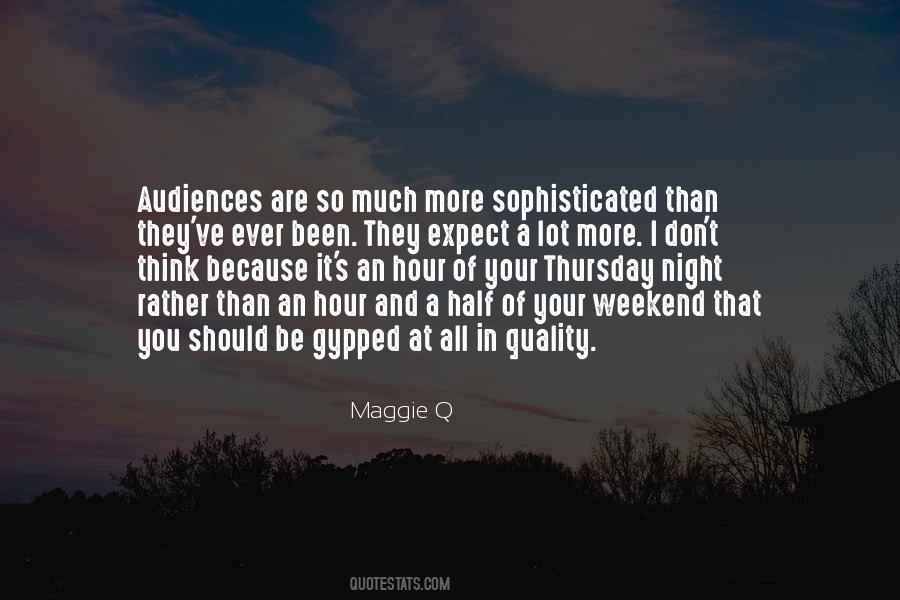 #12. Music always sounds better on Friday. - Author: Lou Brutus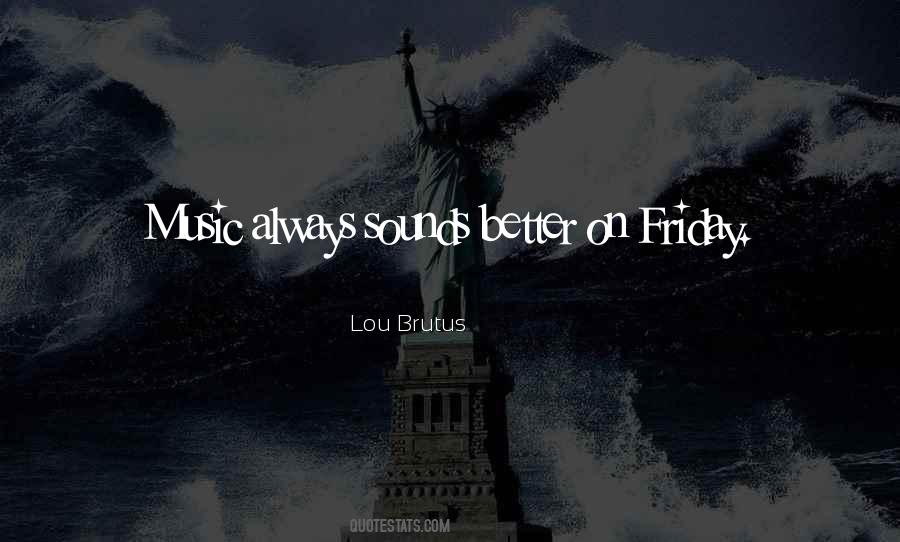 #13. One of my first jobs was in Italy and that's where I saw cocaine for the first time. There was a murder in our group that weekend. I decided then and there that I would never do drugs. I have anxiety attacks, so there's no way I could do them. - Author: Linda Evangelista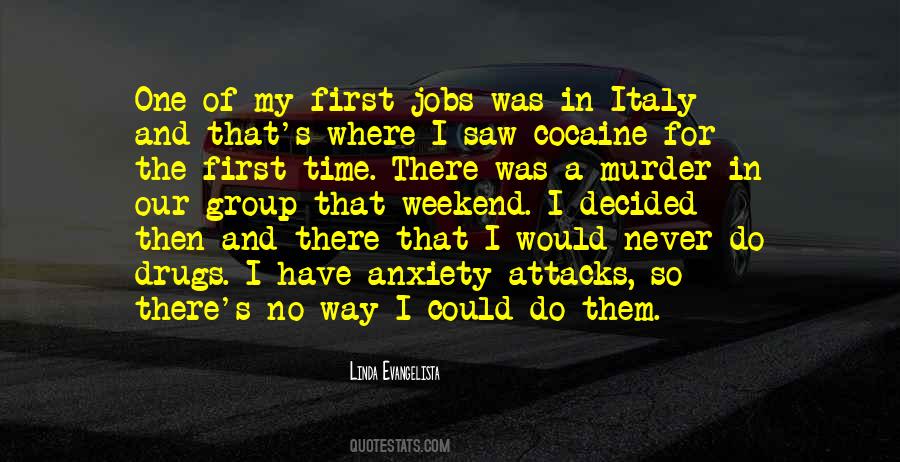 #14. The Victorians had not been anxious to go away for the weekend. The Edwardians, on the contrary, were nomadic. - Author: T.H. White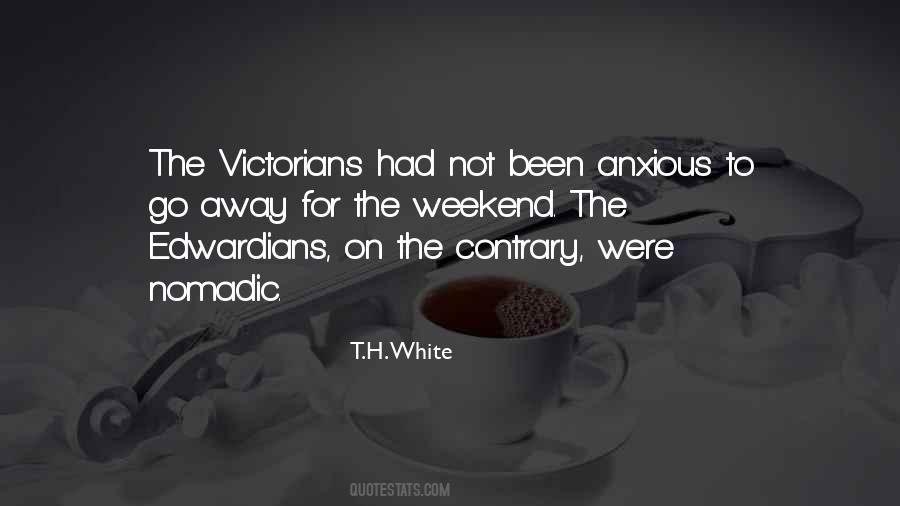 #15. After my swims this weekend I think coach realized, you know what, you have to have a good one getting out of this meet. So I put the suit on and had a decent swim. - Author: Ryan Lochte
#16. Up until the age of 12, I went to dog shows every weekend. Mum showed beagles. It's a really competitive and eclectic world filled with characters who wear interesting outfits - similar to 'Toddlers & Tiaras,' but with dogs. - Author: Rebel Wilson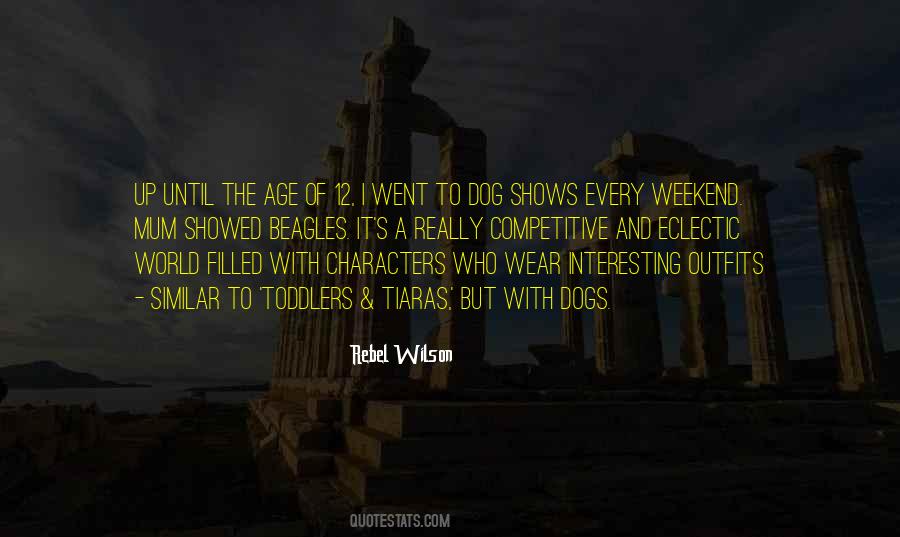 #17. No weekend, all weakened. - Author: Toba Beta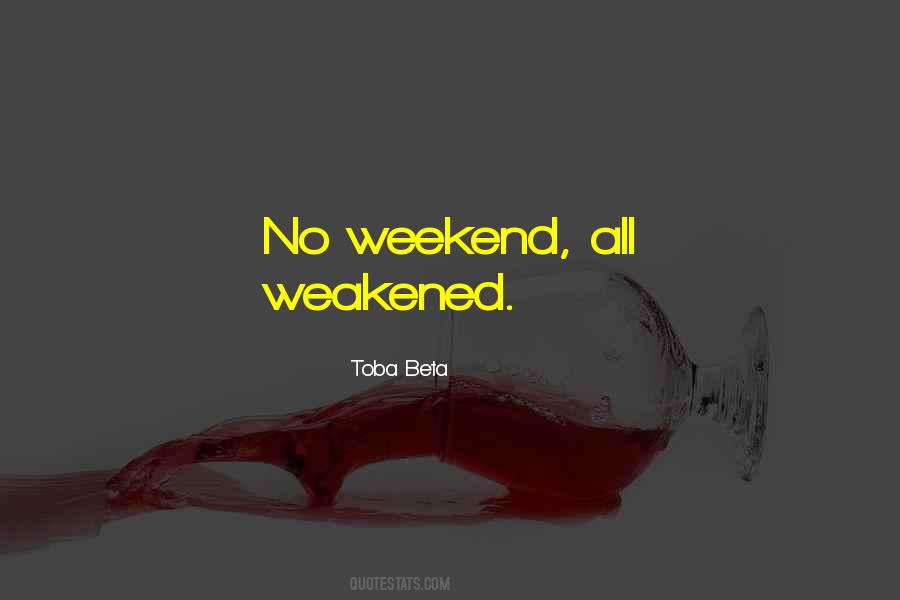 #18. Bad boy stopped her, placing a hand on her knees. "Tell you what, if you don't have a guy worshiping you by this time next year, come find me. I'll show you a weekend you'll never forget. - Author: Eden Summers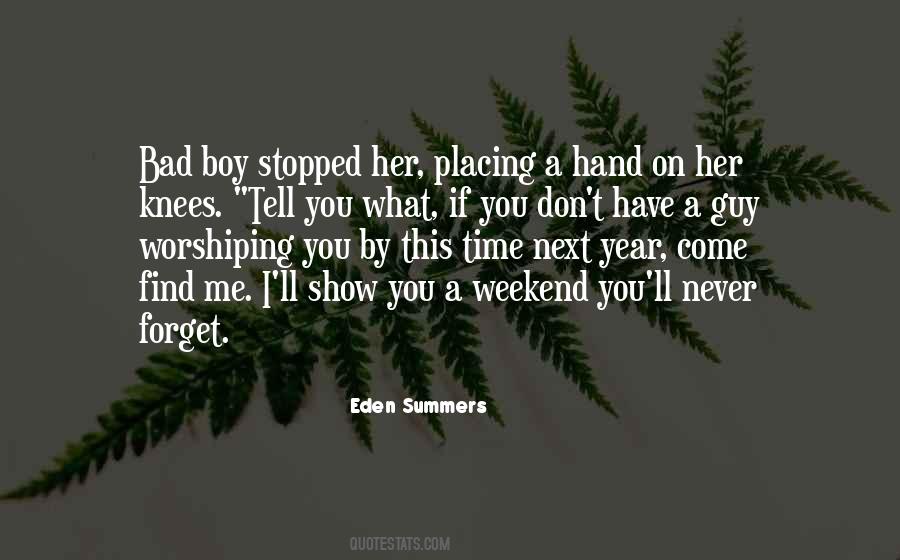 #19. Guy? Mister? Mr. Goth Man, would you please wake up so I can leave? I really don't want to hang out in a closet with a dead man any longer than I have to, okay? C'mon, please, don't make this a Weekend at Bernie's thing! (Amanda) - Author: Sherrilyn Kenyon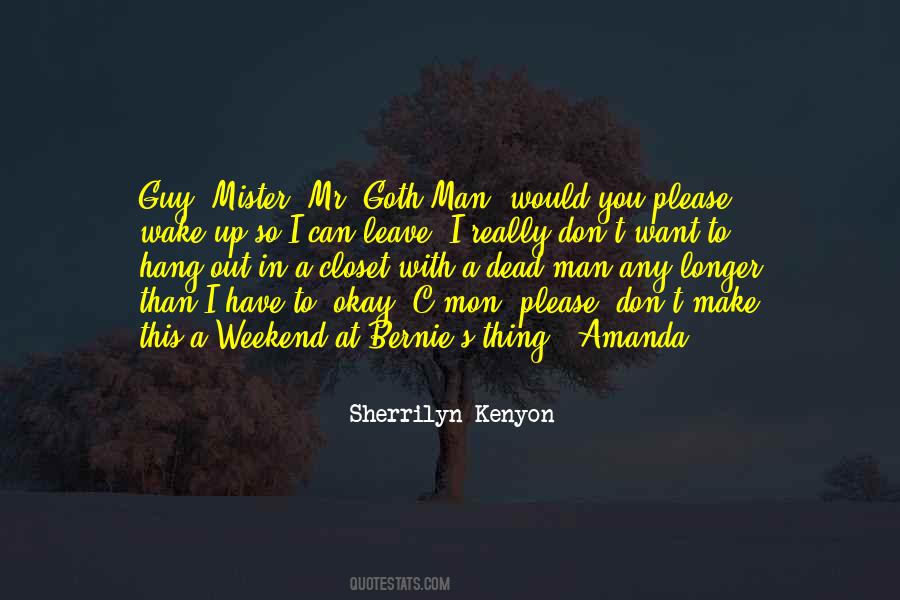 #20. Neeley came home and he and Francie were sent out for the weekend meat. This was an important ritual and called for detail instructions by mama. - Author: Betty Smith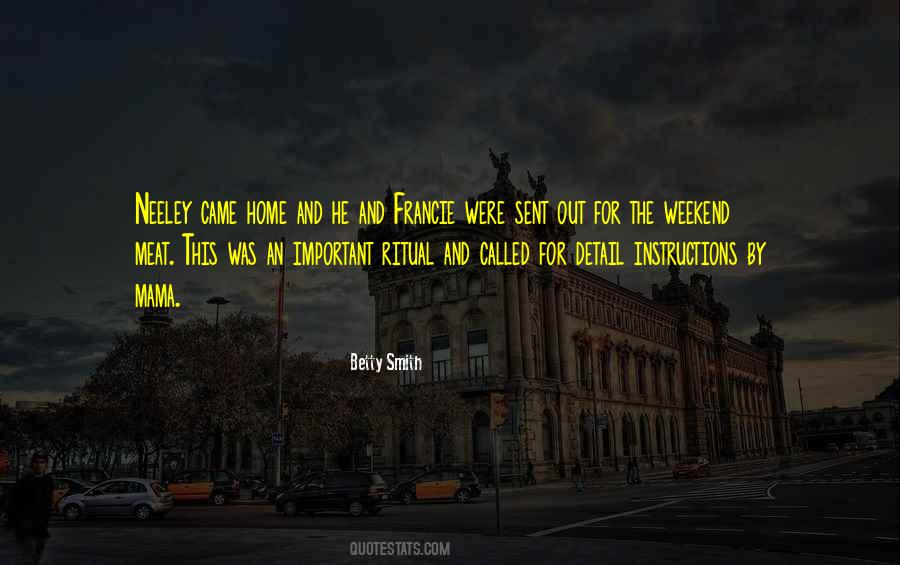 #21. Dreamt I died in Chicago next weekend (heart attack in my sleep). Need to write my will today, - Author: Mikey Welsh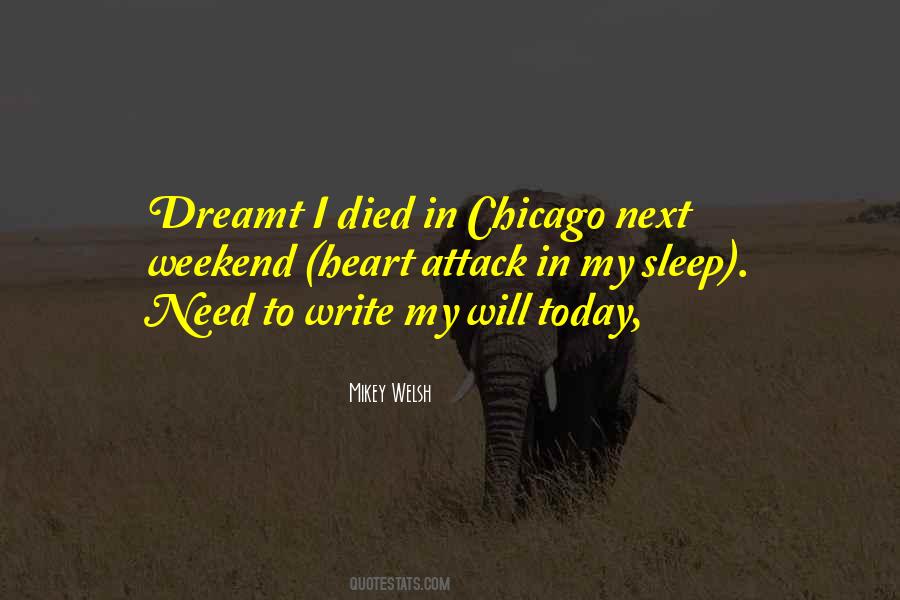 #22. Good weather all the week, but come the weekend the weather stinks. When the weather is too hot they complain, too cold they complain, and when it's just right, they're watching TV. - Author: Rita Rudner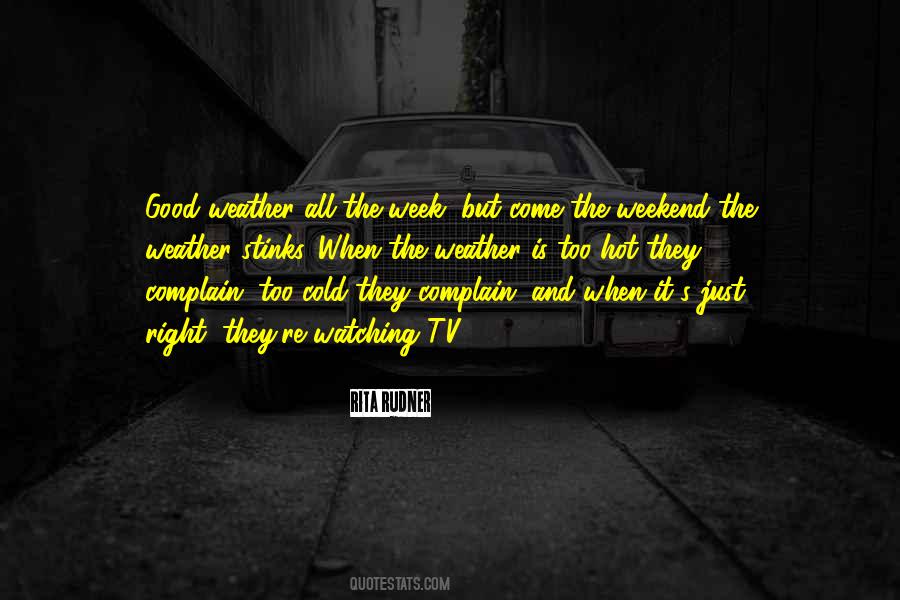 #23. I didn't have this feeling that I should be a leading actor in the cinema. And I wouldn't want the responsibility of the opening weekend. - Author: Brian Cox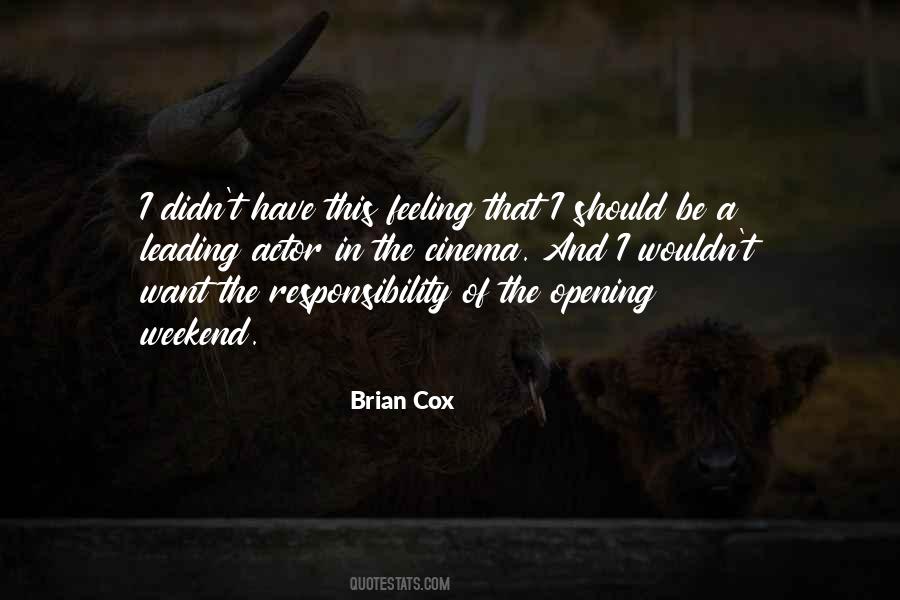 #24. The weekends are too short for sleep! - Author: Bryant A. Loney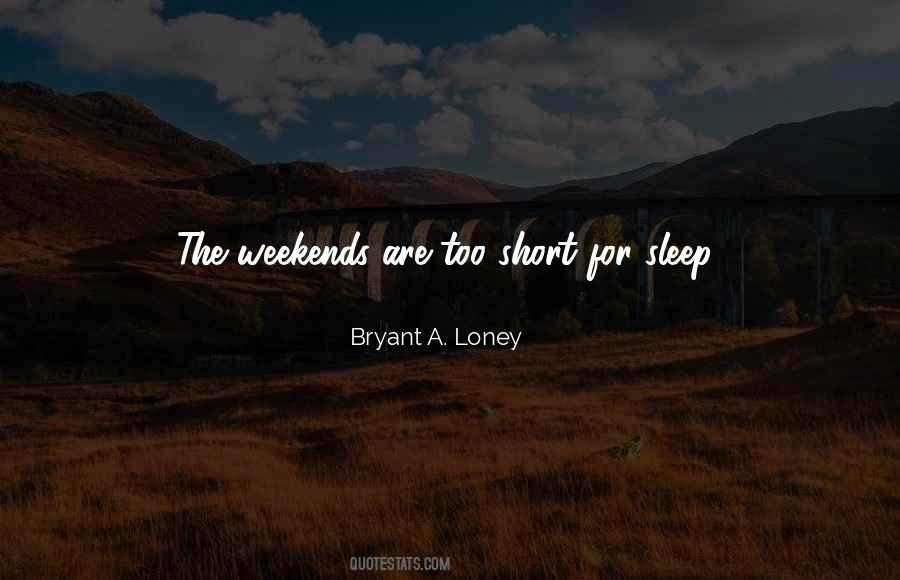 #25. It was funny to be an emcee, because you're so at the mercy of the club. You can show up for the weekend hoping to get the $400 - and get fired. I had to prank whoever they told me to prank. - Author: John Mulaney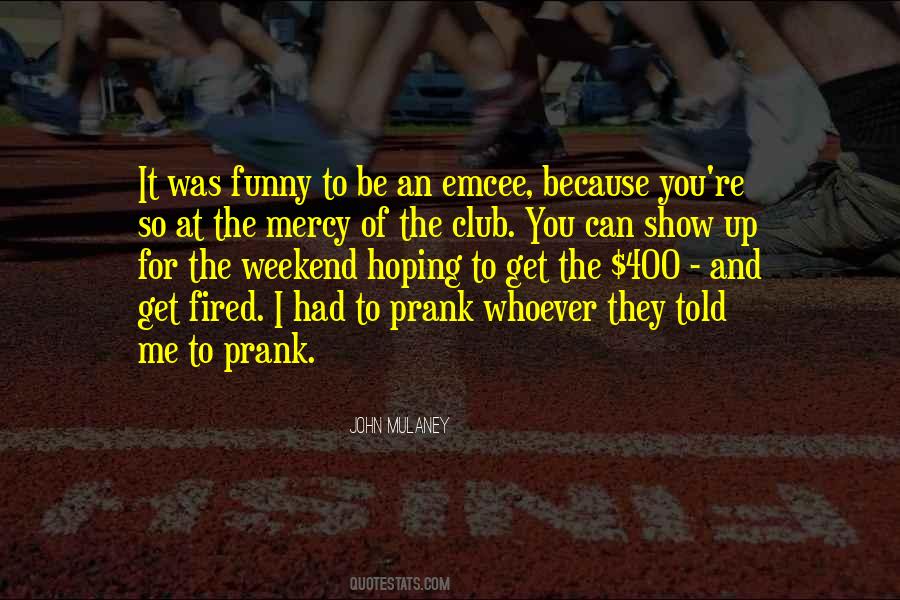 #26. A man works hard all week to keep his pants off all weekend. - Author: Mr. Krabs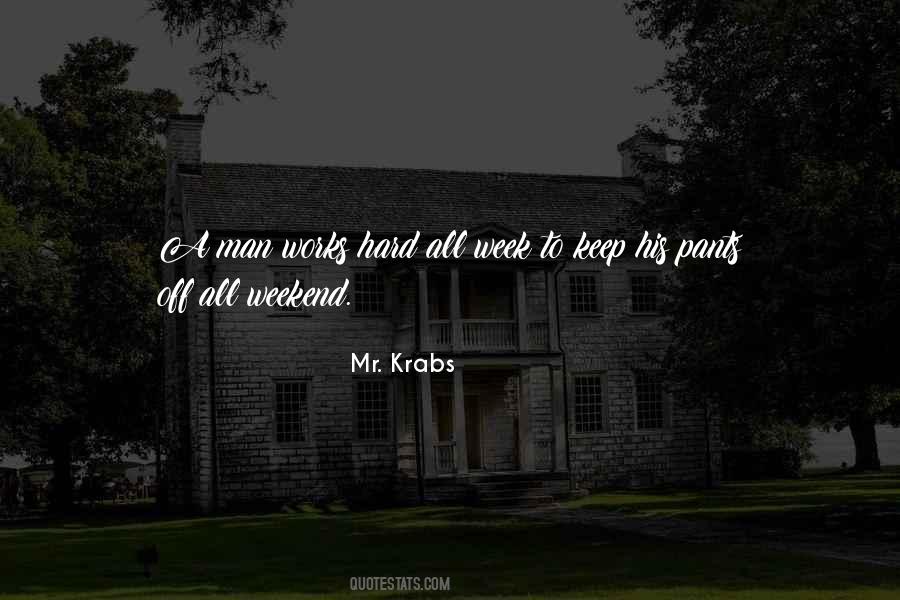 #27. It used to be called the Lord's Day, now it is the weekend and if we group all holidays on weekends the devil will have scored another move against Sunday worship. - Author: Vance Havner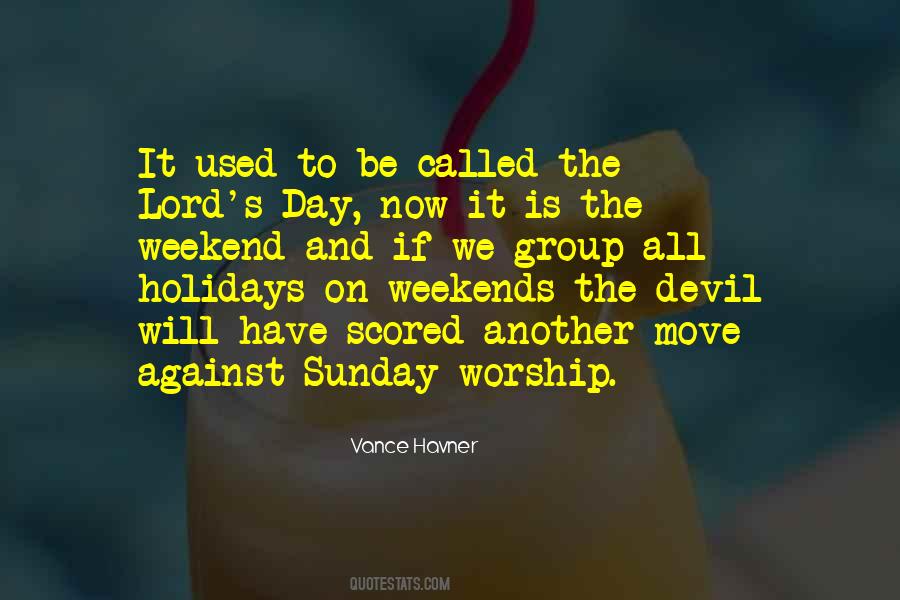 #28. She had fallen in love with a stranger in the course of a weekend, and she would never fall in love again. - Author: Nicholas Sparks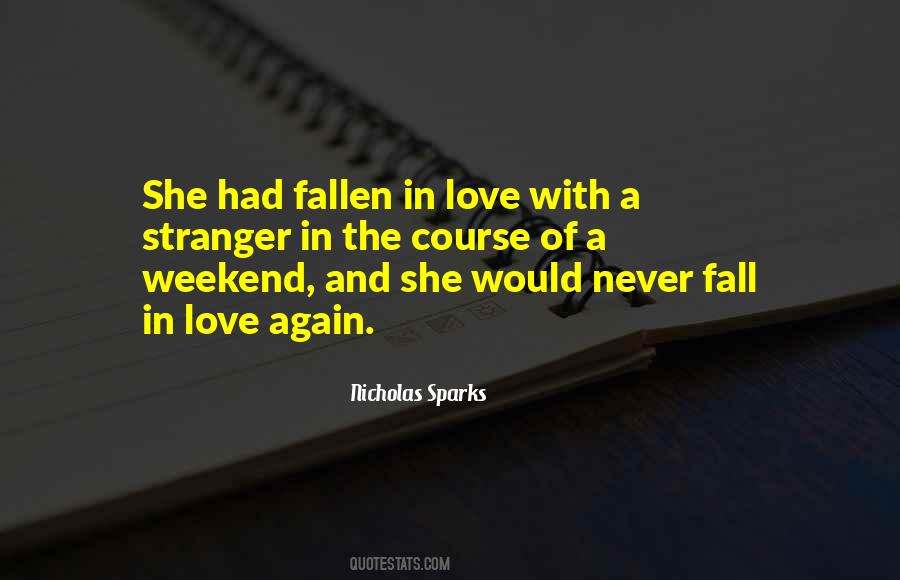 #29. There are films that cost a lot of money that might be decent films. But if they don't perform in that first weekend or two, they're gone. - Author: Grant Heslov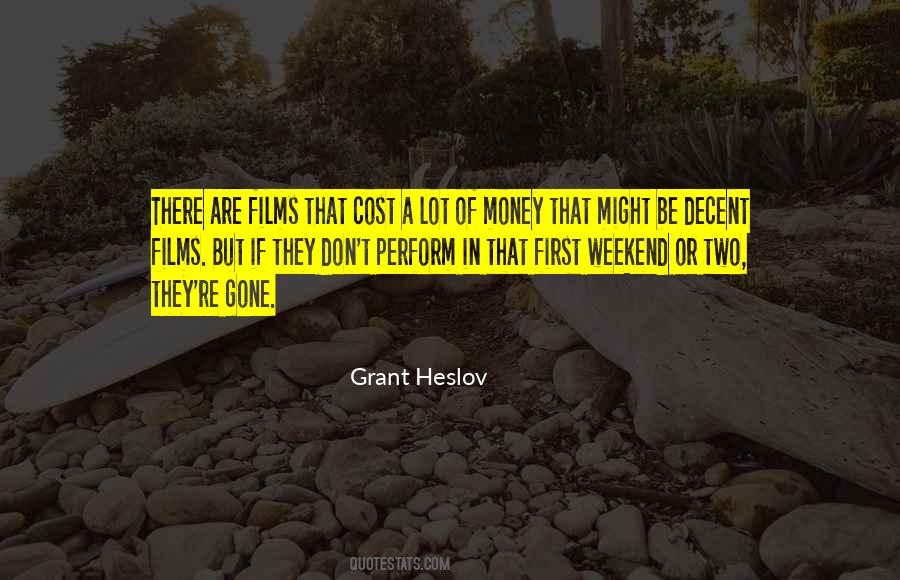 #30. Weekend planning is a prime time to apply the Deathbed Priority Test: On your deathbed, will you wish you'd spent more prime weekend hours grocery shopping or walking in the woods with your kids? - Author: Hal Borland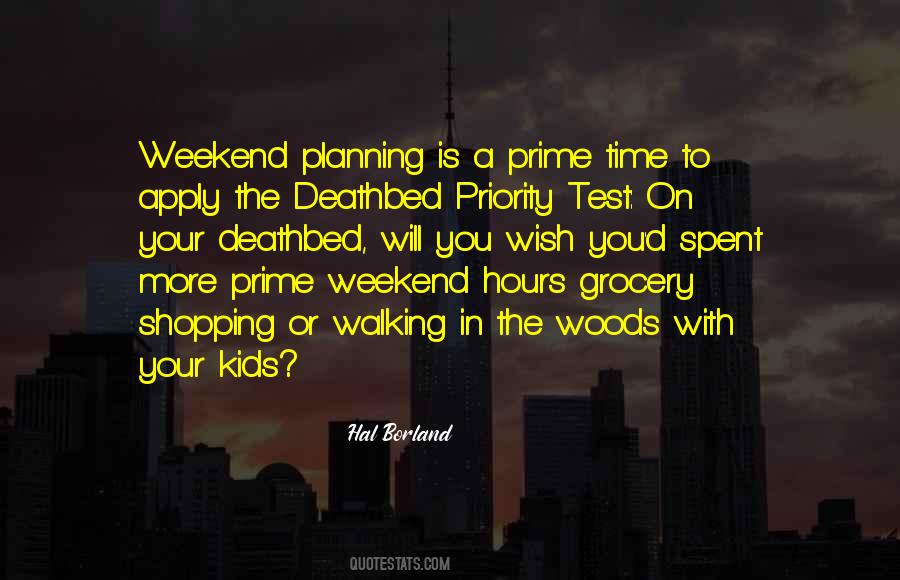 #31. I am such that person that, when I'm working, I'm like, 'Oh, what I wouldn't give for a weekend off!' And then, as soon as I have more that 18 hours without anything to do, I start shaking. It's really funny. - Author: Cassidy Freeman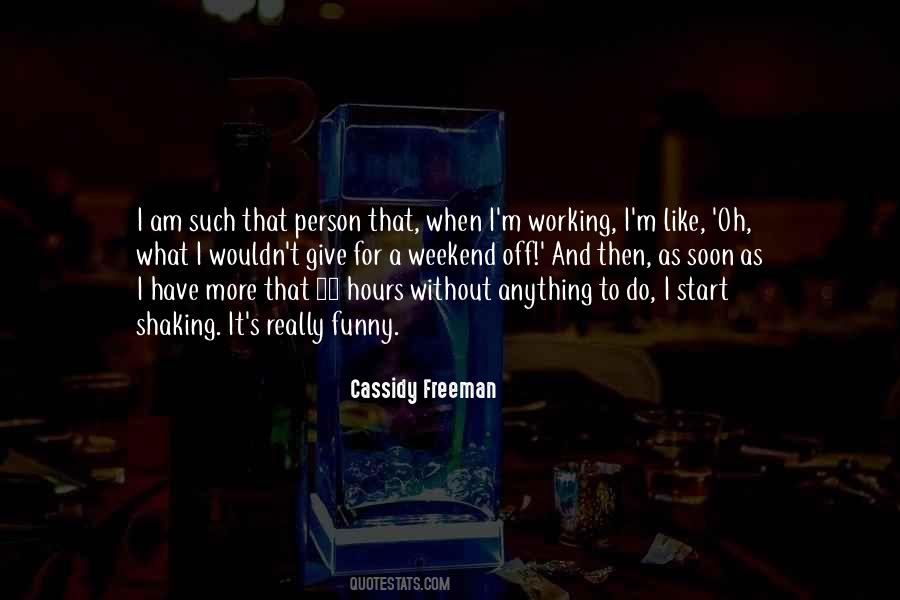 #32. What's wrong with Tuesdays?" Trent asks. "Everything. Monday's always Monday, but at least it's the start of something new. Wednesday is hump day, Thursday's almost Friday, and Friday brings the weekend. But Tuesday? Nada. - Author: Steven Rowley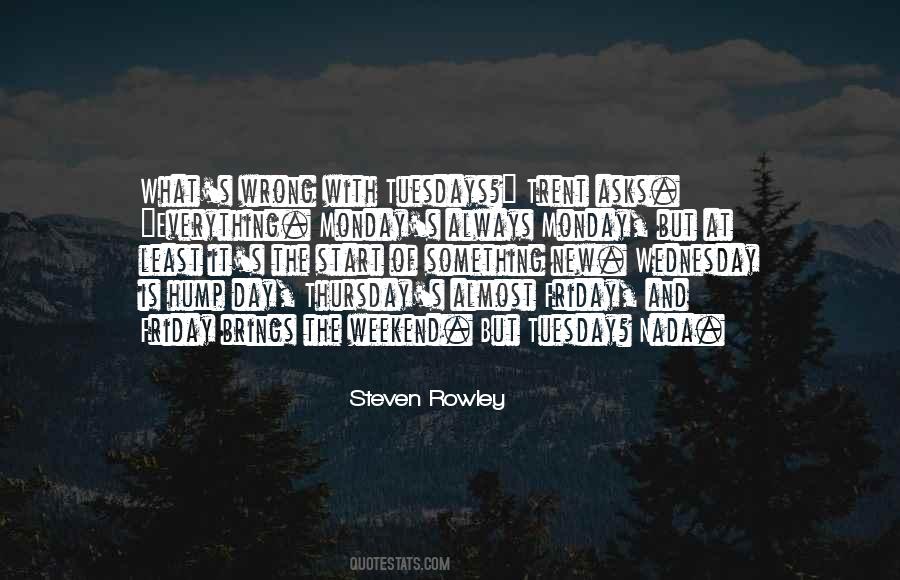 #33. I have never in my life found myself in a situation where I've stopped work and said, 'Thank God it's Friday.' But weekends are special even if your schedule is all over the place. Something tells you the weekend has arrived and you can indulge yourself a bit. - Author: Helen Mirren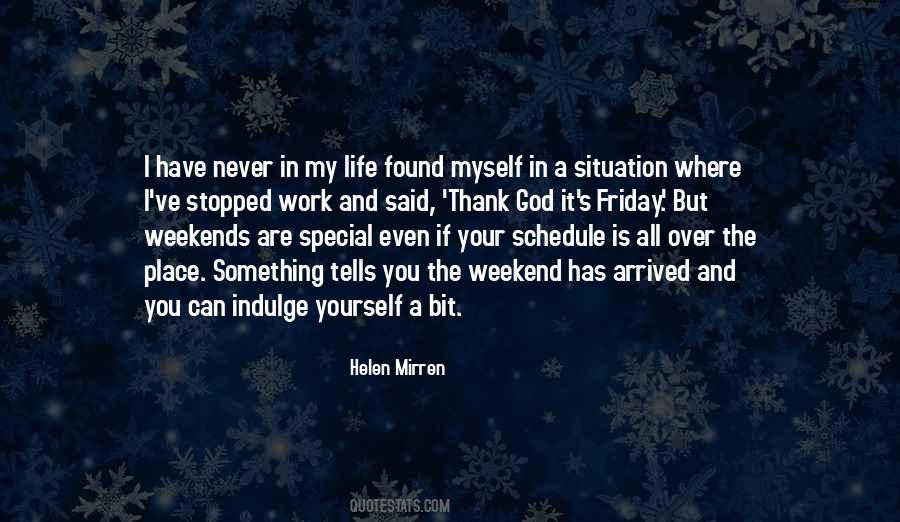 #34. With all the trouble black people have, they try to forget on weekends. You've got to be good to make them laugh. - Author: Flip Wilson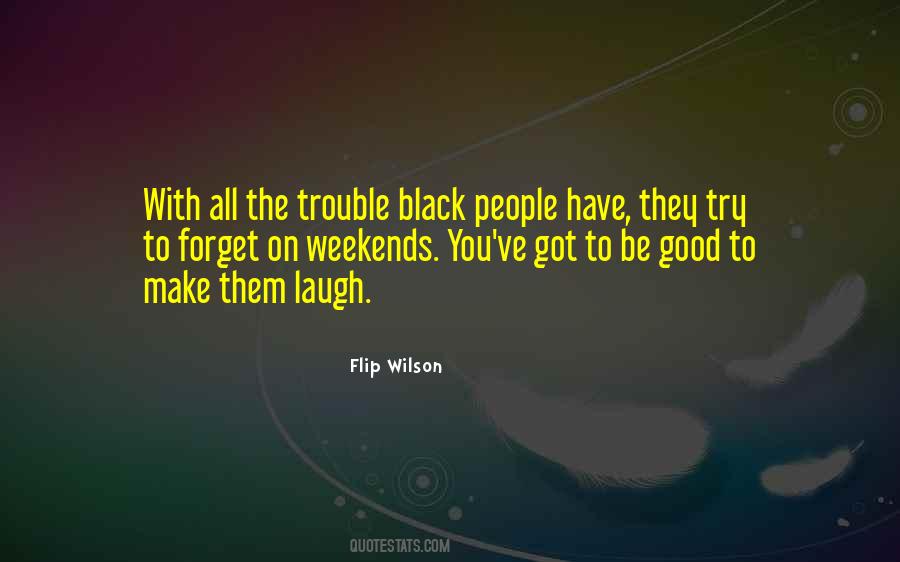 #35. It doesn't matter how good the movie is. What matters is what it takes during the opening weekend. It's slightly distressing sometimes but that's how it works. - Author: Emma Thompson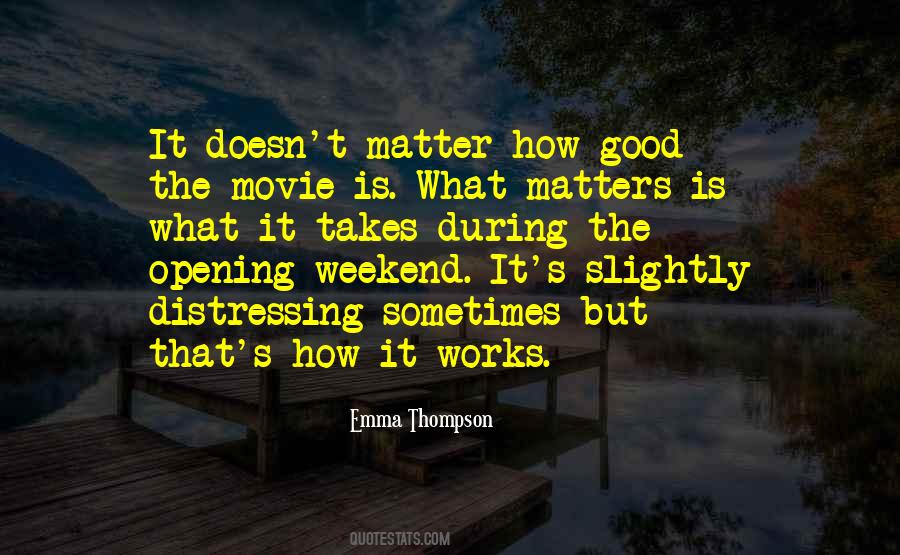 #36. Time spent for temporary happiness like movie or outing or weekend on a beach is all synthetic; with shelf life of a day or two. Work for your bigger dreams that should last for whole life. Then movie and beach would seem more interesting, realising that you have done something. - Author: Vikrmn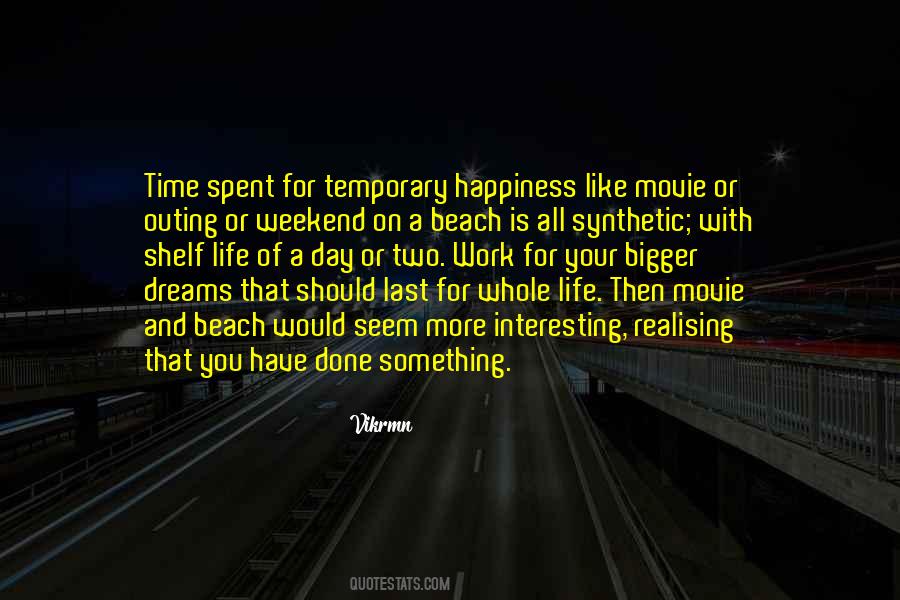 #37. Last weekend a young man asked me how I remain so positive. "It seems all the negativity in the world doesn't affect you," he said. I had no more than a minute with the young man so I offered this: It's all about where you choose to put your attention, and I choose to be happy. - Author: Jason Mraz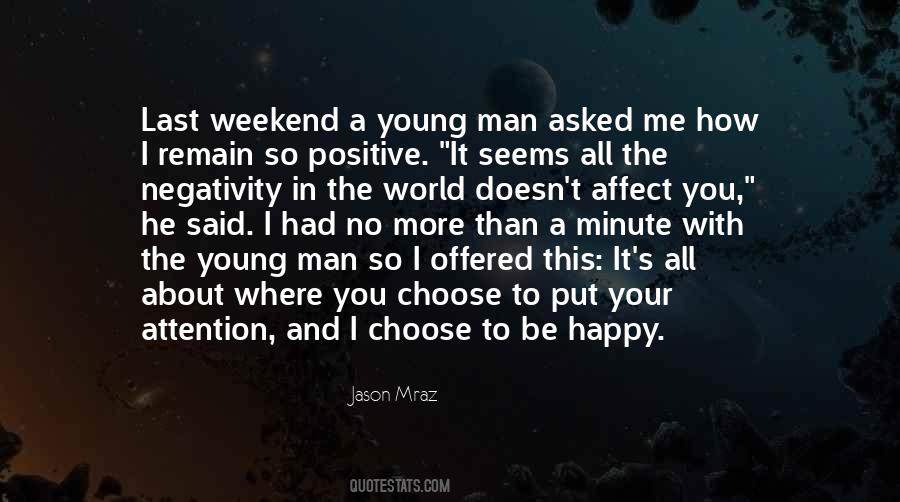 #38. The weekend's here, started it right. Even if I only get part of it right. - Author: Drake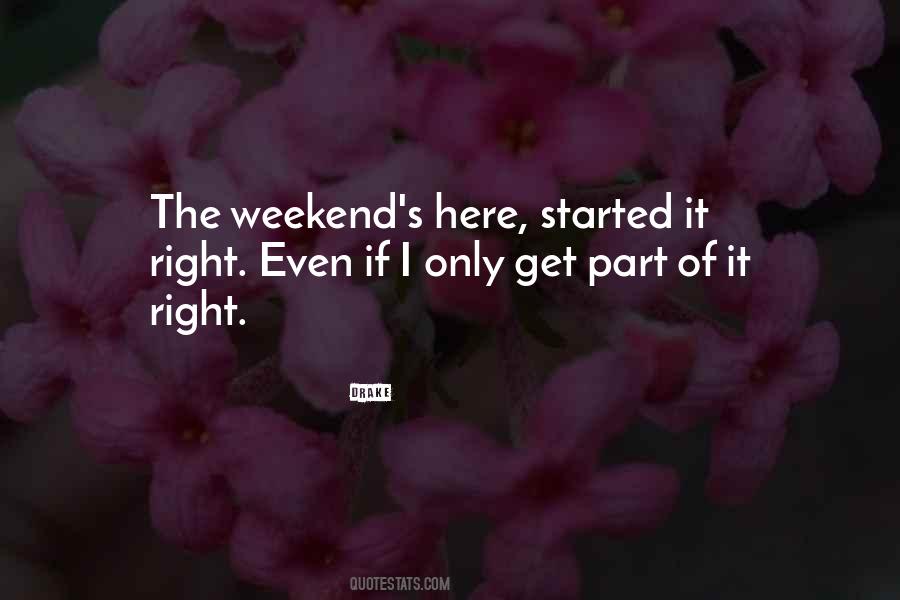 #39. The pace and number of imagined obligations is neither from earth (nature's demands) nor from heaven (Nature's callings). So, they are synthetic and separated from both. The longer and deeper one invests in this synthetic process, the more exhausted and anguished one's essential spirit becomes. - Author: Darrell Calkins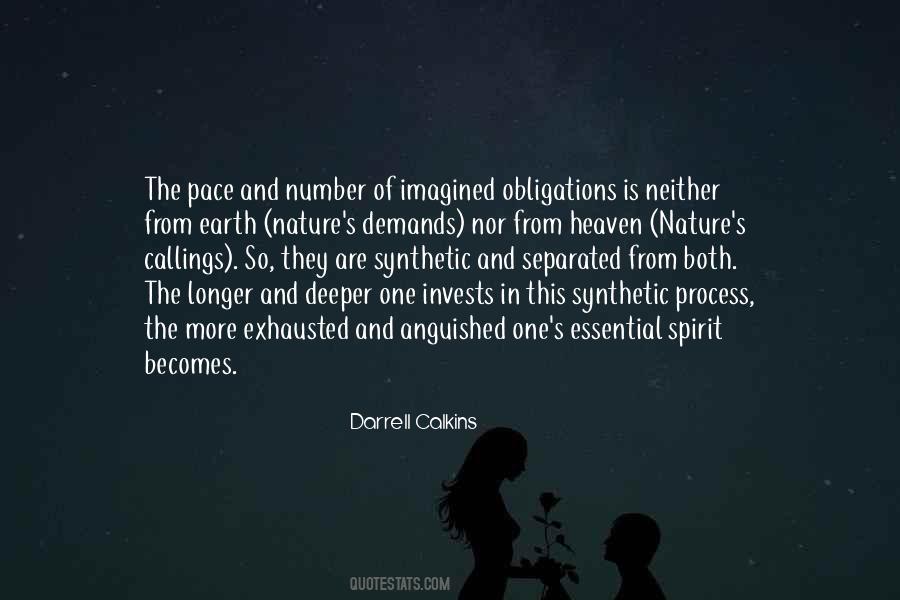 #40. Having the democrats watch your money is like having Michael Vick watch your dog for the weekend - Author: Tim Pawlenty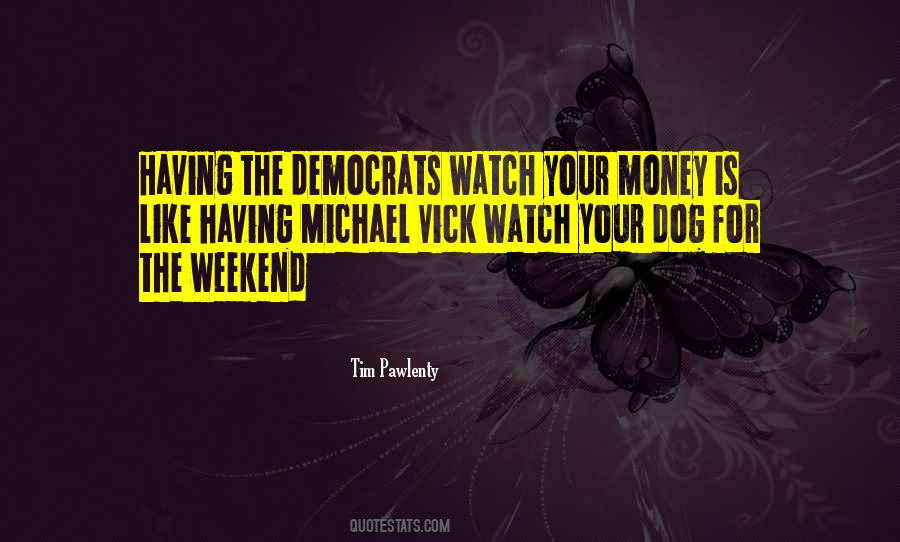 #41. There's nothing as universal as the weekend and one's modest hopes for it. - Author: Ed Park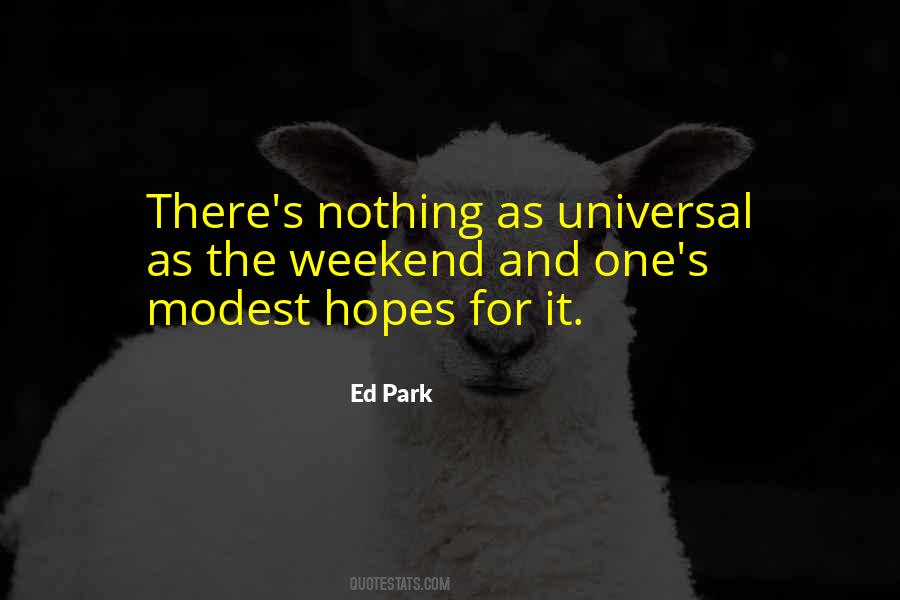 #42. When I was 13, I had a weekend job at the Photographers Gallery Bookshop in London. - Author: Beeban Kidron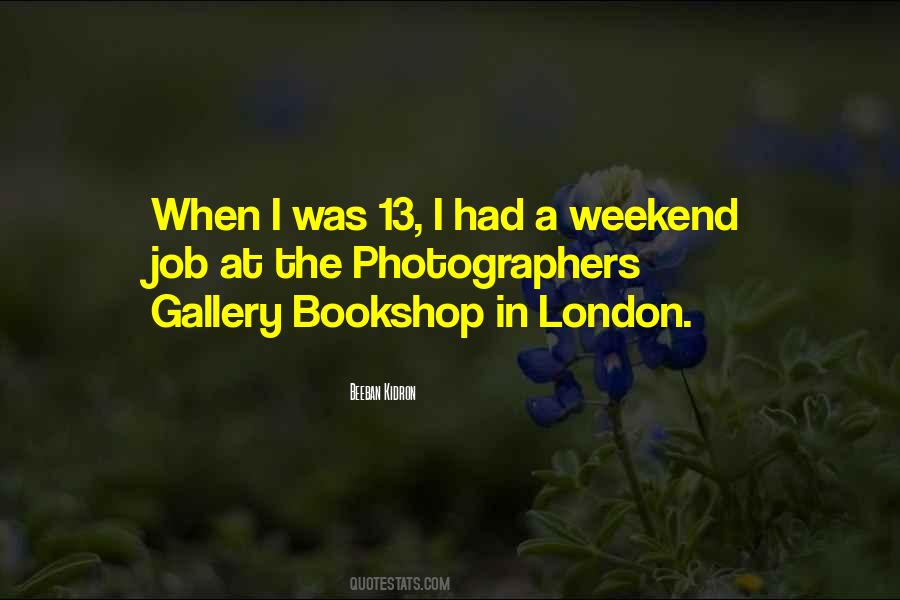 #43. Every weekend we've been trying to go out of town, to let people know about this album. I've been trying to host parties. It's hard, because it's a lot of work to do both. - Author: Angie Martinez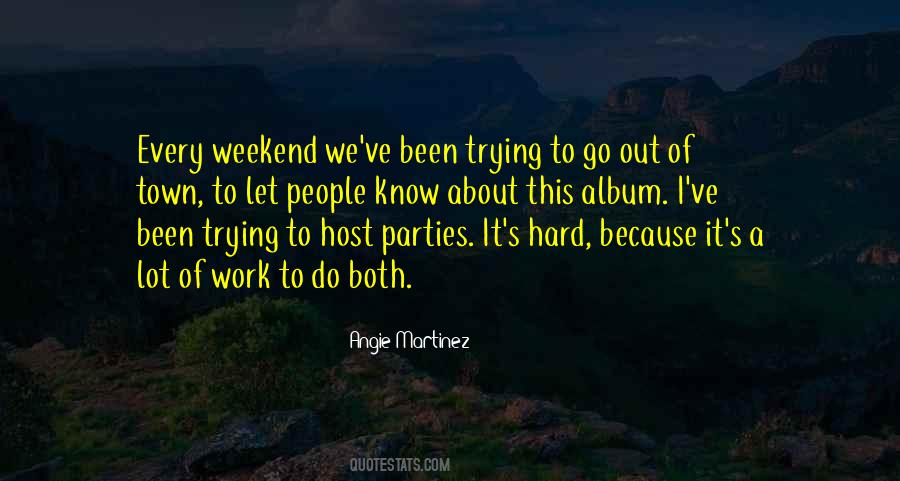 #44. He had no idea about the 'loving deeply' part. Scarlet was the one love he'd had. They'd married the weekend after they'd discovered they both like sangria. He'd thought they were waltzing through life and it turned out she was line dancing. - Author: Jodi Thomas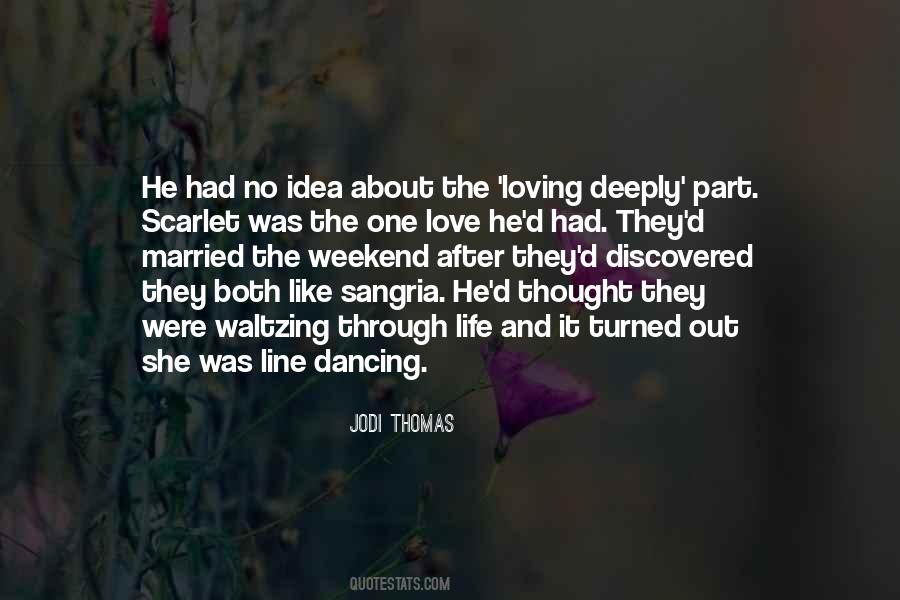 #45. Sam, had a great time this weekend but the golf was lousey. - Author: Dan Quayle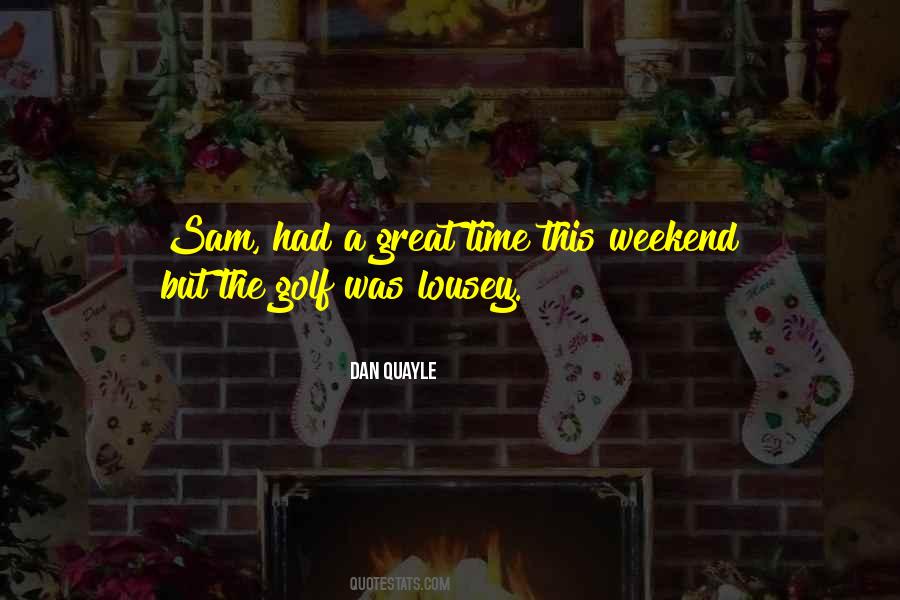 #46. I'm like the queen of planning and scheduling and I'm trying very hard to stop it. I just want to finish what I'm doing and go home. I want to have a weekend. I want to have breakfast, a stack of pancakes. - Author: Sandra Bullock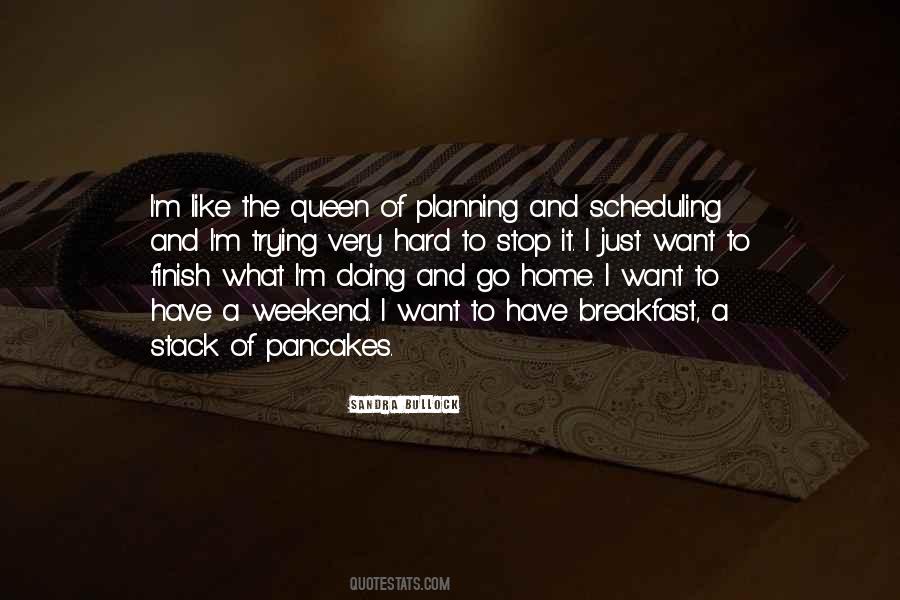 #47. I am such a vacation girl. I have little places that I go to frequently! If I am not too busy on a weekend, I try to go someplace like Mexico or Manzanillo or something like that. - Author: LisaRaye McCoy-Misick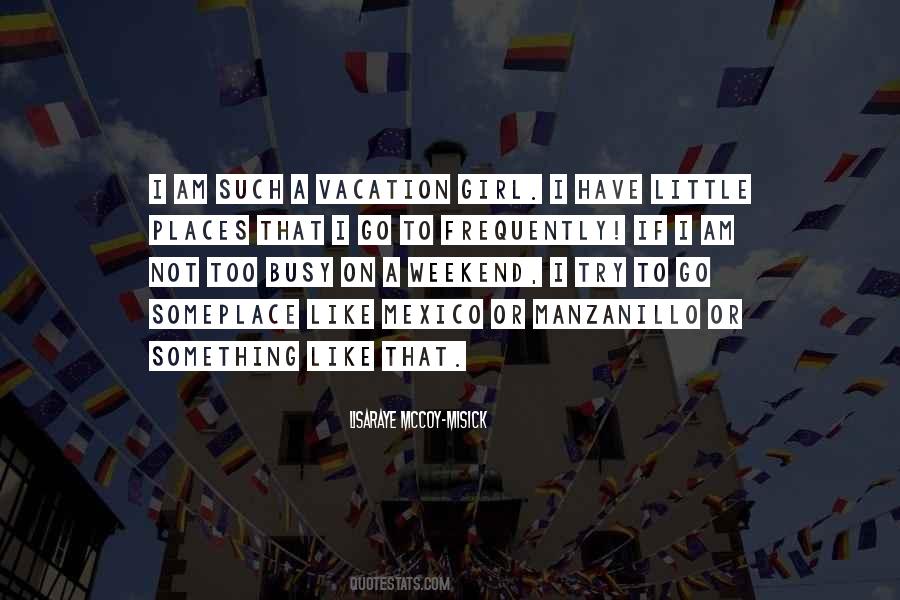 #48. I spent most of this weekend sitting on the sofa reading Proust. The only time my mother left her studio, which she locked behind her, was to go to Thanksgiving dinner at my aunt's house. - Author: Rachel Klein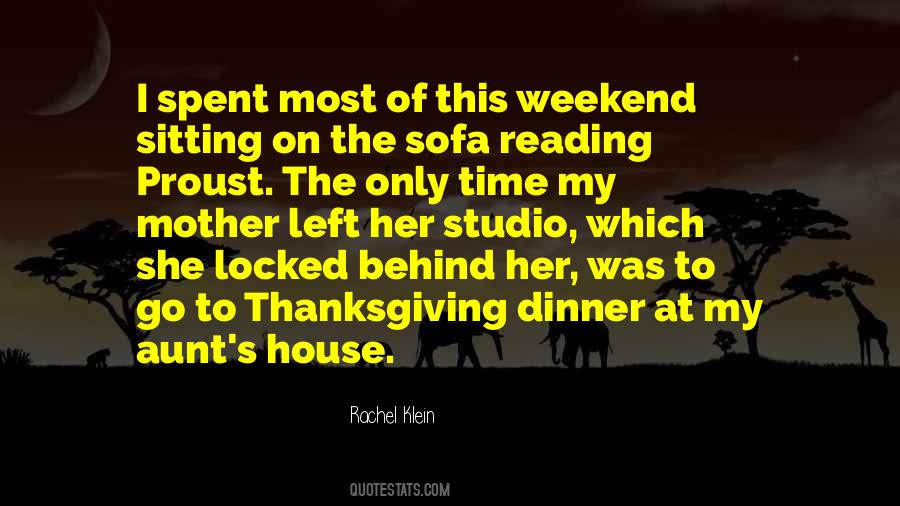 #49. This person called up and said, You've got to come and take this seminar. It will completely change your life in just one weekend. And I said, Well, I don't want to completely change my life this weekend. I've got a lot of things to do on Monday. - Author: Rick Fields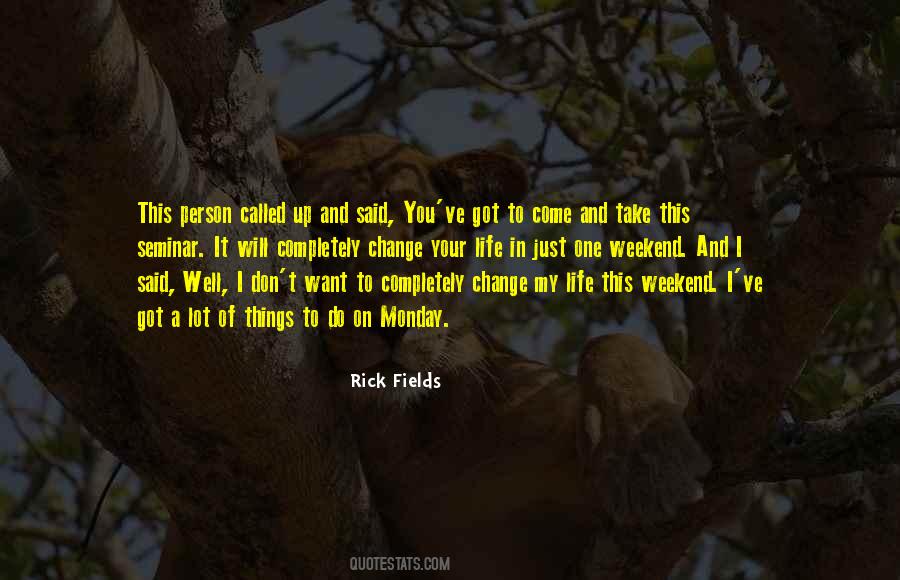 #50. My friends were like, "Oh, this weekend, we're going to go shopping." "Oh, this weekend I'm going to go to see the judo champion" ... you know. And I couldn't do anything. - Author: Riccardo Tisci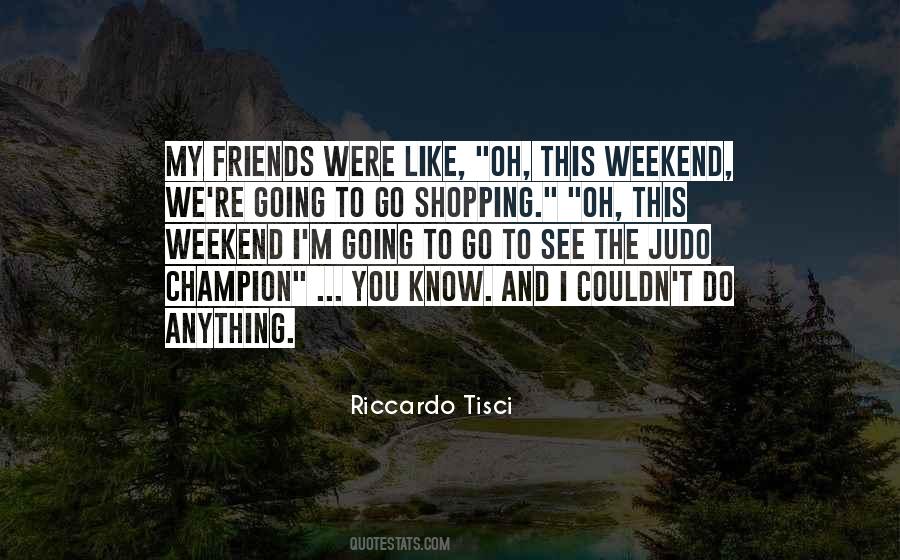 #51. The one thing I don't consume during 'Today' - which surprises many people - is coffee. I find that a lot of water helps wake me up, without the buzz. I love coffee, but usually reserve a double espresso as an afternoon pick-me-up before settling in to do the weekend 'Nightly News.' - Author: Lester Holt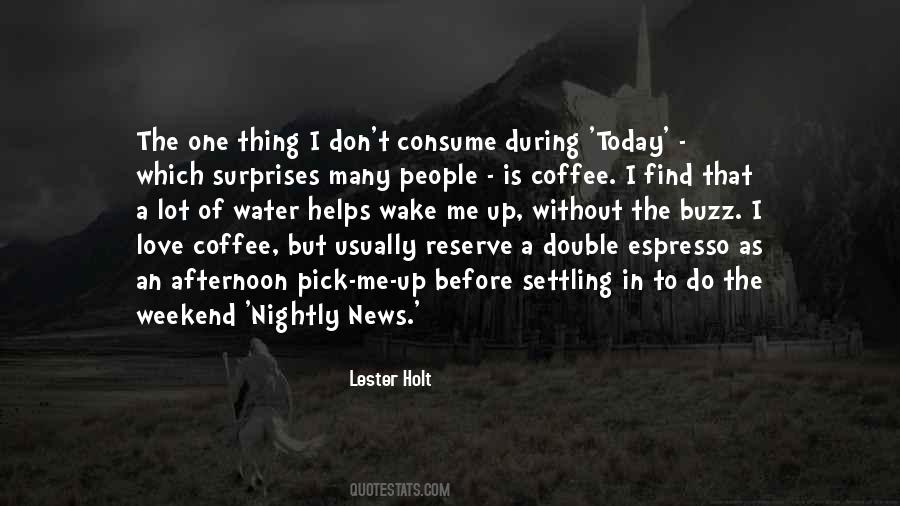 #52. A lot of weekend players struggle with putting because they have too much tension in their hands and arms, both at address and during the stroke. Tension can turn a technically perfect motion into a herky-jerky mess, especially on those knee-knockers. - Author: Jordan Spieth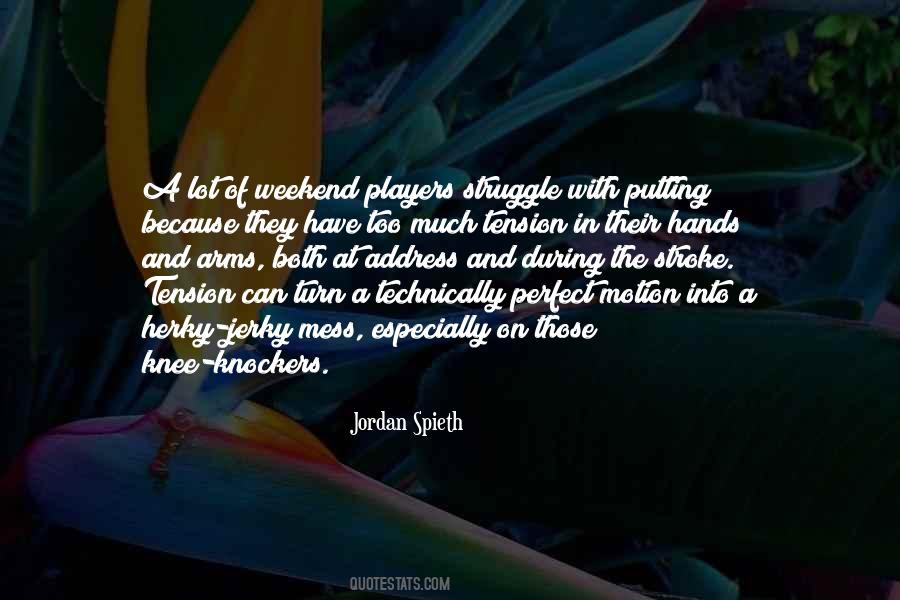 #53. So she spends until about eleven A.M. reading, re-reading, and understanding the new changes in the Project. There are many of these, because this is a Monday morning and Marietta and her higher-ups spent the whole weekend closeted on the top floor, having a - Author: Neal Stephenson
#54. We were all used to Dad's little show-off sessions, and though they were never worthy of excitement, we always tried to humor him. (Last weekend he'd called us out to the lawn to see what a big pile of dandelions he'd weeded.) - Author: Emily Cassel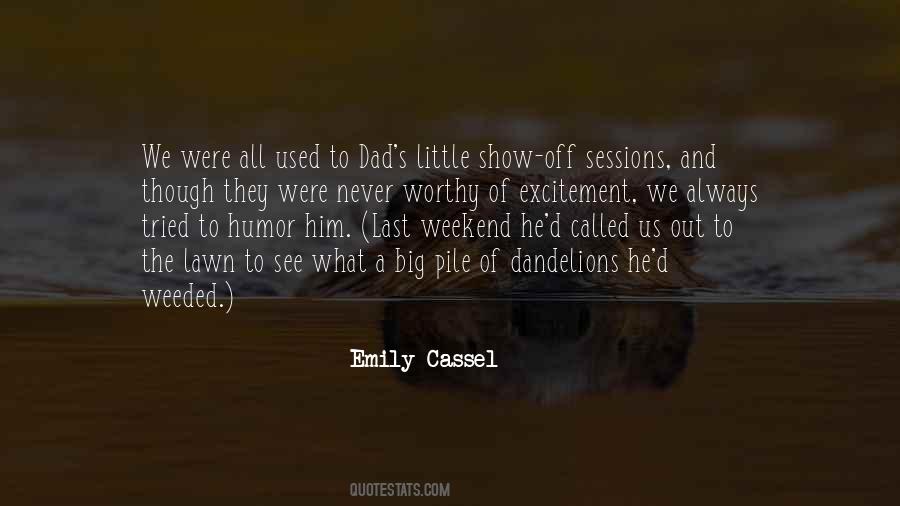 #55. When I get the chance to make my favorite breakfast on the weekend, I often choose to make pancakes. - Author: Marcus Samuelsson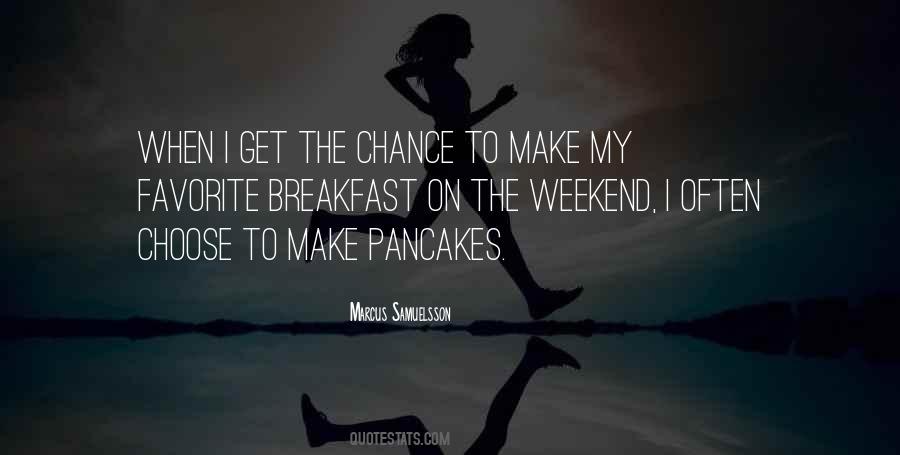 #56. The Porsche was just a vehicle to get to another place. I used it to change people's perceptions of me. I had grown up really middle class. USC was filled with elitists, richies who would go skiing every weekend. So I pretended like I was part of that world - to be accepted. - Author: Brian Grazer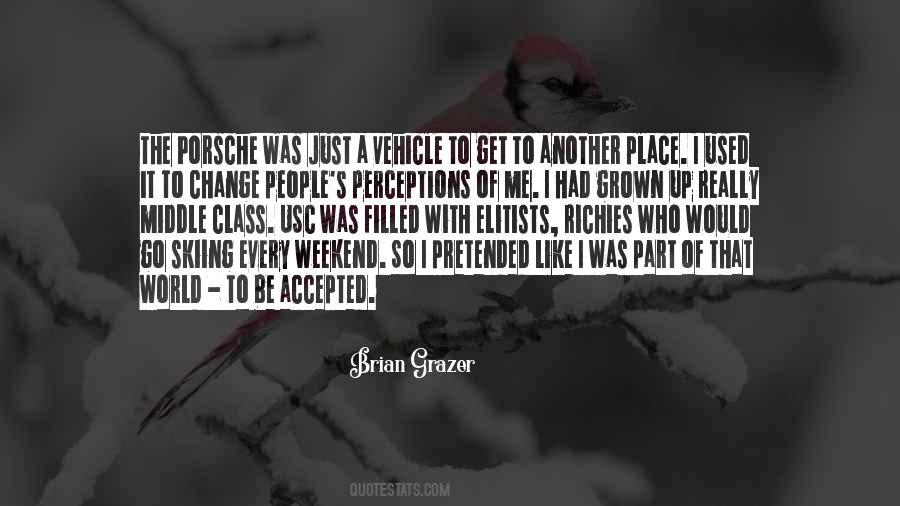 #57. I am a bit of a workaholic, and I am still not sure what a "weekend" is all about. I love what I do, and I do what I love. - Author: Ronnie Apteker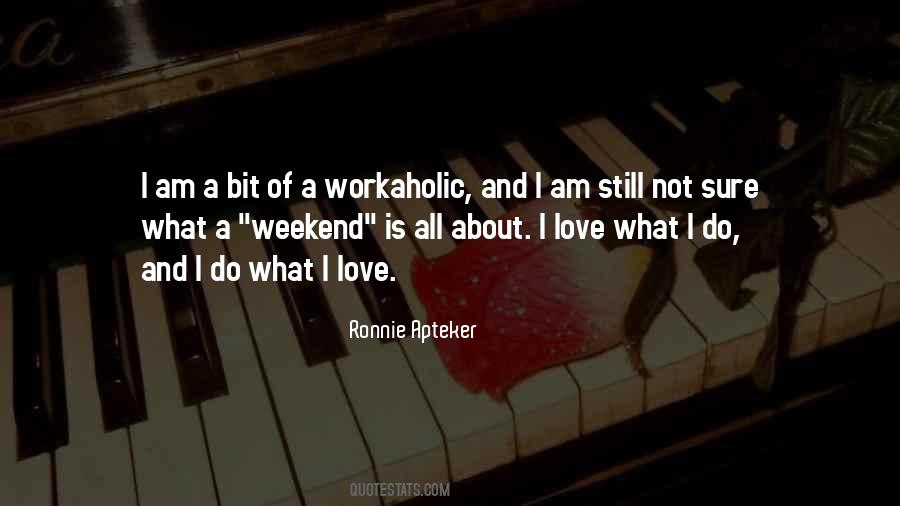 #58. I'm sorry ma'am, I said. Really, I had no idea what else to say. I'd spent the weekend caught up in an epic battle to save humanity, and now ... jean shorts? - Author: Richelle Mead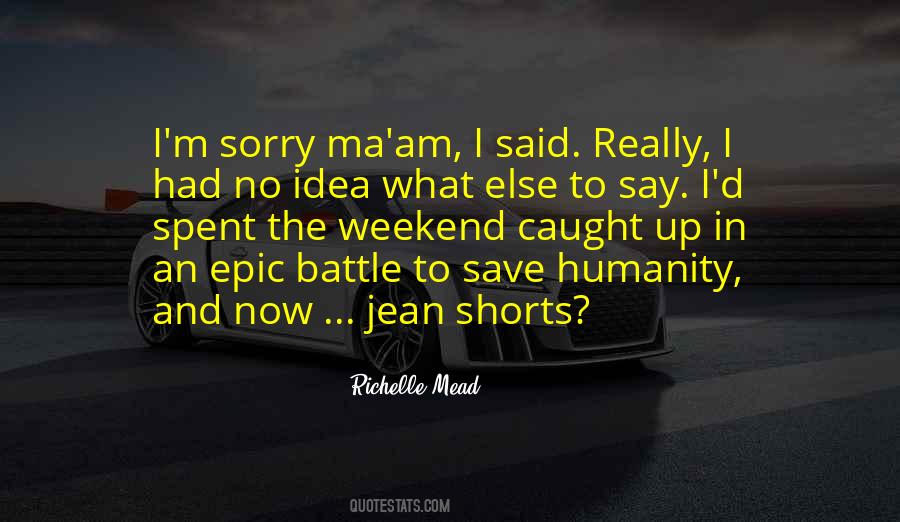 #59. In fact, if there was one thing Tabitha had learned from the weekend thus far, it was that people had all sorts of facades about them, covering tucked-away bits of badness and goodness. Fear and courage. Helplessness and hope. - Author: Jessica Lawson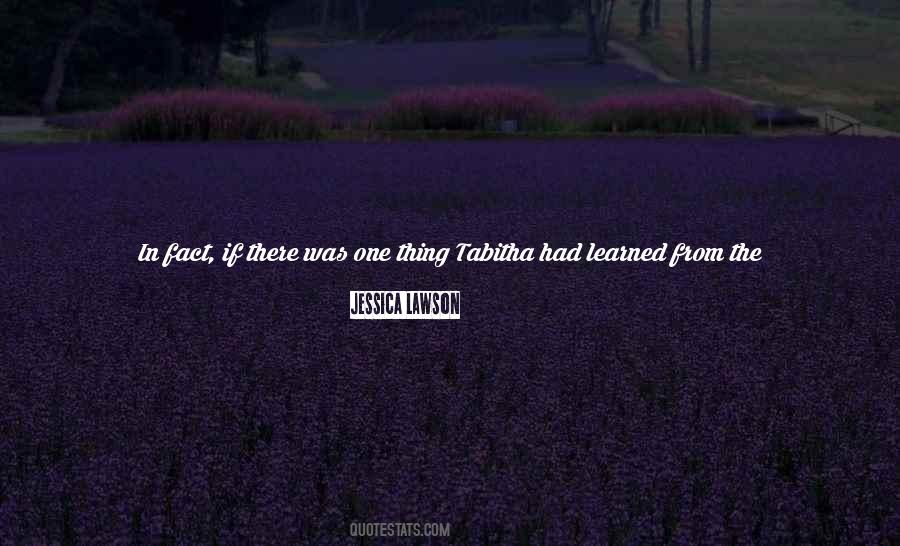 #60. Siva's violet eyes flashed at me. "I'm sorry your weekend was ruined."
"I'm sorry your house was trashed," I laughed.
His lips lifted. "Good point."

Siva and Sloane - Author: Micalea Smeltzer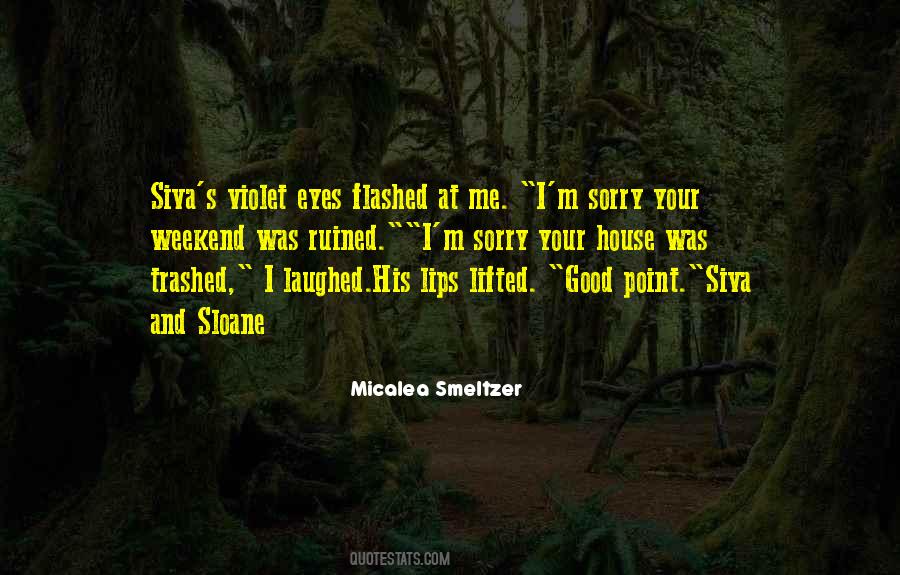 #61. Our lives are structured by our memories of events. Event X happened just before the big Paris vacation. I was doing Y in the first summer after I learned to drive. Z happened the weekend after I landed my first job. We remember events by positioning them in time relative to other events. - Author: Joshua Foer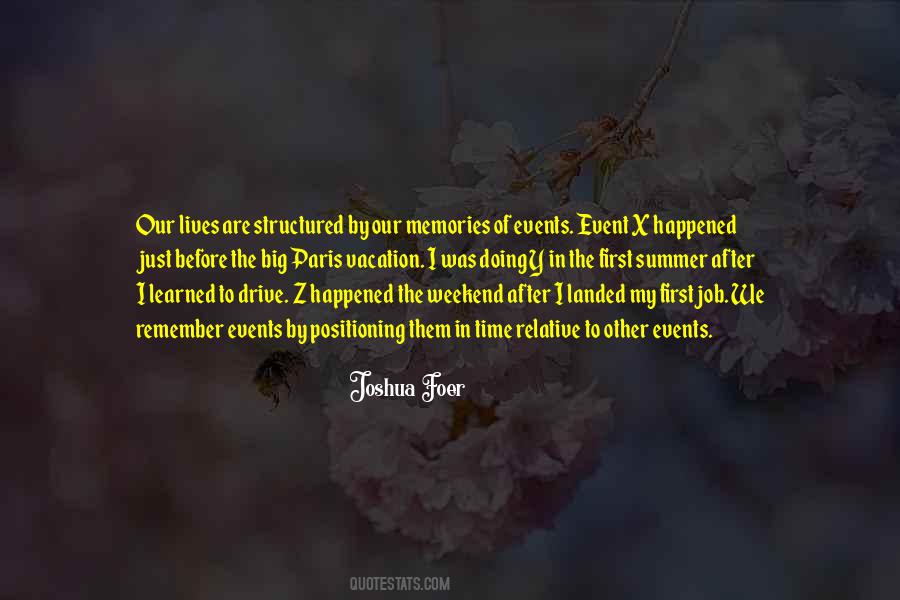 #62. I'm not worried about the weekend, I'm worried about Saturday. - Author: Pete Sampras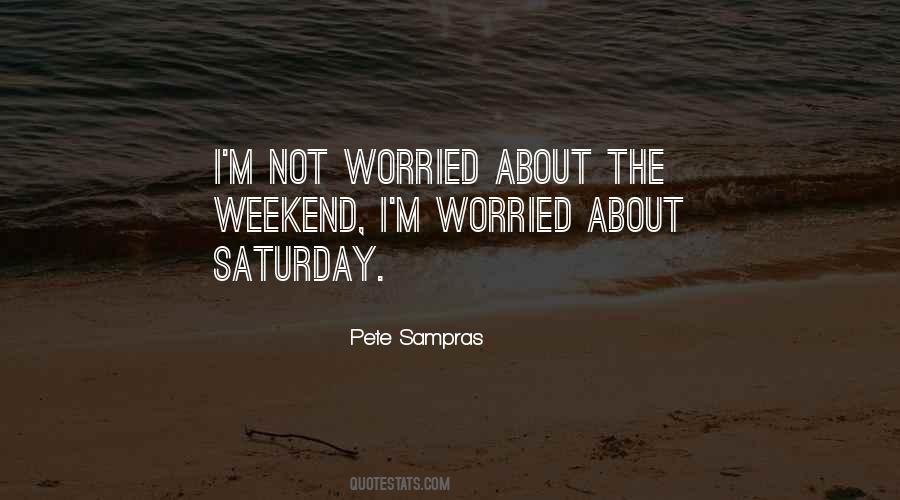 #63. I was in Kashmir last weekend. Went to visit one of my sweaters. - Author: Albert Brooks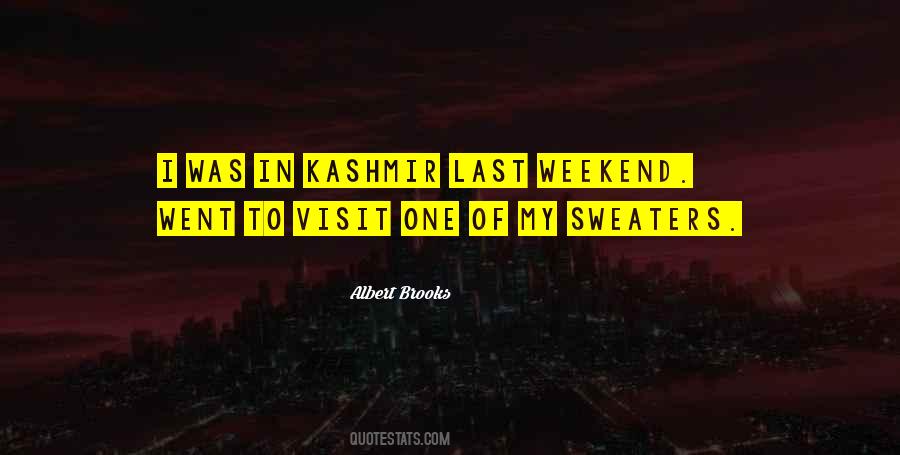 #64. I will be going to Belgium to win
and we will see how the weekend develops from there. - Author: Fernando Alonso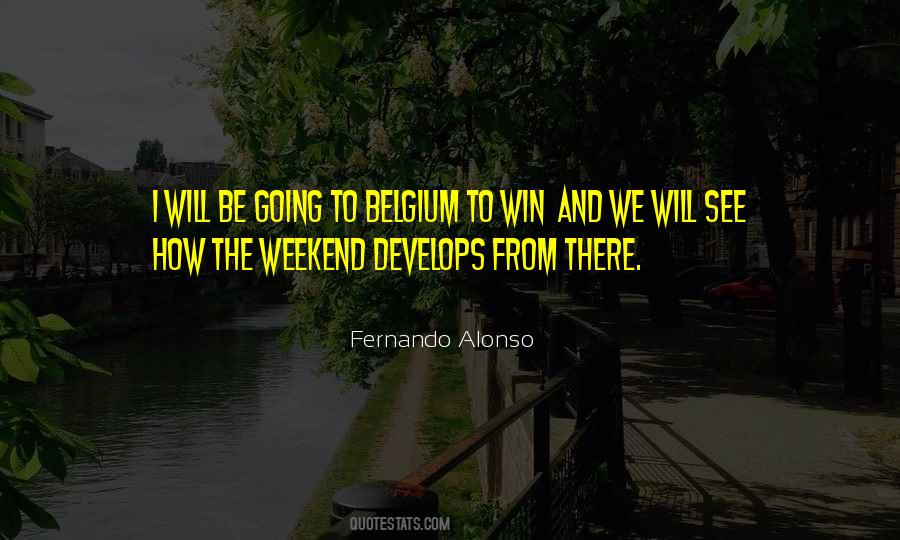 #65. I'd want to marry Cate Blanchett, date Kate Bosworth, and spend the weekend with Elisha Cuthbert. - Author: Brett Ratner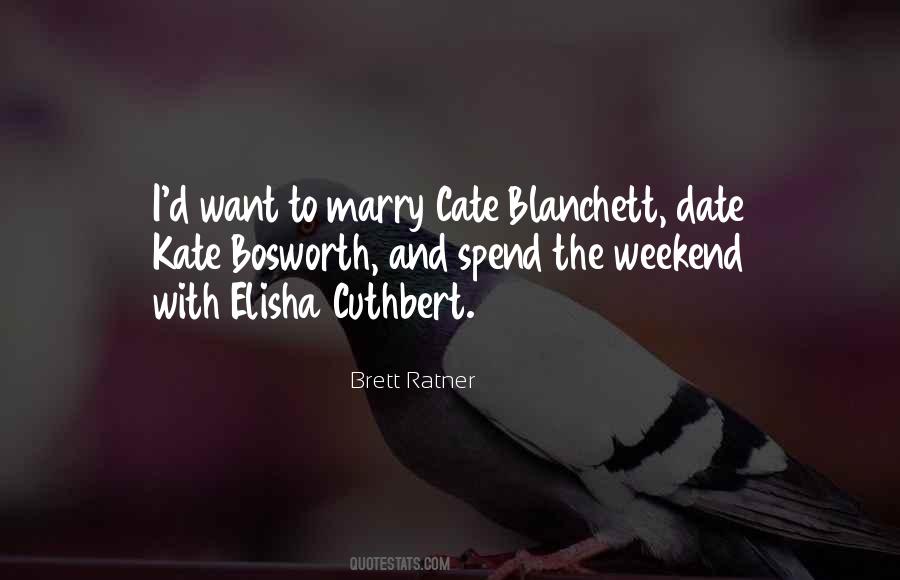 #66. Some of y'all are not where you want to be in life, yet you party every weekend. What is it that you're celebrating? - Author: T.I.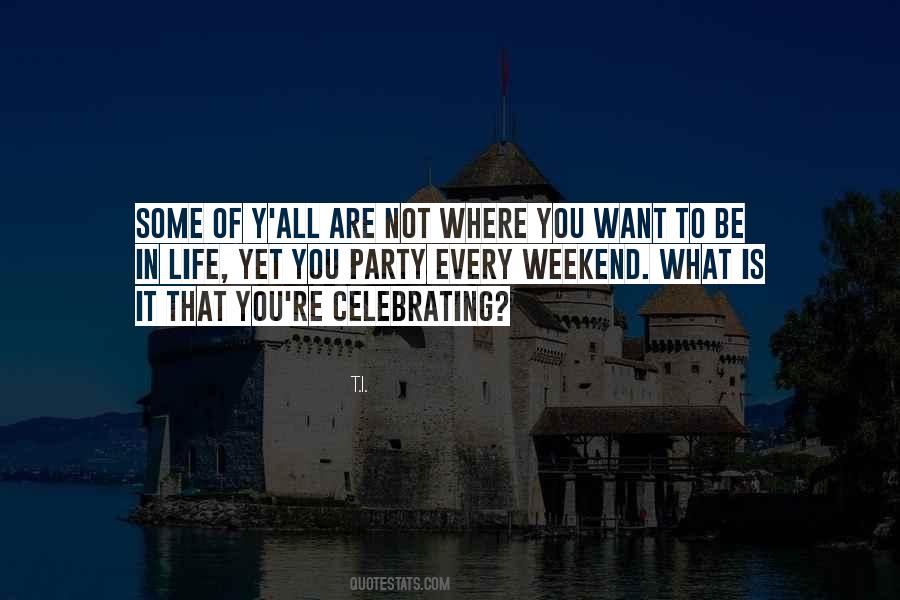 #67. It's interesting to me; you do four, five or six of these Comic Cons or things like that across the country a year. Obviously, I get busted a lot of 'Weekend at Bernies,' but the fans for horror movies are so wonderful and so loyal. - Author: Terry Kiser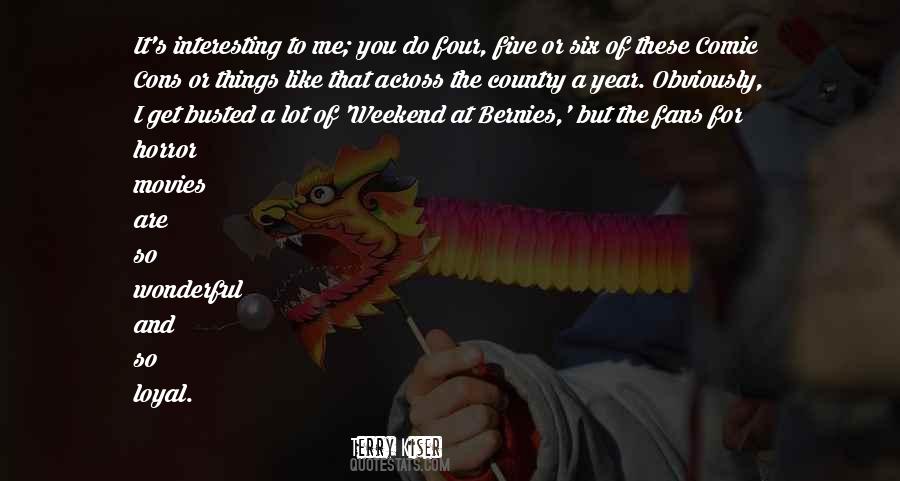 #68. I was a weekend drinker ... I'd start on Saturday, end on Friday ... thought I was controlling it ... but I don't drink any more. - Author: Bill Hicks
#69. Hitting bottom isn't a weekend retreat, it's not a goddamn seminar. Stop trying to control everything and just let go. Let go - Author: Chuck Palahniuk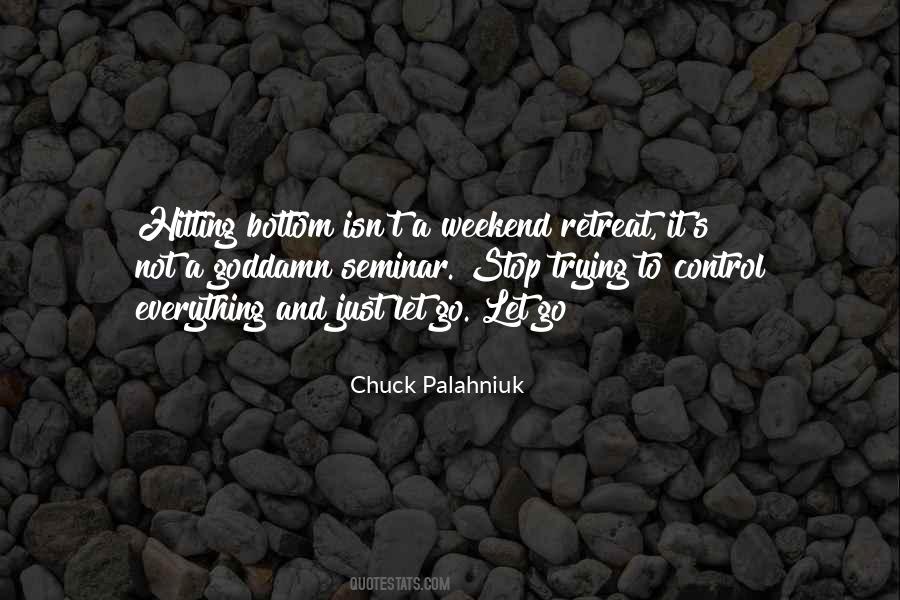 #70. Last summer had meant lots of Sam Adams Summer Ale by herself on hot weekend days when it seemed like just her and the Dominican Day parade. - Author: Stephanie Clifford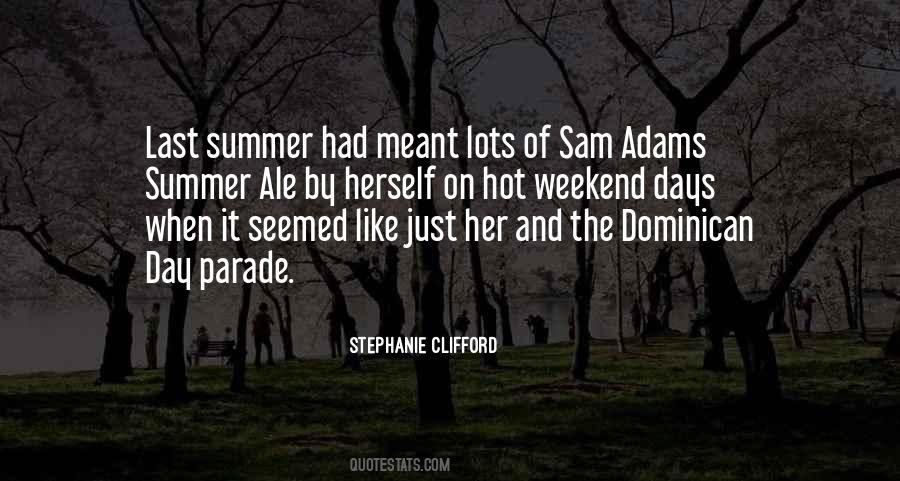 #71. Nothing feels worse than knowing that people didn't see your movie. That they wanted to and the critics loved it but nobody knew where it was because it didn't do what it was supposed to do opening weekend. It used to be that independents were allowed to stay in the theaters, build word of mouth. - Author: Allison Anders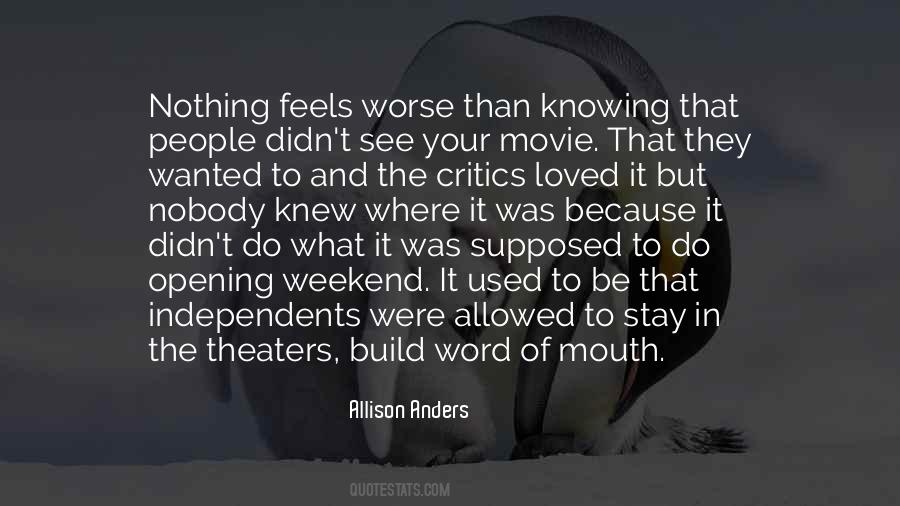 #72. What's the difference between Chamberlain and Hitler? Chamberlain takes a weekend in the country, Hitler takes a country in a weekend. - Author: Norman Moss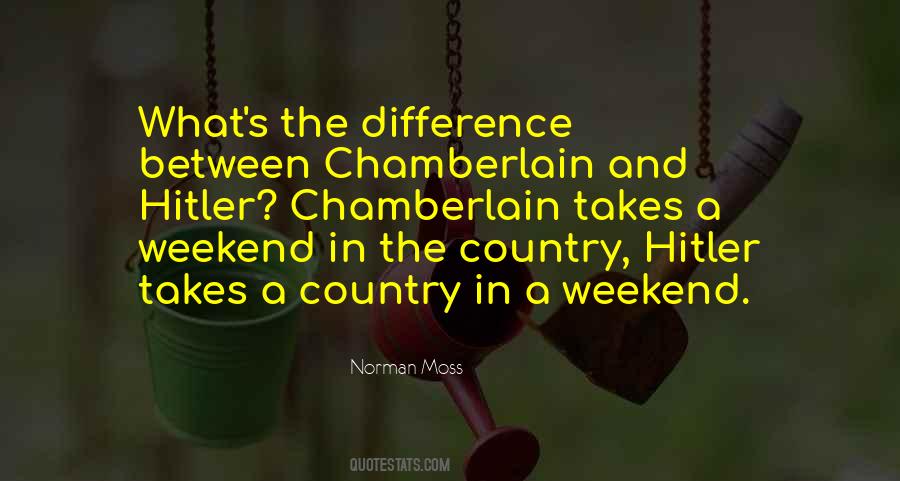 #73. Just short of my 40th birthday, I told my wife, Beth, I was going to build us a little weekend place in ... well, in the uh, Southern Hemisphere. The deep Southern Hemisphere, actually. New Zealand, maybe. Or Argentina. Possibly Chile. She suggested medication. - Author: Patrick Symmes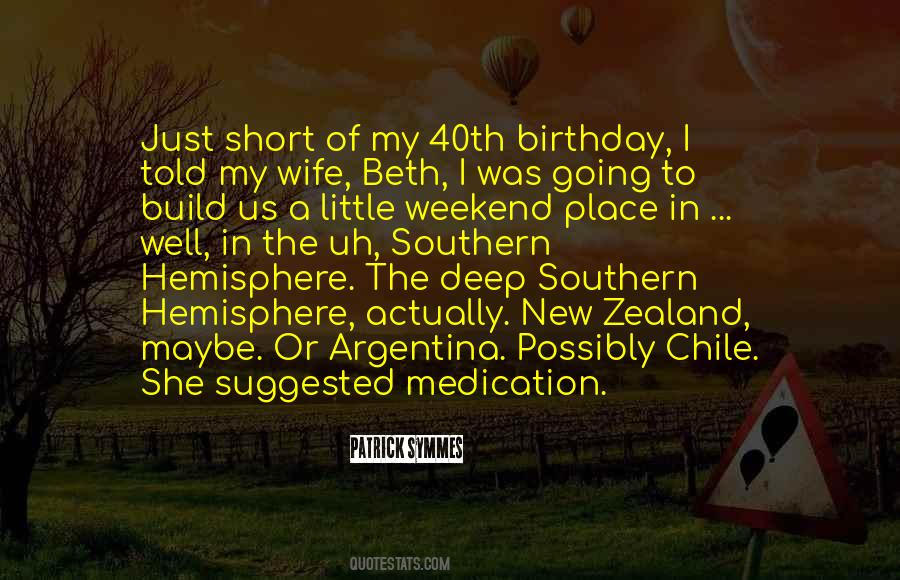 #74. Of course, we all inevitably work too hard, then we get burned out and have to spend the whole weekend in our pajamas, eating cereal straight out of the box and staring at the TV in a mild coma (which is the opposite of working, yes, but not exactly the same thing as pleasure). - Author: Elizabeth Gilbert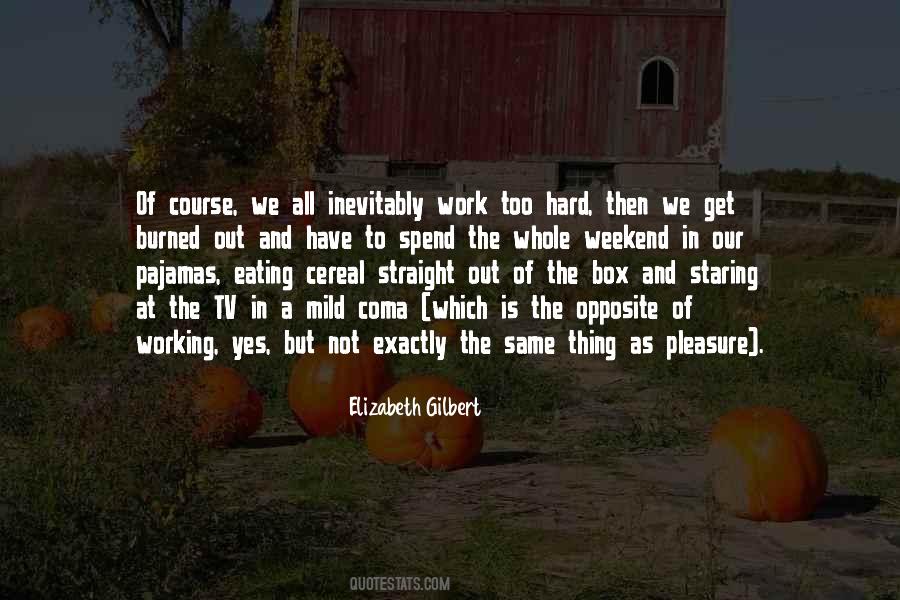 #75. Religion that is contained only within a church building is a weekend hobby, not a personal faith. - Author: James Lankford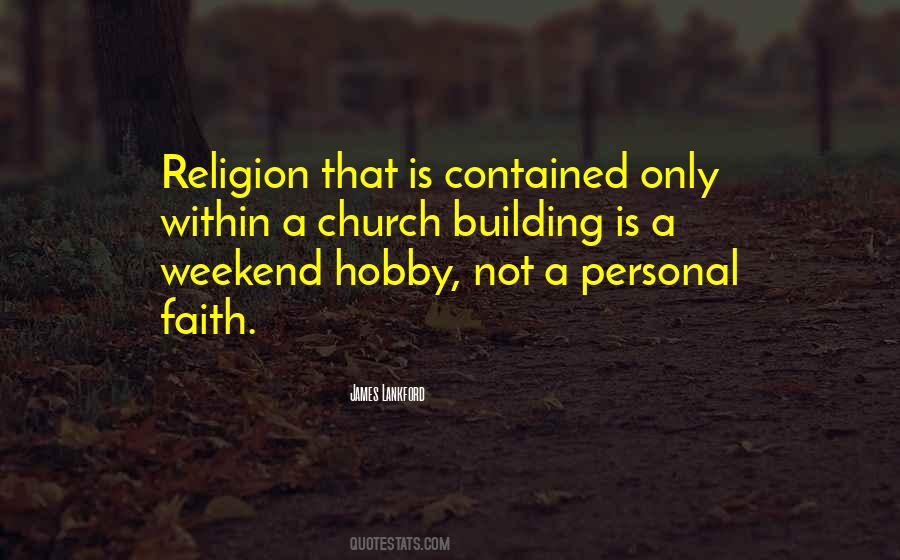 #76. Lane watched her for a moment with mounting irritation. Quite probably, he resented and feared any signs of detachment in a girl he was seriously dating. In any case, he surely was concerned over the possibility that this bug Franny had might bitch up the whole weekend. - Author: J.D. Salinger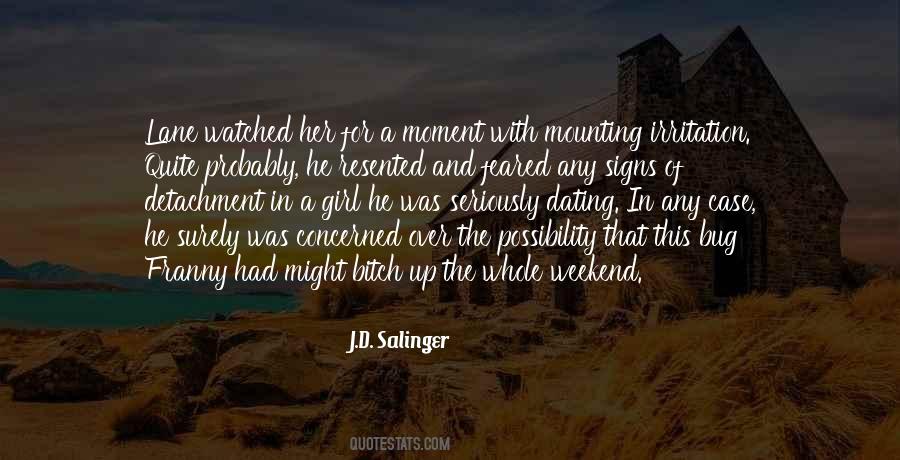 #77. The top seed this weekend is Richard Krajicek,12 a 6'5" Dutchman who wears a tiny white billed hat in the sun and rushes the net like it owes him money and in general plays like a rabid crane. - Author: David Foster Wallace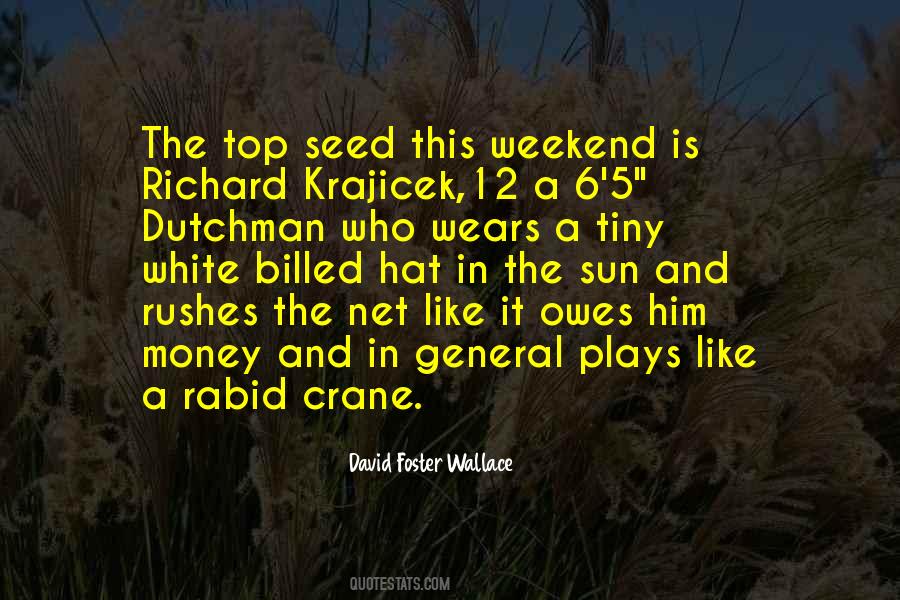 #78. I've got a stag weekend coming up and I've said I'm not doing anything more than a few drinks. I won't have it. I'll go home and watch Antiques Roadshow. - Author: Martin Freeman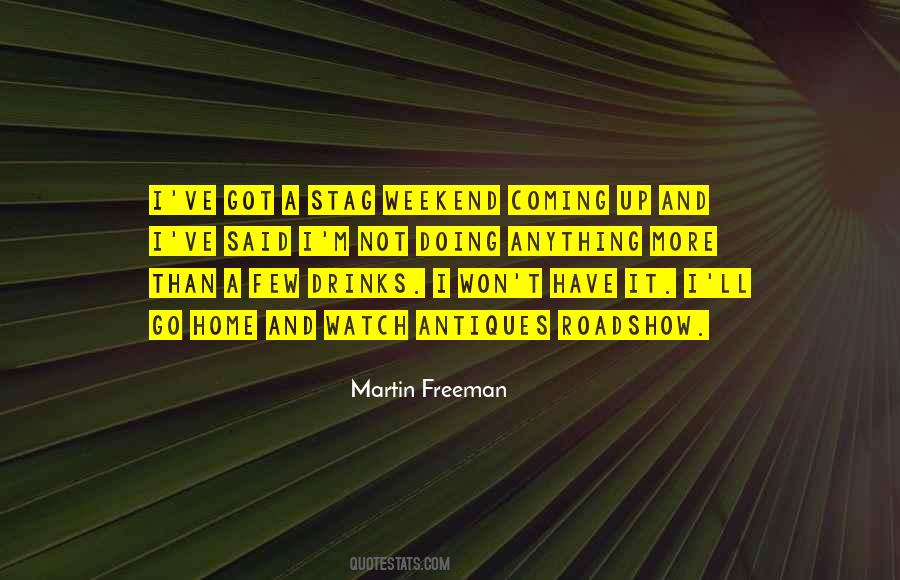 #79. I think the superstar thing is completely arbitrary. It's all about who had a movie that did well one weekend. Then, if you have a movie that doesn't do well the next weekend, then, all of the sudden, you've fallen from whatever. So it doesn't really mean anything for me. - Author: Channing Tatum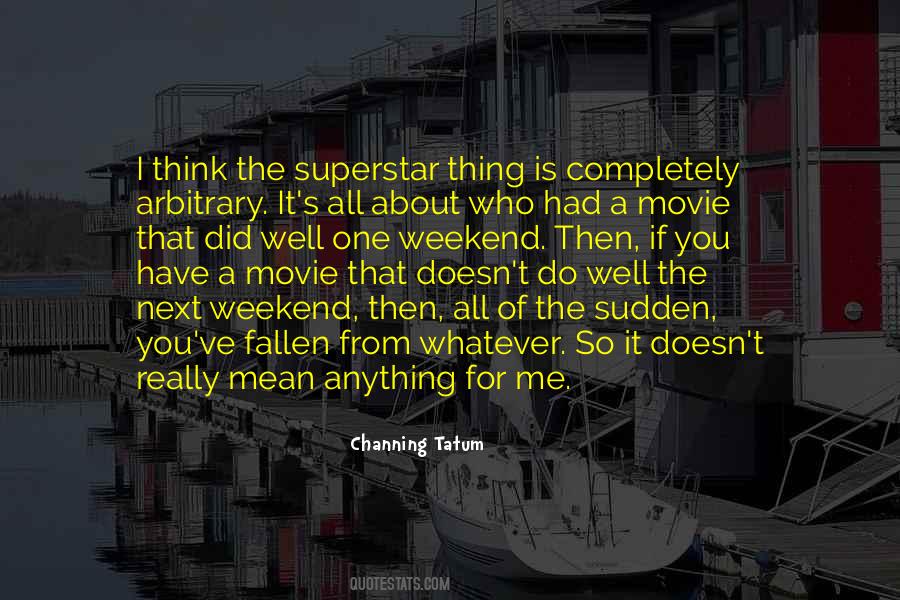 #80. I love reading books that you can't put down, and they just take you over for a night or a weekend. - Author: Jami Attenberg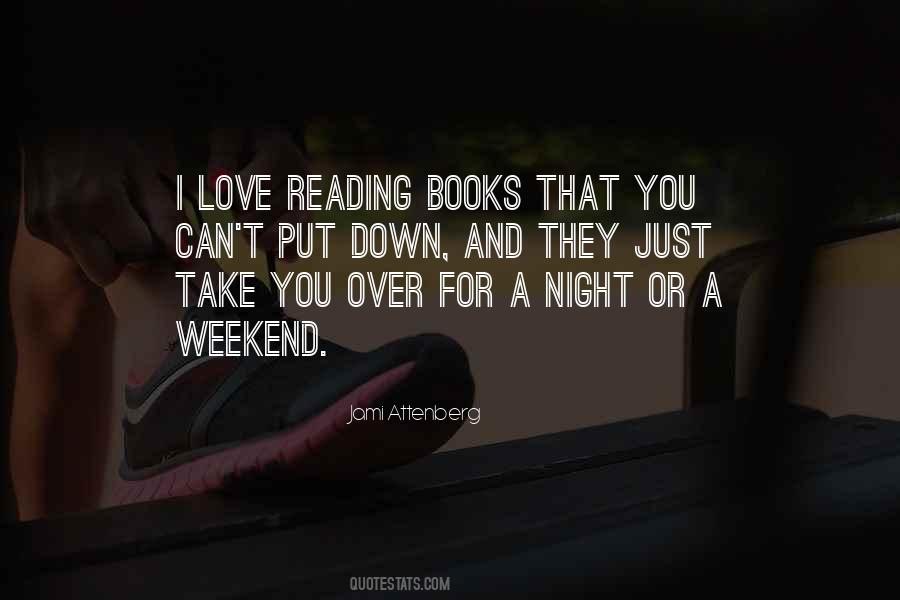 #81. Sometimes I make more money in a weekend than my grandpa made in a year. - Author: Diplo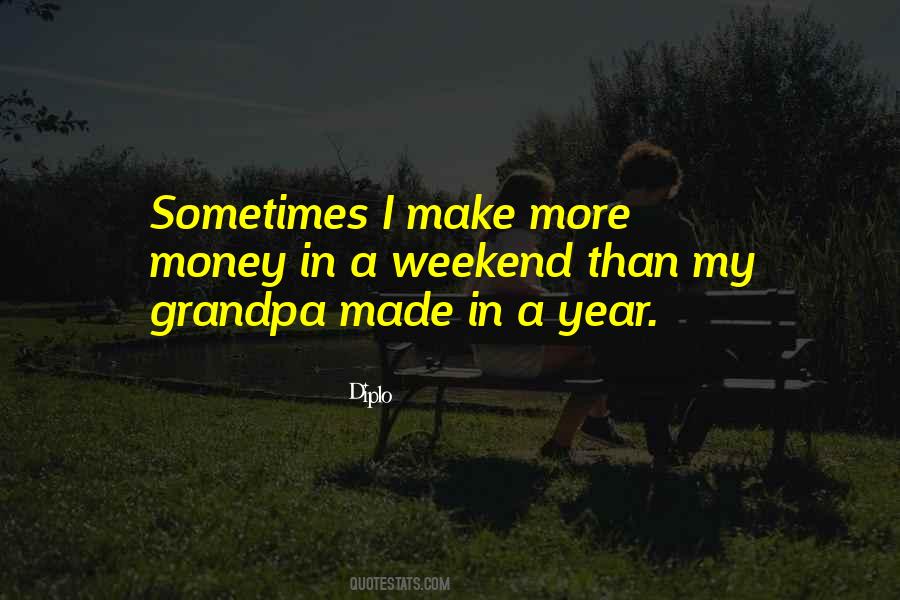 #82. I saw 'The Grand Budapest Hotel.' I liked it. I saw 'The Fault in Our Stars,' and I could see why young girls like it. But it dropped off like crazy in the second weekend. I liked 'Fed Up' - I love documentaries. I go to a lot of documentaries. - Author: Rob Reiner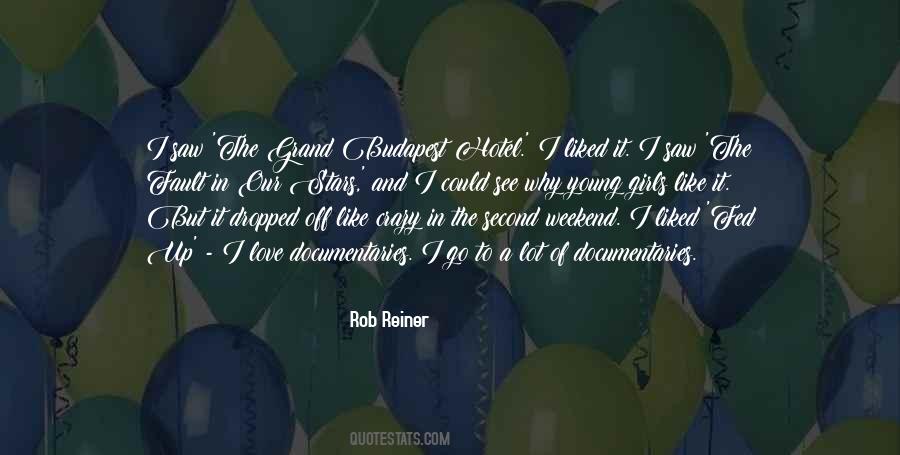 #83. The reason they don't make movies for adults and for people which are the largest bulge of the population is because they are not usually going to the movie the first weekend. They take a while to learn about it, probably word of mouth. It takes a lot of money to release a picture. - Author: Rob Reiner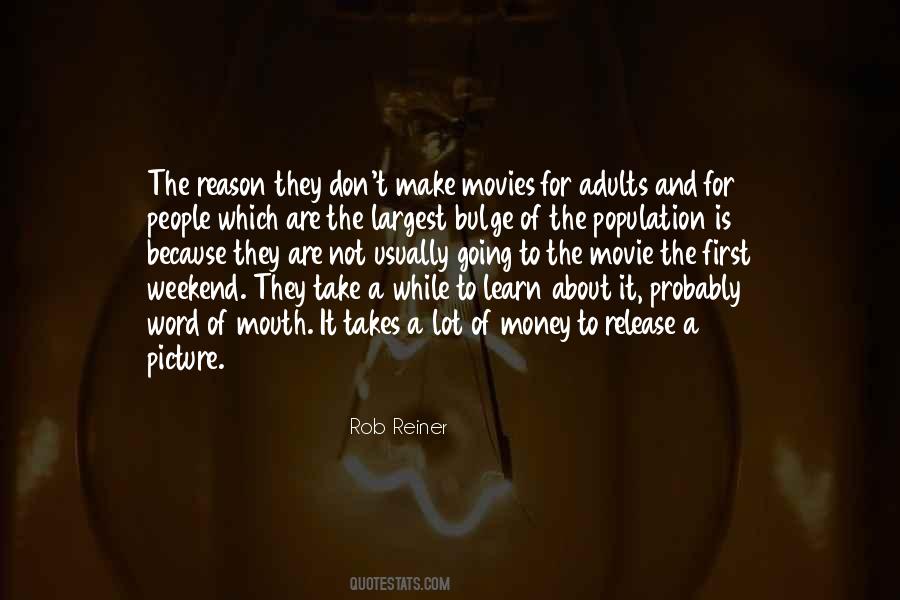 #84. Rosamond, what are you doing here?"
"You invited me for the weekend, don't you remember?"
"But how could you be so cruelly literal, darling? - Author: Stephen Tennant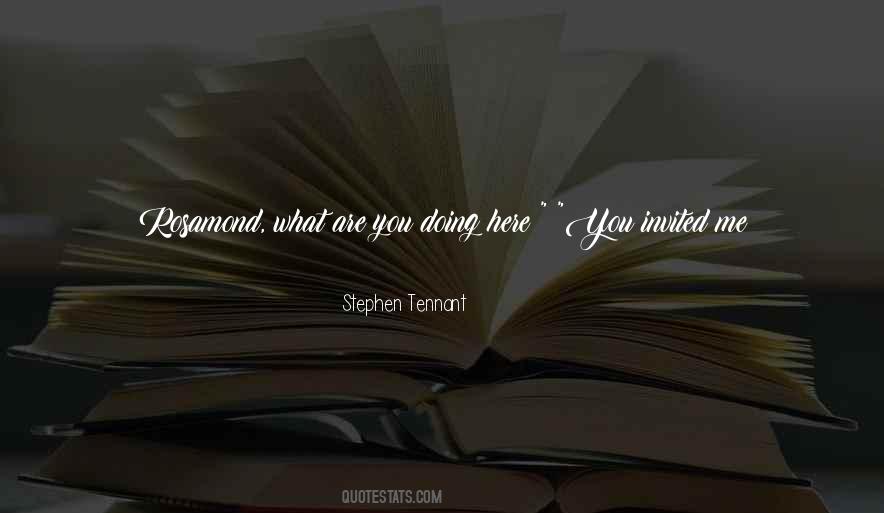 #85. We're totally different people from when we first met, but I still love her and she loves me, after all this time.

And this weekend I'm going to meet her in person. - Author: Hannah Moskowitz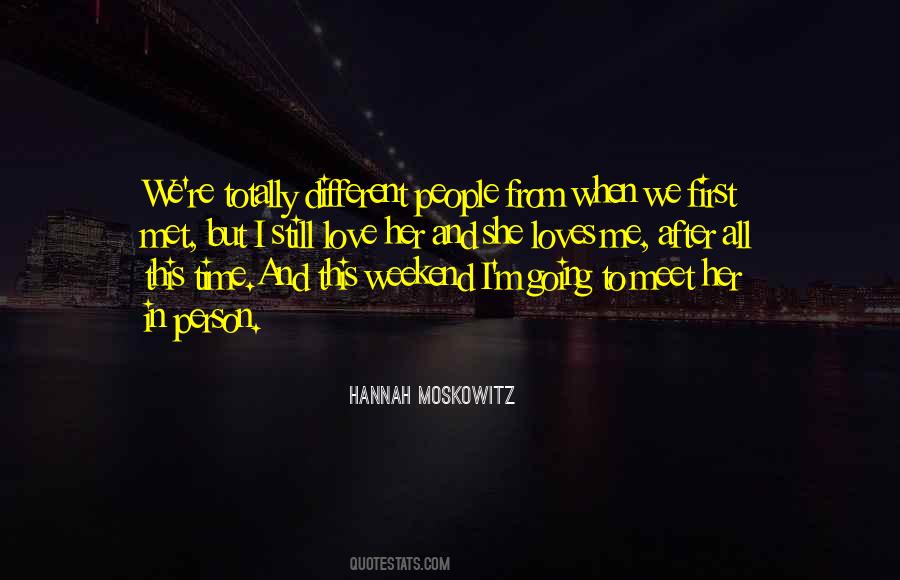 #86. I think I might be one of the only people in America, or at least the only person I know, who saw both 'The Dark Knight' and 'Mamma Mia!' on their shared opening weekend. - Author: Diablo Cody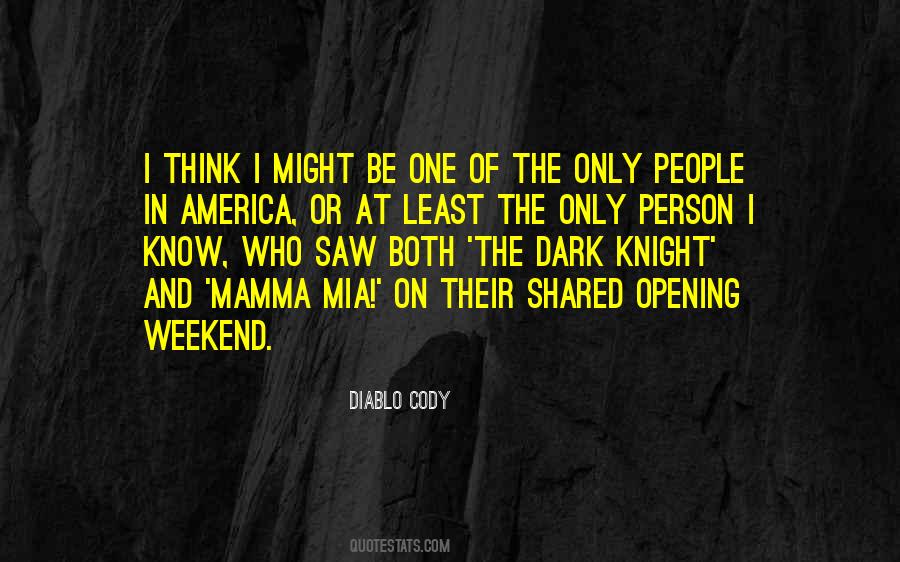 #87. I love day trips around L.A. I'm a huge Disneyland junkie - I go almost every other weekend. - Author: Jessica Lowndes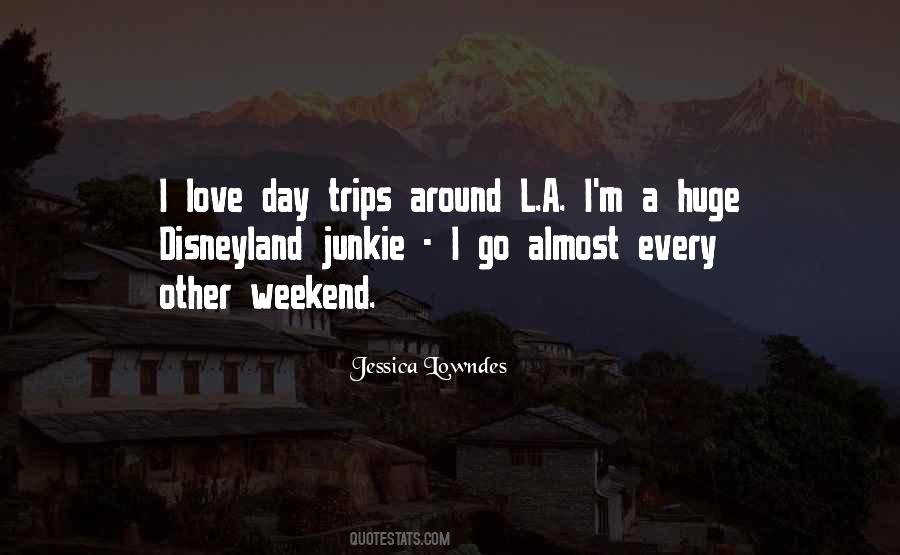 #88. Memorial Day weekend is the time we drink up all the booze and eat up all the grub that the soldiers didn't get to. It's important. - Author: Karl Welzein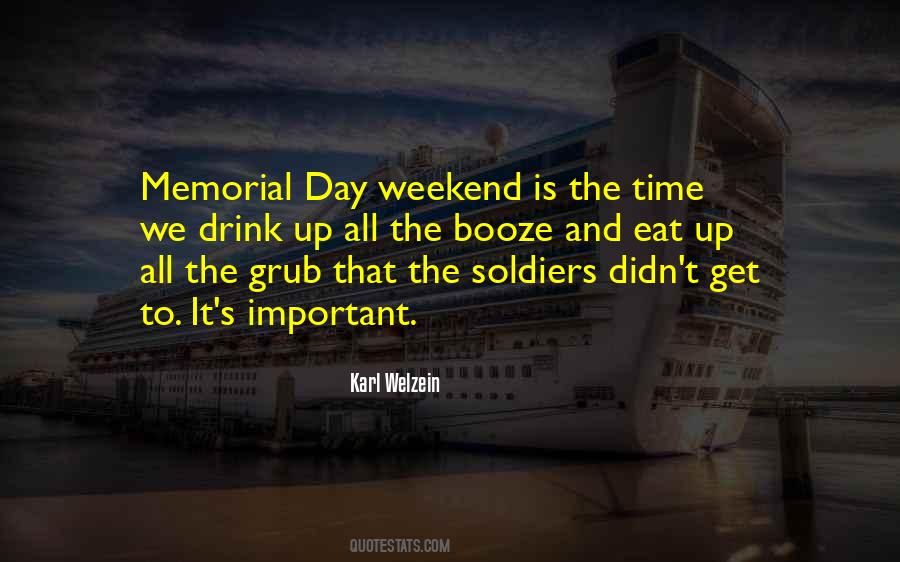 #89. I understand. You work very hard two days a week and you need a five-day weekend. That's normal. - Author: Neil Simon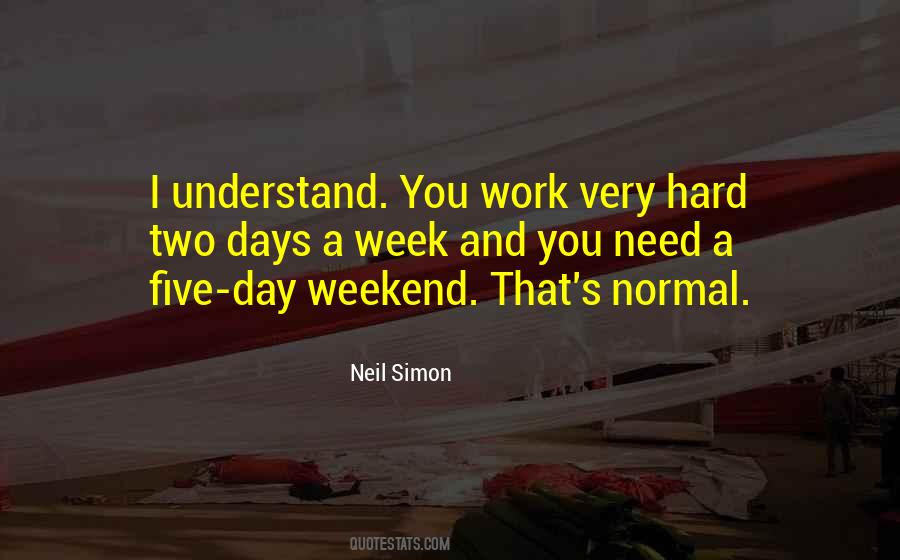 #90. I have to be alone very often. I'd be quite happy if I spent from Saturday night until Monday morning alone in my apartment. That's how I refuel.
(Audrey Hepburn: Many-Sided Charmer, LIFE Magazine, December 7, 1953) - Author: Audrey Hepburn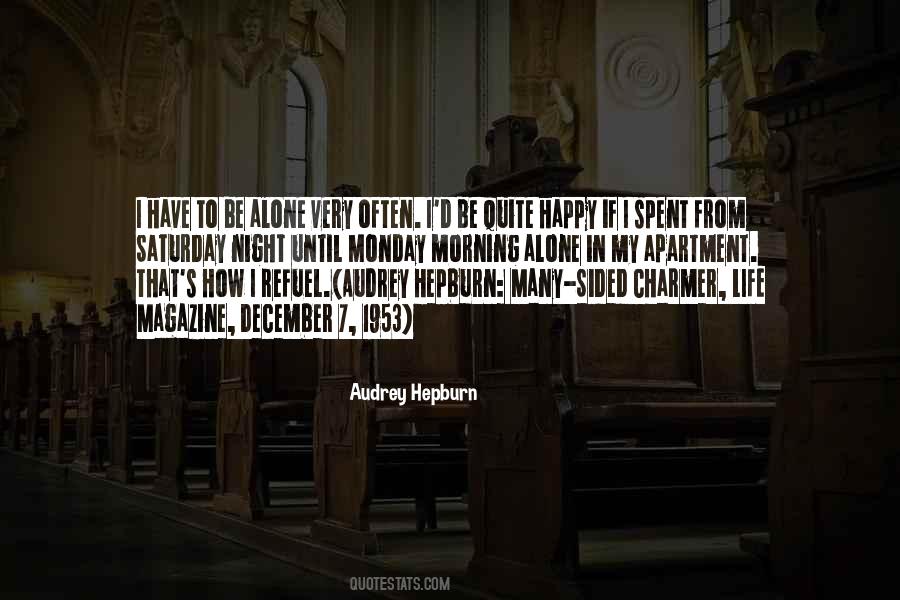 #91. Well, first of all, let me say that - let me remind your viewers that I am recused from this investigation, and what I said this weekend is not anything new. - Author: Alberto Gonzales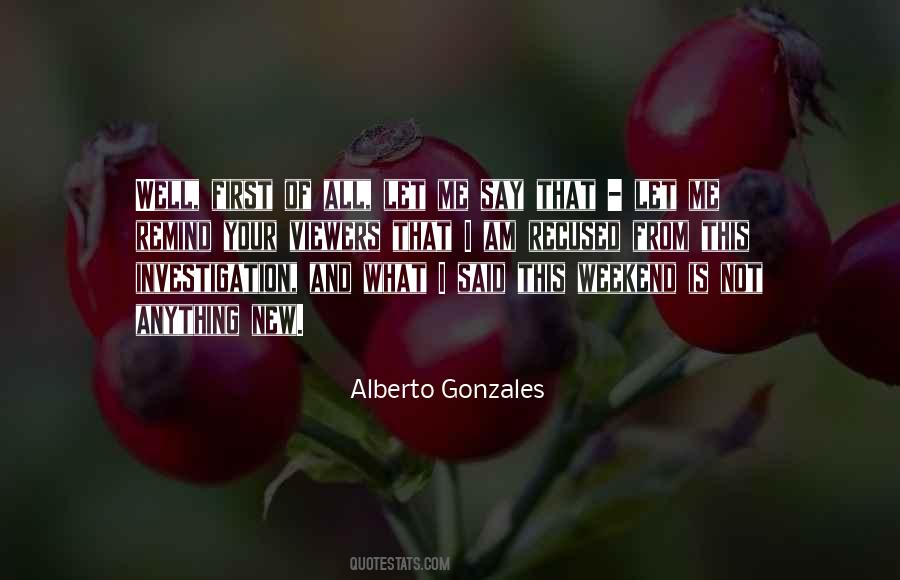 #92. I like to have one night on the weekend where I can just cuddle up at my house. - Author: Eliza Dushku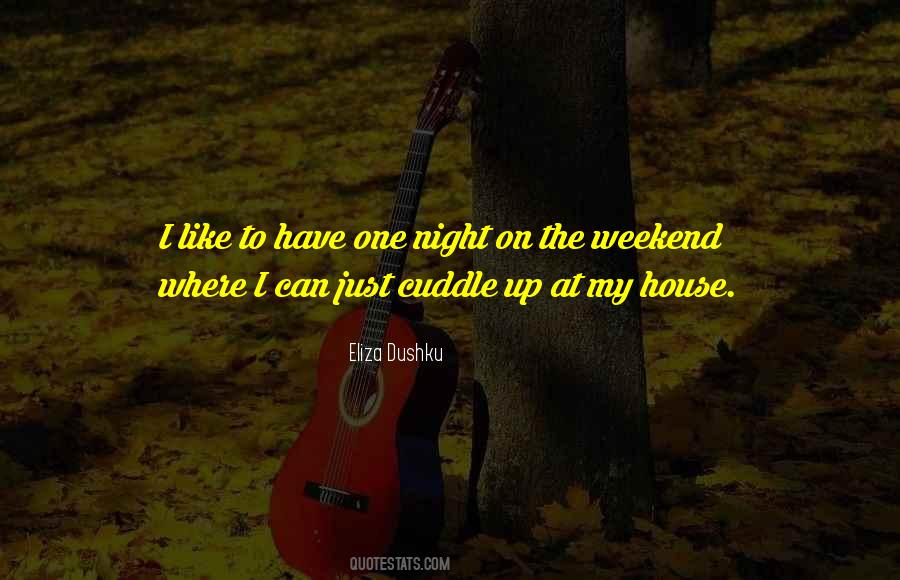 #93. People are kind of upset with British Petroleum CEO Tony Hayward. Over the weekend, he was out on his yacht. And when President Obama found out that Tony Hayward was on his yacht, he was so angry, he missed a putt. - Author: David Letterman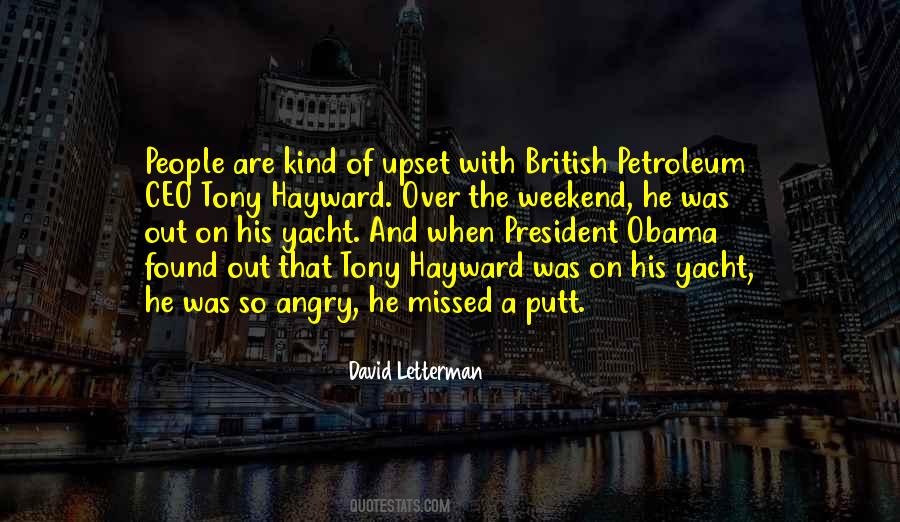 #94. A highly successful person is very focused on what they want to be doing. The weekend and the week look very similar: They are focused on creating the life they want. - Author: Penelope Trunk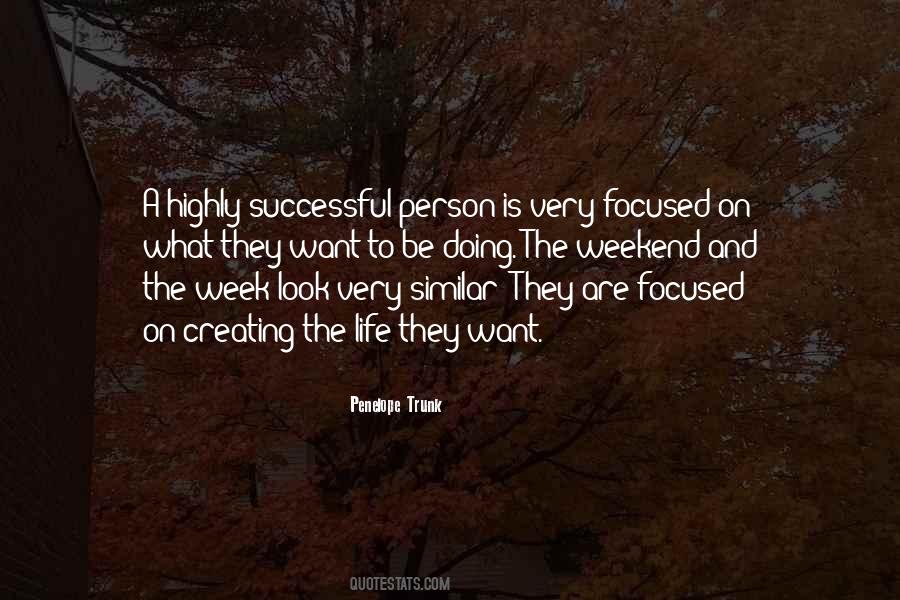 #95. I know what it's like to have a young child at the weekend and feel like there is nothing to see in the movie theatre. Family is so important. - Author: Teri Hatcher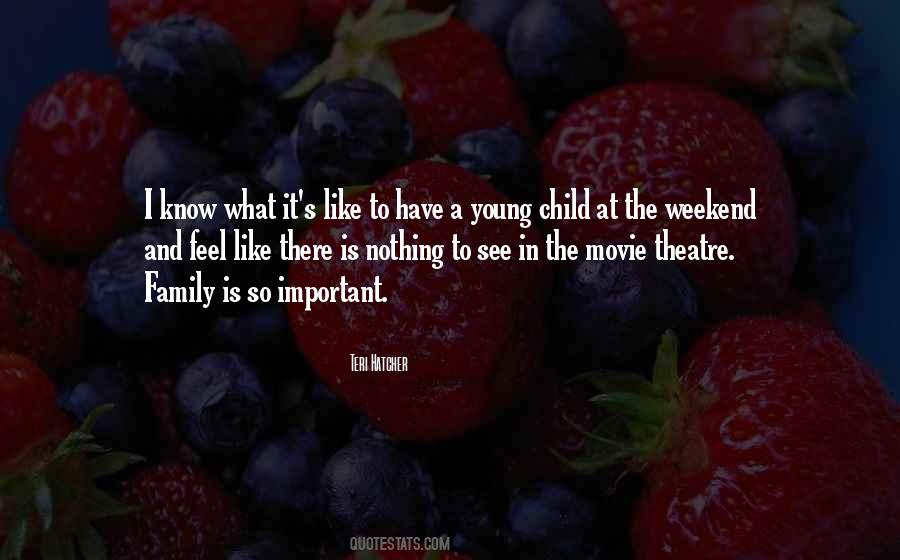 #96. We made the iPod for ourselves, and when you're doing something for yourself, or your best friend or family, you're not going to cheese out. If you don't love something, you're not going to go the extra mile, work the extra weekend, challenge the status quo as much. - Author: Walter Isaacson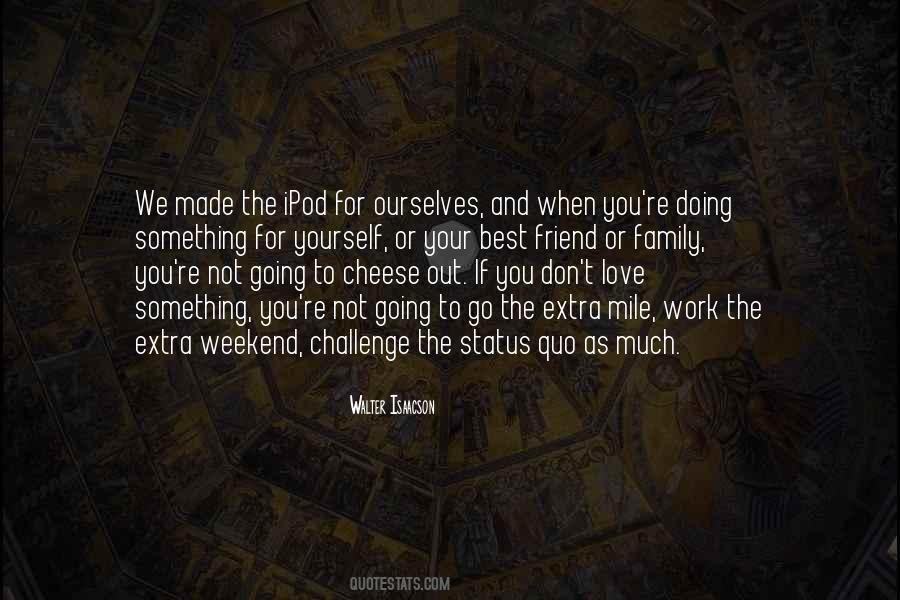 #97. I was an 80's/90's baby so you went to the movie theater every weekend and there was one on, whether it was Stallone, Van Damme, Seagal or Schwarzenegger himself. - Author: Channing Tatum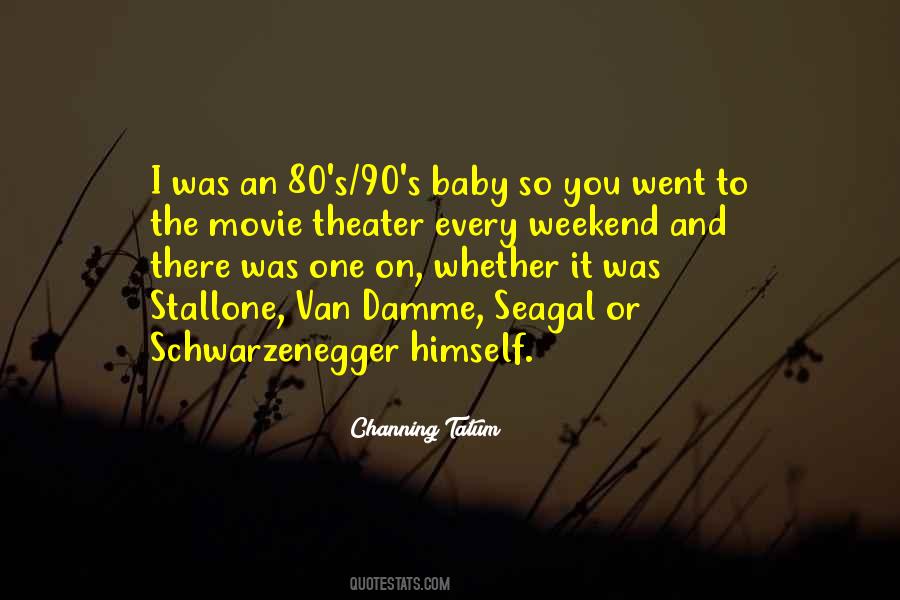 #98. I've been lucky enough to do a few films that will last longer than an opening weekend and those films are the ones I'm proud of. - Author: George Clooney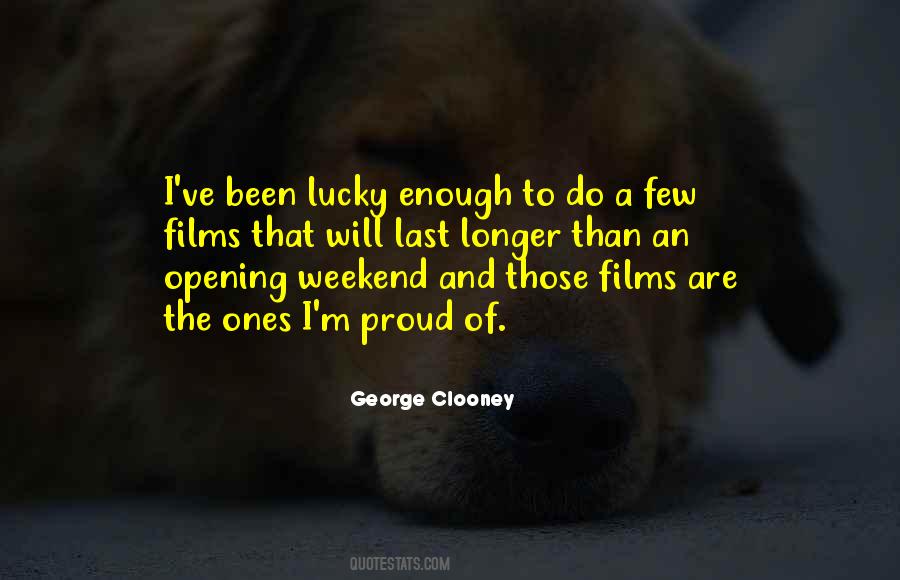 #99. Nature; it always inspires me. Living in New York, it can get quite stressful sometimes, so on the weekends, I like to go hiking. - Author: Valentina Zelyaeva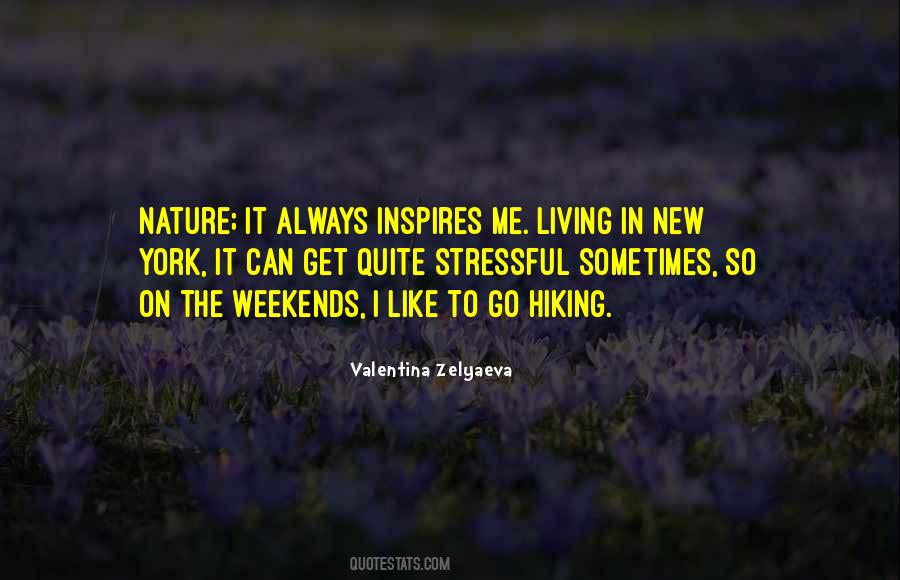 #100. George Clooney and Fabio apparently got into a scuffle at a restaurant in Los Angeles over the weekend. George thought the women with Fabio were taking pictures of him. How embarrassed is George Clooney to be in a fight with Fabio? Who is he going to call out next, Lorenzo Lamas? - Author: Chelsea Handler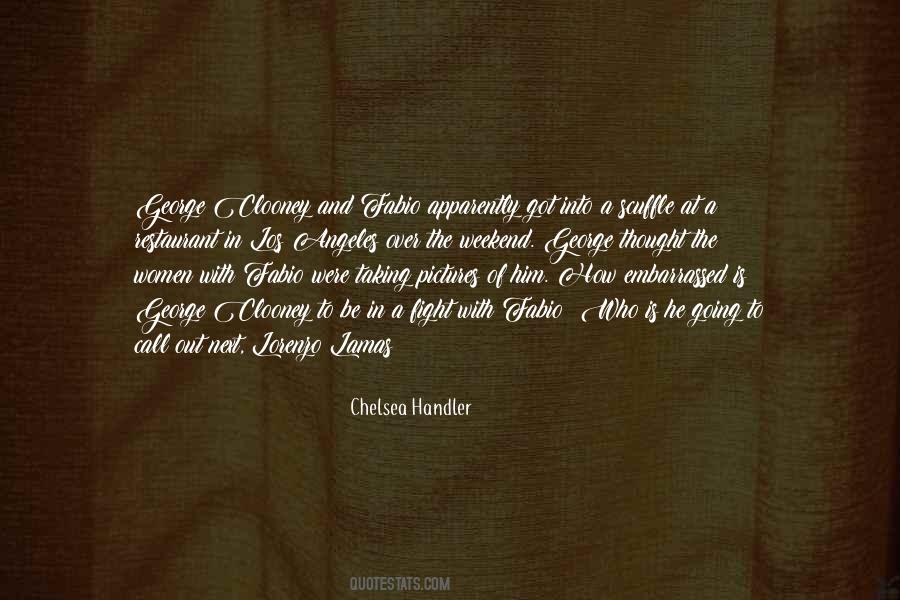 Famous Authors
Popular Topics