I Don't Understand You Famous Quotes & Sayings
List of top 100 famous quotes and sayings about i don't understand you to read and share with friends on your Facebook, Twitter, blogs.
Top 100 Quotes About I Don't Understand You
#1. Inspecting? What do you mean? I don't understand. I'm collecting insects. My specialty is sand and insects.
What?
Collecting insects. Insects. Insects.I catch them like this!
Insects? - Author: Kobo Abe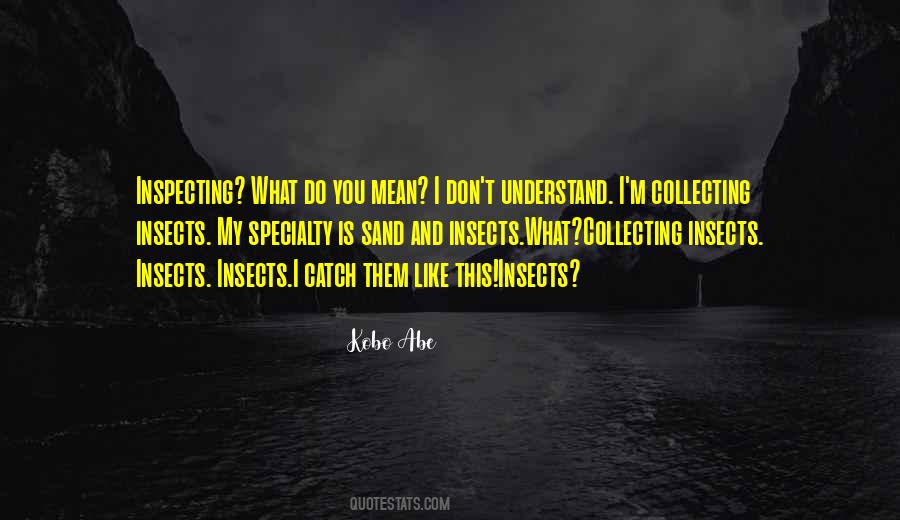 #2. I understand you love him and UR down/ But that don't mean you gotta be his clown. - Author: Meg Cabot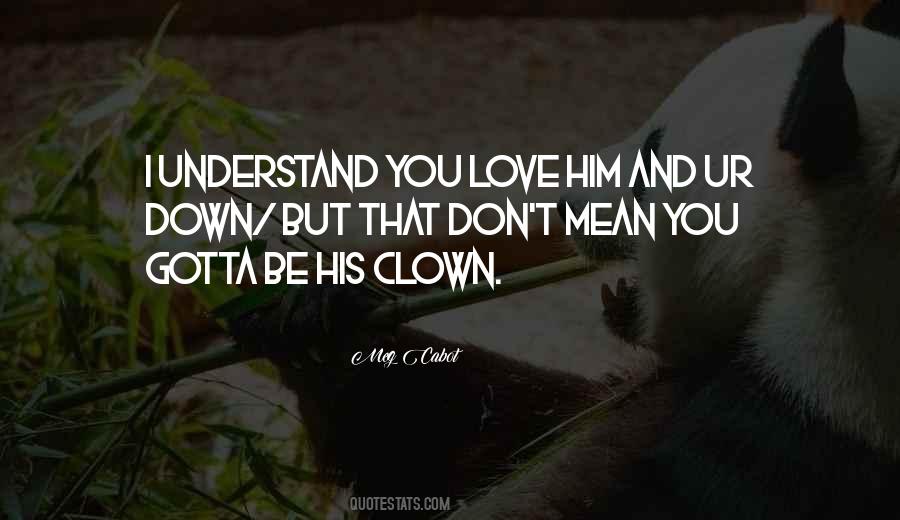 #3. I want to hold you and shelter you, but I don't want to dim your light, angel. Do you understand the difference? - Author: Lauren Dane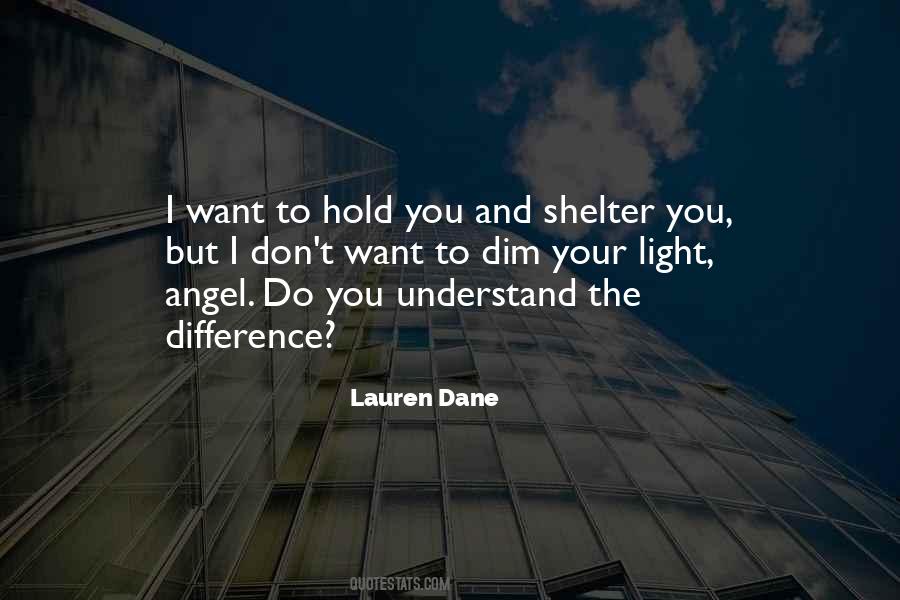 #4. I think you can be the greatest orator of all time, the greatest motivator of all times, but if those players know that you don't care about them, and you don't try to understand them, then they're never going to hear what you have to say. - Author: Mike Singletary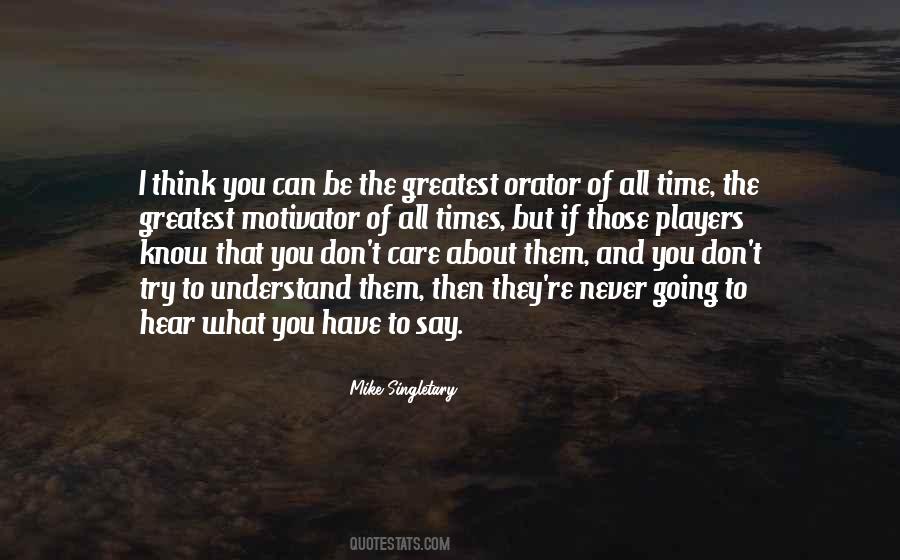 #5. I complain to one of my fellow servers that I don't understand how she can go so long without food. "Well, I don't understand how you can go so long without a cigarette," she responds in a tone of reproach. Because work is what you do for others; smoking is what you do for yourself. - Author: Barbara Ehrenreich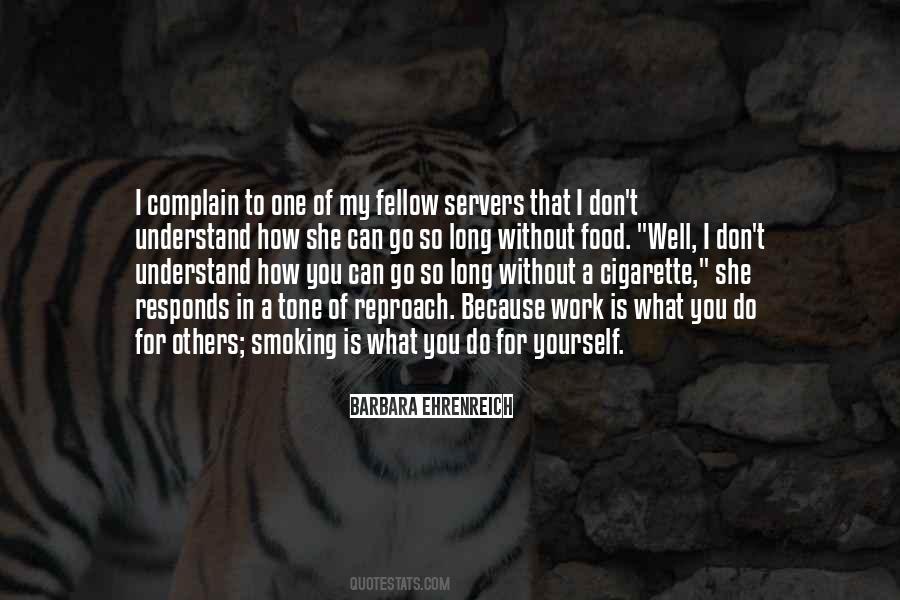 #6. It's still hard for me to understand, what is to me, the morbid fascination with celebrity. I just want to sing, I want to work on my music, I want to make my movies, that's all I want to do. I understand, you know, the interest but I really don't understand the fascination with it. - Author: Marc Anthony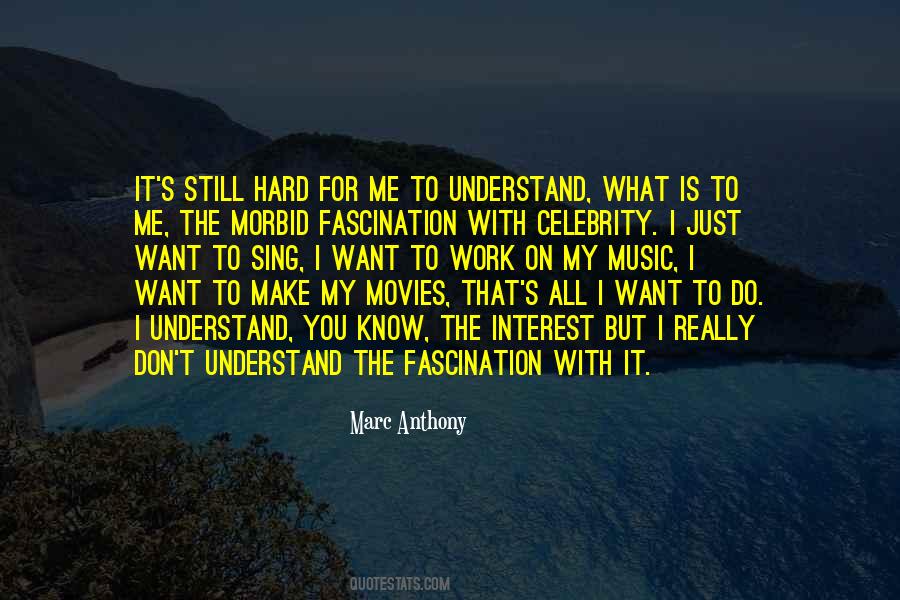 #7. I feel like I'm losing my damn mind, like your face has been carved into my heart, and I don't remember when, and I don't understand why, but the scar is there, and I can't get it to heal. It won't go. I can't make it fade. And you won't even look at me. - Author: Alexandra Bracken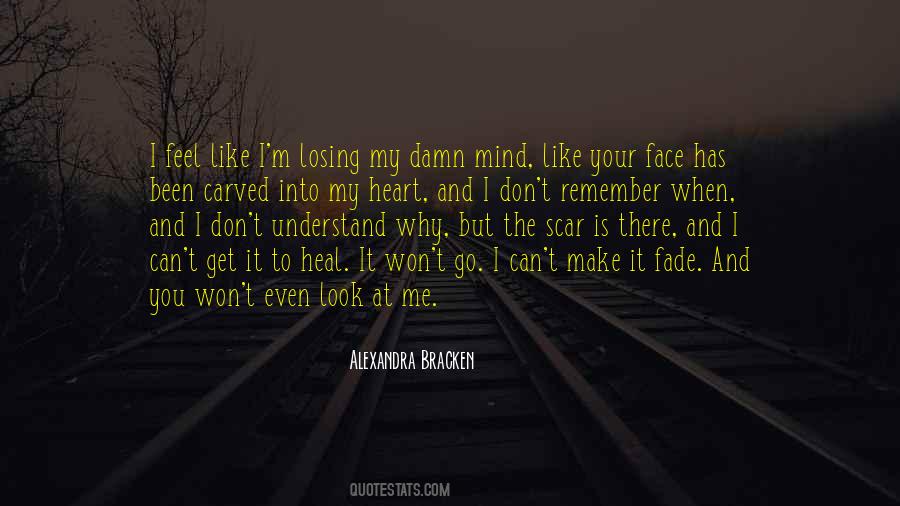 #8. I understand, certain scenes have to have a lot of takes. As an actor, I think it's quite nice to have a handful of takes, because you don't want to do it once or twice; I think once or twice sometimes is quite terrifying because you don't really feel like you've given them what you want. - Author: Luke Evans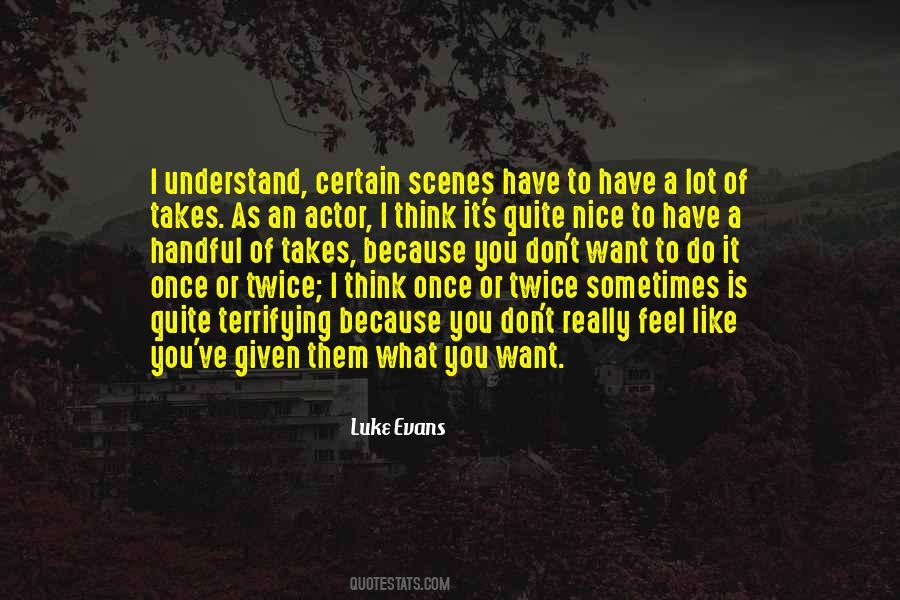 #9. Nor is there any embarrassment in the fact that we're ridiculous, isn't that true? For it's actually so, we are ridiculous, light-minded, with bad habits, we're bored, we don't know how to look, how to understand, we're all like that, all, you, and I, and they - Author: Fyodor Dostoyevsky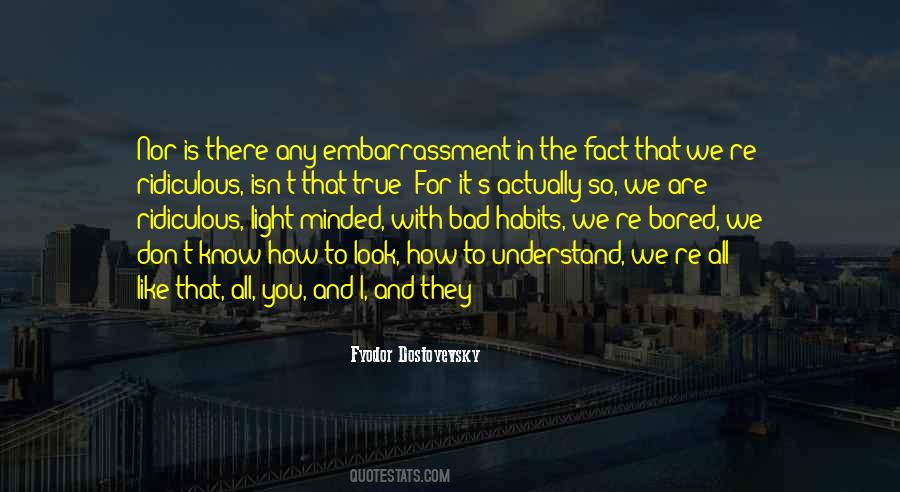 #10. I don't understand how you can be a decent writer and not know people. - Author: Sloane Crosley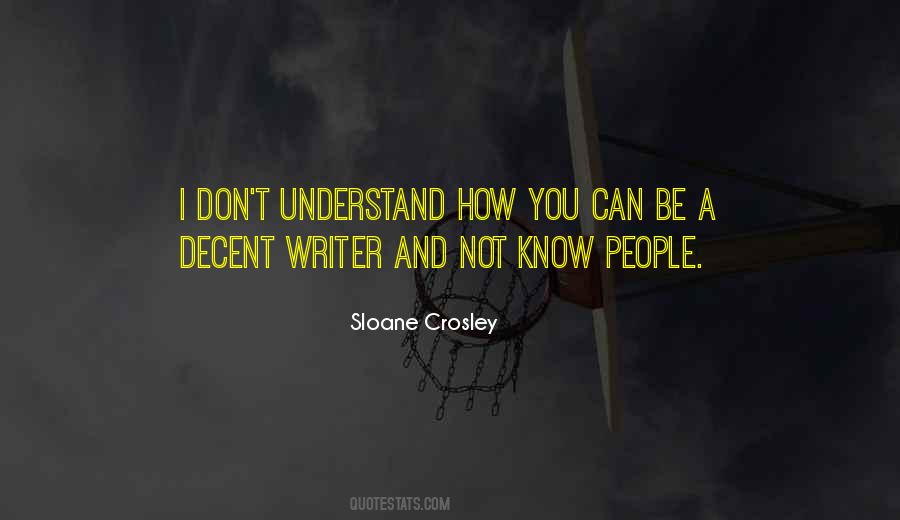 #11. I like bowling. I suck at it, but I like it. You know what's so funny? I have days when I'm absolutely great at doing it, and then I have days when I just don't understand it. - Author: Lil' Kim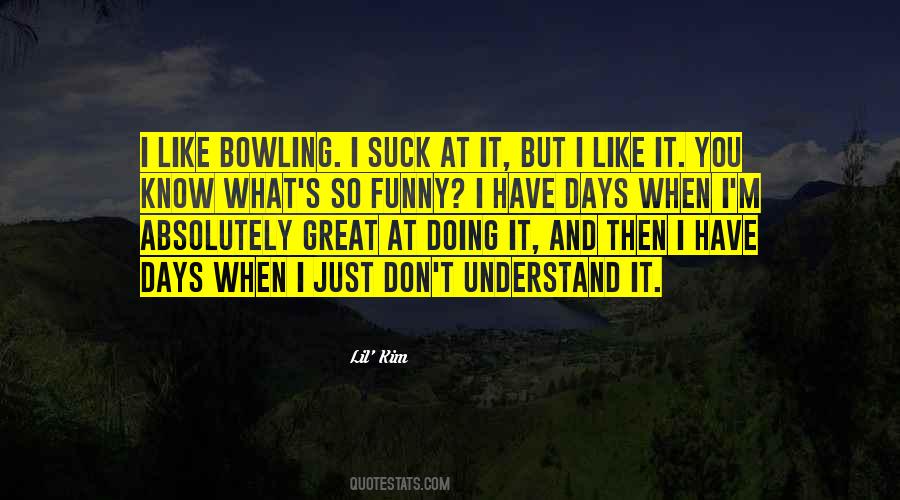 #12. It's easy for people to be characterized in public life based upon their personality, and I have a very direct, blunt personality. And I understand why some people would then characterize that, especially people who don't like you, as bullying, but it's not that. - Author: Chris Christie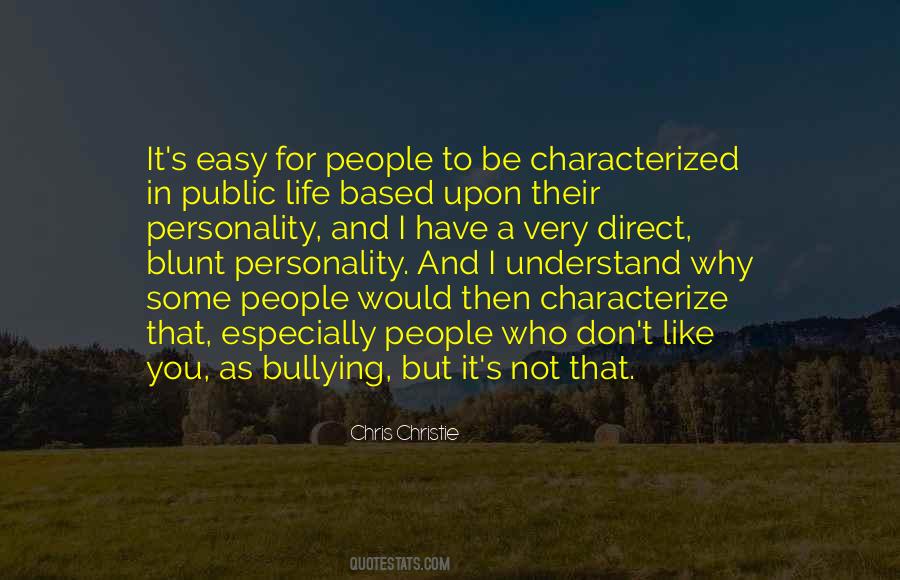 #13. I don't think you'll understand the true repercussions of what the 500 does for you until years down the road. - Author: Buddy Rice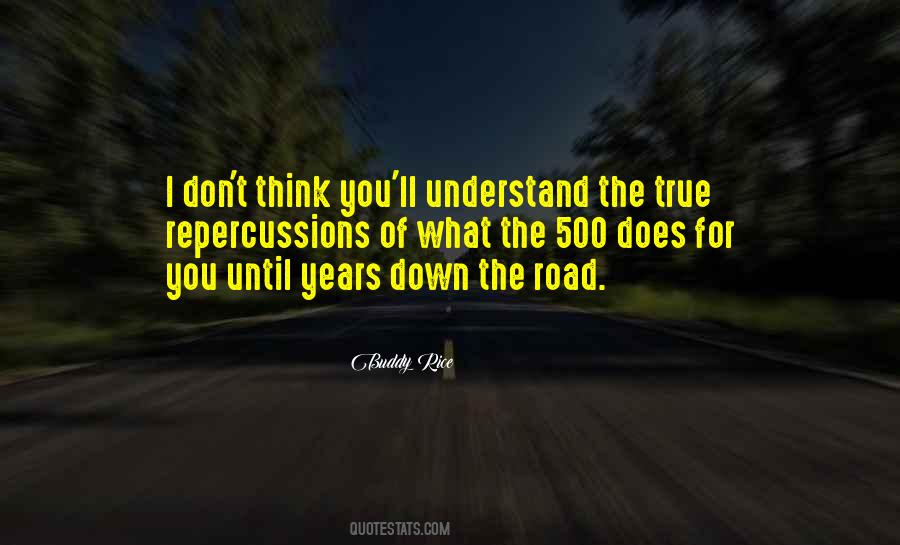 #14. I want to be with you. By your side. I don't want us to have to hide, but I understand. Doesn't mean I agree with it, and it doesn't mean I'll do it forever, but for now, I'm here. With you. Only you - Author: Nicole Edwards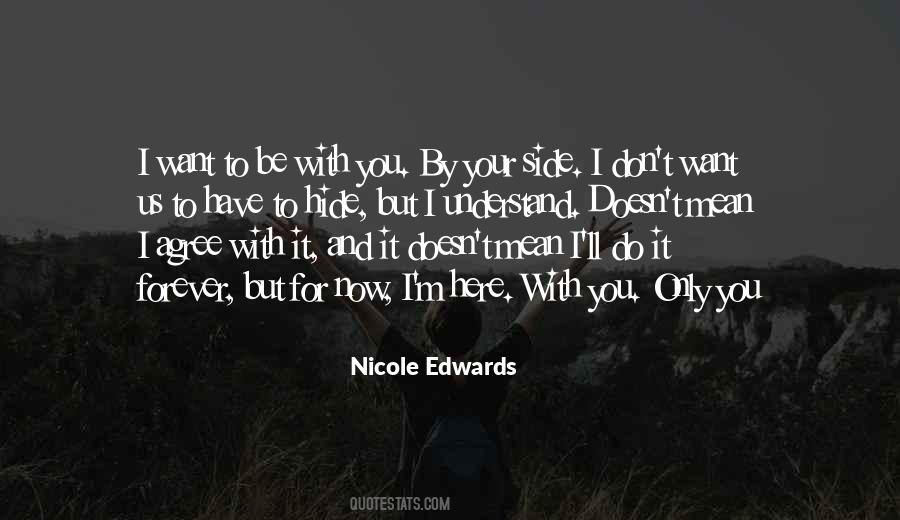 #15. The arts are not just instantaneous pleasure - if you don't like it, the artist is wrong. I belong to the generation which says if you don't like it, you don't understand and you ought to find out. - Author: Ethel Barrymore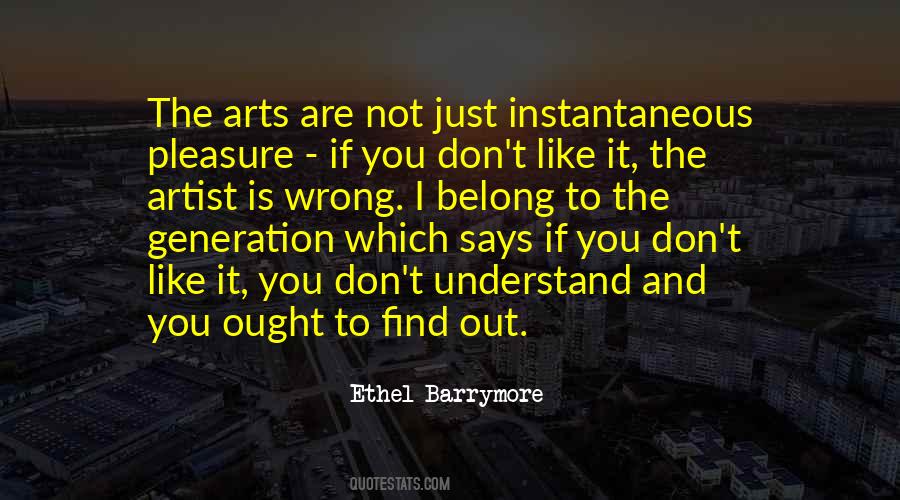 #16. Every actor's deepest desire is to reach a huge audience. So, I don't look down upon commercial cinema ... there's a beauty in it that you understand sooner or later. - Author: Randeep Hooda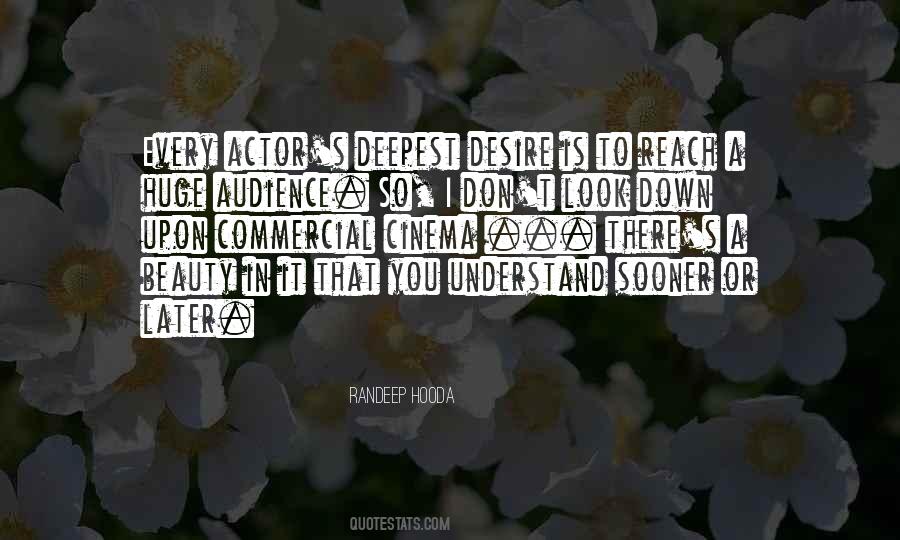 #17. I think you don't do work for controversy alone, and whenever you do new work which people don't understand and they say it is done to create controversy. - Author: M. F. Husain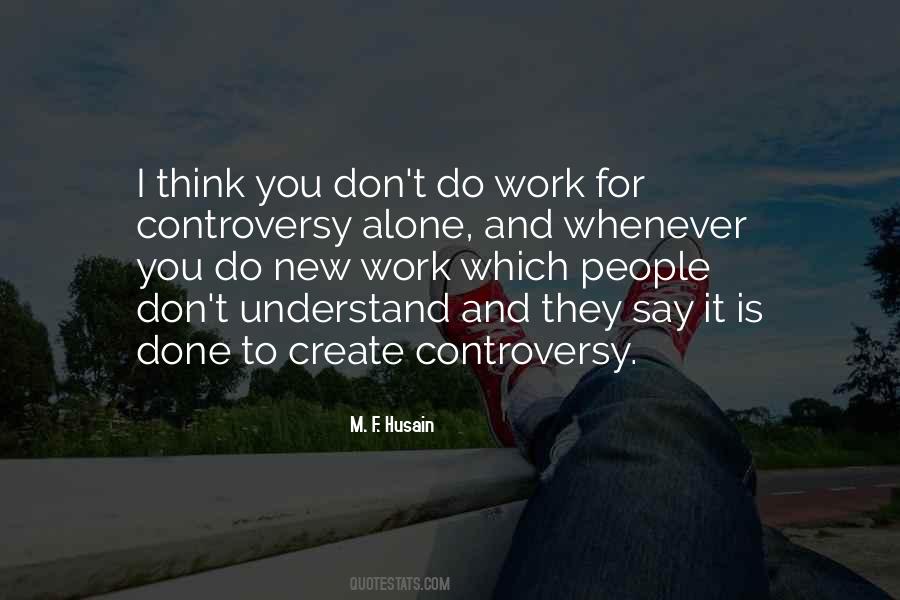 #18. I love my stories being multi-layered, and coming at it from different angles, so that you don't understand the film's true emotional motivation until the very end. - Author: M. Night Shyamalan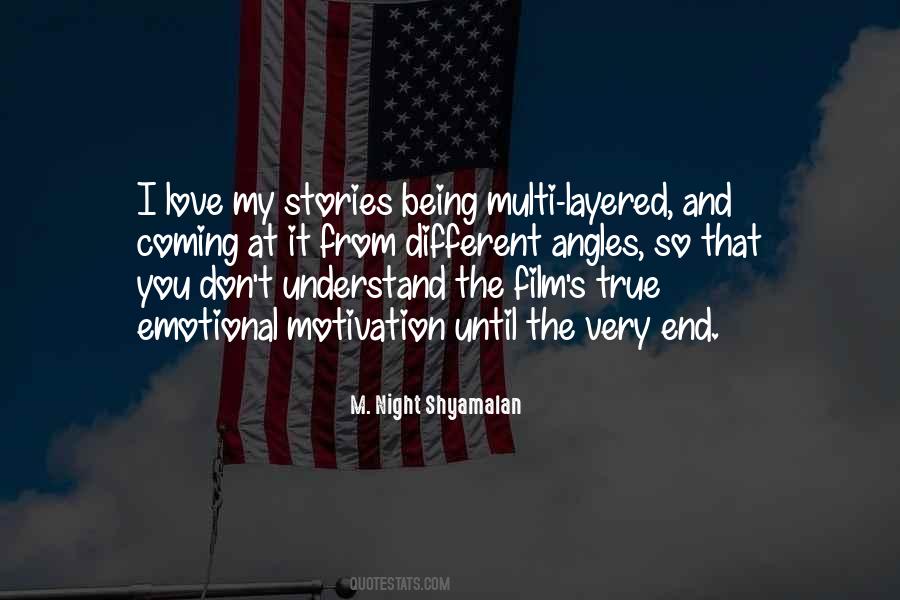 #19. I'm really sensitive. And they don't understand that, because my most comfortable feeling is anger. So I'll get angry if you said something to hurt my feelings or you're making me uncomfortable, I'll get angry, and be ready to do something about it. - Author: Curtis Jackson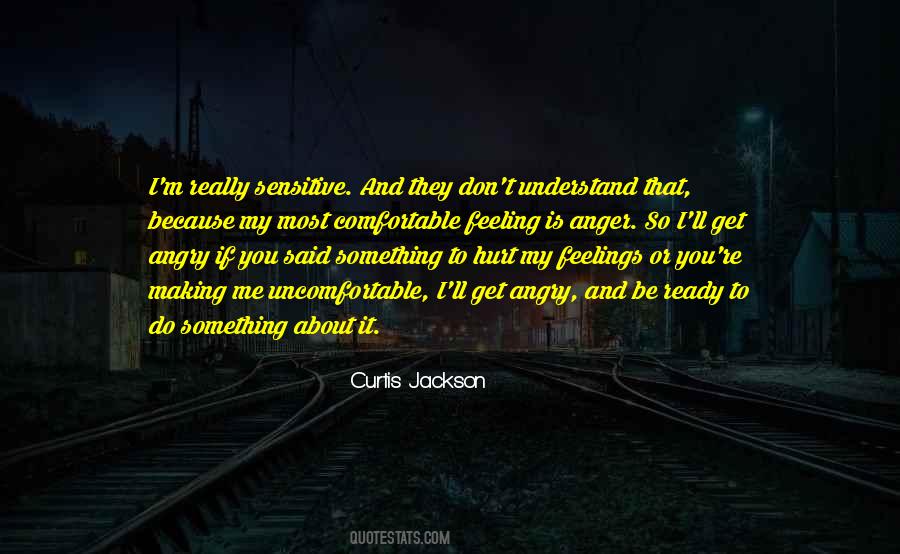 #20. Don't tell me anymore. You should have your dream, as the old woman told you to. I understand how you feel, but if you put those feelings into words they will turn into lies. (from Thailand) - Author: Haruki Murakami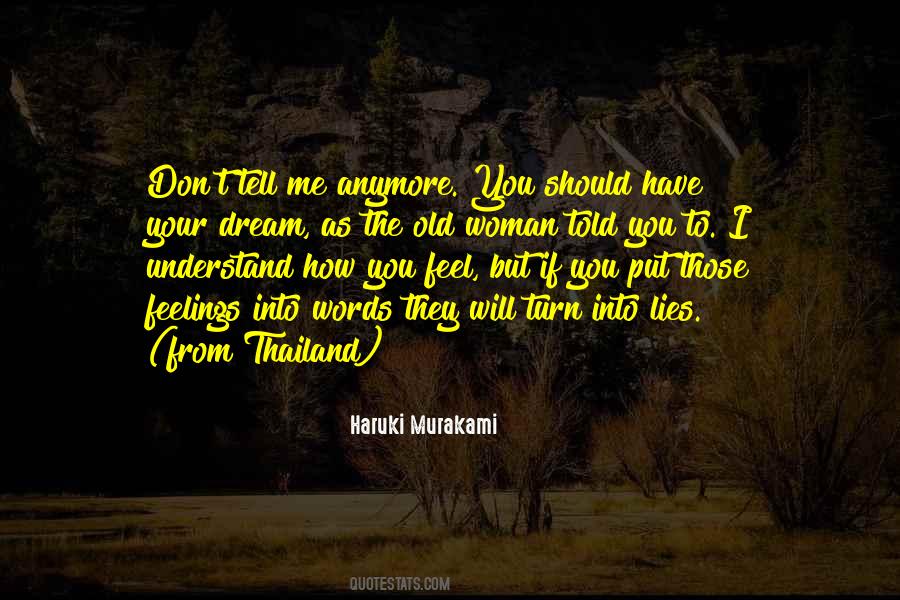 #21. Twenty-eight years in business and you understand the importance of problem solving and the importance of efficiency, because if you don't become efficient, you don't run a business well, and you are out of business. And I think some of those principles could be applied to leadership in Washington. - Author: Steve Daines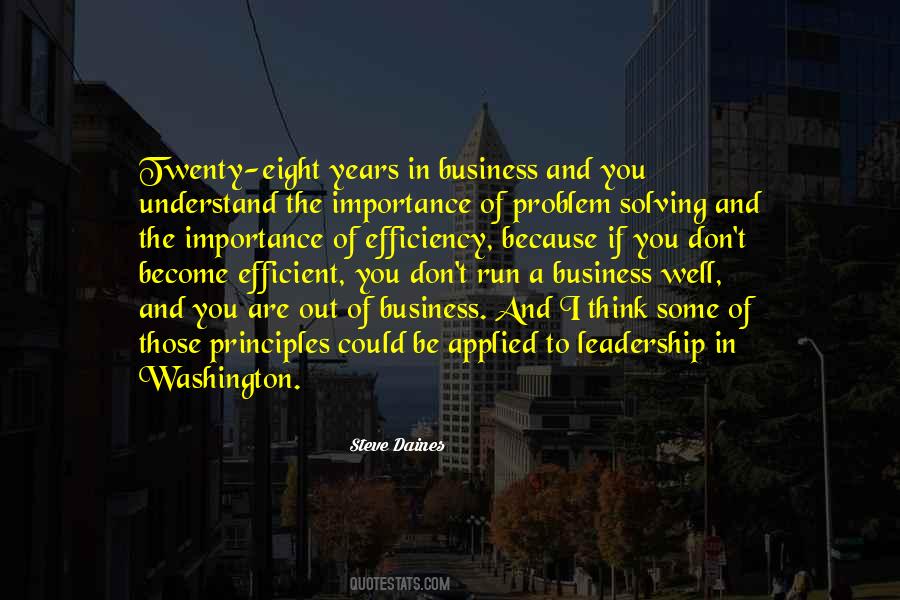 #22. I want to learn about a different religion. I grew up Catholic, but my grandfather was Jewish. Knowledge about other religions can help you understand your own better. I think it's kind of hypocritical to believe one thing and don't know about any others. - Author: Mandy Moore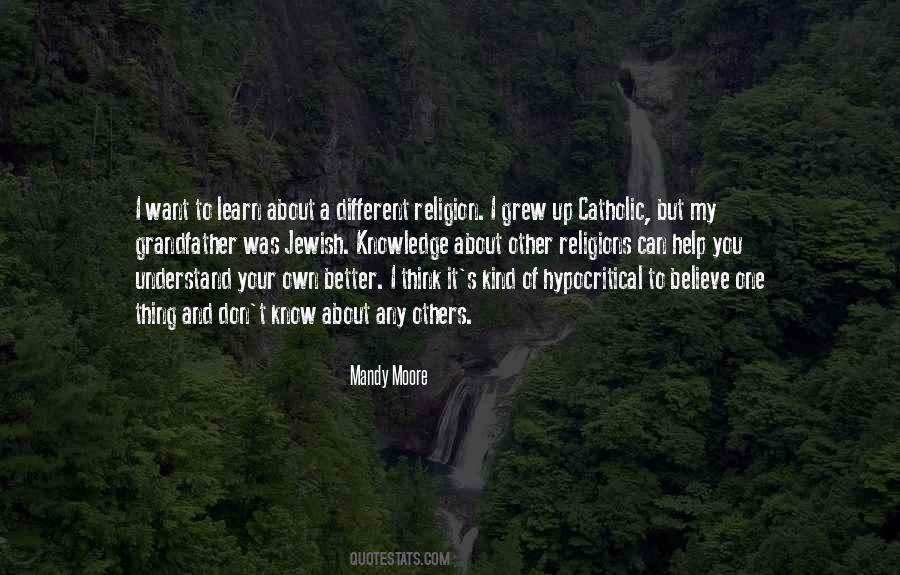 #23. I motivate others by making sure that they understand to go after their dreams and don't let anyone tell you you can't. If you are motivated enough and put the work in that you can achieve anything in life that you set your mind to. - Author: Magic Johnson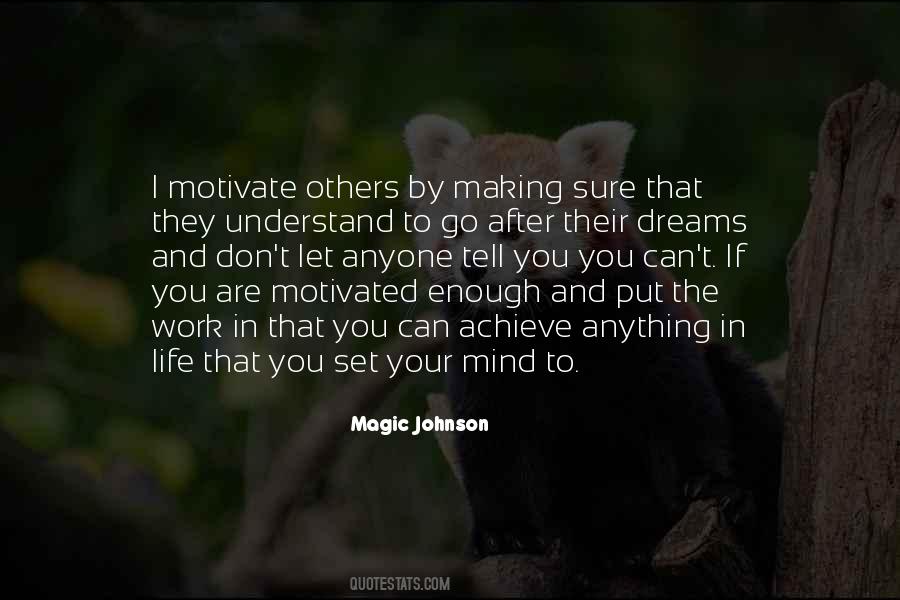 #24. I can't understand why you don't get any mail from me. Perhaps it's because I haven't been writing - Author: Groucho Marx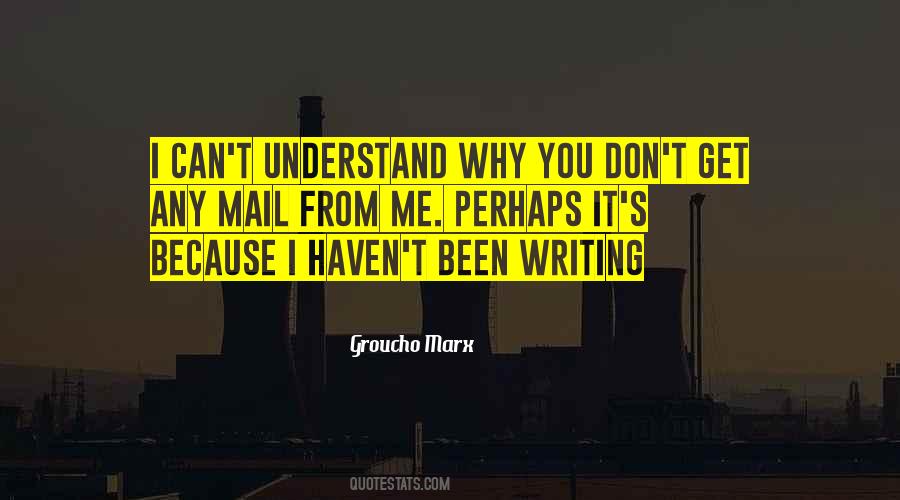 #25. The future, for me, is romantic, I don't understand people who say the past is romantic. Romantic, for me, is something you don't know yet, something you can dream about, something unknown and mystical. That I find fascinating. - Author: Raf Simons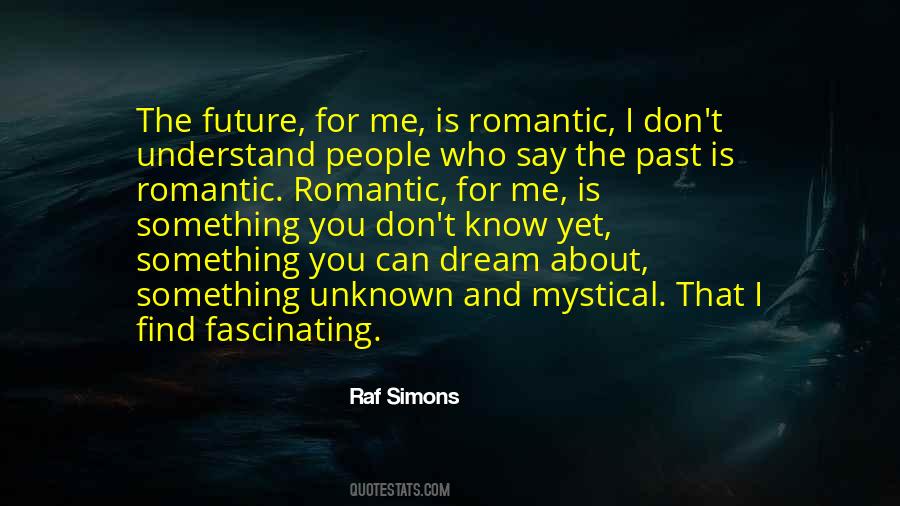 #26. Christianity takes this beating that I really don't understand and yet you can't say anything negative about the Muslims because that's horrible, you can't say anything negative about other faiths. - Author: Kevin Sorbo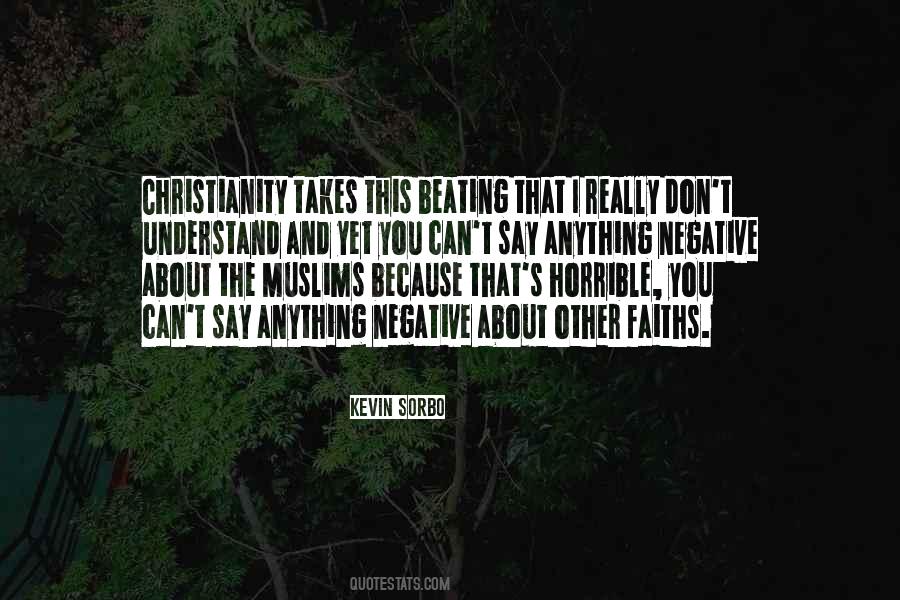 #27. I can't do this, I can't just be a wife. I don't understand how anyone does it - there is literally nothing to do but wait. Wait for a man to come home and love you. Either that or look around for something to distract you. - Author: Paula Hawkins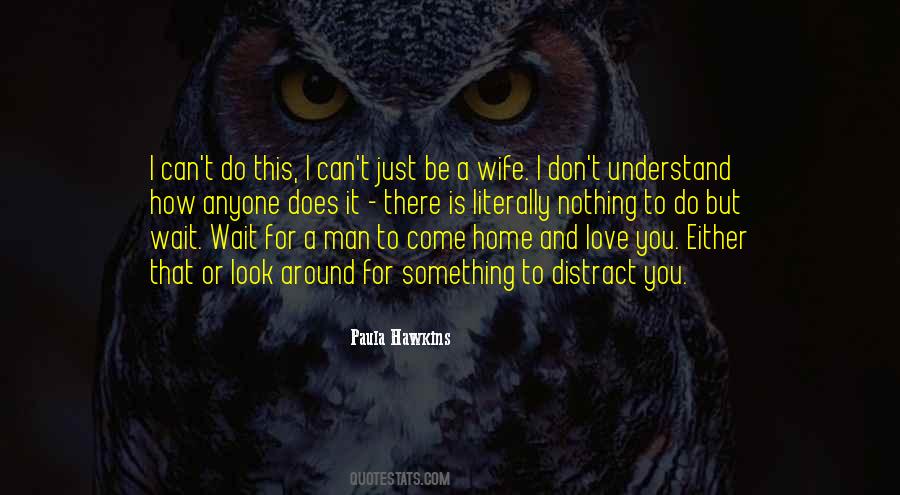 #28. There's a rebirth that goes on with us continuously as human beings. I don't understand, personally, how you can be bored. I can understand how you can be depressed, but I just don't understand boredom. - Author: Dustin Hoffman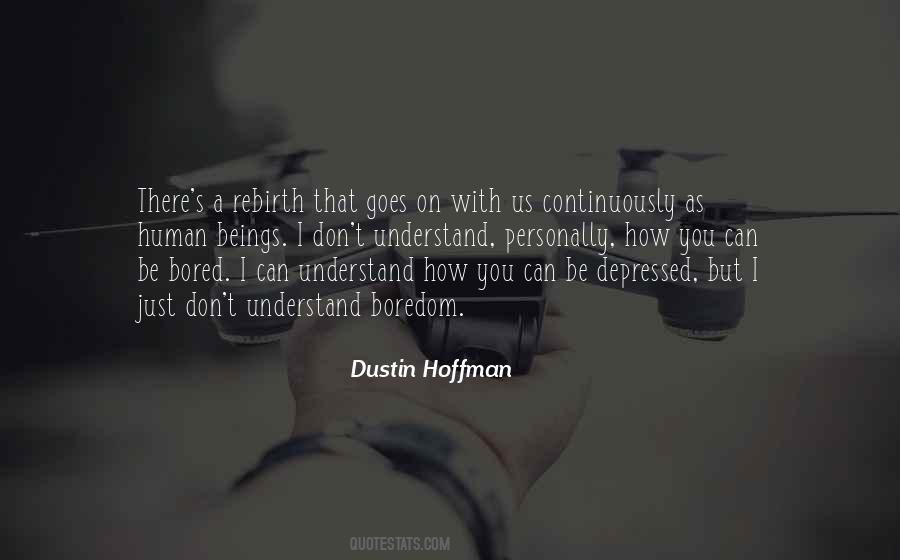 #29. I don't like the word ironic. I like the word absurdity, and I don't really understand the word 'irony' too much. The irony comes when you try to verbalize the absurd. When irony happens without words, it's much more exalted. - Author: David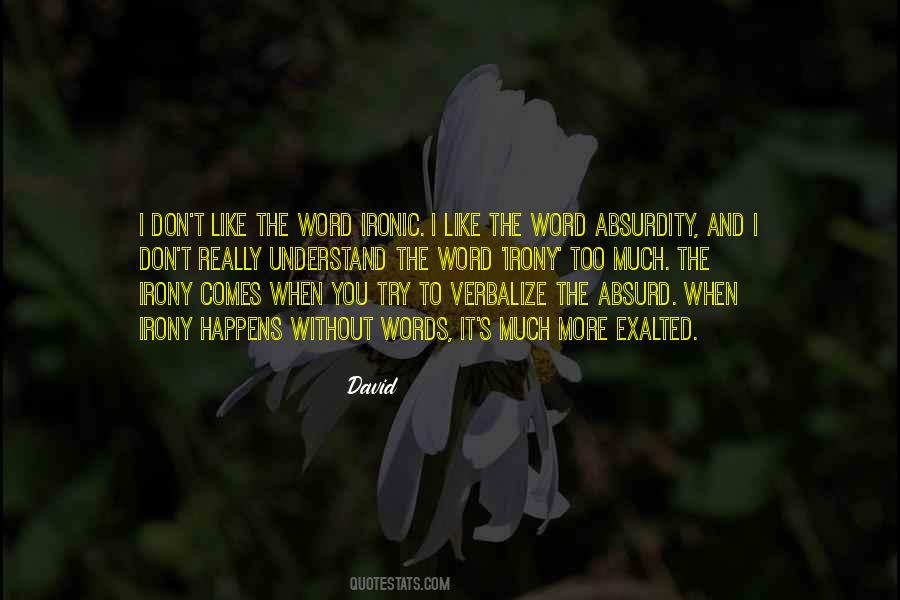 #30. I don't know where I am, Evan."
"I'm seeing red everywhere. It's just ... everywhere."
"I am underwater right now. You don't understand. I'm underwater."
"I need a gun."
"Evan? I need- - Author: David Levithan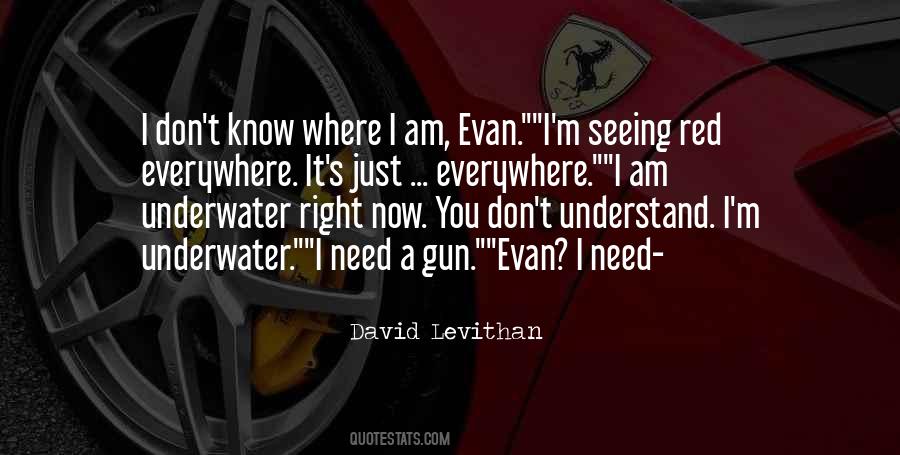 #31. There will never again be a moment where I look at you and don't remember how amazing it feels to be inside you. Do you understand that my body is going to crave you every time I see you?" Gracelyn merely nodded. Her voice failed her. - Author: Jessica Jayne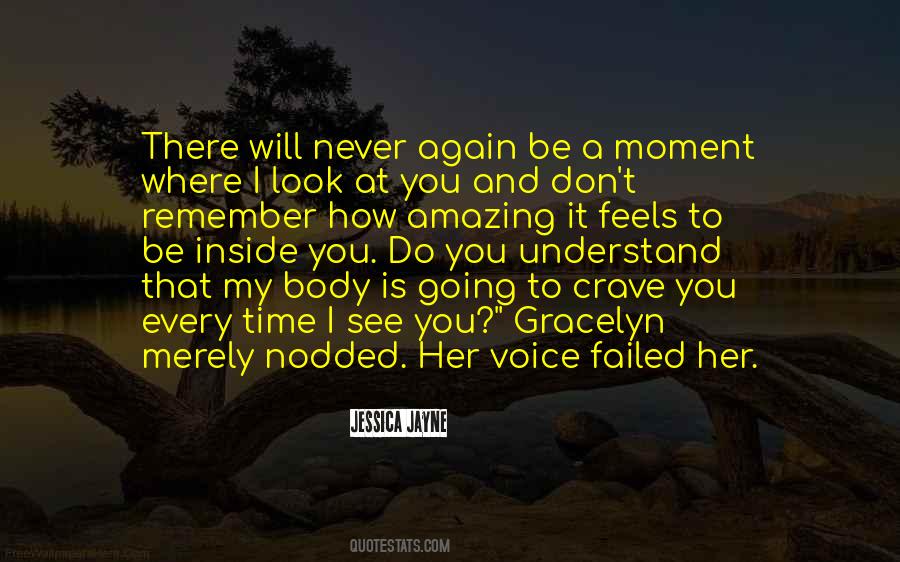 #32. Now the truth of the matter is that there are a lot of things people don't understand. Take the Einstein theory. Take taxes. Take love. Do you understand them? Neither do I. But they exist. They happen. - Author: Dalton Trumbo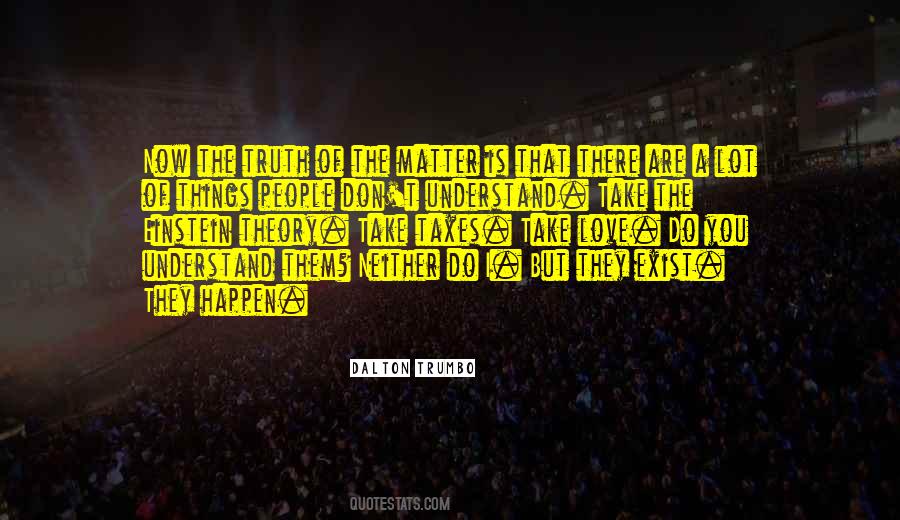 #33. I really don't understand minimalism. It is so polite and boring. If you don't want anyone to notice you, you should stay home and grow your own vegetables. - Author: Roberto Cavalli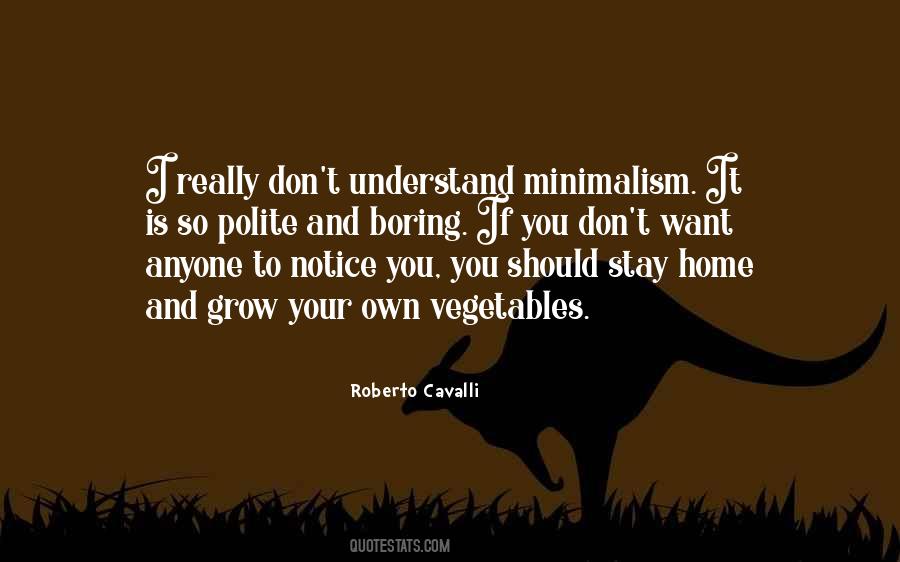 #34. In the light of the crappy little lamp, all I was looking at was a frizzy mop of blonde hair and a bare back with one big angry red patch on it, but Jesus fucking God she was beautiful, and if you don't understand that, I'm sorry for you. - Author: John Barnes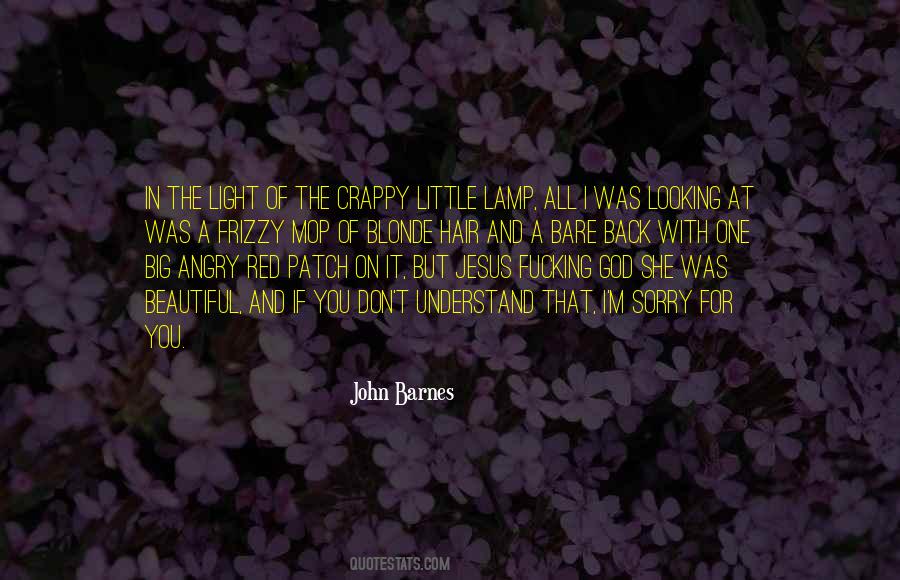 #35. I get this this is intense because I'm intense, that's the whole fuckin' deal. I get it'll take you a while to get used to it. But you want it. Fuck, you even like it. You just don't understand it yet. But you will. - Author: Kristen Ashley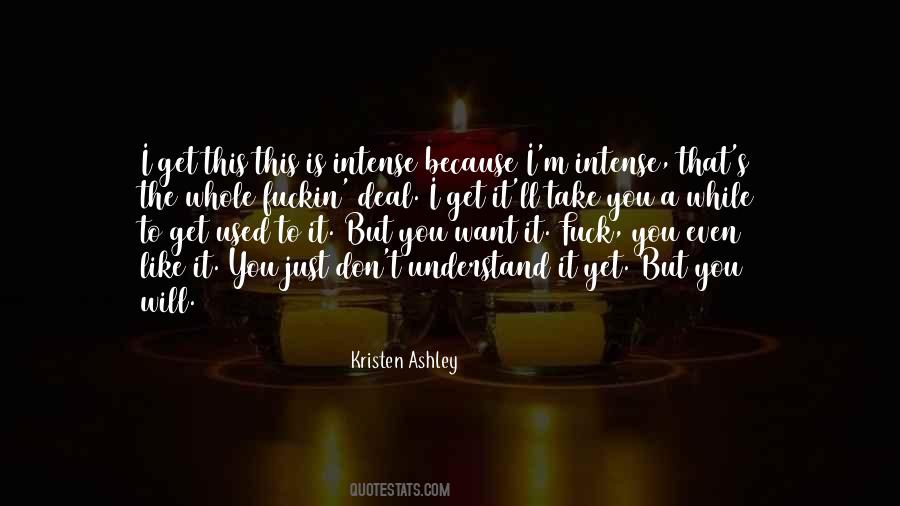 #36. I can manage without anything, but never you. Not ever. Don't look like this, please. Don't look like you think it's the end. It's never the end for us. Nothing will break us, Ava. Do you understand me? - Author: Jodi Ellen Malpas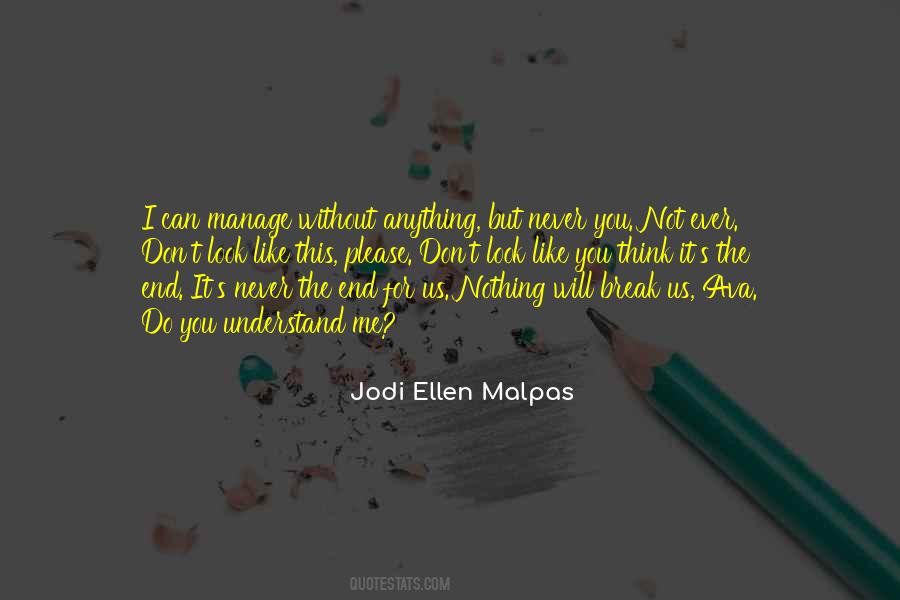 #37. Sister Carlotta, I'm on a leave of absence right now. That means I've been sacked, in case you don't understand how the I.F. handles these things."
"Sacked! A miscarriage of justice. You ought to be shot. - Author: Orson Scott Card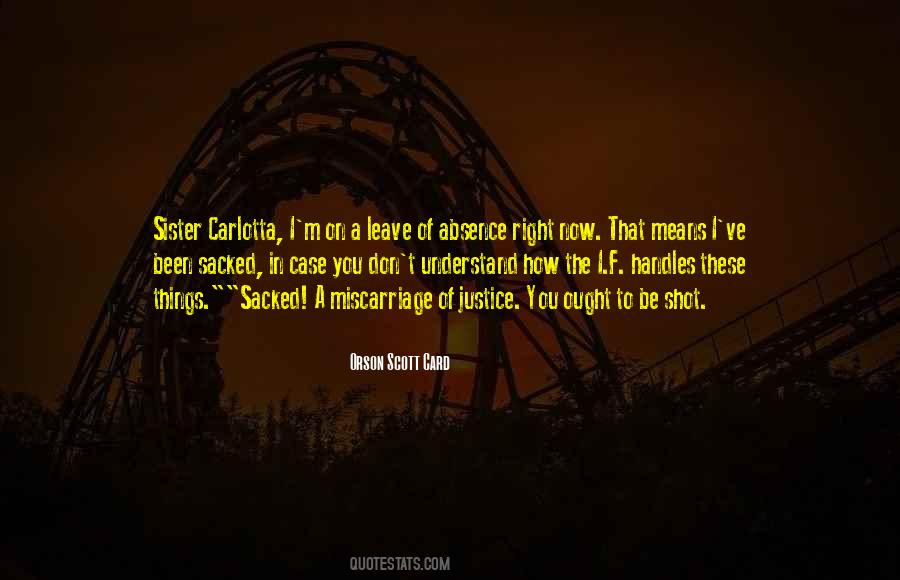 #38. Of course I don't understand. You never let anyone in. Not me. Not Sevro. Look how you treated Mustang. You drive friends away as though they were enemies. - Author: Pierce Brown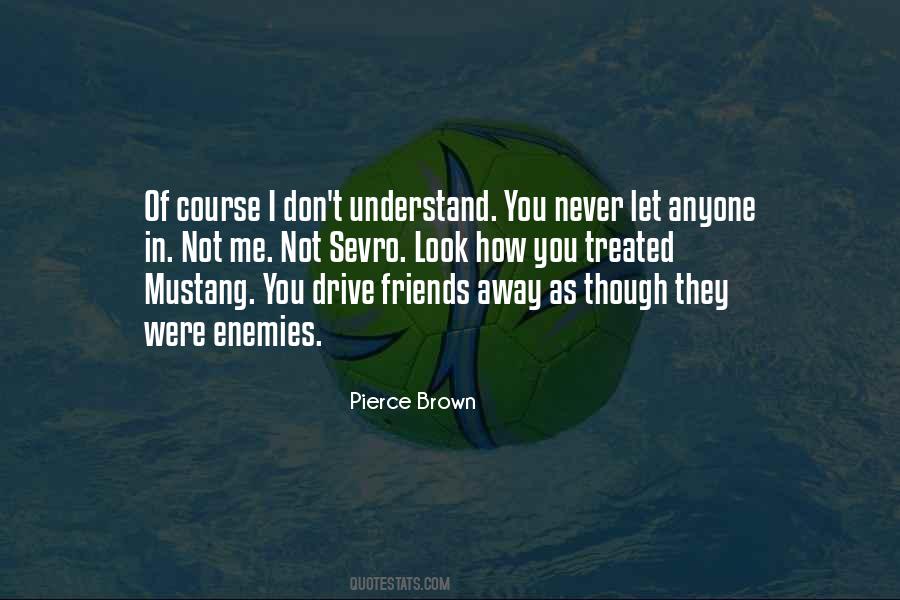 #39. In the scriptures, we are told you can't really understand happiness unless you understand sadness. You don't know pleasure if you don't know pain. It's part of life. So can you learn something from somebody who has gone from success to success to success? I don't think so. - Author: Clayton Christensen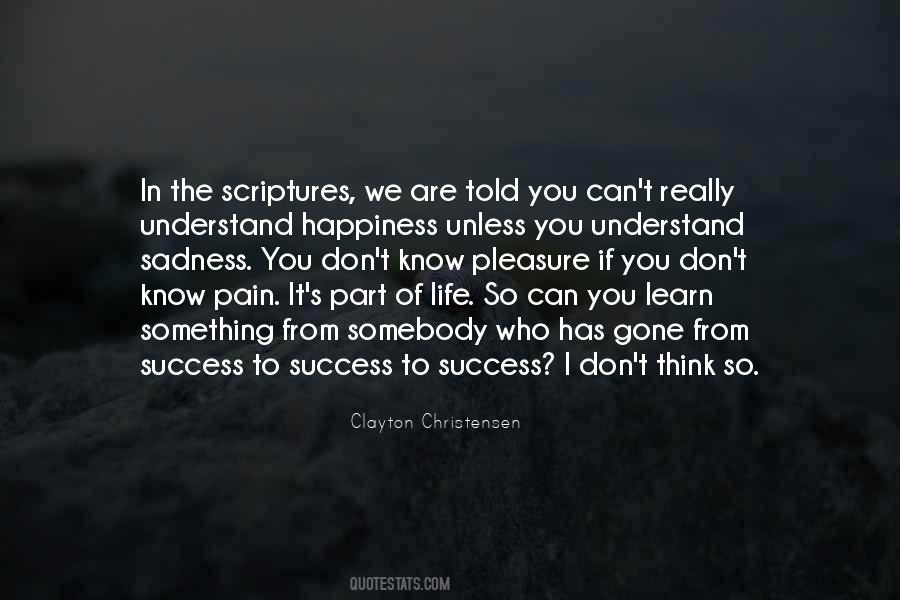 #40. The stories that I want to tell, especially as a director, don't necessarily have a perfect ending because, the older you get, the more you appreciate a good day versus a happy ending. You understand that life continues on the next day; the reality of things is what happens tomorrow. - Author: Drew Barrymore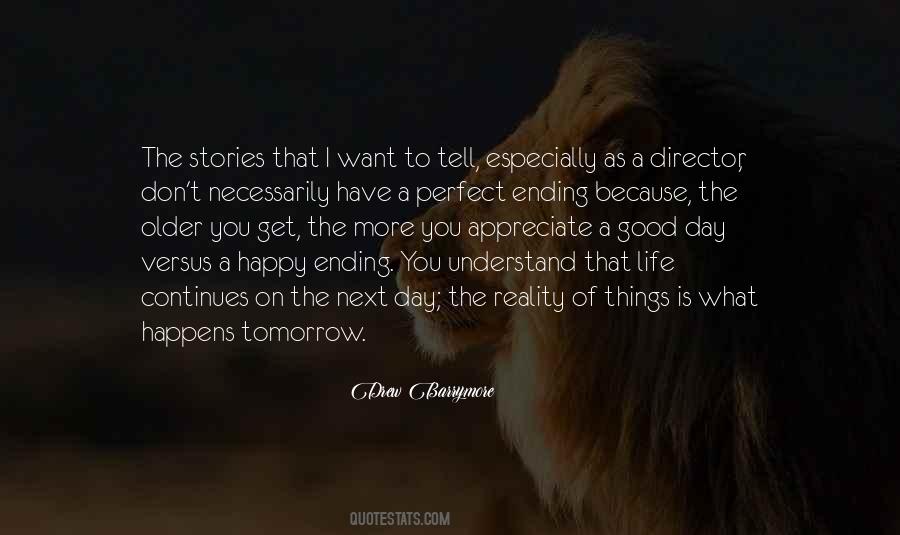 #41. I don't want anyone else to understand it, because you only understand it when you have been welcomed into a club only the saddest people can enter. The cost of admission is the death of your loved one at the hands of someone else. - Author: Dave Cullen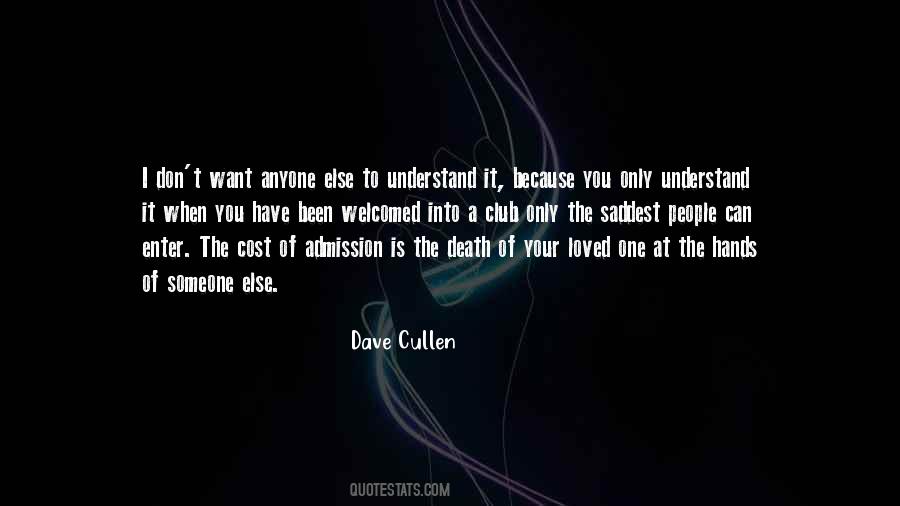 #42. I need you to understand something. I wrote this for you. I wrote this for you and only you. Everyone else who reads it, doesn't get it. They may think they get it, but they don't. This is the sign you've been looking for. You were meant to read these words. - Author: Iain S. Thomas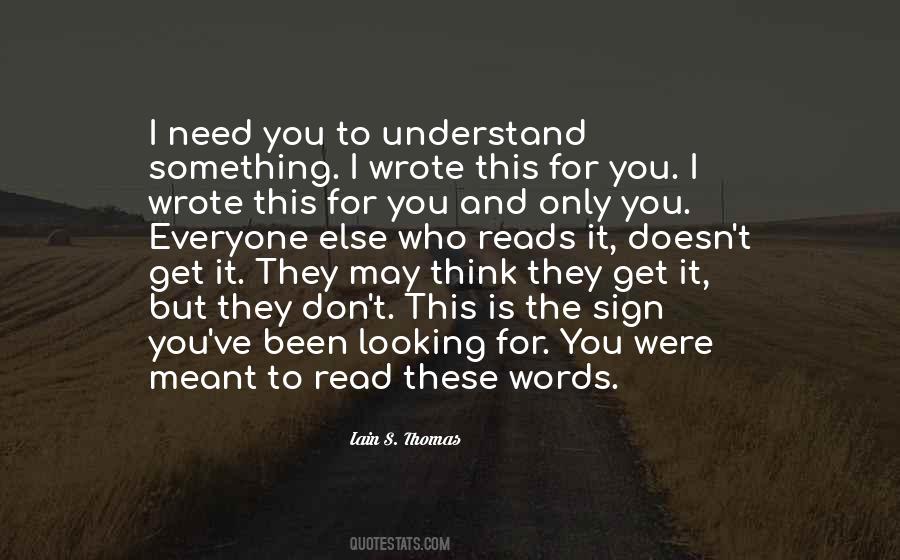 #43. But children are our future!' Yes, but does that not also mean that we are their past? I don't understand why we're helping them. You don't see union factory workers throwing a benefit for robots. - Author: Stephen Colbert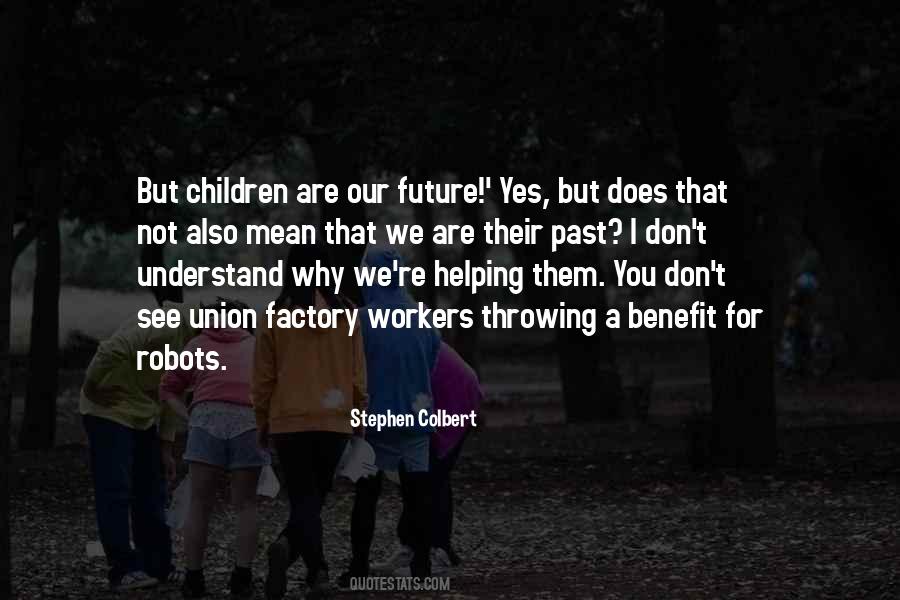 #44. I don't understand what people are talking about in different rhymes glorifying jail. If you like going to bed early, getting yelled at, seeing a fight, seeing somebody getting their head split open, or fighting over the TV then that's the place for you. - Author: Sadat X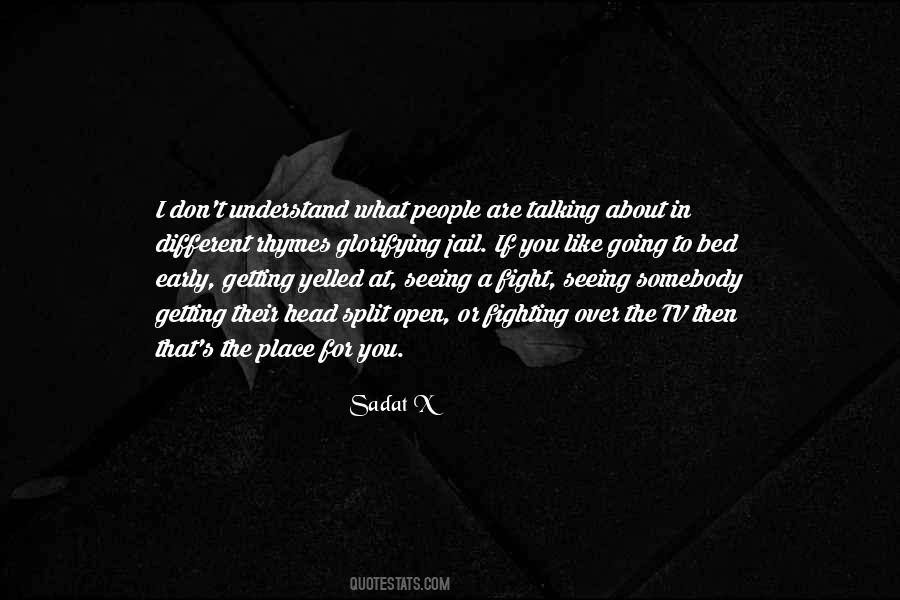 #45. I understand that people don't want to smoke. Fine. Don't smoke. You don't want to go into a restaurant where there's [smoking], don't go in there. But don't impose your will - the will of a few - on the lives of many. - Author: Mike Ditka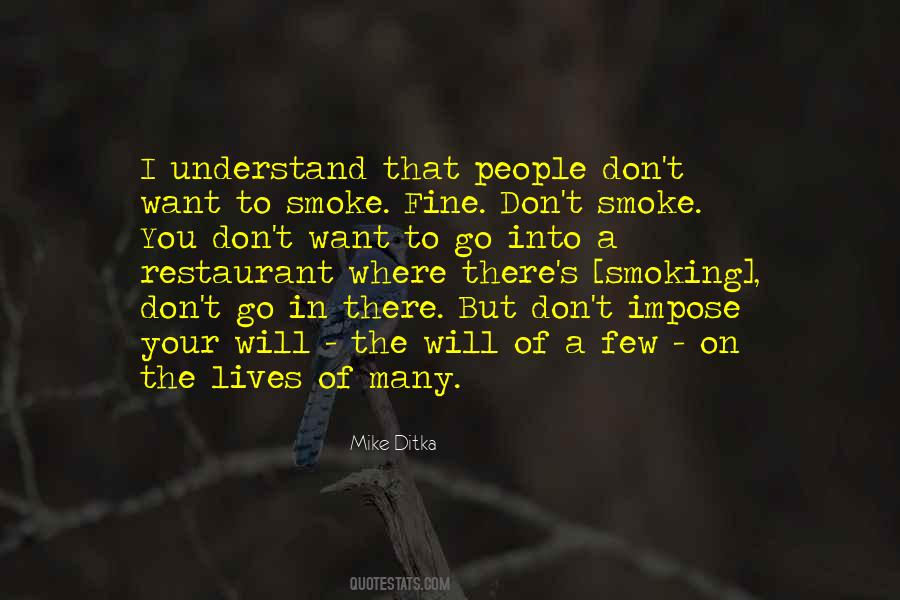 #46. I couldn't live in L.A. and not be close to the beach, you know, that's like the whole thing. I don't understand people who don't live by the beach. Why would you not? - Author: Mayer Hawthorne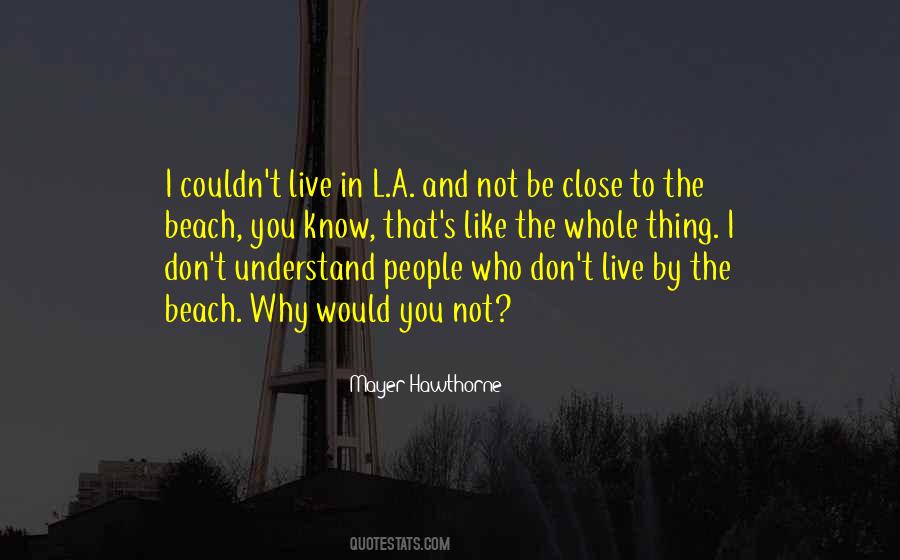 #47. I don't expect you to understand after you've caused so much pain, but then again-you're not to blame; you're just human-a victim of the insane. - Author: John Lennon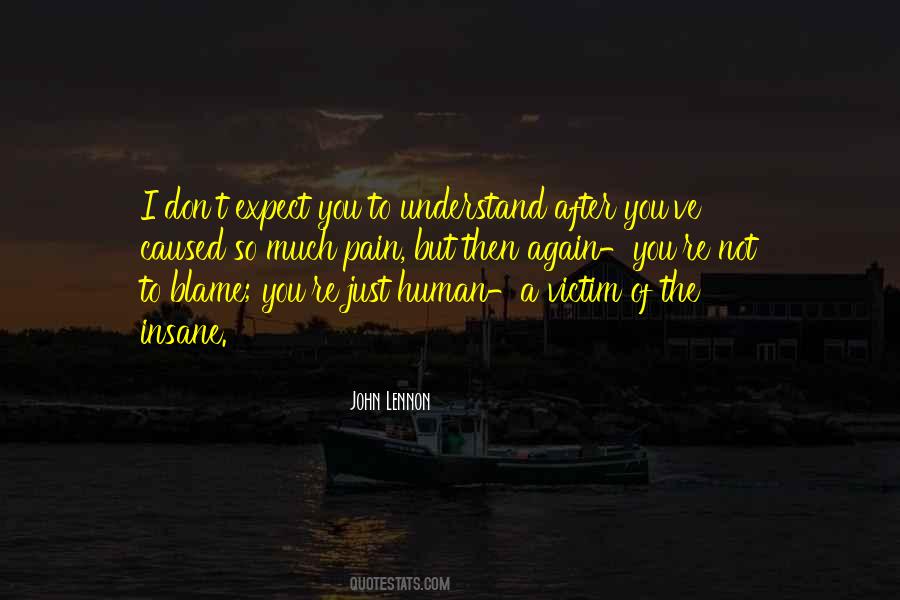 #48. Every pore of you is crying and you don't even understand why or what. I actually kind of died and got born again as a result of taking the meds and having a chance to, you know, build a life. - Author: Sinead O'Connor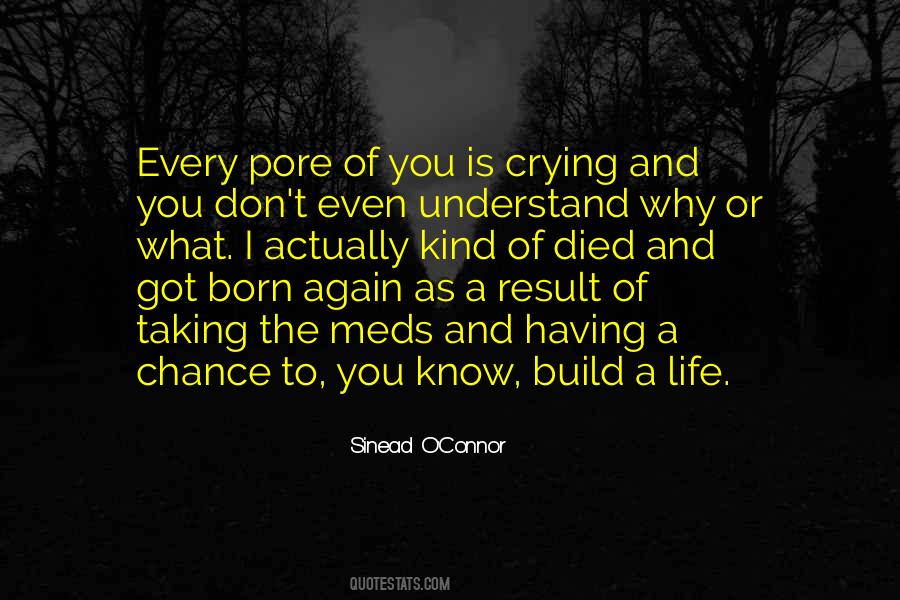 #49. I told you. You don't love someone because of their looks or their clothes or their car. You love them because they sing a song only your heart can understand. - Author: L.J.Smith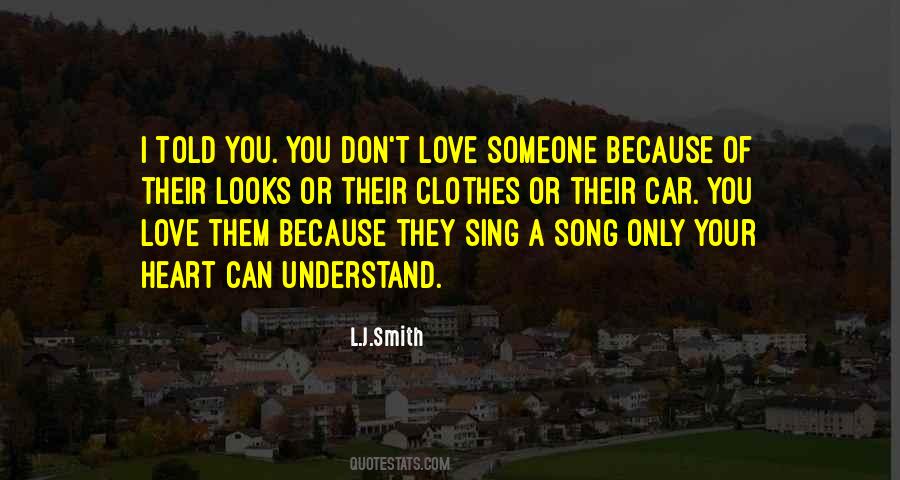 #50. Please," he said, "you don't understand. My first time on my won. I don't know what I'm doing, and I can't have it on me, and I don't know what's right when you know you can choose and it's turned out fine today, how do you do? - Author: Lesley Howarth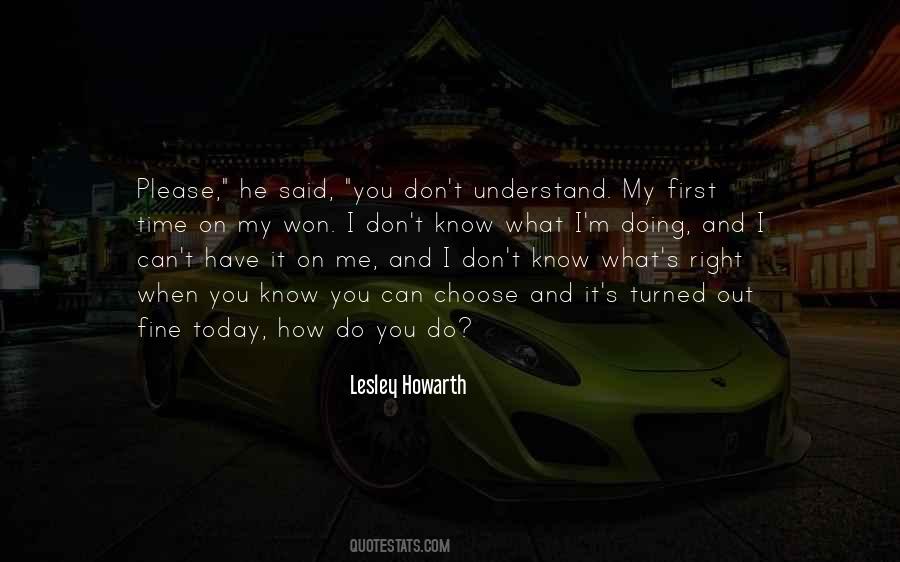 #51. The muse holds no appointments. You can never call on it. I don't understand people who get up at 9 o'clock in the morning, put on the coffee and sit down to write. - Author: Glen Hansard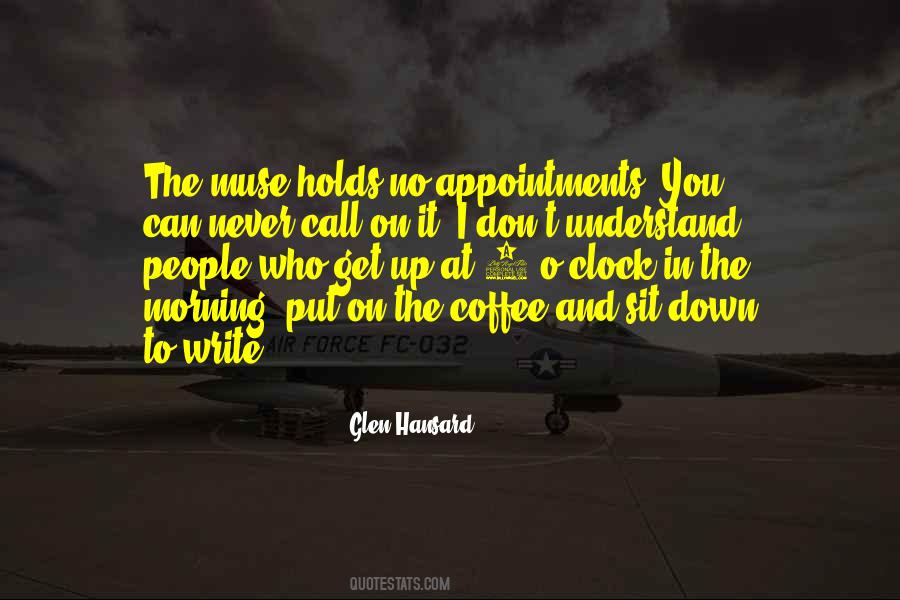 #52. Vladimir: I don't understand.
Estragon: Use your intelligence, can't you?
Vladimir uses his intelligence.
Vladimir: (finally) I remain in the dark. - Author: Samuel Beckett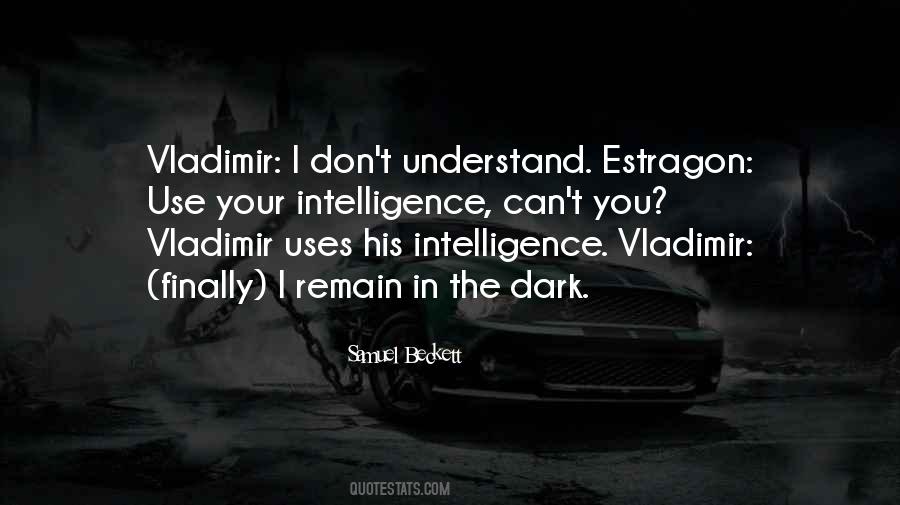 #53. I think [aging] has nothing to recommend it. You don't gain any wisdom as the years go by. You fall apart, is what happens. People try and put a nice varnish on it, and say, well, you mellow. You come to understand life and accept things. But you'd trade all of that for being 35 again. - Author: Woody Allen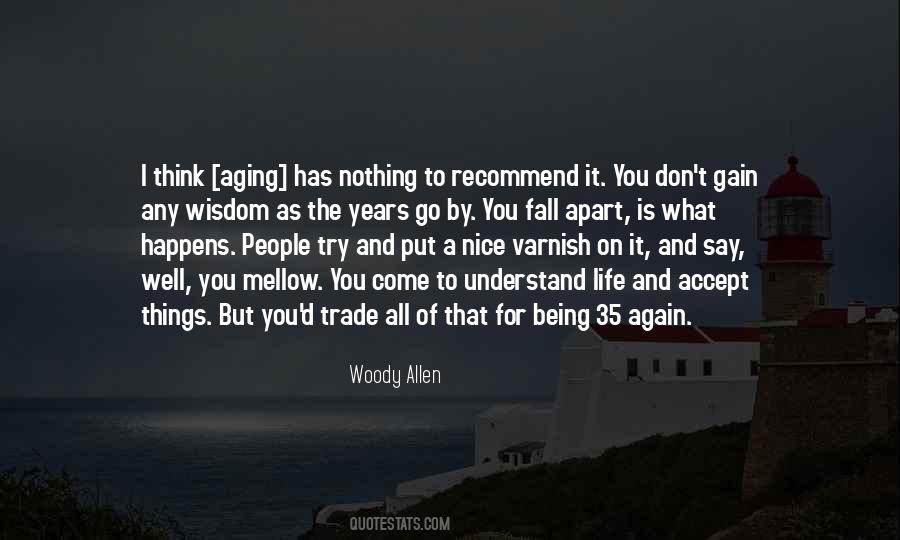 #54. I don't think movies can ever be too intense, but people have to understand why you're showing them the things you are showing them. - Author: Edward Zwick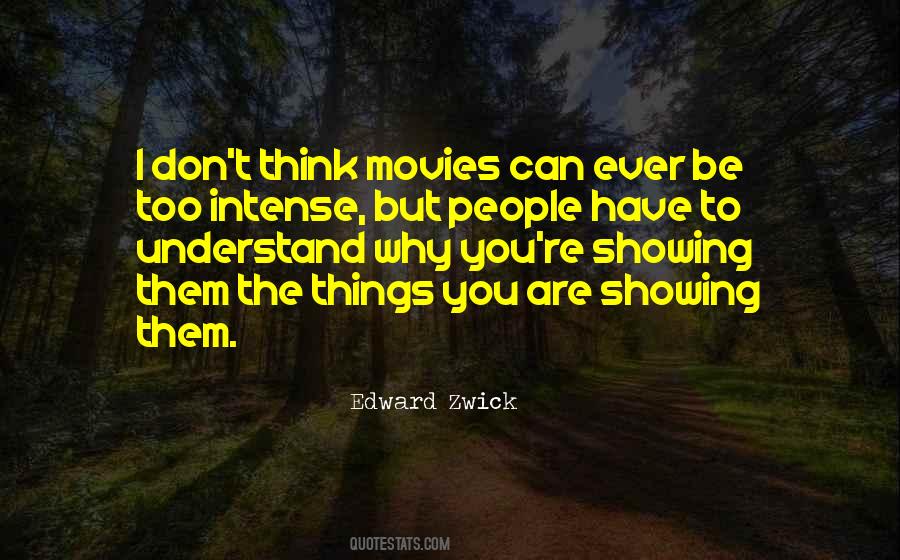 #55. I still don't know if you understand!" "That everyone is of equal significance and that the differences between individuals are more important than the differences between broad classes? Oh yes, I'm coming to understand that really well." I - Author: Jo Walton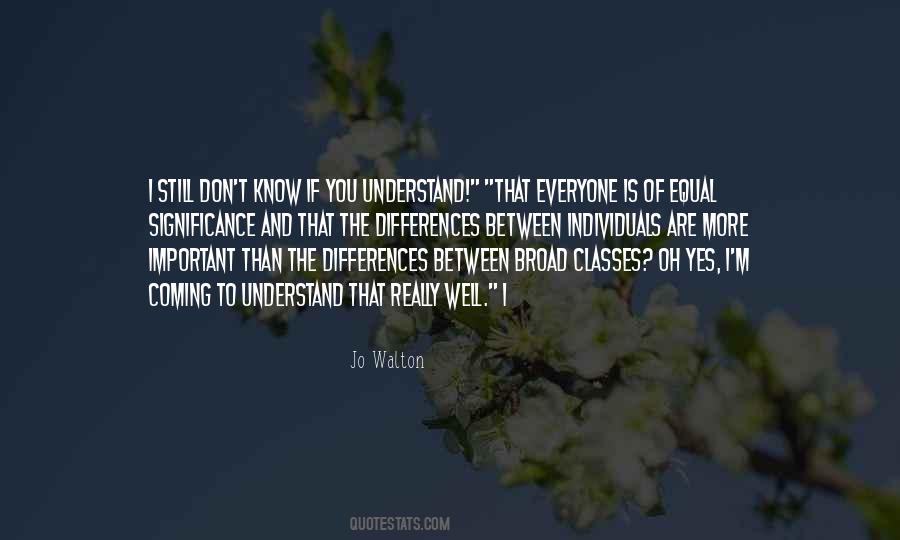 #56. I will never tell another person, "I don't understand you ... " and why? Because if I say that, it means that I am disabled in a way. The inability to connect to another's perspective is, I believe, a disability. - Author: C. JoyBell C.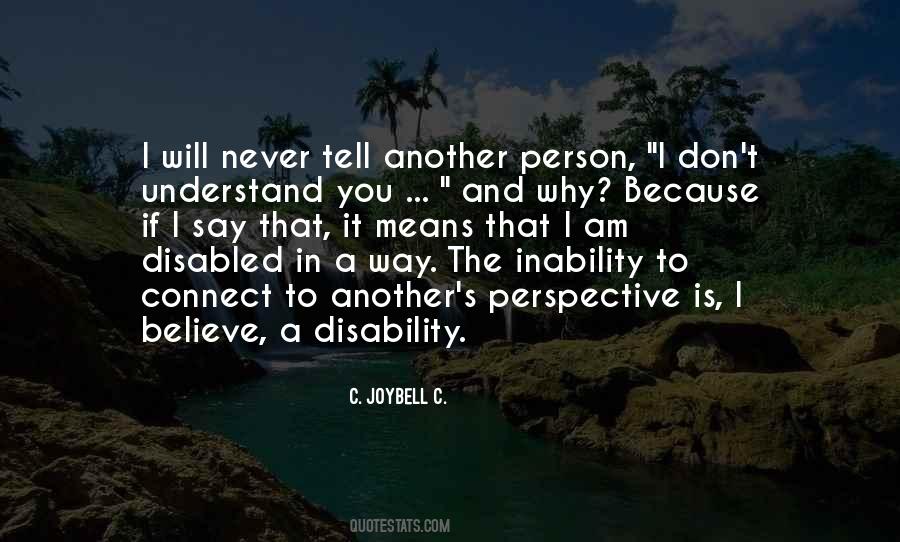 #57. I don't explain love, Bart. I don't think anyone can. It grows from day to day from having contact with that other person who understands your needs, and you understand theirs. It starts with a faltering flutter that touches your heart and makes you vulnerable to everything beautiful. - Author: V.C. Andrews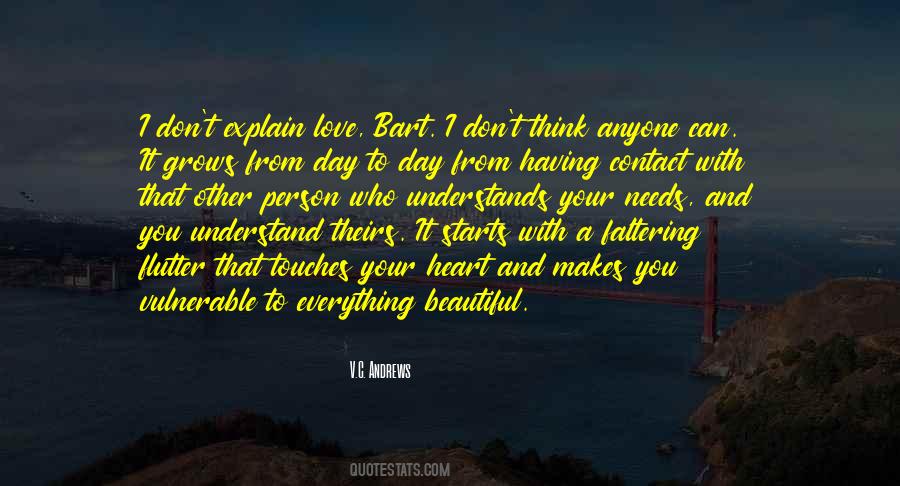 #58. I know I still affect you, and damn baby girl, you just don't understand what you still do to me. - Author: Toni Aleo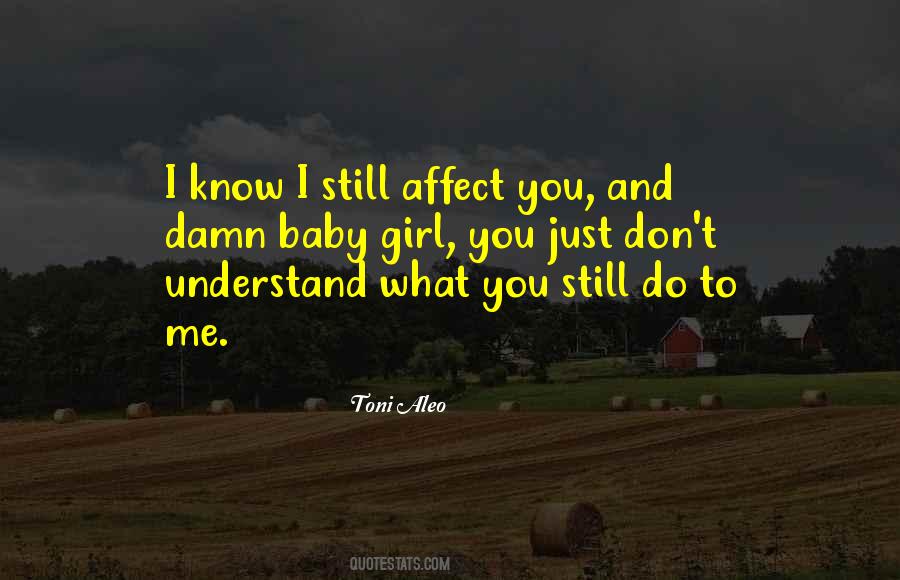 #59. And tomorrow
who knows what happens? Do you get it? I don't know and no one knows
it's all unknown! You understand, that this is the end to the Known? This is the new, the improbable, the unpredictable. - Author: Yevgeny Zamyatin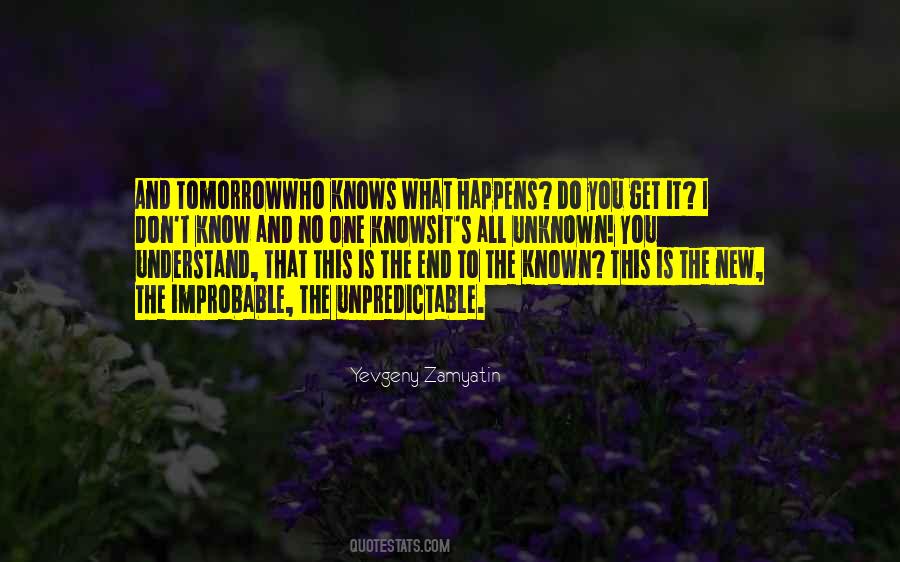 #60. The best advice I can give anybody is to try to understand who you are and what you want to do, and don't be afraid to go down that road and do whatever it takes and work as hard as you have to work to achieve that. - Author: Sally Ride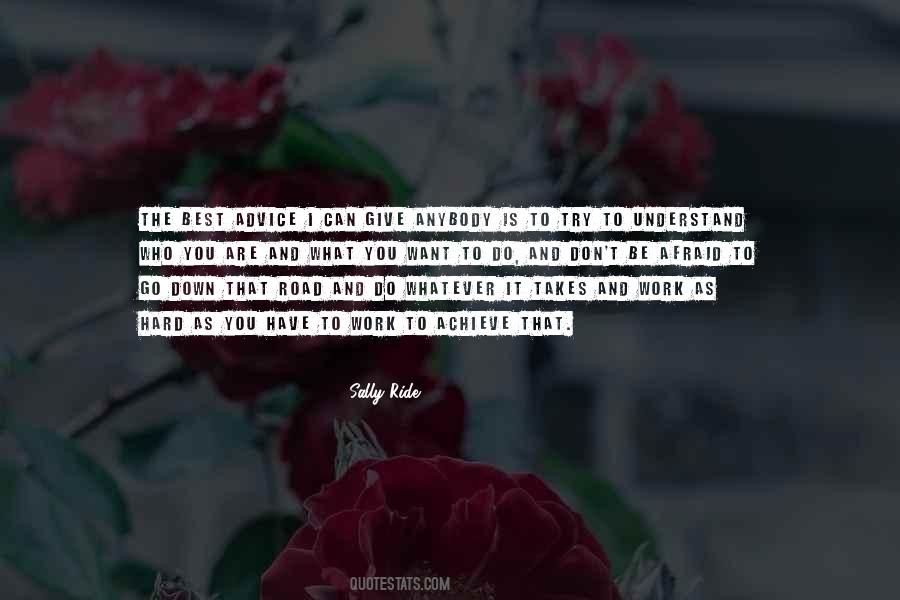 #61. You see, the richest people I know don't always understand what is going on. They don't always like what they see. But they have a quiet confidence that God will put all things together for their good. - Author: Phil Callaway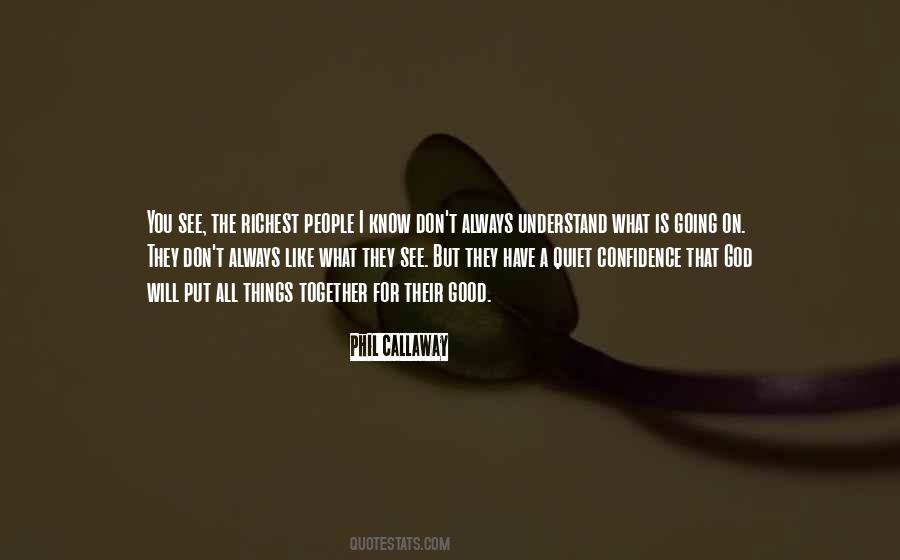 #62. In all my life I never met anyone so frivolous as you two, so crazy and unbusinesslike. I tell you in plain Russian your property is going to be sold and you don't seem to understand what I say. - Author: Anton Chekhov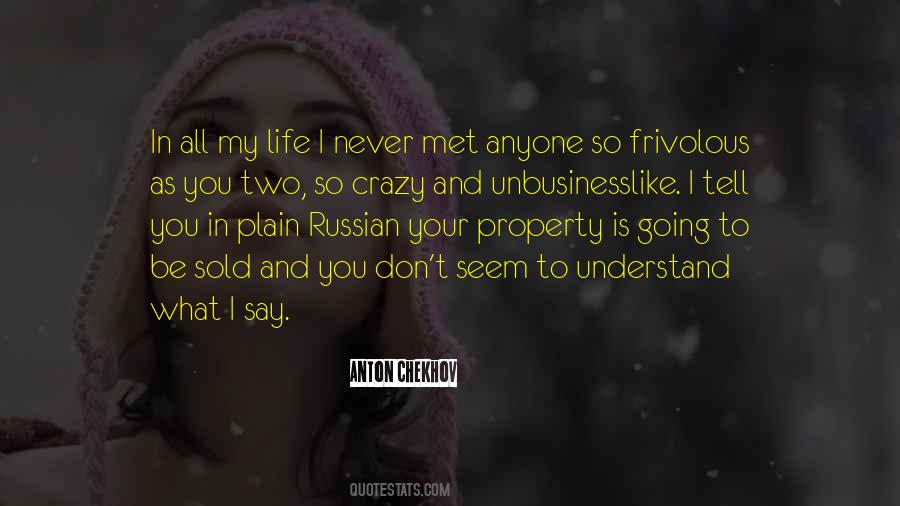 #63. Your key concerns at that stage?"

"Well, Miss LaRoux had a party she didn't want to miss, and I - "

"Major, you don't seem to understand the seriousness of your situation."

"Sure I do. What the hell do you think our key concerns were? - Author: Amie Kaufman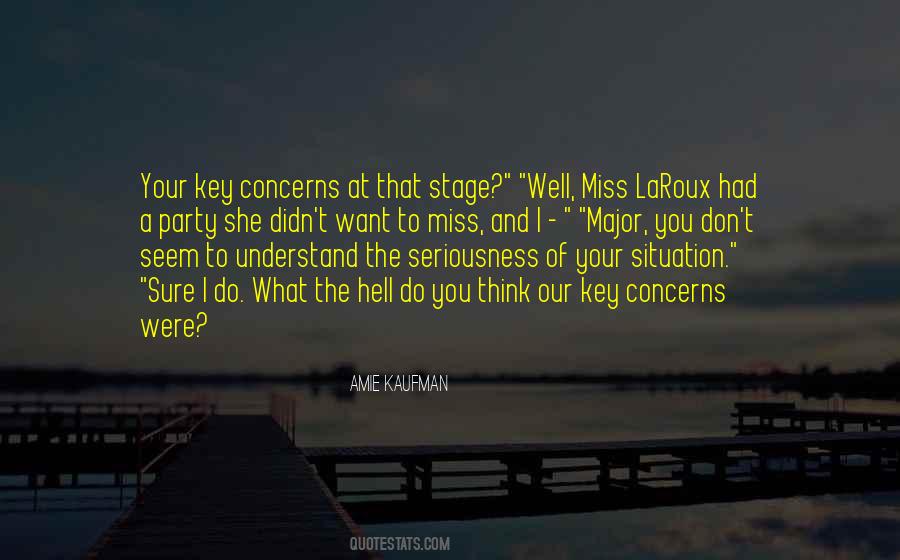 #64. I don't consider myself dovish and I certainly don't consider myself hawkish. Maybe I would describe myself as owlishthat is wise enough to understand that you want to do everything possible to avoid war. - Author: Norman Schwarzkopf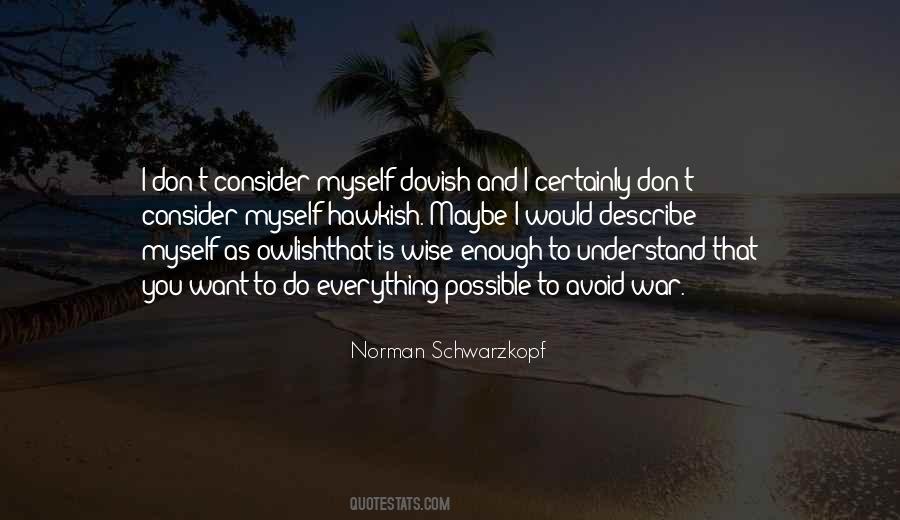 #65. You are more capable of being loved than you understand. And - Celeste, this is important - you nurture and love and protect more than anyone I have known. Or could know. Don't take that away from me. From us. - Author: Jessica Park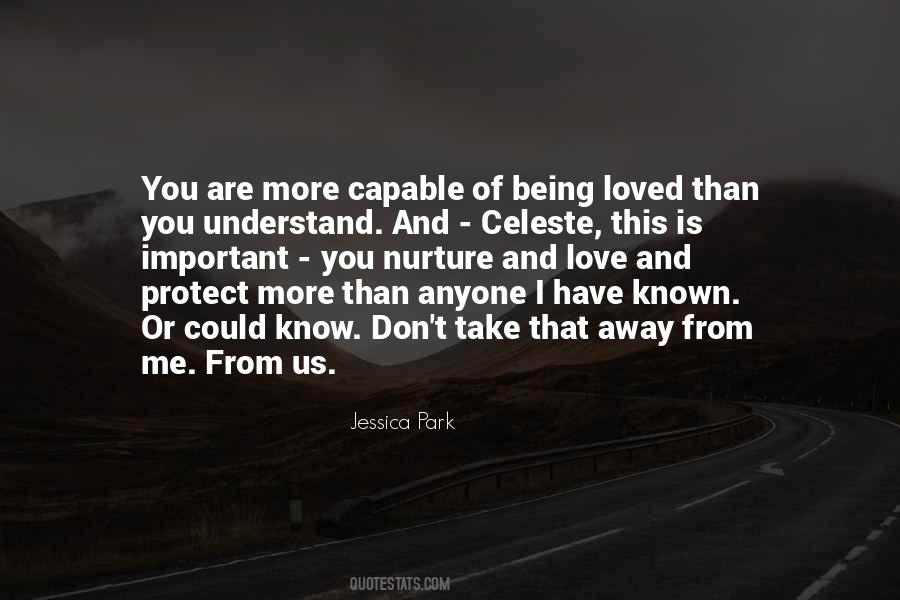 #66. Lord, I don't understand it, but when a person does something wrong, it never feels wrong until later. It's never as evil as you'd imagined. - Author: Michael Lee West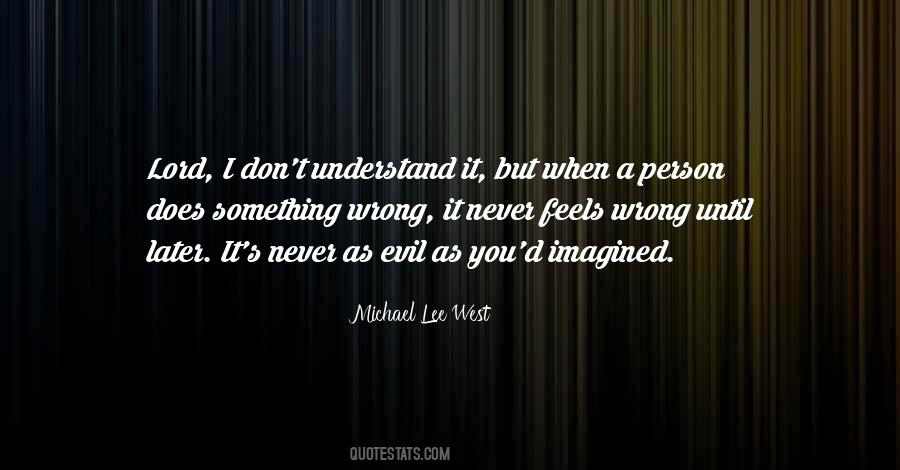 #67. You can't test great advertising. You can only test the mediocre. Not that I don't care about demographics. You have to understand who you're going after. - Author: George Lois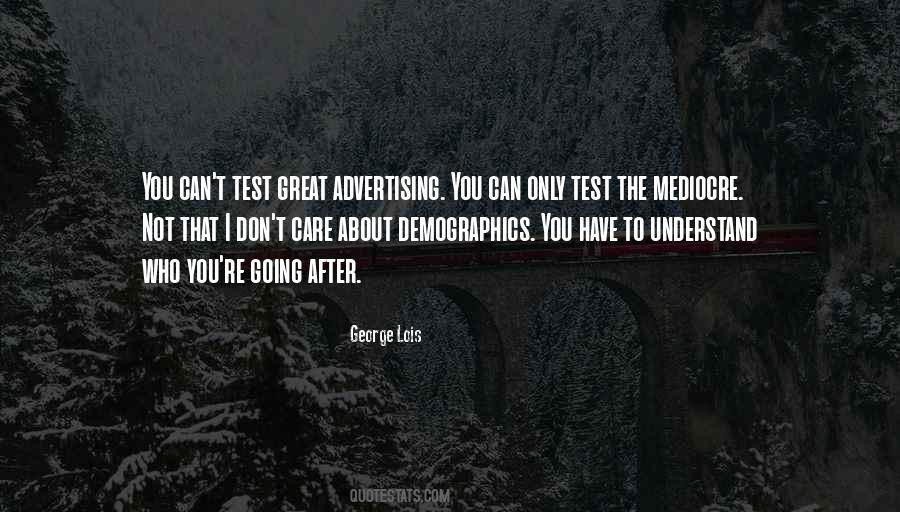 #68. I can't do this Ash. It's killing me. Having you this close and not touching you is driving me insane. You're his Ash. You're his. You made your choice and I understand why you chose him. I don't hold it against you but dammit Ash it hurts - Author: Abbi Glines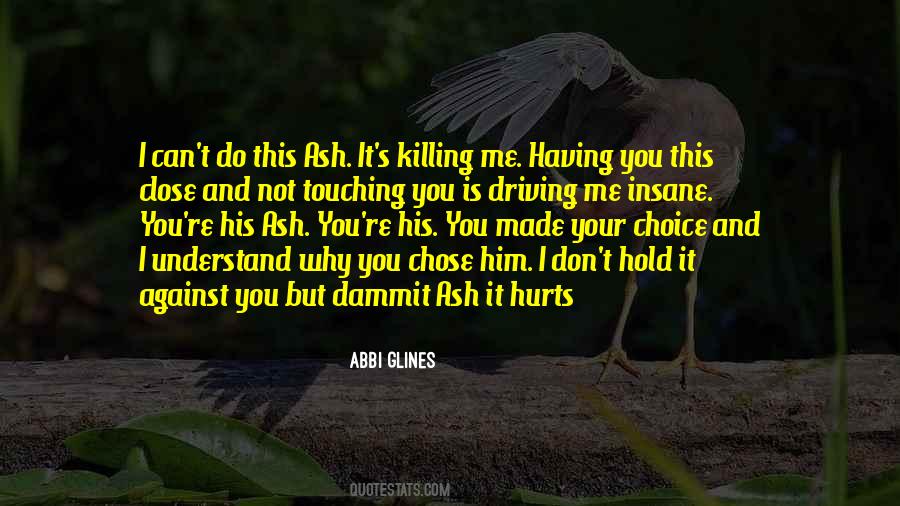 #69. I realize you don't understand you shouldn't argue with me, and so I'll explain it to you. Don't argue with me. - Author: Julie Garwood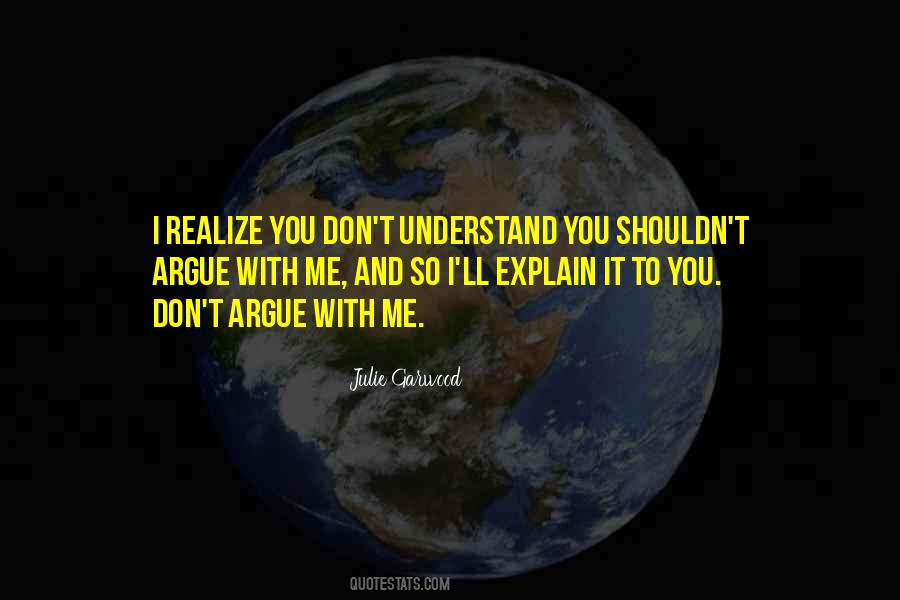 #70. And, anyway, friendship is different in another language; a foreign friend doesn't have to understand what you feel, and I don't expect it. It's enough if he understands what you just said. - Author: Michael Chabon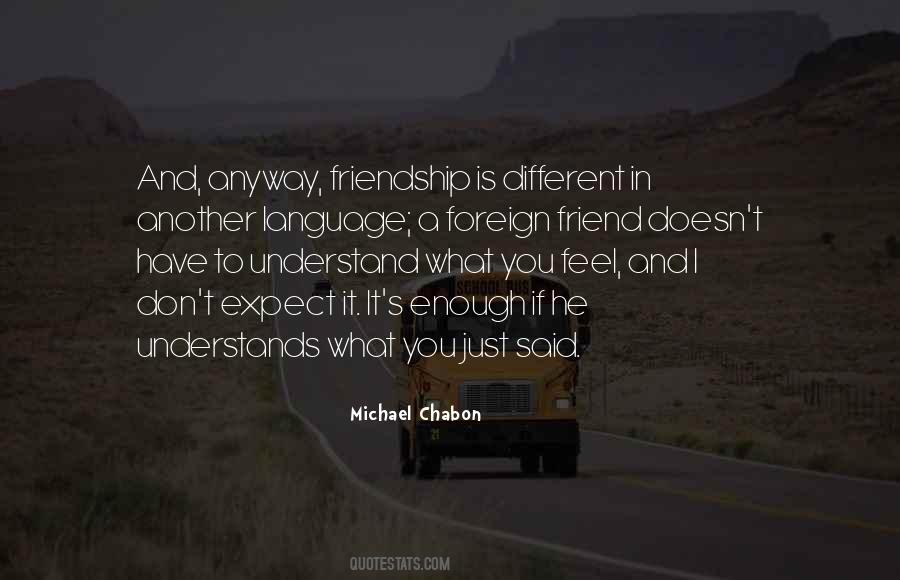 #71. We play make-believe and dress up for a living. One goes, one doesn't go, whatever. I don't understand how you can get bitter or jaded. We're just so lucky to get to do this. - Author: Michael Mosley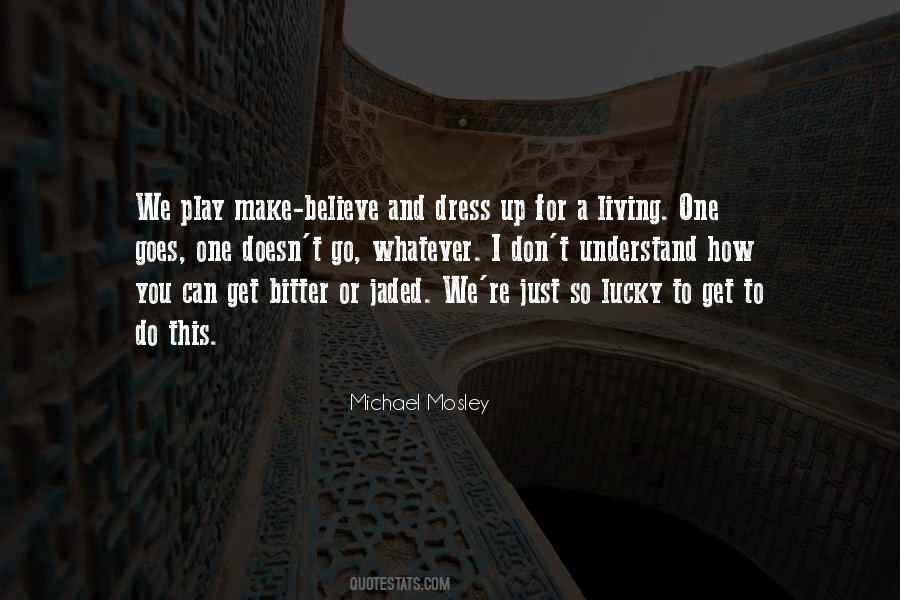 #72. Don't you understand?" snarled Rincewind. "We are going over the Edge, godsdammit!"
"Can't we do anything about it?"
"No!"
"Then I can't see the sense in panicking," said Twoflower calmly. - Author: Terry Pratchett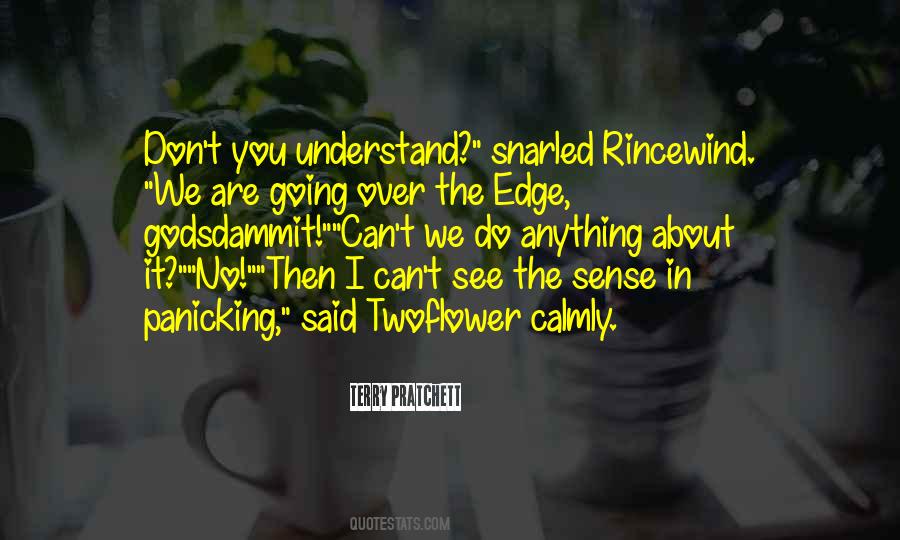 #73. I can understand going for Botox at 45-50, when you want to keep things in place. But I don't understand 25 year olds going for Botox or under the knife. You don't require it. Your skin is fresh, young. Why would you do that to yourself? - Author: Kajol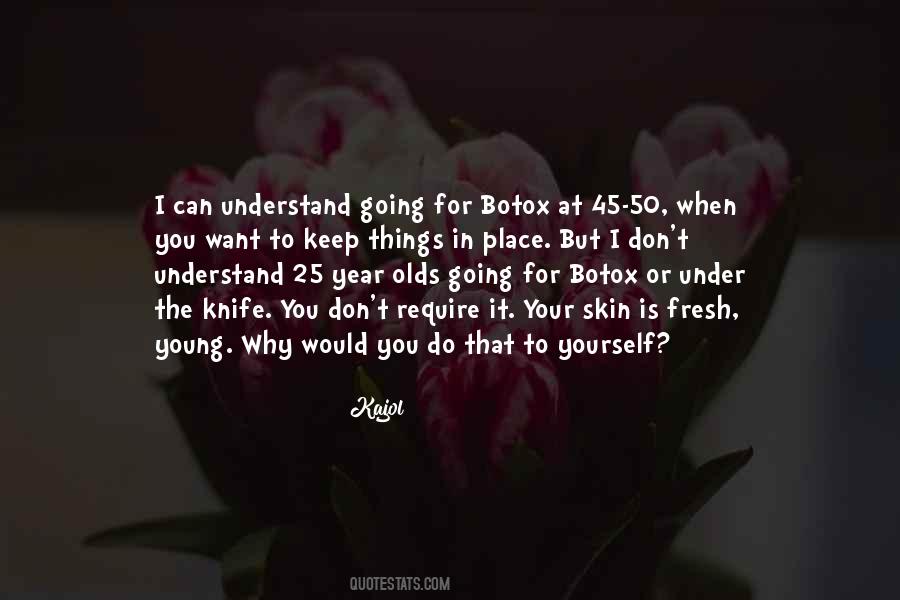 #74. Tell me that you don't like cartoons, and I think there's something wrong with you. I don't understand why people don't like cartoons. - Author: John DiMaggio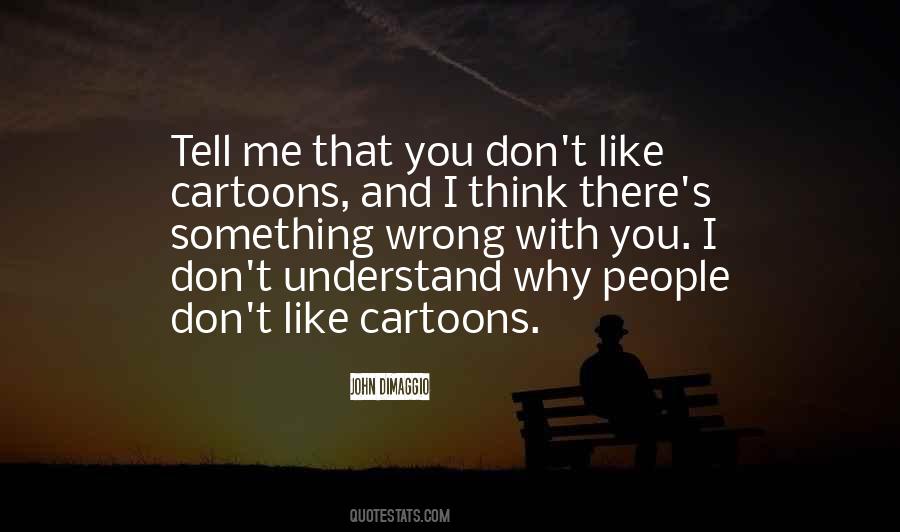 #75. They amaze me most of those remixes. Some of them are crap. But every time I complain, someone comes up and says they are for a different market that you don't understand. Some of the New Order ones are really great, though. - Author: Peter Hook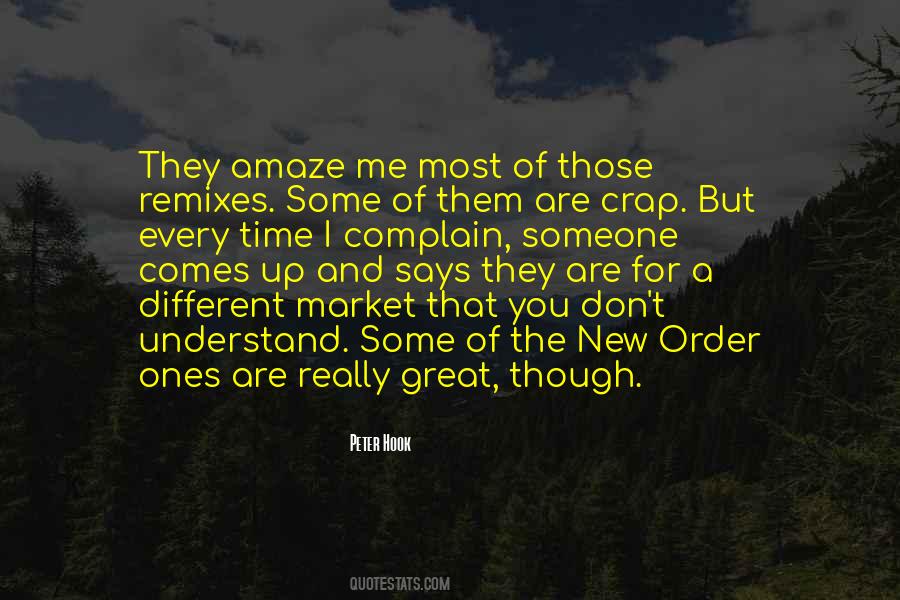 #76. I know you're going to find this hard to believe, but for some reason I don't understand, I actually like you ... most of the time. (Simone)
Well, you also love Jesse. Obviously your taste in men leaves a lot to be desired. (Xypher) - Author: Sherrilyn Kenyon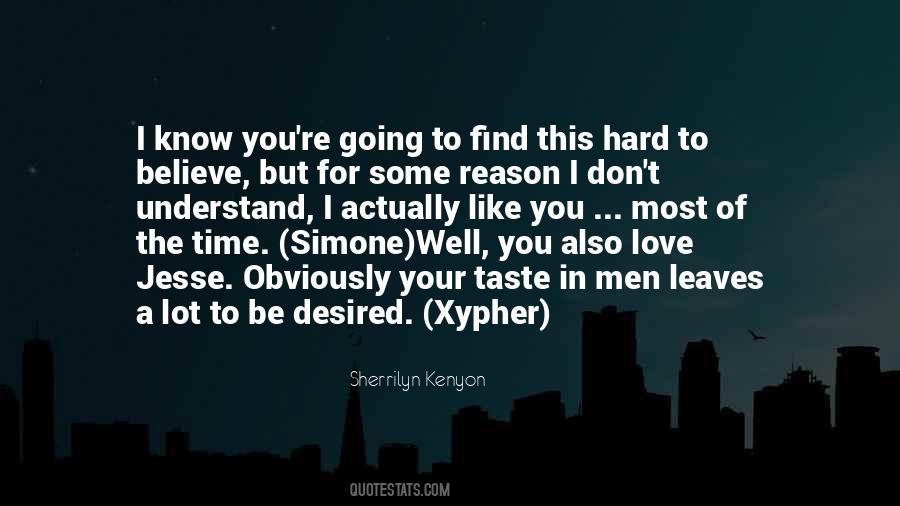 #77. HARPER: I don't understand why I'm not dead. When your heart breaks, you should die. But there's still the rest of you. - Author: Tony Kushner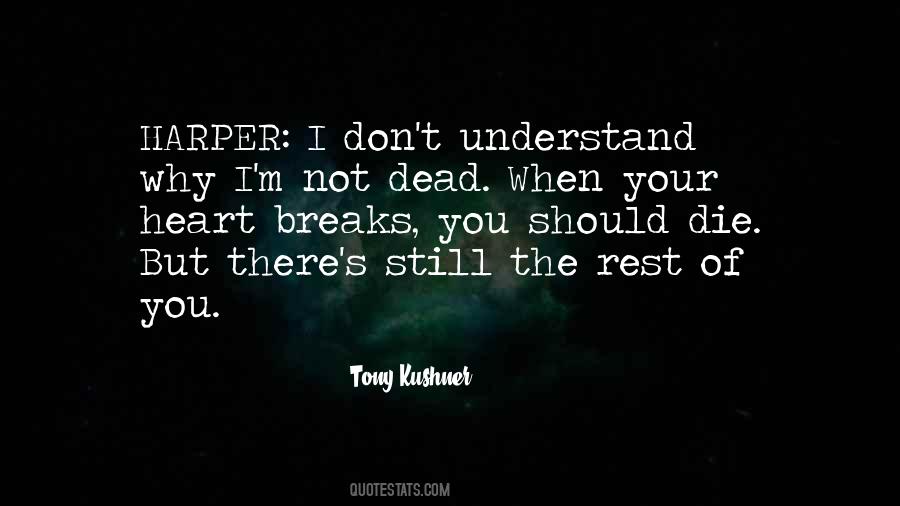 #78. I learned that if you bring black people together, you bring them together with a song. To this day, I don't understand how people think they can bring anybody together without a song. - Author: Bernice Johnson Reagon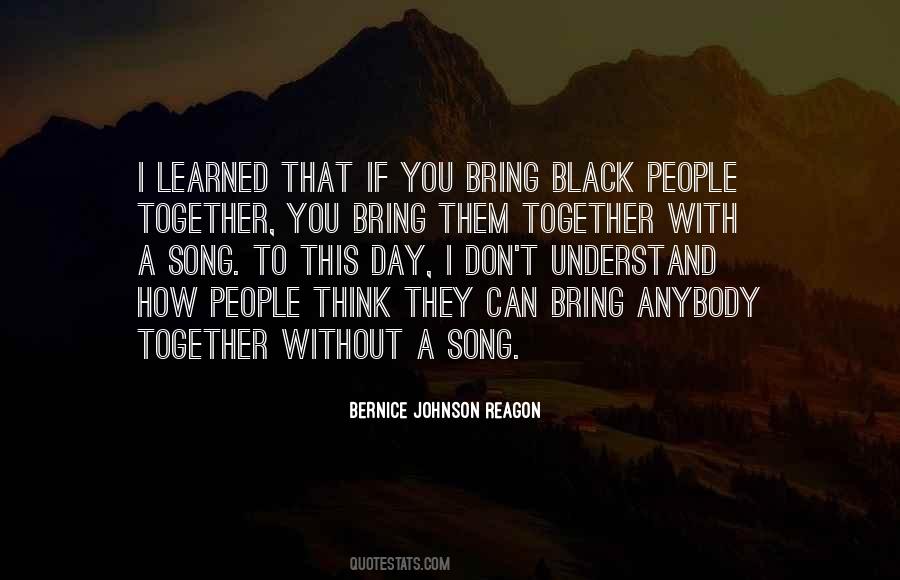 #79. I know it's going to be bad for you, Jacob. I understand that - maybe better than you think. I don't like her, but ... she's your Sam. She's everything you want and everything you can't have. - Author: Stephenie Meyer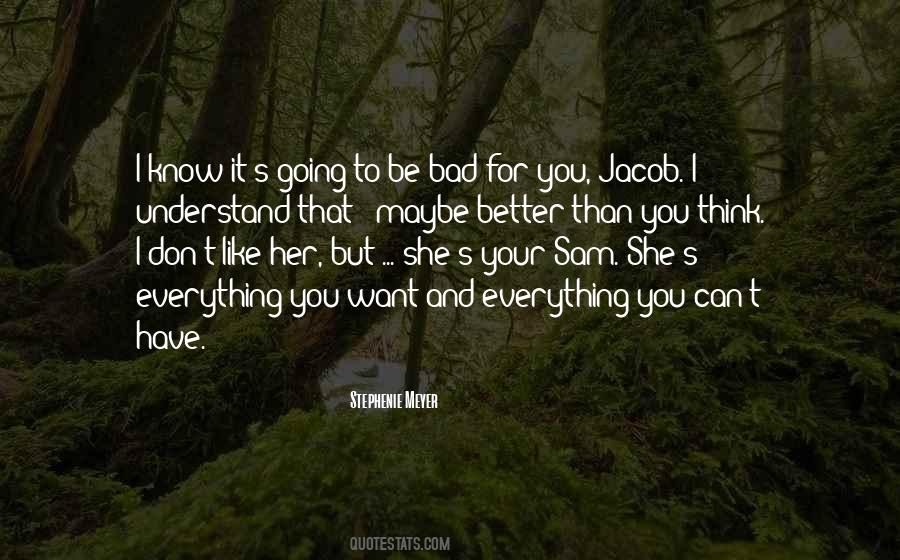 #80. Let's put it this way: I don't have a good work ethic. I have a real casual relationship with hours. I don't understand why, in entertainment, the hours are as long as they are. It seems like everything takes forever, and no one can tell you why, exactly. - Author: Janeane Garofalo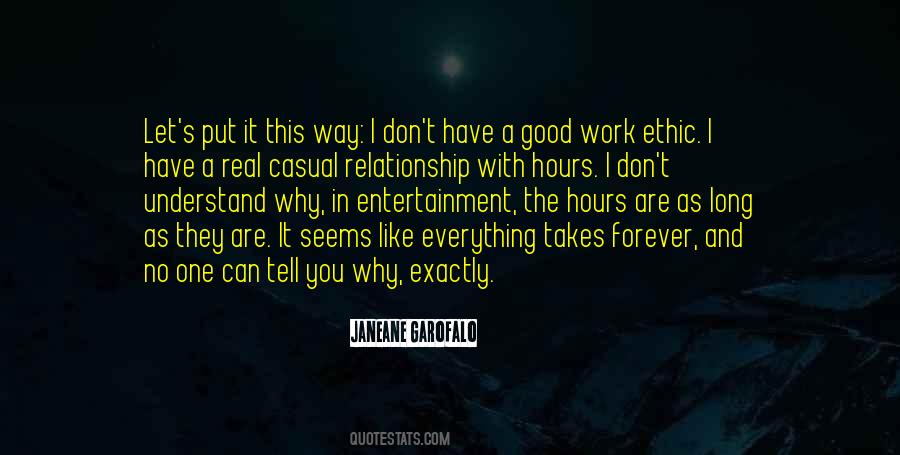 #81. I don't understand people whose gratification is a BMW. You don't know what joy is until you see a kid who was tortured get adopted by a family. - Author: Andrew Vachss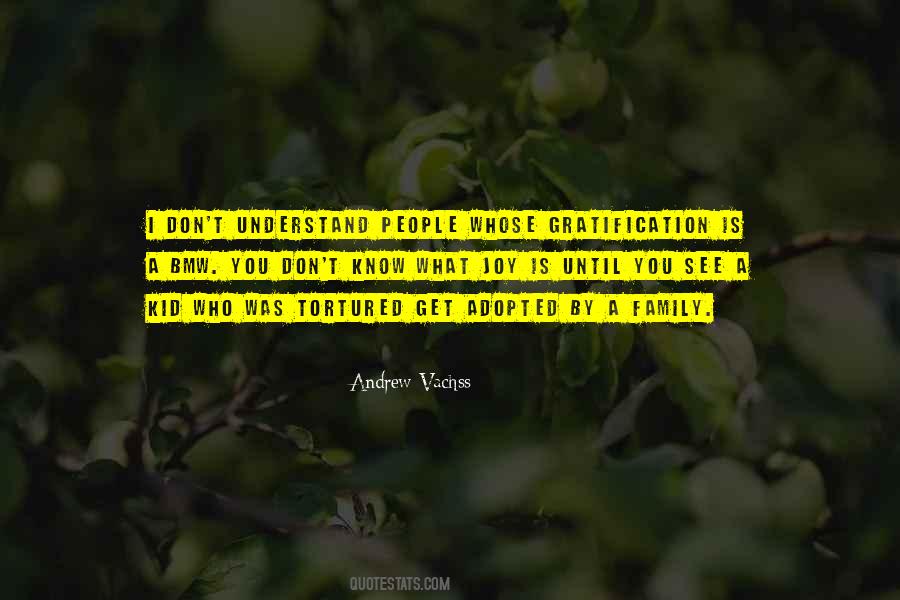 #82. I don't understand," Holden said. "If you didn't do this, then who did?"
"See now, that's a good question, on several levels. Depending on what you mean by 'this. - Author: James S.A. Corey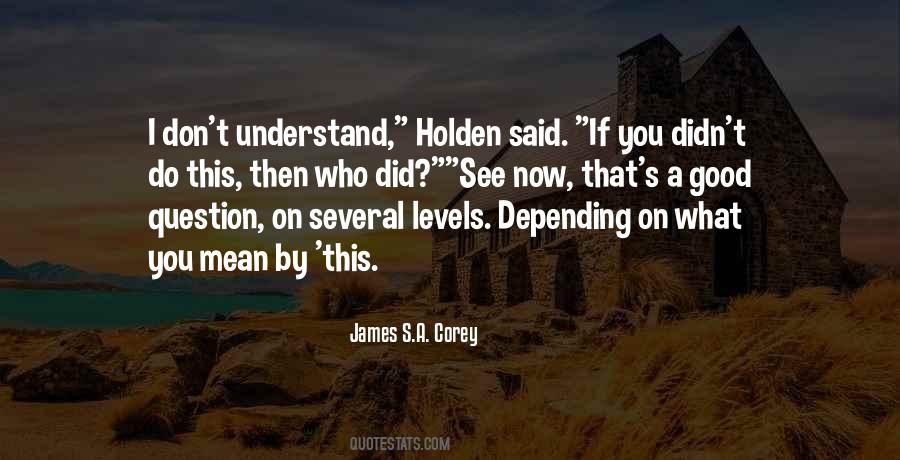 #83. There are a lot of bands that have a huge appeal, but I don't understand why. Guns n' Roses. U2. But you know, that's just my thing. Music is pretty personal. - Author: Ric Ocasek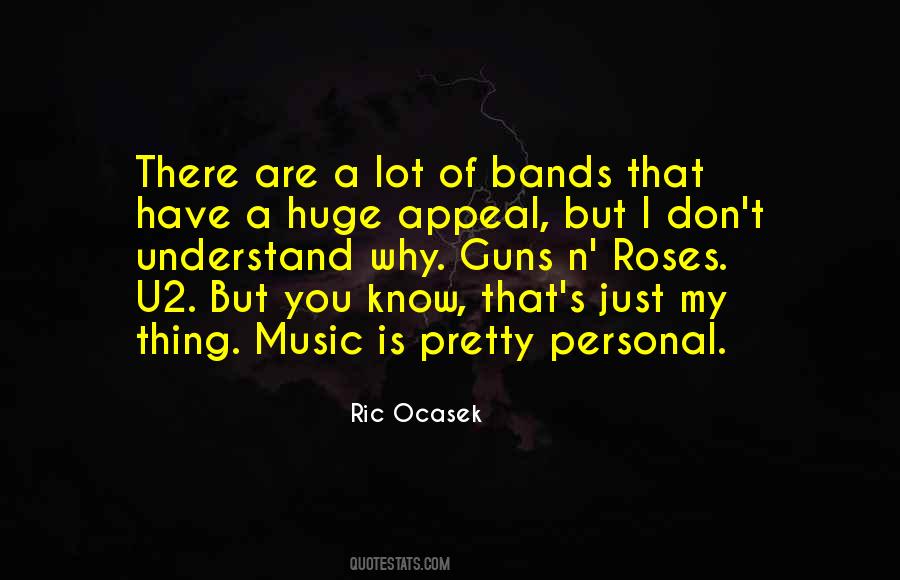 #84. I don't think you understand what it means when a demon falls in love, Layla. It doesn't go away. It doesn't fade, even if we want to. We love until death. That's not just something we say. We love and we love once and it's forever. - Author: Jennifer L. Armentrout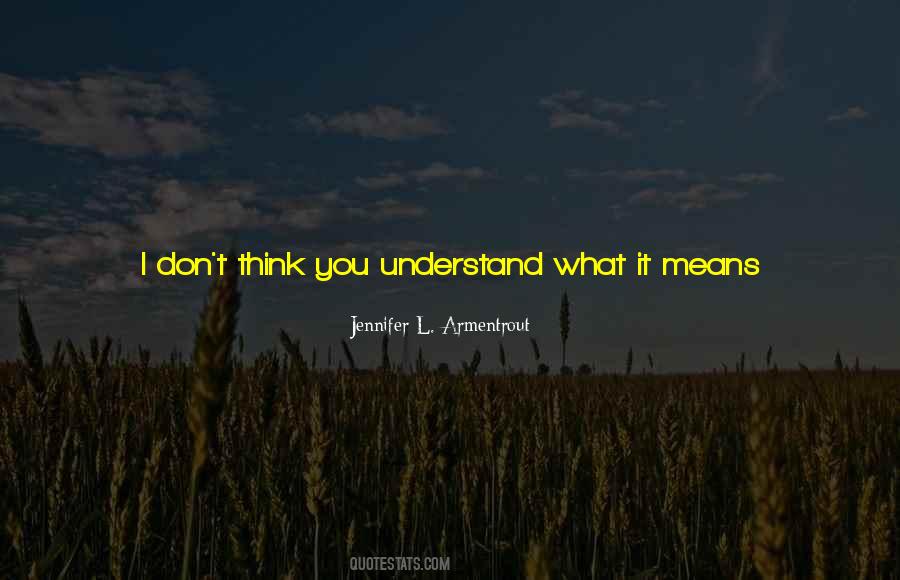 #85. Whatever your pleasure, I can facilitate. You need weed, you need meth- hey, you need Prozac, I'm your man. I know how you white boys always deal with that depression. I mean me personally, I don't understand what you white boys are all depressed about. Hey, you're white! Smile! - Author: Chris Rock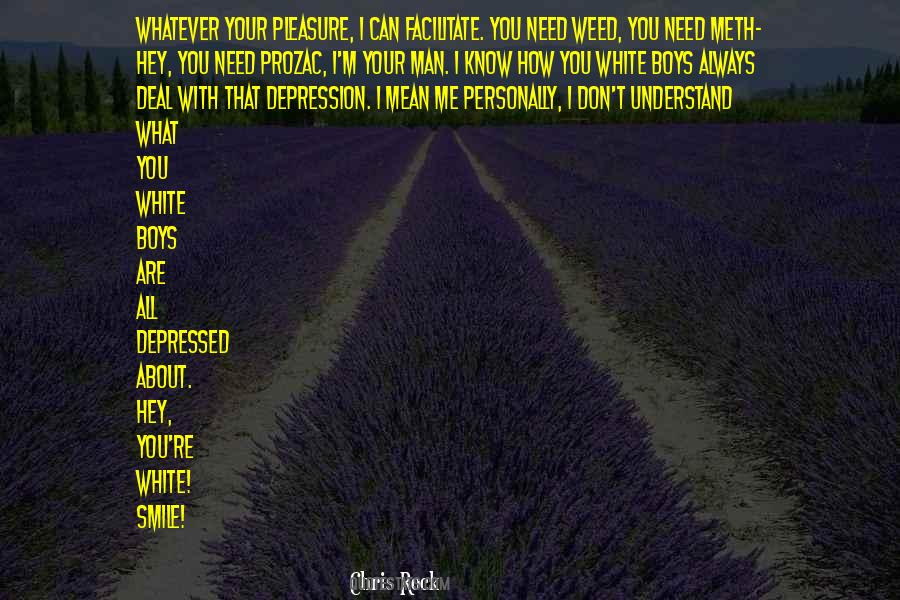 #86. That's all there is to it. We look different, so we don't understand each other's inner thoughts, but we cherish each other in our own way. I respect you. - Author: Sun-mi Hwang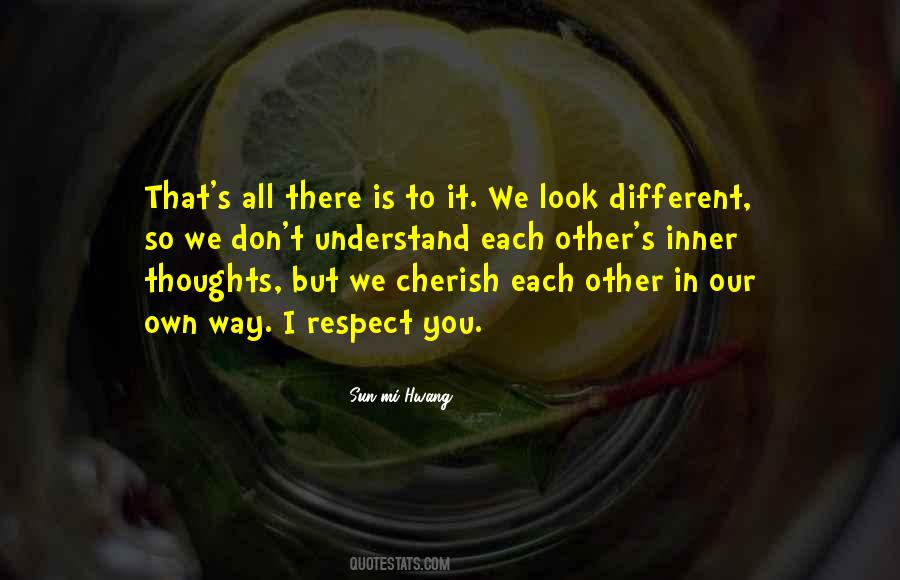 #87. I can understand the fact you don't want the ball slipping out of a pitcher's hand because someone can get hurt. - Author: Joe Torre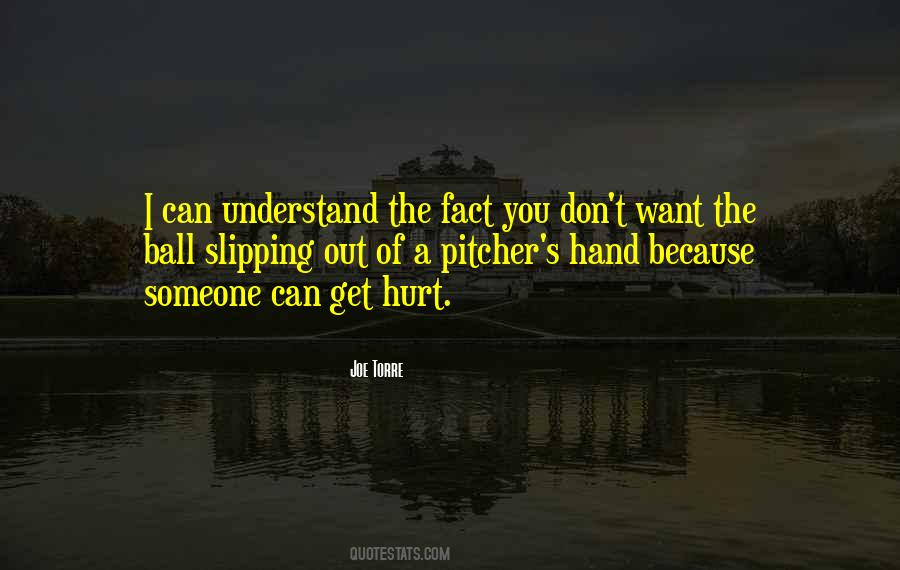 #88. I came to understand that people come and see you because they like you. They don't come to throw things at you. - Author: Charlotte Gainsbourg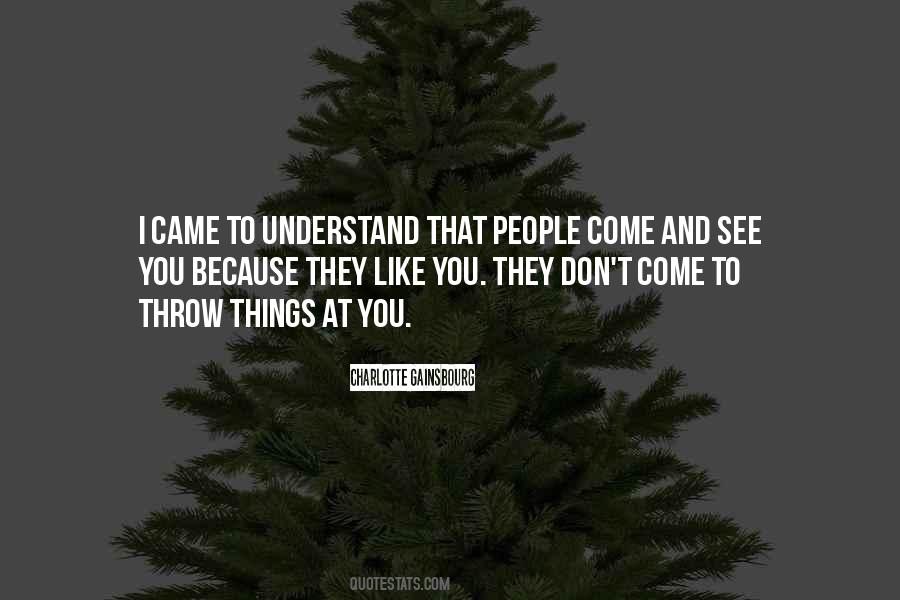 #89. What you pretend to be is so complicated that I don't even bother to try to understand it. - Author: Miguel Ruiz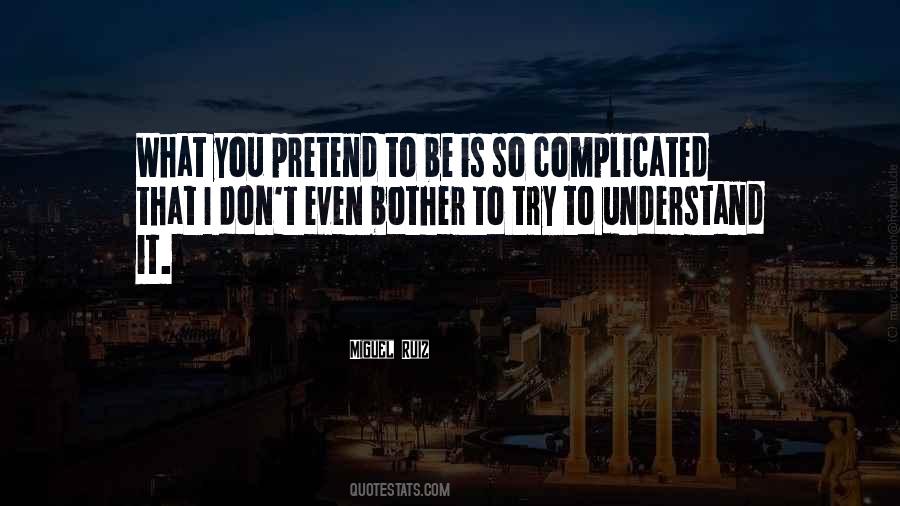 #90. And your excuse?' I asked.
'I'm a sociopath; I don't have to be nice,' Nicky said.
I gave him a look.
'You're mad at him.I can feel it; which means I really don't have to be nice to him.'
'I thought you were friends.'
'What part of sociopath didn't you understand?' he asked. - Author: Laurell K. Hamilton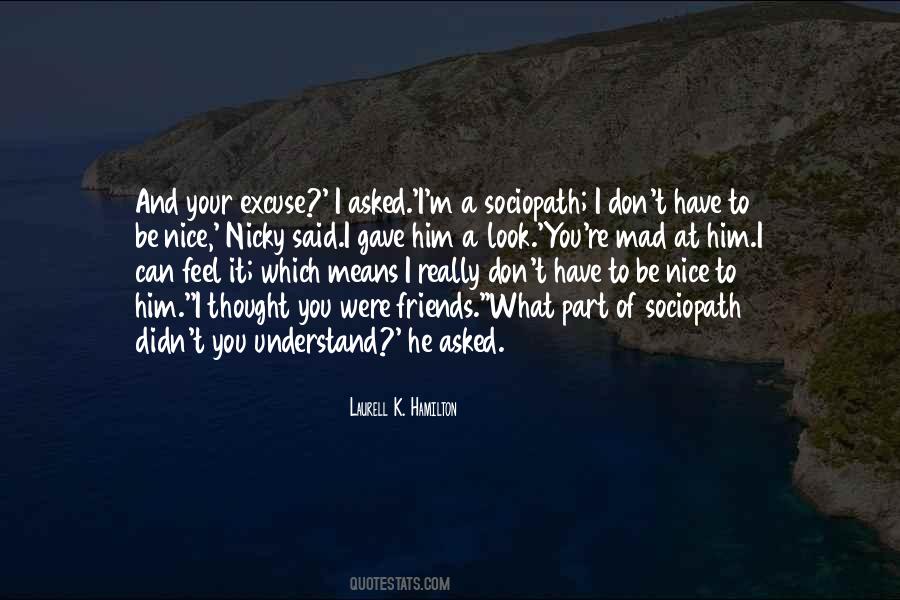 #91. Alright, but I don't like this at all Syd. But I trust you. If you say you're not upset, then I'll let it go, for now. Just understand that I won't let anything or anyone hurt you, not even me.

Relatively Famous - Author: Heather Leigh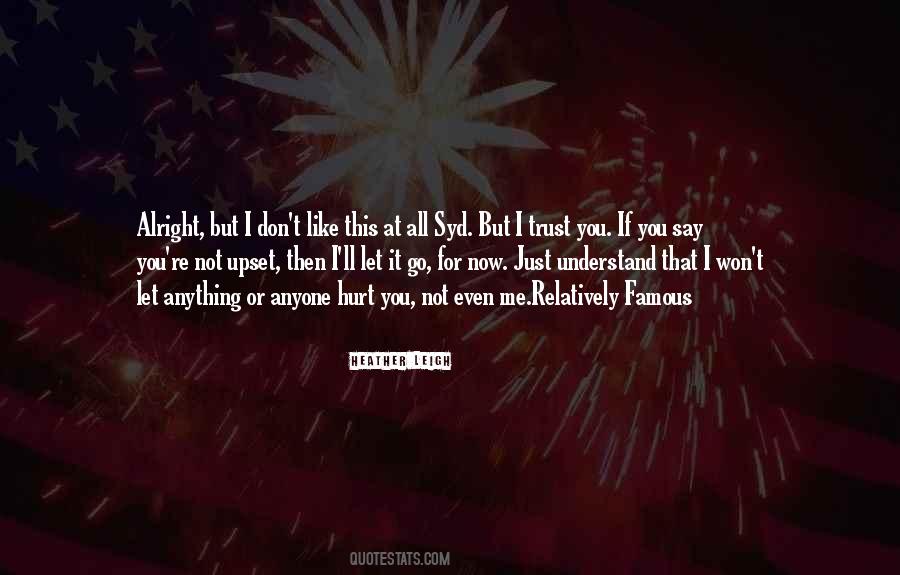 #92. When YOU Say YOU Love Me, I Don't Hear With My Ears Or Read YOUR Lips As I Already Know That By Looking In YOUR Eyes ... - Author: Muhammad Imran Hasan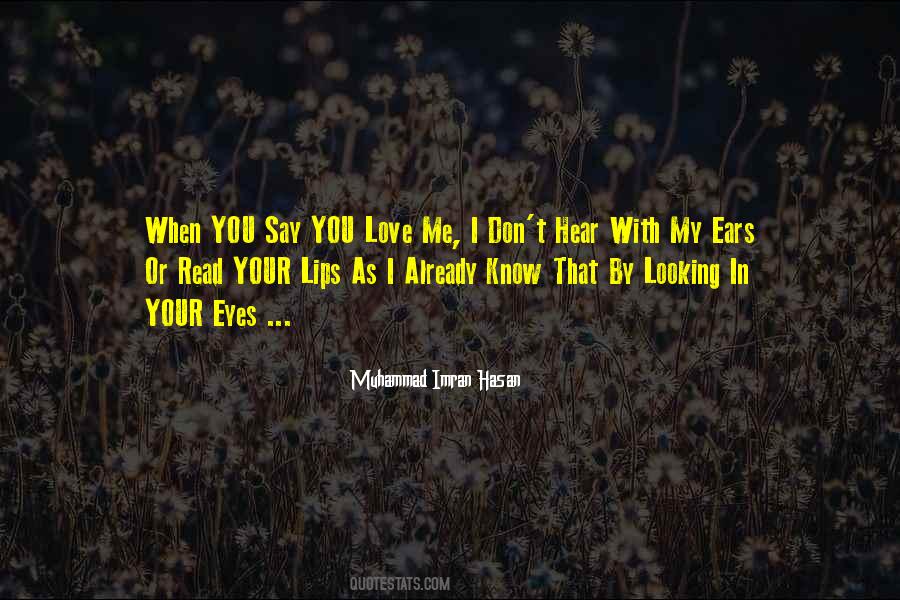 #93. Don't you understand? I want to spend my life with you. I want you to be there when I go to bed at night and when I wake up in the morning. - Author: Heather Anastasiu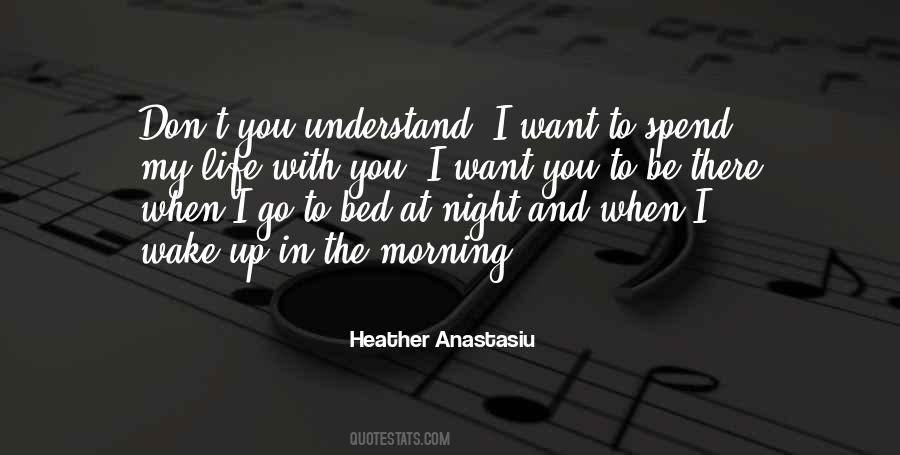 #94. You don't understand me. I'm a teenager. I've got problems! - Author: Jeffrey Eugenides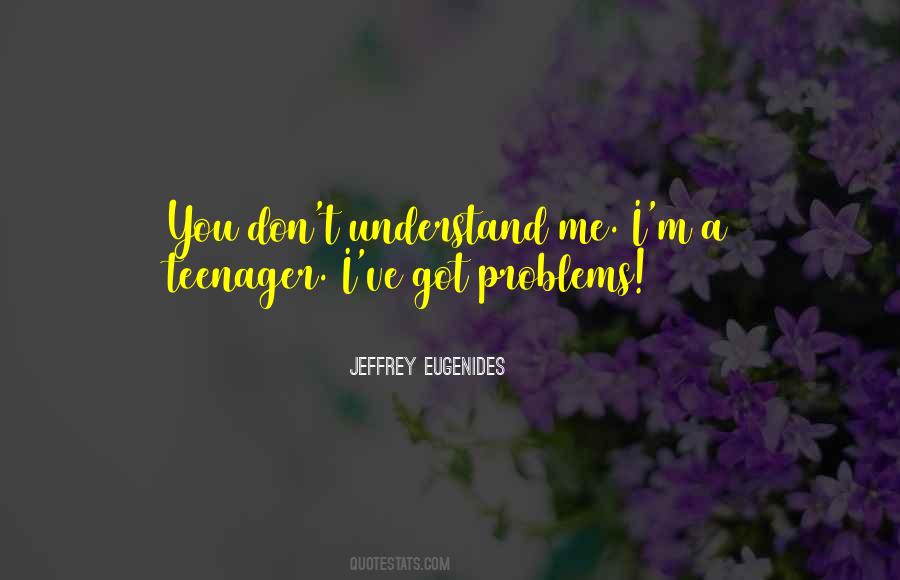 #95. I fucking love you. I don't deserve to love you, but I will spend the rest of my life earning that right. You are my music, do you understand? - Author: Pam Godwin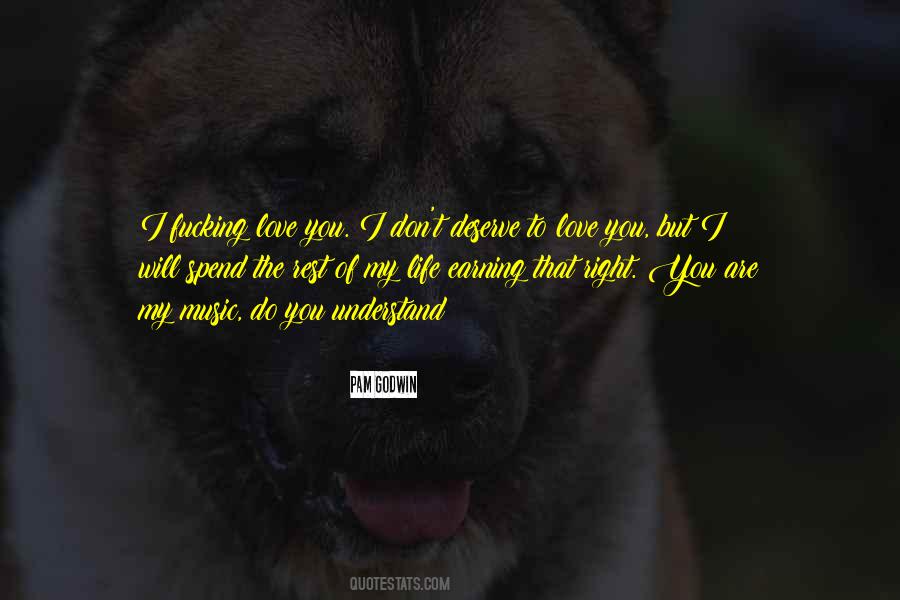 #96. Good, evil - it all becomes blurred. You go far enough and everything turns to grey. And the power Isaac, you don't understand. The power I have now - I can't let it go. It's in my blood, it's right there in my soul. I can't let it go. - Author: Matthew Head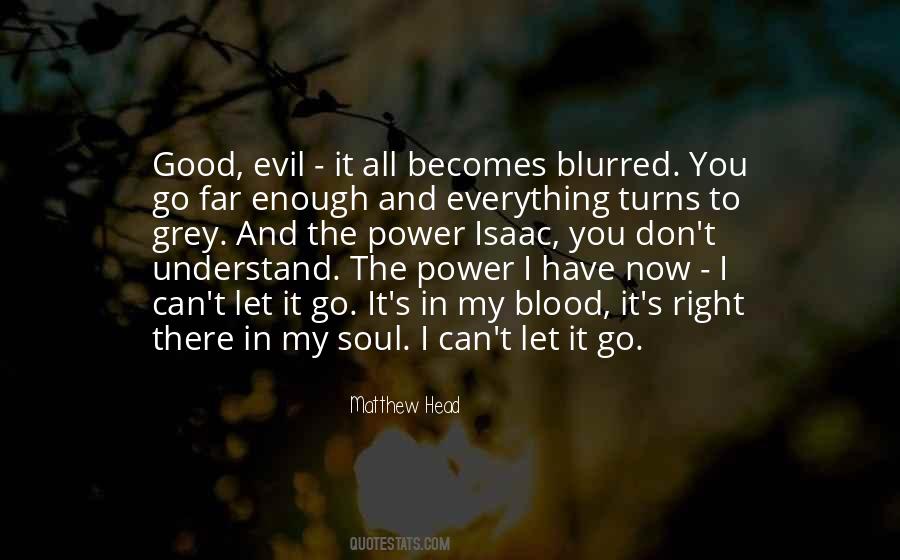 #97. Now I understand - how sleep allows you to forget, but your pain wakes with the dawn, worse because for a split second you don't remember what you've suffered. - Author: Amy Engel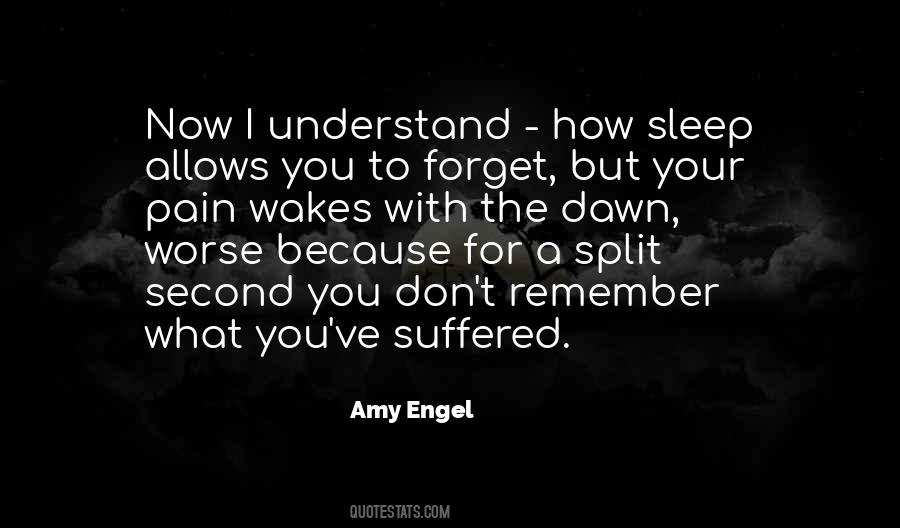 #98. He should have just checked it. I don't understand why some people insist on hauling those giant bags around everywhere they go - not when you can check one bag free on international flights. Check it at the gate if you don't trust the belt system. - Author: Sabra Hunter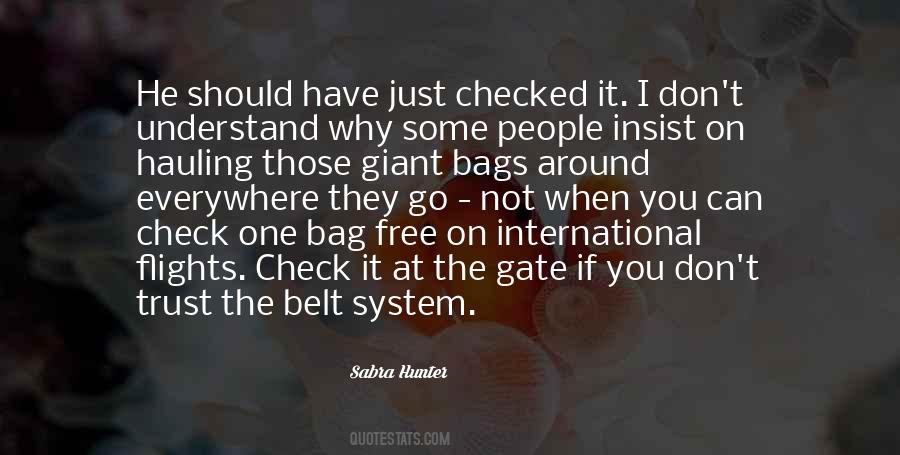 #99. Do you understand? I don't want you to do a thing if you don't understand it. - Author: Kristin Cashore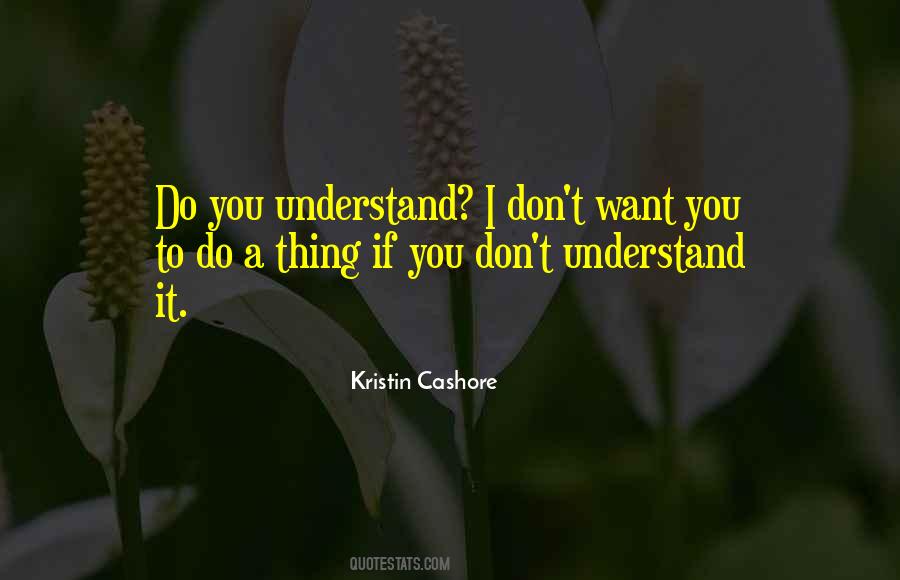 #100. I don't even understand why I have 1.7 million Twitter followers. Every day, I want to remind them and say, "Do you realize I'm an astrophysicist? Do you know what you're doing here?" - Author: Neil DeGrasse Tyson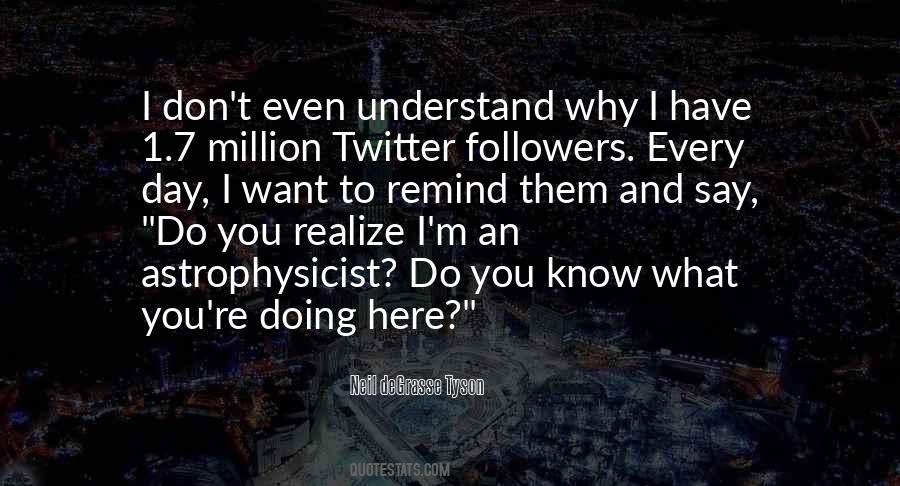 Famous Authors
Popular Topics