Can't Understand Life Famous Quotes & Sayings
List of top 100 famous quotes and sayings about can't understand life to read and share with friends on your Facebook, Twitter, blogs.
Top 100 Can't Understand Life Quotes
#1. To love someone means you have something in life to fight for, something to live for - I guess you wouldn't know, you've never felt love, so you can't possibly understand. - Author: J.A. Redmerski
#2. Don't be bitter. Everybody suffers. If you can accept your suffering then you will understand other people better. Be grateful for pain. Love life. - Author: Stephen Colbert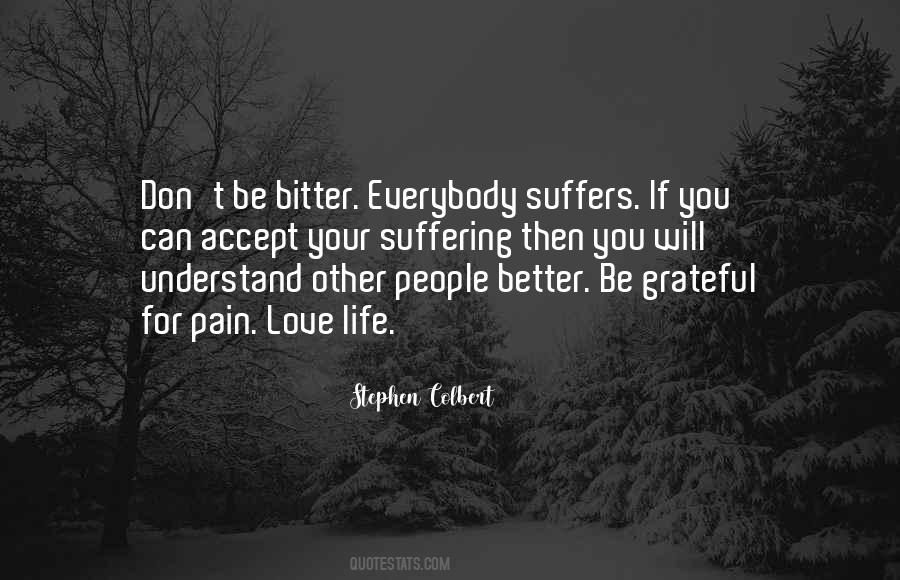 #3. Easter tells us of something children can't understand, because it addresses things they don't yet have to know: the weariness of life, the pain, the profound loneliness and hovering fear of meaninglessness. - Author: Frederica Mathewes-Green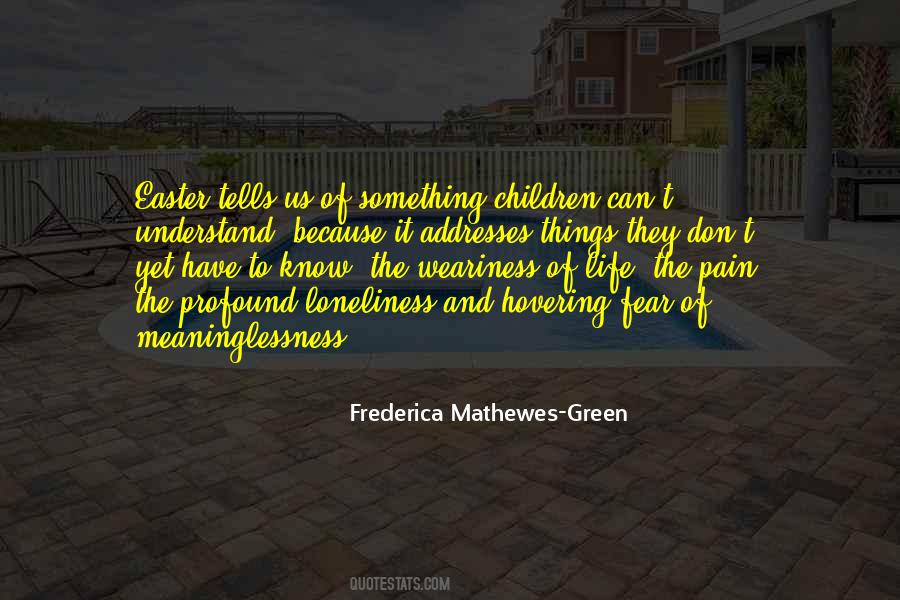 #4. I don't get that, I mean, what's power? Let's say he suddenly becomes king of the world. What is he going to do with it that he can't do now? Is his food going to taste better? Is the weather going to be nicer? Will love feel better? I just don't understand that mentality. - Author: Richard Paul Evans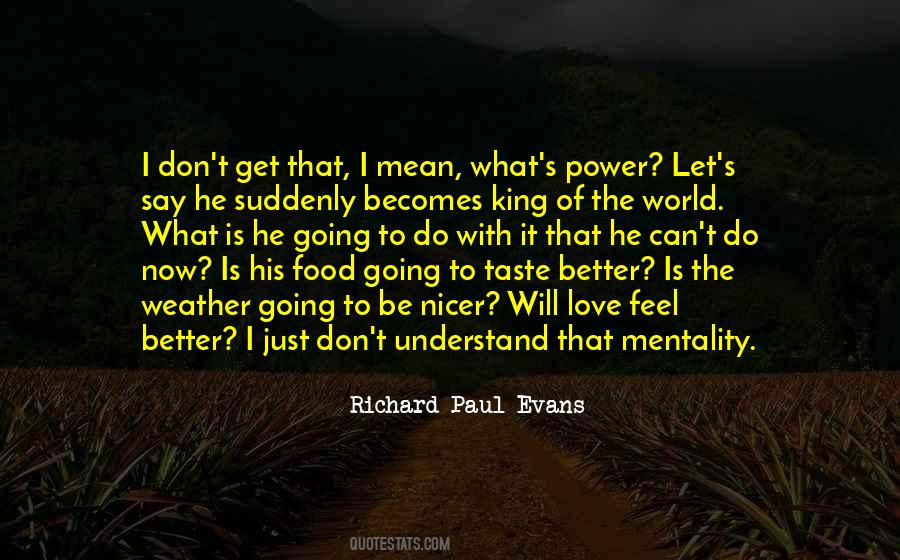 #5. There's something sad about people going to bed. You can see they don't give a damn whether they're getting what they want out of life or not, you can see they don't even try to understand what we're here for. They just don't care. - Author: Louis-Ferdinand Celine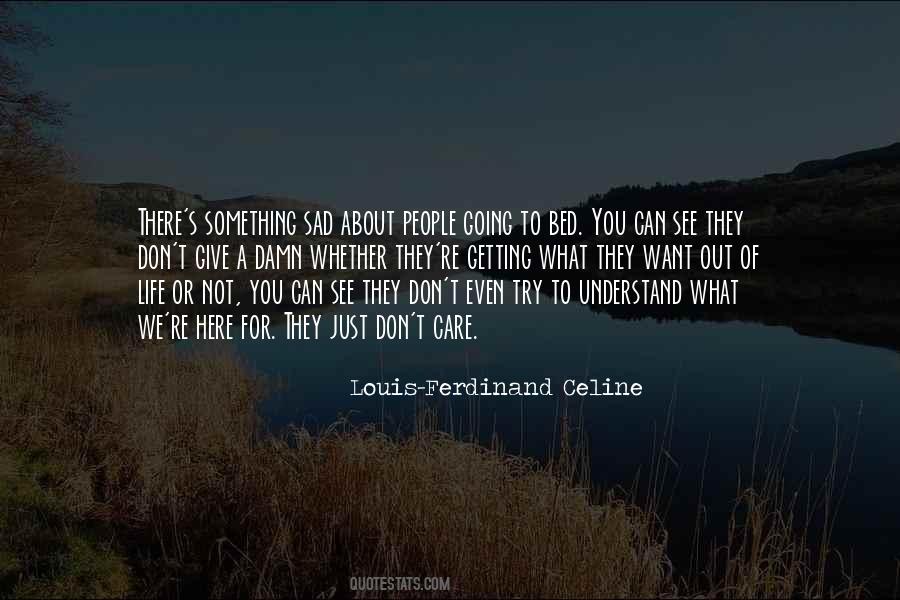 #6. Intelligence is attractive, but so is life experience. You can't amass it just by reading a ton of books. But you can live a lot of life in a short time. Travel. Talk to everyone. Collect adventures, and use them to understand the world. That's how you learn to treat people well. And that's sexy. - Author: Nicole Lapin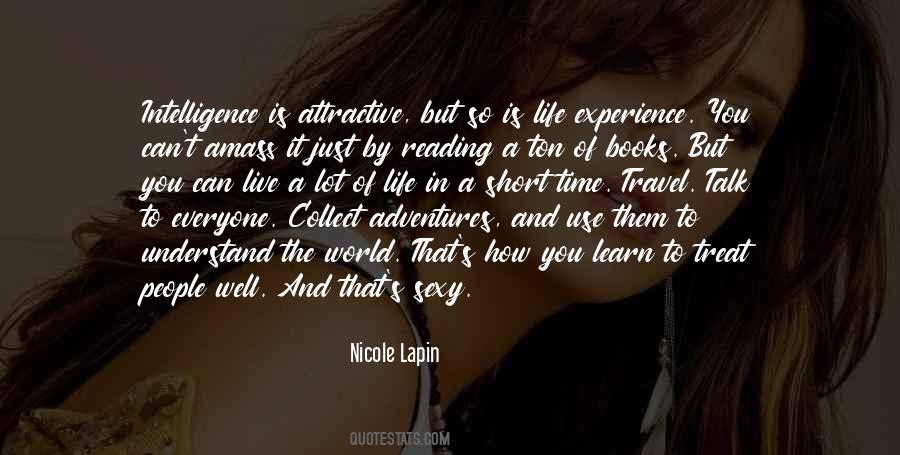 #7. He sees very clearly - he damn sure sees through me. It's hard to accept that someone can understand you without wishing you well. At Starling's age it hadn't happened to her much. - Author: Thomas Harris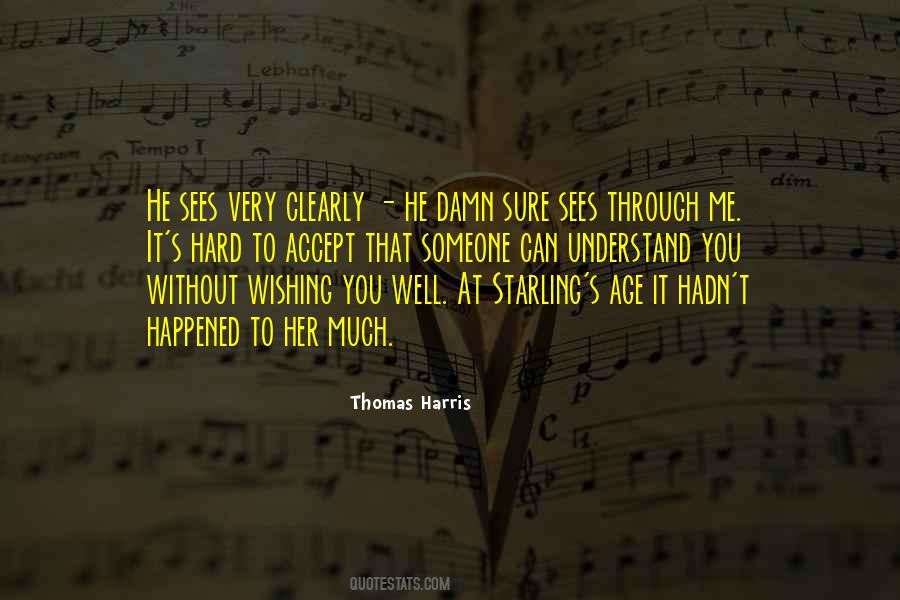 #8. [My subjects] look lost because that is how I see life. I think we are all a bit lost, lost in a world we can't understand. - Author: Loretta Lux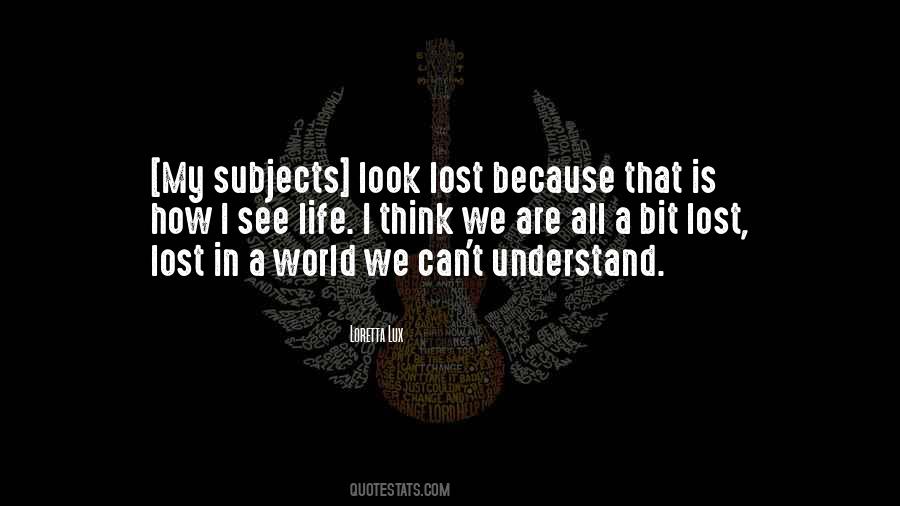 #9. Love, I don't understand, I tried I swear, but I can't see why. You were here, and I was there, we were us, and then.. You were gone, leaving me here to deal with this life alone. - Author: Anya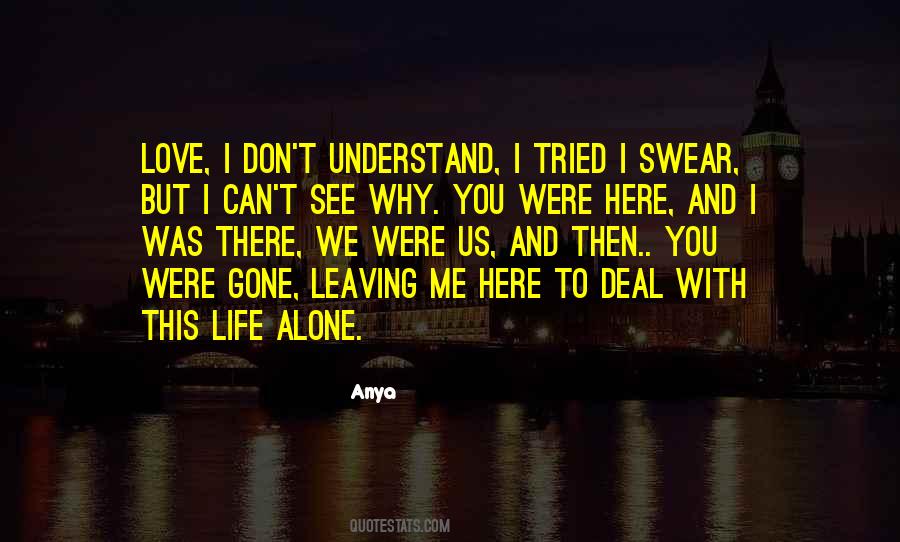 #10. If you can understand human behavior, it can't hurt you nearly as much. - Author: Carol Plum-Ucci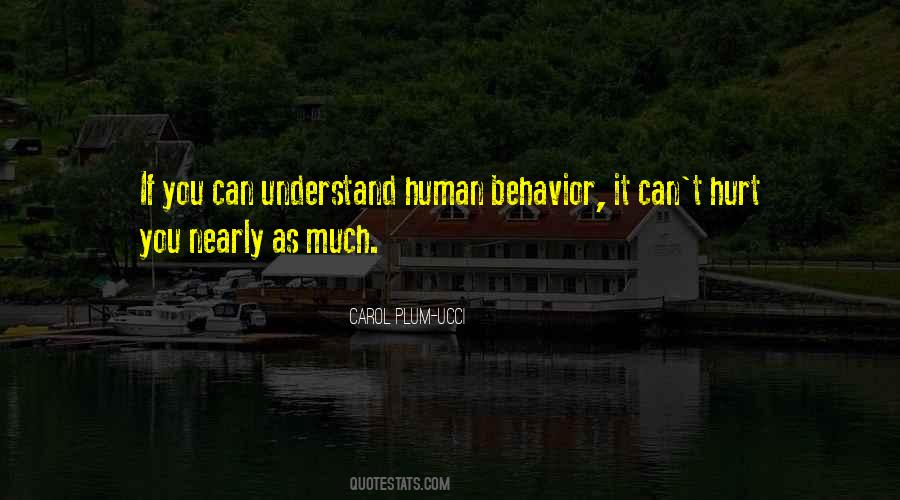 #11. There are a lot of people who know me who can't understand for the life of them why I would got to work on something as unserious as baseball. If they only knew. - Author: A. Bartlett Giamatti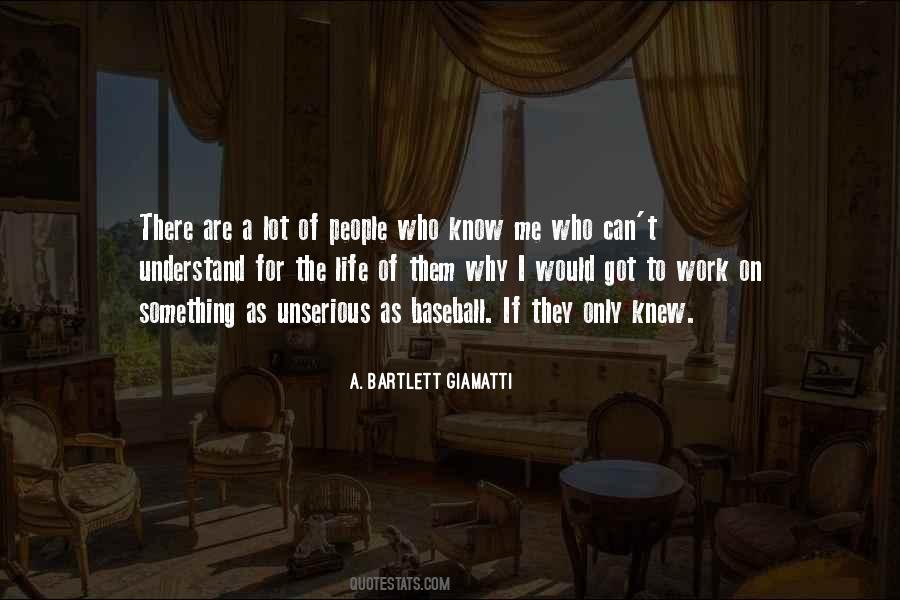 #12. As long as we remain within the confines of the thinking mind, we can't experience the state of non-thinking. If we can't experience non-thinking, we will not understand what our life truly is. Please realize this for yourself! Just sit. - Author: Taizan Maezumi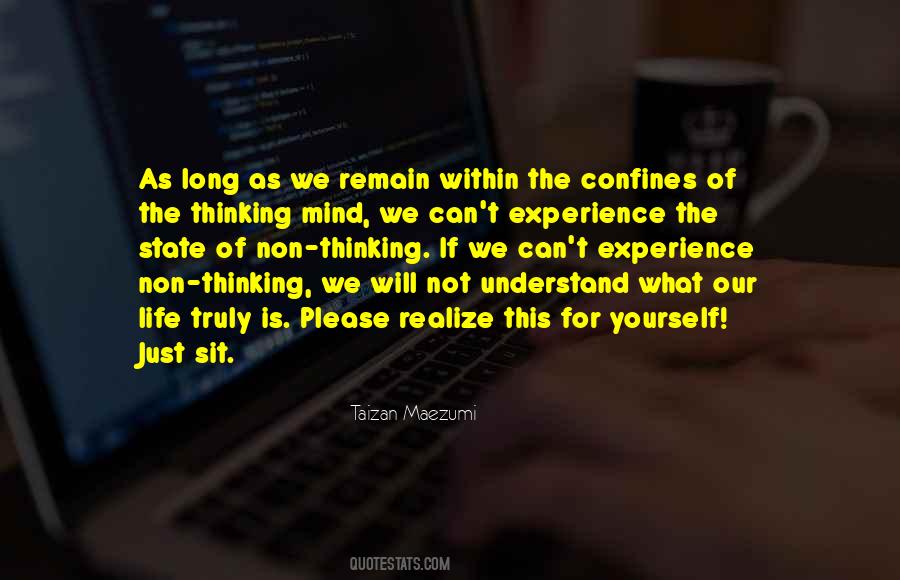 #13. They don't understand the multi-life sequences. Anything they can't see in a laboratory, they think is nonsense. - Author: Frederick Lenz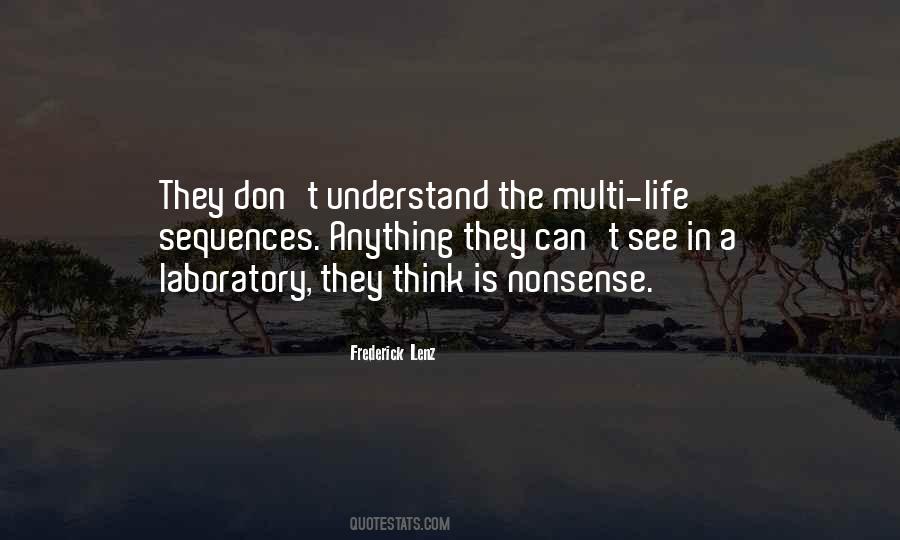 #14. A carefree quality is a whole aspect of life that I will never understand. I don't think I have ever been carefree and can't see the pleasure of it. - Author: Carter Burwell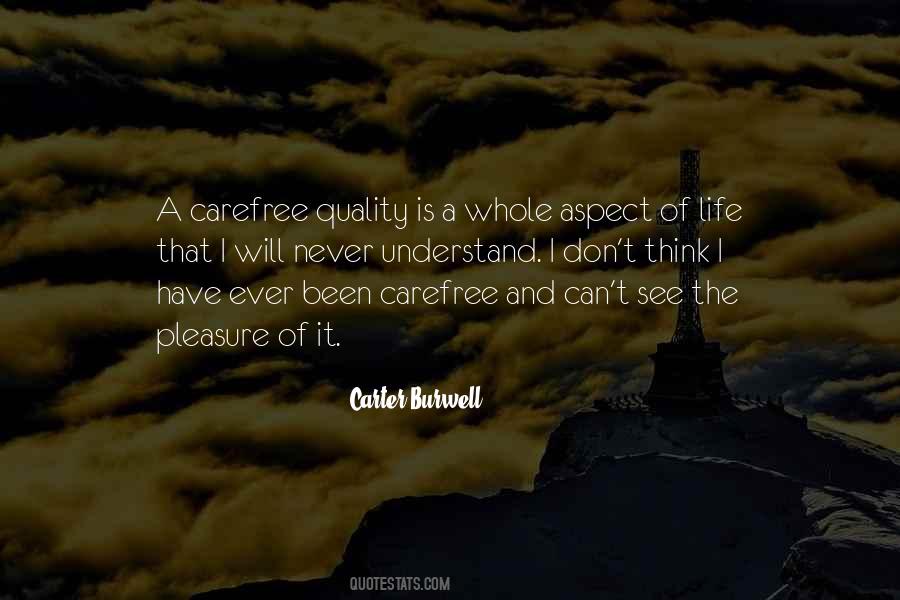 #15. By the time my children are born, I know it's possible that they can grow up in a world where they don't understand that there were ever any dividers between people and why we have the issues we do today. That's my goal in this life. - Author: Jason Mraz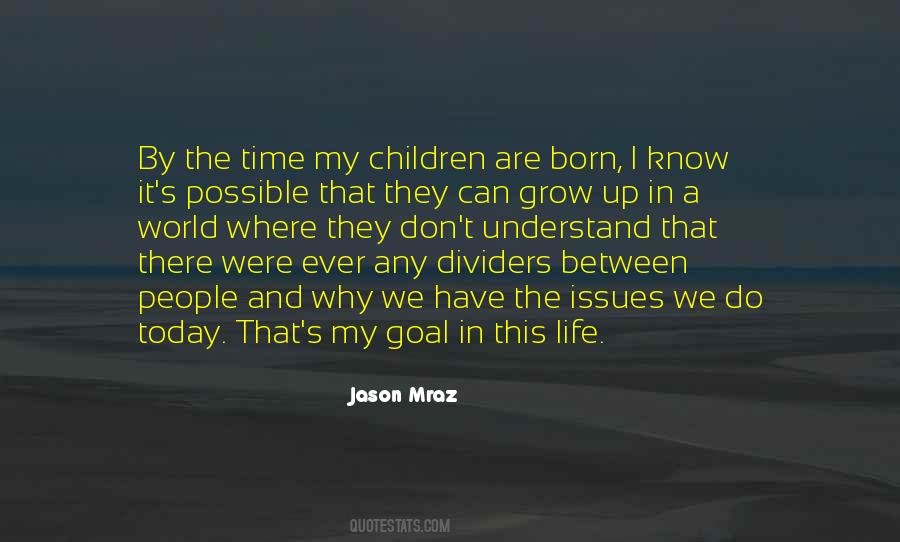 #16. Can I possibly not understand myself that I'm a lost man? But
why can't I resurrect? Yes! it only takes being calculating and patient at least once in your life and
that's all! It only takes being steadfast at least once, and in an hour I can change my whole destiny! - Author: Fyodor Dostoyevsky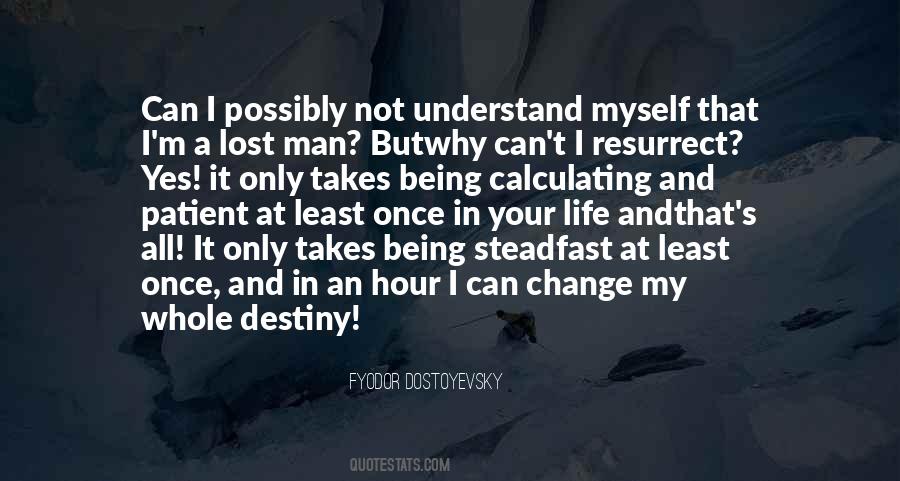 #17. People say, 'You have inspired me, you've given me courage ... ' They've gone so far as to say, 'You've changed my life!' And I would come back and say to my husband, 'I can't understand it - what kind of poor little life did she have if I had to come and change it?' - Author: Iris Apfel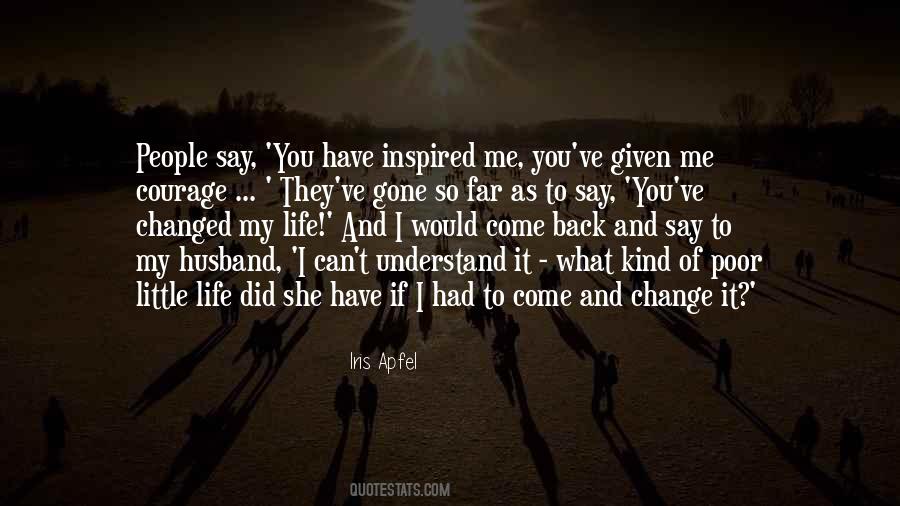 #18. I am a true adorer of life, and if I can't reach as high as the face of it, I plant my kiss somewhere lower down. Those who understand will require no further explanation. - Author: Saul Bellow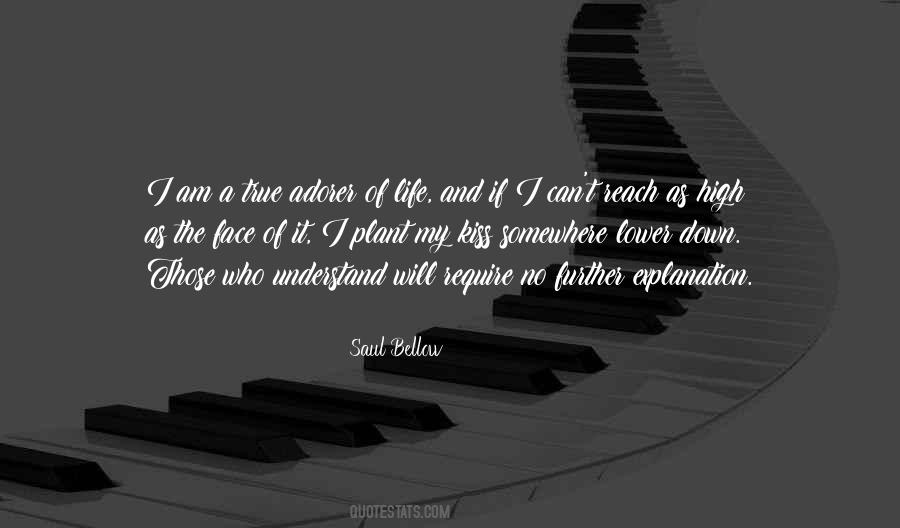 #19. You can waste a perfectly good life trying to meet the standards of someone who thinks you're not good enough because they can't understand who you are. - Author: Barbara Sher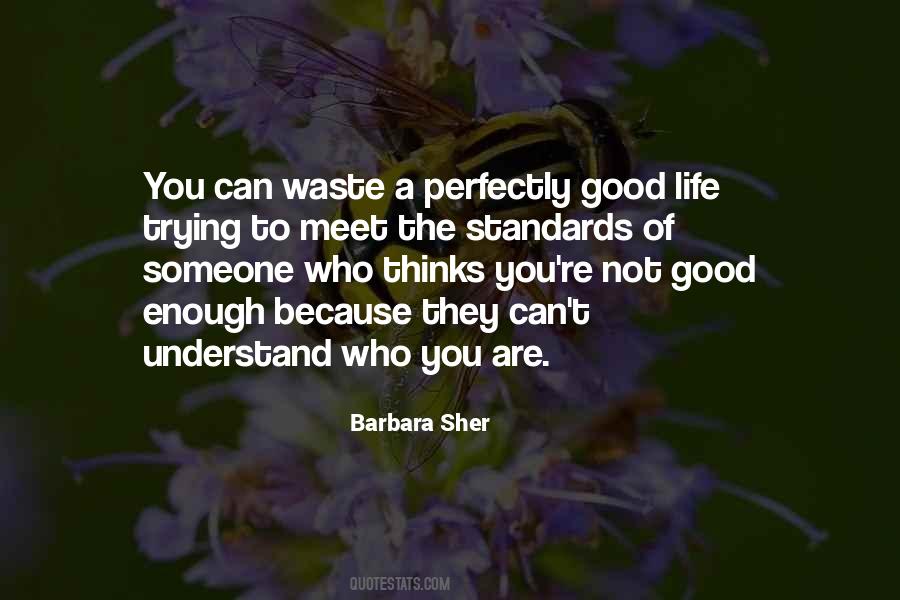 #20. I don't think some athletes understand how big it is to be an athlete, what they can do with just a simple gesture of shaking a kid's hand. It can make a fan's day. It can make a fan's life. - Author: Matt Kemp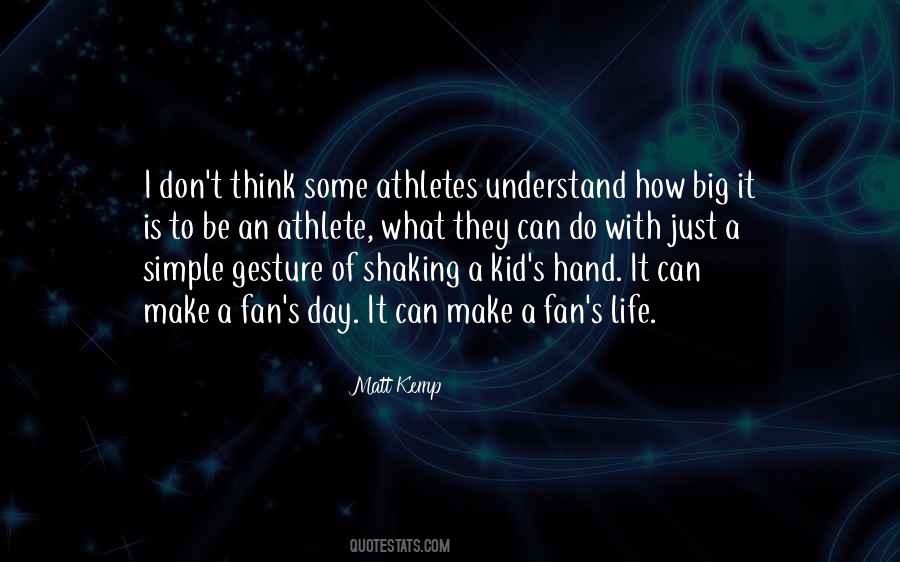 #21. If we don't understand the meaning of life, how can we understand the afterlife? - Author: Debasish Mridha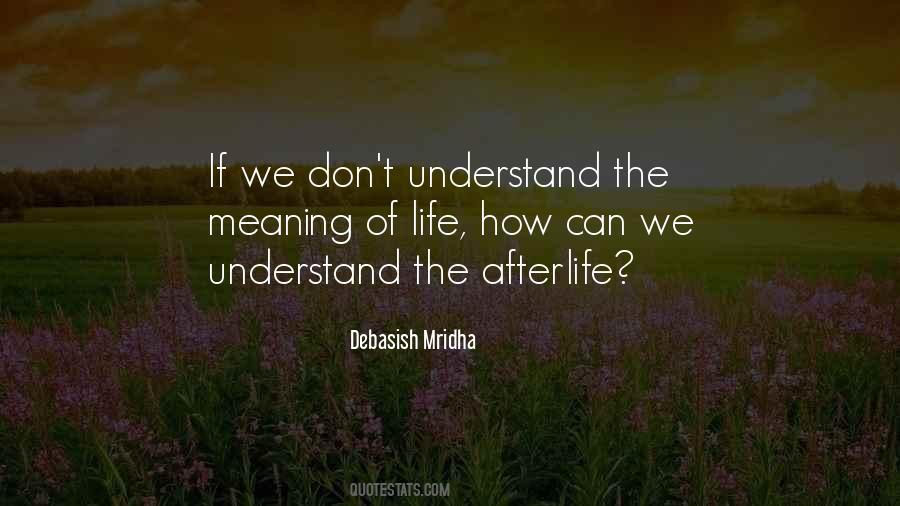 #22. Never make a promise you can't keep.
Never look down on a person you can't help.
Never solicit a question you can't answer.
Never judge a person you don't understand.
Never condemn a person you don't know. - Author: Matshona Dhliwayo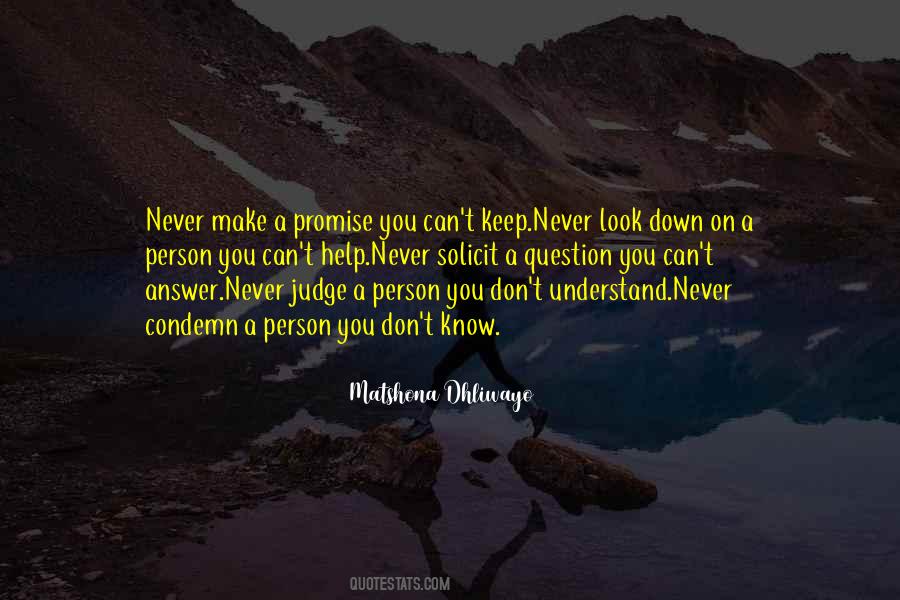 #23. I do understand that onstage there are times when you think, 'I could not be more alive than I am at this moment. I can't do most things in life. This is what I'm for.' - Author: Juliet Stevenson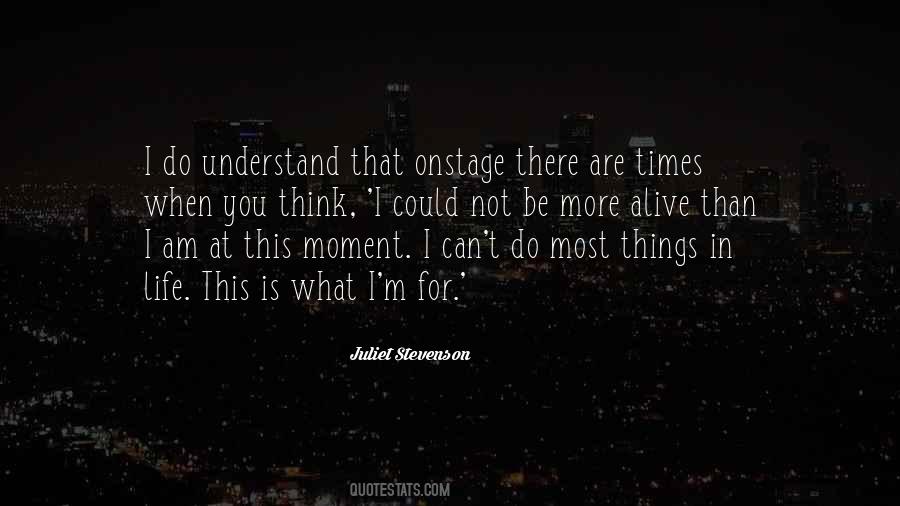 #24. If they don't have that extreme addict personality, you can never understand how a guy can blow 300 or 400 million dollars. If I have to live at the top of the world, I also have to live at the bottom of the ocean. I don't know how to live in the middle of life. - Author: Mike Tyson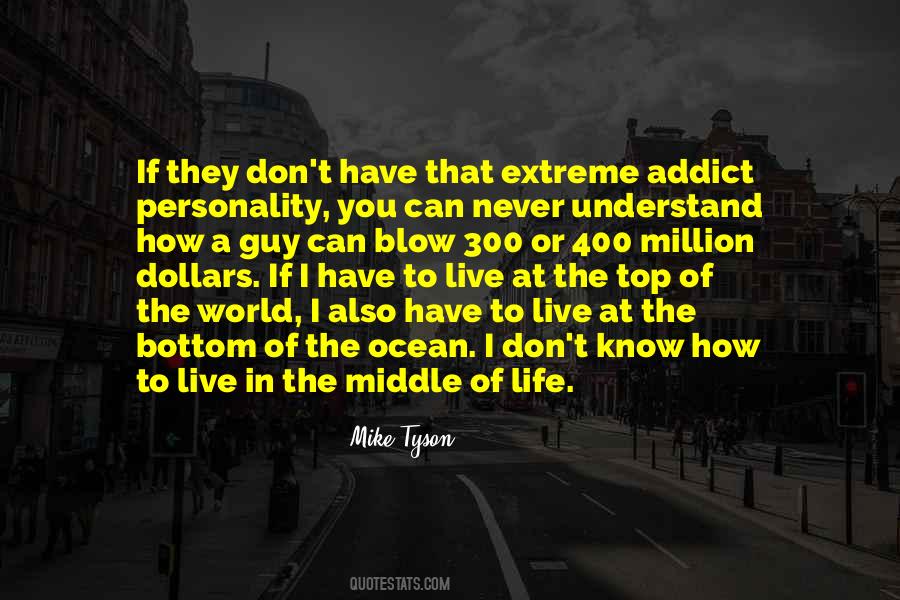 #25. I find that by putting things in writing I can understand them and see them a little more objectively ... For words are merely tools and if you use the right ones you can actually put even your life in order, if you don't lie to yourself and use the wrong words. - Author: Hunter S. Thompson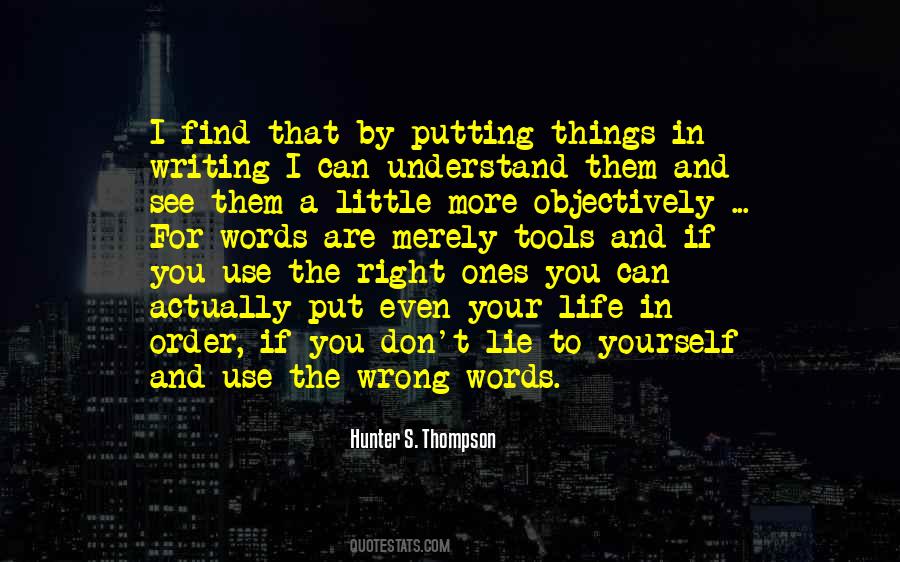 #26. Mindfulness helps you understand that the past is gone, can't be changed and all the lessons are already learned. - Author: Lidiya K.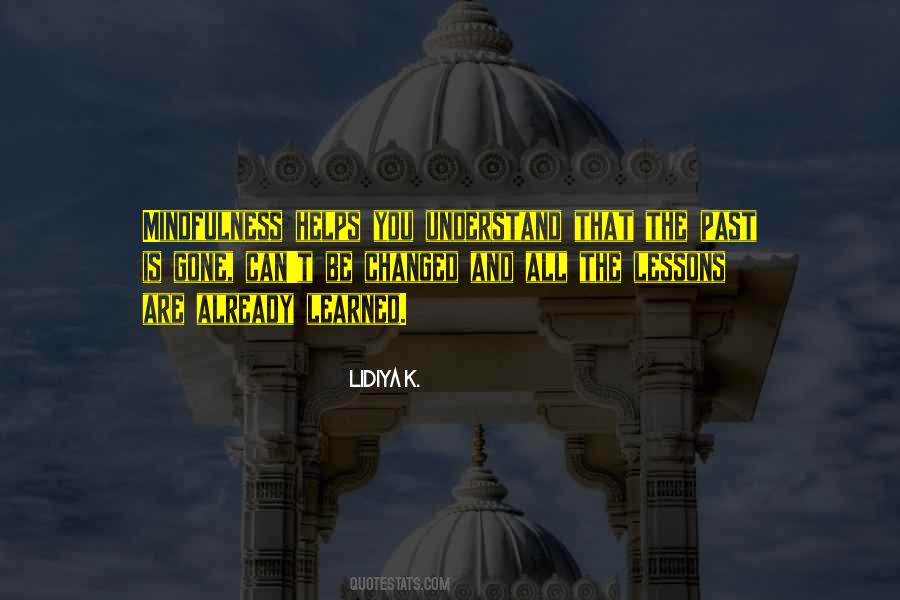 #27. If you tell your husband or boyfriend for his whole life that he needn't worry about his clothes, that he couldn't possibly understand them, that they are a woman's affair, then you can hardly complain that he doesn't have any style sense. You all make this bed. - Author: Russell Smith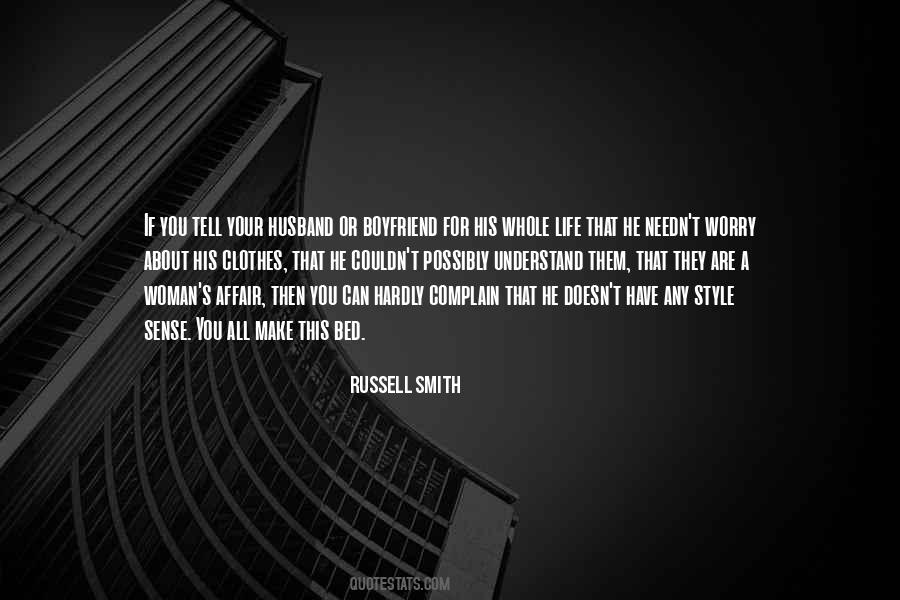 #28. My life is too important to share with someone who can't understand it. - Author: Marita Golden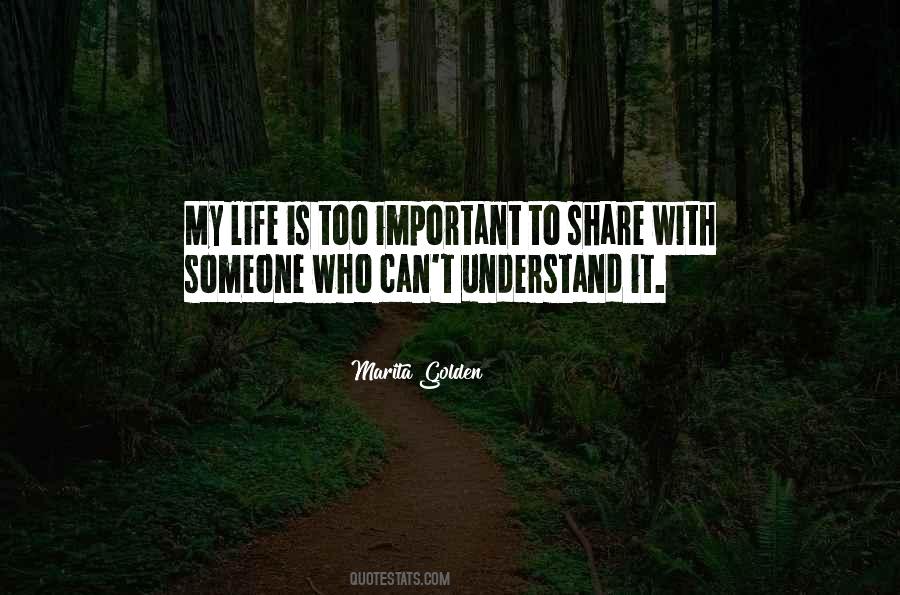 #29. You can't teach in a vacuum. A good teacher relates the material to real life. You understand that, don't you? - Author: Frank McCourt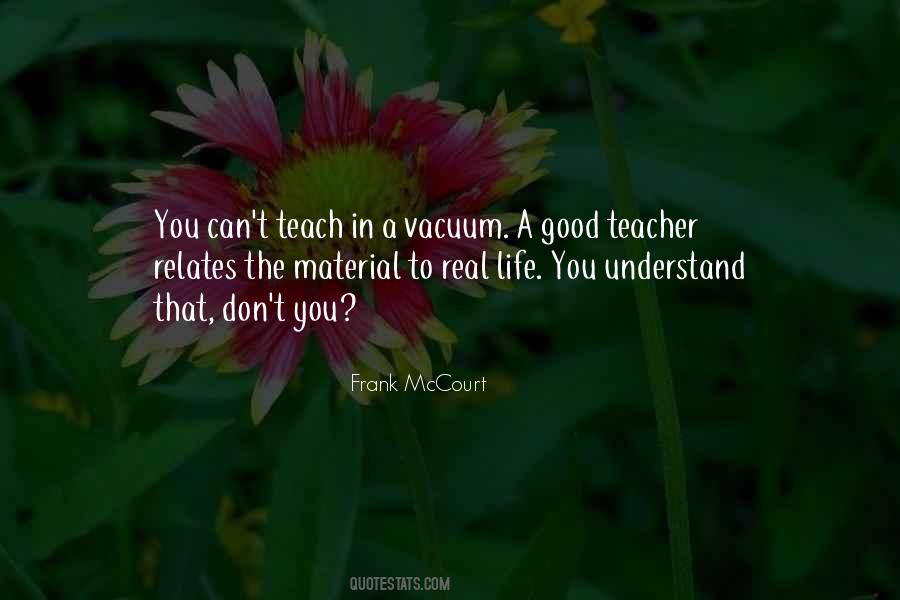 #30. Audiences and critics they don't like seeing what happens in real life. Why do you think comedies make all the money at the box office? People want to go and laugh. I can understand that. - Author: Channing Tatum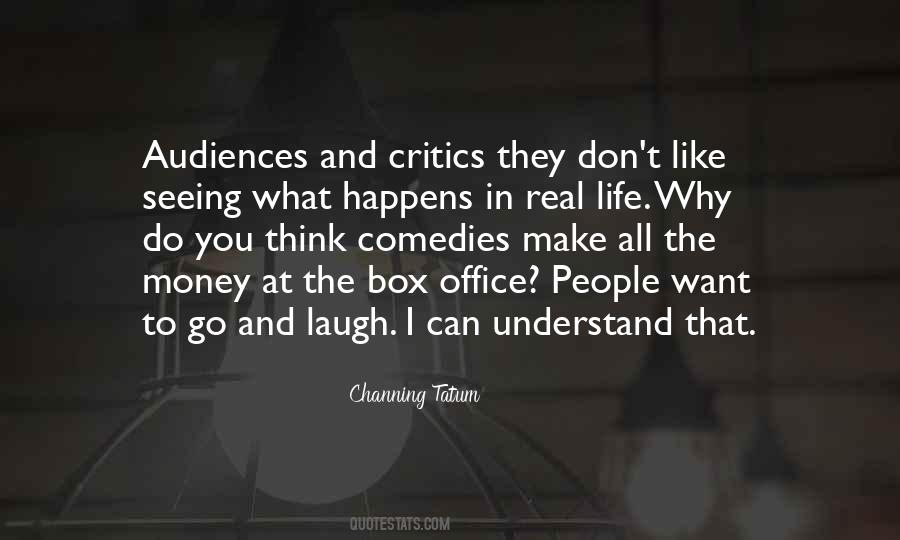 #31. The Rio Earth Summit in 1992 changed my life completely, turning me into an activist. From the air, you see things you can't see from the ground - you really understand the impact of man, even in a place you know well. My work is meant to convince people we can no longer live like this. - Author: Yann Arthus-Bertrand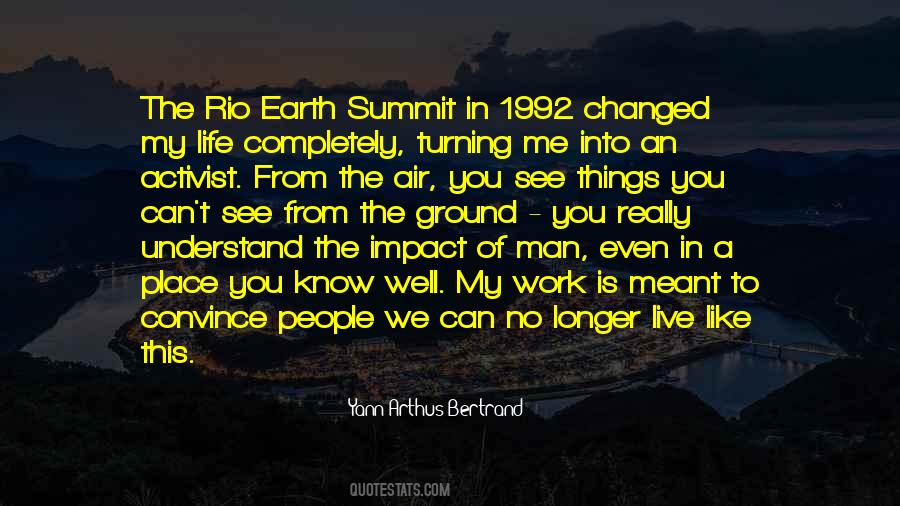 #32. I clutch my chest as I try to keep breathing. "What? I don't understand. You ... you said we couldn't get married. You ... you broke my heart." "It was the biggest mistake of my life. I could see it then and I can see it even more now. Letting you go was the single stupidest thing I've ever done. - Author: Cassia Leo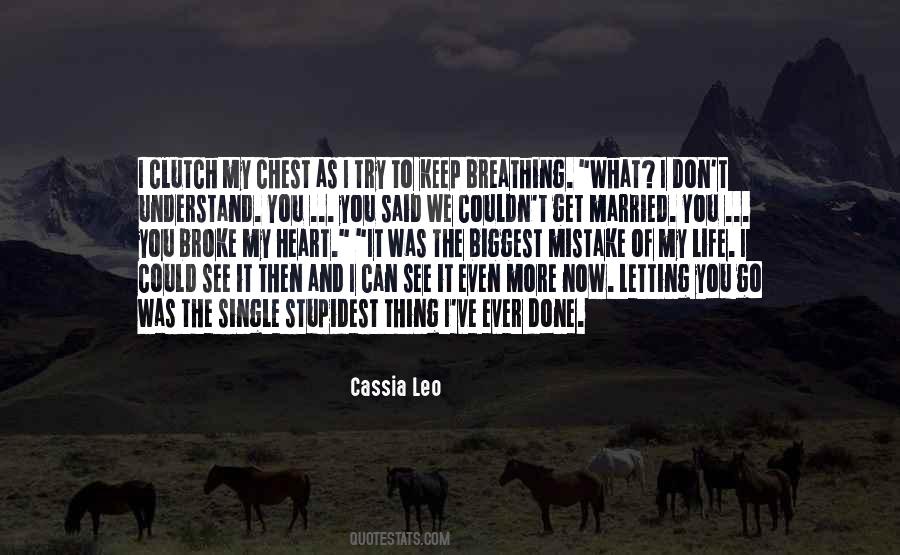 #33. I can't share your love of God. But I do understand your need to give your life to him. Each of us has within us something that just won't be denied. Something to which we are driven even though it makes us scream aloud to die. - Author: Colleen McCullough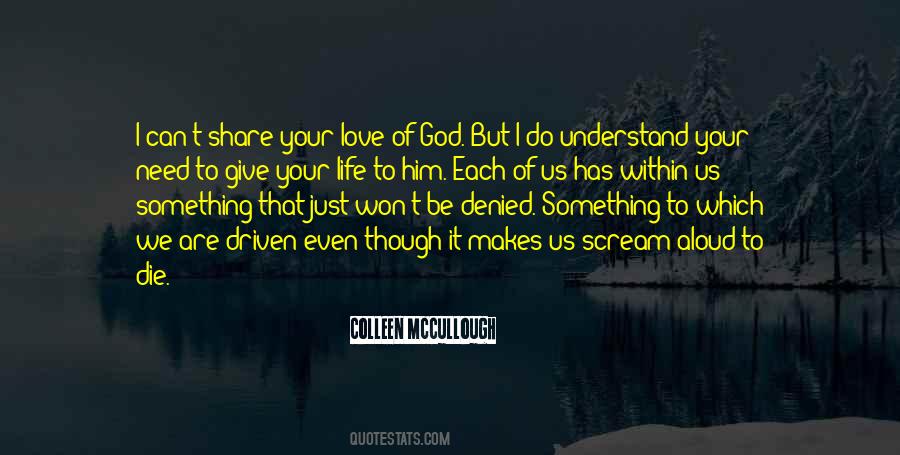 #34. I passed my classes because I displayed effort, not because I learned math. But how can we help young people understand life rarely gives partial credit for effort, especially if that effort doesn't lead to understanding or success? - Author: Gina Barreca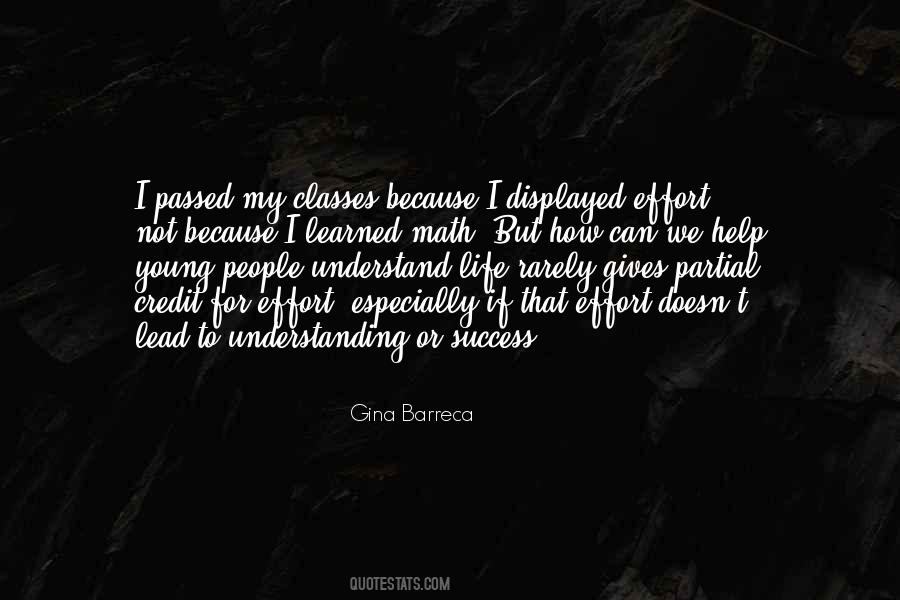 #35. ... but how come I can give advice and cheer up other people, but I can't do that with my own life. I don't understand it. - Author: Rae Earl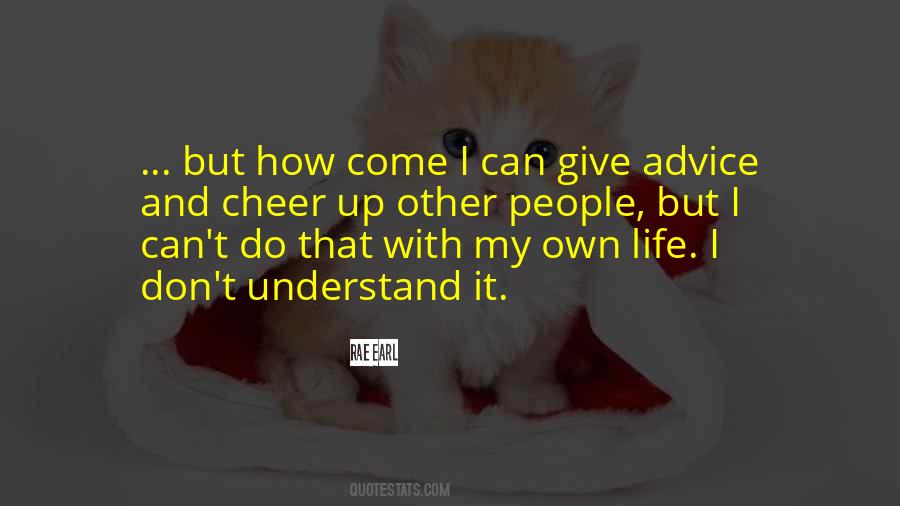 #36. I have come to understand that there are things in this world, in this life, that don't fit that model. There are things that happen, things that are absolutely real that you can't put in a test tube, or see, or feel with your hands. But you know they are real and they are true - Author: Robert D. Lesslie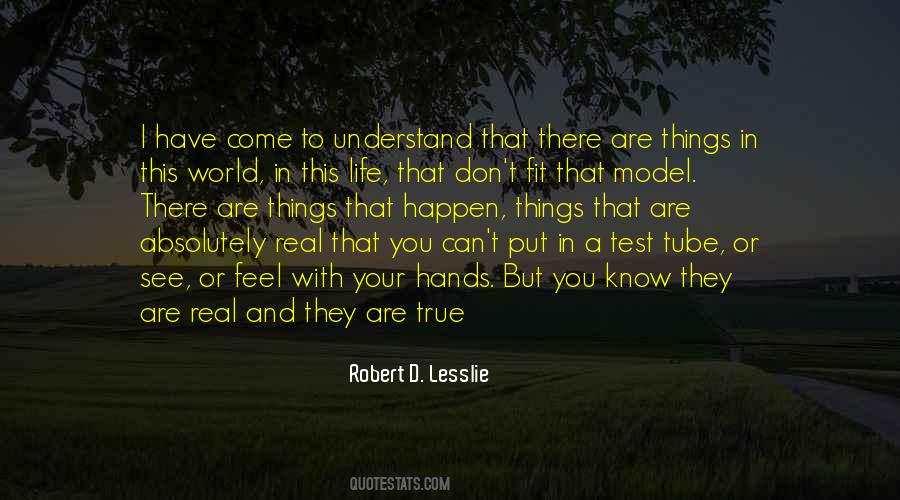 #37. You can't memorize poetry and stay a fake. Sooner or later, you start to understand what these poets are saying, and it makes you feel life has something quite special, with certain layers of meaning to it. - Author: Donald Miller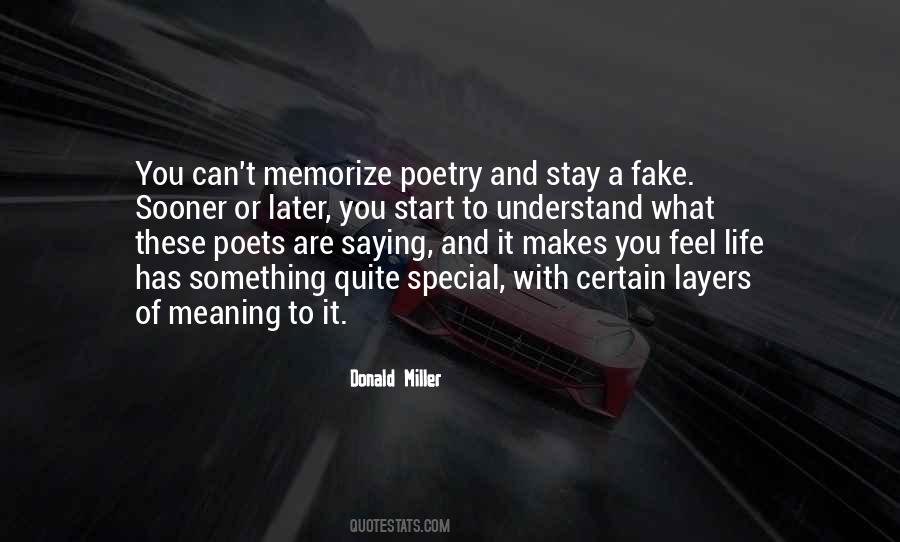 #38. As I experienced life on the island, without electricity, plumbing or telephone, I thought it was important to show that people can live as I did without dying or falling apart. I wanted people to understand that we don't need everything that our culture tells us we have to have to be satisfied. - Author: Alix Kates Shulman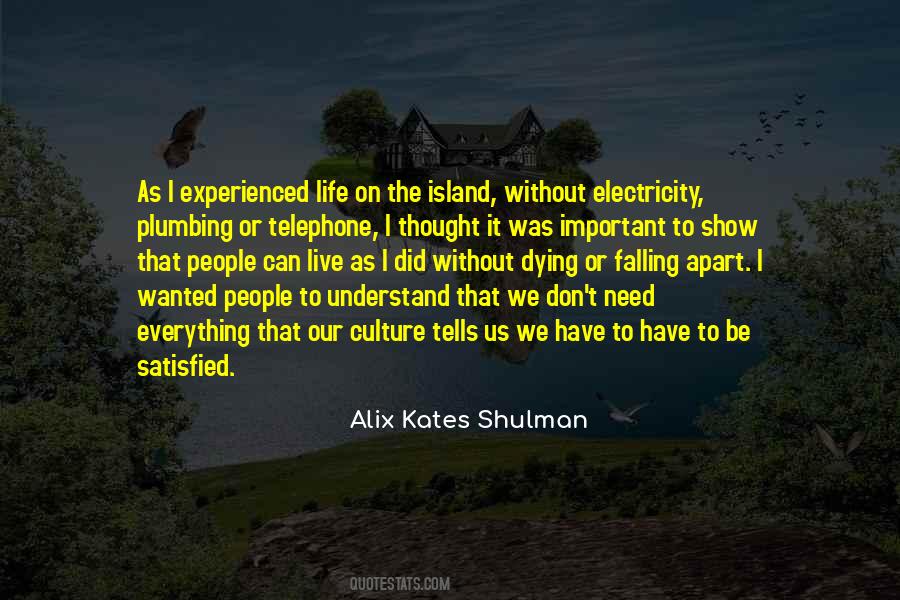 #39. We are born to believe
We can't change a thing
We can't, and we never could.
But before you believe
The things you believe
You must understand
To be understood. - Author: John C. O'Callaghan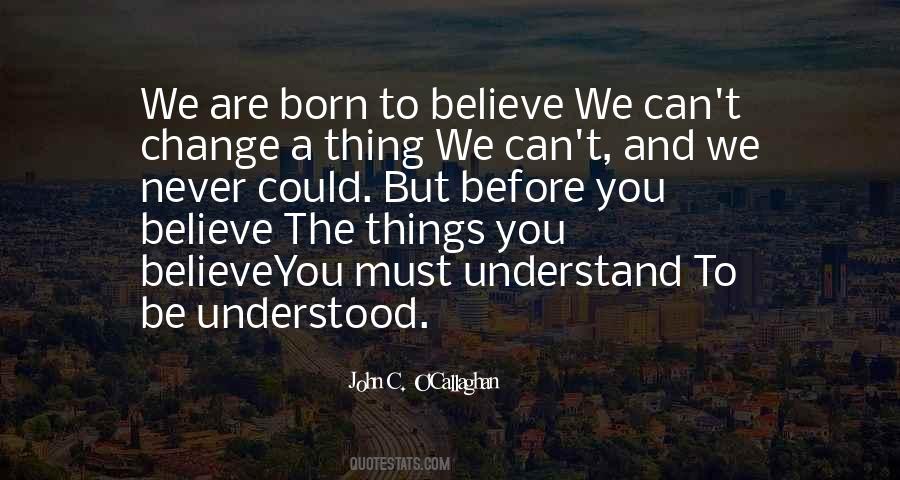 #40. I don't understand why people care so much about showing that they are good; because I am rather comfortable with having badness, quite okay with being inexplicable. They tire themselves so. The light is beautiful; but light can't hide treasures like the darkness can. - Author: C. JoyBell C.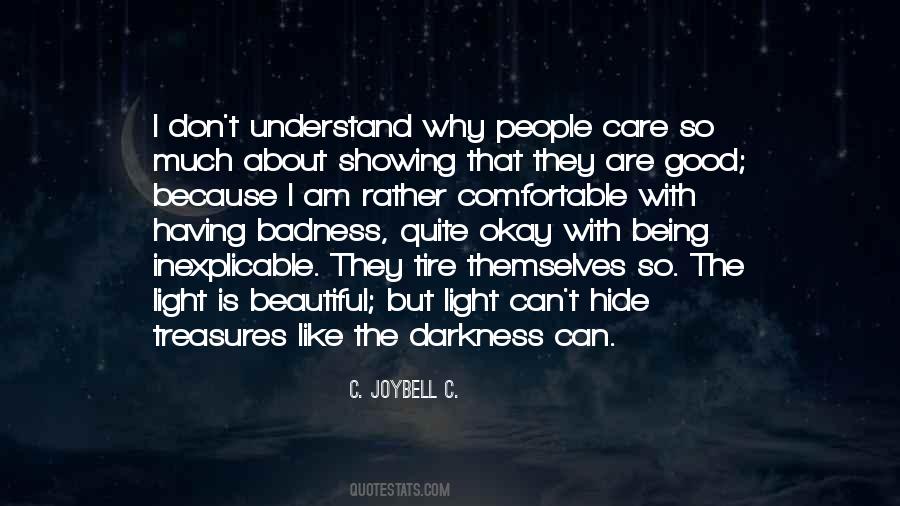 #41. There are still times in my life where I pull back from being totally honest, and I can't imagine a single straight person who would understand that. - Author: Ian McKellen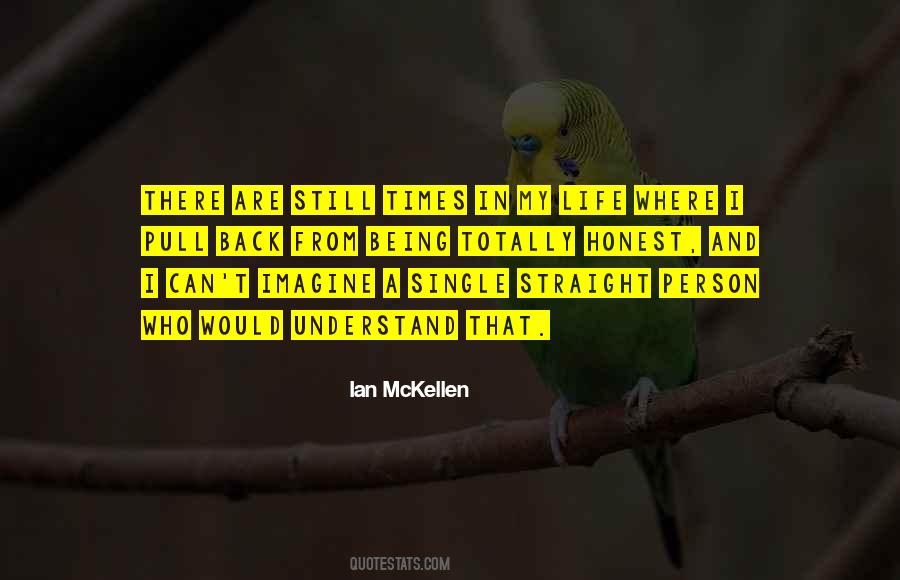 #42. Friendship is something that gets harder to understand, every damn year of my life.Friendship is like a kind of algebra test that nobody passes. In my worst moods, I think the best you can say is that a friend is anyone you don't despise. - Author: Gregory David Roberts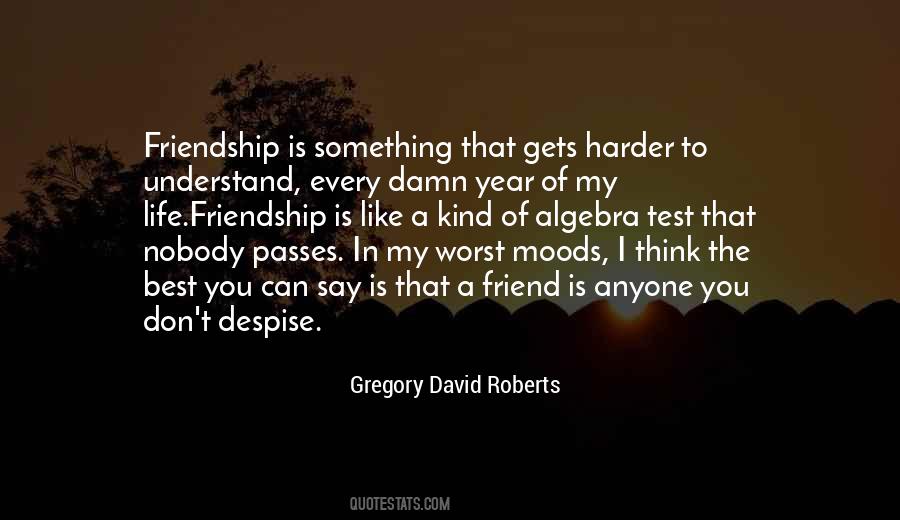 #43. Acting can be the healthiest profession in the world, because it allows you to do things you can't do in real life. It allows you to understand more than just what life provides you. - Author: Stella Adler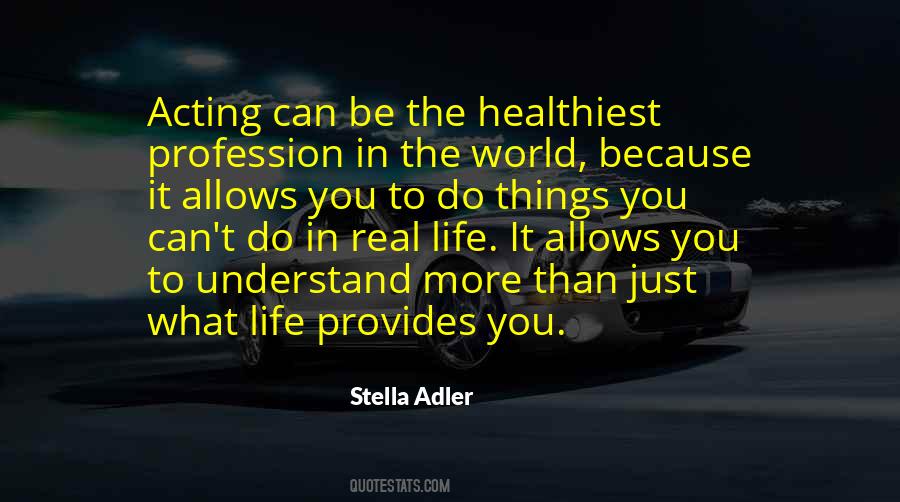 #44. I'm comparing you to ... rugby and ... my voice breaking ... and everything I love but don't understand." "To the failures in your life." "No. I'm comparing you to all the things I love doing best and I just can't have when I want them. - Author: Melina Marchetta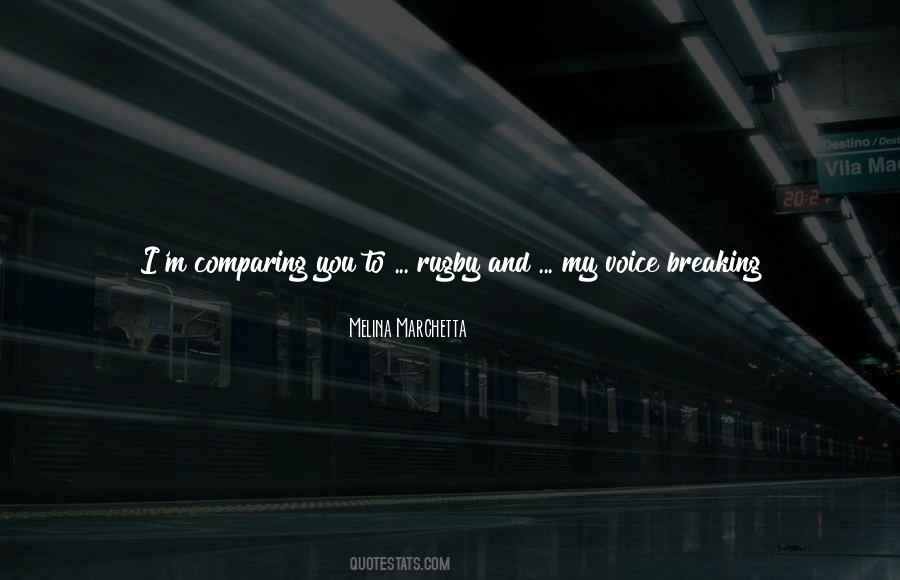 #45. Books, I don't know what you see in them. I can understand a person reading them, but I can't for the life of me see why people have to write them. - Author: Peter Ustinov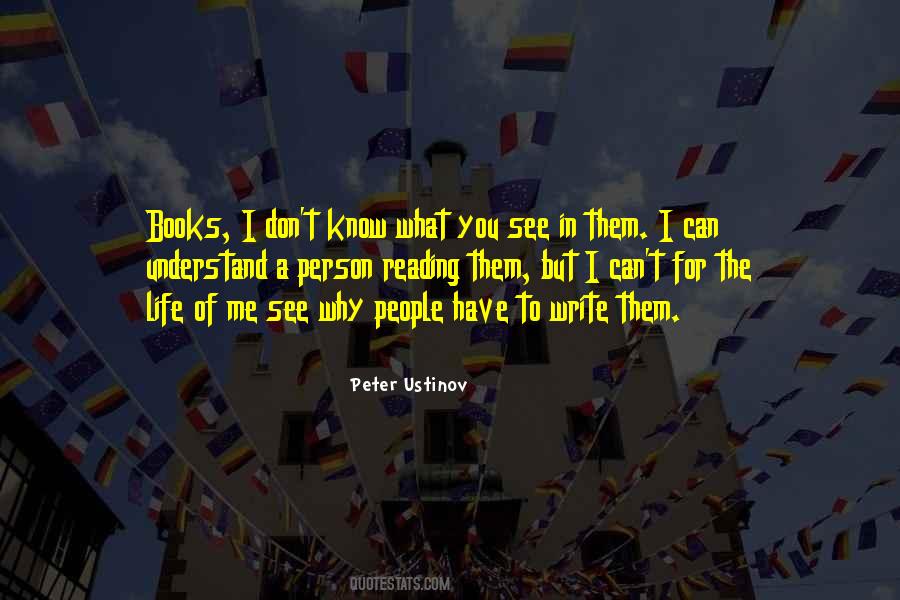 #46. Mom says death is as natural as birth, and it's all part of the life cycle.
She says we don't really understand it, but there are many things we don't understand, and we just have to do the best we can with the knowledge we have.
I guess that makes sense. - Author: Bill Watterson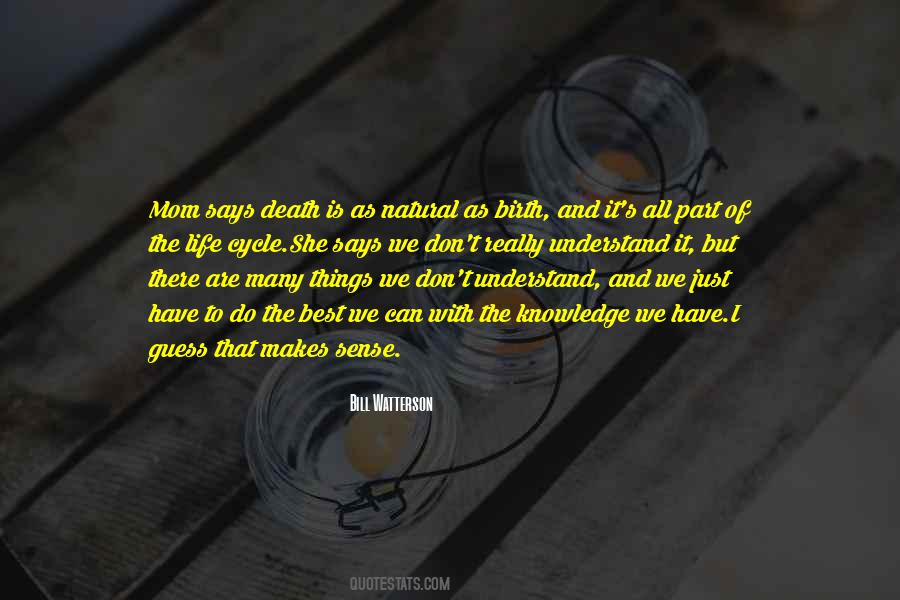 #47. When you practice Buddhism, you have to always self-reflect, and you can't avoid your problems. That makes me understand human beings better. I feel that the more I do that in my own life, the more I can see how to play a character. - Author: Vinessa Shaw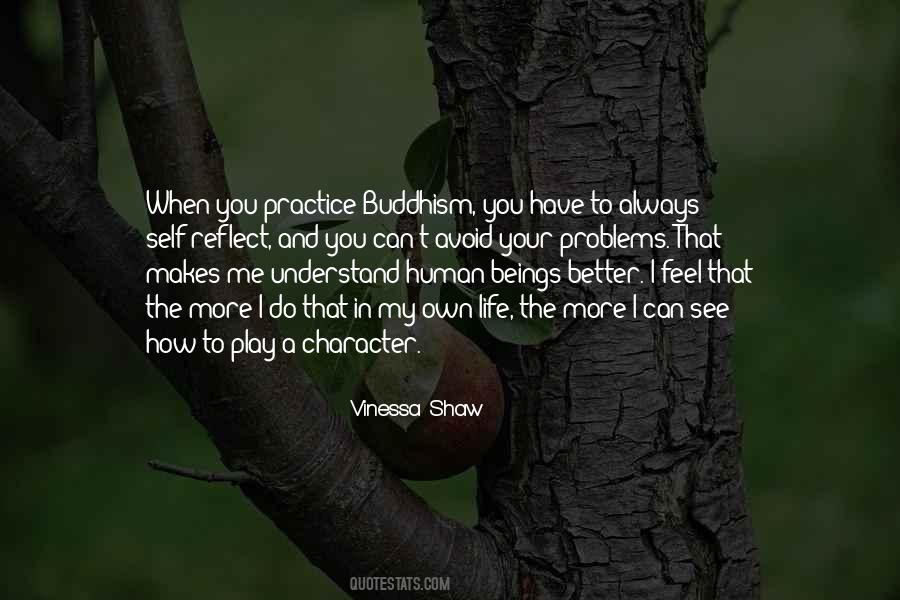 #48. It's funny how you can think you know someone pretty well, and then something happens or they do something that makes you understand that you didn't really know them at all. - Author: Wendelin Van Draanen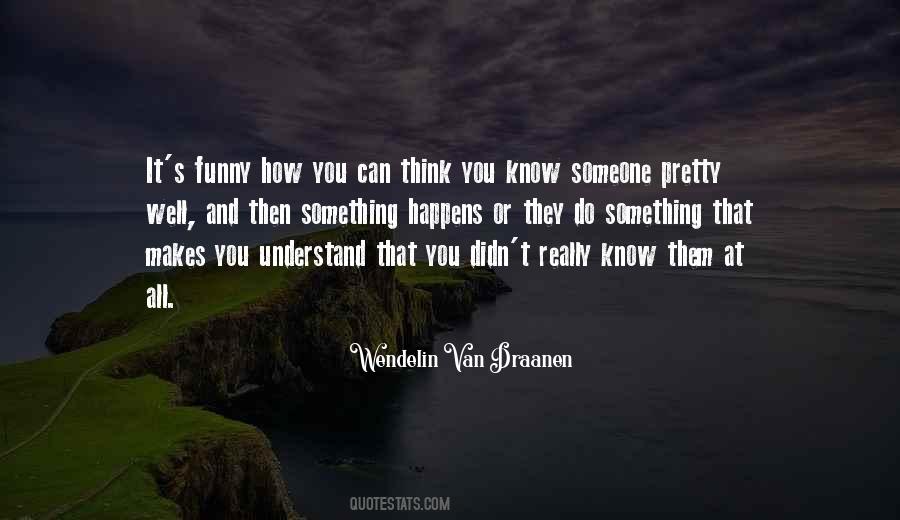 #49. My God
life! Who can understand even one little minute of it?'
'Don't try,' he said. 'Just pretend you understand.'
'That's
that's very good advice.' I went limp. - Author: Kurt Vonnegut
#50. There are things in life we don't understand, and when we meet them, all we can do is let them alone. - Author: William Boyd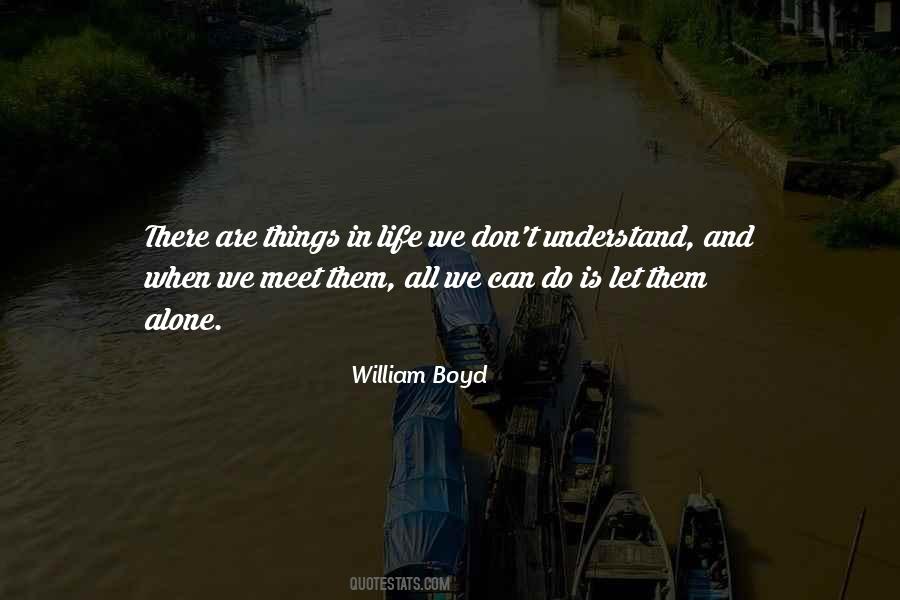 #51. Addie believes in books. They are more interesting than real life and easier to understand. Sometimes you can guess the ending. Things usually work out, and if they don't, you can always tell yourself it was only a book. - Author: Kim Church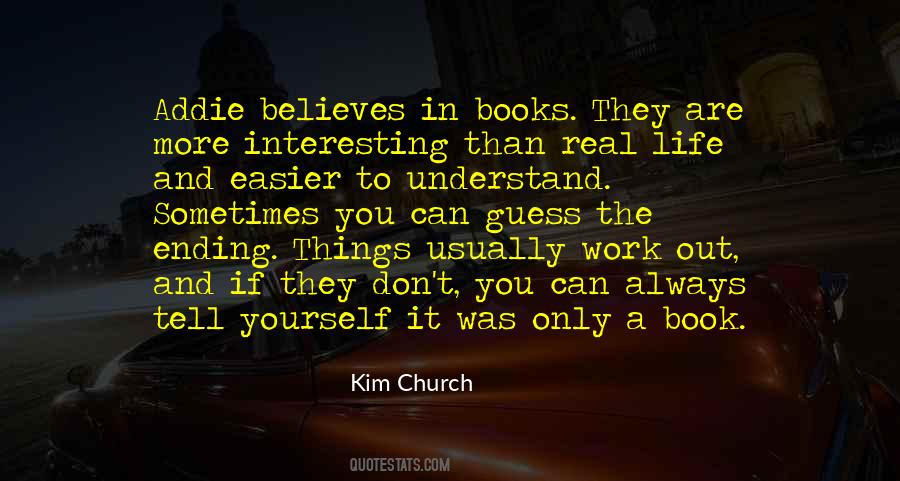 #52. I can't understand why everyone just doesn't want kindness. Life is painful enough. - Author: Sylvain Reynard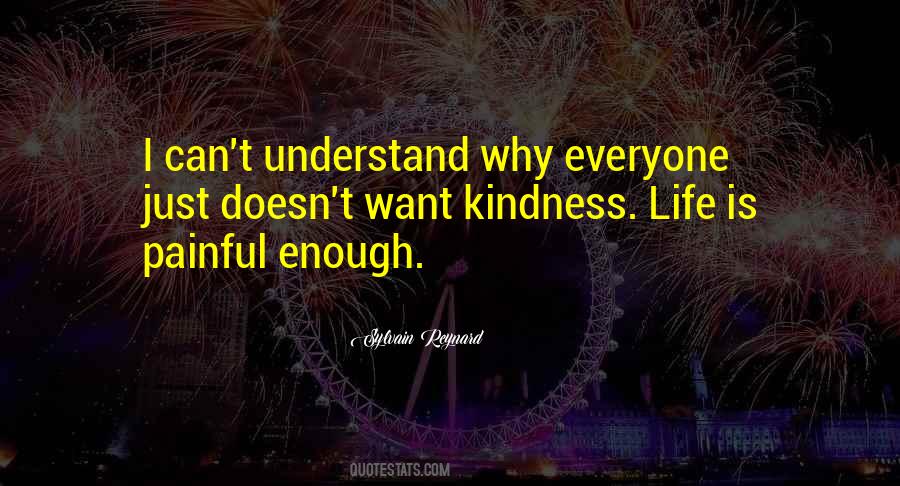 #53. Be intentional about your life and what you want to accomplish, but understand there's no choice you make that you can't change. - Author: Gloria Feldt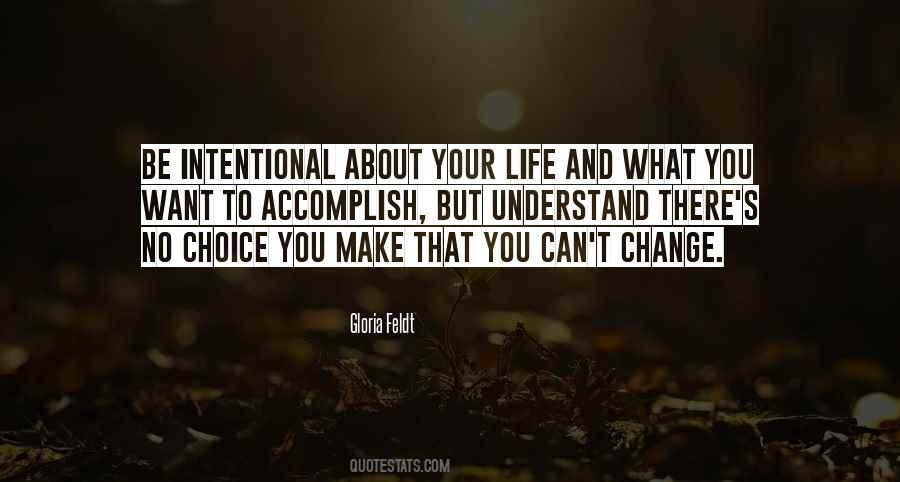 #54. For the life of me I can't understand why BP couldn't go in at the ocean floor, maybe 10 feet lateral to the - around the periphery, drill a few holes, and put a little ammonium nitrate, some dynamite in those holes, and detonate that dynamite, and seal that leak. Seal it permanently. - Author: Phil Gingrey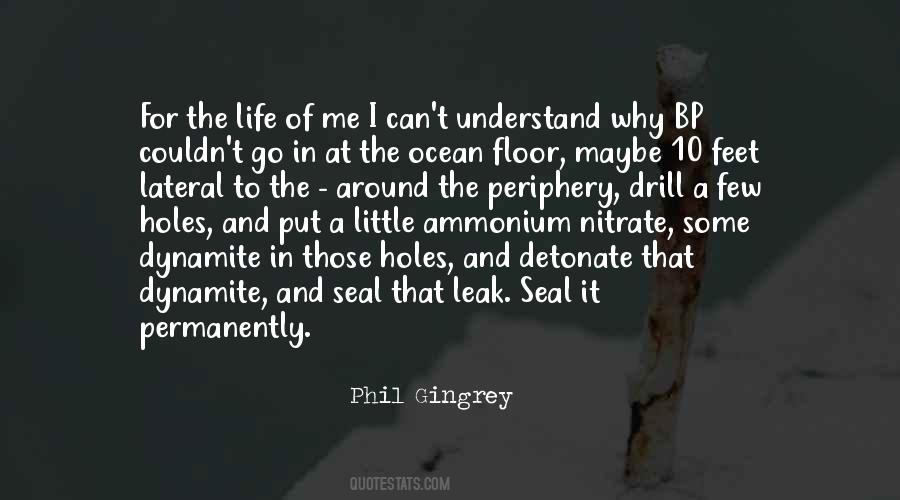 #55. I haven't lived a perfect life. I have regrets. But that's from a lifetime of taking chances, making decisions, and trying not to be frozen. The only thing that I can do with my regrets is understand them. - Author: Kevin Costner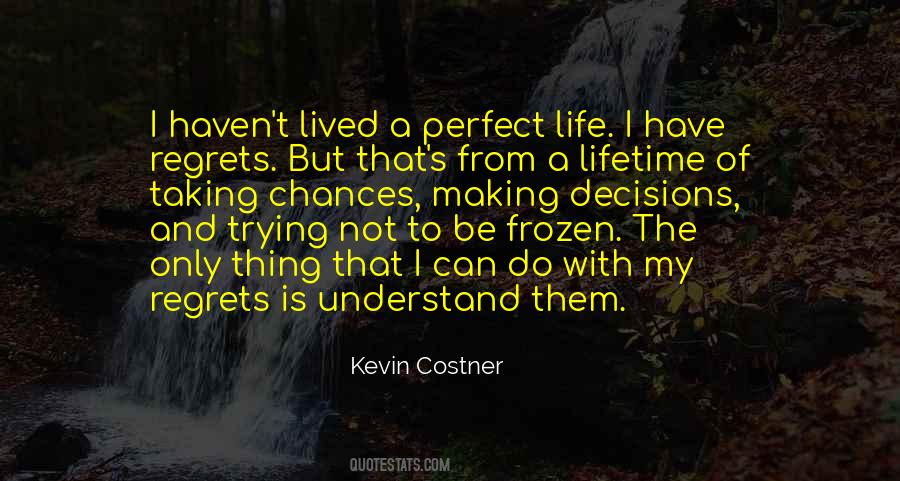 #56. Come on, let's get you a drink. How's your love life, anyway?
Oh God. Why can't married people understand that this is no longer a polite question to ask? We wouldn't rush up to them and roar, How's your marriage going? Still have sex? - Author: Helen Fielding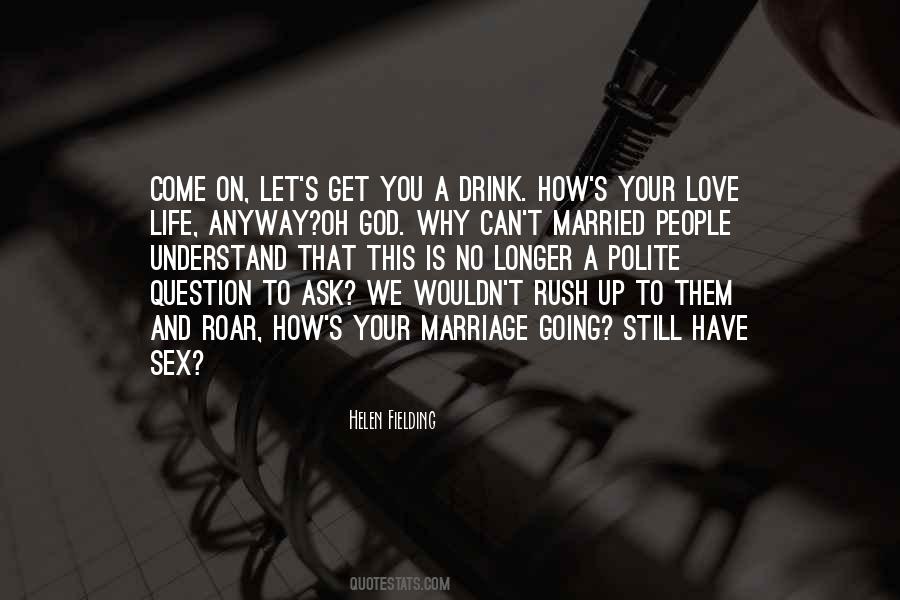 #57. I have a horror of tags and labels. I don't understand, for instance, how people can talk about Bergman's "symbolism". Far from being symbolic, be seems to me, through and almost biological naturalism, to arrive at the spiritual truth about human life that is important to him. - Author: Andrei Tarkovsky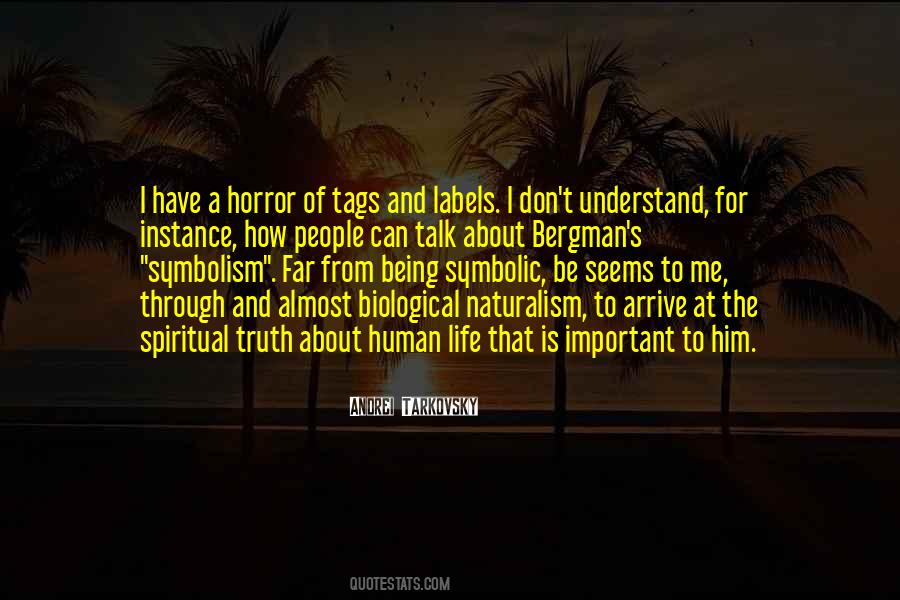 #58. The truth is, those people we feel drawn to most might not be intended as love interests, but rather as life-changing, life-altering presences that come into our lives for reasons we can't yet understand. - Author: Tonya Hurley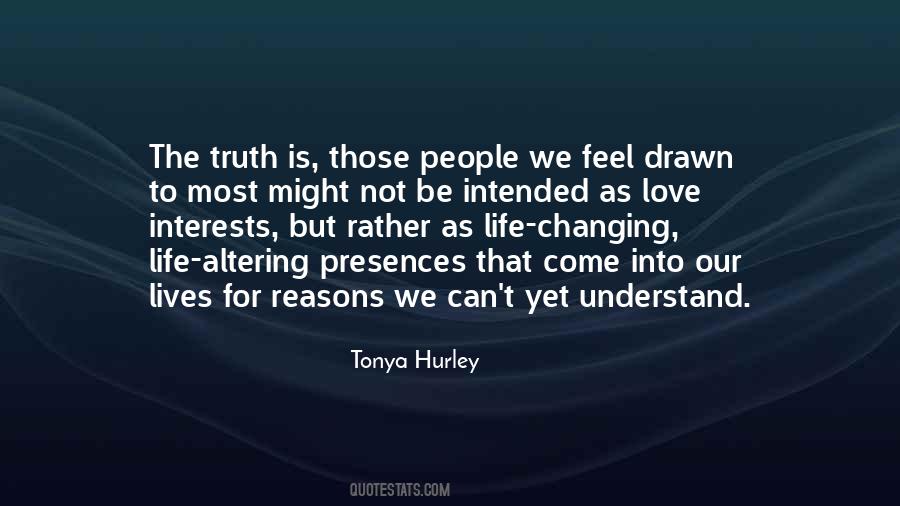 #59. I feel we don't really need scriptures. The entire life is an open book, a scripture. Read it. Learn while digging a pit or chopping some wood or cooking some food. If you can't learn from your daily activities, how are you going to understand the scriptures? (233) - Author: Swami Satchidananda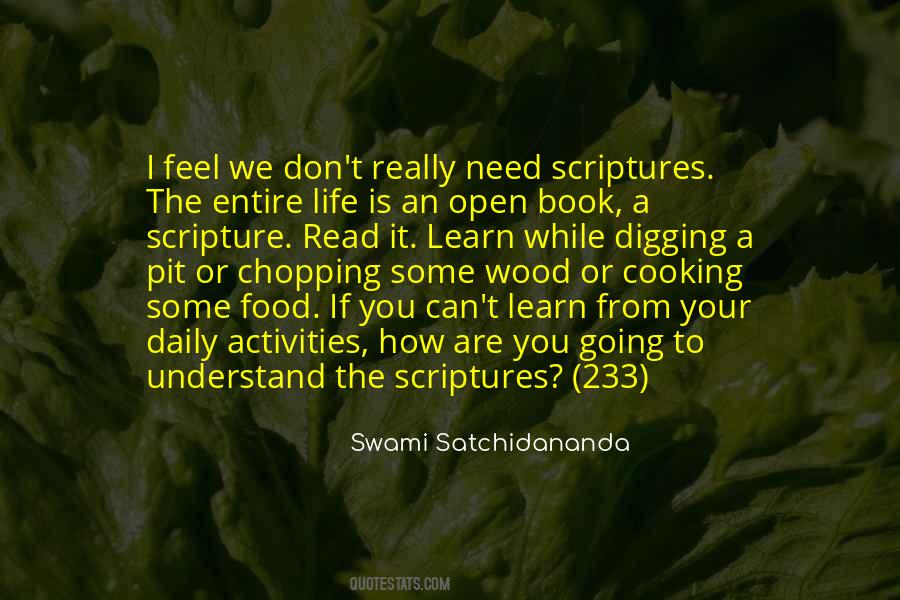 #60. I'm in love with a man who can't be honest with his family or anyone in his life outside of this penthouse. I desire a woman I barely know but crave more than I can understand. On top of that, the man I love wants her too, and it makes me want her more, if possible. How is any of this practical? - Author: Amelia LeFay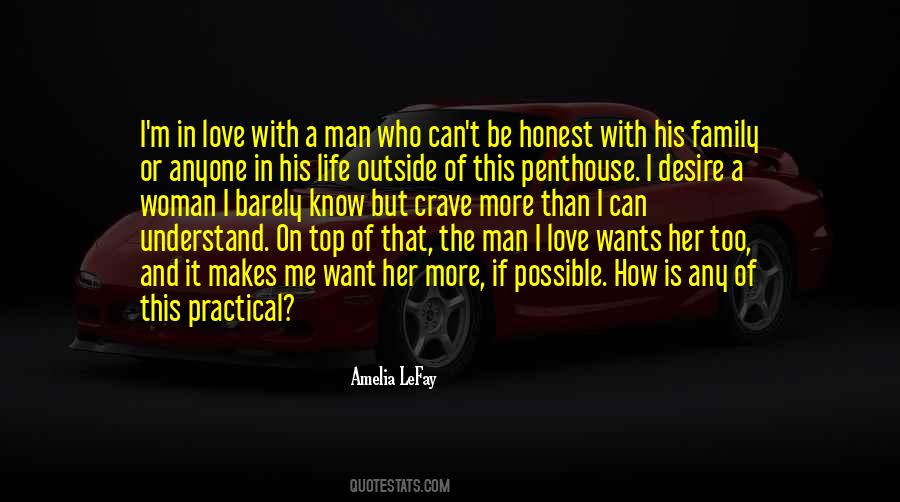 #61. Haven't you noticed by this time that everyone's lives are full of things you can't understand? The exceptional thing is the thing you can understand. - Author: Robert Aickman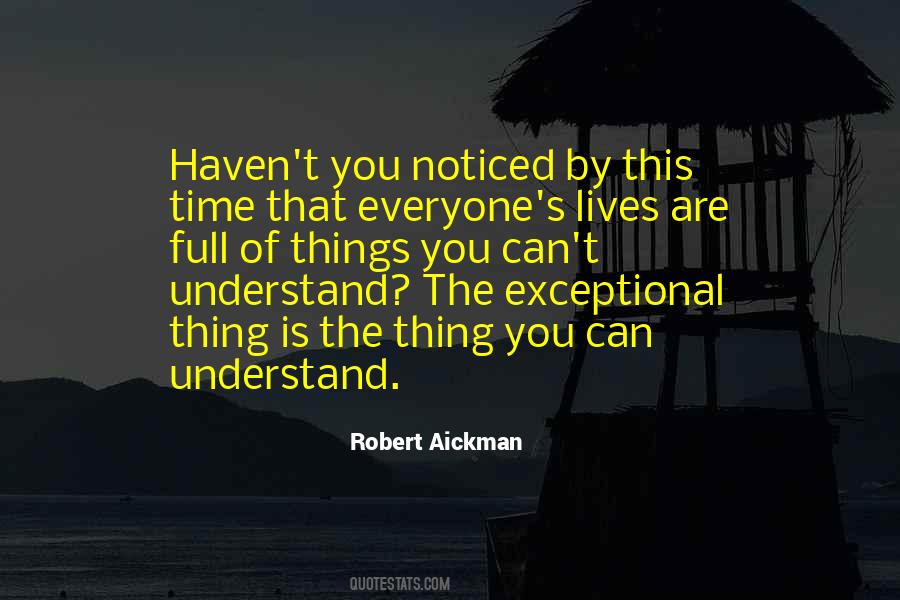 #62. My god-life! who can understand eve one little minute of it? 'don't try' he said 'just pretend you understand. - Author: Kurt Vonnegut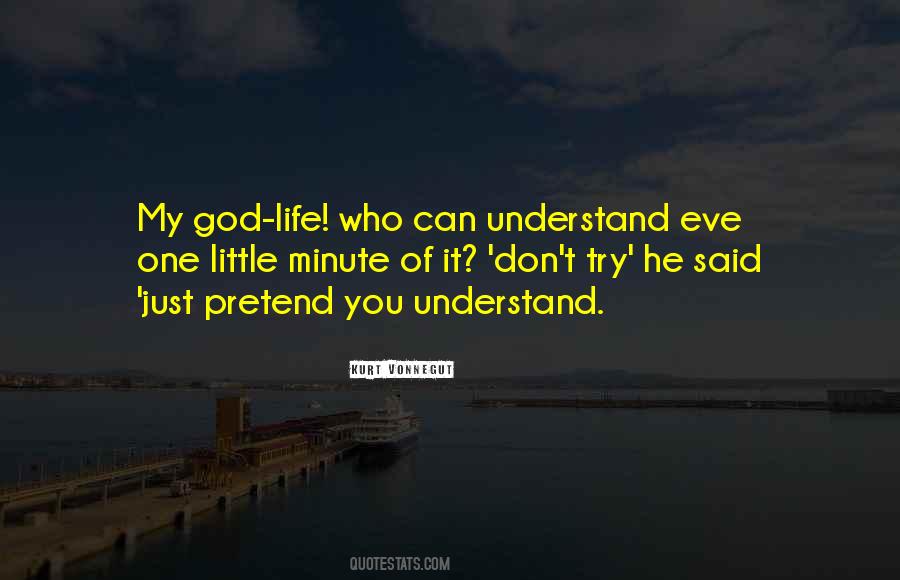 #63. No man has a right to expect to succeed in life unless he understands his business, and nobody can understand his business thoroughly unless he learns it by personal application and experience. - Author: P.T. Barnum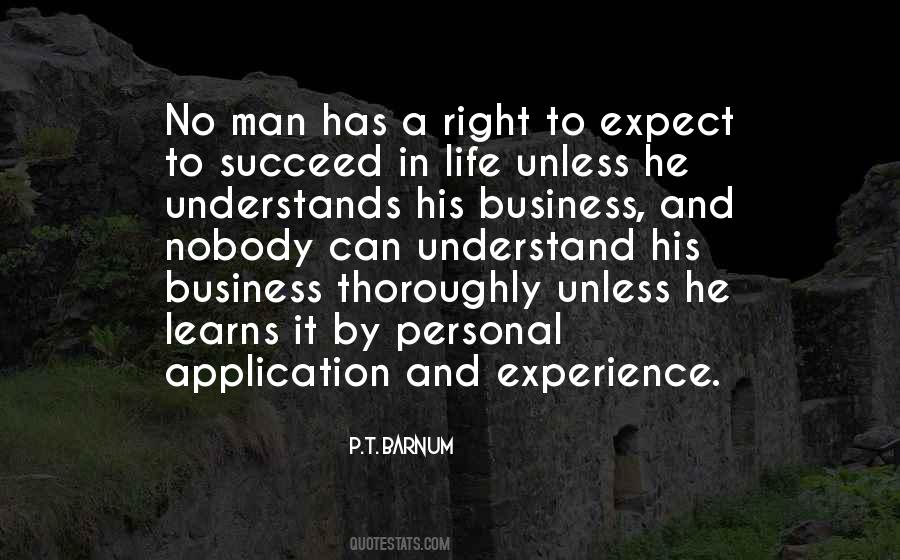 #64. When you understand, that what you're telling is just a story. It isn't happening anymore. When you realize the story you're telling is just words, when you can just crumble up and throw your past in the trashcan, then we'll figure out who you're going to be. - Author: Chuck Palahniuk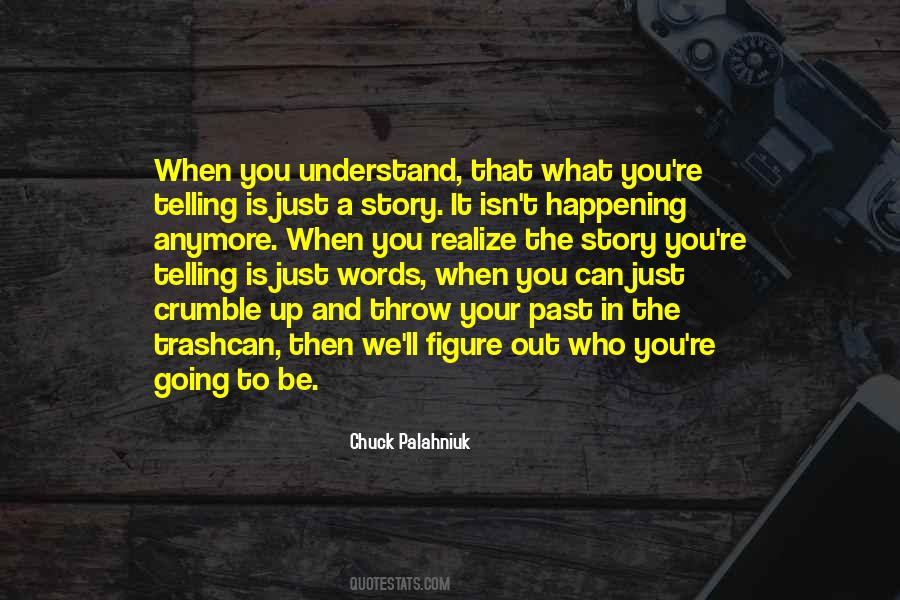 #65. Girls like you can't understand, Julia said, and it was true. Ellie had been popular. She didn't know that some hurts were like a once-broken bone. In the right weather, they could ache for a lifetime. - Author: Kristin Hannah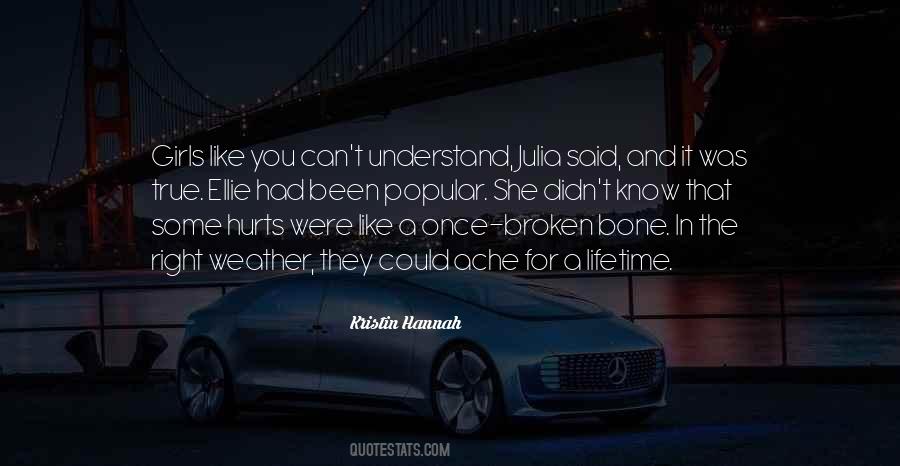 #66. Oh Jesus, thank You. It's only through You that I can fathom such grace. To be redeemed to You through a mercy I can't even begin to understand. But I believe in You. I trust in You. And I'm clinging to Your promises as if they truly are life rafts in a dark and stormy sea. - Author: Diane Moody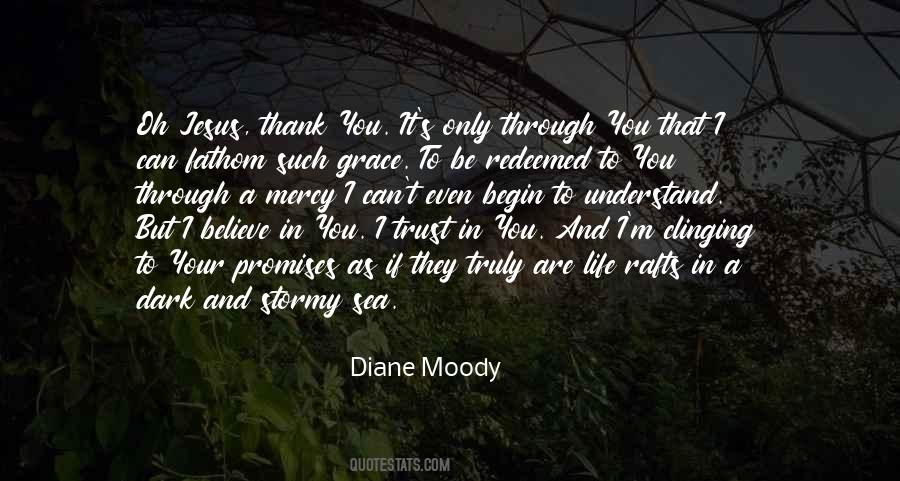 #67. Hurrah for Peace, Frenchy, and the simple life! Where a man can live comfortably and runs no danger of being killed for things he doesn't understand - there is his real homeland! - Author: Vicente Blasco Ibanez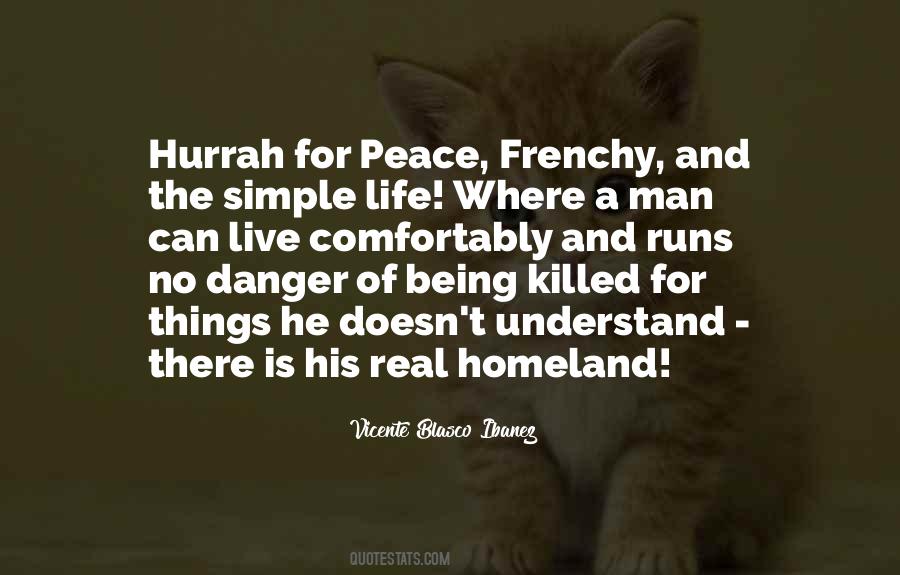 #68. I really think in life there is a lot of mystery and things we just can't understand, so your brain has to adapt. We all have to deal with the twists of fate whether they are explained or not and it's how you react in life to these curveballs that is really the measure of a man. - Author: Larry Fessenden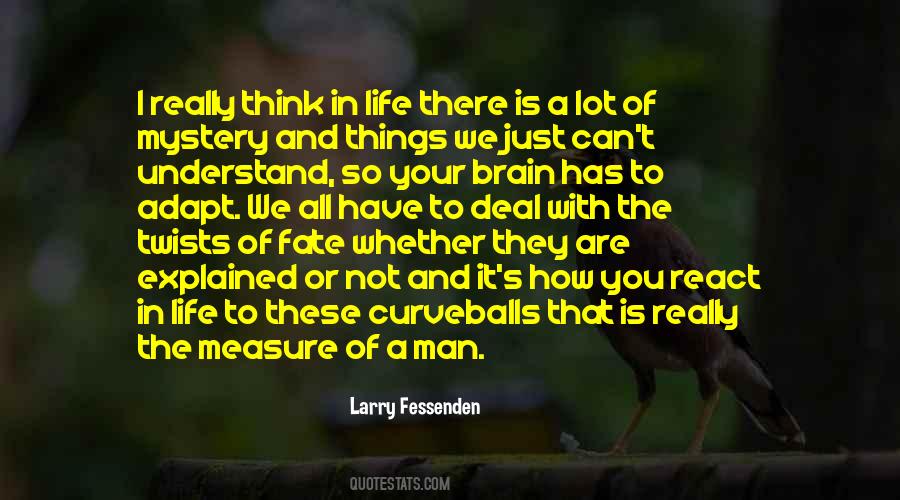 #69. I motivate others by making sure that they understand to go after their dreams and don't let anyone tell you you can't. If you are motivated enough and put the work in that you can achieve anything in life that you set your mind to. - Author: Magic Johnson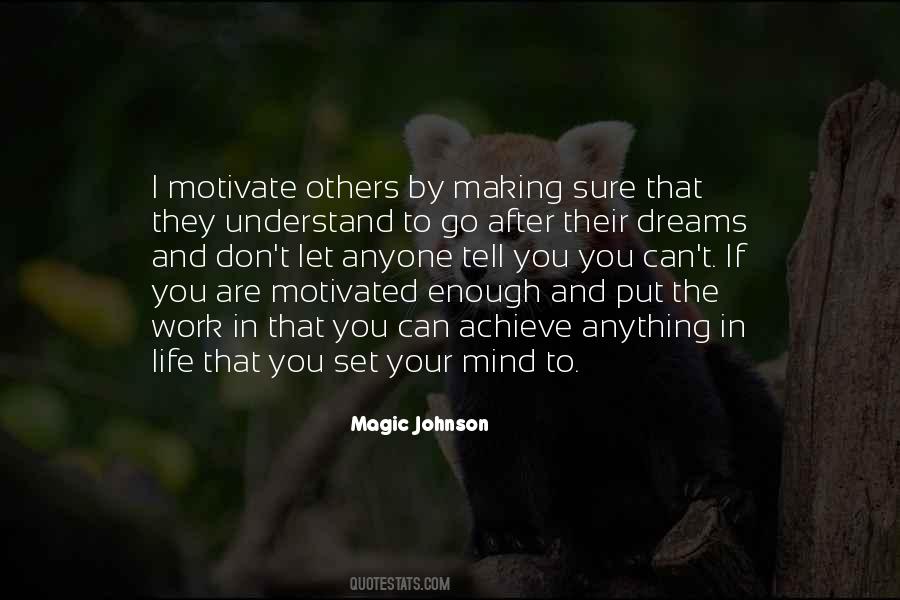 #70. In the scriptures, we are told you can't really understand happiness unless you understand sadness. You don't know pleasure if you don't know pain. It's part of life. So can you learn something from somebody who has gone from success to success to success? I don't think so. - Author: Clayton Christensen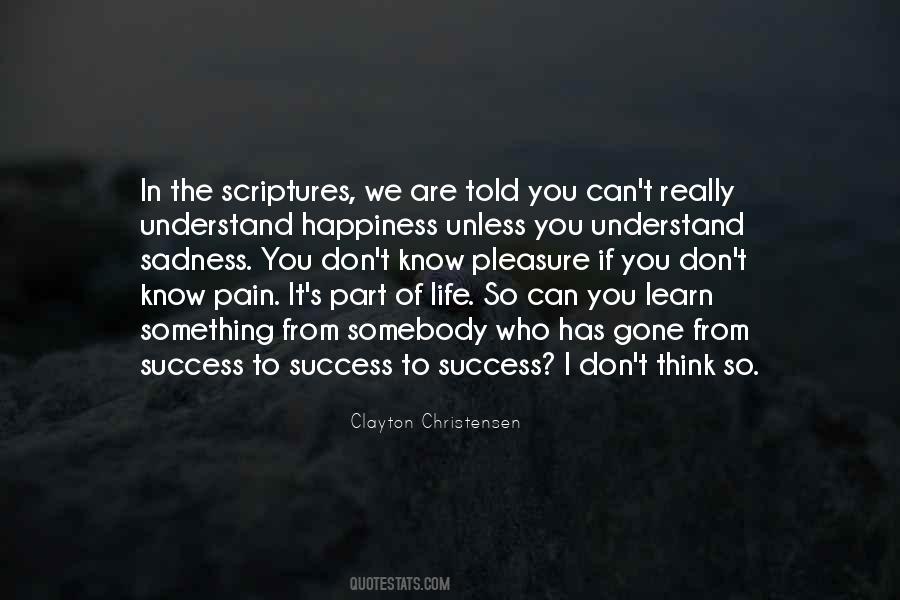 #71. You said 'God is cruel' the way a person who's lived his whole life on Tahiti might say 'Snow is cold'. You knew, but you didn't understand." He stepped close to David and put his palms on the boy's cold cheeks. "Do you know how cruel your God can be, David. How fantastically cruel? - Author: Stephen King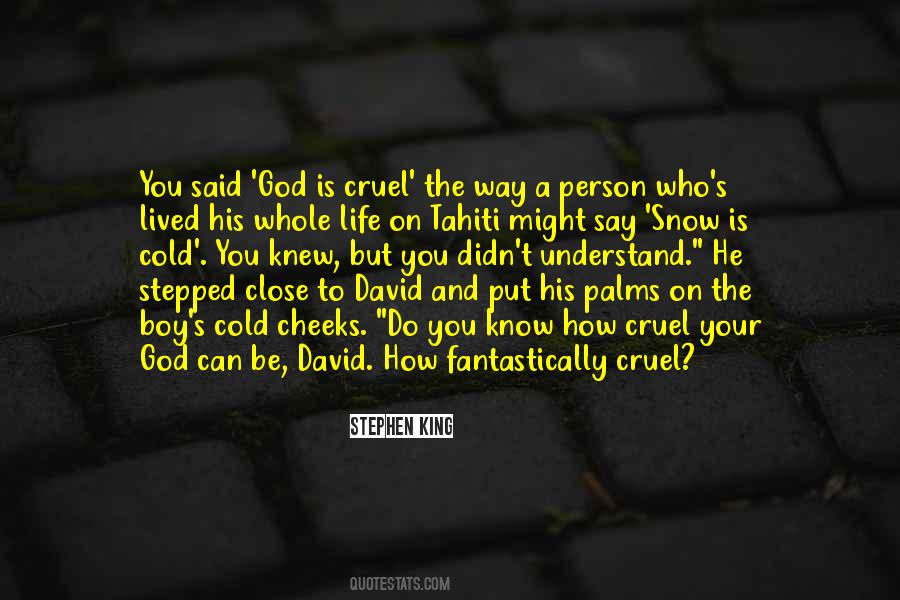 #72. You can't even begin to understand biology, you can't understand life, unless you understand what it's all there for, how it arose - and that means evolution. - Author: Richard Dawkins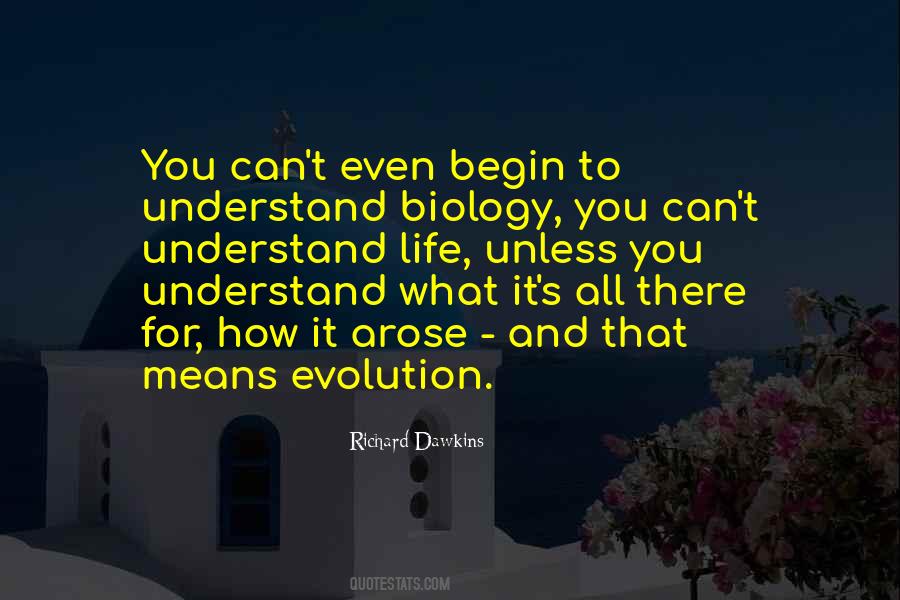 #73. I can't tell you. I can't tell you of all people. Throughout my life you were the one person I could turn to. The one person I could always count on to understand. And now that I've lost you, I've lost everything. - Author: Tabitha Suzuma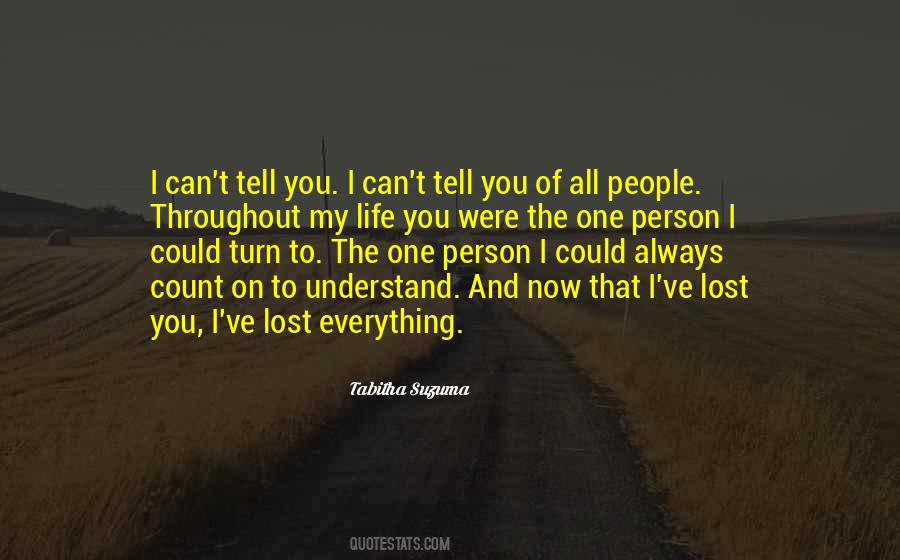 #74. I don't know what life is like, I don't know how regular people live. I just can never understand it. My first job was the NBA. - Author: Tracy McGrady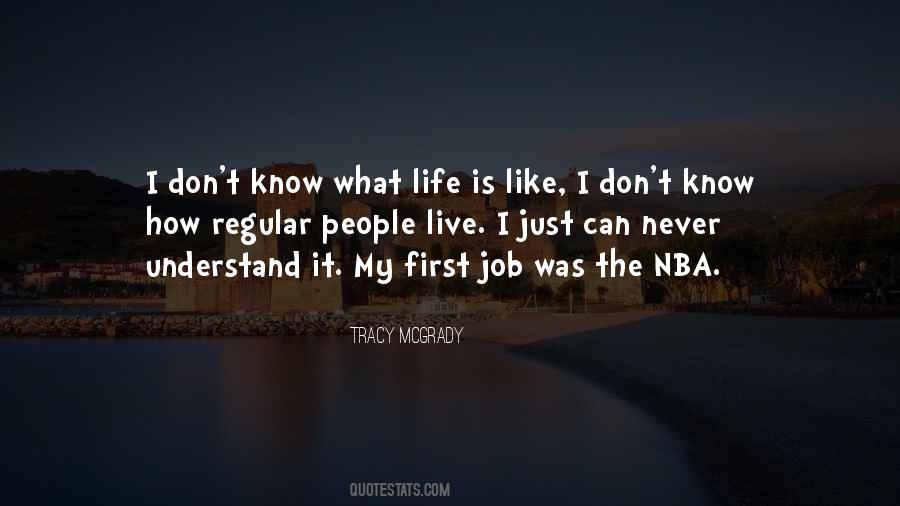 #75. I don't understand how people can take a gentle, loving life and treat it with such cruelty. - Author: Mark Ruffalo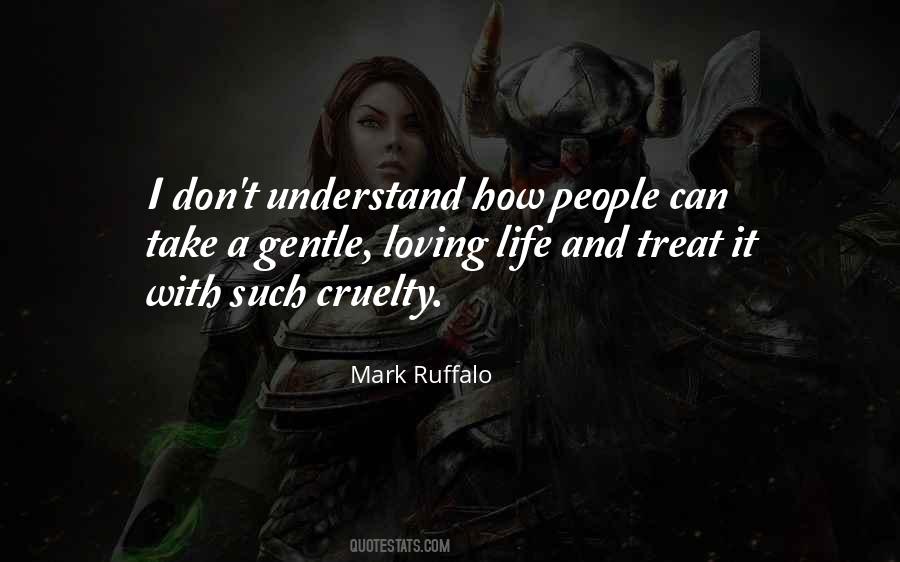 #76. Hollowness: that I understand. I'm starting to believe that there isn't anything you can do to fix it. That's what I've taken from the therapy sessions: the holes in your life are permanent. You have to grow around them, like tree roots around concrete; you mold yourself through the gaps - Author: Paula Hawkins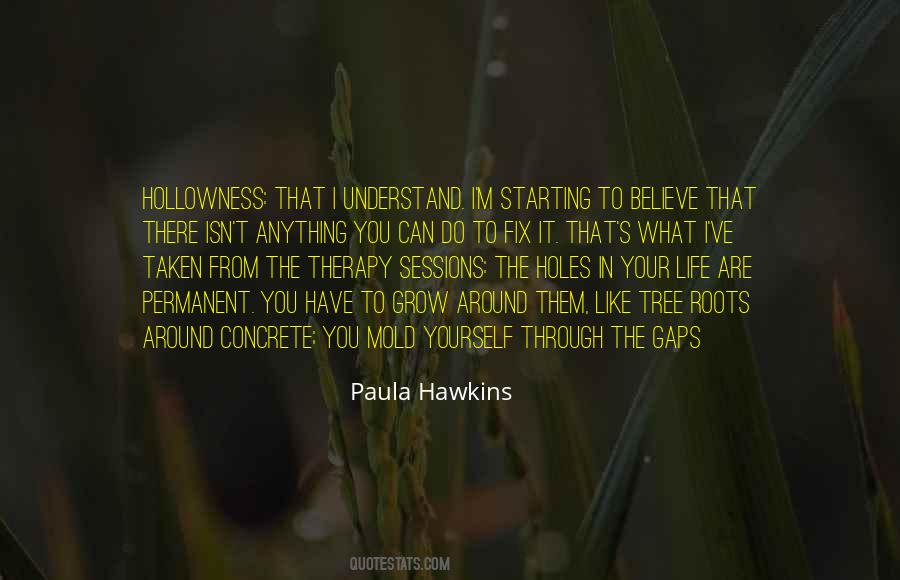 #77. Some people see life as many steps up and try to forget where they are coming from, you understand? A little step in life on a commercial or a material level is a good step, but a big step does not mean a strong step - you tend to lose your roots - and if you don't be careful, you can fall. - Author: Burning Spear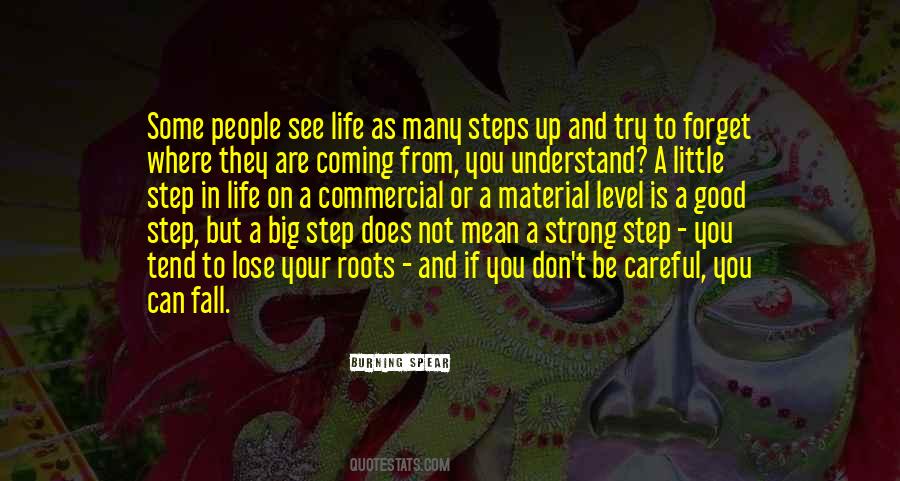 #78. Occasionally in life we come upon things we can't understand, because we have never seen anything similar. - Author: Arthur Golden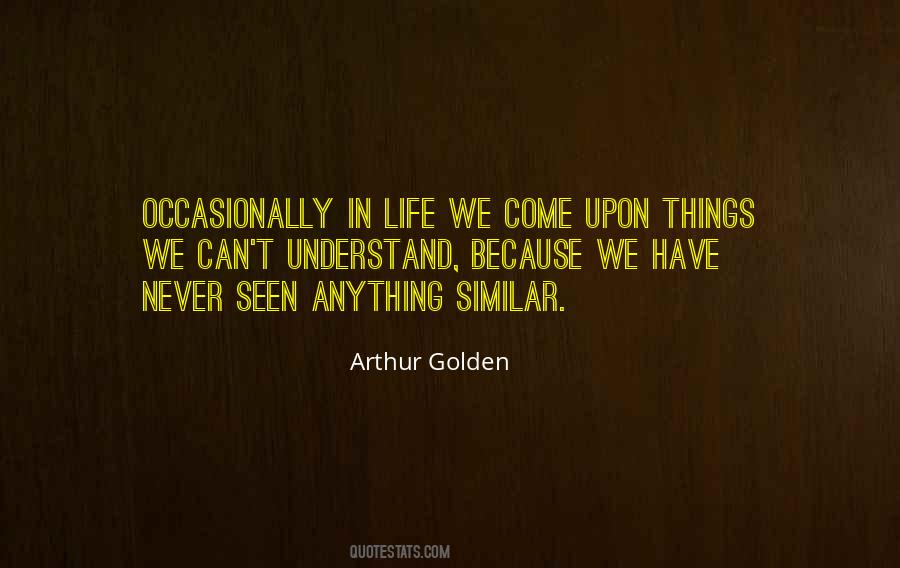 #79. We can't create what we don't understand, so until we understand what life is, how can we ever create it? - Author: Neal Shusterman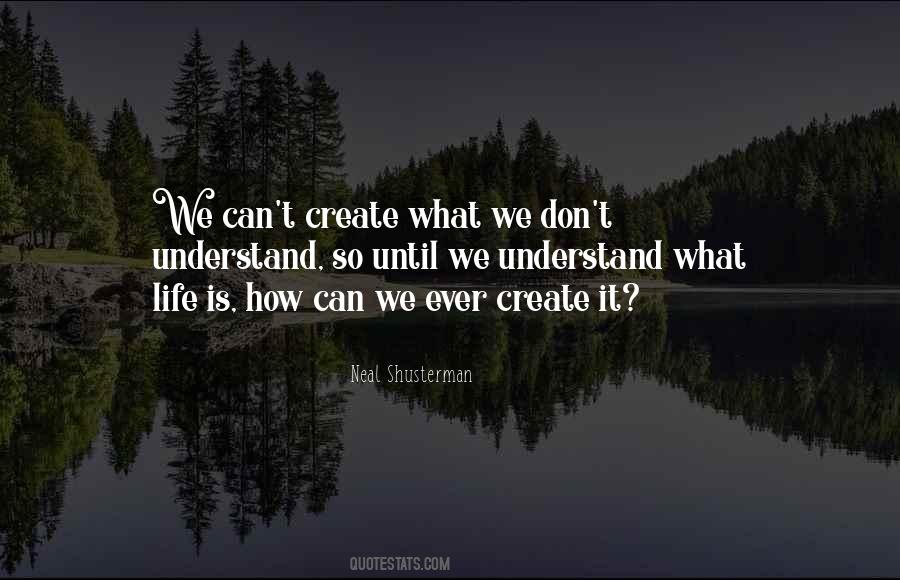 #80. Libertarians understand a very simple fact of life: Government doesn't work. It can't deliver the mail on time, it doesn't keep our cities safe, it doesn't educate our children properly. - Author: Harry Browne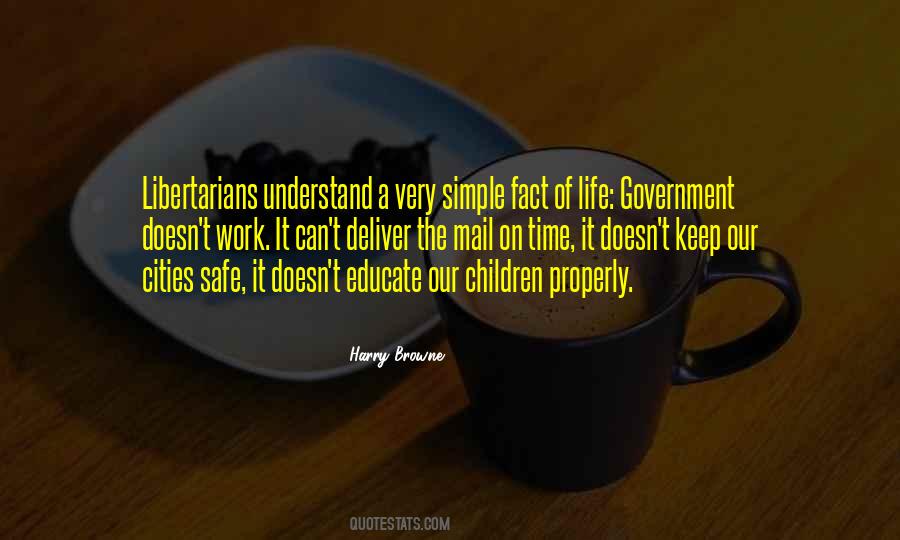 #81. When you are playing, it is so hard to think about what life will be like after football. I understand. When you are playing, and you are young, you think you can play your whole life. You think it will never change. But it will change. You can't play forever. No one can. - Author: Steve Largent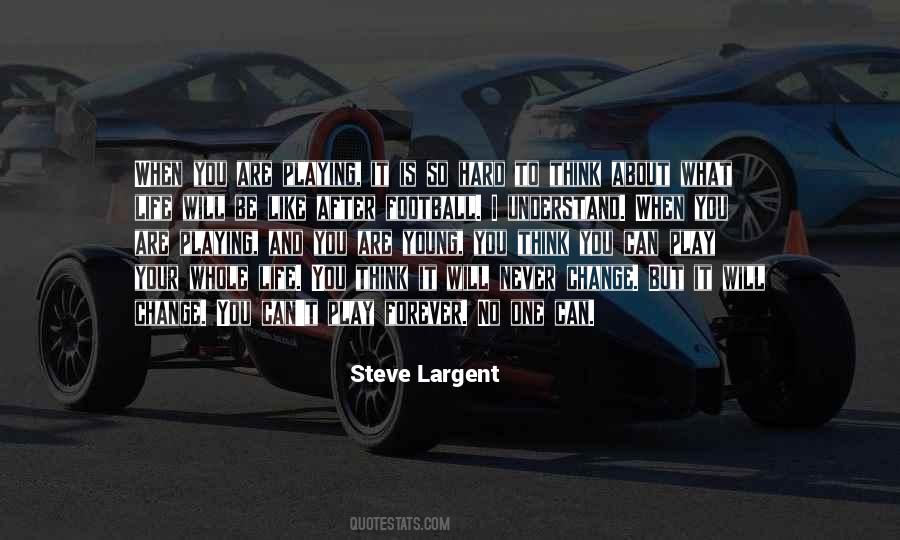 #82. I understand now that the vulnerability I've always felt is the greatest strength a person can have. You can't experience life without feeling life. What I've learned is that being vulnerable to somebody you love is not a weakness, it's a strength. - Author: Elisabeth Shue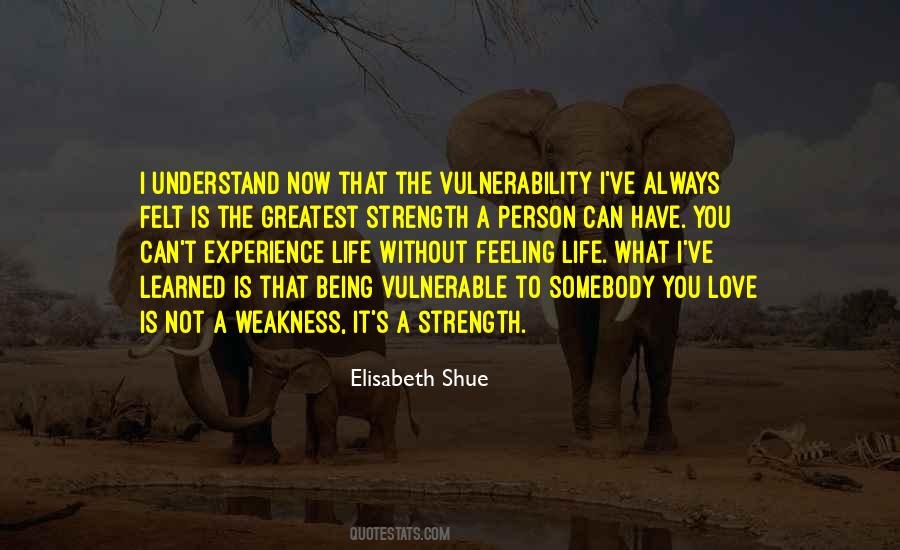 #83. My dear Tom,
Delighted to get your letter. Do write again. This life is terrible and I don't understand how it can be endured. - Author: Samuel Beckett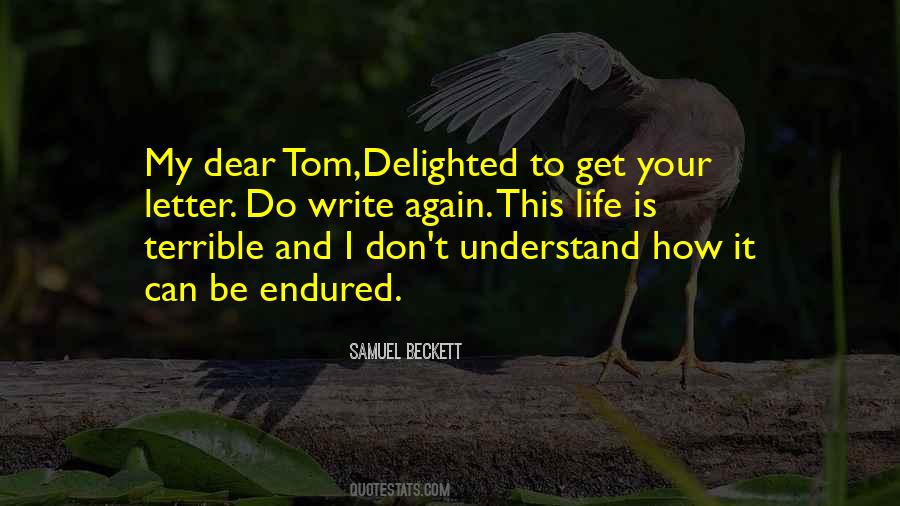 #84. You can't just read the Koran to understand Muslim life. You have to look at history, at personalities, at economics, and so on. - Author: Daniel Pipes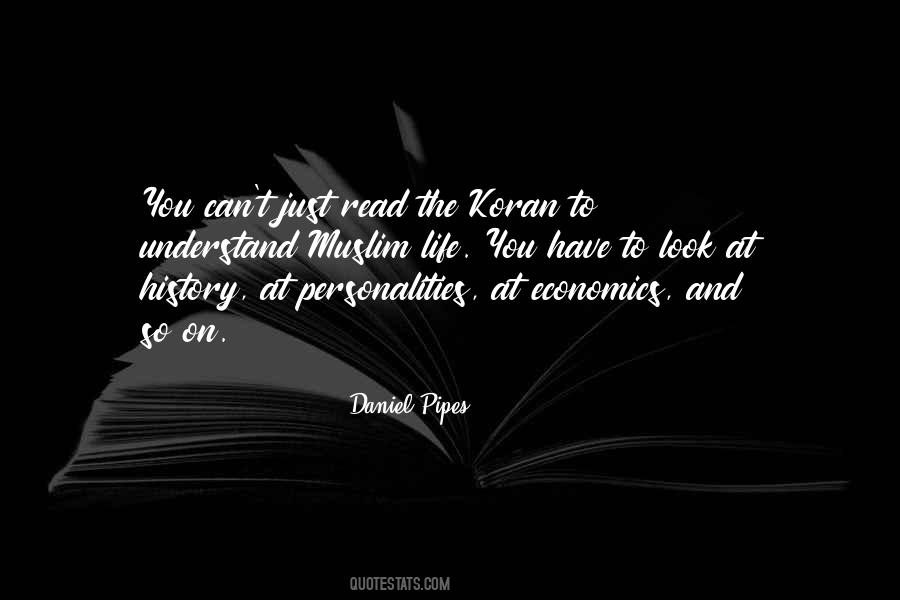 #85. I can't see for the life of me how an attempt to understand the universe, which I believe comes from God, can alienate us from God. - Author: George Coyne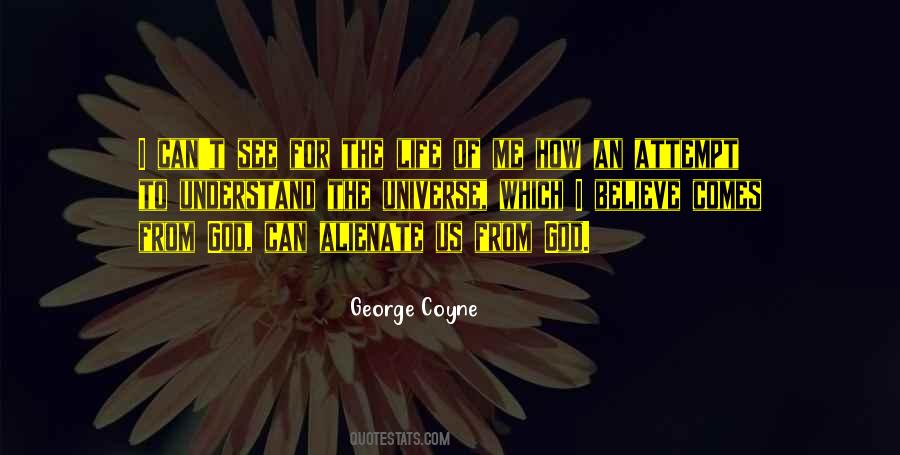 #86. I don't know how you can understand other people or yourself if you haven't read a lot of books. I just don't think you're equipped to deal with the demands and decisions of life, particularly in your dealings with other people. - Author: Sebastian Faulks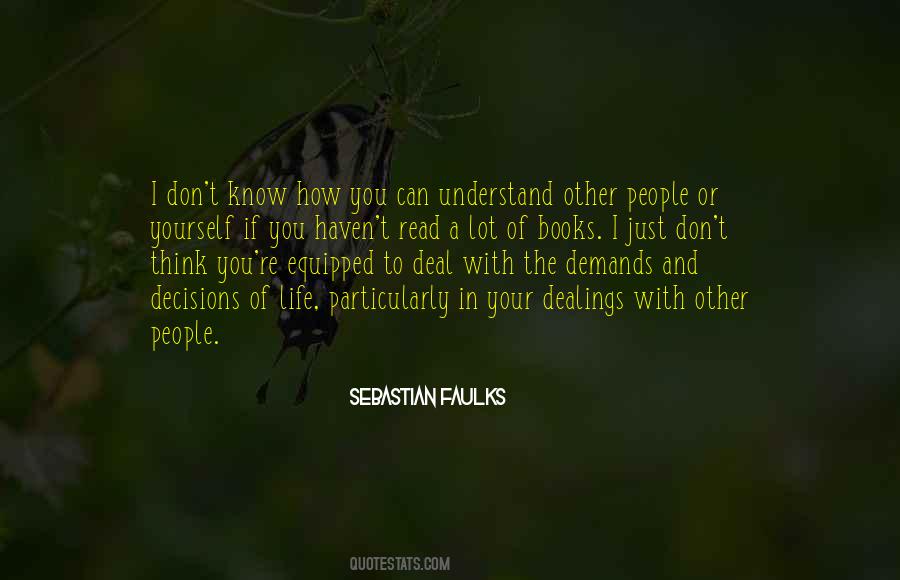 #87. You don't need to like any of the characters, as long as you can understand why and where they're from. Why do you need to like any of the characters in the movie? That's not how life is. You don't like everyone that you meet. - Author: Channing Tatum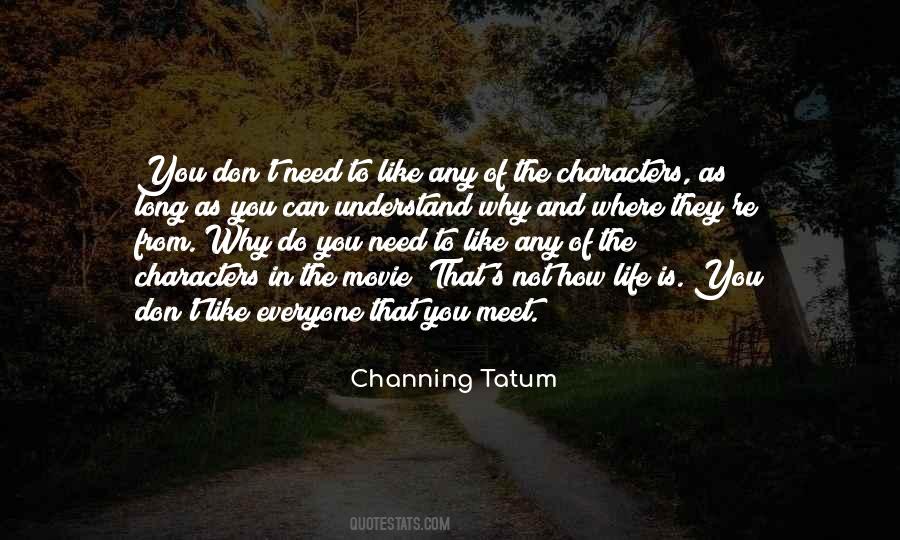 #88. My whole life, this is how I've defined the paranormal: can't understand it, can't explain it, can't deny it. - Author: Jodi Picoult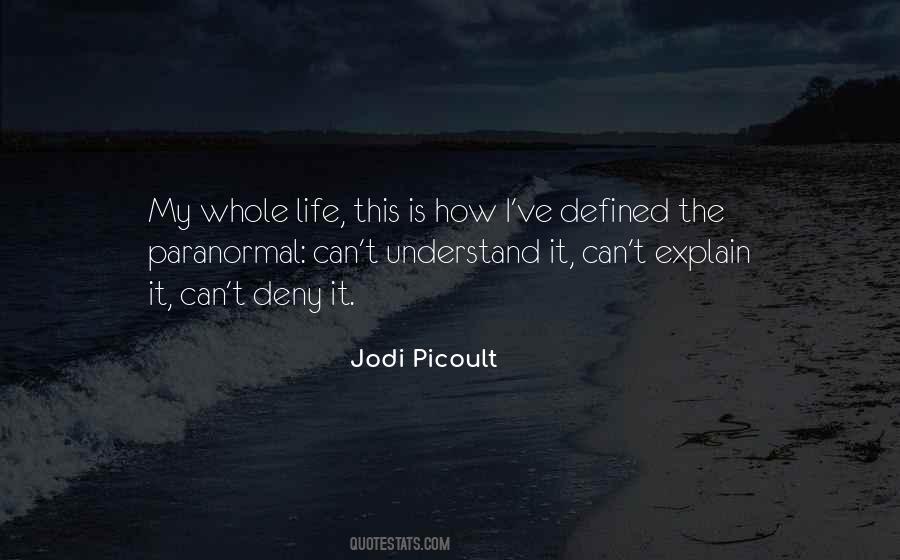 #89. He can heal me. I believe He will. I believe I'm going to be an old surely Baptist preacher. And even if He doesn't ... that's the thing: I've read Philippians 1. I know what Paul says. I'm here let's work, if I go home? That's better. I understand that. - Author: Matt Chandler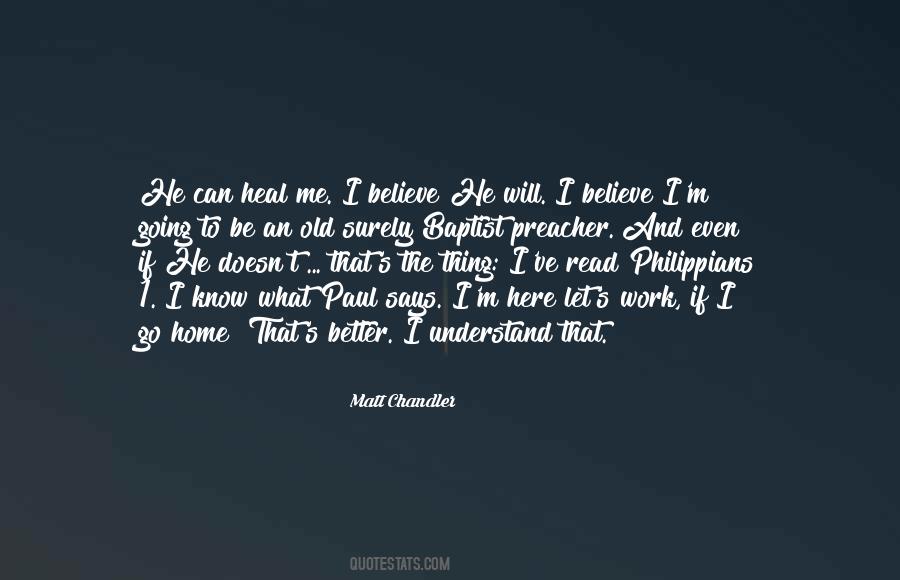 #90. Because there was a hunger in me to see everything and do everything. I wanted to be everyone I saw. I wasn't enough for me. Can you understand that? - Author: Sidney Sheldon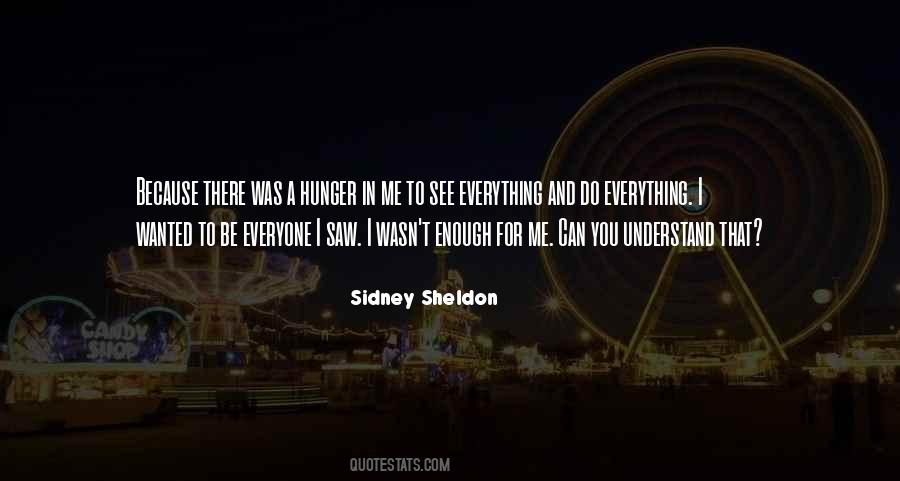 #91. Let us alone, little woman. We understand each other, don't we, doctor? Why, bless your life, he gives me better than he gets many a time; only, you see, he sugars it over, and says a sharp thing, and pretends it's all civility and humility; but I can tell when he's giving me a pill. - Author: Elizabeth Gaskell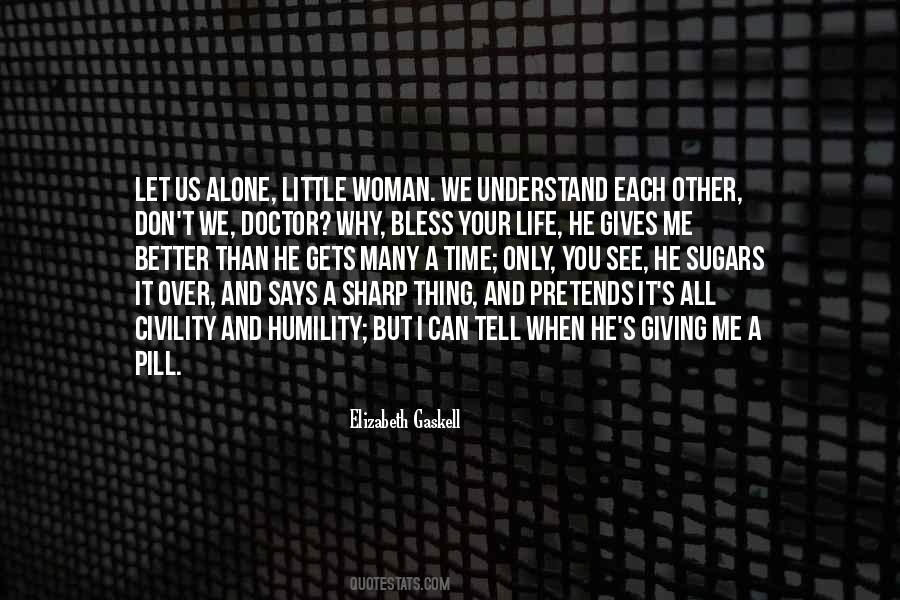 #92. I just don't deal with the negativity. I can't get involved in that side of it. I don't understand it, and you can't let it take away from your life and what you are trying to do. - Author: Rick Pitino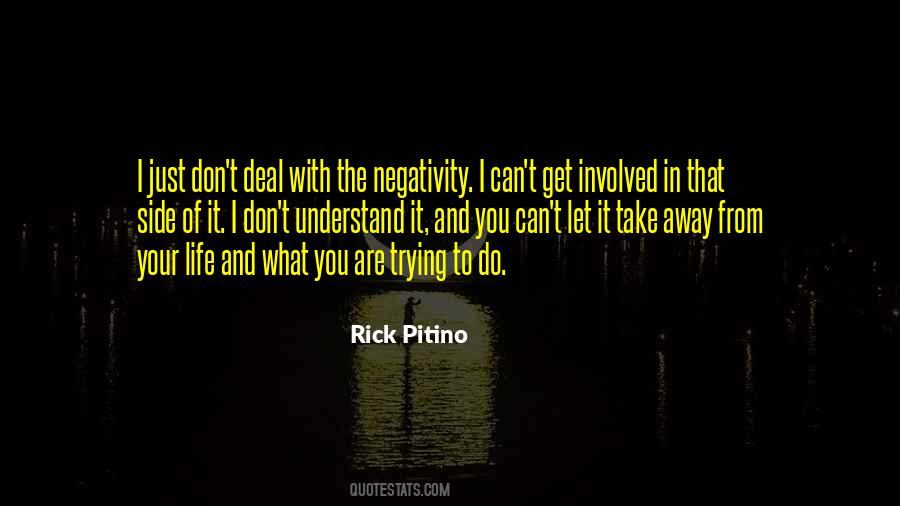 #93. There's a thin sheet of glass between me and life. However clearly I see and understand life, I can't touch it. - Author: Fernando Pessoa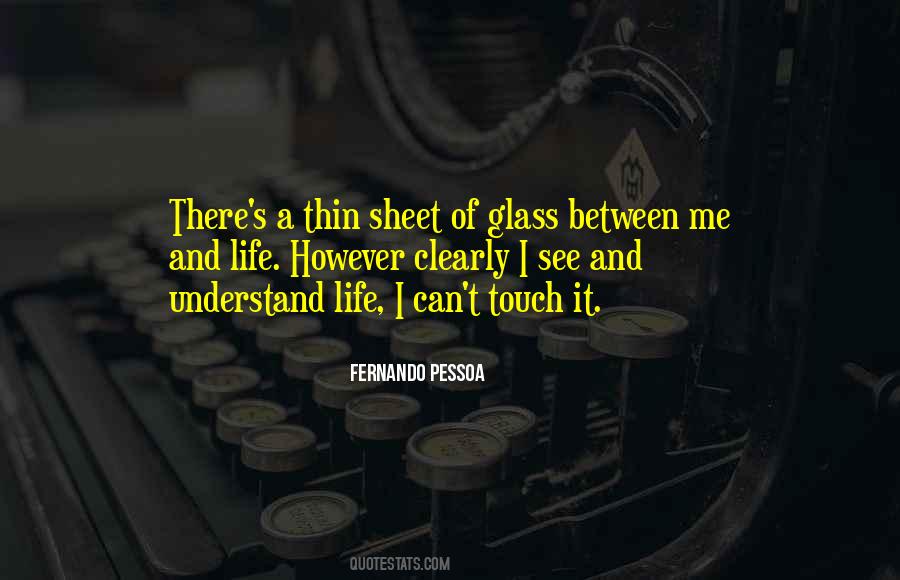 #94. People don't understand the devastation the murder of a child does to someone. Eighty percent of parents of murdered children wind up in divorce. The only thing you have in common is that horrible sadness. You can't see the joy of your previous life. - Author: John Walsh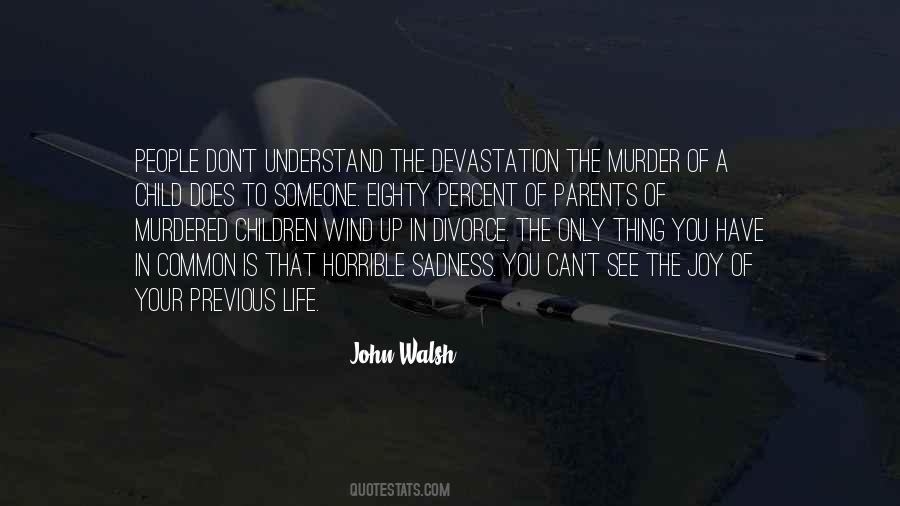 #95. The older I get, the more I believe in what I can't explain or understand, even more than the things that are explainable and understandable. - Author: Lillian Gish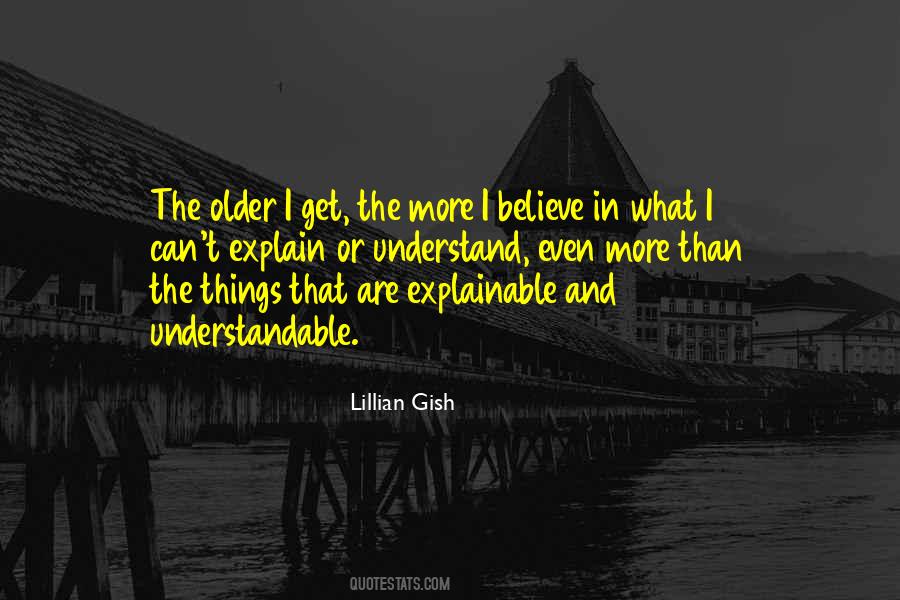 #96. The revelation of privacy: she can walk down the street and absolutely no one knows who she is. It's possible that no one who didn't grow up in a small place can understand how beautiful this is, how the anonymity of city life feels like freedom. - Author: Emily St. John Mandel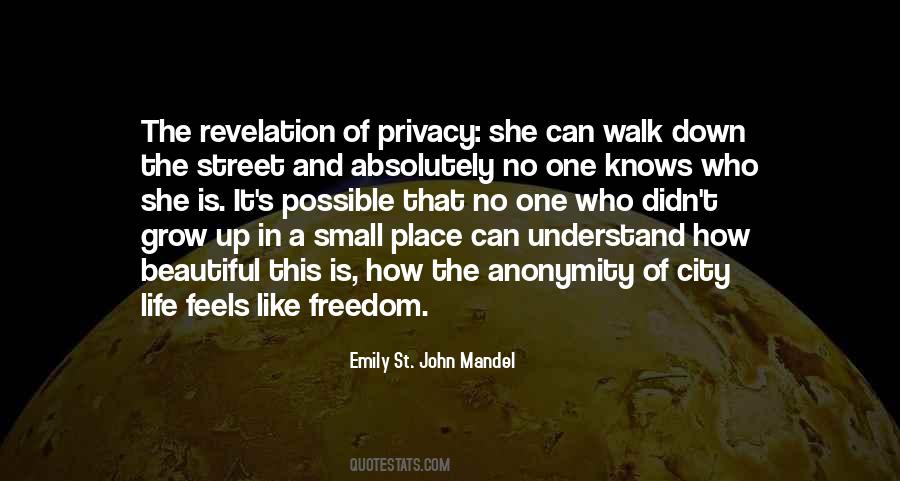 #97. Don't let the workings of adversity totally absorb your life. Try to understand what you can. Act where you are able; then let the matter rest with the Lord for a period while you give to others in worthy ways before you take on appropriate concern again. - Author: Robert Falcon Scott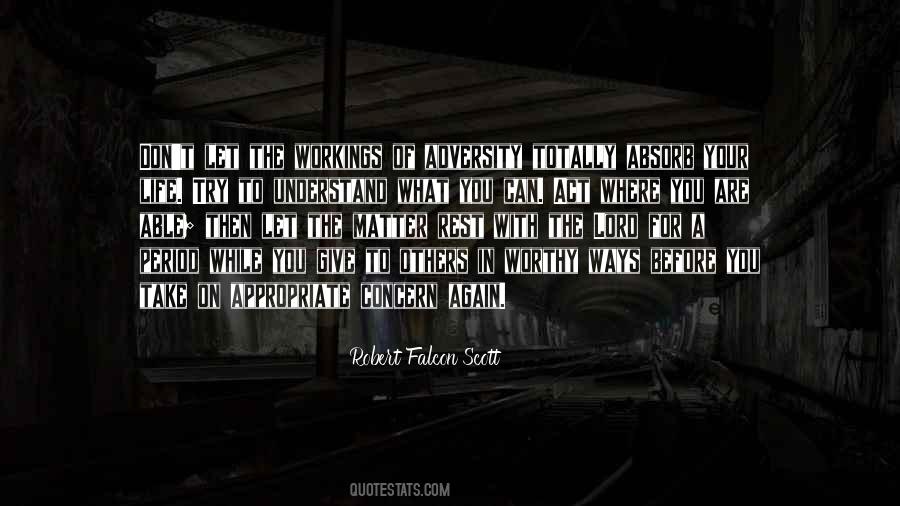 #98. When we don't understand and don't agree with the way life has gone, we are to bow before God and once again confess that we can't understand His wisdom. In faith, we are to accept His wisdom, His Word, and His workings, trusting in Him and obeying His commands. - Author: Elizabeth George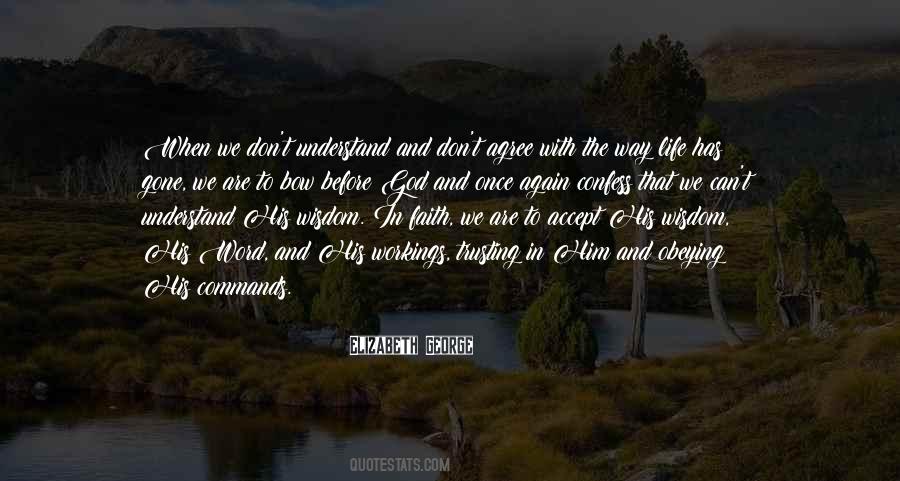 #99. I have to try. I can't leave him there. You don't understand, Vik. I love him, and I can't let him pay for something I did. I don't care what it takes, we have to save him. (Alix)
Those words, little girl, just saved your life. (Shahara) - Author: Sherrilyn Kenyon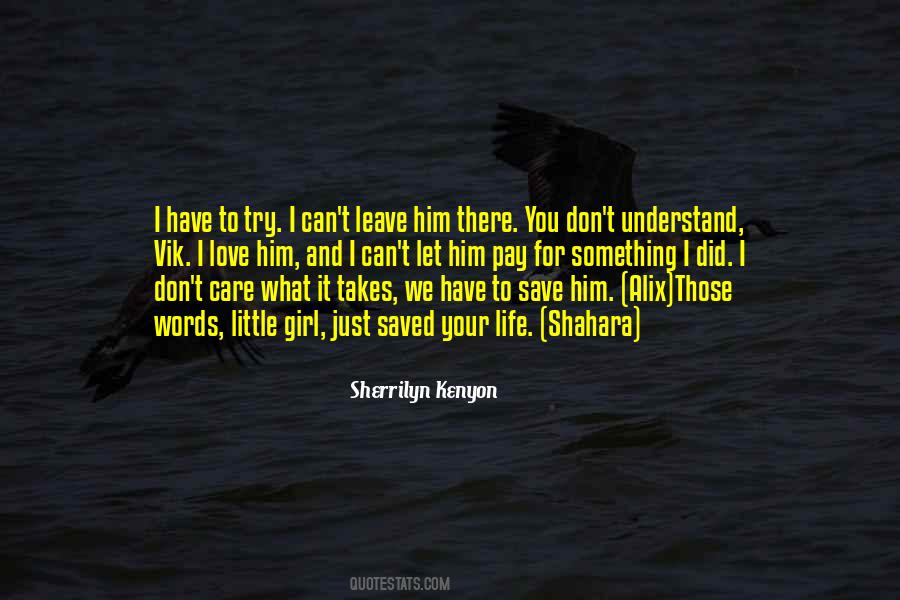 #100. Stories always have held conflicts and contrasts, highs and lows, life and death situations. And there can be much suffering in stories, but now we say the artist doesn't have to suffer to show suffering. You just have to understand the human condition, understand the suffering. - Author: David Lynch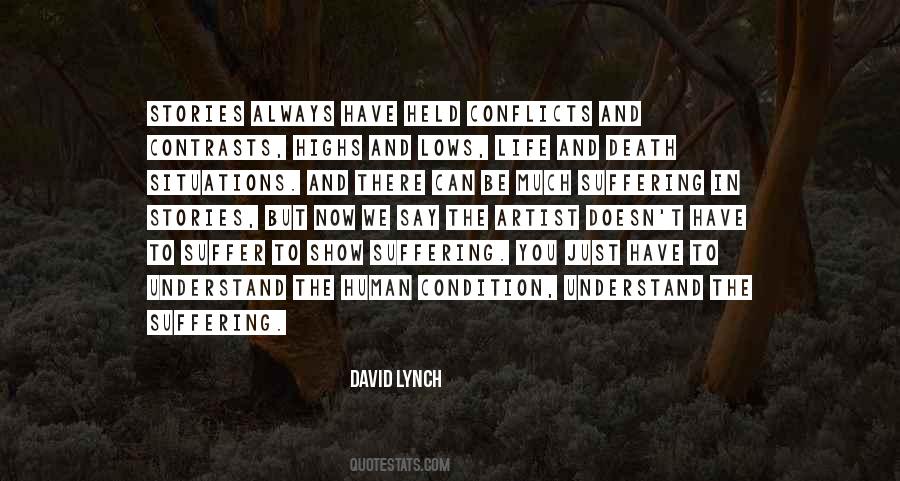 Famous Authors
Popular Topics