Have A Good One Famous Quotes & Sayings
List of top 100 famous quotes and sayings about have a good one to read and share with friends on your Facebook, Twitter, blogs.
Top 100 Have A Good One Quotes
#1. I'm one of those people who had Christmas and my birthday always combined, and generally, my birthday was pretty much ignored. But my parents are always good about making some kind of special effort to make me feel like I also have a birthday that exists. - Author: Noel Wells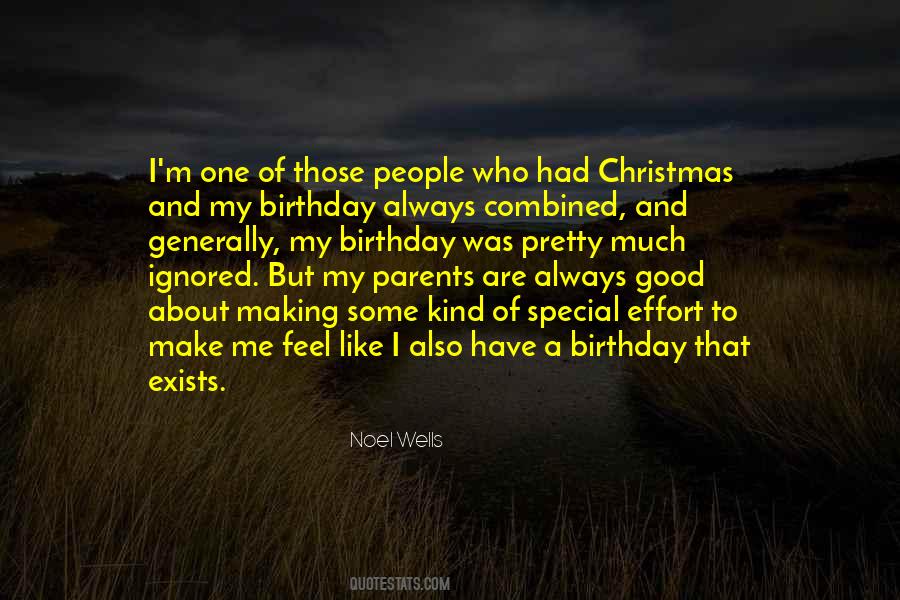 #2. Everything about this is embarrassing" she said. "D'you know how embarrassing it is to mention good and evil in a scientific laboratory? Have you any idea? One of the reasons I became a scientist was not to have to think about that kind of thing. - Author: Philip Pullman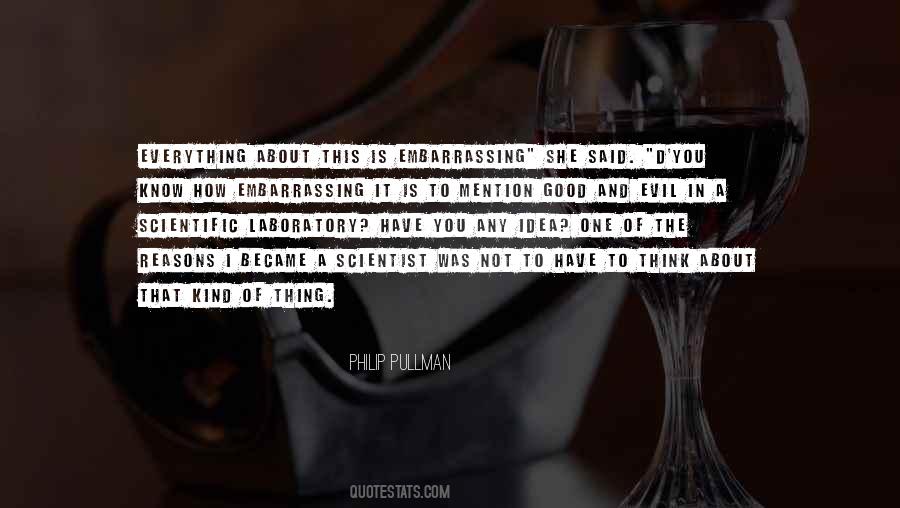 #3. To have a film where there's an evil figure and a good person fights against the evil figure and everything becomes a happy ending, that's one way to make a film. But then that means you have to draw, as an animator, the evil figure. And it's not very pleasant to draw evil figures - Author: Hayao Miyazaki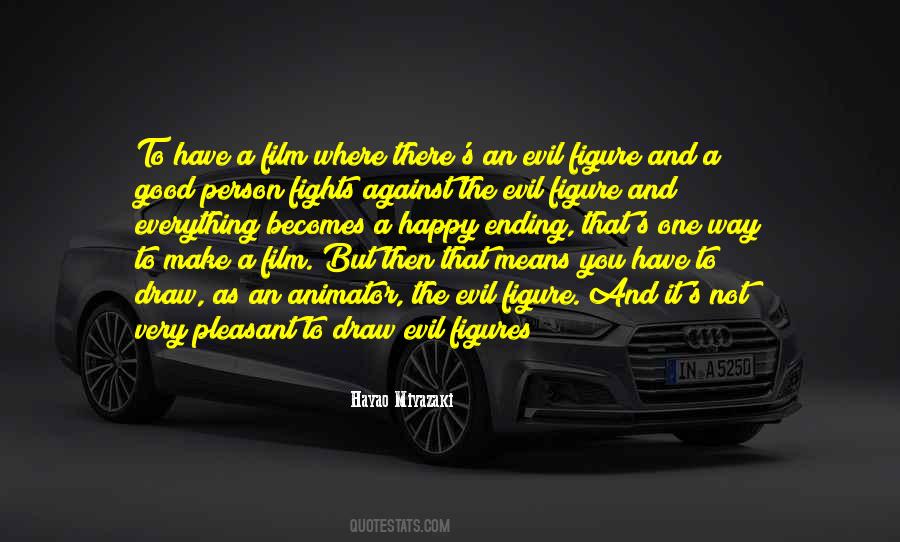 #4. She comes to naught, my dear one, she comes to naught, all that there business. What the hell, maybe twice in your life you have yourself a whore of a good time, and then you spend every night of the rest of your life trying to get that good time back. But she comes to naught. - Author: Lynn Coady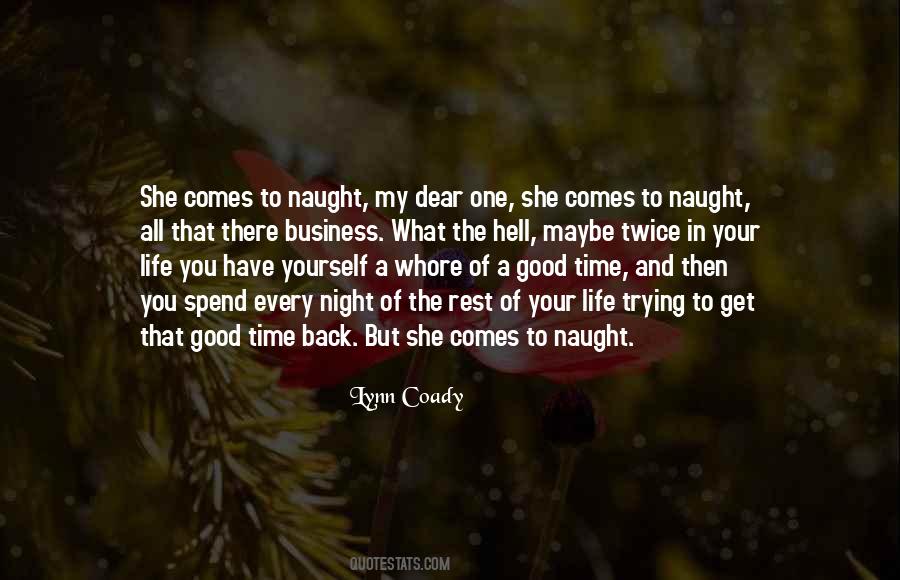 #5. What makes a good deli is a place that, one, is generally family-owned or owned by individuals that care. Delis that are owned by large corporations tend not to have that same soul. And two, delis that make as much of their food from scratch as possible. - Author: David Sax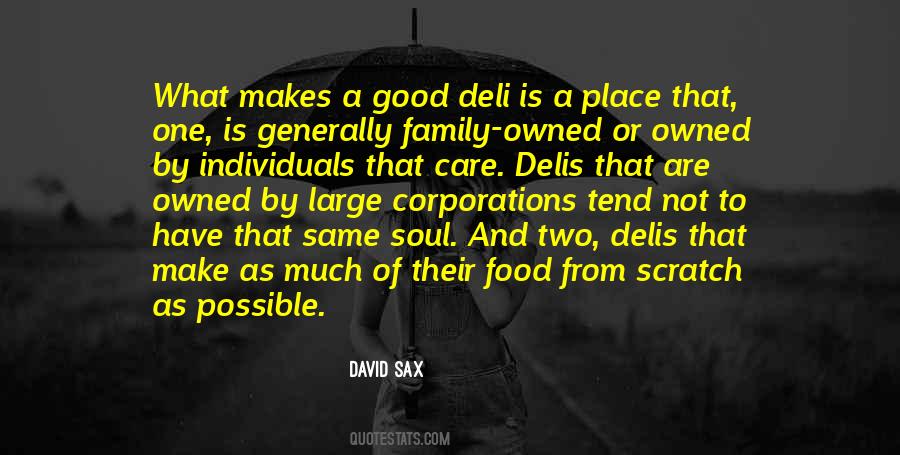 #6. I'd be the last colonel in the world to order you to go to that U.S.O. show and have a good time, but I want every one of you who isn't sick enough to be in a hospital to go to that U.S.O. show right now and have a good time, and that's an order! - Author: Joseph Heller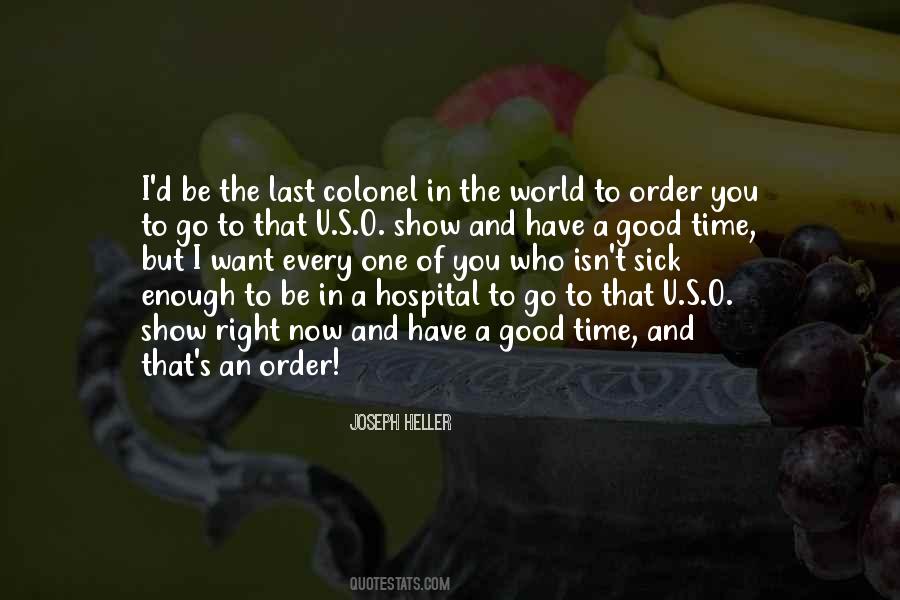 #7. but it's a good feeling and one does so like to have that. - Author: Barbara Pym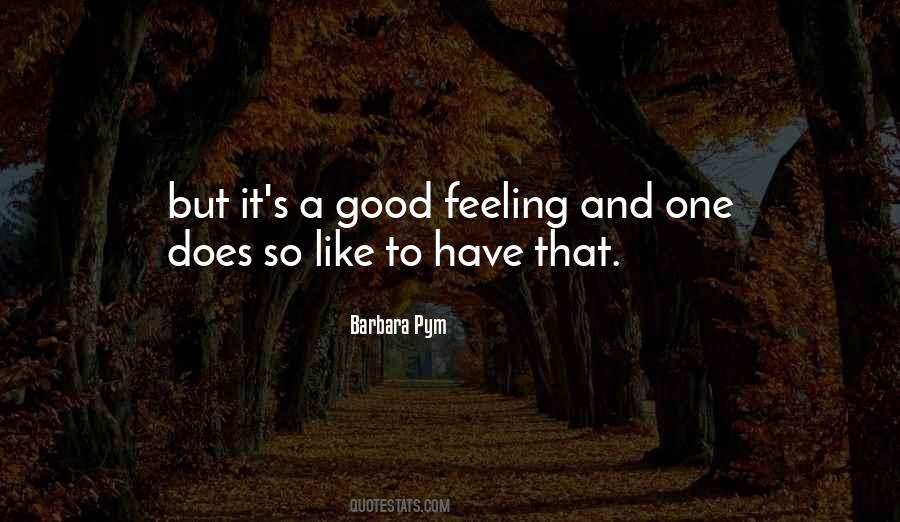 #8. You're such a crybaby. (Tee) Let me almost shoot off one of your testicles and see how you cope. (Joe) You shouldn't have moved, Joe. It was your fault. (Tee) Yeah, everything's my fault. (Joe) Good, then we agree. (Tee) - Author: Sherrilyn Kenyon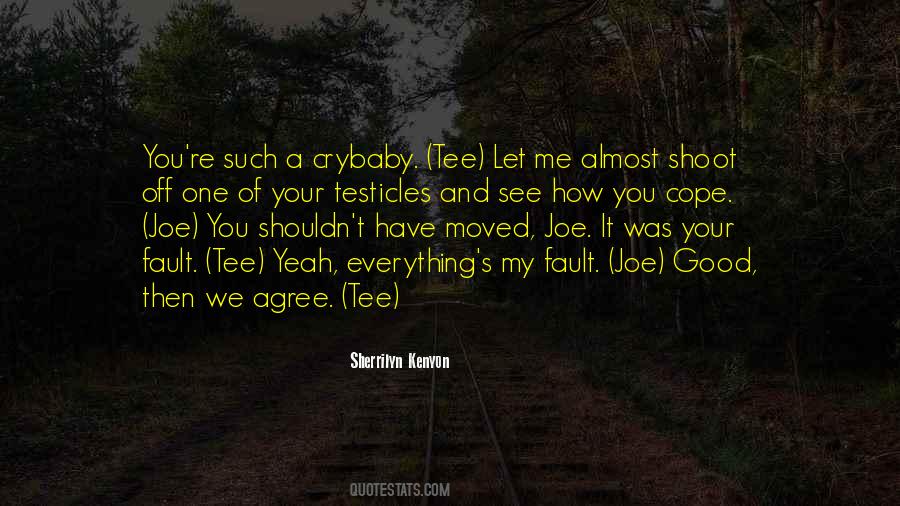 #9. Mexico is an important trading partner, it's the number one trading partner for the state of Texas. We have had dealings with them, shared a border with them. We have had our challenges, but at the end of the day we want a good relationship with Mexico. - Author: Rick Perry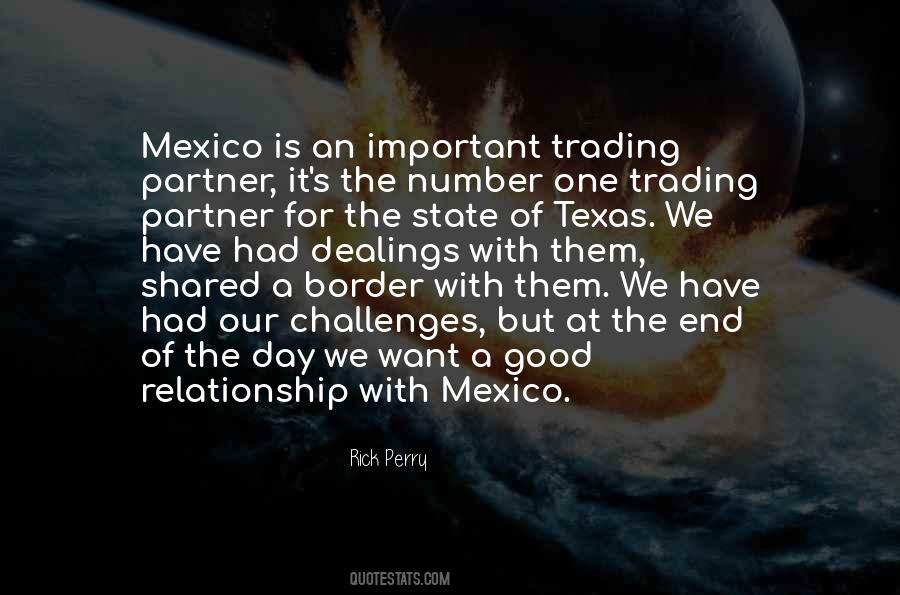 #10. Being a celebrity you always get really good seats to sporting events but you never get as good seats as the photographers get. And I really love sports. So one of the scams I have going now is I want to learn sports photography so I can get better seats at a sporting event. - Author: Drew Carey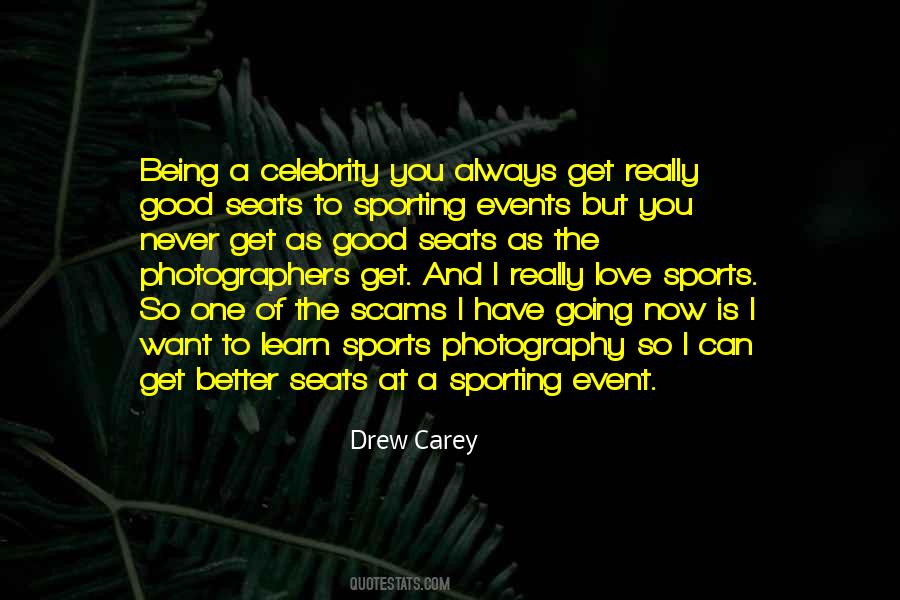 #11. Good or bad, if you're not "normal," you can't have a normal relationship. If you are different, people will relate to you differently. - Author: Donna Lynn Hope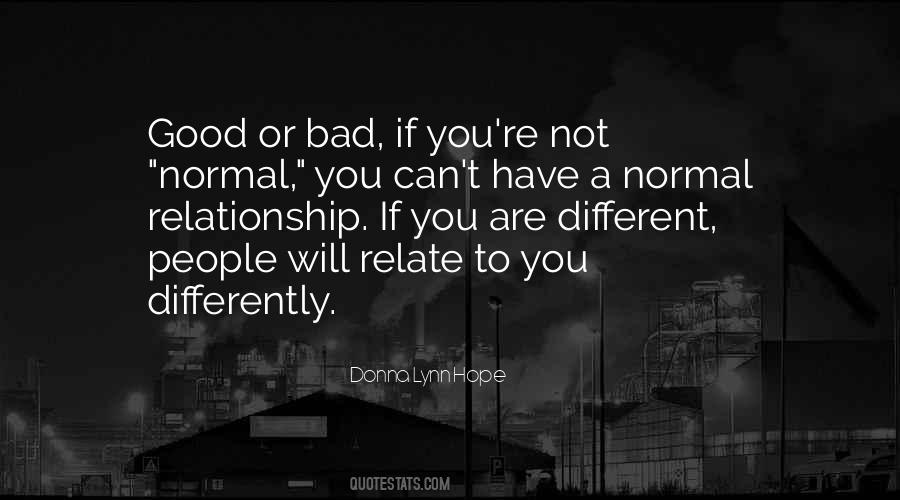 #12. Teaching can be compared to selling commodities. No one can sell unless someone buys ... yet there are teachers who think they have done a good day's teaching irrespective of what the pupils have learned. - Author: John Dewey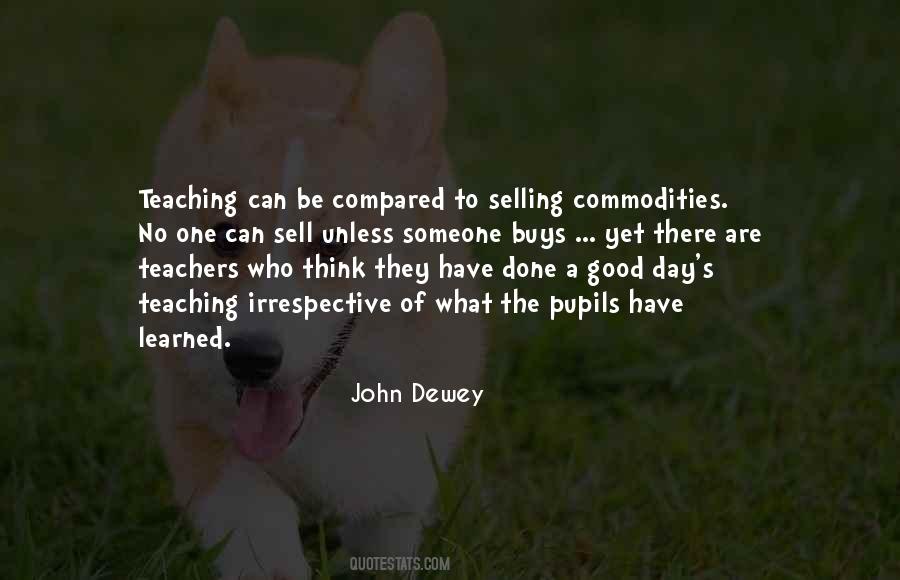 #13. I began thinking there should be an American phrase book, 'cause I've got an Italian phrase book, and an Arabic one ... now a British one. I think it'd be pretty good to have an American phrase book. - Author: Joe Strummer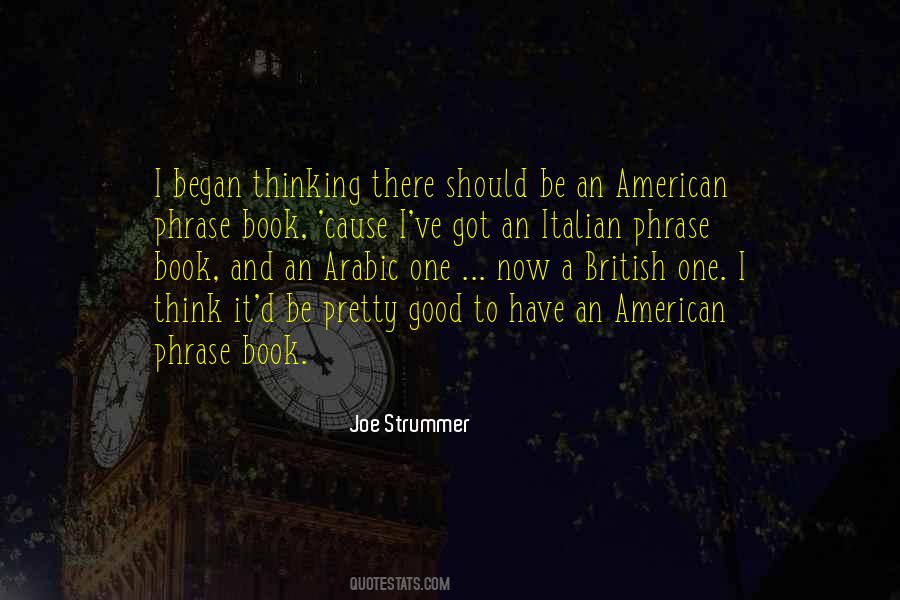 #14. We've had a problem finding a vocalist. We have not been lucky yet to find the one. I think the problem is that the three of us have such a pedigree of vocalist, that if we come out with someone that's not good we'll obviously be slated! - Author: Peter Hook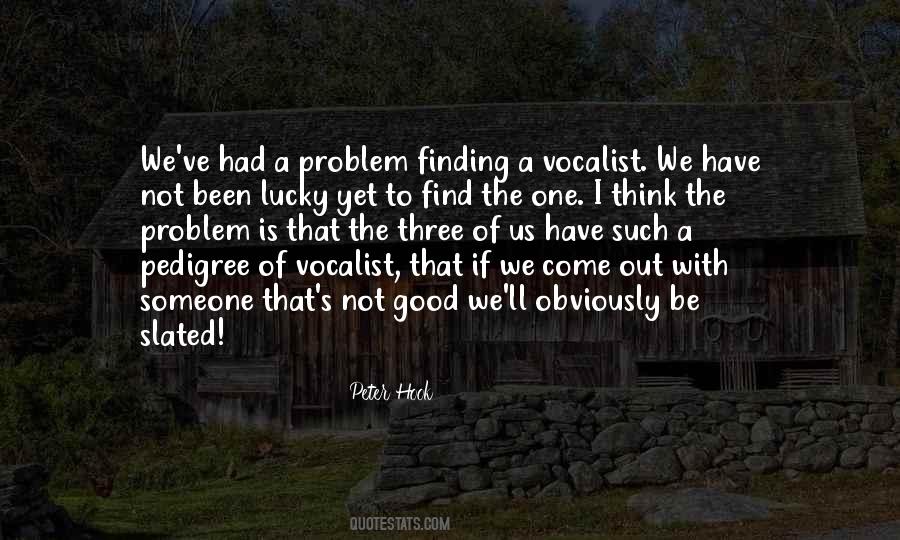 #15. It is good to have a failure while you're young because it teaches you so much. For one thing it makes you aware that such a thing can happen to anybody, and once you've lived through the worst, you're never quite as vulnerable afterward. - Author: Walt Disney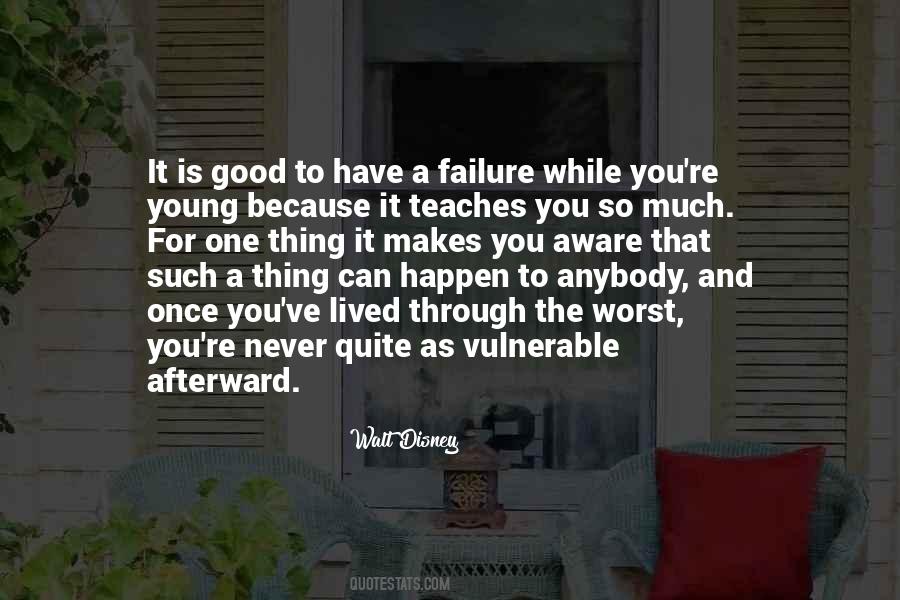 #16. A long and wicked life followed by five minutes of perfect grace gets you into Heaven. An equally long life of decent living and good works followed by one outburst of taking the name of the lord in vain- then have a heart attack at that moment and be damned for eternity. Is that the system? - Author: Robert A. Heinlein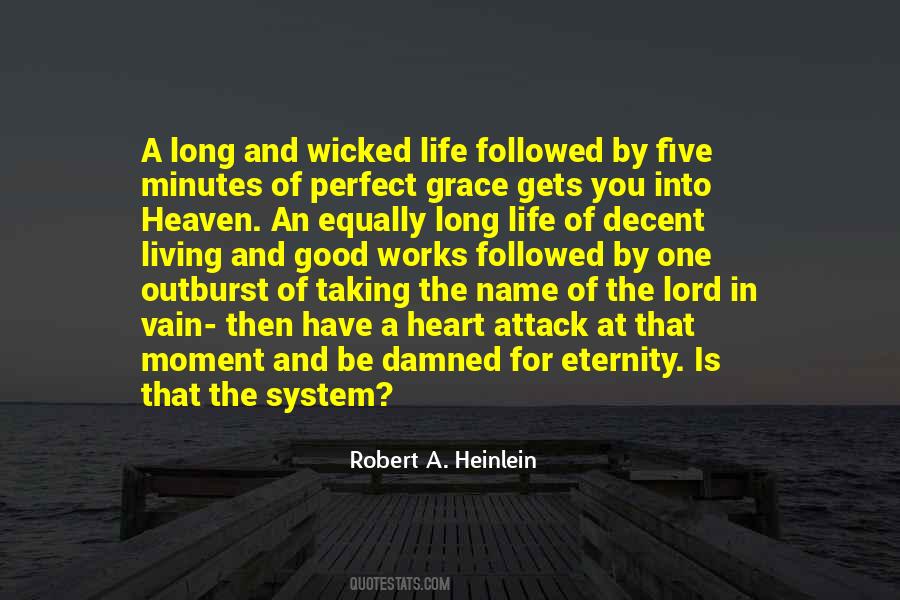 #17. Mom also hinted a couple of times that it was good I was going to college, since with one failed marriage behind me, I 'd have trouble landing a good husband and would need something to fall back on. "A package that's been opened once doesn't have the same appeal". - Author: Jeannette Walls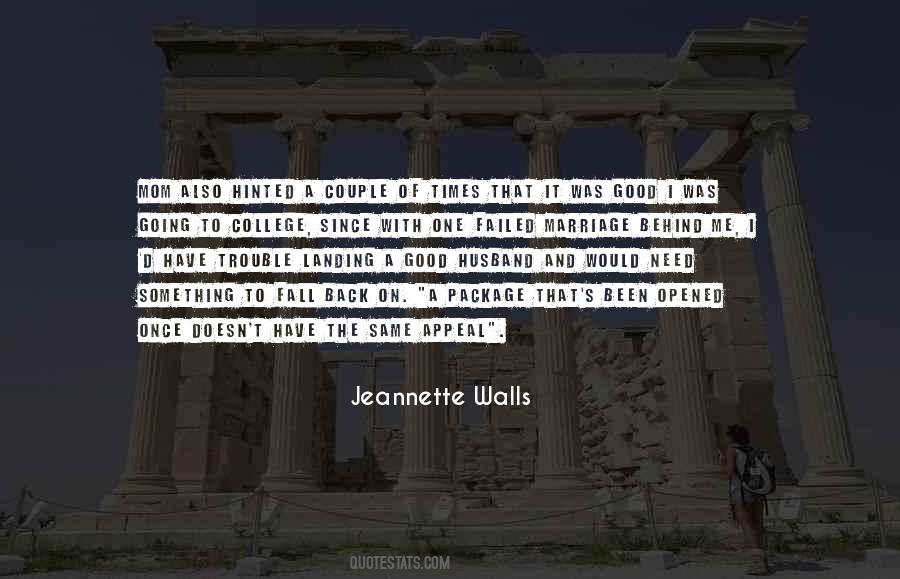 #18. I love San Francisco; it's very hard to compete with San Francisco when it comes to availability of product, but one thing you can't replace about Las Vegas or Miami is people are walking in the door and they want to have a good time. - Author: Michael Mina
#19. I have ever deemed it more honorable and more profitable, too, to set a good example than to follow a bad one. - Author: Thomas Jefferson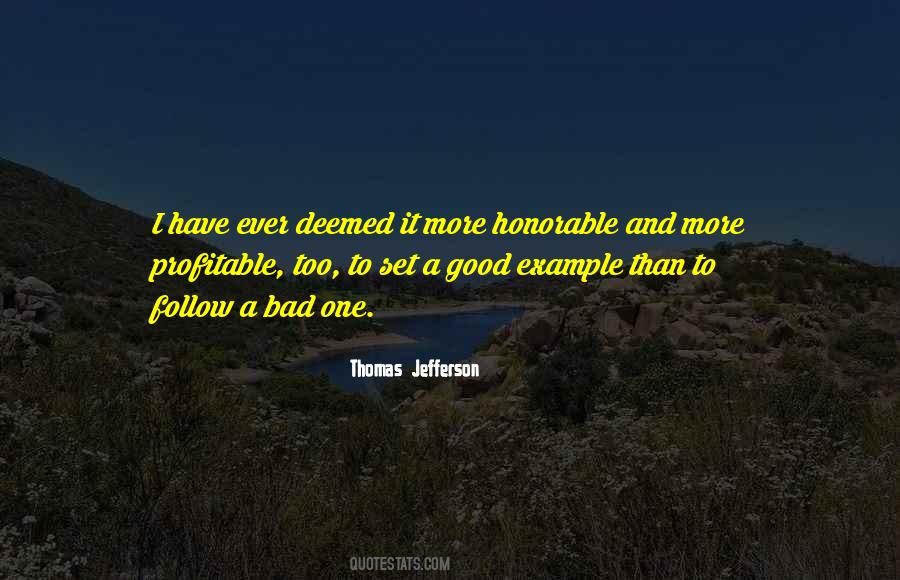 #20. I thought, how would I feel if my son gave one of those [underprivileged] kids chicken pox? For him it's not a terrible thing. We have good insurance and easy access to health care. It's a different situation for another family. I didn't want to make the decision for them. - Author: Eula Biss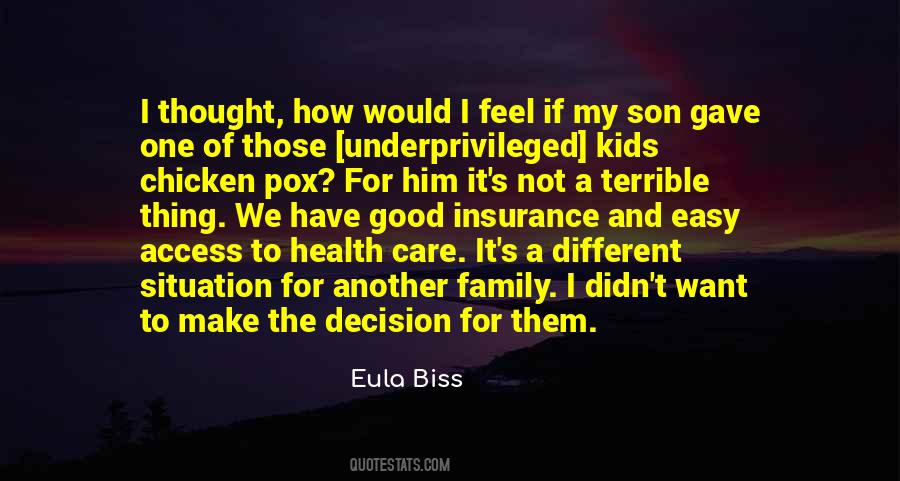 #21. My limited theater experience was when I was a kid starting out: two or three plays. I was good in one and mediocre in the other. My problem is that I have other interests. - Author: Michael Keaton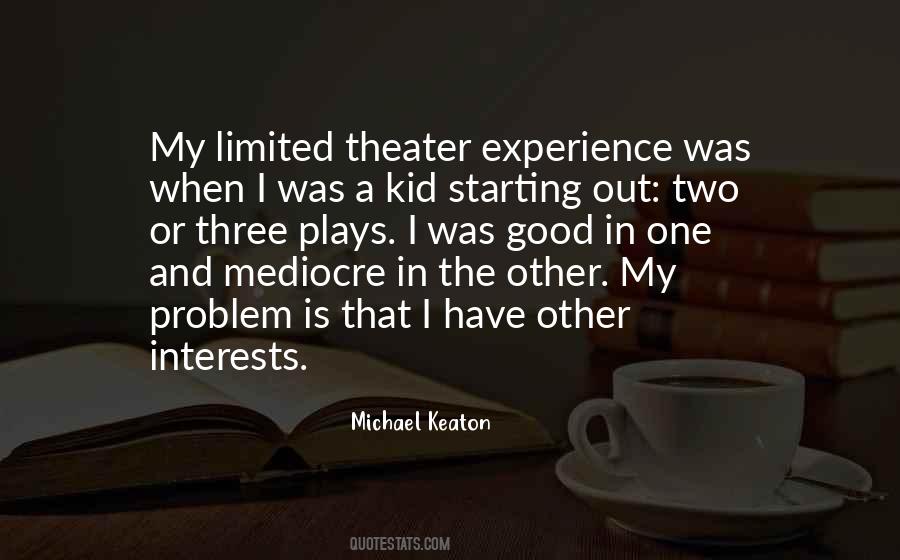 #22. One of the most obvious results of having a baby around the house is to turn two good people into complete idiots who probably wouldn't have been much worse than mere imbeciles without it. - Author: Georges Courteline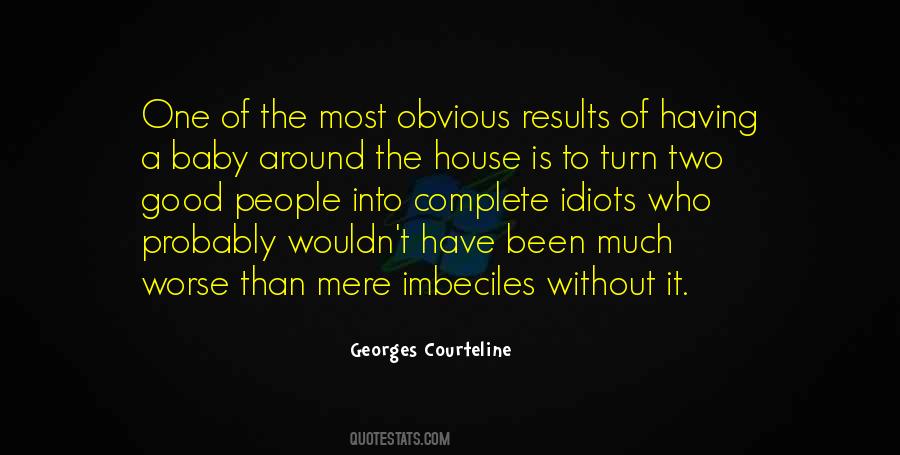 #23. One pattern to help yourself fight the mad dash for the mirage of being done is to think of a good day's work. Look at the progress of the day towards the end and ask yourself: 'Have I done a good day's work?' - Author: David Heinemeier Hansson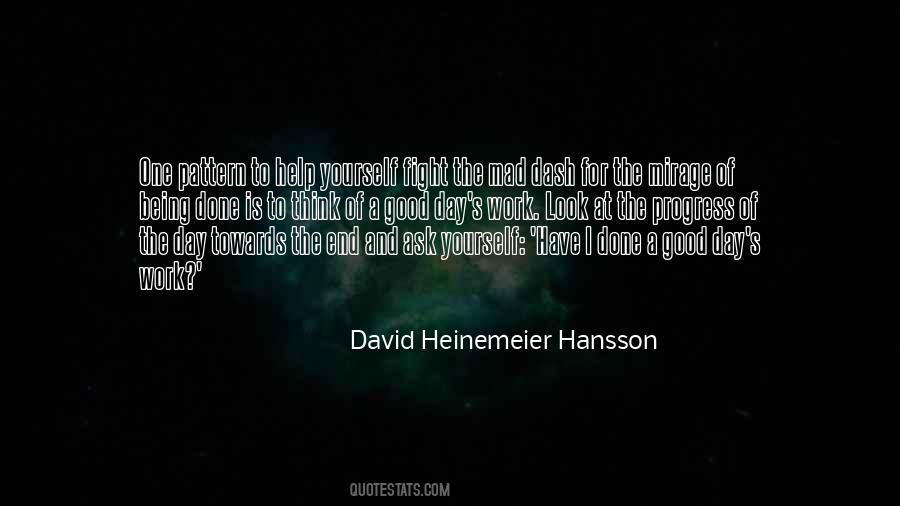 #24. 10 As the Scriptures say, No one is righteous - not even one. 11 No one is truly wise; no one is seeking God. 12 All have turned away; all have become useless. No one does good, not a single one. - Author: Anonymous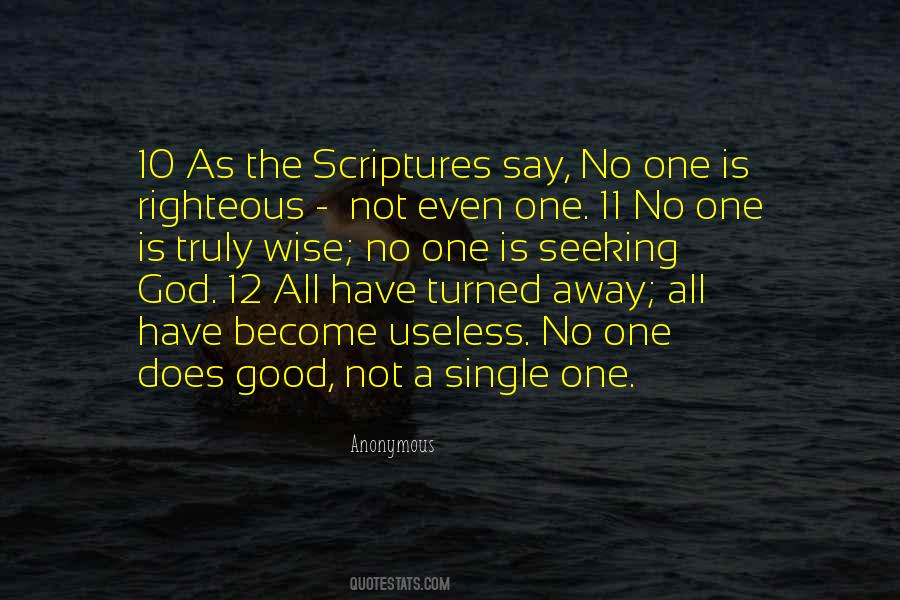 #25. I've played such serious characters that no one sees me the way I actually am, which is completely cheesy and goofy, so it would be fun to do a romantic comedy and just have a good laugh. - Author: Laura Vandervoort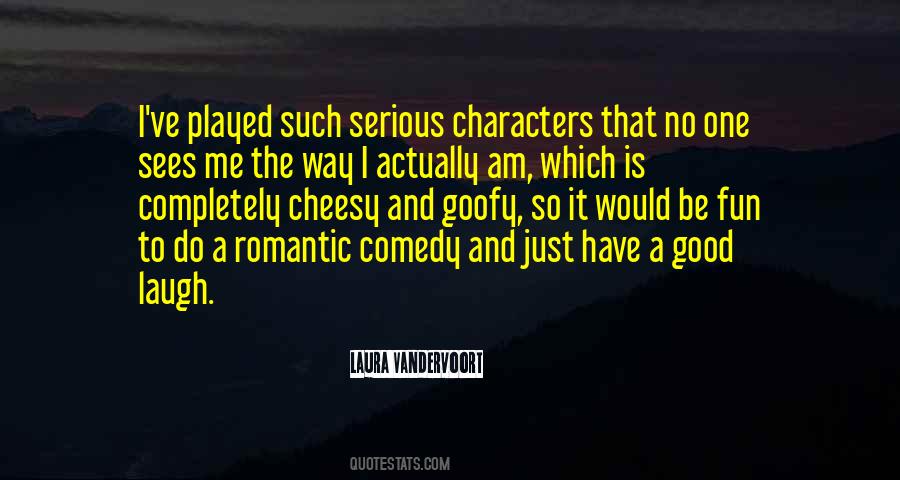 #26. Sometimes in films it's nice to have violins on either side, rather than on one side, so you've got more of a stereo picture with the violins. Sometimes it's good to have the basses in the middle. - Author: Anne Dudley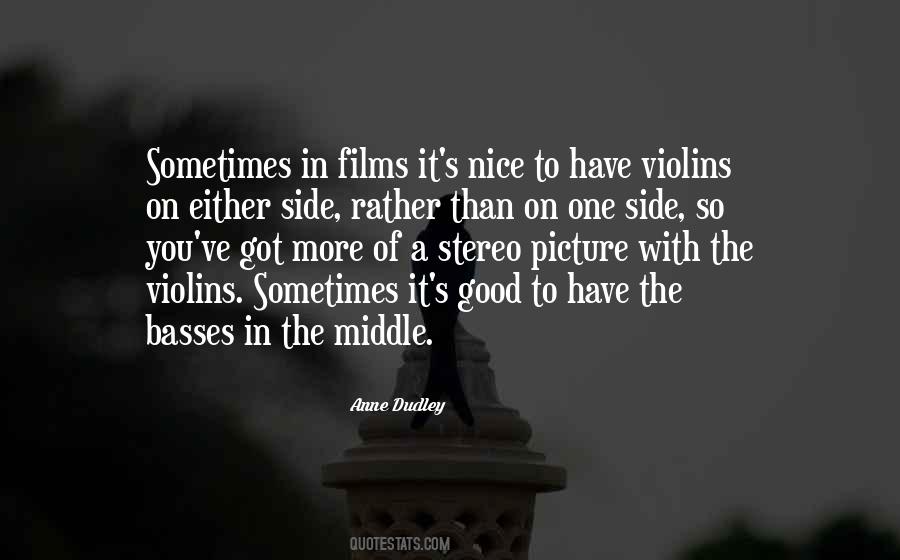 #27. Love and desire...they aren't the same but they go hand in hand. To say you love someone is to say you have the desire for good things for them, that you desire to DO good things for them. One of the worst things the enemy does is change the definition of love in the minds of a people. - Author: J. Evan Johnson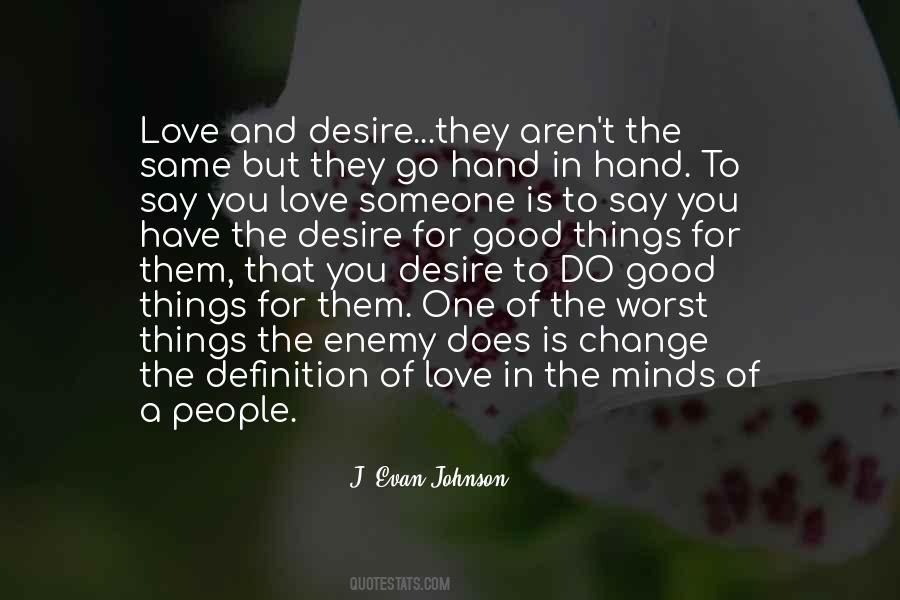 #28. If you knew what a sensation of the nearness of a higher power one instinctively feels when one is permitted to contribute to the good of mankind, as I have done, and still do! Believe me, it is a great gift of God's mercy! - Author: Jenny Lind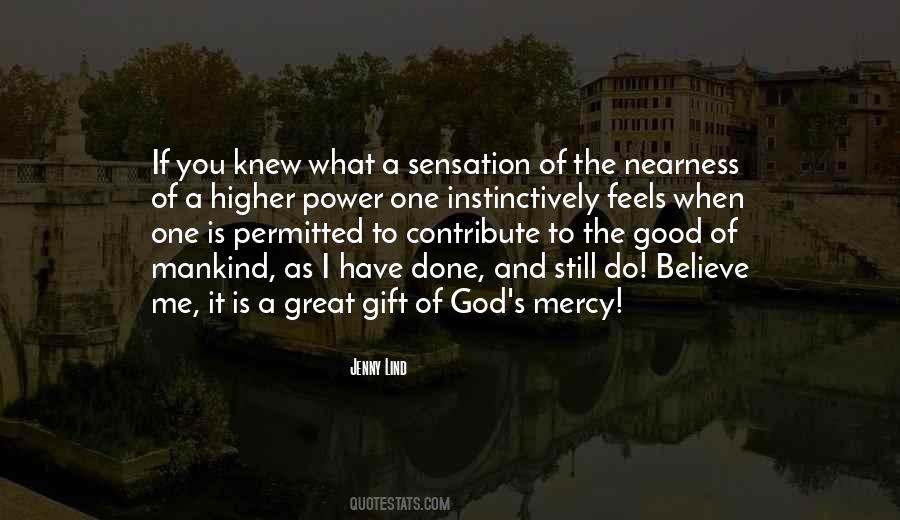 #29. One of the best things Dr. G. told me was that I didn't have to judge every new situation I encountered. Living alone, for example. She said I didn't have to say that living alone was good or bad, I could just live alone and not make a judgement on it. - Author: Natalie Taylor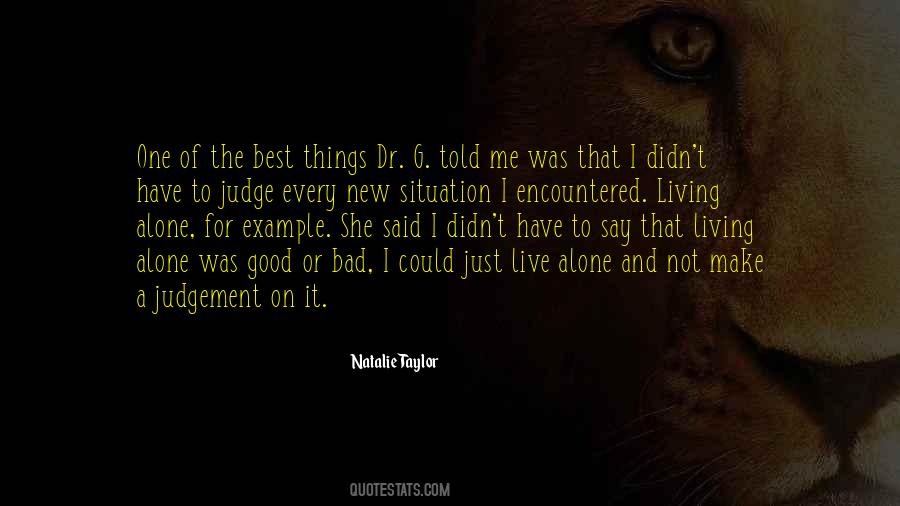 #30. People have a sense of humor, even if it's not a good one, and everybody has stakes. - Author: John Krasinski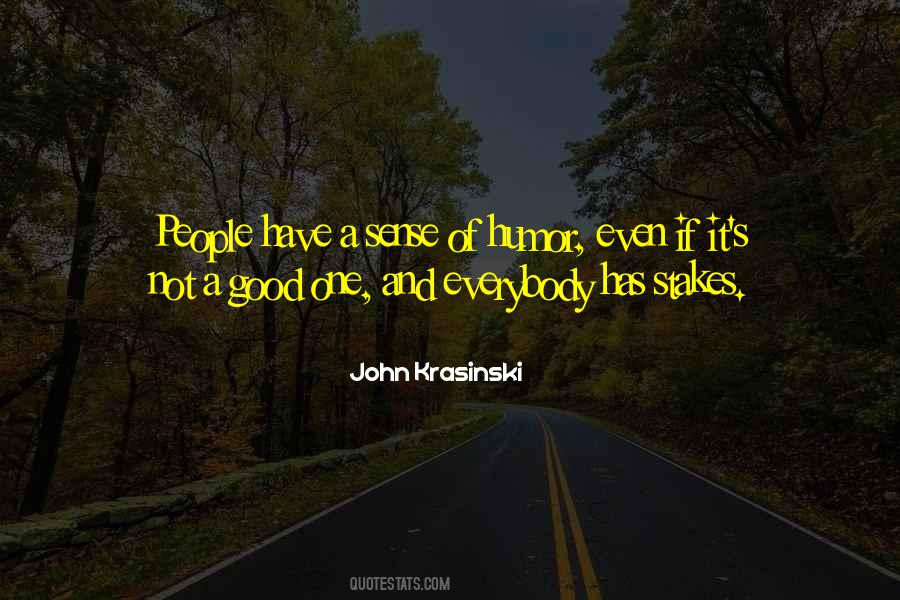 #31. I freely admit that I have many times adopted Jim Oakley's precept of a "bloody good gallop," often with spectacular results. To this day I frequently learn things from farmers, but that was one time when I learned from a postman. - Author: James Herriot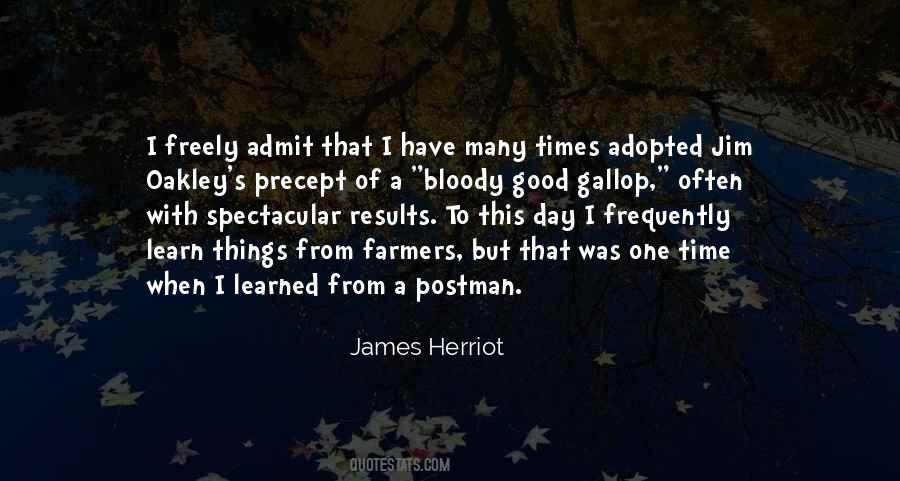 #32. I am tired of all these golfers who are happy with second place. The only one who will like you if you come in second place is your wife and your dog. And that is only if you have a good wife and a good dog. - Author: Gary Player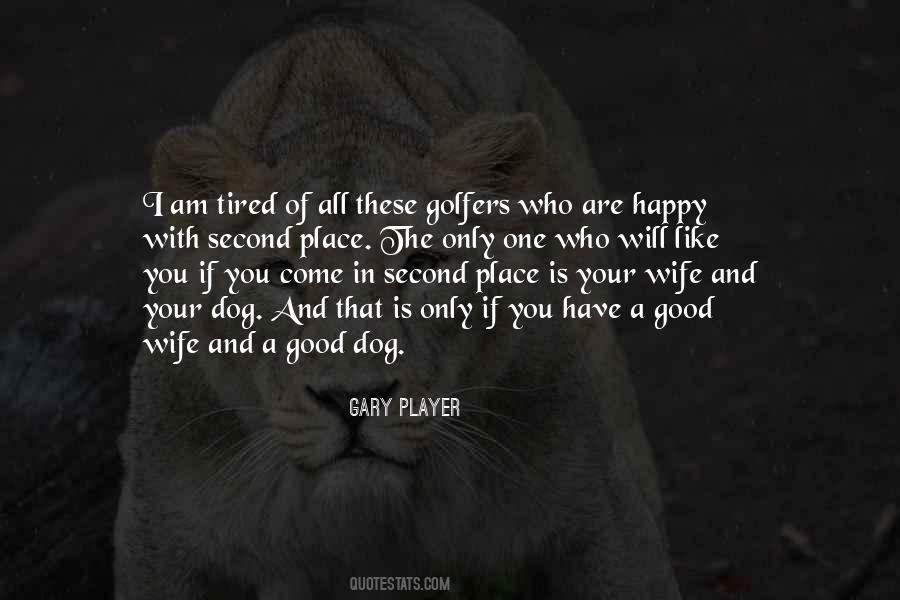 #33. I don't know what the answer is, but I'm very blessed and lucky to have made a good living doing what I've loved to do. I just hope I can do another one after this. - Author: Donnie Fritts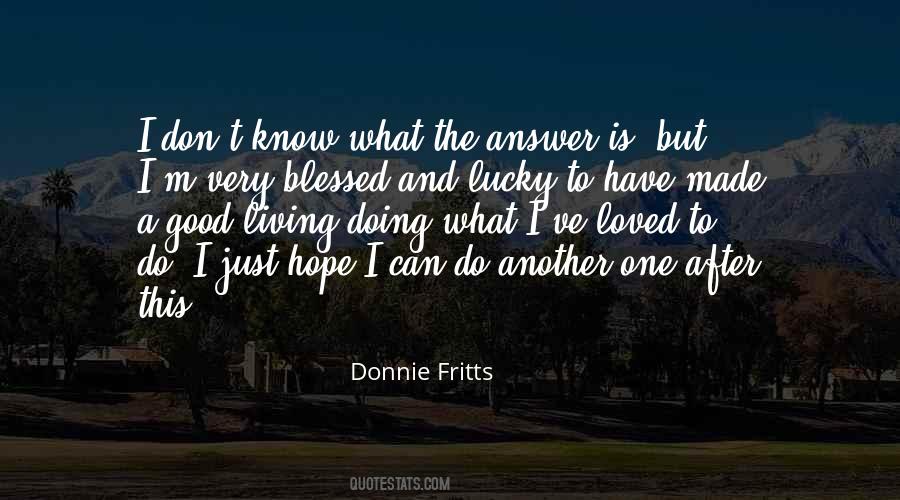 #34. I have a group of friends in my life, and we all give each other something different. I've known my two closest friends for many years. One is a friend from high school, and the other I met right after college. My deep, deep friends remind me every day of the good parts of my personality. - Author: Brooke Shields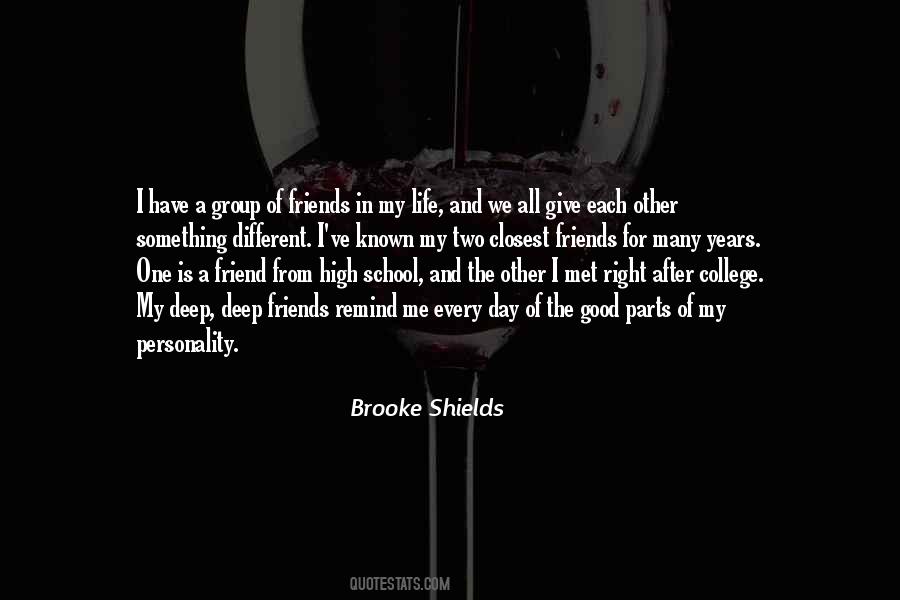 #35. I've got a song on One Direction's album called 'Tell Me A Lie'. It's a really cute song - I love it. I loved that they liked it. They sound really great on it. I already have it - I'm so VIP with my copy on my computer! It does sound really good. - Author: Kelly Clarkson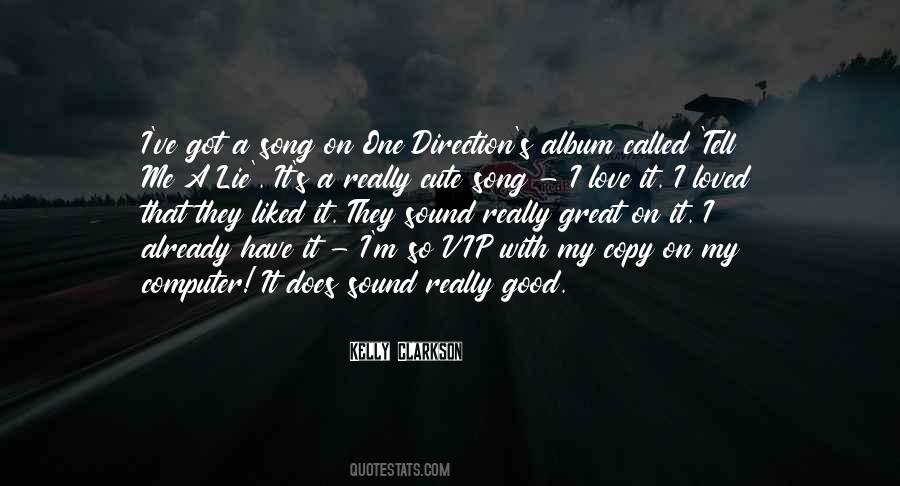 #36. My theory is if you have a religion, it's a good one. Because some people don't have any at all. - Author: Tom T. Hall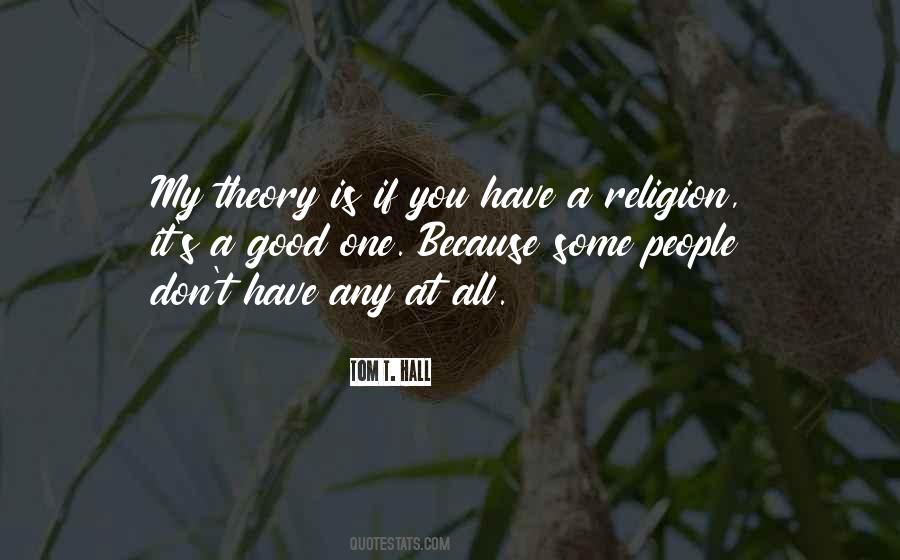 #37. We have to change the culture from one in which people simply do their own job in their own function to make their own numbers look good (a vertical focus) to one in which people are focused horizontally on the customer and on improving value streams that deliver value across functions. - Author: Jeffrey K. Liker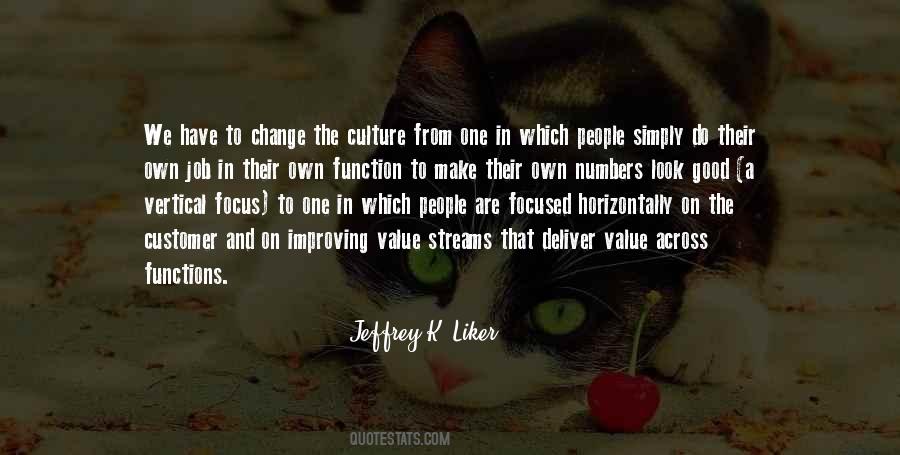 #38. My smile did not seem to be working. I used to have a good one. Now I get the feeling people regard it as something I just drop over my face, like a page on a flip chart. - Author: Walter Walker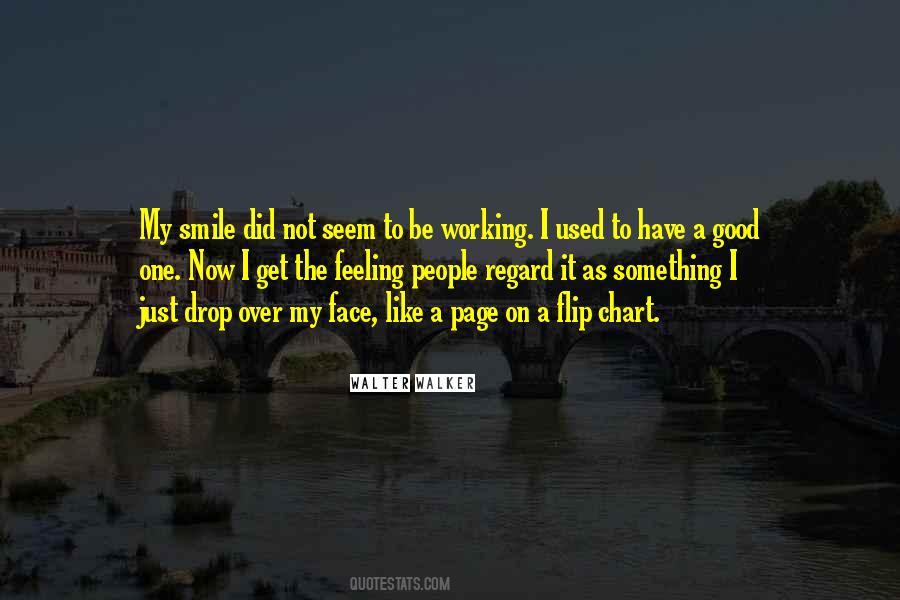 #39. Well after that testosterone-shattering experience, I have no more dignity to worry about. Ever. Anyone have a cushion I can sit on? A really big fluffy one? Hell, let's even make it pale pink with bows on it just for good measure. - Author: Sherrilyn Kenyon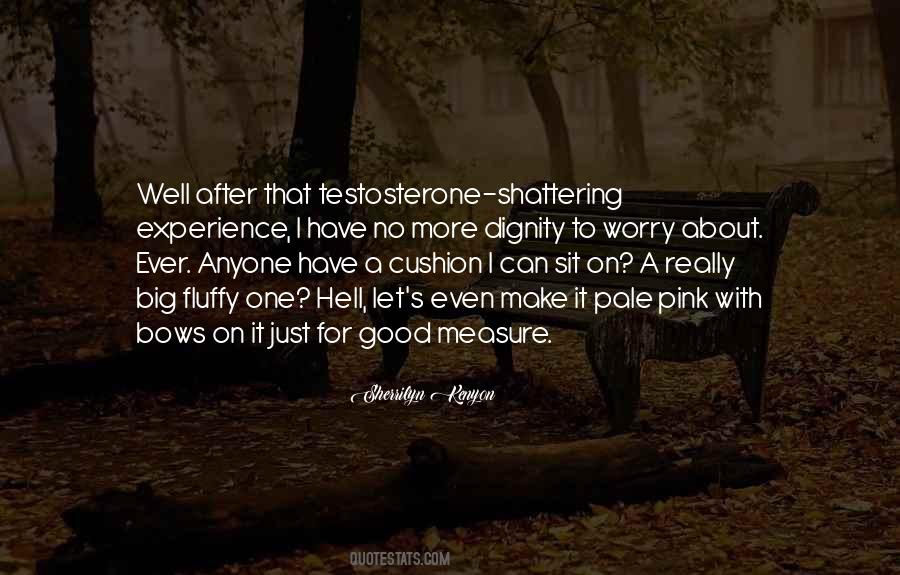 #40. There is the moral spectrum in 'Fargo,' and you see it in other Coen brothers movies, where you have a very good character on one end and a very bad character on the other. - Author: Noah Hawley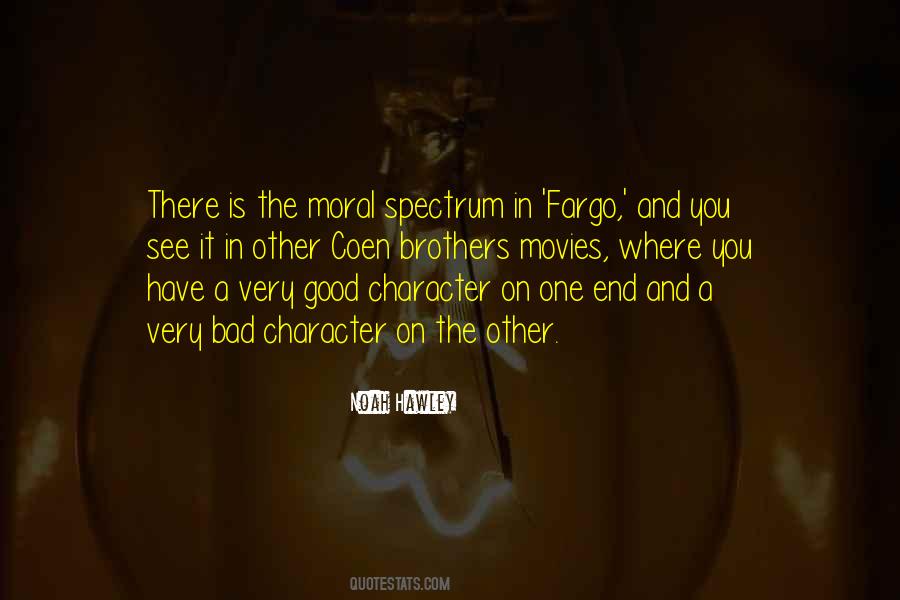 #41. I've always talked a lot on stage - I really wanted to communicate my ideas and when you're playing at a lot of shitty punk clubs they don't have good PAs and so no one knows what you're singing about. - Author: Kathleen Hanna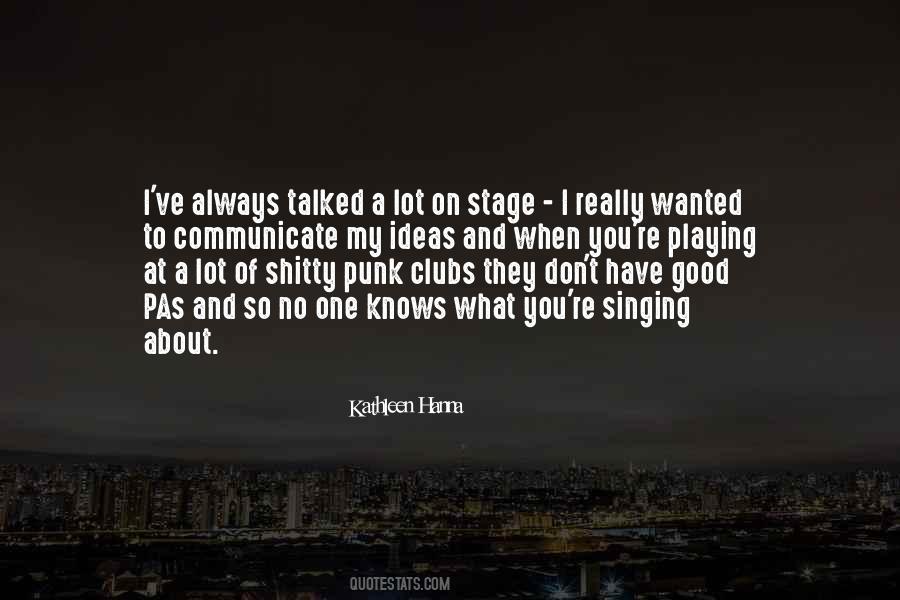 #42. We have a history," I say, "that no one can take from us. No matter what happened in the past, no matter what happens from here, it can't take away from the good thing we had. You were my first love, Demi. You only get one. - Author: Winter Renshaw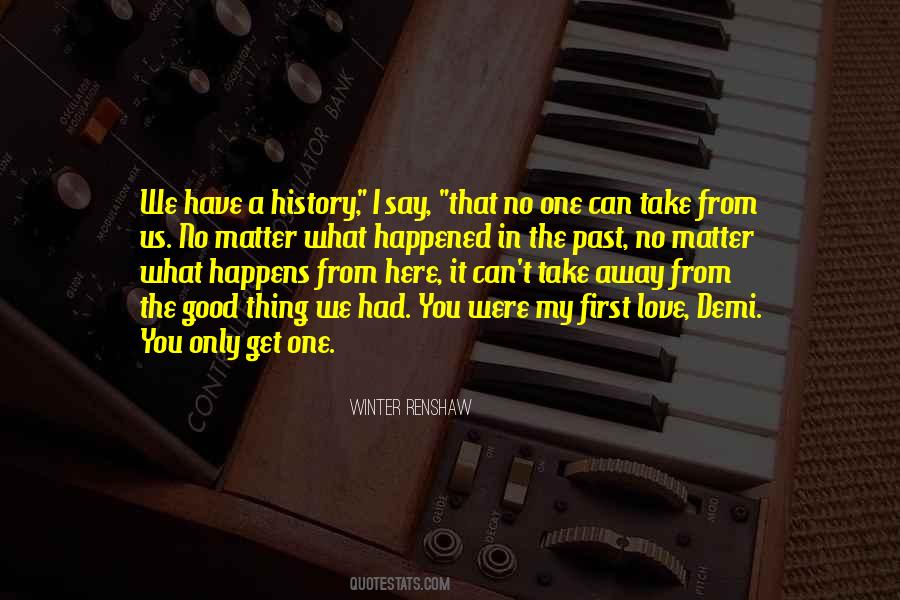 #43. It would not be for the public good to have [a majority in Congress of one party] greater [than] two to one. - Author: Thomas Jefferson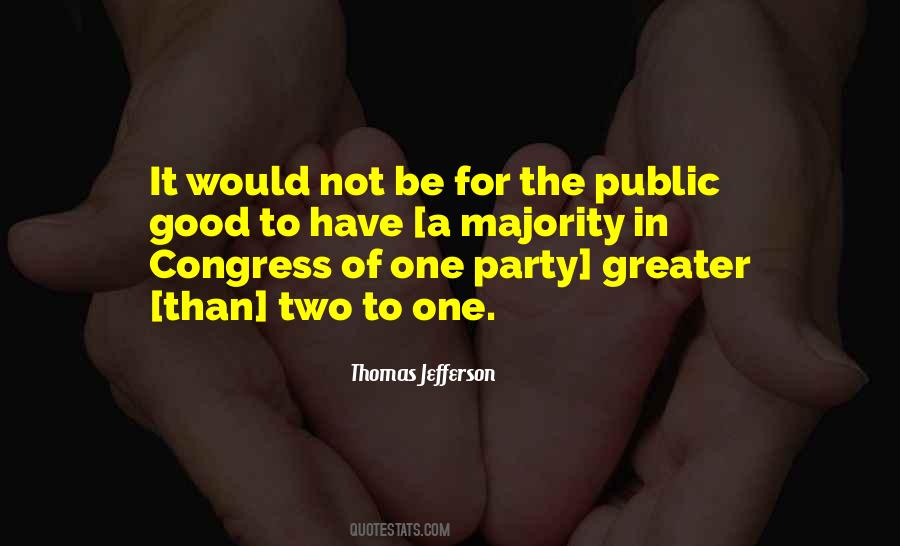 #44. Namely, we have no right to believe a thing true because everybody says so unless there are good grounds for believing that some one person at least has the means of knowing what is true, and is speaking the truth so far as he knows it. - Author: William Kingdon Clifford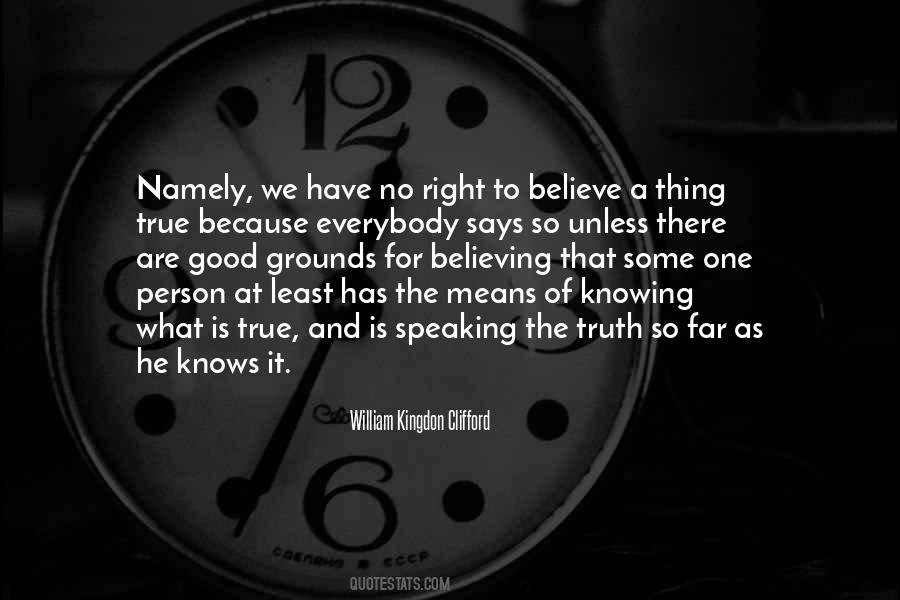 #45. I am a good boy. Sweet. I love to chill. I have a select set of friends, am big on house music, love Goa. I don't read much. Though that is one habit I am trying to inculcate. - Author: Shahid Kapoor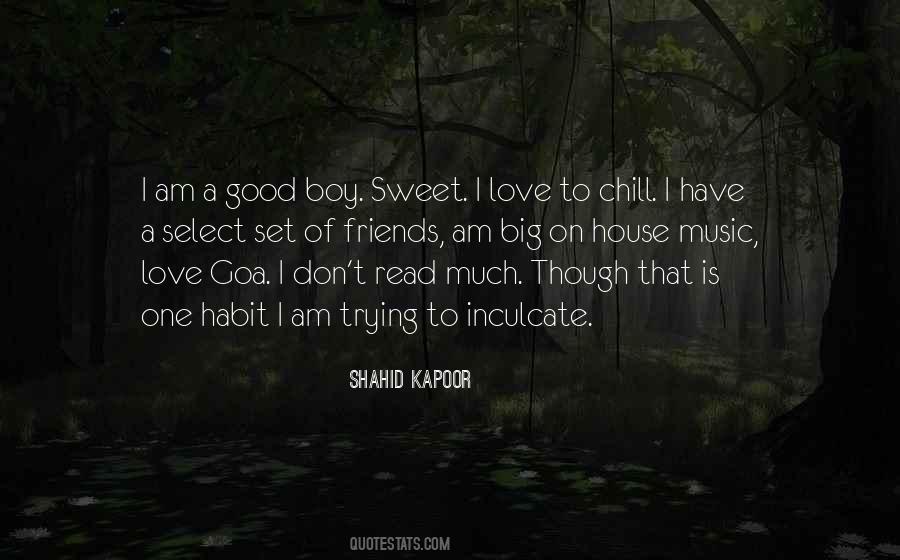 #46. I would say I have sort of a natural gift for character, and following one person's point of view at a time, and dialogue, but I'm not naturally good at strong plot. - Author: Emma Donoghue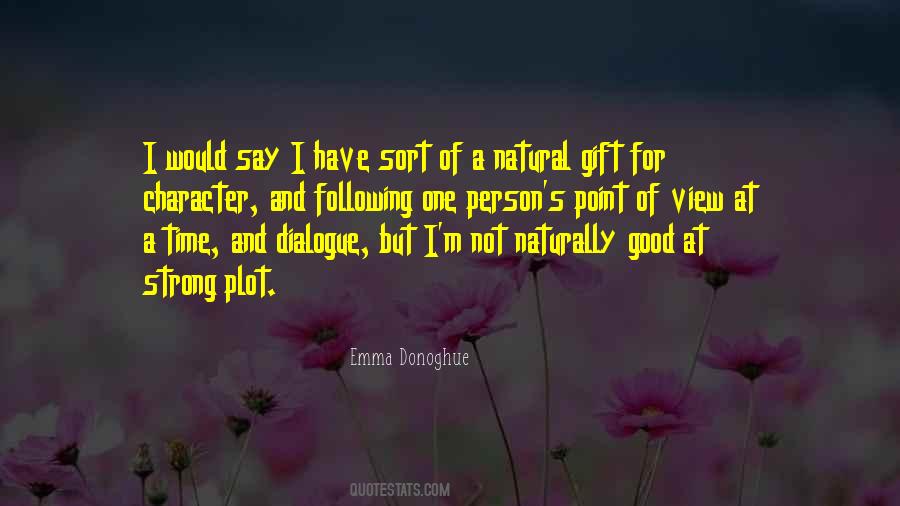 #47. One must have a thorough knowledge of anatomy and a good perception of depth for silhouette work. Otherwise they resemble those childish picture cards, snipped out by some fool who doesn't know what he is trying to do. - Author: Ugo Mochi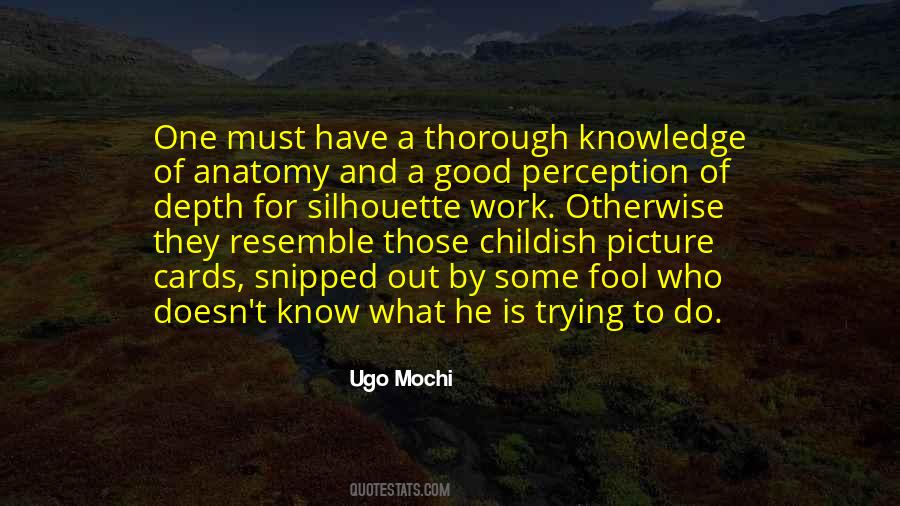 #48. Sweet sleep be with us, one and all!
And if upon its stillness fall
The visions of a busy brain,
We'll have our pleasure o'er again,
To warm the heart, to charm the sight,
Gay dreams to all! good night, good night. - Author: Joanna Baillie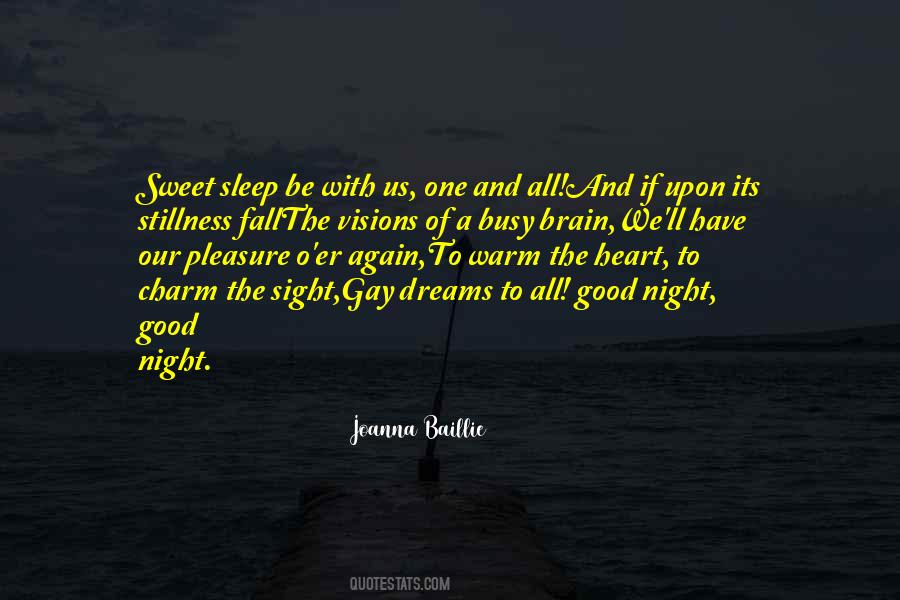 #49. No-one will ever have golf under his thumb. No round ever will be so good it could not have been better. Perhaps this is why golf is the greatest of games. You are not playing a human adversary; you a playing a game. You are playing old man par. - Author: Bobby Jones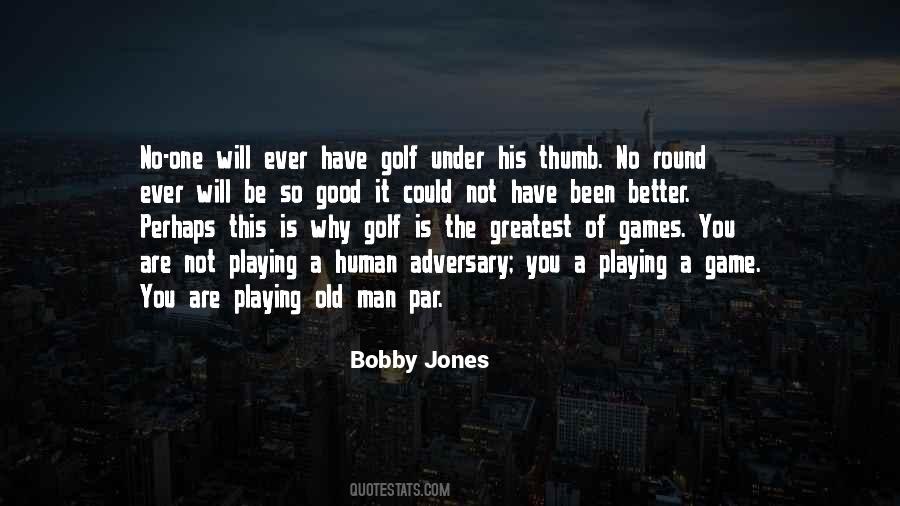 #50. Somewhere, rational Sophie is thinking that it's not such a good idea to let my guard down so much, the not so rational one just wants to act normal, have fun, and punch the rational Sophie in the face. - Author: Nikki Rae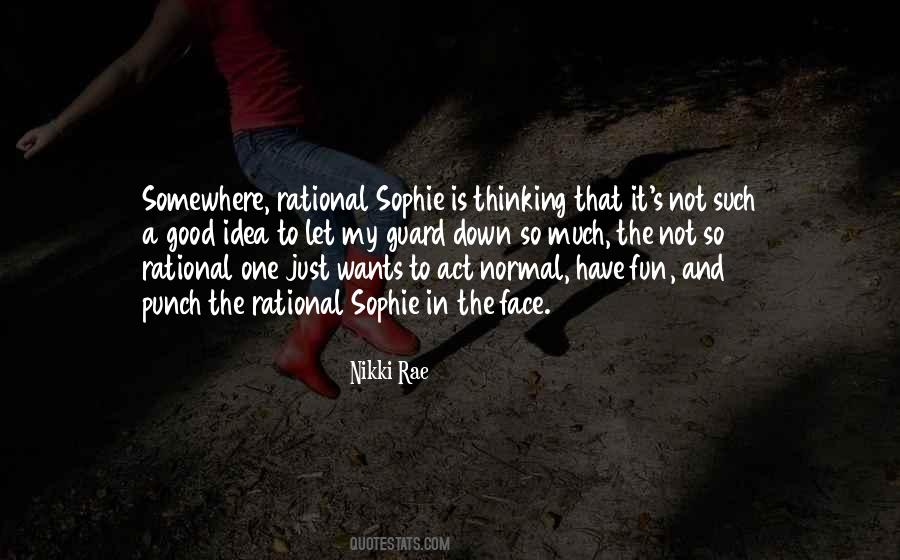 #51. One must have a good memory to keep the promises one has made. - Author: Ann Brashares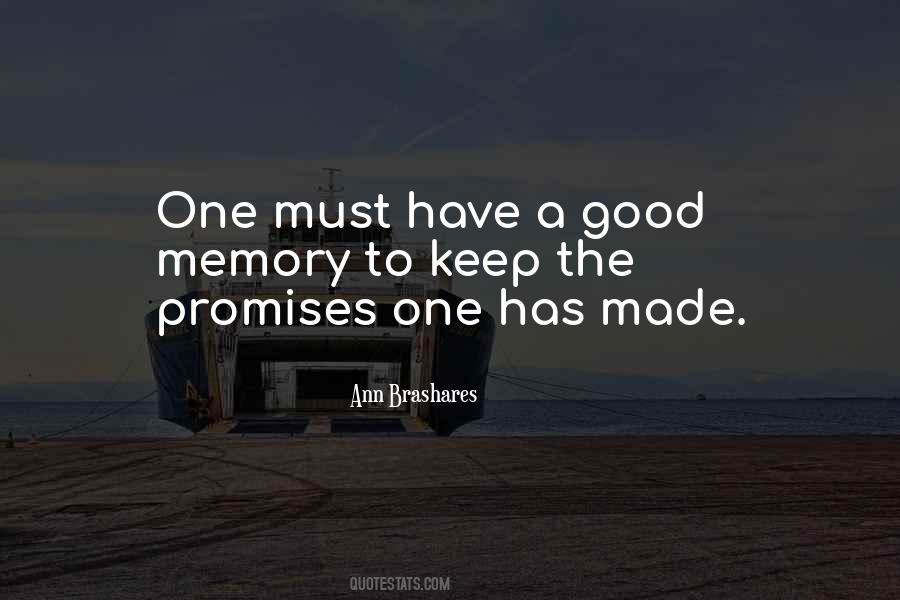 #52. While everyone cannot set aside enough money for generations to come, there is one thing, you can pass on, even if you have no money: a good name. - Author: Idowu Koyenikan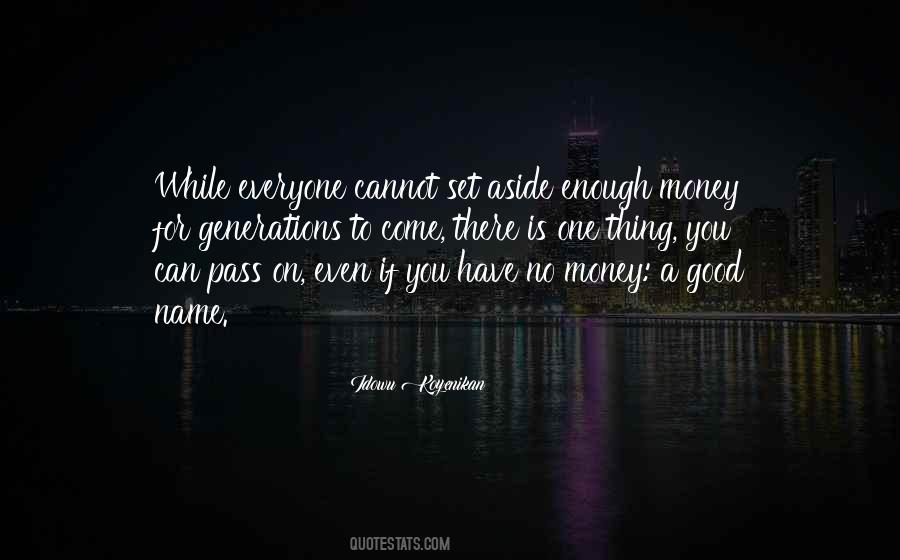 #53. The sins of good men are greater than the sins of bad men. One lie from a truthful man is more hurtful than all the lies of a liar. The sins of a man after God's own heart have done more harm than all the crimes of all the Pagan emperors. - Author: Hesba Stretton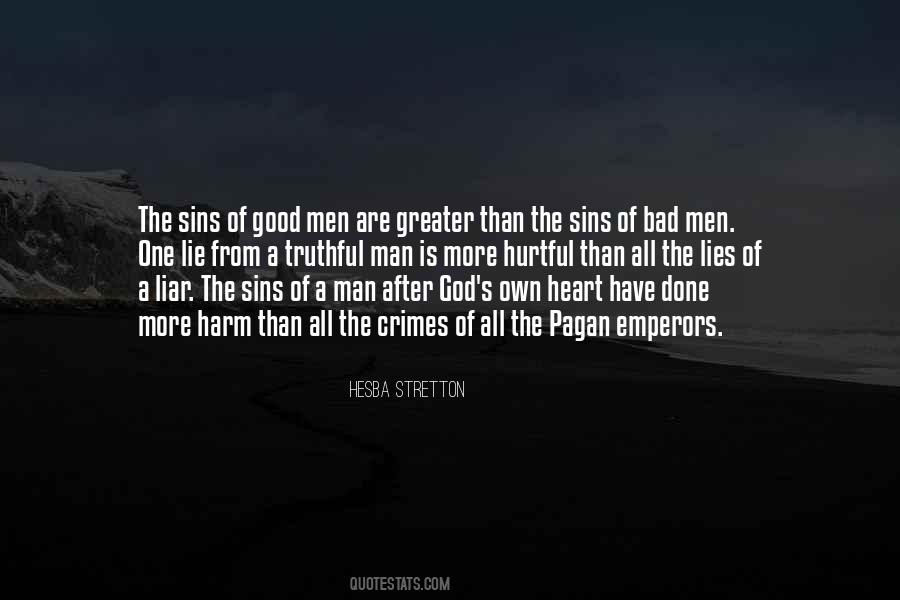 #54. As an analogy one can imagine an intelligent amoeba with a good memory. As time progresses the amoeba is constantly splitting, each time the resulting amoebas having the same memories as the parent. Our amoeba hence does not have a life line, but a life tree. - Author: Hugh Everett III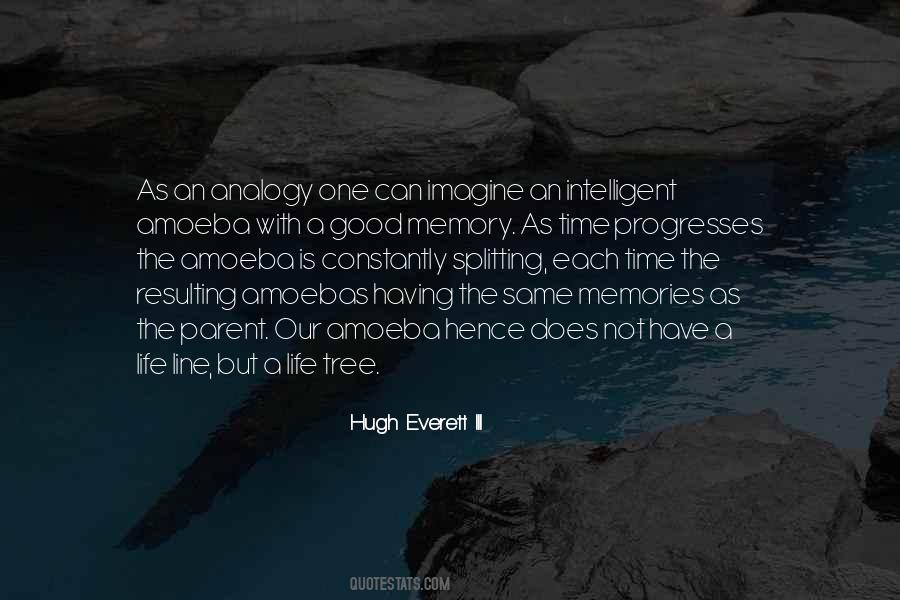 #55. Lightnin' Hopkins taught us, "the rubber on a wheel is faster than the rubber on a heel" and Muddy Waters taught us "you don't have to be the best one; just be a good 'un" .. that just about says it all, always strive to be a good 'un ... - Author: Billy F. Gibbons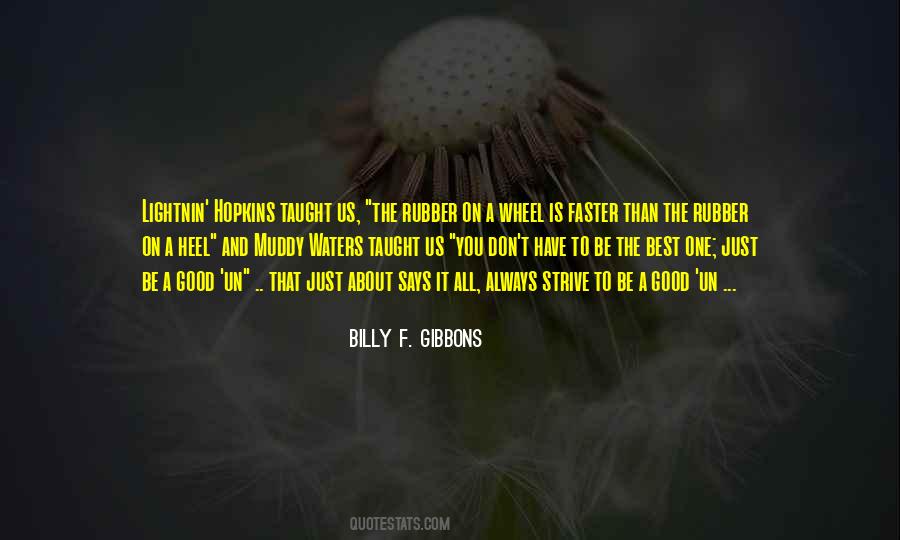 #56. I was feeling pretty good out there in the middle when I went in, but it was one of those things - sometimes you get a really good ball. If it gets you out you just have to forget about it and make sure you do the hard work out there next time you get in. - Author: Mahela Jayawardene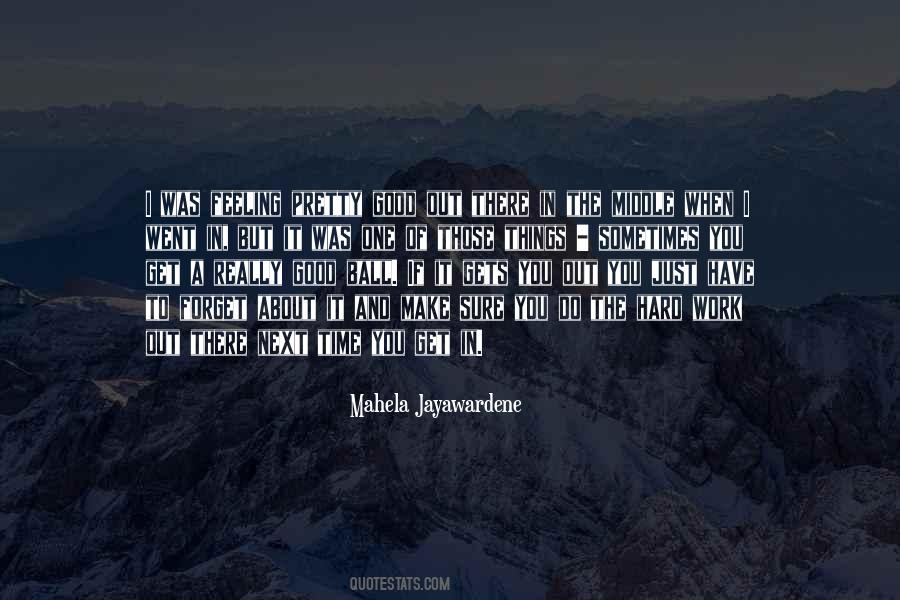 #57. You're afraid, Nana, she might have said. You're afraid that I might find the happiness you never had. And you don't want me to be happy. You don't want a good life for me. You're the one with the wretched heart. - Author: Khaled Hosseini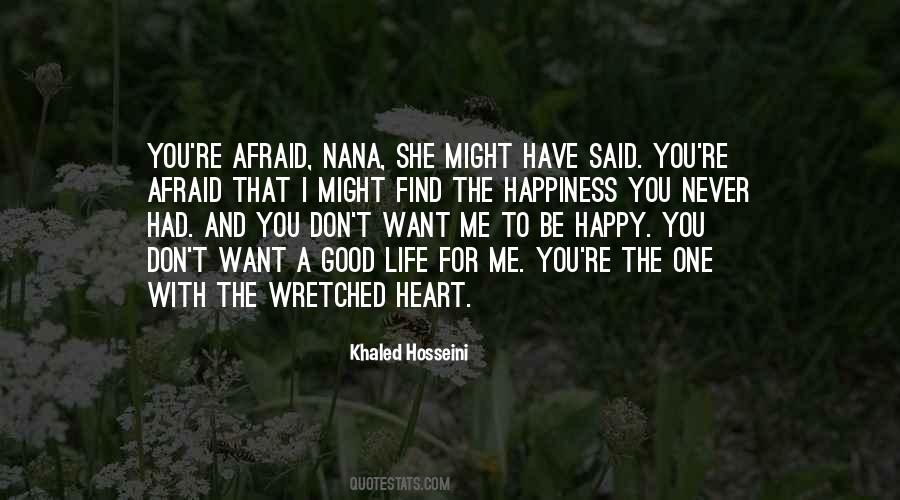 #58. The good thing about being undiscovered is that every time you begin a new writing project it feels like this work will be the best one you have done, this one will be better than the last, a higher standard of writing, and that's the way it should be. - Author: Robert Black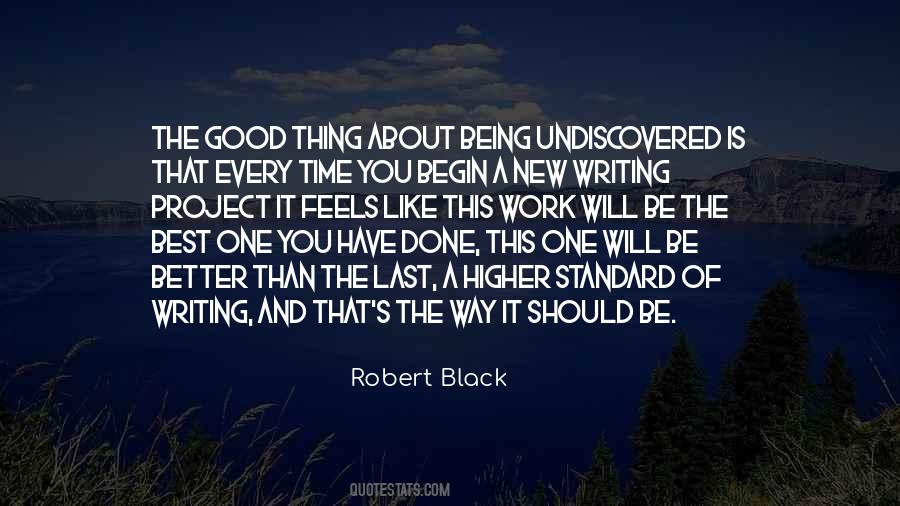 #59. I think that one of the greatest perspectives that I have, from being a buyer for my whole career until I became a producer, is that I have a pretty good understanding of the buyer's mentality. - Author: Nina Jacobson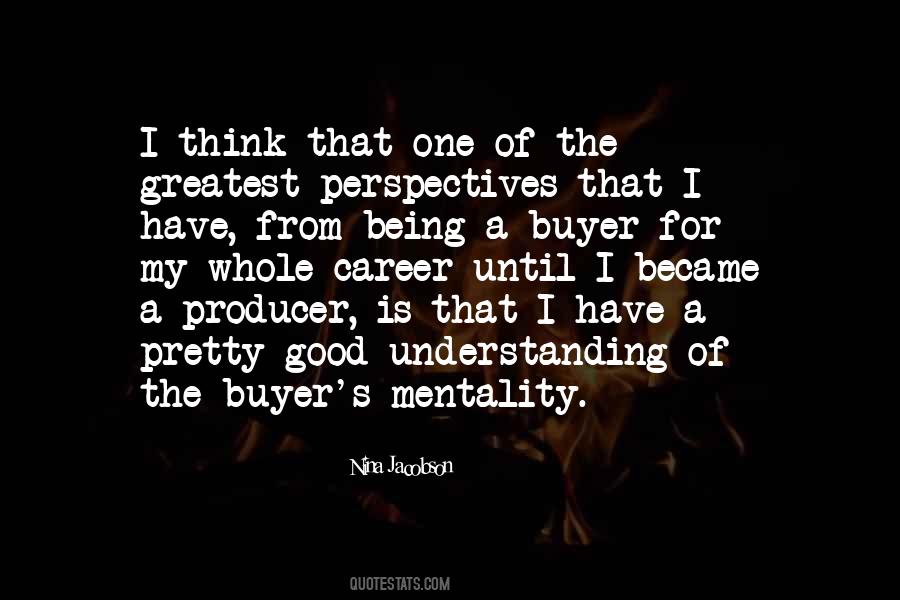 #60. Two are better than one,because they have a good reward for their labor. For if they fall, the one will lif' up his fellow, but woe to him that is alone when he falleth, for he hath not another to help him up. - Author: John Steinbeck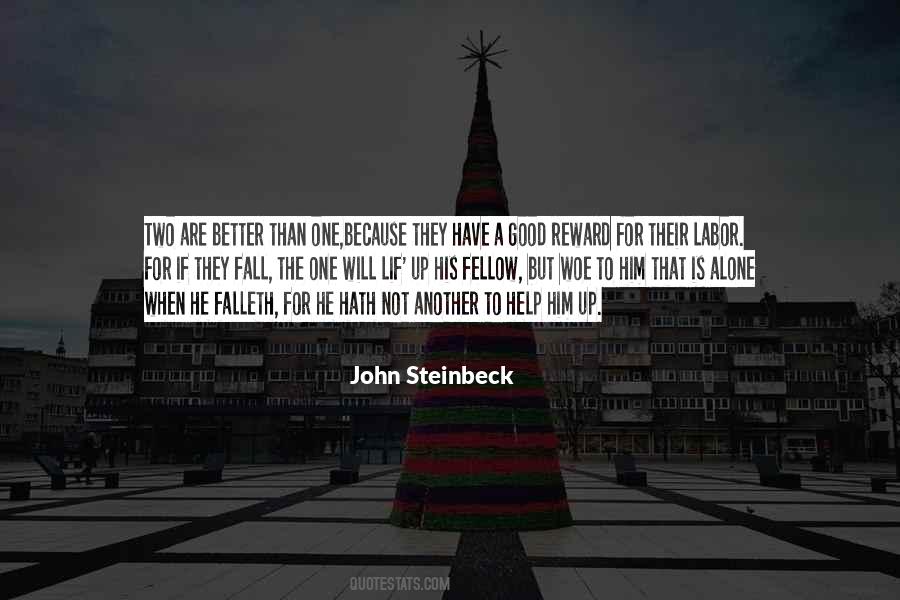 #61. Try to have a good day today, wherever you are, whatever you do, whoever is near, if no one is near. Try to be happy, because you may not see tomorrow. There is someone this morning, who didn't wake up, who will never see this day. Try to feel lucky that this is not you. - Author: Margaret Cho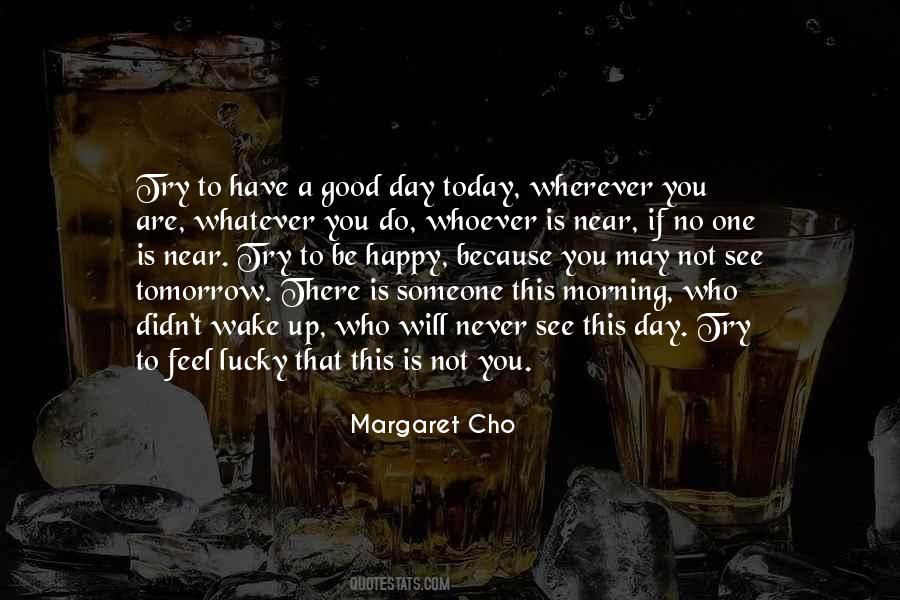 #62. Michael Buble is seriously my favorite entertainer. Have you ever seen the guy in concert? He's hilarious. Women love him. Guys want to meet him. He has everything that I wish I could do onstage. And I'm guessin' he's a good-lookin' guy - although he's not one of 'People' magazine's sexiest men. - Author: Blake Shelton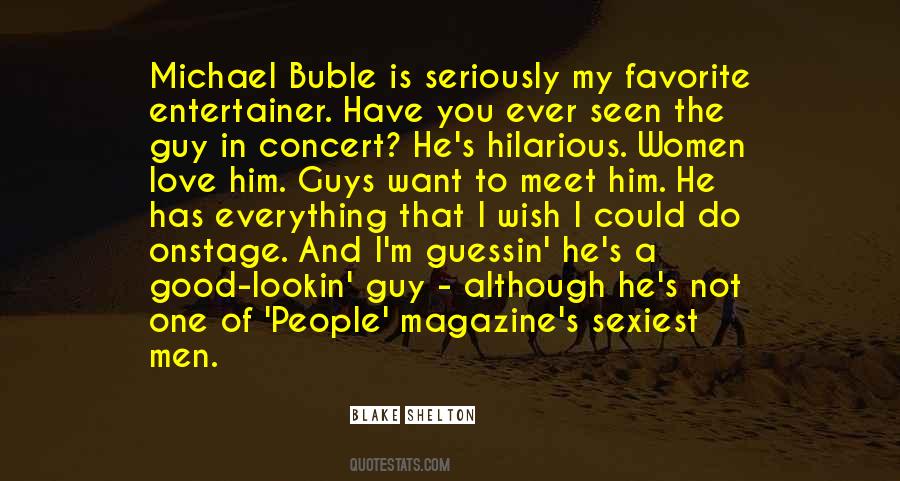 #63. To prefer evil to good is not in human nature; and when a man is compelled to choose one of two evils, no one will choose the greater when he might have the less. - Author: Plato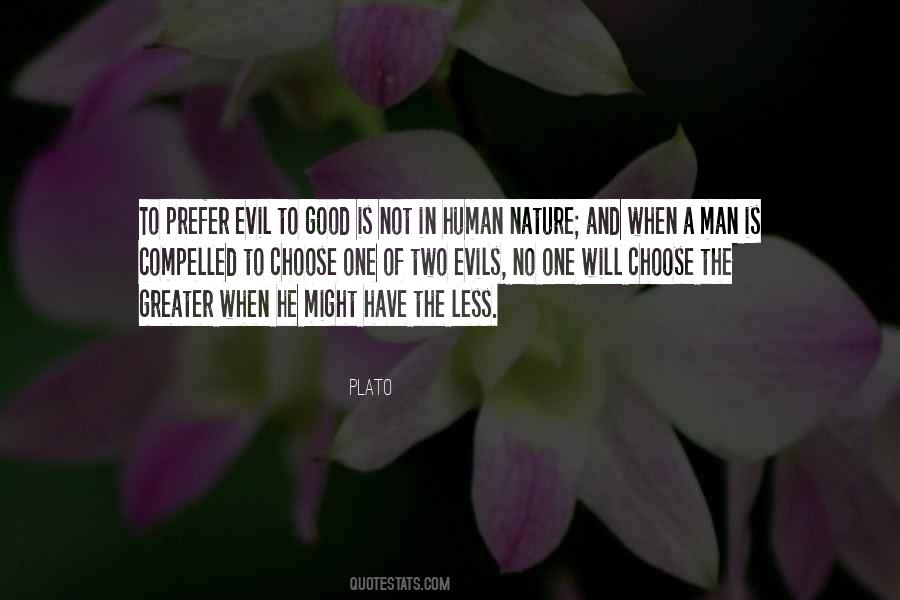 #64. You can be sunk low or as a skunk and still have a joy in your heart. Joy lives like one of those spinning things
a gyroscope in your heart. It doesn't seem to have any connection to circumstance, good or bad. - Author: Polly Horvath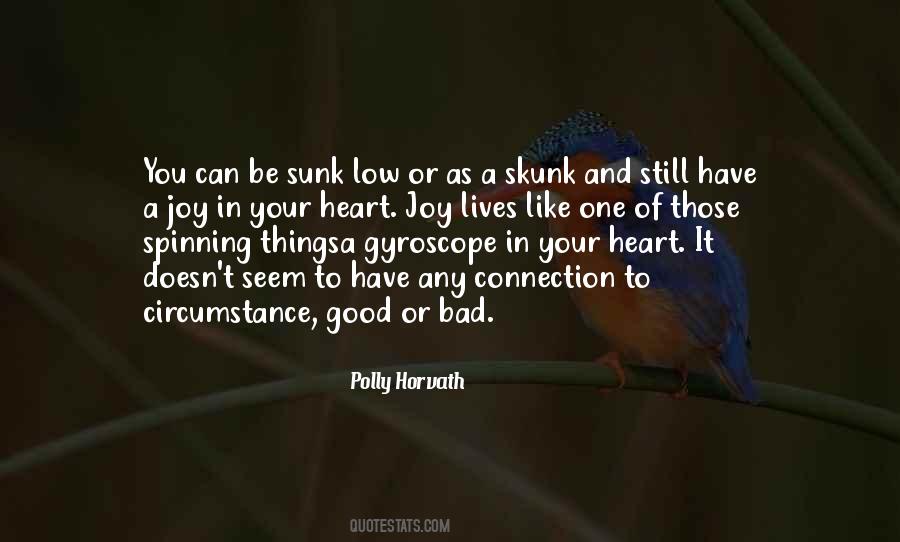 #65. Let's put it this way: I don't have a good work ethic. I have a real casual relationship with hours. I don't understand why, in entertainment, the hours are as long as they are. It seems like everything takes forever, and no one can tell you why, exactly. - Author: Janeane Garofalo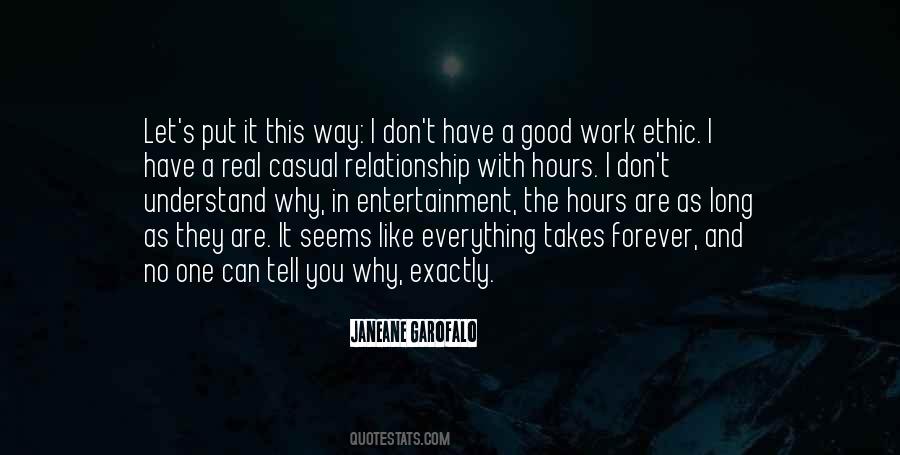 #66. One of the great joys of launching your idea on the web is that it's a meritocracy. The good stuff will rise to the top and find an audience, and you don't have to impress one idiosyncratic commissioning editor. - Author: Rob Manuel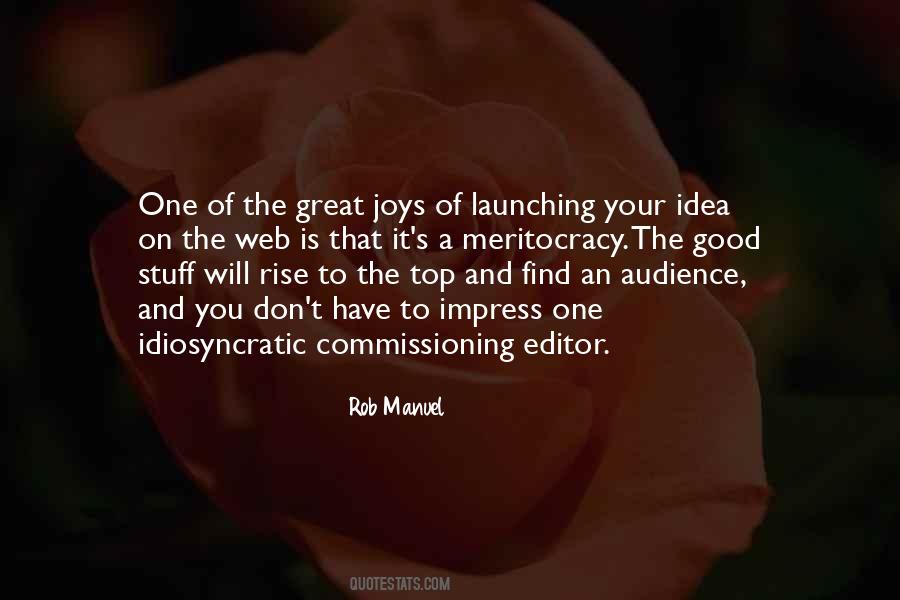 #67. Variability is one of the virtues of a woman. It avoids the crude requirement of polygamy. So long as you have one good wife you are sure to have a spiritual harem. - Author: G.K. Chesterton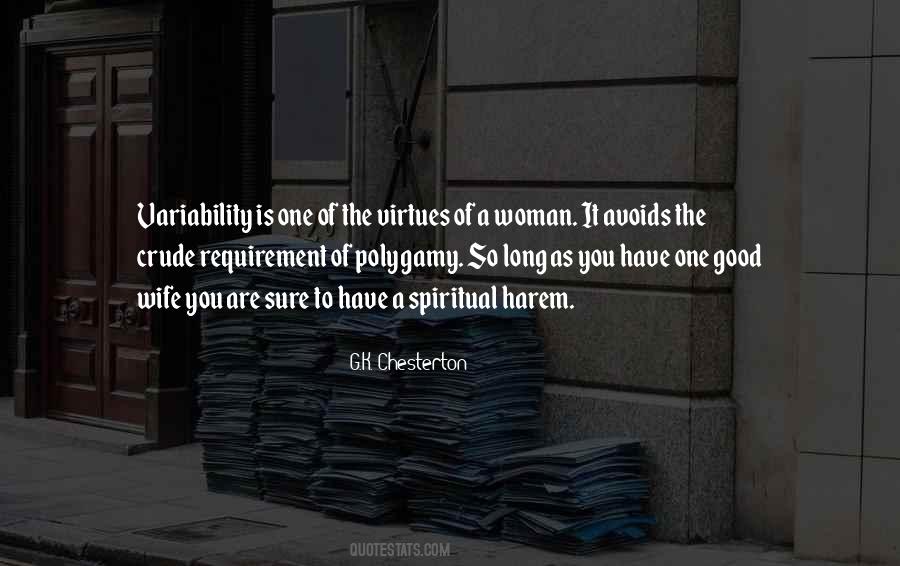 #68. If you are a nurturing mother, and a good one, you can go to play groups, sit on the floor and play all the games, and have tea with the other mothers, but wouldn't you like to think that's not all there is? That you haven't hung up your high heels without knowing how to walk in them? - Author: Tori Amos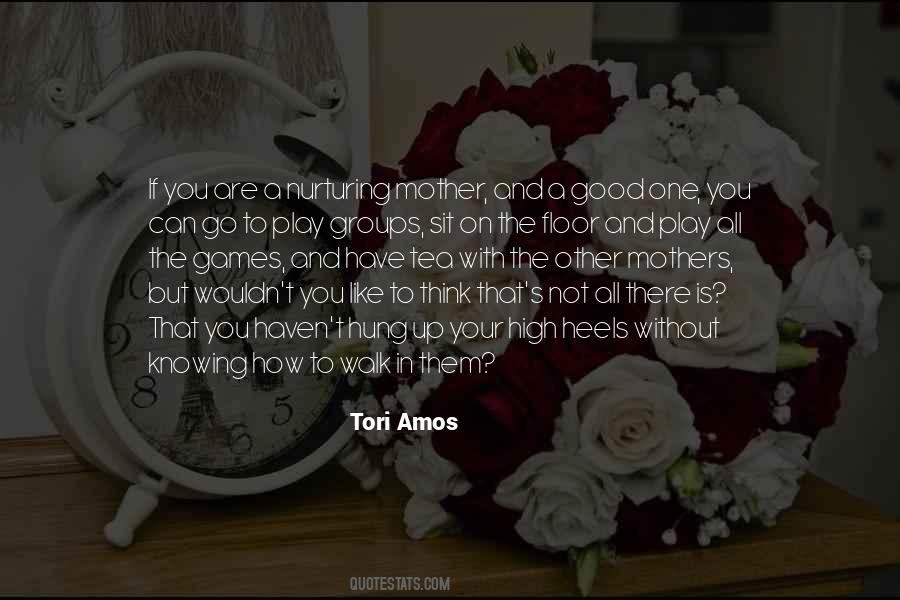 #69. The one thing I seek above all else is understanding. Sometimes I'm so frustrated and I don't get it. But I'm lucky to have a good management team and people around me who explain things and answer my questions. - Author: Justin Guarini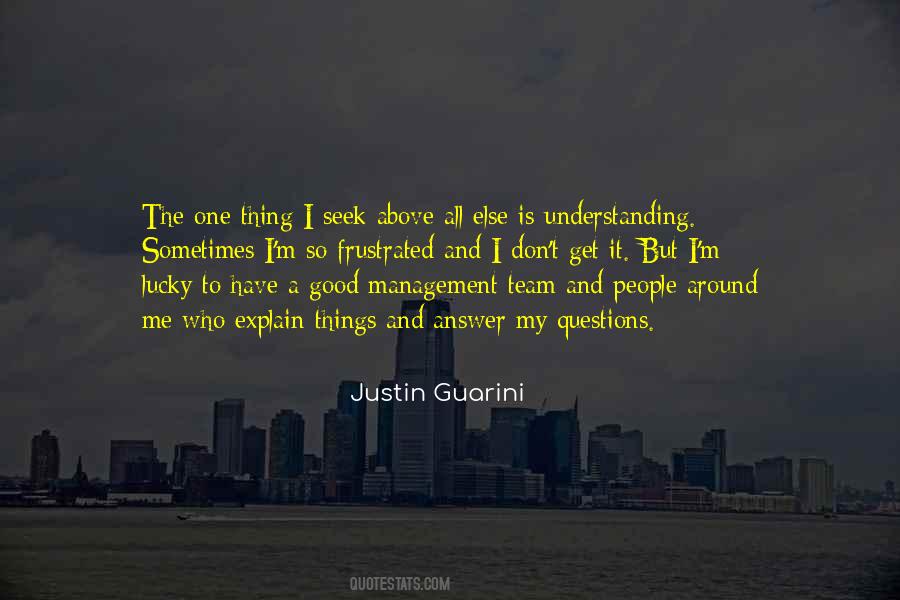 #70. It is a good plan to have a book with you in all places and at all times. If you are presently without, hurry without delay to the nearest shop and buy one of mine. - Author: Oliver Wendell Holmes, Sr.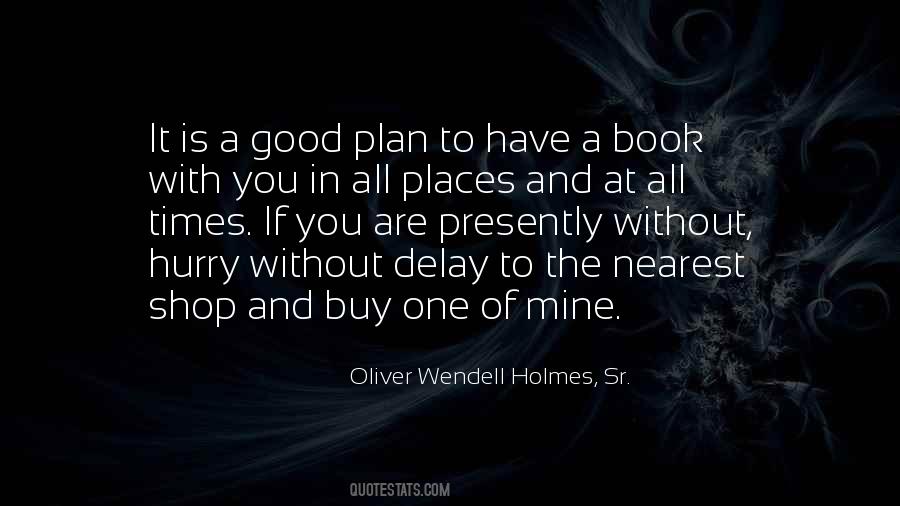 #71. She was just waking up, and if he could have a hand in making sure that the world she woke up to was a good one, a decent place where things made sense ... He had to. - Author: Kit Rocha
#72. I have never compromised on academics and the one thing that I insist on is good grades, even though I am a relaxed and indulgent parent in most other things. - Author: Preeti Shenoy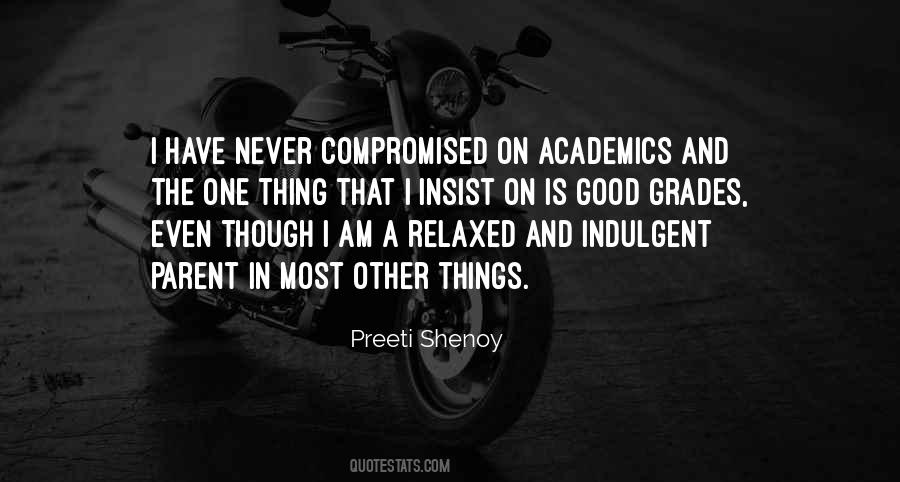 #73. Having solidarity is important and having conviction and sticking with it and also consistency. You can't just have one good record, or a couple of good singles, you have to continue making good music to be considered to be a great band. Having some degree of integrity, that's it in one word. - Author: Ryan Jarman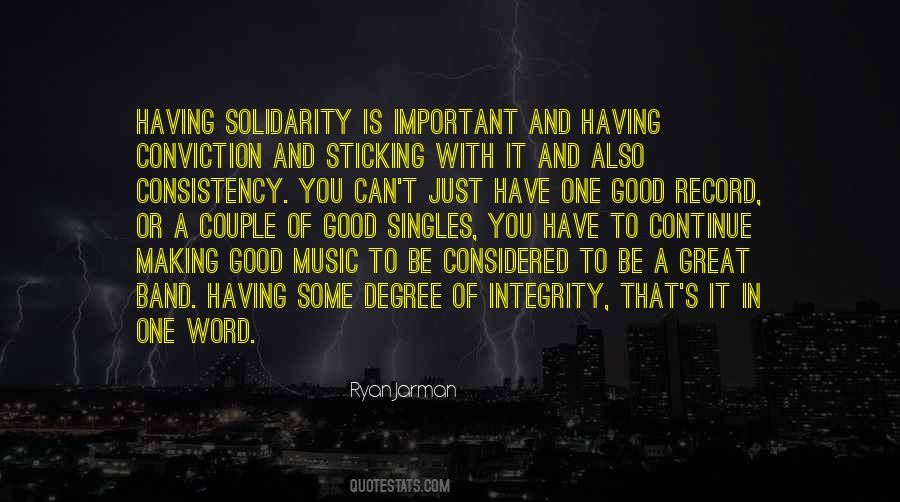 #74. If love was only for the perfect, what a sad and lonely world it would it be. We are the culmination of every good and bad choice we've ever made. Your mistakes have made you into an incredibly fierce and loving woman; one I am - Author: Ruth Cardello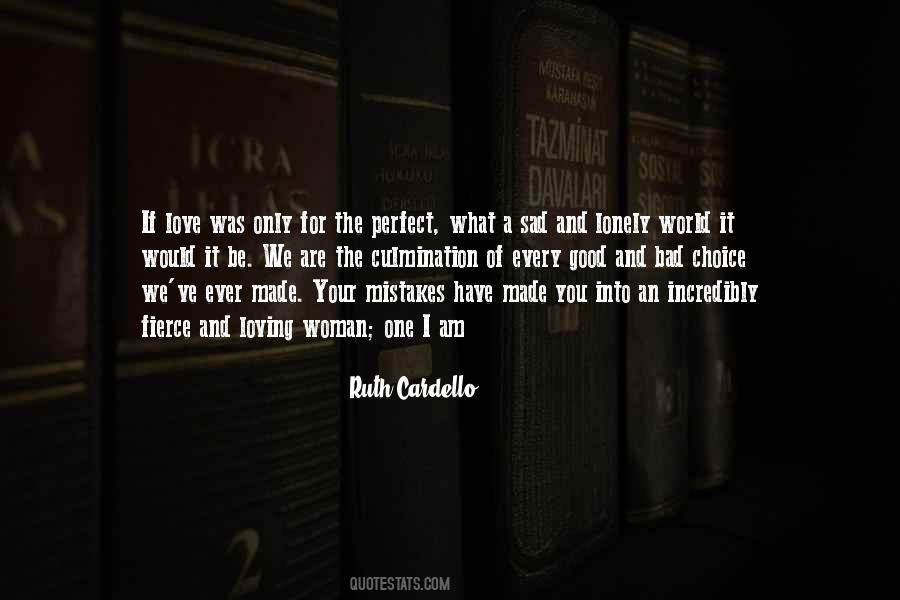 #75. One of the things that separates a good genre movie from a bad genre movie, I always think, ironically, is when you care about the people. The dime a dozen ones are where you don't have any awareness of the character. - Author: Ethan Hawke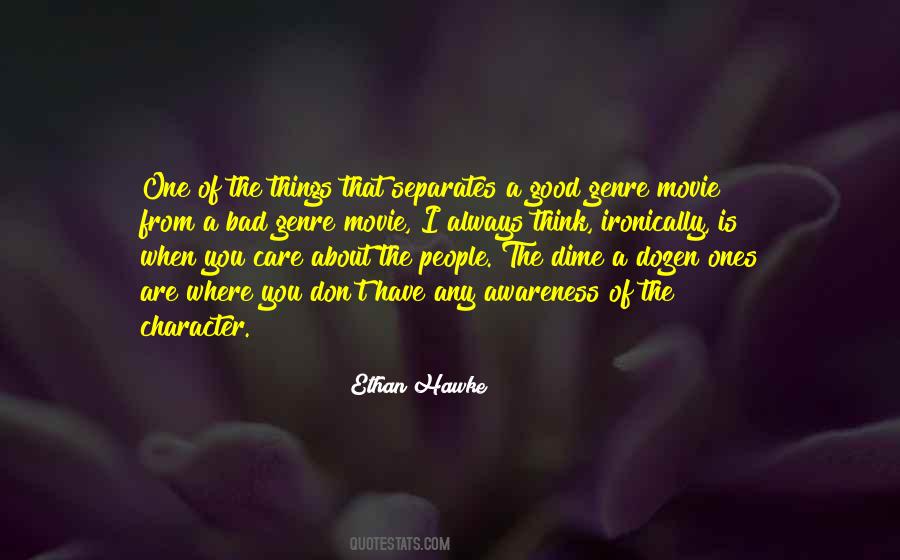 #76. People don't really give me much anymore, and for good reason. I have to pay for a lot of stuff now, I can afford a lot more than I ever could before. No one really gives me anything anymore, but it feels good. - Author: Mac Miller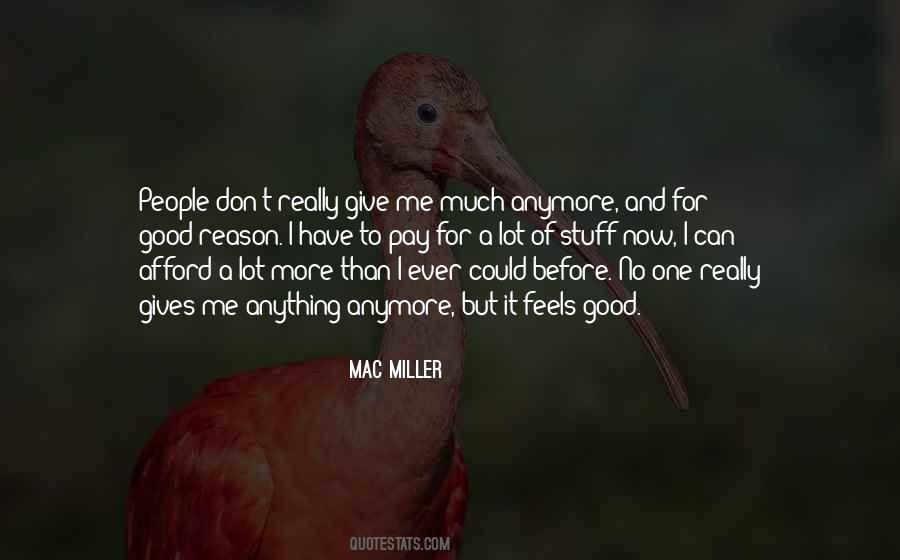 #77. Additionally, I have spent approximately 1,736 hours of this one precious life waiting for the man to finish and pretending that felt good. And I want a refund. - Author: Anne Lamott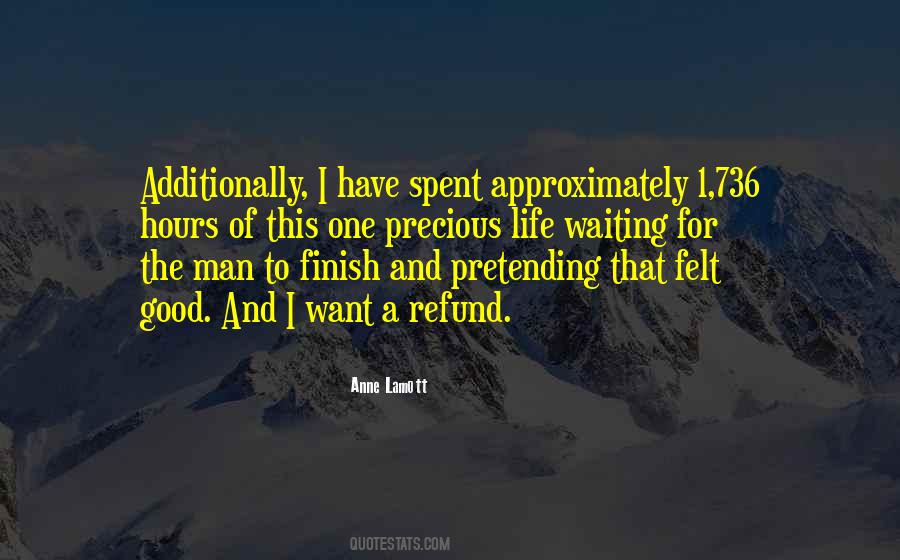 #78. Zeb was kindergarten teacher
a good one. I always thought it was because he was the same emotional age as his students. - Author: Molly Harper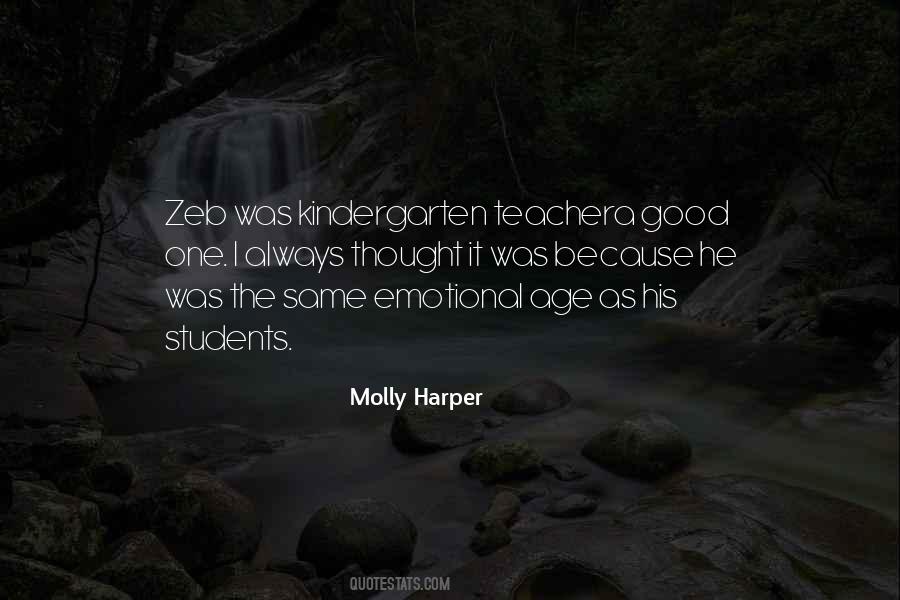 #79. After my swims this weekend I think coach realized, you know what, you have to have a good one getting out of this meet. So I put the suit on and had a decent swim. - Author: Ryan Lochte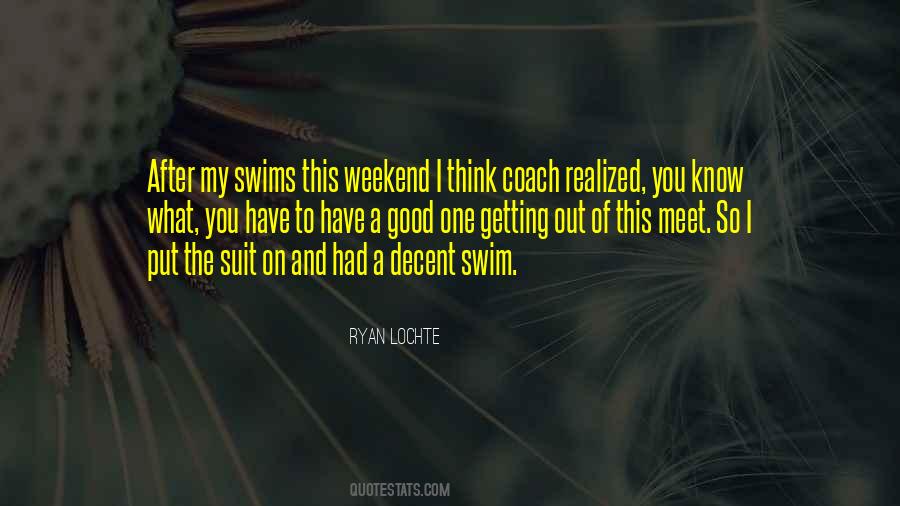 #80. One of my goals is to have a base near mainland China. I think Hong Kong would be a good match for me. I like being in Hong Kong. - Author: Nicolas Cage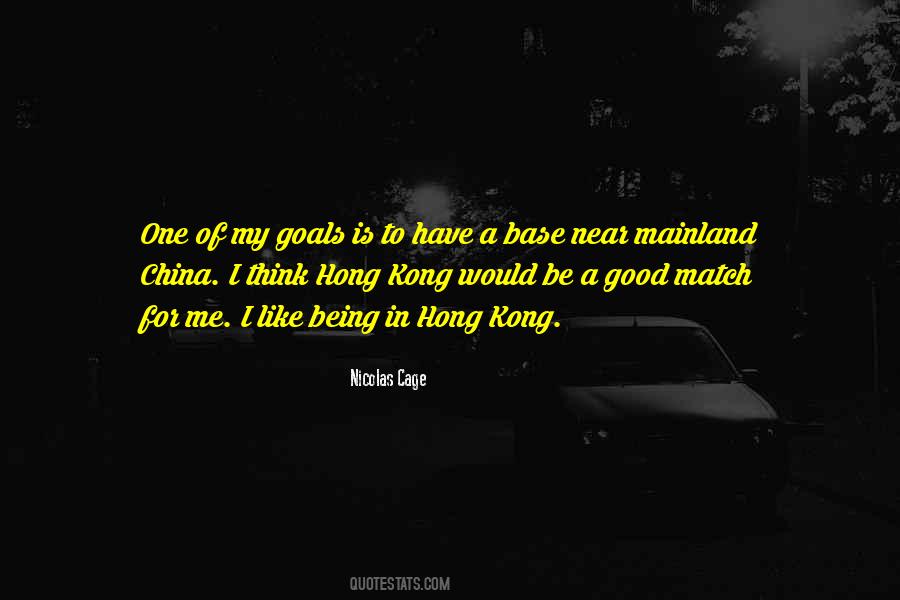 #81. Wooo!' he said, slamming his shot glass down and coughing a bit. 'That's good stuff.'
I agreed heartily. 'Shall we do another one?' I asked.
'Oh no,' Jesus said quietly, his eyes growing round. 'This is one of those situations where I have to stop and ask myself, what would I do? - Author: Kevin Hearne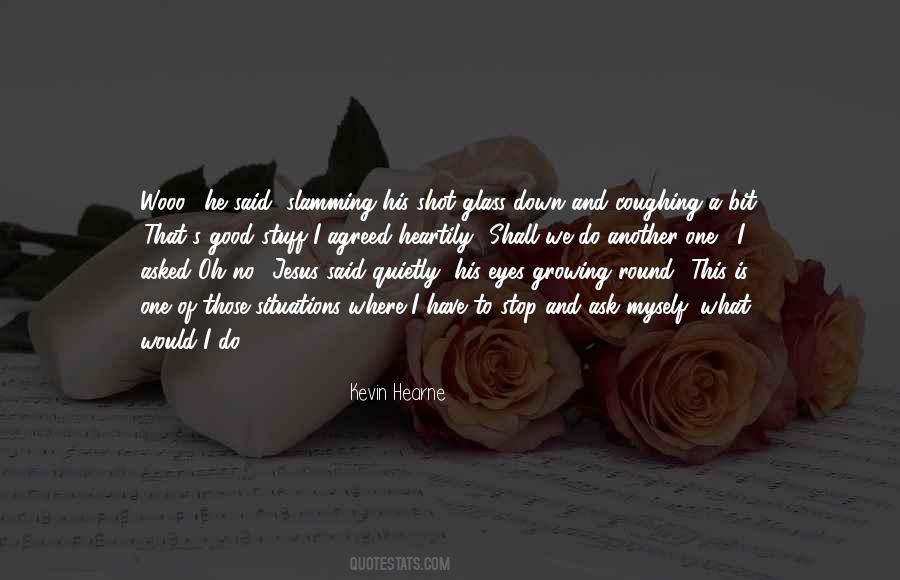 #82. I enjoy going on hikes, and I enjoy the occasional yoga. The one thing I'm good at athletically - and I don't know if I'm good at it anymore because I haven't done this in a while - I can throw a pretty good spiral in football, but I have no idea how to play. - Author: Bridgit Mendler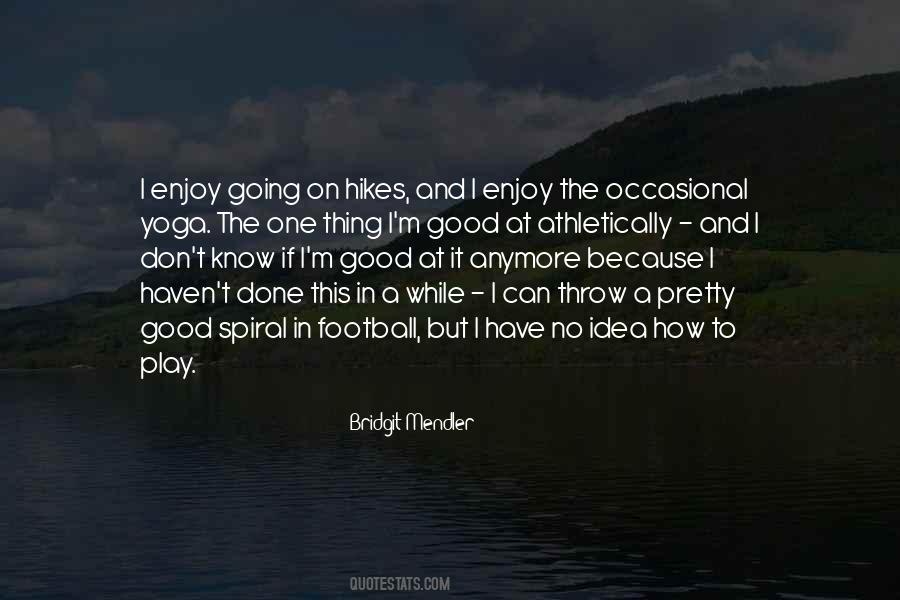 #83. The qualities that one needs to be a good goalkeeper are exactly the same as to be a good sculptor. In both professions one should have a good relationship with time and space. - Author: Eduardo Chillida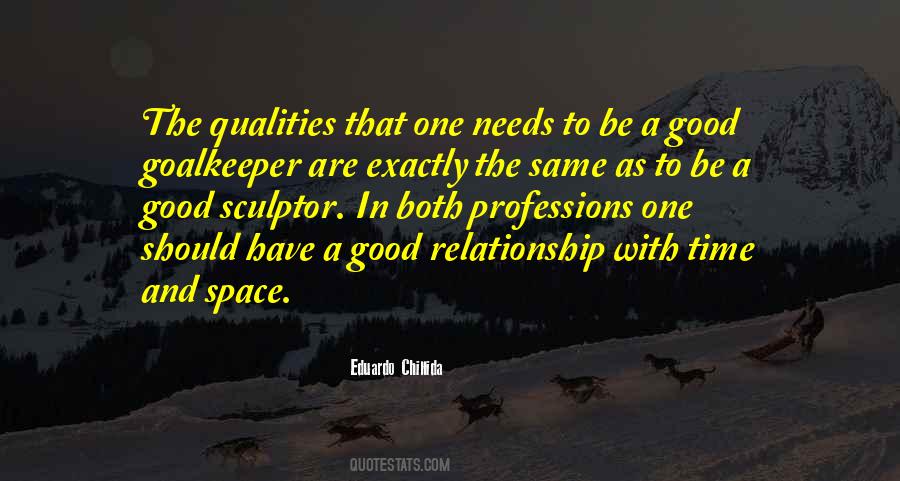 #84. Pittsburgh. I'd been there. One of the most underrated cities in North America. People who'd never been there thought of it as a graveyard of abandoned steel mills, but it was a beautiful city, and it would be good to have it back. - Author: Steven Brust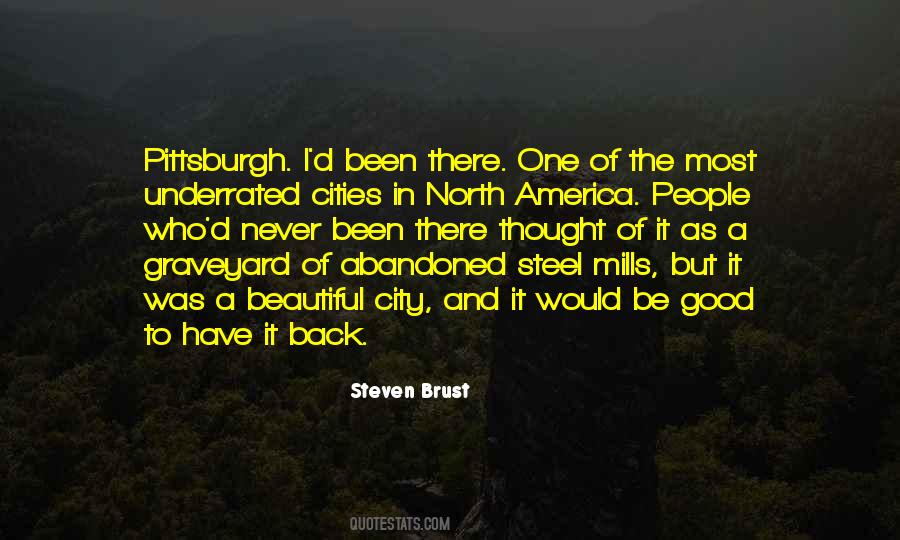 #85. To leave behind what was in reality a hell, and immediately have this good green earth revealed in more glory than most men ever see it, was one of the compensating privileges which make me feel that my suffering was worthwhile. - Author: Clifford Whittingham Beers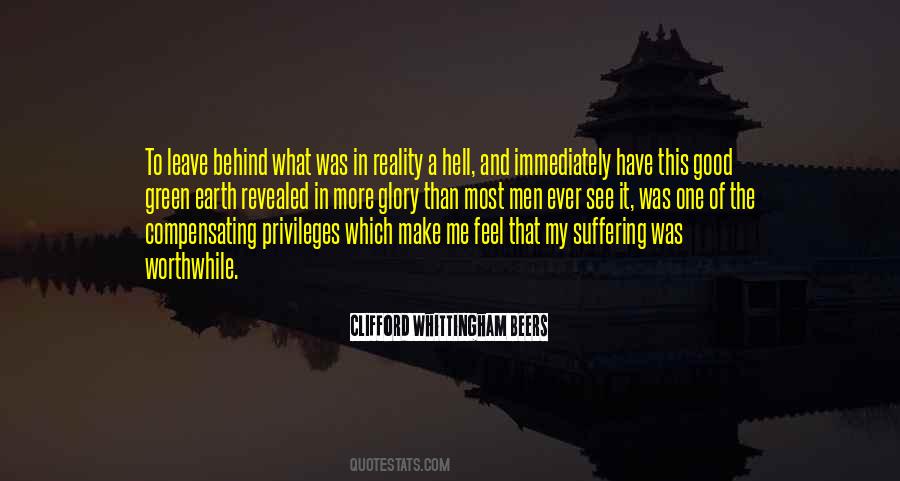 #86. For those constantly full of joy, they sometimes feel a little guilty for always feeling so good. That guilt is compassion: it flies in with an attempt to share one's joy with others who do not have it. - Author: Criss Jami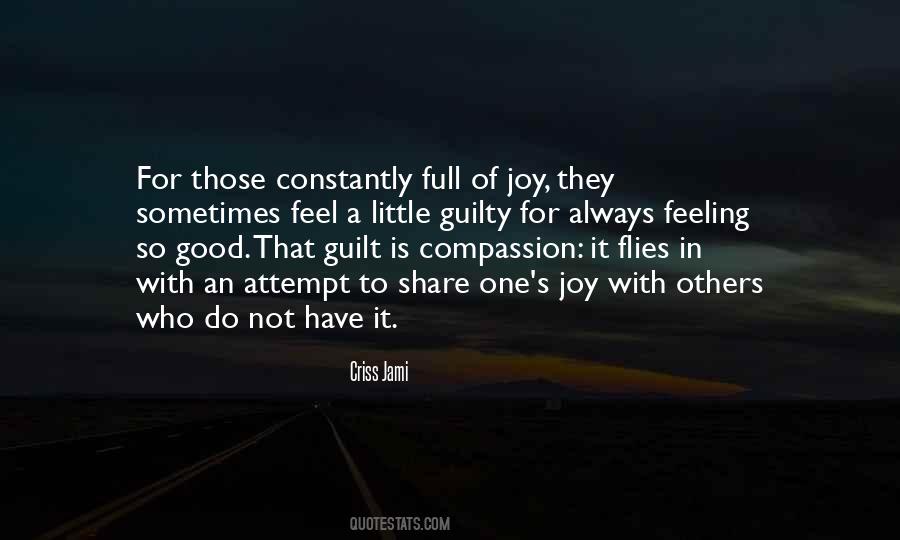 #87. A good reader should always have two books with him: one to read, the other one to lend. - Author: Gabrielle Dubois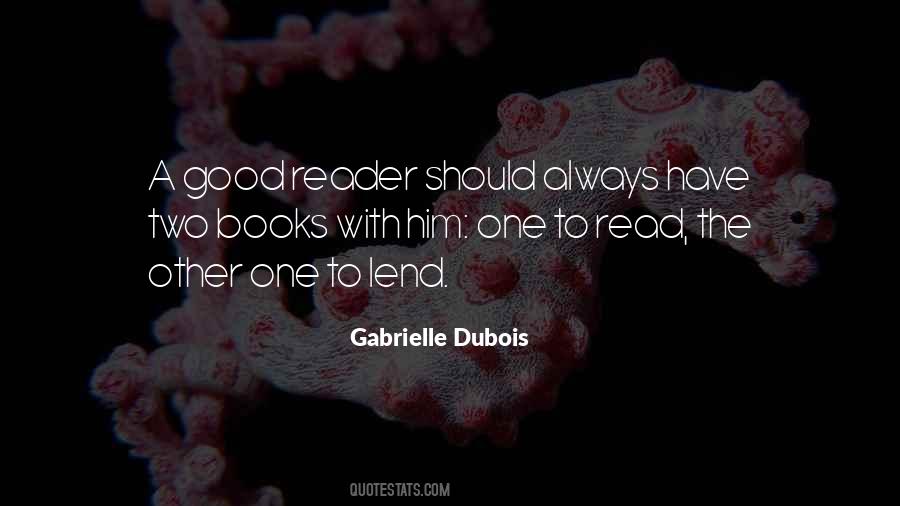 #88. I want to change the pop world one sequin at a time. Artists tend to take themselves way too seriously and don't enjoy the fun of making an impact on culture. I just have a good time and sequins represent a good time. - Author: Lady Gaga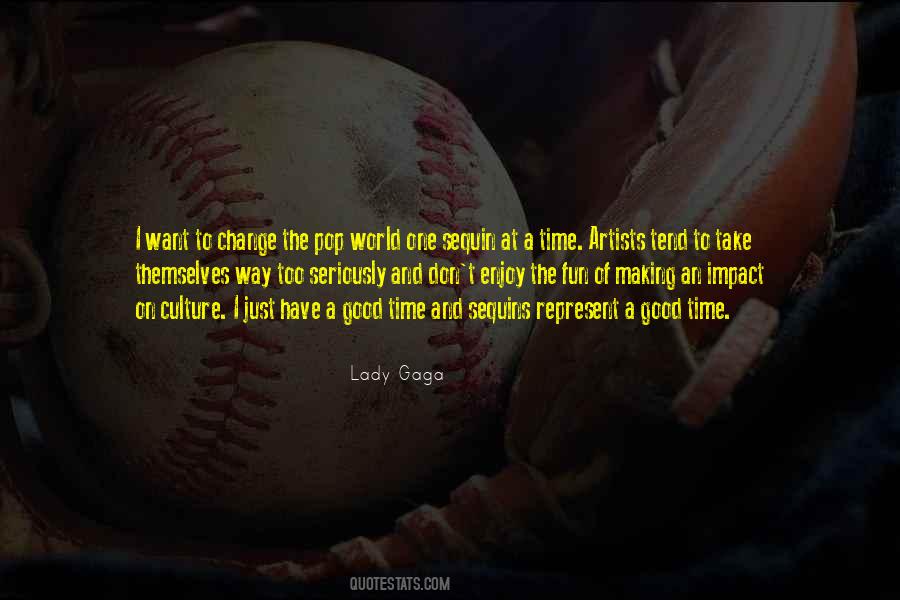 #89. I never yet have heard of a good man having fallen when he was trying to do Christ's will and trusting on Christ's help. Every fall without one exception came from venturing upon sinful ground or from venturing upon self-support. - Author: Theodore L. Cuyler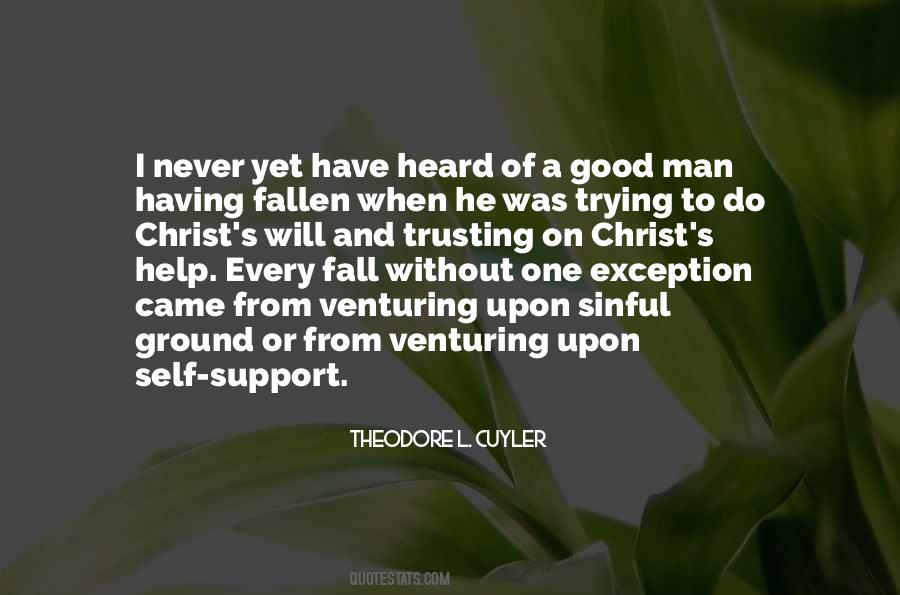 #90. Prime numbers are useful for writing codes and in America they are classed as Military Material and if you find one over 100 digits you have to tell the CIA and they buy it off you for $10,000. But it would not be a very good way of making a living. - Author: Mark Haddon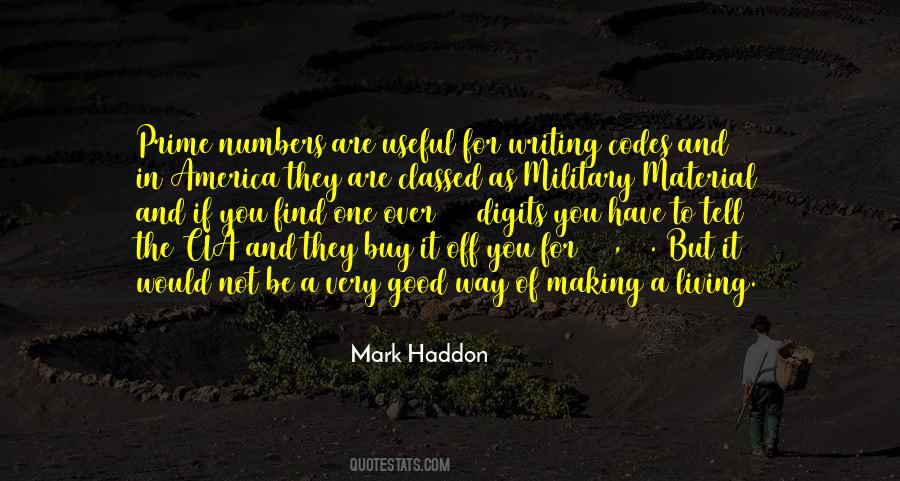 #91. There are some disabling myths about what art is, how to do it, what is good art, and what art is for, that have gagged generations, depriving them of significant and natural means of expression. This is a terrible loss and an unnecessary one. - Author: Peter London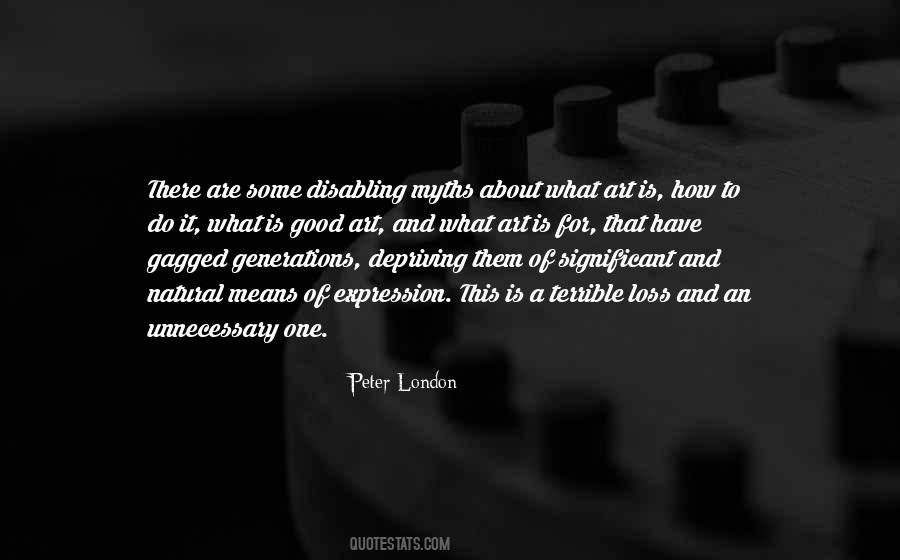 #92. Neville had never been on a broomstick in his life, because his grandmother had never let him near one. Privately, Harry felt she'd had good reason, because Neville managed to have an extraordinary number of accidents even with both feet on the ground. - Author: J.K. Rowling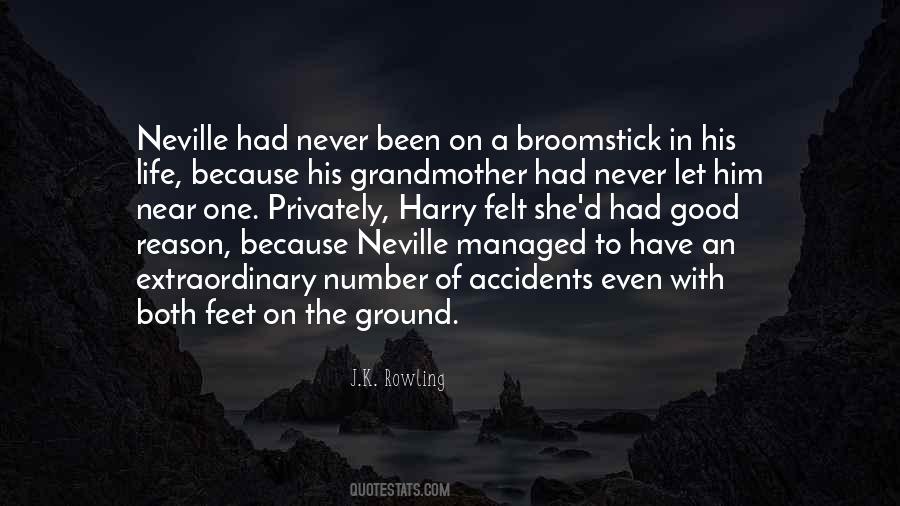 #93. Today I call upon my Higher Power to help me get through one more day. Help me have gratitude in the face of scarcity, strength in my private struggles and the wisdom to live a good life for myself and others. - Bryant McGill - Author: Bryant McGill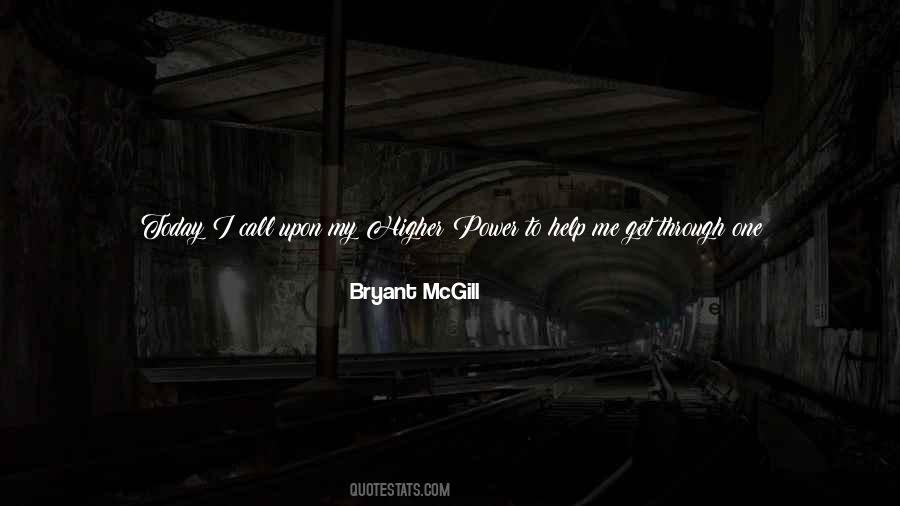 #94. I don't think lying has any ultimate justification. I don't think it ever leads to anything positive. The good fight to have is not to lie. That's one of the challenges in a way. - Author: Andy Garcia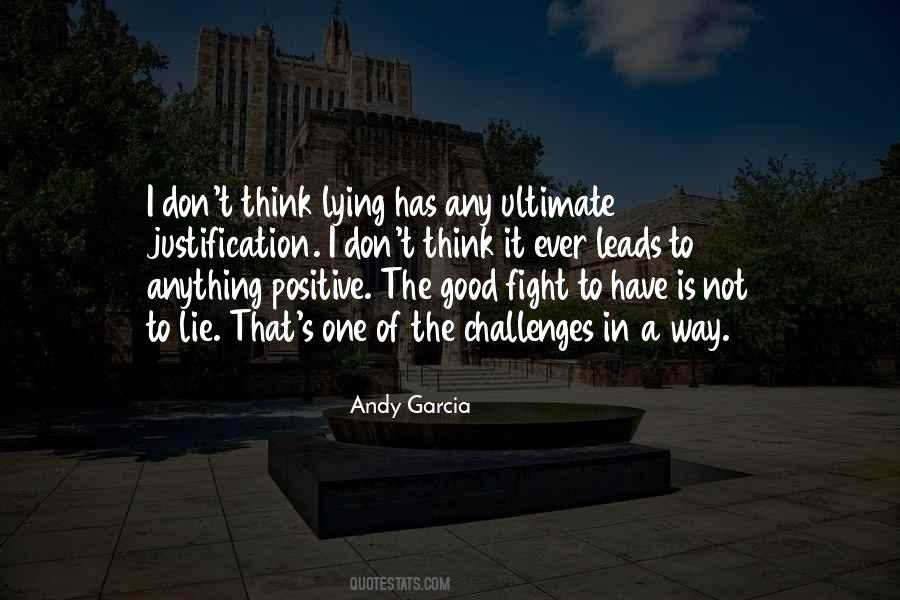 #95. What a splendid day!' said Anne, drawing a long breath. 'Isn't it good just to be alive on a day like this? I pity the people who aren't born yet for missing it. They may have good days, of course, but they can never have this one. - Author: L.M. Montgomery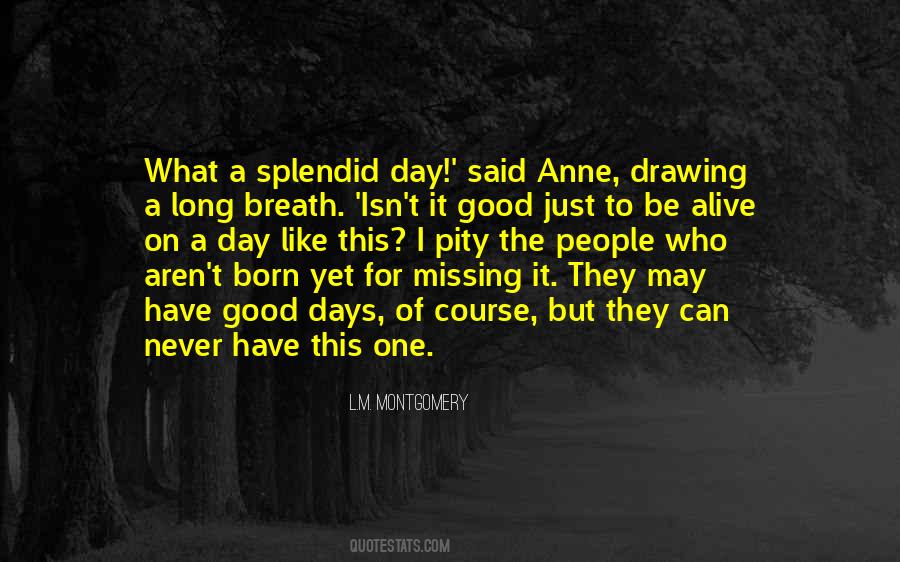 #96. You have to take a lot of bad pictures. Dont' be afraid to take bad pictures ... You have to take a lot of bad pictures in order to know when you've got a good one. - Author: Martin Parr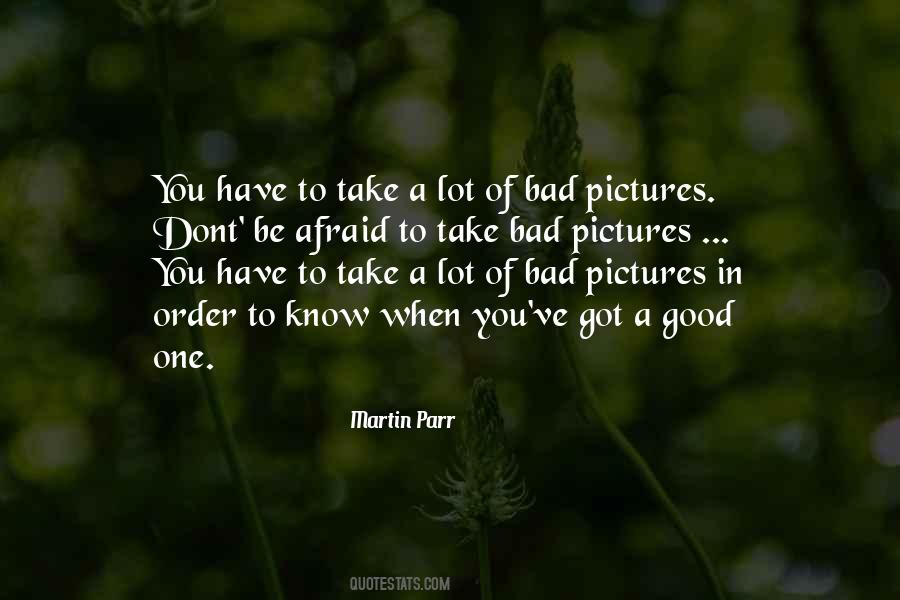 #97. To arrive at perfection, a man should have very sincere friends or inveterate enemies; because he would be made sensible of his good or ill conduct, either by the censures of the one or the admonitions of the other. - Author: Diogenes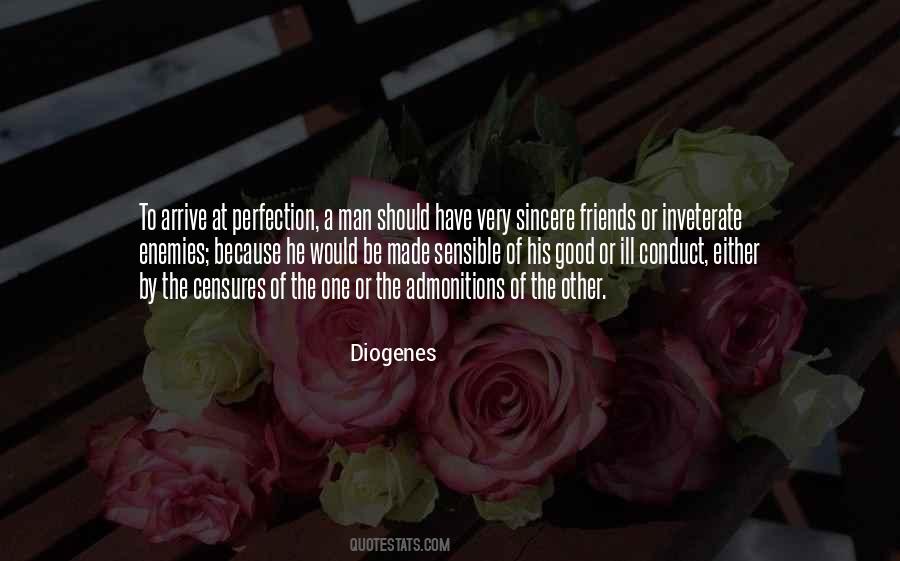 #98. Dad reckons if you have a great time in one place, then that's a good reason for never going back. Nothing will ever measure up to the first time. He laughs at people who go to the same place every year, same beach, same house, same things to do. - Author: James Moloney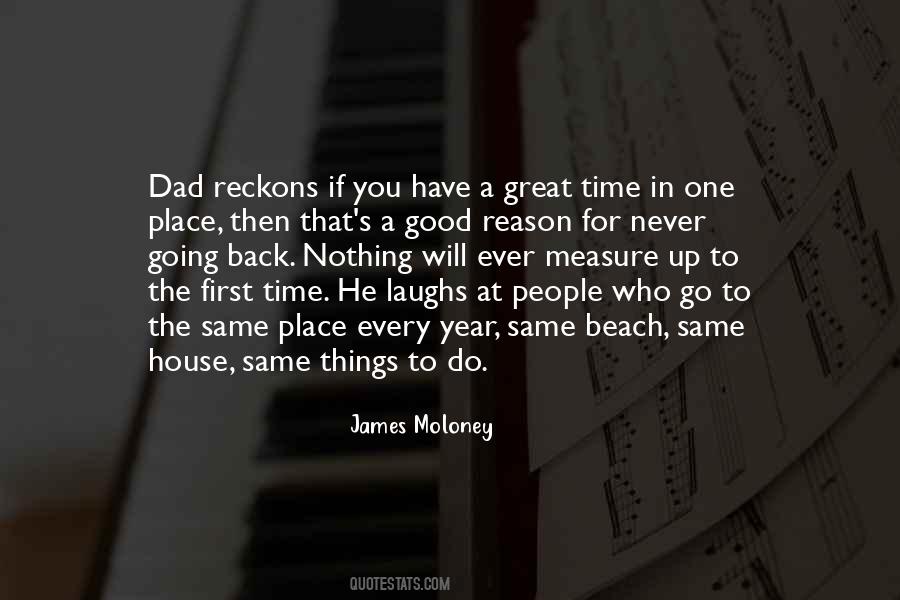 #99. I'm very lucky in the sense that I've got a voice that's distinctive. Not good, but distinctive. That's a very useful thing to have in this business. I'm glad on the one hand that I've got it, but I wish it was more powerful. I wish I had a greater range. I wish it was more accurate at times. - Author: Gary Numan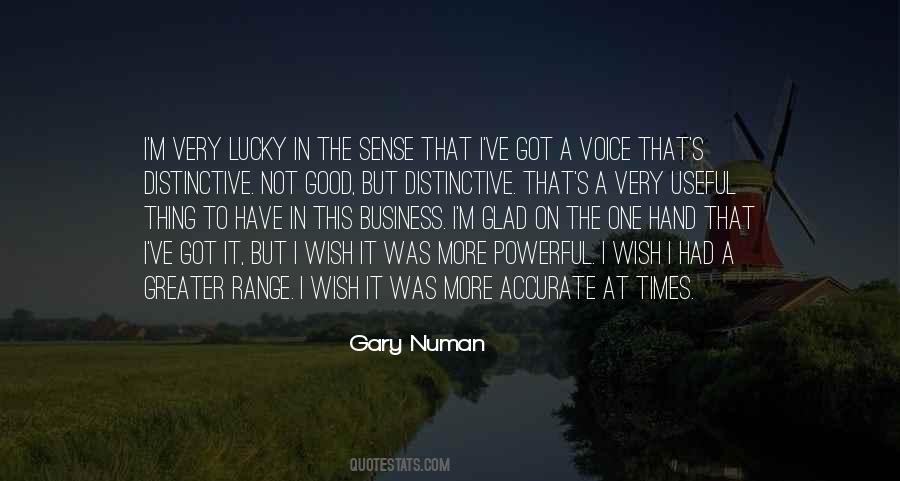 #100. There were other sorts of Christmases besides the one he had made a habit of. And it might do him good to have a change, to see how it was with other people. - Author: Alan Hunter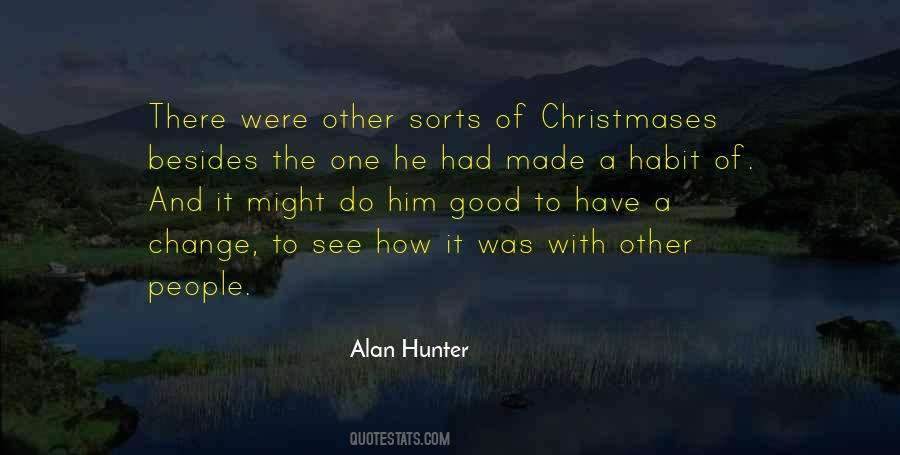 Famous Authors
Popular Topics