Hate Me Because Famous Quotes & Sayings
List of top 100 famous quotes and sayings about hate me because to read and share with friends on your Facebook, Twitter, blogs.
Top 100 Hate Me Because Quotes
#1. I hate it when I get mad at myself because it's impossible to turn on my heel and walk away in a huff and refuse to speak to me again. I've tried it plenty of times, believe me. - Author: Gary Reilly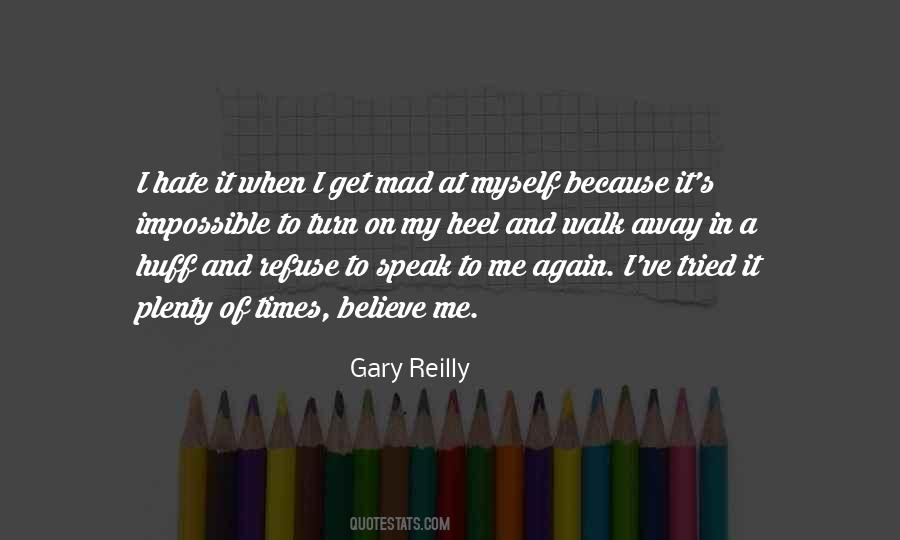 #2. I like playing Vernon Dursley in 'Harry Potter,' because that gives me a license to be horrible to kids. I hate the odious business of sucking up to the public. - Author: Richard Griffiths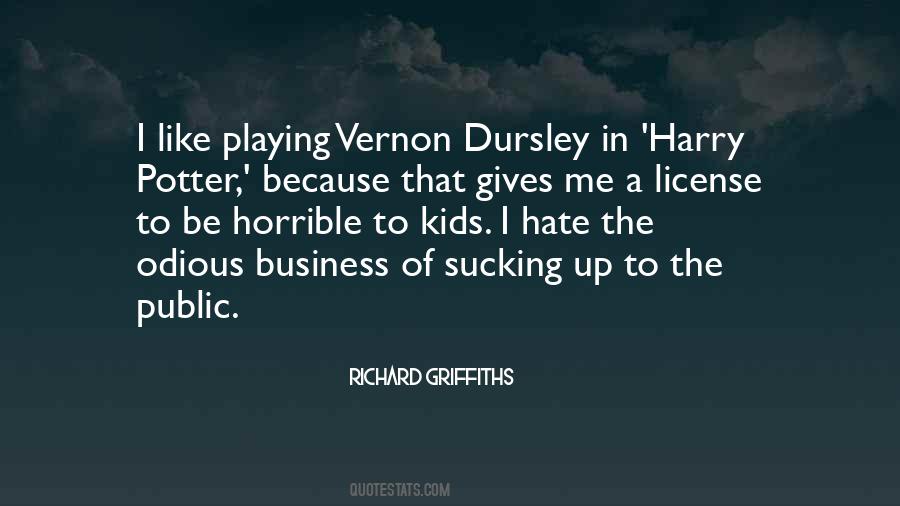 #3. The hate directed against the colored people here in St. Louis has always given me a sad feeling because when I was a little girl I remember the horror of the East St. Louis race riot. - Author: Josephine Baker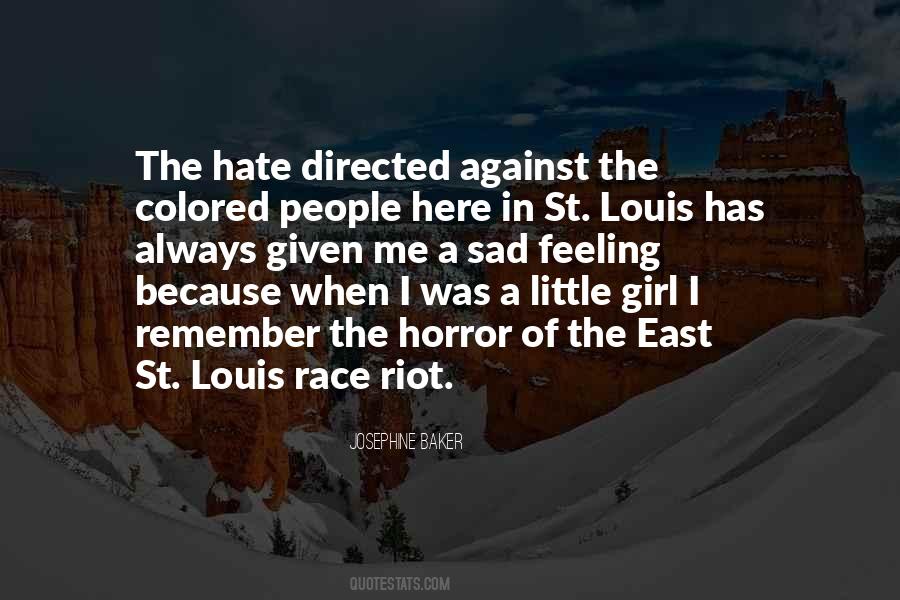 #4. I hate you most because you attract, but are not strong enough to pull me to you. - Author: Friedrich Nietzsche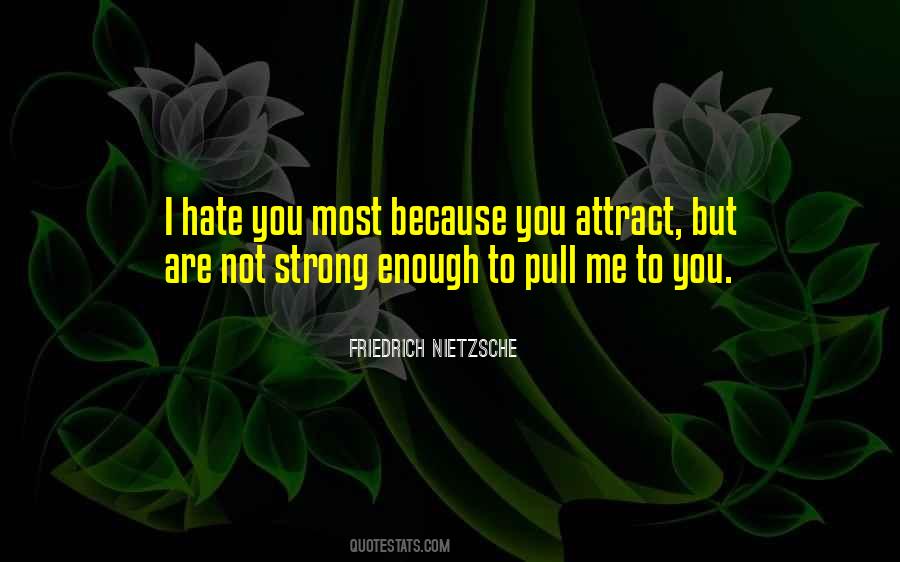 #5. My twitter fans are all pretty weird. A lot of them are kind of weirdly sexually aggressive. Some of them made me laugh and then I instantly tried to forget them, because I'd hate to find myself in a bar kind of drunk and accidentally use one. - Author: Stephen Merchant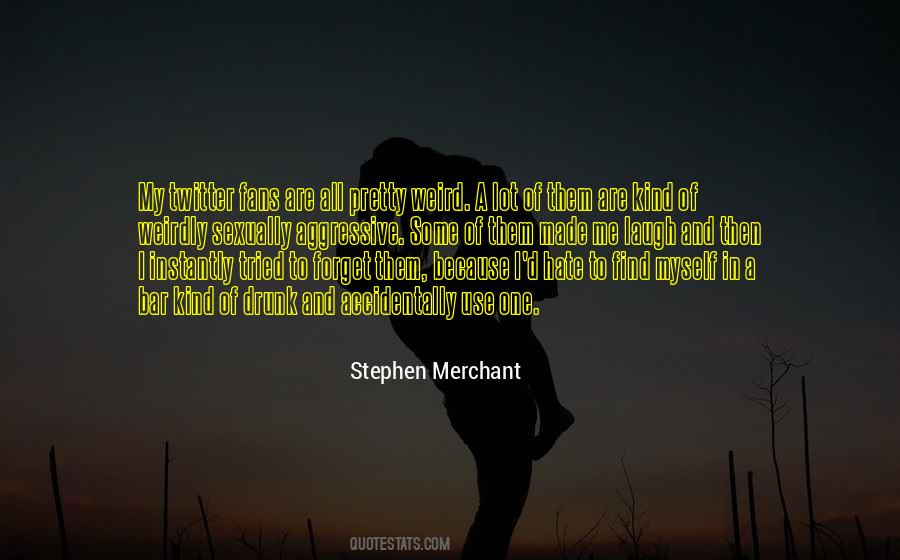 #6. Every single person wants to do it, don't hate me because I had the guts to follow my heart! - Author: Zach Braff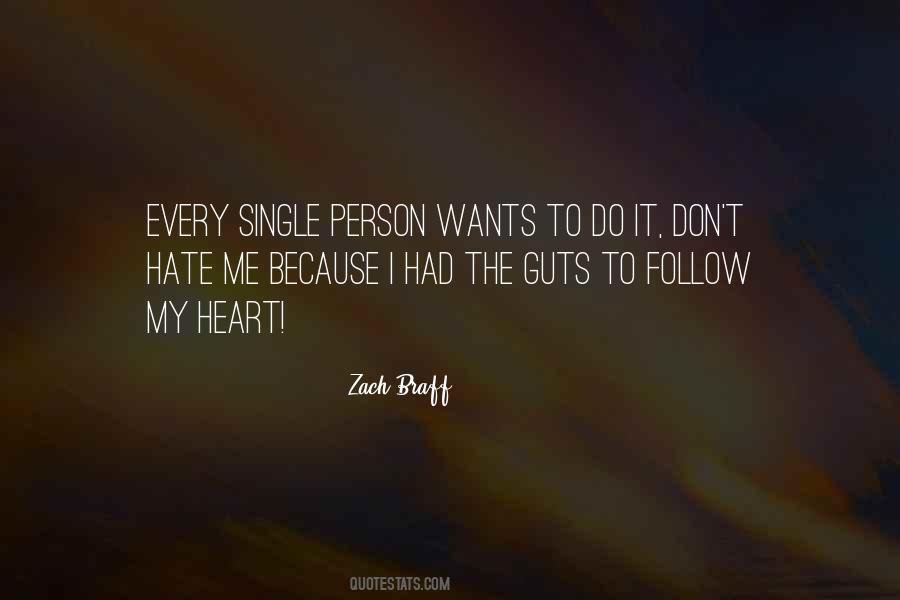 #7. Because you're the monster, not me." I say. "I may have scales and claws and the ability to tear you limb from limb without breaking a sweat, but a monster exists in the mind. A monster is a creature of hate, not form. - Author: Sarah Nicolas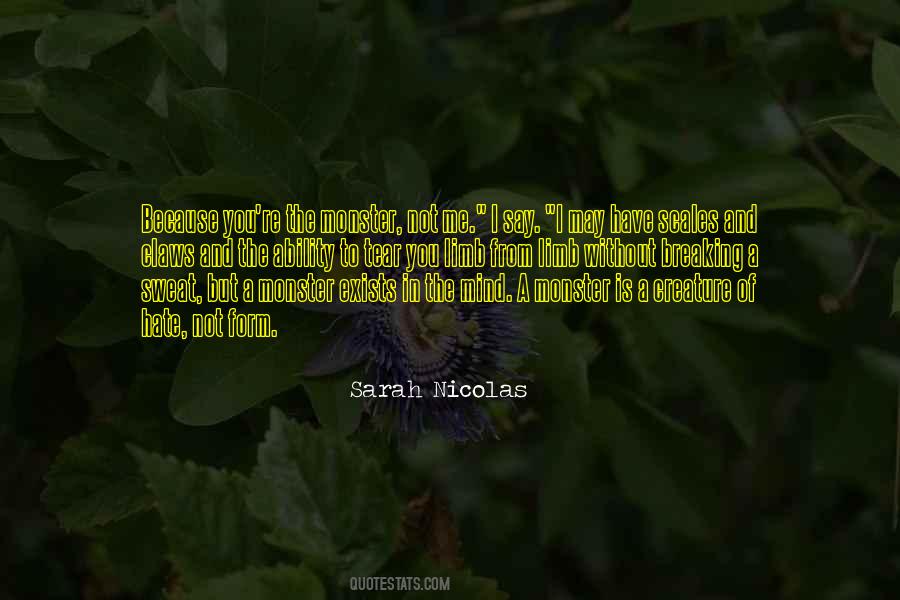 #8. I hate rap music, which to me sounds like a bunch of angry men shouting, possibly because the person who was supposed to provide them with a melody never showed up. - Author: Dave Barry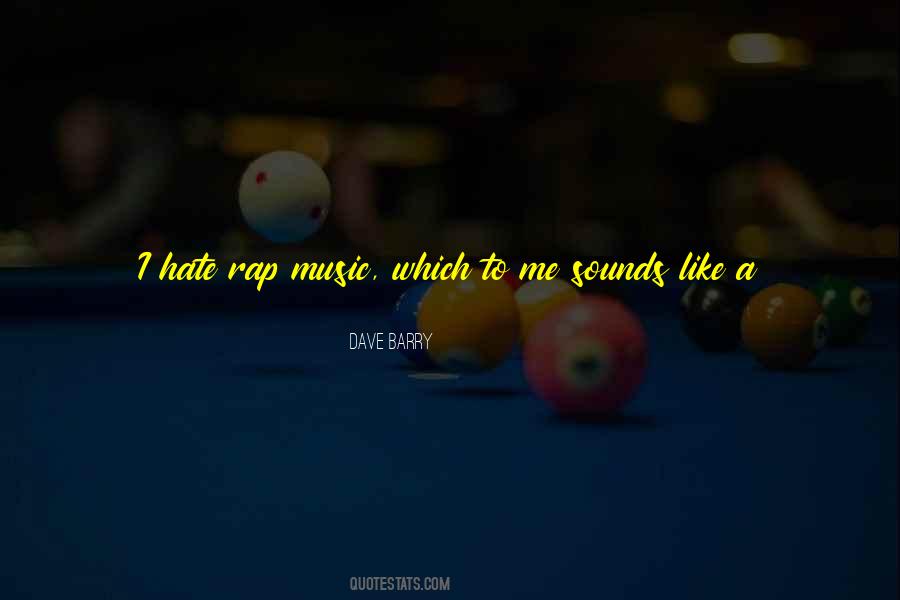 #9. I can always remember standing up to the baddest girls in my elementary school. Wherever I went, there was always a mean girl, and that girl would always hate me because I wouldn't bow down. - Author: Nicki Minaj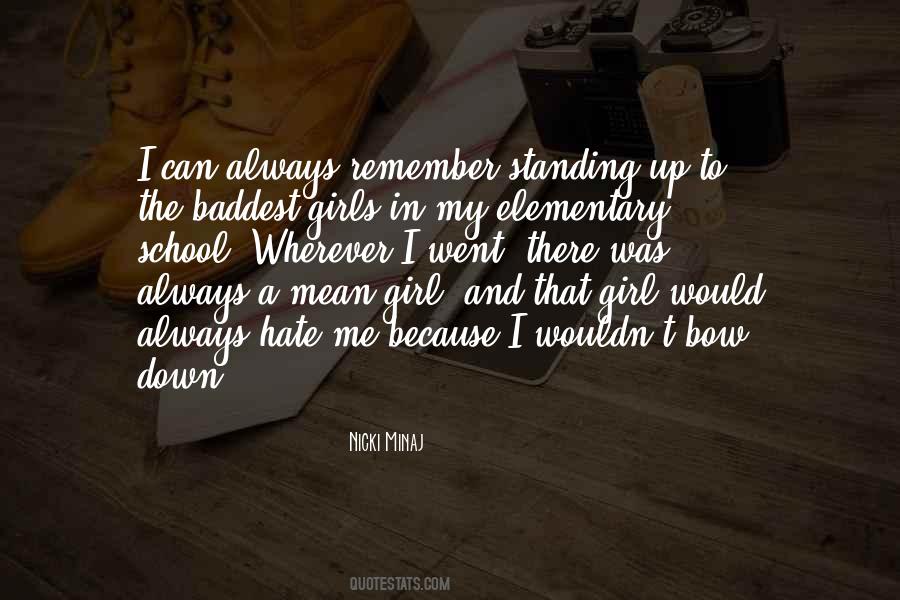 #10. Love is what happens when we forgive. I forgive Connor Evans. A part of me will always love him, but from this day on I won't hate him. Not for one minute. I forgive him because he gave me Max. - Author: Karen Kingsbury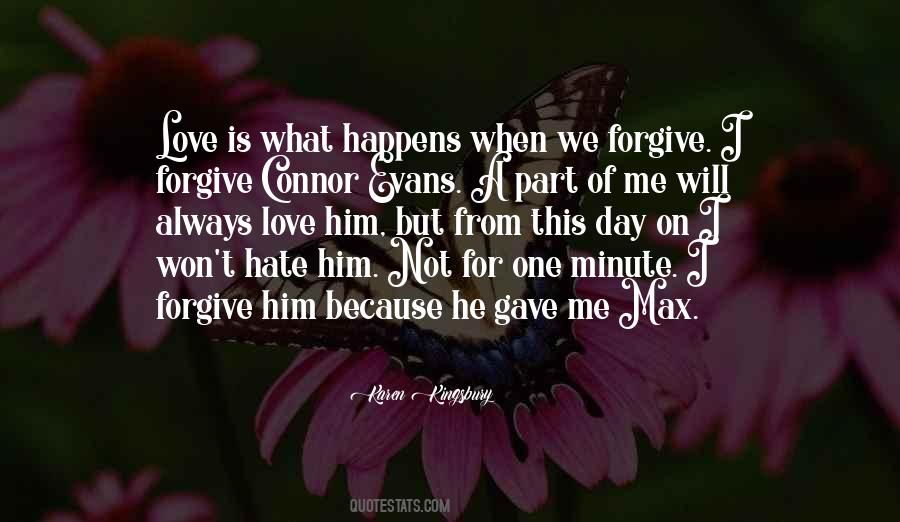 #11. I had no time to hate, because The grave would hinder me, And life was not so ample I Could finish enmity. - Author: Emily Dickinson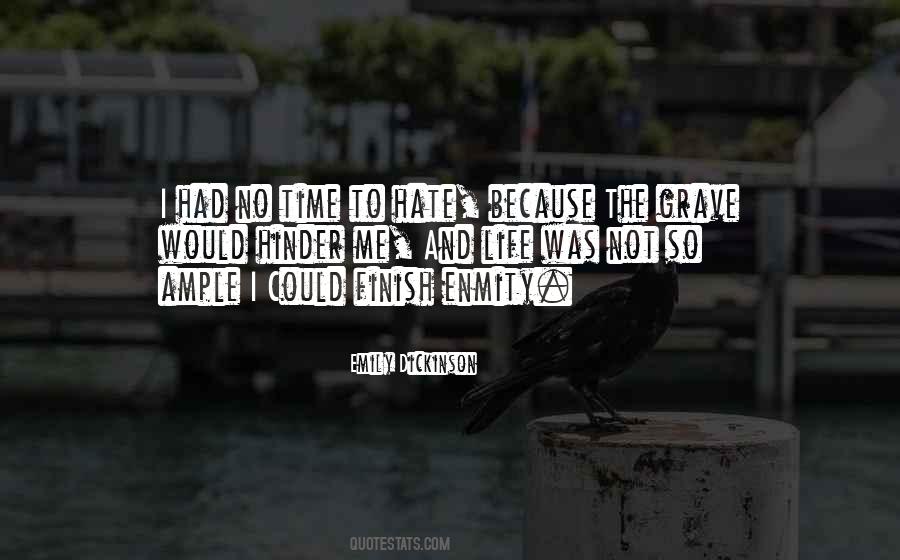 #12. My page is junk, because I hate putting anything to do with me on the site, it just feels wrong. - Author: Colin Greenwood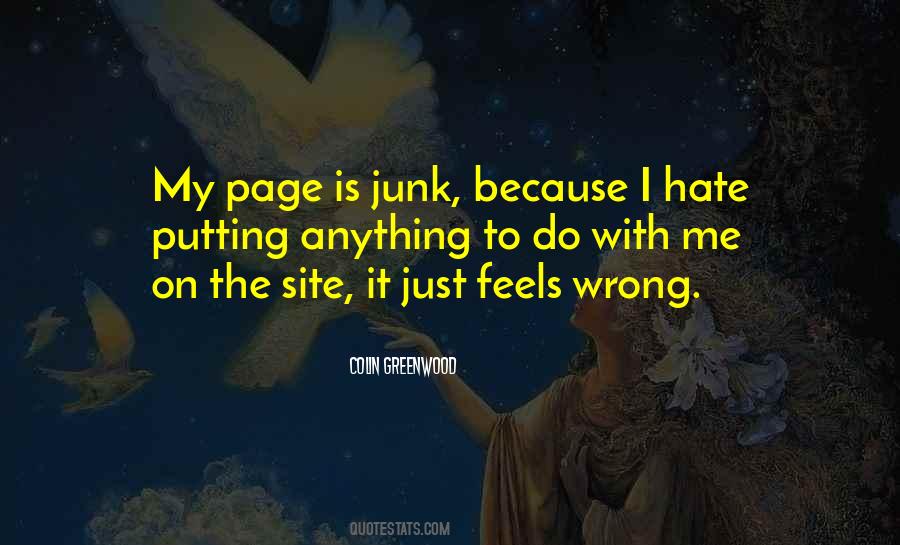 #13. When I get real big volumes of hate mail, it's usually because I wrote something poorly. But it's also because some group told people to e-mail me and those people didn't read the article, they read the post about what I wrote about. And they all e-mail me. And they all come around at the same time. - Author: Joel Stein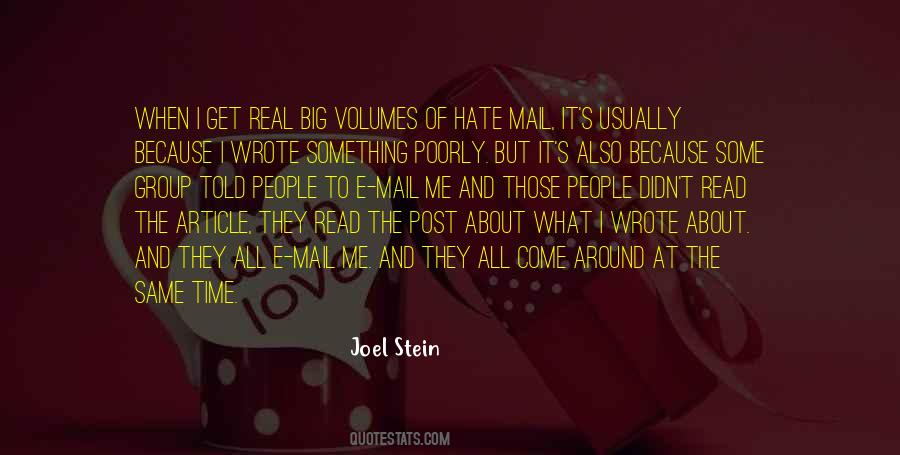 #14. Enduring habits I hate ... Yes, at the very bottom of my soul I feel grateful to all my misery and bouts of sickness and everything about me that is imperfect, because this sort of thing leaves me with a hundred backdoors through which I can escape from enduring habits. - Author: Friedrich Nietzsche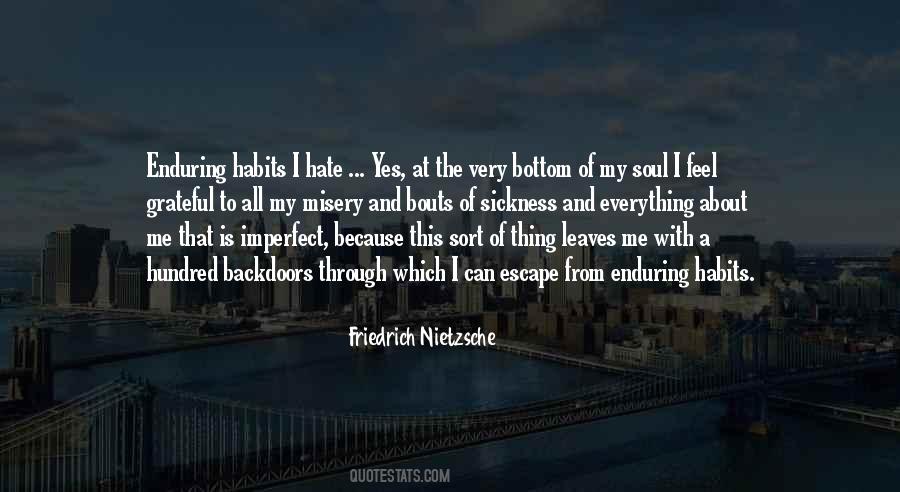 #15. Because I hate the ocean, theme parks and airplanes, talking with strangers, waiting in line. I'm through with these pills that make me sit still, are you feeling fine? Yes, I feel just fine. - Author: Aurelien Budynek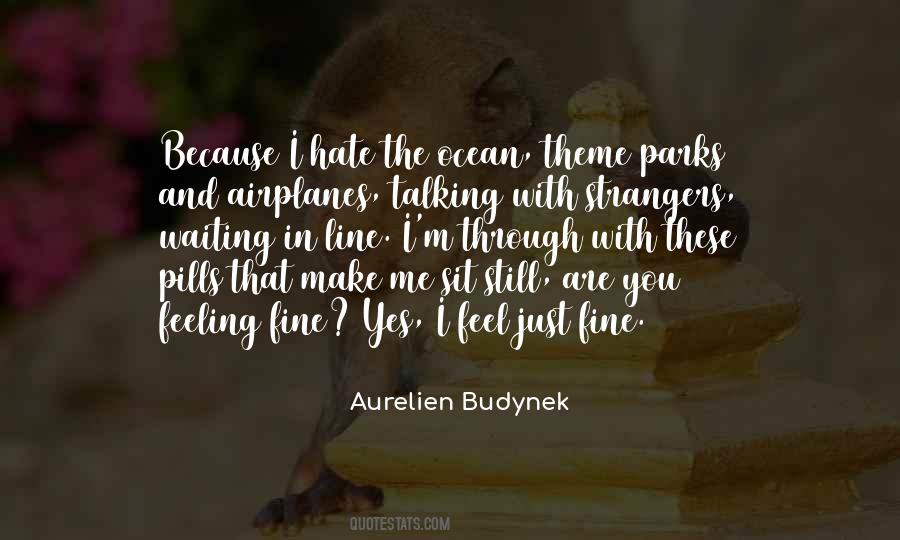 #16. Last September 16th, I was walking in downtown Seattle when this pick-up truck pulls up in front of me. Guy leans out the window and yells, "Go back to your own country," and I was laughing so hard because it wasn't so much a hate crime as a crime of irony. - Author: Sherman Alexie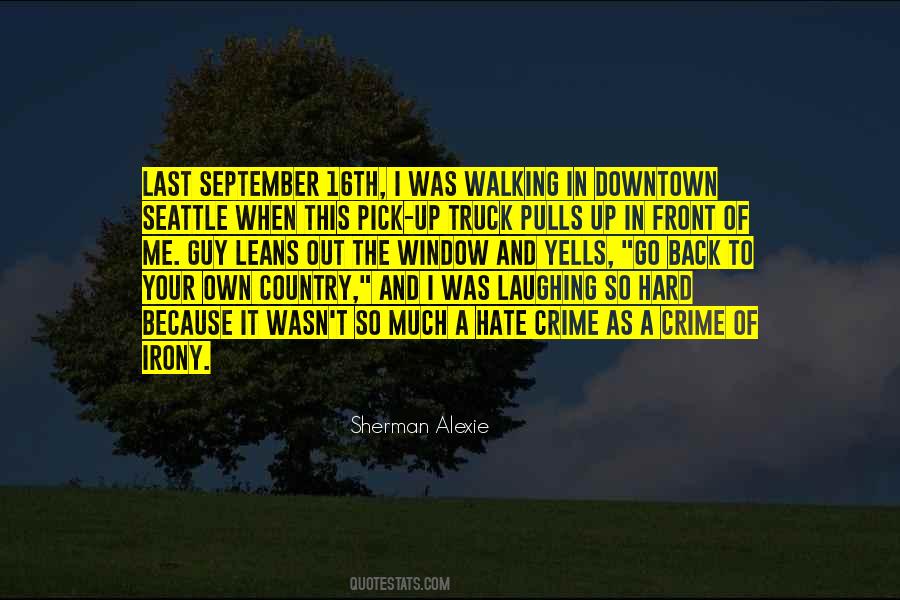 #17. You hate me because deep down you want to be me - Author: Bradley Bowman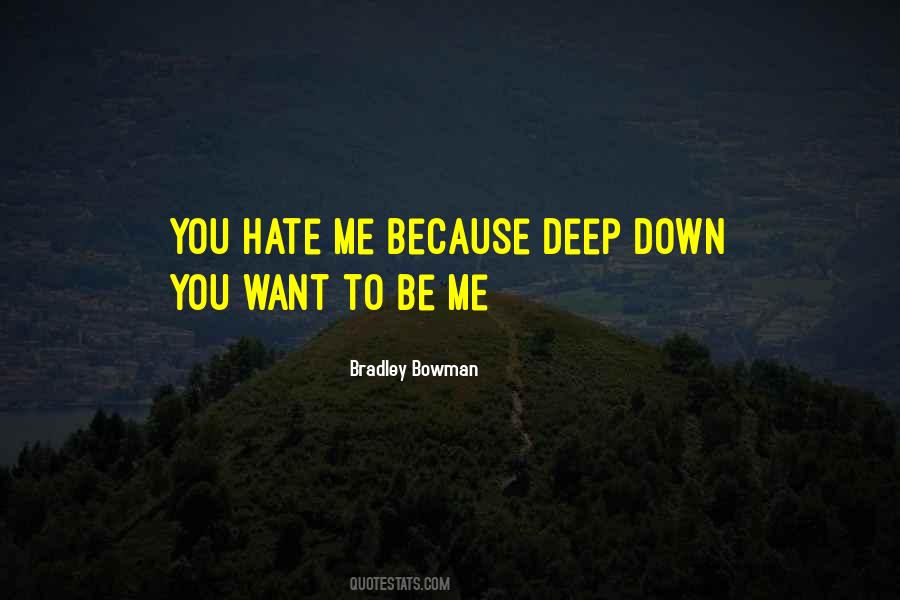 #18. I sold a million books because I have a lot of fans, not because people hate me. - Author: Tucker Max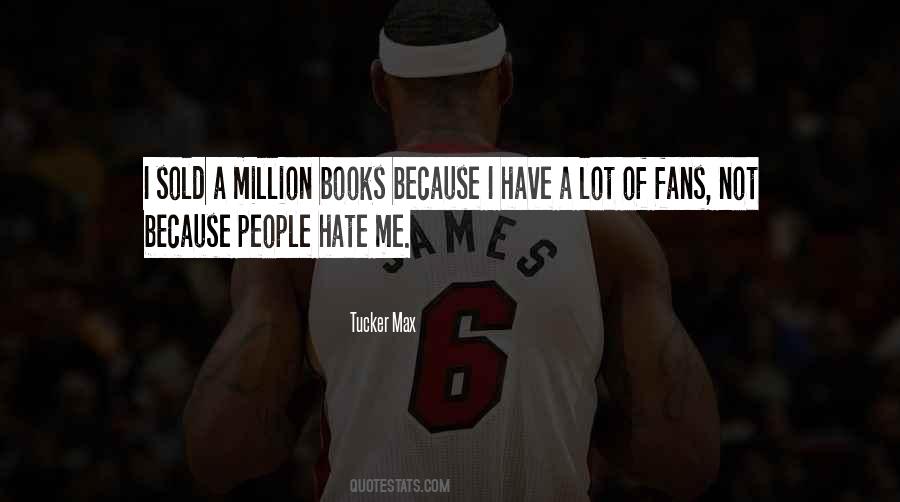 #19. Did the thought ever occur to you that I might care about you? People are allowed to care about each other."
"You don't know me well enough to care about me."
"Let me clue you in on something, Andres. Just because you hate yourself doesn't mean that I have to hate you. - Author: Benjamin Alire Saenz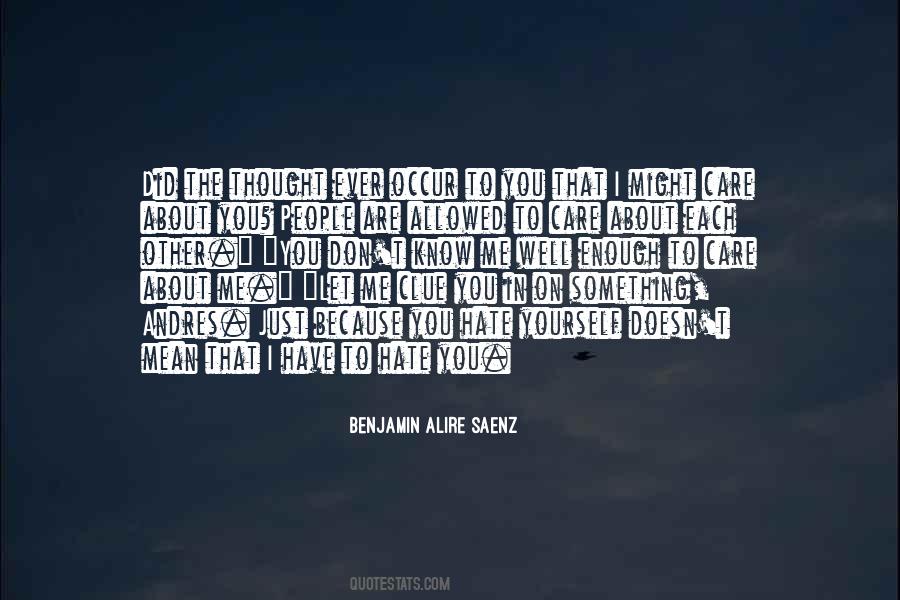 #20. I will hate the man you choose because he isn't me, and love him if he makes you smile. - Author: Robert Jordan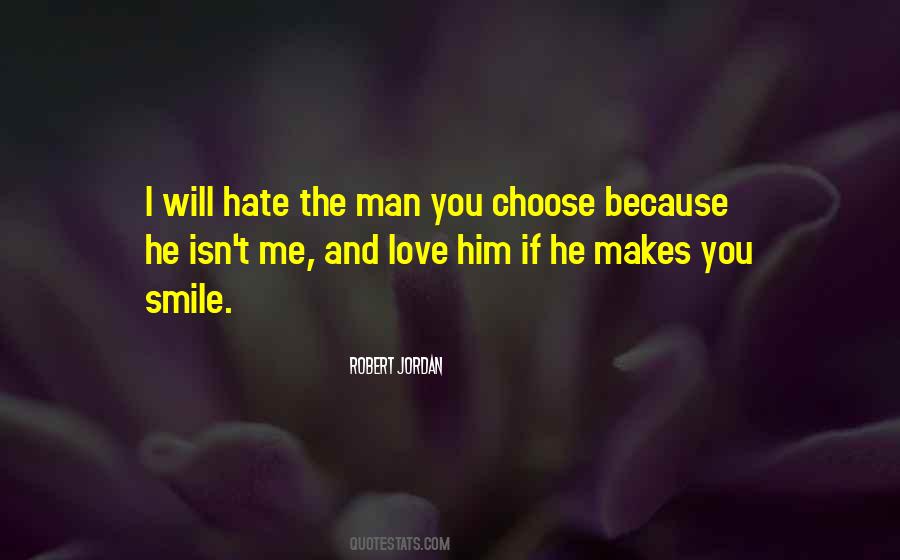 #21. I try not to think about what people think of me. You can't, because then you get hung up in all the people who love you, and you've also got all the people who hate you, because of what you're doing. - Author: Eve Ensler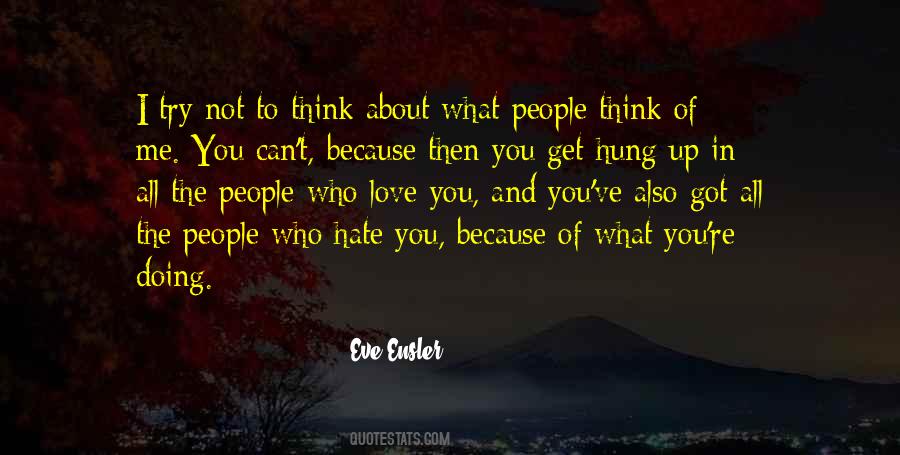 #22. People tell me I'm a misanthrope just because I hate all mankind. - Author: Carl-John X. Veraja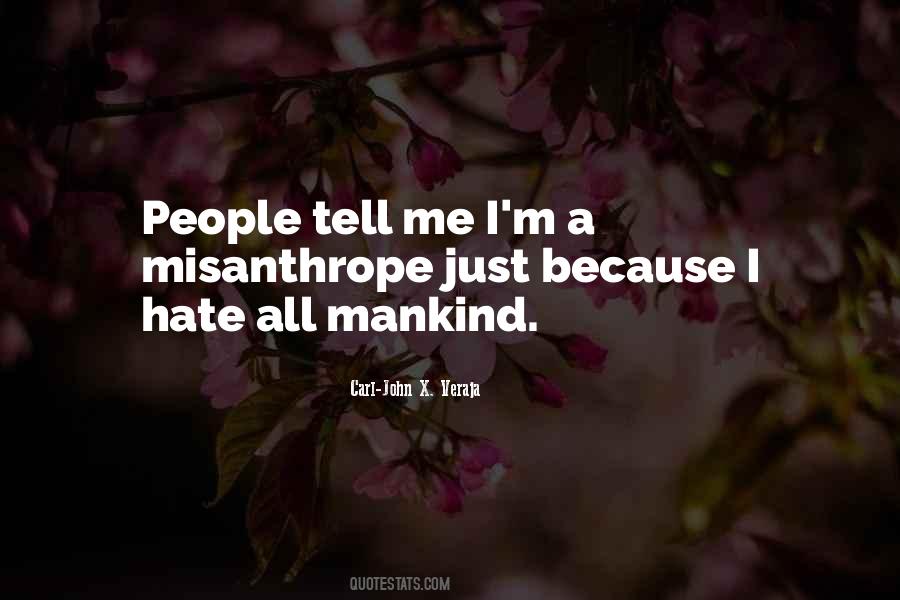 #23. Shopping is a lot of fun, but I hate trying on clothes because I think I've done too many costume fittings and trials. I hate trying on clothes. Shoes I love. I mean, I love shoes. Anywhere, any place, any time, you take me to a shoe store. - Author: Preity Zinta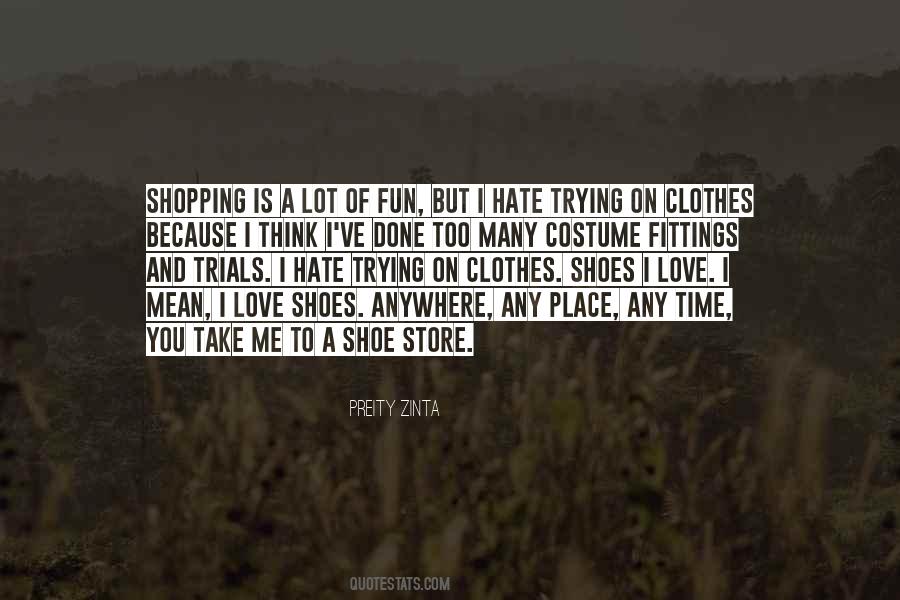 #24. I hate you." "Only because of the way I make you feel." My fingernails eat into my palms. "Only because you bring out the worst in me." "Oh no, luv. I bring out the life in you. - Author: A.G. Howard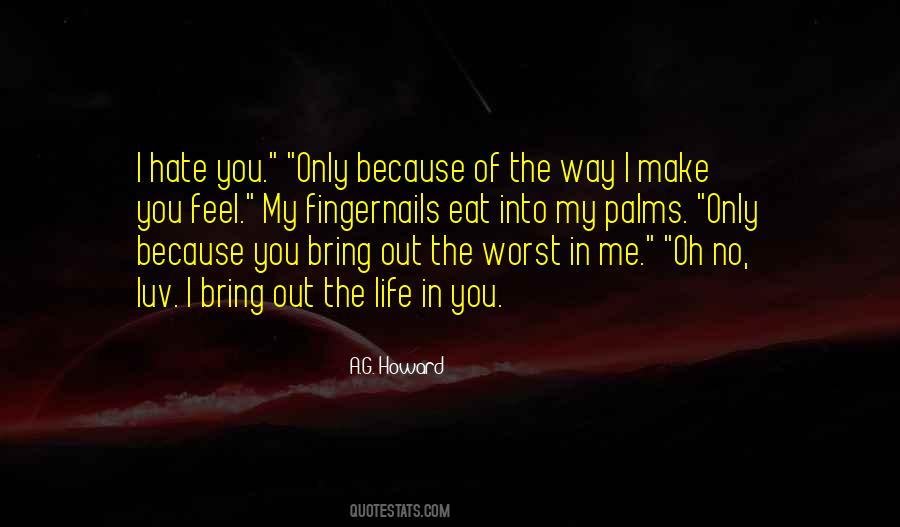 #25. The funny thing about me is I'm kind of schizophrenic, because after four or five nights in a row of going out to parties, I just have to be alone. I hate people and feel like they're keeping me from what I really want to do, like write a fabulous novel, which I probably never will. - Author: Bob Colacello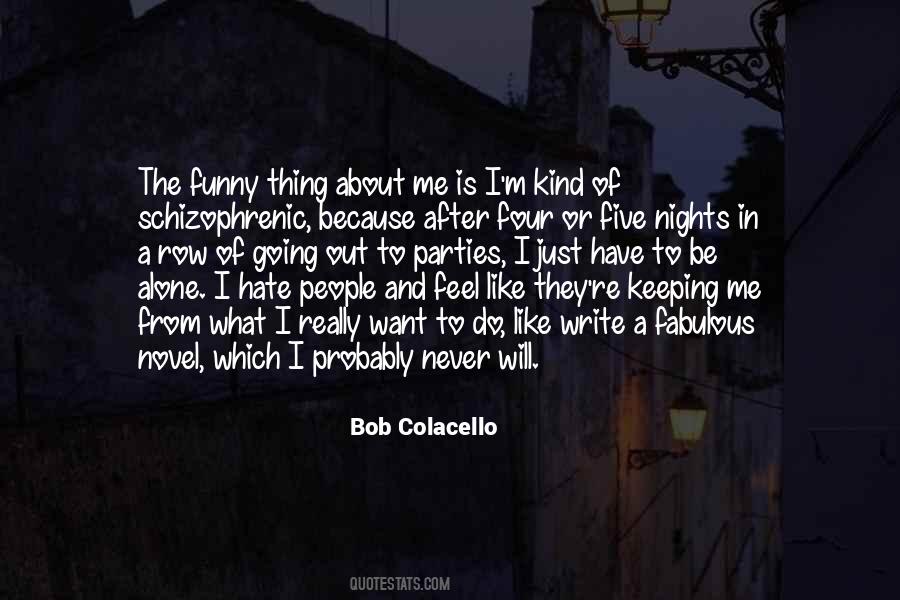 #26. I hate small talk with a passionate hatred. Why? I suppose because any meeting with another human being is collision for me now. - Author: May Sarton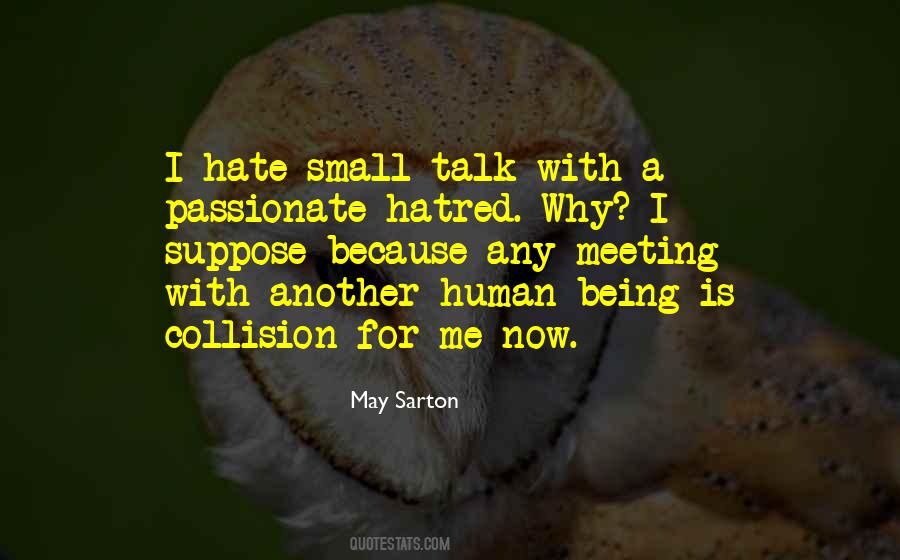 #27. You know why you hate me so much, Jeffery? Because I look the way you feel. - Author: Joe Pesci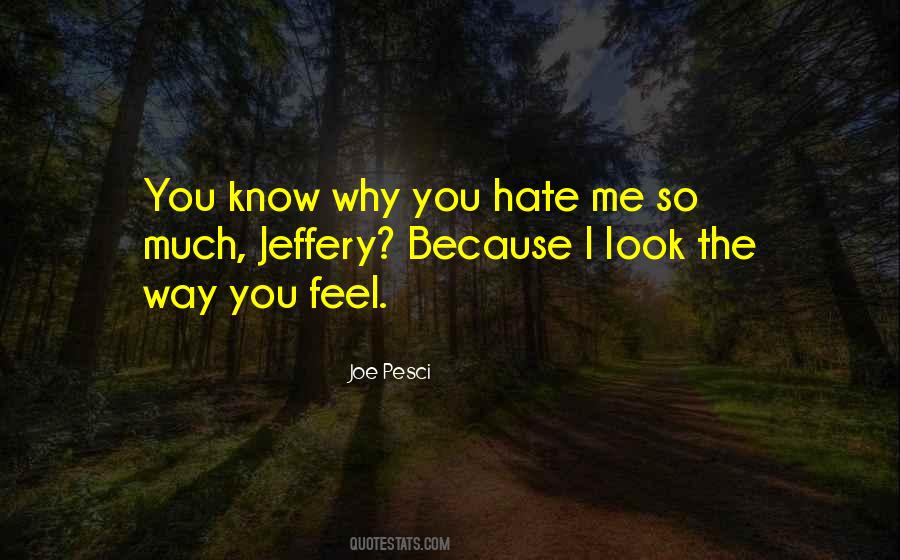 #28. It's outrageous to me when I see people hate on someone because of their sexuality. I hate the intolerance. I hate the judgment. I hate it so much. - Author: Ariana Grande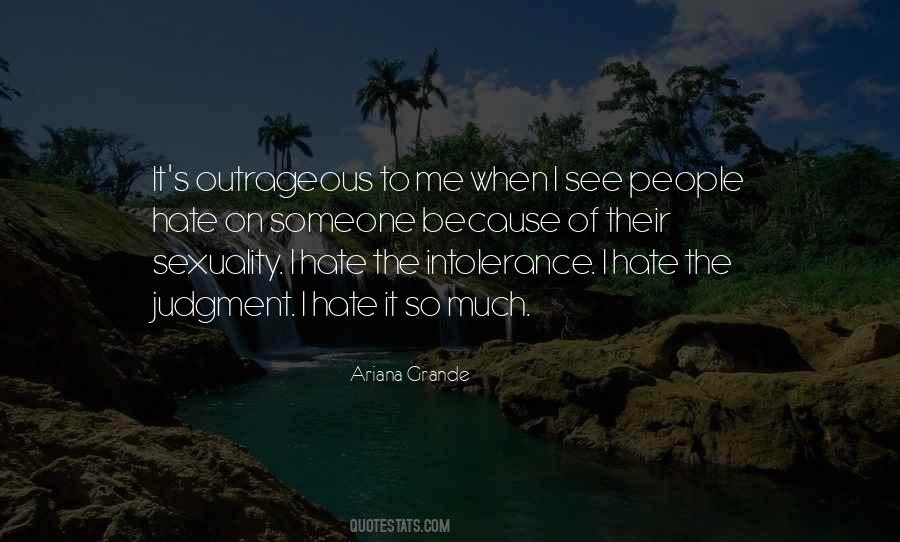 #29. I didn't have the luxury of taking reality for granted. And I wouldn't say I hated people who did, because that's just about everyone. I didn't hate them. They didn't live in my world.

But that never stopped me from wishing I lived in theirs. - Author: Francesca Zappia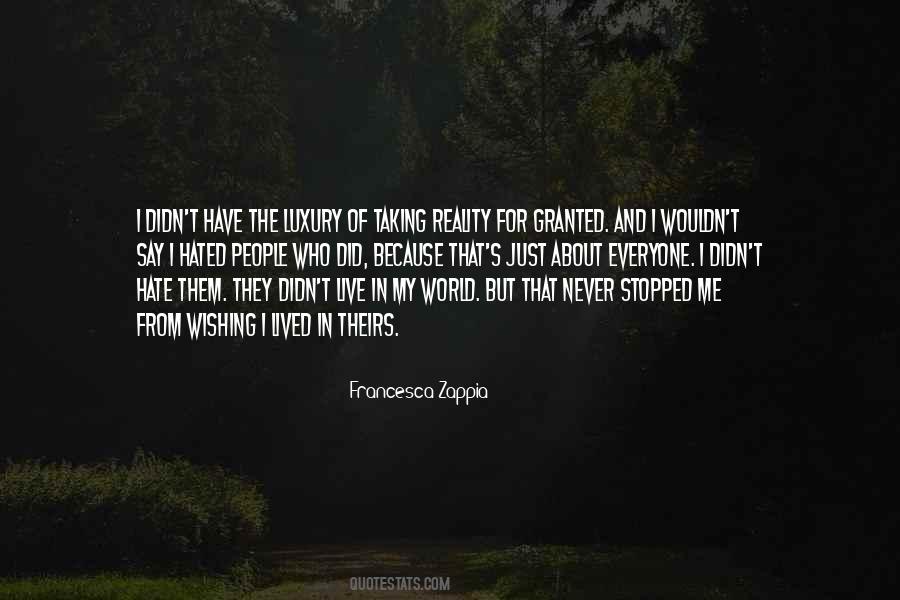 #30. I'm going to photograph every single person to enter and leave this tattoo parlour."
Finbar rolled his eyes. "And they'll hate that, because people who get dragons drawn on their backs are normally so shy about other people noticing them. - Author: Derek Landy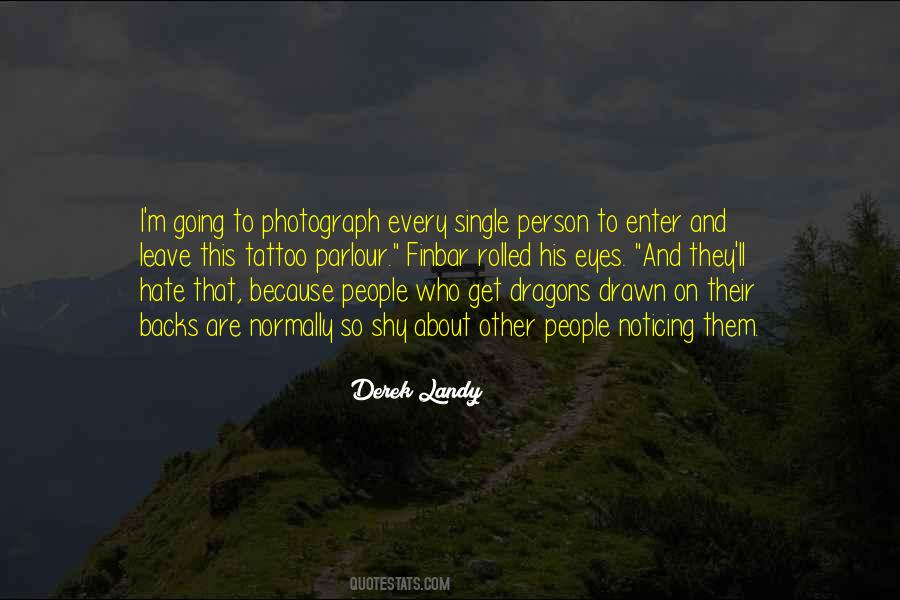 #31. If people are asking me for clubbing tips, then they're in real trouble. My clubbing tip is never go to a club, because they're horrible and I hate them. I'm more of a dinner party guy. - Author: Simon Bird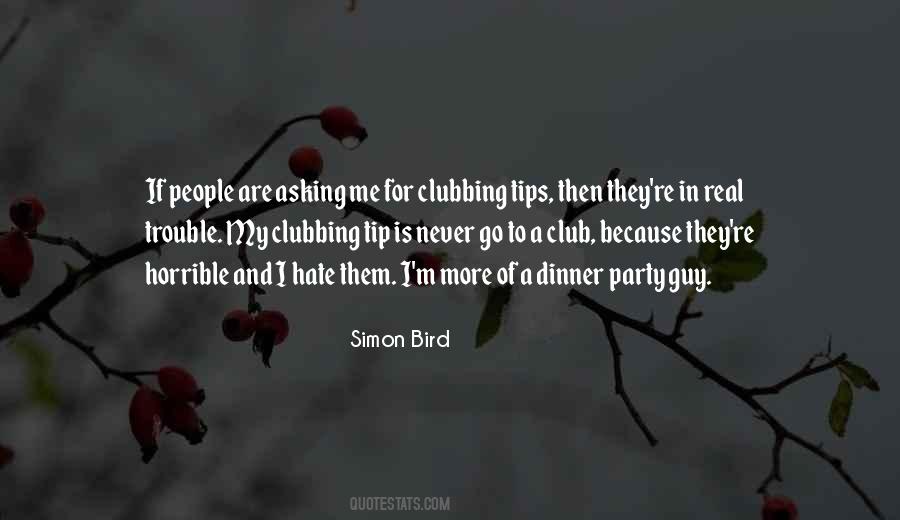 #32. People hate me for whatever reasons they come up with, or they hate me because their friends said they should. What can I do about it? What can I do about people who look at things the wrong way? At the end of the day it's like, 'You're wrong, I'm just a skateboarder. How can I help you?' - Author: Ryan Sheckler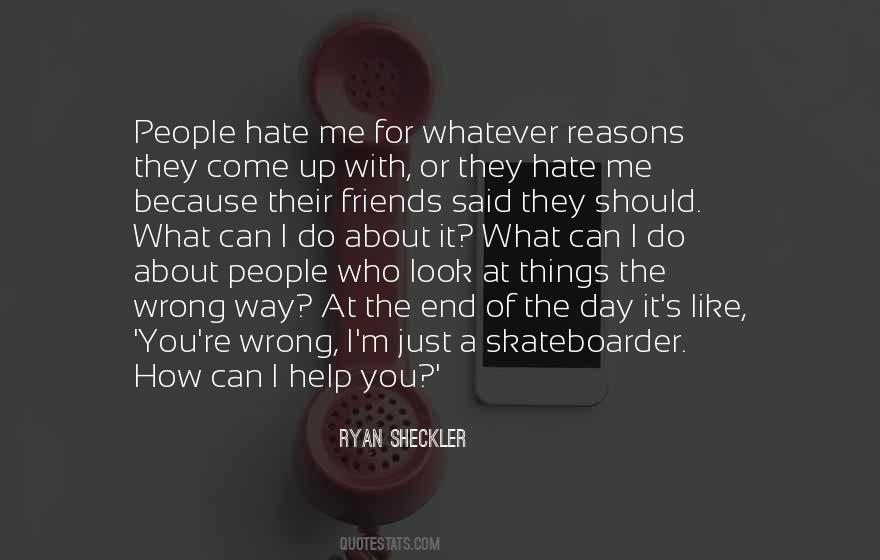 #33. I figure you know, I think you're an asshole. I don't only not like you, I hate you. I hate how you played me. I hate that I was so fucking stupid, I let myself get played. I hate that you know about this because I hate that you know anything about me. And I hate that I have to accept help from you. - Author: Kristen Ashley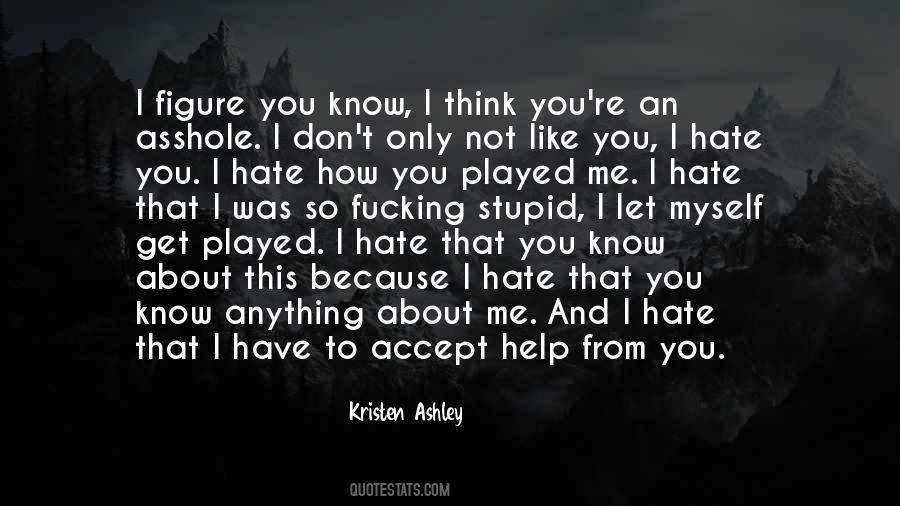 #34. I love pretty things; and I hate to look in the glass and see something that isn't pretty. It makes me feel so sorrowful - just as I feel when I look at any ugly thing. I pity it because it isn't beautiful. - Author: Lucy Maud Montgomery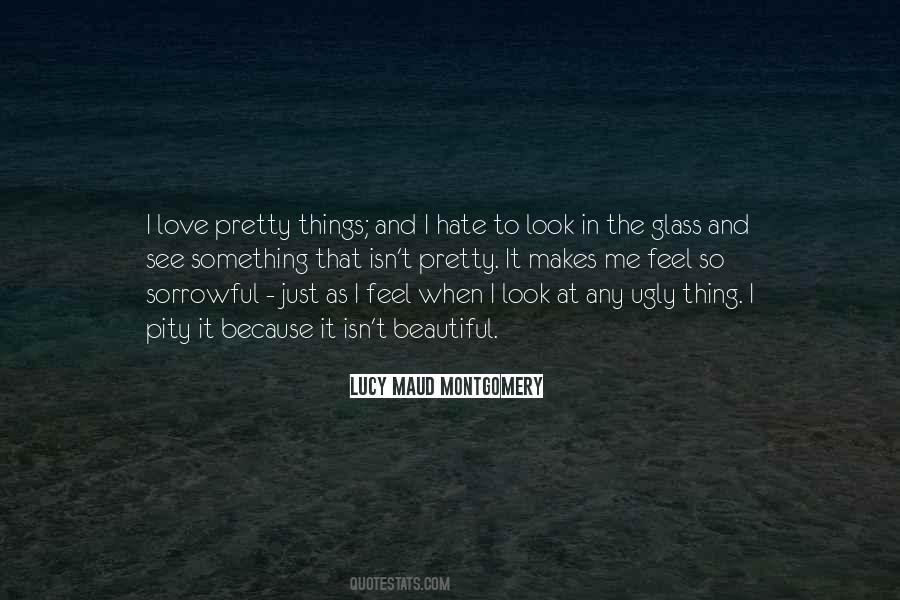 #35. If I tell you not to follow me, it ain't because I hate you, kiddo.
I just don't want you feel dissapointed ... when seeing the truth. - Author: Toba Beta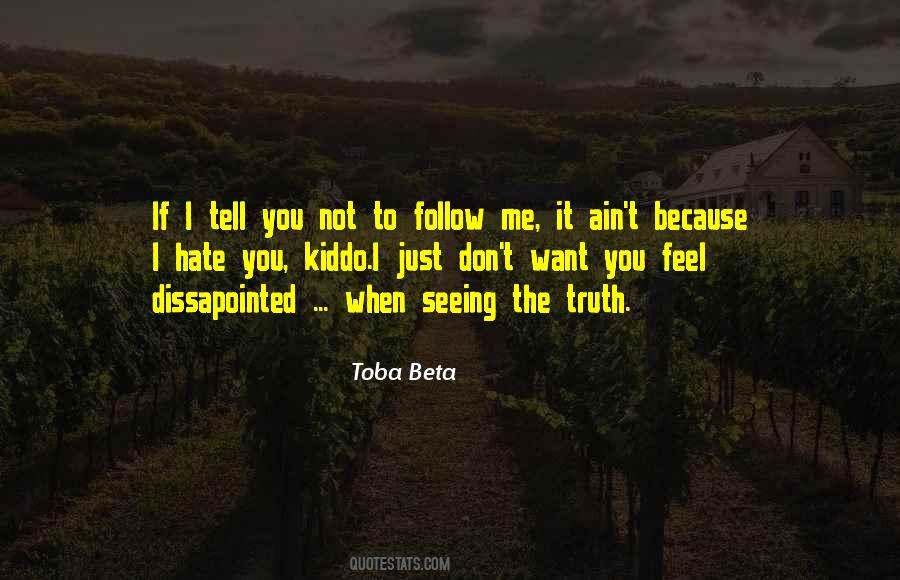 #36. I love Lady Antebellum and Miranda Lambert - they write from the heart. But it's hard to find a country music lover in L.A. None of my friends really listen to it, and they hate getting in the car with me because I just blast Taylor Swift. - Author: Lucy Hale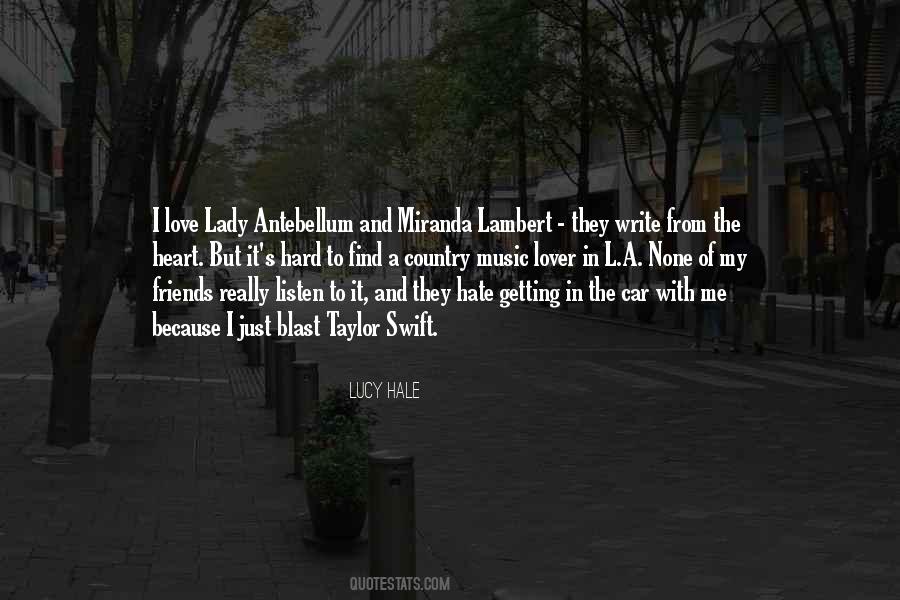 #37. Don't hate me for what tabloids write about me, because I guarantee it's a lie. - Author: Taylor Momsen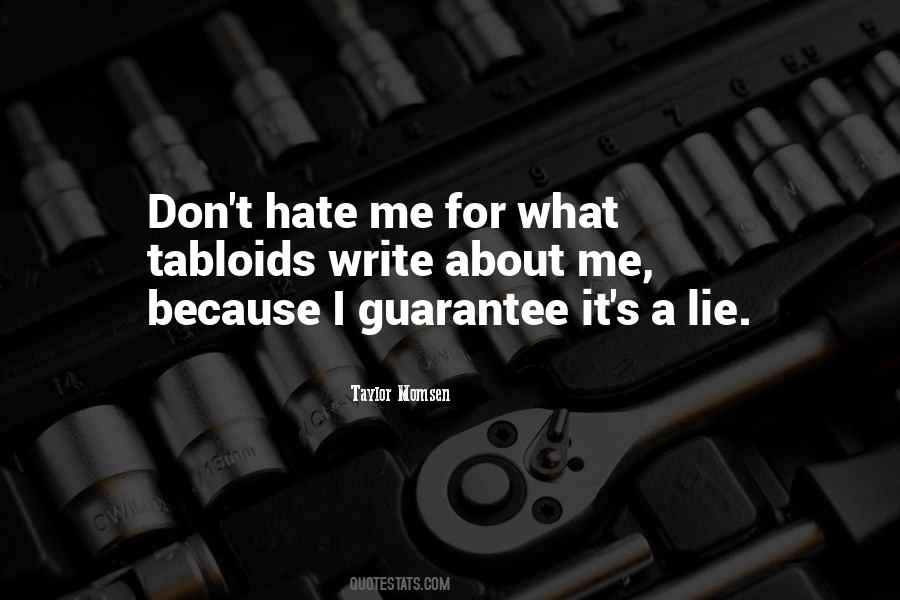 #38. I don't want people kissing my butt. If I had a bad show and I know it, don't tell me I had a good show. I hate that. I guess because I'm 17, people think I don't see stuff like that. - Author: Britney Spears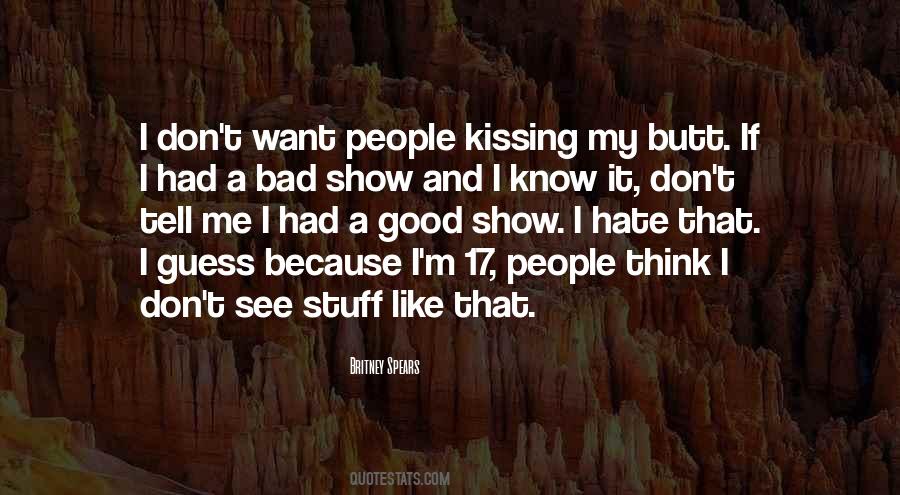 #39. Nothing so uncertain as general reputation. A man injures me from humor, passion, or interest; hates me because he has injured me; and speaks ill of me because he hates me. - Author: Henry Home, Lord Kames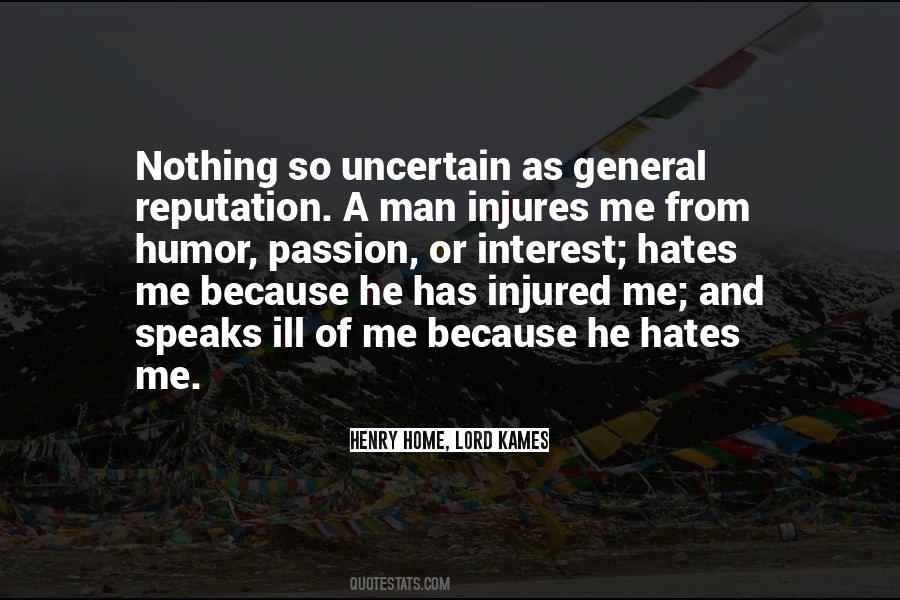 #40. They wanted me to do Scream 2, and I hate talking about movies I turned down, because it sounds judgmental. There's nothing wrong with horror movies. I enjoy watching them. The main reason I turn a part down is if I think I won't be good. - Author: Casey Affleck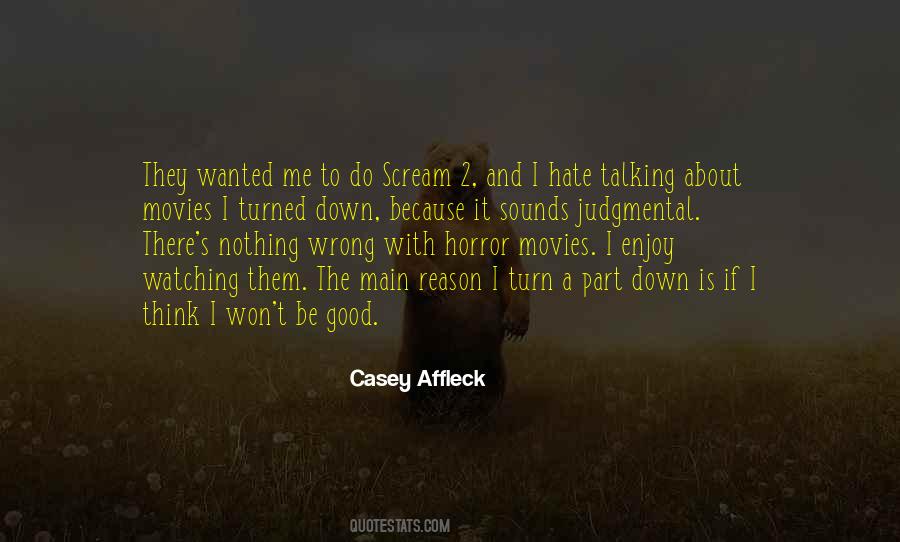 #41. If there is horror, it is for those who speak indifferently of the next war. If there is hate, it is for hateful qualities, not nations. If there is love, it is because this alone kept me alive. - Author: Claude Cahun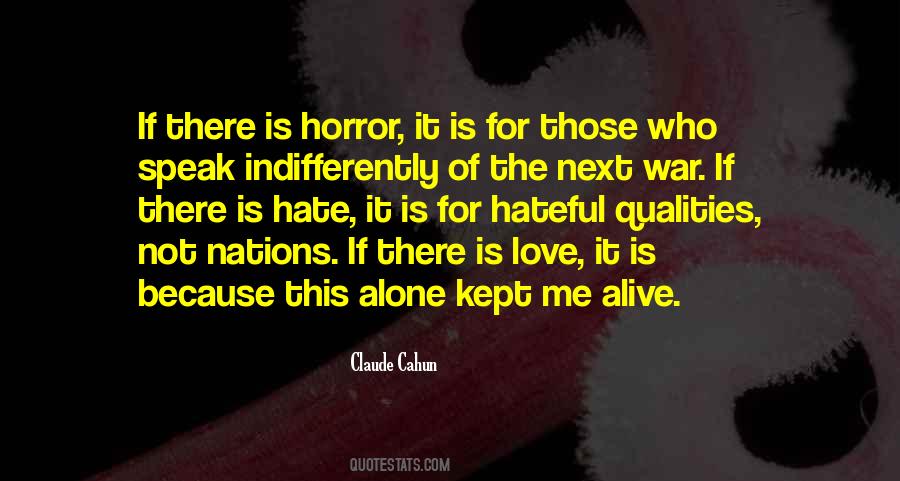 #42. Knowing all of this makes me love and hate Jesus at the same time. Because, when instead of contrasting good and evil, he contrasted truth and evil, I have to think about all the times I've substituted being good (or appearing to be good) for truth. - Author: Nadia Bolz-Weber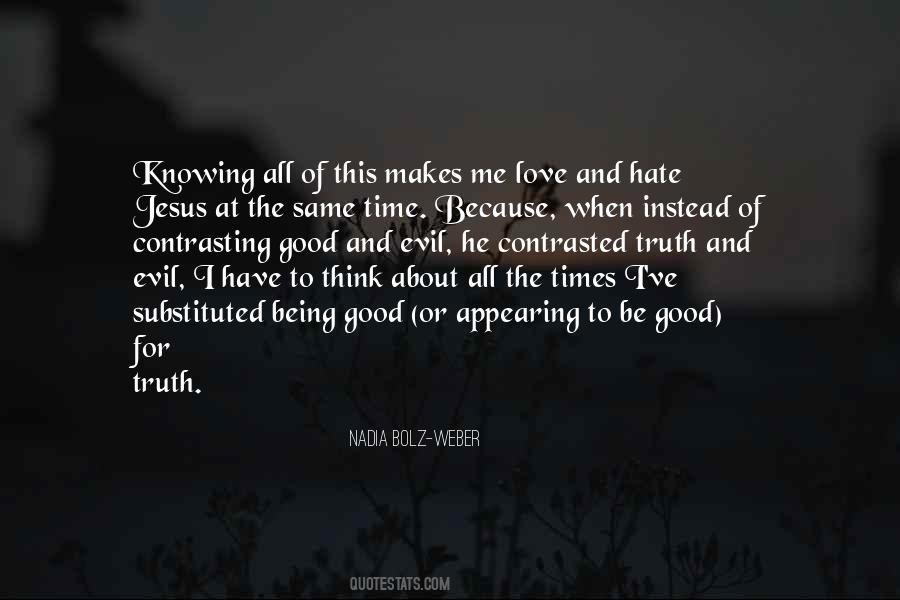 #43. Don't hate me because I'm fabulous - Author: Prince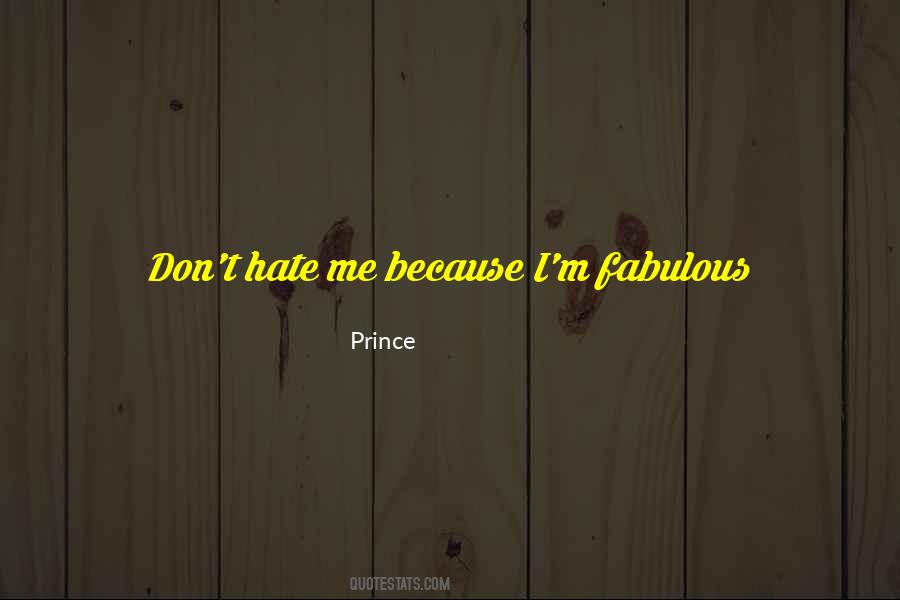 #44. I don't even wear shoes with heels because I hate making a noise when I walk and people looking at me. - Author: Grimes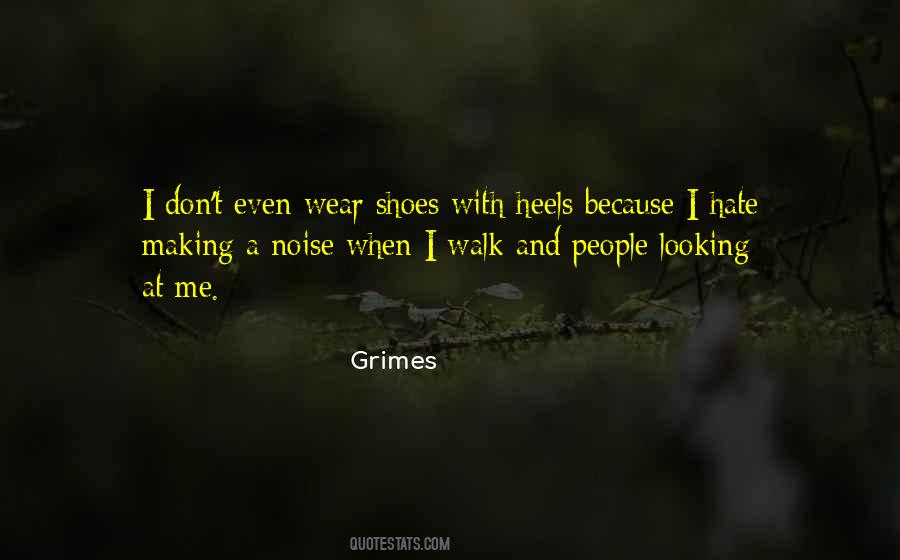 #45. You can hate me. You can go out there and say anything you want about me, But you will love me later because I told you the truth. - Author: Mary J. Blige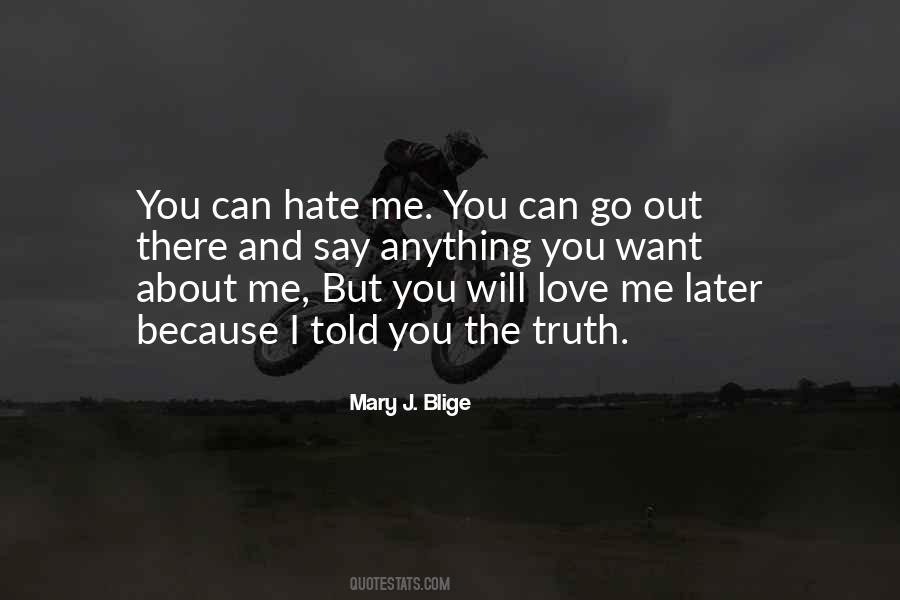 #46. Why are you so determined to hate me? Why, all of a sudden?
Because it would be so much harder to love you, she wanted to say - Author: Aria Kane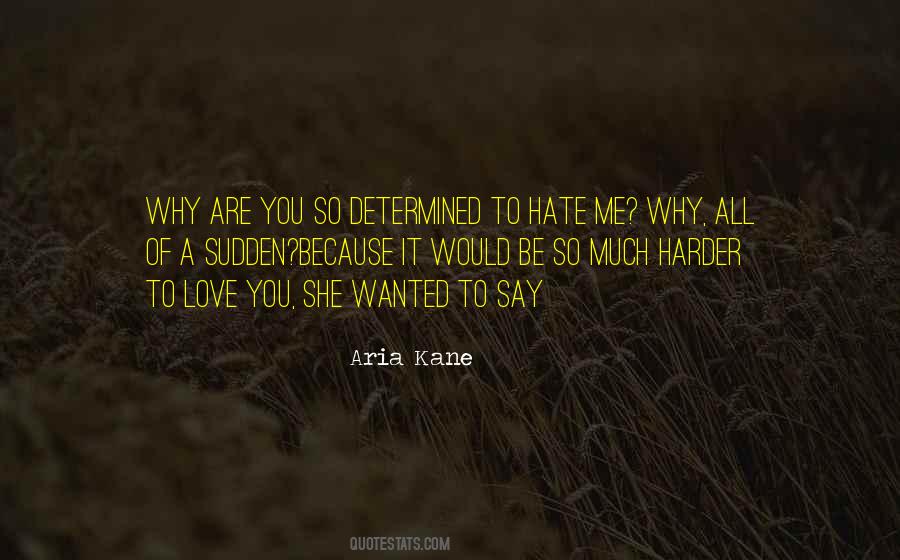 #47. I'm not really big into Twitter and stuff, but I like to post really cool music videos, just sort of spread a positive light on things that interest me. As opposed to, "I hate so-and-so because they were wearing the same hat as me." That's just so pointless. - Author: Tyler Blackburn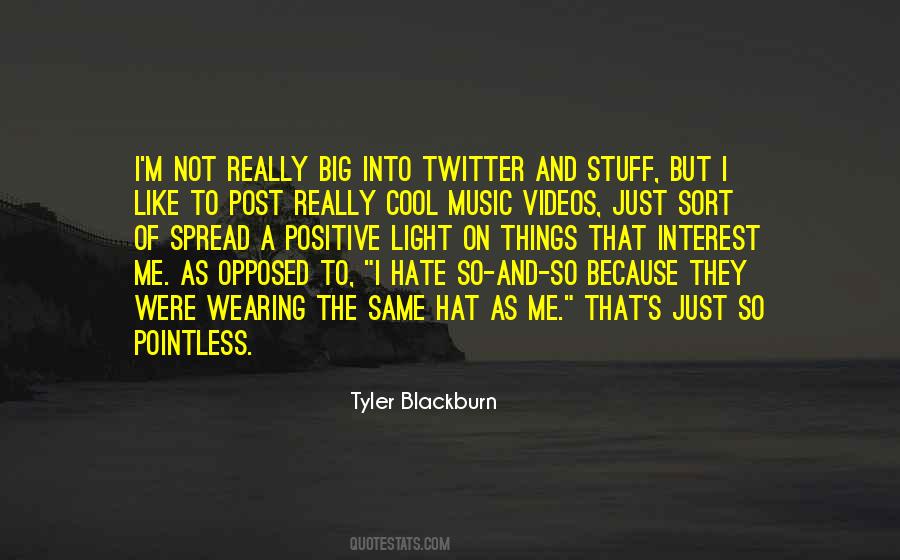 #48. I'm going to become bitter and distrustful of people because one person betrayed me. I'm going to hate those who have found their treasure because I never found mine. And I'm going to hold on to what little I have, because I'm too insignificant to conquer the world. - Author: Paulo Coelho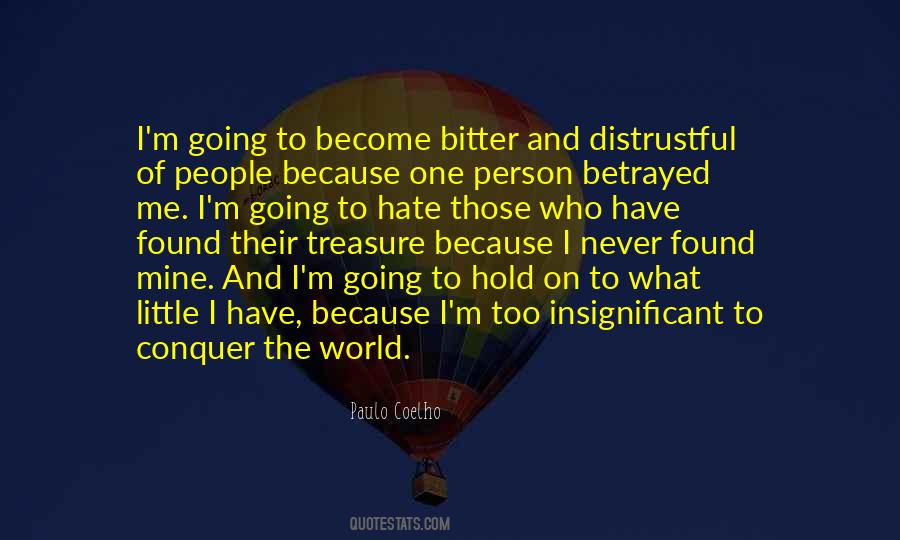 #49. I write because there is nothing as joyful as writing, even when the writing is twisted and full of hate, the self-hate that makes writing not only possible but necessary. I hate myself, I hate the people around me, but what I crave is the fulfillment of some ideal. - Author: Gary Shteyngart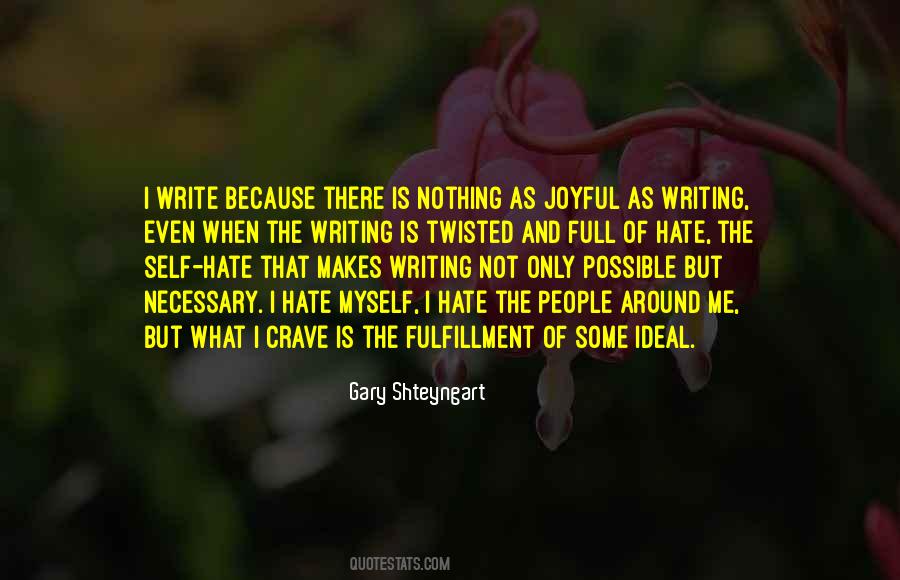 #50. Oh how I hate you, you filthy. But you're cleaner than me, because you've got no mind to sell, just that poor flesh. - Author: John Fante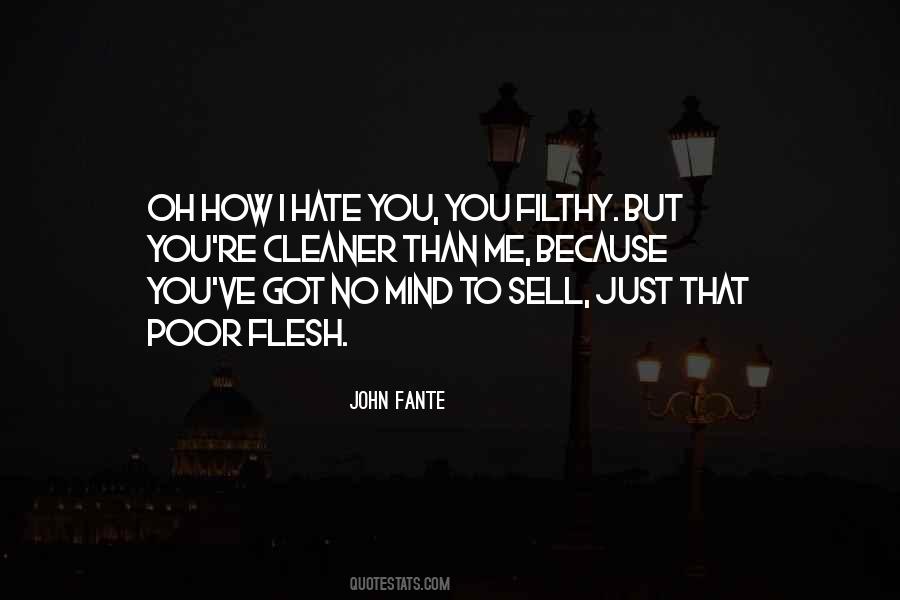 #51. I usually don't think of anyone ever suspecting that I might be someone who'd cry at stuff. I cry at movies all the time. And sometimes it really pisses me off because I hate it when they're just jerking my chain and it's just like completely manipulative. - Author: Richard Hell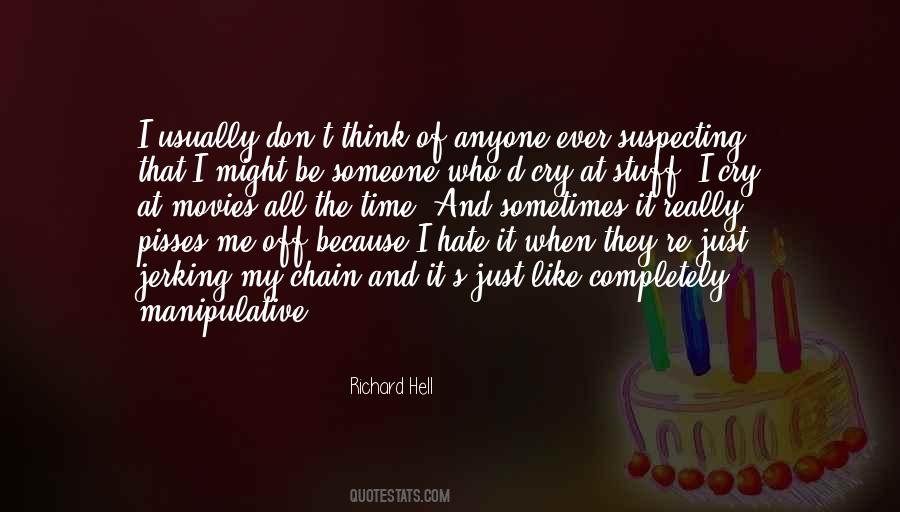 #52. I feel like people either love me or hate me, which is good, because that was the point of what I do. The point of M.I.A. is to be - it's either to be loved or hated. At least you evoke that much of a strong opinion about music. - Author: M.I.A.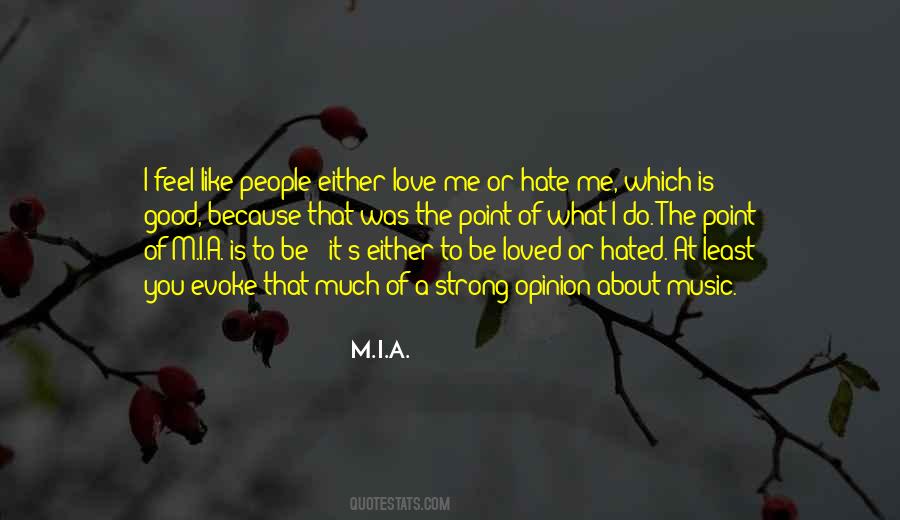 #53. I see how you look at me," spits the hateful man. He thinks we look upon him with the evil eye when we are not looking at him that way at all. We are just looking at him. It's because he can't accept the hate inside of himself that he projects it onto us. - Author: Kate McGahan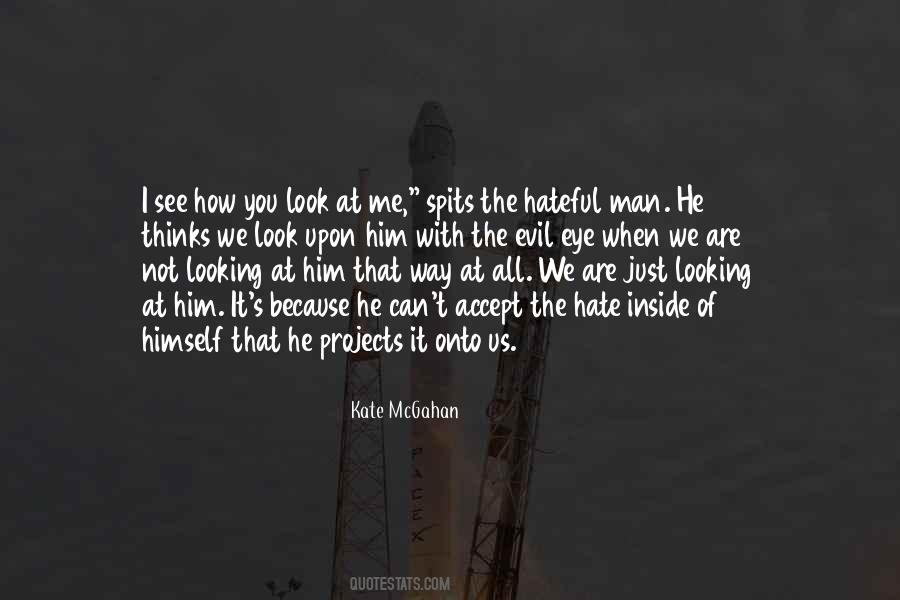 #54. Think you hate me because ... I'm someone you can hate. I'm here, I'm handy. But what you really hate is the world. - Author: N.K. Jemisin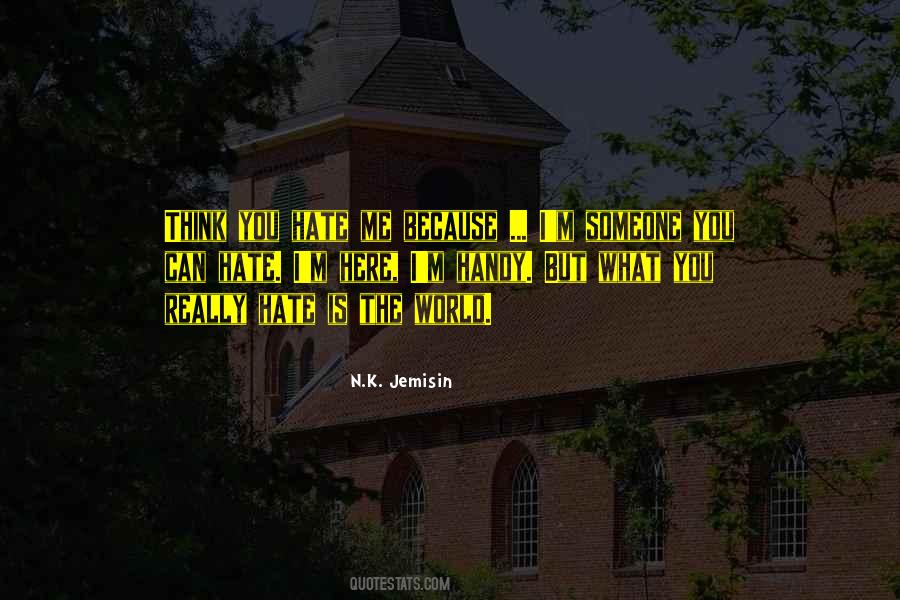 #55. Love is not all you need. I need time ... a lot of it. Love won't help me forget. It was the reason why I'm like this. It was all the reason behind this pain I am feeling. Because. Of. Love. - Author: Kristine Cuevas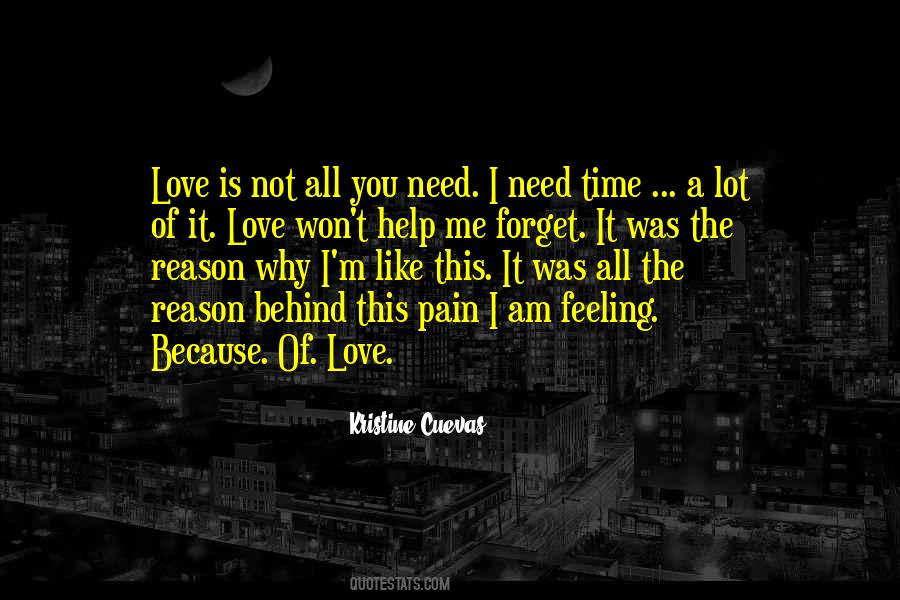 #56. just because i hate life it doesn't meen i don't want to live it !! - Author: Just Me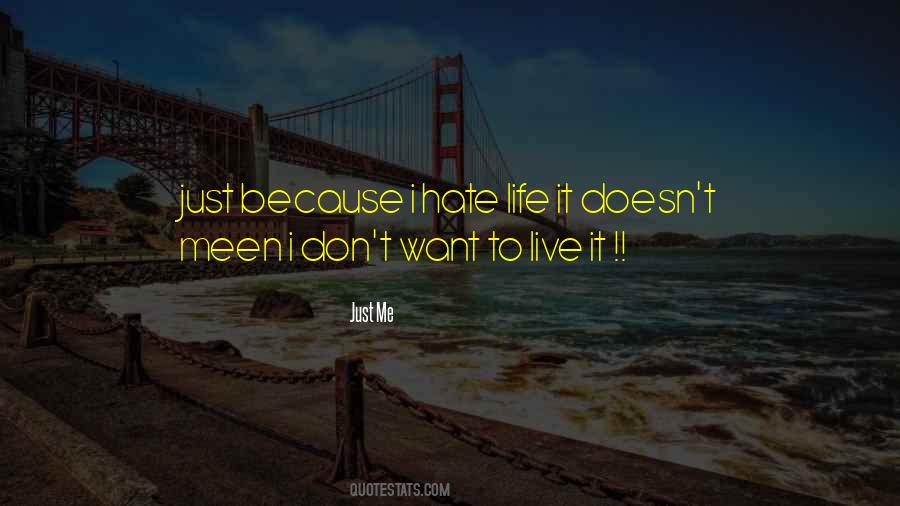 #57. Donohue: "It is Christianity that [Manson] hates, and it is Catholicism that he hates most of all. This guy is at war with Christ." Manson: "I can't possibly be at war with Christ, because your religion killed him and what he stood for. But if you want to be at war with me, bring it on." - Author: Marilyn Manson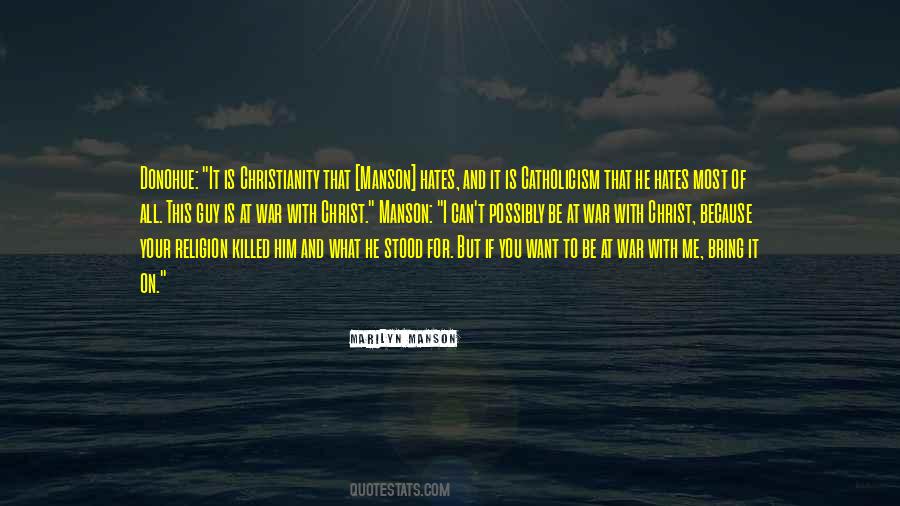 #58. I hate most people. And I don't want to, it's an awful way to be. But the human race gives me no comfort. I find myself turning to books and films for comfort still. It's repulsive, because one's life consists of people, not things. - Author: Morrissey
#59. I think producers hate me because I will sing something 20, 30 times before I feel it. I always know when I hit it the way I want to, but it's really all in my head and no one else can understand it. - Author: Vic Fuentes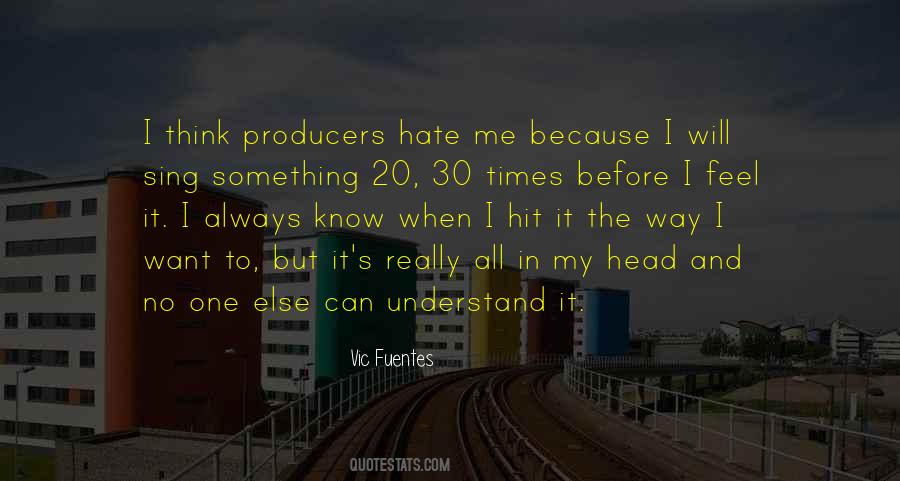 #60. I'm just really tiny. People hate me, because I just sit. I'm eating, I'm eating, I'm eating and then I just ... sit. And I don't gain a thing. - Author: Chanel Iman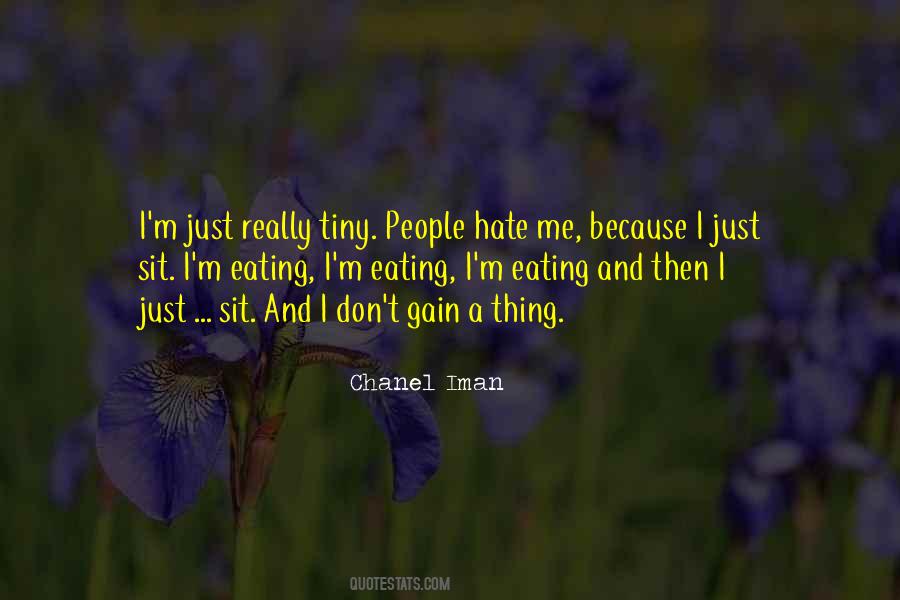 #61. I don't really mind not being a part of a film - because if there is no part for me, I will never force myself upon a film. I feel like it's just a distraction. If it is not organically incorporated into the story, it just feels like a stupid appearance, like a sort of wink. I hate that. - Author: Xavier Dolan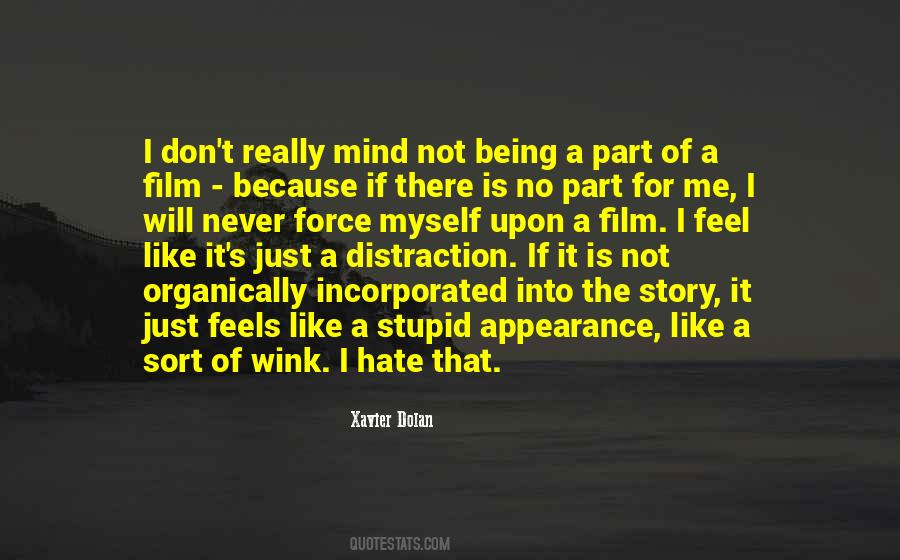 #62. He doesn't care that I cuss like a trucker. He doesn't care that I hate dressing up. Or that I don't look like someone who stepped off the cover of some fashion magazine. Adam would never want me to be something I'm not for his sake. Now I know without a doubt that I love him because of that. - Author: Lauren Hammond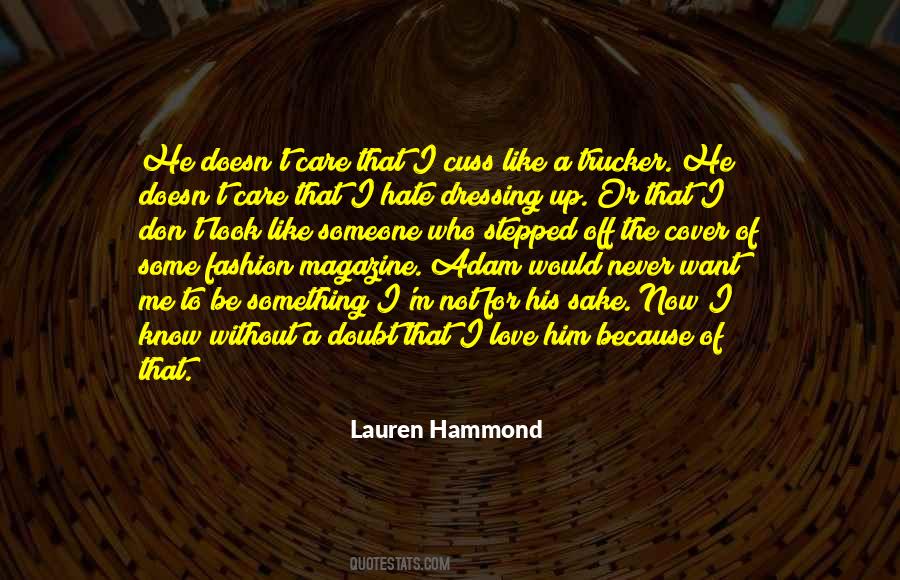 #63. I have no skills with machines. I fear them, and because I cannot help attributing human qualities to them, I suspect that they hate me and will kill me if they can. - Author: Robertson Davies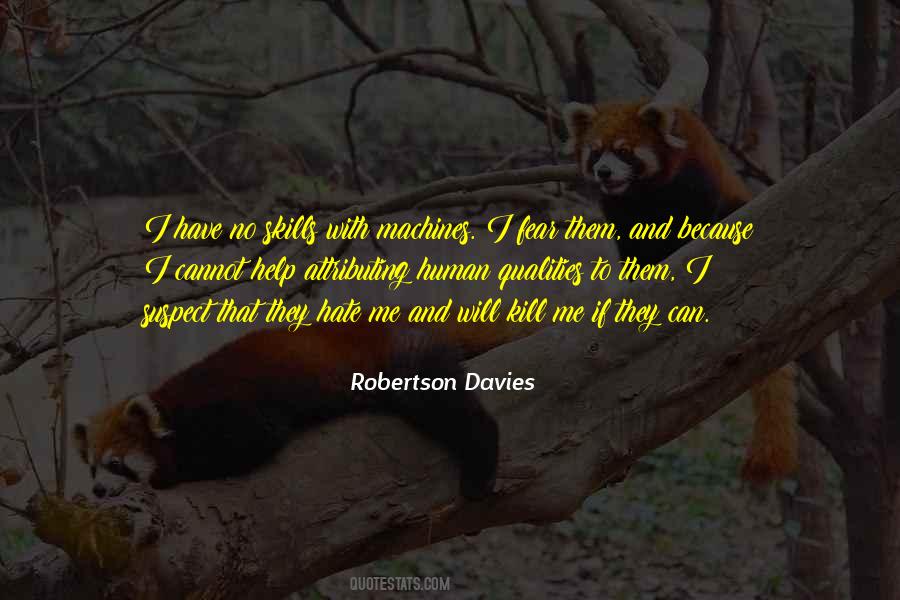 #64. I hate learning through experience. Just once I'd like to learn something because someone was nice enough to tell me in advance. - Author: Rita Rudner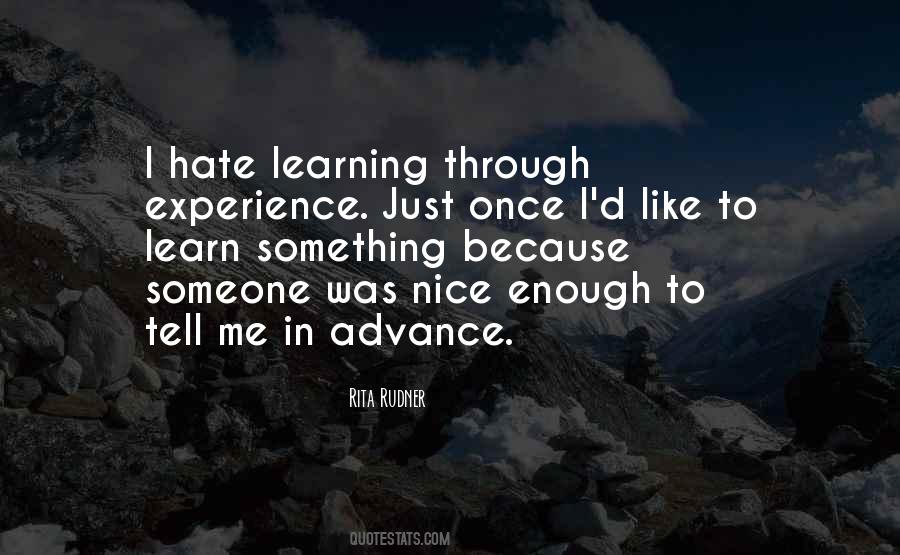 #65. It's not you she hates, Schuyler. It's me. She just turned her anger outward because she couldn't bring herself to hate whom she loves. - Author: Melissa De La Cruz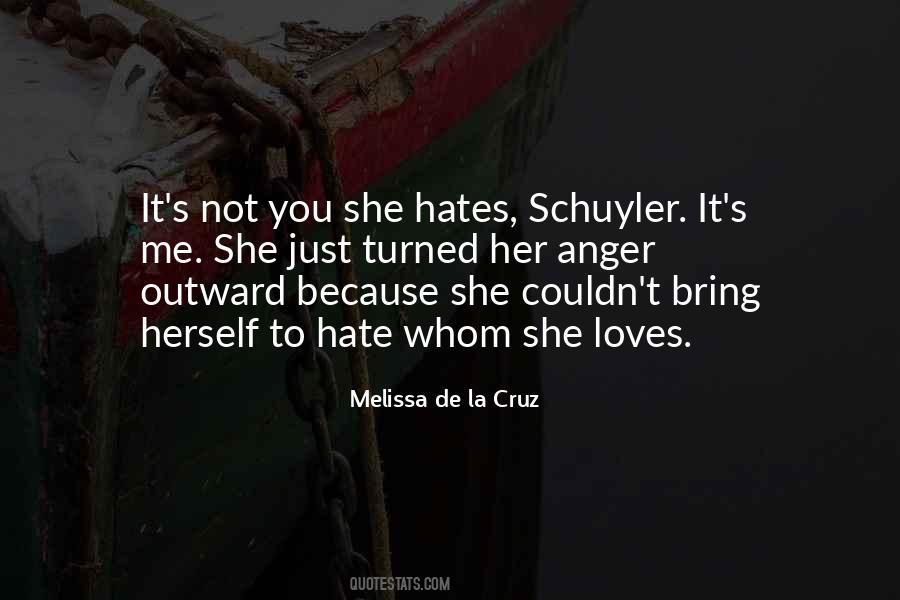 #66. I knew then that Jocelyn would never come back to me, because of you. You are the only thing in the world she ever loved more than she loved me. And because of that she hates me. And because of that, I hate the sight of you - Author: Cassandra Clare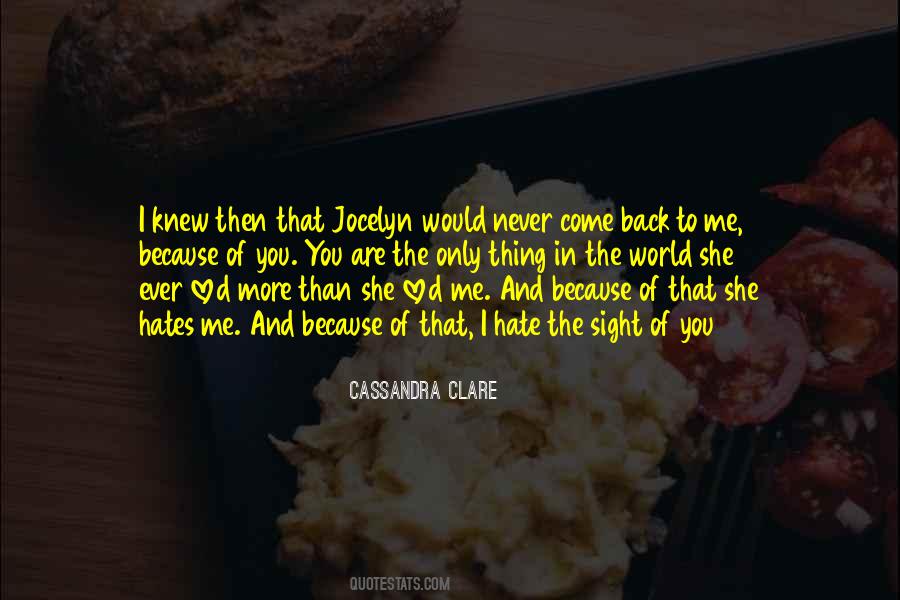 #67. [Rayleen talking to Billy.] "Grace is thriving here, and I dare anybody to challenge that. Anybody who has a problem with that can come take it up with me."
"Thank God," Billy said, "because I really hate it when people come take things up with ME. - Author: Catherine Ryan Hyde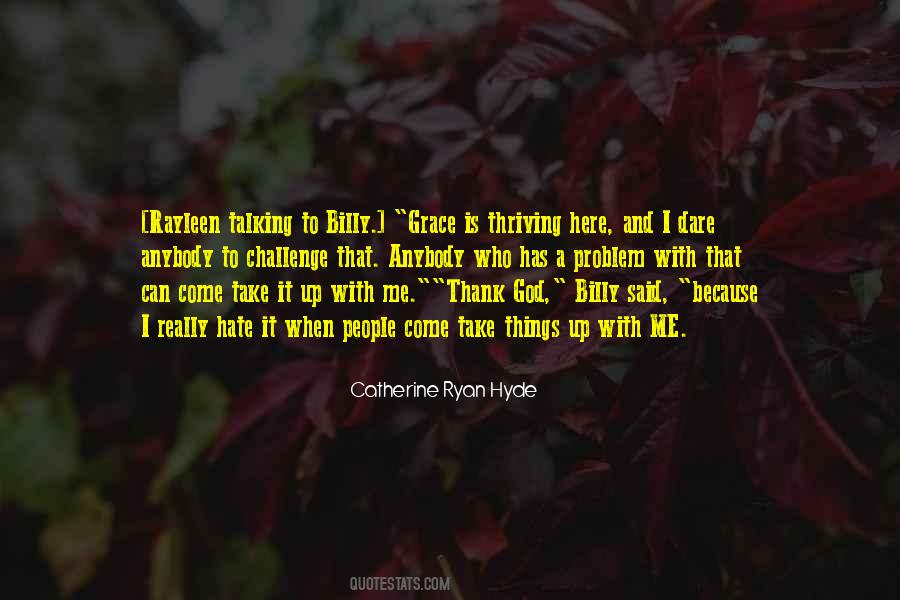 #68. Because love is the greatest scam of all time. And because as much as I fucking love you, I hate you for inflicting it upon me! - Author: J.A. Redmerski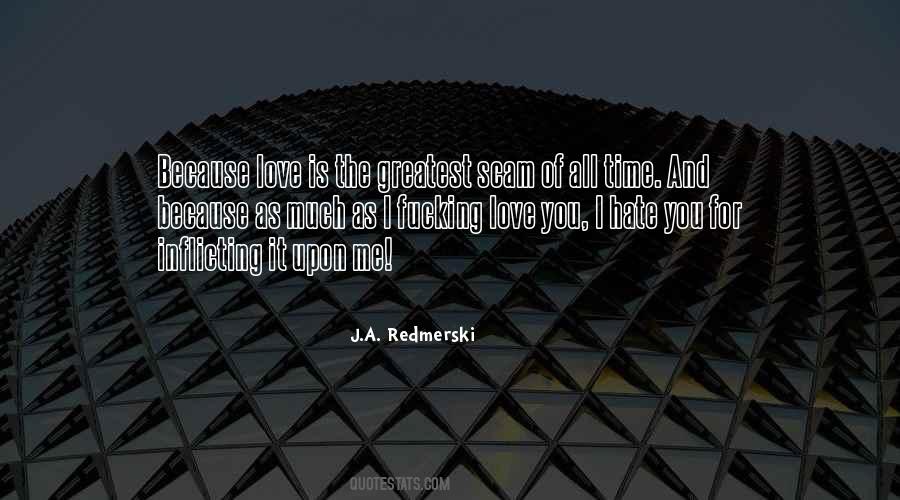 #69. Famous Harry Potter and all that. I'd hate to see what the Ministry'd do to me if I blew up an aunt. Mind you, they'd have to dig me up first, because Mum would've killed me. - Author: J.K. Rowling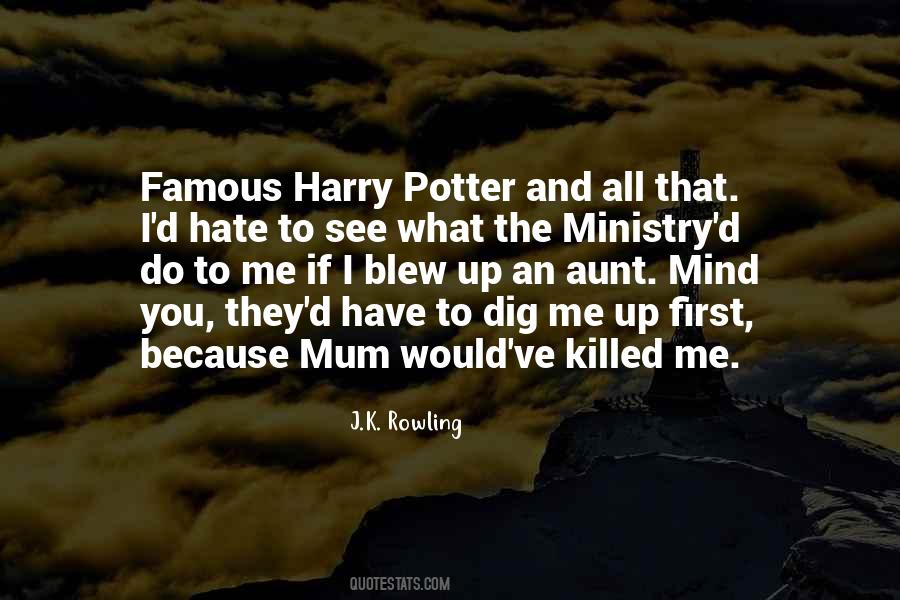 #70. In Serbia a lot of people hate me because they want to westernize, not understanding that the western world is bipolar, with very good things and very bad things. - Author: Emir Kusturica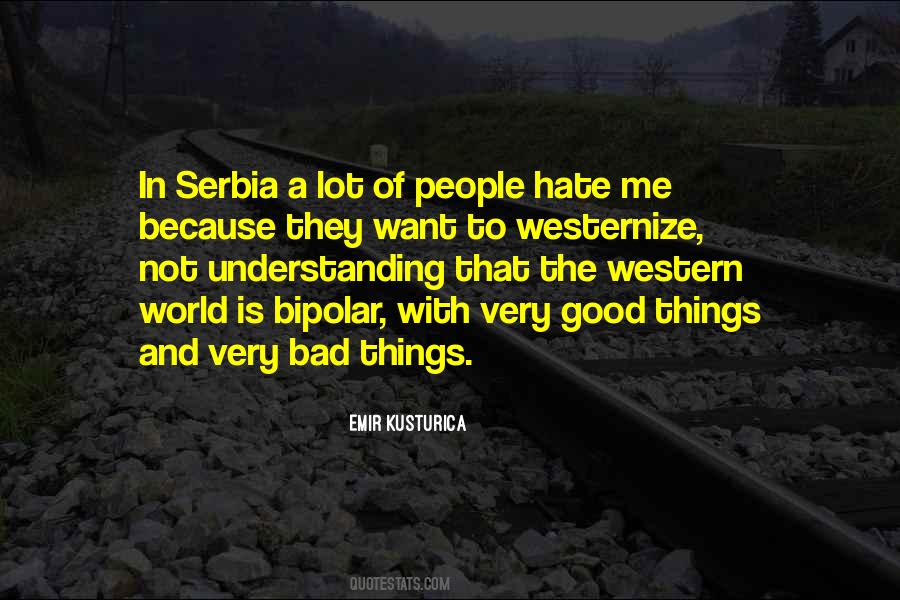 #71. I love you, and because I love you, I would sooner have you hate me for telling you the truth than adore me for telling you lies. - Author: Pietro Aretino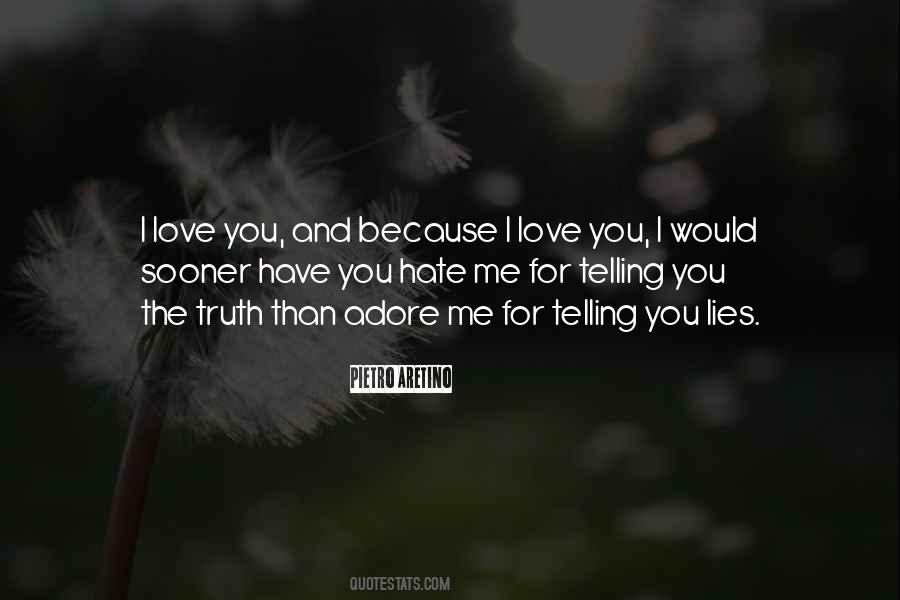 #72. You know I hate, detest, and can't bear a lie, not because I am straighter than the rest of us, but simply because it appals me. There is a taint of death, a flavour of mortality in lies - which is exactly what I hate and detest in the world - what I want to forget. - Author: Joseph Conrad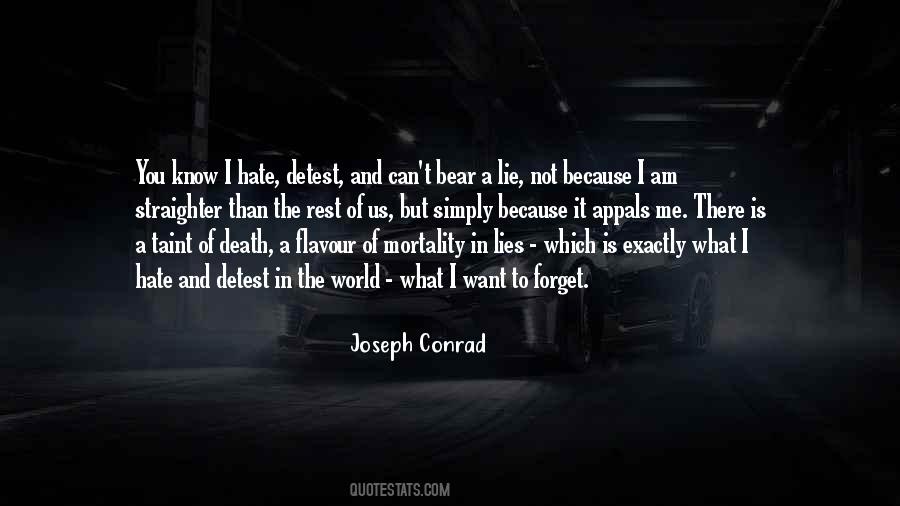 #73. Dear Mornings,I know you hate me but don't you worry because I hate you too! - Author: Sonya Watson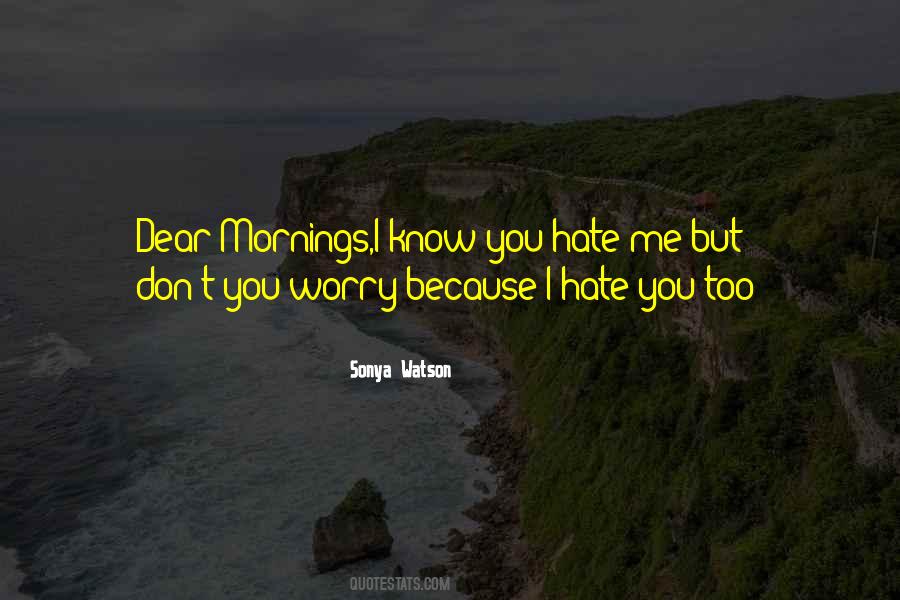 #74. I used to hate looking at my markings. But the captain taught me they don't mean anything. Because I'm more than the sum of my mistakes. - Author: Melissa Landers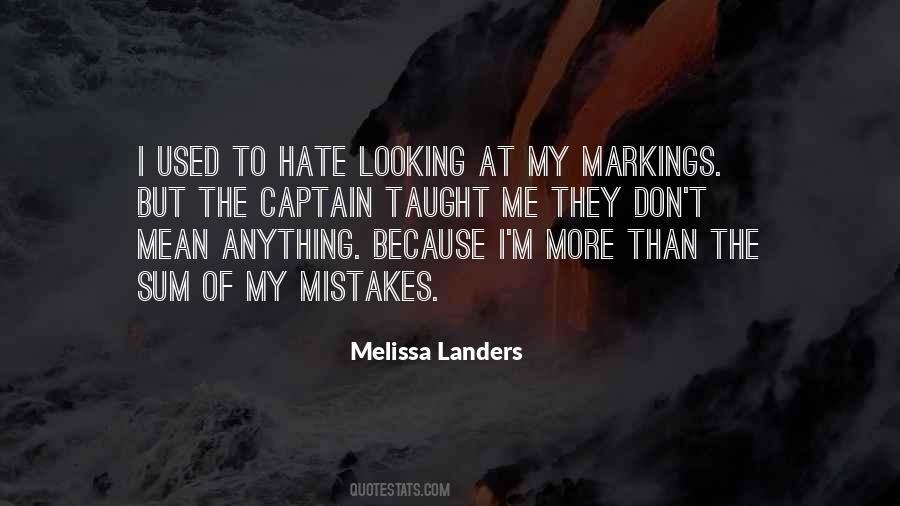 #75. I hate belongings. I hate clutter. It really bothers me because I can't think properly. If you've got distractions in front of you, your mind goes nuts. - Author: Simon Cowell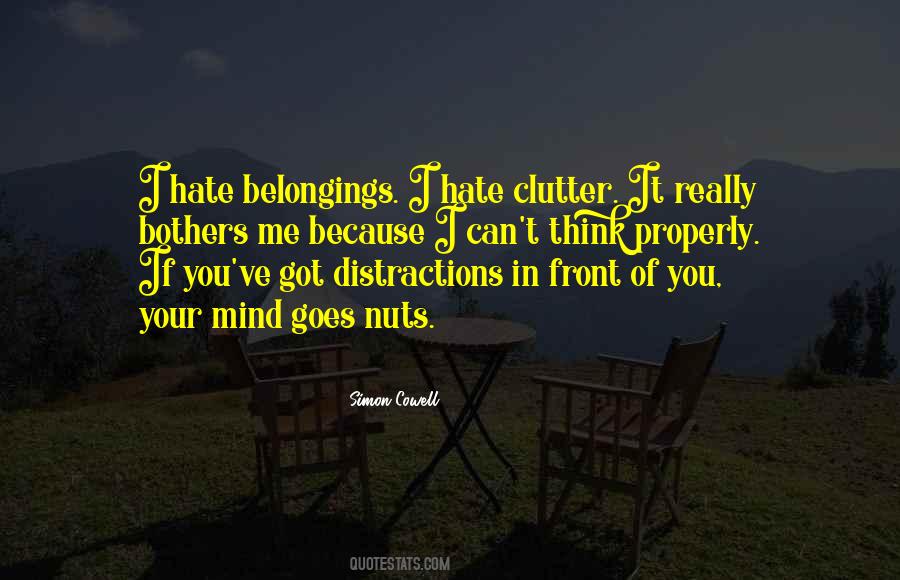 #76. So many people from my past taught me that it's not everyone that's in my life wants to see me achieve my goals and be great, but I thank God they're no longer in my life because I moved on a long time ago, welcome to my present. - Author: Werley Nortreus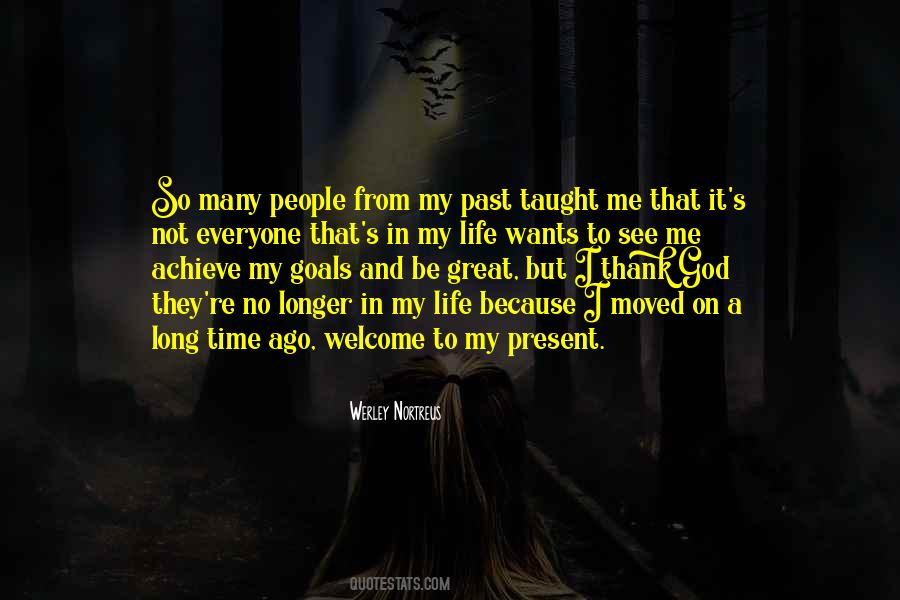 #77. I used to hate Ian Rush when I was young, because I was a devout Evertonian in those days, and he seemed to score every time Liverpool played against us. It's strange to think he used to support Everton too when he was a kid. He was brilliant to me at Anfield always giving me good advice. - Author: Robbie Fowler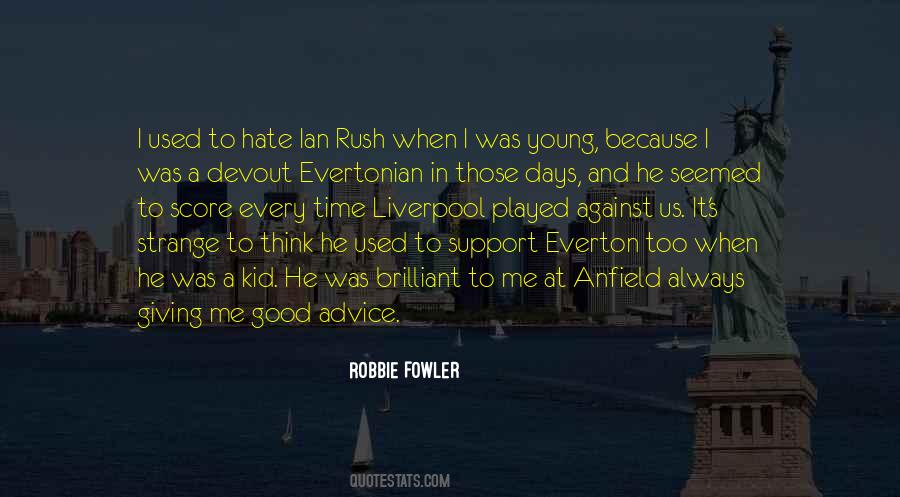 #78. I stop paying attention because as much as I love beauty, I hate stupidity, and seeing the two combined pisses me off. - Author: Tucker Max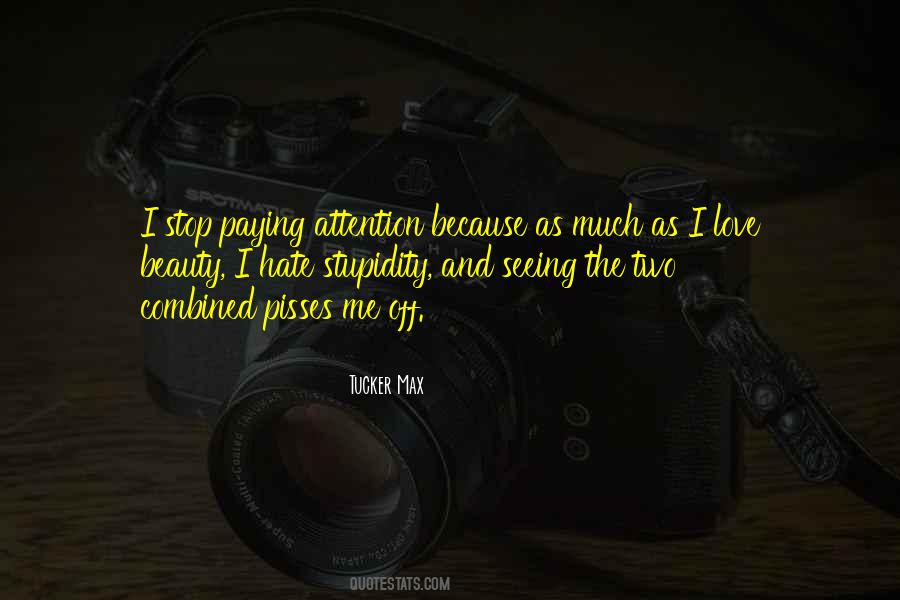 #79. Elizabeth is my happiness, he thought again. "I could hate her for what she did to me."
"Because of one unsuccessful beheading?" She tapped her claw to her chin. "Wow. I never thought you were such a pussy. I'm rethinking our friendship. - Author: Kresley Cole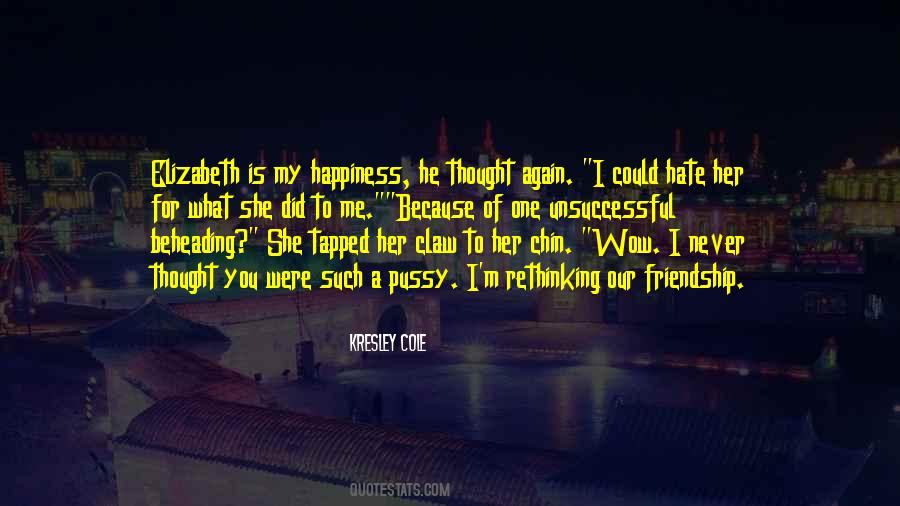 #80. Please, hate me if you have to, never speak to me again, but don't settle for someone you don't love because I hurt you - Author: Katherine Allred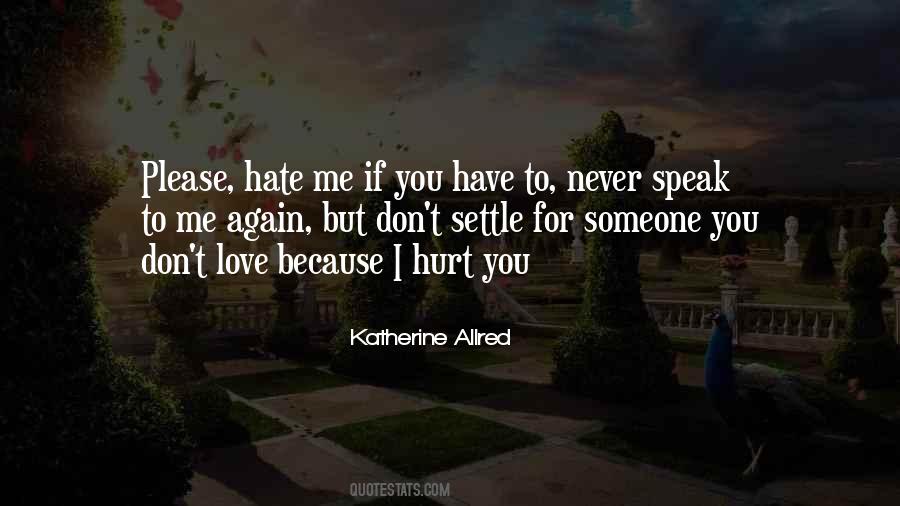 #81. Don't hate me because I'm beautiful. Hate me because I'm a domestic GODDESS and beautiful. - Author: Coco J. Ginger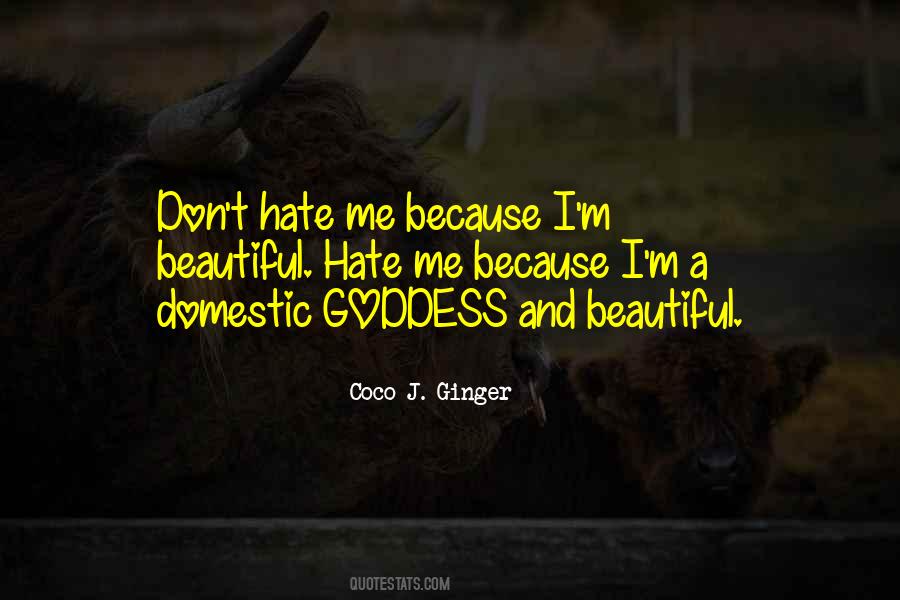 #82. I don't know what his problem is," I said as Michael and I left the school. "Why would he tell me to be careful if he hates my guts?"
"Because he doesn't hate your guts. I think he likes you." Michael was walking so fast I had to jog to keep up with him. "Isn't it obvious? - Author: Michelle Rowen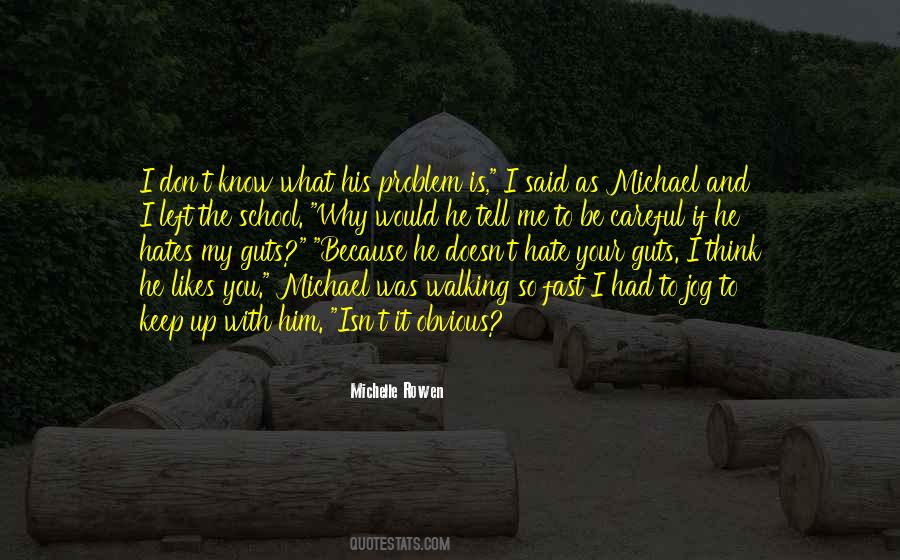 #83. The high point of civilization is that you can hate me and I can hate you but we develop an etiquette that allows us to deal with each other because if we acted solely upon our impulse we'd probably go to war. - Author: Stanley Crouch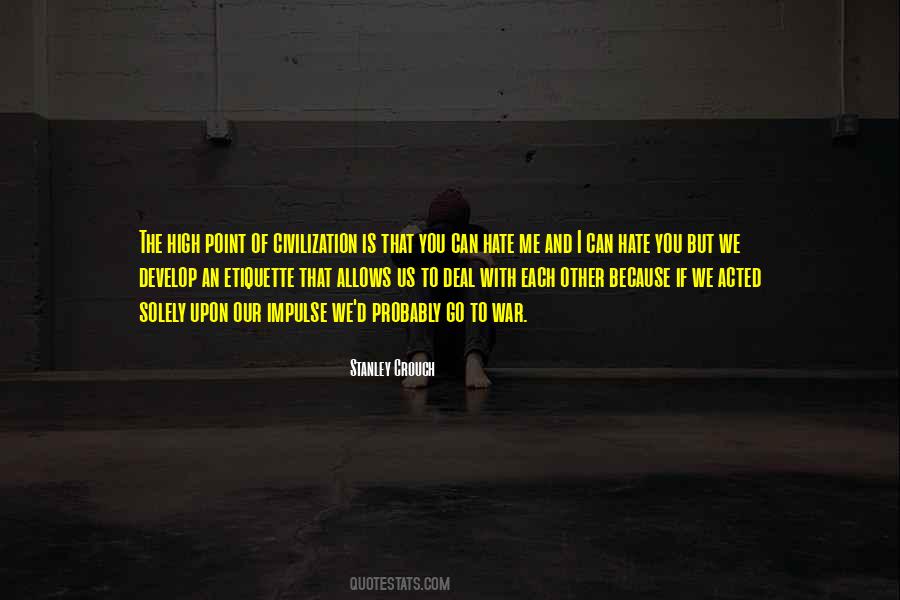 #84. I have so many people out there that celebrate with me when they know that I'm happy. And they hate it when they know that I'm suffering because someone has hurt me. - Author: Shakira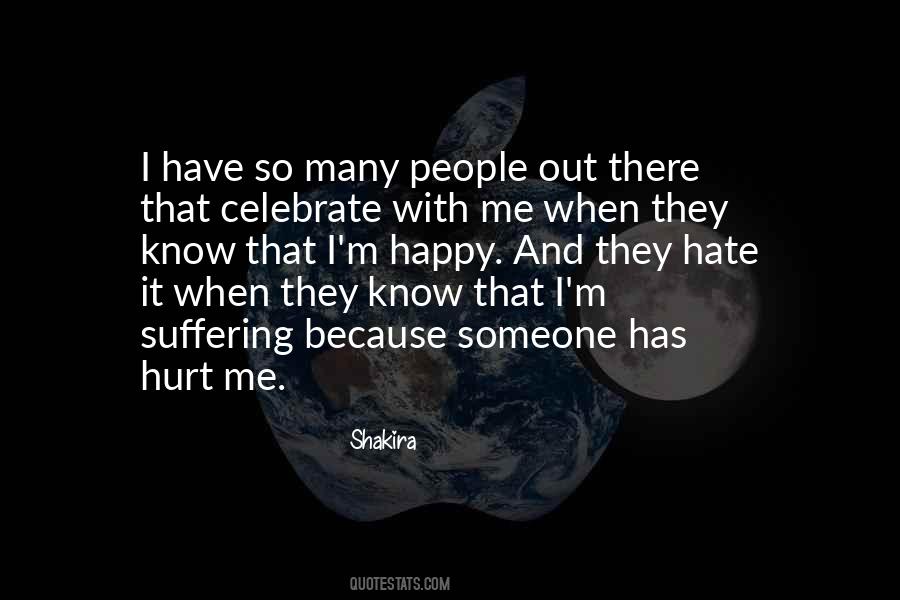 #85. A lot of times, kids go to college and take a major because they do what they think they're supposed to do. I told them I believe 90 percent of America gets up in the morning and drives to a job they hate. That could have happened to me in the hotel industry. - Author: Dana White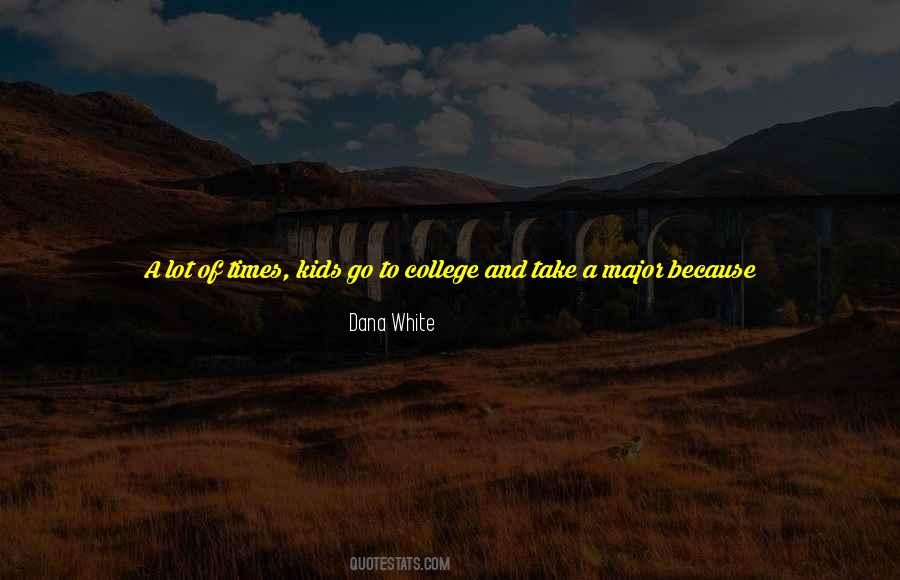 #86. People hate me because I am a multifaceted, talented, wealthy, internationally famous genius. - Author: Jerry Lewis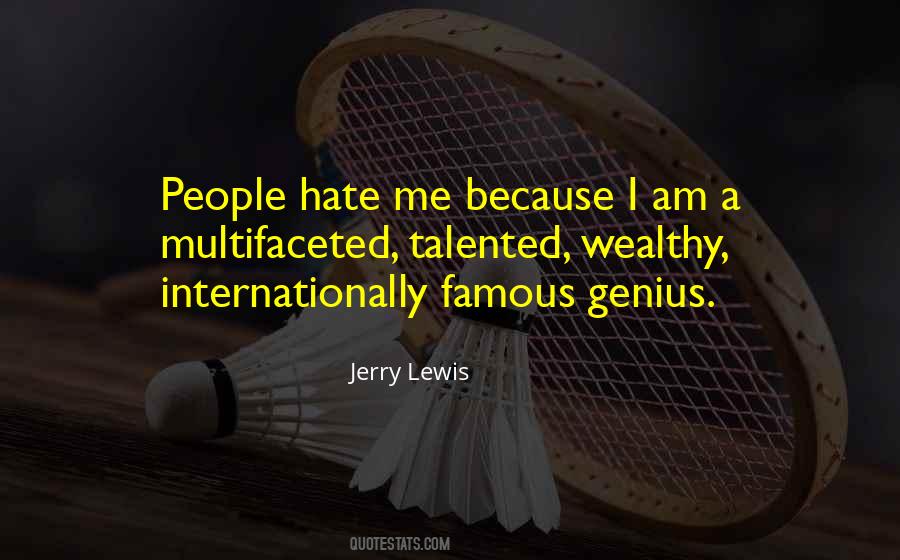 #87. Have you tried this shrimp? It's freaking amazing. Would you get away from me? I hate you. You're so moody. Just because I kidnapped you and tried to force you to be my girlfriend. I thought you would be over that by now. - Author: Meg Cabot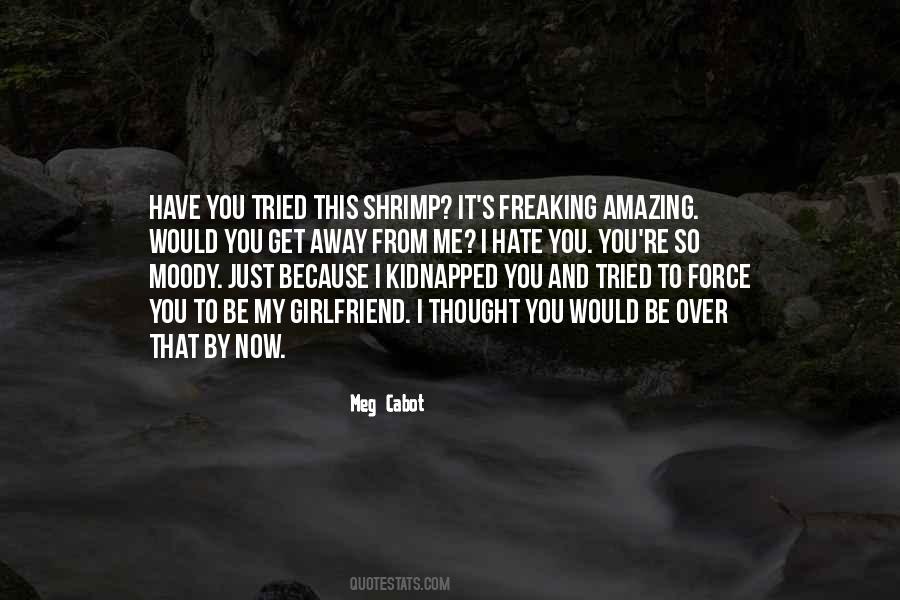 #88. Don't hate me because I'm funnier than you. - Author: Me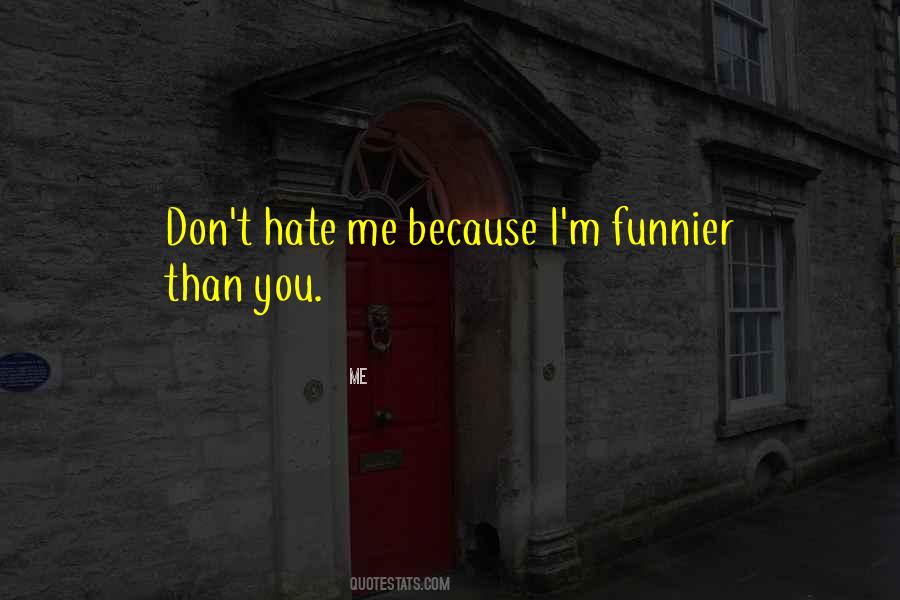 #89. It's a very strange phenomenon being hated by people you've never met. Some journalists just seem to hate me and everything I do, and it's disconcerting because I've never met this person. - Author: Moby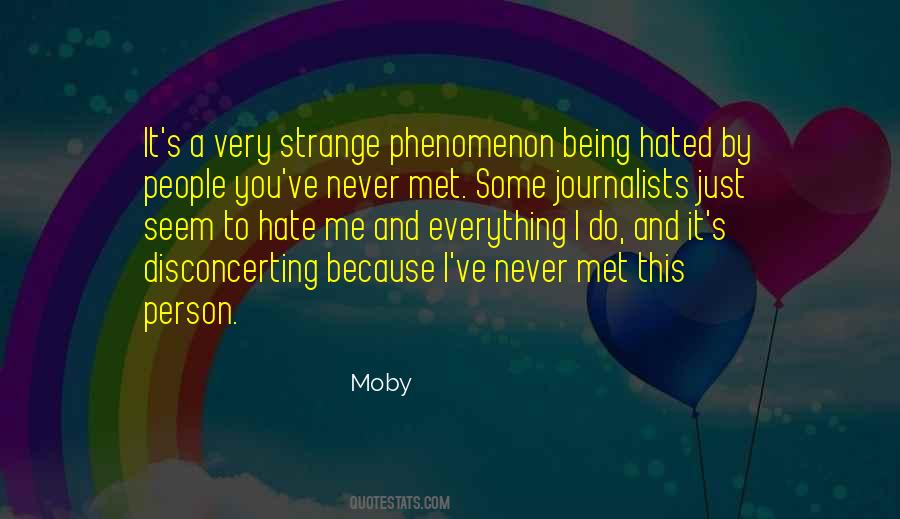 #90. I hate performing on live television. It's so scary, because, if you screw up, you don't really get any retakes. So when I do television shows now, having been on 'Idol' really helps me mentally to just kind of take it all in. So I learned a lot from it. - Author: Phillip Phillips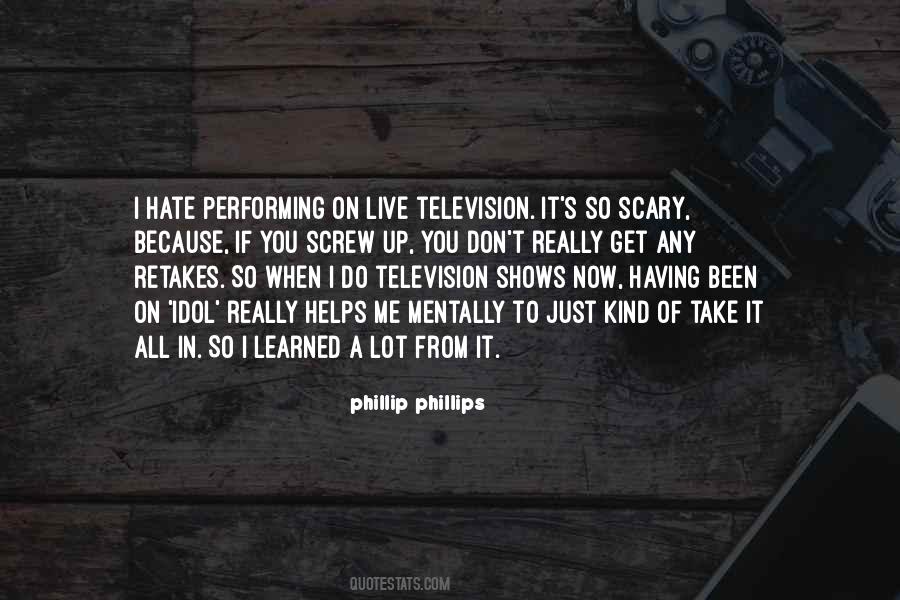 #91. I make funny videos. I hate saying I'm a comedian because then people stick their finger in your face and demand you tell a joke. But the other thing people call me is 'a YouTube sensation,' which is even worse. - Author: Katie Nolan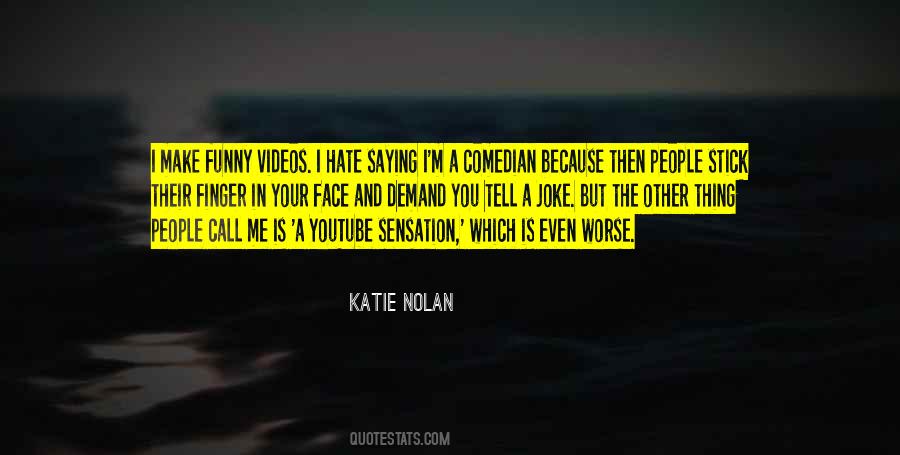 #92. The sad reality is that girl-on-girl hate is such a big issue in schools, at work, or online, and it never made any sense to me because, as women, we know how awesome other women can be. - Author: Lilly Singh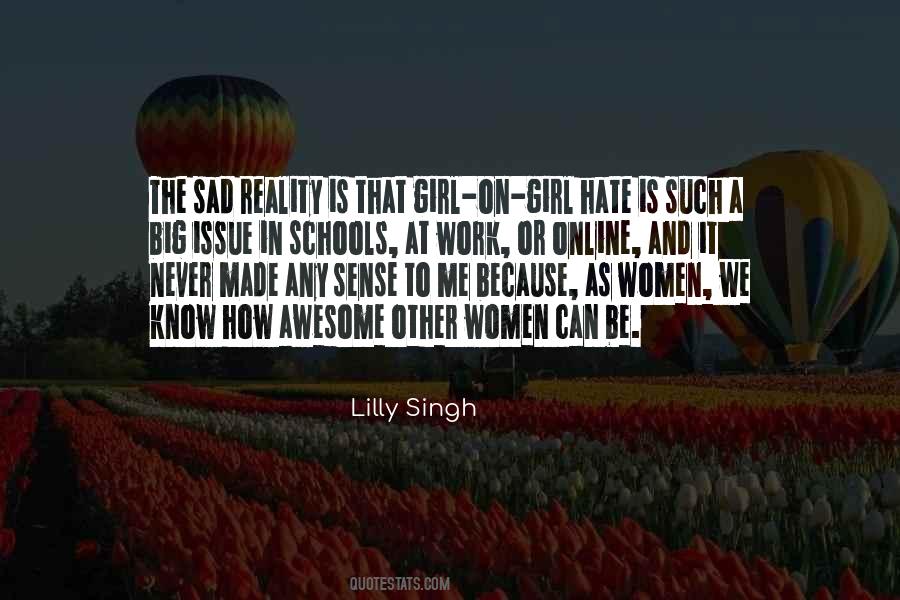 #93. Don't hate me because I can't remember some person immediately. Especially when they look like everybody else, and talk and dress and act like everybody else. - Author: J.D. Salinger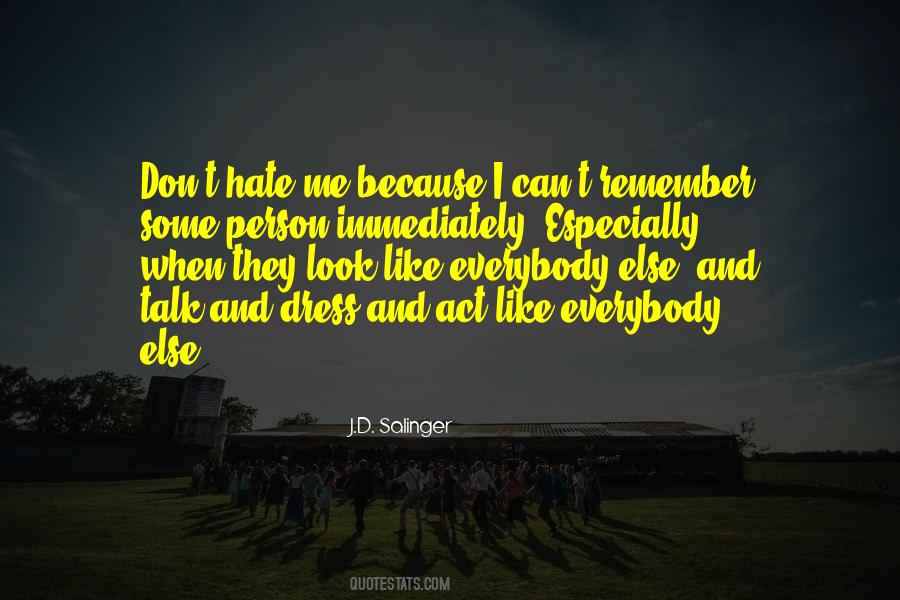 #94. Why do you hate yourself?"
And before I know it, Gat is lying on the bed next to me. His cold fingers wrap around my hot ones, and his face is close to mine. He kisses me. "Because I want things I can't have," he whispers. - Author: E. Lockhart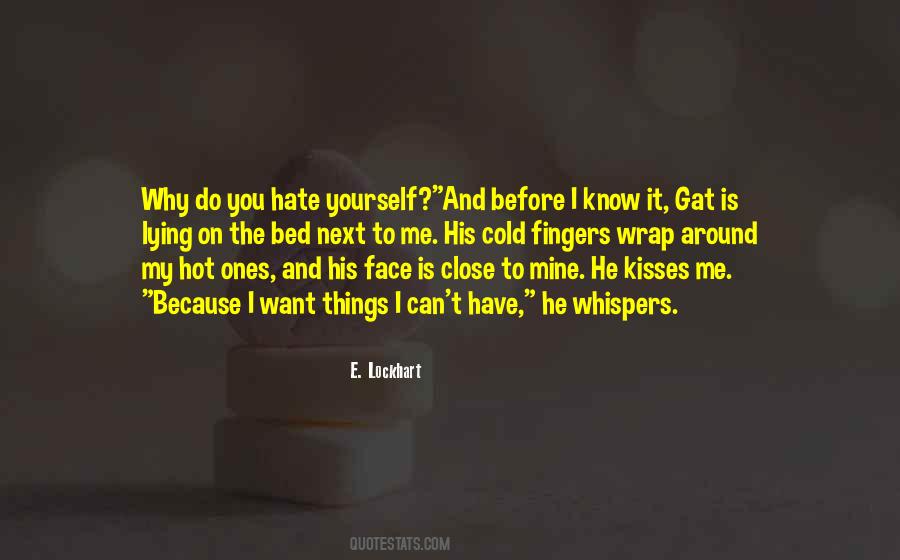 #95. You told me how you hate daffodils because they're morbid. They stick around for a month making everything lemon drop yellow, then die and get replaced by worse flowers.

How the hell does an elementary schooler grasp the concept of beauty not being permanent? - Author: Calista Lynne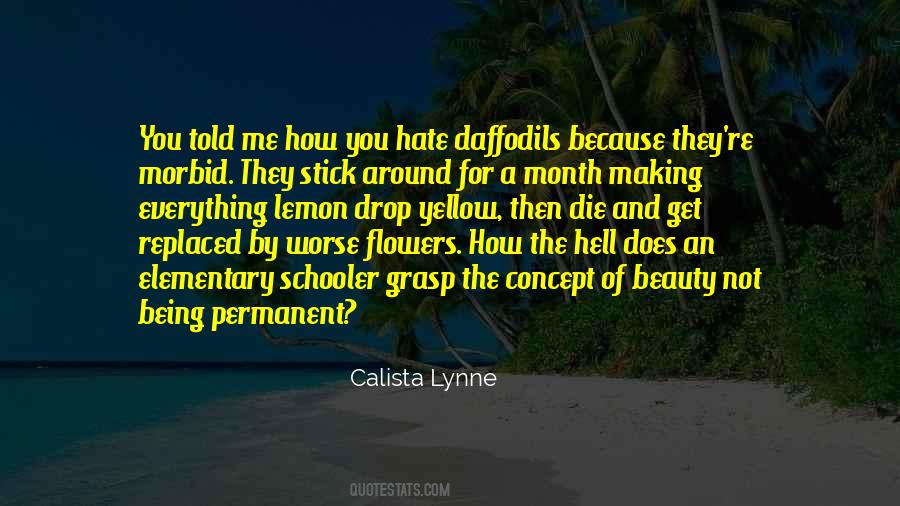 #96. Let me love you, but don't love me back. Do love me and let me hate you for a while. Let me feel like I have some control, because I know I never do. - Author: Ann Brashares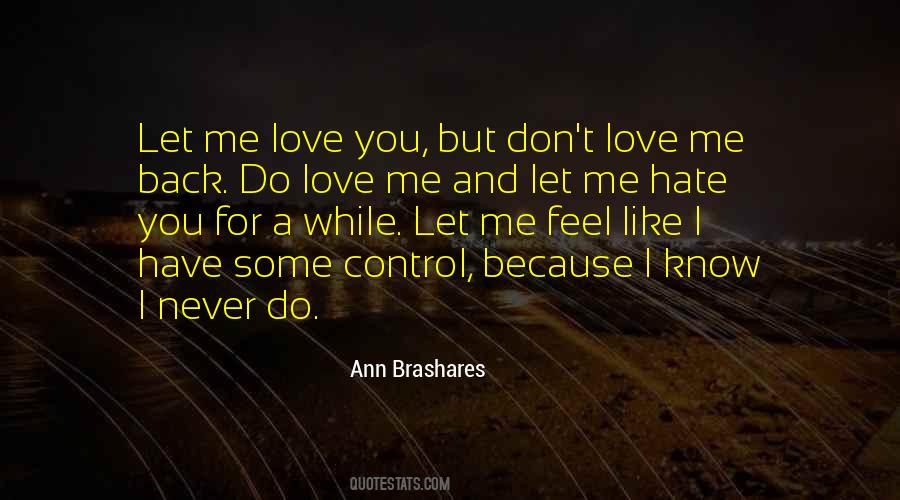 #97. There have been many many times where the uncertainty of life has made me want to force roots into the soil I'm currently standing on - because I'd rather have roots in any soil - than none at all. I hate living with unknowns. - Author: Katie Kiesler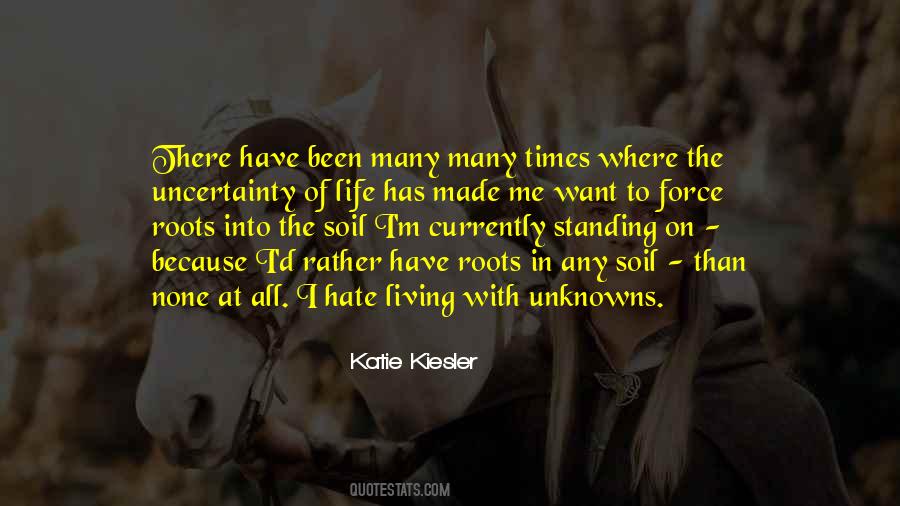 #98. I don't hate anybody. The Winklevi aren't suing me for intellectual property theft. They're suing me because for the first time in their lives, the world didn't work the way it was supposed to for them. - Author: Mark Zuckerberg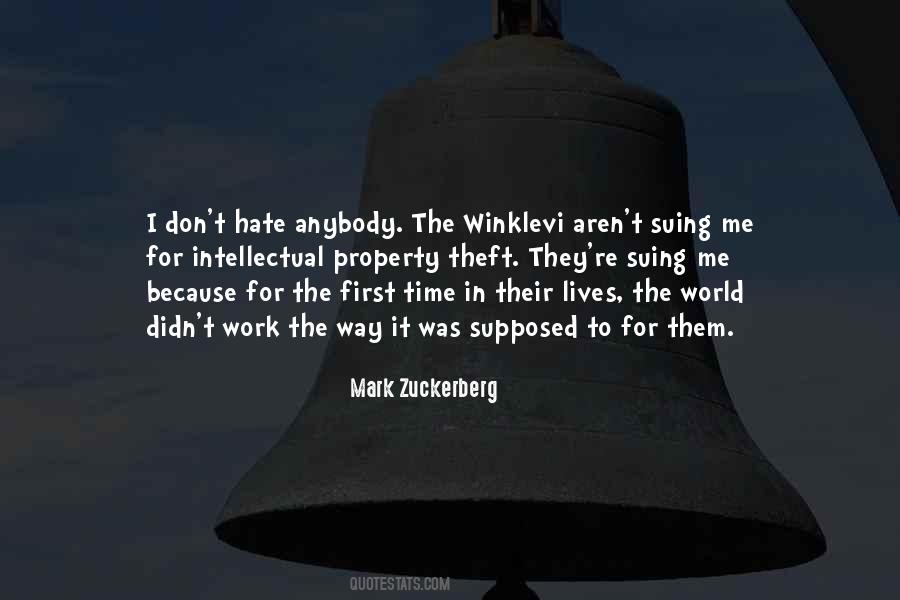 #99. That's because you hate parties," said Trevor. I corrected him. "I hate parties with more than 16 people, remember? It's an exact science," Trevor chuckled, the sound hitting me right in the pit of my stomach."The 16 person rule, I remember now. You were always specific about that number - Author: L. H. Cosway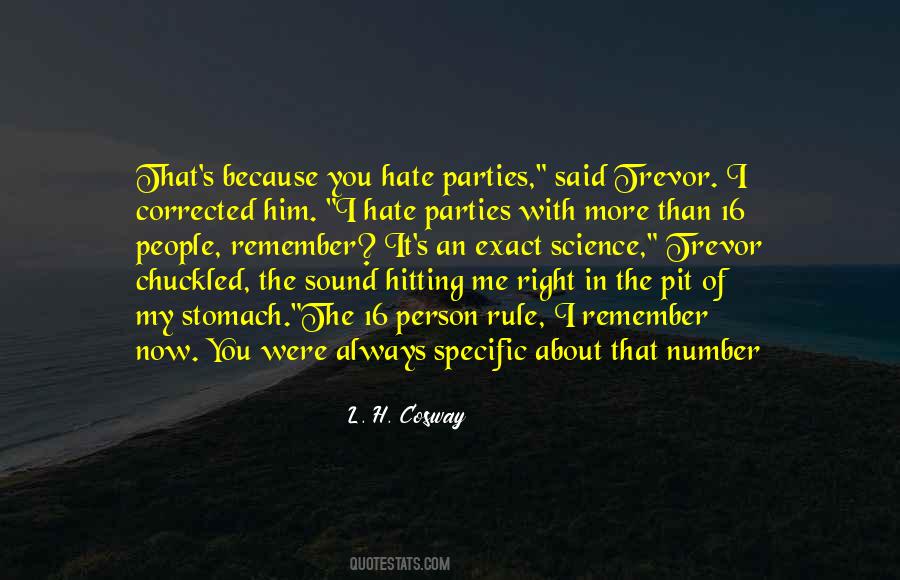 #100. I hate this bizarre policy of protective exclusion, because it effectively writes me off the page. - Author: Sara Gruen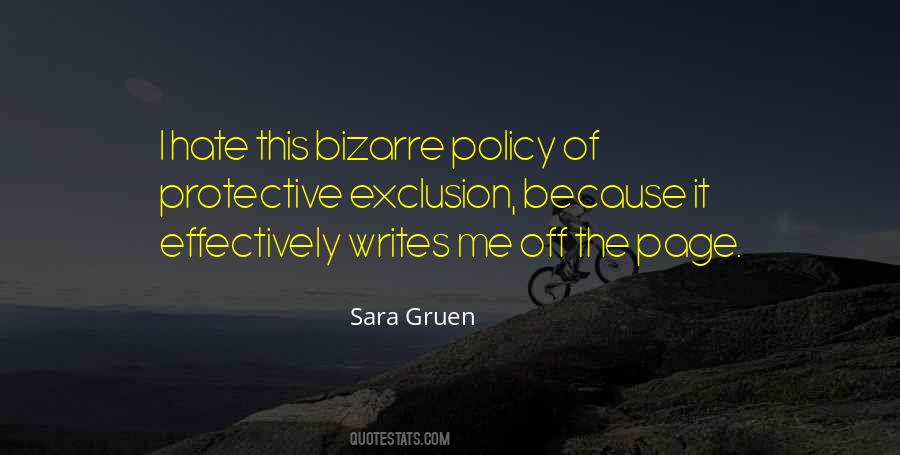 Famous Authors
Popular Topics