M.I.A. Famous Quotes & Sayings
Browse top 71 famous quotes and sayings by M.I.A.. Read & share M.I.A. quotes pictures with friends. Free using on Facebook, Twitter, blogs.
Top 71 M.I.A. Quotes
#1. At first, I found the music I was making really hard to find a home for. I felt like my attitude was really British, but not the actual sounds I was making. Back in 2003, when I made 'Galang,' there were no clubs that had an 'anything and everything' attitude. - Author: M.I.A.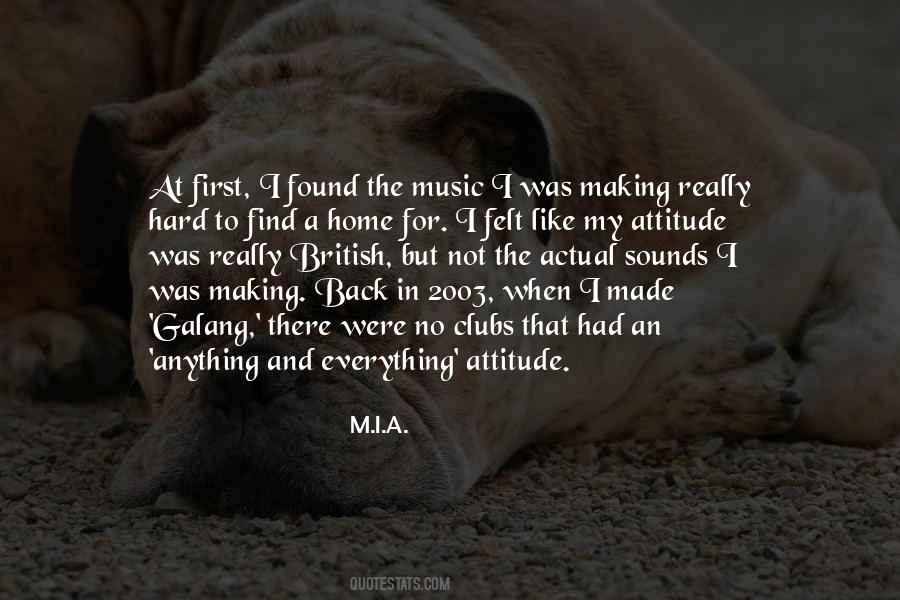 #2. I remember taking my demo to every dance person in London. People were like, 'We don't know what this is!' The first people to champion me were a club in Manchester. - Author: M.I.A.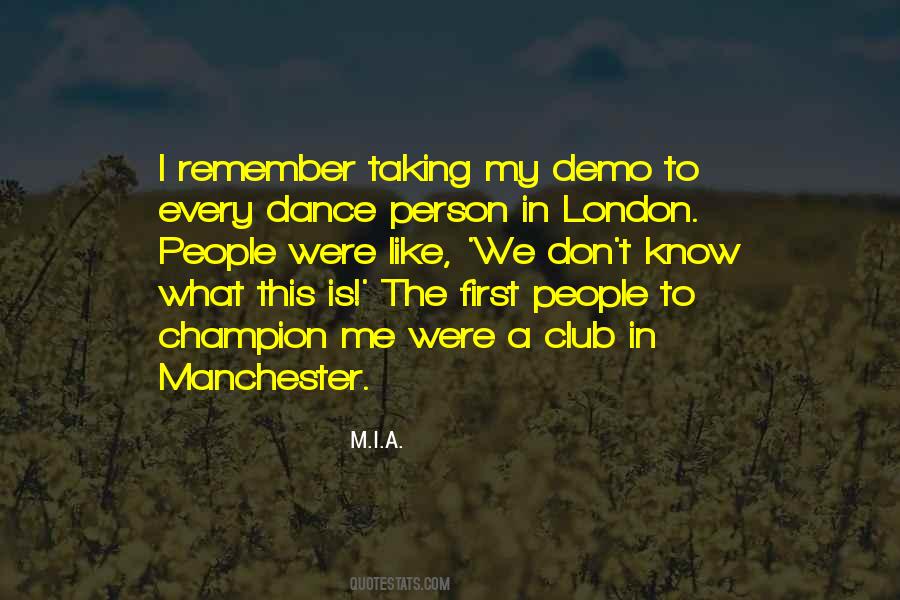 #3. I feel like a mirror reflecting back everyone's perception of me. - Author: M.I.A.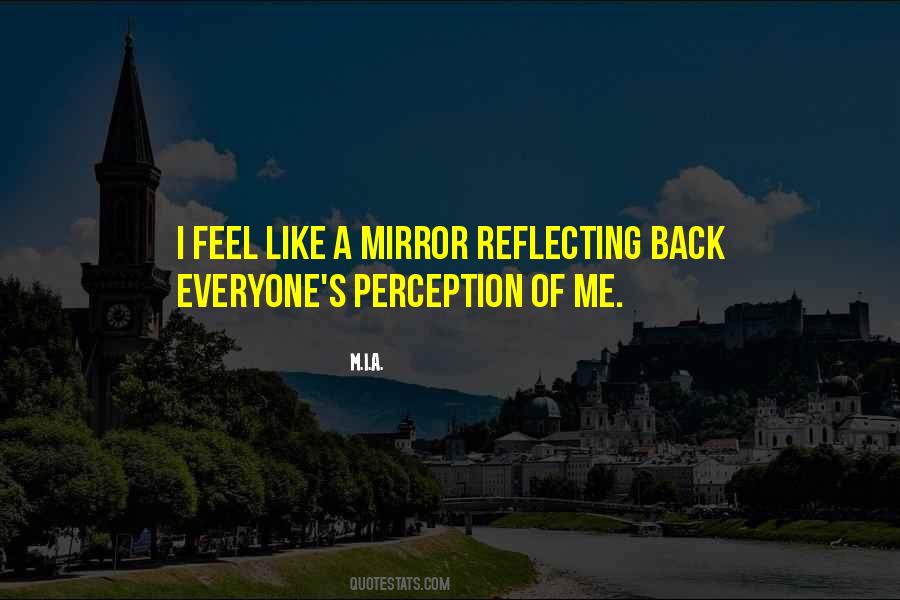 #4. In New York, everyone's really neurotic and talks about themselves all the time. - Author: M.I.A.
#5. I never pigeonhole myself into any religion, but I feel it has found me. I am trying to make sense of it ... the essence of the Mathangi concept. - Author: M.I.A.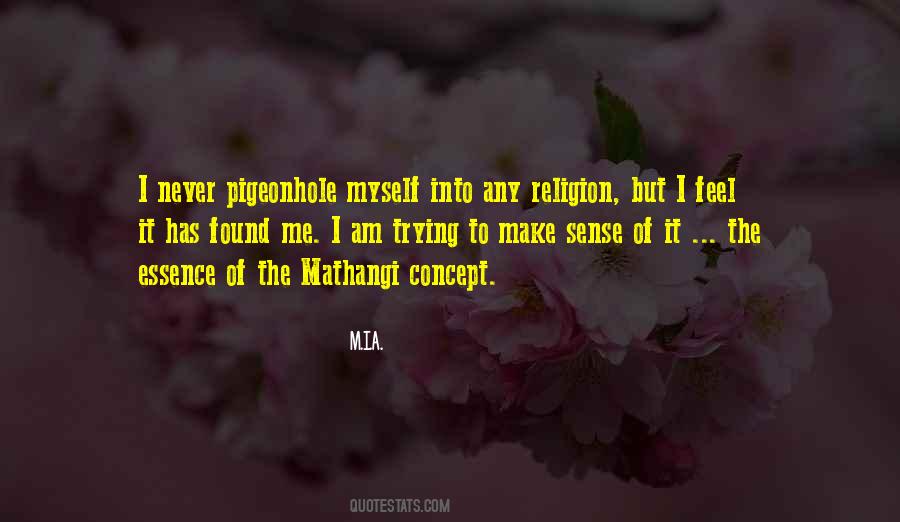 #6. Matangi's mantra is aim, which is MIA backwards. She fights for freedom of speech and stands for truth, and lives in the ghetto because her dad was the first person in Hindu mythology who came from the 'hood, but had gained enlightenment through not being a Brahmin. - Author: M.I.A.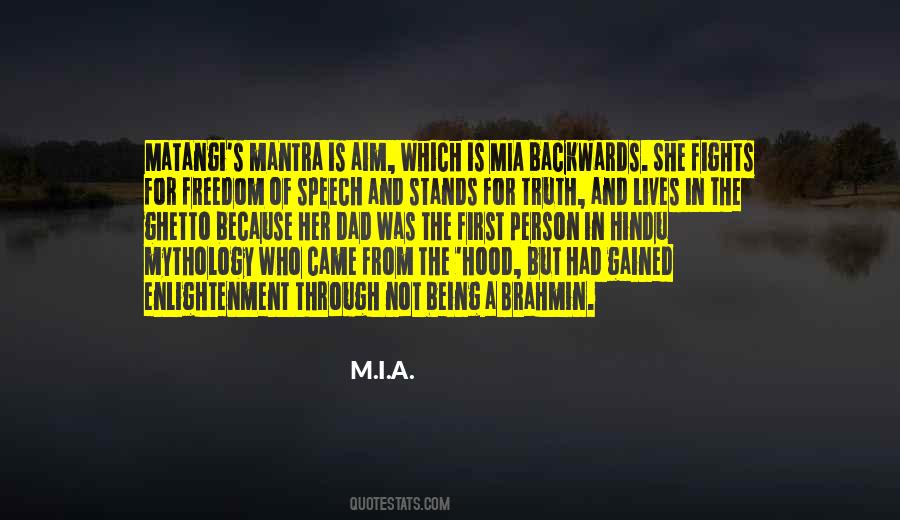 #7. I don't really see a difference in independent and major labels. To me, it's pretty much the same. There used to be a difference between indies and major labels, but I don't think there is anymore. - Author: M.I.A.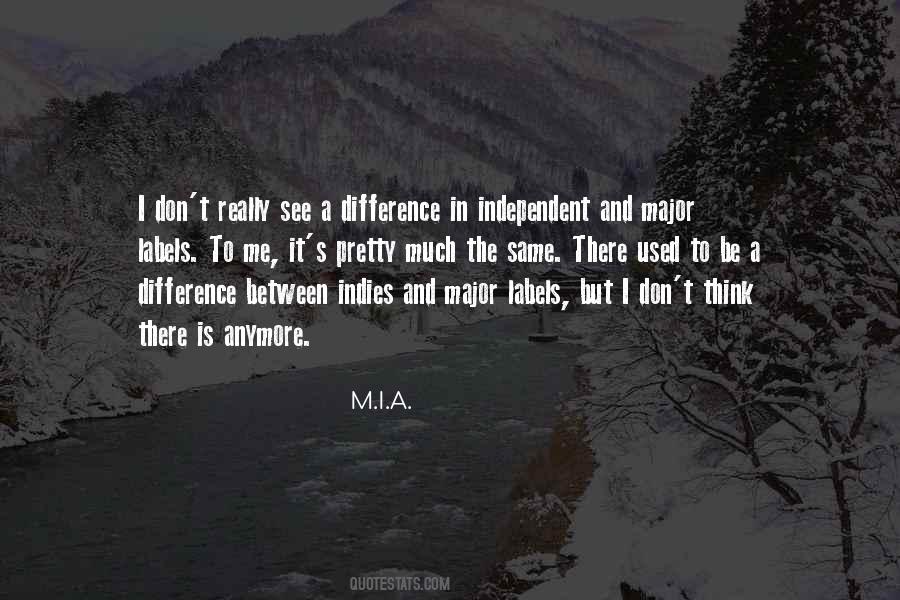 #8. When I first came out, I was a film student, and my mom sewed clothes. I was already doing a million things then, whatever it took to survive. If I had to braid someone's hair to get one pound for my lunch money, that's what I did. - Author: M.I.A.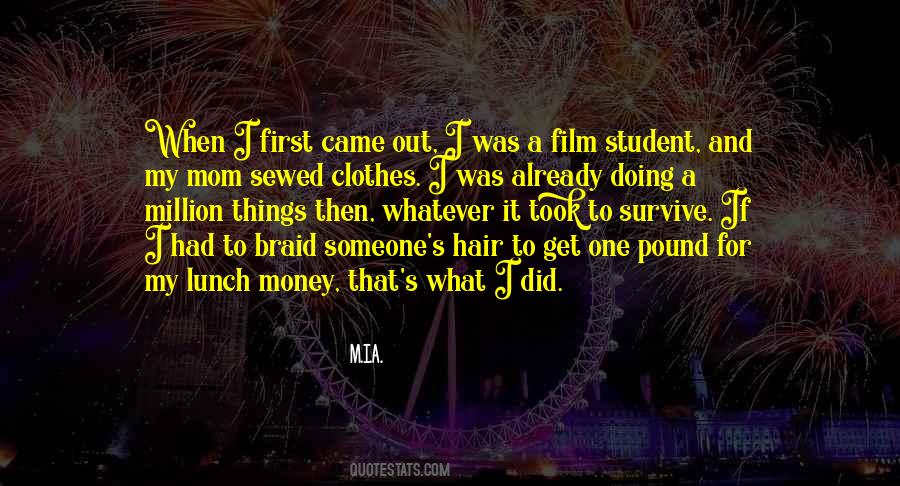 #9. The consequence of making it a business thing and making an artist the same as a Wall Street trader is that you do get a robot by the end of it. It becomes more robotic as opposed to being more soulful. - Author: M.I.A.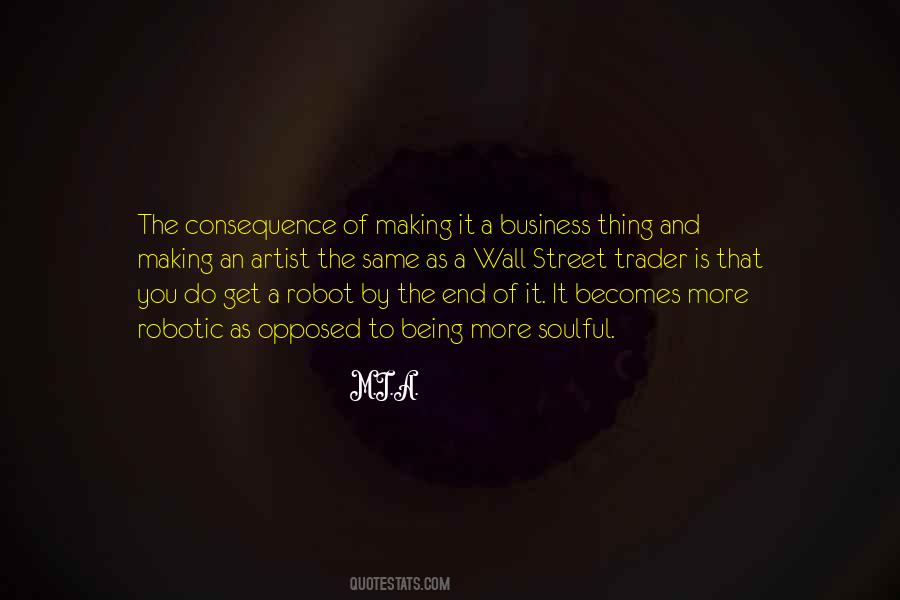 #10. I feel like I'm living in the dead weeds of hip-hop. I live in the graveyard of what went wrong with hip-hop. - Author: M.I.A.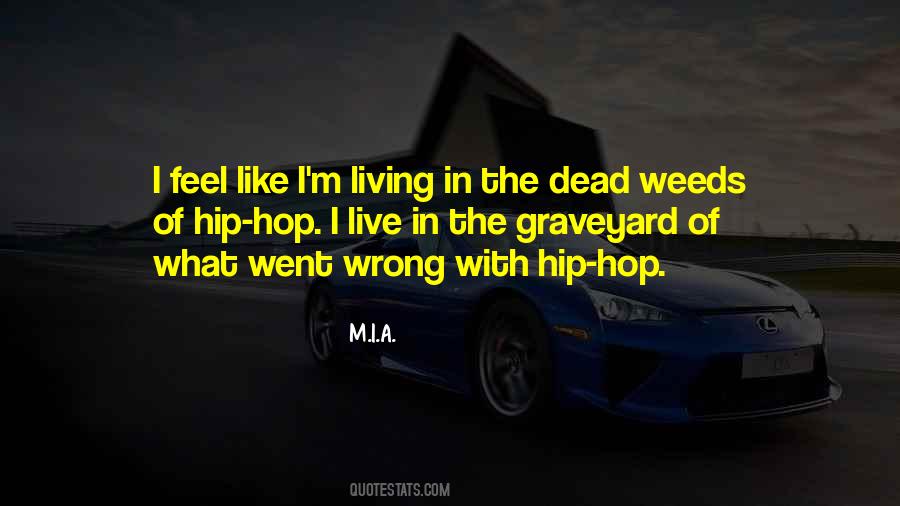 #11. 'Paper Planes' was an accident. It wasn't a song we made for the masses. It took two years to get popular, and there were many fights about censoring the gunshot sounds. - Author: M.I.A.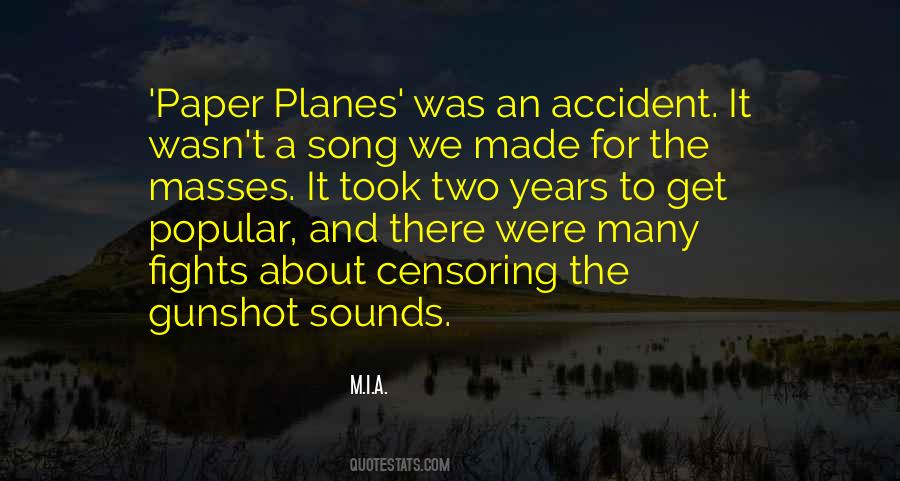 #12. Everyone has that moment where they just rebel. - Author: M.I.A.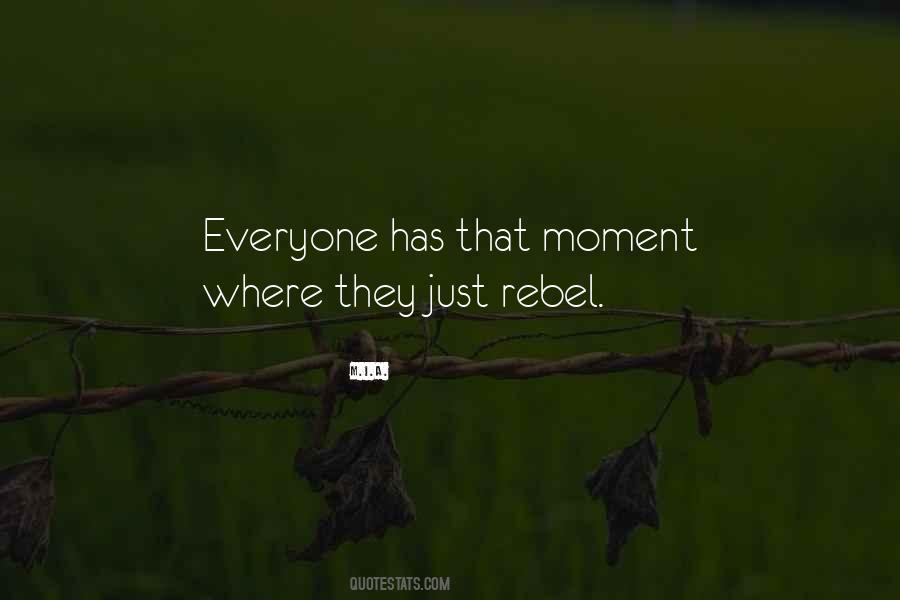 #13. Here we are at the edge of the world, the very edge of Western civilization, and all of us are so desperate to feel something, anything, that we keep falling into each other and f*****g our way toward the end of days. - Author: M.I.A.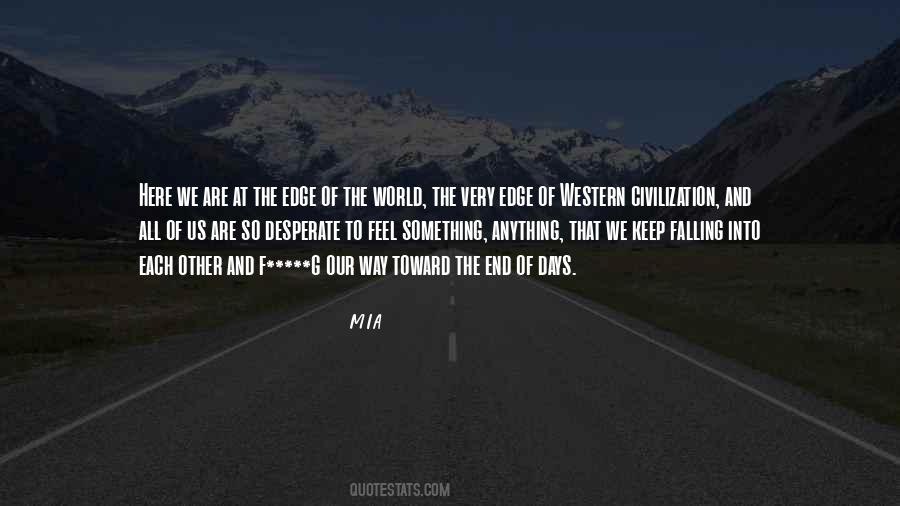 #14. I never pigeonholed myself - the only reason you'd want to pigeonhole is to monetize your business and, as a person, I don't see the importance of doing that. My music took off above the rest of those things: You can just make a song, put it on a CD, and get it out to all these people. - Author: M.I.A.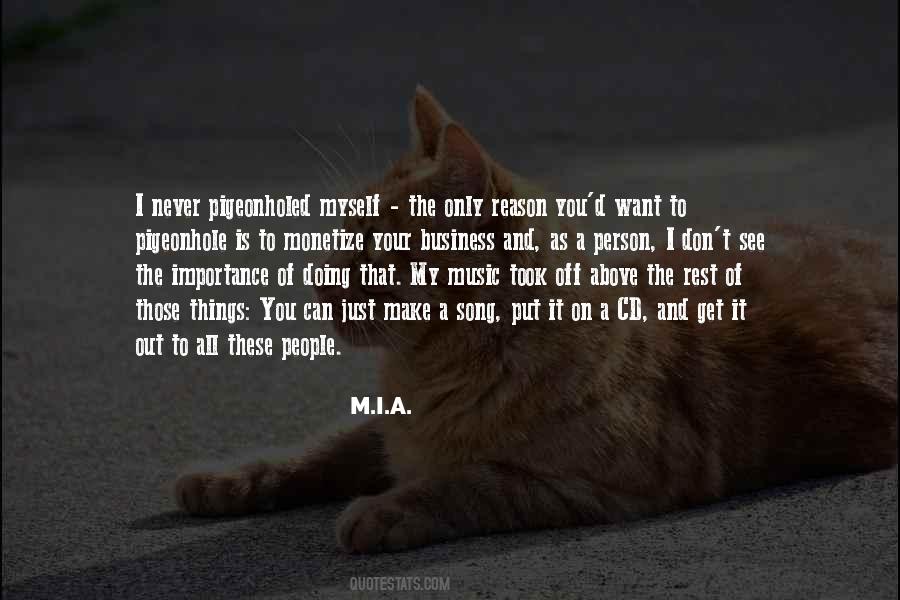 #15. My record label always says you shouldn't talk about money because it makes people extremely uncomfortable. Refugees can't talk about money. Rappers can talk about money; refugees can't talk about money. - Author: M.I.A.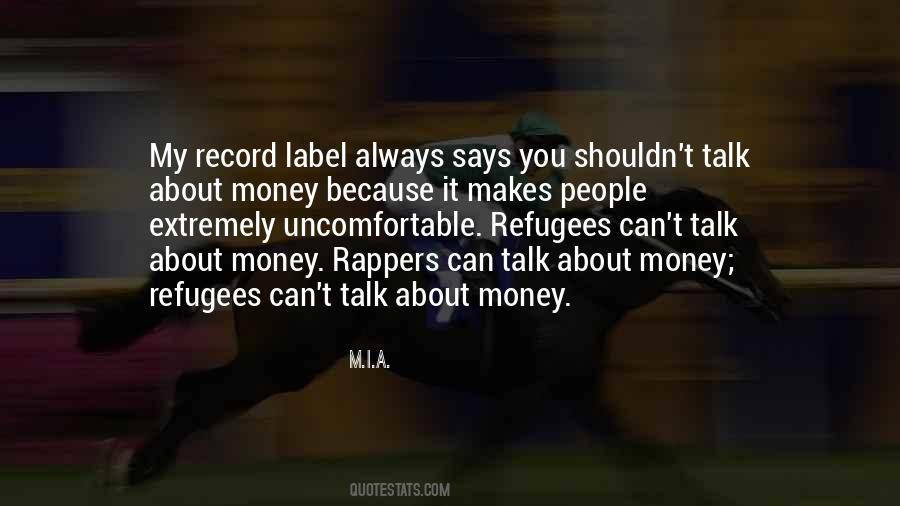 #16. I hate the idea of street art. With music, I just needed my brain and my voice, which didn't cost anything. - Author: M.I.A.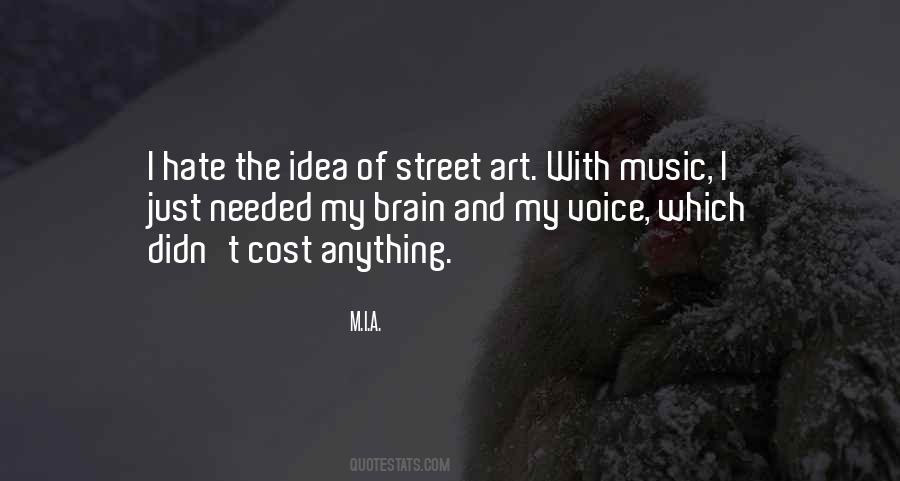 #17. That's what New York is like - you can't have real art happen in an institution because rich people can make the world stop. The stuff on the street is a lot more interesting. - Author: M.I.A.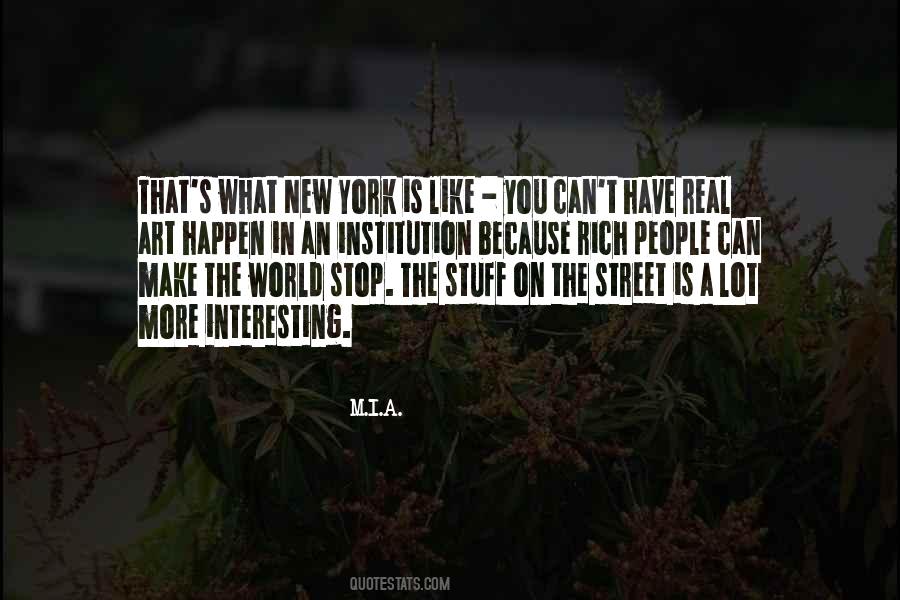 #18. Madonna did amazing songs. She had an amazing sense of style, without a stylist. And she was flawed, and sometimes she admitted it. I'll fight the fight for Madonna. I think she should send me some chocolates or something to thank me. - Author: M.I.A.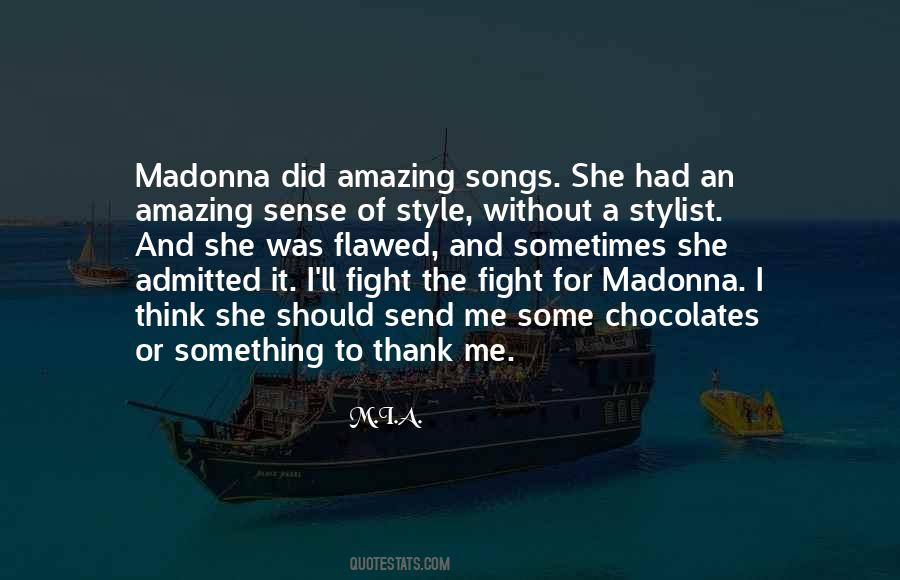 #19. What really drives me mad about art is that, in America, the only thing you can do is to take it apart. - Author: M.I.A.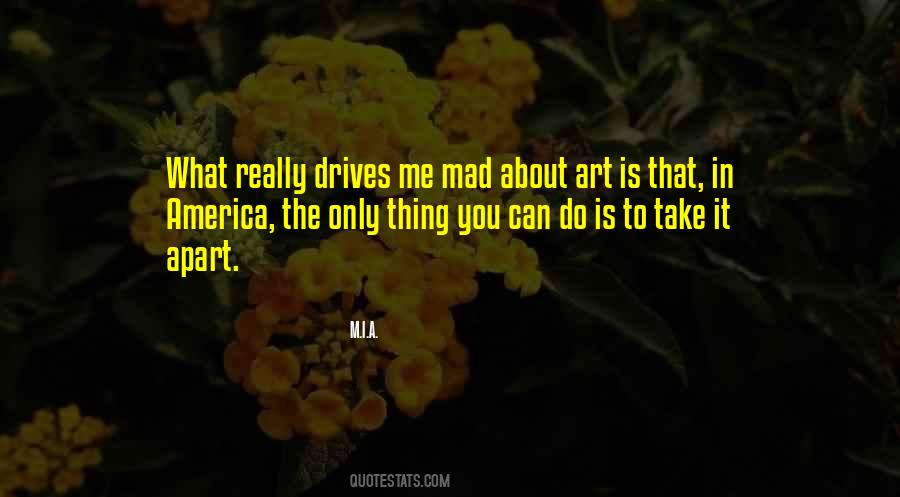 #20. I named my first album after my dad because I wanted to find him. My second album was named after my mom because I felt like I learned all my creative talents I learned from her. - Author: M.I.A.
#21. I think people were genuinely addicted to hip hop in the 90s, addicted to the idea of empowerment. I think it came from [the fact that] the rappers in the 90s, their parents coming from the 70s, had such a rich variety of records to sample. - Author: M.I.A.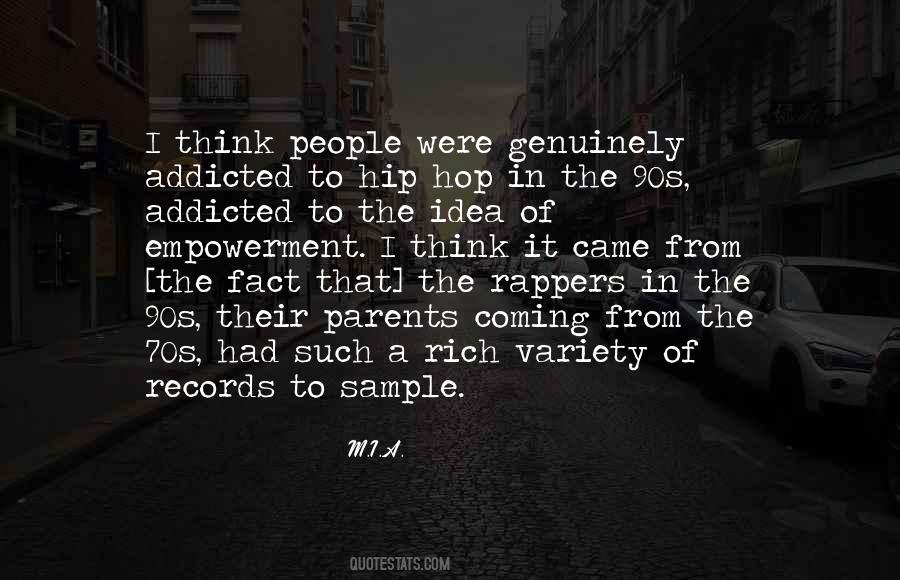 #22. When I started off in England, HMV or Tower Records would come to meetings and be, like, 'We just don't know what this genre is.' I don't really fit in between Rihanna and Beyonce. - Author: M.I.A.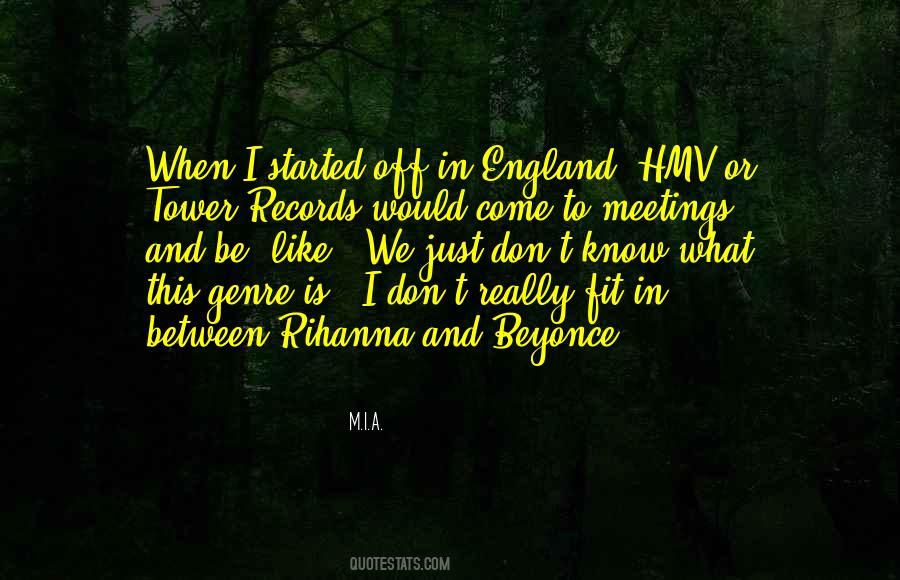 #23. I don't think immigrants are that threatening to society at all. They're just happy they've survived some war somewhere. - Author: M.I.A.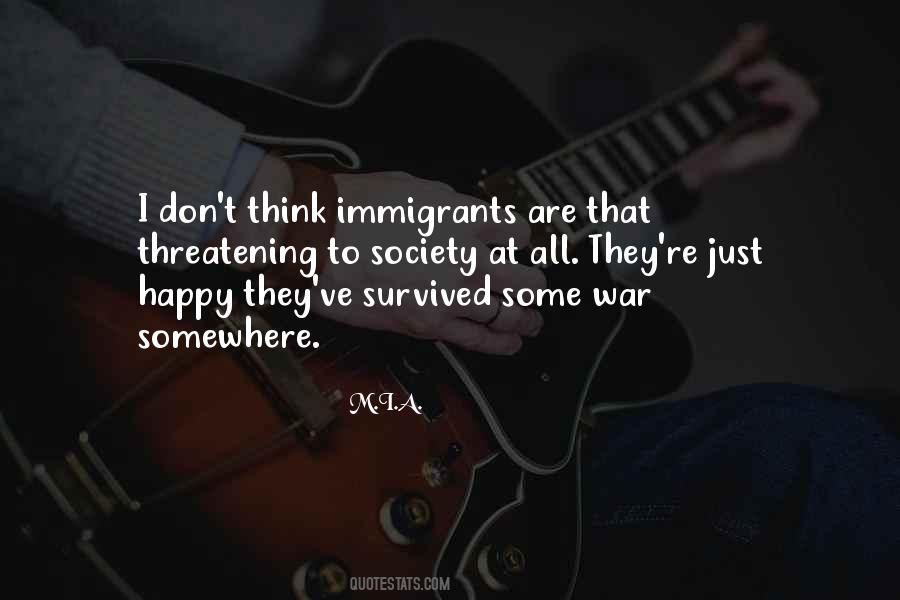 #24. Businessmen in society are not going to be the ones that promote anything outside of money. - Author: M.I.A.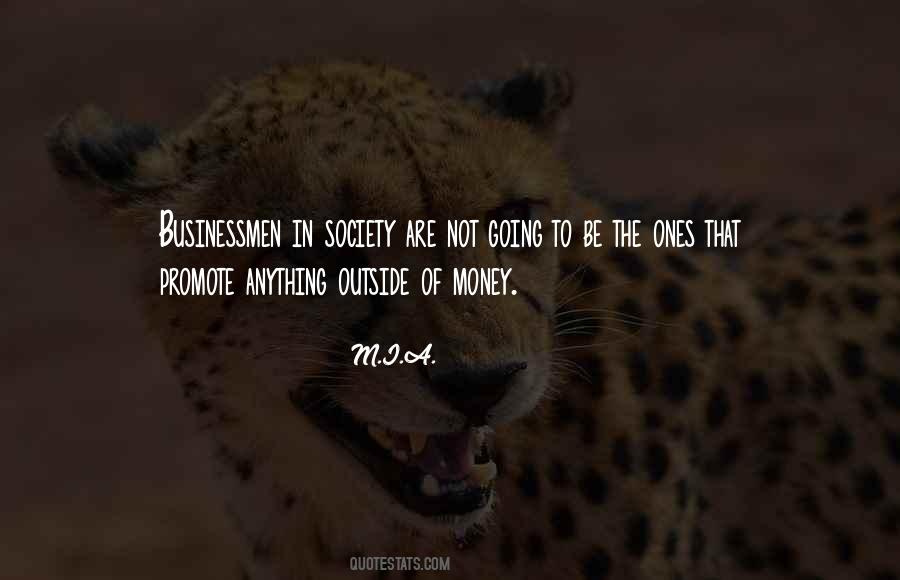 #25. As an artist, you want to play around with mediums and see if you can get the point across in different way. - Author: M.I.A.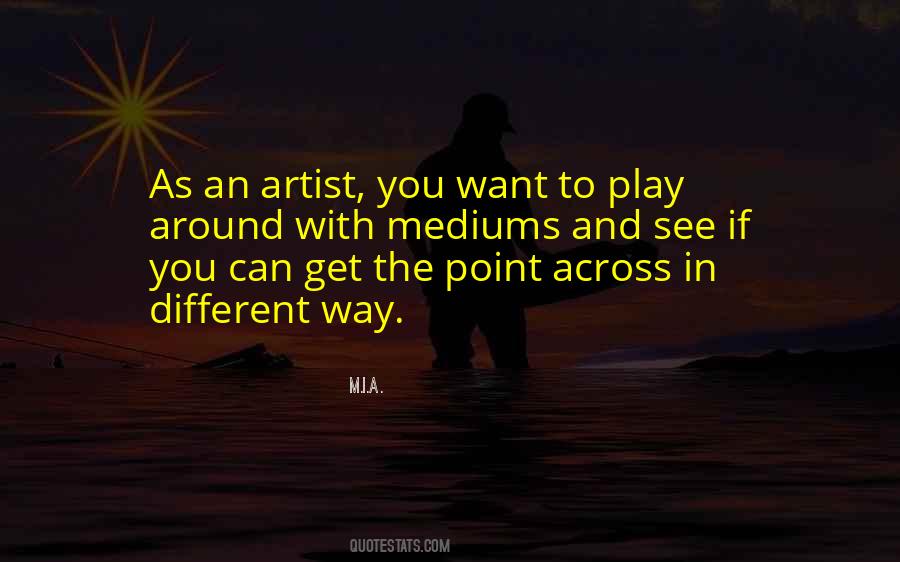 #26. I was part of the generation that pushed the Internet. In fact, I broke as an artist in the U.S.A. because of the Internet. - Author: M.I.A.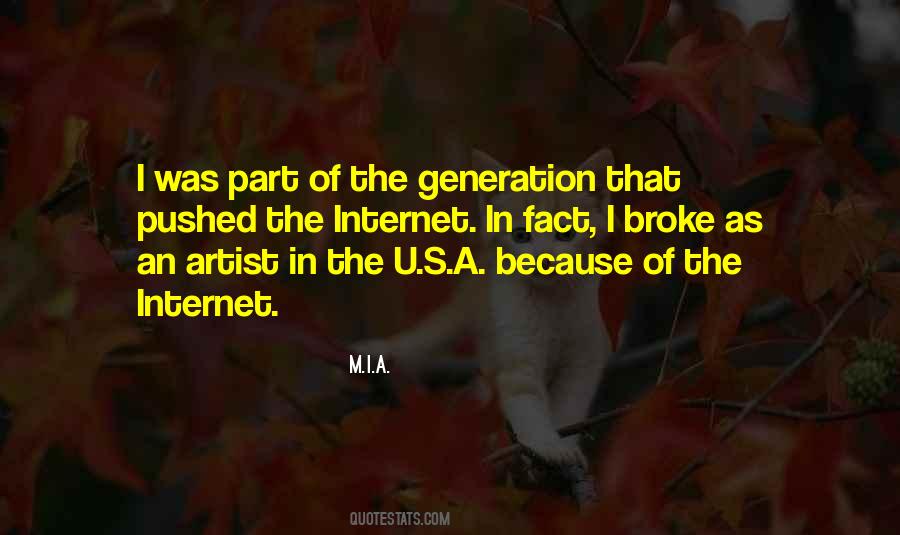 #27. There's a bit of hope that a song can be about anything. If you want to write a song about anything, you can, and you don't have to put it through the process of having it be trendy or cool or generic pop or these types. - Author: M.I.A.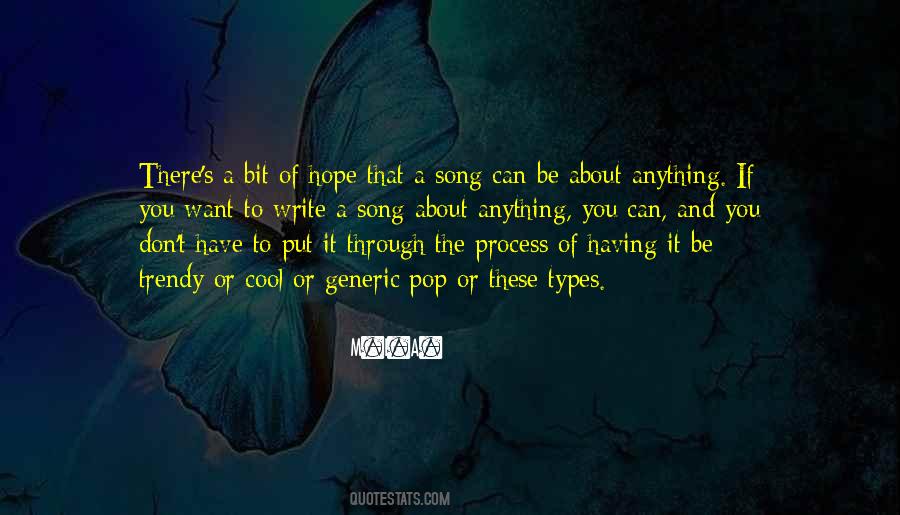 #28. Basically, when I went to school in Sri Lanka from age five onward, the classes there were sometimes sorted into a hierarchy of your skin tone. So the fairer-skinned kids sat at the front row, and the darker-skinned kids sat at the back by the poor ones who played out in the street all day long. - Author: M.I.A.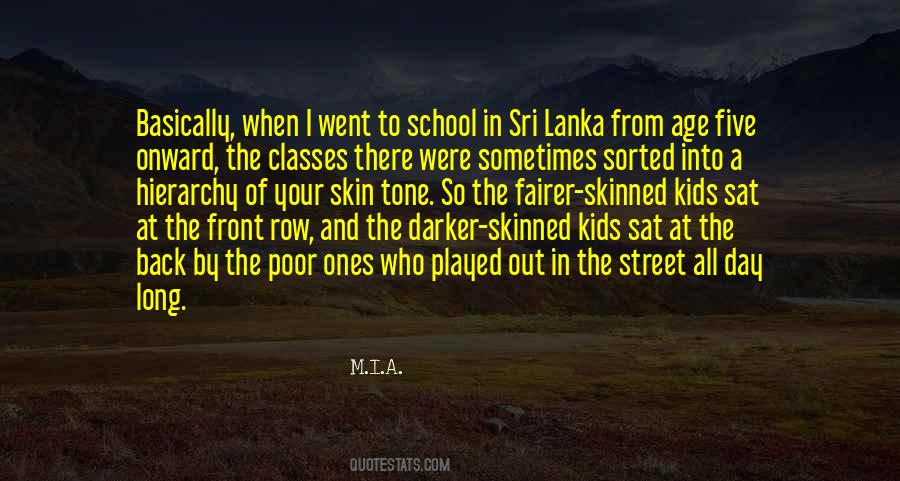 #29. I don't intentionally go: 'Ooh, what is provocative,' and try to do that. I just do stuff, and people go: 'Ooh, that's provocative.' - Author: M.I.A.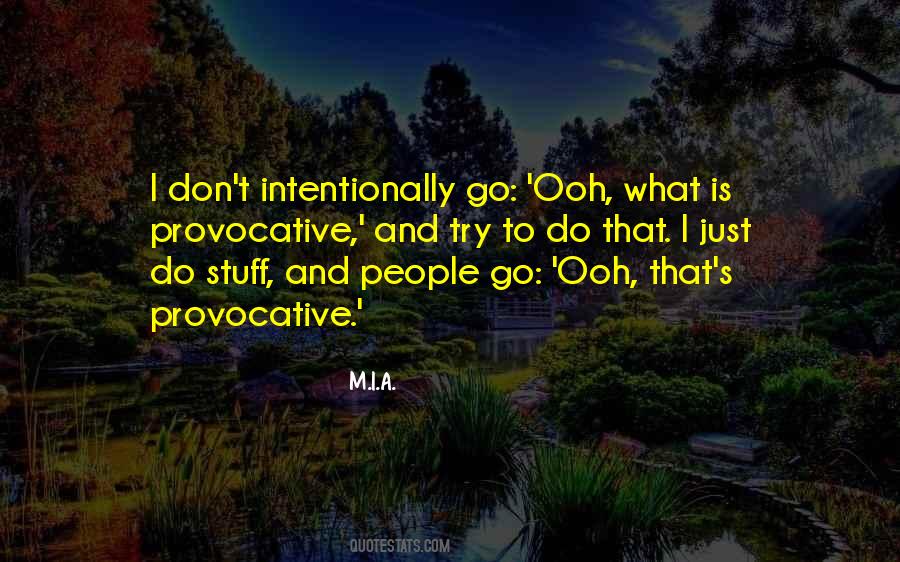 #30. In my head, I actually think my songs are pop songs. I think, 'Damn, that's a pop song!' I can practice in front of the mirror with my hairbrush for as long as I want to. But when it finally comes out, it sounds avant-garde to people. - Author: M.I.A.
#31. I've documented a lot of things myself as a filmmaker. If you want a rockumentary, that's in there. - Author: M.I.A.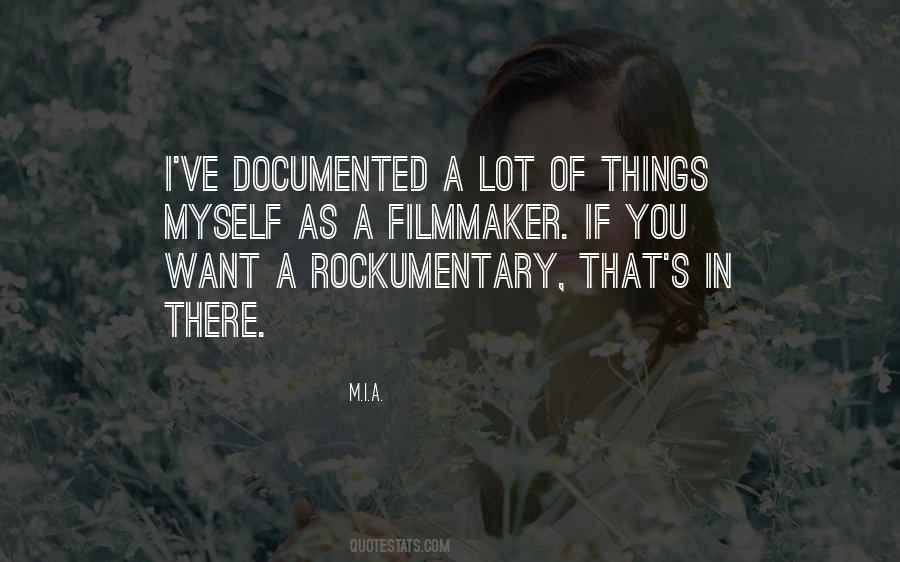 #32. I don't support terrorism and never have. As a Sri Lankan that fled war and bombings, my music is the voice of the civilian refugee. - Author: M.I.A.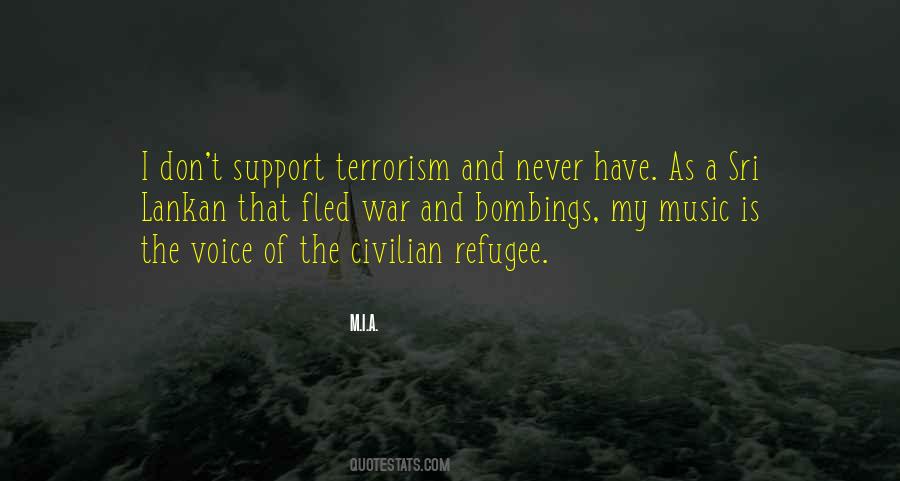 #33. Tamils all over the world have a sense of belonging to the world itself, but our ancient roots come from India. I would like to explore India. I will keep coming back. This is the closest I can get to home. - Author: M.I.A.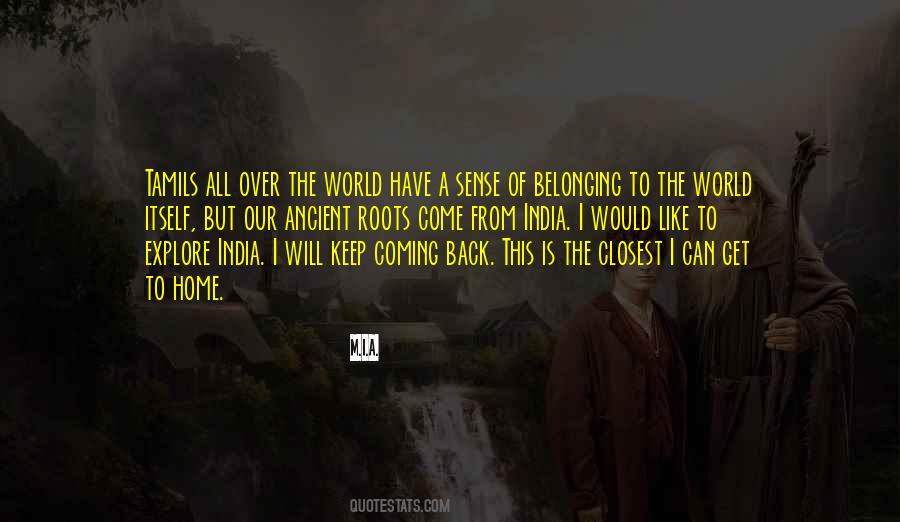 #34. What's wrong with hip-hop [is that] it became so one-dimensional; it became like a businessman thing. It's run out of creativity. It went so far off about making money that now everyone can do it. - Author: M.I.A.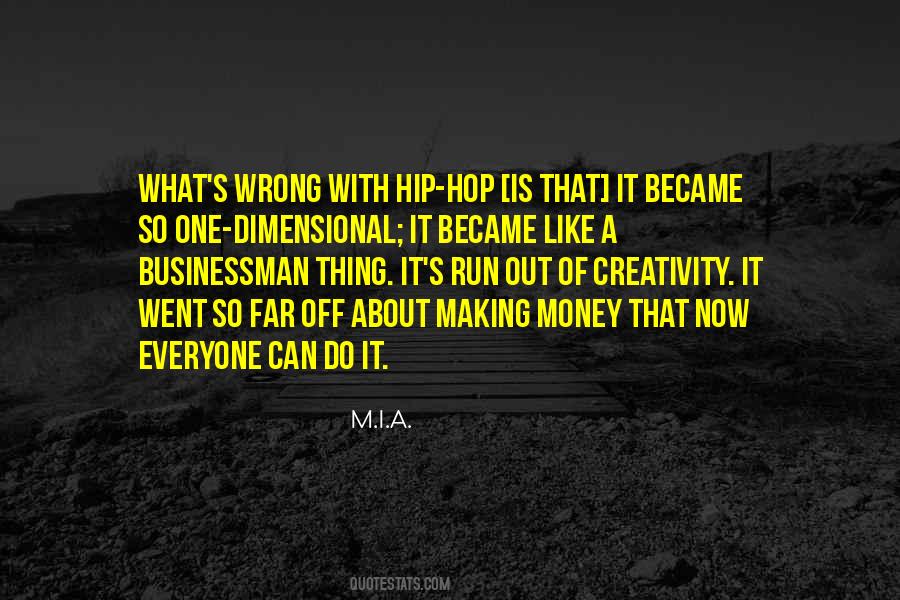 #35. Besides, isn't it more exciting when you don't have permission? - Author: M.I.A.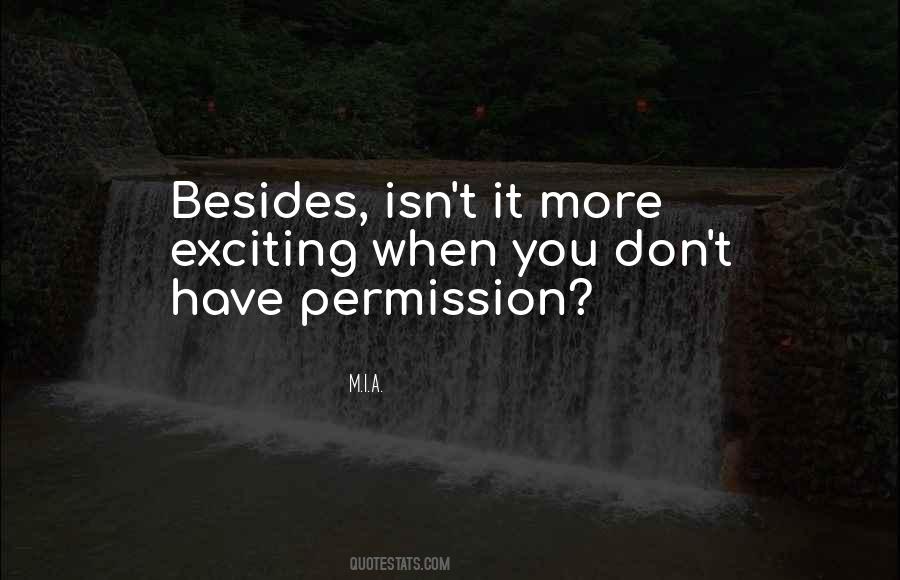 #36. Before the Greeks were the Tamils. The Tamils are one of the oldest civilizations that's still surviving. - Author: M.I.A.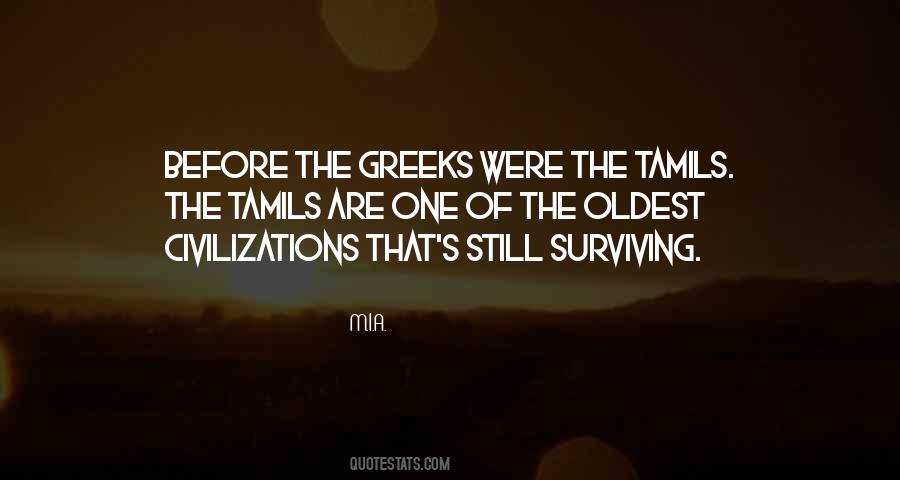 #37. That's what's inspiring to me-finding someplace where people haven't already seen themselves in a certain light. - Author: M.I.A.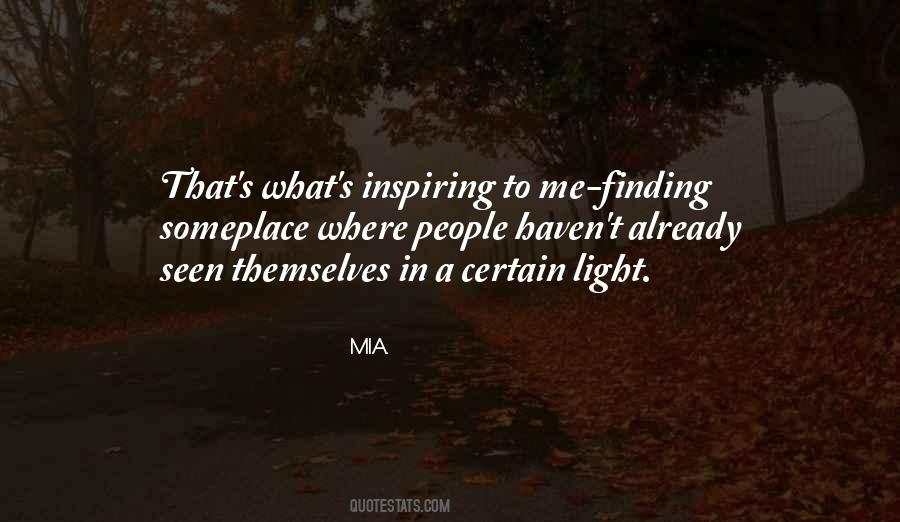 #38. I don't consider myself a musician. I'm an artist. - Author: M.I.A.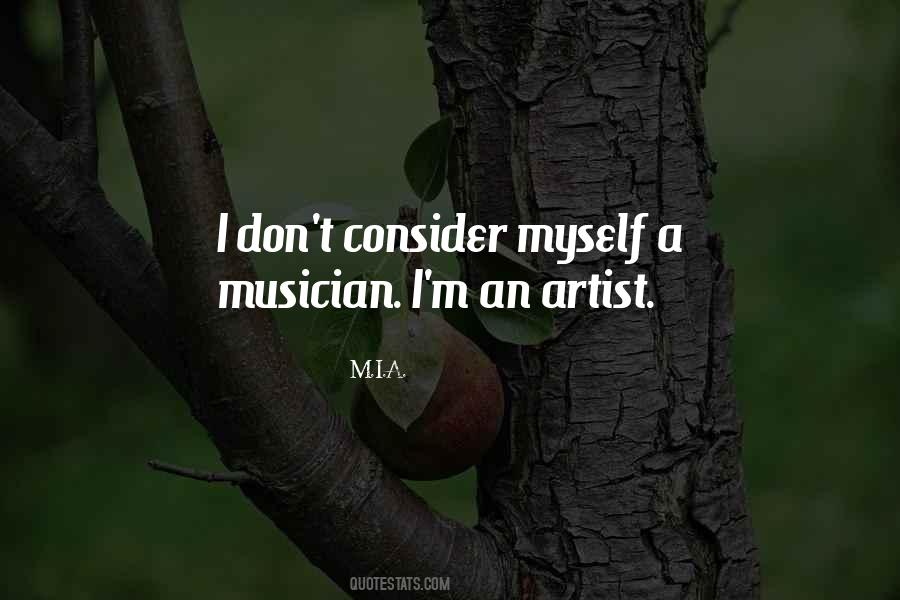 #39. My dad grew up in a mud hut and studied by candlelight. He was 14 when he got a scholarship to Russia. He was super clever - the cleverest person. He landed in 5ft of snow, and was alone at 14, studying science and engineering. He didn't have a bed, and he slept on a table. - Author: M.I.A.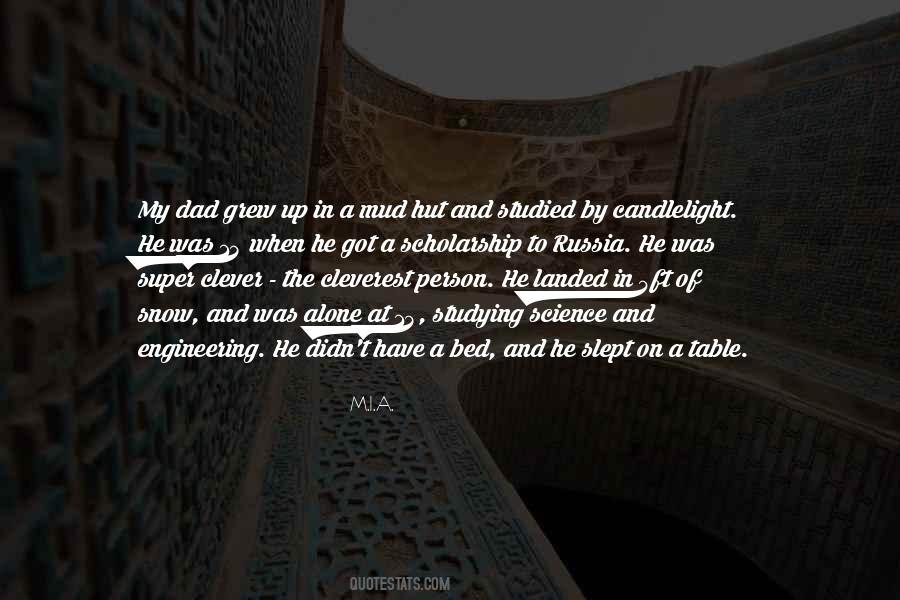 #40. I'm still working out my opinions - it's always a question mark. I leave loads of space open, and people don't like that. - Author: M.I.A.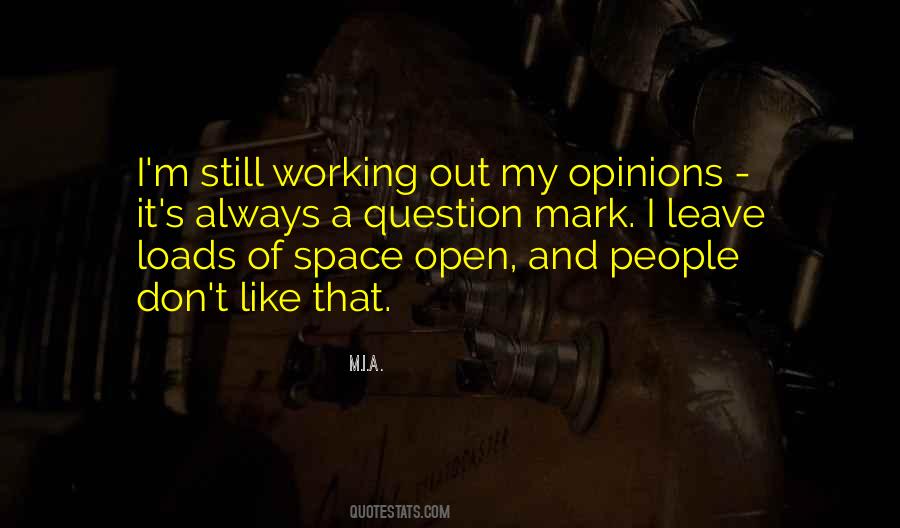 #41. By the time it came to the 90s, the late 90s, being a businessman was the beacon to uphold. We've been having the concept of the best rapper equals the best businessman ... - Author: M.I.A.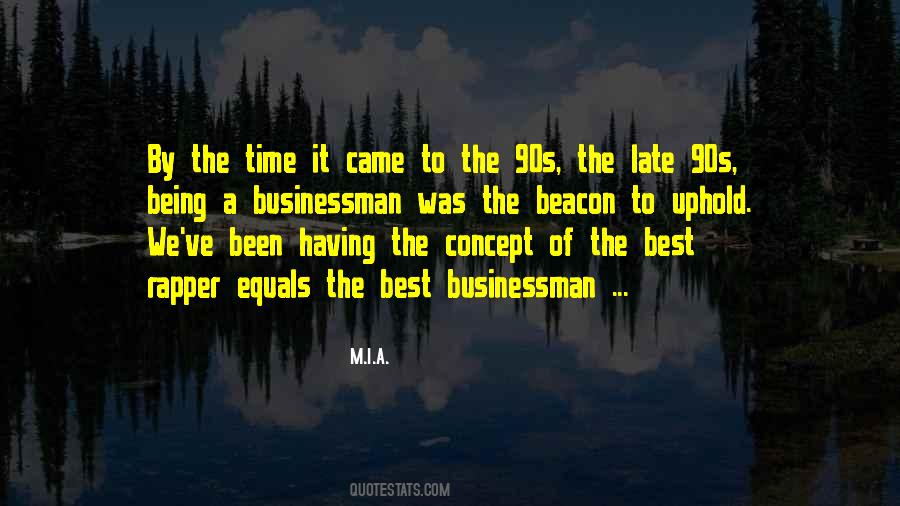 #42. Uncomfortable silences. Why do we feel it's necessary to yak about bullshit in order to be comfortable? - Author: M.I.A.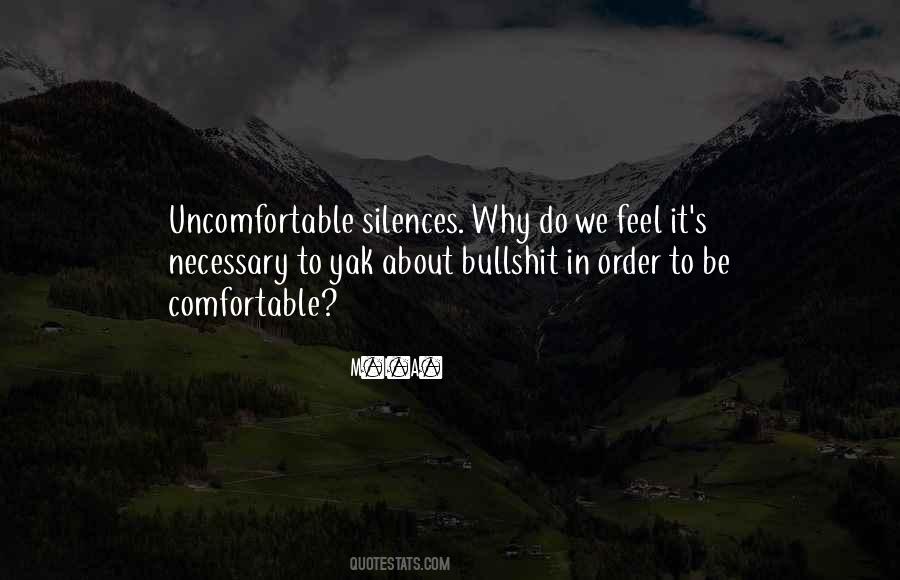 #43. Art is supposed to be about creativity. But the same people are the same art darlings every month, and it's a bit annoying. It's supposed to be diverse and interesting and conceptual and have weird concepts in a comfortable place. - Author: M.I.A.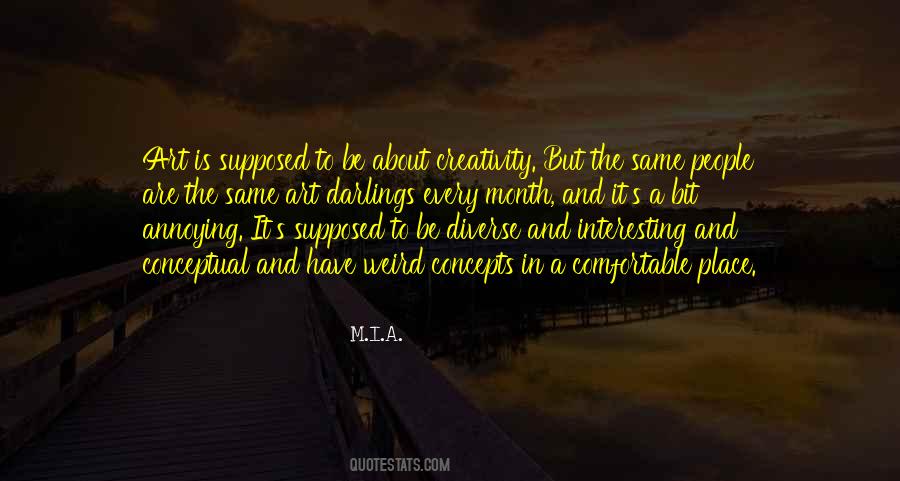 #44. I feel like people either love me or hate me, which is good, because that was the point of what I do. The point of M.I.A. is to be - it's either to be loved or hated. At least you evoke that much of a strong opinion about music. - Author: M.I.A.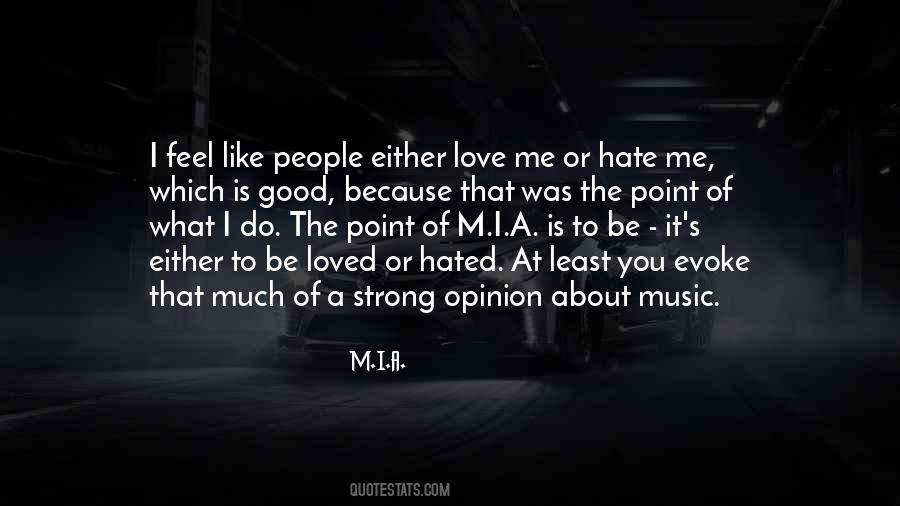 #45. Human beings around the world have to be taught to go, 'Tamil equals Tamil civilians first, and the Tamil Tiger is a separate thing.' And both of those groups are different. It's like a square and a circle. - Author: M.I.A.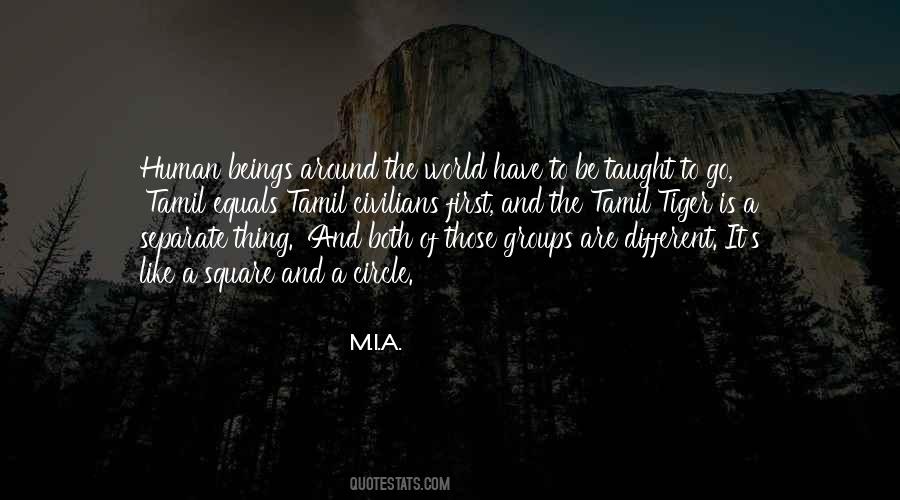 #46. You can't turn up at college in stilettos and say you're gonna be a filmmaker. In the college, they were teaching me avant-garde filmmaking, where I had to make films that were, like, an hour long about nothing. I just refused to do it. - Author: M.I.A.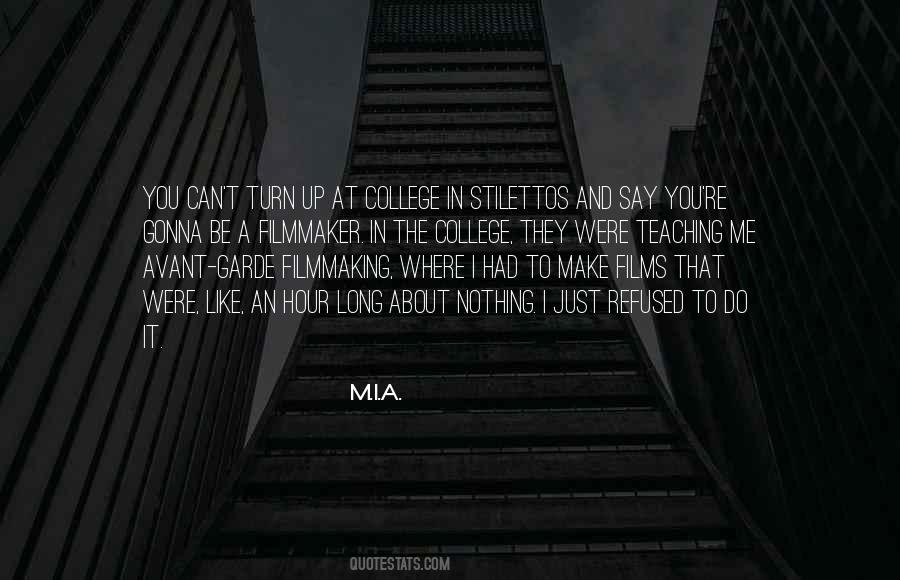 #47. In 2004, I went onstage for the first time. They put a mike in my hand and pushed me out the door into the crowd. I did the three songs I had recorded and got out. It was the worst day of my life. - Author: M.I.A.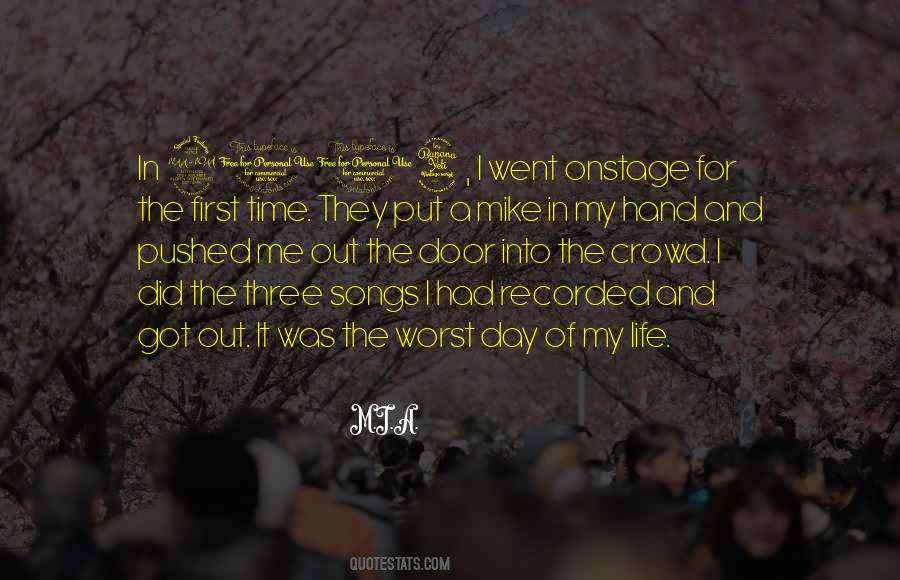 #48. I am the bridge between the East and the West. I don't want to abandon one for the other. - Author: M.I.A.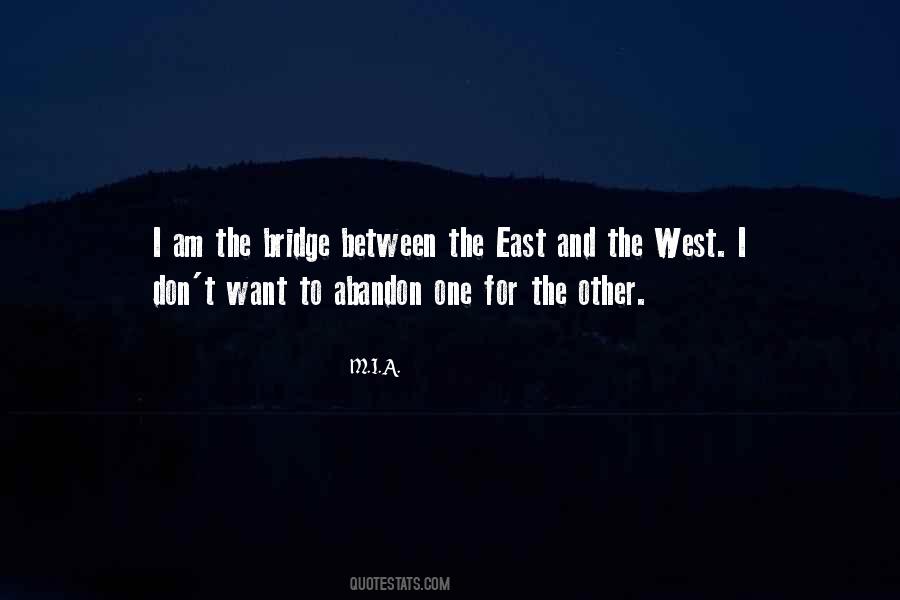 #49. There has been an effect of business rap on the output of today's rap music. But I don't think that's the modern day rapper's fault. - Author: M.I.A.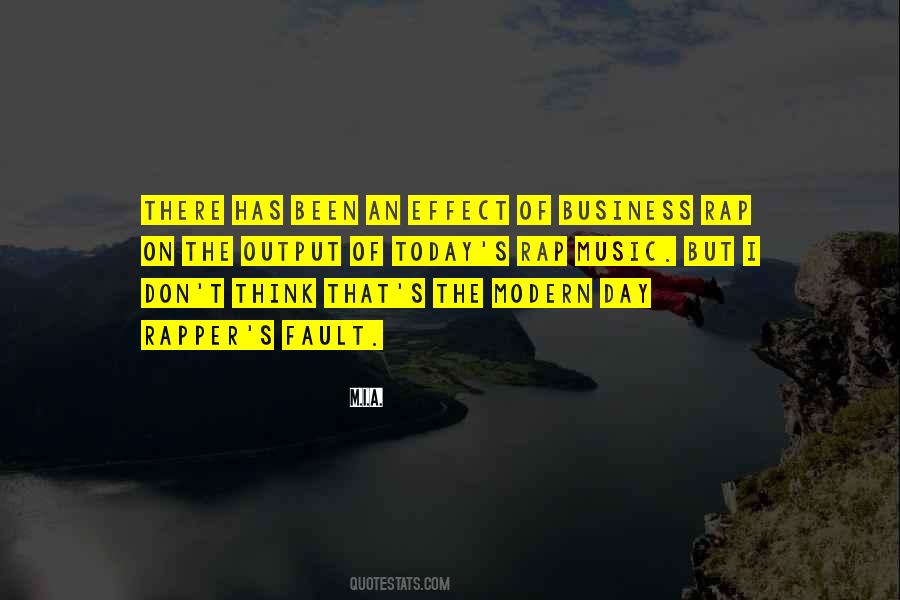 #50. I have no ties to my dad. I had no communications with him; it didn't shape who I am or anything like that. I'm actually a product of my mom. - Author: M.I.A.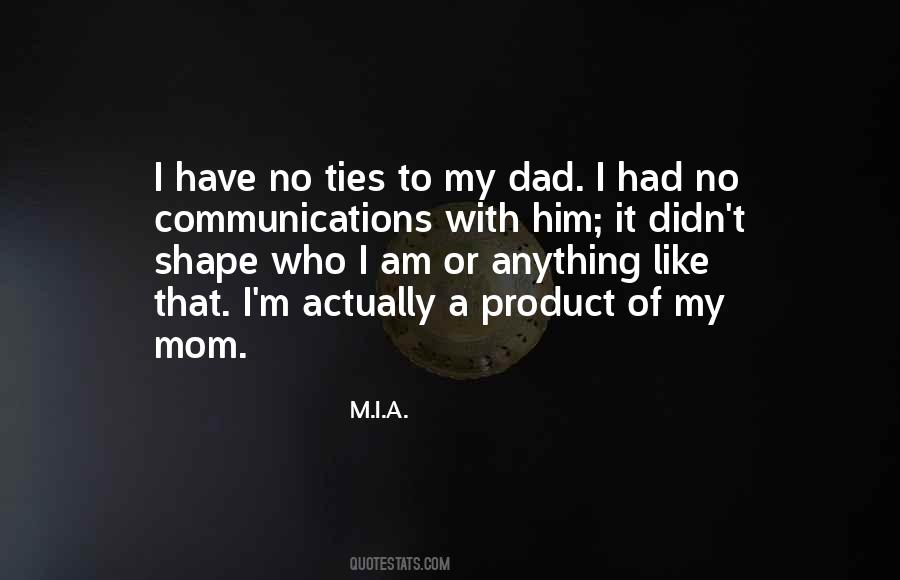 #51. I was shot at for being a Tamil in Sri Lanka, and then, everyone was calling me a Paki in London, and I'm not even Pakistani. - Author: M.I.A.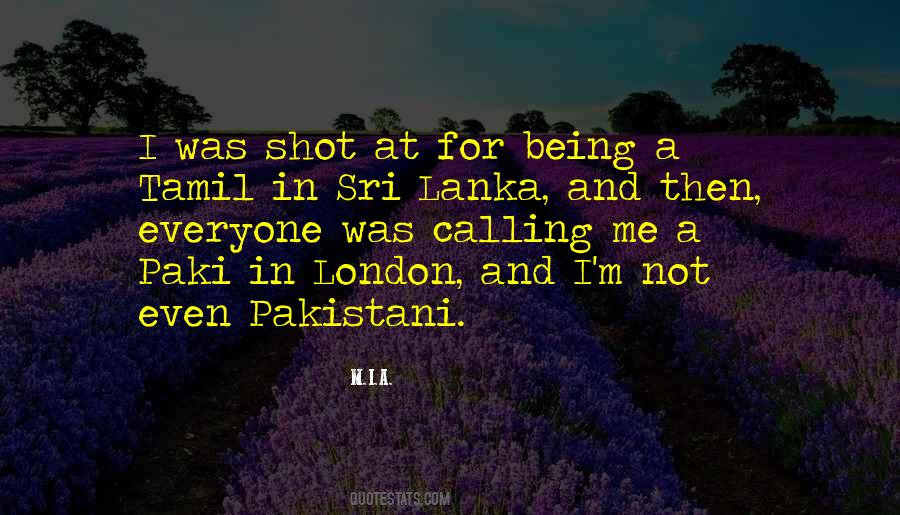 #52. Nike is the uniform for kids all over the world, and African design has been killed by Nike. Africans no longer want to wear their own designs. - Author: M.I.A.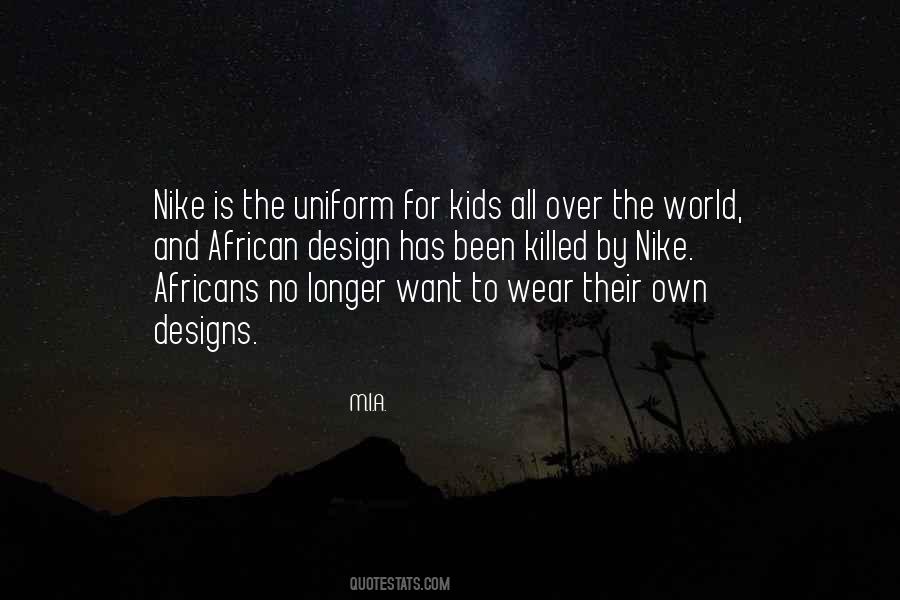 #53. My father had no influence on my political beliefs, and to imply otherwise is wrong and irresponsible. - Author: M.I.A.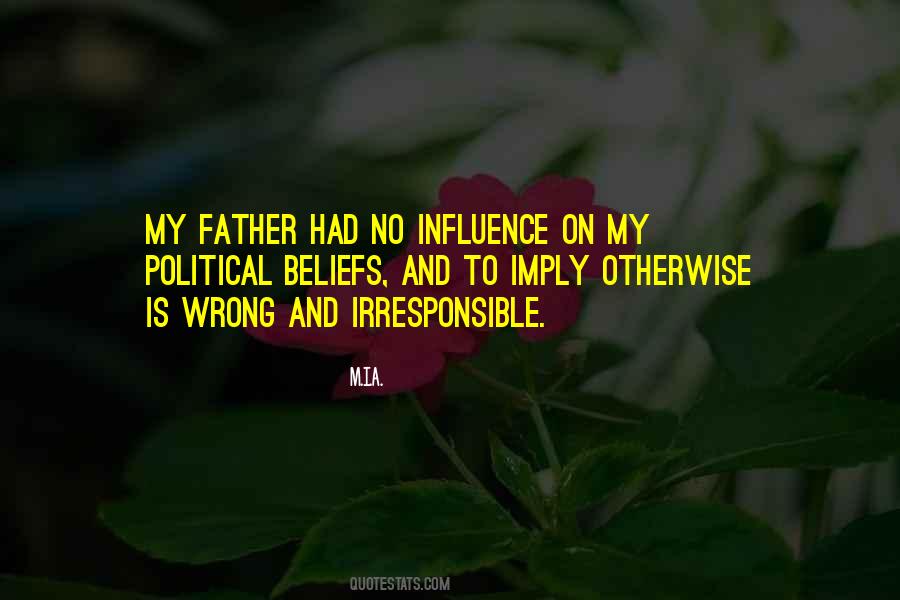 #54. Me, it was always about being able to bounce around to where I wanna be. Like, with 'Arular,' people always say it's so political, but I think 50 per cent of the album is not very political at all. It's just really a shouty, shouty girl thing. - Author: M.I.A.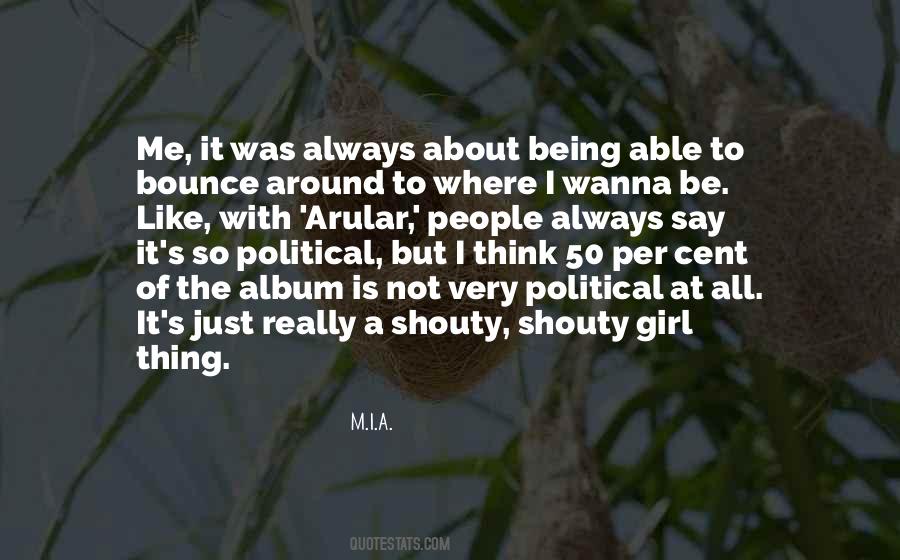 #55. I don't like the idea of spirituality done the way it's done. The only way I could understand it was through creativity, not by going to an Ashram, or finding a guru or joining a temple. I made work out of it. - Author: M.I.A.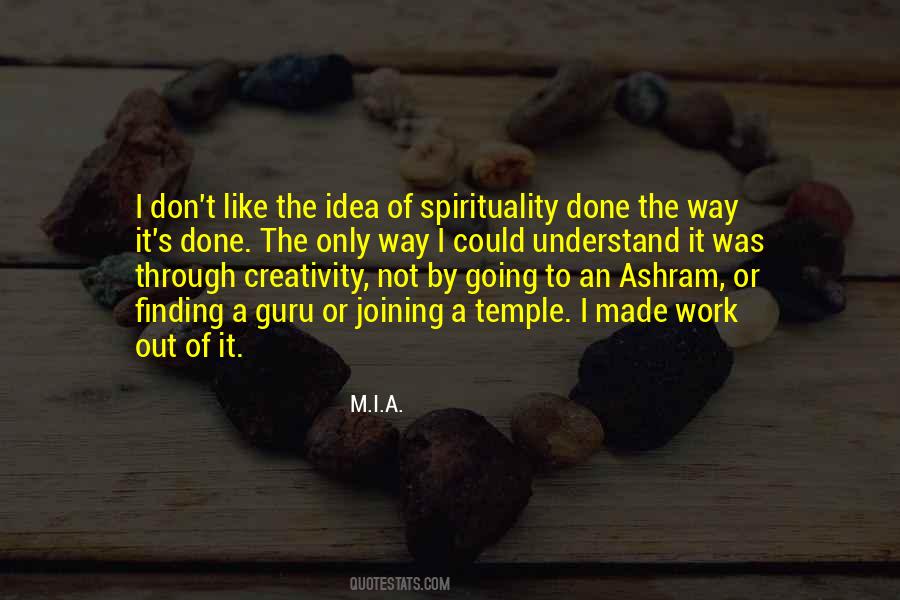 #56. Manhattan seems pretty developed, you know what I mean? Like, it has peaked in culture. - Author: M.I.A.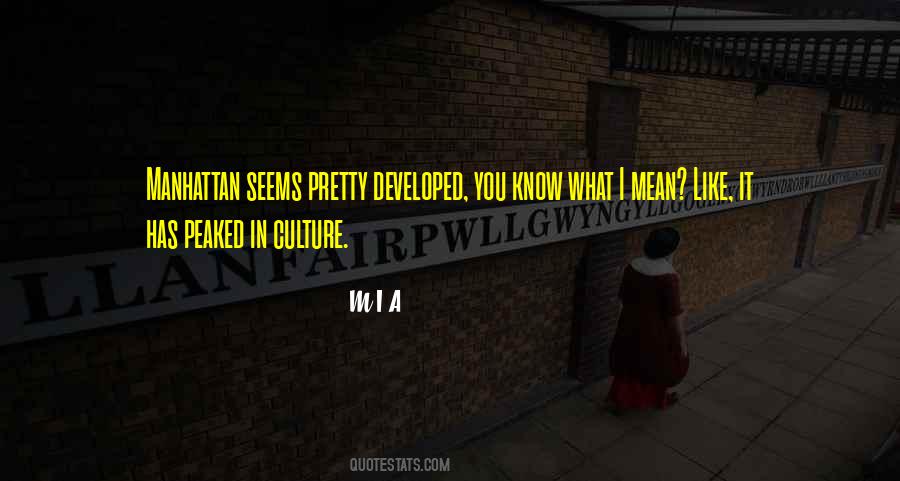 #57. My giving birth was nothing when I think about all the people in Sri Lanka that have to give birth in a concentration camp. - Author: M.I.A.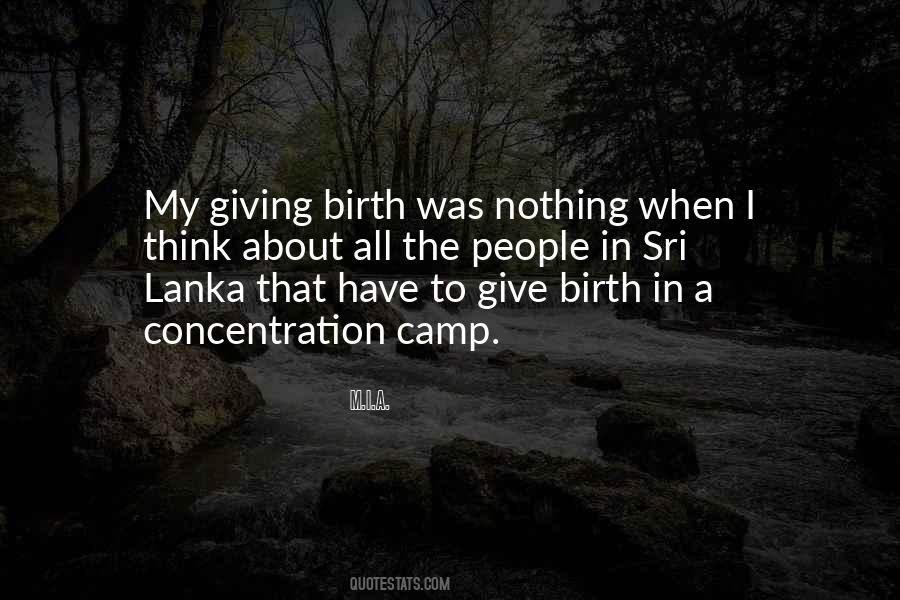 #58. It is a coincidence that Mathangi is the Goddess of Music and the spoken word, which can be rap. - Author: M.I.A.
#59. Music that was made in the 60s and 70s did come from a really soulful place. The seed for the songs written in the 90s were planted in those songs, even though they were samples. - Author: M.I.A.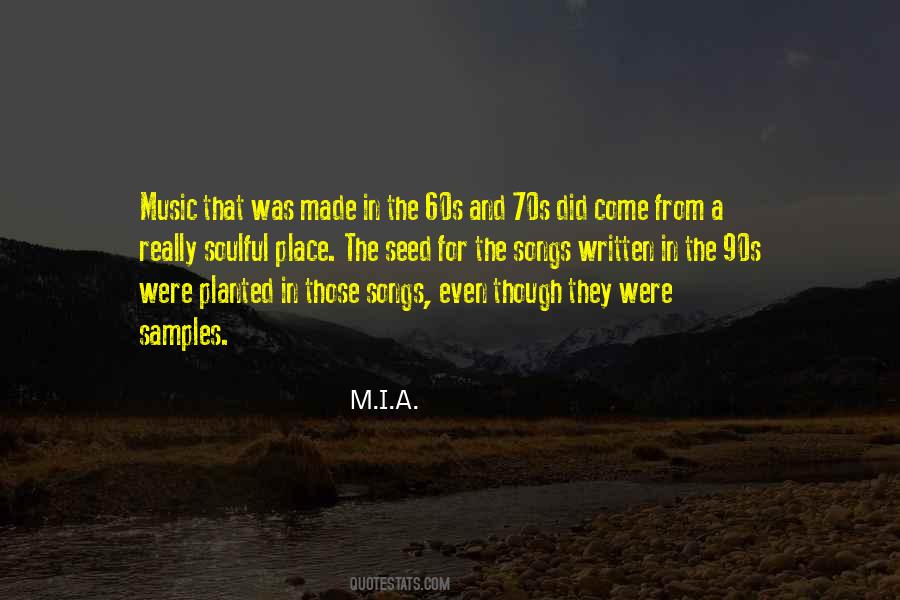 #60. My statements aren't incomplete, they're just in-progress. It's a debate and a discussion. - Author: M.I.A.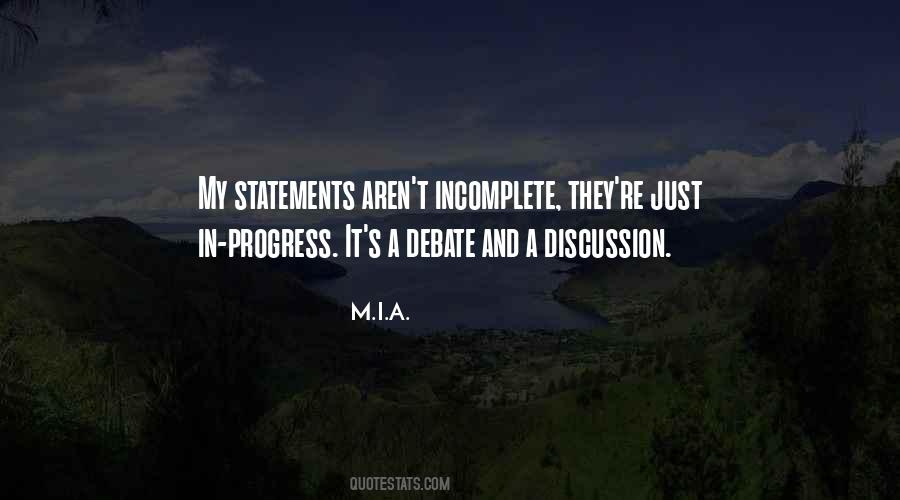 #61. Confidence takes constant nurturing, like a bed, it must be remade every day. - Author: M.I.A.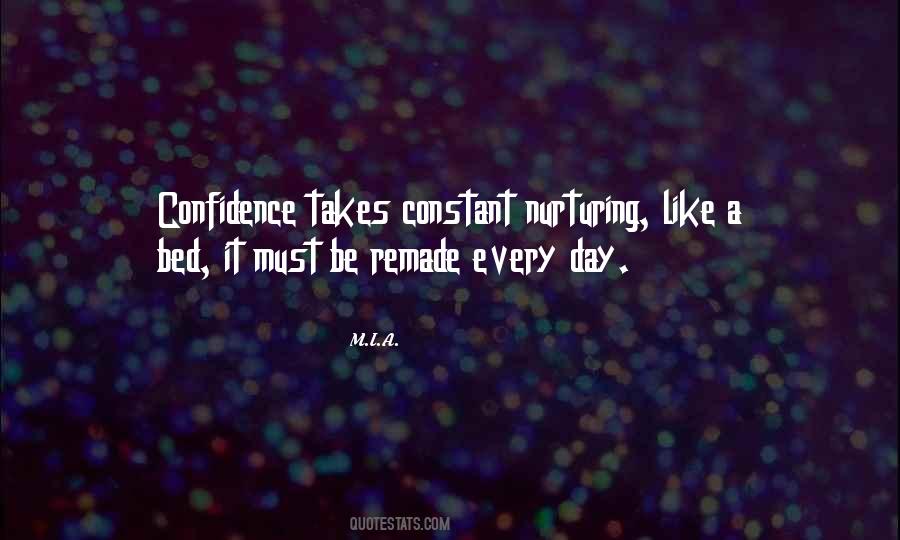 #62. You have to constantly redefine who you are. - Author: M.I.A.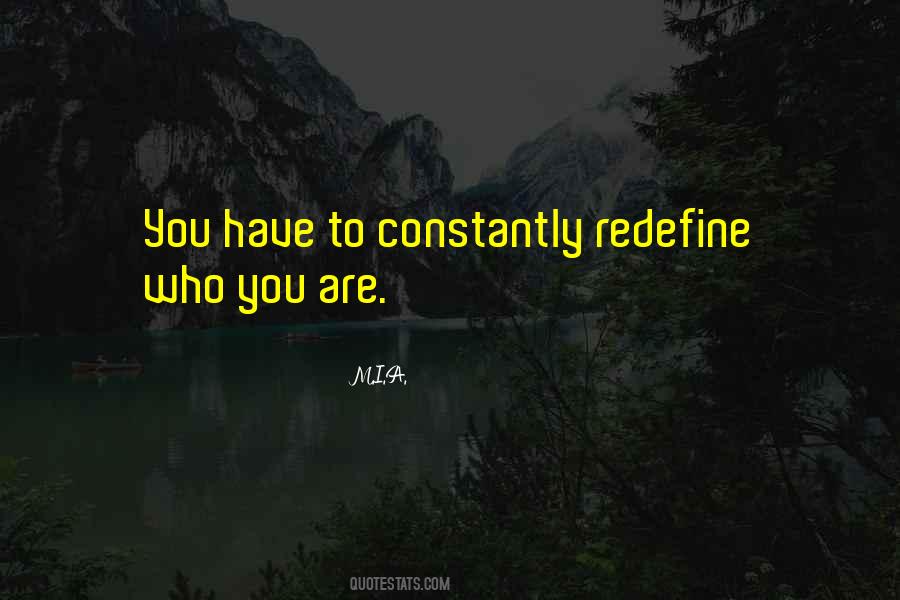 #63. I fly like paper, get high like planes
If you catch me at the border, I got visas in my name - Author: M.I.A.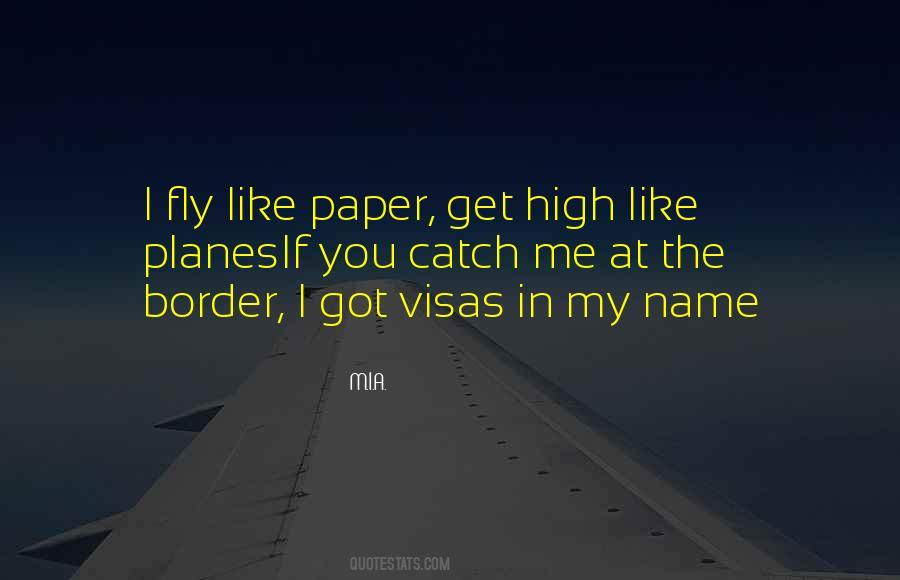 #64. I think when something becomes a comfortable genre, it's against what street art stood for in the beginning - breaking out of genres and taking art out of galleries. Now street art is in the gallery, and it's all made up into a nice, packaged concept. - Author: M.I.A.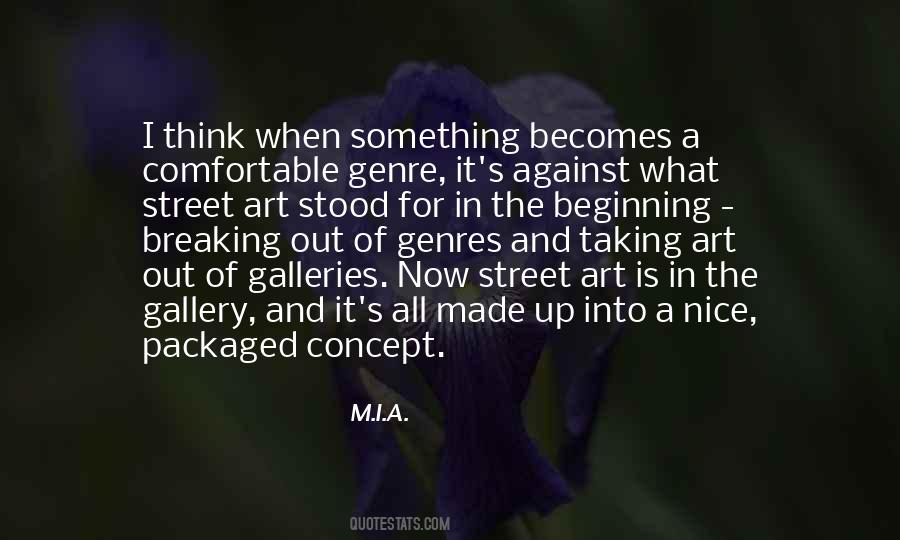 #65. That's what I miss, being a real human. - Author: M.I.A.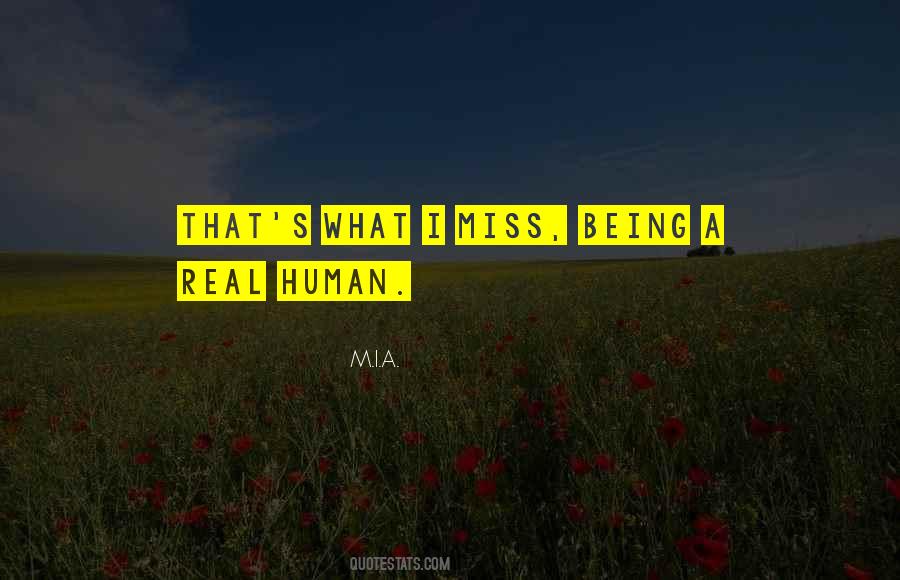 #66. I already feel that I am making a political statement by sticking around in music, when I am doing it so differently to everyone else. - Author: M.I.A.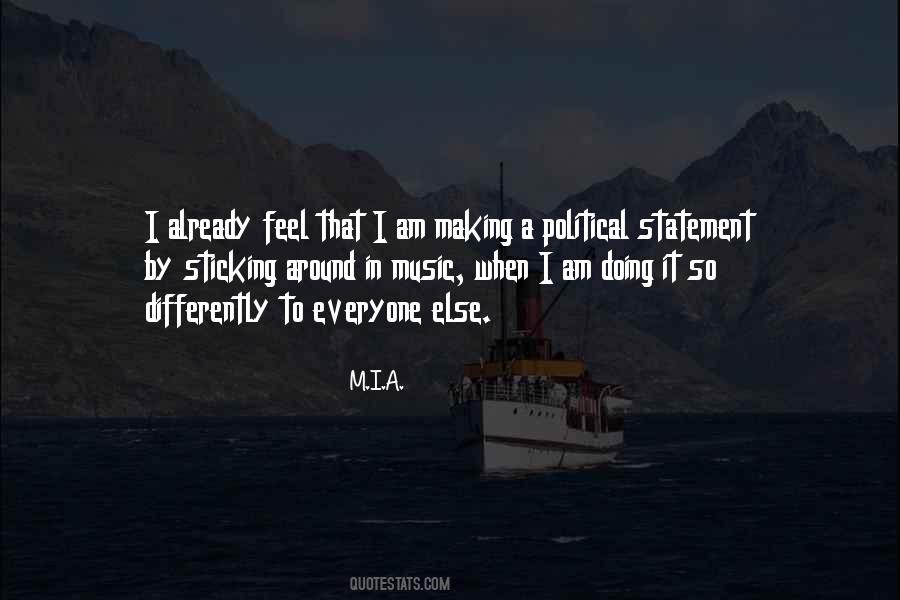 #67. It could be the sort of declining grip of the American MTV-nation culture-the fact that MTV doesn't play so much music anymore. - Author: M.I.A.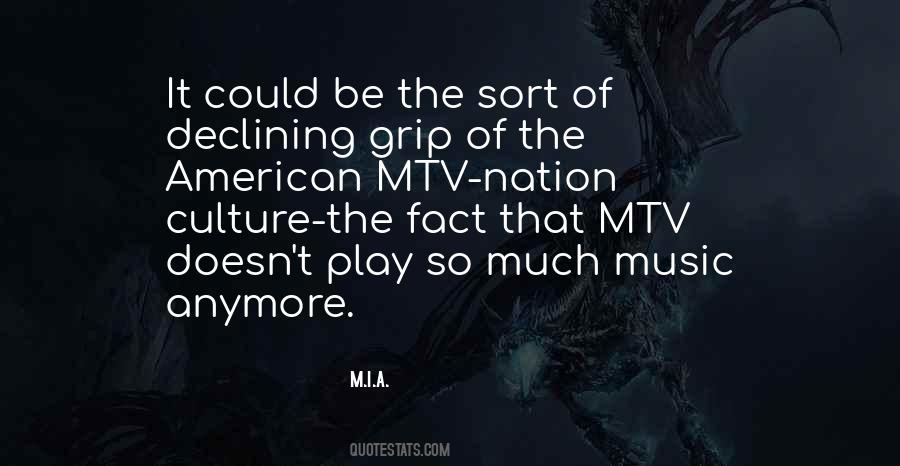 #68. Versace designs have always been bootlegged. Now it's Versace bootlegging the bootleg for the bootleggers to bootleg the bootleg. - Author: M.I.A.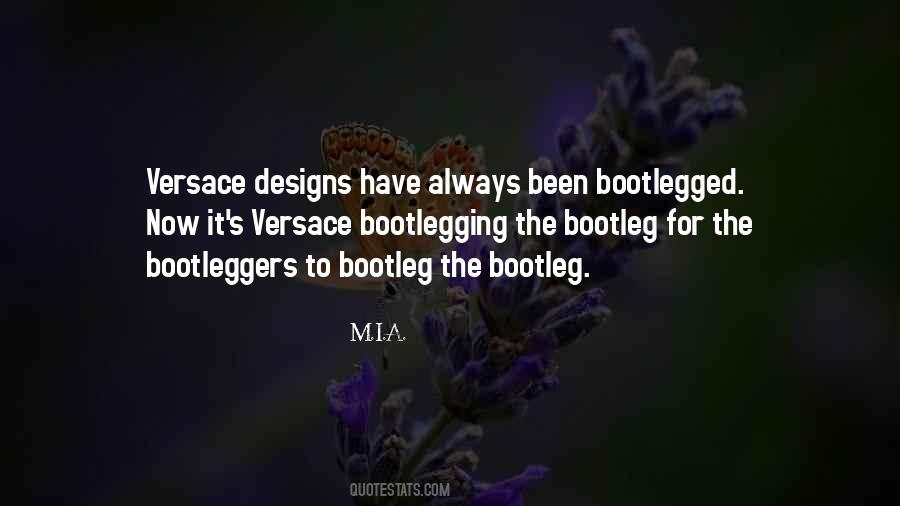 #69. In India, you see the way they embrace color in the culture - it's very celebratory of the existence of color. There's no rule of what color belongs together or doesn't belong together. They're not precious about it. It's very full-on. - Author: M.I.A.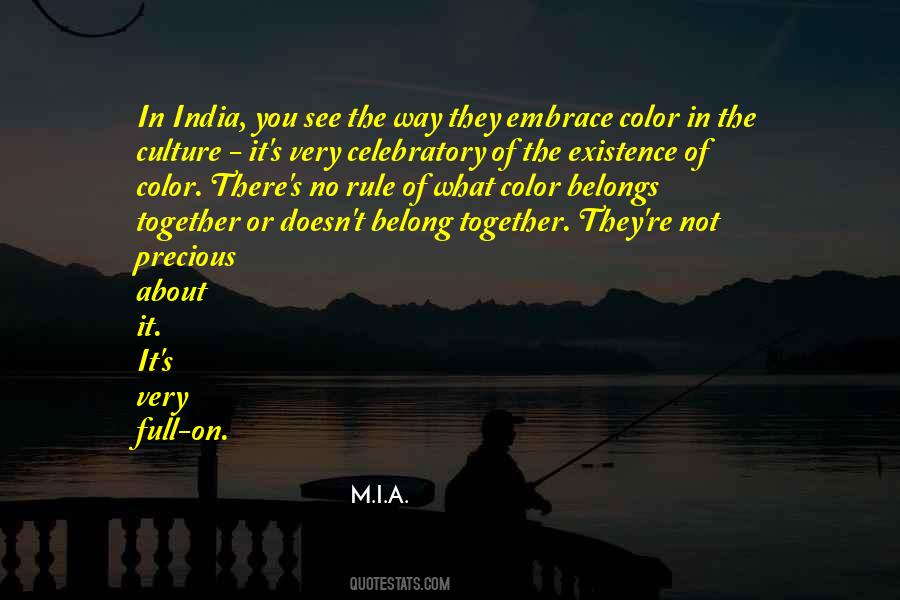 #70. The music industry was invented, like, 100 years ago. I'm talking about the goddess Matangi, who invented music 5,000 years ago. She was the only thing that inspired me. - Author: M.I.A.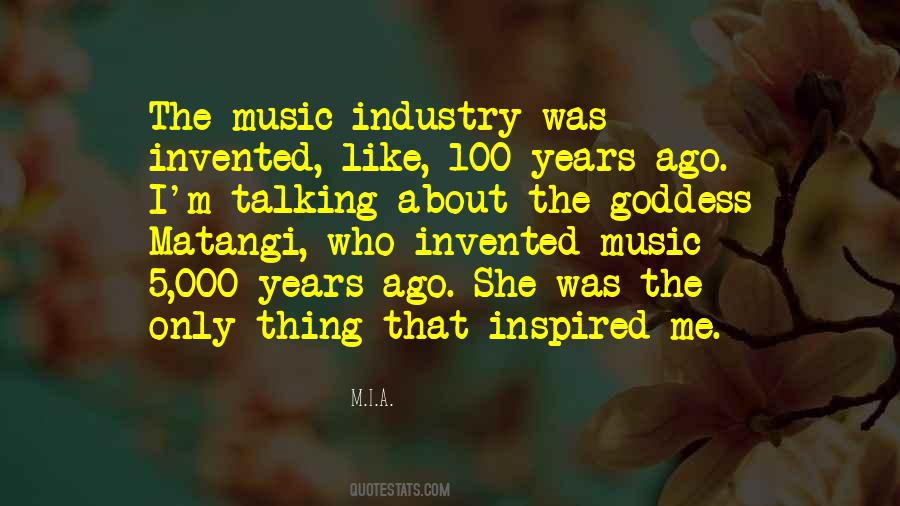 #71. Just make music; don't talk about politics. - Author: M.I.A.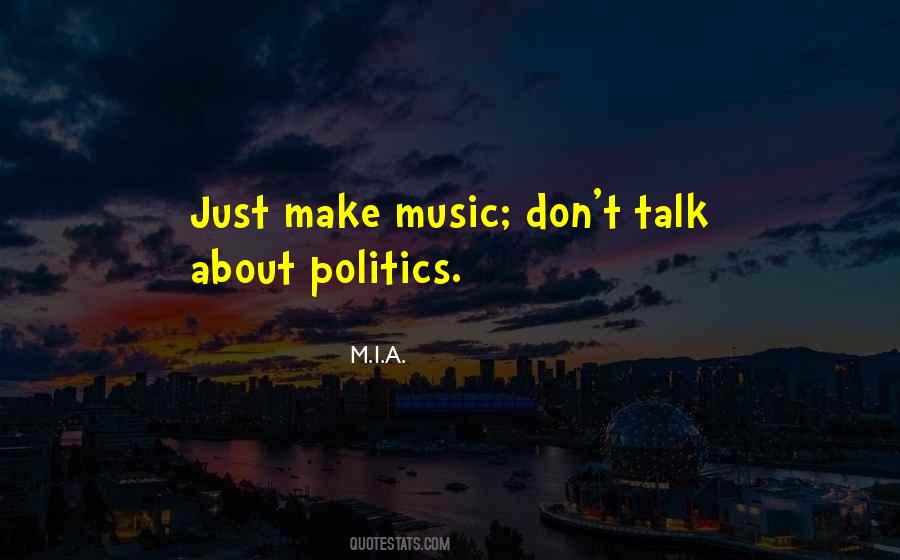 Famous Authors
Popular Topics