Can You Hear Me Famous Quotes & Sayings
List of top 100 famous quotes and sayings about can you hear me to read and share with friends on your Facebook, Twitter, blogs.
Top 100 Can You Hear Me Quotes
#1. Tell me what's going on here. Why can I hear your voice inside my head and why did you say you came to school for me?"
"I was tired of admiring your legs from a distance. - Author: Becca Fitzpatrick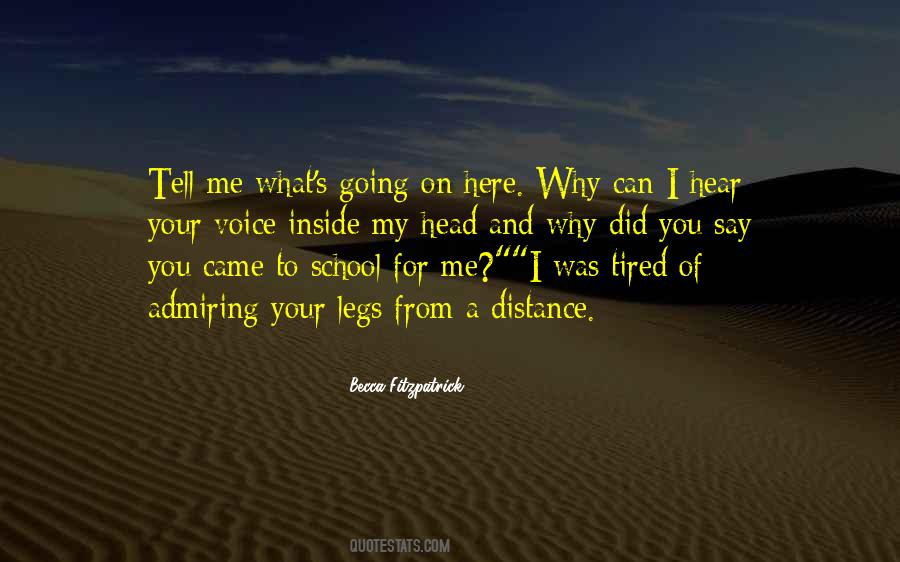 #2. You may not need to tell me, I can hear your song better when your voice is silent and your heart is singing. - Author: Debasish Mridha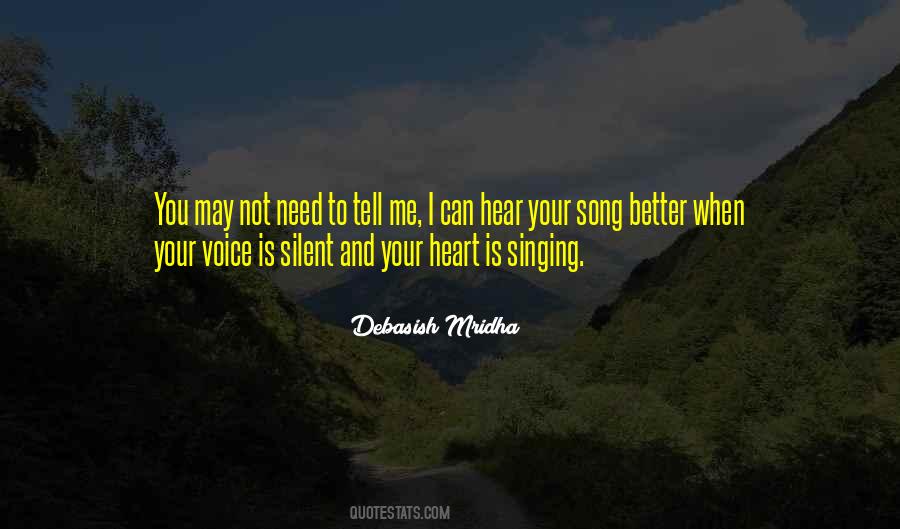 #3. I don't believe in God. Not with my mind. Not with my sense. I believe in what you can see and feel and hear and know. But sometimes a mood comes over me when all of life seems mysterious. The seasons. Things that grow. The different ways to be a person. My dreams. - Author: Sybil Claiborne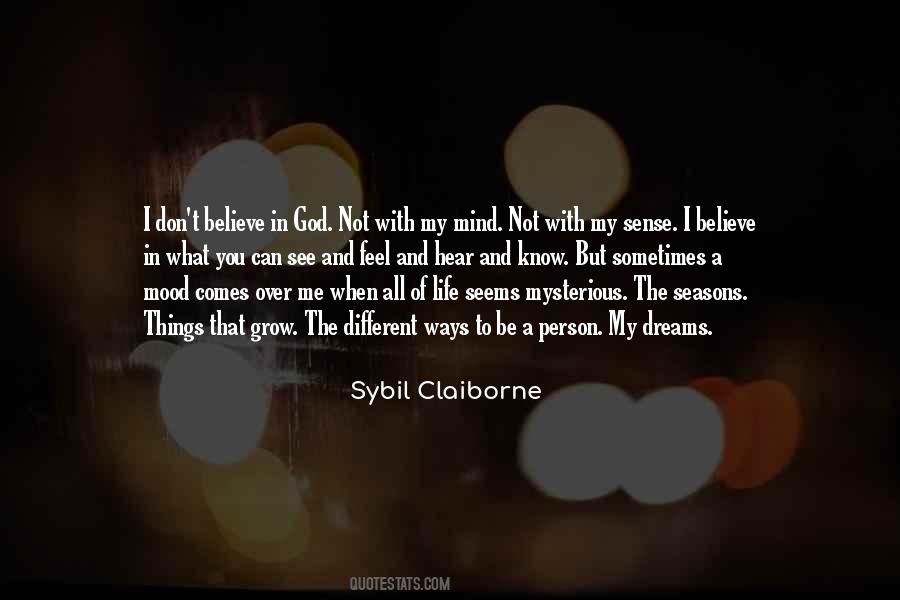 #4. Can you see me? Can you hear me? Does anything I say mean anything to you? - Author: Oprah Winfrey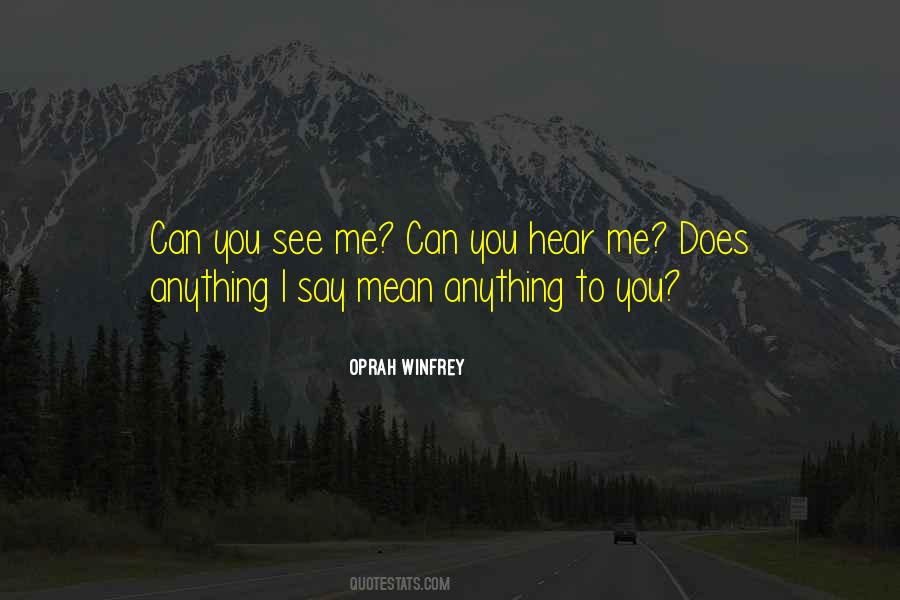 #5. Who knew, when you were watching the Verizon ad and the guy said, 'Can you hear me now,' that was really just a mic check for the Obama administration. - Author: Rick Perry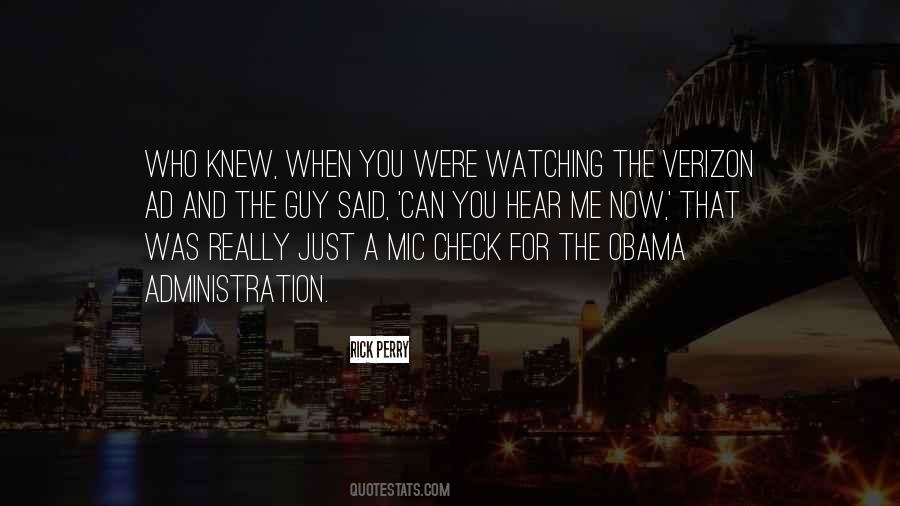 #6. Pourquoi?" Kingsley demanded. "Why? You take her every way you can, every chance you have. Why her and not me?"
Soren hadn't replied, and for that Kingsley had been forever grateful. He knew the answer, but to hear it would have broken the one last unbroken part of his spirit. - Author: Tiffany Reisz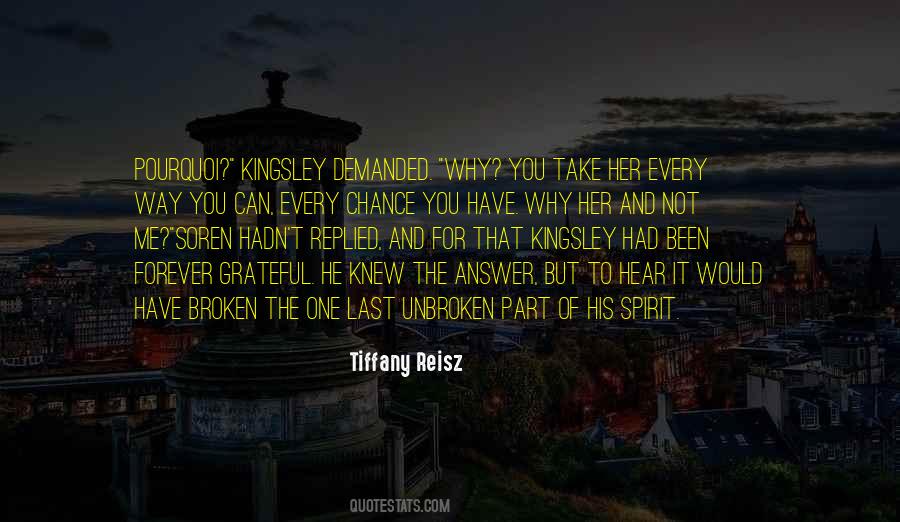 #7. I think the biggest problem working with me would be that I'm an only child, and so I have an internal dialogue that goes on that I just assume you can hear. - Author: Maynard James Keenan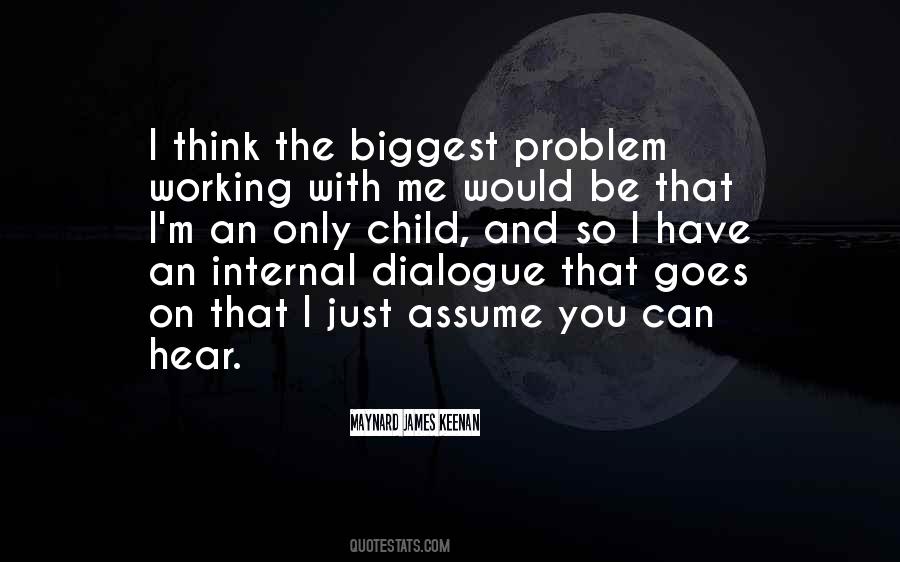 #8. That has not yet been put to the test. I got my fourth-degree black belt this winter. When I make martial arts noises, thousands flee in terror. Don't test me."
"Can you hear that? It's my knees knocking."
"They're wise to fear me. - Author: Nora Roberts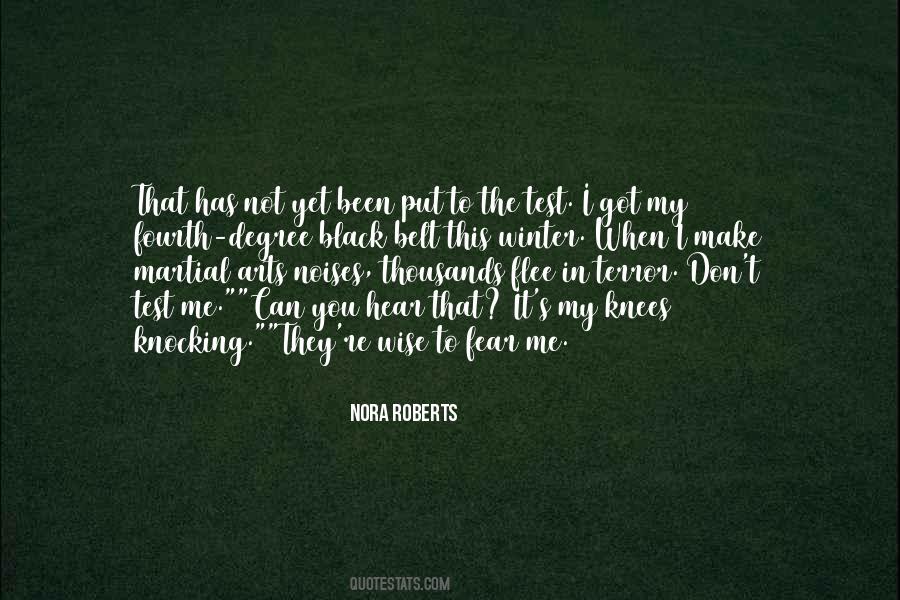 #9. However, if you listen to me I think you can hear years of abuse in my voice - both bad abuse and good abuse. - Author: Belinda Carlisle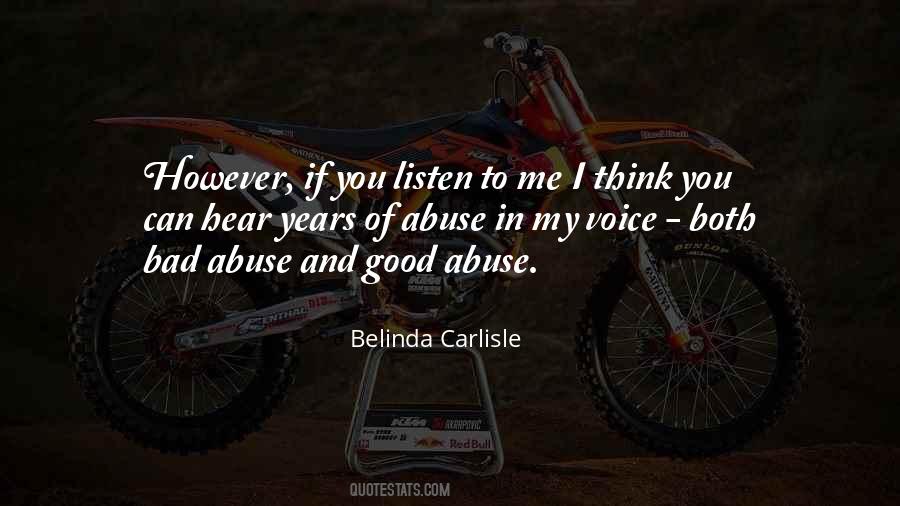 #10. I never get too many problems. You can never please everyone anyway, obviously. And some people take the easy route and just play the greatest hits, and their audience is happy to hear that as well, and that's fine, but it wouldn't please me. But it doesn't trouble me. - Author: Paul Weller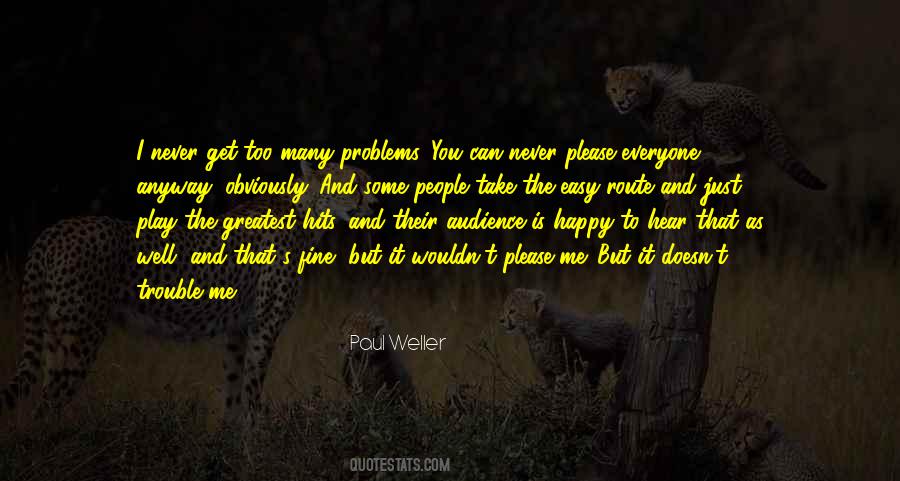 #11. Finding A Way

I'd like you for a friend.
I'd like to find the way
of asking you to be my friend.
I don't know what to say.

What would you like to hear?
What is it I can do?
There has to be some word, some look
Connecting me to you. - Author: Myra Cohn Livingston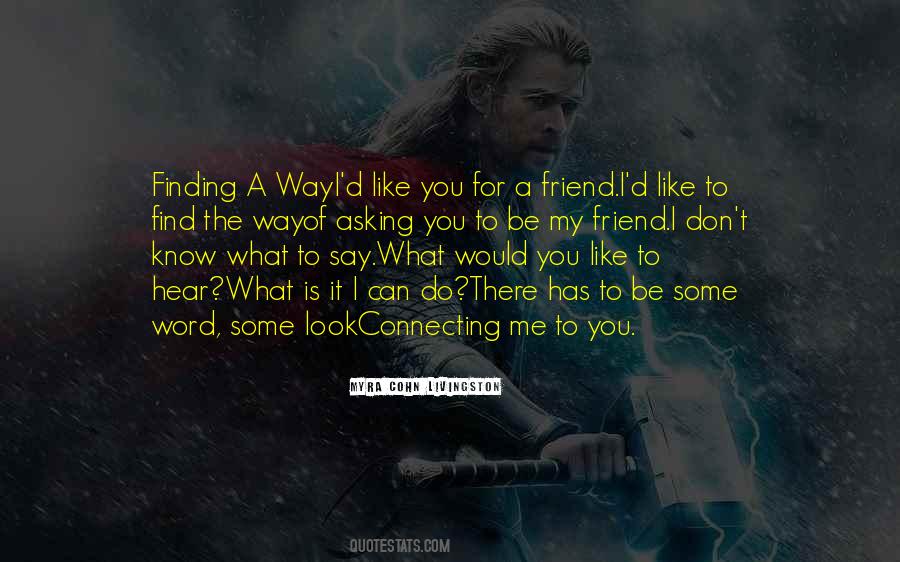 #12. Did you see how she got all hot under the collar?" Grandma Frida said in a theatrical whisper behind me. She's not over him.

"I can hear you! - Author: Ilona Andrews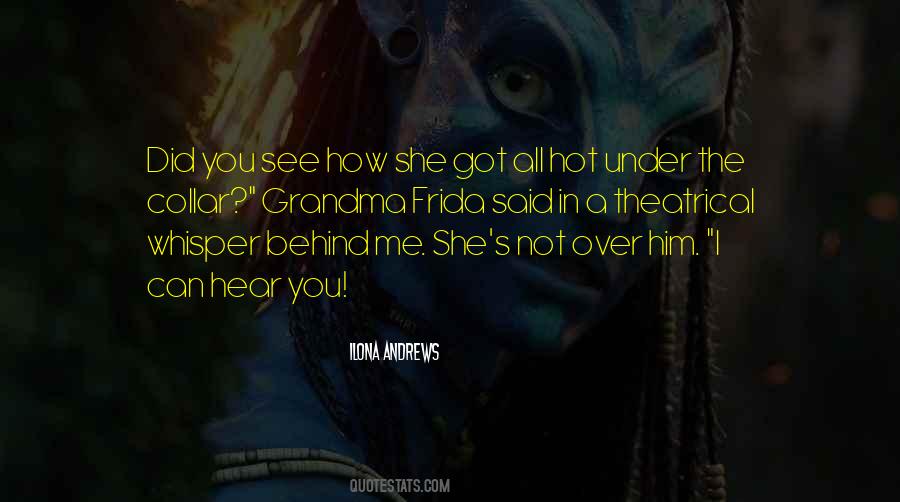 #13. For me, the good songs are the ones that come really naturally. There are certain songs that you rework and rewrite and the craft becomes very evident, but a lot of times those aren't my favorite songs. The favorite songs are the ones that I can't even hear my own voice in. - Author: Jon Foreman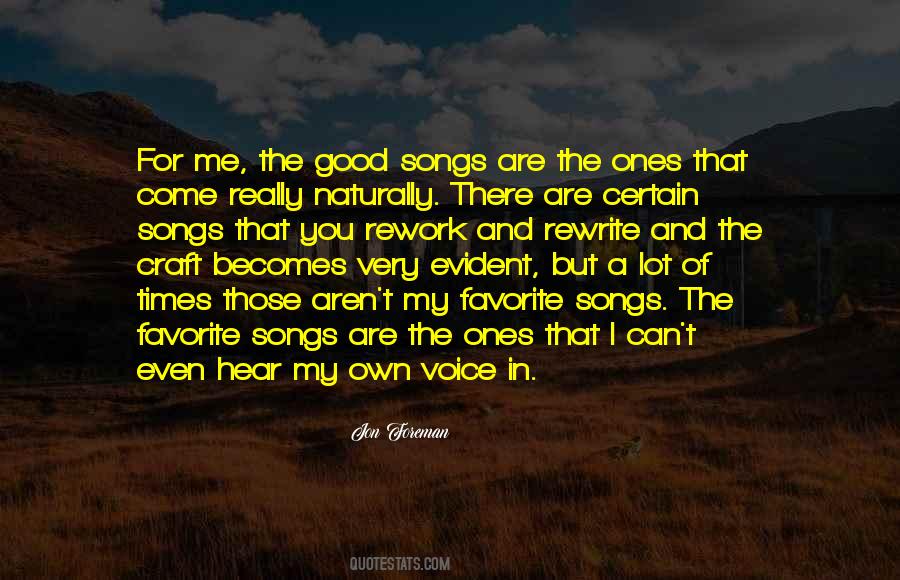 #14. I love so much you see, you're even in my dreams
I can hear baby, I can hear you calling me
I'm so in love with you, all I ever want to do is
Thank you baby, thank you baby.. - Author: Alton Ellis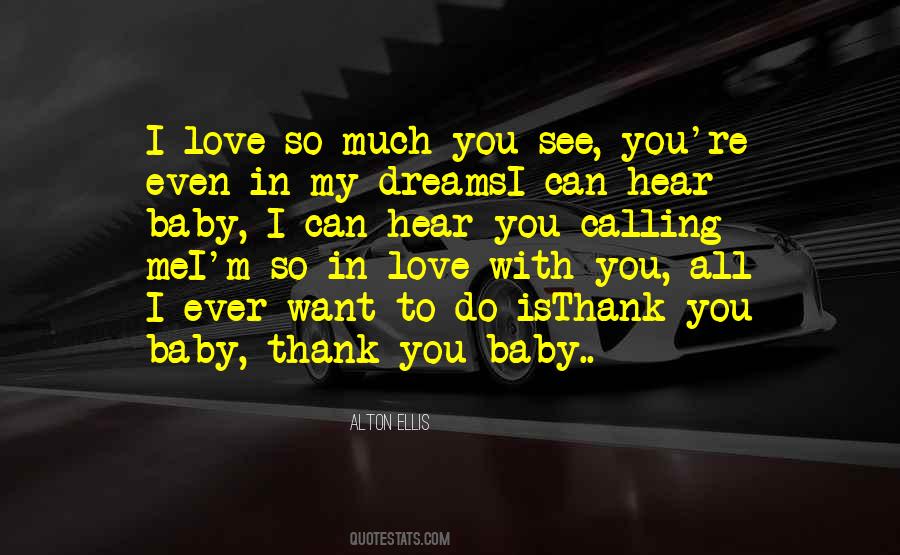 #15. Lucas," I repeated. "I know you can hear me. The guy I love is still in there. Come back to me." Once again longed for the release of tears.
"Death couldn't keep me from you. And it can't keep you from me, not if you don't let it. - Author: Claudia Gray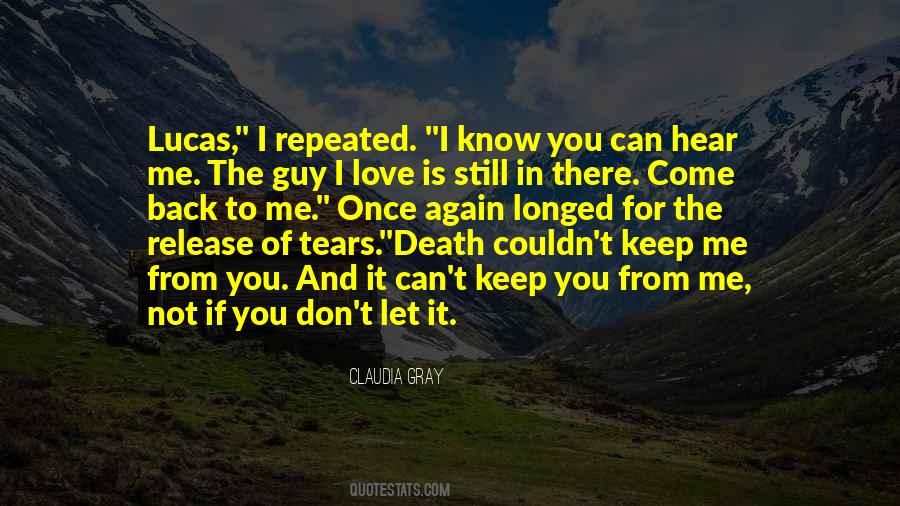 #16. People used to complain to me all the time, 'I can't even hear you sing because your clothes are so loud. - Author: Cyndi Lauper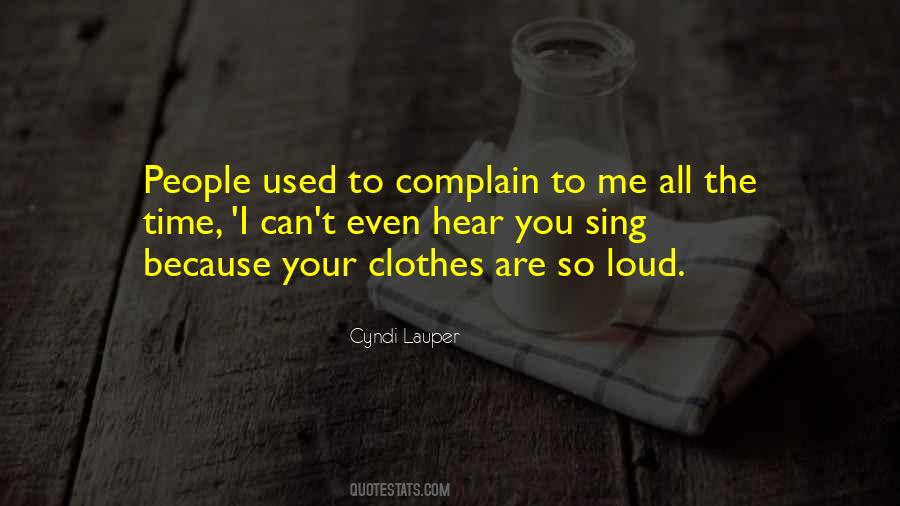 #17. I can still hear my mother wailing over some new kitchen crisis, "Oh God," and my father answering cozily from the silo, "Were you calling me, dear? - Author: Peter De Vries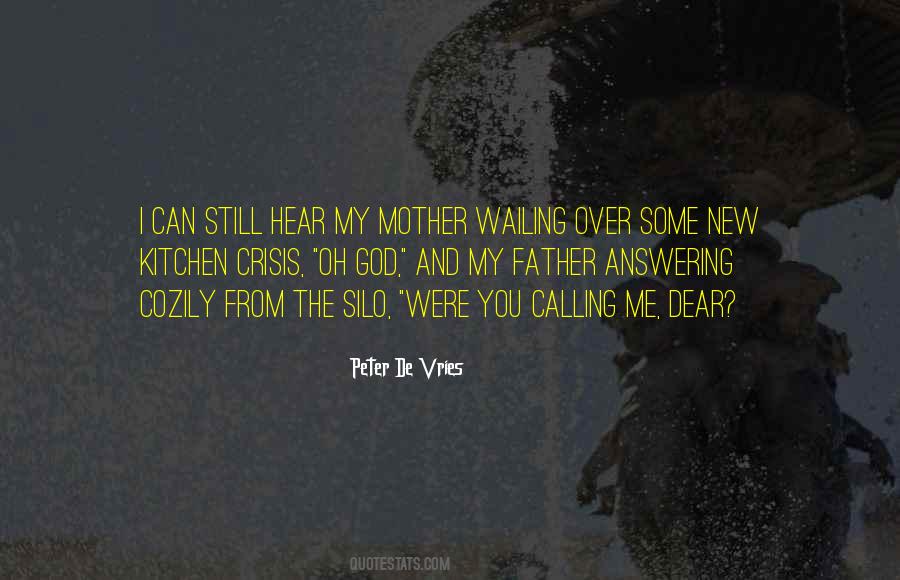 #18. Well, than that solves it. I'm not a faery, so I'll just go back to sleep, and you won't come to see me anymore." It nearly killed her to say it even in a dream.
"I can't let you go," Micala said, shaking his head. "I can't. And I won't."
That's what she wanted to hear. - Author: Terry Spear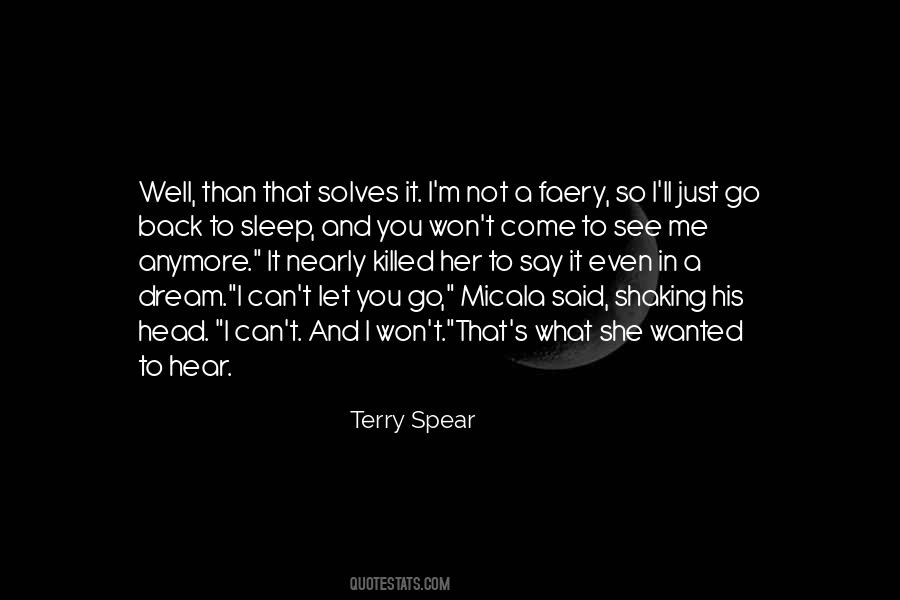 #19. You are going to have people breath! Do you hear what I am saying? Can you hear what you have me saying! How are you going to floss arms out of your teeth, Felix? - Author: Alanea Alder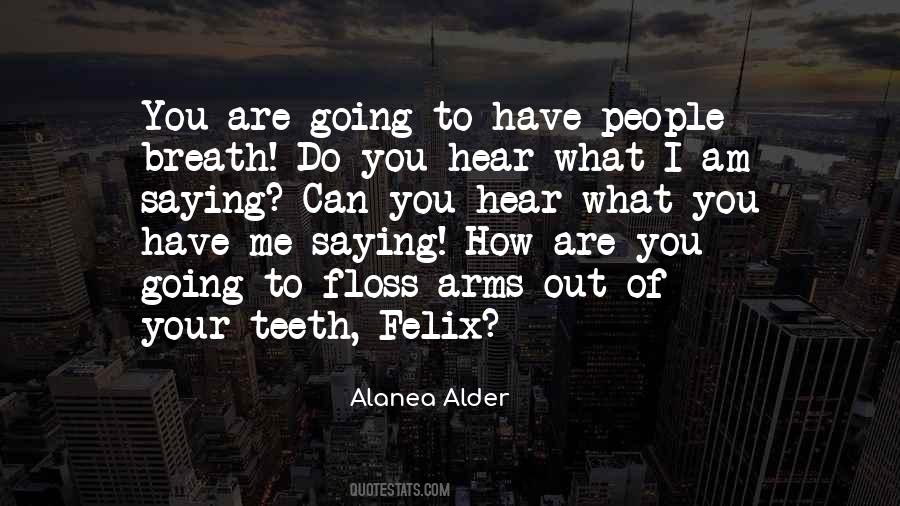 #20. I think about you all the time. I try to read, or brush my hair but all I think about is you. Sometimes I say your name over and over again, under my breath. No one can hear me, but I don't care. It just feels good to say it. - Author: Nicky Silver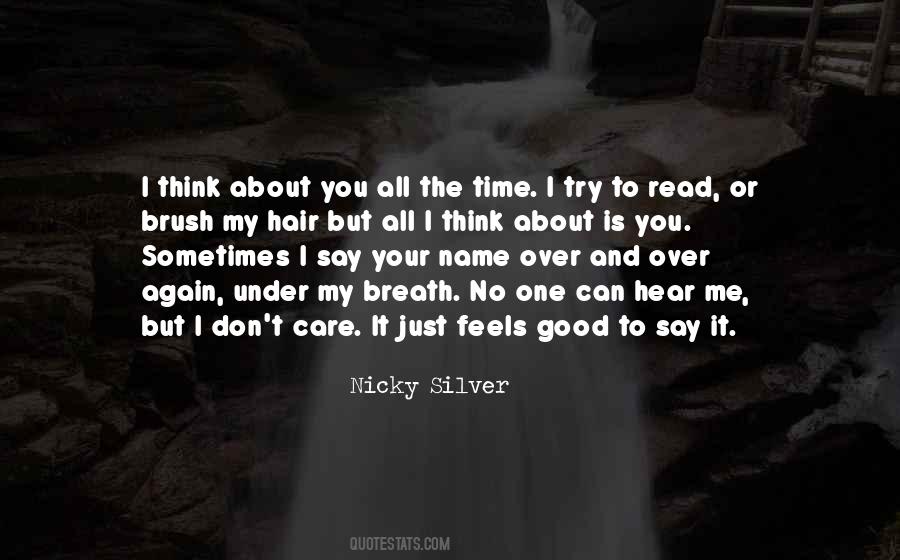 #21. I mean, you want the truth as you wanna hear it? I can't do that. You couldn't afford me. - Author: Keith Moon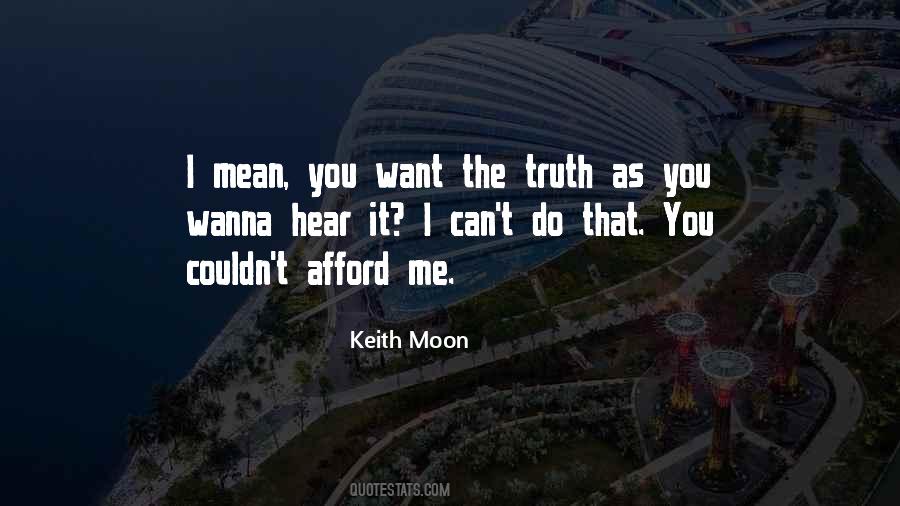 #22. With every fragment of rock that fall from me, I can hear the voice of Marianne Engle. I love you. Aishiteru. Ego amo te. Ti amo. Eg elska pig. Ich liebe dich. It is moving across time, coming to me in every language of the world, and it sounds like pure love. - Author: Andrew Davidson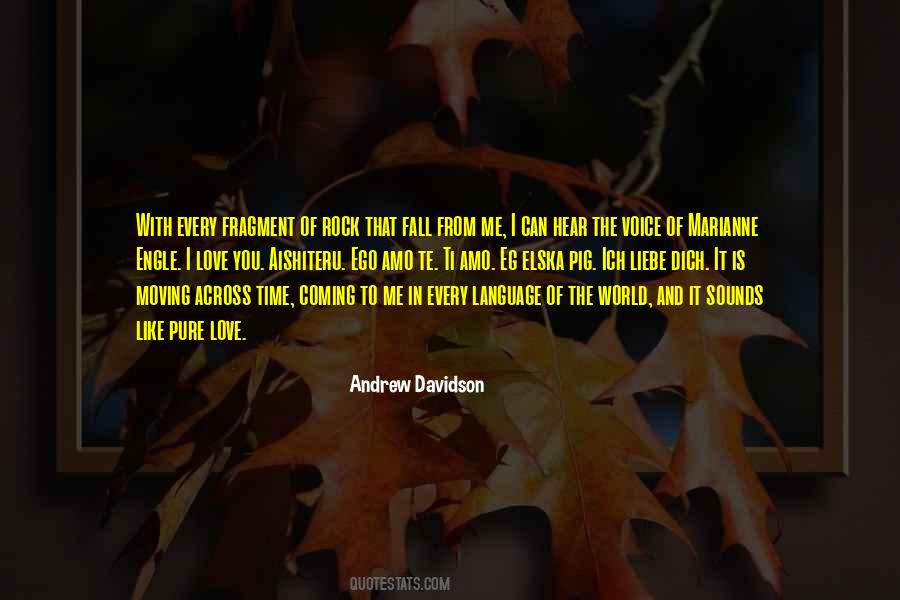 #23. Hear me now, and understand me, we will talk but nothing you can say will change the fact that you and me are happening. I won't let you go, Izzy. Never. You're mine, you got that, Princess? - Author: Harper Sloan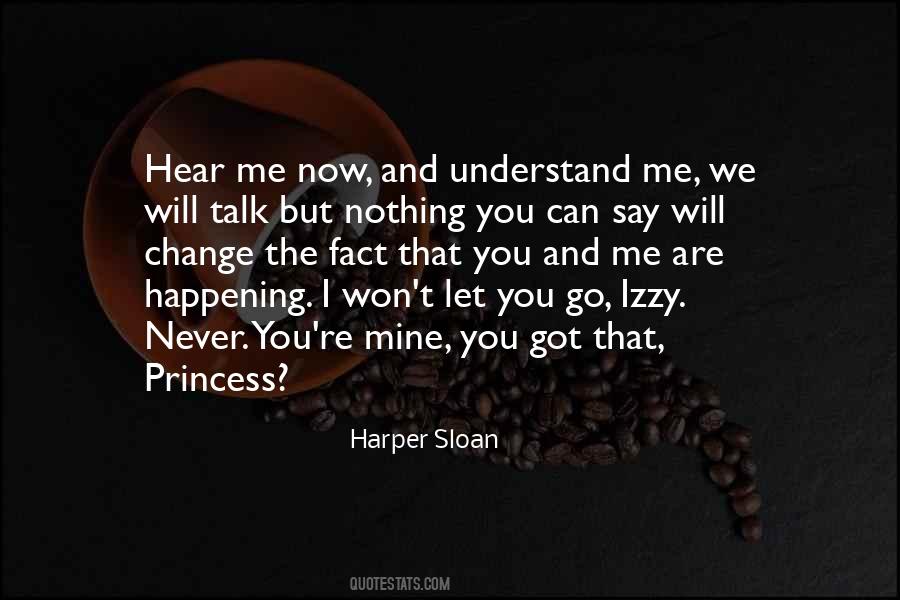 #24. You can mean more than one.
You can mean thousands.
I'm not in any immediate danger, I'll say to you.
I'll pretend you can hear me.
But it's no good, because I know you can't. - Author: Margaret Atwood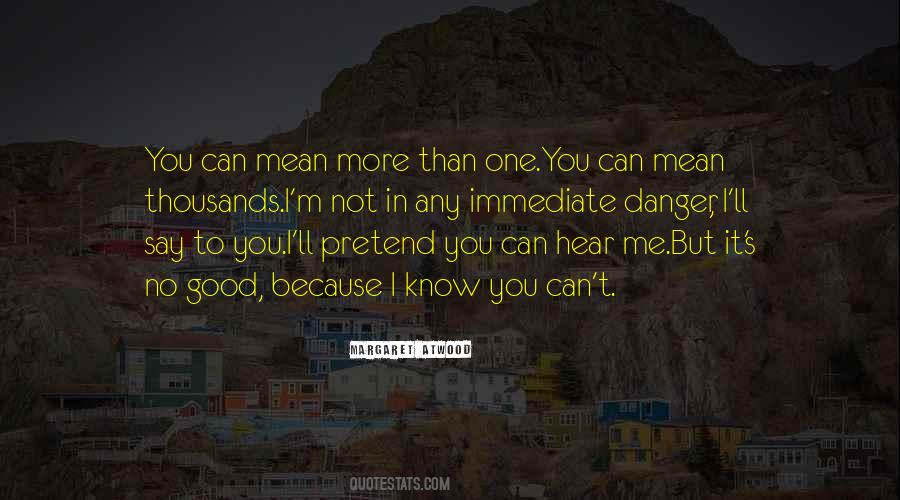 #25. I was born in Hell. But I am no demon. I am beige and colorful. I was quiet in this room. But I am learning to be loud. Can you hear me? I will make my mark, wherever i am. It is my space. I'll make it mine. I choose. I choose.If I voice my truth, no one loses. - Author: Cecil Castellucci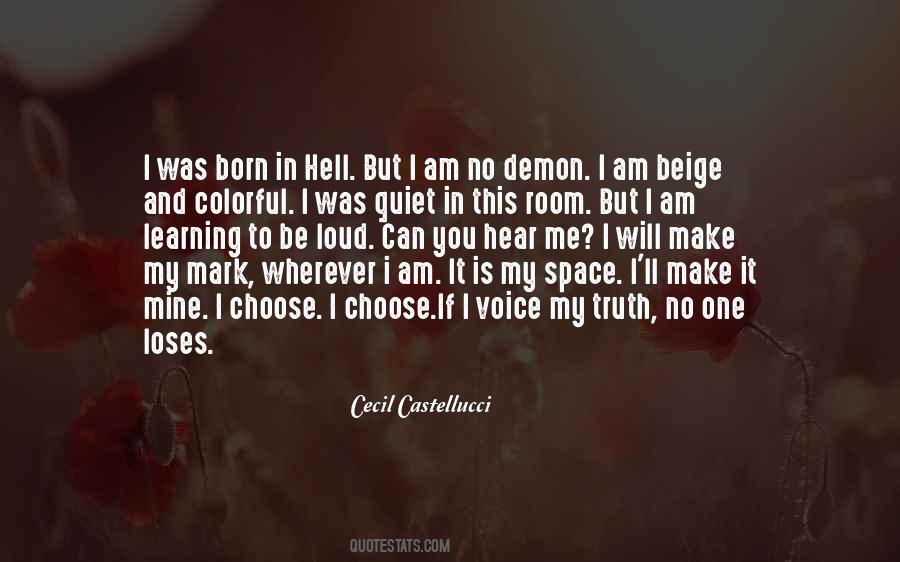 #26. I don't know if you can hear me, but I have heard you. I heard your willingness to change. Your force, your hope ... and I want to tell you how grateful I am. Thank you, thank you, thank you, people of France. - Author: Francois Hollande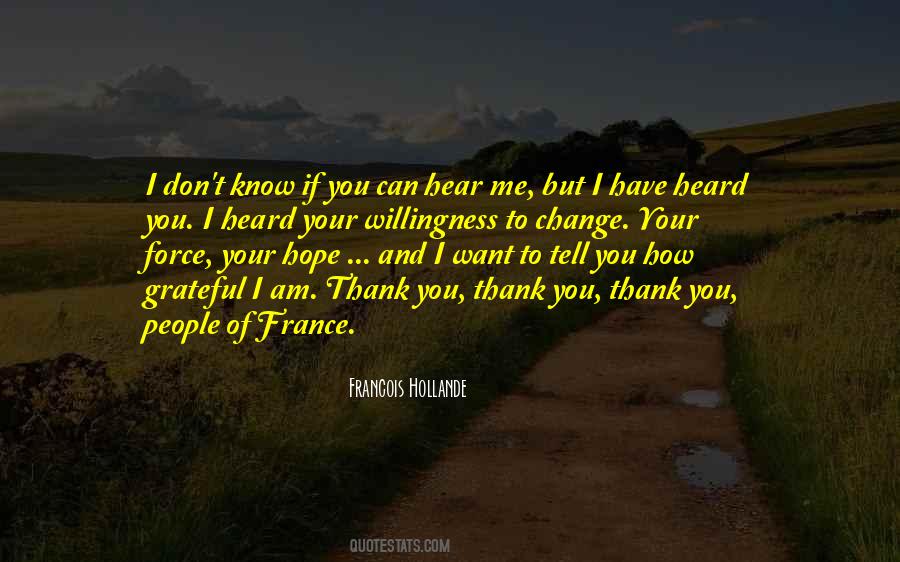 #27. Names are what you can hear or see, but cannot smell or touch. I don't need a name, as name stand for things they are not, and I am what all names stand for. If you gave me a name, it would mean that we are separate, you and I, when we are not.

- The Blind Girl and the Talking Moon - Author: Cyril Wong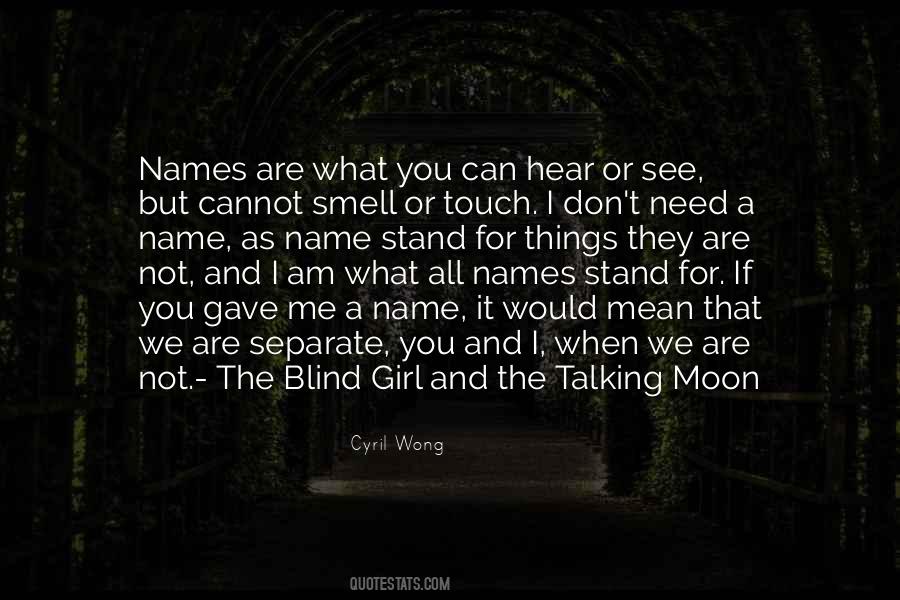 #28. That night when you kissed me, I left a poem in your mouth, and you can hear some of the lines every time you breathe out. - Author: Andrea Gibson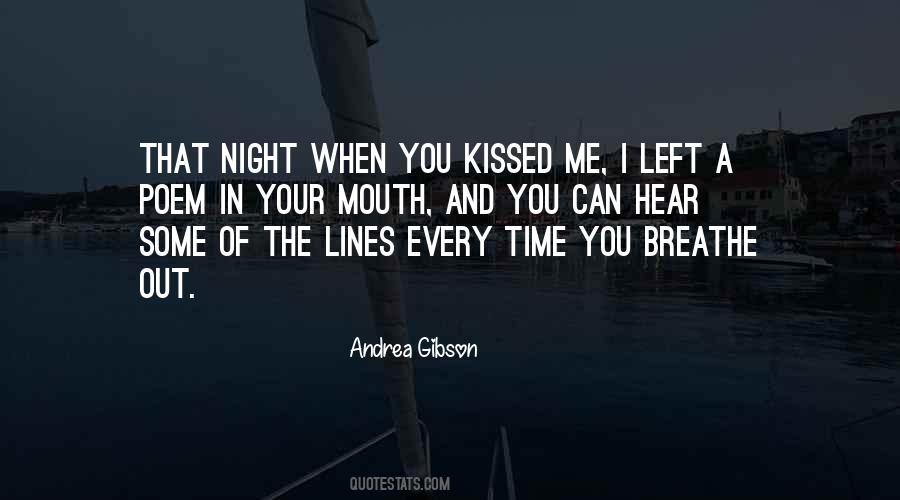 #29. I am not sure,' Mordecai told Thomas, 'whether omens can be trusted.'
'Of course they can.'
'I should like to hear your reasons. But show me your urine first.'
'You said I was cured,' Thomas protested. 'Eternal vigilance, dear Thomas, is the price of health. Piss for me. - Author: Bernard Cornwell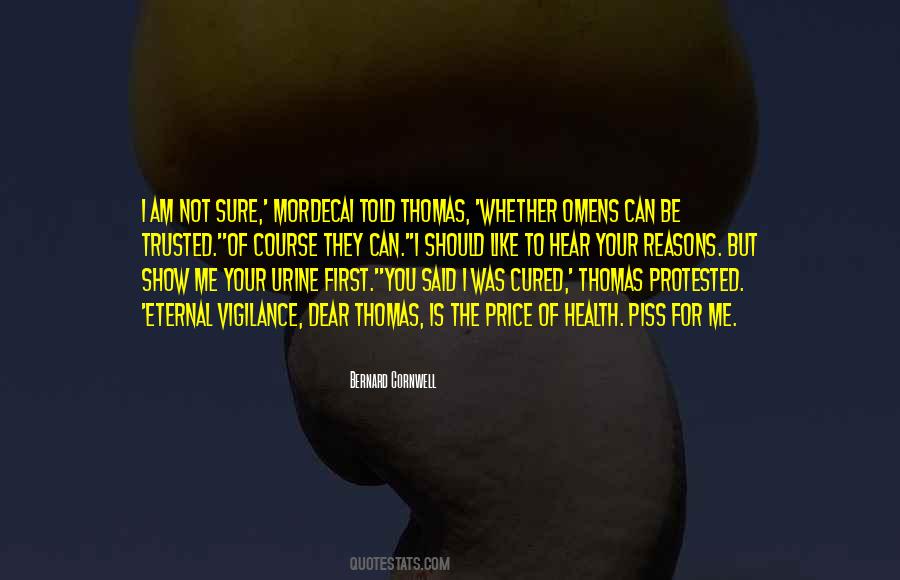 #30. Get off me!" Badger tried to roll away, but Azrael held his palms over the baker's eyes again and more white light poured out. "You're blinding me! Stop!"

"No," said Azrael.

"Please!"

"I can't hear you over the sound of my total indifference. - Author: Mirriam Neal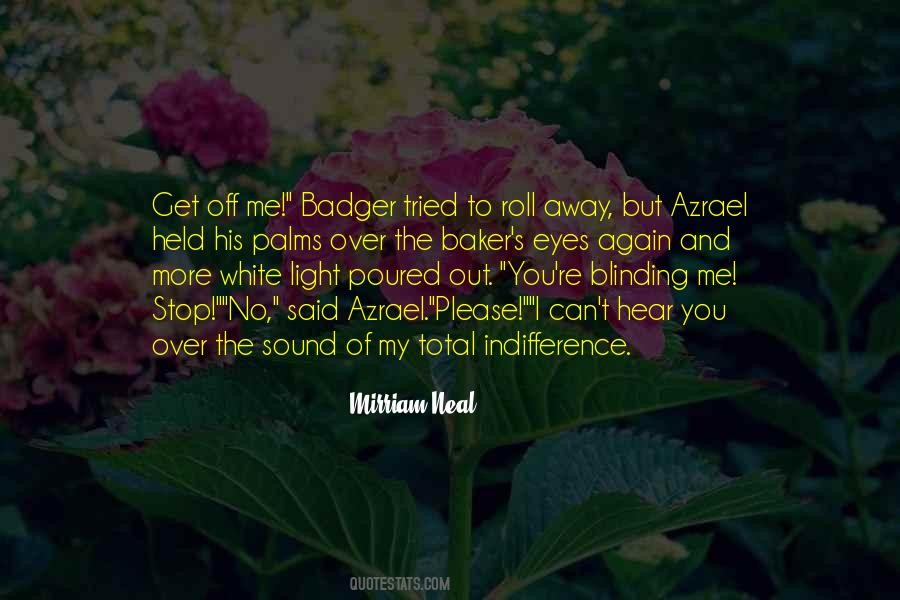 #31. Pa? You never said. What'm I gonna be? Good or bad?
He kisses the top of my head. Whispers in my ear, so's only him and me can hear. You, my darlin daughter, are gonna be somethin else entirely. - Author: Moira Young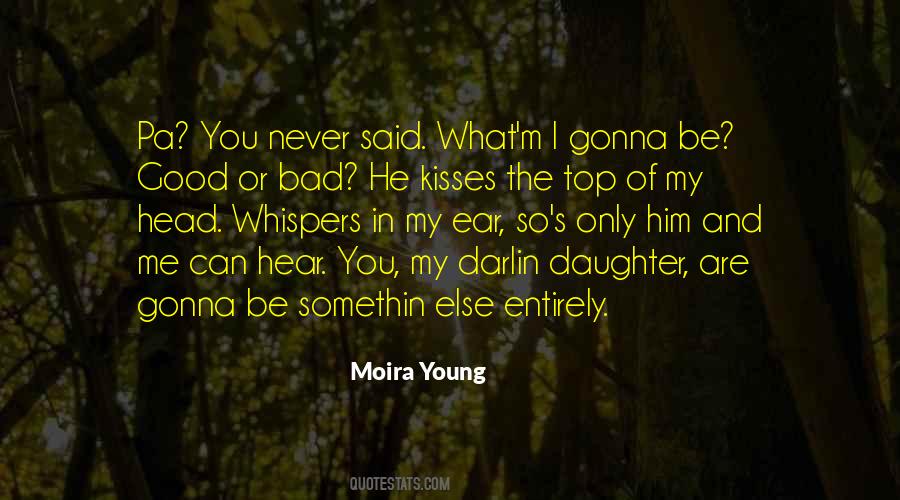 #32. My parents were just constantly affirming me in everything that I did. Late at night, I'd wake up and hear my mother talking over my bed, saying, 'You're going to do great on this test. You can do anything you want.' - Author: Stephen Covey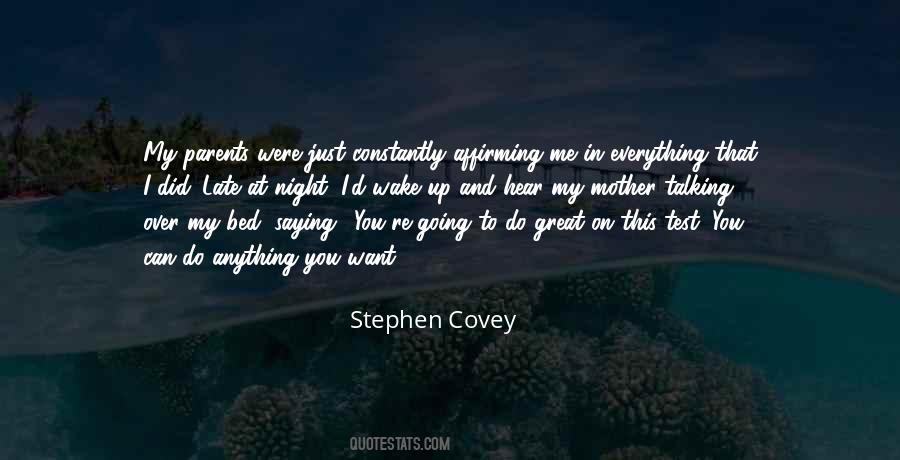 #33. We need our goats!" I yelled.
I waded through the crowd until I reached our chariot. I grabbed Otis's face and pressed my forehead against his.
"Testing," I whispered. "Is this goat on? Thor, can you hear me?"
"You have beautiful eyes," Otis told me. - Author: Rick Riordan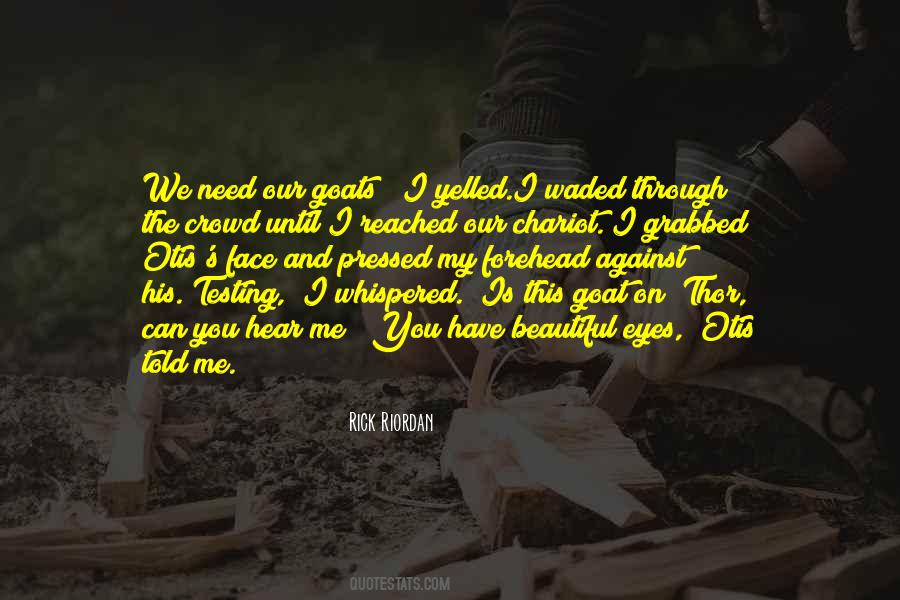 #34. By way of conclusion, Luce said, I lived through it [the rape], so if you can't stand to hear it, you can take me home and go to hell. Men get so damn strange sometimes. - Author: Charles Frazier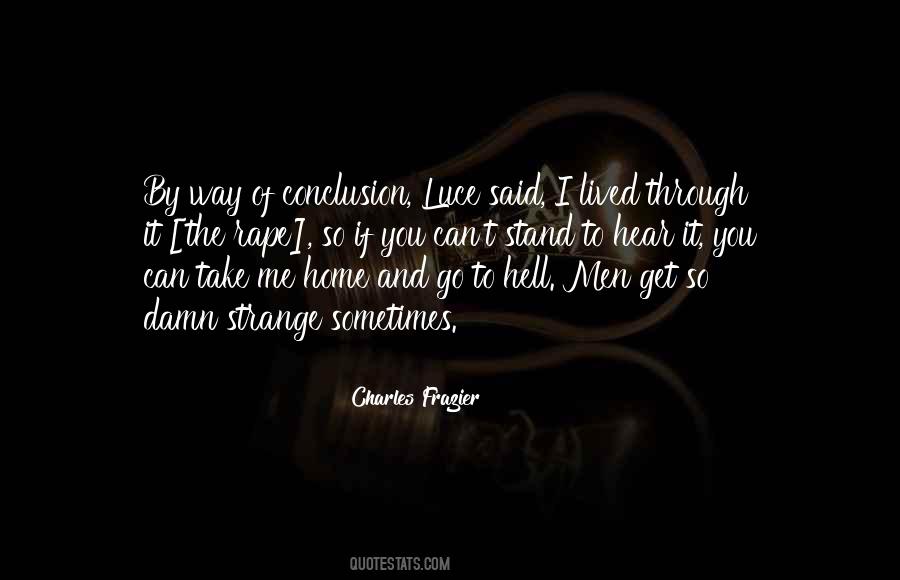 #35. Nobody listens anymore. I can't talk to the walls because they're yelling at me, I can't talk to my wife; she listens to the walls. I just want someone to hear what I have to say. And maybe if I talk long enough it'll make sense. And I want you to teach me to understand what I read. - Author: Ray Bradbury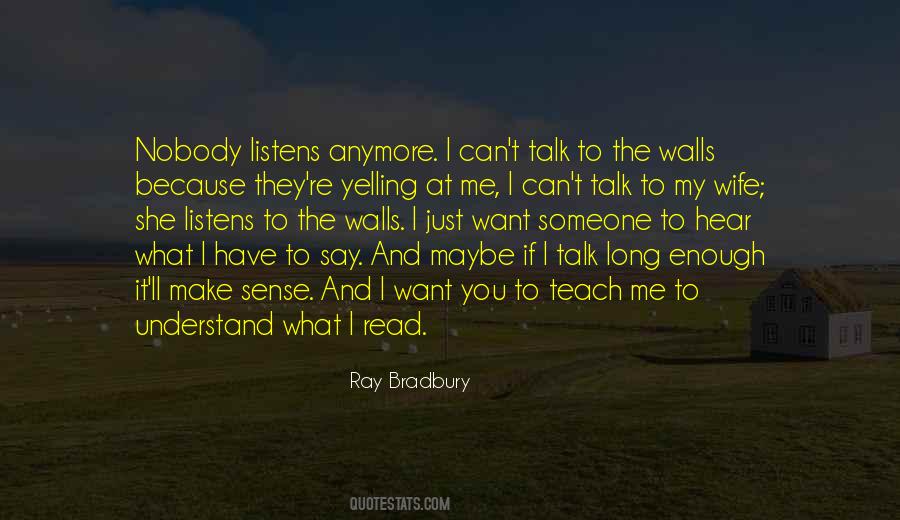 #36. I'm all about showing people that I'm a little messed up, I have a lot of the same problems you have. By exposing myself and putting myself out there, people can relate to me and my act won't grow stale. I mean, nobody wants to hear a comedian say, 'Life is great.' - Author: Gabriel Iglesias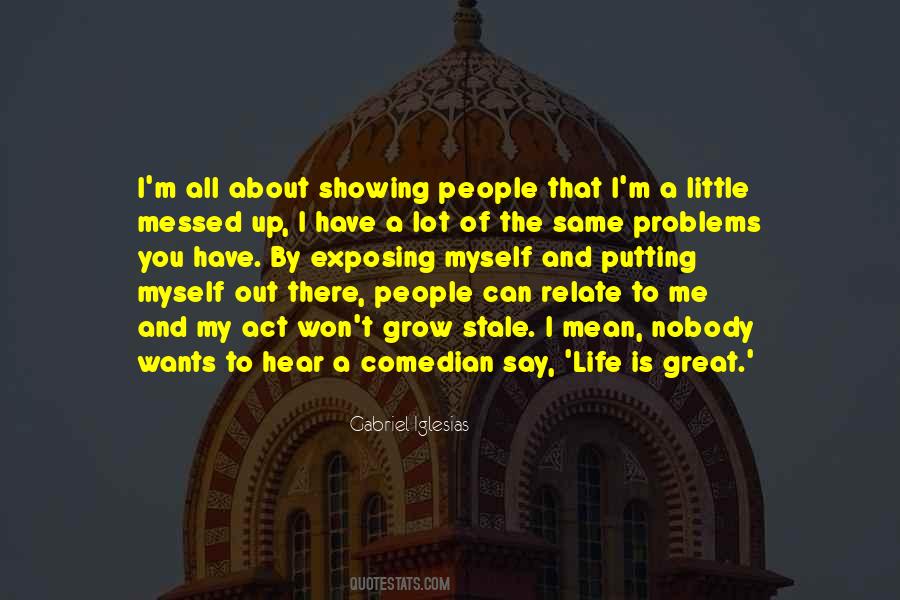 #37. As for asking favors or handouts, no.'
But you'll take them from a stranger.'
He looked me straight in the eye. 'The stranger can keep going and pretend not to hear. - Author: Raymond Chandler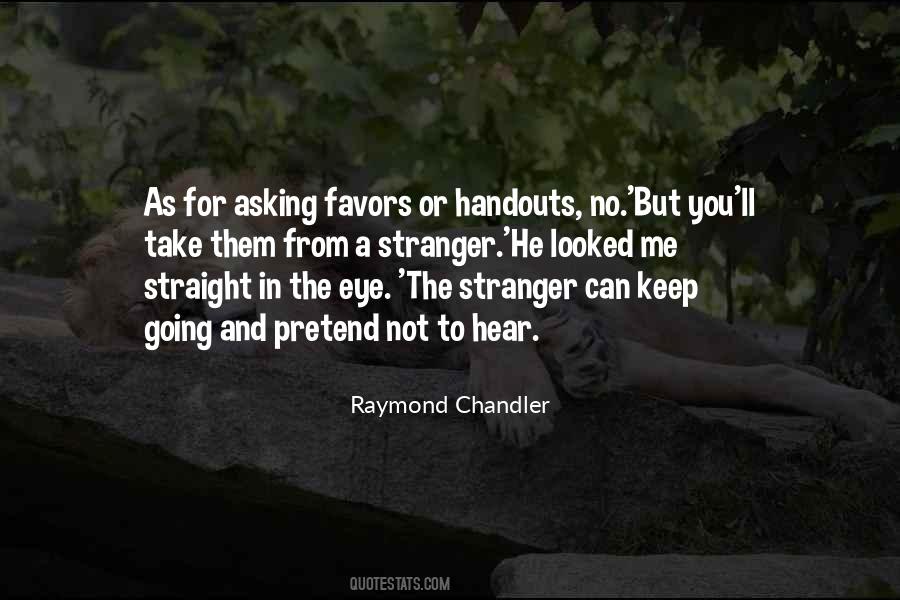 #38. Just like you, my country cannot hear me:
She's made of bronze
and I
can no longer reach her heart

(from Thoughts on the Statue of Talaat Harb) - Author: Najwan Darwish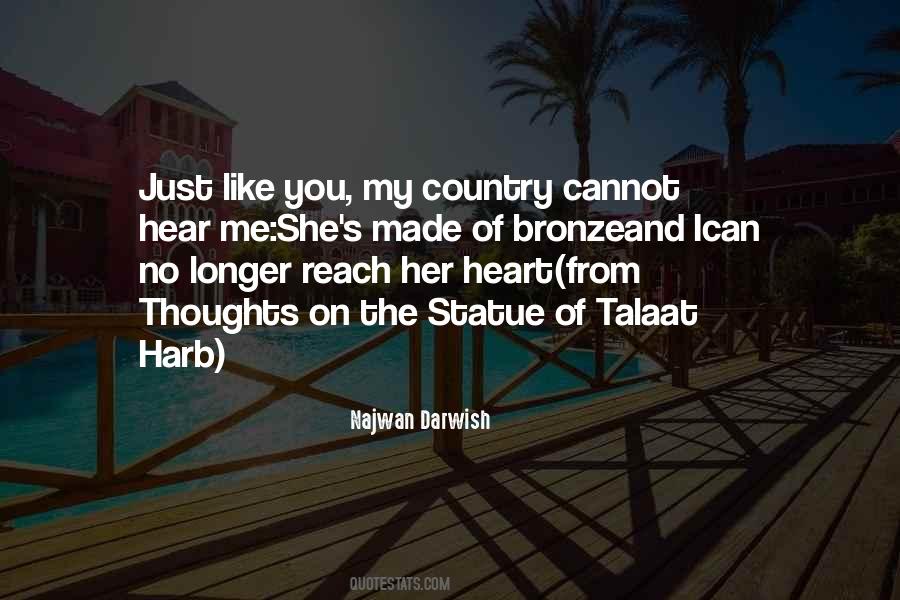 #39. If you can't hear me, it's because I'm in parentheses. - Author: Steven Wright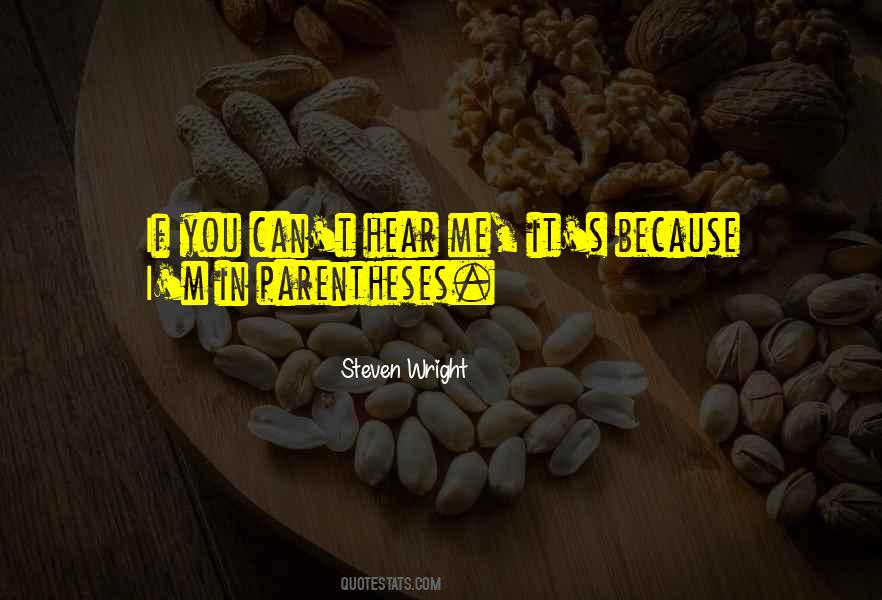 #40. Did you hear me, Zach? I care about you."
"Okay," I said. "It's okay with me that you care about me. But can we please not talk about it? Would that be okay with you?"
"Yeah, that would be okay," he said. - Author: Benjamin Alire Saenz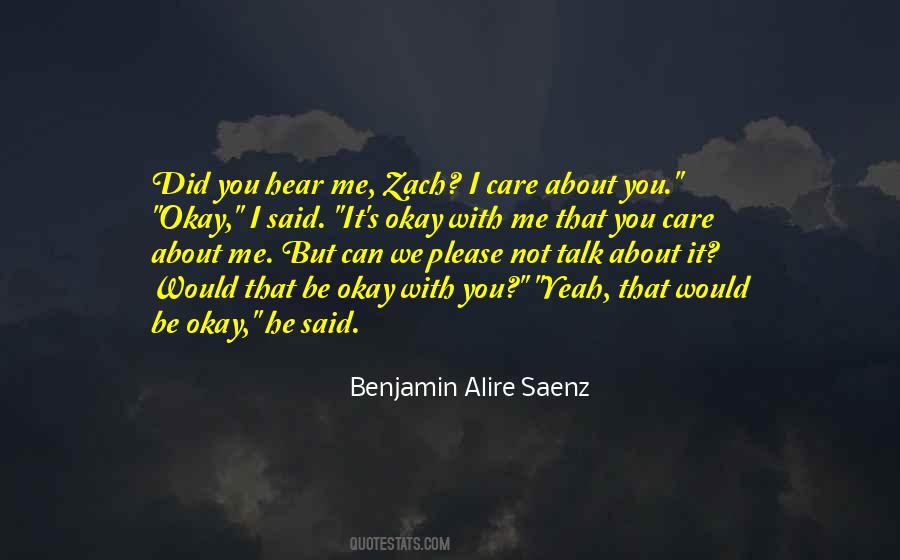 #41. When people ask me about my dialogue, I say, 'Don't you hear people talking?' That's all I do. I hear a certain type of individual, I decide this is what he should be, whatever it is, and then I hear him. Well, I don't hear anybody that I can't make talk. - Author: Elmore Leonard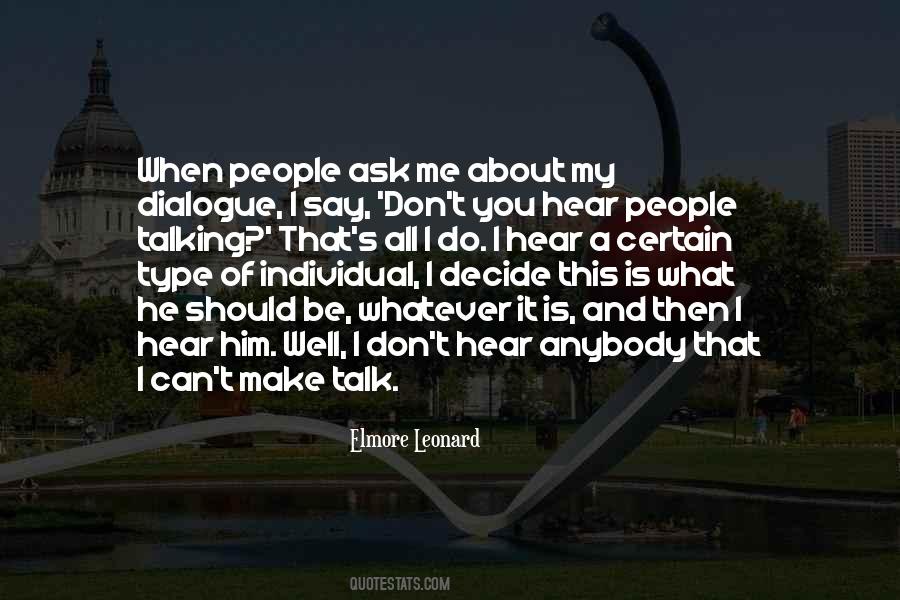 #42. It's our last chance.
No. No, I can't ... I, no, I need to believe that it isn't our last chance ... Eleanor? Can you hear me? I need you to believe it, too. - Author: Rainbow Rowell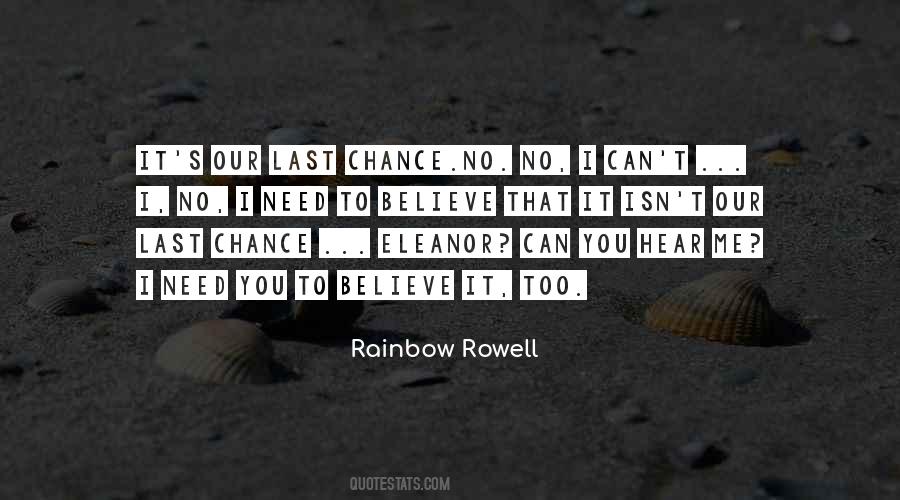 #43. If you are lying in bed
Under the sheets next to me
Then who is coming upstairs
Who can the intruder be

Question - How you moved so fast
From the TV room to here?
Must have skipped brushing your teeth
Then, what are the sounds I hear? - Author: Debby Feo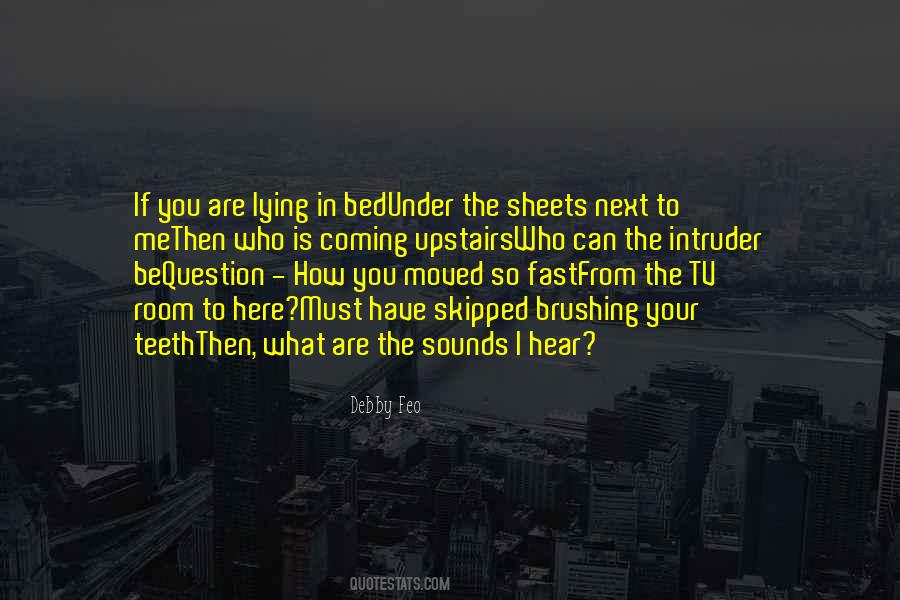 #44. What you are shouts at me so loudly that I can't hear a word you say. - Author: Ralph Waldo Emerson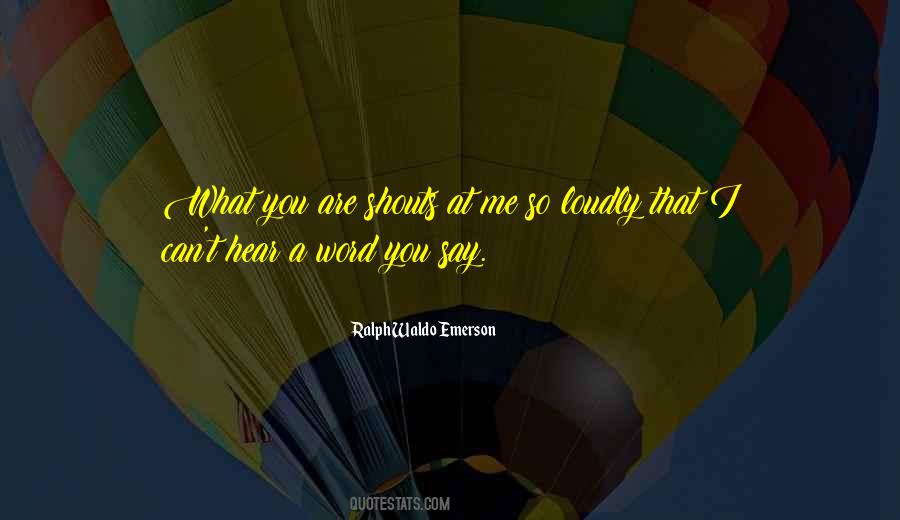 #45. I was surprised she'd heard us. When you're that low on the totem pole, you sometimes think you're so unimportant that no one can hear you. My sense of invisibility had made me loose-lipped. - Author: Mindy Kaling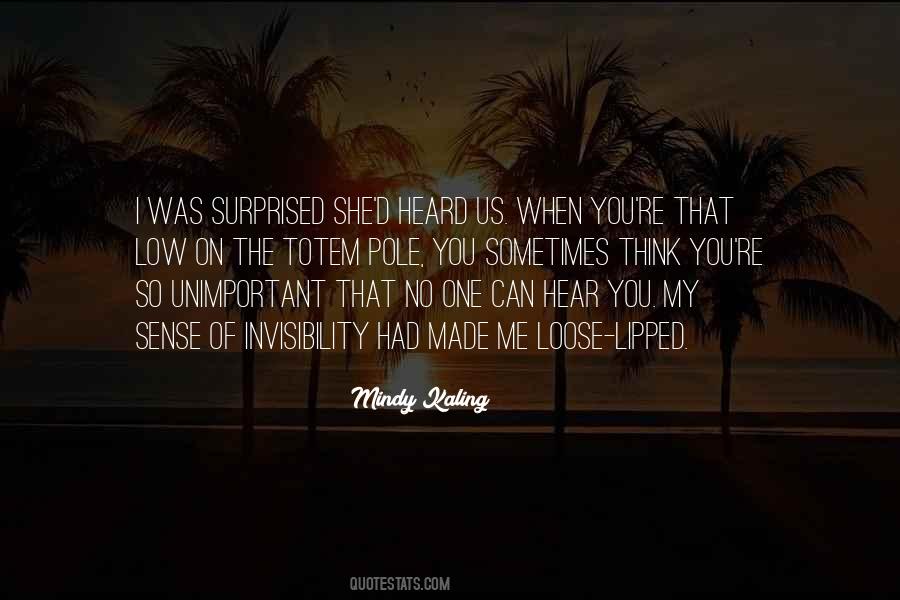 #46. I want you to hear how I can tell stories. I want you to hear how I can make these records about these females and make them feel every way I can. I want you to feel my magic. I want you to respect me and my artistry. - Author: Kirko Bangz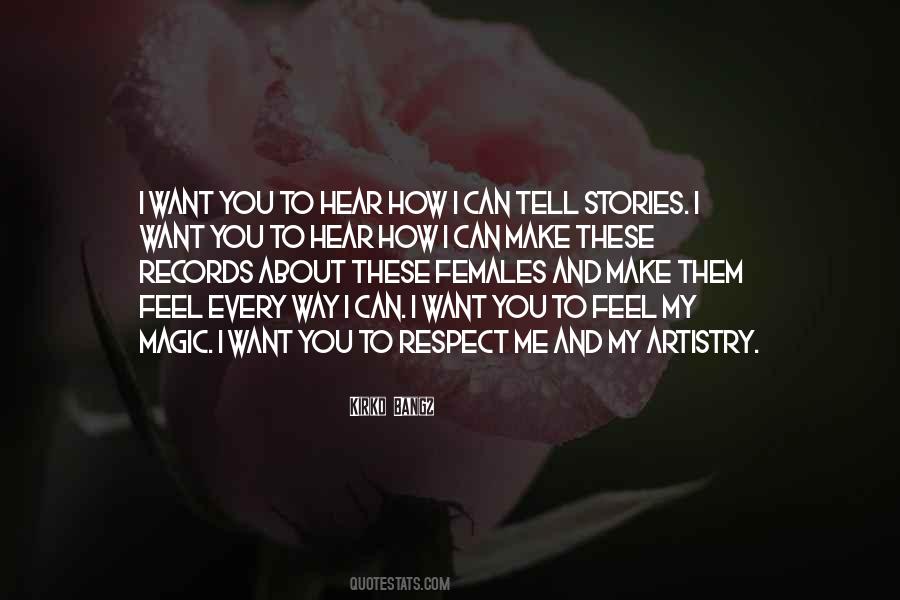 #47. Is it true that the beyond, that everything beyond is here in this life? I can't hear you. Who goes there? Is it only me? Is it myself? - Author: Andre Breton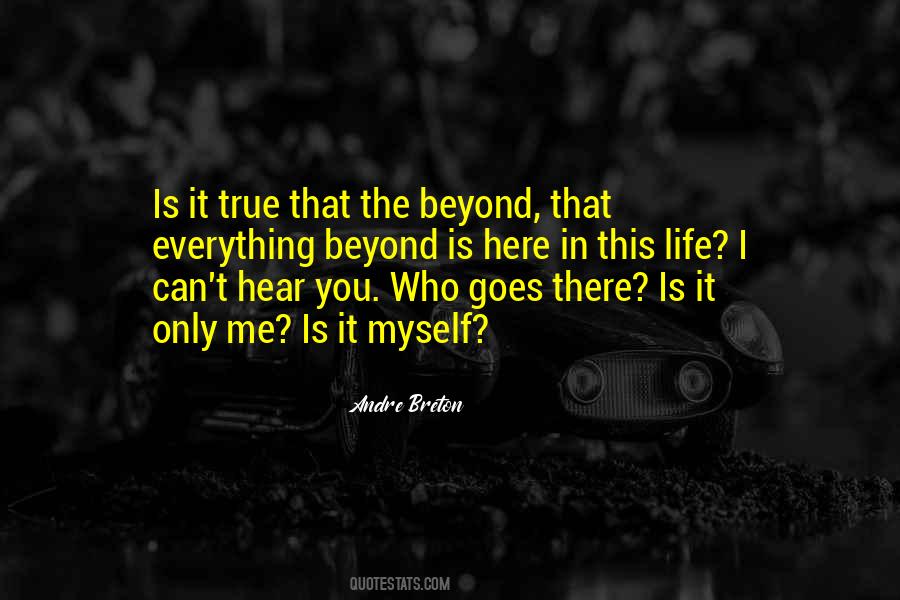 #48. I remember talking to someone who is vegan. At the time, I would hear a lot of outrageous claims from vegans about the good that being a vegan can do for you, for your health and whatnot. I remember someone once told me vegans don't sweat, so I started my mind going. - Author: Bryan Lee O'Malley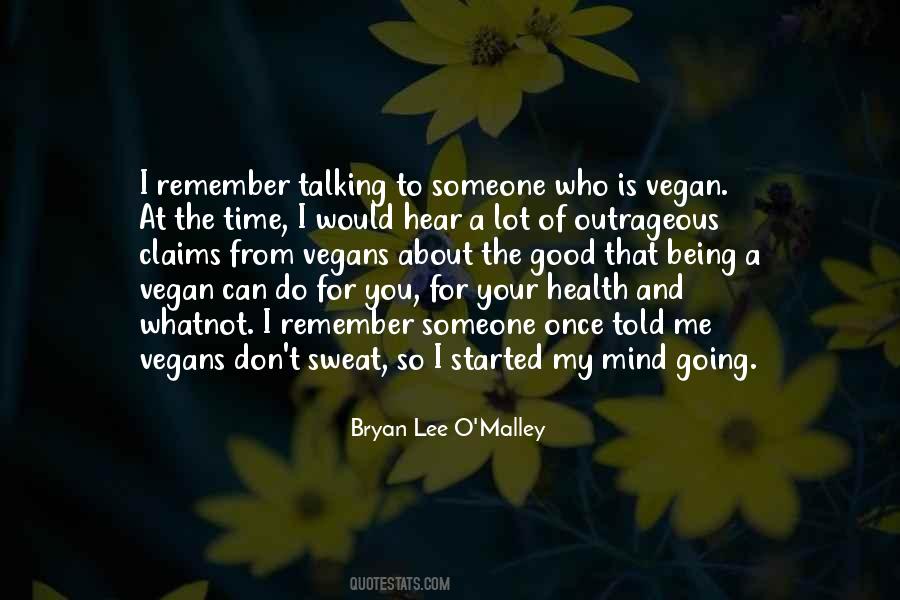 #49. Most people only ask questions so they can listen to themselves talk. Or hear something they are able to cope with, but please, nothing that might get the better of them. "Do you love me?" is one of those questions. There should be a total ban on it. - Author: Nina George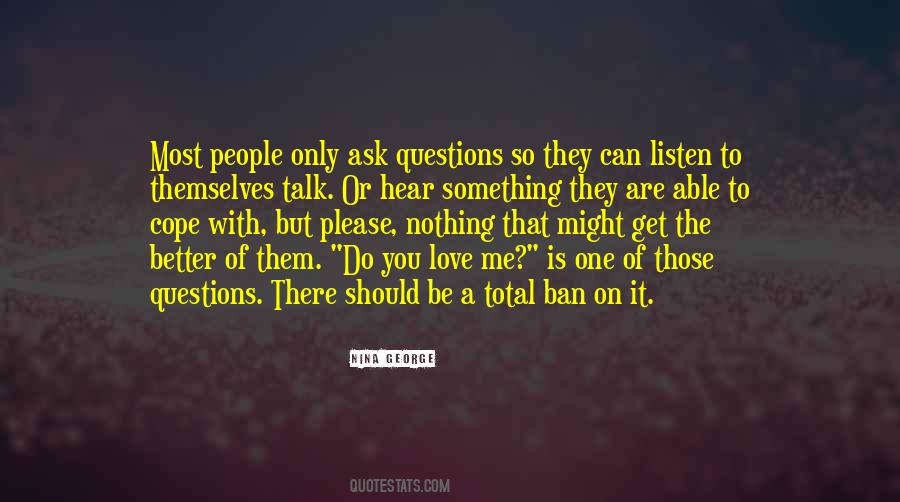 #50. That girl you can't stop thinking about; the one that makes you feel shit you don't think you're allowed to feel; Dillon, she can't hear a word you say. Cadence - she's deaf. - Author: Melyssa Winchester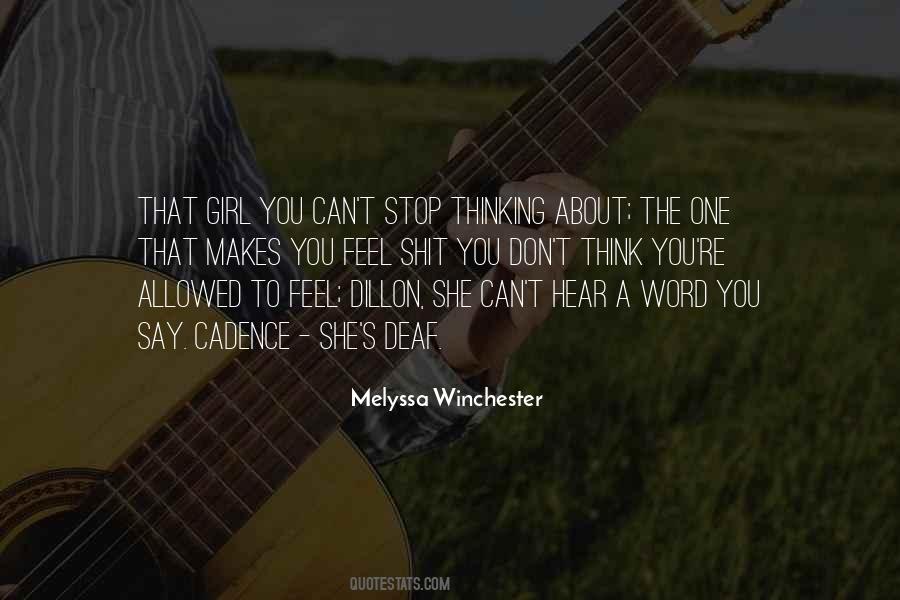 #51. Ooh. Maybe he'll fuck you in Spanish. Can you call me while it's happening? God, I want to hear that. - Author: Tina Reber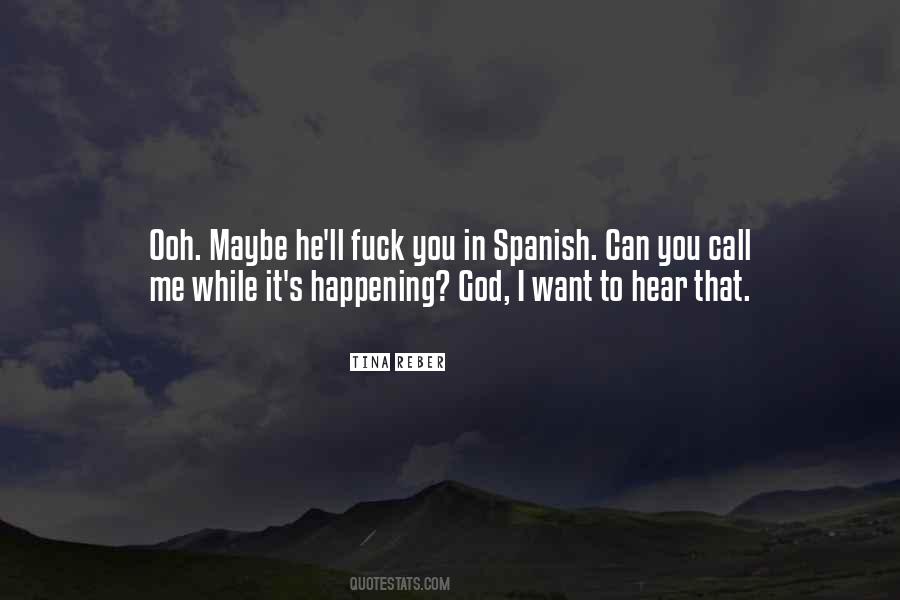 #52. And if all that wasn't enough, you're a good fucking human being, and I'm not losing you to whatever bullshit lies your head is telling you. I know you don't have any family, so I'm officially stepping in and stepping up. I will fight for you until you can fight for yourself. You hear me? The - Author: Laura Kaye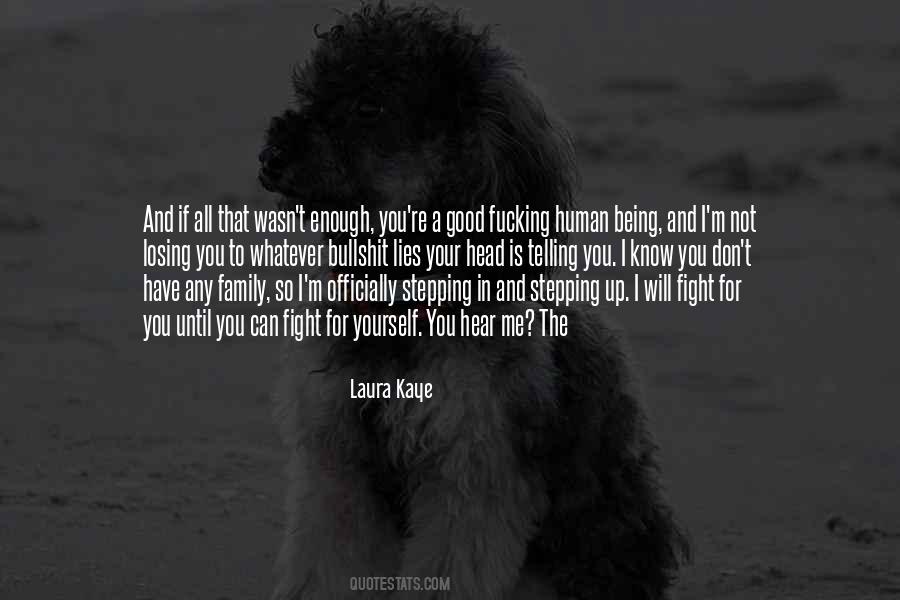 #53. Again and again I asked for permission. May I? Here? And here? Is this too much? Too little? Can you hear me? This is my heart. - Author: Catherine M. Wilson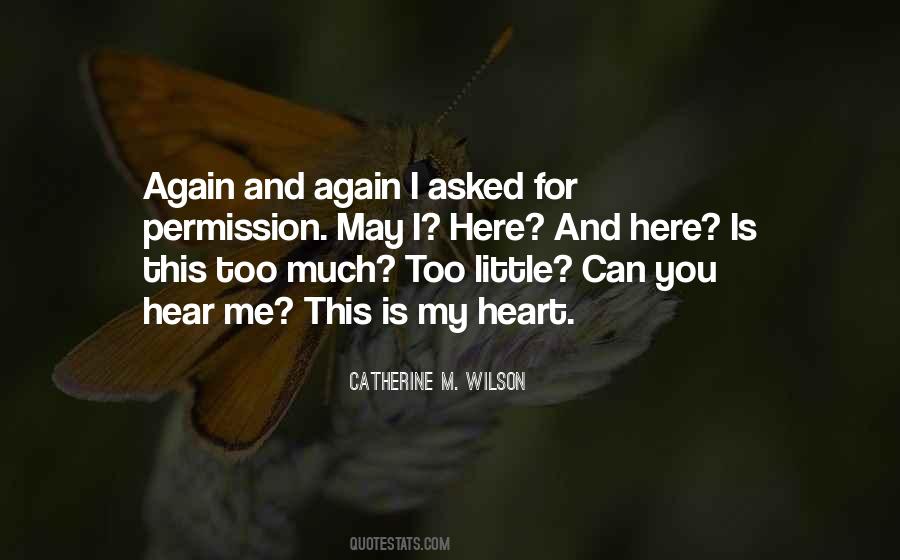 #54. I sigh. "But if you'd talked to Jules - if she could hear you ... " My voice trails off.
"Then you wouldn't feel quite so crazy?" Oliver asks gently. "Can't you believe in me, if I believe in you? - Author: Jodi Picoult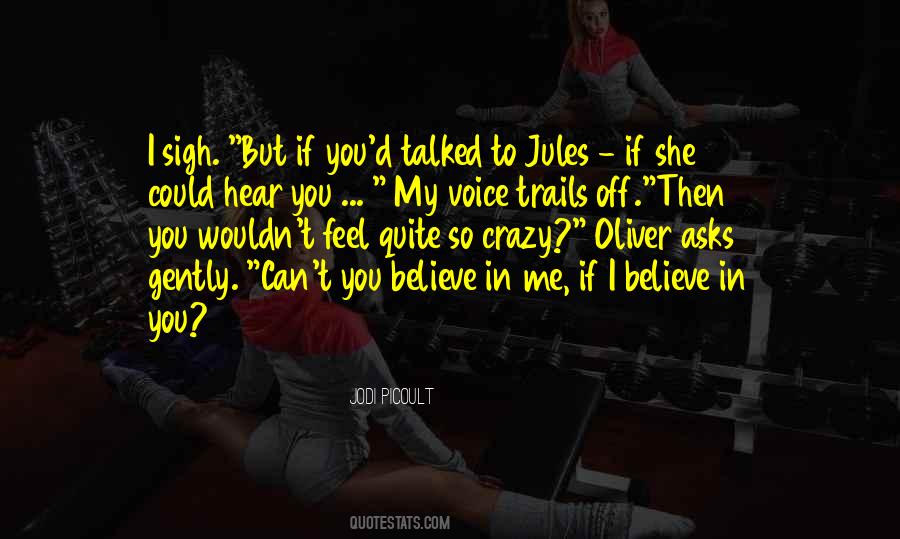 #55. Stark looked strong and healthy and totally gorgeous. I was distracting myself by wondering what exactly Scottish guys did, or didn't, wear under those kilts when he turned to face me.
His smile lit up his eyes. I can practically hear you thinking. - Author: Kristin Cast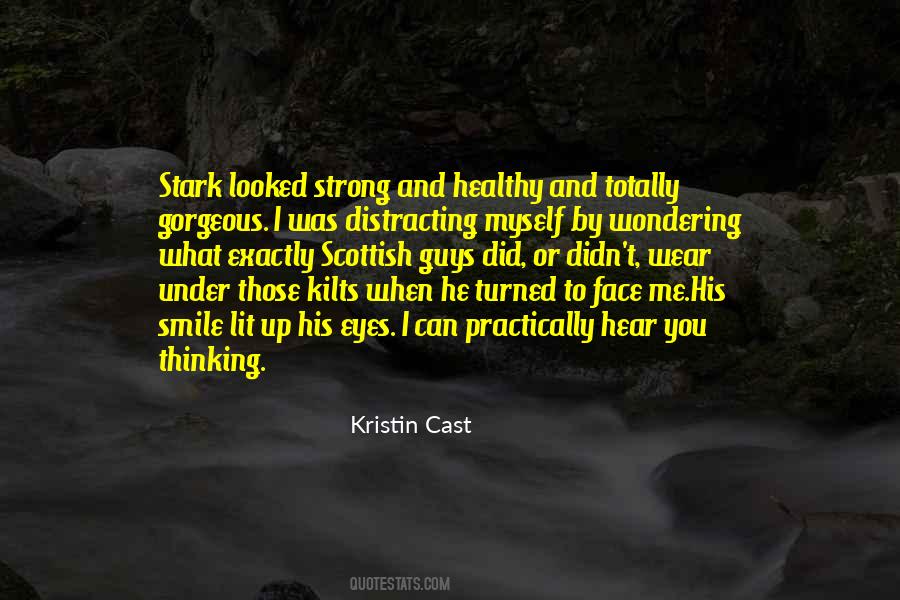 #56. Whenever I've encountered a Christian saying, 'Why don't you stop talking like that so I can hear you?' I think, 'Well you're the one putting the earmuffs on, but I wish you could hear me because I like you.' - Author: Louis C.K.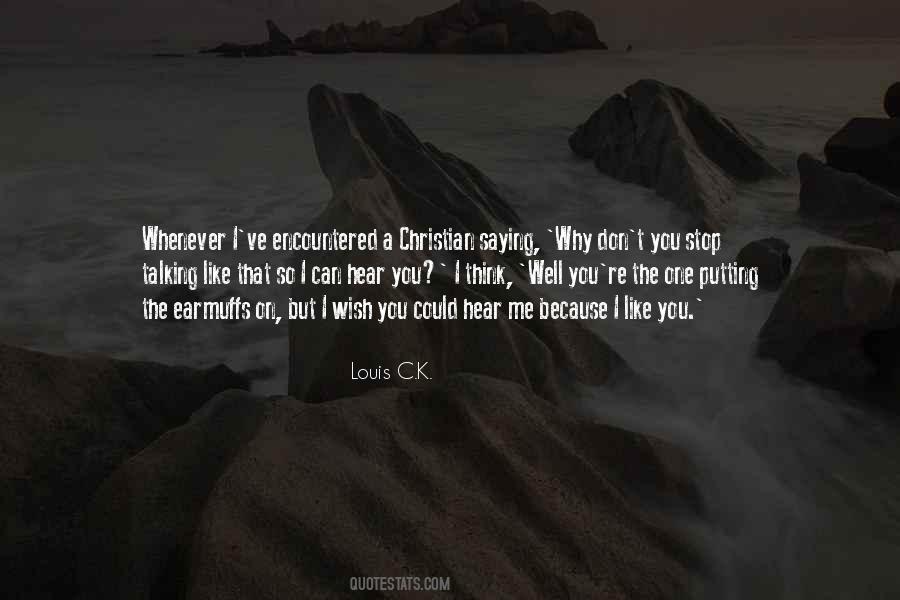 #57. The friend who knows a lot more than you do will bring difficulties, and grief, and sickness, as medicine, as happiness, as the essence of the moment when you're beaten when you hear Checkmate, and can finally say, I trust you to kill me. - Author: Rumi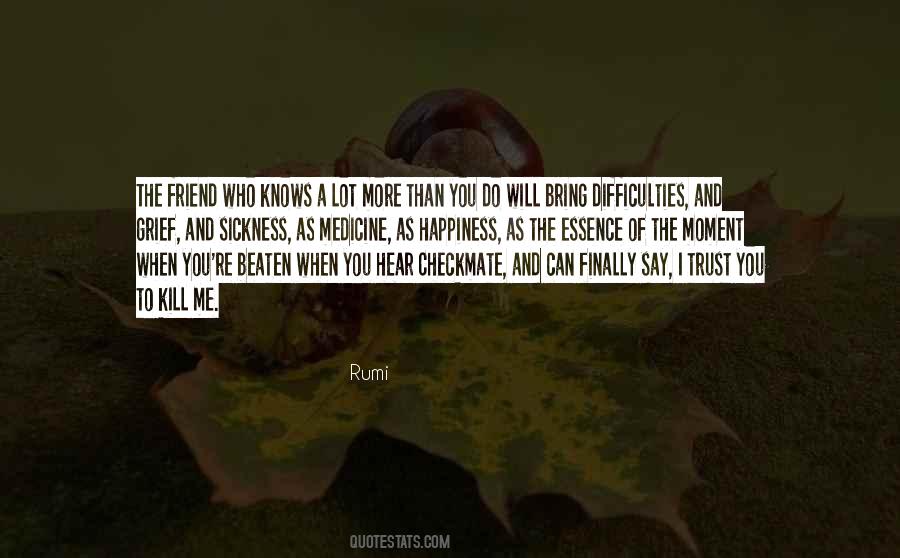 #58. I've loved you ever since I've known you, Jo, - couldn't help it, you've been so good to me, - I've tried to show it, but you wouldn't let me; now I'm going to make you hear, and give me an answer, for I can't go on so any longer. - Laurie - Author: Louisa May Alcott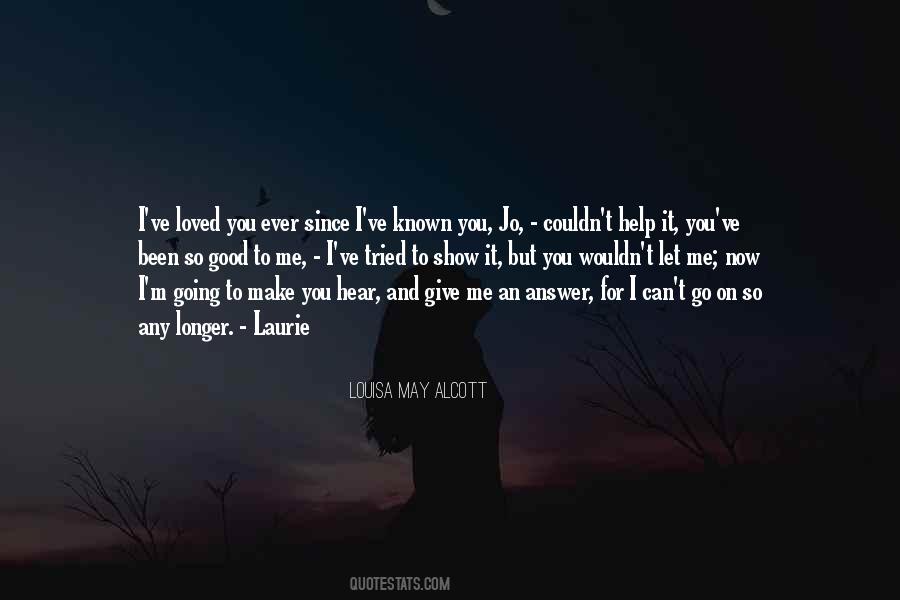 #59. All you know is your parents telling you that you're not deserving, you're not worthy, and no one will ever want you. Believe me, tapes like that play so loud, you can't hear anything else. Even when it's clear otherwise. - Author: Danielle Steel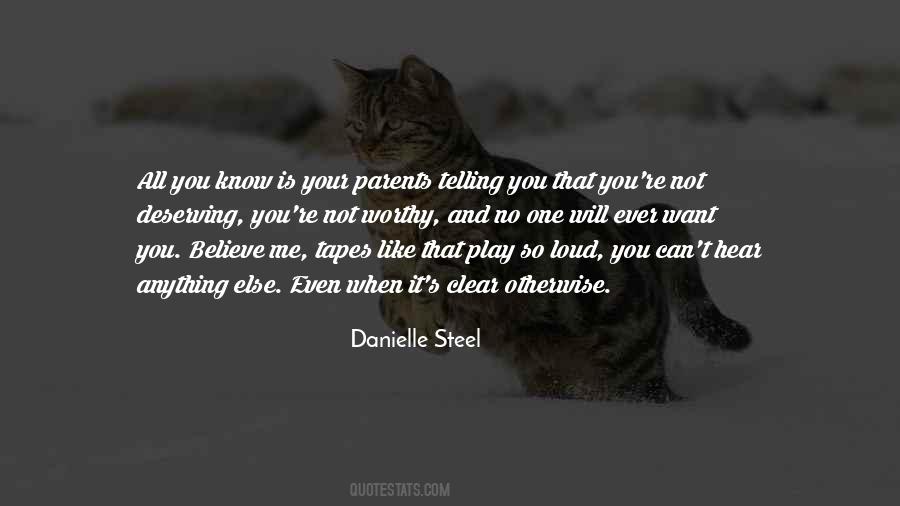 #60. Once I could persuade these guys that all I wanted to hear from them was what they did - Tell me what you do - once you can persuade someone that this is all you're after, you can't shut them up because we're all fascinated by what we do. - Author: Roger Angell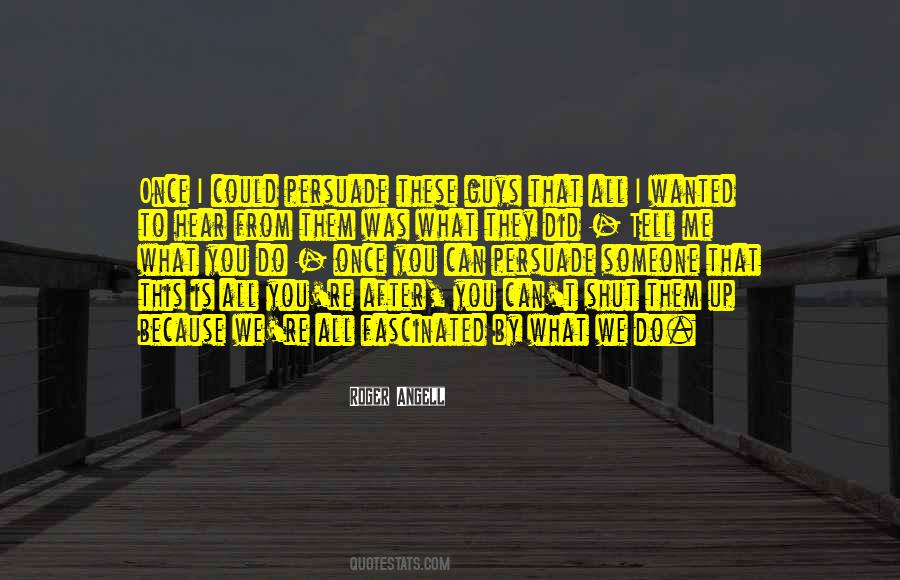 #61. The words I speak to these chairs
must be silencing.
It has stunned them
into a profound emptiness.
No creaking from the gallery
no James Joyce here, nor Malory
An unknown author
in a very large chain
can't you hear me rattling? - Author: B.J. Ward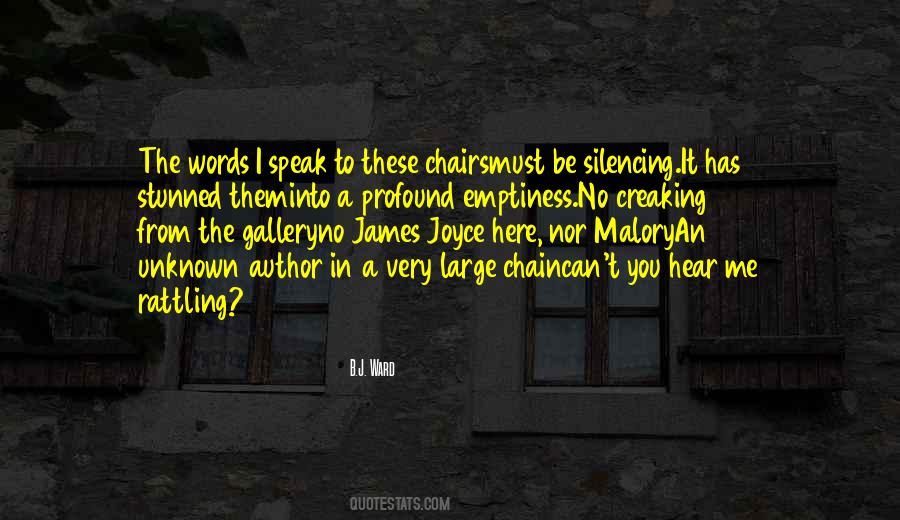 #62. It's a coffee cup."
She could hear the irritation in her own voice. "I know it's a coffee cup."
"I can't wait till you draw something really complicated, like the Brooklyn Bridge or a lobster. You'll probably send me a singing telegram. - Author: Cassandra Clare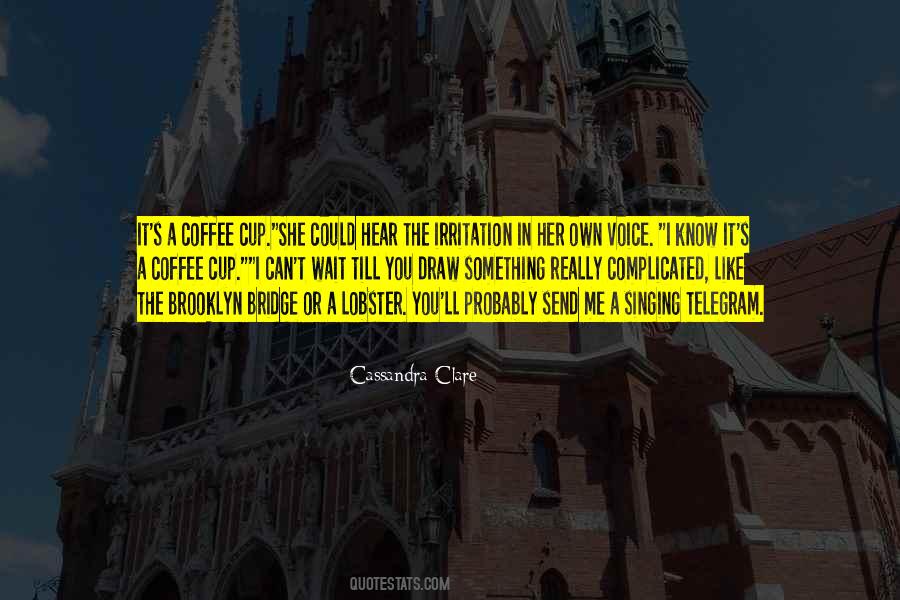 #63. The thing is, I mean, there's times when you look at the universe and you think, "What about me?" and you can just hear the universe replying, "Well, what about you?" - Author: Terry Pratchett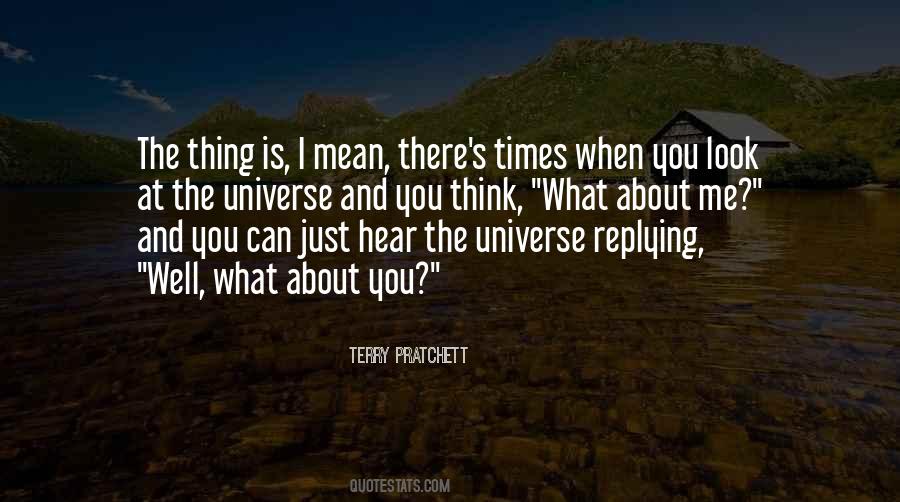 #64. When you finish a series like 'Ugly Betty,' there are so many voices around you telling you what you should be doing next and what would be good for your future, sometimes you can't hear yourself. I've gotten pretty good at tuning everyone else out. Now it's just me; what pleases me creatively. - Author: America Ferrera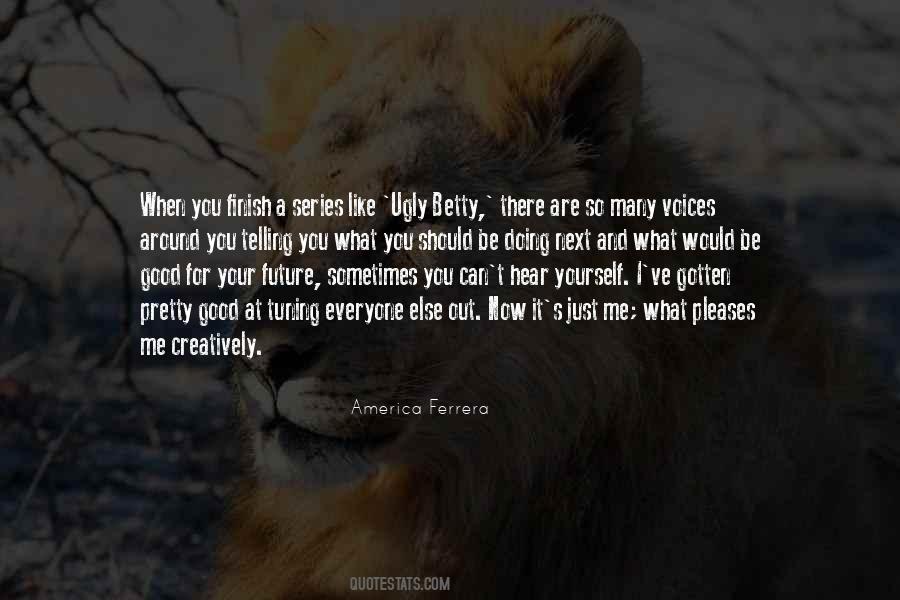 #65. My parents' names are Rebecca and Jeremiah, by the way," he whispered as I approached him.
I laughed, jittery. "Got it. So even though they'll be too busy screaming at you, and they can't hear me anyway, I'll at least be able to address them properly? - Author: Tara Hudson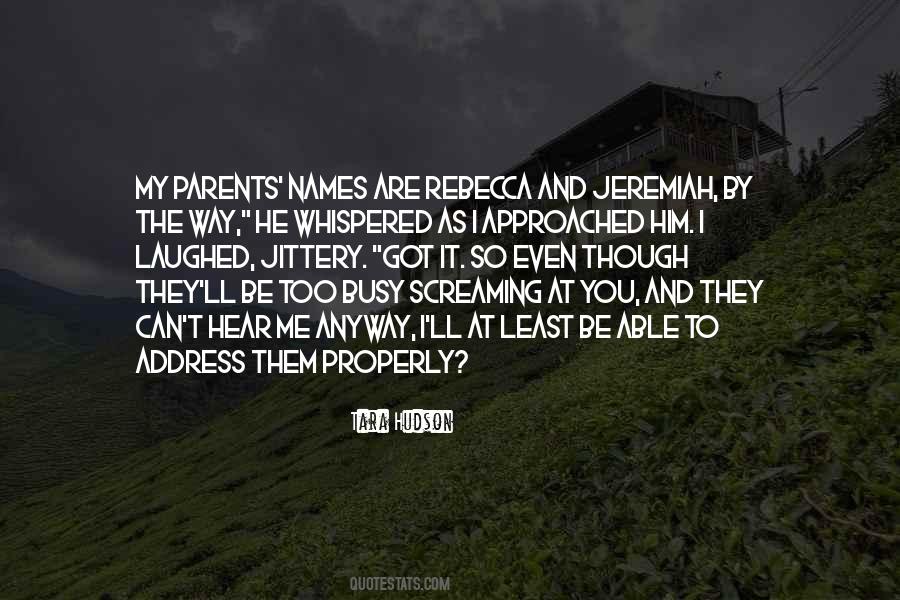 #66. When you're gone I can go running though the house screaming and no one will ever hear me. - Author: Michael Johnson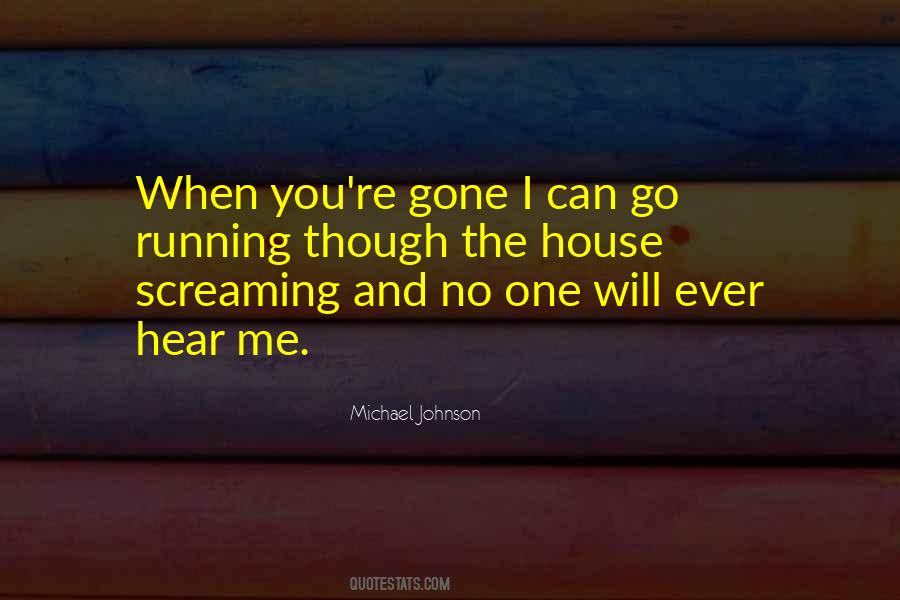 #67. No one knows for sure if you can inherit a stammer, and so I worry that my baby might. It's why I want to work on my speech before he arrives. I don't want him to hear me stammer. - Author: Gareth Gates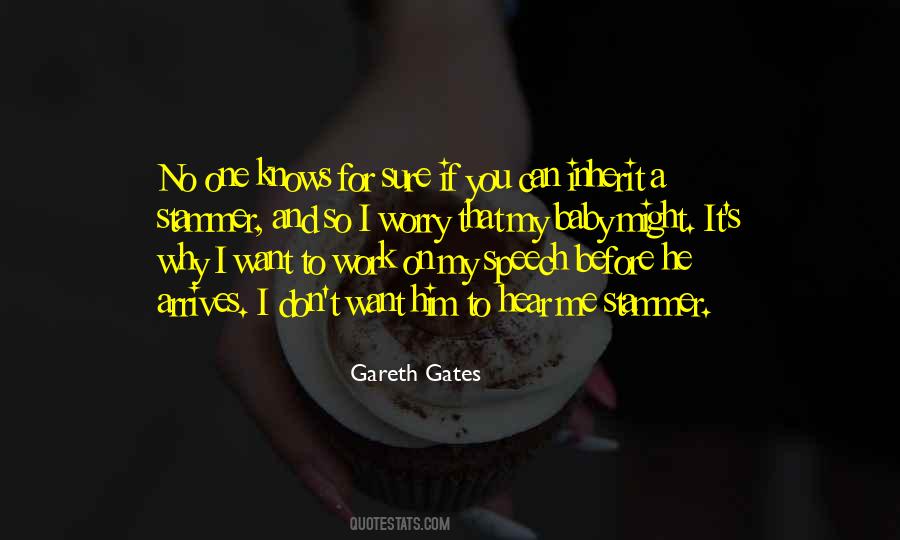 #68. To me, ballads are special, because you can have a pop song that'll be know for three weeks and then you'll hear nothing else about it. Nobody else will record it and it'll just be gone. But if you do a good ballad, it'll be in the world forever. - Author: Michael Jackson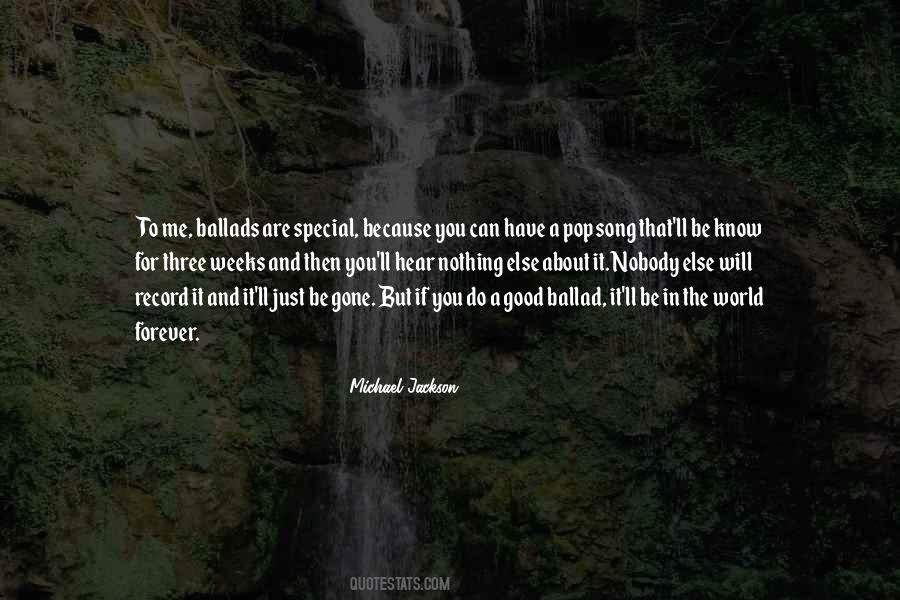 #69. Hey this is Lenore! Yup, it sure is Lenore! Huh, maybe he can't hear me, maybe I should spell it. L-e-n-o-p

There's no p in Lenore , Lenore.

Oh yeah? Then what's this raggamuffin? Pssssssssssss

Aaaaagh! How are you even projecting it at that angle!?! - Author: Roman Dirge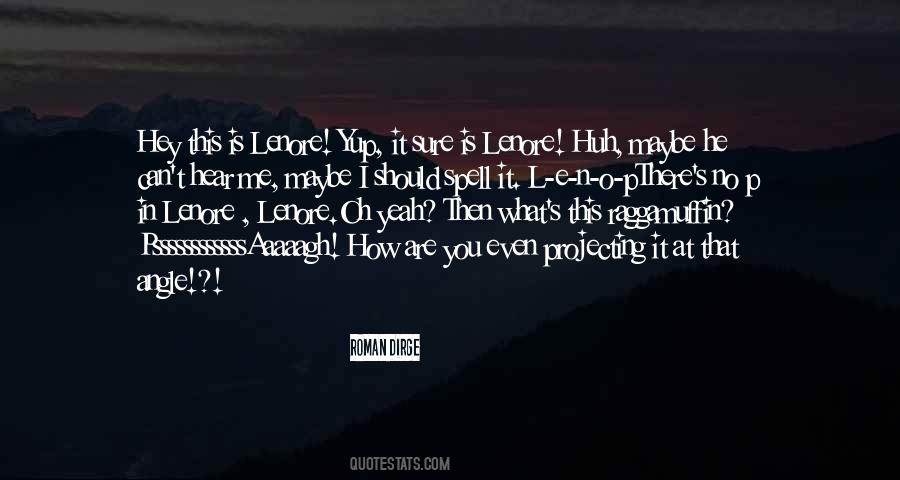 #70. I think I'm writing for an intelligent stranger - you know, in my mind I can't remember who coined that phrase first. I don't want to write anything that makes me cringe, first of all. I cringe a lot - mostly when I hear popular music. - Author: Jason Isbell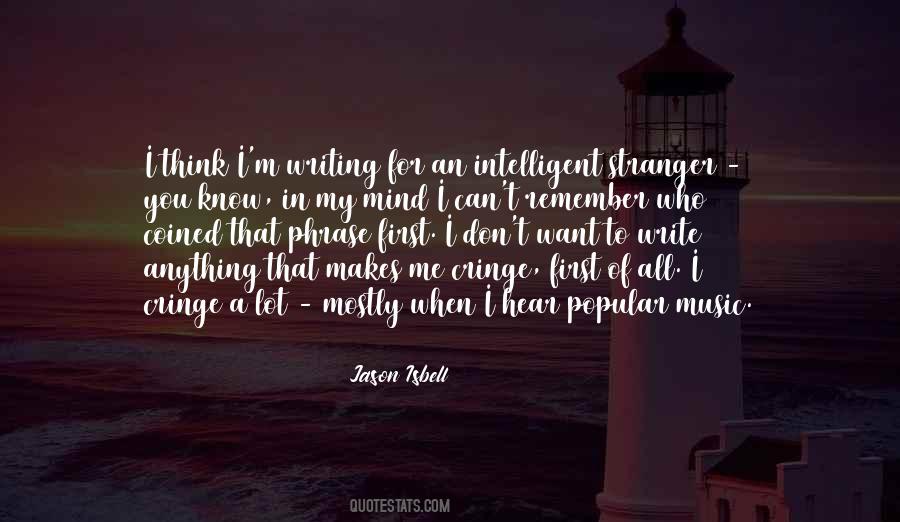 #71. You want to have a song that people will listen to and go, 'Oh, yeah! That reminds me of something in my life,' or, 'something I'm currently going through,' or maybe something happens later and you hear the song and go, 'Wow! That really was telling a story that I can relate to now.' That's my hope. - Author: Pegi Young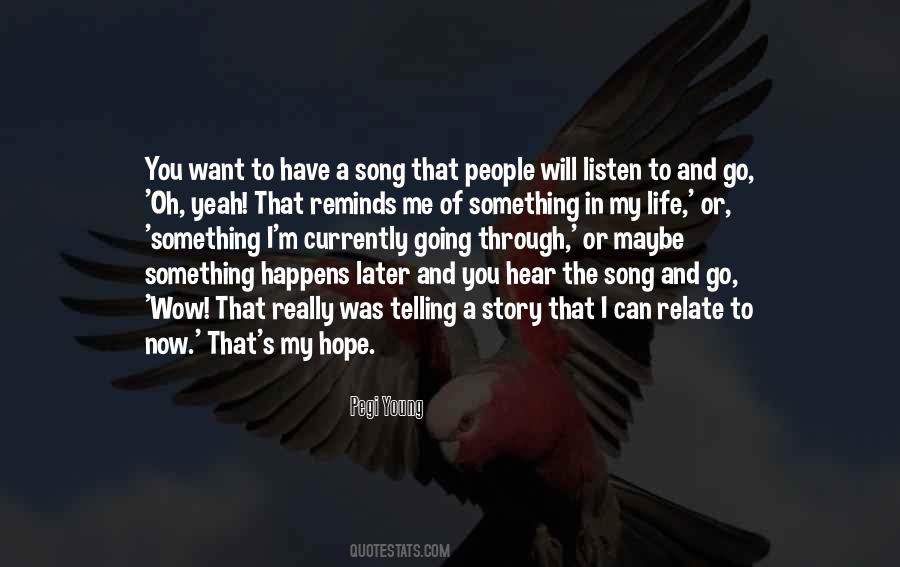 #72. You can't!" Aaron said. "Didn't you hear anything I just told you? You could die!
" Well, don't kill me," Call said. "How about our goal is not to die. Both of us. Not dying. Together. - Author: Holly Black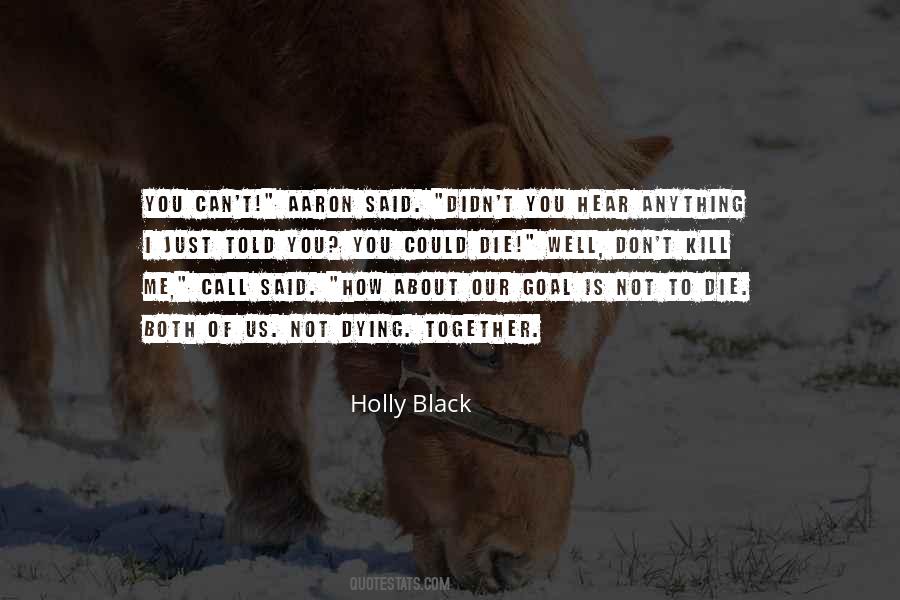 #73. Hey, yummy leather guy? Can you hear me? (Amanda) - Author: Sherrilyn Kenyon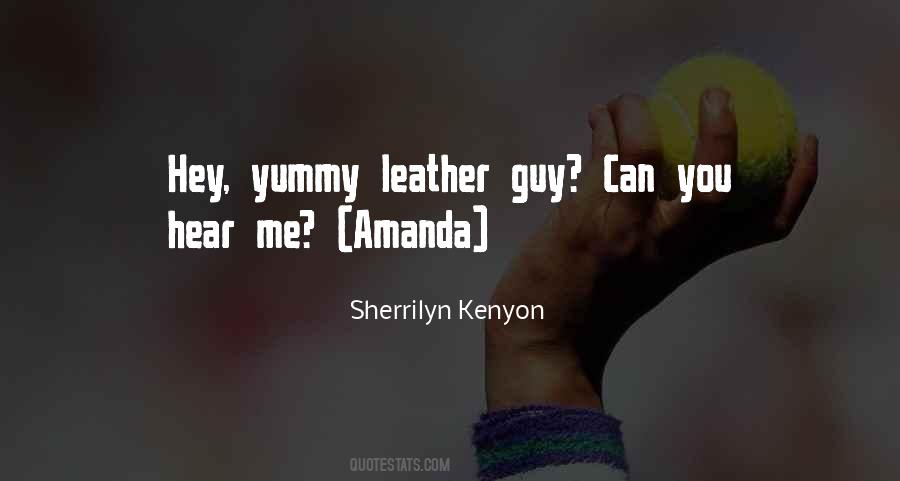 #74. I am thinking about you, I say to her. Can you hear me? - Author: Jill Bialosky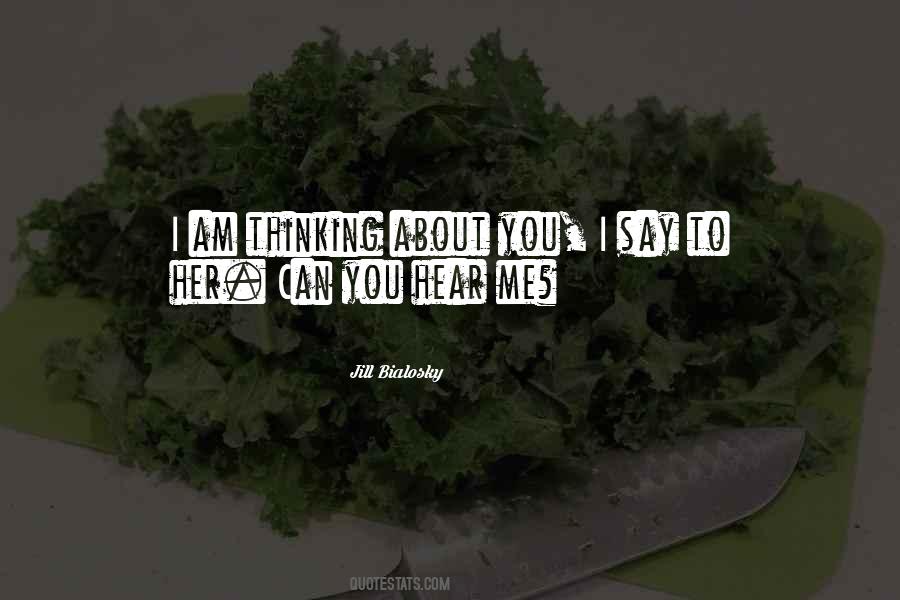 #75. This is the song I only sing when you're sleeping. These are the words I say when you can't hear me. This is the way I look when you can't see me. And you will never know. - Author: Pleasefindthis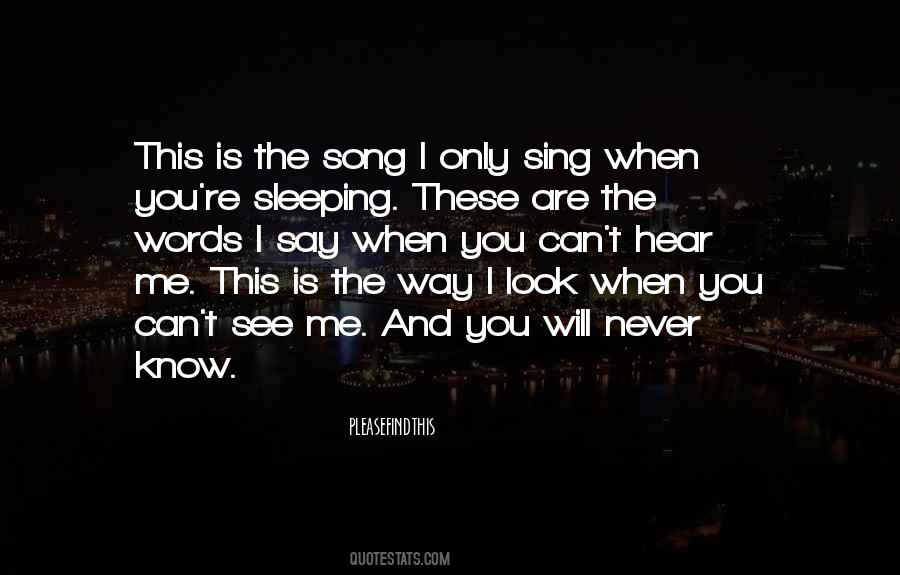 #76. Hear me, four quarters of the world-a relative I am! Give me the strength to walk the soft earth, a relative to all that is! Give me the eyes to see and the strength to understand, that I may be like you. With your power only can I face the winds. - Author: Black Elk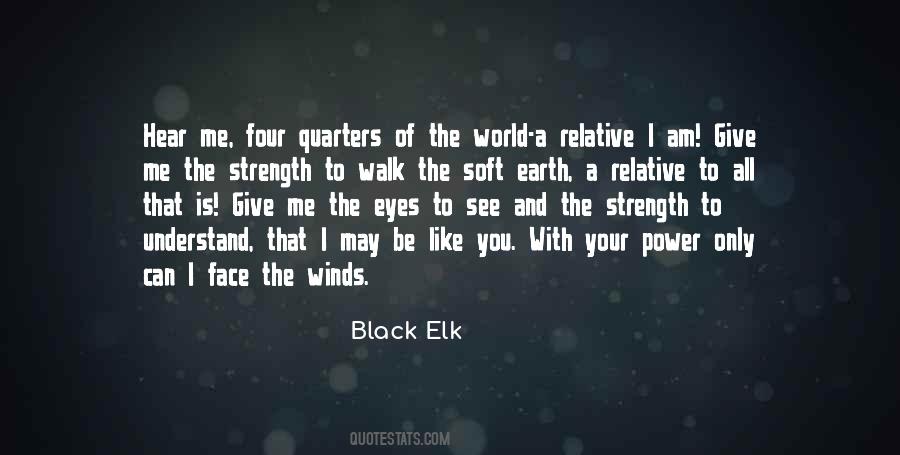 #77. The classical music scene was completely unfamiliar to me. It was something that I didn't have the most fun associations around. A lot of people don't - they think of older generations and stuffiness. But it's not. You listen to the Overture of 1812, and you can hear a rock n' roll catharsis. - Author: Lola Kirke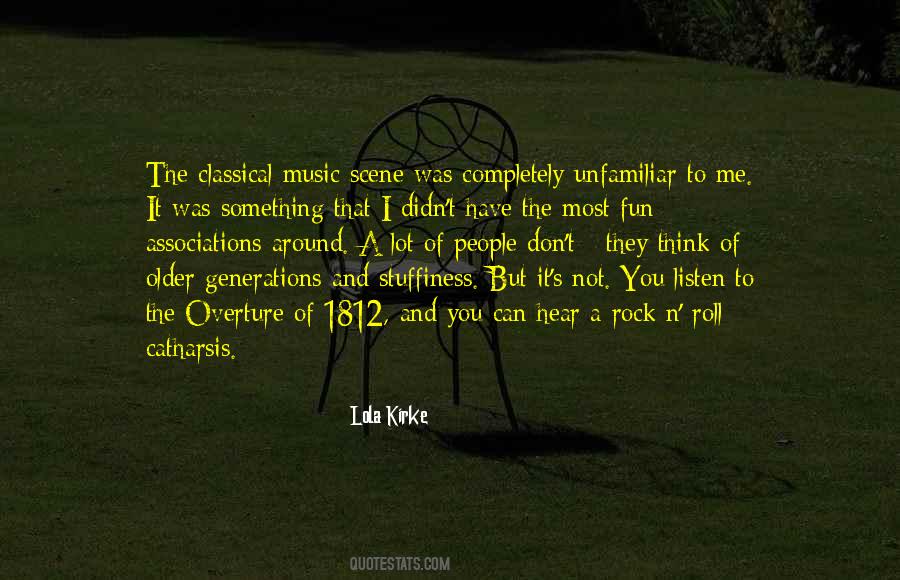 #78. Arrogance can be deadly." The corners of his mouth crept up. "But you didn't hear me say that. - Author: Becca Fitzpatrick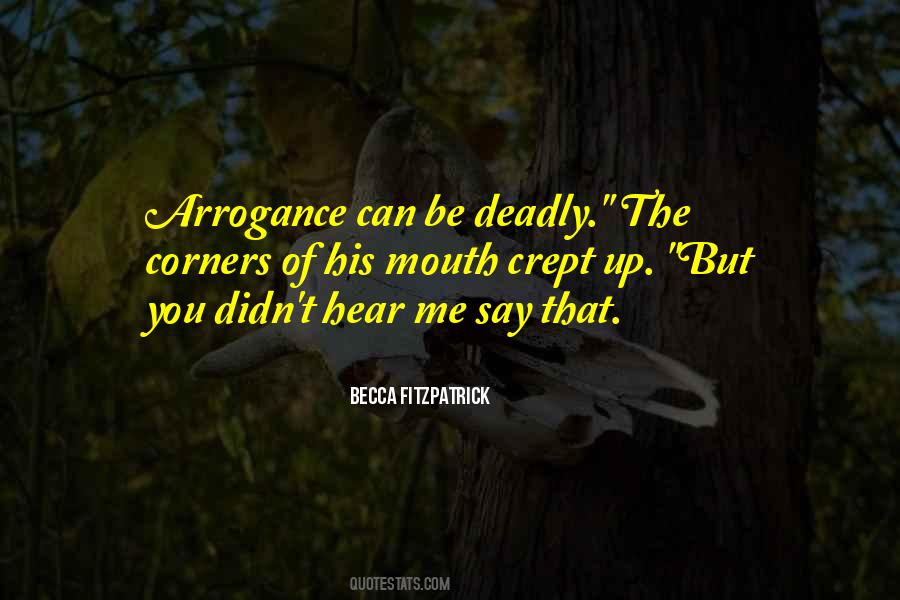 #79. I'm not really qualified to install a security system," said Dimitri.
"Really? There's something you can't do?" Adrian's voice was so soft that I could barely hear him, and he was sitting right next to me. - Author: Richelle Mead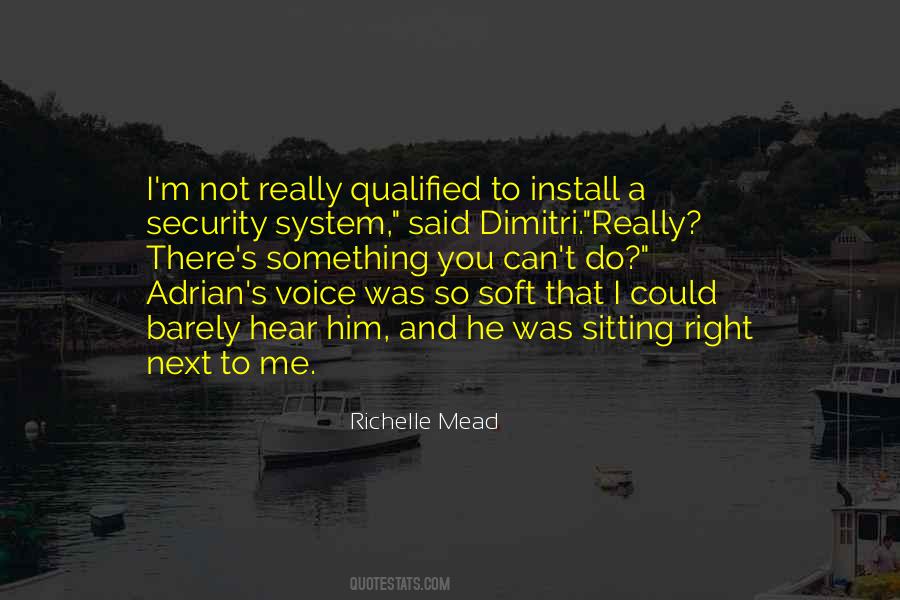 #80. If you can't laugh together in bed, the chances are you are incompatible, anyway. I'd rather hear a girl laugh well than try to turn me on with long, silent, soulful, secret looks. If you can laugh with a woman, everything else falls into place. - Author: Richard Francis Burton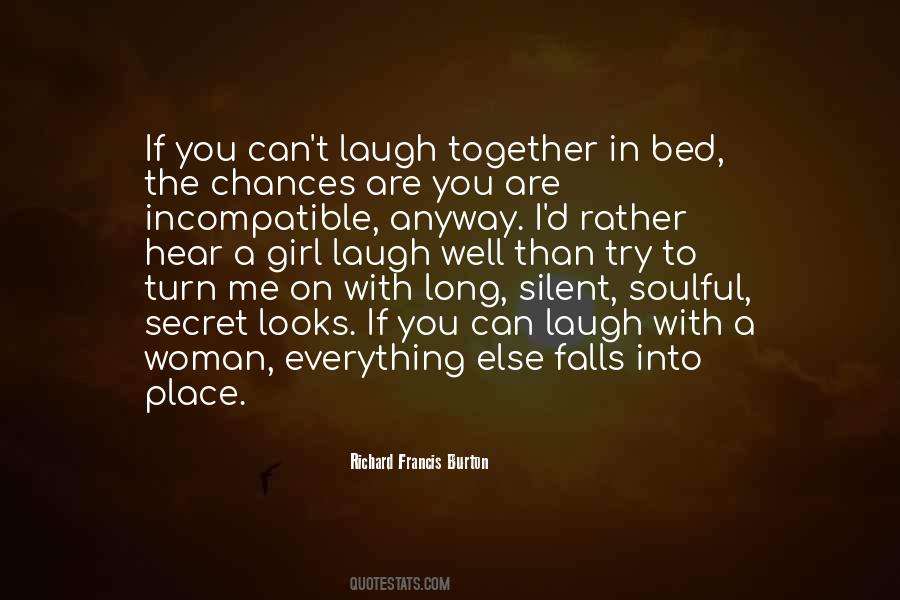 #81. There is little or no magic about them, except the ordinary everyday sort which helps them to disappear quietly and quickly when large stupid folk like you and me come blundering along, making a noise like elephants which they can hear a mile off. - Author: J.R.R. Tolkien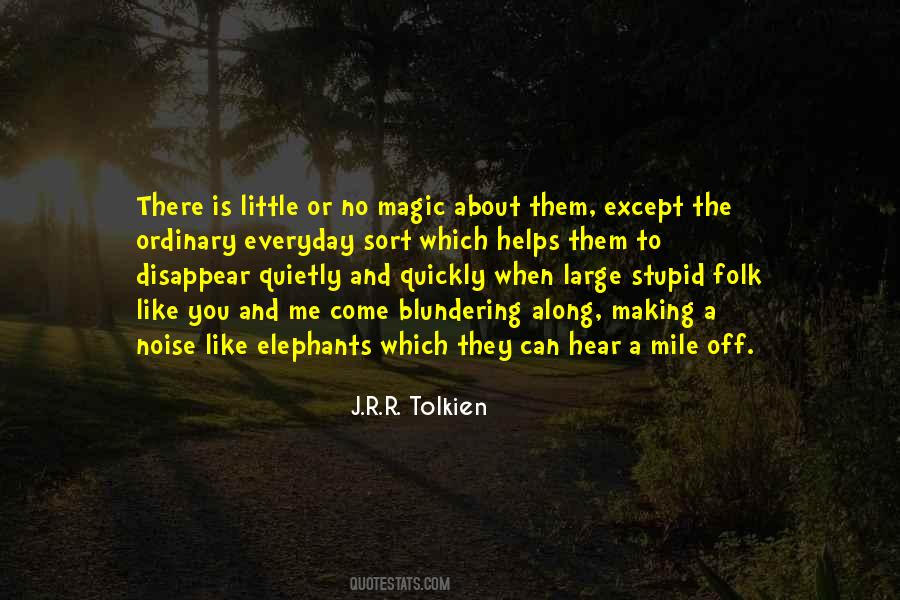 #82. What I am trying to get across to you; is please take of yourselves and those that you love; because that is what we are hear for, that's all we got, and that is all we can take with us. Are you with me? - Author: Stevie Ray Vaughan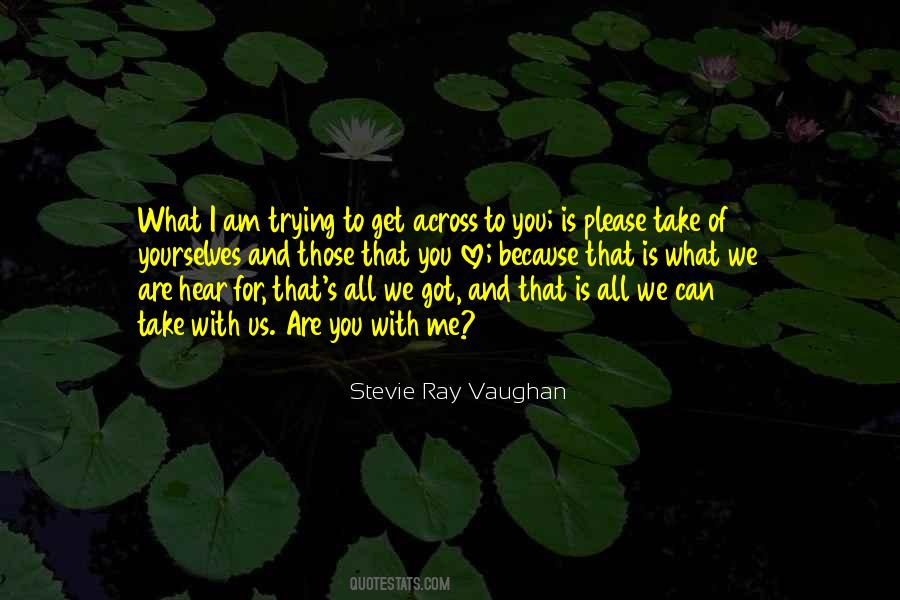 #83. She leaned down so she was looking right in my eyes. You hear me, child. you can't use other folks' bad behavior to excuse your own. When we got a choice, we keep Jesus in our hearts and don't do nothing that would make him ashamed. - Author: Susan Crandall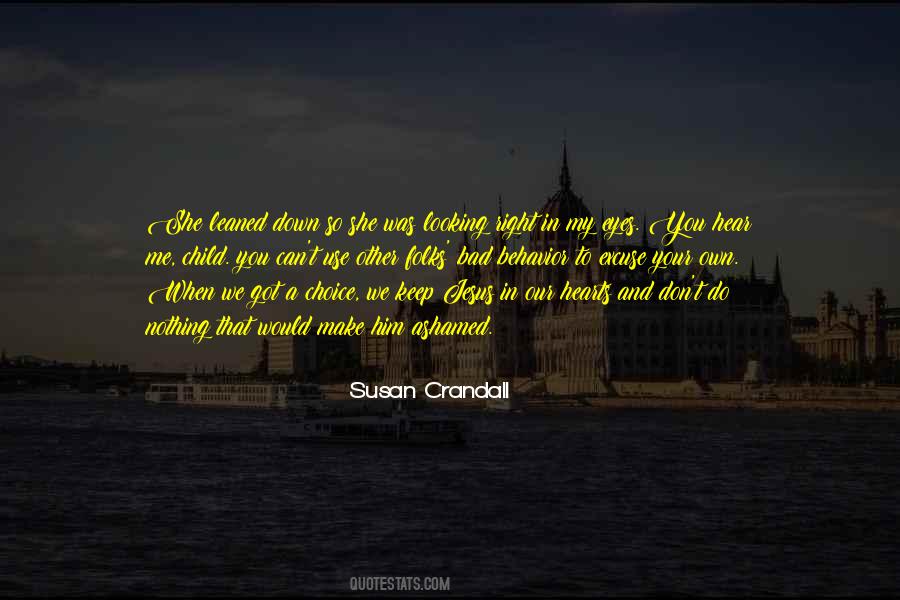 #84. My girlfriend always told me, 'Send roses while they can still smell them, tell people you love them while they can still hear.' - Author: Manti Te'o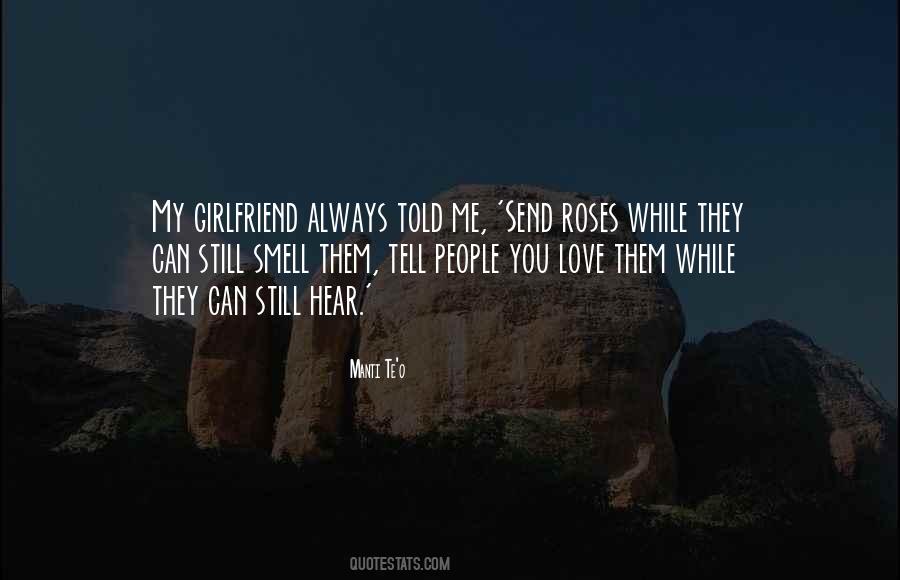 #85. Never stop reading, Luke. The words from the pages make me feel like I'm right there, like I can smell the sea and hear the wind. It's my one regret that I didn't read much over the years. How can you learn about all the things happening in the world if you don't read? - Author: Lea Davey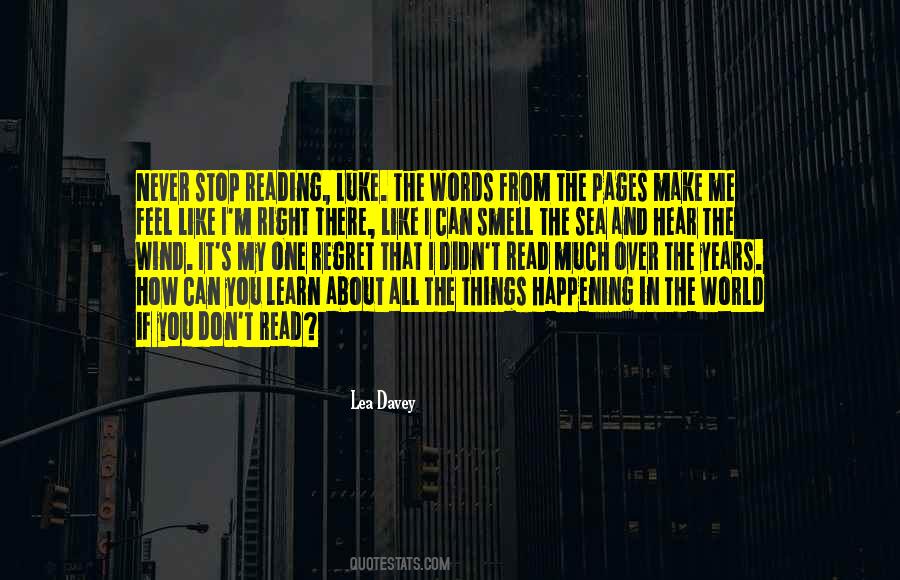 #86. I love you, do you hear me? I can't breathe without you. - Author: Kahlen Aymes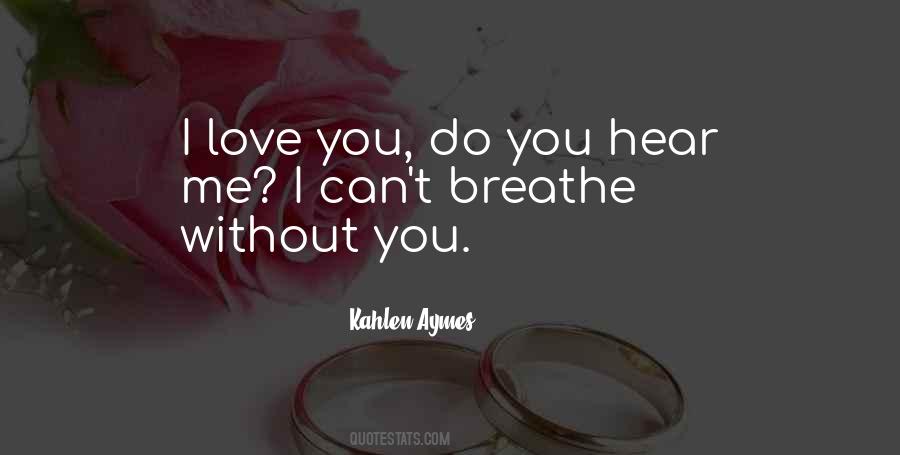 #87. I'm not going anywhere until you hear me out."
Oh, please no. Anything except having to listen to her lecture. I push the button that calls the nurse.
"Can we help you, Alex?" a voice bellows through the speaker.
"I'm bein' tortured. - Author: Simone Elkeles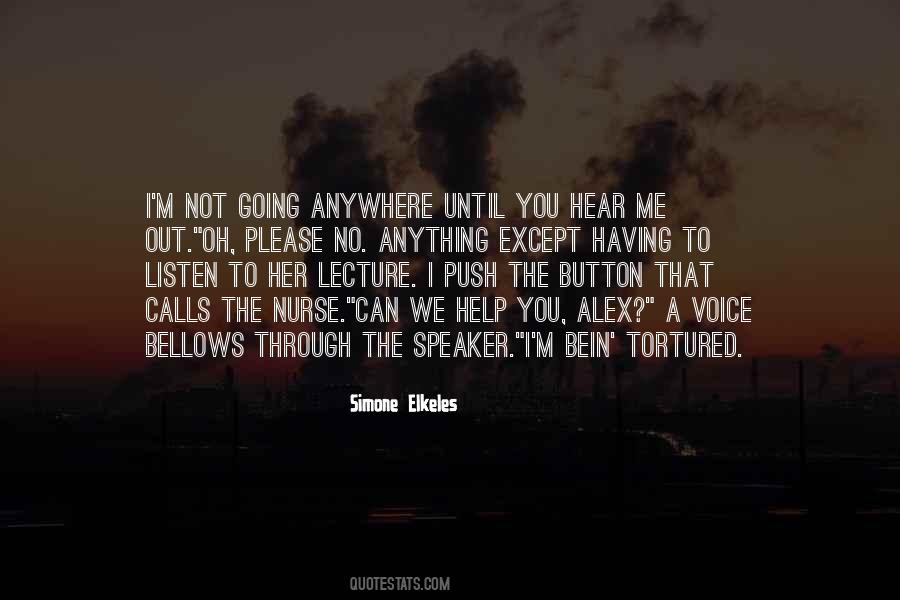 #88. The only thing that really annoys me is when all of a sudden you hear yourself on the radio advertising Smith's tyre shop or Blenkinsop's jam. They simply can't do that. And in Australia, occasionally I have to take action. - Author: Richie Benaud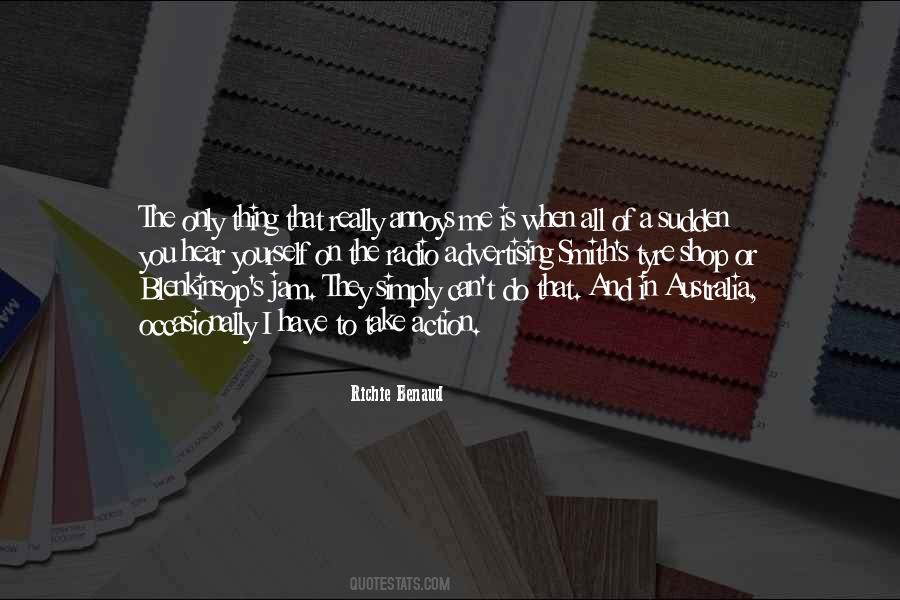 #89. If you have a plan, we want to hear it. Tell your community leaders, your local officials, your governor, and your team in Washington. Believe me, your ideas count. An individual can make a difference. - Author: George H. W. Bush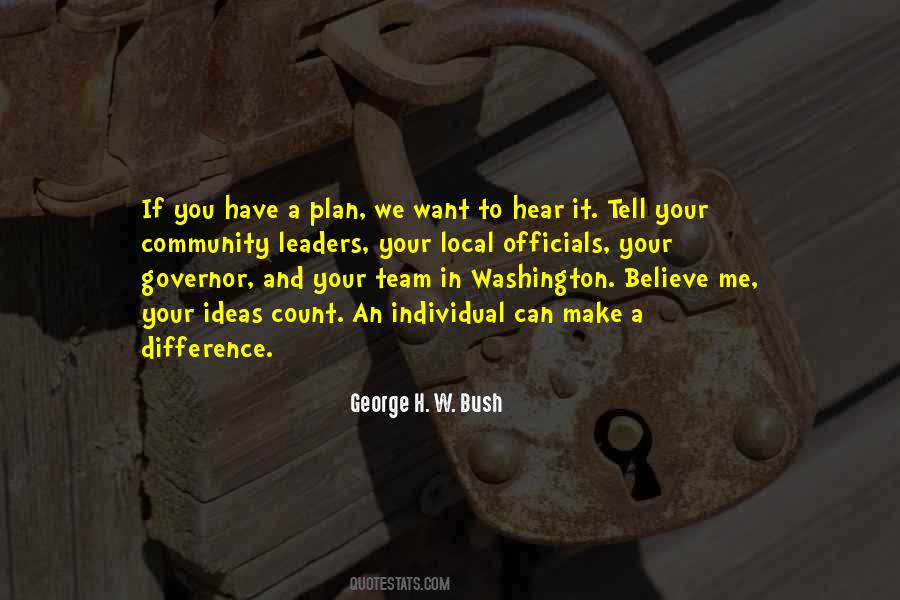 #90. HELLO? HELLO? CAN YOU HEAR ME? I-WANT-TO-TALK-TO-HARRY-POTTER! - Author: J.K. Rowling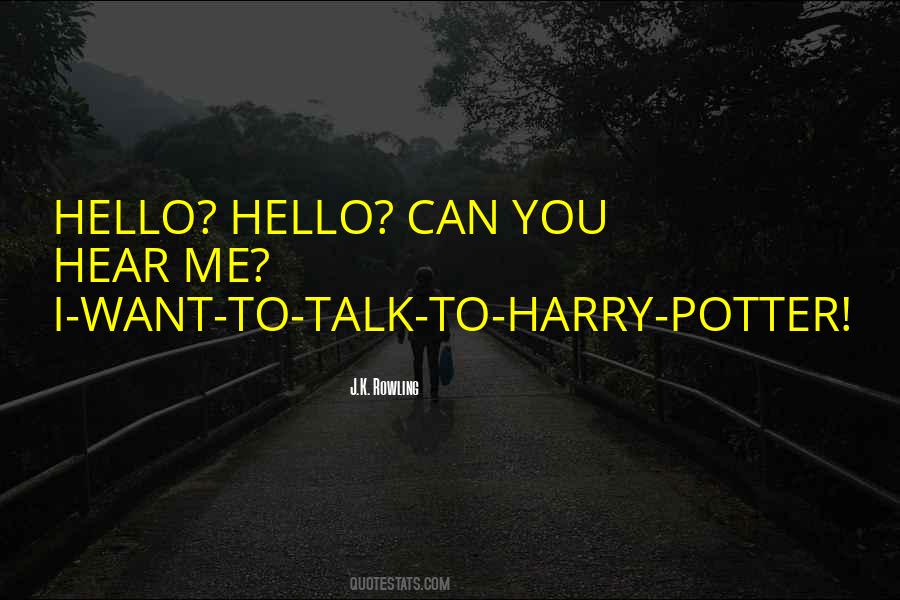 #91. You can be a rapper born and raised in go-go music, violence, drugs, crack, Reagonomics, and still, if you hear 'Wake Me Up Before You Go-Go,' you're going to find a way to hum along. Guilty pleasures? It don't matter. Sue me - I like the song. To dance to it is another matter. - Author: Wale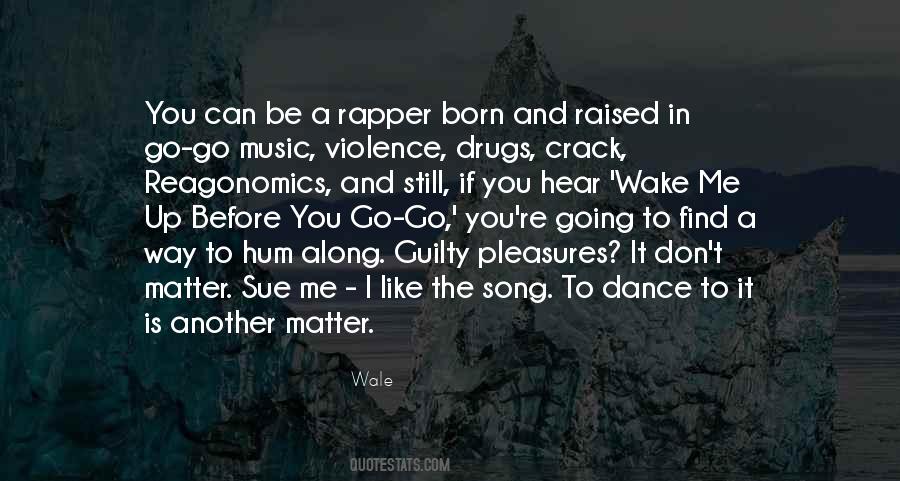 #92. Never let me hear you say it's someone else's fault. It often is, but you must never shirk your own responsibility ... You can't change others, but you can do something about a fault in yourself. - Author: Anne Holm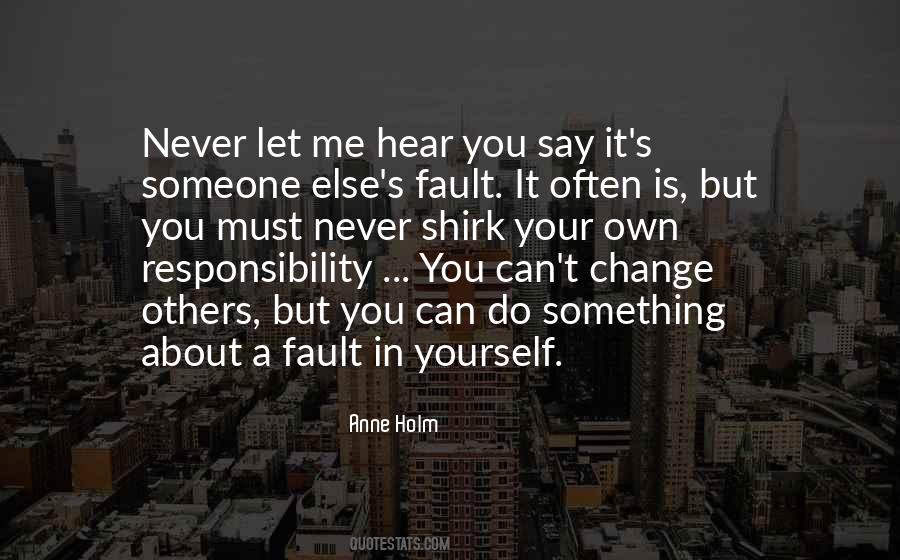 #93. I'm shoutin' back more'n forty long years at myself, yay, ... Oy, list'n! Times are you're weak 'gainst the world! Times are you can't do nothin'! That ain't your fault, it's this busted world's fault is all! But no matter how loud I shout, ... he don't hear me nor never will. - Author: David Mitchell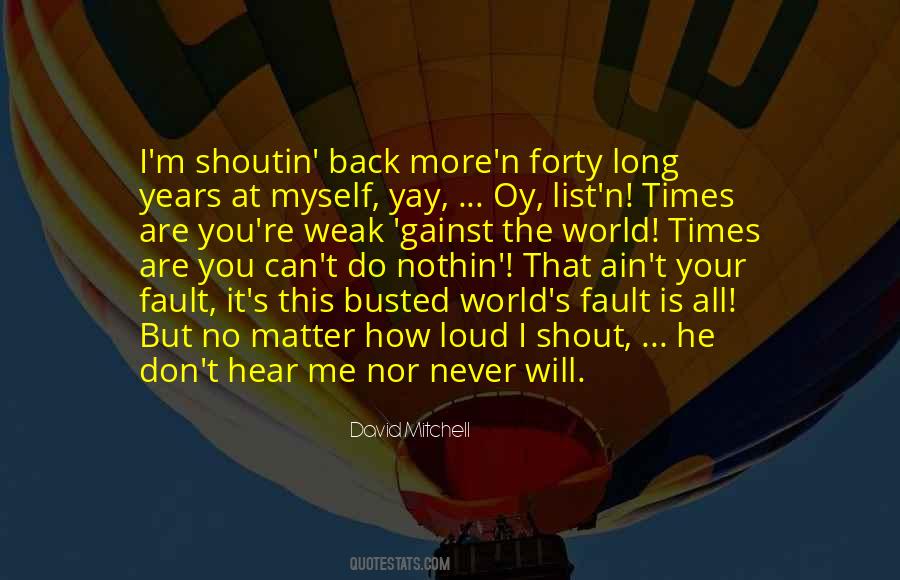 #94. You stay close to me, Mikki Jones. Close enough that I can hear you breathing. Got it?
You always take care of new recruits?
Never. - Author: Eve Silver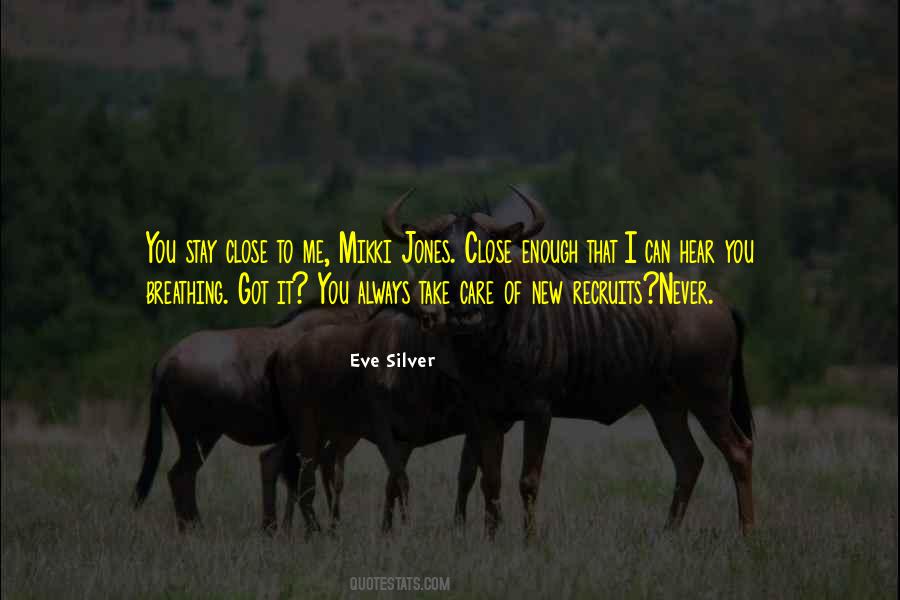 #95. But I honestly don't read critics. My dad reads absolutely everything ever written about me. He calls me up to read ecstatic reviews, but I always insist that I can't hear them. If you give value to the good reviews, you have to give value to the criticism. - Author: Fiona Apple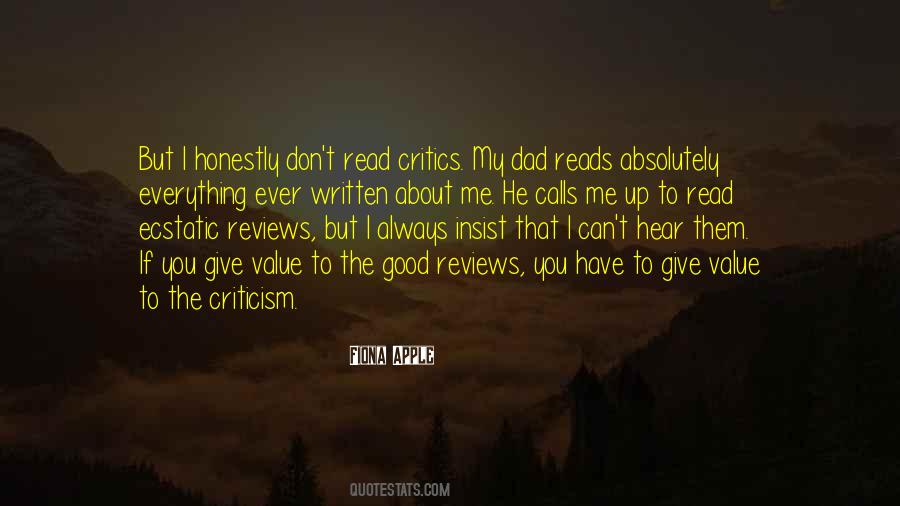 #96. Caring about someone, it's never easy. Seeing past their imperfections; the things you don't necessarily like, it speaks to the size of your heart and the person you are. That can never be wrong. - Author: Melyssa Winchester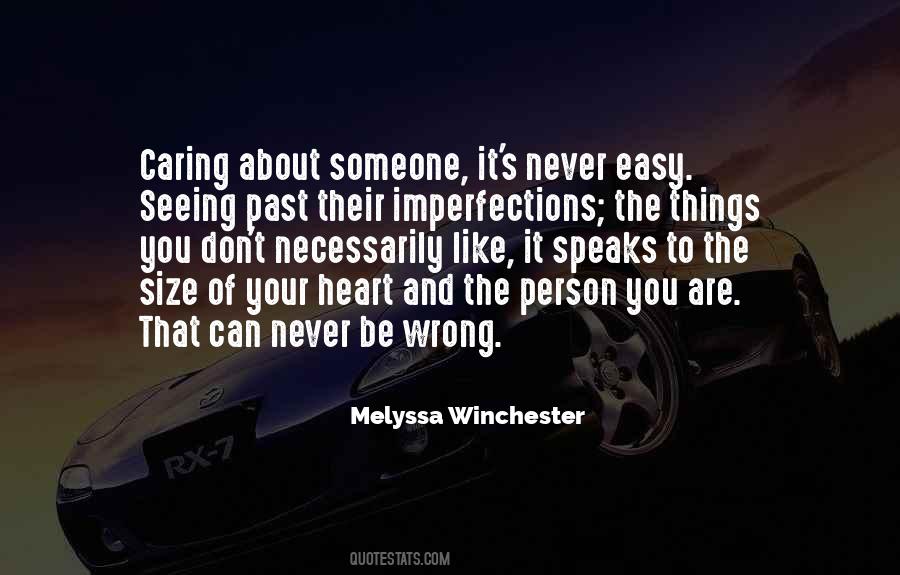 #97. Tell me how many songs that I must sing before I can see you in your glory, hear your whole entire story, bathe inside your golden, golden sea? - Author: Trevor Hall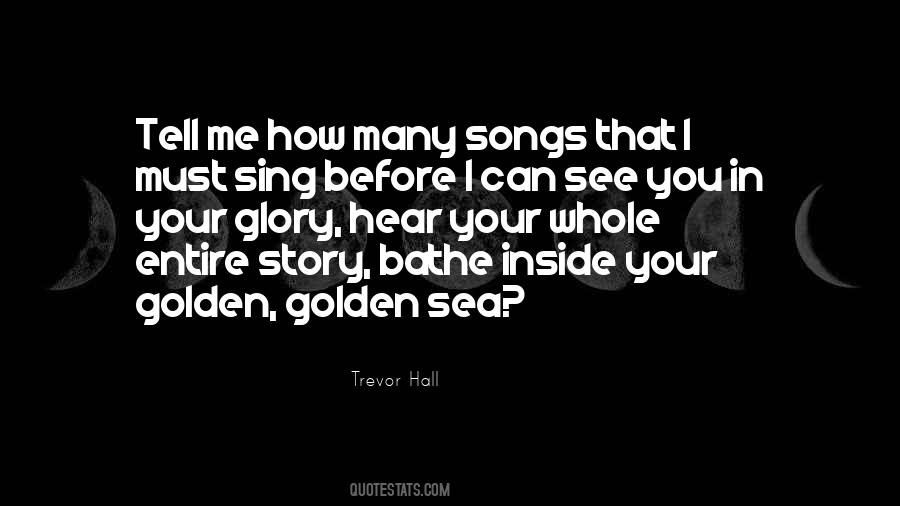 #98. Your ass belongs to me. I've suffered for it. I've loved you forever. I deserve it," Danny went on, his voice a low mixture of anger and desire. "I don't ever want you getting from another man what you can get from me. You hear me, Paul Guy, it's mine. - Author: Kele Moon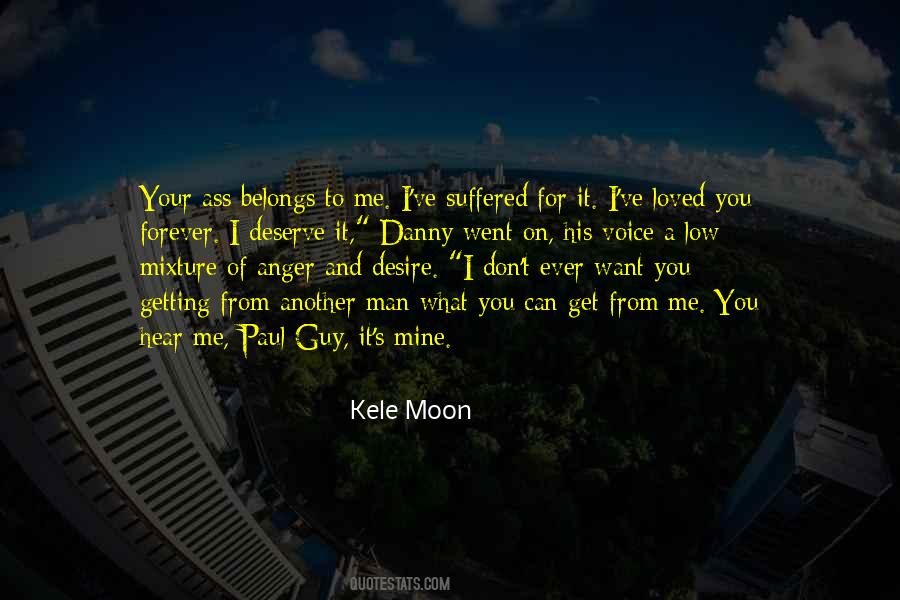 #99. Will you remember that? Anywhere you are, if you can look up and find Perseus in the sky, find that smile, and hear the galactic wind whisper your name, you'll know that it's me, calling for you ... calling you back to Lazarevo. (Alexander) - Author: Paullina Simons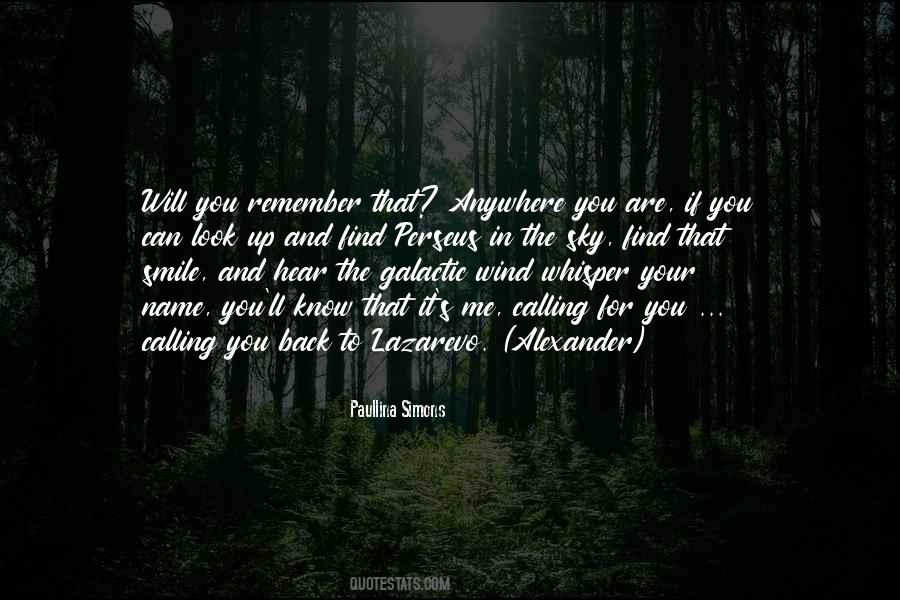 #100. So softly Lizzy has to lean over to hear me, I say, 'I can't face the world until I know why I'm here.'
You're kidding me.'
I shake my head vehemently. 'No. I need to figure out my purpose. Until I do, what's the use of getting up? - Author: Wendy Mass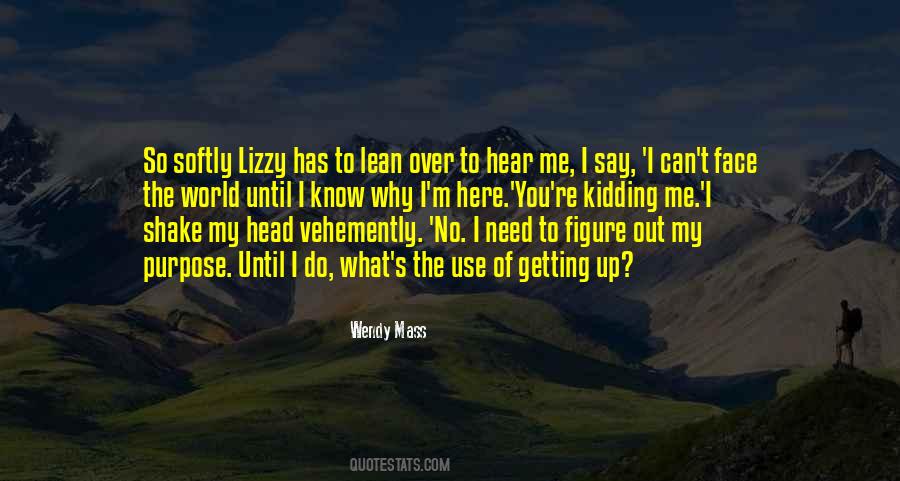 Famous Authors
Popular Topics