Can't Hear You Famous Quotes & Sayings
List of top 100 famous quotes and sayings about can't hear you to read and share with friends on your Facebook, Twitter, blogs.
Top 100 Can't Hear You Quotes
#1. Be yourself!' said Gro. 'No one will hear any of you otherwise, still less trust you. That's the most important thing of all. If you're not yourself you just can't sustain it in the long term. - Author: Asne Seierstad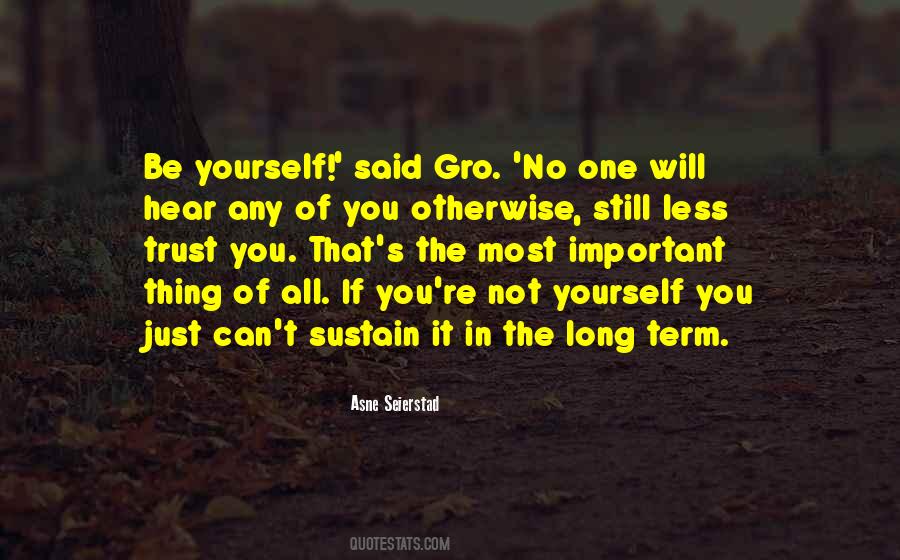 #2. I can't promise the universe is gonna tell you what to do with your life up there. But if you can keep quiet and listen close enough, for long enough, it may whisper something you need to hear. - Author: Jessi Kirby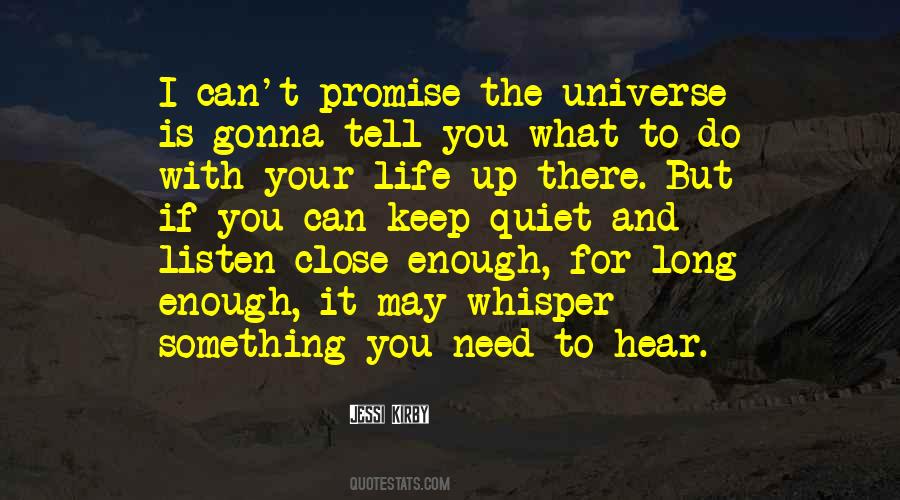 #3. Stark looked strong and healthy and totally gorgeous. I was distracting myself by wondering what exactly Scottish guys did, or didn't, wear under those kilts when he turned to face me.
His smile lit up his eyes. I can practically hear you thinking. - Author: Kristin Cast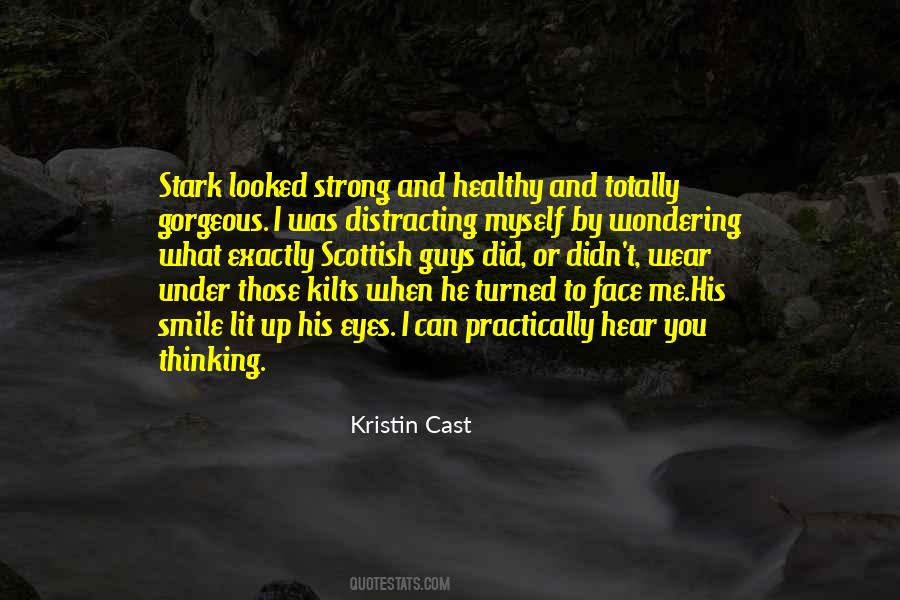 #4. Then the animals began to sing. First the crocodiles.
But crocodiles can't sing, I objected at this point every evening.
Sure they can, answers my father very quietly. Crocodiles sing, if only you let them. You just have to be quiet to hear them. - Author: Jan-Philipp Sendker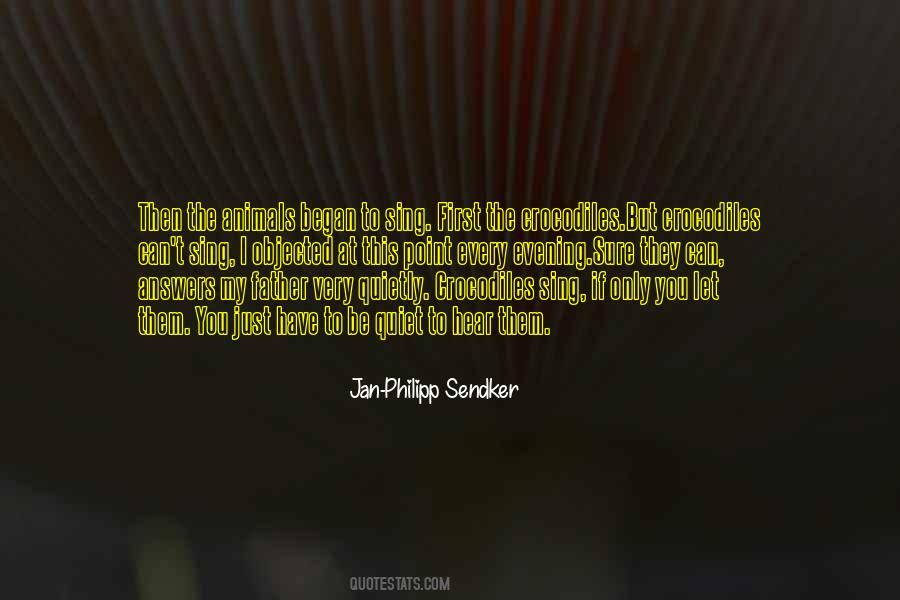 #5. There's always hand-to-hand combat. All you need is to come up with a knife, and you'll at least stand a chance. If I get jumped, I'm dead!" I can hear my voice rising in anger.
"But you won't! You'll be living up in some tree eating raw squirrels and picking off people with arrows. - Author: Suzanne Collins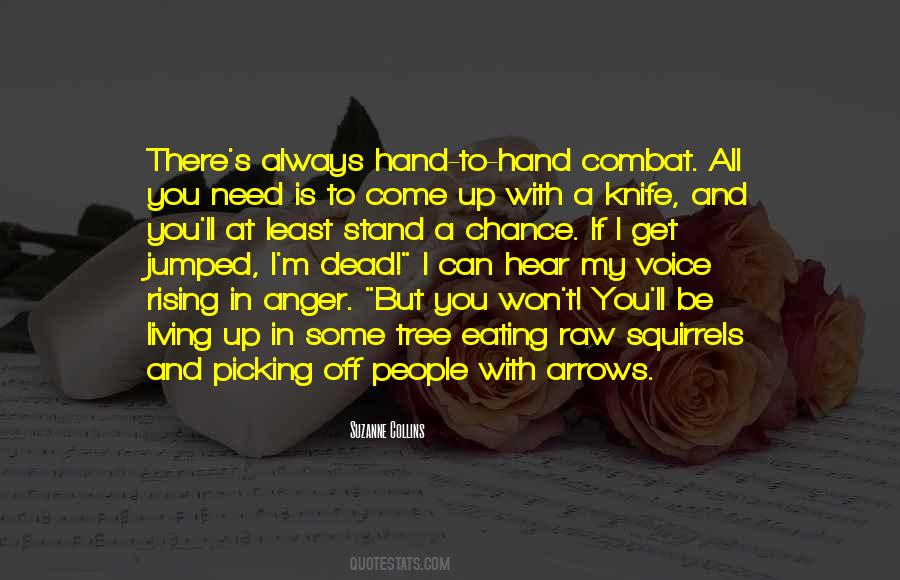 #6. First you have nothing, and then, astonishingly, after ripping out your brain and your heart and betraying your friends and ex-lovers and dreaming like a zombie over the page till you can't see or hear or smell or taste, you have something. - Author: T.C. Boyle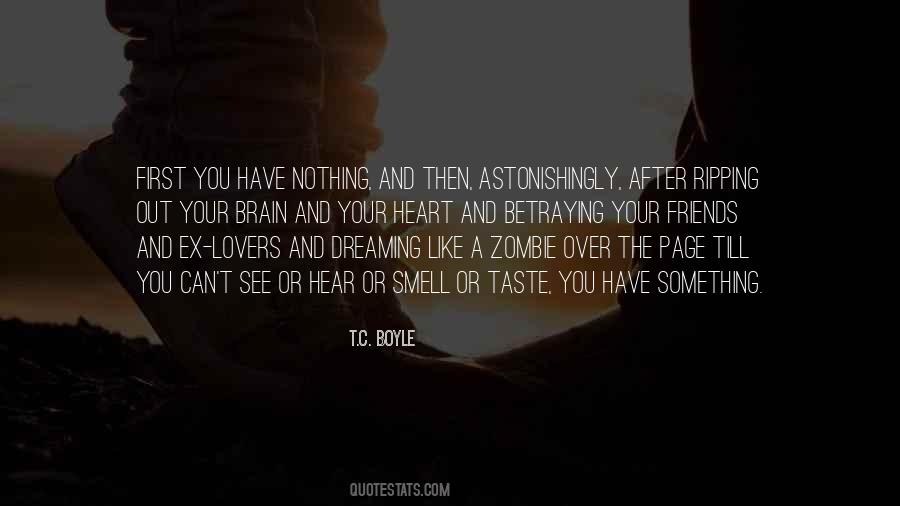 #7. Whenever I've encountered a Christian saying, 'Why don't you stop talking like that so I can hear you?' I think, 'Well you're the one putting the earmuffs on, but I wish you could hear me because I like you.' - Author: Louis C.K.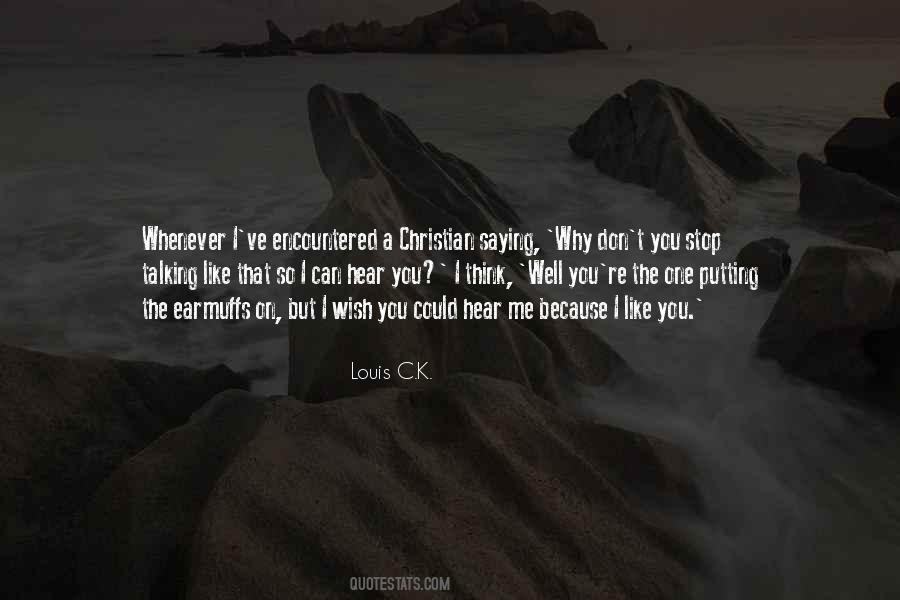 #8. Sometimes you can't tell people things because you know they won't hear you. - Author: Sarah Noffke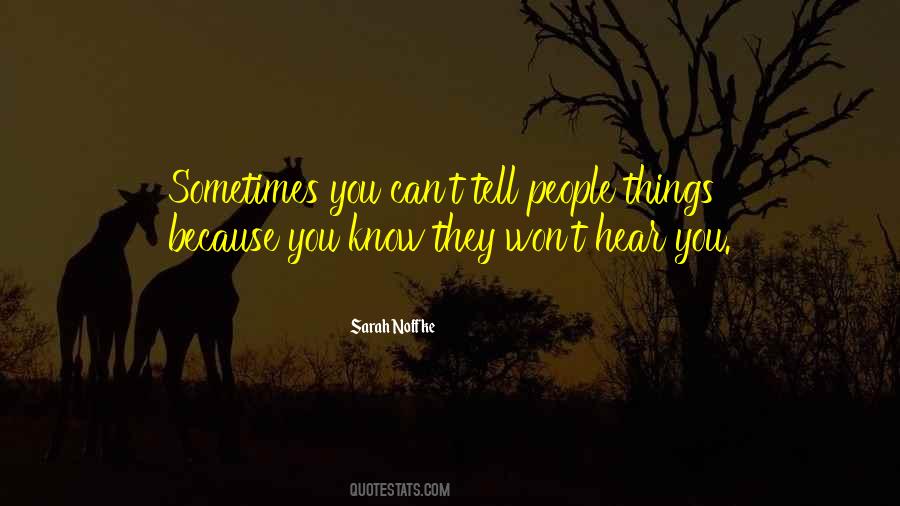 #9. When you first hear about this guy (Stan Musial), you say, 'it can't be true.' When you first meet him you say, 'It must be an act.' But as you watch him and watch him and see how he performs and how he comports himself you say, 'He's truly one of a kind.' There will never be another like him. - Author: Jack Buck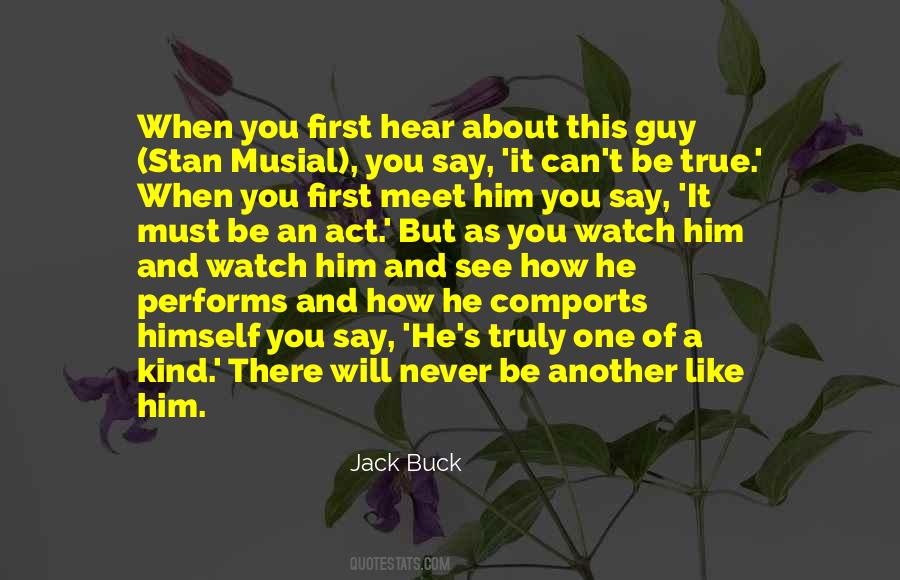 #10. I prefer silence. Then you can hear thoughts and see into the past.
In silence you can't hide anything ... as you can in words. - Author: August Strindberg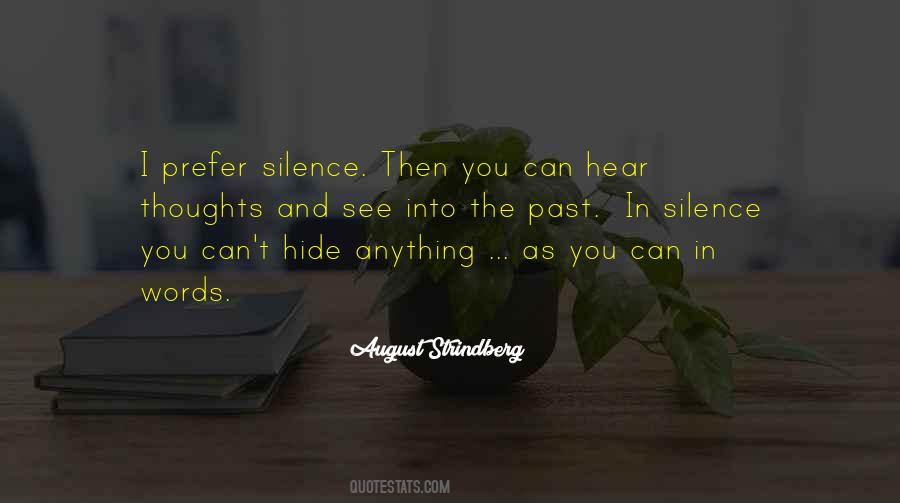 #11. I think you can be the greatest orator of all time, the greatest motivator of all times, but if those players know that you don't care about them, and you don't try to understand them, then they're never going to hear what you have to say. - Author: Mike Singletary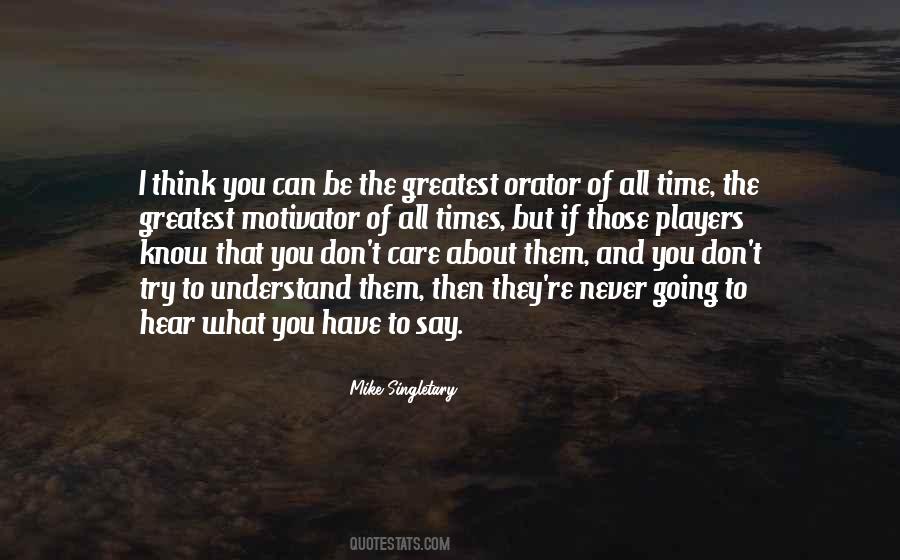 #12. Fun fact, Jackson. You can't see sound waves, but you can hear music. - Author: Katherine Applegate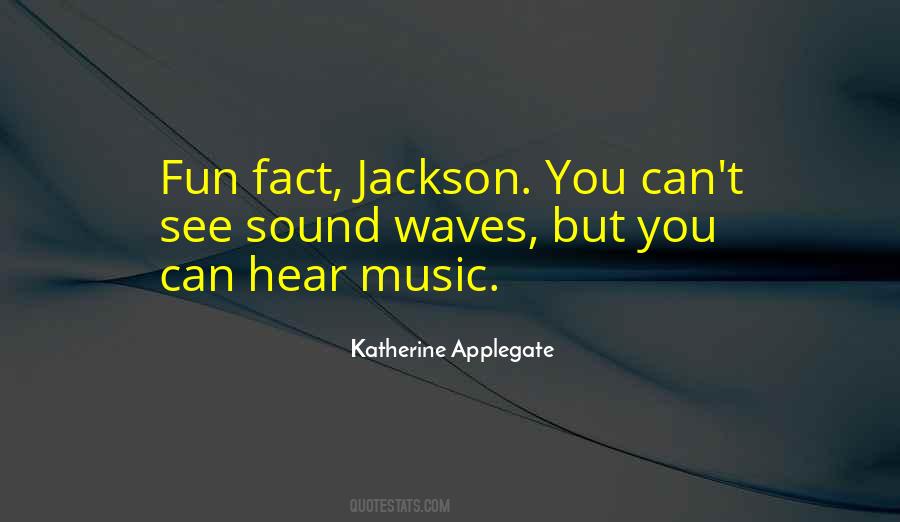 #13. I don't think you can replaces great themes. But I think people do want to hear fresh arrangements of them. They don't want to hear them played the same way all the time. - Author: Stan Kenton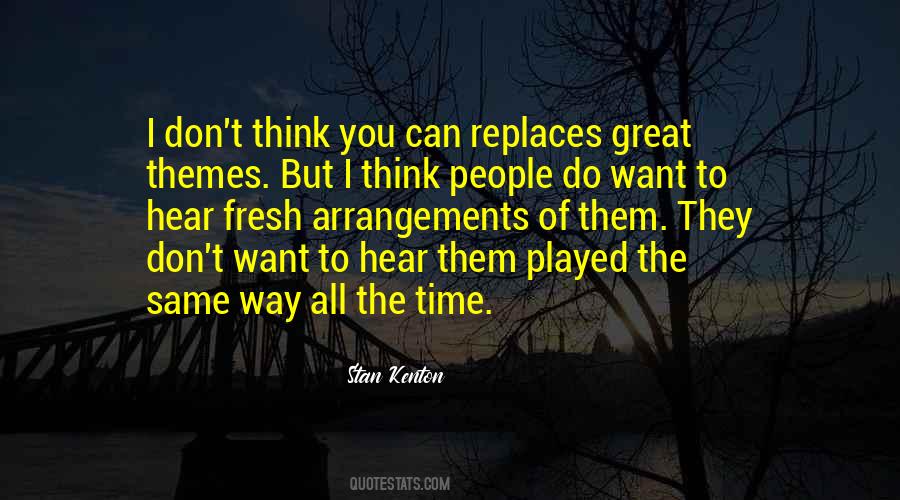 #14. With one gaze into her eyes, all words fell away. And it didn't matter at all. In this place of hearticulation, there was no need for words. This love spoke a language all its own, a grammarless lexicon of longing and union. Who needs syllables when you can hear each other's souls? - Author: Jeff Brown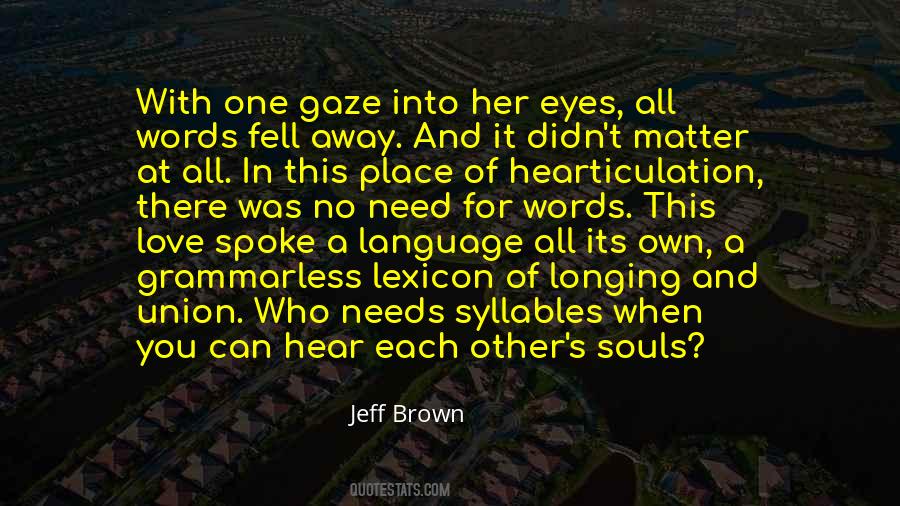 #15. You Unwinds are all the same. You think that because no one loves you, then you can't love anyone. All right, then, if there's no one you love, then pick someone who needs to hear what you have to say. - Author: Neal Shusterman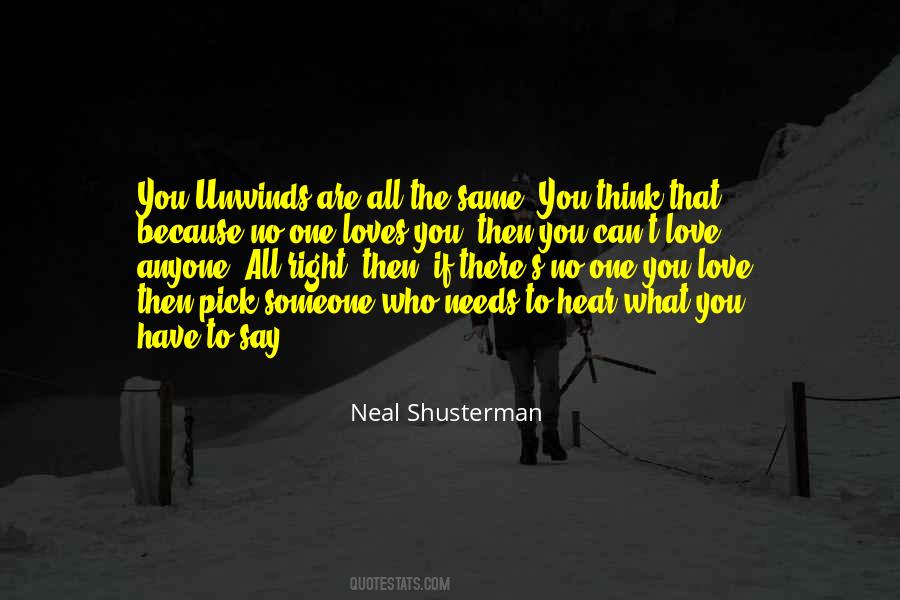 #16. I always surprise myself with my voice. A lot of people don't get it, and they're like, 'You can't sing. Stop. What are you doing?' And it's funny to hear a lot people say I sing in falsetto because it's not falsetto - that's my voice. - Author: Shamir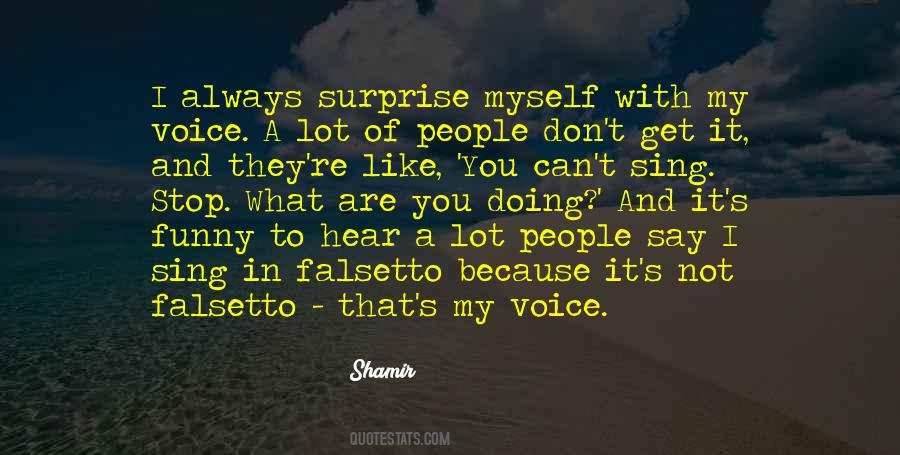 #17. I like to hear a storm at night. It is so cosy to snuggle down among the blankets and feel that it can't get at you. - Author: L.M. Montgomery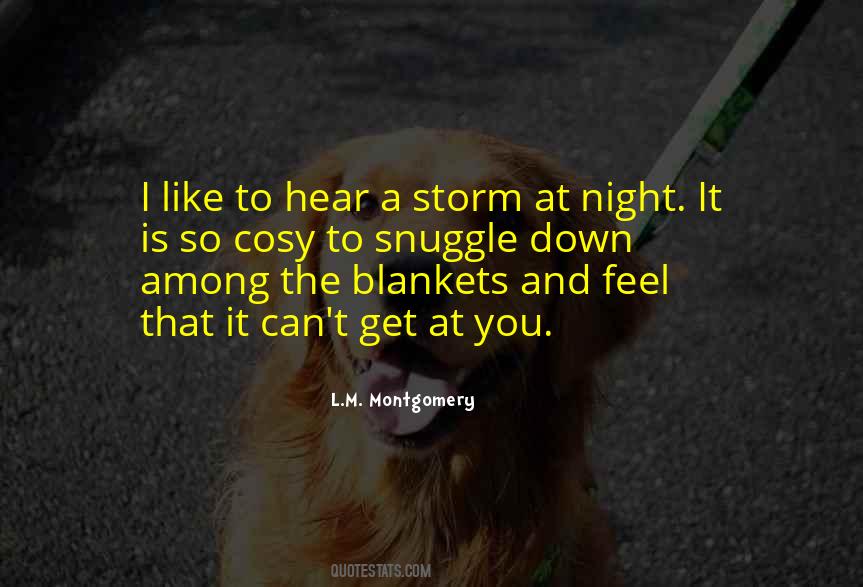 #18. In a fairy tale, the story can't be altered. The prince and princess will never have a fight. You'll never hear the queen raise her voice. No on ever gets sick; no one ever gets hurt. Maybe love is only safe in places where it can't change. - Author: Jodi Picoult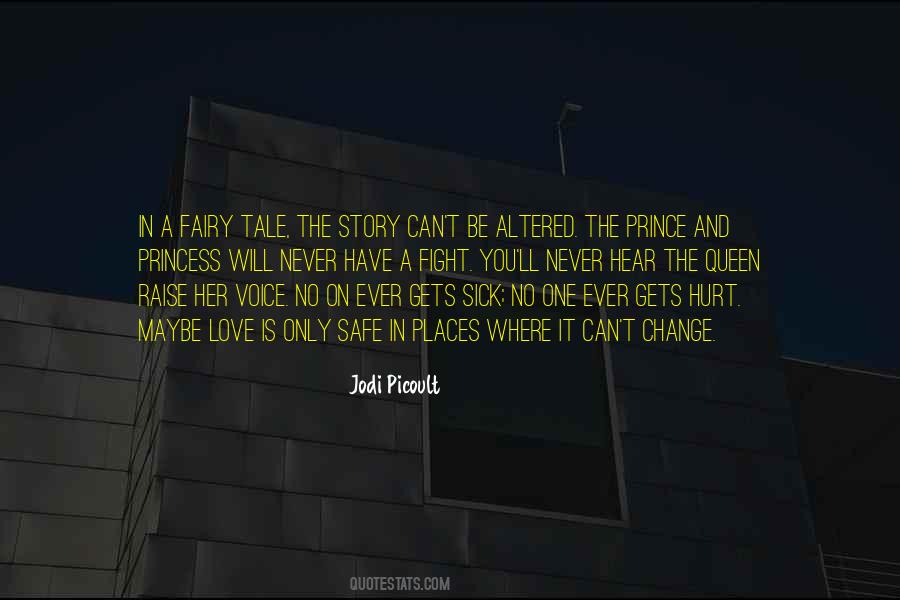 #19. I've loved you ever since I've known you, Jo, - couldn't help it, you've been so good to me, - I've tried to show it, but you wouldn't let me; now I'm going to make you hear, and give me an answer, for I can't go on so any longer. - Laurie - Author: Louisa May Alcott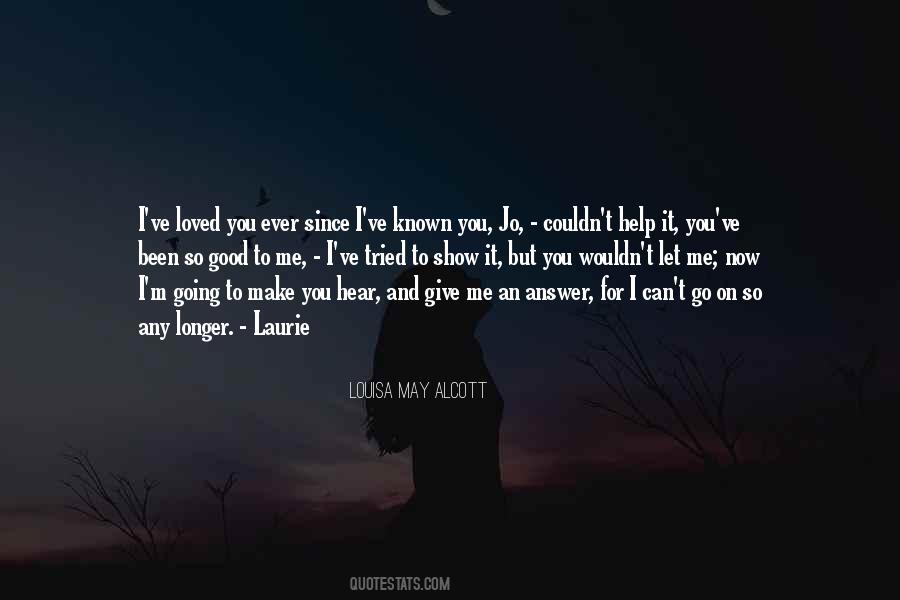 #20. Well I mean I just sit at the piano and maybe figure out some harmony or melody or both. Sometimes you can hear it in your head. Sometimes you don't always have to write it down. You just write it down so you can remember it. - Author: Roy Hargrove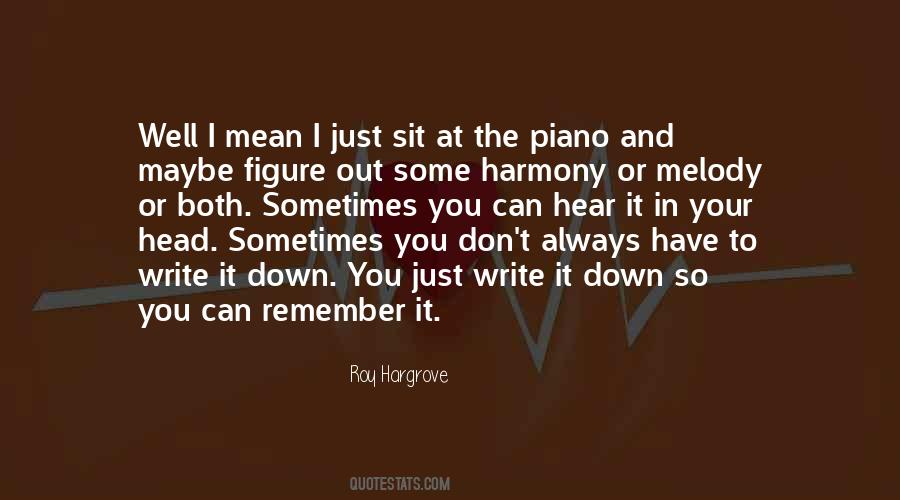 #21. What I've found in my life with our children is that often you can give them advice and tell them to eat the right things, stay in shape and wear sunscreen, and they don't really want to listen. But then they hear it from someone else, and they do listen. - Author: Rick Pitino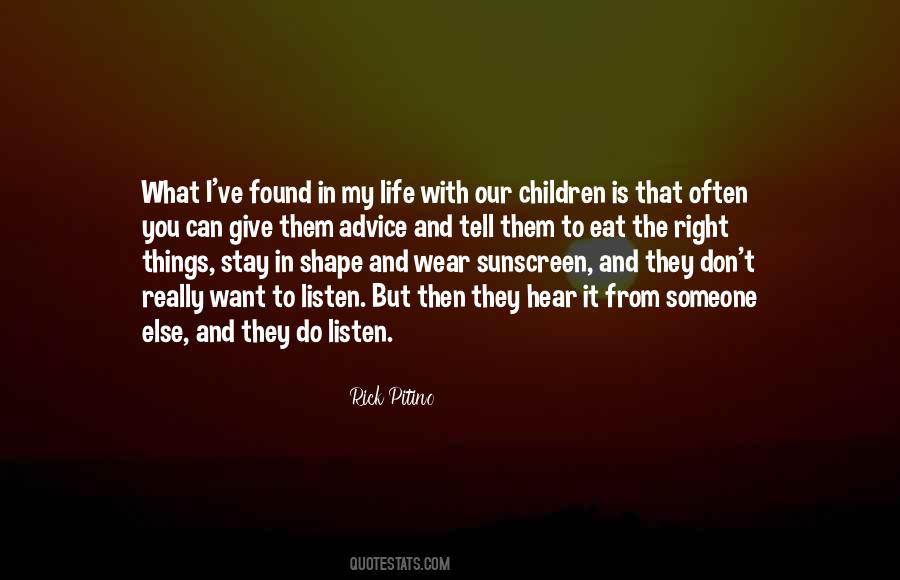 #22. Q: What's the difference between an enzyme and a hormone?
A: You can't hear an enzyme. - Author: Dorothy Parker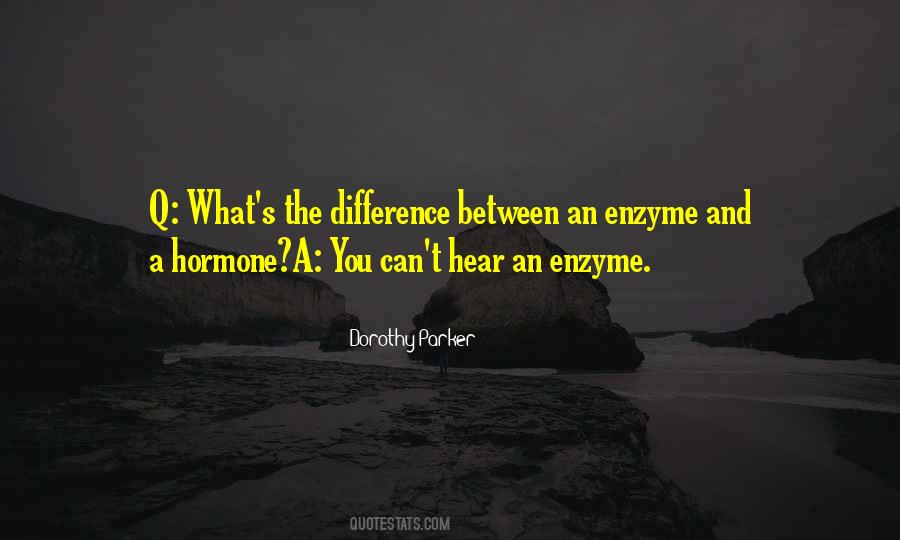 #23. Ah, that's an argument I hear often," Father Alberto said. "How can a God exist when it seems so many have been forsaken? But you fail to realize, son, without the bad we can't truly appreciate the good. - Author: J.M. Darhower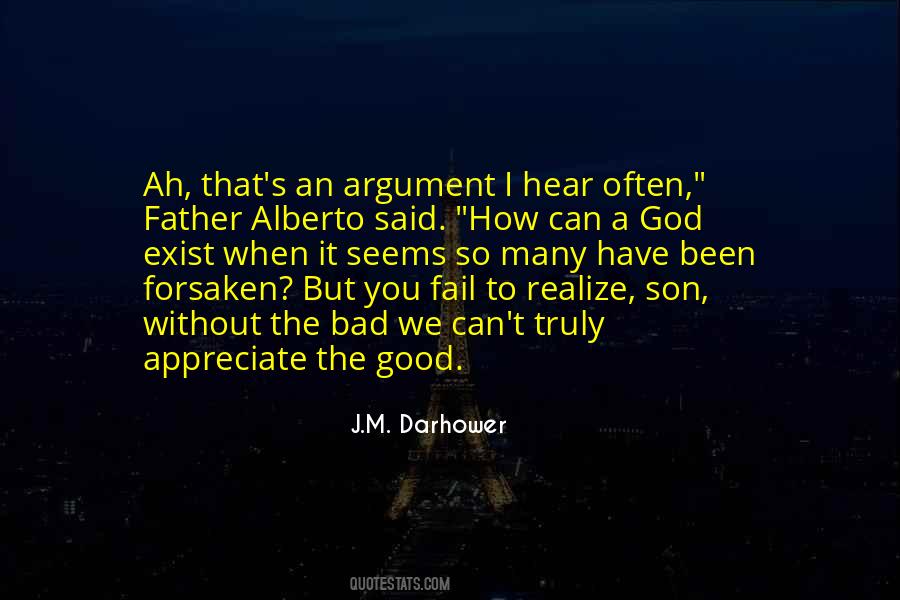 #24. So you're lost, uh? Happens a lot out here. You walk around for days, seeing things, losing your bearings, crying out for God, But He can't hear you. You can scream and scream but nobody'll ever hear you. - Author: Craig Davidson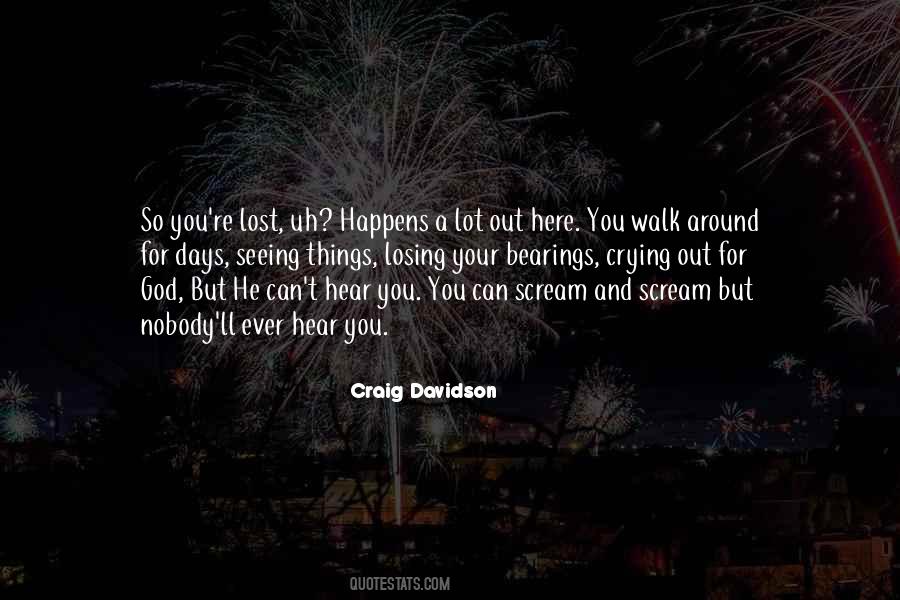 #25. Because I don't have a child and as much as you can sort of imagine it it's always nice to hear from all different walks of life what motherhood is like and what that feels like. And particularly young mothers. - Author: Abbie Cornish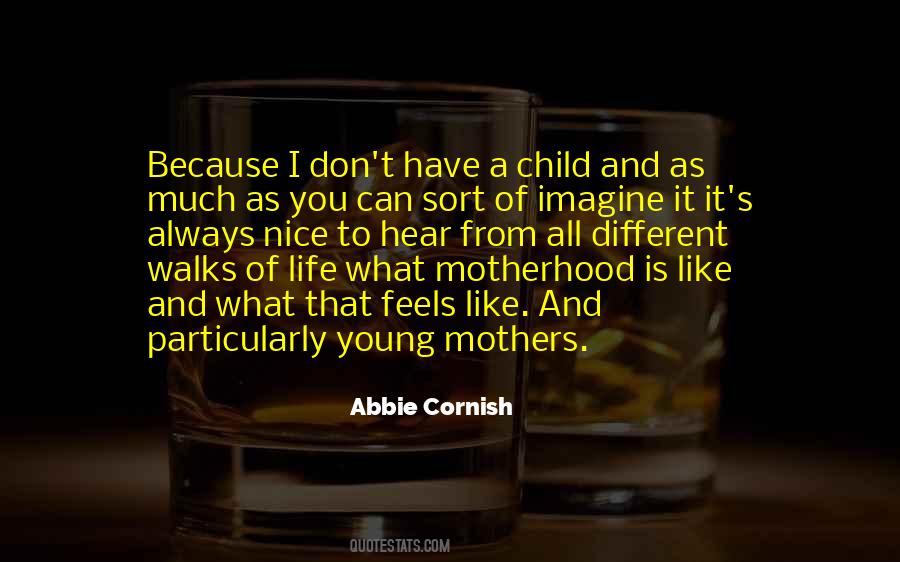 #26. When the news you don't want to hear is looming before you like Everest, two things can happen. Tragedy can run you through like a sword, or it can become your backbone. Either you fall apart and sob, or you say, 'Right. What's next? - Author: Jodi Picoult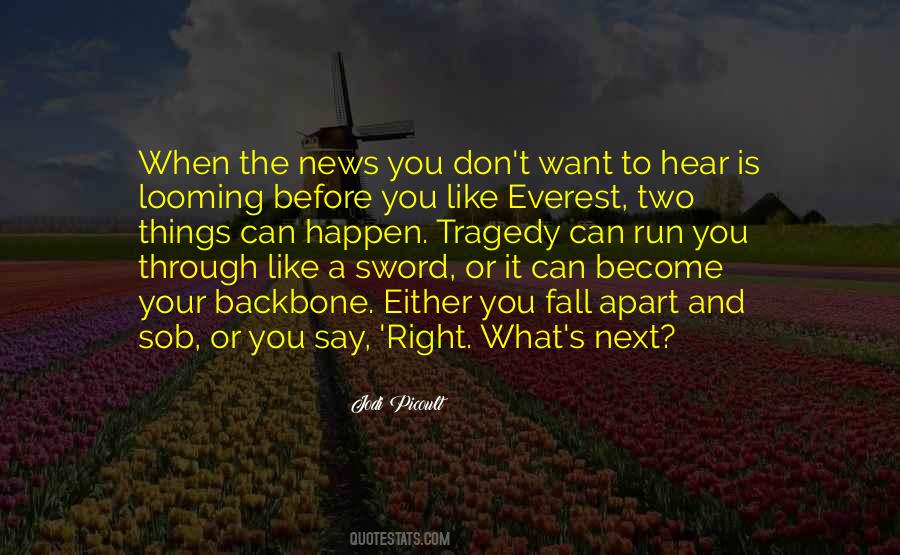 #27. With some artists, I've noticed that after their songs have been licensed, on their next album you can totally hear they're trying to write a song for 'Grey's Anatomy' and it doesn't work. It's just one of those things that has to feel genuine to last a long time. - Author: Priscilla Ahn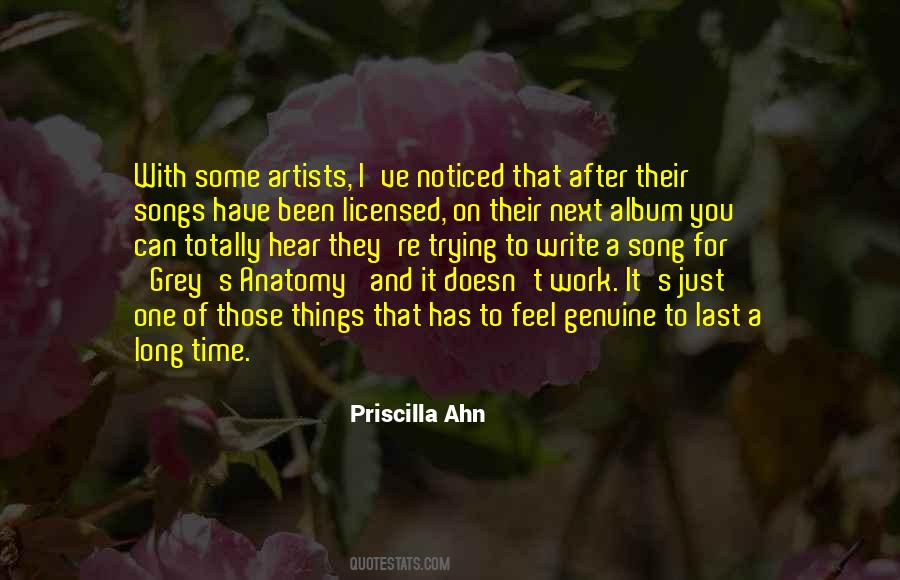 #28. Hear this if you can:
If you want to reach him
You have to go beyond yourself
And when you finally arrive at the land of absence
Be silent
Don't say a thing
Ecstasy, not words, is the language spoken there - Author: Rumi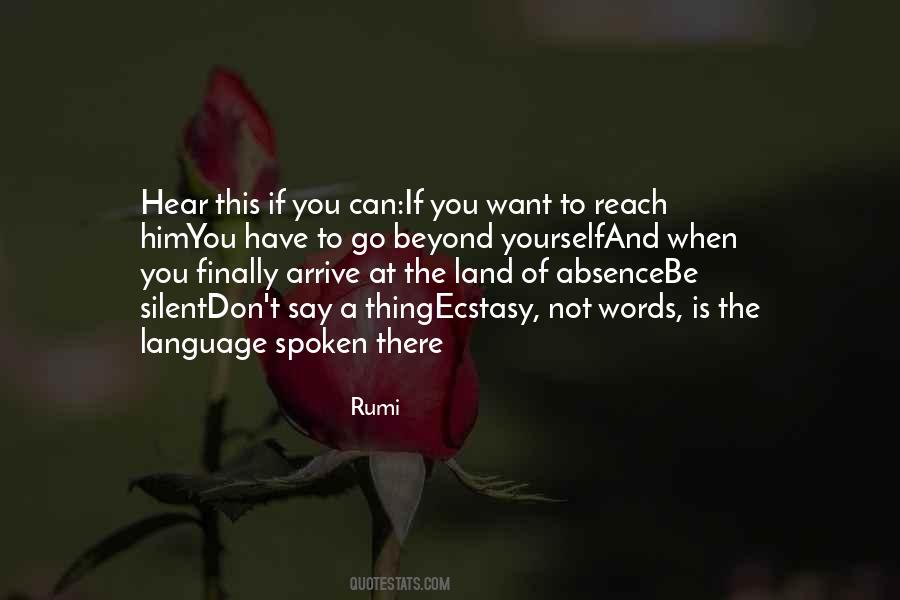 #29. I'm shoutin' back more'n forty long years at myself, yay, ... Oy, list'n! Times are you're weak 'gainst the world! Times are you can't do nothin'! That ain't your fault, it's this busted world's fault is all! But no matter how loud I shout, ... he don't hear me nor never will. - Author: David Mitchell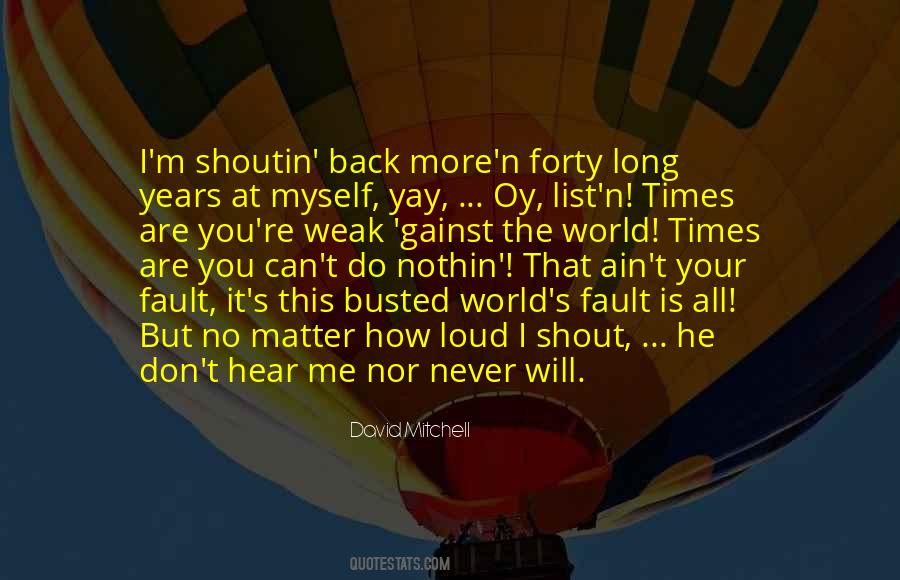 #30. But I honestly don't read critics. My dad reads absolutely everything ever written about me. He calls me up to read ecstatic reviews, but I always insist that I can't hear them. If you give value to the good reviews, you have to give value to the criticism. - Author: Fiona Apple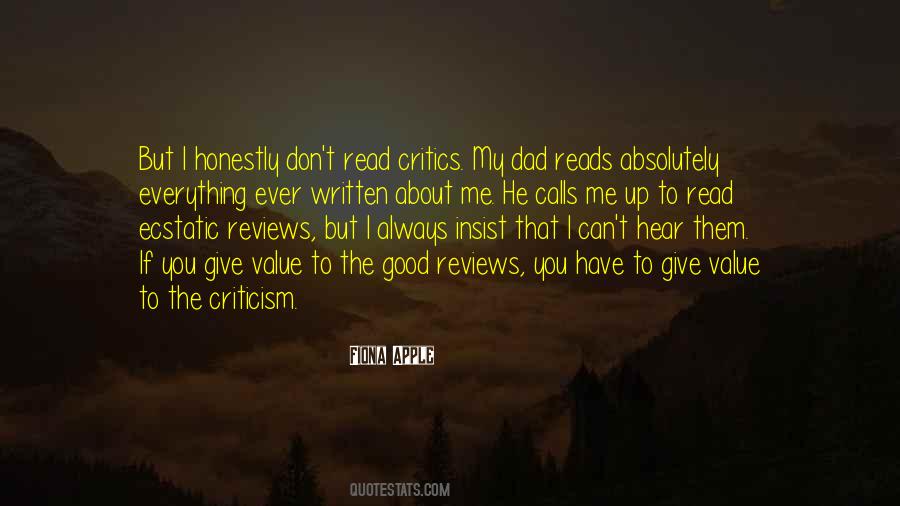 #31. You can't truly hear your own voice until the shouting around you disappears. New ideas and possibilities - our own ideas, our own possibilities - will occur only when we step away from the Virtual Panopticon. - Author: John Twelve Hawks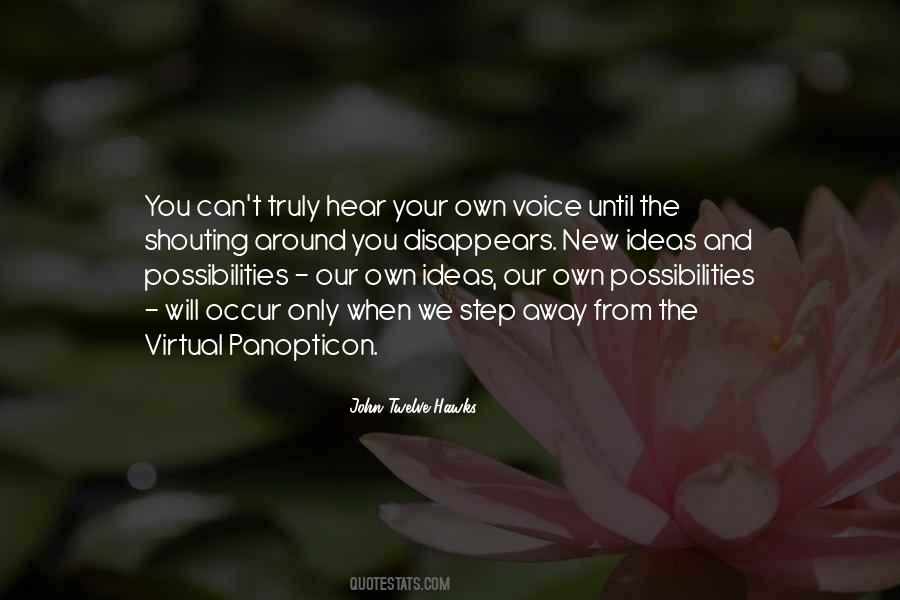 #32. Caring about someone, it's never easy. Seeing past their imperfections; the things you don't necessarily like, it speaks to the size of your heart and the person you are. That can never be wrong. - Author: Melyssa Winchester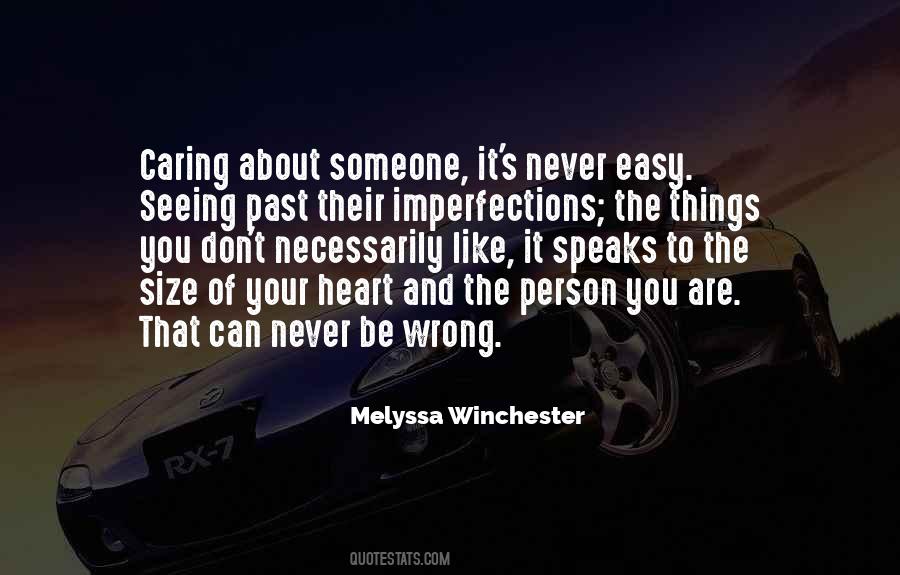 #33. I see hope creeping in, destabilizing old power structures. I feel it in the ground under my feet. I hear it in the stories of the people of God living right now. We're whispering to each other, eyes alight, "Aslan is on the move." Can't you feel that? The kingdom is breathing among us already. - Author: Sarah Bessey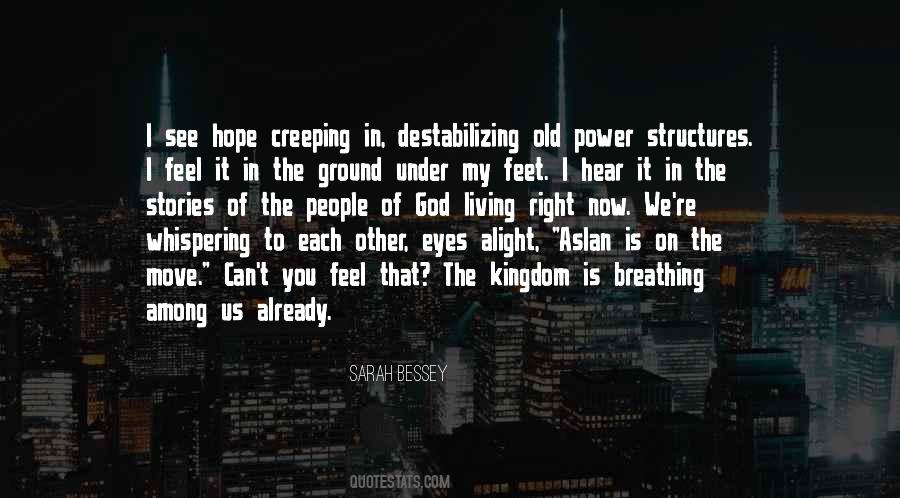 #34. He chuckled quietly. "I Didn't claim to have extra-sensory gifts. Based on what I can hear and feel, I can fill in what I can't see." "Do you want to know what I sense?" " Dare I ask?" I smiled, even though I knew he couldn't see it. - Author: Kirby Howell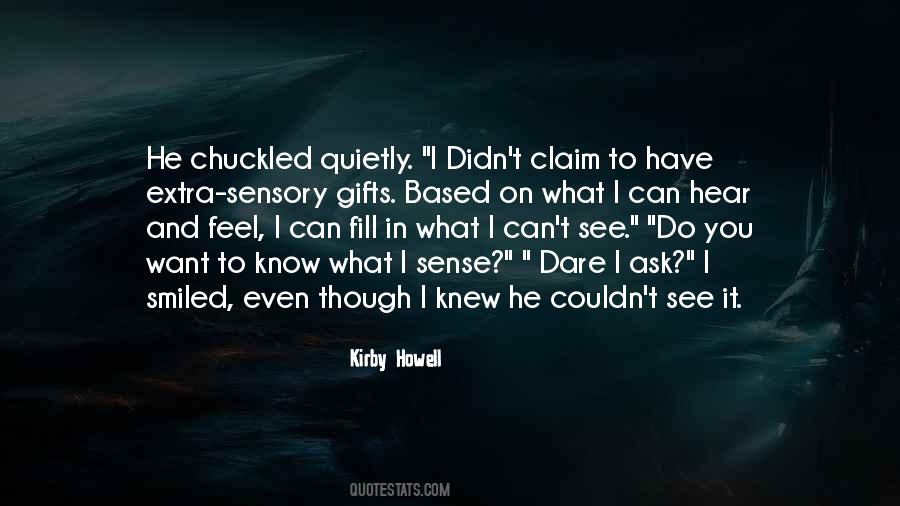 #35. Your ass belongs to me. I've suffered for it. I've loved you forever. I deserve it," Danny went on, his voice a low mixture of anger and desire. "I don't ever want you getting from another man what you can get from me. You hear me, Paul Guy, it's mine. - Author: Kele Moon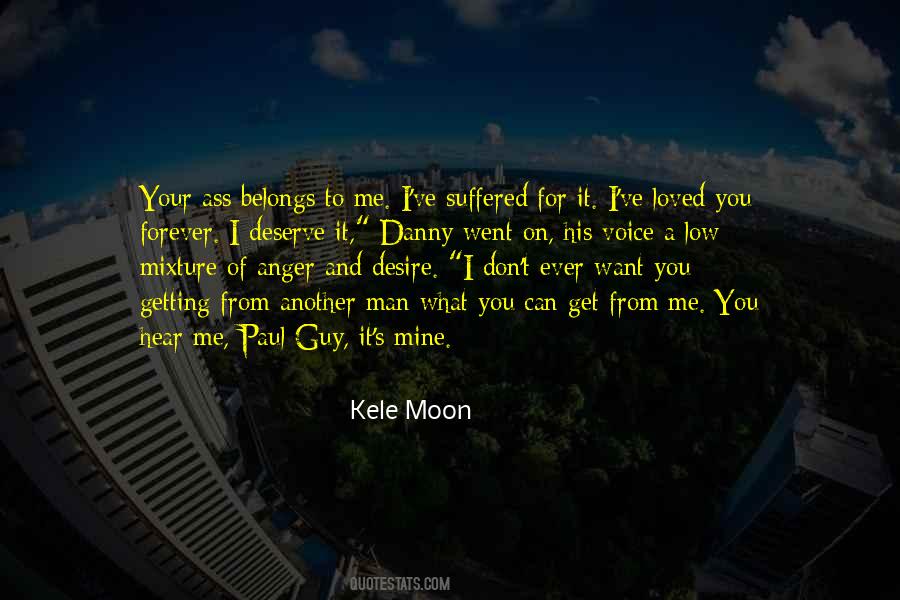 #36. Sometimes the beauty is easy. Sometimes you don't have to try at all. Sometimes you can hear the wind blow in a handshake. Sometimes there's poetry written right on the bathroom wall. - Author: Ani DiFranco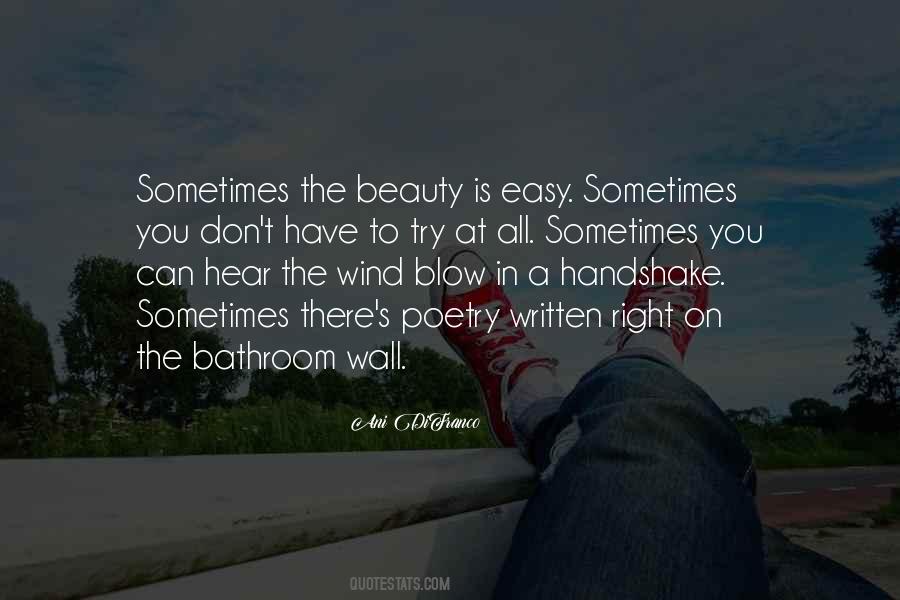 #37. So many shows don't have laugh tracks now that, when you hear it, it can be slightly jarring. - Author: Casey Wilson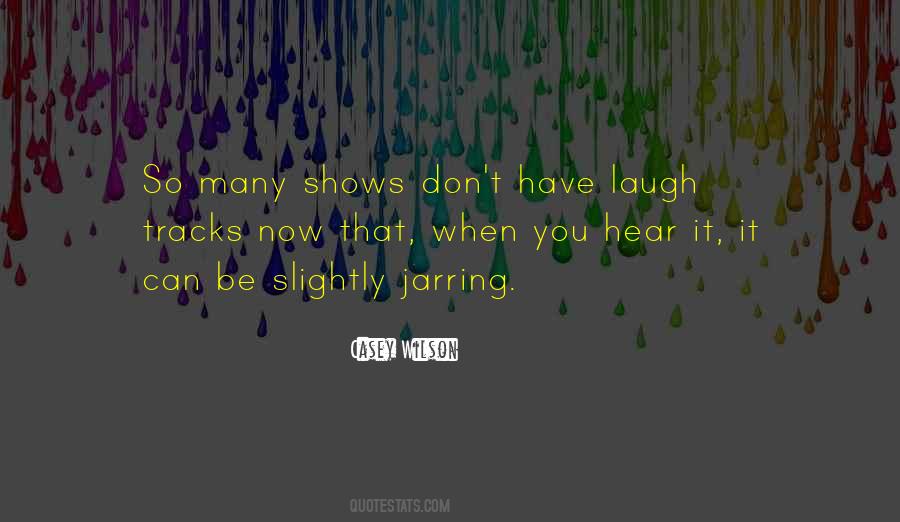 #38. I love pouring my heart out. People don't want to hear you whine when you're with friends, so you can sing about it instead - it's the best outlet. - Author: Lykke Li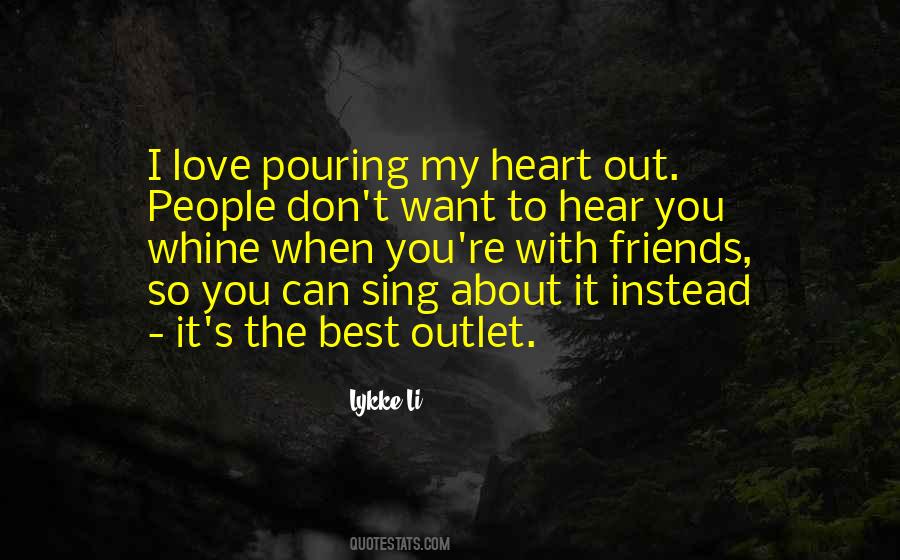 #39. For you can't hear Irish tunes without knowing you're Irish, and wanting to pound that fact into the floor. - Author: Jennifer Armstrong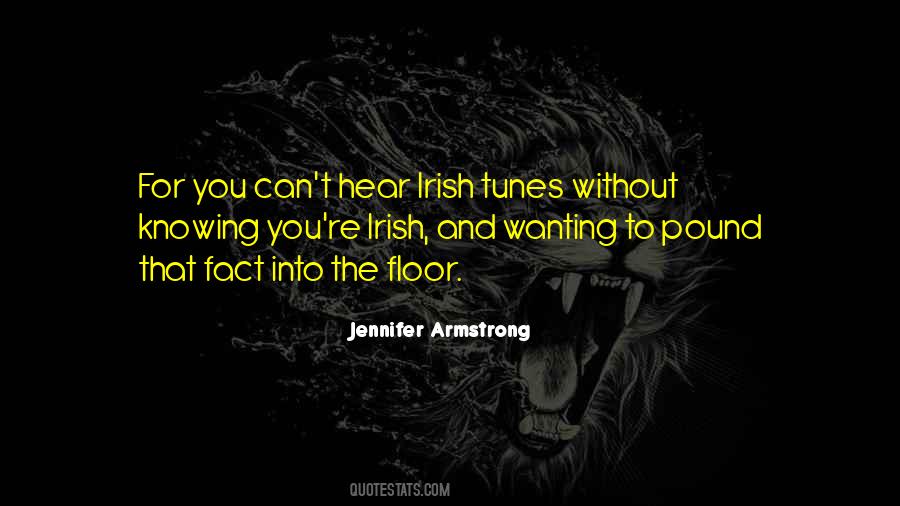 #40. So softly Lizzy has to lean over to hear me, I say, 'I can't face the world until I know why I'm here.'
You're kidding me.'
I shake my head vehemently. 'No. I need to figure out my purpose. Until I do, what's the use of getting up? - Author: Wendy Mass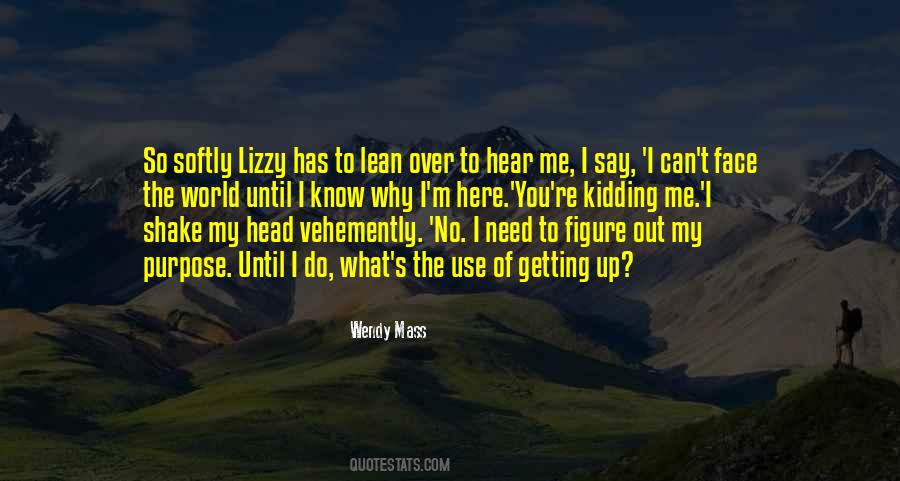 #41. I love music and I love musicians and when I hear something that's great, I always say it's like you go to a movie and you can't wait to tell your friends about it. - Author: Zach Braff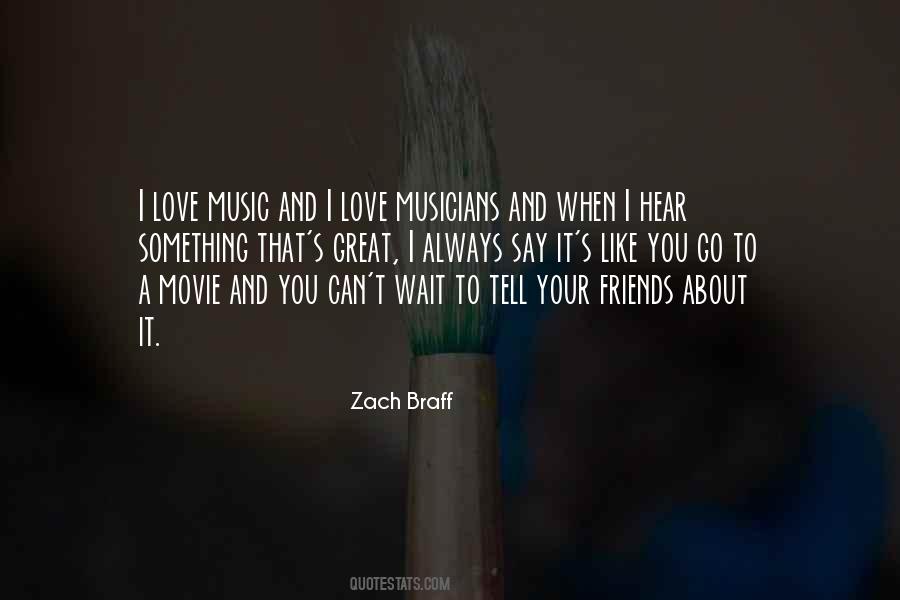 #42. When you finish a series like 'Ugly Betty,' there are so many voices around you telling you what you should be doing next and what would be good for your future, sometimes you can't hear yourself. I've gotten pretty good at tuning everyone else out. Now it's just me; what pleases me creatively. - Author: America Ferrera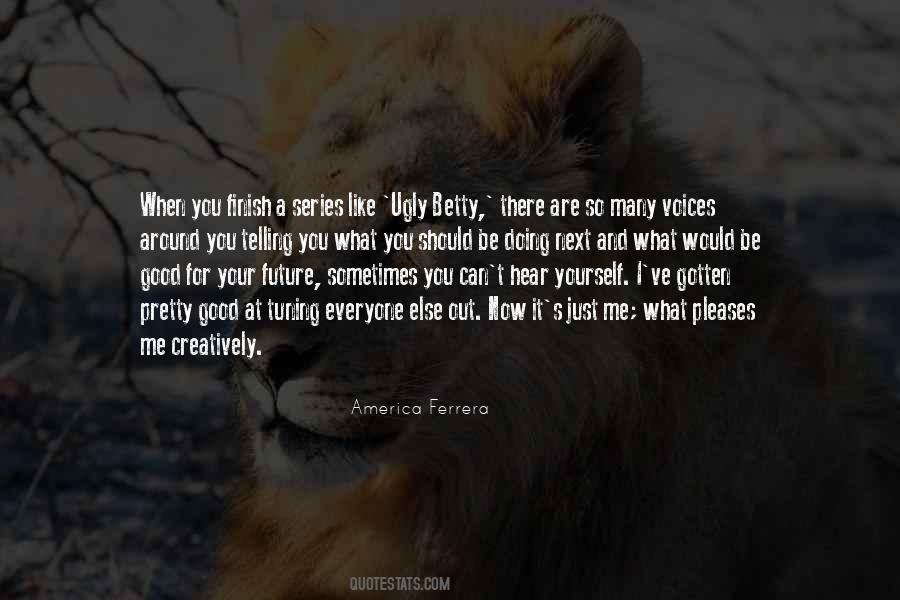 #43. You don't love someone for their looks, or their clothes, or for their fancy car, but because they sing a song only you can hear. - Author: Oscar Wilde
#44. And if all that wasn't enough, you're a good fucking human being, and I'm not losing you to whatever bullshit lies your head is telling you. I know you don't have any family, so I'm officially stepping in and stepping up. I will fight for you until you can fight for yourself. You hear me? The - Author: Laura Kaye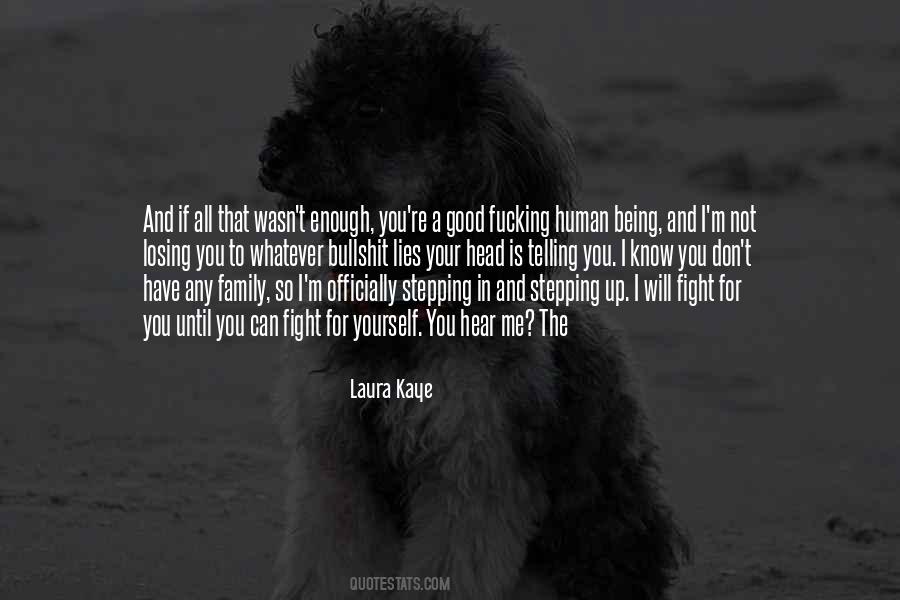 #45. If you want to play something that you can't, you need to see and hear yourself doing it in your minds eye. It will start to happen - Author: Steve Vai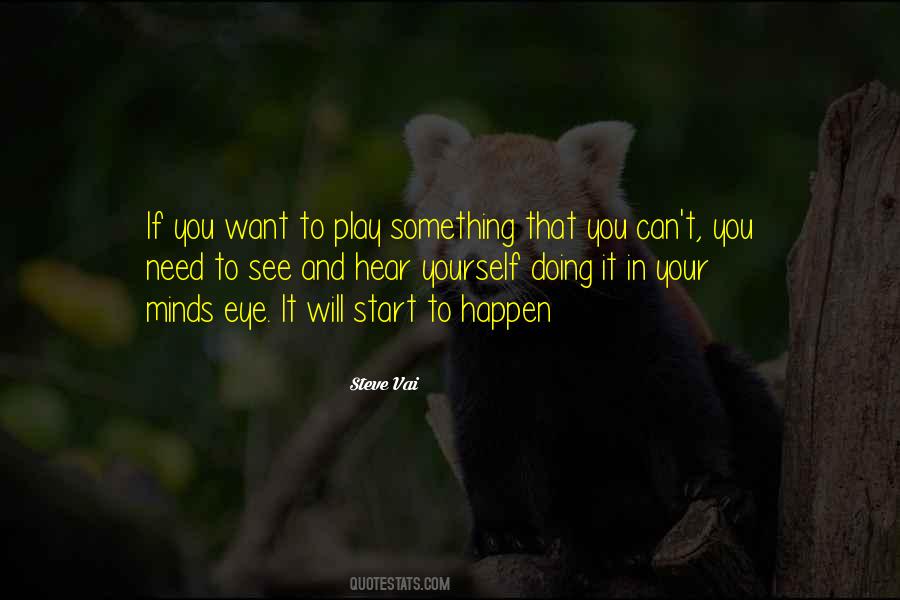 #46. I sigh. "But if you'd talked to Jules - if she could hear you ... " My voice trails off.
"Then you wouldn't feel quite so crazy?" Oliver asks gently. "Can't you believe in me, if I believe in you? - Author: Jodi Picoult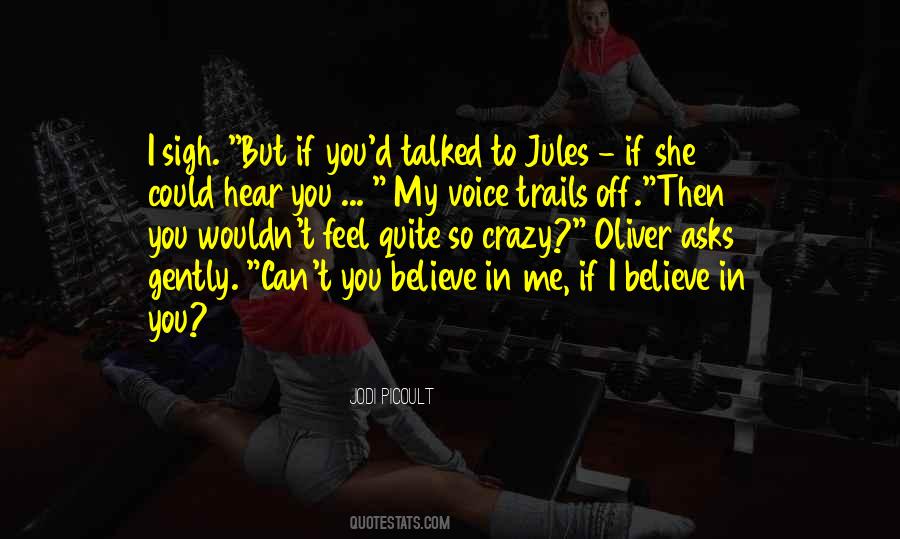 #47. I can't tell you what genre Maroon 5 is in. I don't know if they're rock or pop or alternative. I don't know what they are. I have a hard time separating that stuff. I just know what I like when I hear it. - Author: Blake Shelton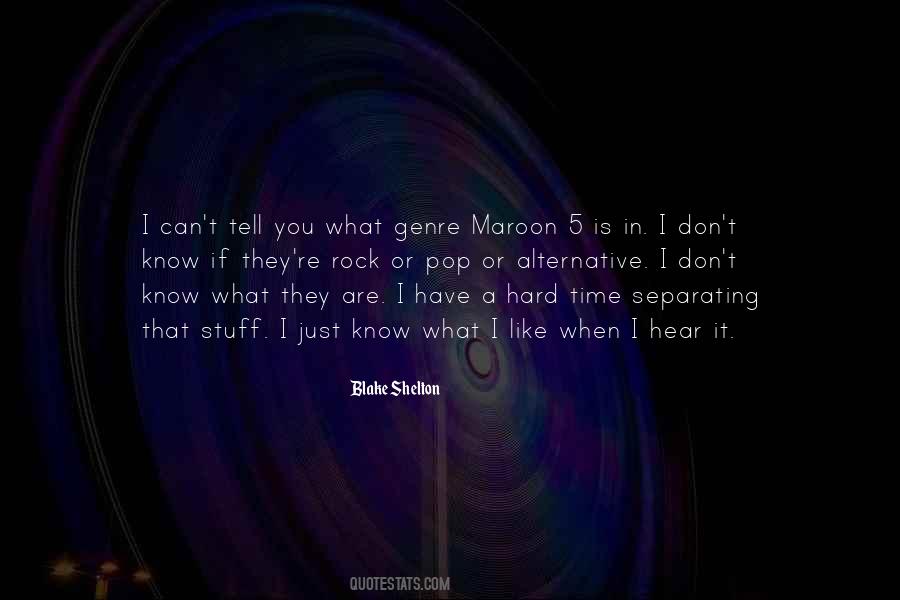 #48. That's something I learned from both my stepdad and my grandfather - that there is a thing called chivalry, and it doesn't have to die with the birth of the Internet. The way I see it, if you're asking a girl out on a date, it's only right to do it in a way that she can hear your voice. - Author: Justin Timberlake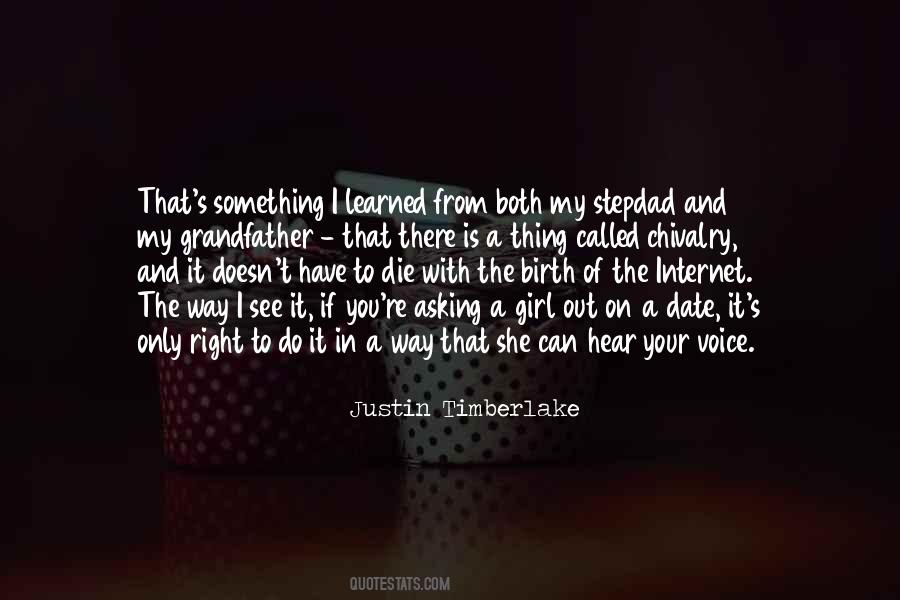 #49. Oh, you don't want to hear all my sad stories. I can't even bear to tell them anymore. Screw the past, right? - Author: Gabrielle Zevin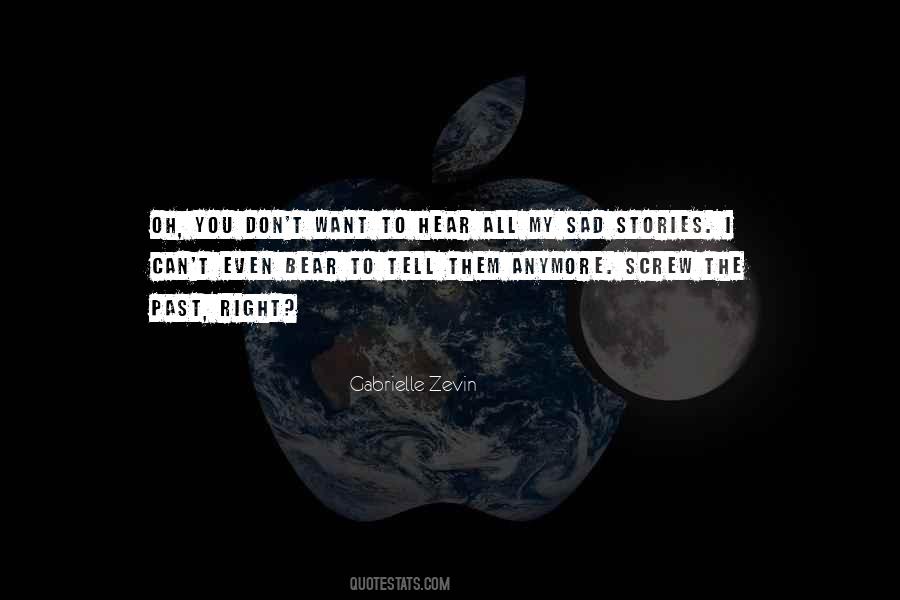 #50. Normally you can't hear you're own voice because you're talking over it. - Author: Karl Pilkington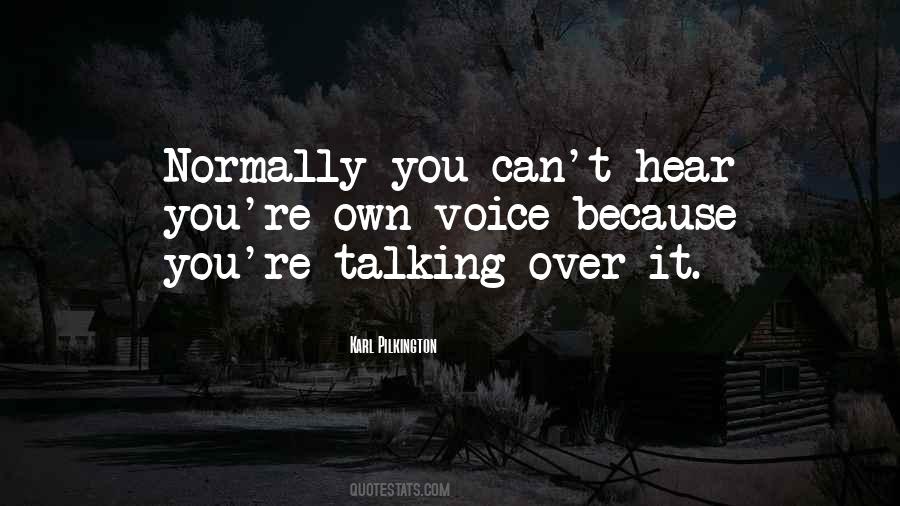 #51. Once you can't hear, it really doesn't matter how much louder one place is than the other Death Valley, when it gets rocking at night, it's a different animal. I've played there in the daytime as well and it's just a different animal at nighttime. - Author: Doug Johnson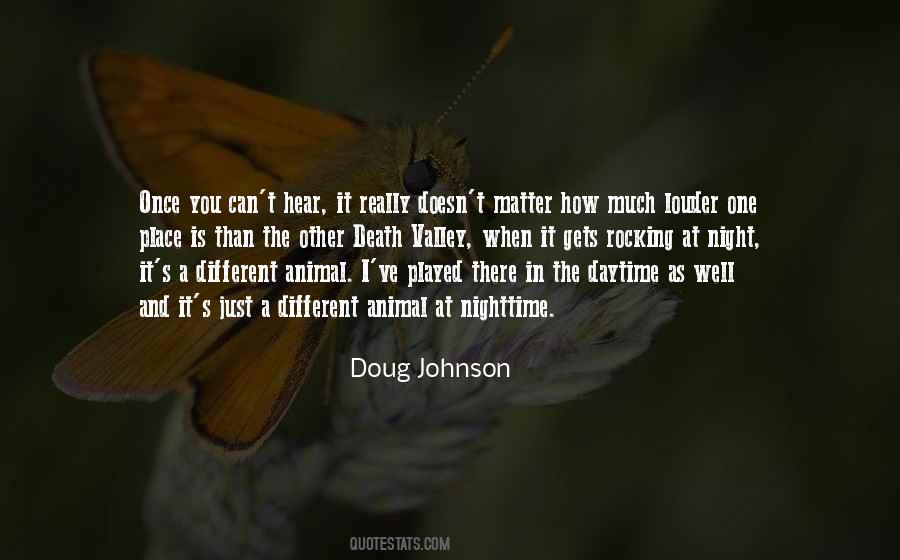 #52. The first eight songs we were using someone else's monitors and it is hard to follow the changes when you are jamming if you can't hear those who you are jamming with. - Author: John Entwistle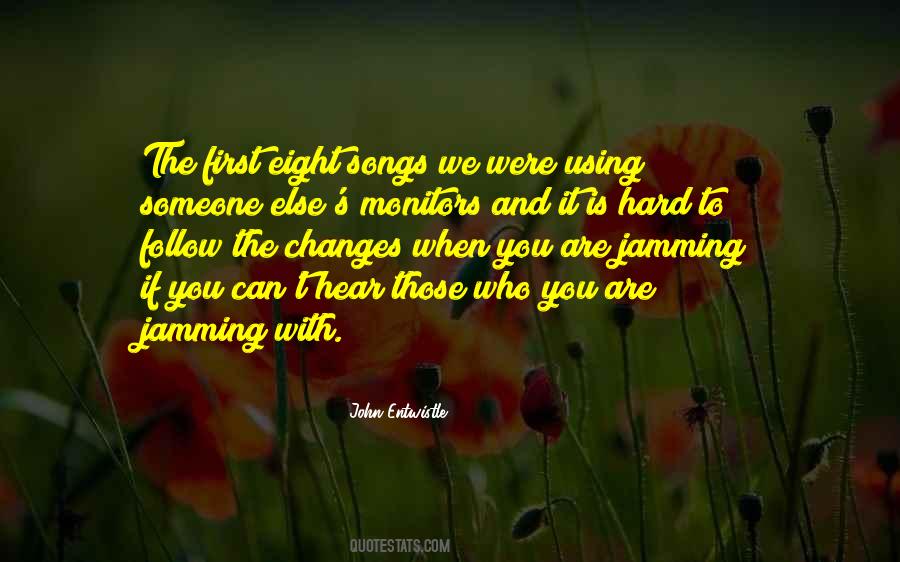 #53. No one knows for sure if you can inherit a stammer, and so I worry that my baby might. It's why I want to work on my speech before he arrives. I don't want him to hear me stammer. - Author: Gareth Gates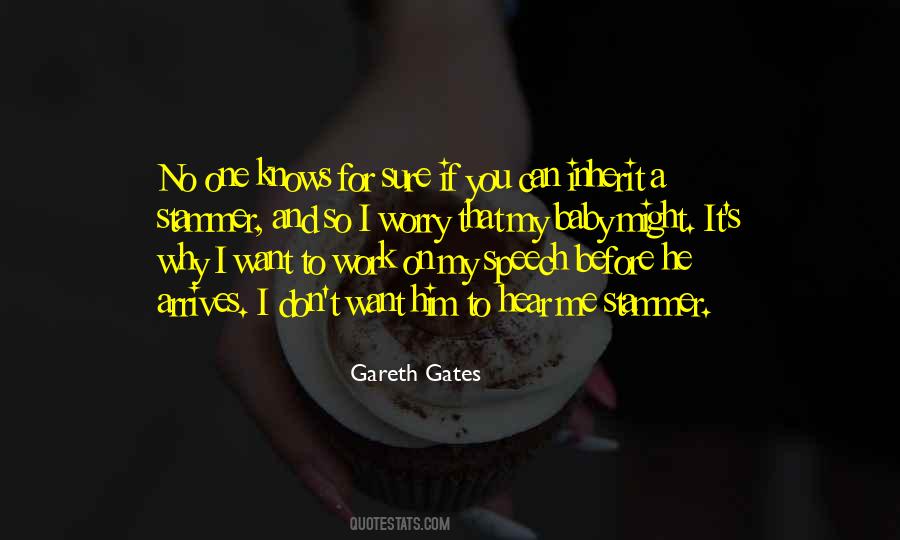 #54. Using the word 'bossy' for girls can be quite harmful. What is that saying - that being focused, being assertive, being the boss has a negative attribute? And I have heard that term associated more with women than with men. 'He's so bossy' - you don't hear that. It's a very subtle thing. - Author: Bryce Dallas Howard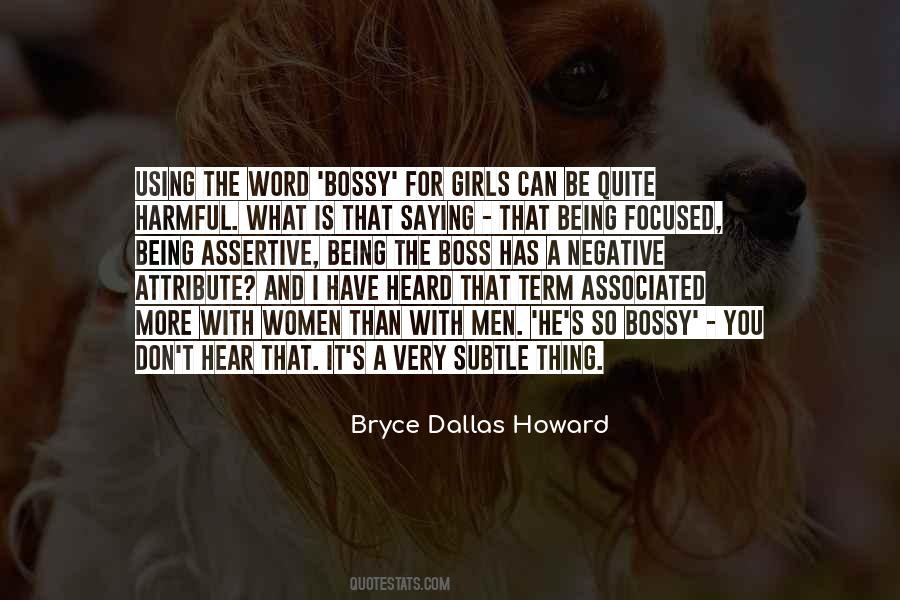 #55. I think you can hear the struggles and hear a realness in Theocracy songs, a human element that you don't get from a lot of the typical Christian stuff. - Author: Matt Smith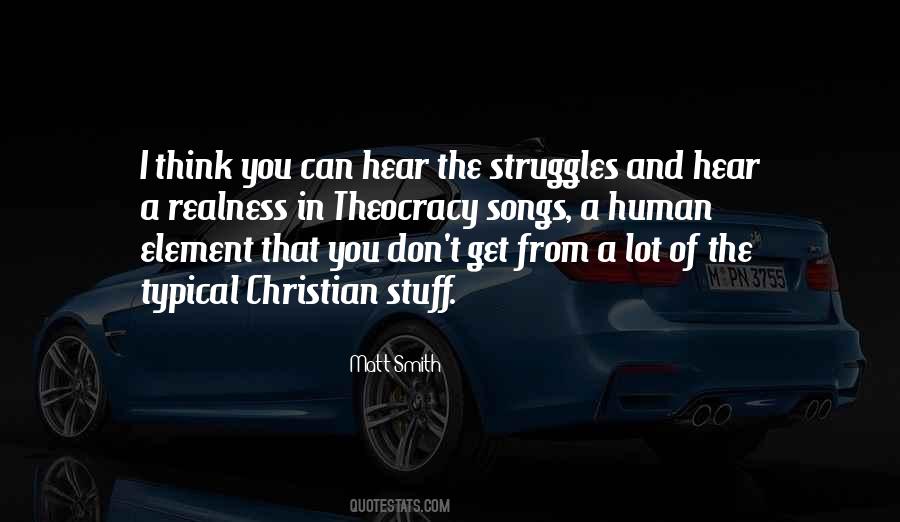 #56. The good thing about Pro Tools is you can actually hear what you're working on, so it doesn't just become this intellectual idea. But Pro Tools can be dangerous, too. It can make things sterile. - Author: Bjork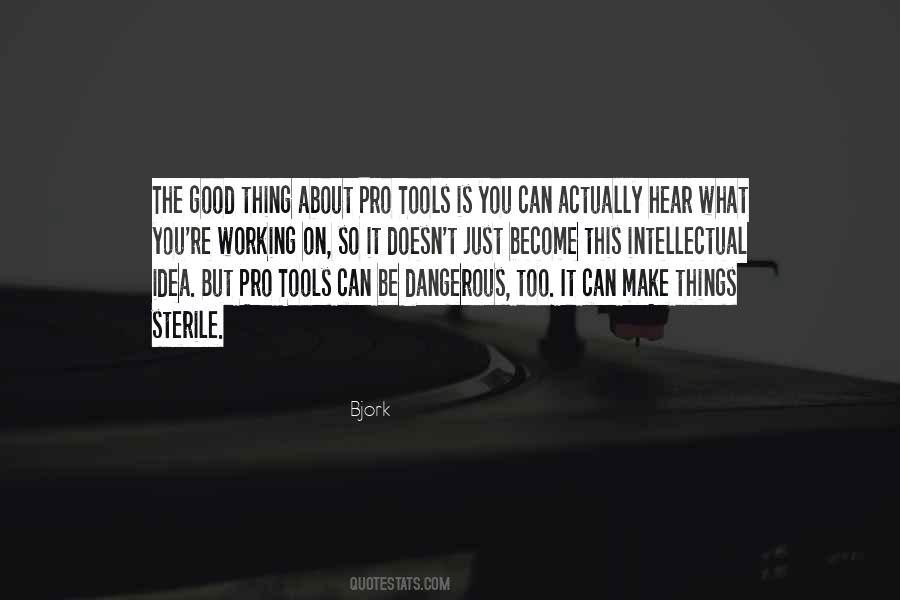 #57. If you tell somebody enough, "You're stupid, you're not worth it, you can't do this, you can't do that," then how many times do you have to hear that before you believe it? The power of words is immeasurable. - Author: Christi Paul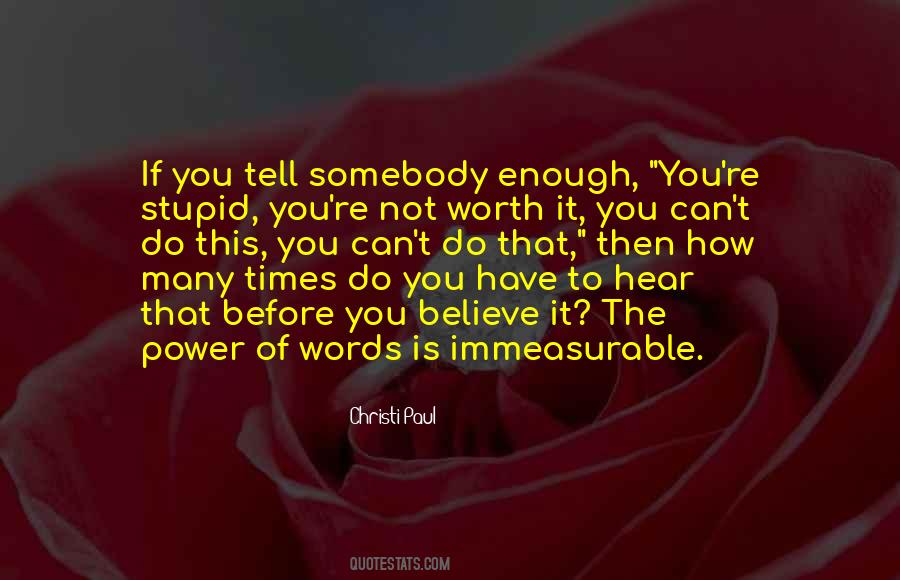 #58. You can't really hear heartbreak. It is remarkably silent but excruciating all the same. - Author: Katherine Owen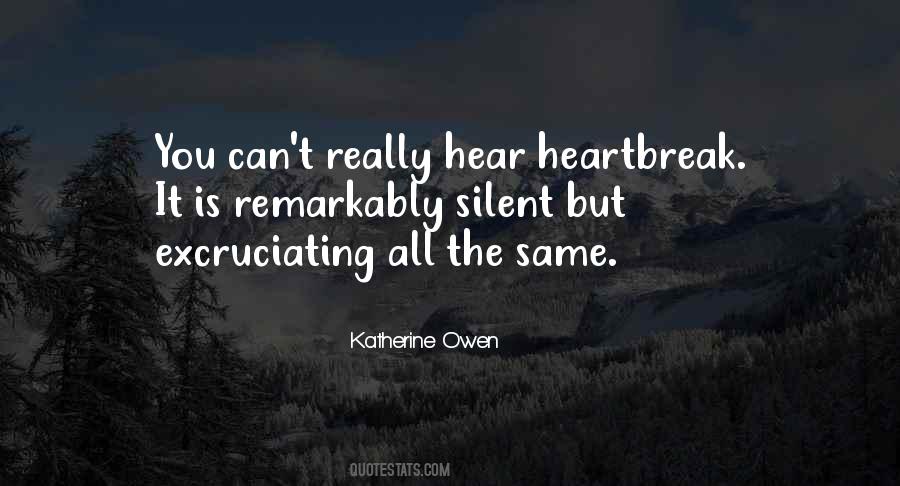 #59. Hey this is Lenore! Yup, it sure is Lenore! Huh, maybe he can't hear me, maybe I should spell it. L-e-n-o-p

There's no p in Lenore , Lenore.

Oh yeah? Then what's this raggamuffin? Pssssssssssss

Aaaaagh! How are you even projecting it at that angle!?! - Author: Roman Dirge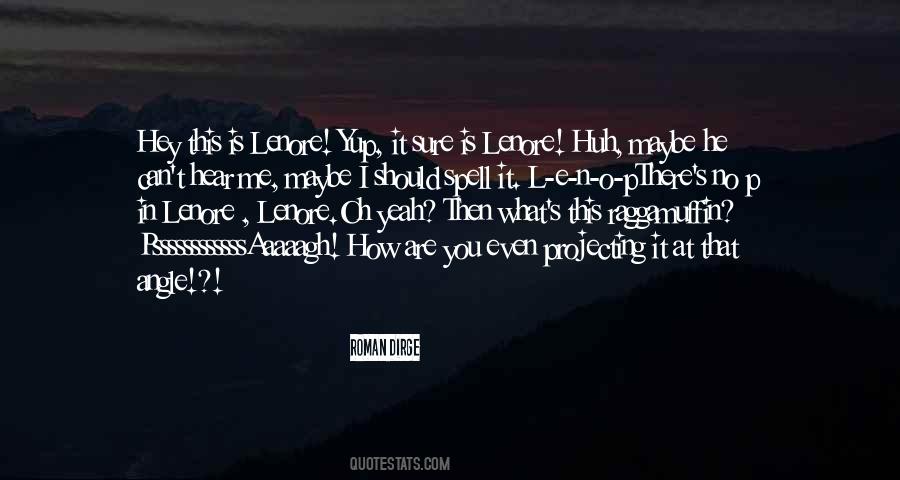 #60. So, what's up with you and Damian?" Helena asks.
"What do you mean?" I can feel the hear of a blush coloring on my cheeks. I can't ever seem to not show how I feel. It's becoming pretty annoying. - Author: Lisa Ann Sandell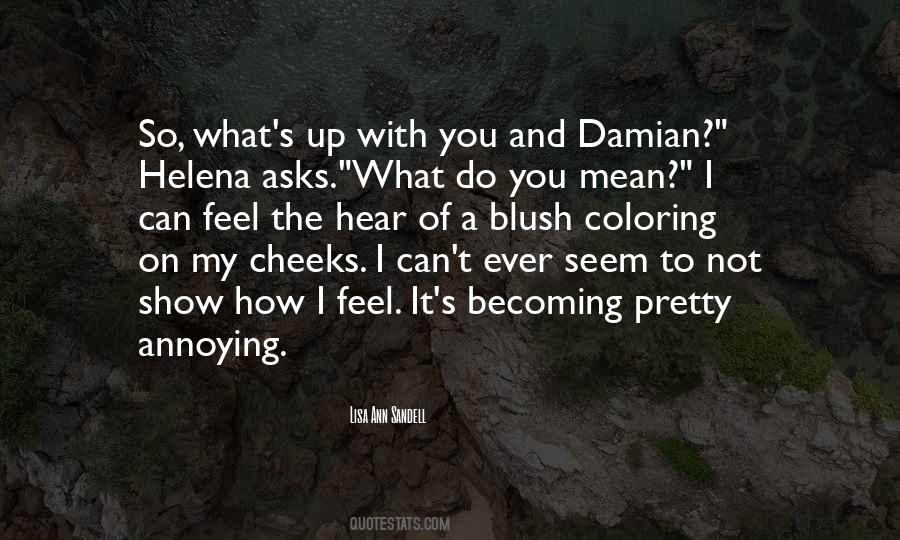 #61. I think I'm writing for an intelligent stranger - you know, in my mind I can't remember who coined that phrase first. I don't want to write anything that makes me cringe, first of all. I cringe a lot - mostly when I hear popular music. - Author: Jason Isbell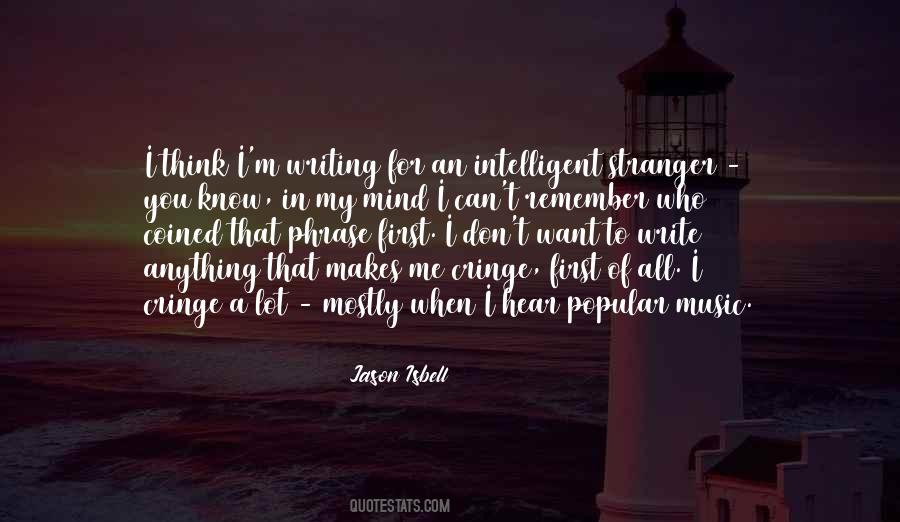 #62. Making people change because you can't deal with who they are isn't how it's supposed to be done. What needs to be done is for people to pull their heads out of their asses. You say 'cure.' I hear 'you're not human enough. - Author: John Scalzi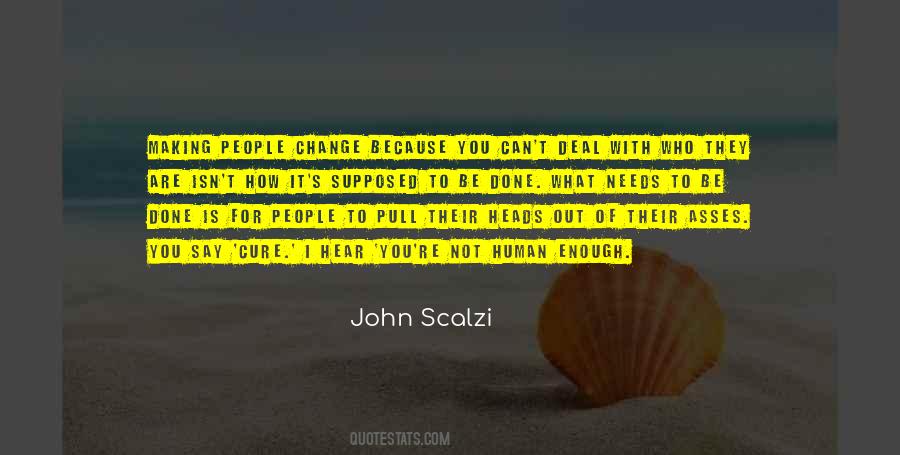 #63. Most of the music you hear on the radio today is developed for making money. It doesn't feel true or honest. You can feel it in the music. - Author: Iris Dement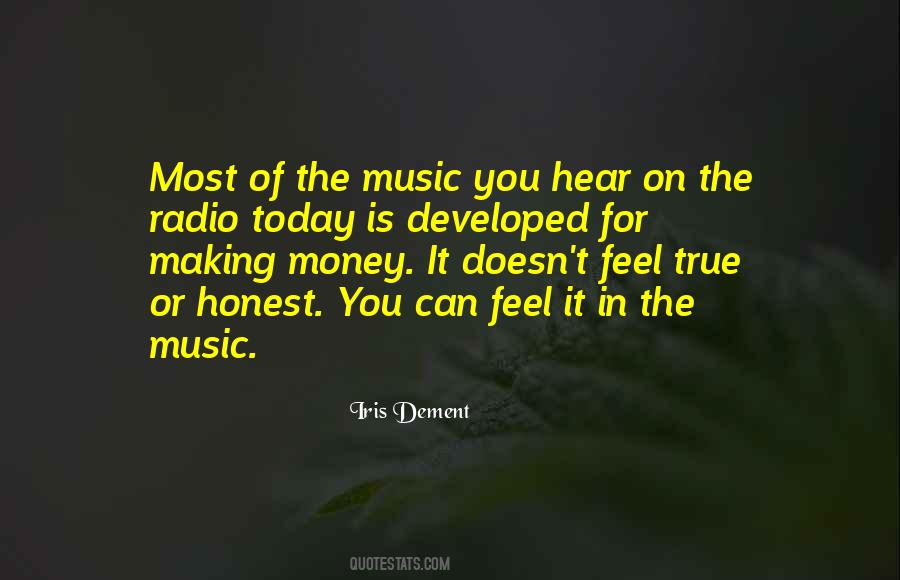 #64. It isn't necessary to see a good tackle. You can hear it. - Author: Knute Rockne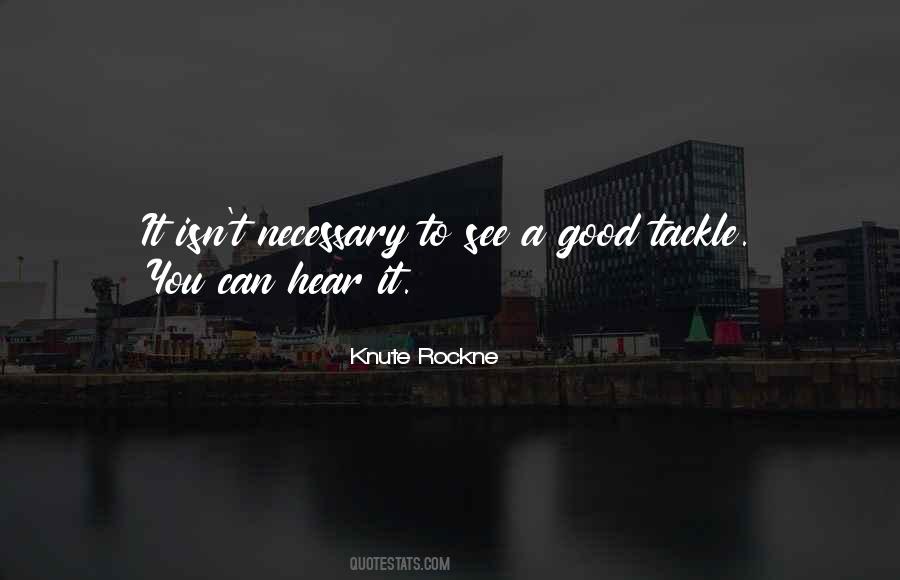 #65. You can't!" Aaron said. "Didn't you hear anything I just told you? You could die!
" Well, don't kill me," Call said. "How about our goal is not to die. Both of us. Not dying. Together. - Author: Holly Black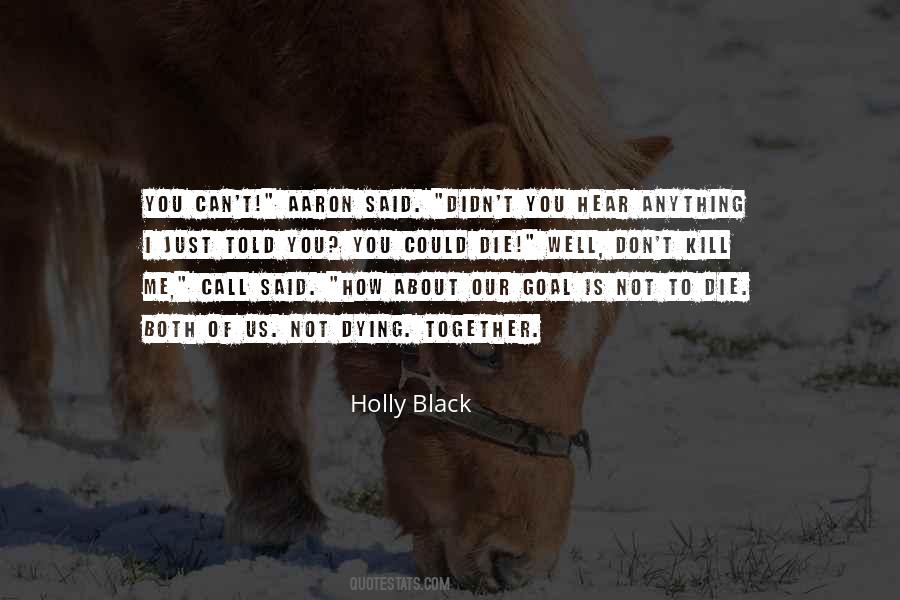 #66. As any parent can tell you, it's better to keep your mouth shut and your eyes open when you go looking for kids who are being unreasonably quiet. They're probably doing something they don't want you to see, and if they hear you coming, they'll hide the evidence. I - Author: Elizabeth Bear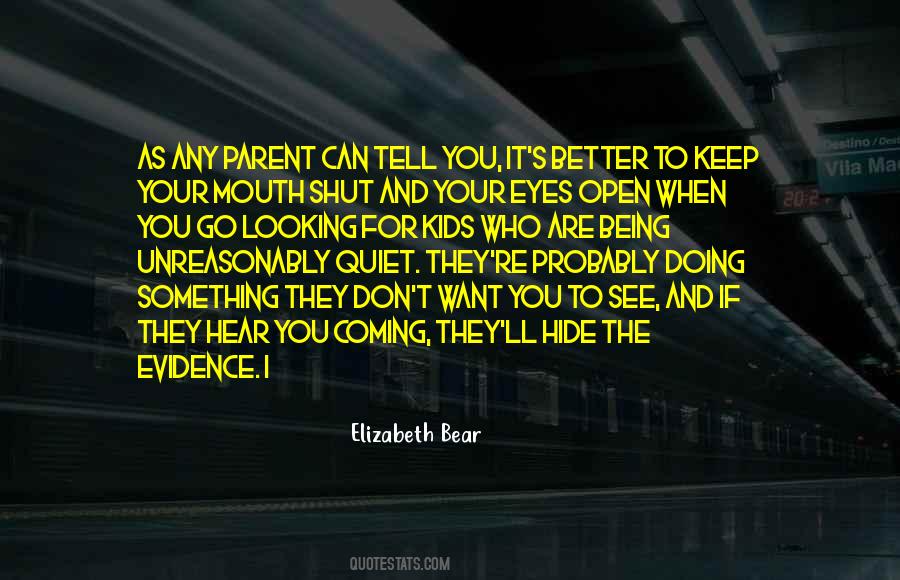 #67. And I often tell friends: "When you don't know what to do, do nothing. Get quiet so you can hear the still, small voice, your inner GPS guiding you to true North. - Author: Ashwin Sanghi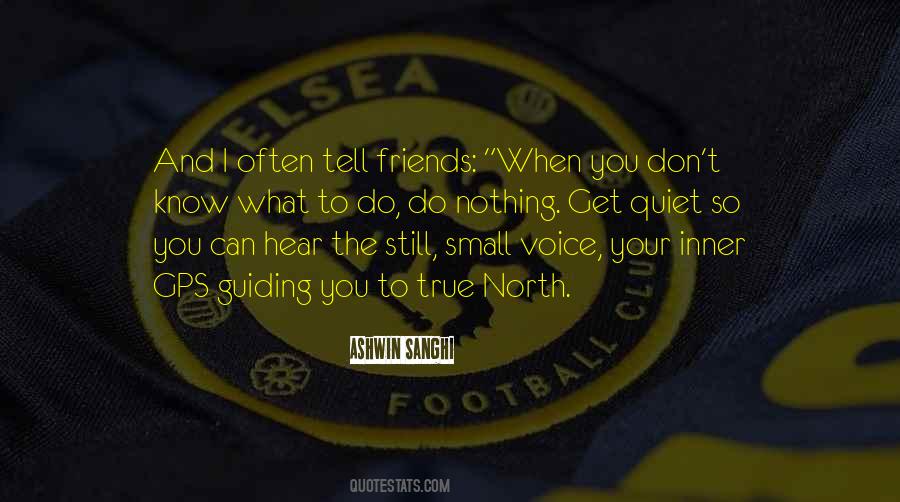 #68. Every now and then, when you're on stage, you hear the best sound a player can hear. It's a sound you can't get in movies or in television. It is the sound of a wonderful, deep silence that means you've hit them where they live. - Author: Shelley Winters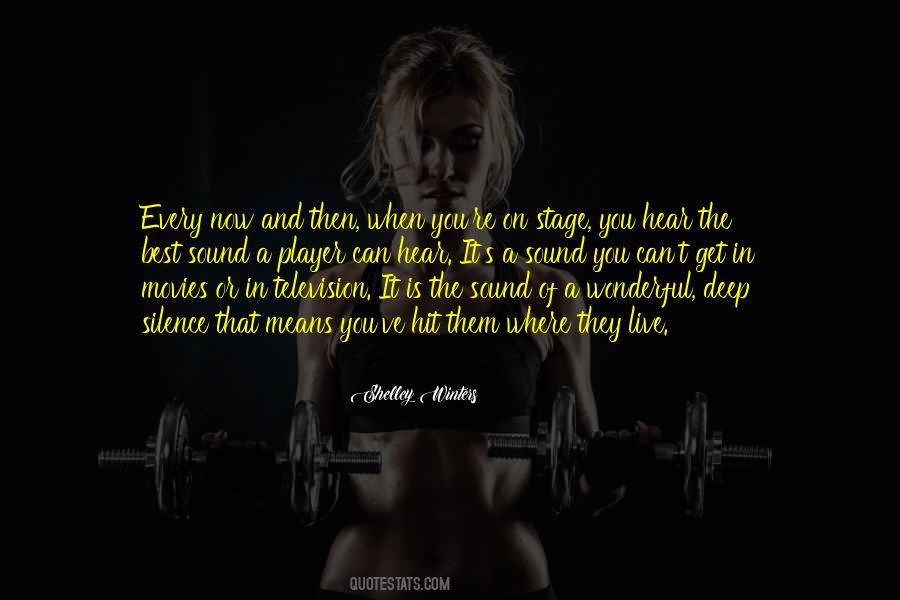 #69. The time when there is nothing at all in your soul except a cry for help may be just that time when God can't give it: you are like the drowning man who can't be helped because he clutches and grabs. Perhaps your own reiterated cries deafen you to the voice you hoped to hear. - Author: C.S. Lewis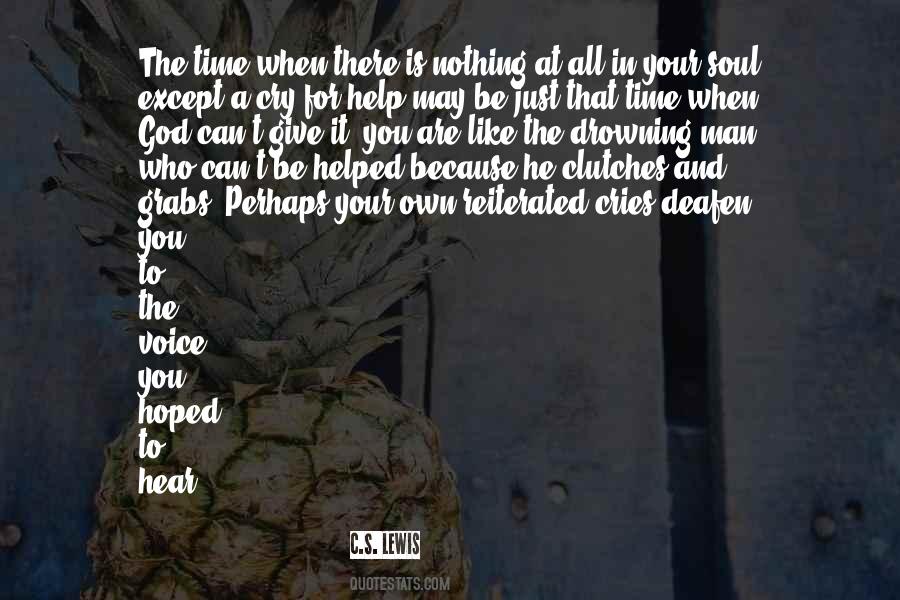 #70. On the way home Mary Lou said, "Some things are so sad you can't say them." But I pretended not to hear. - Author: Joyce Carol Oates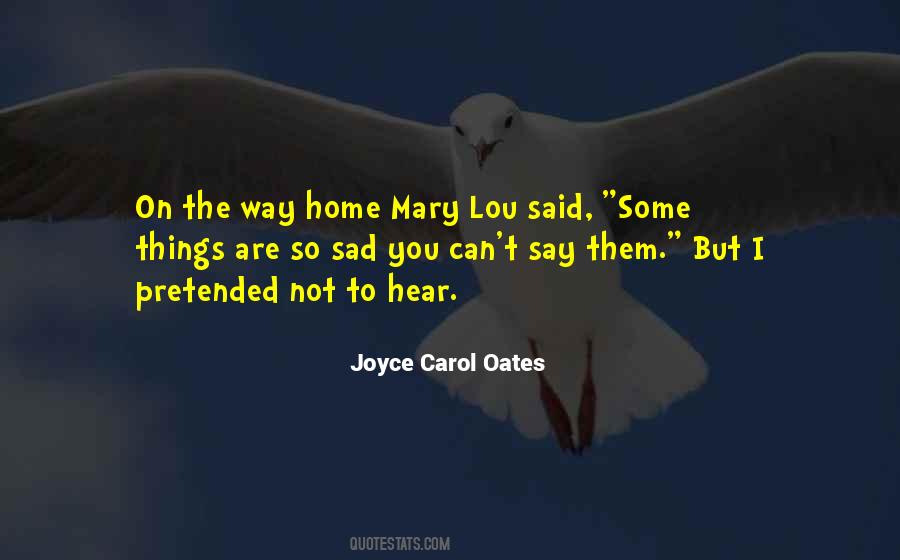 #71. This is the song I only sing when you're sleeping. These are the words I say when you can't hear me. This is the way I look when you can't see me. And you will never know. - Author: Pleasefindthis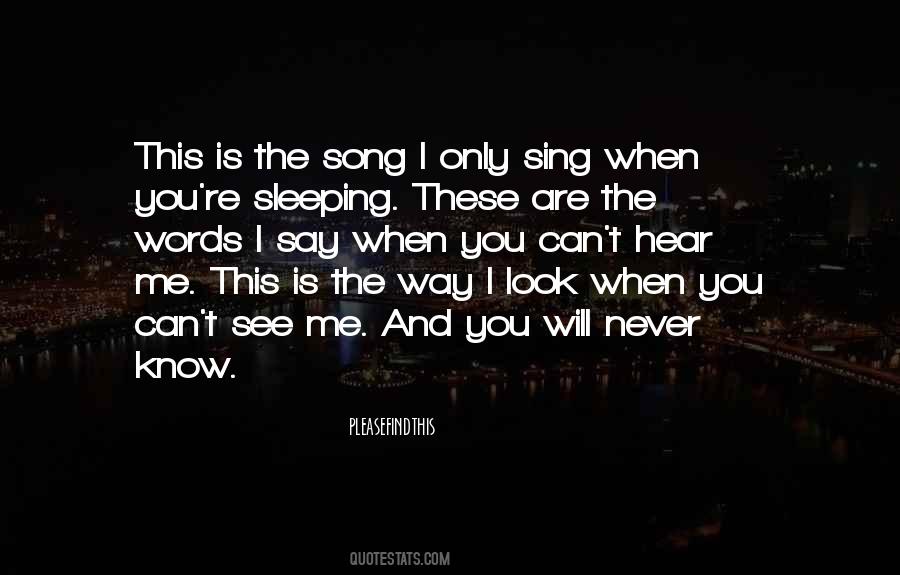 #72. When you don't know what to do, do nothing. Get quiet so you can hear the still, small voice. - Author: Oprah Winfrey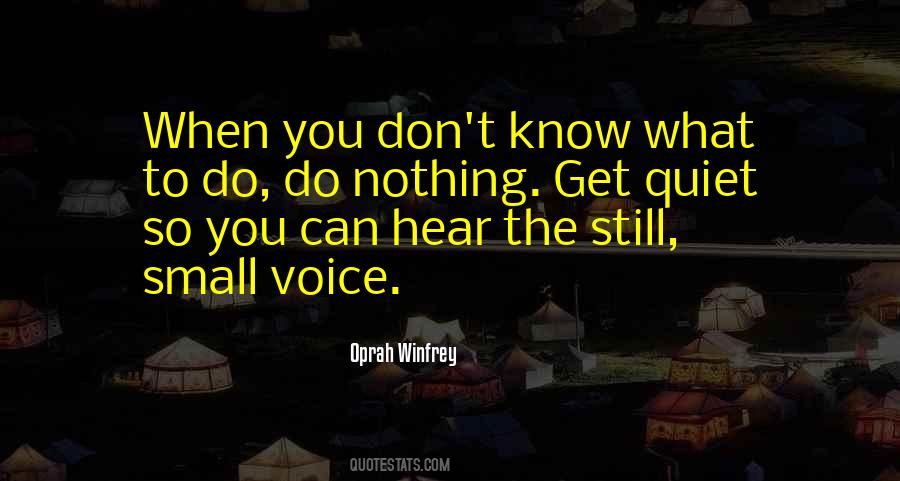 #73. It's not something you can prove ... I know you hate to hear this, but you either have it, or you don't. - Author: Charles De Lint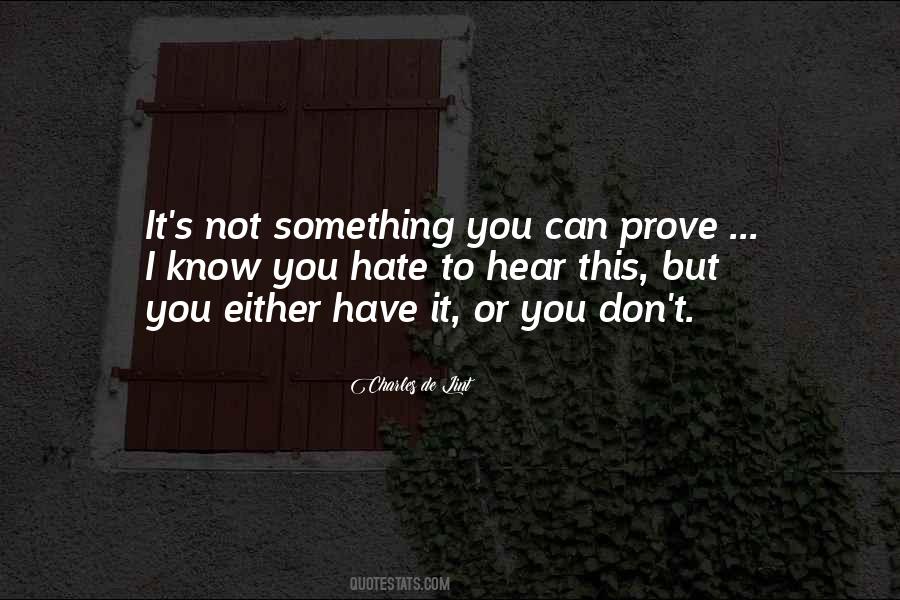 #74. I don't see a way in," Eve whispered.
Why are you whispering?" Myrnin whispered back. "Vampires can hear us, anyway. - Author: Rachel Caine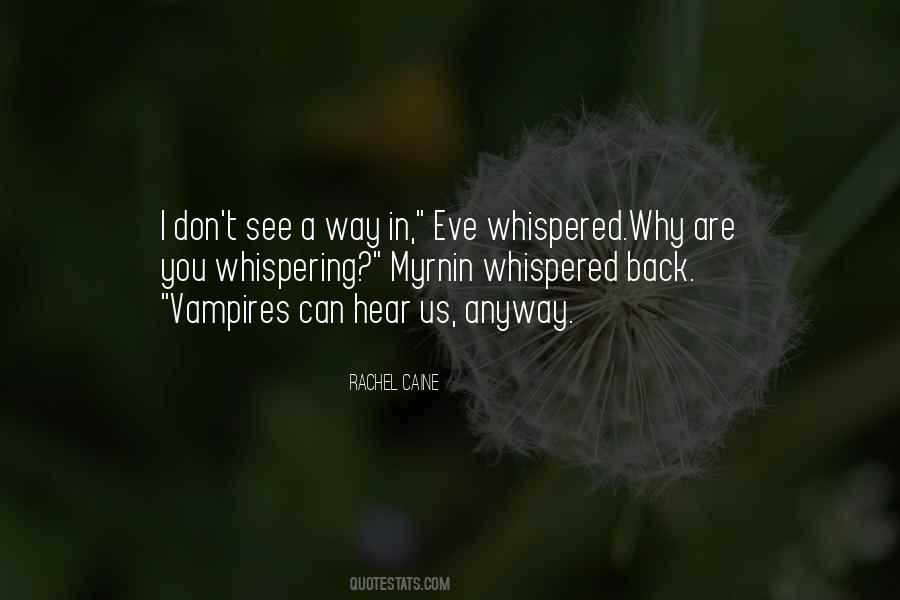 #75. When you are down and you don't know how to pick yourself up, start where you are. I can hear Pat's voice saying the words in my head, "Left foot, right foot, breathe. - Author: Robin Roberts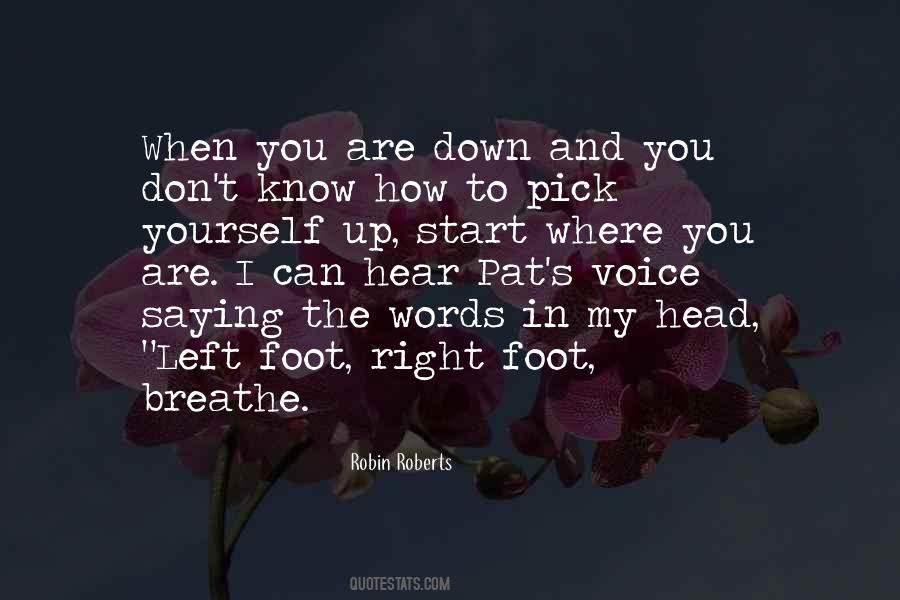 #76. I can't listen to so much music at the same time. I think you really have to have a diet. You're just processing too much, there's no place to put it. If you go a long time without hearing music, then you hear music that nobody else hears. - Author: Tom Waits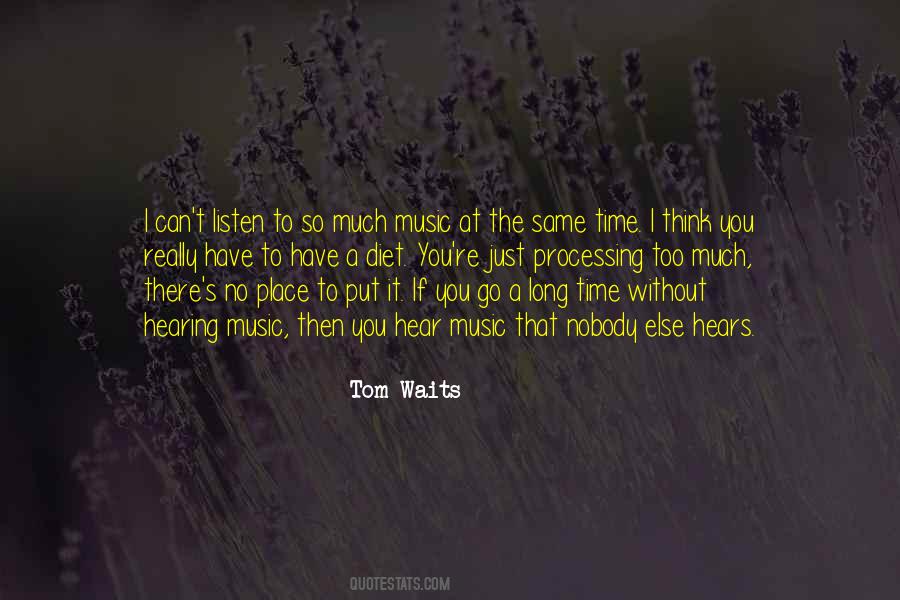 #77. About happy endings. Folk like a story to finish well. Doesn't matter if that's true to life or not. Helps to hear about folk being content. About good folk getting what they deserve. While you're listening you can believe, for a bit, that you're good too. Worth a happy ending. - Author: Juliet Marillier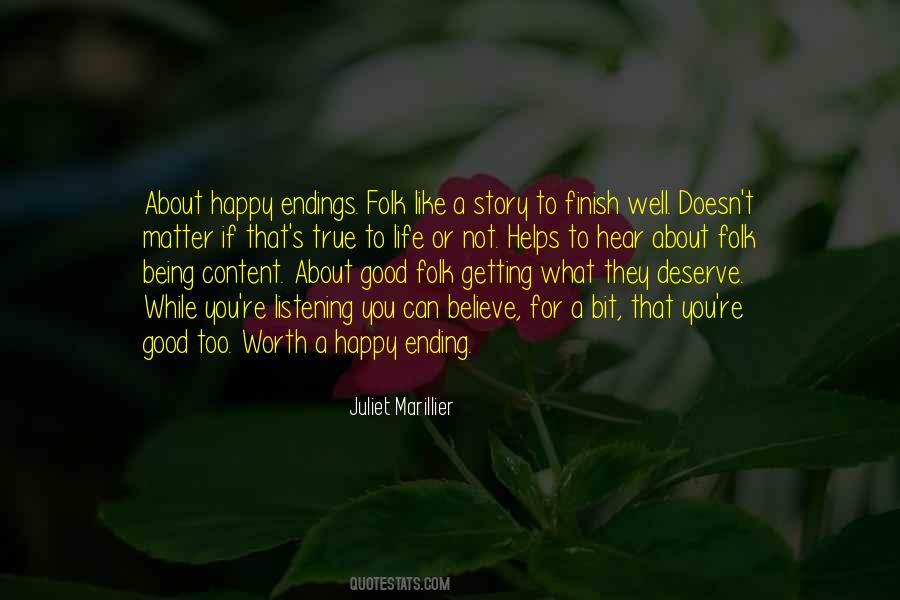 #78. All you know is your parents telling you that you're not deserving, you're not worthy, and no one will ever want you. Believe me, tapes like that play so loud, you can't hear anything else. Even when it's clear otherwise. - Author: Danielle Steel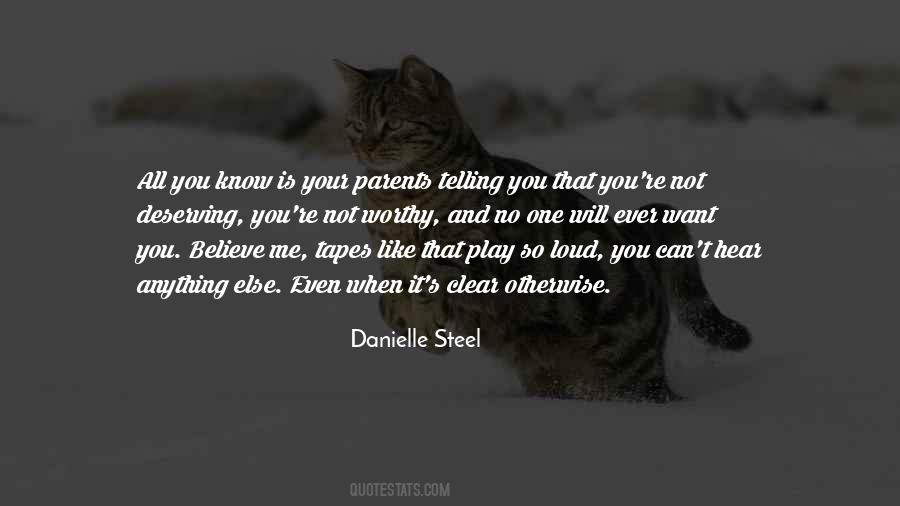 #79. Perhaps you can feel if you can't hear," was her fancy. "Perhaps kind thoughts reach people somehow, even through windows and doors and walls. Perhaps you feel a little warm and comforted, and don't know why, when I am standing here in the cold and hoping you will get well and happy again. - Author: Frances Hodgson Burnett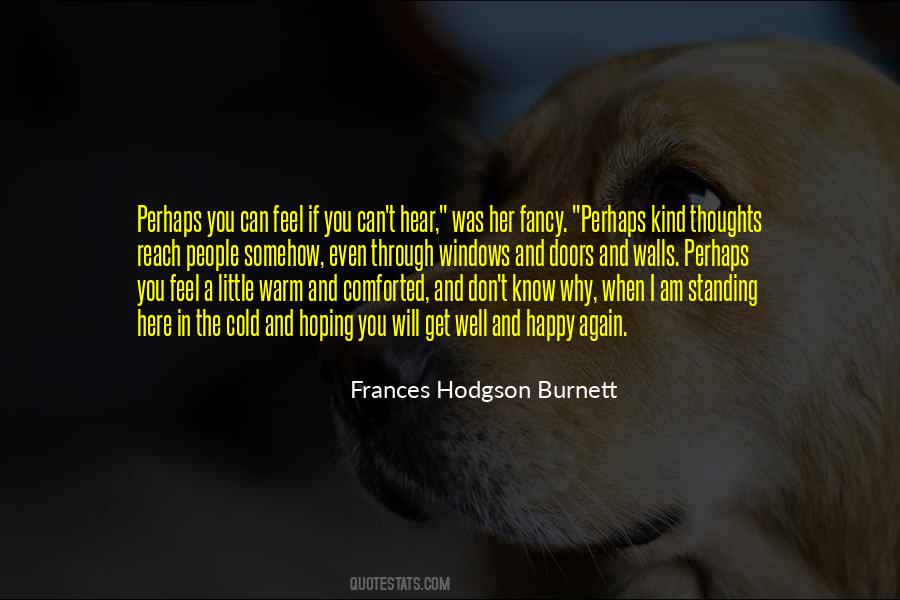 #80. Underneath the ground
you can't hear a sound
not even the sweet falling rain
you might forget about tomorrow
forget about the swallows
but they won't forget you
they won't forget you - Author: Karl P.T. Walsh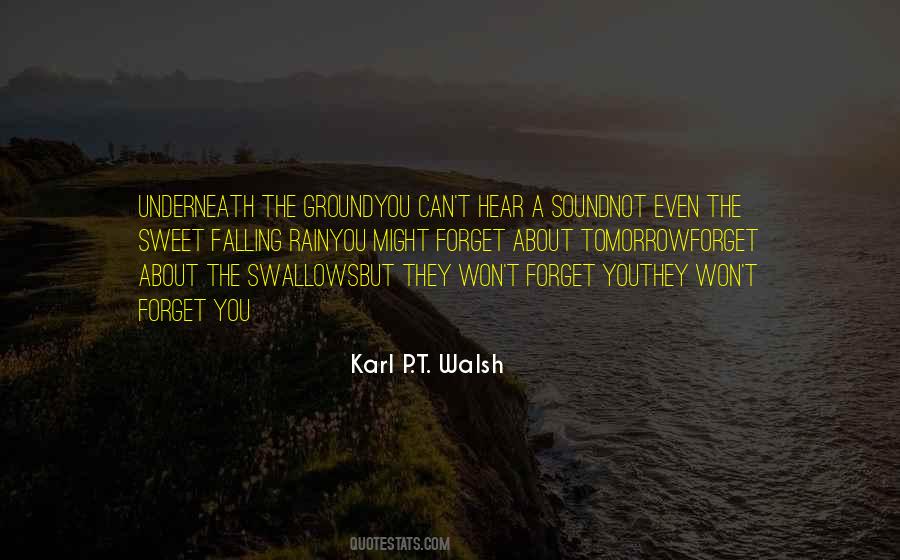 #81. I've heard some things about how it went from the other side. A lot of times you don't get to hear from the other side. I'm just glad to have the opportunity to fill Rosita's shoes, and hopefully I can make the fans happy. - Author: Christian Serratos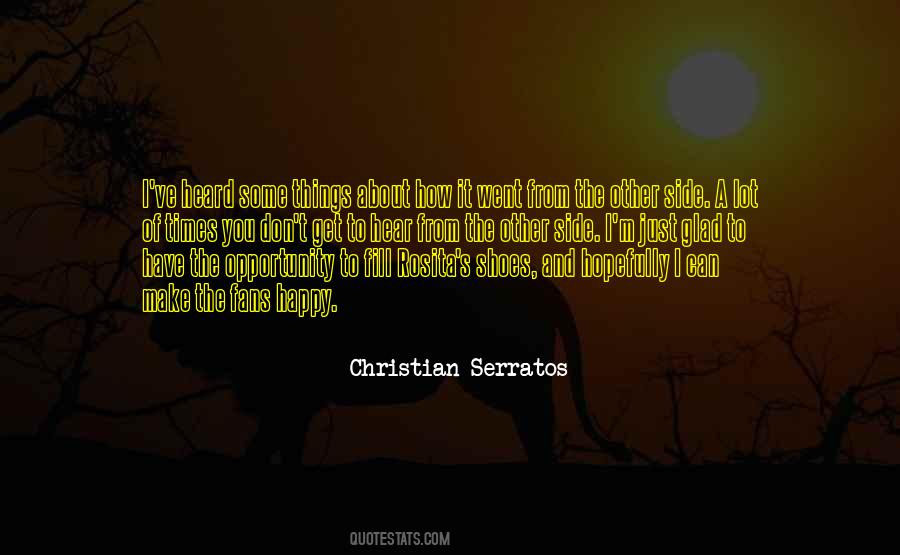 #82. Video is so primal. When you can hear a person talking about the project, and can see his or her passion, it is unbelievably powerful. I don't want to make it seem like projects without a video fail. - Author: Perry Chen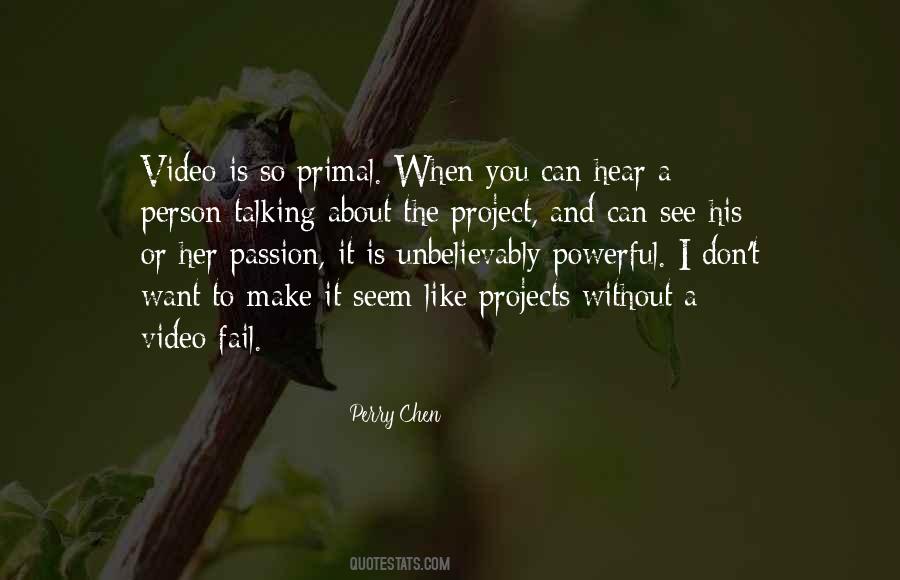 #83. Chirag: Rowley, do you think I exist?
Rowley: Nope! I can't even hear you or see you! - Author: Jeff Kinney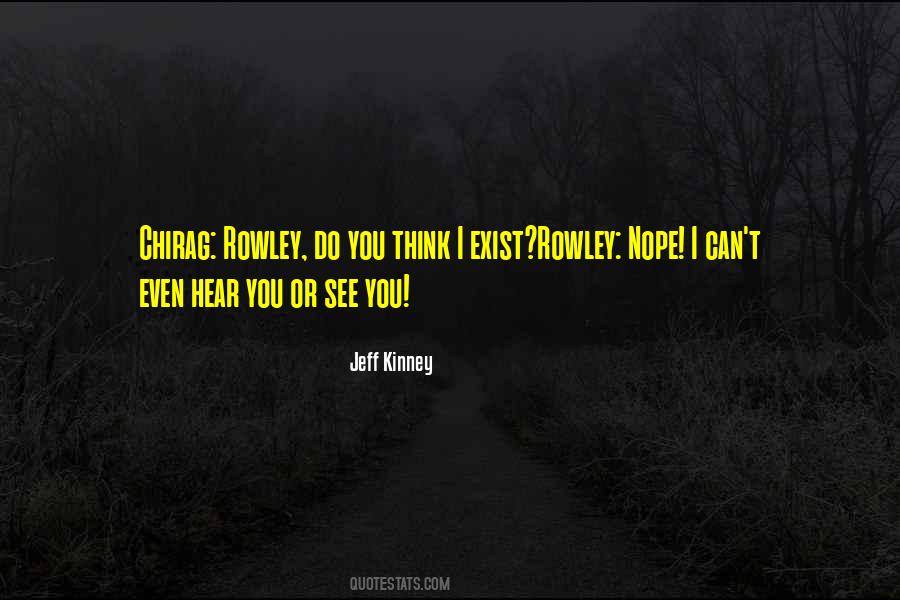 #84. I can't help it, Alexis," he said "I want to make you think too much ... and then I want to hear the things you've been thinking too much. - Author: Katie Alender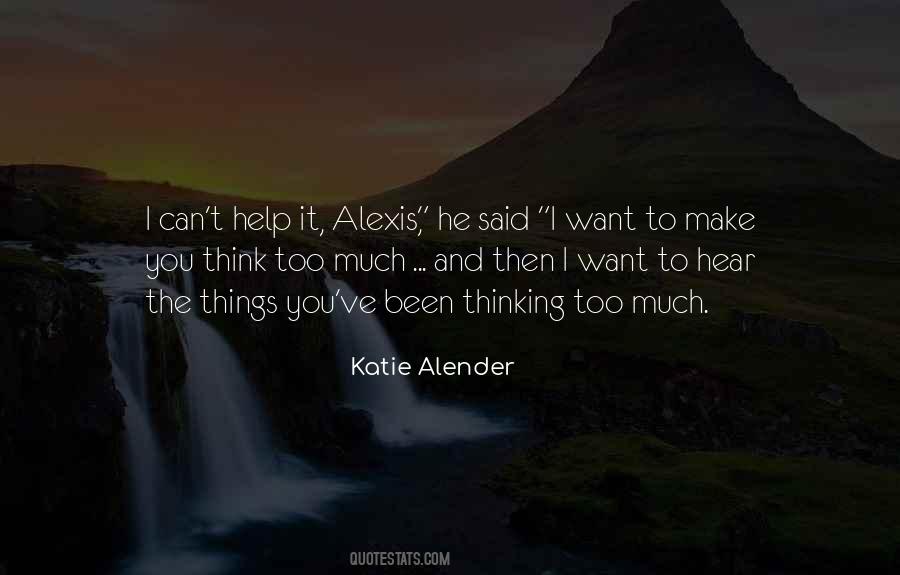 #85. You can be oblivious to the sound for a long while, then in a second of ticking it can create in the mind unbroken the long diminishing parade of time you didn't hear. - Author: William Faulkner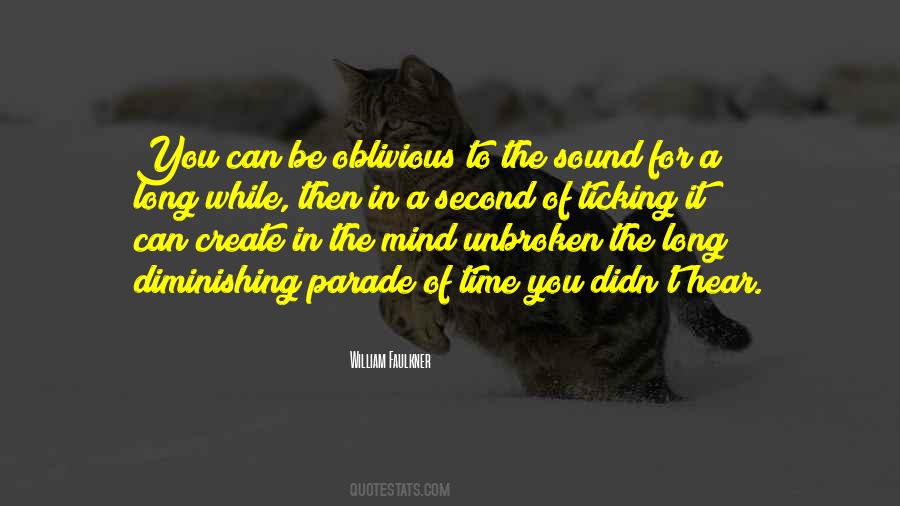 #86. Love is the music of the heart, which you can feel but can't hear. - Author: Debasish Mridha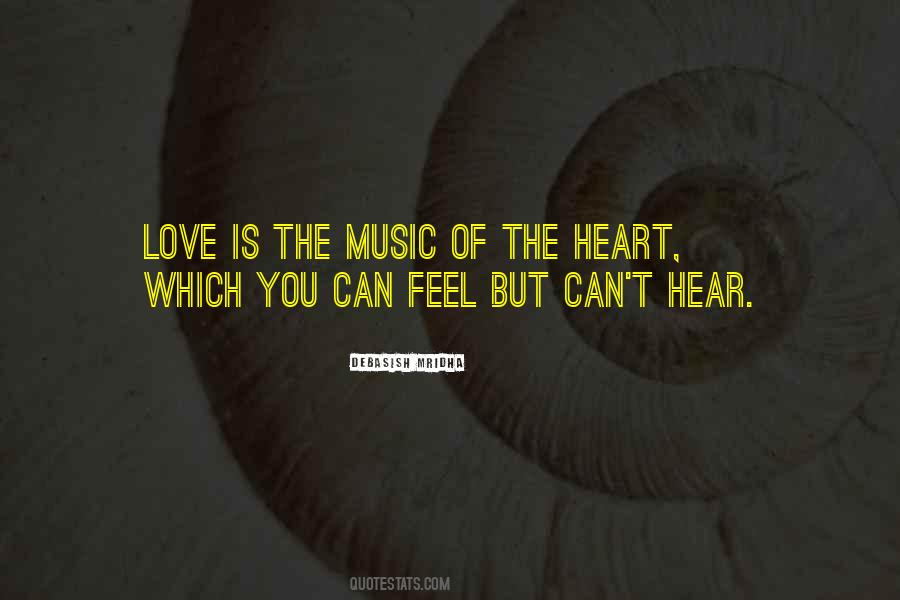 #87. Once I could persuade these guys that all I wanted to hear from them was what they did - Tell me what you do - once you can persuade someone that this is all you're after, you can't shut them up because we're all fascinated by what we do. - Author: Roger Angell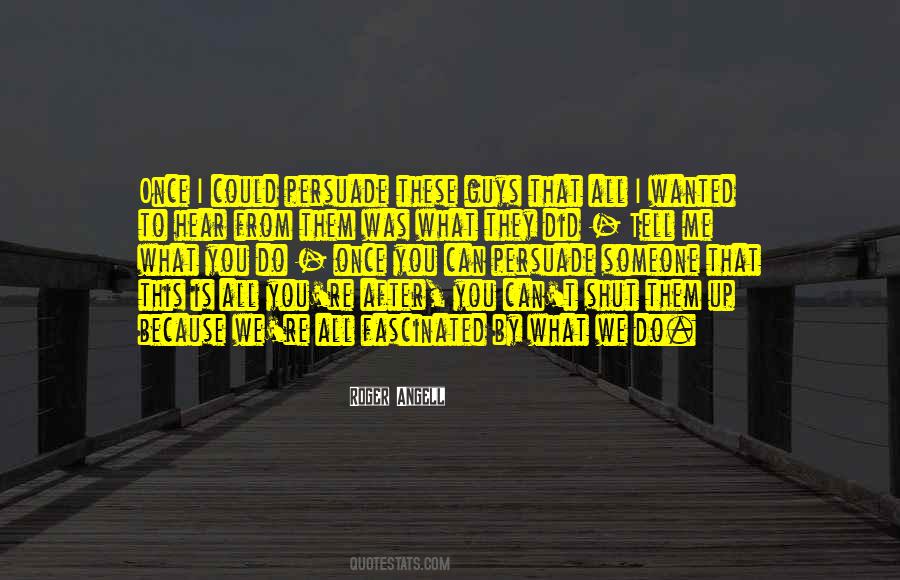 #88. I can't hear your facts until you hear my fears. - Author: Unknown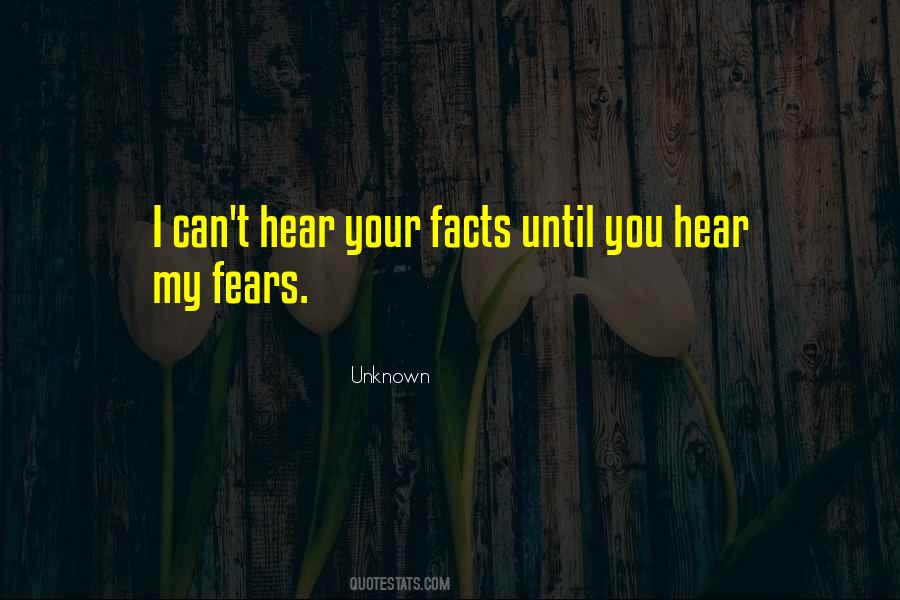 #89. Every time I talk about this, I say: when the singer is singing, he must be respected, you must be able to hear what he's saying. You can't put a trombone and a drum up there, and a microphone on the drum, microphones on everybody. You can't hear what he's saying. - Author: Compay Segundo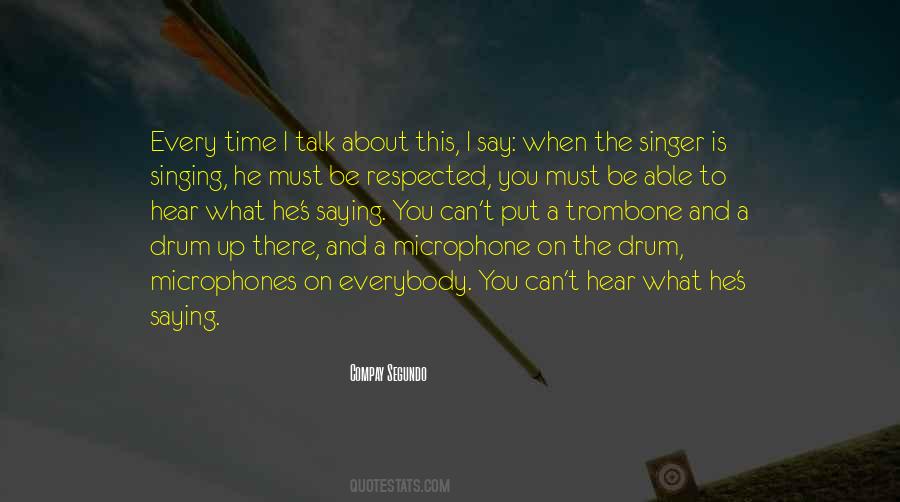 #90. The words I speak to these chairs
must be silencing.
It has stunned them
into a profound emptiness.
No creaking from the gallery
no James Joyce here, nor Malory
An unknown author
in a very large chain
can't you hear me rattling? - Author: B.J. Ward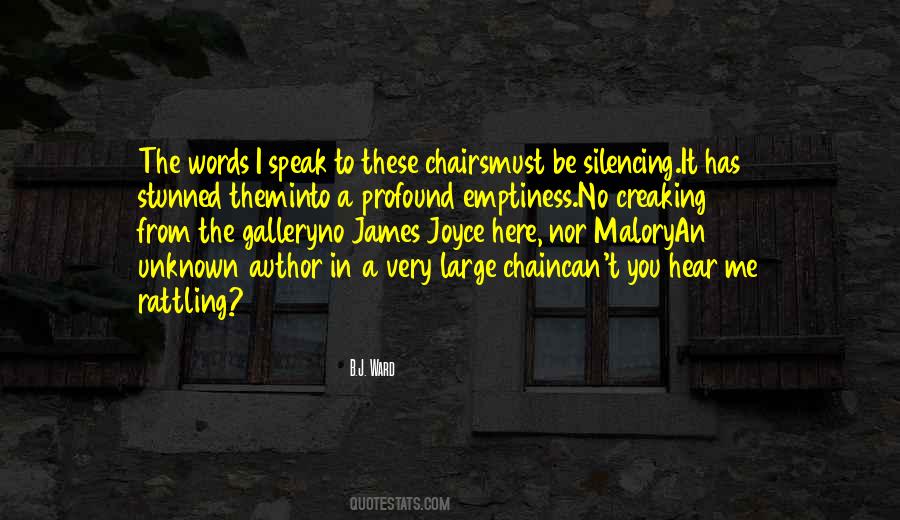 #91. Nights when I need to sleep and you can't. Days when I want to talk and you won't. Hours when every noise you make interferes with my silence. Weeks when there is a buzzing in the air, and we both pretend we don't hear it. - Author: David Levithan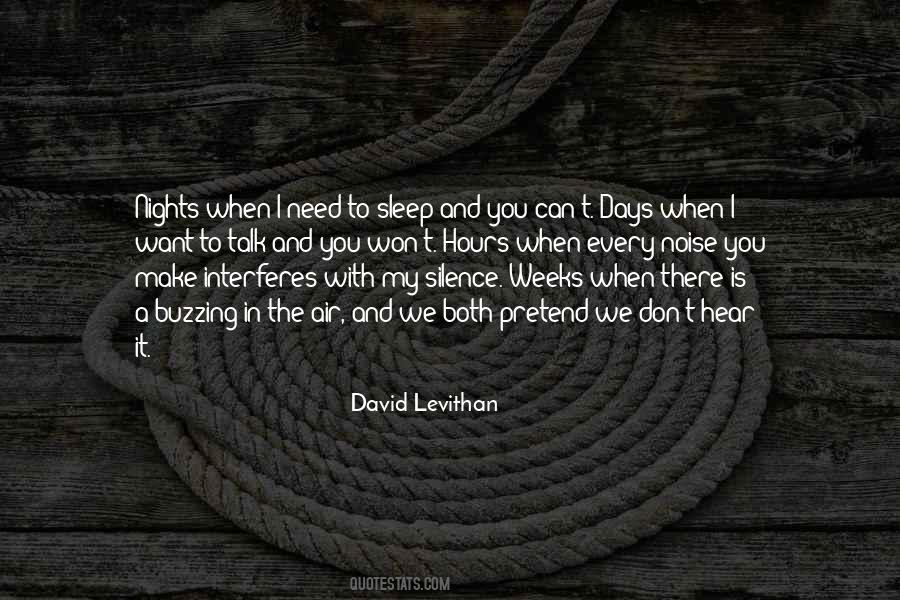 #92. It's a coffee cup."
She could hear the irritation in her own voice. "I know it's a coffee cup."
"I can't wait till you draw something really complicated, like the Brooklyn Bridge or a lobster. You'll probably send me a singing telegram. - Author: Cassandra Clare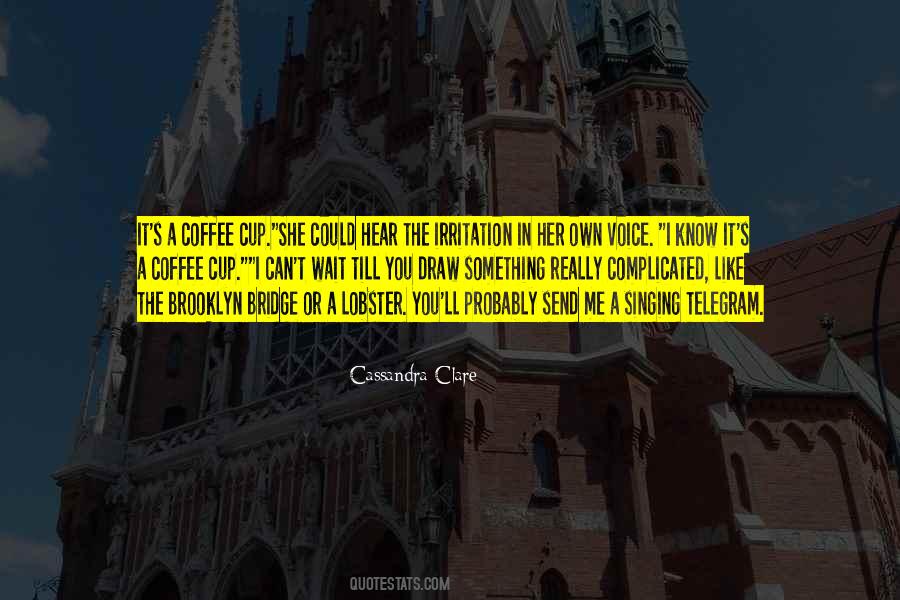 #93. My parents' names are Rebecca and Jeremiah, by the way," he whispered as I approached him.
I laughed, jittery. "Got it. So even though they'll be too busy screaming at you, and they can't hear me anyway, I'll at least be able to address them properly? - Author: Tara Hudson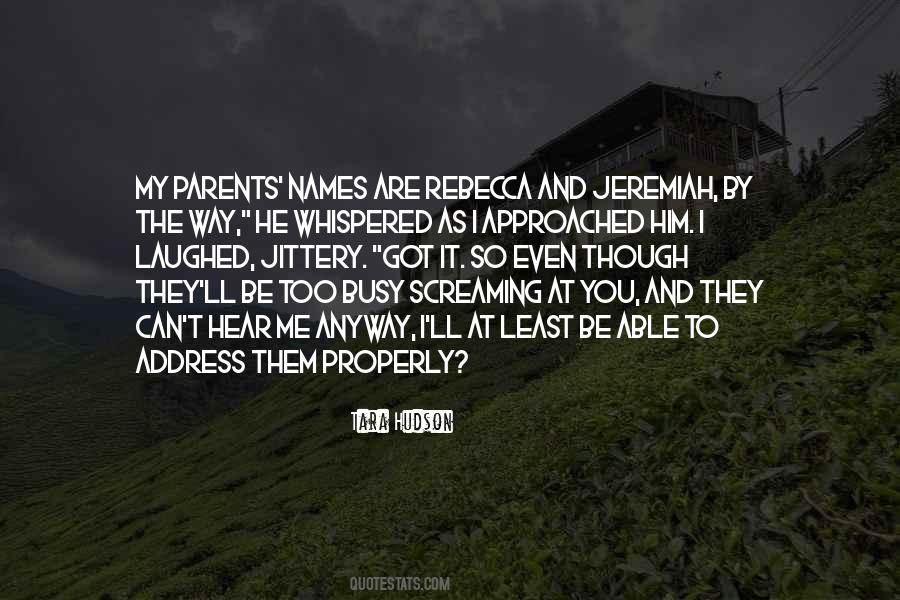 #94. I think every writer has got to direct. If you don't direct, you can't protect your work. The only way to ensure that it's going to be as close as possible to what you put down on paper - and what you see and hear in your head - is to do it yourself. - Author: Amy Sherman-Palladino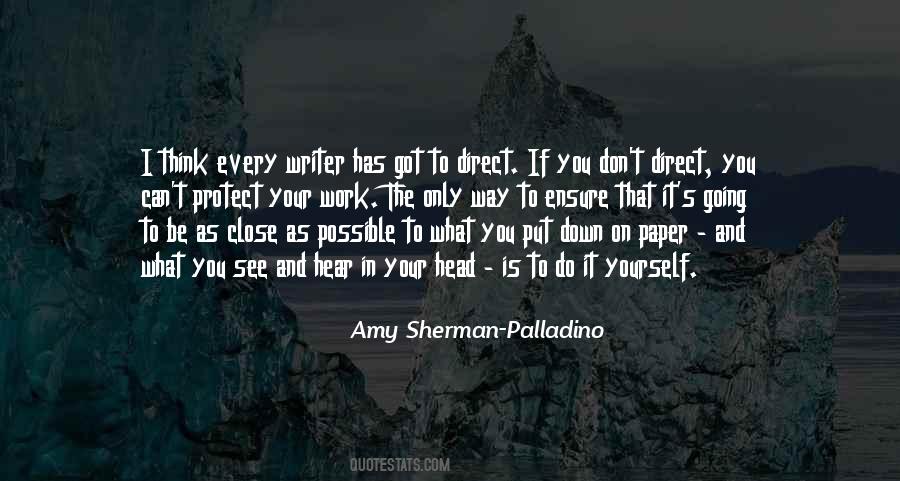 #95. So, on the whole, I'd have to say that no, people don't change, but they CAN learn to behave differently. I want to believe otherwise. If you have an argument that says I'm wrong, I'd be glad to hear it. - Author: Charlaine Harris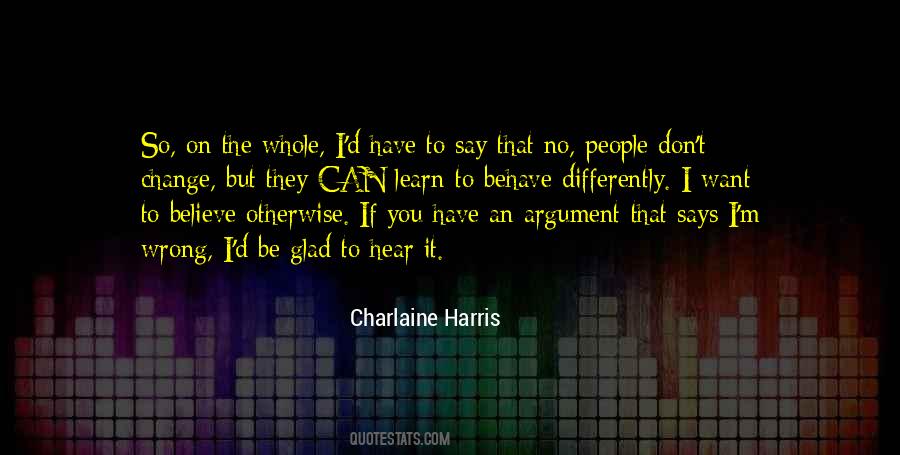 #96. Life isn't always about things you can see or hear or touch. Sometimes it's more than that. - Author: Rachel Morgan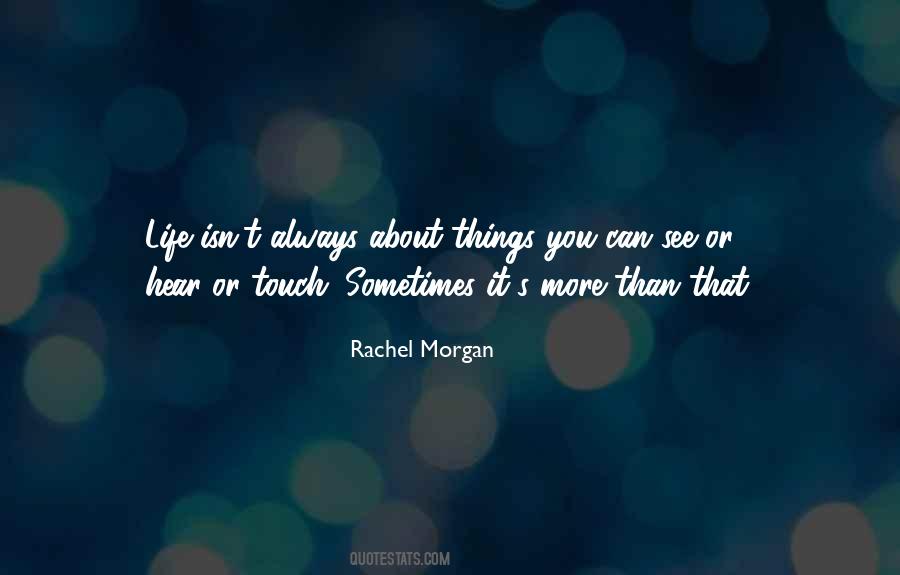 #97. The biggest thing I don't like about New York are the foreigners. You can walk an entire block in Times Square and not hear anybody speaking English. Asians and Koreans and Vietnamese and Indians and Russians and Spanish people and everything up there. How the hell did they get in this country? - Author: John Rocker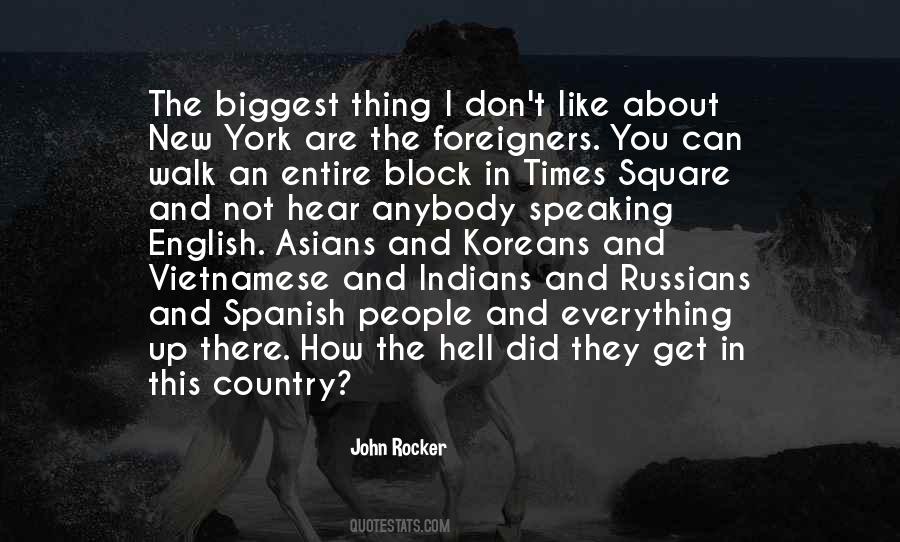 #98. One thing you can't intend is how you will be read. I hear it said a lot that my books are about the 'search for identity', and this is said admiringly, as if I meant to encourage such a search. - Author: Zadie Smith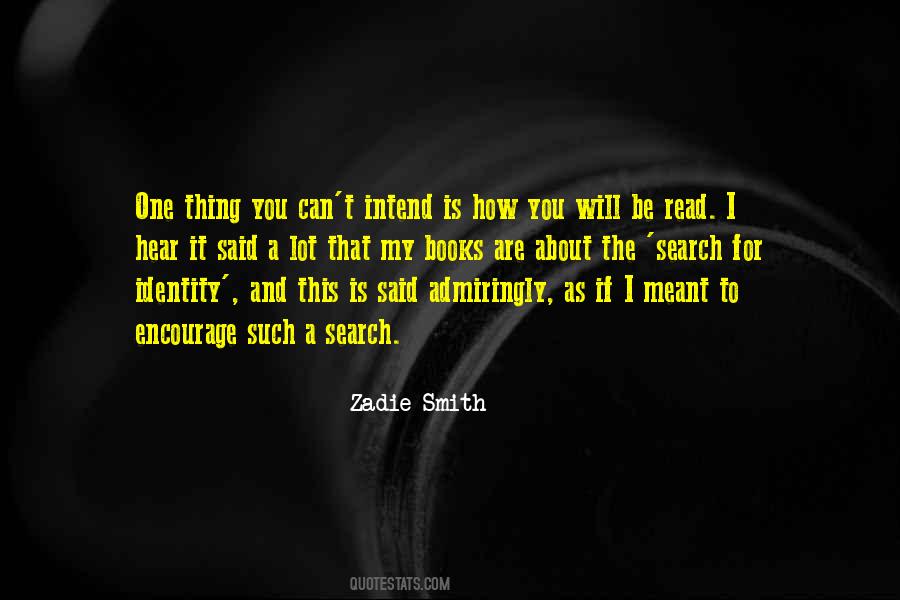 #99. Some comedians tell nice jokes that you can tell to your kids. Some use bad words - they work 'blue.' If you don't want to hear a joke that's blue, you shouldn't go to a comedy club where a comedian who makes blue jokes is performing. - Author: Gilbert Gottfried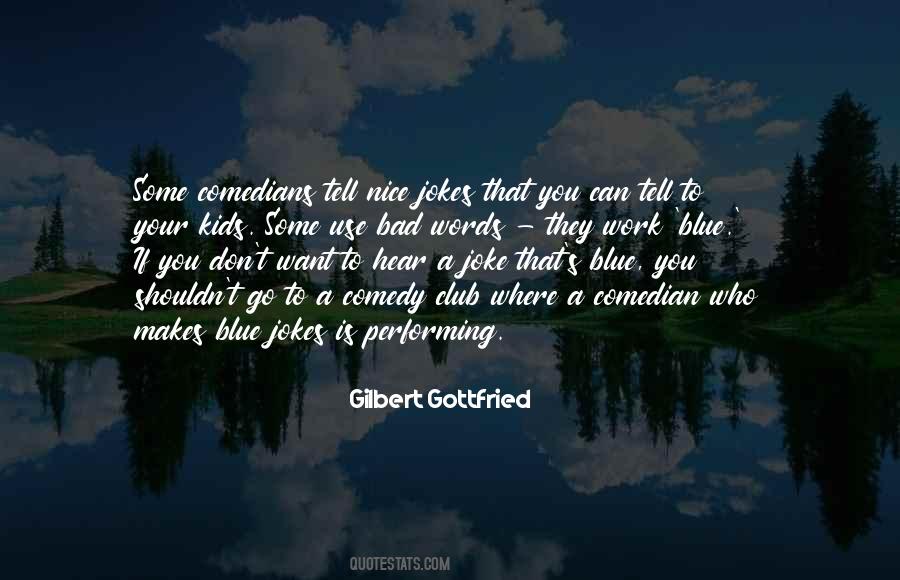 #100. You can't just pretend that the things you watch, and the things you hear, and the places you go will not have an impact on your character. They will. - Author: Nouman Ali Khan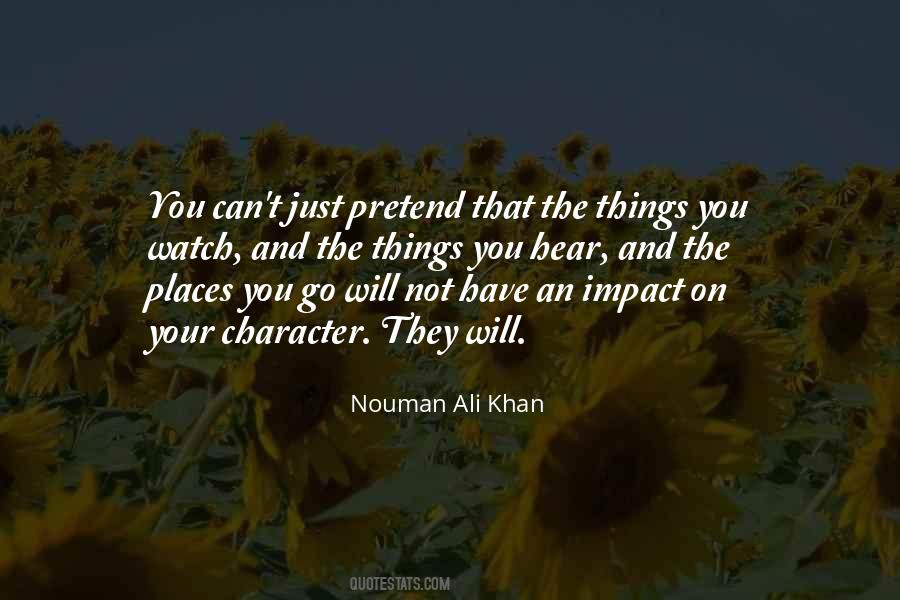 Famous Authors
Popular Topics