S'okay Famous Quotes & Sayings
List of top 100 famous quotes and sayings about s'okay to read and share with friends on your Facebook, Twitter, blogs.
Top 100 S'okay Quotes
#1. Don't tell me it's going to fucking be okay! I am not okay with being that fucker's pinata! - Author: Nenia Campbell
#2. If you do something bad to me, and I say "okay, let's move on," it does not mean I forgive you. - Author: Karen E. Quinones Miller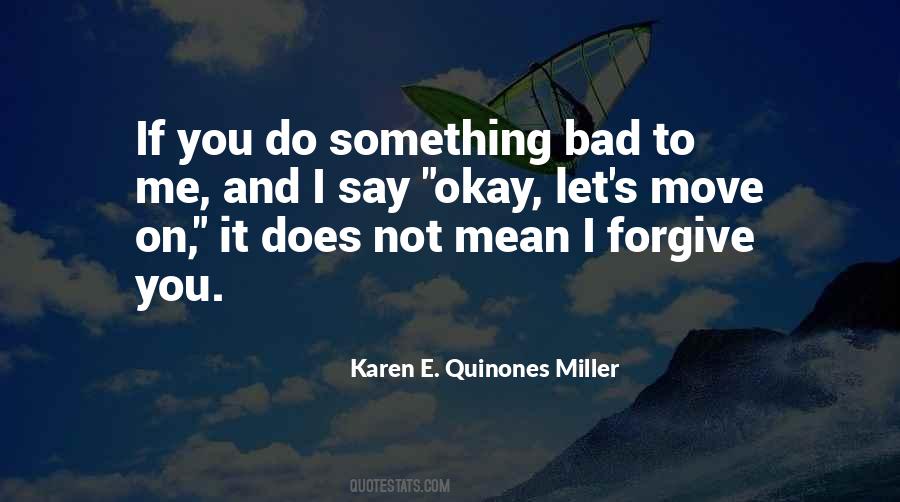 #3. You're right. So right. My heart is a god among mere mortals. A queen among peons. A rock star among the masses. There's nothing to worry about. Everything will be okay. - Author: Nicole Williams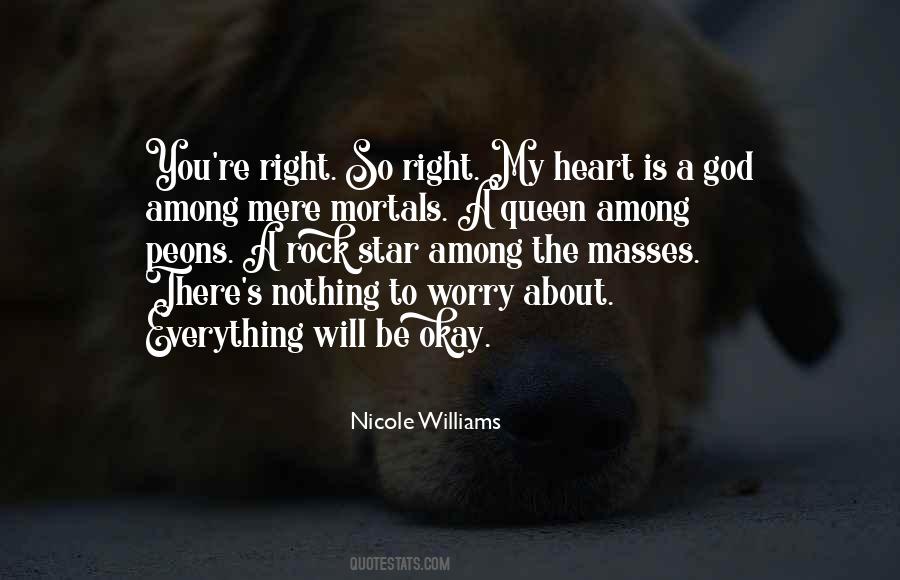 #4. Keep your dreams ALIVE. No matter how hard it gets, no matter how many people talk about you; they're going to throw dirt on you but that's alright, when they put you in that box (after your dead), they're going to put dirt on you some more, so that's okay - GO, don't be afraid, have NO FEAR. - Author: Tyler Perry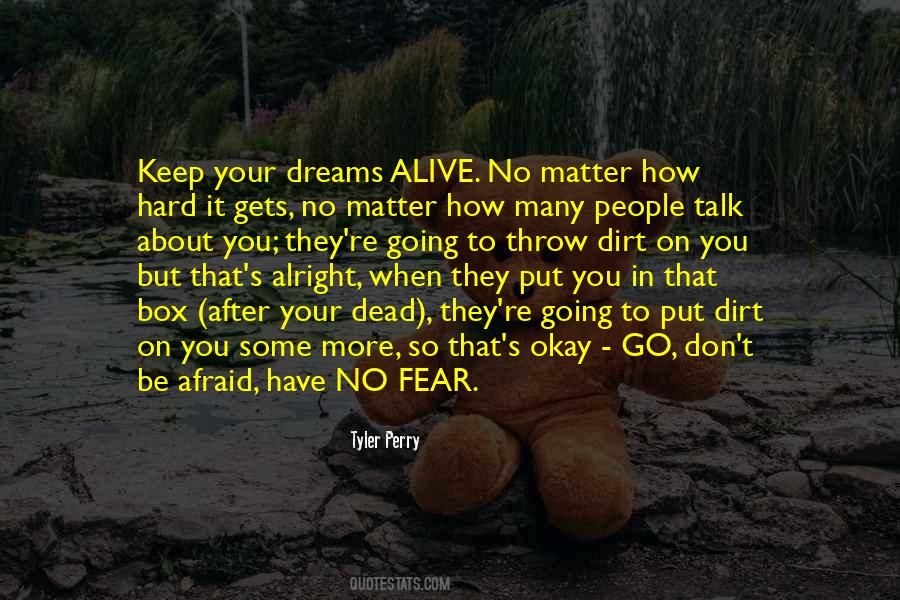 #5. You will work harder at something you love than at something you like. You will work harder than you have ever worked when you start chasing a dream. You will hustle and grind and sweat and push and pull. You will get up earlier and go to bed later. But that's okay. - Author: Jon Acuff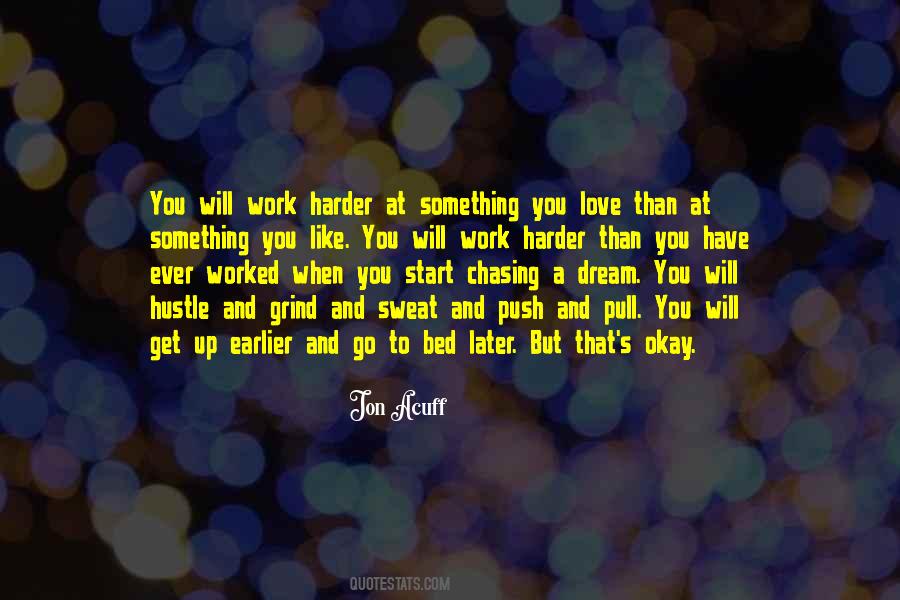 #6. If you feel that everything's too damn okay,
then it is just a sign that something is wrong. - Author: Toba Beta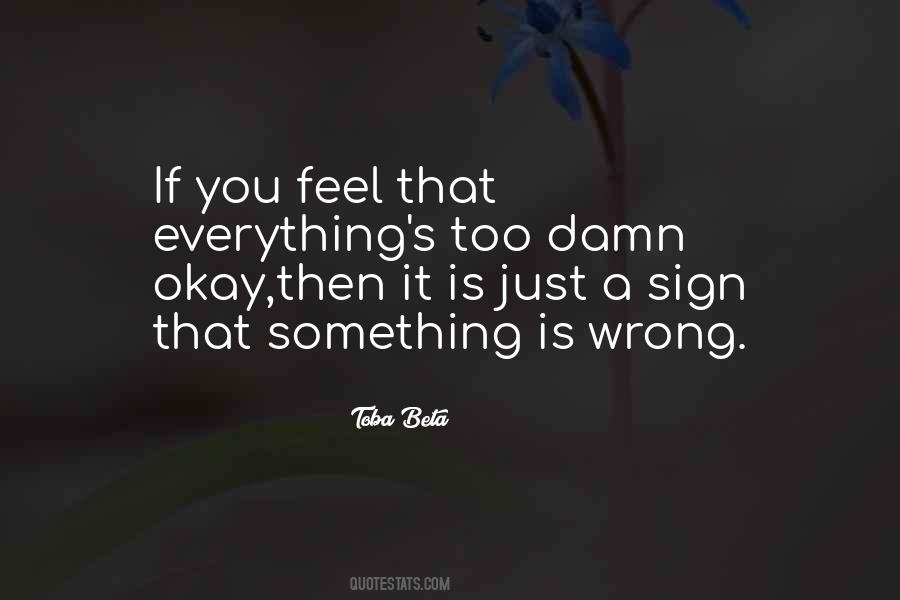 #7. I can say that I don't have a lot of leisure time, just sitting around doing absolutely nothing, but that's okay. - Author: Nicholas Sparks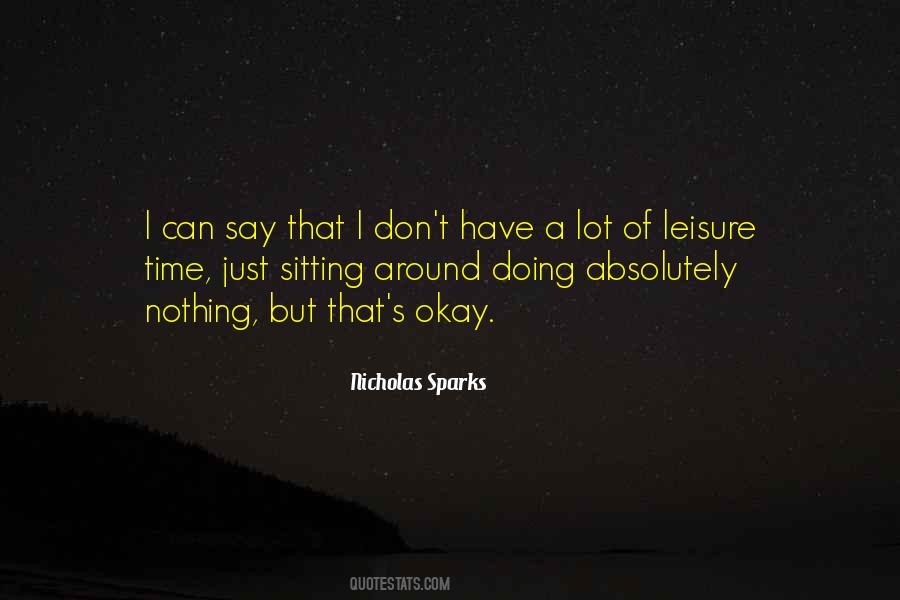 #8. Absolute faith can blind you to the consequences of the actions you allow. It can tell you it's okay to drop bombs on another country, or that it's okay to hate a group of people such as homosexuals. - Author: Andrew Denton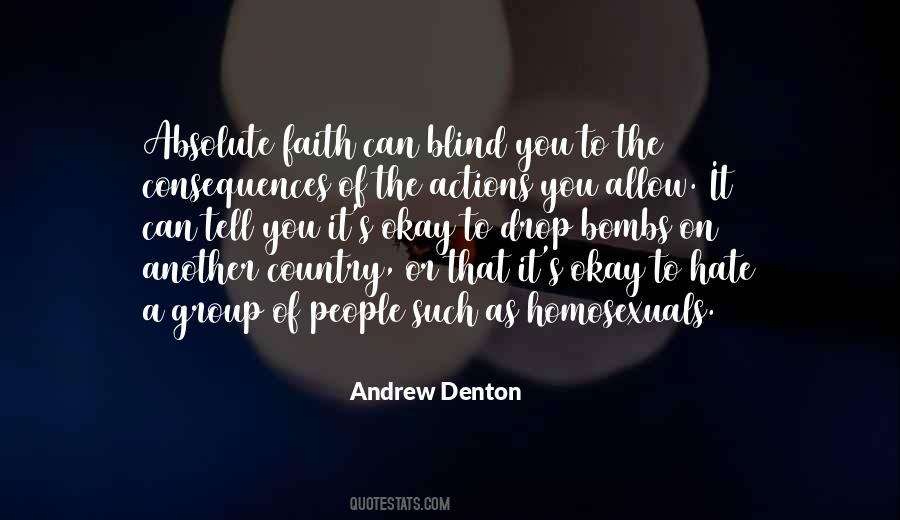 #9. I'm sorry. (Valerius) It's okay. We all have scars. I'm just lucky most of mine are on the outside. (Tabitha) - Author: Sherrilyn Kenyon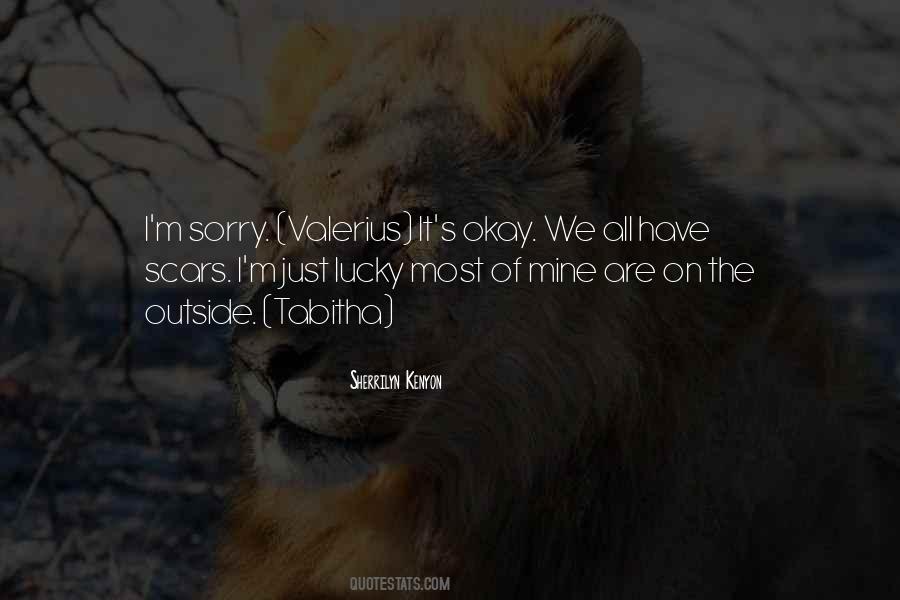 #10. Jessica shook her head violently. "This isn't real! This is a floating skateboard. You did not just solve the world's energy crisis. All this is, is a really neat toy." Okay, - Author: Mitty Walters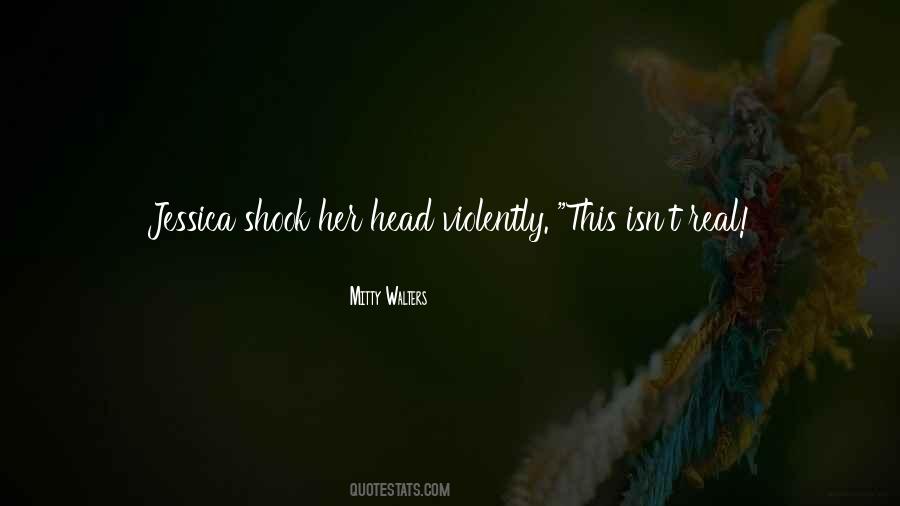 #11. It's not important to how the band functions or to what we do. That's just many people's opinions on what they see. A lot of people project stuff on you, but that's okay. - Author: Brody Armstrong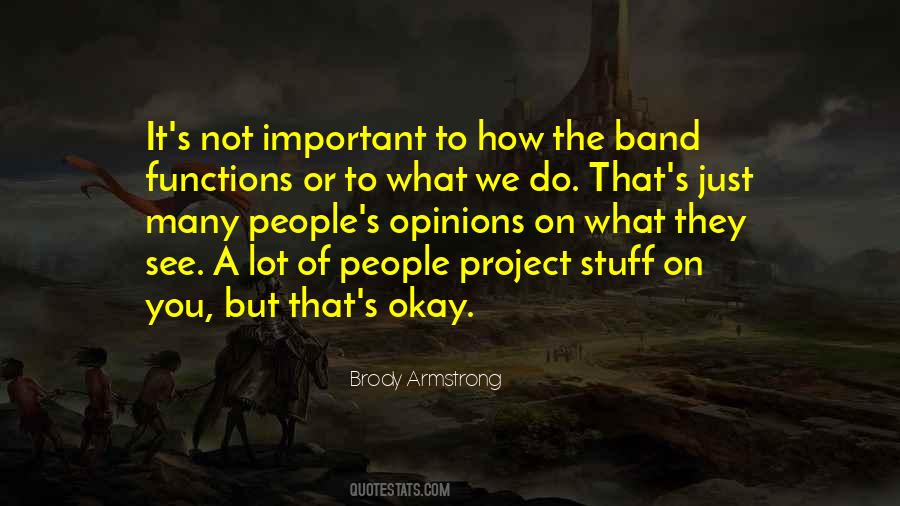 #12. Tell me what you want?" His breath was warm against her lips.
"I want you."
"How? Give me permission, tell me it's okay to strip you naked, kiss you wherever the need takes me, and f**k you until you can't see straight."
"Yes, yes, please, all of that. - Author: Dominique Eastwick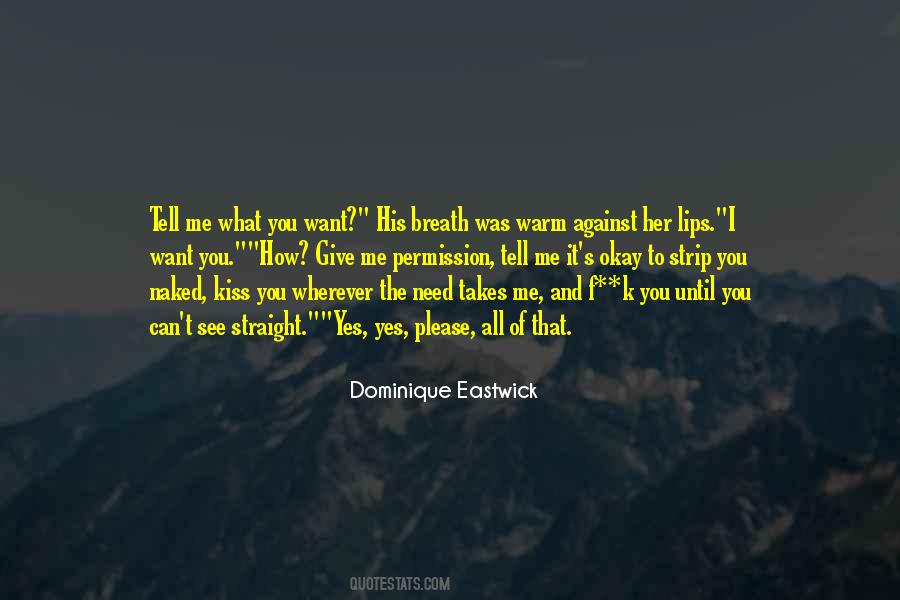 #13. I need you. I need you safe and well and whole. I need you to be okay, because that's the only thing that will keep me from going crazy right now. And I need you to let me look at your hand. - Author: Sarah Fine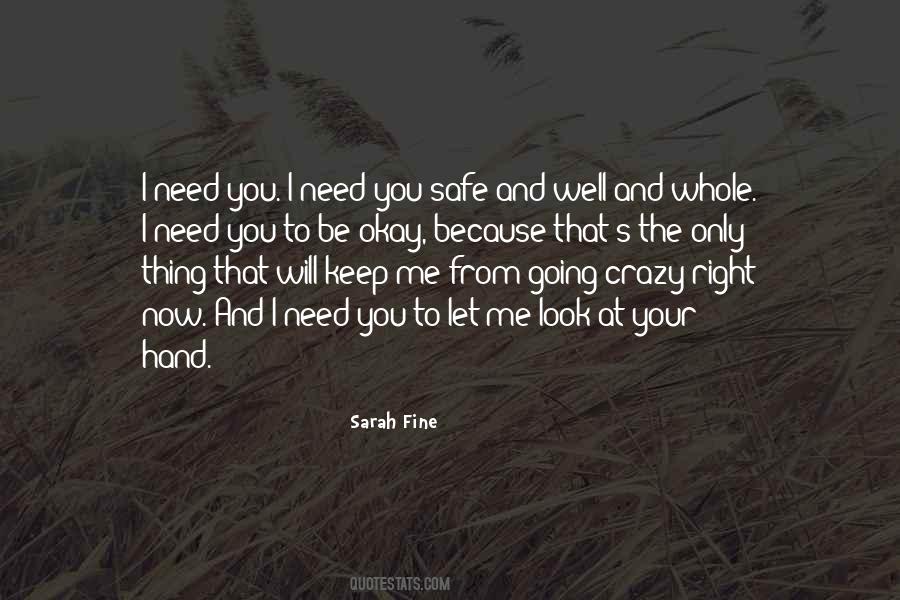 #14. I don't like to spend a lot of money on haircuts: I'll sometimes grow my hair and get an acting job and get them to cut it for free. I think for a lady, though, it's okay to spend a lot on a haircut. - Author: Paul Dano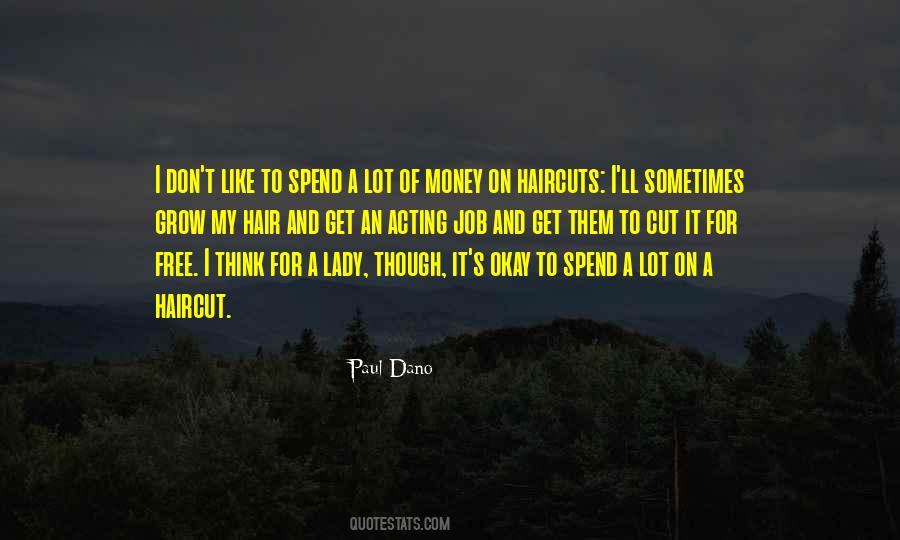 #15. Should I just sit down, right here at carousel seven, and shake until somebody's arms are around me and they're saying, 'It's okay, I'm here, I'm here, come with me to the institute. - Author: Augusten Burroughs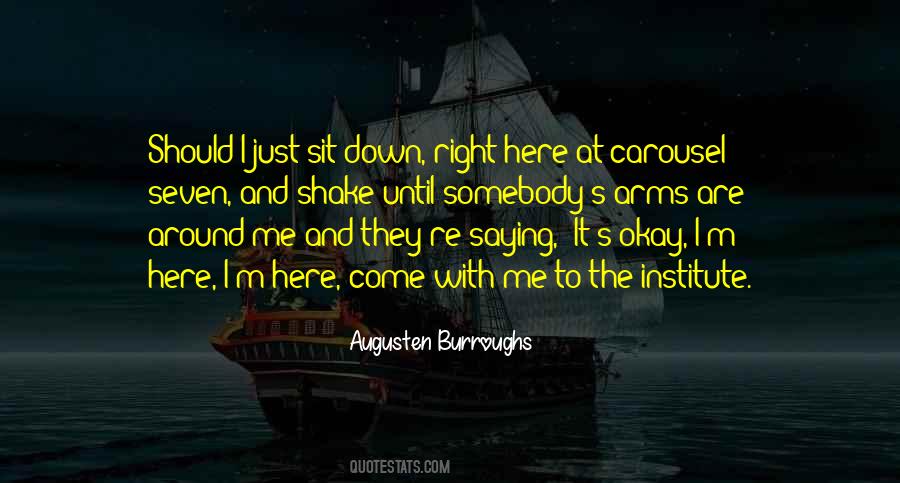 #16. Bes snorted. "That's okay. I finally came to my senses and found the right girl. Besides, you're a cat. It's your nature to think you're the center of the universe." She stared at him blankly. "But I am the center of the universe." Bes - Author: Rick Riordan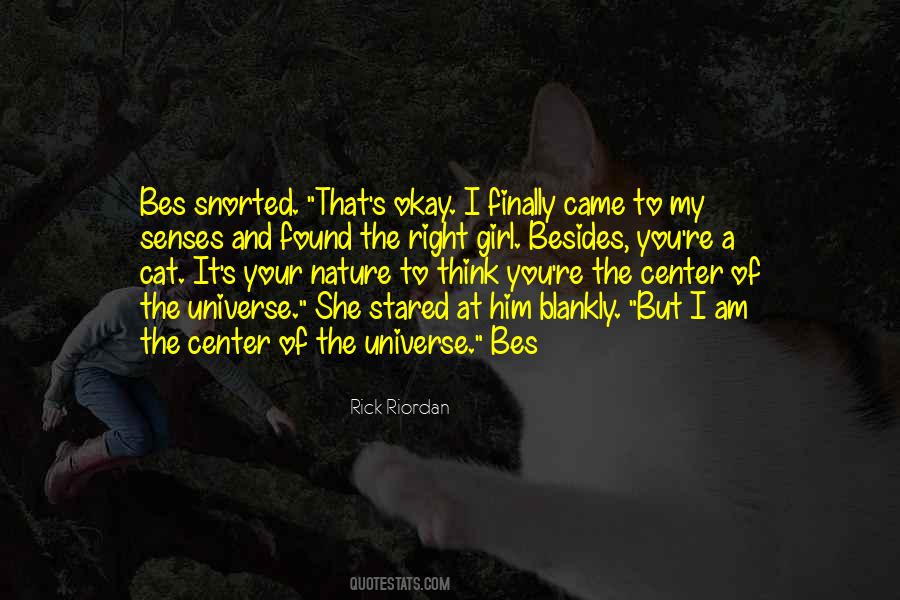 #17. I watched as that dark blob walked out into traffic, then was violently struck by a car. Yup, that's me. I was somewhat proud of humanity when I saw that a few people immediately came over to me to see if I was okay, rather than stealing my wallet or completely ignoring me. - Author: Dennis Liggio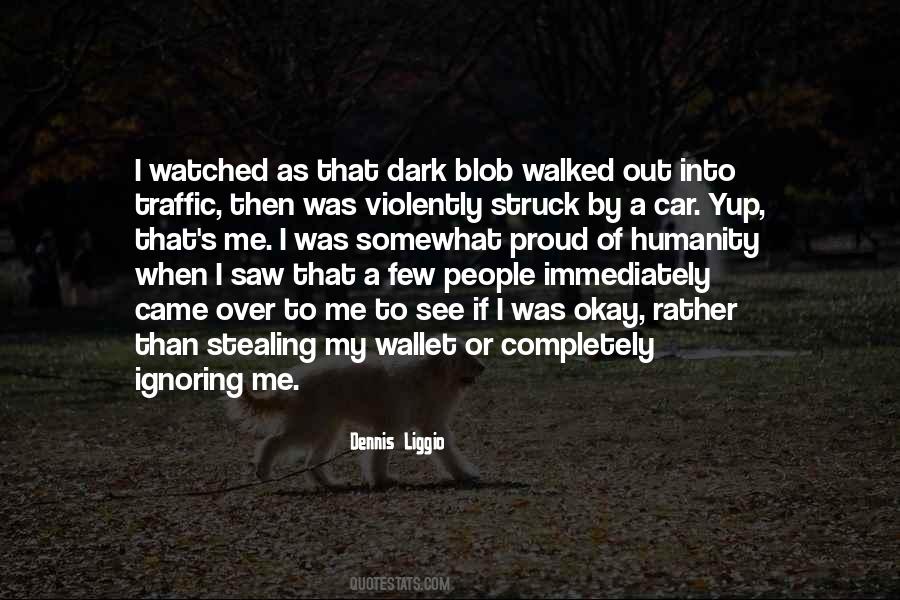 #18. We take men's obligation to earn money, and when they do it well, we blame them for having power and being oppressors. And when they don't do it all, women just don't marry men who are reading 'I'm Okay, You're Okay' in the unemployment line. - Author: Warren Farrell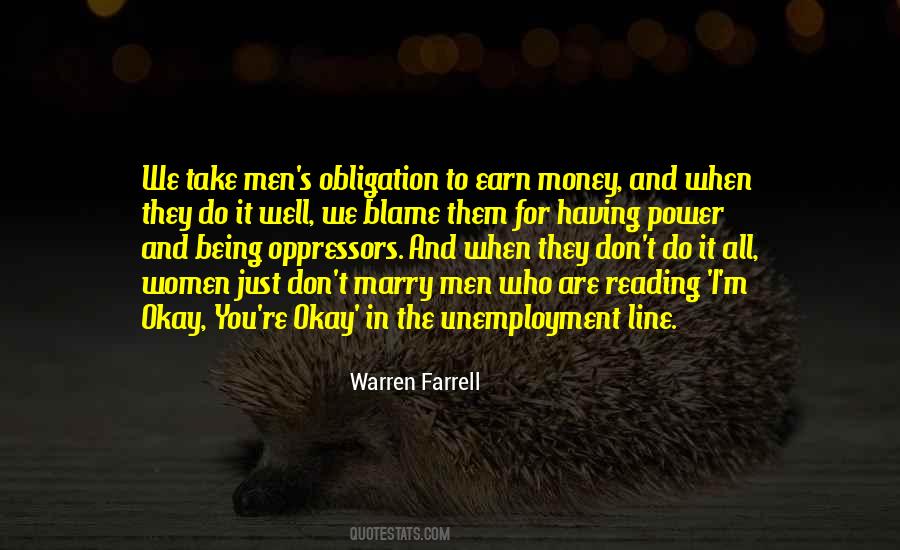 #19. Then teach me how to not care about someone who was everything to me. All I want is to know she's okay. Is that too much to ask? - Author: Ellen Hopkins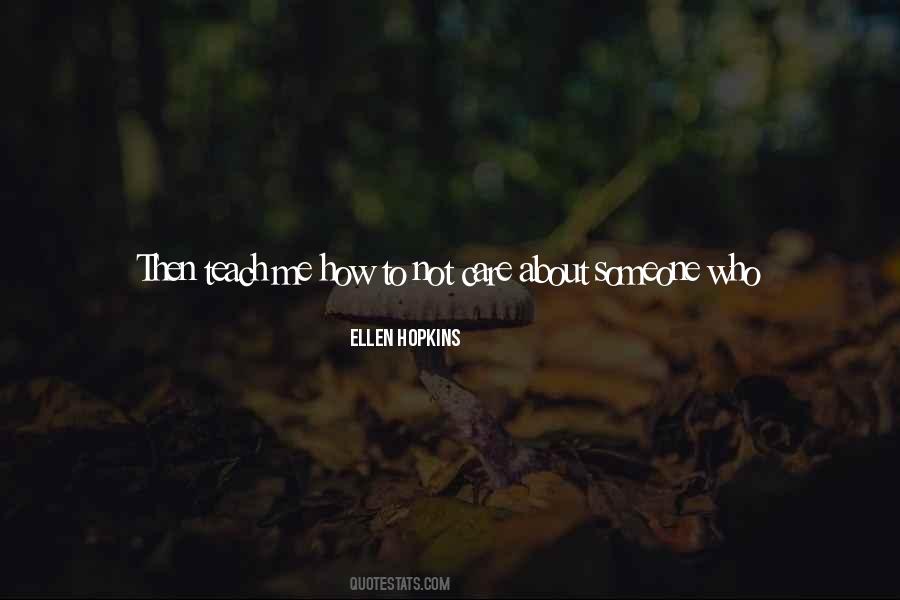 #20. But what [Gansey] said was, "I'm going to need everyone to be straight with each other from now on. No more games. This isn't just for Blue, either. All of us."
Ronan said, "I'm always straight."
Adam replied, "Oh, man, that's the biggest lie you've ever told."
Blue said, "Okay. - Author: Maggie Stiefvater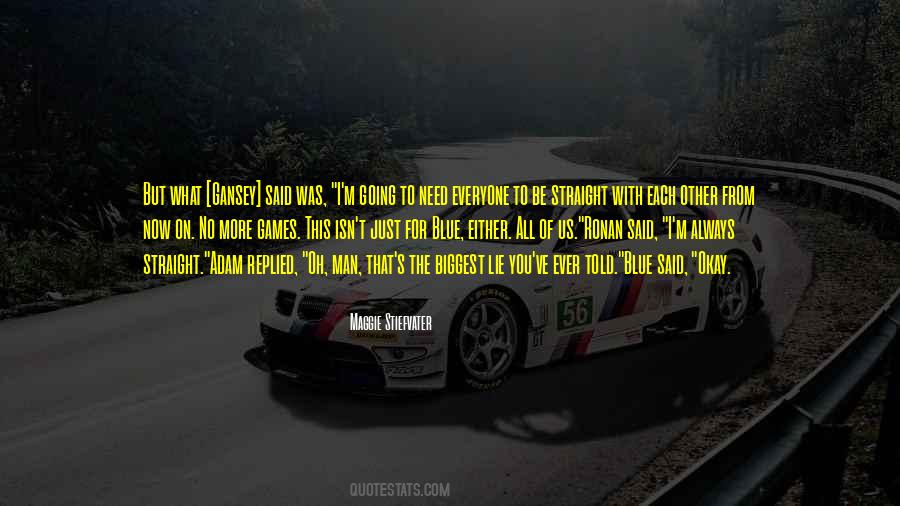 #21. Different century. It's totally okay. - Author: Gwenn Wright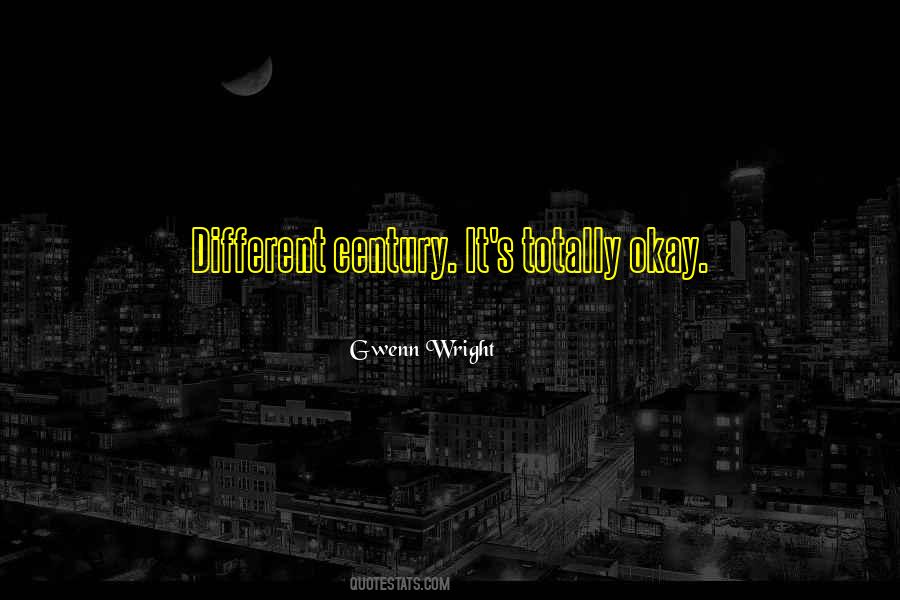 #22. When you love, whatever you do is because you want to do it. It becomes a pleasure, it's like a game, and you have fun with it. When you love, you don't expect something to happen; whatever happens is okay, and hardly anything disappoints you. - Author: Miguel Angel Ruiz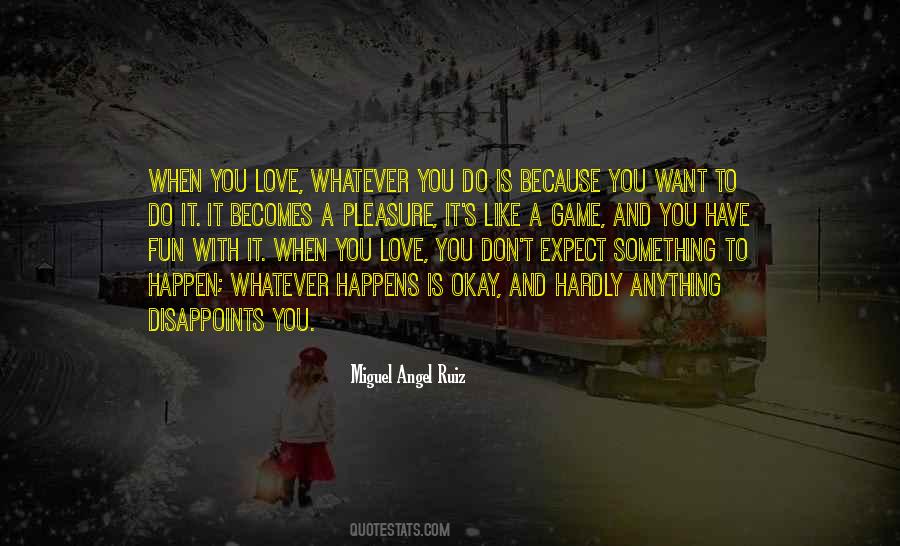 #23. What exactly did we learn in kindergarten? Nothing we wouldn't have learned if we;d stayed home. Okay, we learned that sometimes, by the time you get to the bathroom, it's too late. - Author: Jessica Zafra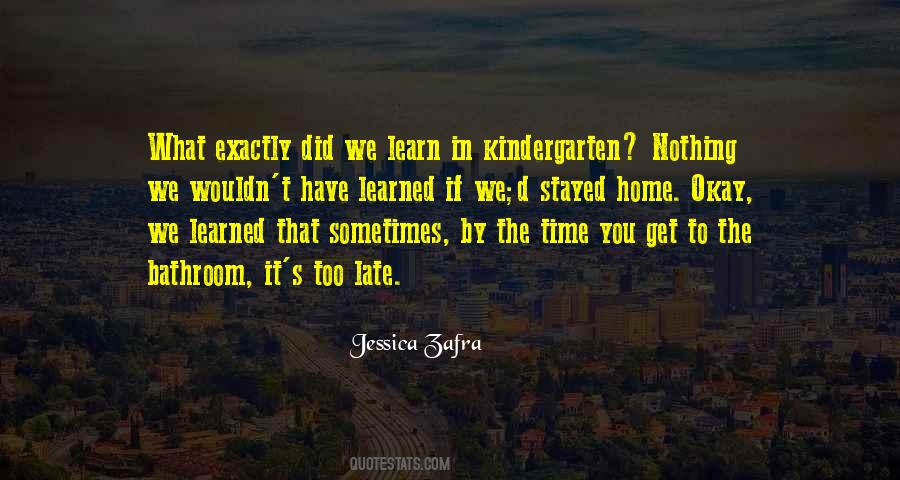 #24. When I'm feeling sad, or lonely, and I don't know what I'm doing and I don't know where I'm going, I imagine the Cool Awesome Future Version of Myself just telling my present self, "It's okay. You just gotta grab that giraffe by the ears and ride it on out." - Author: Jenna Marbles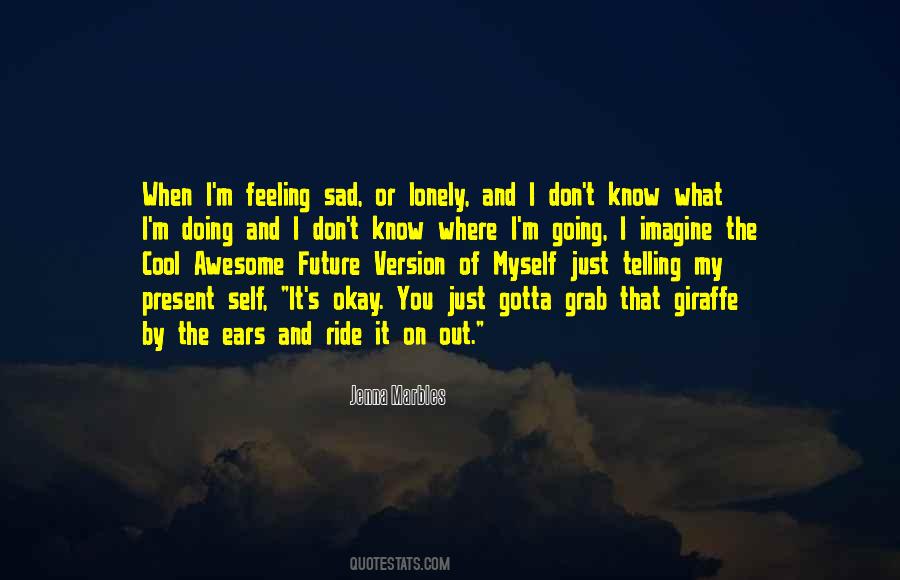 #25. Okay, how's this? I've been to Heaven and Hell. I've seen the whole world, but the only thing that makes me want to live is this: being inside you. I love you so much. You're all I see. - Author: Debra Anastasia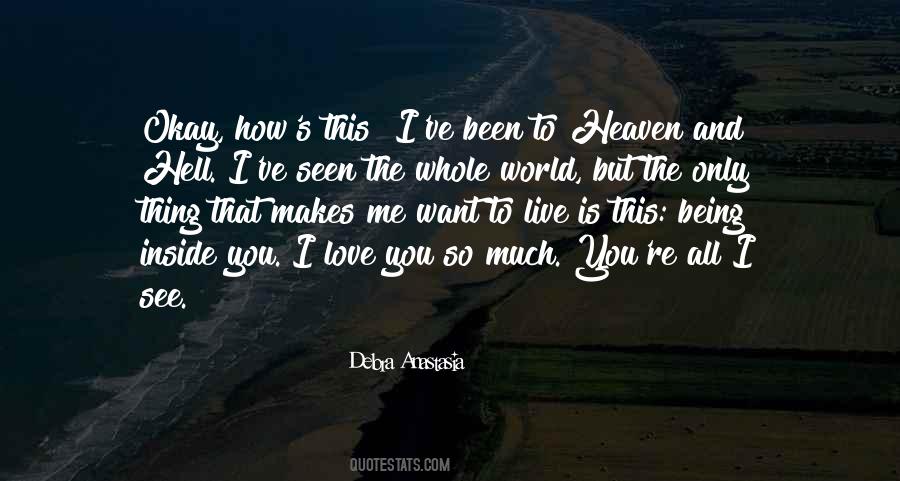 #26. In the Western world there isn't much value given to the necessity for just being quiet. And just resting, and just being, without a focus or a goal. At least a certain amount in our lives - we don't need to do half and half; it's okay if we're doing a lot of doing, we just need some being mixed in. - Author: Shakti Gawain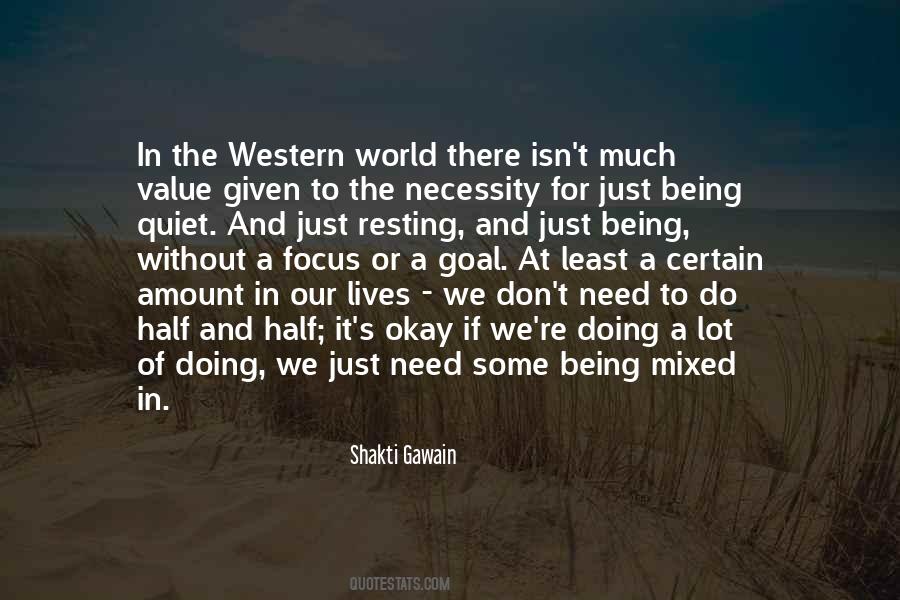 #27. What are you, some kind of superhero?" "Nah, I'm just a guy who sometimes kicks ass for Uncle Sam." "Okay," she whispered. "So ... just so you know, that's superhero material in my book. - Author: Zoe York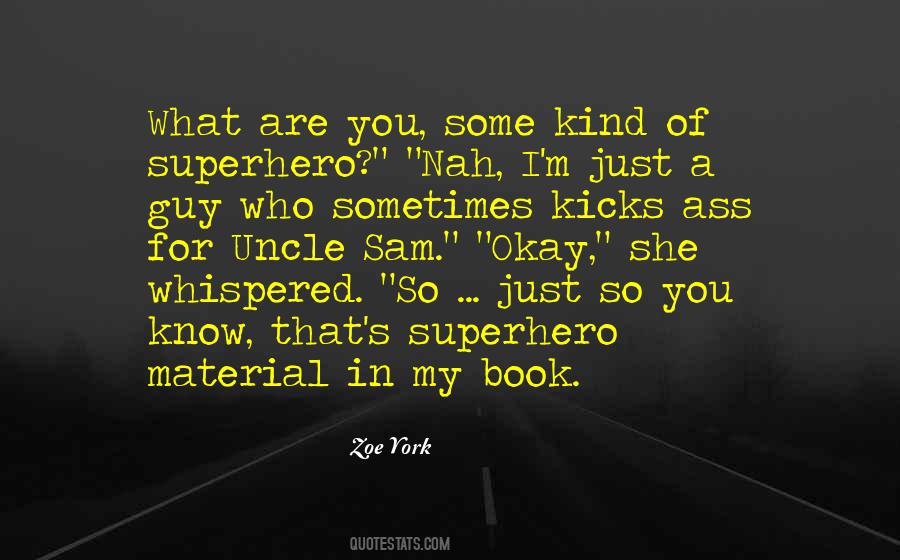 #28. Okay, okay, you win. One-just one- date. But that's all." She didn't look at Josh, just stalked off toward the nearest exit. "Do you get all your dates by blackmail?"
"Nope," he said cheerily as he easily kept pace with her. "Only the ones that matter - Author: Dani Harper
#29. For me, it's really like, okay, if you go far with the unexpected materials and unexpected proportions or volumes, then keep the colors quite simple and straightforward for men. - Author: Dries Van Noten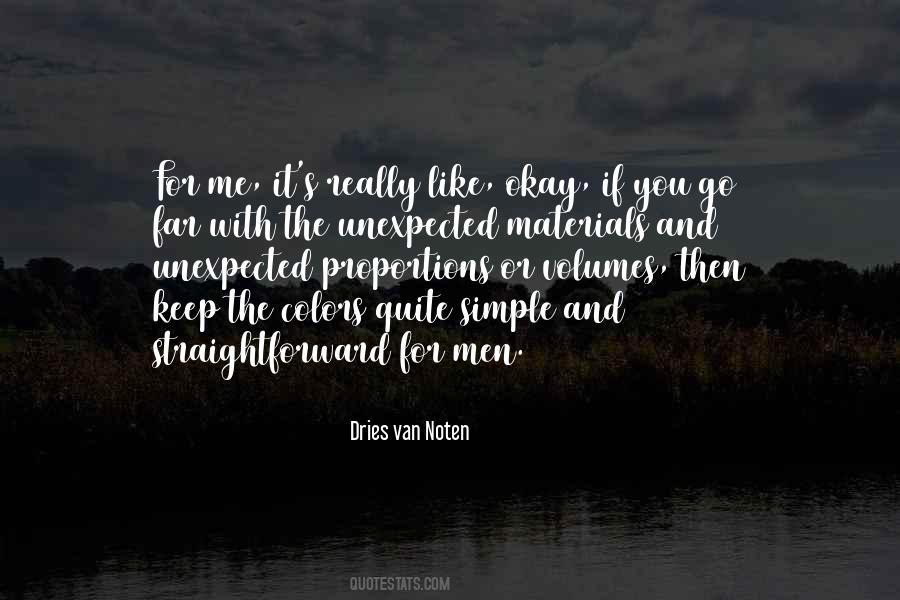 #30. It's okay to love something a little too much,as long as it's real to you. - Author: Gerard Way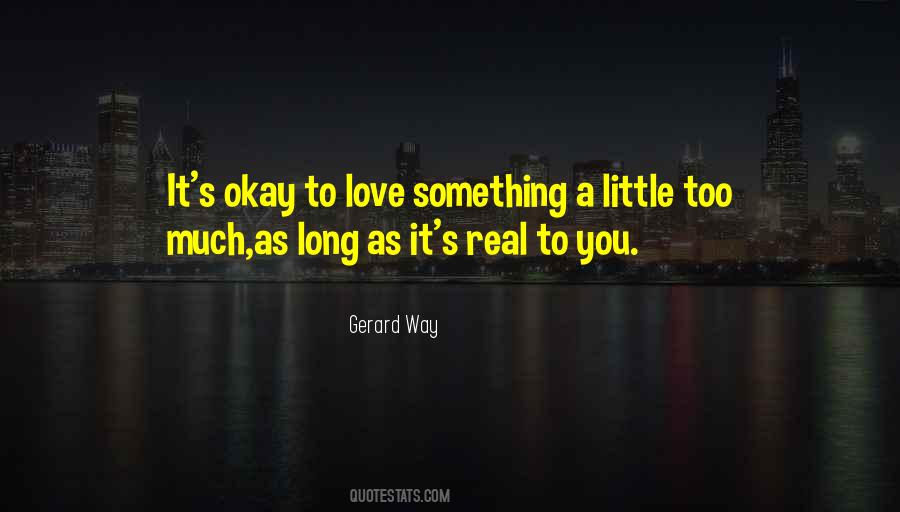 #31. You don't just have to be influenced by rock, or goth, anymore. It's okay to say, 'My influences are Tin Pan music from Bali and Rihanna.' There are still so many combinations that haven't been done yet. - Author: Grimes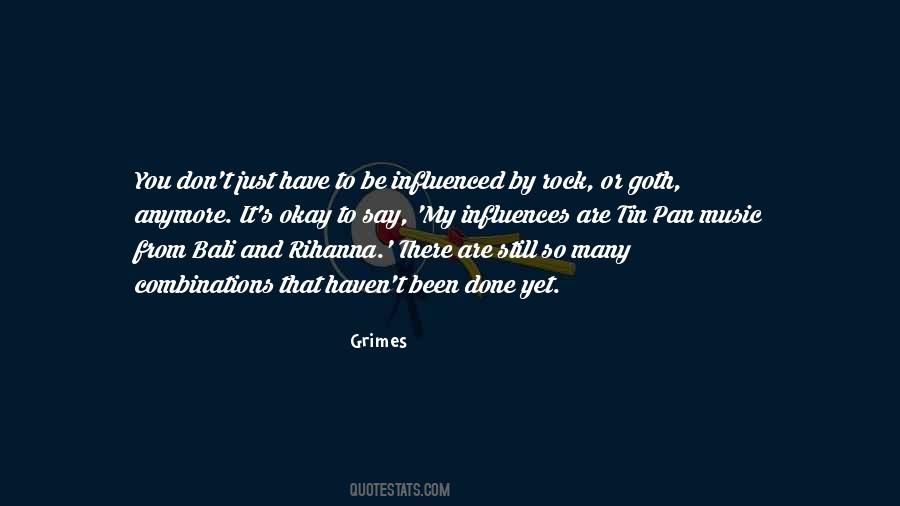 #32. Okay - the world needs its cogs, all of them; and even a cog may say how it gets used. In fact, only a cog may determine its eventual meaning in the system. That's what I wanted to tell you. - Author: Keigo Higashino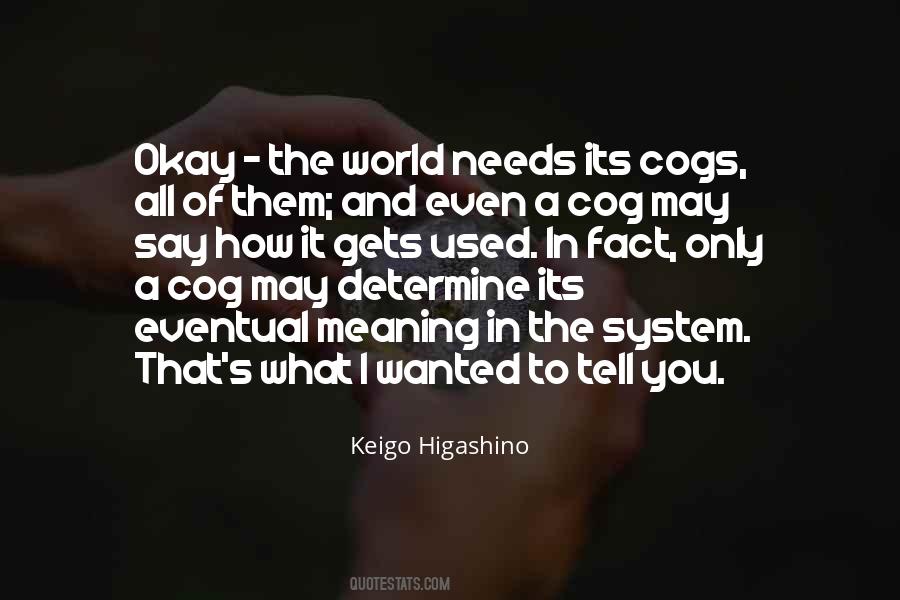 #33. I didn't like filtering the story through me, saying, 'Reader, you'll be safe with me. While it gets a little dangerous, it'll be okay because, after all, you're with me, because I'm a warm convivial voice. But let's be entertained by this horrible stuff.' I didn't like that. - Author: Michael Winter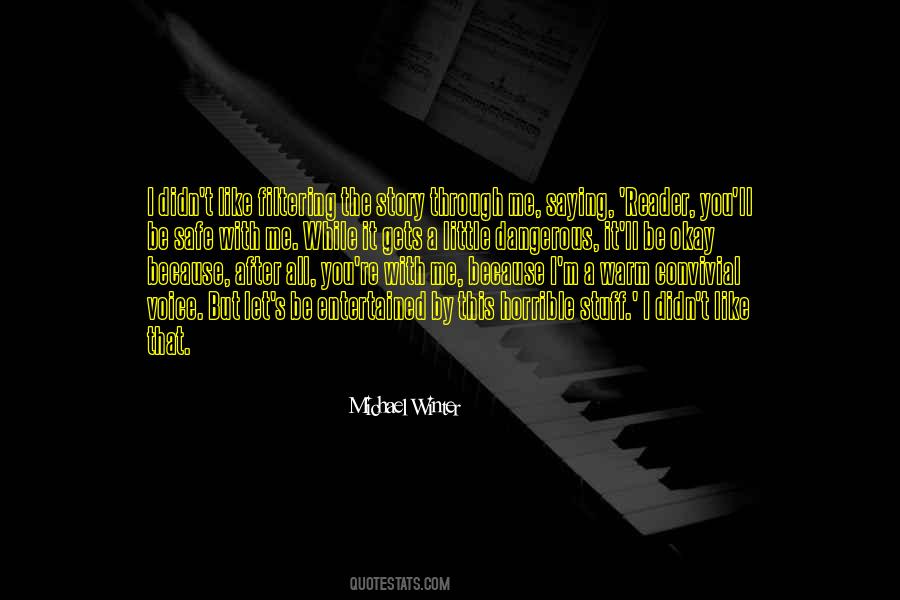 #34. I think my biggest learning experience is that it's okay to be who you are - you don't have to exactly fit the mold of what people think a certain kind of career is. I think that discovery - of really knowing who I am and being okay with that and loving myself - was amazing. - Author: Dree Hemingway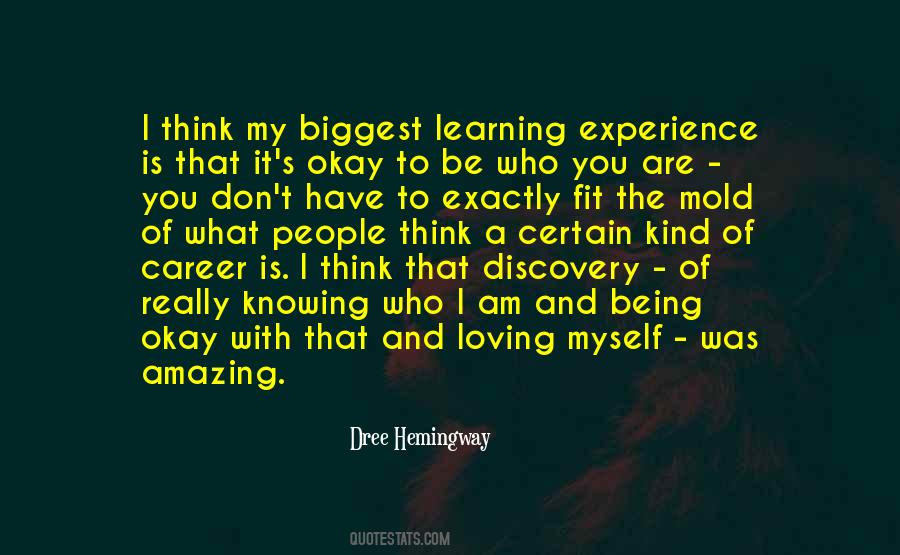 #35. Okay, you're right; she's so hot I could walk on three legs every time I see her."
"Now you're talkin'."
"I'll break your back and chop off your legs if you call her."
"That's my boy! - Author: Linda Howard
#36. In a big family the first child is kind of like the first pancake. If it's not perfect, that's okay, there are a lot more coming along. - Author: Antonin Scalia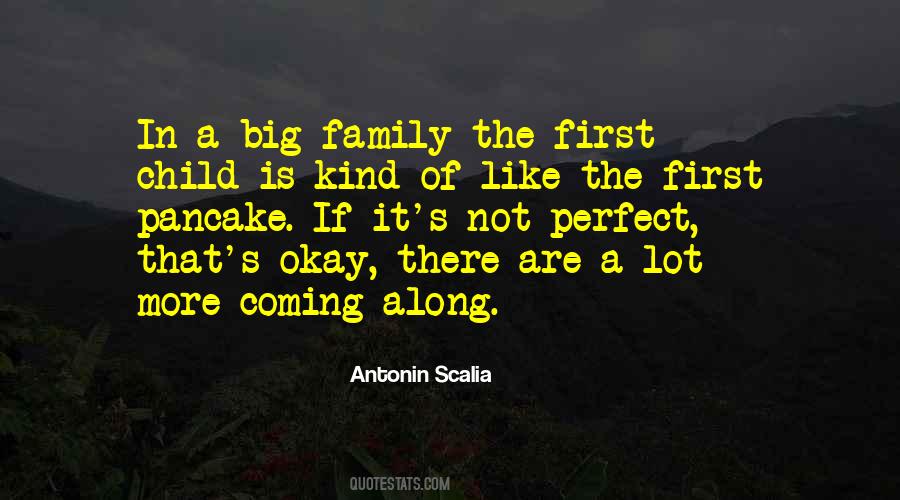 #37. The End
"I don't know what to say," he said.
"It's okay," she replied, "I know what we are - and I know what we're not. - Author: Lang Leav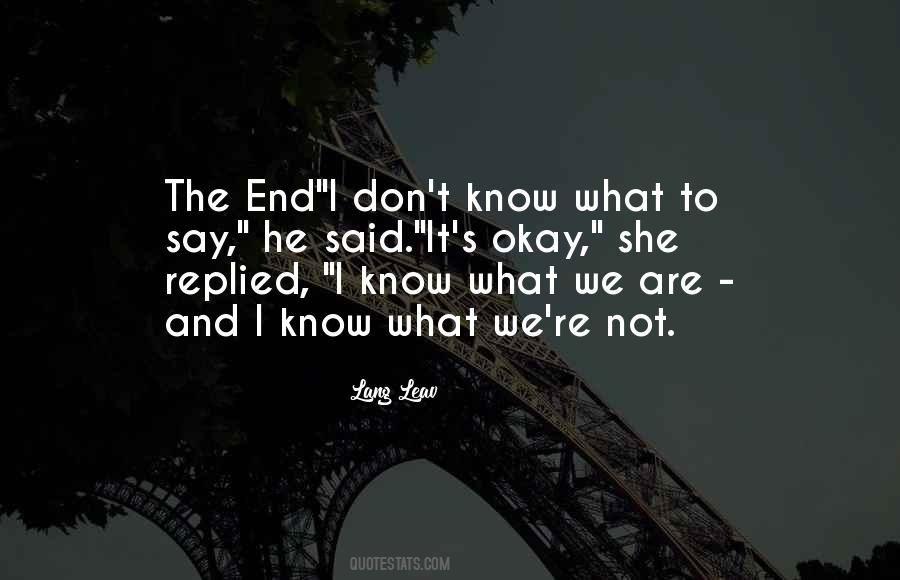 #38. Looks like I'll be the one babysitting you all. (Jericho)
It's okay, sweetie. I make a mean Band-aid. (Delphine) - Author: Sherrilyn Kenyon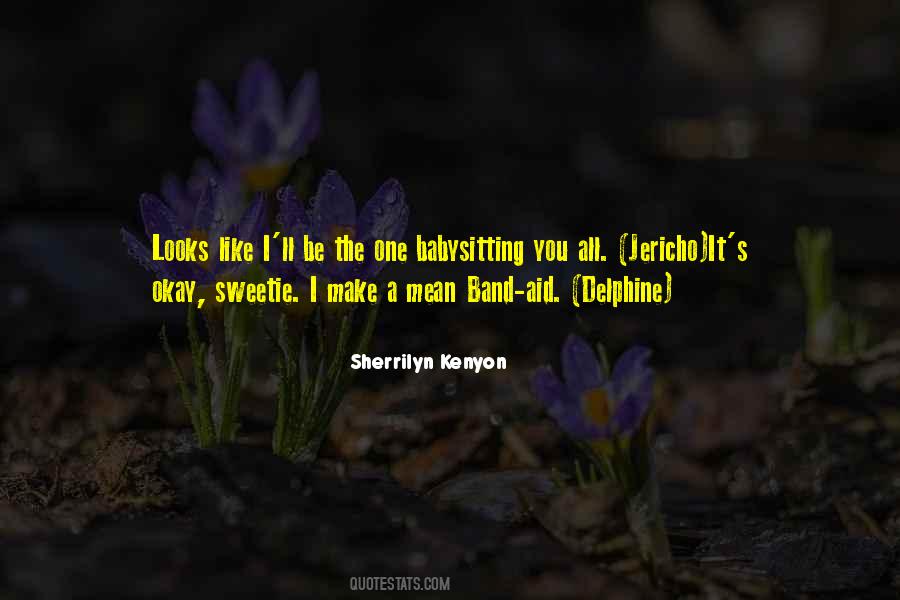 #39. If you don't like men who physically abuse women, stop telling your son it's okay to hit a little girl if she's bothering him. - Author: Karen E. Quinones Miller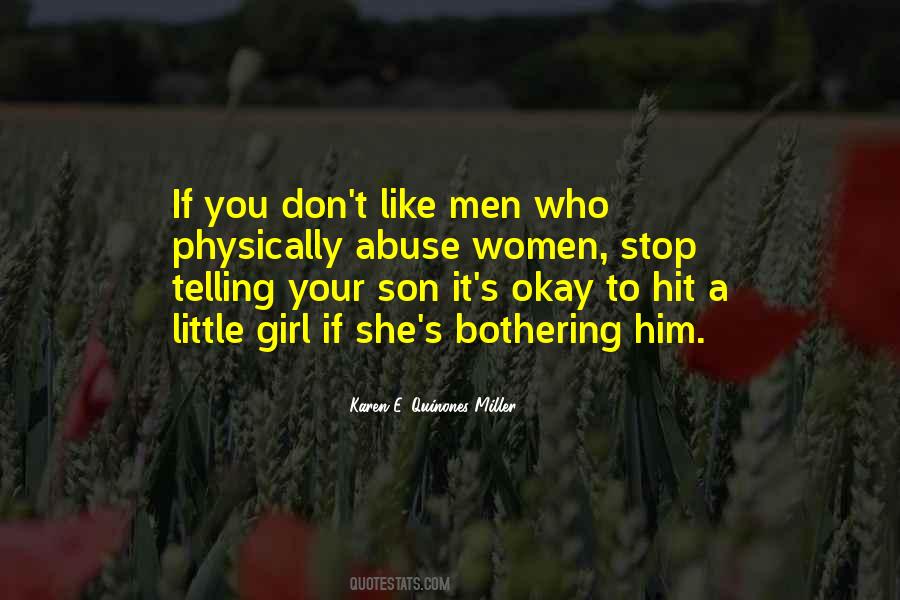 #40. There's nothing fated in our stars. No meant-to-be in any of it. We are accidental people occupying an accidental planet in an accidental universe. And that's okay. These seven billion billion atoms are good with that. - Author: Rick Yancey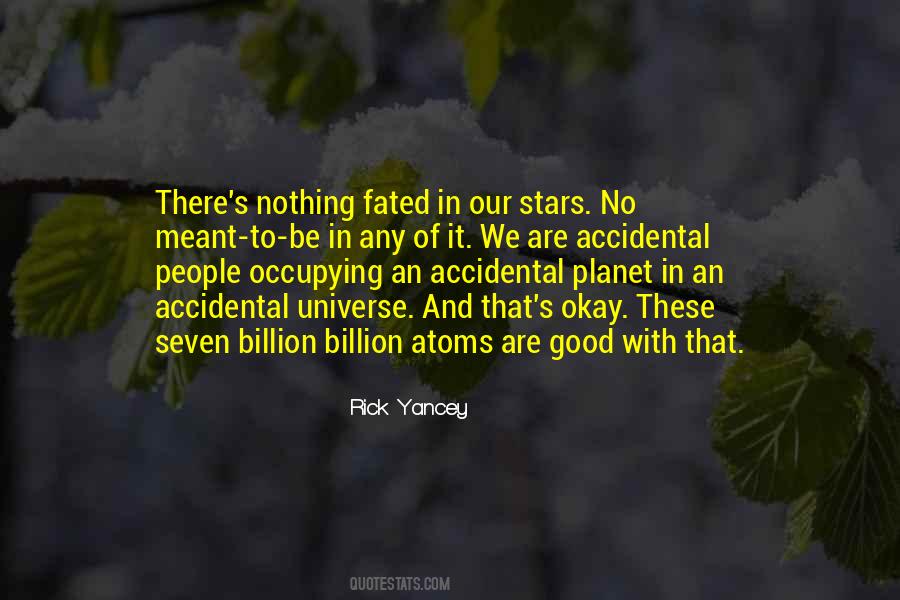 #41. It's okay. I'm just in a weird mood. Have you ever had a feeling like something was about to happen?"
"Of course," Kat replied. "It's called PMS. - Author: Dianne Sylvan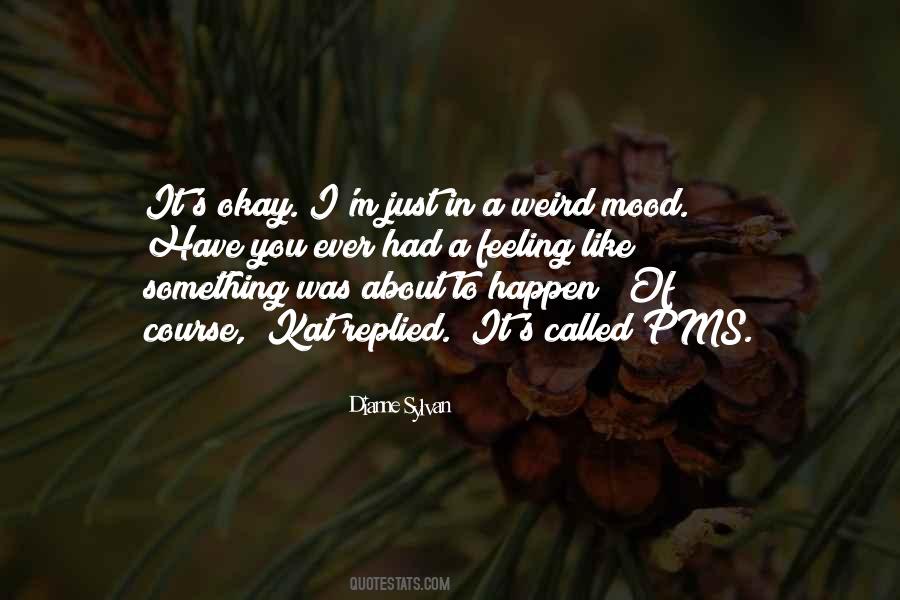 #42. If you go down as a comedian's comedian, that's basically meaning other comedians are hopefully feeling that you're doing okay. - Author: Eddie Izzard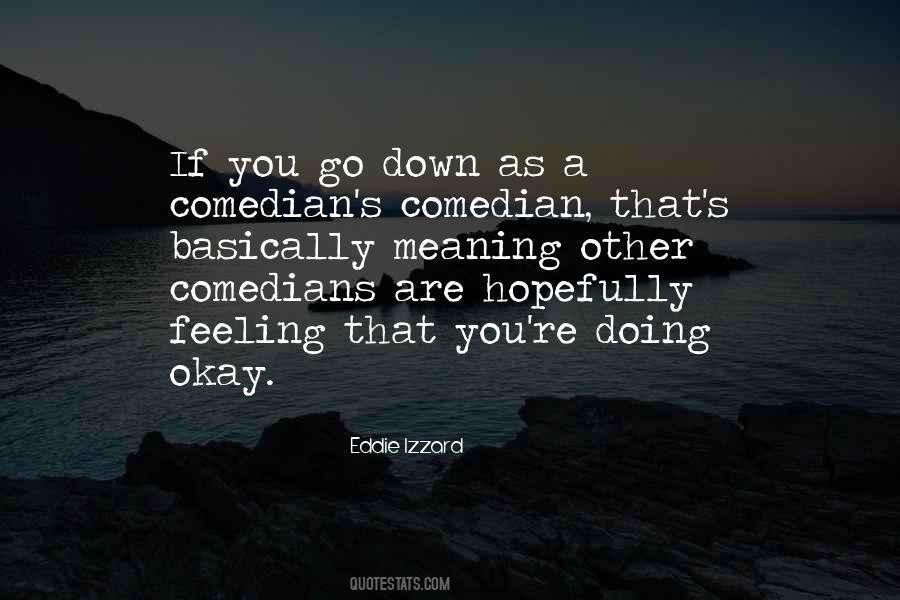 #43. Nothing has to happen immediately, this minute, or right now. It's okay to pause for just a moment. Just take a breath. Then go quietly inside. Ask life itself to lead you to your best outcome. There's nothing you have to do, really, except get out of your own way. - Author: Neale Donald Walsch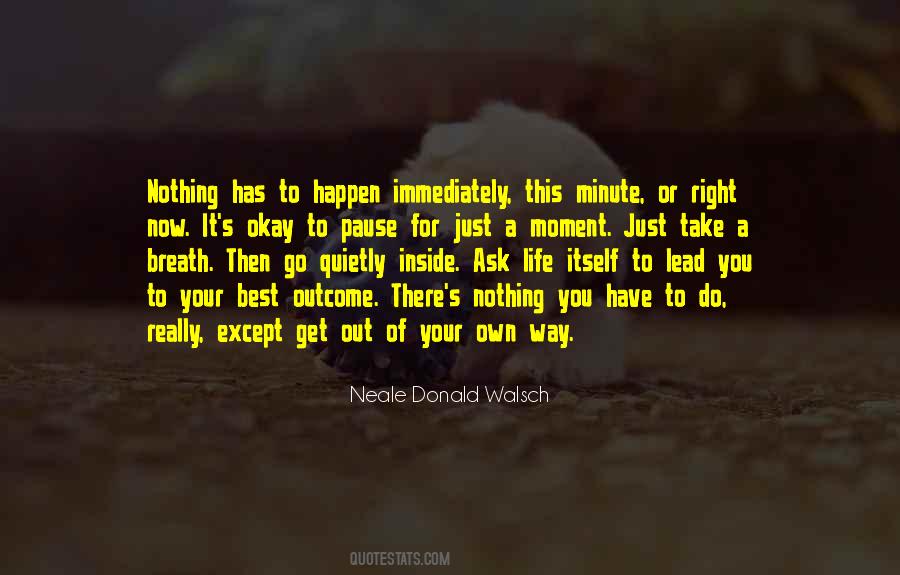 #44. It's okay to be proud of your good English. But don't be proud of being poor at your Mother tongue. Only the scum of the earth do that. - Author: Manasa Rao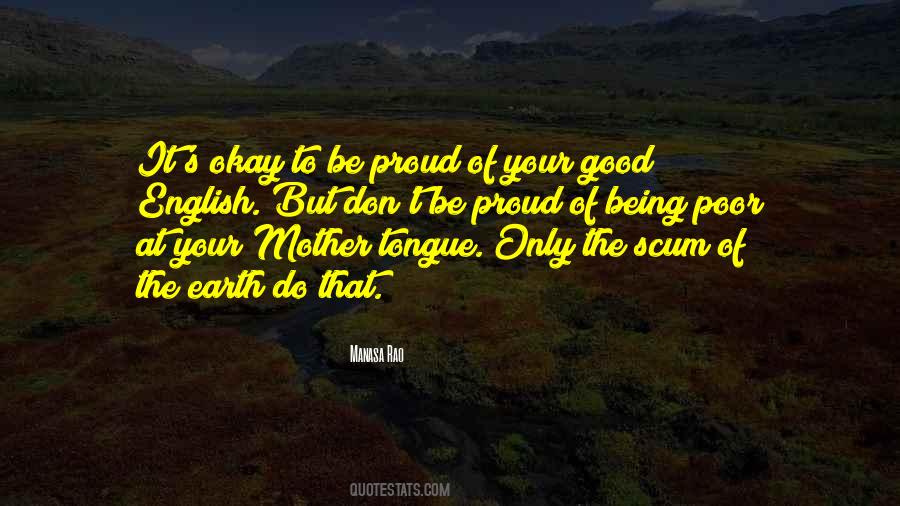 #45. When I think of Robert Frost's poems, like "The Road Not Taken", I feel the support of someone who is on my side, who understands what life's choices are like, someone who says, "I've been there, and it's okay to go on". - Author: Fred Rogers
#46. It's going to be okay.
Right.
Because I love you.
Is that why?
It is, actually. - Author: Rainbow Rowell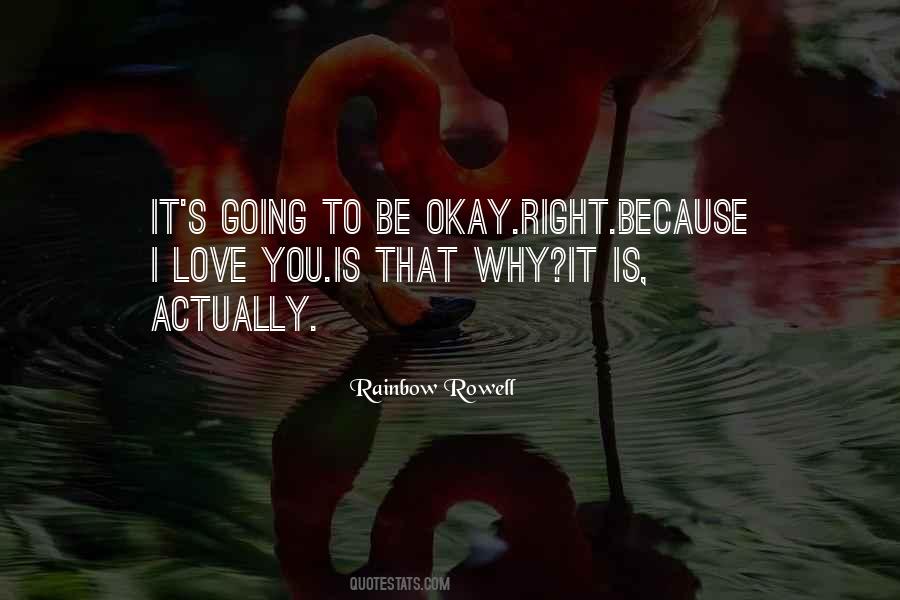 #47. You know, I think we Indians are afraid to show and celebrate our happiness, lest things change around. But I feel that it's okay to be sad and okay to show when you are happy. - Author: Shah Rukh Khan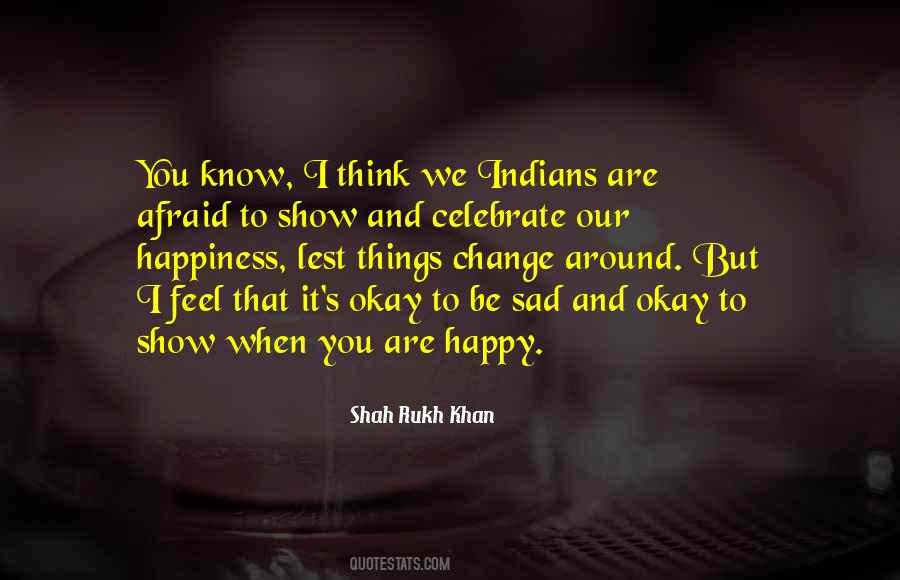 #48. That's okay, baby. I don't need to know your name, just need to know how hard you like it. - Author: River Savage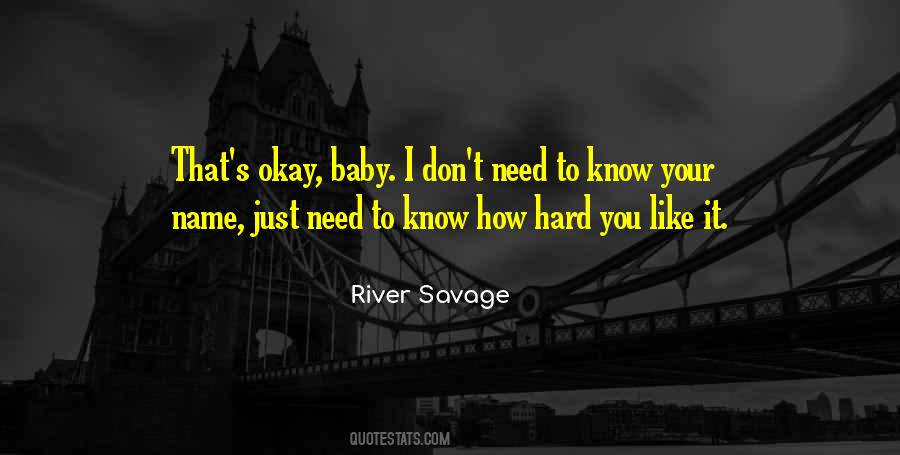 #49. Girls can wear jeans and cut their hair short and wear shirts and boots because it's okay to be a boy; for girls it's like promotion. But for a boy to look like a girl is degrading, according to you, because secretly you believe that being a girl is degrading. - Author: Ian McEwan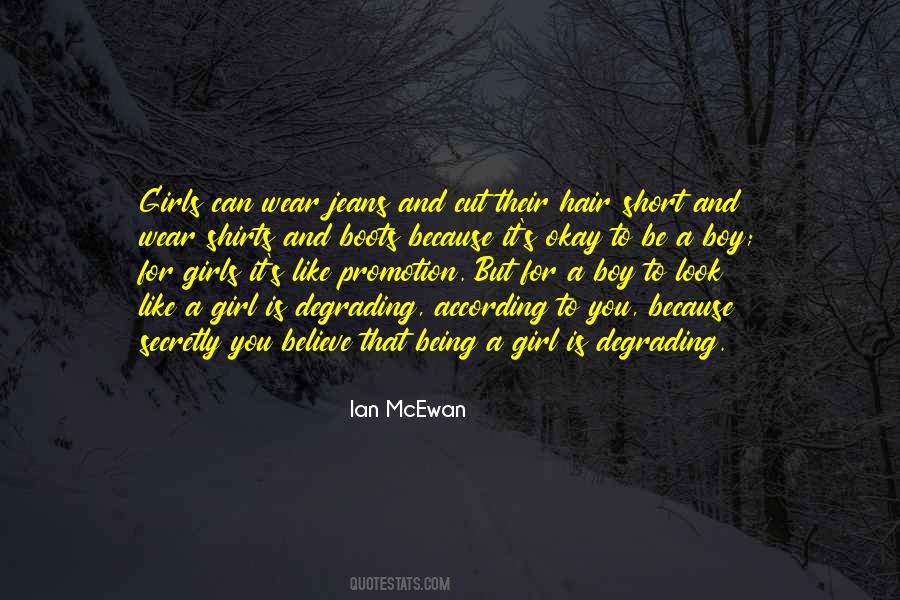 #50. The message of this band [All Time Low] is go out and do what you want to do and believe in yourself and that it's okay to do that. It's okay to be who you are. - Author: Alex Gaskarth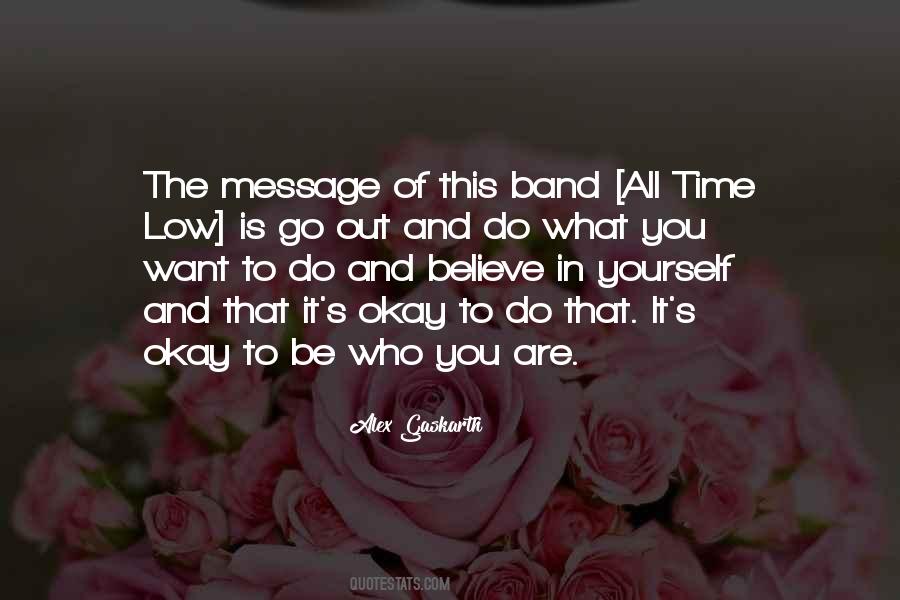 #51. Someone will say to me, Oh that's so Jewish to interrupt. I say to myself, okay, is that code for you hate Jews? Or am I just being paranoid? - Author: Jill Soloway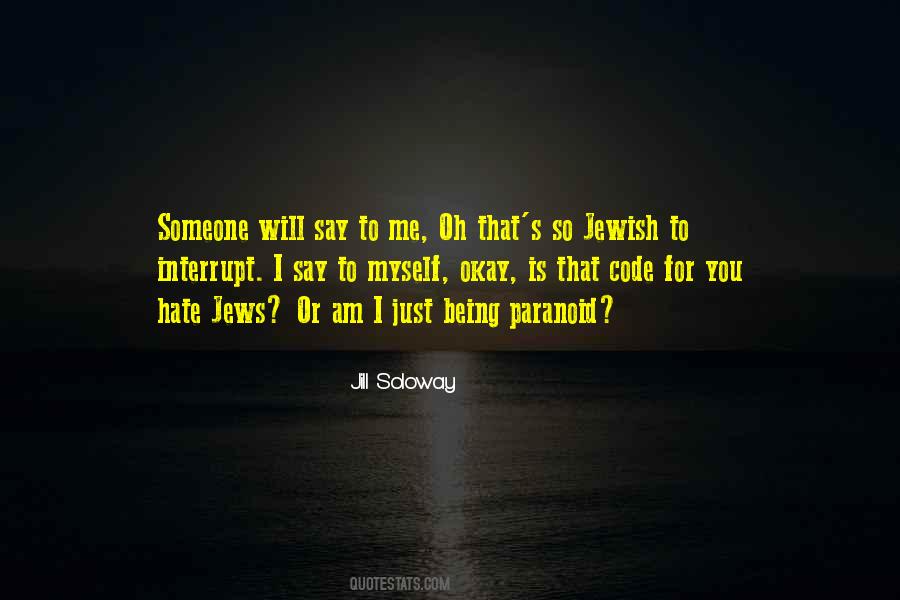 #52. Happiness comes in many forms - in the company of good friends, in the feeling you get when you make someone else's dream come true, or in the promise of hope renewed. It's okay to let yourself be happy because you never know how fleeting that happiness might be. - Author: Lucas Scott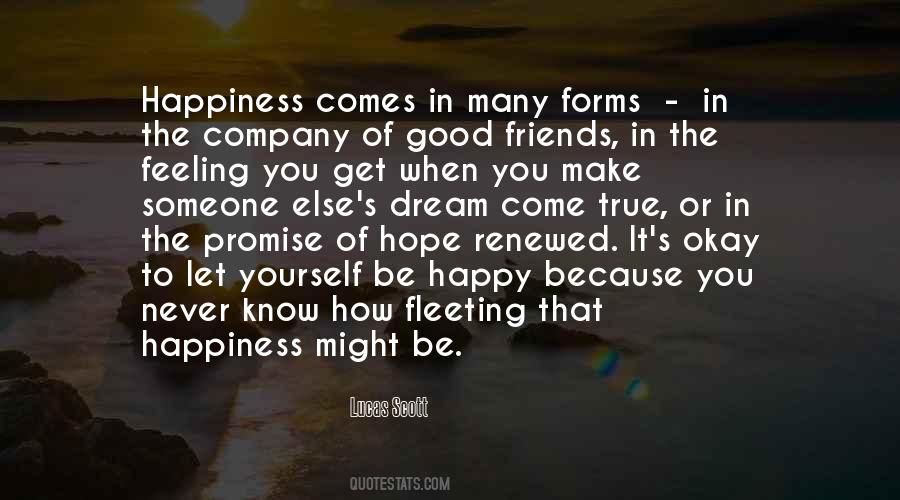 #53. Behind every strong man is a scared little boy wanting people to tell him it's going to be okay. Remember that, and men will no longer seem as stupid as you think they are. - Author: Anonymous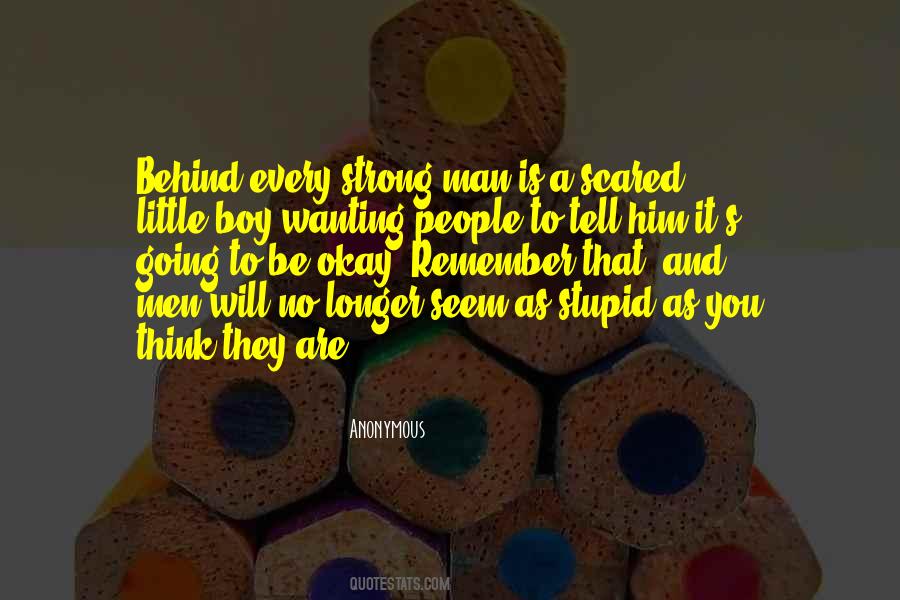 #54. George,' I croaked, 'are you okay?'
'No. Someone's buttocks are flattening my foot.'
I shifted my position irritably. - Author: Jonathan Stroud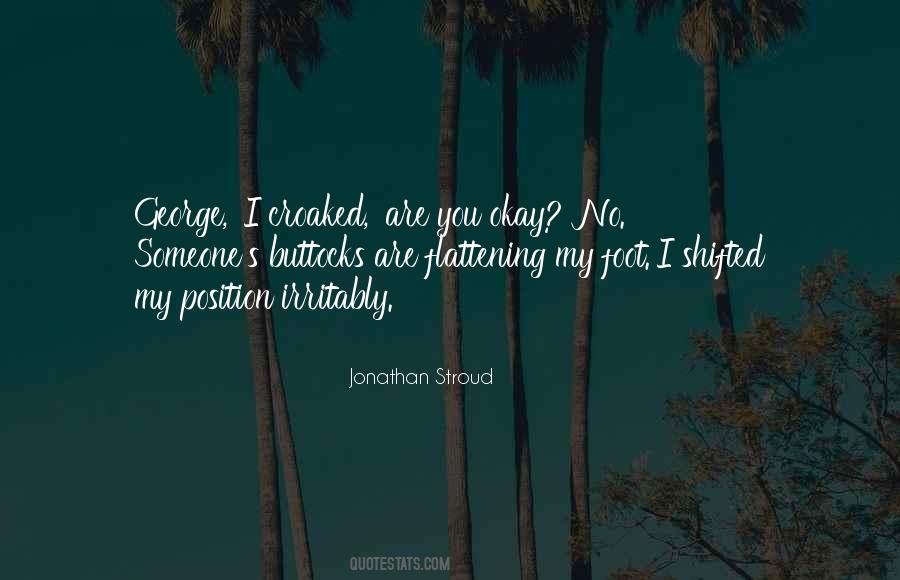 #55. It's okay to wonder how you could try so hard and still get stomped all over. Just don't let them change you. - Author: Taylor Swift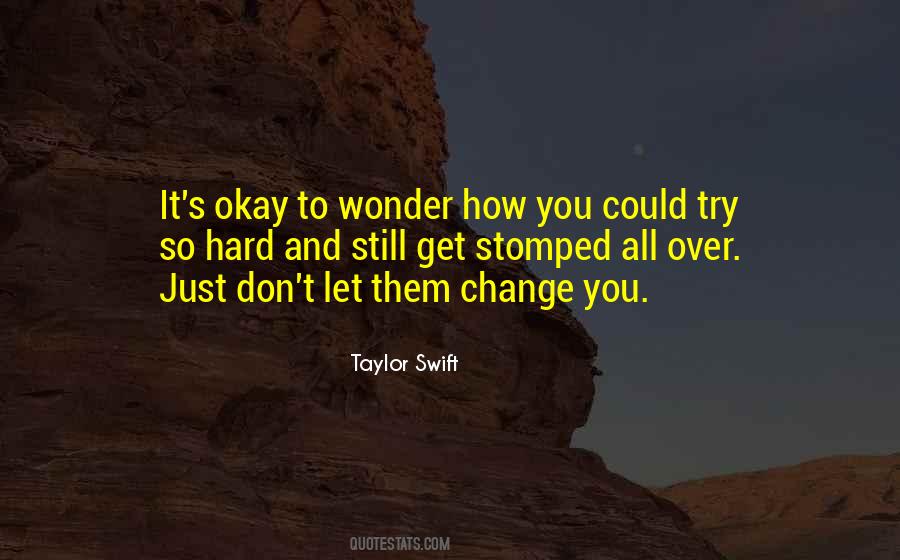 #56. Lend's dad, two werewolves, and a vampire. It was like the setup to a bad joke or something. A doctor, two werewolves, and a vampire walk into a bar. "What'll you have?" the bartender asks. "We were thinking him," the vampire answers, eyeing the doctor.
Okay, jokes weren't my strong point. - Author: Kiersten White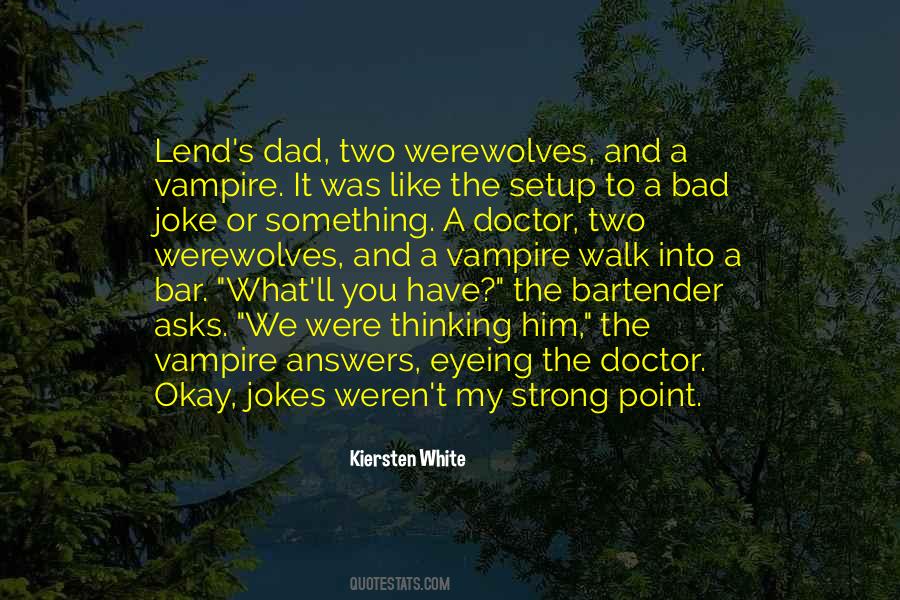 #57. What your opponent wants you to think is useful data in figuring out what they think. So get the early draft, okay? - Author: James S.A. Corey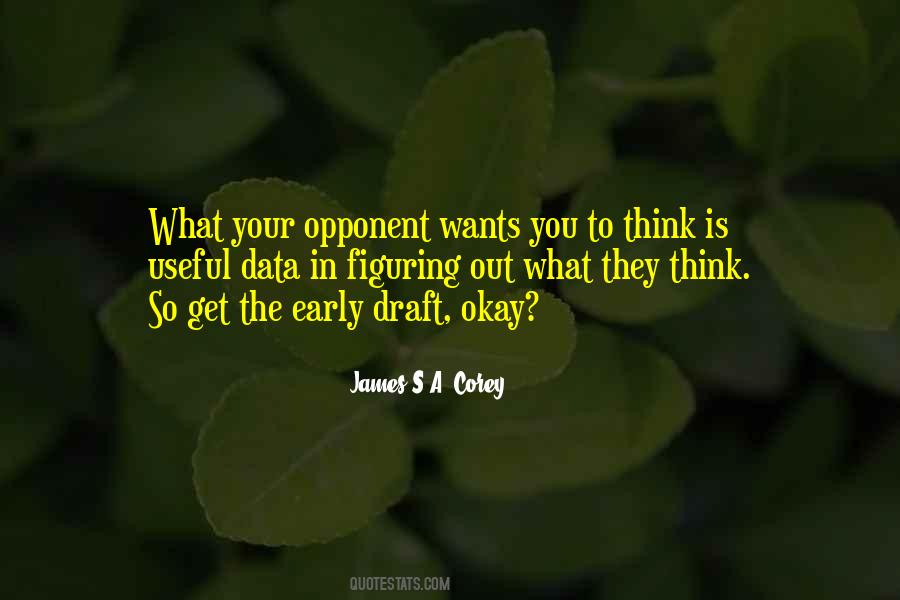 #58. I'm living in fiction. It's perfectly okay to be in love with any and all fictional boyfriends, even if they aren't yours. - Author: Anne Eliot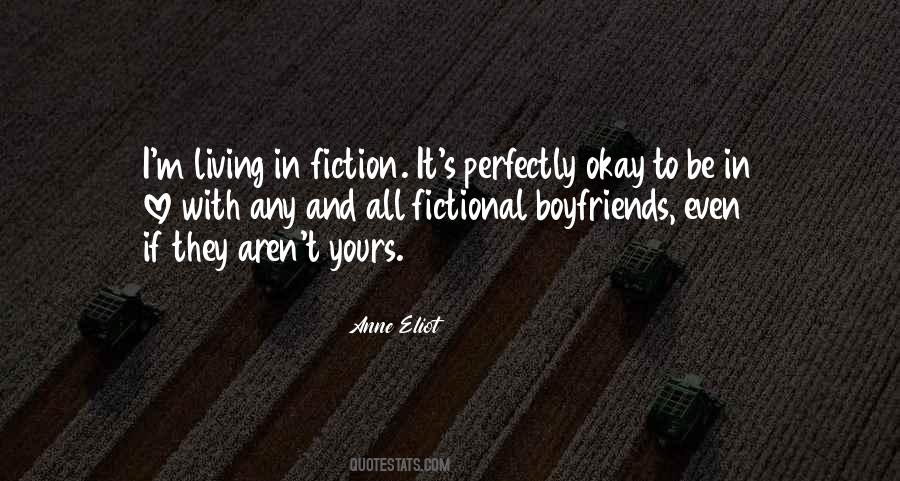 #59. There's like ten minutes when it's like, 'Okay, wait, who is this guy again?' And then, you know, I just put on the calculator watch and the glasses, and just be all, you know, inappropriate. And then it just works out fine. - Author: Rainn Wilson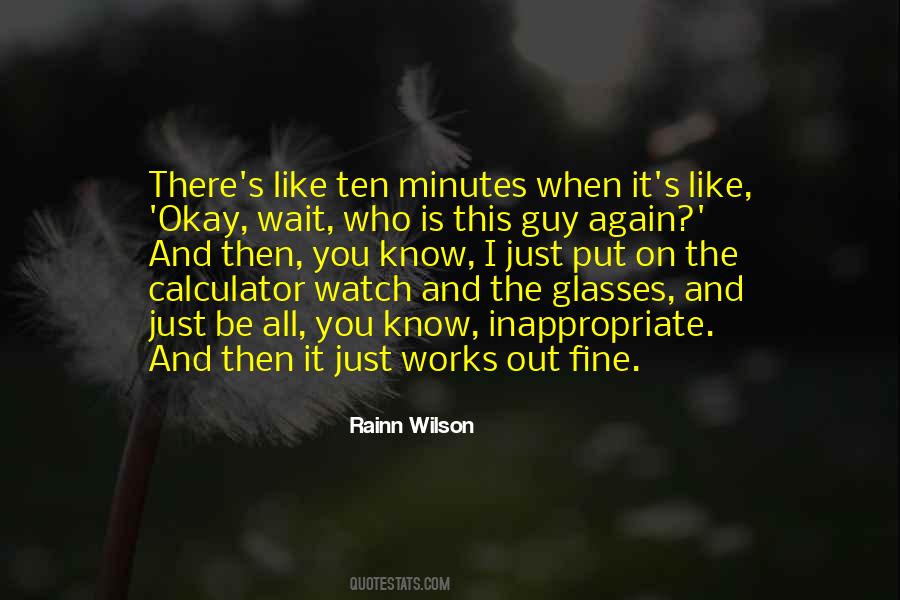 #60. It's okay if you finish cooking something easy after your guests arrive - some dishes must be prepared a la minute, as chefs say. Just remember to keep talking. - Author: Ted Allen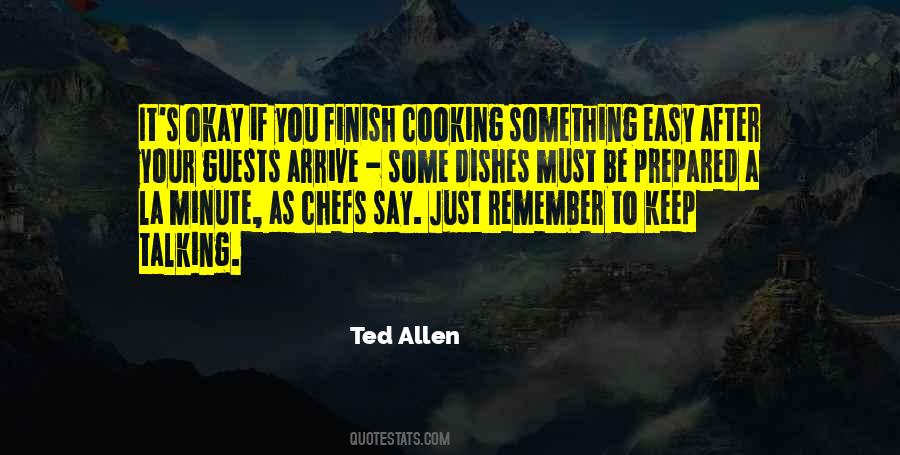 #61. Okay, time to ruin this guy's outfit. - Author: Rick Riordan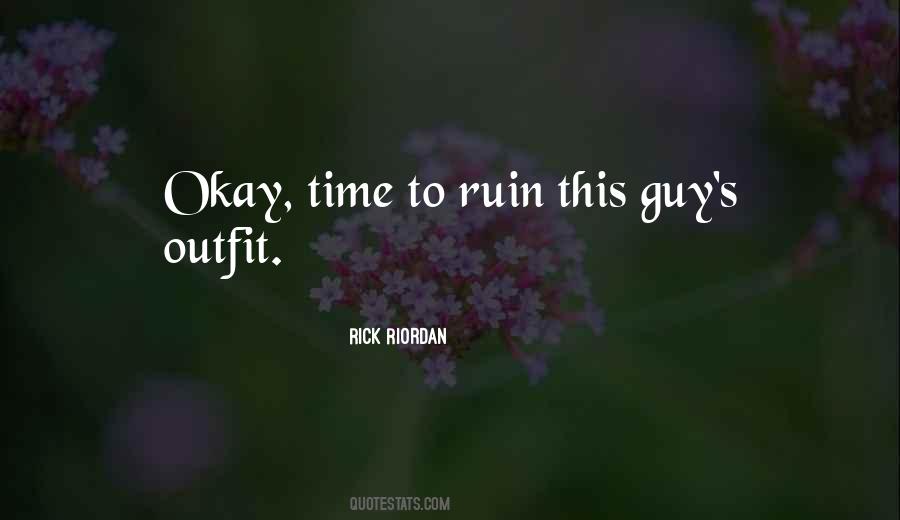 #62. You can work for other people and still be a #GIRLBOSS; it's more about a state of mind and knowing yourself well enough to know when you're making decisions for yourself or because the world expects them of you. And guess what? It's okay to do that sometimes, too. - Author: Sophia Amoruso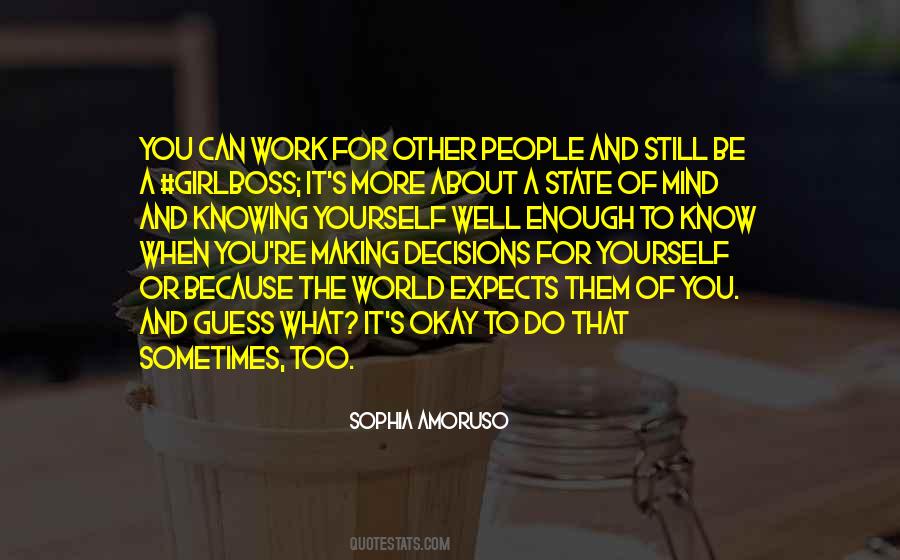 #63. It's okay to have doubts. It isn't "faith" unless you have doubts. - Author: Steve Maraboli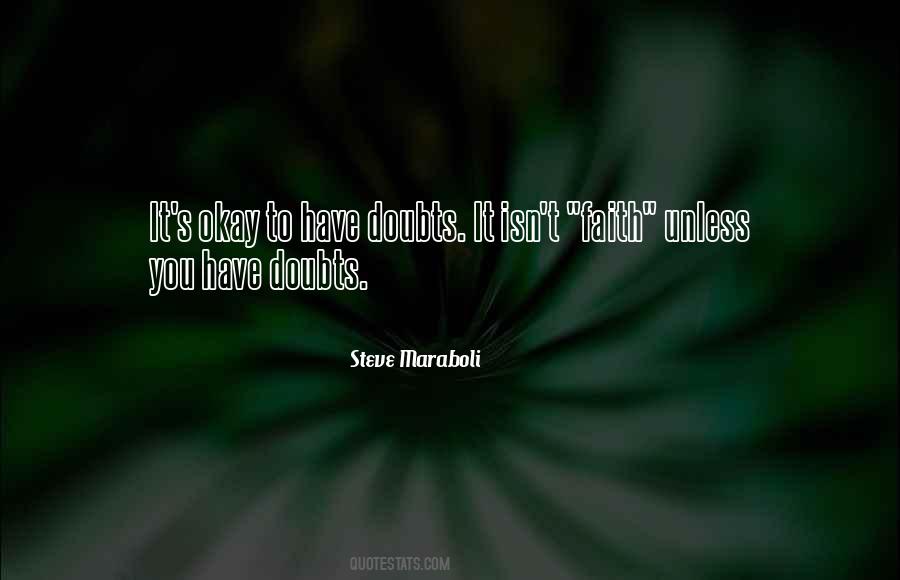 #64. The chicken Marsala I made looks ... unique now that it's actually out of the oven and on our plates.
Okay it's fucking frightening. I admit it. - Author: Emma Chase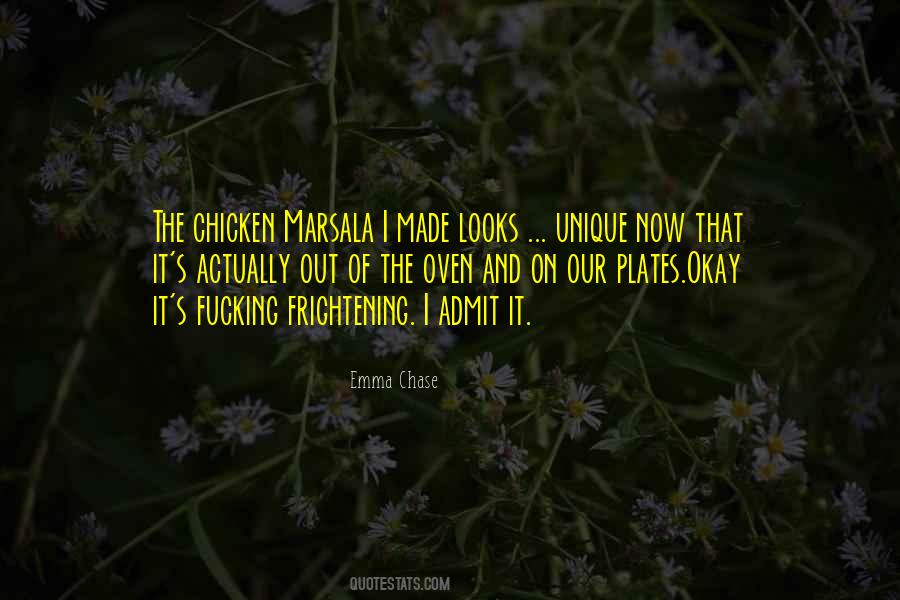 #65. Someone comes and drags you in front of the camera, and they're already saying, "Okay, we got it. Moving on." You get one or two takes. So it's a tough job. - Author: Kurt Voss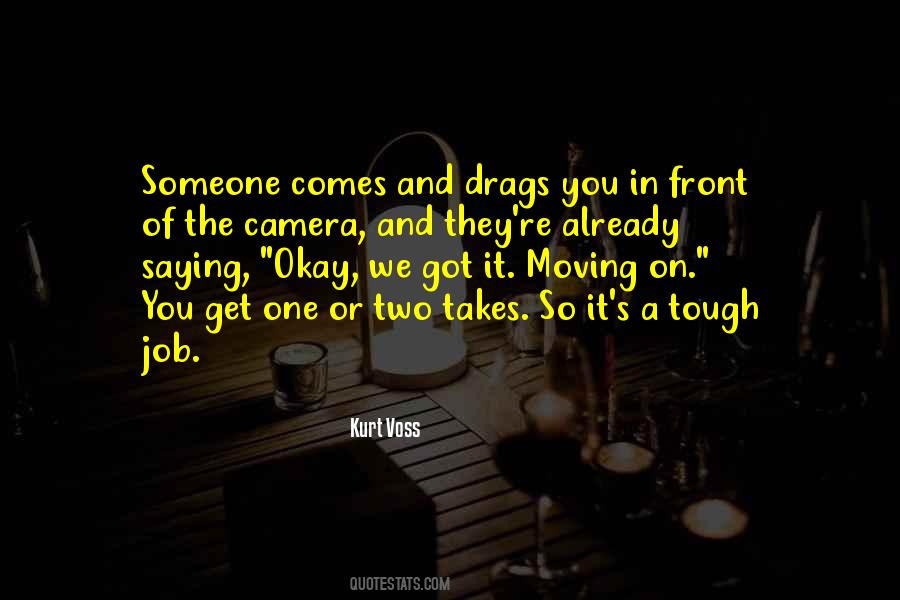 #66. He looked up the stairs and then back to me. "You came out of nowhere." "No, I was on my way down too. You probably didn't see me. I'm just glad he's okay. - Author: Kasie West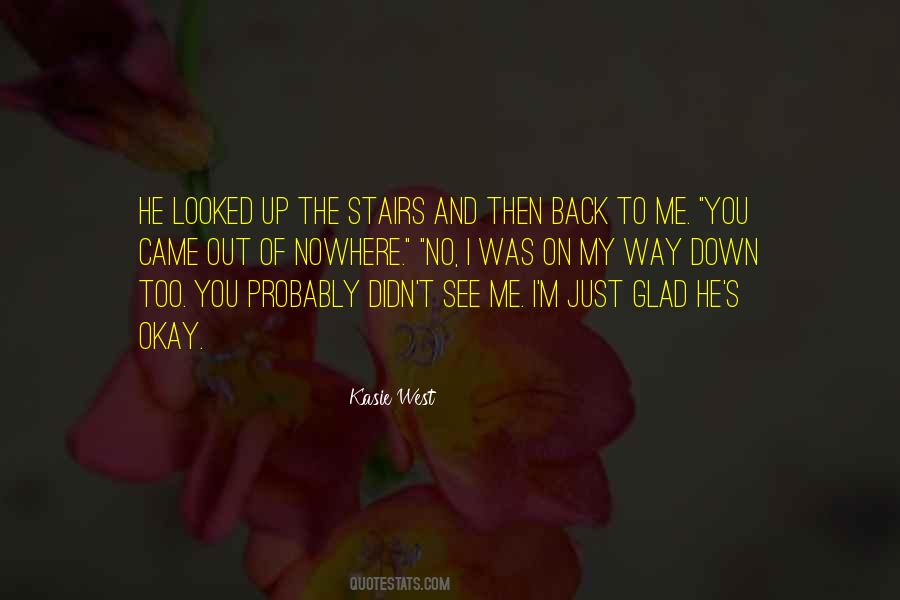 #67. It's okay if we don't know how we feel in the moment. It doesn't mean we need to rush or force a decision. It doesn't mean someone else should solve it for us. - Author: Elaina Marie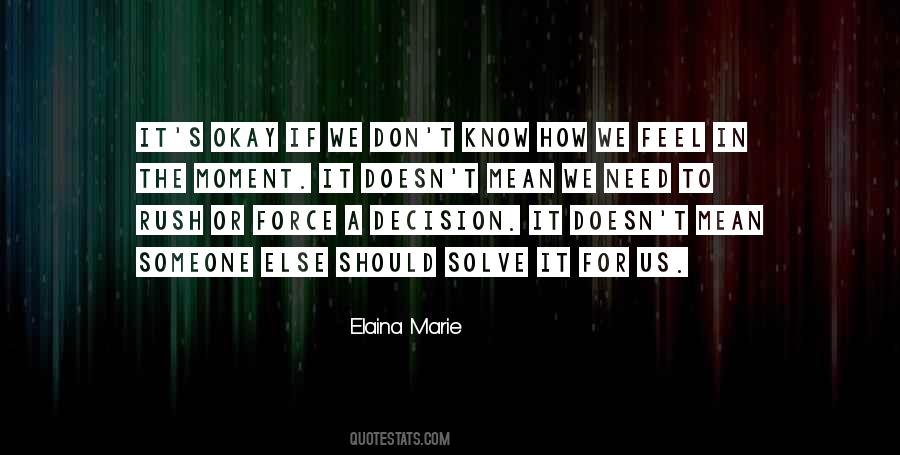 #68. You think Okay, I get it, I'm prepared for the worst, but you hold out that small hope, see, and that's what fucks you up. That's what kills you. - Author: Stephen King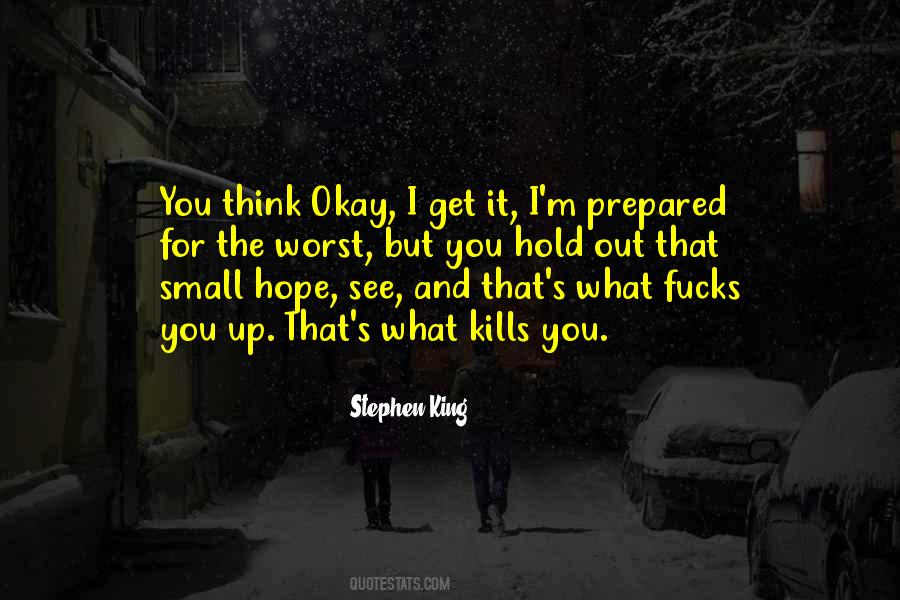 #69. Homework's hard. Especially math. My kids joke with me. They tell me they have homework. I say, 'Okay.' And then I sit down and they say, 'It's math.' 'No! Not math! English, history, anything!' - Author: Angelina Jolie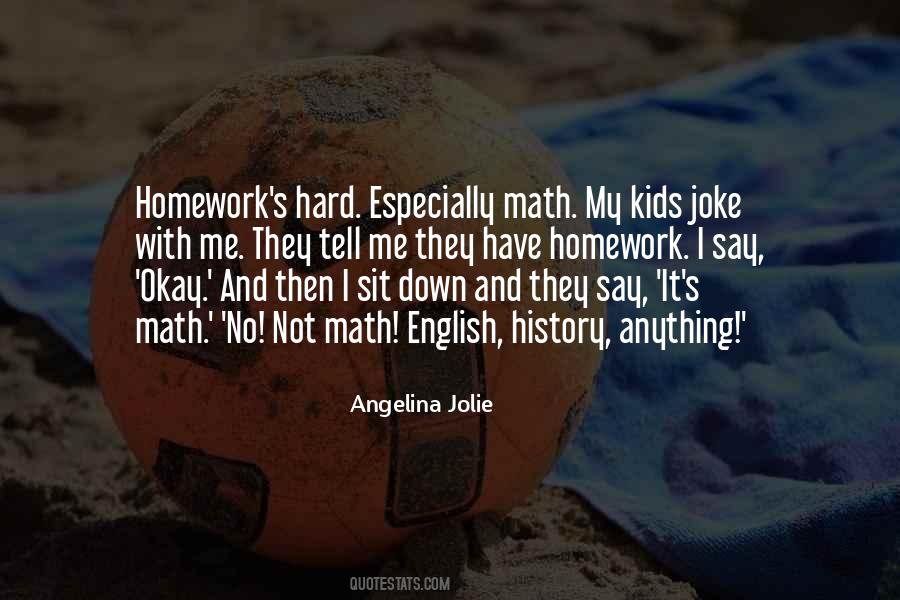 #70. Different people have different opinions, and it's okay to respect all of them. - Author: Juan Pablo Galavis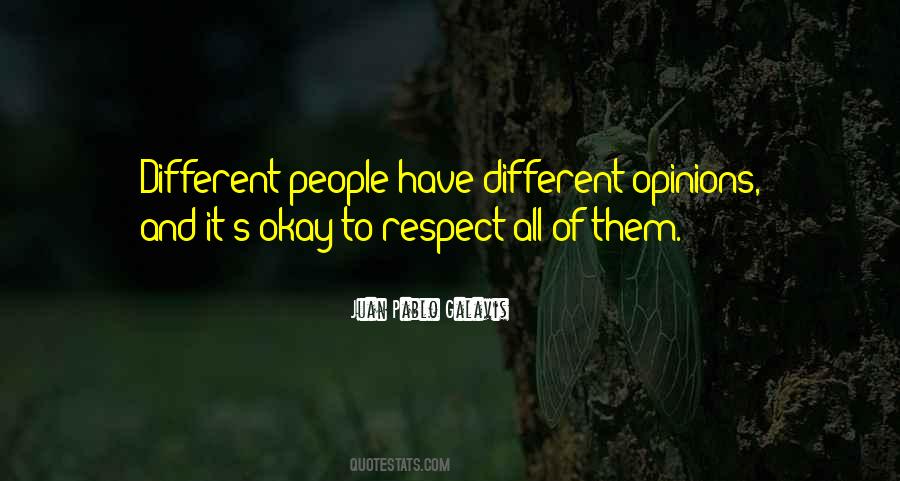 #71. We all have our moments of being fed up ... but give me your hand and I'll hold it. If you are being bullied I am thinking of you. You are not alone and it will get better. Don't let them win. It's okay not to be okay. - Author: Jessie J.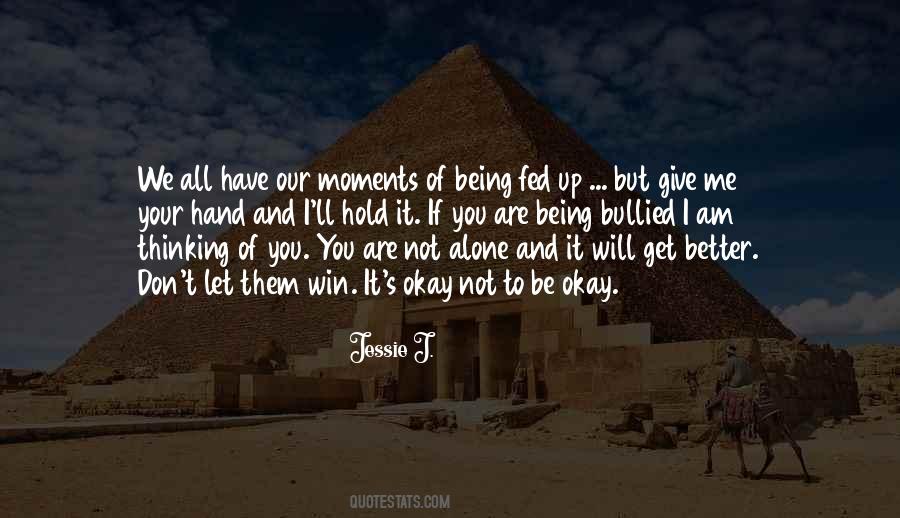 #72. I wish I could pull shorts off. My wife tells me that I just can't. But that's okay. I'm tall, I can do other things, like change light bulbs. - Author: Adam Driver
#73. There's nothing wrong with seeing. If you see a "bad future", just change it, is all. Things'll turn out okay, as long as you don't give up! - Author: Sakura Tsukuba
#74. I don't compare myself to anyone else; I don't make comments about anyone else because they do what feels right for them, and that's okay by me. - Author: Taylor Swift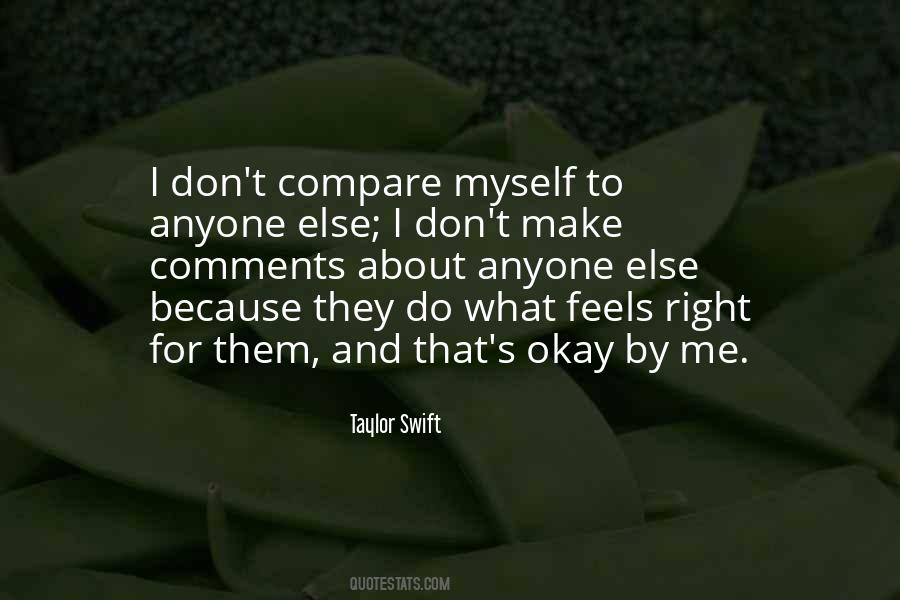 #75. Some children are afraid to die because their parents are afraid to die. My own children have come to understand that it's totally okay with me if they die. They don't have to live for my sake. - Author: Byron Katie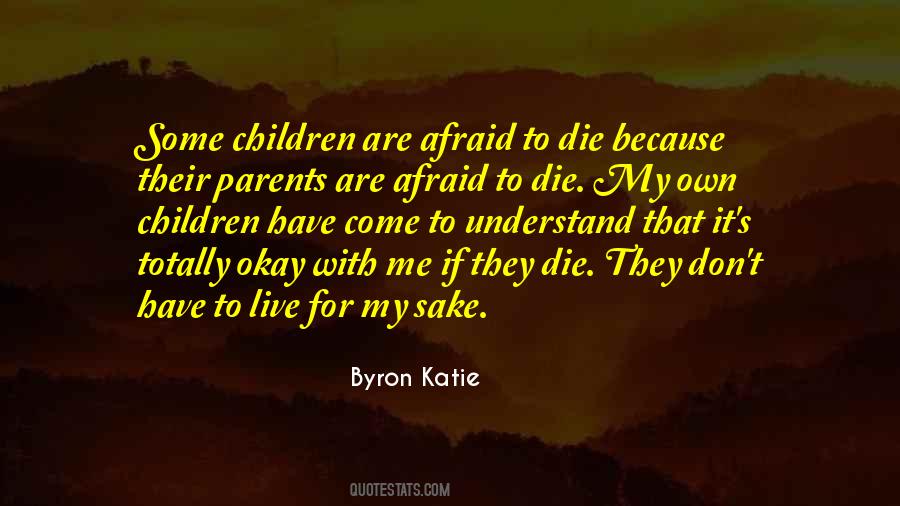 #76. Don't worry. I know the truth."
"The truth about what?"
Cam stepped back. "You want to say yes, but you're just not ready."
My jaw dropped.
"It's okay." His grin turned cocky. "I'm a lot to handle, but I can assure you, you'll have fun handling me. - Author: J. Lynn
#77. So when you say who does Christ die for? He died for the church, okay. I don't think God's death on the cross through Christ was a failure, if you are saying that. I do not believe that anybody he intended to die for is failing in that area. - Author: Rick Warren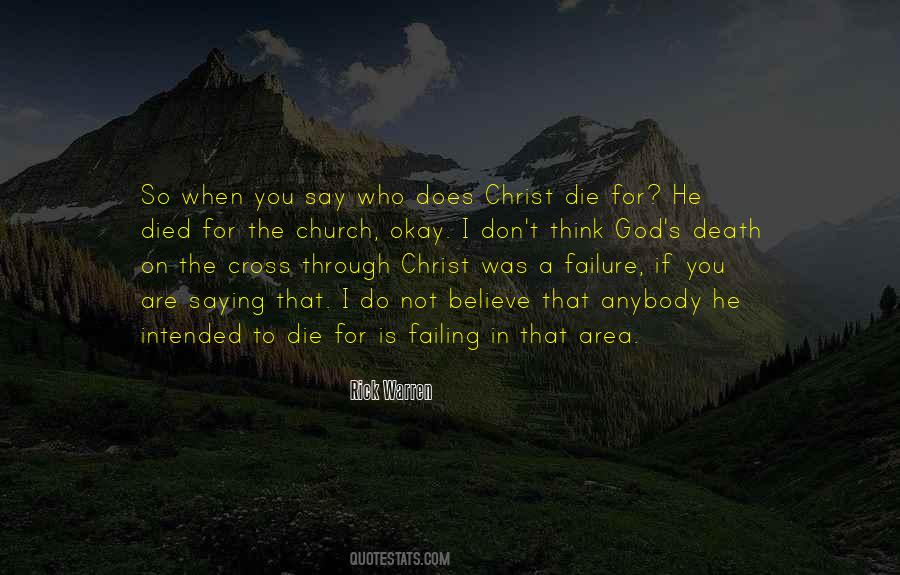 #78. It's gonna be okay," I said. It was the first time in a long time that I believed it. "It will. - Author: Sarah Dessen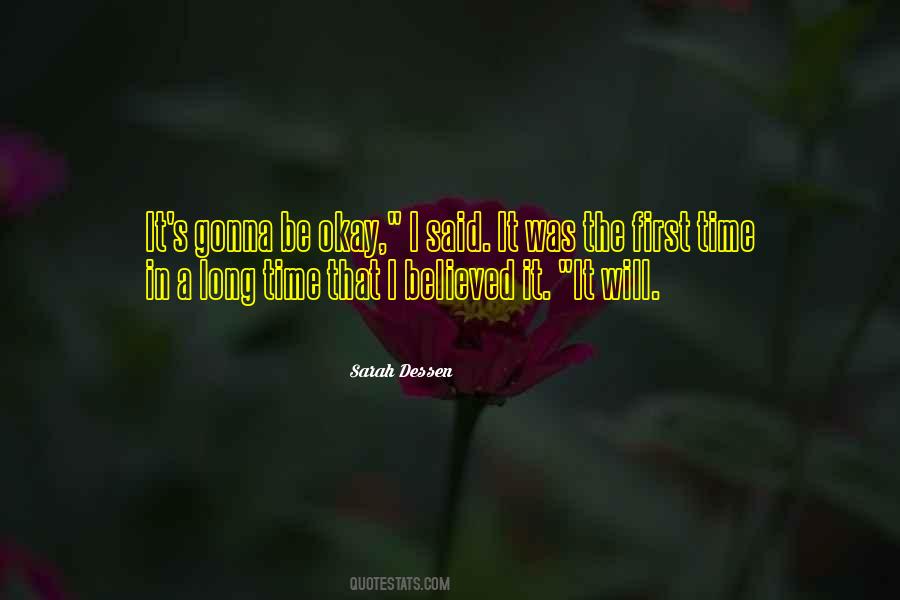 #79. I'm here to change things so that little girls have someone to look up to. I'm here to fight the eating-disorder battle that millions of people are having and I'm standing up and saying that's not okay. Frankly, I can't fail. I will not fail. - Author: Whitney Thompson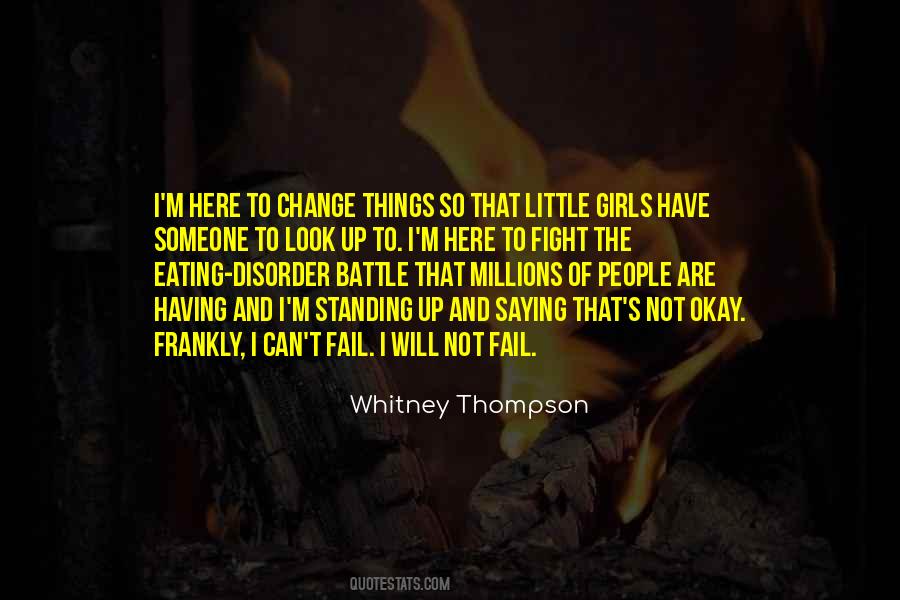 #80. You know someone's okay if they can ignore things they can't do anything about and move on. - Author: Jo Nesbo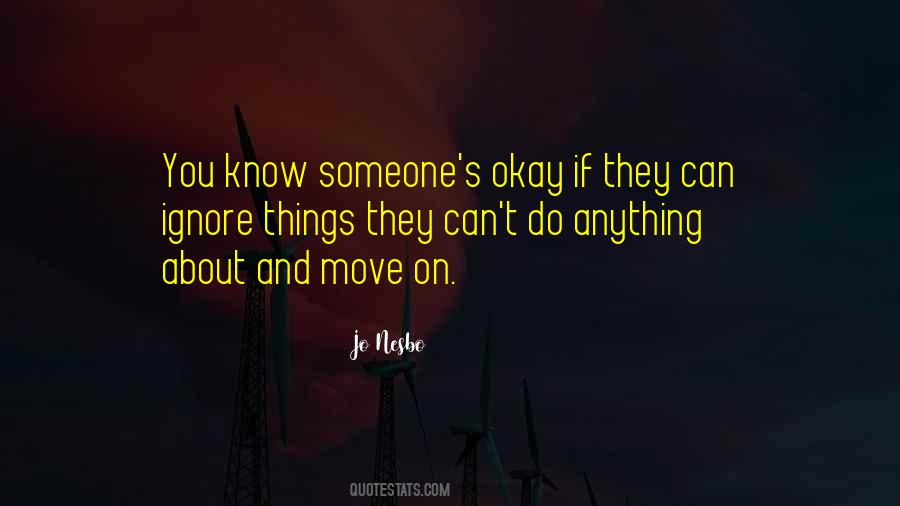 #81. Sometimes I'm not always doing amazing but it's okay ... because everyone struggles and it's okay to be flawed because that's what makes me ... Me. - Author: Demi Lovato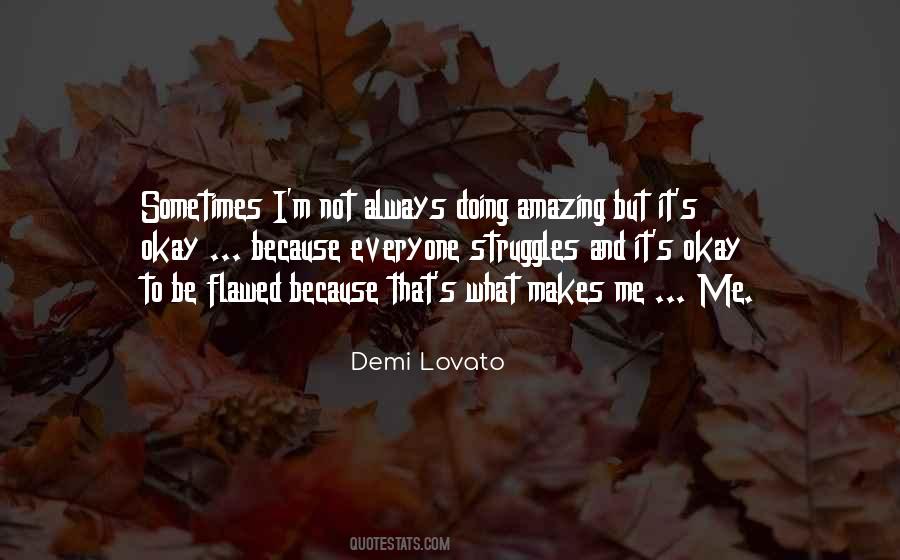 #82. I made a big mistake, and I didn't use it to make my life better. I used it to be okay with a life less lived. I used it to be okay with mediocrity and the mundane. And I didn't make myself any better because of it.
And that's not okay with me. - Author: Dan Pearce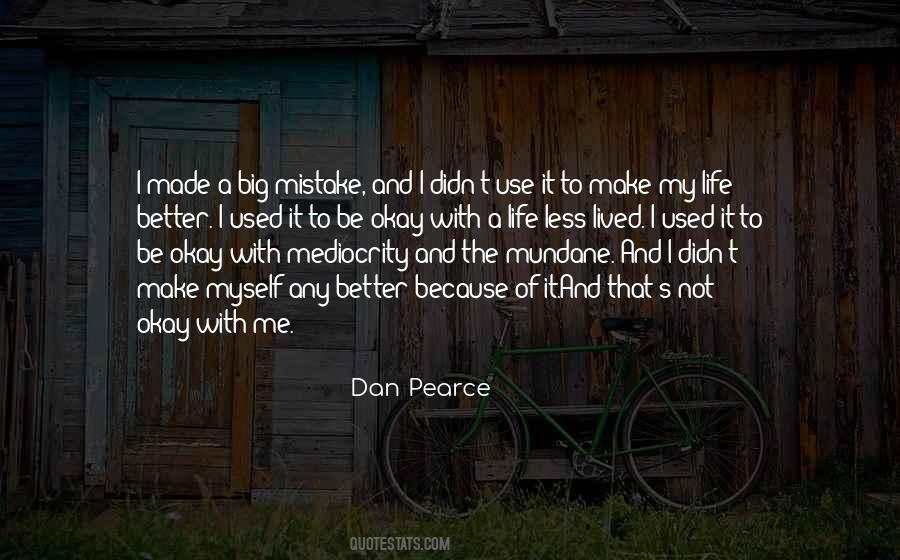 #83. Okay," she said. "I'm so glad to see someone, who cares if it's a deaf-mute and a retard. - Author: Stephen King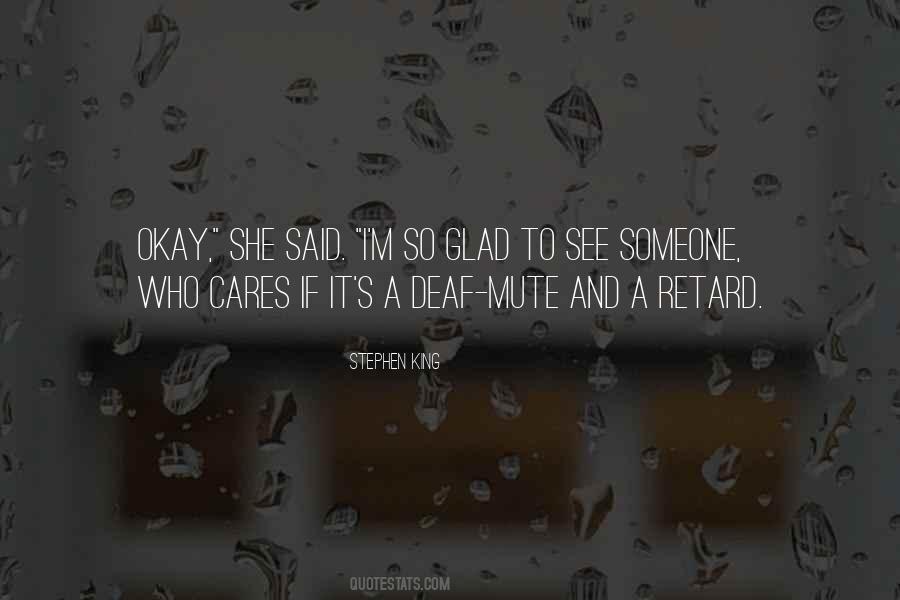 #84. I argue that I don't think it's a moral position to say that civilization is going to collapse, and that's okay. Because that would cause the deaths of billions of people. It's certainly not something I'm willing to accept. - Author: Margaret D. Klein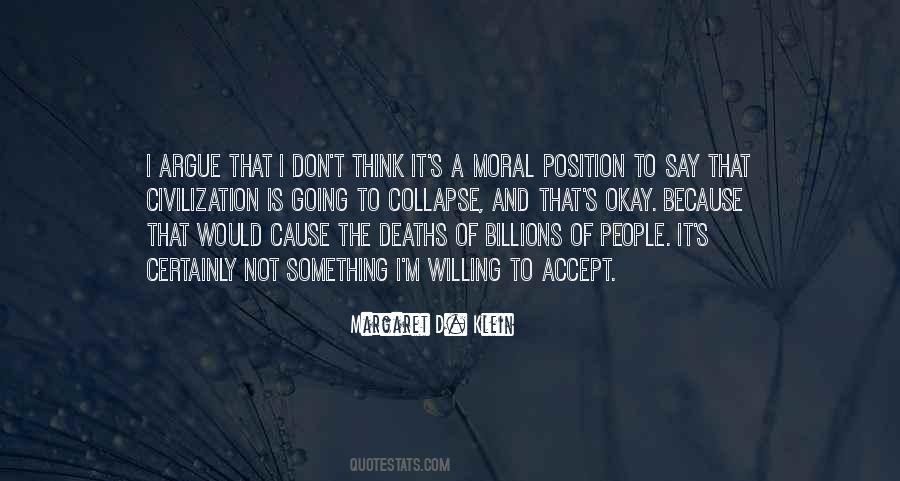 #85. It's okay to cry as long as you're faking it. - Author: Chuck Palahniuk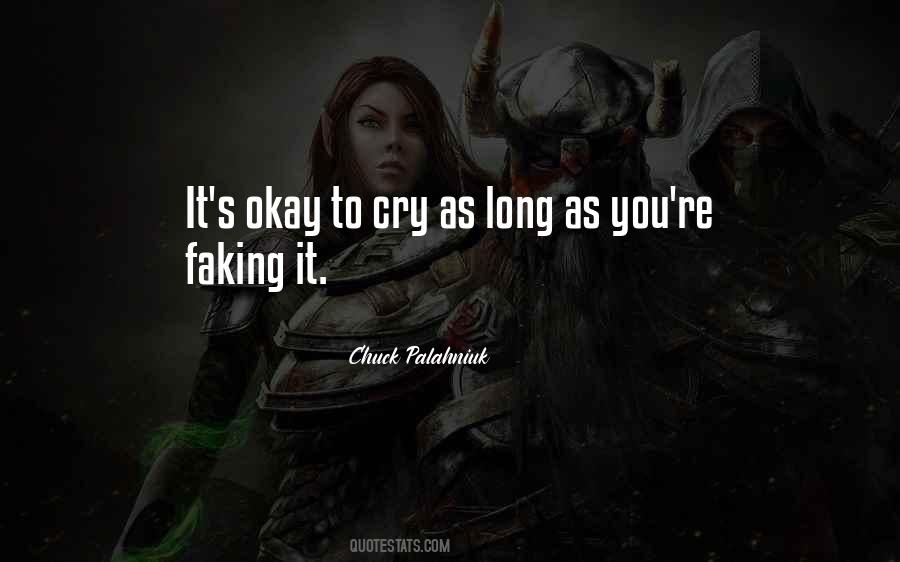 #86. Mace, you never read Smoky the Cowhorse,did you?
No.
Well,ol' Smoky, he had somebad things happen to him,had the heart knocked clean out of him.But he hung on and came out of it okay.I've been bashed up pretty good,Mason, but I'm going to make it. - Author: S.E. Hinton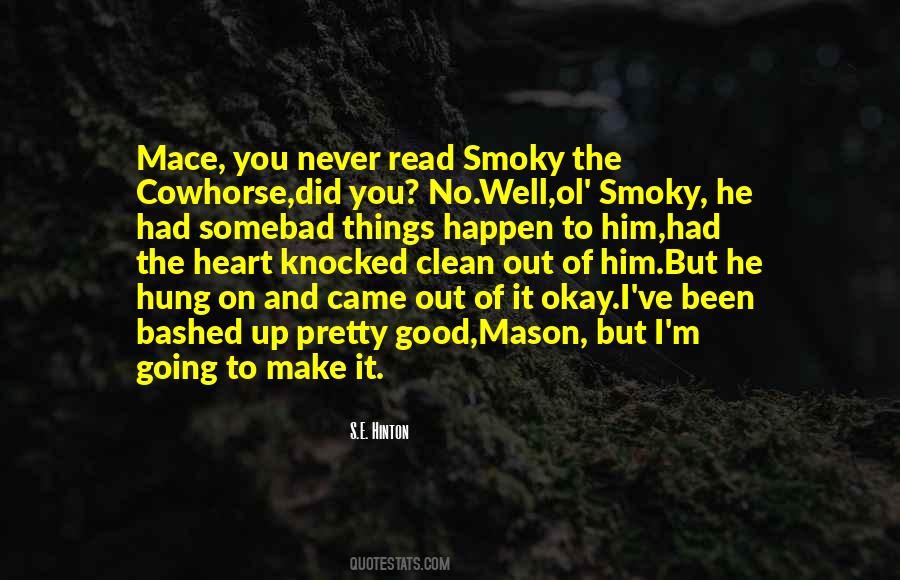 #87. It's okay, Ig." said Fang. "Just give it your best shot." Sometimes the Fangster is incredibly supportive, just not with me. - Author: James Patterson
#88. mama, you taught me to look pretty but i can't anymore, and i am learning that's okay. i am learning to sharpen my teeth and rule kingdoms, instead. - Author: Arlen C.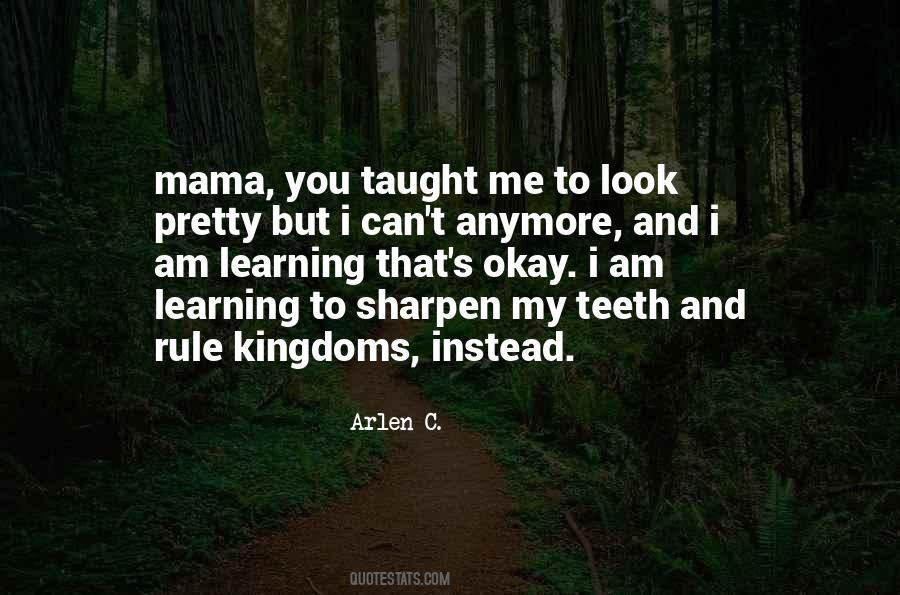 #89. And that makes Mia sad. But it's okay. She'll have Bethany. And me. - Author: Maya Banks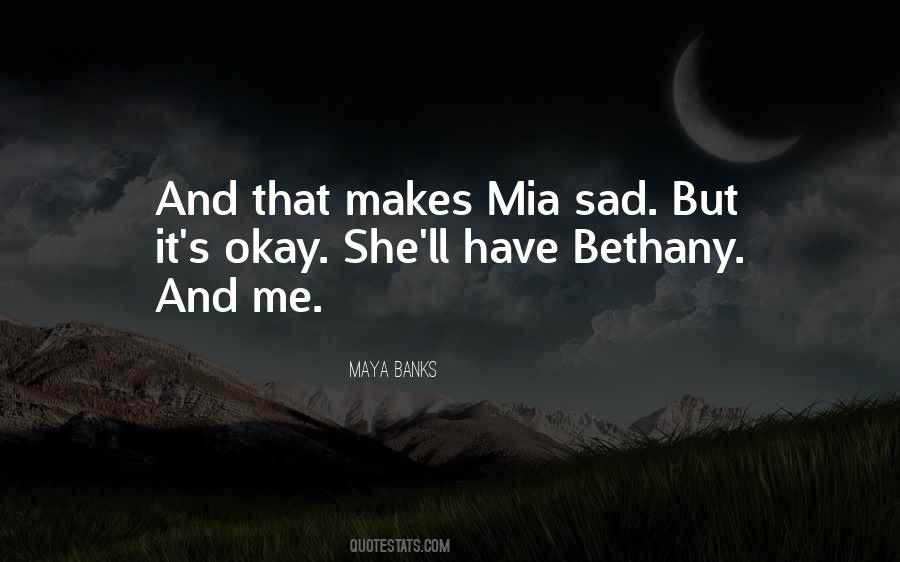 #90. It's okay to be afraid, it means you have something to live for. - Author: Alicia D'Aversa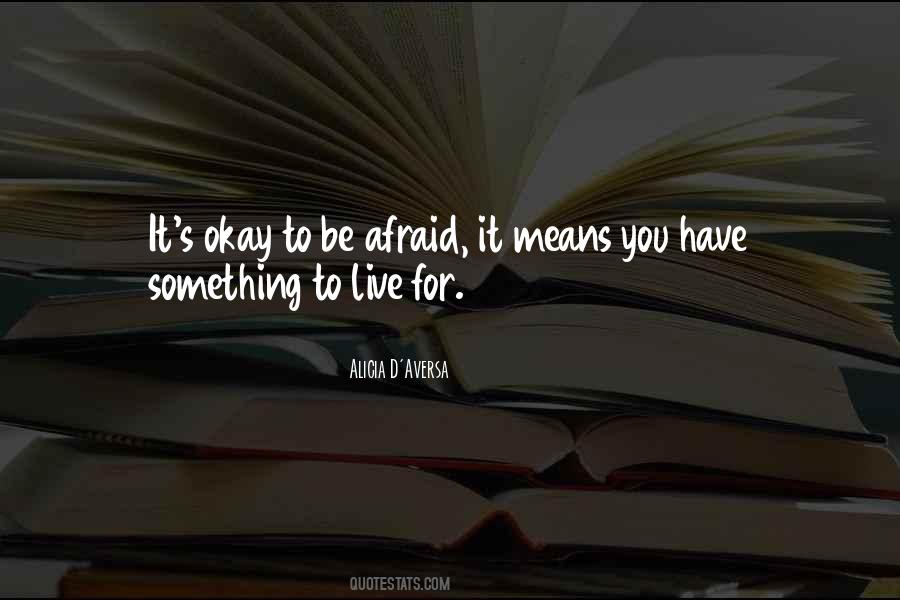 #91. It's okay, sweets. Soon, forever starts for us. - Author: Kahlen Aymes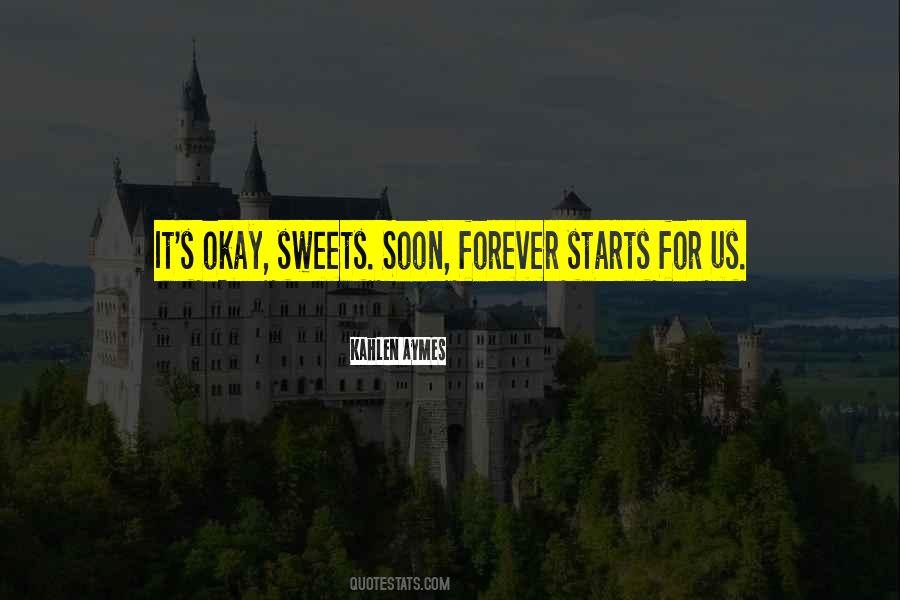 #92. Everybody in this race is against Obama, okay? So saying you're against Obama, against Obamacare, all the rest, it's all fine, well and good, except it doesn't move you forward. - Author: Ed Rollins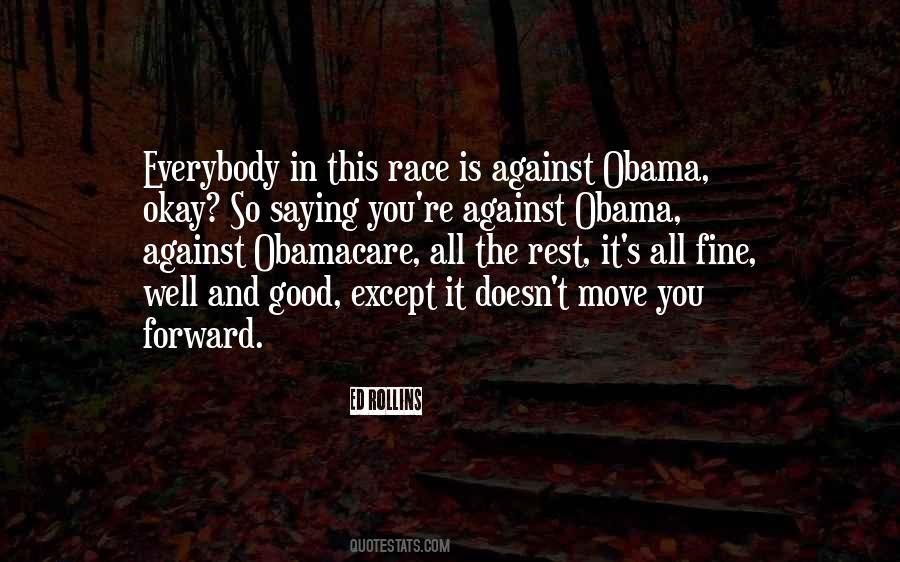 #93. Why are other people profiting off that? I can see that if I have the page and sold it for $50 and 20 years later somebody's got it for $200, okay. That's business. But I had no say in that art being out there. It just really burns me. - Author: Mike Royer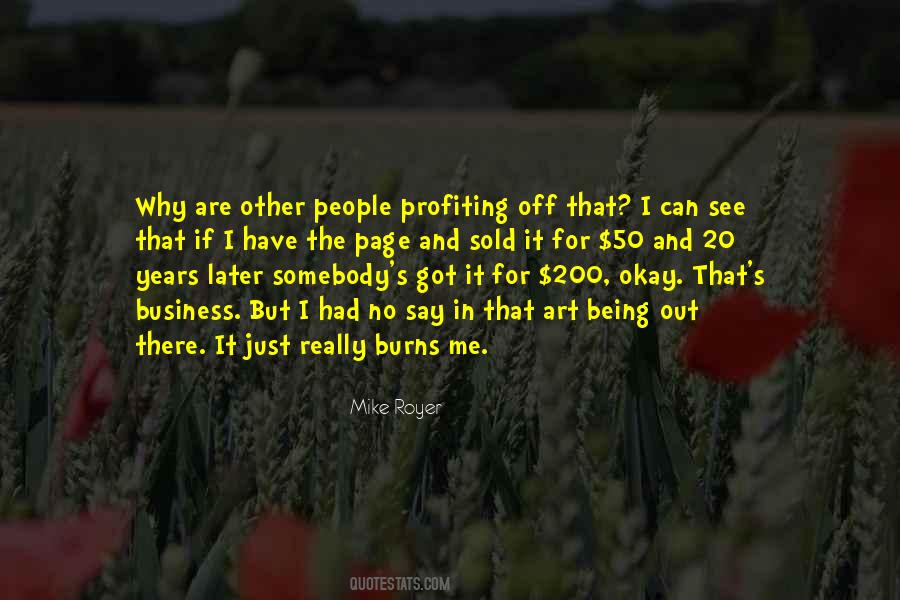 #94. I kind of wanted to tell them that. Like, it's okay, I know I'm weird-looking, take a look, I don't bite. Hey, the truth is, if a Wookiee started going to the school all of a sudden, I'd be curious, I'd probably stare a bit! - Author: R.J. Palacio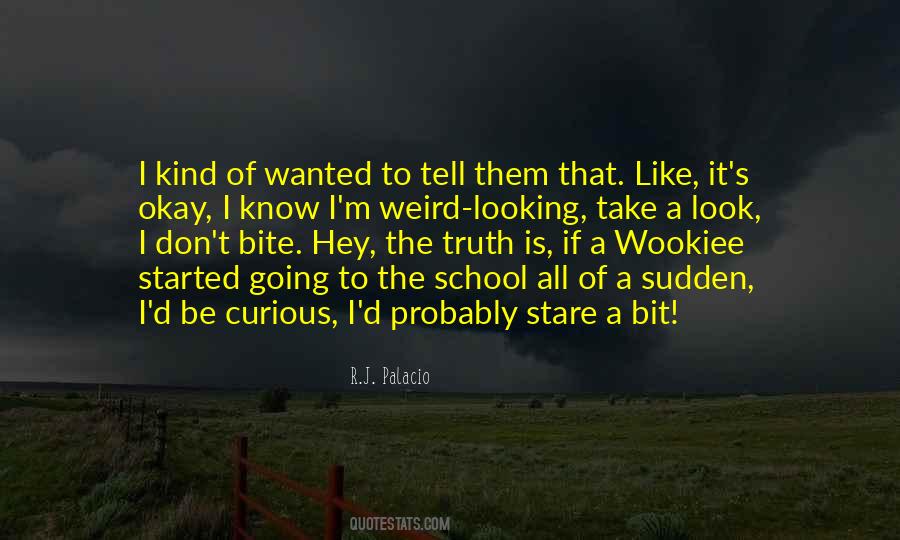 #95. It's okay to put your heart on your sleeve. Okay to have that softer side - the softer side in the sense of being able to listen, to deal with fear, to not always be so dominant. - Author: Shemar Moore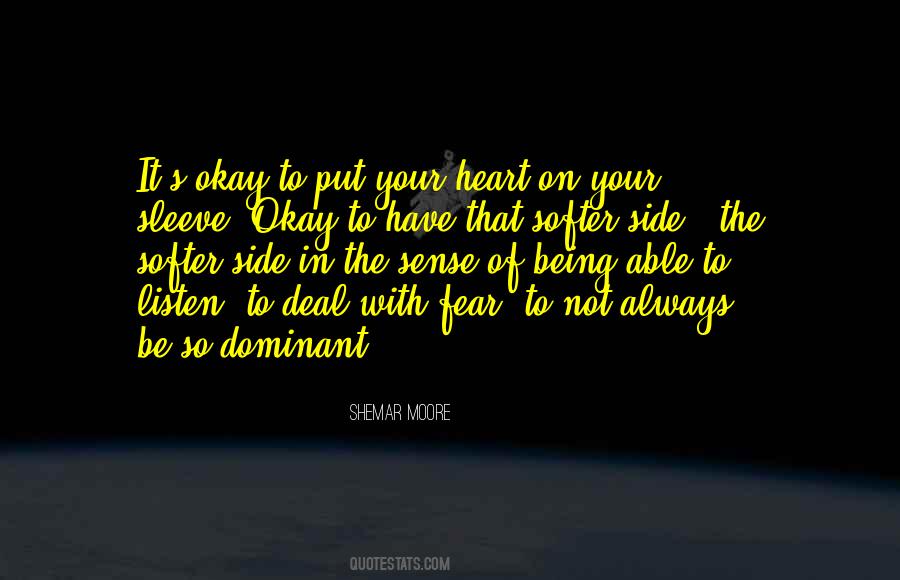 #96. It's hard because you want to be able to just, okay, focus your energy on trying to win the match, but you need to then have tactics as to how you're going to deal with how you're feeling. - Author: Andy Murray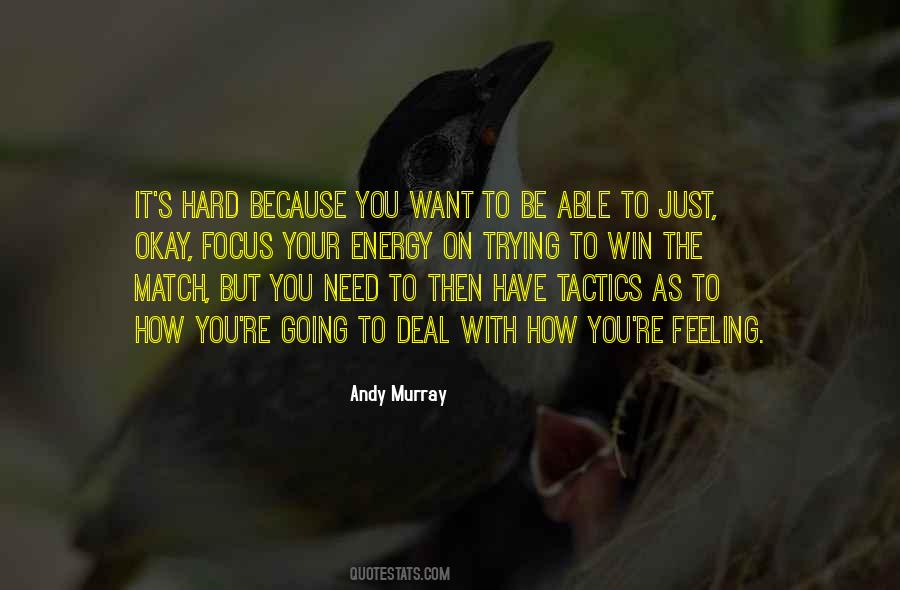 #97. It's okay to be impatient. As long as you show your patience on the outside. - Author: Lisa M. Cronkhite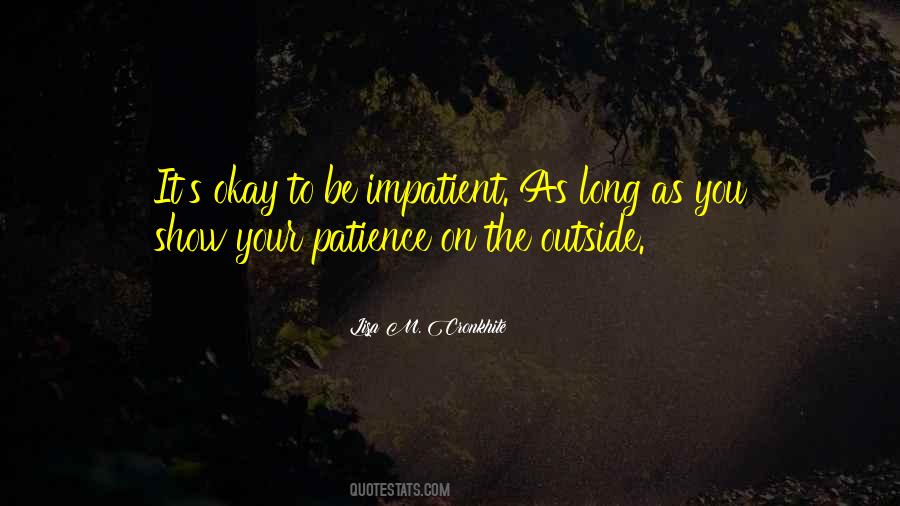 #98. We knew each other's histories and secrets, hopes and fears and dreams. When you need to get good and drunk, that's the kind of person you want keeping pace with you. "Okay, - Author: Jacqueline Carey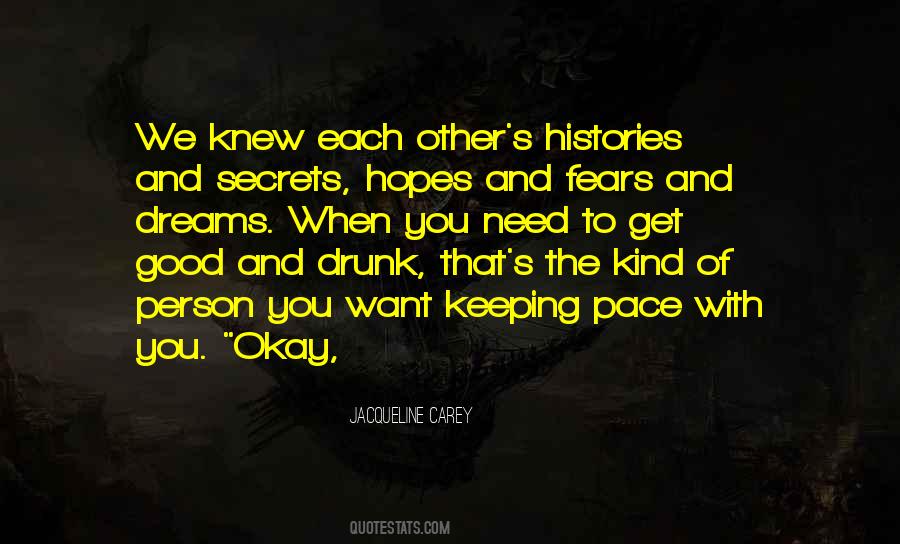 #99. It's okay to write something offensive now and then. It lets you know if anyone actually reads your posts. - Author: Stanley Victor Paskavich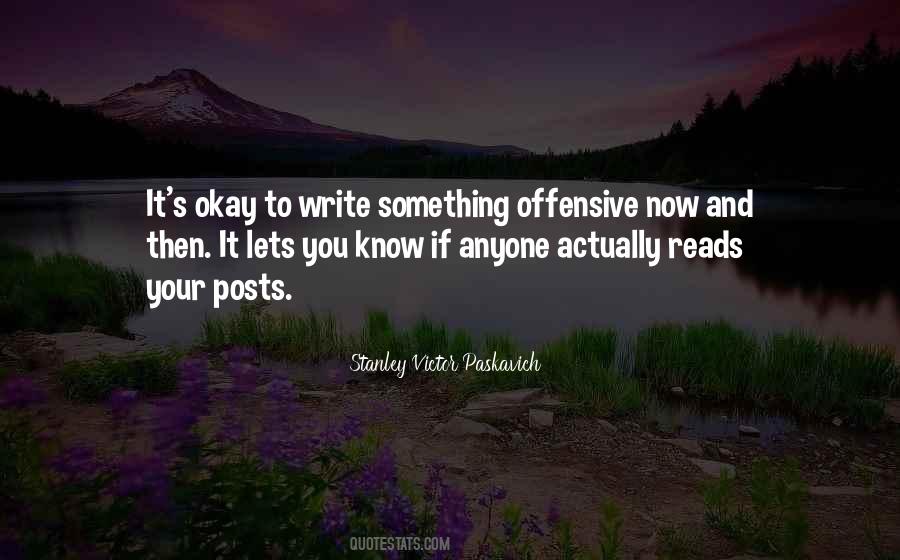 #100. I feel like I've always been in love with dance. When I was little kid I would always be the one who would be like, okay let's make up some dance routines. - Author: Stephen Boss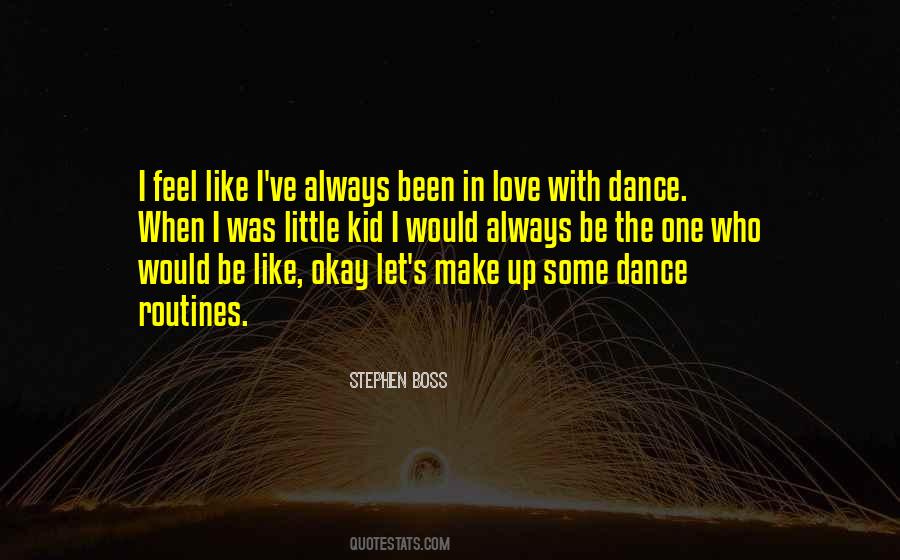 Famous Authors
Popular Topics