Someone New Famous Quotes & Sayings
List of top 100 famous quotes and sayings about someone new to read and share with friends on your Facebook, Twitter, blogs.
Top 100 Quotes About Someone New
#1. Friends are hard to come by in L.A., especially in the entertainment industry. I've known a lot of people who hang out with someone because they're working on a show, and as soon as that show gets canceled, they find someone new. - Author: Sarah Hyland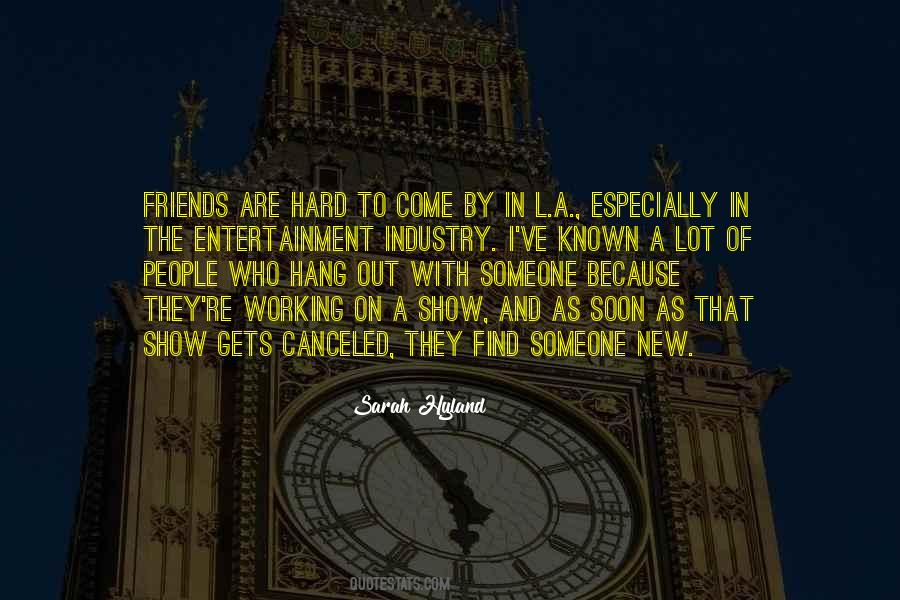 #2. Employers have gone away from the idea that an employee is a long-term asset to the company, someone to be nurtured and developed, to a new notion that they are disposable. - Author: Barbara Ehrenreich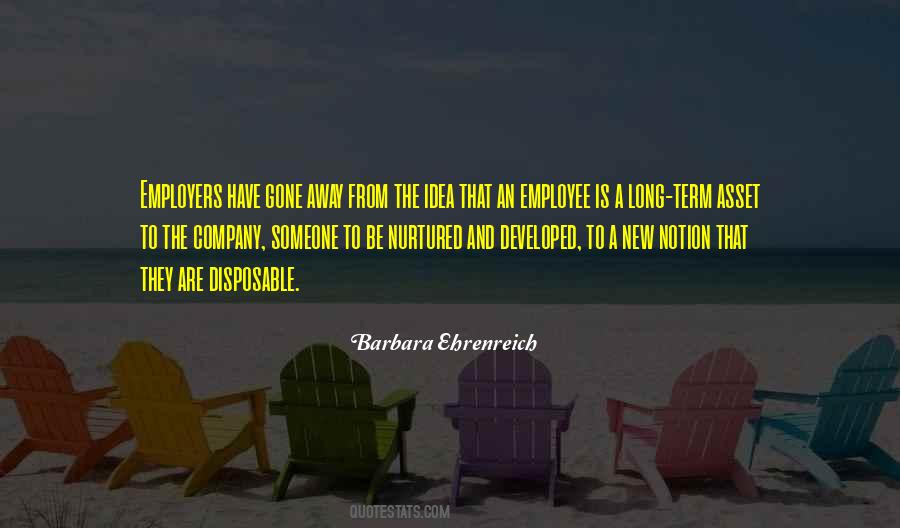 #3. It's only recently that I've come to understand that writers are not marginal to our society, that they, in fact, do all our thinking for us, that we are writing myths and our myths are believed, and that old myths are believed until someone writes a new one. - Author: Kurt Vonnegut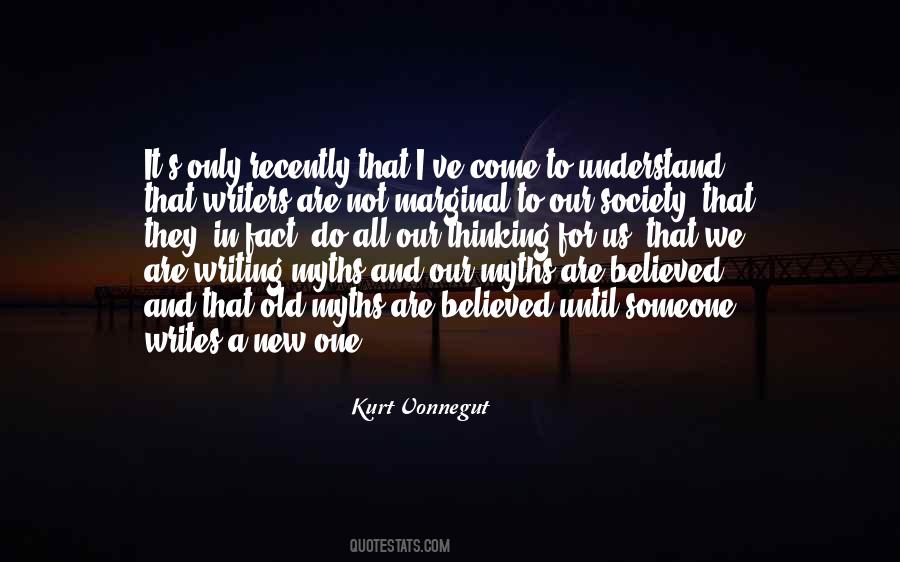 #4. I'm still unsure as to what draws people together, that is, beyond the really ugly things: money, beauty, family, desperation. But I suppose that if someone can make you feel like you are seeing a new world, or just an old one of the first time, you might decide that you love to be around them. - Author: Dana Vachon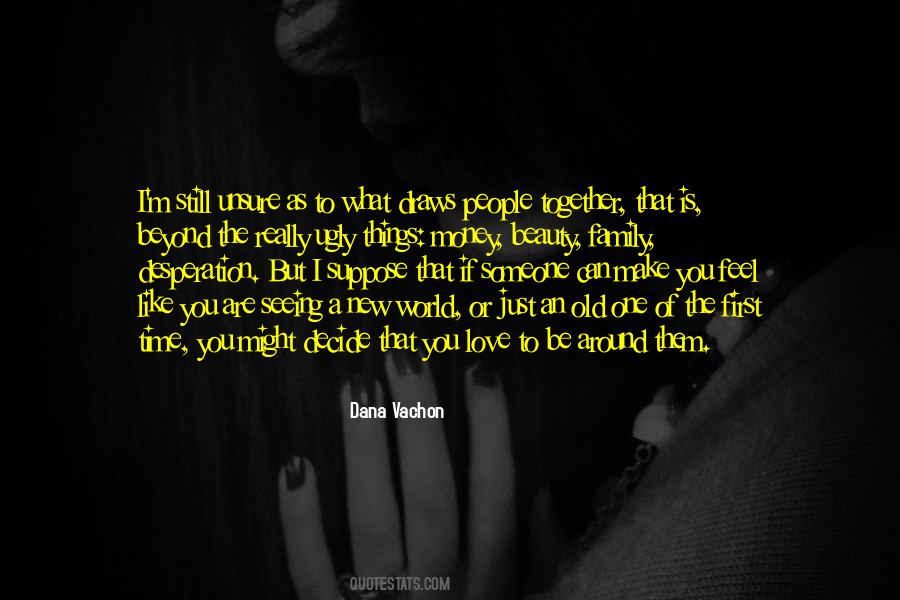 #5. We checked ourselves in the mirror before we left. We were flushed and a little rumpled, but in a good way. We looked vibrant, wild, happy. The hair and the clothes and the makeup made me feel like someone new, but the happy is what made me unrecognizable. - Author: Allie Larkin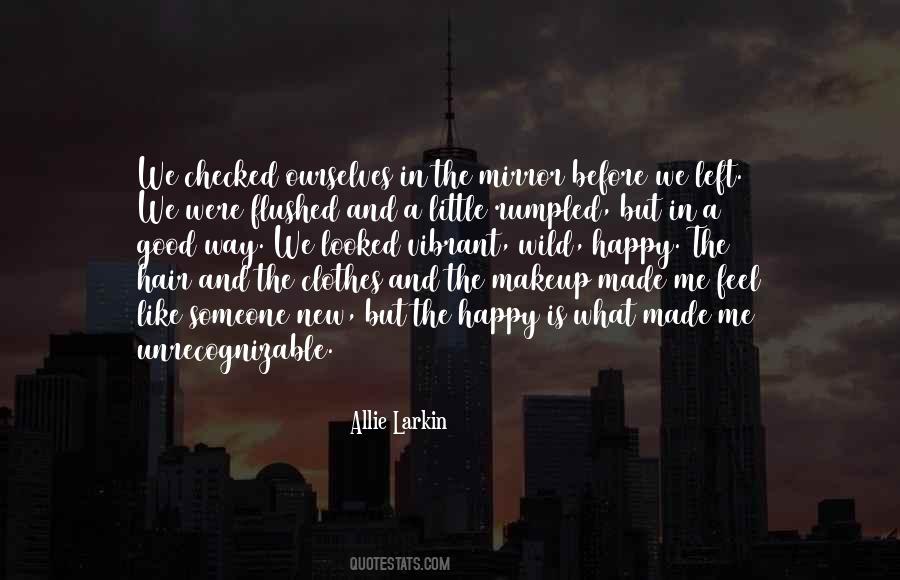 #6. I wonder if it's possible to start a new relationship without hurting someone else. - Author: David Levithan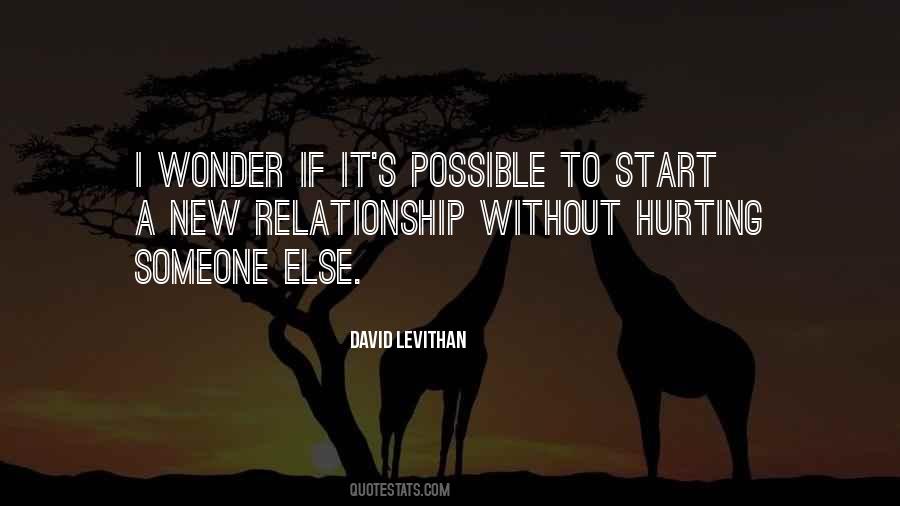 #7. There are no new fundamentals. You've got to be a little suspicious of someone who says, "I've got a new fundamental." That's like someone inviting you to tour a factory where they are manufacturing antiques. - Author: Jim Rohn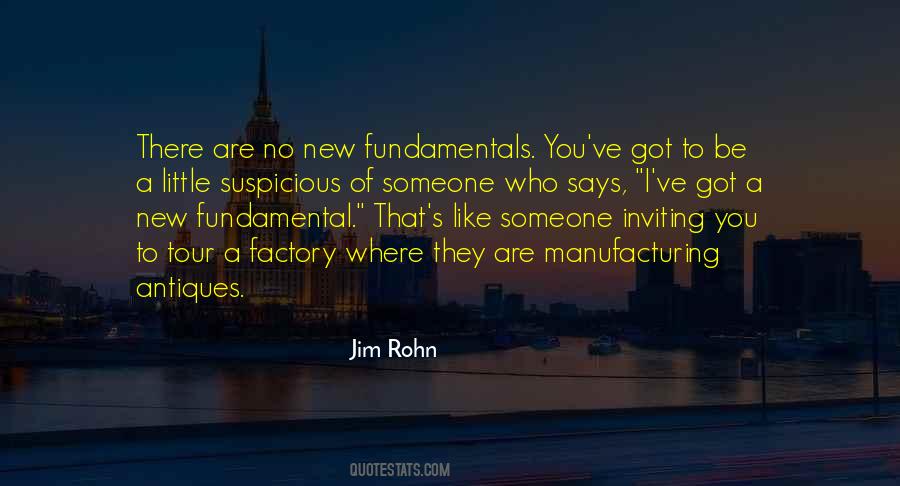 #8. Little lies that make people feel better are not bad, like thanking someone for a meal they made even if you hated it, or telling a sick person they look better when they don't, or someone with a hideous new hat that it's lovely. But to yourself you must tell the truth - Author: Louise Fitzhugh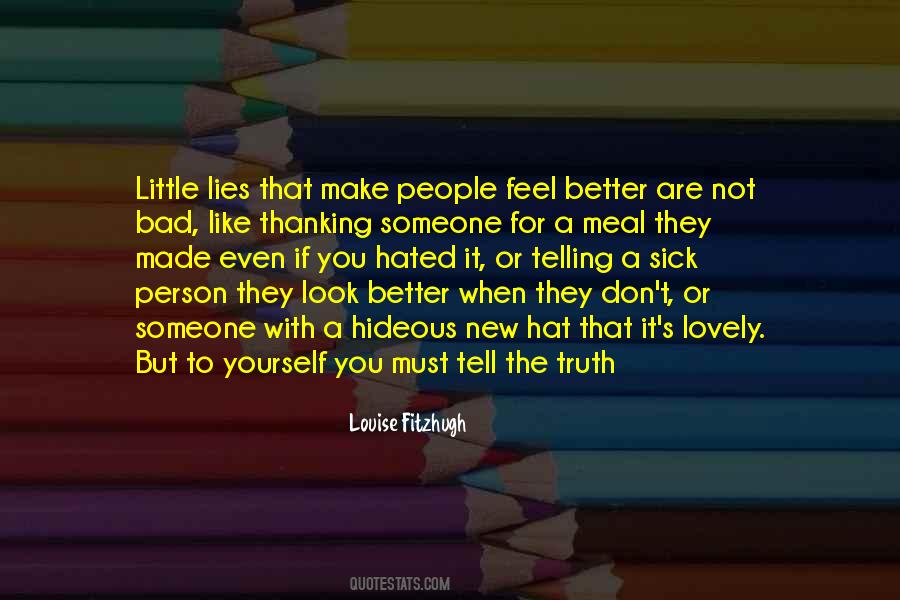 #9. I think in all cultural organizations there has to be renewal. I'm also of a certain age that someone new can come in with a breath of fresh air. Things change, and I think that's important. - Author: Zarin Mehta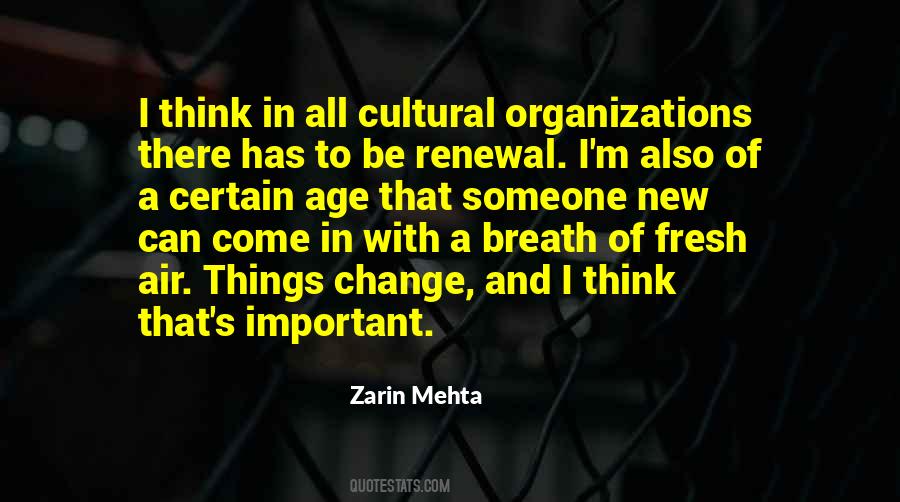 #10. I enjoy very much being in a foreign country, in a new country, new place. And I enjoy also beginning a new book. It's like being someone else. - Author: J.M.G. Le Clezio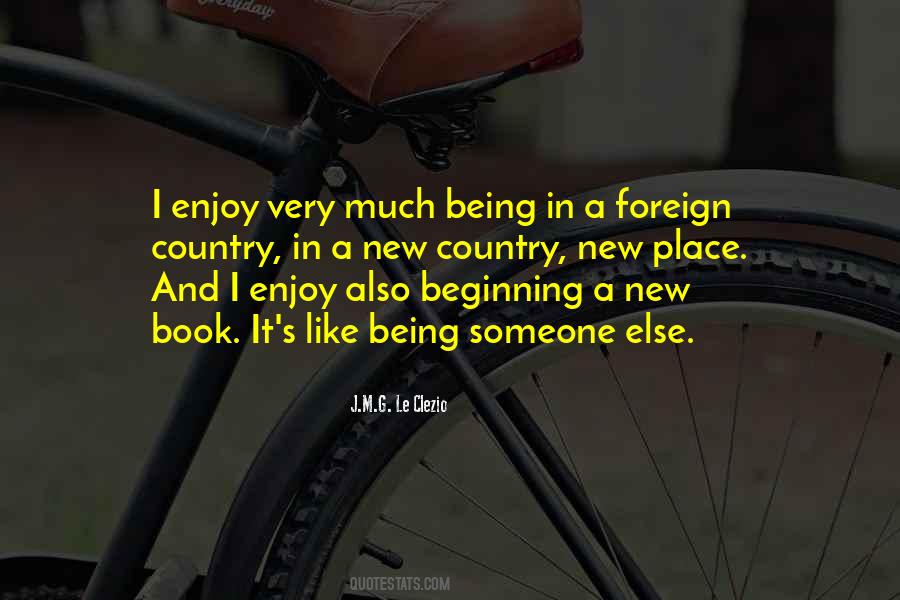 #11. It's not easy to come somewhere new and have to find your place. You might feel someone doesn't like you, or you might need to find new friends. It's not easy, and I don't like this kind of thing. It's not easy, so you want to protect the players who are alone. - Author: Fernando Torres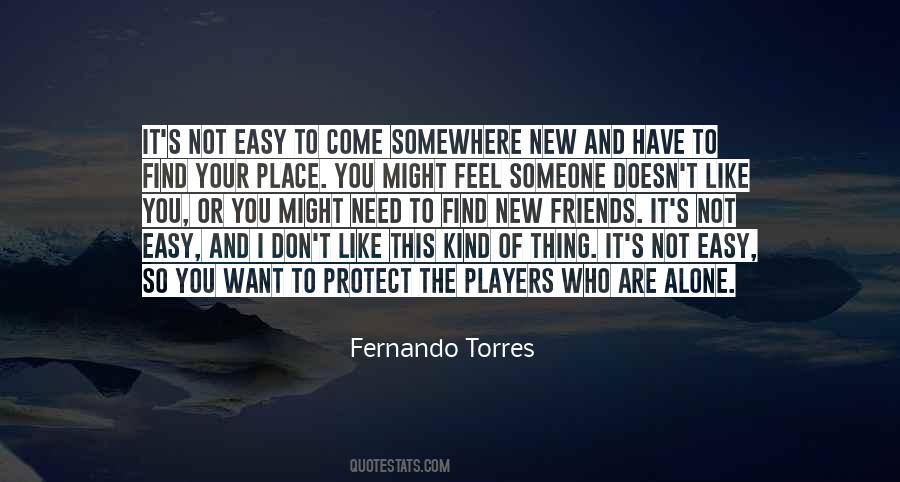 #12. 'Slow West' is a film that I did with Michael Fassbender in New Zealand and Scotland. The director was John McLean. It's a film set in the 1800s. I play a young Scottish boy brought up in the royal family. I fall in love with someone who works on our land. - Author: Kodi Smit-McPhee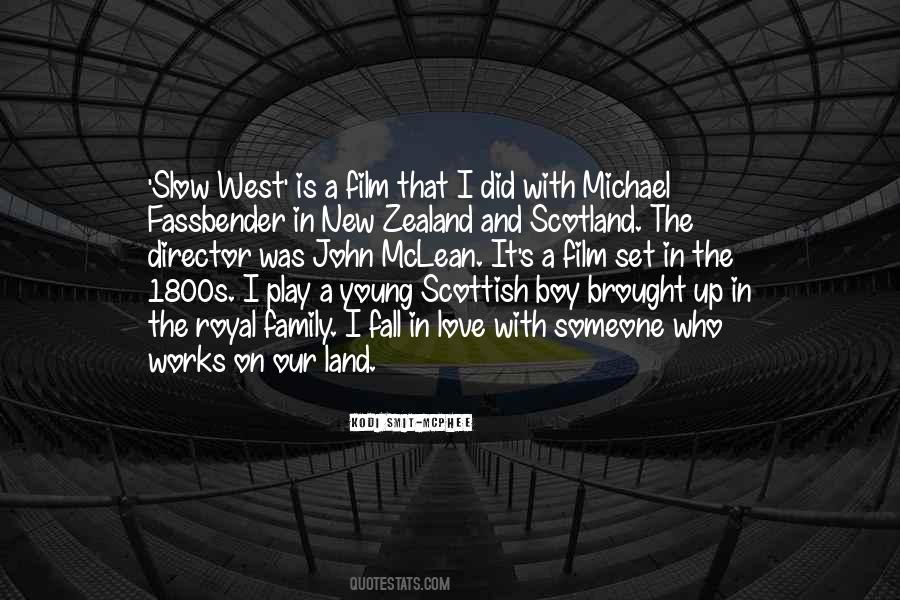 #13. When you consider someone without assumptions, your inner antenna picks up a new signal. Instead of tuning in to someone's personality, you tune in to his or her essence. This essence is spirit, and when you detect it, the natural response is love. - Author: Deepak Chopra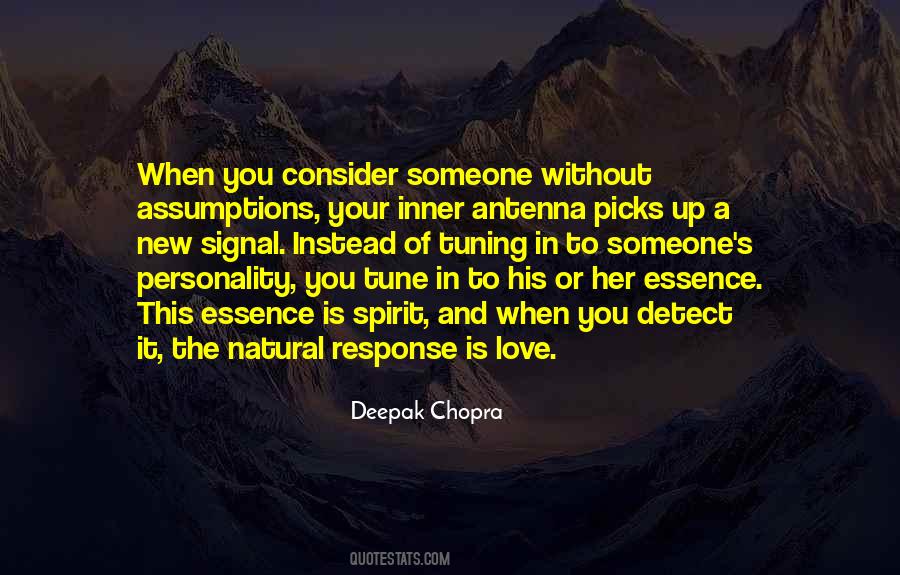 #14. I was at a New Year's Eve party, and someone asked me how was my year, and I said, 'I honestly think 2011 was the best year of my entire life,' and I actually meant it. - Author: Dave Grohl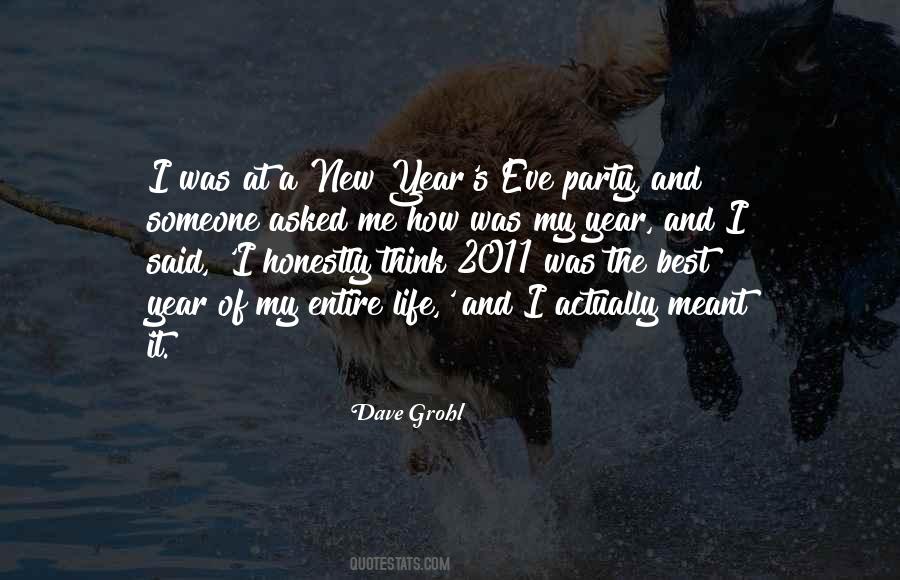 #15. Too much of my life feels like this already- trying to recycle something old into something new and better, disguising someone else's trash as some fresh, shiny thing. - Author: Jennifer Niven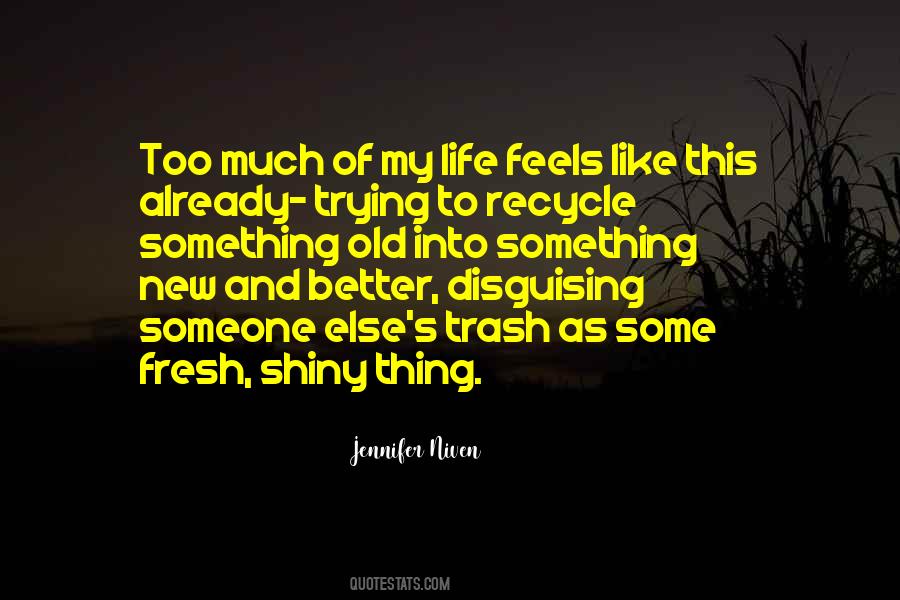 #16. There is excitement in a new kiss, but there is a quality of memory and intimacy in kissing someone you've kissed often before. I - Author: Robert B. Parker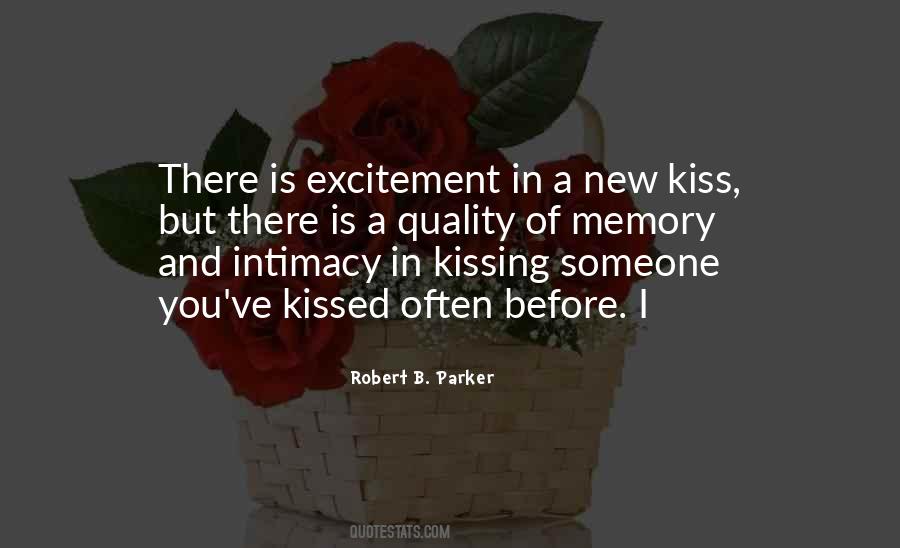 #17. Do y'all have enough stun guns for them? (Madaug) Does a bear defecate rurally? What kind of question is that for someone who owns the biggest gun store in town? Of course I got plenty. I got enough Tasers to light up New York City AND Boston just for giggles. (Bubba) - Author: Sherrilyn Kenyon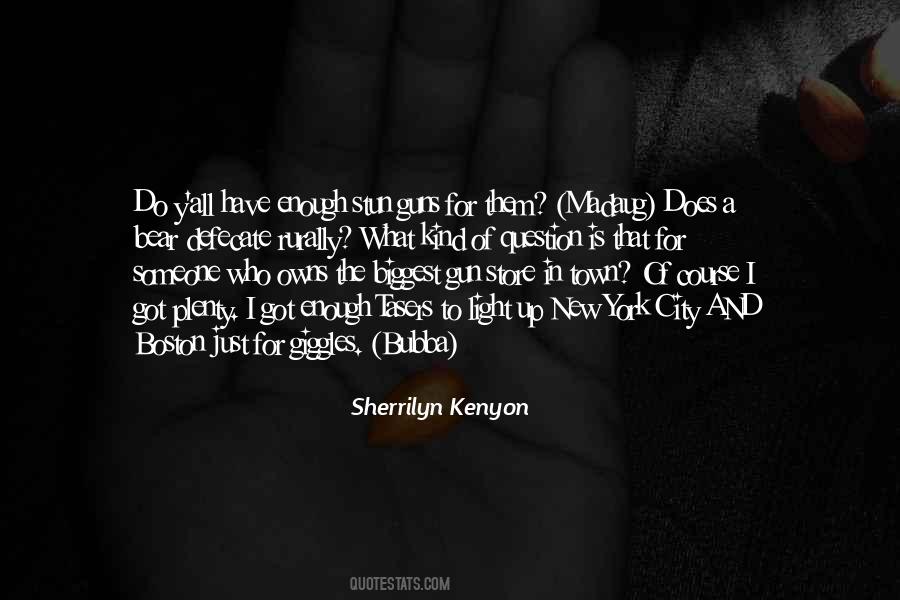 #18. Why the anchor?"
"Because sometimes, it's nice to feel like there's someone who can save you. - Author: L.J. Shen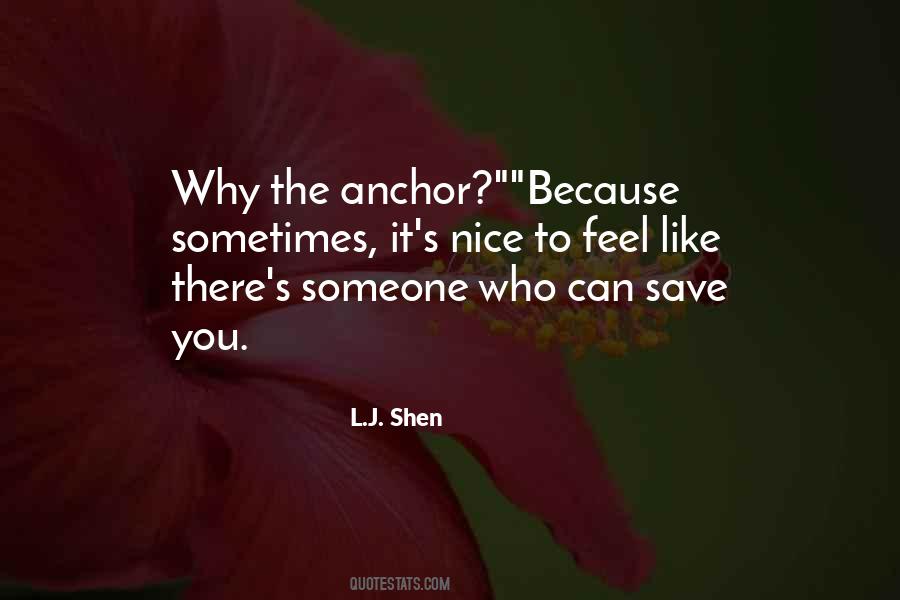 #19. To lose someone you love
Is to alter your life forever ...
The pain stops, there are new people,
But the gap never closes ...
This hole in your hear is the shape of the one you lost-
No one else can fit it. - Author: Jeanette Winterson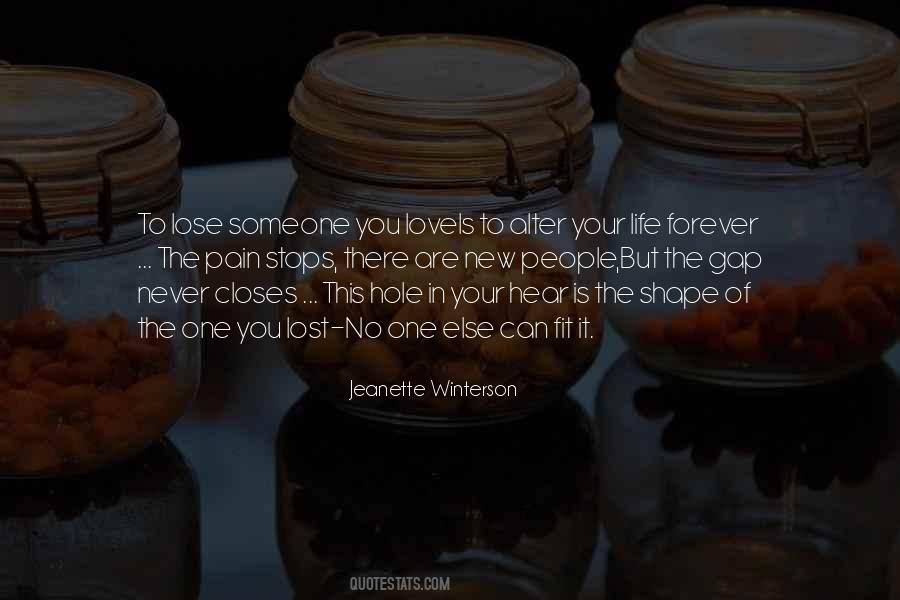 #20. Uh, yeah, I love ... worms Classic. Someone should record the gold that flows from my mouth. - Author: Rachel Van Dyken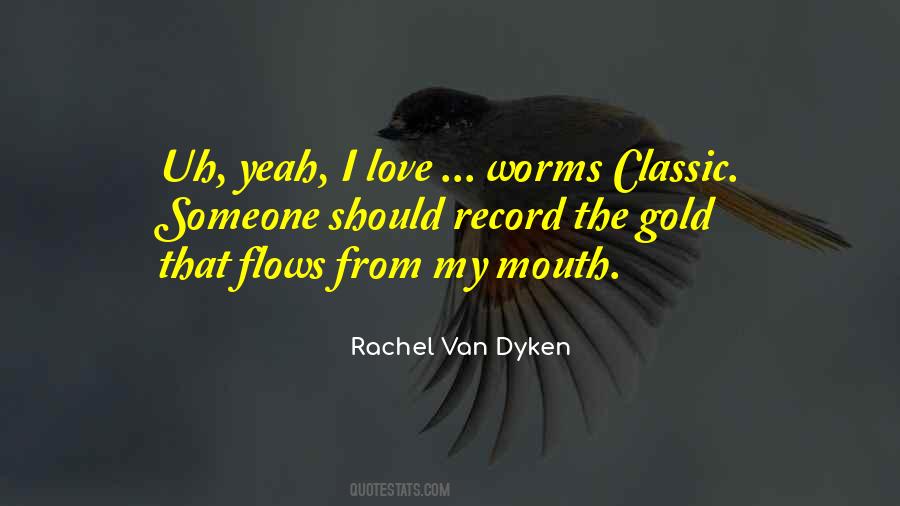 #21. I had never really felt settled in Brooklyn. I think it had to do with growing up in New Jersey and being someone who her whole life wanted to live in the city, and the city meant Manhattan. - Author: Dani Shapiro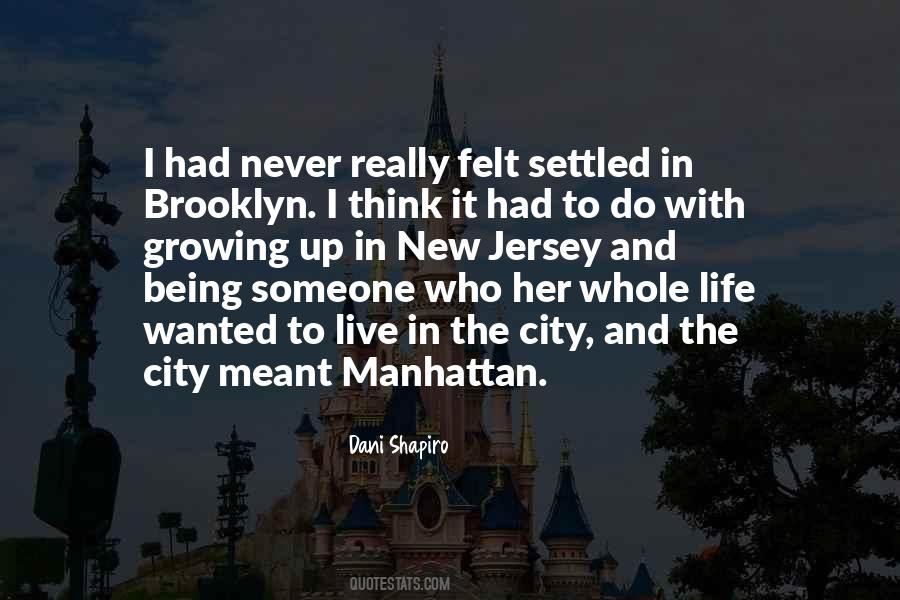 #22. Somebody sniggered. From Somewhere int he back of the room someone else sneered, "Yeah, Hazel," which was not the greatest insult ever, but one thing Hazel had learned at her new school was when it comes to insults it's the thought that counts - Author: Anne Ursu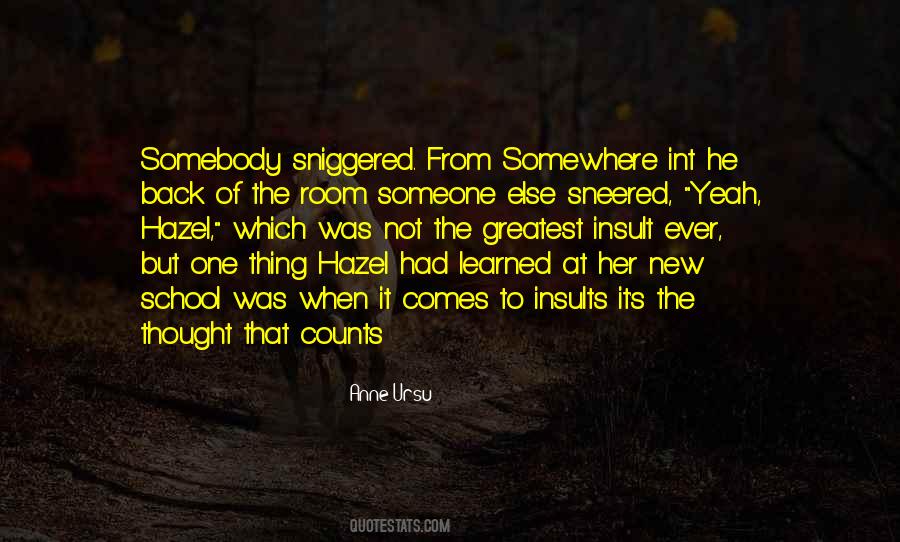 #23. When I first moved to New York, someone who thought they knew more than I did said: "You have to always look like you know where you're going when you get out of the subway." - Author: Maya Rudolph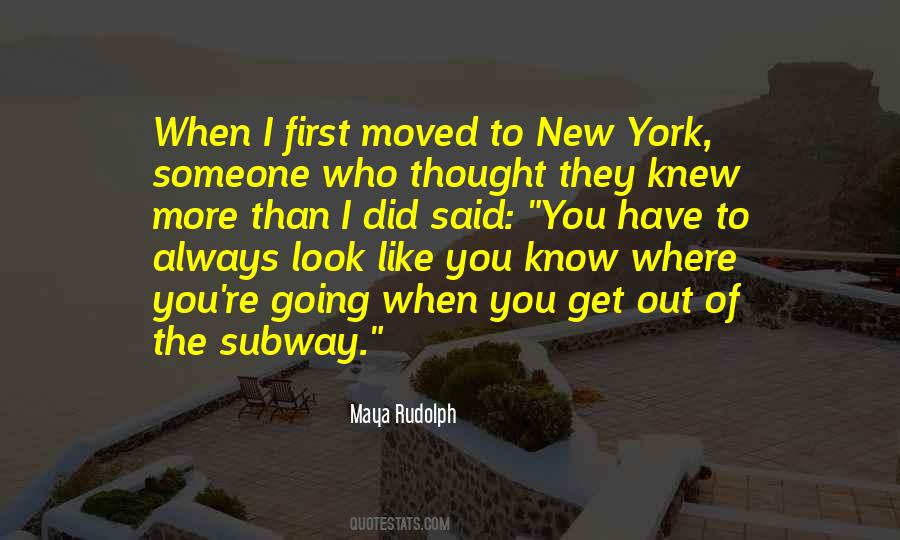 #24. You have to get new knowledge and force yourself to really implement what you've learned. You have to set boundaries in place for yourself. The important thing is if you don't know real love, someone will teach youself hate. - Author: Tony Gaskins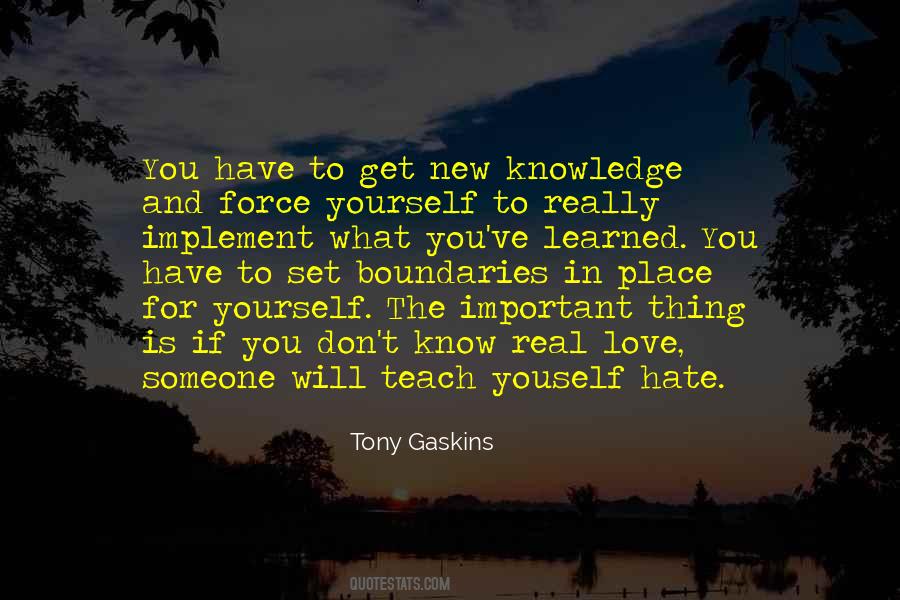 #25. In New York, you can bump into someone on the street and go to a thing, go get coffee real quick. - Author: Justin Theroux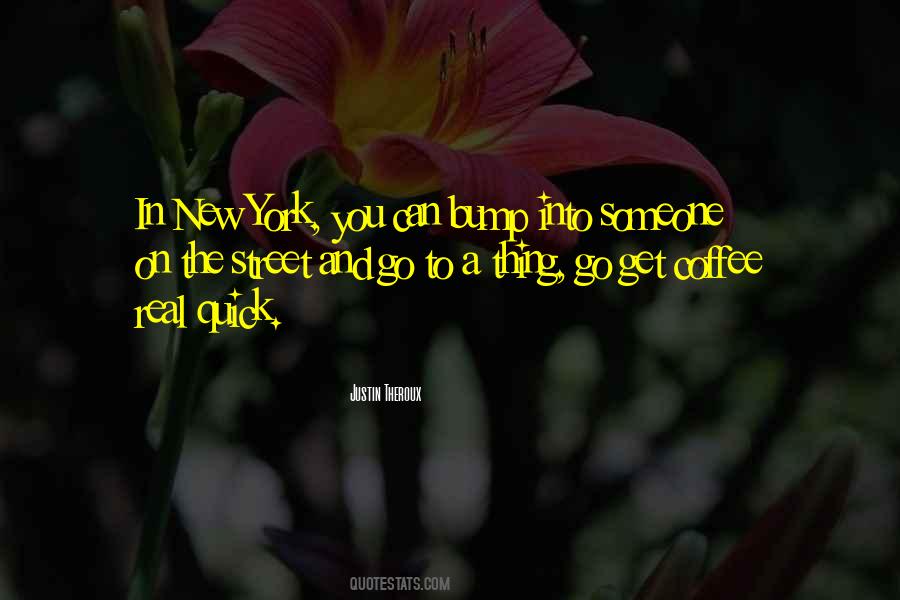 #26. If you're able to arrange a trial period with a new hire, do it. It will give both of you a chance to make sure the position is a good fit - and can help you avoid being in the awkward situation of wanting to fire someone three or four weeks in. - Author: Kathryn Minshew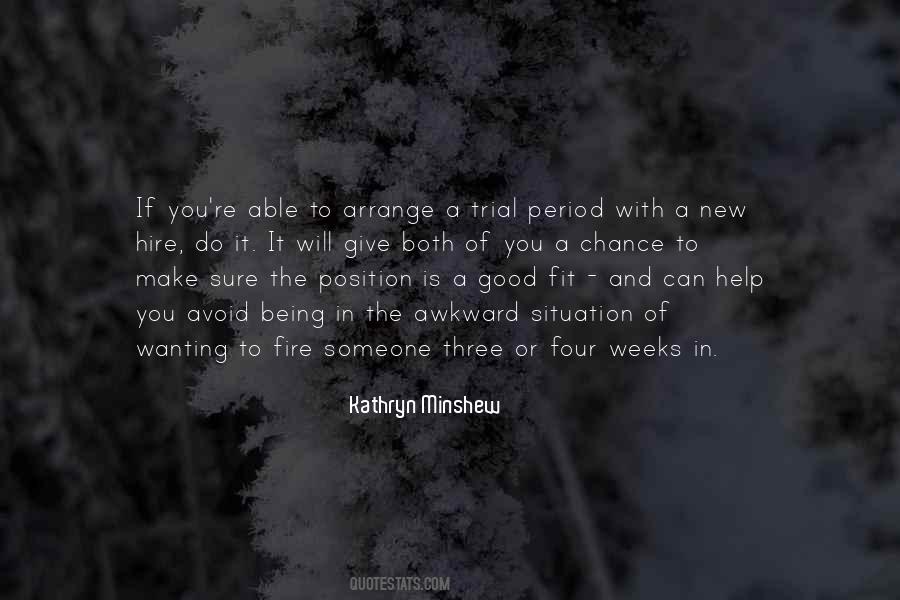 #27. Selling one's book to Hollywood is rather like selling someone your house. After it's sold, it isn't yours anymore. They can paint it a different color, tear it down and build something new, or do anything they want. - Author: Rick Riordan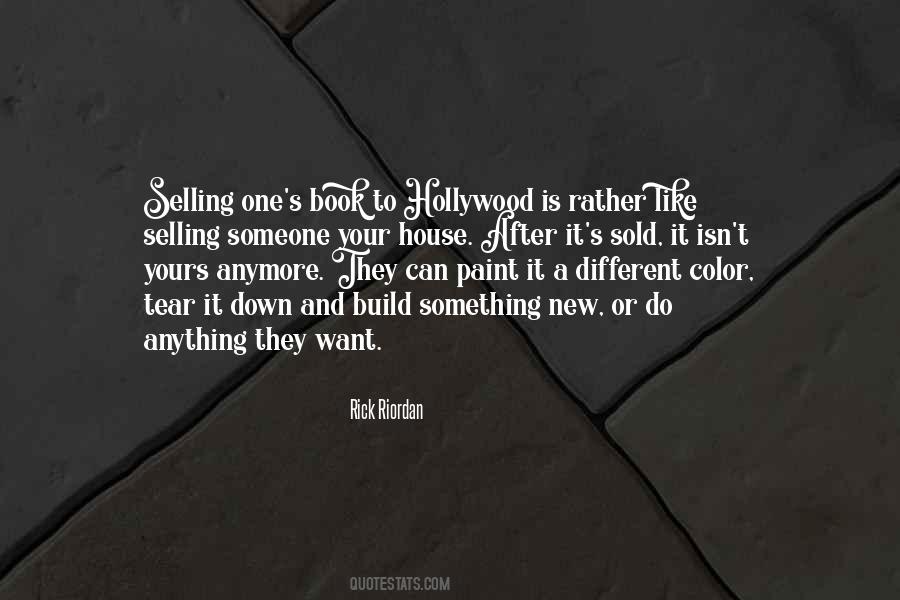 #28. I'm not someone who offers advice. I don't believe people really want anything besides sympathy when they ask for advice. I know I don't. - Author: Bijou Hunter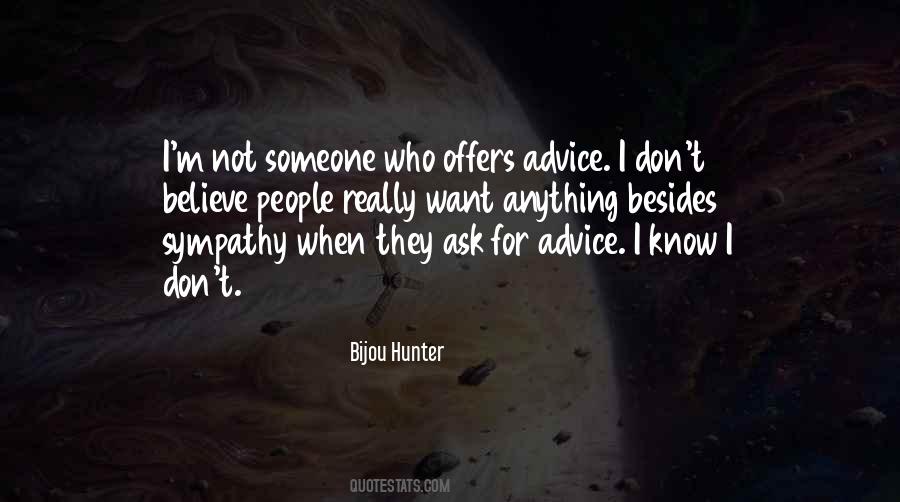 #29. You just keep playing. If someone special comes along and organizes it in a new way, then you'll have another approach and everybody will jump on it to try to learn. - Author: Lee Konitz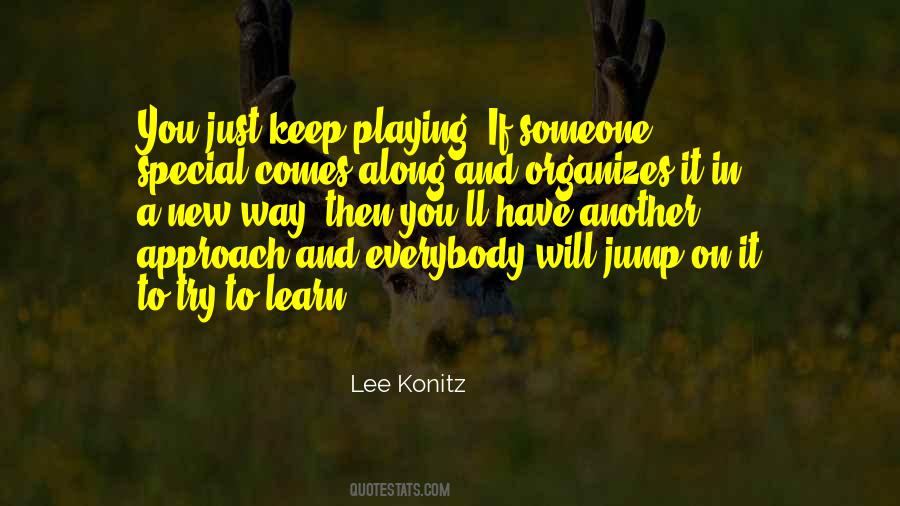 #30. In this life, nobody has forever in which to leave home, to return, to make a new home, or to open the door to someone. Death doesn't wait while we tidy everything up. And there are several kinds of dying. - Author: Jean Little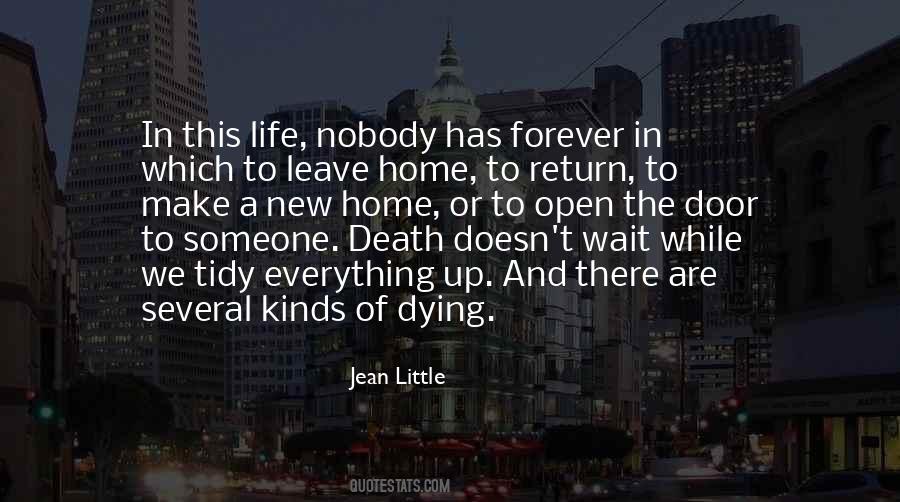 #31. Imagine that we're new and you're trying to impress me, because at the rate you're going, soon that will become someone else's right. - Author: Crystal Woods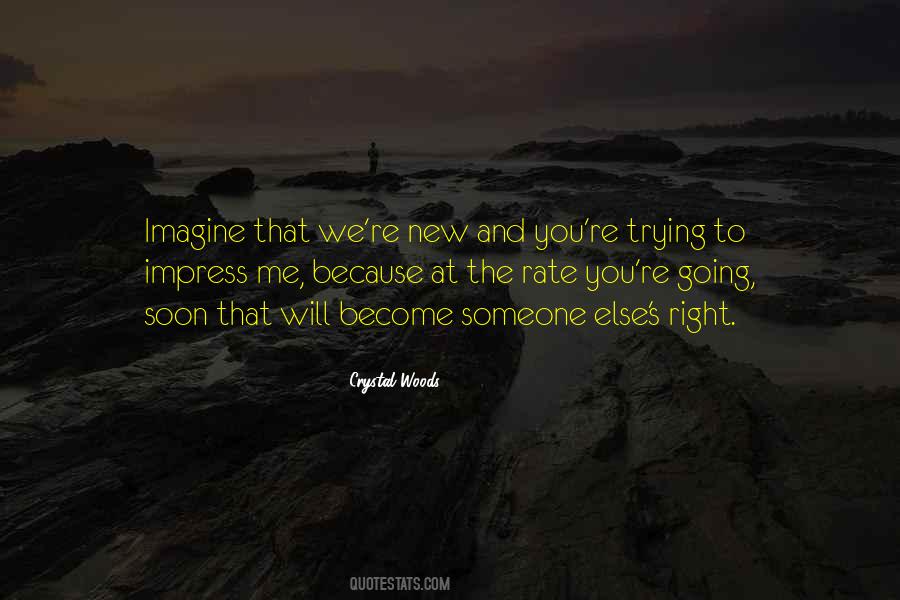 #32. I always encourage authors (especially new authors) to be as generous as we are blessed. For one thing, it is a way to help people. For another, it is a seed one is planting for the life of the book. Someone gave it to someone who gave it to someone else. - Author: Andy Andrews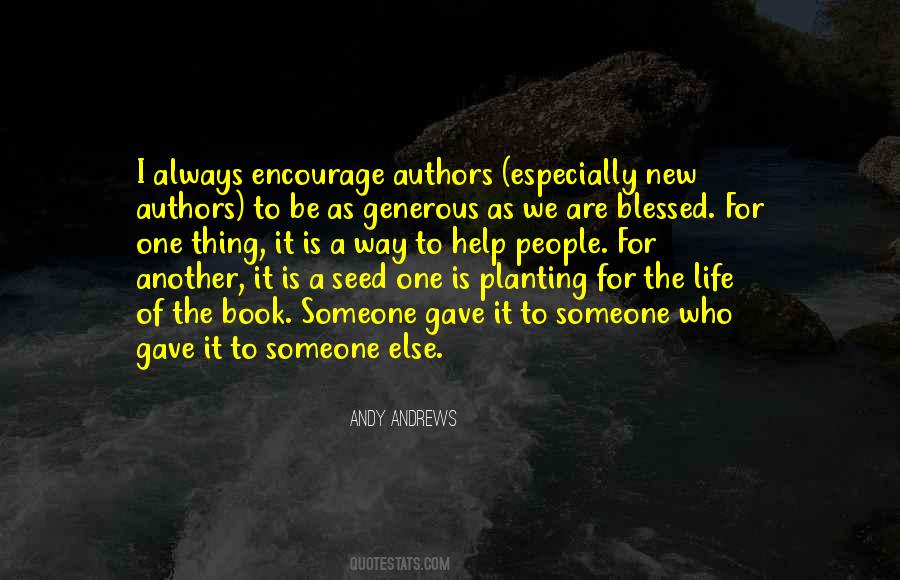 #33. The only advice [for new writers and poets] I can offer is to be yourself: not the self someone else wants you to be, but the self you are. Enjoy yourself and your life. But most of all travel and eat. That's how we learn. - Author: Nikki Giovanni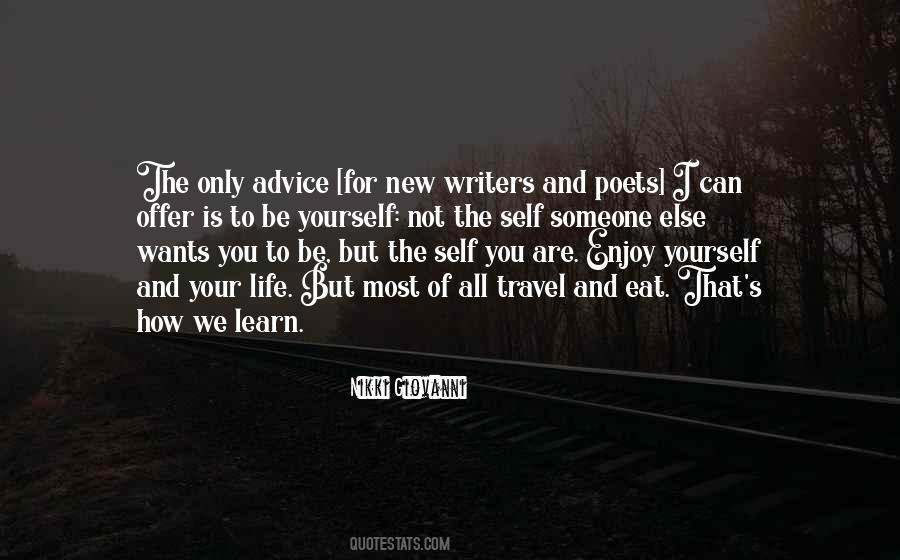 #34. If someone's really busy listening to other CDs, and worried about what's new and what's truly relevant for discourse now, maybe it isn't that interesting. To me it is, because I'm tuned into that and that's what I like, so it's interesting to me. It's all I can do. - Author: Stephen Malkmus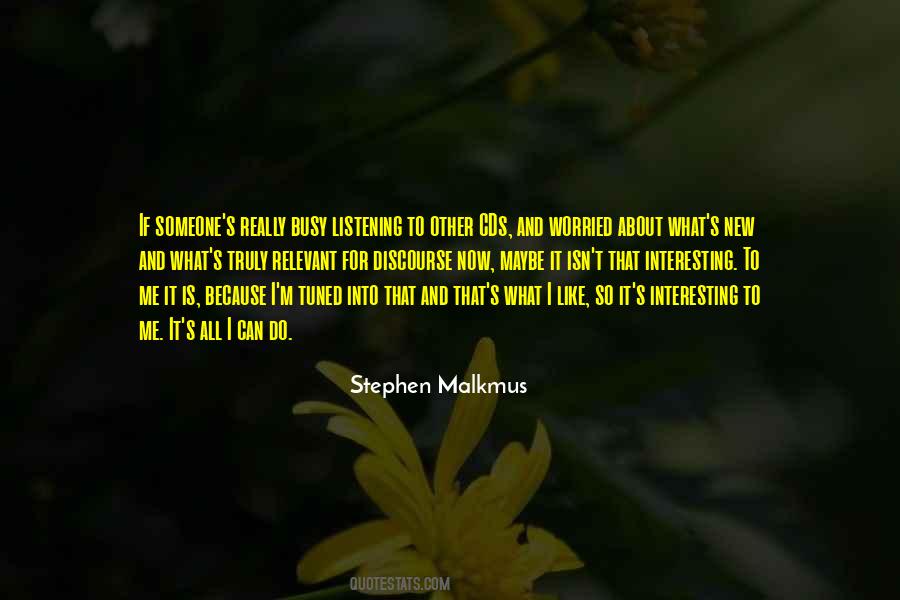 #35. Will some reporter, or some Republican on the Sunday shows, please ask why tax cuts raid the non-existent Social Security Trust Fund but all the Democrats' new spending doesn't? Will someone please ask that? - Author: Rush Limbaugh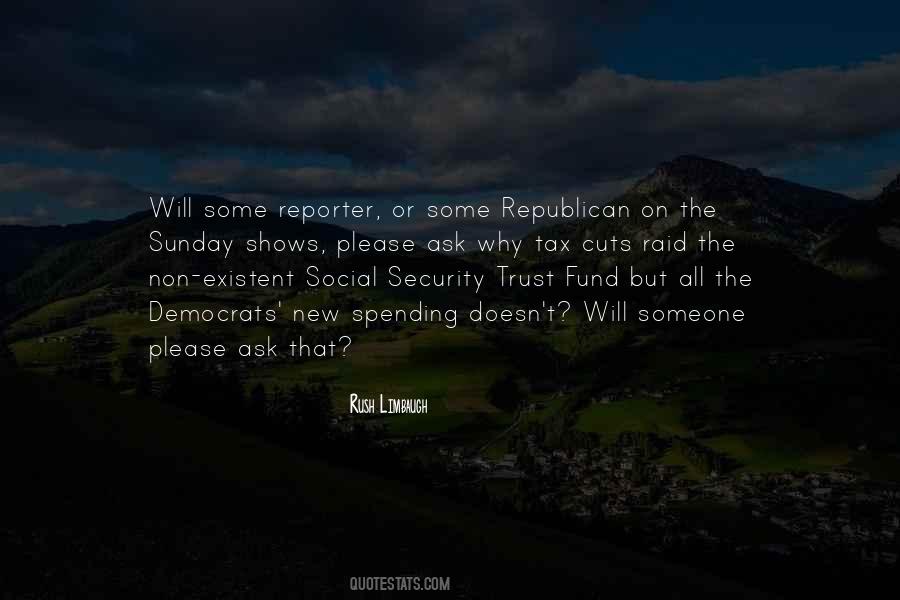 #36. Do you want to give a special gift in the New Year to someone you love? Then let him or her realize this: We are the main shepherd of our fate, we are the main designer of our destiny! - Author: Mehmet Murat Ildan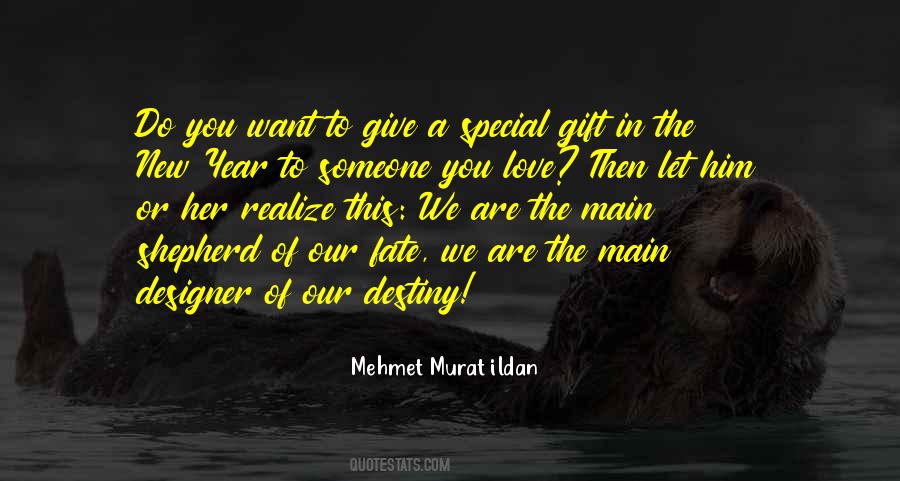 #37. For a man as keen as he on getting into bed with women, keeping hidden the full enormity of his fatness was a chronic problem. Its most acute form naturally came up when someone new had to be hustled or cajoled past the point of no return. That point tended to get later and later as his belly waxed. - Author: Kingsley Amis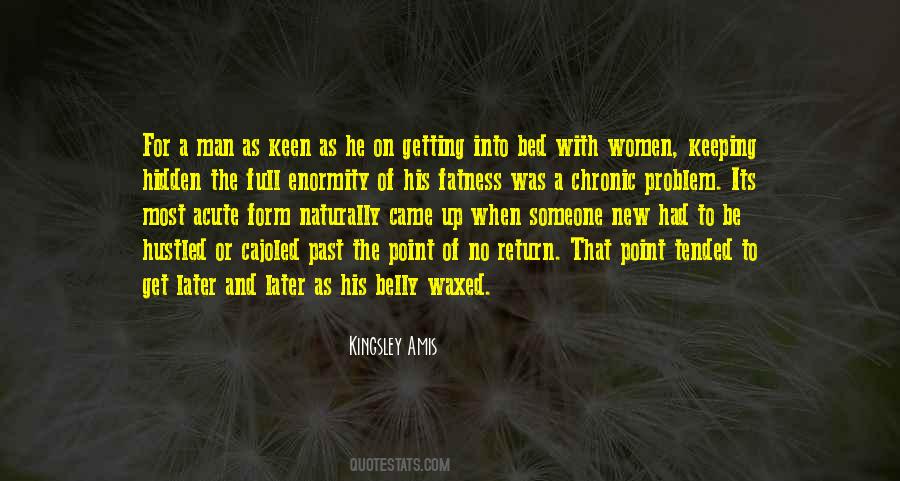 #38. If you're cooking for someone important - whether it's your boss or a date - never try a new recipe and a new ingredient at the same time. - Author: Marcus Samuelsson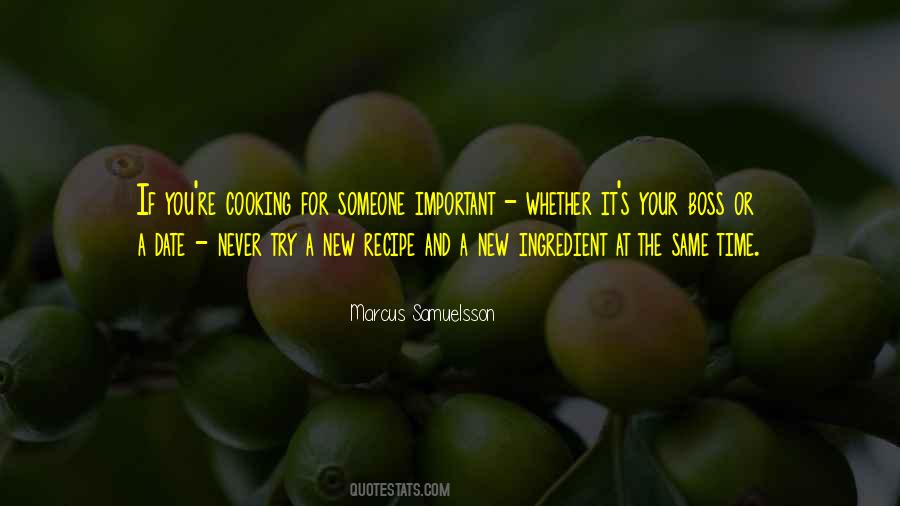 #39. Hope is life's essential nutrient, and love is what gives life meaning. I think you need somebody to love and take care of, and someone who loves you back. In that sense, I think the New Testament got it right. So did the Beatles. Without love, nothing has any meaning. - Author: Dick Van Dyke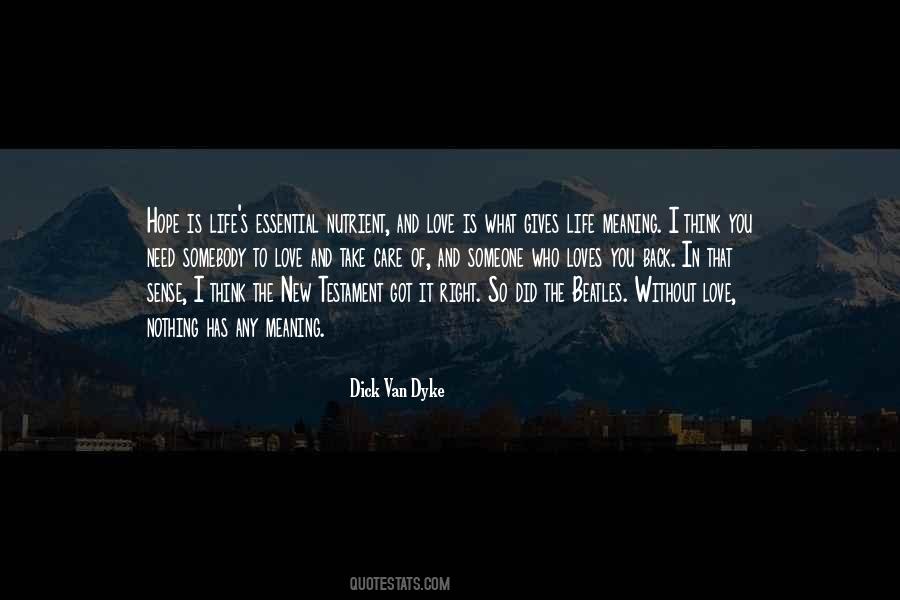 #40. You're not really moving on when you jump from someone who broke your heart to a new replacement. Moving on is self reflection and being strong enough to stand on your own. - Author: Auliq Ice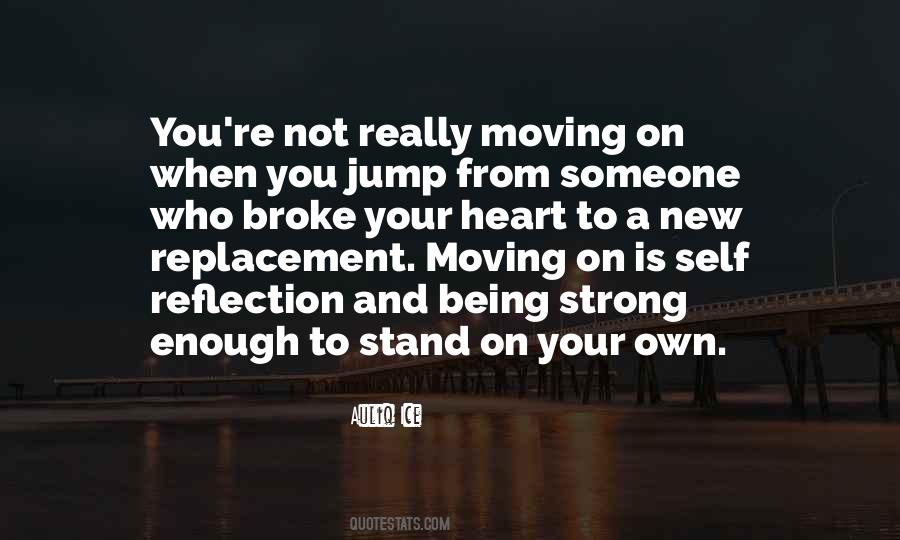 #41. When someone asks me to do something, something new, something I don't know about, and if I haven't done it, I'll say yes. Just so I can try something new. You never know what you might like. - Author: Osric Chau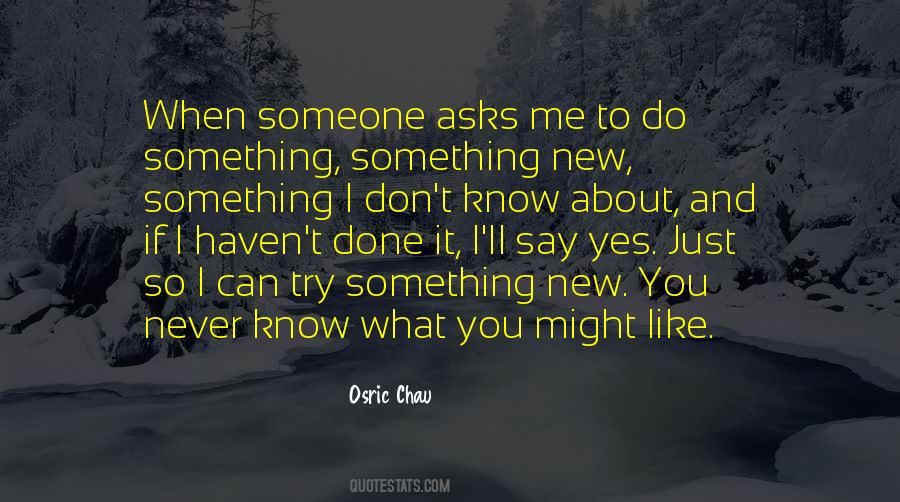 #42. A new reader shouldn't be able to find you in your work, though someone who's read more may begin to. - Author: E.L. Doctorow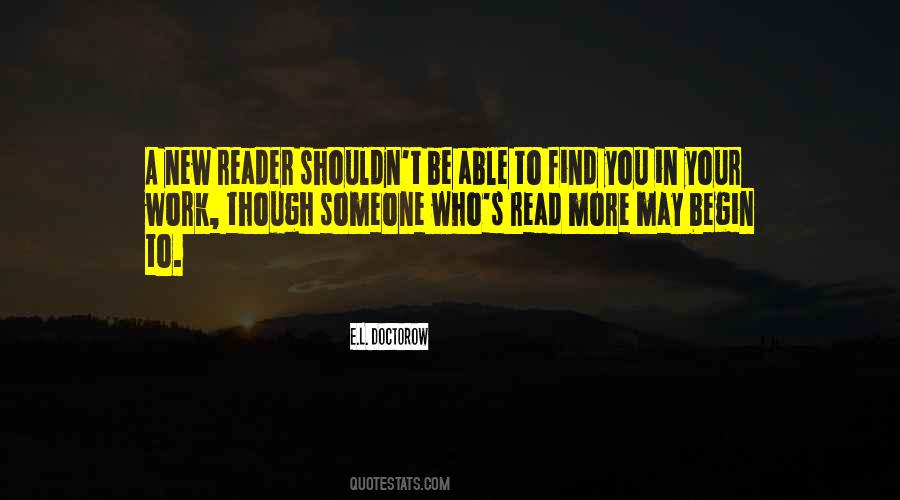 #43. To say the Internet is the death of books and movies is like saying someone invented a new, more efficient kind of cup and it heralds the death of coffee - a new improved form of carrying something, which is essentially what the Internet is, should be helpful to our business. - Author: Alison Owen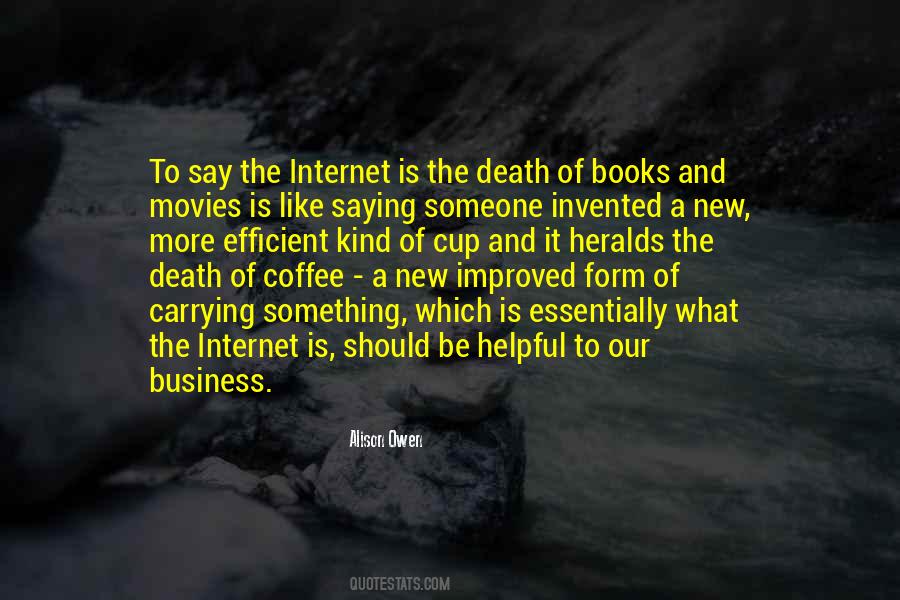 #44. We waddled through life blindly, hoping to find something - and someone - worth fighting for. - Author: Susan Dennard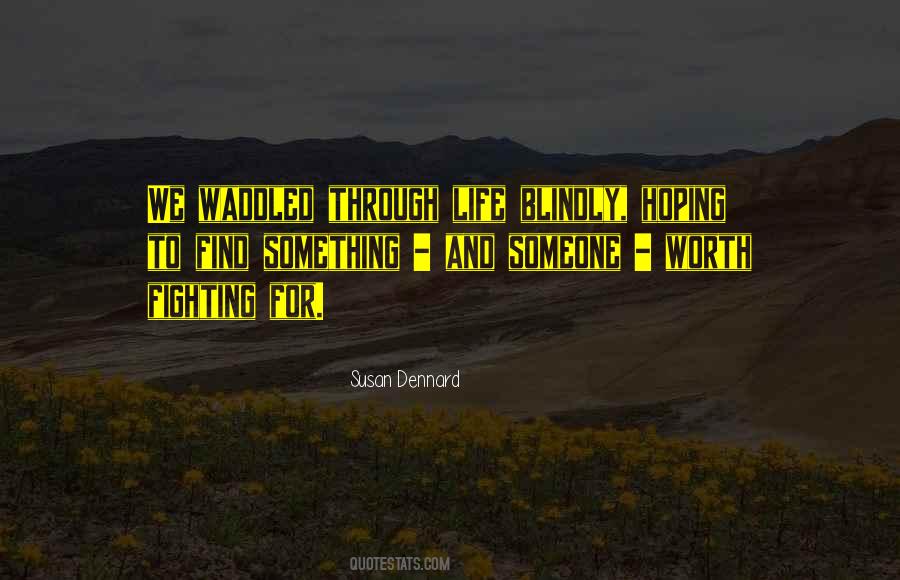 #45. For every person that says I'm the new Audrey Hepburn, someone else says that I look like an alien. - Author: Sophie Ellis-Bextor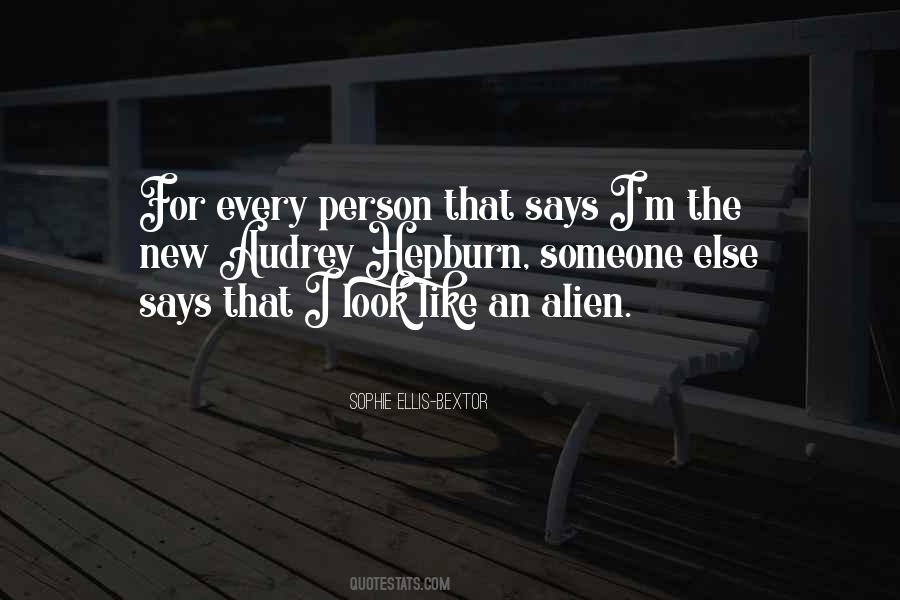 #46. That was when I first observed a phenomenon I now call the "New York Slide": you offer your words to try to communicate and connect with someone, but your words just hit a brick wall the person has erected to ward off human contact- the words slide down it and roll away. - Author: Kelly Cutrone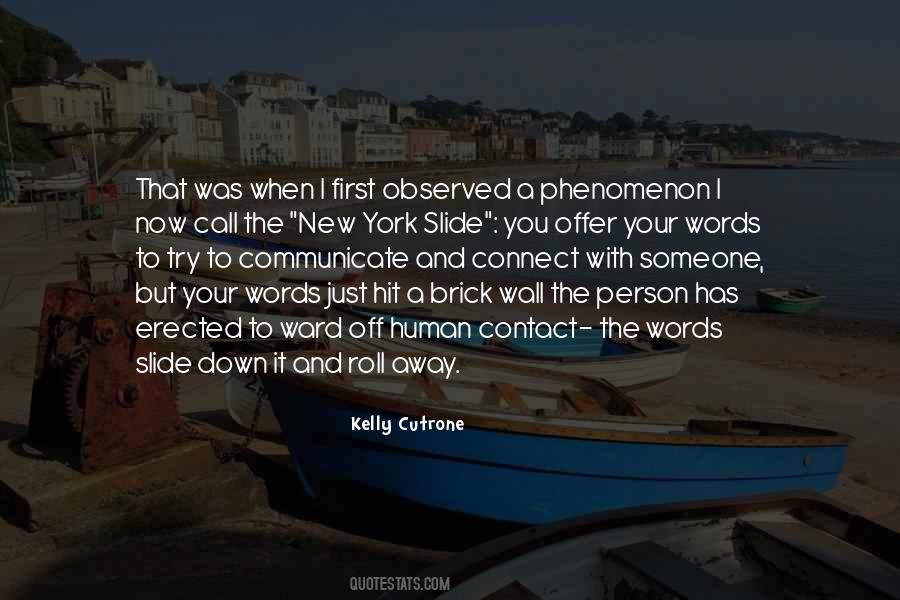 #47. Love can be so hauntingly beautiful, waking up past selves that have been wandering aimlessly through the corridors of our soul, for far too long. When someone else can take us from the ghost-town of our inner-selves, to exciting new landscapes, it's worth the risk, just to feel reborn. - Author: Jaeda DeWalt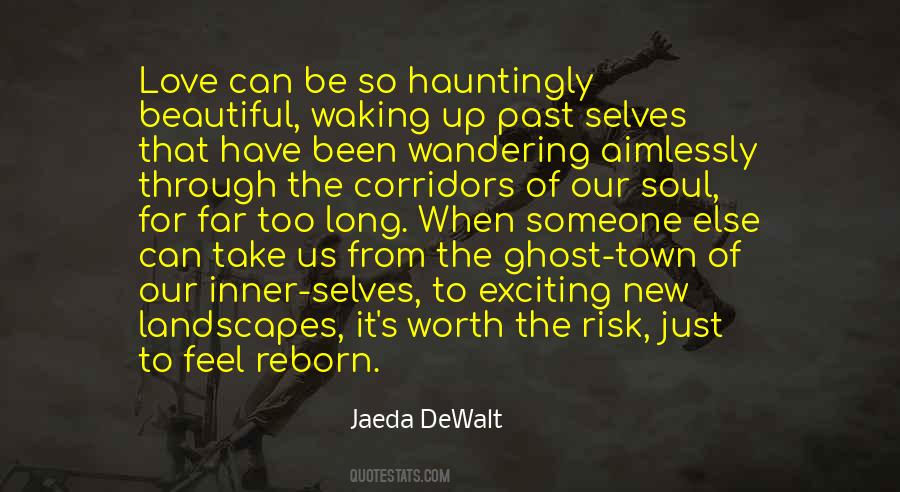 #48. If you want to be a real entrepreneur you have to be the cause, you have to be the creator of someone else's new realty. Which eliminates time, space, motion, and friction. - Author: Ashton Kutcher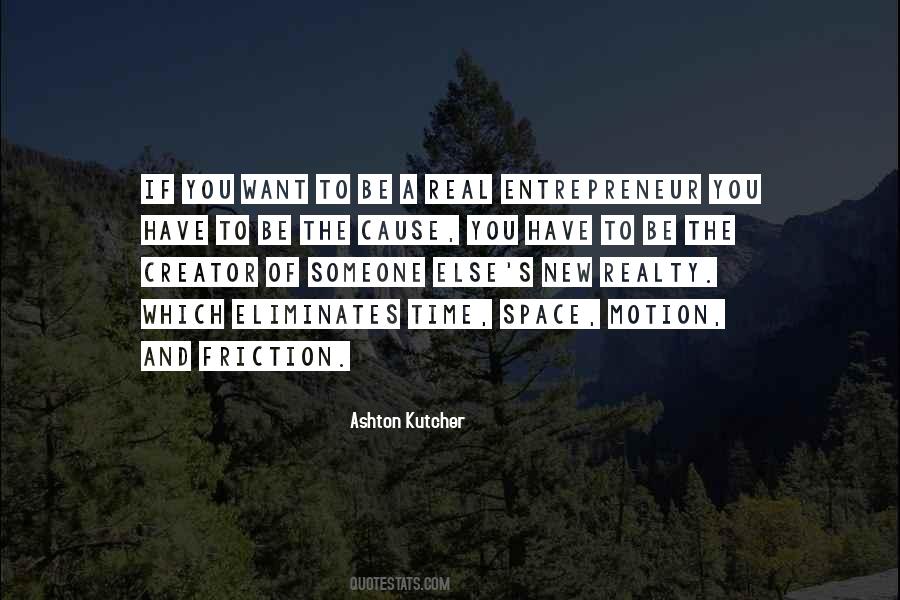 #49. Someone needs to buy a radio station, then play nothing but audio books, with a different genre of book played at set times. That way we can always have something new to read, no matter where we are. - Author: Shana Chartier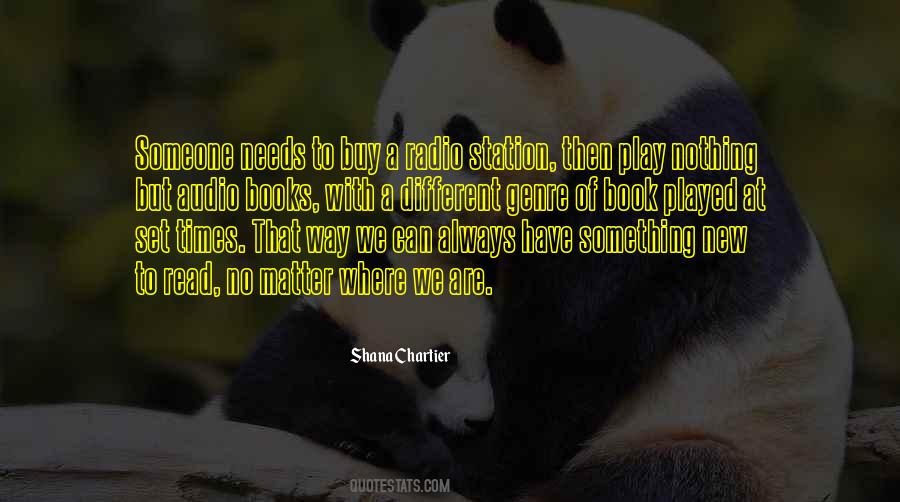 #50. But that morning, standing at the window of my dorm roomas I buttoned my shirt, I felt like an entirely different person. It was as though someone had taken an eraser to my life and, instead of getting rid of the mess, had rubbed away all the parts that I'd wanted to keep. - Author: Robyn Schneider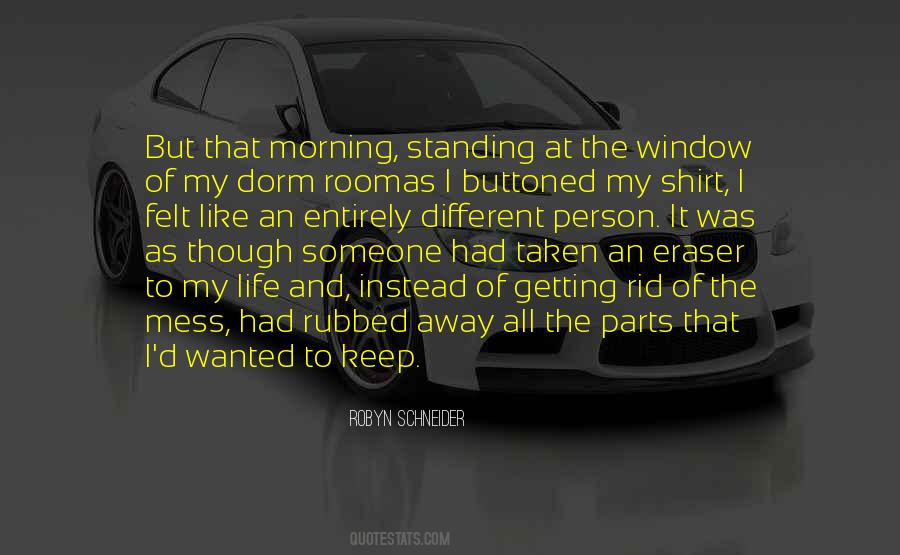 #51. Right now in this space, I feel a brand new pull to him. I've always been drawn to his features, his brilliance, his laughter, his passion. But right now I'm attracted to his pain. It makes him human. It makes him real. It makes him something he hardly ever is to me: accessible. - Author: Sarah Noffke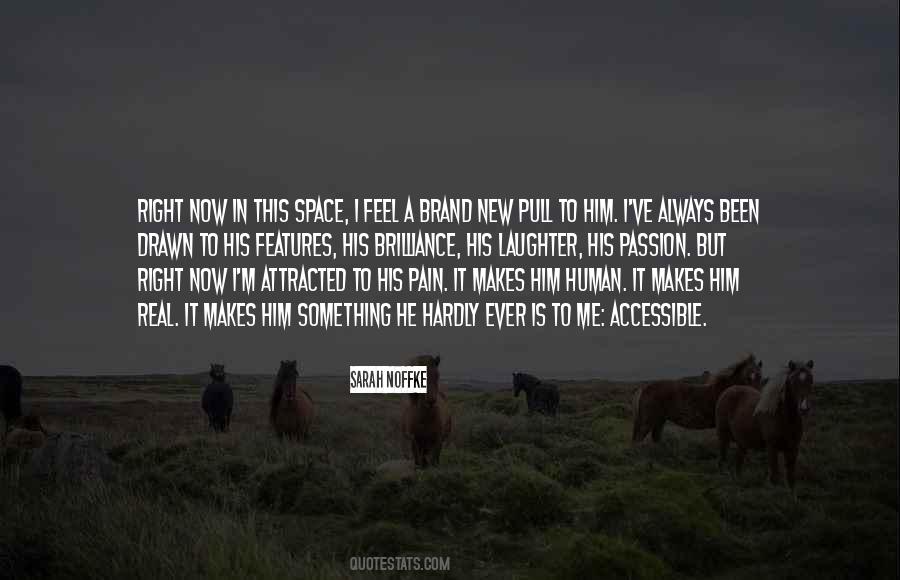 #52. I can become someone else, not out of pressure and desperation, but merely because a new life sounds fun or interesting or joyful. - Author: Chuck Palahniuk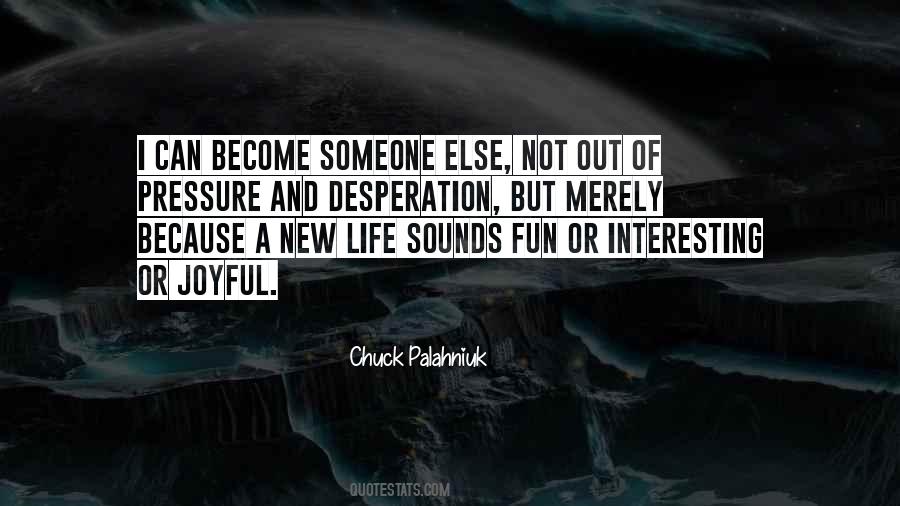 #53. Anytime someone asks me to look at a new house with them, I'm like, 'Yes!' - Author: Kendall Jenner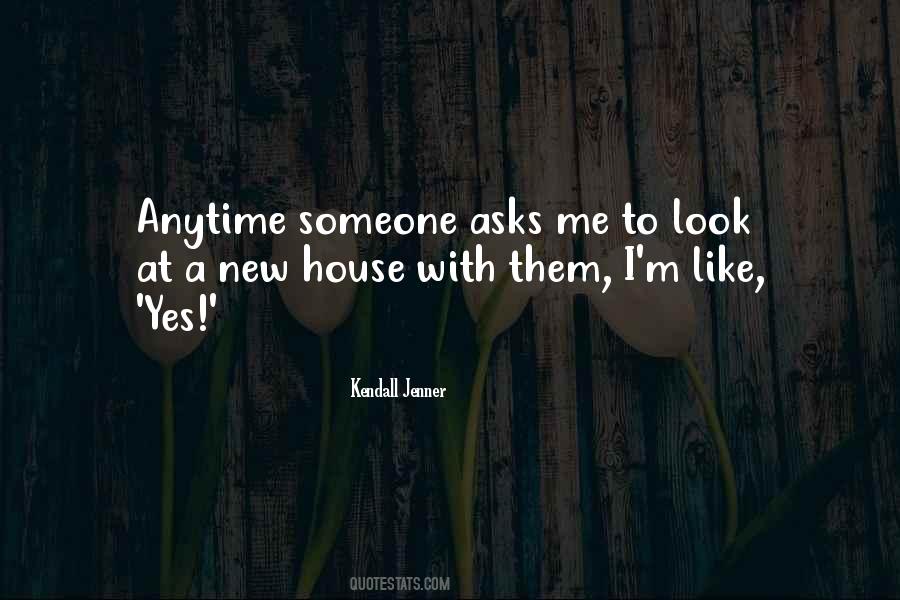 #54. Some of the best moments I've ever written have come about because someone, somewhere, blew my preconceptions out of the water and dropped a detail in passing that took the work in an entirely new, entirely unexpected, direction. - Author: Greg Rucka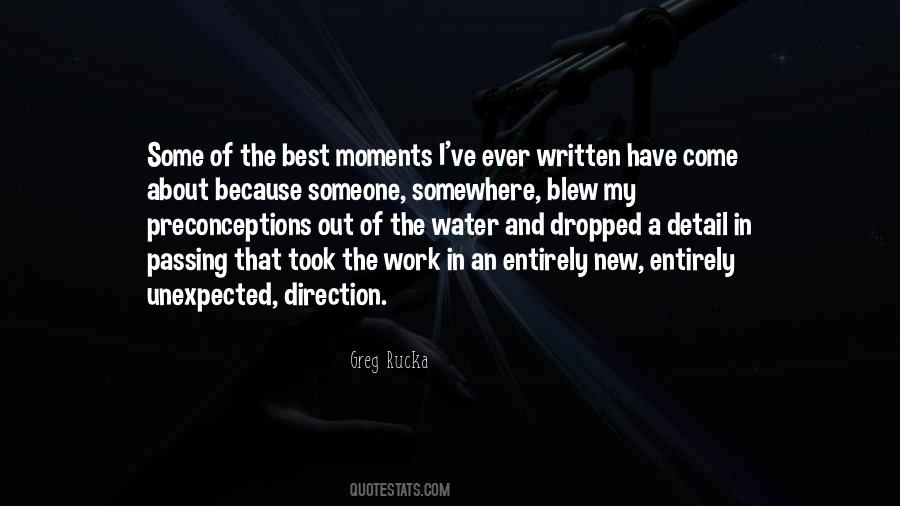 #55. A movie playing on the TV screen in front of us. Some sort of bad Tom Cruise drama. I've never liked Tom Cruise. He always reminded me of someone's creepy cousin, who smiles too big before he touches your butt and whispers something gross in your ear with hot whiskey breath. - Author: Erin McCarthy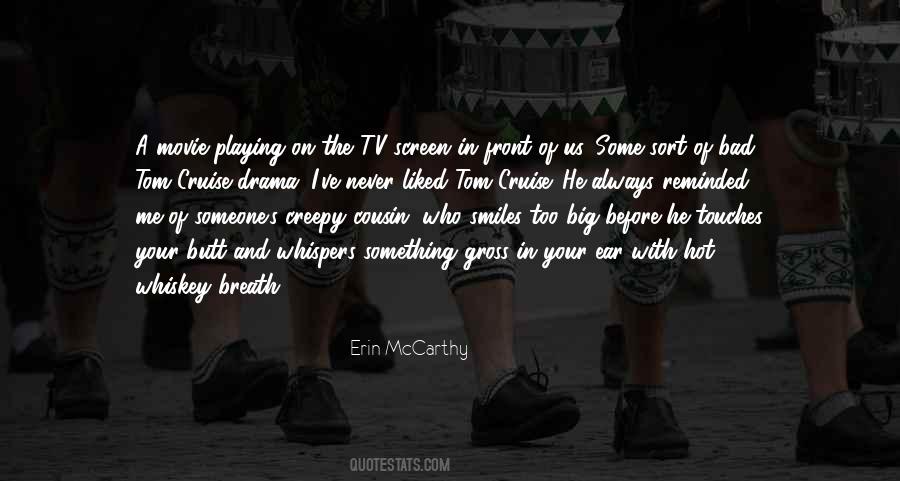 #56. You just gotta love someone with full force, even if it hurts you. Even if you end up regretting it, at least you gave it your all. - Author: Magan Vernon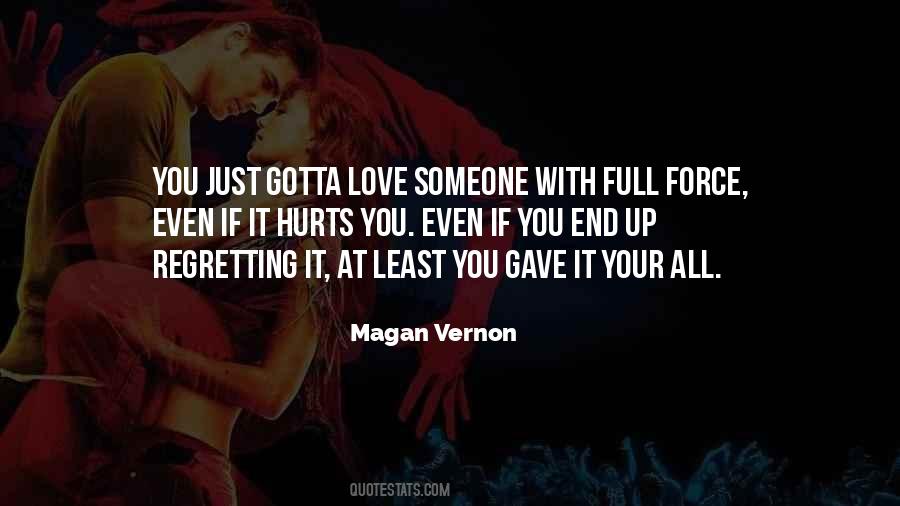 #57. When you are being judged by someone that has no idea who you are always remember this: Dogs always bark at strangers and usually there is always some wacko neighbor that wants to try out their new gun on an intruder. - Author: Shannon L. Alder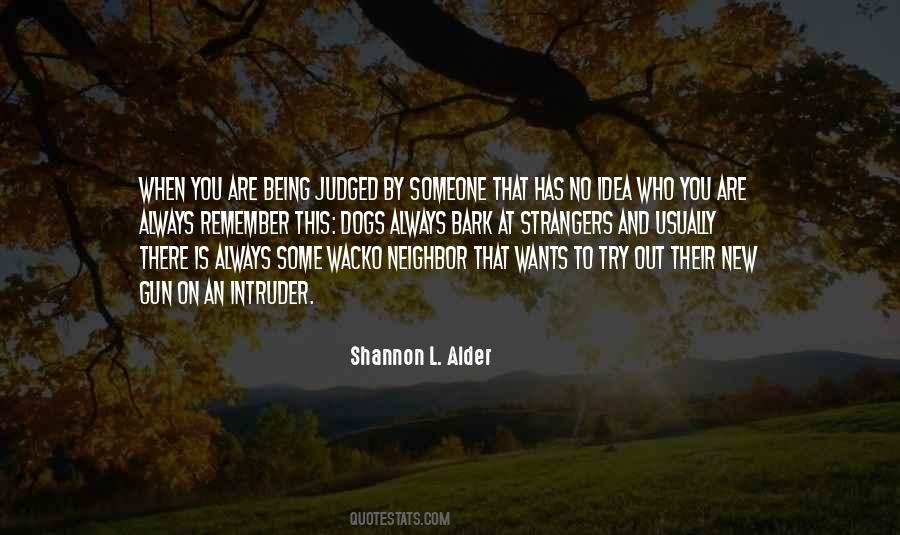 #58. I walked two hours to an audition once and was so sweaty that someone said, 'Oh, you guys from New Zealand don't shower.' - Author: Martin Henderson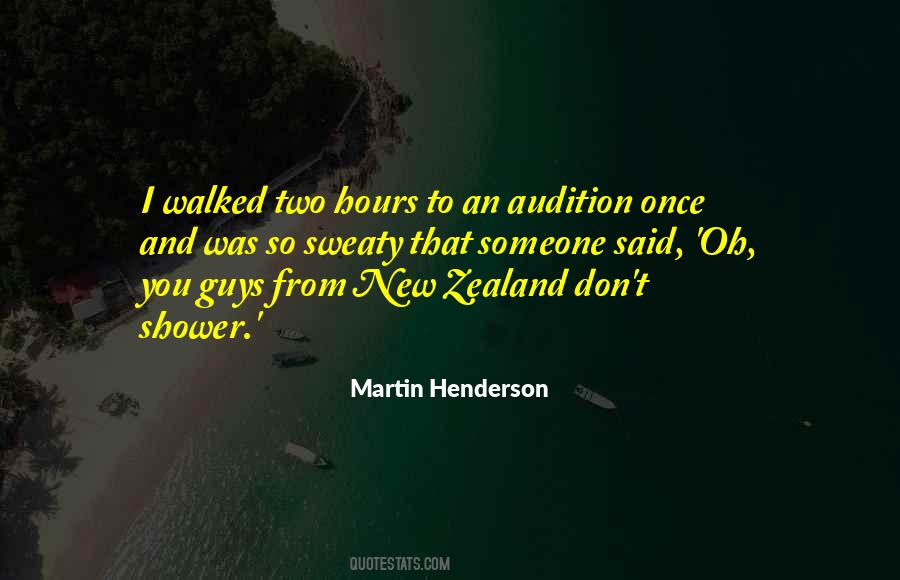 #59. Acting allows me to explore new worlds, to discover characters by delving into their lives, and ultimately to become someone else entirely. - Author: Pierce Brosnan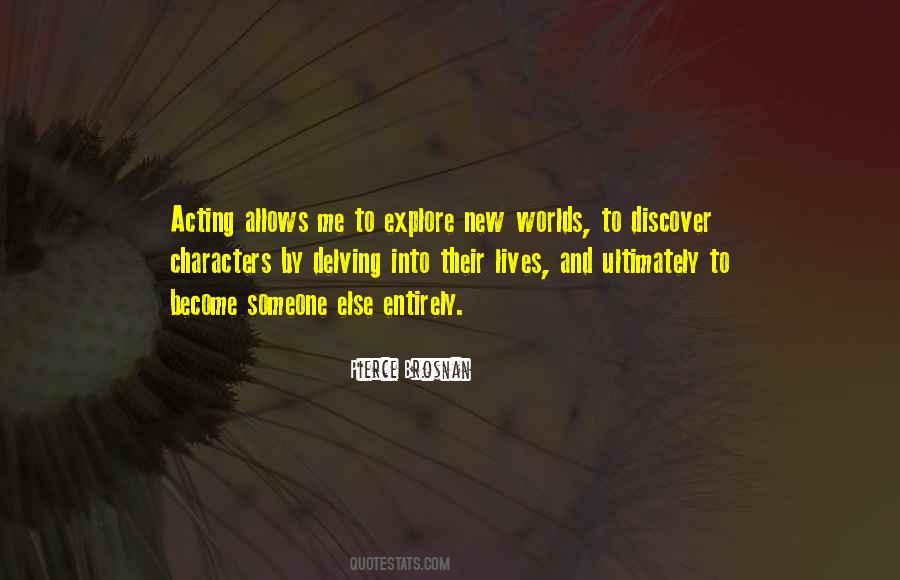 #60. I think the record industry has gotten to be more about labels wondering what the new single is rather than labels nurturing artists. It's gotten away from making a full album of music that someone would want to listen to all the way through. - Author: John Varvatos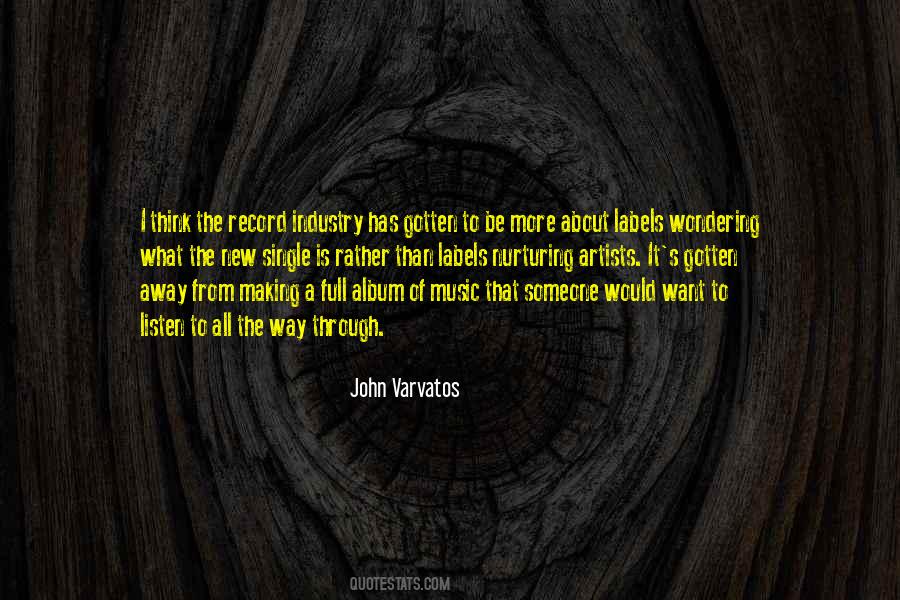 #61. Any small business owner wears many hats. We [New View Window Cleaning] are the salesman, bookkeeper, scheduler, cleaner, customer complaint department, etc. If you aren't organized and willing to do all these things (at least in the beginning) you are better off working for someone. - Author: Tony Evans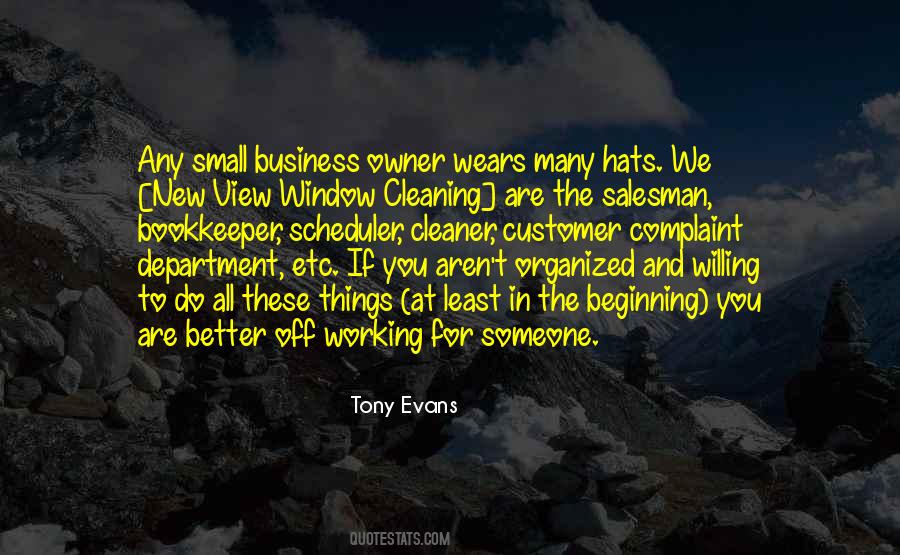 #62. The younger officer accompanying Waaler was learning something new every day. This afternoon, for example, he learned it was very stupid to rock on a chair while insulting someone, because you are totally defenseless if the insulted party steps over and lands a straight right between the eyes. - Author: Jo Nesbo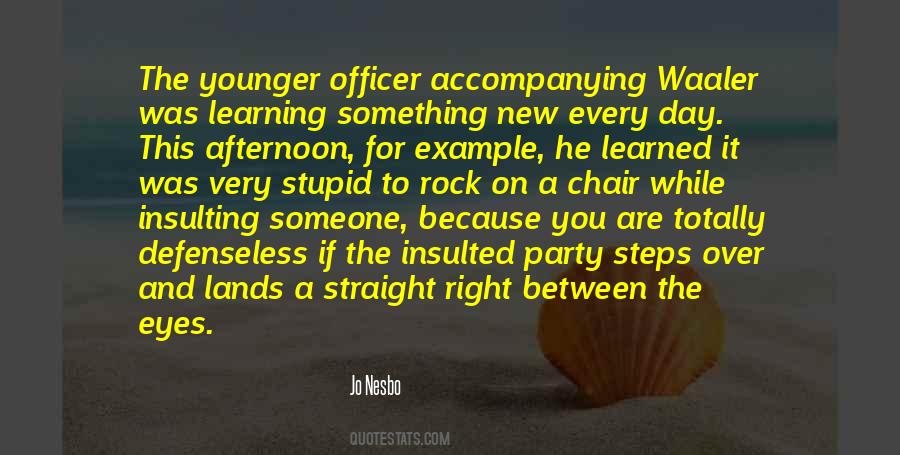 #63. Surely it was time someone invented a new plot, or that the author came out from the bushes. - Author: Virginia Woolf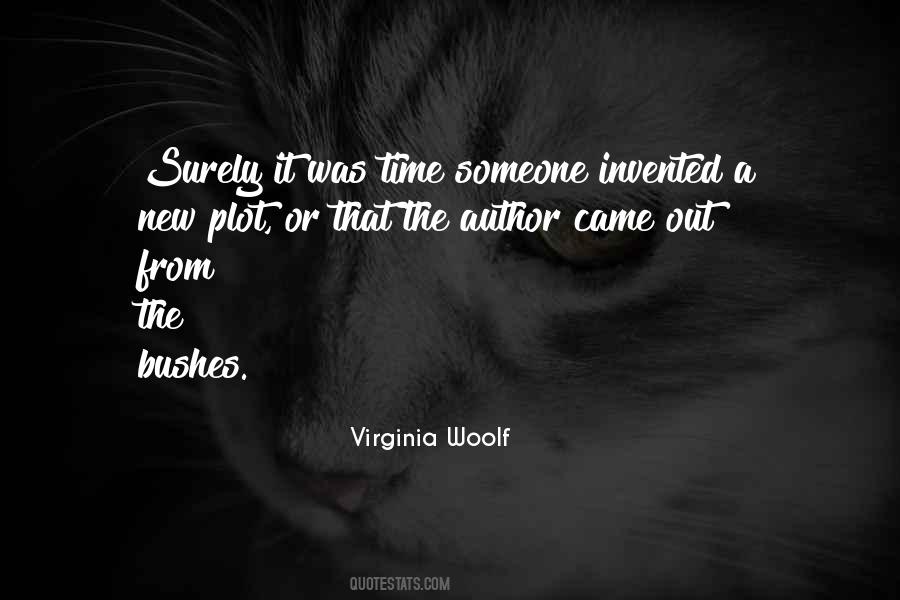 #64. The first time you fall in love, it's like you've created the first love in the universe, and the first time someone you love dies, you grieve the universe's first death. What does it help to be told that what you feel is nothing new? - Author: Leah Stewart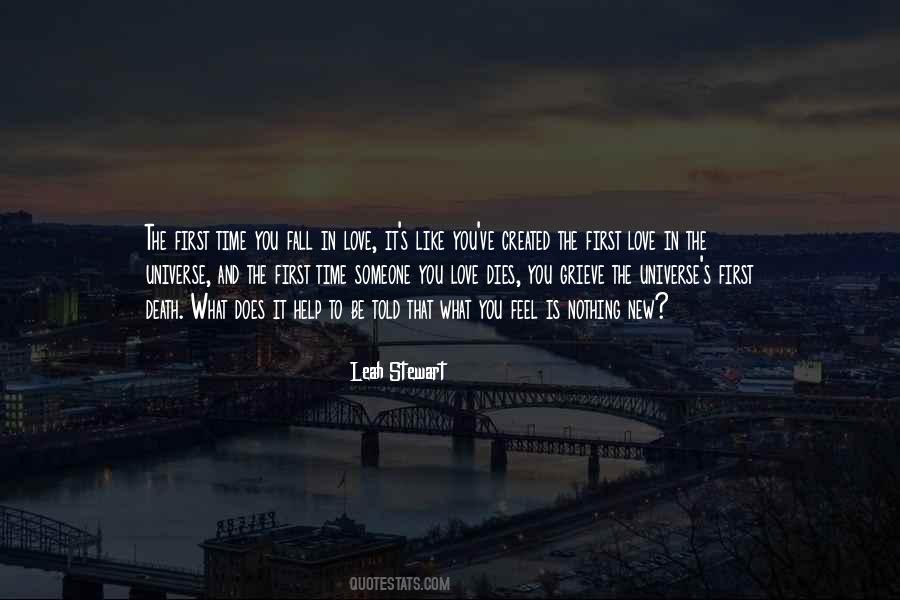 #65. Any intelligent woman would have made a dignified retreat, but this was New Jersey, where dignity always runs a poor second to the pleasure of getting in someone's face. - Author: Janet Evanovich
#66. We all play God every day. When a woman buys a new pair of expensive shoes, she could have spent that same money feeding someone who was starving. In a sense, those shoes mean more to her than a life. We all kill to make our lives more comfortable. We don't put it in those terms. But we do. - Author: Harlan Coben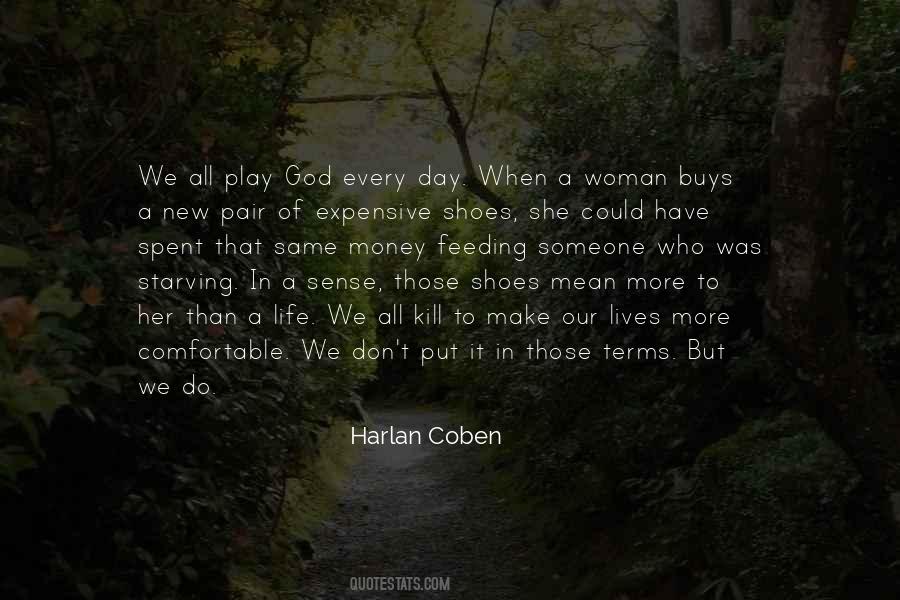 #67. Shouldn't someone tag Mr. Kennedy's bold new imaginative program with its proper age? Under the tousled boyish haircut is still old Karl Marx-first launched a century ago. There is nothing new in the idea of a government being Big Brother. - Author: Ronald Reagan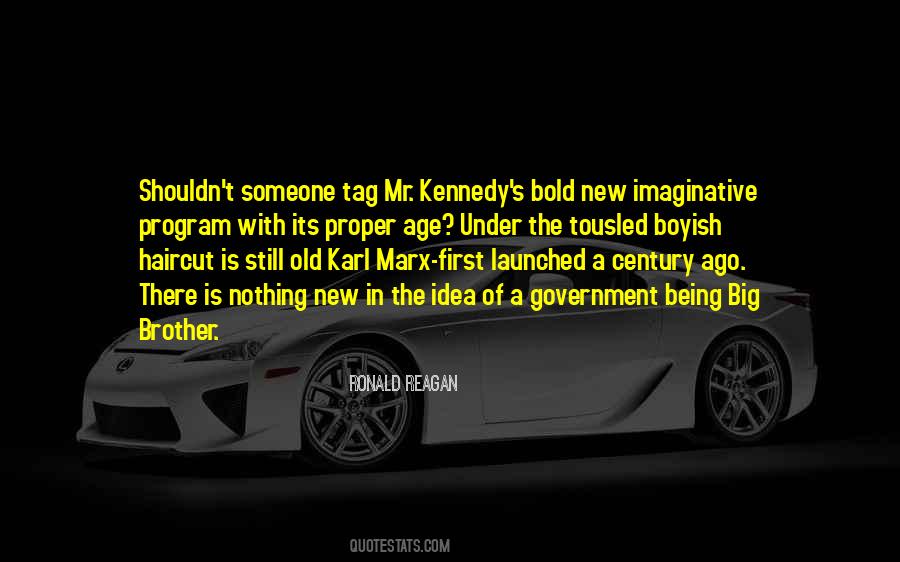 #68. Change doesn't come
without invitation.
You won't discover it in
routine. And you won't
create an all-new and better you if you wait for someone else
to give you permission. Transformation begins -
and ends - inside of you. - Author: Ellen Hopkins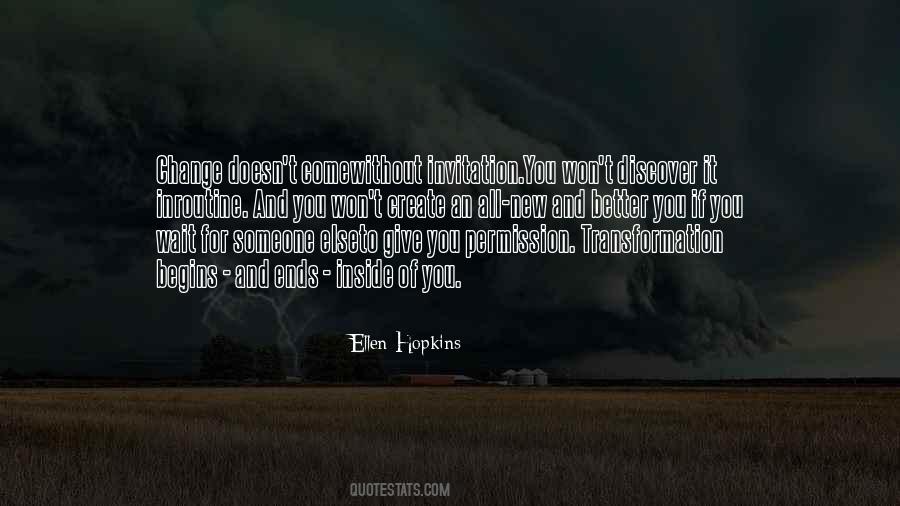 #69. I don't want you to go, but I can't make you stay. I want to continue holding you in my arms at night when you can't sleep and be there in the morning when you're adjusting to yet another new outfit. I also need someone to burn dinner because that doesn't happen nearly enough for me. - Author: Sydney Landon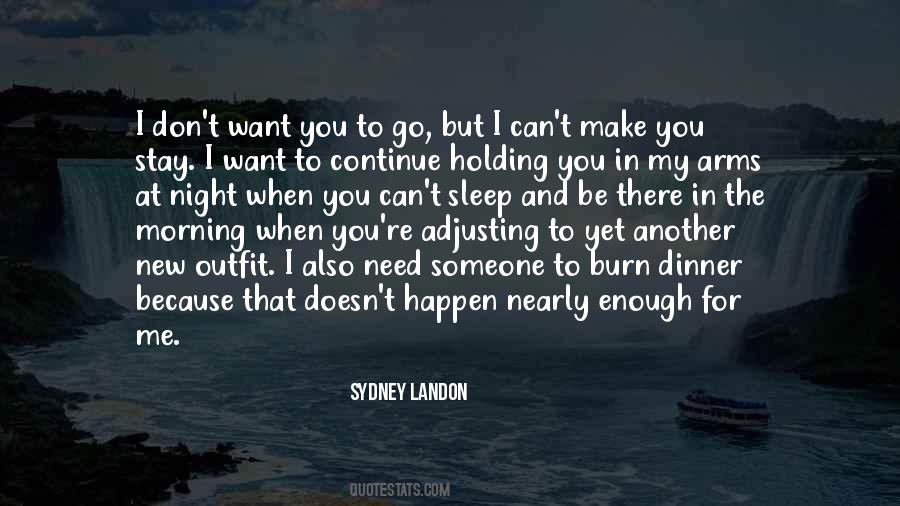 #70. I like it when someone gives me a new book of poetry by a poet I haven't read. - Author: Nell Freudenberger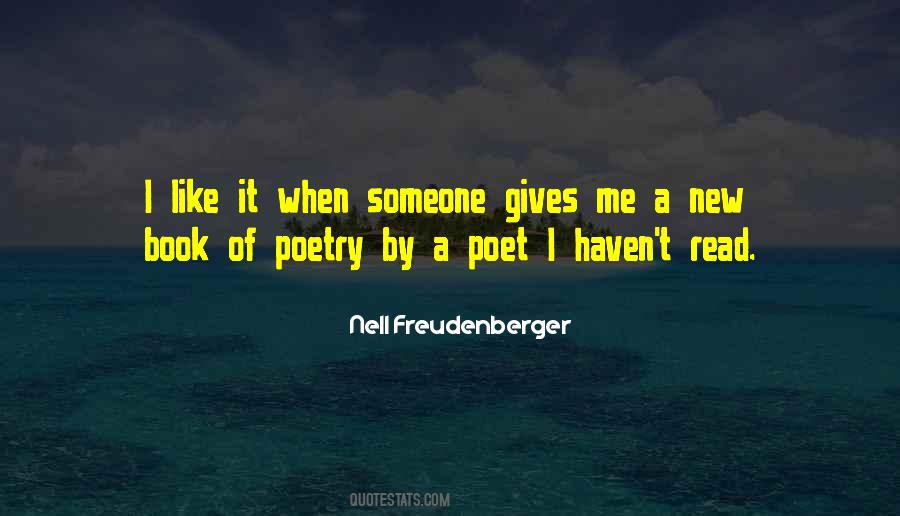 #71. I feel like I have a very unique perspective especially for someone in the hip-hop genre. I'm not afraid to explore it, and how my upbringing then shapes my music and being a New York kid and all of that stuff ... that's really the most unique thing I can offer to the music in general. - Author: Hoodie Allen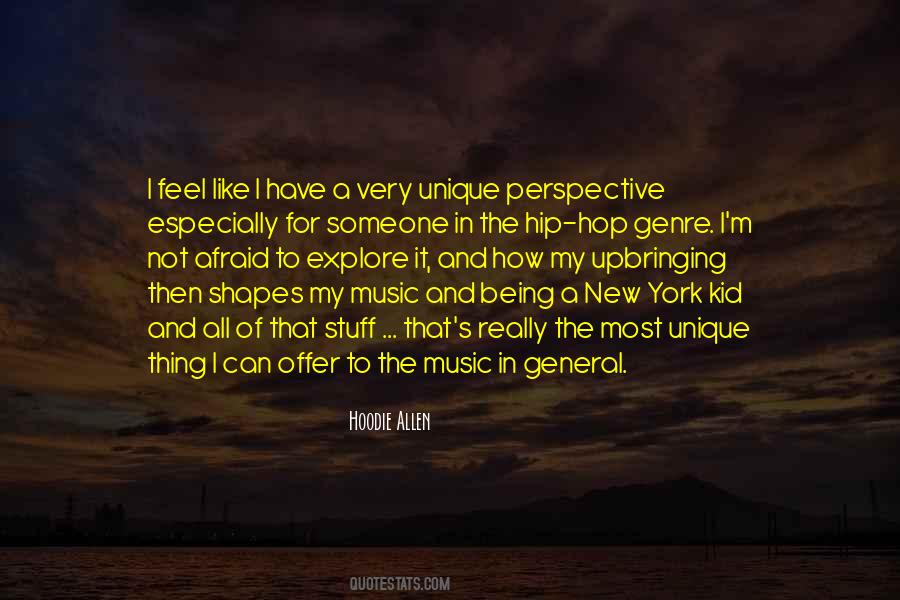 #72. There was once a caustic comment from someone suggesting I was breeding a new race. Fans from different countries have married, amazing things like that. I've been to some of the weddings. I went to one here the other day, a pagan ceremony. - Author: Terry Pratchett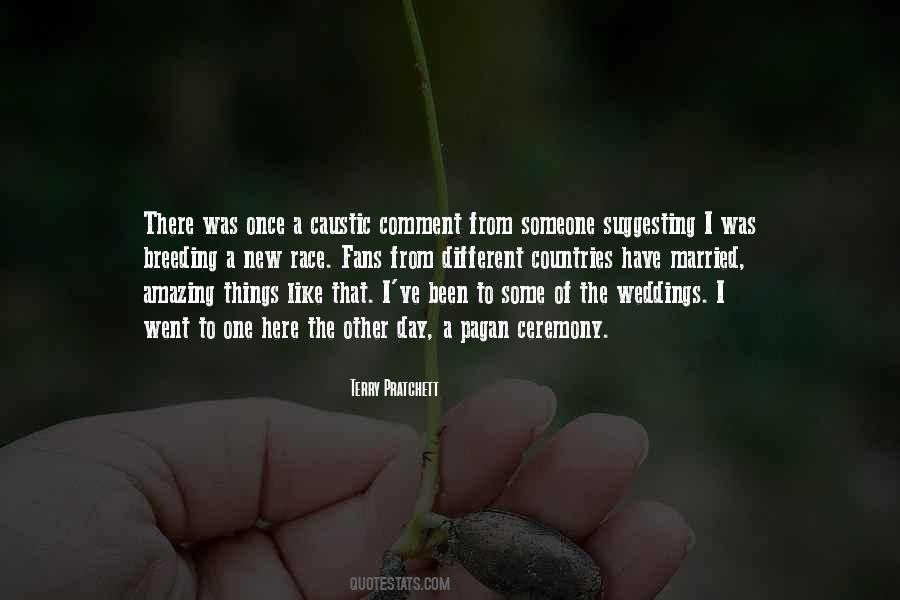 #73. The main prank that we play with props is for people's birthdays. The special effects people will put a little explosive in the cake so it blows up in their face - that's always fun to play on a guest star, or one of the trainees or someone who's new. - Author: Catherine Bell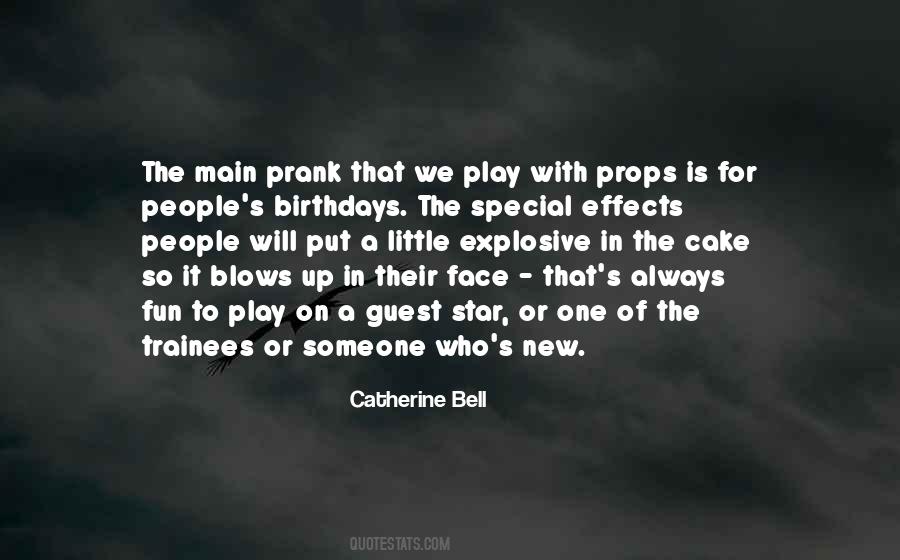 #74. When you can't bear something but it goes on anyway, the person who survives isn't you anymore; you've changed and become someone else, a new person, the one who did bear it after all. - Author: Austin Grossman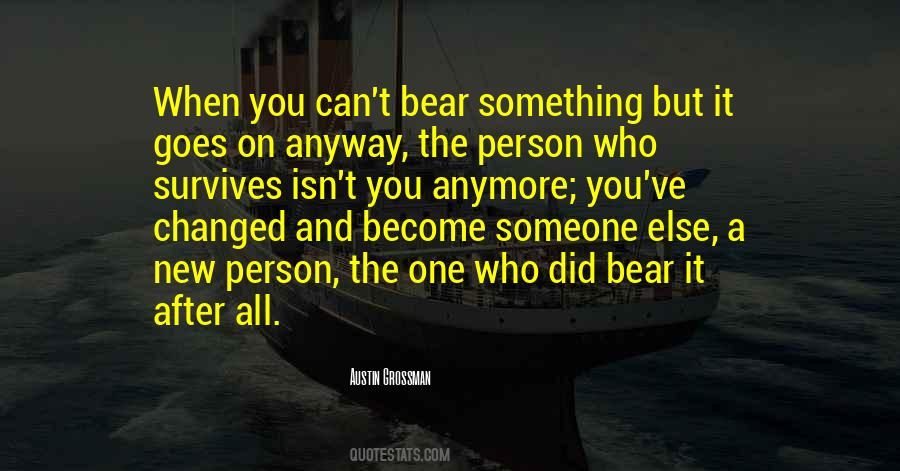 #75. They amaze me most of those remixes. Some of them are crap. But every time I complain, someone comes up and says they are for a different market that you don't understand. Some of the New Order ones are really great, though. - Author: Peter Hook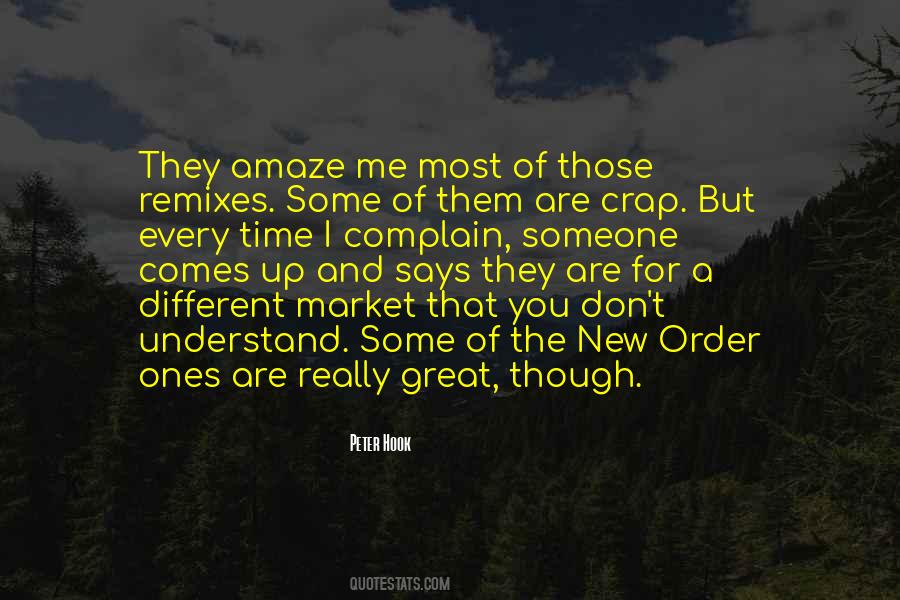 #76. If you were in a bad relationship and you meet someone new, you're going to leave with your luggage. The next person is going to have to endure things that someone else causes. - Author: Curtis Jackson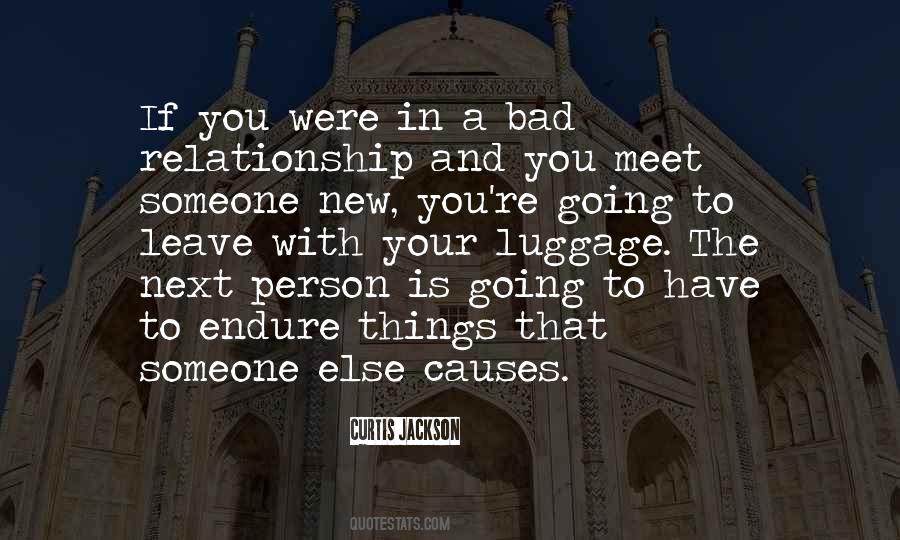 #77. There is no talking rationally, using logic or facts, with someone under the spell of the psychic epidemic, as their ability to reason and to use discernment has been disabled and distorted in service to the psychic pathogen which they carry. - Author: Paul Levy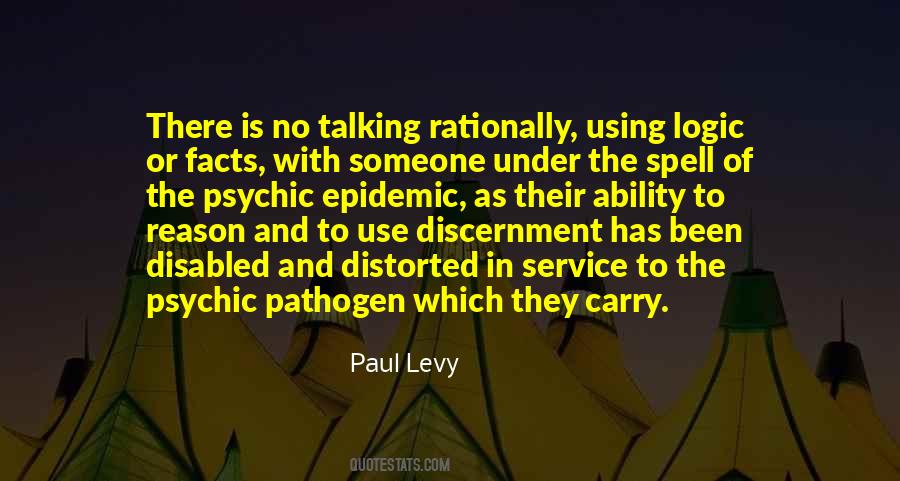 #78. Your ideas have legs and just as they run through your head, they could be running through someone else's head and it's just a matter of who gets to the finish line first. Nothing is new under the sun so act on your ideas. - Author: Sanjo Jendayi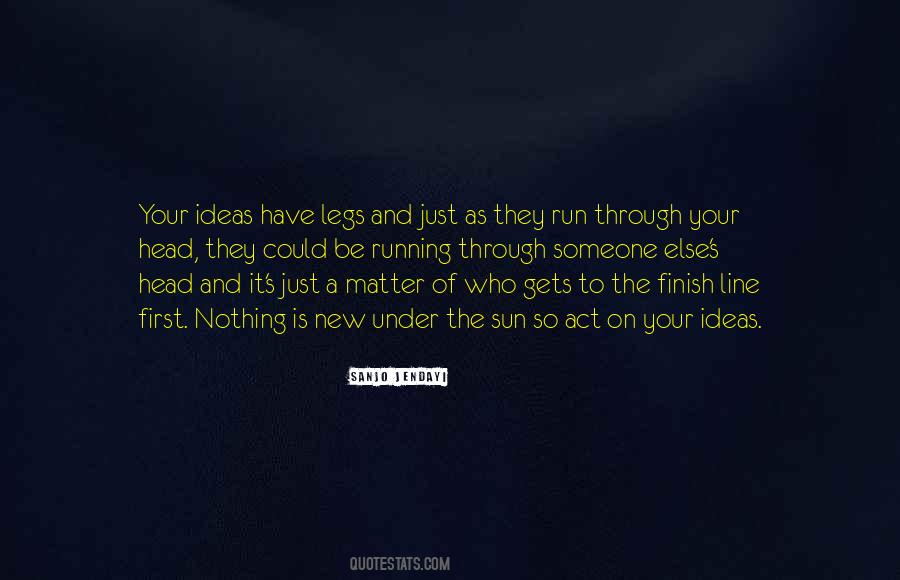 #79. On the third day after someone dies, the soul comes back to settle scores. In my mother's case, this would be the first day of the lunar new year. And because it is the new year, all debts must be paid, or disaster and misfortune will follow. - Author: Amy Tan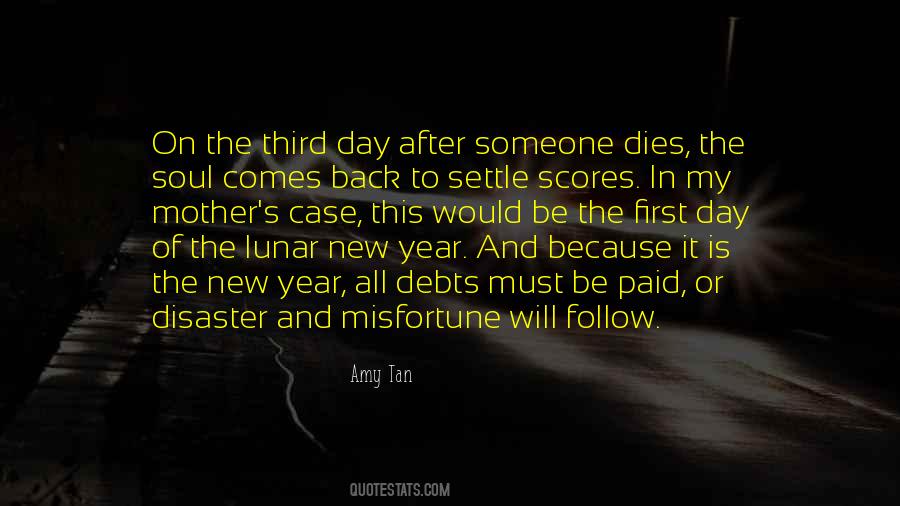 #80. Within weeks of my arrival in New York, I was someone else, not because there had been a revolution in my psychological makeup or any trauma. It was simply this: people saw me in a light in which I had never been seen before. - Author: Siri Hustvedt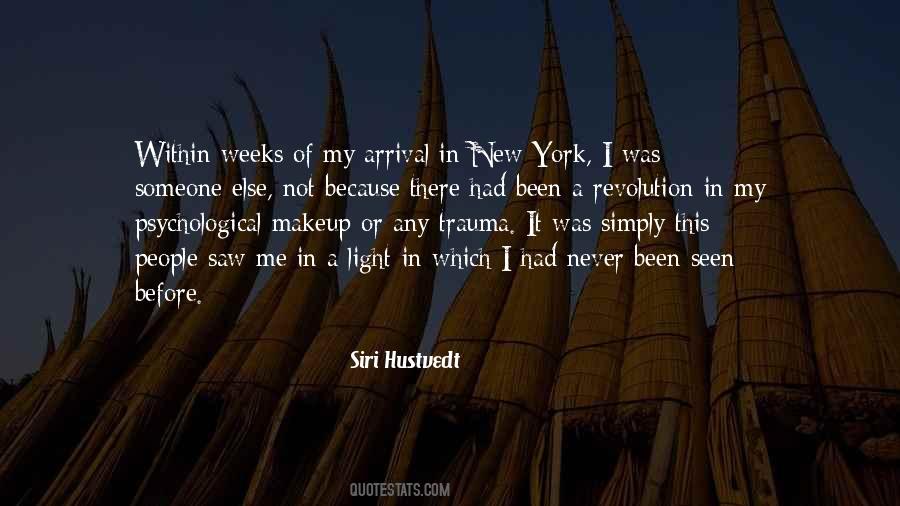 #81. A story went around that someone had asked Mozart how he intended to refute his detractors.
"I will refute them with new works," he said.
It was a confident, valiant thing for him to say, everyone thought. I thought so too, when I invented the story; and I still believe it today. (172) - Author: Joan Wickersham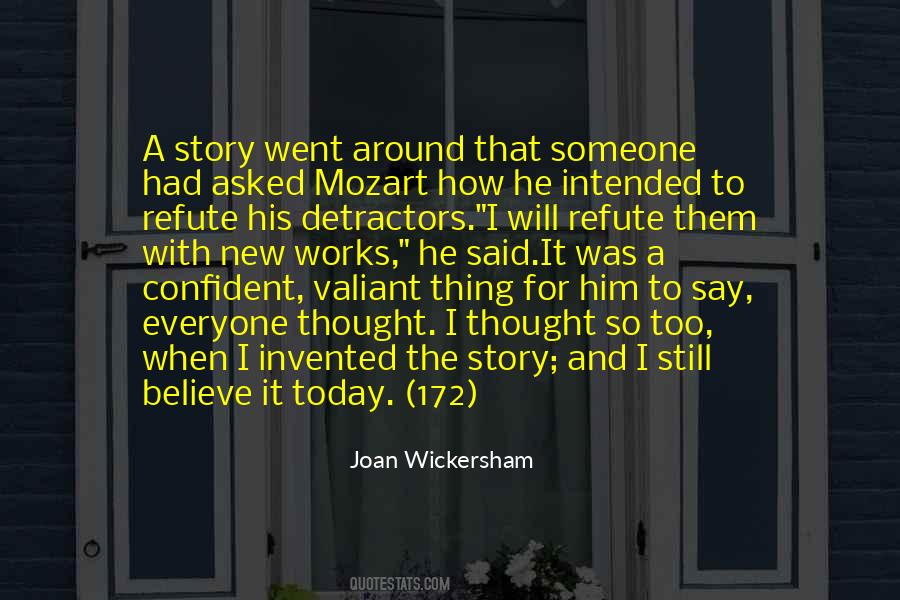 #82. Because every time someone finds a new animal, or a new amazing thing on earth, it means we haven't broken everything yet. - Author: Maria Dahvana Headley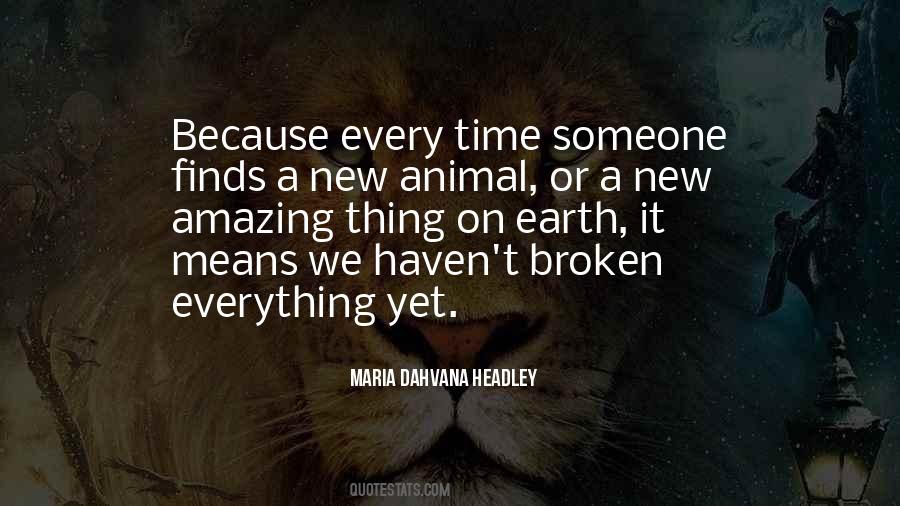 #83. Late-19th-century America, with all its chaotic change and immense potential, seems to have been the perfect place to become not someone else, but someone new. - Author: Candice Millard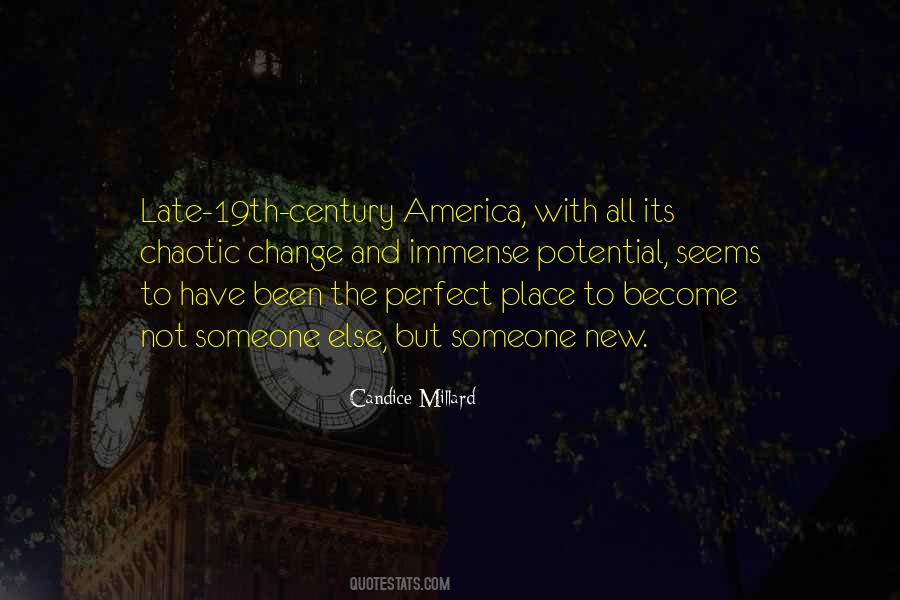 #84. i am someone who wants very much to be popular. I don't just want you to like me, I want to be one of the most joy-inducing human beings that you've ever encountered. I want to explode on your night sky like fireworks at midnight on New Year's Eve in Hong Kong. - Author: Carrie Fisher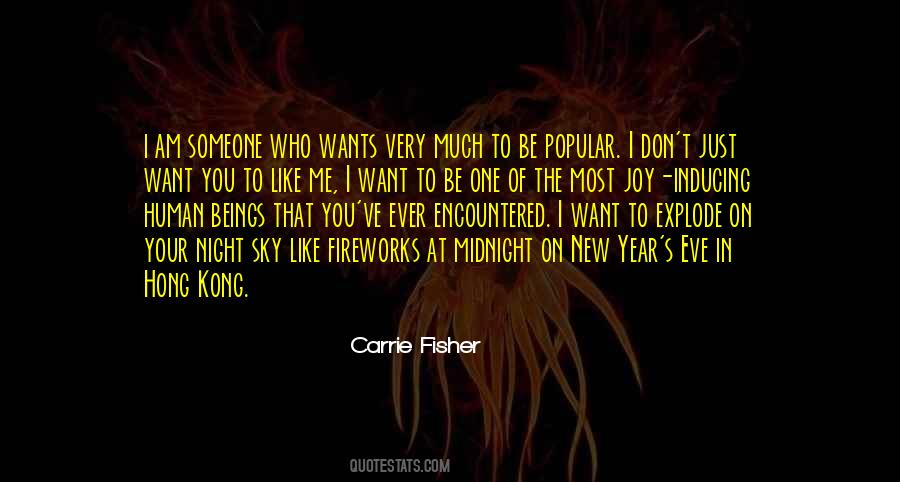 #85. On one occasion, someone asked a famous American musician, Ben Harper, this question: "We've heard you now have a new drummer in your band. Tell me something: is he black?" And Harper replied: "I don't know, I've never asked him. - Author: Mia Couto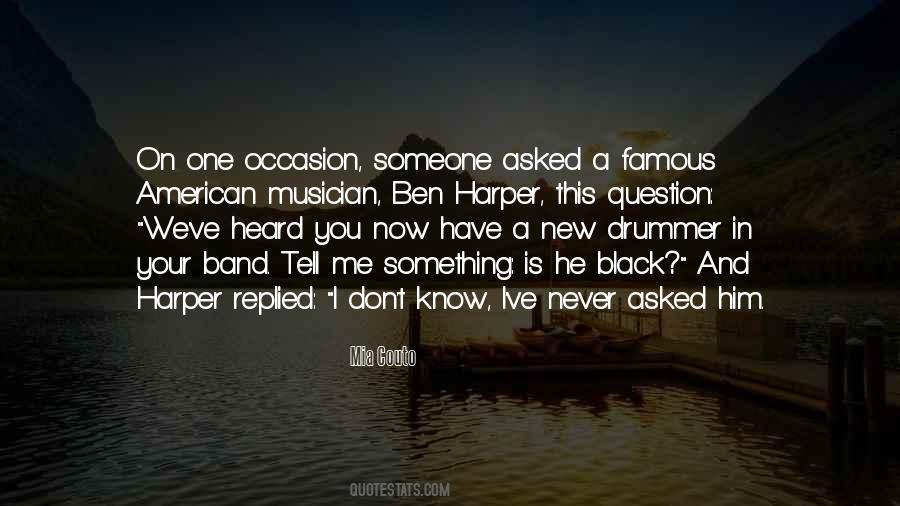 #86. In real life, we do things out of character, constantly. A couple of days ago, my shoes were hurting, so I walked barefoot through New York. Someone who has known me my whole life would think that was so out of character. But I did it because of the circumstances. - Author: Allison Williams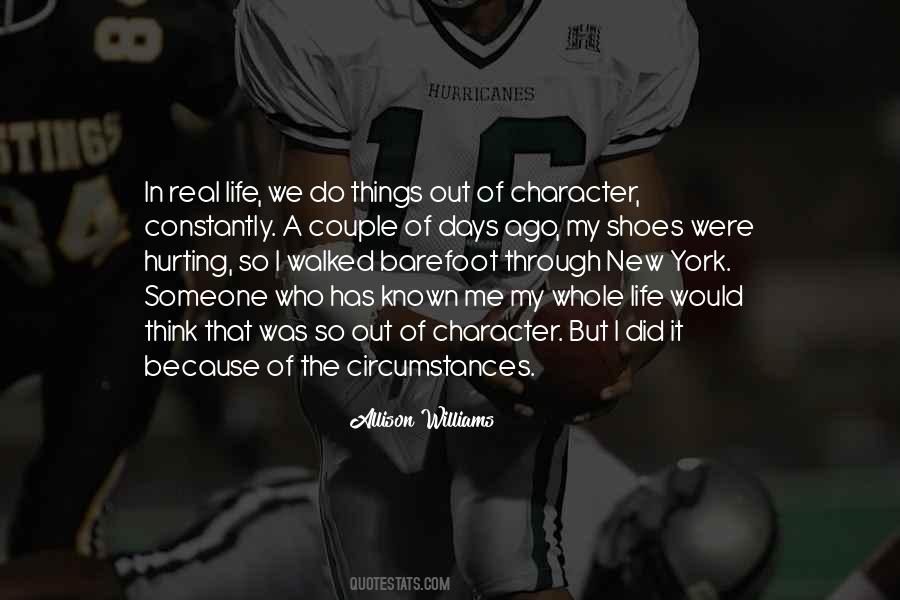 #87. Once you break someone's heart, you are forever its master. - Author: Roy L. Pickering Jr.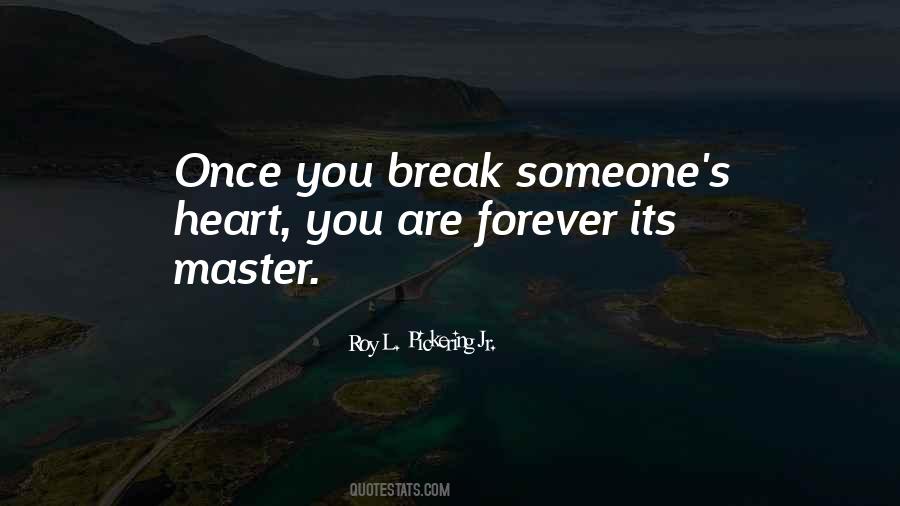 #88. Partners:
Tied together by stuff too difficult to explain to someone new - Author: Brian Andreas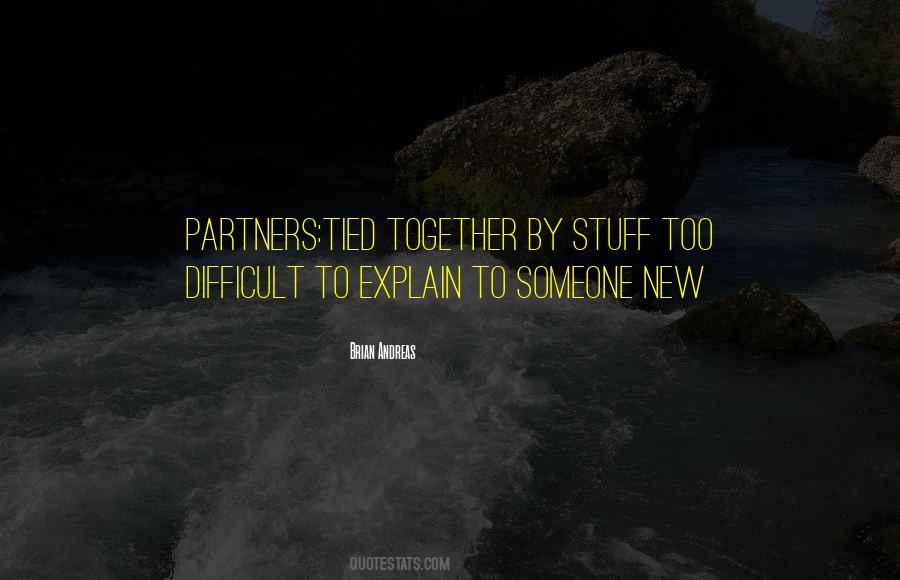 #89. I was 26 when I went to my first acting class. I'm naturally quite shy. I'm a quite private person. There's this really strange acting class in New York called Black Nexxus. For someone who's slightly shy or self-conscious, it's the most frightening thing you can do. - Author: Hannah Ware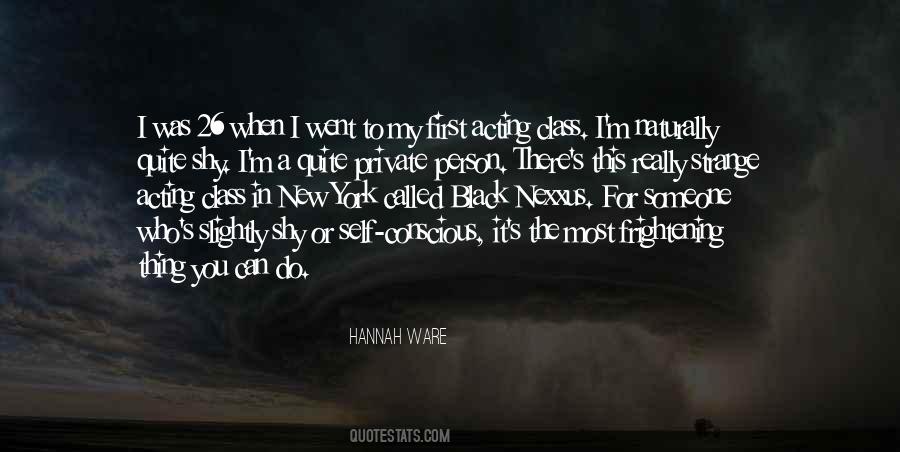 #90. I do this before I bring someone new into my life; I try to get a sense of who I am so that I can make it easier for them to know me. - Author: Miranda July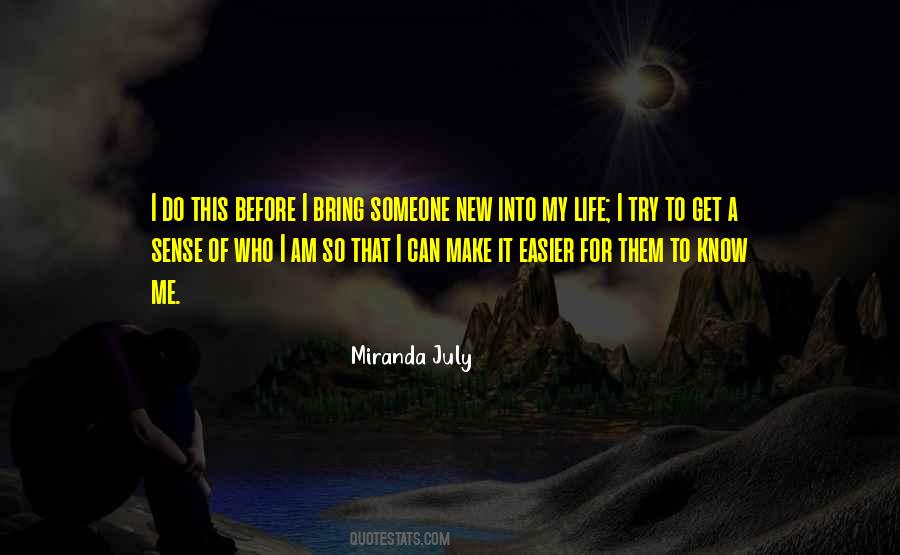 #91. I get nervous before openings or premieres or when someone's reading a new script, and I get nervous when my daughter isn't in my immediate field of vision. - Author: Aaron Sorkin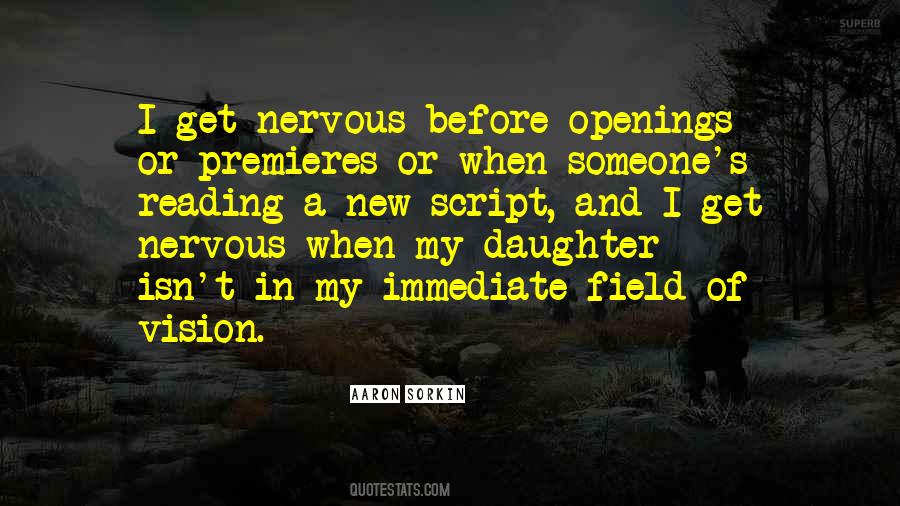 #92. The process of introducing people to new music is amazing. It's a gift. One of the best parts of any day is when someone says, 'Hey, check out this new band ... ' - Author: Mark Hoppus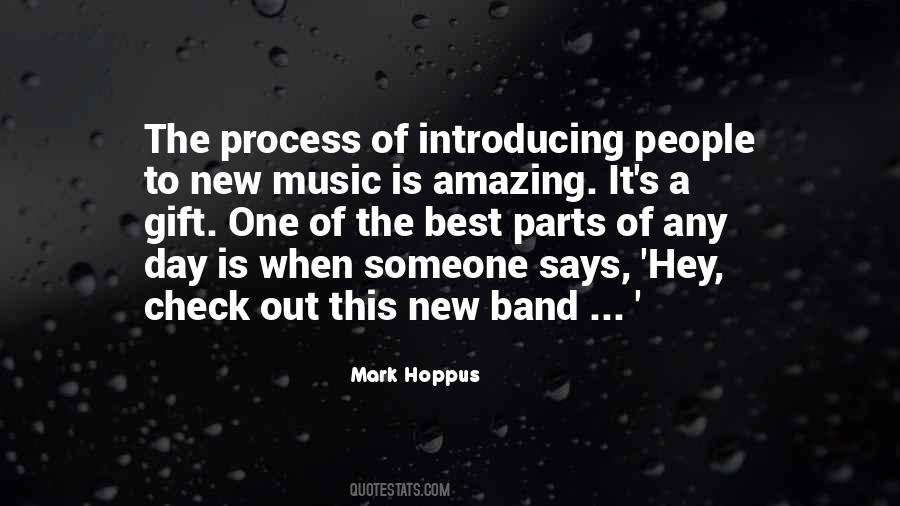 #93. Isn't Googling someone the first thing everyone does?! They meet someone new and Google them! - Author: Hilarie Burton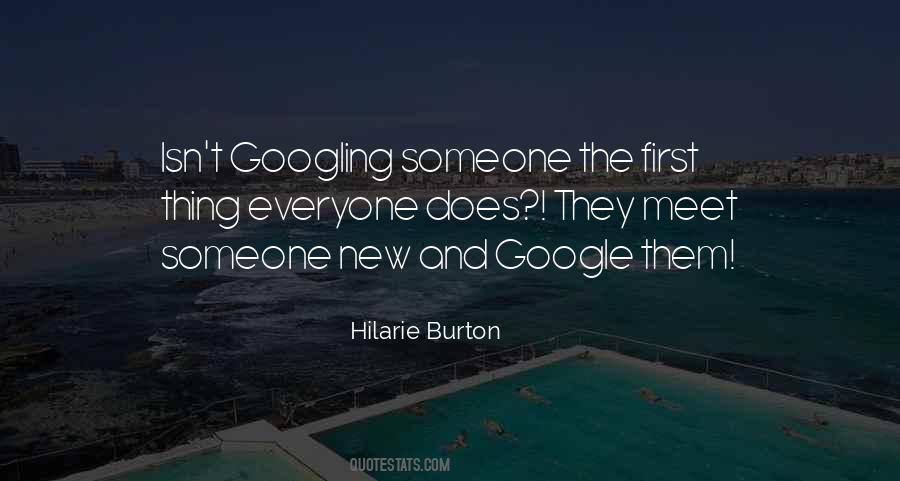 #94. As someone who came to New York in the 1970s, I was, like so many of my friends, a certified member of what we now call the 99 percent - and I was a lot closer to the bottom than to the top of that 99 percent. At some point during the intervening years, I moved into the 1 percent. - Author: Graydon Carter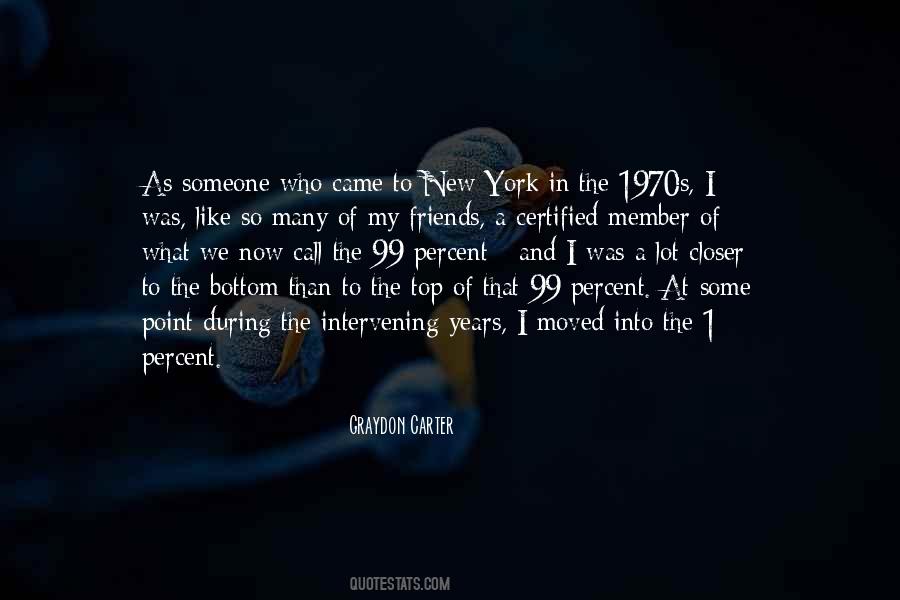 #95. Someone gave me a New Testament. I had never before read it systematically. Some parts made sense, some parts shocked me. - Author: Lionel Blue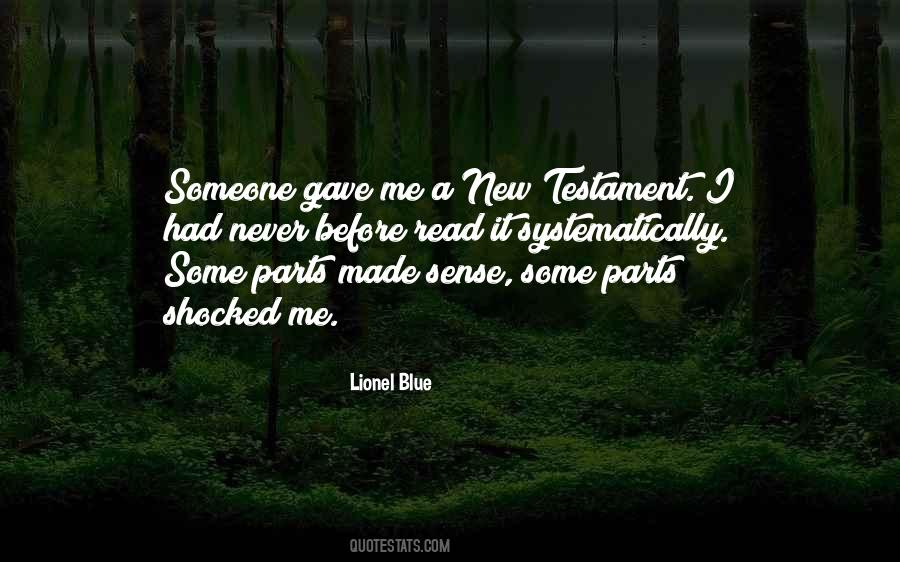 #96. If you are not annoying someone, you are not doing anything new - Author: Penelope Trunk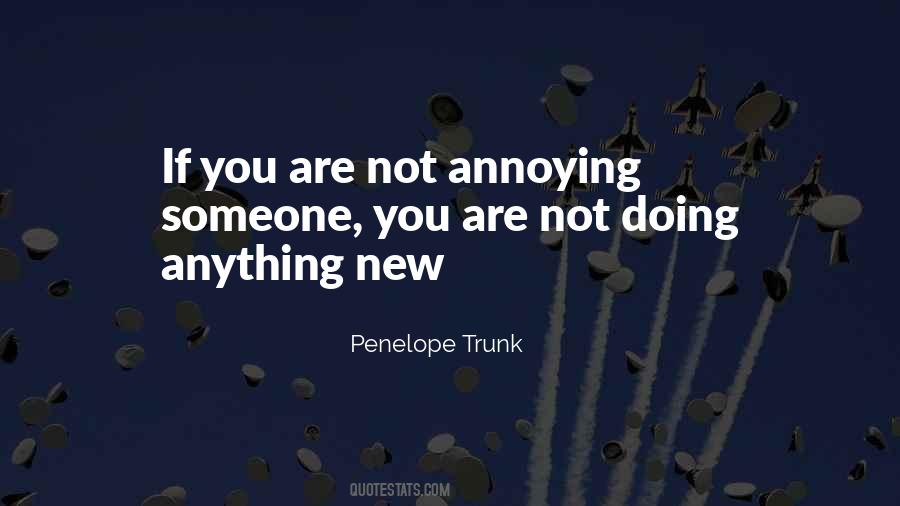 #97. A writer is someone who has found a process that will bring about new things. - Author: William Stafford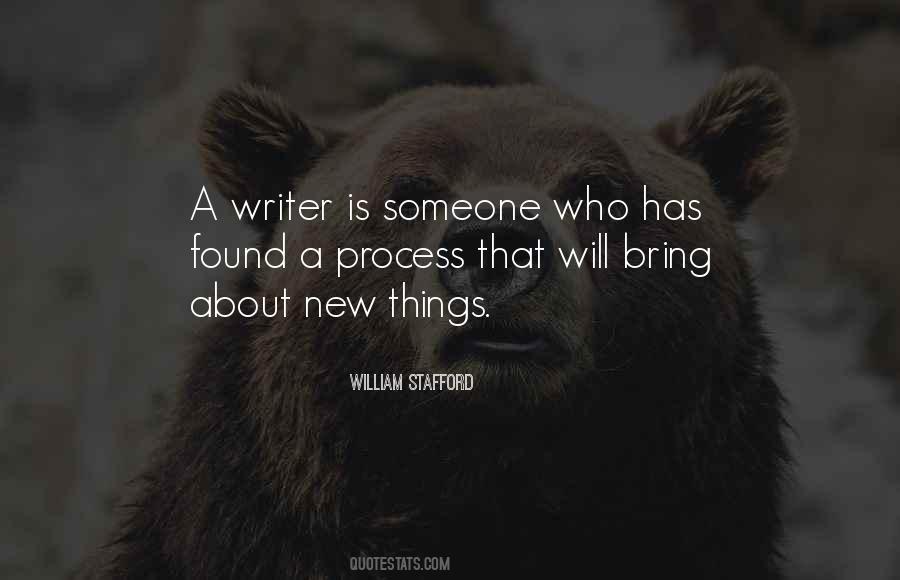 #98. If someone did this Fahrenheit 9/11 to get back at Bush, then they did so by killing thousands of people who DID NOT VOTE for him! Boston, New York, D.C., and the planes' destination of California - these were places that voted AGAINST Bush! - Author: Michael Moore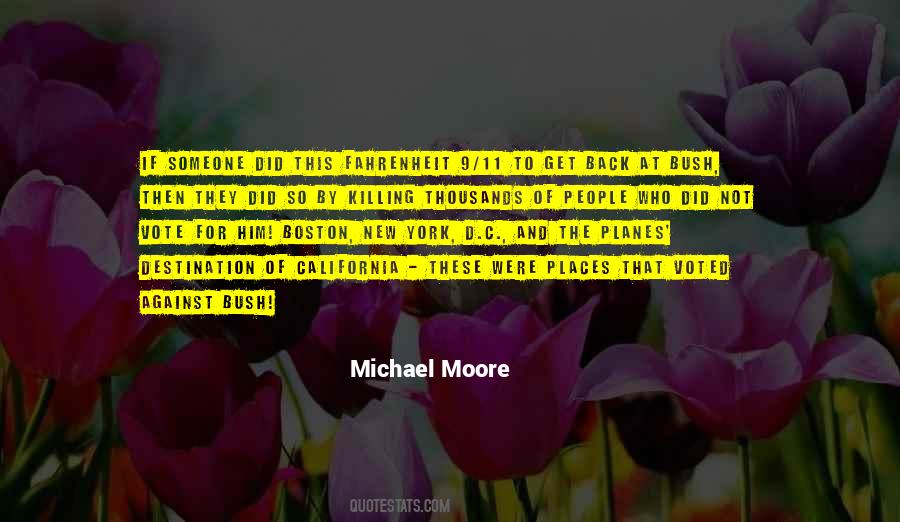 #99. If someone has harmed you, don't wish them ill
wish for them to gain clarity! Hope that they will soon be able to fully see the pain they have caused you, as well as new ways of being and doing. - Author: Karen Salmansohn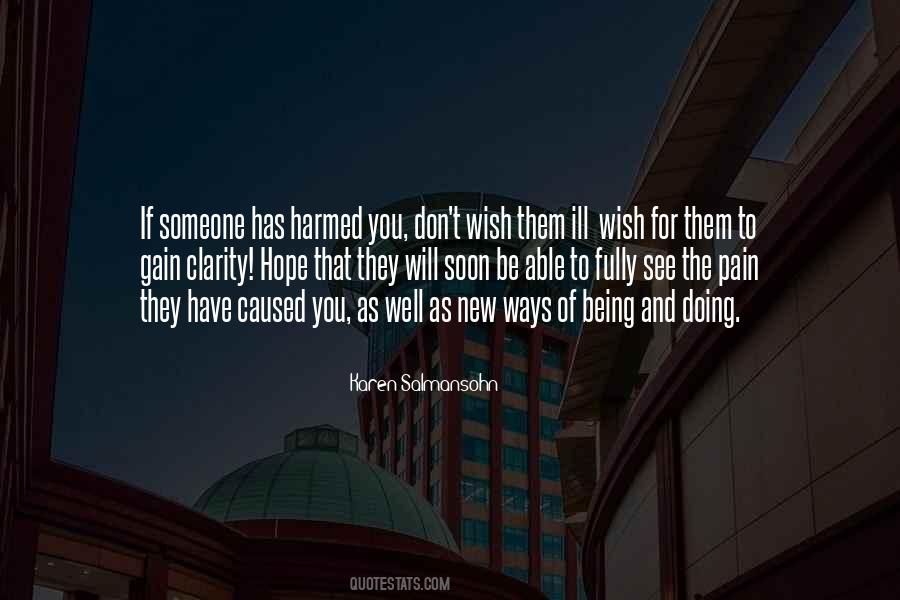 #100. (To someone at New York University) If you consistently take an antagonistic approach, however, people are going to start thinking you're from New York. - Author: Larry Wall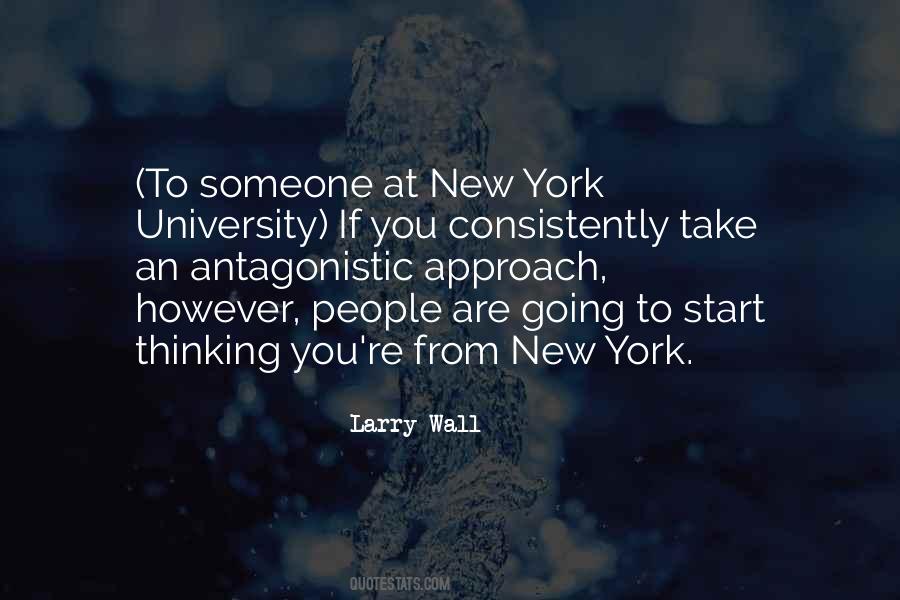 Famous Authors
Popular Topics