Room Service Famous Quotes & Sayings
List of top 70 famous quotes and sayings about room service to read and share with friends on your Facebook, Twitter, blogs.
Top 70 Quotes About Room Service
#1. He downed the rest of his drink and poured himself another from the bottle of whisky room service had brought up: Jameson. The only good thing ever to come out of Ireland. - Author: Jo Nesbo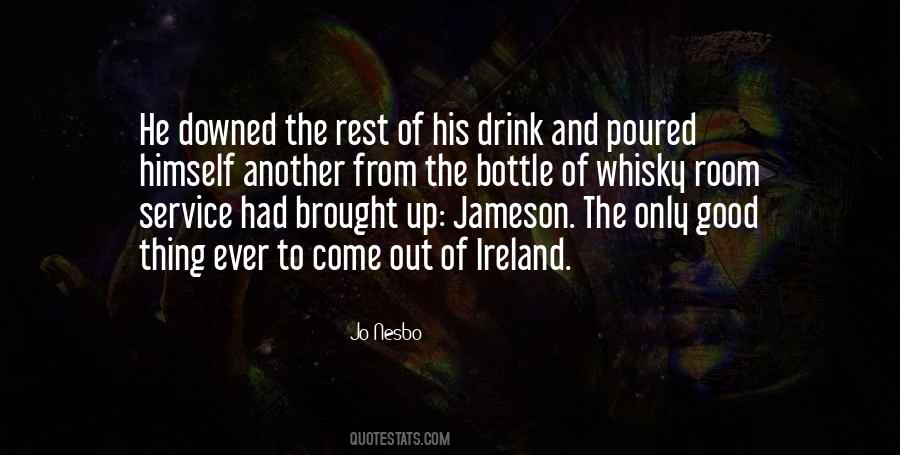 #2. I used to think that communing with nature was a healing, positive thing. Now, I think I'd like to commune with other things - like room service and temperature control. - Author: Roseanne Barr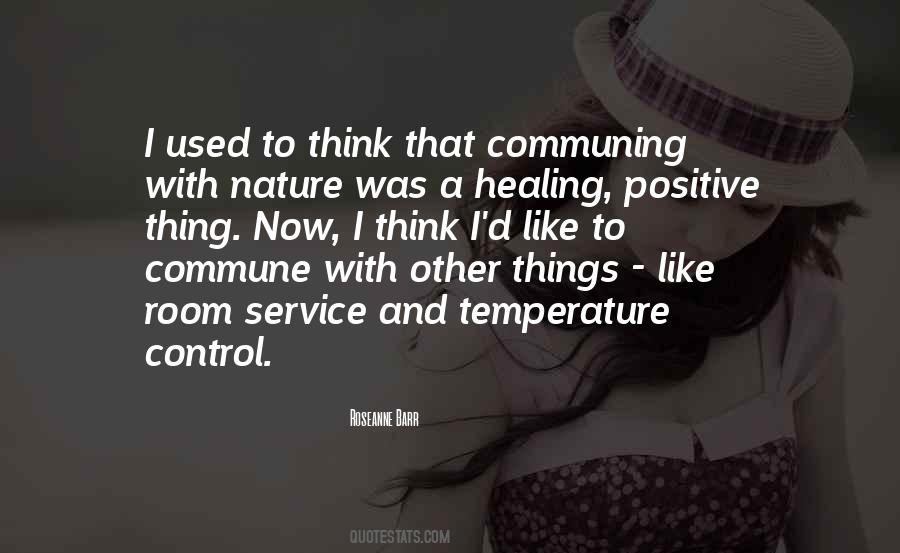 #3. I'm totally sick of hotels. I'm totally sick of room service. I'm totally sick of how can I help you ma'am? I just want to go home and wash some dishes, play with my cat, watch some TV. - Author: V V Brown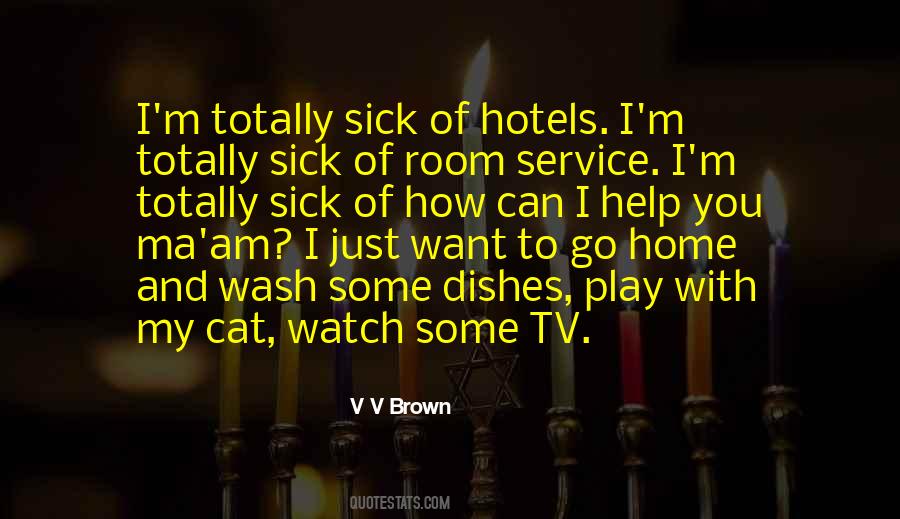 #4. Room service. You like me fluff pillow? - Author: Triple H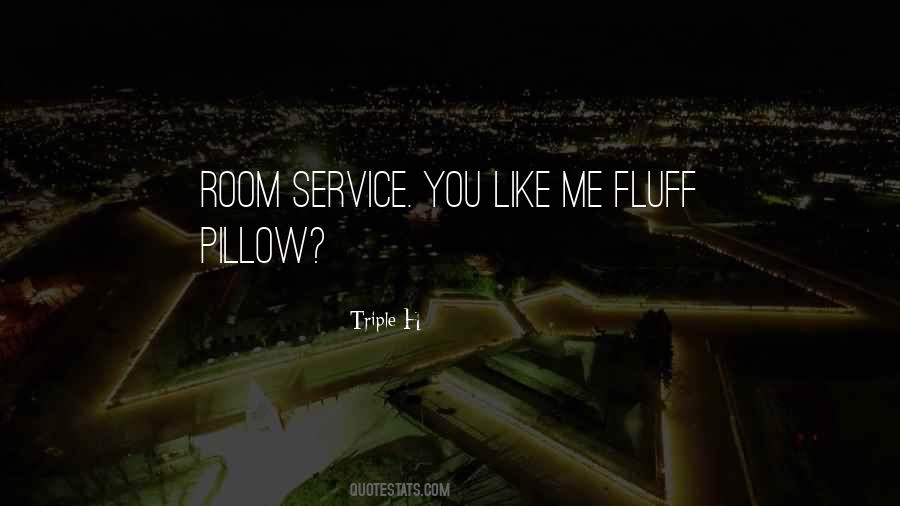 #5. If it weren't for the animals waiting for her, she wouldn't bother getting out of bed. Then, room service was a little lacking when you lived alone. - Author: Dale Mayer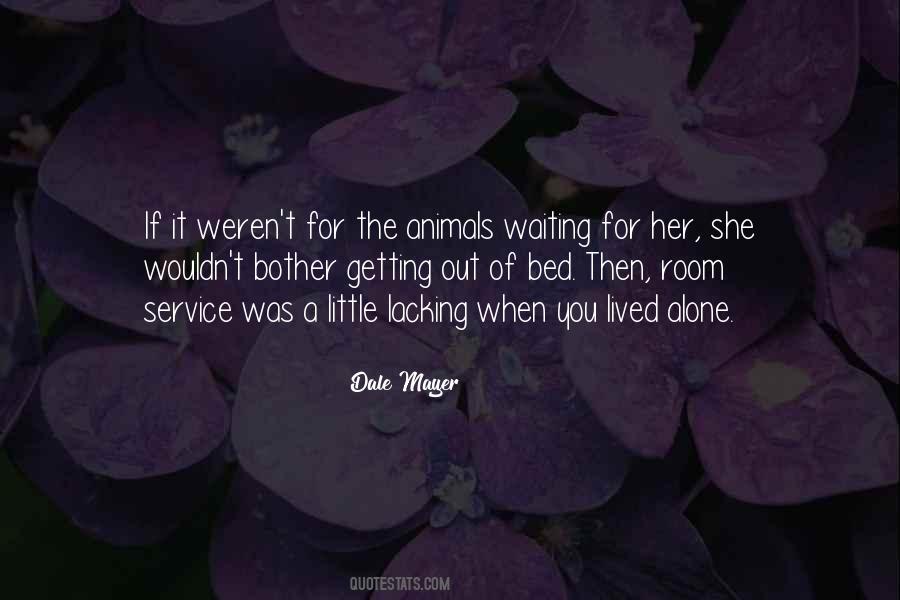 #6. Soak blanket in gravy and make a delicious brick wrap. Serve in All Gravy Room at the Mandrake Hotel. - Author: Christoph Fischer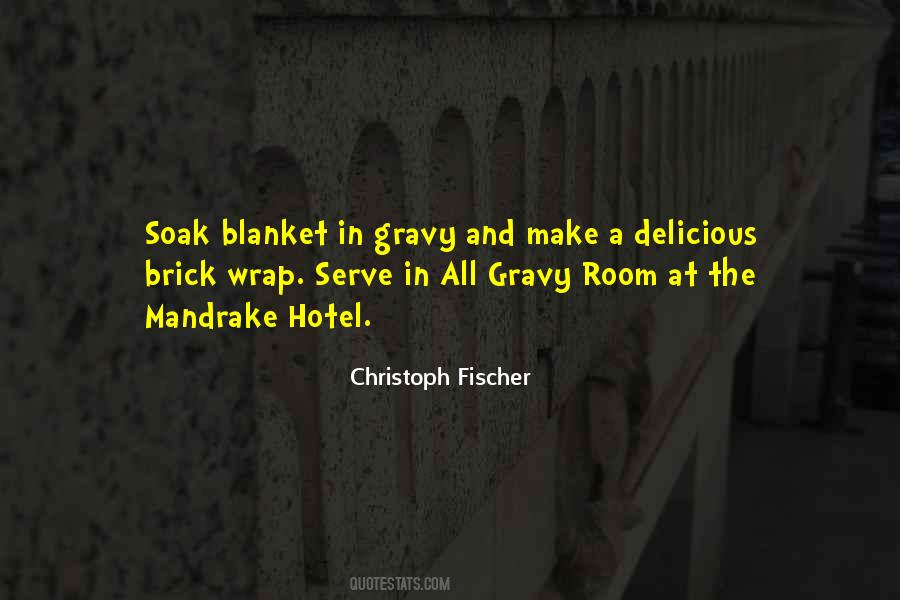 #7. The old age of women is bearable only on condition that they do not take up any room, do not make any noise, do not demand any service; on condition that they render all the service that is expected of them, and actually have no existence except for the good of others. - Author: Suzanne Curchod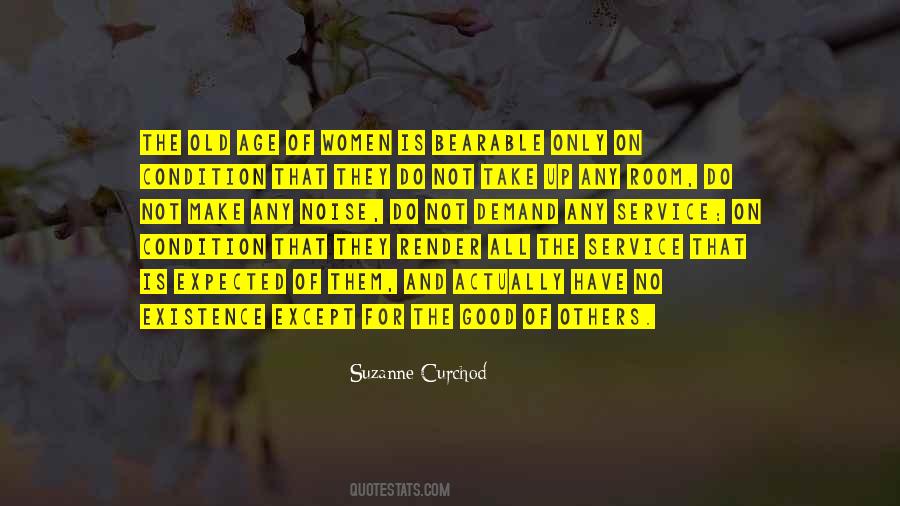 #8. Twenty-four-hour room service generally refers to the length of time that it takes for the club sandwich to arrive. This is indeeddisheartening, particularly when you've ordered scrambled eggs. - Author: Fran Lebowitz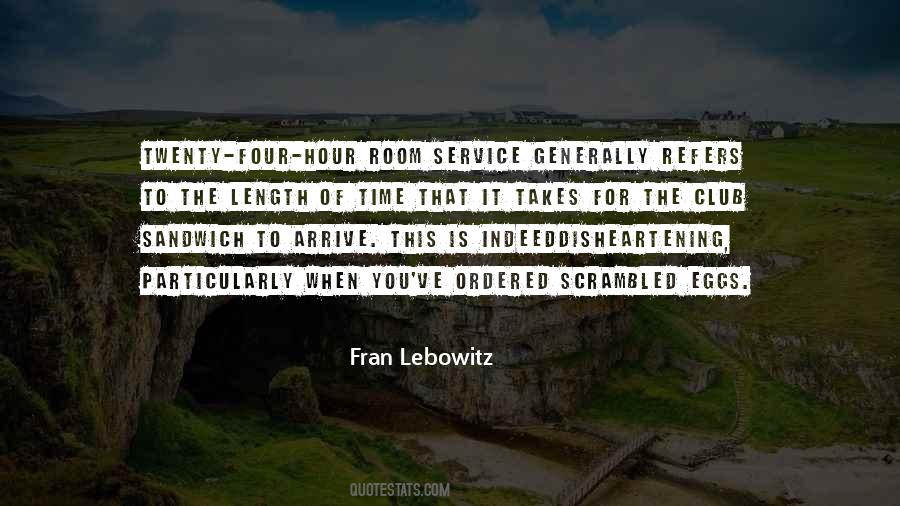 #9. I love room service! - Author: Cindy Margolis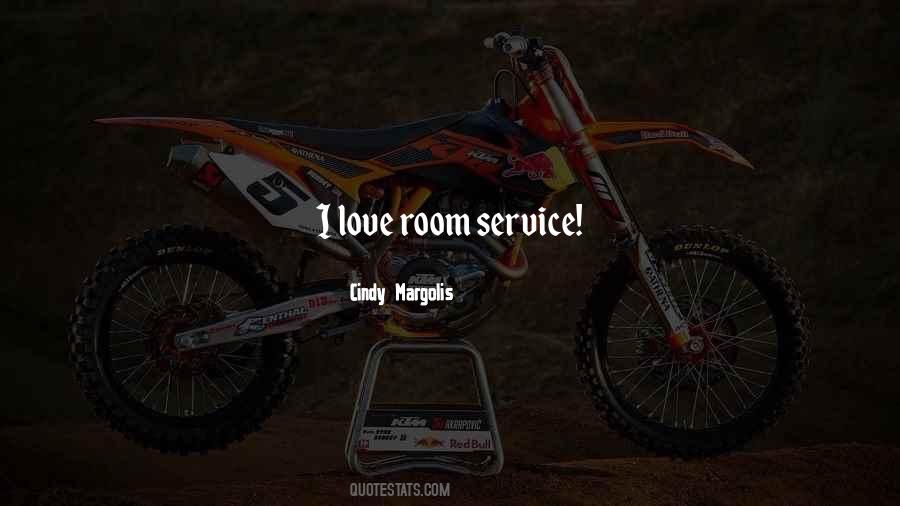 #10. After 9/11, I was like many people in New York City and got a little depressed. I began to check myself into The Waldorf Astoria for room service, movies and just to chill. I wanted to contribute to the great city of Manhattan. - Author: Kristin Chenoweth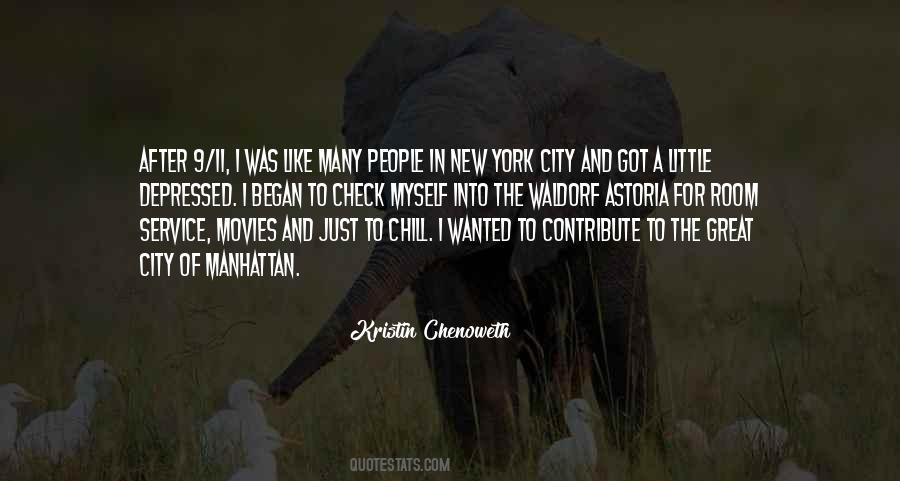 #11. There is a place for everyone, man and woman, old and young, hale and halt; service in a thousand forms is open. There is no room now for the dilettante, the weakling, for the shirker, or the sluggard. From the highest to the humblest tasks, all are of equal honor; all have their part to play. - Author: Winston Churchill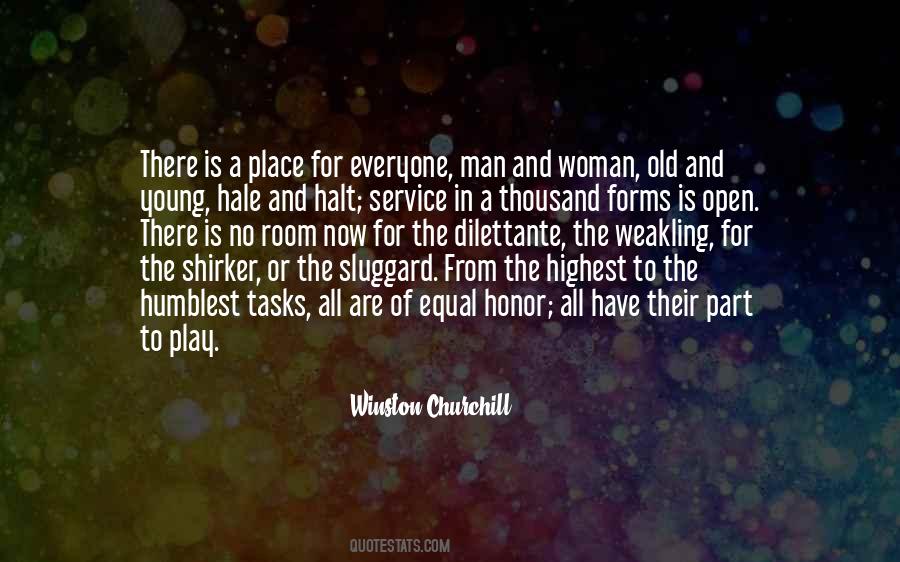 #12. In the Bob Hope Golf Classic, the participation of President Gerald Ford was more than enough to remind you that the nuclear button was at one stage at the disposal of a man who might have either pressed it by mistake or else pressed it deliberately in order to obtain room service. - Author: Clive James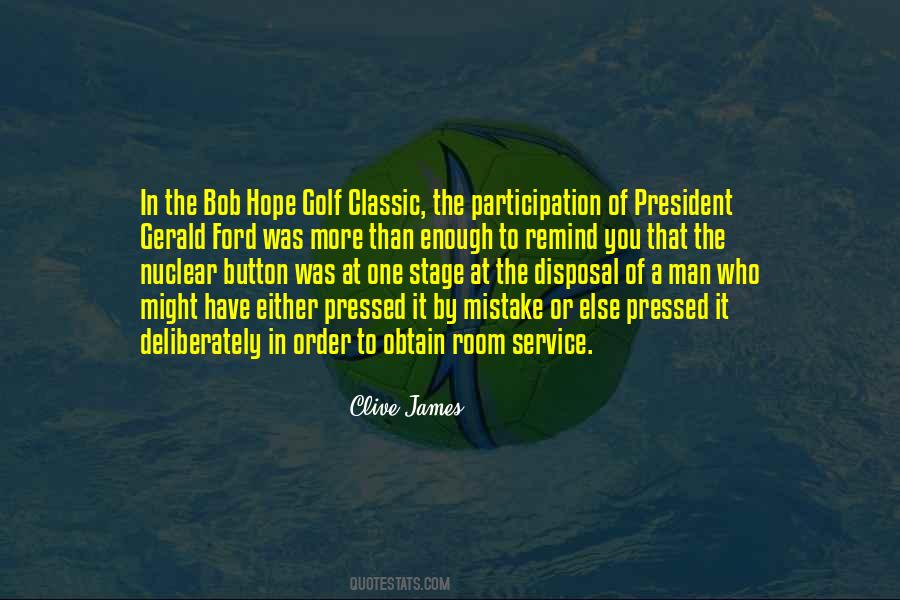 #13. The studio is an extension of the sandbox and the kindergarten playroom. It has a dynamic unlike any office or factory. It's a room at the service of a dreamer on her way to becoming a master. - Author: Robert Genn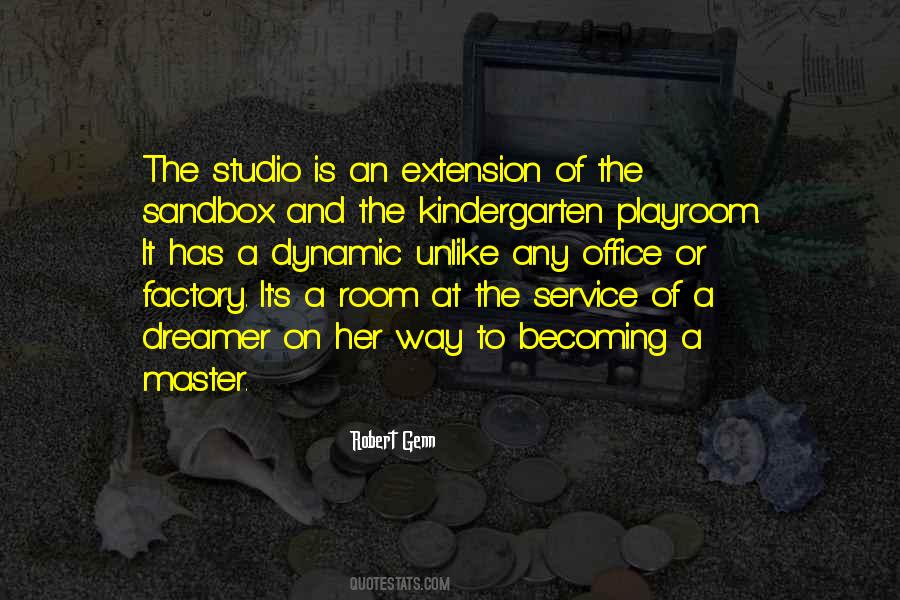 #14. When a forty-minute swim in the Hendrix's underground pool failed to dispel either the longing for Miriam Bancroft's torrid company or the Merge Nine hangover, I did the only thing I felt equipped for. I ordered painkillers from room service, and went shopping. - Author: Richard K. Morgan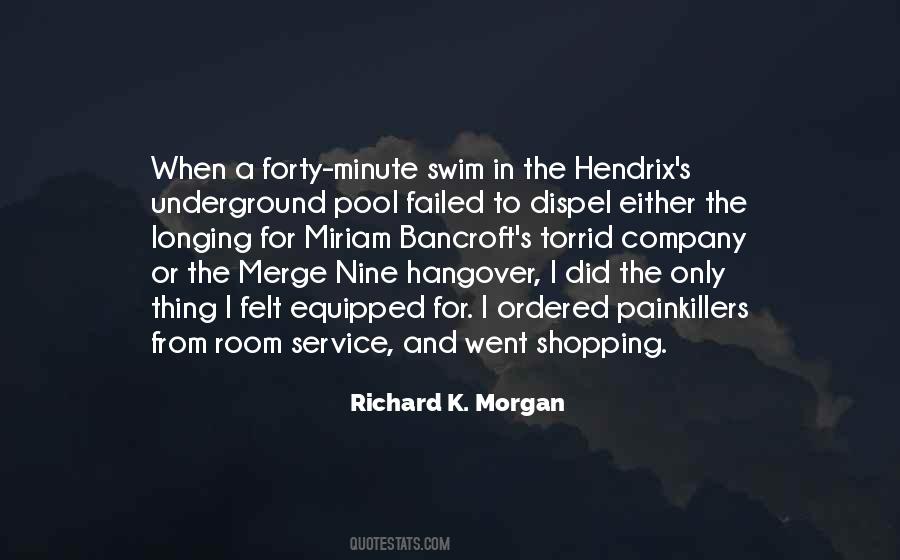 #15. The Ritz in London has an old-fashioned charm, with waiters wearing tails and white gloves. The dining room is exquisite, with immaculate service and ornate details. - Author: Anton Du Beke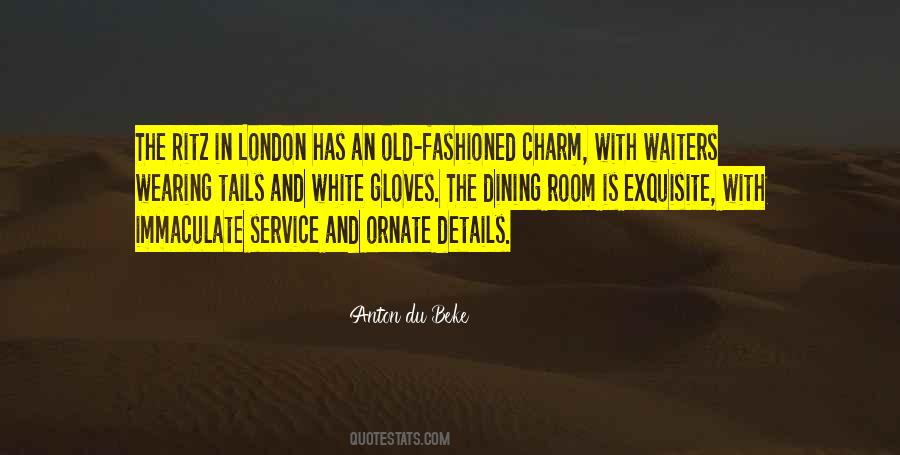 #16. The room-service Caesar salads with soggy croutons, the distant relatives who show up at readings pitching weird, far-fetched investment schemes, the fans who have you sign a book to 'Cathy' and then tell you, 'No, it's Kathy with a K' - it gets challenging after a while. It tests your stamina. - Author: Walter Kirn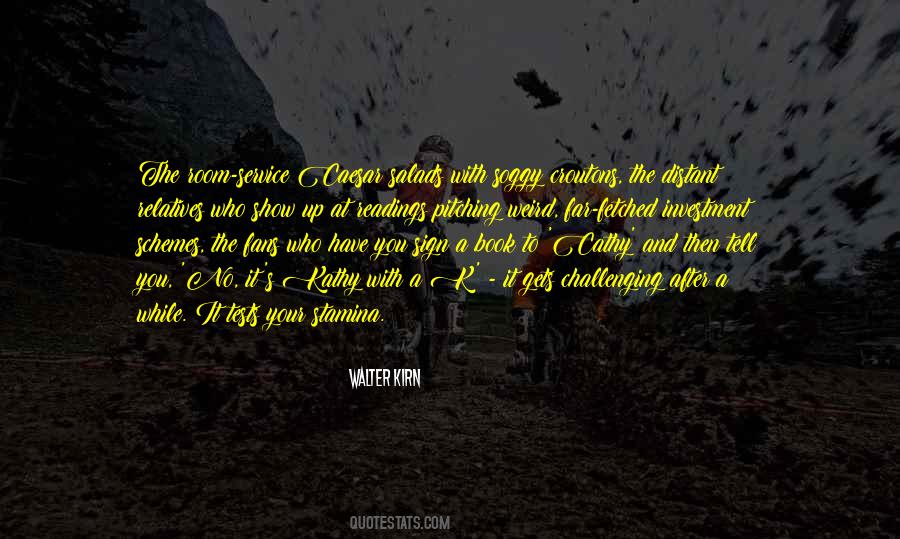 #17. Staying in luxury hotels still gives me a kick, especially Oulton Hall in Yorkshire. I'd stay in a hotel for the breakfast and room service. - Author: Jimmy Carr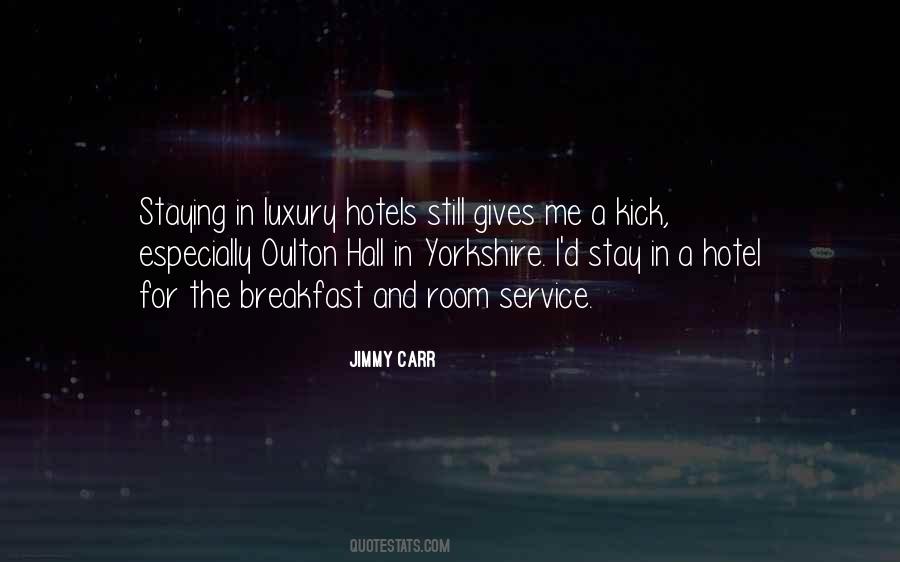 #18. I'm staying in a strange hotel. I called room service for a sandwich and they sent up two hookers. - Author: Bill Maher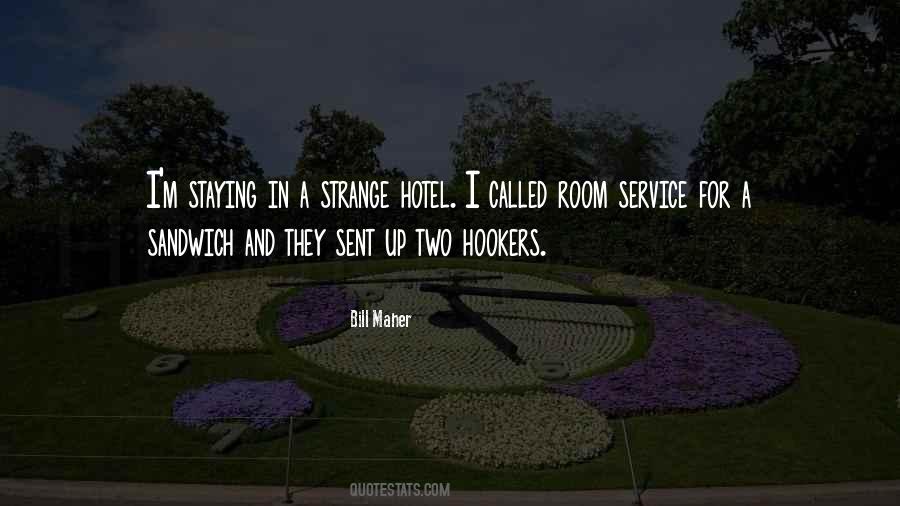 #19. Room service? Send up a larger room.
[A Night at the Opera] - Author: Groucho Marx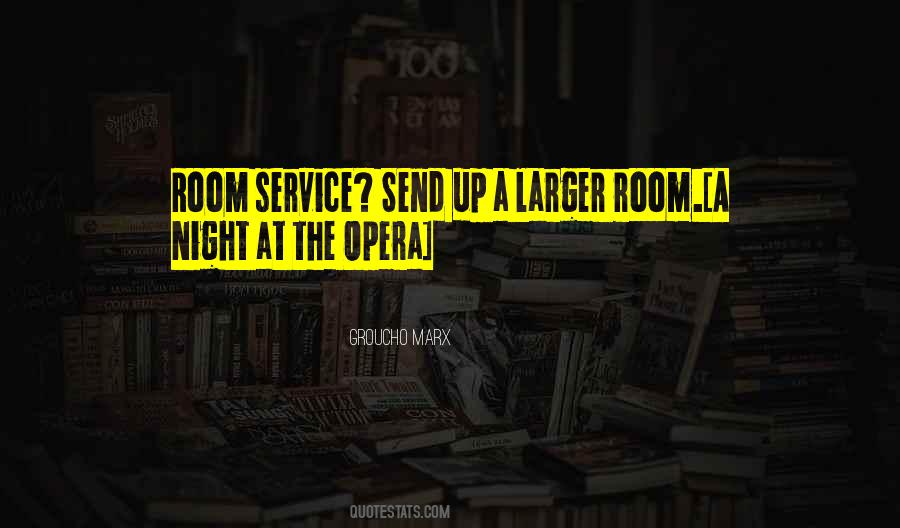 #20. Service is the rent that you pay for room on this earth. - Author: Shirley Chisholm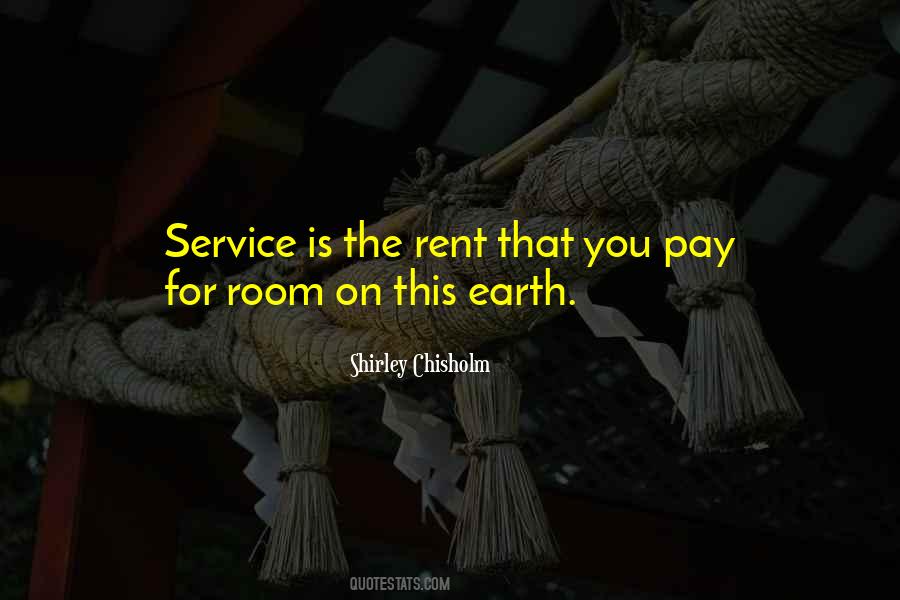 #21. The service we render others is the rent we pay for our room on earth. - Author: Wilfred Grenfell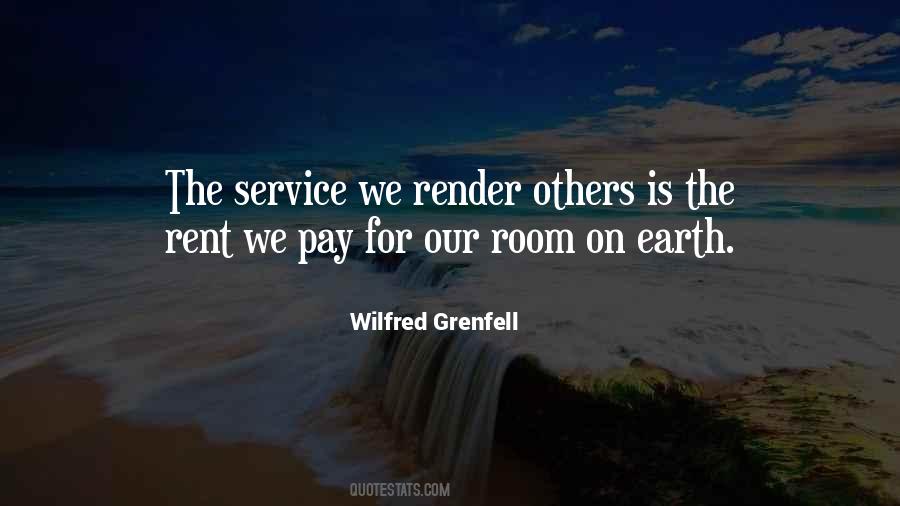 #22. There are three very good reasons to travel: 1. See the world. 2. Meet new people. 3. Room service. - Author: Linda Sunshine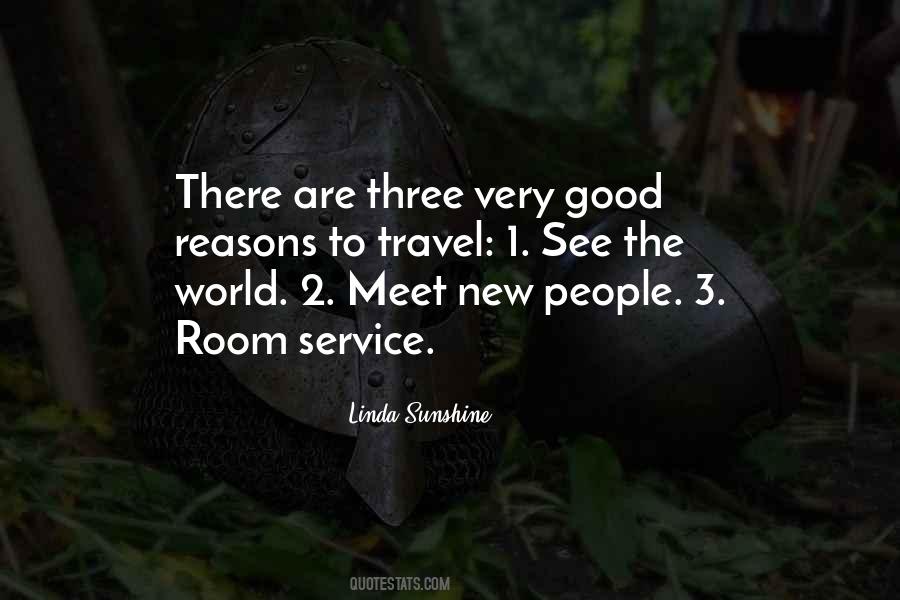 #23. I get excited about room-service menus! I really do. - Author: Colin Farrell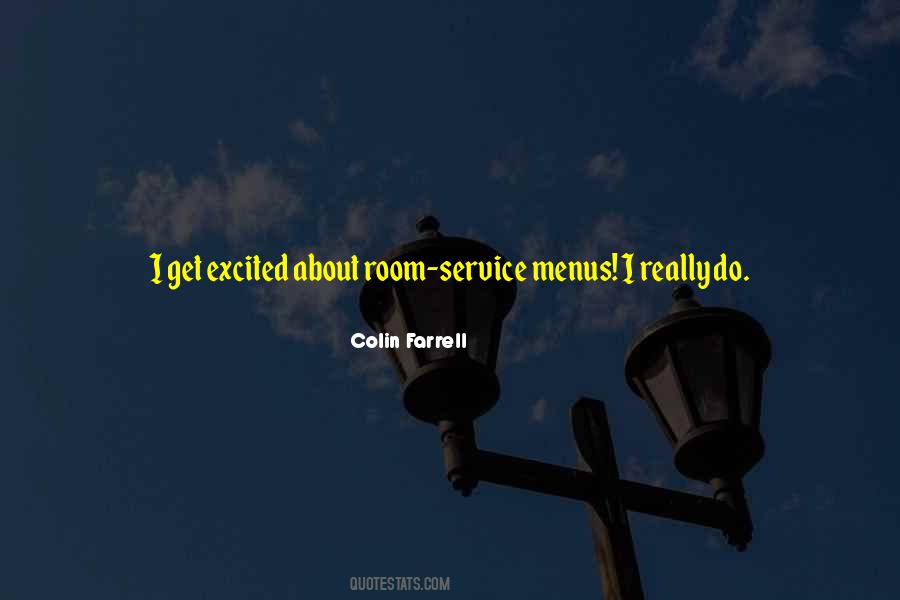 #24. He was feeling buoyant, flexible. He wanted to go jogging. He stood. He couldn't go jogging. He called room service and ordered a basket of breads and pastries. - Author: Dave Eggers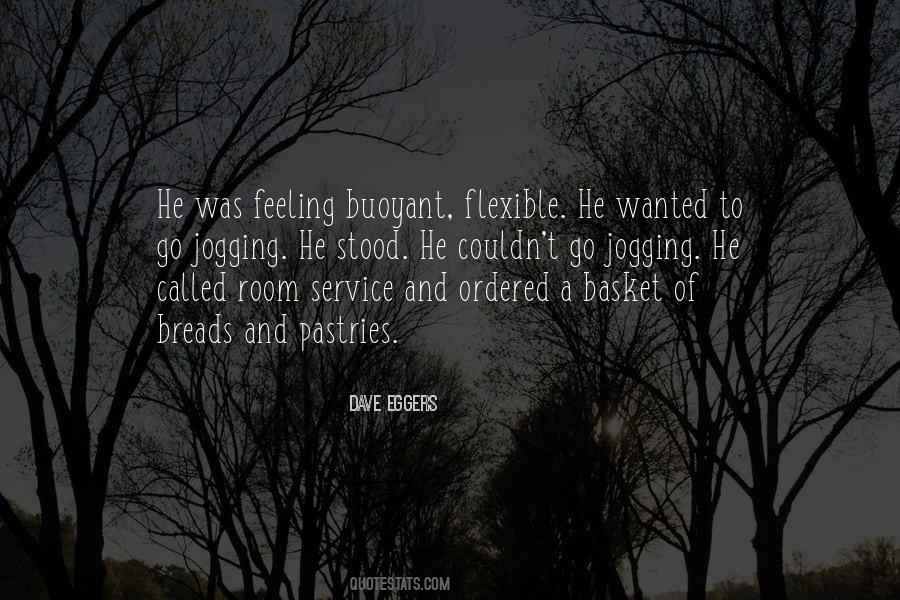 #25. The captain of the Titanic, who said to room service, Who sent for all this ice? Never got a dinner! - Author: Red Buttons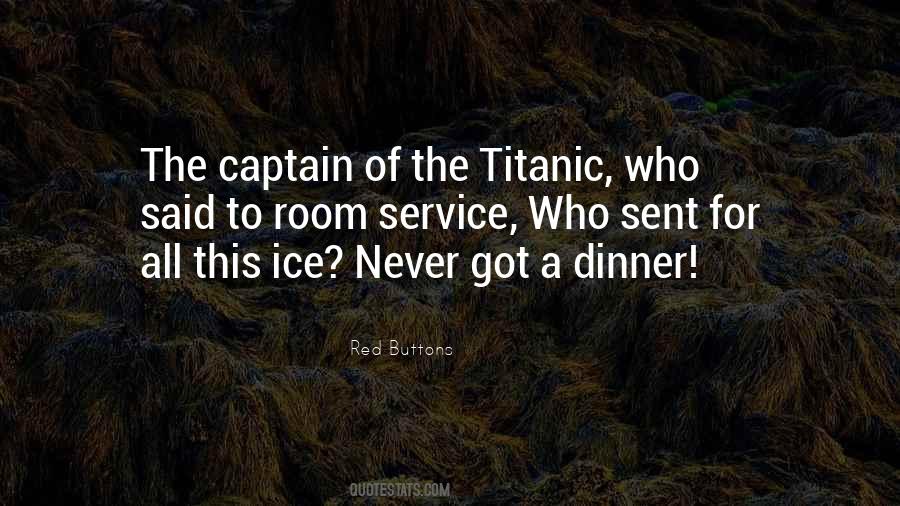 #26. Promise too much and you'll have plenty of room to fail. Promise little and you'll have plenty of room to excel. - Author: Ron Kaufman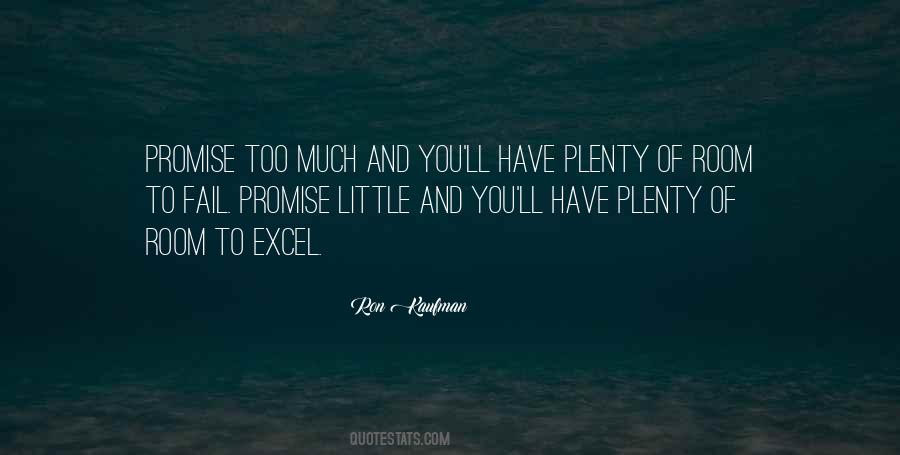 #27. I like the desert for short periods of time, from inside a car, with the windows rolled up, and the doors locked. I prefer beach resorts with room service. - Author: Anne Lamott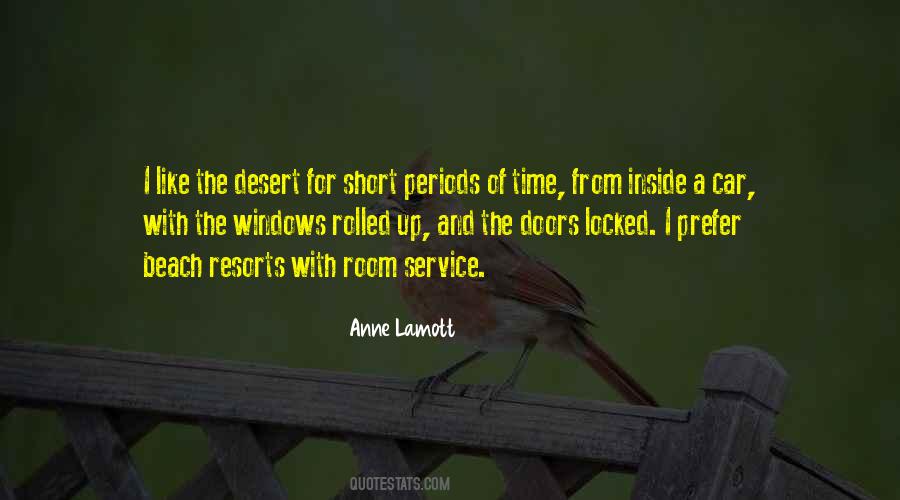 #28. Tim Russert is dead. But the room was alive. You can't work it too hard at a memorial service, obviously. It's the kind of thing people notice. - Author: Mark Leibovich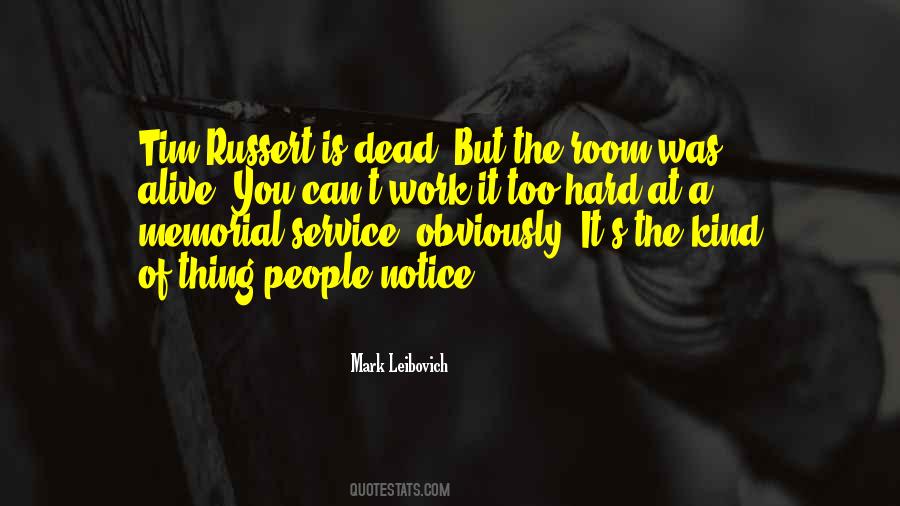 #29. My contention is that if we expand the patient-centered health care approach, we'll have less people that have to go the medical clinic that provides free service or go to the emergency room - they can have their own health care plan. - Author: Tim Walberg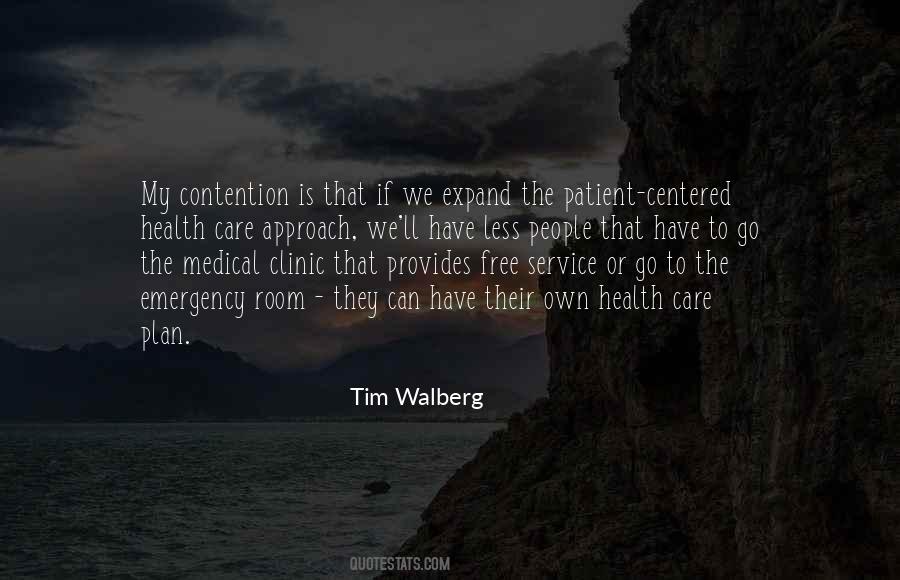 #30. I always thought when I hit 50 years old that'd be it for the travel. I don't have to tell you - you wait at an airport, your flight's delayed, get on a 14-hour flight, get off, get stuck in traffic, you get to the hotel and the room service is closed. - Author: Brian Setzer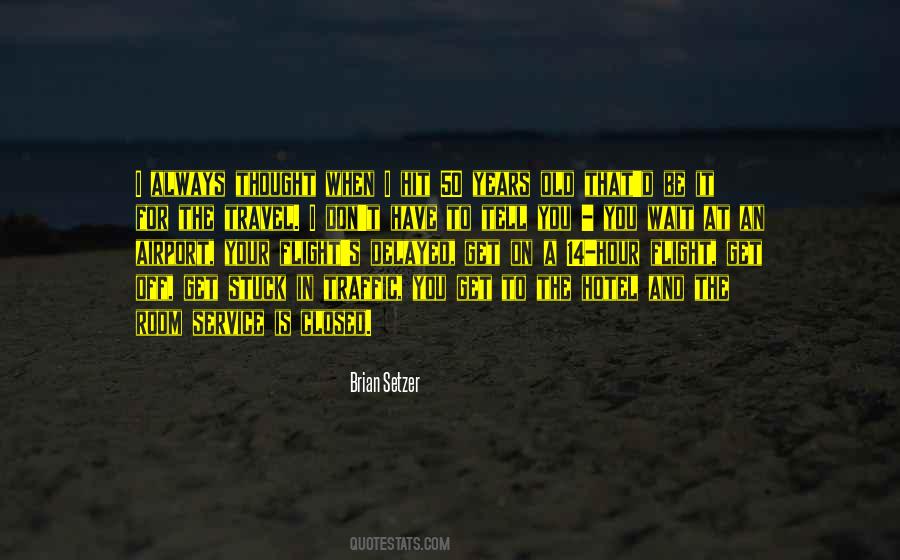 #31. Oh, we've had our share of hotels bein' smashed and all, but that was a long time ago. You get lousy room service ... I mean, there's no use throwin' a TV set out the window for the sake of throwin' a TV set out the window. But if you get a lousy picture then you have an excuse - Author: Angus Young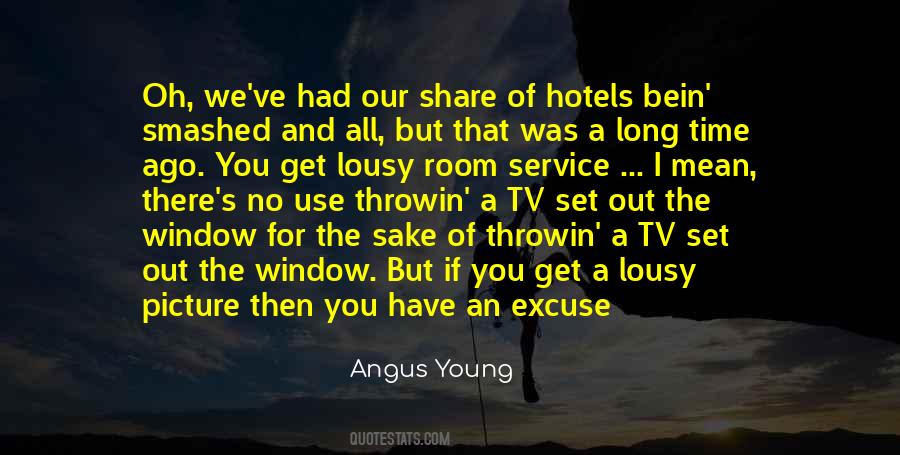 #32. Though I love the luxury of the Waldorf Towers, room service there doesn't do soul food. - Author: Sammy Davis Jr.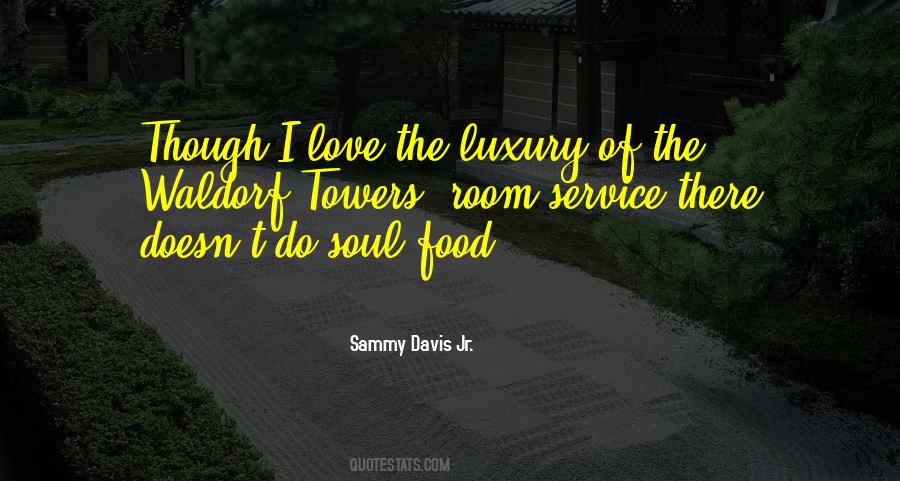 #33. Most Sunday magazines, with the New York Times as an exception, are kind of sleepy, weekend service vehicles to move living room products. - Author: David Talbot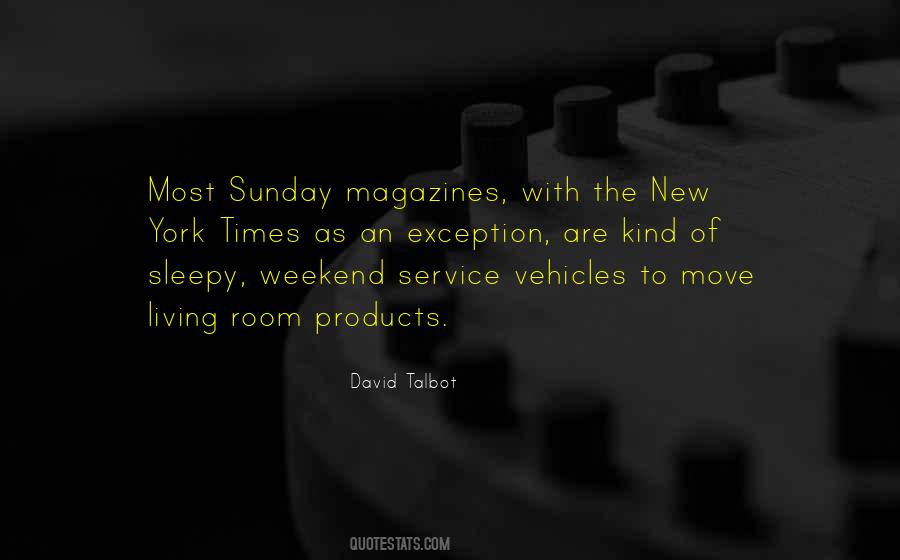 #34. When I was in Turks & Caicos, a bug jumped out of my room service menu. That kind of freaked me out. - Author: Jacquelyn Jablonski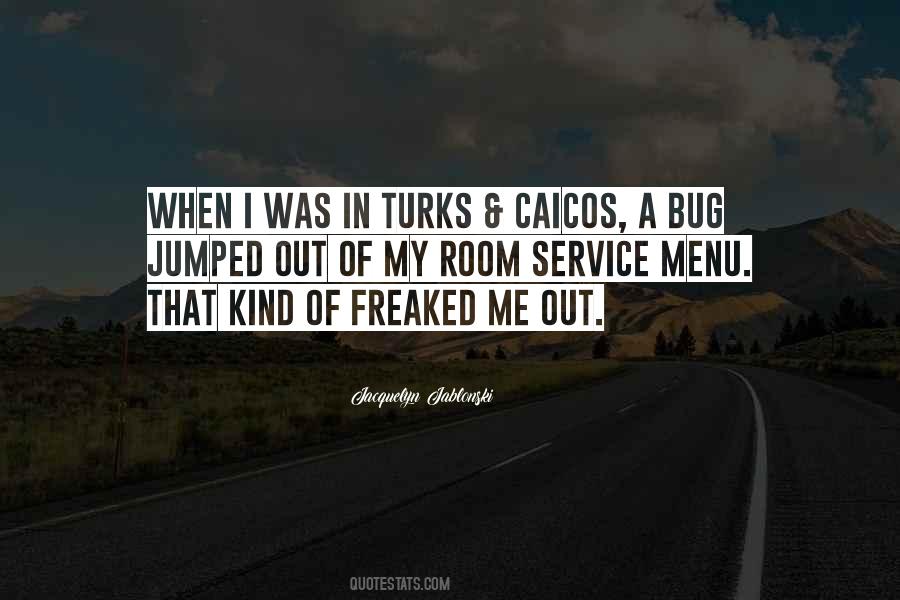 #35. Canceling my landline phone account, cutting off service to my home for good, and rendering the telephones that had long sat on tables in every room as useless as my closeted bread machine, I took the final step in a lifelong attempt to free myself from the wires that tethered me. - Author: Kara Swisher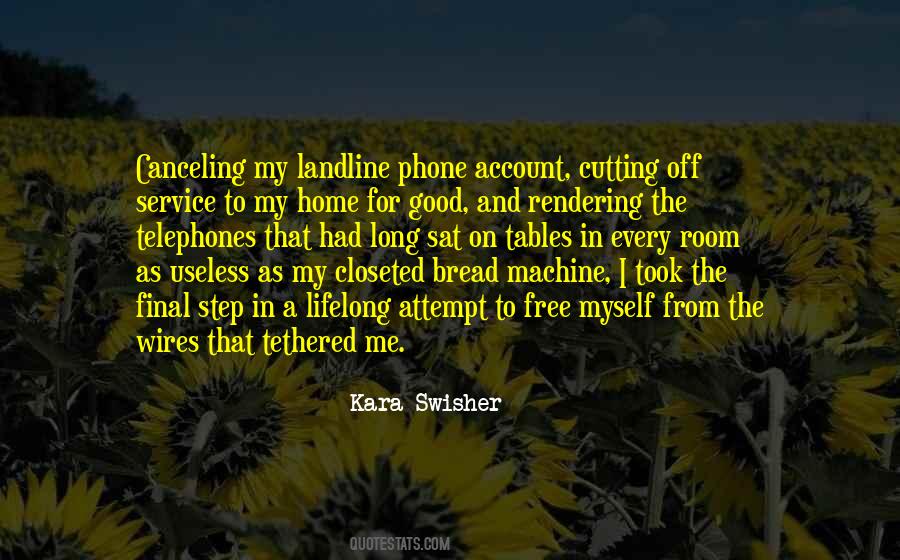 #36. and tested room service. I left her at work Monday - Author: Robert B. Parker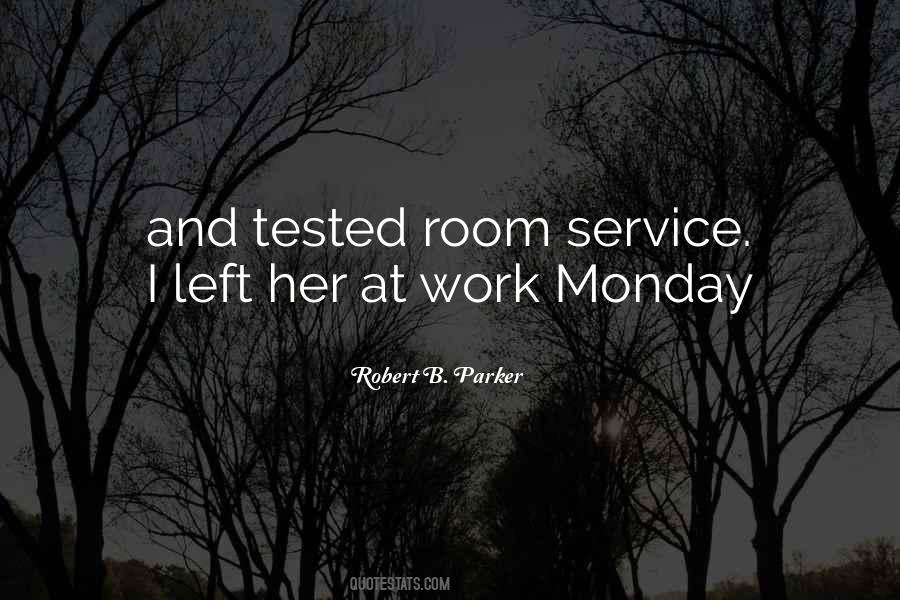 #37. As a model, it's a gypsy kind of life: living in hotels, working all the time, ordering room service instead of cooking for yourself. There's absolutely no nest-building. - Author: Eva Herzigova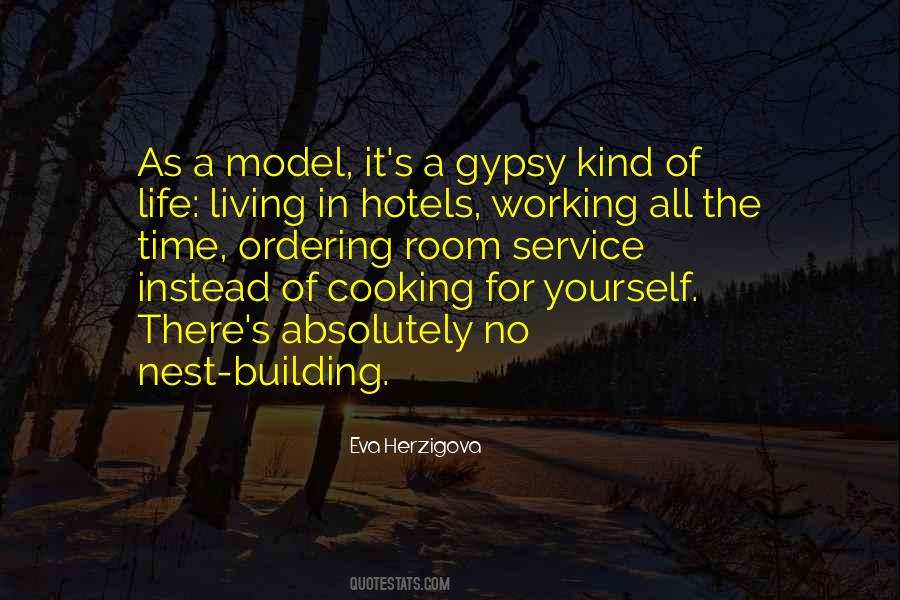 #38. Some good," Randall said, opening the door for Holly. "We'll meet you in an hour. Call and order something from room service. You look - Author: Anne Stuart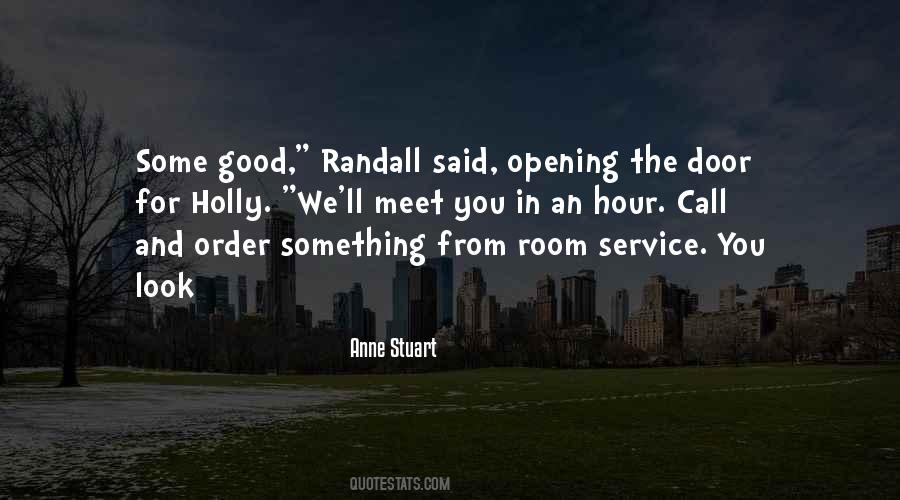 #39. This is an elegant hotel! Room service has an unlisted number. - Author: Henny Youngman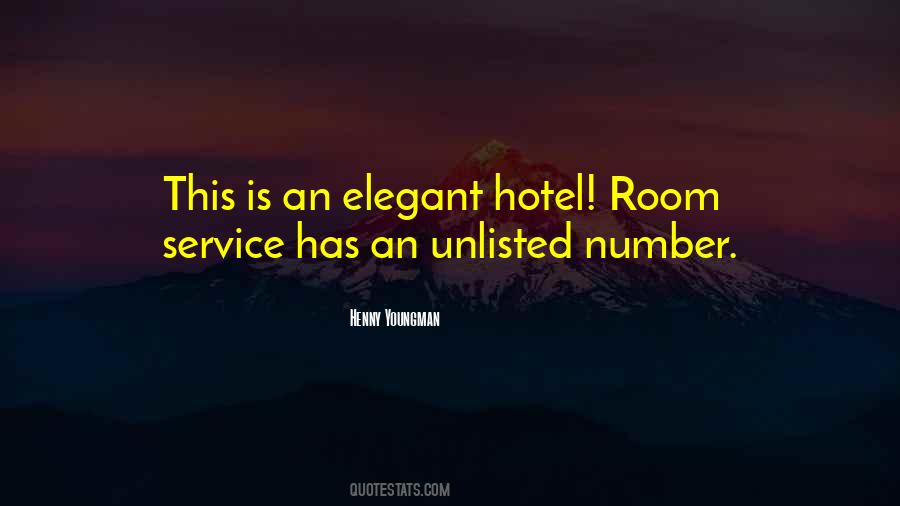 #40. Finnie kicked a packet of washing powder. "Why am I surrounded by morons? Did I tick the wrong bloody box for room service? I wanted scrambled eggs on toast, but they delivered a family-sized bag of idiots! - Author: Stuart MacBride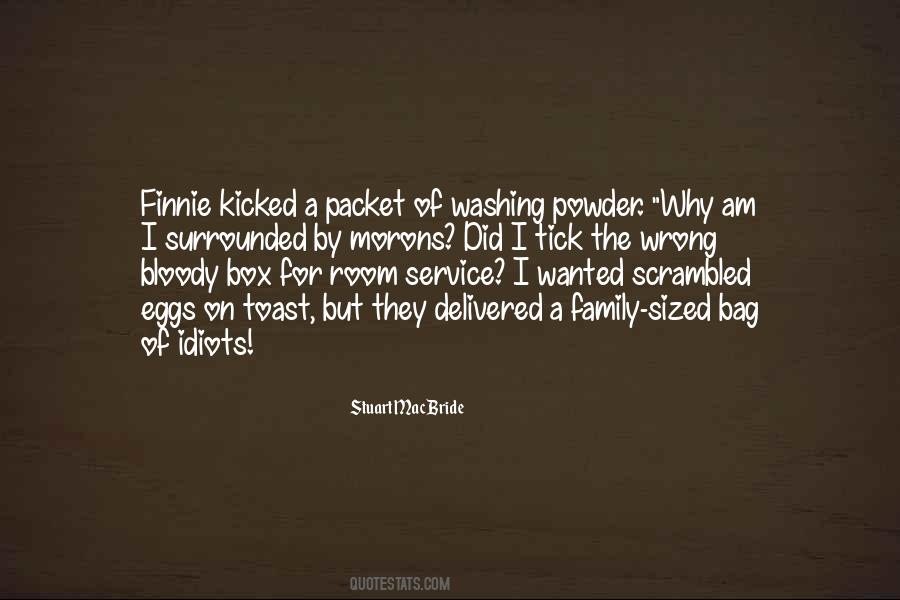 #41. You eat the room service employees every time?" Denise asked, shocked. "Of course. But don't fret on their behalf. I always tip well. - Author: Jeaniene Frost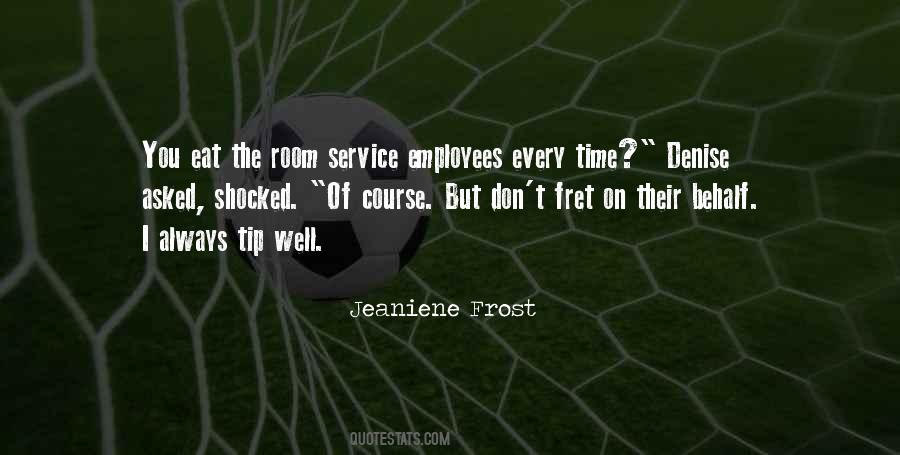 #42. He stands, loosening his black tie and stripping off his white shirt, dropping the latter just in front of my face. The appetizing smell of him reaches my face in a goading wave. As he walks around my body to the bed, he slaps my ass, making me turn and yelp. - Author: Felicity Brandon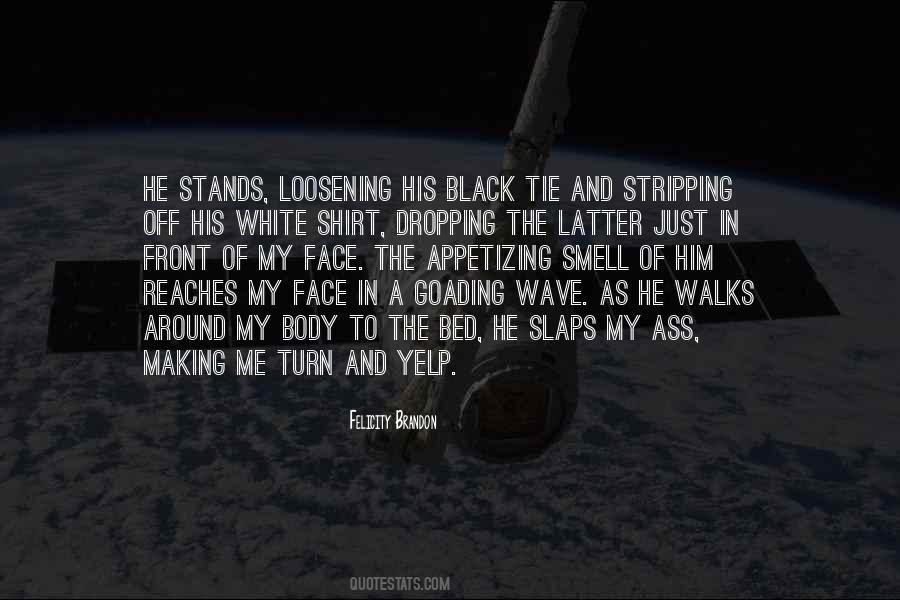 #43. I still, at hotel rooms, I do this one sort of not-so-cool thing: continually shoving my room service tray in front of someone else's door. Because I don't want the remnants. I don't want to be caught, like, being like the pig that I was at two in the morning. - Author: Drew Barrymore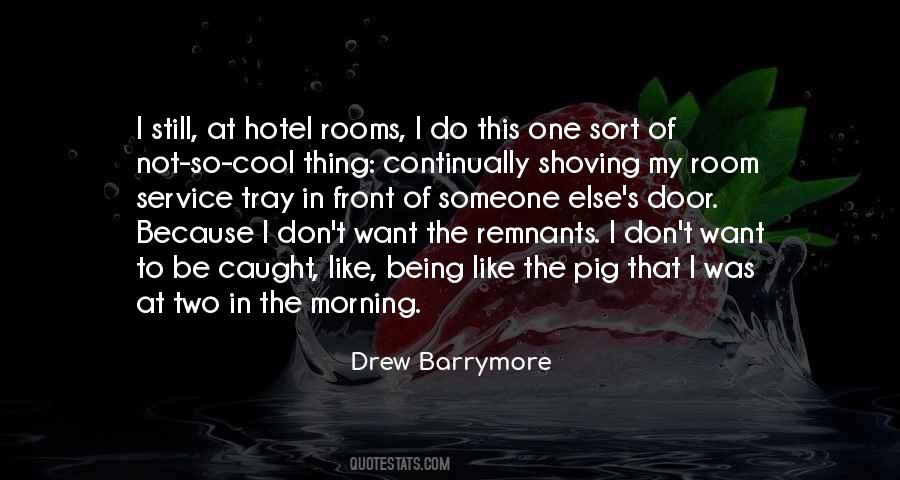 #44. They would be happy to bring some up. No one bitched about the time. No one questioned. You can always tell how much you're paying for a room by how little they complain. - Author: Laurell K. Hamilton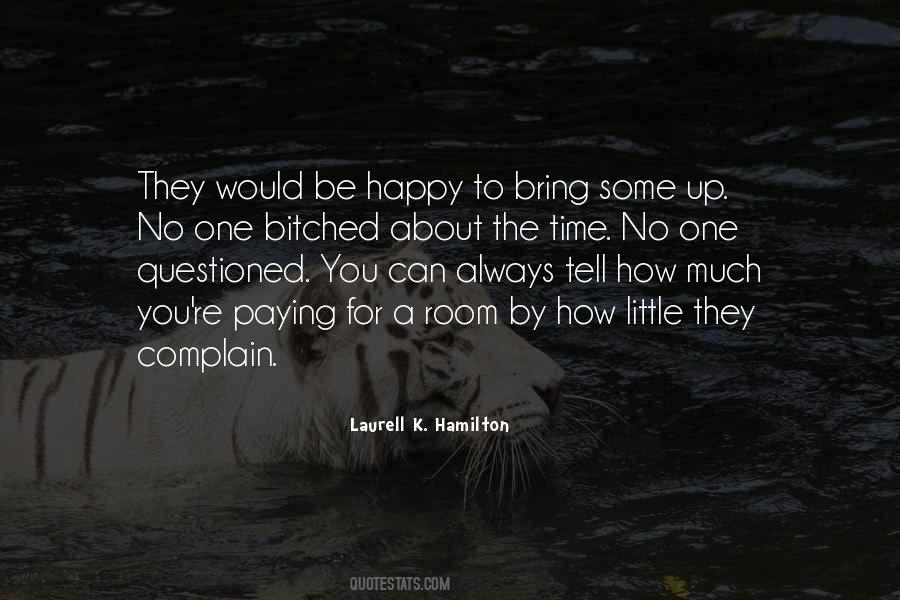 #45. Sara?"
Blake's voice is scorching and burns right through me.
"Yes, sir?"
"Lock the door and get over my knee. Now. - Author: Felicity Brandon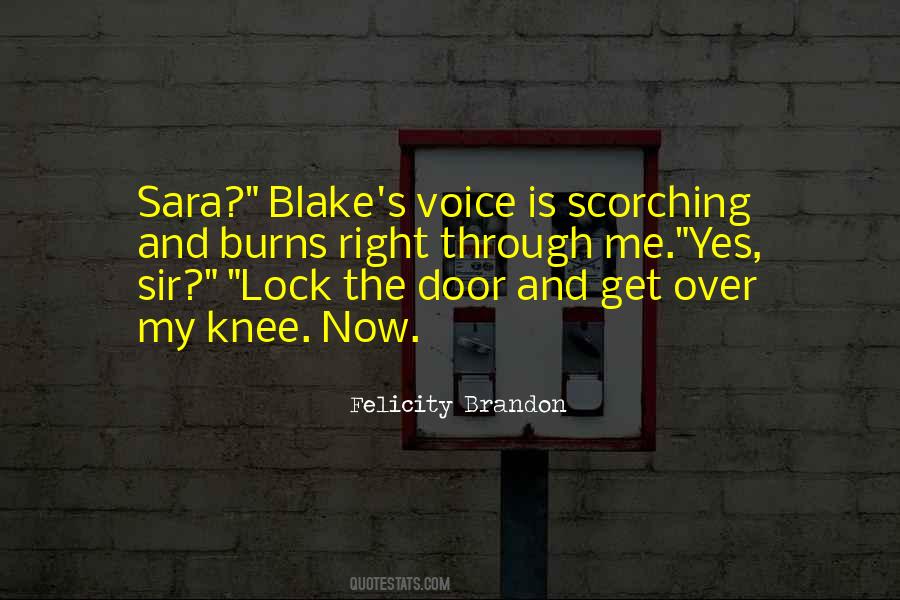 #46. There's nothing in the world more silent than the telephone the morning after everybody pans your play. It won't ring from room service; your mother won't be calling you. If the phone has not rung by 8 in the morning, you're dead. - Author: David Mamet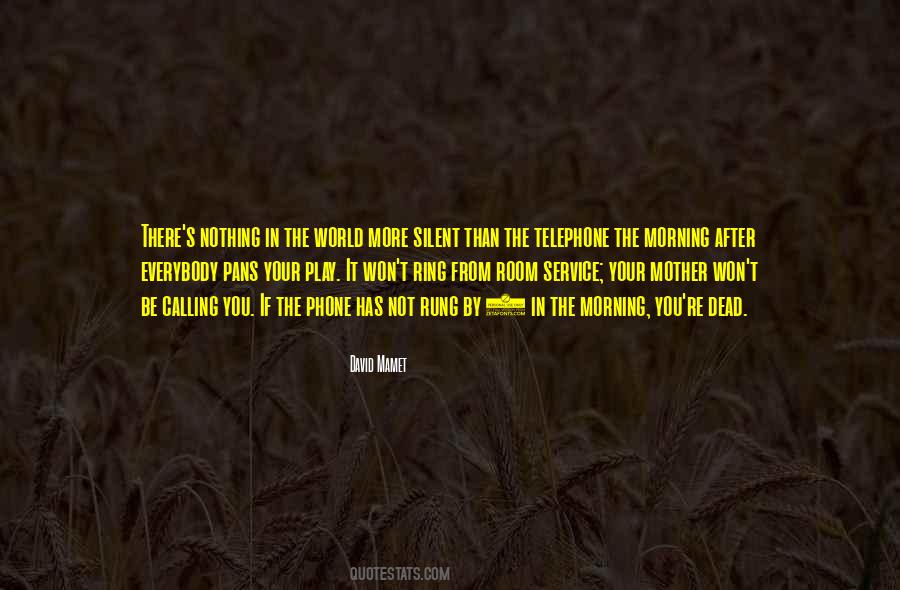 #47. His love for me seemed to overflow my limits by its flood of wealth and service. But my necessity was more for giving than foe receiving; for love is a vagabond, who can make his flowers bloom in the wayside dust, better than in the crystal jars kept in the drawing-room. - Author: Rabindranath Tagore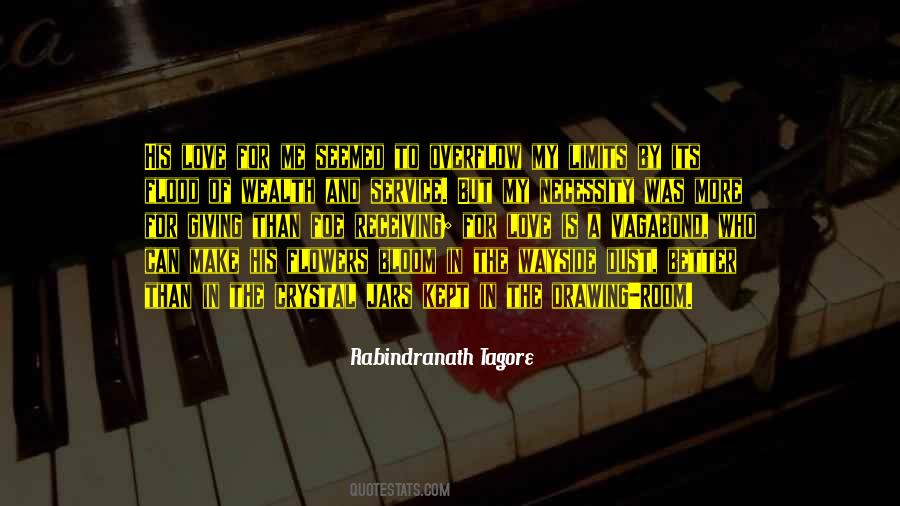 #48. Service is the rent that we pay for our room on earth. - Author: Charles Lindley Wood Halifax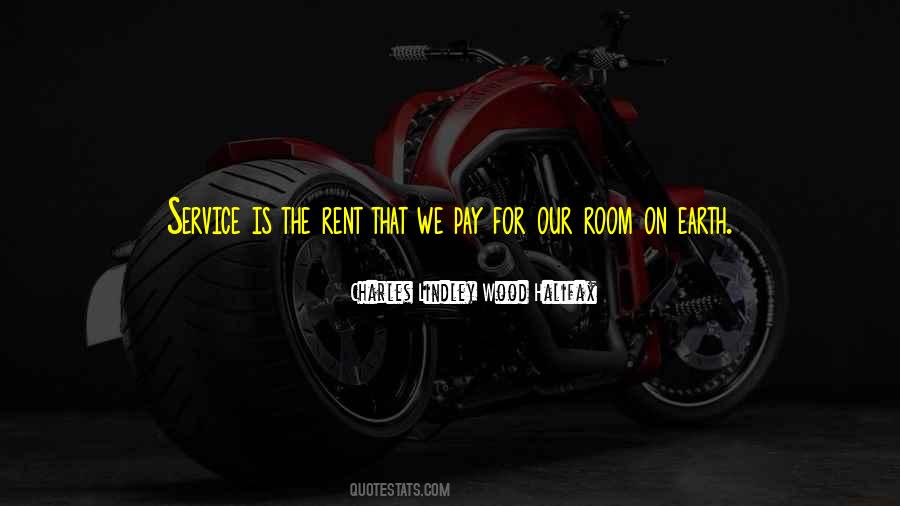 #49. I was only ever part of 'Lost' - a very small part of an extremely talented writers' room, where as a writer, it's sort of your job to sublimate your ego and work in the service of the show and the show's voice. - Author: Brian K. Vaughan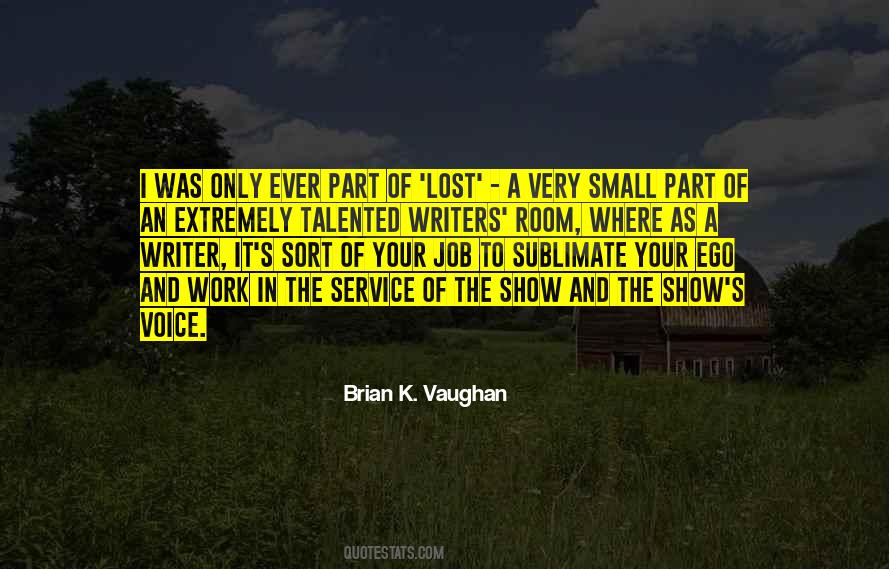 #50. There may be room in government service for the altruist and the iconoclast, but I have yet to see one who was not treated as an oddity at best and at worst an object of suspicion and fear. - Author: James Lee Burke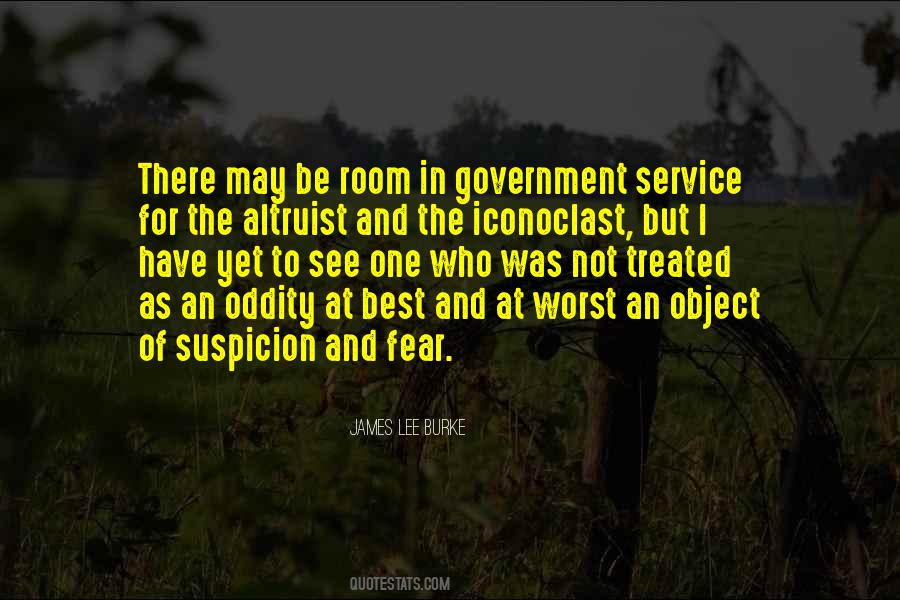 #51. When I travel, I like to take advantage of room service. I'm really into eggs Benedict in the morning. - Author: Jenny McCarthy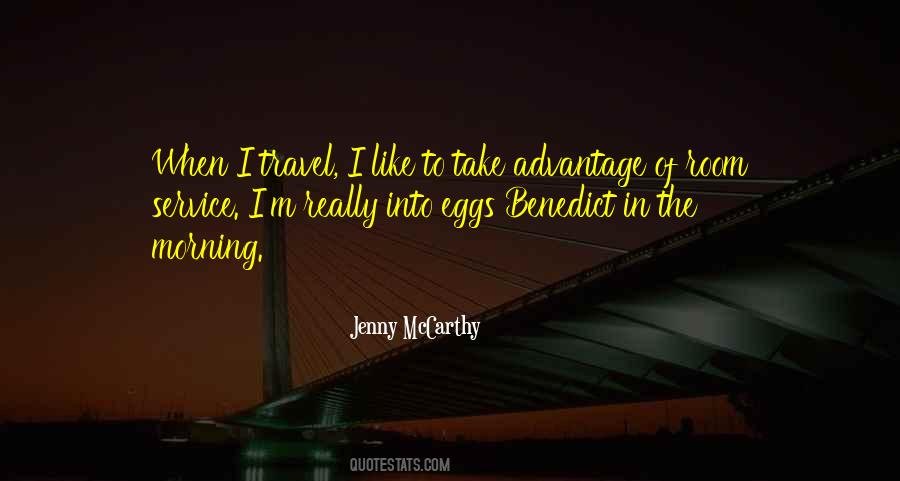 #52. I'm always really worried about ruining their lives. Especially with people that aren't famous. It's such a massive change. I'm kind of a paranoid wreck. I've eaten a lot of room service. - Author: Robert Pattinson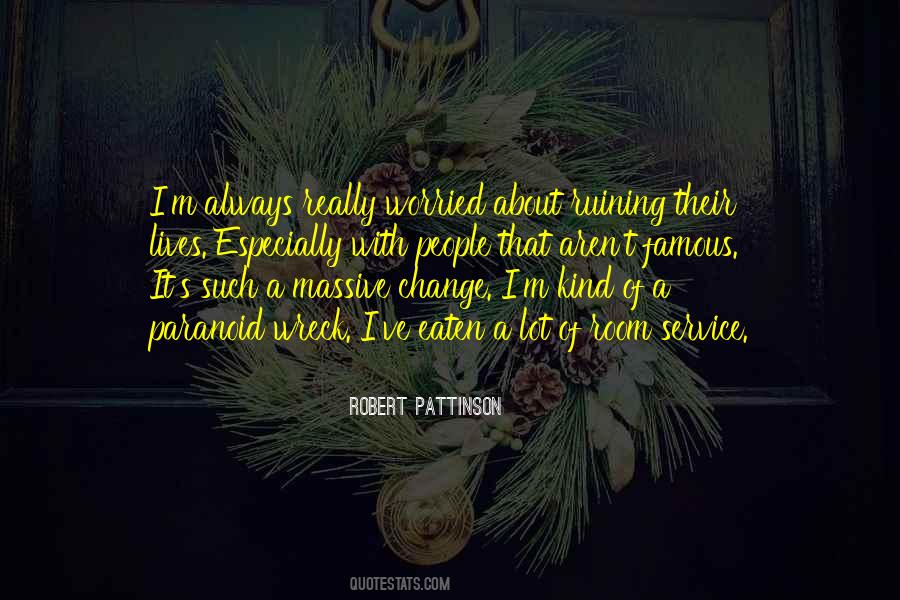 #53. I have no intention of uttering my last words on the stage. Room service and a couple of depraved young women will do me quite nicely for an exit. - Author: Peter O'Toole
#54. I don't understand why people expect tips. In hotels you order food in your room, and it's already more expensive from the room service menu, so it's a cheek to expect a tip on top. I do sometimes reward good service, but it should be at my discretion, and I'm not going to be held to ransom. - Author: Bernard Hill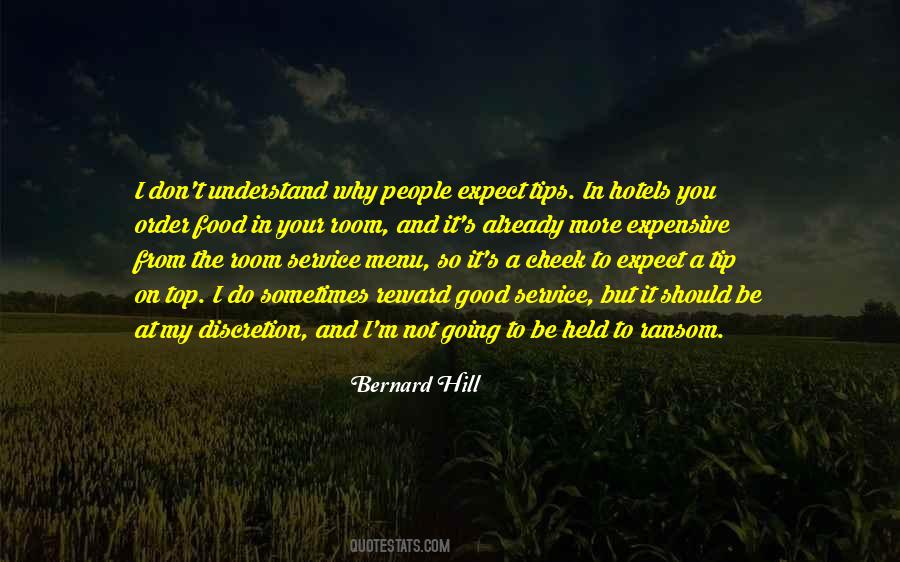 #55. Come over here and taste me, he says, his voice little but a seductive whisper. - Author: Felicity Brandon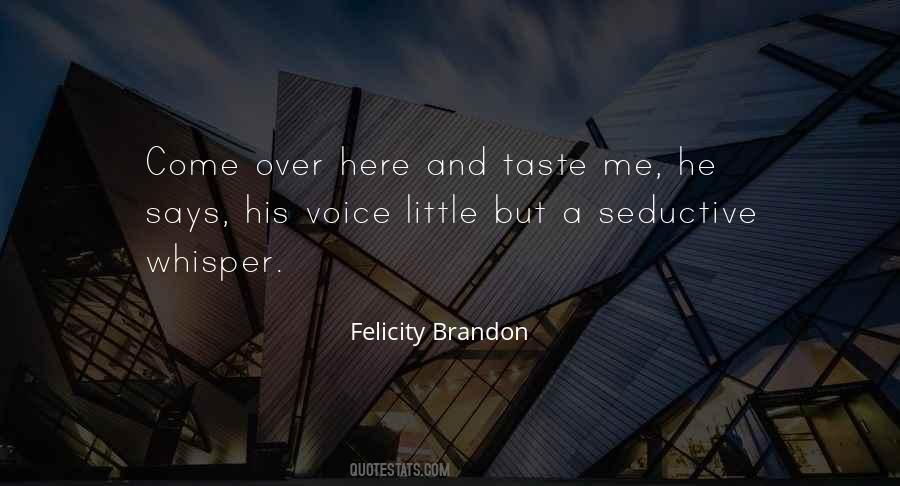 #56. Magnus placed an order with the room service, who had by now stopped questioning Mr. Bane's unusual needs for things like twenty-four plates of scrambled eggs and "enough coffee to fill one of your larger bathtubs". - Author: Cassandra Clare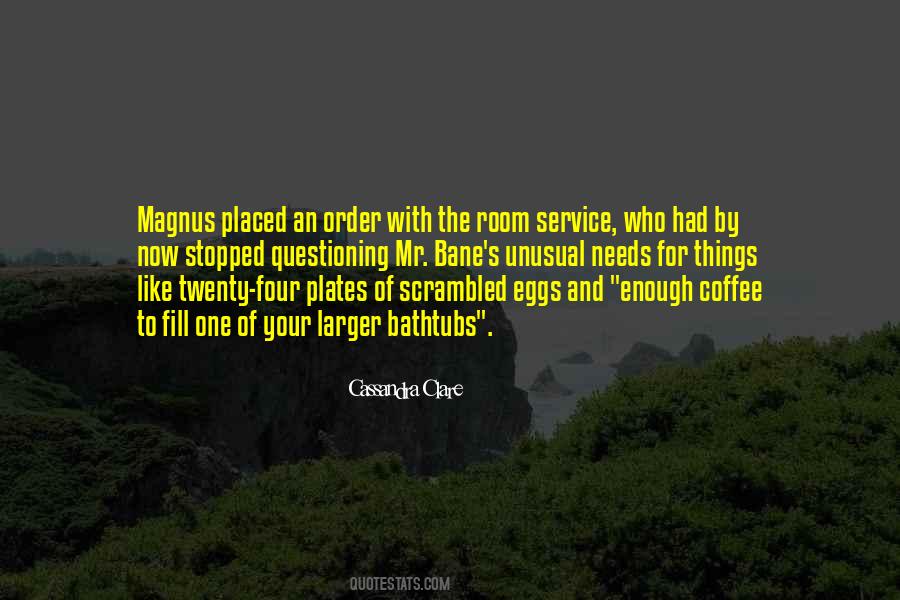 #57. Poisoning us," Bren said, faced with what was a truly attractive service, and with the servants still in the room, "is a process of inconveniently many steps, though conservative of the furniture. One believes we may just have breakfast this morning, nadiin-ji. - Author: C.J. Cherryh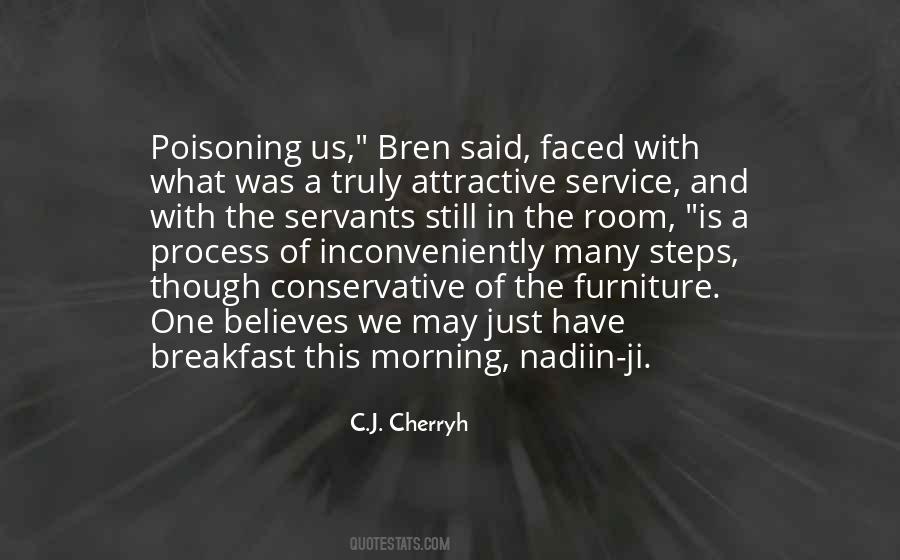 #58. Straddling him intimately, he slides his hands up my thighs, pushing the silk aside and caressing my pale, exposed skin. Even against his uniform, I can feel his hardness. His body feels taut and poised for action. - Author: Felicity Brandon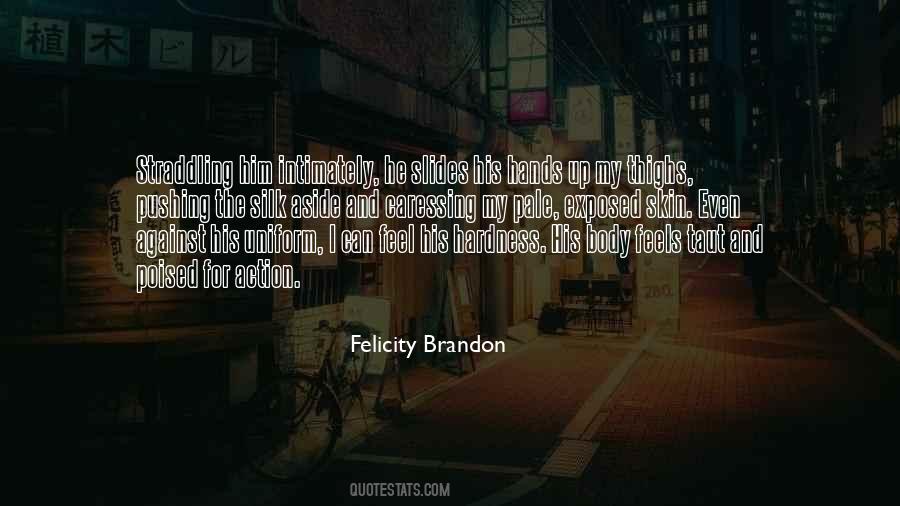 #59. The Service you do for others is the rent you pay for your room here on Earth. - Author: Muhammad Ali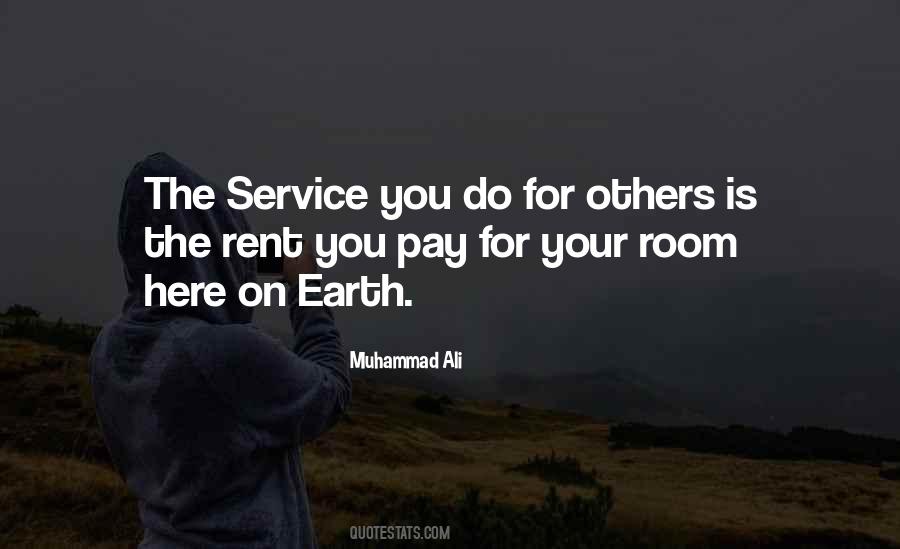 #60. The service at the Imperial (Tokyo) is the finest I've encountered anywhere. There was a button next to my bed marked ROOM SERVICE - and a maid to press it for me. - Author: Bob Hope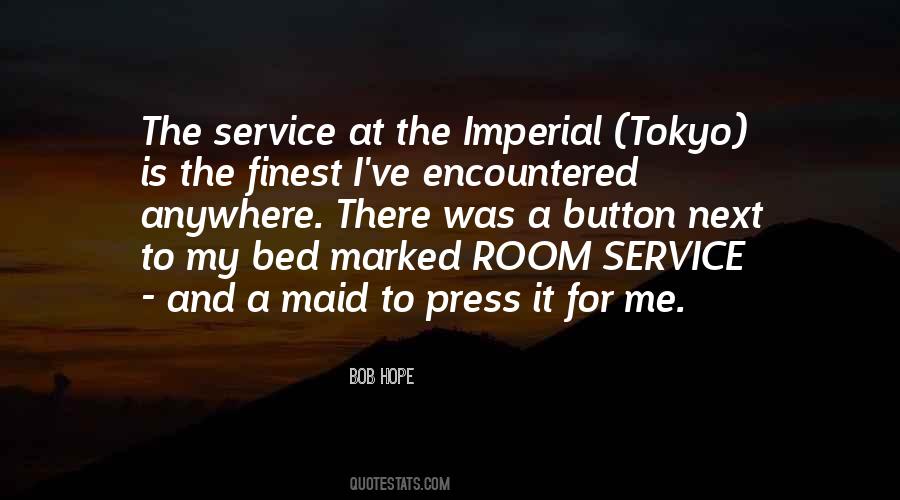 #61. I need to be very isolated to write, and unfortunately isolation is often quite difficult to find. My ideal writing environment would be a country house hotel in the middle of nowhere, with full room service. - Author: Kate Atkinson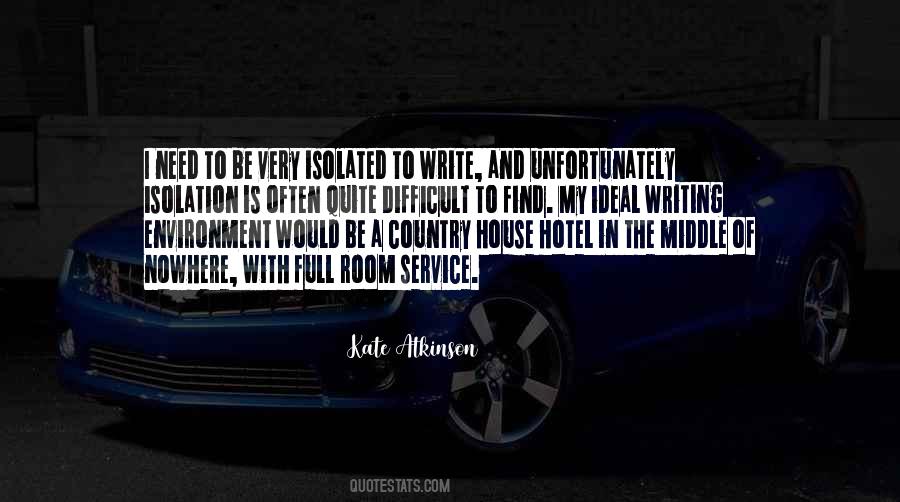 #62. The people don't take baths and they don't speak English. No golf courses, no room service. Who needs it? - Author: Jim McMahon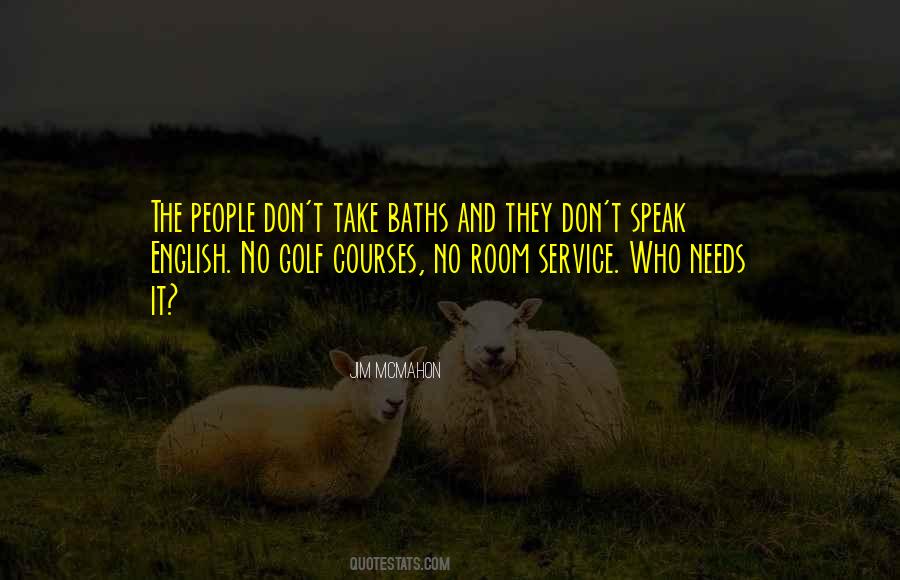 #63. Room service is great if you want to pay $500 for a club sandwich. - Author: Don Rickles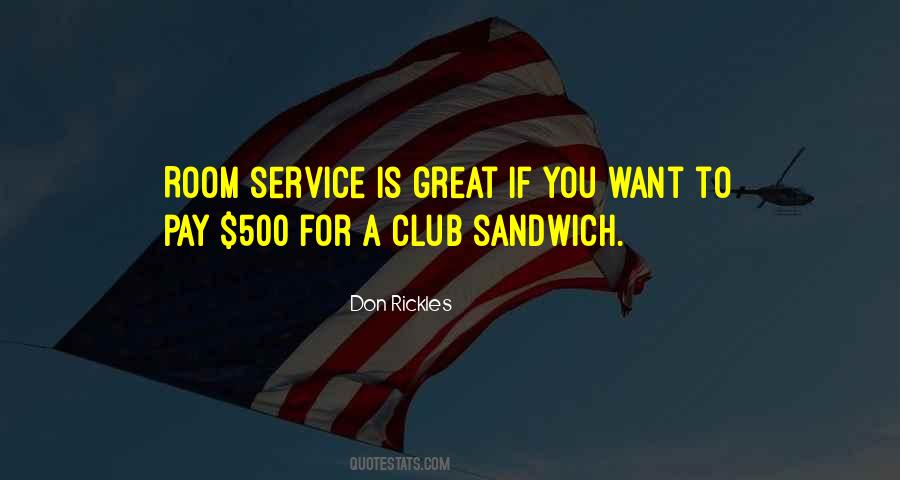 #64. The service we render to others is really the rent we pay for our room on this earth. It is obvious that man is himself a traveler; that the purpose of this world is not 'to have and to hold' but "to give and serve." - Author: Wilfred Grenfell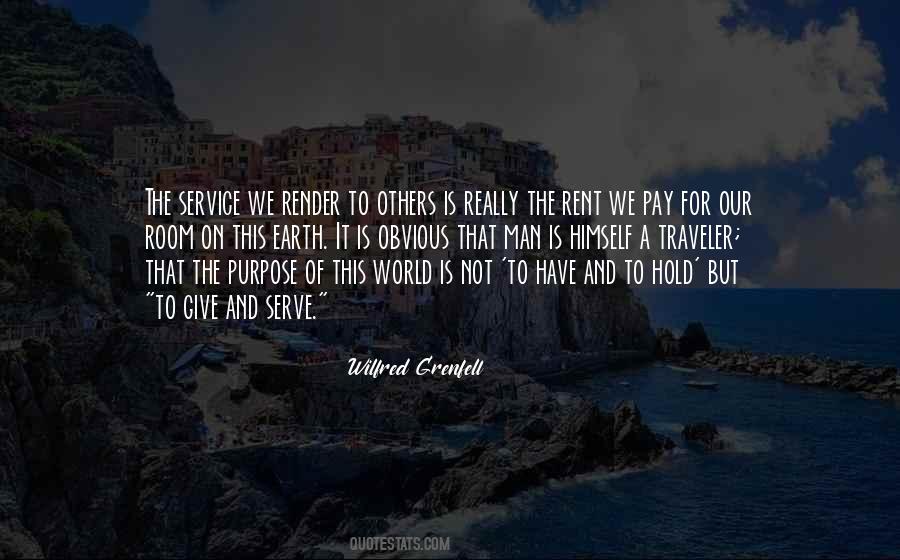 #65. Service to others is the rent yo pay for your room here on earth. - Author: Ali Mohammad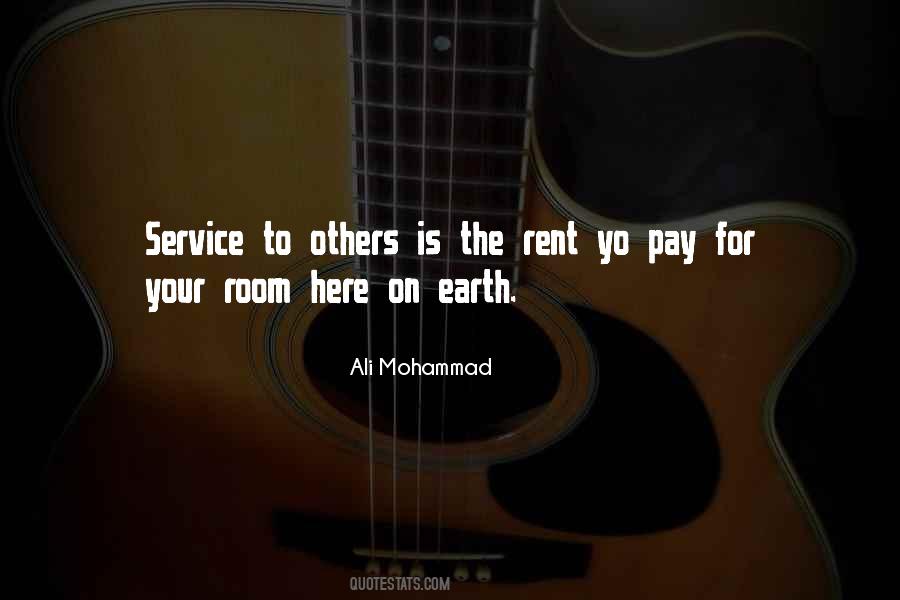 #66. It is the wee hours of the morning, ma petite. The room service menu is somewhat limited. Jason has donated blood twice to me tonight; he needed protein." Jean-Claude smiled. "It was either take-out, or he could eat Larry. I thought you'd prefer take-out. - Author: Laurell K. Hamilton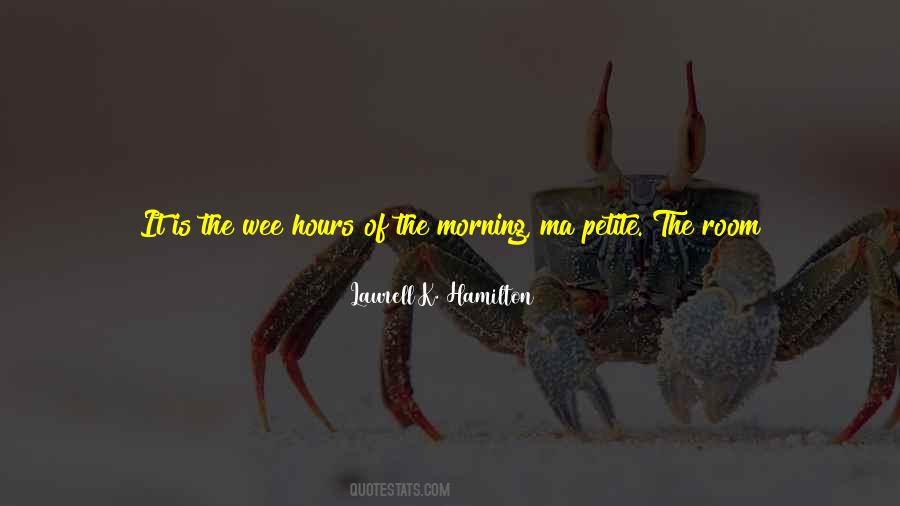 #67. In my special place, room service could only consist of my husband making me a breakfast of eggs, avocados, and hummus. And coffee with milk. - Author: Kelli O'Hara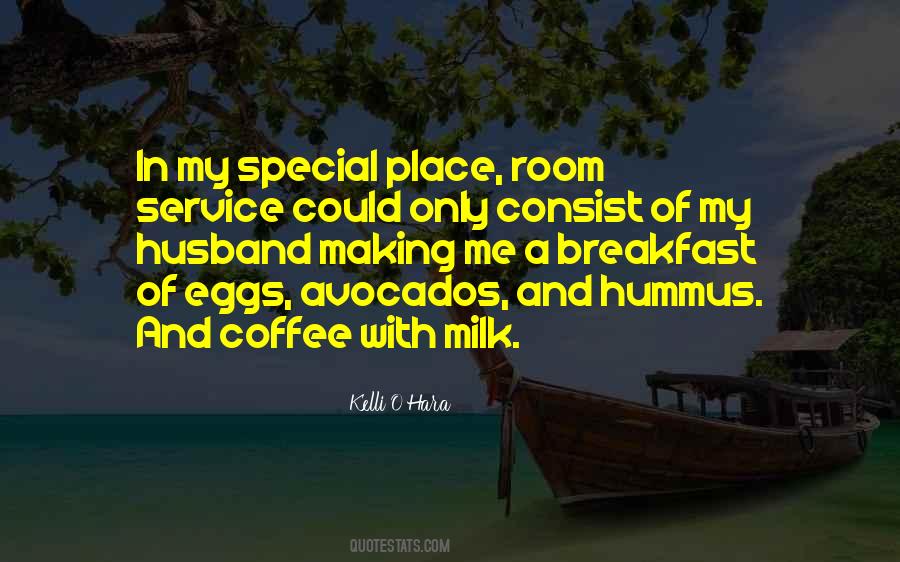 #68. As for opportunities, there is room for improved product quality and better service and raising our technology standard. In addition, we should have a certain share of the global market. However, we should consider new industries, such as resource development. - Author: Liang Wengen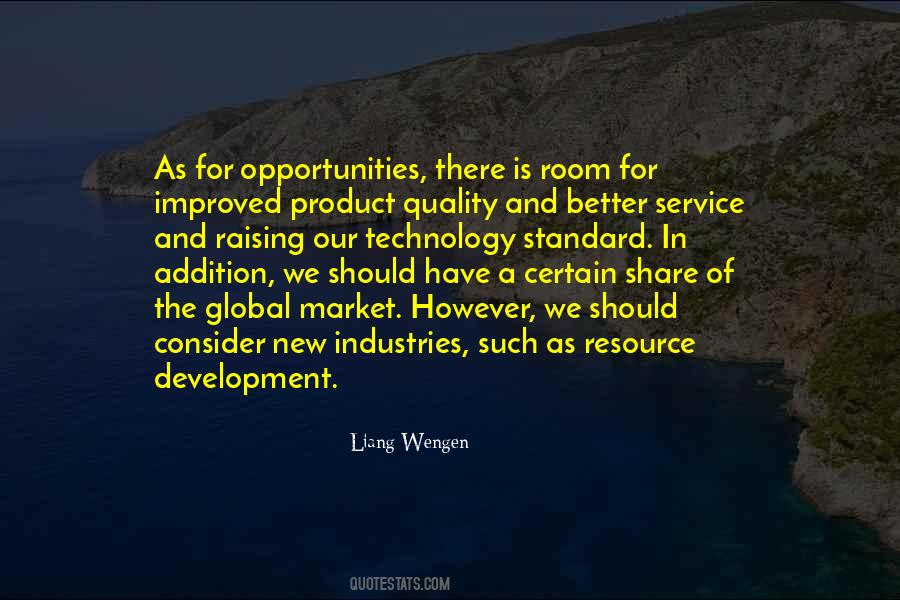 #69. I have always felt cookbooks were fiction and the most beautiful words in the English language were 'room service. - Author: Erma Bombeck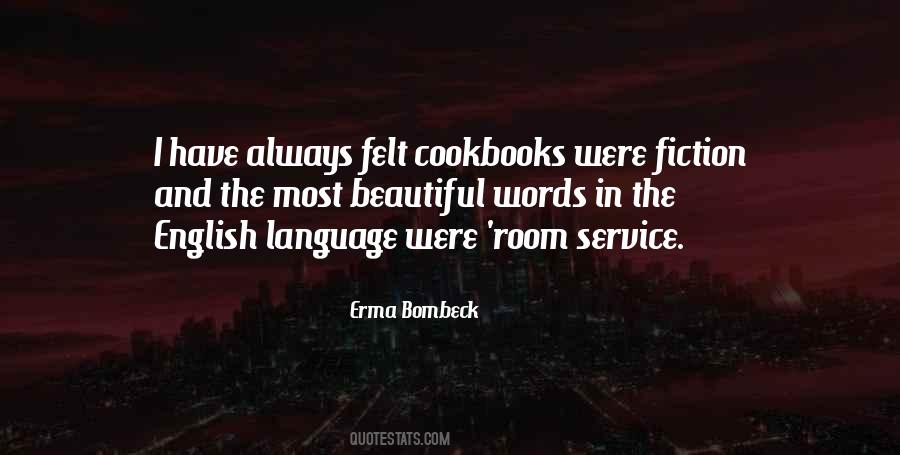 #70. It is said that resentment is like drinking poison and waiting for your enemy to die. There is no room for such a waste of energy in the service of God. - Author: Reinhard Bonnke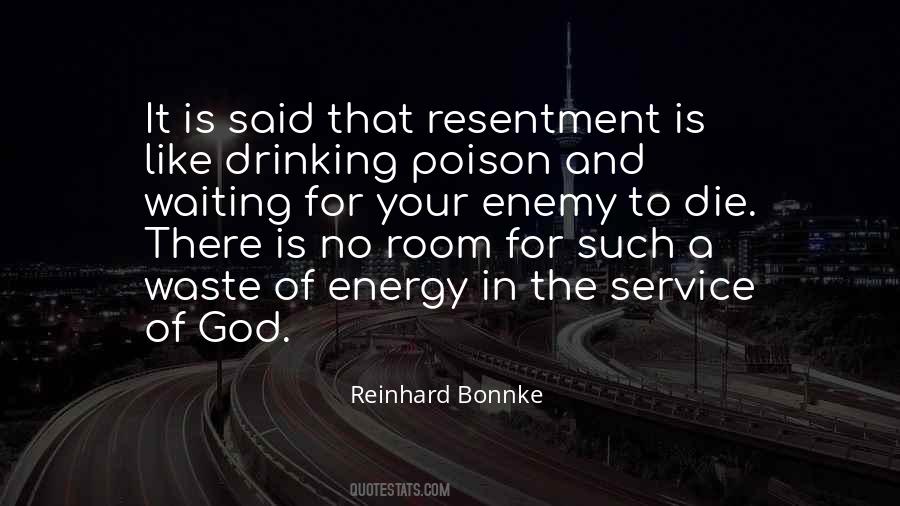 Famous Authors
Popular Topics