My Money Famous Quotes & Sayings
List of top 100 famous quotes and sayings about my money to read and share with friends on your Facebook, Twitter, blogs.
Top 100 Quotes About My Money
#1. Started underneath the floor,
Now my money through the ceiling. - Author: Wiz Khalifa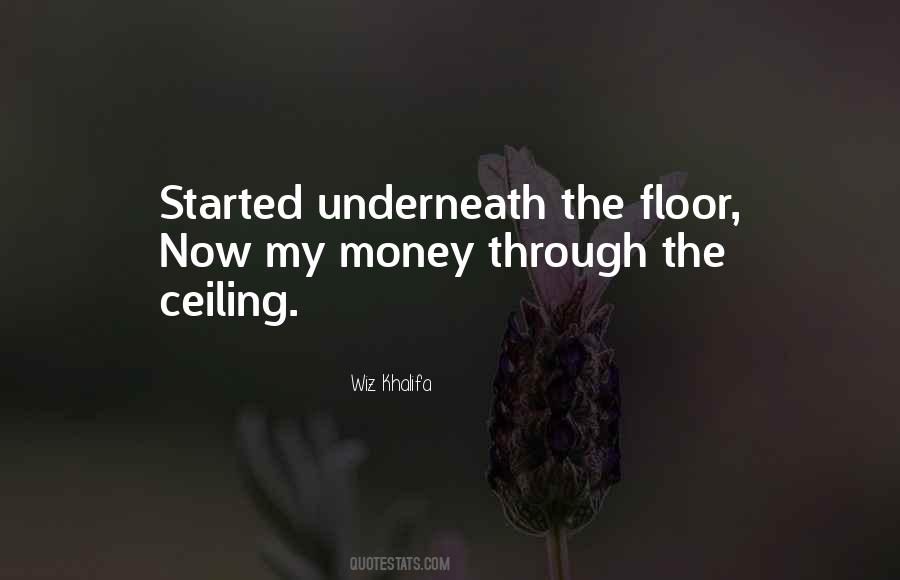 #2. 90% of people are in jobs they hate and are bitter about their lives and scratching about for money. That's my worst nightmare. - Author: Danny Dyer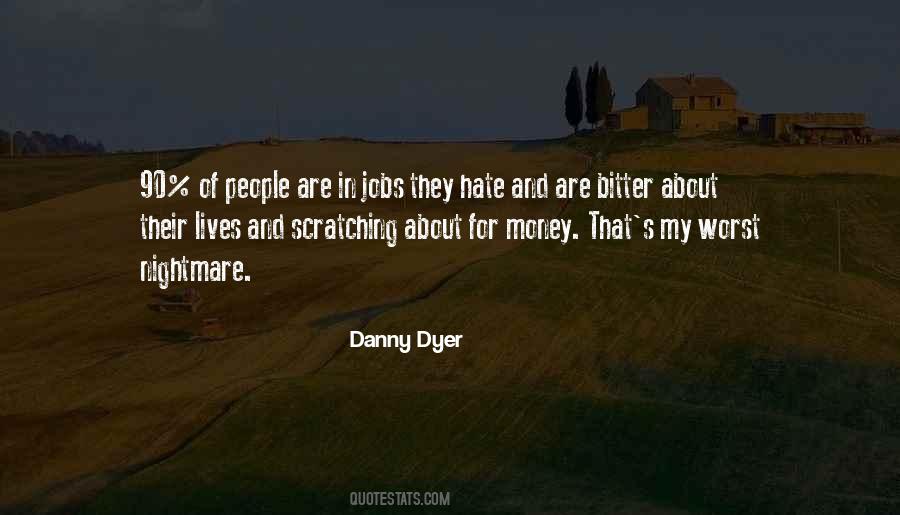 #3. I could have closed down bits of British Home Stores to make more money but it's not my style. I want to make my money as a retailer, not by putting people out of work. - Author: Philip Green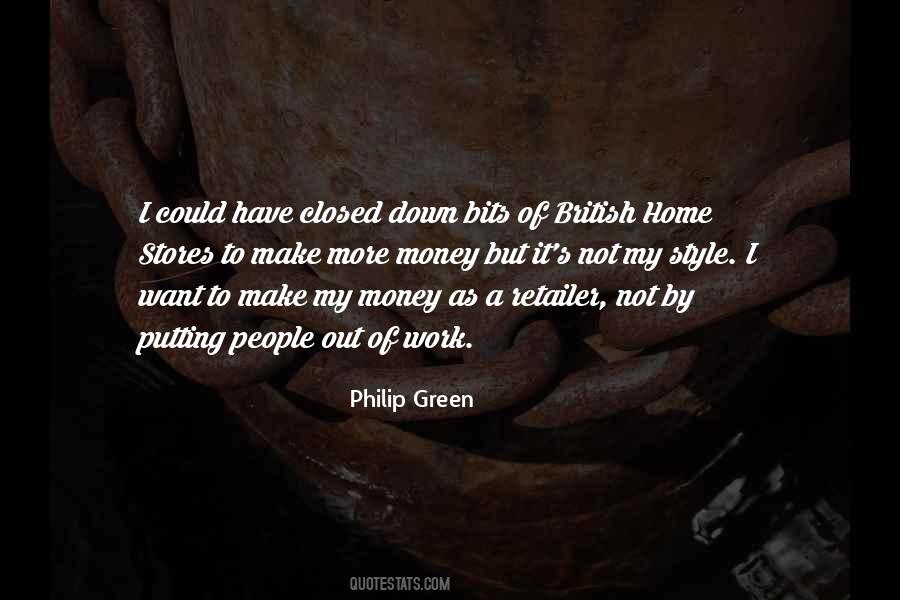 #4. In my era of wrestling, there were no guaranteed contracts, so it was inherent that you draw the crowd in to make money. - Author: Jesse Ventura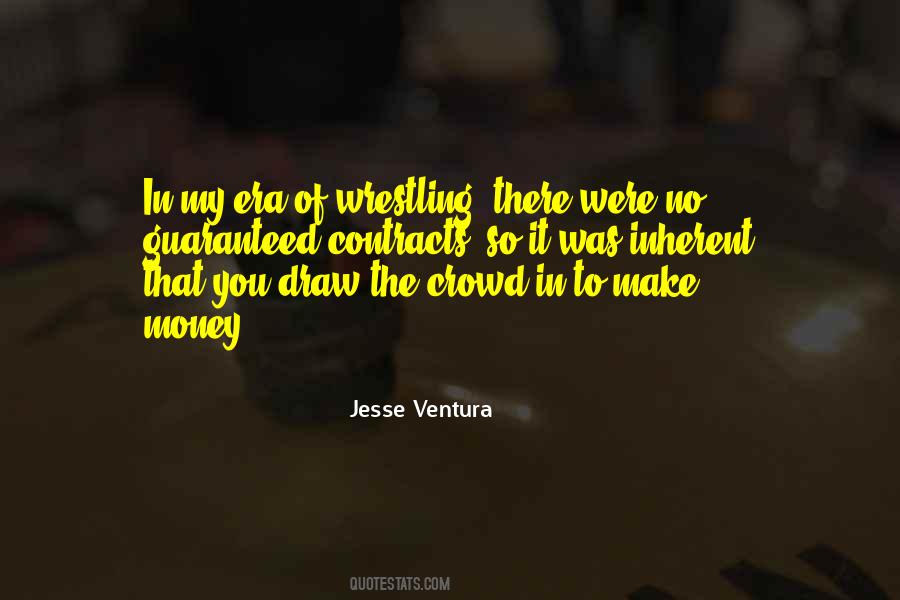 #5. People who grow rich almost always improve their sex life. More people want to have sex with them. That's just the way human beings work. Money is power. Power is an aphrodisiac. Money did not make me happy. But it definitely improved my sex life. - Author: Felix Dennis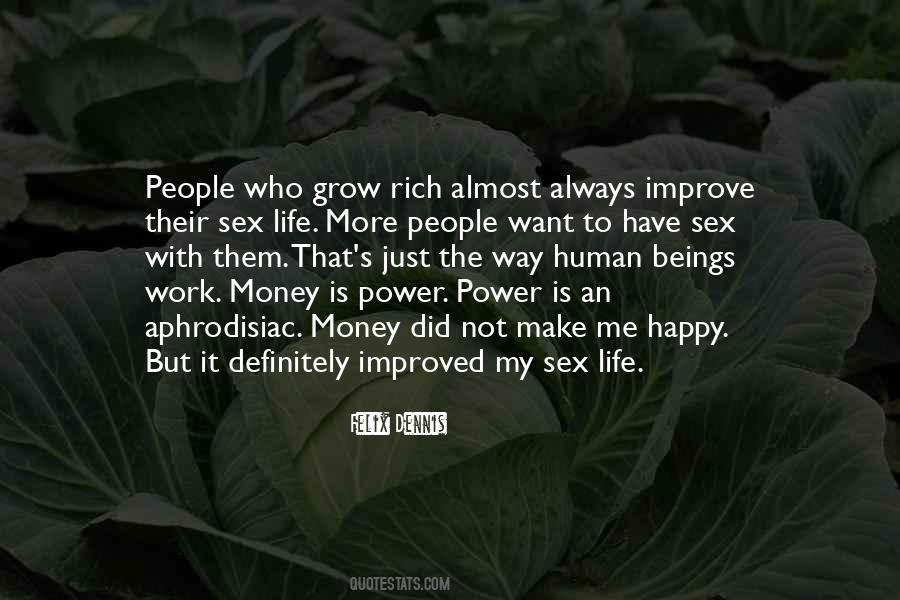 #6. When I started Biocon in 1978, the obstacles I needed to navigate were manifold - ranging from infrastructural hurdles to issues related to my credibility as a business woman. With no access to venture capital, money was scarce and high-cost, debt-based capital was all I had. - Author: Kiran Mazumdar-Shaw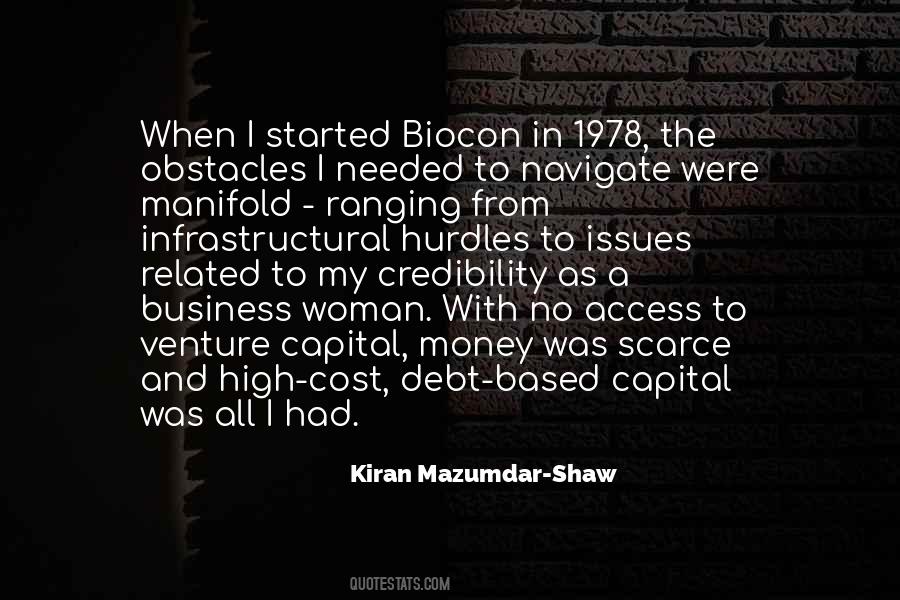 #7. Cause if i got you, i don't need money, i don't need cars, girl your my heart - Author: Chris Brown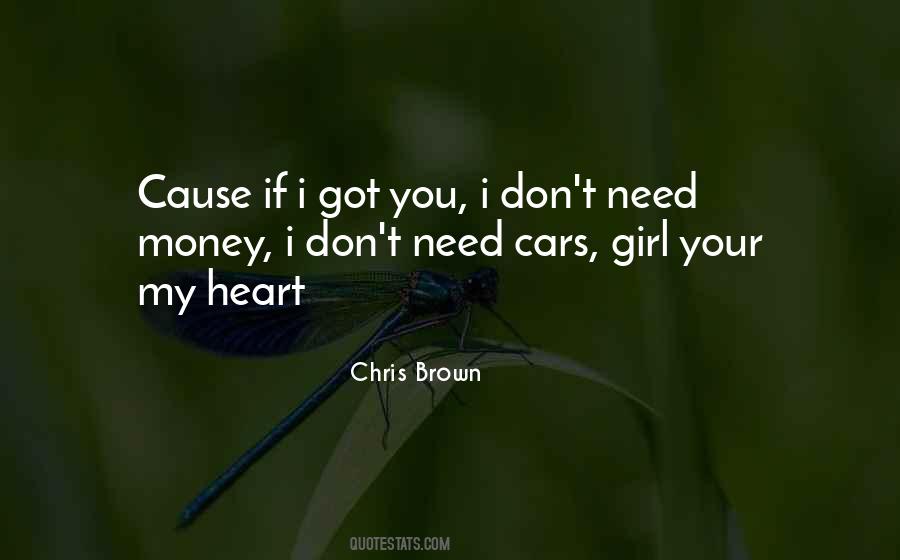 #8. I did love 'Dirty Sexy Money' quite a lot. I loved my tenure at 'Scrubs' quite a lot. 'ER' might have been my favorite guest star thing. 'We Were Soldiers' meant a lot to me. - Author: Bellamy Young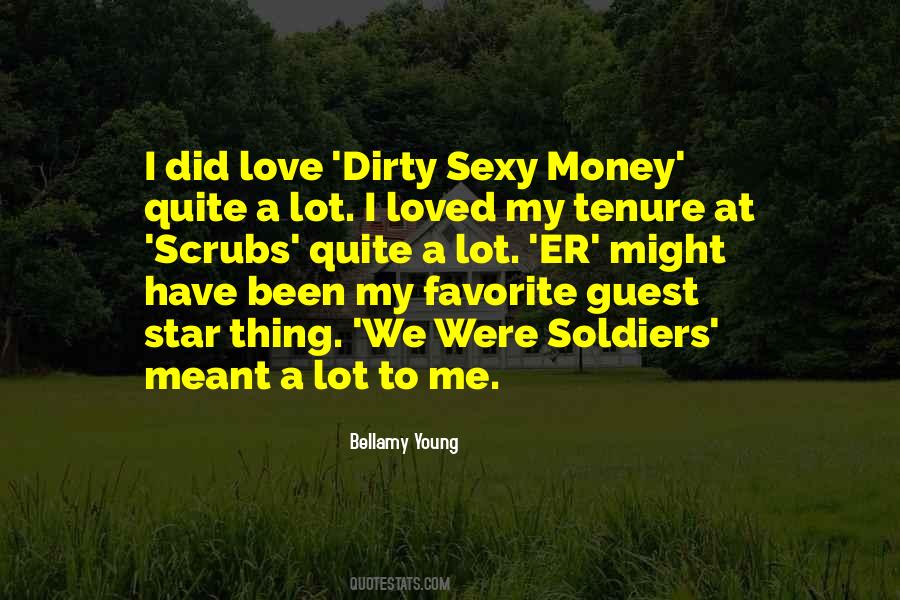 #9. My mother was an English teacher who decided to become a math teacher, and she used me as a guinea pig at home. My father had been a math teacher and then went to work at a steel mill because, frankly, he could make more money doing that. - Author: Freeman A. Hrabowski III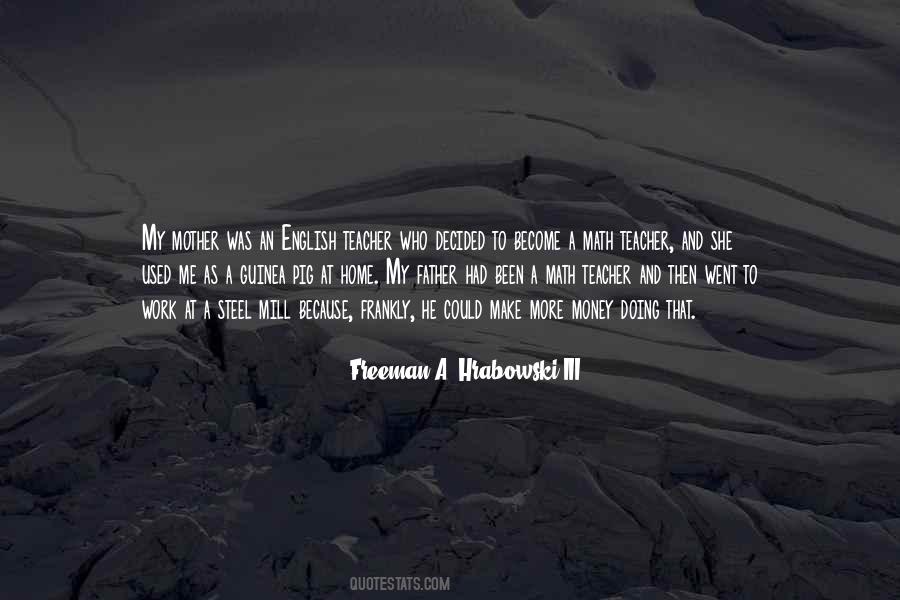 #10. Three things ruin a man," Harry would tell a reporter long afterward. "Power, money, and women. "I never wanted power," he said. "I never had any money, and the only woman in my life is up at the house right now." On - Author: David McCullough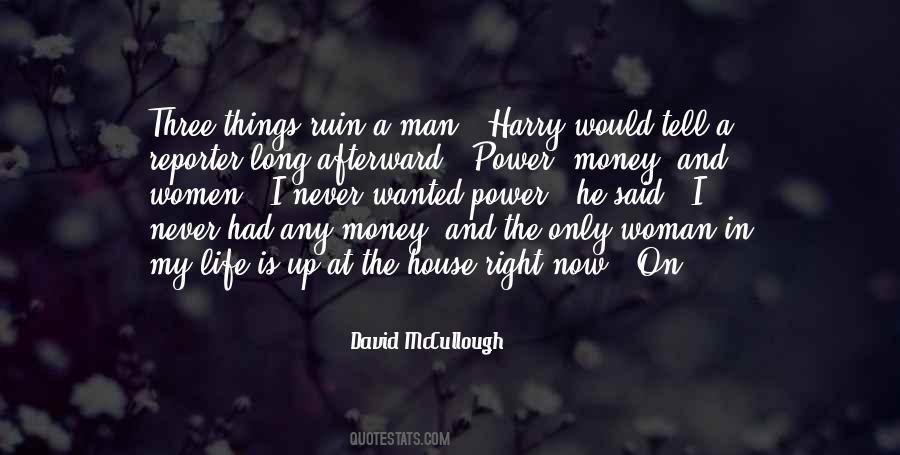 #11. My first accountant told me, "Evan, nobody cares about your money as much as you do. - Author: John Border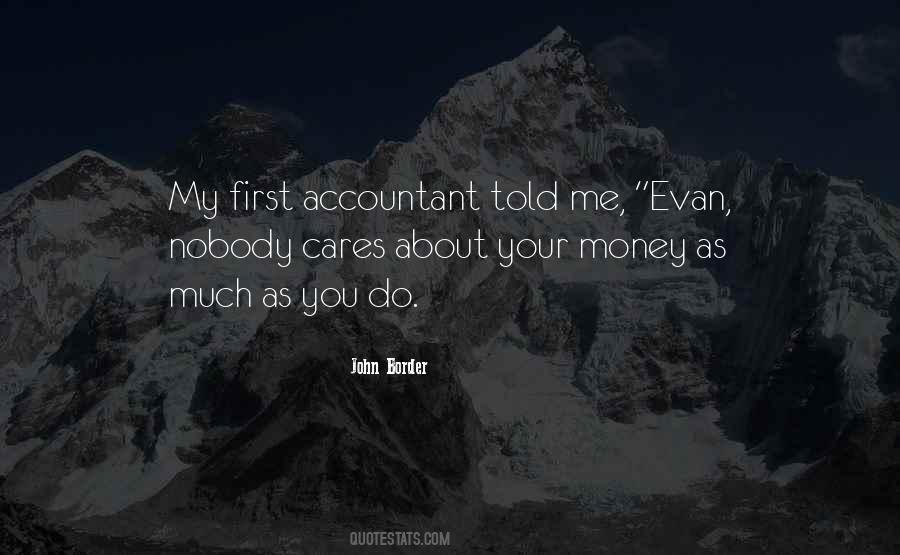 #12. Stewardship is like that. I won't answer for the way another Christian mismanaged money. I won't be charged with another person's irresponsible consumption. Nor will I get credit for how another faith community shared or sacrificed luxuries for the marginalized. I'll answer for my choices. - Author: Jen Hatmaker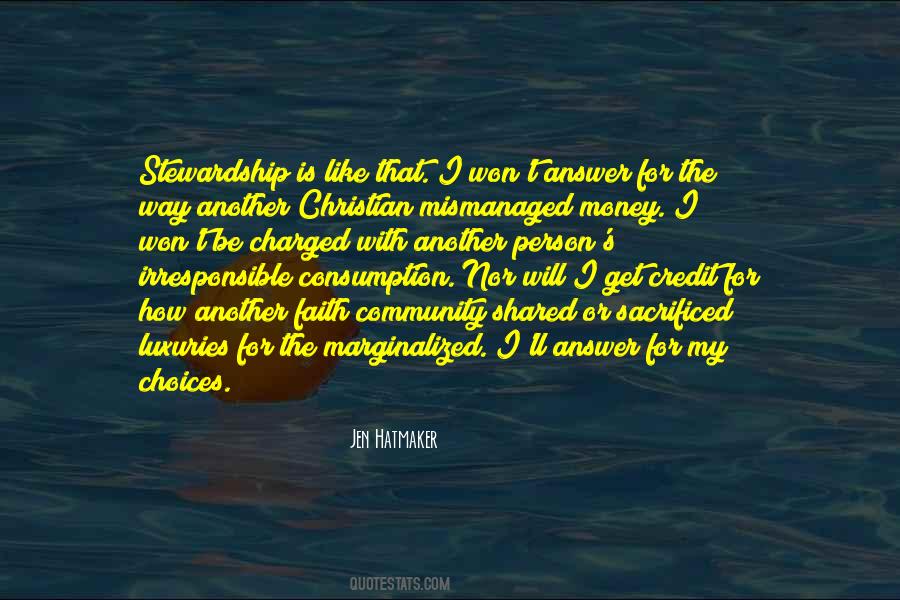 #13. You should've just gotten a kids' meal." Adrian told me, pointing to my half-eaten burger and fries. "You could've saved me a lot of money. And gotten a toy. - Author: Richelle Mead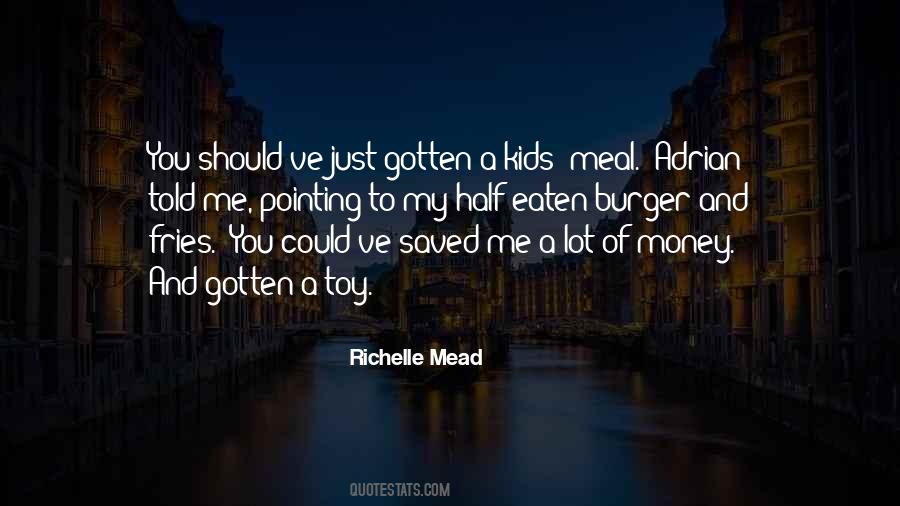 #14. I don't like to spend a lot of money on haircuts: I'll sometimes grow my hair and get an acting job and get them to cut it for free. I think for a lady, though, it's okay to spend a lot on a haircut. - Author: Paul Dano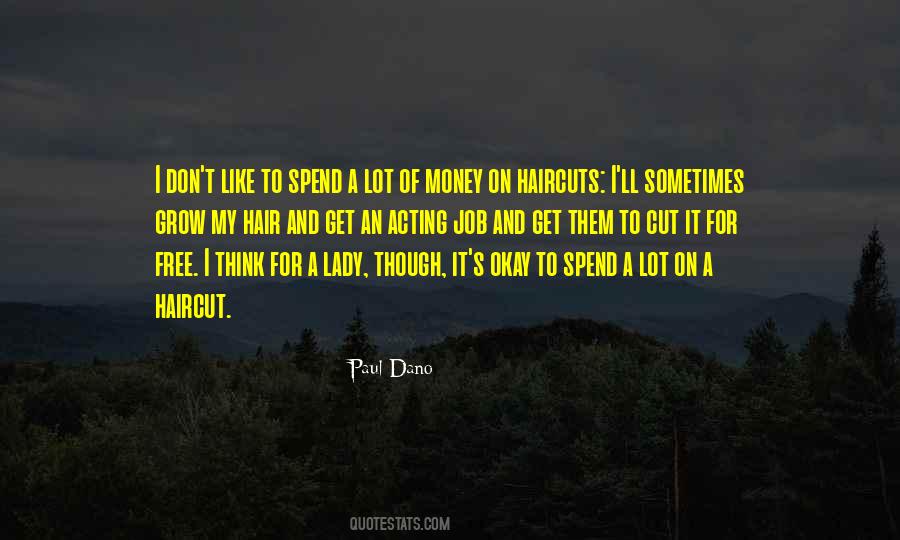 #15. My view is that the bitcoin is in its very early days, and it is an artificial currency. But whether it is creating new money, whether it is sustainable, whether it would survive - I have many questions about it. - Author: Uday Kotak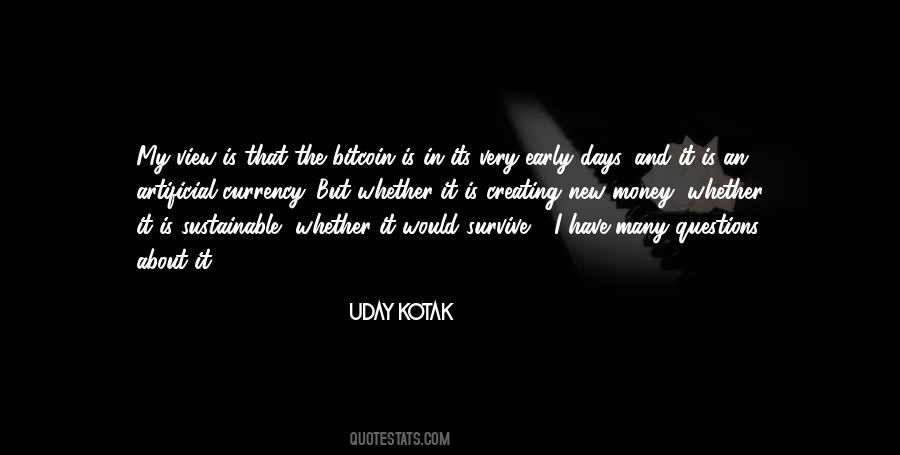 #16. I'll tell ya, my wife and I, we don't think alike. She donates money to the homeless, and I donate money to the topless! - Author: Rodney Dangerfield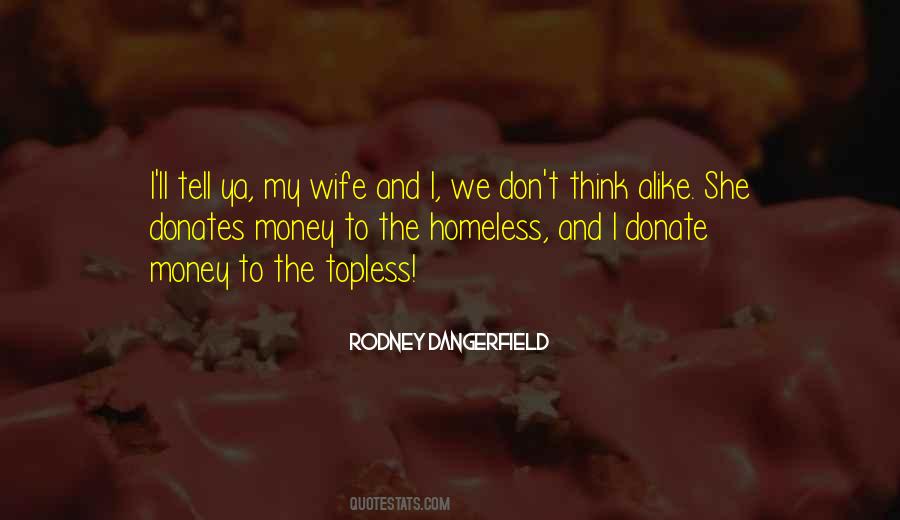 #17. I wanted to share my love of coffee with a wider audience and also continue to raise money for The Thirst Project through Common Culture Coffee. - Author: Connor Franta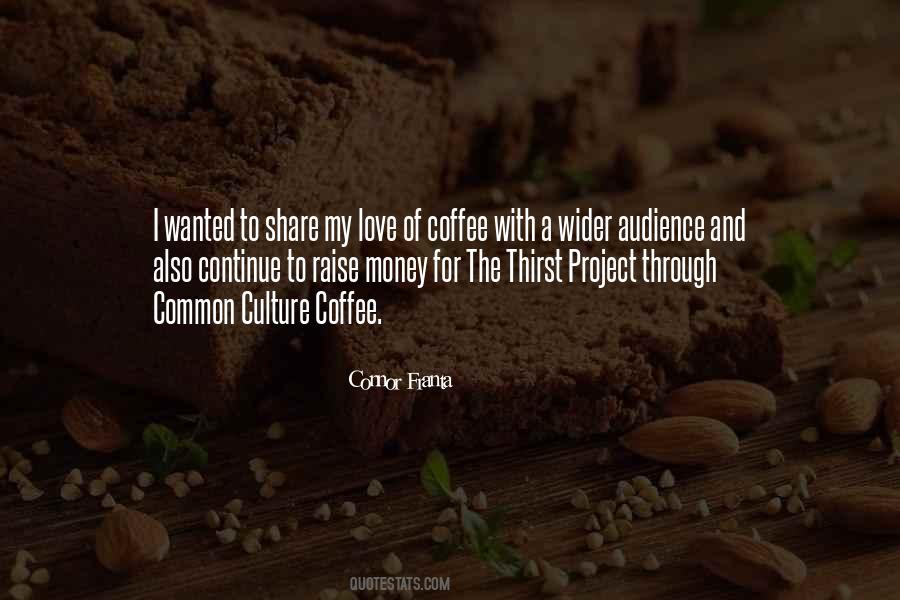 #18. Poets, we know, are terribly sensitive people, and in my observation one of the things they are most sensitive about is money. - Author: Robert Penn Warren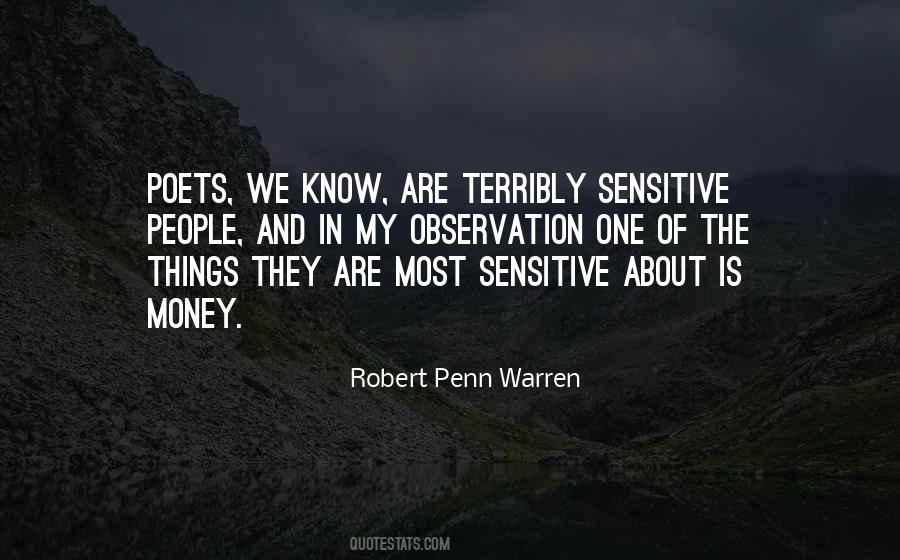 #19. Everyone now has a sacred cow in the tax code. For my money, the most sacred thing of all is our country and its growth, but the sacred cows have turned into a pack of wolves. - Author: Ari Fleischer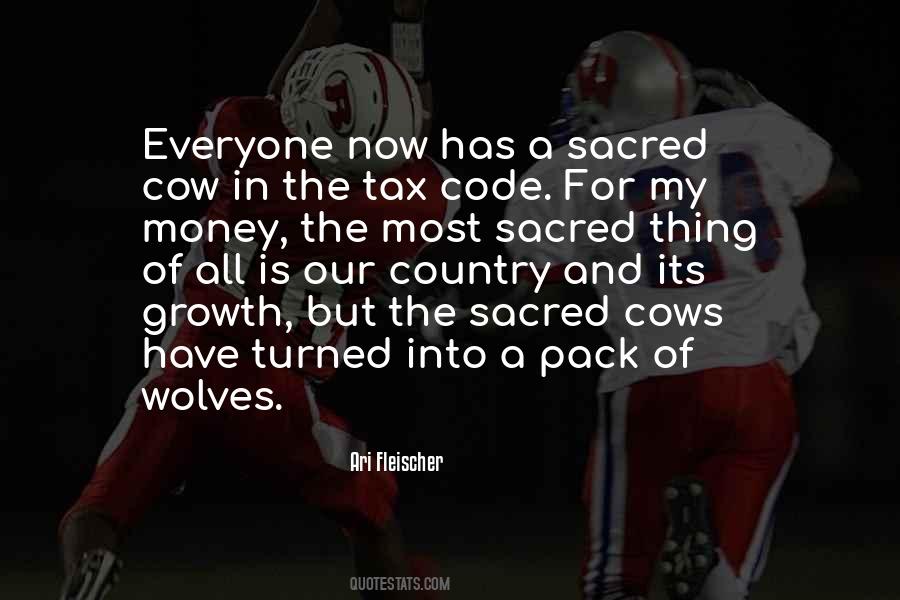 #20. First, I had time, but no money; then I had money, but no time. Finally, I had time and money, but no health to make use of my wealth.-RVM - Author: R.v.m.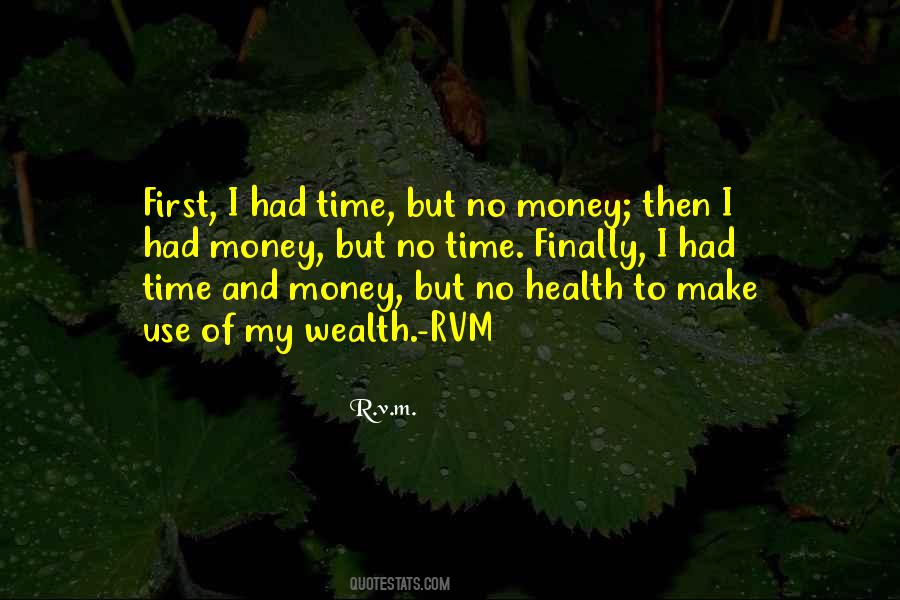 #21. My mother insisted that I pursue music. I rented out my father's musical equipment and earned some money. As a child, I wasn't sure about a career goal, but I was always fascinated by electronic gadgets, specially musical equipment. - Author: A.R. Rahman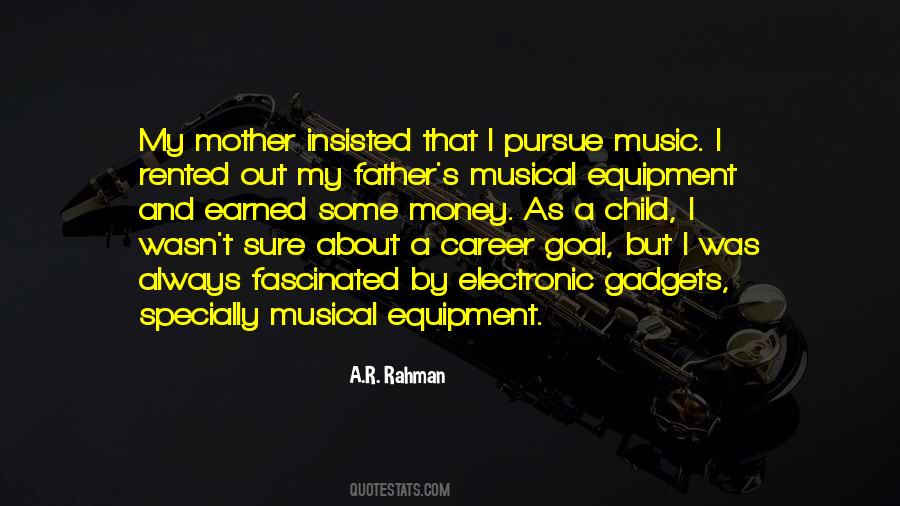 #22. I just love to shop. If I could, I would shop every single day in every single store and spend all of my money which, you know, I do anyway. - Author: Ariana Grande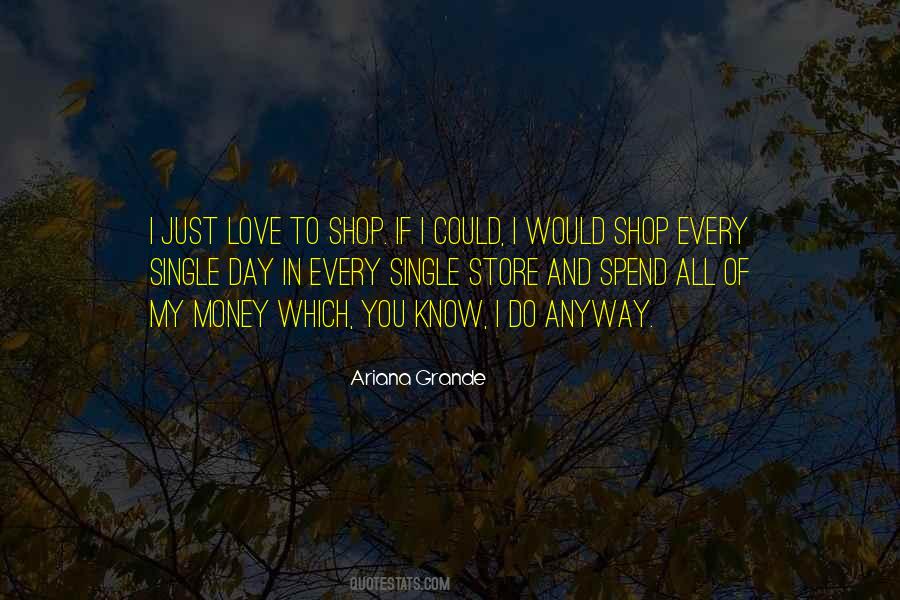 #23. I went to visit my father to tell him that I was going to go to college and become an architect - that was my dream. I was like, yeah I graduated from school, but it's not like you showed up for that. But all he was worried about is whether or not I wanted money from him. - Author: Jake Roberts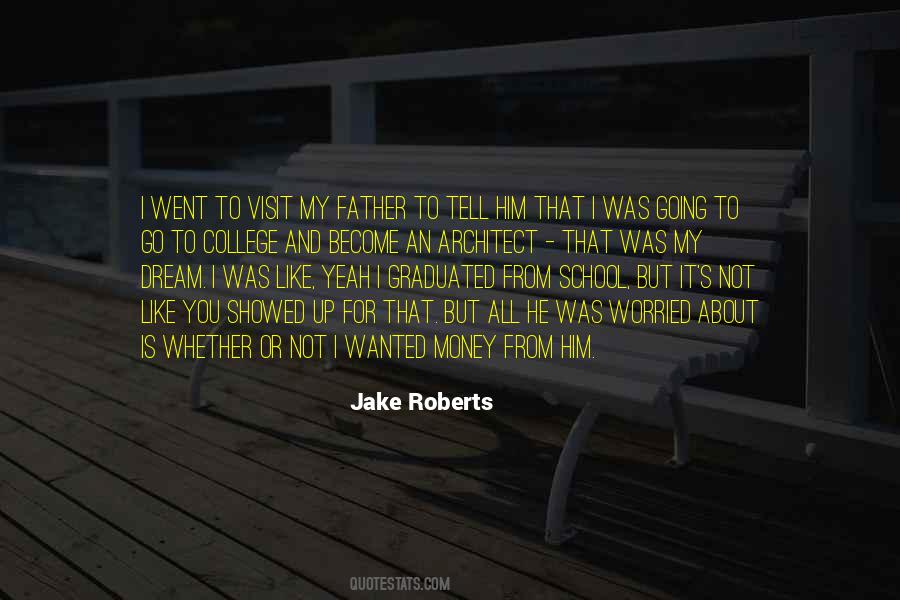 #24. I'm glad I struggled. I think I'd be an asshole if my money were anything other than the "new" kind. - Author: Amy Schumer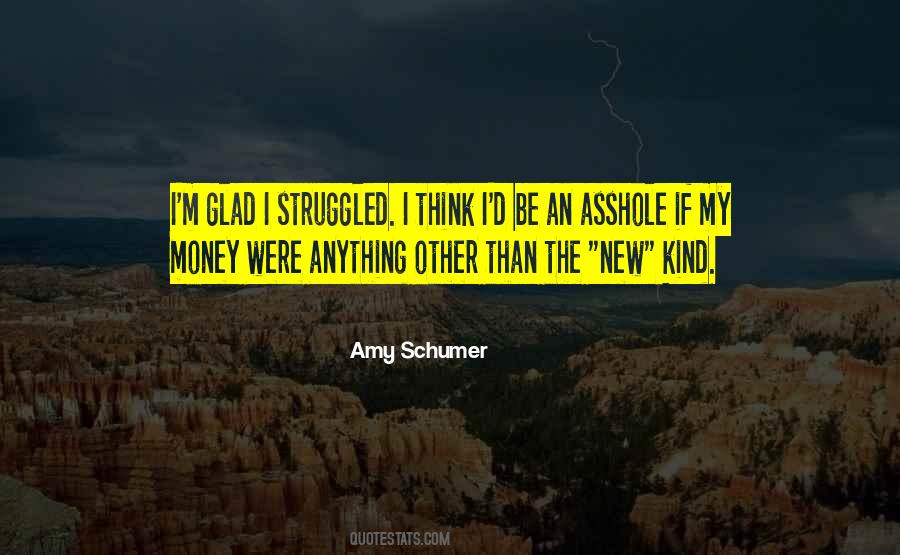 #25. Happiness in a family really revolves around how much money I have in my disposal. - Author: Vann Chow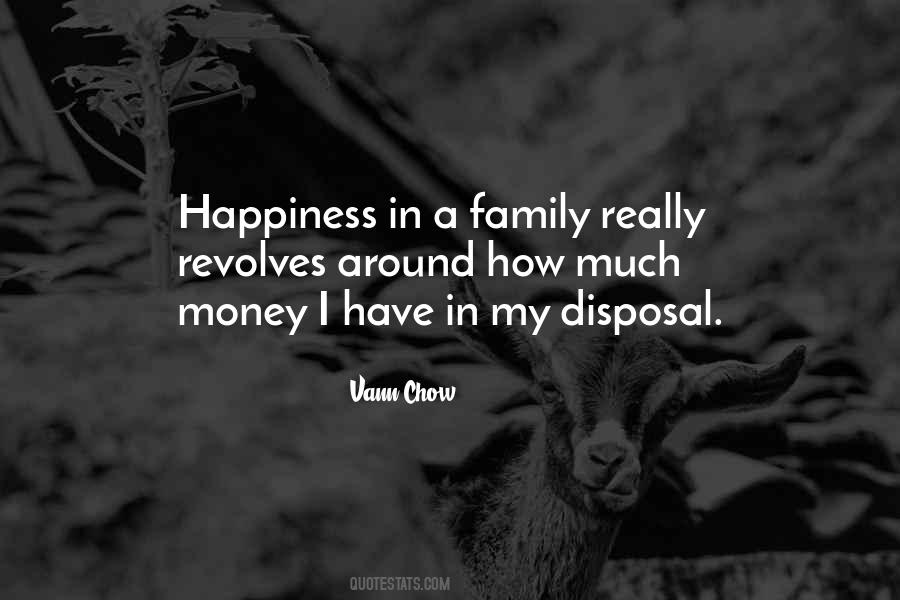 #26. I have enjoyed the personal use of money; but I have gotten the greatest satisfaction from using it to advance my beliefs in human relations, human values. - Author: Winthrop Rockefeller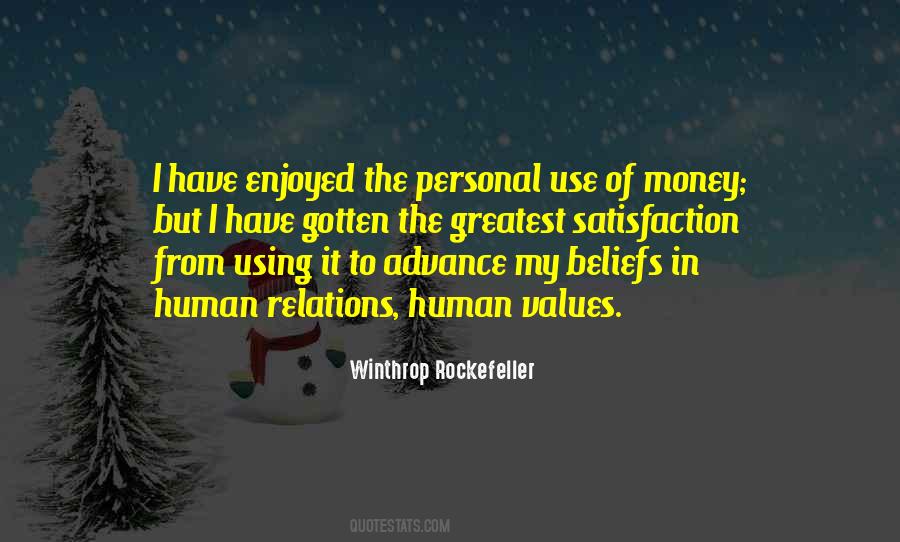 #27. All my life I have been honest-comparatively honest. I could never use money I had not made honestly-I could only lend it. - Author: Mark Twain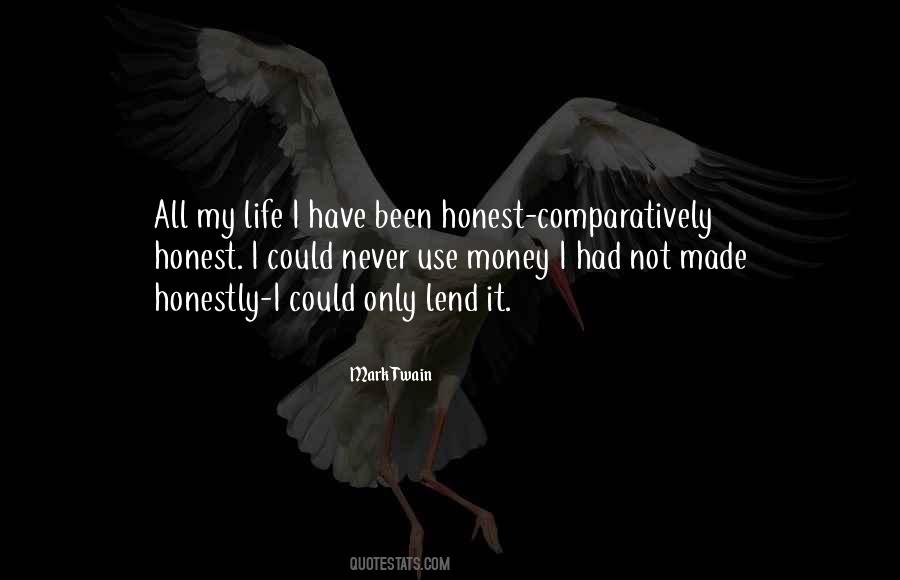 #28. My last public performance for money was in 1967. For free, it was 1972, with the exception of two little one-shot, one-song things. But that's just for friends, out of friendship for the people involved, and also because it was fun. - Author: Tom Lehrer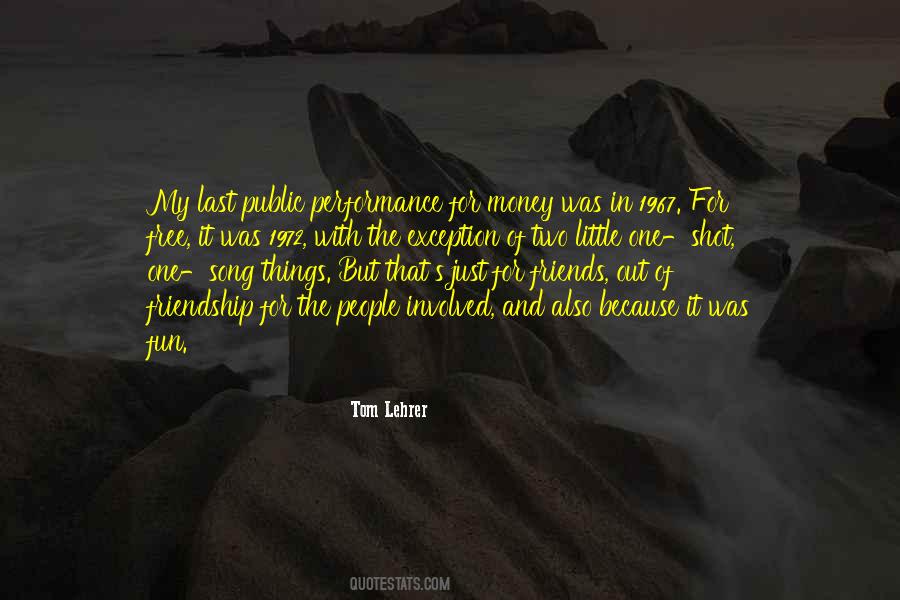 #29. Around 80 per cent of my money goes to charity. - Author: Heather Mills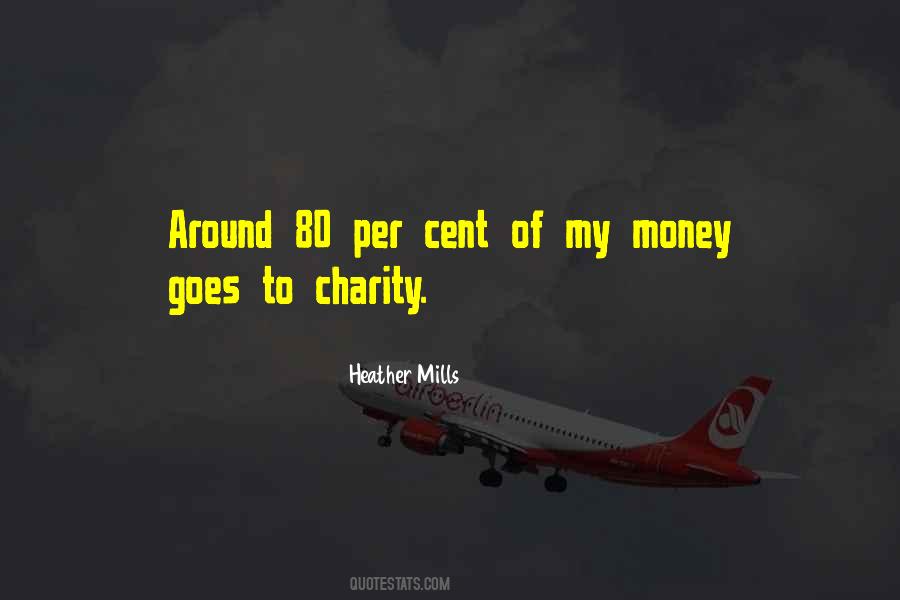 #30. Its all big money, high rent, high prices in New York City now. The poor people completely got rolled over. I've never seen anything like it in my life. It's disgusting. - Author: Ralph Bakshi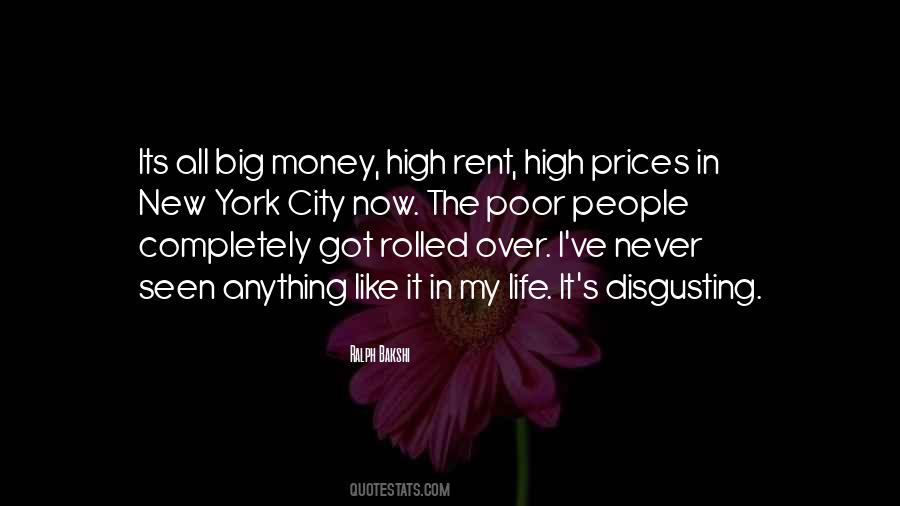 #31. I didn't make any money from my writing until much later. I published about 80 stories for nothing. I spent on literature. - Author: Naguib Mahfouz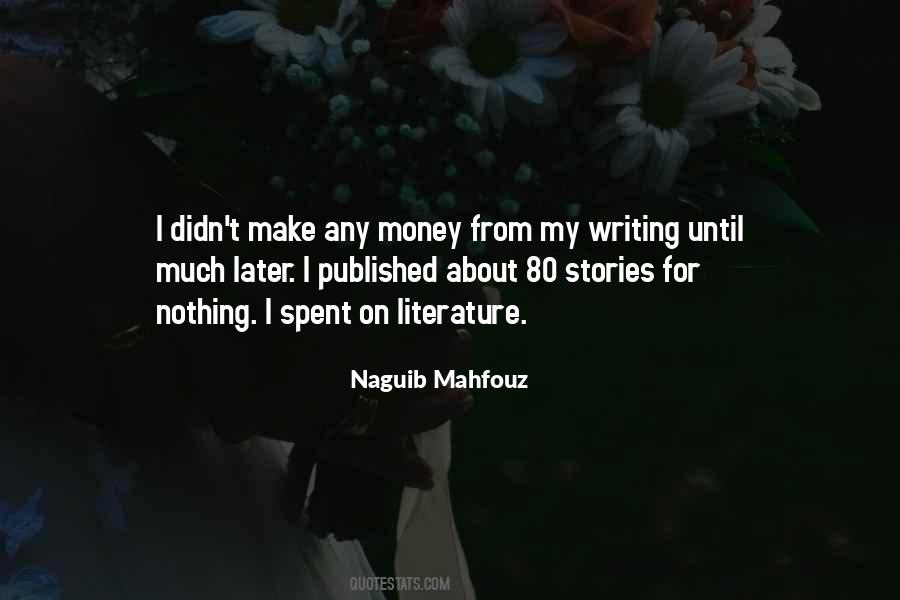 #32. My pride fell with my fortunes. - Author: William Shakespeare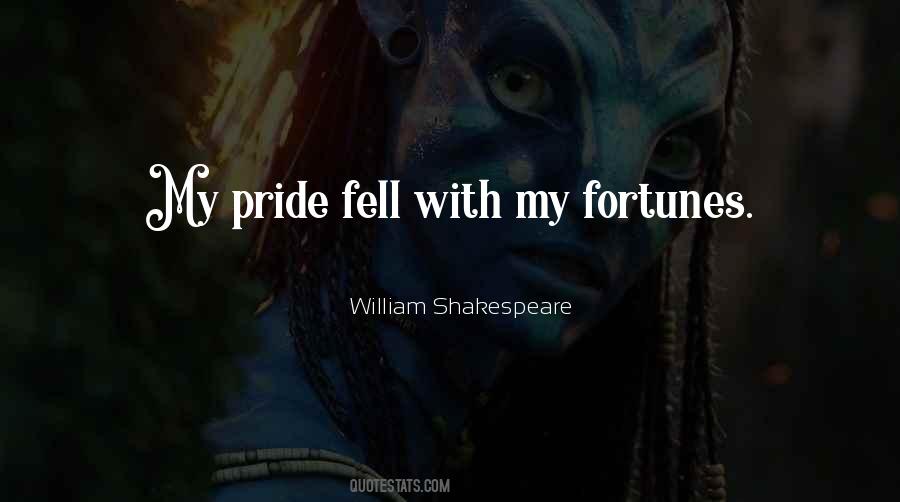 #33. I used to do films for money earlier. I never knew what perception meant. I didn't give too much attention to scripts. It was either to buy a house or to buy a car. There was a certain frivolity to the way I used to pick up things. I wasn't taking my career seriously. - Author: Emraan Hashmi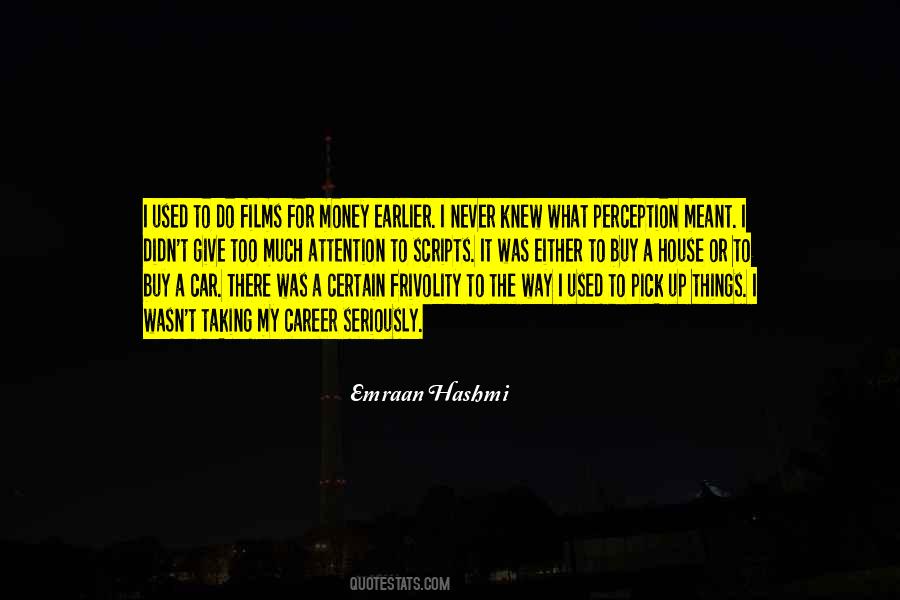 #34. I really get a smile that people think they have a right to even suggest how I give my money away. I have no mandate to give a dime to anybody. - Author: Peter B. Lewis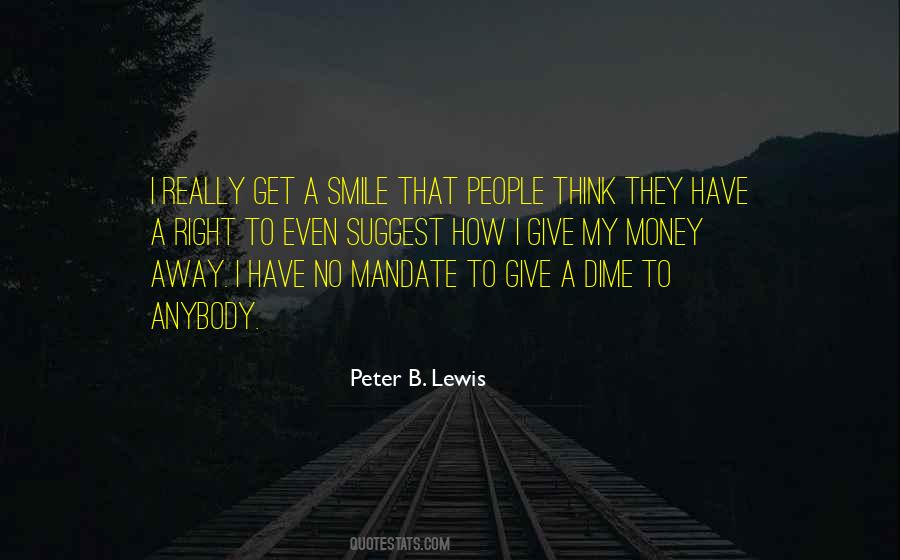 #35. During the late '20s my father left us. My mother was in a complete hole with no money, and we were evicted. - Author: Vidal Sassoon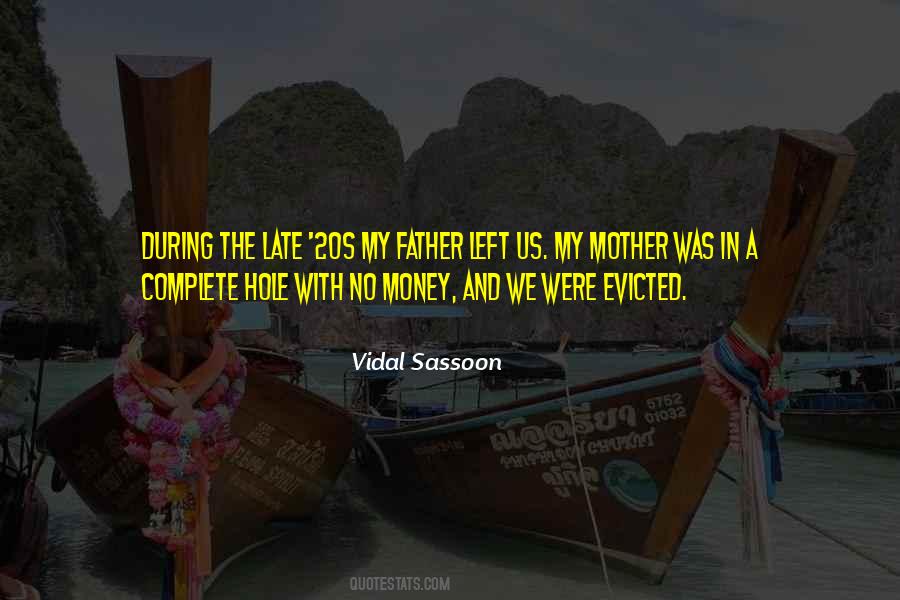 #36. Responsible Development is the style of development I aspire to now. It can be summarized by answering the question, How would I develop if it were my money? I'm amazed how many theoretical arguments evaporate when faced with this question. - Author: Kent Beck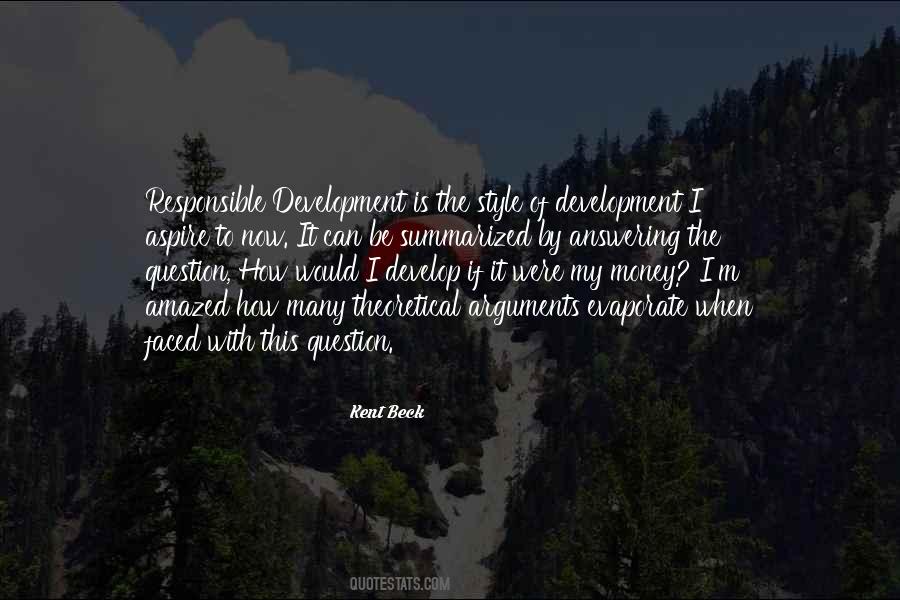 #37. I have never deceived anyone, for I have never belonged to anyone. My independence was all my wealth: I have known no other happiness. - Author: Cora Pearl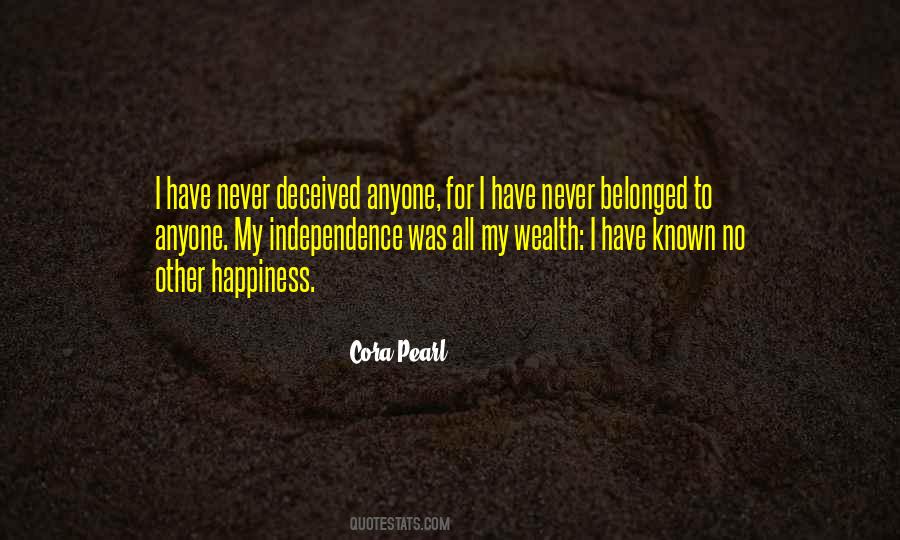 #38. Art was a way for me to express myself and for me to also escape because it was tough growing up as a child. We didn't have a lot of money. I was always creating. I was writing stories. I was doing comic books. I made my own universe. - Author: Michelle Phan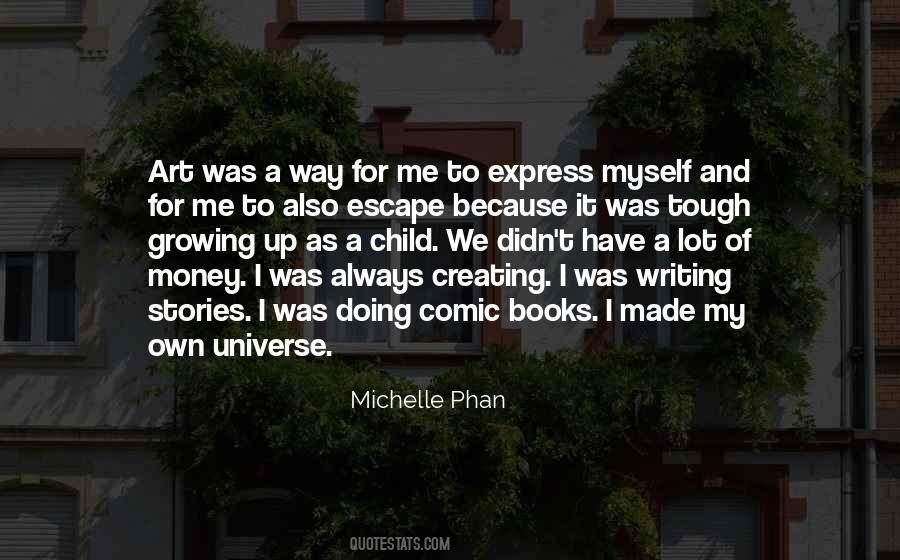 #39. Help me find more money in my budget! - Author: Elisabeth Leamy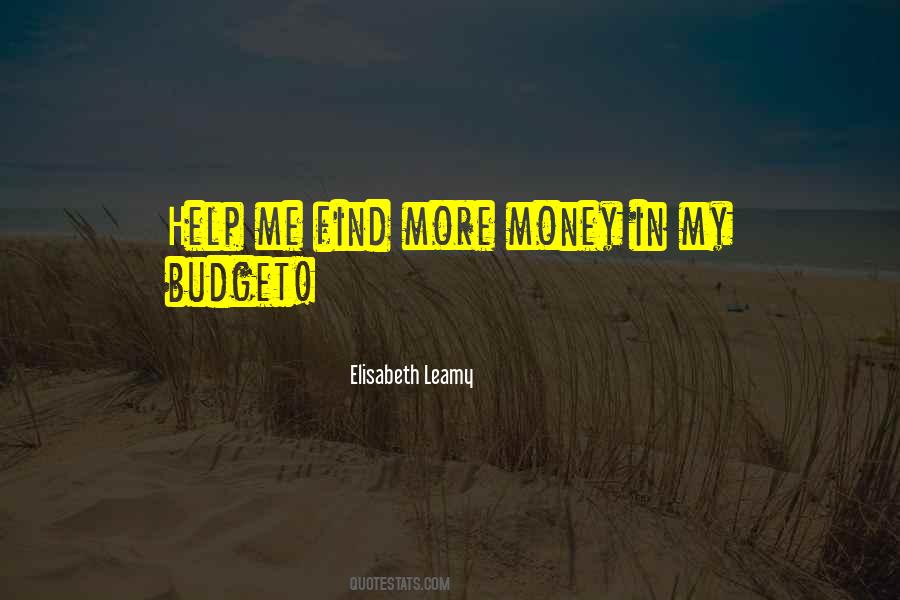 #40. It's the Government's job to print the money, deliver the mail and declare war. Now give me my cigarettes. - Author: Florence King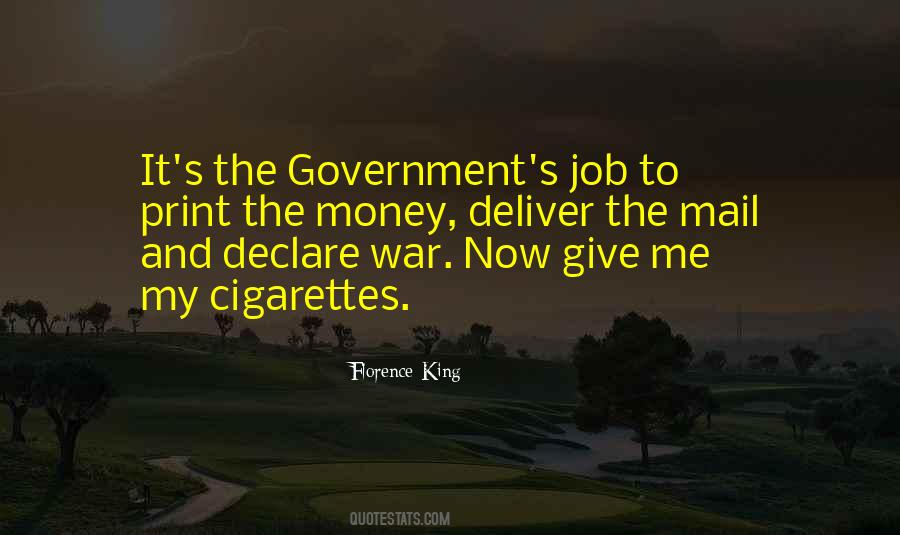 #41. One of the biggest wake-up calls of my career was when I saw a record contract. I said, 'Wait - you sell it for $18.98 and I make 80 cents? And I have to pay you back the money you lent me to make it and then you own it?' - Author: Trent Reznor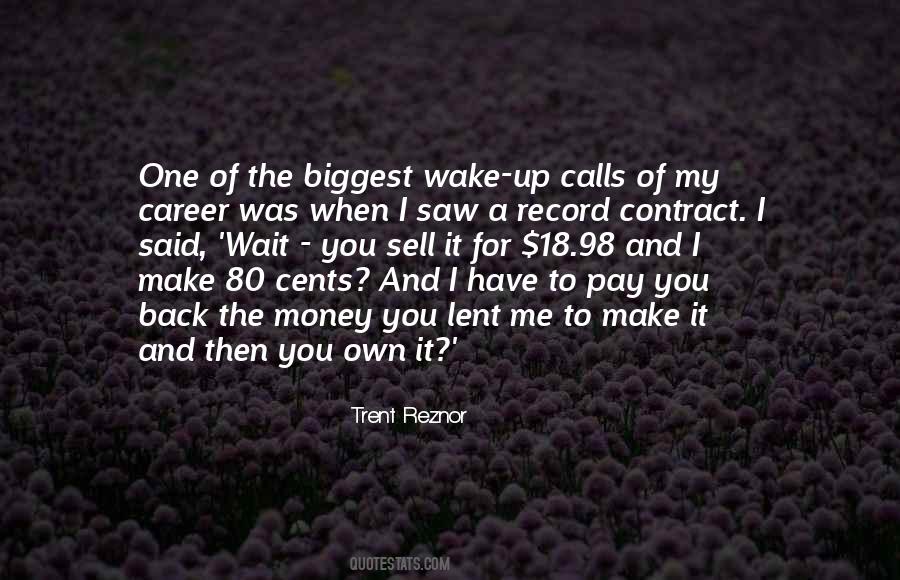 #42. I wouldn't sell my bike for all the money in the world. Not for a hundred million, trillion, billion dollars! - Author: Paul Reubens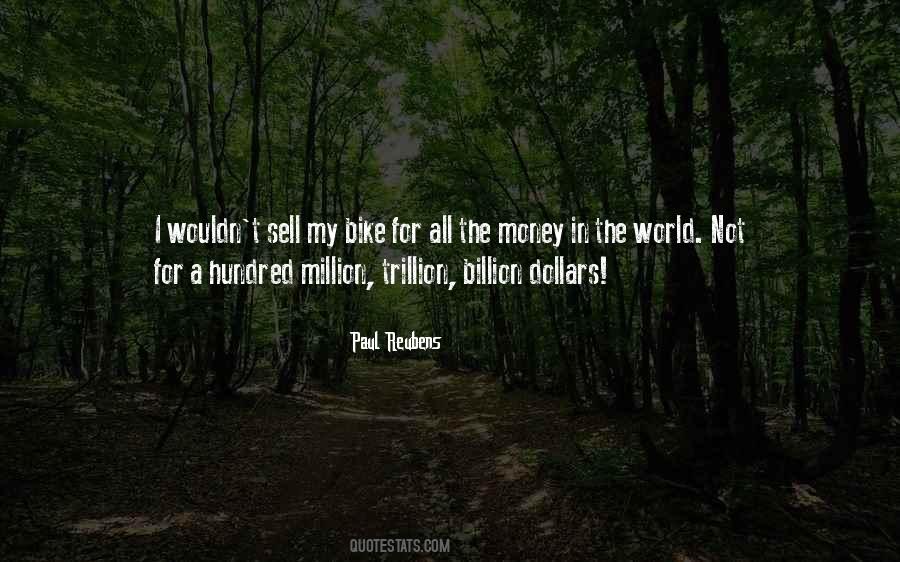 #43. Pay me for my work, but I dont do it for the money - Author: Vanna Bonta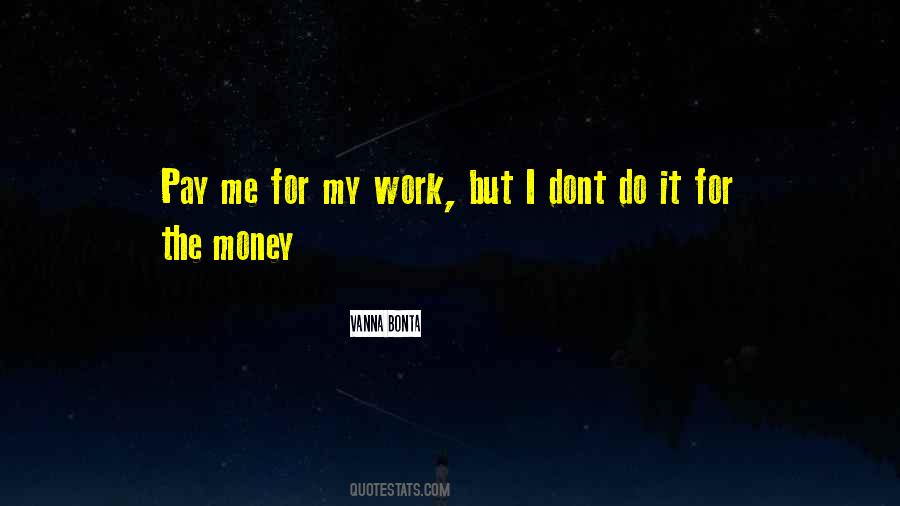 #44. I suppose in the back of my mind I was always one of those guys who had a disdain for money. It had a value if you wanted to buy something, but if you didn't want to buy something, you didn't need it. - Author: Chuck Feeney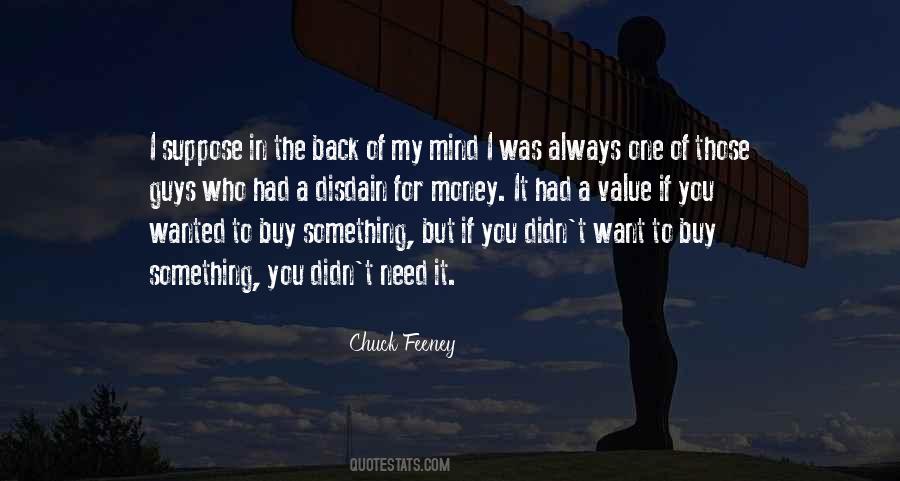 #45. My healthcare plan puts more money into average families' pockets than the Bush tax cuts ... He's got a lousy tax cut. It's only good for the super wealthy. I've got a tax cut that will help ordinary people. - Author: Dick Gephardt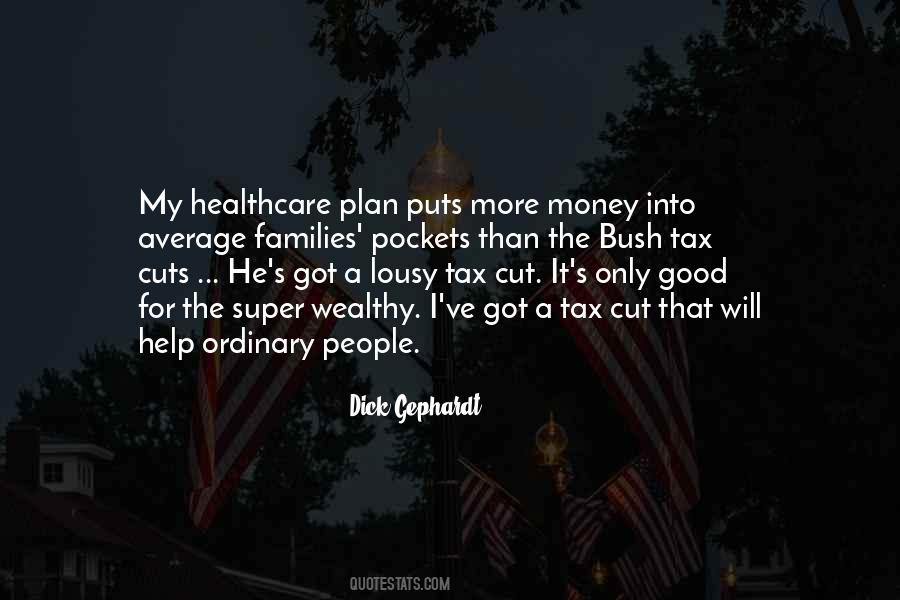 #46. I had to put my kid before my career and all the money I was making. I decided to do the right thing. I was dying inside. If I didn't have my daughter, I would be dead right now, for sure. - Author: Brian Welch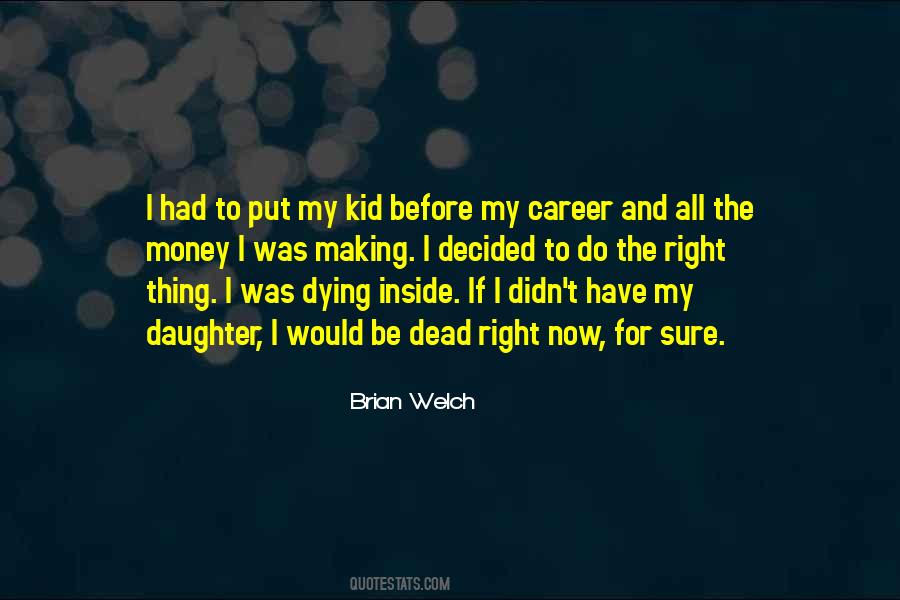 #47. When my money starts coming in and I'm blessed to see an eye doctor every week, twice a week, I'm going to do it. - Author: Rahim Moore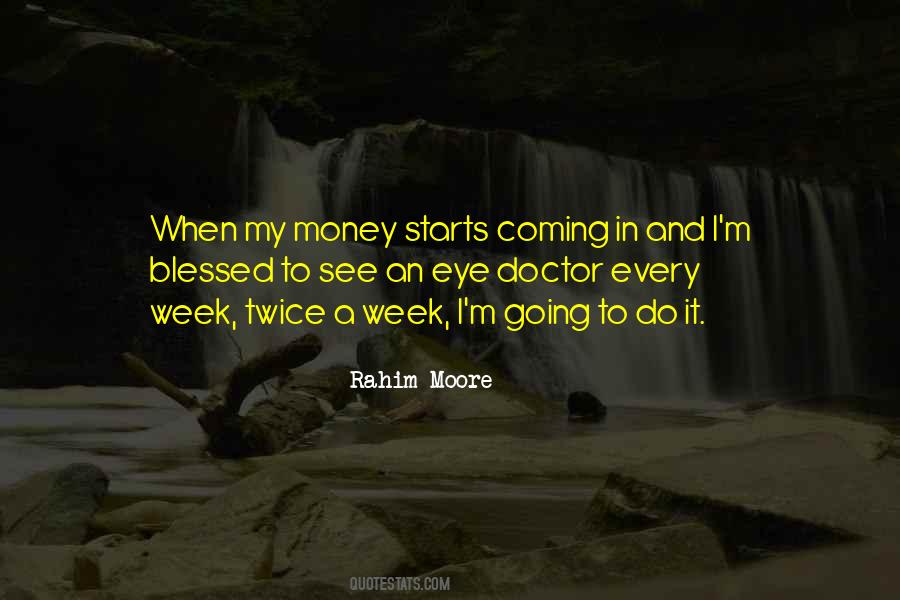 #48. I made my money and can spend it as I want, just as you can spend the money you make as you want. - Author: Stephanie Clifford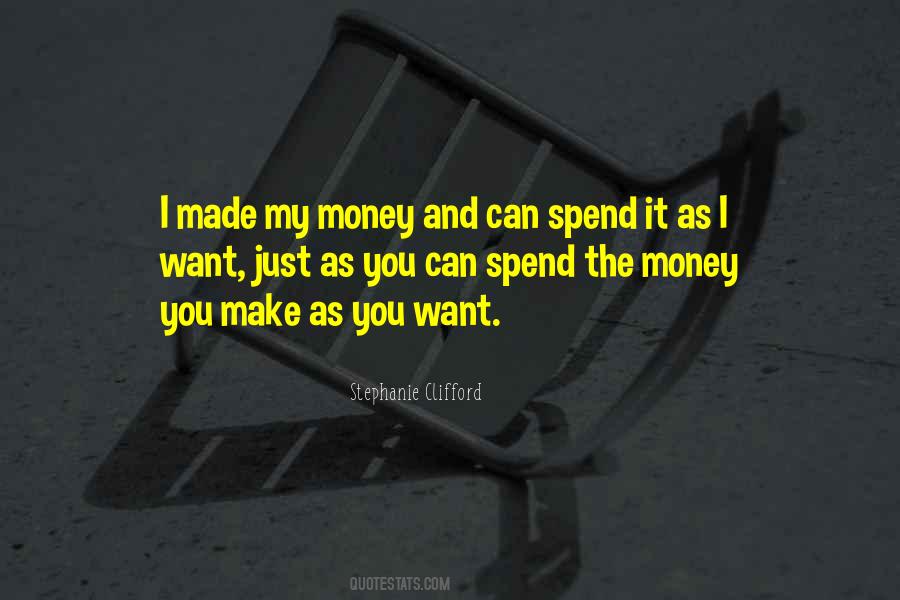 #49. You do realize that the cost of that bracelet is within spitting distance of my going rate as an assassin, right?"
"You mean your going rate back when you were actually killing people for money," Finn said. "Or as I like to call them - the good ole days. - Author: Jennifer Estep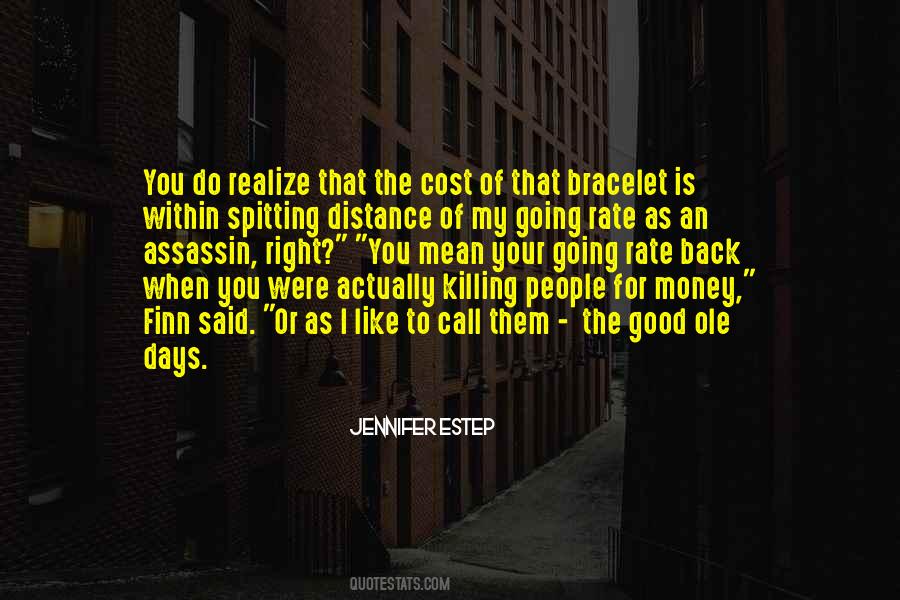 #50. My father worked hard, but we were still very poor; and I didn't want anybody arguing about money, so I became the entertainer - the one who wanted everyone to be happy. I didn't want there to be any problems. - Author: Diana Ross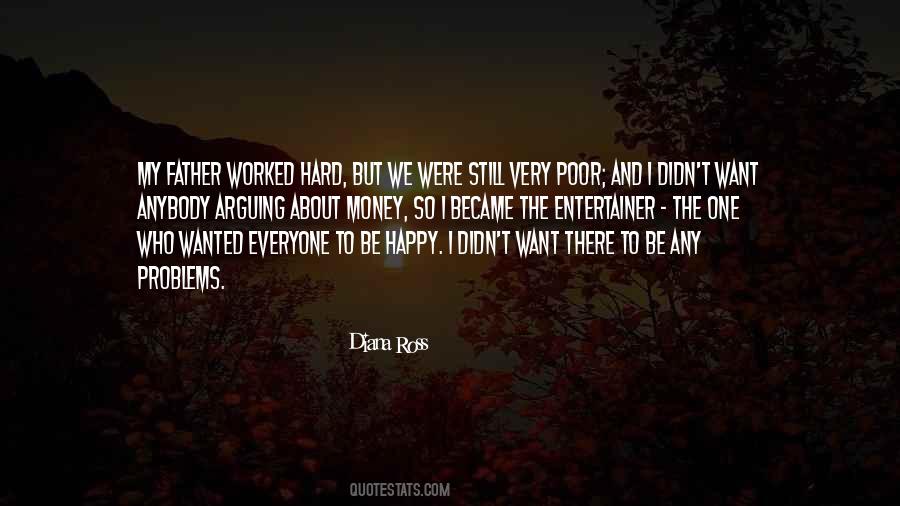 #51. Science chases money
and money chases its tail
and the best minds of my generation can't make bail.
But the bacteria are coming
that's my prediction.
It's the answer to this culture
of the quick-fix prescription. - Author: Ani DiFranco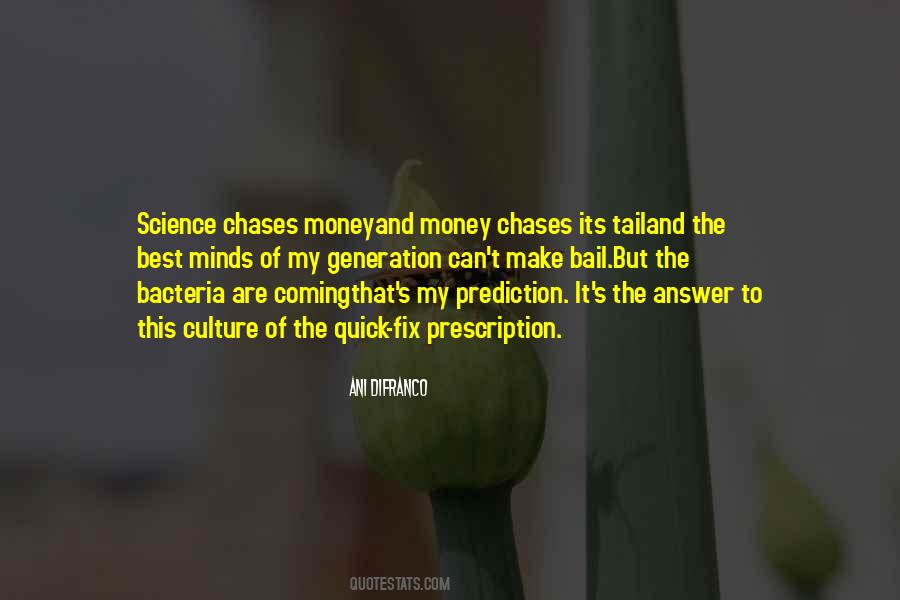 #52. The motto of the old order in the City of London was, 'My word is my bond,' but the financial crisis revealed a culture quite alien to that heritage. The stewards of people's money were revealed to have been speculators with it. - Author: Gordon Brown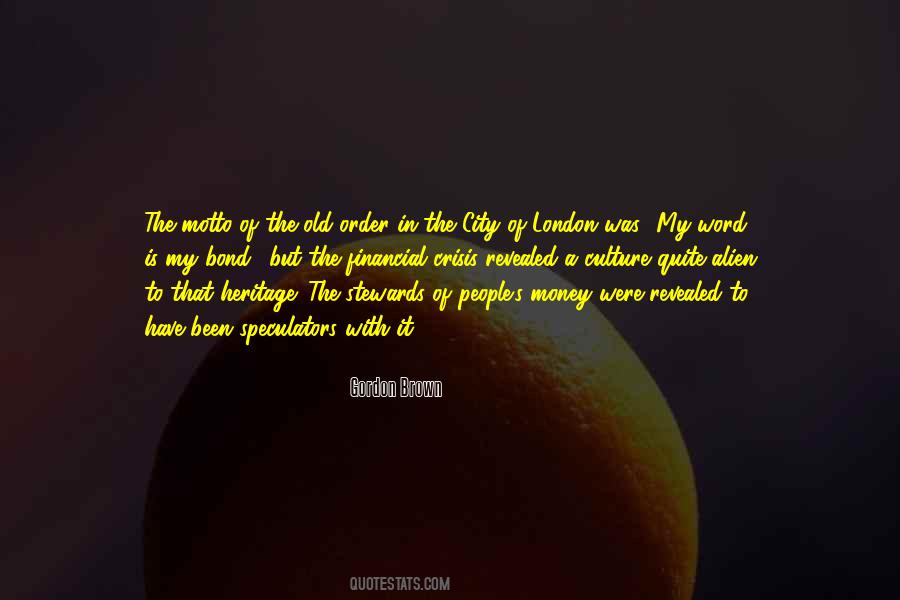 #53. Most of all, I love Manchester. The crumbling warehouses, the railway arches, the cheap abundant drugs. That's what did it in the end. Not the money, not the music, not even the guns. That is my heroic flaw: my excess of civic pride. - Author: Tony Wilson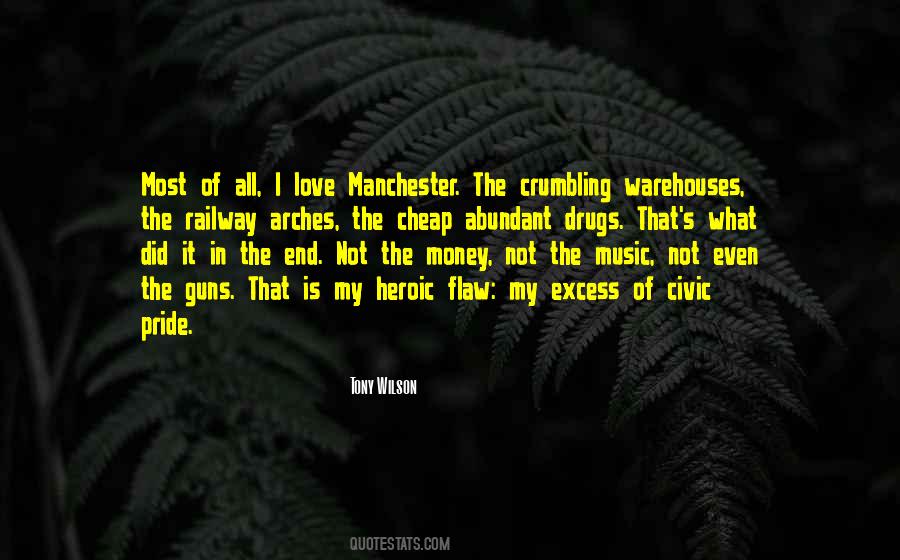 #54. All I wanted to do was write - at the time, poems, and prose, too. I guess my ambition was simply to make money however I could to keep myself going in some modest way, and I didn't need much, I was unmarried at the time, no children. - Author: Paul Auster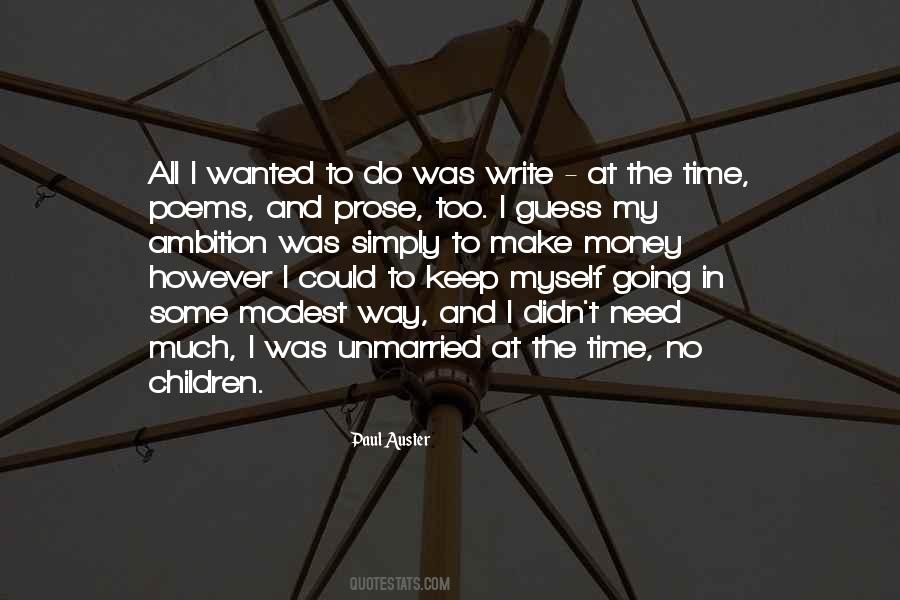 #55. I never give a f-ck about a hater; got money on my radar. - Author: Lil' Wayne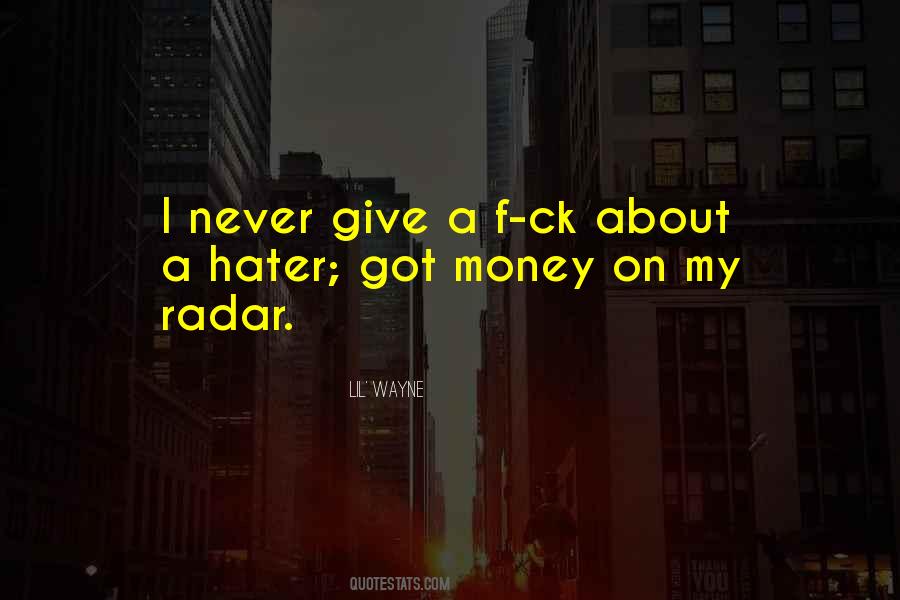 #56. At Cornell University, it was well known that after five years on Wall Street, you could expect to be making half a million a year in salary and bonus; after 10 years, you could expect a million or more. I had 60 grand of university debt, and my parents had no retirement. I needed that money. - Author: Philipp Meyer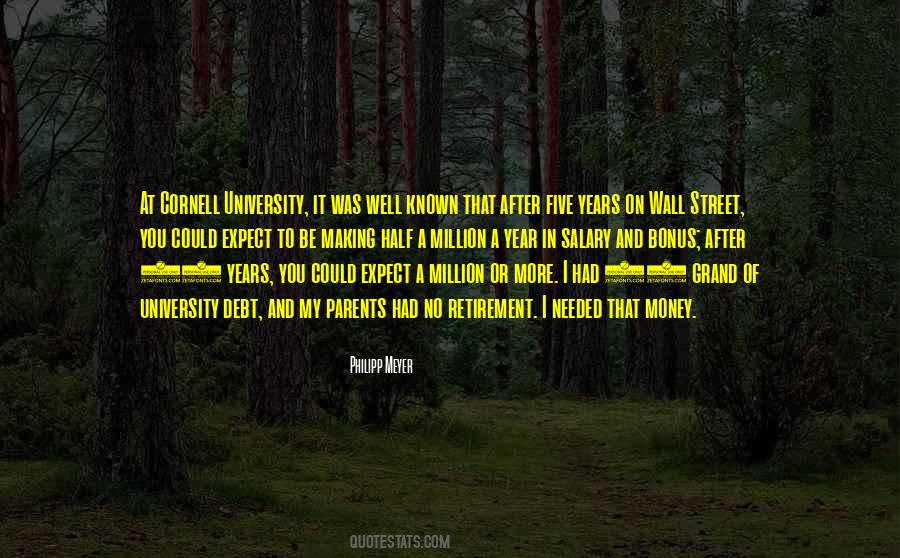 #57. I don't buy these rag magazines that feed off of stolen, you know, press. They're basically stealing someone's image in order to make money for themselves ... They wait at the end of my street in their cars. Every time I exit my home, I have company. - Author: Ashton Kutcher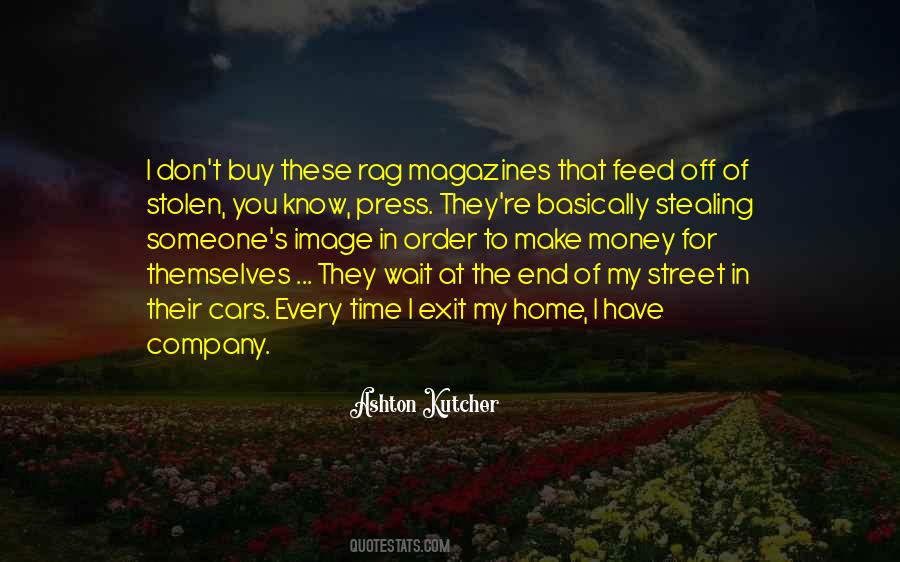 #58. I moved out of my house at 17 and half, I rented an apartment ... I pulled all the things off. It was pretty amazing and I lived a pretty good life, I had a car and I was making good money. - Author: Eric Hernandez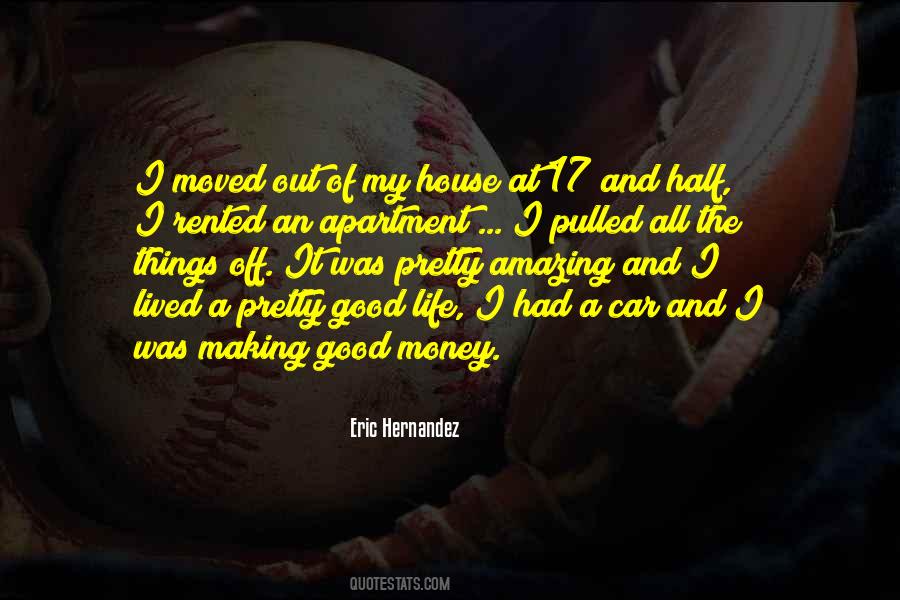 #59. If you would be just as content winning a local Golden Gloves fight as you would making a pile of money as a professional, then fine, go become a boxer. But if the whole idea is for you to get rich, my God, stay in school and learn a profession. - Author: Gerald McRaney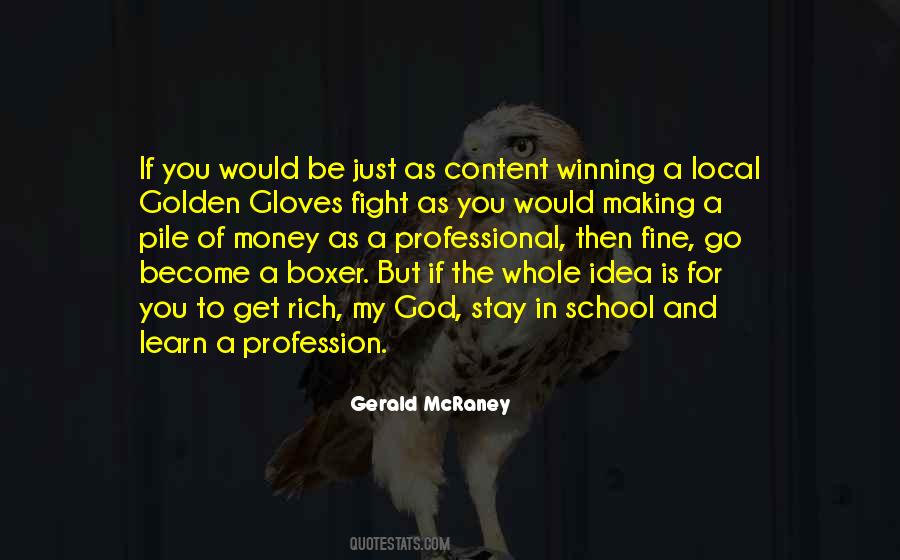 #60. Katie leaned forward conspiratorially. Oh, sweetie, I just said that because Alice is an old bag. You go after Devon. The man is fine. I don't blame you for changing your look for a shot at that. When the pool about you two gets going at Petie's Pub, I'm putting my money on you. - Author: Susan Meier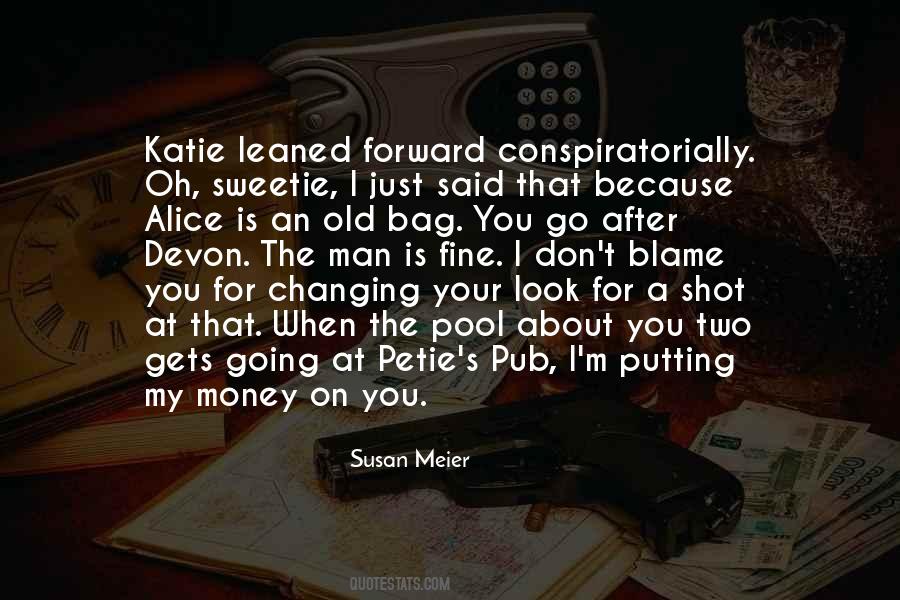 #61. As a director, my job is, and always has been, divided into a number of things: dealing with the crew, the money and the studio, and the marketing and publicity. These are all different jobs that have to be learned and done as well as possible. The celebrity part rarely touches a director. - Author: Mike Nichols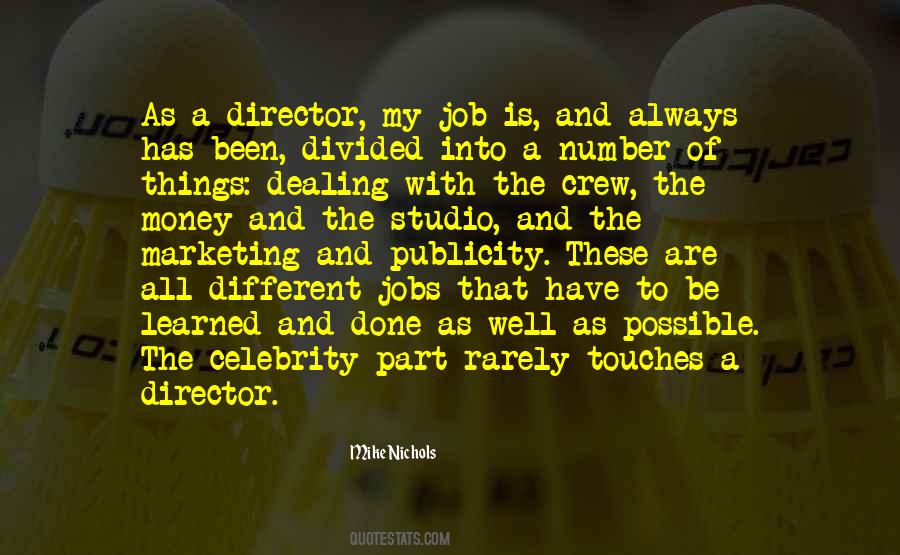 #62. Stewart loves me with a tiger's intensity, his need taking my breath away, his confidence in our relationship strong enough to not be bothered by the presence of another man. He stares into my soul as if he owns it, and shows his love with money, sex, and rare moments of time. - Author: Alessandra Torre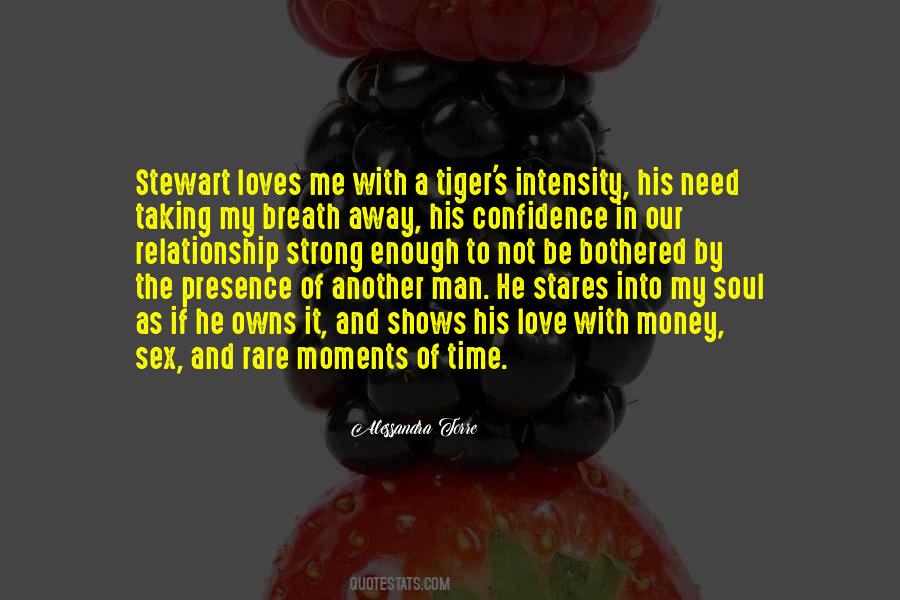 #63. I worked every waking minute, nights and weekends, in order to make enough money to buy those summers off, and even then we wouldn't have made it except that my mother helped out with a yearly check and my father bought me a car when my old one die - Author: Debra Dean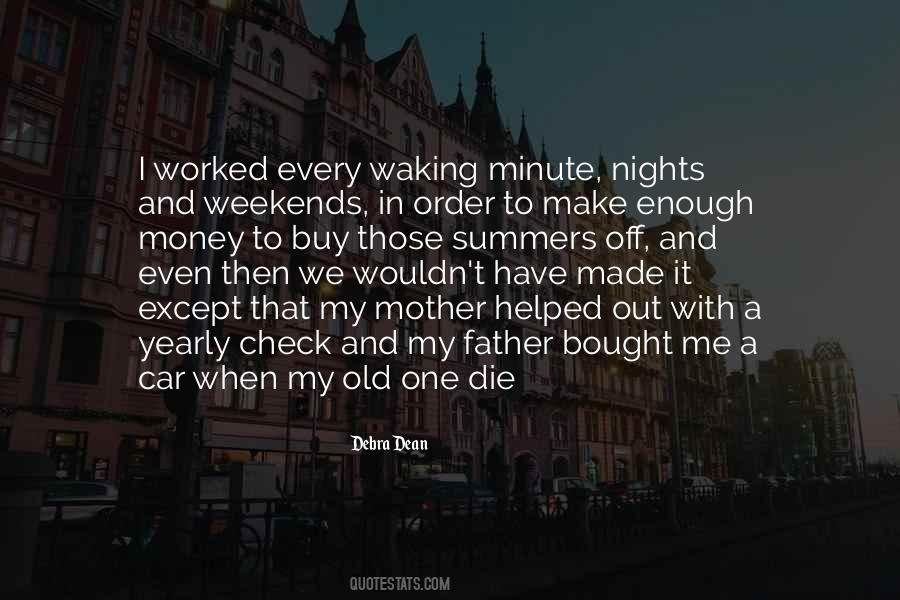 #64. I'd rather lose my own money than someone else's. - Author: Dean Kamen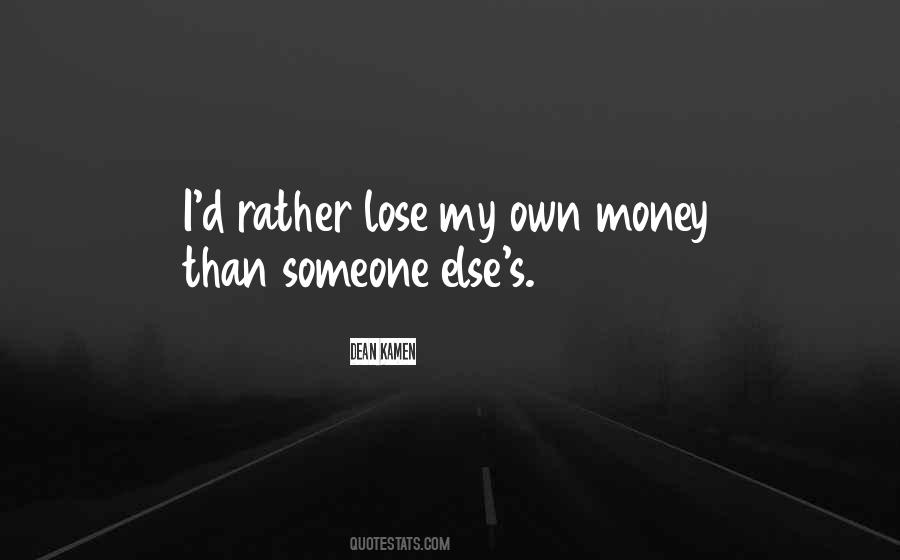 #65. I don't take a dime of their [lobbyist] money, and when I am president, they won't find a job in my White House. - Author: Barack Obama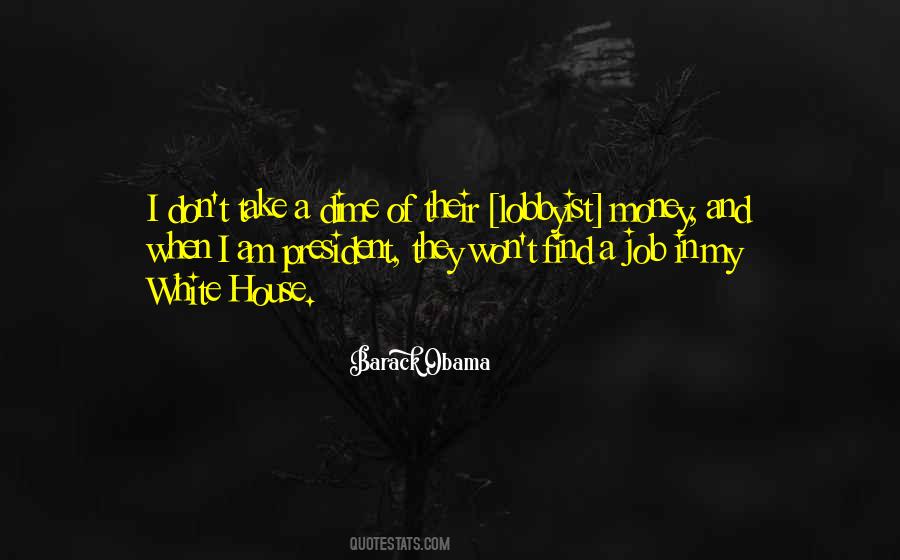 #66. For my money, celery hasn't got a mean bit of fibre in its body, and we all need to start being much nicer to it. - Author: Yotam Ottolenghi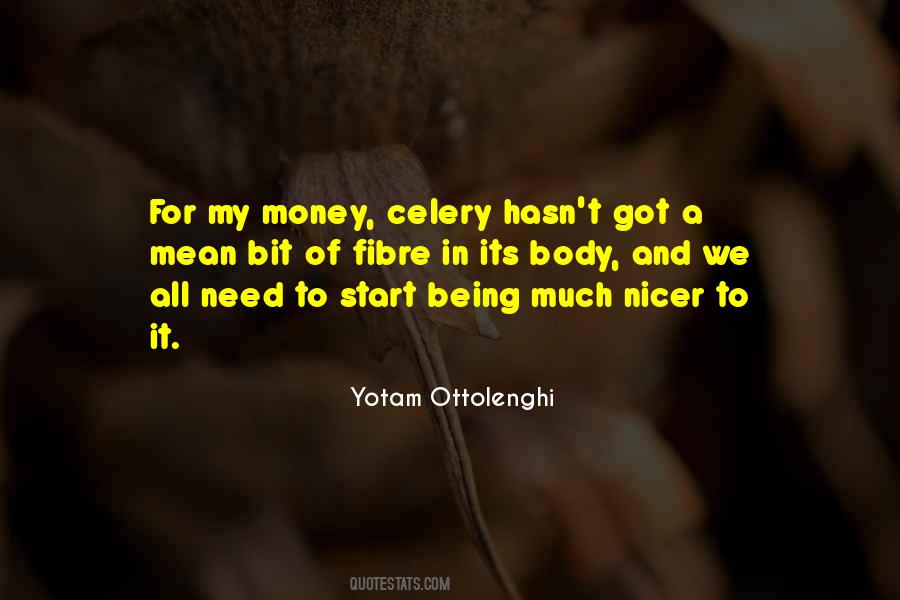 #67. Every day after school, for three hours a day, I would sell those pralines on the street corner. I was just eight years old. I'd bring the money home to my parents and say, "This is just the beginning." - Author: Richard Simmons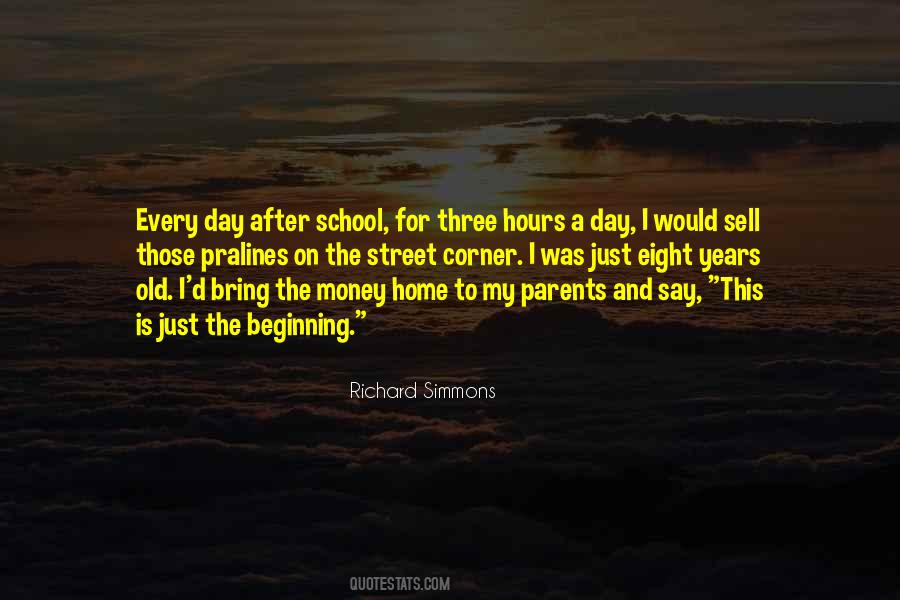 #68. I like to try to give something back to the community because I feel fortunate for how I was raised and how my life turned out. Each year, with the help of my brother, Grant, we run a charity golf tournament to raise money for the Ontario Federation for Cerebral Palsy. - Author: Curtis Joseph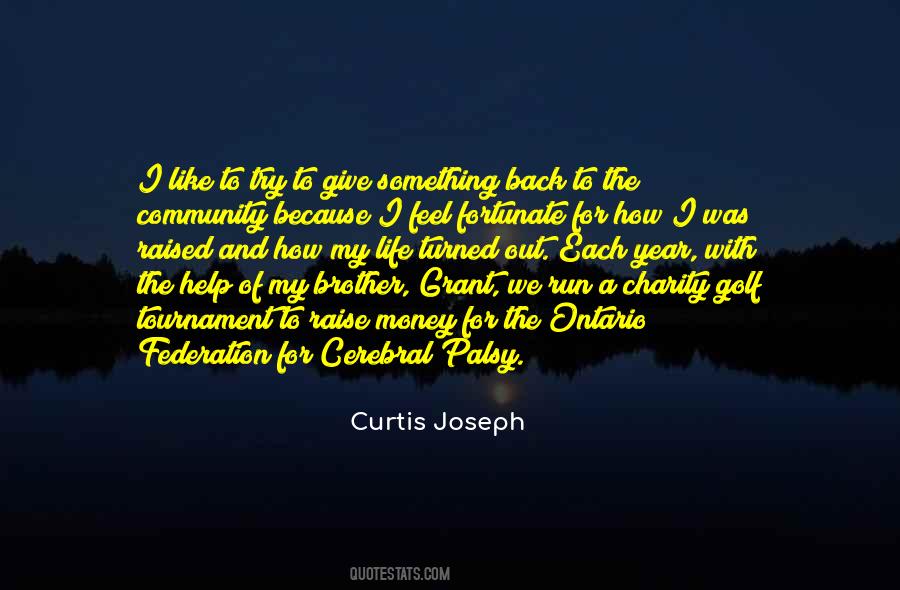 #69. A lot of the people that stop you - well, they're not nuts, exactly. They're more like super-fans. They think that I'm some sort of rich guy, that everyone in the movies is making the kind of money Angelina Jolie is making. They don't realize that most of my life has been a struggle. - Author: Mark Margolis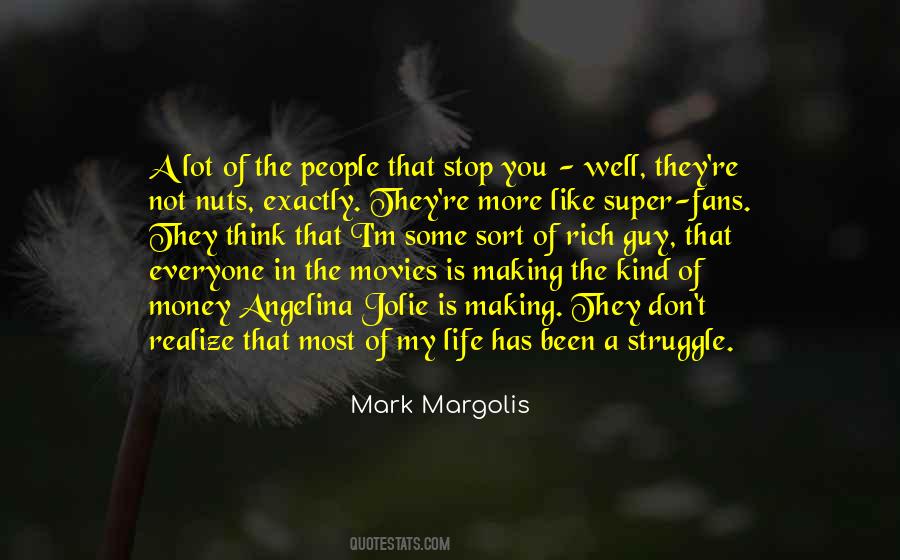 #70. Depressed beyond what I'd previously thought possible, I stripped, showered, and slipped on a fresh pair of jeans and a tee shirt and headed for my mom's, trying to figure out why a bank would charge twenty dollars for insufficient funds when they know you don't have it. - Author: Kit Frazier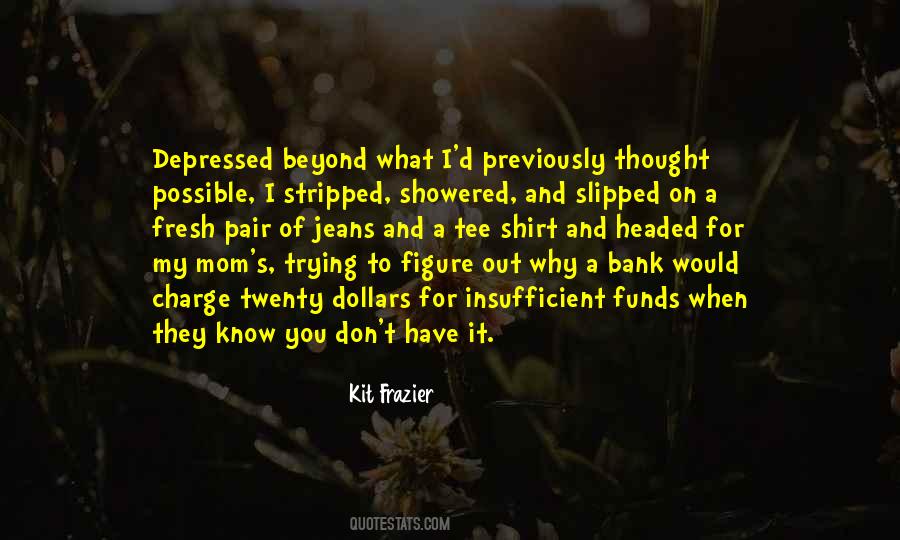 #71. I sighed. 'It doesn't matter what we do. Money comes and goes.' I shook my head. 'It doesn't matter and you know it doesn't. - Author: Patrick DeWitt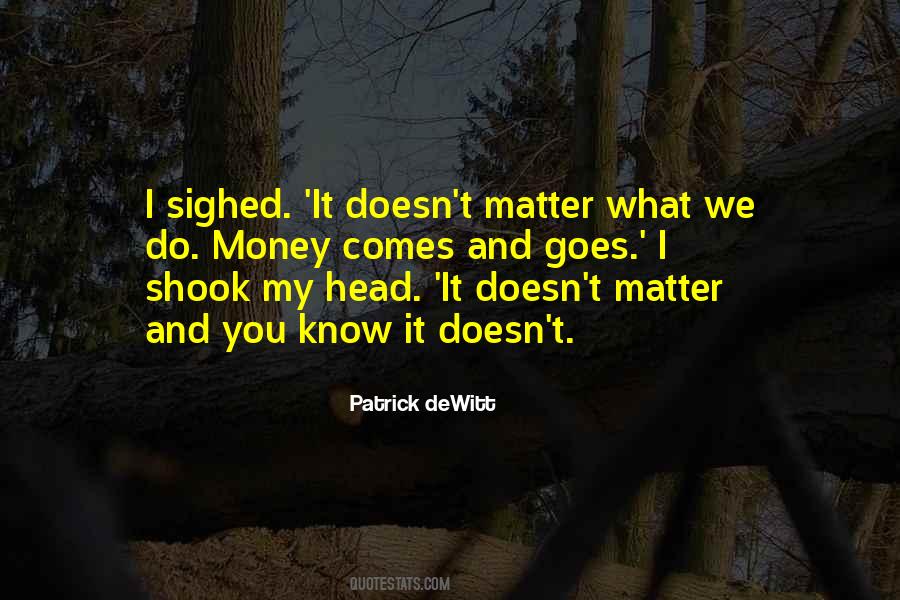 #72. I'm not gonna be broke, like my mom was broke, my uncles were broke, my sisters didn't have money, my cousins on down. - Author: R. Kelly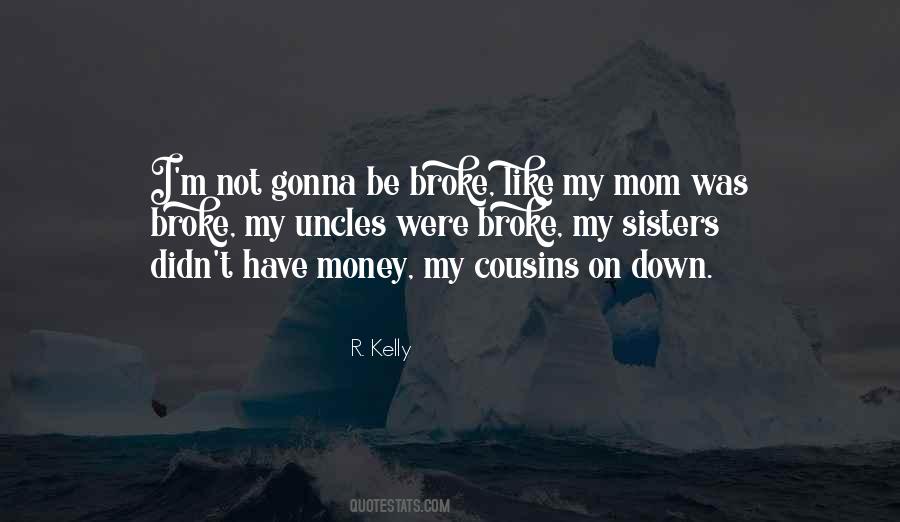 #73. I taped my first series for PBS in 1982 at WJCT-TV in Jacksonville, Florida. The show, called 'Everyday Cooking with Jacques Pepin,' was about saving time and money in the kitchen - and it was a celebration of simple and unpretentious food. - Author: Jacques Pepin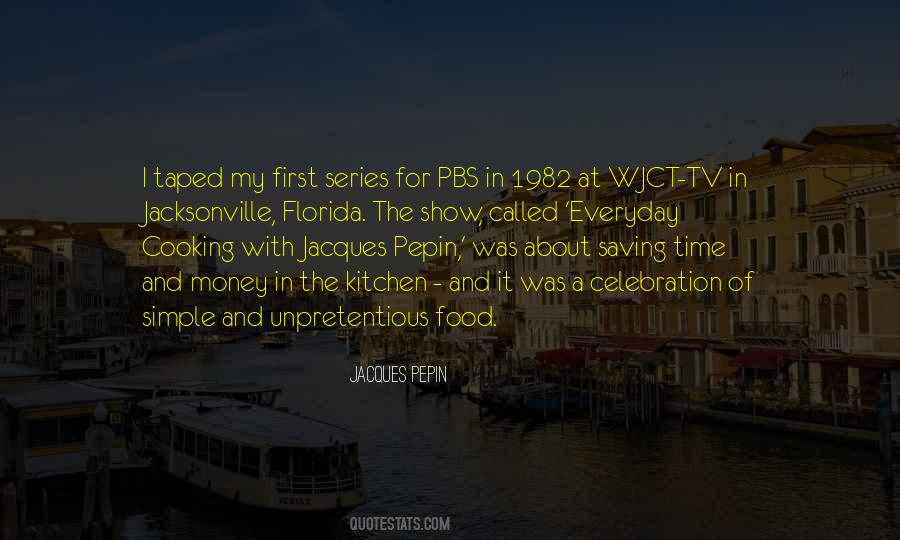 #74. The populace may hiss me, but when I go home and think of my money, I applaud myself. - Author: Horace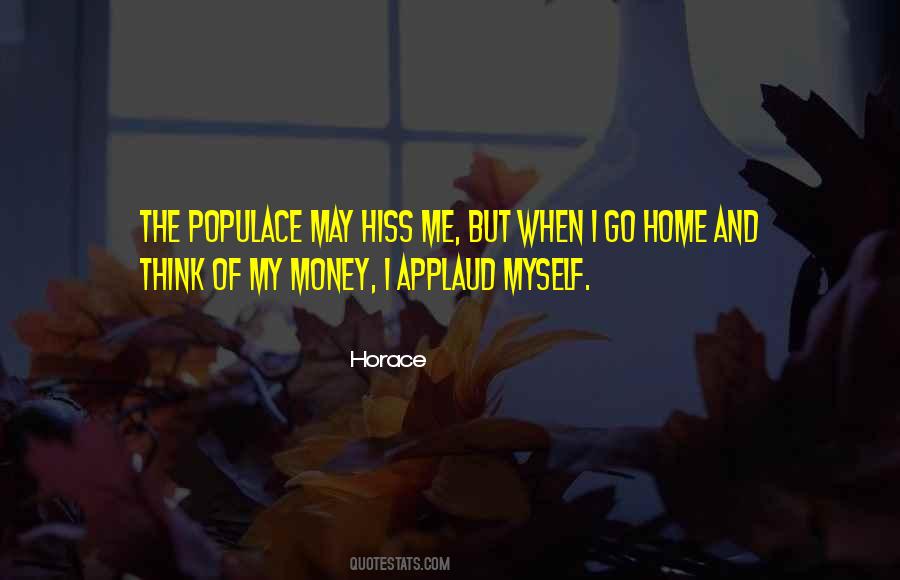 #75. My mother used to say that men would fight and kill for money, but they would only die for their gods. - Author: Anthony Ryan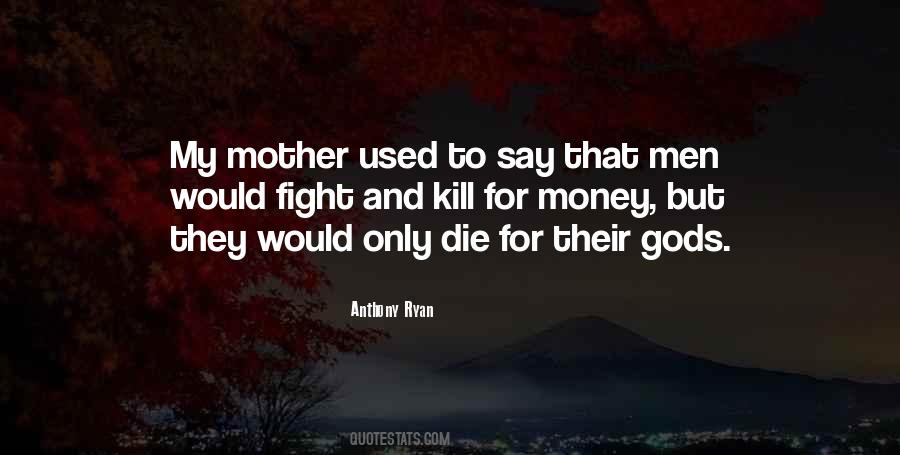 #76. The government, in my judgment, cannot create money; the government can give its note, like an individual, and the prospect of its being paid determines its value. - Author: Robert Green Ingersoll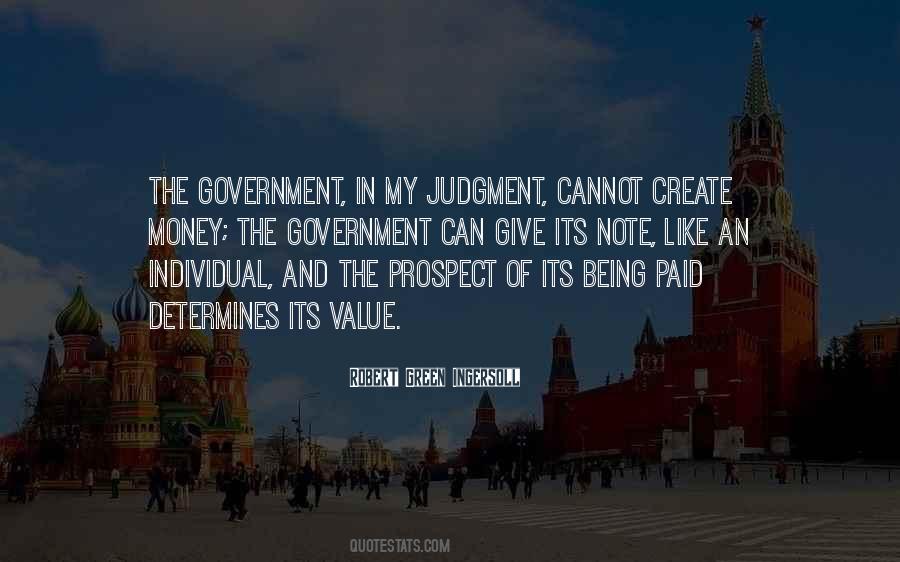 #77. I don't want to send my money to a bunch of Hugo Chavez-loving, Ivy League ideologically educated, politically opportunistic careerist in Washington, D.C. - Author: Sean Hannity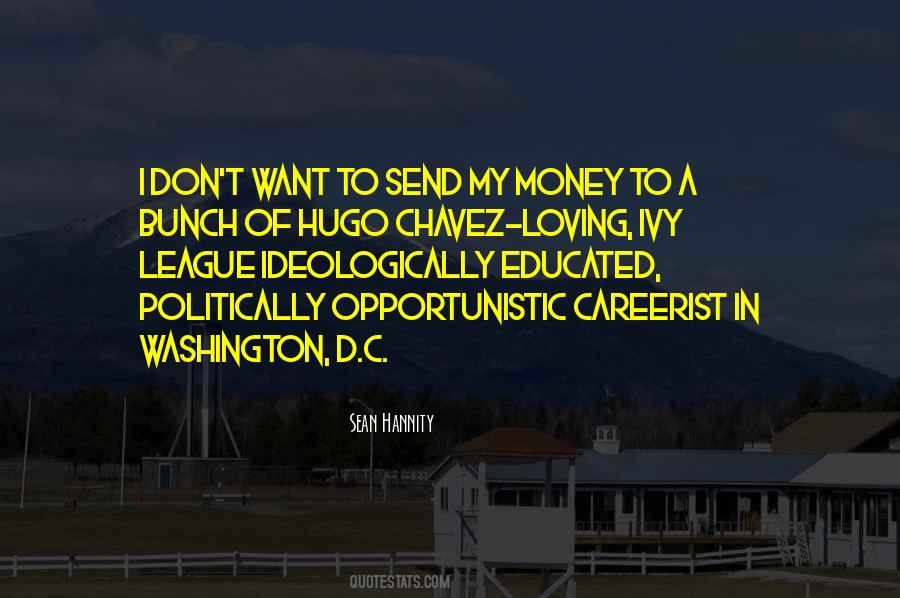 #78. When they look back on me I want 'em to remember me not for all my wives, although I've had a few, and certainly not for any mansions or high livin' money I made and spent. I want 'em to remember me simply for my music. - Author: Jerry Lee Lewis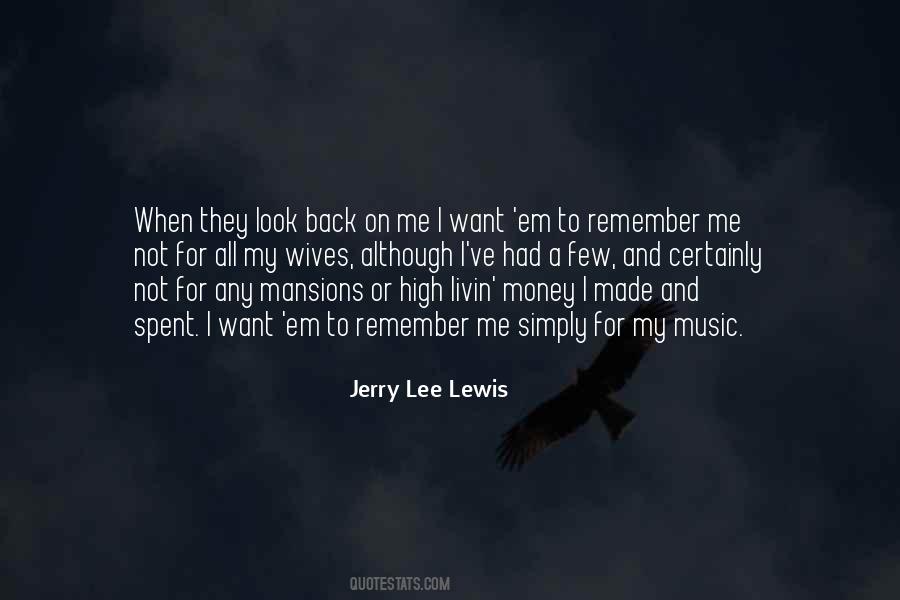 #79. I've always been sensible with my money. I can't say I'm a business genius. - Author: Jasper Carrott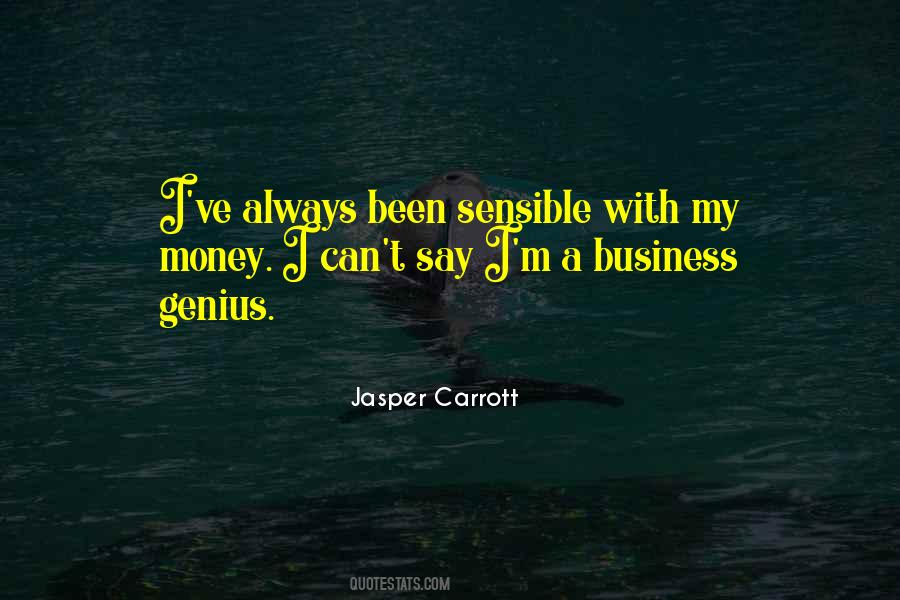 #80. Without realizing it, I had said goodbye to traditional employment. I never punched a clock again. I made my own time and my own money. - Author: Patti Smith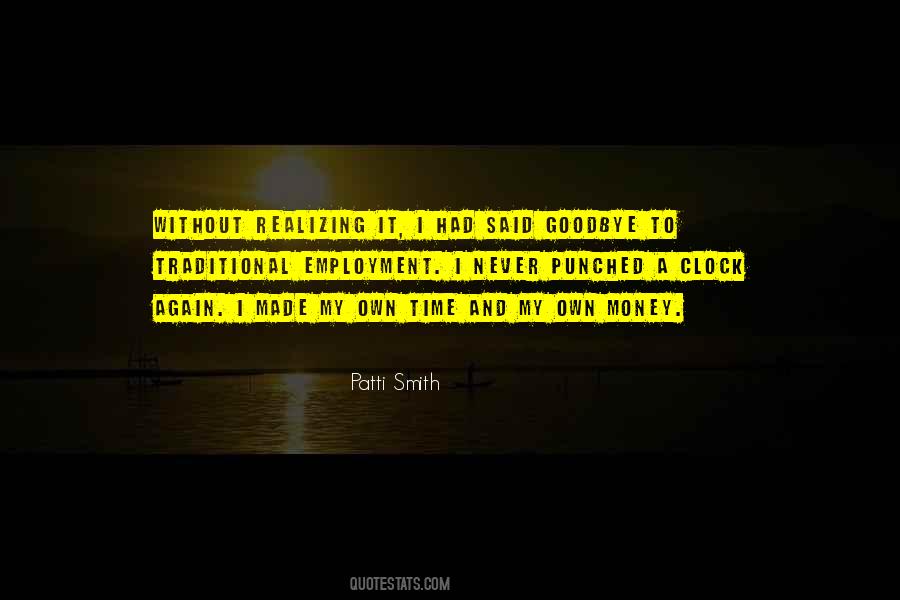 #81. I can get money with my eyes closed - Author: Drake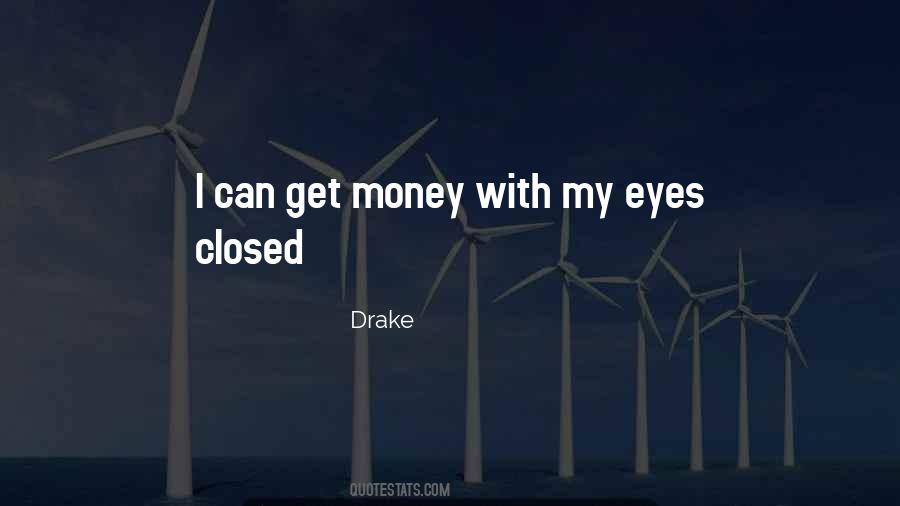 #82. No holiday, no job, no amount of money, not even my own security can mean more to me than my love for God. - Author: Monica Johnson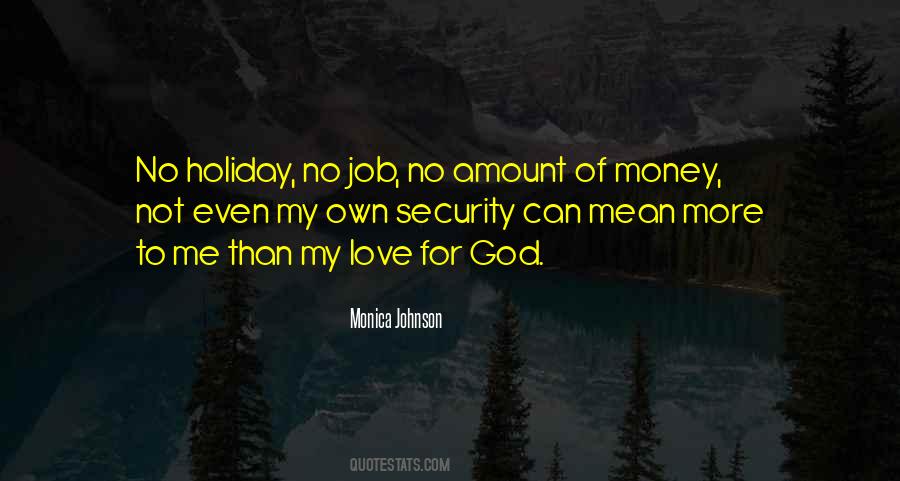 #83. Money does not motivate me as long as I can provide for my children. - Author: Steve Waugh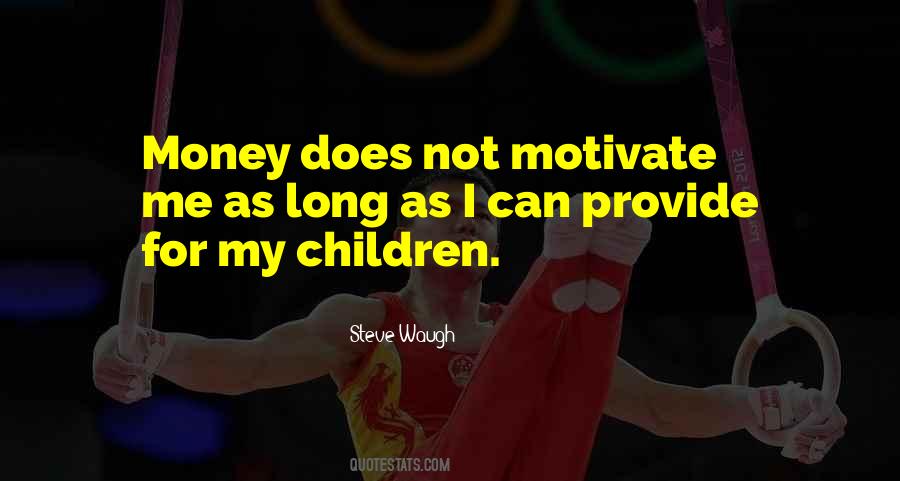 #84. I think that my foundation uses the money better than the government does. In any event, I do pay taxes. - Author: George Soros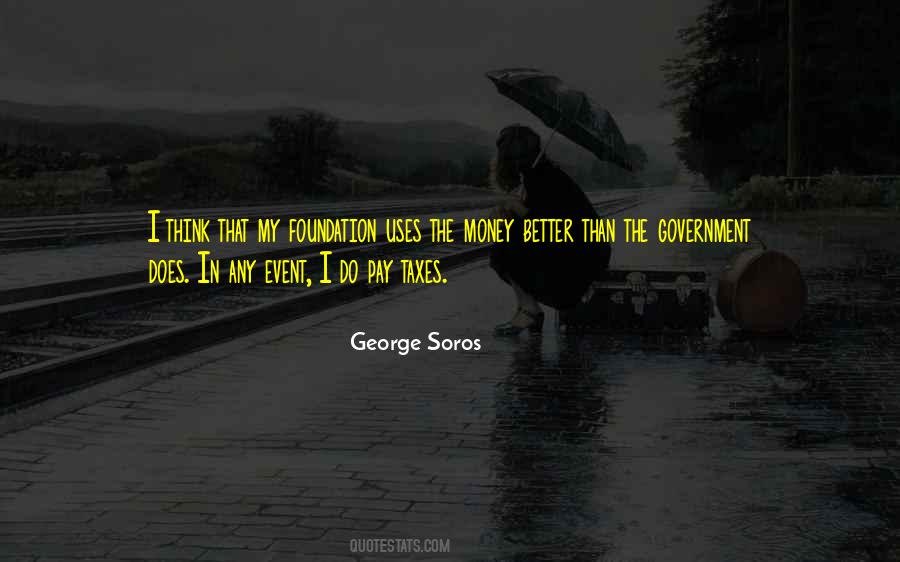 #85. When I go back to theater, I feel good about myself. When I do films or TV, it's to make a little bread to pay my mortgage or whatever, and when I've made the money, I do theater again. And when I get a part I like, a part I can work on, that satisfies me. I feed good about myself. - Author: David Hedison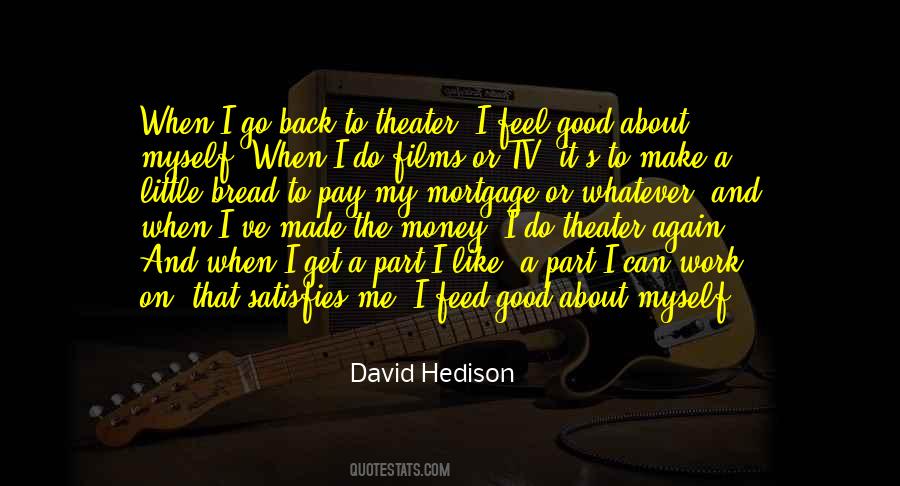 #86. My granddad was a hard worker, and my dad is, too. It was instilled in me as a kid. I never got pocket money; I had to earn it. I had two paper rounds before school, not just one. Wherever I worked, whether it was at football, in the pub, I'd do whatever was asked of me - and more. - Author: Olly Murs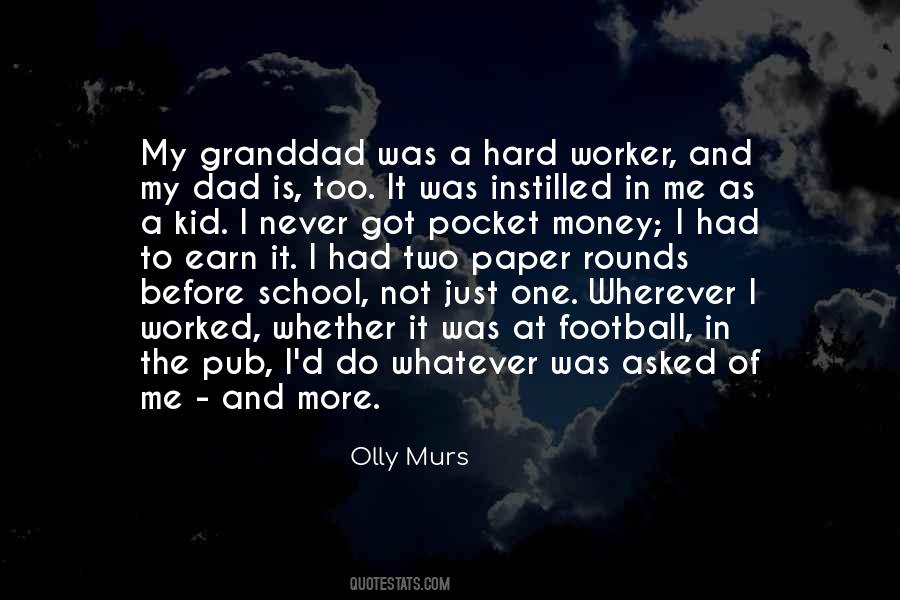 #87. I see my friends, my family, my cousins work all day long for very little money, and if I have this problem of not being able to wall on the streets, it's not a big deal. - Author: Olivier Martinez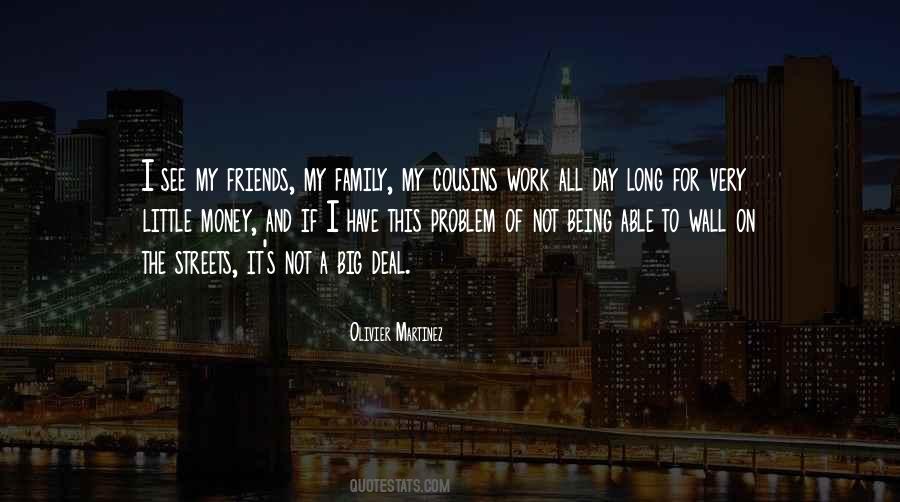 #88. I would have shared with the banks my long-term vision and got them involved instead of just going to them when I needed money. I should have got them on my team right from the start. - Author: Ken Hendricks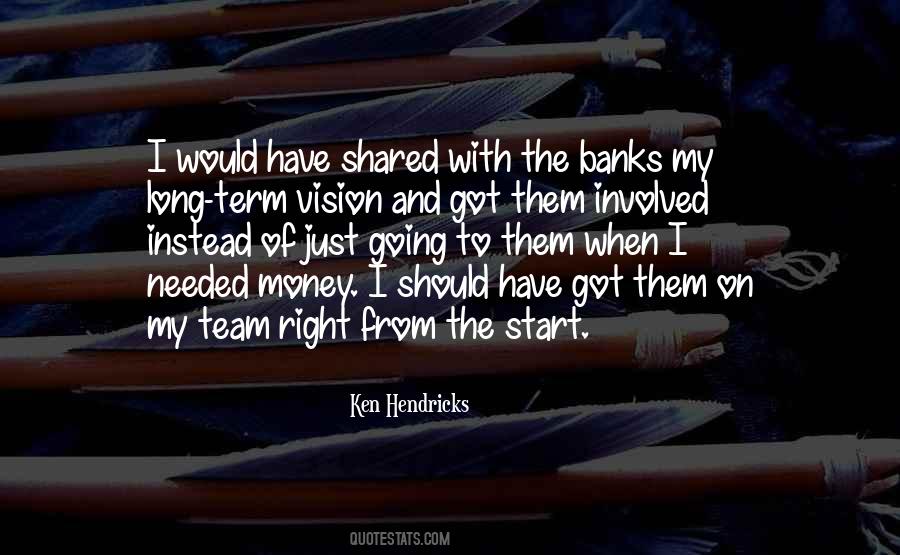 #89. I am an entrepreneur in the classic mold. No matter what I do - outside of sticking my tongue out - I tend to make money, and quite a bit in non-KISS stuff. - Author: Gene Simmons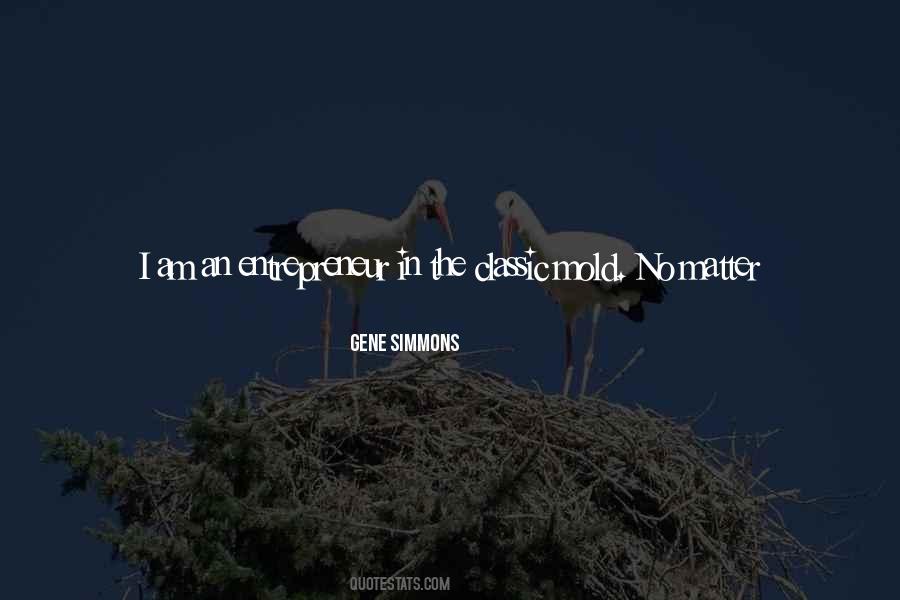 #90. If nuclear power plants are safe, let the commerical insurance industry insure them. Until these most expert judges of risk are willing to gamble with their money, I'm not willing to gamble with the health and safety of my family. - Author: Donna Reed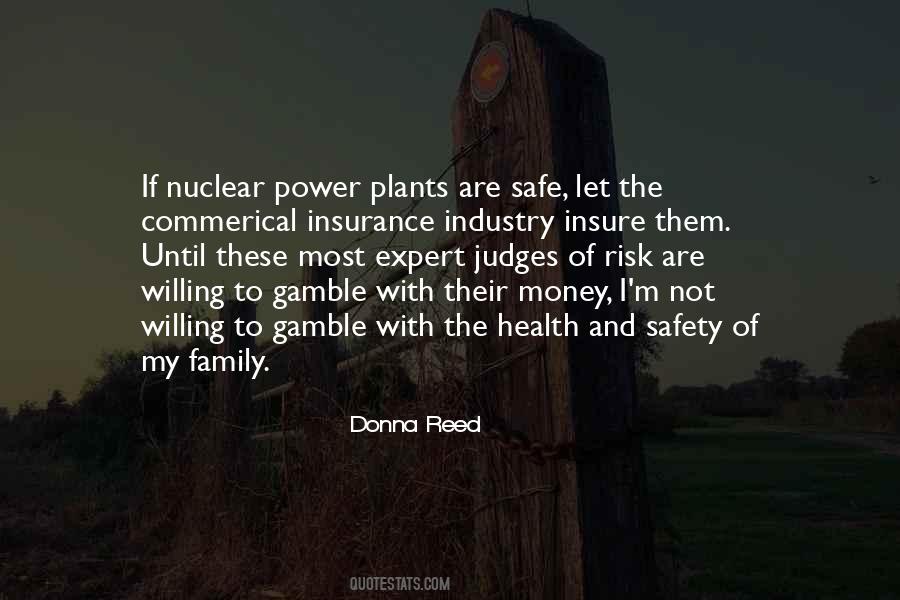 #91. I could never release something on the label I didn't personally love. The label's really an extension of my own musical career, and I'm intensely involved with every aspect personally, so it'd be a betrayal to myself if I released something simply because I thought it would make money. - Author: Michael Gira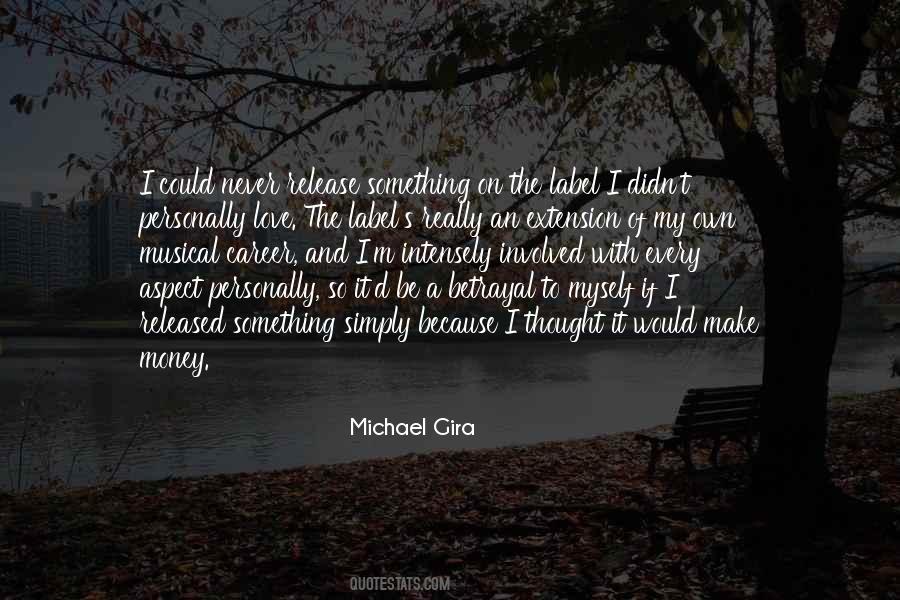 #92. I care about my quality of life and money. - Author: Paula Creamer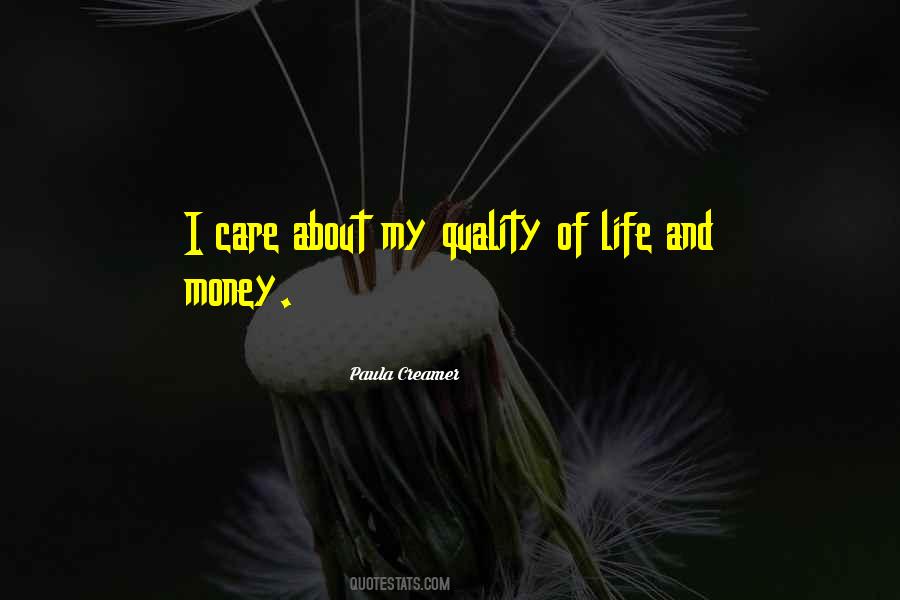 #93. With 'House Party 4,' I did it with my own money, and I sold it to New Line. - Author: Chris Stokes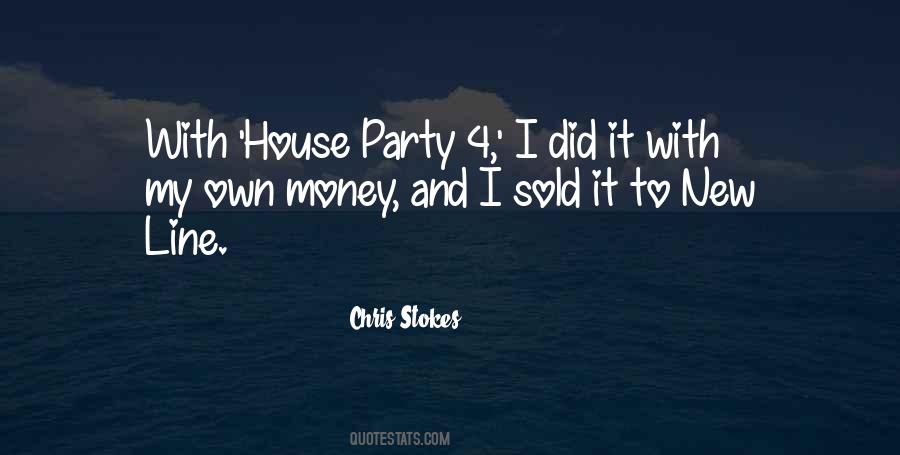 #94. I'm in the very fortunate position as a young actor to not have to take the first job that comes along. I'm not motivated by money at this stage in my life, I'm motivated by work. - Author: Martin Compston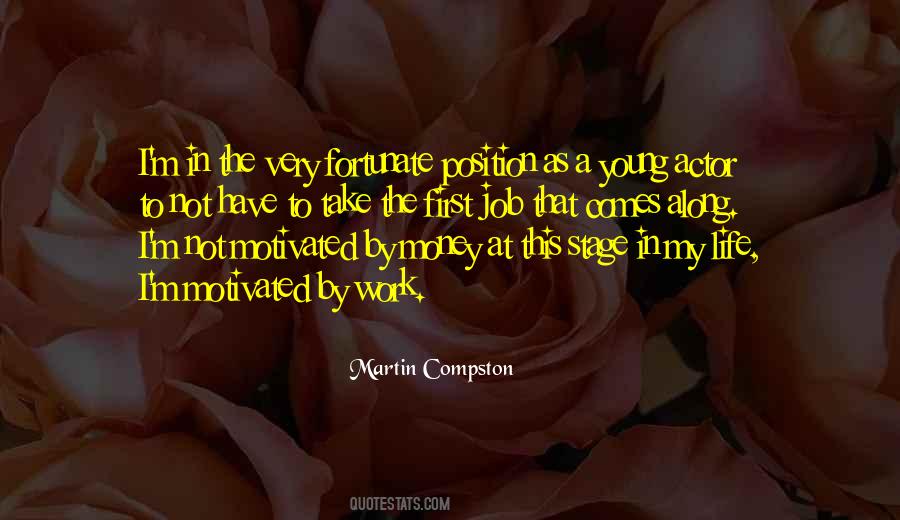 #95. My son did not show signs of a money deficiency until he opened his small fist in the nursery and found it was empty. - Author: Erma Bombeck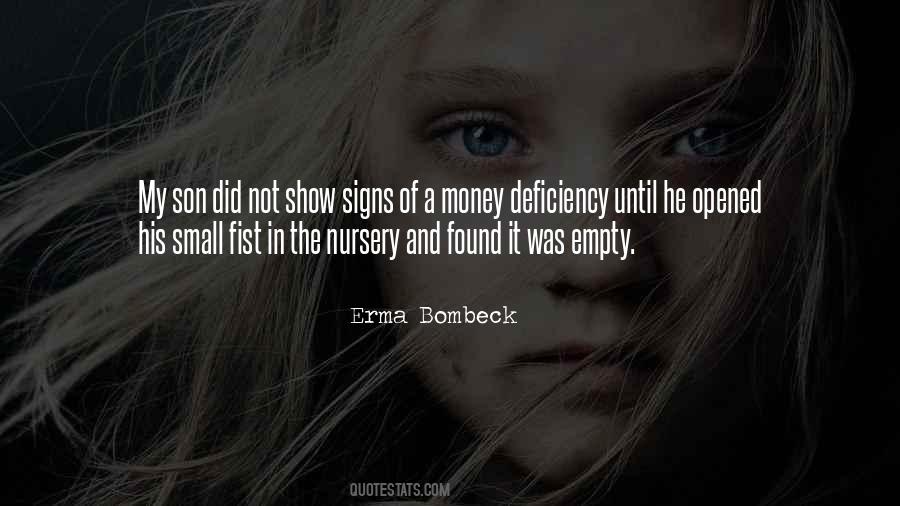 #96. I've worked since it was basically legal to work. I was a waitress on and off for eight years. I worked at Sears; I worked at Abercrombie folding clothes. My dad really instilled good money management habits, and I've saved 10 percent of my paycheck, every paycheck, since I was 15. - Author: Rosanna Pansino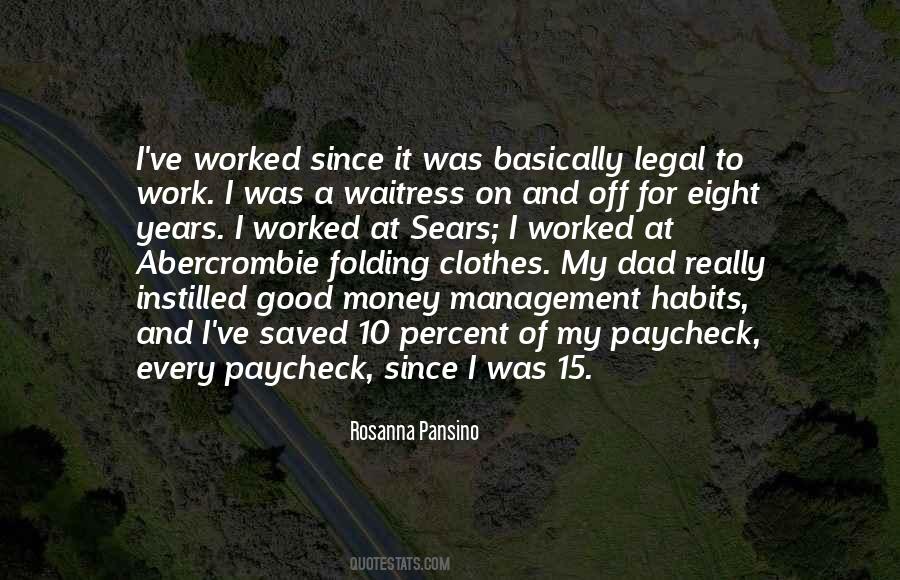 #97. Since my money is God's money, every spending decision I make is a spiritual decision. - Author: John Hagee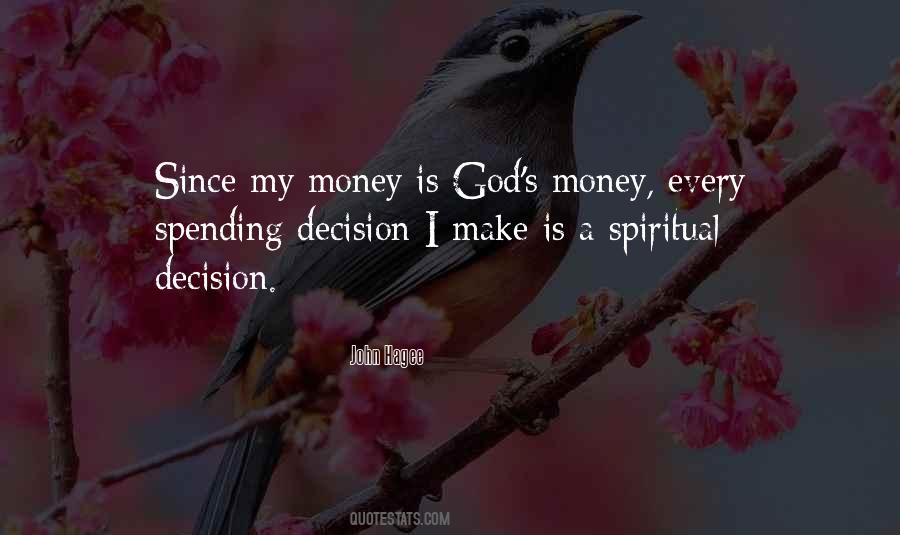 #98. What's my motto when it comes to money? Don't put so much emphasis on it! - Author: Janice Dickinson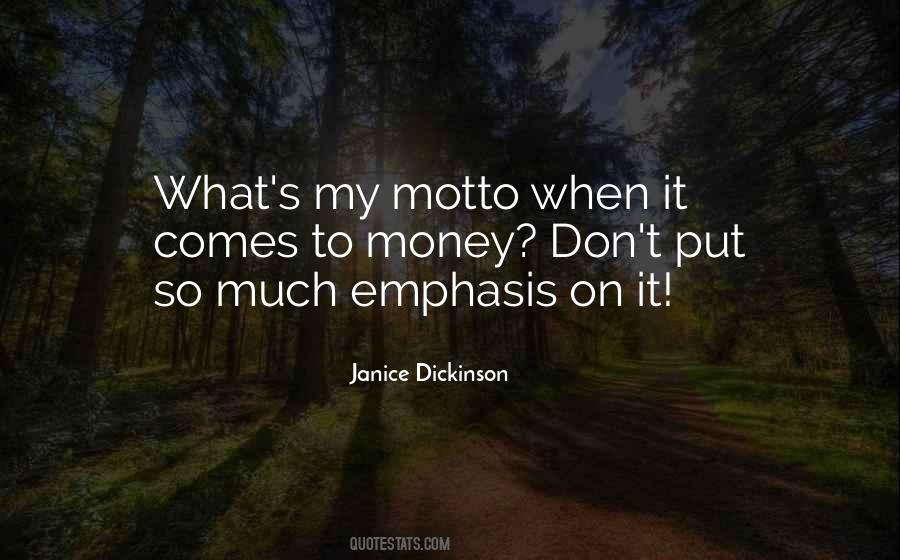 #99. I know where I'm putting my money. - Author: Marc Andreessen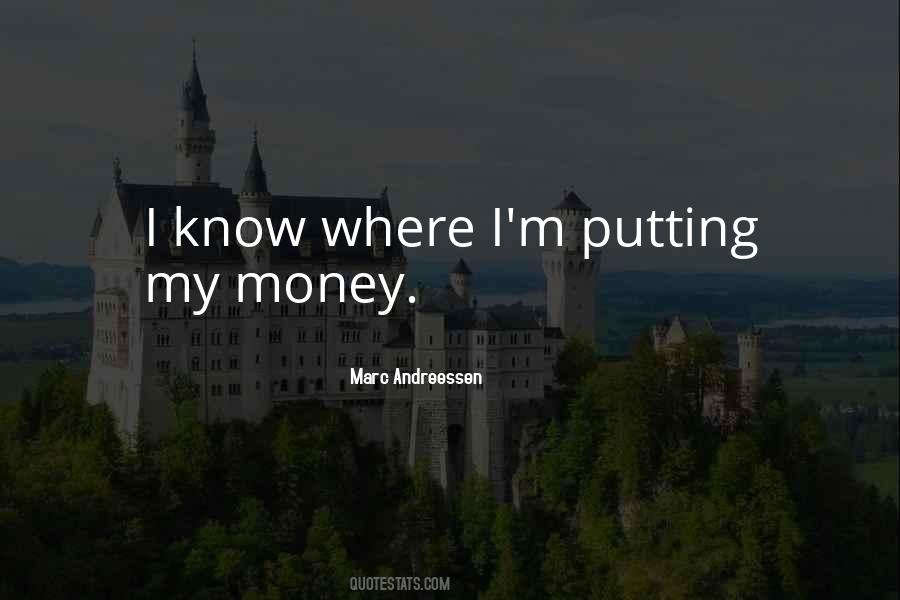 #100. I was always able to get money, but now it's a little bit more money, and I manage the same way. I just want to see my family do better. - Author: Fetty Wap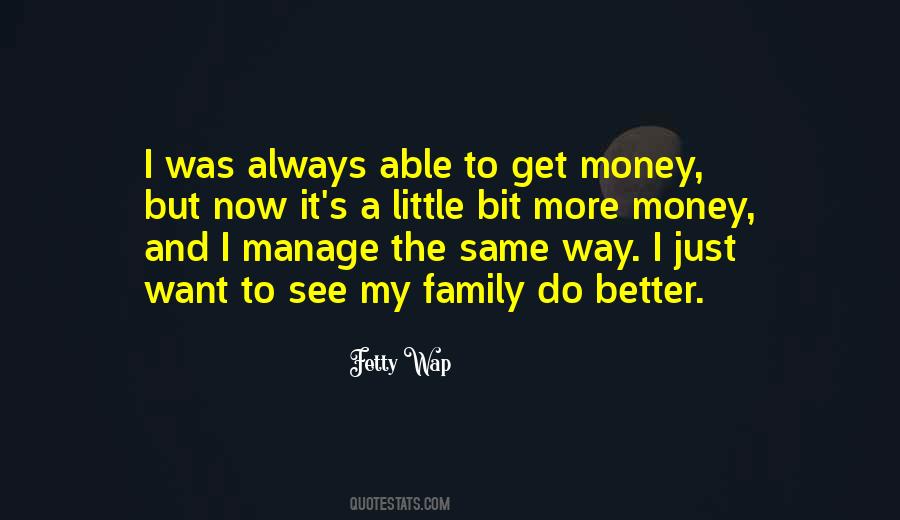 Famous Authors
Popular Topics