Mom Moms Famous Quotes & Sayings
List of top 100 famous quotes and sayings about mom moms to read and share with friends on your Facebook, Twitter, blogs.
Top 100 Quotes About Mom Moms
#1. Gloria Steinem's marriage is proof positive of the emotional desperation of ageing feminists who for over 30 years worshiped the steely career woman and callously trashed stay-at-home moms. - Author: Camille Paglia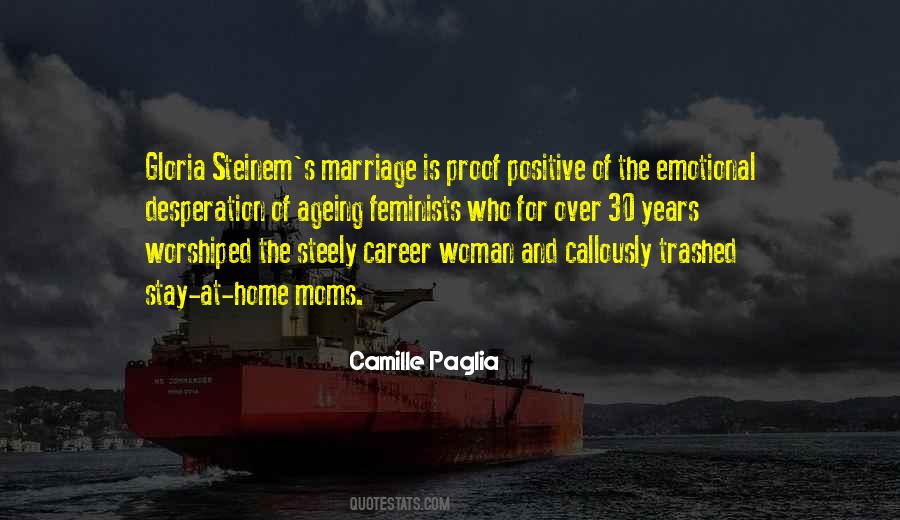 #2. My daughter just thinks that all moms fly the Space Shuttle - Author: Eileen Collins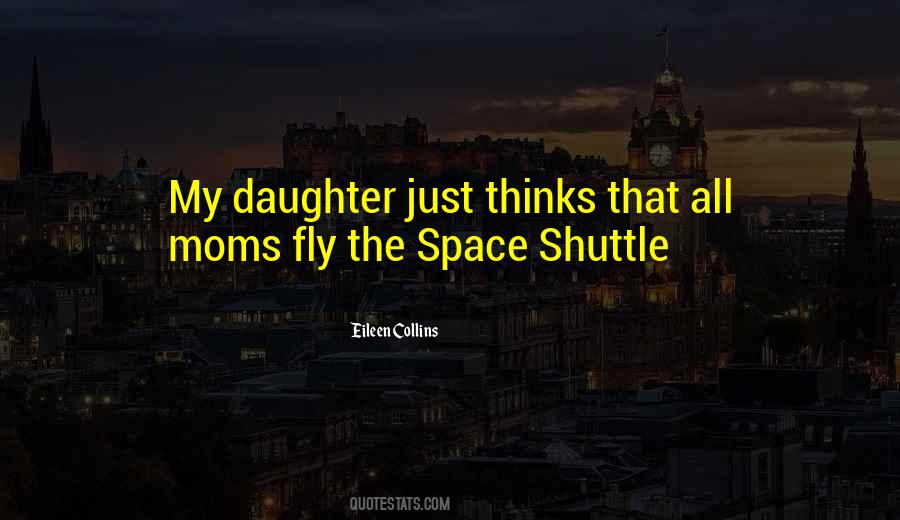 #3. With my new venture, Club Mom, we want to empower moms to feel their value and also build their collective power to make their lives better and easier. We want to bring them together as a community to share experiences and information. - Author: Andrew Shue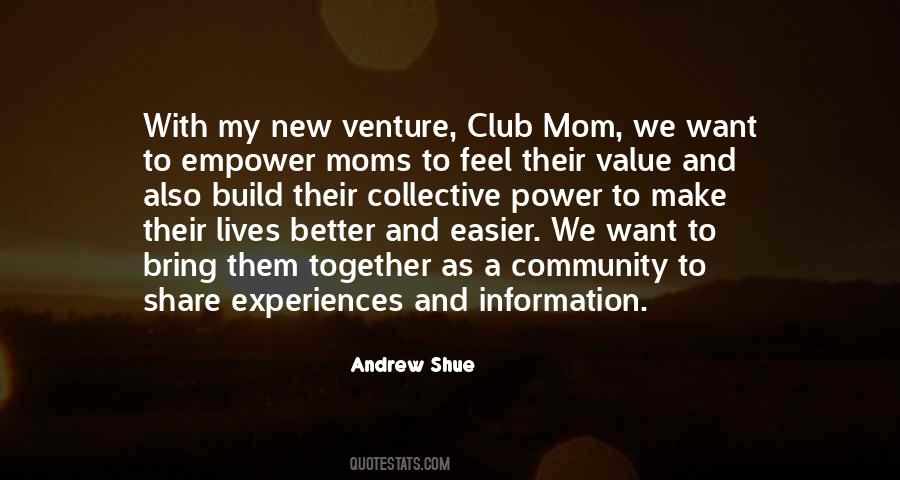 #4. Well I looked in my moms closet and saw what I was getting for Christmas, an ultravibe pleasure 2000. - Author: Trey Parker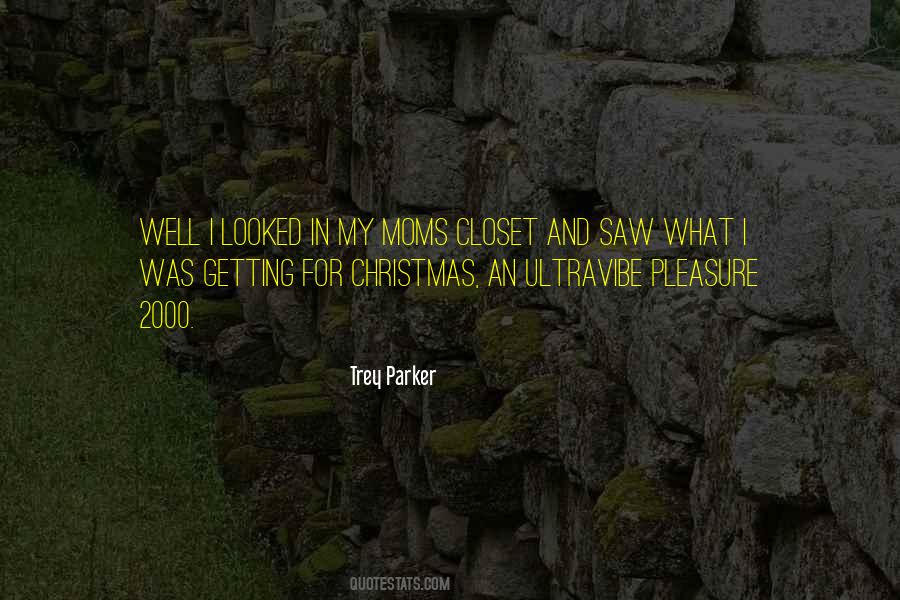 #5. When you become a parent you're endlessly obsessed with chatting to other moms and learning how they make it work - keep all the balls in the air if you like - because we all want to know how to be the best mom that we possibly can be. - Author: Tess Daly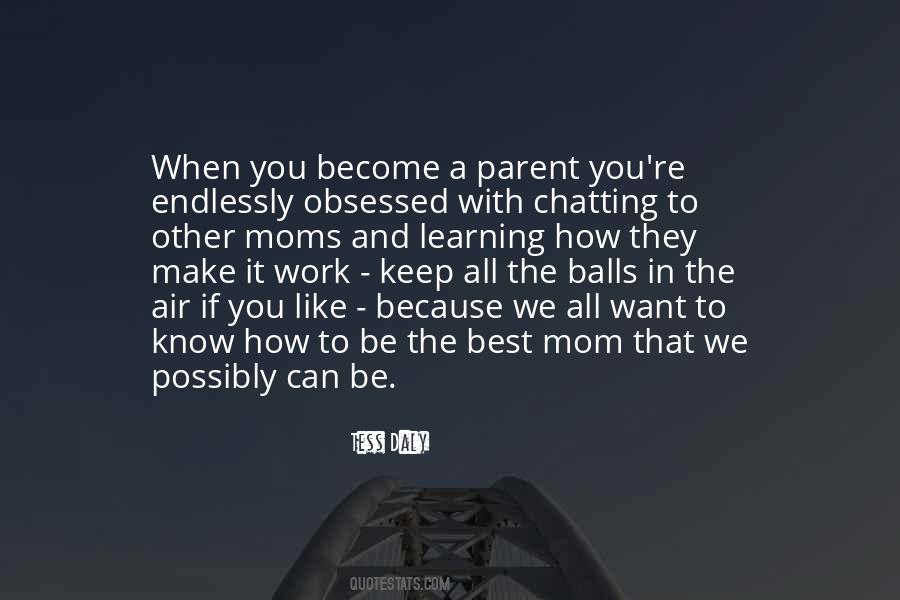 #6. Feminists have mocked full-time motherhood as silly and old fashioned. Maybe they're right. I mean, what do moms do really? - Author: Kimberly Guilfoyle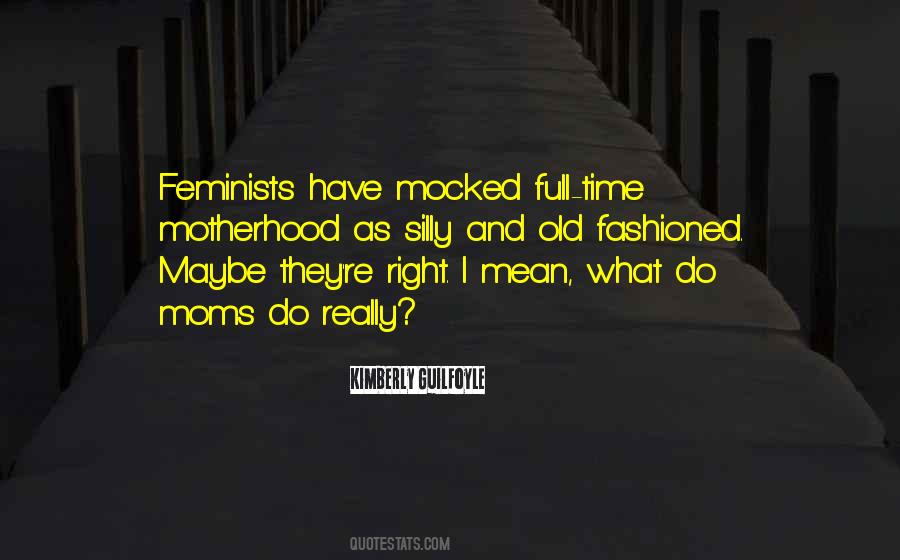 #7. I love playing moms. It's a lot easier than being a mom, I hear. - Author: Faith Ford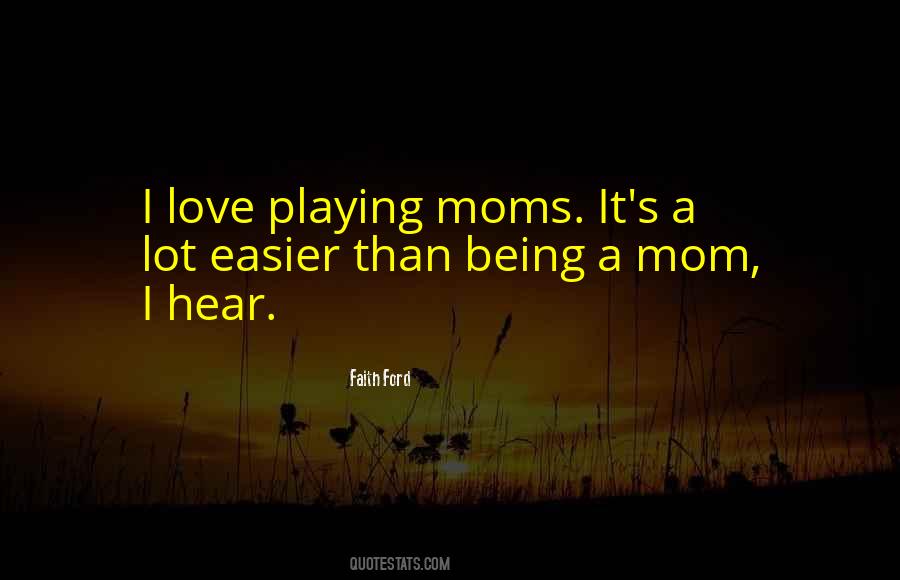 #8. I also feel like motherhood, especially, is seen usually in movies with this saintly veil over it. There's something about tipping that and showing what's actually going on. Or the wish fulfillment of probably most moms, which is really exciting. It's an area that's unexplored. - Author: Kathryn Hahn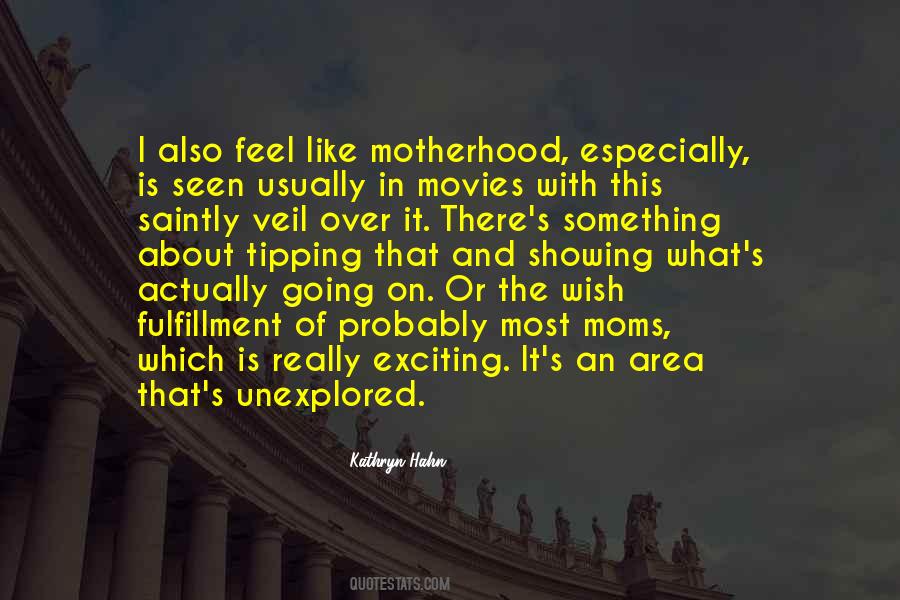 #9. Some parents were nervous about how they would portray everything, ... At a picnic the moms put on for the team and coaches, I said that all the reality shows are turning around and showing good things, not bad things. - Author: Dick Butkus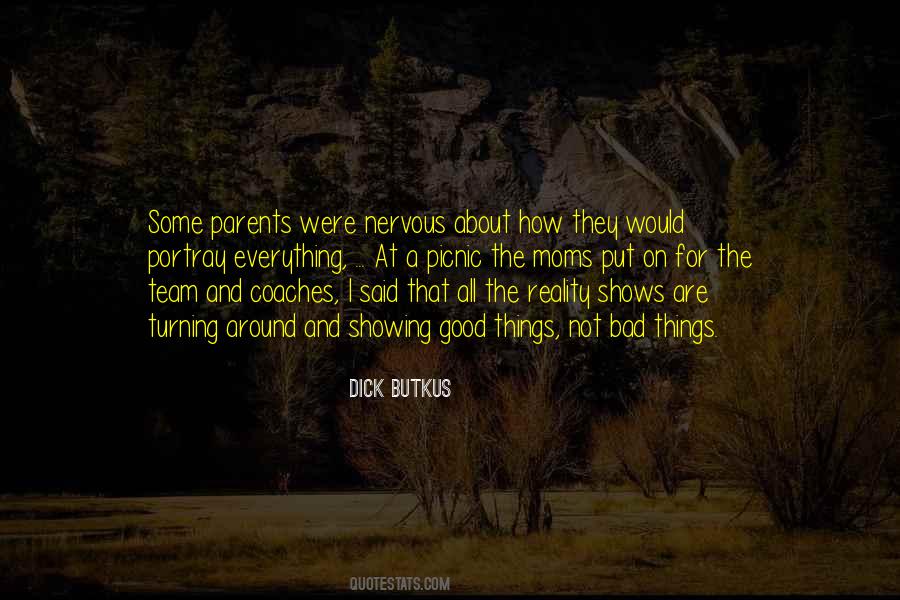 #10. Our focus in the client group had always been to build products and features that people wanted to use. That we wanted to use. That our moms wanted to use. - Author: Jamie Zawinski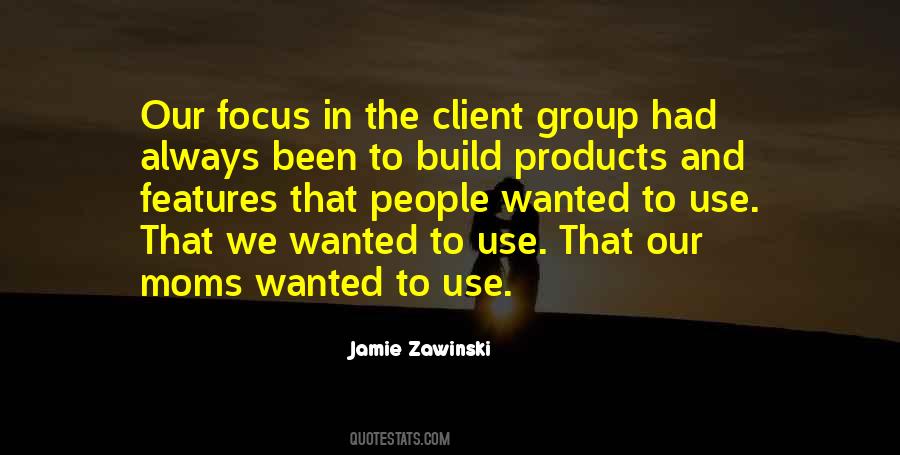 #11. It's like our daddies and moms always used to tell us growing up, you don't get what you deserve, you get what you earn. - Author: Tom Brands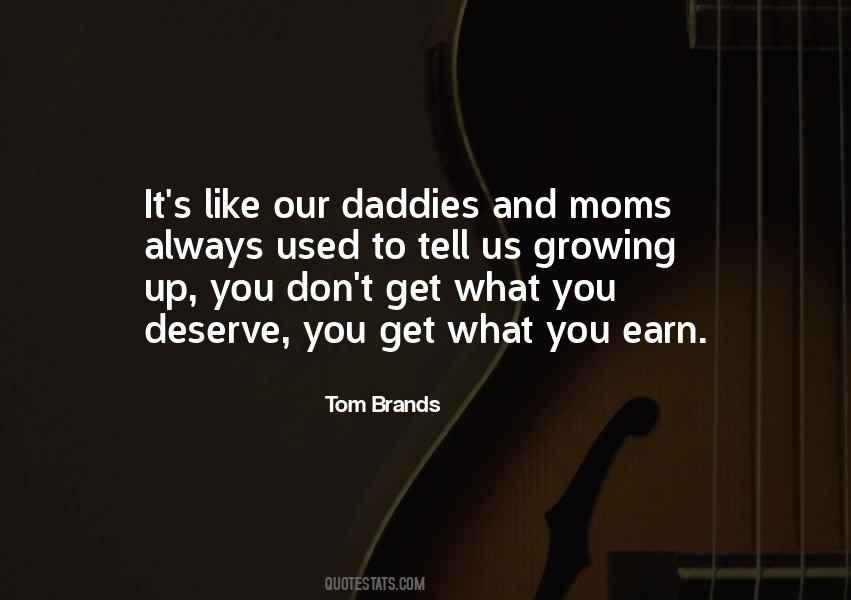 #12. I don't know that I have any role models now that are fixed. Definitely my mom - she's the coolest. She's worked really hard her whole life and I just think she's got a great attitude. Moms just know so much it's so silly. - Author: Larisa Oleynik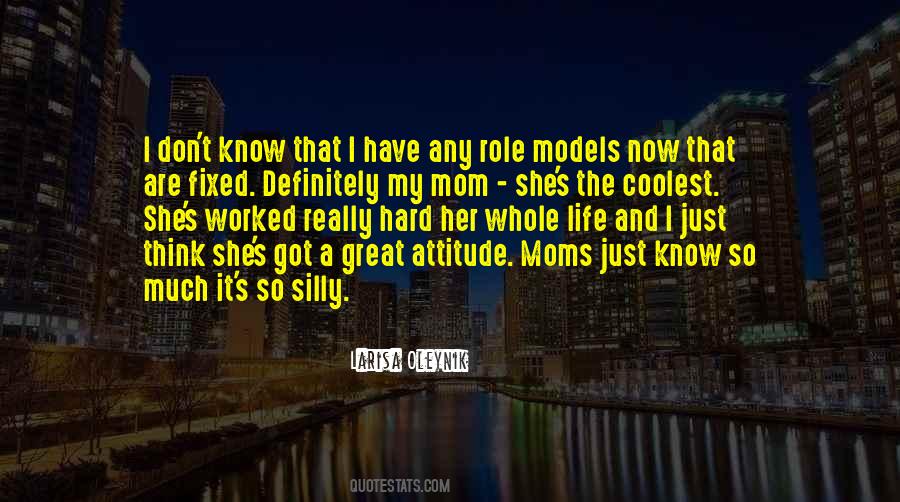 #13. Without the support of my mom, Marlene, I would not be the person I am. She has been my main supporter throughout my career, and I owe everything to her. This is a small way that we, as players, can pay tribute to her and other hockey moms, and it is all for a good cause. - Author: Sean Avery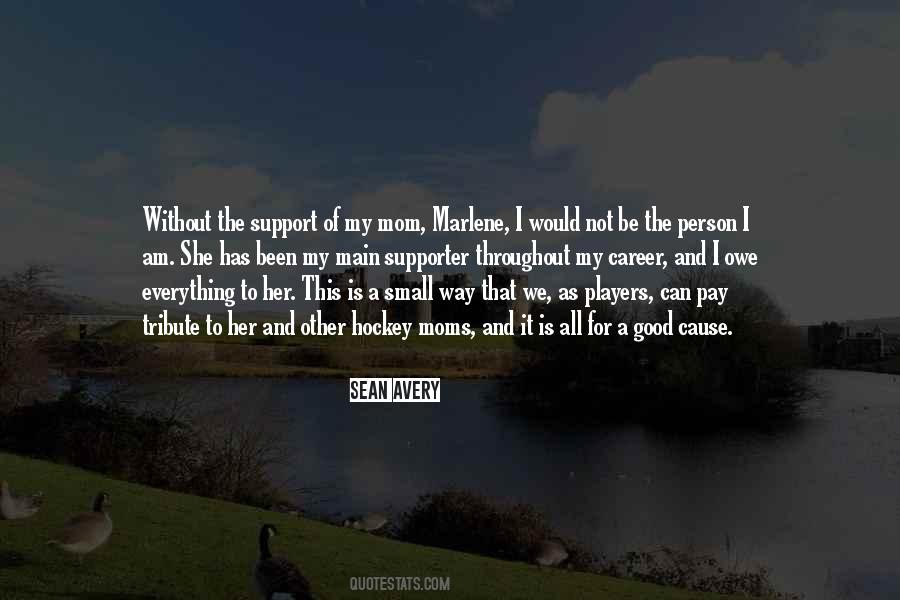 #14. My mom called me up and said you almost had that one, moms are the greatest, you can't do wrong by your Mom. She blames it on everybody else but me. - Author: Joel Dreessen
#15. Moms come up to me at book signings. - Author: Judy Blume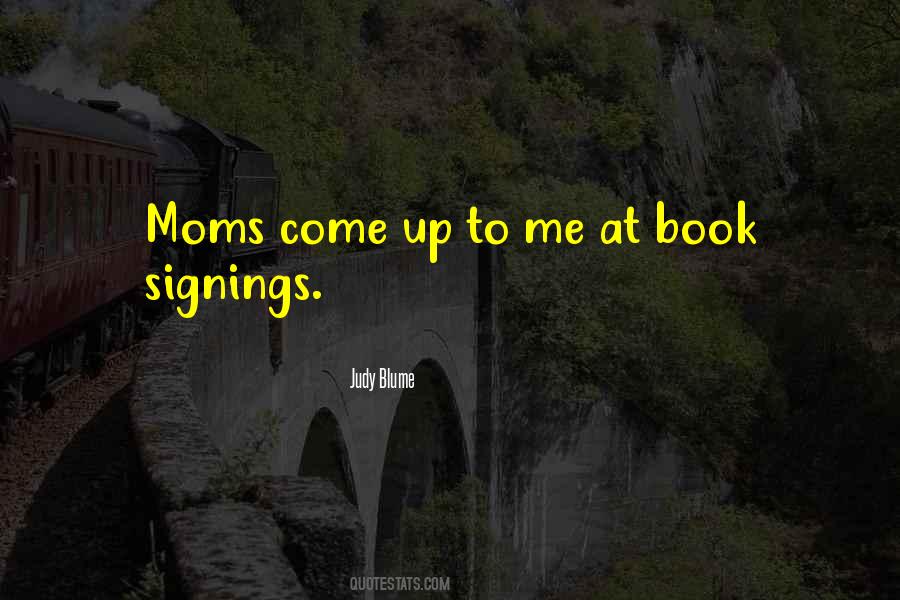 #16. All moms are different. I was made to be the exact mom that my children need. I am glad to learn from other moms, but I have to be watchful that I don't try to become someone I am not. - Author: Elaine Mingus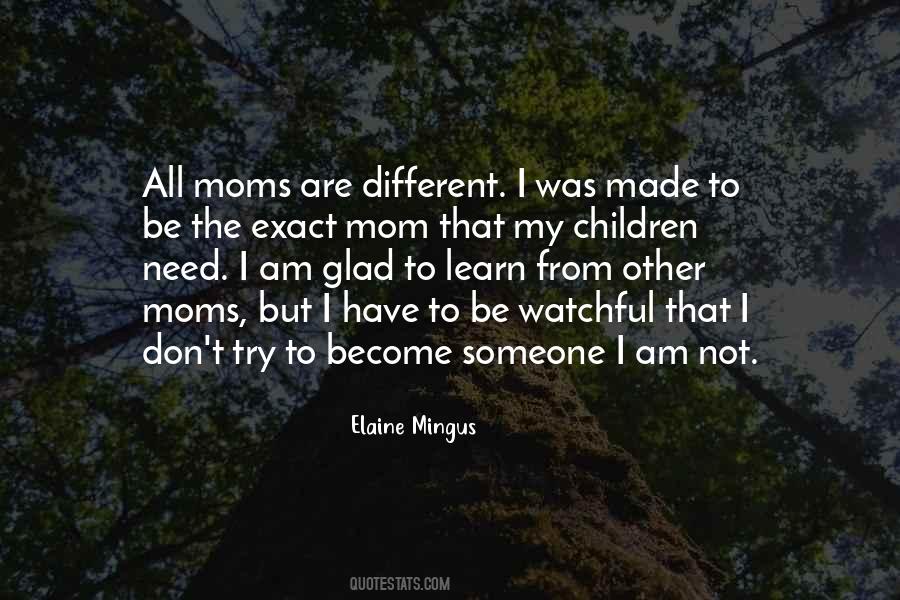 #17. Never eat at a place called 'Moms', but if the only other place in town has a sign that says 'Eats', go back to Moms. - Author: W.C. Fields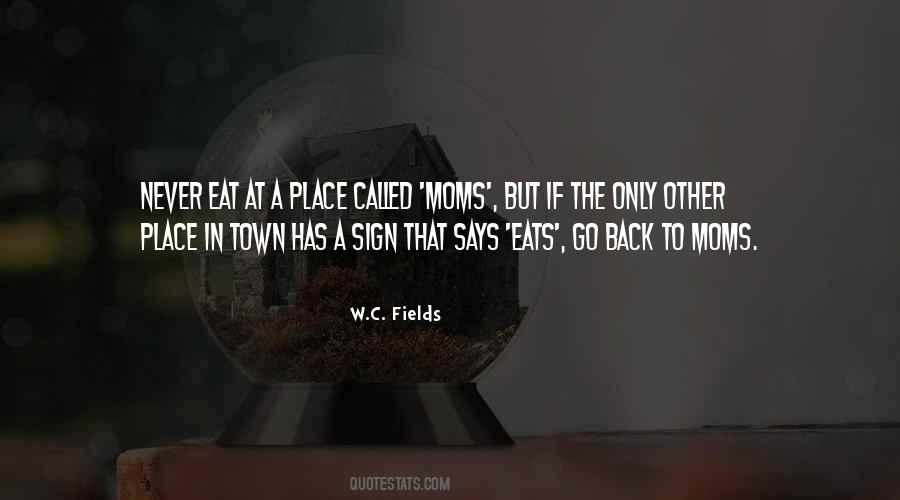 #18. If you don't want your children to know the truth about life don't send 'em to the theater to see Moms 'cause I'm gonna tell them THE TRUTH, hear? - Author: Moms Mabley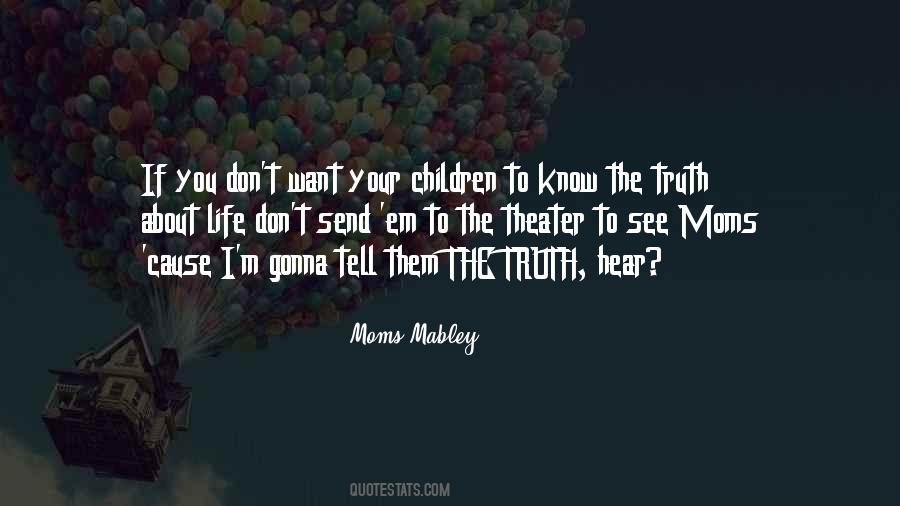 #19. My mom is my role model. Charlie and I have two great sets of parents, but our moms are often the ones that go with us to competitions. My mom was with me in Sochi. I am so lucky to be a part of the Thank You Mom program partnered with Puffs and P&G. - Author: Meryl Davis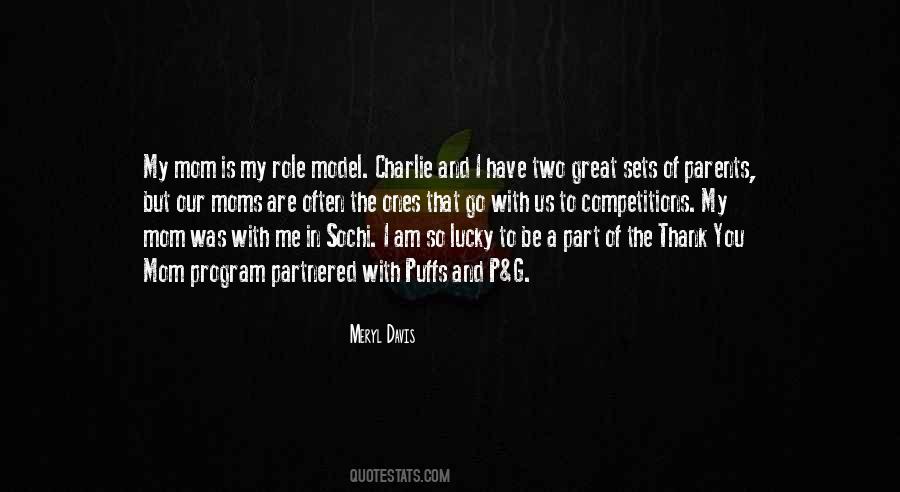 #20. It's not witch-crafty or anything! I suggest it to all moms! - Author: January Jones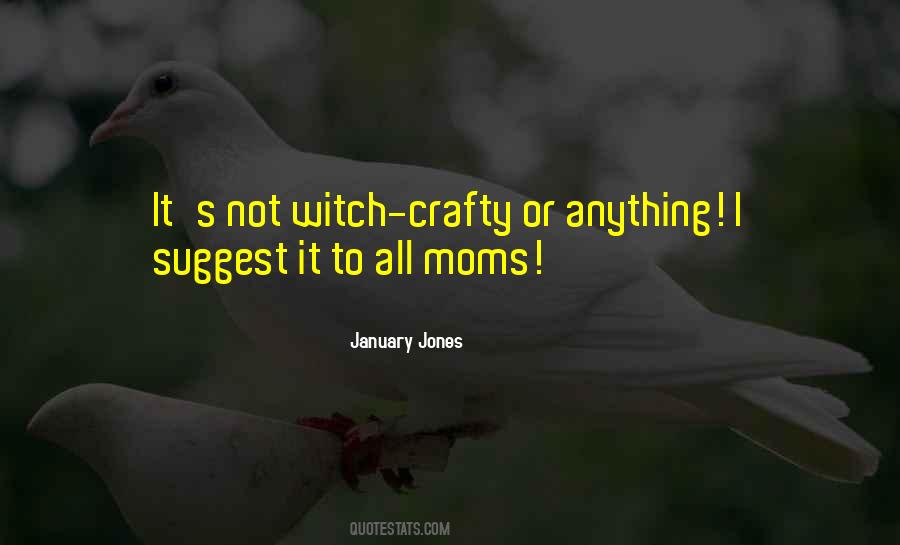 #21. I really had no idea when I pitched the series that it would lead to so much fun and so much connecting with kids and moms. - Author: Jeff Probst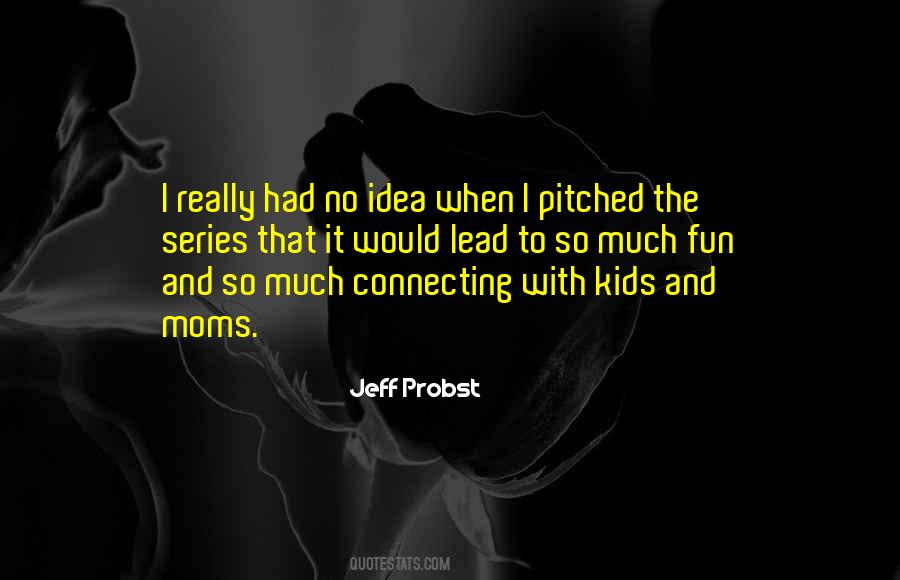 #22. I think that women can be just completely surprised by the change in them from giving birth-you have something powerful in you-that fierce thing comes up-and I think babies need moms to have that fierceness-you feel like you can do anything and that's the feeling we want moms to have. - Author: Ina May Gaskin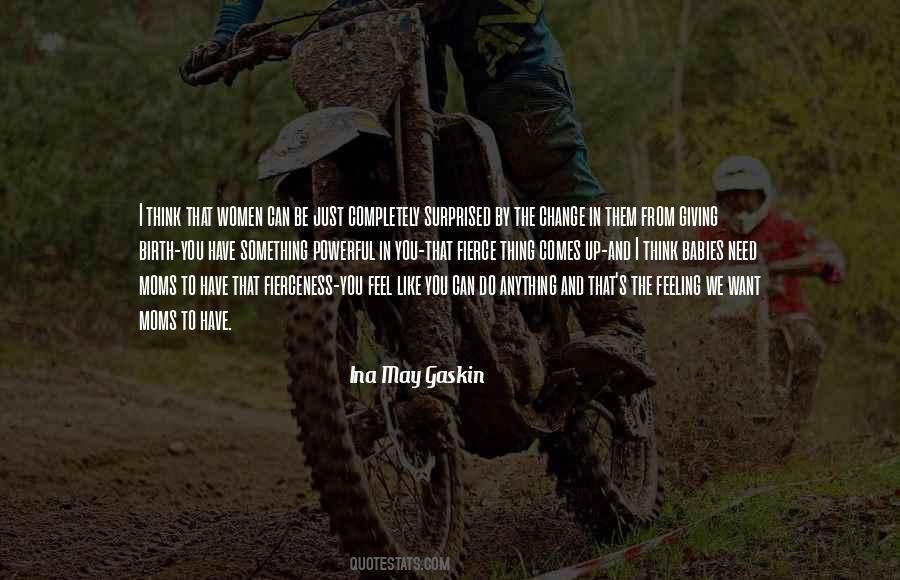 #23. Single moms: You are a doctor, a teacher, a nurse, a maid, a cook, a referee, a heroine, a provider, a defender, a protector, a true Superwoman. Wear your cape proudly. - Author: Mandy Hale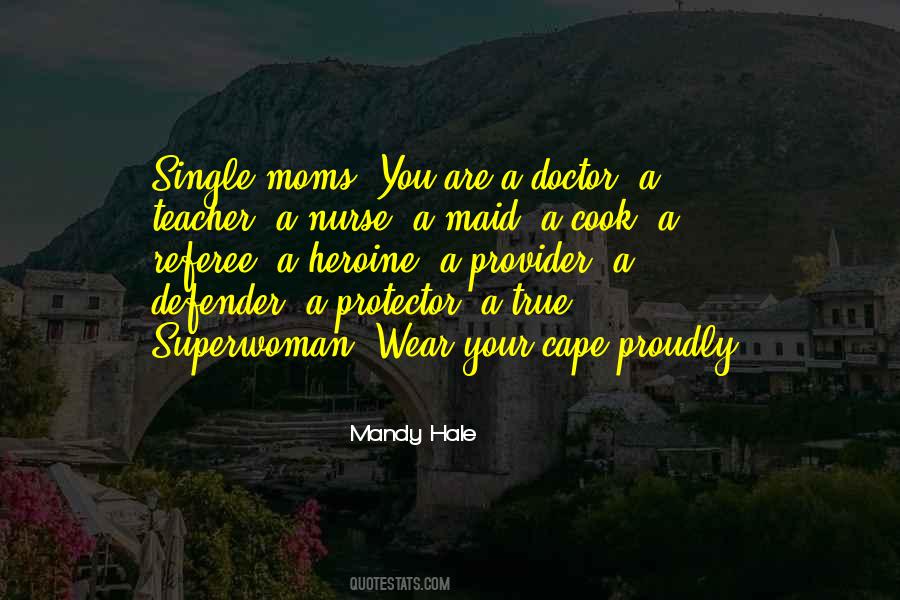 #24. I started playing drums at about seven or eight. My mom used to let me play with the pots and pans, and instead of telling me to stop like most moms would, she just let me do it. So the noise kind of turned into music. From that point on, musically, that's what I want to do: start creating beats. - Author: Roshon Fegan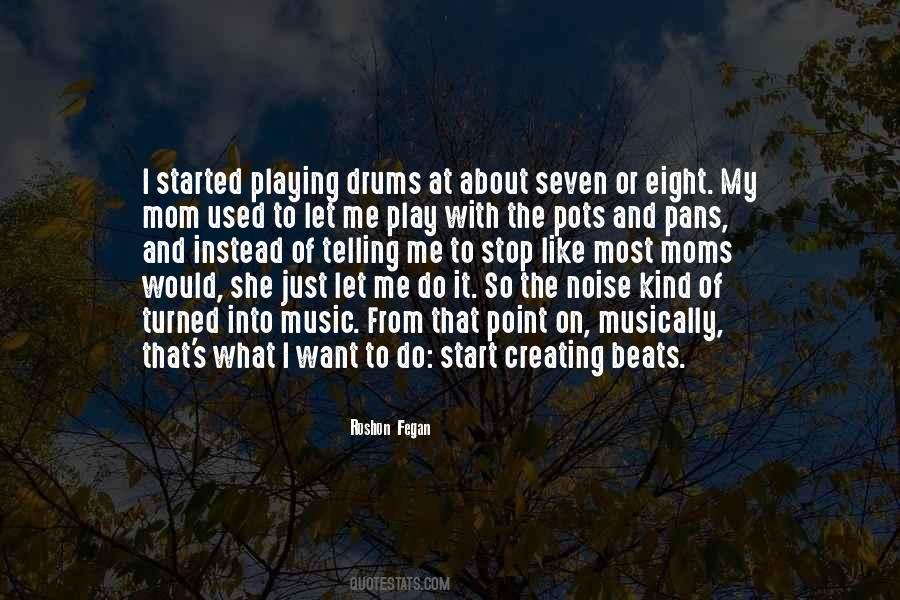 #25. Dad's aren't optional. My dad wasn't optional."
"Because he was there ... But if he wasn't there, your mom would have filled in the gaps. That's what moms do. - Author: Rainbow Rowell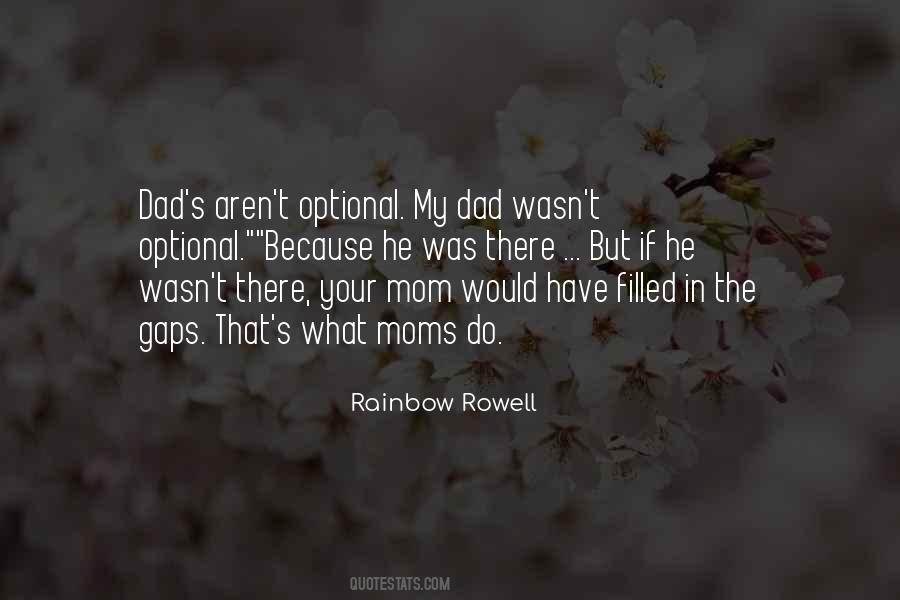 #26. When you talk about heroines and heroes, at the top of the list has got to be the single moms of America. - Author: Bernie Sanders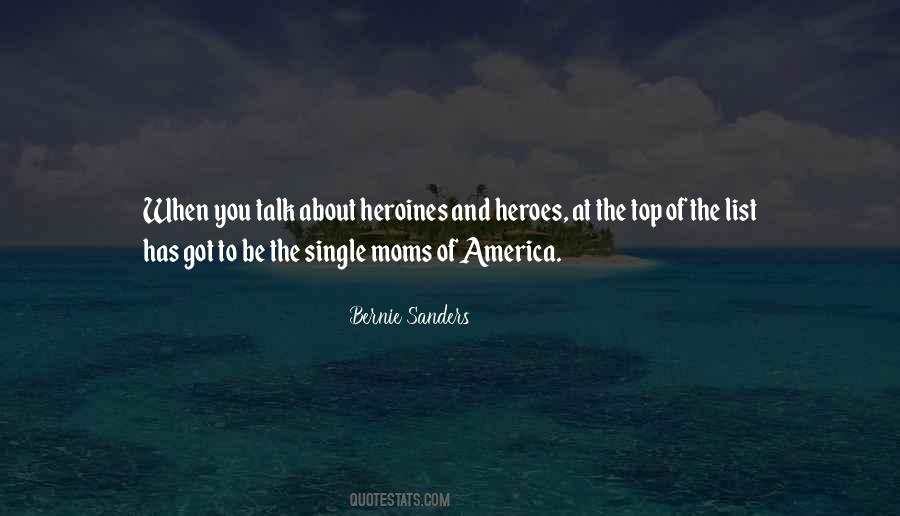 #27. Don't blink. You just might miss your babies growing like mine did. Turning into moms and dads next thing you know your 'better half' Of fifty years is there in bed. And you're praying God takes you instead. Trust me friend a hundred years goes faster than you think So don't blink. - Author: Kenny Chesney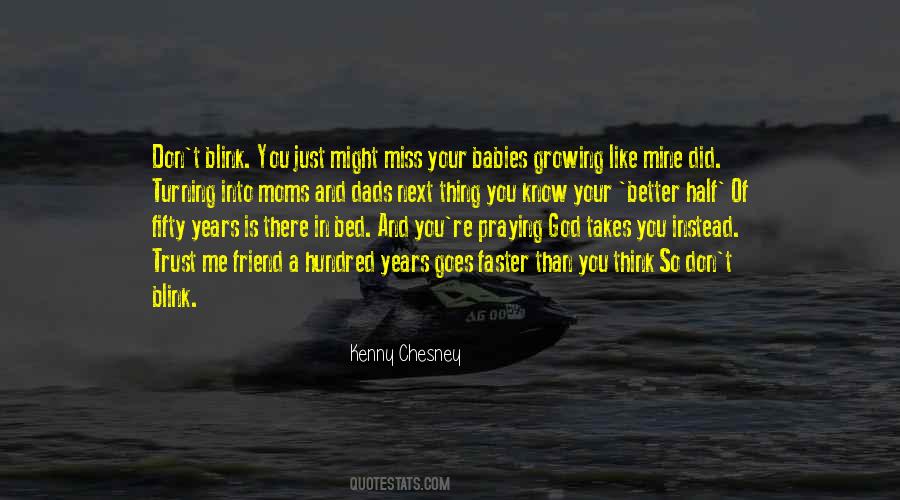 #28. I'm very loyal in relationships. Even when I go out with my mom I don't look at other moms. - Author: Garry Shandling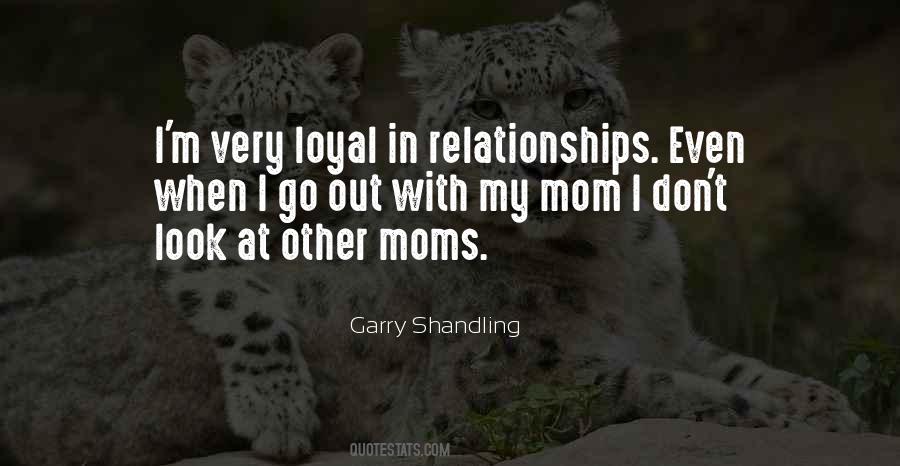 #29. You know Moms has been accused of liking young men, and I'm guilty. - Author: Moms Mabley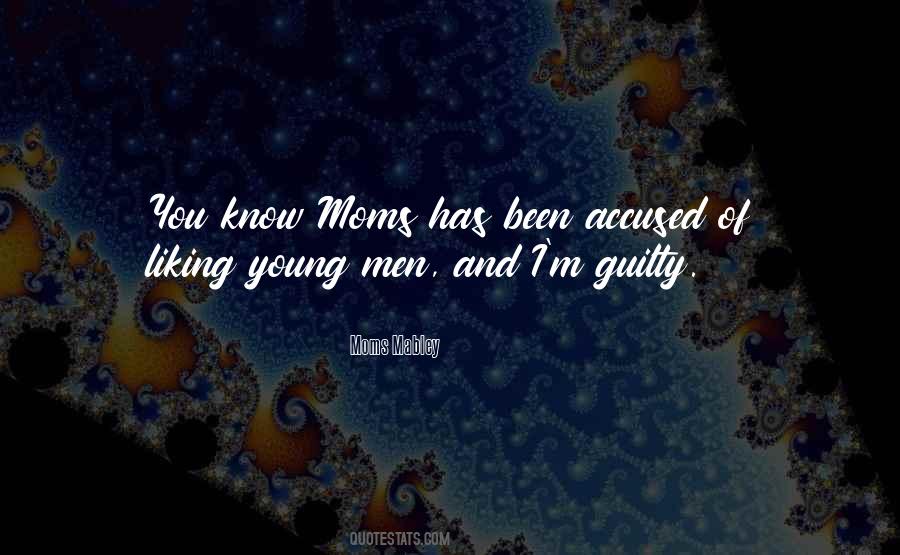 #30. Maybe people don't think moms are cool. I don't know what to say about it. I don't know. Romantic comedies aren't for everybody, so maybe mom movies aren't for everybody. - Author: Anne Fletcher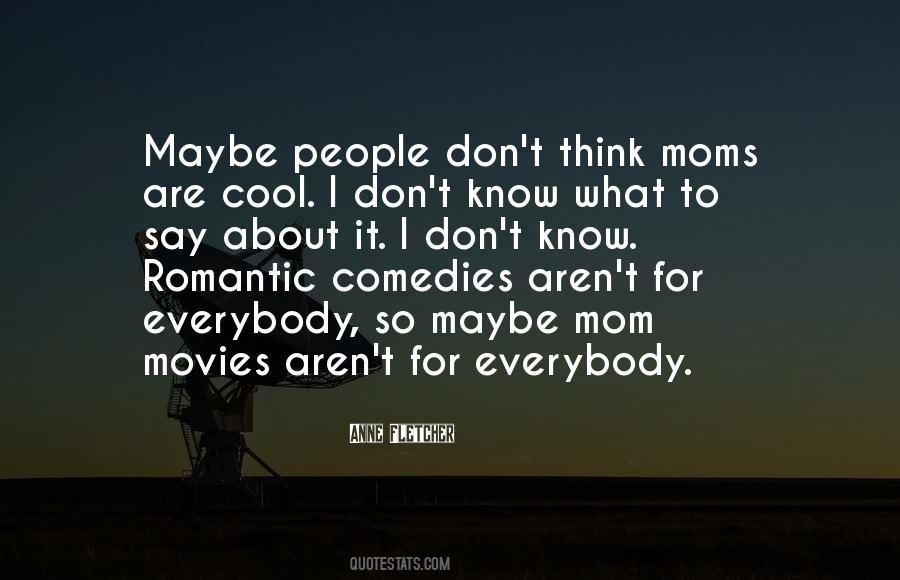 #31. People love my honesty when it comes to parenting. I really struggled that I wasn't fitting in with the other moms at my kids' school and then one day I said screw it and became even more honest in my stand up and career. I still don't get invited to their parties but I have pretty fun life! - Author: Heather McDonald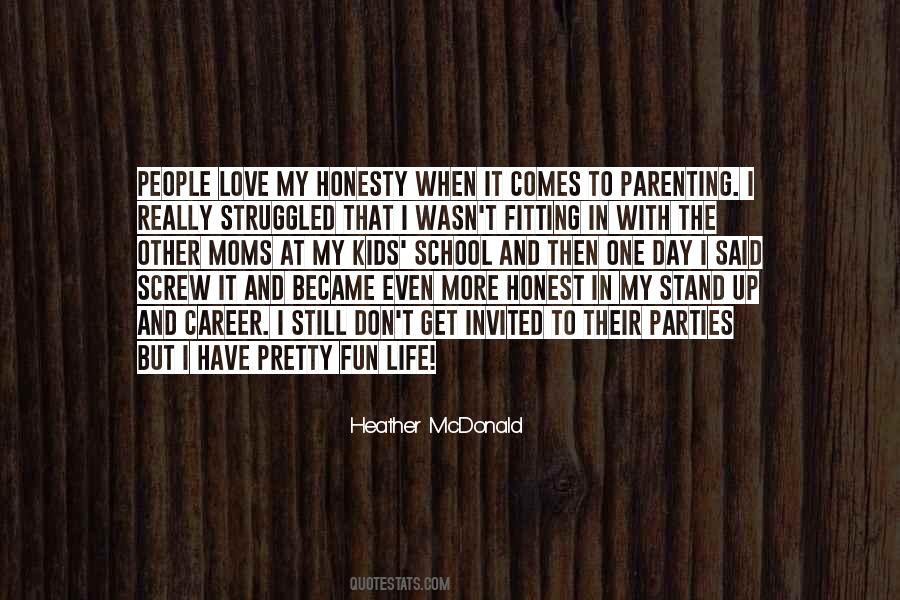 #32. I played a lot of moms. You're always too young when you're playing moms. My first kid when I started playing moms was about six months old. And then a month later I was doing another commercial audition and my kid was two, and then about eight months later my kid was 11. - Author: Carrie Coon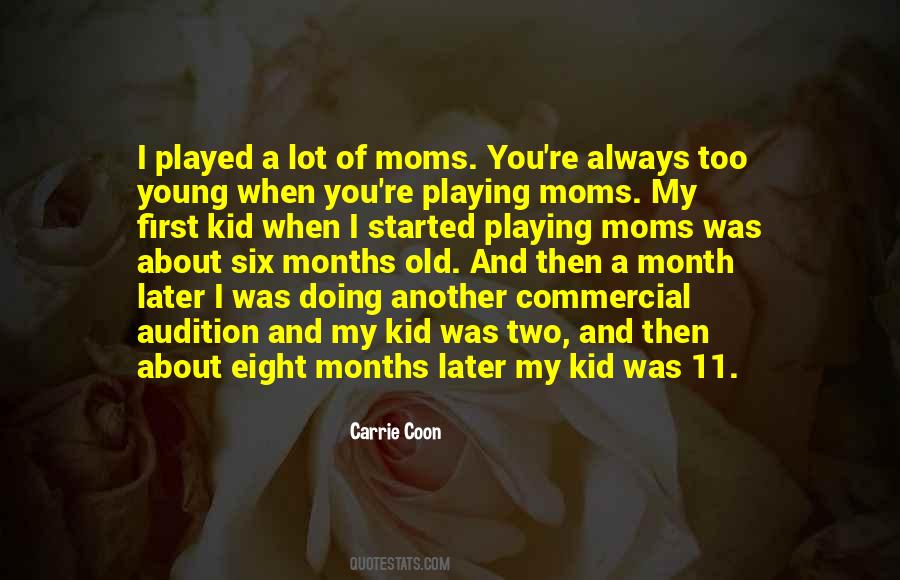 #33. Scapegoating will go on forever. We need someone to blame - illegal immigrants, single moms, people in prison. We need someone to victimize. - Author: Winona Ryder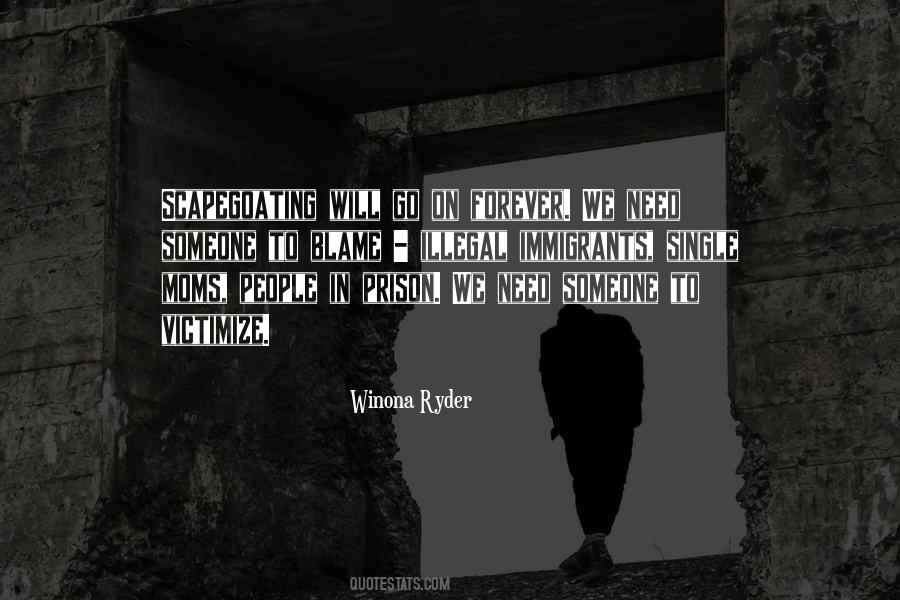 #34. Balance in impossible; memories are better. (TILT-7 Solutions To Be A Guilt-free Working Mom) - Author: Marci Fair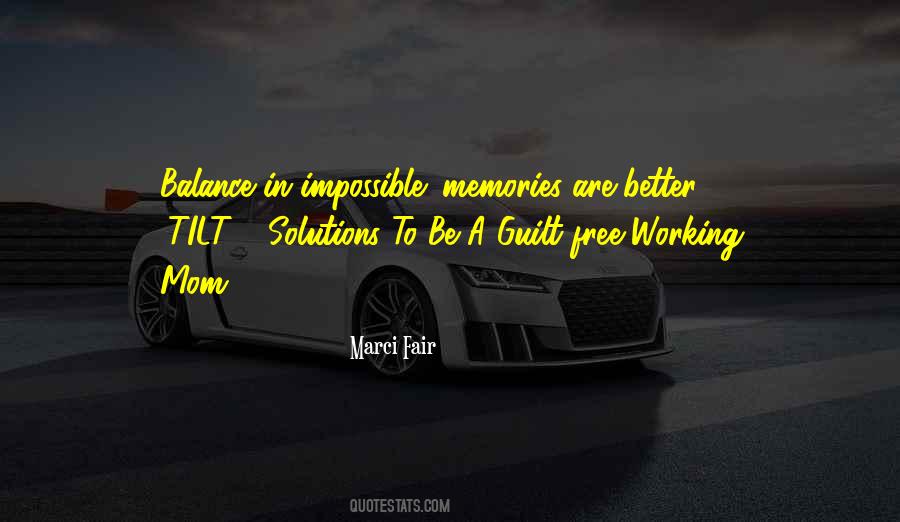 #35. In celebration of Mother's Day yesterday, President Obama called three moms who had written him letters. Then kids who made their mom a macaroni necklace said, 'Thanks, Obama.' - Author: Jimmy Fallon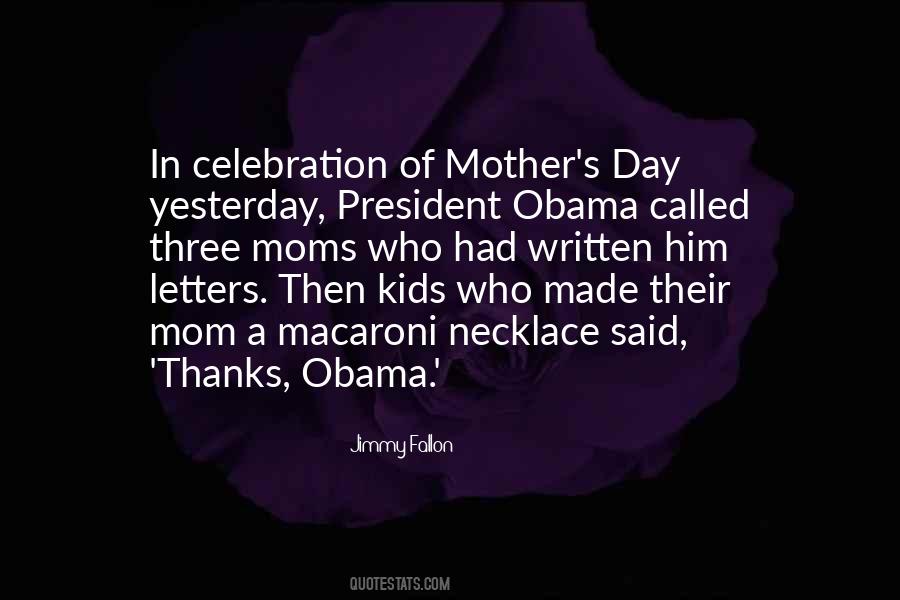 #36. I pray moms will use ... [my] book[s] as a reference to arm themselves with God's grace and His Word to break away from the enemy's bondage and begin to experience peace and freedom in their homeschool journeys right away. - Author: Tamara L. Chilver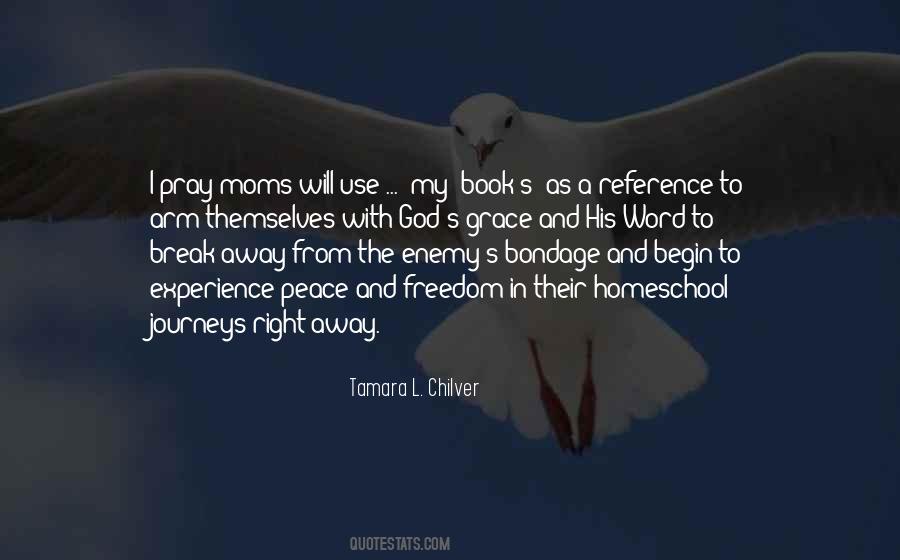 #37. My mom is one of those really angry moms who gets mad at absolutely everything. Once when I was a little kid, I accidentally knocked a Flintstones glass off the kitchen table. She said, 'Well, dammit, we can't have nice things.' - Author: Paula Poundstone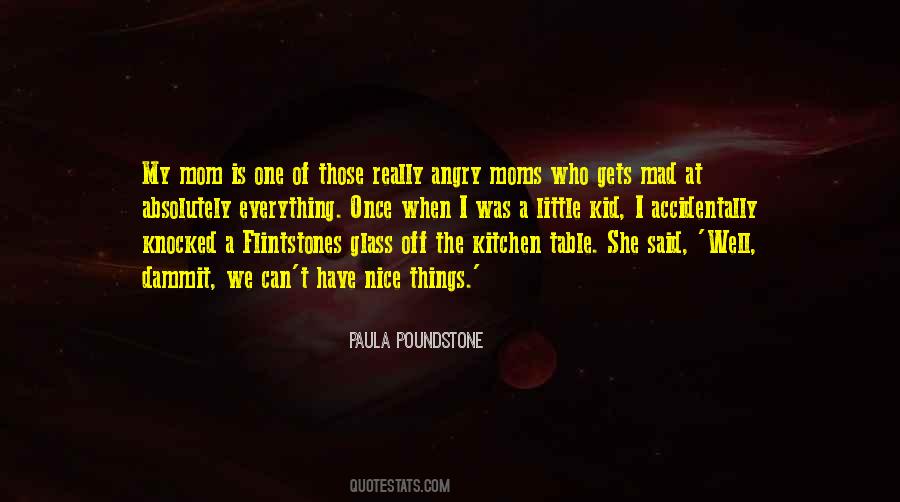 #38. We are seeing it. We are seeing the fabric of this country fall apart, and it's falling apart because of single moms. - Author: Rick Santorum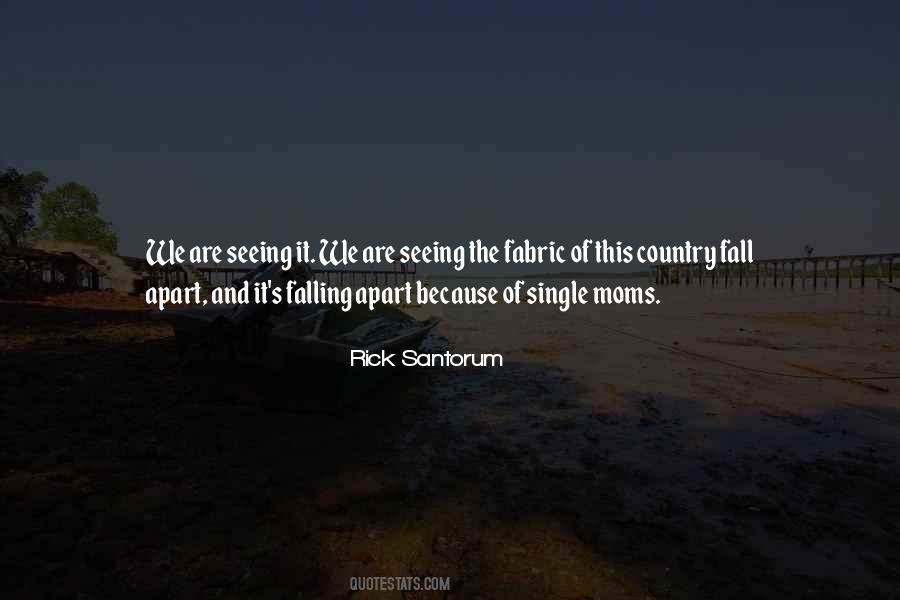 #39. I used to be embarrassed by my mom, but now I know what she is - she's a hero. - Author: Carrie Jones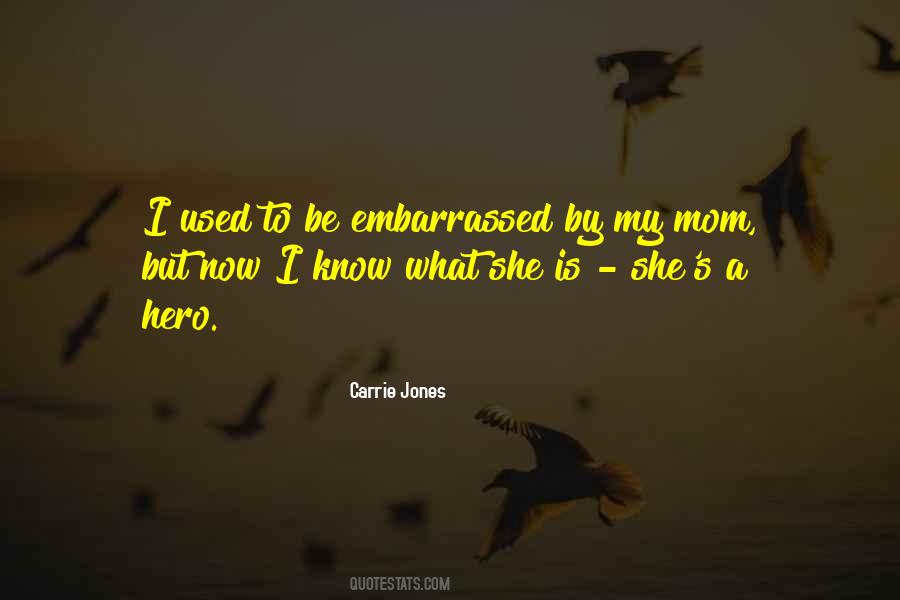 #40. I love those hockey moms. You know what they say the difference between a hockey mom and a pit bull is? Lipstick. - Author: Sarah Palin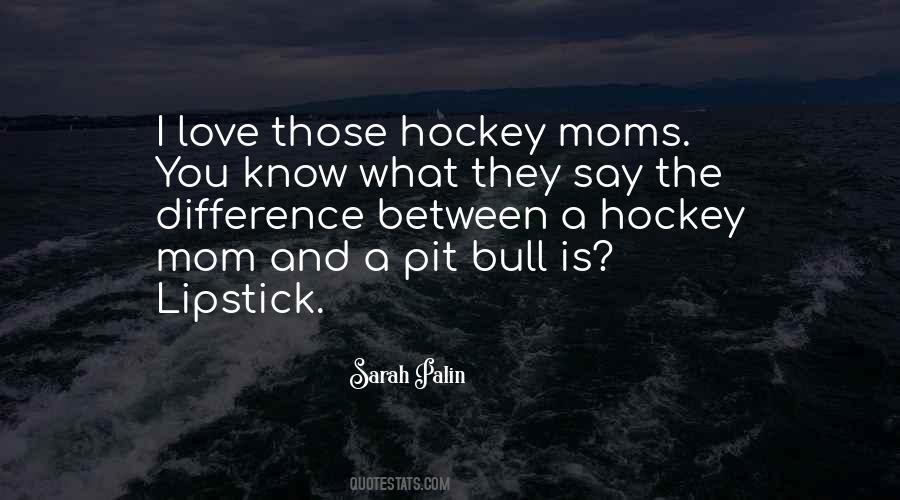 #41. I don't for one moment believe that these folks believe that it is better for an infant or a toddler to be in day care than to be home with Mom. I do believe that these folks feel guilty for not wanting to be at home, so they devise a new reality to compensate for their uncomfortable feelings. - Author: Laura Schlessinger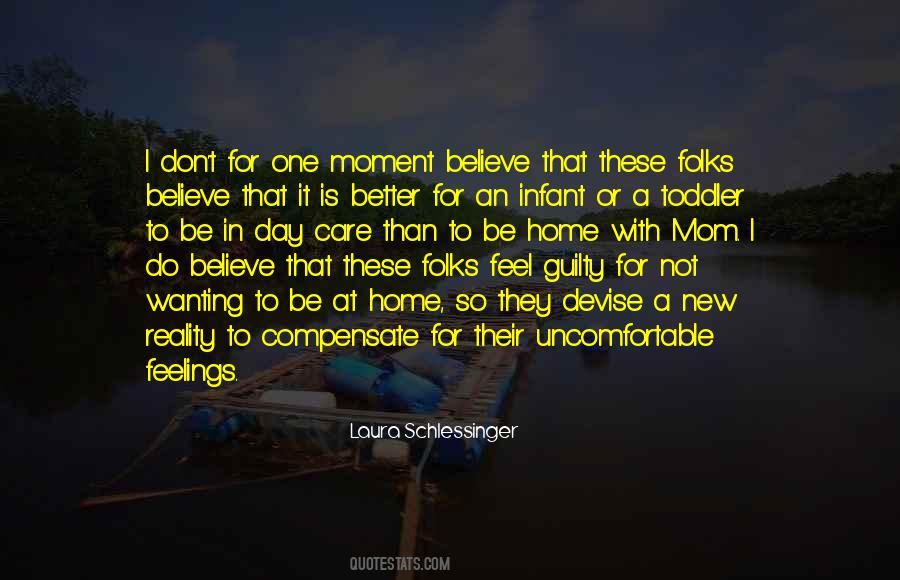 #42. What every new parent needs.a ton of expert advice, presented with humor and zero negativity, from two moms who instantly feel like your best friends. This is the one pregnancy guide that new parents will actually want to read. - Author: Leslie Morgan Steiner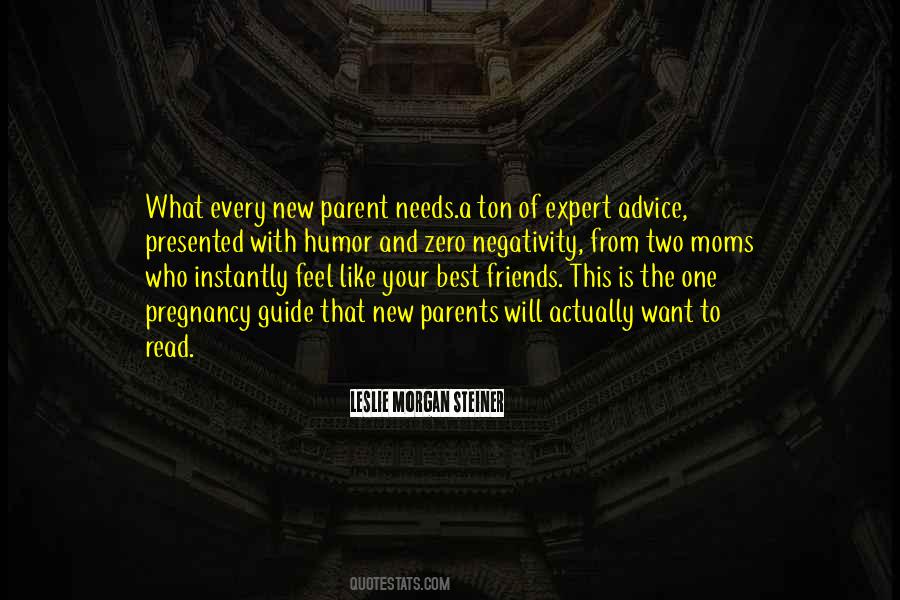 #43. I skated and rode bikes on ramps, and my mom was always super supportive. She was one of the only divorced moms in the neighborhood, so all the other parents looked down upon her for letting her kids do that kind of thing. - Author: Spike Jonze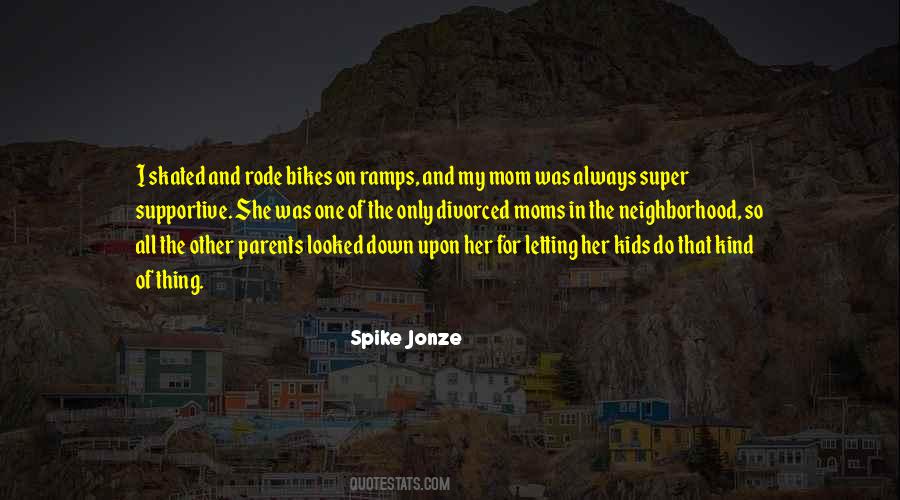 #44. I'm very loyal in a relationship. Any relationship. When I go out with my mom, I don't look at other moms and go, "I wonder what her macaroni and cheese tastes like." - Author: Garry Shandling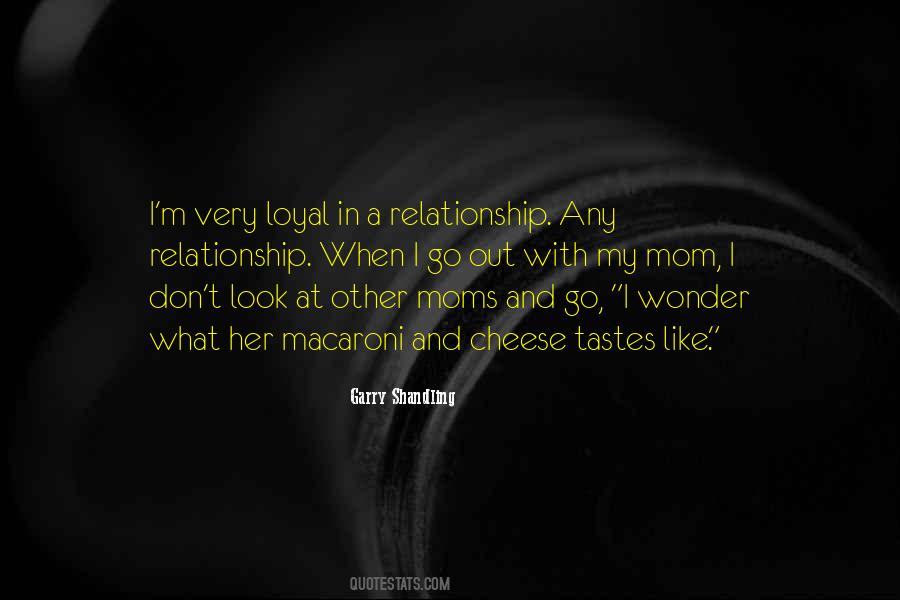 #45. There are generations of women who left the workforce to be moms, and their kids grow up, and they think, "Well, what now?" - Author: Kathryn Hahn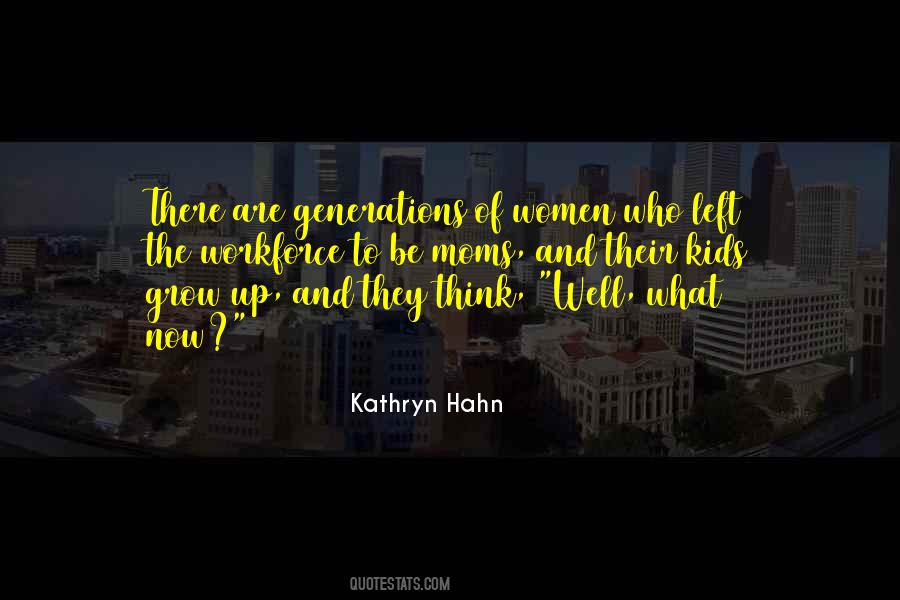 #46. Moms will be Moms.. for no one else can be like them. - Author: Vikrmn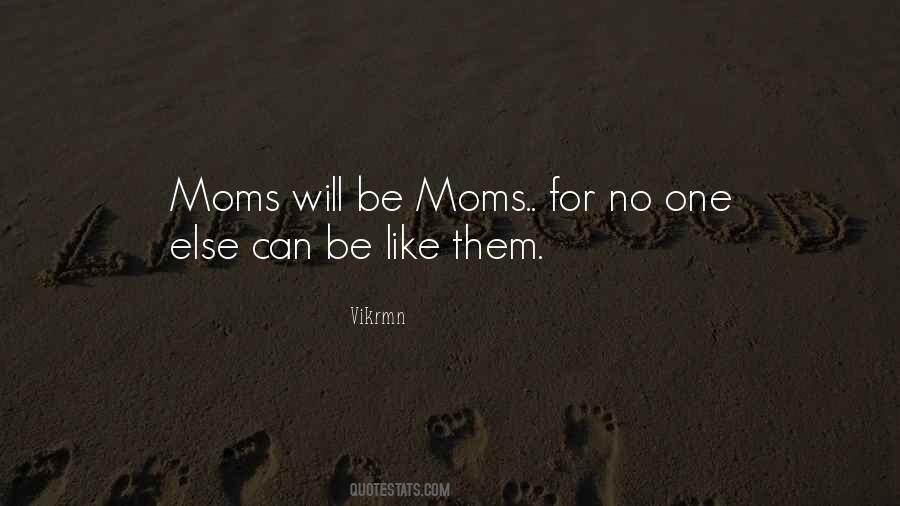 #47. Moms can be fresh, fly and young, and that's the kind of mom I want to be. - Author: Ciara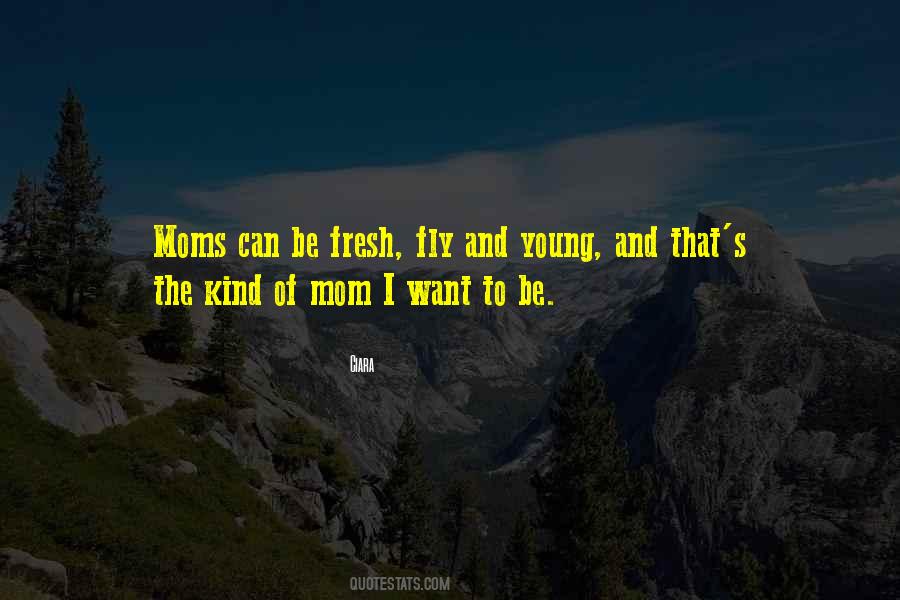 #48. Hillary Clinton met with a lot of the mothers in Chicago, she has the endorsement of some of the moms. Bernie Sanders I think has one or two of the family members too. I'm a little uncomfortable with using the families of these dead children this way. - Author: Chuck Todd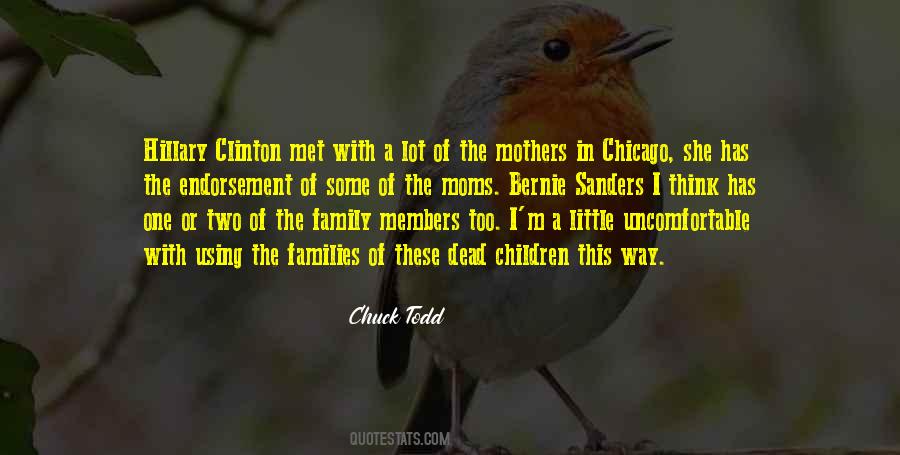 #49. I don't like going out that much. I'm kind of an old lady. After it's 11, I'm like, 'Don't these kids ever get tired?' When I'm out, I think about my couch. Like, 'It would be awesome to be on it right now. I bet there's an episode of Dance Moms on. - Author: Jennifer Lawrence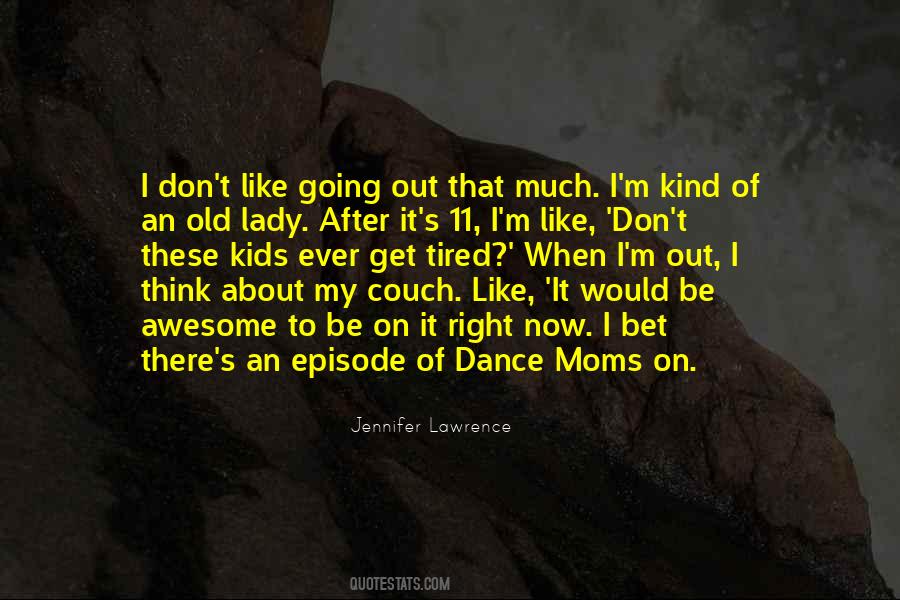 #50. Sometimes the MOM who's always there for everyone else, needs someone to be there for HER. - Author: Tanya Masse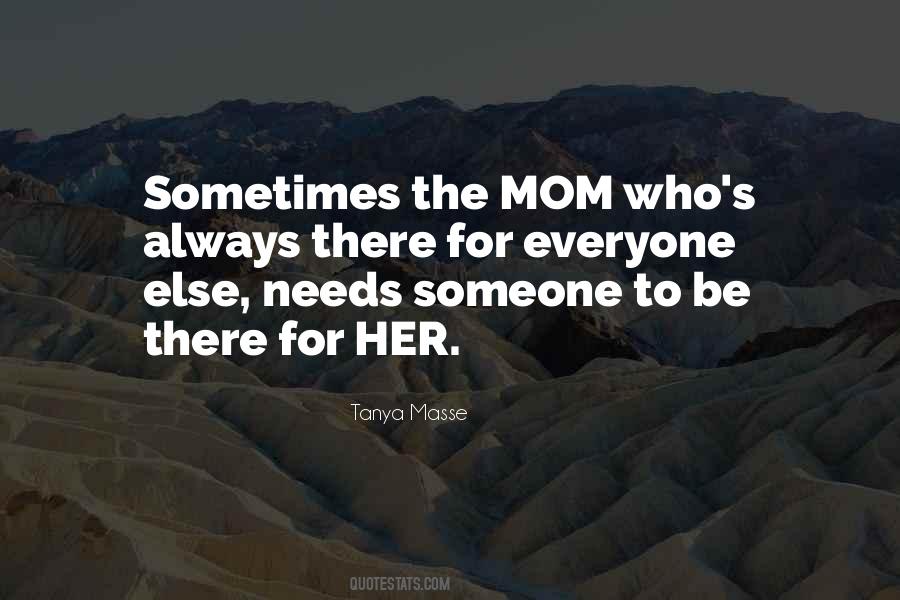 #51. I could see the combinations and permutations flutter through their minds. This was Boulder. It could easily be two moms. Two dads. A dad, a mom, and an orangutan. Three Amish hipsters and a transgendered Aboriginal mermaid. - Author: Bill Konigsberg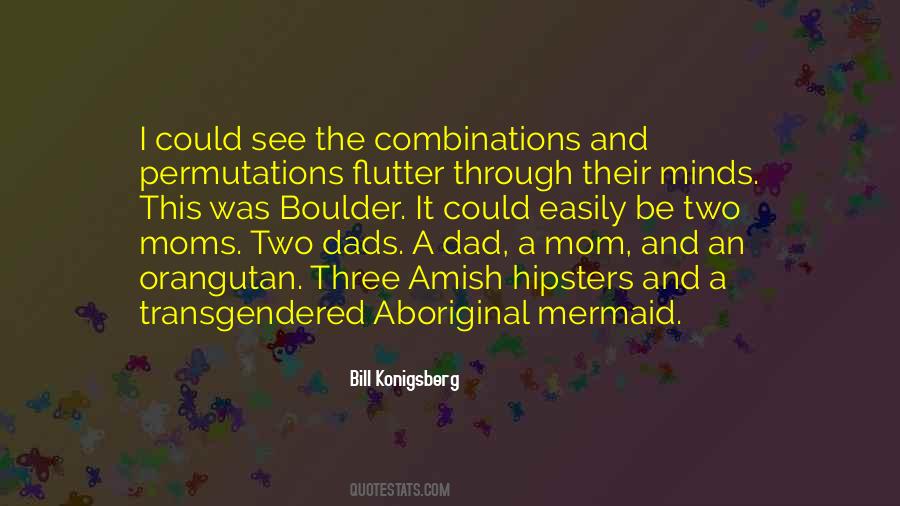 #52. I always believed that my platform would be speaking to young women that were teenagers that had had their babies and were trying to make it as single moms and still have hope and passions and pursuit of great things in their lives. - Author: Shari Wiedmann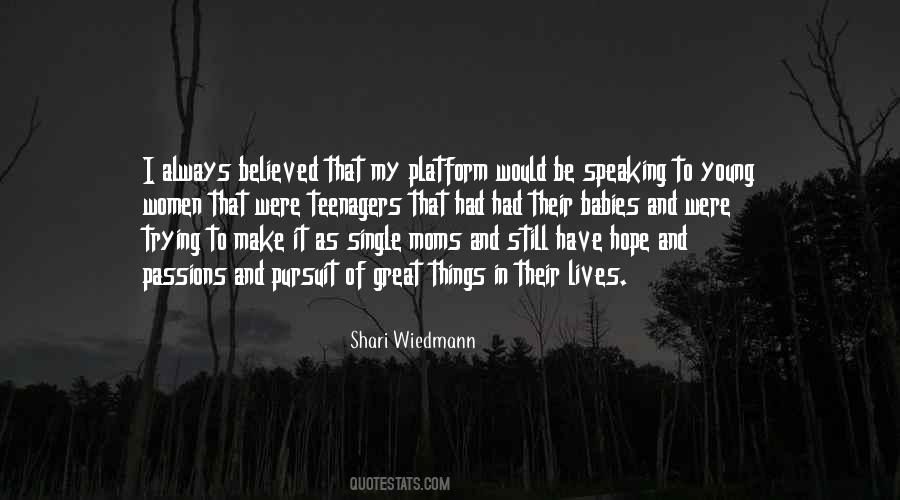 #53. Being a mom is hard, I think a lot of working moms feel that way. - Author: Gwen Stefani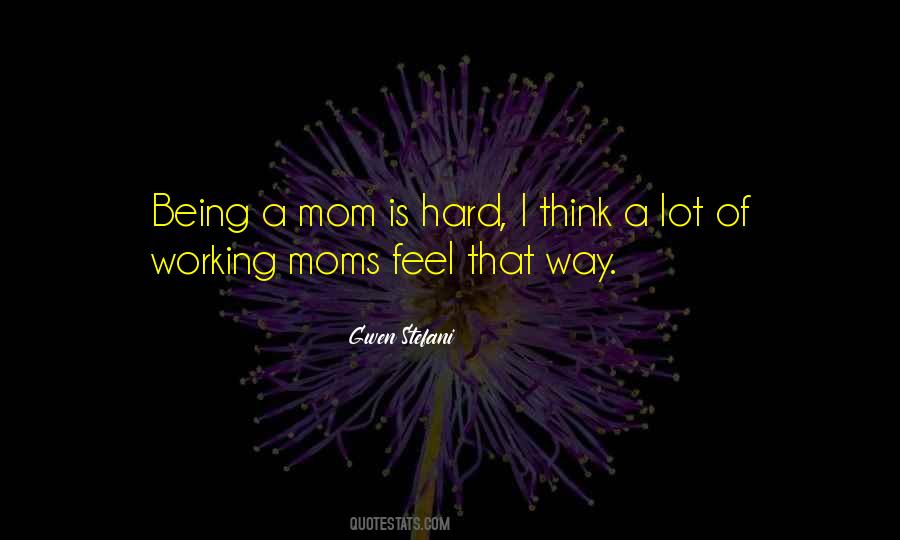 #54. How about I pick out something for your mom, and you pick out something for mine? That way if our moms hate what we got, which they won't say if they do, we can push the blame off on each other. - Author: Keary Taylor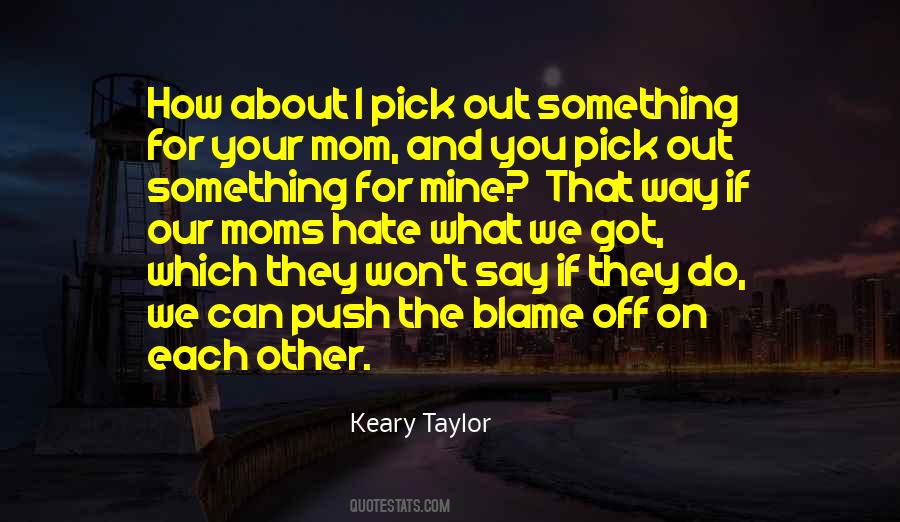 #55. In LA you can't tell the teenagers and the moms apart, which is so strange to me. And then it's like, "Who is leading who?" Are the moms emulating the daughters? In which case we're going backwards - that's not how it goes - the mothers teach the daughters how to be. It's a very strange thing to me. - Author: Laura Benanti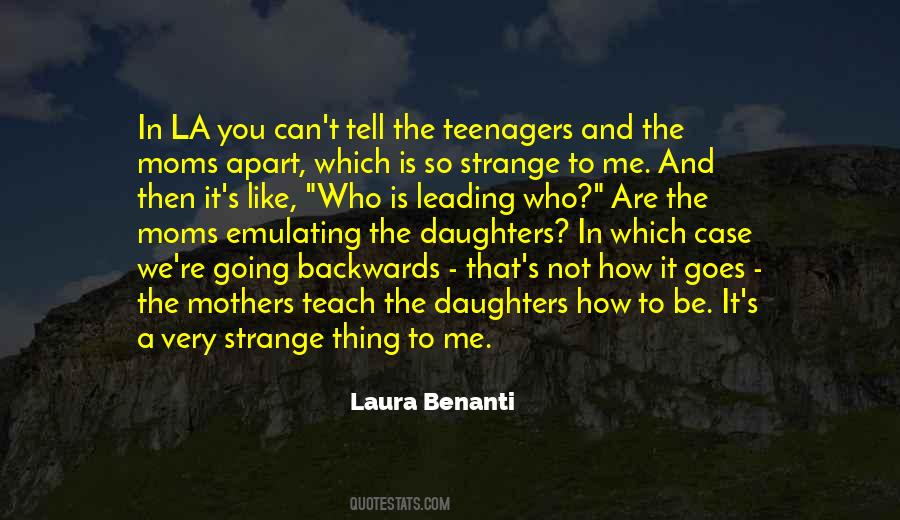 #56. Moms Mabley said you have to say good things about the dead. I say, 'He's dead. Good.' - Author: Kate Clinton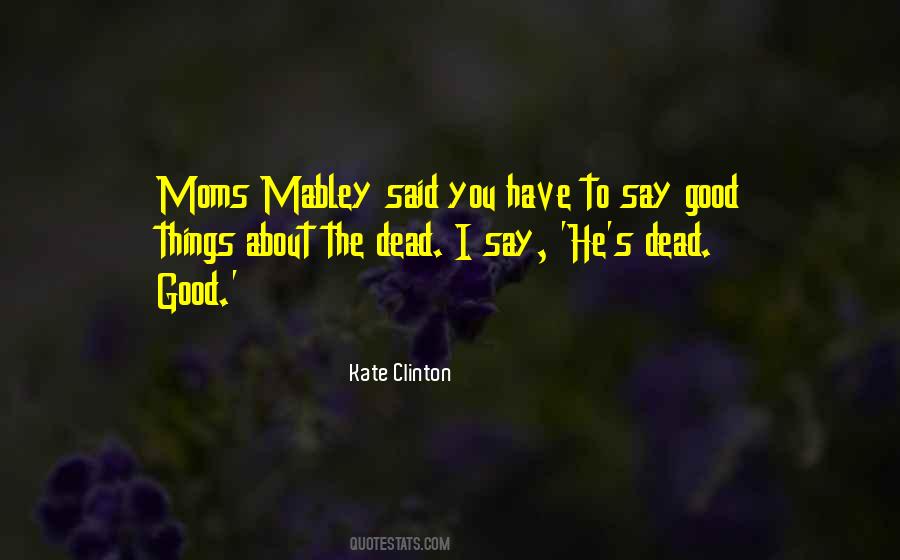 #57. If you start giving your kids anxiety about food, it's going to last a lifetime. Moms have to lead by example. Don't say, "Oh, my jeans don't fit," or "Oh, I was bad." No diets. Nothing like that. - Author: Bethenny Frankel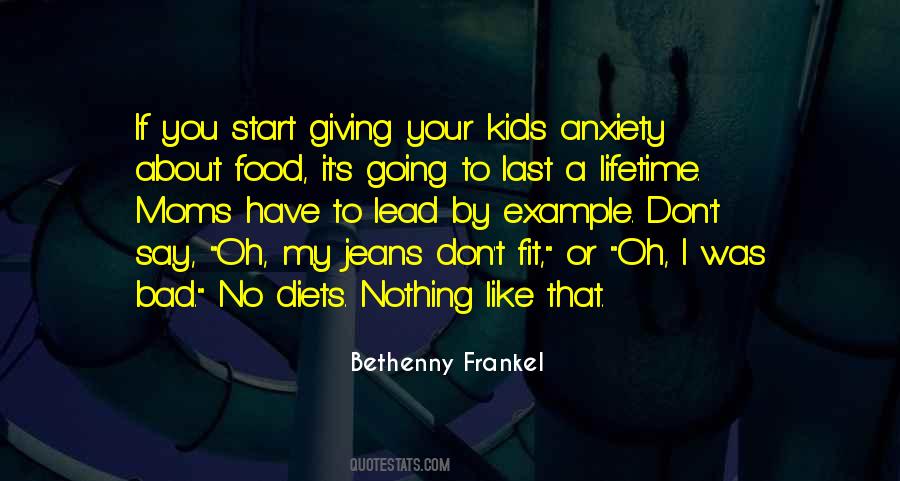 #58. All moms need confidants who are in their shoes and can relate to what they're going through. You need a night out together to be who you are, and not feel like you have to be the career woman, wife and mommy
all at once. After all, we're not superwomen. - Author: Jessica Alba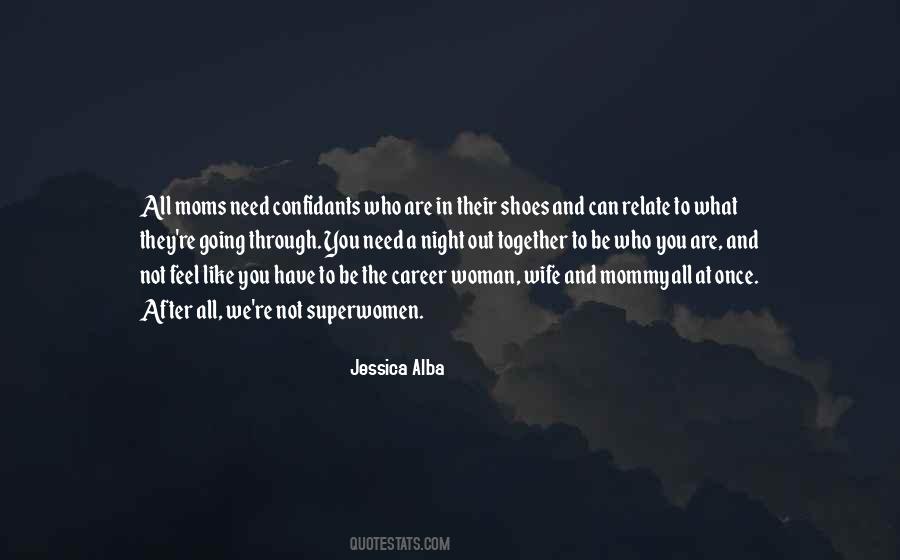 #59. You called me on the phone, saying you were alone,
But that's a lie because I heard your moms breathing on the phone.
And if you really like me, let your moms know
She should mind her business ... before I let go. - Author: K-Solo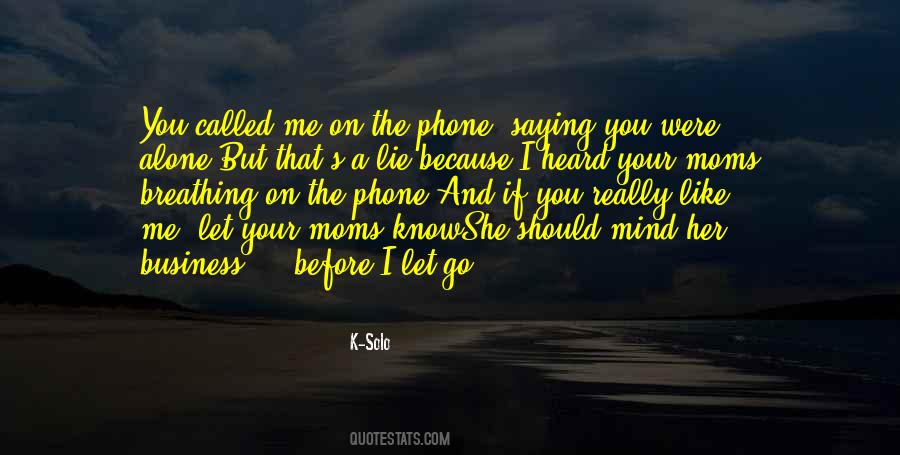 #60. I don't have time to write a mom blog, but I'm not against it. I think it's great when women talk about things. I'm all about female empowerment. There's a lot of lonely, lost moms out there. Moms need to be encouraged to tell the truth. There's a lot of glamour mommy stuff. It's OK to get real. - Author: Kelly Cutrone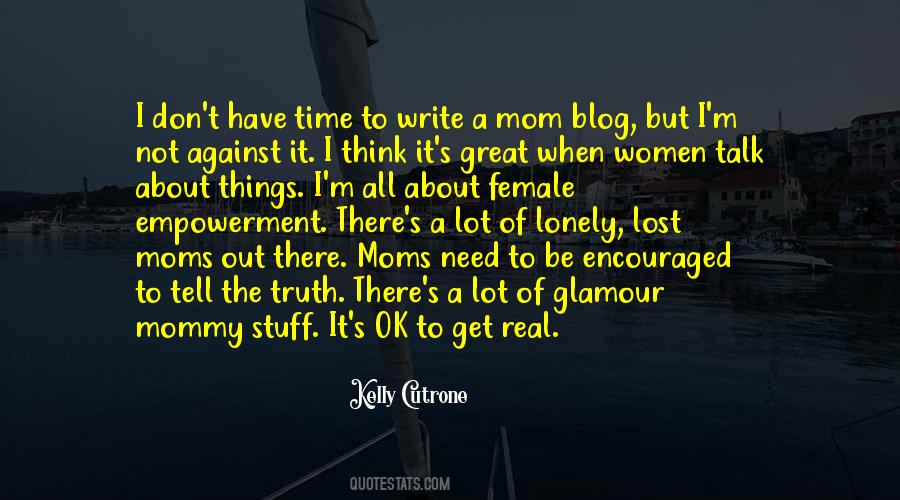 #61. We want a plan for a clean energy future ... an end to global warming ... Moms know about sustainable energy. After all, mother love is an unending supply and it keeps kids healthy. - Author: Julianne Moore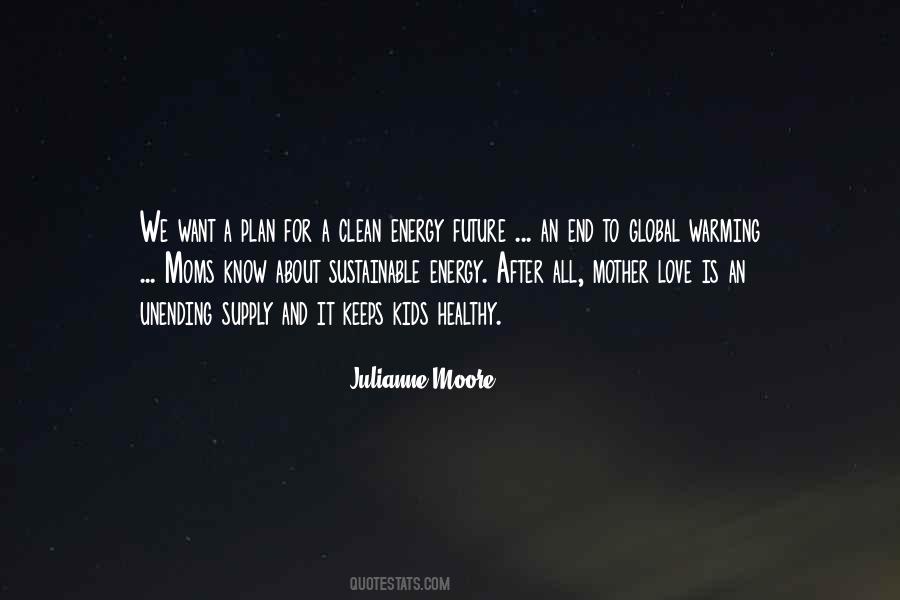 #62. I think that women are often lumped into categories - single gals, or soccer moms, or career women, or women of a certain age. For some reason our society wants women to wear labels, and not only on their clothes. - Author: Elizabeth Heyert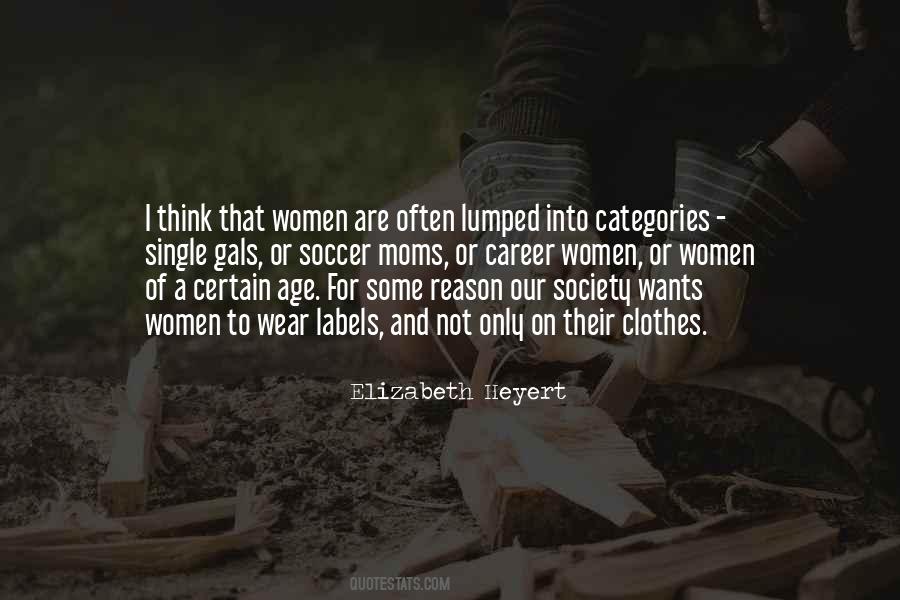 #63. We need to recognize the incredible challenges that so many parents face, especially working moms. We need to join the rest of the advanced world. - Author: Bernie Sanders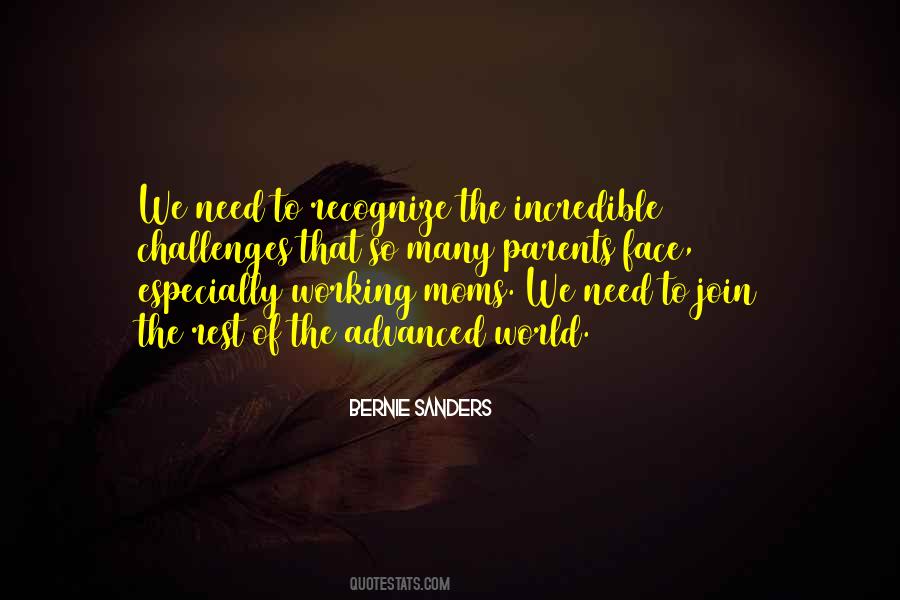 #64. The only way to cry your eyes out and laugh your ass off at the same time is to have your mom or girlfriends present. Without them, the laughing part wouldn't be nearly as fun. - Author: Shannon L. Alder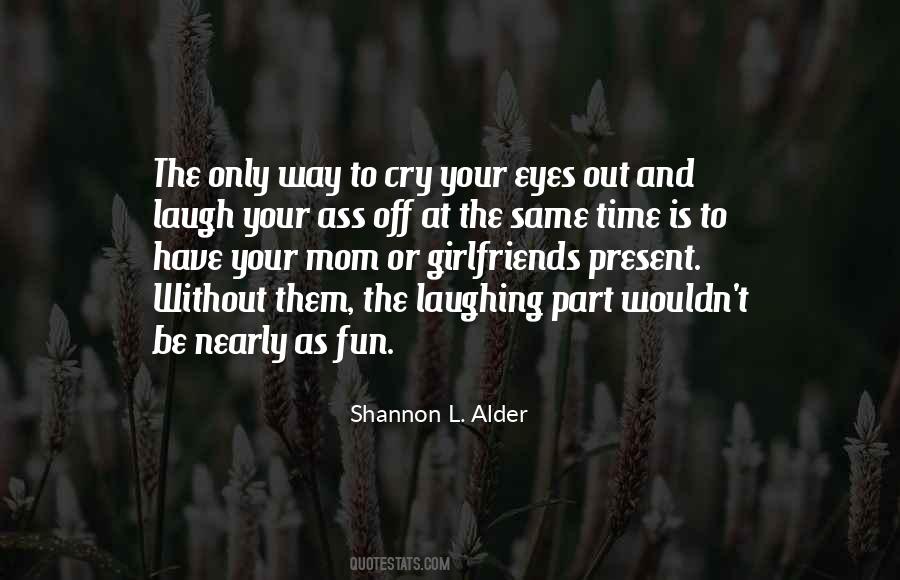 #65. I would give up, but that will teach my kids that it's okay to be a failure and I refuse to ruin their lives like that! - Author: Mignon' Talise Padilla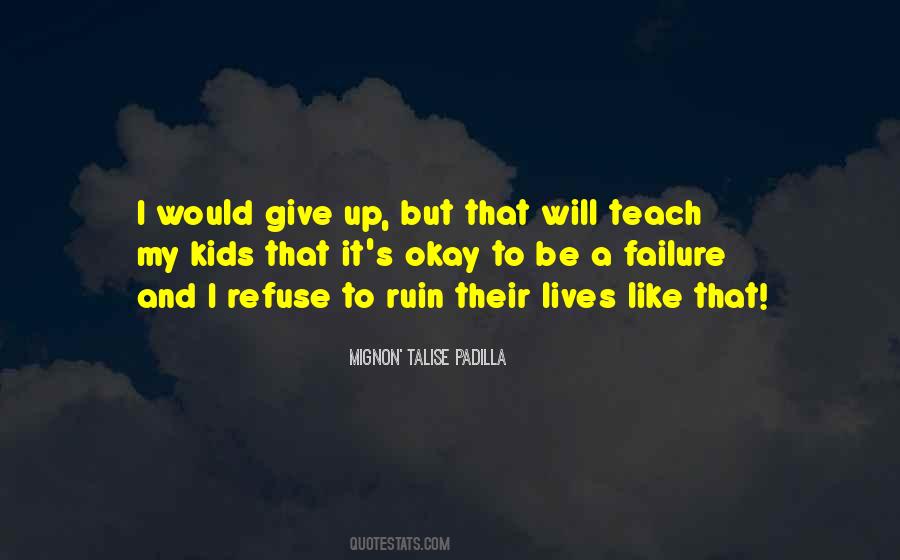 #66. It's fascinating to me that some of the pushback is coming from, sort of, white suburban moms who - all of a sudden - their child isn't as brilliant as they thought they were and their school isn't quite as good as they thought they were, and that's pretty scary, - Author: Arne Duncan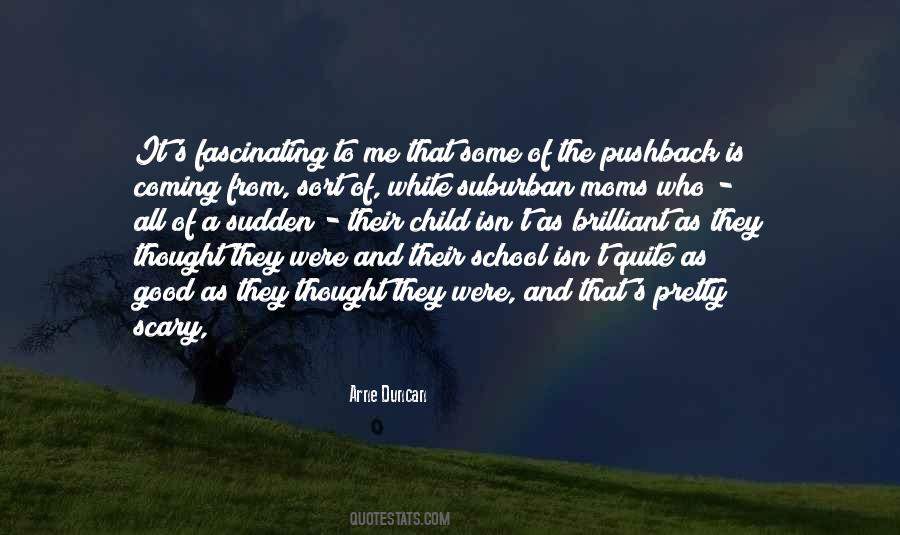 #67. [On turning down an invitation to appear for four minutes on the Ed Sullivan Show:] Honey, it takes Moms four minutes just to get on the stage. - Author: Moms Mabley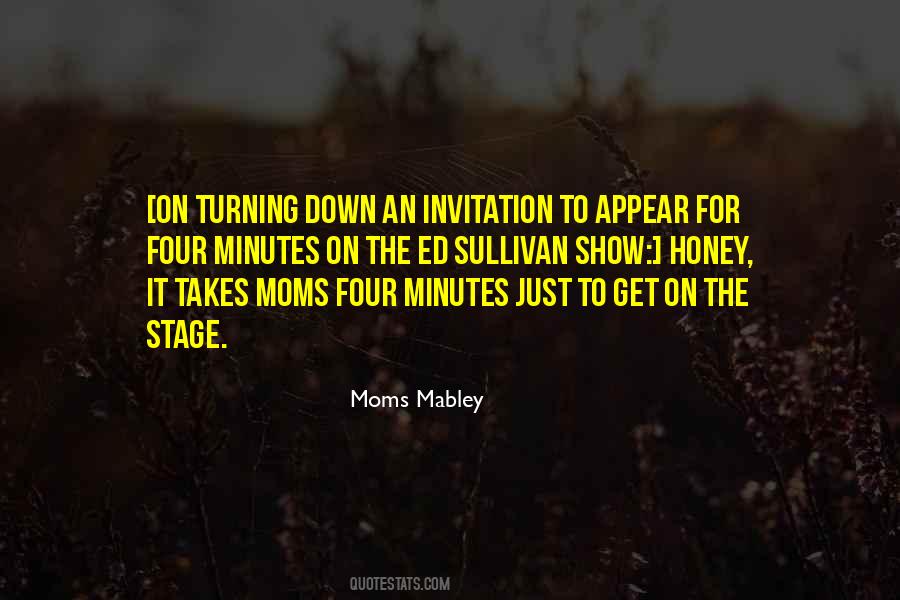 #68. Because of my unique experience as my mom's child, the beginning of my journey was more about me trying to figure out who I was on my own. My mom is one of the greatest moms and so supportive of all my siblings and of all of us being who we are, and not who she wanted us to be. - Author: Tracee Ellis Ross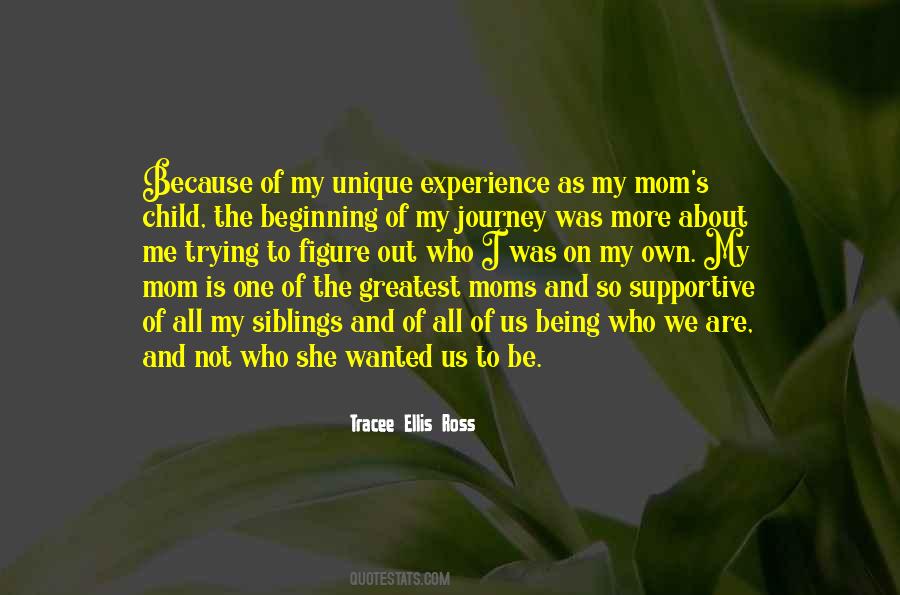 #69. A lot of moms give their kids line reads. My mom wasn't put in that position because I always had an acting teacher helping with the feelings rather than how to say something. - Author: Kirsten Dunst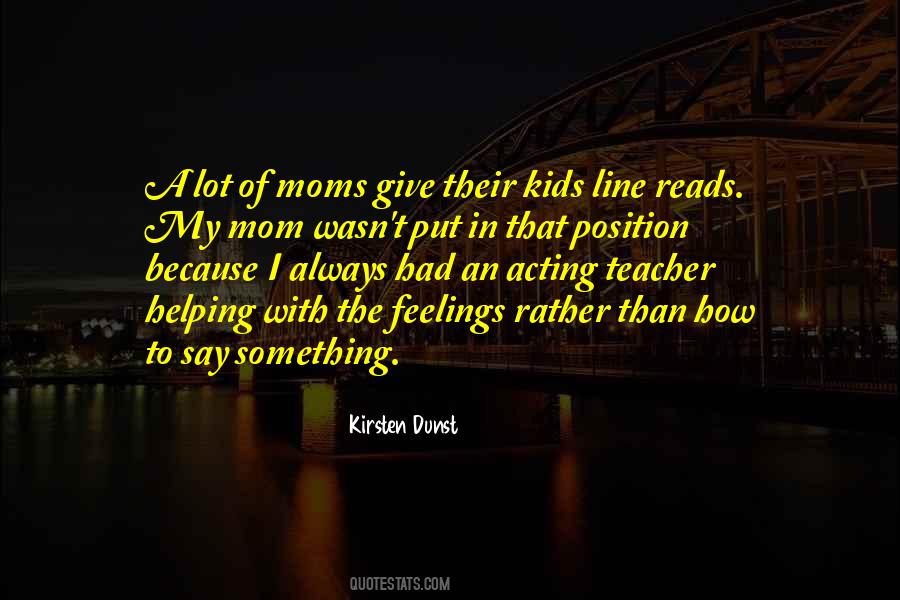 #70. I also sing about my mom leaving me a lot - a lot of kids have their moms or dads leave them, so they relate to that. I wear my heart on my sleeve, so I think that's what the kids love. - Author: Ronnie Radke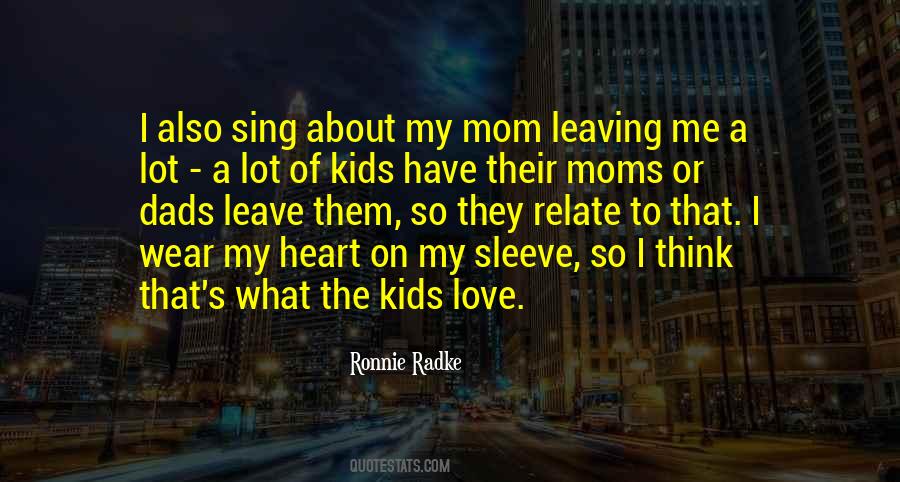 #71. Don't compare yourself to other MOMS ... We are all just winging it, just some hide it better than others. - Author: Tanya Masse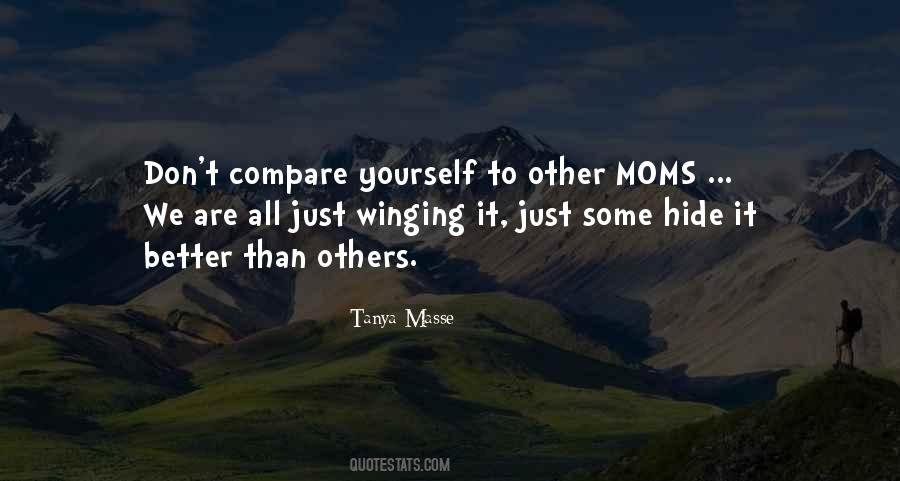 #72. MOM - noun - One who sacrifices her body, sleep, social life, spending money, eating hot meals, peeing alone, patience, memory, energy and sanity for LOVE! - Author: Tanya Masse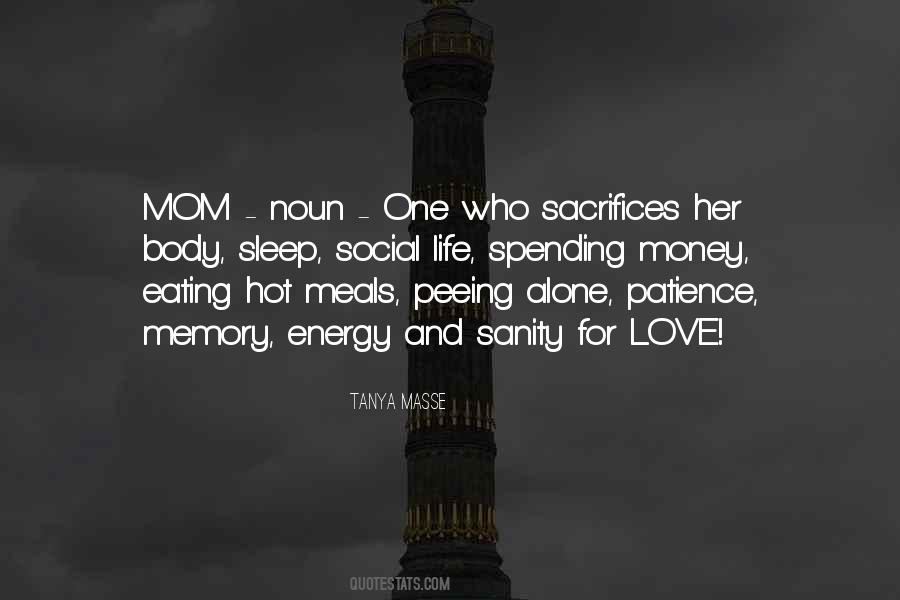 #73. I believe that parts of people like John Garfield and Moms Mabley, the parts of them that I needed to be able to do what I'm doing, came into me. There's a very nice feeling that there are many, many spirits inside of me looking after me ... - Author: Whoopi Goldberg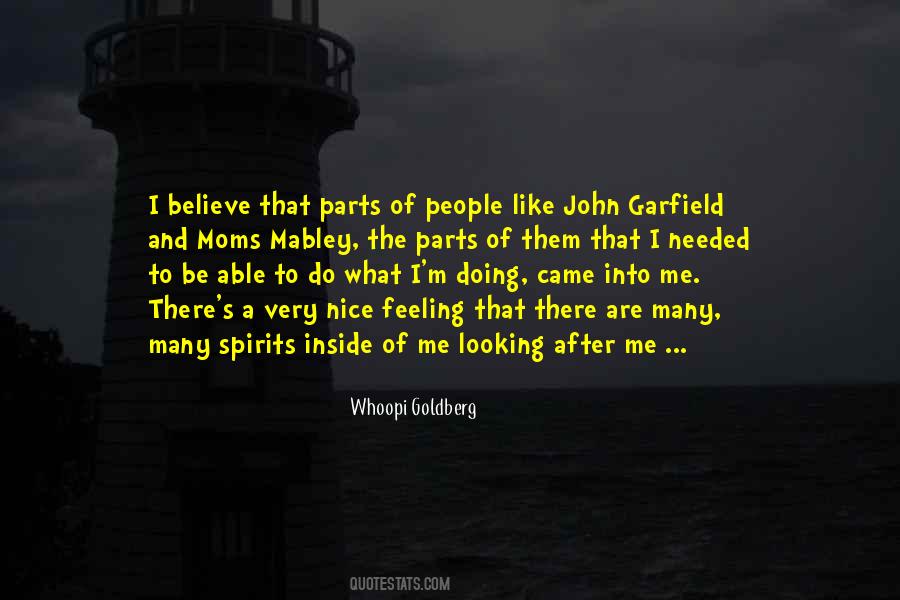 #74. Even AWESOME MOMS use the F-BOMB! - Author: Tanya Masse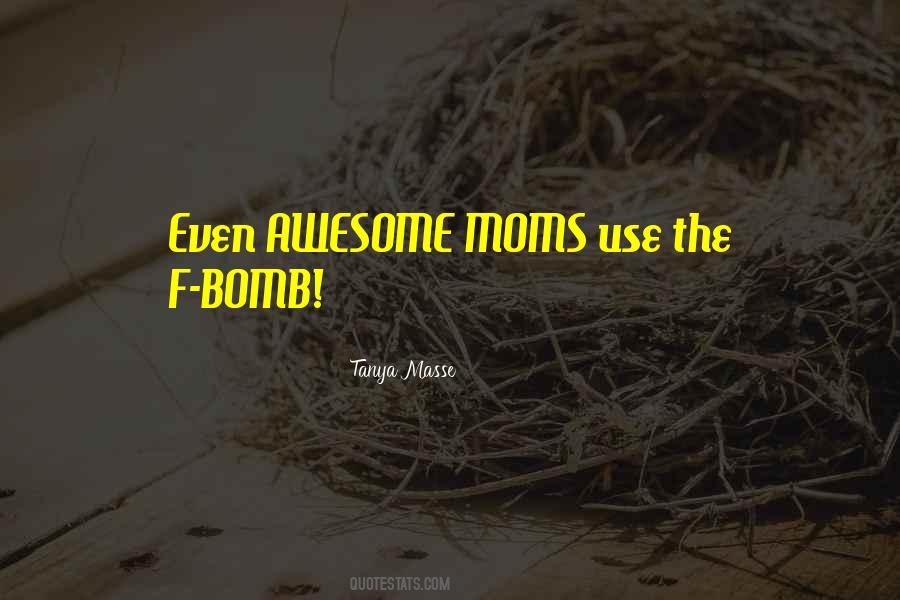 #75. Moms, let's pledge to build each other up instead of tearing each other down. - Author: Lysa TerKeurst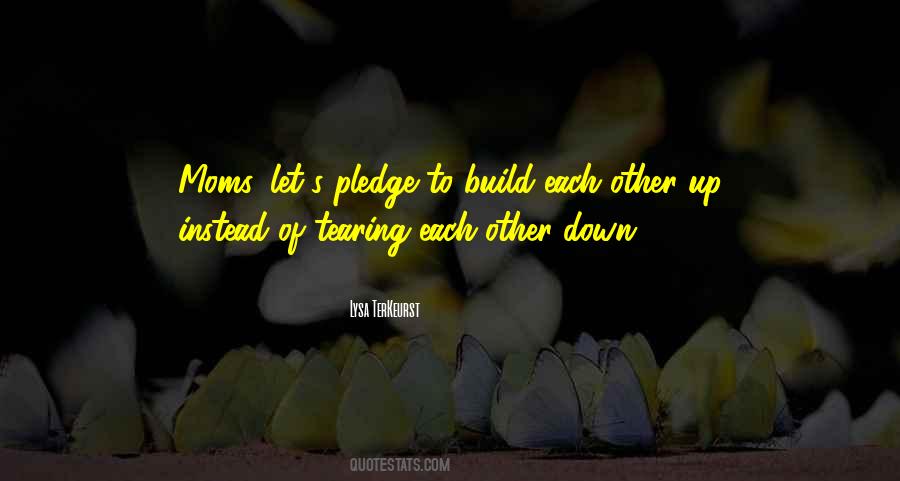 #76. I'm one of those moms who's at the bus stop with my camcorder every year, with my phone taking a million pictures as they get on the bus. - Author: Melissa Gorga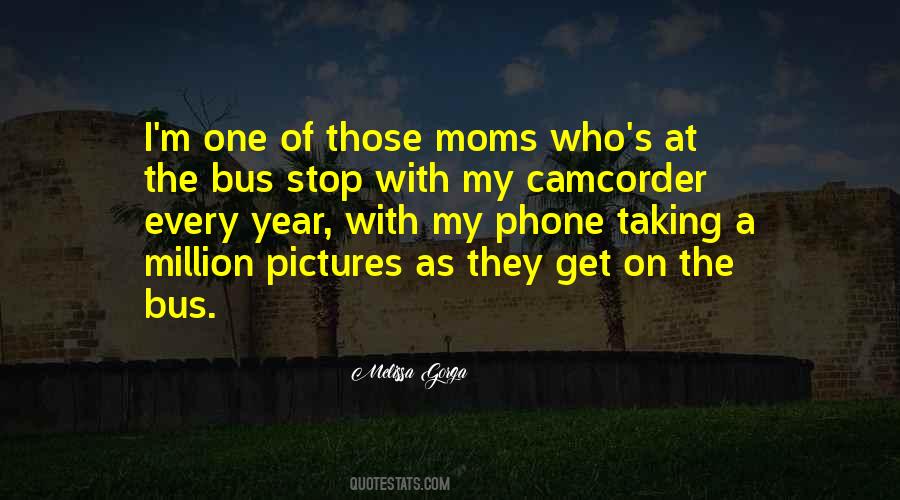 #77. I did some stupid things when I was younger, but I got a lot out of my system. Every time, my mom was waiting there with an 'I told you so.' Moms are usually right. You're wrong if you don't think that they've done what we're doing, because they have. - Author: Elle King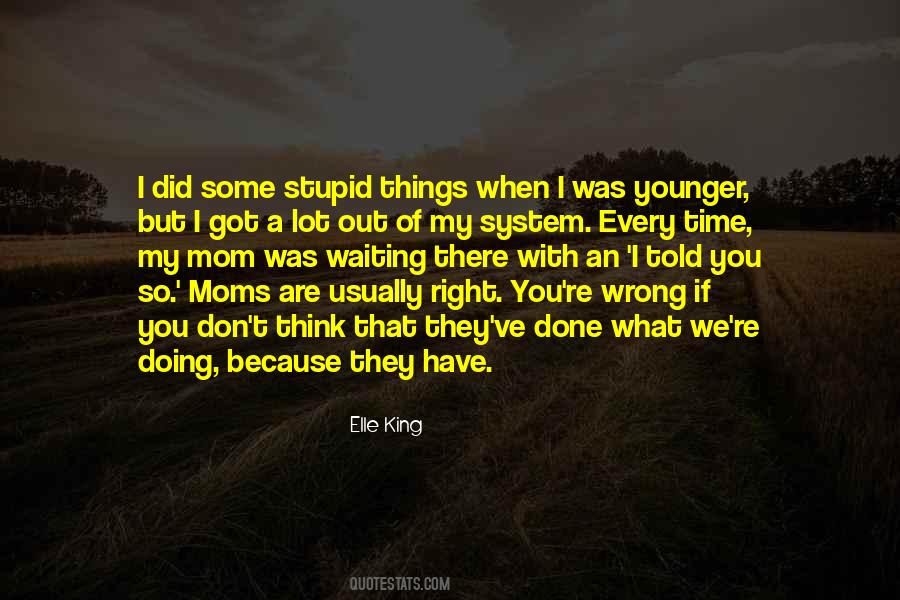 #78. What's compelling about the story and what's very honest about the story is that it's very real and it's happening. There are 200,000 women in active duty, and over 40% of them are moms. This experience is shared by thousands of women, and no one is right or wrong. - Author: Michelle Monaghan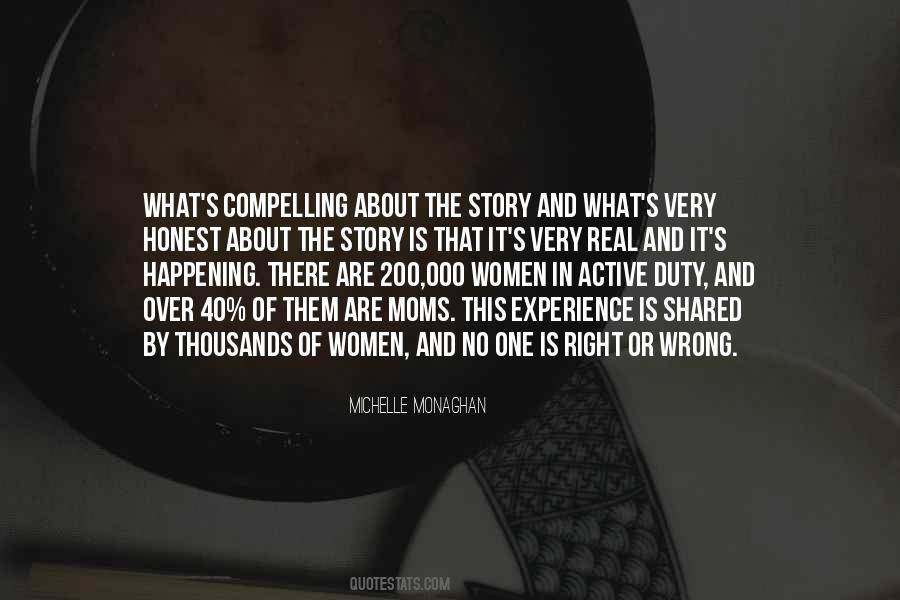 #79. I'm not one of those Hollywood moms where my kid is three weeks old and I'm a size zero. I'm a real woman and I'm a working woman and a working mom. - Author: Kimora Lee Simmons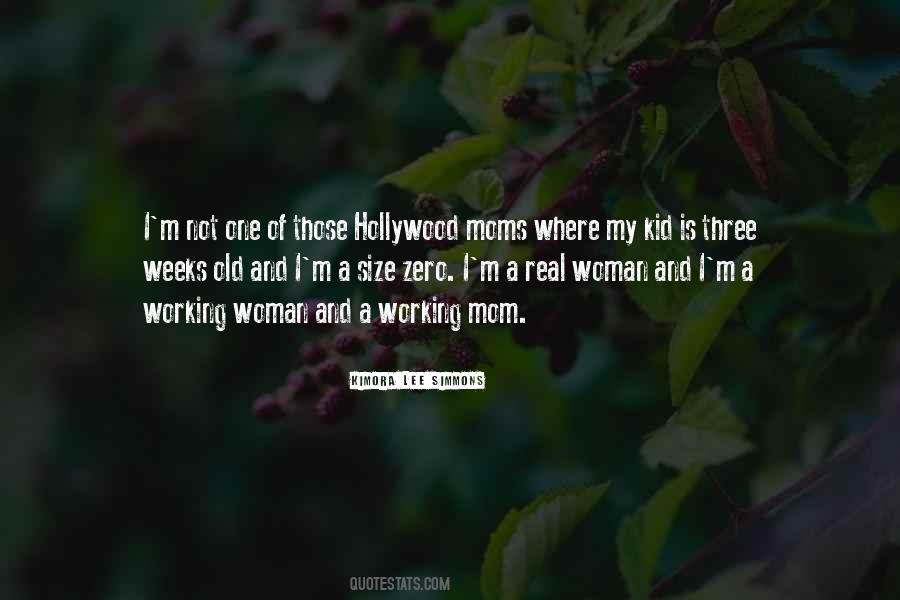 #80. When it comes to women, our perfectionism gives us a lot of grief. Women want to be super moms, super partners and super performers at work - and all at the same time. That's stressful. - Author: Kristina Schroder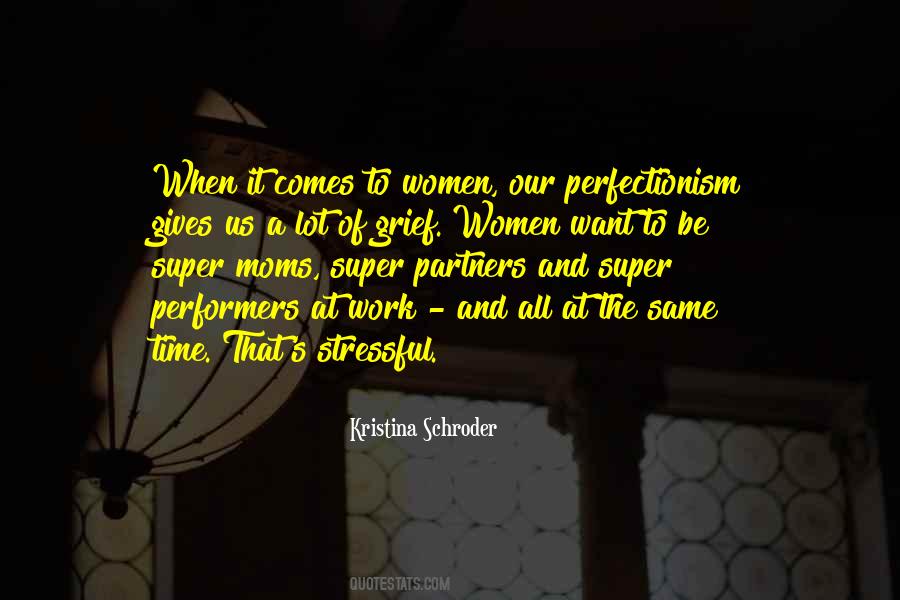 #81. Ann Romney talking about middle class moms is like Chris Christie talking about a salad - Author: Denis Leary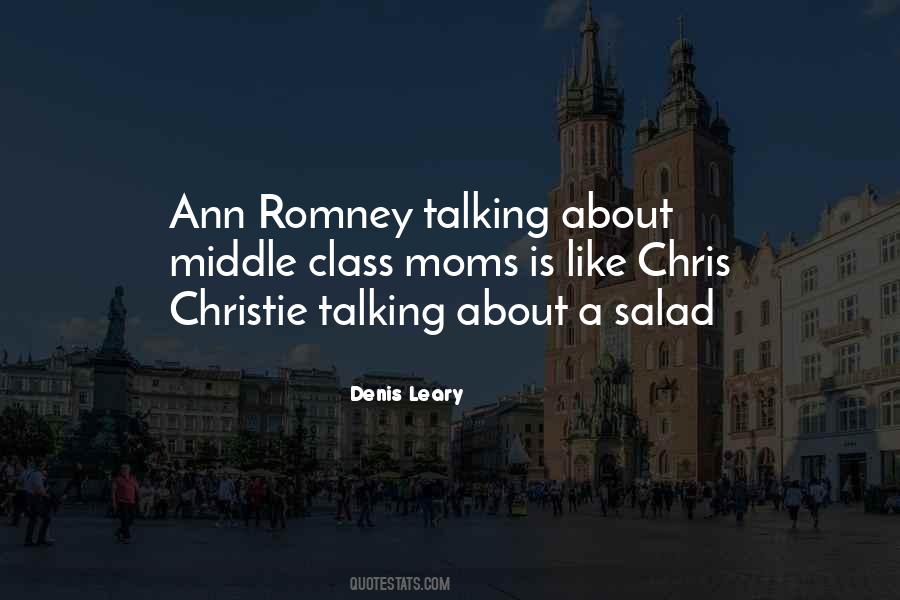 #82. I feel so privileged as a mom to be part of a significant organization like the March of Dimes that works hard to prevent prematurity and helps moms to have healthy babies. - Author: Thalia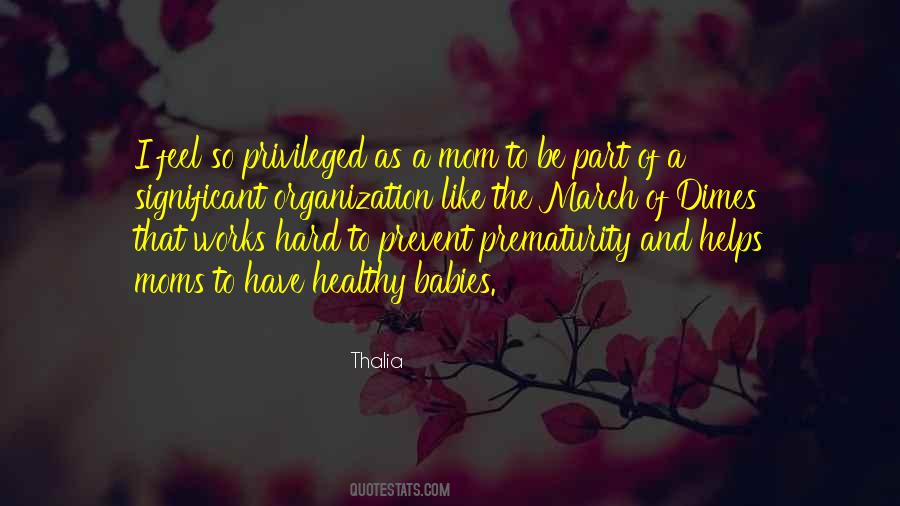 #83. The mission statement of my company, Kathy Ireland Worldwide, is to find solutions for families, especially busy moms. I'm reaching out to busy moms because that's what I am. That's what I know, and I know this woman has been underserved. - Author: Kathy Ireland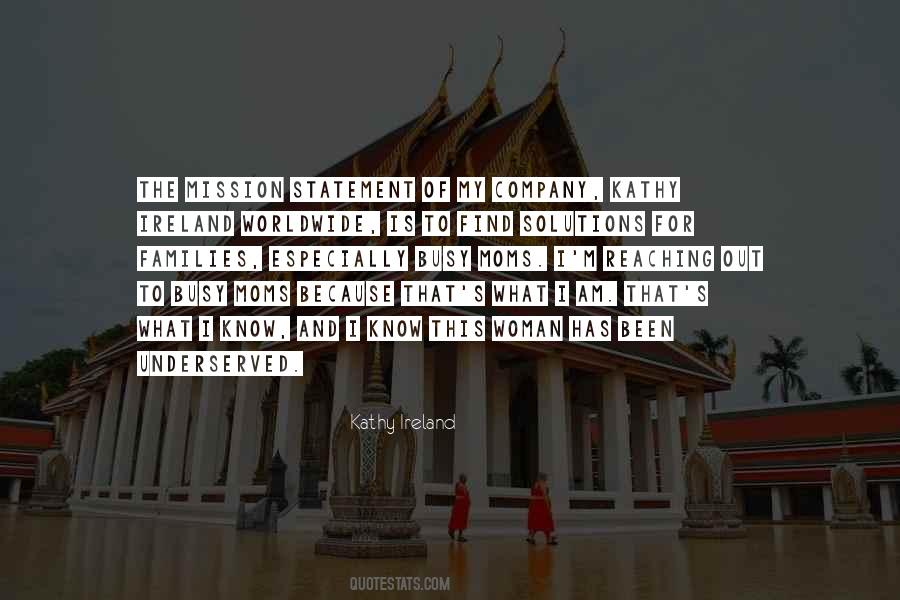 #84. Mothers care in volumes of tears and earnestness of prayers and a depth of emotion others cannot fathom. - Author: Richelle E. Goodrich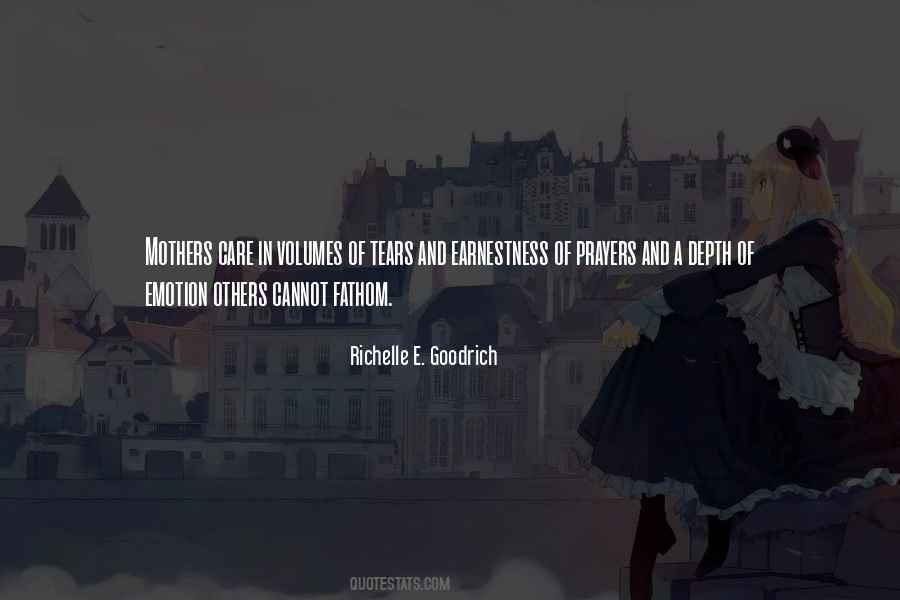 #85. As Korn go on, it's the same things - bad childhoods and mean moms. It gets too old after a while. How old is Jonathan? Thirty? How long has it been since he lived with his parents? - Author: Chino Moreno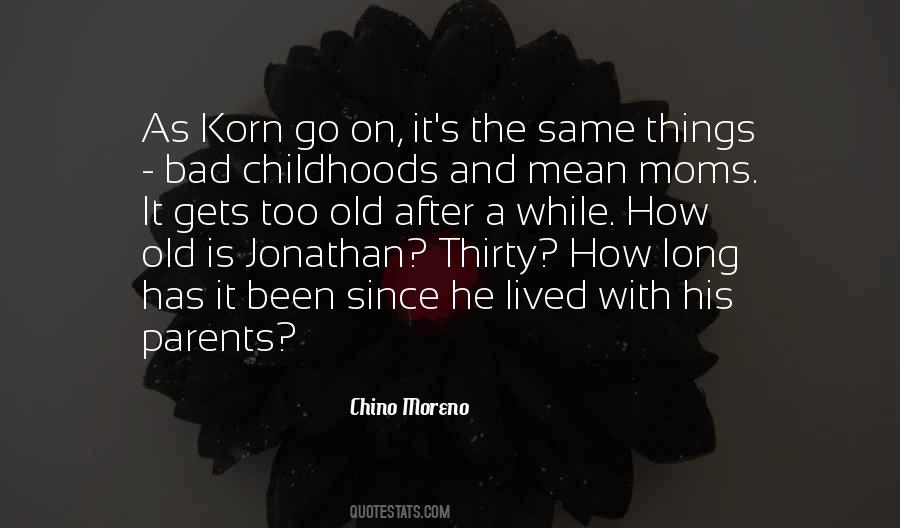 #86. For our Dead Moms, Straight from the Heart
Mom,
You held my hand in times of need,
Whatever the occasion.
Now,
Forever shall your heart be held in mine,
To balance the equation. - Author: Beryl Dov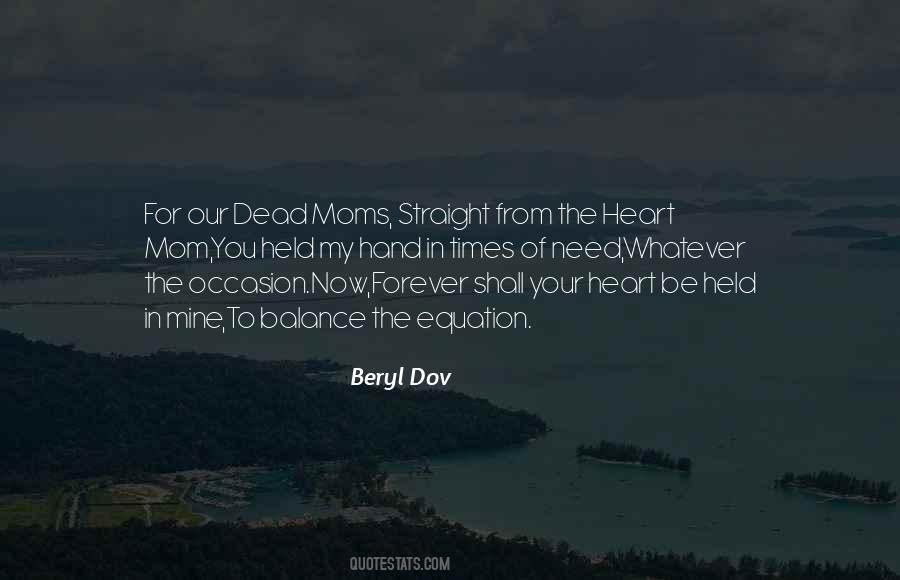 #87. And I met your baby moms last night. We took a picture together, I hope she frames it. And I was drinking at the Palms last night. And ended up losing everything that I came with. - Author: Drake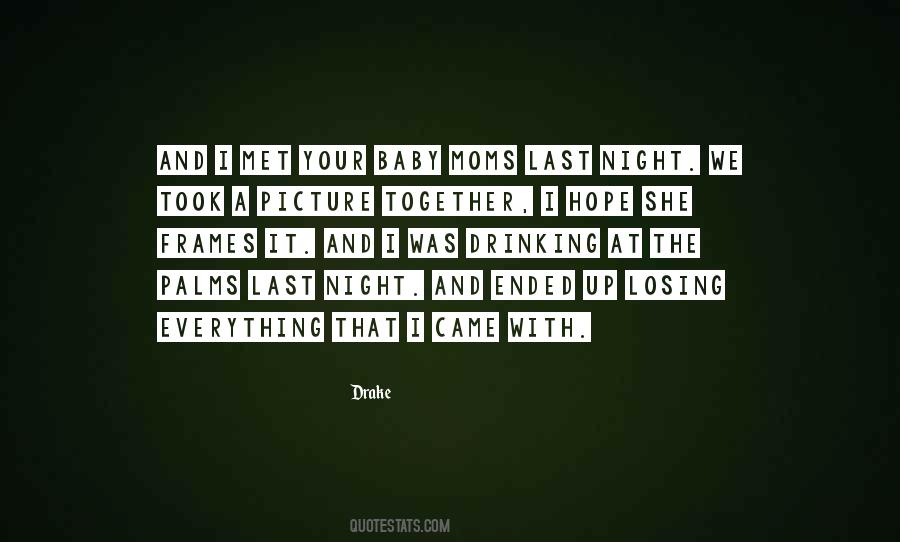 #88. Twi-moms! I love them, the little cougars! - Author: Kellan Lutz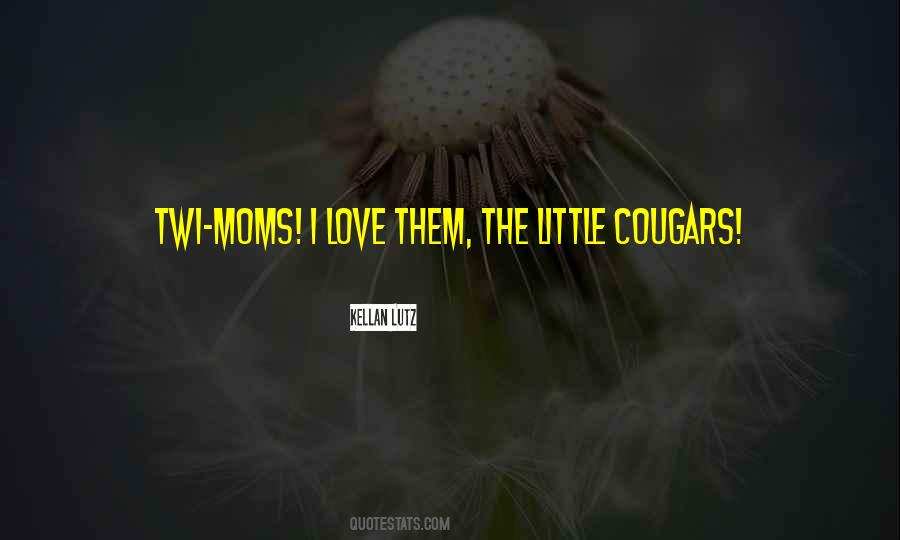 #89. Claire: Seriously? My mom? Let you in my room? In the middle of the night?
Michael: Moms like me. - Author: Rachel Caine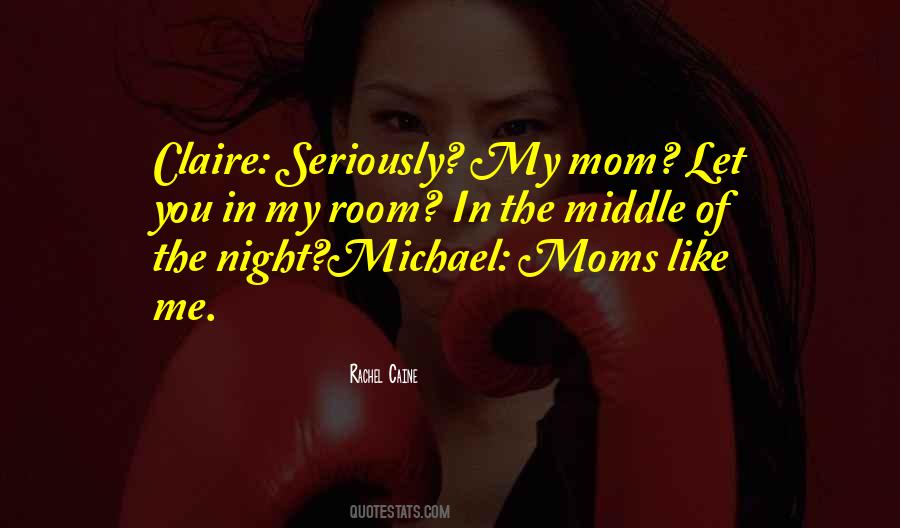 #90. You take girls, for example. They're copying their moms and magazines and everything to know how to act around guys. I mean it's not like in movies where girls like assholes or anything like that. It's not that easy. They just like somebody that can give them purpose. - Author: Stephen Chbosky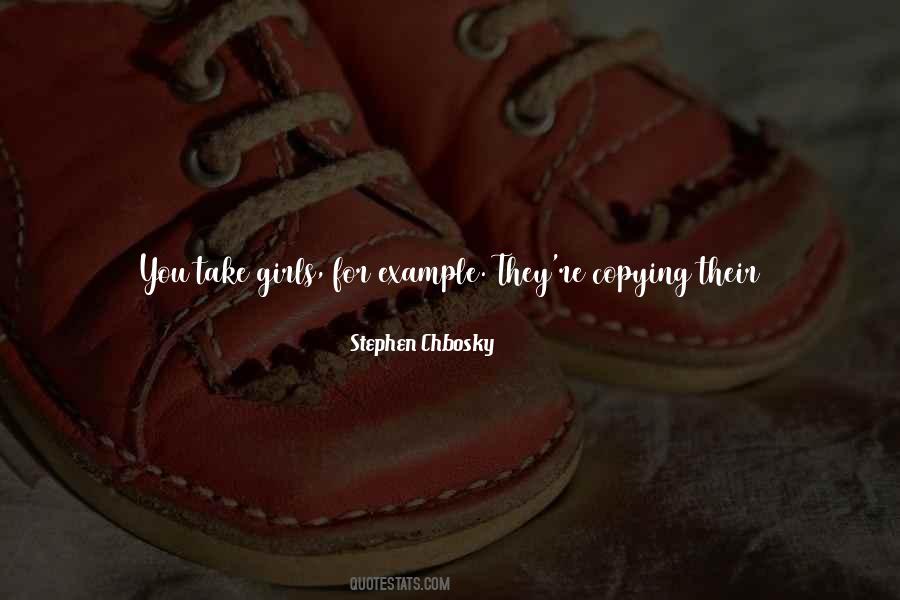 #91. No, I am never setting foot in this house again it scares me and makes me sad and I wish you could be a mom whose eyes worked but I don't think you can. - Author: Laurie Halse Anderson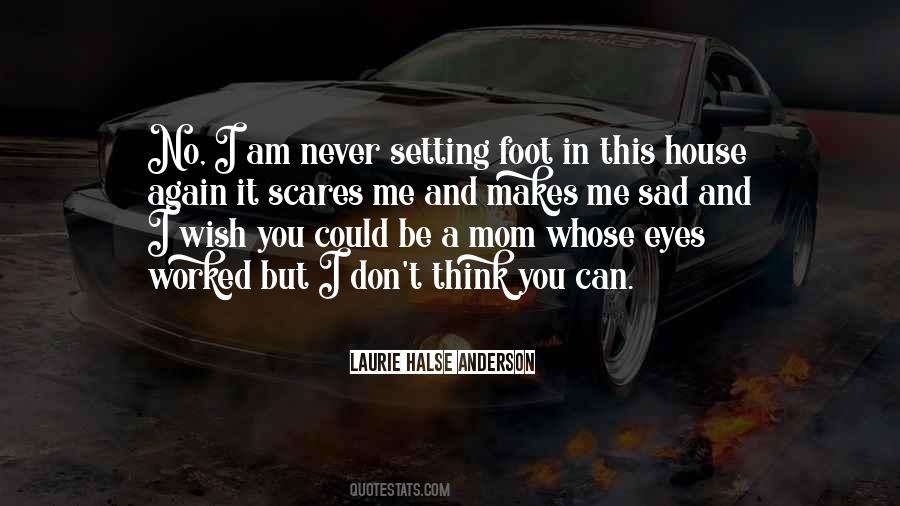 #92. Never trust nobody, your moms will set your ass up. - Author: The Notorious B.I.G.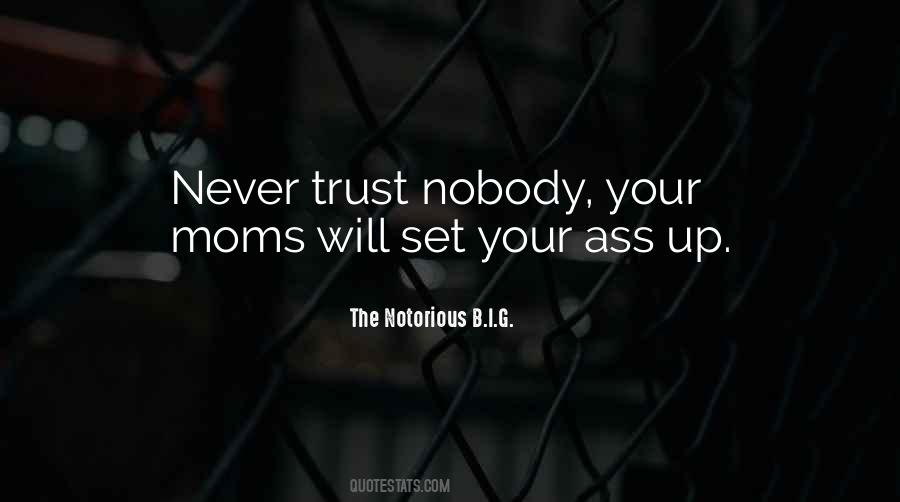 #93. Like many other moms out there, I try to buy safe products for my family, but that can't be the only solution. You can't hire a team of scientists to do your shopping for you. At some point the government has to step in and ensure that chemicals are safe before our children are exposed to them. - Author: Jessica Alba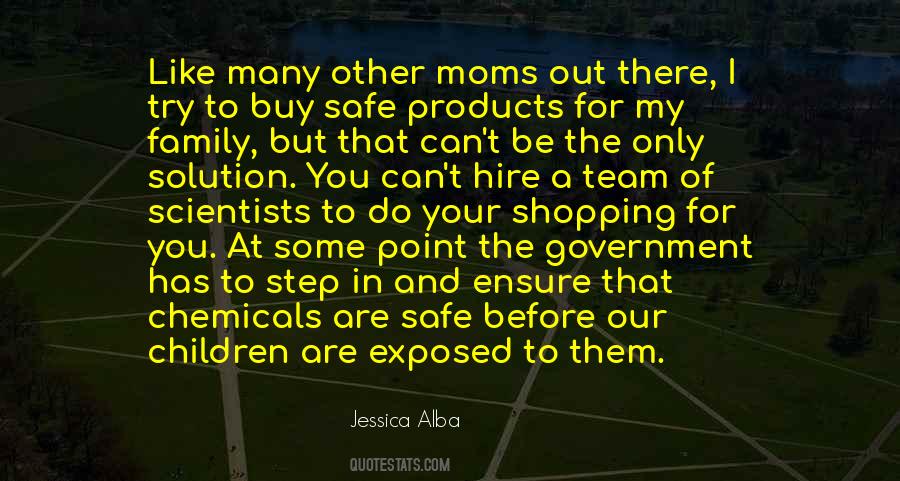 #94. Women wear many hats in their lives. Daughter, sister, student, breadwinner. But no matter where we are or what we're doing, one hat that moms never take off is the crown of motherhood. There is no crown more glorious. - Author: Ann Romney
#95. It is less dangerous to draw a cartoon of Allah French-kissing Uncle Sam - which, let me make it very clear, I have not done - than it is to speak honestly about [working moms]. - Author: Tina Fey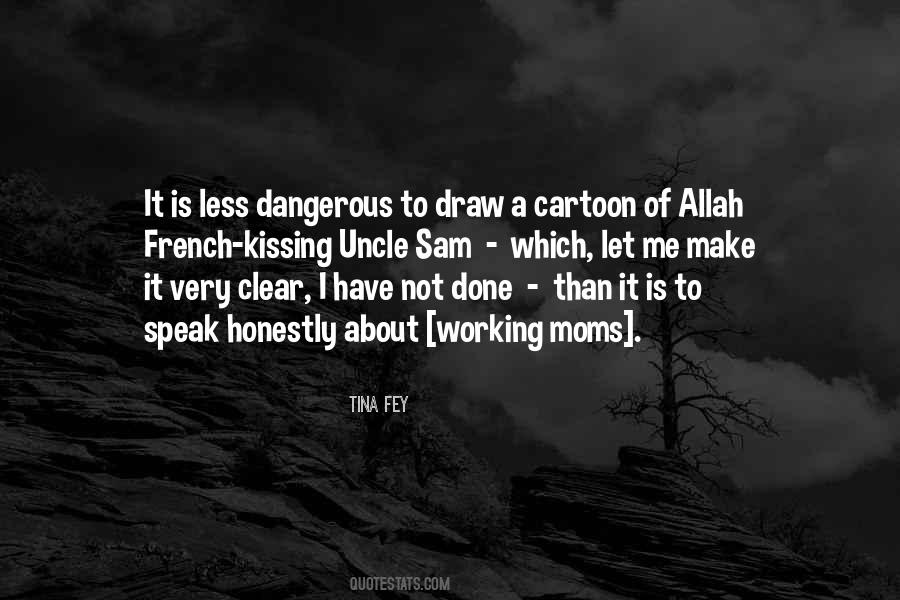 #96. Dutch in my ear, Olde E in my palm,
I Freddy Krueger your face, Michael Myers your moms.
You botherin mine? That's when I'm sparkin the nine. - Author: Sean Price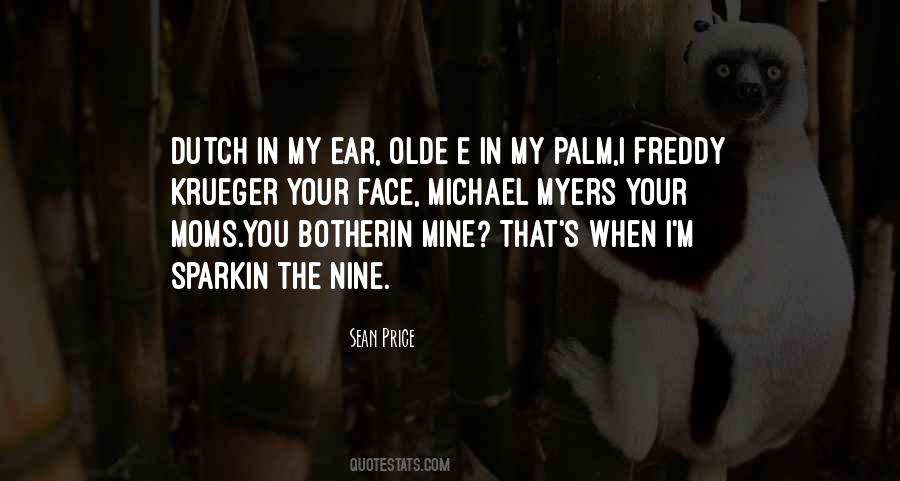 #97. Moms are life's number one cheerleaders without uniforms. - Author: Richelle E. Goodrich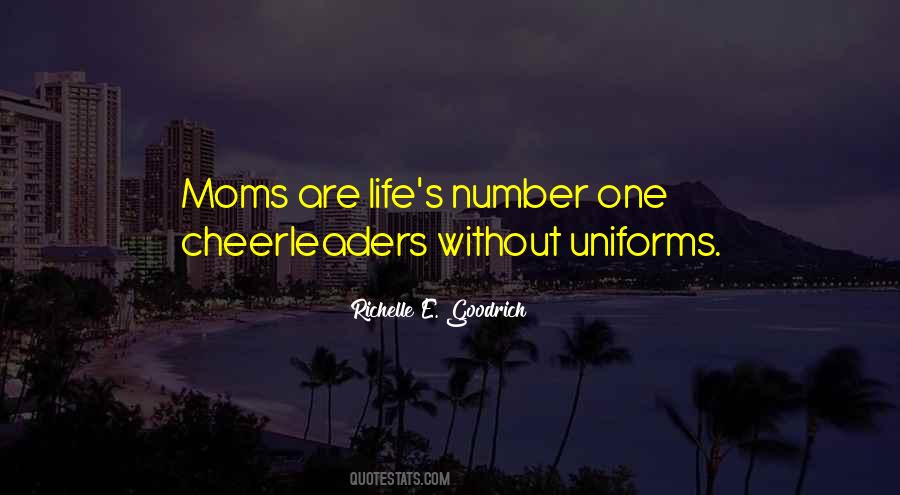 #98. I am inspired by working moms. Mothers who somehow balance the demands of their many lives - professional, familial, personal, and interior - and still manage to make time to have fun and invest in themselves! This is a huge challenge that I look forward to taking on. - Author: Daphne Oz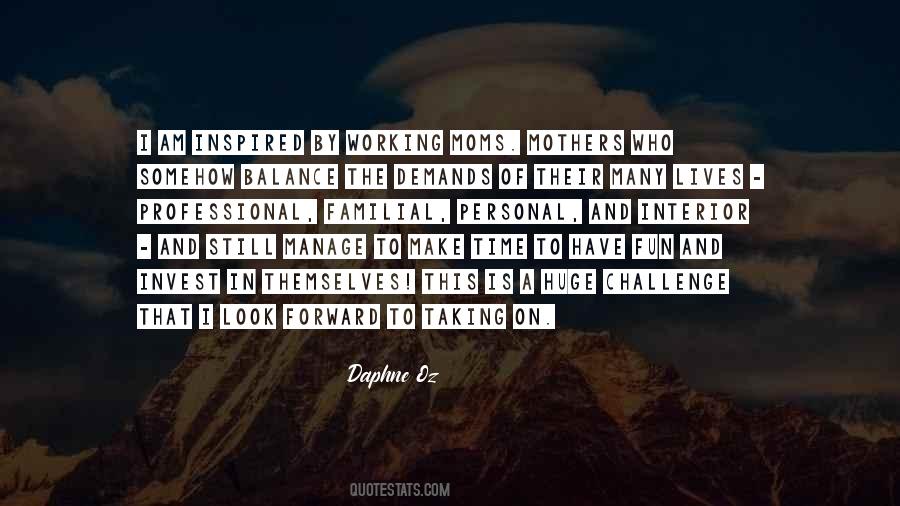 #99. Sons love moms forevermore. - Author: Juan Williams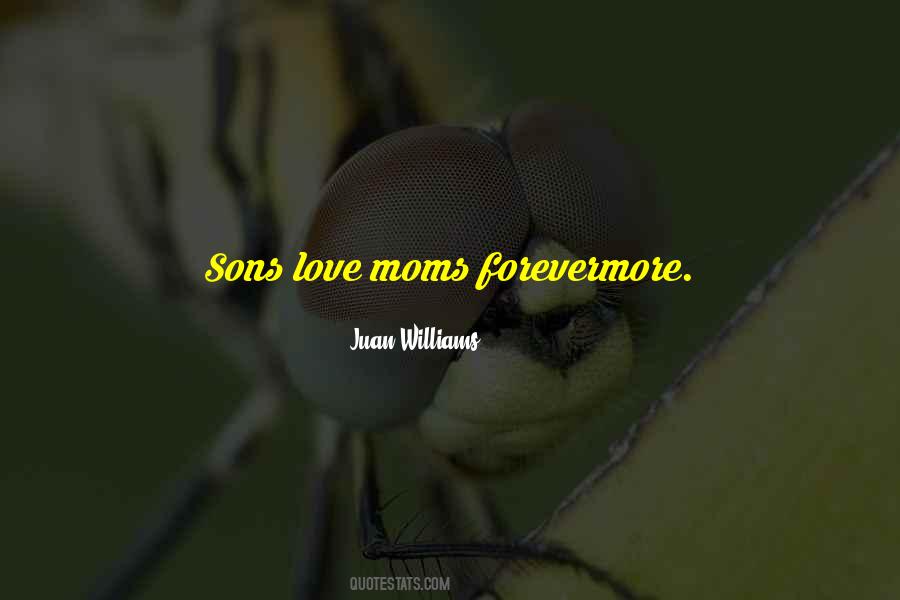 #100. Adult males are what their moms designed them. - Author: Ralph Waldo Emerson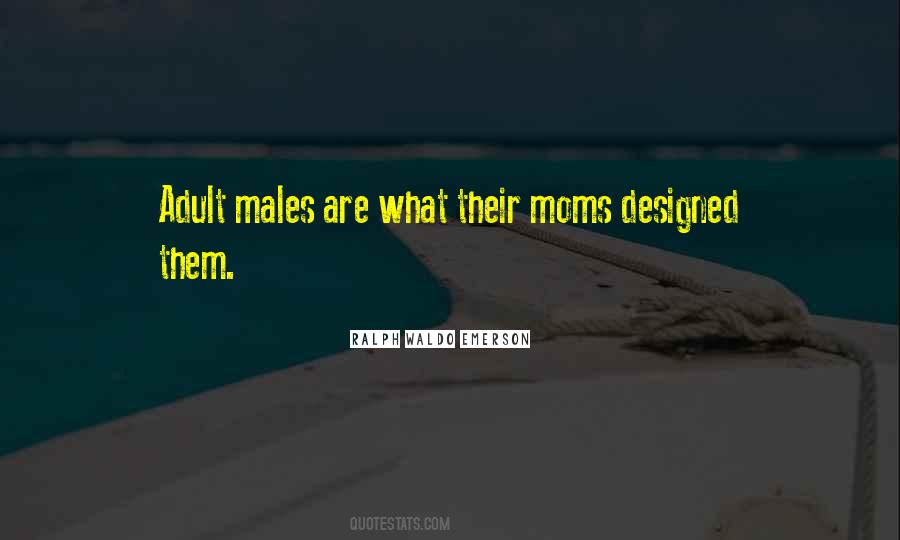 Famous Authors
Popular Topics