List of top 100 famous quotes and sayings about be okay to read and share with friends on your Facebook, Twitter, blogs.
Top 100 Quotes About Be Okay
#1. Don't tell me it's going to fucking be okay! I am not okay with being that fucker's pinata!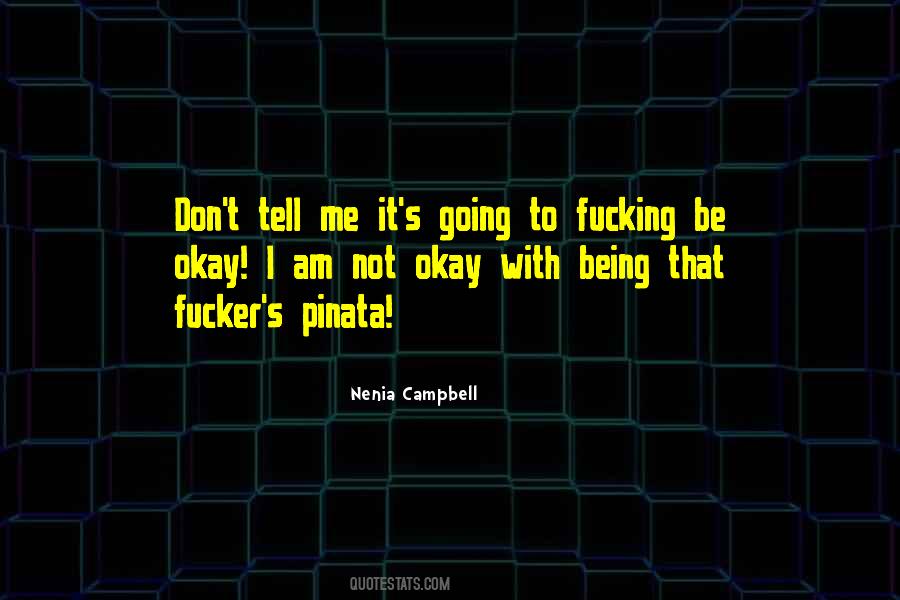 #2. When we approached the project, the very first thing we did was take each character and say, "Okay, where would this character be?" We didn't want them to be caricatures of themselves. We wanted them to live and breathe, and grow with the audience and with us.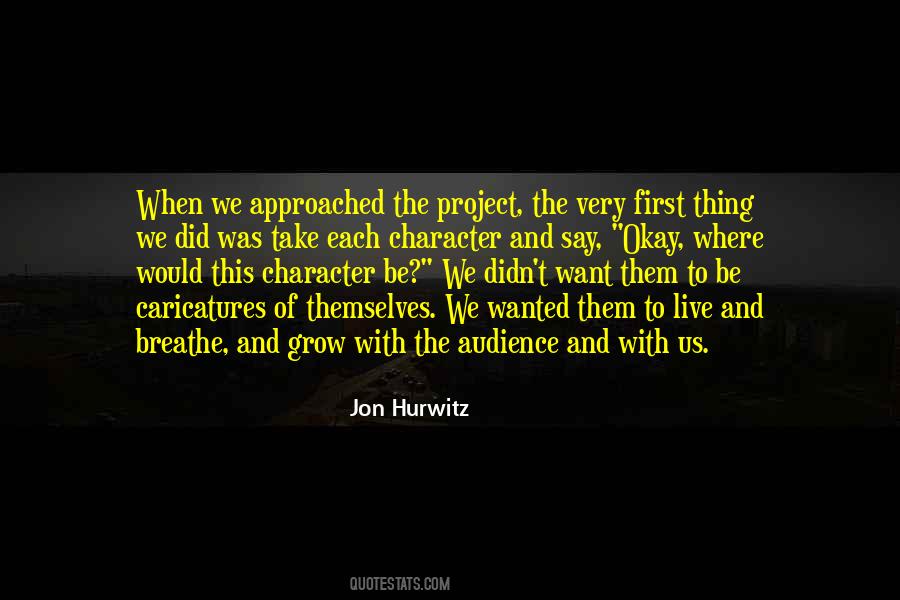 #3. I bet things will turn out okay," I said, gripped by an urge to say some cheerful thing - it rose up from my throat like a cough. "I bet it will be fine.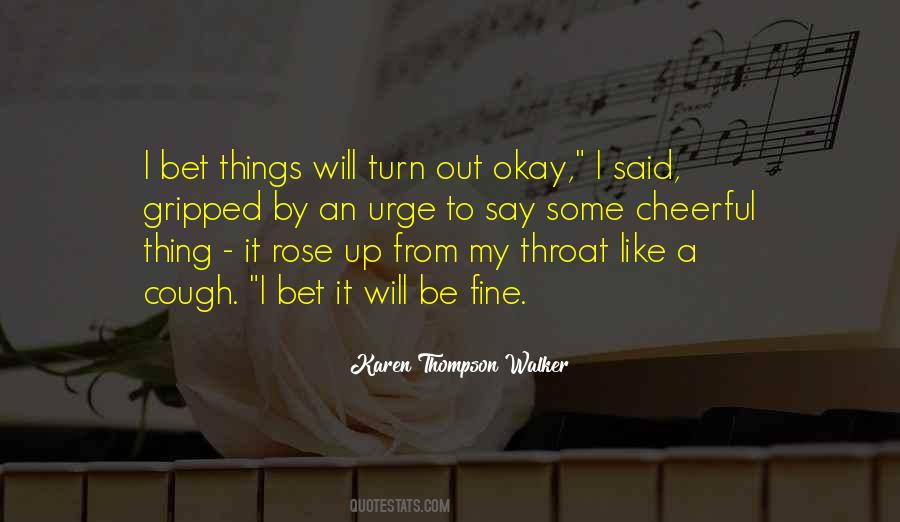 #4. You're right. So right. My heart is a god among mere mortals. A queen among peons. A rock star among the masses. There's nothing to worry about. Everything will be okay.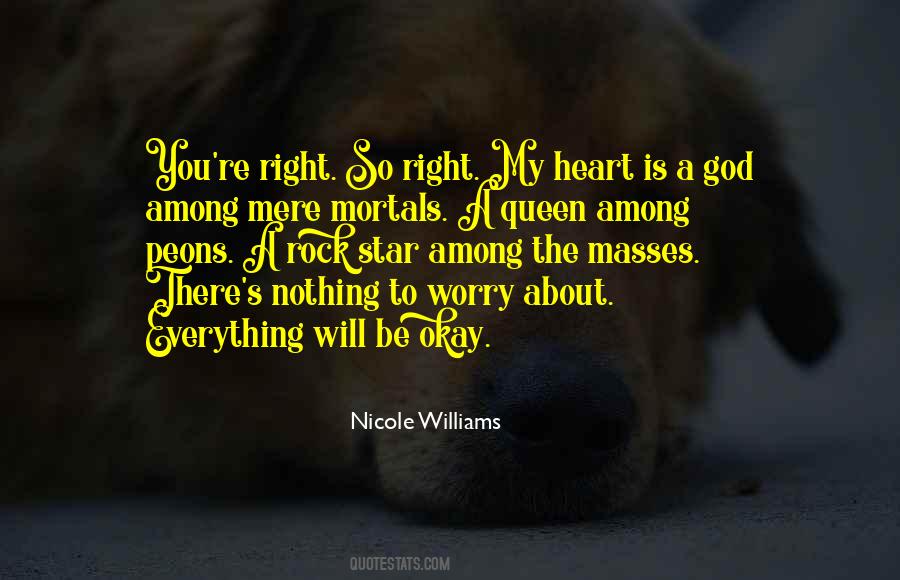 #5. Keep your dreams ALIVE. No matter how hard it gets, no matter how many people talk about you; they're going to throw dirt on you but that's alright, when they put you in that box (after your dead), they're going to put dirt on you some more, so that's okay - GO, don't be afraid, have NO FEAR.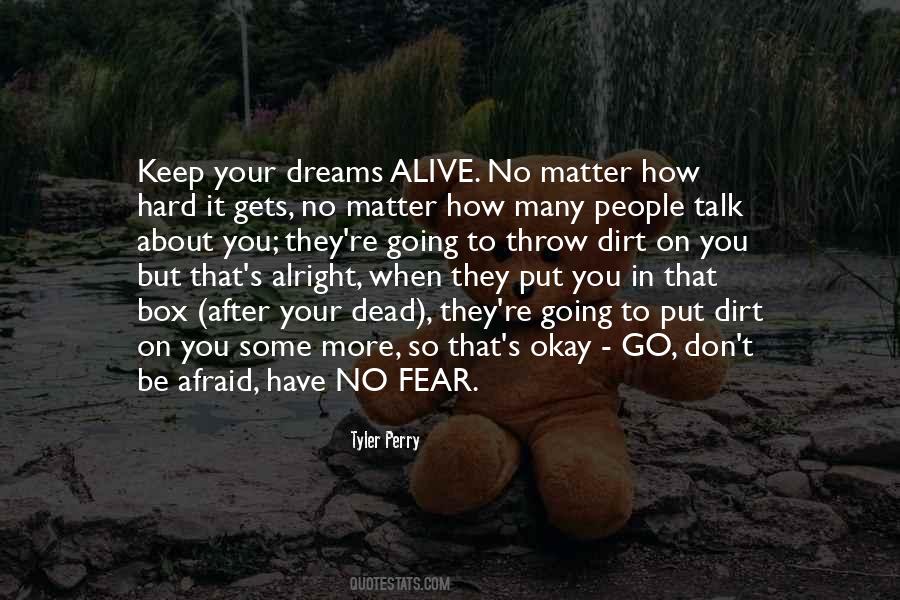 #6. I hate seeing fat girls on TV or in movies, because the only way the world seems to be okay with putting a fat person on camera is if they're miserable with themselves or if they're the jolly best friend. Well, I'm neither of those things.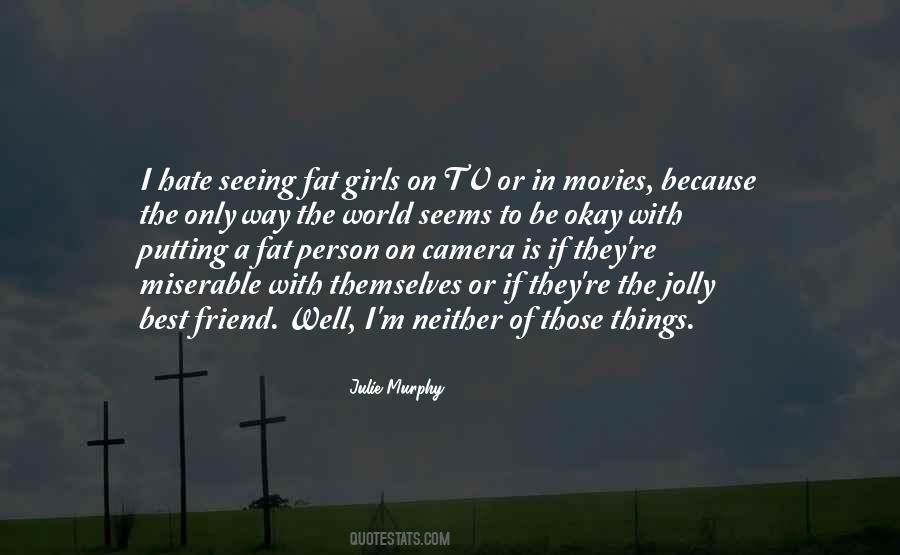 #7. I need you. I need you safe and well and whole. I need you to be okay, because that's the only thing that will keep me from going crazy right now. And I need you to let me look at your hand.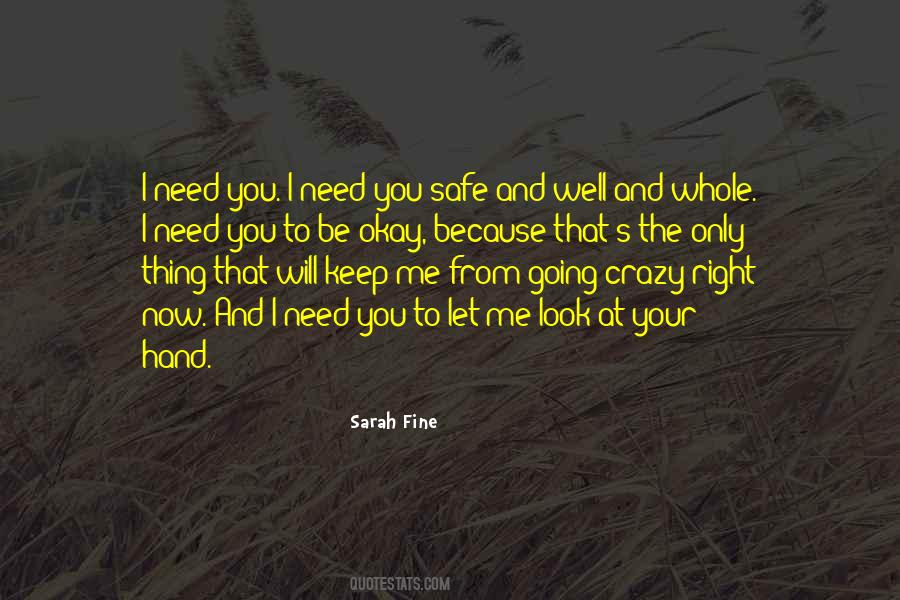 #8. Okay? Even if she deserved to be punished, he always let her know he cared about her.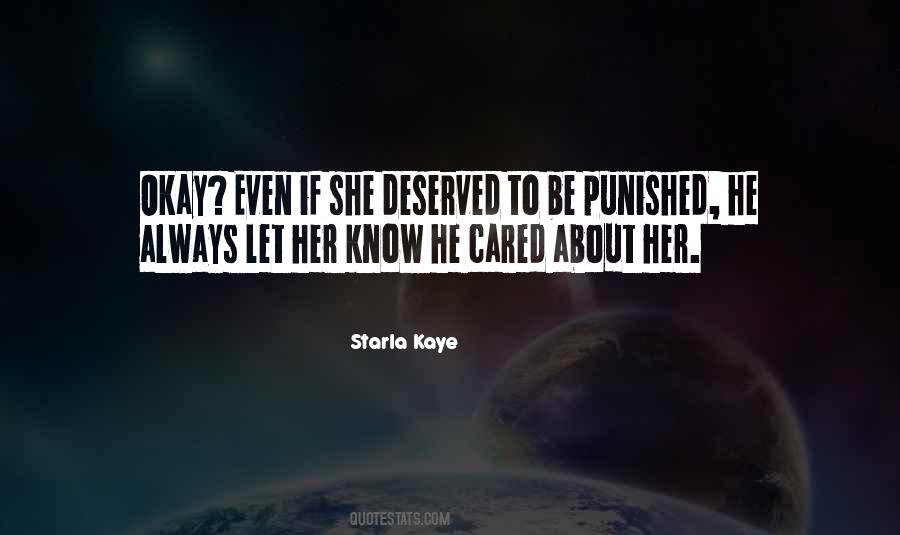 #9. But what [Gansey] said was, "I'm going to need everyone to be straight with each other from now on. No more games. This isn't just for Blue, either. All of us."
Ronan said, "I'm always straight."
Adam replied, "Oh, man, that's the biggest lie you've ever told."
Blue said, "Okay.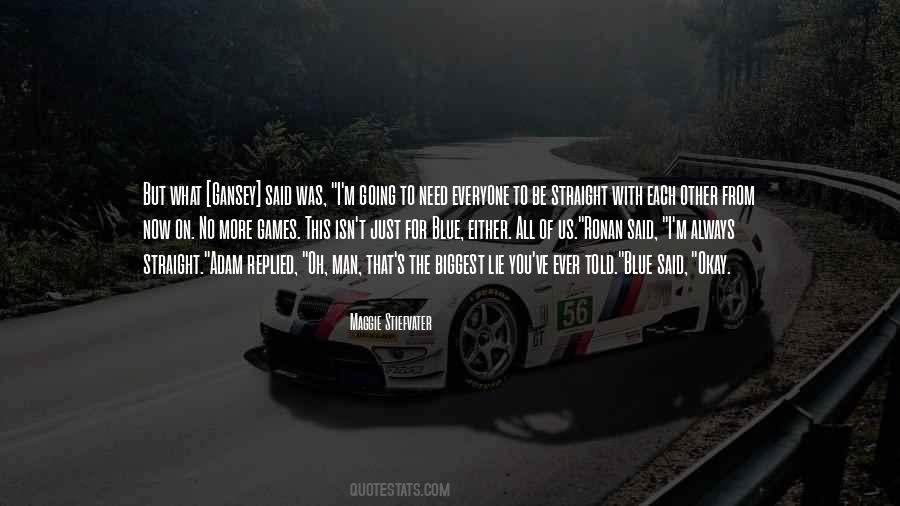 #10. Moving [to the White House], whatever stresses would be on my husband and me, we could handle; we are grown-ups. But it wouldn't be until the day that my kids came home and said to me, "I like it here," that I'd feel like I could breathe and know that we're all going to be okay here.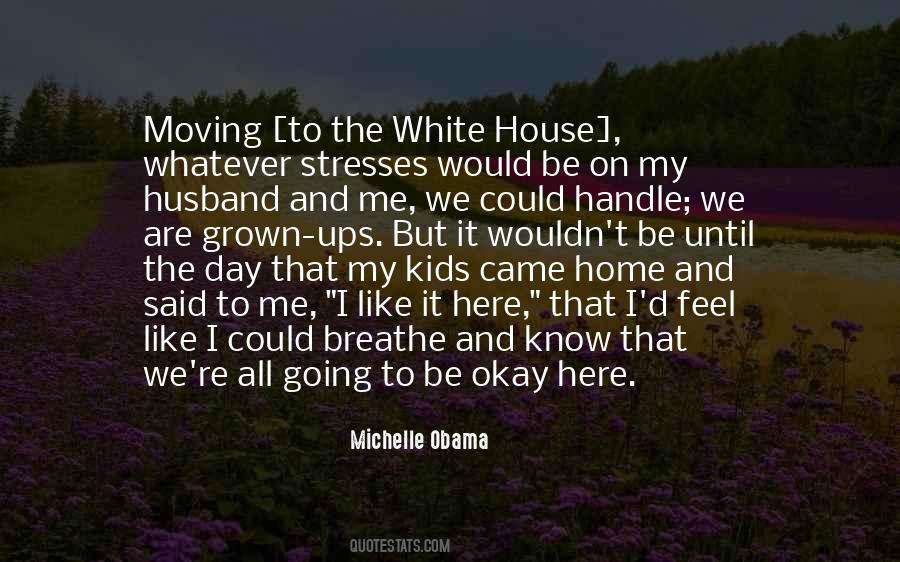 #11. You don't just have to be influenced by rock, or goth, anymore. It's okay to say, 'My influences are Tin Pan music from Bali and Rihanna.' There are still so many combinations that haven't been done yet.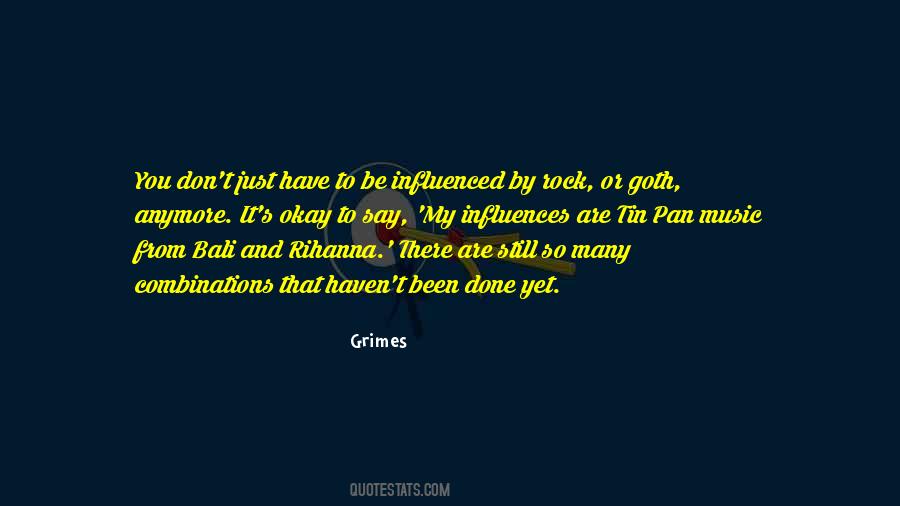 #12. I didn't like filtering the story through me, saying, 'Reader, you'll be safe with me. While it gets a little dangerous, it'll be okay because, after all, you're with me, because I'm a warm convivial voice. But let's be entertained by this horrible stuff.' I didn't like that.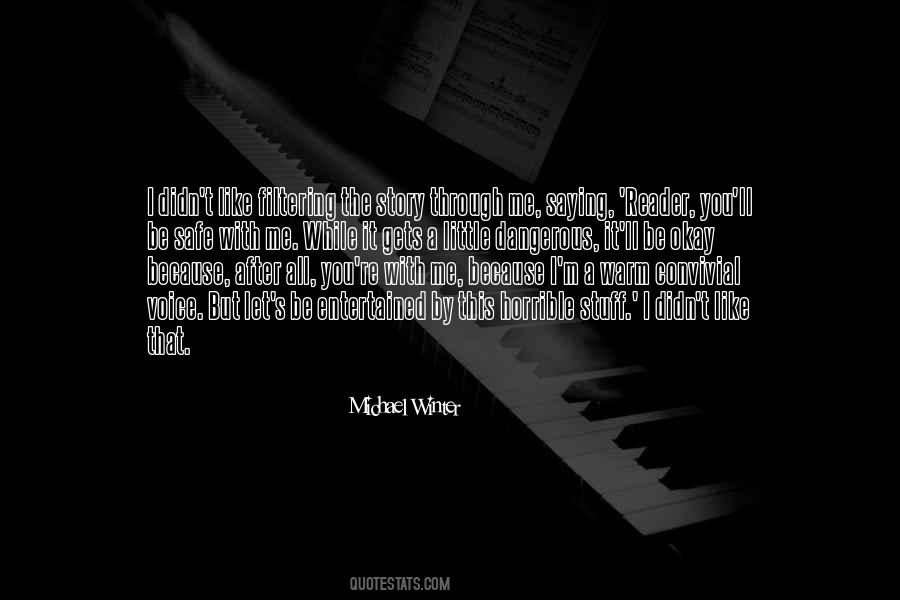 #13. I think my biggest learning experience is that it's okay to be who you are - you don't have to exactly fit the mold of what people think a certain kind of career is. I think that discovery - of really knowing who I am and being okay with that and loving myself - was amazing.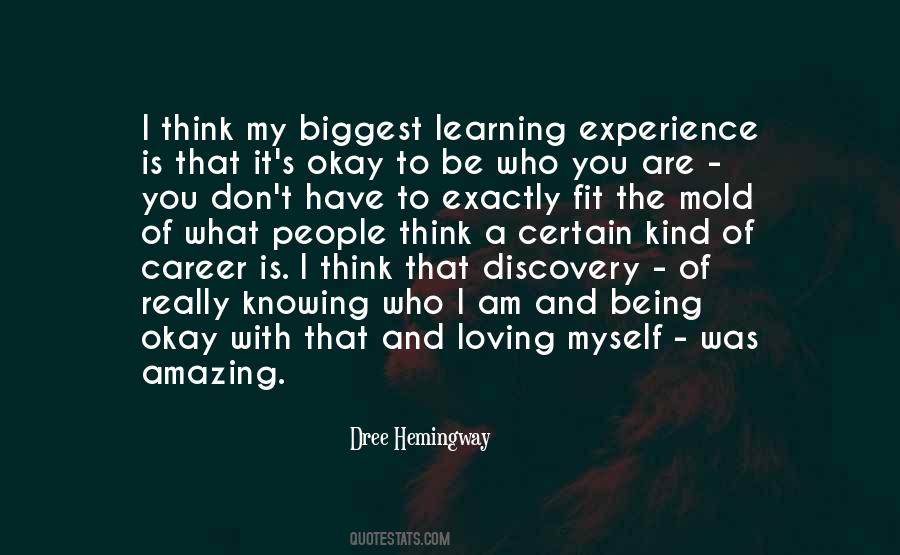 #14. Looks like I'll be the one babysitting you all. (Jericho)
It's okay, sweetie. I make a mean Band-aid. (Delphine)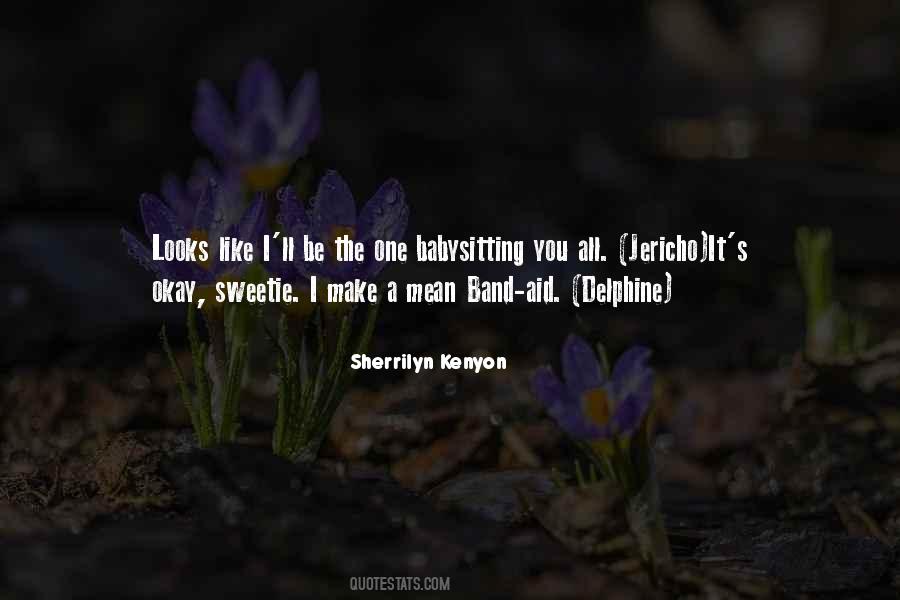 #15. There's nothing fated in our stars. No meant-to-be in any of it. We are accidental people occupying an accidental planet in an accidental universe. And that's okay. These seven billion billion atoms are good with that.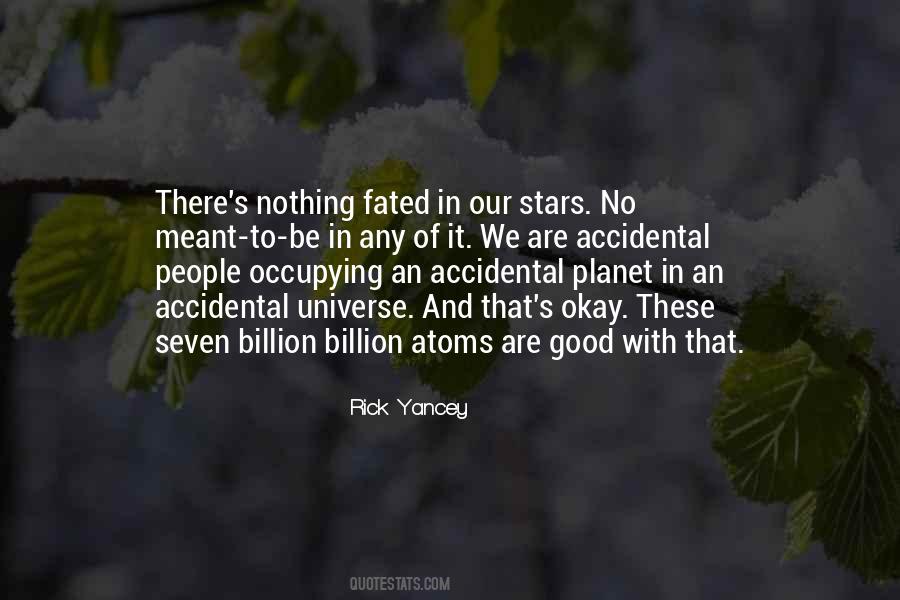 #16. He made it ok. When I was loved by Leo, I always felt like I would be okay.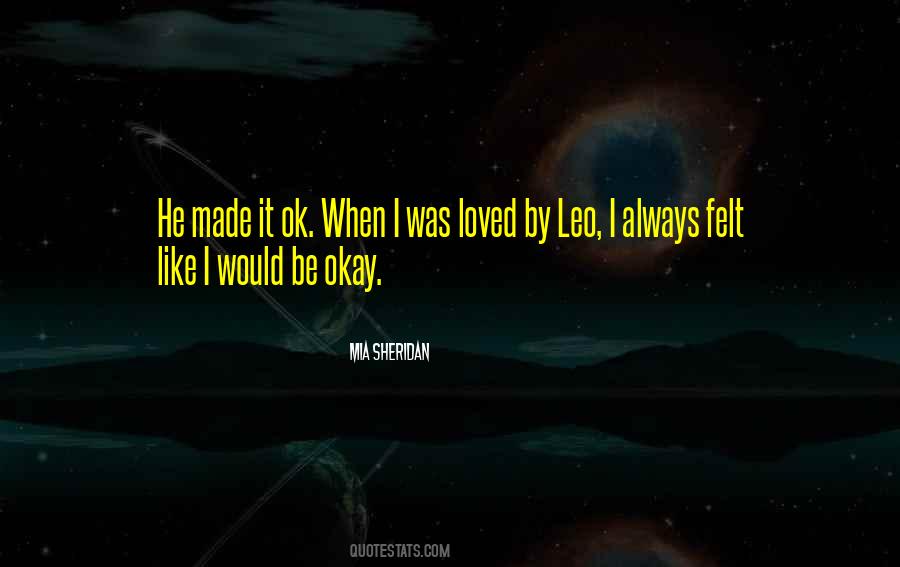 #17. I may be writing well, I may be writing poorly, but I enjoy the act of writing and sometimes when it turns out okay, I feel an elation that is incomparable.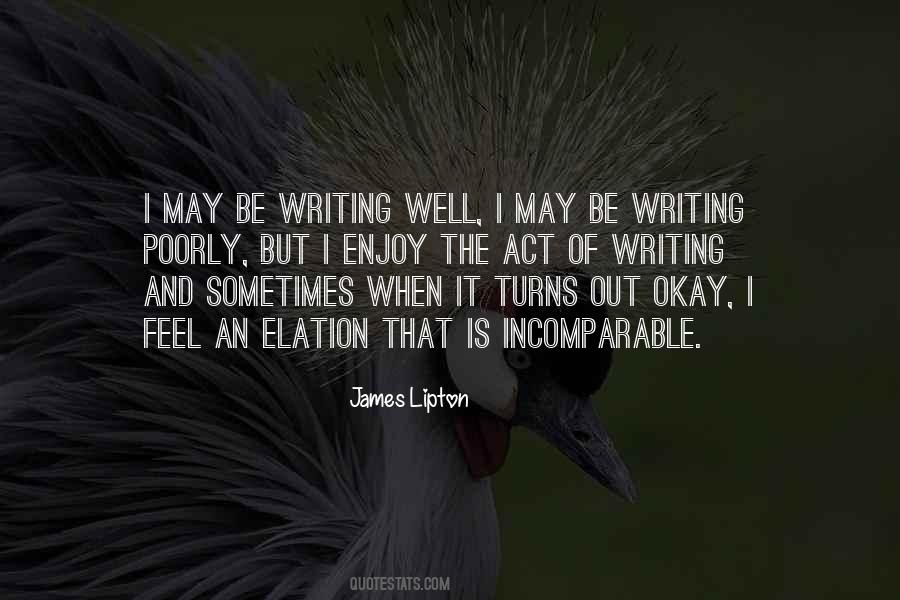 #18. If you want to mimic spoons in a drawer, I promise I won't think anythin' of it."
She realized that curling the same way they'd fit much better. She sighed. "Okay, but I get to be the big spoon. I don't want to accidentally bump into your ... "
"Knife?" he supplied.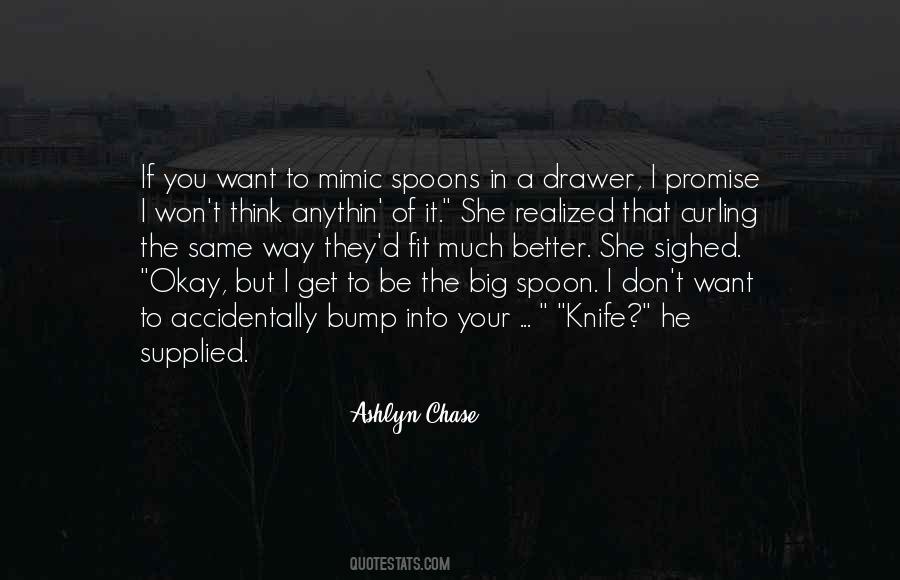 #19. It's okay to be proud of your good English. But don't be proud of being poor at your Mother tongue. Only the scum of the earth do that.
#20. It's going to be okay.
Right.
Because I love you.
Is that why?
It is, actually.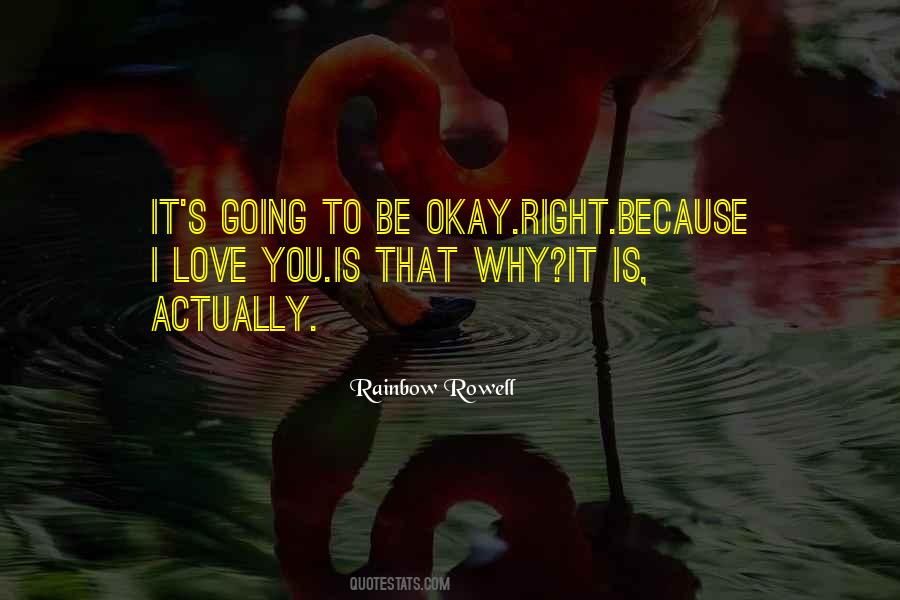 #21. You know, I think we Indians are afraid to show and celebrate our happiness, lest things change around. But I feel that it's okay to be sad and okay to show when you are happy.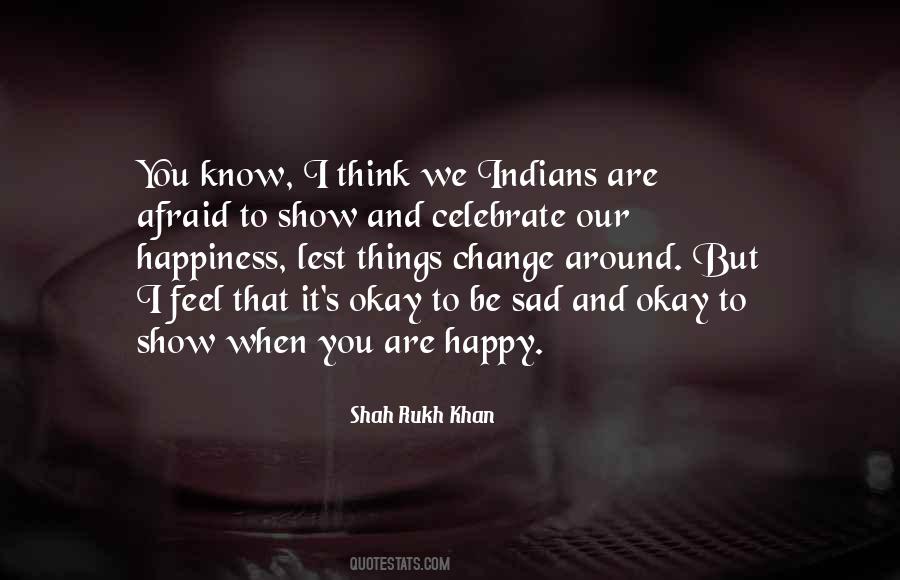 #22. Girls can wear jeans and cut their hair short and wear shirts and boots because it's okay to be a boy; for girls it's like promotion. But for a boy to look like a girl is degrading, according to you, because secretly you believe that being a girl is degrading.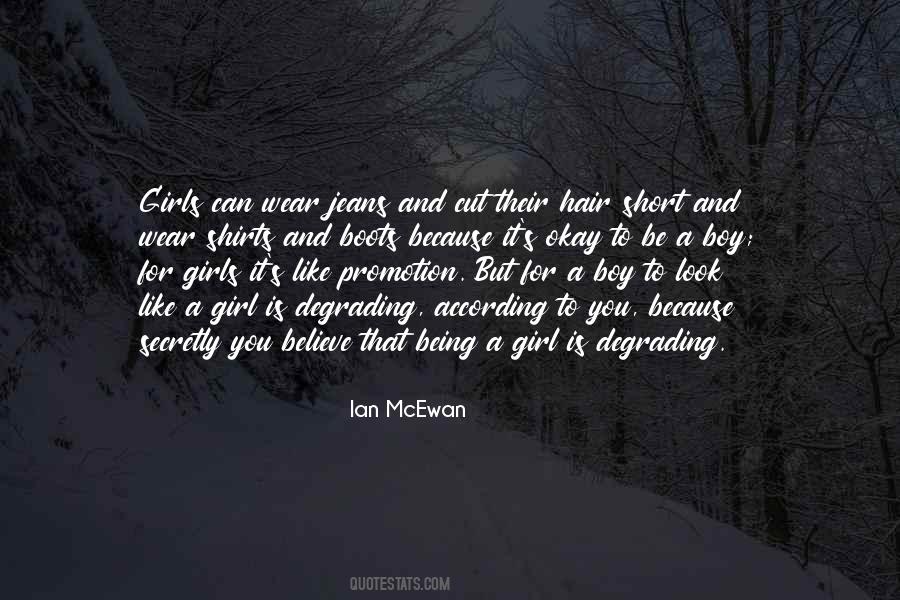 #23. The message of this band [All Time Low] is go out and do what you want to do and believe in yourself and that it's okay to do that. It's okay to be who you are.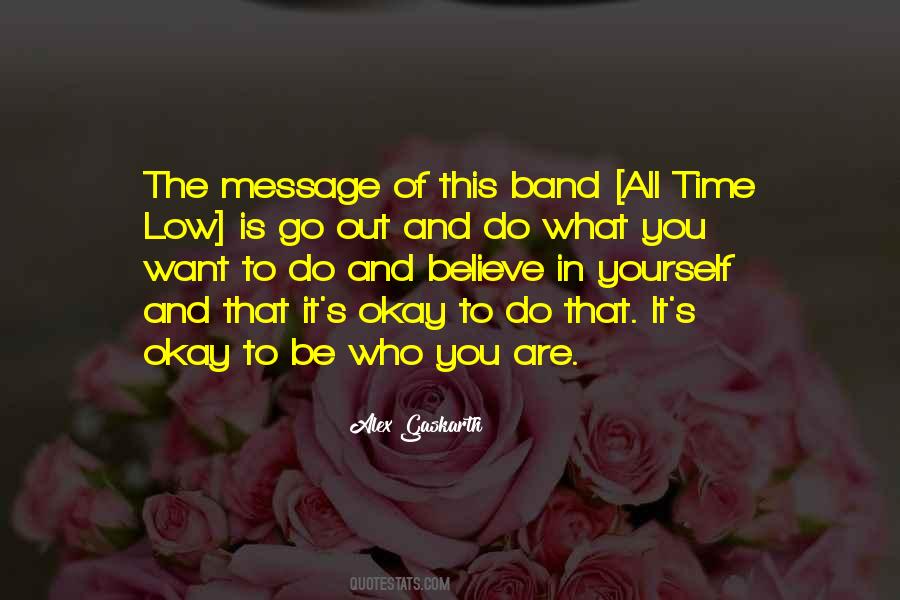 #24. Happiness comes in many forms - in the company of good friends, in the feeling you get when you make someone else's dream come true, or in the promise of hope renewed. It's okay to let yourself be happy because you never know how fleeting that happiness might be.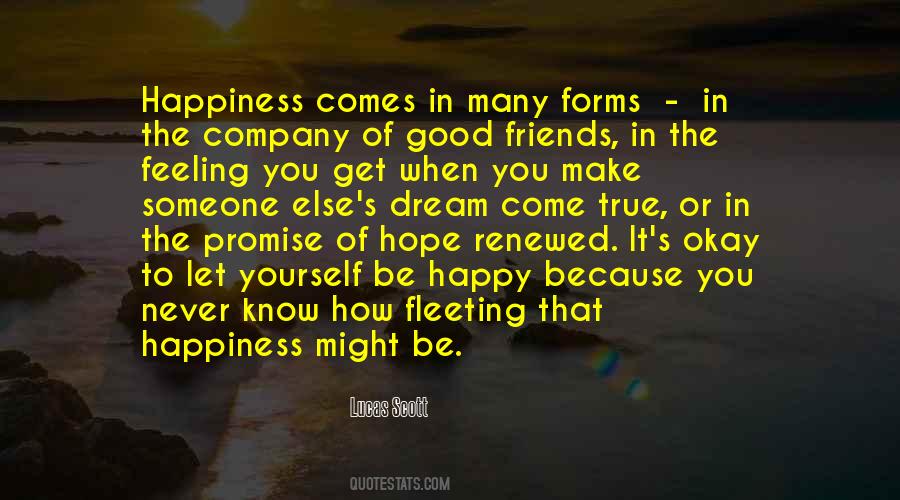 #25. Behind every strong man is a scared little boy wanting people to tell him it's going to be okay. Remember that, and men will no longer seem as stupid as you think they are.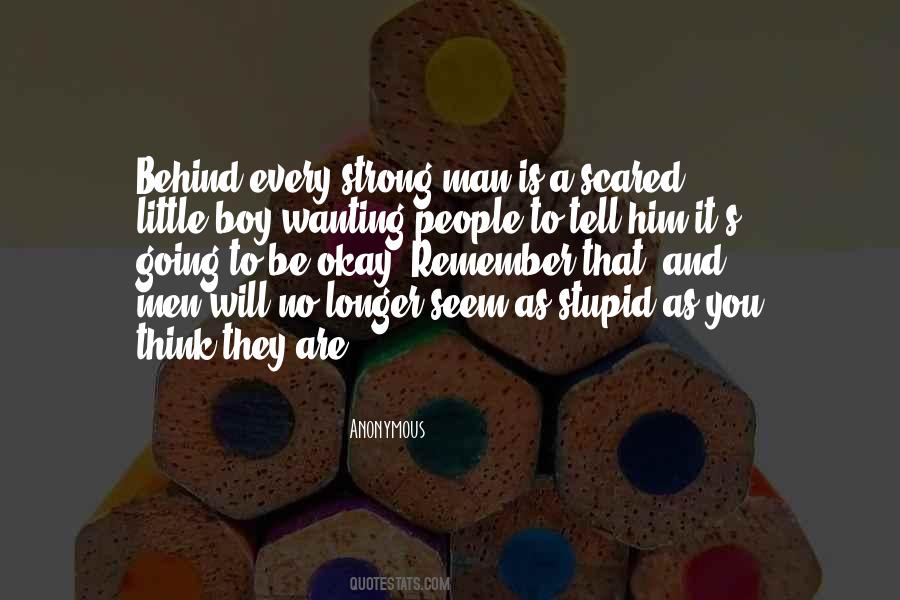 #26. I'm living in fiction. It's perfectly okay to be in love with any and all fictional boyfriends, even if they aren't yours.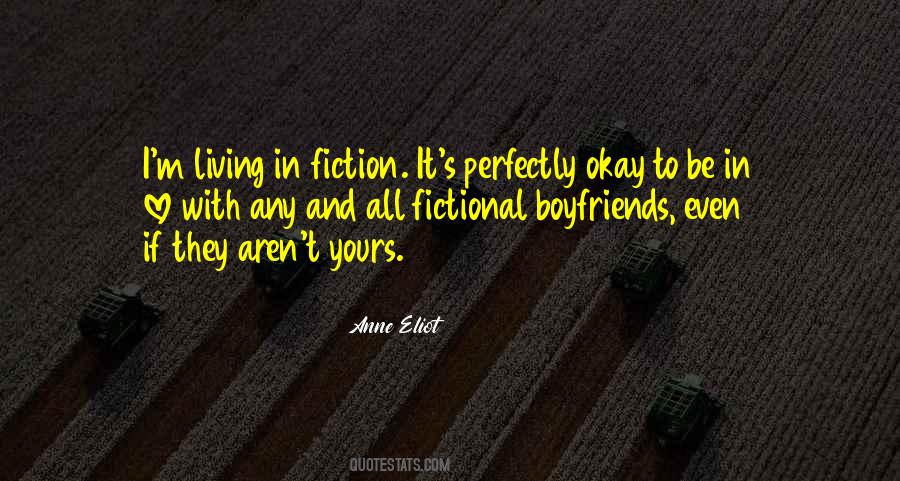 #27. There's like ten minutes when it's like, 'Okay, wait, who is this guy again?' And then, you know, I just put on the calculator watch and the glasses, and just be all, you know, inappropriate. And then it just works out fine.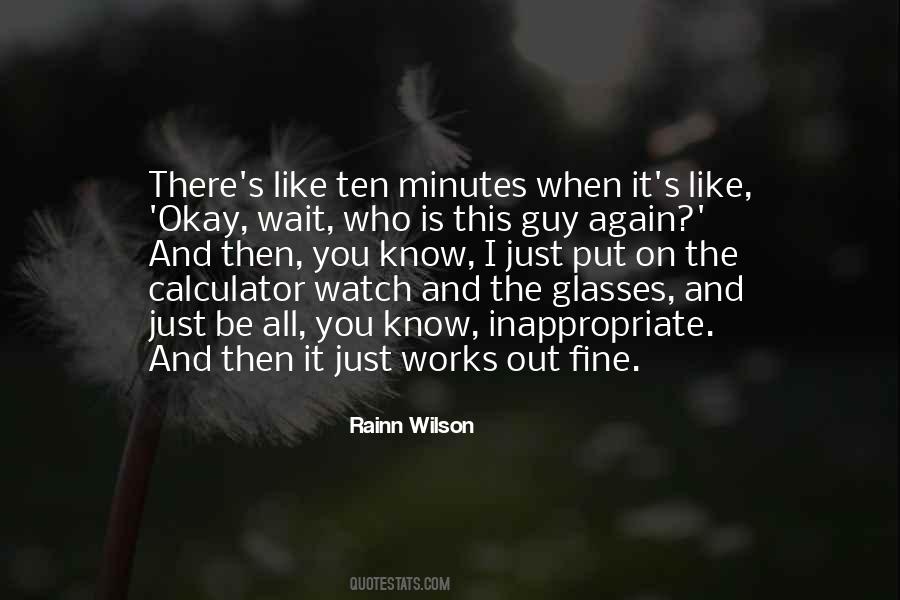 #28. Okay, so I'm not exactly a morning person, but first impressions should never have to be made before dawn.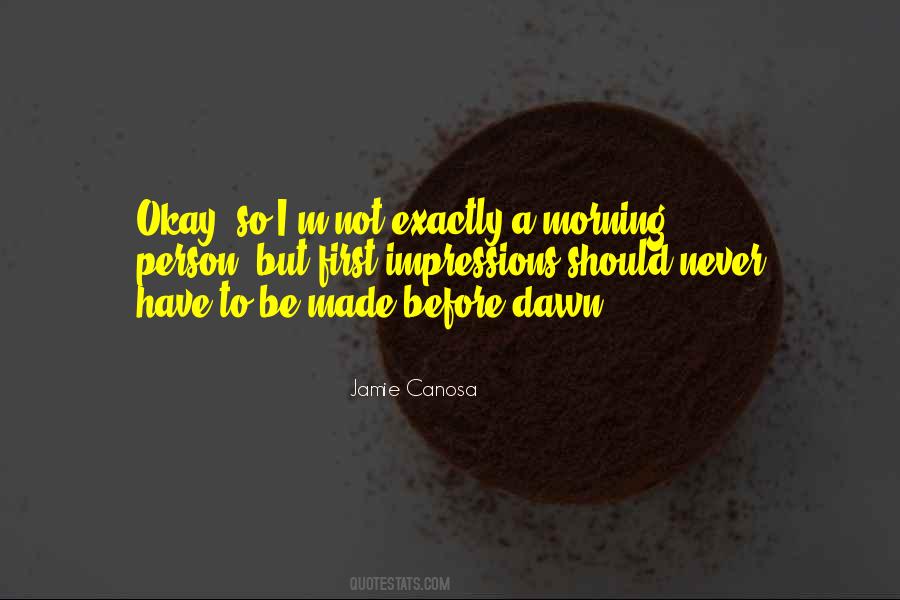 #29. It's okay if you finish cooking something easy after your guests arrive - some dishes must be prepared a la minute, as chefs say. Just remember to keep talking.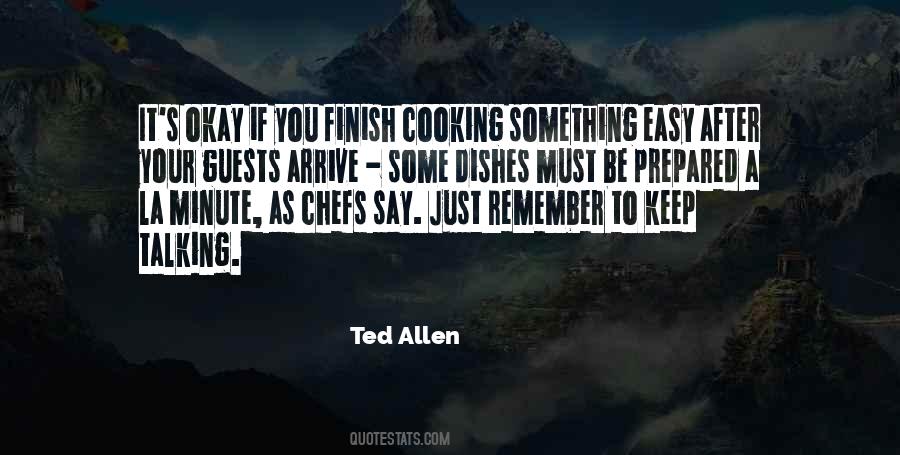 #30. I'm not trying to look for pity or sympathy. I was just surprised that so many people in the world of entertainment seemed to be okay with misogyny and homophobia as long as they were profiting from it.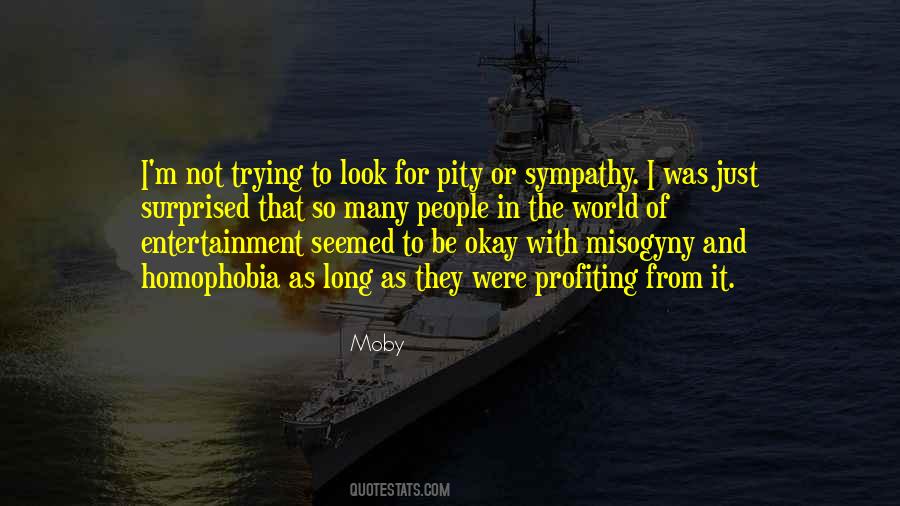 #31. Okay, time to play doctor."
Her entire body quivered, sending "yes please" vibes to her brain. Luckily her mouth intercepted them. "Sure, if I can be the doctor."
His mouth curved. "I'm willing to take turns, but me first.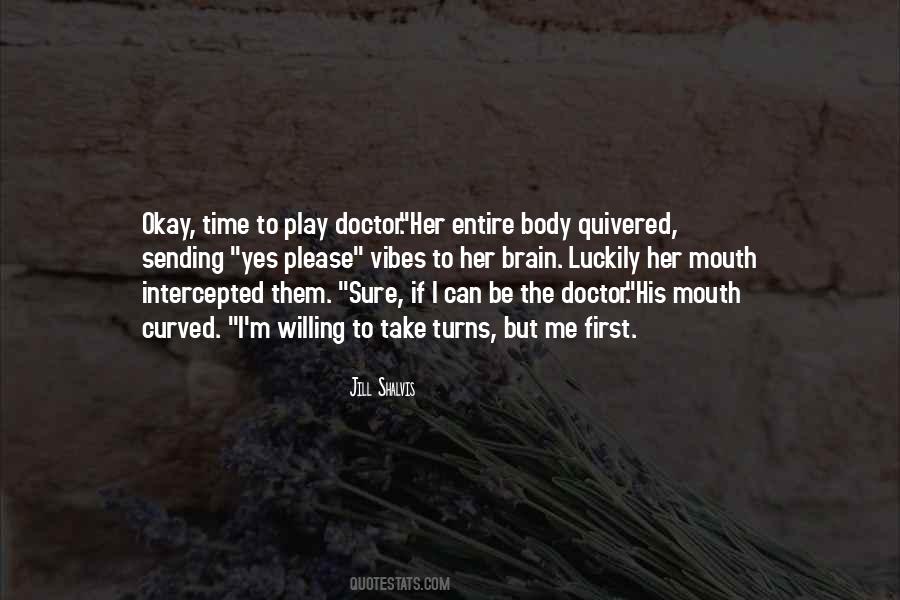 #32. You can work for other people and still be a #GIRLBOSS; it's more about a state of mind and knowing yourself well enough to know when you're making decisions for yourself or because the world expects them of you. And guess what? It's okay to do that sometimes, too.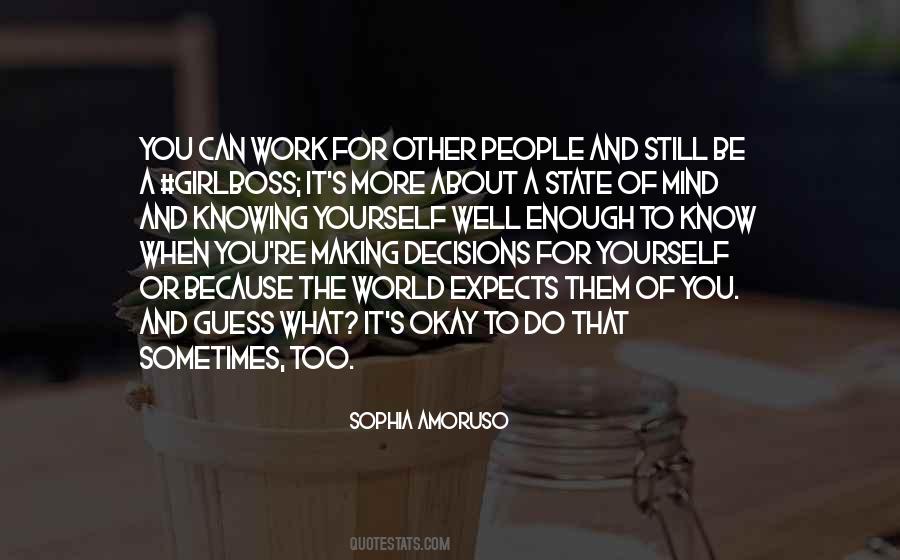 #33. I think athletically I can be okay with any role, but I'm willing to go over and beyond for my work. My fan base is so strong and loyal, and they wanna see me evolve. I'm where I'm supposed to be and I want to challenge myself with the people that are doing it real big.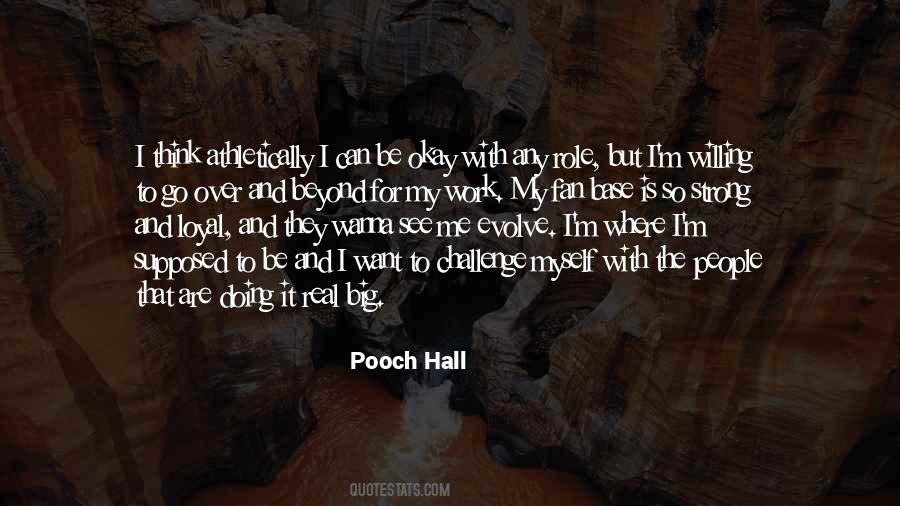 #34. We all have our moments of being fed up ... but give me your hand and I'll hold it. If you are being bullied I am thinking of you. You are not alone and it will get better. Don't let them win. It's okay not to be okay.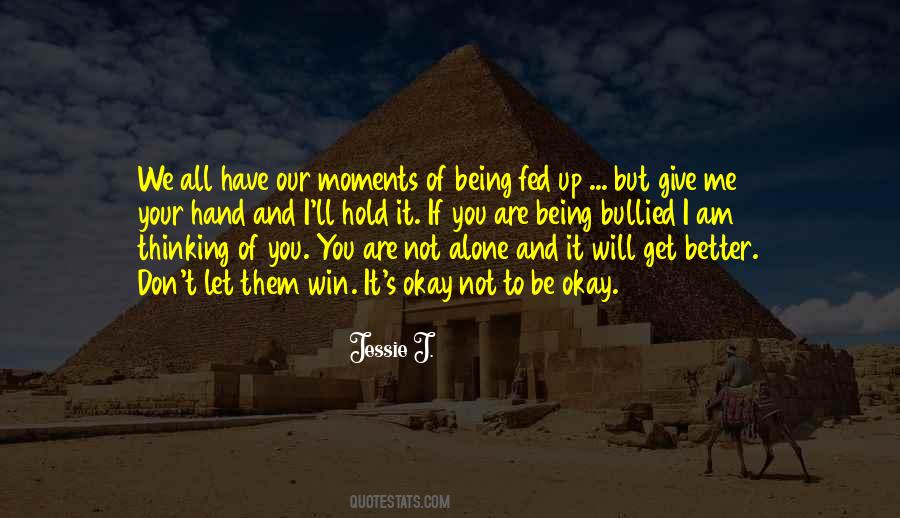 #35. Okay, okay, I can do this, Jane said to herself. Of course I can do this. I should be used to making a fool out of myself by now. This will be the last big one. Just three weeks and then I can leave this part of myself behind and get on with my life. And maybe it'll be fun. It might even be fun.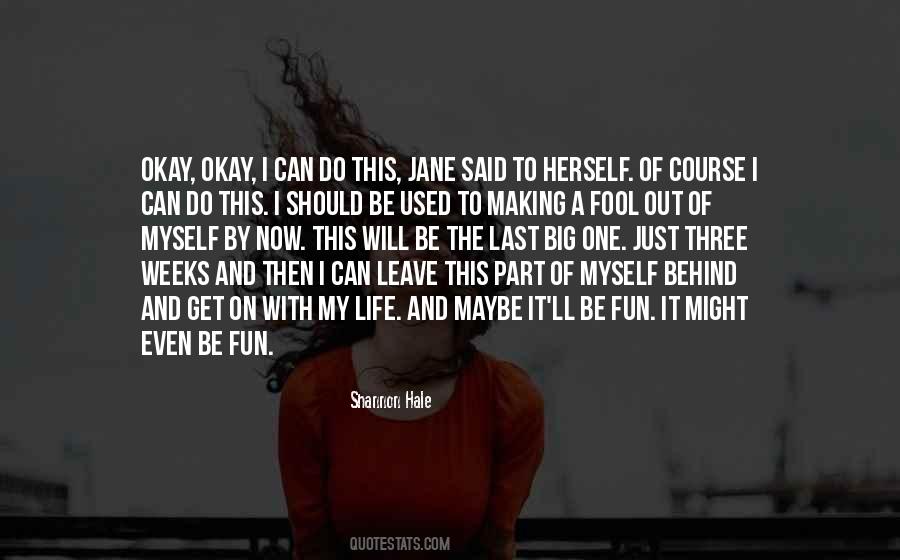 #36. It's gonna be okay," I said. It was the first time in a long time that I believed it. "It will.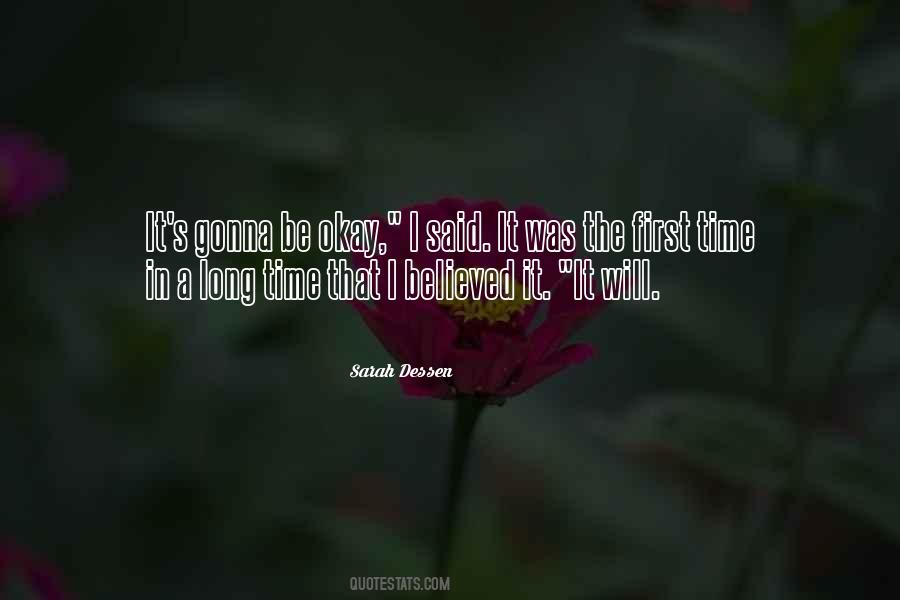 #37. Everyone plays a purpose, even fathers who lie to you or leave you behind. Time takes care of all that pain so if someone derails you, it'll be okay eventually.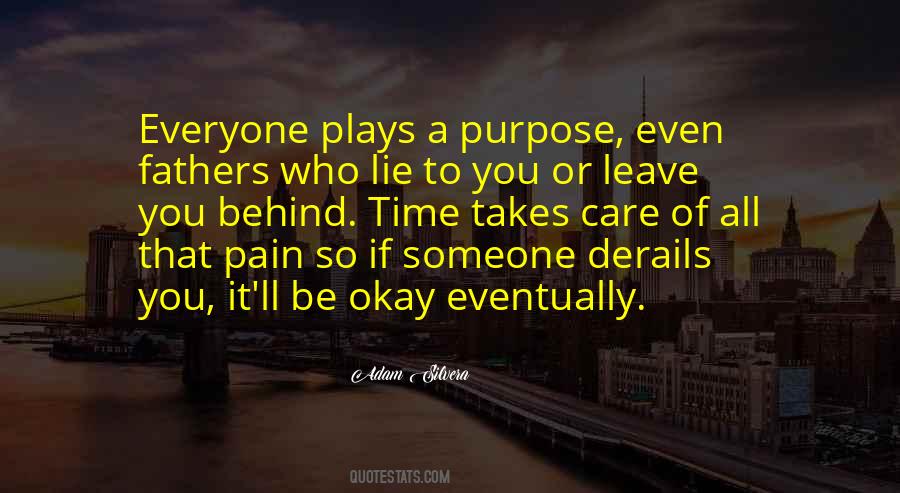 #38. Sometimes I'm not always doing amazing but it's okay ... because everyone struggles and it's okay to be flawed because that's what makes me ... Me.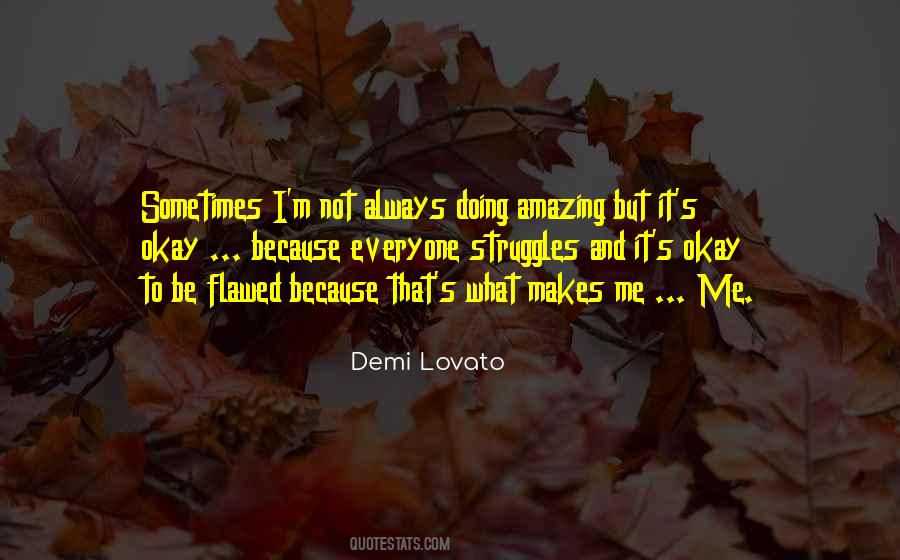 #39. When we really see other people as they are without taking it personally, we can never be hurt by what they say or do. Even if others lie to you, it is okay. They are lying to you because they are afraid. They are afraid you will discover that they are not perfect.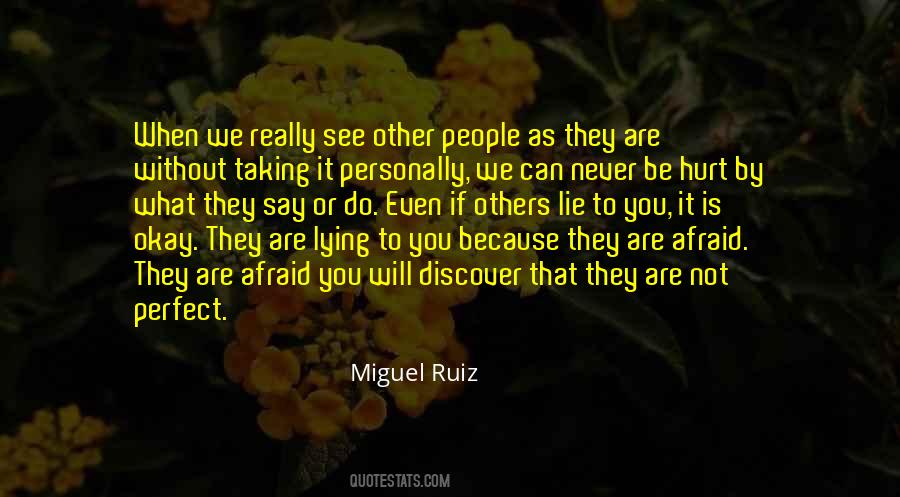 #40. I made a big mistake, and I didn't use it to make my life better. I used it to be okay with a life less lived. I used it to be okay with mediocrity and the mundane. And I didn't make myself any better because of it.
And that's not okay with me.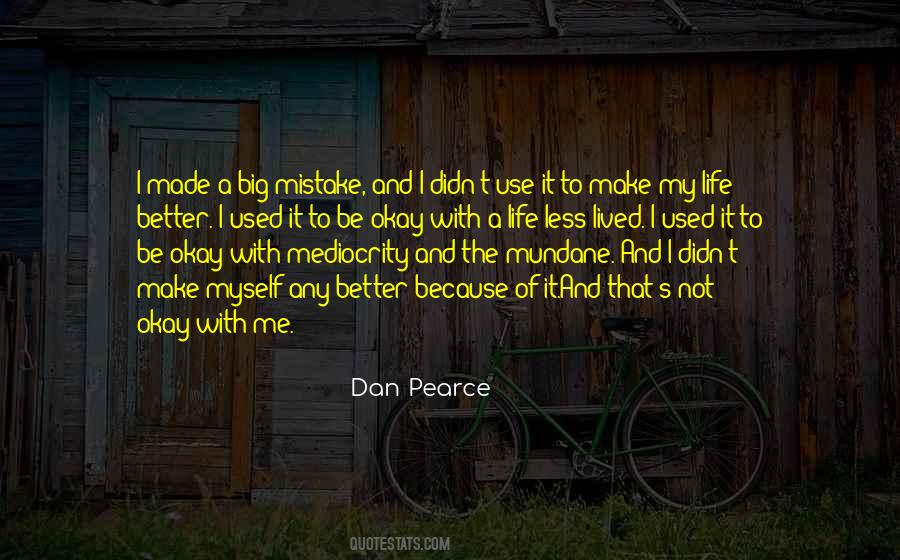 #41. It's okay to be afraid, it means you have something to live for.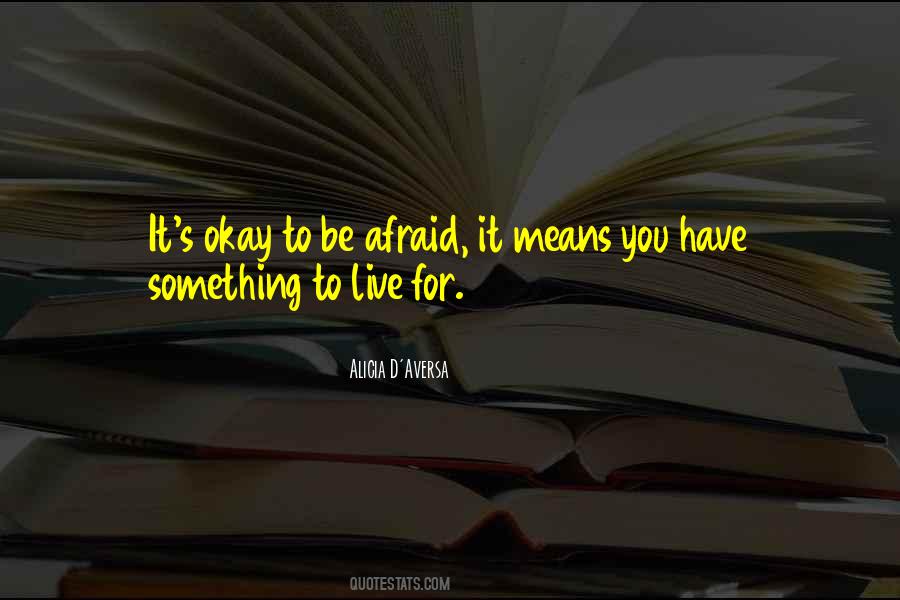 #42. I mean , I never even had to really come out to my parents. They always knew, and it was always okay. Or not even okay, better than that. Not something that had to be evaluated at all. It just was. Like having brown hair.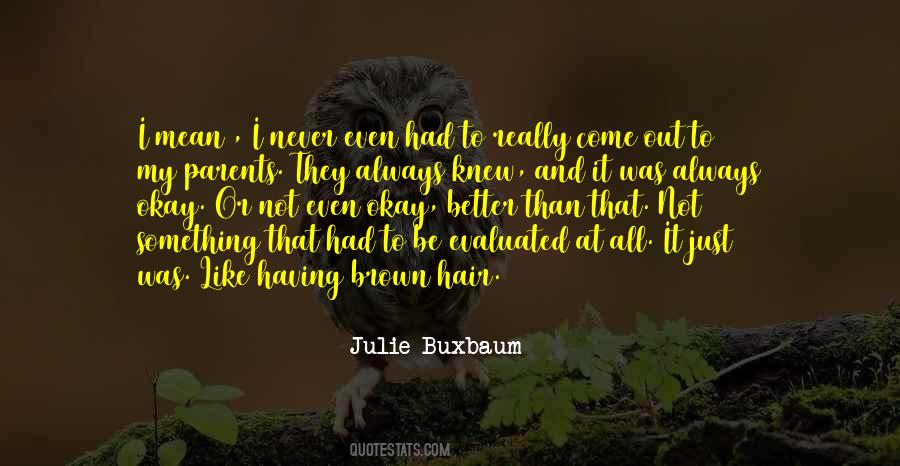 #43. Tupac gave us validity. Tupac made the kid getting beat up every day realize that it was okay to be smart. Tupac made the knucklehead realize that it was okay to stay home and read a book. A fool at 40, a fool forever.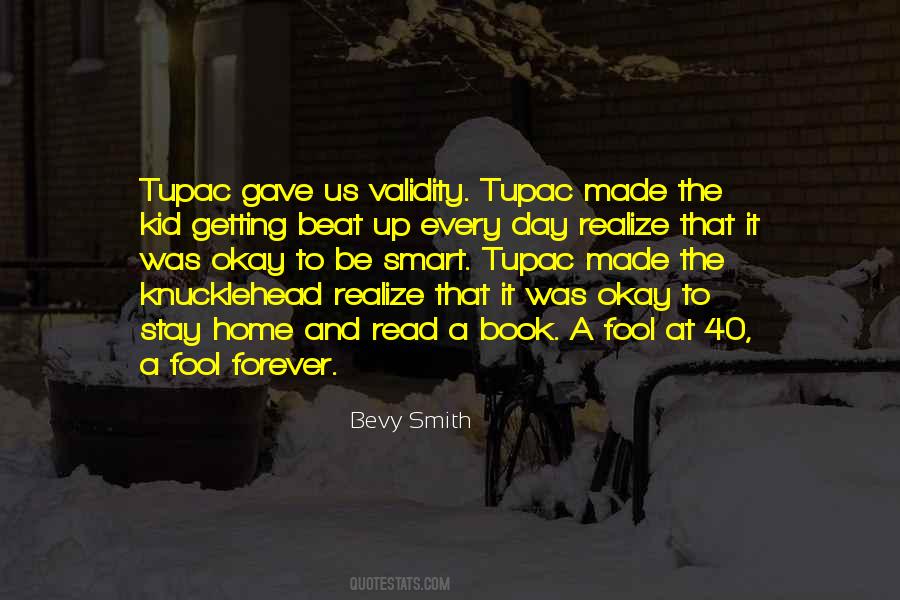 #44. I kind of wanted to tell them that. Like, it's okay, I know I'm weird-looking, take a look, I don't bite. Hey, the truth is, if a Wookiee started going to the school all of a sudden, I'd be curious, I'd probably stare a bit!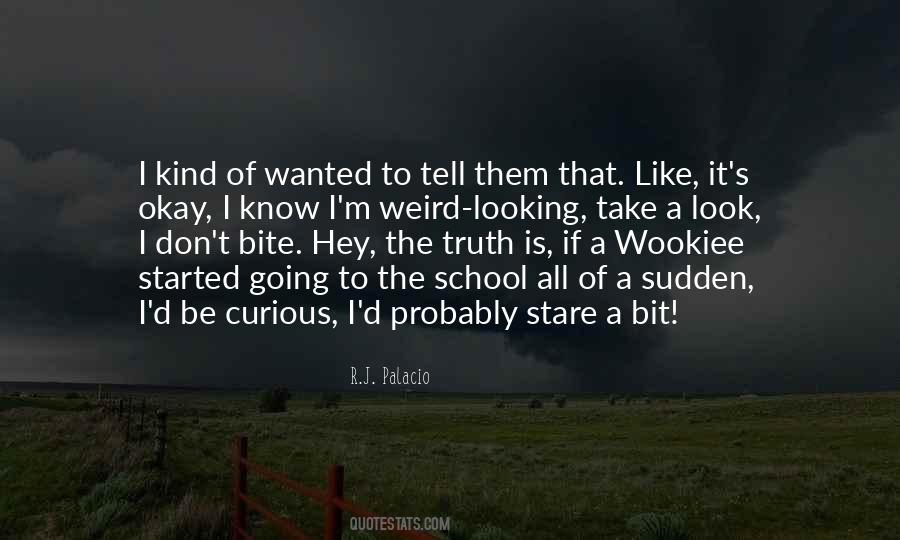 #45. It's okay to put your heart on your sleeve. Okay to have that softer side - the softer side in the sense of being able to listen, to deal with fear, to not always be so dominant.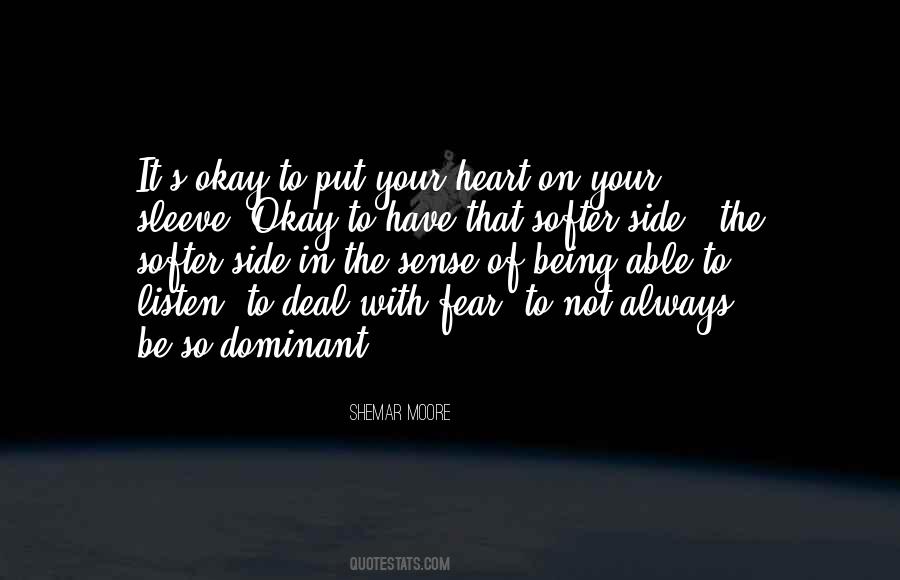 #46. It's hard because you want to be able to just, okay, focus your energy on trying to win the match, but you need to then have tactics as to how you're going to deal with how you're feeling.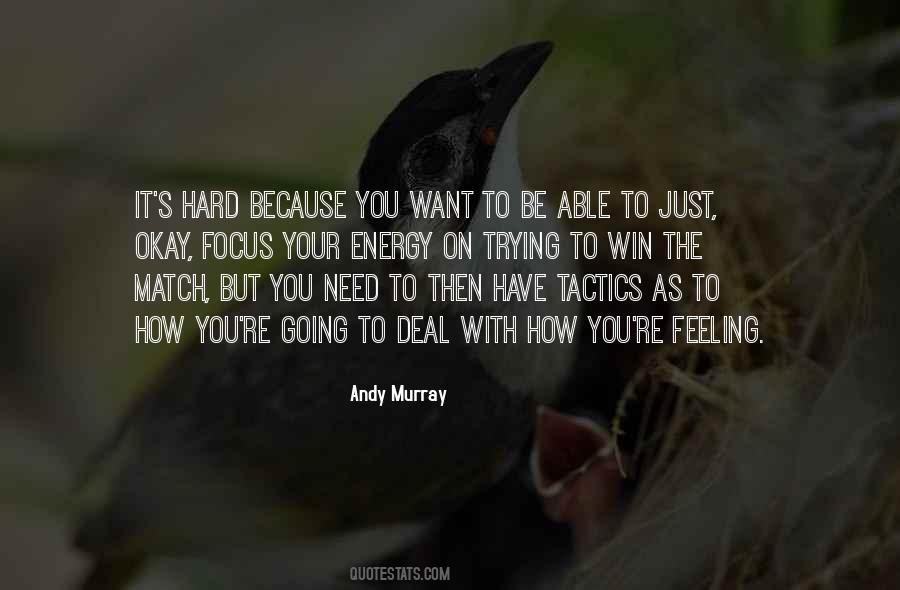 #47. You okay?" Sam asks.
"Gonna be," I say.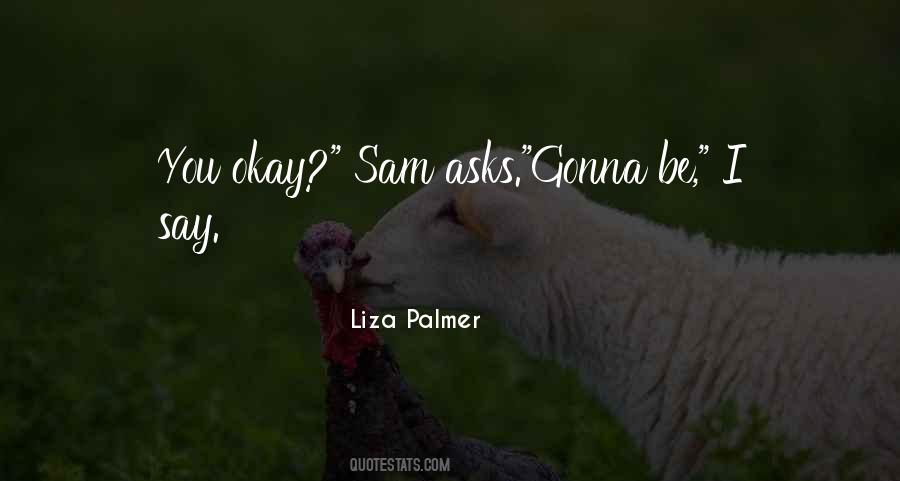 #48. When I first tried the American accent, for a moment I thought I could never be an actor because I just could not do it. But then I thought, 'Okay, it'll just be something that I work at until I get it.'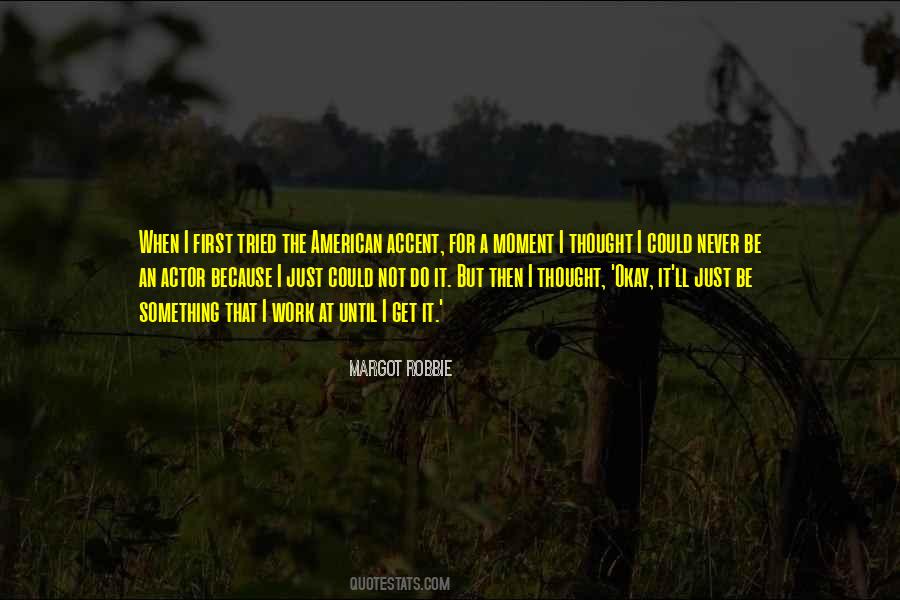 #49. It's okay to be impatient. As long as you show your patience on the outside.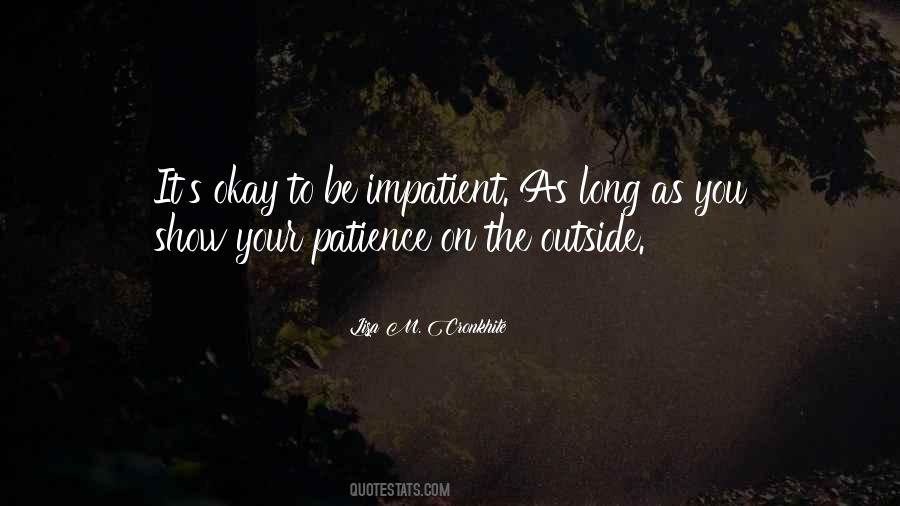 #50. I feel like I've always been in love with dance. When I was little kid I would always be the one who would be like, okay let's make up some dance routines.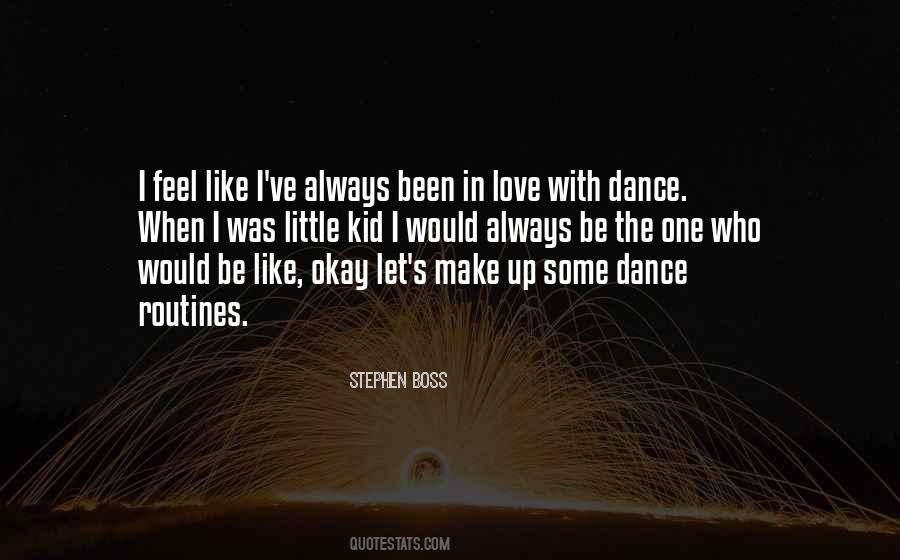 #51. The more someone assures you that everything is okay, the more you can be assured that it's not.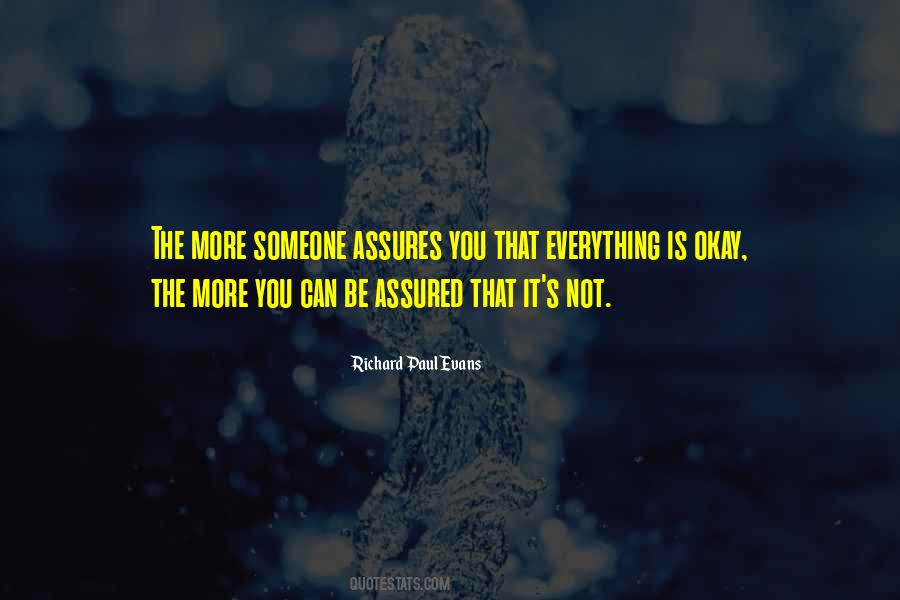 #52. Okay, enough self-pity. I'm not doomed. Things will just be harder than planned. I have all I need to survive.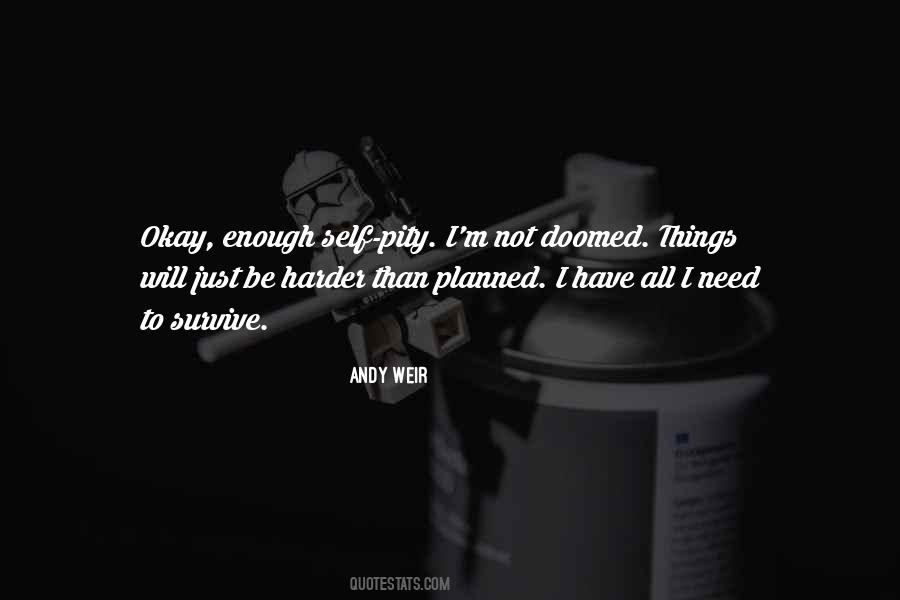 #53. ...we'd be okay. Not perfect, not entirely healthy, not even rational where our love for one another was concerned. Just okay. Merely sufficient, at best. But there'd be only acceptance - never shame - in being two divine failures as we emerged from slumber, perfectly flawed, and wide awake.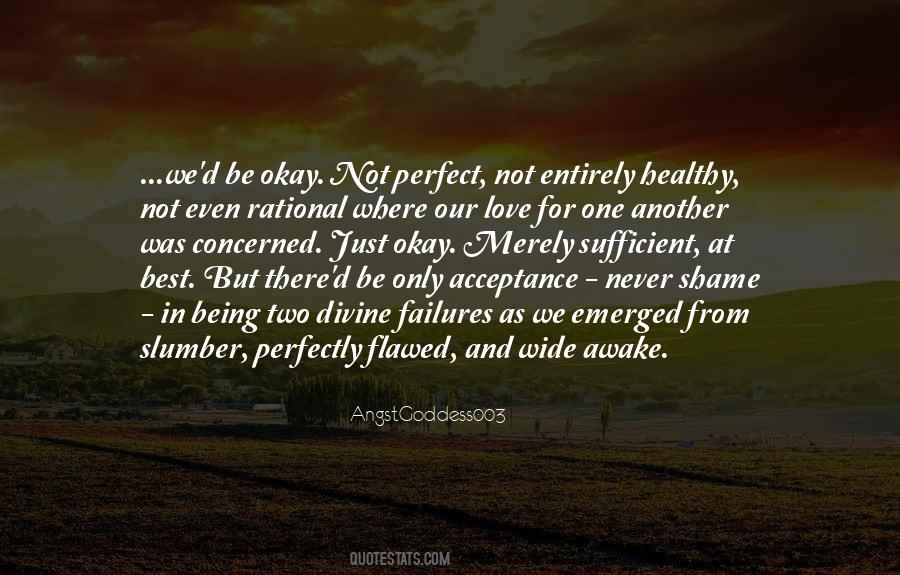 #54. His quiet certainty made the ground beneath my feet feel solid. Like someday everything might actually be okay.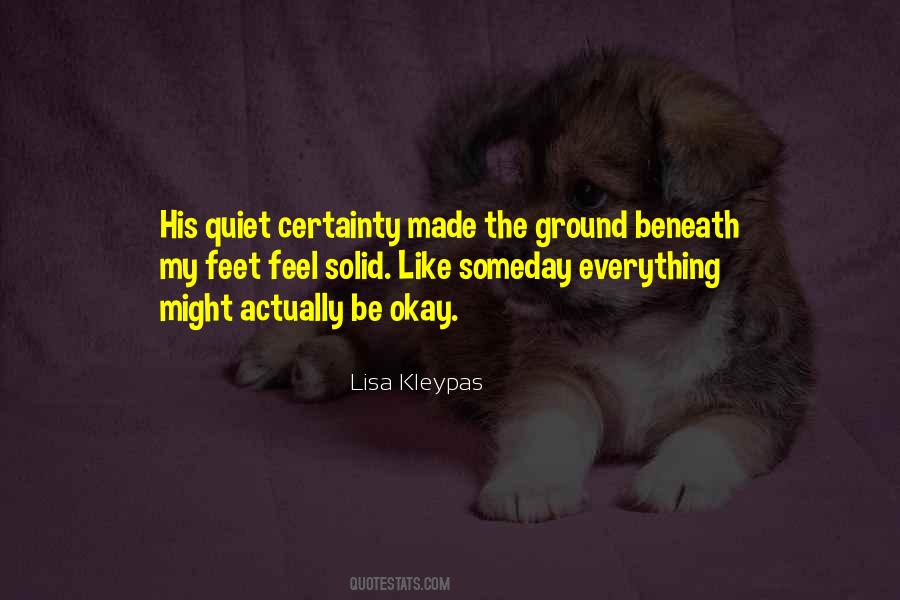 #55. It's Okay," he answered and smiled ironically. "I should be grateful to the knife that's curing me for being so sharp.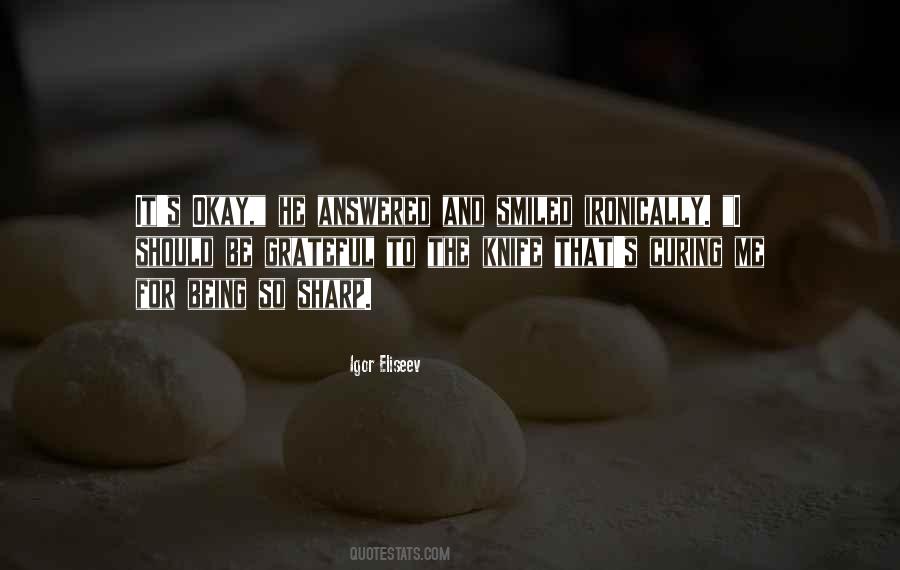 #56. Write what your heart tells you to write. How you feel it should be written. Some people won't get it, and that's okay.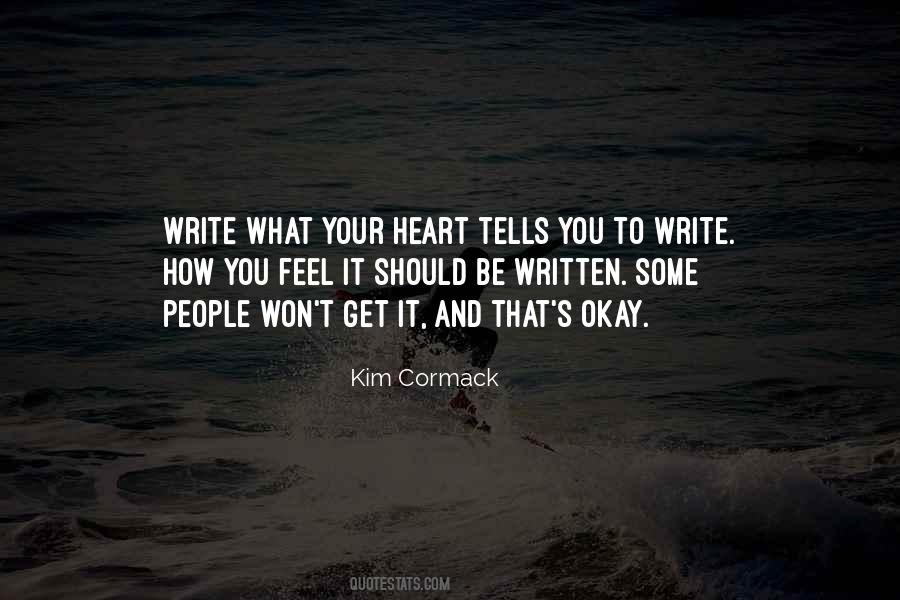 #57. Its okay Ginny. Don't be upset. We'll send you a toilet seat or something. Fred and George said to Ginny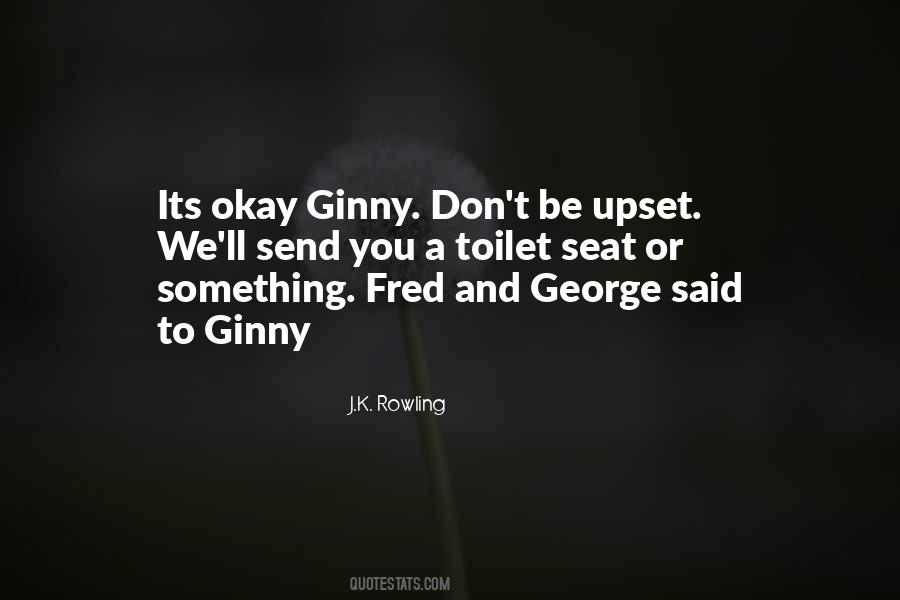 #58. Always be eager to learn, no matter how successful you might already be. In the Millionaires' Club, we sometimes invite a billionaire to come talk to us. He says, 'You're doing okay, but come on. How about if you really poured it on!'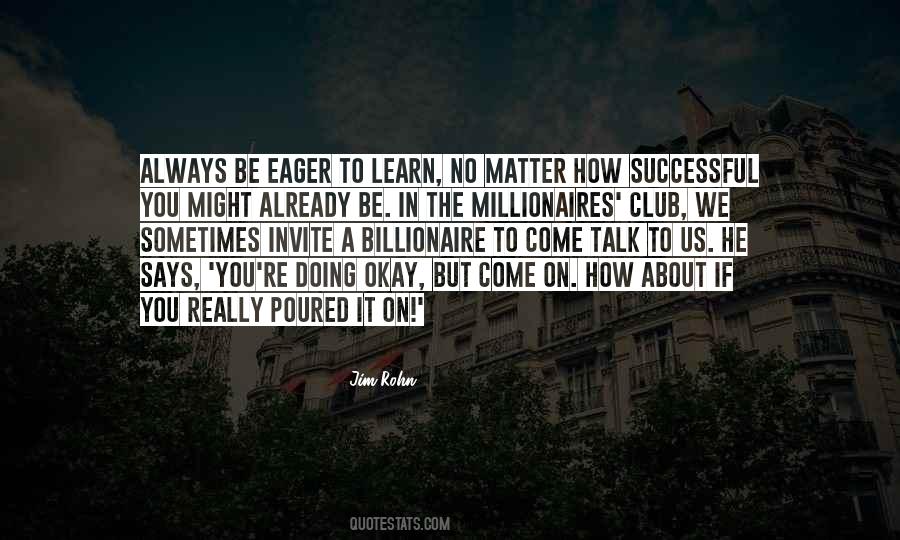 #59. I pushed Liam back, wanting him to fall like I was falling. To feel that instant of confusion, of not being sure where life was leading, but thinking that might be okay.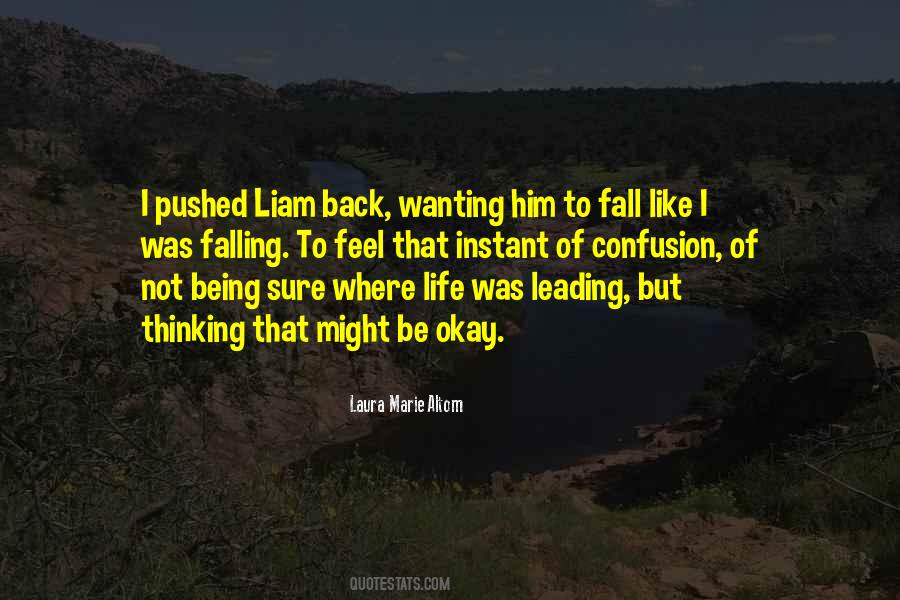 #60. It's okay to be a loser, these are people who tried to blend in with the world, still get the disrespect he doesn't deserve. decides to be just themselves. and still there's a girl you dream about, has someone else.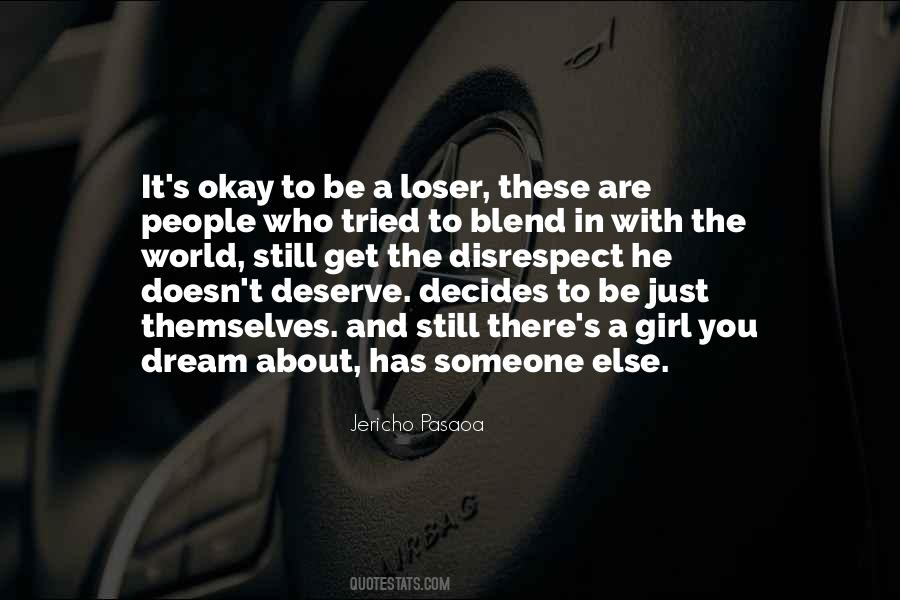 #61. I'll always remember taking your hand and telling you that everything would be okay.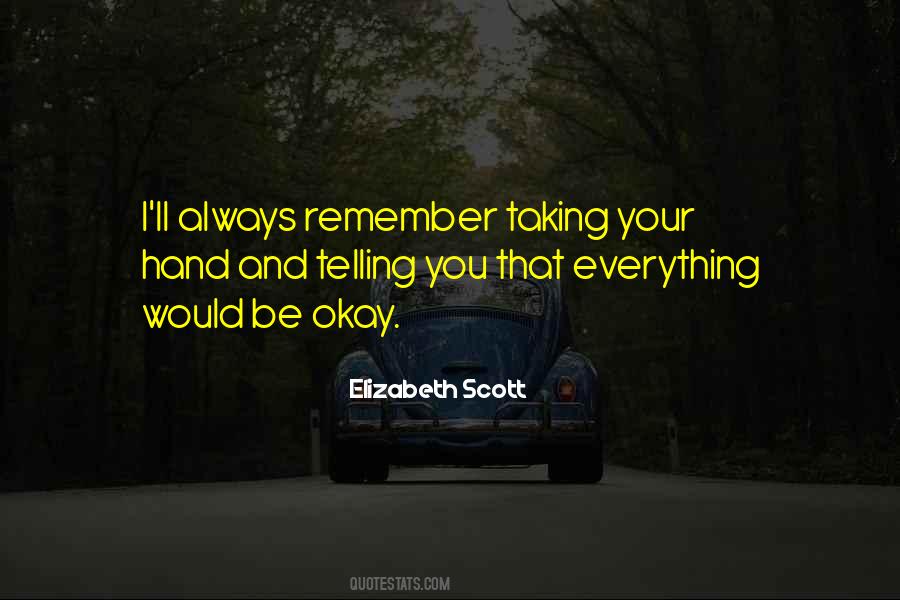 #62. What I try to do is write. I may write for two weeks 'the cat sat on the mat, that is that, not a rat,'.... And it might be just the most boring and awful stuff. But I try. When I'm writing, I write. And then it's as if the muse is convinced that I'm serious and says, 'Okay. Okay. I'll come.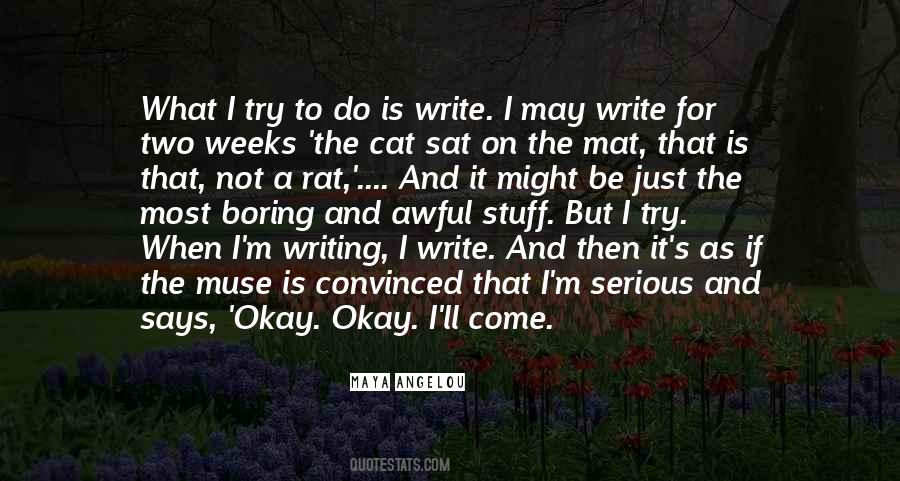 #63. Just be careful of forming close relationships, Craig. Focus on yourself." "Okay." "Only then does healing take place." "All right.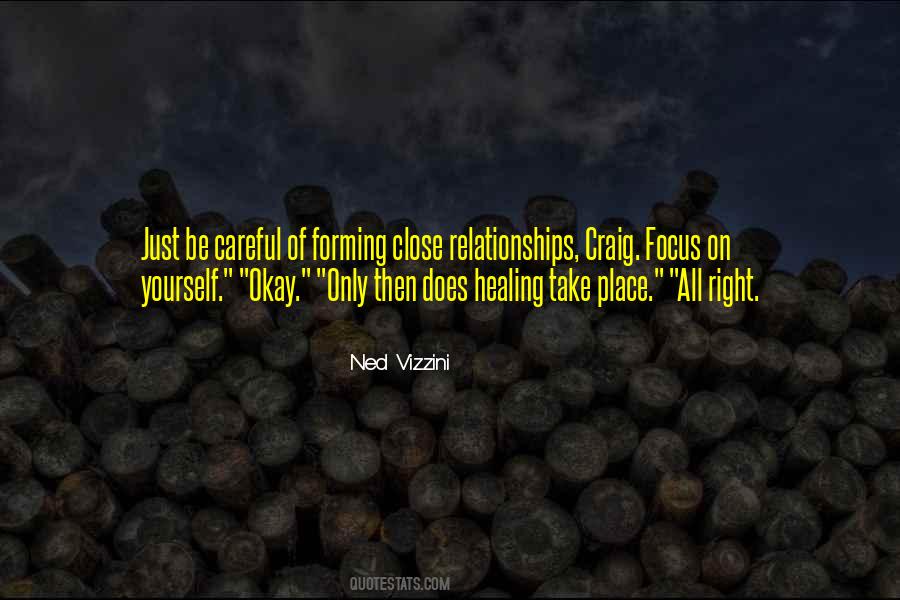 #64. It's okay in this country to be sexist. It's certainly not okay to be racist.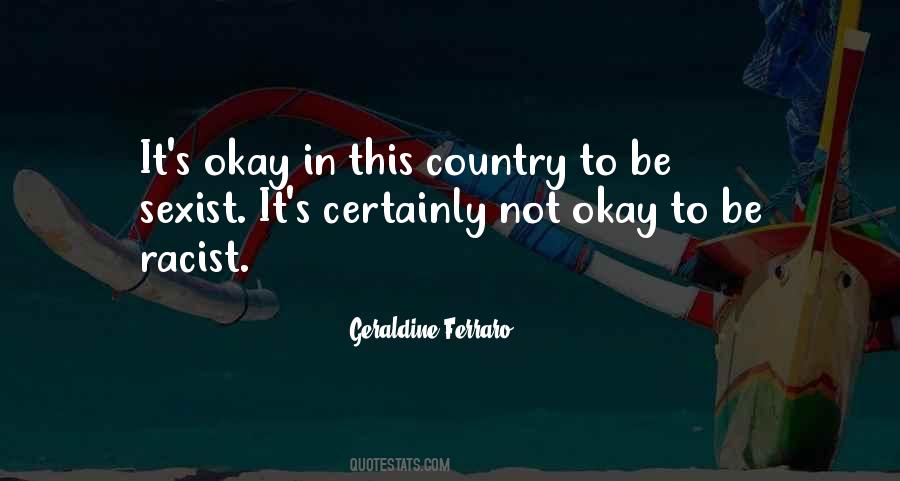 #65. Is it okay to lie in order to be happy?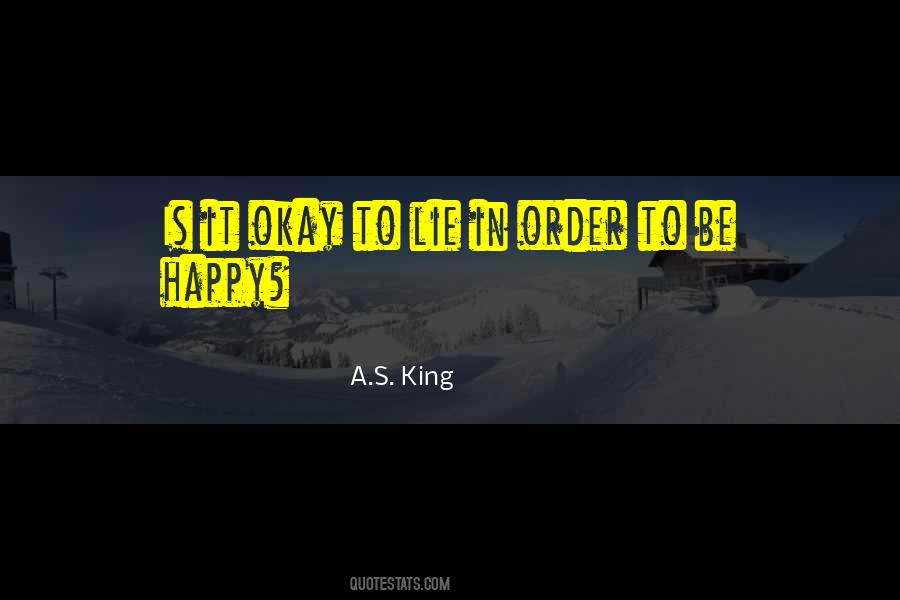 #66. Everything really is going to be okay. (And if not okay, then at least comic.)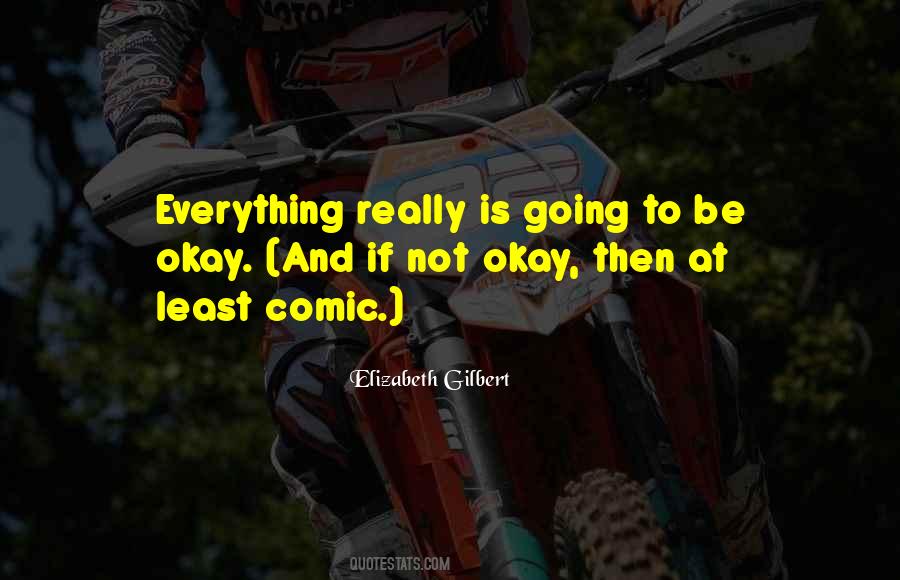 #67. I never tell my boyfriend that I'm busy when I'm not. No matter how effective they are, cheap techniques like that just don't agree with me. So it's always okay, it's always all right. In my opinion the surest way to hook a man is to be as open with him as possible.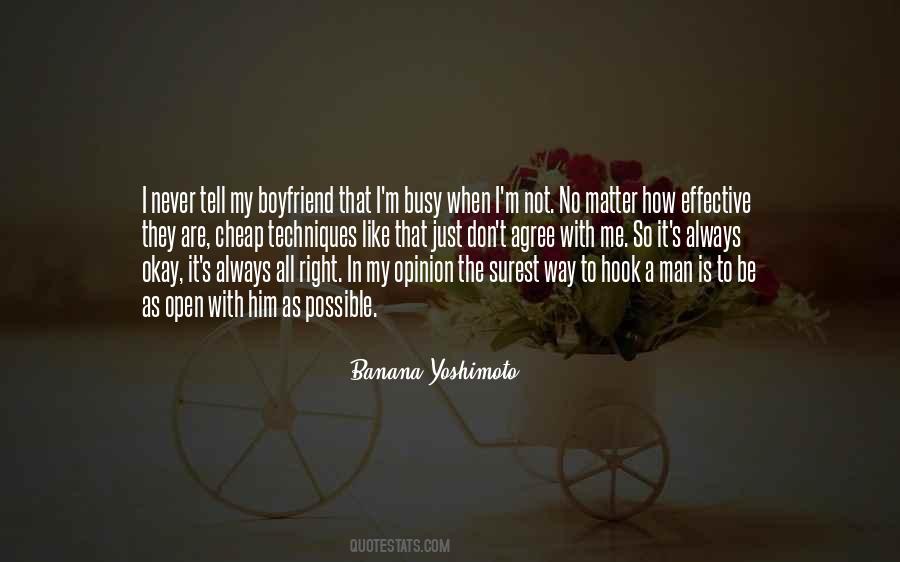 #68. I want to say It's okay to be a person. We're all afraid. We all get hurt. It's okay to hurt. You'd be so much more likable if you just acted human.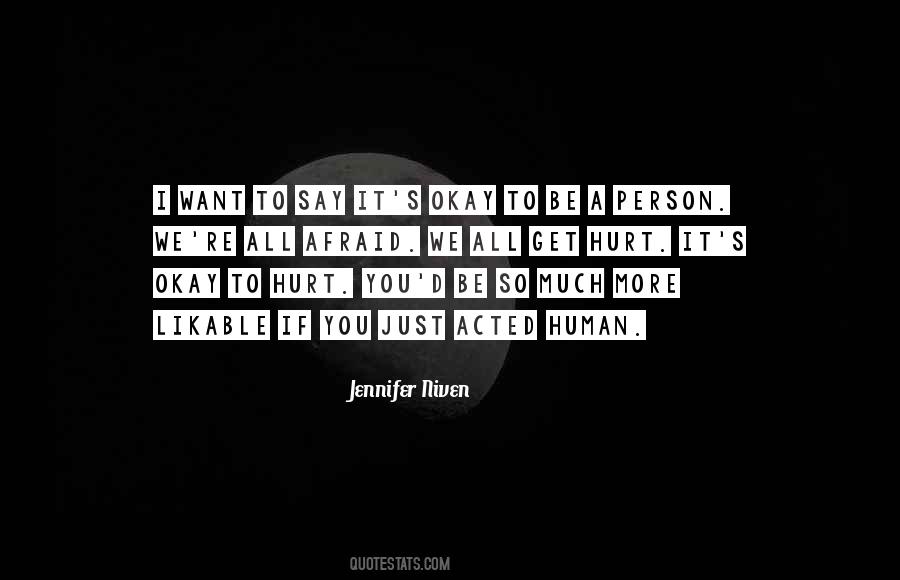 #69. You have to be able to be a good loser. You have to be okay knowing you're going to fail every day in something without getting mad and upset.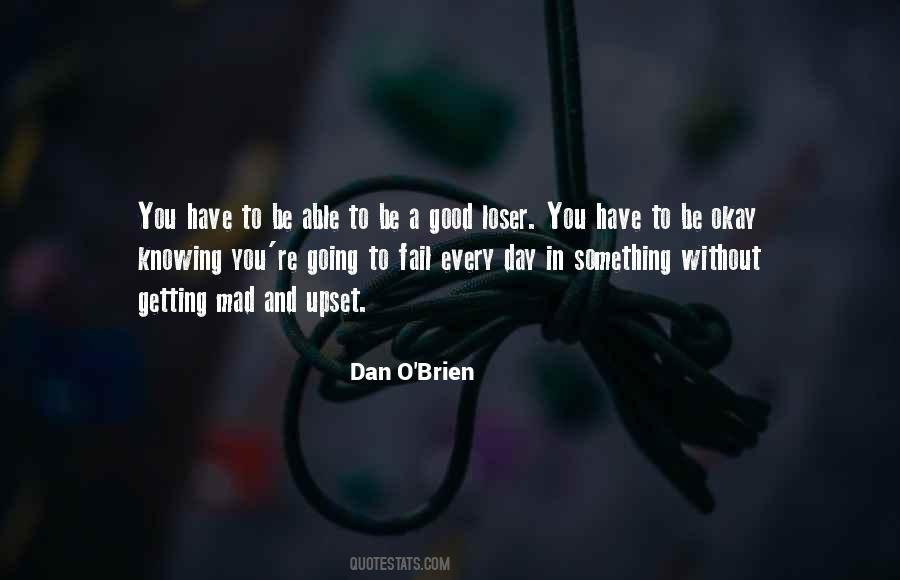 #70. I want to be still and small, and not have to man up or act like everything's okay, but the thing about living in a house where someone is sick is, it's like they have a monopoly on it. If one person is always needing things , then no one else is really allowed to.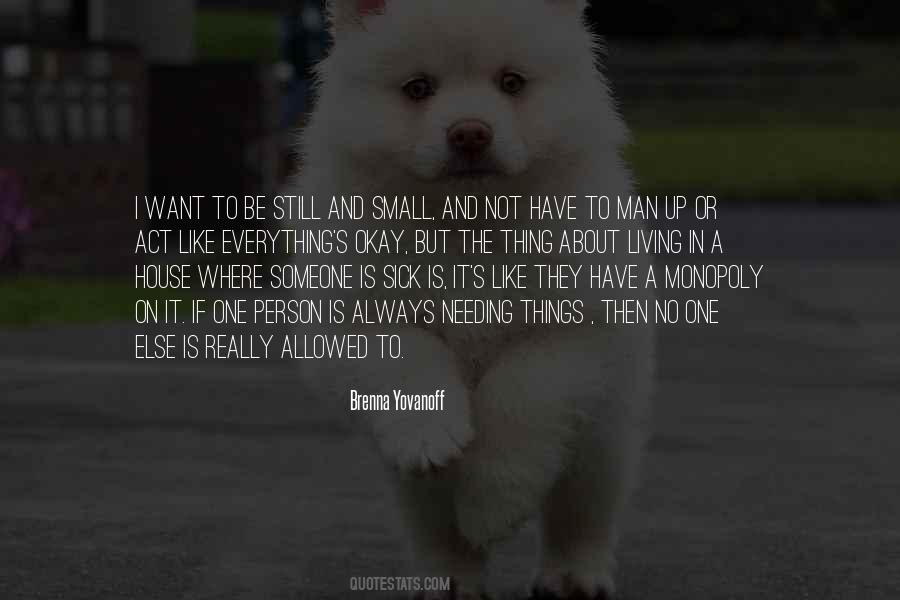 #71. Take you picture off the wall
And carry it away
Dye your hair the shades of fall
Don't let time turn it to gray

Don't think of me, I'll be all right
Seems I've always done okay
Just give me one more kiss good night
For the last time, turn away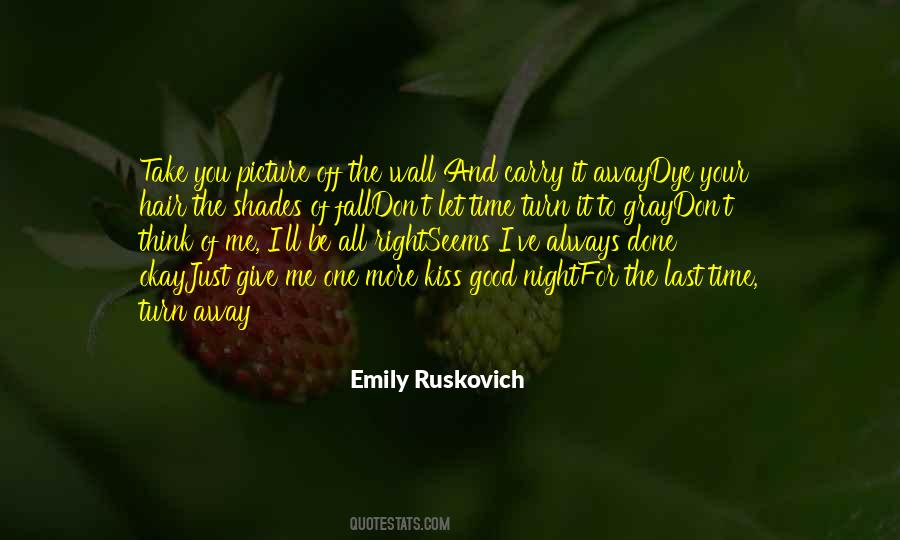 #72. It's okay if you're intimidated by my overwhelming masculinity. I promise to take good care of you."
"How sweet of you. But let's be honest. I'd ruin you for other women, and I'm just too nice to do that to an adorable thing like you.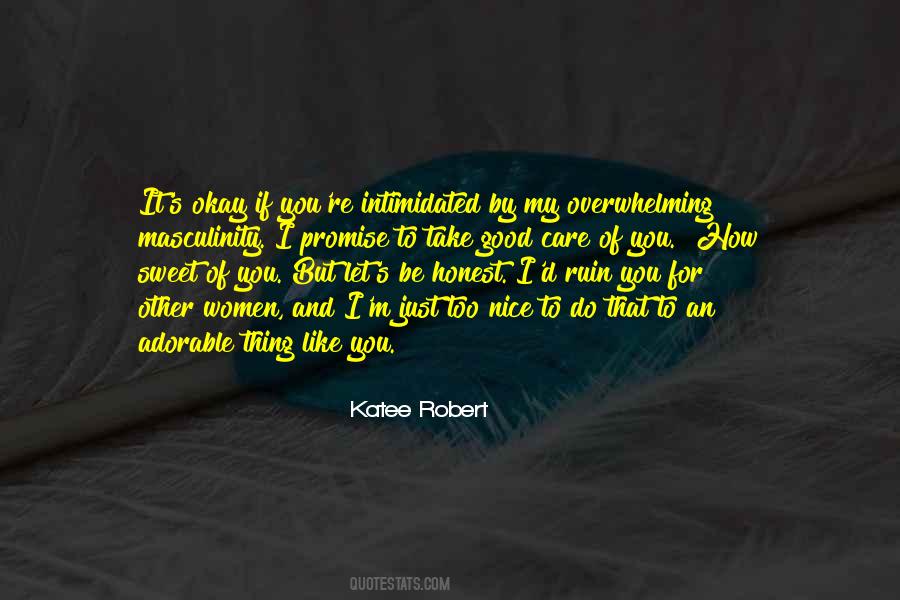 #73. I though you said it was easy, listening to your heart. I thought you said I'd be okay. So why am I breaking apart.
#74. You just don't get it, do you? You have no idea how important you are to me. I need you to be okay, Taryn. I can't be without you, you have to be here and okay or I would be able to fucking function.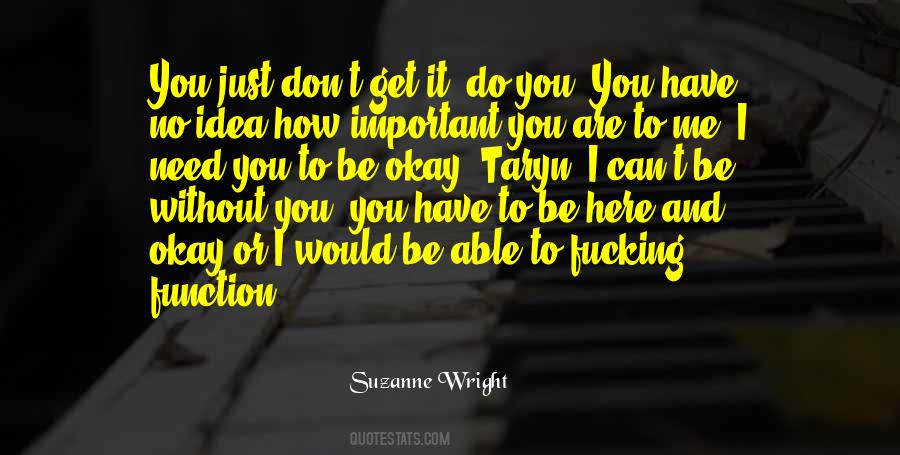 #75. And you know what? That's okay. If you want to live your life with many things and forgo the life of living like a simplifier, no one can force you to. This has to be something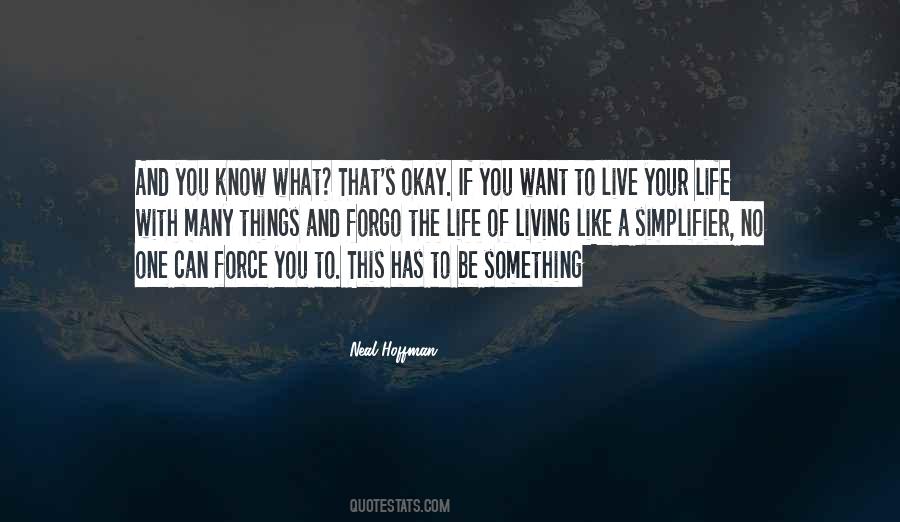 #76. I'll still be missing you as much as ever. I'l still smile at the memory of you. I'll still be - Okay, I'll say it again - loving you, but I won't abandon myseld for you. I cannot be faithful to you without being faithful to myself.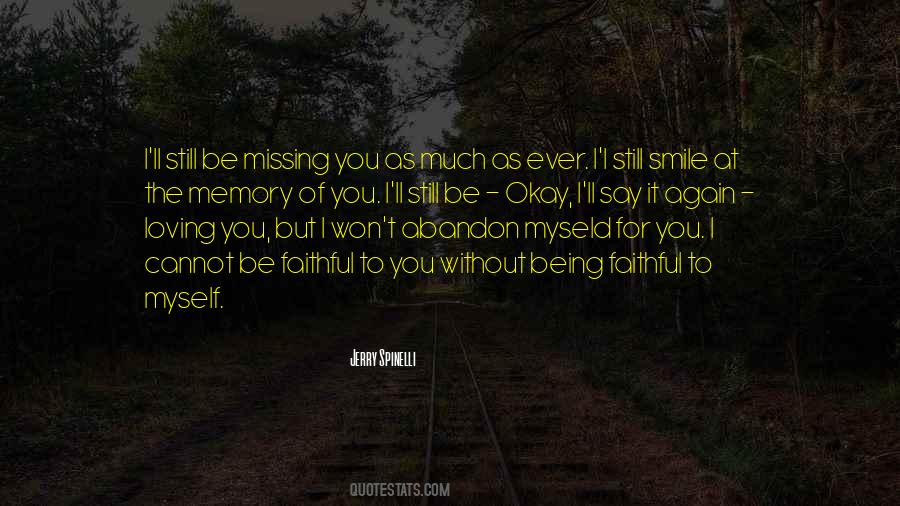 #77. Perhaps our Okay will be our always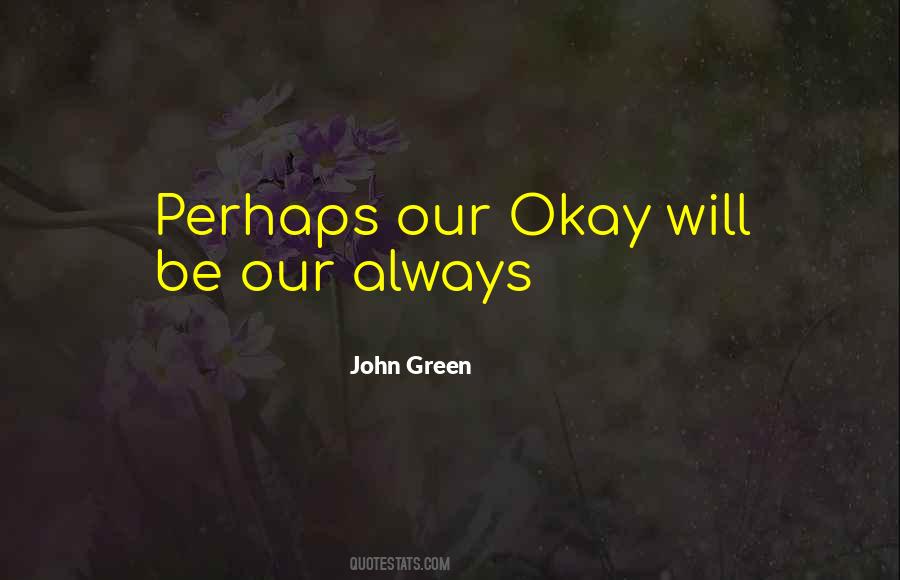 #78. A laugh bubbles from my lips and her smile expands. "You know, I always feel so special whenever I get you to smile. Like I discovered some sort of rare gem."
I want to kiss her right there, eternally seal my lips to hers.
Okay, maybe I'm not cured.
Maybe I can't be cured.
Of anything.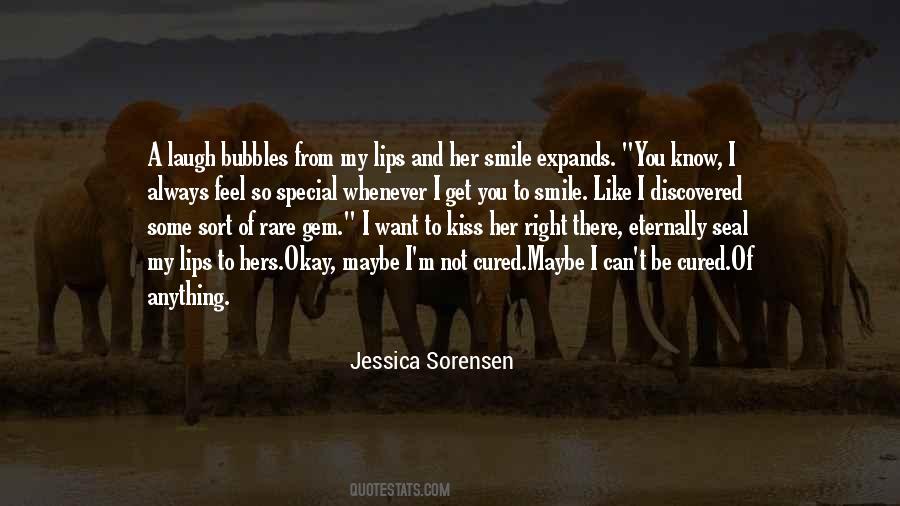 #79. You have to be grateful whenever you get to someplace safe and okay, even if it turns out it wasn't quite where you were heading.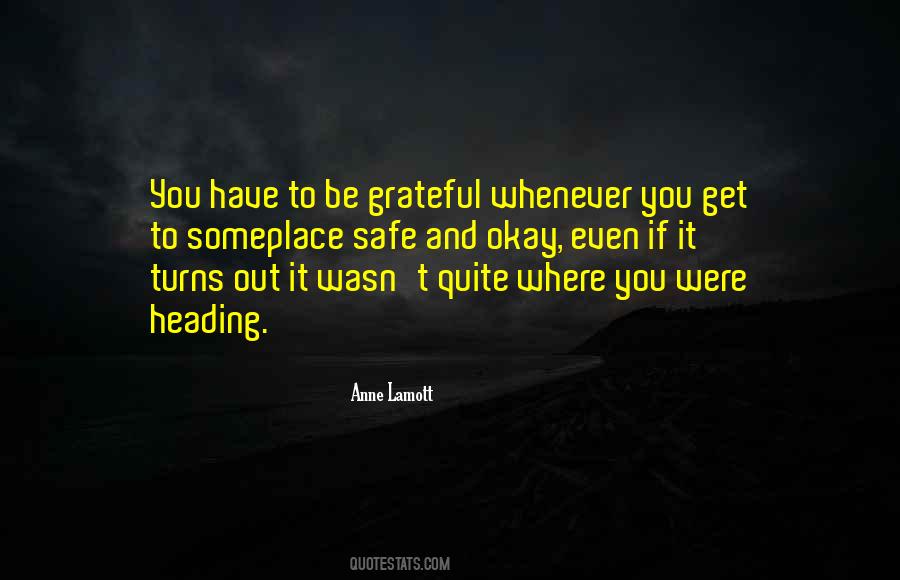 #80. We're going to be okay.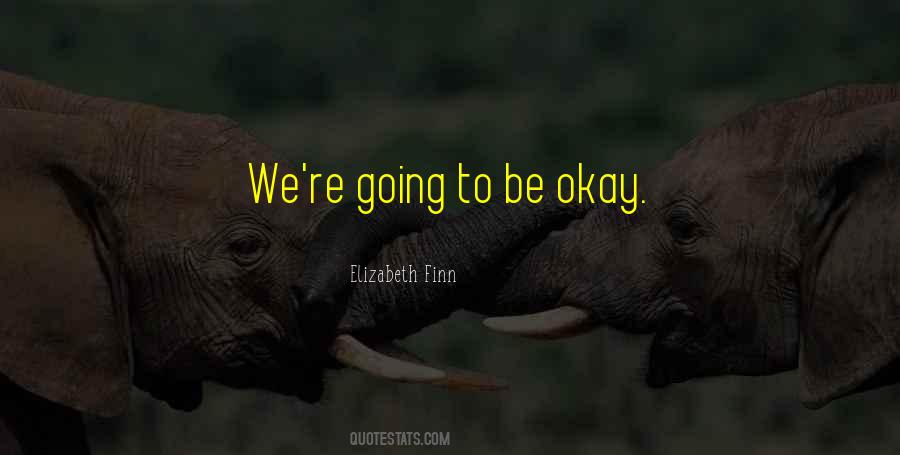 #81. Only teasing', Death seemed to be saying over his shoulder with a rictus smile, with good humor and an oddly paternal affection. 'Take care of yourself, okay? We'll play again.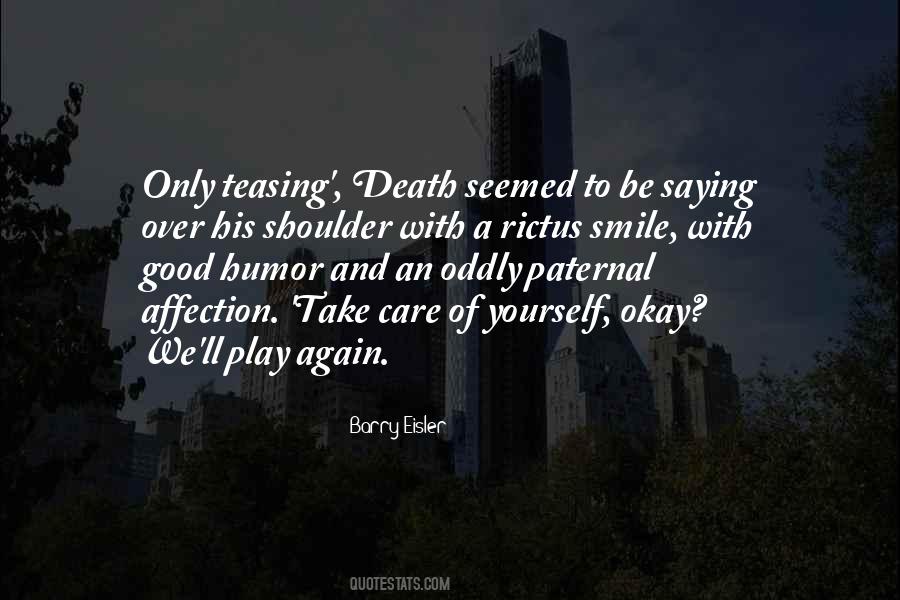 #82. You have to be okay with wins and losses. You can't just be looking for the wins and, when the losses happen, you can't buy more and more because you're sure it's going to bounce. We call that revenge trading.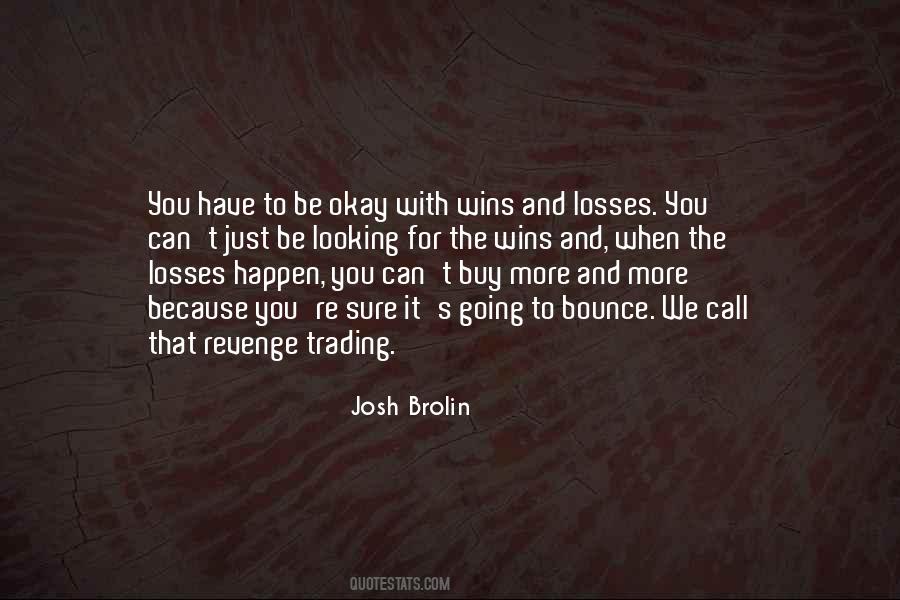 #83. I used to be an angry, lonely prick. Then I met a guy with four amazing kids and more issues than the Sports Illustrated back catalog and boom - happiness."
"Boom, happiness?"
"Okay, boom. Boom. More booms. A mushroom cloud. Then happiness.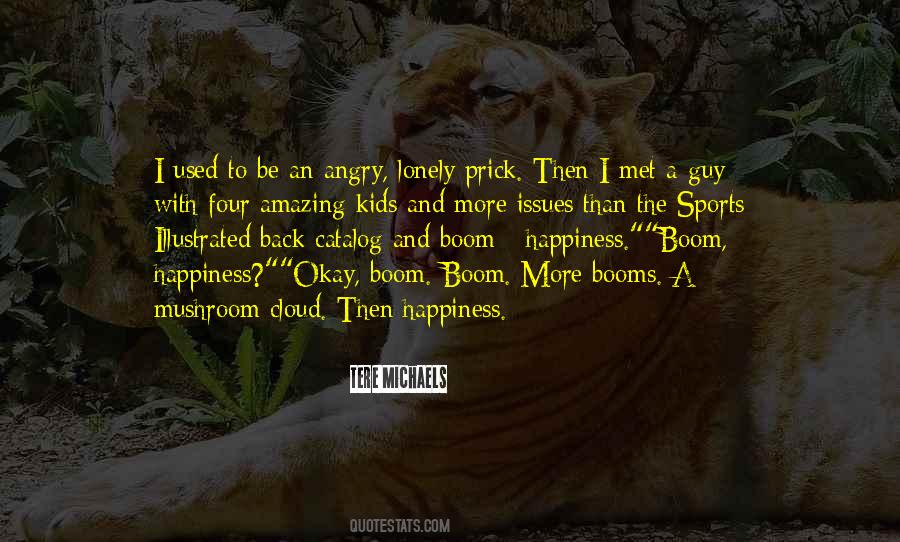 #84. She also wasn't the type of woman who made men drool, besides him, and got the attention of every guy in the room, but that was okay because none of them should be fucking looking at her anyway.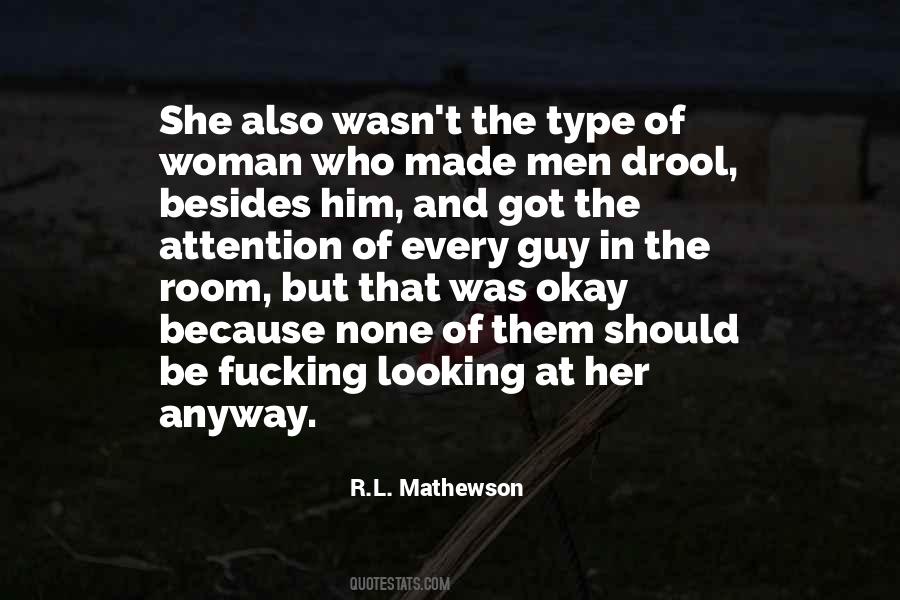 #85. Just because it's a rat race doesn't mean it's okay to be a rat.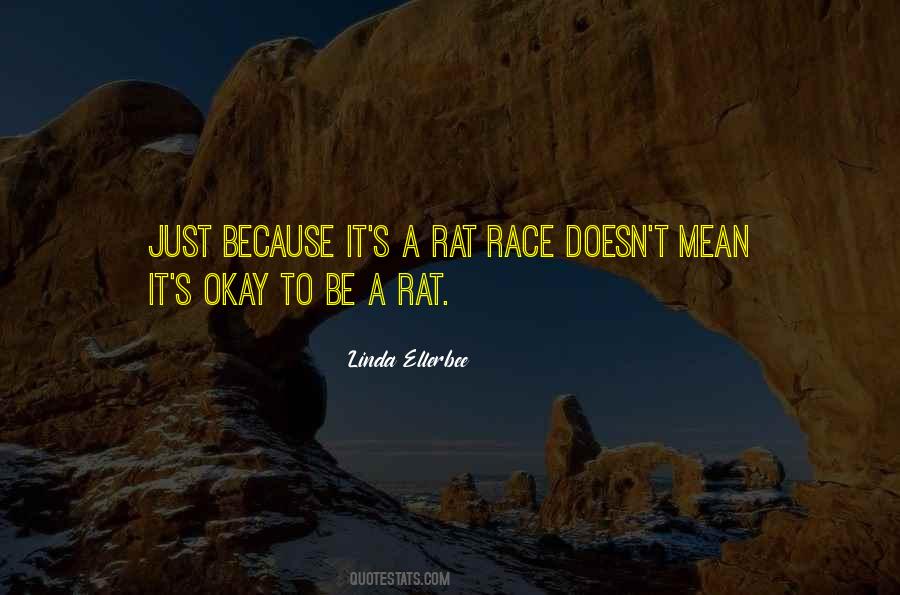 #86. Everything will be okay. I have a sticker on my laptop that says that.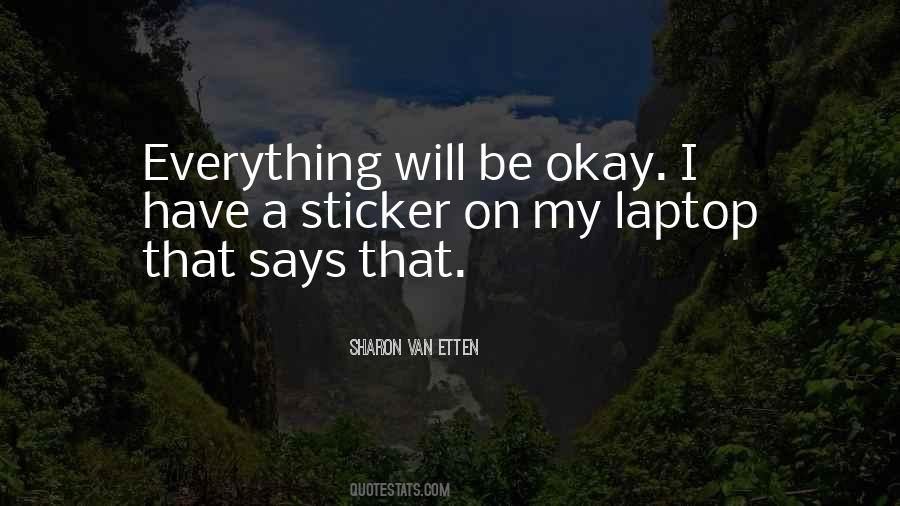 #87. Shirley Jackson said that a confused reader is an antagonistic reader, and I live by that. It's okay to start anywhere, and to let yourself write a big sloppy overly-detailed first draft. You just jump in, knowing that the water will be cold at first, but no one is making you swim.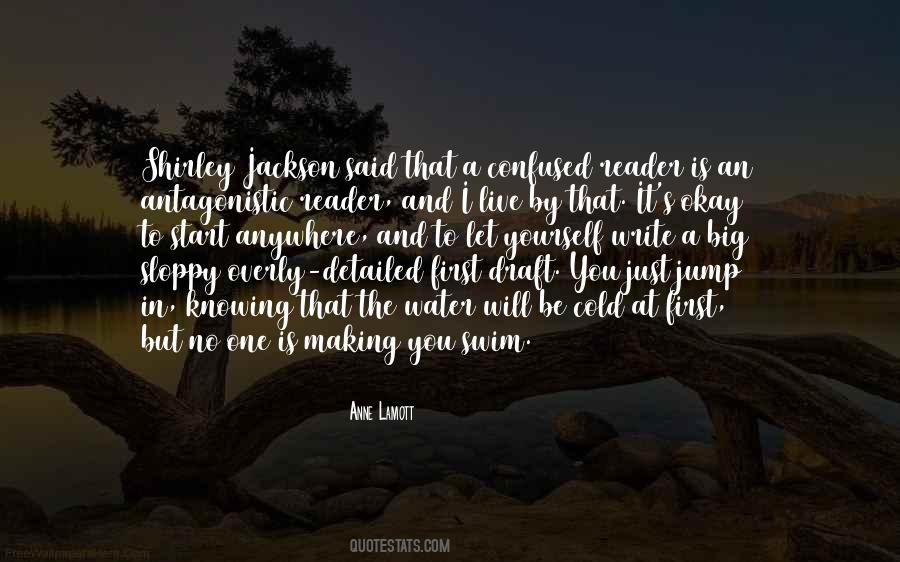 #88. The worst thing of all was very simple: the disruption of the illusion of safety. That if you were a good person who worked hard and stayed within the law, you'd always be okay.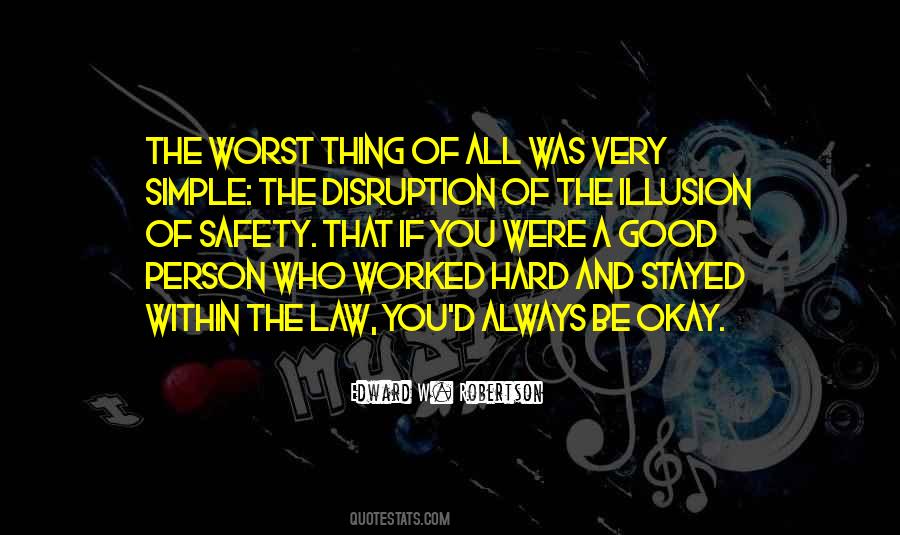 #89. Some people think that it's okay to be downright nasty to people they love. It is not okay. Nasty is never called for, and it's certainly not sweet, useful, nor positive.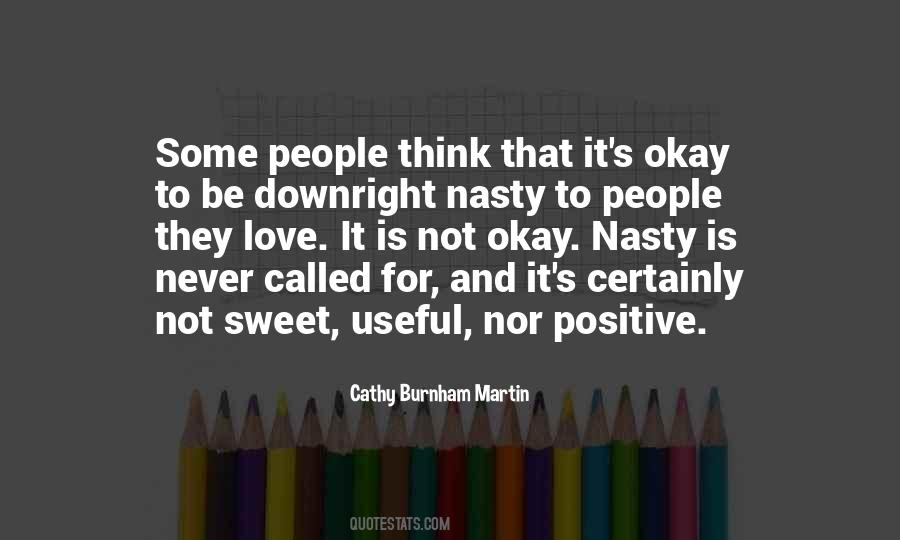 #90. Everything will be okay as soon as you are okay with everything. And that is the only time everything will be okay.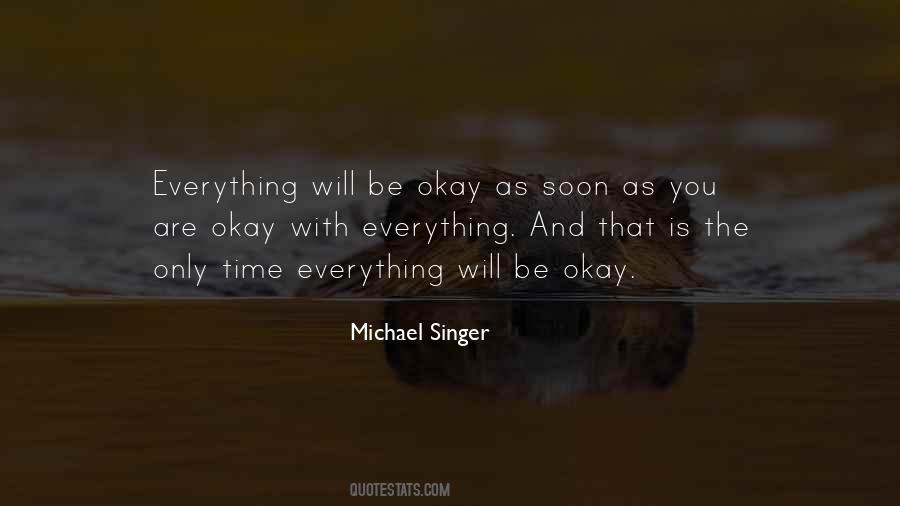 #91. It was time for the mirror pep talk.
"Okay, Maggie," I said to myself after my shower, wiping the steam off the medicine cabinet.
"You could eat these kids for breakfast. You won't, though, because that would be cannibalistic and
wrong.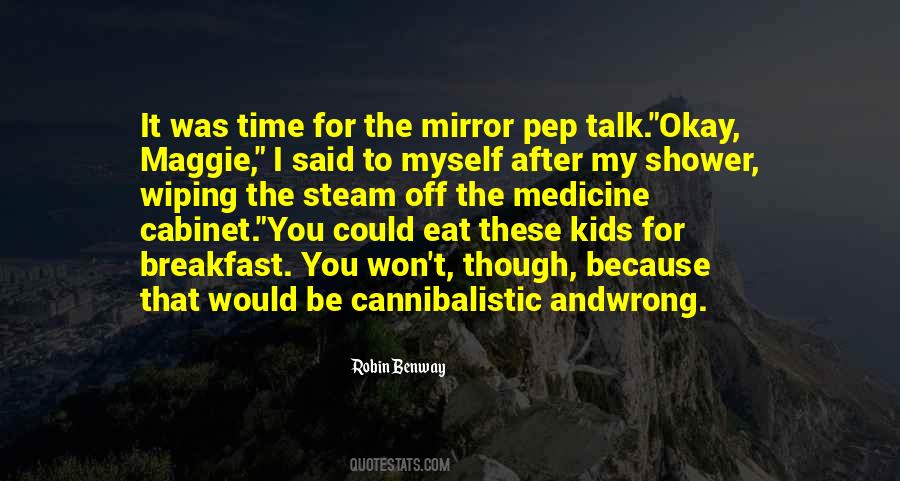 #92. I longed to be wrapped in his arms again, pour my troubles, make everything feel okay, even if it wasn't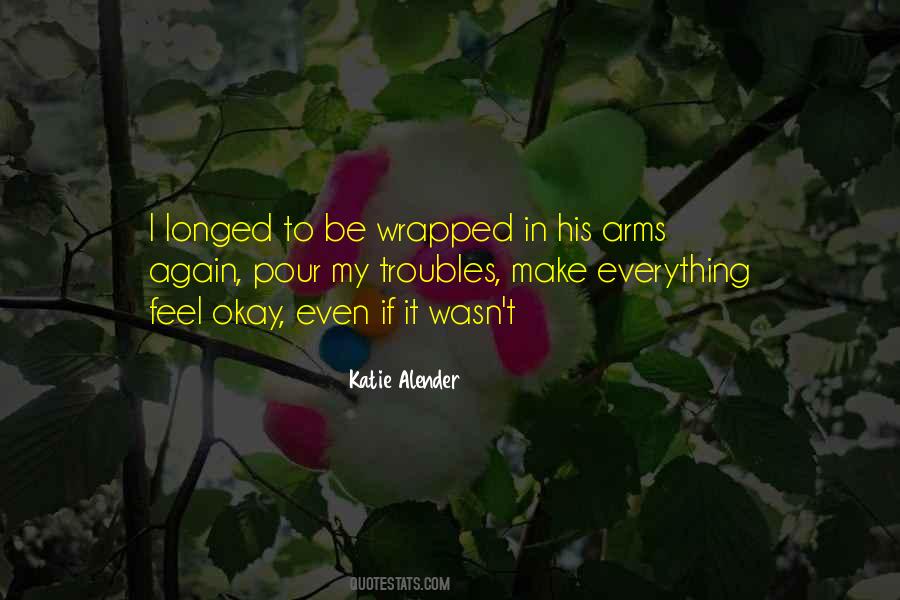 #93. I'm racing against me. As long as I come across the finish, I'll be okay.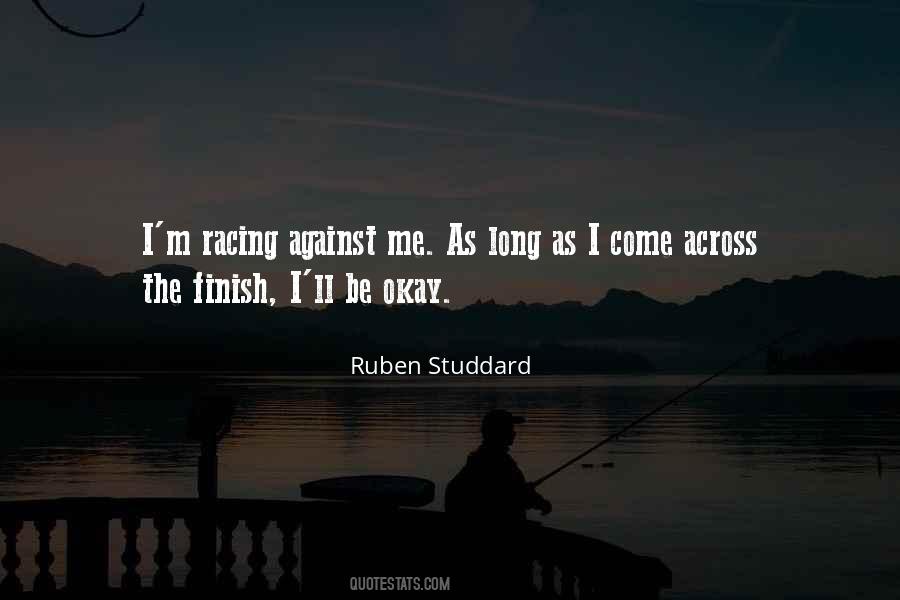 #94. Are you okay, man?"
"Yeah, I'm good."
It's a lie. I wonder if I will ever be good again.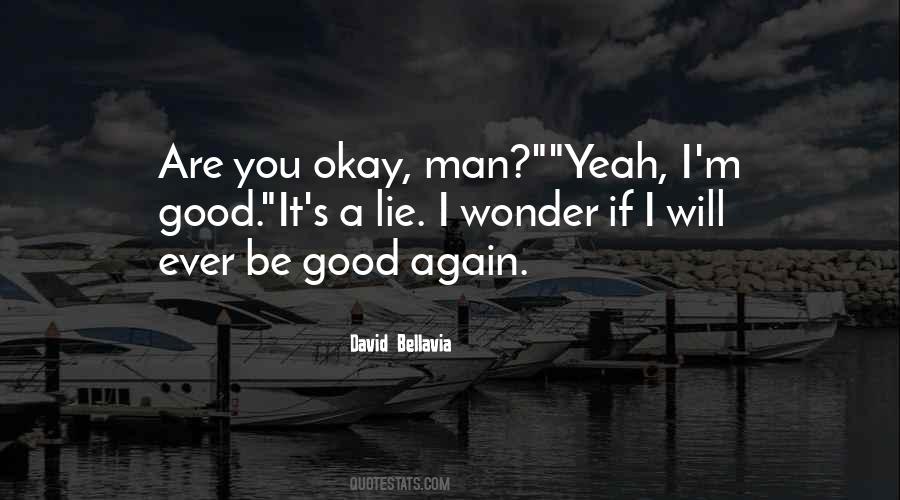 #95. Afghanistan would have been difficult enough without Iraq. Iraq made it impossible. The argument that had we just focused on Afghanistan we'd now be okay is persuasive, but it omits the fact that we weren't supposed to get involved in nation-building in Afghanistan.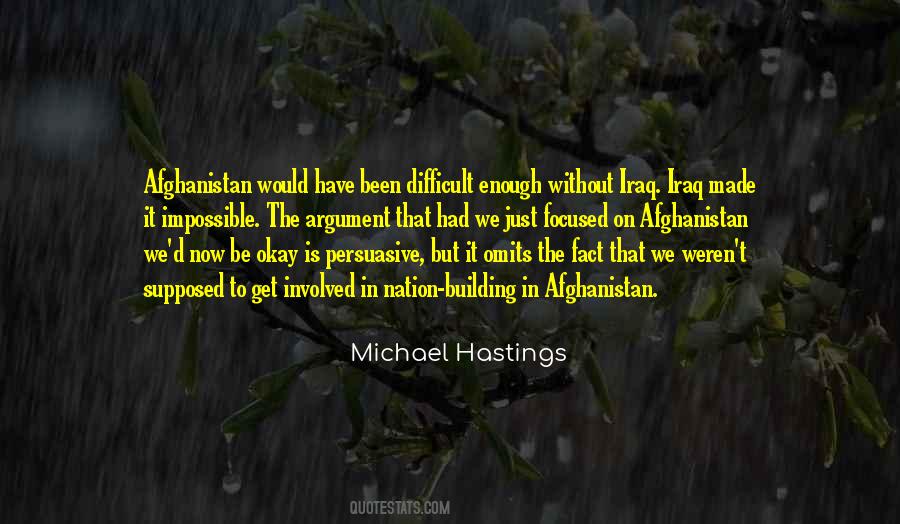 #96. Lips tight, Angelo eyed his beloved car, then his cousin, who wore a smarmy grin. He growled, then tossed him the keys. "Okay, but you better drive slow or I'll kill you." "I'll be as gentle as a kitten." ****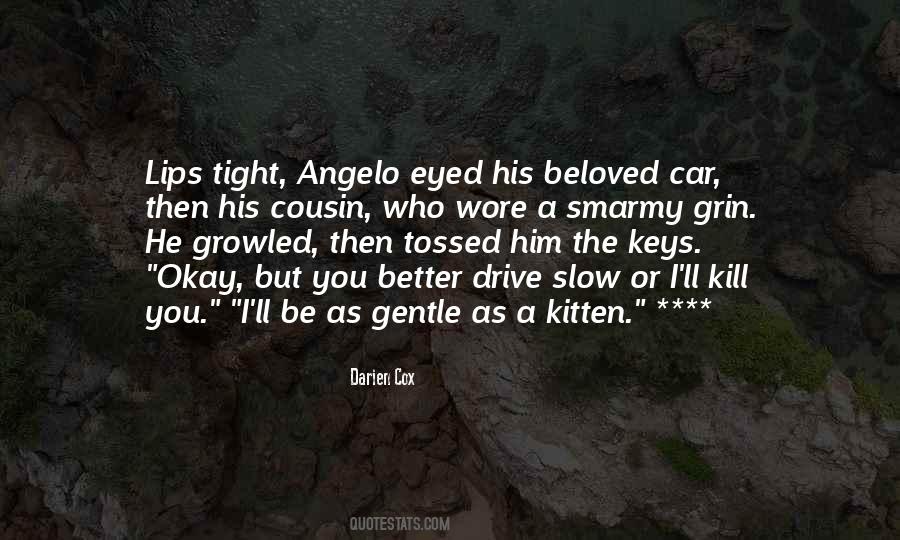 #97. Don't try to sound cool. Guys do that all the time, and I'm telling you it's a complete turnoff, okay? Just be you. You're cute; live with it. But don't try to sound like James Bond or something, because you're not. - Summer Sumner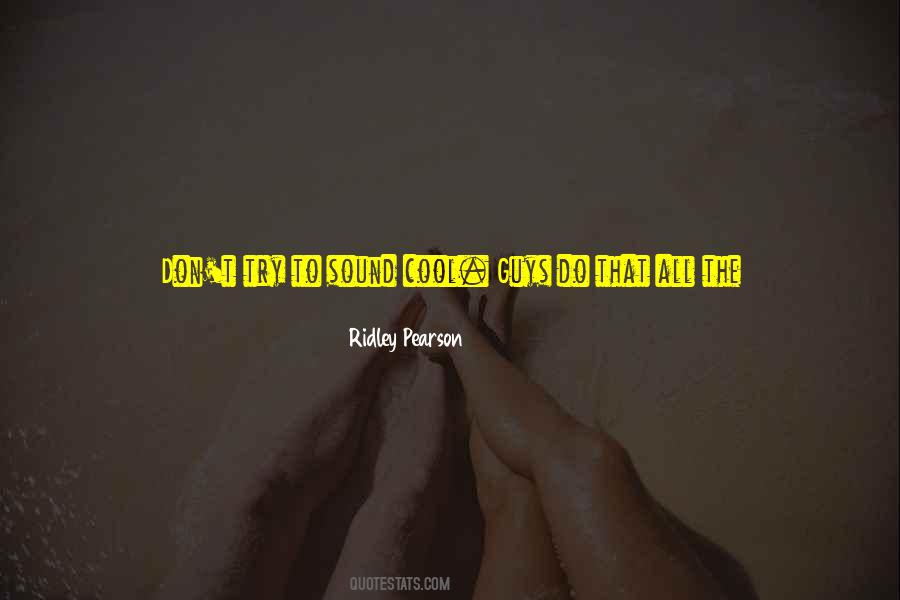 #98. Believing the world is calm because we have never seen it otherwise is like taking the attitude of a man who jumps off the top of a tall building and figures that, since 29 of the 30 floors have passed without incident, he is going to be okay.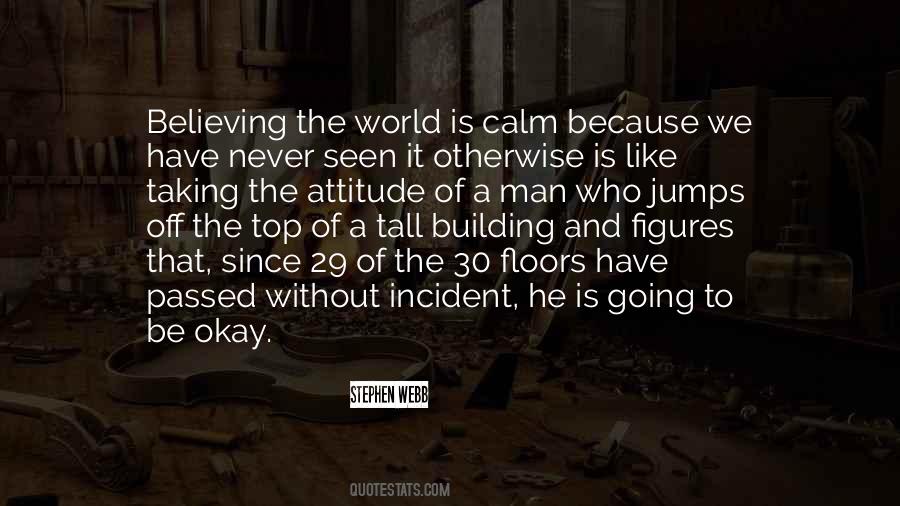 #99. Retaliation is not the answer. You're going to have to deal with mean backstabbing girls your whole life, you need to learn to be smart enough to rise above, okay?
Did you kick her ass? Good girl!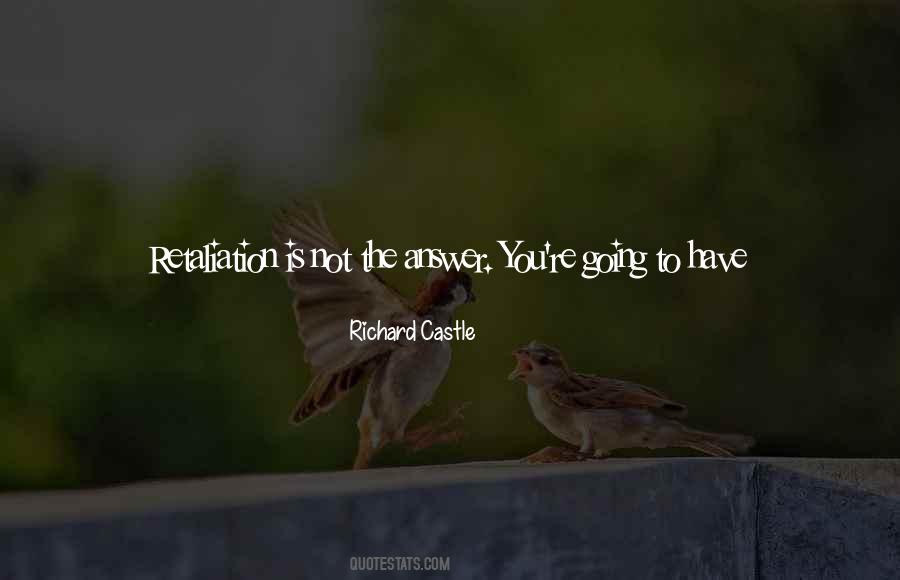 #100. His, but instead we were together in some invisible and tenuous third space that could only be visited on the phone. "Okay," he said after forever.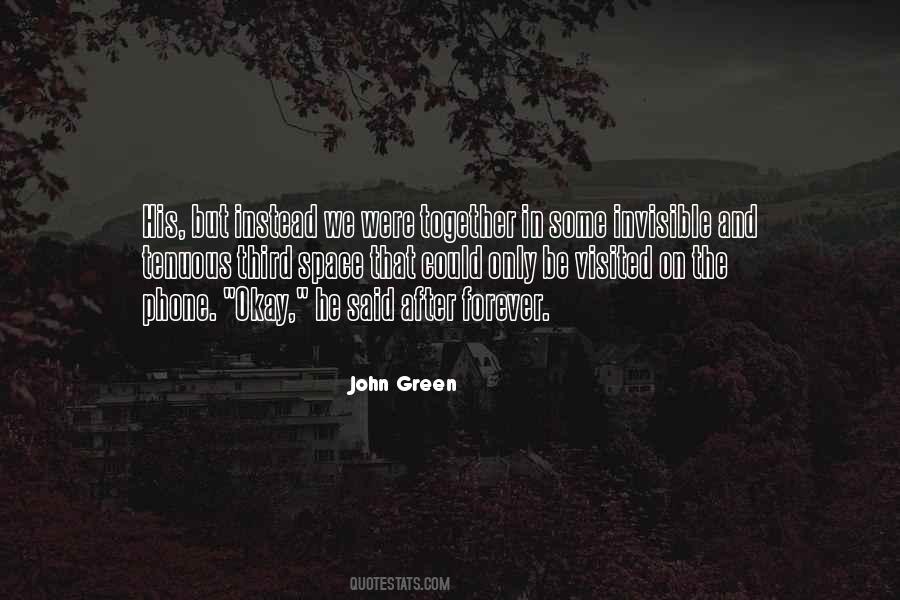 Famous Authors
Popular Topics