Browse top 100 famous quotes and sayings by Markus Zusak. Read & share Markus Zusak quotes pictures with friends. Free using on Facebook, Twitter, blogs.
Top 100 Markus Zusak Quotes
#1. Can a person steal happiness? Or is just another internal, infernal human trick?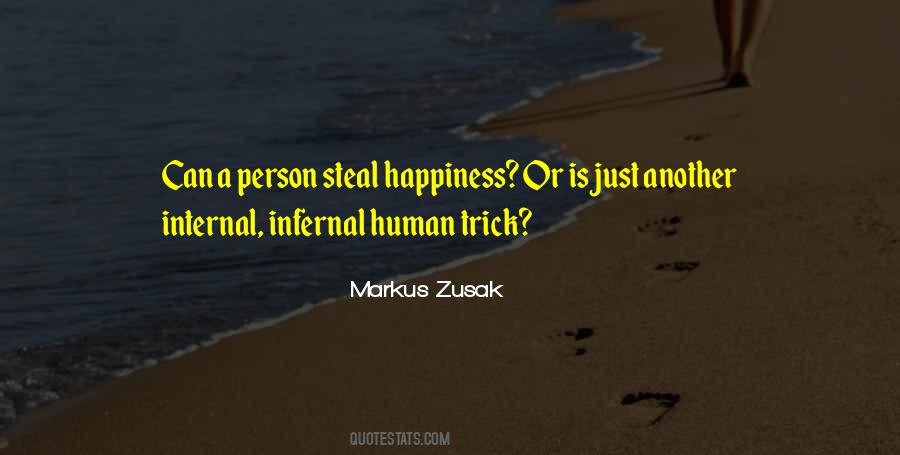 #2. She was a Jew feeder without a question in the world on that man's first night in Molching. She was an arm reacher, deep into a mattress, to deliver a sketchbook to a teenage girl. (84.25)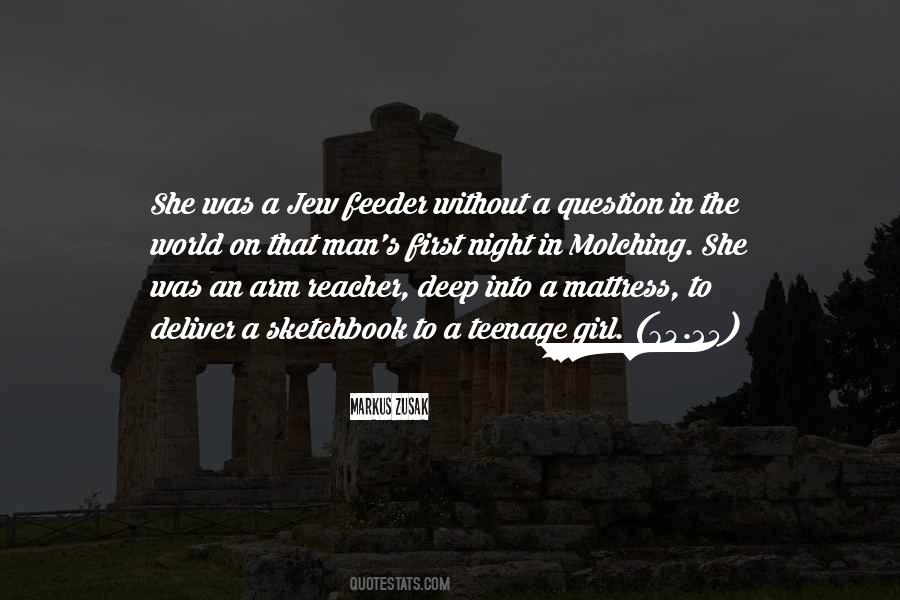 #3. In a way, it was destiny.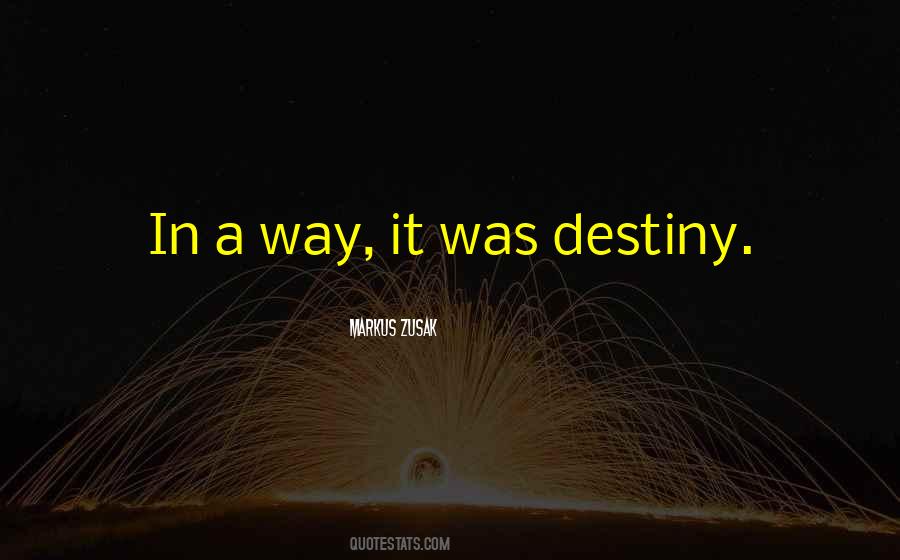 #4. There must be aplace in heaven for those who have been where I have been.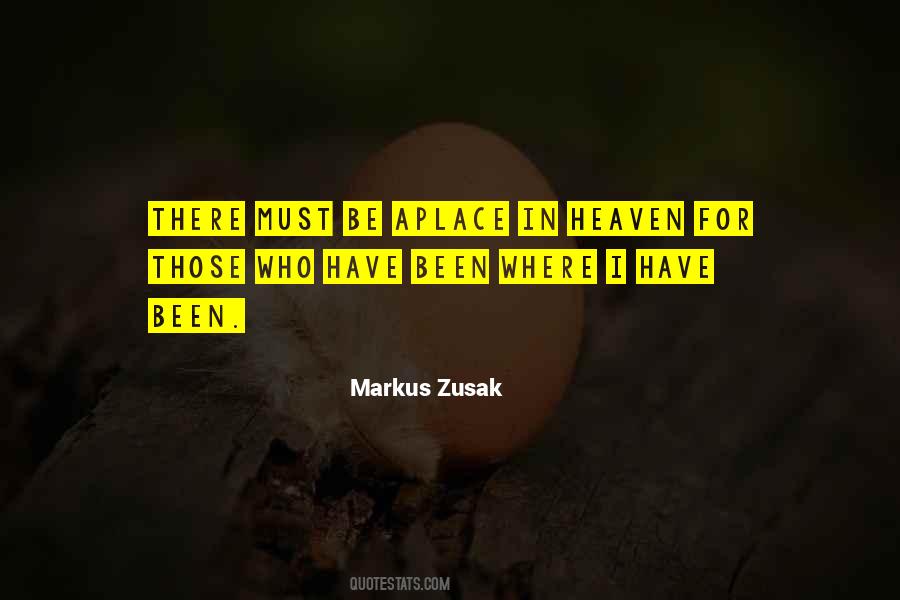 #5. Steve, on the other hand, has plenty of friends, but he wouldn't bleed for any of them, because he wouldn't trust them to bleed for him. In that way he's just as alone as me.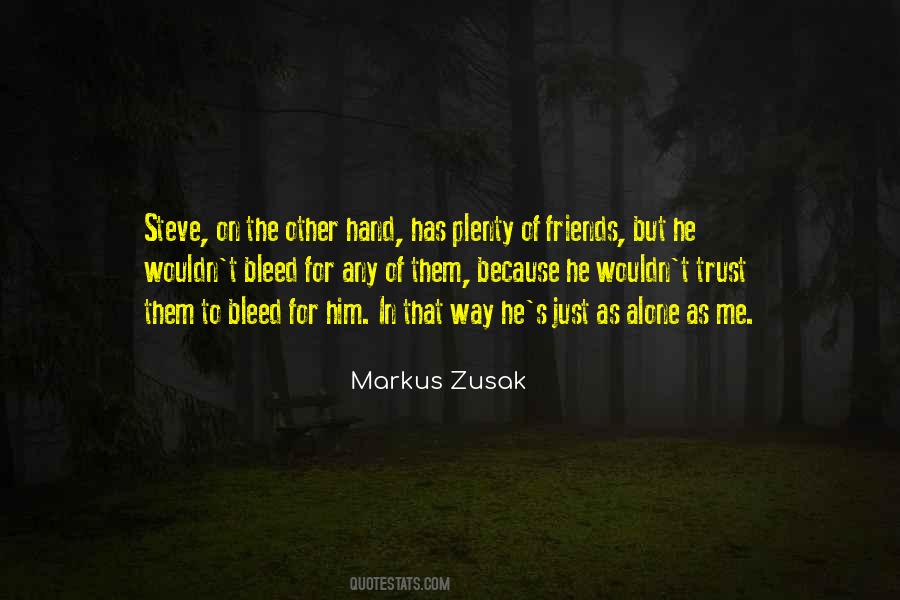 #6. We smell the impact of traffic and humans. Humans and traffic. Back and forth. We taste our moment, swallowing it, knowing it. We feel our nerves twitching inside our stomaches, lunging at our skin from beneath.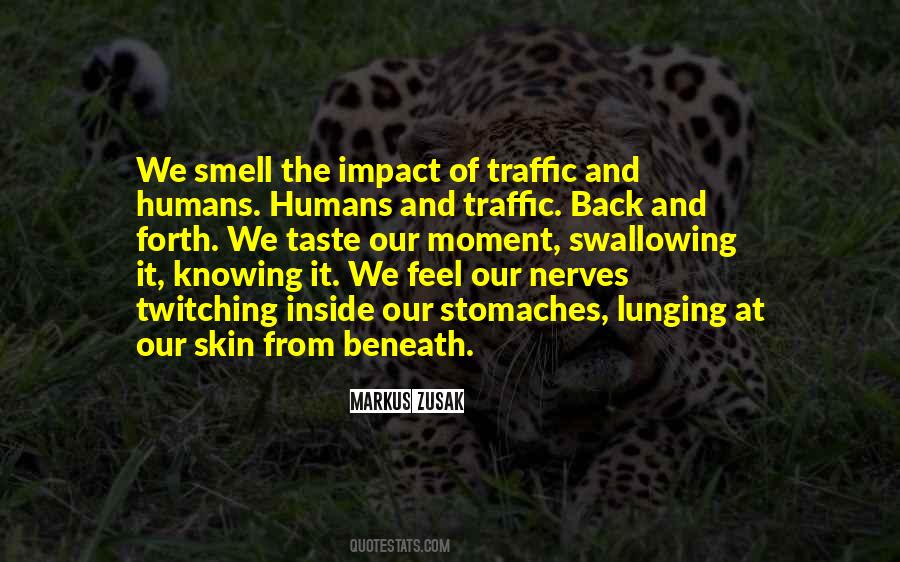 #7. Within minutes, mounds of concrete and earth were stacked and piled. The streets were ruptured veins. Blood streamed till it was dried on the road, and the bodies were stuck there, like driftwood after the flood.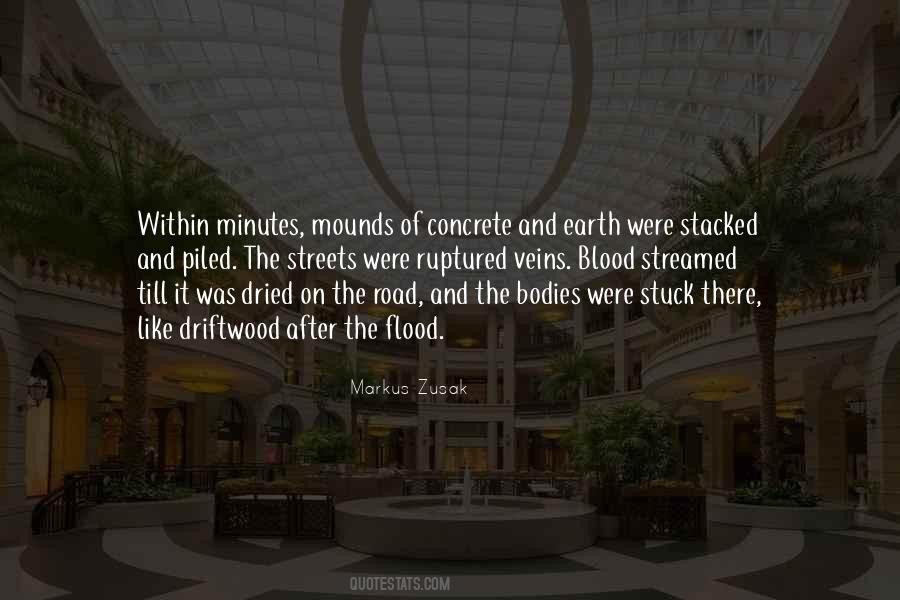 #8. If you feel like it, come with me. I will tell you a story.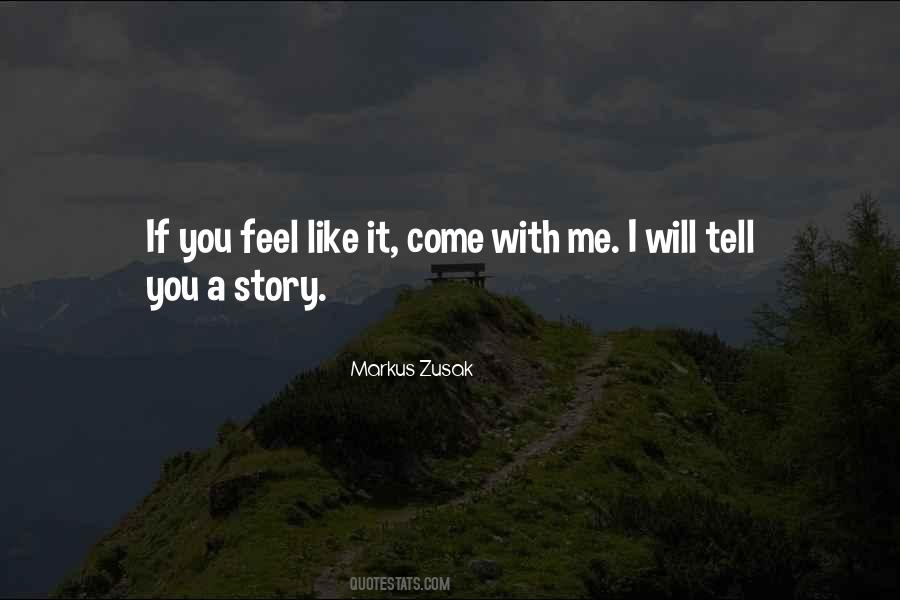 #9. I feel the fear, but I walk fast toward it.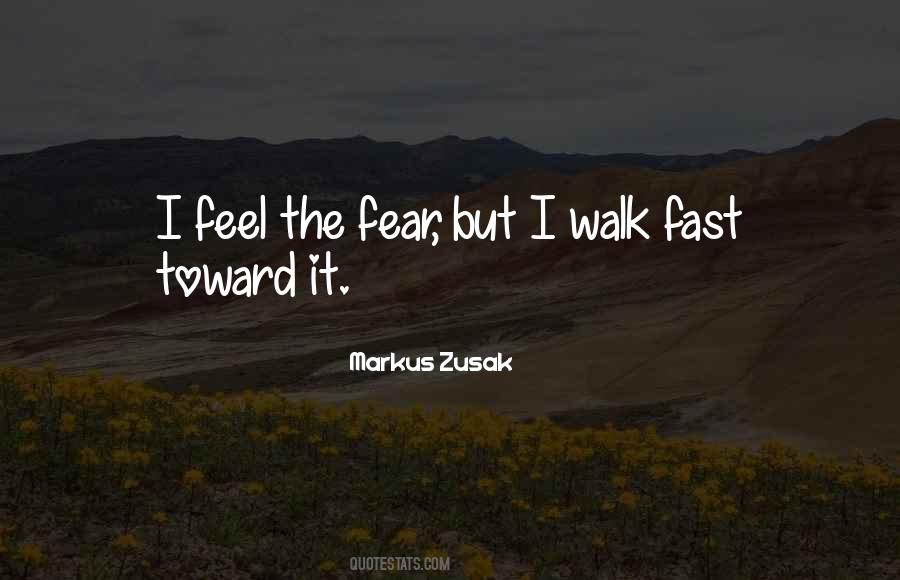 #10. Well, promise me one thing, Liesel. If I die anytime soon, you make sure they bury me right.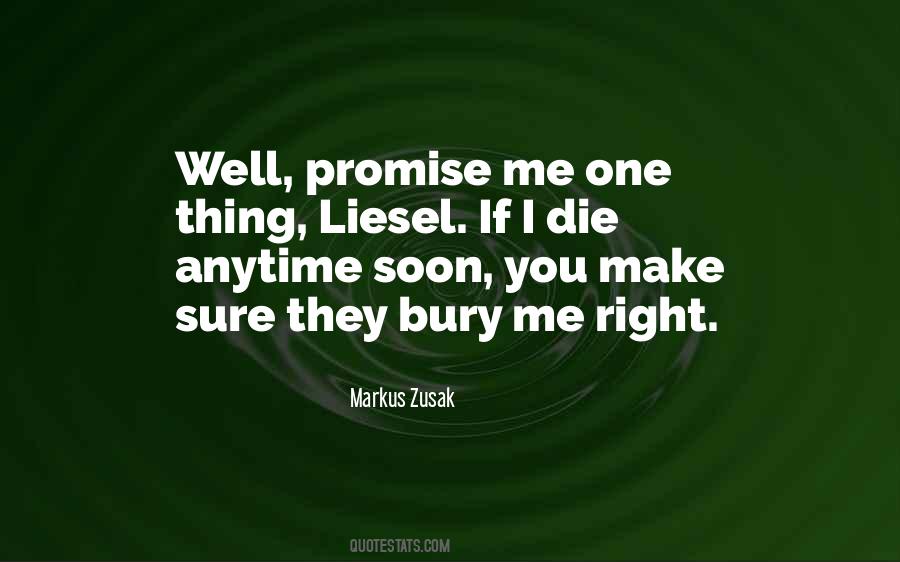 #11. Now I've changed things. I've left my own fingerprints on the world, no matter how small, and it's upset the equilibrium of us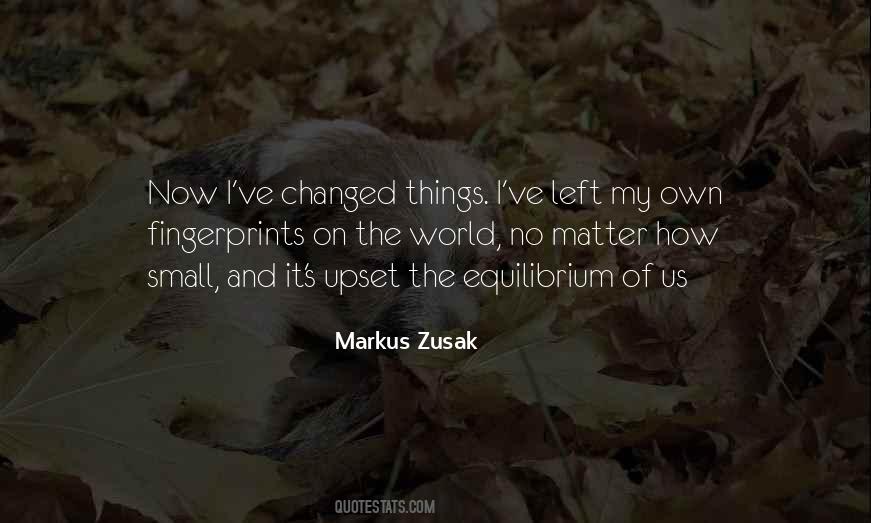 #12. I am constantly overestimating and underestimating the human race - that rarely do I ever simply estimate it.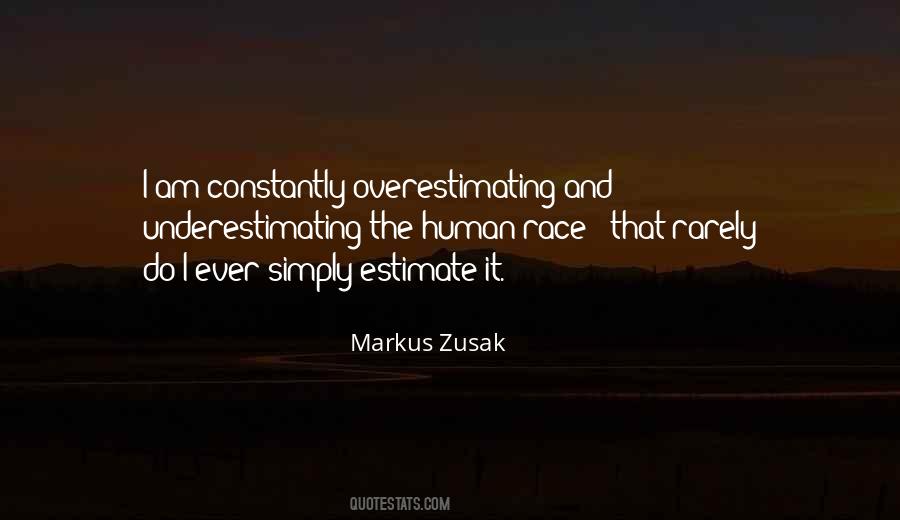 #13. I wanted to ask her how the same thing could be so ugly and so glorious, and its words so damning and brilliant.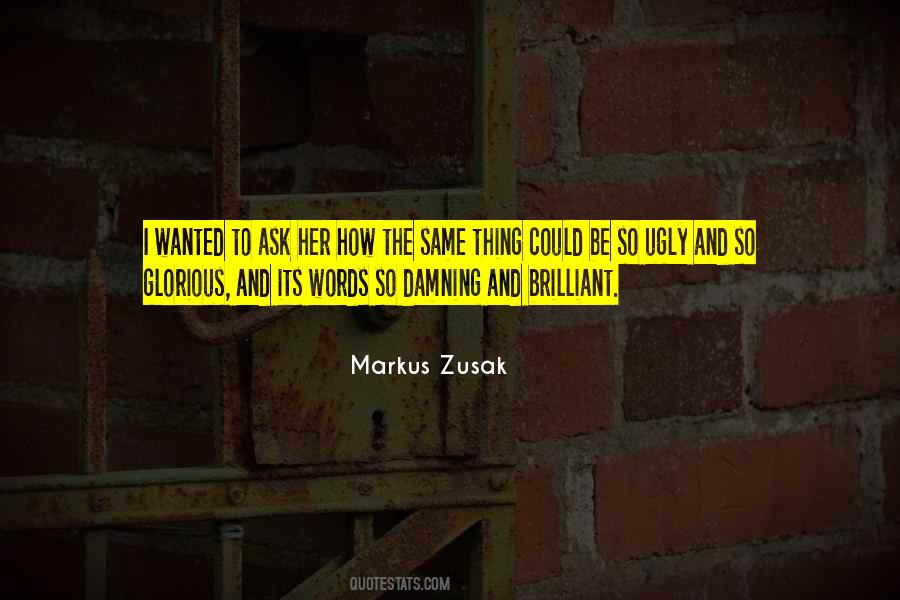 #14. The word maybe was beginning to annoy me, because the only thing that was fixed was that maybe would be with me forever.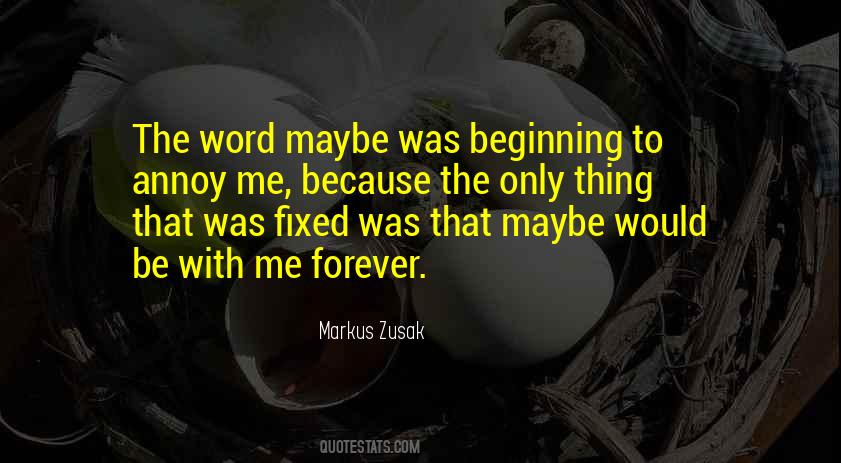 #15. There are pieces of me on the ground.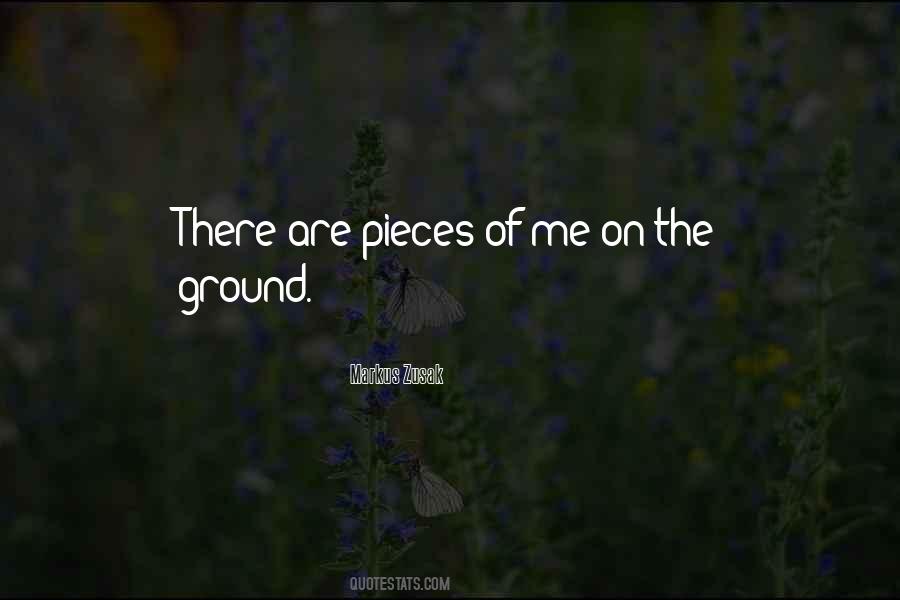 #16. The passengers slid out as if from a torn package.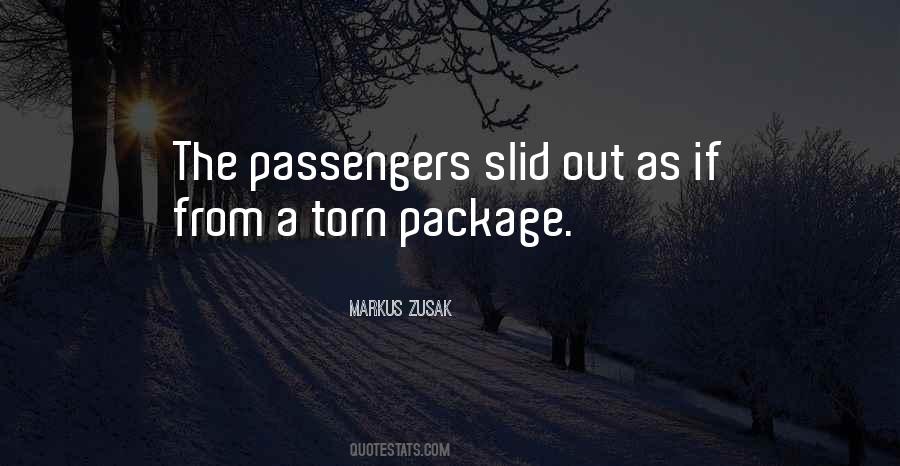 #17. I only know it would have been nice to be making love instead of attempting murder.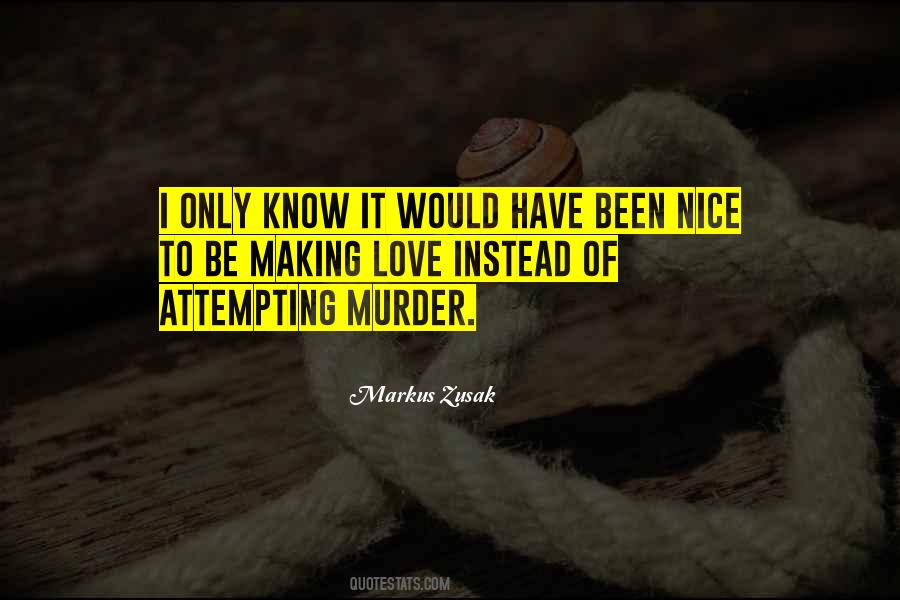 #18. I told her about school and how I sat on a wall there and felt stories and words move through me ...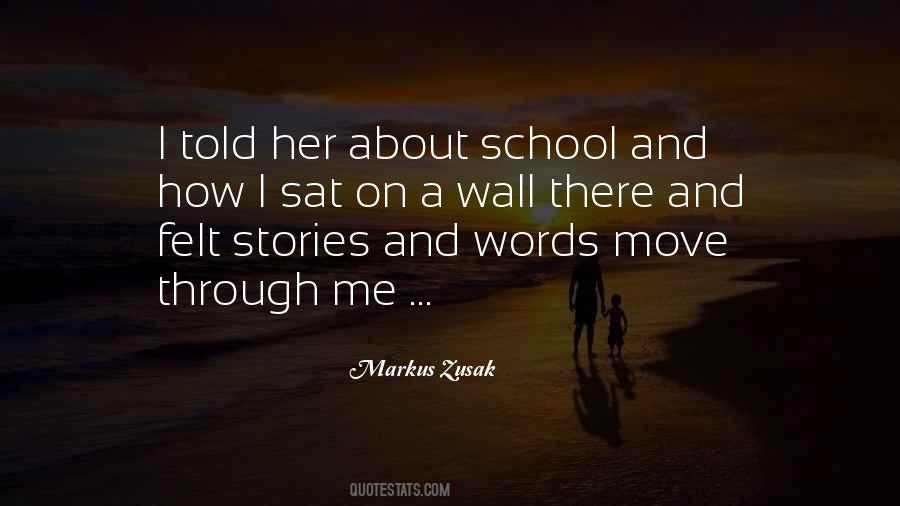 #19. As always, one of her books was next to her.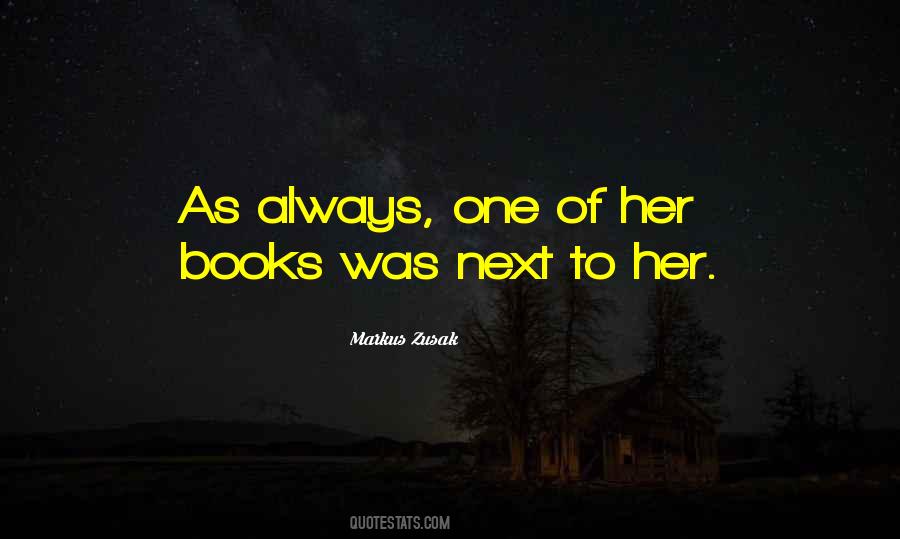 #20. The words. Why did they have to exist? Without them, there wouldn't be any of this.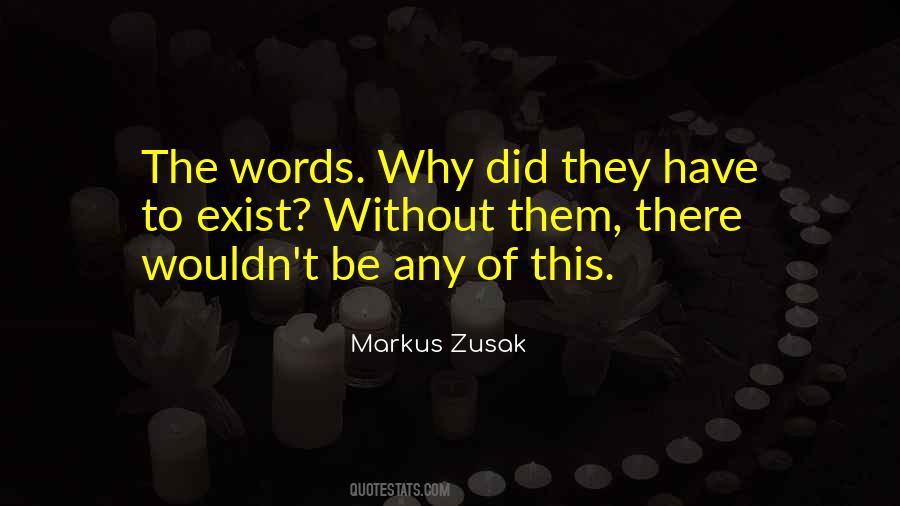 #21. I took them all away, and if ever there was a time I needed distraction, this was it. In complete desolation, I looked at the world above. I watched the sky as it turned from silver to gray to the color of rain. Even the clouds were trying to get away.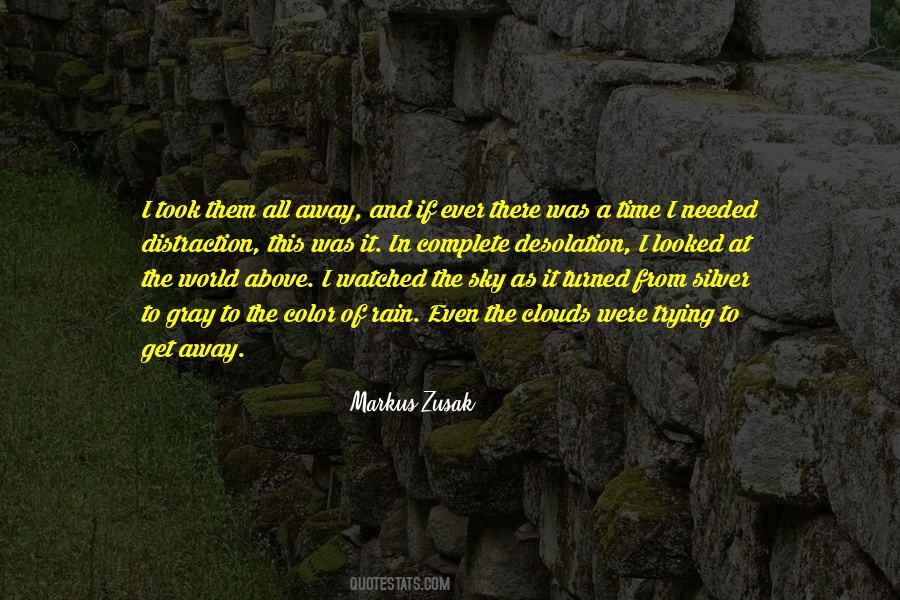 #22. The bittersweetness of uncertainty: To win or to lose.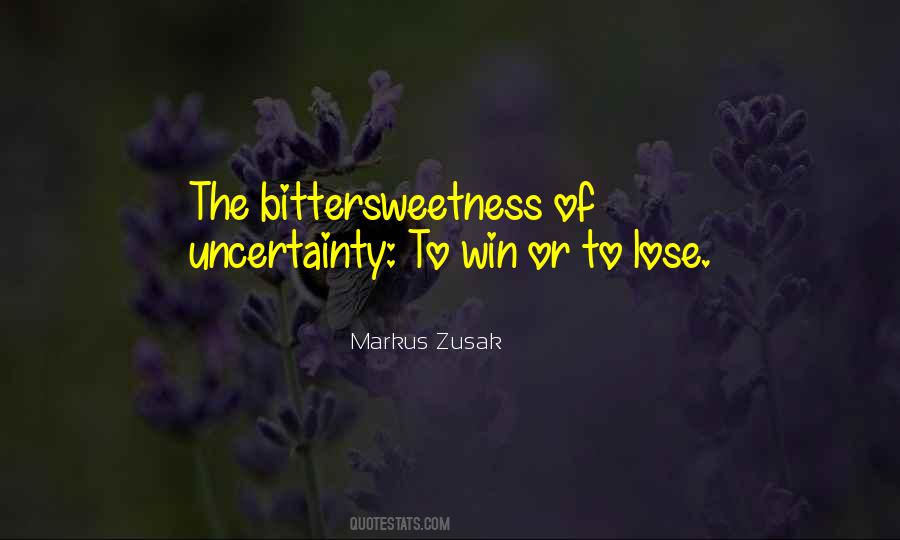 #23. I'm always finding humans at their best and worst. I see their ugly and their beauty and I wonder how the same can be both.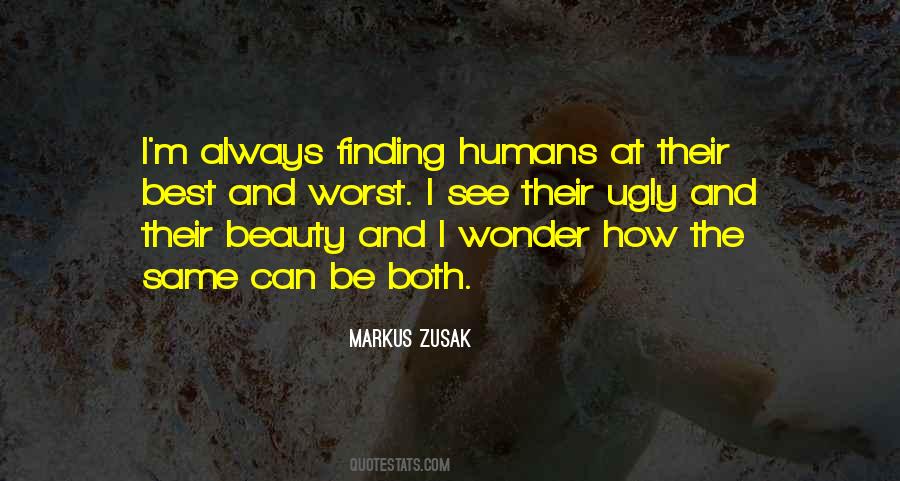 #24. It was like she held a string and pulled on it just slightly to open me up. She got in, put a piece of herself inside me, and left again. In there, somewhere, I still feel it.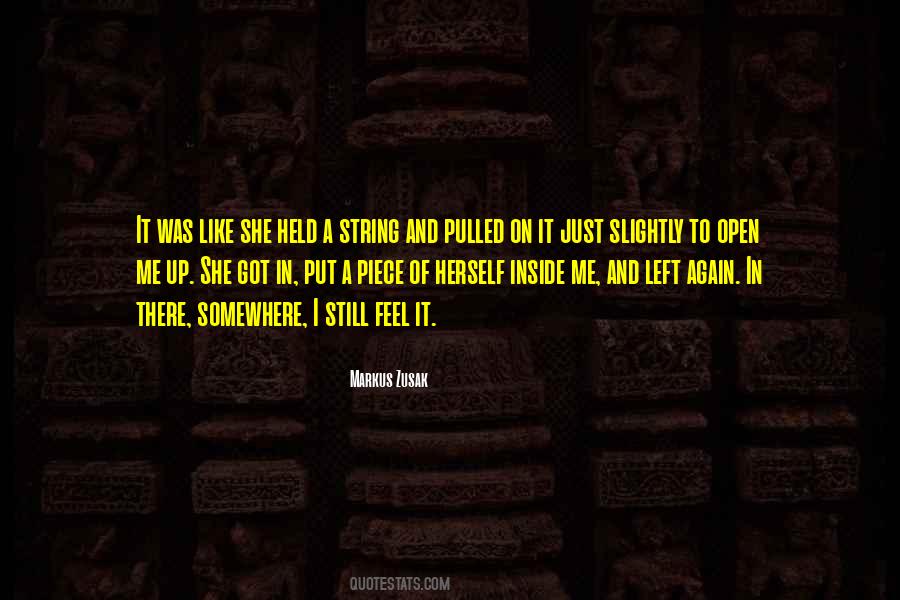 #25. On the opposite side, the mannequins stood like witnesses. They were serious and ludicrously stylish. It was hard to shake the feeling that they were watching everything.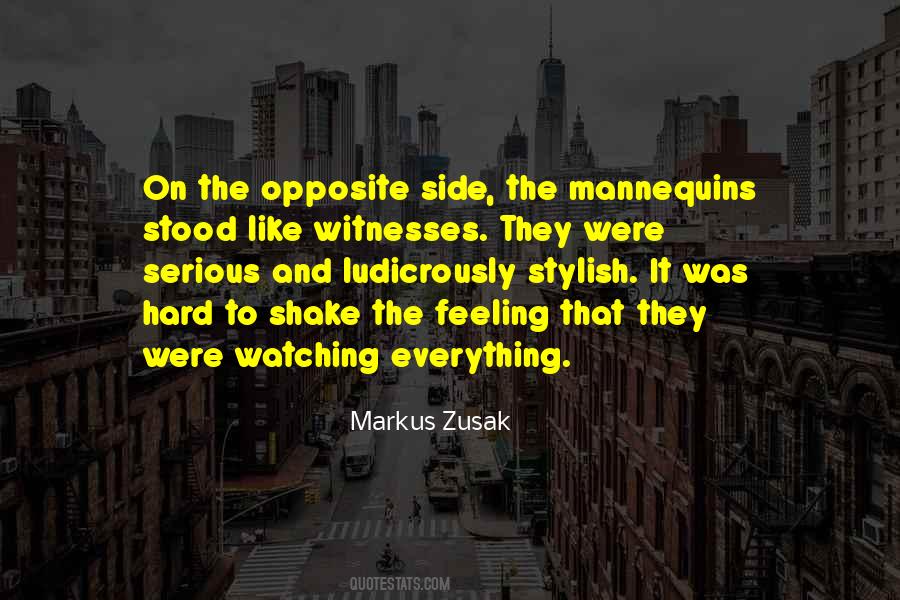 #26. Living was living. The price was guilt and shame.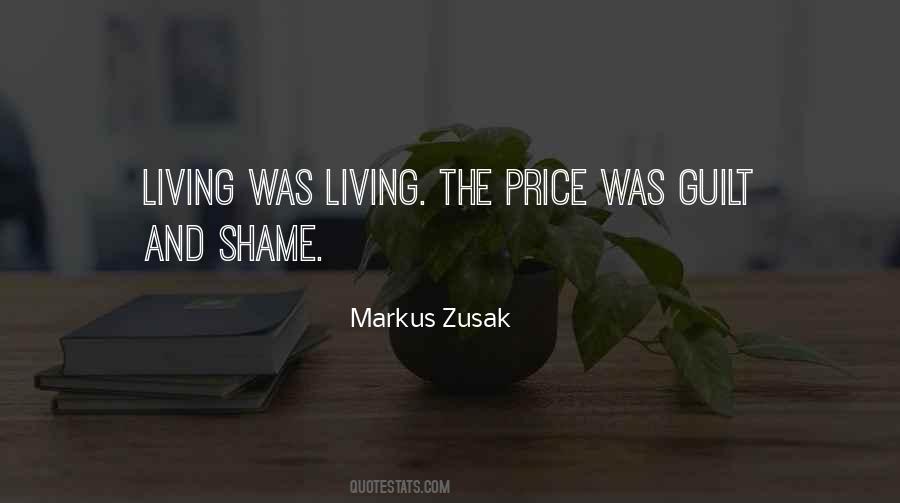 #27. I'm Angelina," she says. "Are you here to save us?" I can see a tiny spark of hope awaken in her eyes.
"You're right, Angelina - I'm here to save you."
"Can you? Really?"
"I'll try," I say and the girl smiles.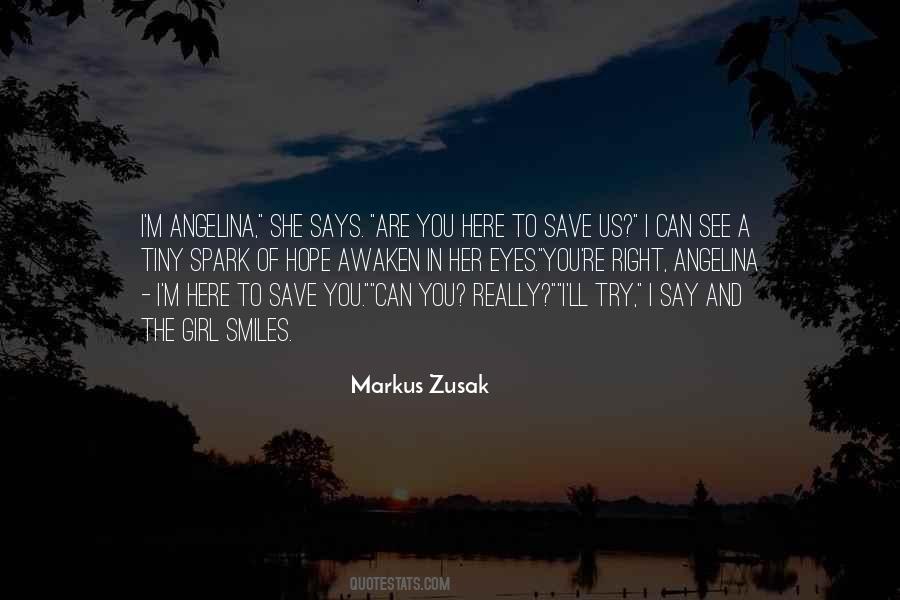 #28. and it feels good to be good for something in the aftermath of the snows of Stalingrad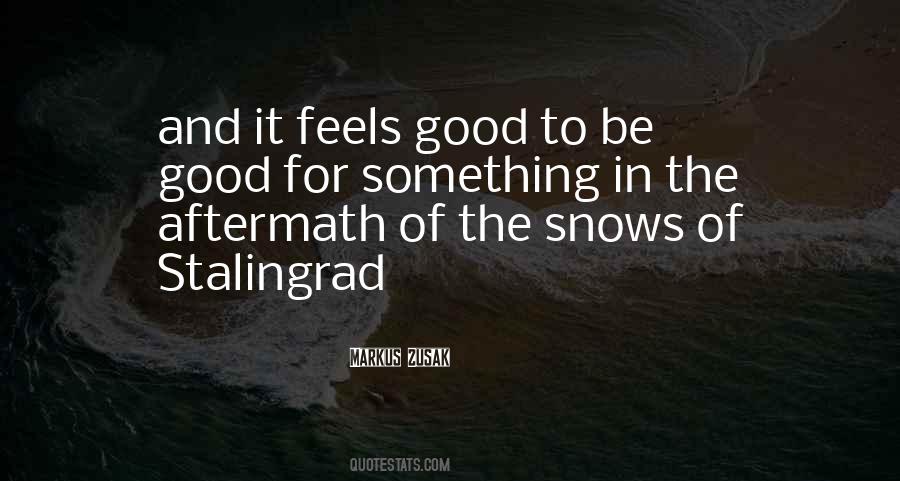 #29. ***A KEY WORD***
Imagined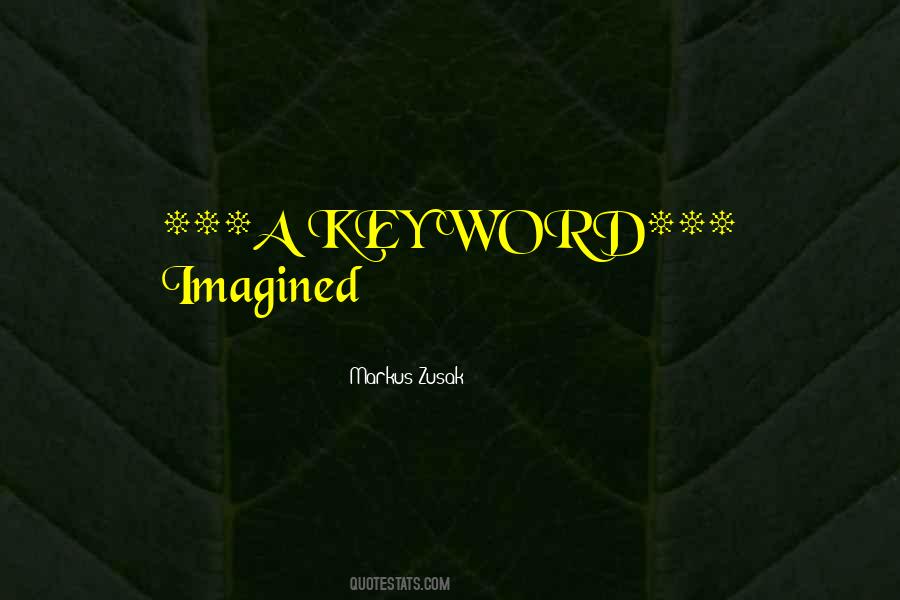 #30. We both laugh and run and the moment is so thick around me that i feel like dropping into it to let it carry me.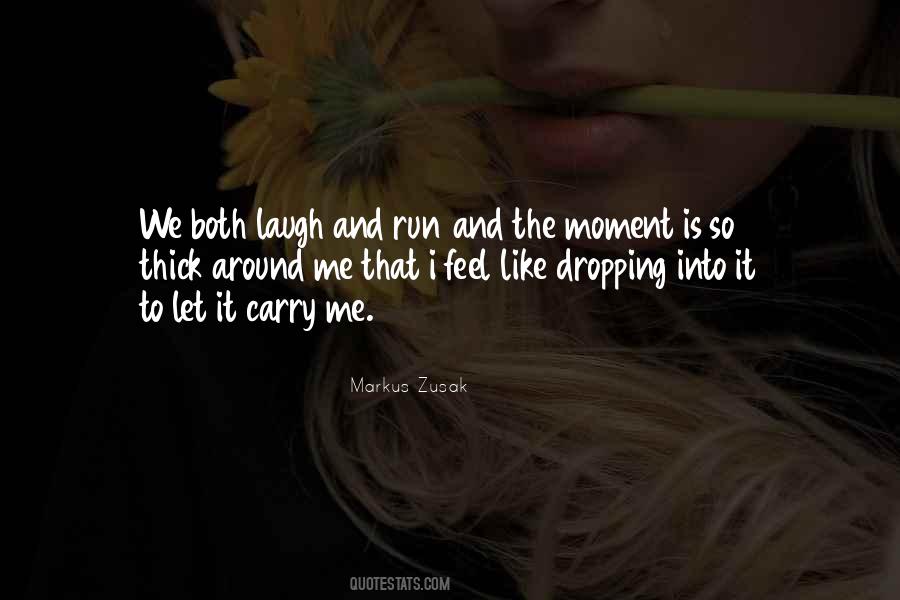 #31. Sometimes I think my papa is an accordion. When he looks at me and smiles and breathes, I hear the notes.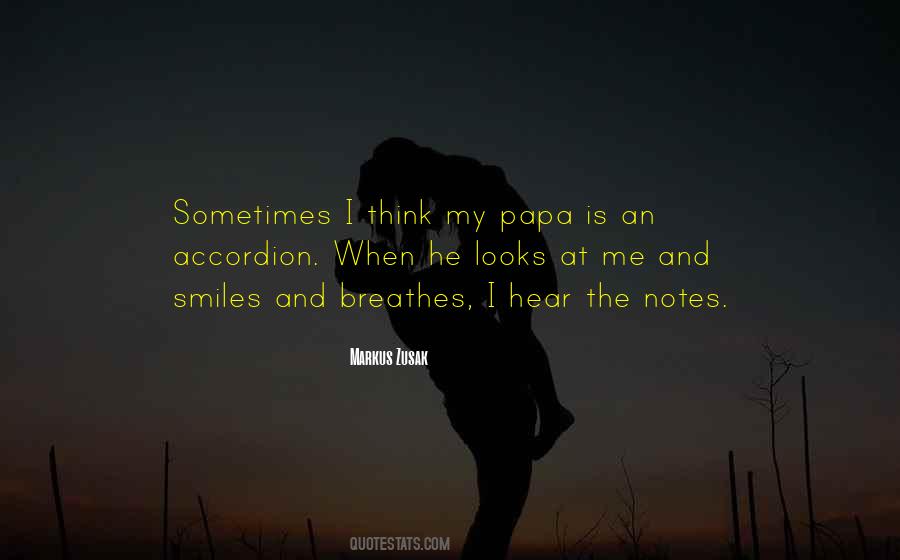 #32. It's the person, Ma, not the place. If you left here, you'd have been the same anywhere else.'( ... )'If I ever leave this place' - I swallow - 'I'll make sure I'm better here first.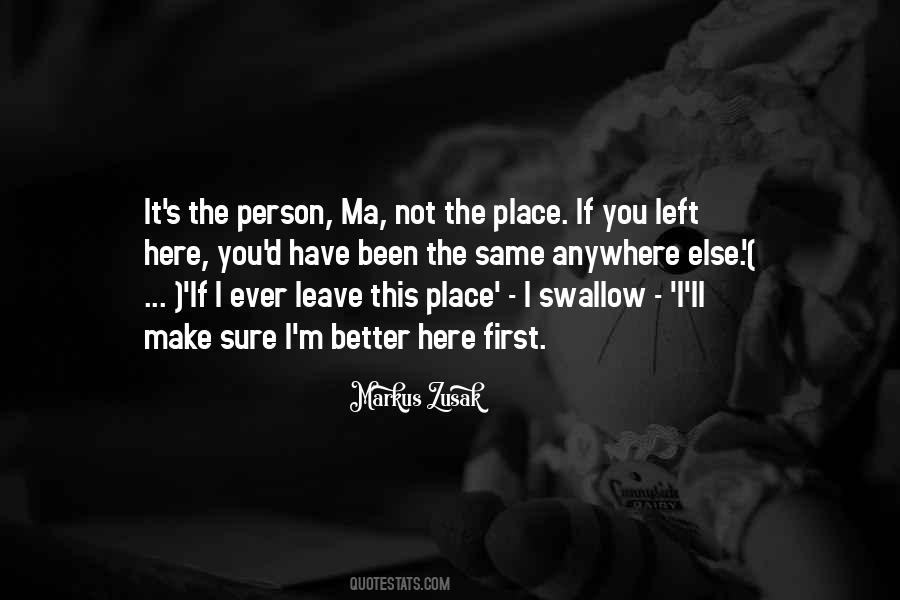 #33. I'm ready now." If he'd intervened, it might have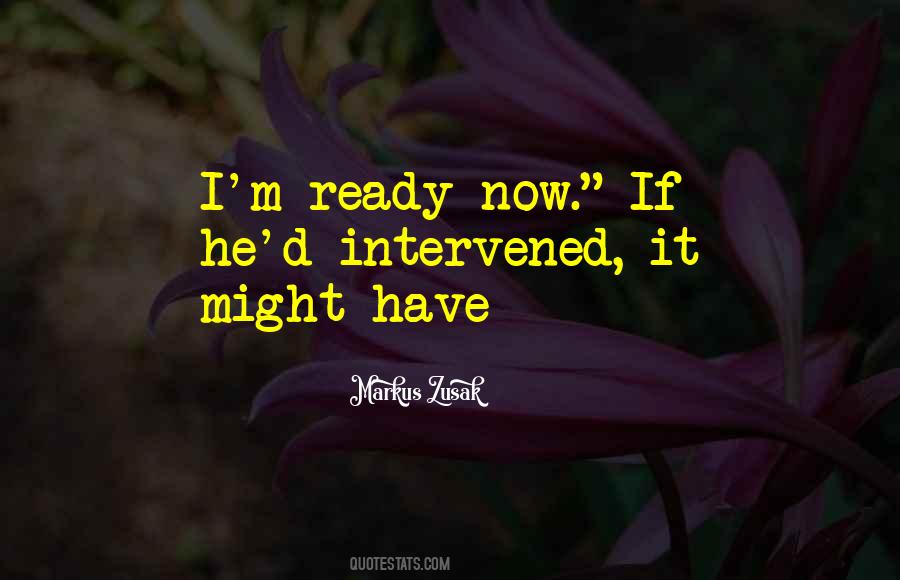 #34. At first, she could not talk. Perhaps it was the sudden bumpiness of love she felt for him. Or had she always loved him?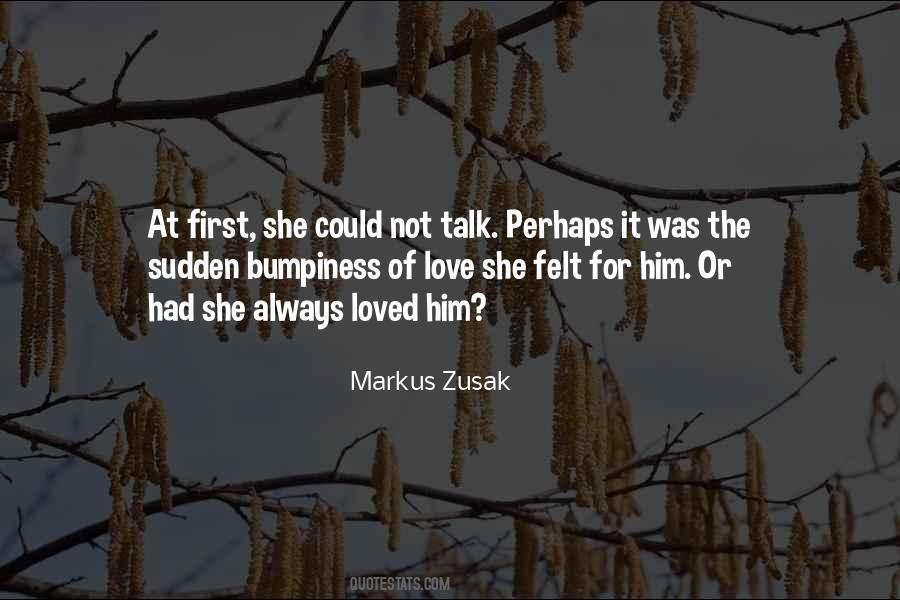 #35. The Keys To Happiness
1.Finishing the Grave Digger's Handbook.
2.Escaping the ire of Santa Maria.
3.Recieving two books for Christmas.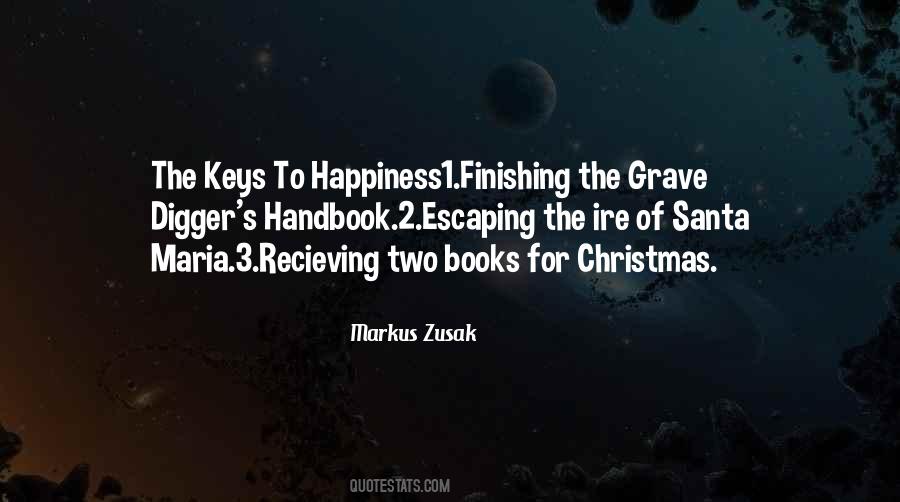 #36. I guess if editing doesn't hurt, you're probably not doing it properly. I find it quite difficult. The hardest part is believing that it's actually working and getting rid of the doubt that always creeps in.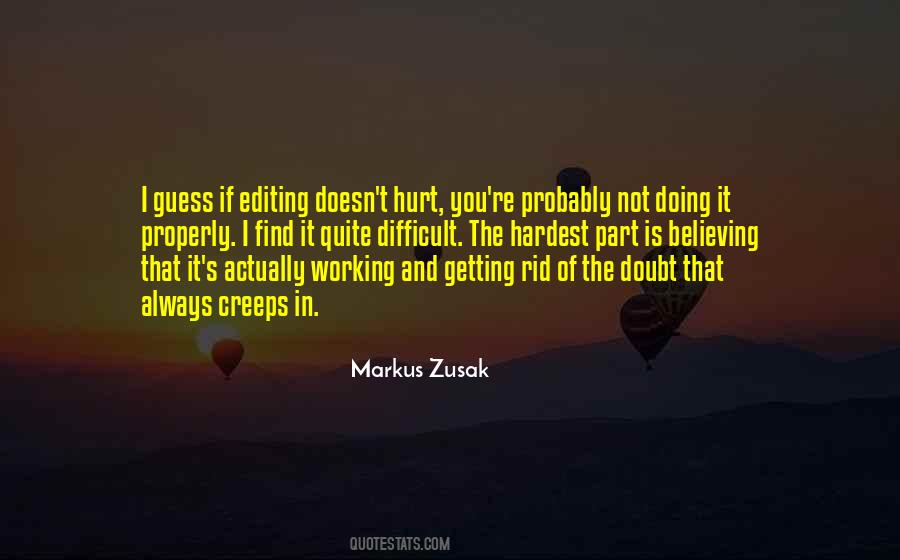 #37. I think only one thing.
Where 's Octavia?
As I get closer to the bottom, I notice that it's water that I'm falling into. It's salty-green and smooth, until ...
I'm driven through the surface and go deeper. I'm surrounded.
I'm drowning. I think. I'm drowning.
But I'm smiling too.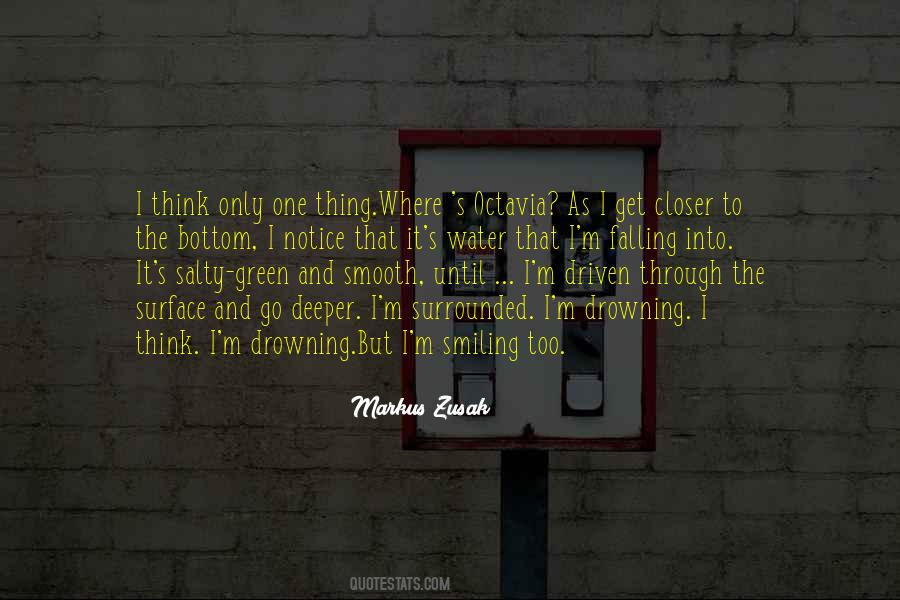 #38. Winning wasn't natural for me. It had to be fought for, in the echoes and trodden footprints of my mind.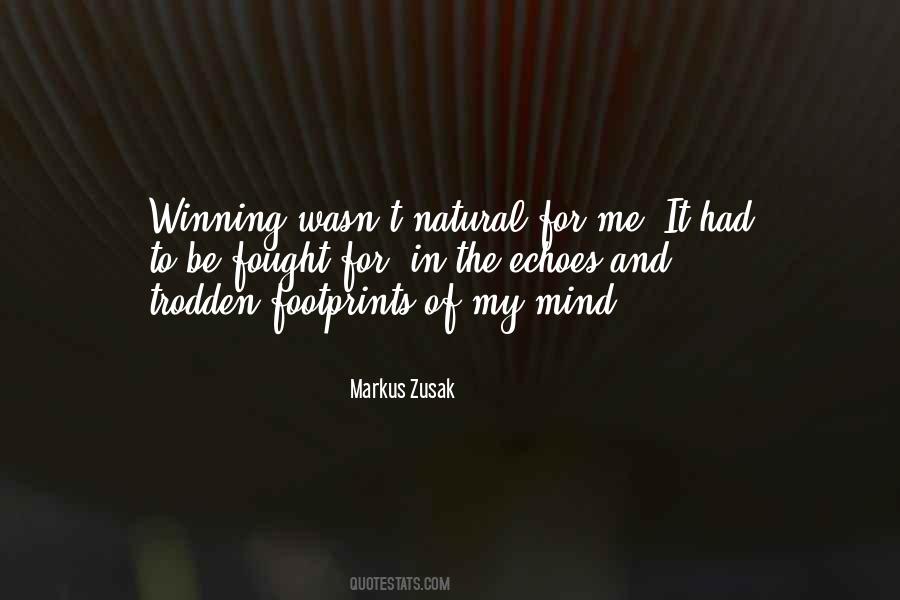 #39. How 'bout a kiss, Saumensch?" -- Rudy Steiner
#40. I'm asking you, I'm begging you, could you please shut your mouth for just five minutes?
You can imagine the reaction. They ended up in the basement.
#41. He seemed to resonate with a kind of confidence that life was still nothing but a joke - an endless succession of soccer goals, trickery, and a constant repertoire of meaningless chatter.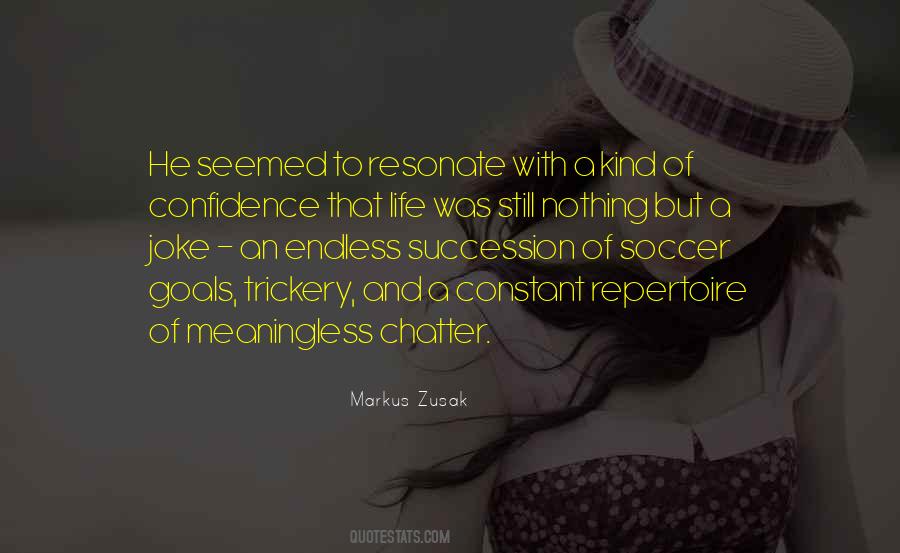 #42. When life robs you, sometimes, you have to rob it back.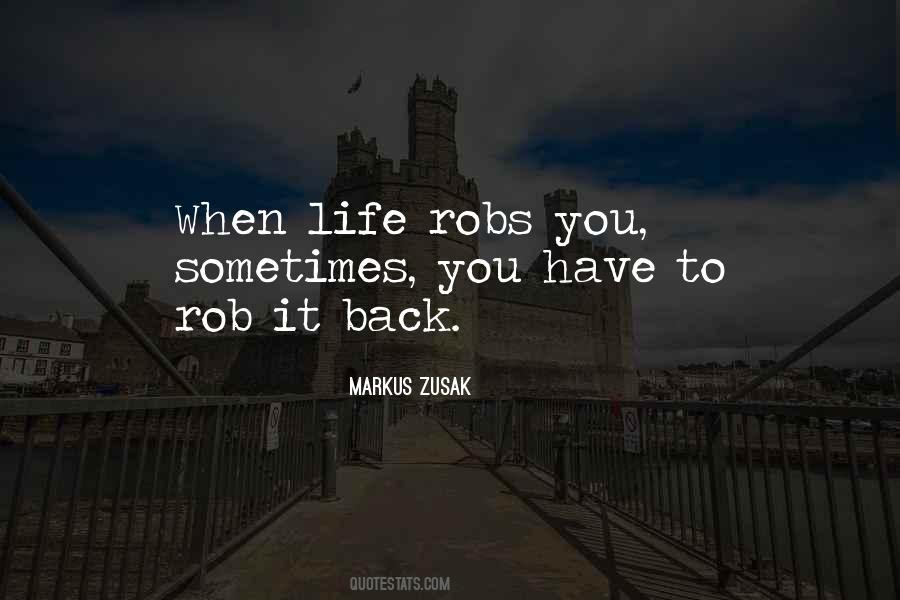 #43. The only sound I'll hear after that will be my own breathing, and the sound of the smell, of my footsteps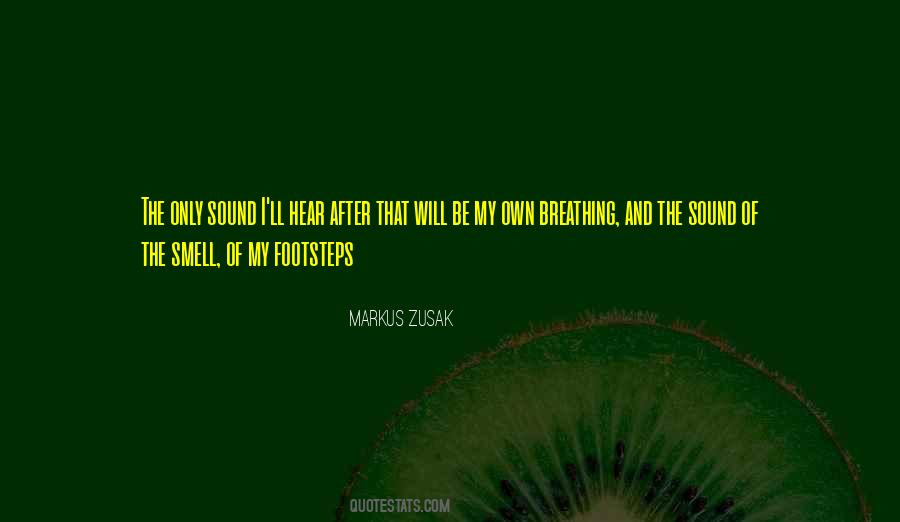 #44. The voice was crippled, but it dragged its way towards her.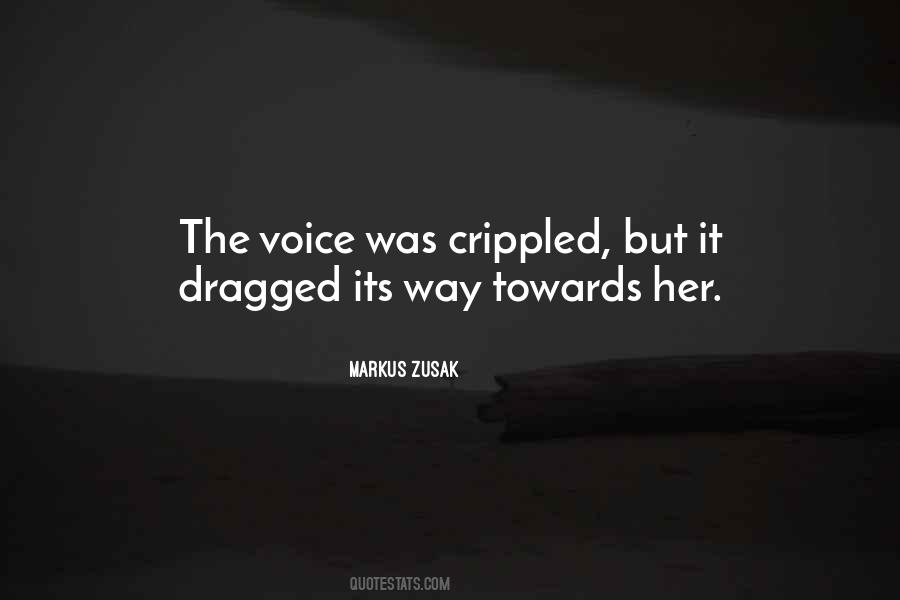 #45. He switched off the light, came back and sat in the chair. In the darkness, Liesel kept her eyes open. She was watching the words.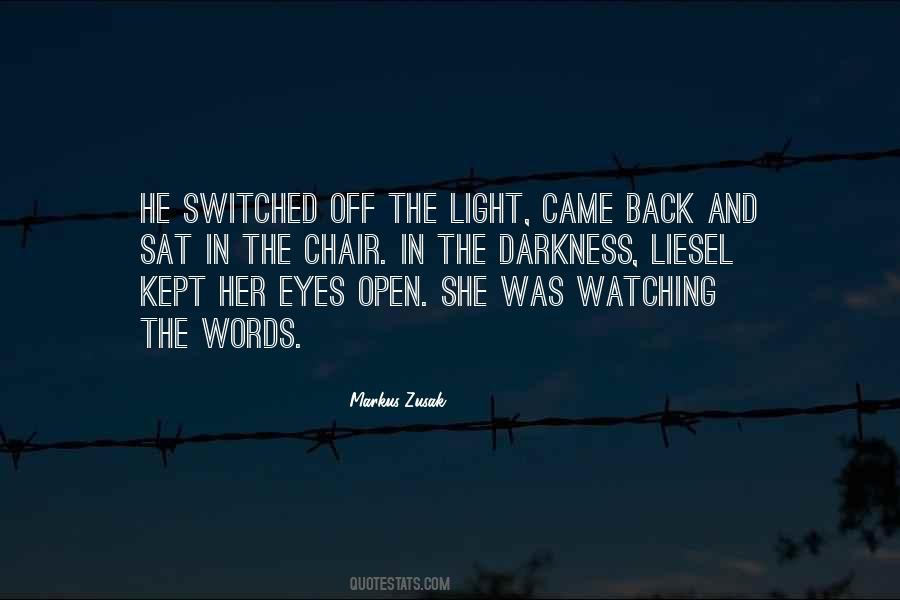 #46. It makes me think of my life, my nonexistent accomplishments and my overall abilities in incompetence.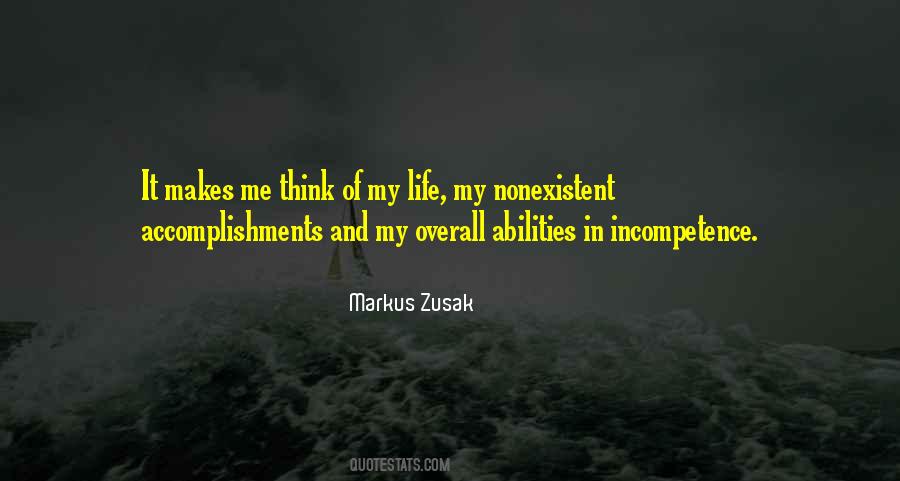 #47. Can a wolfe be beautiful?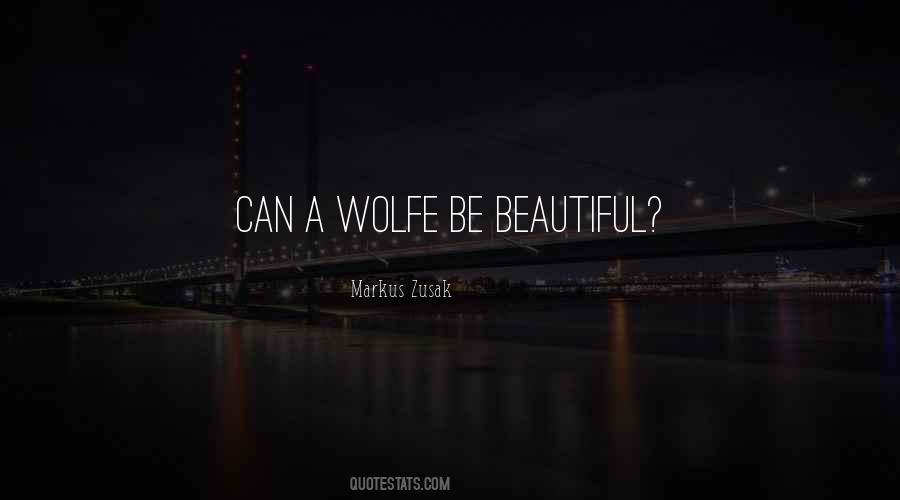 #48. I could smell something. Fear.
I could taste it now.
It tasted like blood in my mouth, and I could feel it slide through me and open me up when I saw him ...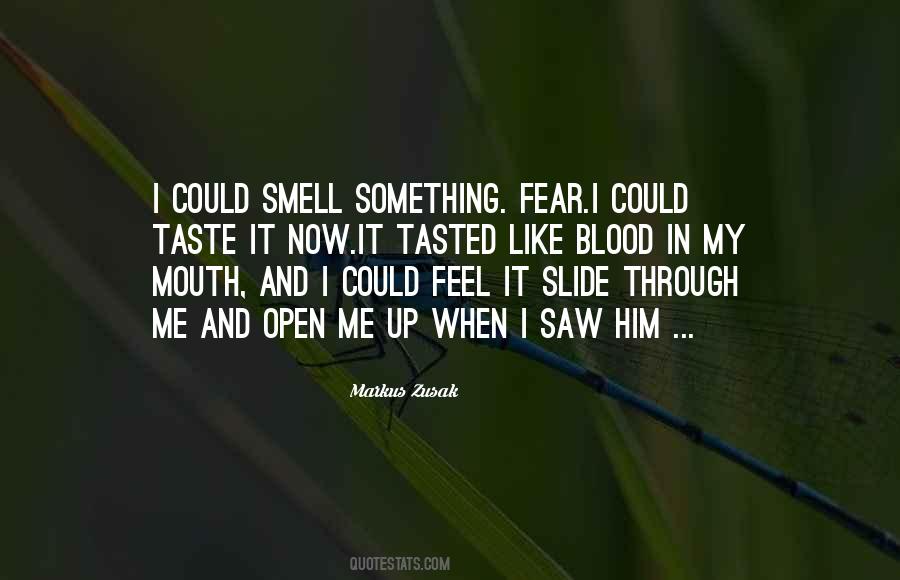 #49. Him. "Don't think. Just swallow." As soon as Mama handed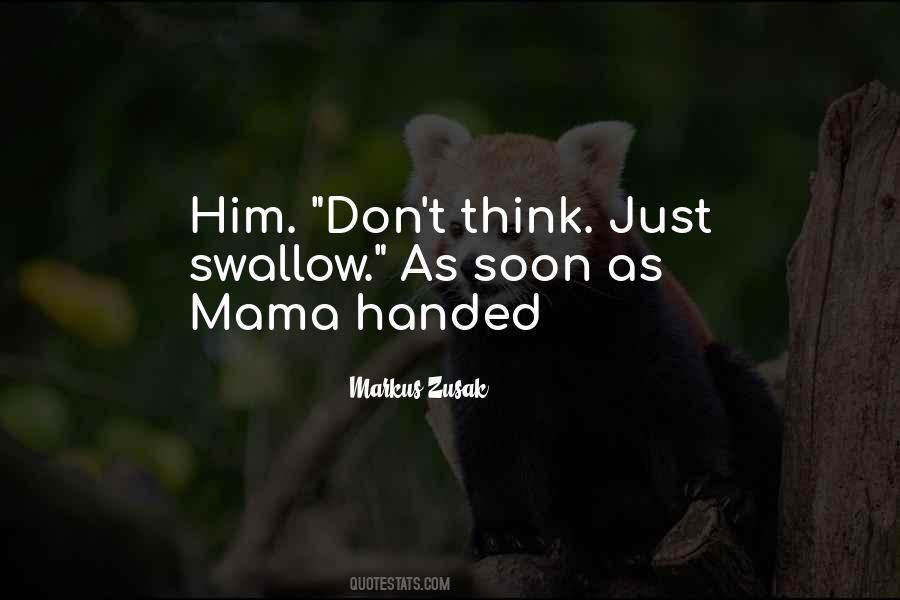 #50. It's not the place, I think. It's the people. We'd have all been the same anywhere else.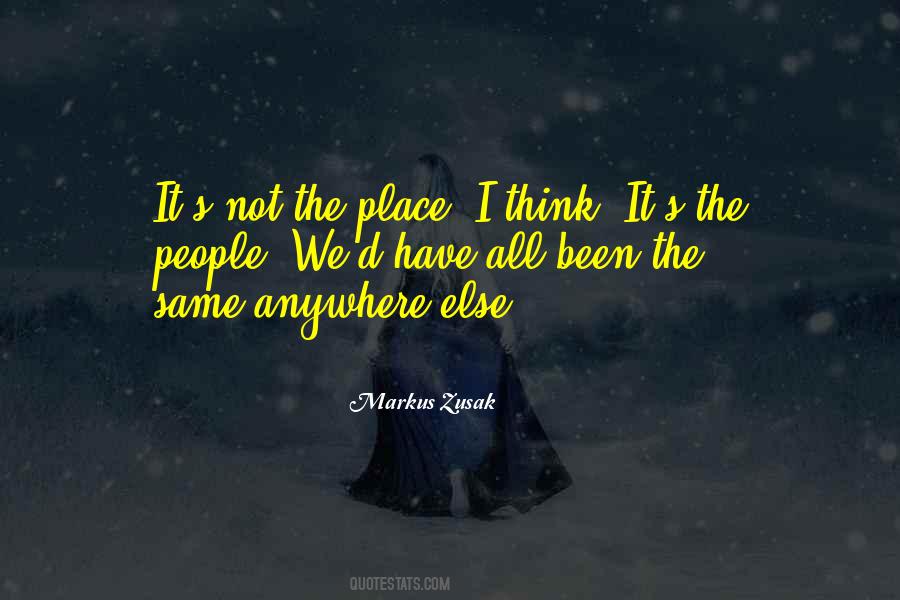 #51. The city buildings in the distance are holding up the sky, it seems.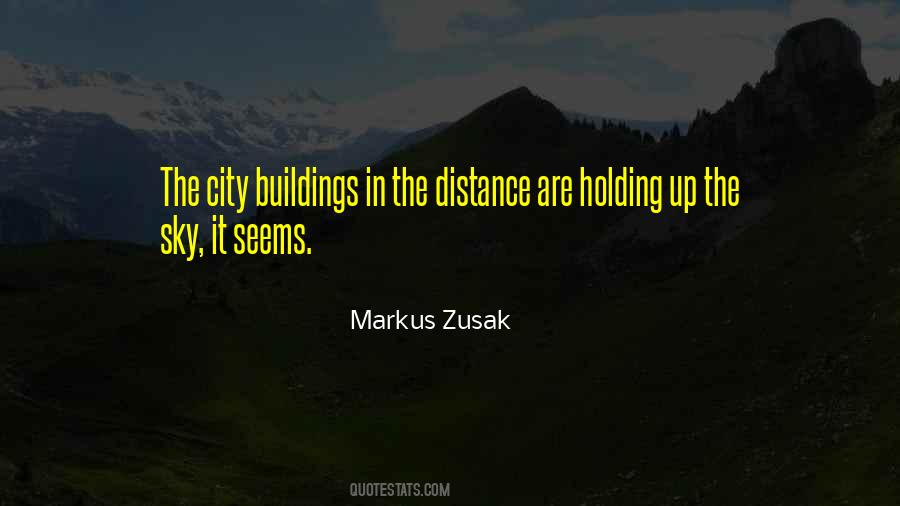 #52. Not leaving: an act of trust and love, often deciphered by children.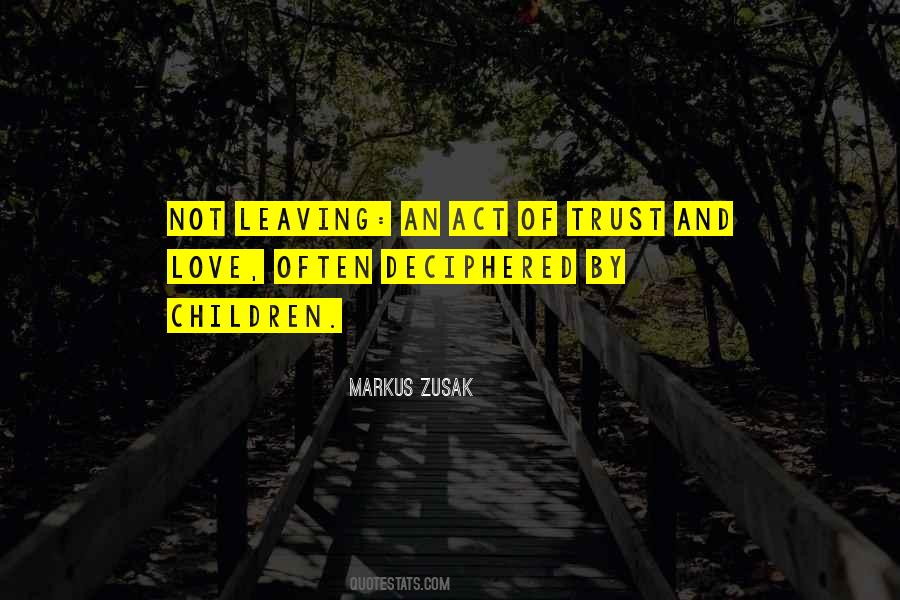 #53. When they came together, Michael apologized.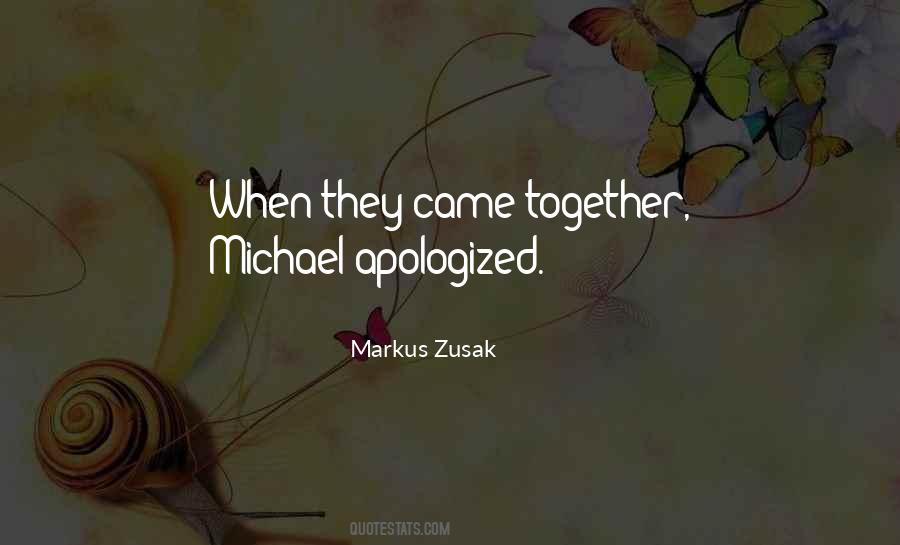 #54. Want me, I beg, but nothing comes.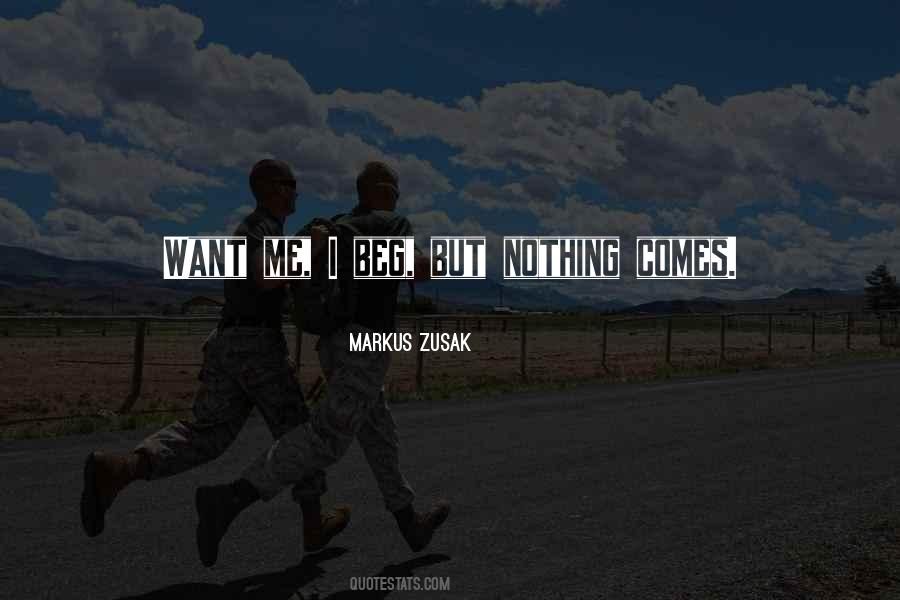 #55. They were frightened, no question, but they were not afraid of me. It was a fear of messing up and having to face themselves again, and facing the world, and the likes of you.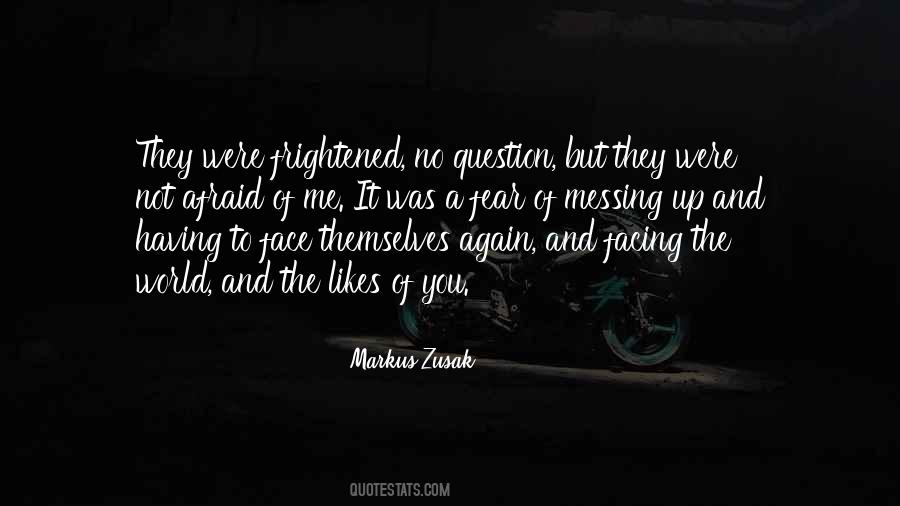 #56. Shadows of cloud lurked in the water, like holes the sun forgot about.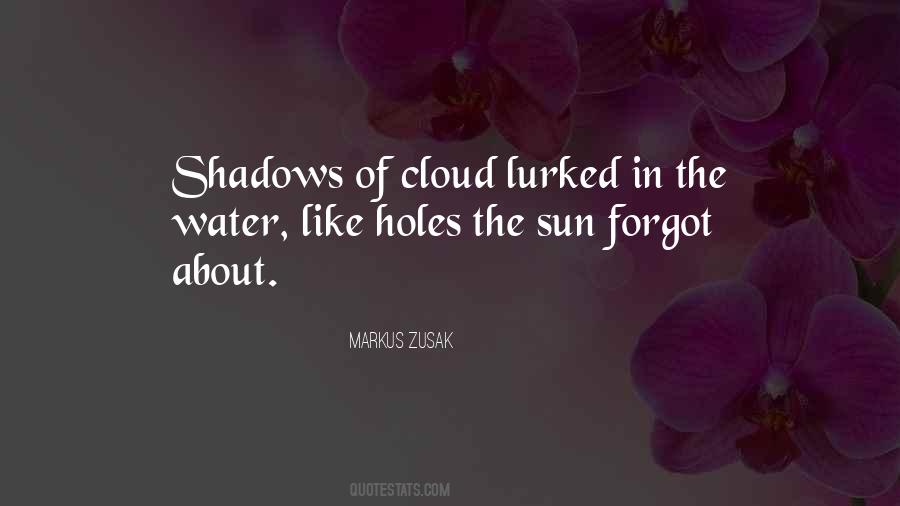 #57. He tasted dusty and sweet. He tasted like regret in the shadows of trees and in the glow of the anarchist's suit collection.
#58. Her teeth were like a soccer crowd, crammed in.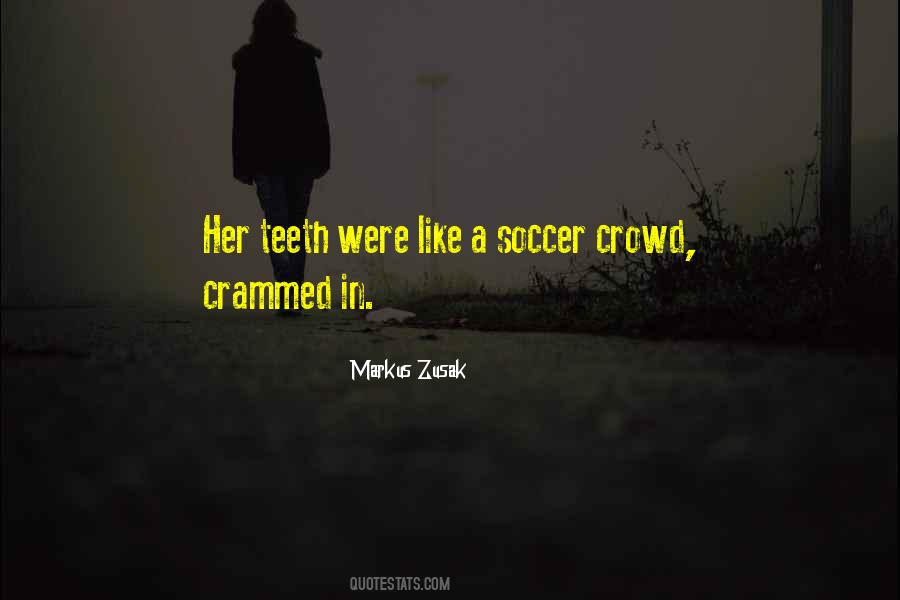 #59. Herr Vogel from Heide Strasse. Made all his money from his father. He throws it away on women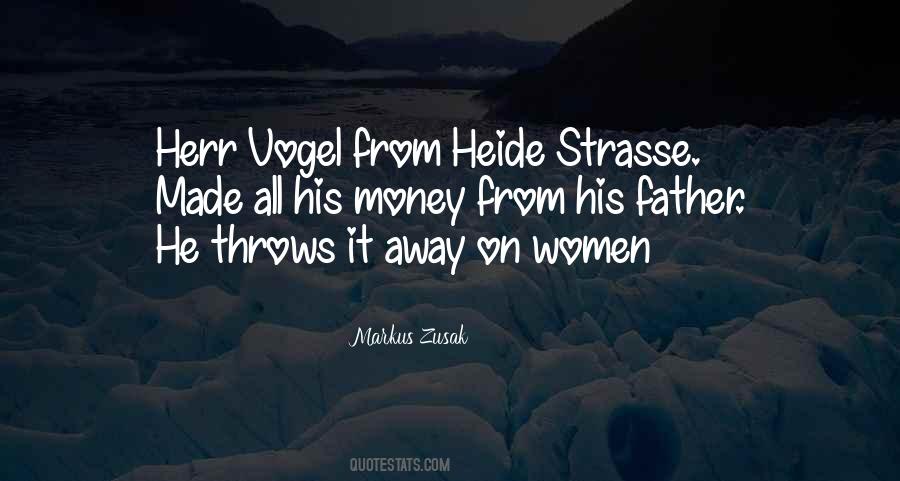 #60. Warily, she dares to allow me a smile. "It's okay. It's just ... I'm not too good at talking to people." She looks away again as her shyness smothers her. "So, do you think it'd be all right if we don't talk?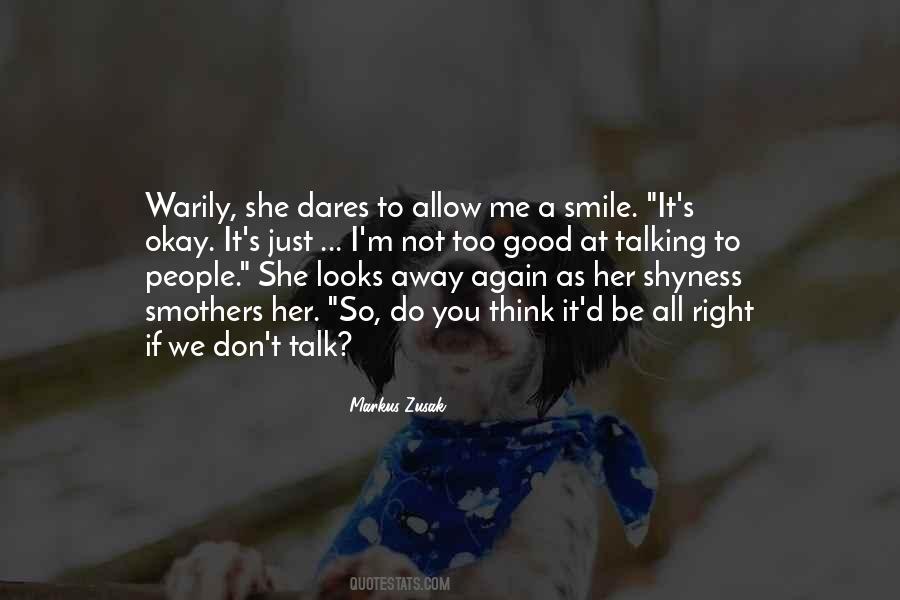 #61. Sometimes when life robs you, you have to rob it back.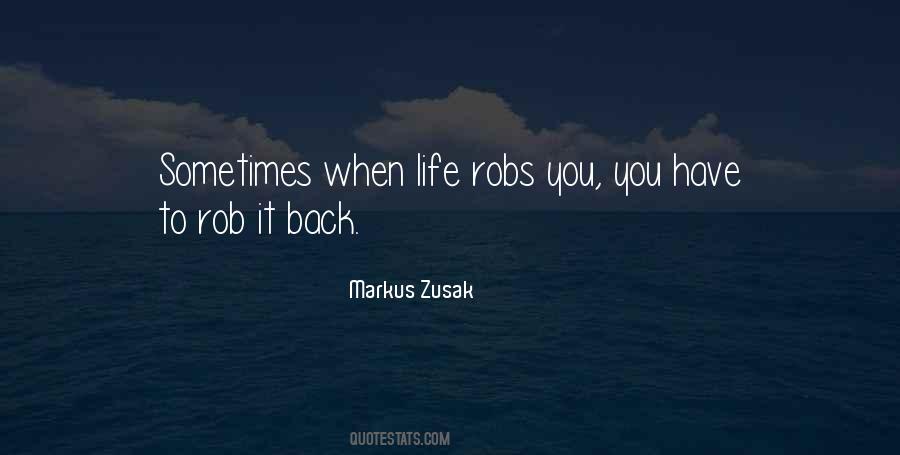 #62. An old homeless man confronts me quietly with his beard, his missing teeth, and his poverty.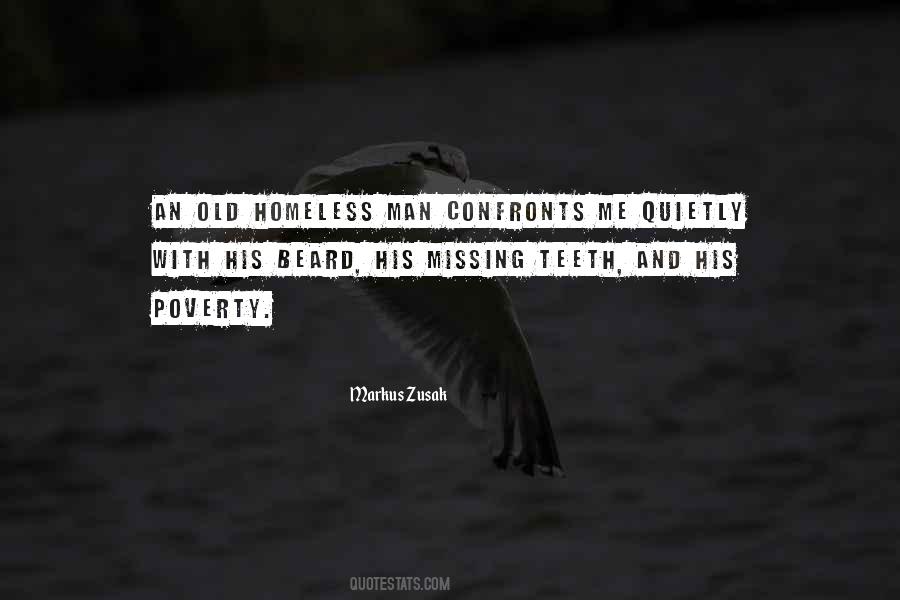 #63. Mystery bores me. It chores me. I know what happens and so do you. It's the machinations that wheel us there that aggravate, perplex, interest, and astound me.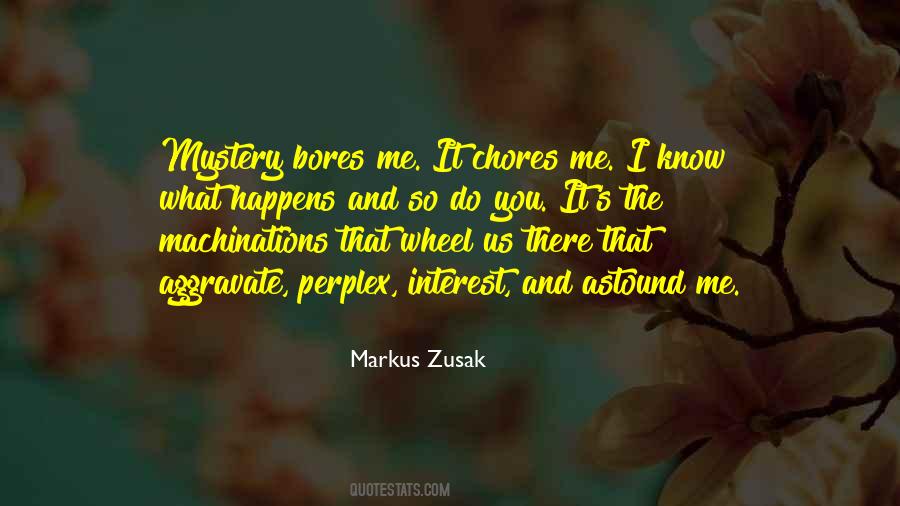 #64. She places her hands around my neck and rests her head on my shoulder. I can smell the sex on her, and my hope is that she can smell the love on me.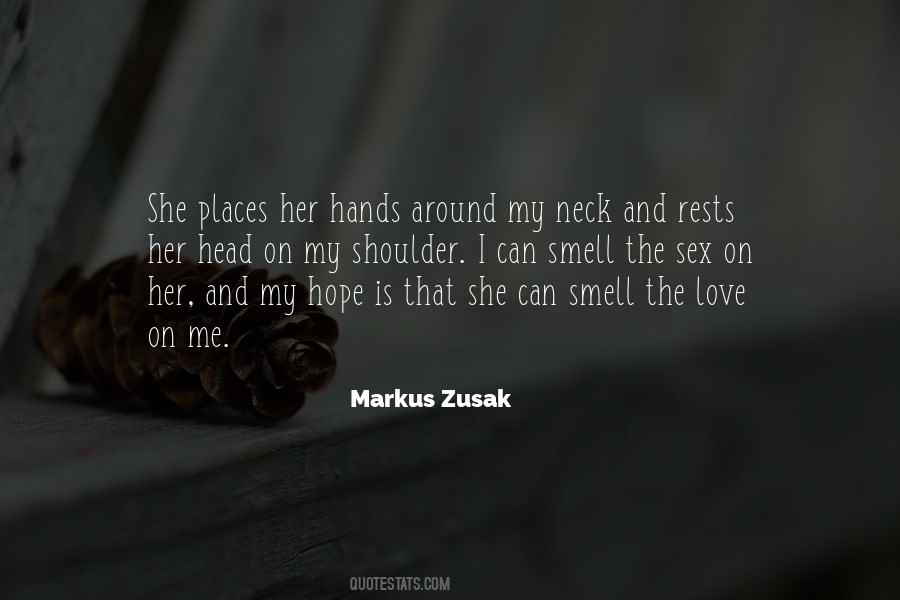 #65. You might well ask just what the hell he was thinking. The answer is, probably nothing at all.He'd probably say he was exercising his God-given right to stupidity.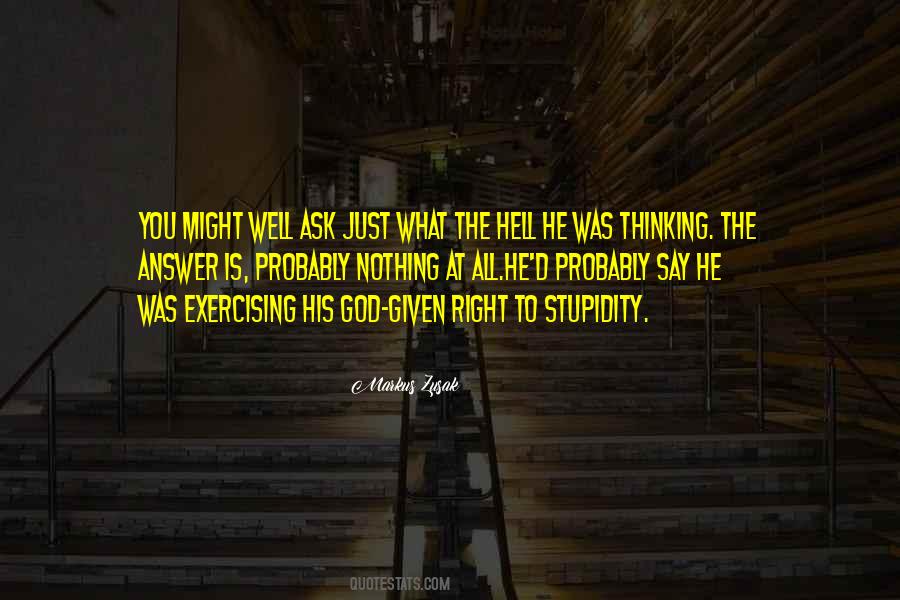 #66. Only hearts ... They're in the inside of the inside of me.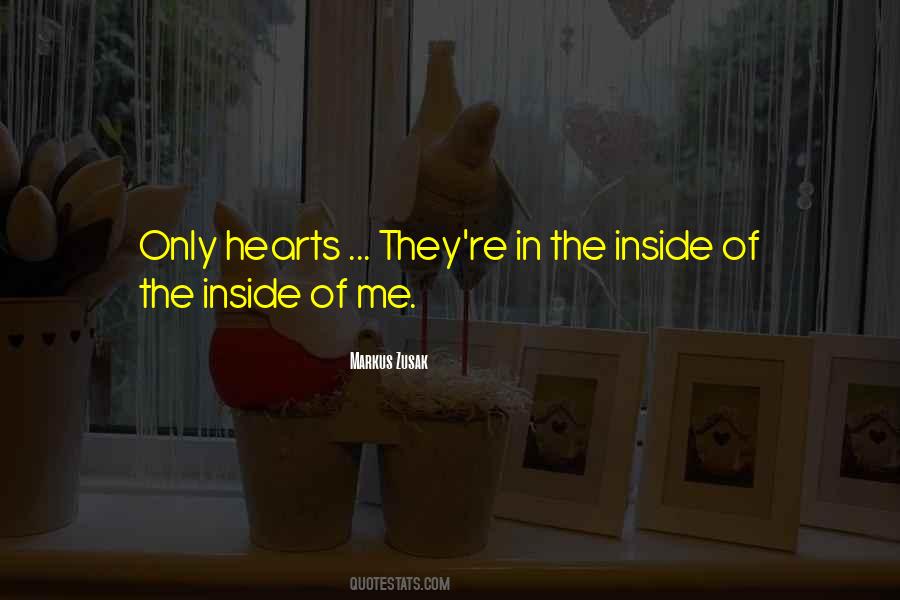 #67. Failure has been my best friend as a writer. It tests you, to see if you have what it takes to see it through.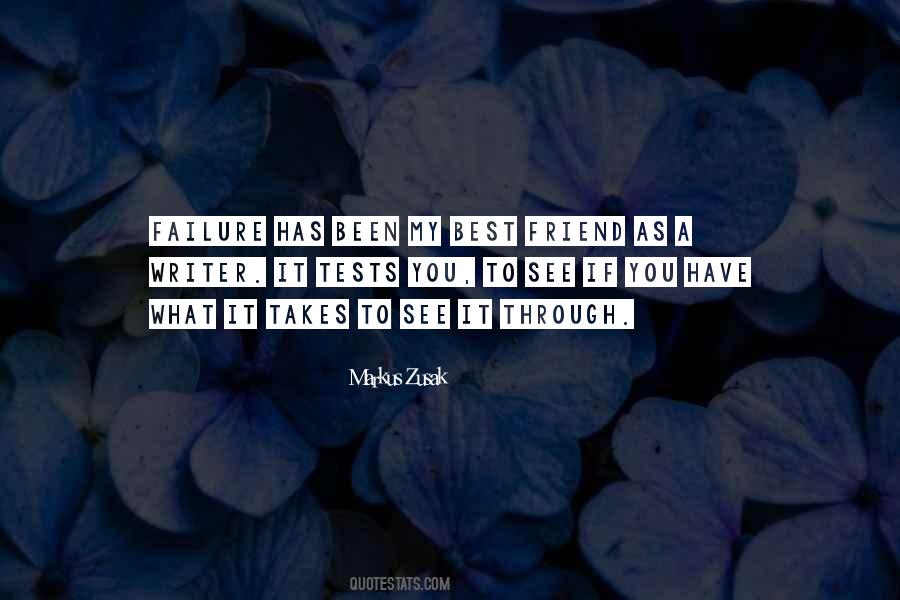 #68. For now, the idea was enough. It was indestructible. Transforming it into reality, well, that was something else altogether. For now, though, let's let him enjoy it.
We'll give him seven months.
Then we come for him.
And oh, how we come.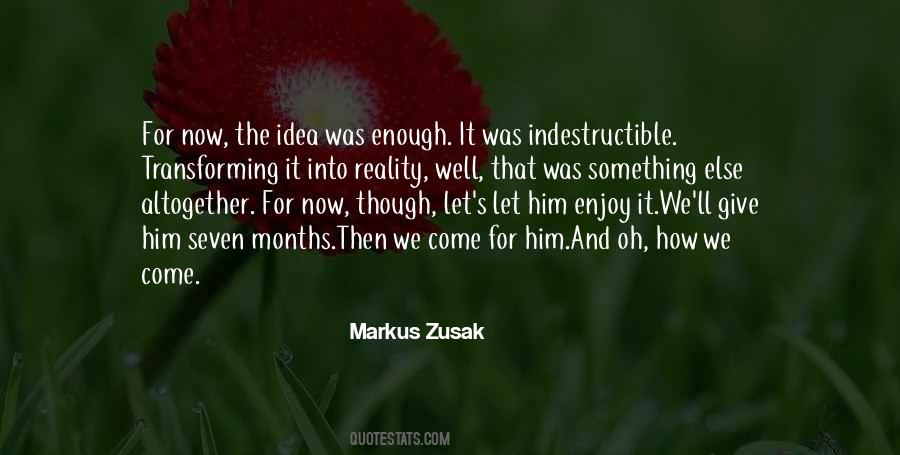 #69. Maybe everyone can live beyond what they're capable of.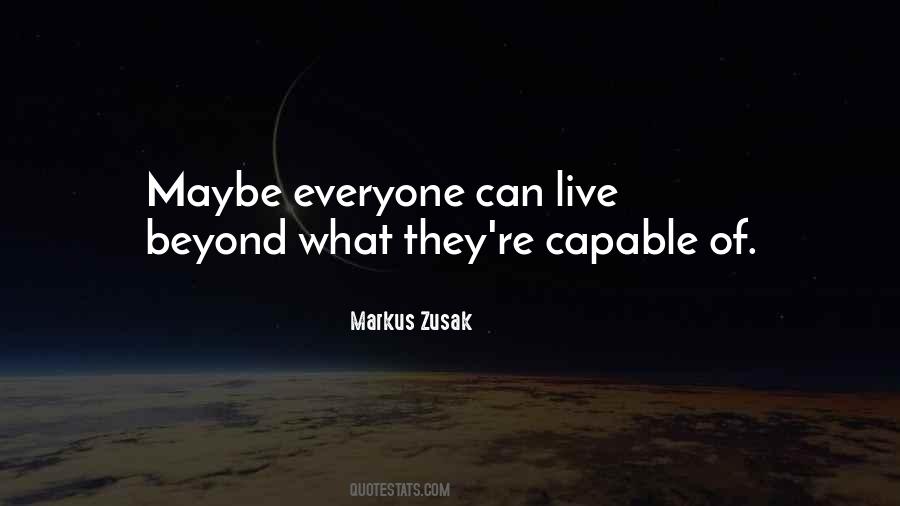 #70. He was tall and abrupt and exactly the kind of guy you wanted to be walking the streets with.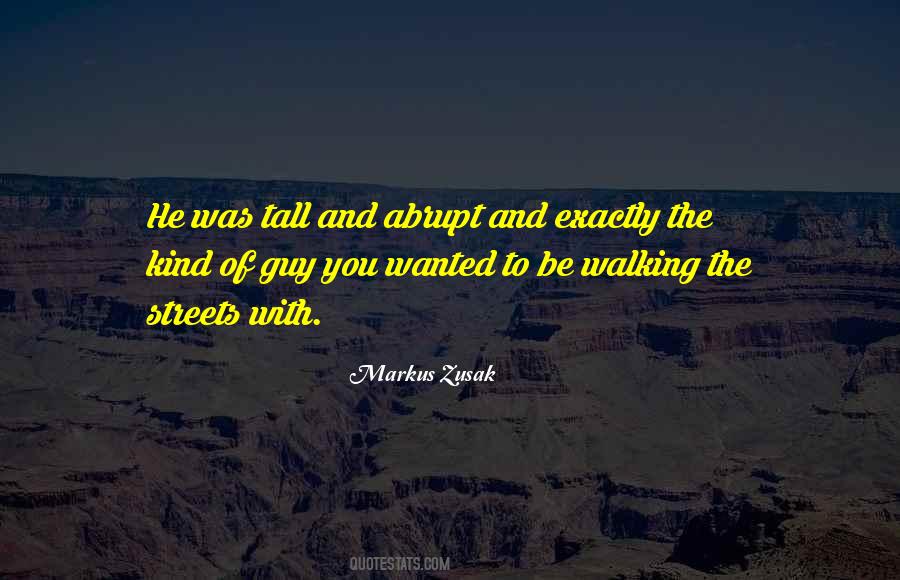 #71. In the trees this afternoon, he was a giver of bread and teddy bears.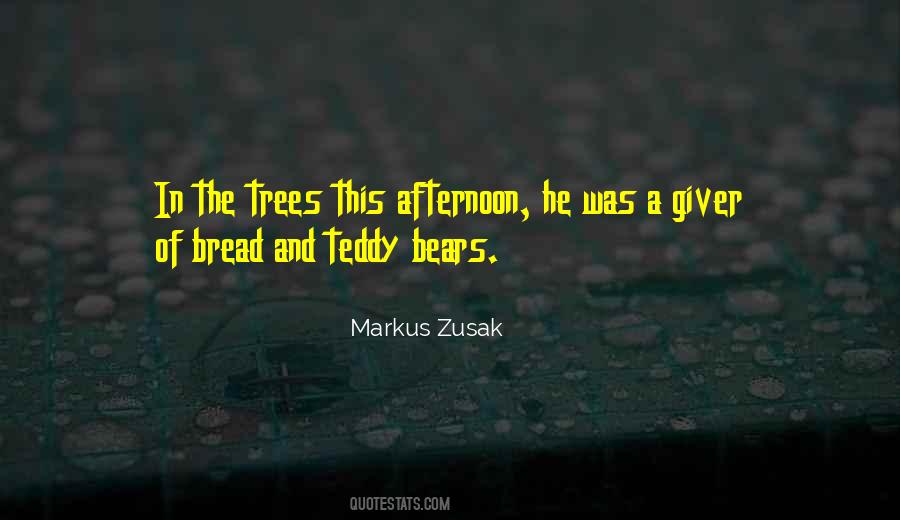 #72. I could go on, but I've decided for now that three examples will suffice. Three examples if nothing else, will give you the ashen taste in your mouth that defined my existence during that year.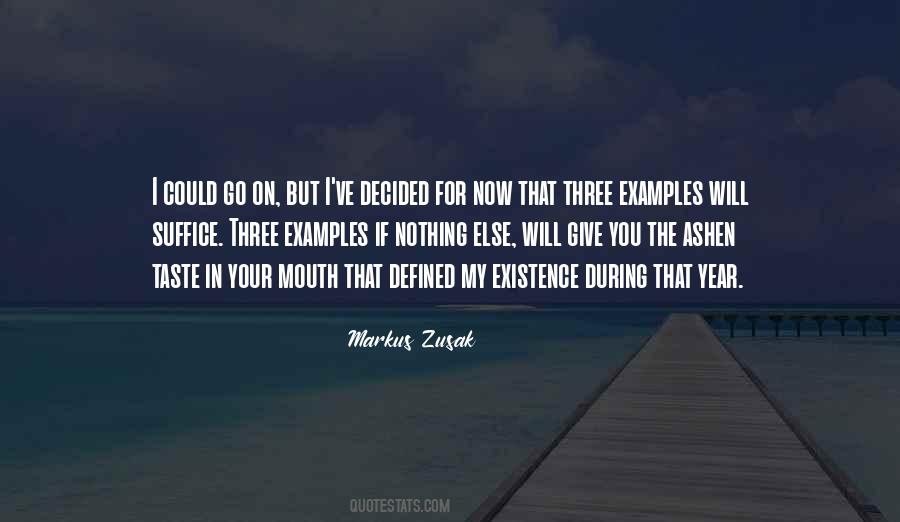 #73. The dangers merged into one. Powder and smoke and the gusty flames. The damaged people. Like the rest of the men in the unit, Hans would need to perfect the act of forgetting.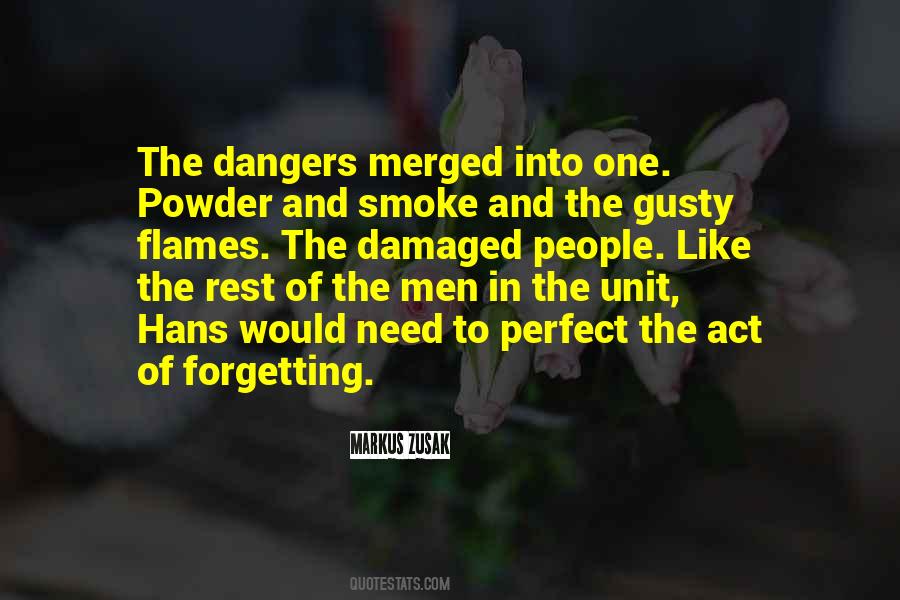 #74. An expression of surprise falls from her face, though she's trying to keep it. it breaks off and she seems to catch it and fidget with it in her hands.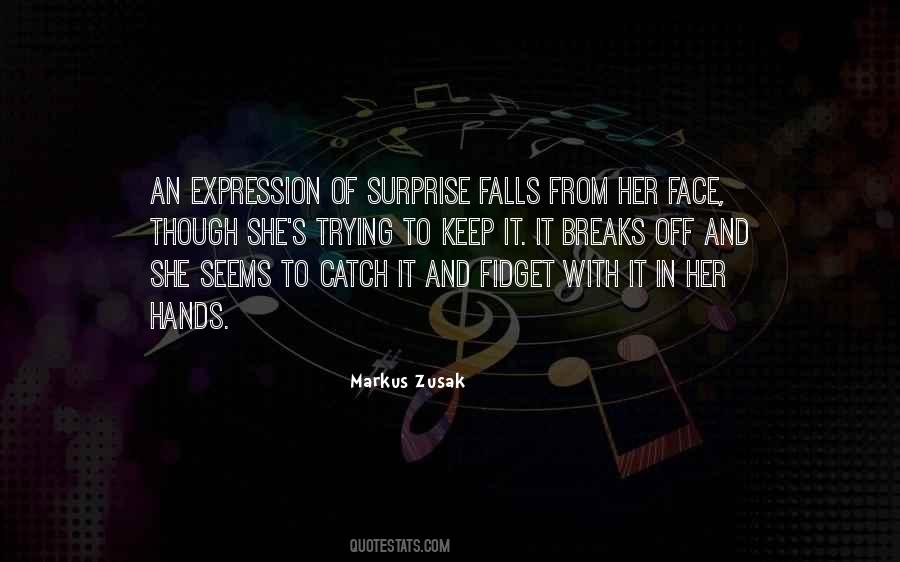 #75. A bathrobe answered the door. Inside it, a woman ...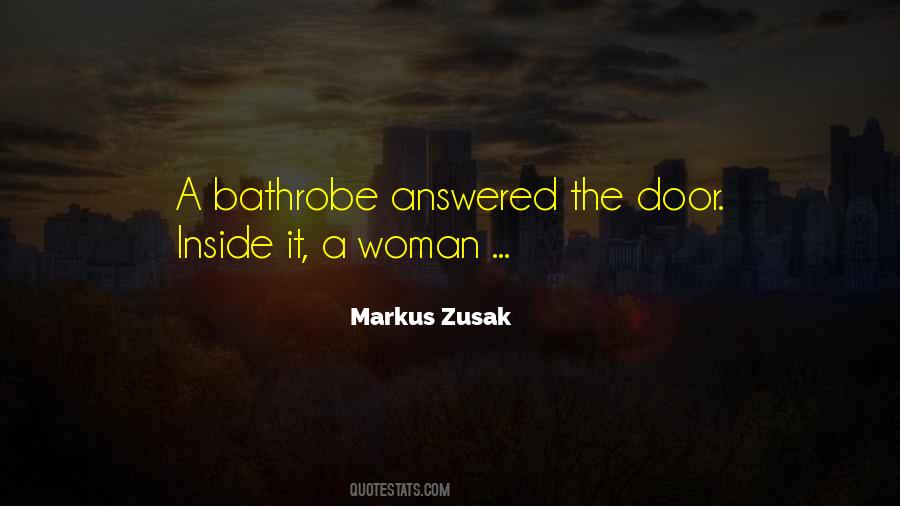 #76. The Germans in basements were pitiable, surely, but at least they had a chance. That basement was not a washroom. They were not sent there for a shower. For those people, life was still achievable.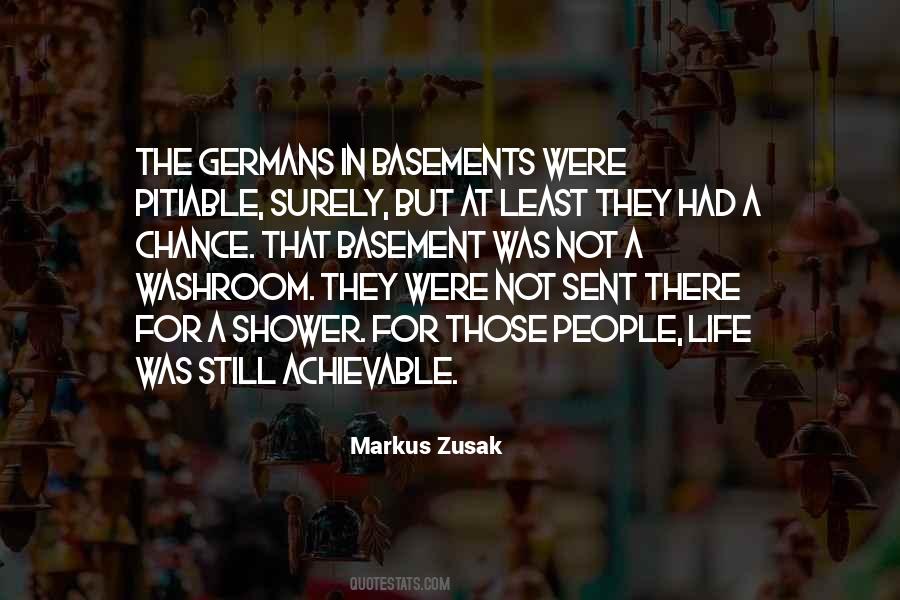 #77. You might argue that I make the rounds no matter what year it is, but sometimes the human race likes to crank things up a little. They increase the production of bodies and their escaping souls.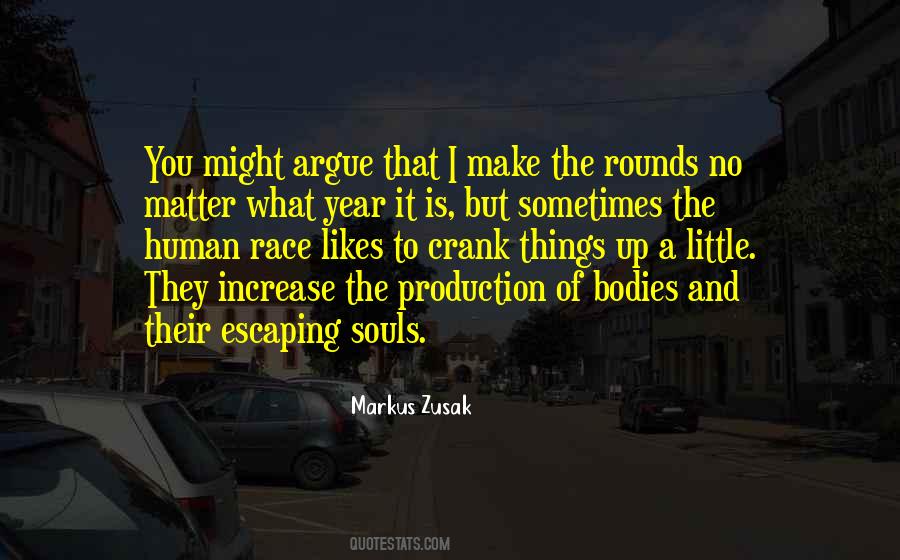 #78. She couldn't tell exactly where the words came from. What mattered was that they reached her. They arrived and kneeled next to her bed.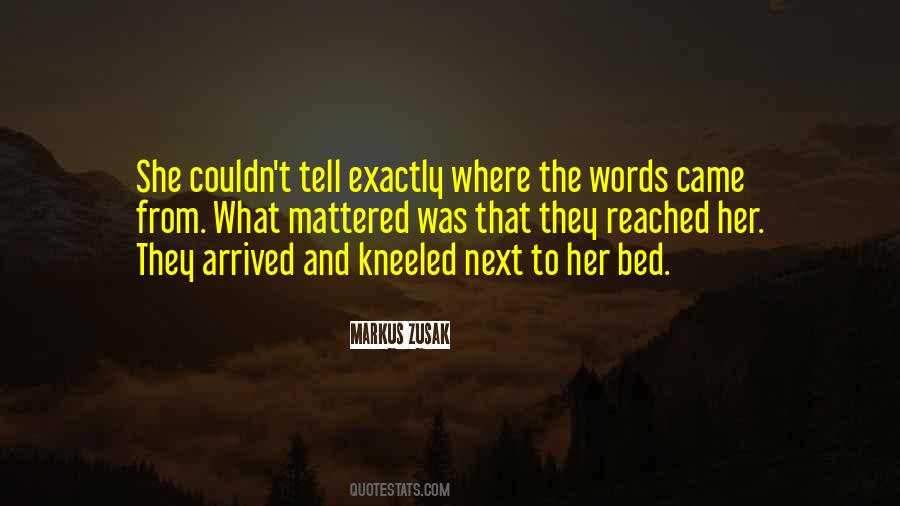 #79. The table. That Saukerl, that filthy pig - you call him Papa, verstehst? Understand?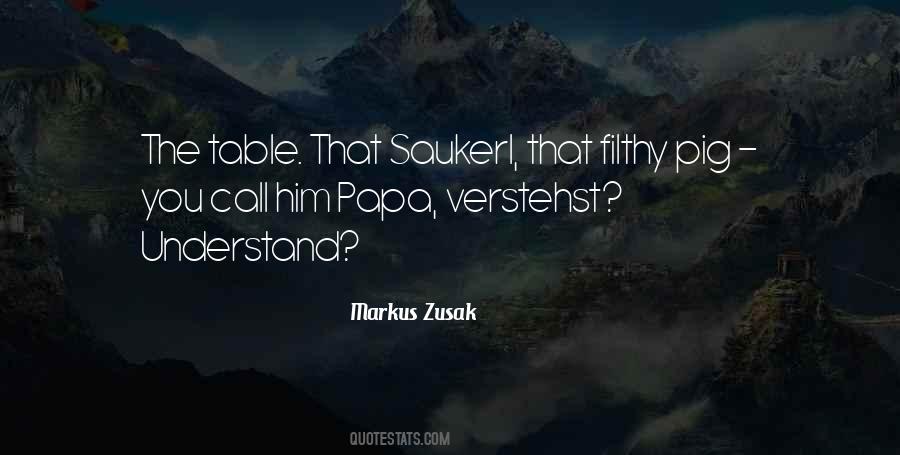 #80. When you lie once, you have to make it uniform. We all know that.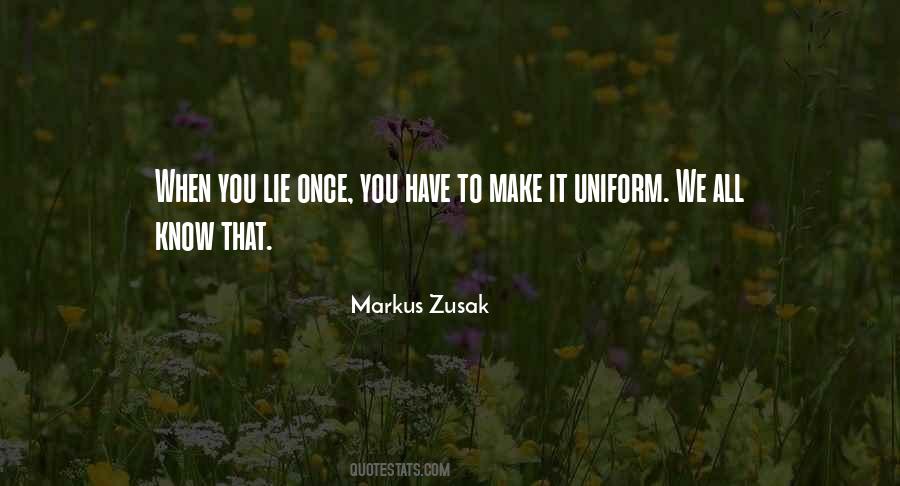 #81. People observe the colours of a day only at its beginnings and ends, but to me it's quite clear that day merges through a multitude of shades and intonations, with each passing moment. A single hour can consist of thousands of different colours.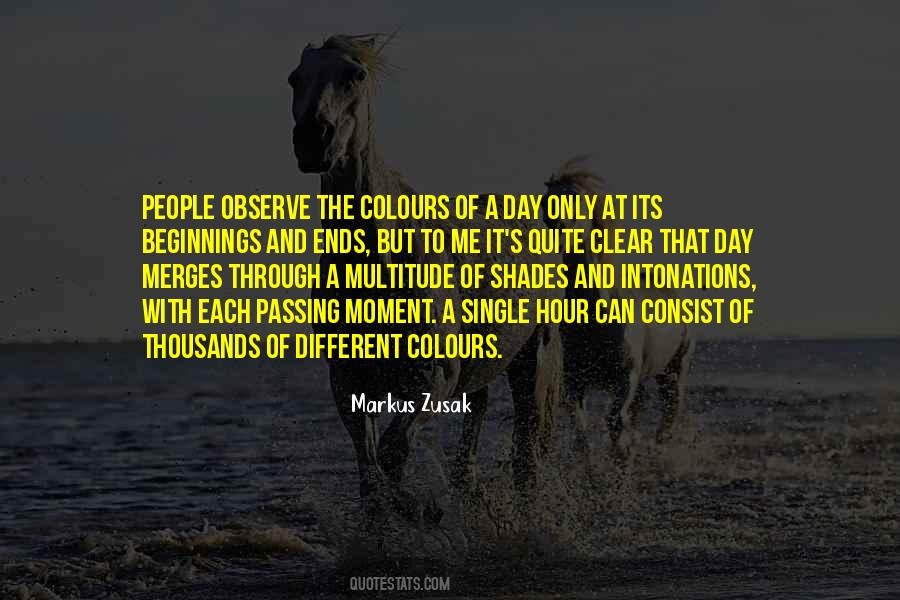 #82. I've been a writer since I was 16. I didn't get published until I was 24. I know that sounds crazy.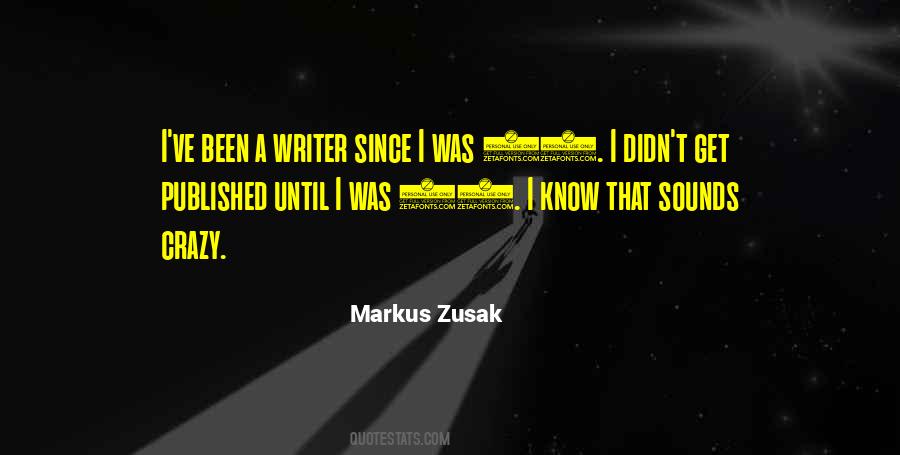 #83. White light lowered itself into a boxing ring and a crowd stood and murmured
that magical sound of many people talking all at once. How could every person there have so much to say at the same time?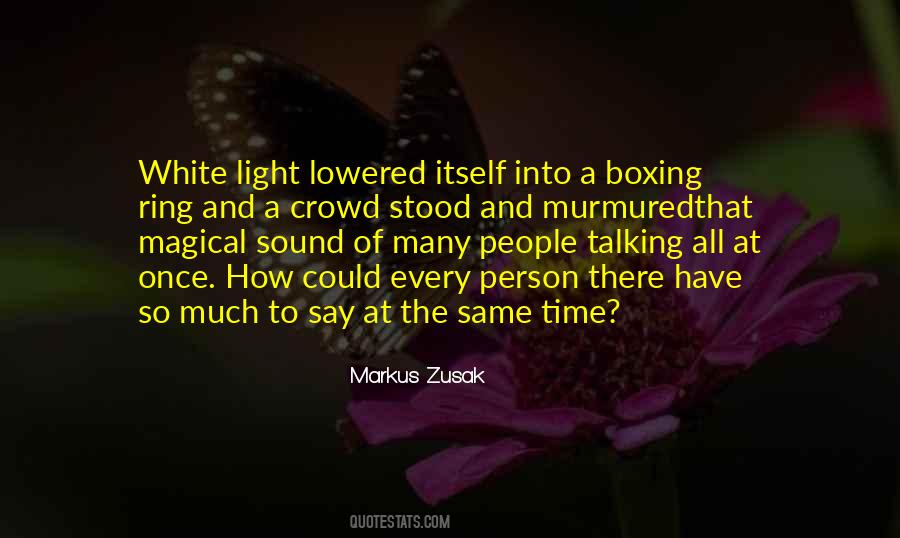 #84. Everything was so desperately noisy in the dark when he was alone. Each time he moved, there was the sound of a crease. He felt like a man in a paper suit.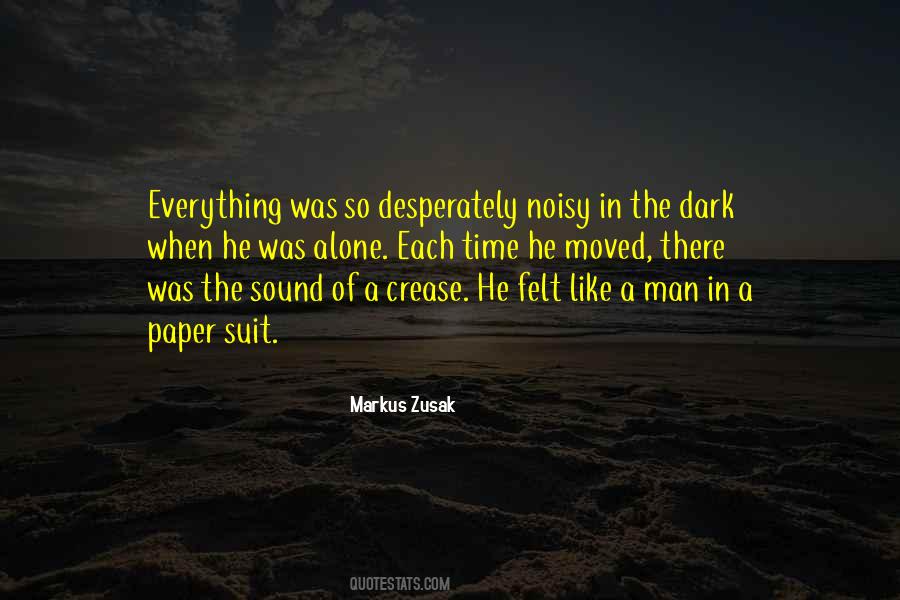 #85. He's most likely robbing the bank as a paycheck on the world for winning the ugliness prize at his local fete three years running.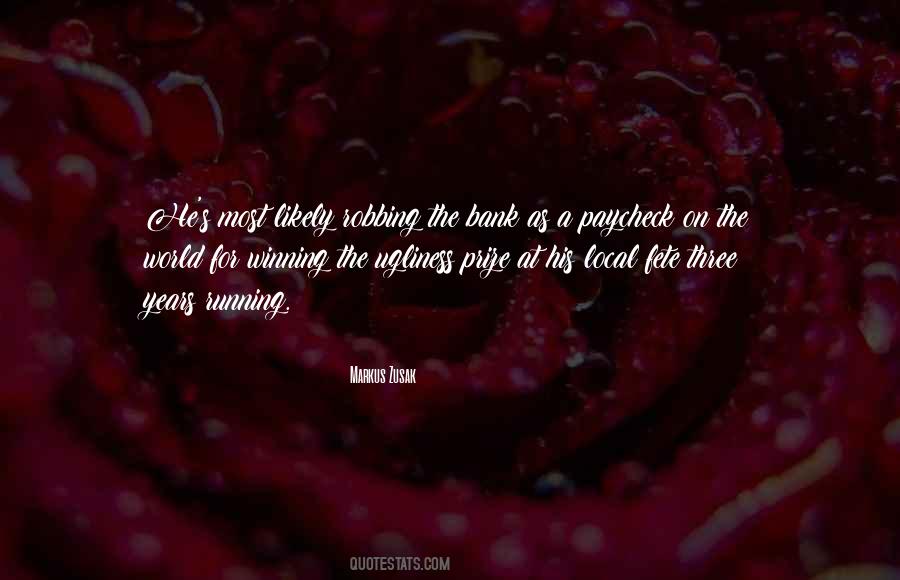 #86. Her fingertips are made of love. When she speaks, her voice is made of love.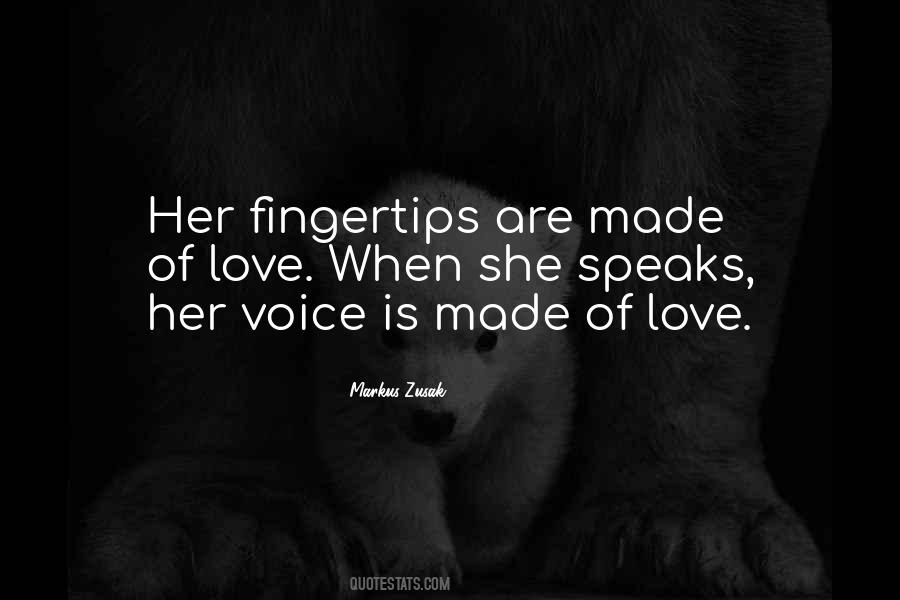 #87. He's been to the brink and come back. I guess when you lose your pride, even for just a moment, you realise how much it means to you.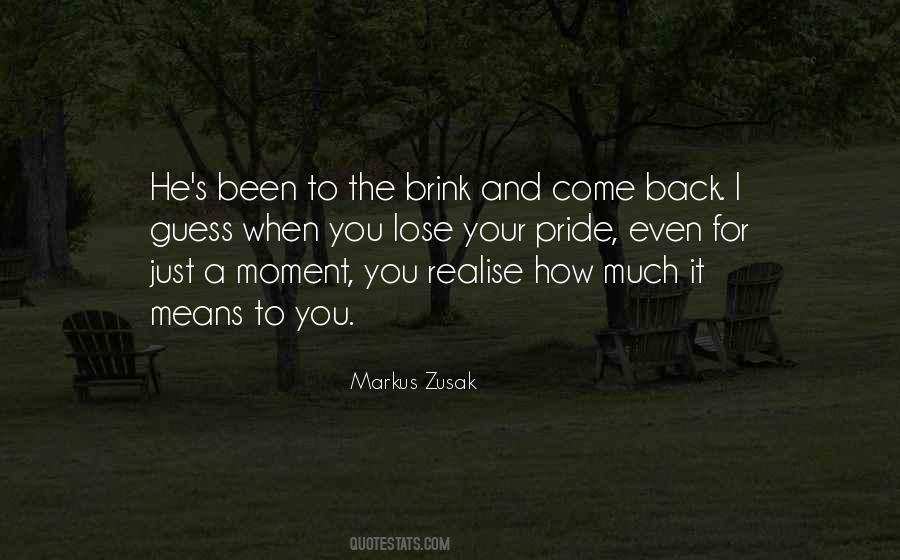 #88. The beauty of my work is that my sets cost nothing. That's what I love about being a writer of novels.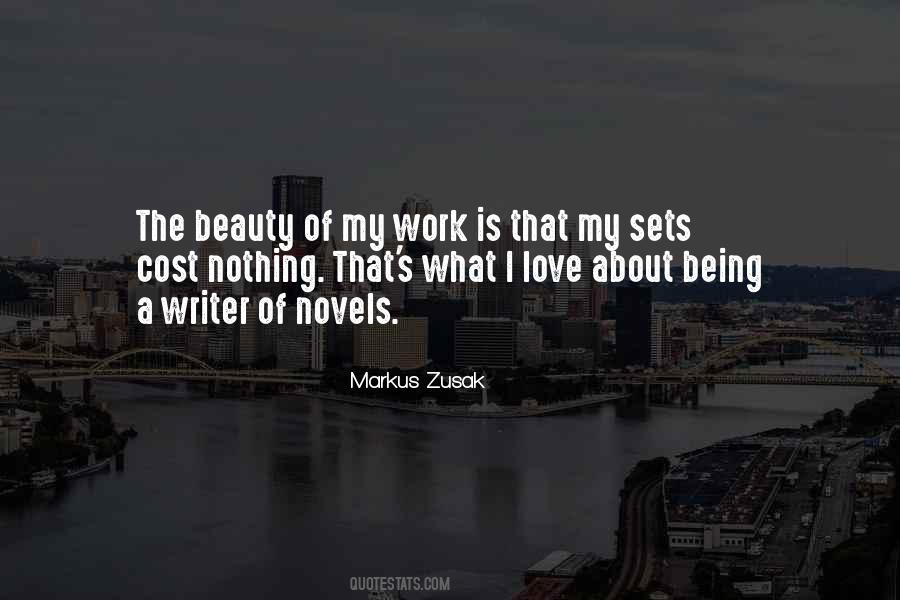 #89. If they killed him tonight, at least he would die alive.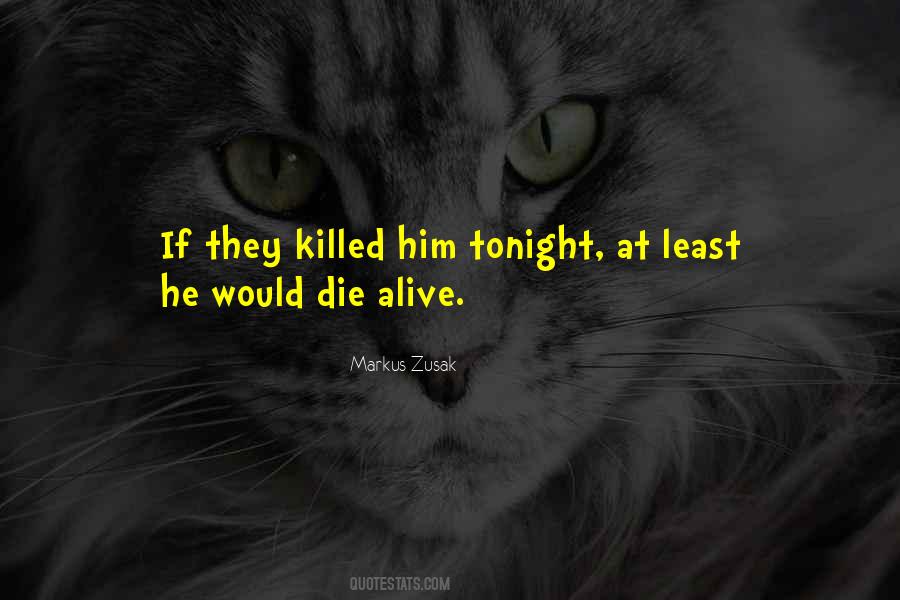 #90. Around us I can sniff out a savagery in the noisy southern air. It knifes it's way into my nose, but I do not bleed blood. It's fear I bleed, and it gushes out over my lip. I wipe it away, in a hurry.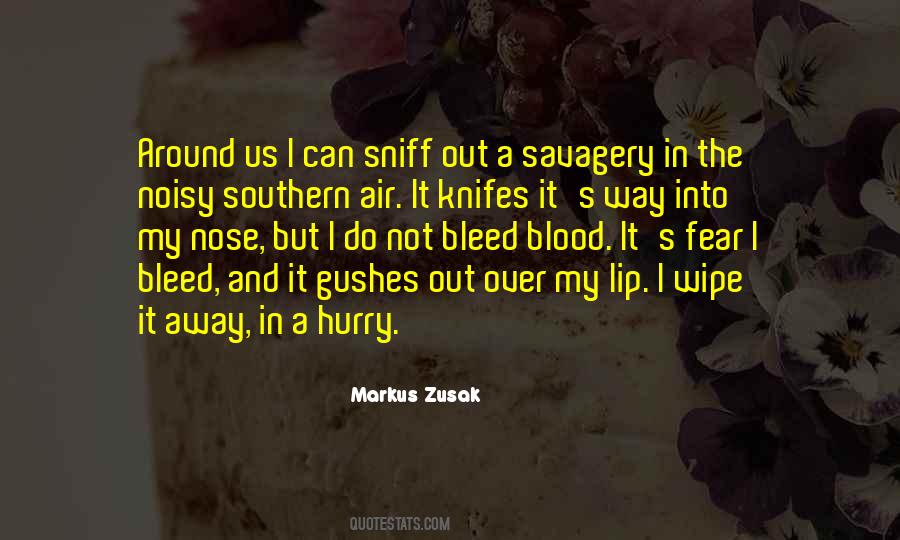 #91. Trust me, though, the words were on their way, and when they arrived, Liesel would hold them in her hands like the clouds, and she would wring them out, like the rain. (p. 85)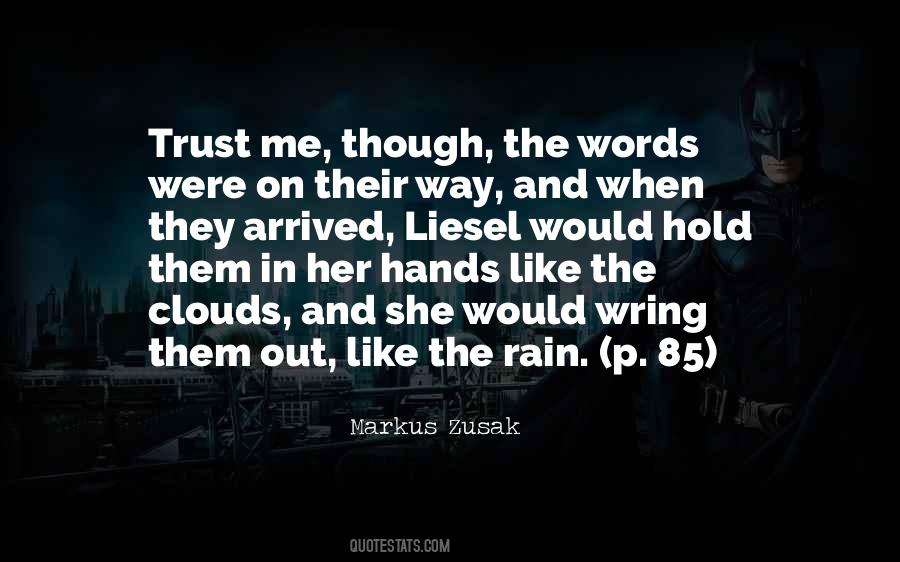 #92. I am stupid" Hans Hubermann told his foster daughter " And kind, which makes me the biggest idiot in the world.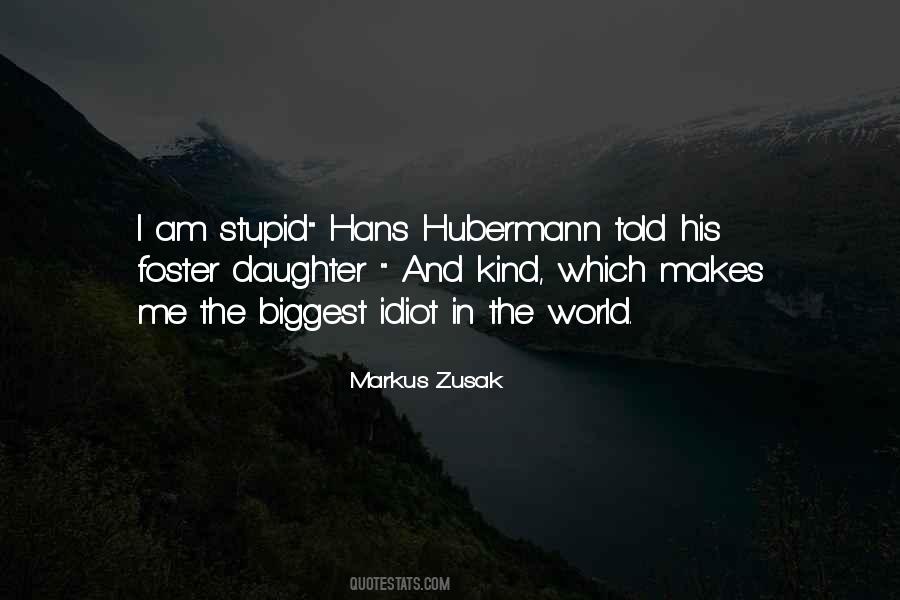 #93. It's the sound of my breathing that gets me, pouring down into my lungs and then tripping back up my throat.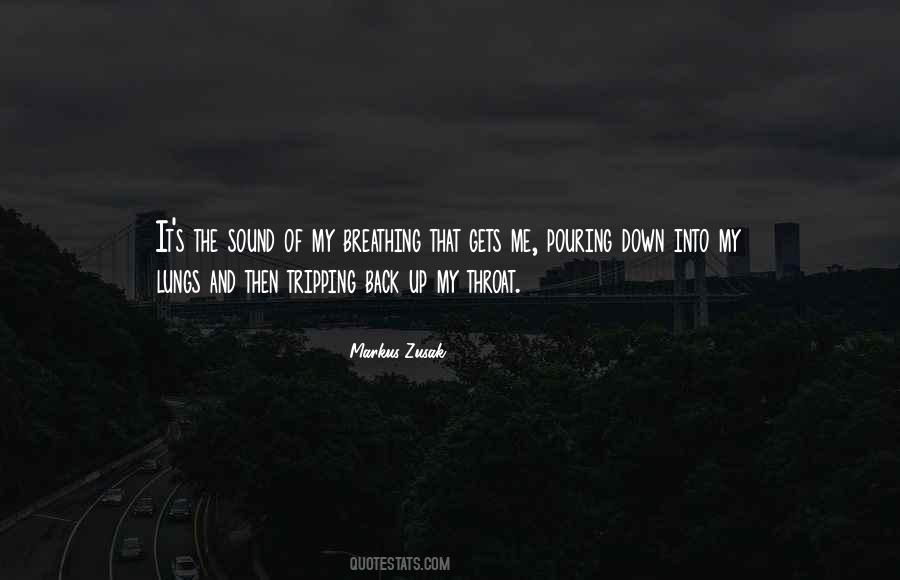 #94. Words are so heavy.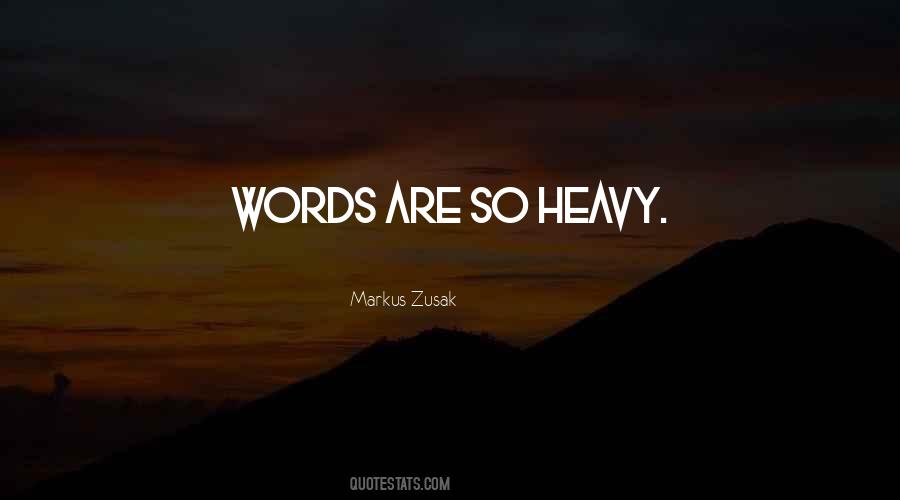 #95. You cannot be afraid, Read the book. Smile at it. It's a great book-the greatest book you've ever read.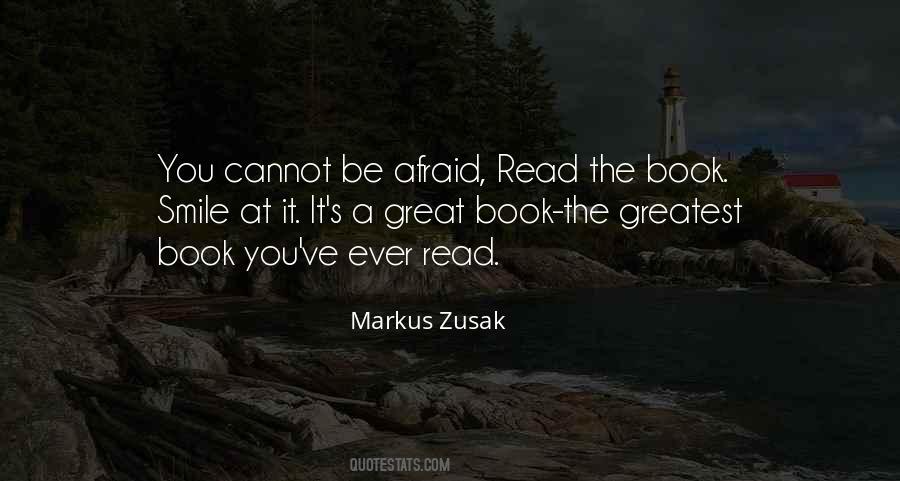 #96. You can do all manner of underhanded nice things when you have a caustic reputation.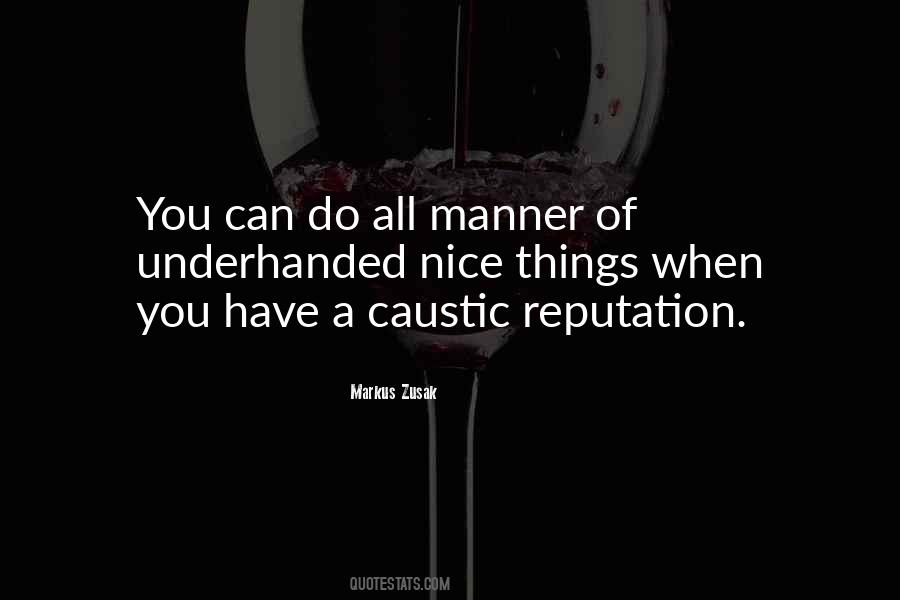 #97. She was a girl with a mountain to climb.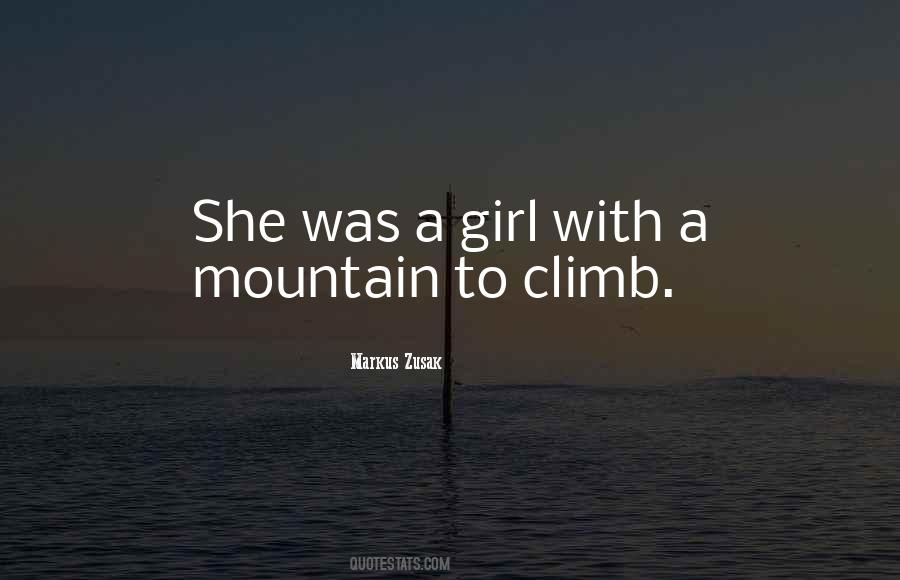 #98. I can promise you that the world is a factory. The sun stirs it, the humans rule it. And I remain. I carry them away.- spoken by death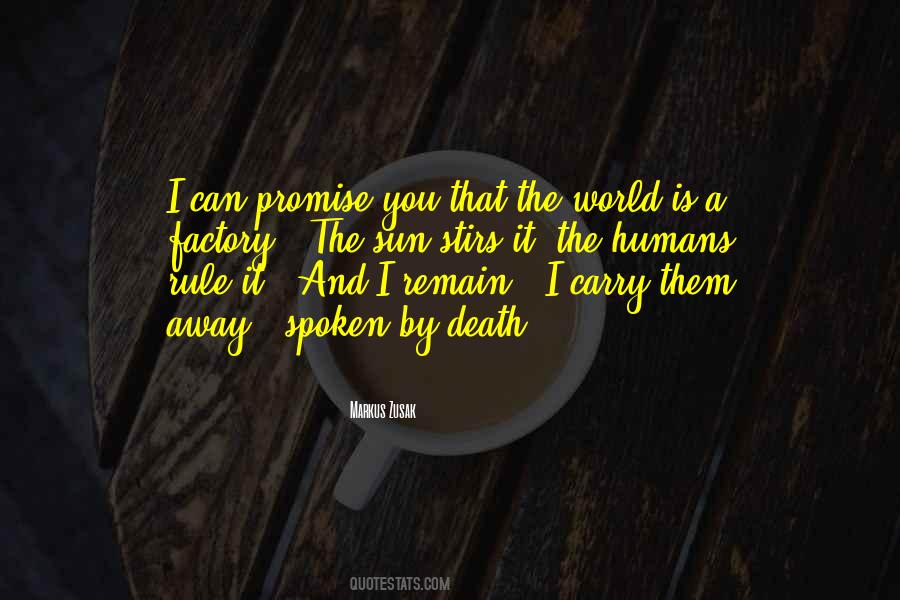 #99. When she came to write her story, she would wonder when the books and the words started to mean not just something, but everything.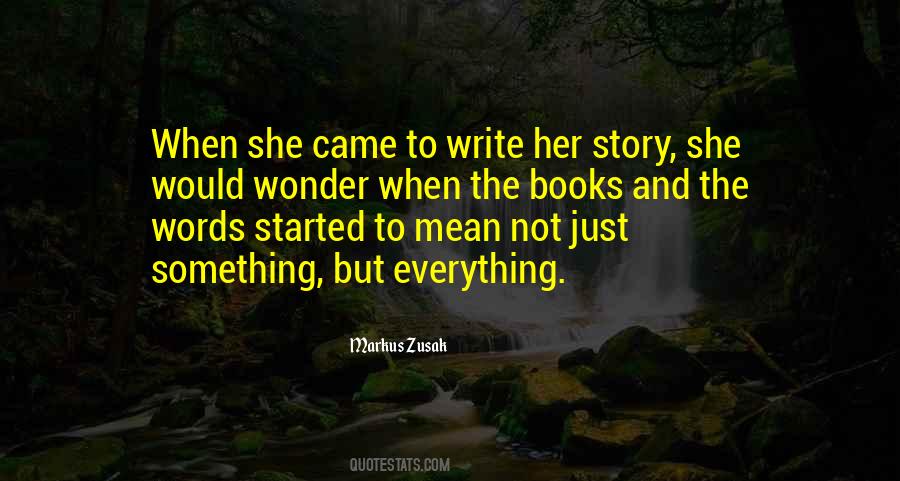 #100. I called back, but not loud enough, probably. I don't like making noise in public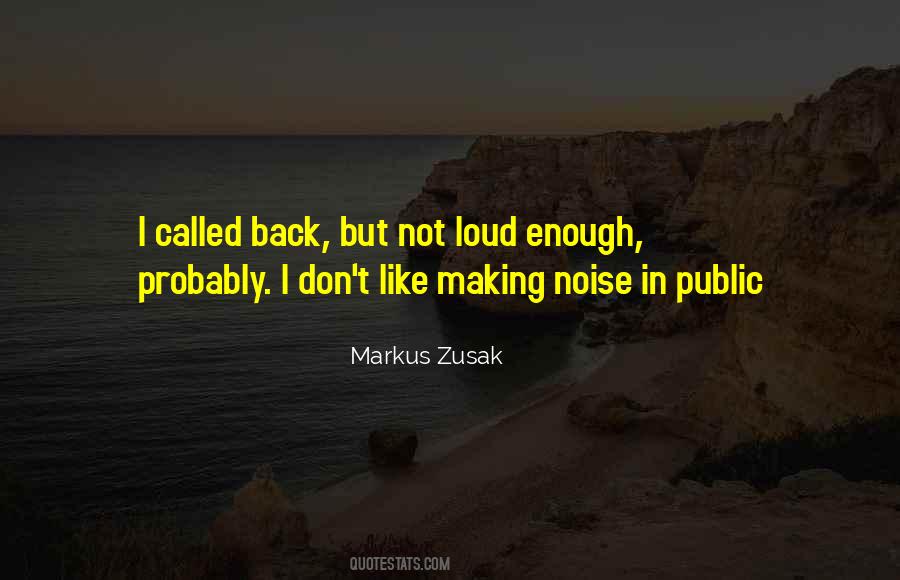 Famous Authors
Popular Topics