I'm Here Waiting Famous Quotes & Sayings
List of top 100 famous quotes and sayings about i'm here waiting to read and share with friends on your Facebook, Twitter, blogs.
Top 100 I'm Here Waiting Quotes
#1. So they talk about heaven, and I don't know what is waiting for me up there. But I can tell you this: Nothing will happen up there that can duplicate my life down here. Nothing. That life cannot be better than the one I've lived down here, the football life. It's been perfect. - Author: Steve Sabol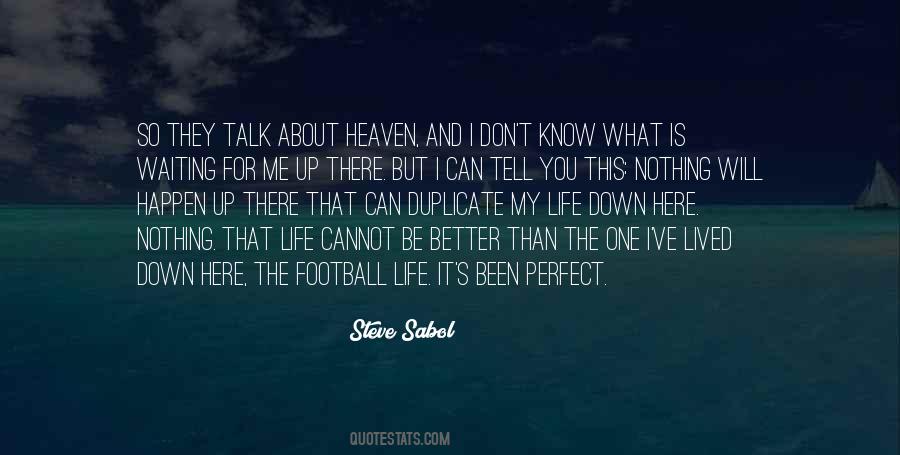 #2. Why? I mean, how could you know? I don't understand."

"Nothing to understand. There is no great mystery in friendship. You brought yourself here, just as I brought myself here to wait for you. I don't even mind that you've kept me waiting. - Author: Ari Berk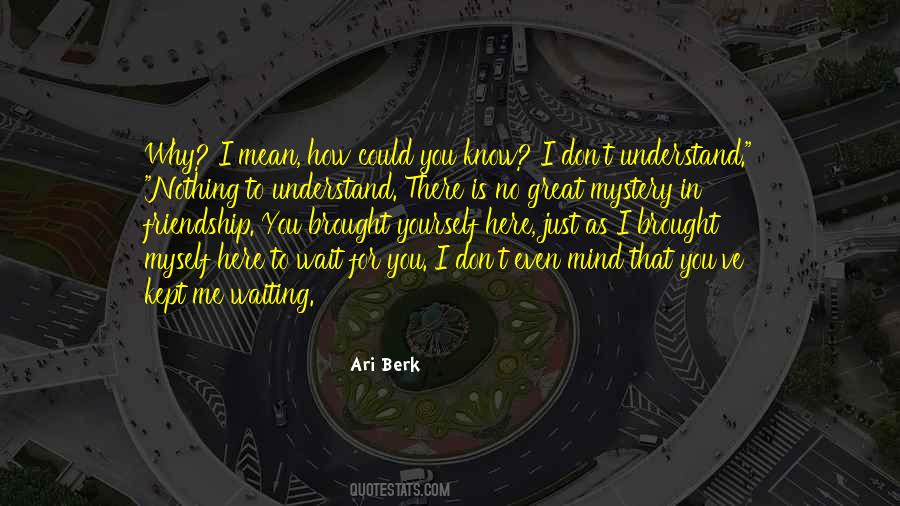 #3. The beauty of Lorien. Will it again sustain life, or will Henri and I go on waiting here on Earth forever? I try to push the thoughts and images from - Author: Pittacus Lore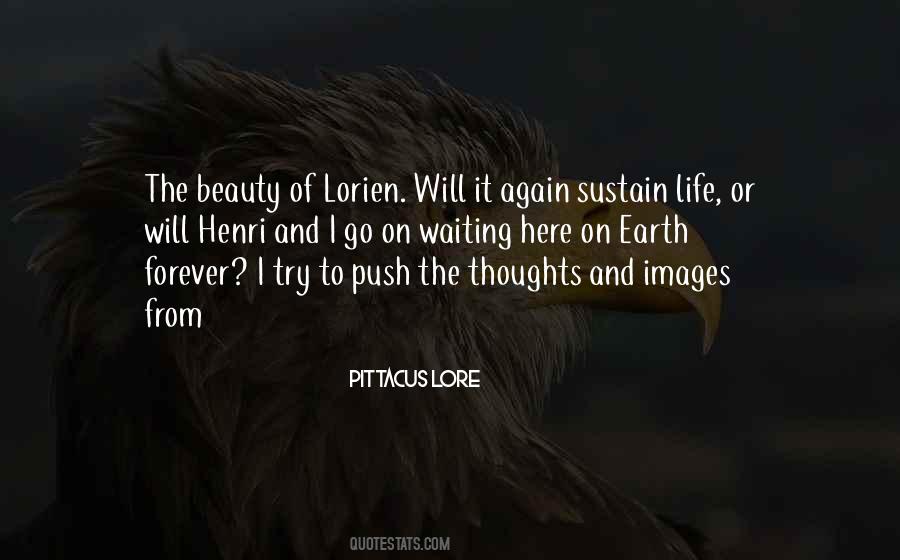 #4. Someone's dead," said Malfoy, and his voice seemed to go up an octave as he said it. "One of your people ... I don't know who, it was dark ... I stepped over the body ... I was supposed to be waiting up here when you got back, only your Phoenix lot got in the way. - Author: J.K. Rowling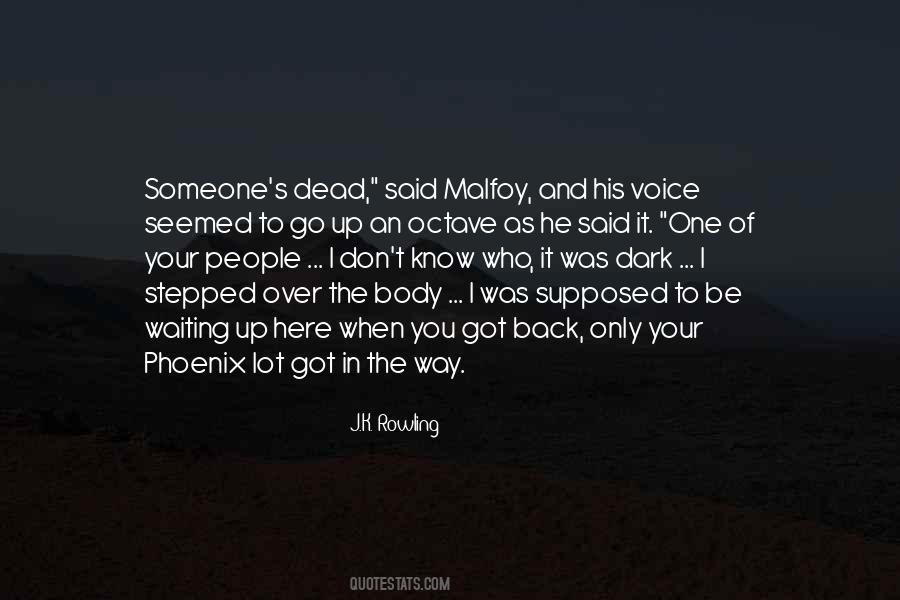 #5. Let's stick together." "Well, you're going to have to wait here for me there: I'm going to the bathroom." "But how long are you going to be?" "Oh, three hours?" "Rocky ... - Author: Georgia Byng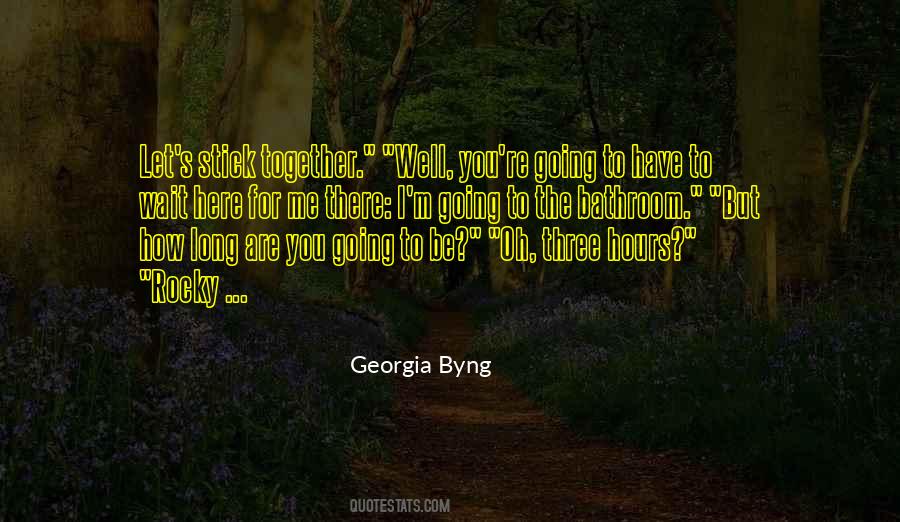 #6. Use your head, Sep. Loads of wolverines. Hanging around waiting for super. Gtting excited. eating mint blasts. so what do you think they do?'
it must be here. they can't have eaten that ... i dunno, Nik, what do they do?'
POO. - Author: Angie Sage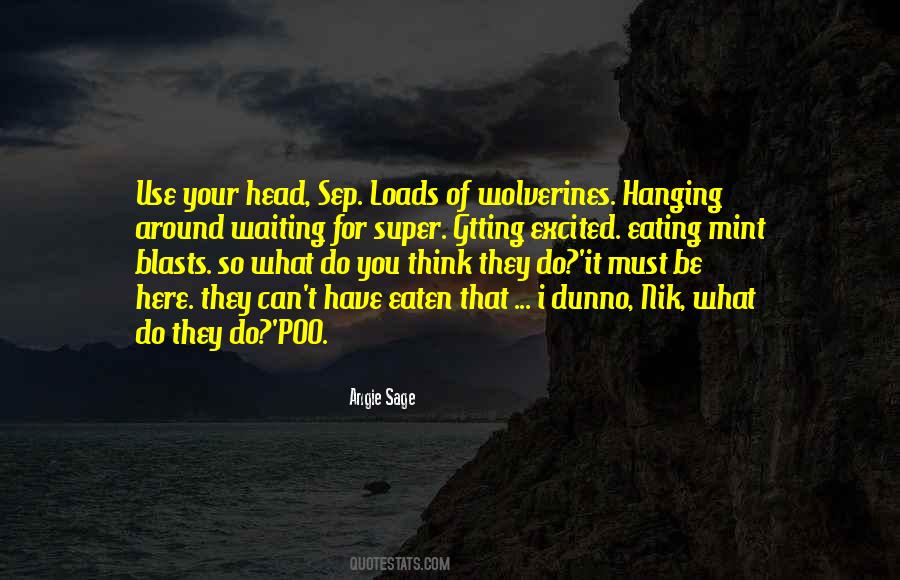 #7. I'm just so excited. We all are. We've been waiting for this [the gold medal] for years now and it's finally here. This meant so much. It just felt so good. - Author: Kobe Bryant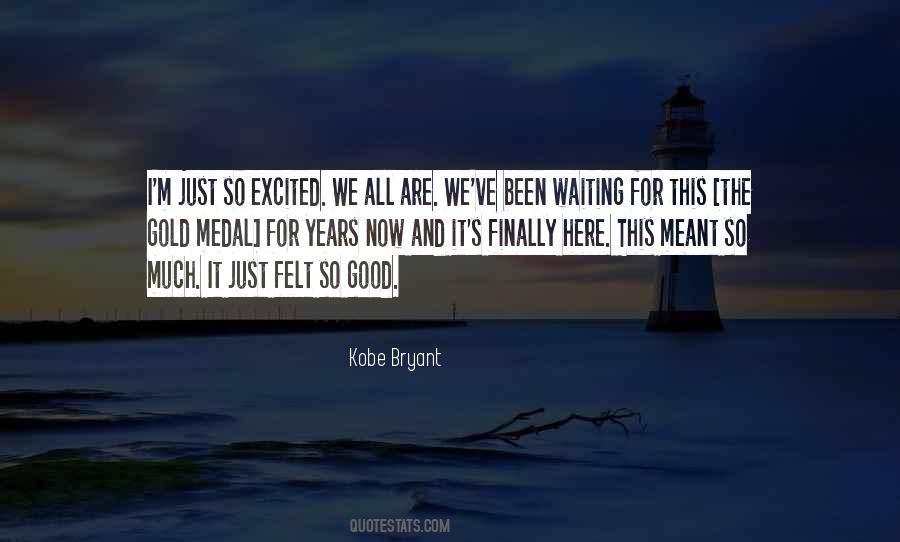 #8. Here I am with you & yet not for a single moment do I forget that there's an unfinished novel waiting for me. - Author: Anton Chekhov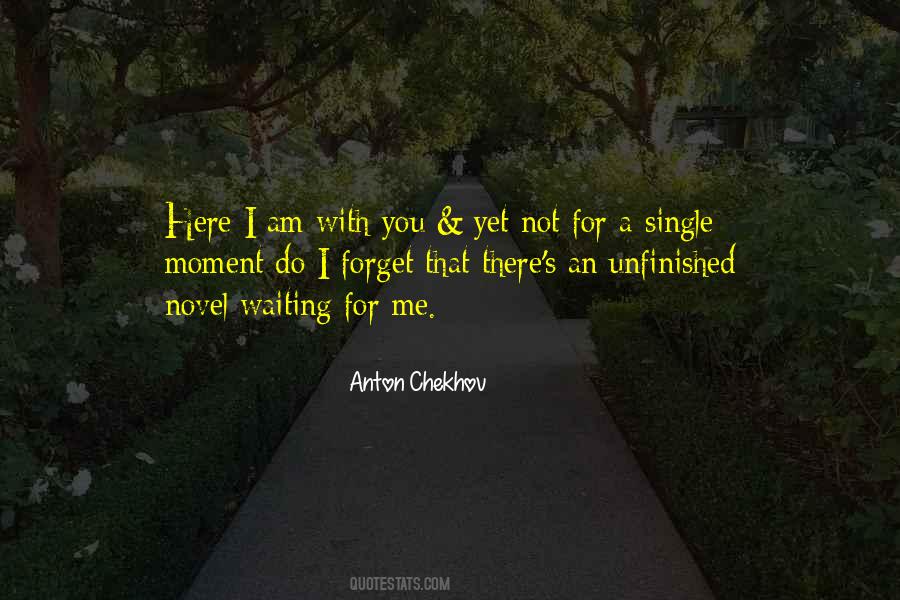 #9. I am standing here in the shed, and I'm waiting to see if my seeds are going to poke out ofthe dirt. I don't know if it's too early to look for signs of life or if, this time, winter has claimed my family for good. - Author: Maggie Stiefvater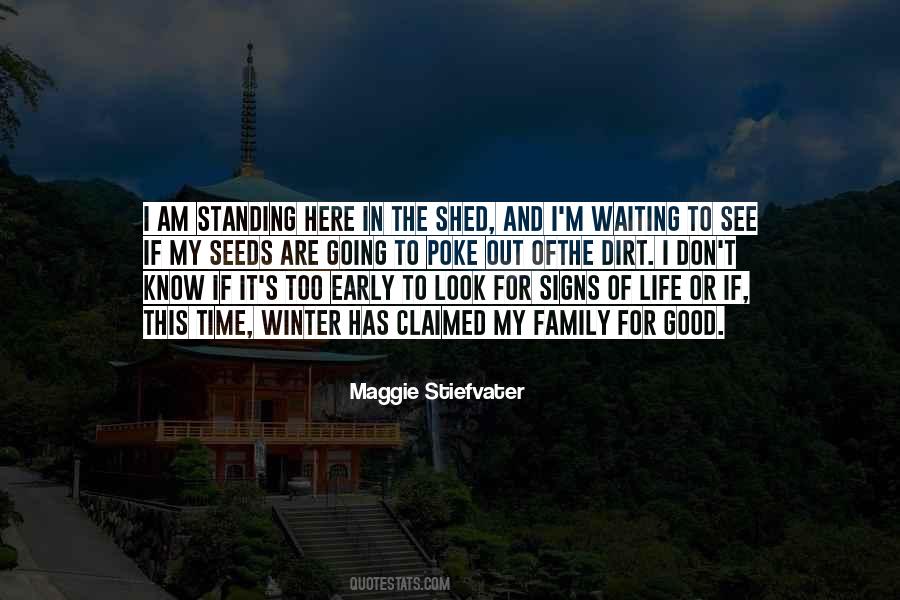 #10. Sitting here and waiting on her to calm down enough to tell me who I needed to go beat the shit out of for making her cry wasn't easy. - Author: Abbi Glines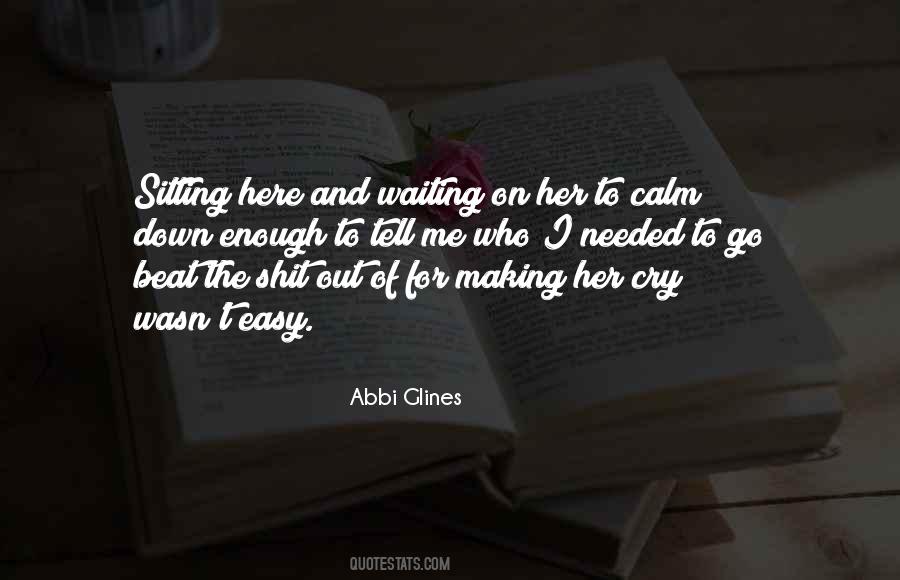 #11. And I think if the president's made a mistake here, it's this laid-back kind of approach where he's waiting for someone else to solve the problem. Some people say it's a political strategy. No matter what it is, it's not effective in solving problems. - Author: Chris Christie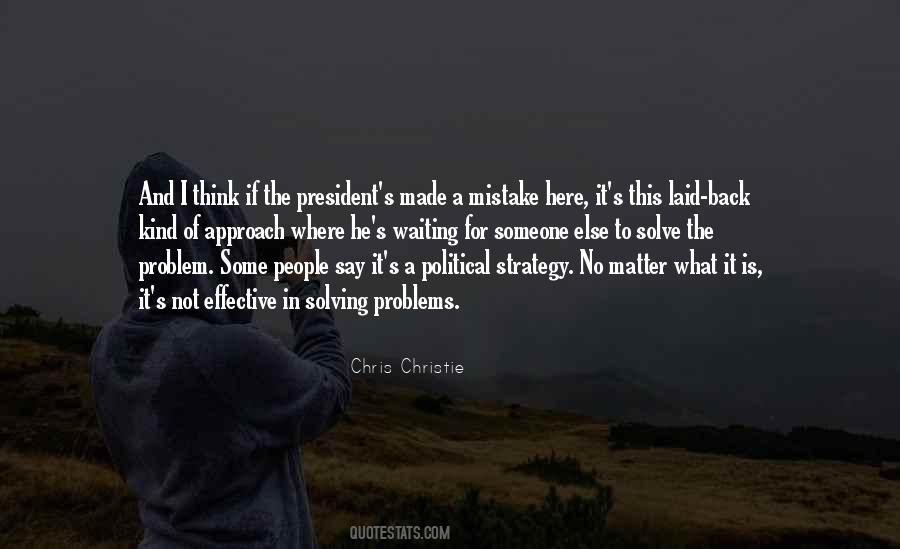 #12. They say a woman's place Is to wait and serve Under the veil Submissive and dear But I think my place Is in a ship from space To carry me The hell out of here. - Author: Laura Nyro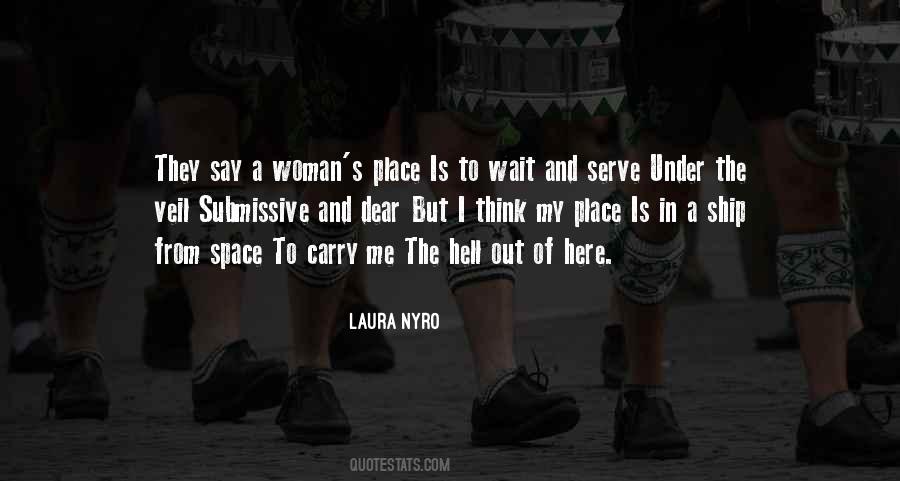 #13. Jesus," he buried his face in my neck. "There's nothin' better in the world than hearing you say my name when I'm inside you." He slid in deeper, filling me. "I've been waiting years to be right here. - Author: Kristen Ashley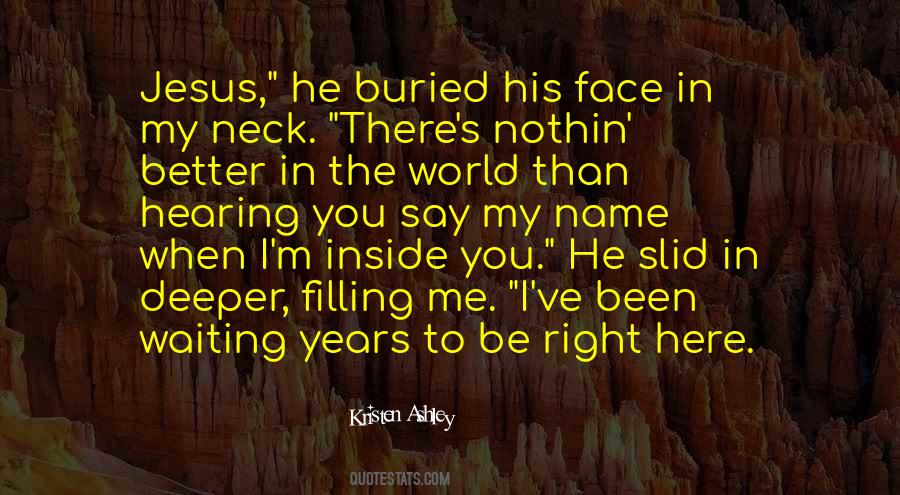 #14. All those days of waiting on tables until I could get a role on Broadway, all that time going to school taking lessons, and all those years of being a nobody following a dream-and now here it is. - Author: Marcia Gay Harden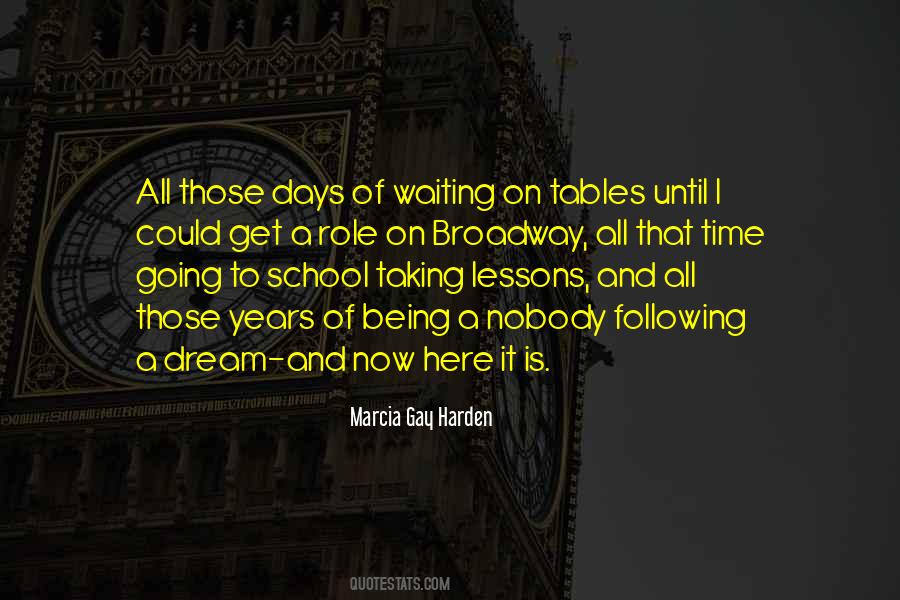 #15. And if I can't be yours now I'll wait here on this ground till you come, till you take me away. Maybe someday. - Author: Colleen Hoover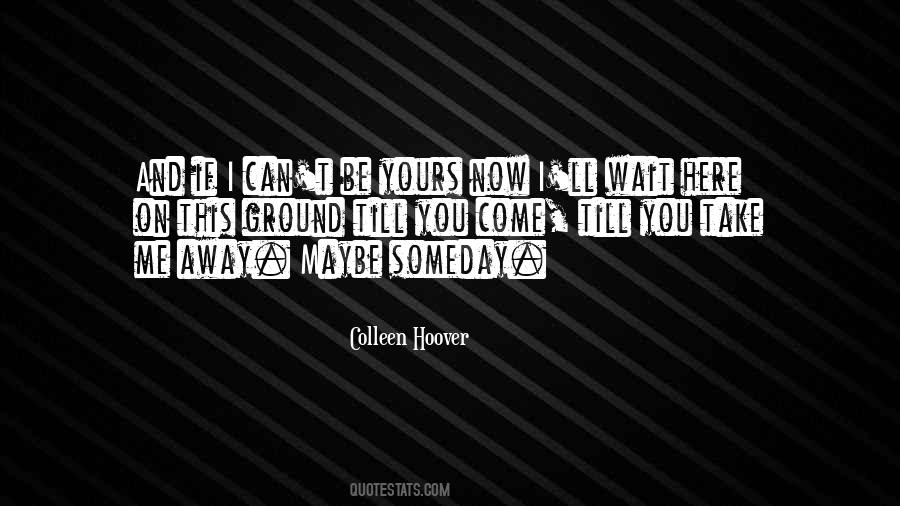 #16. I wish to go down under the waters -
the cool, crystalline waters that I knew, where all
that is, here, existing, is
is only to be lost within the susurrations
and the rumours of water and the evening star
we wait for... - Author: John Daniel Thieme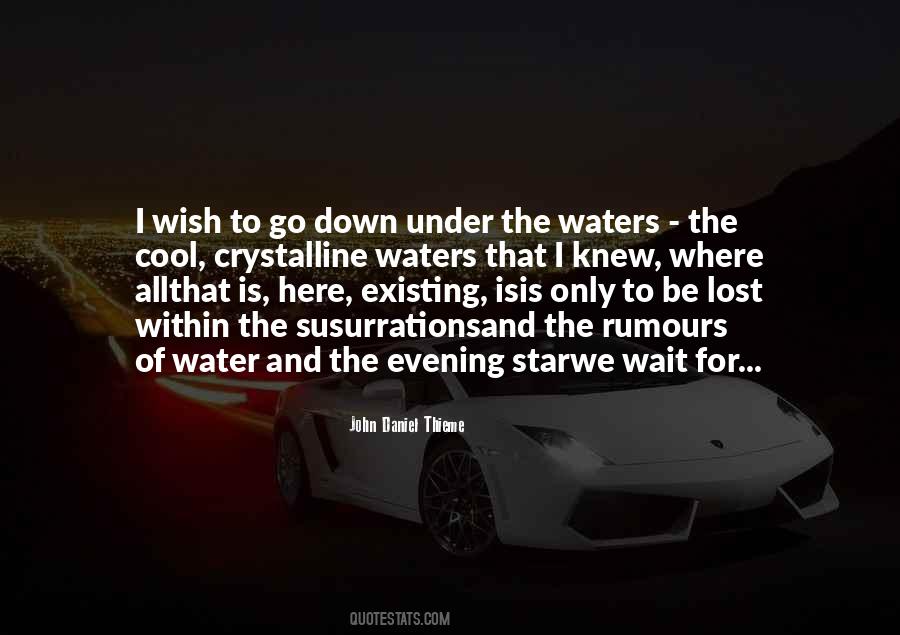 #17. I don't remember
lighting this cigarette
and I don't remember
if I'm here alone
or waiting for someone. - Author: Leonard Cohen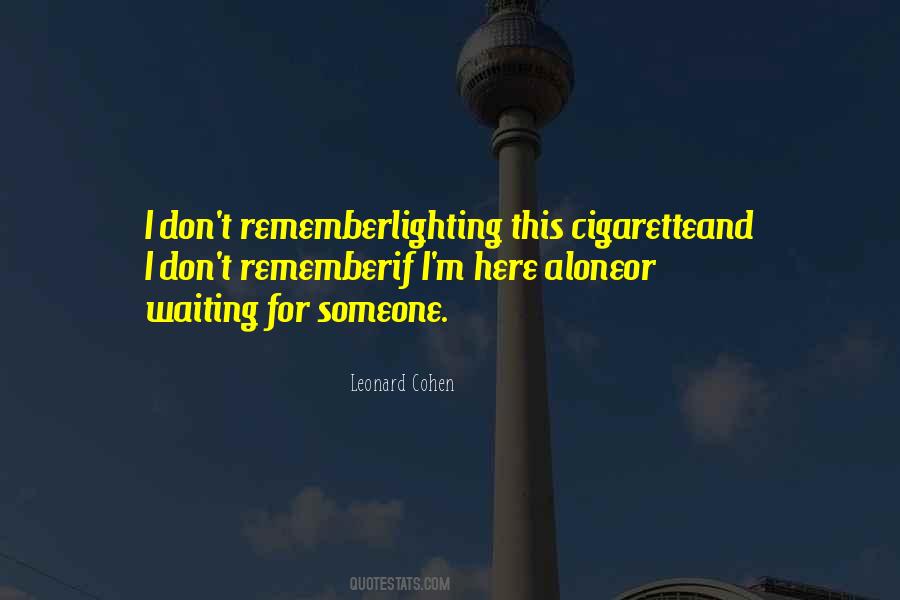 #18. I've been waiting for you." His voice sizzled with hunger.
How could I respond? I've been thinking about you non-stop like a sex-crazed harlot since I left?
"I'm here. - Author: Lisa Carlisle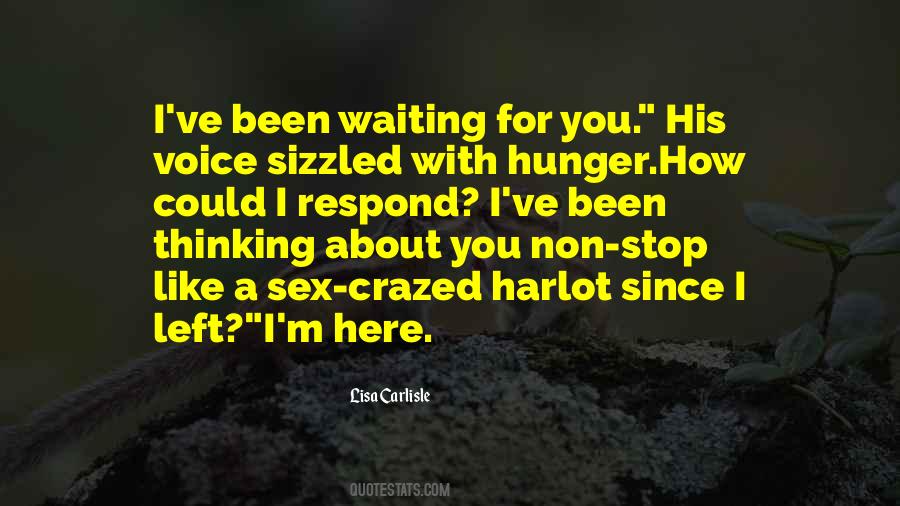 #19. I always just wait for the right material to come to me. Many times people ask, "What have you been up To?" Well, I'm here and working. Just not in front of the camera as much as I'd like to be. - Author: Larenz Tate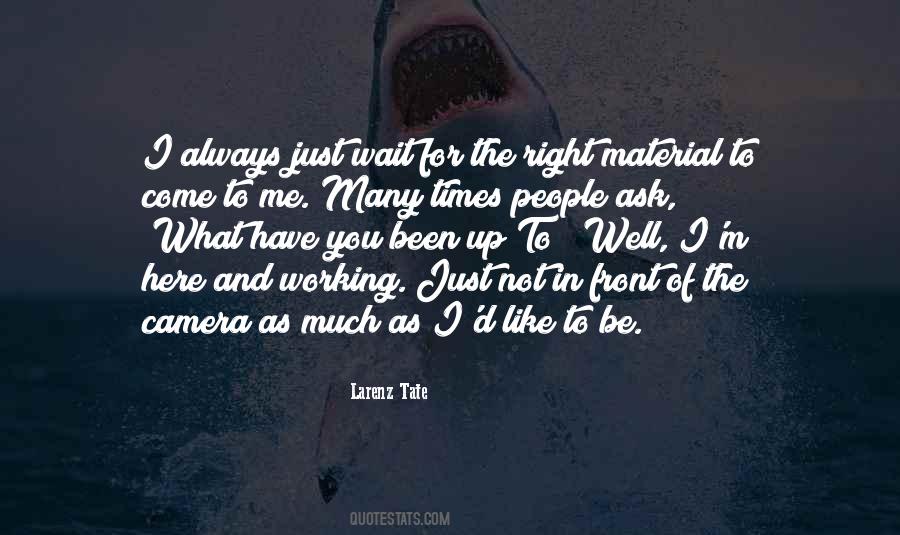 #20. I was supposed to be waiting up here when you got back, only your Phoenix lot got in the way ... "
"Yes, they do that," said Dumbledore. - Author: J.K. Rowling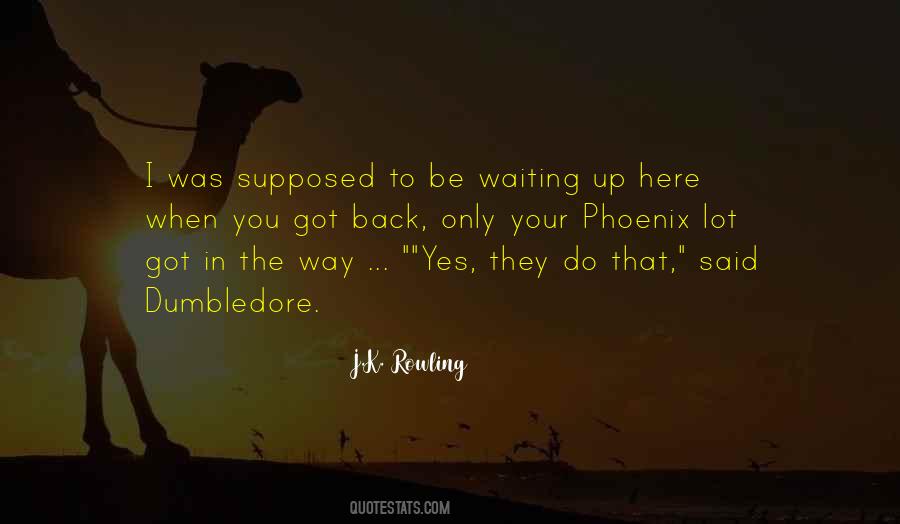 #21. When you are waiting for the bus and someone asks, "Has the bus come yet?". If the bus came would I be standing here? - Author: Billy Connolly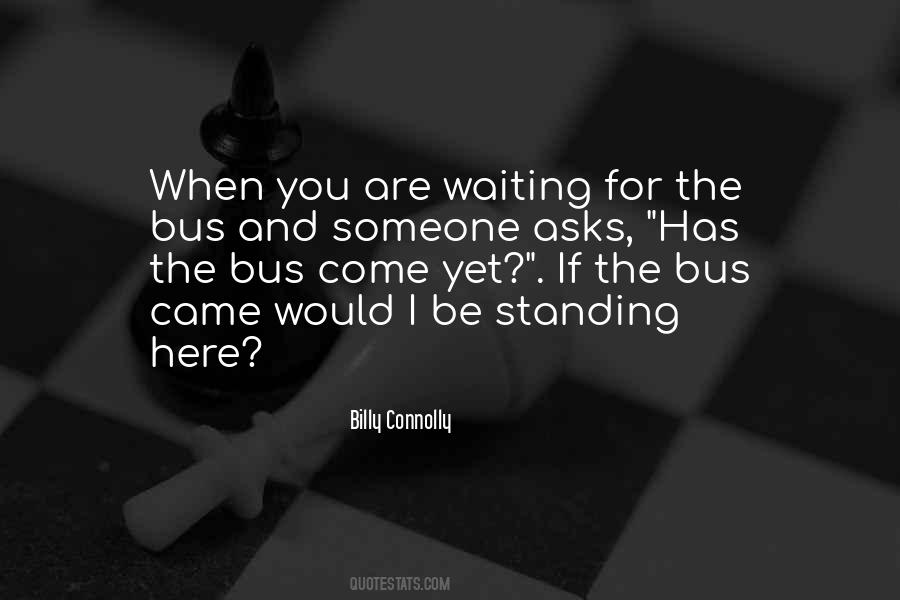 #22. Why does it take girls so long to shower?" he demanded. "Mortal girls, Shadowhunters, female warlocks, you're all the same. I'm not getting any younger waiting out here."
-Magnus to Clary, pg.272- - Author: Cassandra Clare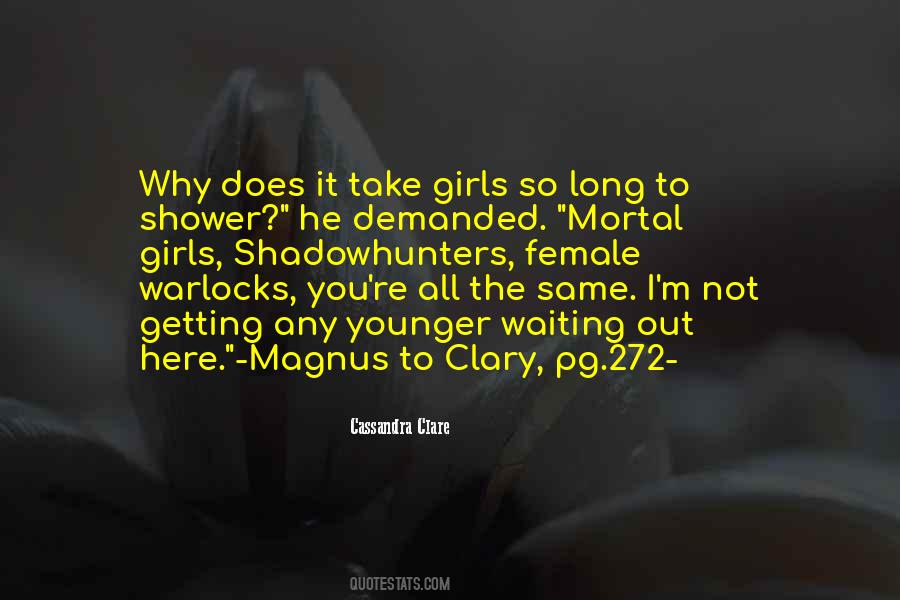 #23. No relationship is guaranteed to last forever. But I'm okay with being here in the Now and letting later work itself out.
So just like that, I walk out of this life. And into the one I've been waiting for. - Author: Susane Colasanti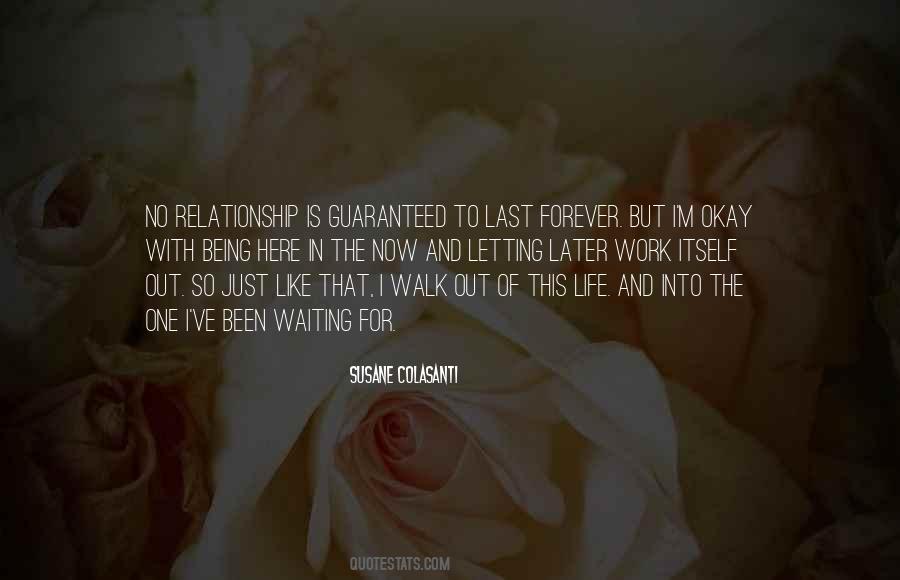 #24. I don't know. Both my parents are dead. So? Wait, I got pictures of their corpses in my wallet. I had them blown up as murals. Here. - Author: Doug Stanhope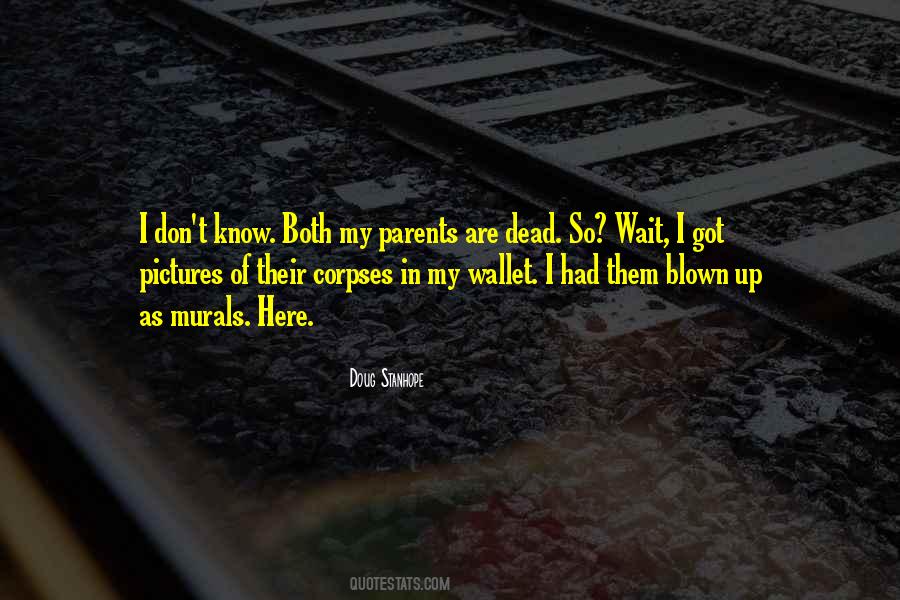 #25. After the way you accepted the mission, I know I can't convince you otherwise. So, instead ... come back alive. We'll be here ... waiting for you to come back. - Author: CLAMP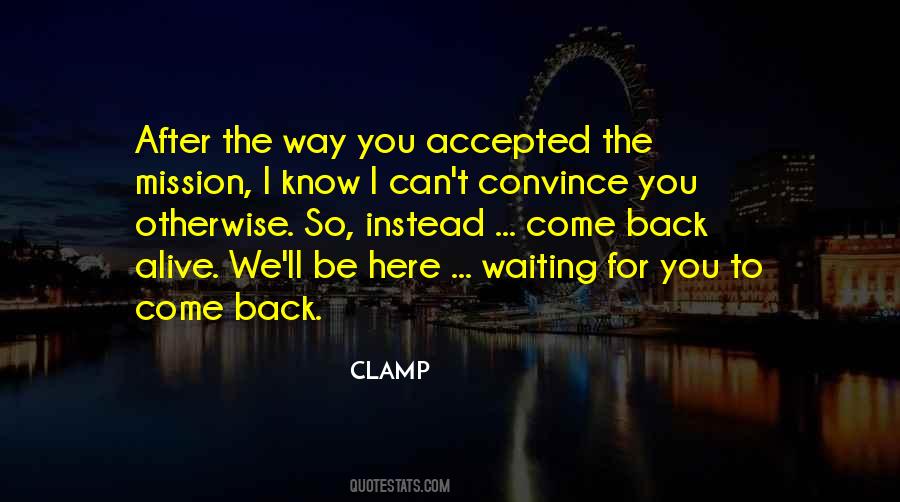 #26. I'll be here waiting for you and for whoever else you love. That's what the other side is. It's just love - Author: J.R. Ward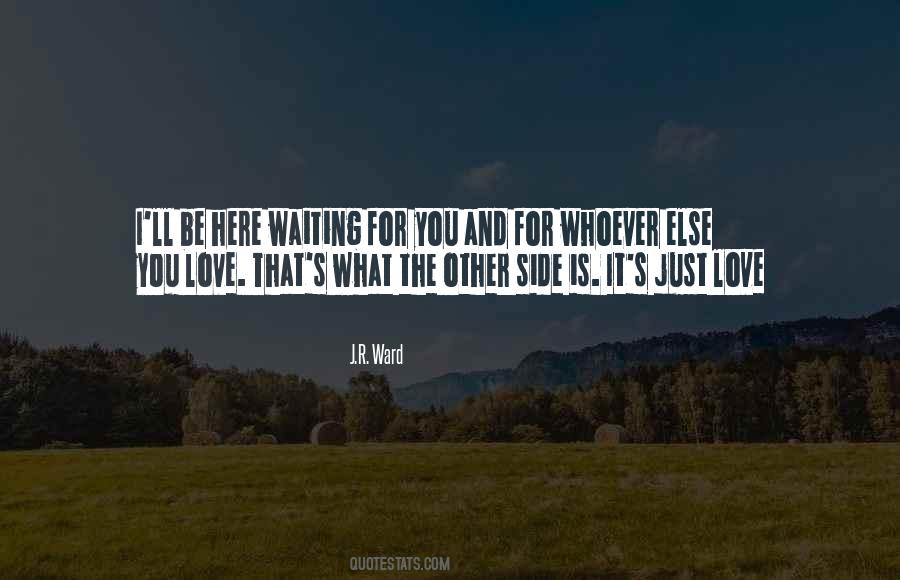 #27. I don't. But if I had your love, I wouldn't waste it like he does. He's playing a game with you. He'll regret pushing you away, though, when he realizes I'm here, waiting to catch you. - Author: Jessica Hawkins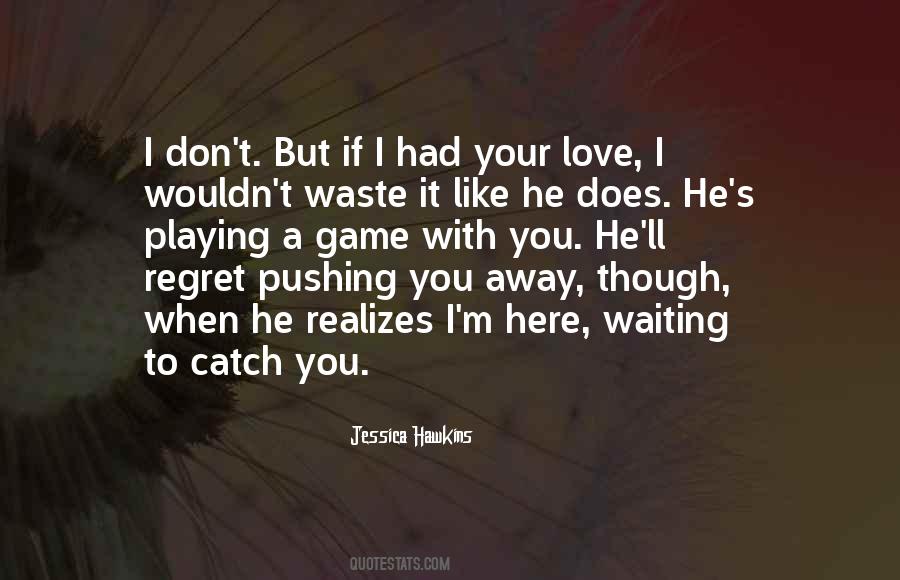 #28. I'm constantly reminding myself that the world owes us nothing. We have to make our way and we have to work hard, persevere and make our own way in the world because the world isn't waiting for us, so let's let the world know we are here. - Author: Tim Gunn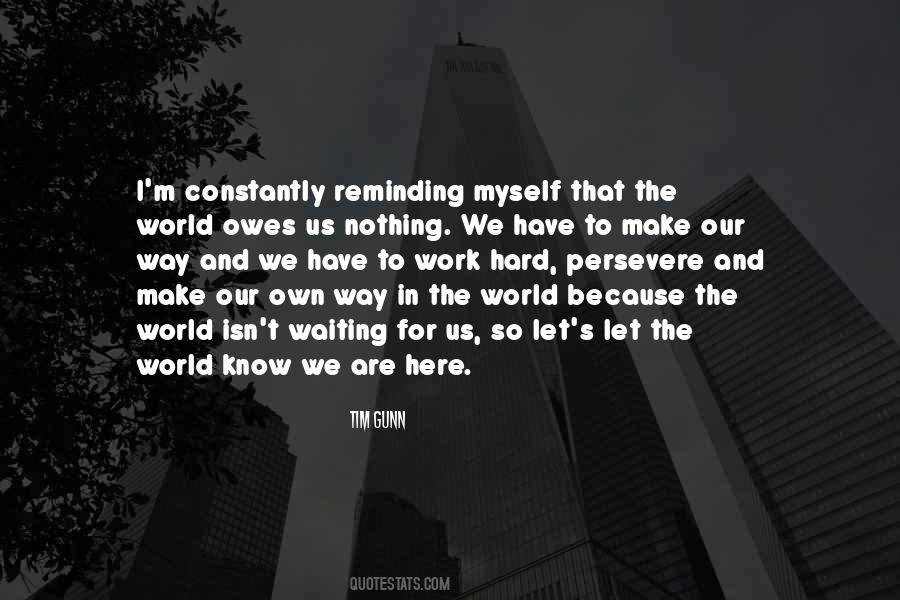 #29. I'm not trying to be a jerk here, but you're the one who's been hot and cold with me. I wasn't planning on chasing around after you, waiting for you to decide I'm worthy. I don't work that way. - Author: Nyrae Dawn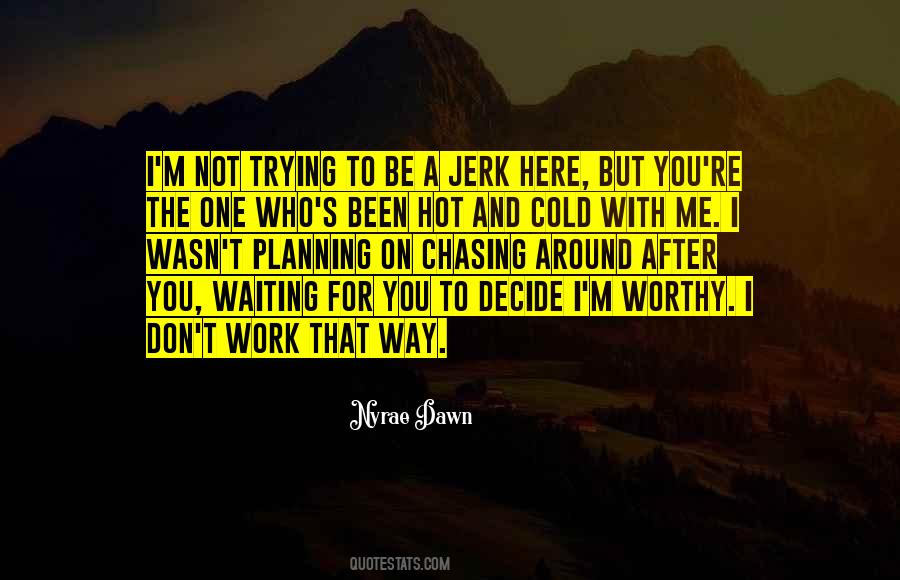 #30. Hey, Hot Stuff, Can't wait till you get over that guy you were with. He sounds like a real jerk. Hope it's soon. You're way too tasty to be alone for too long. Come find me. I'm out here waiting. Your Future - Author: Greg Behrendt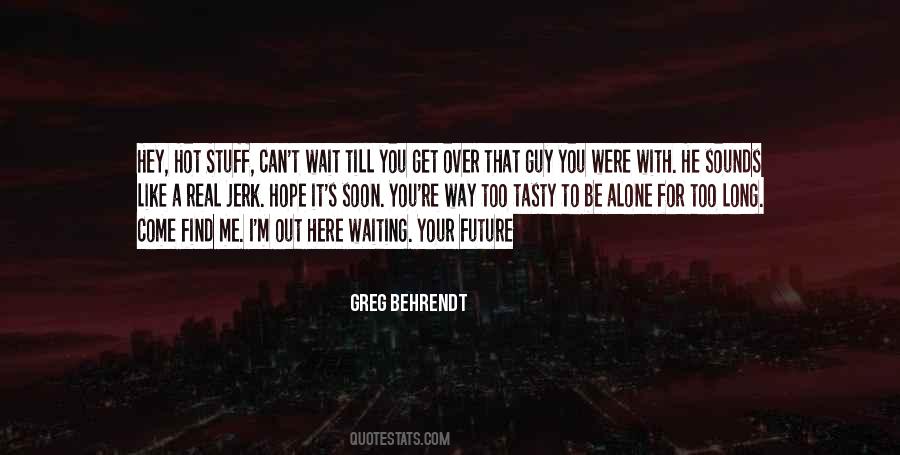 #31. My daughter, I can't give up because she's watching and she's here and she's waiting for me to be an example. So, between her, myself, and my will, and me pushing myself, that's my inspiration. - Author: Brandy Norwood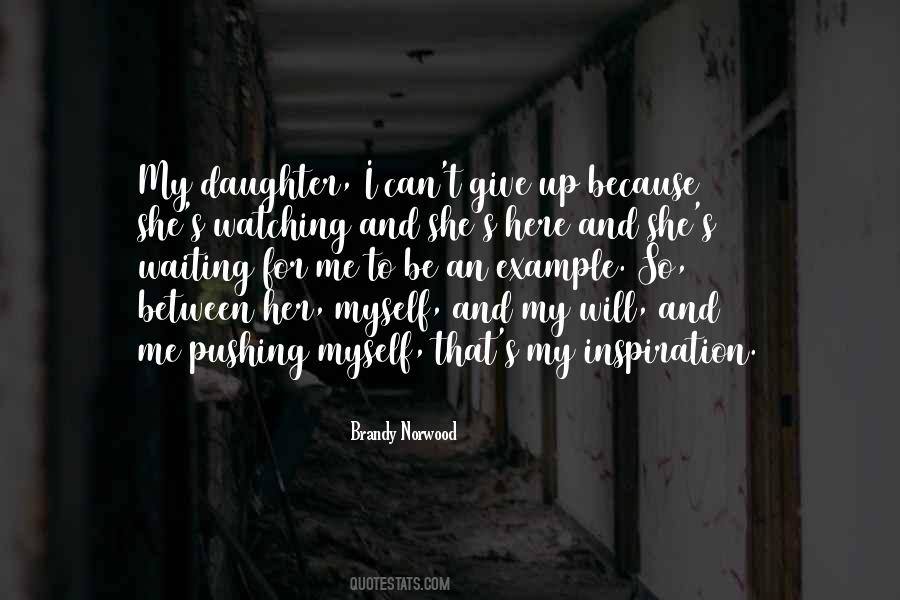 #32. On a day-to-day basis, you get tired of waiting to be accepted. In show business, someone else has to say that you're good or that you're worth going to see or worth taping a show. There's a lot of pain here. There's a lot of pain inside. I'm a sad, crying-on-the-inside kind of clown. - Author: Greg Giraldo
#33. The car drives really really good so far. No changes on the next pit stop. It's great, I can hold it down right along the bottom here in the corners I'm just ridin' around out here just waiting until later to make a move - Author: Dale Earnhardt Jr.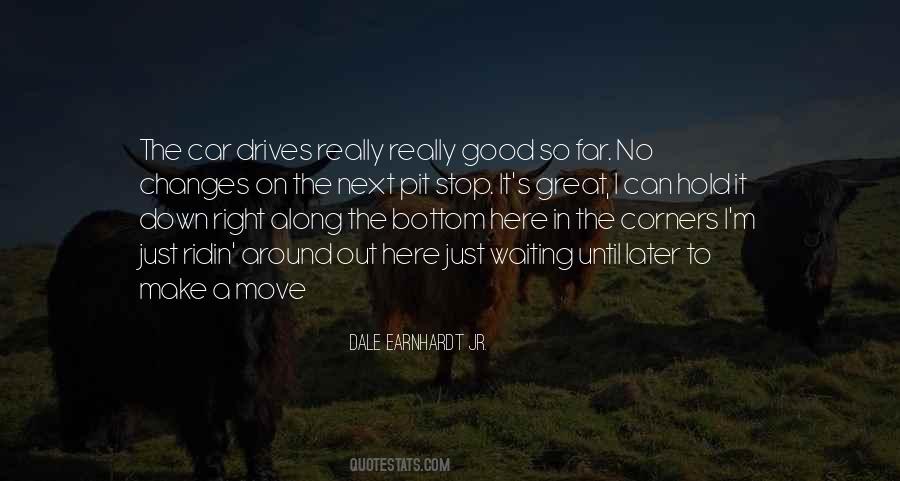 #34. I don't want to rush you."
"Rush me through what?"
"Us."
He let out a low laugh. "Babe, I've been here waiting all along. Waiting for you to be ready." He tugged her into his arms. "Please rush me. - Author: Jill Shalvis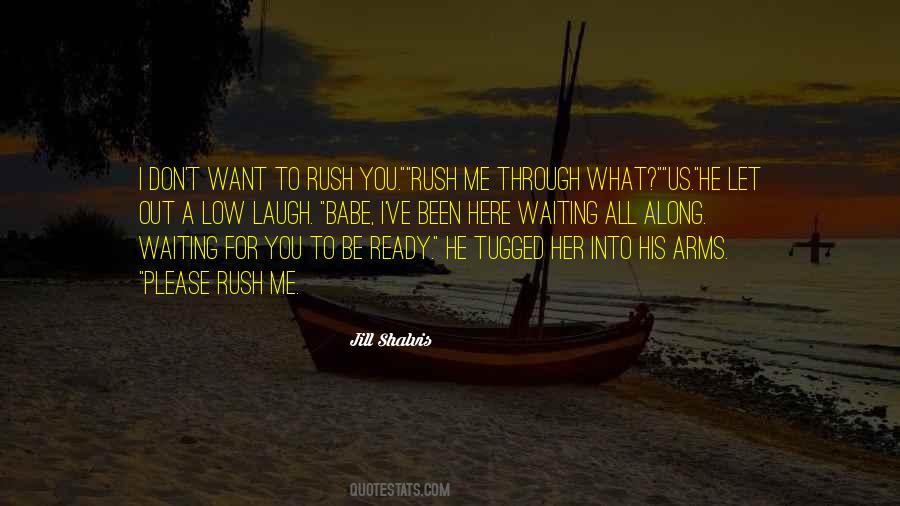 #35. You may never remember the way you used to be with them, I have no doubt that you'll figure out a way that works with them one day. And when you do, when you figure everything out and decide with no regrets who you want to be, if you still want me, I'll be right here waiting for you. - Author: Shelly Crane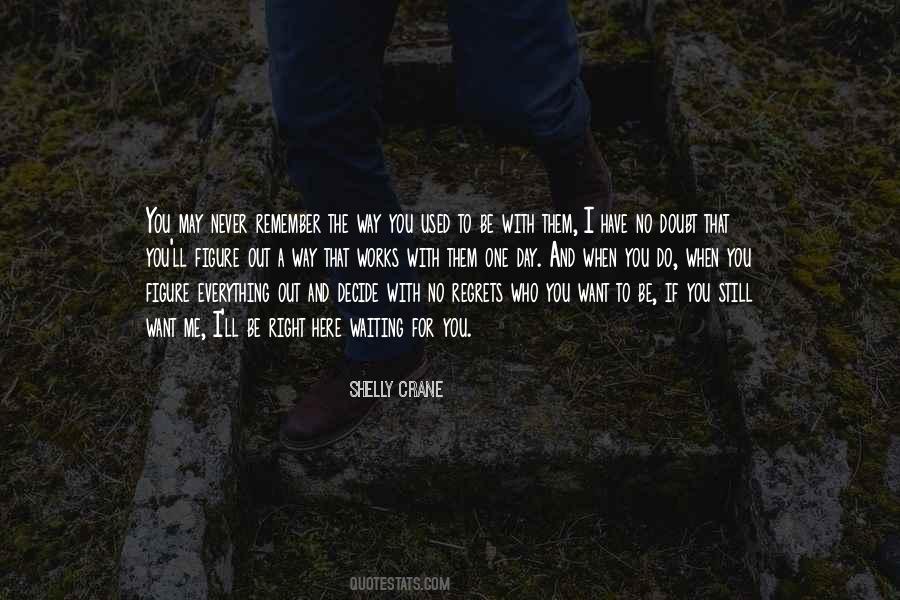 #36. I asked you a question. What are you doing here?"
Resting his elbows on the side of the tub, he smiled lazily. She hated it when he smiled lazily. "Waiting for the bubbles to evaporate," he said. - Author: Sandra Hill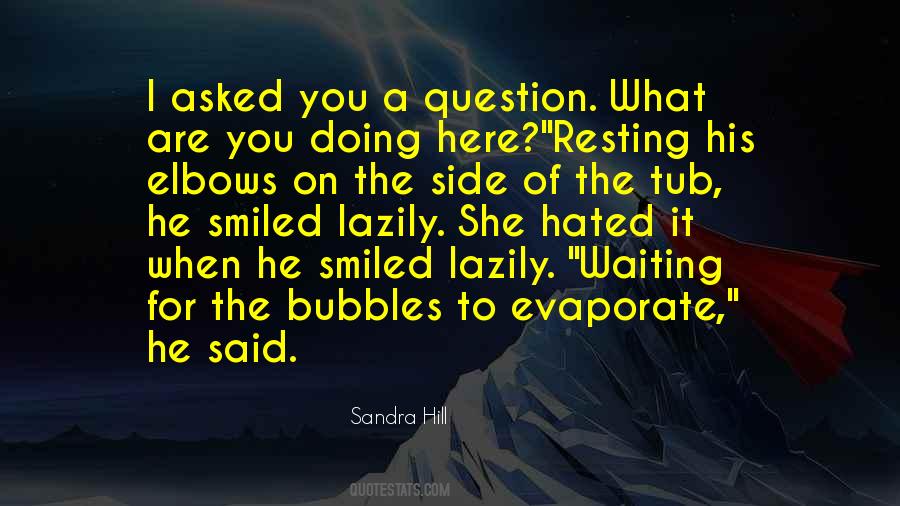 #37. But God really did bless me, you know? He really said, All right. Come on. I'm still waiting for you. Get over here. Get over here. - Author: Liza Minnelli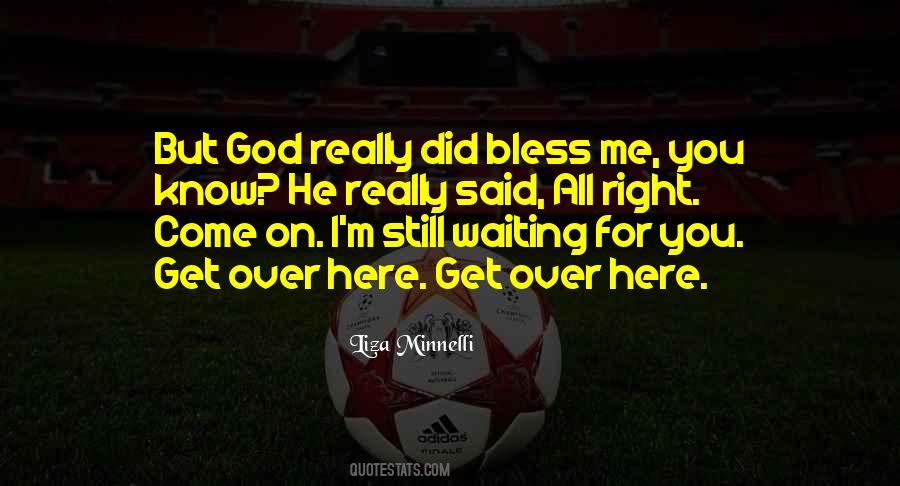 #38. I'll never be bothered if I don't have a hit because you look at the songs that are hits and they're none of my favourites. Just the fact that we do have fans waiting here, that's exciting enough. - Author: Bert McCracken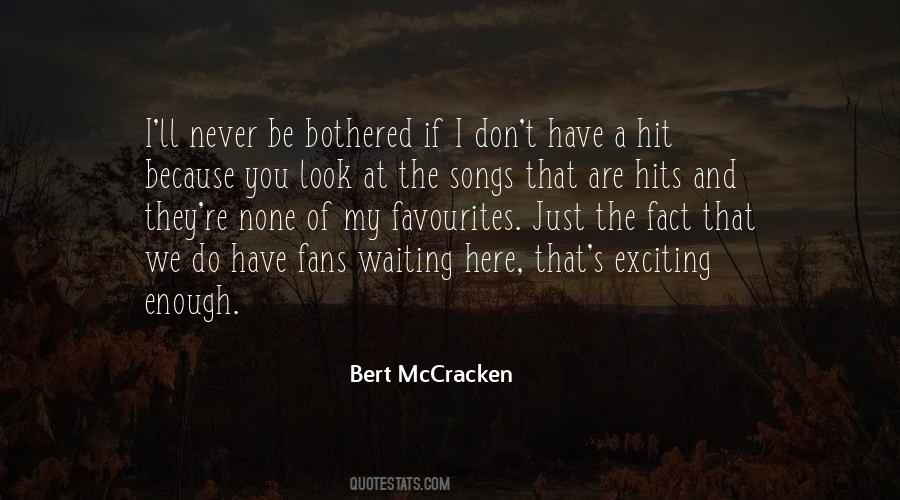 #39. Hello, Satan. I know you've been waiting patiently for me since the demise of the good and noble Uncle Tor. I have a feeling I'll be staying here a while. - Author: Carian Cole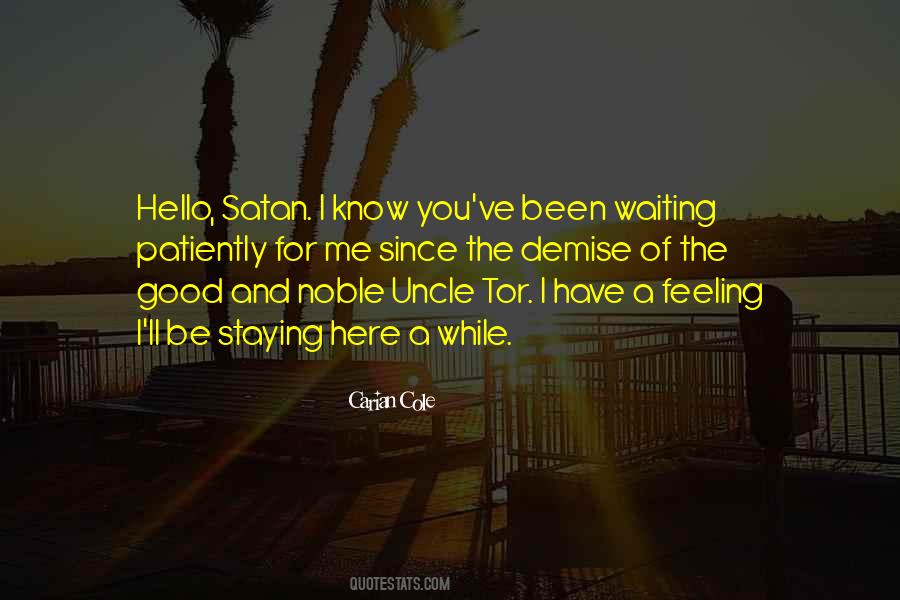 #40. Rich people, they stay out of jail not just because they have more money but because they grew up in a culture where they're educated by people to say, "I don't have to talk to the cops. If I get arrested, I'm not going to say a word to them. I'm just going to wait until my family lawyer gets here". - Author: Immortal Technique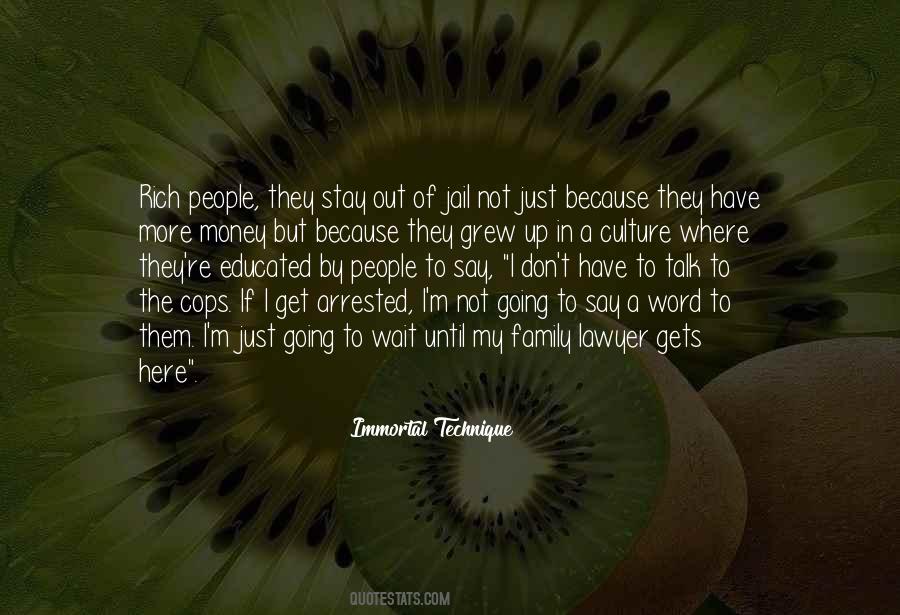 #41. Every morning I wake up, I can't even wait to go and see what life can I change today. It doesn't have to be a lot of lives, but I can change one life a little bit here, a little bit there, and I hope that everything I create, people know that. - Author: Suze Orman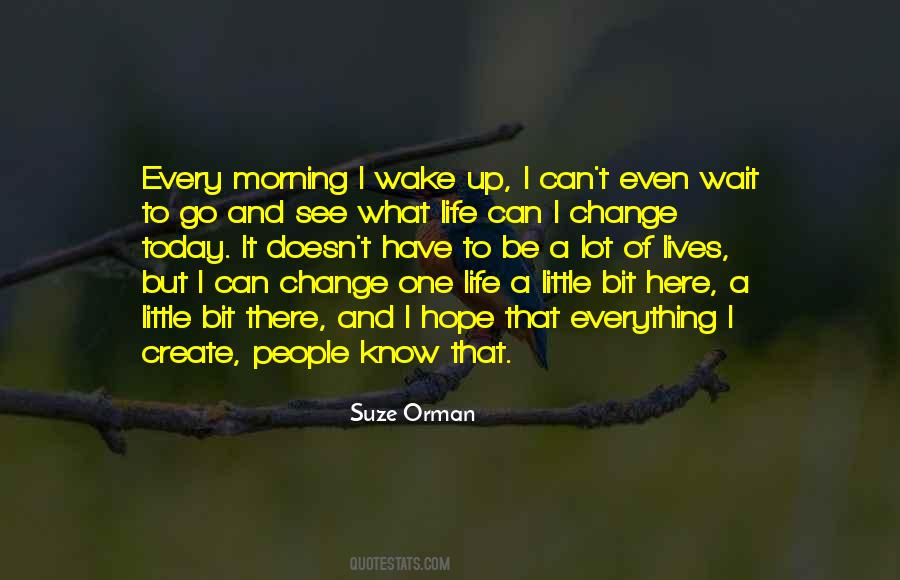 #42. I don't want to stop. I don't want to think. I want to stay here and pretend nothing's waiting for us when we get out. - Author: C.J. Roberts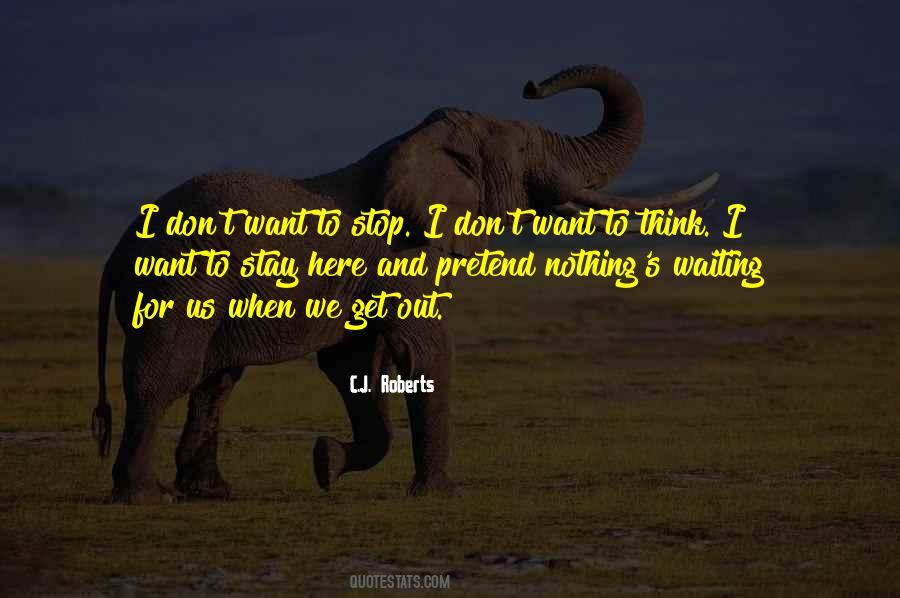 #43. I'll always be here waiting for you, he said, touching my chest with his fingertips, drawing a shape of a heart. - Author: Karice Bolton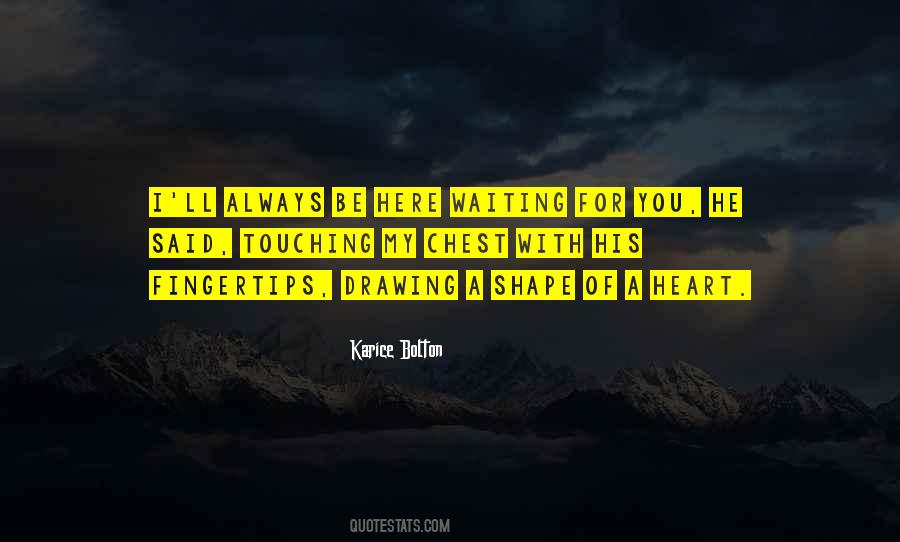 #44. What I want to do is travel deep and deeper into the dreamlands, to find that place that I know is waiting for me here. My home. - Author: Charles De Lint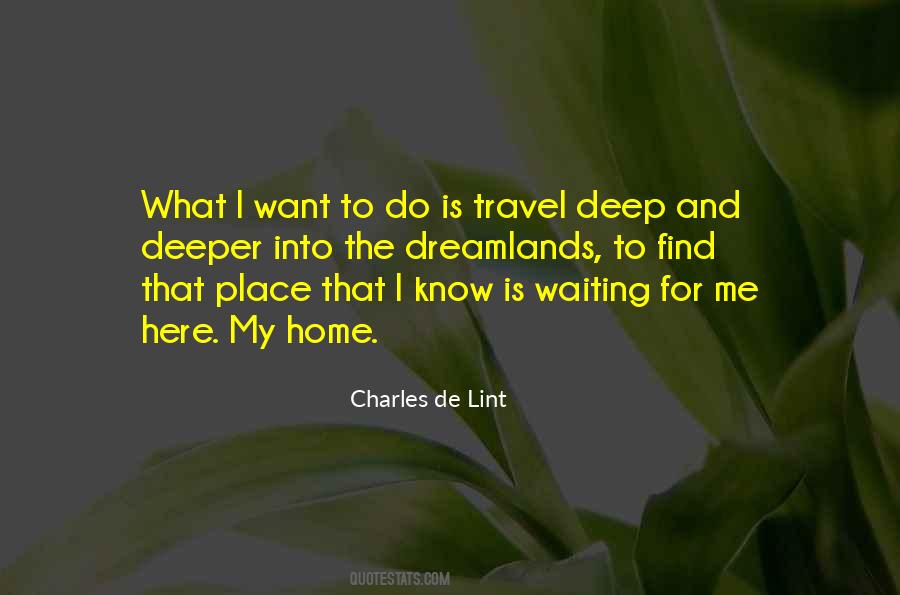 #45. When you come home to me, I will always be here waiting for you. - Author: Meljean Brook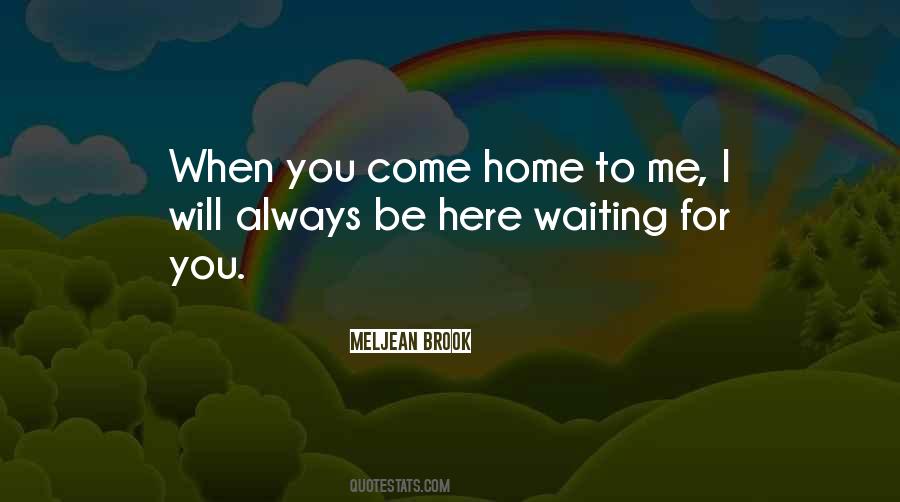 #46. This is not a game, and I am tired of people around here forgetting where they put their nuts!' Frank draws the attention of the officers gawking at the TV set; waiting for Connor to start streaming again. - Author: Luis Samways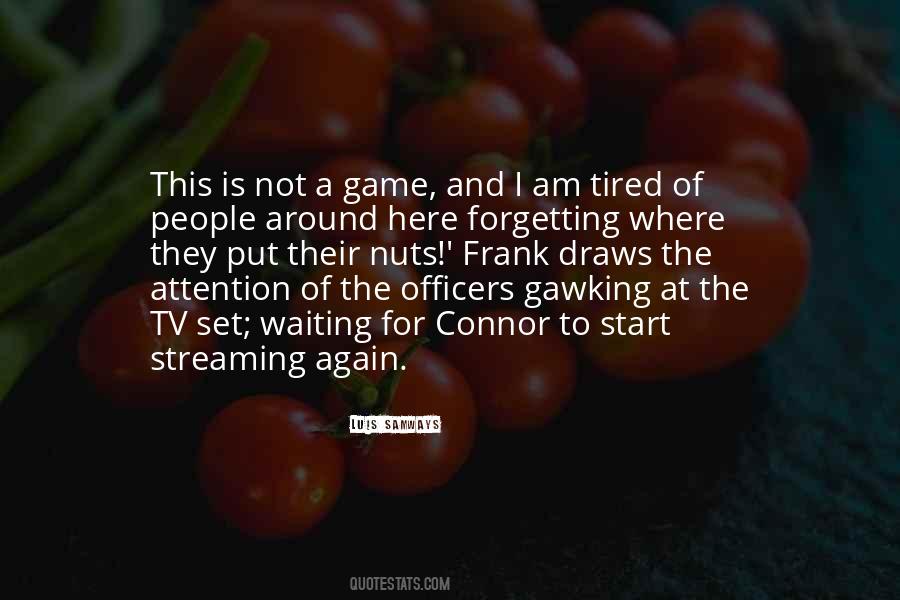 #47. I didn't think I belonged here in her world, a boy stuck between two lives, dragging the dangers of the wolves with me, but when she said my name, waiting for me to follow, I knew I'd do anything to stay with her. - Author: Maggie Stiefvater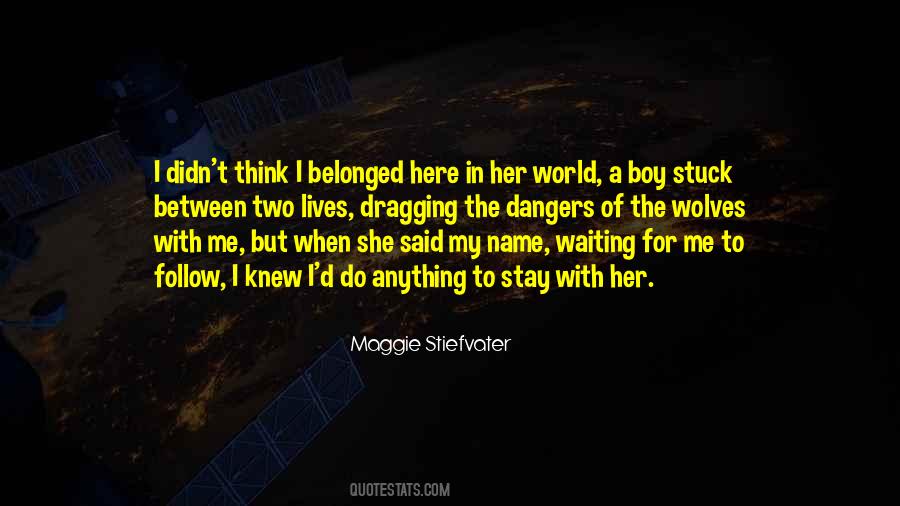 #48. The efflux of the soul is happiness, here is happiness,
I think it pervades the open air, waiting at all times,
Now it flows unto us, we are rightly charged. - Author: Walt Whitman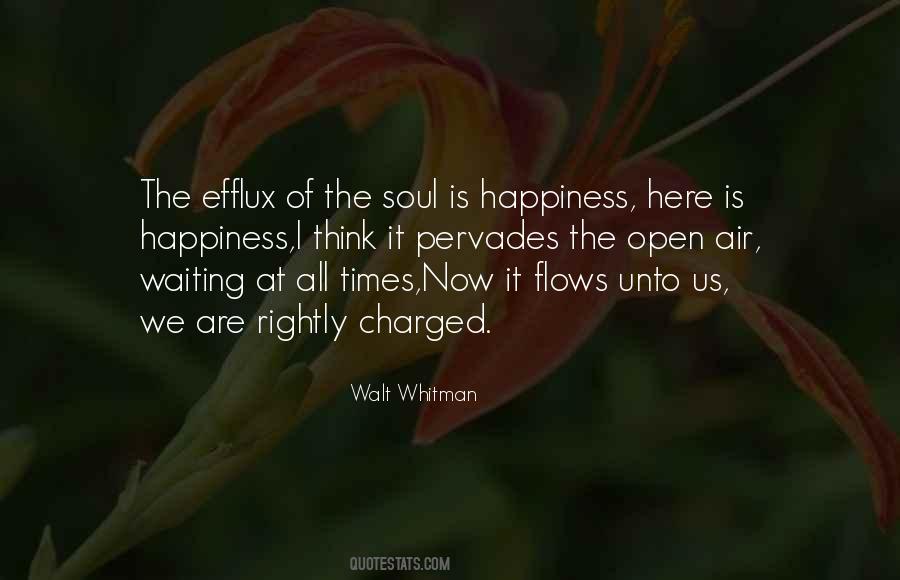 #49. I'll be here when you get back. - Author: Ally Carter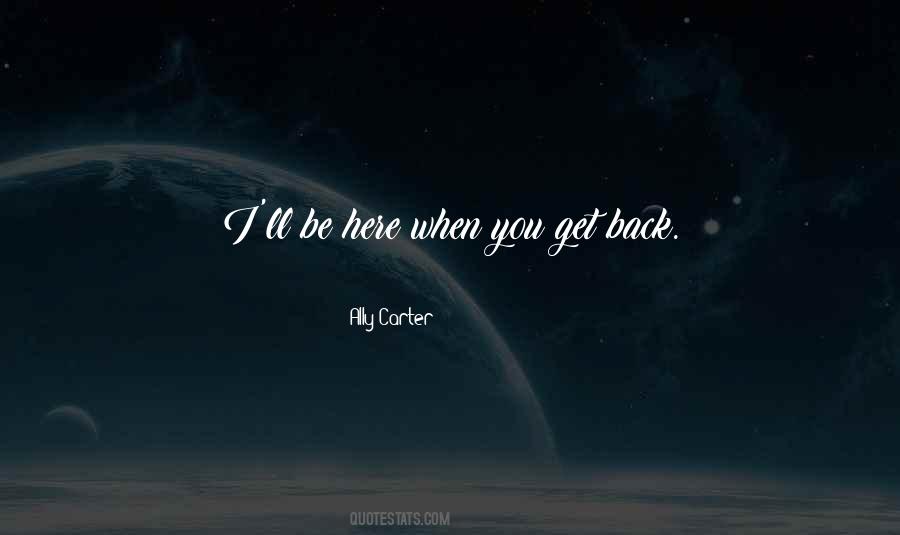 #50. By-and-large, these are families that are just waiting to get out of here. They are frustrated; I would be, too. I get frustrated at the cash register counter when the paper runs out. - Author: Russel Honore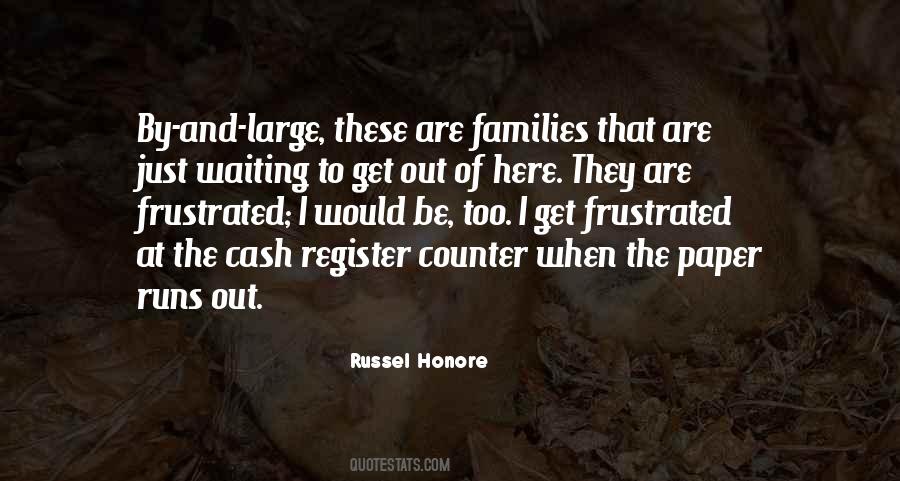 #51. I like how you're neither here nor there. And how there's nowhere else you're meant to be while waiting. You're just sort of suspended. - Author: Jennifer E. Smith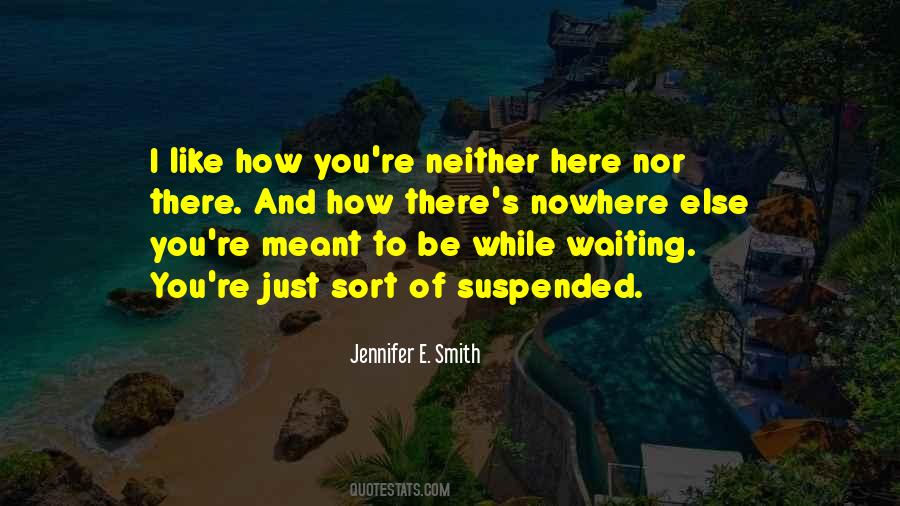 #52. Policeman says, "Son you can't stay here"
I said, "There's someone I'm waiting for if it's a day, a month, a year"
Gotta stand my ground even if it rains or snows
If she changes her mind this is the first place she will go - Author: The Script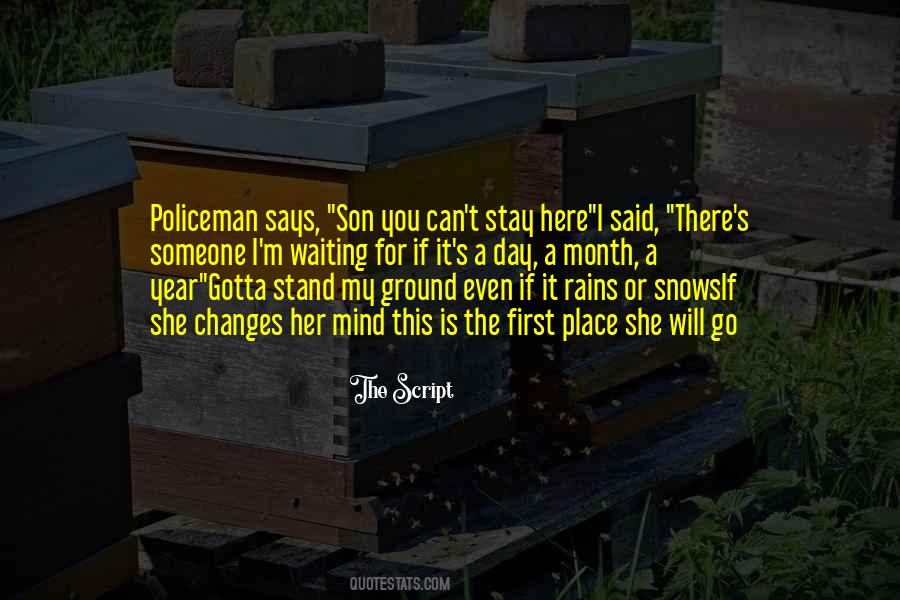 #53. I am waiting for a man to come in here and fuck me sideways with a beautiful line like that - Author: Patrick Marber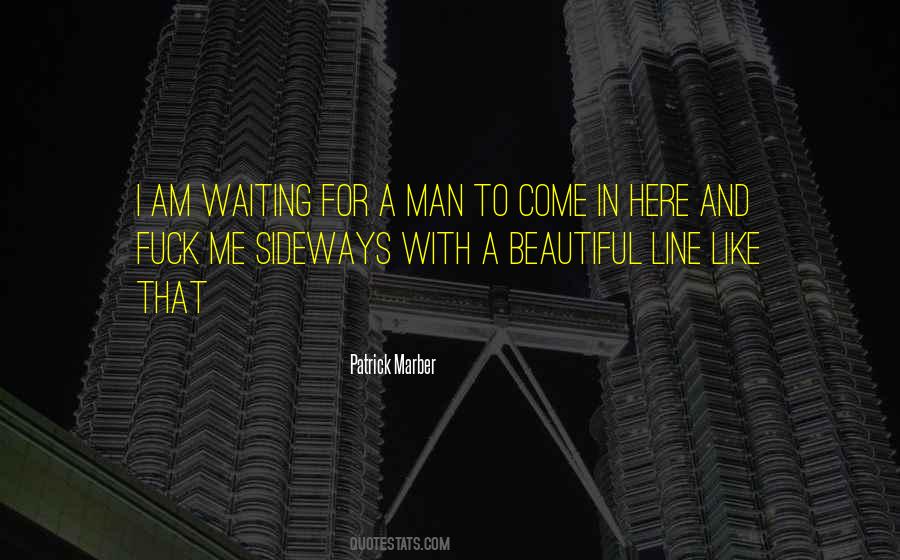 #54. Here I am in a rabbit run, here I am in a valley of pine, waiting for you to find me. I could pretend I'm speaking to everyone - assume a middle distance and transcend myself - but I'm taking to you and you know it. - Author: Richard Siken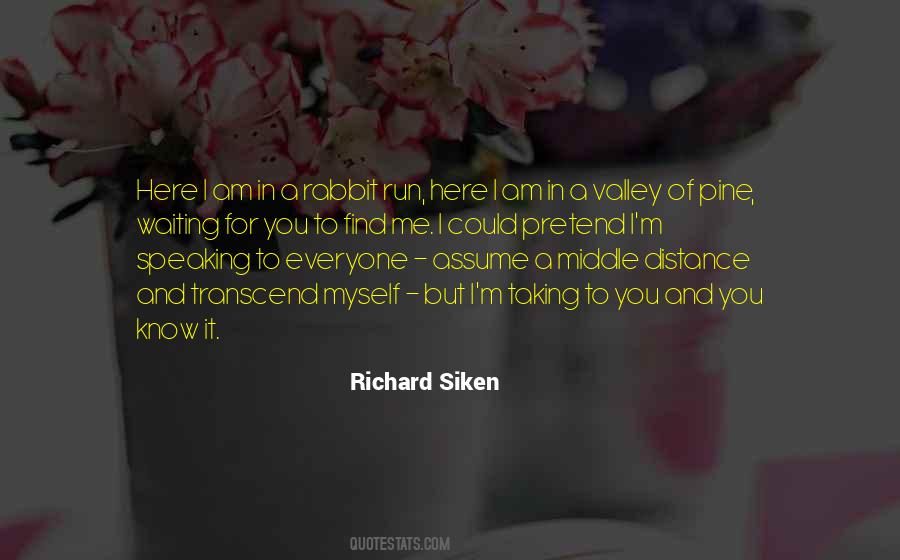 #55. It's a new world, it's a new start
It's alive with the beating of young hearts
It's a new day, it's a new plan
I've been waiting for you
Here I am
Here I am - Author: Bryan Adams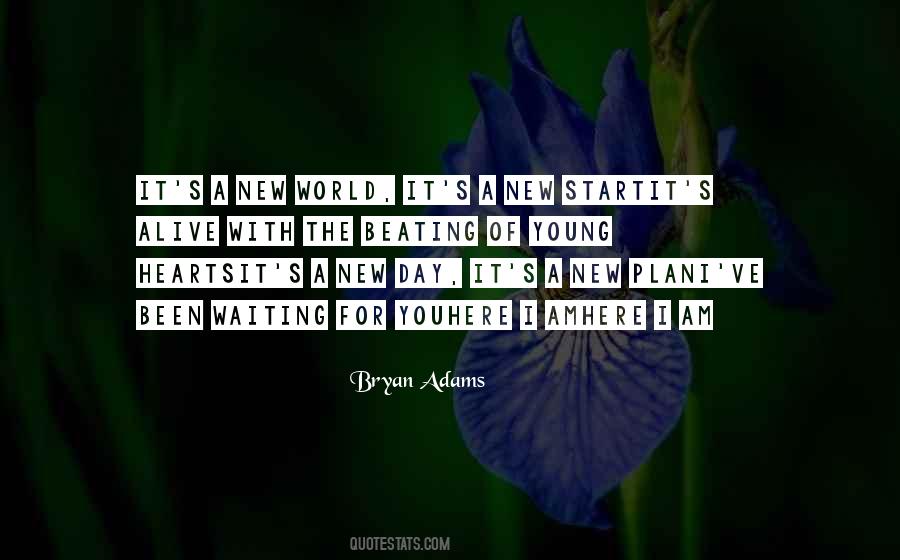 #56. I'm 48 years old, not a kid anymore by any definition, but here is a universal truth that every adult at some point will realize: We are all always 17 years old, waiting for our lives to begin. - Author: Harlan Coben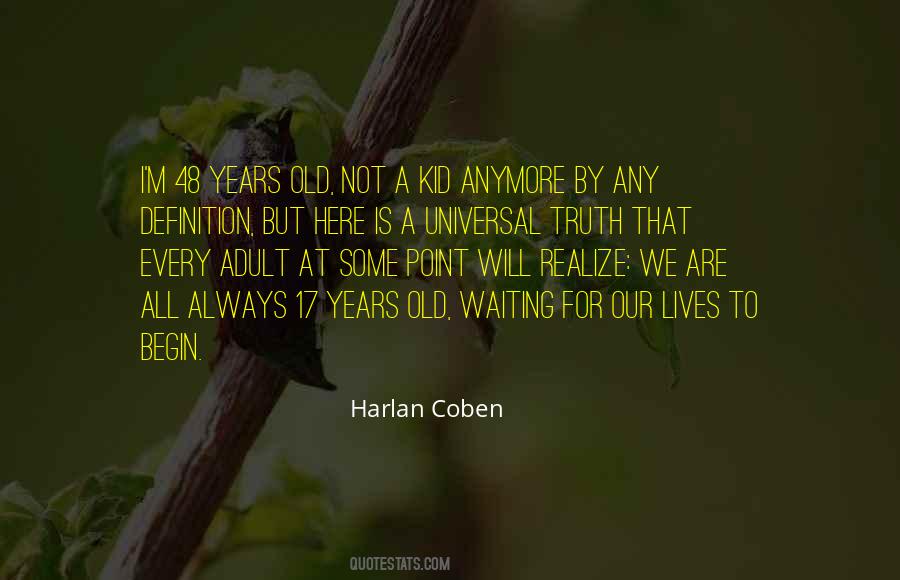 #57. And I cannot break the bonds of my word. Only you can release me from that promise. Say what you want from me, Mara. Say it, or I shall sooner die here in your arms waiting."
~Daegan Raeliksen - Author: Renee Vincent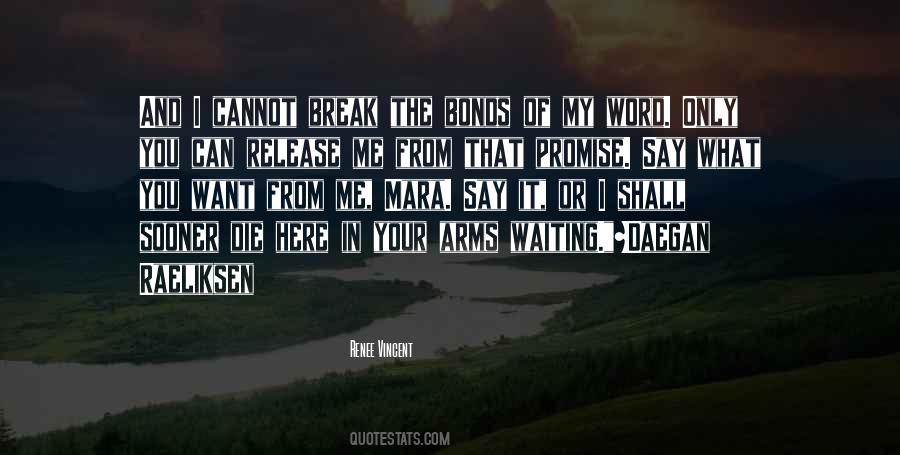 #58. I stand here waiting. To disappear or sing. - Author: Francesca Lia Block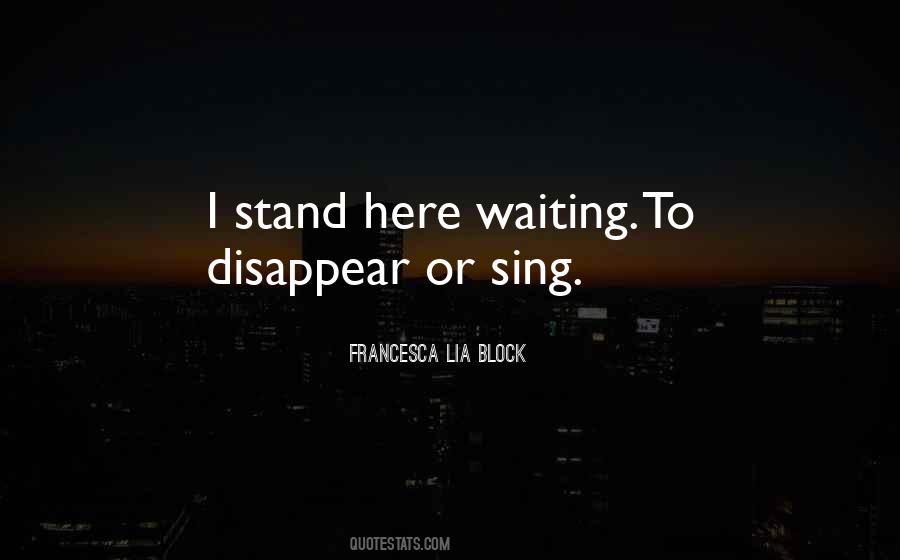 #59. Um ... " I mumbled, "We wait."
"What? Wait? Do you expect them to just come up here to the beach to get some moonlight?" He sneered as he took another bite of the eagle. - Author: Grace Fiorre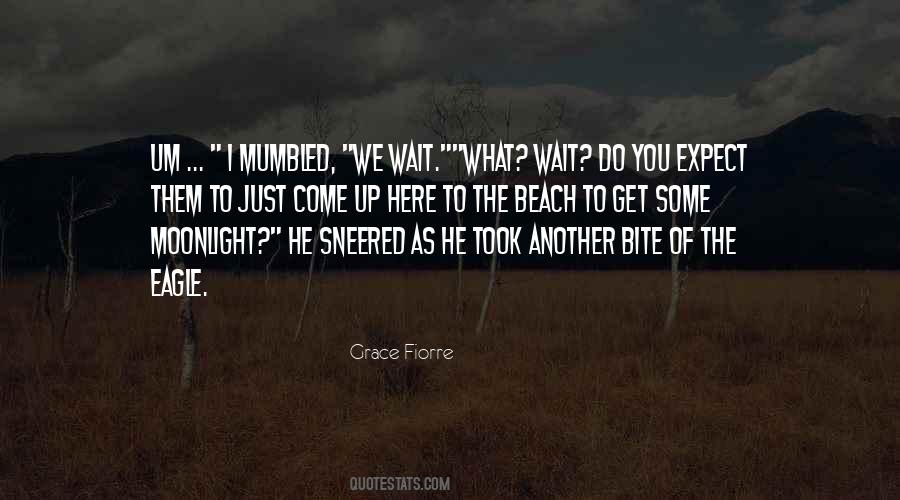 #60. Remember I'm from Dauphine Street. We useta put the kitchen chairs out on the banquette and set there till midnight sometimes waiting for the house to cool off. And the things the people down here say! Lord. - Author: John Kennedy Toole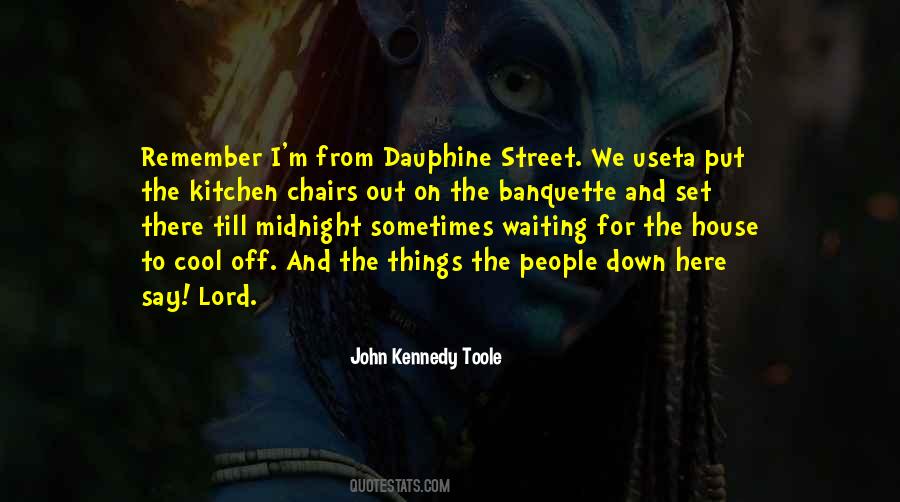 #61. Stay here." "Yeah, fuck that. I'm sticking to you like glue. I've seen this horror movie, the person waiting in the hallway dies." Meryn shook her head. Aiden turned to stare at her. "Later we're going to talk about your movie choices. - Author: Alanea Alder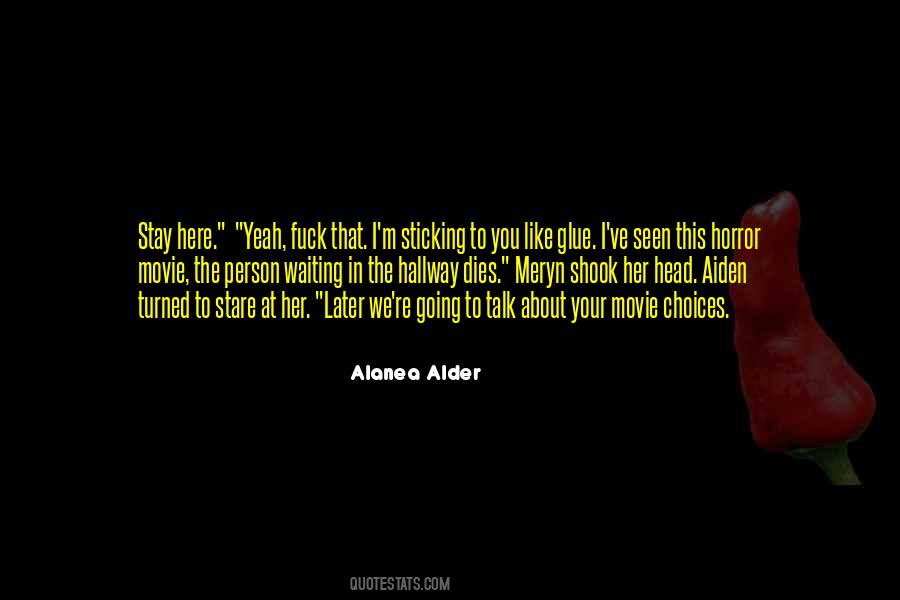 #62. Don't get caught in "Waiting". When I 'Get This' then I will be able to fully 'Live'. Escape the time dominant mind by fully being here 'NOW'. - Author: Matthew Donnelly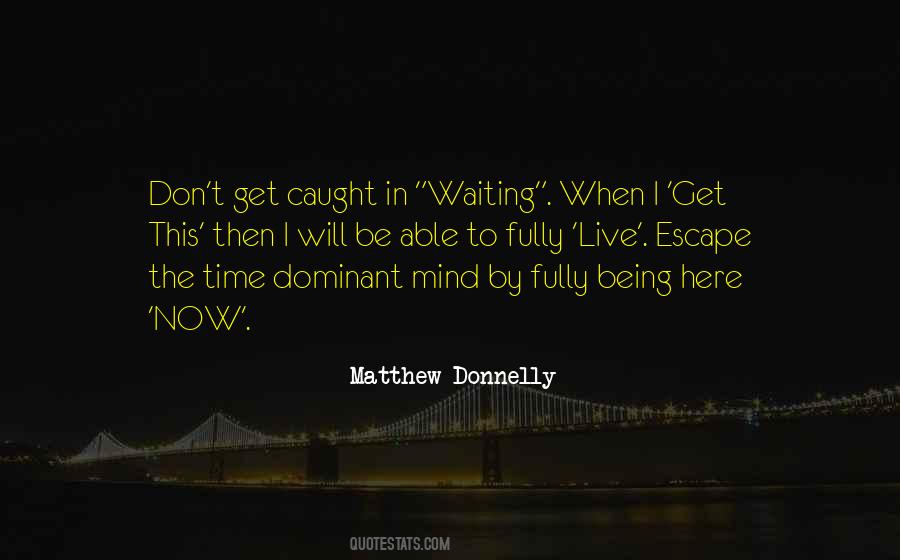 #63. So next time somebody says, "Sorry to have kept you waiting," you can reply, "That's all right, I wasn't waiting. I was just standing here enjoying myself - in joy in my self. - Author: Eckhart Tolle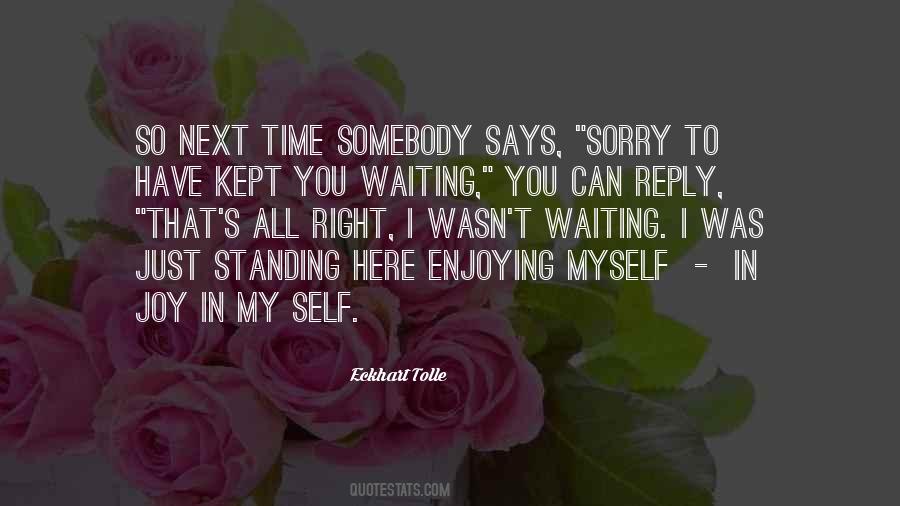 #64. The one fact that I would cry form every housetop is this: the Good Life is waiting for us - here and now. - Author: B.F. Skinner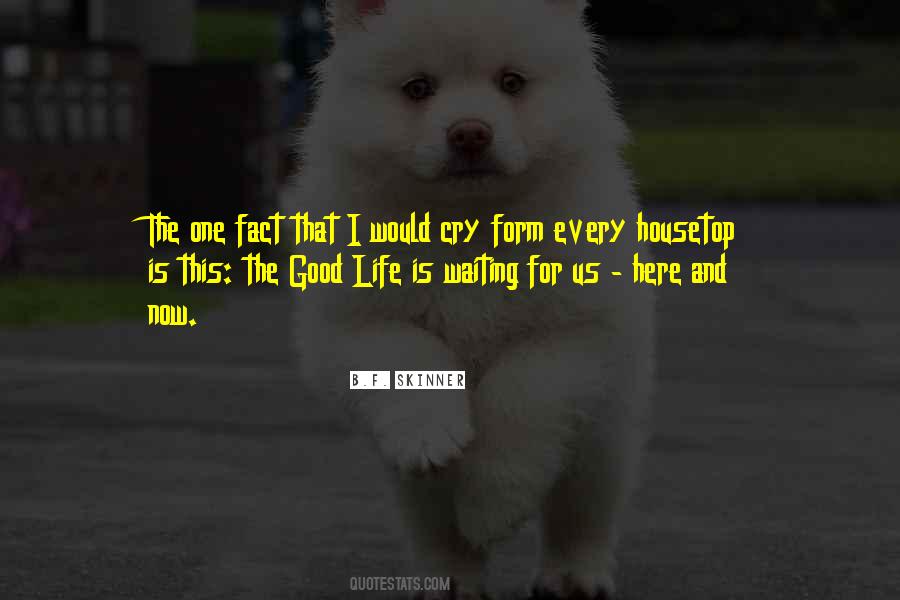 #65. Time is just going on and on .But I still here Idle just Waiting for someone and nothing else - Author: Amardeep Singh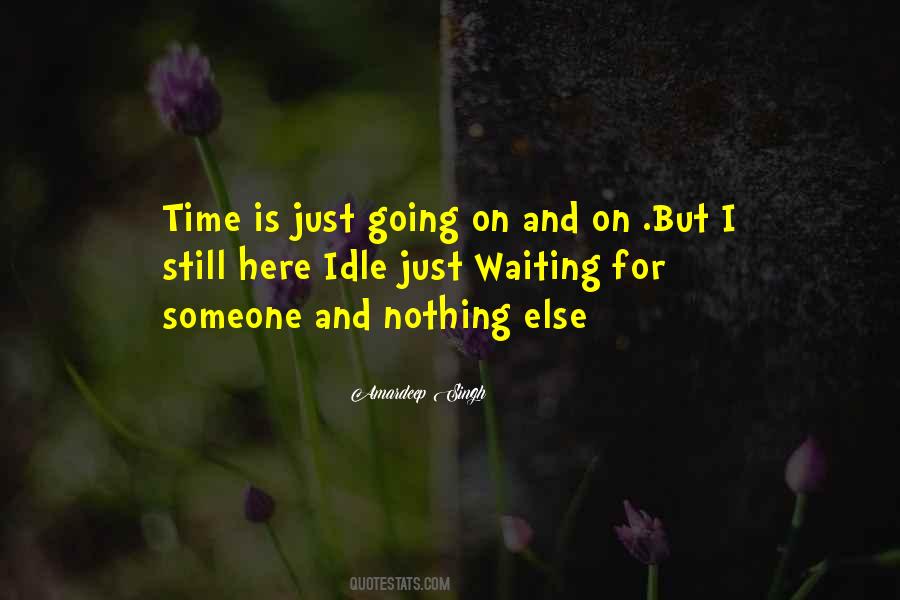 #66. I would have gone too but I wanted to come straight back to you.I kept thinking of you, waiting here, all by yourself, not knowing what was going to happen. - Author: Daphne Du Maurier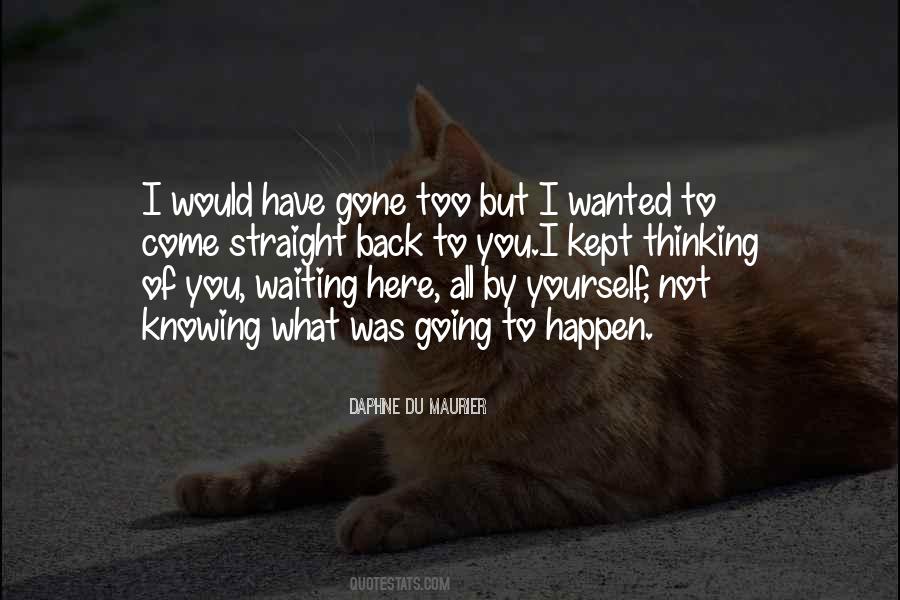 #67. I'll be waiting for you right here, inside my heart, always. - Chansey from Blood of Anteros - Author: Georgia Cates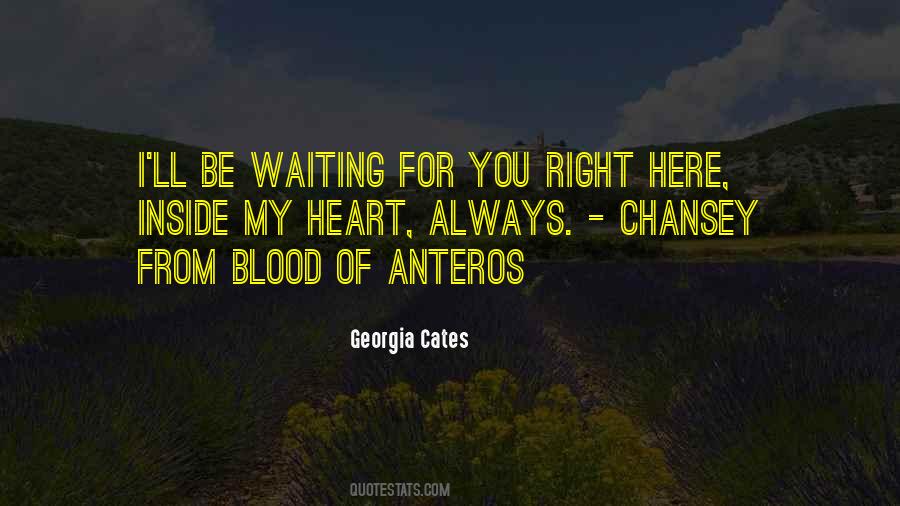 #68. Autumn began to run. She felt an icy terror flood through her. He must have been waiting for her. He'd followed her all the way here. To this open, empty place.
He knows where I live. - Author: Sanjida Kay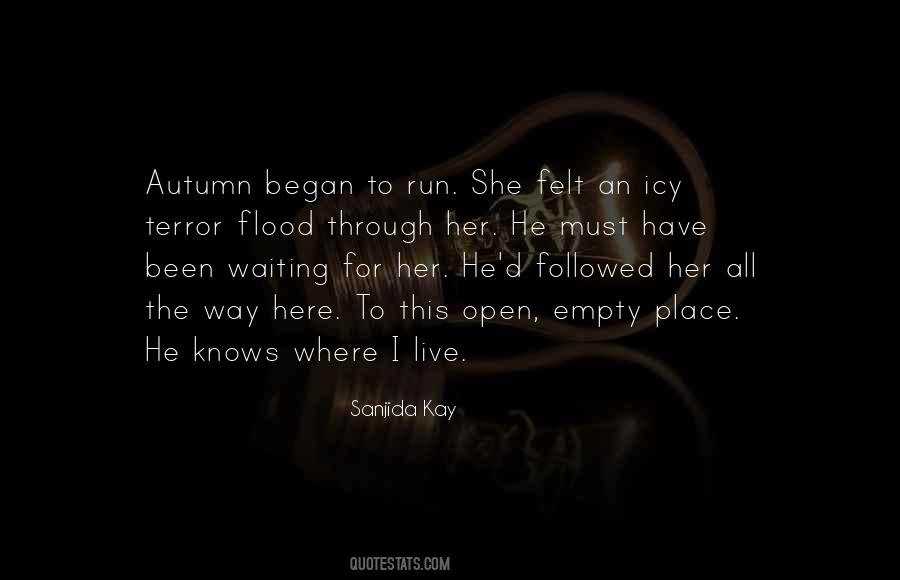 #69. He taught me to be a Da Vinci
and I sit here, with his portraits
waiting for him to return
I do not think he will
Is that what it means to be human
to be all powerful,
to build a temple to yourself
and leave
only the walls to pray - Author: Phil Kaye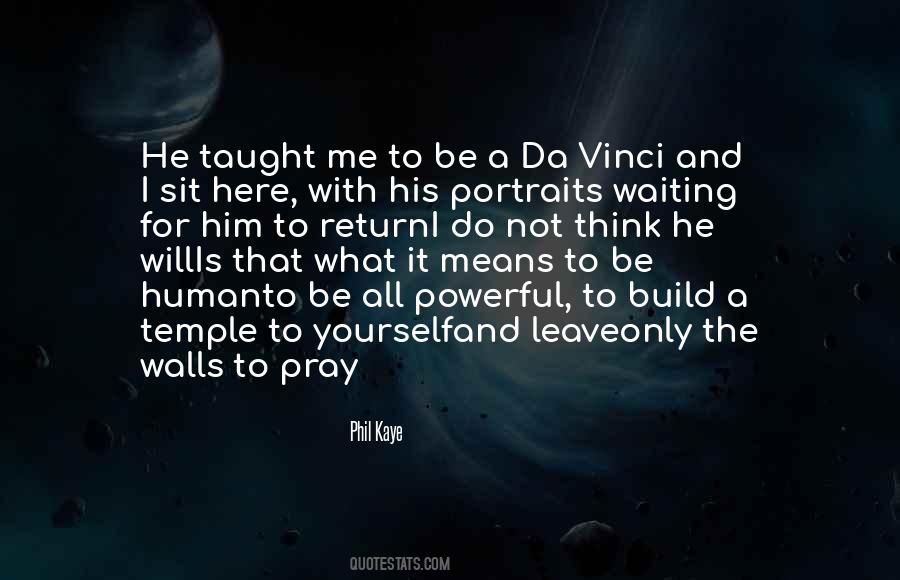 #70. She takes my arm like an old friend would. "Welcome to the Waiting Place, the realm of ghosts. I am the Soul Catcher, and I am here to help you cross to the other side. - Author: Sabaa Tahir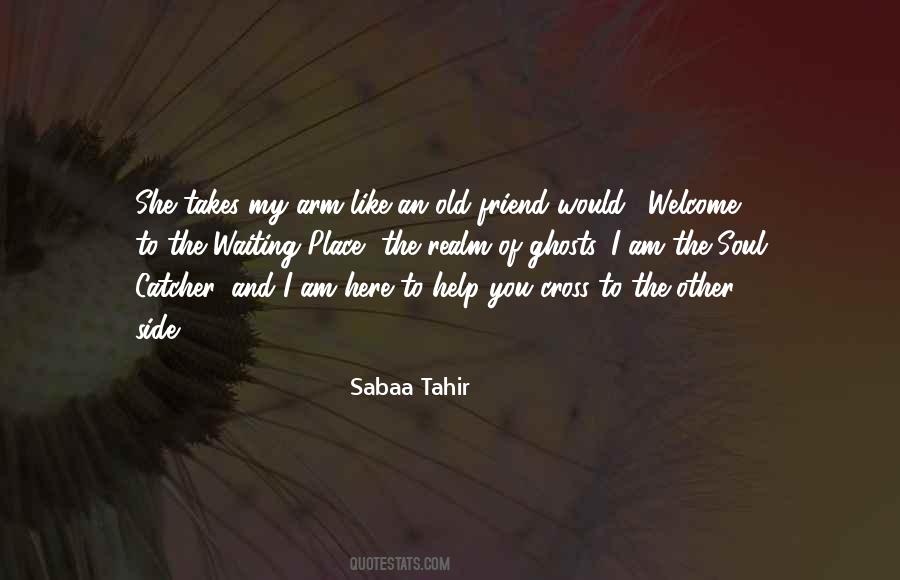 #71. There has to be consistent emergence of two or three films - narratively, stylistically, consistently demonstrating you are here to go on. And on that kind of basis, I'm not seeing much. I'm just waiting to see. - Author: Haile Gerima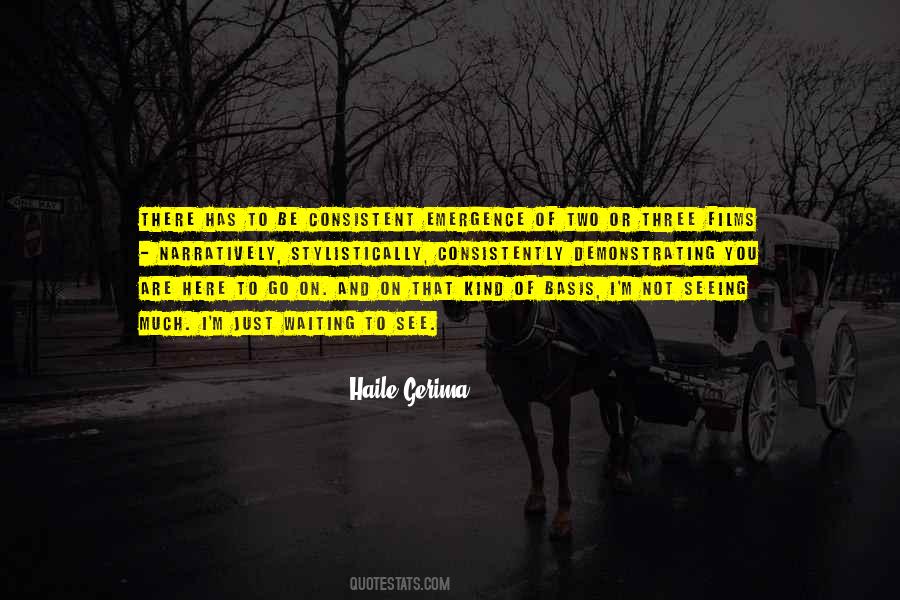 #72. I shudder to think of an eternity spend without books. I have hopes that every book that was ever lost is somewhere waiting for me when my life here finally ends. - Author: Mel Odom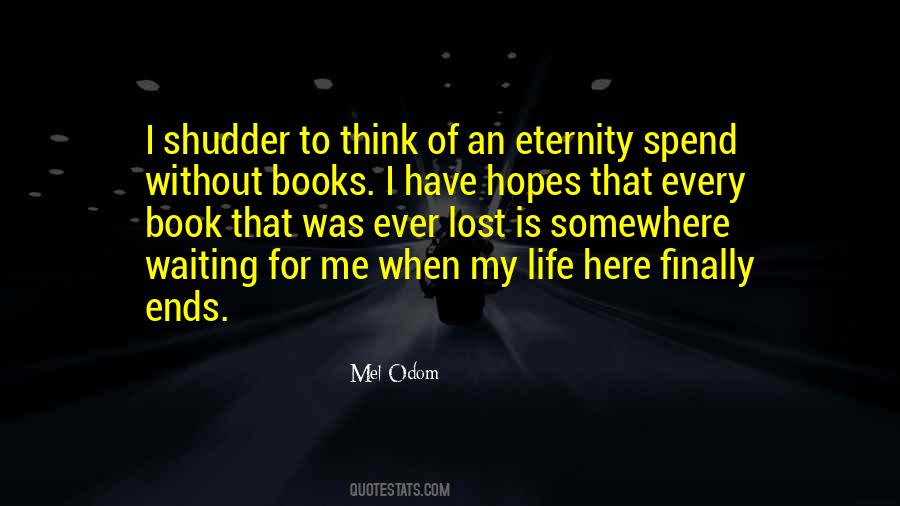 #73. Now let me teach you another thing about my daughter. I love her very much but she has the ability to hide as expertly as a sock in a washing machine. No one knows where it goes, just as no one knows where she goes, but at least when she decides to come back, we're all here, waiting for her. - Author: Cecelia Ahern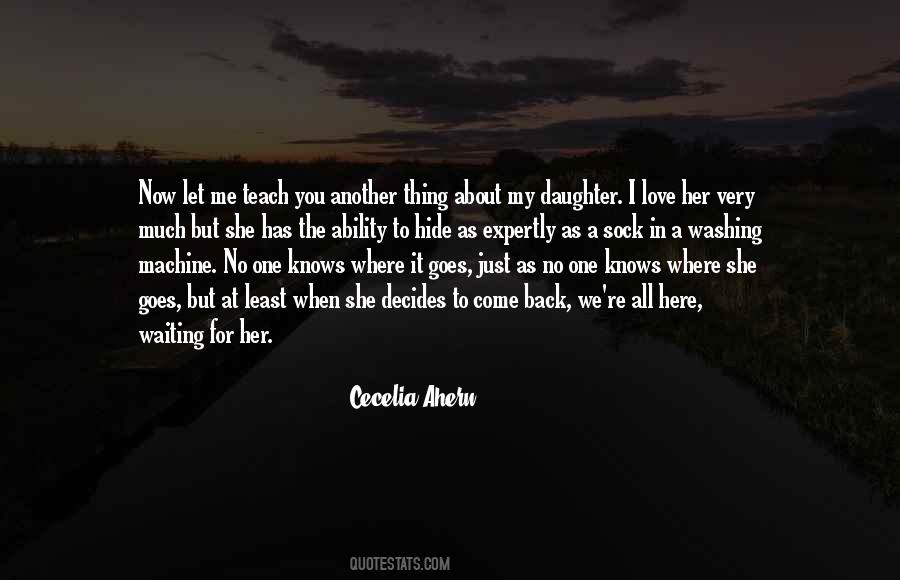 #74. If I wait until I become perfect before I love myself, I will waste my whole life. I am already perfect right here and right now. I am perfect exactly as I am. - Author: Louise Hay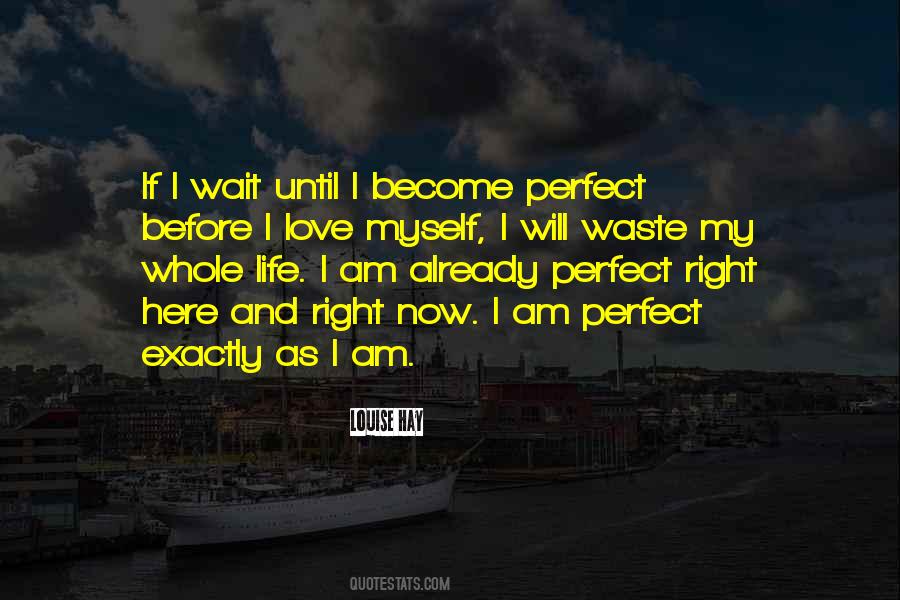 #75. everyone is in a hurry and things are always disappearing, and i am always left standing here--
alone, waiting for the things that stay. - Author: AVA.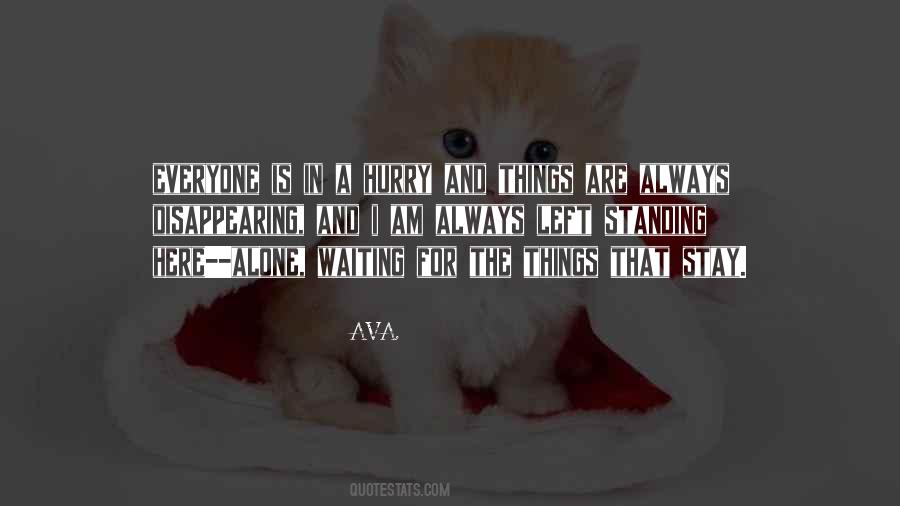 #76. I've been waiting for you for a very long time." I raised her off my shoulders, lowered her to me, and guided her legs around my waist. "Why did you take so long to come to me?"
"If I knew you were here, I would've come so much sooner. - Author: Kenya Wright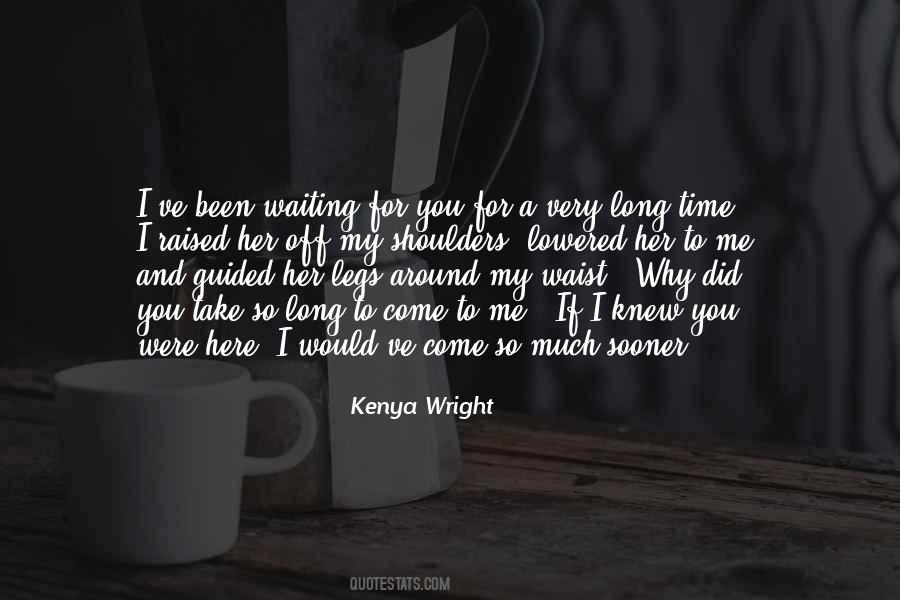 #77. Everyone says the best fans in baseball are here [in Boston] and I can't wait to be a part of that. - Author: Jason Bay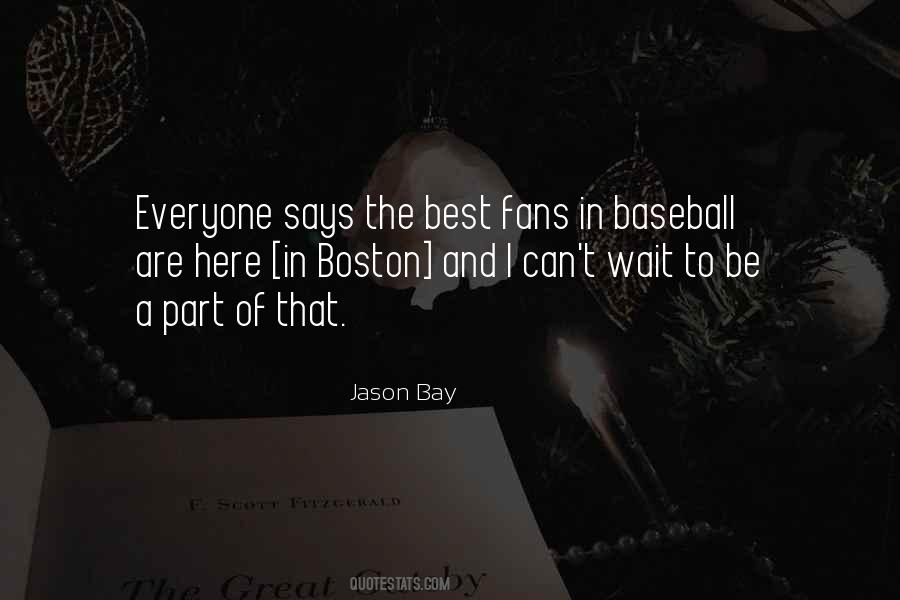 #78. Don't crave fame, do what you do and just apply. I don't think many of them here today are that interested in fashion. Perhaps it's because there's not much going on. No punk, no reaction to something. I think we are in a waiting period. - Author: Louise Wilson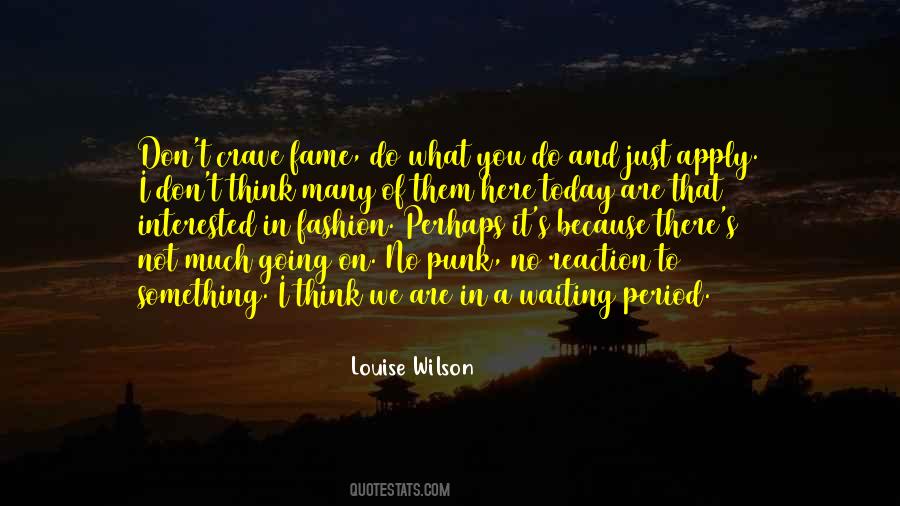 #79. I've spent a life time waiting for the right time, now that you're near, the time is here at last. - Author: Elvis Presley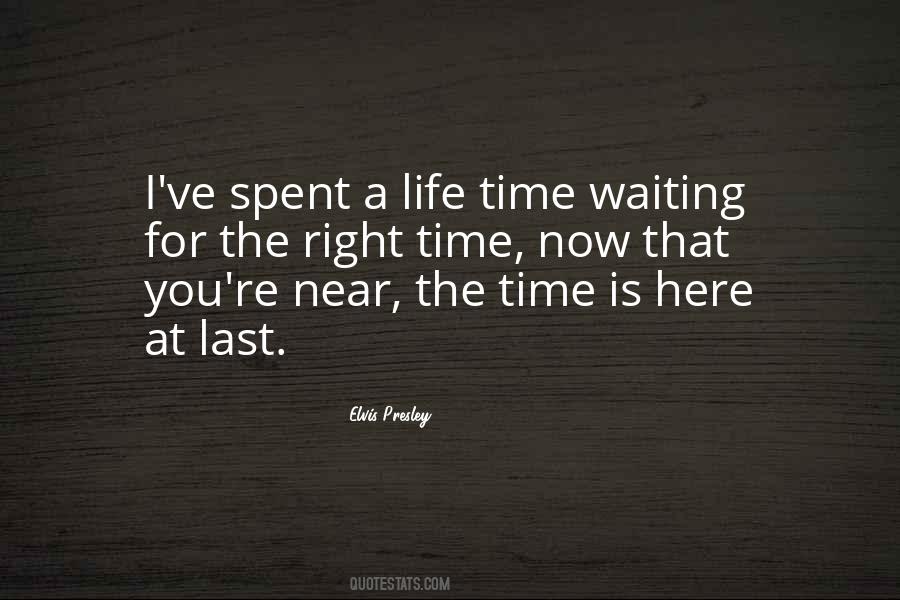 #80. We've been here all along, the world seemed to say, waiting for you. What took you so long to find us? I - Author: Kathleen Rooney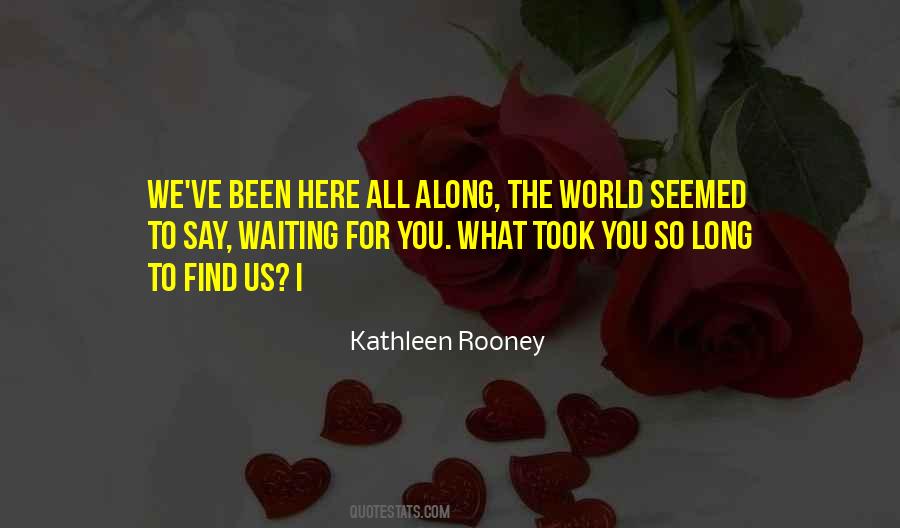 #81. I am always, always watching you. And I'll be waiting here for your feelings to catch up on my own. - Author: Shungiku Nakamura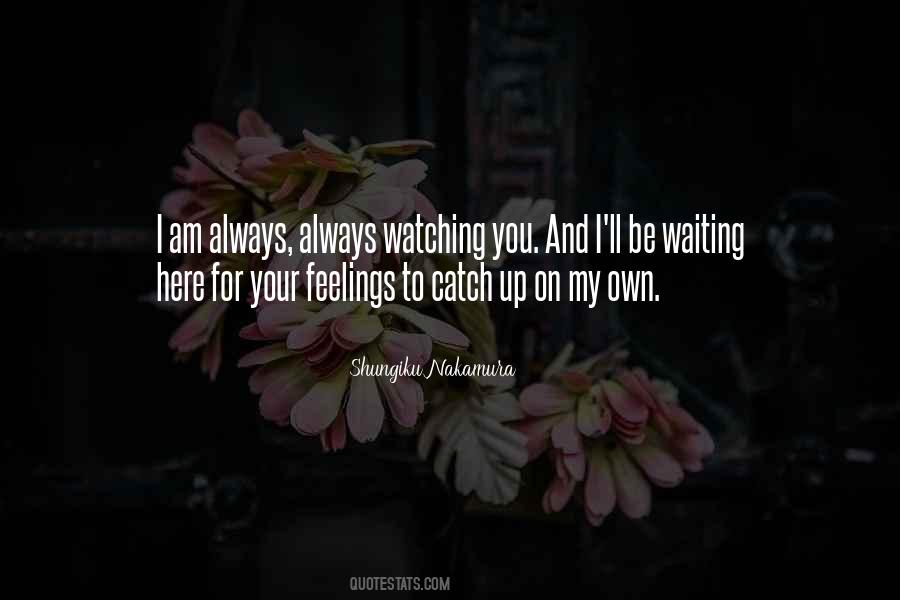 #82. Look, you're here to see me, and I can't go on until my dealer is here, and he's waiting to be paid, so give me some money so I can fix up, and then you'll get your show. - Author: Iggy Pop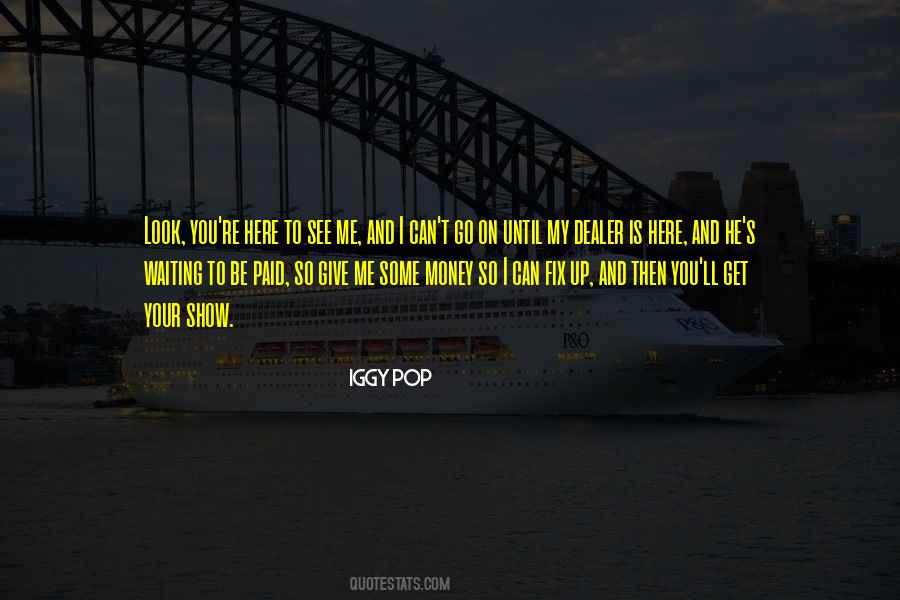 #83. When I walk into a room, you'd think I was one of those long, straight Tetris pieces because everyone's just like, Oh great, you're here! We've been waiting for you to show up. - Author: Bo Burnham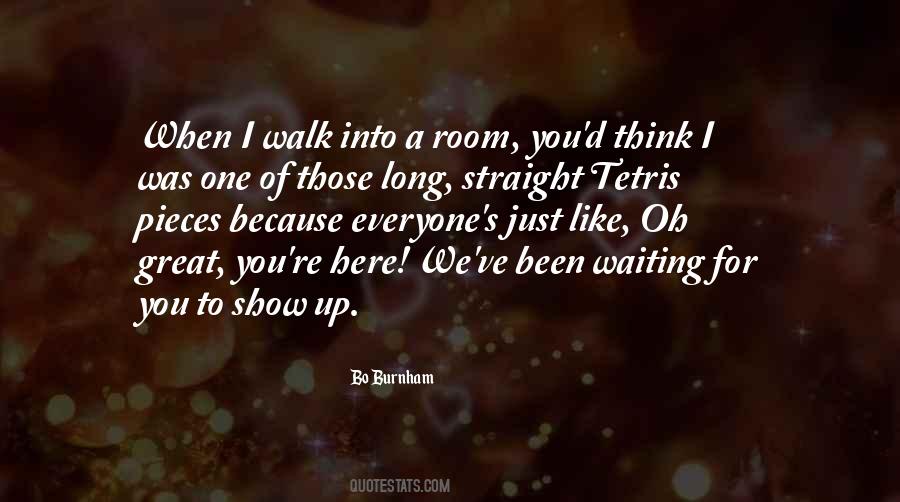 #84. What about me, Peter?" "You can cook. You can clean. You can be waiting here for me when I get home. I'd think that would be enough." "Well, it's not! - Author: Barbara Delinsky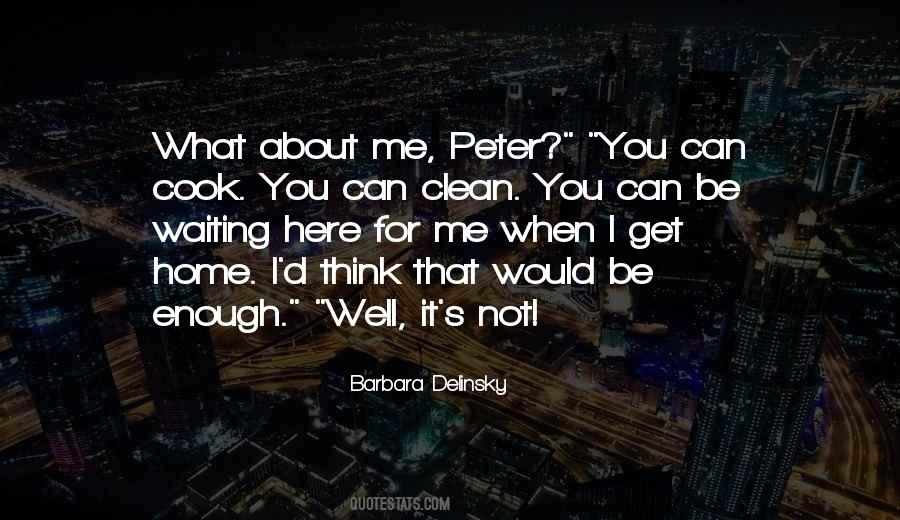 #85. There is so much guilt lying around here, just waiting for me to pick it up and carry it with me. There is so much I can torture myself about. - Author: Taylor Jenkins Reid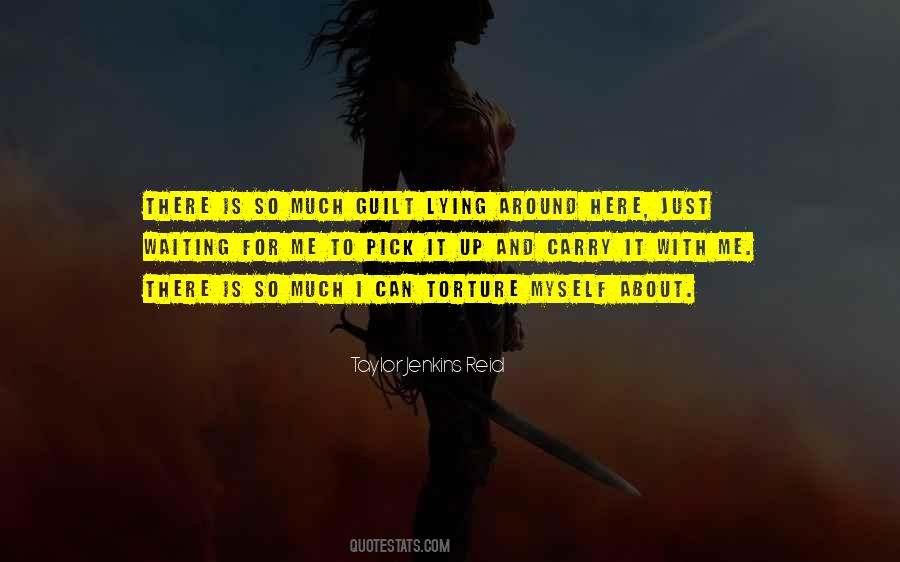 #86. I won't always say the right thing, I won't always make you smile, I won't always make you happy ... but I will always try, and i will always be here for you ... waiting for you to open your eyes and realize how much I love you. - Author: Zane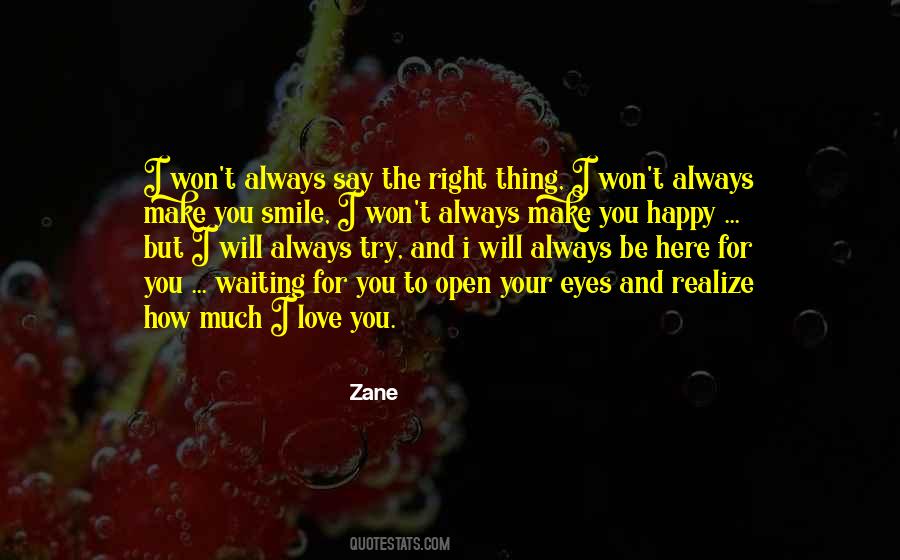 #87. And I thought, there's a sloth near. There's a sloth here, it's close, it's gonna happen. And I didn't know how to process that, because my entire life had been waiting for this moment. - Author: Kristen Bell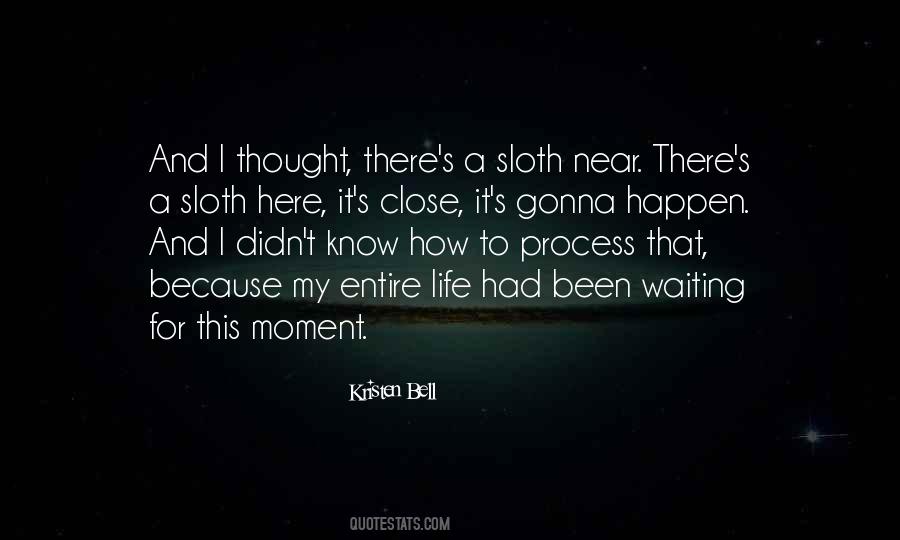 #88. I should just build a bleeding house here," I mutter as I pick myself up off the snow-covered ground. "Maybe get a few chickens. Plant a garden. - Author: Sabaa Tahir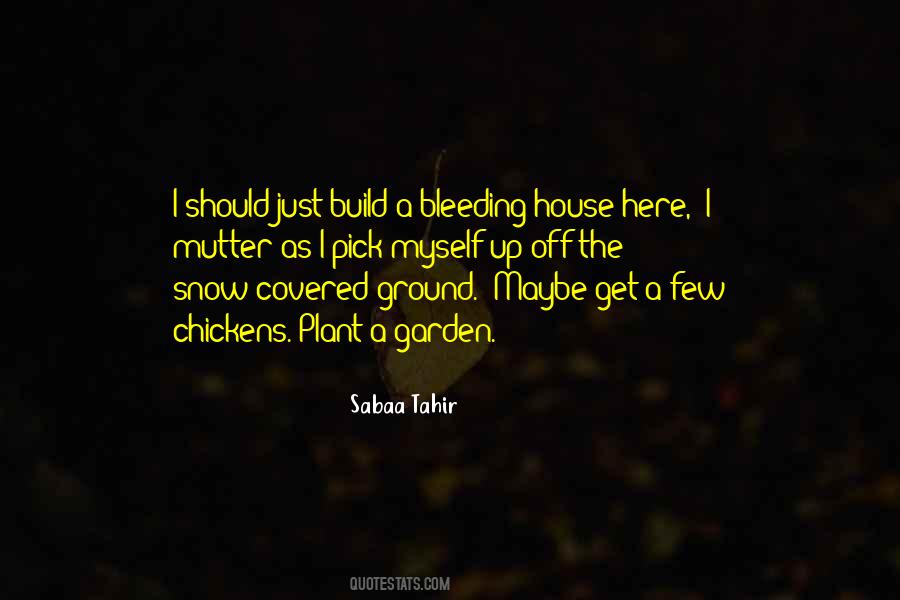 #89. Time, where did you go? / Why did you leave me here alone? / Wait, don't go so fast / I'm missing the moments as they pass - Author: Chantal Kreviazuk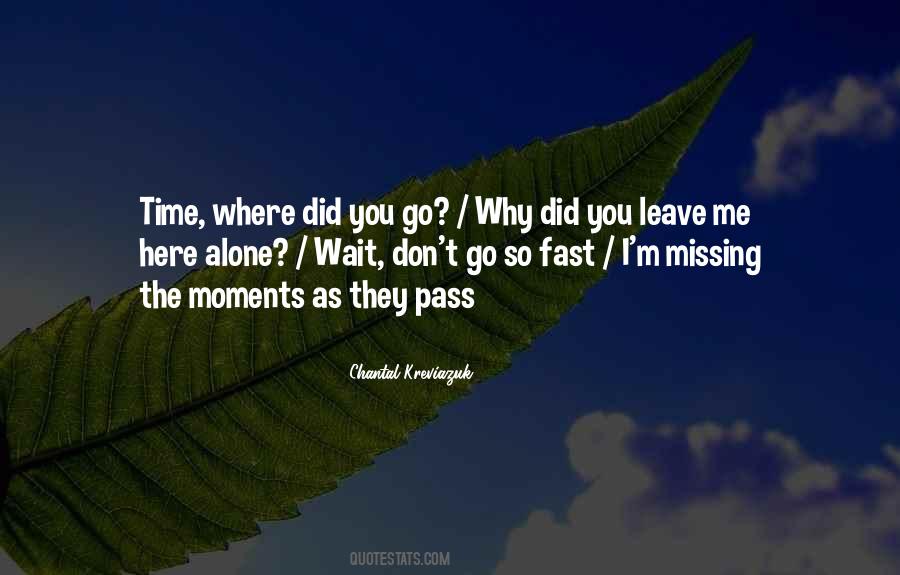 #90. There are only stupid decisions waiting for me here. But I've never cared all that much for being smart. - Author: Cora Carmack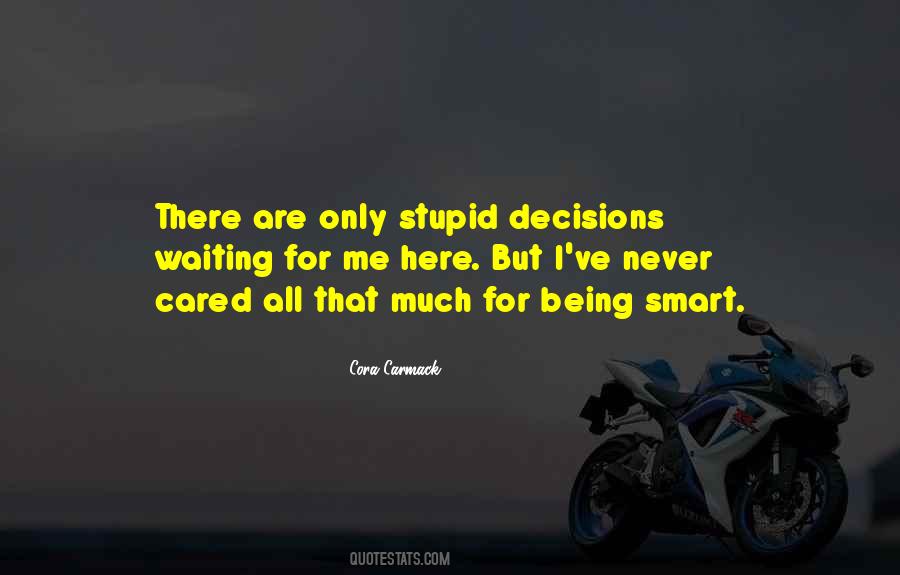 #91. I have been waiting for you for so long."
I pointed to the car. "We are searching for Trachimbrod."
"Oh," she said and she released a river of tears. "You are here. I am it. - Author: Jonathan Safran Foer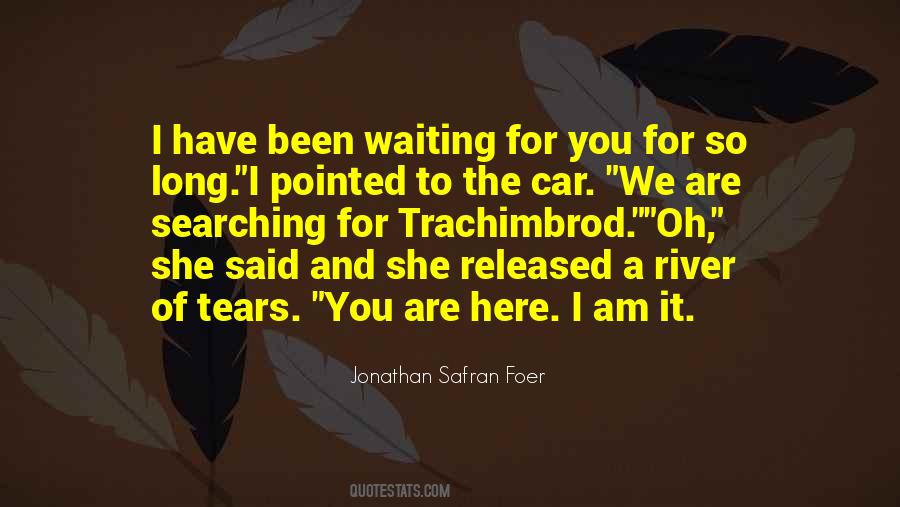 #92. Still deep I burrow, waiting for tomorrow. Closed off, I bear. The open elements don't care. Laid here in this nest, dormant now I rest. Aching to live and roam, though still burrowed in my tomb. When time brings my spring, maybe I'll rise like a king.
-Anonymous - Author: Linda Kage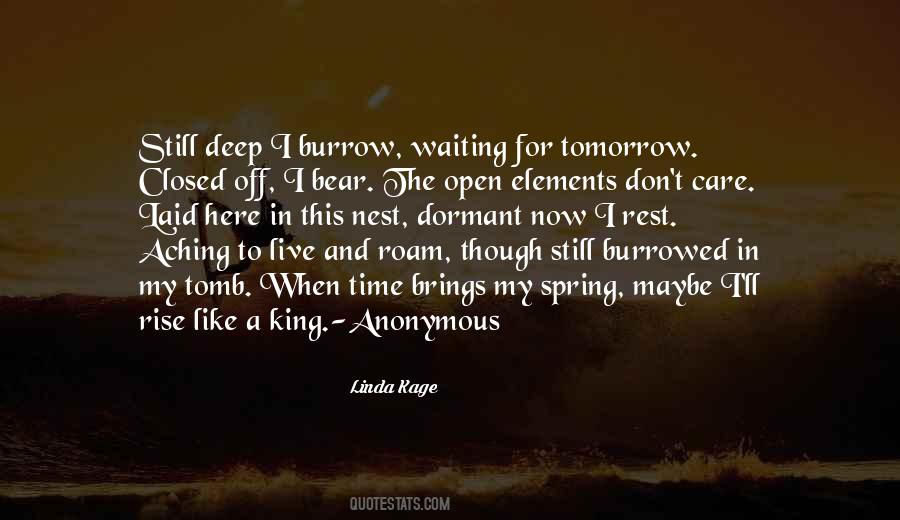 #93. I would not sit waiting for some vague tomorrow, nor for something to happen. One could wait a lifetime, and find nothing at the end of the waiting. I would begin here, I would make something happen. - Author: Louis L'Amour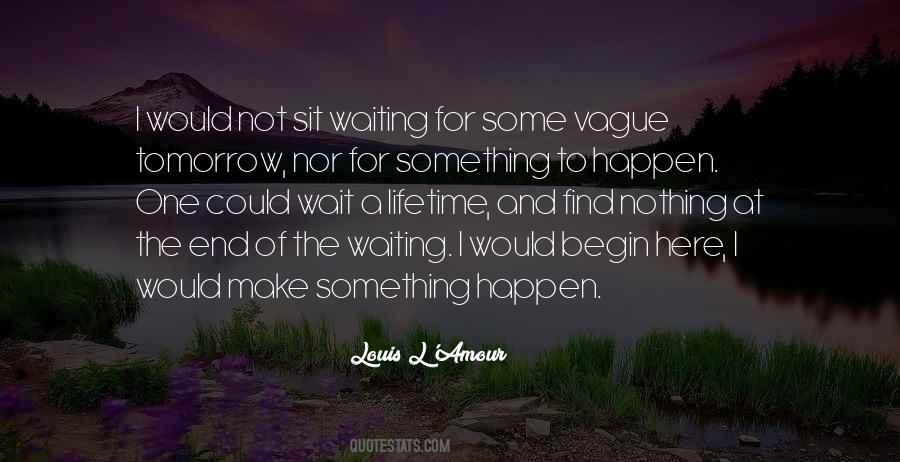 #94. I don't work very much, and I just sit here waiting for a script that I can't refuse - and I'm not talking about money. - Author: Michael Caine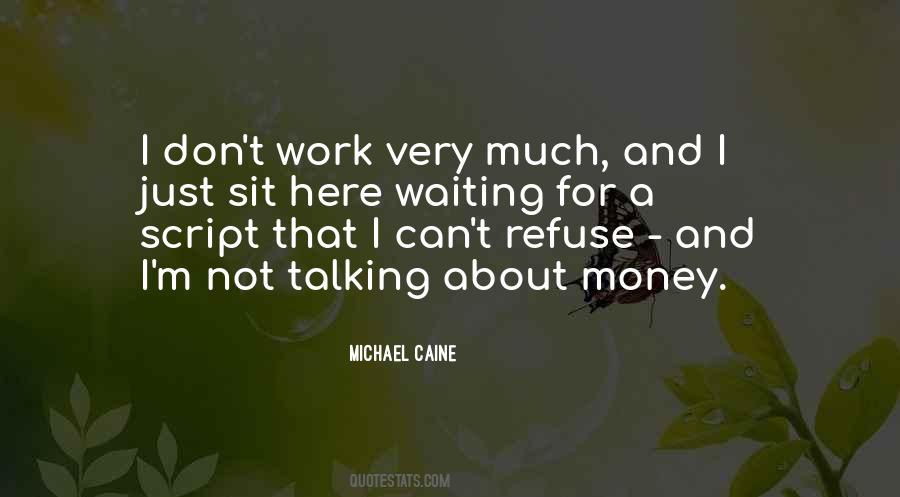 #95. For a long time ... I've been asking myself this question ... Am I a memory? Are you ... a memory? Are we just ... a collection of memories? I've always been waiting ... for the person who disappeared beyond those rails. Now I understand. It didn't end here. This place ... was just the beginning. - Author: Yuuki Obata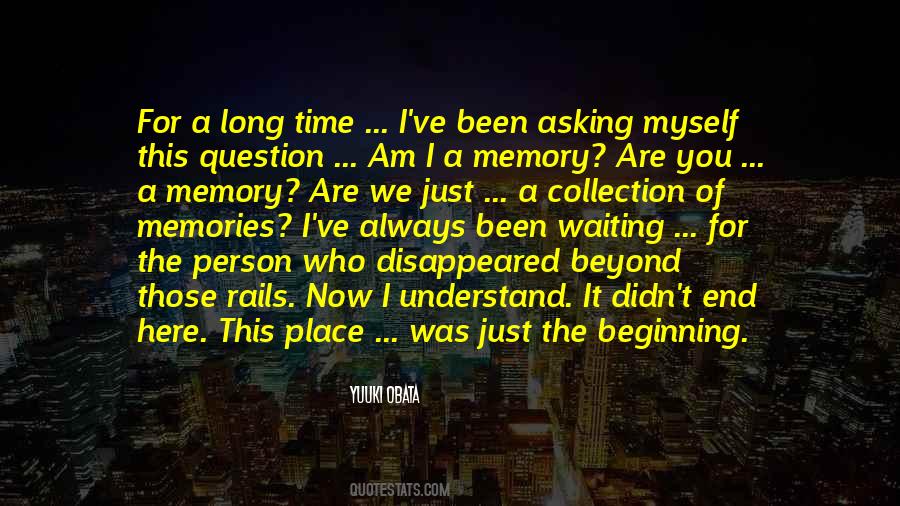 #96. I will be waiting here ... For your silence to break, For your soul to shake, For your love to wake! - Author: Rumi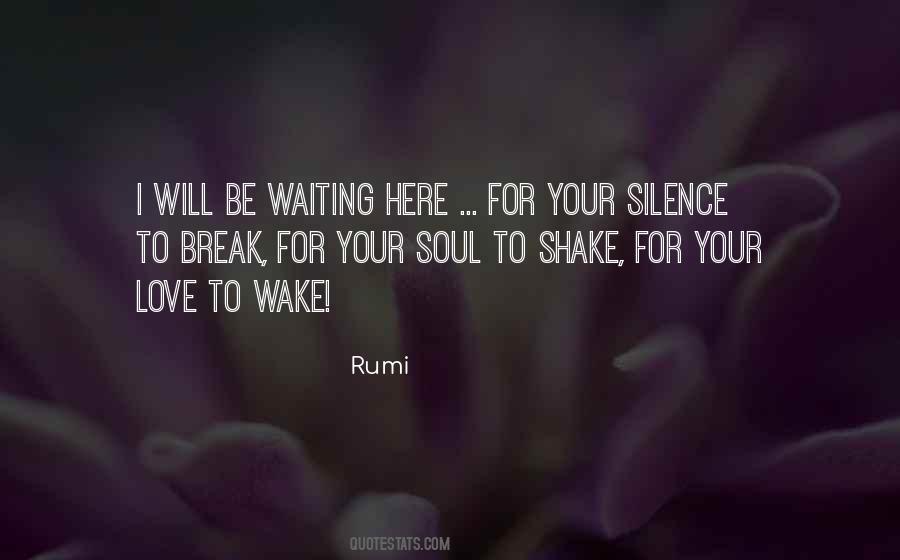 #97. He has been a world champion - great for him - but listen, whenever Lennox Lewis wants to come out of retirement, I'm here waiting for him because I'm the best British fighter to come out of these shores. - Author: Tyson Fury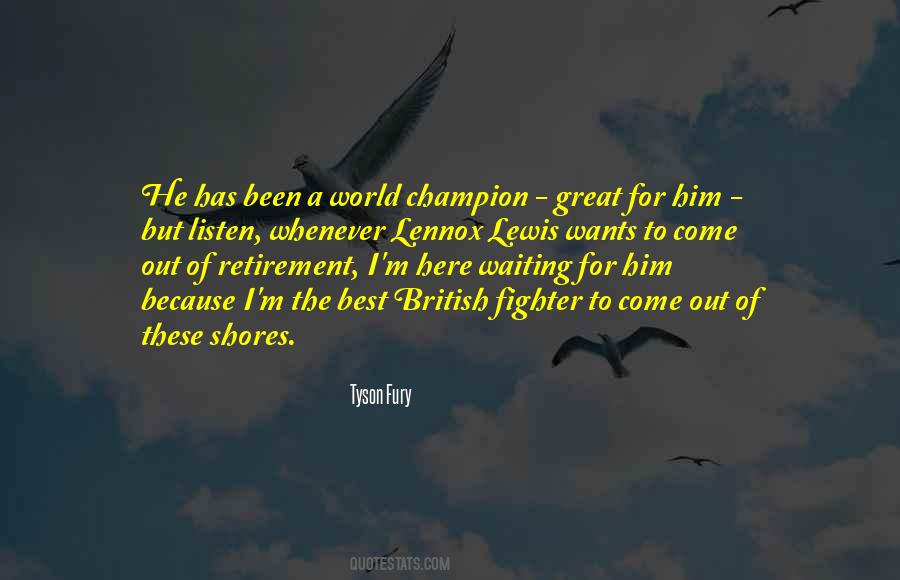 #98. Chad, honey, are you still here?"
"I'm waiting with bated breath."
She listened for a moment, then smiled and said, "He's as anxious as a cat in a roomful of rocking chairs. - Author: Ashlyn Chase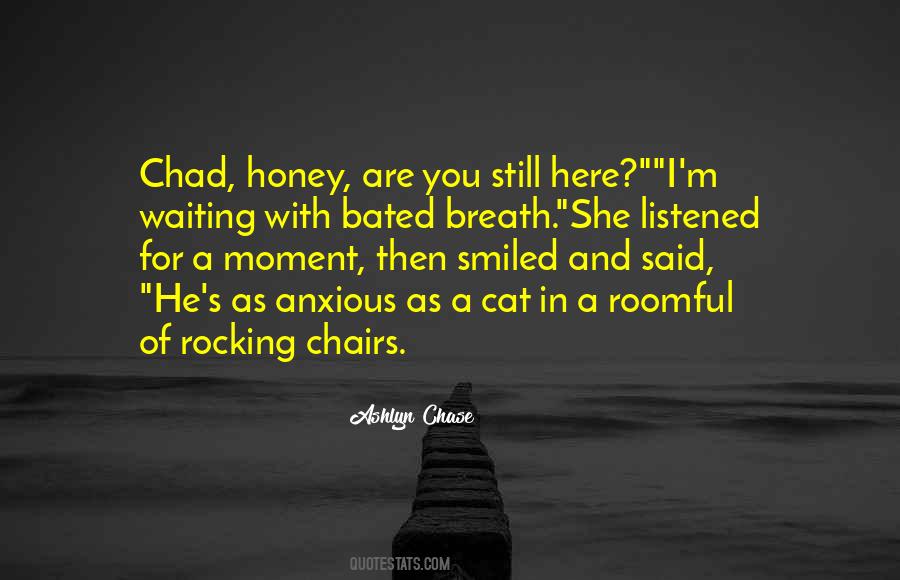 #99. You're not going to ask about your boyfriend?" she asked.
"Don't have one," I told her.
"Well, there's a kid who has hardly left the waiting room since you got here," she said. - Author: John Green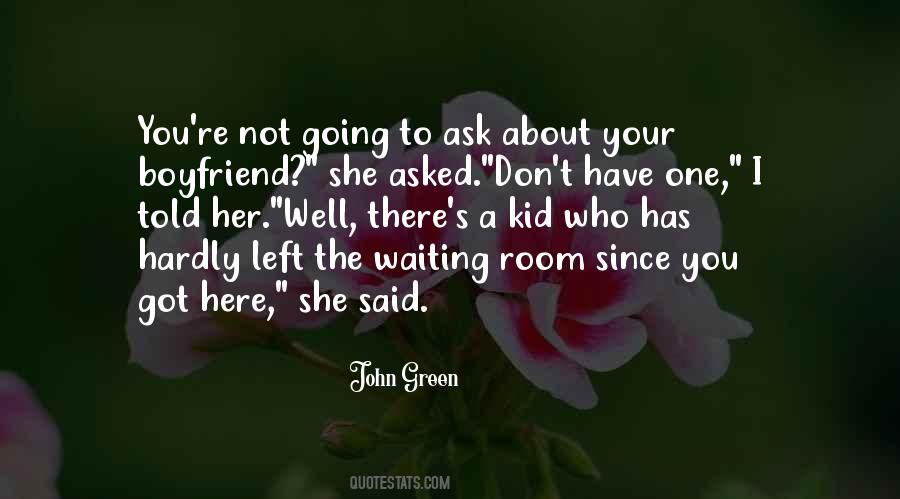 #100. I thought that deserved a book and feel like the door needs to be open so people can say, "Ok, here we go, let's deal with this" because we're not dealing with it. I'm waiting for somebody to write another book but it hasn't happened yet, though I guess mine's only been out for a year and a half. - Author: Brad Warner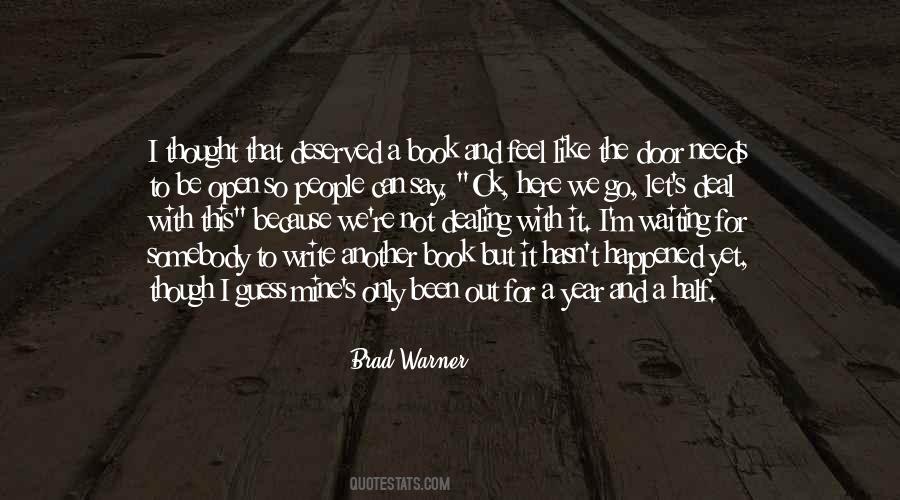 Famous Authors
Popular Topics