I Smell Famous Quotes & Sayings
List of top 100 famous quotes and sayings about i smell to read and share with friends on your Facebook, Twitter, blogs.
Top 100 I Smell Quotes
#1. I just prefer wood. I like the smell. To me, it's a lot cheaper than electric or gas, and it's more convenient. It's just a better heat to me. - Author: Junior Johnson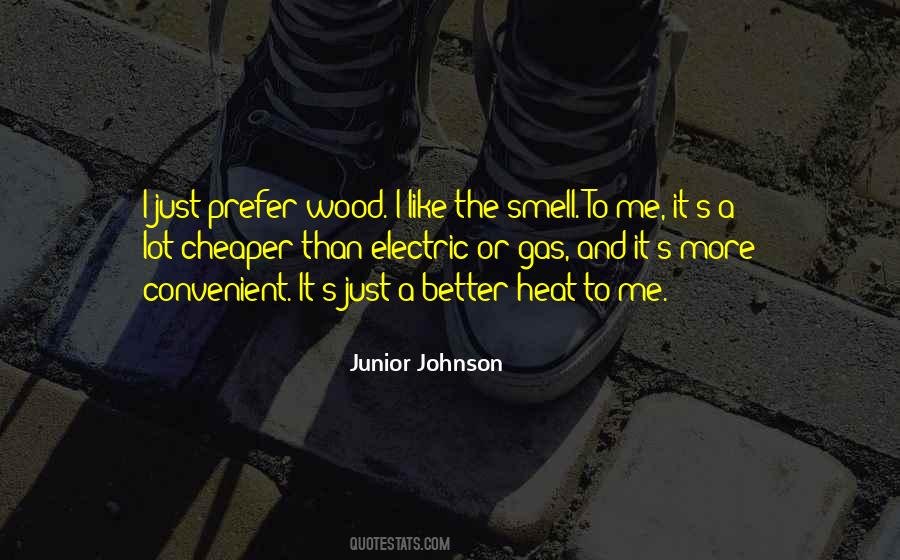 #2. I did so want to hear a singer. I miss the sound of a woman's voice, the way they look and smell. - Author: J.A. Willoughby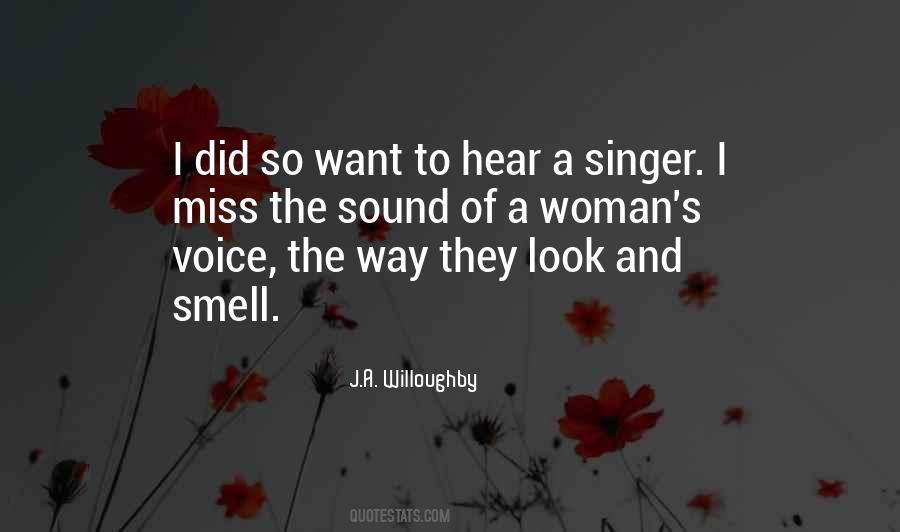 #3. I can't follow behind Terrowic's horse," I protested. "The smell will be unbearable." "All horses smell the same," Kippenger replied. But I eyed Terrowic. "I wasn't talking about the horse. - Author: Jennifer A. Nielsen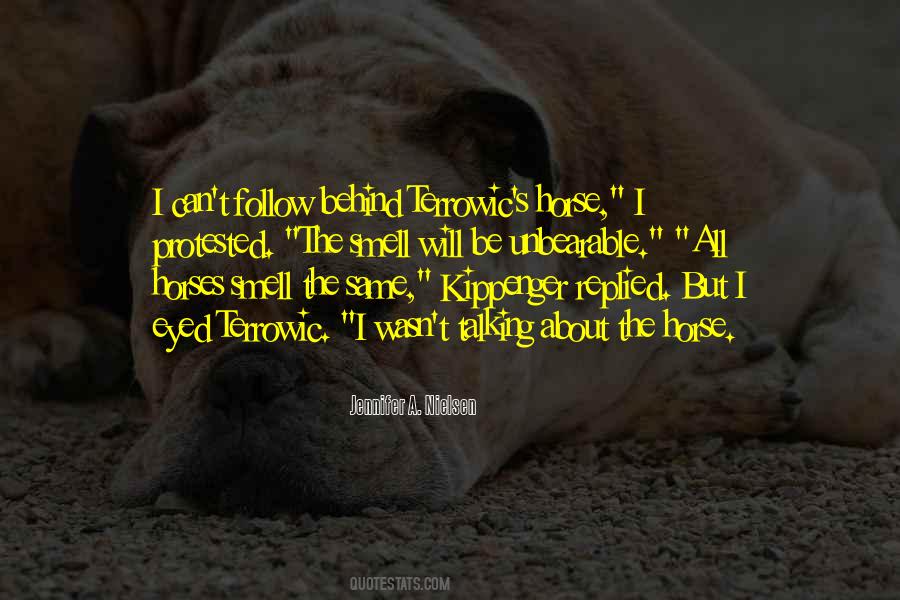 #4. I could smell the food fill up my hunger before the order was even
placed. - Author: Phindiwe Nkosi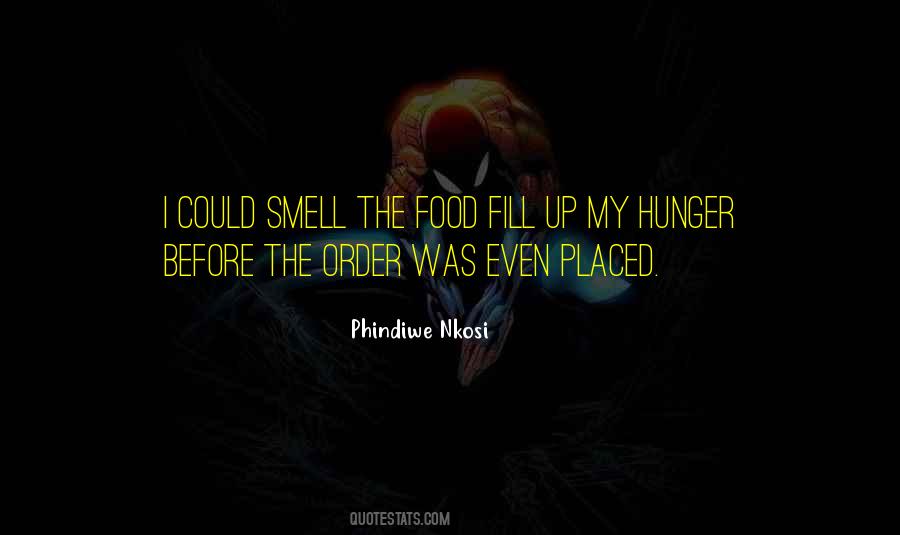 #5. I love New York, I love the smell of New York ... I love the subway. - Author: Harold Ford Jr.
#6. I am clouded and bruised with the print of minds and faces and things so subtle that they have smell, colour, texture, substance, but no name. - Author: Virginia Woolf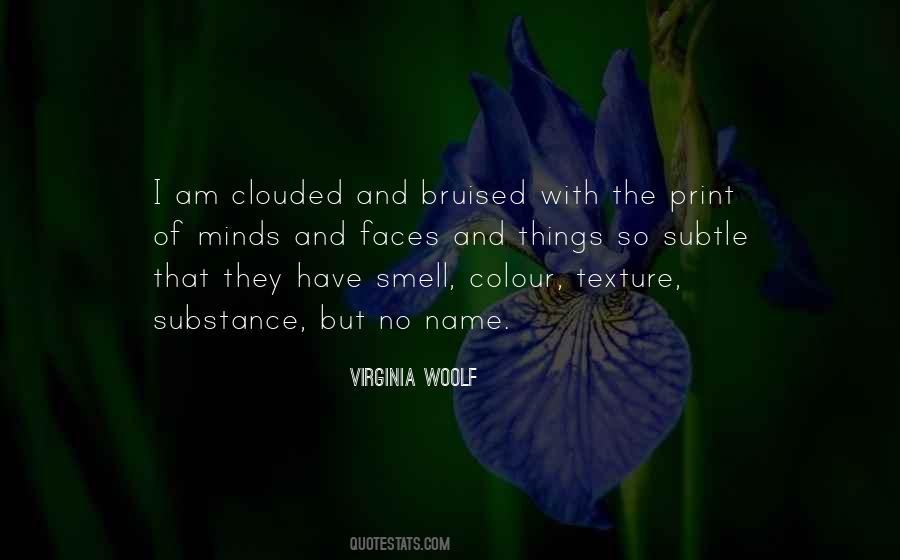 #7. With the smell of beer I try to get the smell of death off me. And only the smell of death will get the smell of beer off you, like all the drinkers whose graves I have to dig. - Author: Italo Calvino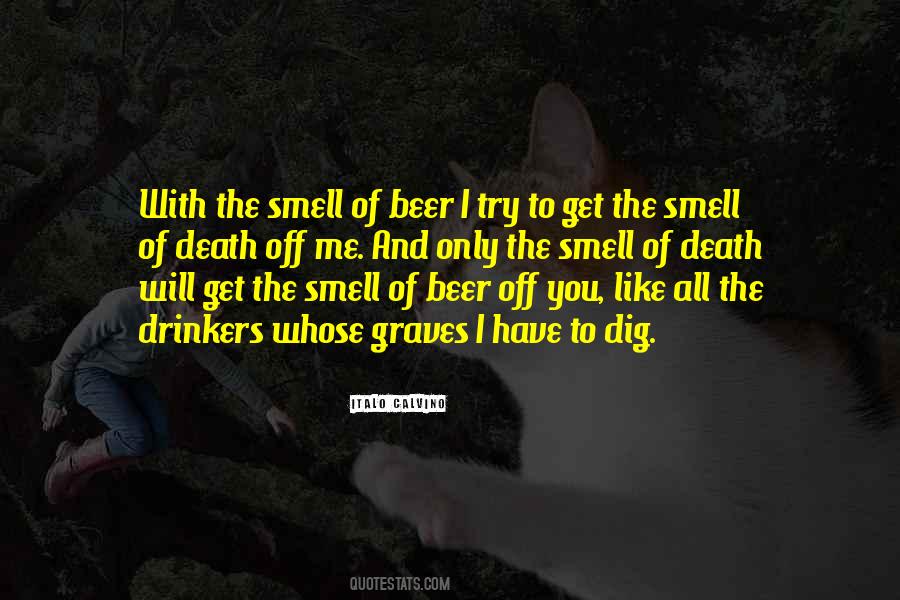 #8. I can't smell moth balls, I find it too difficult to get their tiny legs apart - Author: Steve Martin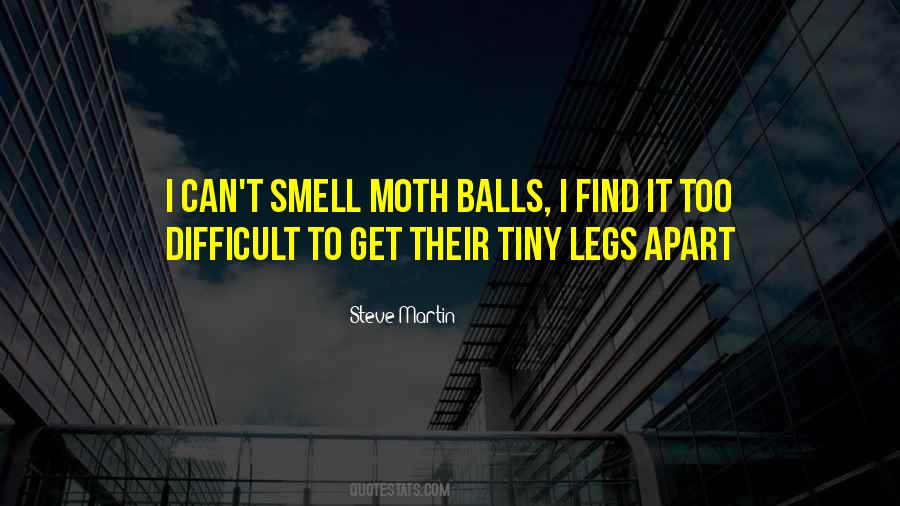 #9. [My father] was handsome and tanned and smelled wonderful, like a mix of the ocean and fresh-cut grass, except when he smoked his pipe, which also smelled wonderful, as how I thought wisdom must smell, when it curls about your head. - Author: Carolyn Weber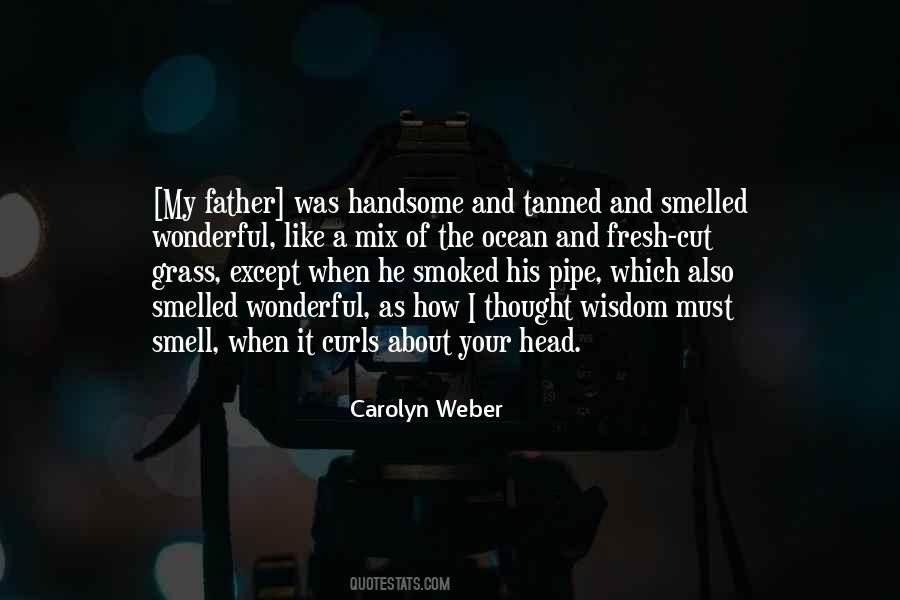 #10. I love paint. I like watercolours. I like acrylic paint ... a little bit. I like house paint. I like oil-based paint, and I love oil paint. I love the smell of turpentine and I like that world of oil paint very, very, very much. - Author: David Lynch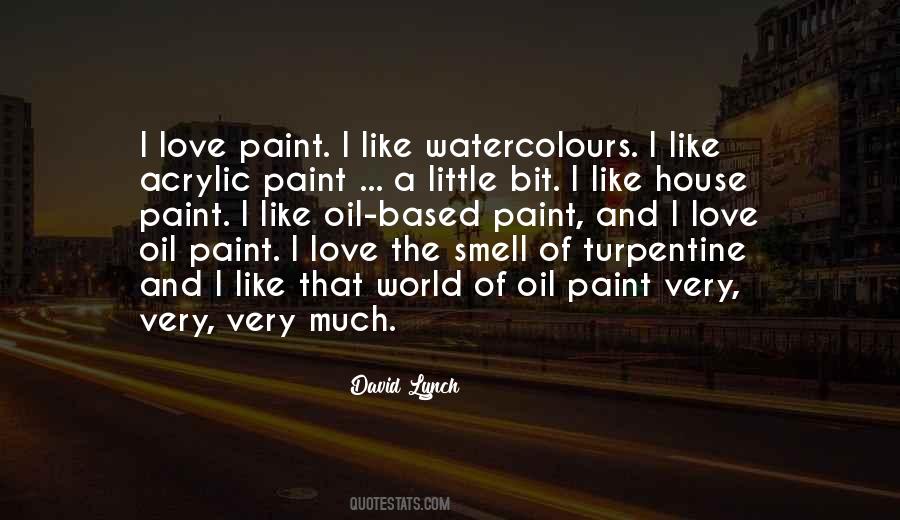 #11. Absolutely, I think that is where a scent is so powerful because it harnesses our memory and our memory is a very emotional place. I do like the smell of excitement. - Author: Cate Blanchett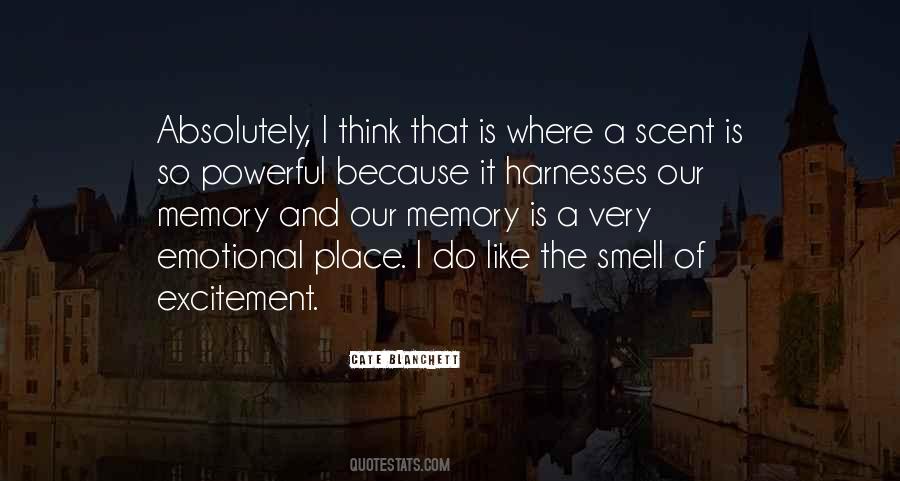 #12. I've never really been one to stop and smell the roses. - Author: Ryan Montgomery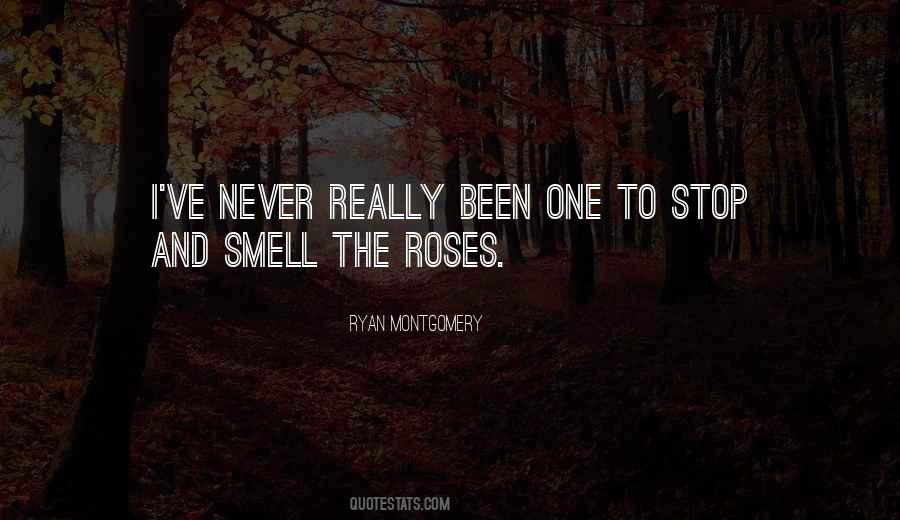 #13. When heard someone's boasting,
I could smell shit of bull from afar. - Author: Toba Beta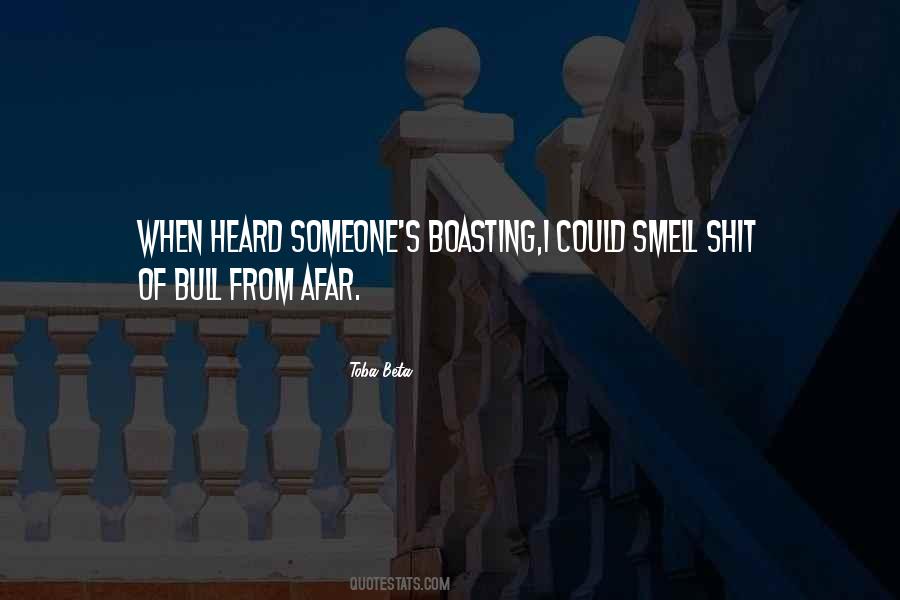 #14. The Society likes to keep things from us, but the wind doesn't care what we know. It brings hints of what has happened as we slip farther into the canyon - the smell of smoke and a white substance that falls on us. White ash. I don't for one moment think that it's snow. - Author: Ally Condie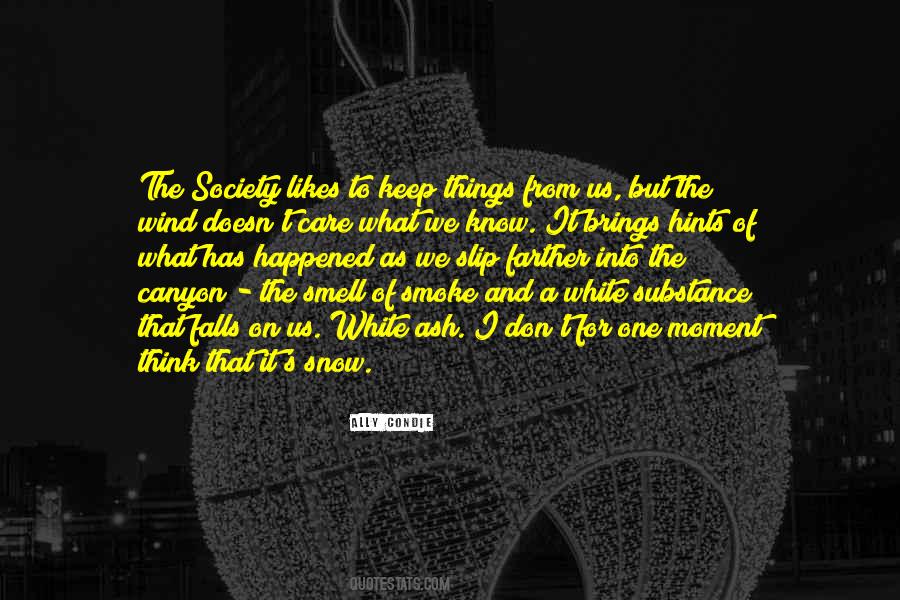 #15. I can still feel, taste and smell that year. Like it's cemented in my soul. Well, I guess it is. - Author: Sarah Michelle Lynch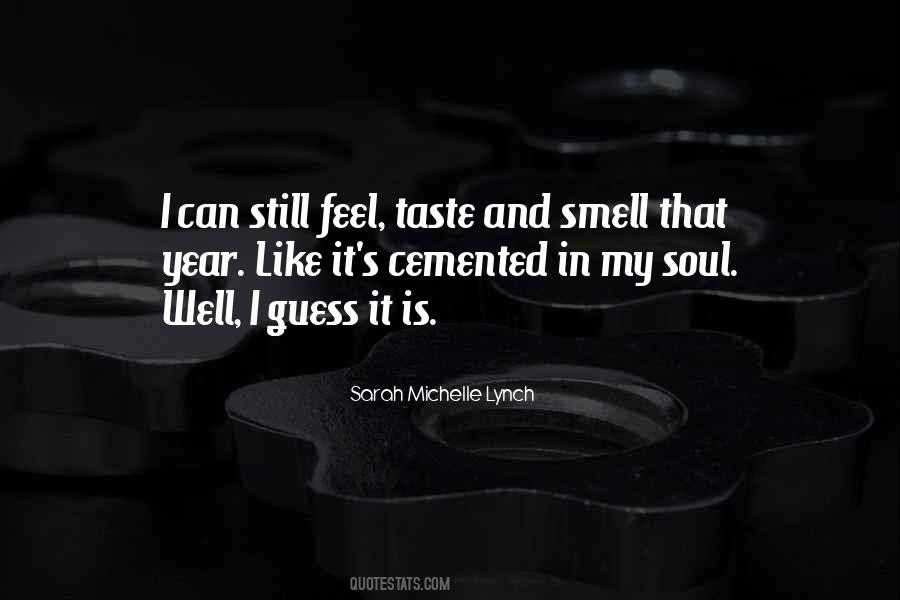 #16. I'm so in love with the United States. Not as a patriot. I'm in love with America like it's my first girlfriend. The geography, the people, the smell, the touch, the taste, the gas stations. I'm madly in love with America. - Author: Vincent Gallo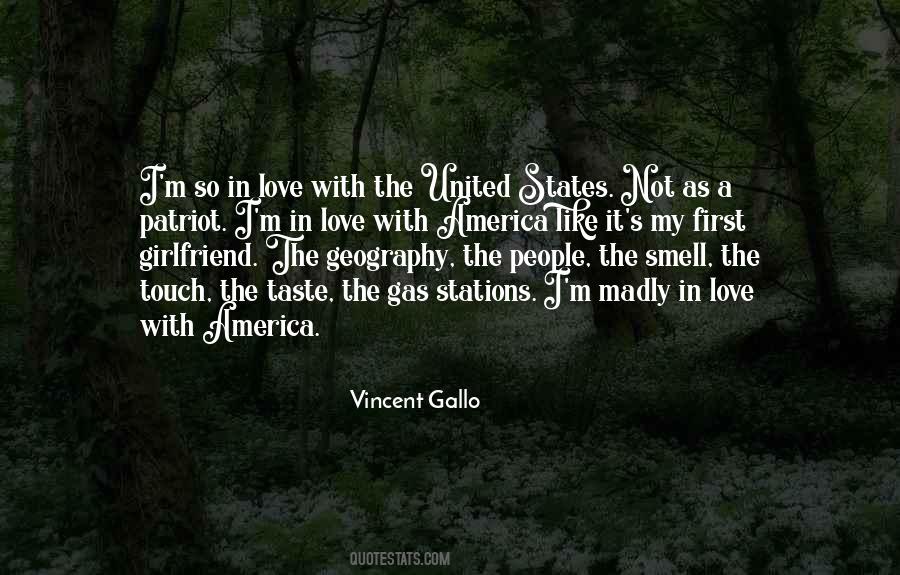 #17. I'll shower, then we can go. I smell like a zombie."

Hell, if the undead looked like that, bring on the zombie apocalypse. - Author: Brynn Kelly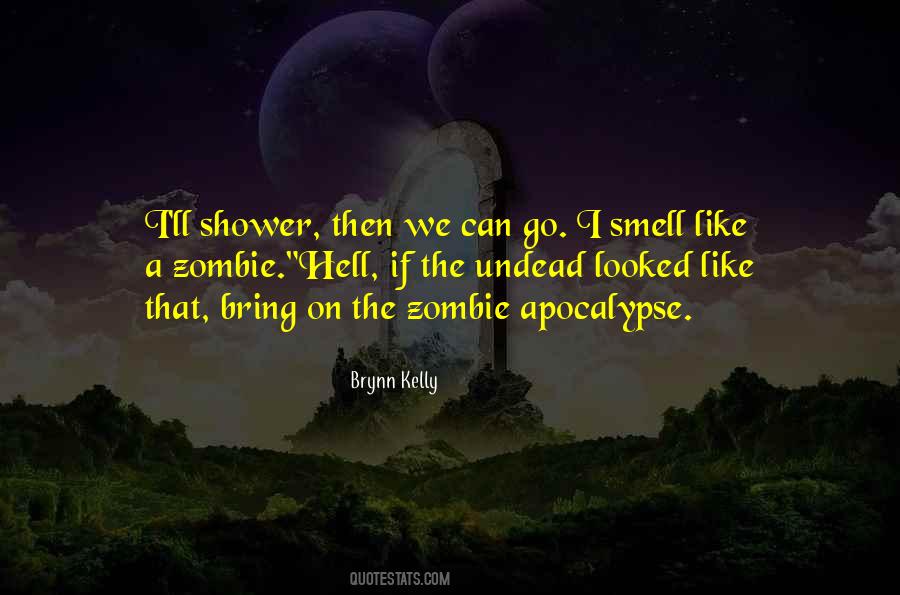 #18. Then Smaug spoke. "Well, thief! I smell you and I feel your air. I hear your breath. Come along! Help yourself again, there is plenty and to spare!" But - Author: J.R.R. Tolkien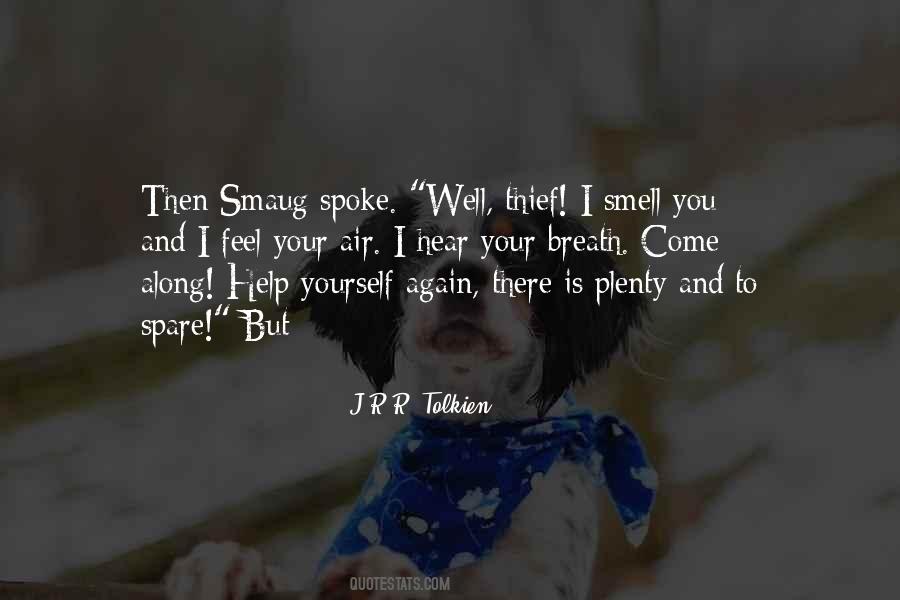 #19. The goals are not about the sweet smell of success as much as it's about enjoying a damn day on the movie set ... I live in a complete state of grace. - Author: Peter Weller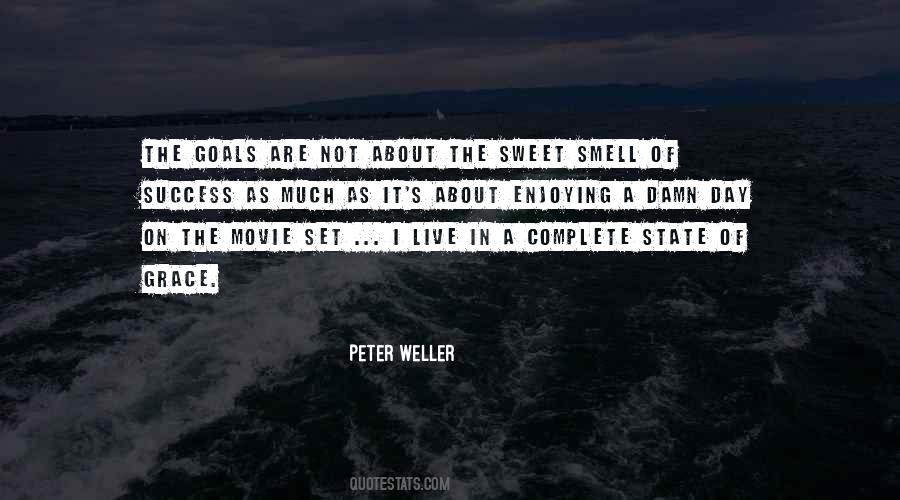 #20. I as an astrophysicist, see the universe, feel the universe, smell the universe every day. Every day. And for people to say, I'm cool, I'm right here, it's all I need. - Author: Neil DeGrasse Tyson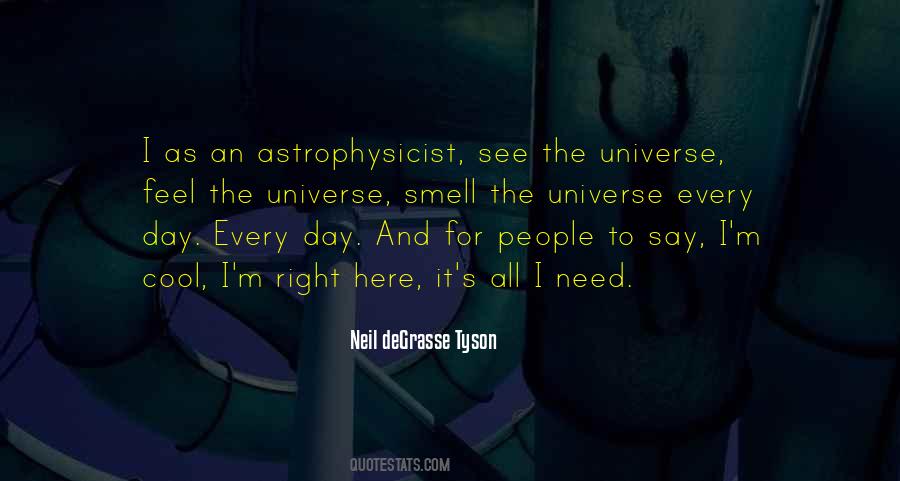 #21. I quit smoking. I feel better. I smell better. And it's safer to drink out of old beer cans laying around the house. - Author: Roseanne Barr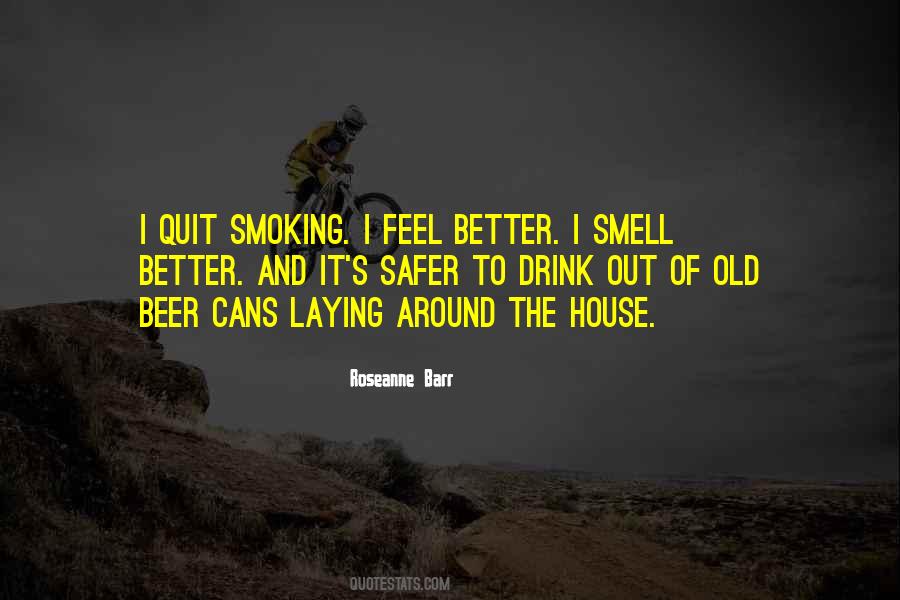 #22. My studio is not arty. It doesn't smell of turpentine, and I'm not knee-high in paper. - Author: Robert Ingpen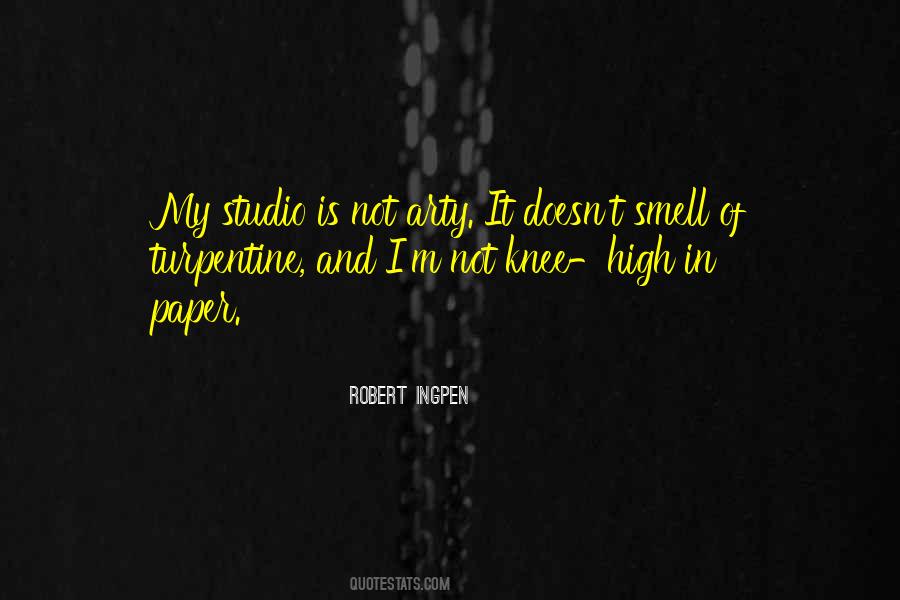 #23. I collect my tools: sight, smell, touch, taste, hearing, intellect. Night has fallen ... - Author: Nikos Kazantzakis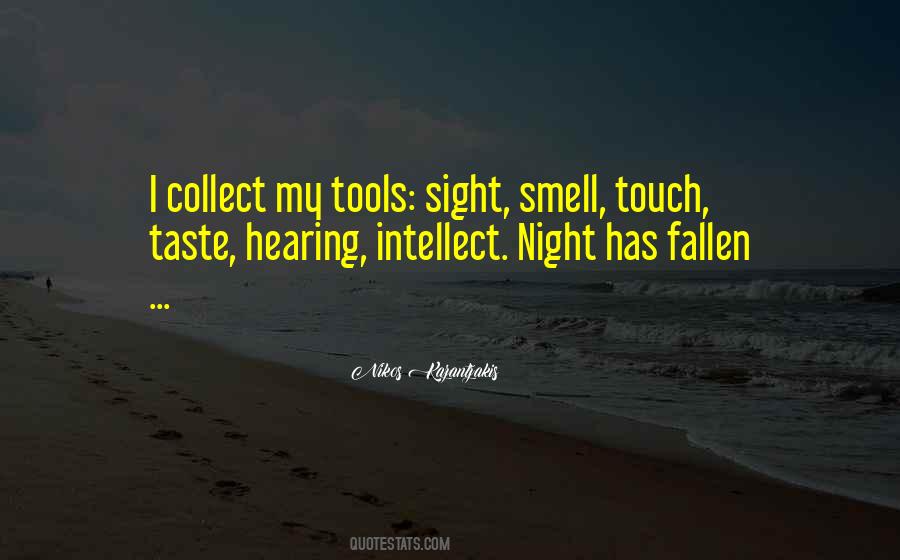 #24. So when I'm up here it feeds, for lack of a better word, nostalgia about my youth. Some people get that way when they see a baseball field or smell trout on the grill. I get that feeling from vertigo and the Freudian fantasy of falling to my certain death on the pavement. - Author: Shane Kuhn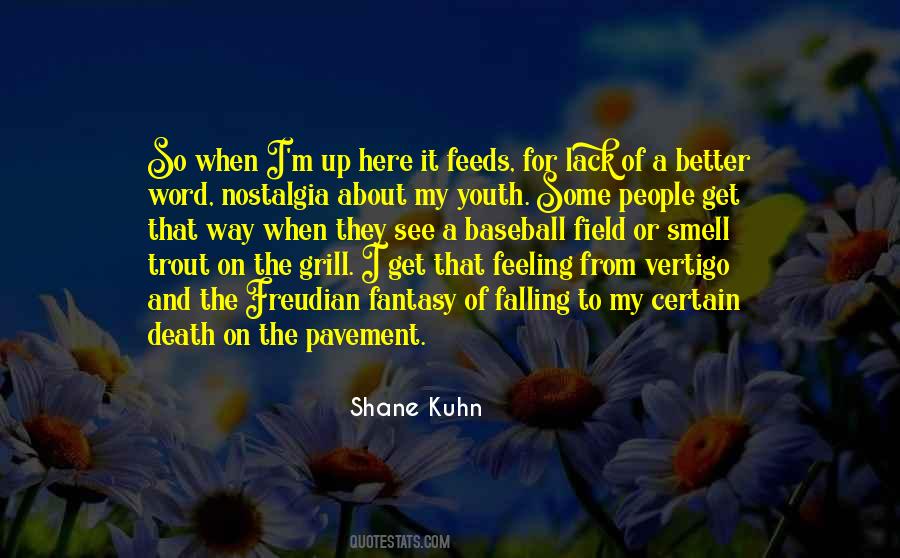 #25. 7. Have one great cologne that's not from the drugstore. Just one. Wear very little of it, all the time. I cannot tell you how sexy it is to be enveloped in a hug by a man whose smell you remember. Then, anytime I smell that cologne, I think of you. - Author: Mindy Kaling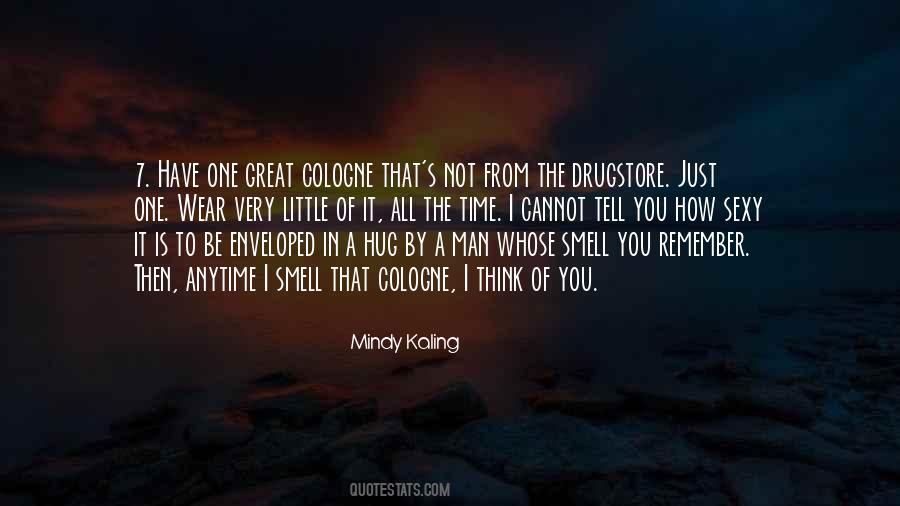 #26. Lena was going down the list of John's attributes in her mind, a list I was hoping wasn't too long. "He could see and hear and smell things I couldn't."
Link inhaled deeply, then coughed. "Dude, you really need a shower. - Author: Kami Garcia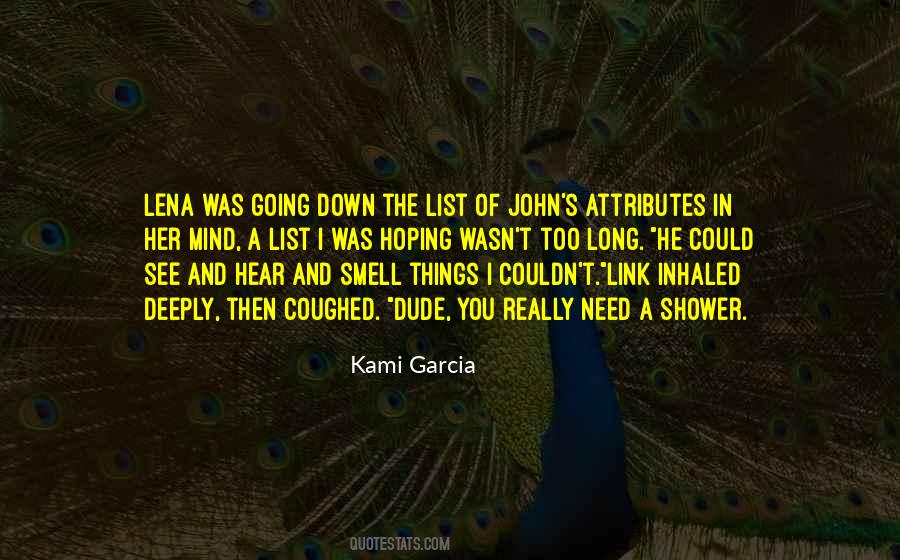 #27. Sometimes people who had less, who sacrificed everything to have what many of us took for granted, were the strongest among us, even though they might be in tattered clothes and smell unpleasant. I - Author: Kate Mayfield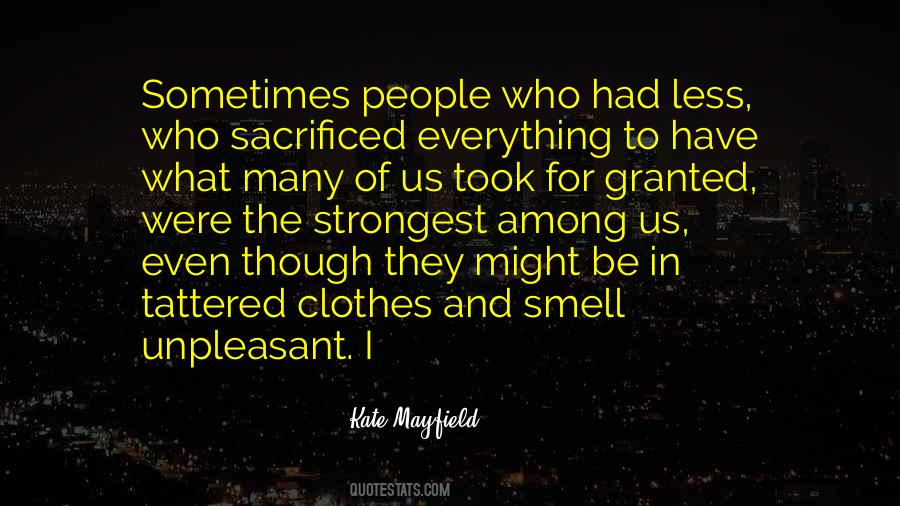 #28. Anyway, my ribs hurt like hell, my vision is still blurry from acceleration sickness, I'm really hungry, it'll be another 211 days before I'm back on Earth, and, apparently, I smell like a skunk took a shit on some sweat socks. This is the happiest day of my life. - Author: Andy Weir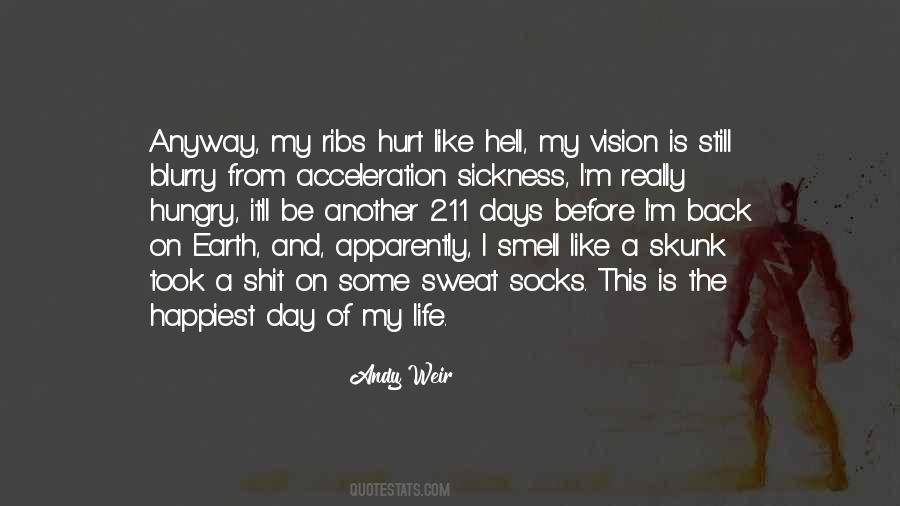 #29. When my mother was dying, I cooked for her. One of the things I realised was that the smell and look of the food was key. I concentrated on how it looked on the plate. Even if the amount was small, it gave her a nourishment of a different kind. - Author: Simon McBurney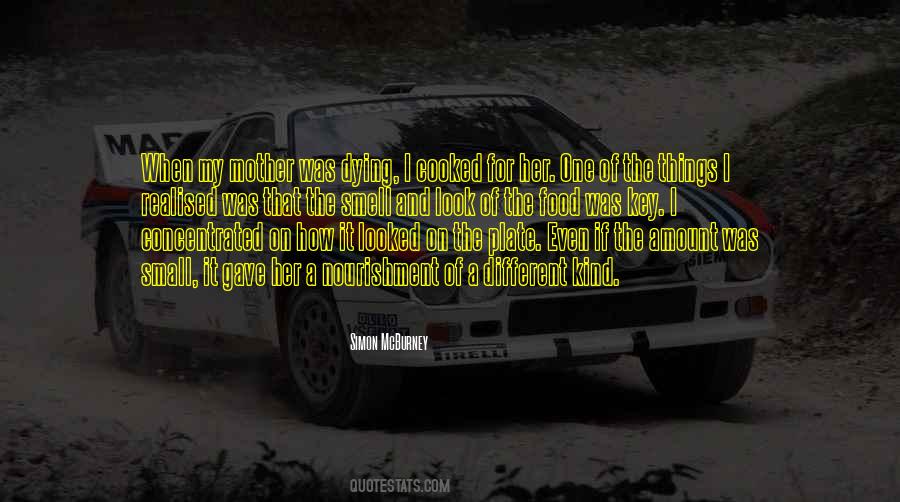 #30. Stay with me to-night; you must see me die. I have long had the taste of death on my tongue, I smell death, and who will stand by my Constanze, if you do not stay? - Author: Wolfgang Amadeus Mozart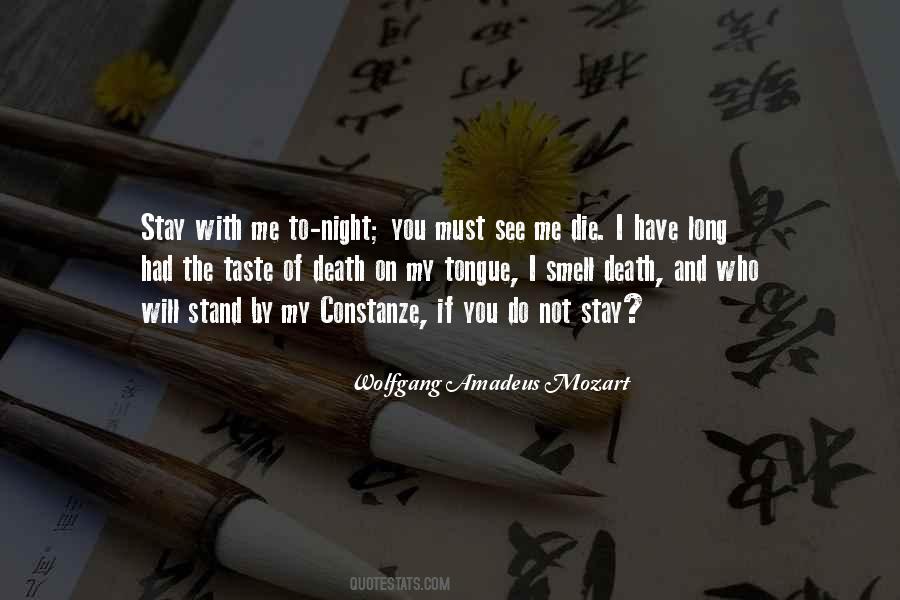 #31. You know, I love plays. I love the smell of a theater. The old rooms and the carpet and all that stuff. I love to tell stories. Even before I was doing music, I saw myself as a director. - Author: R. Kelly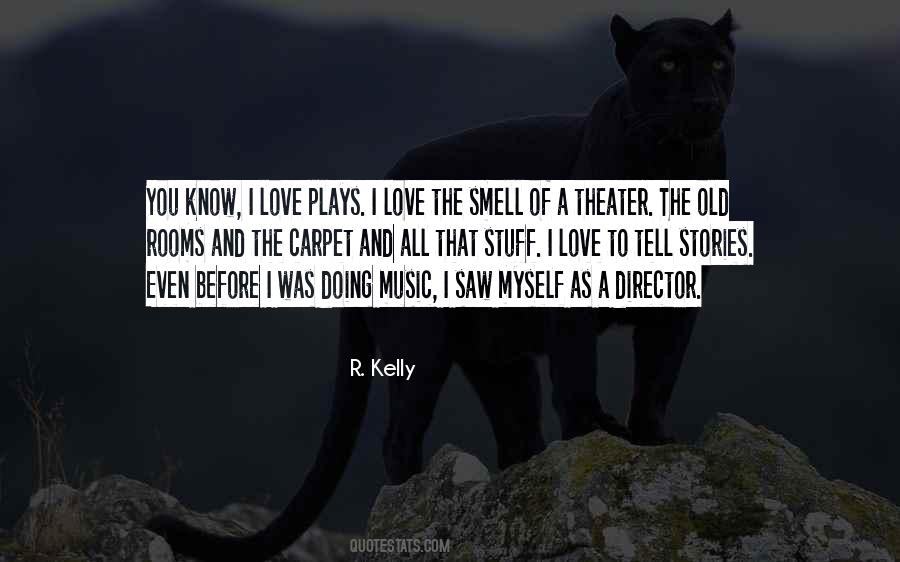 #32. The smell of blood ... it was on his breath.
What does he do? I think. Drink it? I imagine him sipping it from a teacup. Dipping a cookie into the stuff and pulling it out dripping red. - Author: Suzanne Collins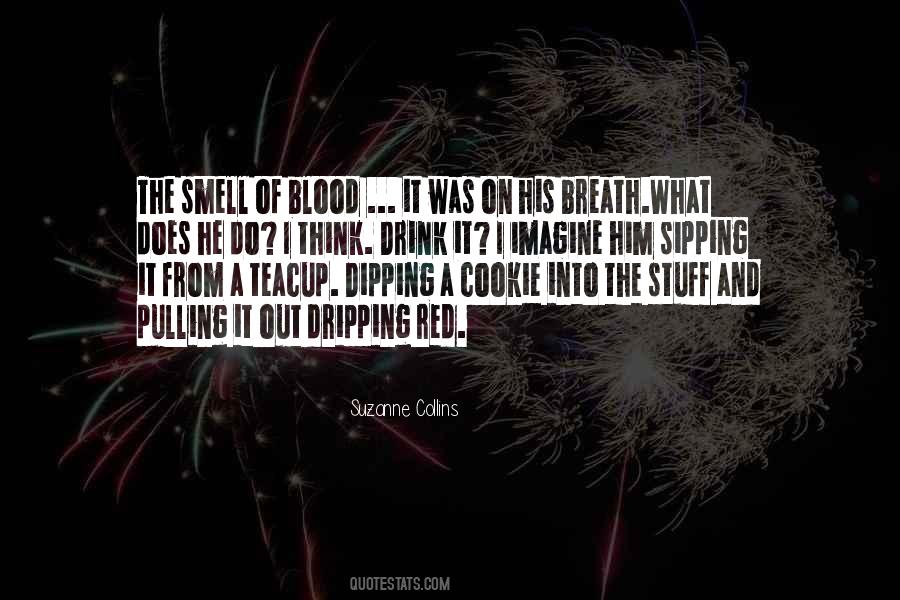 #33. And I've met a very wonderful woman," I said.

"They're all wonderful," Haller said.
"Well, many of them," I said.
"I love them," Haller said. "The way they talk, how they smell, the way they touch their hair, everything."
"I know," I said. - Author: Robert B. Parker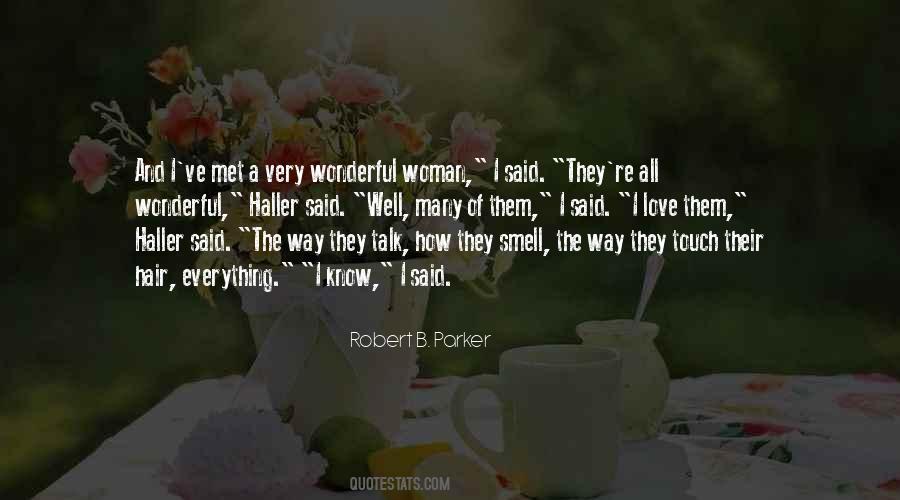 #34. I love the smell of shampoo on a girl's hair. You can walk past someone and be like, 'Wow, you took a shower this morning, didn't you? Because you smell lovely.' - Author: Jensen Ackles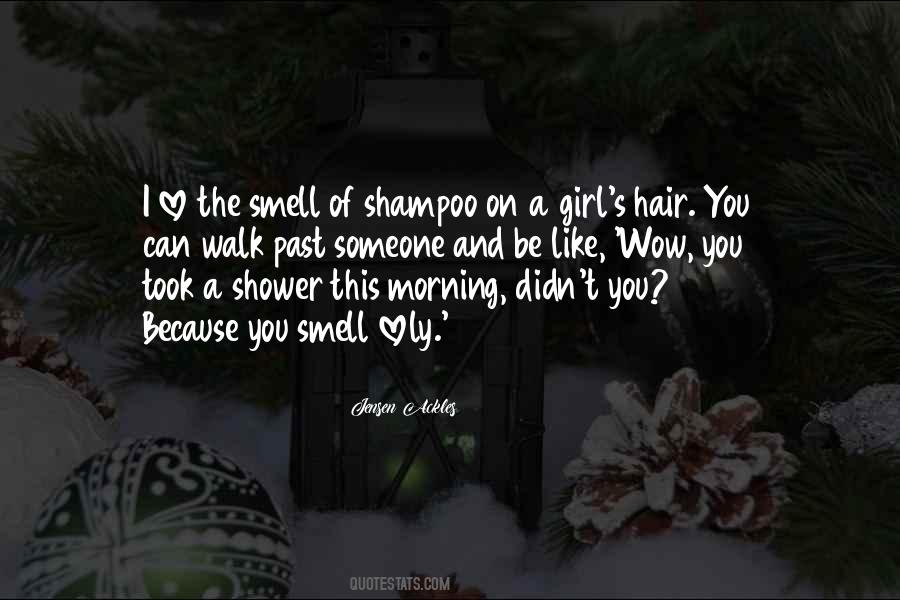 #35. I love the smell of skunks. Driving down a back road and you smell a skunk that's sprayed or been hit. I love that. It reminds me of home. - Author: Dustin Lynch
#36. I couldn't leave there without carrying some of her sadness and loneliness with me like a cloak. There was a smell that I've come to think of as life rot. Where a life has spoiled, gone bad through lack of use. - Author: Lisa Unger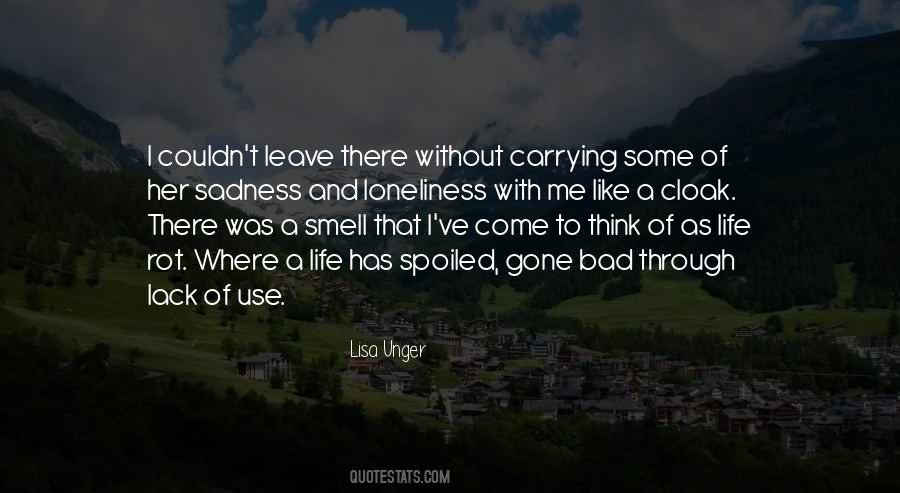 #37. I'm the opposite of someone like David Grossman, who knows how his characters walk, and how they smell. I don't allow myself to imagine what mine look like at all. My sense of them comes from the inside. They remain, by necessity, physically vague in my mind. - Author: Nicole Krauss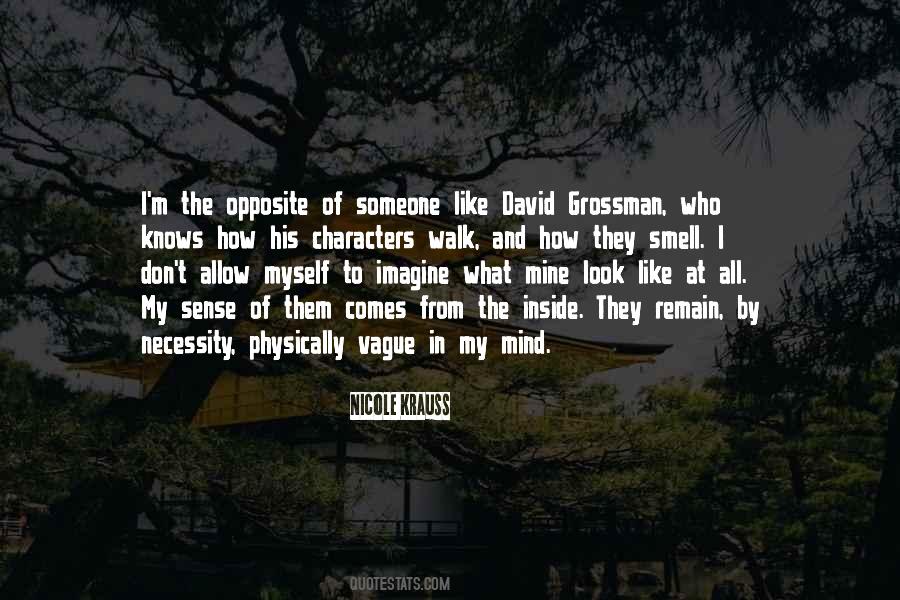 #38. I noticed that in Tokyo people didn't smell. It was funny. I couldn't smell them, and they didn't say very much: the trains were packed but it was quite silent, like being jammed into a carriage with a thousand shop-window mannequins. - Author: Mo Hayder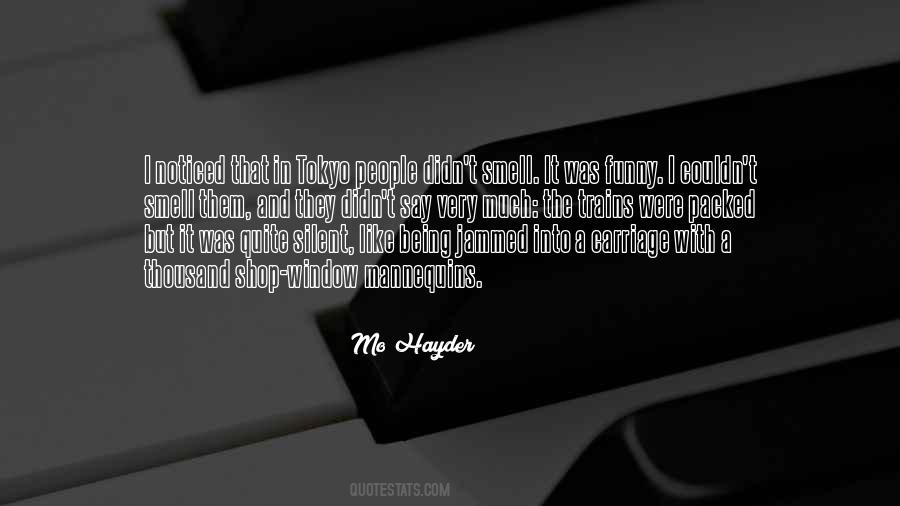 #39. Oh! Happiness
I am looking for you
In the wilderness,
In and around the palaces,
In my possessions, in my wealth and splendor, I can see you far away,
Like an illusion,
I try to touch feel and smell but,
Like a morichica you dance far away. - Author: Debasish Mridha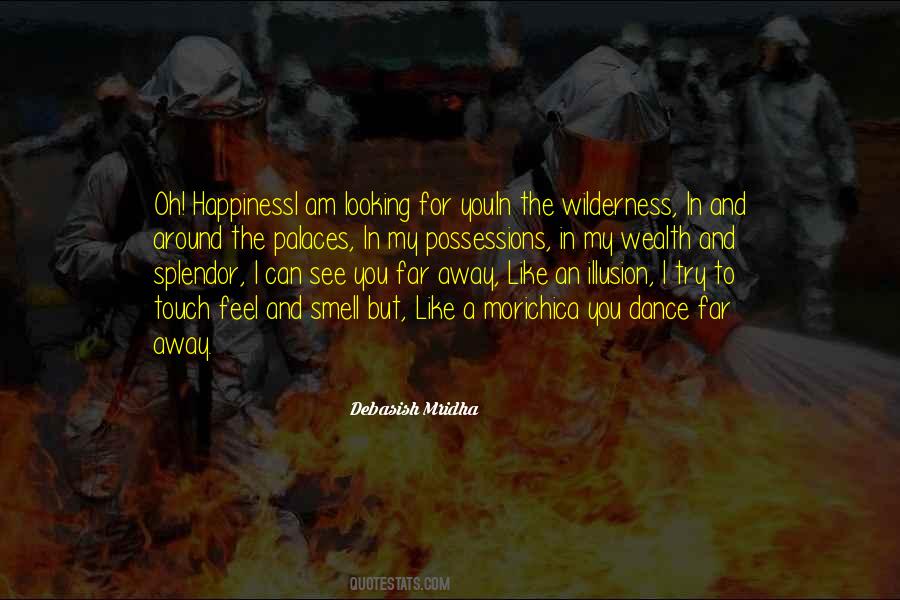 #40. I'm here because you're here. When a man loves a woman, he wants to spend time with her. Even if that means he has to put on a suit and tie. He wants to hold her tight and smell her hair. - Author: Rachel Gibson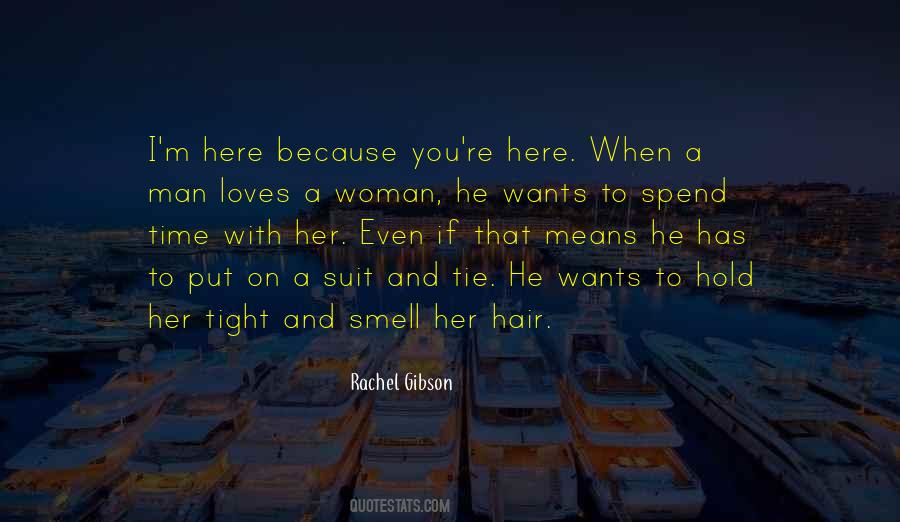 #41. I'd kiss you, but you smell like a gym bag. - Author: Janet Evanovich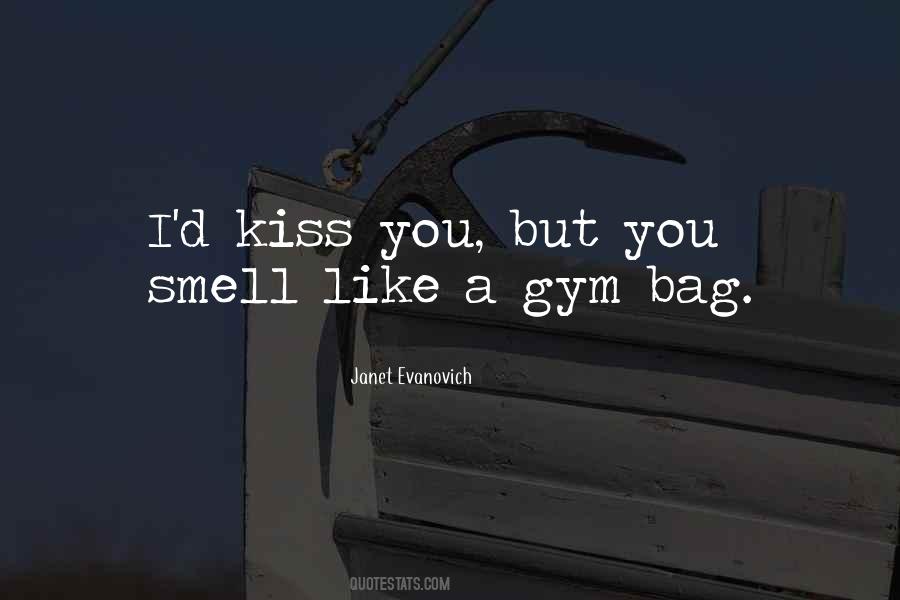 #42. At first when the rain fell from the sky so wide and deep it smelled like sage, my favorite smell I went up on the plateau to watch it come to see the gifts it always brought but this rain changed from blue to black and left nothing. - Author: Ally Condie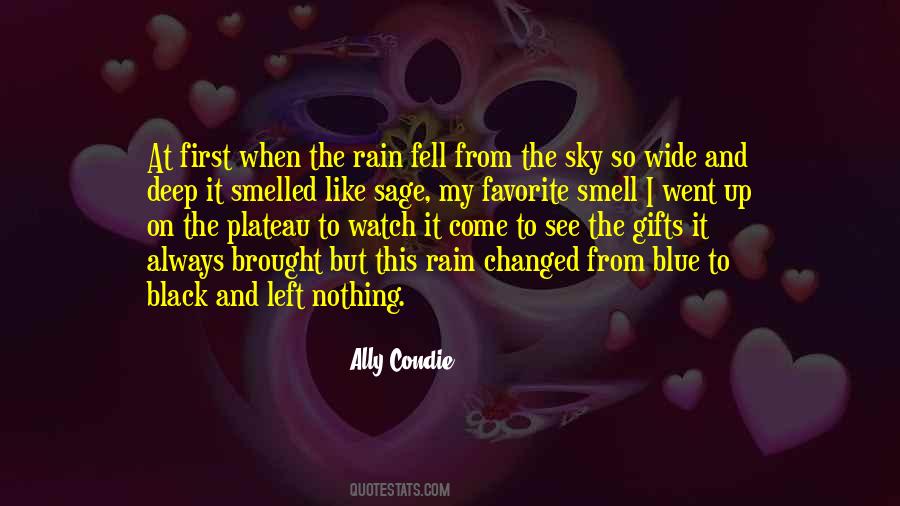 #43. Even though everything today is available at a click of a mouse still, the smell of a book and its feel makes the experience of reading very special and personal. It is more tangible and I urge all youngsters to read a lot as it will also broaden their horizons. - Author: Shallu Jindal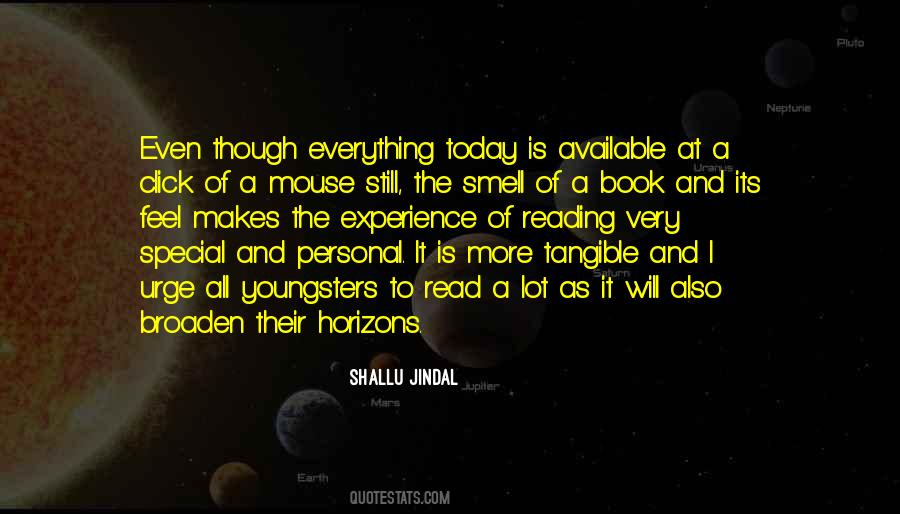 #44. I can still smell you on my pillow. I can still see you standing in my room, the light caressing your smooth legs, your dark hair cascading over your shoulders, and your gorgeous mouth smiling so effortlessly. I miss you. I ache for you, and I'm bordering on crazy without you. Come back to me. - Author: Renee Carlino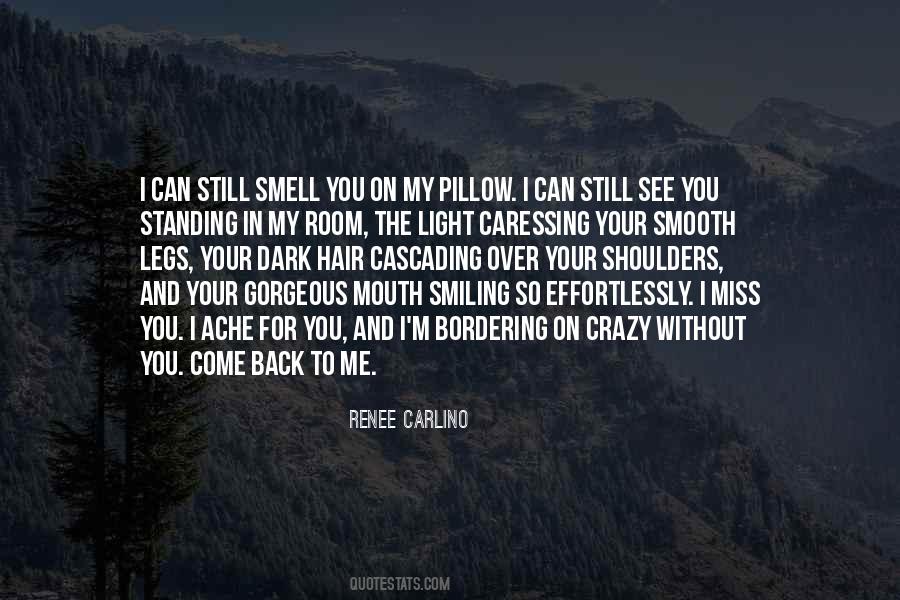 #45. Isn't this a nice time of night to walk? I like to smell things and look at things, and sometimes stay up all night, walking, and watch the sun rise. - Author: Ray Bradbury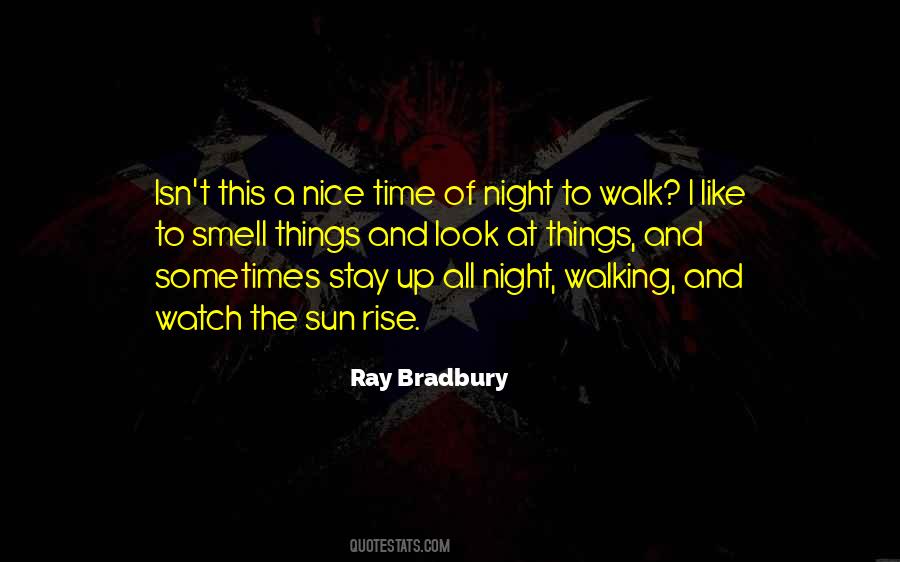 #46. We must clean this, and then you must leave here. He will find you. He will smell you out as I did. You are full of purity and goodness. It's like candy to my kind. - Author: Candace Knoebel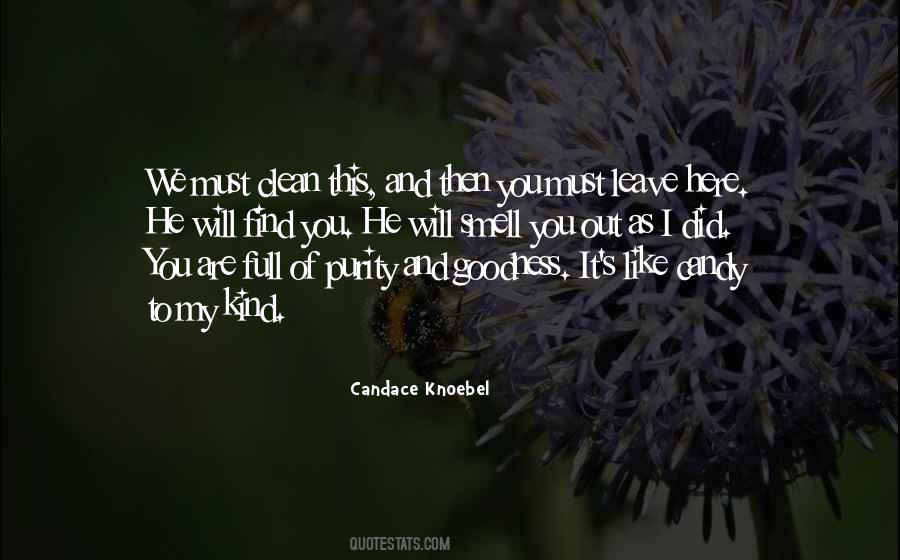 #47. Miss Juliet,' he said calmly. 'I can smell you in the wall. Is something wrong/ - Author: Megan Shepherd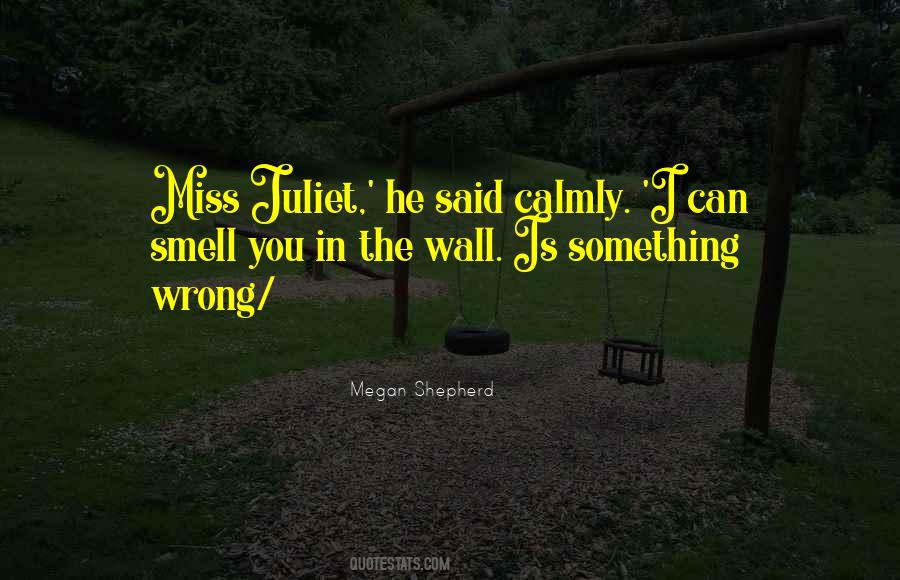 #48. My patchwork life: quiet Sunday, coffee on Grace's breath, the unfamiliar landscape of the lumpy new scar on my arm, the dangerous smell of snow in the air. Two different worlds circling each other, getting closer and closer, knotting together in ways I'd never imagined. - Author: Maggie Stiefvater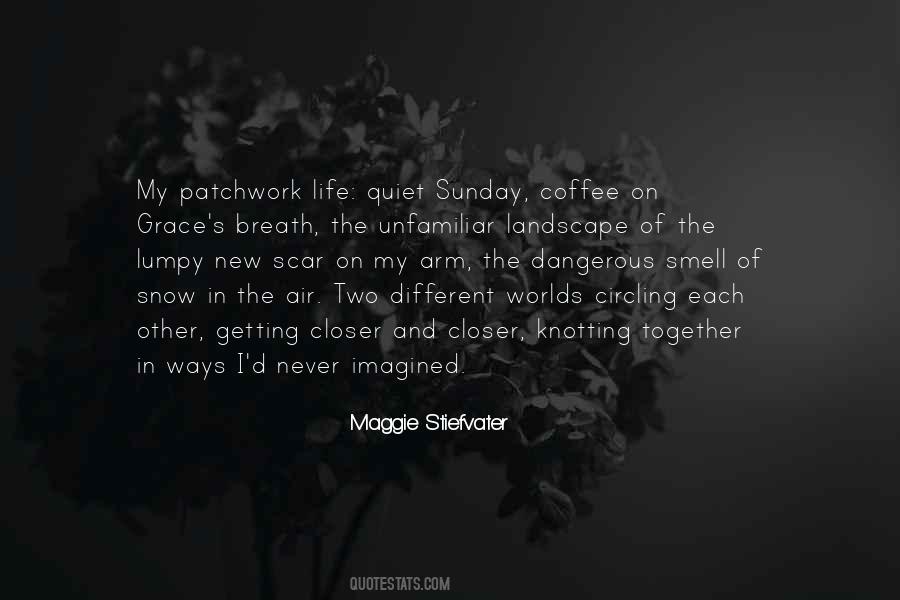 #49. I stick my finger into existence.. it smells of nothing. Where am I? Who am I? What is this thing called the world? What does this word mean? - Author: Soren Kierkegaard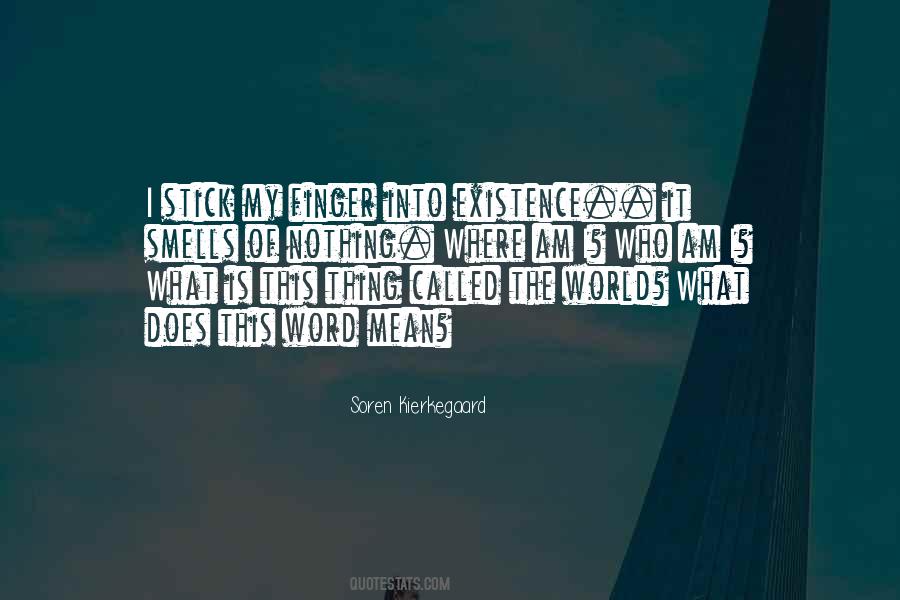 #50. I'm gonna play something so funky you can smell it - Author: Buddy Guy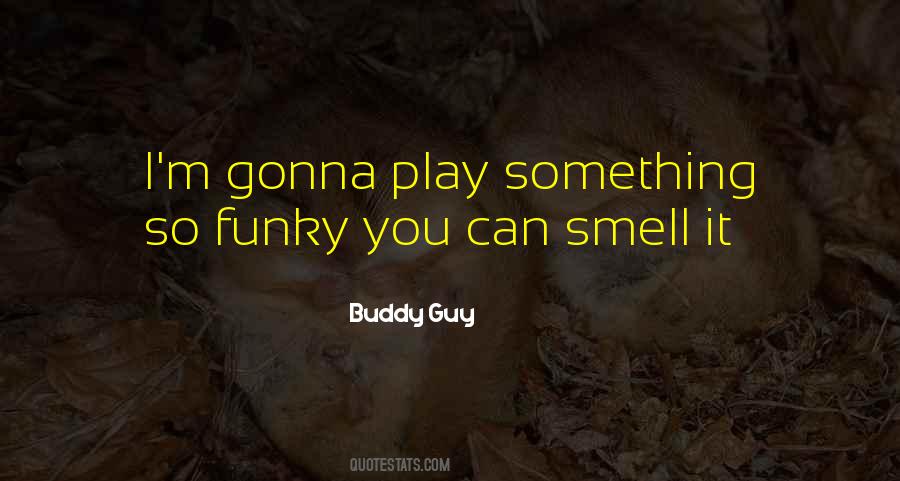 #51. A plague rides on the air here. The smell of rot! This is Doal's realm. Can't you feel it? The keep is doomed, don't you see? No, I will not pass through this gate. There is a disease in there I will not touch. - Author: Kaoru Kurimoto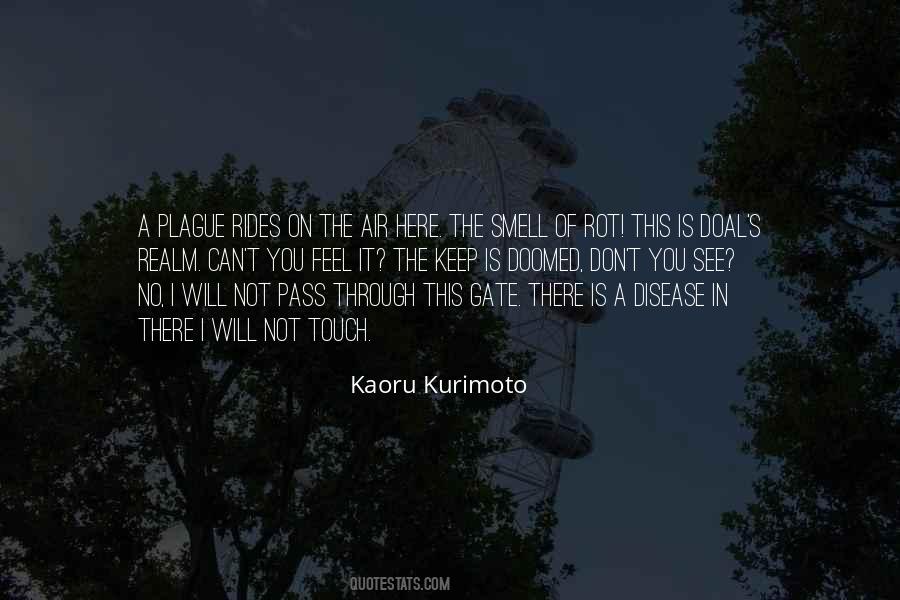 #52. Our vibrations are interpretation of our five senses i.e. hearing, sight, touch, smell, and taste. Our world is shaping itself according to our thoughts . We are causing expansion of time-space reality. We are contributing hugely to this process. - Author: Hina Hashmi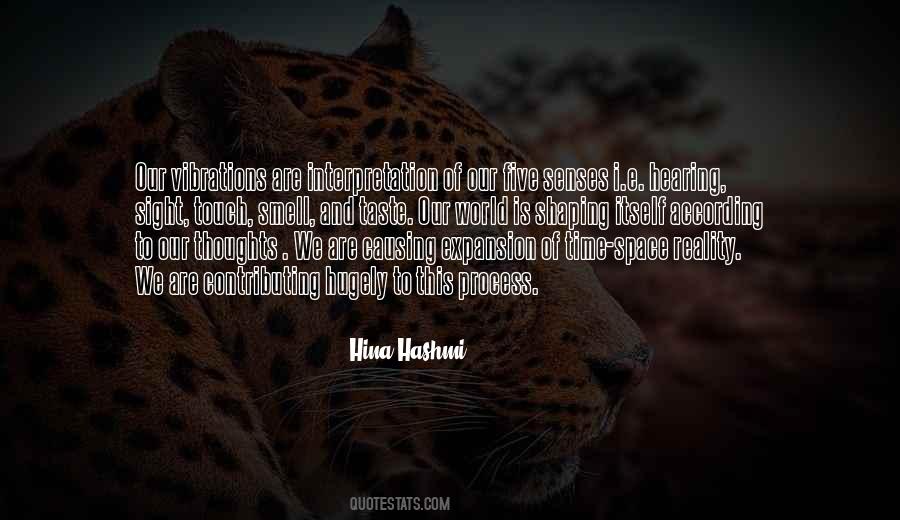 #53. He said he wouldn't stay, as he didn't care much for the smell of the paint, and fell over the scraper as he went out. Must get the scraper removed, or else I shall get into a scrape. I don't often make jokes. - Author: George Grossmith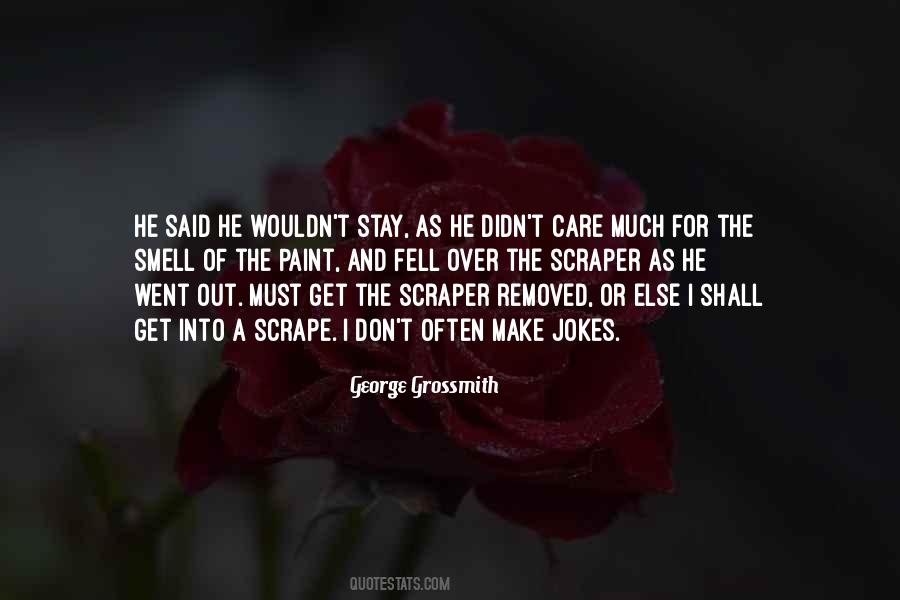 #54. I smell you off him, she screamed, he stinks of bitch. - Author: Samuel Beckett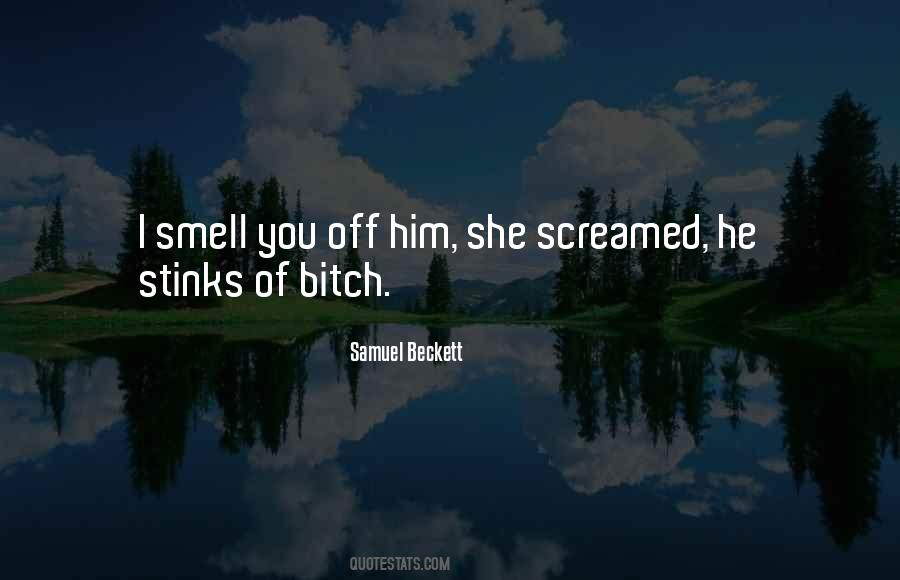 #55. When you sit in America you miss the open plains and you miss the sound of rain and the smell of rain and the smell of the veld. If you're African it's different and I don't think one will ever become an American or British. It doesn't matter where you move, you will always be a South African, - Author: Zola Budd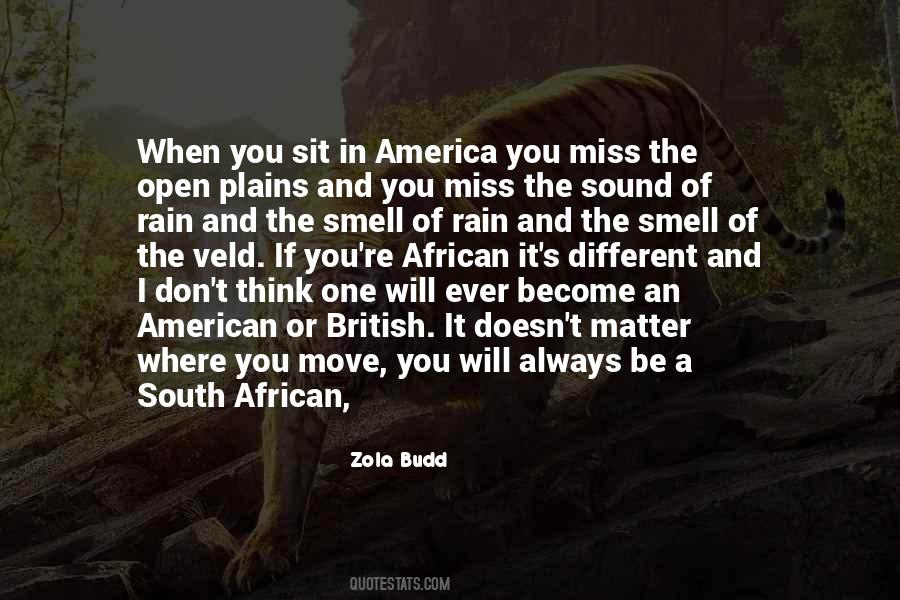 #56. I smell panic," said Serge. "These are different animals now. They're starting to winnow out the weak at the fringe of the herd. We need to hurry or this could affect our snack situation. - Author: Tim Dorsey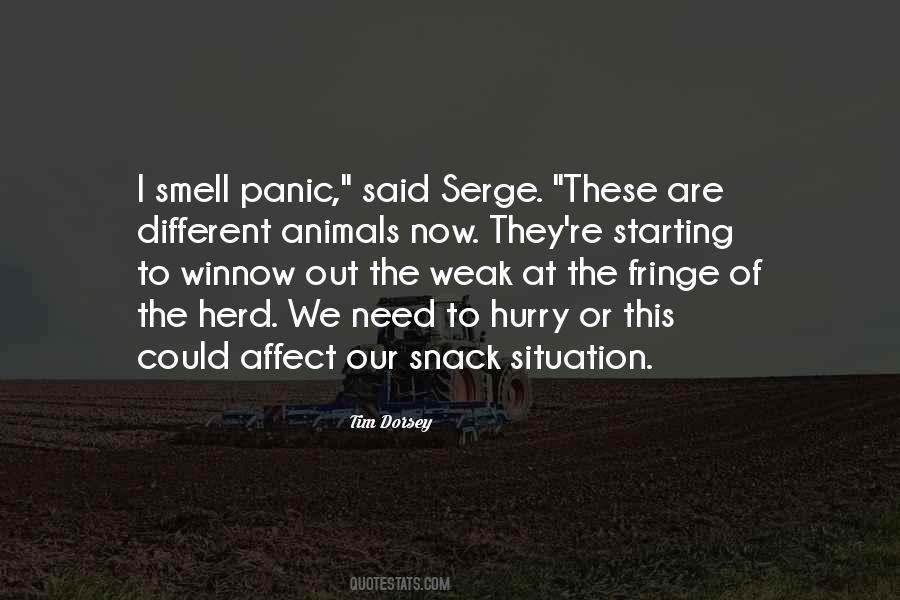 #57. The alcohol smell is on my fingers, cold and remote, piercing like a steel pin going in. It smells like white enamel basins. When I look up at the stars in the nighttime, cold and white and sharp, I think they must smell like that. - Author: Margaret Atwood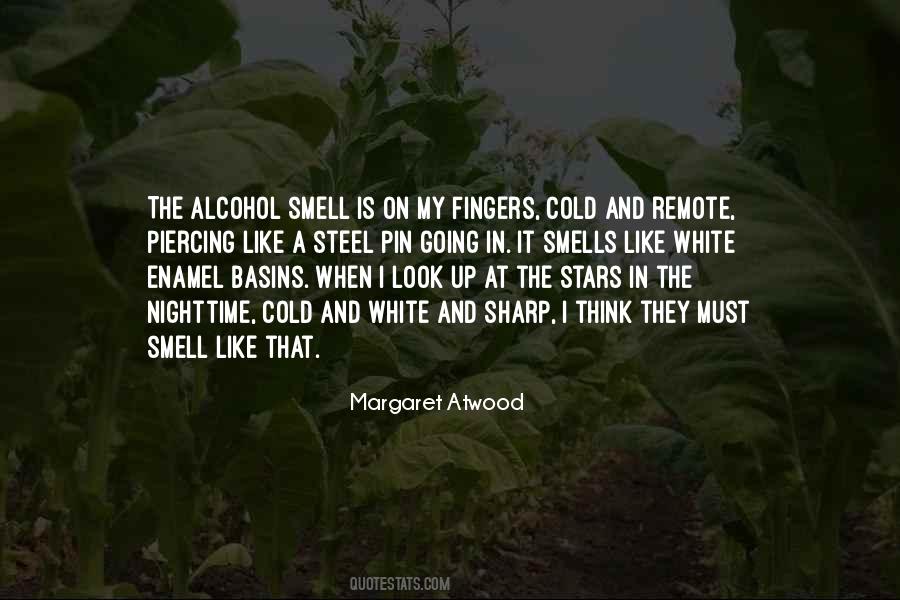 #58. Me and Mama never did like the smell of cigarettes but after Daddy died, sometimes we would light one up and put it in his old ashtray. Today I stayed behind the man at Fletcher's and waited a little while in the cloud of smoke. - Author: Sandi Morgan Denkers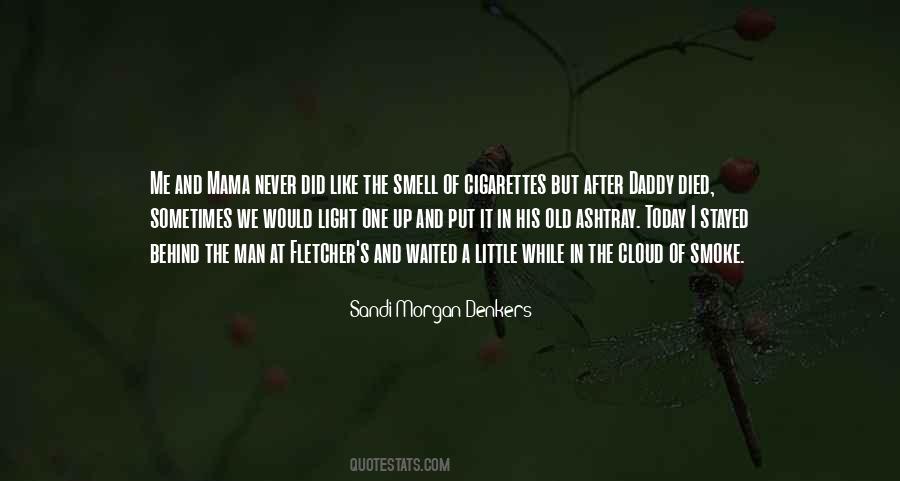 #59. Breathing in Shepelevo was like hitting the right note on the piano. There was only one note. When I was young, Shepelevo was the smell of nettles, of salted smoked fish, of fresh water from the Gulf of Finland, and of burning firewood, all wrapped up in one Shepelevo. - Author: Paullina Simons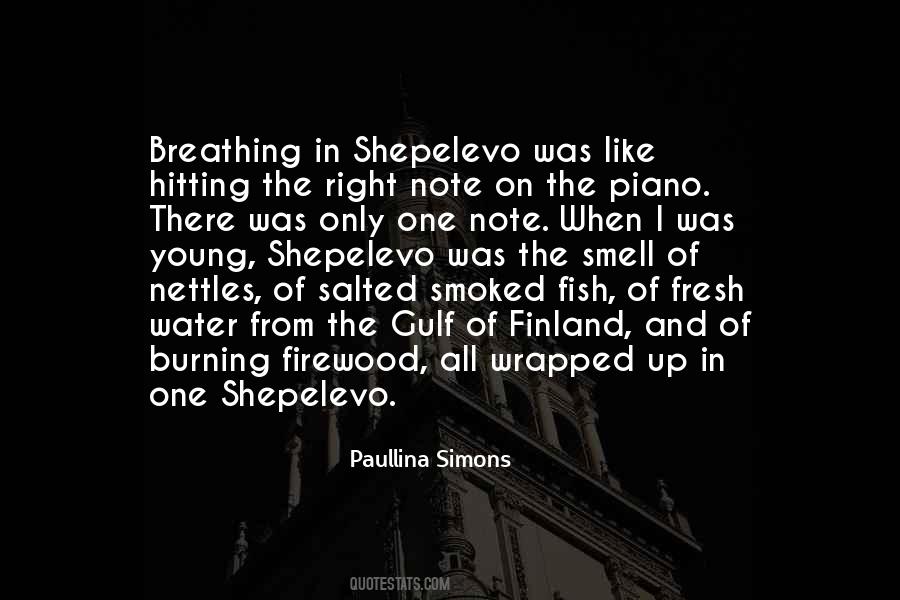 #60. He was a super shiny boy and I liked the shape of him. Under the blanket. In the shower. I liked his shadow on the street and his imprint on the sofa. I hated the smell of hair gel on his head, but I loved it on the pillow. I love the smell of losing someone. - Author: Emma Forrest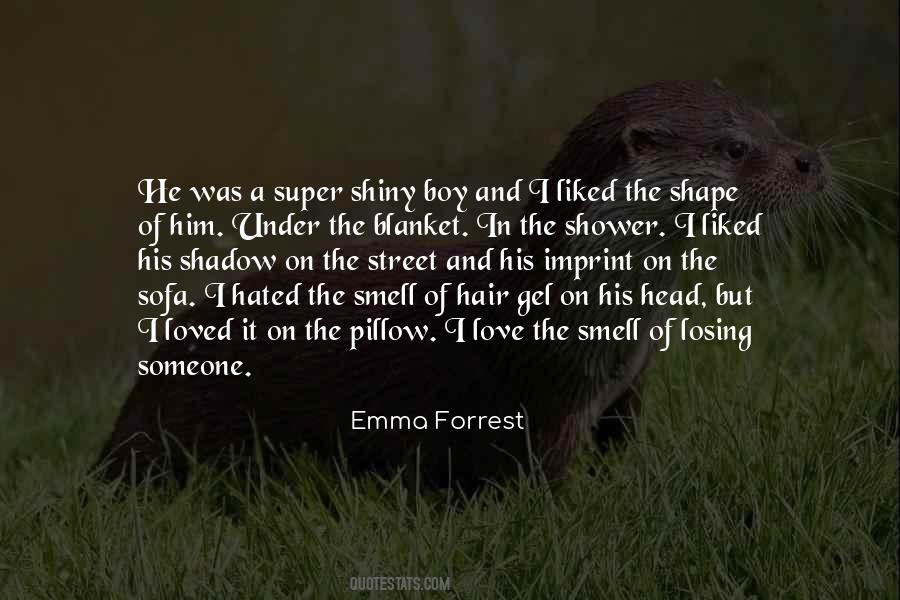 #61. I followed Barry closely as we walked through the main doors of the hospital, down the corridor that smelt like disinfectant and false hope. - Author: Belinda Jeffrey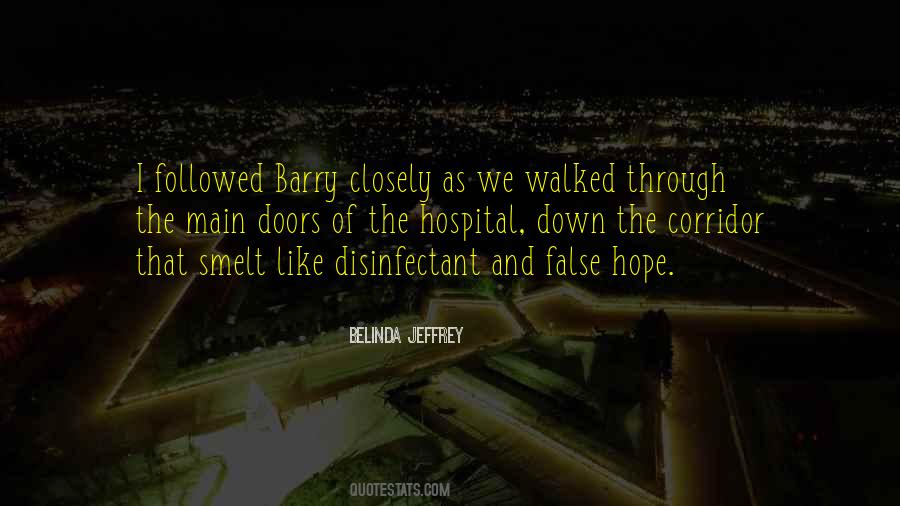 #62. Would I be as strong as that once I did that thing Christophe was talking about? Blooming? Would I smell like a bakery item? Or was that just him? Did he use pie filling for cologne? - Author: Lilith Saintcrow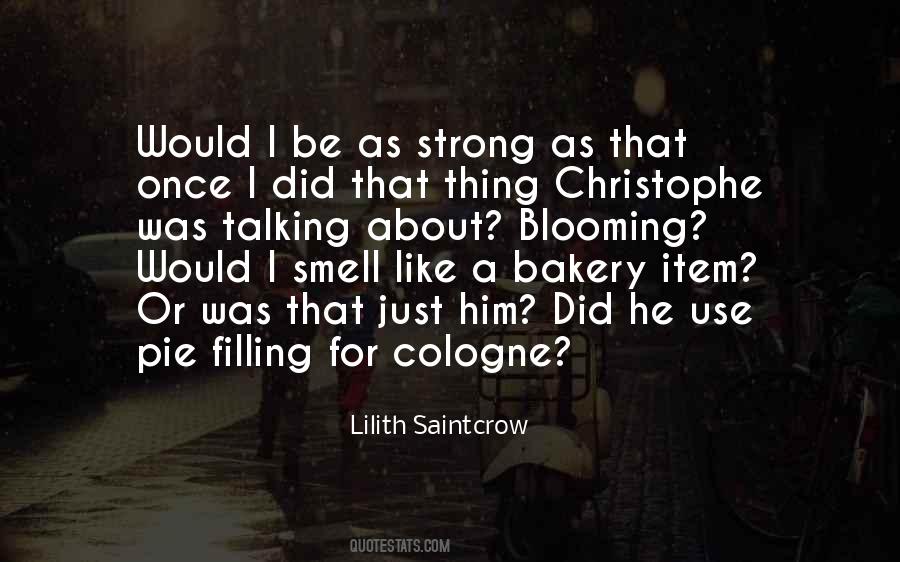 #63. This is what I'm going to remember on the day I die," he said. "Right before I close my eyes, I'm going to remember this, the way your hand feels, the heat of your leg against mine, the smell of the skin on the back of your neck, like burnt sugar. - Author: Sarah Black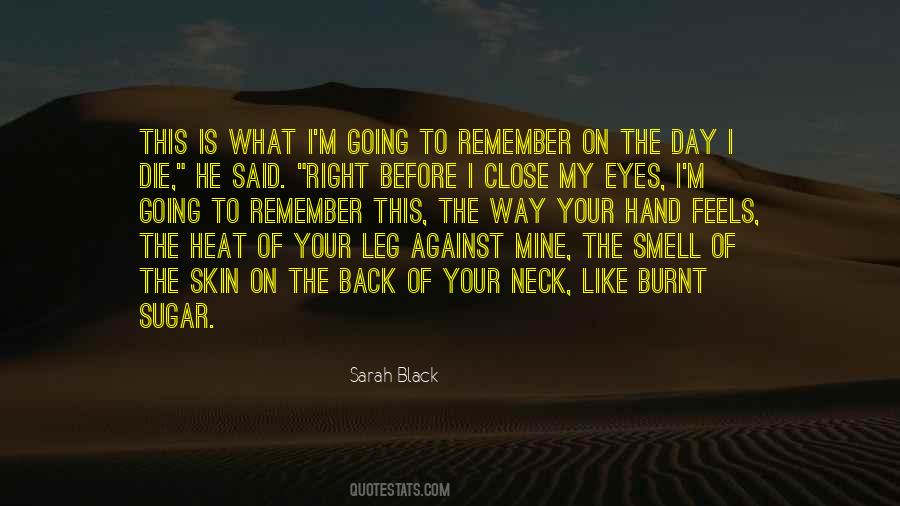 #64. I don't know what that gas is made of, but it can't smell any worse than Ernie Johnson 's gym bag. - Author: Charles Barkley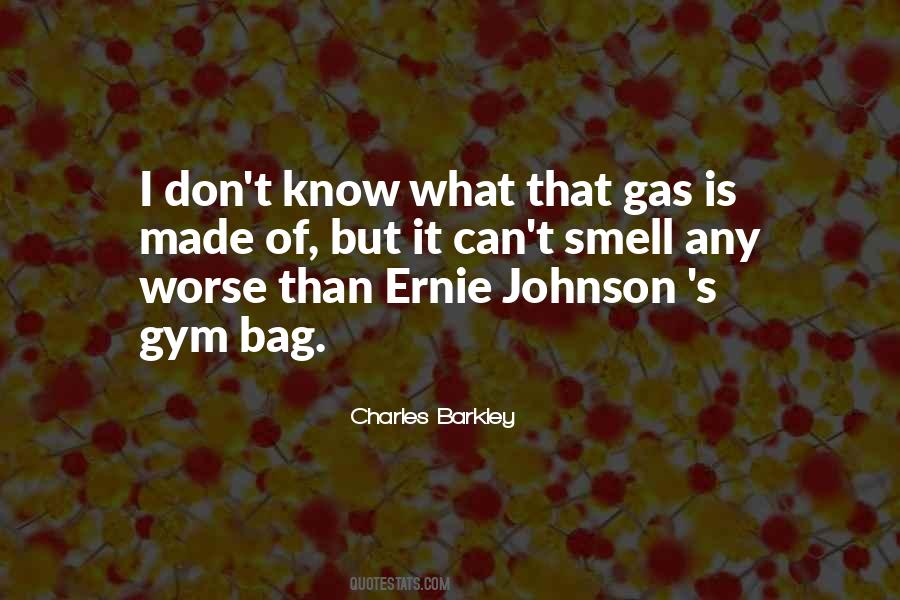 #65. Before every show, I have to put perfume on. I know the crowd's not necessarily going to smell me, but when I smell good, I feel like I can dominate the room. - Author: Rita Ora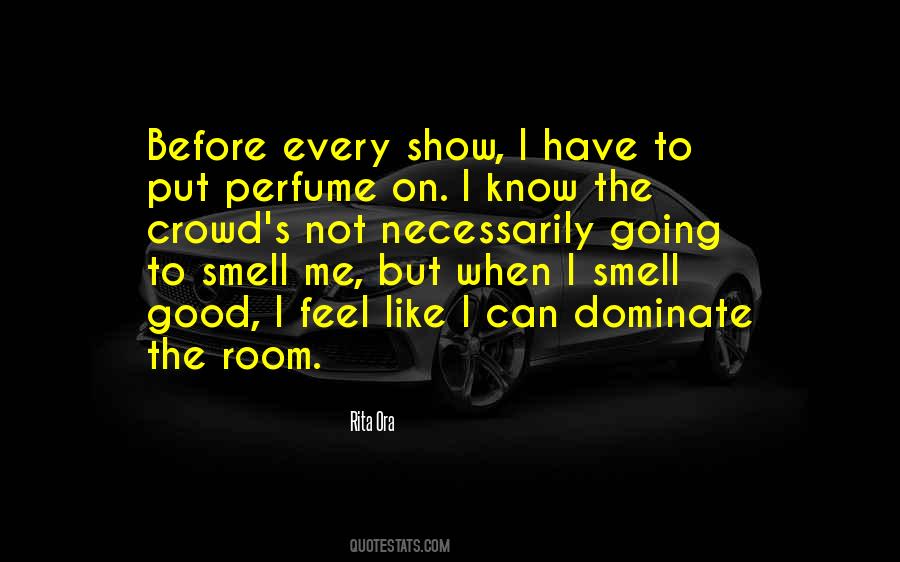 #66. My stomach knotted, the nausea so intense I began heaving on the ground. Smell, taste; all of it evil. A darkness so pure, I knew I could never defeat it. My fear strangled my light. - Author: Angela McPherson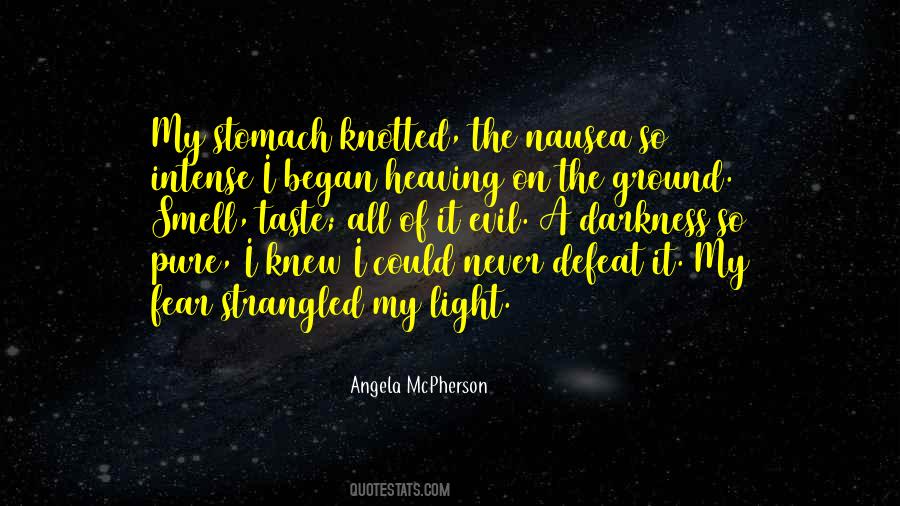 #67. I opened the door of the Mercedes and got in. Man, that smell. It's leather, but not just leather. You know how, in Monopoly, there's a Get-Out-of-Jail-Free card? When you're rich enough to afford a car that smells like Mr. Sharpton's gray Mercedes, you must have a Get-Out-of-Everything-Free card. - Author: Stephen King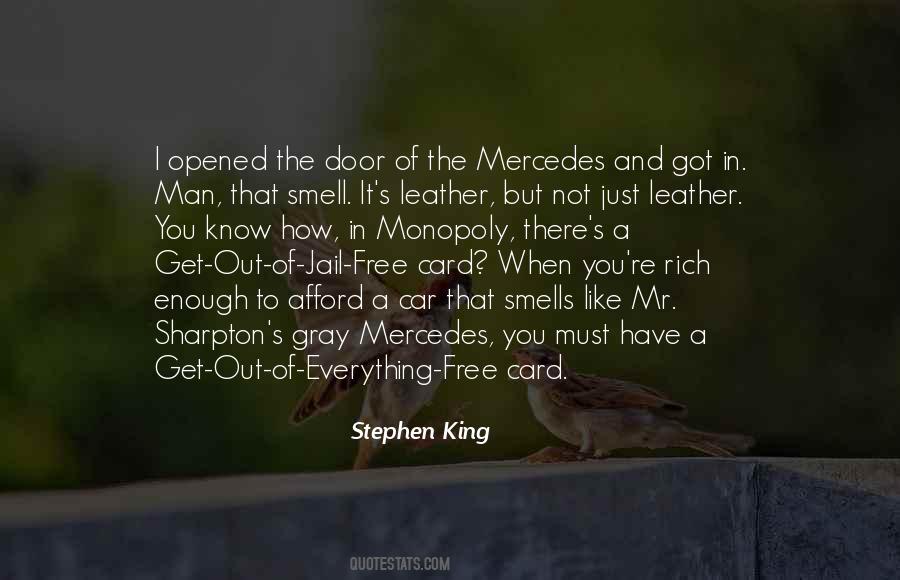 #68. He leaned close to her and took a deep breath, unsettling her. "You smell of lavender. I wouldna believe a shepherdess would smell so fine."

"I bathed in a tub full of lavender this morning, just for you, so it seems, as I knew you would appreciate the effort. - Author: Terry Spear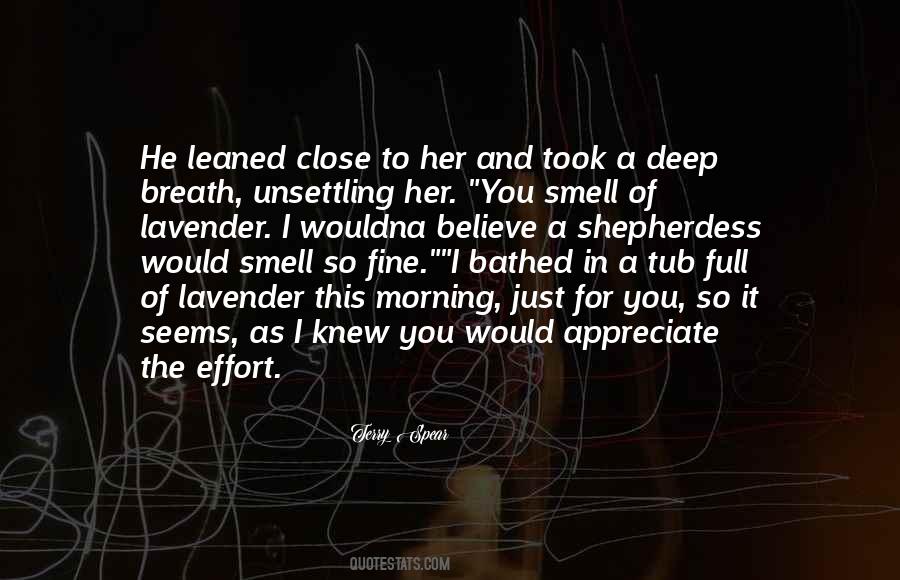 #69. We must go for a day in the country and when surrounded by the gay twittering of the birds and the smell of the cows I will lay my suit at her feet and he waved his arm wildly at the gay thought. - Author: Daisy Ashford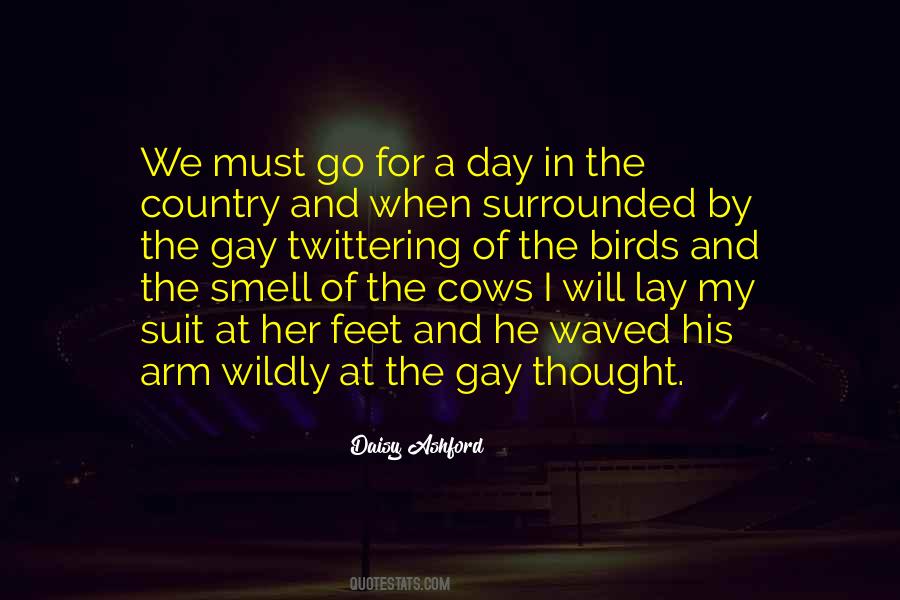 #70. I grew up shopping from farm stands. Dad taught me how to smell a good cantaloupe and thump a watermelon for ripeness. - Author: Nell Newman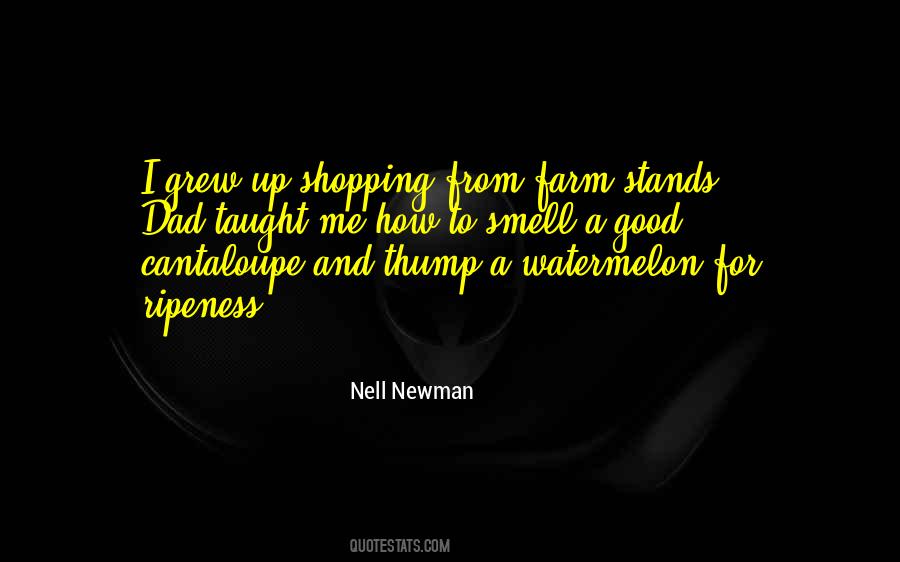 #71. The house had been torn down. Nothing is left but the old white fence. There used to be privet bushes everywhere. "The smell of privet is the smell of summer for me," I say to Catherine.
"Yes, Mom." she says, "I know, Your memories are my memories now. - Author: Abigail Thomas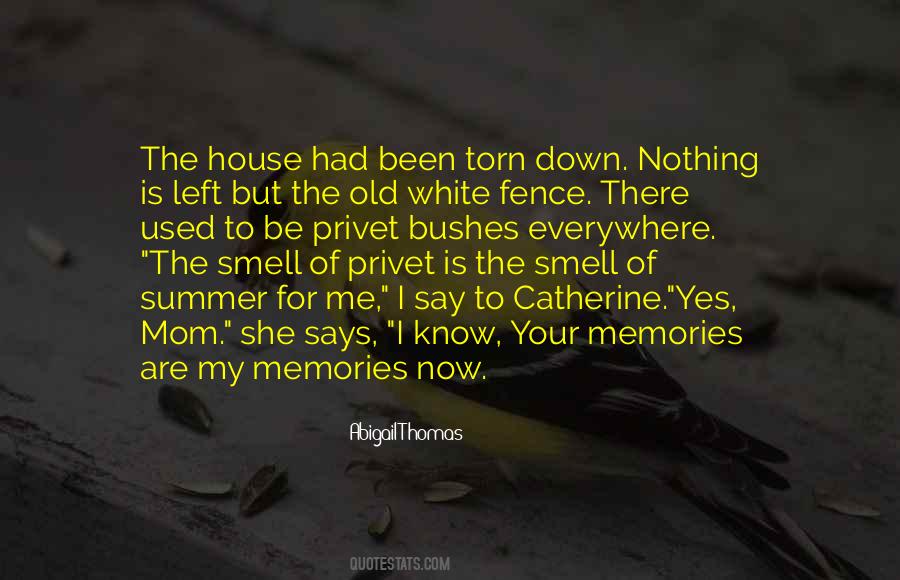 #72. You still smell like the best thing I've ever tasted. - Author: Lauren Dane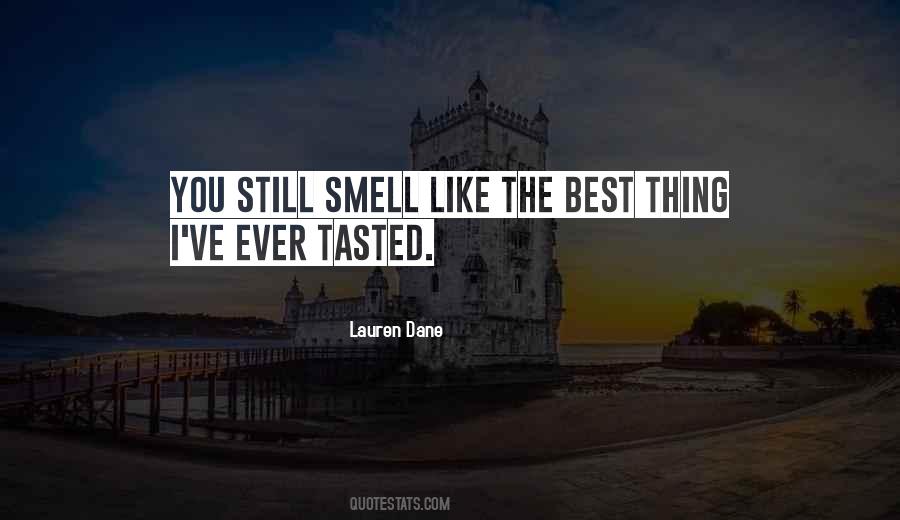 #73. I love the smell of old books, Mandy sighed, inhaling deeply with the book pressed against her face. The yellow pages smelled of wood and paper mills and mothballs. - Author: Rebecca McNutt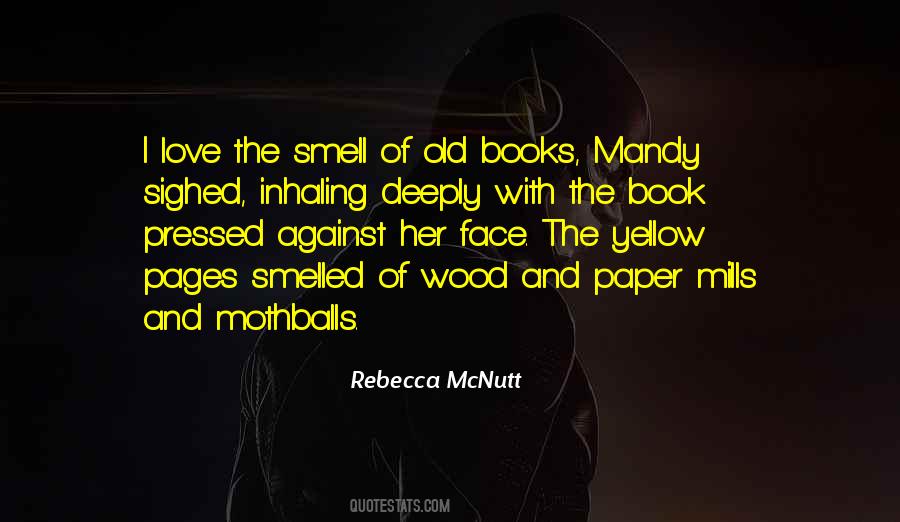 #74. I like a fragrance that you notice and want to find out more about - get a bit closer. I don't want to walk in and be jolted awake by someone's smell. - Author: Chris Pine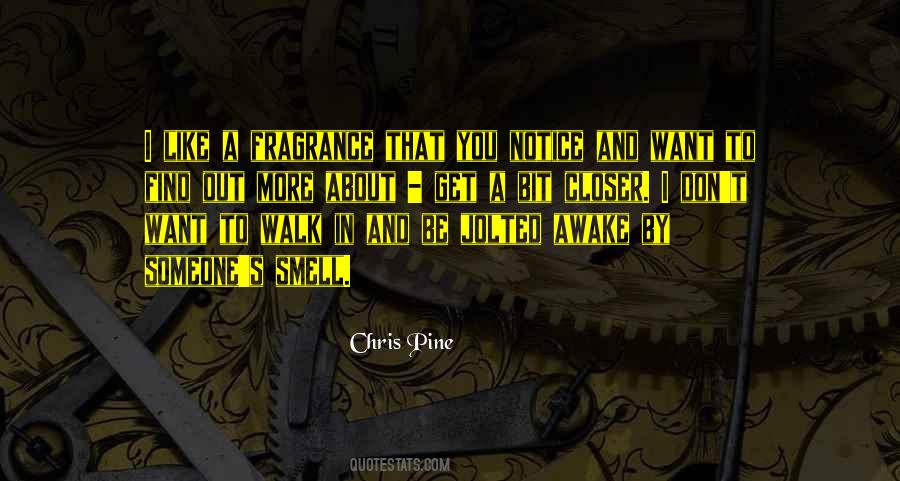 #75. When the guys come back in from the spacewalk, there really is a distinct smell of space; it's something I will never forget. - Author: Kevin A. Ford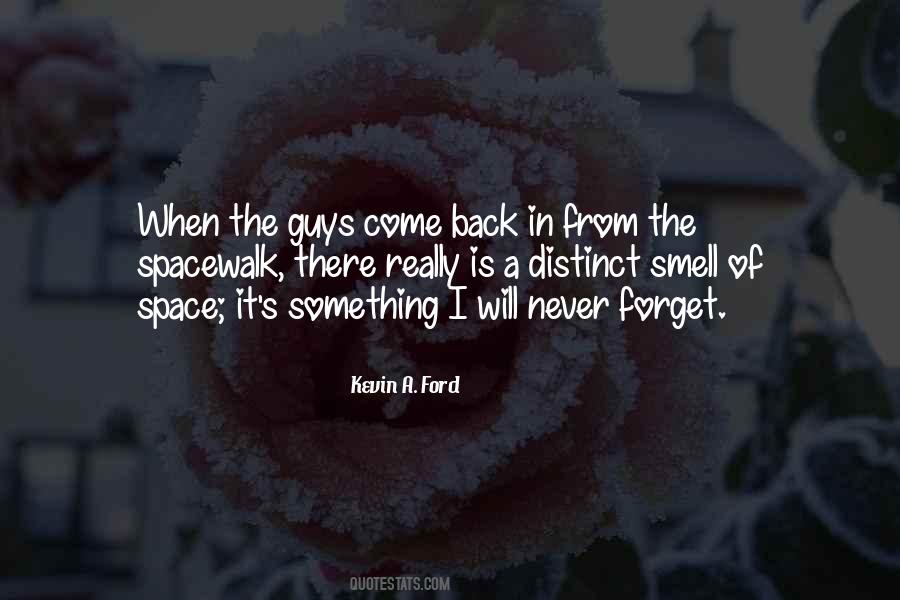 #76. I desire to be with you. I miss you. I feel lonely when I can't see you. I am obsessed with you, fascinated by you, infatuated with you. I hunger for your taste, your smell, the feel of your soul touching mine. - Author: Jack Llawayllynn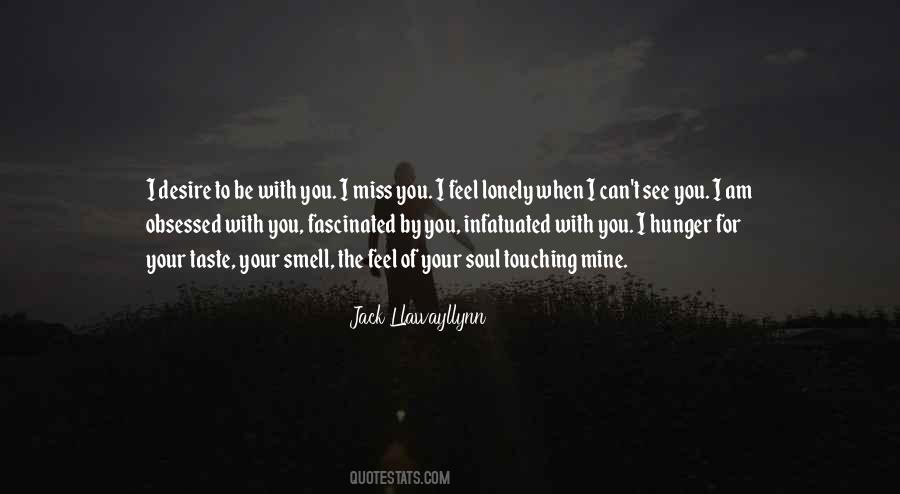 #77. It was starting to smell really good in here. And if I liked what it smelled like, then they were liking what they were smelling, and ah ... that would be me. - Author: Kim Harrison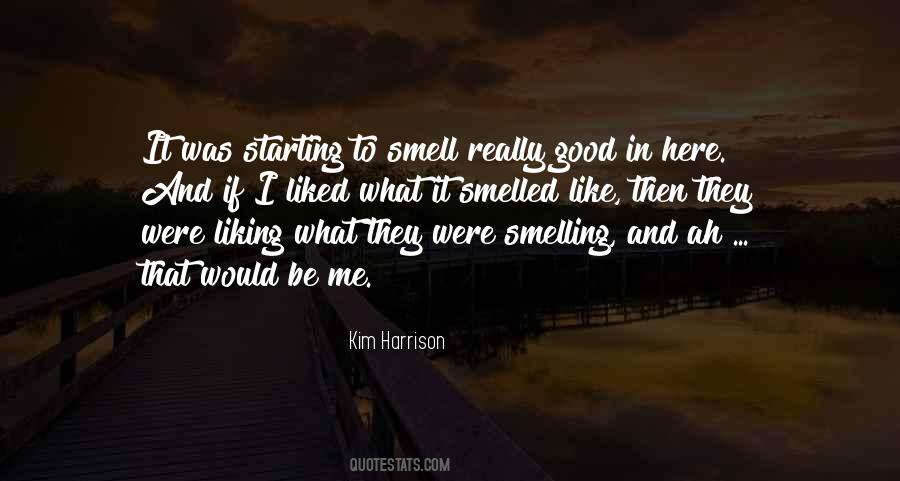 #78. Last summer I picked up a yellow scrap of newspaper and read of a Biloxi election in 1948, and in it I caught the smell of history more pungently than from the metal marker telling of the French and Spanish two hundred years ago and the Yankees one hundred years ago. 1948. What a faroff time. - Author: Walker Percy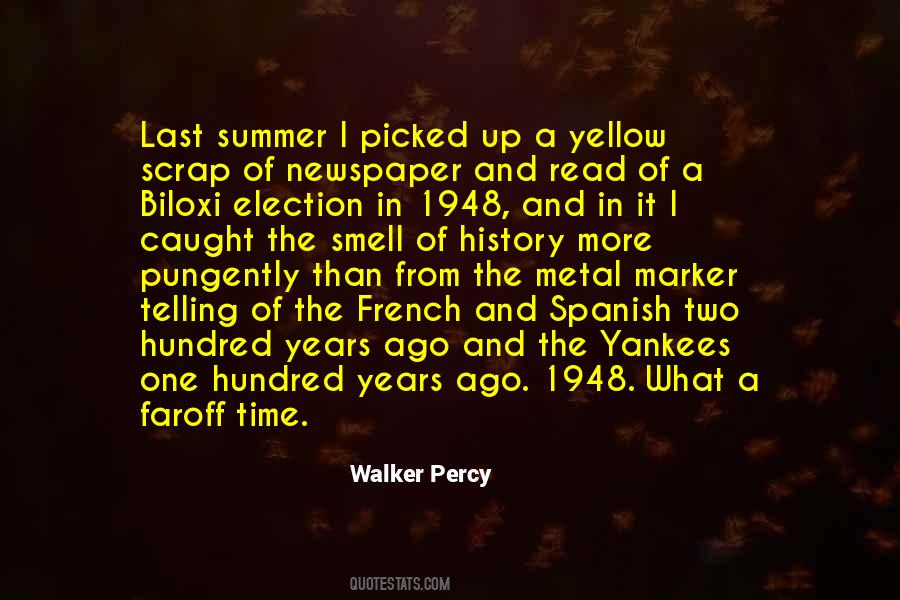 #79. When I write about a 15-year old, I jump, I return to the days when I was that age. It's like a time machine. I can remember everything. I can feel the wind. I can smell the air. Very actually. Very vividly. - Author: Haruki Murakami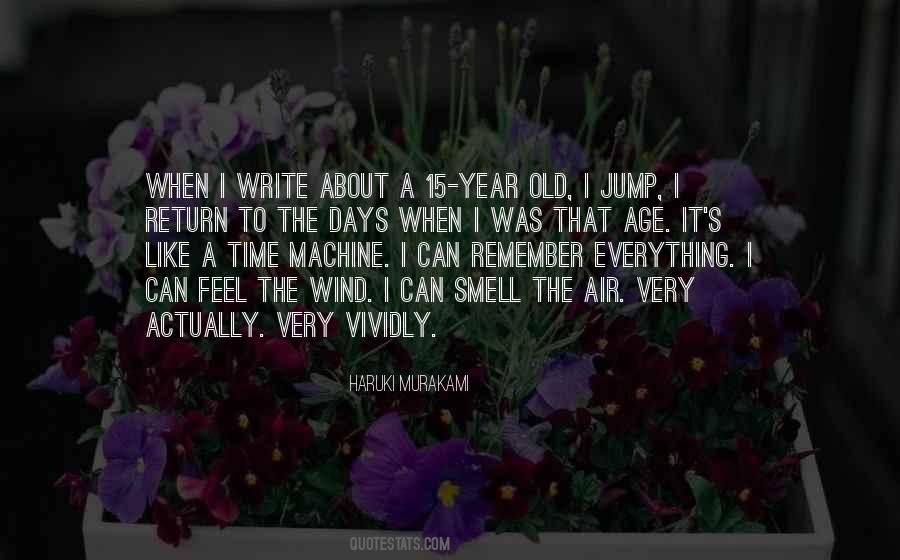 #80. I couldn't hear anything or anyone, there was only the sound of our sex and the smell of books. - Author: Juliet Gauvin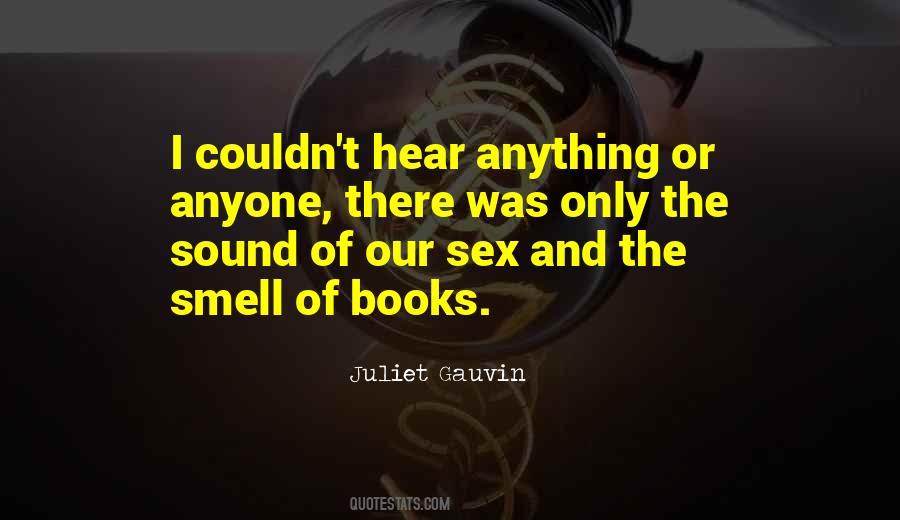 #81. That's the only dog I know who can smell someone just thinking about food. - Author: Charles M. Schulz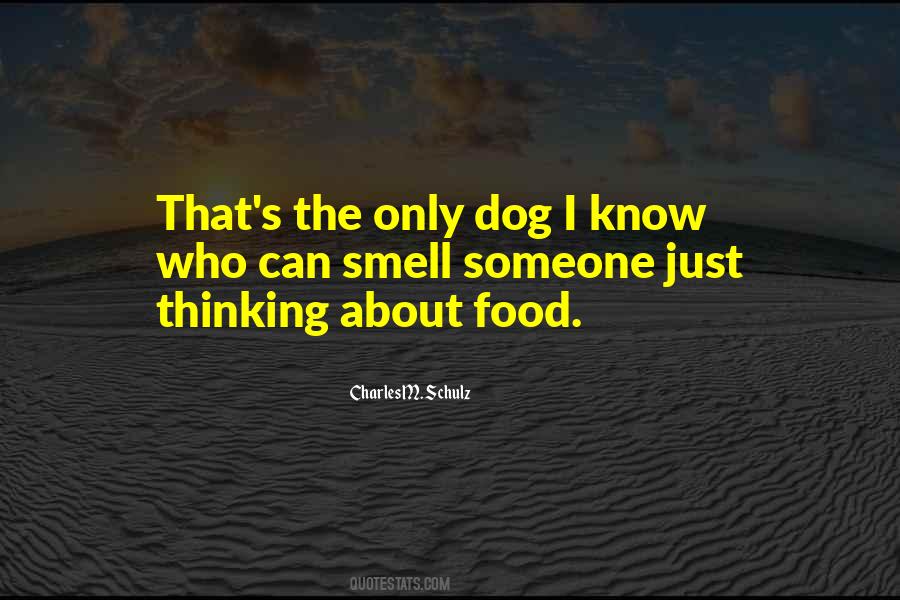 #82. I think I am quite wicked with roses. I like to gather them, and smell them till they have no scent left. - Author: George Eliot
#83. I want morning and noon and nightfall with you. I want your tears, your smiles, your kisses ... the smell of your hair, the taste of your skin, the touch of your breath on my face. I want to see you in the final hour of my life ... to lie in your arms as I take my last breath. - Author: Lisa Kleypas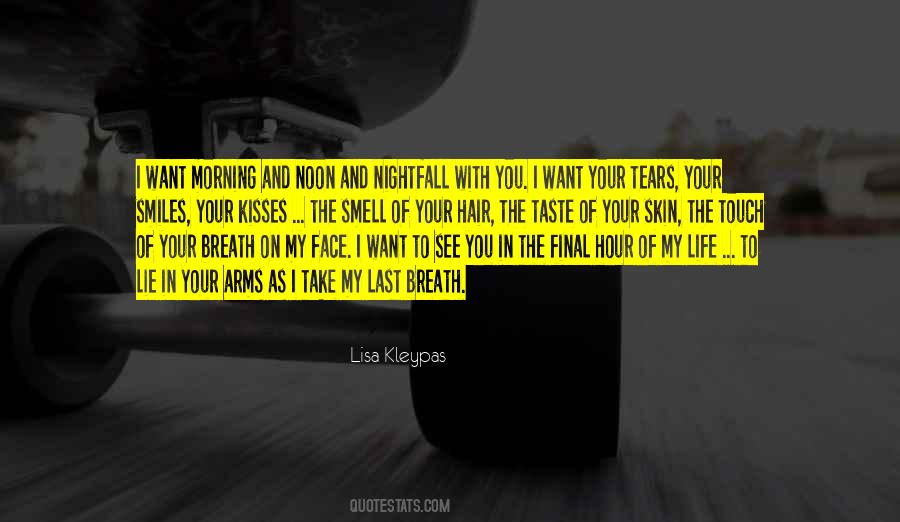 #84. I feel like I'm selling something nobody want to buy. Something big and stinky, like Kiki Brown and her lemon smell-good polish. But what really makes me and Kiki the same is, I'm proud a what I'm selling. I can't help it. We telling stories that need to be told. - Author: Kathryn Stockett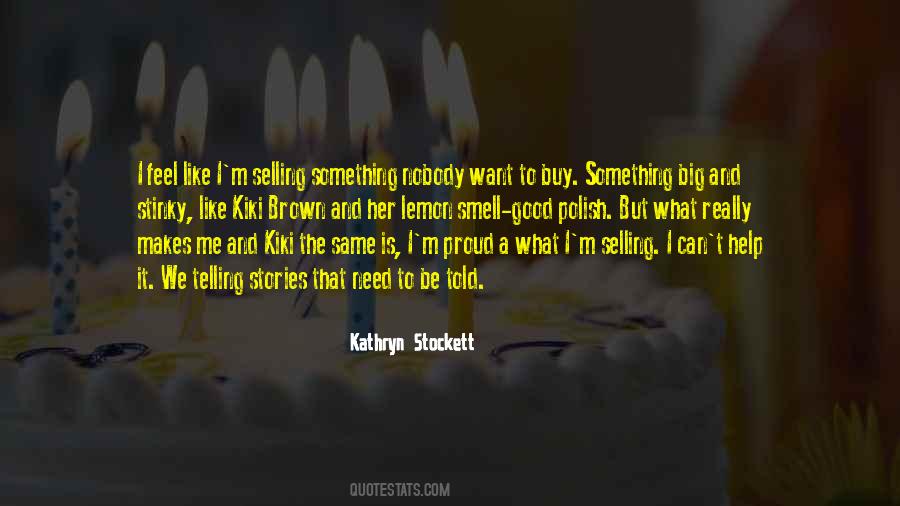 #85. YOU DON'T SMELL FIRE," I yelled. YOU SMELL SMOKE. - Author: Charles Bukowski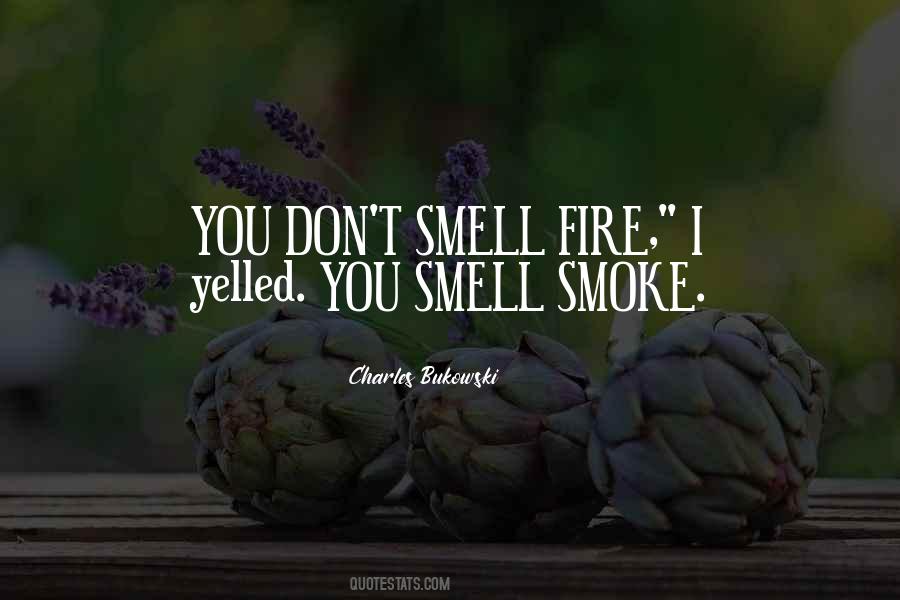 #86. The seasons split at the seams: spring, summer, fall and winter. I've always pictured them as giant sacks filled with air and color and smell. When it's time for one season to be over, the next seasons splits open and pours over the world, drowning its tired and waning predecessor with its strength. - Author: Tarryn Fisher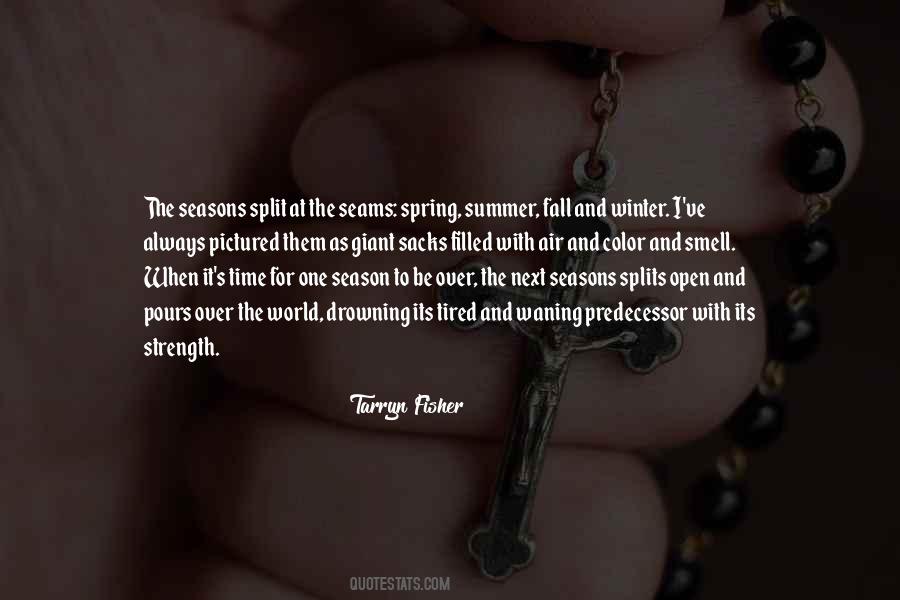 #87. Smell us?" I asked, genuinely confused. "What is she, a hunting dog? - Author: Danielle Paige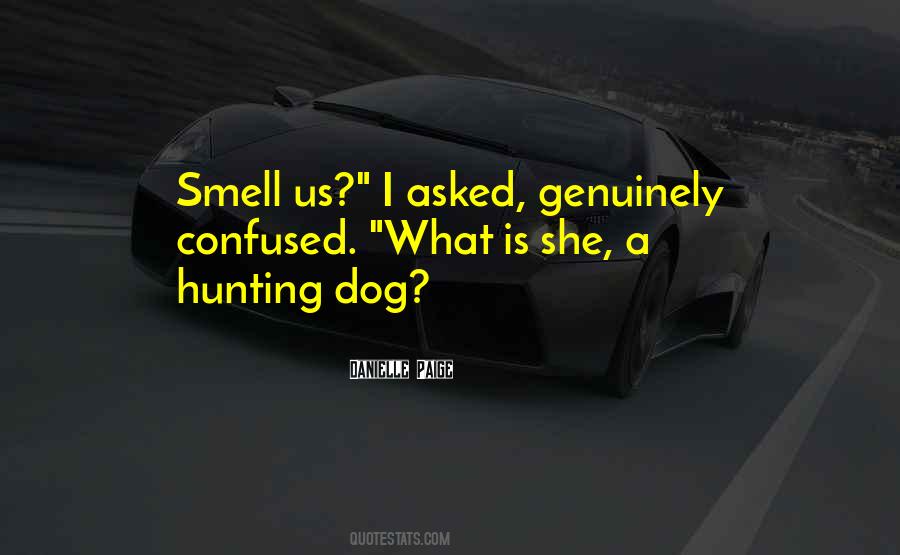 #88. I love the smell of the universe in the morning. - Author: Neil DeGrasse Tyson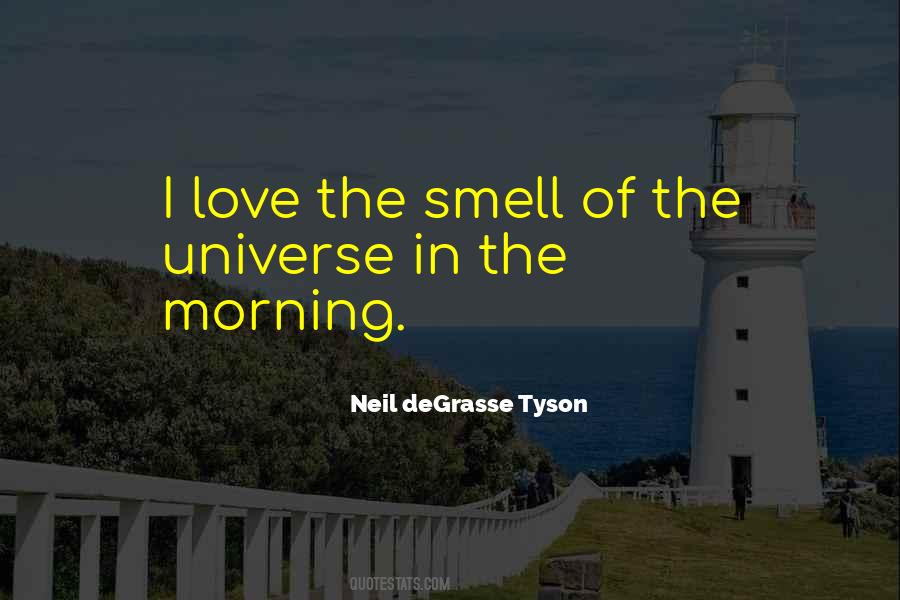 #89. When I smell pho, I just automatically think of my mom. All these nostalgic feelings and memories come rushing through my head. - Author: Michelle Phan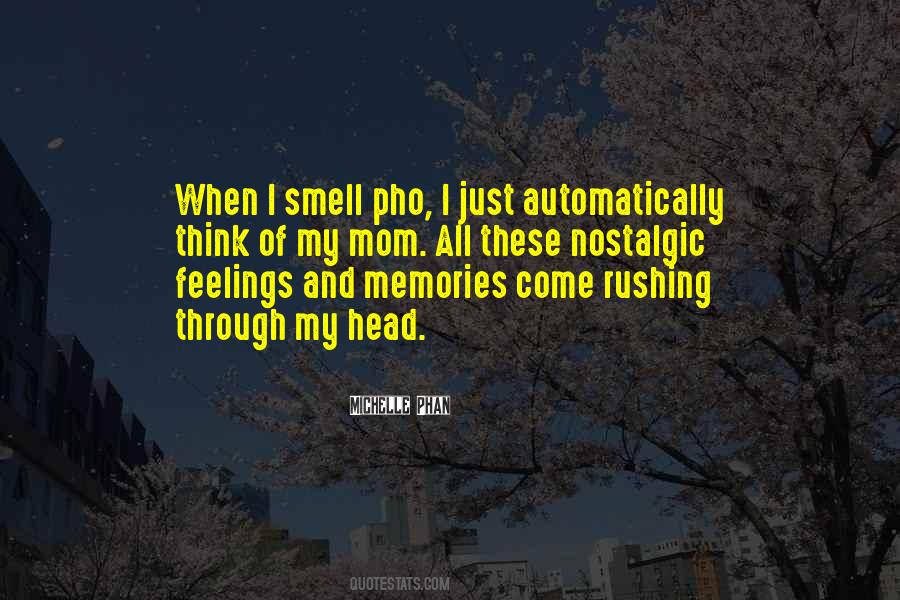 #90. I cannot remember a time when I was not in love with them
with the books themselves, cover and binding and the paper they were printed on, with their smell and their weight and with their possession in my arms, captured and carried off to myself. - Author: Eudora Welty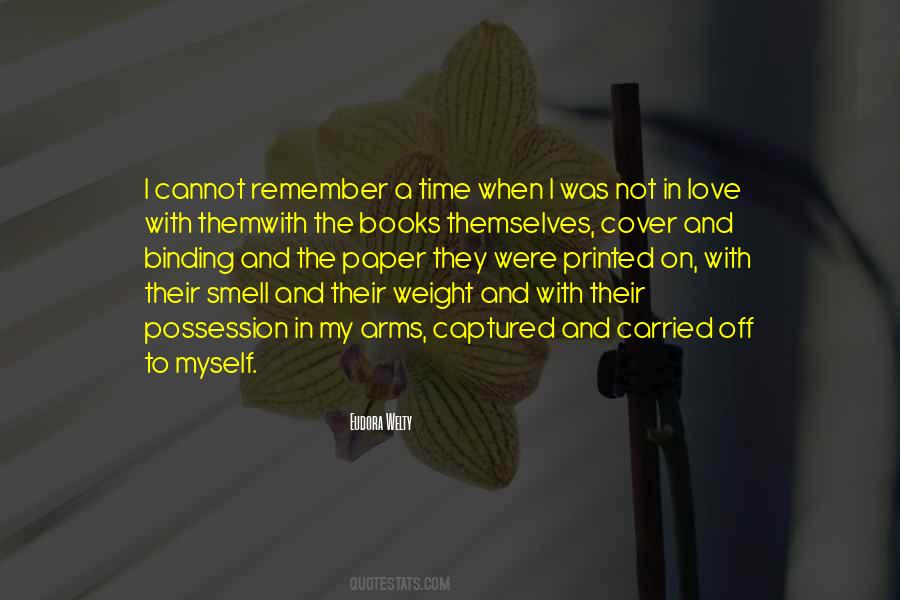 #91. I felt curiously aloof from my own self. No temptations maddened me. The plump, glossy little Eskimo girls with their fish smell, hideous raven hair and guinea pig faces, evoked even less desire in me than Dr. Johnson had. - Author: Vladimir Nabokov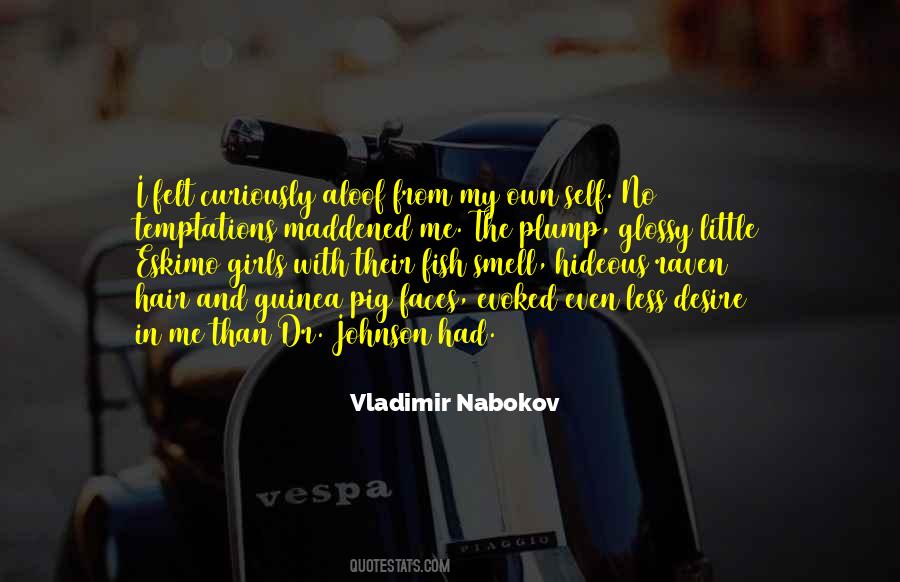 #92. I love judging food by its smell and feel and taste. The healthiest tomato isn't always the perfect one that's been covered in pesticides. - Author: Sheherazade Goldsmith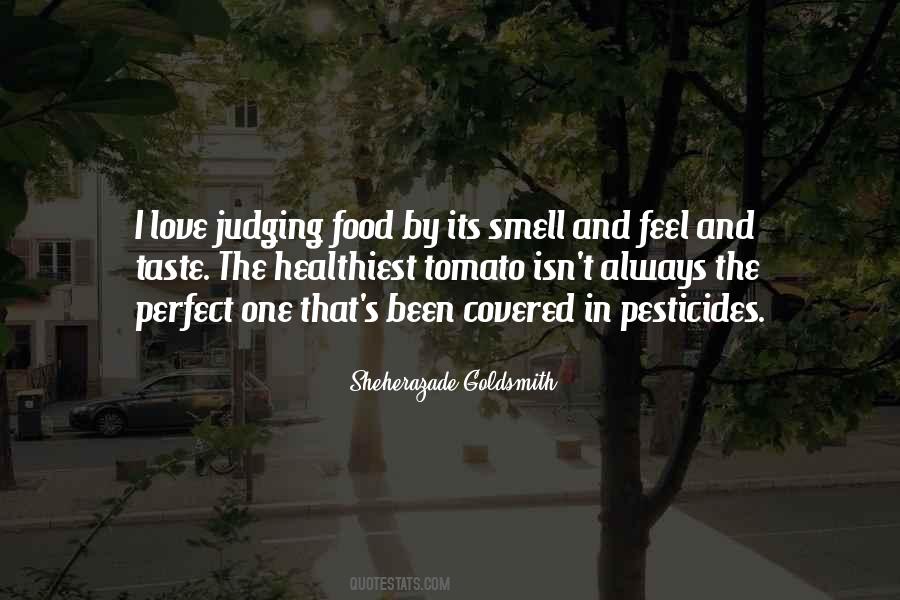 #93. I could see the reflection of the moon on the water's surface, tantalisingly teasing me forward, that was my target ... swimming towards the moon and freedom. I could smell the brine and sense the power of the mass I was in, it engulfed me, yet I was one with it. - Author: Stephen Richards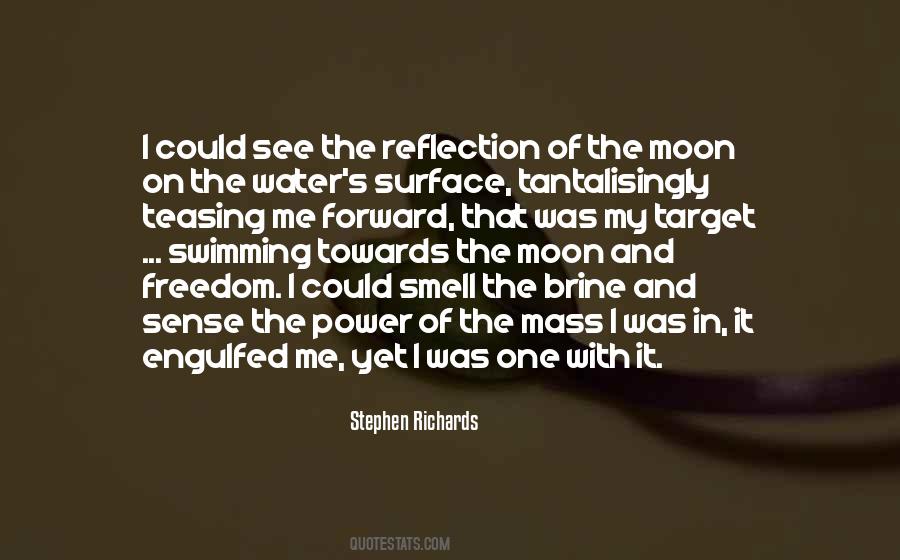 #94. Murderess is a strong word to have attached to you. It has a smell to it, that word - musky and oppressive, like dead flowers in a vase. Sometimes at night I whisper it over to myself: Murderess, Murderess. It rustles, like a taffeta skirt across the floor. - Author: Margaret Atwood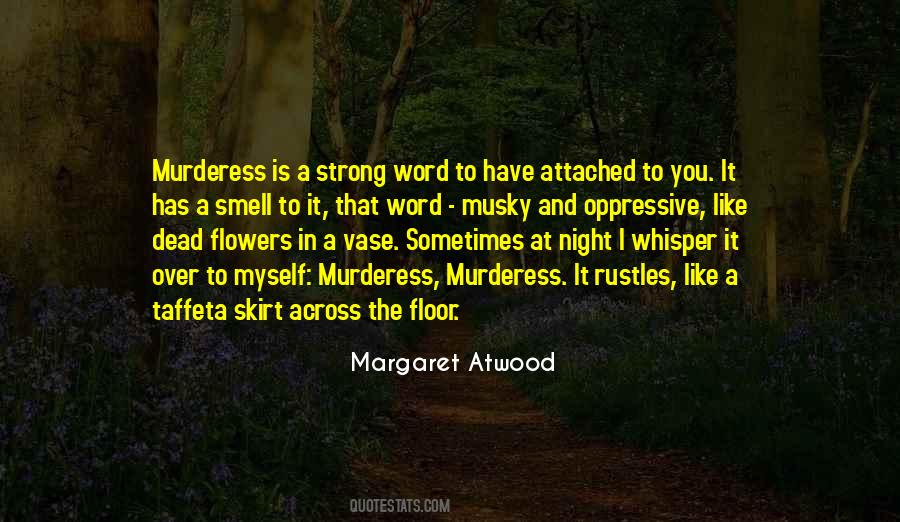 #95. Opening the book, i inhaled. the smell of old books, so sharp, so dry you can taste it. - Author: Diane Setterfield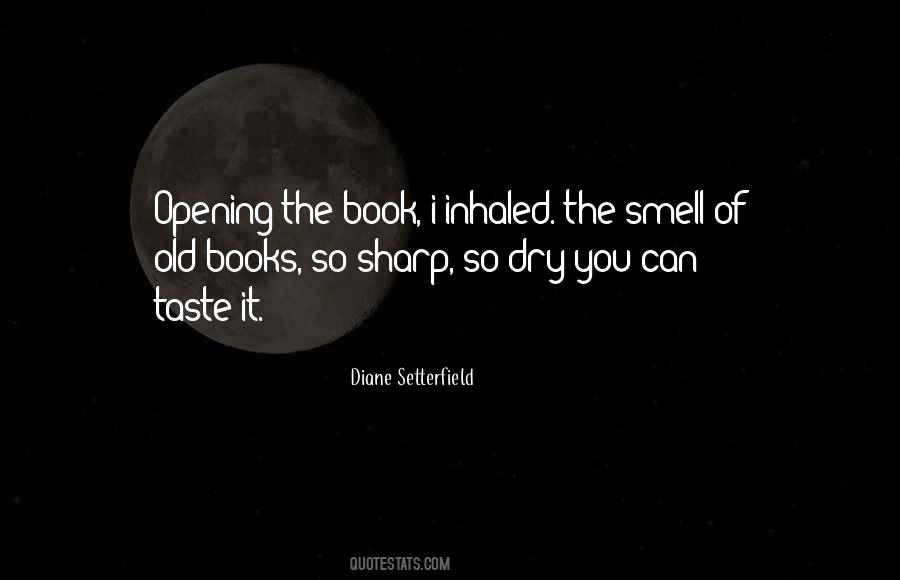 #96. I shall sit alone in a darkened room, sans teeth, sans eyes, sans taste, sans everything but a little grey old head, and in that little grey old head a peculiar vision of hideous blue and gold dangling things flashing in the light, and the smell of sweat, cat food and death. - Author: Douglas Adams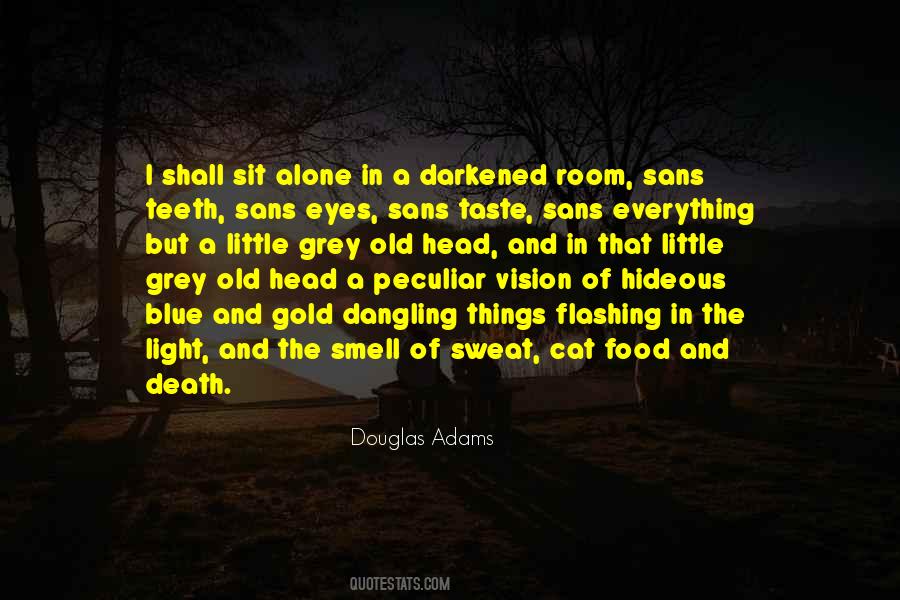 #97. Children frighten me. I mean, I appreciate them on a cute aesthetic level, but they're very demanding and unreasonable creatures and often smell funny. - Author: Rachel Cohn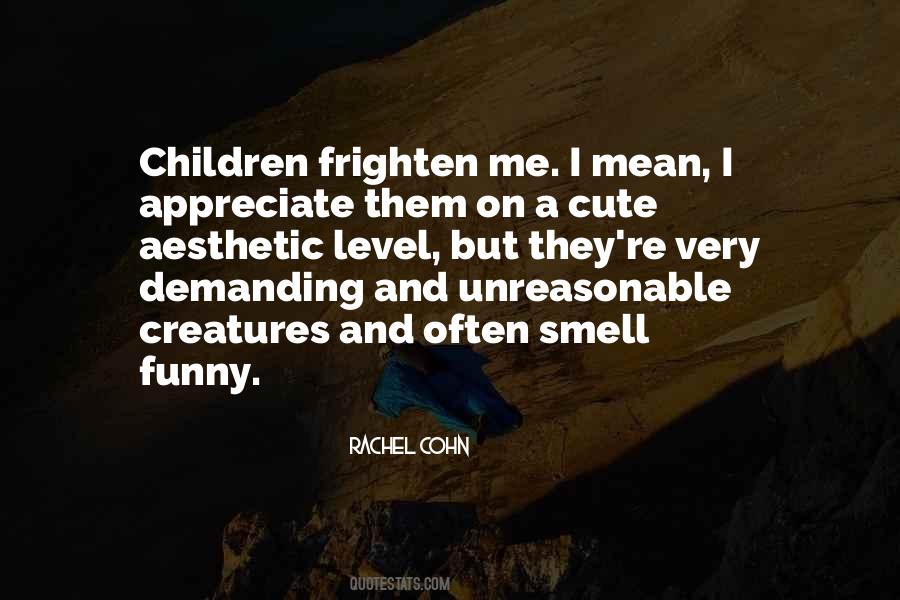 #98. I folded myself against her body, breathing in the smell of my new life and matching my heartbeat to hers Sam, Linger - Author: Maggie Stiefvater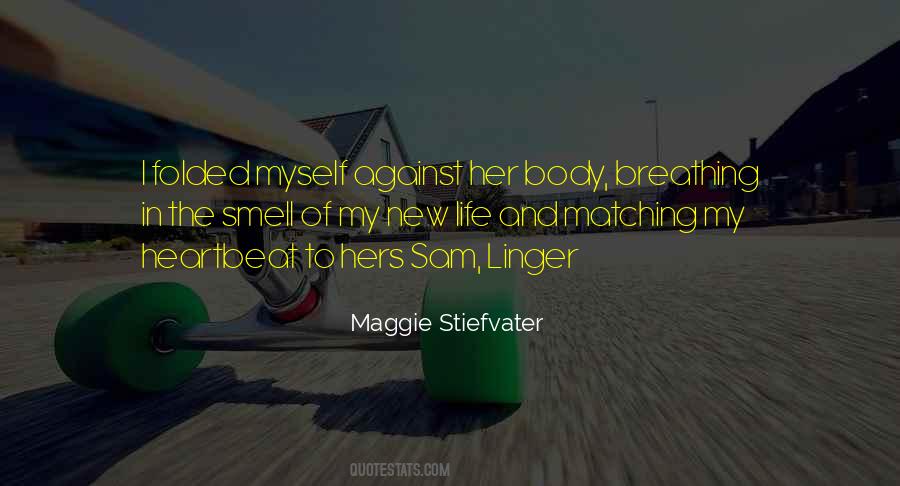 #99. to myself as I glanced over at her thick ass lying naked next to me. I was so in love with her smooth cocoa skin and that fat ghetto ass. She had me hypnotized by her big brown eyes... that long black hair...and her smell!!! Damn my bitch was fine and I loved the shit out of her, but - Author: Niki Jilvontae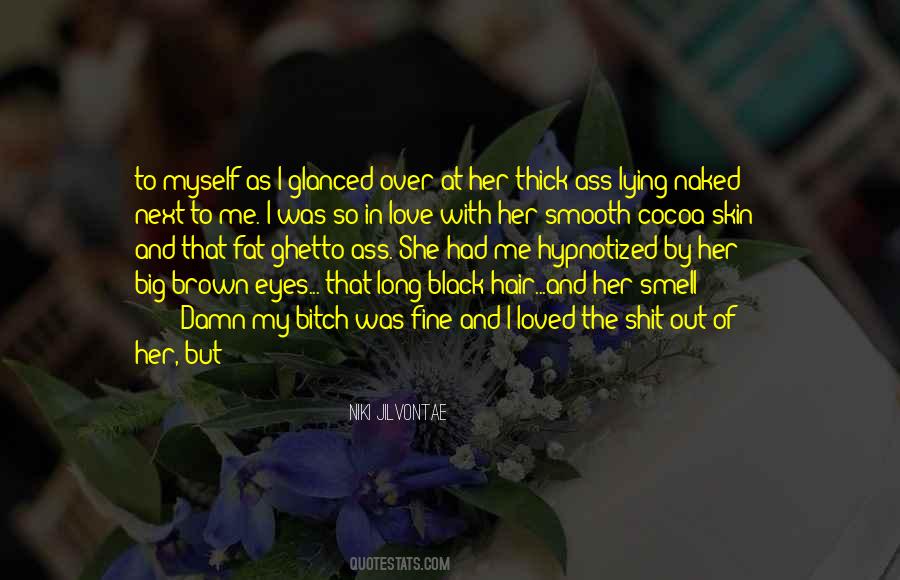 #100. I don't want to sound too mystical or weird but it's important to know what garlic smells like when it's cooking, or what eggs look like when they're cracked out of a shell. - Author: Joel Salatin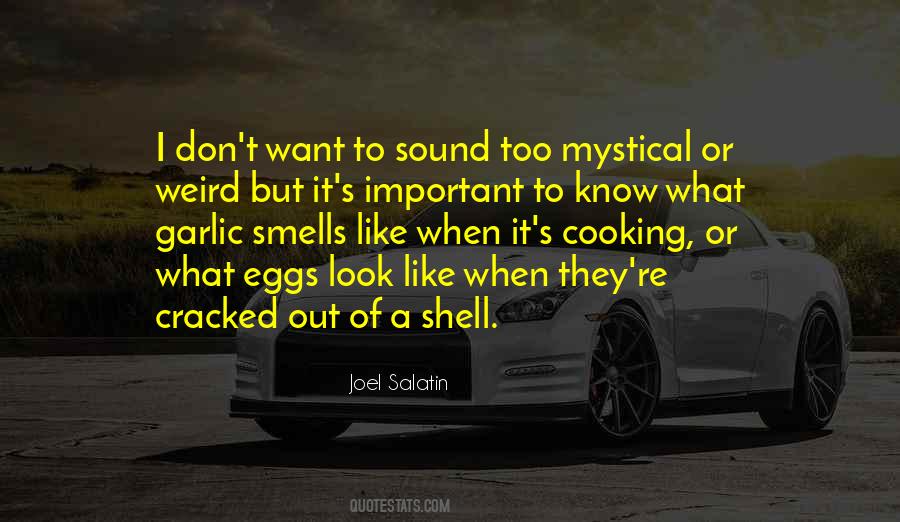 Famous Authors
Popular Topics