Funnier Than Famous Quotes & Sayings
List of top 83 famous quotes and sayings about funnier than to read and share with friends on your Facebook, Twitter, blogs.
Top 83 Funnier Than Quotes
#1. Um, musicians are funnier you know, than actors on the whole. - Author: Tim Curry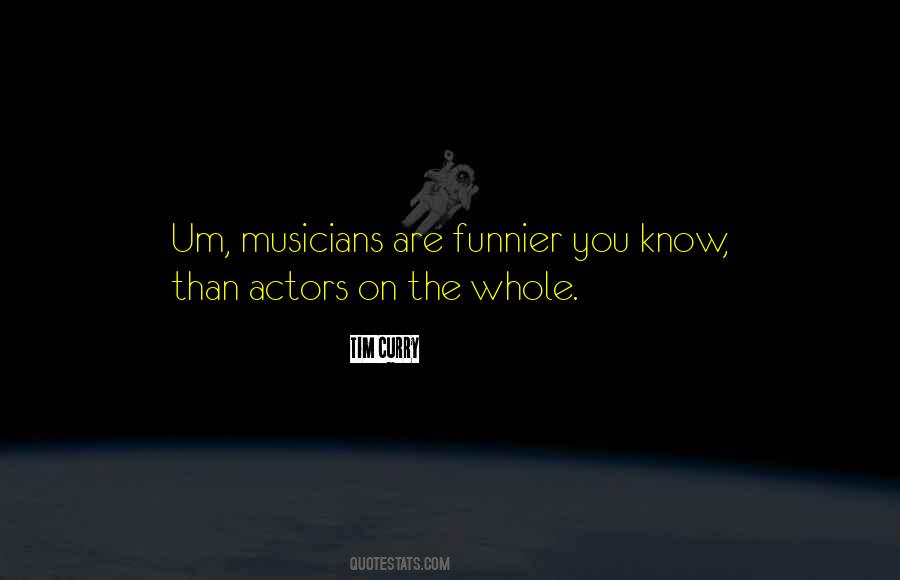 #2. There's no good reason to change a Neil Simon line. The day that I'm funnier than Neil Simon, Hell will be a very chilly place. - Author: Jason Alexander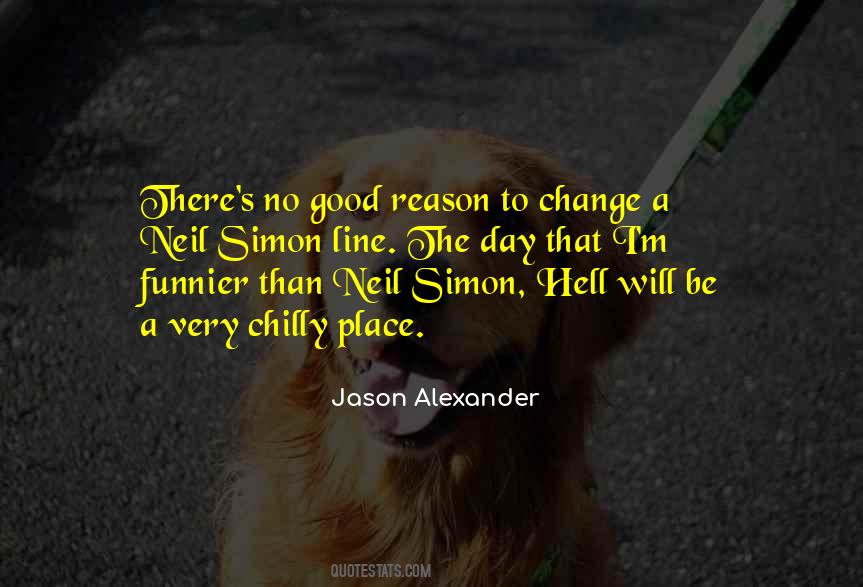 #3. There's nothing funnier than the human animal. - Author: Walt Disney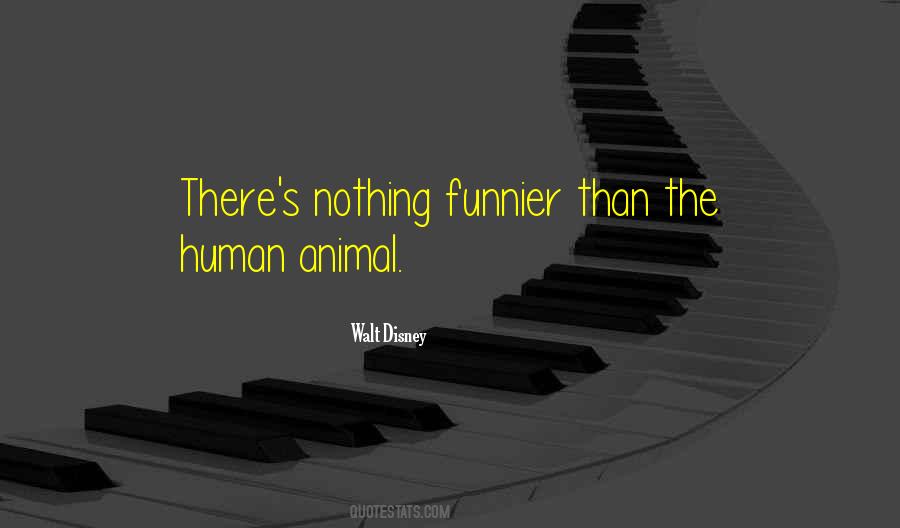 #4. I'd given him bits and pieces of my peculiar life, but colored softer and funnier than they had been. I'd painted my dad as Don Quixote in a semi, on a quest for philosophical truths and the best cup of coffee in the nation. - Author: Laurie Halse Anderson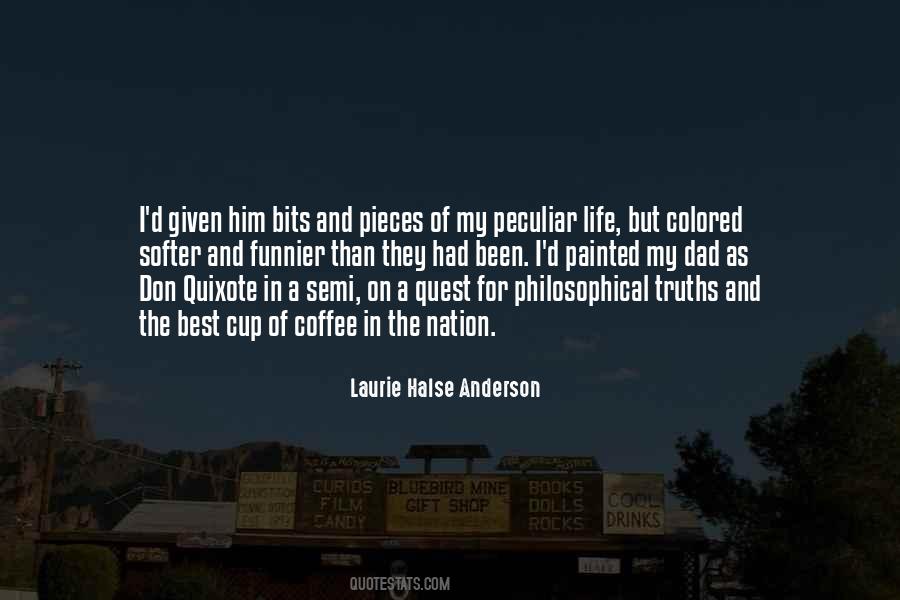 #5. I thought about the warm skin and soft hair and hands of someone living, someone who was far cleverer and funnier than I would ever be and who still couldn't see a better future than to obliterate himself. - Author: Jojo Moyes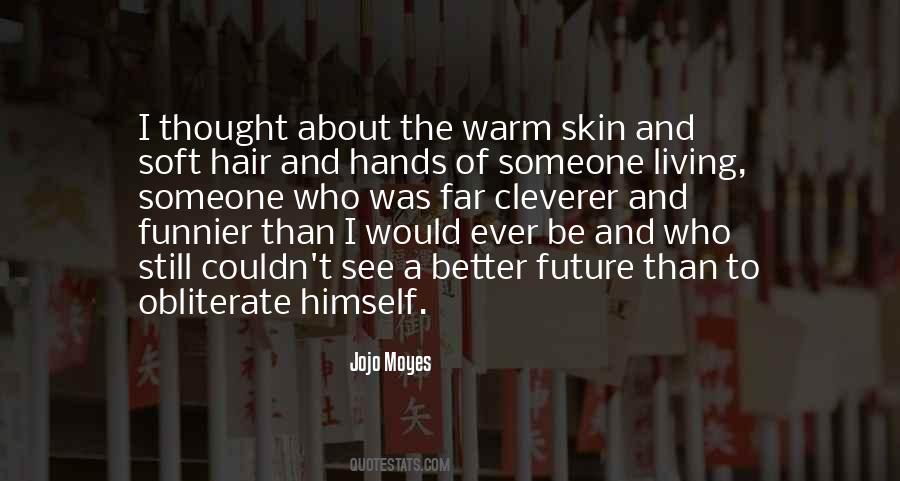 #6. I just think women are funnier than men. - Author: Margaret Cho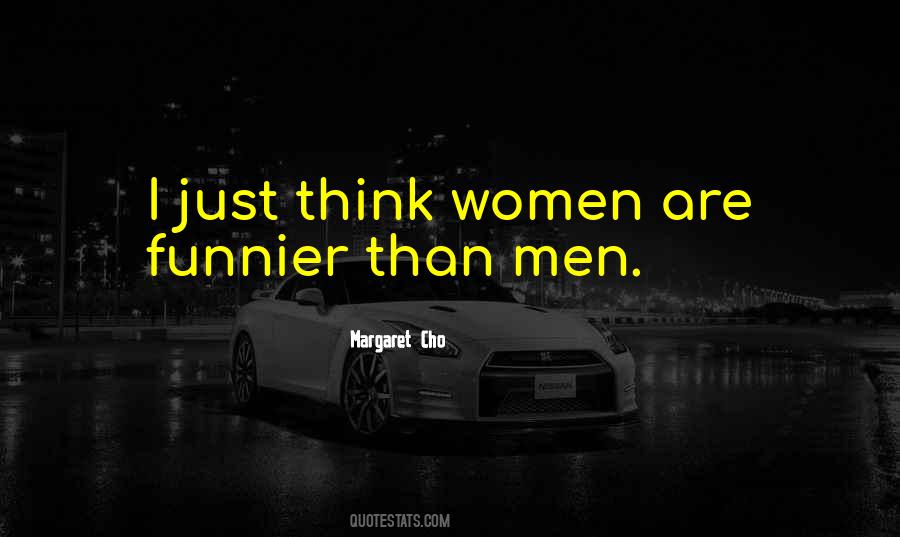 #7. That takes a lot of confidence to let your actors come up with something that could be theoretically funnier than what you had envisioned originally. - Author: Jackie Schaffer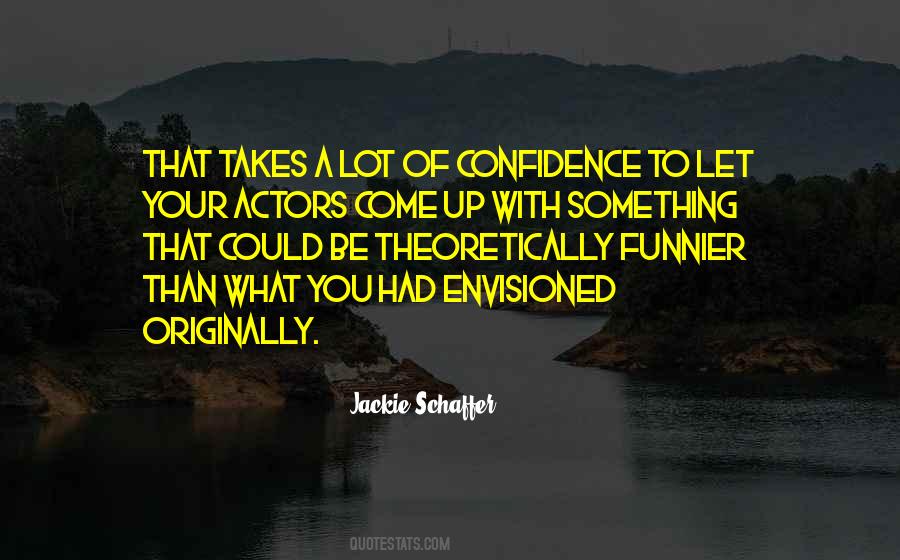 #8. Hugh Wilson made it so real and he took us and it was almost when he was directing it, the way he would do it was funnier than the way we did it. And I just developed a regard for him that was unbelievable. - Author: Bubba Smith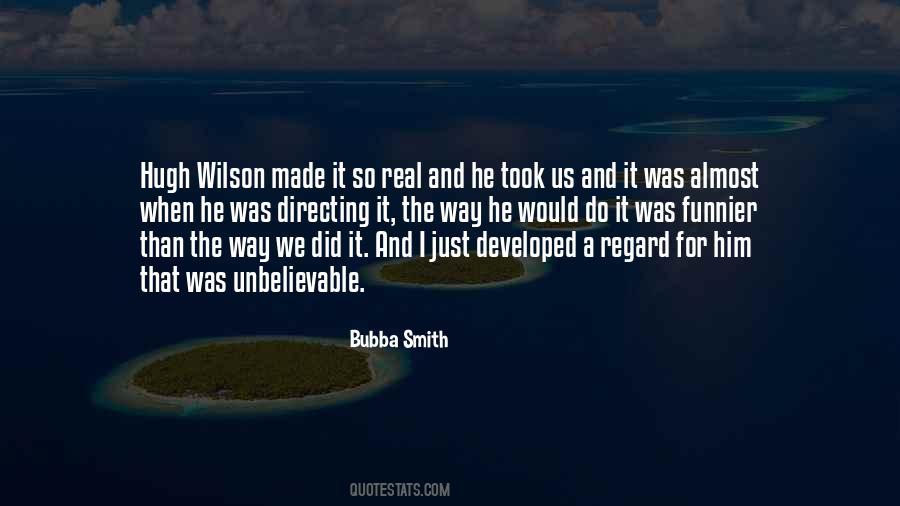 #9. There's nothing funnier than a giant, grown man rollerblading. - Author: Chris Pratt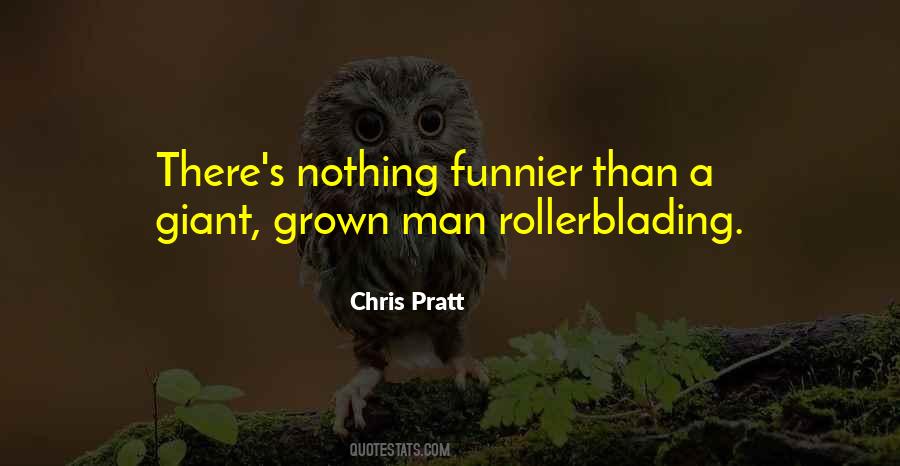 #10. Ten Little Indians once again shows [Alexie] to be not just one of the West's best, but one of the most brilliantly literate American writers, even funnier than Louise Erdrich, even more primal than Jim Harrison, and even more eloquent than Annie Proulx. - Author: Ron Franscell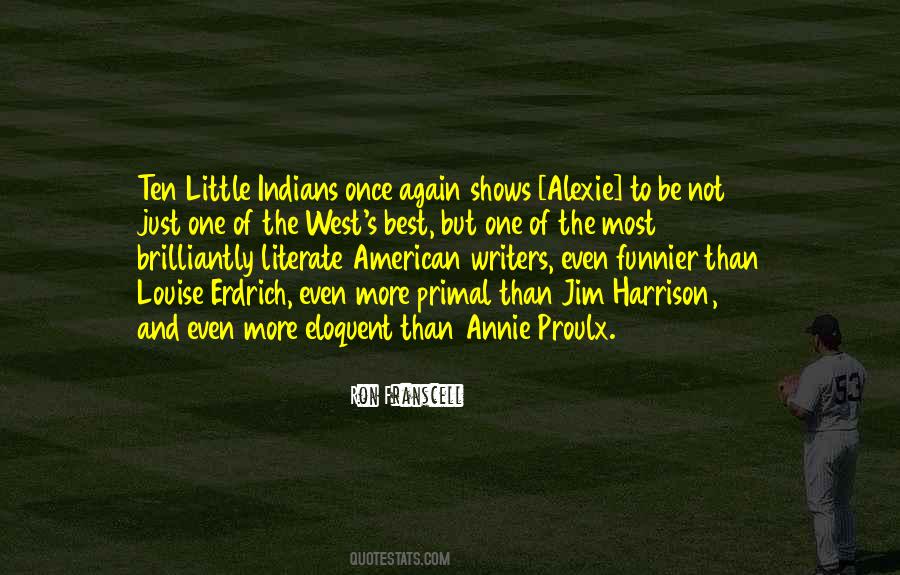 #11. Louie is hugely talented. But I get very annoyed at the way the media ... say, 'Louis C.K. is the greatest stand-up in the world.' He's not the greatest stand-up in the world. He's not funnier than Dave Attell. - Author: Andy Kindler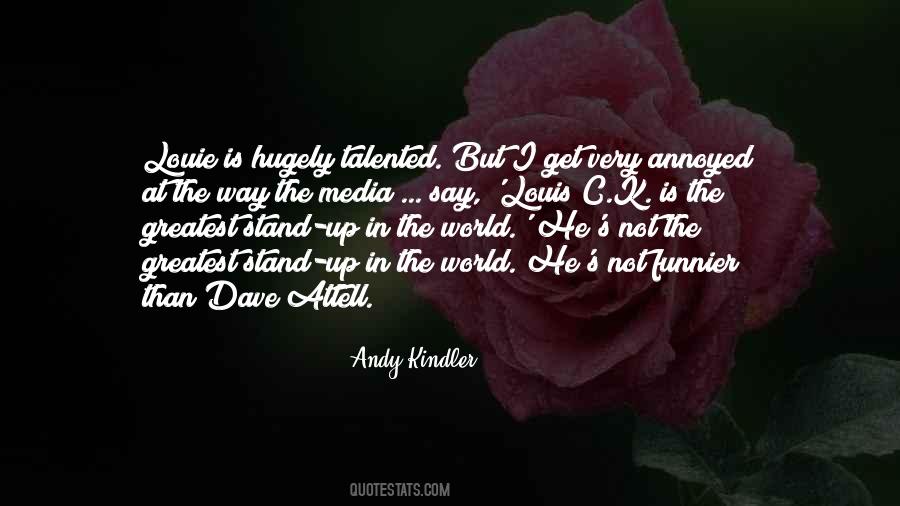 #12. If you can socialize from the privacy of your desk at night in a dark room, you can be a smoother, cooler, funnier, sexy, more everything person than you actually are in real life. - Author: Aaron Sorkin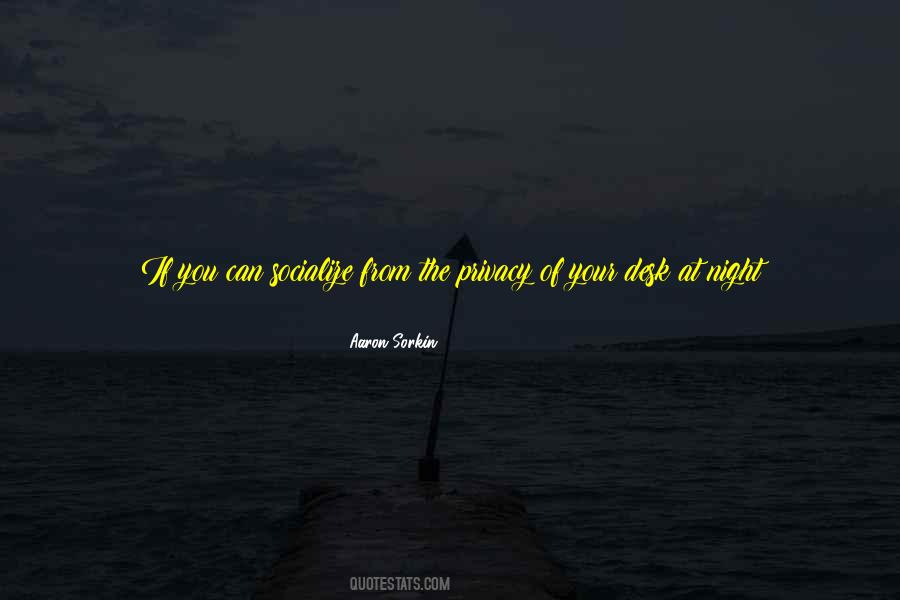 #13. Even funnier, the guy at the front desk thinks I am either a hooker or having an affair with a married man. He was more than discrete."
"I would have guessed affair," I joked. - Author: Andrea Heltsley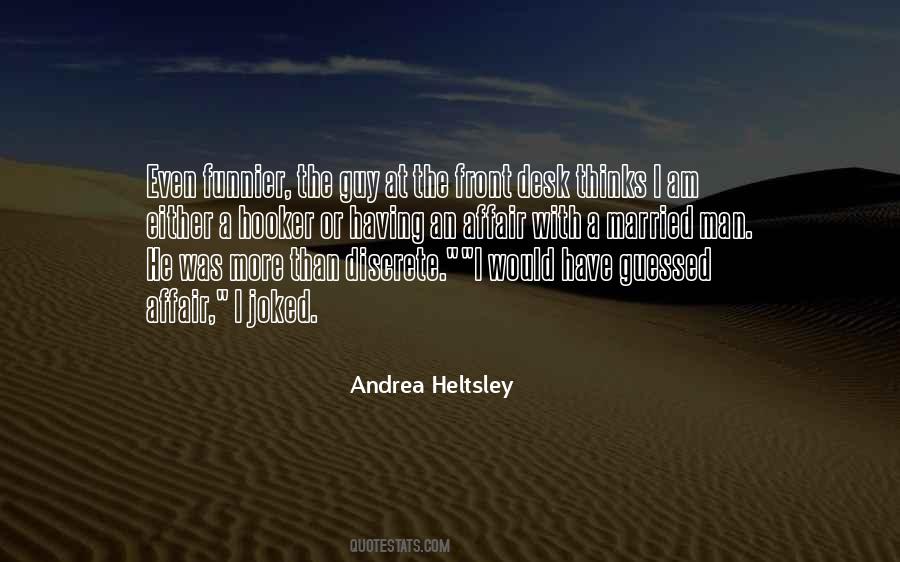 #14. My wife is way funnier than I am. As much as I don't really feel I share a sense of humour with my family, I definitely share one with her - we find the same things funny. - Author: Steve Carell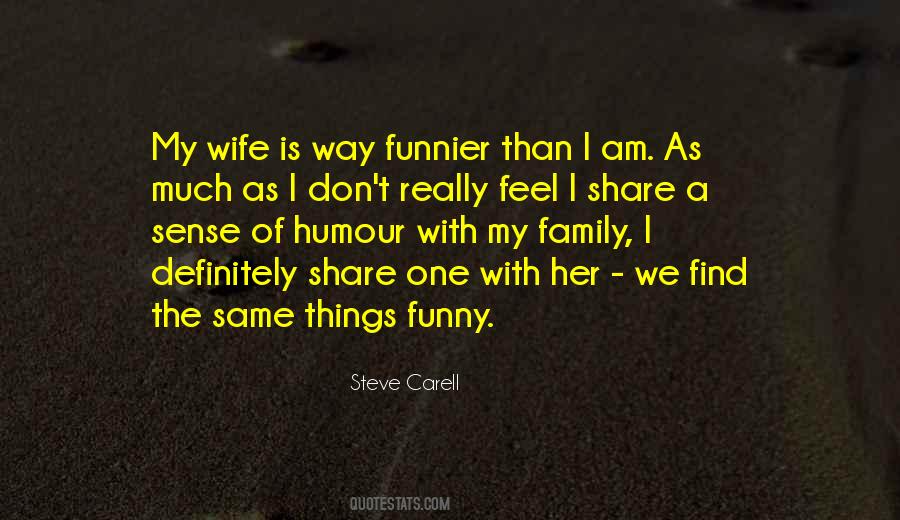 #15. I think he's much funnier in many ways than some of the things that I've done. Because it's a little bit more layered. He's constantly trying to teach Luke what he thinks are really deep philosophical ideas, but they're really simple. - Author: Sean William Scott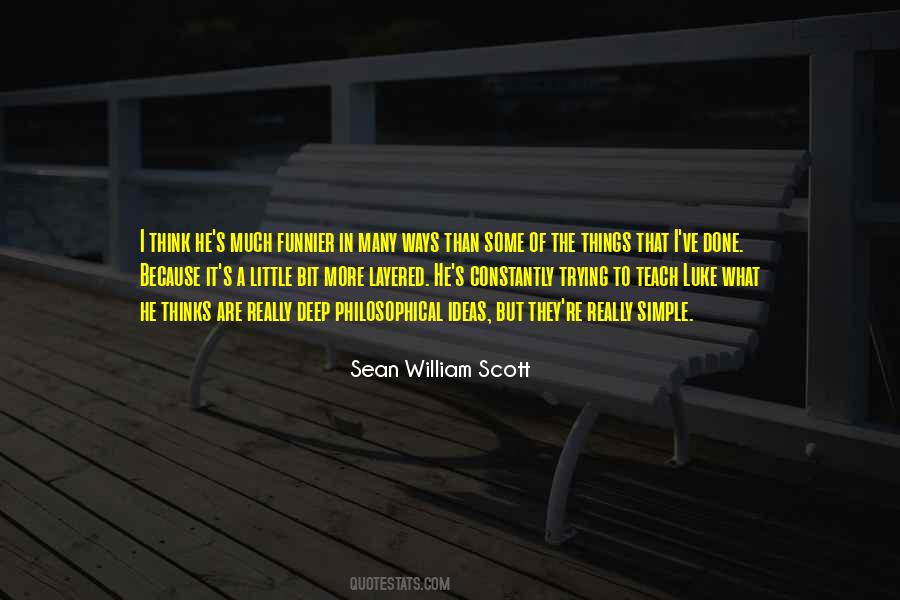 #16. There's really no substitute for working hard. I think that's my biggest talent. There are always people who are funnier and more talented than I am, but I don't take anything for granted and I commit myself 100% to each of my roles. - Author: Ken Jeong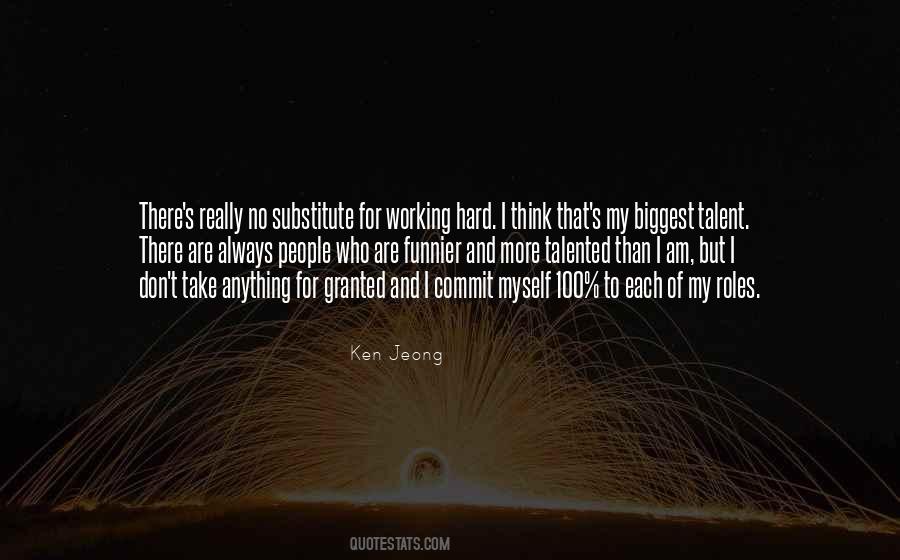 #17. The thing about working at Pixar is that everyone around you is smarter and funnier and cleverer than you and they all think the same about everyone else. It's a nice problem to have. - Author: Andrew Stanton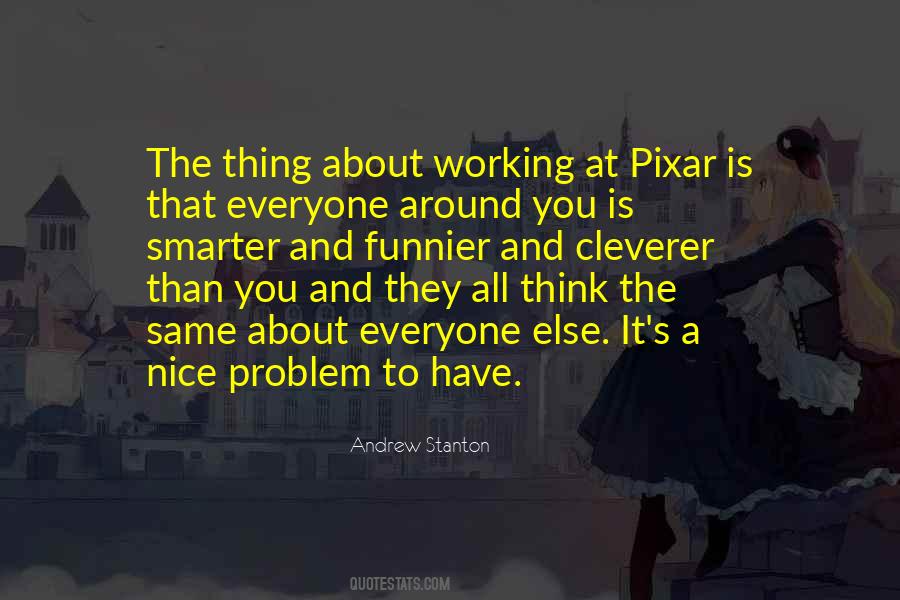 #18. This is not an easy time for humorists because the government is far funnier than we are. - Author: Art Buchwald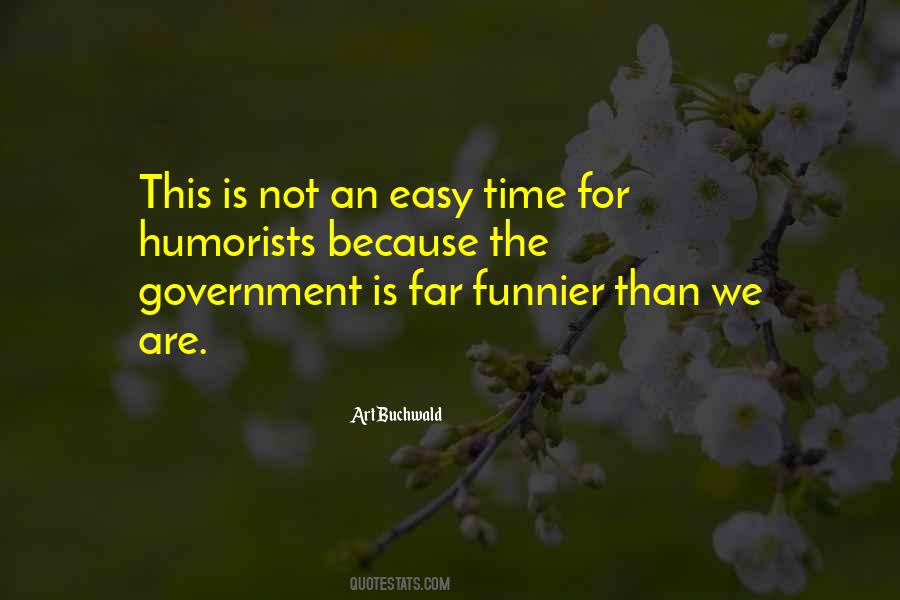 #19. I'm very similar to Chandler in many ways, although Chandler is funnier than me, and Chandler absolutely hates his job whereas I absolutely love my job. - Author: Matthew Perry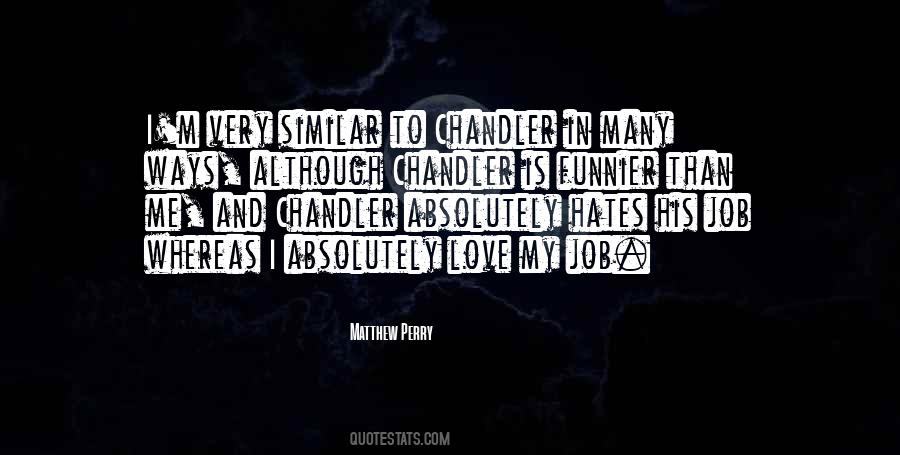 #20. Some comedians really are funnier than others. Some people really are more beautiful than others. But these are true only because of the kinds of creatures we happen to be; the perceptual apparatus - apparati - that we happen to have. - Author: Jonathan Haidt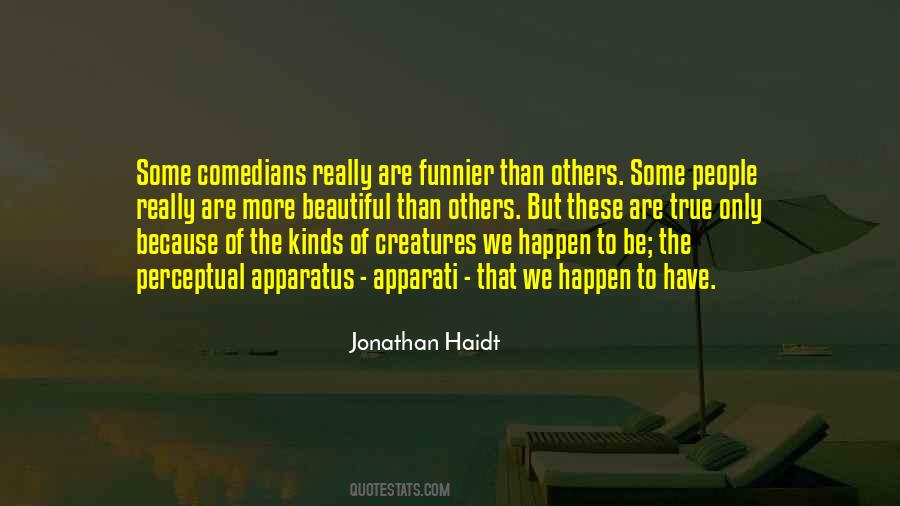 #21. Even though I love my mother, I didn't want to make an idealized portrait of her. I'm fascinated more by her defects - they are funnier than her other qualities. - Author: Pedro Almodovar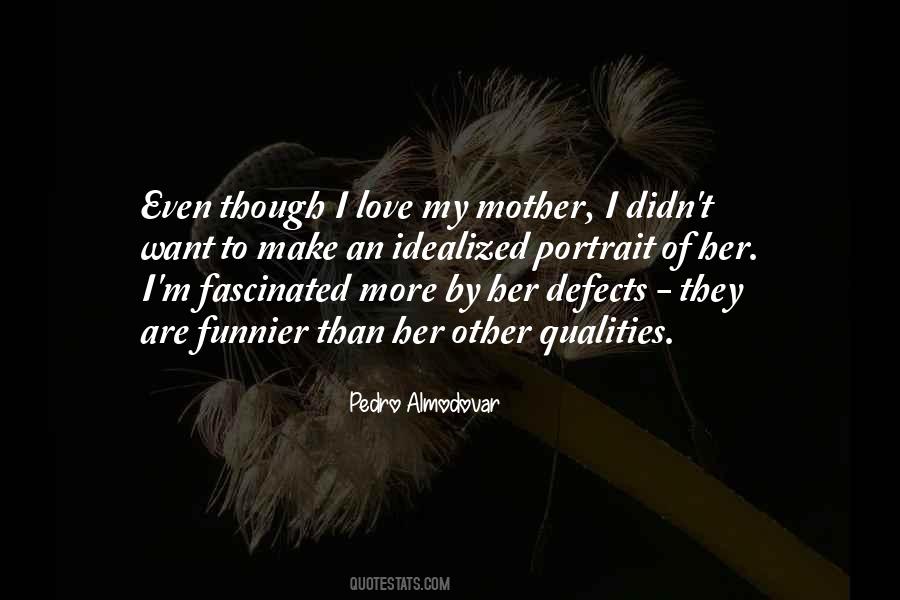 #22. The most fun I ever had on a movie was working with Albert Brooks. He's the caviar of comedy. I mean, nobody's funnier; nobody is smarter than Albert Brooks. - Author: Sharon Stone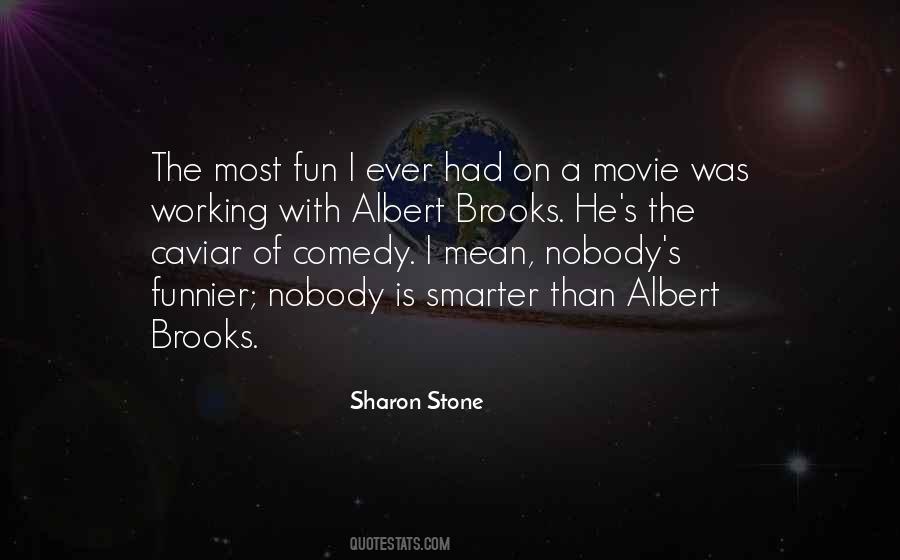 #23. Happiness isn't a fortune in a cookie. It's deeper, wider, funnier, and more transporting than that. - Author: Elvis Costello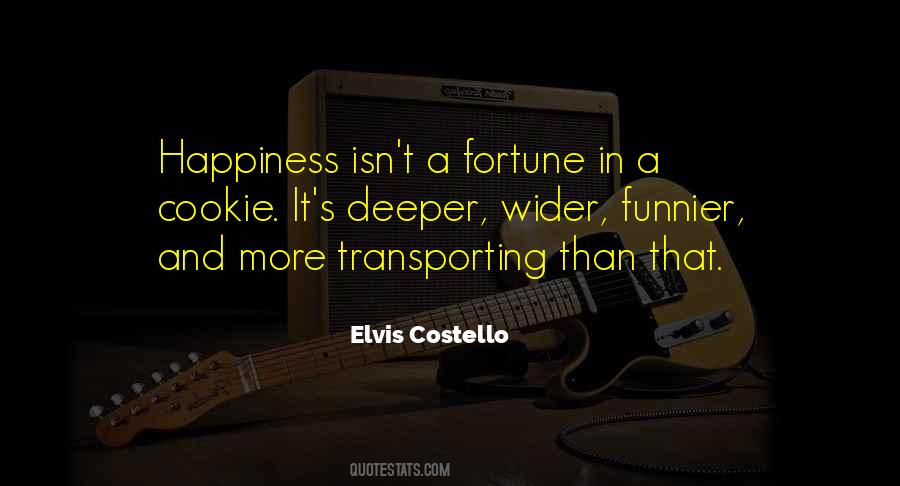 #24. Sometimes the name is funnier than the game itself ... - Author: Andy Cohen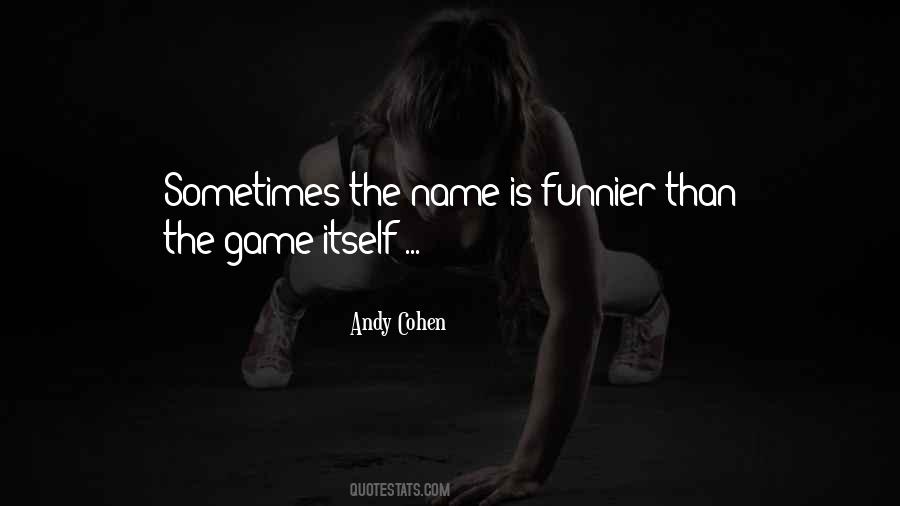 #25. I'm thankful my parents obliged me to live with the unvarnished truth: I might not have been a looker, but I was a better speller than the prettiest girl in my class, and I was funnier, too. - Author: Laurie Graham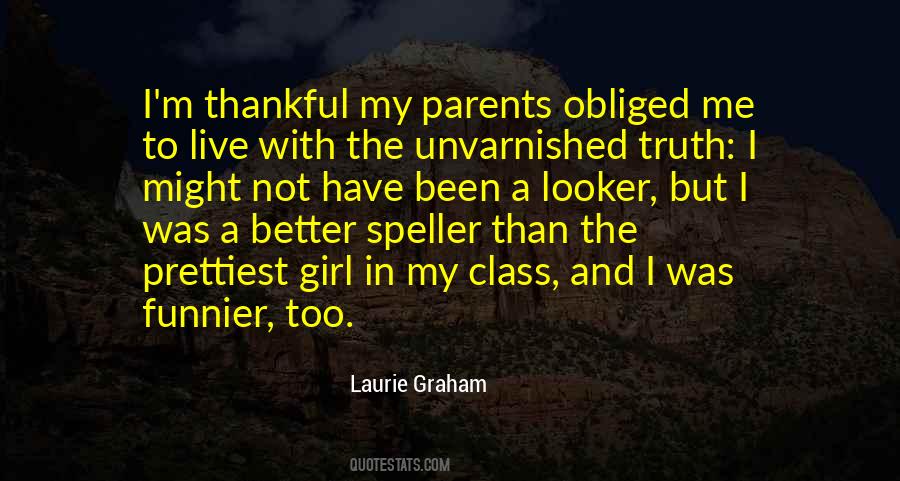 #26. Appear tougher or cooler or funnier than you feel and there is a chance you'll make it. - Author: Craig Ferguson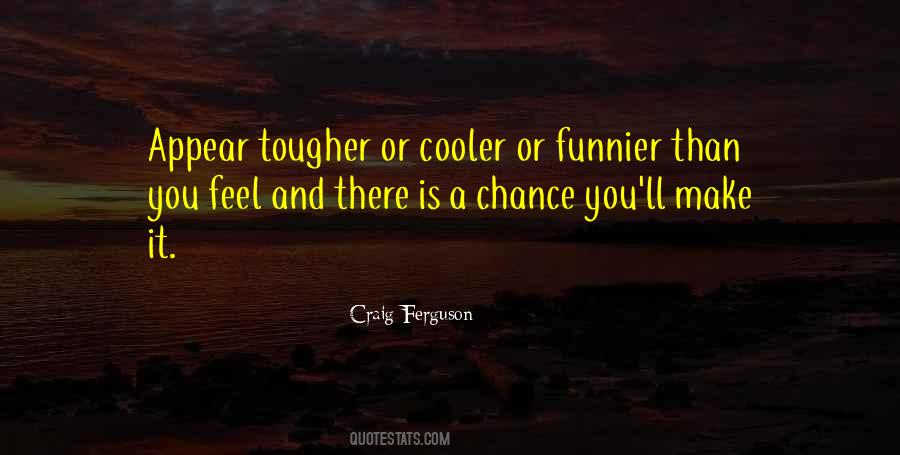 #27. So many stars who have shows are intimidated by having people around them be funnier than them. It's always the unsuccessful ones. Look at Seinfeld - he's great because he let everyone be hilarious. - Author: Paul Feig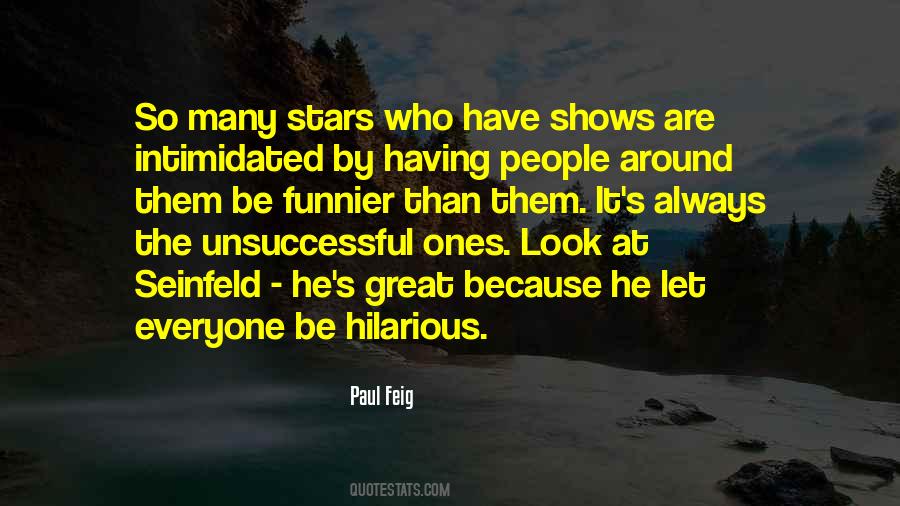 #28. Swampy [ Marsh] and I live as far away from each other as we possibly can and still work together. But we just always felt like we were funnier when we were in the room together than we are when we're separate. - Author: Dan Povenmire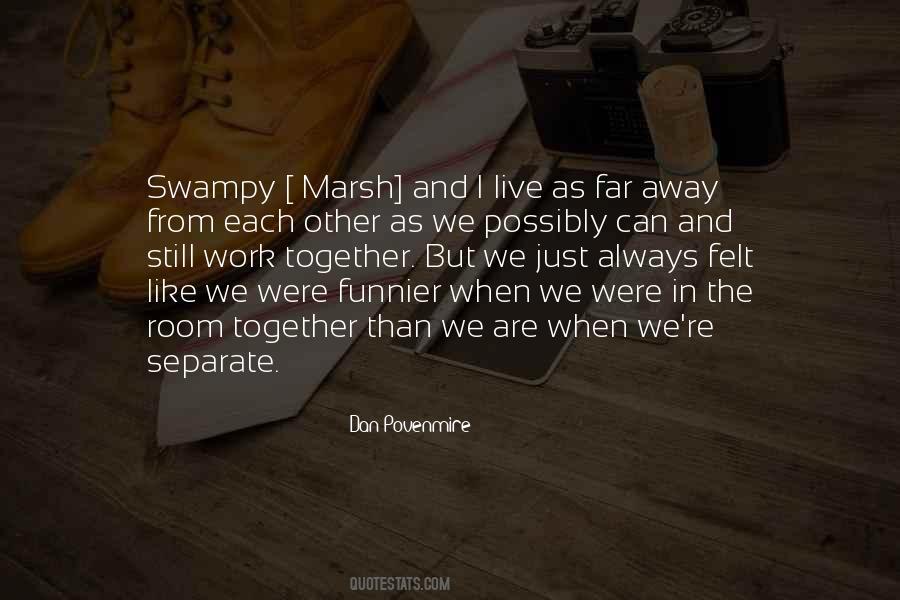 #29. There's a sort of magic and music to comedy. Some words, some numbers even, are funnier than others. A Caramac bar, for instance, is funnier than a Milky Way. - Author: David Walliams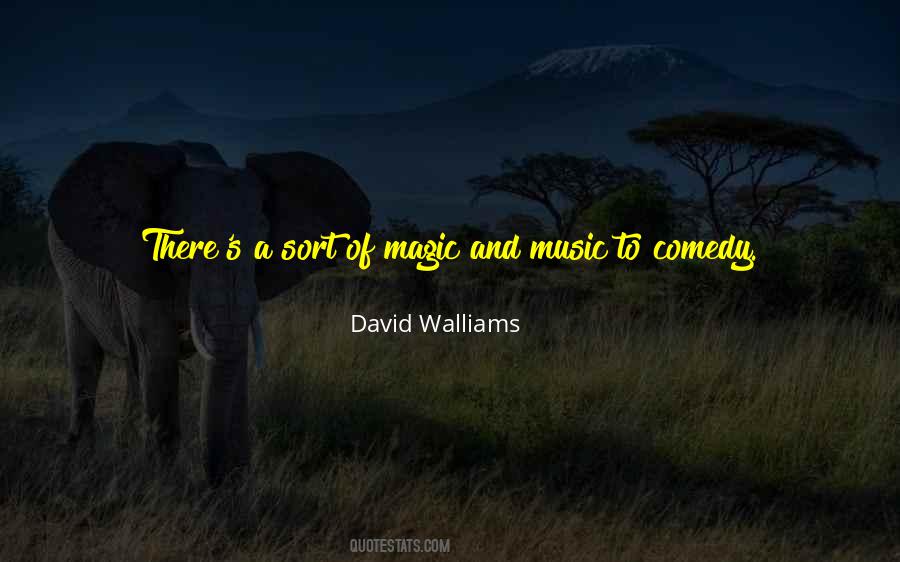 #30. Why are men impersonating women funny while women impersonating men are not? It is a matter of gravity. A heavy thing trying to become lighter is automatically funnier than a light thing trying to become heavy. - Author: Arlene Croce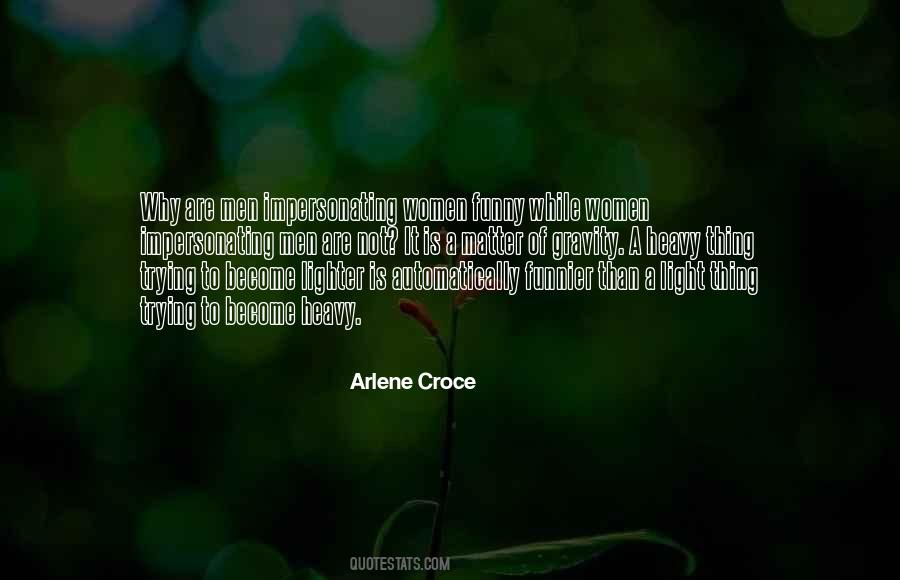 #31. Nothing is funnier than confidently doing the wrong thing. - Author: Adam McKay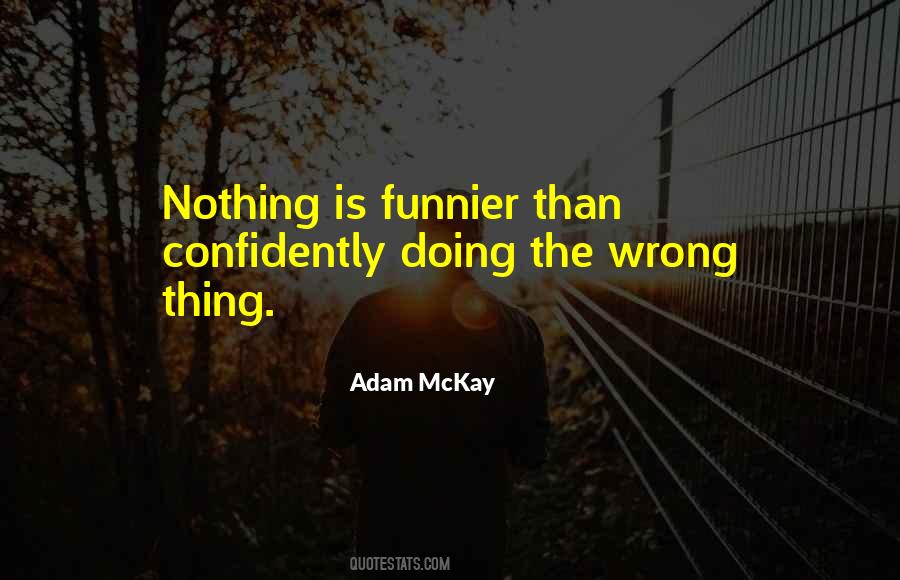 #32. It's almost impossible to be funnier than the people in Washington. - Author: Carol Burnett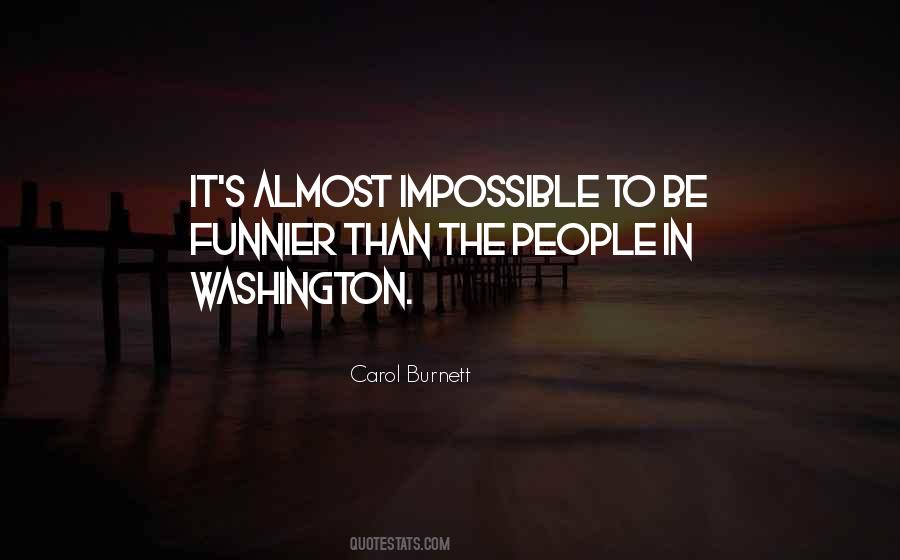 #33. I never saw anything funnier than Texas politics. - Author: Molly Ivins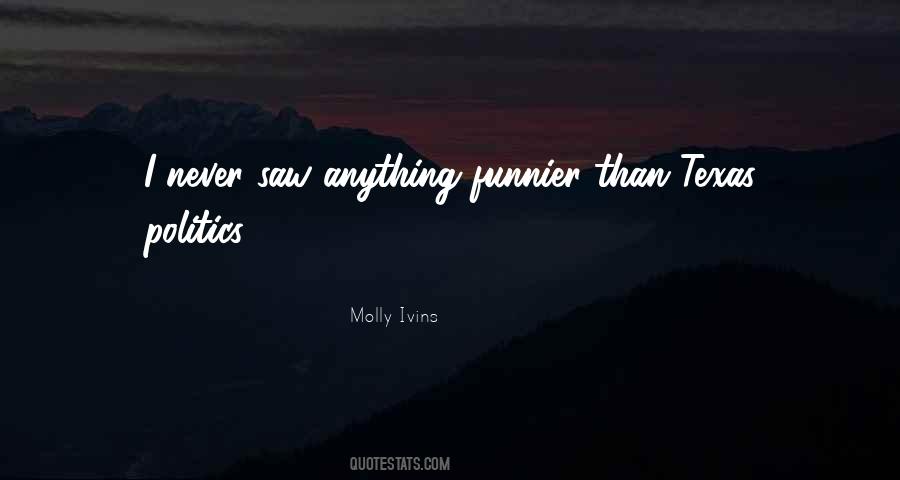 #34. I think I'm a lot funnier and goofier than people were able to see on 'Dancing With the Stars.' - Author: J. R. Martinez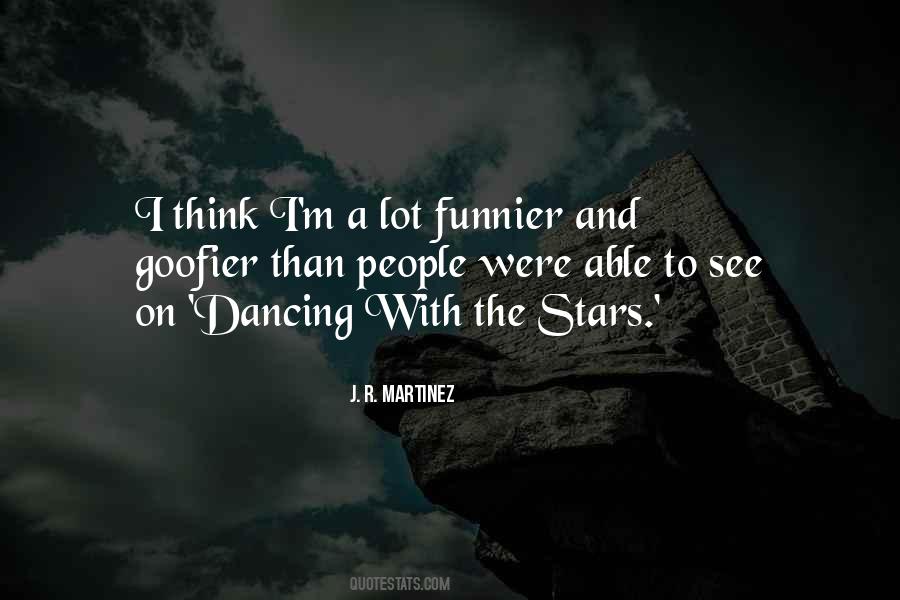 #35. Great beauties and stunningly handsome men were accorded virtues: people found them funnier, smarter, more insightful than they actually were. - Author: Brent Weeks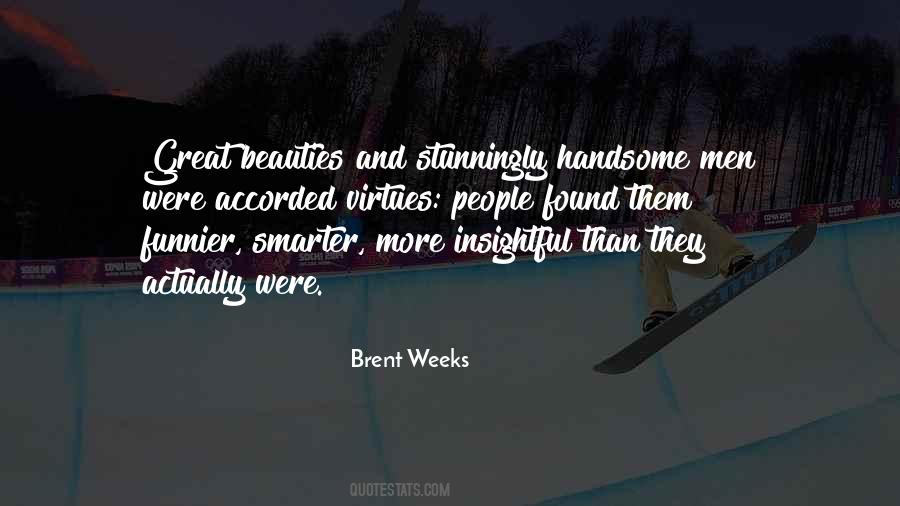 #36. I think my books are lighter and funnier than some of the big series out there. You may not walk away from my books having learned a life-altering lesson, but you will feel better for having laughed for a few hours. It's just a different style of writing. - Author: Molly Harper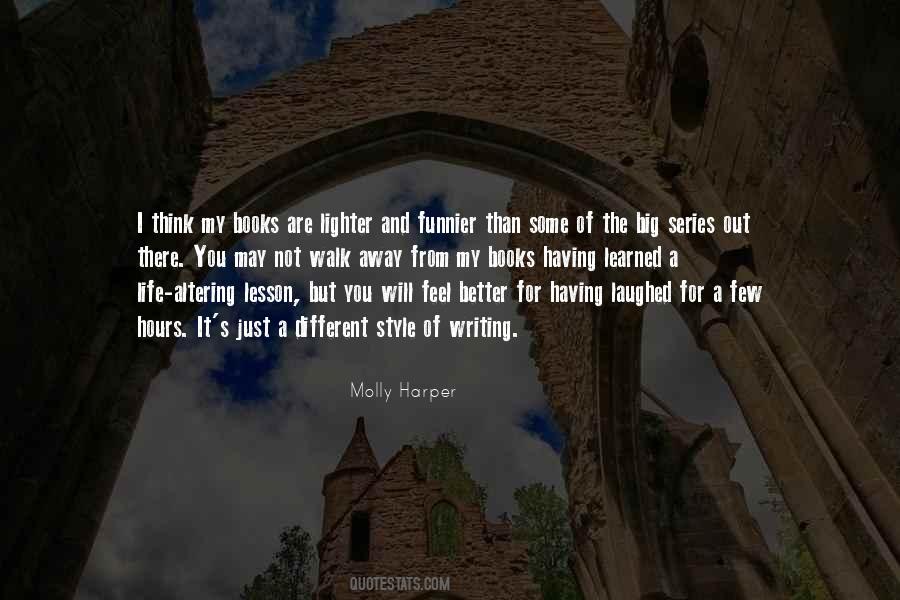 #37. My real life is funnier than anything on TV. - Author: Roseanne Barr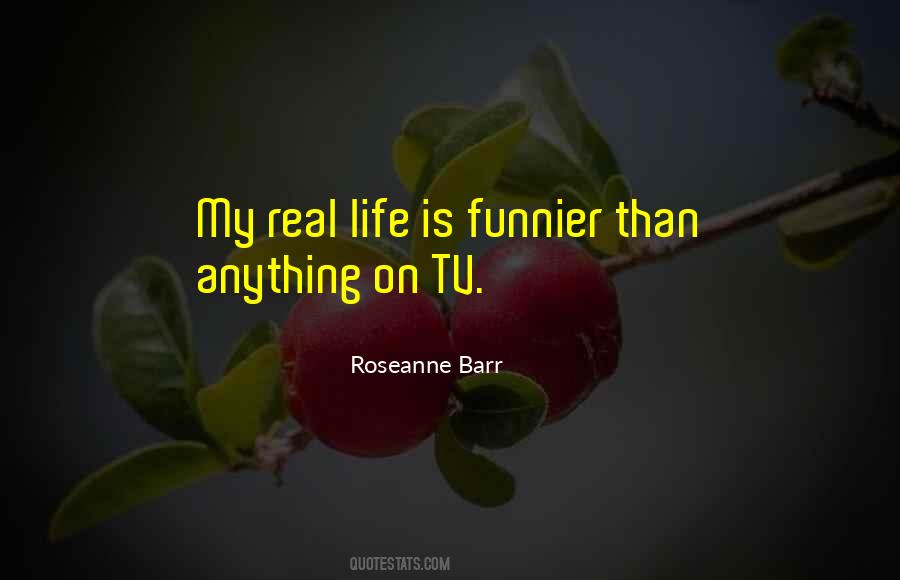 #38. Truth is funnier than most things you can make up. - Author: Margo Kaufman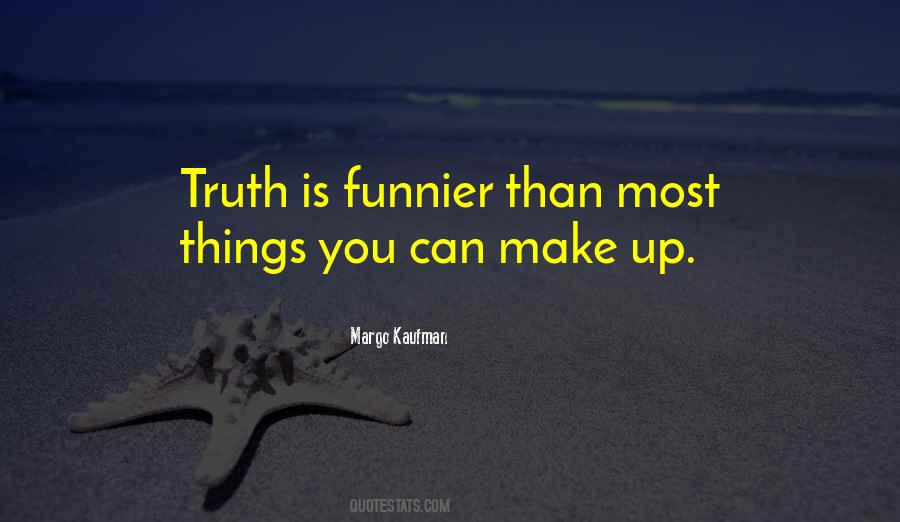 #39. I'm screamingly funny, you know, I really am in the books. And that helps because I'm funnier than a lot of people, I think, and that's appreciated by young people. - Author: Kurt Vonnegut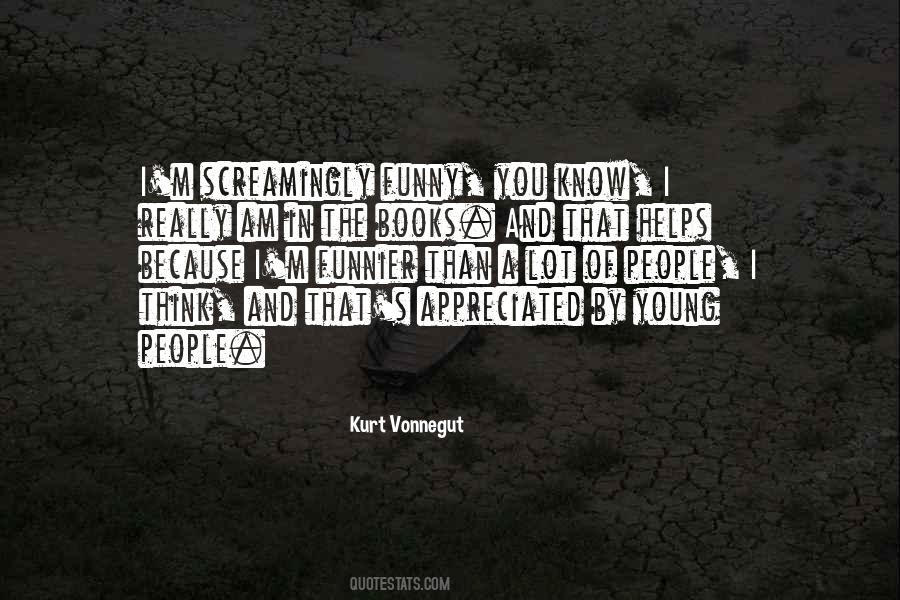 #40. How could I possibly NOT be disappointed by what I would find? Nothing had ever met my expectation, since nothing could compete with my doctoring imagination, my pathetic compulsion to make the world quanter, funnier, kinder, and more mysterious than it actually was. - Author: Armistead Maupin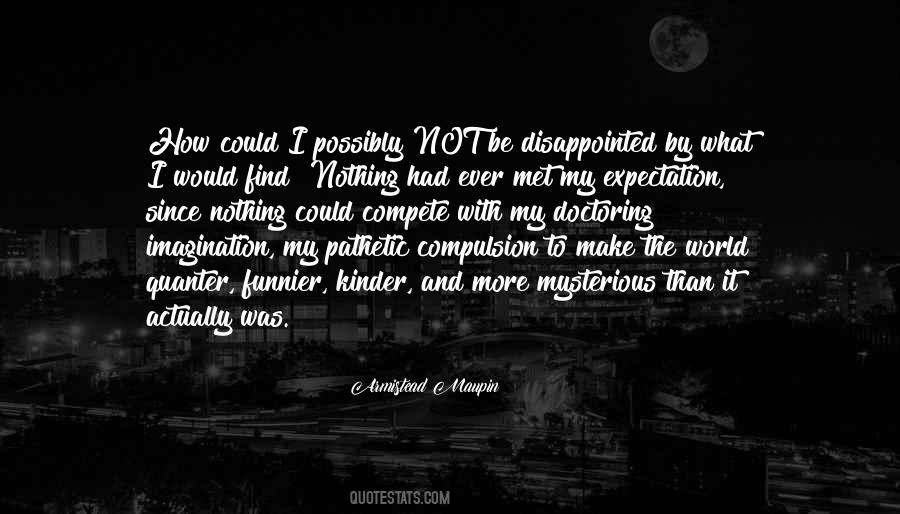 #41. I'm actually way more funny now, because I'm hungry ... If comedy comes from pain, I should be funnier now than I ever was. - Author: Seth Rogen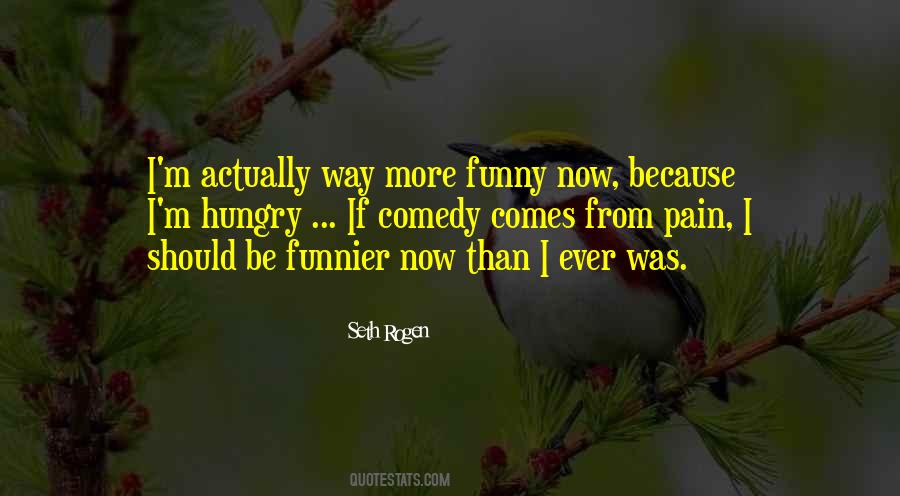 #42. To me, there's nothing funnier than funny people in peril, because it's just a great springboard for people to be at a heightened emotionality and things get funnier. - Author: Paul Feig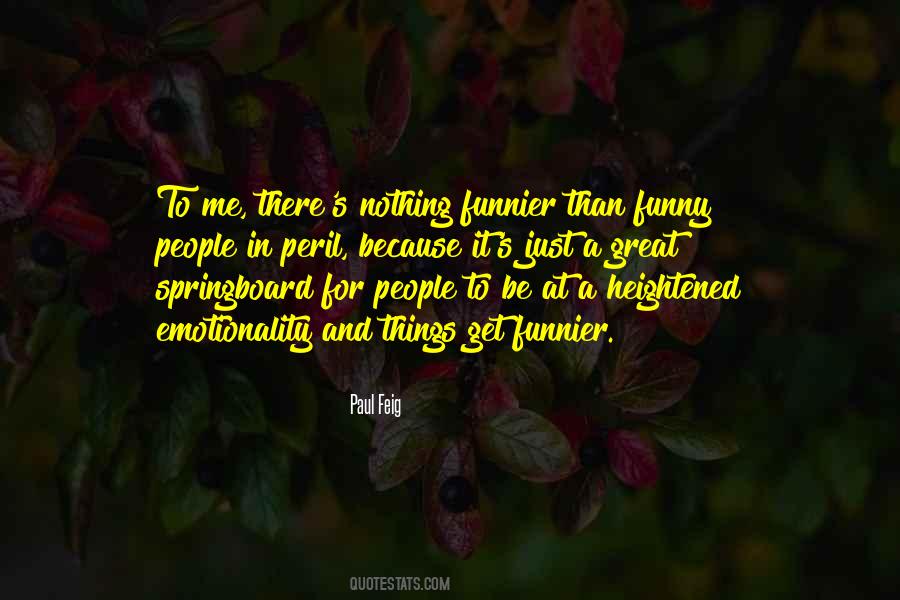 #43. There's much we can all do for men, including helping them feel wanted without their having to do anything life threatening. Perhaps women always knew this instinctively, which is why we tend to flatter our men and laugh at all their jokes, letting them think they're funnier than women. - Author: Faye Flam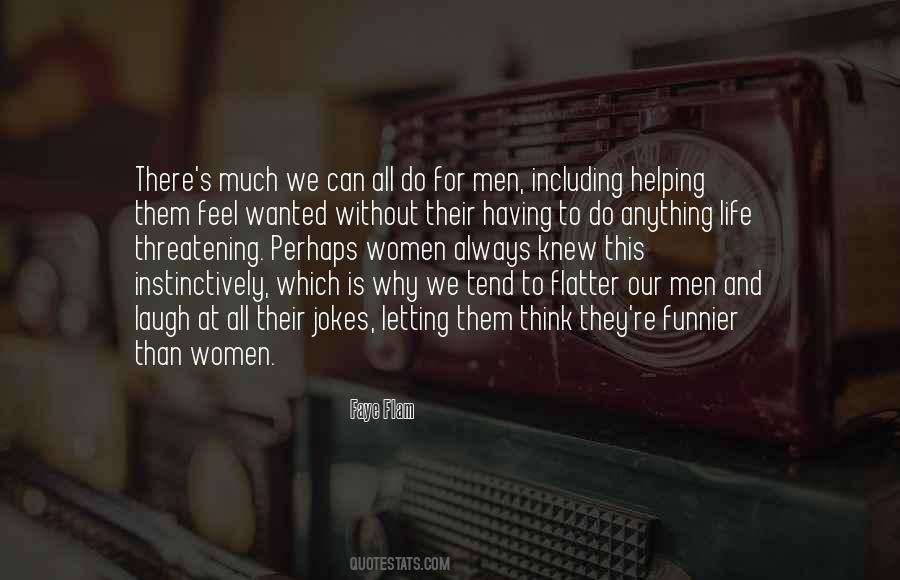 #44. I always think everyone else is funnier than me. I look at other comedians and I say, 'I wish I was that good.' People think I'm funny, and I say, 'I'm not.' - Author: Carrot Top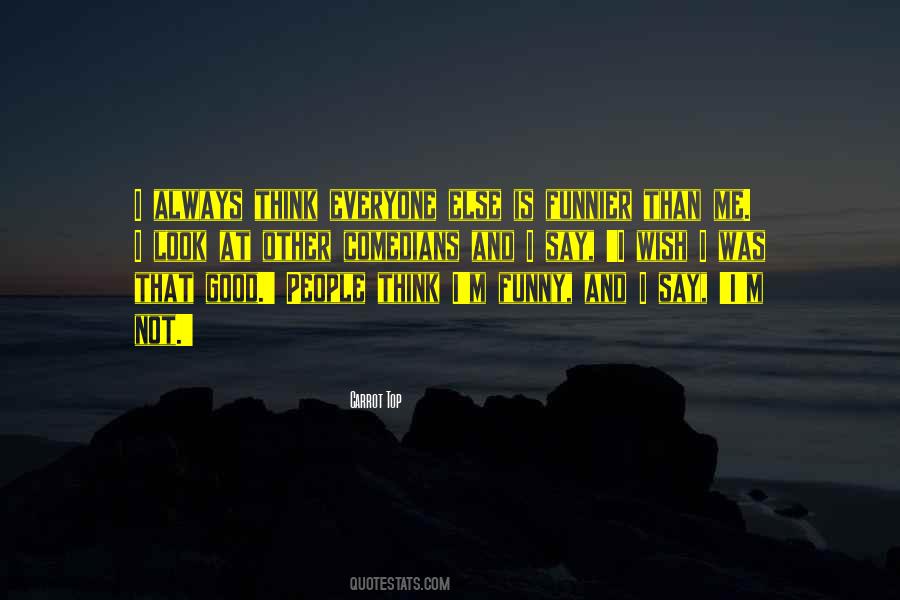 #45. There's just nothing funnier than, like, a guy awkwardly explaining to another guy that he's hurt his feelings, and then later, awkwardly, you know, forgiving him for doing that. - Author: Seth Rogen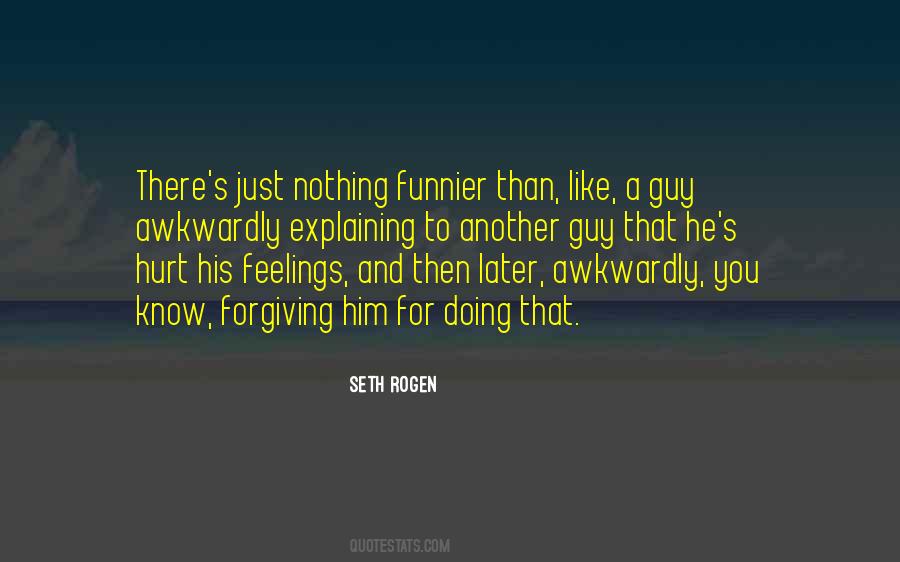 #46. I personally think Miles Davis is a lot funnier than me. And he's working more. - Author: Gilbert Gottfried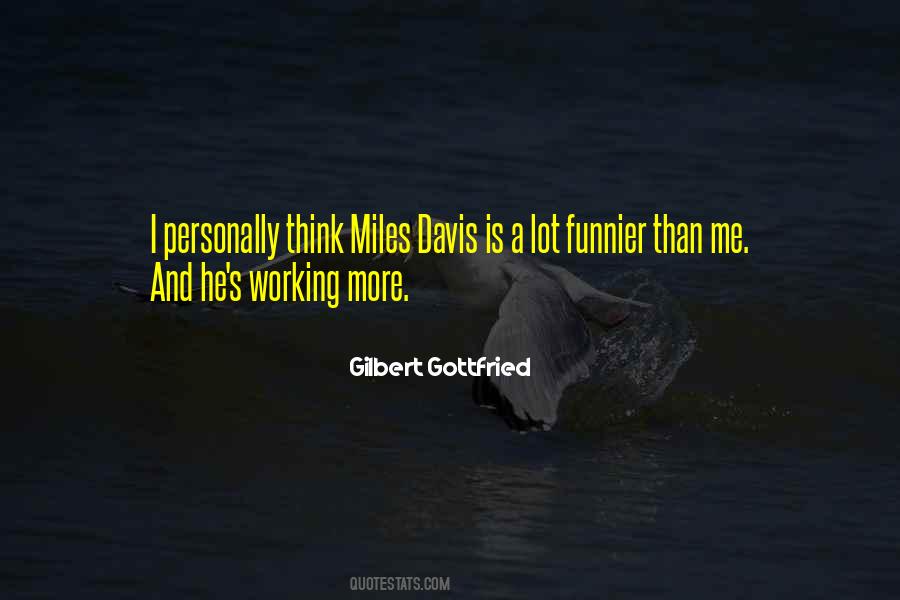 #47. There's nothing funnier than getting a death threat via MySpace. Why don't you just write it in a children's birthday card. - Author: Doug Stanhope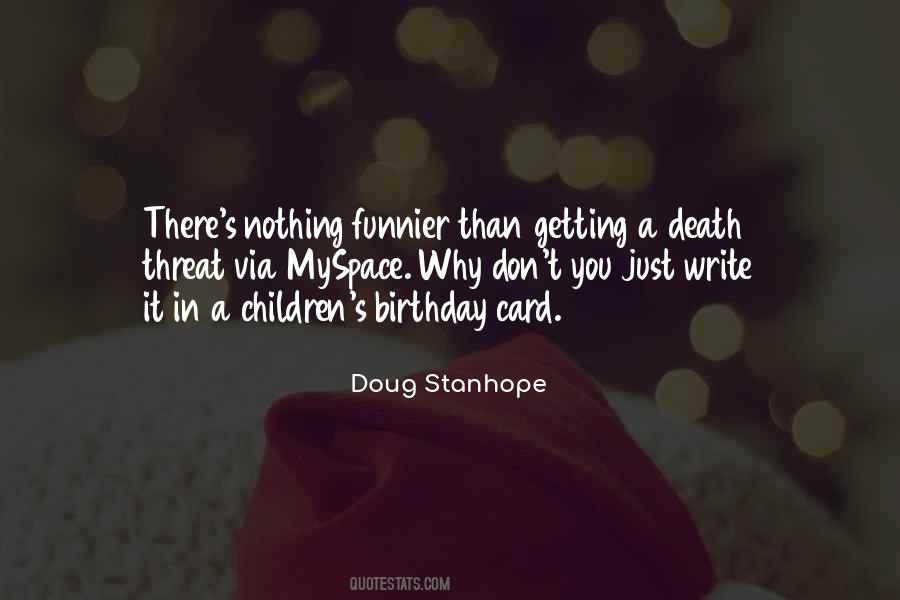 #48. I'm working on Leno. He's from my home state, Massachusetts. And my home country, Italy. I said, 'Hey, Jay, why don't you have me on your show? Afraid I'll be funnier than you?' - Author: Joe Arpaio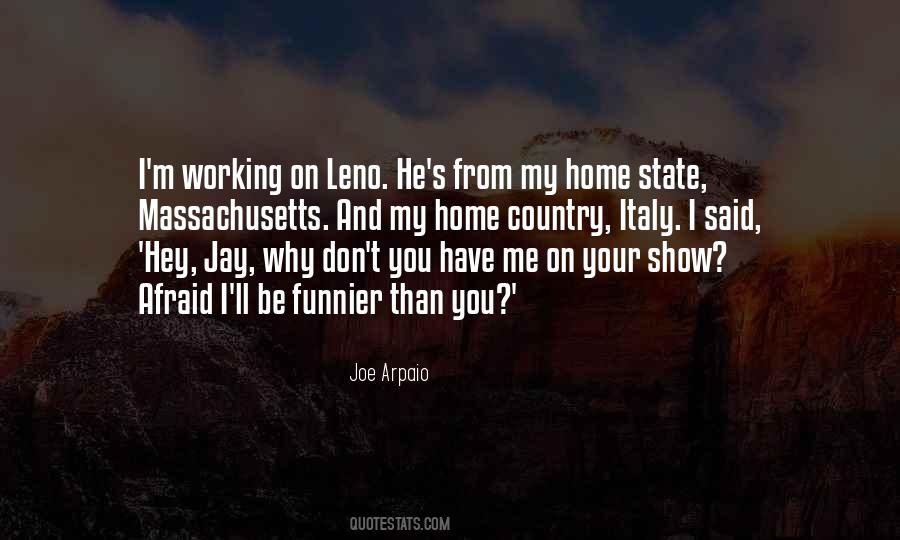 #49. I think I came back from America a funnier and nicer person than I went. - Author: Patrick Stewart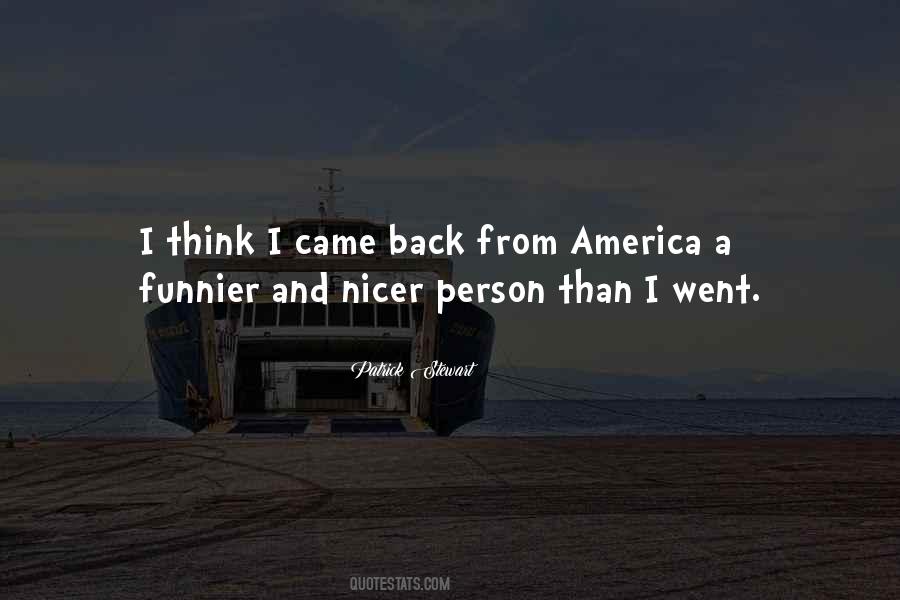 #50. I don't think Will does get upstaged because his reaction is always funnier than what is actually happening. That is also the reason Tommy is funnier than Will. - Author: Barry Sonnenfeld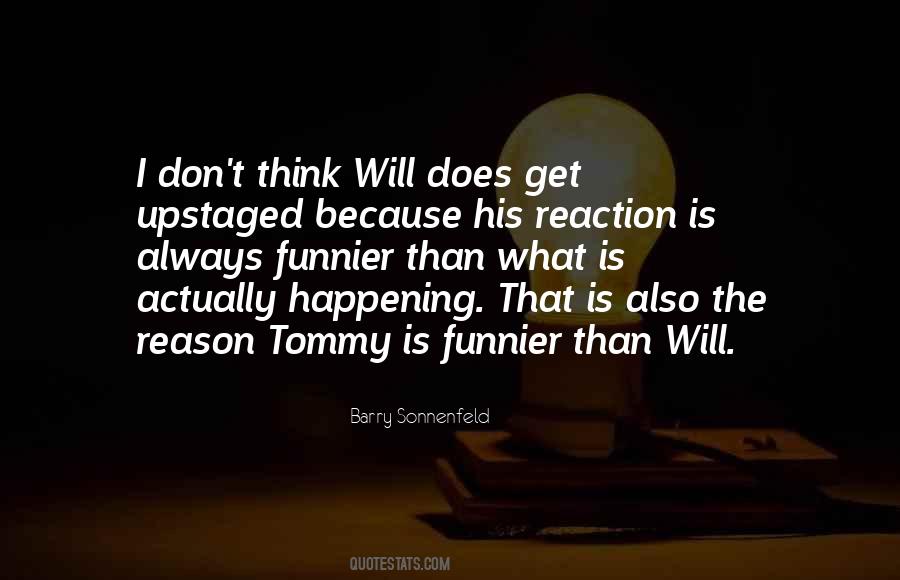 #51. You can find heroism everyday, like guys working terrible jobs because they've got to support their families. Or as far as humor, the things I see on the job, on the street, are far funnier than anything you'll ever see on TV. - Author: Harvey Pekar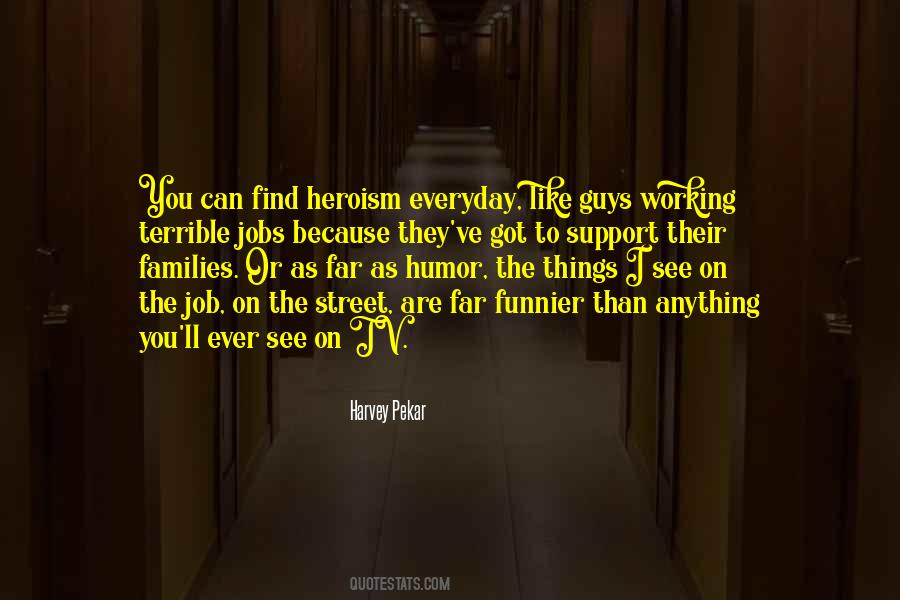 #52. The Founders were right all along, but the results are a lot funnier than they intended. - Author: Molly Ivins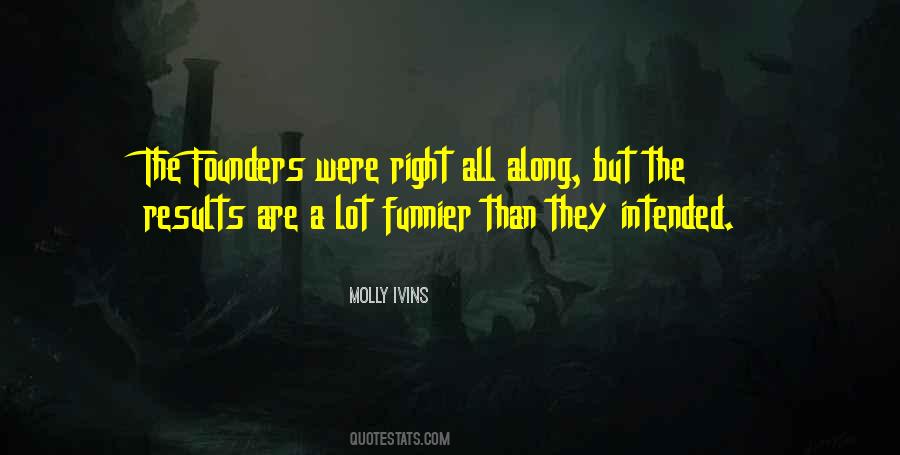 #53. If I'll be funnier than this, I'll become a joke. - Author: Chandan Sharma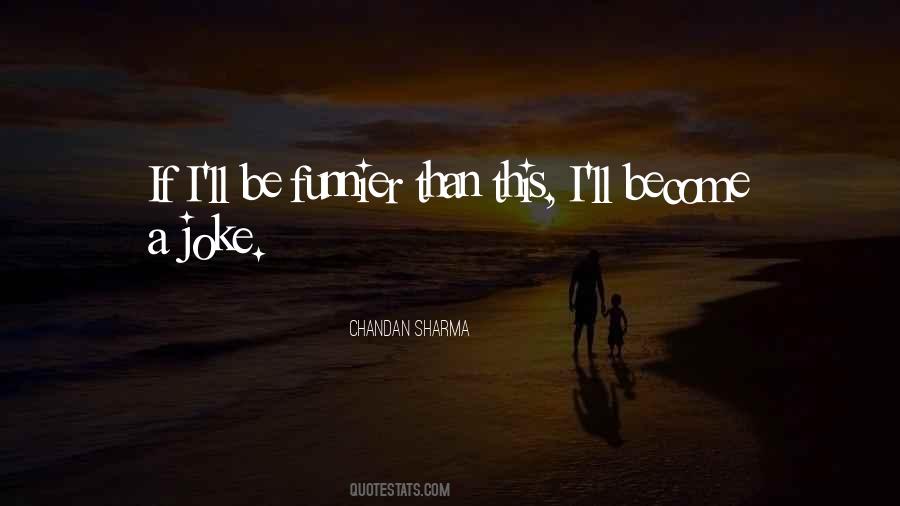 #54. Azhar Usman is very funny, deeply spiritual, and extremely hairy. He's like Zach Galifianakis meets Deepak Chopra-and funnier than you'd expect that combination to be. - Author: Russell Peters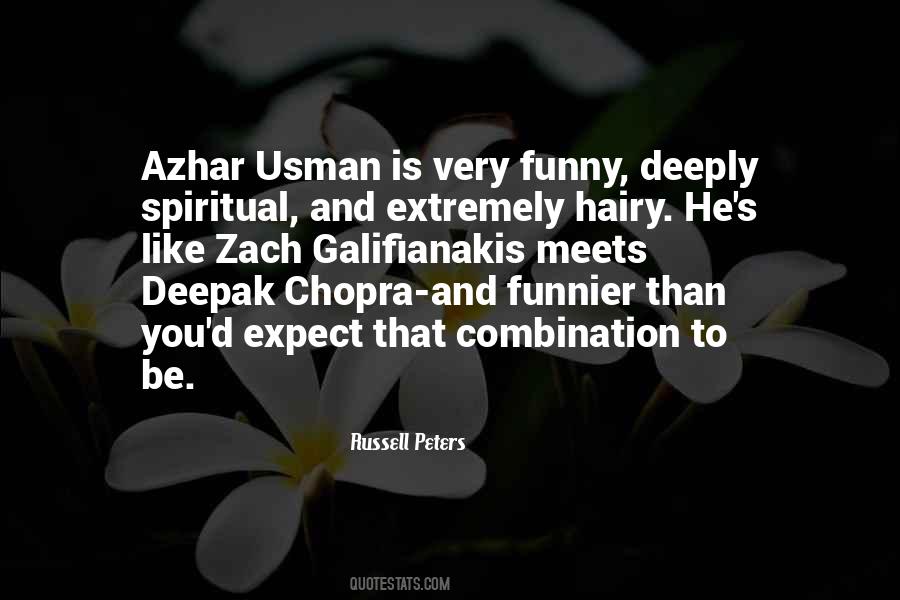 #55. It's definitely not true what they say about women wanting a guy with a sense of humour. What women mean is that they want a guy with a sense of humour who is really handsome. If a girl had a choice between Brad Pitt or me, she'd pick Brad Pitt. And I'm a lot funnier than he is. - Author: Seth Rogen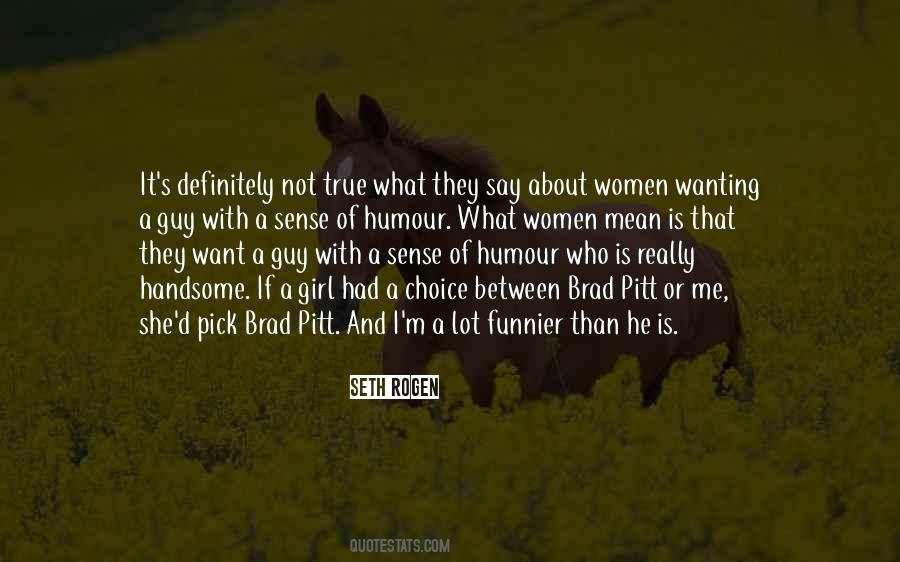 #56. I'm funnier now because I'm braver and less full of hate, so everything is even more ridiculous than it was before. - Author: Roseanne Barr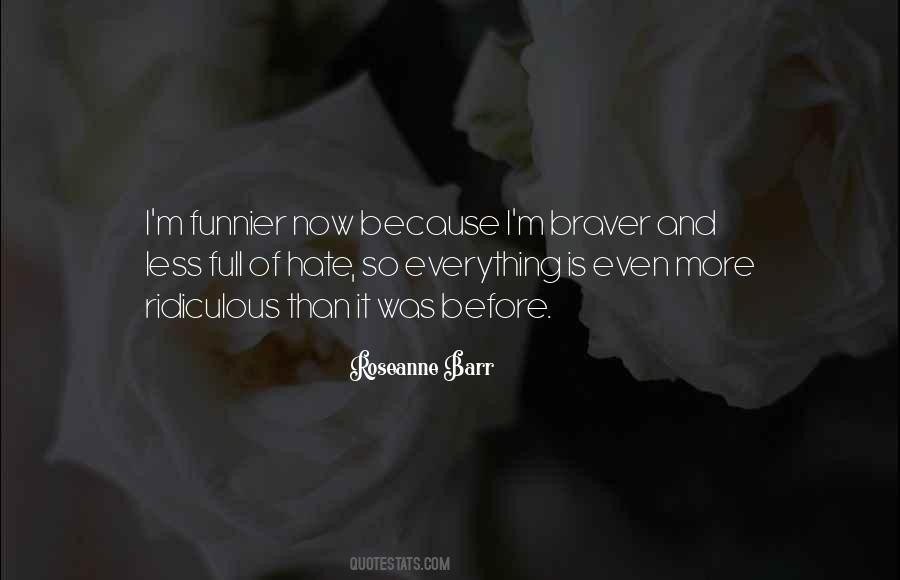 #57. Greg Gutfeld is funnier than all the smart people I know, and smarter than all the funny people I know. I don't know what that makes him. But one of the smartest, funniest people I know, is fair to say. - Author: Matt Labash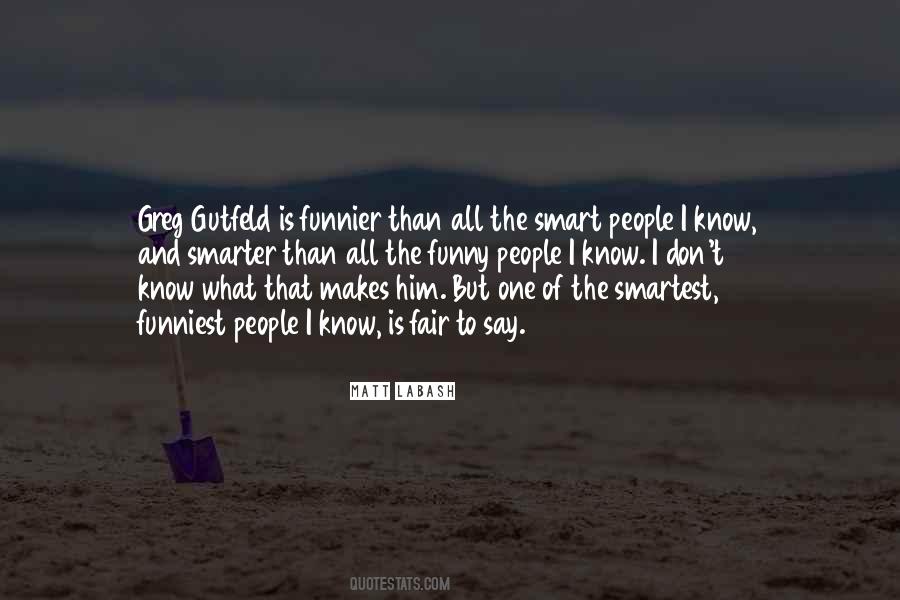 #58. When audiences come to see us authors lecture, it is largely in the hope that we'll be funnier to look at than to read. - Author: Sinclair Lewis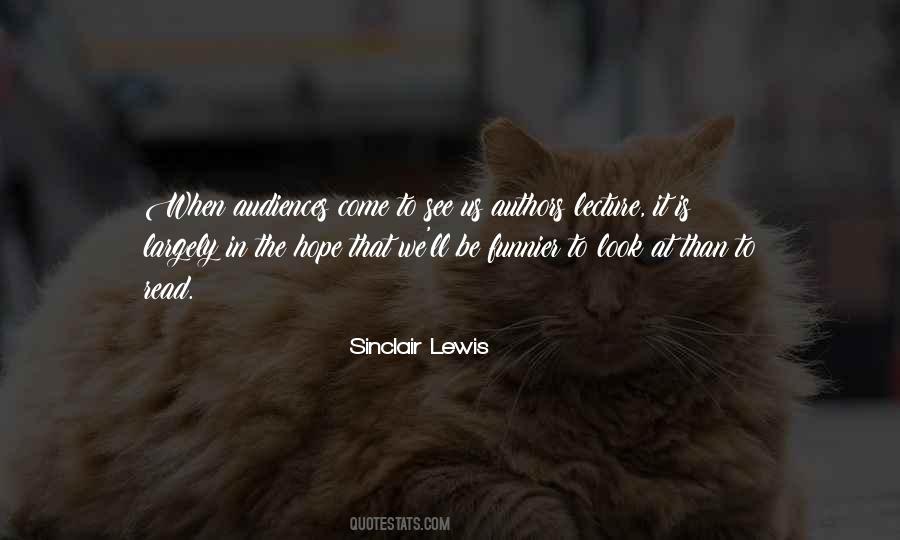 #59. He got Alice, the way we did, or maybe even more so than us. He made her more confident, funnier, smarter. He brought out all the things that were there already and let her be fully herself, so she seemed to shine with this inner light. - Author: Liane Moriarty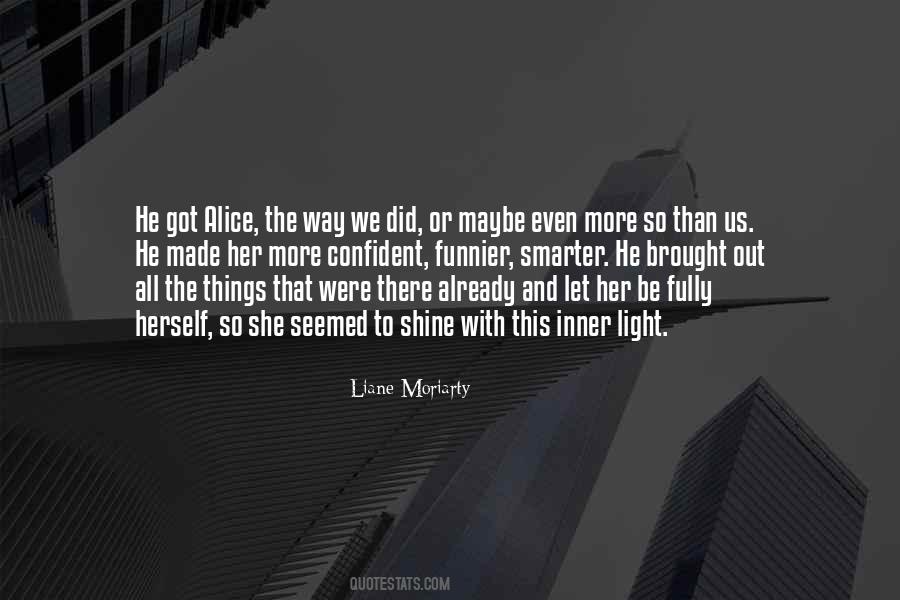 #60. If a song is funny and absurd, and it sounds great, it's just going to be that much funnier. And there's no better example of that than 'Monty Python.' - Author: Seth MacFarlane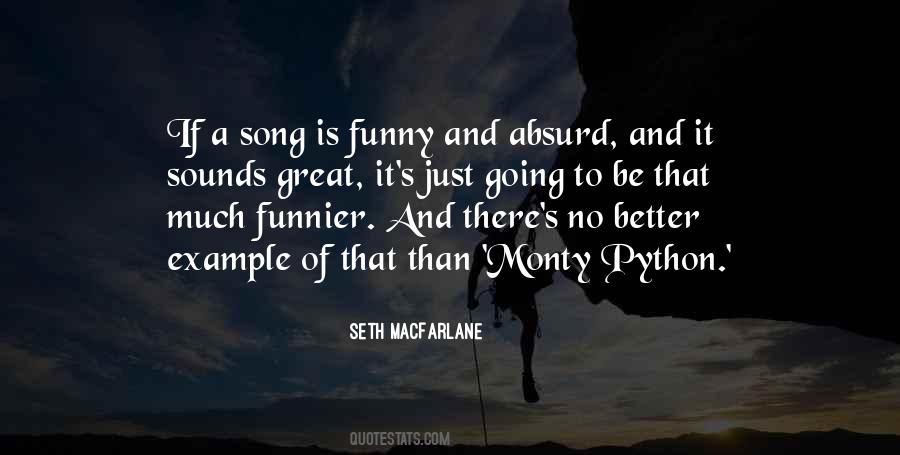 #61. One of my daughters told me the other day, "Kevin Hart is funnier than you, Daddy." I told her, "Does Kevin Hart make you pancakes?" - Author: Chris Rock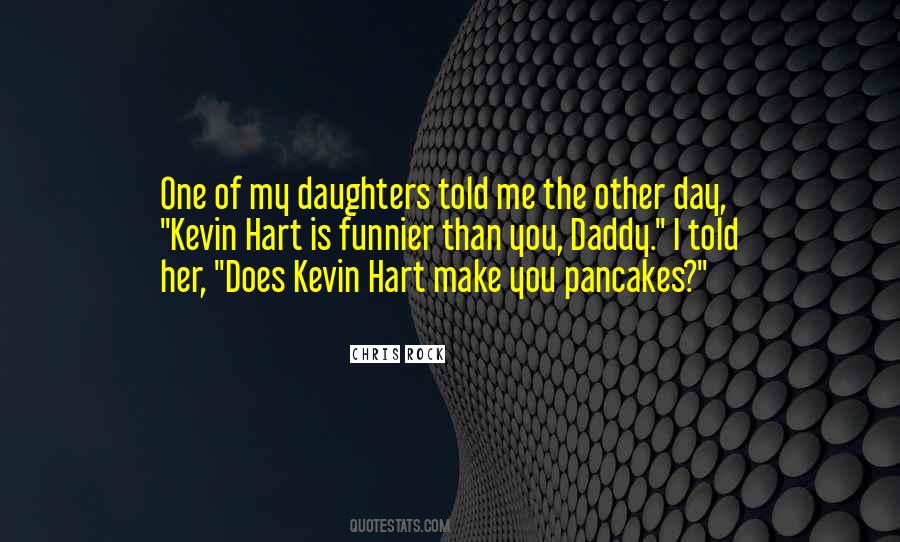 #62. I think I realized that Dave Barry was funnier than I'll ever be, and he made no attempt to make any actual points. He had a general libertarian point of view, but in general, he just liked to make jokes. - Author: Joel Stein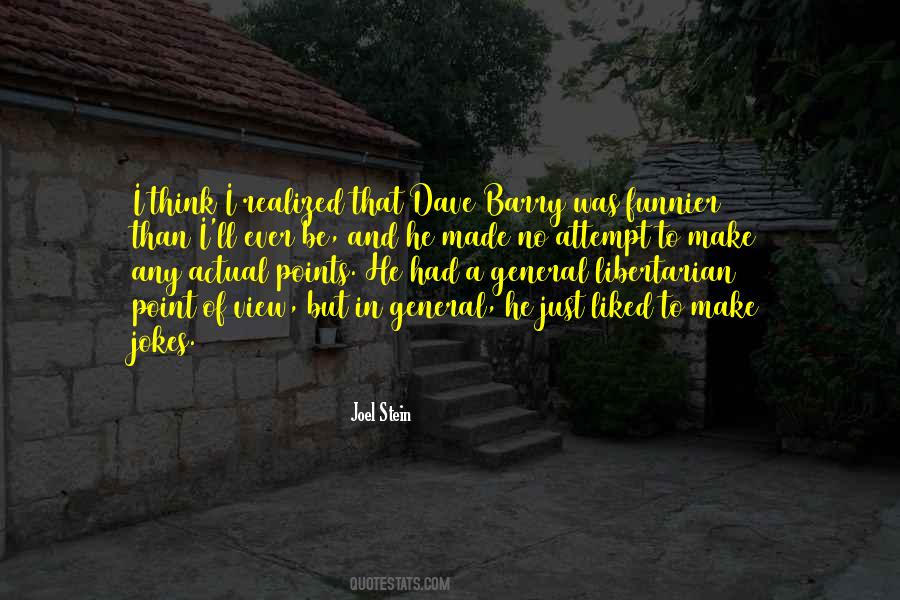 #63. But I think Kiss Kiss, Bang Bang really got that thing where, if a movie reads really funny and then has some dramatic or violent or sinister stuff in it, you can't forget that primarily it has to be even funnier than you read it or that other stuff doesn't work. - Author: Robert Downey Jr.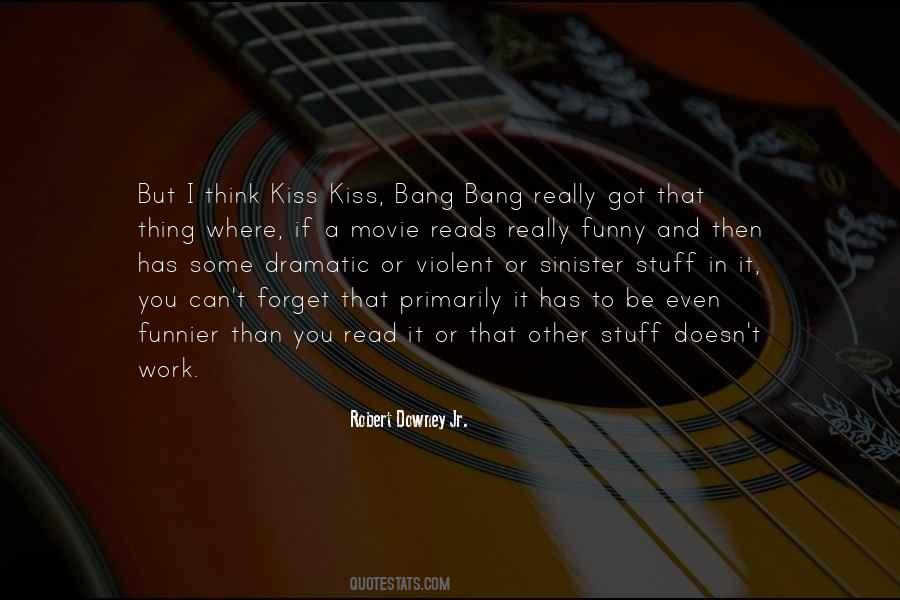 #64. Don't hate me because I'm funnier than you. - Author: Me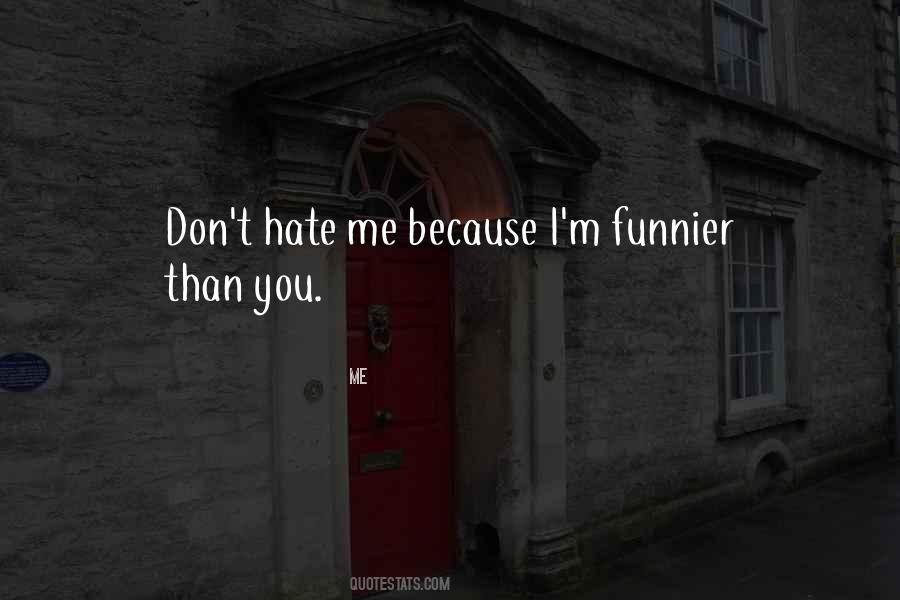 #65. I think of myself as a funny guy but nobody thinks I'm funnier than my daughters. - Author: Jerry O'Connell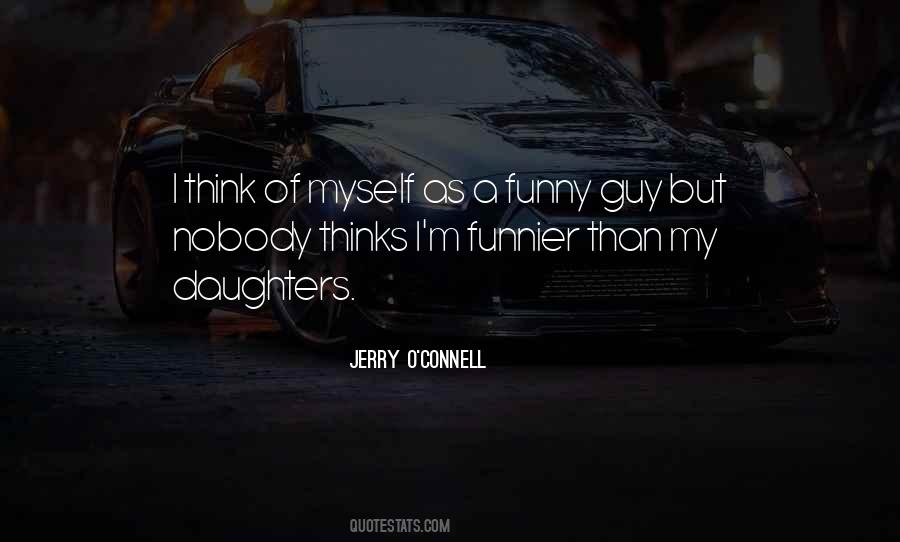 #66. What could be funnier than a fat person trying to run a marathon? - Author: Jo Brand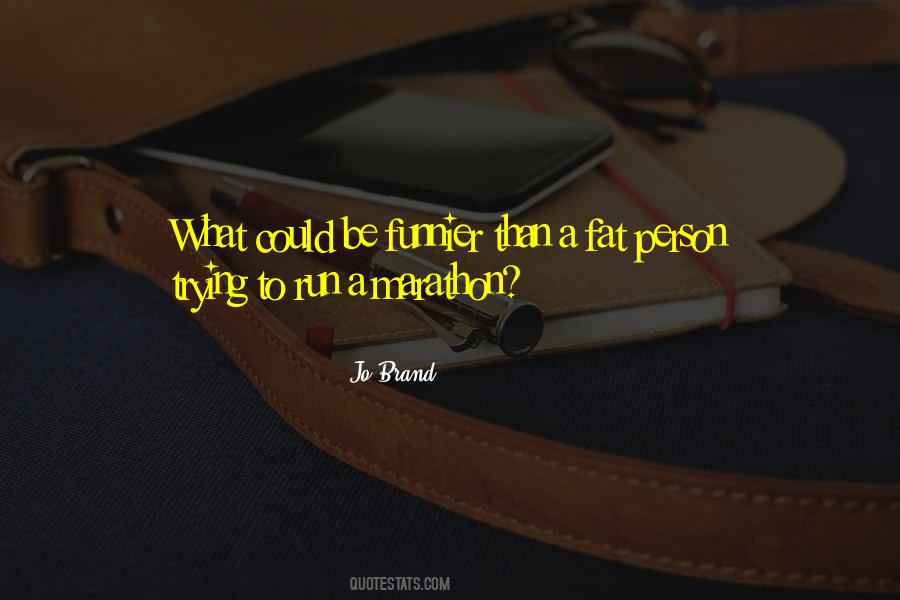 #67. It's great to work with the people who make you laugh and who are funnier than I am. - Author: Ben Stiller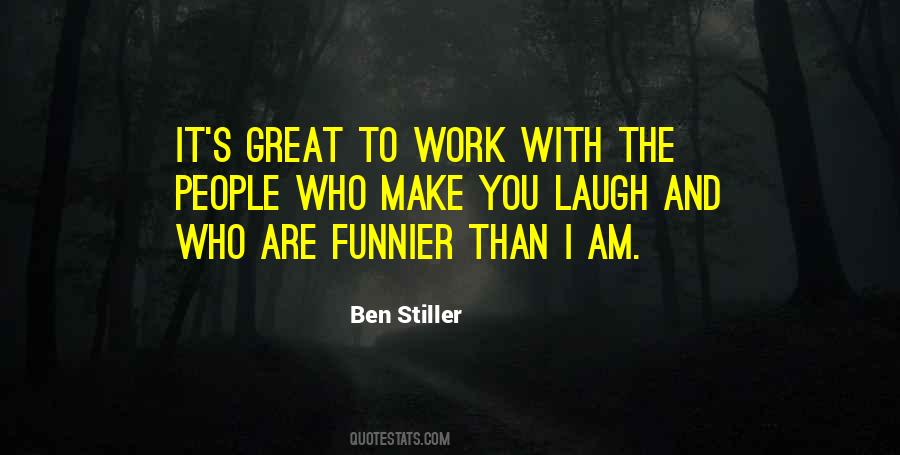 #68. Pain is funnier than love. - Author: Mike Birbiglia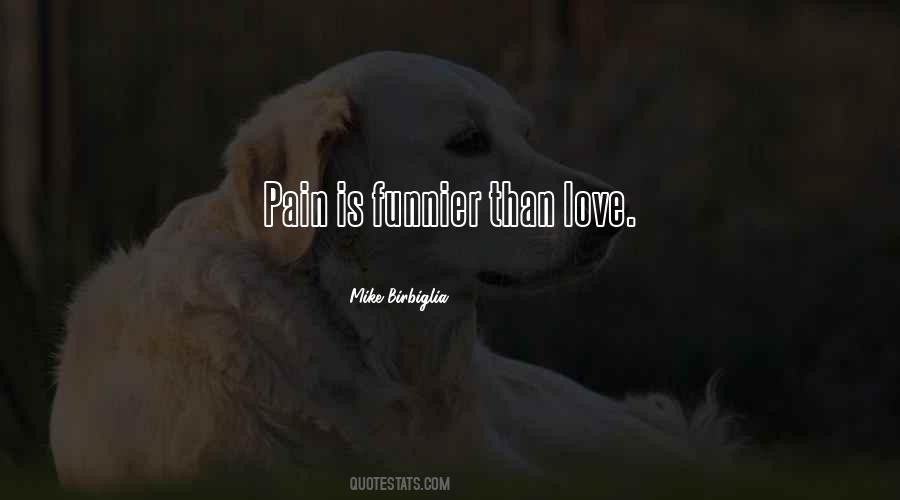 #69. Nothing's funnier to me than laughing at myself. - Author: Phil McGraw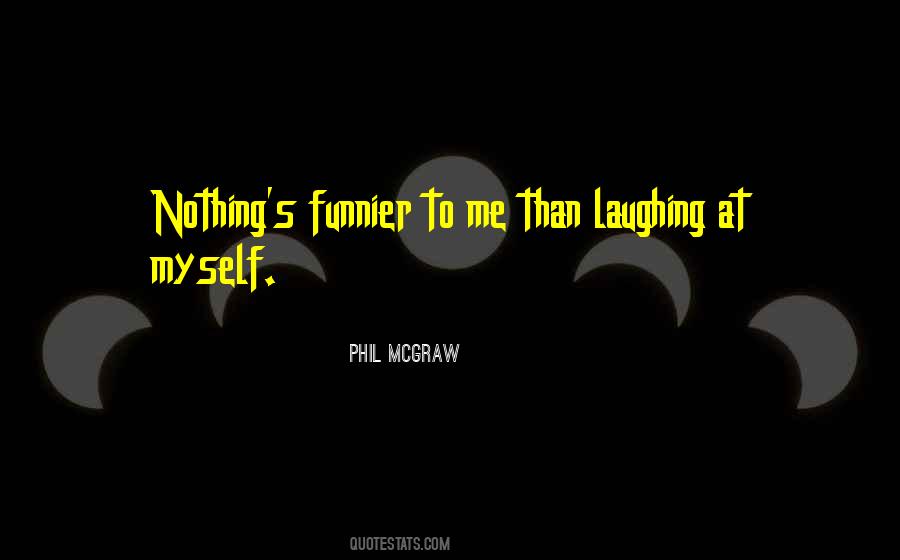 #70. Life is a comical business, and there is
nothing funnier than love traveling through time. - Author: Mario Puzo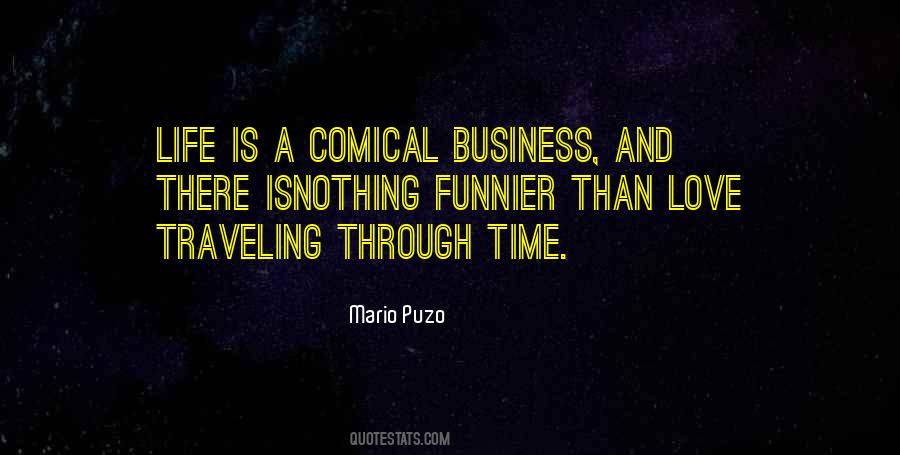 #71. You think you are a lot funnier than you are, you know," he replied, not looking away from the cannon.

"I am extremely amusing! I don't think you are listening properly. - Author: Lauren James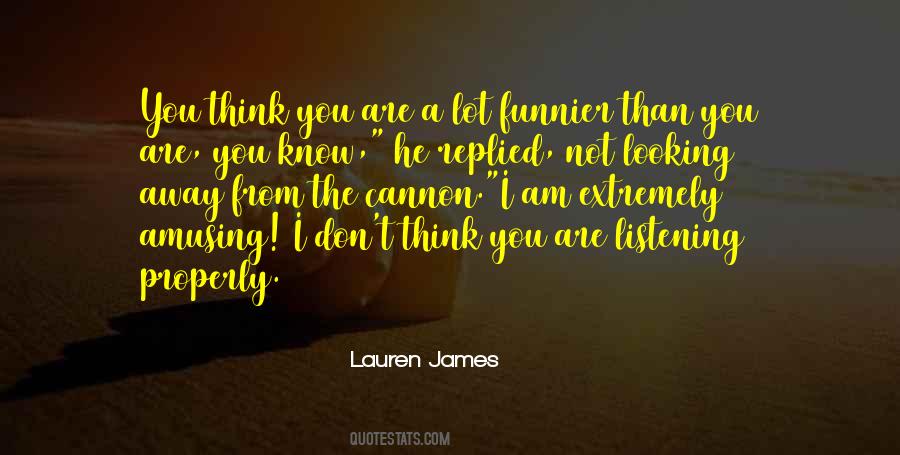 #72. I don't feel any pressure to be funny at all. I'm funny because I want to be funny. I could sit here and be serious for an hour and you would go away and make me much funnier than I am. - Author: Jim Carrey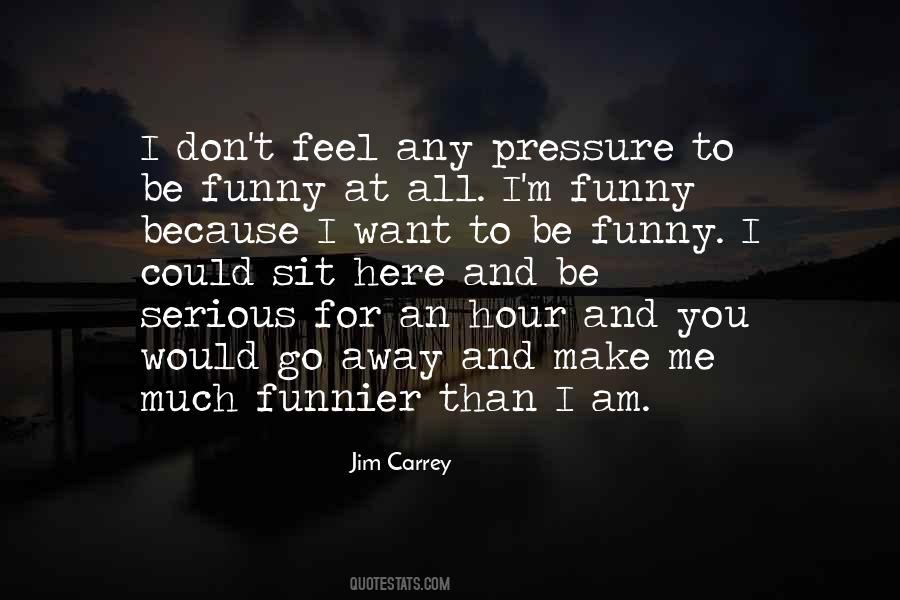 #73. The animals that depend on instinct have an inherent knowledge of the laws of economics and of how to apply them; Man, with his powers of reason, has reduced economics to the level of a farce which is at once funnier and more tragic than Tobacco Road. - Author: James Thurber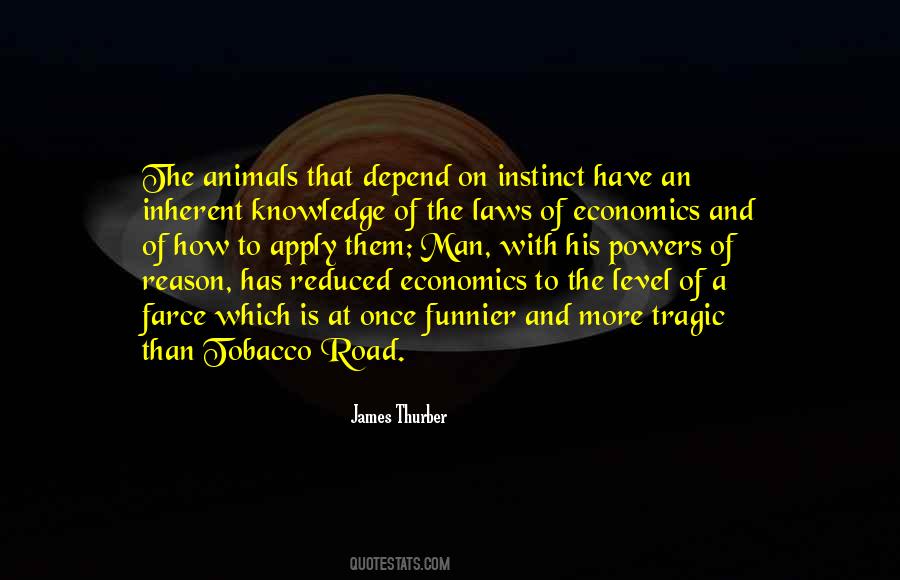 #74. My father was funnier than me. My father was Richard Pryor-funny. I'm just a better businessman. - Author: Tracy Morgan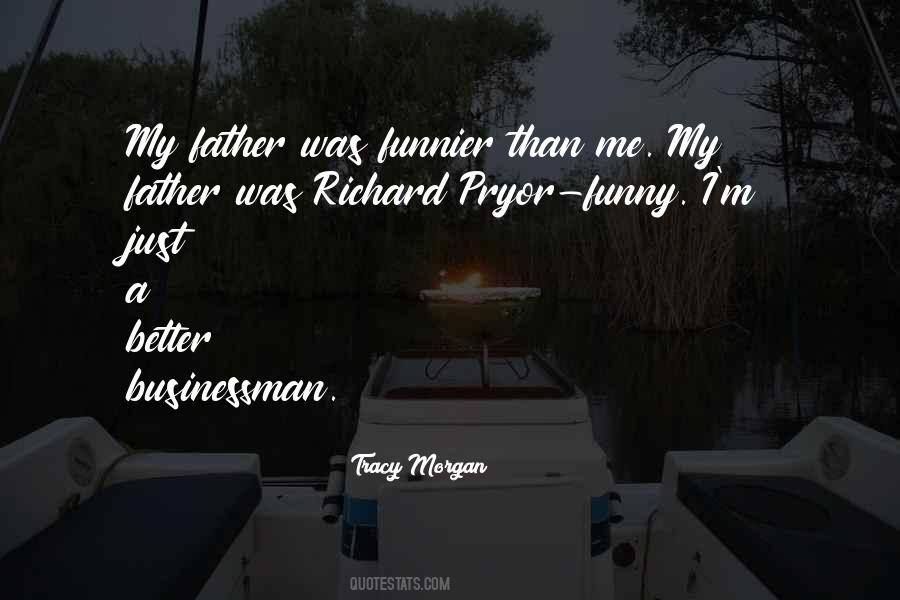 #75. All around the dining hall, you can feel the rejuvenating effect that a good meal can bring on. The way it can make people kinder, funnier, more optimistic, and remind them it's not a mistake to go on living. It's better than any medicine. - Author: Suzanne Collins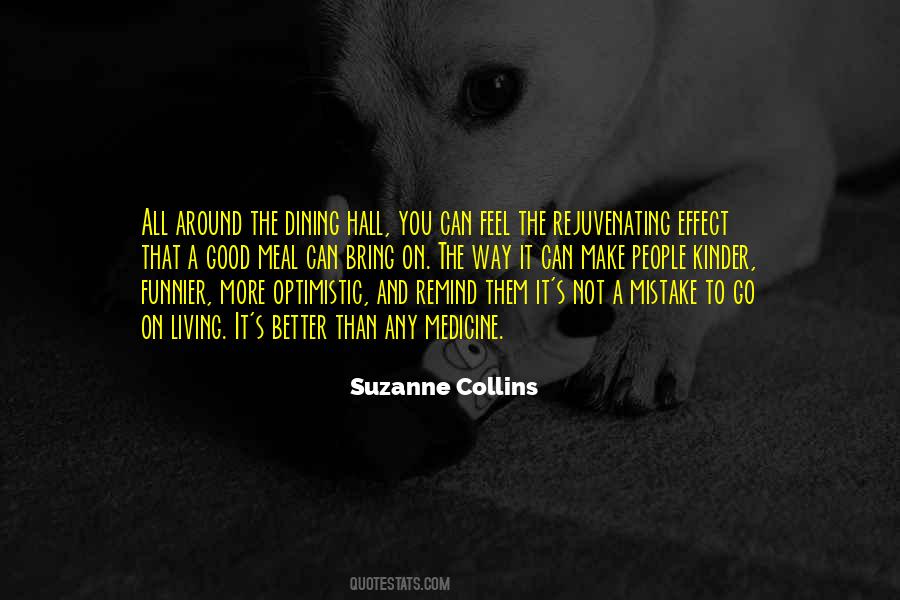 #76. Renny was smarter and funnier and more original than they'd ever be, but he was thirteen. He was at the brutal age when many kids would sell all their uniqueness in their character for the right pair of shoes. - Author: Francine Pascal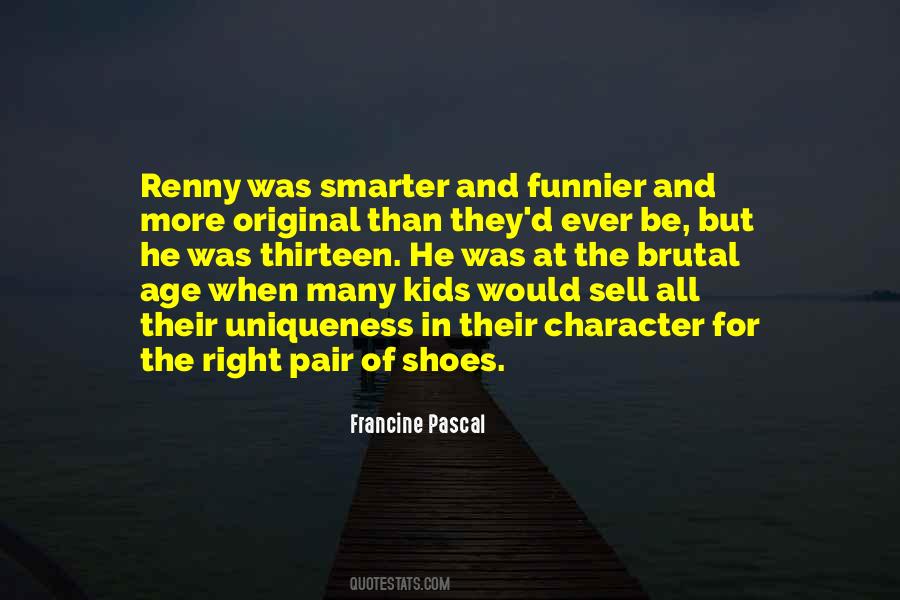 #77. Phil Hartman was brilliant, and Dave Foley is a really funny guy. Phil Hartman was actually even funnier offstage than he was onstage because he would say nasty things. Dave Foley's very funny, very witty guy, very quick. - Author: Joe Rogan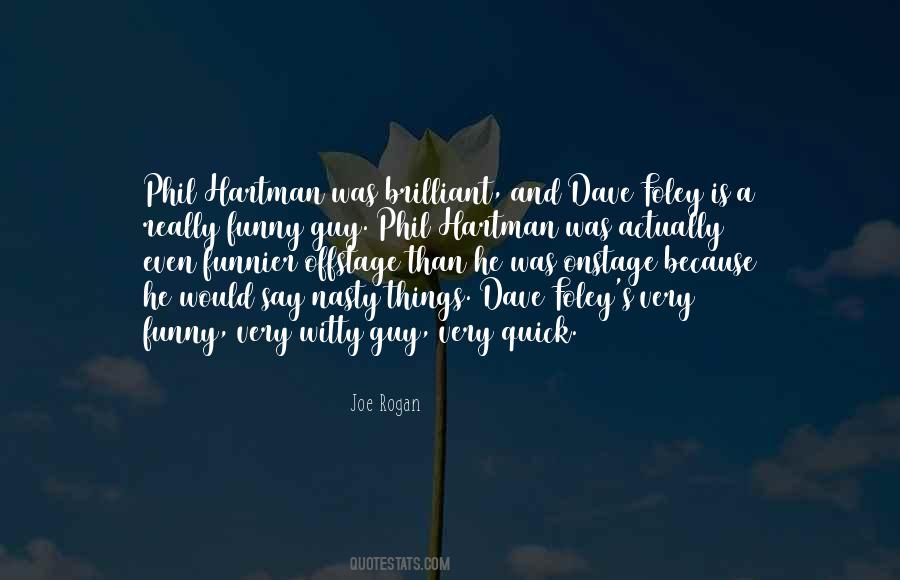 #78. And like most big families, they were loud and secretly thought they were funnier and a little more special than everyone else. - Author: Jennifer Close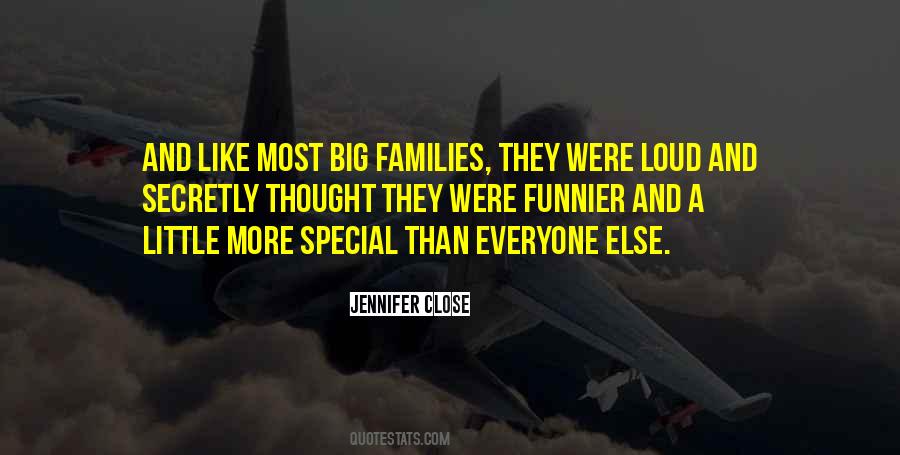 #79. It is funnier to bend things than to break them. - Author: W.C. Fields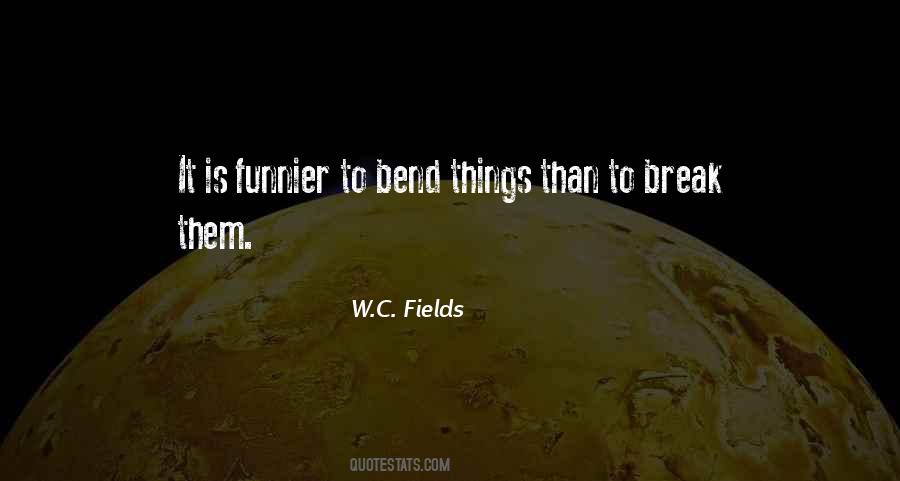 #80. I'm fascinated by mankind. I grew up watching 'Candid Camera' and thought it was funnier than any standup, any joke, anything that could possibly be written because you're dealing with humanity. And people can relate to that. It touches everybody who sees it. It hits a nerve. - Author: Howie Mandel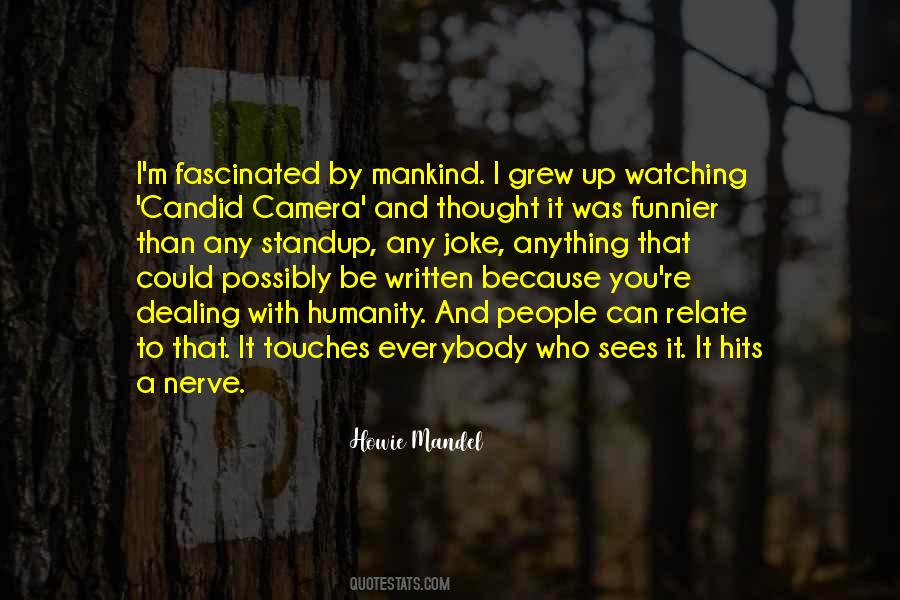 #81. We all know that a vast proportion of travel is accumulated nuisance; but if boredom or awfulness is handled with skill and concrete detail, it is funnier and truer than the sunniest prose. - Author: Paul Theroux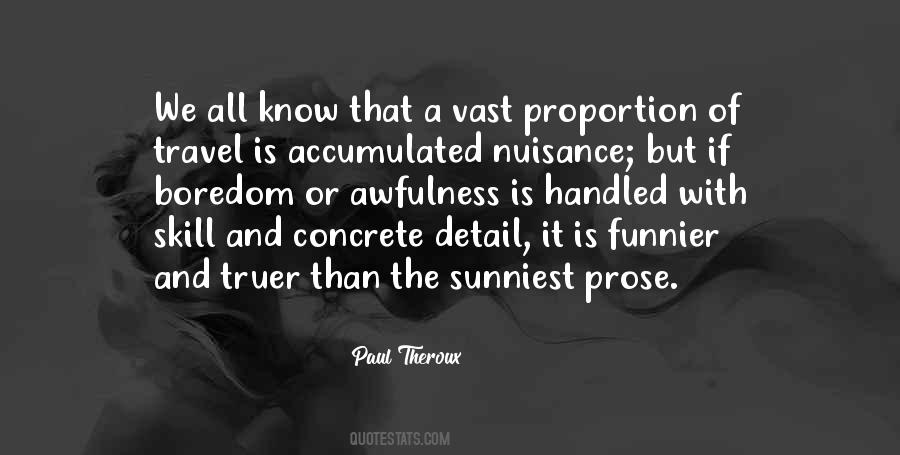 #82. Our shows today are better and funnier than they've ever been. - Author: Dick Smothers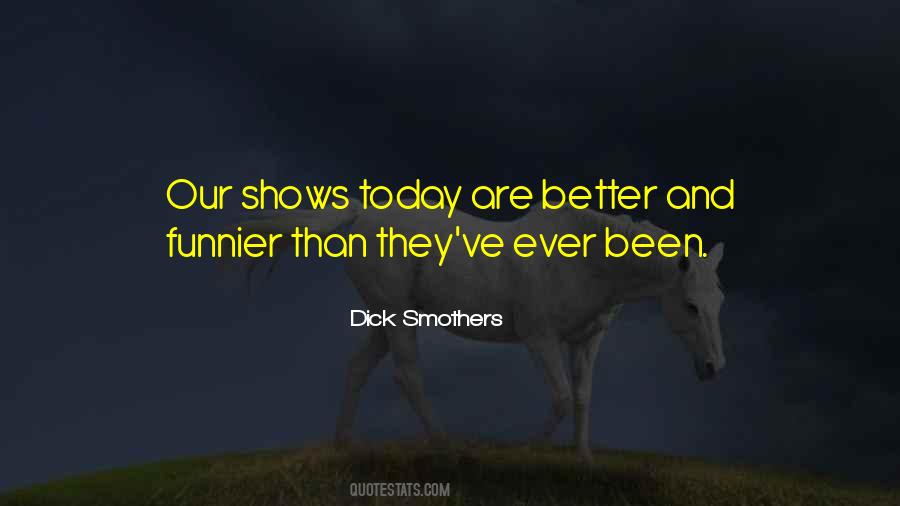 #83. I do wish there were assless chaps. Not that I would wear them. But there is nothing funnier than the words assless chaps. - Author: Qwen Salsbury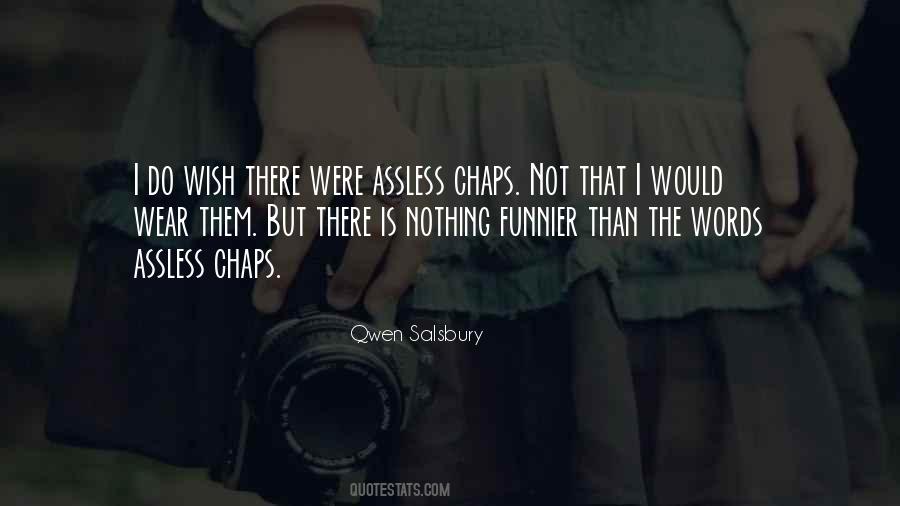 Famous Authors
Popular Topics