Feeling You Get Famous Quotes & Sayings
List of top 100 famous quotes and sayings about feeling you get to read and share with friends on your Facebook, Twitter, blogs.
Top 100 Feeling You Get Quotes
#1. Let me encourage you, if someone has wronged you, and you still get that cringing feeling on the inside when you see or think about that person, take it to God and allow Him to keep your heart soft and sensitive. - Author: Victoria Osteen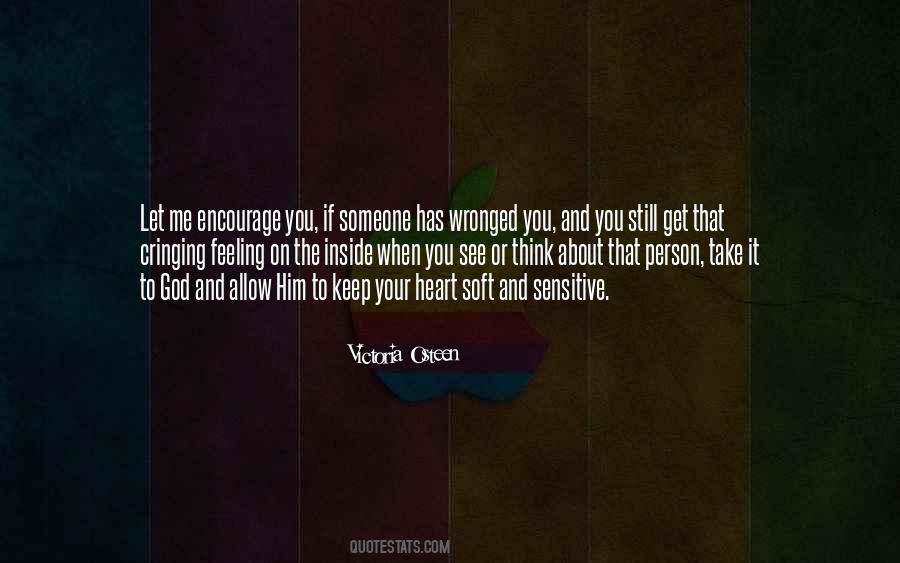 #2. Once you get the kids raised and the mortgage paid off and accomplish what you wanted to do in life, there's a great feeling of: 'Hey, I'm free as a bird.' - Author: Dick Van Dyke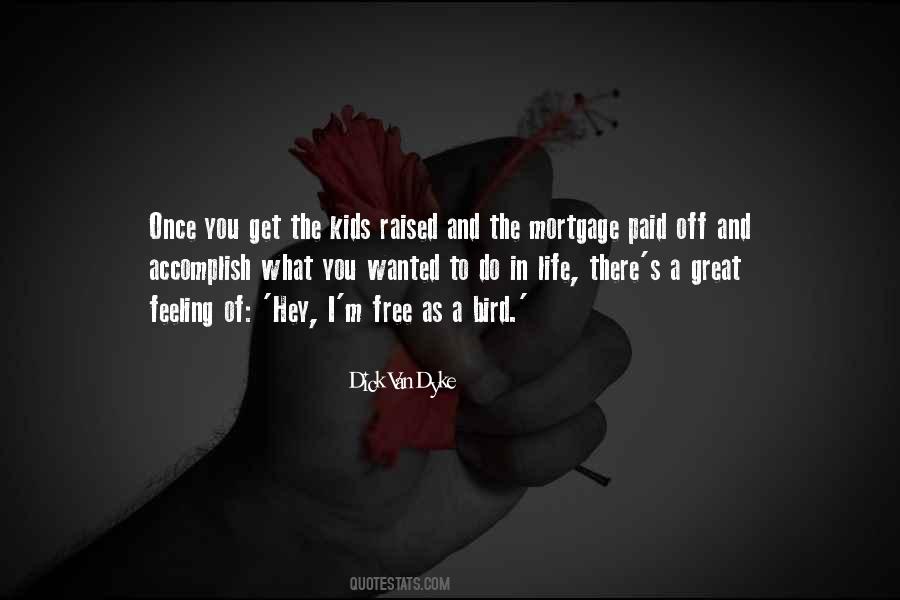 #3. You won't ever get ahead if you keep feeling sorry for yourself. You must stop all the negative talk and start thinking positive. You have a lot of potential but your life won't change until you change how you think. - Author: Michele Woolley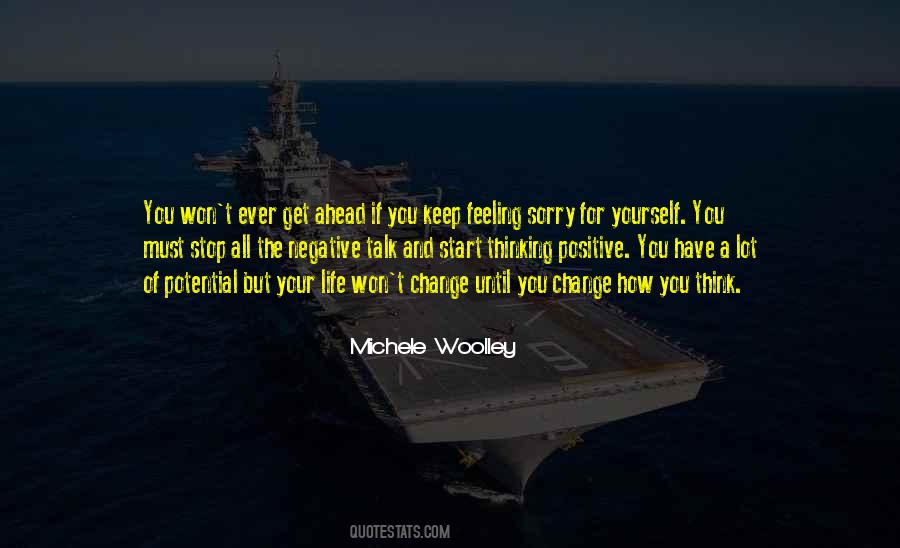 #4. Is it a bad sign when you see the person you're dating and get the same feeling as if you just saw police lights in you're rear view mirror? - Author: Dov Davidoff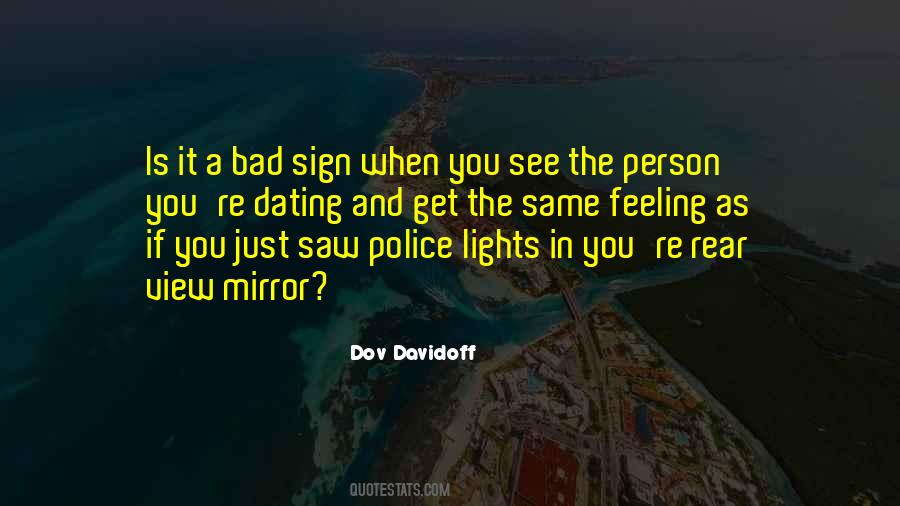 #5. I think a lot of us know when it's our time. No matter what profession you're in, you get a feeling. If you worked on it long enough, you know when it's ready. - Author: Nas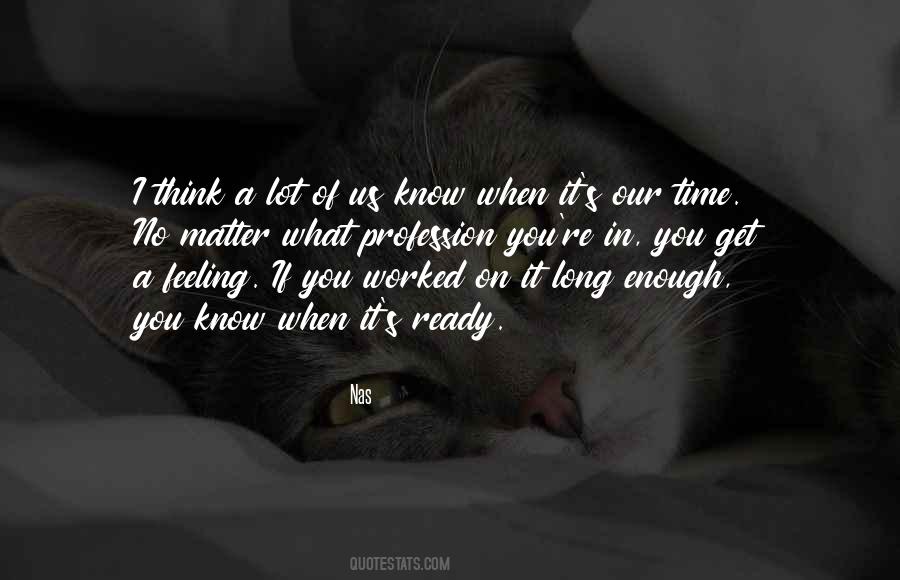 #6. When you get your first pay cheque, it's the best feeling in the world. - Author: Simon Cowell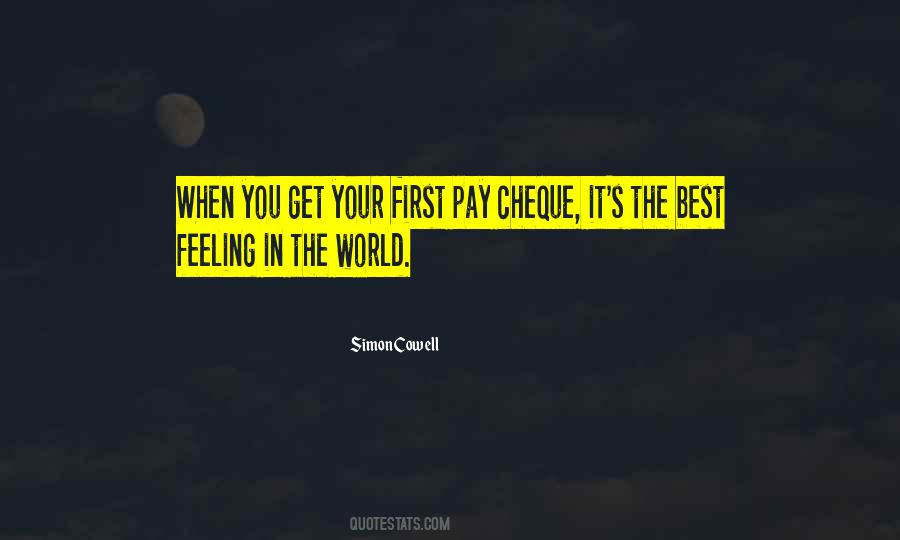 #7. You know that feeling just before you're going to laugh? That thing where you get all bubbled up? ... It's like a bubble of laughter, but it hasn't come out yet ... ?
That's what God feels like.
It's a feeling of joy and love and well-being. - Author: Goldie Hawn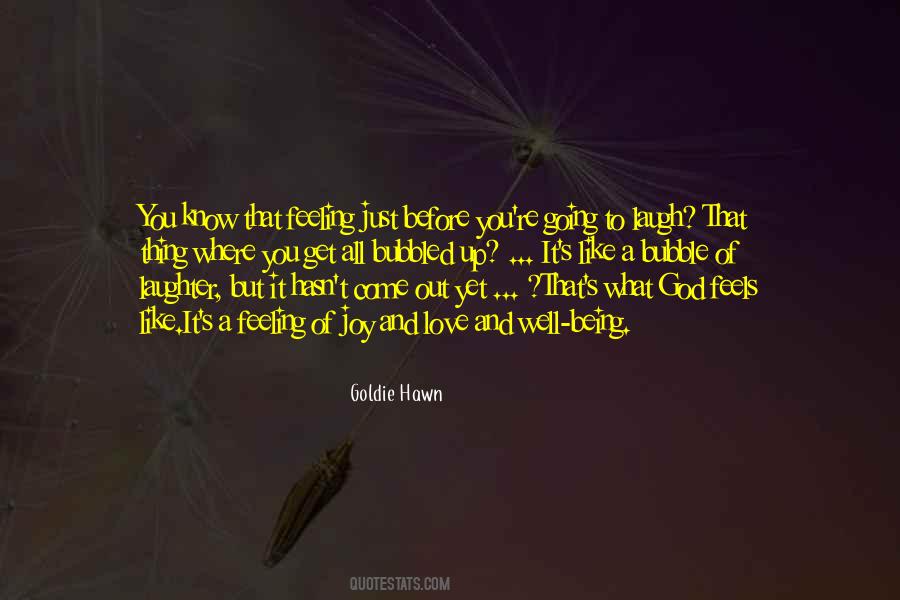 #8. Great books give you a feeling that you miss all day, until you finally get to crawl back inside those pages again. - Author: Kathryn Stockett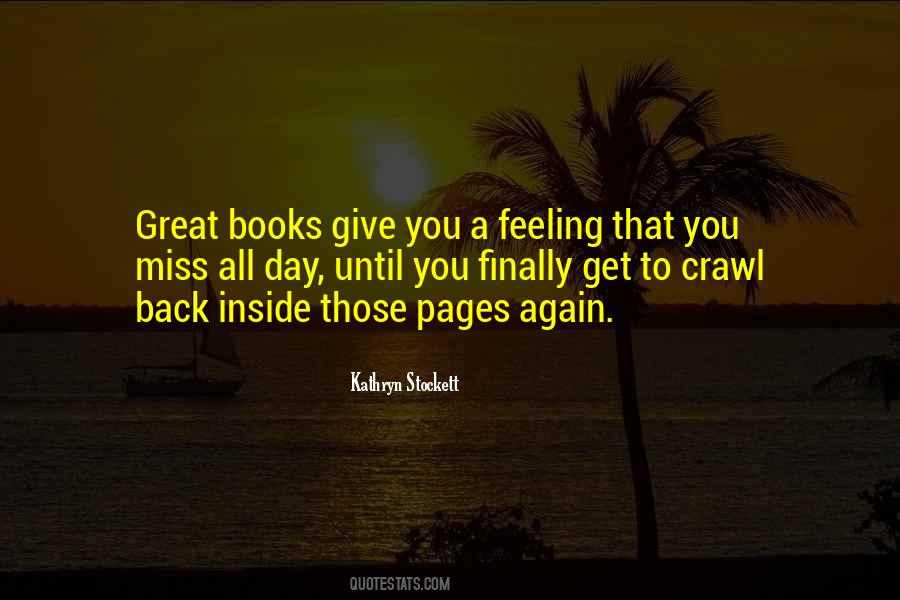 #9. I'm really inspired by the interplay of visual art and music, a total artistic environment where there's sound and visuals. When I think about that I get stimulated and excited. It's a feeling that you can't label with words. - Author: Black Francis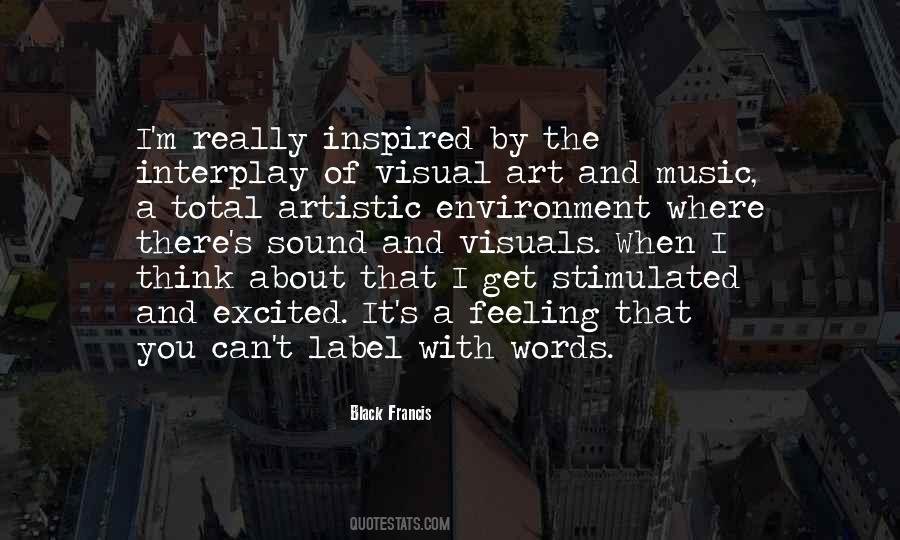 #10. But feeling down can make you feel up if you're the creative type. The emotional damage may have already been done to you, but stop whining. Use your insanity to get ahead. - Author: John Waters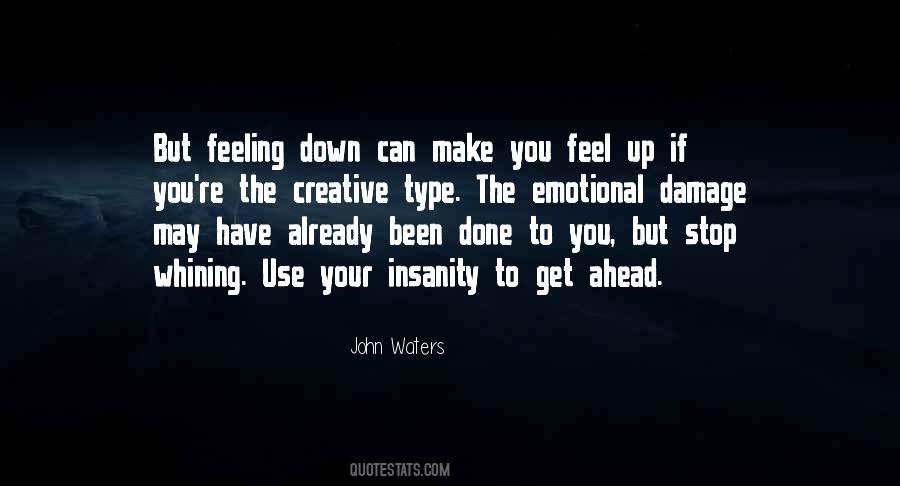 #11. Happiness comes in many forms - in the company of good friends, in the feeling you get when you make someone else's dream come true, or in the promise of hope renewed. It's okay to let yourself be happy because you never know how fleeting that happiness might be. - Author: Lucas Scott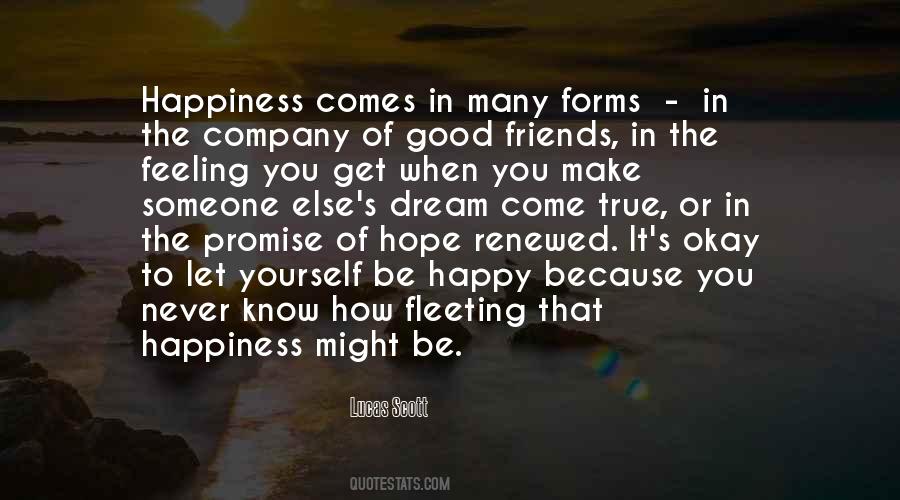 #12. Why do I get the feeling that if you give me a hard time, I'll tell all of our year-mates your family nickname is Meathead? - Author: Tamora Pierce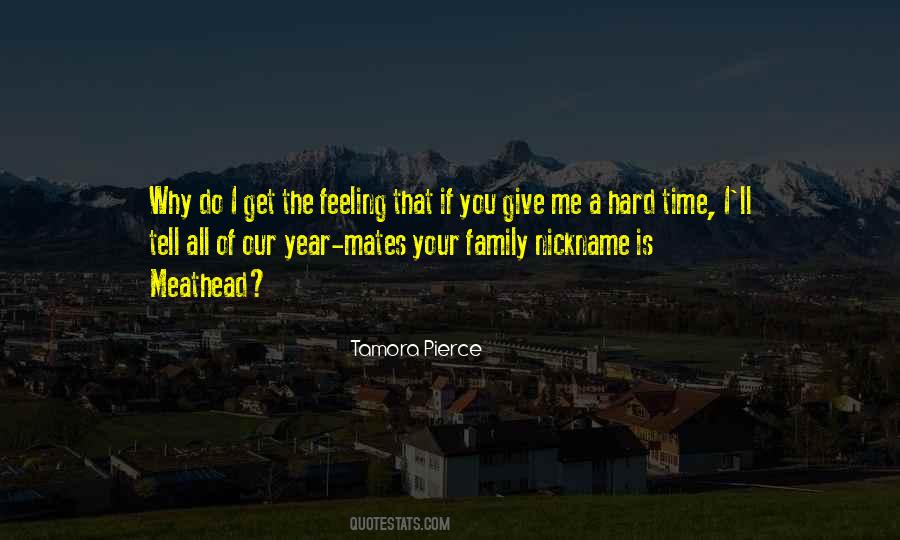 #13. TRUST YOUR FEELINGS BEFORE YOU TRUST ANYONE ELSE. YOUR FEELINGS ARE YOUR DIVINE GUIDANCE. IF ANYTHING MAKES YOU FEEL GOOD, THEN DO IT. IF YOU DO NOT GET A GOOD FEELING, THEN IT IS NOT FOR YOU. - Author: Premlatha Rajkumar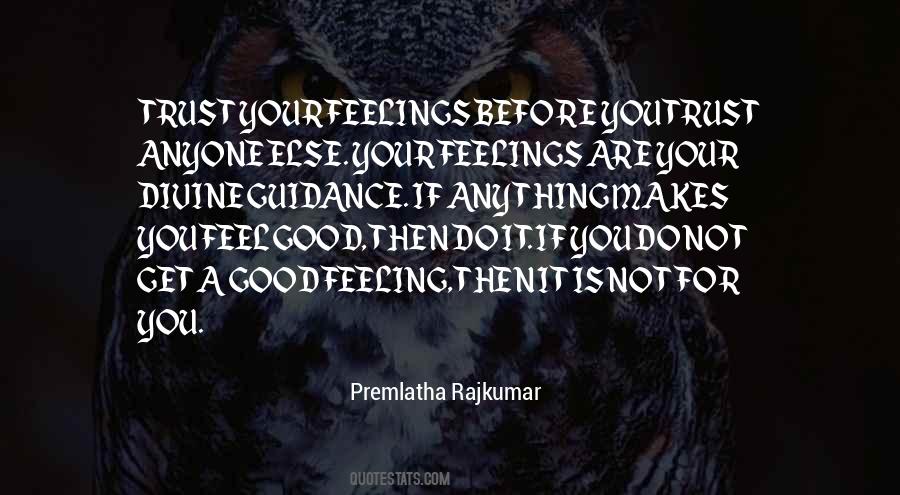 #14. What I do miss that I don't get anymore? You're going to think I'm crazy, but you want the truth, so here it is. The lights! I miss the spotlights. I don't mean it figuratively. I mean it literally. I love the feeling of lights. - Author: Barbara Mandrell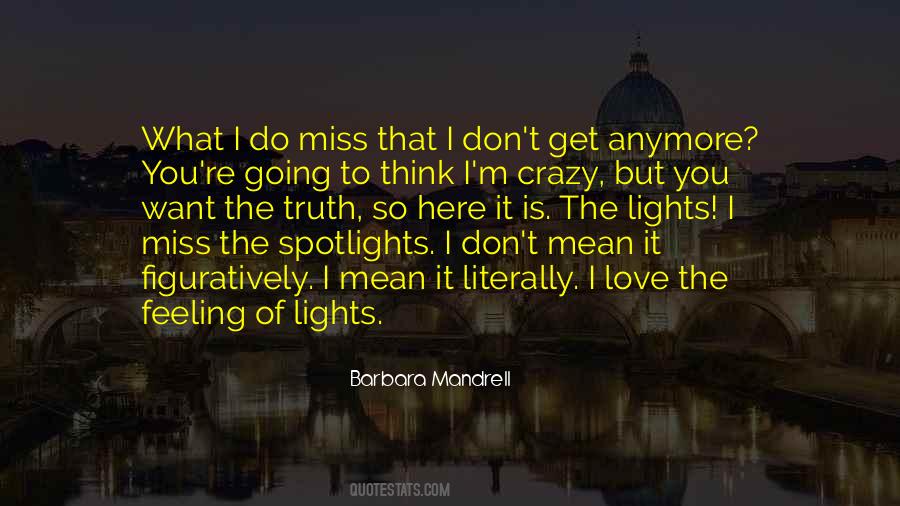 #15. There's sometimes a tugging feeling you get to push further when you aren't being challenged enough or when things get too comfortable. - Author: Criss Jami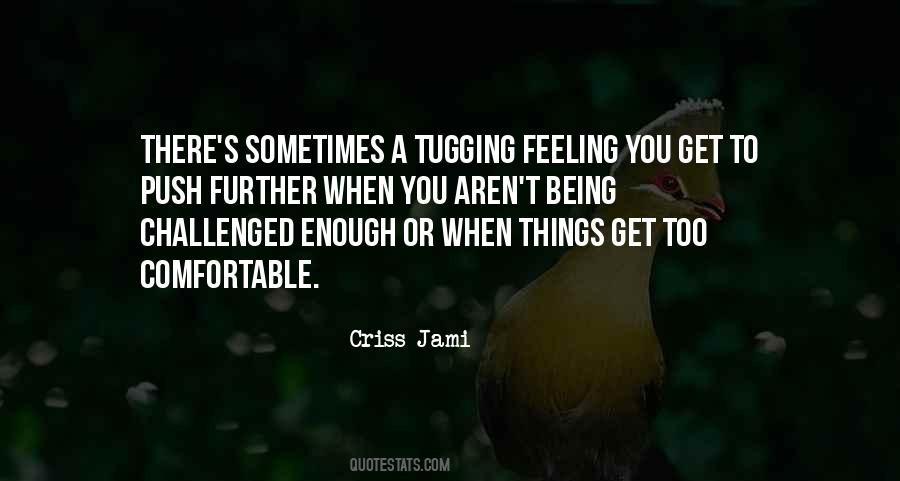 #16. Anyone who has ever been privileged to direct a film also knows that, although it can be like trying to write 'War and Peace' in a bumper car in an amusement park, when you finally get it right, there are not many joys in life that can equal the feeling. - Author: Stanley Kubrick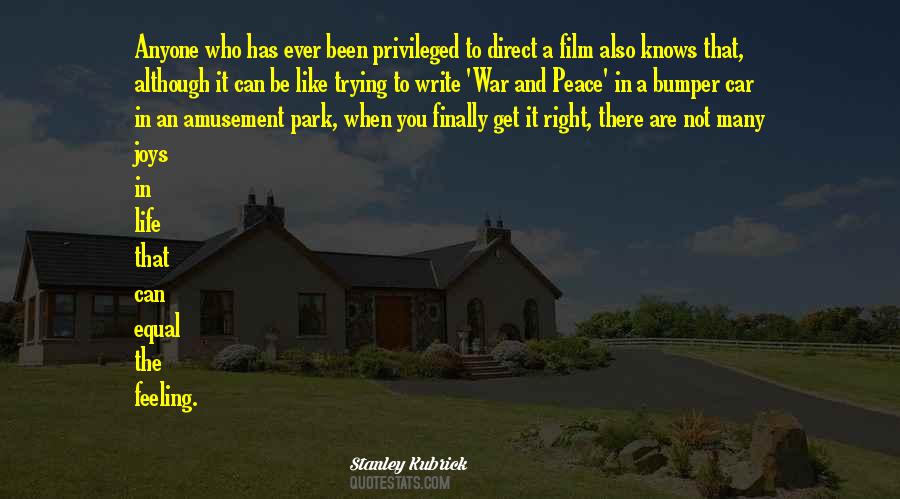 #17. You certainly get used to winning in general. Winning the Champions League is a very particular feeling, but it's really the journey that makes it special. Every journey that brings you toward a win is important. - Author: Clarence Seedorf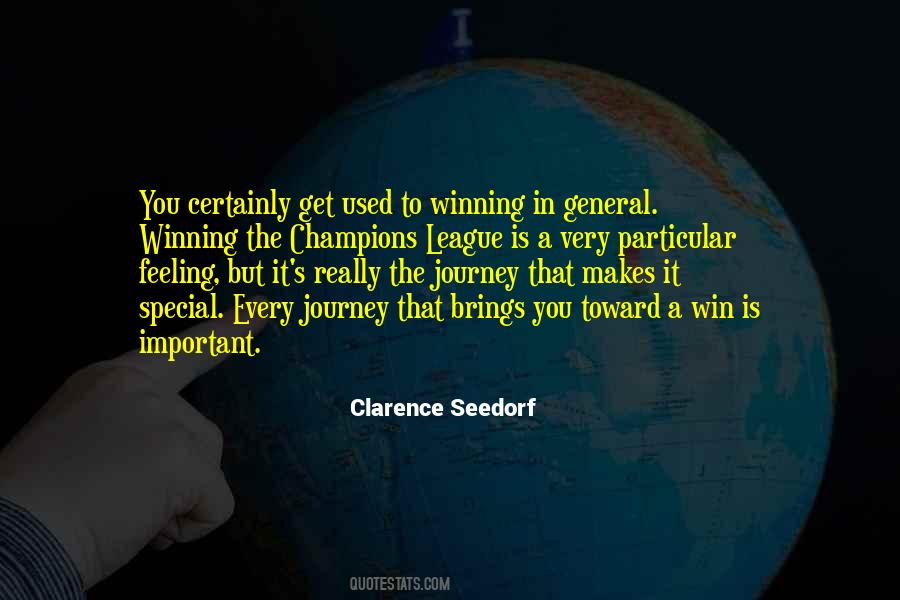 #18. I've never found it made the slightest difference being a woman - though there is a sort of feeling that as you get older you're not so interesting. - Author: Nina Bawden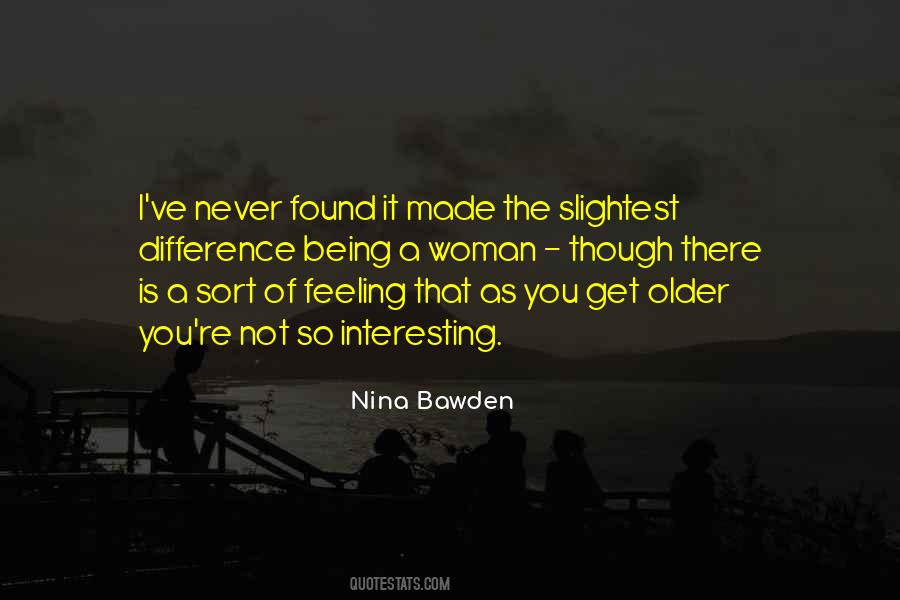 #19. once your get your hopes up, your mind starts acting on its own. And when your hopes are dashed you get dissapointed, and dissapointment leads to a feeling of helplessness. You get careless and let your guard down. And right now, she though, that si the last thing I can afford. - Author: Haruki Murakami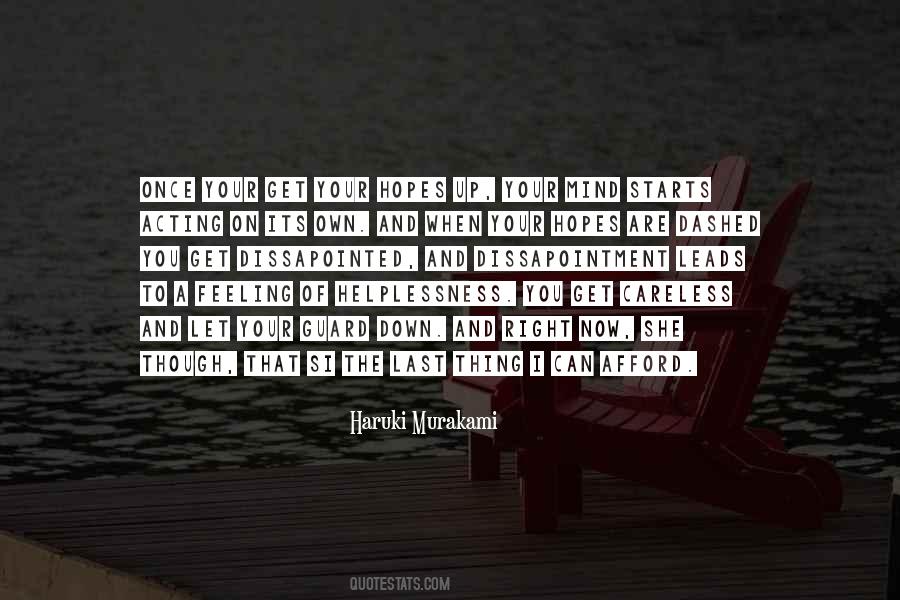 #20. -I would die for you
-You lie
-If I lie, why do I stand here before and beg on my knees to get you back?
-Because you're feeling alone
-If need your love
-You don't need me, you only need a person
-And you're that person
-No I'm not
-But I love you
-That what I do - Author: M..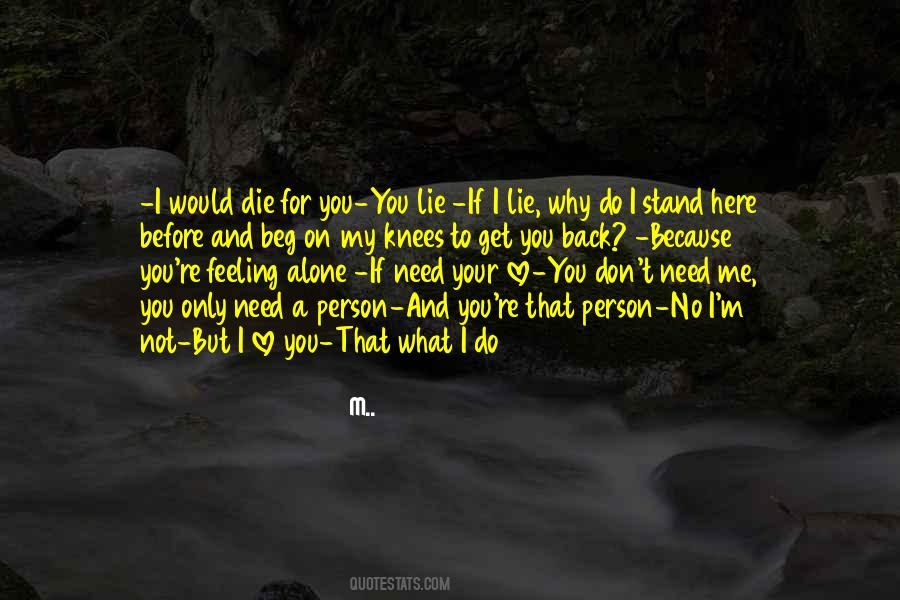 #21. Many of my favourite hotels are in London. I like the Covent Garden Hotel and I stayed at Blakes last time I was in London. I like the feeling of warmth and homeliness that you get from both of those places. - Author: Diego Luna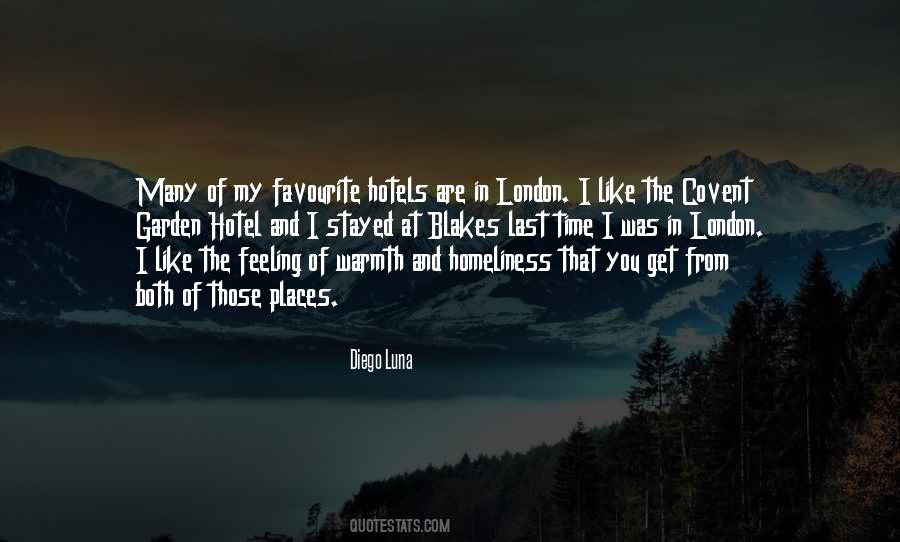 #22. Pushing your limits is what allows you to grow stronger, so if you find yourself feeling passive, it can make sense to dial it up a little. Get moving. Accomplish something small. Do something you enjoy. Embrace what moves you. And start again. - Author: Max McKeown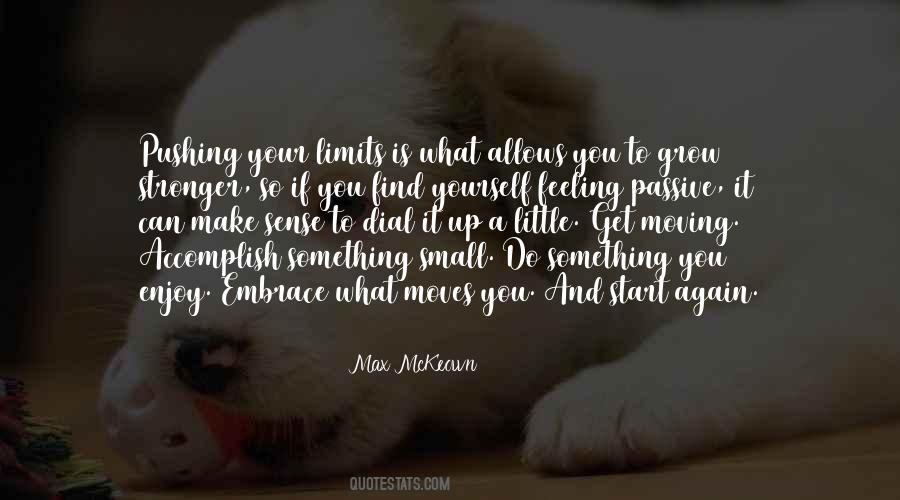 #23. The thing is, you don't get to know. It's not like you wake up with a bad feeling in your stomach. You don't see shadows where there shouldn't be any. You don't remember to tell your parents you love them or
in my case
remember to say good-bye to them at all. - Author: Lauren Oliver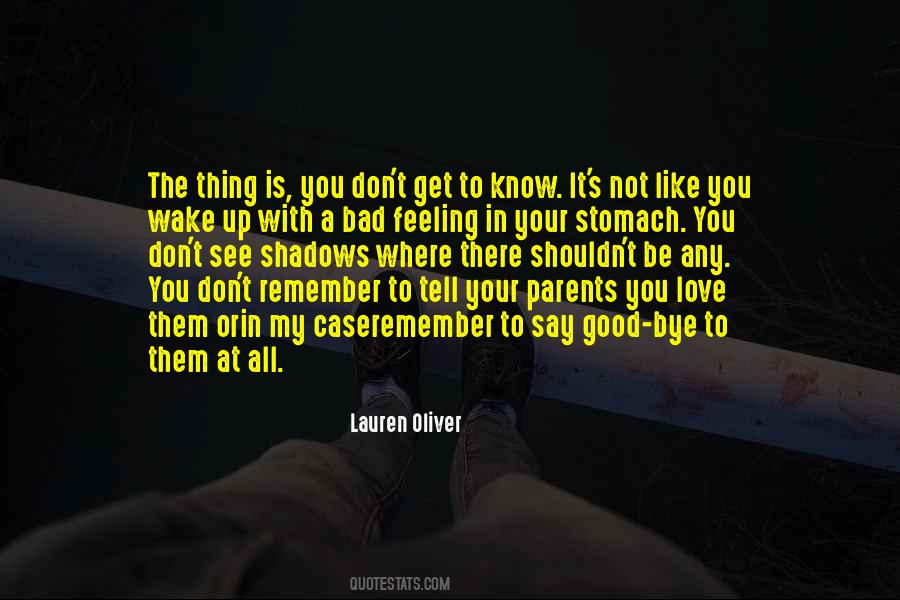 #24. Come on," Zane taunted with a sharp thrust. He dug his fingers into Ty's hips, trying for any small bit of control he could get. "Paint the door for me, and you'll be feeling my cum drip out of you the rest of the night." Ty - Author: Abigail Roux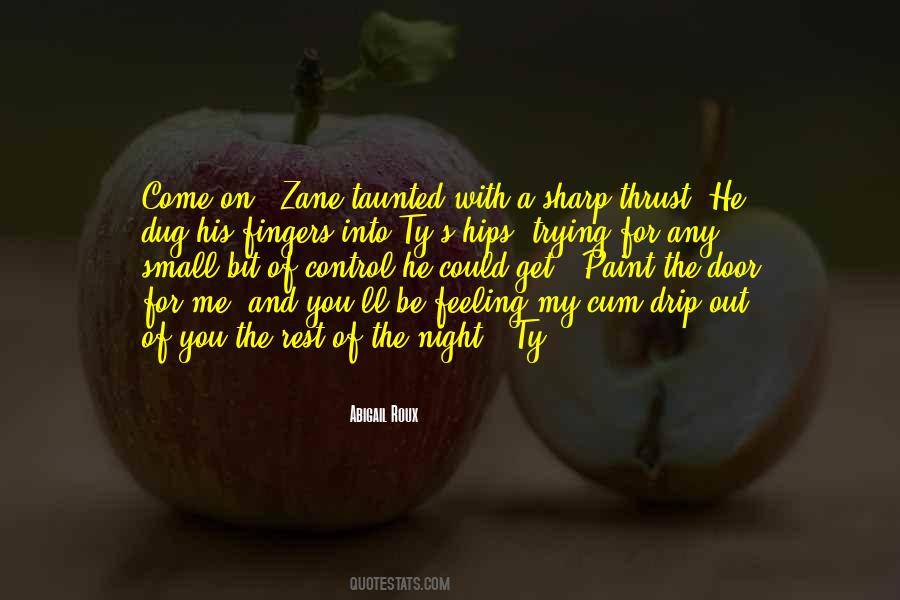 #25. I like writers who seem to write because they have to. You get the feeling of this burning desire to tell a story. I find it in Peter Carey, Nicola Barker, Ali Smith and David Foster Wallace. - Author: Patrick Ness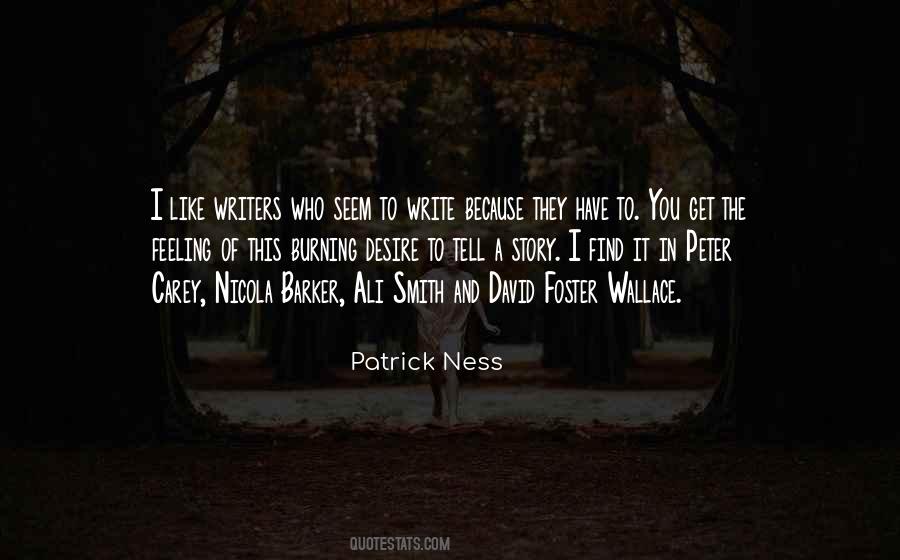 #26. Nothing can duplicate the sheer power and feeling you get from standing in front of your amp and bashing on your guitar. - Author: James Hetfield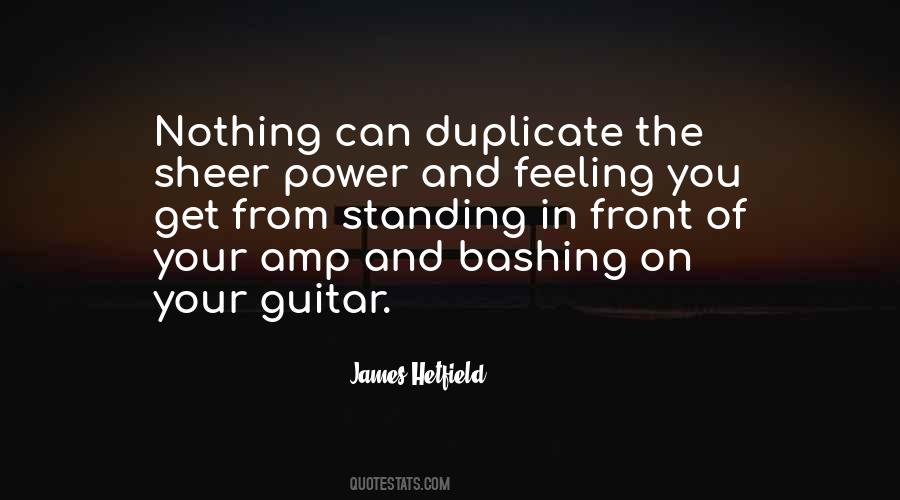 #27. You get the feeling that many of my guests feel that the French language gives them entry into a more cultivated, more intelligent world, more highly civilised too, with rules. - Author: Bernard Pivot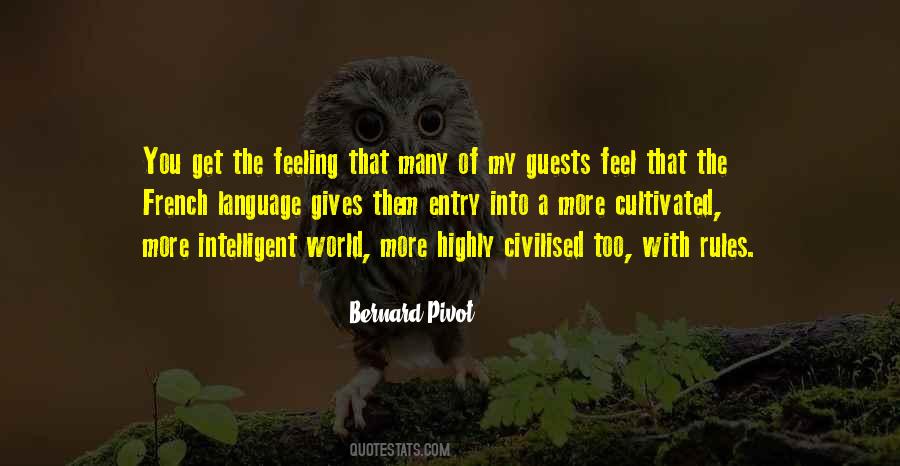 #28. I was feeling pretty good out there in the middle when I went in, but it was one of those things - sometimes you get a really good ball. If it gets you out you just have to forget about it and make sure you do the hard work out there next time you get in. - Author: Mahela Jayawardene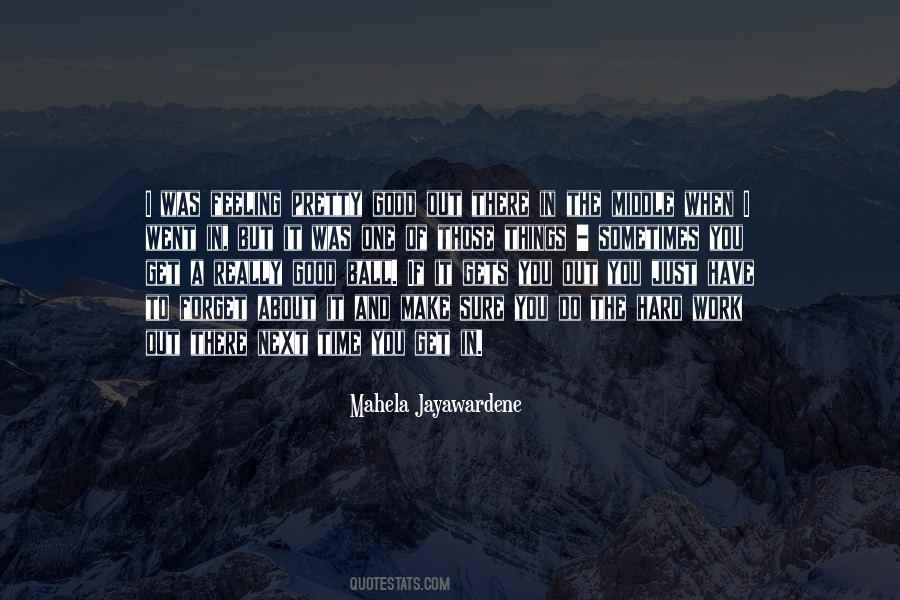 #29. I feel like an independent man, and I am. This is the kind of feeling I always wanted. You can rarely get that ... Well, I could rarely get that in the early part of my life. - Author: Jack Kirby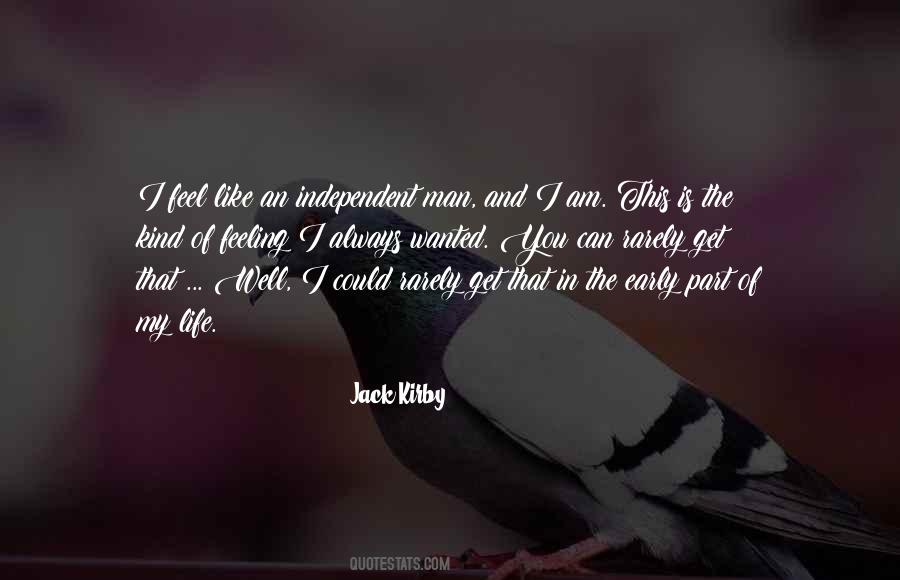 #30. The waltz held the feeling you get when you finish a well-loved book. It left me longing for something I couldn't name. - Author: Louise Miller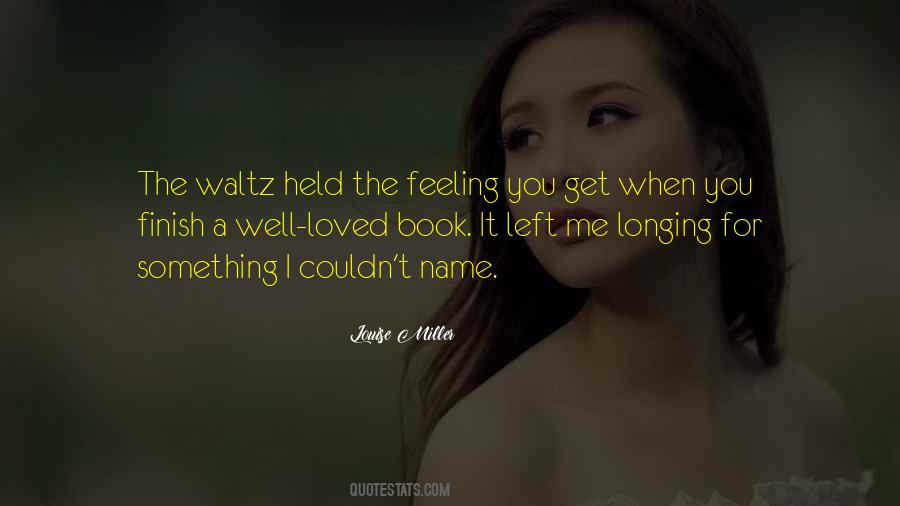 #31. There's this emotion we all feel of being overwhelmed at times, feeling that you can't get ahead. For me it's self-imposed because I'm so driven and I'm always going from project to project. - Author: Kenny Chesney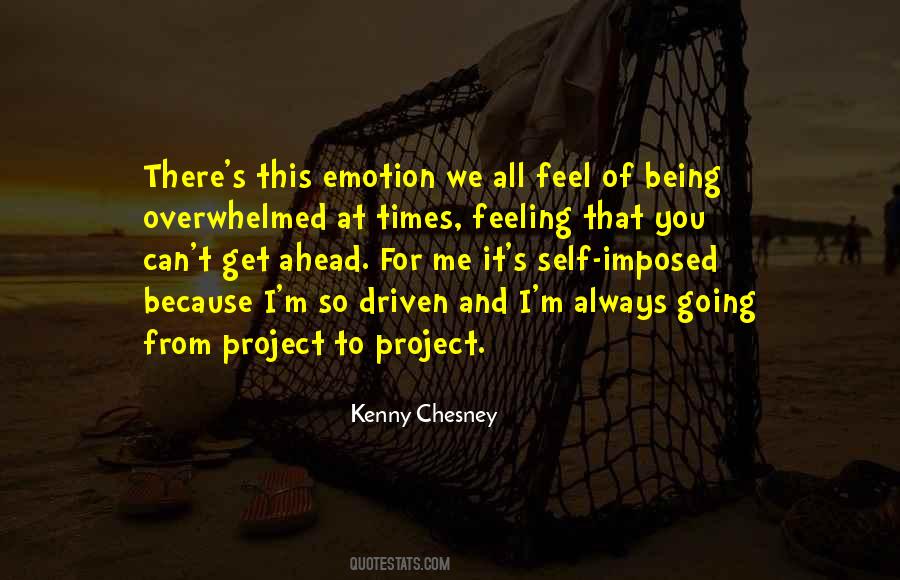 #32. A book without potty humor is like a banana split without hot fudge. It can still be good, I suppose, but you kinda get the feeling that something is missing. - Author: Dav Pilkey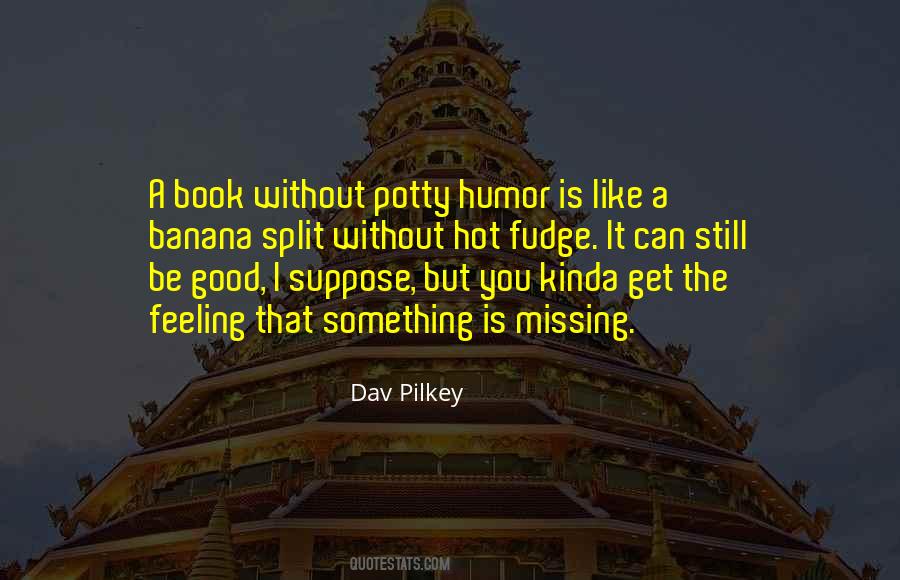 #33. There's so many singers, you watch them and a lot of it is waving around. You don't get this feeling that they're really thinking about what they're saying. - Author: Sophie Ellis-Bextor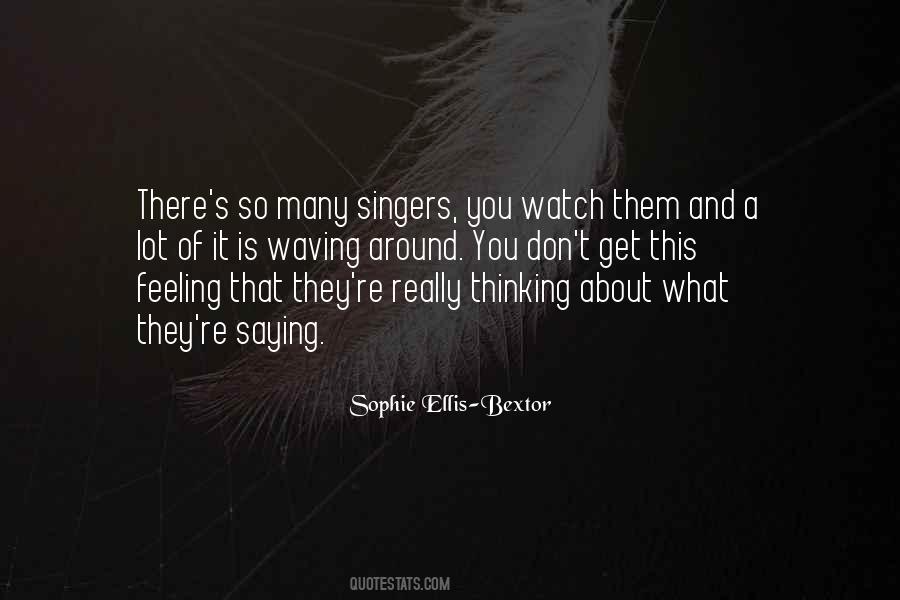 #34. If you tell me how you get your feeling of importance, I'll tell you what you are. - Author: Dale Carnegie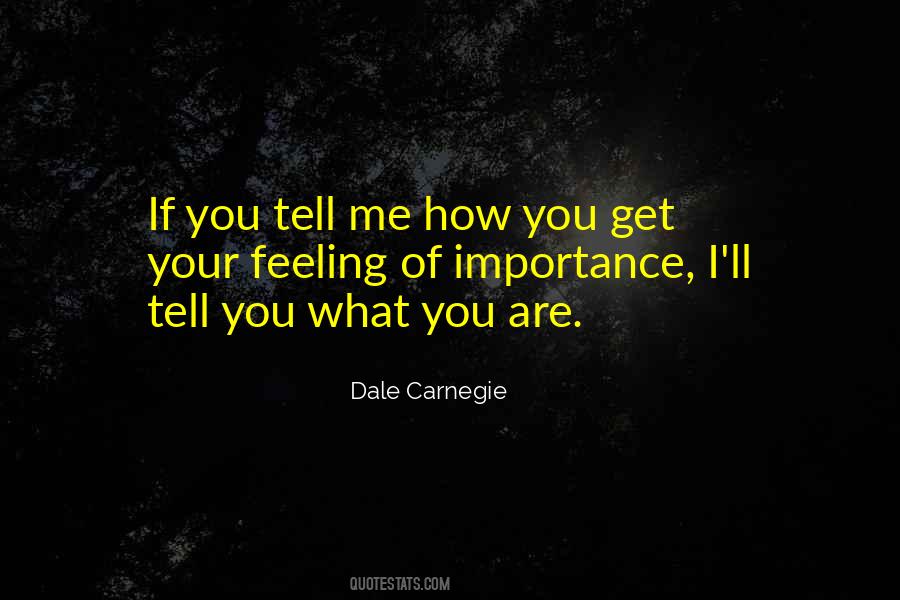 #35. I will. I've never wanted a girlfriend before, Pigeon. I'm not used to feeling this way about someone ... about anyone. If you'll be patient with me, I swear I'll get it figured out. - Author: Jamie McGuire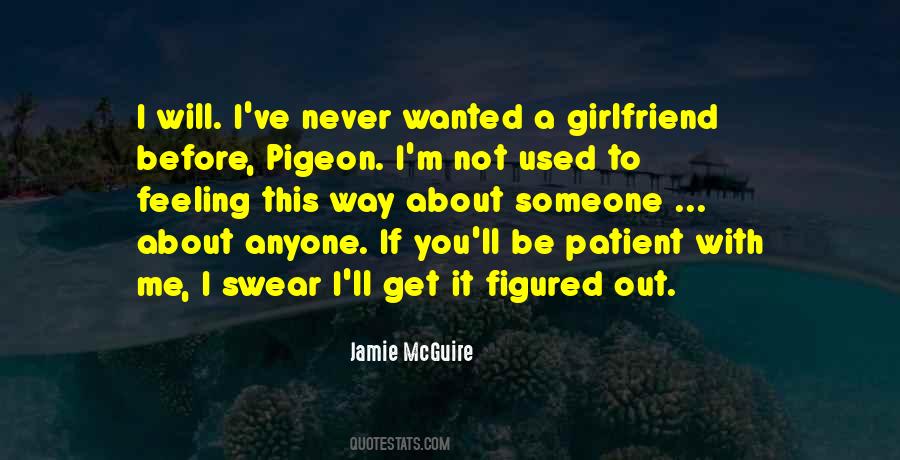 #36. I like pressure. Pressure doesn't make me crack. It's enabling. I eat pressure, and there might be times when I get a bad feeling in my gut that this might be too much, but you feel pressure when you're not doing something, you know? - Author: Louis C.K.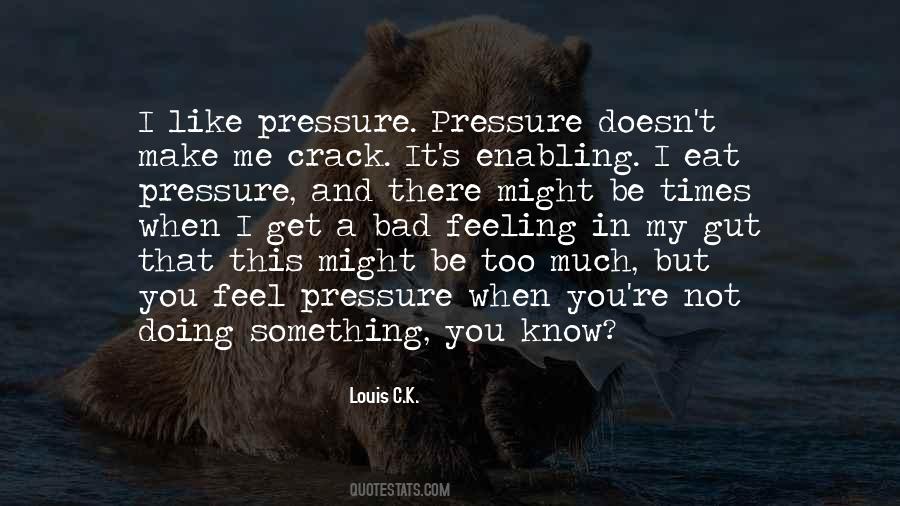 #37. You can get used to anything if you have to, even feeling perpetually guilty. - Author: Golda Meir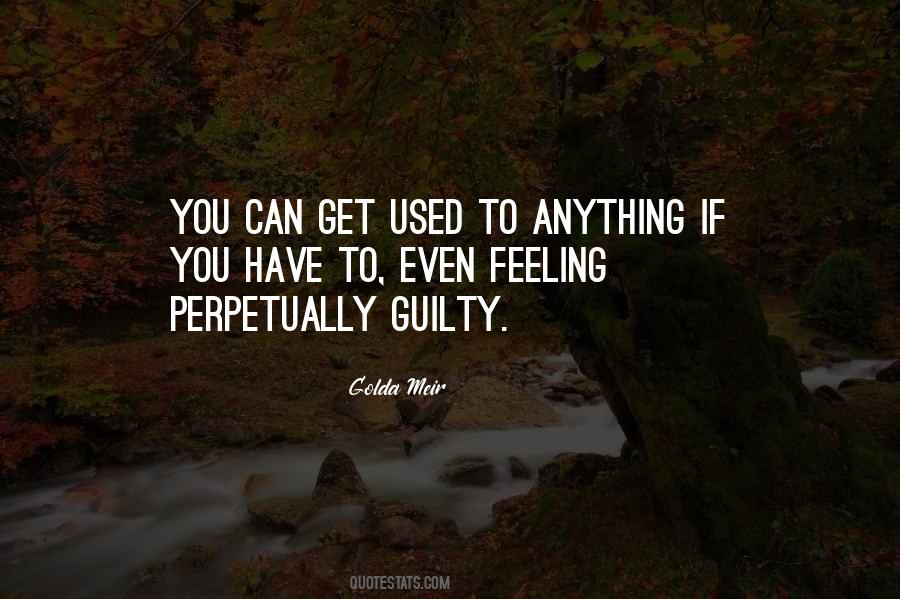 #38. Even in making objects, as soon as you start to get the feeling that some form of craft is coming into place, you realize that everything is wrong. Because craft is really just a fetish. It is wasted energy. It's about the object, some space which has nothing to do with the human. - Author: Jeff Koons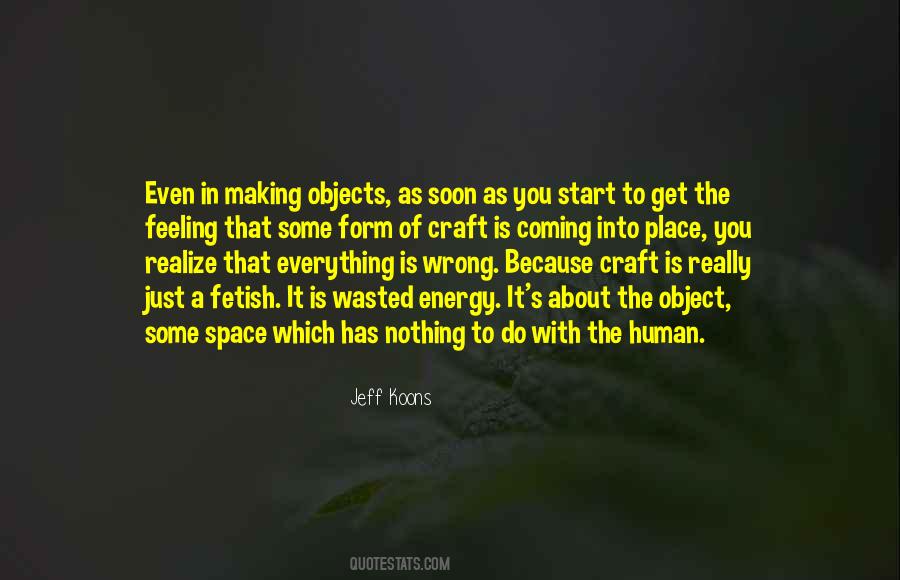 #39. One of the coolest moments for me is still when Kenny G came back to a venue to find me and personally tell me that he loved my song "Void of a Legend" and had watched the video several times. It's the ultimate feeling to get feedback like that from an artist you look up to - Author: Antoniette Costa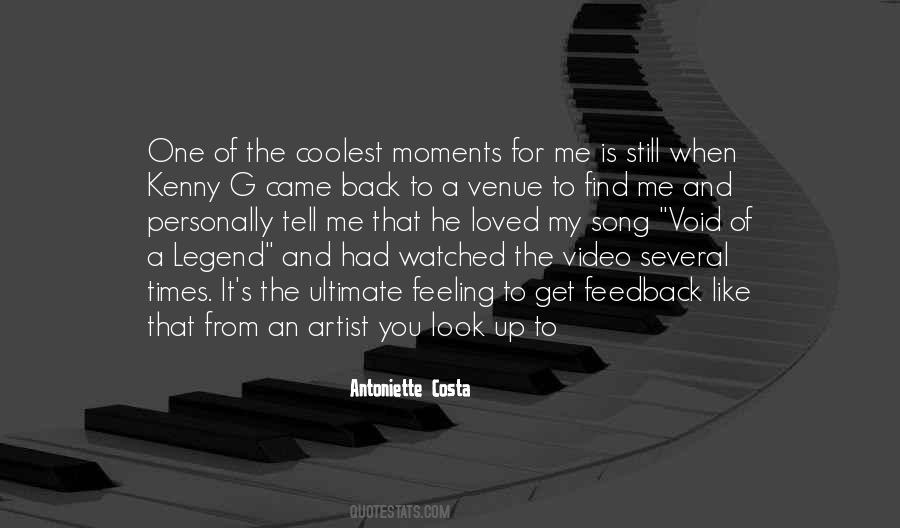 #40. I get the feeling you'd rather pine over someone you can never possibly be with than try being with someone you can. - Author: Cassandra Clare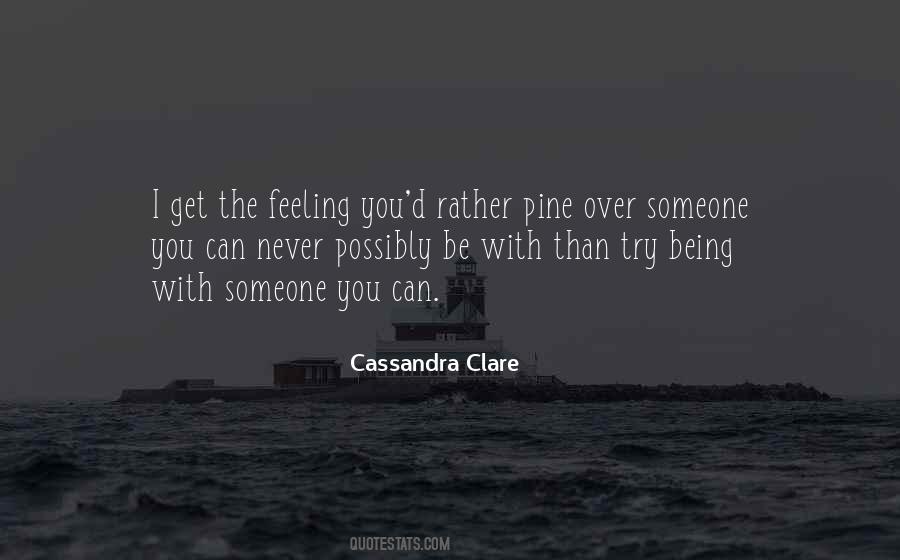 #41. The same feeling you get from succeeding is the same feeling I get from failing, now imagine what happens when I win. - Author: Behdad Sami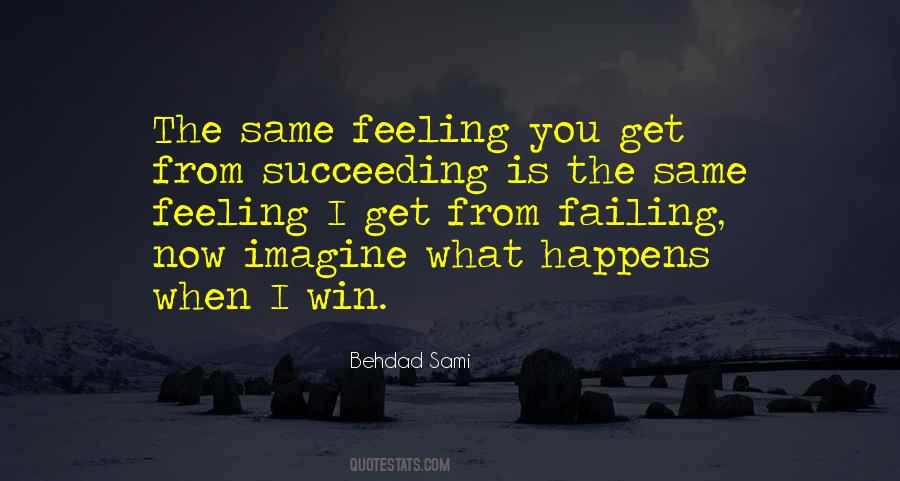 #42. The absolute awareness only comes when you become the Spirit. When you get your realization and you become the Spirit. When you are the Spirit, then what happens that you start feeling on your central nervous the centers of all the people who are around you and your own centers. - Author: Nirmala Srivastava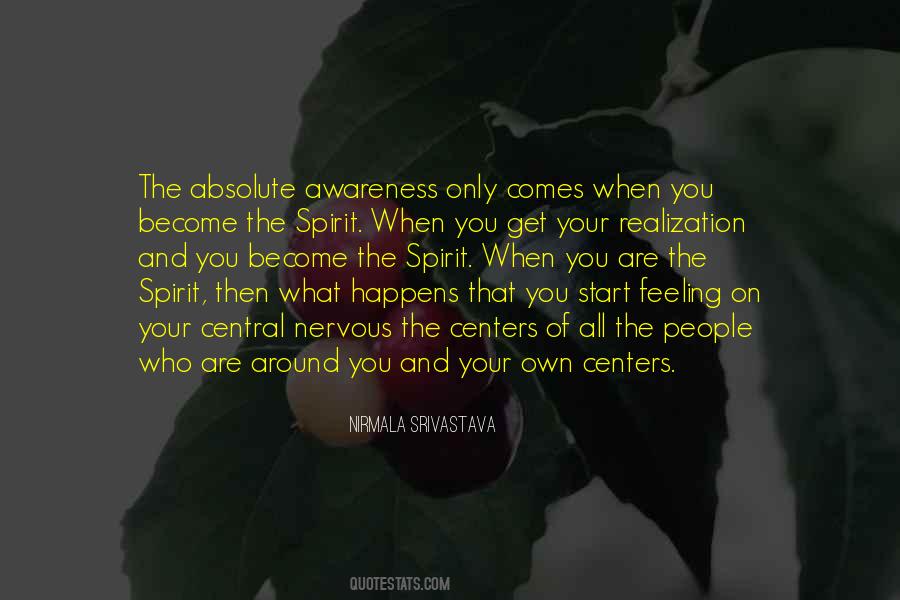 #43. You can go to the doctor a million times if you're feeling down, and get nowhere, but if you go for a run it makes you feel really good. - Author: Gail Porter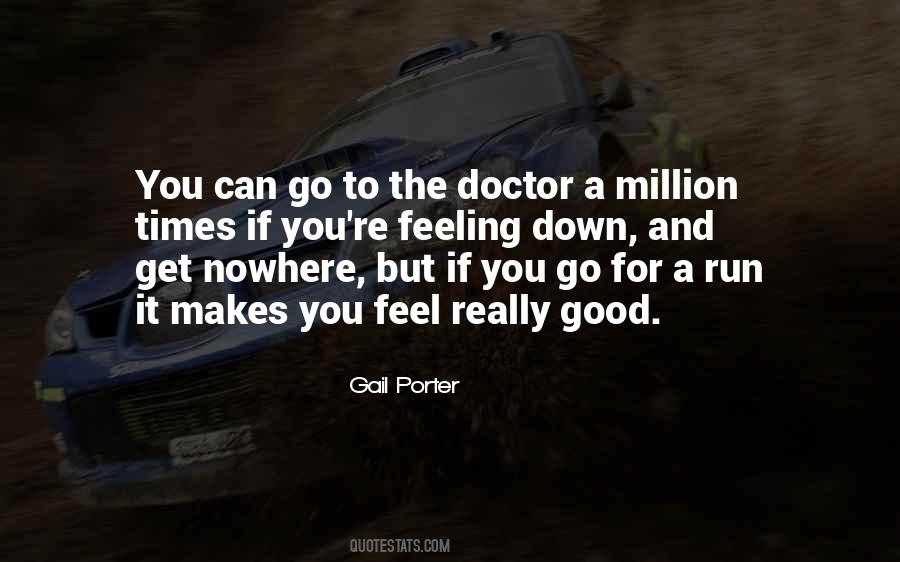 #44. If you are ambitious, you are running in a tunnel that never ends. You will always find something new to go after. [ ... ] I got high for the first time with Get Rich or Die Tryin' and I have been trying to achieve that feeling again since then, all the time. - Author: Curtis Jackson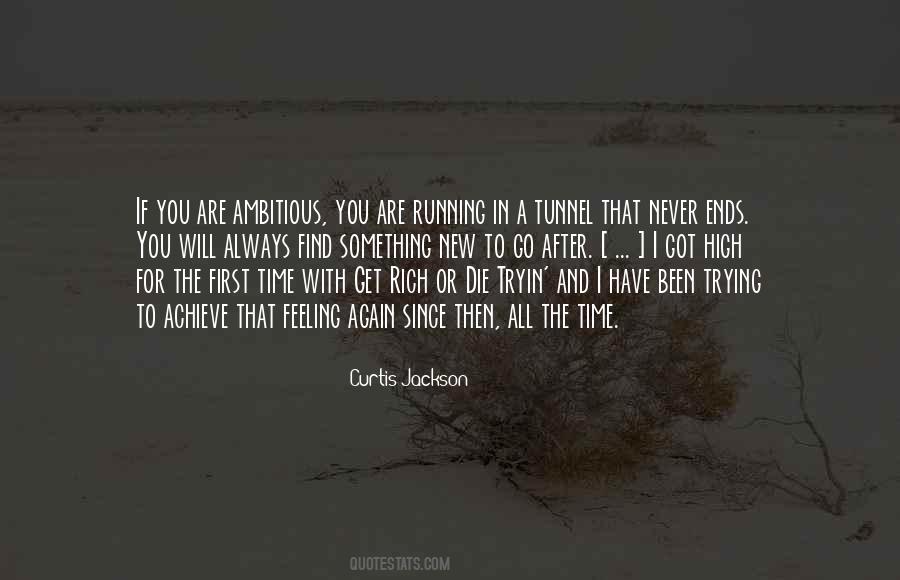 #45. You won't get eternal life by just feeling the presence of God in flowers or music. - Author: C.S. Lewis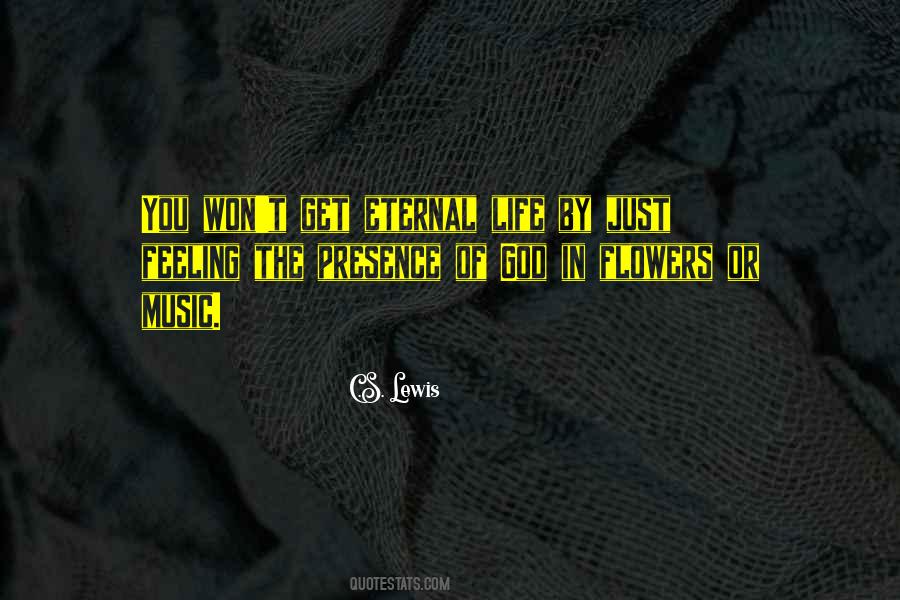 #46. Band chemistry is a tricky thing. If one guy isn't feeling right with the other guys, everything gets thrown off. When you get the personalities and the chemistry right, that's a grand slam. - Author: Les Claypool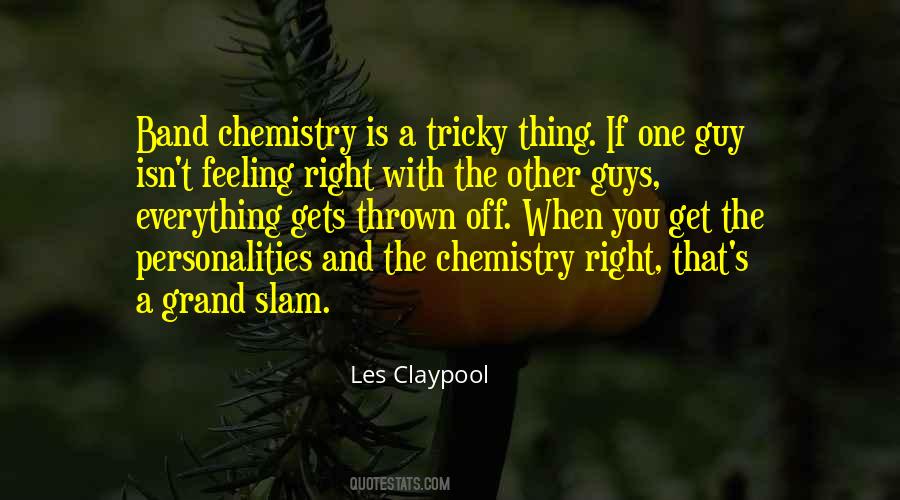 #47. I'm feeling generous today. You get to live. - Author: Frank Beddor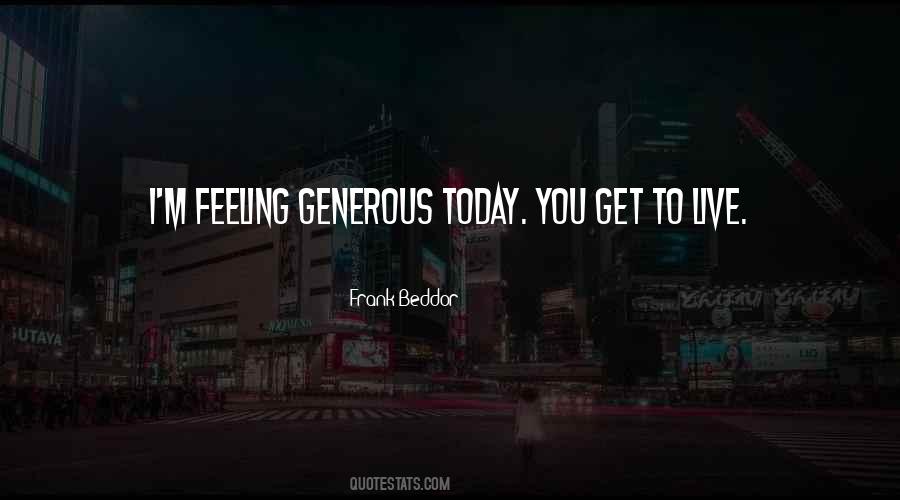 #48. Dear Teenage Self,

That guy you're crazy about,
Will ask you out
On a date
In about ten years, so don't fret
You'll get there yet.
But fate is cruel
On that day,
That feeling will have gone away. - Author: Joyce Rachelle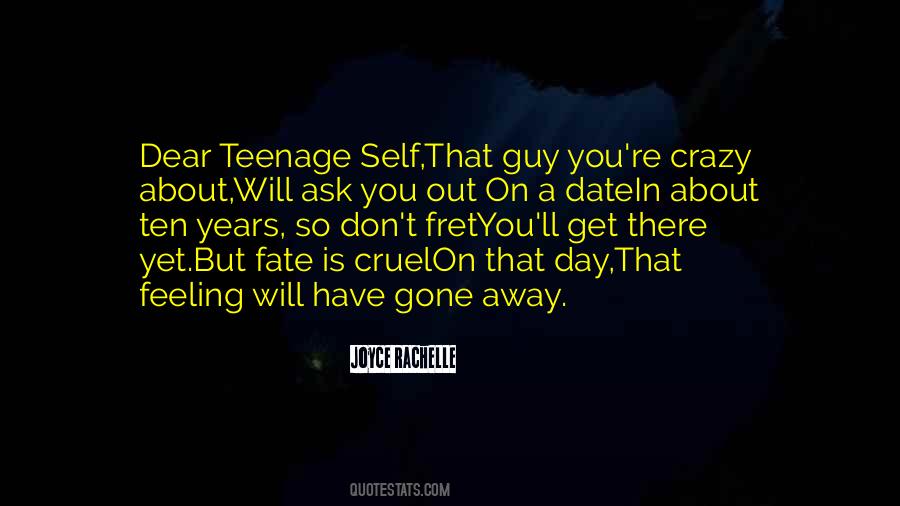 #49. I'm really sensitive. And they don't understand that, because my most comfortable feeling is anger. So I'll get angry if you said something to hurt my feelings or you're making me uncomfortable, I'll get angry, and be ready to do something about it. - Author: Curtis Jackson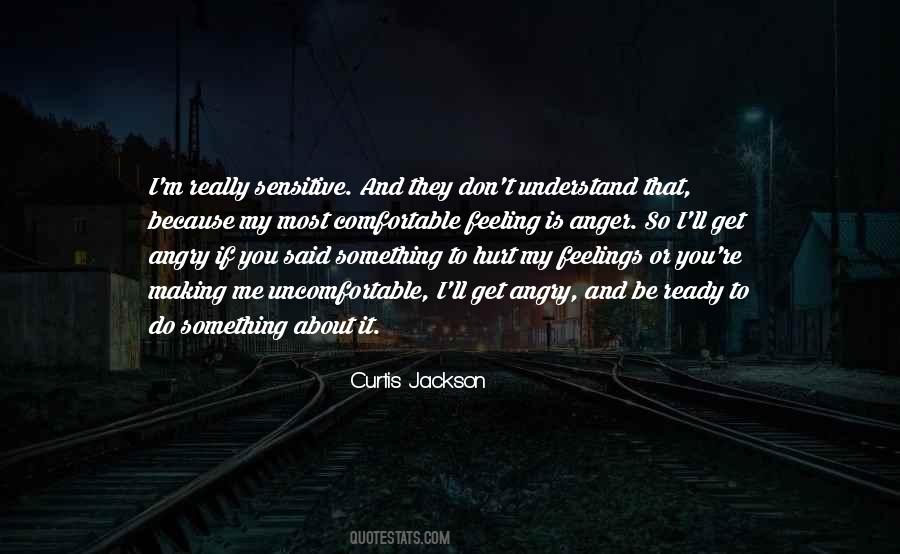 #50. Somebody waits for the time I know will never come
You get yourself so high
Then you come down feeling blue
One day you'll wake up and realize you've had enough
There's a thousand shining moments
Waiting just to happen to you - Author: Blue Rodeo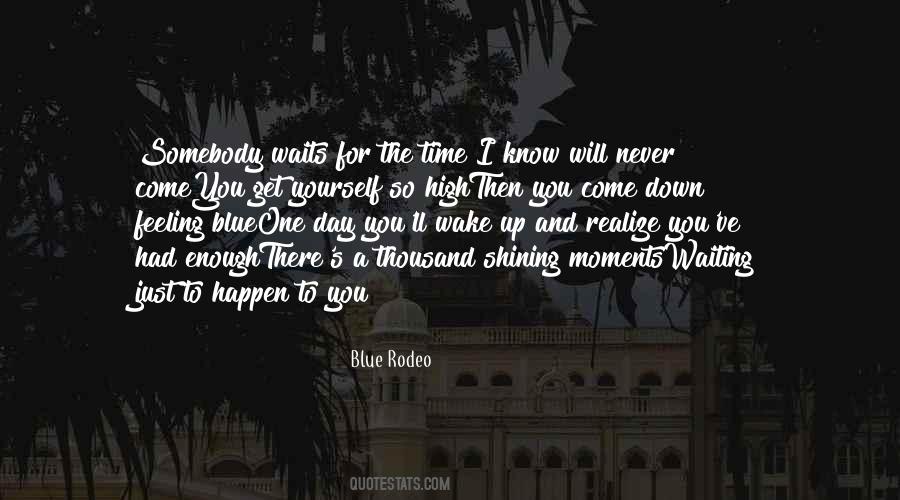 #51. I began to get a feeling ( ... ) of being the only sane man in a nut house. It doesn't make you feel superior but depressed and scared, because there is nobody you can contact. - Author: William S. Burroughs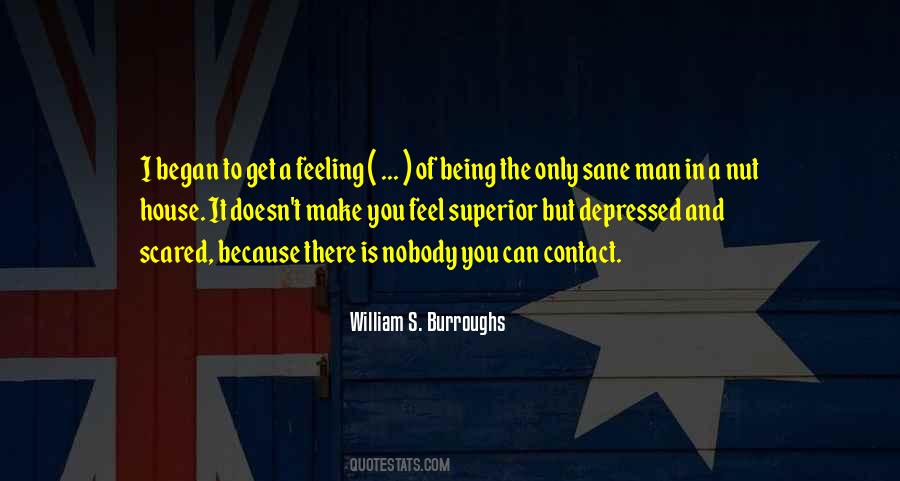 #52. OK, she's dead and you feel guilty, and feeling guilt isn't something you enjoy. Too bad. Get used to it. Why the hell should you escape guilt? It's part of being human. Or hadn't you noticed? - Author: P.D. James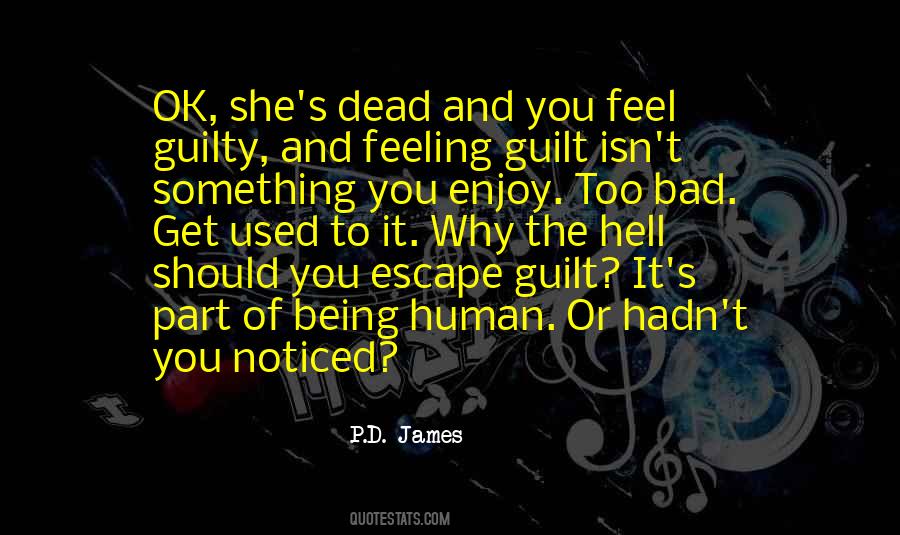 #53. Feeling is what you get for thinking the way you do. - Author: Marilyn Vos Savant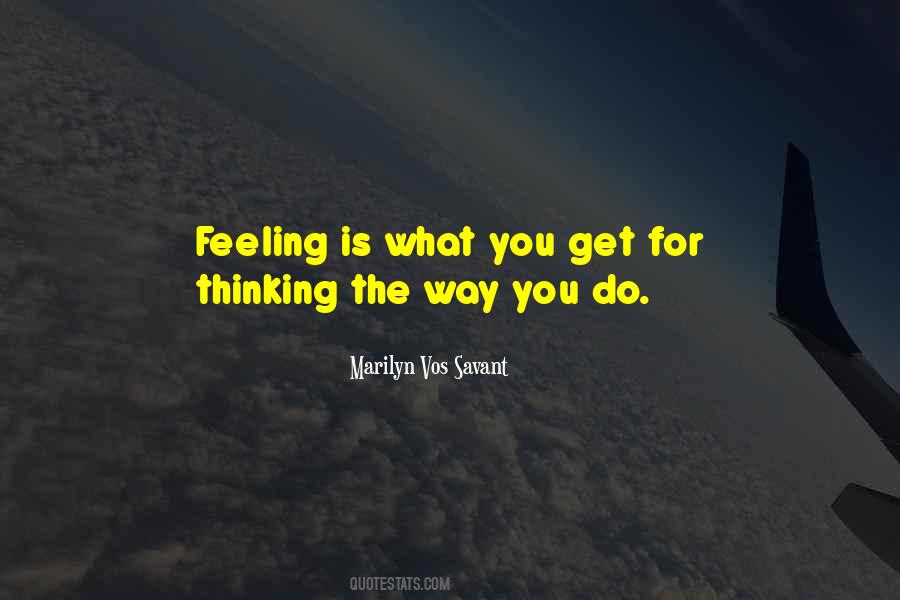 #54. I just love being on the ocean and being creative on the waves and the feeling you get when you're surfing. All around it's beautiful and fun. - Author: Bethany Hamilton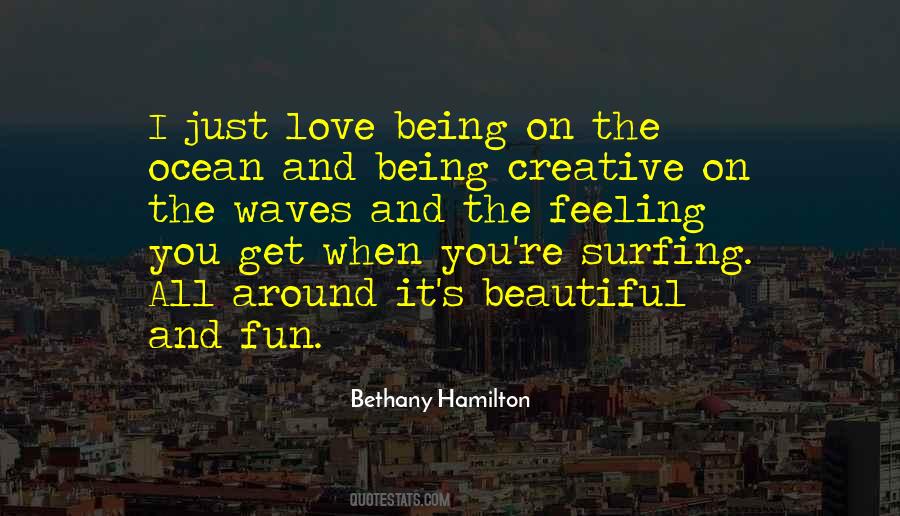 #55. The best feeling in the world might be when you finish a book and you get to pick out another. - Author: Kira Hawke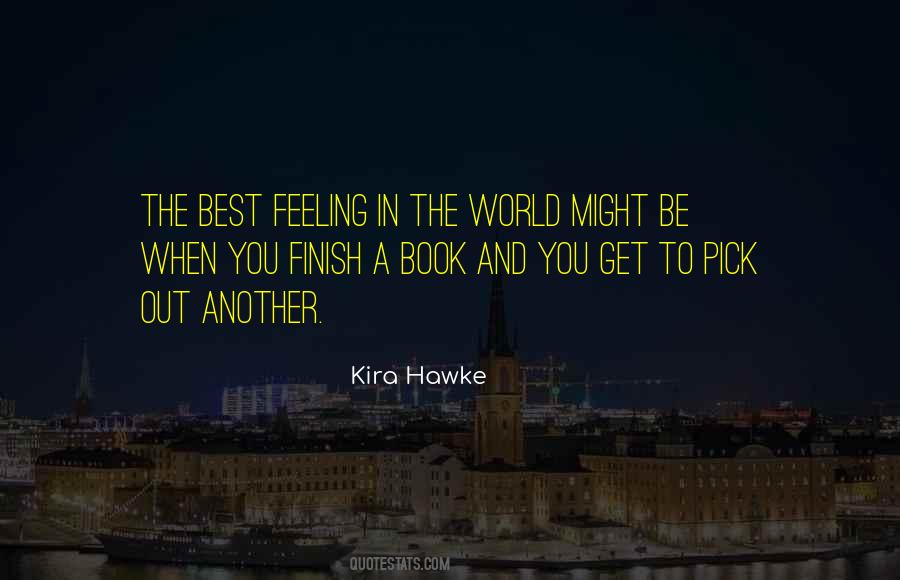 #56. You get a strange feeling when you leave a place, like you'll not only miss the people you love, but you miss the person you are at this time and place because you'll never be the same again - Author: Azar Nafisi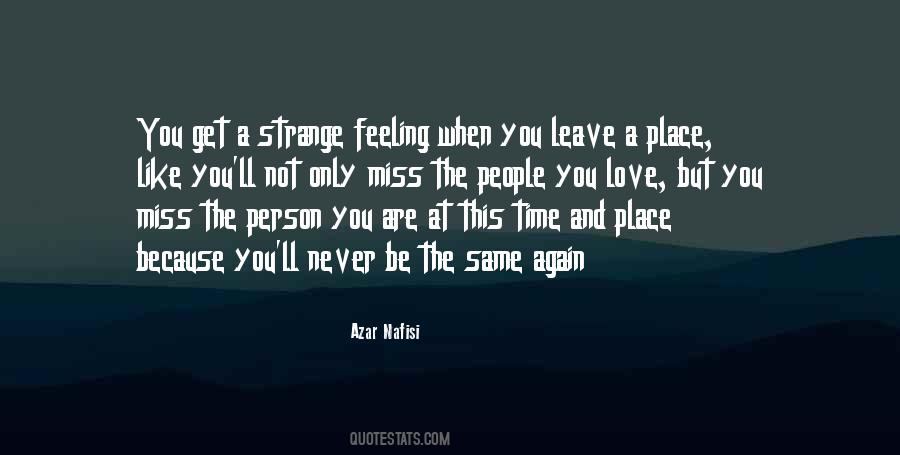 #57. In this industry, you're so used to heartbreak because nine out of 10 times, you don't get what you want. But, that one out of 10 times, you do and it's just the best feeling in the world. - Author: Josh Lawson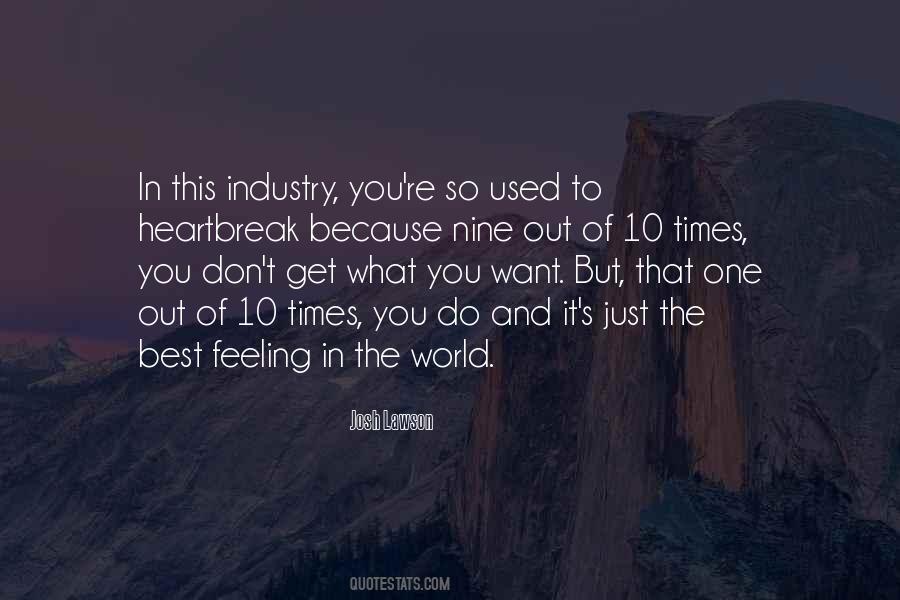 #58. But, I get this feeling that if I stay close to you, I'll find what I'm looking for - Author: Jamie Magee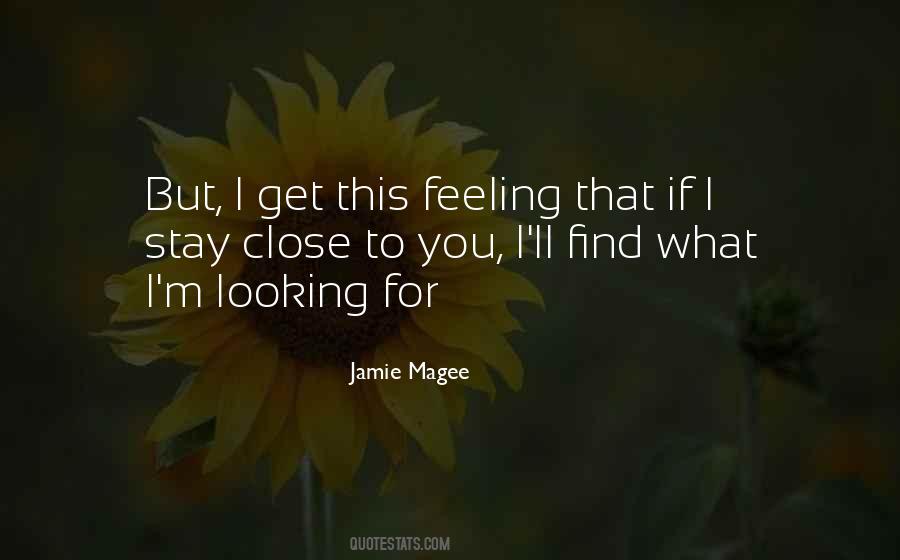 #59. Create a Vision Board .. pictures of what you want to attract .. every day look at it and get into the feeling state of already having acquired these wants. - Author: Rhonda Byrne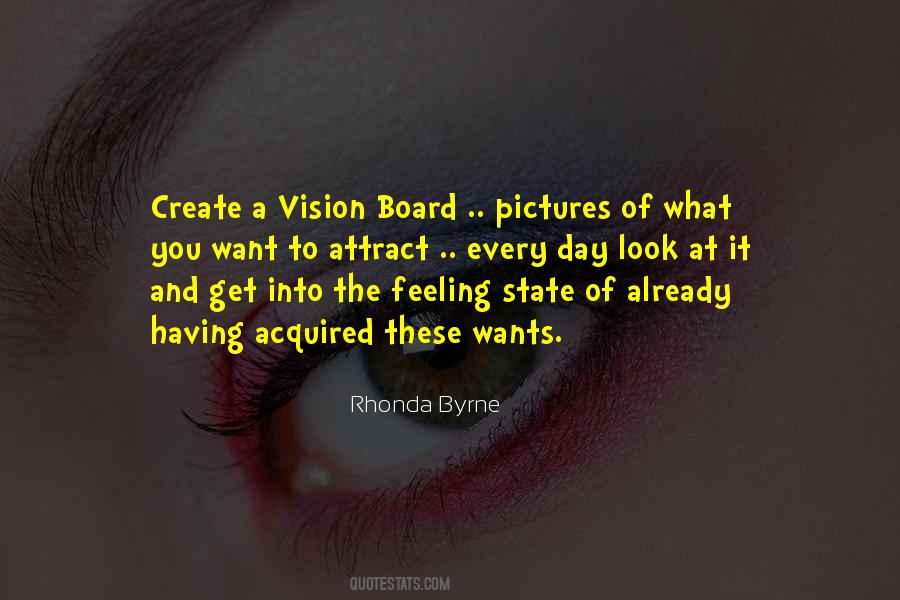 #60. That feeling of finishedness does not come all at once, and it is not easily won, but I think once you get there it is hard to go back. - Author: John Green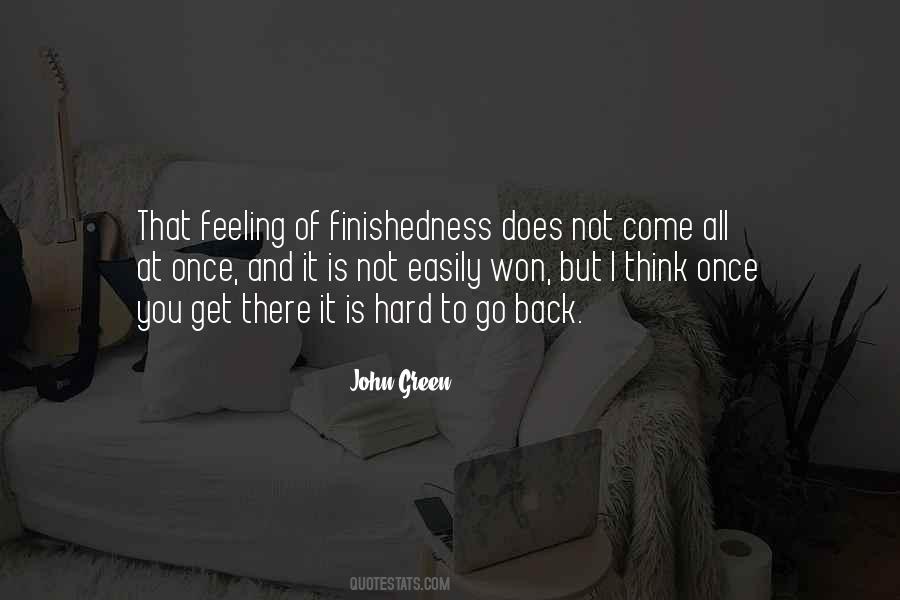 #61. I don't think you should reprimand your child for everything you're feeling because for them it's as serious as when something happens in our day and we get upset about it. - Author: Nia Long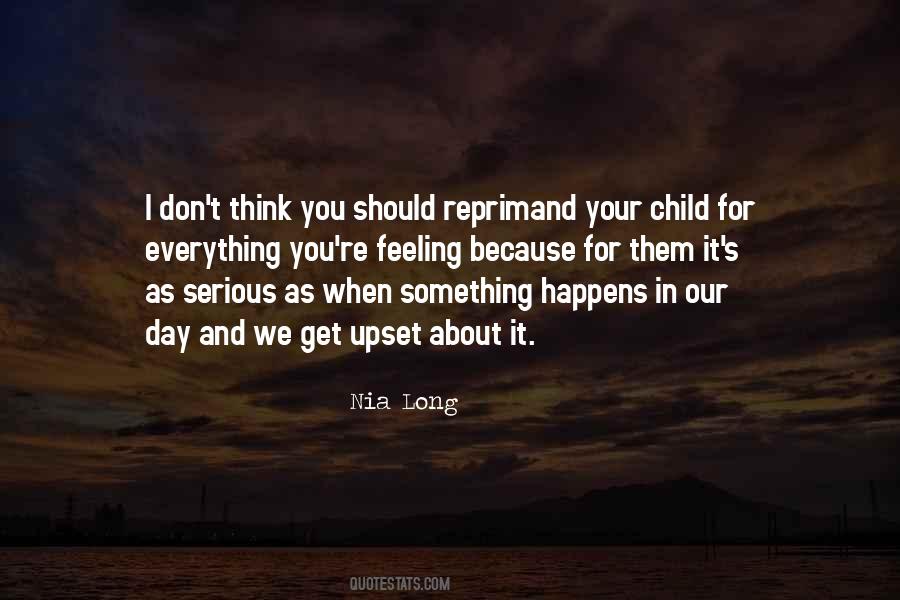 #62. Freud's theory was that when a joke opens a window and all those bats and bogeymen fly out, you get a marvellous feeling of relief and elation. The trouble with Freud is that he never had to play the old Glasgow Empire on a Saturday night after Rangers and Celtic had both lost. - Author: Ken Dodd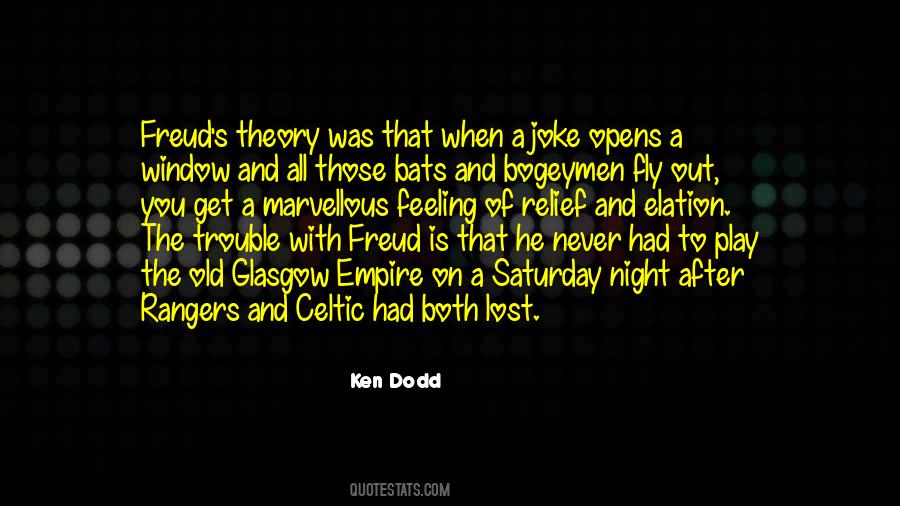 #63. Do you get the feeling with Sarah Palin, in high school, she was voted least likely to write a book and most likely to burn one? - Author: Robin Williams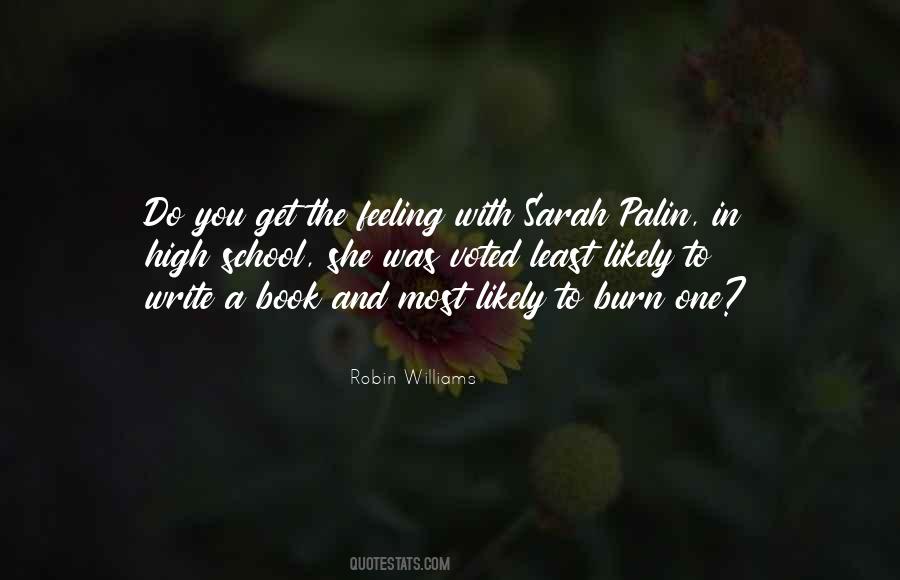 #64. When you play a guitar for a long time, you get your hand oils in there; it starts feeling good and behaving, and you just don't want to mess with that. - Author: Mac DeMarco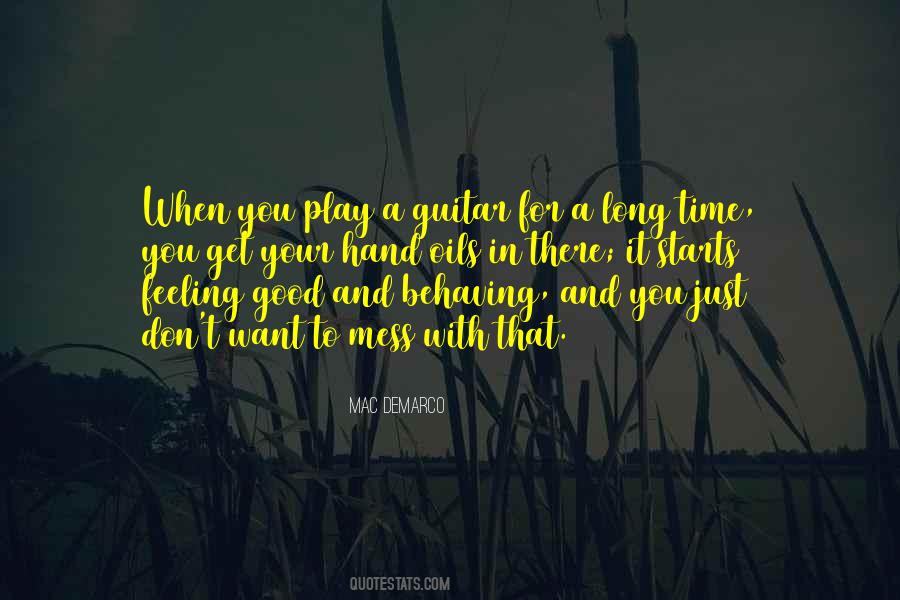 #65. In Charleston, more than elsewhere, you get the feeling that the twentieth century is a vast, unconscionable mistake. - Author: Pat Conroy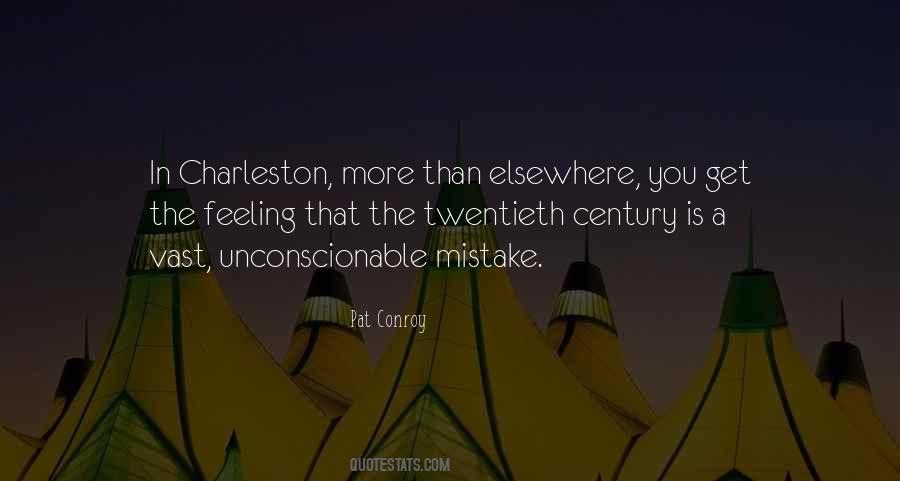 #66. If some people are so hungry for a feeling of importance that they actually go insane to get it, imagine what miracle you and I can achieve by giving people honest appreciation this side of insanity. - Author: Dale Carnegie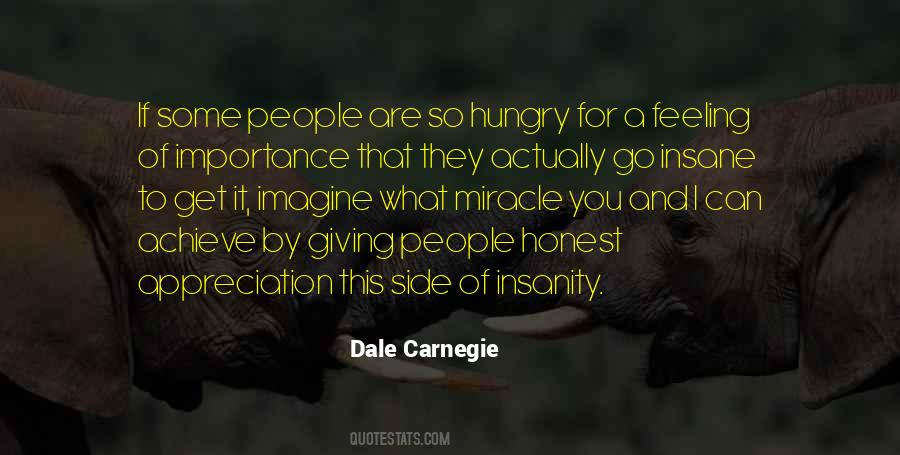 #67. You feeling uncomfortable?" I immediately nod. Squeezing my ass once more, he places his lips at the shell of my ear. "Good. Get used to it. Because I'm going to do bad things to you. - Author: Belle Aurora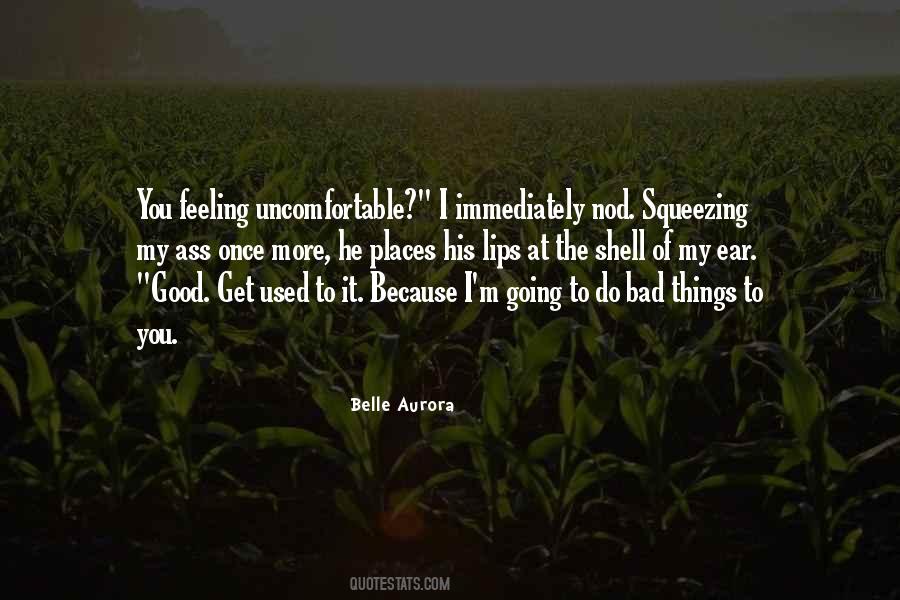 #68. A good feeling for me is when you train, and then you put on fresh clothes. New clothes after a training session - you have this rush of endorphins from exercise that everybody gets, and then you get that nice feeling of fresh clothes. It's a double whammy. - Author: Conor McGregor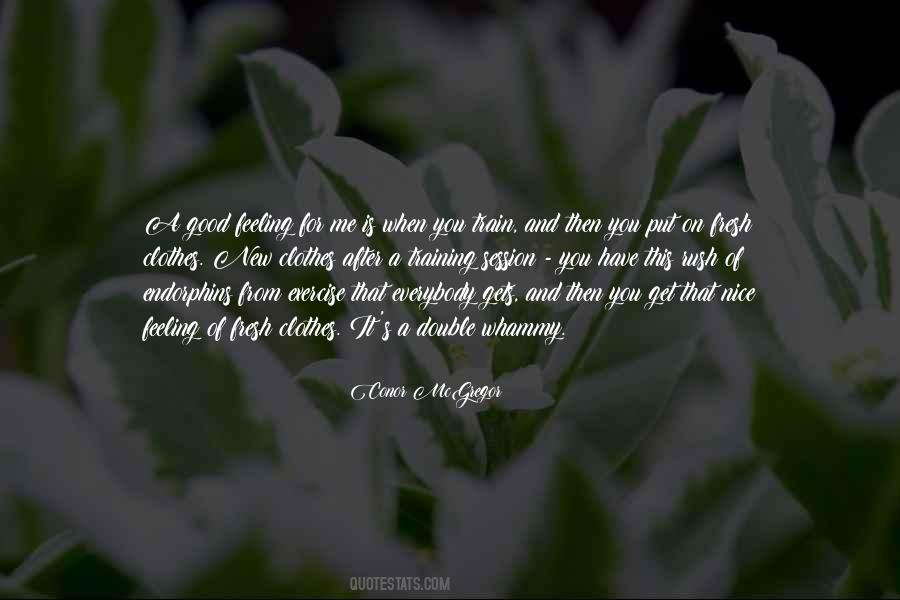 #69. Photography for me is not looking, it's feeling. If you can't feel what you're looking at, then you're never going to get others to feel anything when they look at your pictures. - Author: Don McCullin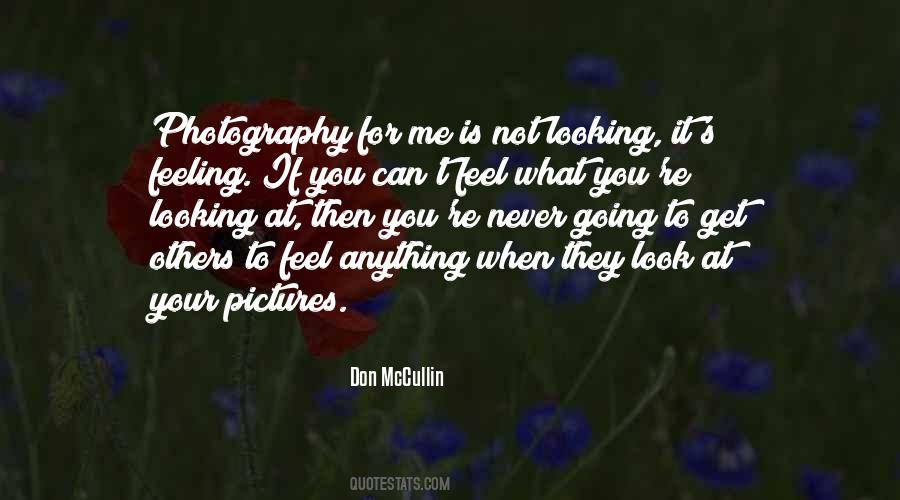 #70. I think maybe the most frustrating feeling in the world is to have something to say but not know how to put it into words. To have lived through something but not be able to get it out of you before it festers. - Author: Alexandra Bracken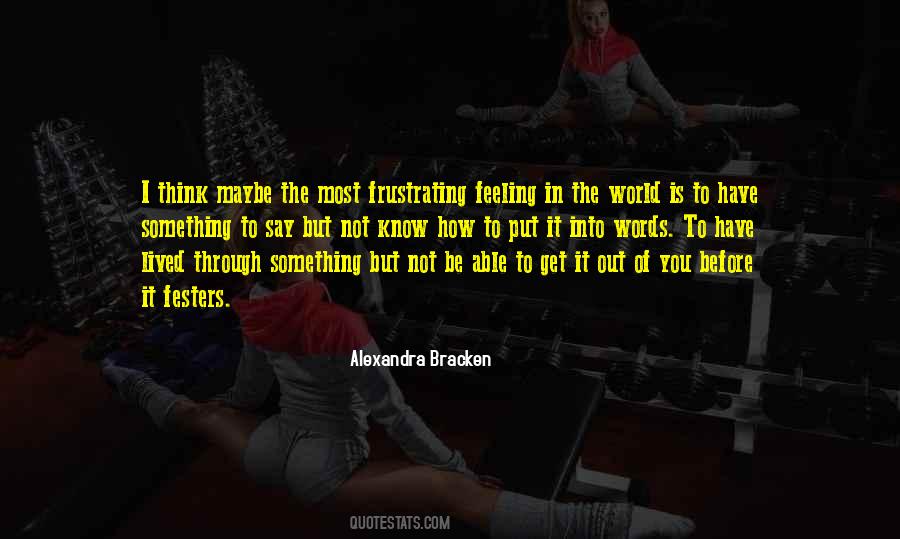 #71. It was the feeling you get when you fall face first into bed after a long day. That's what being near Beck felt like. - Author: R.S. Grey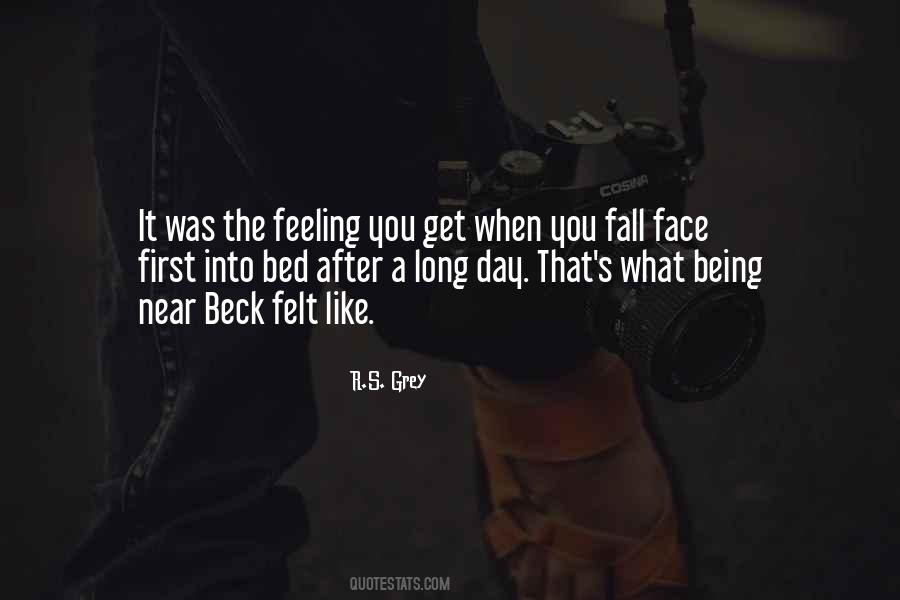 #72. You want to know how I'm feeling? Just look at me, and I'll tell you how I'm feeling. Nothing is hidden. I'm all out there. I cry like a baby, I get upset, I stamp my feet. I'm not stoic. - Author: Marcia Gay Harden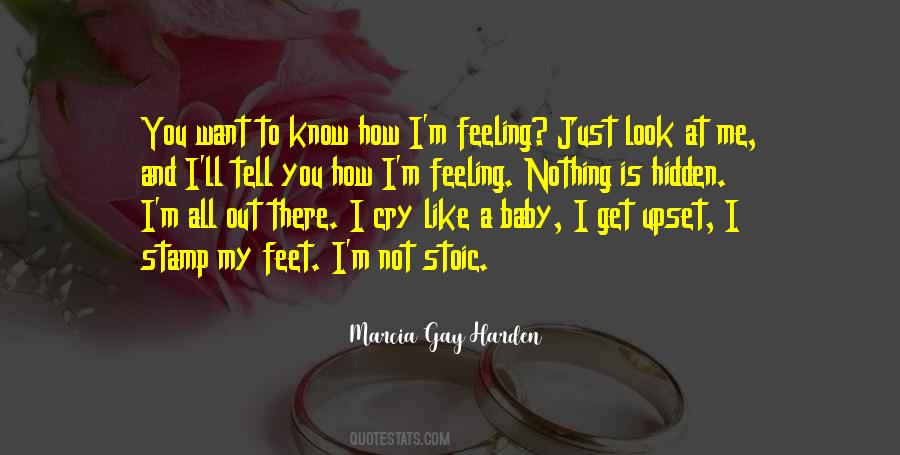 #73. I think I started out okay but with AIDS came a great deal of silence about gayness and this period of lose and morning, but at the same time a kind of feeling like you wanted to get back into the closet because being gay was such a terrible thing at that point. - Author: Margaret Cho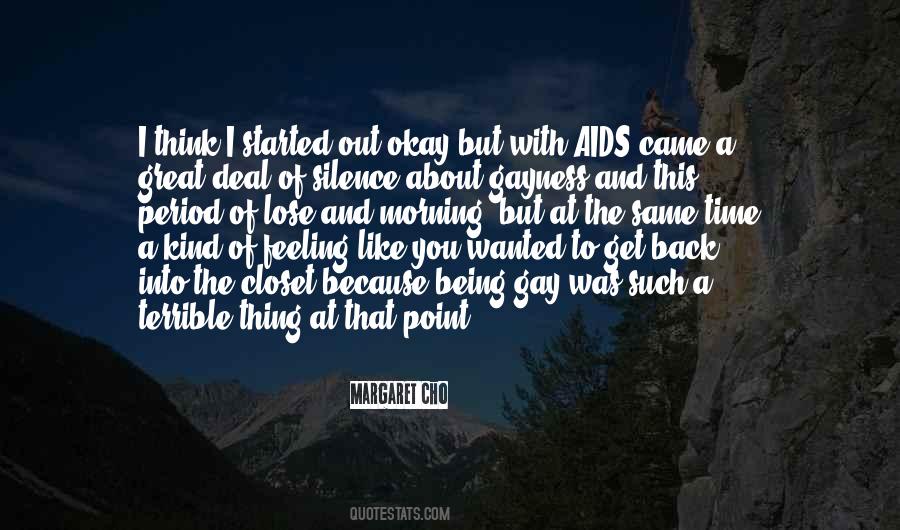 #74. We're not God. All we can do is our best. But when I look at you ... I get the feeling that the limit of "your best" is up to you. - Author: Sakura Tsukuba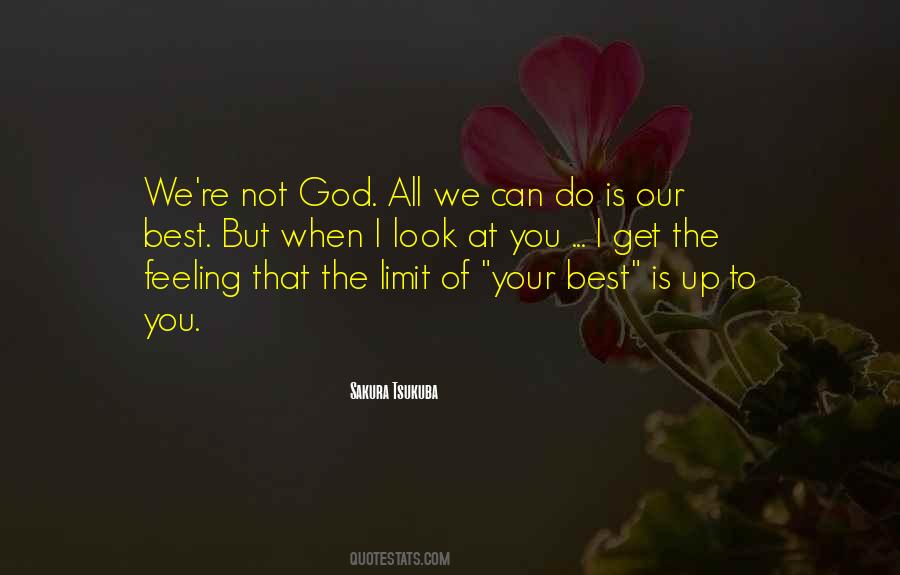 #75. Winning is an amazing feeling. You don't get that in business; you don't get that in many things. - Author: Tony Fernandes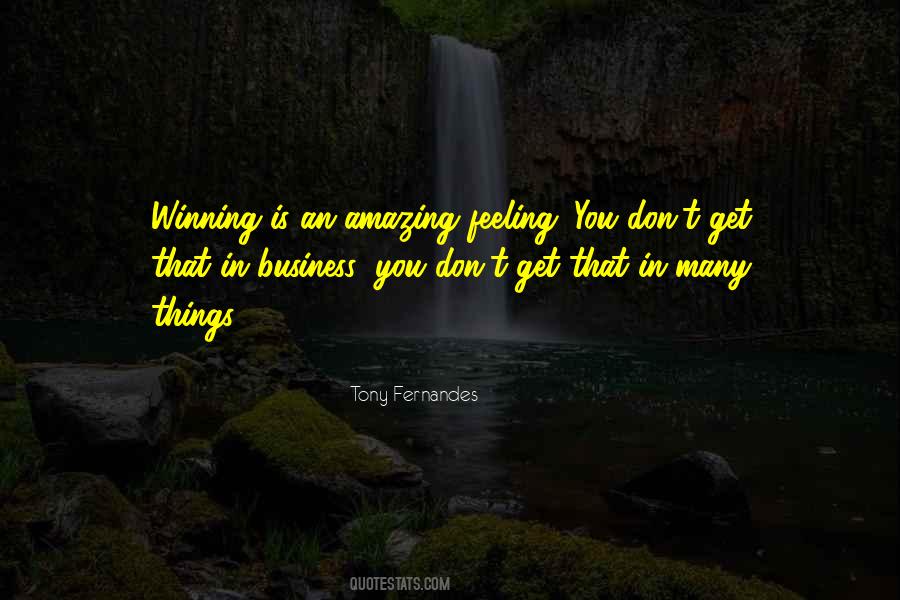 #76. You've felt it, haven't you? Those feelings that seem to get so big in your chest, like something is so beautiful it aches? - Author: Heather Anastasiu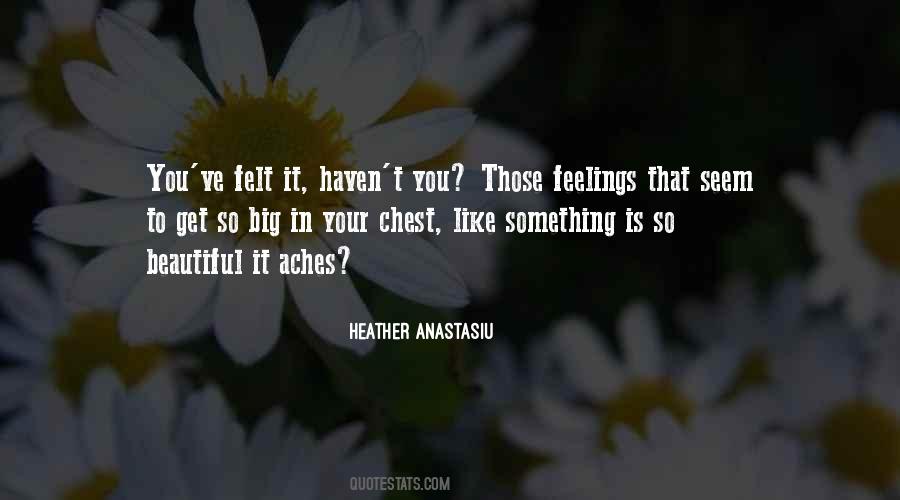 #77. Very often at the end of 'The Sopranos' you get the feeling that its not under control, you should be very worried, and life is kind of really, really messed up at lot of times. It leaves you feeling very disconcerted. That was kind of the point of it. - Author: Terence Winter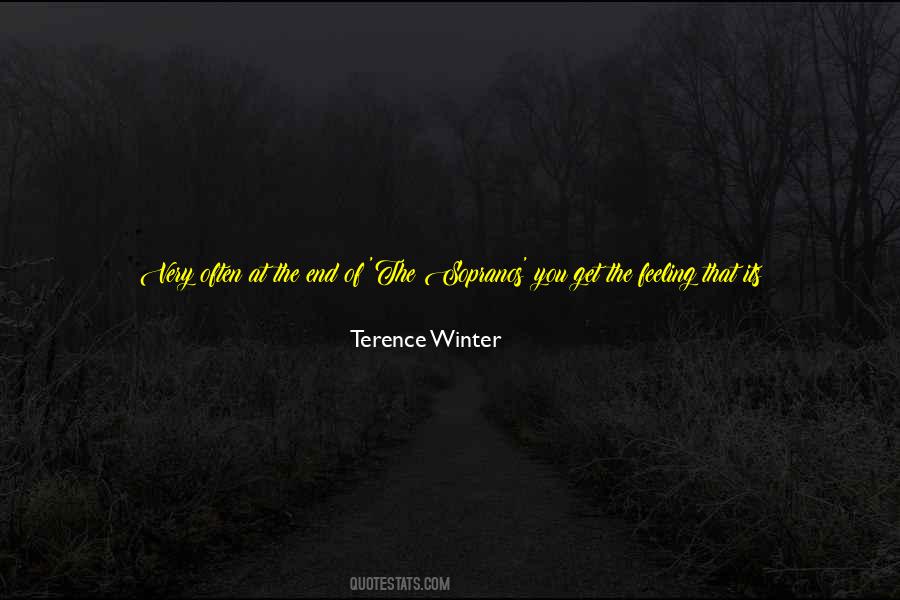 #78. Say you'll marry me." Sighing melodramatically, Tyler wound his free arm around Johnnie's neck. He pulled back enough to look again into Johnnie's eyes. "Fine. But why do I get the feeling I get to be the bride? - Author: Jet Mykles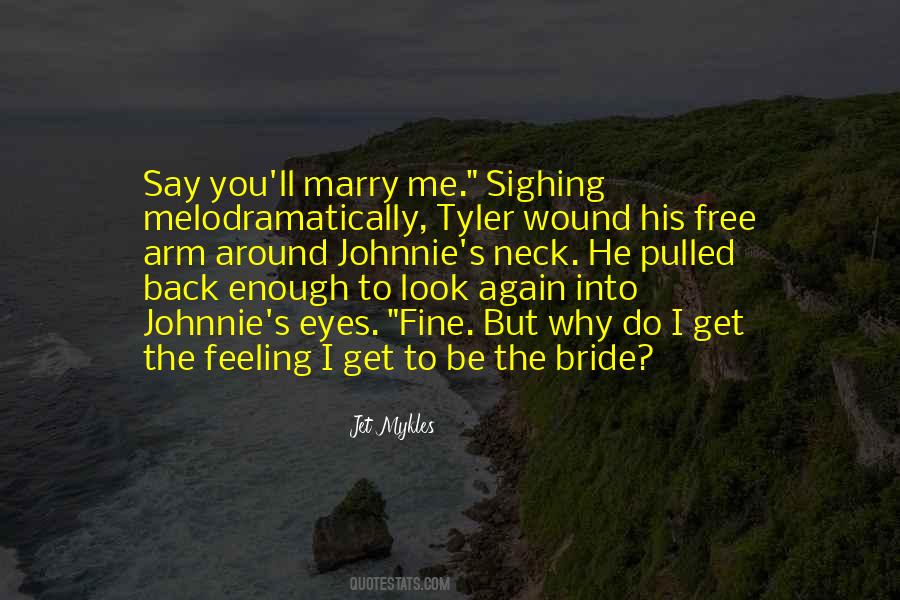 #79. Beaumont-Hamel sits within a thousand acres of French agriculture. The trenches are under this blanket of grass. In the 1920s, a park was established here and trees from Newfoundland imported to encircle the battlefield so you get the feeling of being within a copse of woods. - Author: Michael Winter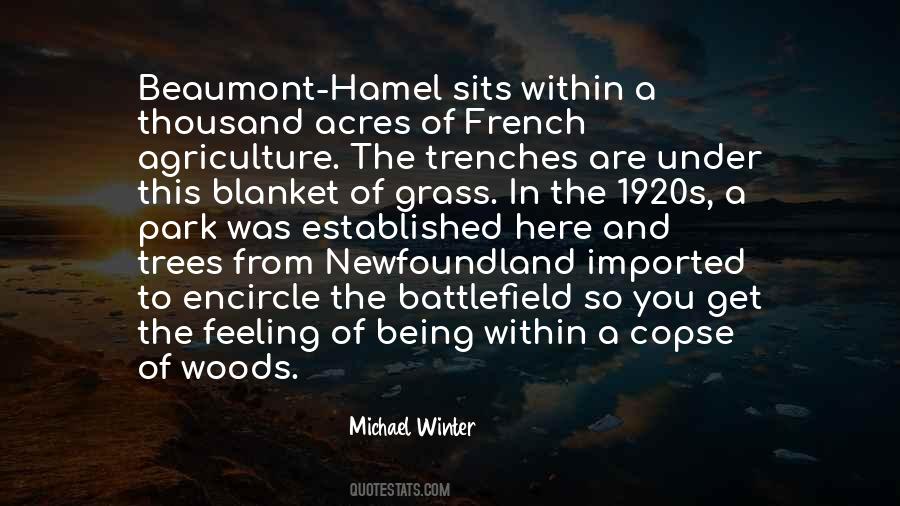 #80. I've learned that waiting is the most difficult bit, and I want to get used to the feeling, knowing that you're with me, even when you're not by my side. - Author: Paulo Coelho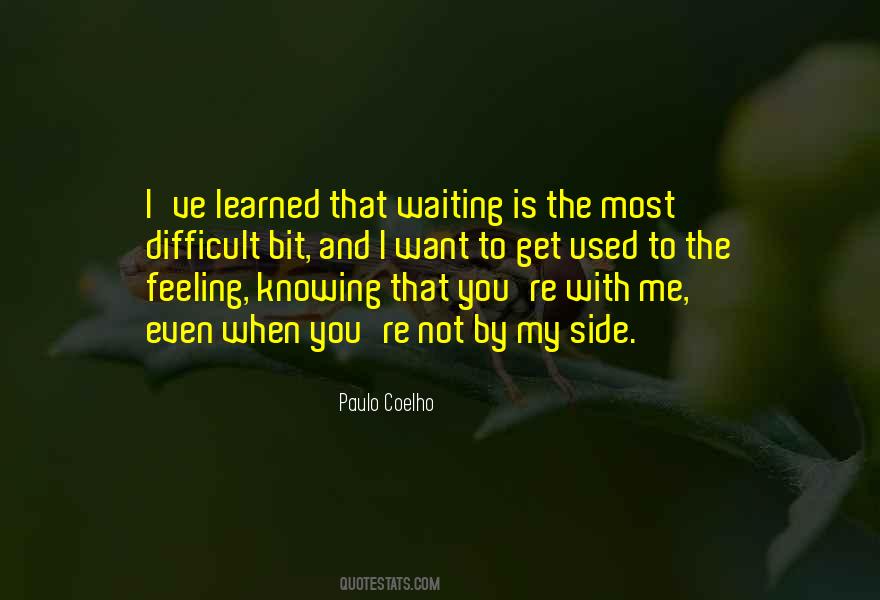 #81. I love the feeling that you get when you can really laugh with a man and be natural and not always think that there's a sexual element going on. For me, flirting with a man means making fun of myself and trying to open myself and be very unpretentious. - Author: Cameron Diaz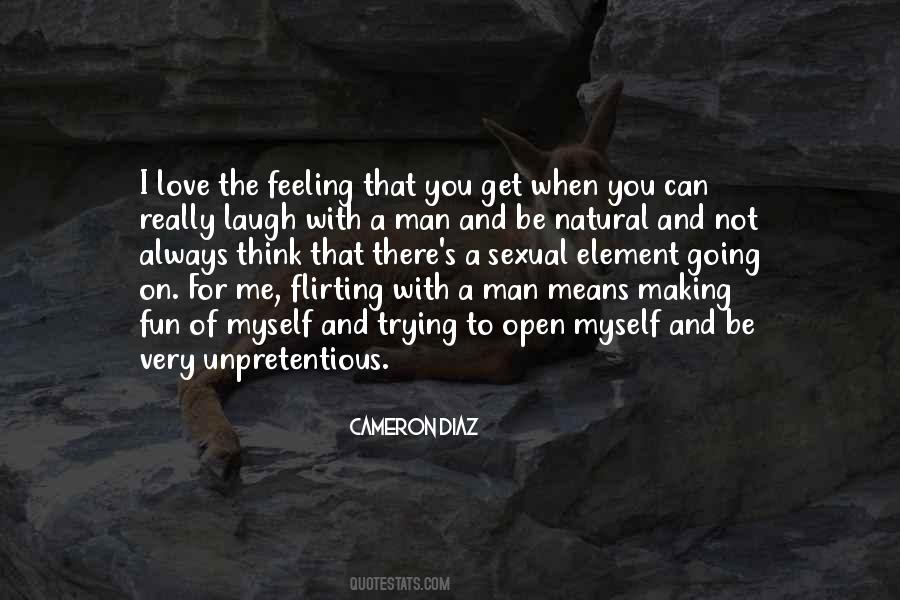 #82. No matter how you are feeling, get up every morning and prepare to let your light shine forth. - Author: Paulo Coelho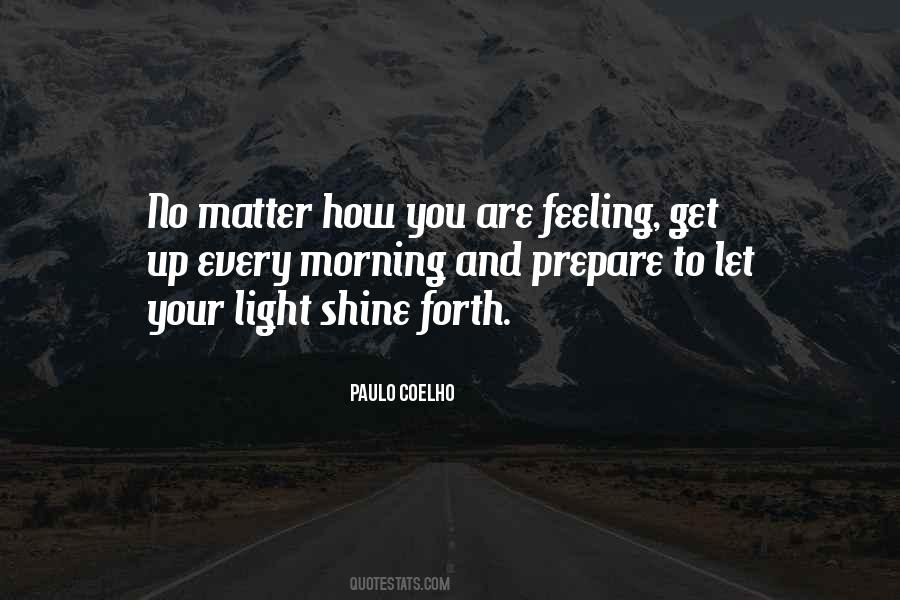 #83. Supporting a family and financial necessity aside, what I want is to read it and just have that feeling in your chest that you know you need to do it and you understand how you could get there, even if it scares you. - Author: Shannyn Sossamon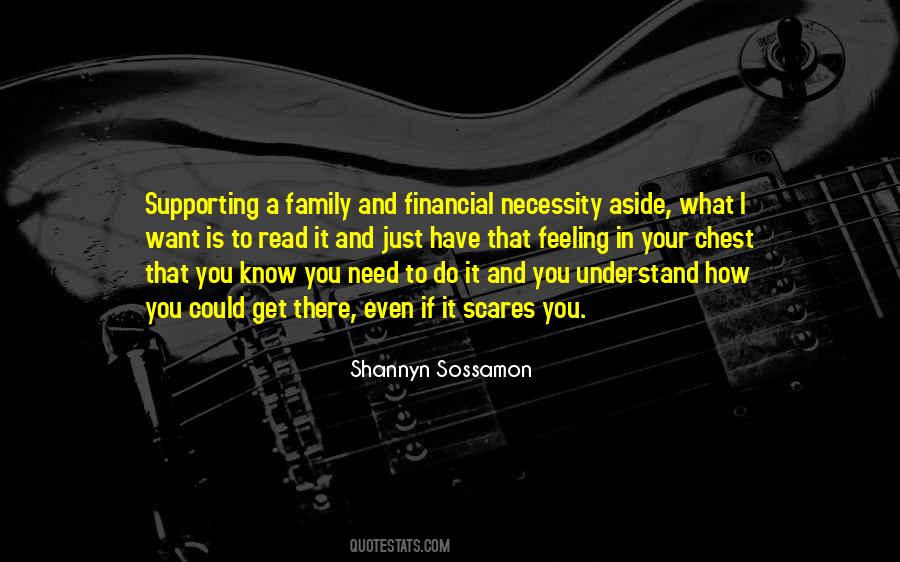 #84. There's no better feeling than sitting on the team bus travelling to the Millennium Stadium knowing that the team will be playing in front of 74,500 people. You're driven through the crowds where you see the smiles on people's faces and I get a huge buzz out of that. - Author: Warren Gatland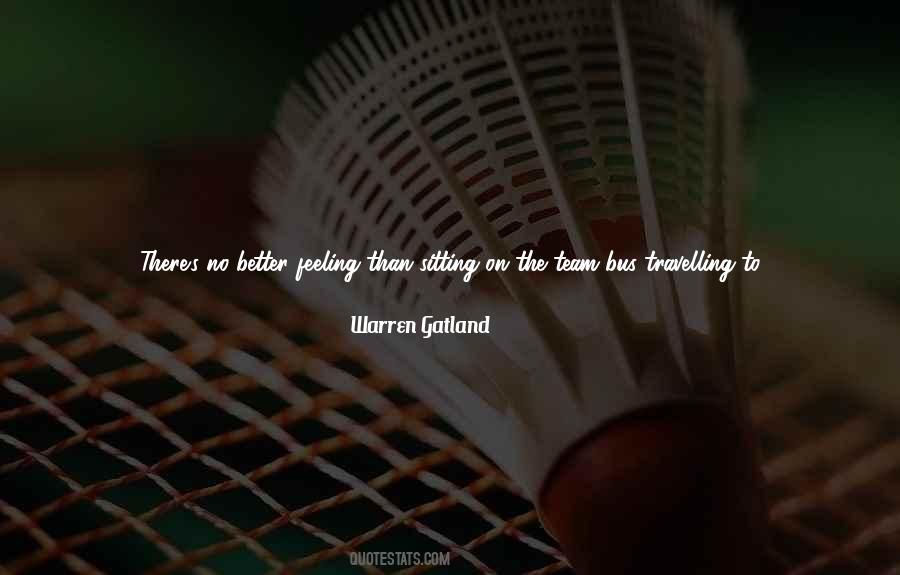 #85. A lot of guys really I get the feeling don't care whether you like their show or not, you know. I want people to enjoy what I do, and understand what I'm doing is for their enjoyment, it's all I can ask for. - Author: Regis Philbin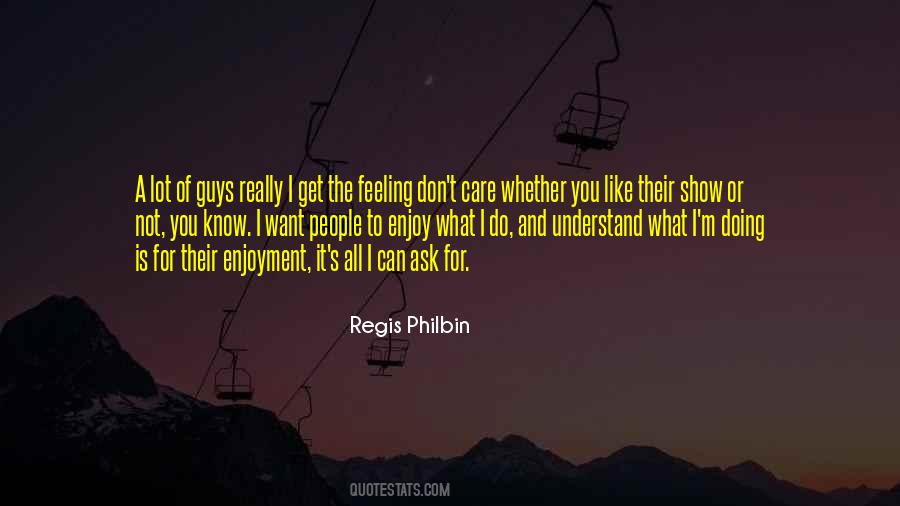 #86. Would you like to hear a nice definition of jealousy? It's the feeling that you get when someone you absolutely detest is having a wonderful time without you. - Author: William Peter Blatty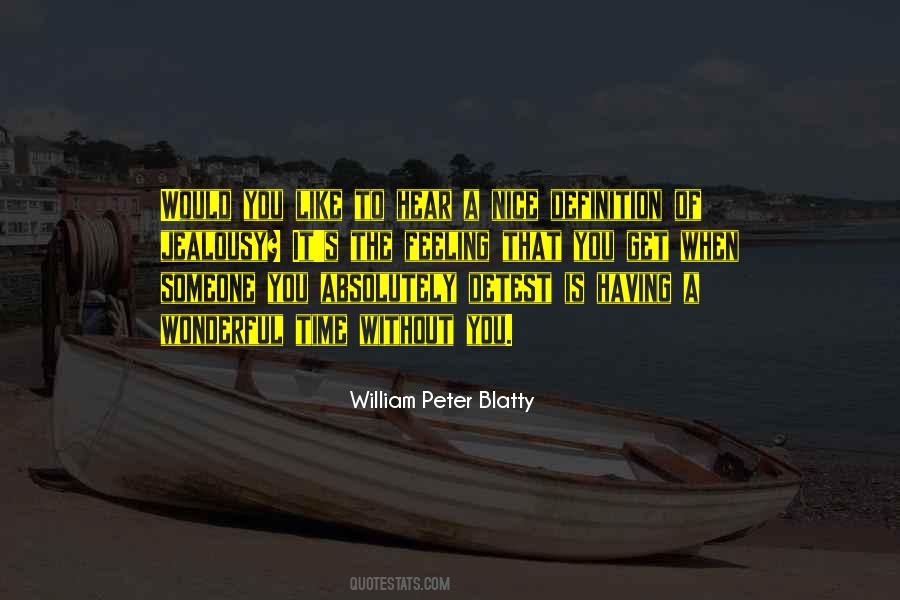 #87. Though I can't help feeling a sudden death cheats you of something. Death is an experience of life. You only get one death. I would like to be aware it was happening, even if that did mean enduring pain and fear. - Author: Trudi Canavan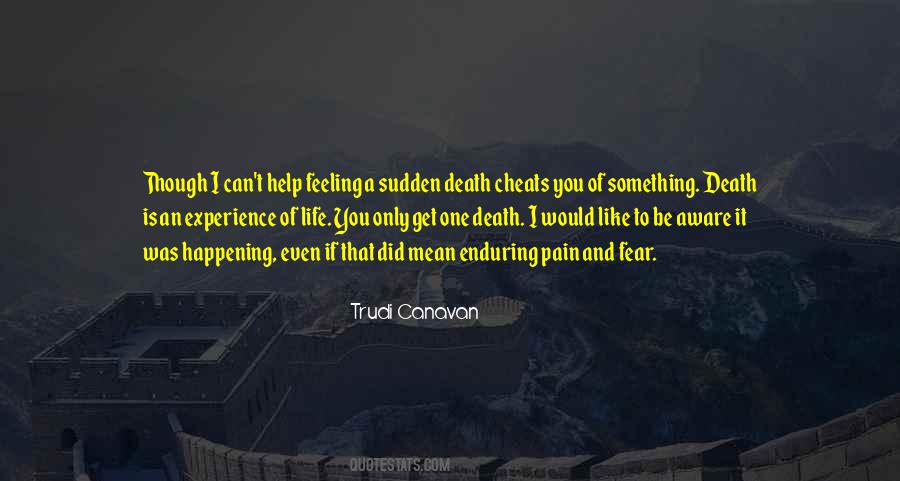 #88. To those who do not know mathematics it is difficult to get across a real feeling as to the beauty, the deepest beauty, of nature ... If you want to learn about nature, to appreciate nature, it is necessary to understand the language that she speaks in. - Author: Richard Feynman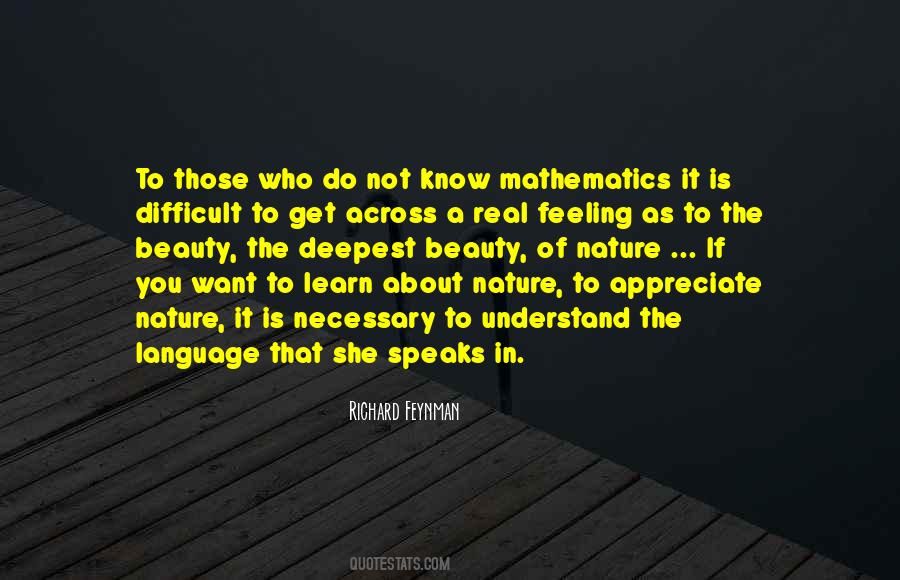 #89. What does kissing really mean to me? To me, if you feel, when you kiss a girl, that certain feeling of all those dolphins, like, swimming through your blood stream, and you get those good tingles inside your stomach, I don't think there's any better feeling. - Author: Corey Haim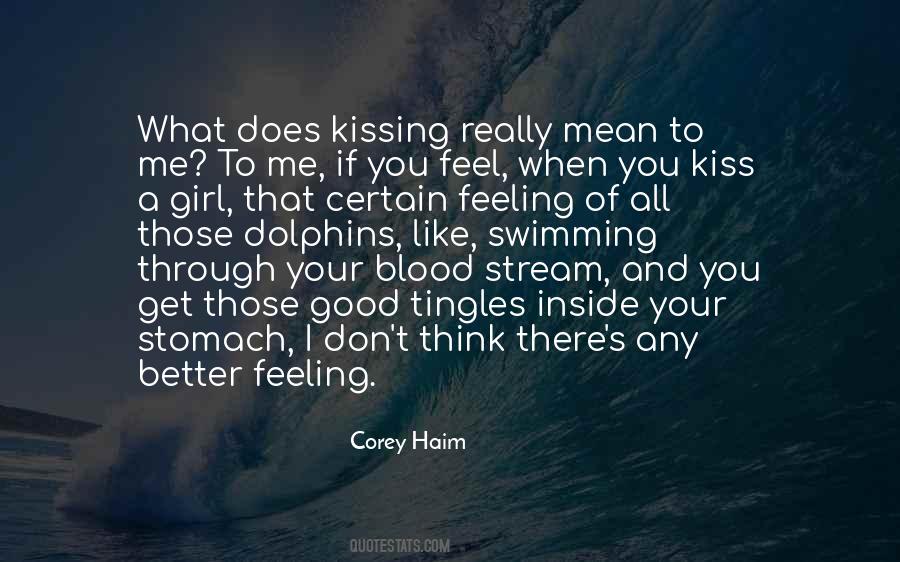 #90. I get the feeling you're going to push me to that point and I'm going to have to show you how far I'm willing to go to get what I want." - Theoden from Embraced: Chained in Darkness - Author: Nicholas Bella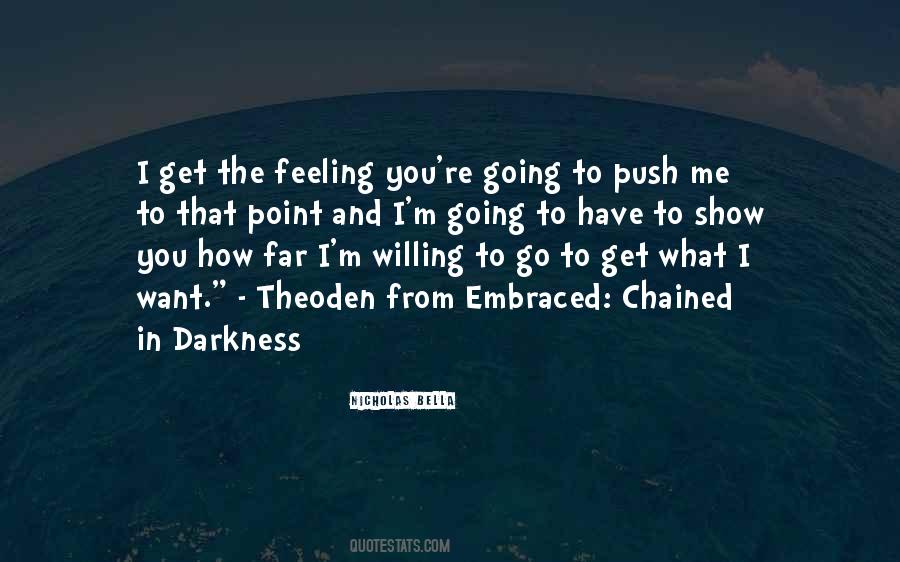 #91. When you come off 'The X Factor,' you're more likely to be a failure than a success because people almost want you to fail. There's this kind of feeling that you're separate from everyone else. You get it from artists, people in the industry, people at record labels. - Author: Olly Murs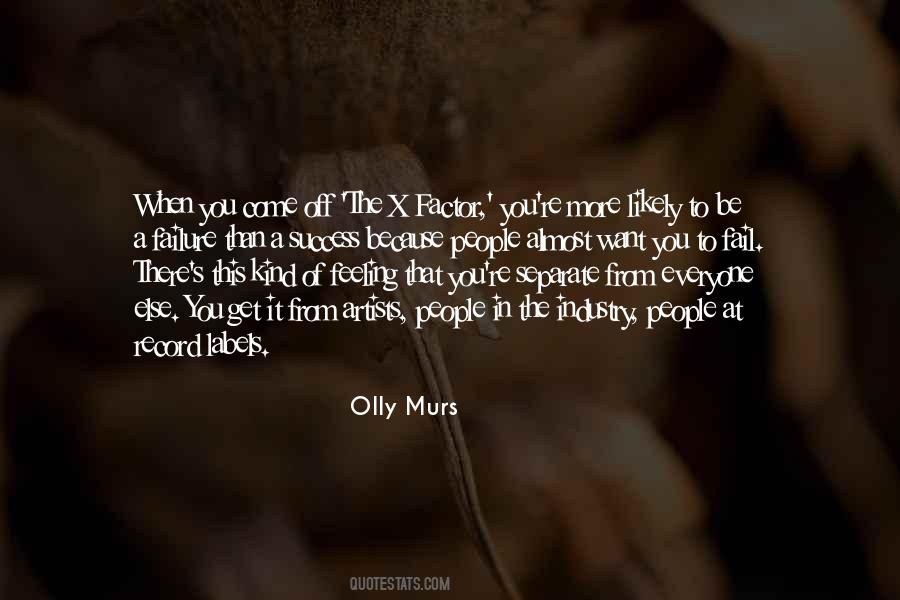 #92. How can you bear to understand that you will get old and lose this feeling, will die and wither and encounter nothing but dark? How can you bear it? Since - Author: Kate Griffin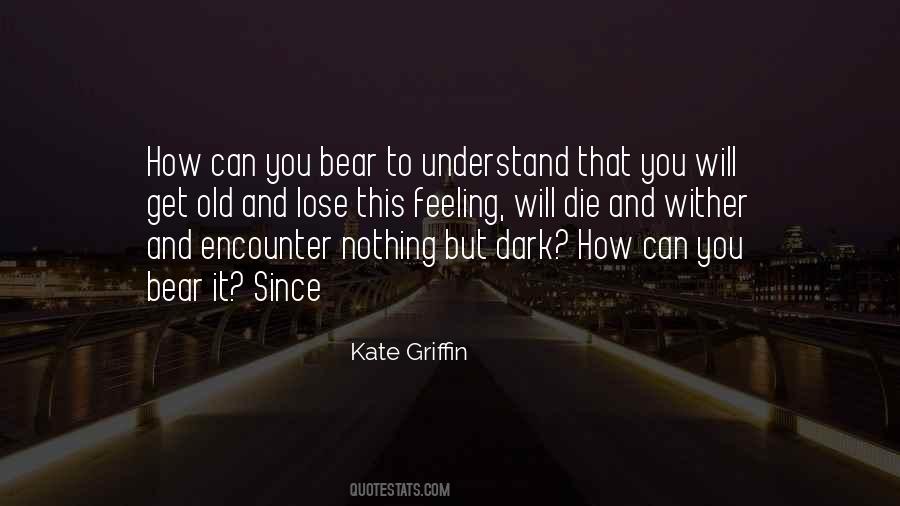 #93. The best thing you can do when you're not feeling funny is go out and get more stimuli from the world, get out and walk around, read a book, go talk to some birds or a dog and replenish the well, as it were. - Author: Rob Delaney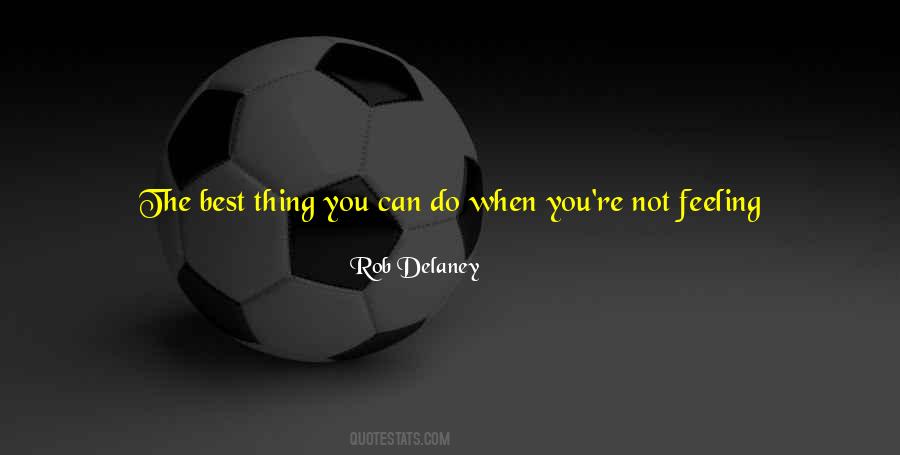 #94. Dan's voice was rough and low as he murmured against Vadim's lips. 'I hate you, Russkie.' No. He didn't, but he couldn't find the right word for this. This feeling. Hatred was the closest he could get. The alternative was still unthinkable. - Author: Aleksandr Voinov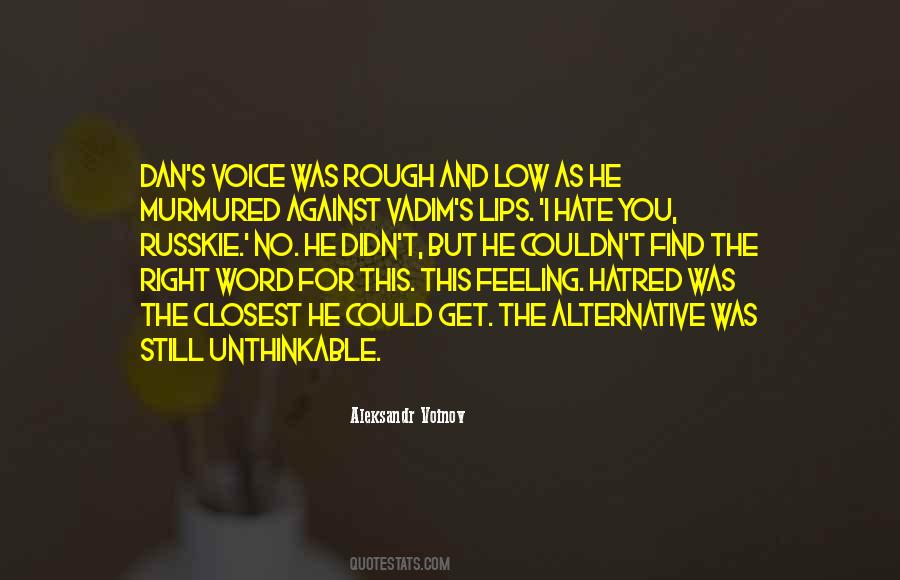 #95. You get this really cool groove when you're playing just piano, bass, and drums where everyone's sort of feeling each other's space, which is the only way to put it, but it really is true, and everyone's sort of sitting in their own pocket. It's kind of jazz-like. - Author: John Darnielle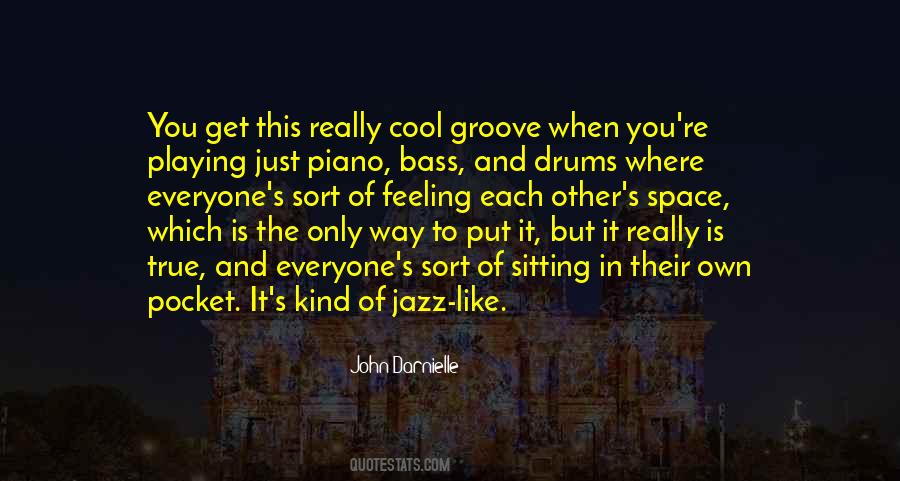 #96. If an employee told you he had the flu, you'd send him home. If an employee told you he was feeling anxious, you'd probably tell him to get back to work. But the emotion is just as contagious as a flu virus. - Author: Chip Conley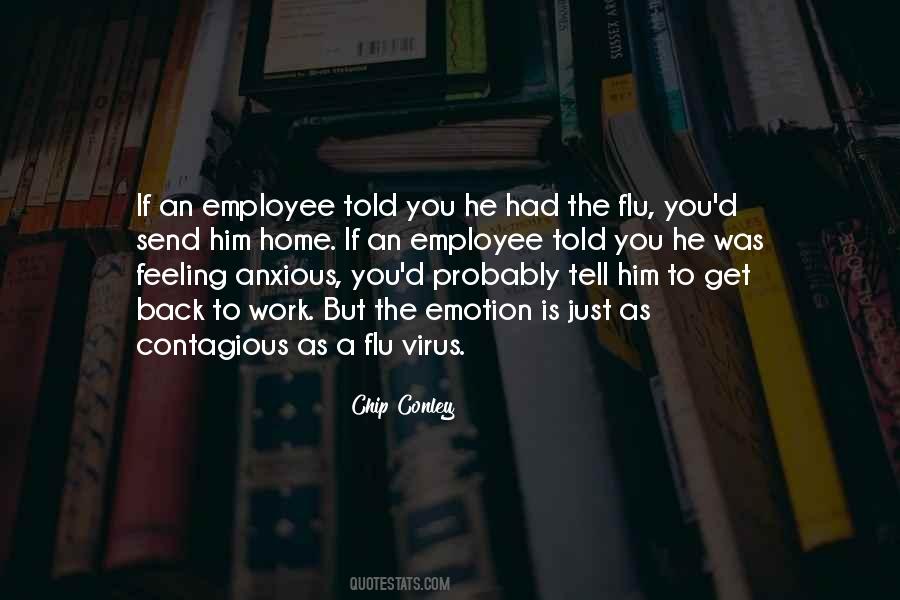 #97. A lot of people who have depression understand that the last thing in the world you want to do when you're feeling that way is get up and exercise. It's virtually impossible to do that. It's like somebody beating you. - Author: Dorothy Hamill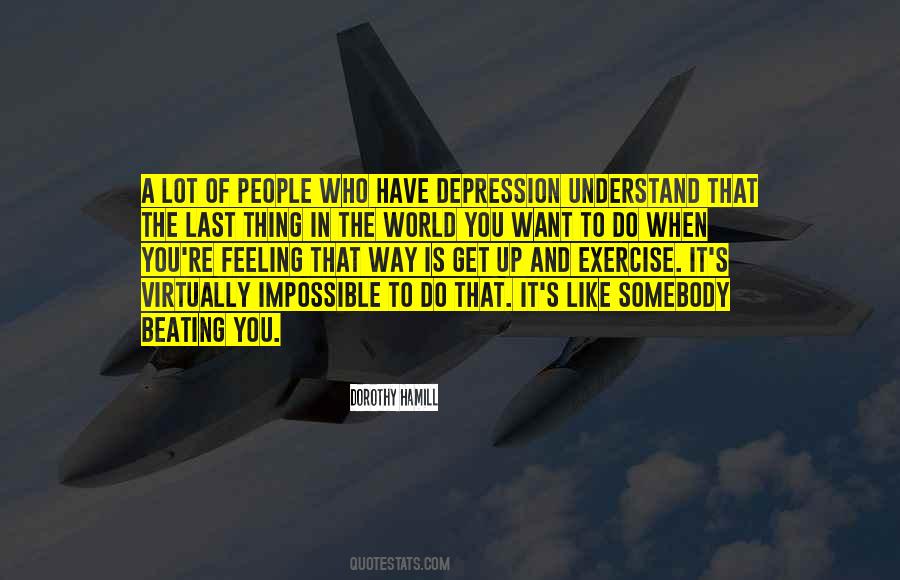 #98. Nothing compares to the feeling that you get when you are in love. - Author: Avijeet Das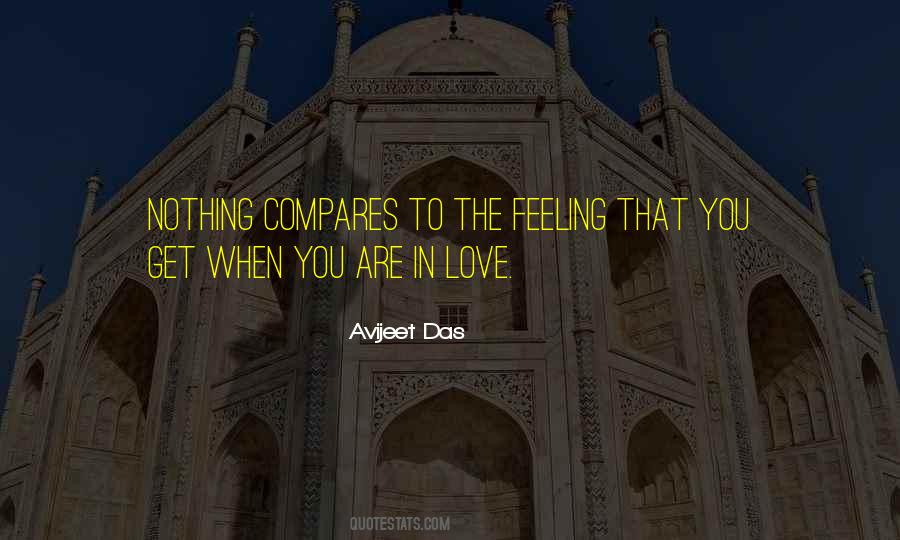 #99. It's definitely an honour and a dream to be able to go out there and have all the people in the stands cheering for you it's a great feeling and I cant wait to get the Olympics started. - Author: Meghan Agosta-Marciano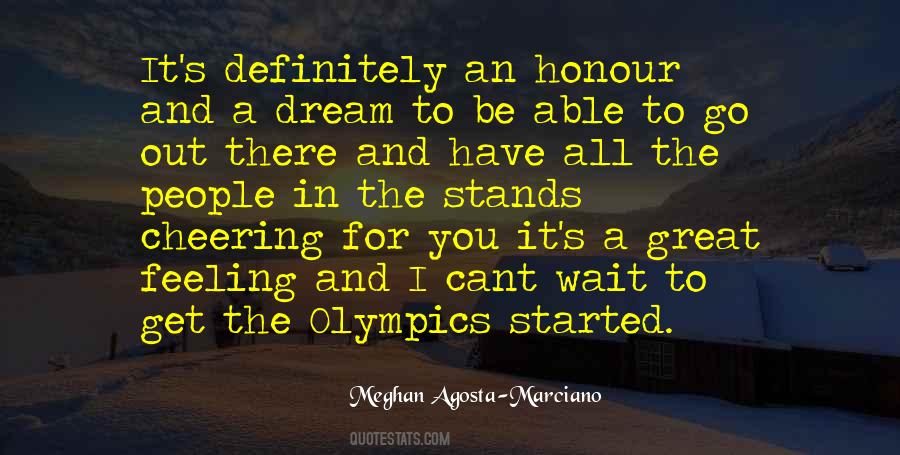 #100. Trey, I thought that the Znou was beautiful and I wanted to keep it," I say, explaining myself to him. "I wasn't trying to kill myself. If I get suicidal, you'll know 'cuz I'll be dead. The only thing I'm feeling right now is homicidal, so watch your back. - Author: Amy A. Bartol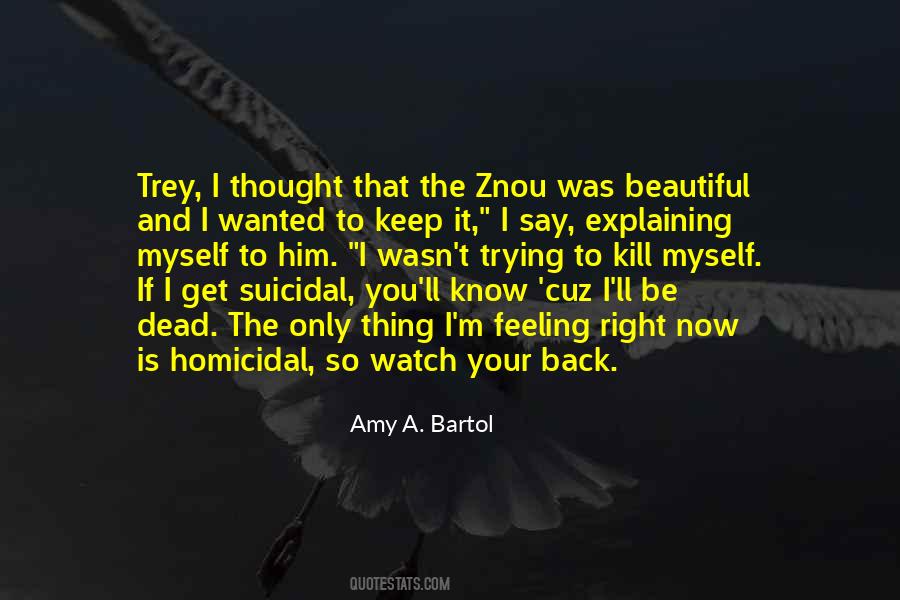 Famous Authors
Popular Topics