You Live You Learn Famous Quotes & Sayings
List of top 100 famous quotes and sayings about you live you learn to read and share with friends on your Facebook, Twitter, blogs.
Top 100 You Live You Learn Quotes
#1. The best lessons are usually learned from failure. You musn't beat yourself up if you fail - just pick yourself up, learn as much as you can from the experience and get on with the next challenge ... The brave may not live forever, but the cautious never live at all. - Author: Richard Branson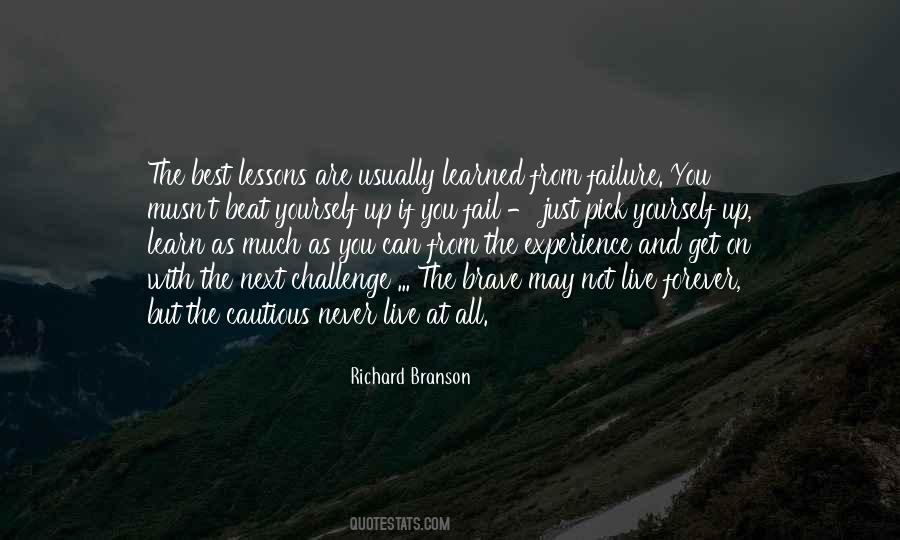 #2. I guess by now I should know enough about loss to realize that you never really stop missing someone-you just learn to live around the huge gaping hole of their absence. - Author: Alyson Noel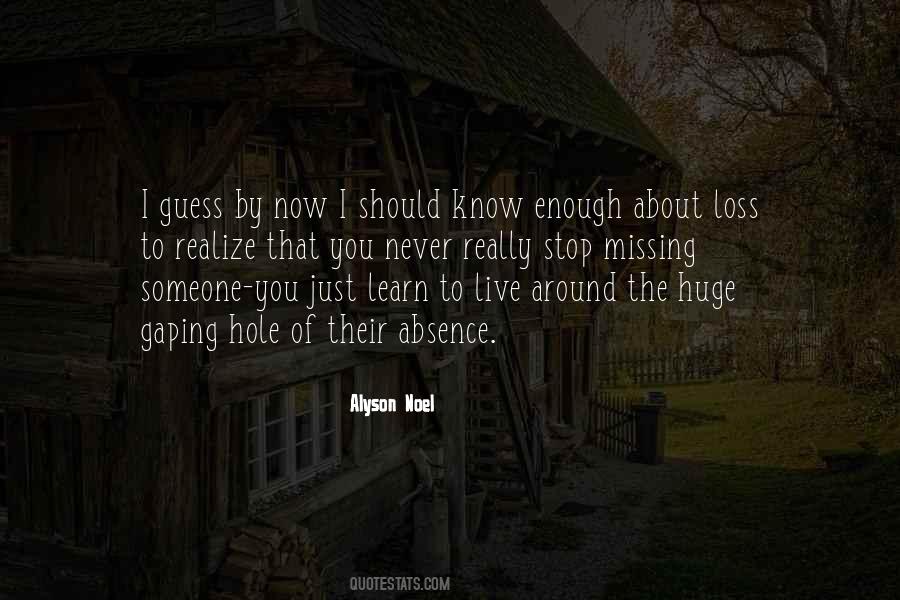 #3. I live by four words and I have it tattooed on my arms as well. It just says, 'Live, learn, love life'. So you live your life to the best way you can. Every situation is a learning one so take those lessons, learn from it and love your life. - Author: Chris Johnson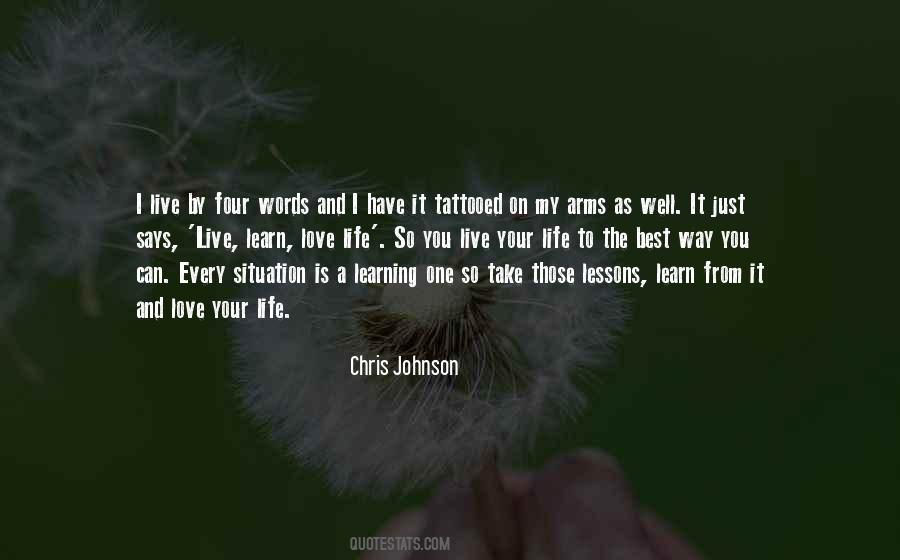 #4. I think one of the things you and I have to learn is that we have to live without the consolation of belonging to a Church ...
Of one thing I am certain. The religion of the future will have to be extremely ascetic, and by that I don't mean just going without food and drink. - Author: Ludwig Wittgenstein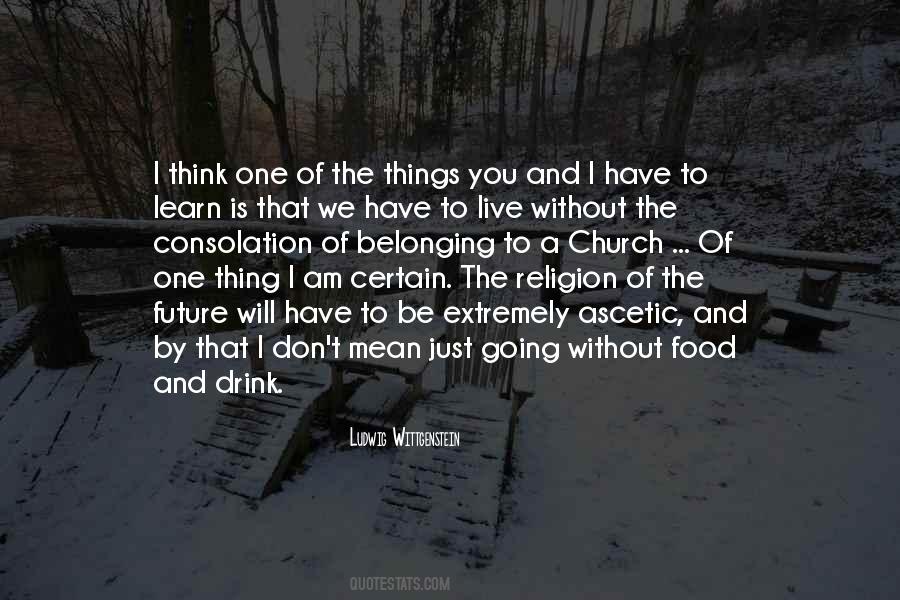 #5. Live each day to the fullness, live the life that you imagine. - Author: Lailah Gifty Akita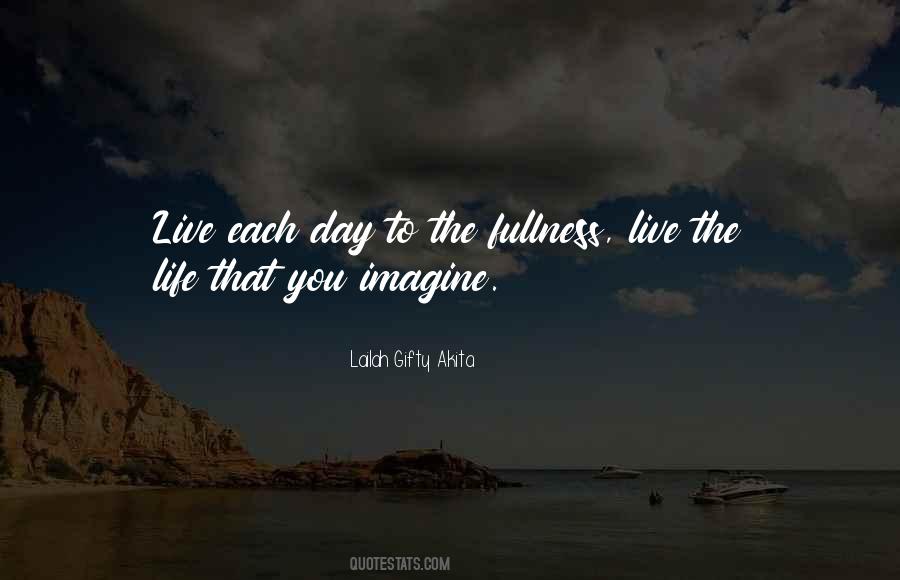 #6. As you go through life, you learn many lessons. Unfortunately these lessons only apply to the specific instances in which you learned them. Therefore you can expect to make horrible mistakes no matter how long you live. - Author: Jessica Zafra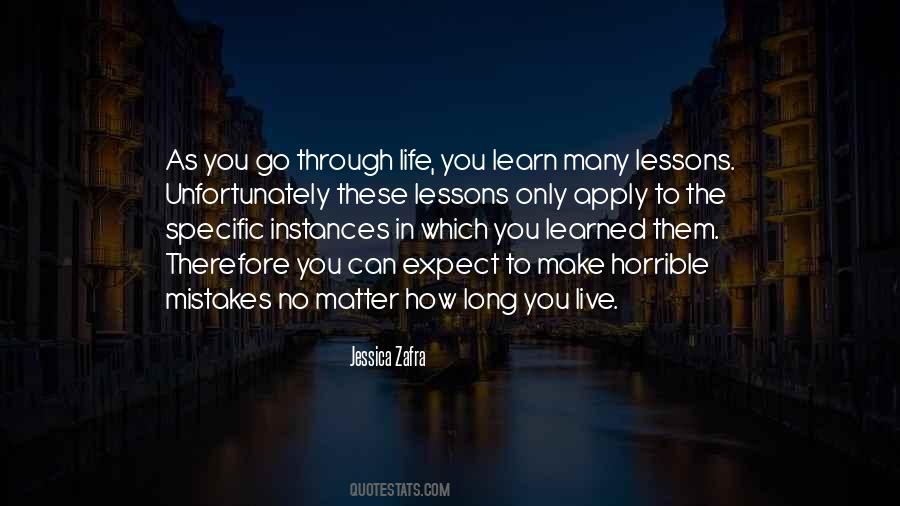 #7. Boot Camp was great and very interesting. You got to use live rounds of ammunition and got to do a lot of crawling around with live rounds flying around you, so you really had to learn to keep your ass down - everything down for that matter. - Author: Mel Gibson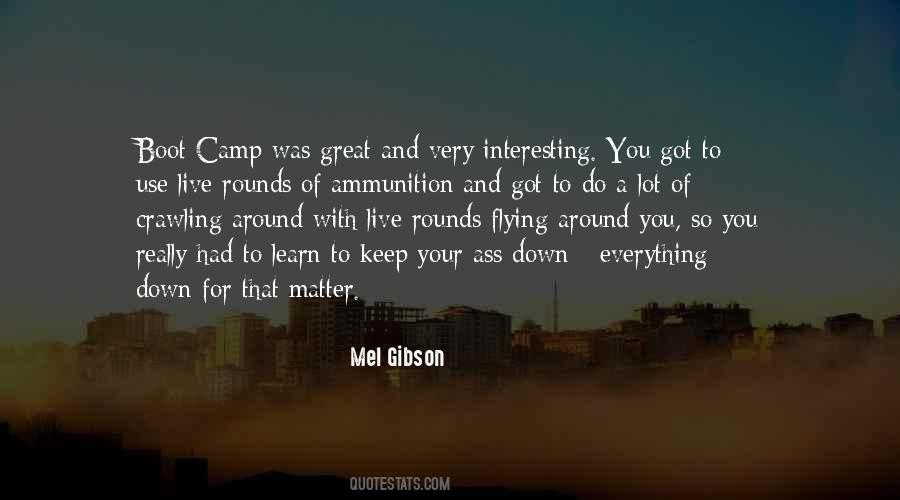 #8. Playing live is everything. Sometimes being on the road is hard, and it's a lot of work, and tiring. From a musical point of view, you improve all the time. Not only that, but you learn how to deal with people and deal with energy in a live setting. - Author: Xavier Rudd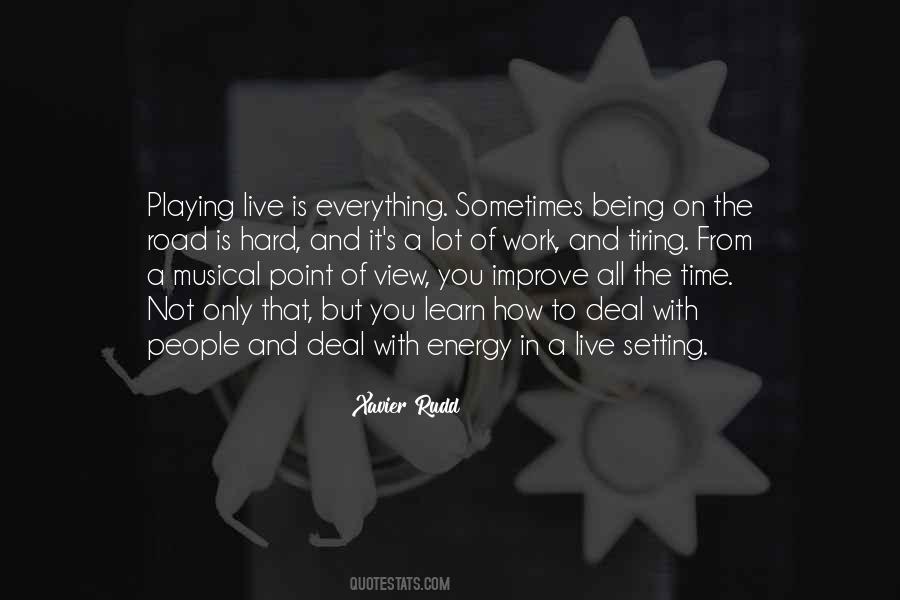 #9. But once you know, you can't go back. Not really. You can carve out someone's memories, but they won't be who they were before. They'll just be full of holes. Given the choice, I'd rather learn to live with what I know. - Author: Victoria Schwab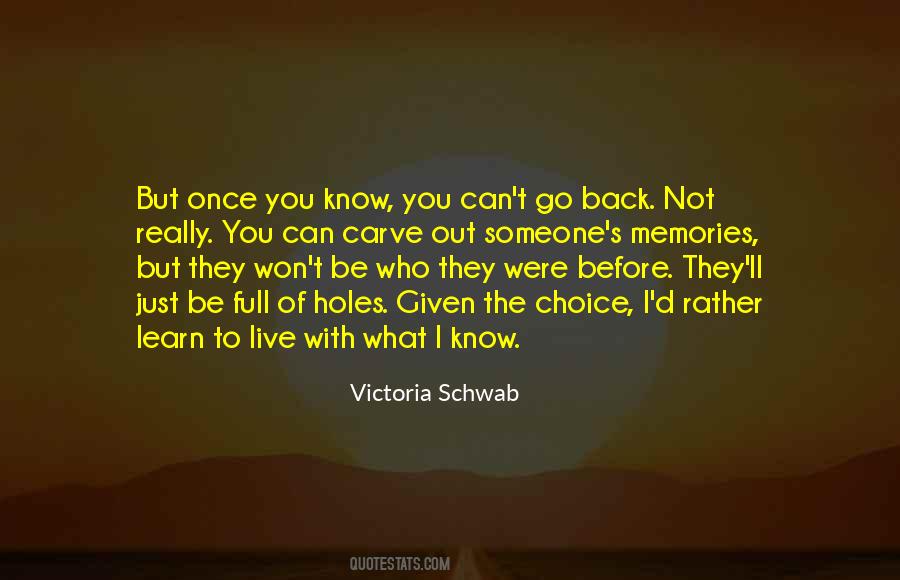 #10. You couldn't control or changed anything that's happened. We just do the best we can at any given time, make the bedt choices possible, and learn to live with the rest - Author: Kirsten Beyer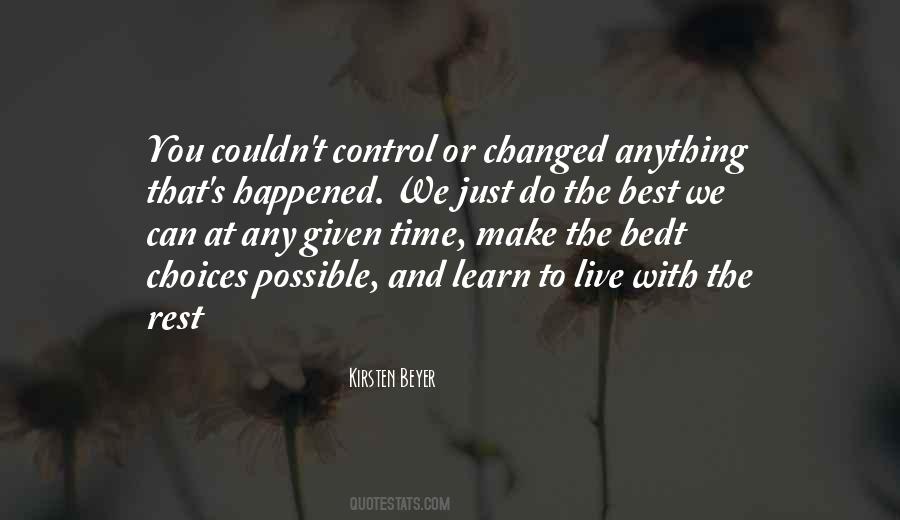 #11. The more you learn to live without, the more you'll have to live with. - Author: Frank A. Clark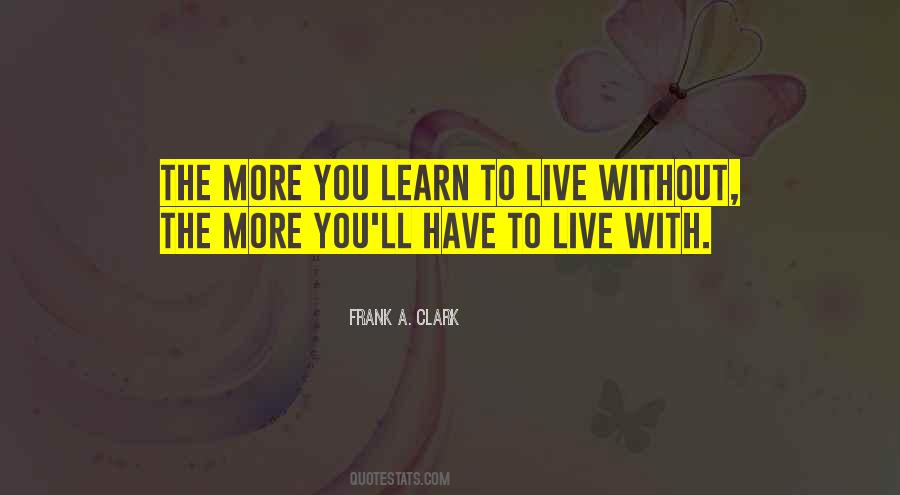 #12. Harlow would later write, If monkeys have taught us anything, it's that you've got to learn how to love before you learn how to live. - Author: Jonah Lehrer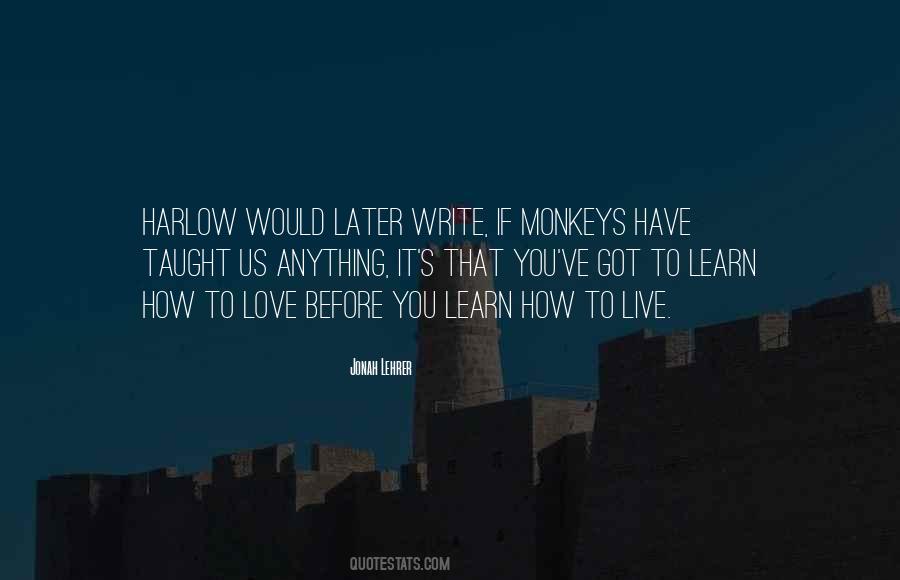 #13. Live to Learn to Laugh to Like to be you!!! - Author: Lindsey Johnson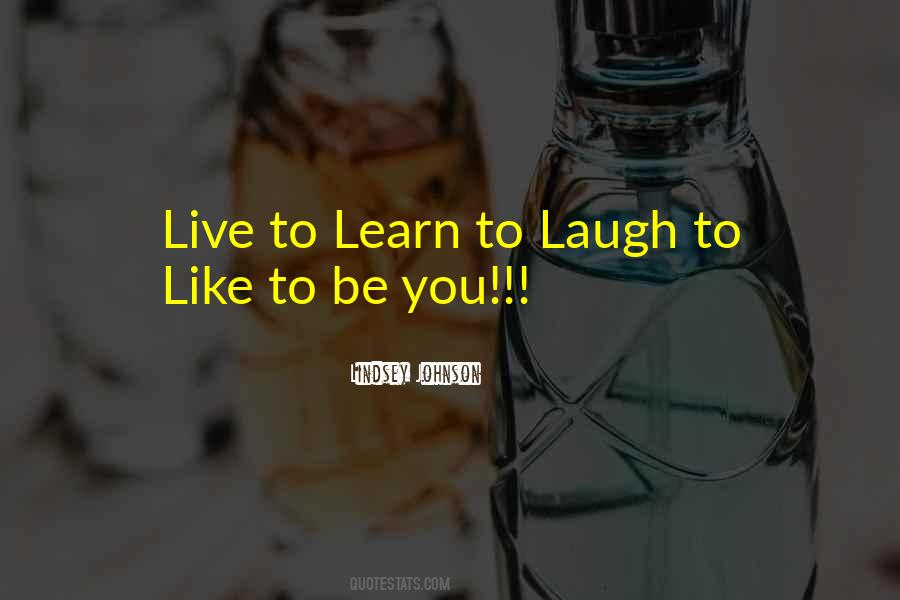 #14. I'm so sorry, Brody. I won't bullshit you and feed you a line about how it will get easier, because I know it won't. You don't get over losing someone you love. You just learn to live through the pain every day as you try to have some kind of normalcy in your life. - Author: Danielle Jamie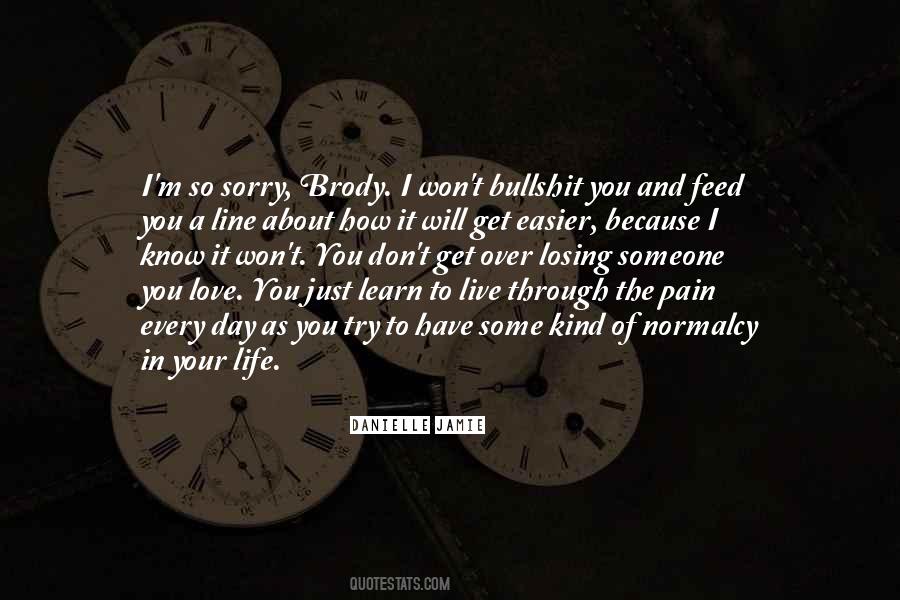 #15. As an actor, you've got to live and learn, and you gotta just kind of form a hard shell and be confident in yourself. - Author: Jessica Stroup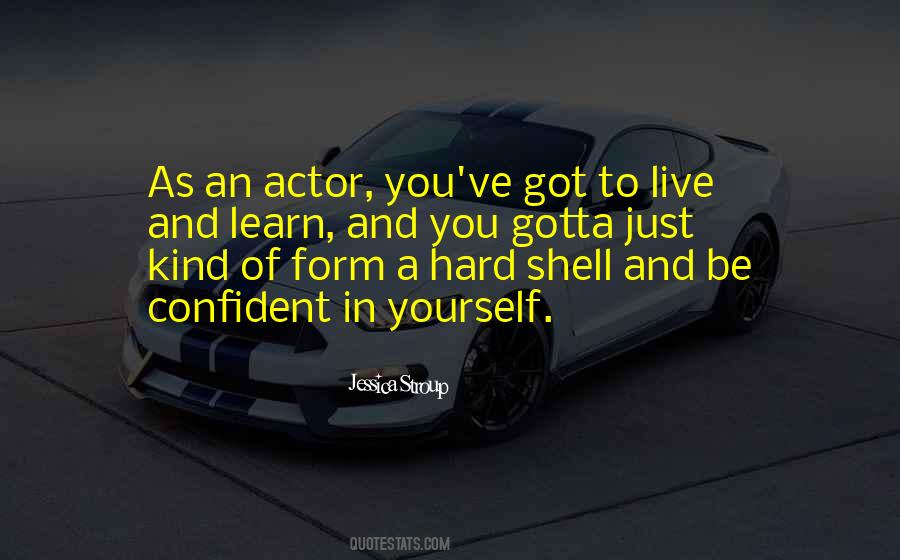 #16. In the rural South, you have a town of 30,000 people and everybody's pretty much thrown on the same pile of doo-doo. You just learn to make the best of it and live with one another. - Author: Bubba Sparxxx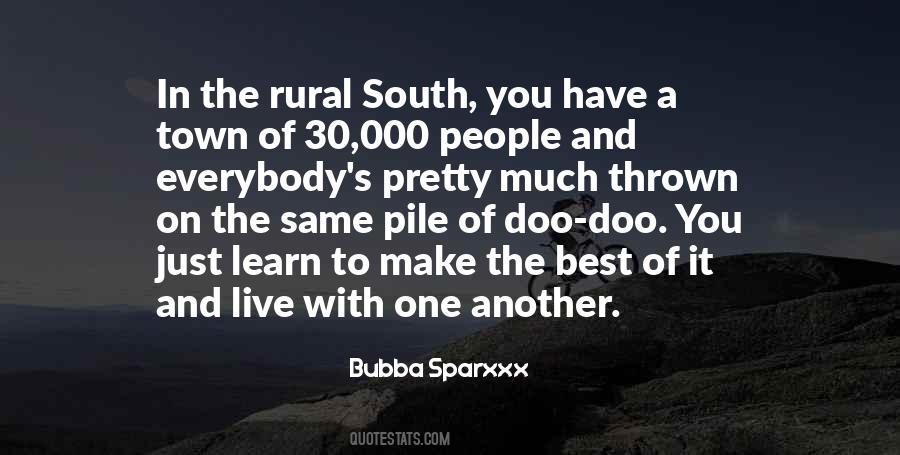 #17. If you live in certain places, in a certain way, you'd better learn to praise the small felicities. - Author: Michael Cunningham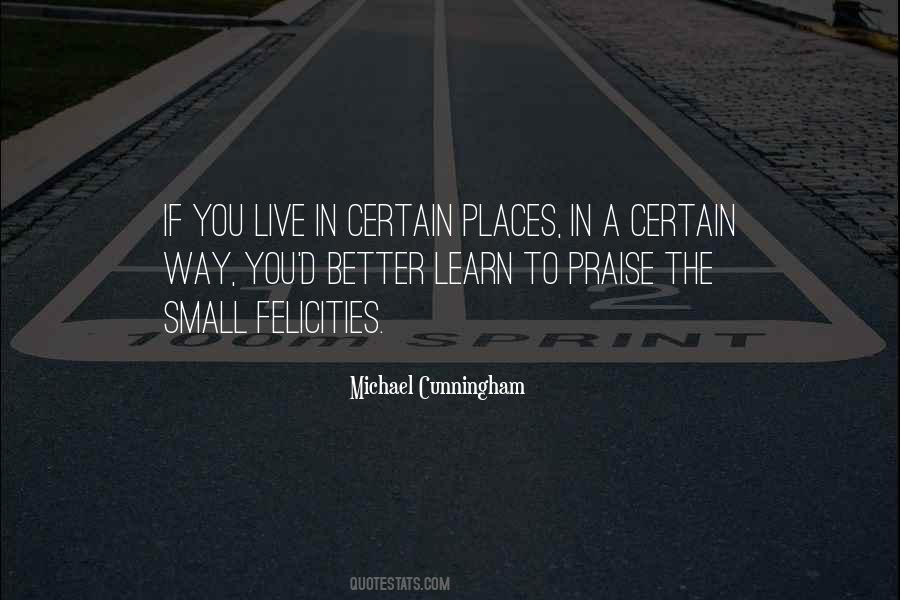 #18. When life brings you full circle, pay attention. There's a lesson there. - Author: Mandy Hale
#19. You live long enough in a world spinning on its axis, you learn to spin in the same direction. - Author: Robert Breault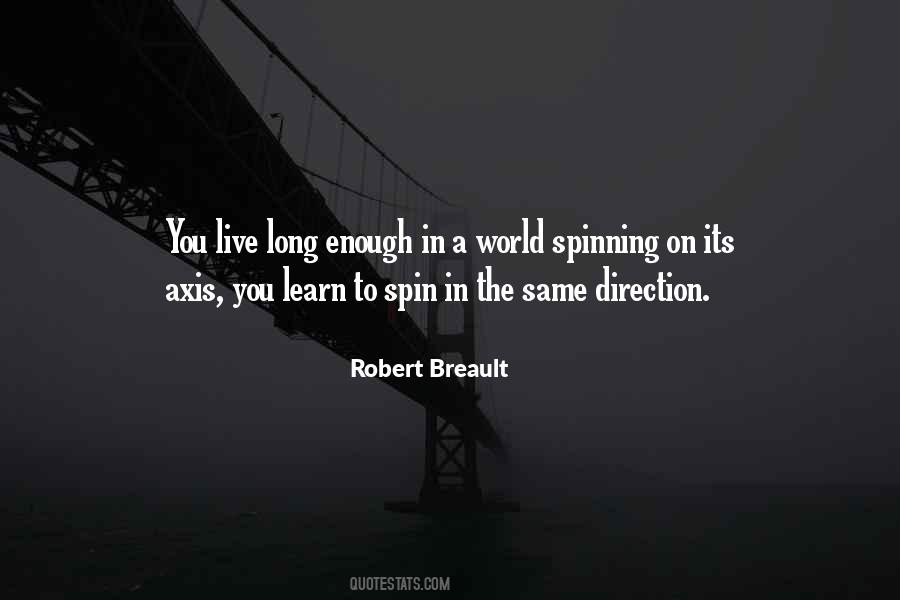 #20. Nerves, stress and the pressure to perform are a part of life. You don't have to conquer these feelings; just learn to live with them. - Author: Eric Whitacre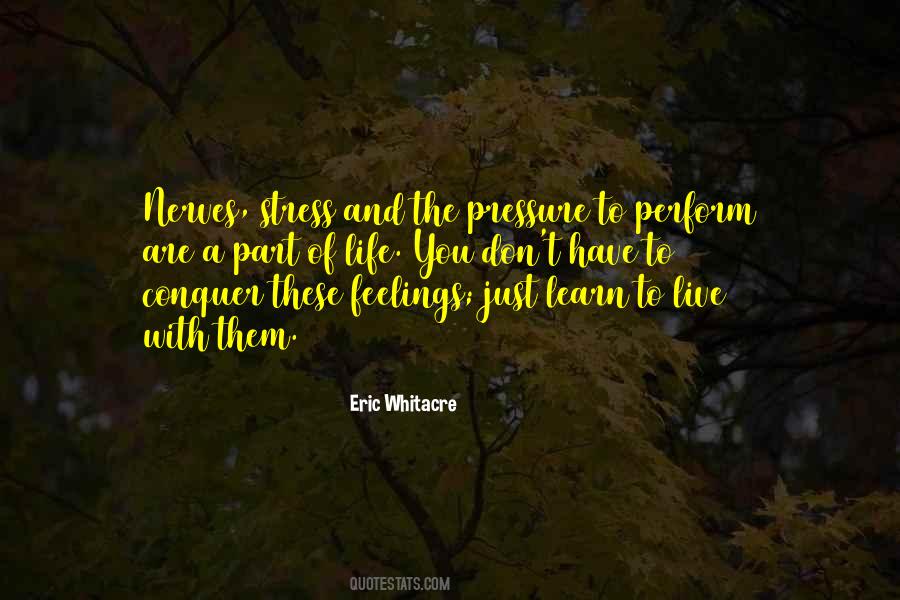 #21. All is well. You did not come here to fix a broken world. The world is not broken. You came here to live a wonderful life. And if you can learn to relax a little and let it all in, you will begin to see the universe present you with all that you have asked for. - Author: Esther Hicks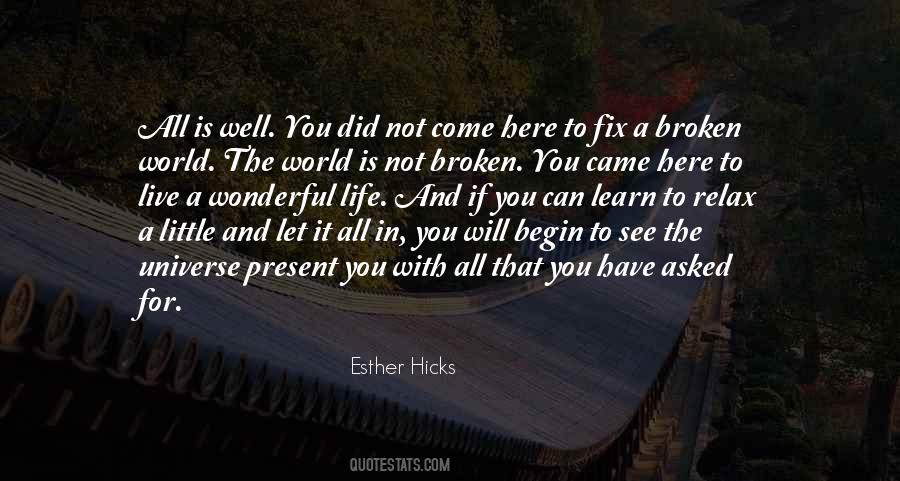 #22. Seeking answers to questions is what draws us forward. When you have no more questions you live in the satisfaction of the present moment. You have no more questions when you finally learn that love is the answer. Love is always the answer. - Author: Kate McGahan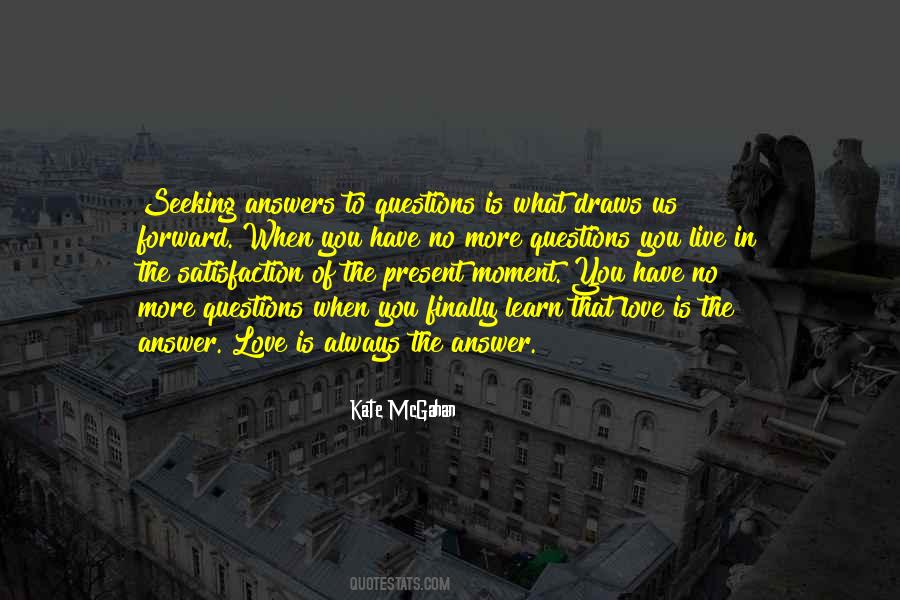 #23. As an actor, you tend to live in a really small world, which is not very healthy. It is enriching to go to new places, meet different people know and learn about things which you didn't know about. - Author: Shahid Kapoor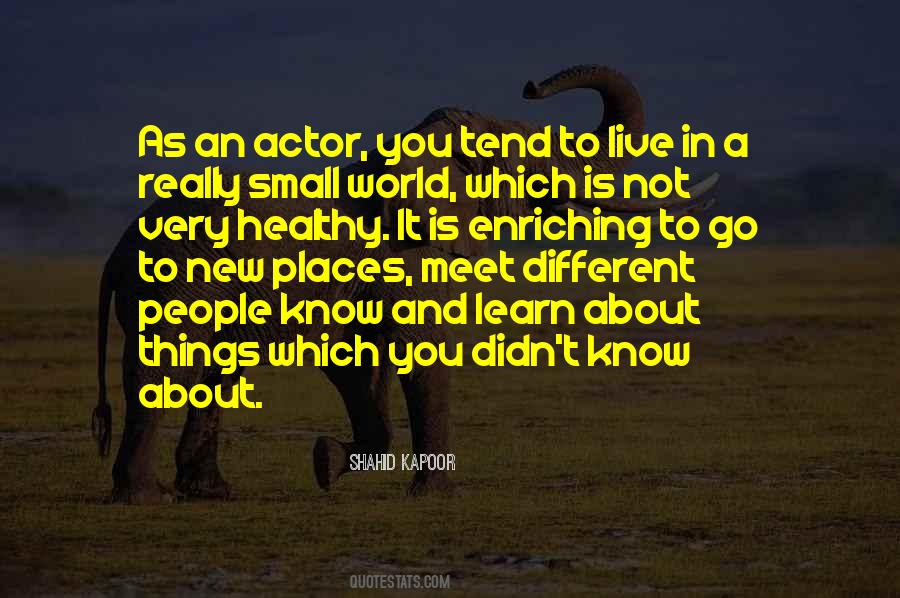 #24. You could listen to Woody Guthrie songs and actually learn how to live ... - Author: Bob Dylan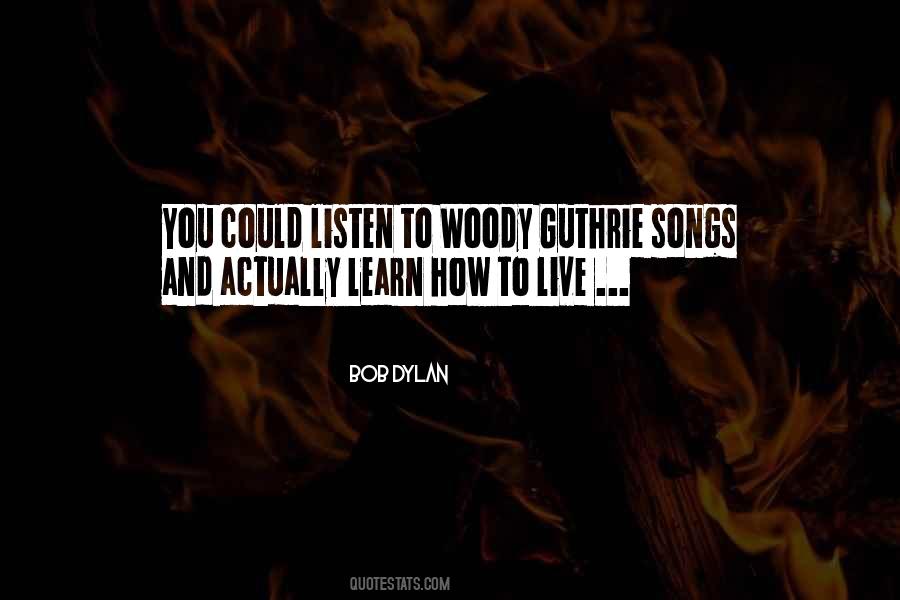 #25. Work and play go hand in hand. A lot of people want to work, work, and work until 40, and then relax. Who says you'll get to 40? Or 50? Who knows what'll happen in the next five minutes? The only reality is the present. And if you can't learn to live in the moment, you'll never be content. - Author: Gautam Singhania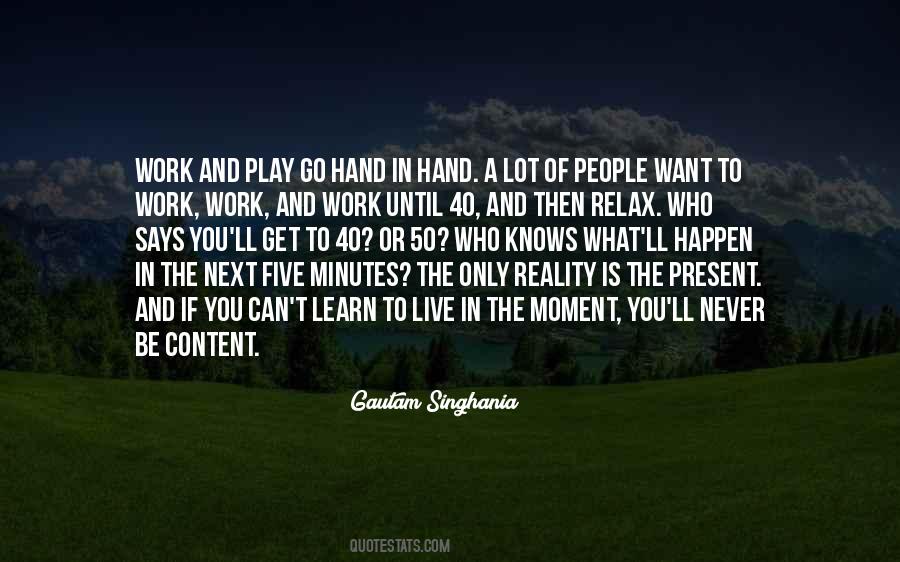 #26. You learn to read so you can identify the reality in which you live, so that you can become a protagonist history rather than a spectator Father Fernando Cardenal - Author: Barbara Kingsolver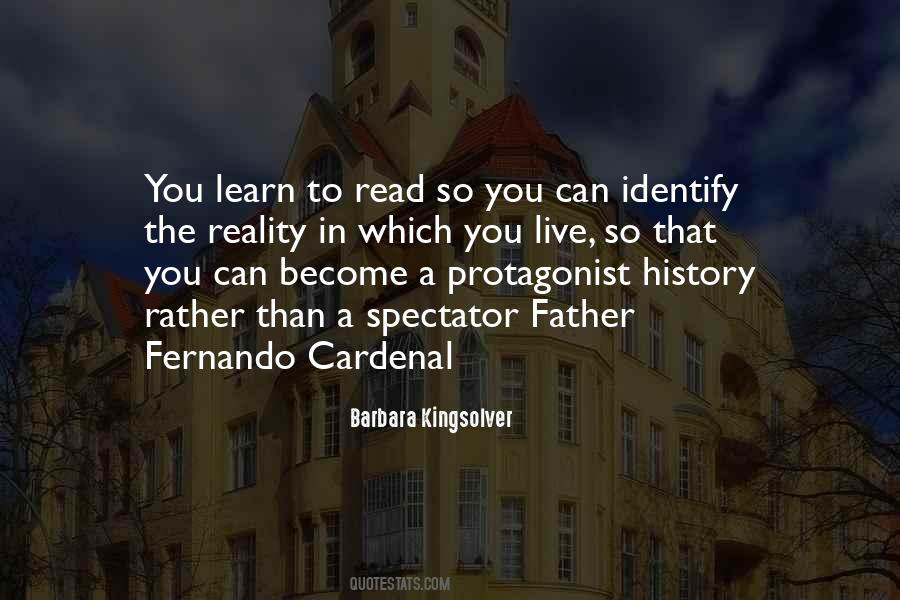 #27. The past will be your teacher if you learn from it; your master if you live in it. - Author: Steve Maraboli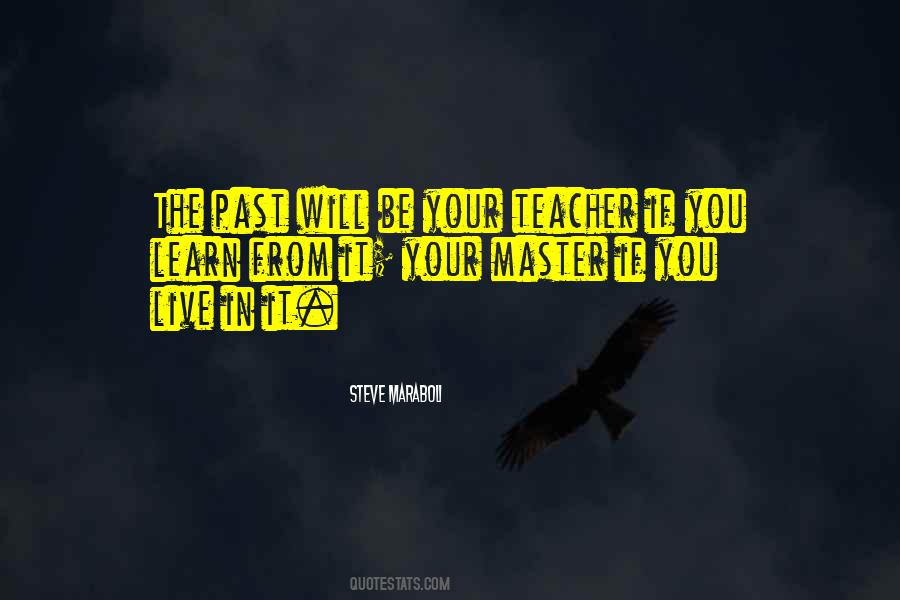 #28. Seek to learn constantly while you live; do not wait in the faith that old age by itself will bring wisdom. - Author: Solon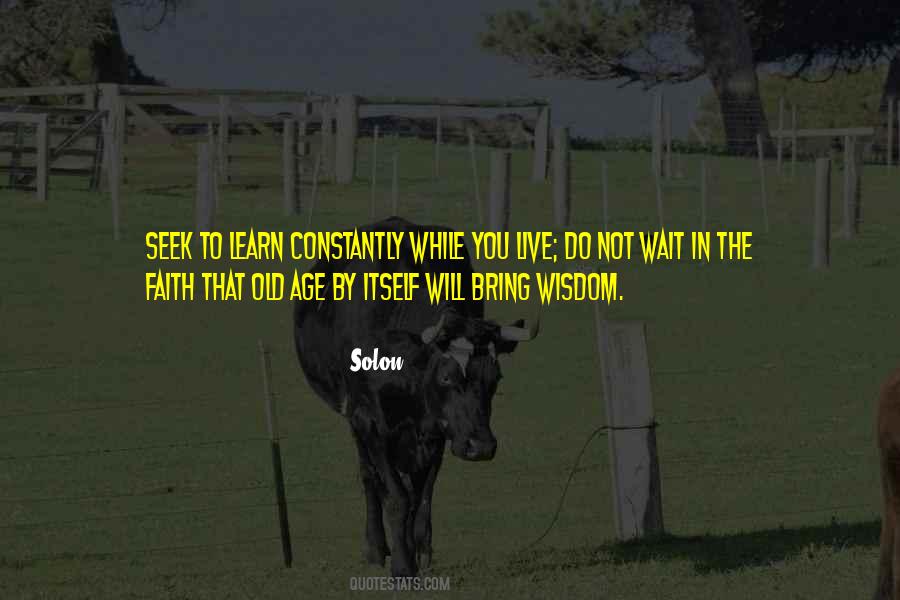 #29. Love can really screw you up before you learn to live with it. - Author: Nora Roberts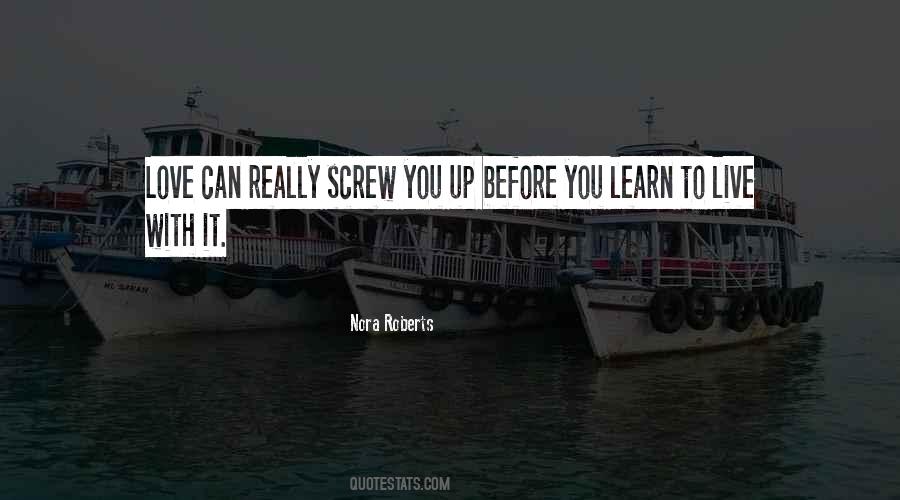 #30. But learning how to live takes a whole life, and, which may surprise you more, it takes a whole life to learn how to die. So many of the finest men have put aside all - Author: Seneca.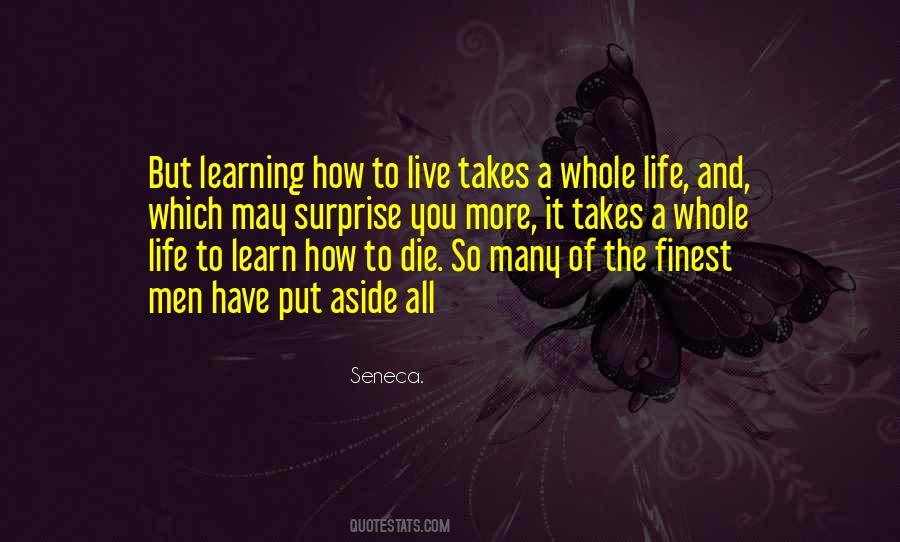 #31. Learn to live small and you will discover great pleasures. You will accomplish more in your life than you could ever predict if you were overly ambitious. - Author: Thomas Moore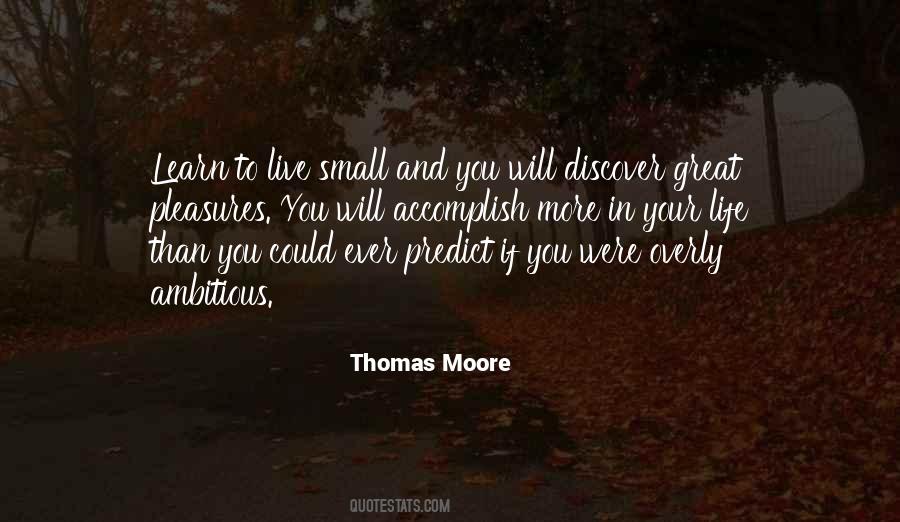 #32. Take time to play! Ask for what you want. Laugh. Live loudly. Be avid. Learn a new thing. Be Yourself! - Author: Mary Anne Radmacher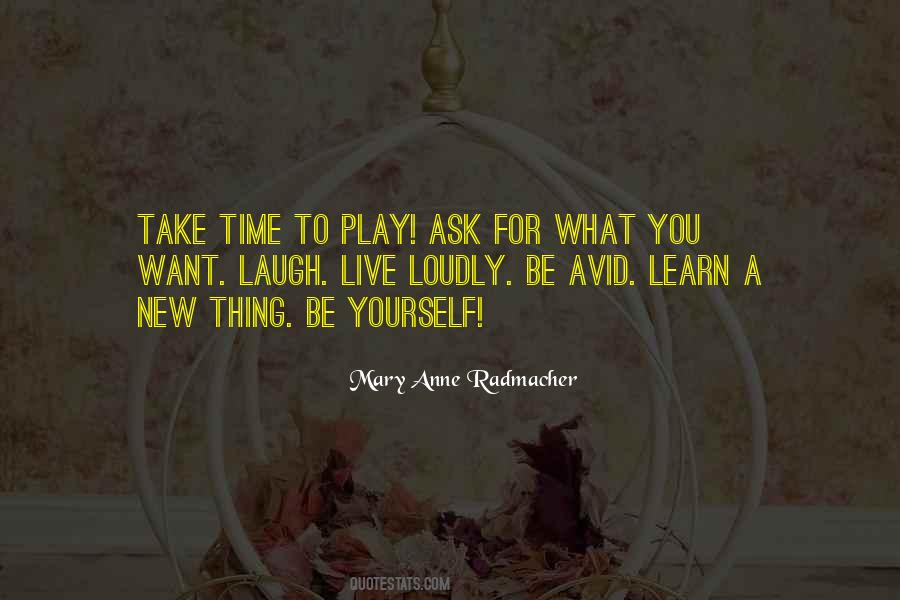 #33. Animals that live in large peaceful societies seem to violate the laws of evolution (such as competition and survival of the fittest), but only until you learn a bit more about evolution. - Author: Jonathan Haidt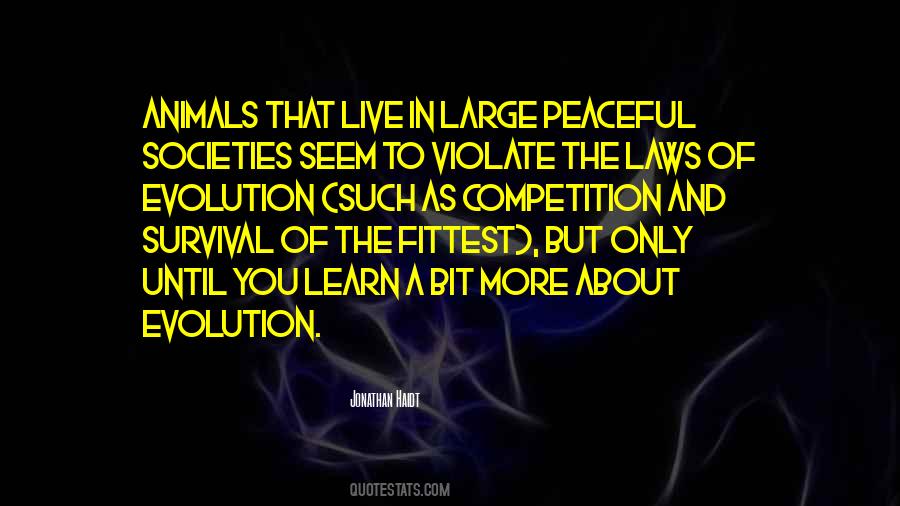 #34. The purpose of this glorious life is not simply to endure it, but to soar, stumble, and flourish as you learn to fall in love with existence. We were born to live, my dear, not to merely exist. - Author: Becca Lee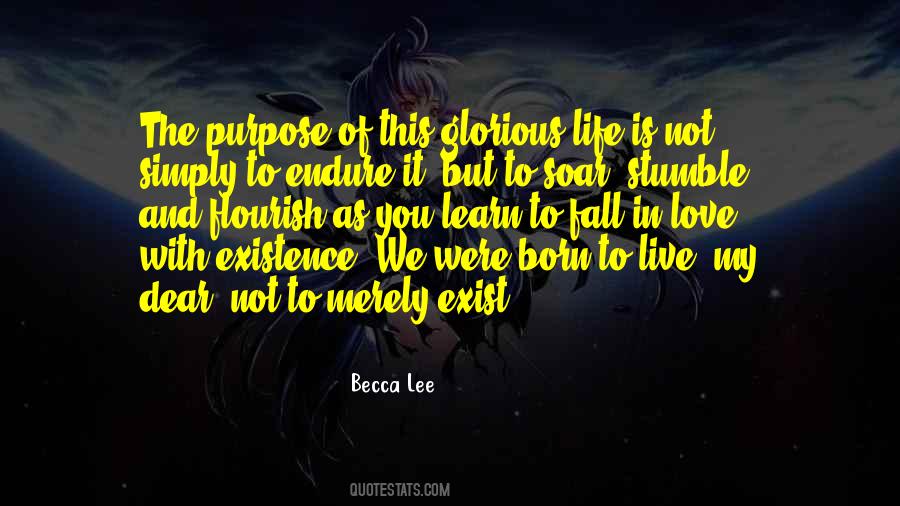 #35. You know how to dance in sunlight when everything is going fine, but you have to learn to dance in darkness when the sun is gone and nothing is going well. - Author: Therese May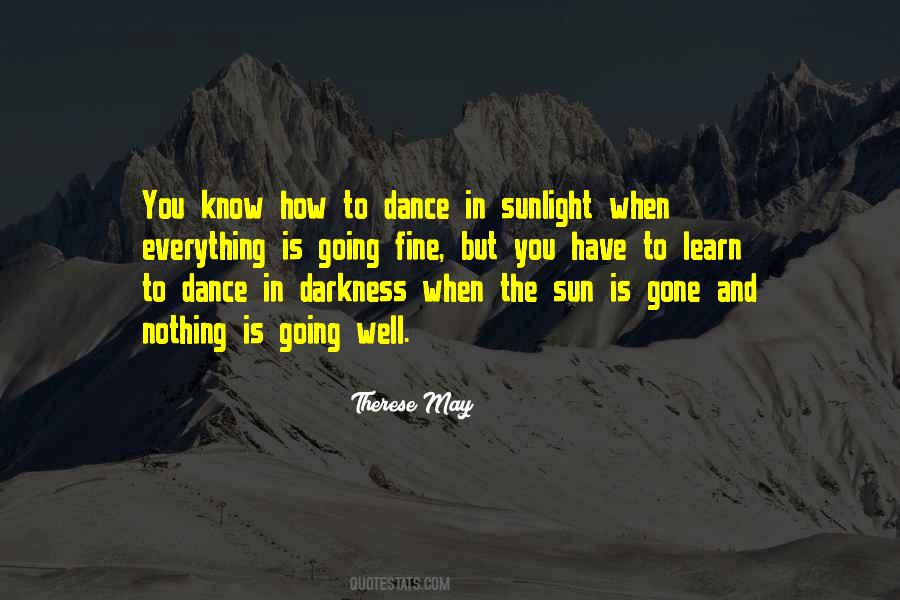 #36. You live with life's disappointments and learn from them. At seventy-eight, I know it all. - Author: Rodney Dangerfield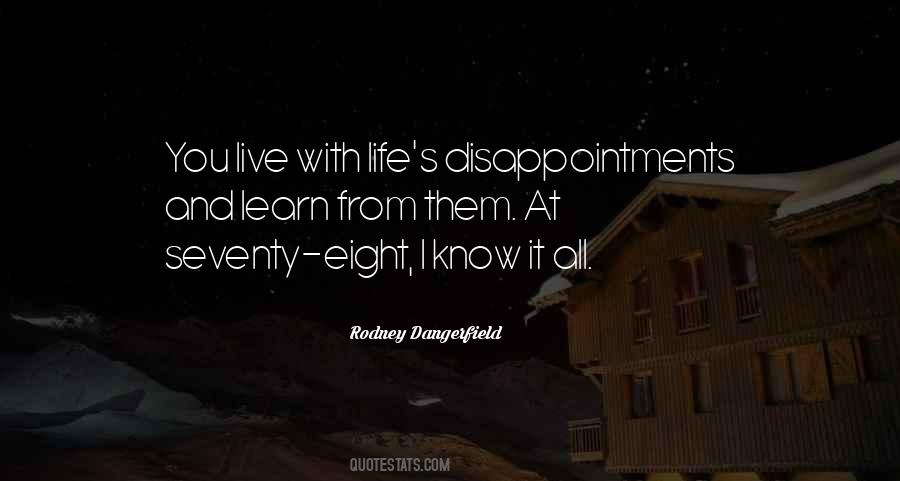 #37. Children live in a way that is very generous. They learn from a young age what you value; they watch your every move. If you value writing, they will learn quickly to value it too, as something they can give to someone, or receive with pleasure from someone else. - Author: Pam Allyn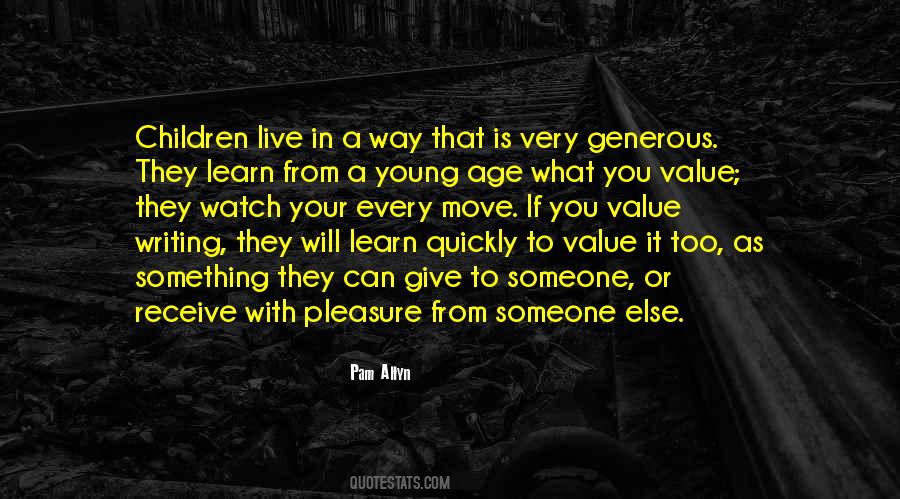 #38. Todd, I can only love you because of my heart. It's my broken heart that lets me love you. It's my broken heart that makes me want to live the best life I can. I only want to live that life with you, only you. If you're willing to teach me I'm ready and willing to learn. - Author: Sheila Bliss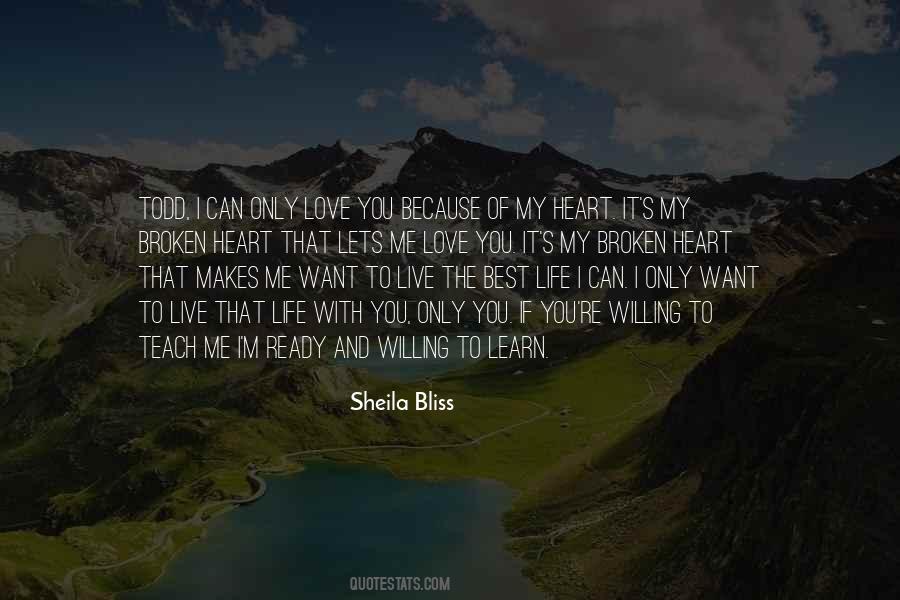 #39. When you're different, on the down side, you learn to live from one scarce rich moment to the next, no matter the distance between. - Author: Chris Crutcher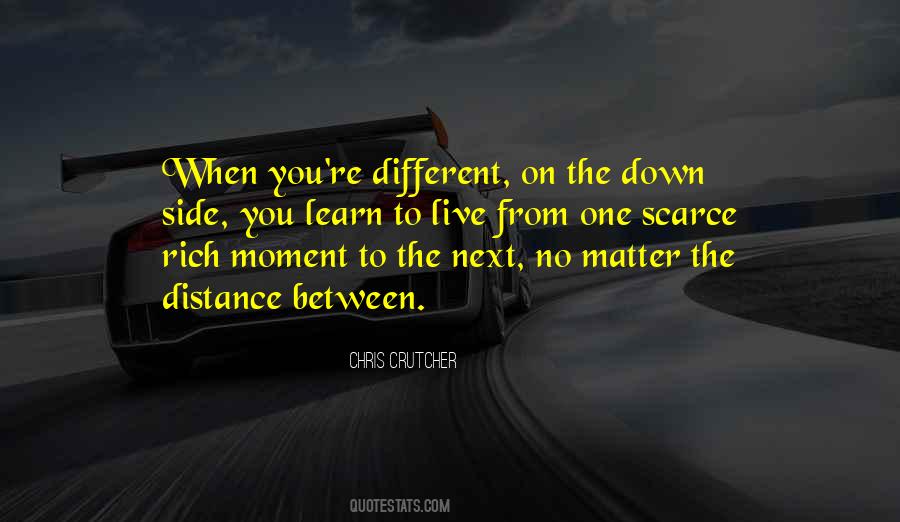 #40. You live and learn. At any rate, you live. - Author: Douglas Adams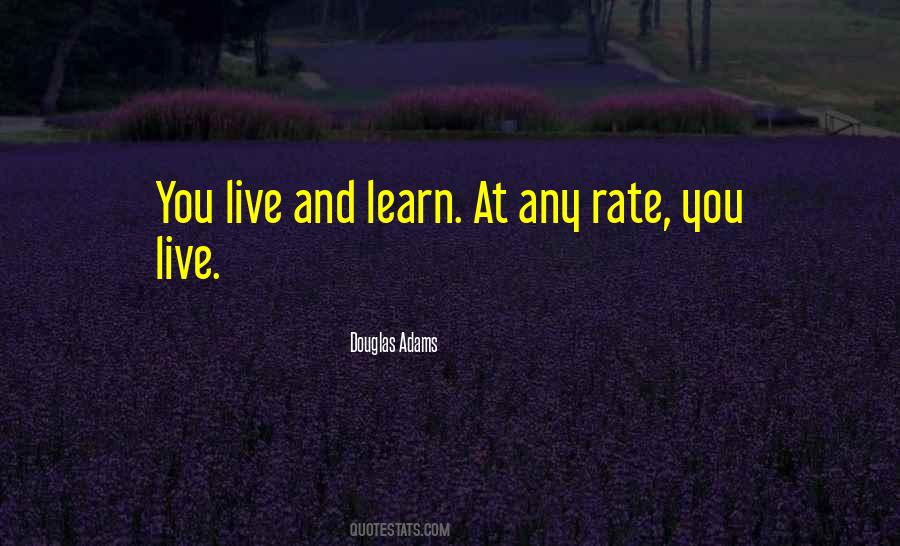 #41. You live, you learn. - Author: Alanis Morissette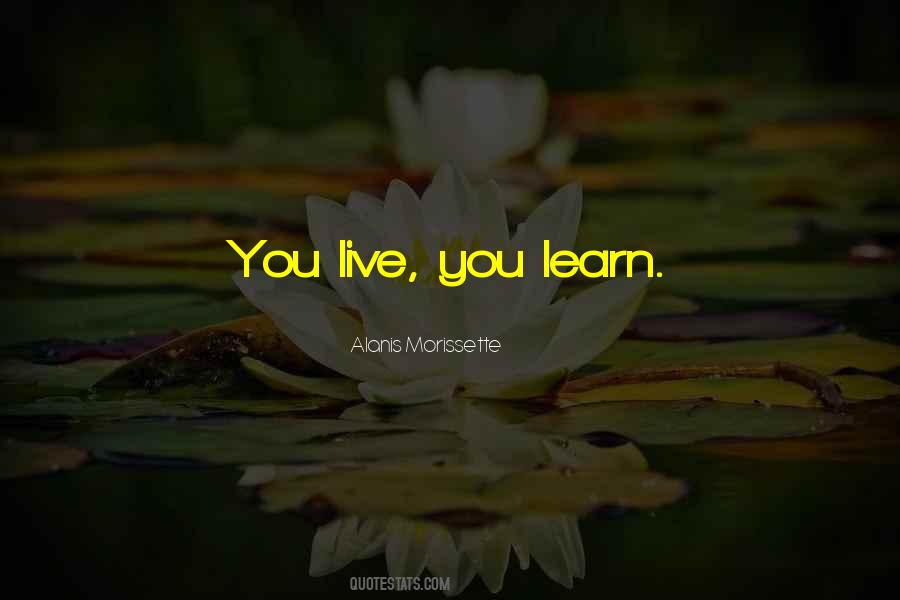 #42. Live to learn and you will really learn to live. - Author: John C. Maxwell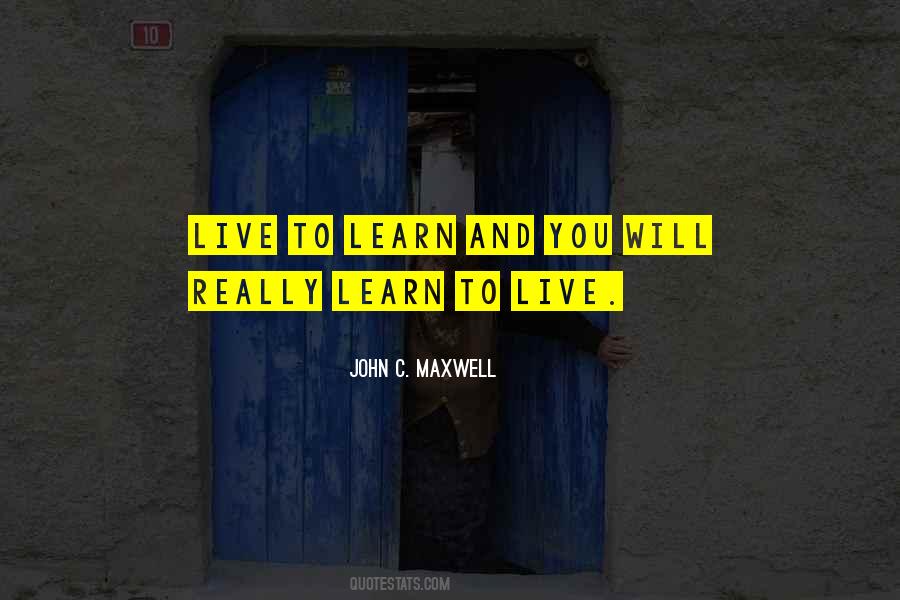 #43. The law says if you poison the water, you'll die. The law says that if you poison the air, you'll suffer. The law says if you degrade where you live, you'll suffer ... If you don't learn that, you can only suffer. There's no discussion with this law. - Author: Oren Lyons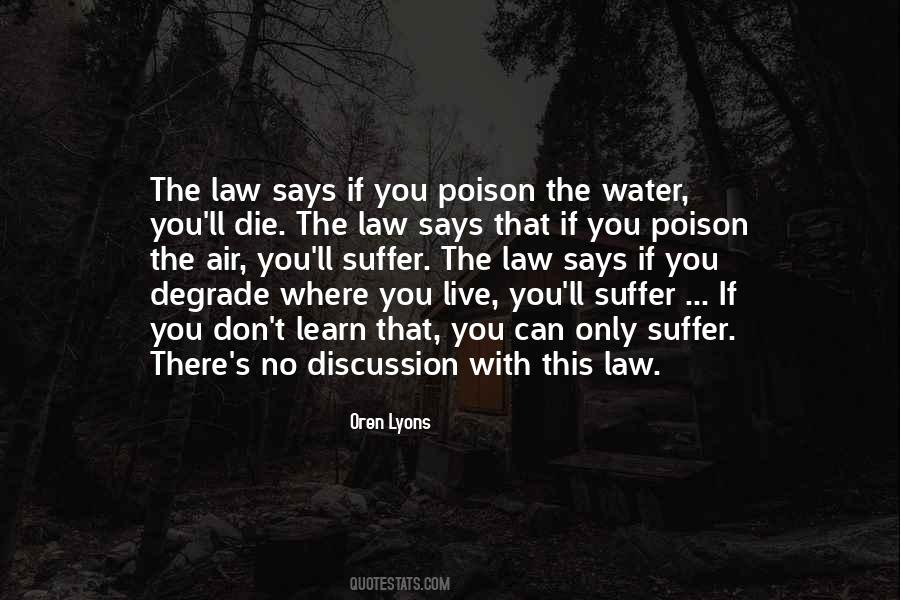 #44. Learn all you can about people in other parts of the world. Understanding how people in other countries live and work and play teaches us to respect them and promote peace everywhere. - Author: Carol Bellamy
#45. In the end, it doesn't matter what words are said or unsaid ... Life's mistakes are made whether you can see them or not. What counts is how we learn to live with them. - Author: Gail Tsukiyama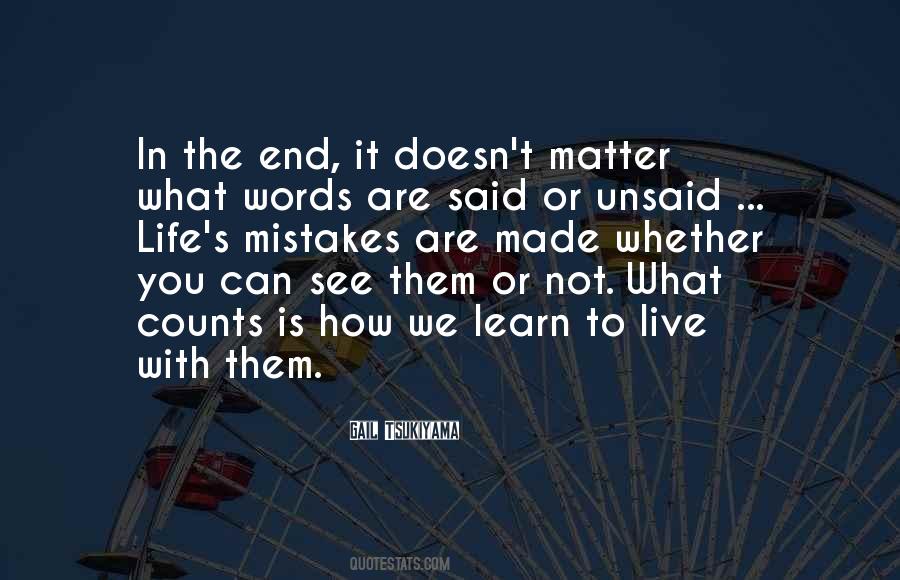 #46. Consider the lilies of the field. Look at the fuzz on a baby's ear. Read in the backyard with the sun on your face. Learn to be happy. And think of life as a terminal illness because if you do you will live it with joy and passion, as it ought to be lived. - Author: Anna Quindlen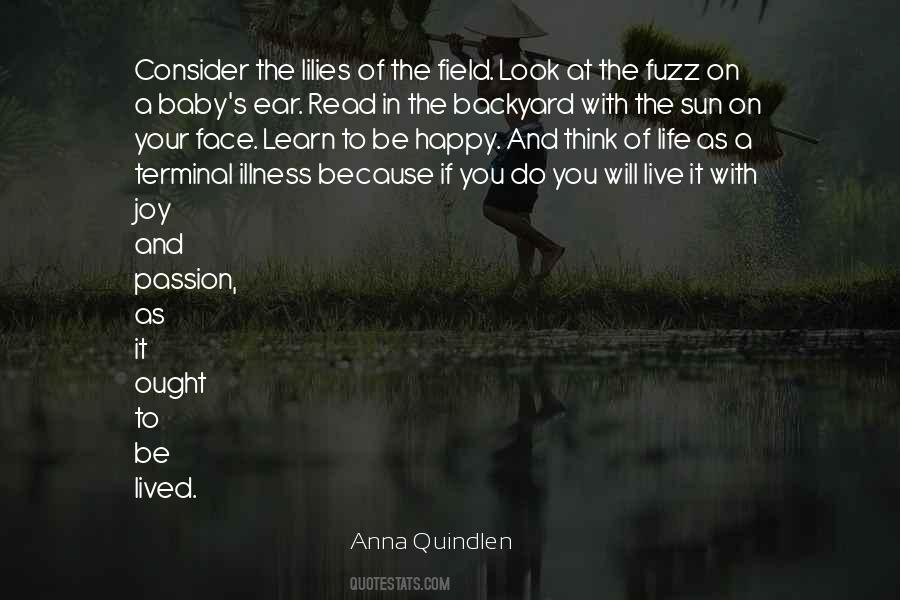 #47. Learn - improve - grow - live. Learn as if you might live forever and you'll live as if you might die tomorrow. - Author: Steve Goodier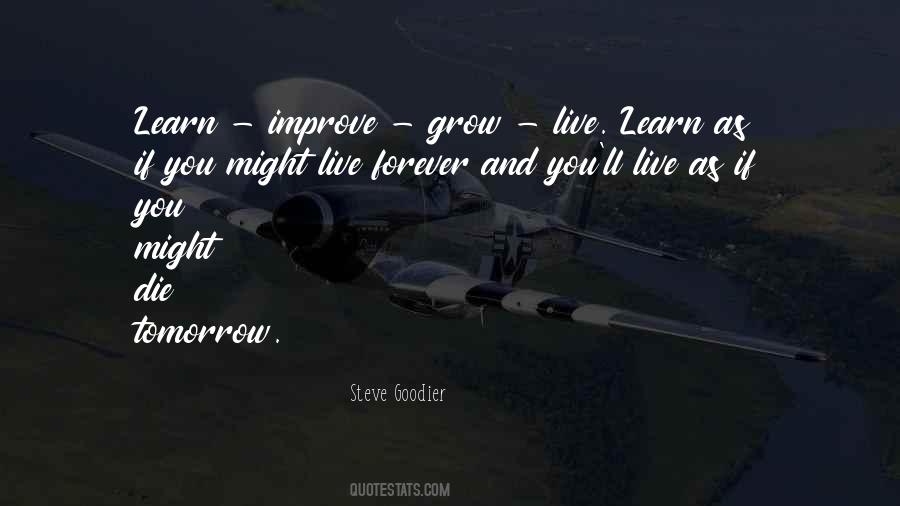 #48. I'm the last person to ask 'what do you remember' from a particular time period ... I like to learn from the past ... not 'live' in it. - Author: David Coverdale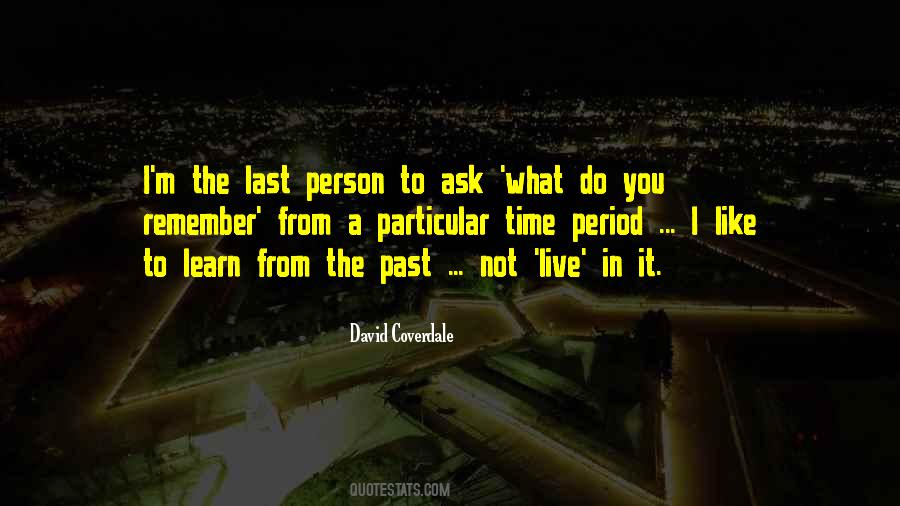 #49. You couldn't get rid of the past. You couldn't ignore it, or bury it, or throw it over the balcony. You just had to learn to live beside it. It had to peacefully co exist with your present. If I could figure out how to do that, I could be okay. - Author: Tarryn Fisher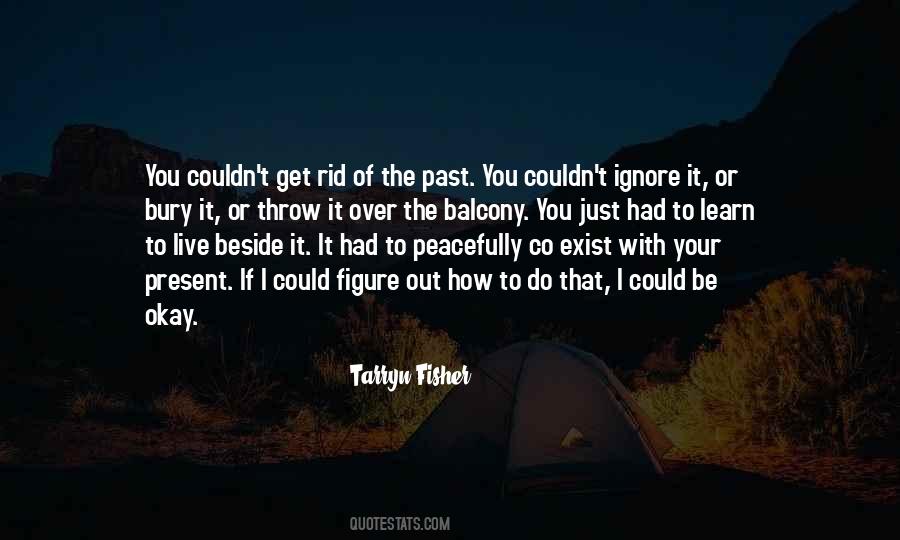 #50. One cannot scold or complain at every word. Learn to endure patiently, or else, as I live and breathe, you shall learn it whether you want or not. - Author: Geoffrey Chaucer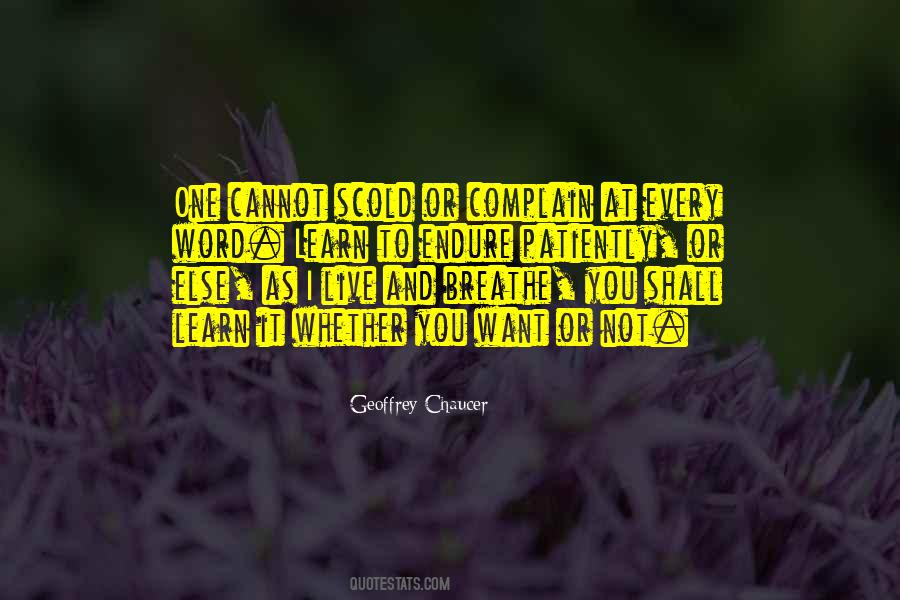 #51. Learn to live from inside to outside, bring out those magnificent estates within you and live in them. - Author: Jaachynma N.E. Agu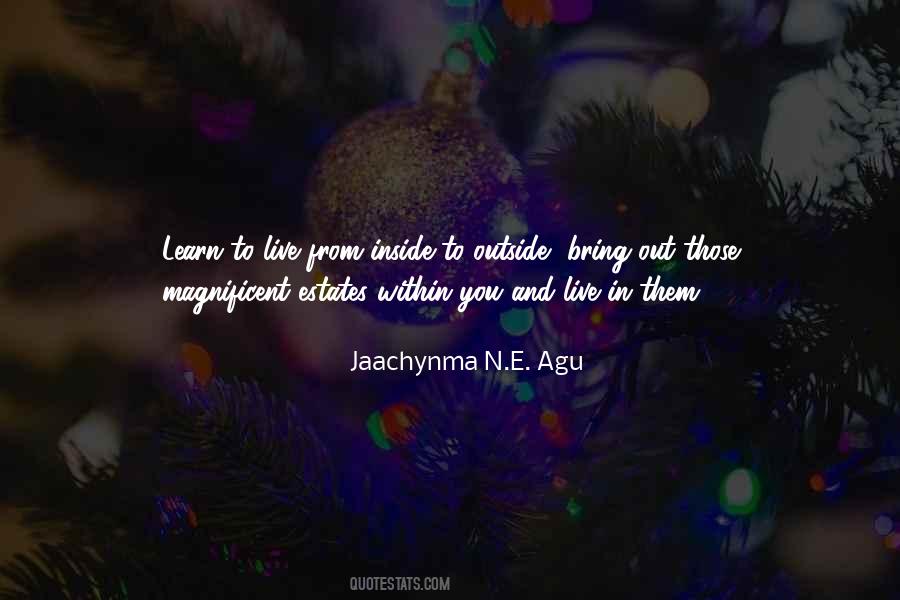 #52. We decided that sooner or later you had to learn to live without almost everybody, at least for a while. Even people you didn't think you could live without. p 167
love always found itself again. - Author: Melody Beattie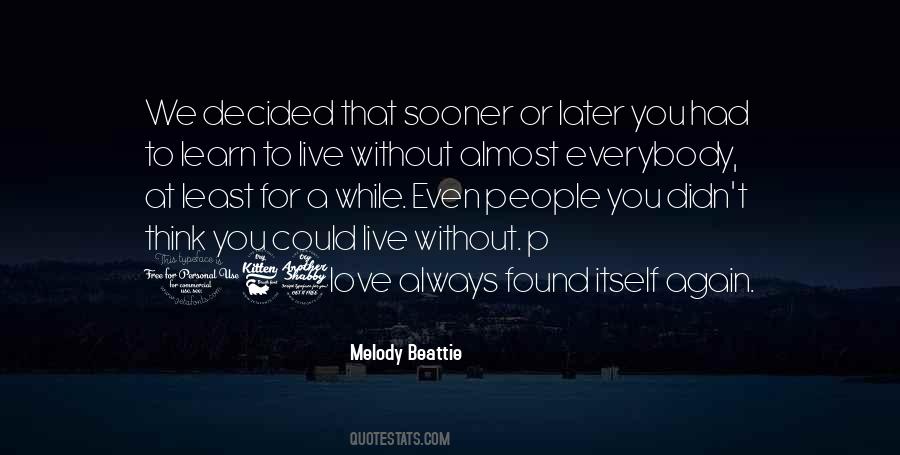 #53. If you will learn the seriousness of life, and its beauty also, live for your husband; make him happy. - Author: Fredrika Bremer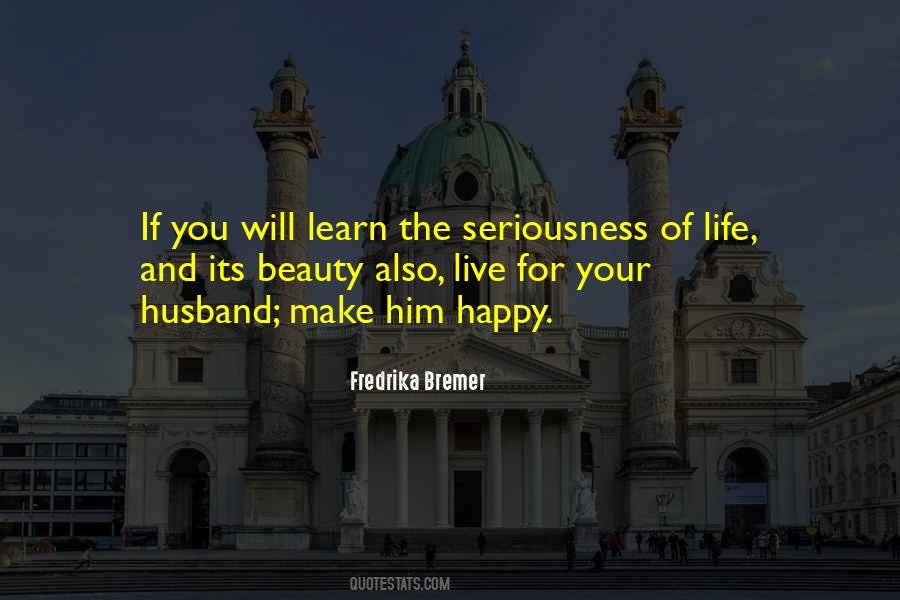 #54. You live, you learn, you stop dating recklessly handsome men with silver tongues and dusty halo's. - Author: Jess Bryant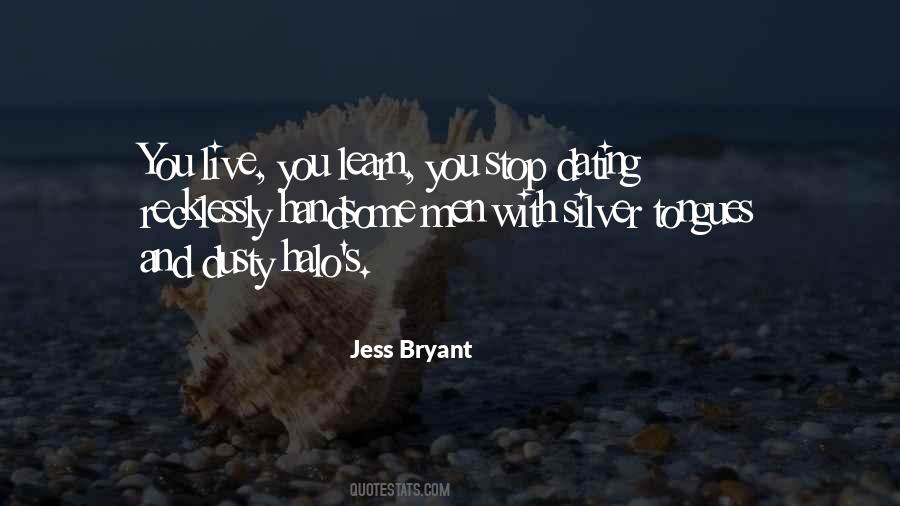 #55. When you learn to die, you learn to live. - Author: Morrie Schwartz.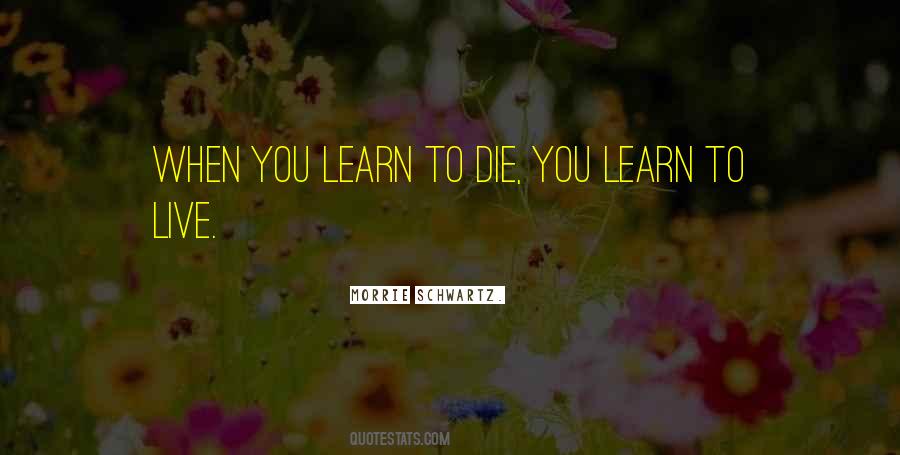 #56. As soon as you become afraid to make a fool of yourself, you're in trouble. I decided I may as well just see if I can live with myself making millions of mistakes and learn something from it. - Author: Gelsey Kirkland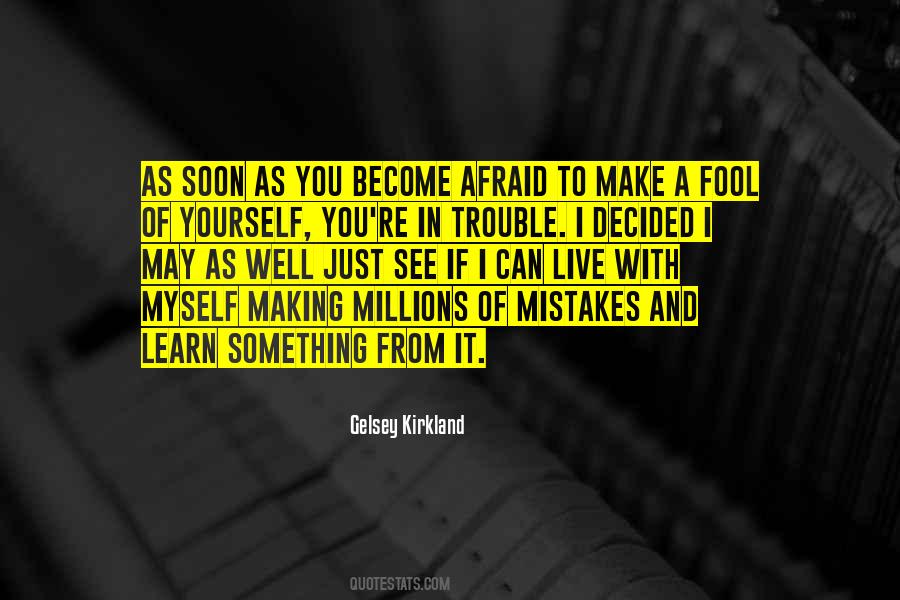 #57. A teacher can show you the ways. But no one can do it for you. You have to take what you learn from them and go out and live it. You have to change your life. - Author: Frederick Lenz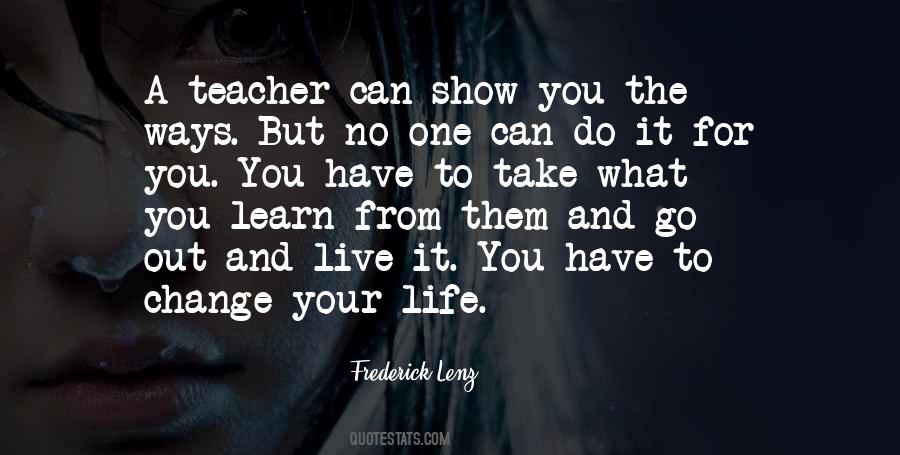 #58. Change what you can if it needs
changing, but learn to live with what you can't change. - Author: Robert Jordan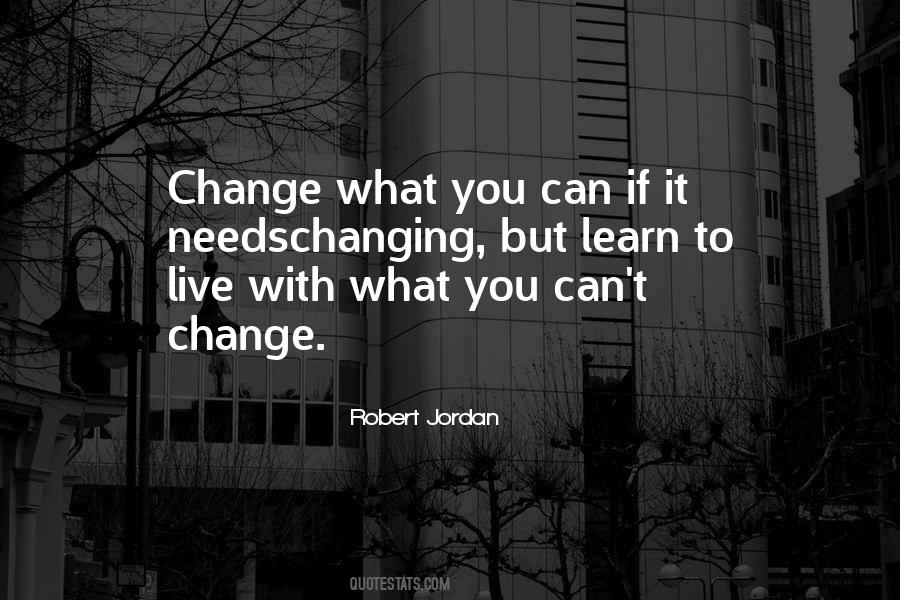 #59. Truth has to be given in riddles. People can't take truth if it comes charging at them like a bull. The bull is always killed. You have to give people the truth in a riddle, hide it so they go looking for it and find it piece by piece; that way they learn to live with it. - Author: Chaim Potok
#60. To live your best life now, you must learn to trust God's timing, you may not think He's working, but you can be sure that right now, behind the scenes, God is arranging all the pieces to come together to work out His plan for your life. - Author: Joel Osteen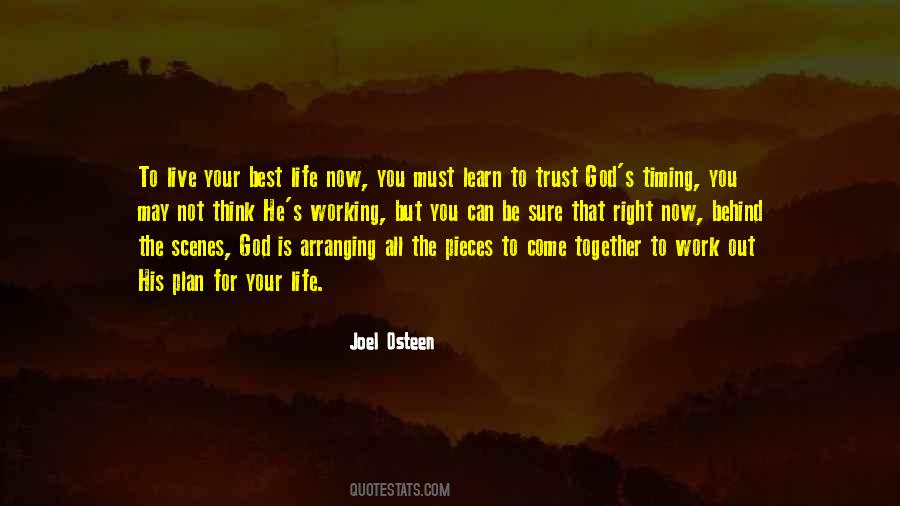 #61. Bright side of life, Lauren. You live with a storm cloud, you learn to find the bright side. - Author: Kristen Ashley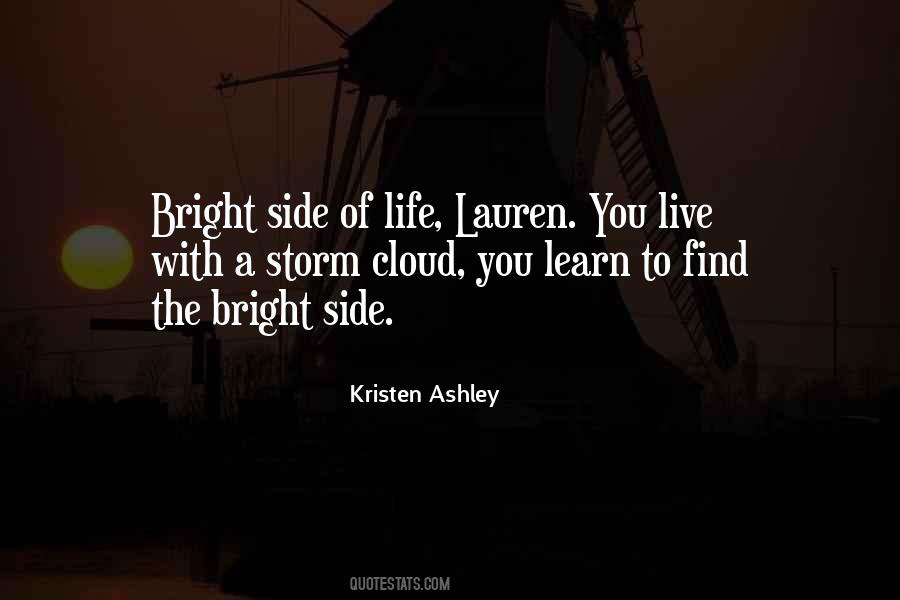 #62. You can't live for God until you learn how to live because of God. - Author: Mike Donehey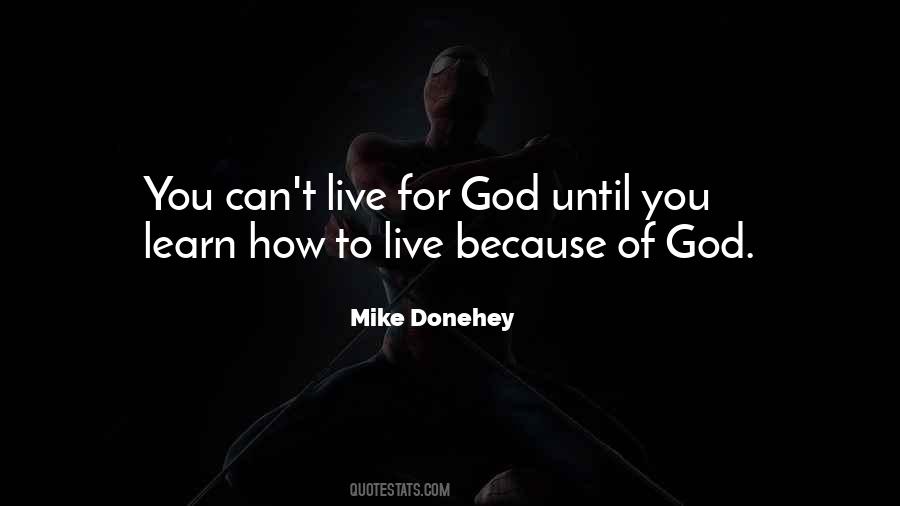 #63. Write your own music and write frequently. Go to as many live shows as you can as well (of bands you enjoy of course). You can learn a lot watching other performers. - Author: Dia Frampton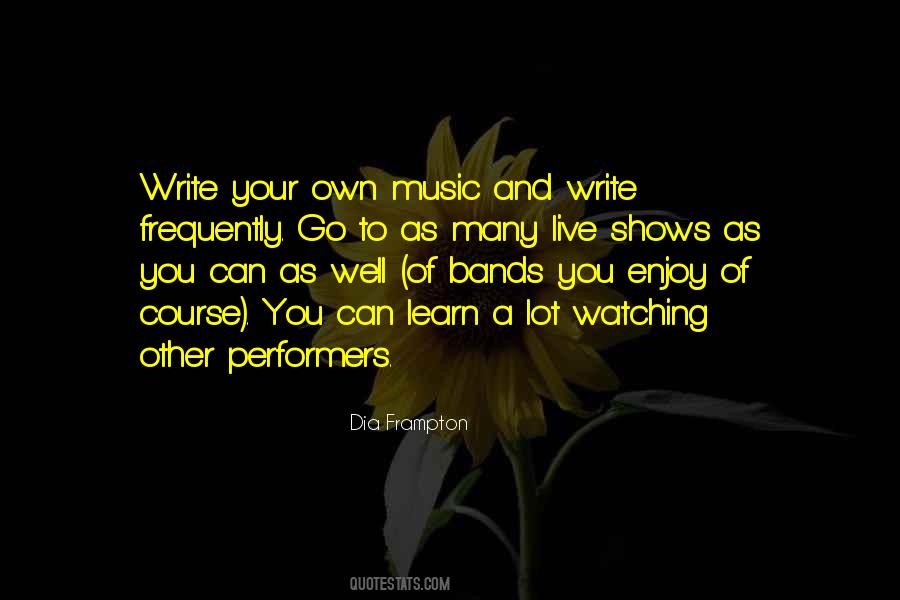 #64. MOTHER TIME: The past is always with us, dear, for better or worse. It is what it is and you can't change it. All you can do is learn how to live with it in the present. - Author: Hillary DePiano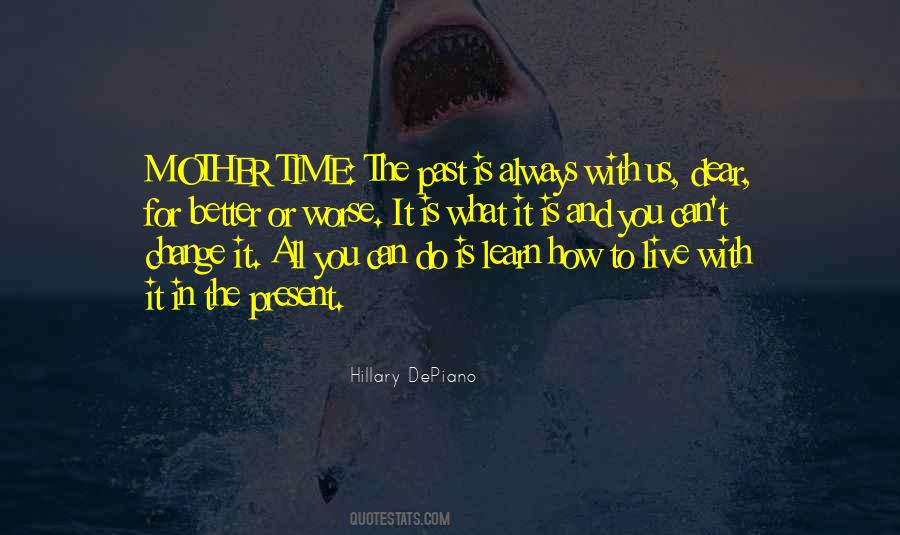 #65. If you submit to the ocean, you drown. If you try to control the ocean, then you're deluded. You learn how to live with the ocean. You learn how to float, to swim, to be a part of it, to be with it. That is the nature of the Pagan's relationship with nature. - Author: Emma Restall Orr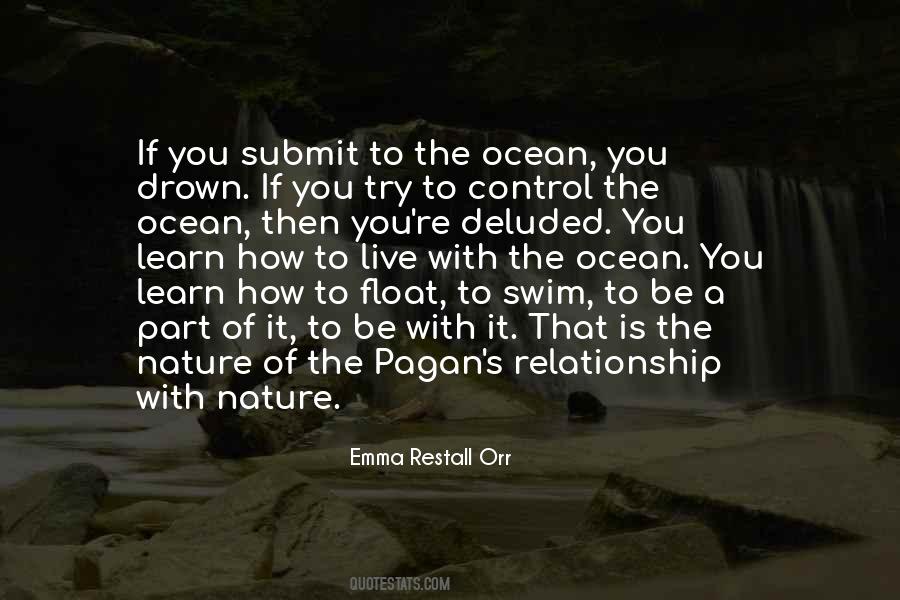 #66. Not fair." Grace put her hand on his shoulder and squeezed lightly. "Learn it, live it, love it. The sooner you make peace with the whole life's not fair thing, the better your life will be. - Author: Katie Graykowski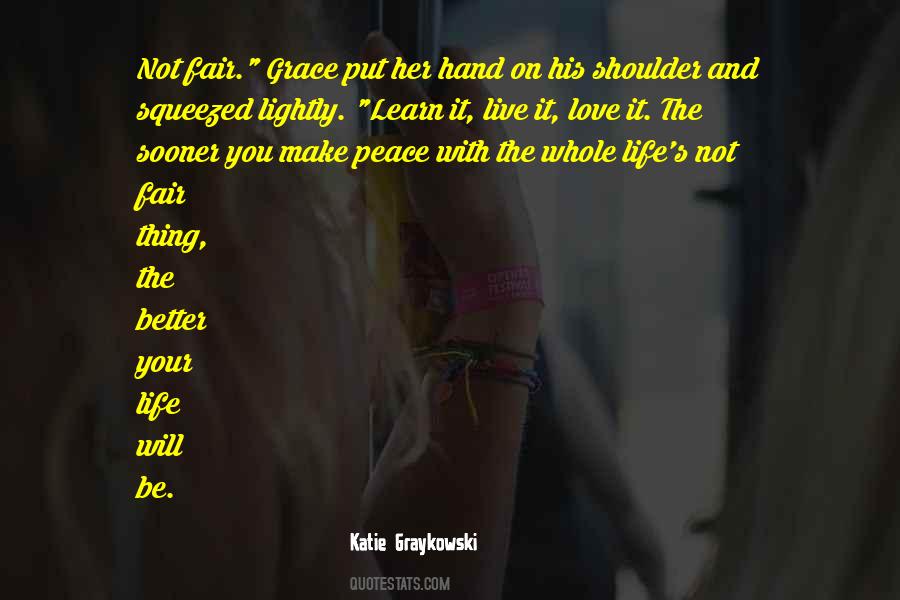 #67. I think heartbreak is something that you learn to live with as opposed to learn to forget. - Author: Kate Winslet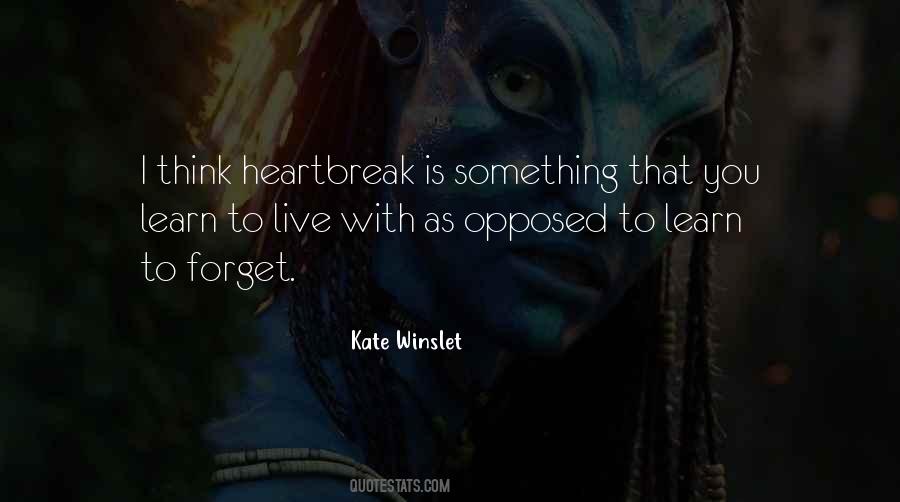 #68. Damn you!" Dagenham raged, "Don't you realize that you can't trust people? They don't know enough for their own good." "Then let them learn or die. We're all in this together. Let's live or die together. - Author: Alfred Bester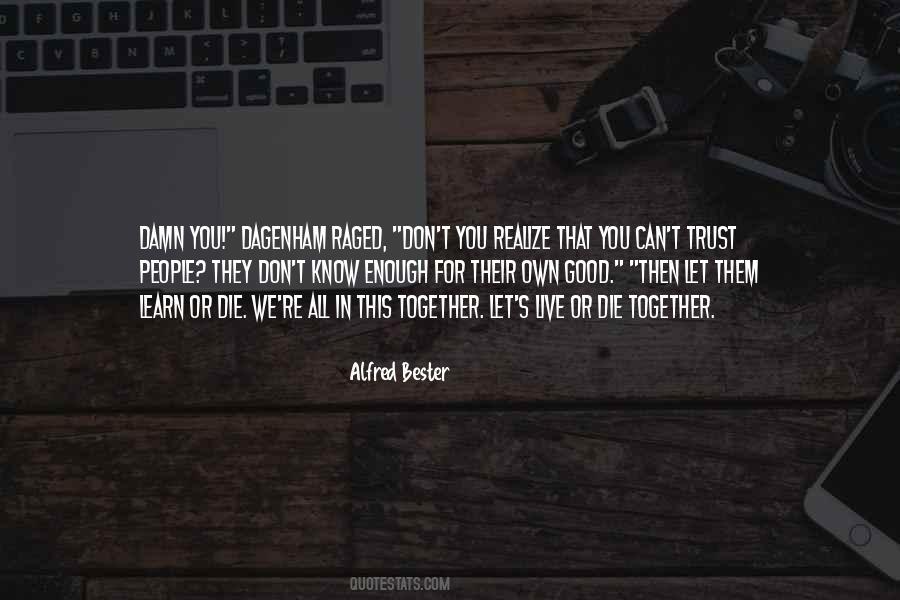 #69. Learn from the past, but don't live there. Build on what you know so that you don't repeat mistakes. Resolve to learn something new every day. Because every 24 hours, you have the opportunity to have the best day of your company's life. - Author: Harvey MacKay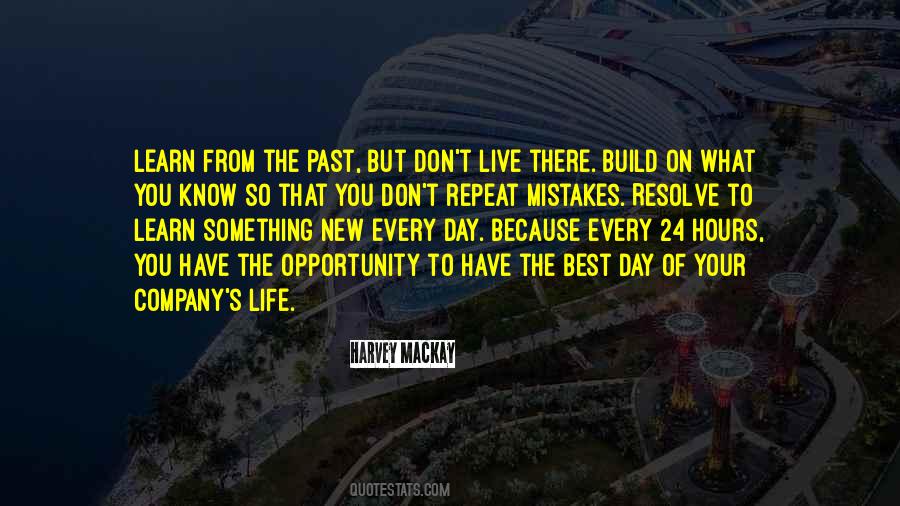 #70. Because you can make decisions for yourself even if they're wrong. Mistakes can be corrected. Life is too short to have everyone else tell you how to live. Make a few mistakes, and learn from them. At least they'll be real, and you'll be living, not just existing. - Author: Carolyn Brown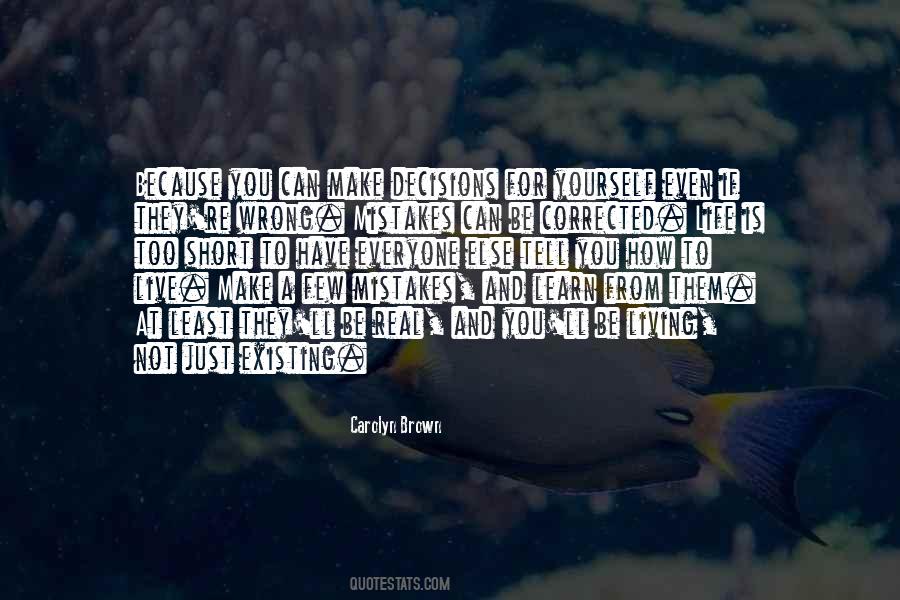 #71. Well, you live and you learn, and generally in that order. I - Author: Lawrence Block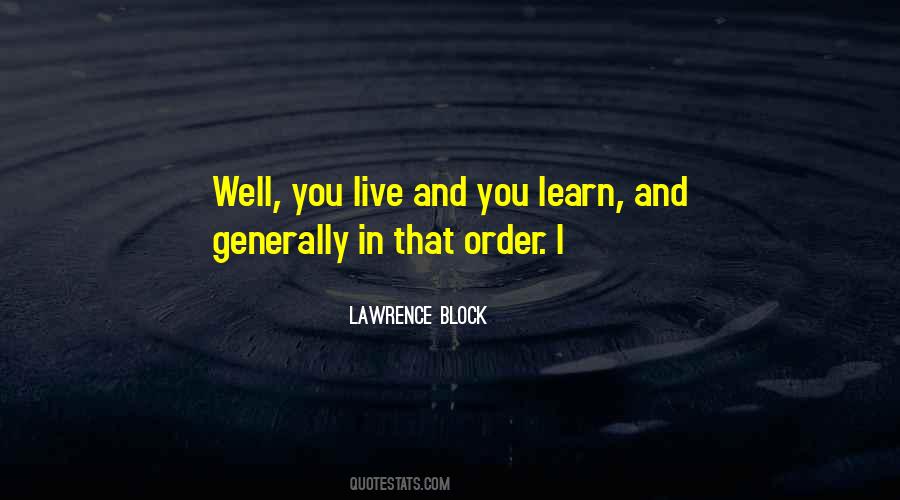 #72. We're still who we are at the roots. I reckon, hopefully, you let it branch out a little bit and you learn. You live and learn, so that's what we've tried to do. - Author: Eddie Montgomery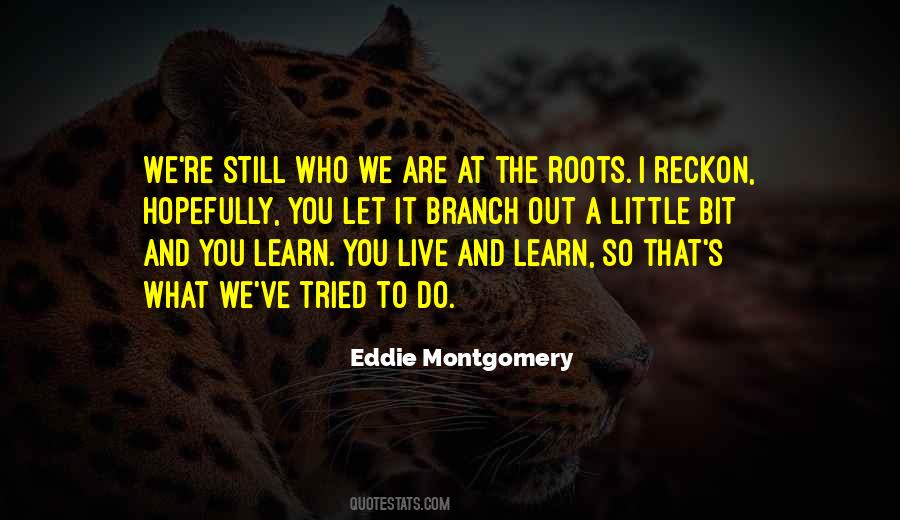 #73. If you live in a ghetto and really want not to just change your life and your family's life but change your ghetto's life, make your ghetto a good neighbourhood, learn science; try to be like Mark Zuckerberg, Bill Gates and Steve Jobs. - Author: Will.i.am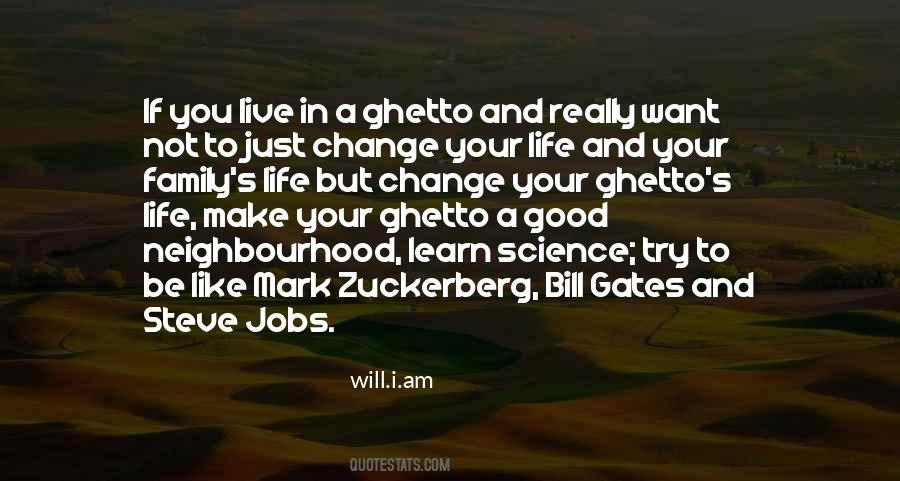 #74. My word, we live and learn, don't we.' And you certainly learn, he added in the privacy of his head. - Author: Terry Pratchett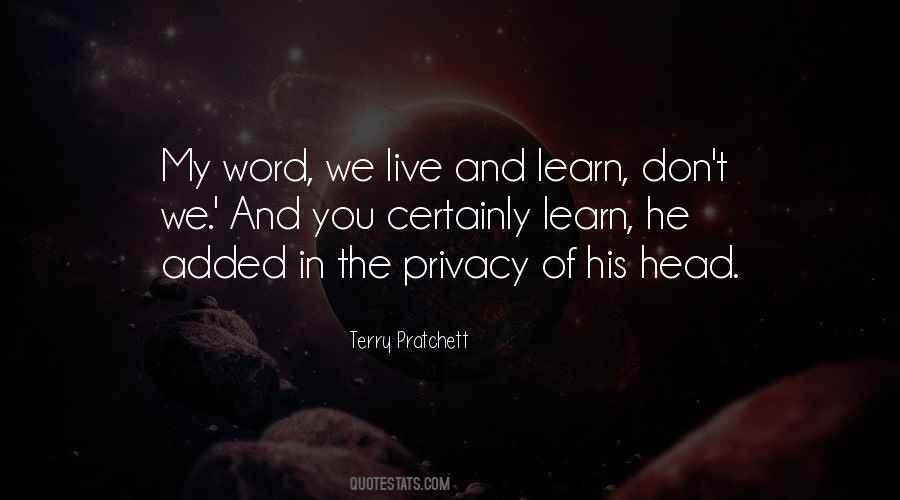 #75. We look at science as something very elite, which only a few people can learn. That's just not true. You just have to start early and give kids a foundation. Kids live up, or down, to expectations. - Author: Mae Jemison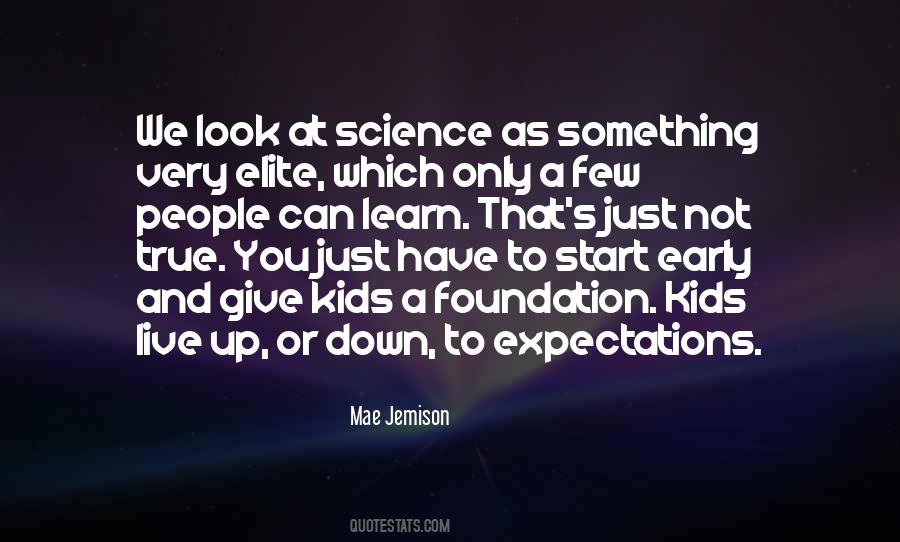 #76. You will never be able to live a victorious Christian life, unless you learn during your times of praying in tongues to understand the depths of what God's Spirit is revealing to your mind. - Author: Sunday Adelaja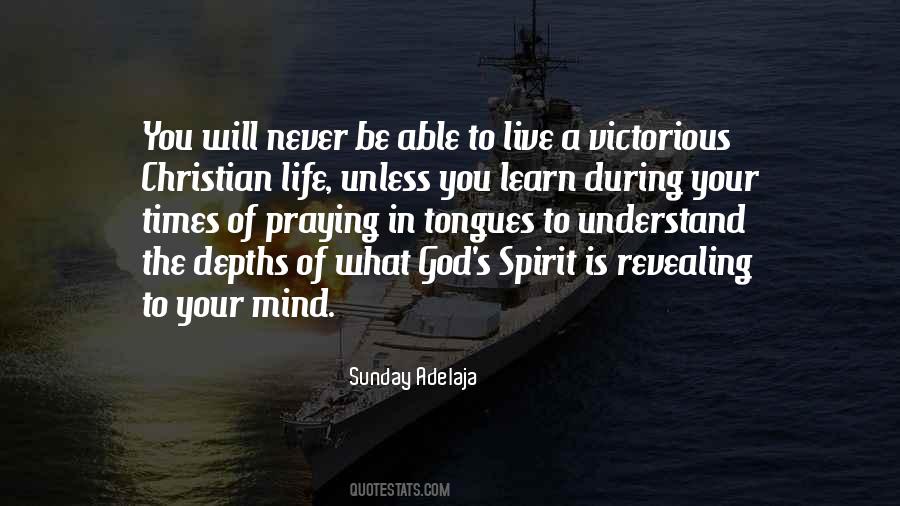 #77. Of course, you only live one life, and you make all your mistakes, and learn what not to do, and that's the end of you. - Author: Richard Feynman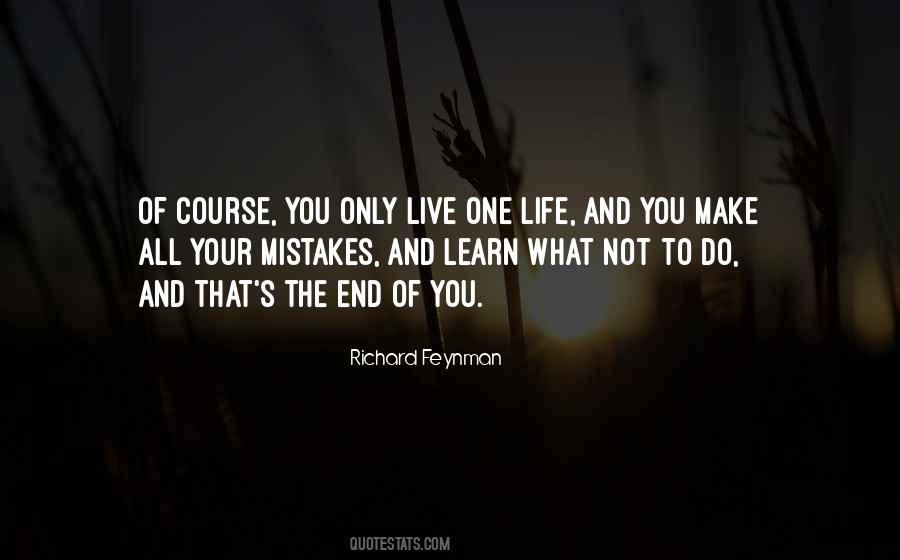 #78. You can't live somewhere," he told me, "if the people don't want you to be there. They can kill our cattle or poison our streams, and we would never know who did it. You either slaughter them all or learn to live with them. - Author: Bernard Cornwell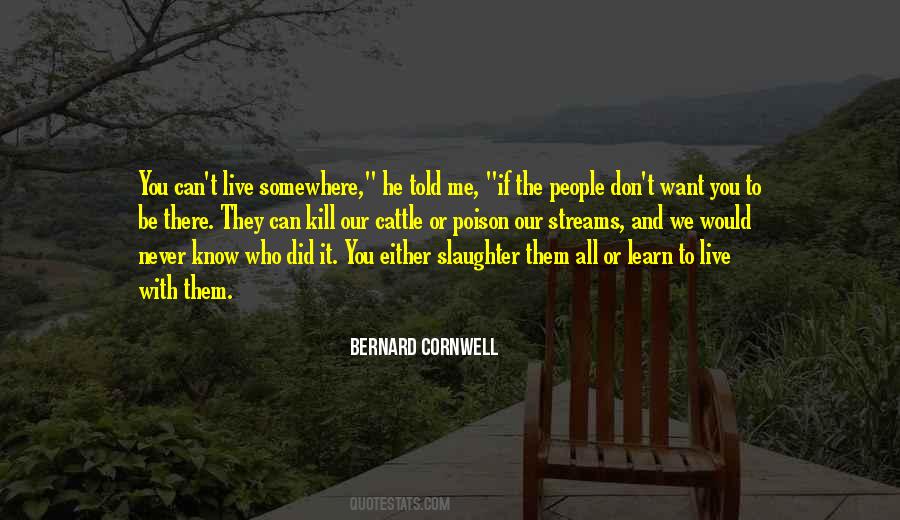 #79. Figure out what makes you laugh, and do more of it. Figure out what makes you cry, and do less of it. - Author: Mandy Hale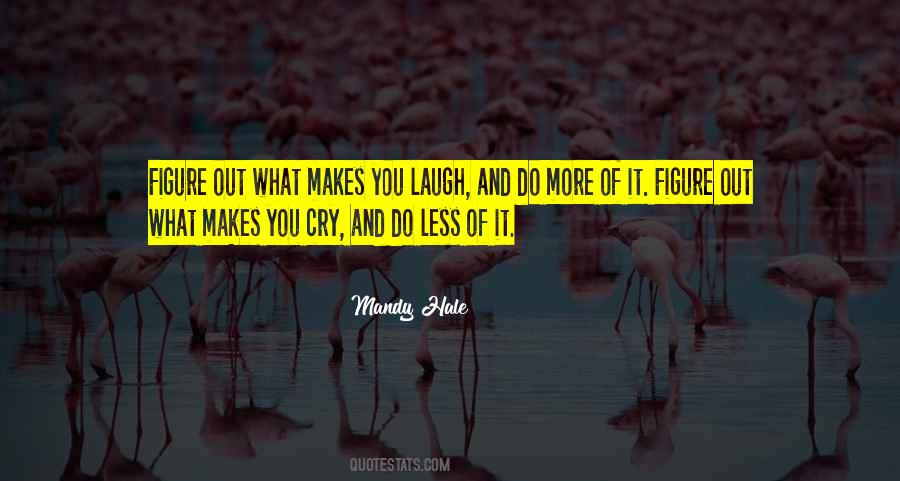 #80. During the past five years, I've learned that time flies faster than you think, and because you only live once you have to learn from your mistakes, live your dreams and be accountable. - Author: Lindsay Lohan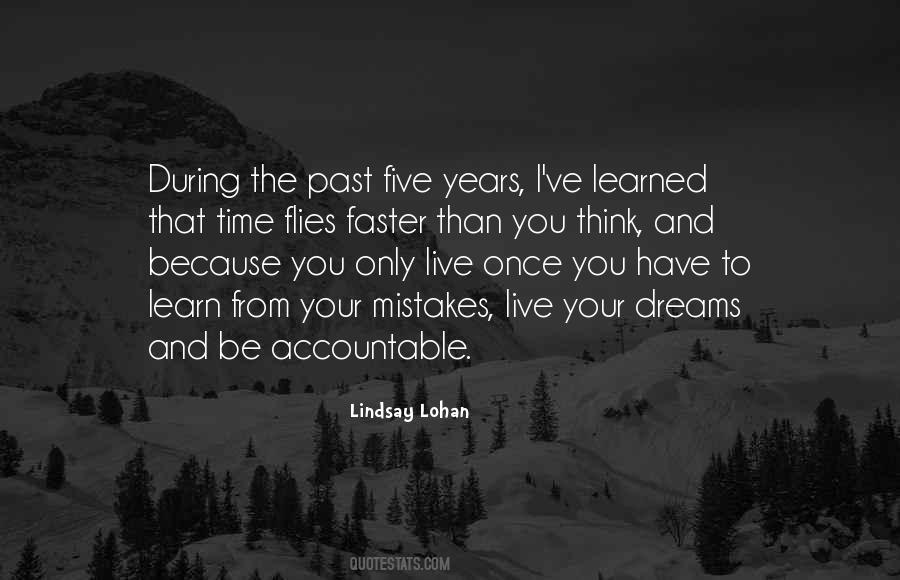 #81. Well, well," he said, "we live and learn, just like you said. - Author: Terry Pratchett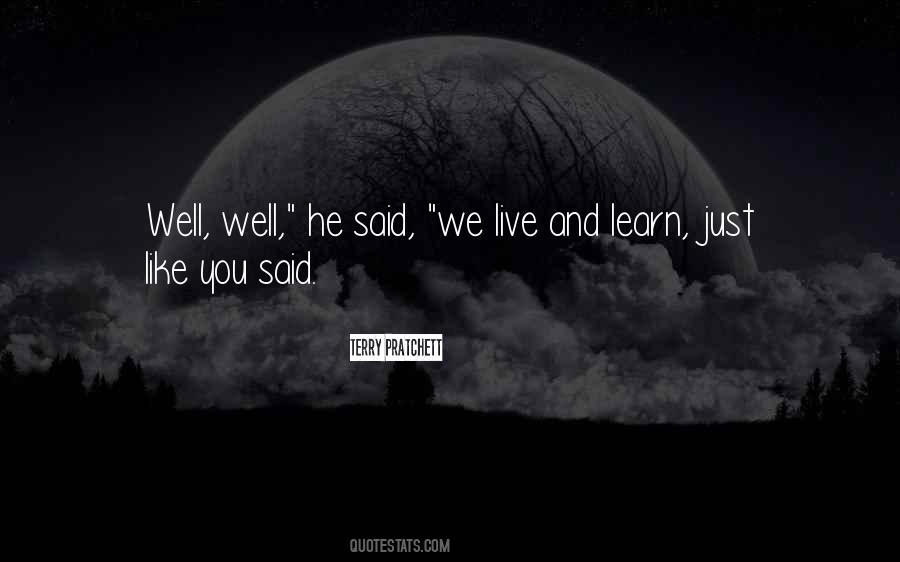 #82. Welsh is my mother tongue, and my children speak it. If you come and live in this community you'll work out pretty quickly that it's beneficial to learn the language, because if you're going to the pub or a cafe you need to be a part of the local life. - Author: Bryn Terfel
#83. Learn today so that you may live tomorrow - Author: Chris Bradford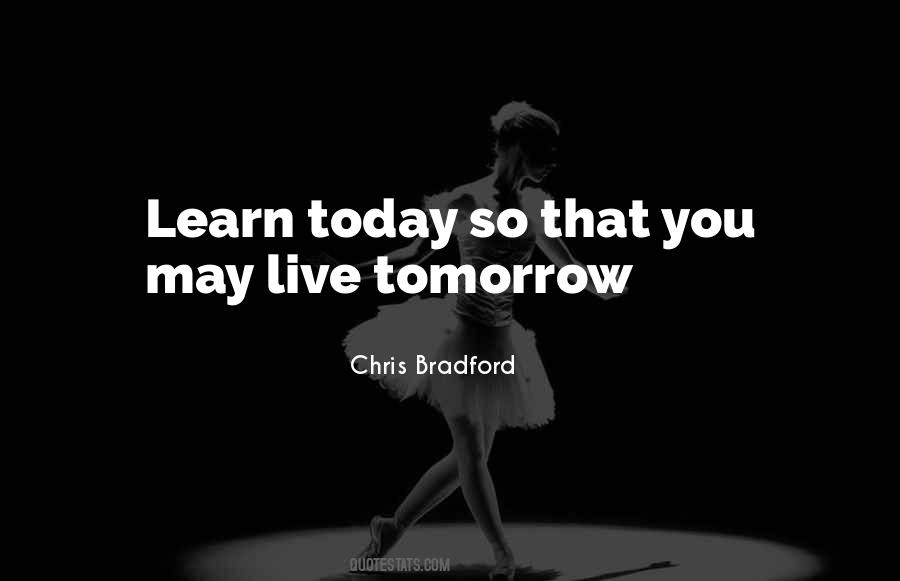 #84. The truth is, once you learn how to die, you learn how to live. - Author: Mitch Albom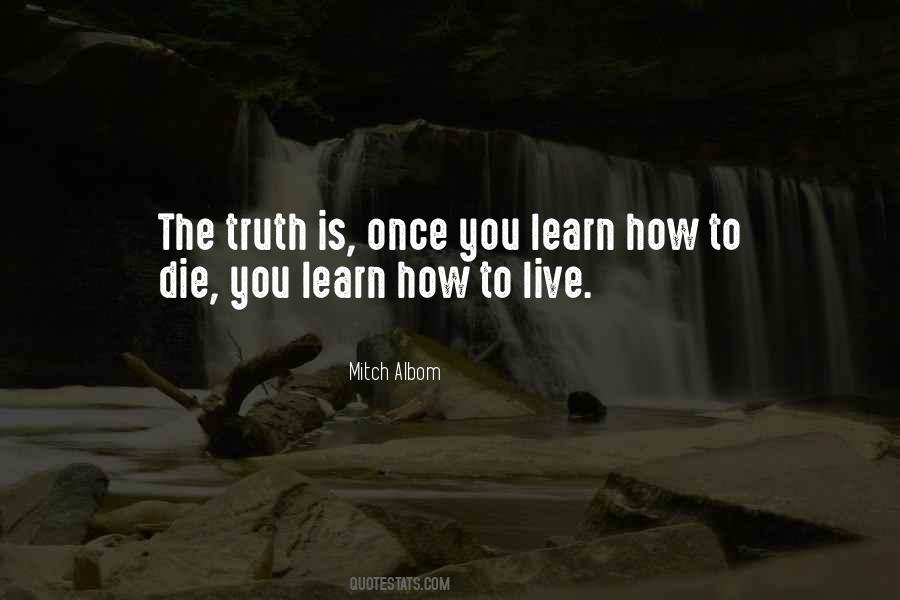 #85. God is calling you a mighty warrior. This study is about God's teaching us to live like the mighty warriors we can be in Him. Are you sick of deceit and ready to learn how to live like a mighty warrior? - Author: Beth Moore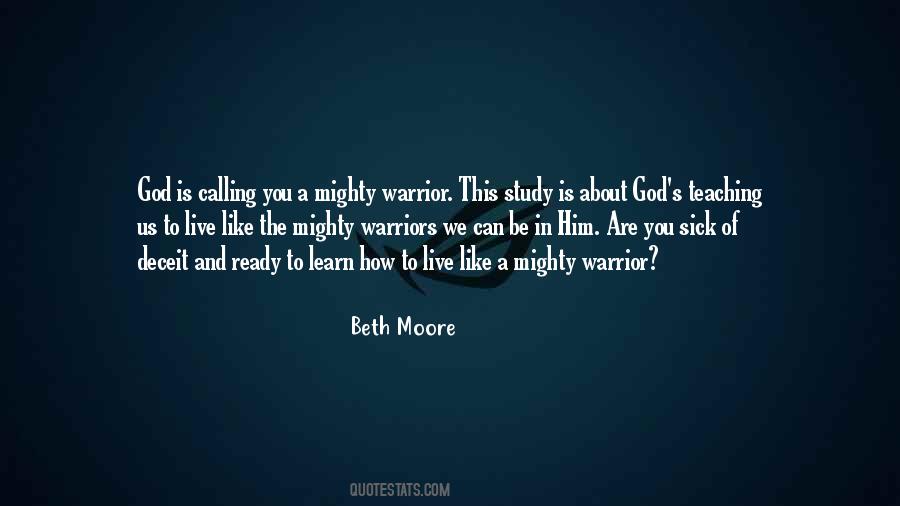 #86. Live and learn, babe. See, you never need to worry about the bitches because you already know what to expect. It's the friendly ones you gotta watch out for - Author: Lex Martin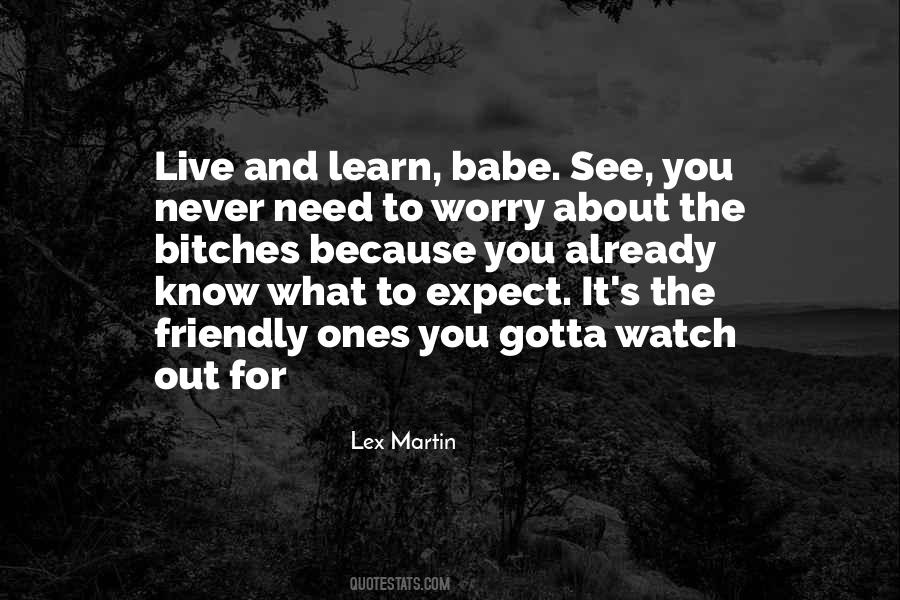 #87. I think you learn to live with the pain of miscarrying. The open wound heals and becomes a scar. Not as raw, but always there. A part of you- your heart. - Author: Ellen DuBois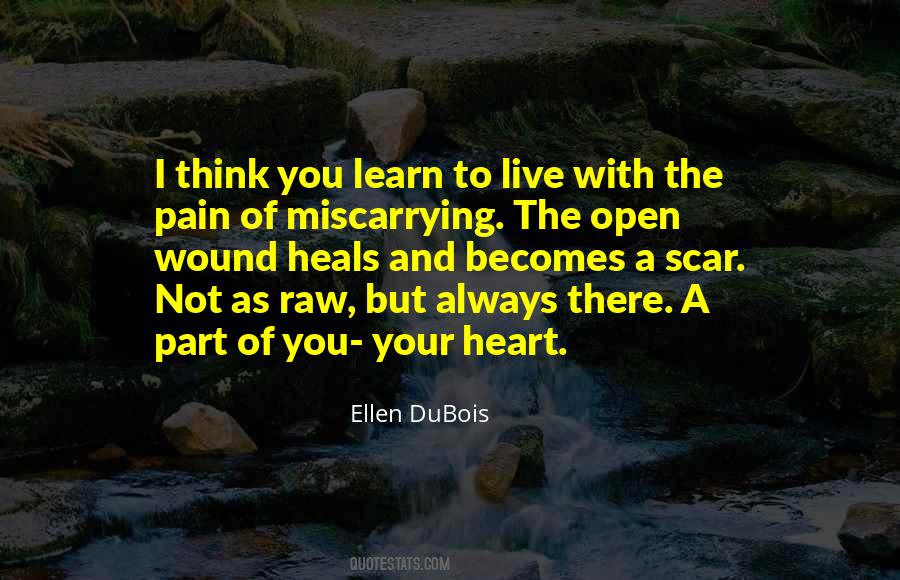 #88. People say 'Why would you learn Dutch? Nobody speaks it. Why not French?' Even the Dutch say that to me! I say because I want to live here, I think it's only common courtesy that I speak the language. - Author: Anthony Geary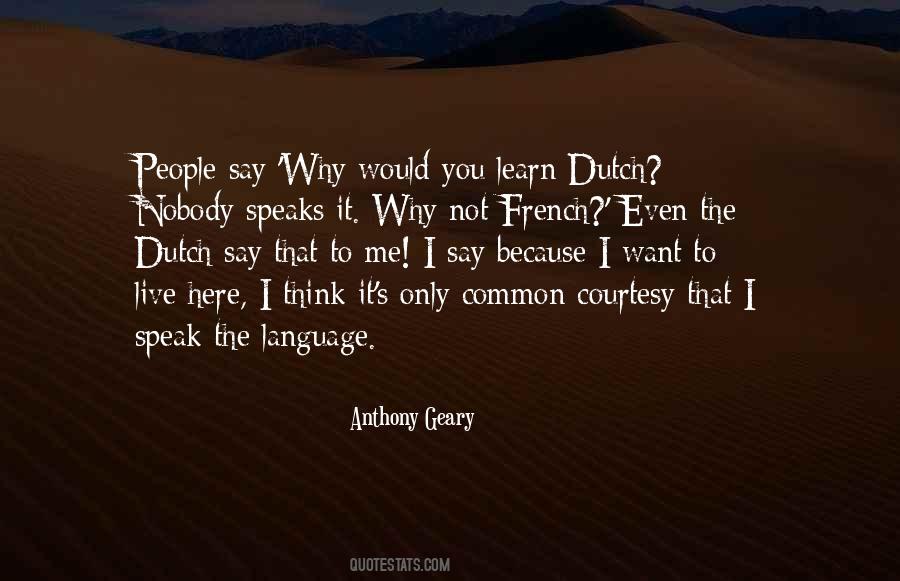 #89. And when they start talking, and they always do, you find that each of them has a story they want to tell. Everyone, no matter how old or young, has some lesson they want to teach. And I sit there and listen and learn all about life from people who have no idea how to live it. - Author: Paul Neilan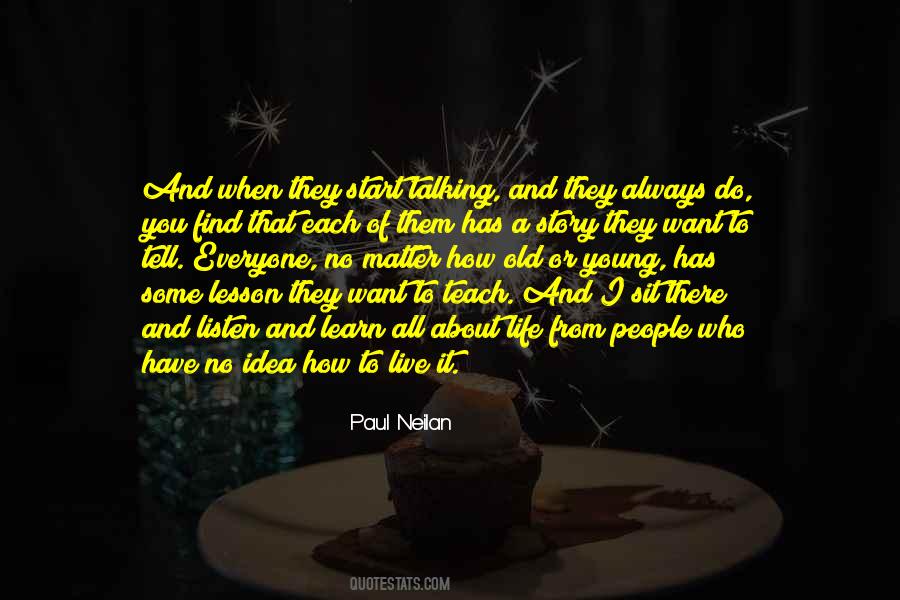 #90. As an adult, be child-like as you learn but not child-ish as you live. - Author: Carew Papritz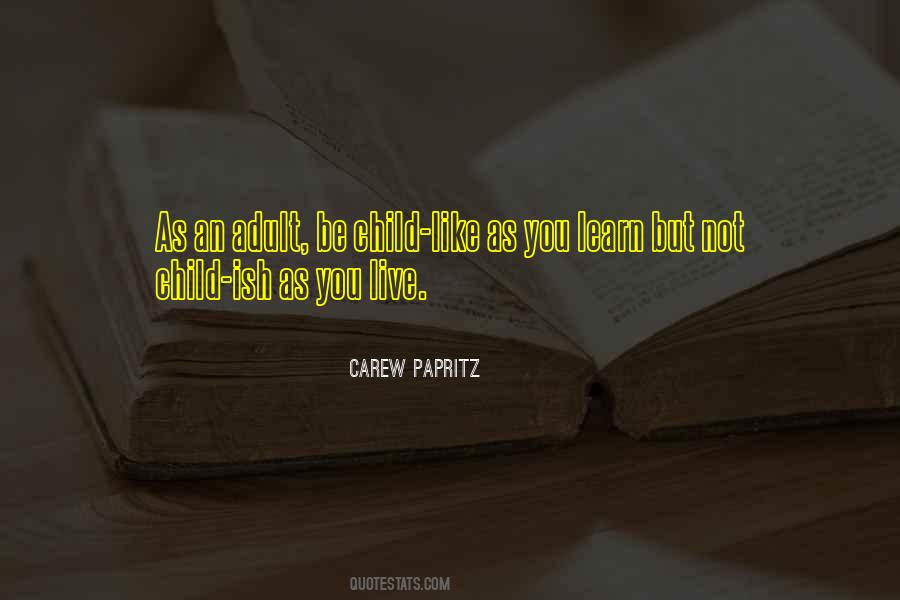 #91. It is its own form of conversation
you can learn a lot about people from the stories they tell, but you can also know them from the way they sing along, whether they like the windows up or down, if they live by the map or by the world, if they feel the pull of the ocean. - Author: David Levithan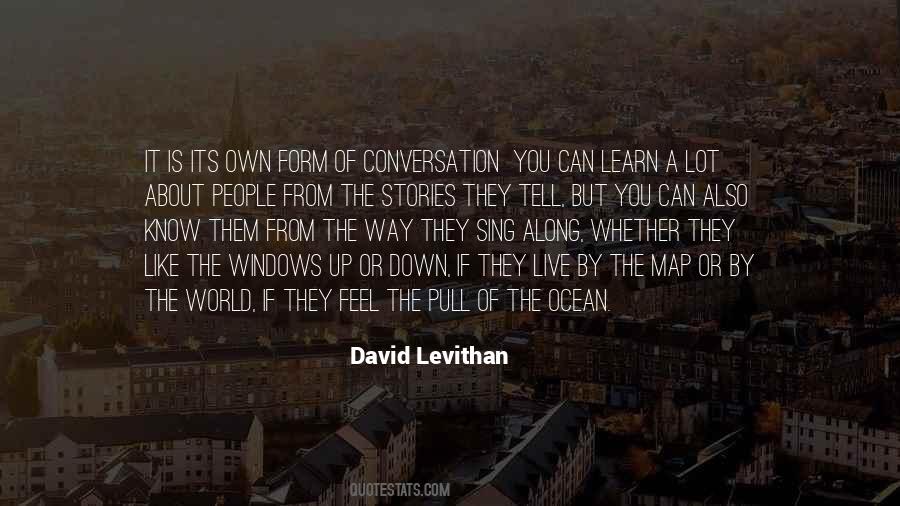 #92. By your own soul, learn to live.
If some men force you, take no heed.
If some men hate you, have no care.
Sing your song, dream your dreams
Hope your hopes, and pray your prayers. - Author: Bo Schembechler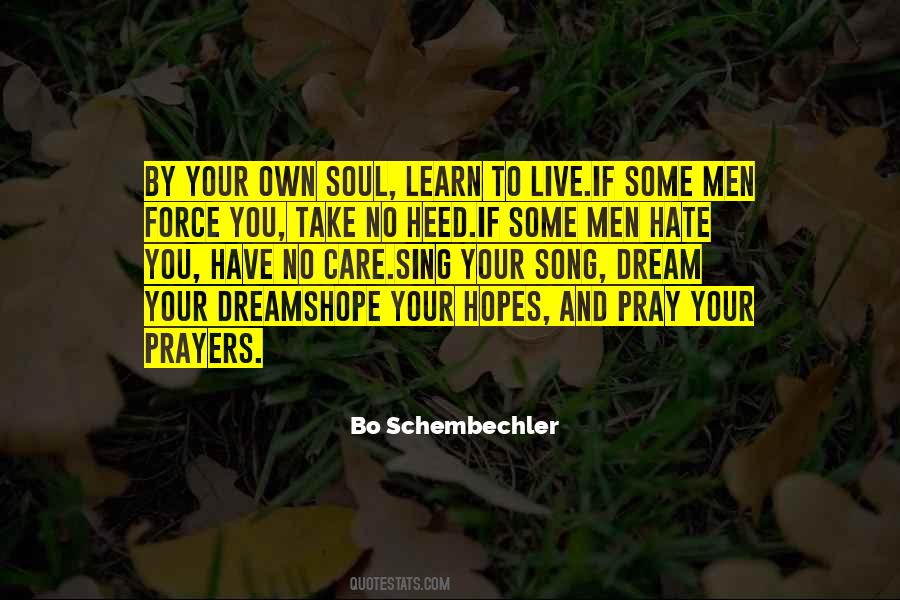 #93. I've found that if you expect the best of a person," Frank told him once, "you generally get it." "What happens when you don't?" Lucas asked. "Live and learn. Emphasis on learn. - Author: Kristan Higgins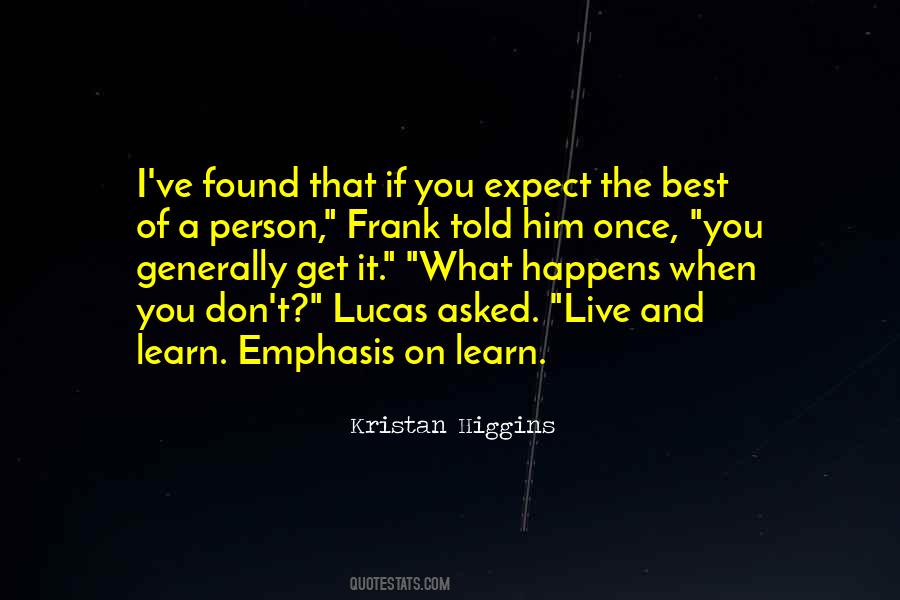 #94. You learn who you are by unlearning who they taught you to be. - Author: Nikki Rowe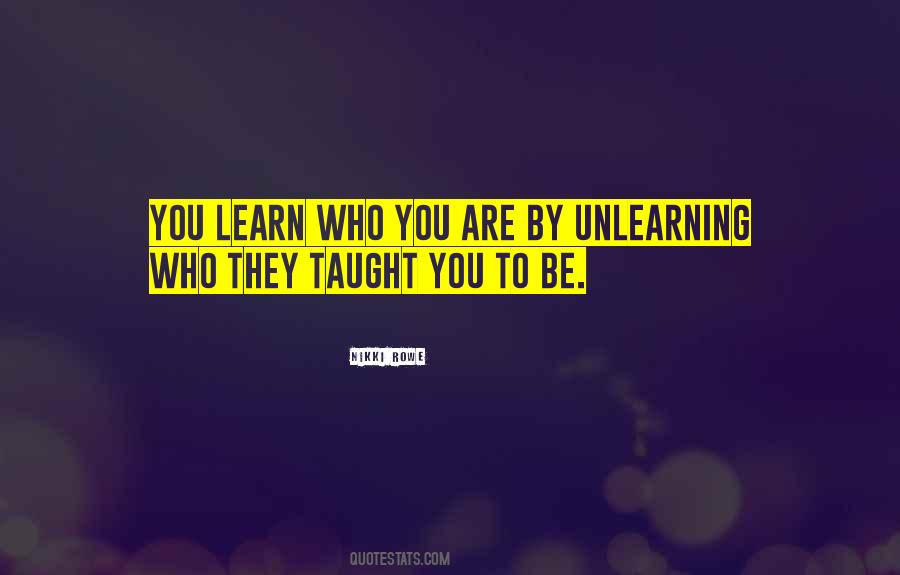 #95. Associate with noblest people you can find; read the best books; live with the mighty. But learn to be happy alone.
Rely upon your own energies, and so not wait for, or depend on other people. - Author: Thomas Davidson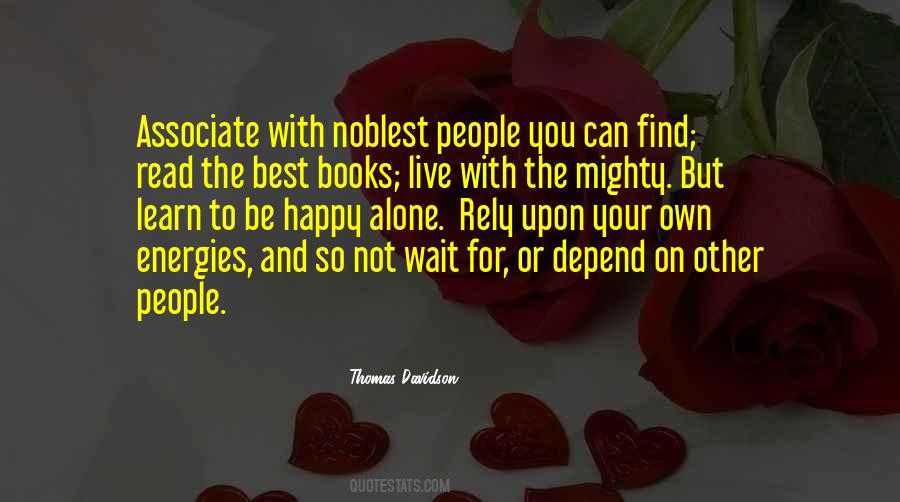 #96. When you learn what you can live without, you are able to ask life for the very best because you possess the gift of discernment. You are able to create an authentic life because you are able to make conscious choices. - Author: Sarah Ban Breathnach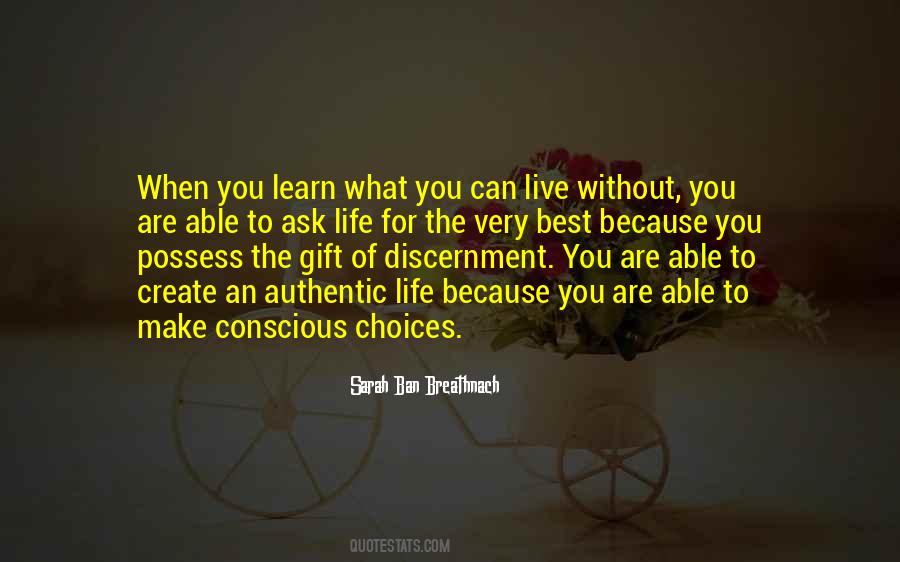 #97. There outside there is a lot of stuff which you learn, the clock illusion, that you live in the past, that you can survive without a brain but not for long period...What Is Consciousness? And many other stuff... (so the question which has left, do you have the time to do it?) - Author: Deyth Banger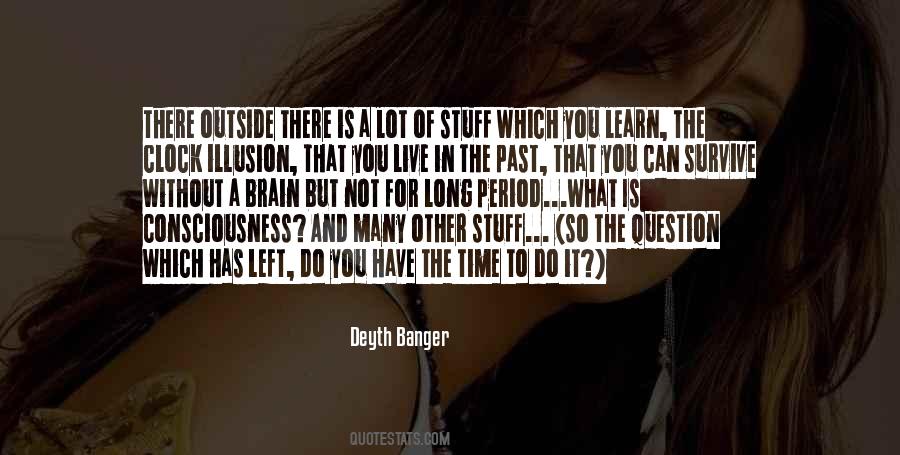 #98. Learn how to live and you'll know how to die; learn how to die, and you'll know how to live. - Author: Morrie Schwartz.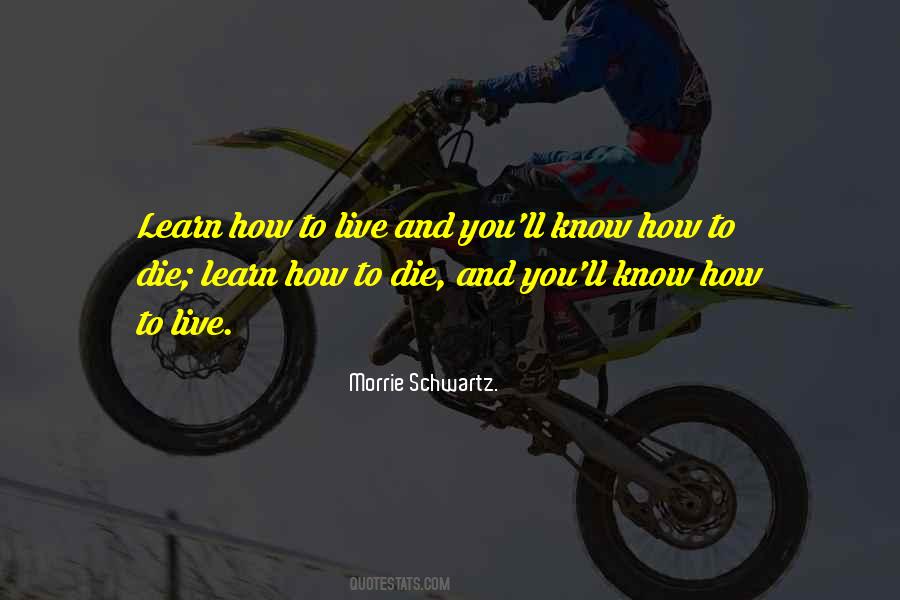 #99. Learn from the past, set vivid, detailed goals for the future, and live in the only moment of time over which you have any control: now. - Author: Denis Waitley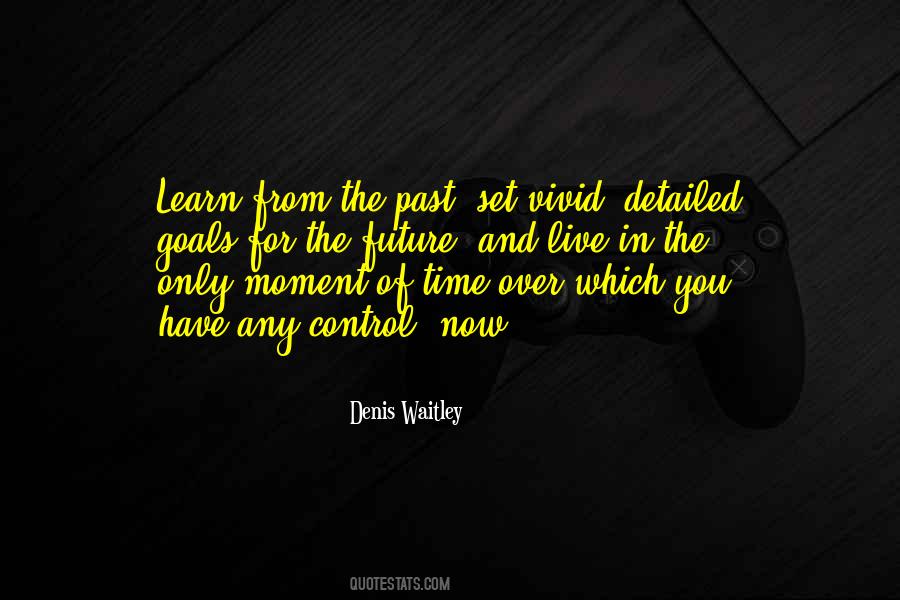 #100. When you are offended at anyone's fault, turn to yourself and study your own failings. By attending to them, you will forget your anger and learn to live wisely. - Author: Marcus Aurelius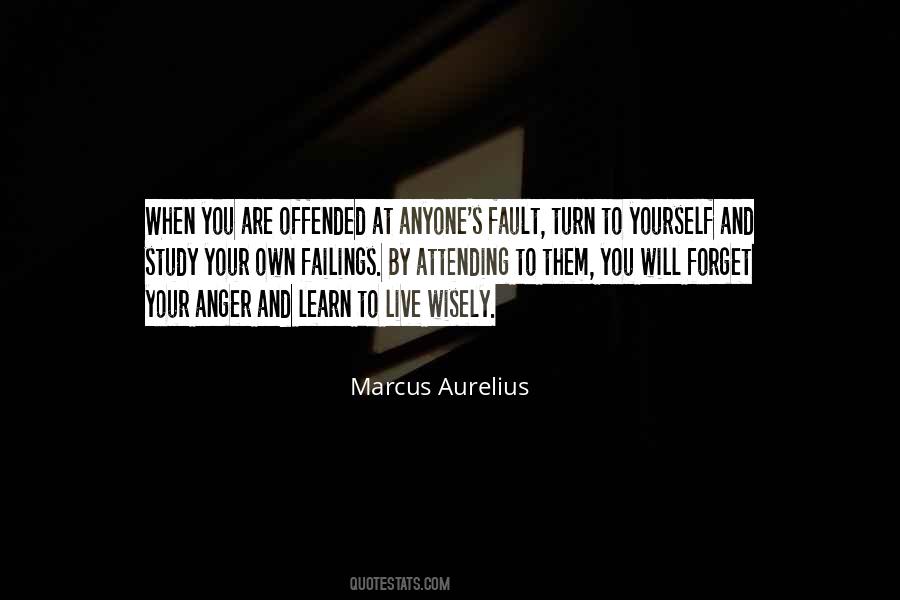 Famous Authors
Popular Topics