You Don't Understand Me Famous Quotes & Sayings
List of top 100 famous quotes and sayings about you don't understand me to read and share with friends on your Facebook, Twitter, blogs.
Top 100 You Don't Understand Me Quotes
#1. You don't understand the things I do, but I do have my reasons. They're not your reasons, so they're not real to you, but they're real to me, and that's enough. - Author: Tom Topor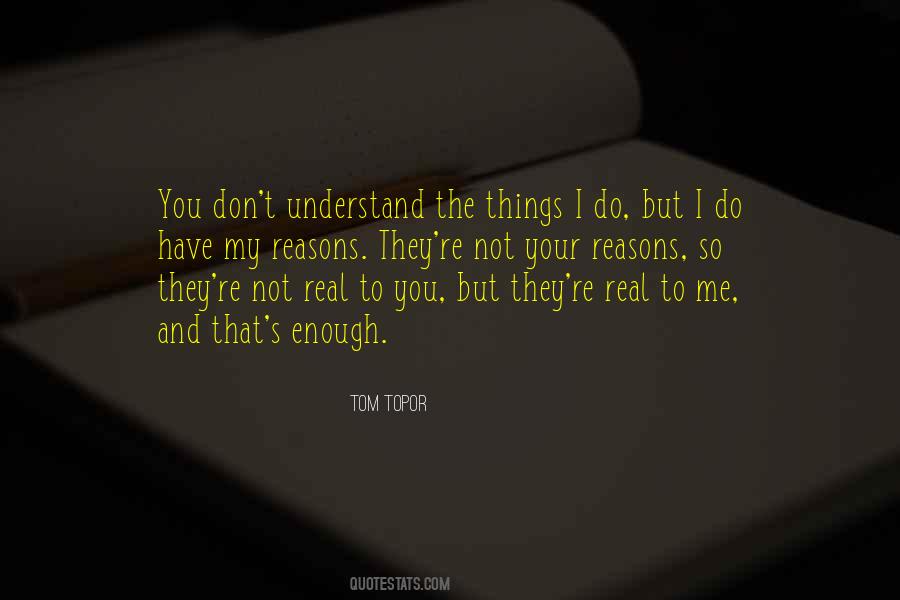 #2. Let me get this straight. First you decide I'm a demon because of a power I didn't ask for and don't even understand. Then when that falls through you label me a fallen sybil and a ho. Am I missing something or do you just not like me - Author: Karen Chance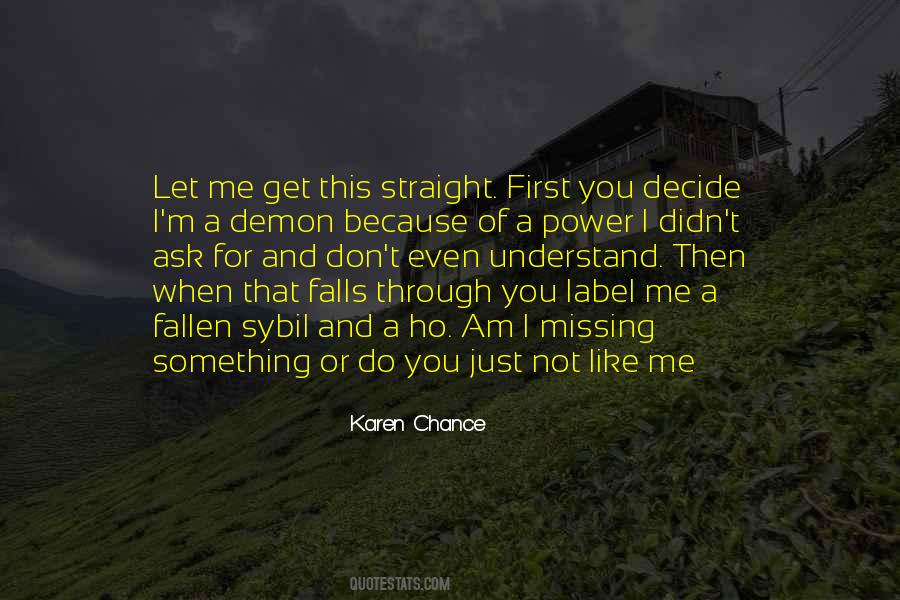 #3. I don't think you're heartless, Mitchell. I just think you're different from me. I take certain things seriously - like marriage and sex and... and tradition. I know you don't. That's fine. You don't have to. But I hope you understand that I do. - Author: Noelle Adams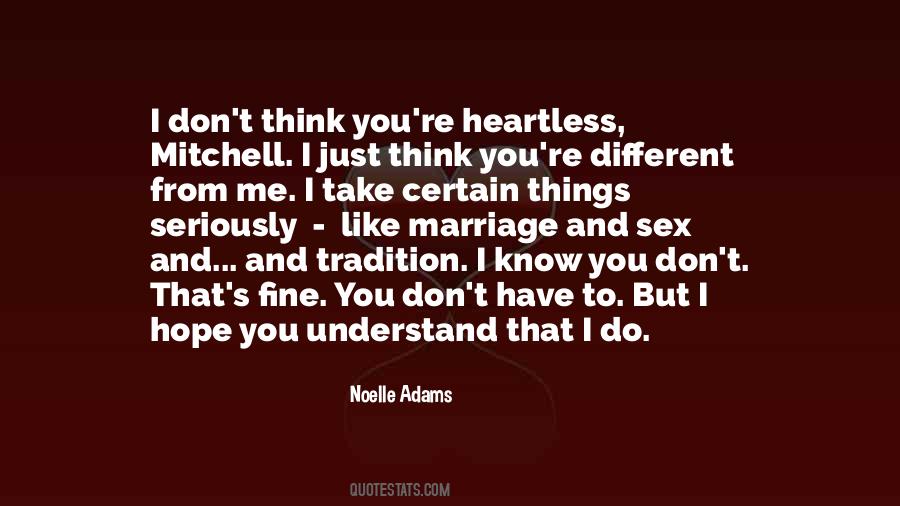 #4. There's something about you Anastasia, that calls to me on some deep level I don't understand. It's a siren's call. I can't resist you, and I don't want to lose you ... don't run, please - have a little faith in me and a little patience please - Author: E.L. James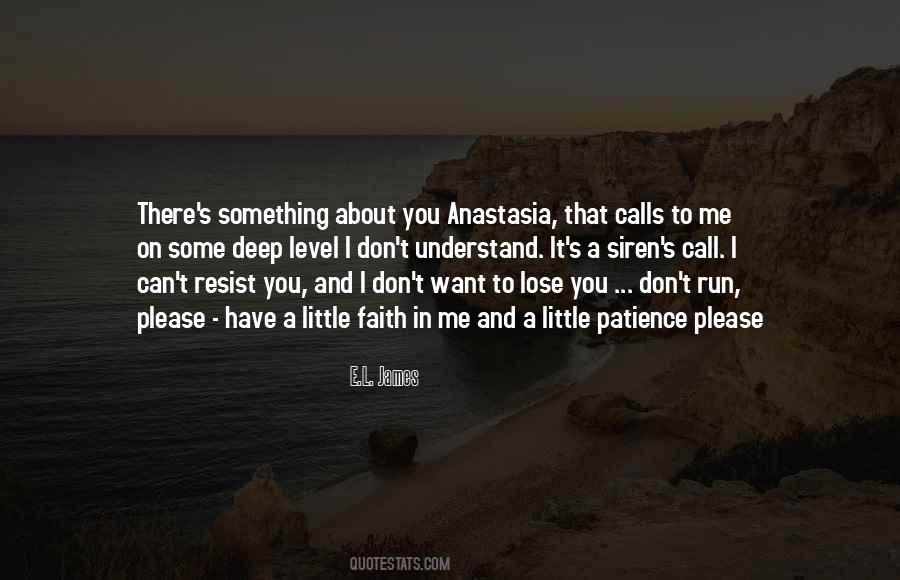 #5. There's one thing I remember about Muhammad Ali. He said "I don't like my condition, but if this is what the Good Lord has planned for me to deal with, I'm happy with that." You have to understand, that comes from my idol, one of the guys that got me started in boxing. - Author: Roy Jones Jr.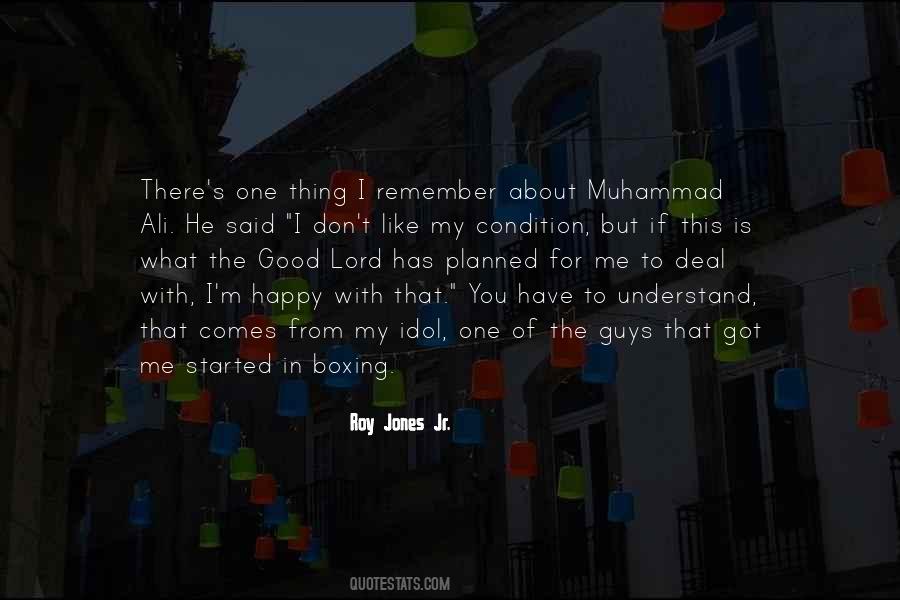 #6. I know," she said. "You have a stone in your heart, and some days it's so heavy there is nothing to be done. But you don't have to be alone for it. You should have come to me. I understand. - Author: Patrick Rothfuss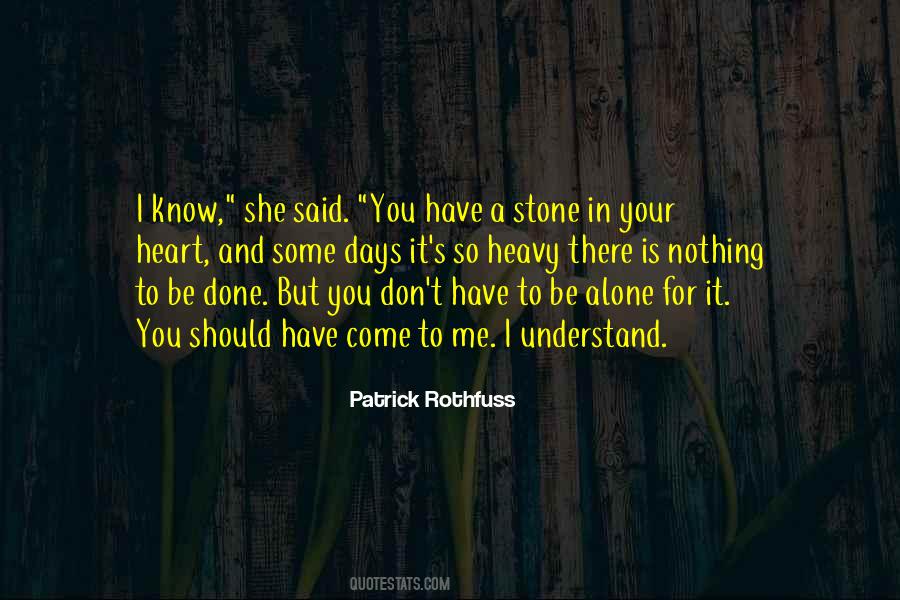 #7. One of the things you need to understand is that I'm not a brave person.
I don't put up with being messed around, and I don't suffer fools gladly.
The short version of that is that I'm a bitch. Trust me, I can produce
character references. But that's something else. I'm not brave. - Author: Robin McKinley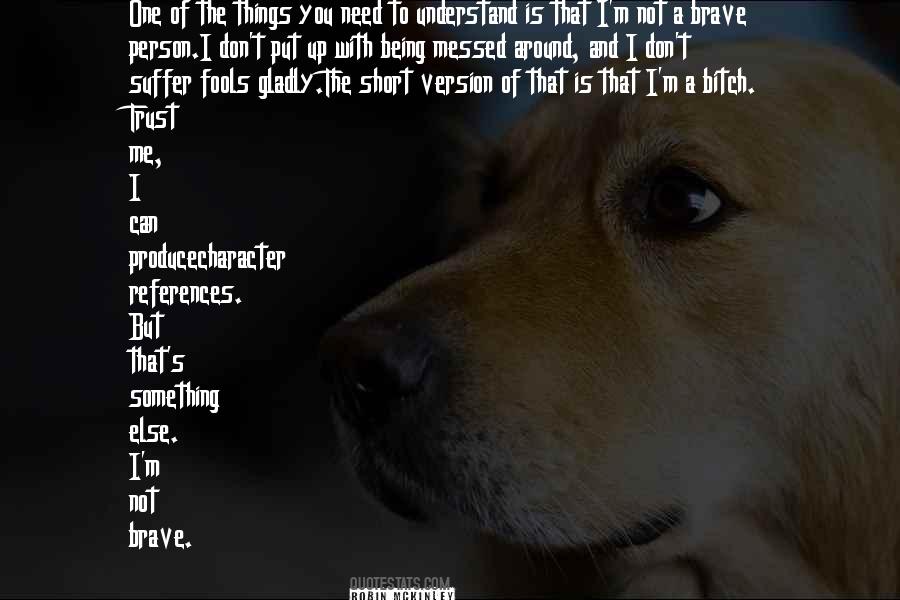 #8. You understand. I don't know. I am not sure how I would feel in your shoes. My mother wanted me. - Author: Donna K. Childree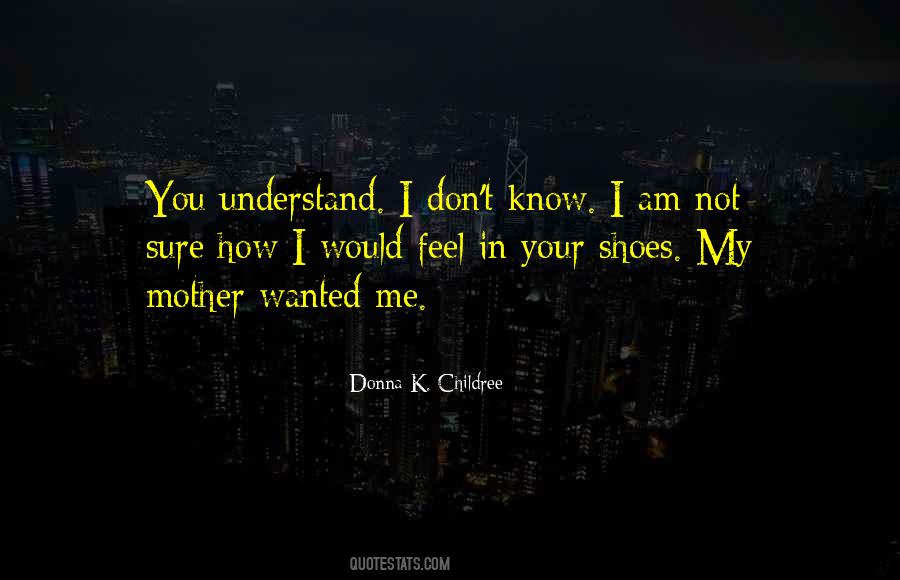 #9. Do what ya have to do to pay off yer debt with Heaven,' he said, his concern for proper speech abandoned. 'But ya do not die on me, ya understand? I can't live without ya. Yer all I got, woman.' Her breath caught in her lungs. 'I don't want to be here if you're not. - Author: Jana Oliver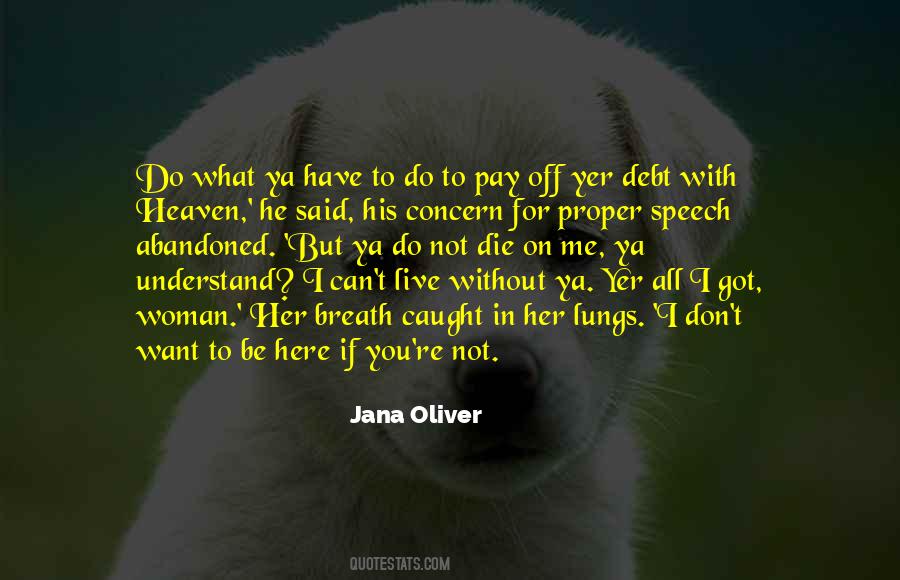 #10. I don't think you will ever fully understand how you've touched my life and made me who I am. I don't think you could ever know just how truly special you are that even on the darkest nights you are my brightest star - Author: Erica Jong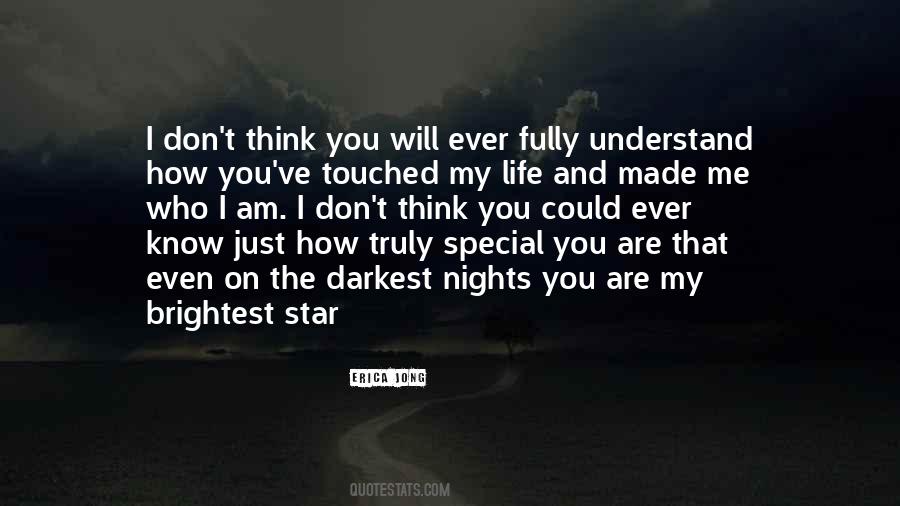 #11. Angel," he murmured, clasping my face between his hands. "I don't think you understand the lengths I would go to if it means keeping you here with me. - Author: Becca Fitzpatrick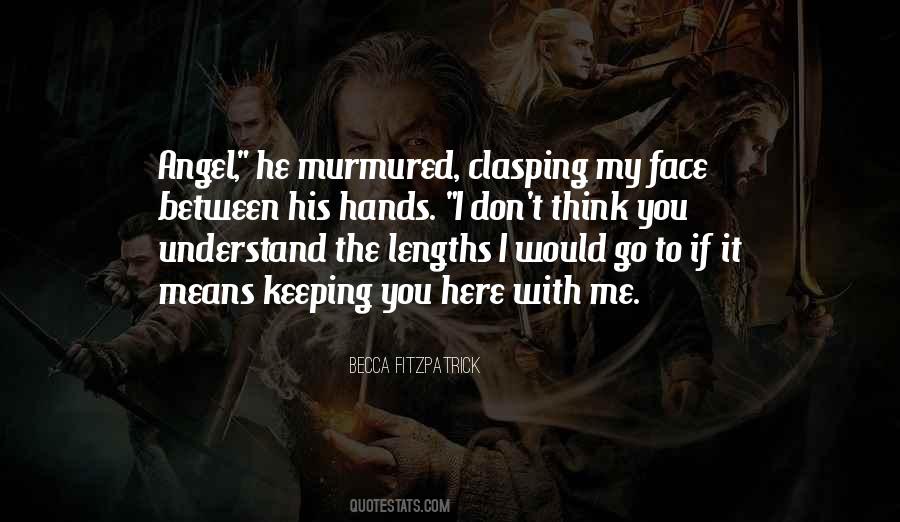 #12. I love you and you understand what that phrase means to me. I don't say it ... to anyone ... ever. - Author: S.C. Stephens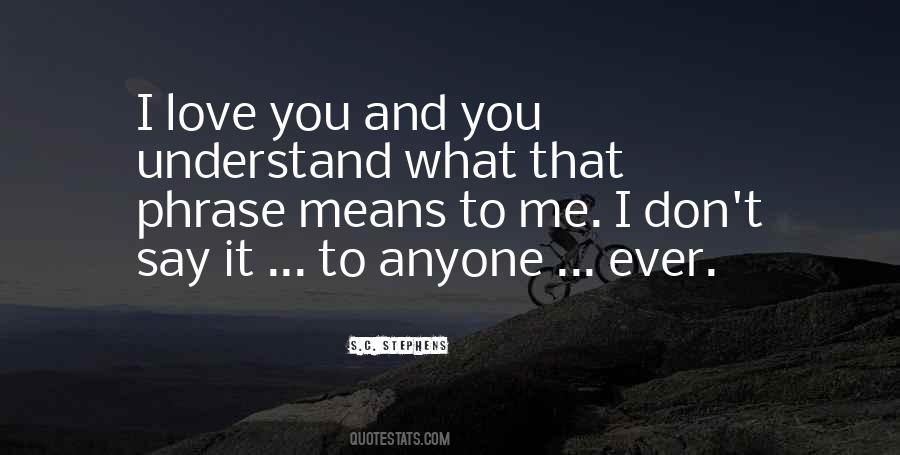 #13. You don't understand,' I said. 'I need to be with her. With every fibre of my being I ache for her. I'm in love.'
'I do understand,' said Zoran. 'It was same for me with Mrs Zoran when I first meet her. But the feeling goes away after few hours. - Author: Doug MacLeod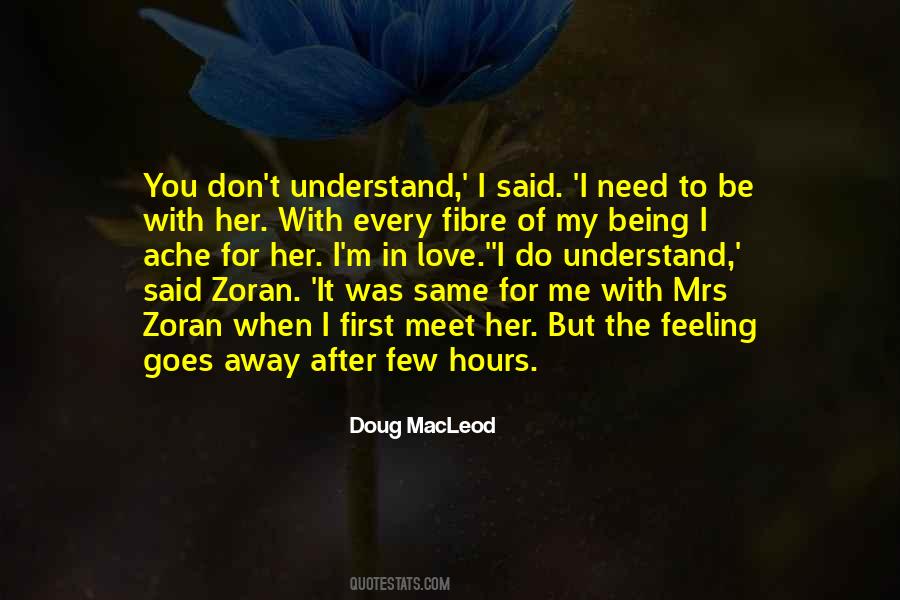 #14. I don't understand you. You don't understand me. What else do we have in common? - Author: Ashleigh Brilliant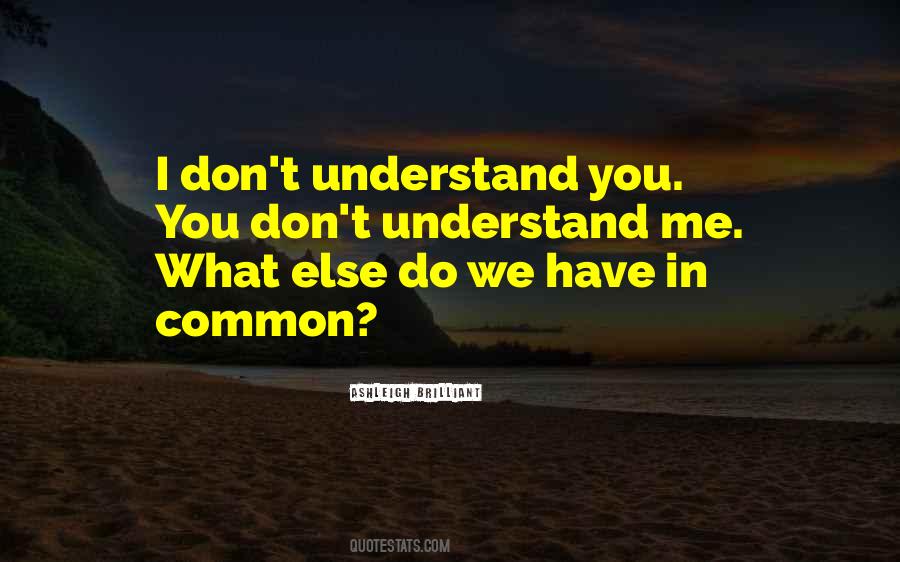 #15. I didn't understand this idea of a God who says, "You have to acknowledge me. You have to say that I'm the best, and then I'll give you eternal happiness. If you won't, then you don't get it!" It seemed to be about ego. I can't see God operating from ego, so it made no sense to me. - Author: Brad Pitt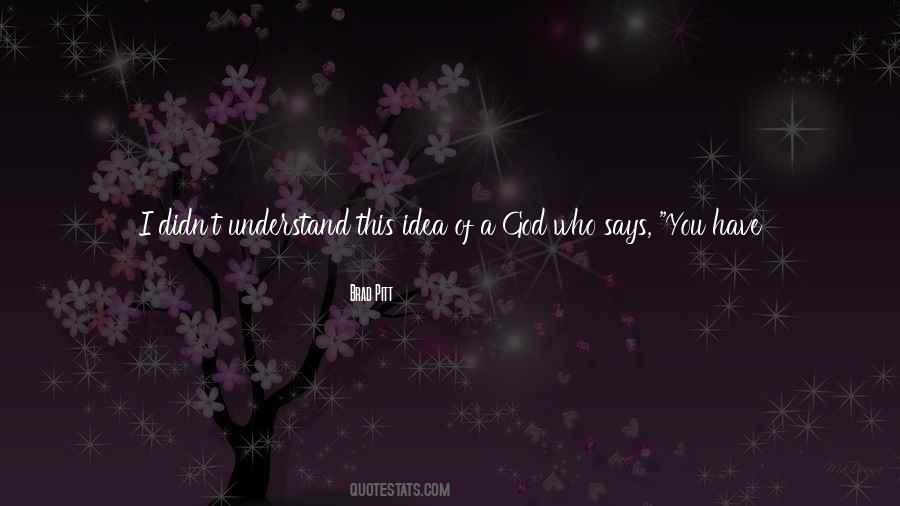 #16. Your sadness is one of the things that makes you beautiful to me. Don't you see that? I understand it. It makes my own sadness less frightening. (Brigan) - Author: Kristin Cashore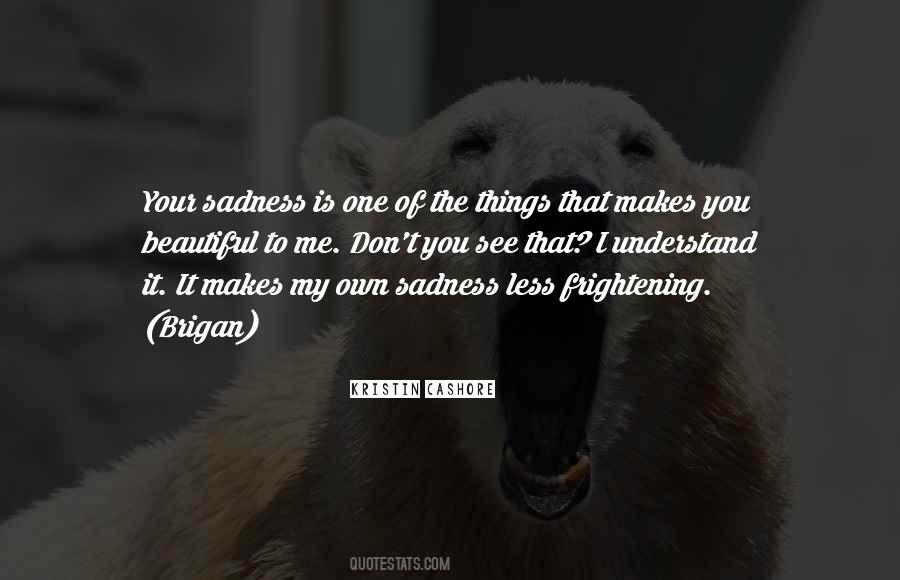 #17. If you love me, Henry, you don't love me in a way I understand. - Author: Richard Siken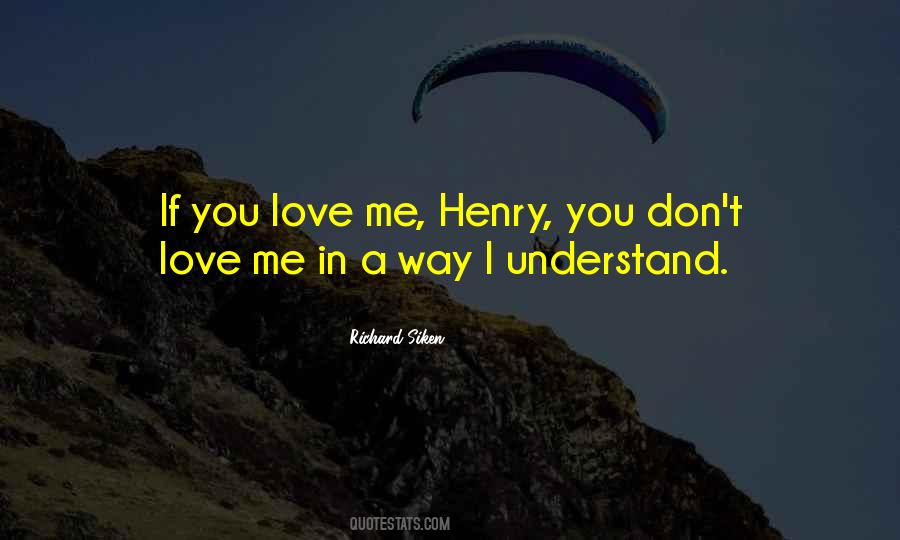 #18. Because she's going to help you understand something. I'm not yours to taunt. Don't think I haven't noticed the way you try to manipulate me. I invented that game. - Author: C.J. Roberts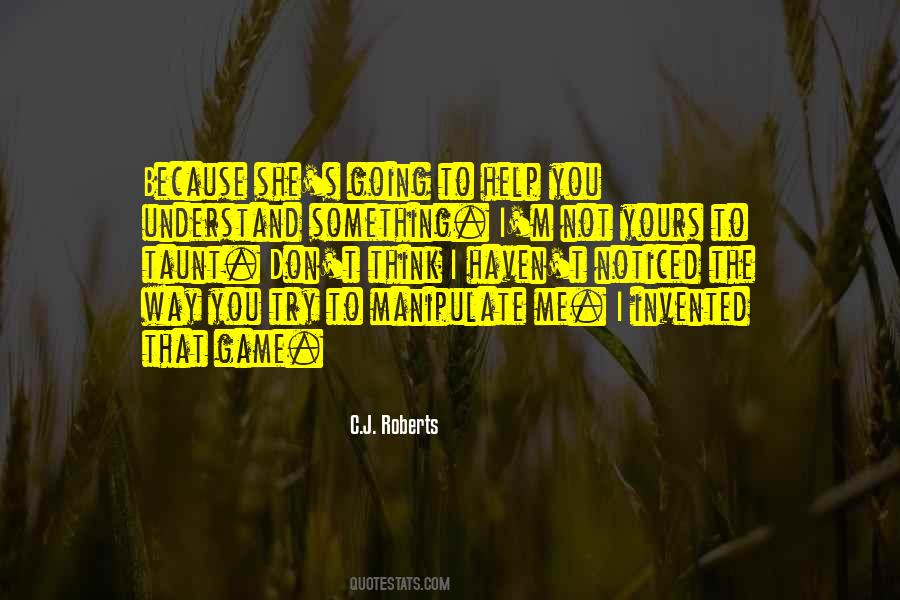 #19. Your cell phone is on the nightstand. Call me immediately if something changes. I don't care if you are merely dizzy or if you start seeing pink dragons, do you understand?
I solemnly swear I will call you the second a pink dragon shows up. - Author: Jessica Fortunato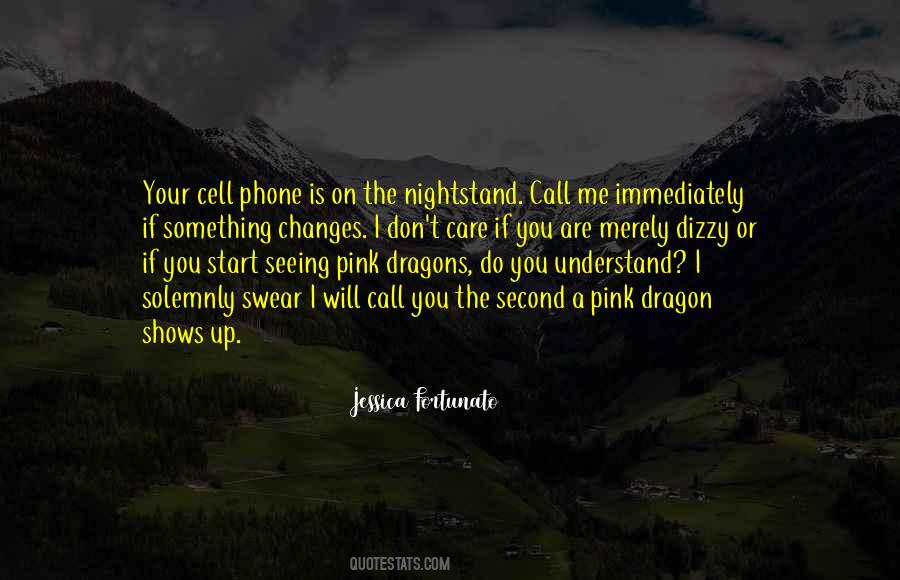 #20. I am not apologetic. I don't define or defend my philosophical thoughts. You have to feel them, think about them, imagine them, and then try to understand them. My thoughts are my truths. They may not be your truth, and that is fine with me. - Author: Debasish Mridha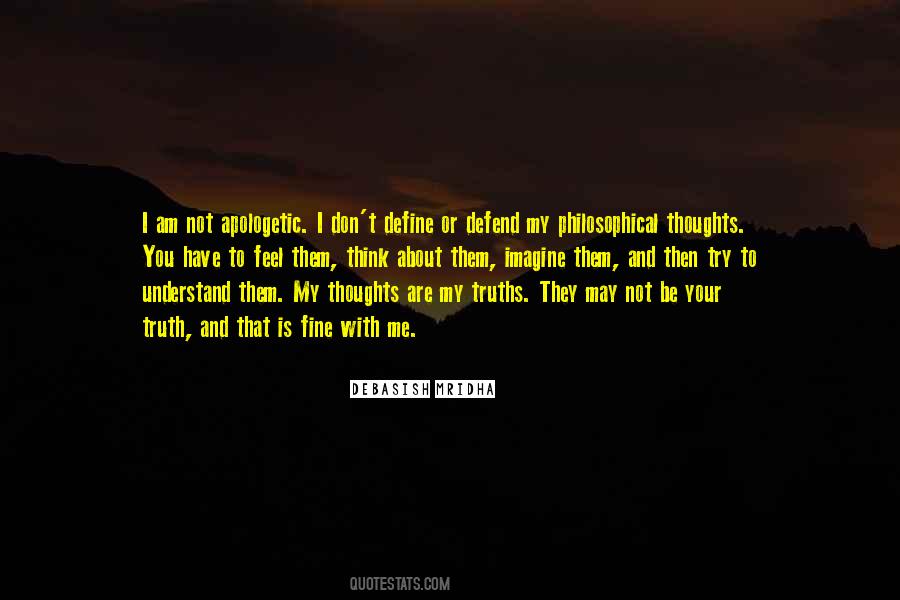 #21. I don't need to hear all of society's rationalizations. I've heard them all before and the fact remains that what is, is. You don't understand me. You are not expected to. You are not capable of it. - Author: Richard Ramirez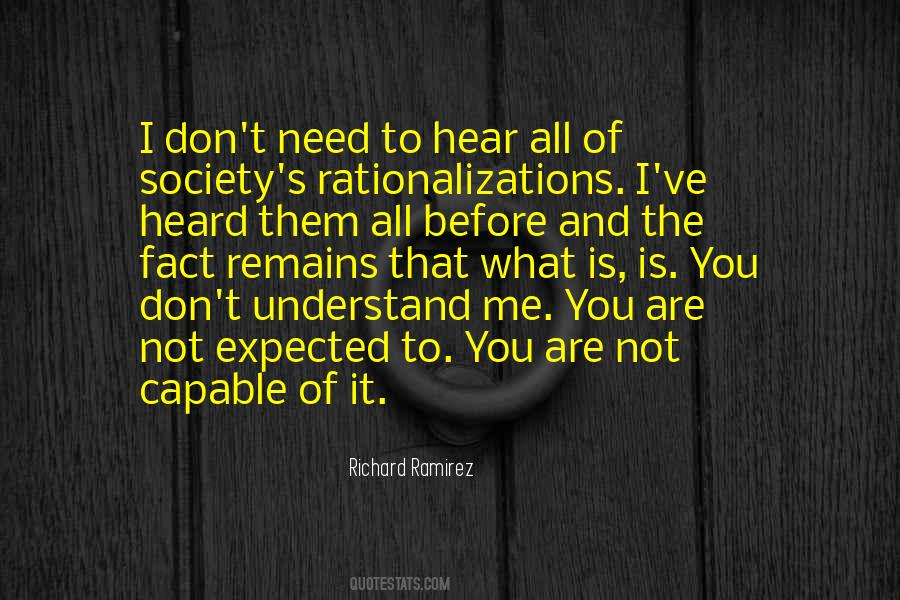 #22. The beauty of the ragamuffin gospel lies in the insight it offers into Jesus: the essential tenderness of His heart, His way of looking at the world, His mode of relating to you and me. 'If you really want to understand a man, don't just listen to what he says, but watch what he does. - Author: Brennan Manning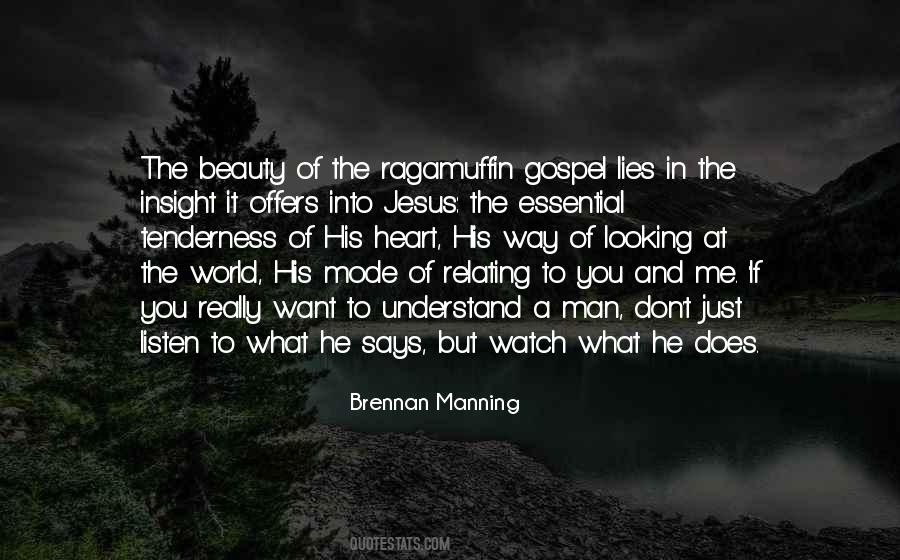 #23. I don't understand a word you're saying," snapped Odin.
"That's because you're throttlin' me, sir," said Sugar.
Odin loosened his grip. - Author: Joanne Harris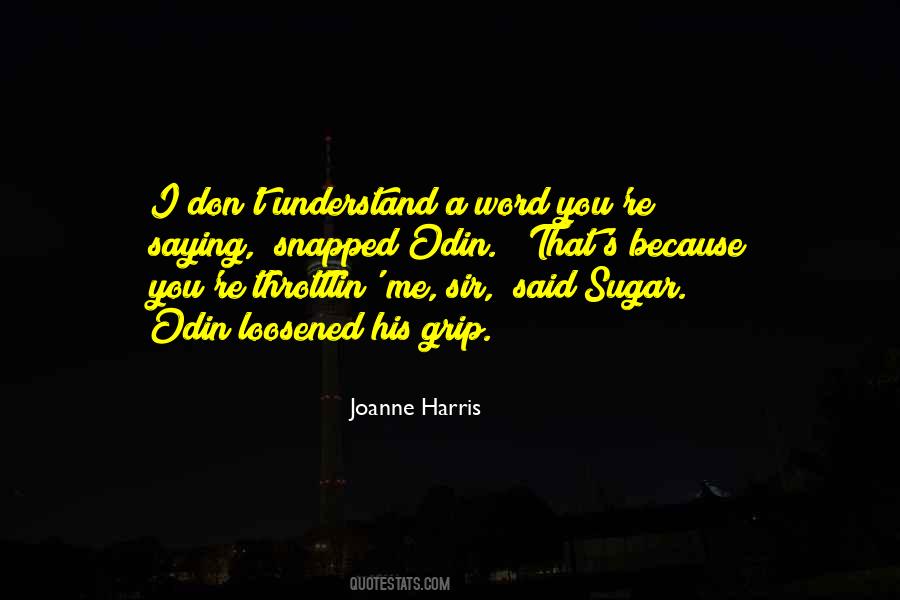 #24. You are the most frustrating person ever! Don't you understand? It's not that I thought you were cheating on me. It's that YOU WERE MINE! Not his. MINE, EMERSON! But in your time of need, you chose someone else over me. - Author: Kimberly Lauren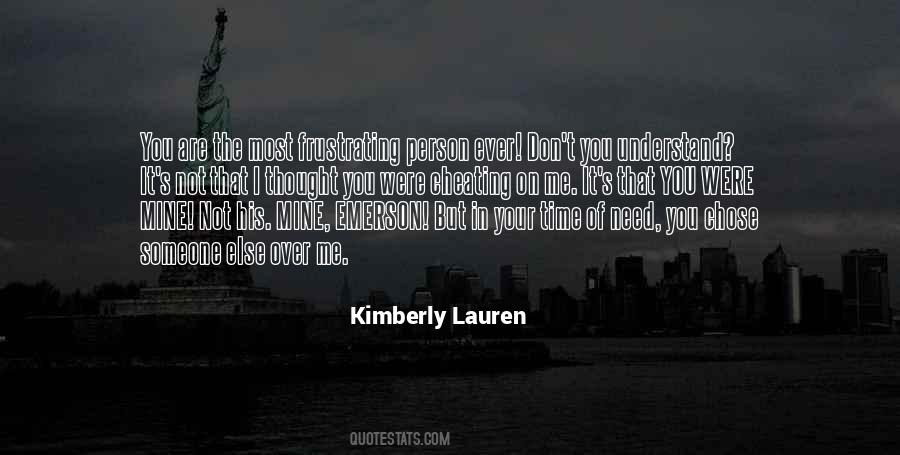 #25. Don't keep telling your parents they don't understand you. Believe me it's much worse when they do. There's just a chance, you know - they really might. - Author: Patti Page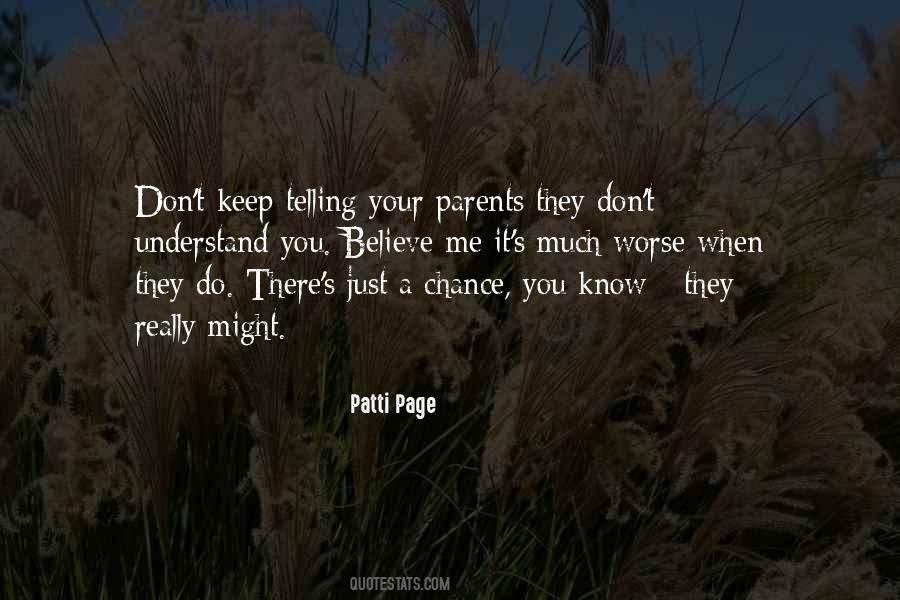 #26. So when people ask me if there's another one, I say, 'You know, I don't think so, but I don't know, and I kind of don't understand why'. - Author: Sean Maher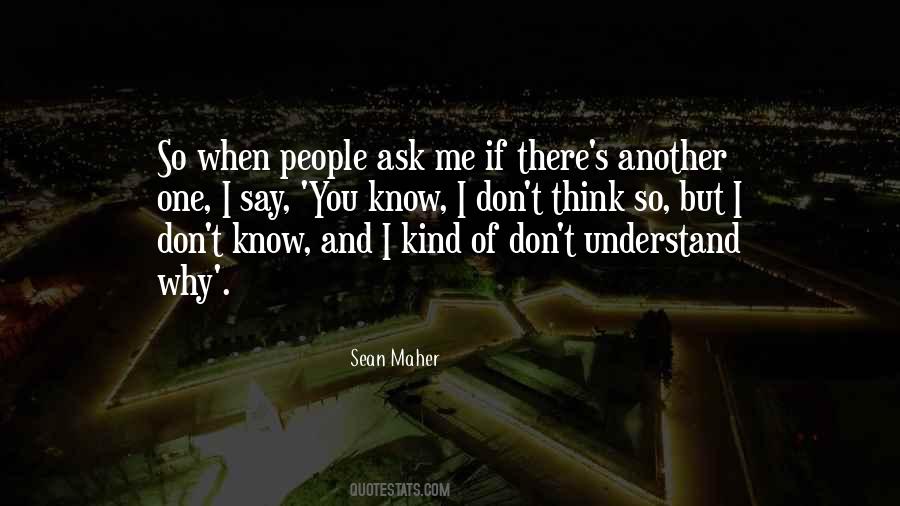 #27. It took me a while to understand that when you don't like someone, nothing they can say or do will ever seem right. Something as harmless as giving a kid a cookie becomes something aggressive, a challenge to their authority. - Author: Alexandra Bracken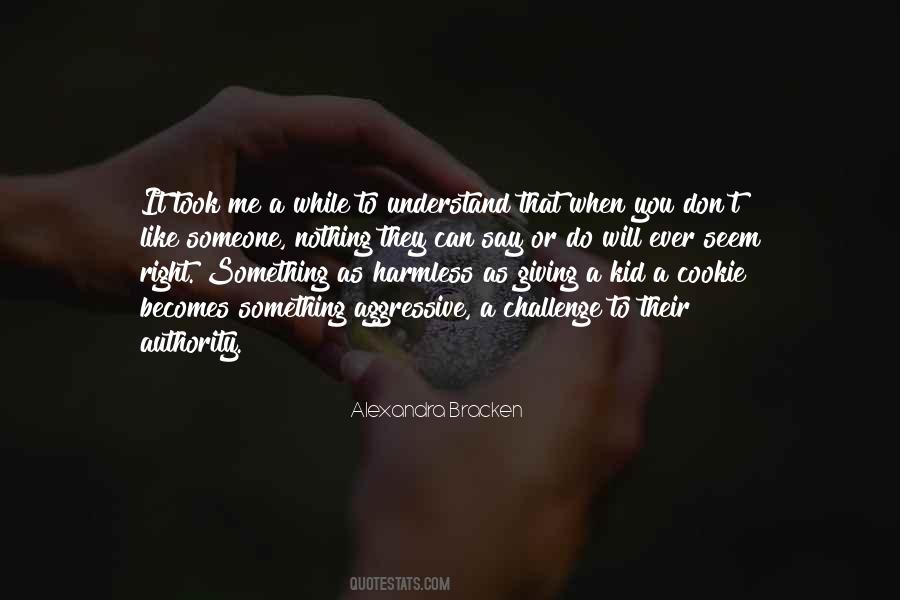 #28. I know I get cold, cause I can't leave things well alone. Understand I'm accident prone. Me, I get free every night the moon is mine. But when the morning comes don't say you love me, don't say you need me. I really don't think that's fair. - Author: Natalie Imbruglia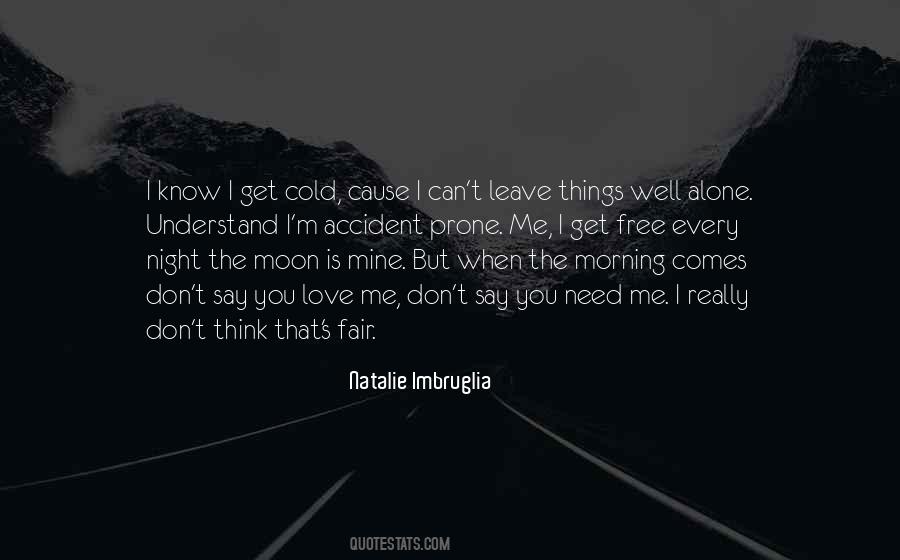 #29. You don't want to be hanging around this village. You don't want to be anywhere near here. Do you understand me? I shouldn't be talking to you like this. But if you know what's good for you, you'll get away. You'll go as far away as you can and you won't come back. - Author: Anthony Horowitz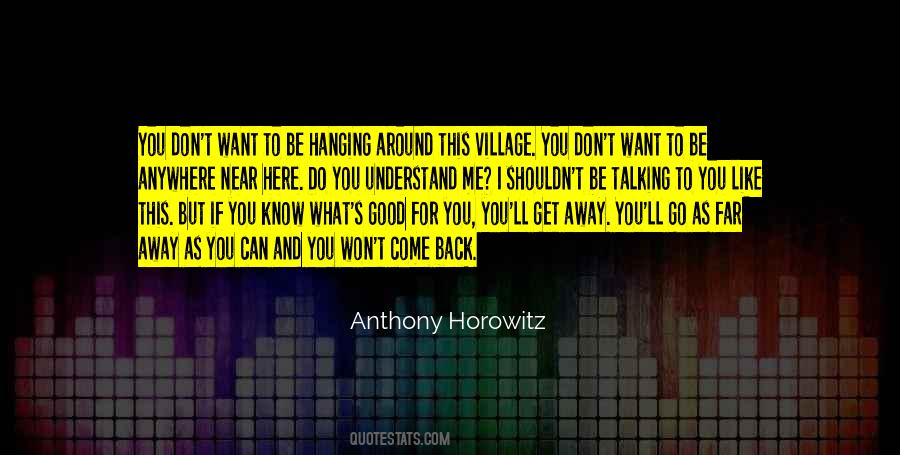 #30. Have you ever heard the expression, ladies first?" "Yes." "Well, it's truer in bed than it is anywhere else." "I don't understand." He kissed her brow that was wrinkled by confusion. "Trust me, sweetness, you're about to."
- Syn & Shahara - Author: Sherrilyn Kenyon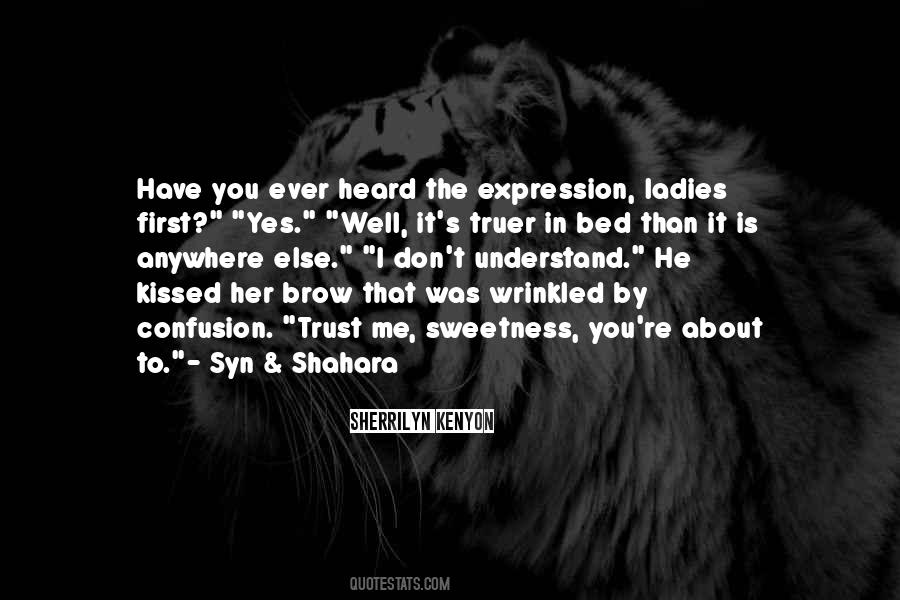 #31. What gets me upset about with the newer players is their lack of intensity. They tend to go through the motions a little bit. They don't understand that you've got to practice the way you play. - Author: Al Kaline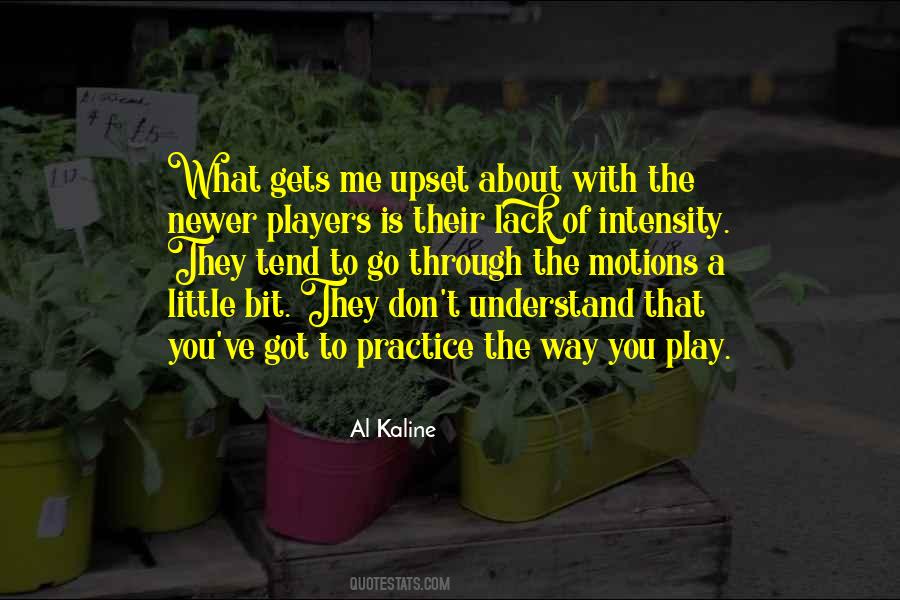 #32. Don't "but" me, Glokta!' hissed Sult. 'Don't you dare "but" me, not today! You're not half as crippled as you could be! Not half as crippled, you understand? - Author: Joe Abercrombie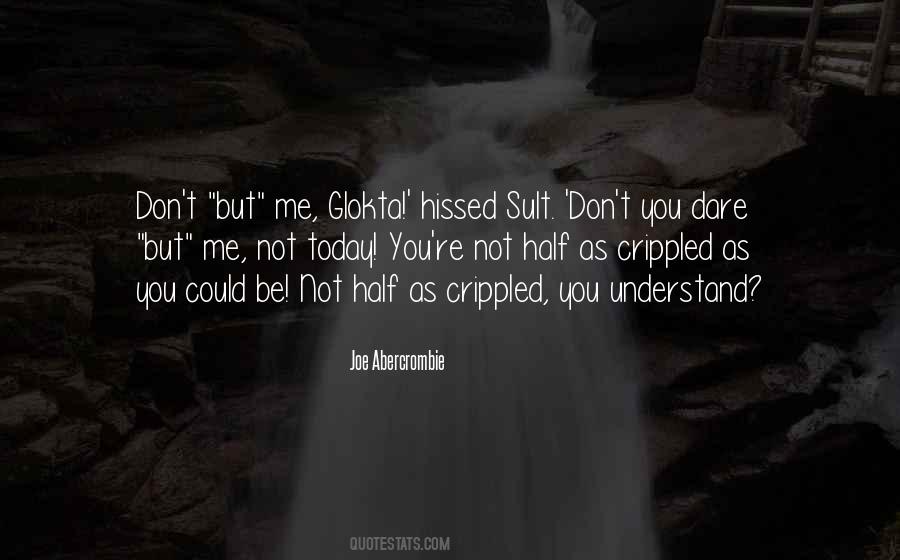 #33. So rather than someone coming to my stu- dio and saying, like, "Thank you for your time. I'll see you later," and me not knowing why they don't like my work, I understand now why they don't like it. - Author: Josh Smith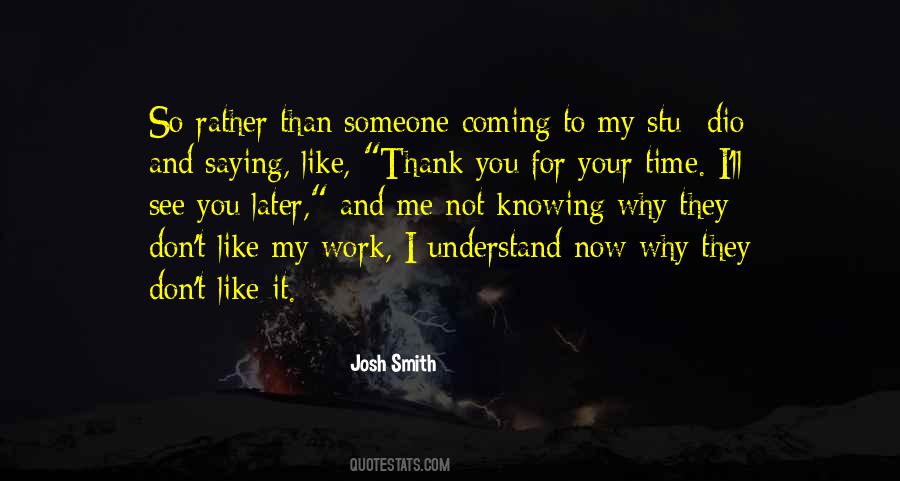 #34. I know you!' She insisted. 'No you don't. But that's all right, because I don't know me either, let alone you. We never understand anybody, not even ourselves. - Author: Orson Scott Card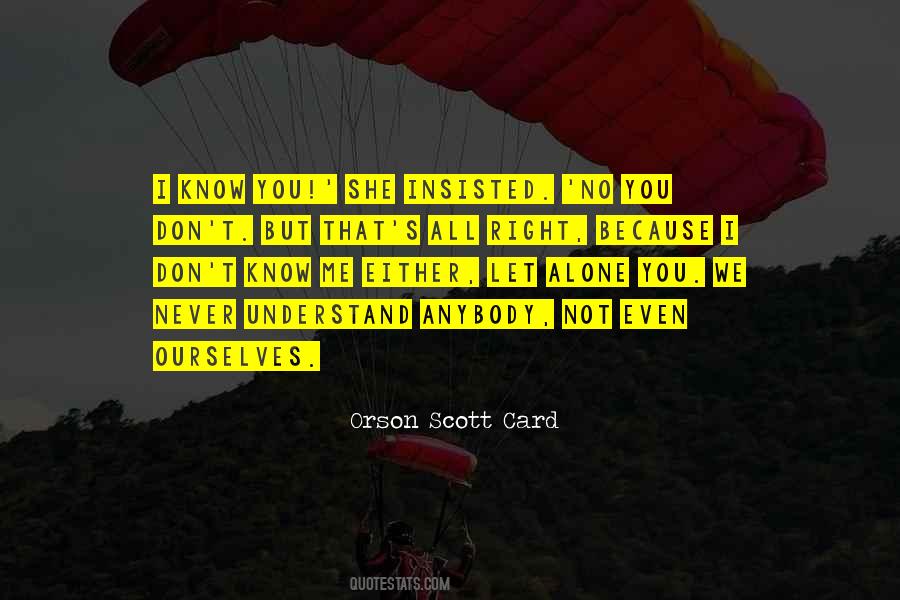 #35. You're not a man. You're their lackey. I don't care about you, or your brother, or your ridiculous organization. From now on, I shall do exactly as I wish and you cannot stop me. Do not follow. Do not watch. Do not even attempt to contact me or you'll be sorry indeed. Do you understand? - Author: Libba Bray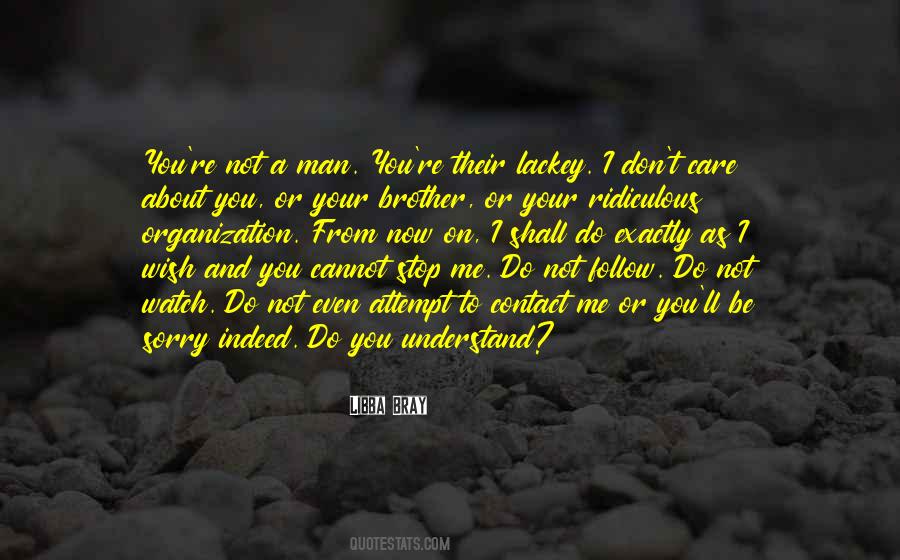 #36. How the hell did I brainwash 35 girls in less than a year? That's impossible. You're making me out to do the impossible. You don't understand you are making me a legend. - Author: Charles Manson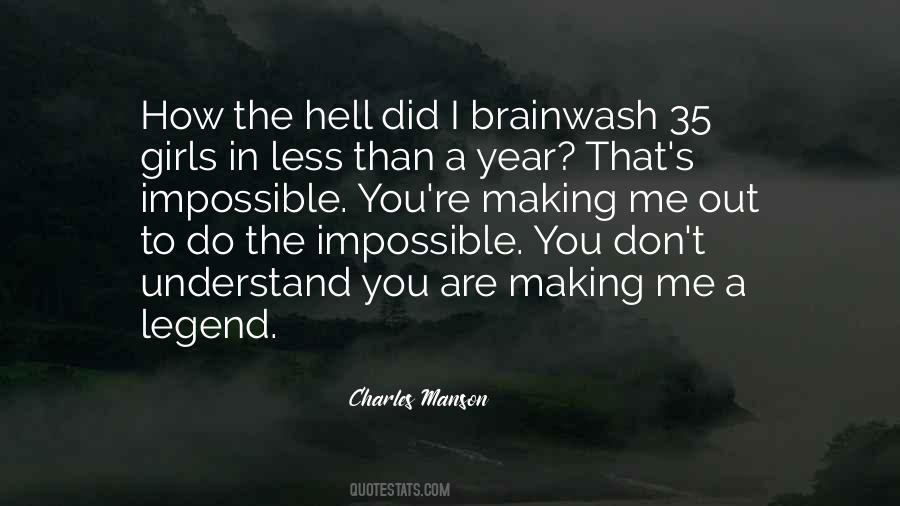 #37. Let me get you to understand I don't bully anybody. I stand up for what I believe in and I'm very honest and I always tell the truth. I'm not a liar, I'm not manipulative and I don't stab you in your back because I will stab you in your chest. - Author: NeNe Leakes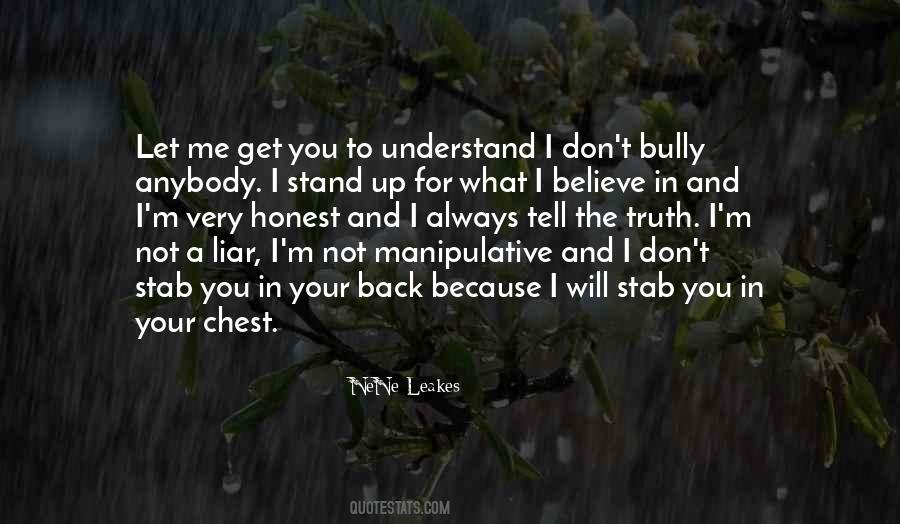 #38. He studied her upturned face for a minute. "Please forgive me. I don't want you to hope. If there were any way - " "I know." She got to her feet. "I even understand." She walked briskly to the door. "I came down to get something for Rebecca. She must be wondering what happened to me. - Author: Elizabeth Hoyt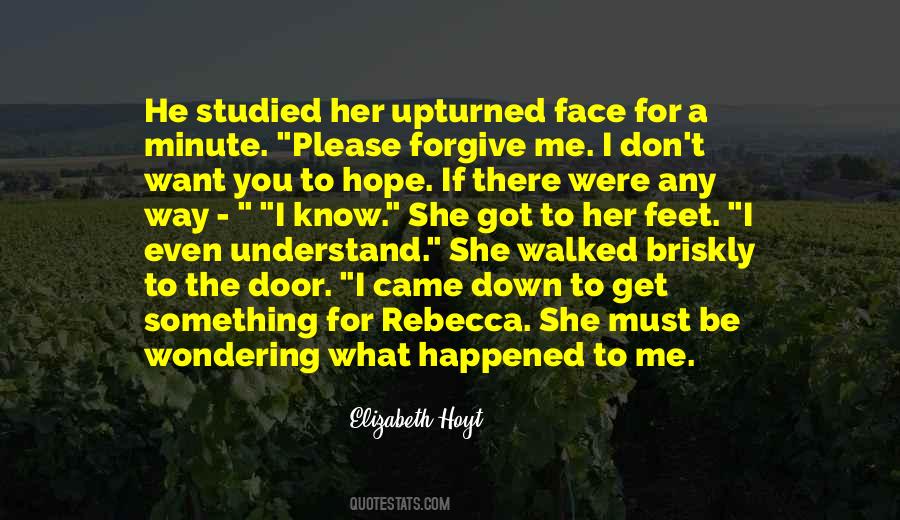 #39. You don't seem to understand me,' she said. 'The last thing I want is to start over. You can't wake up something that's dead and buried. - Author: Erick Setiawan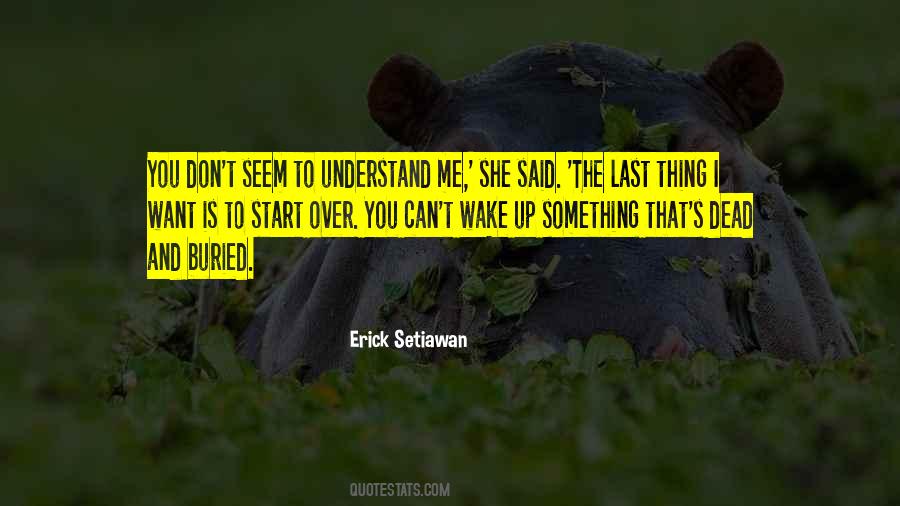 #40. Listen to me. I'm shy. I'm not stupid. I can't meet people's eyes. I don't know if you understand what that's like. There's a whole world going on around me, I'm aware of that. It's not because I don't want to look at you, Lucinda. It's that I don't want to be seen. - Author: Jonathan Lethem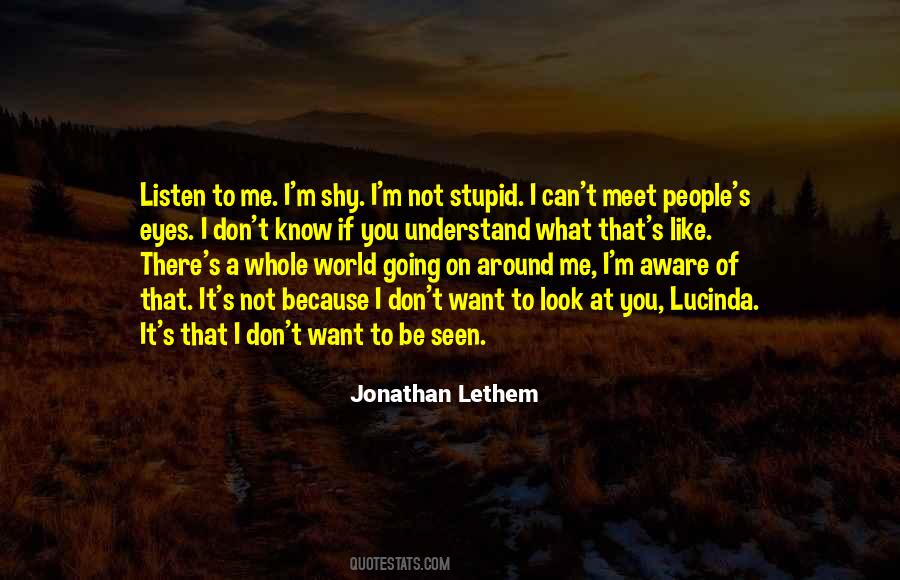 #41. You don't dig me, I don't understand what it is, I had my car reupholstered. - Author: Frank Zappa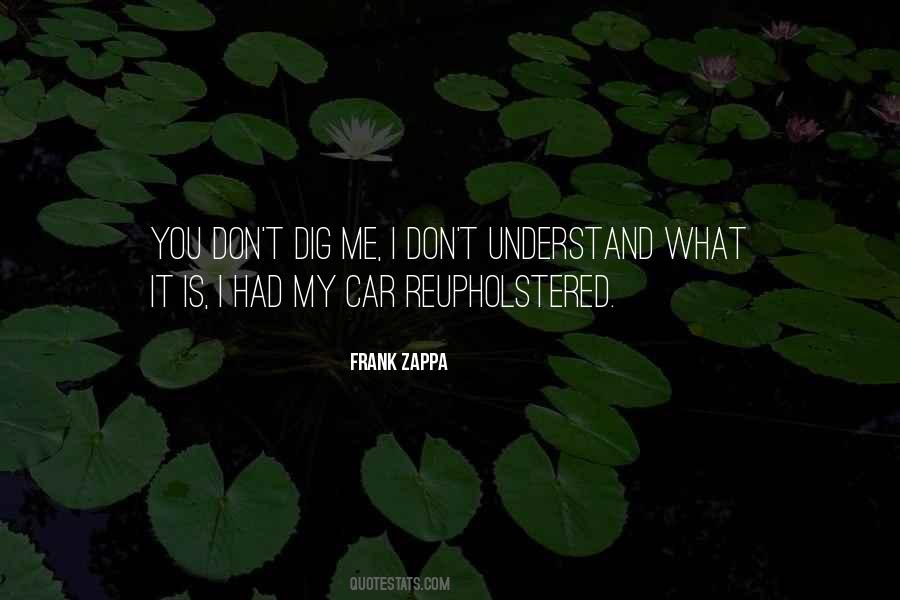 #42. I don't understand - why won't you talk to me?
You sit in the corner all day and write in your book and look at everything but my face. You have so much to say to a piece of paper but I'm standing right here and you don't even acknowledge me. Juliette, please - - Author: Tahereh Mafi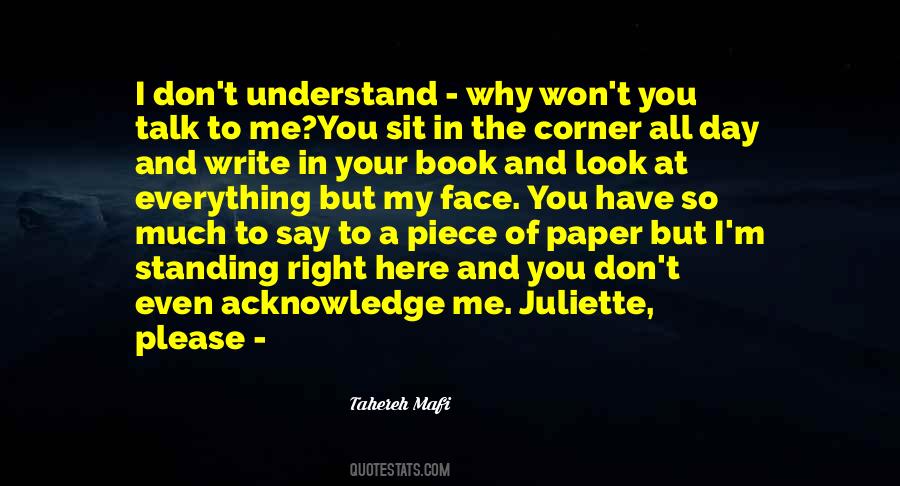 #43. I don't want to part in any ill-humor. But can't you understand? I've grown used to seeing you, to having you with me all the time, and your action seems unfriendly, even unkind. You don't even offer an excuse for it. Why, I was planning to be together. - Author: Kate Chopin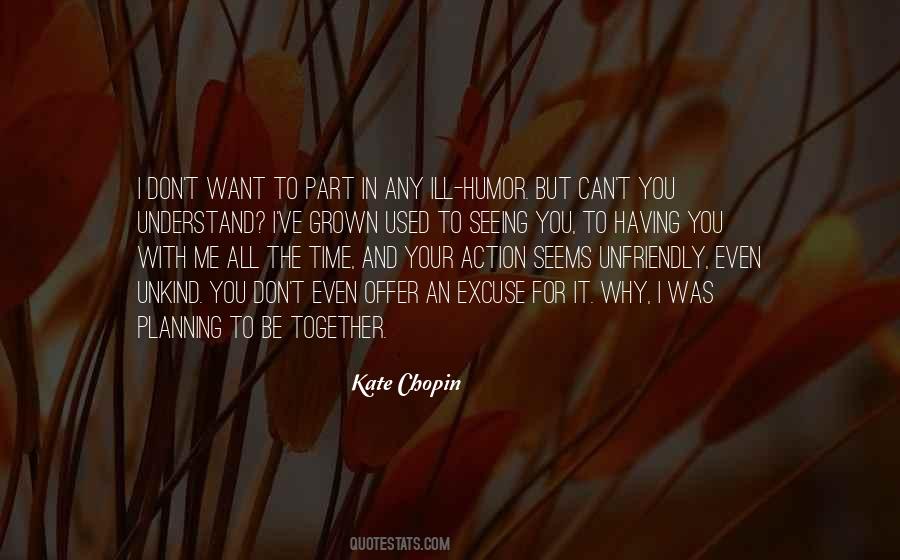 #44. I am trying to make an emotional point. I don't expect you to understand me on that level - you are but a romantic sapling. I am a sequoia, so you'd be well advised to listen to what I have to say. - Author: David Levithan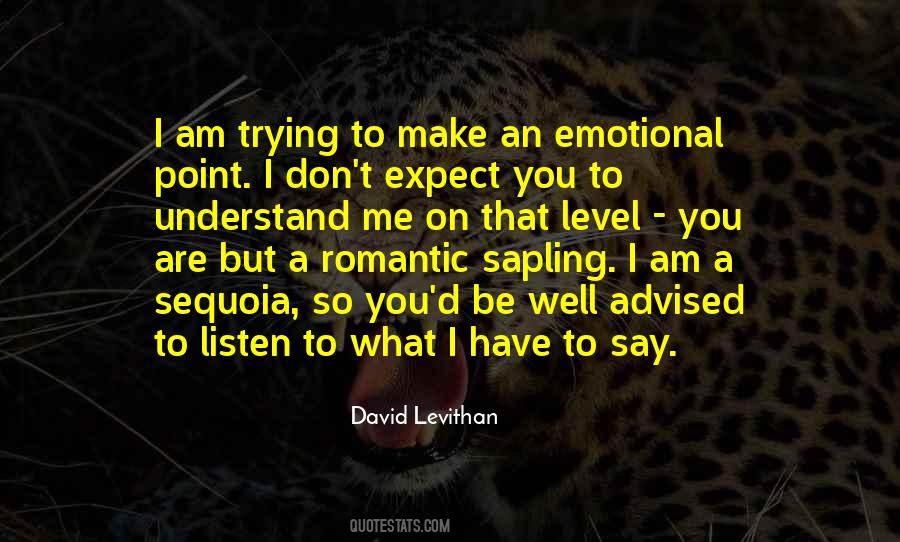 #45. I don't understand."
The Consort's smile was bitter. "No. No more do I."
"I doubt that."
"Do you imply that I lie, Lord Kaylin?"
"Clumsy of me. I'm not usually that subtle. - Author: Michelle Sagara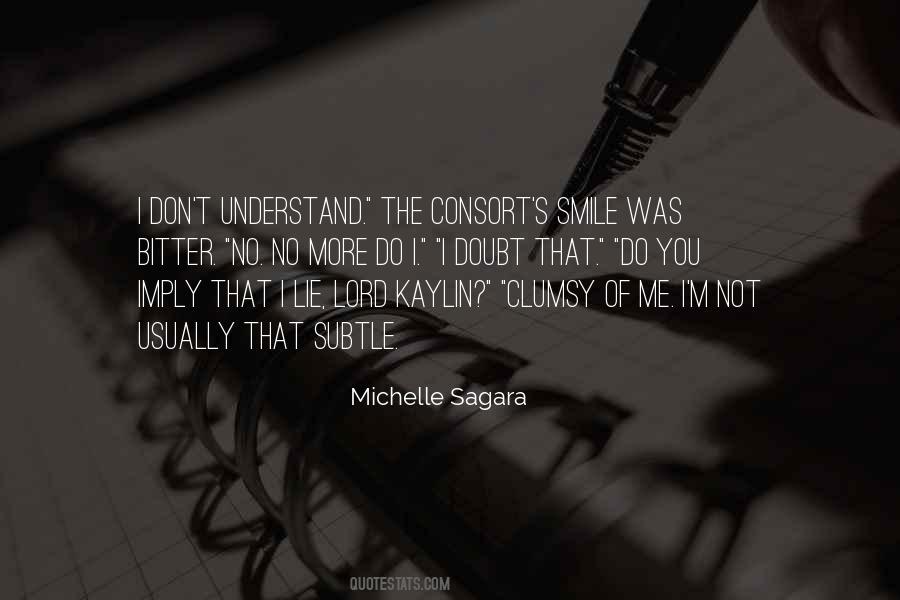 #46. Random Girl after a hookup: "Do you love me"
Tucker: "I don't understand the question. - Author: Tucker Max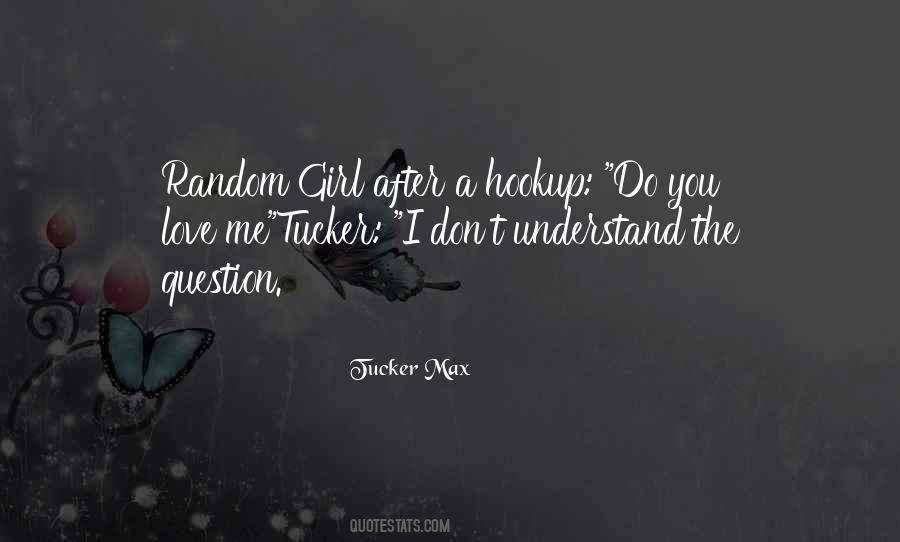 #47. I don't understand you at all. That concerns me. - Author: Stephen King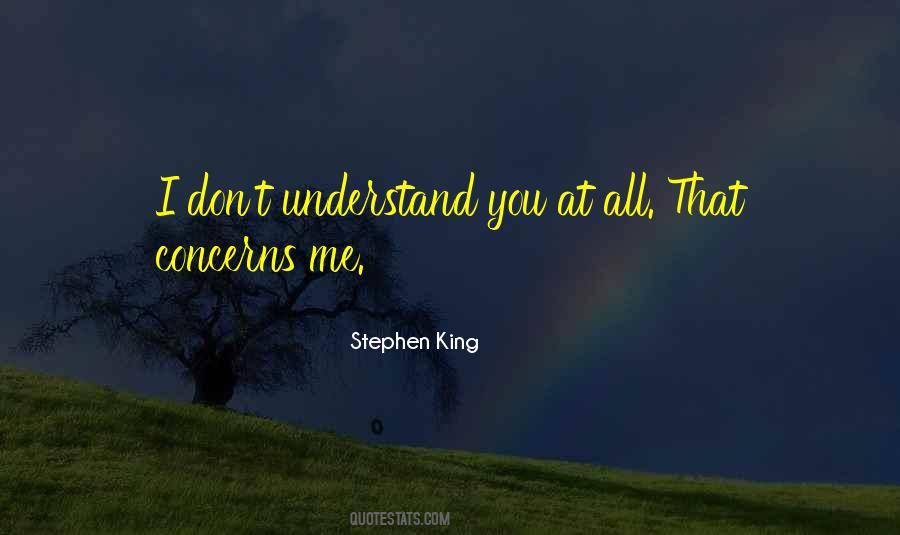 #48. I know a lot of stuff, not only about you, about me (of course) and many other people.... "So how I don't know??" you ask yourself??
You never asked me and even you asked me you never understood me. You just said "Okay"... and that's all. - Author: Deyth Banger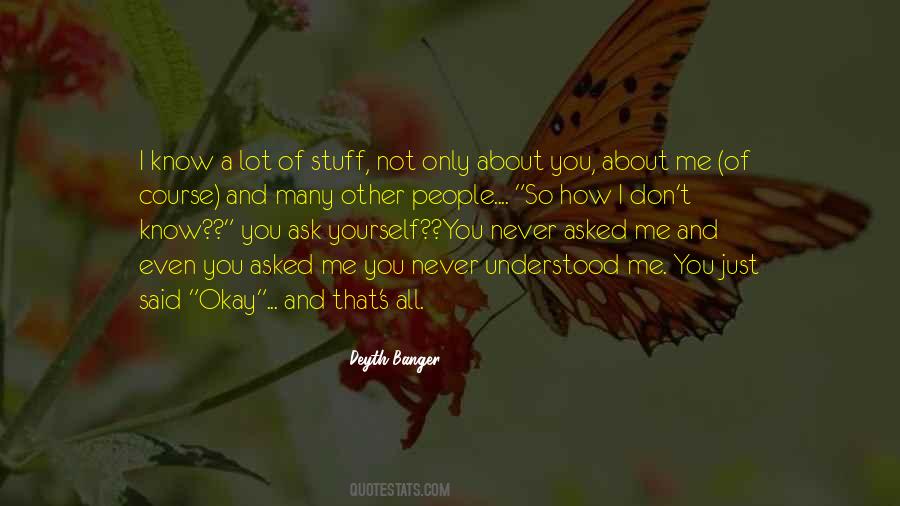 #49. Let us alone, little woman. We understand each other, don't we, doctor? Why, bless your life, he gives me better than he gets many a time; only, you see, he sugars it over, and says a sharp thing, and pretends it's all civility and humility; but I can tell when he's giving me a pill. - Author: Elizabeth Gaskell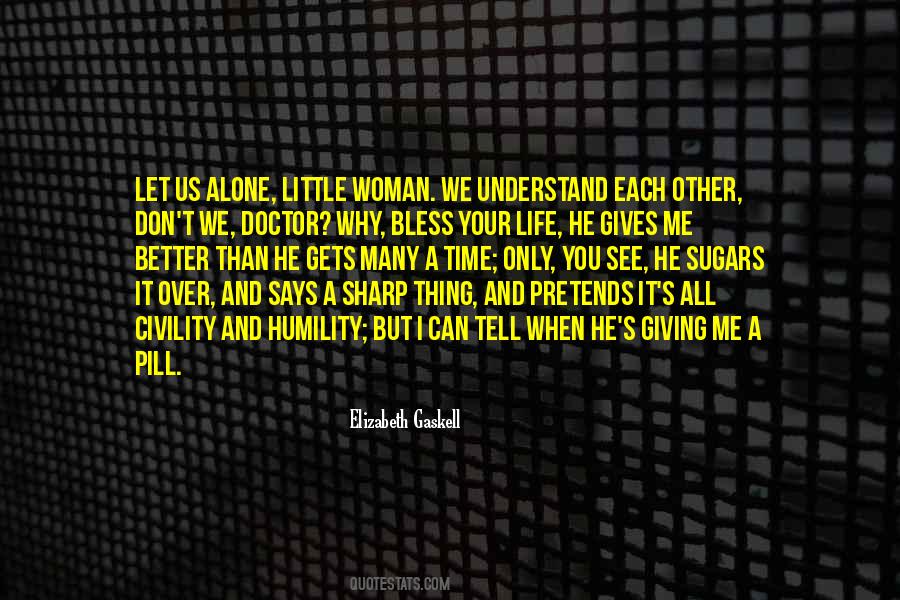 #50. If you ask me what I worry about every morning when I wake up, it's that I don't understand future mainstream Internet users' habits. - Author: Ma Huateng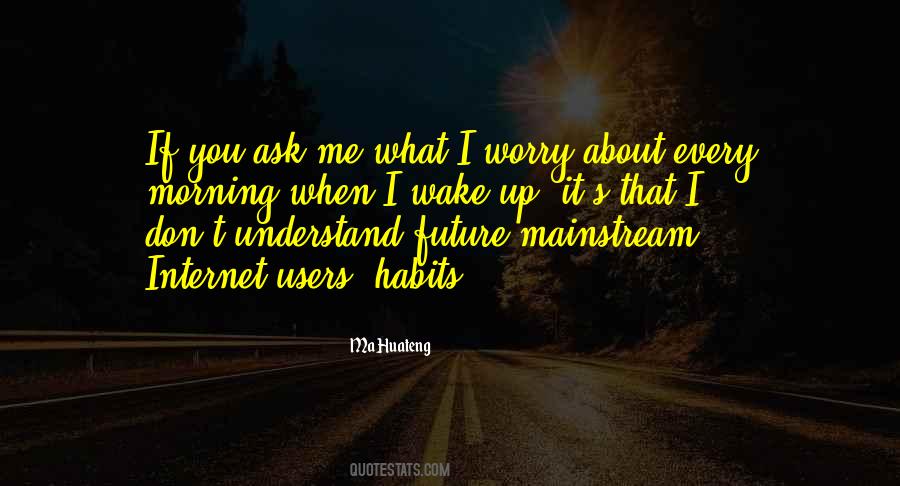 #51. For me, geopolitical issues are becoming more important, because how can you understand economy if you don't understand geopolitics? People think economists just deal with spreadsheets and charts. That's a narrow-minded caricature. - Author: Nouriel Roubini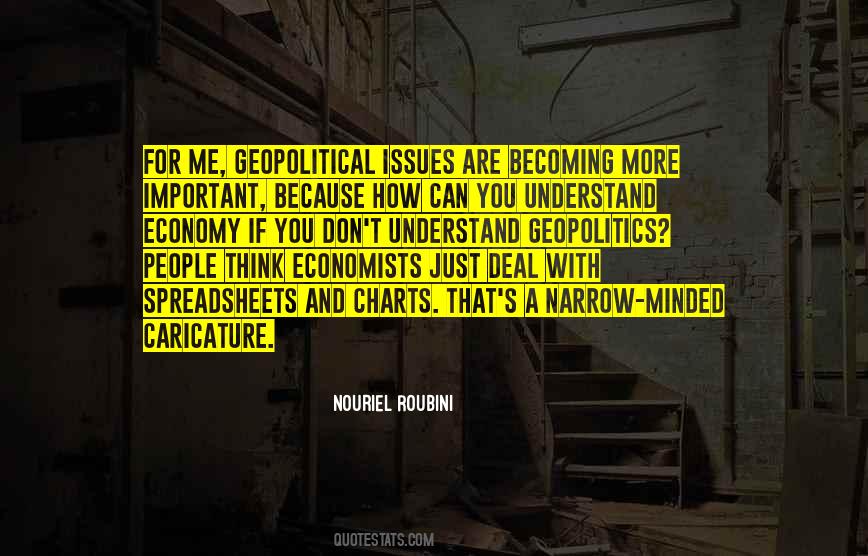 #52. And if you don't like me, as I do you; I understand. Because who would really choose a daisy, in a field of roses? - Author: Unknown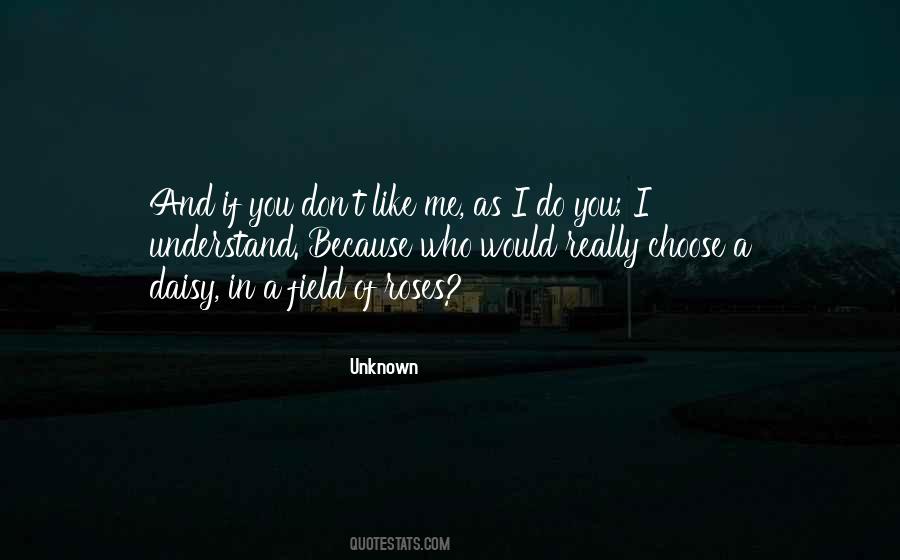 #53. You don't understand! Gilbert turned his back on me, but he wouldn't have turned his back on God." Ariah - Author: Joyce Carol Oates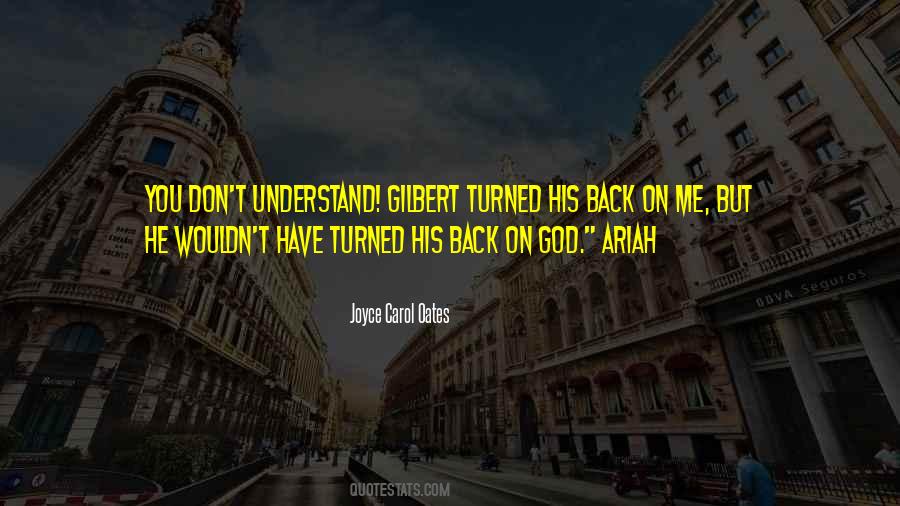 #54. I can manage without anything, but never you. Not ever. Don't look like this, please. Don't look like you think it's the end. It's never the end for us. Nothing will break us, Ava. Do you understand me? - Author: Jodi Ellen Malpas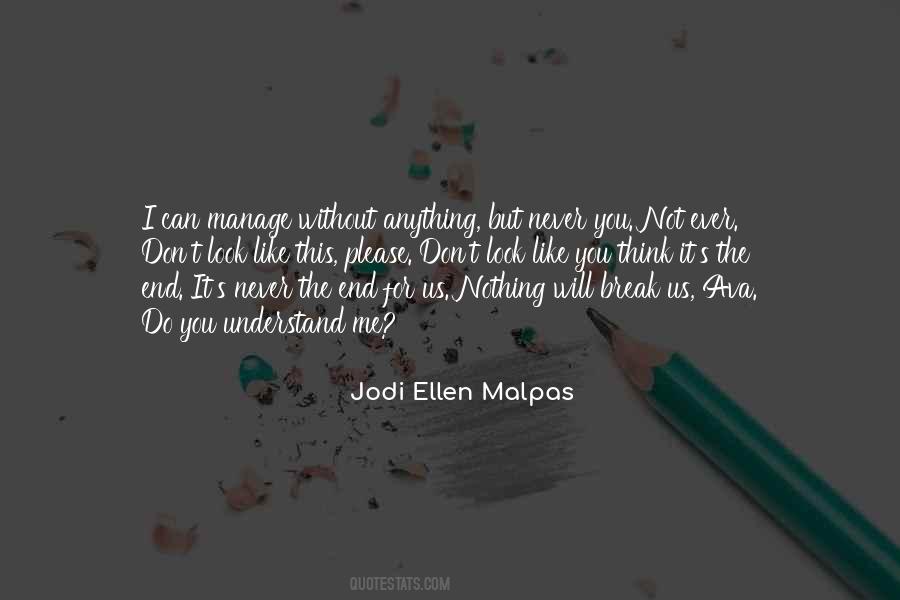 #55. Of course I don't understand. You never let anyone in. Not me. Not Sevro. Look how you treated Mustang. You drive friends away as though they were enemies. - Author: Pierce Brown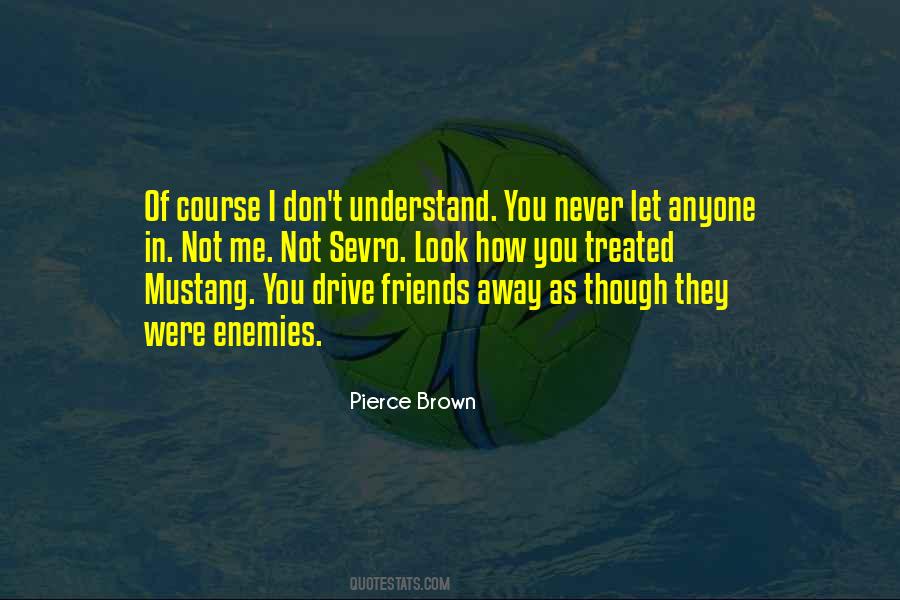 #56. Please," he said, "you don't understand. My first time on my won. I don't know what I'm doing, and I can't have it on me, and I don't know what's right when you know you can choose and it's turned out fine today, how do you do? - Author: Lesley Howarth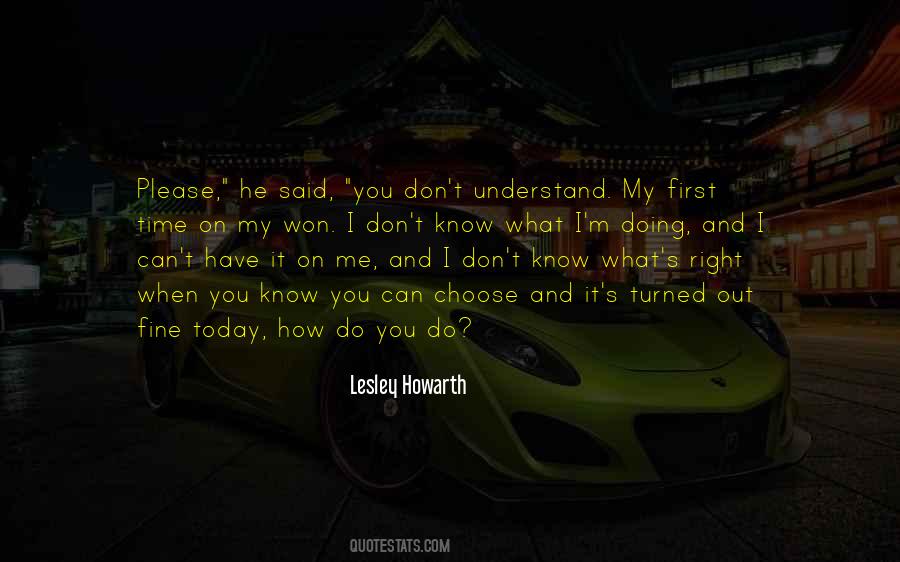 #57. It's still hard for me to understand, what is to me, the morbid fascination with celebrity. I just want to sing, I want to work on my music, I want to make my movies, that's all I want to do. I understand, you know, the interest but I really don't understand the fascination with it. - Author: Marc Anthony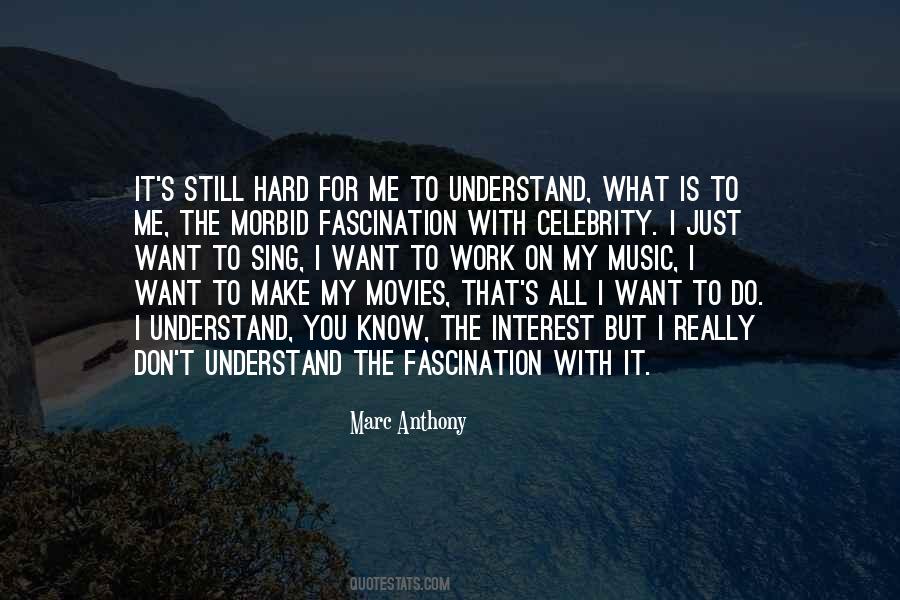 #58. I feel like I'm losing my damn mind, like your face has been carved into my heart, and I don't remember when, and I don't understand why, but the scar is there, and I can't get it to heal. It won't go. I can't make it fade. And you won't even look at me. - Author: Alexandra Bracken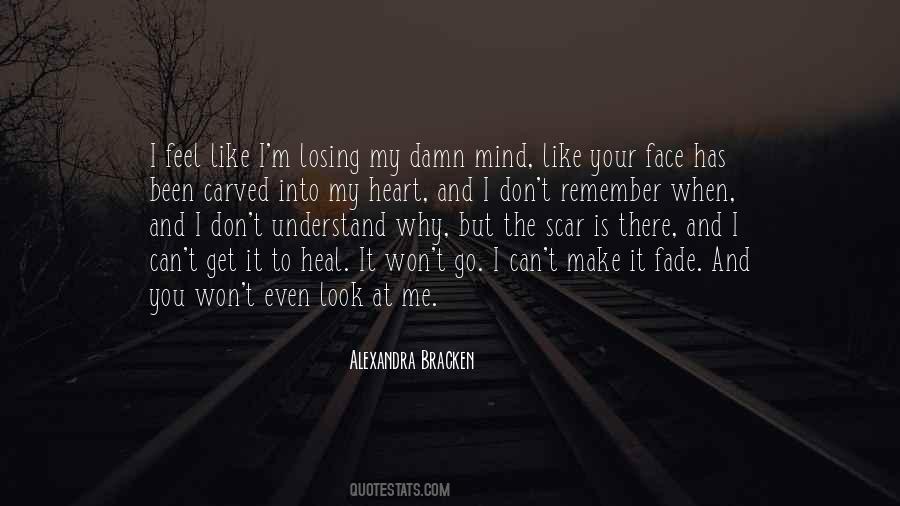 #59. A lot of students just don't understand what's out there," she told me, shaking her head. "You have the kids who plan on being baseball players but don't even play on the high school team because the coach is mean to them. - Author: J.D. Vance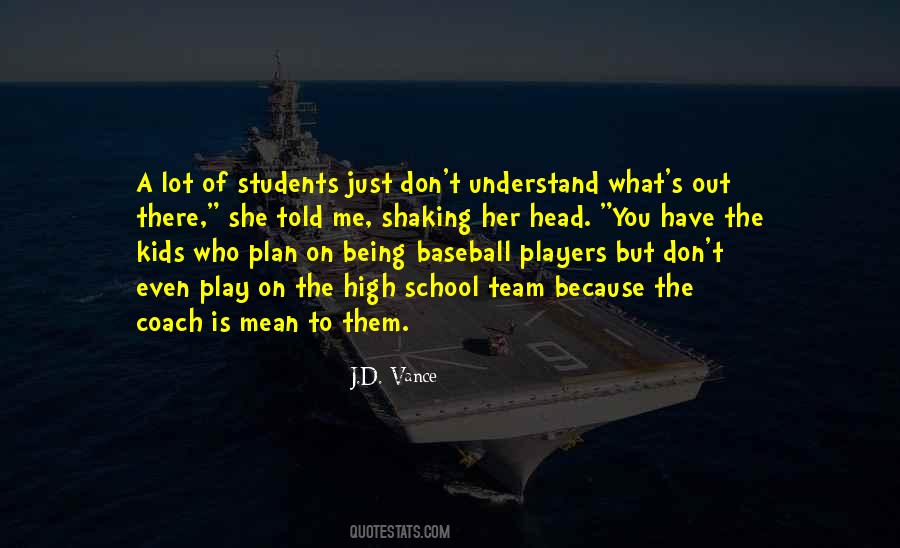 #60. I'm really sensitive. And they don't understand that, because my most comfortable feeling is anger. So I'll get angry if you said something to hurt my feelings or you're making me uncomfortable, I'll get angry, and be ready to do something about it. - Author: Curtis Jackson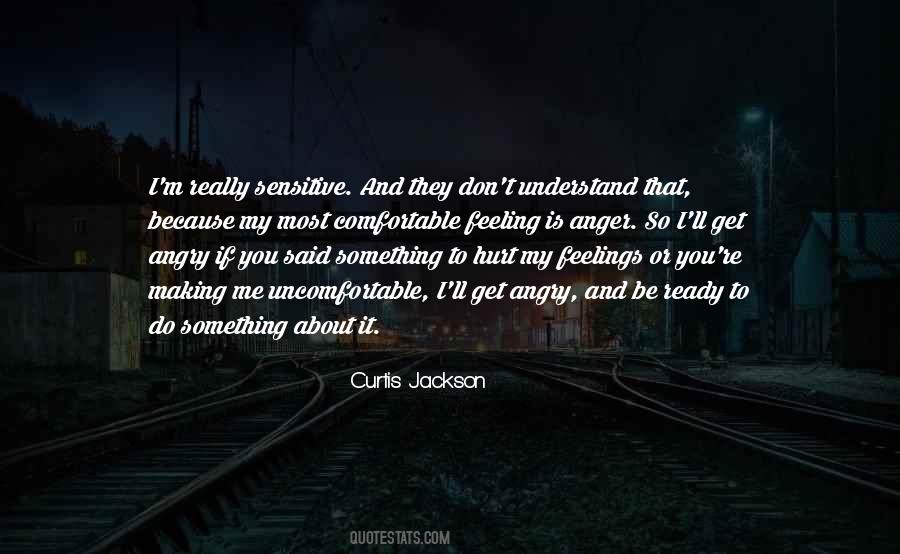 #61. Don't tell me anymore. You should have your dream, as the old woman told you to. I understand how you feel, but if you put those feelings into words they will turn into lies. (from Thailand) - Author: Haruki Murakami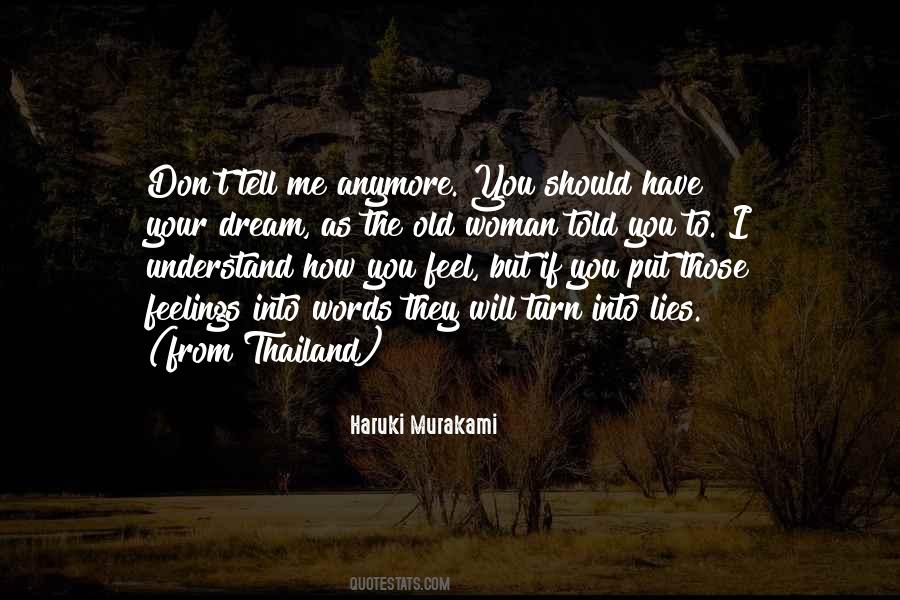 #62. I can't understand why you don't get any mail from me. Perhaps it's because I haven't been writing - Author: Groucho Marx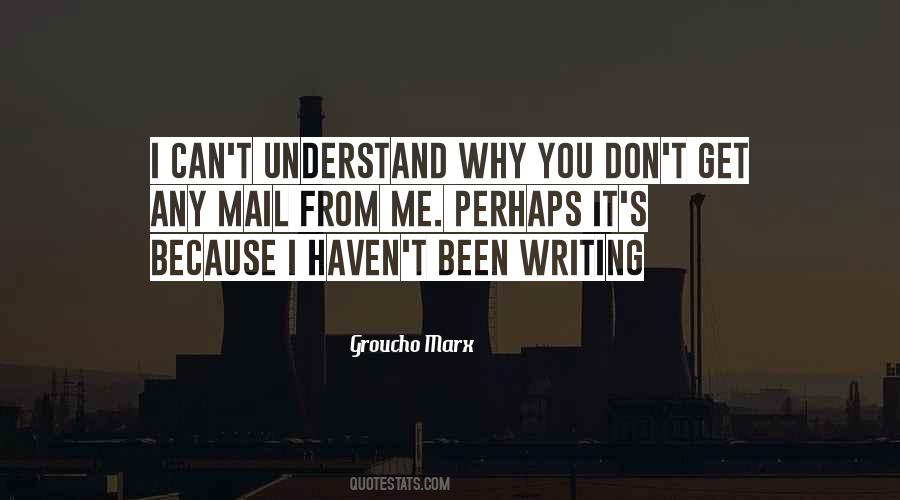 #63. The future, for me, is romantic, I don't understand people who say the past is romantic. Romantic, for me, is something you don't know yet, something you can dream about, something unknown and mystical. That I find fascinating. - Author: Raf Simons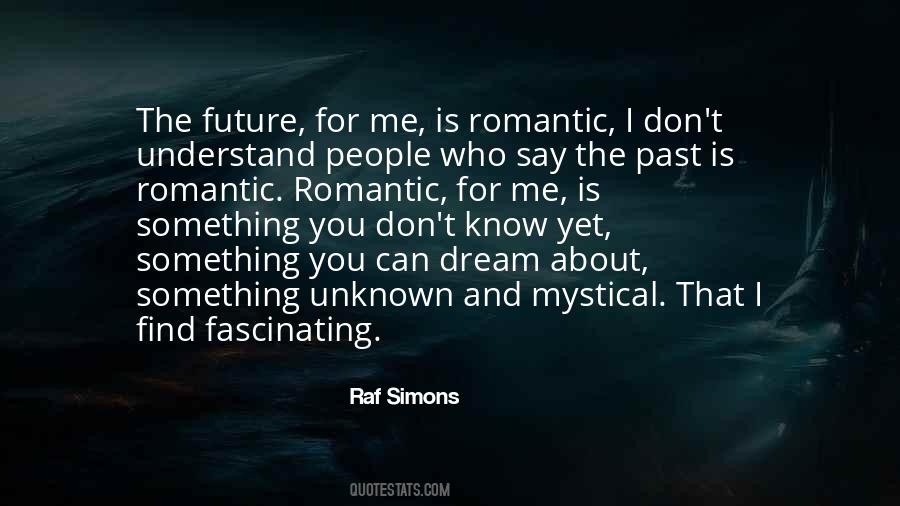 #64. It never pleases me to punish willful disobedience, Isabel. Having to punish you for that sort of thing means I've failed to communicate what it is I expect out of you. It means I'm failing you as a Dom if you don't understand what my wants and needs are, and I hate failing at anything. - Author: Ella Dominguez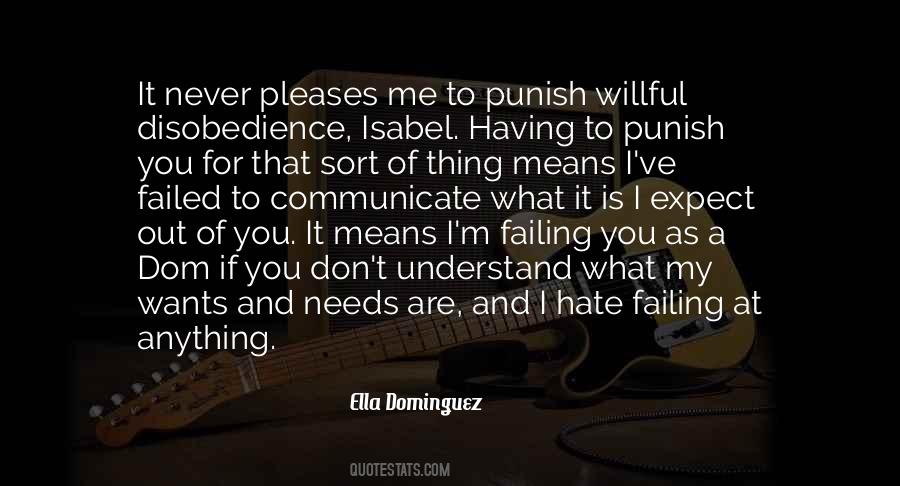 #65. Whatever your pleasure, I can facilitate. You need weed, you need meth- hey, you need Prozac, I'm your man. I know how you white boys always deal with that depression. I mean me personally, I don't understand what you white boys are all depressed about. Hey, you're white! Smile! - Author: Chris Rock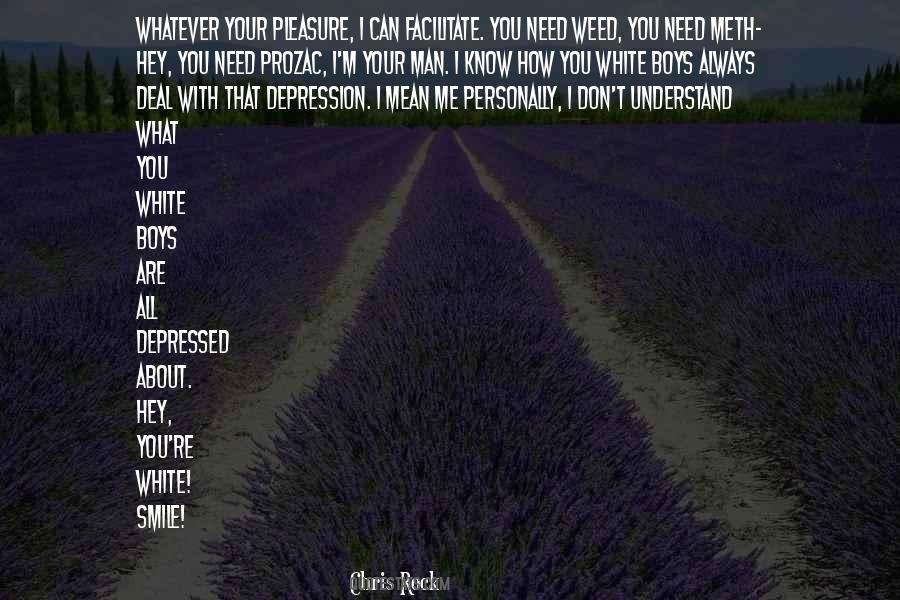 #66. Alright, but I don't like this at all Syd. But I trust you. If you say you're not upset, then I'll let it go, for now. Just understand that I won't let anything or anyone hurt you, not even me.

Relatively Famous - Author: Heather Leigh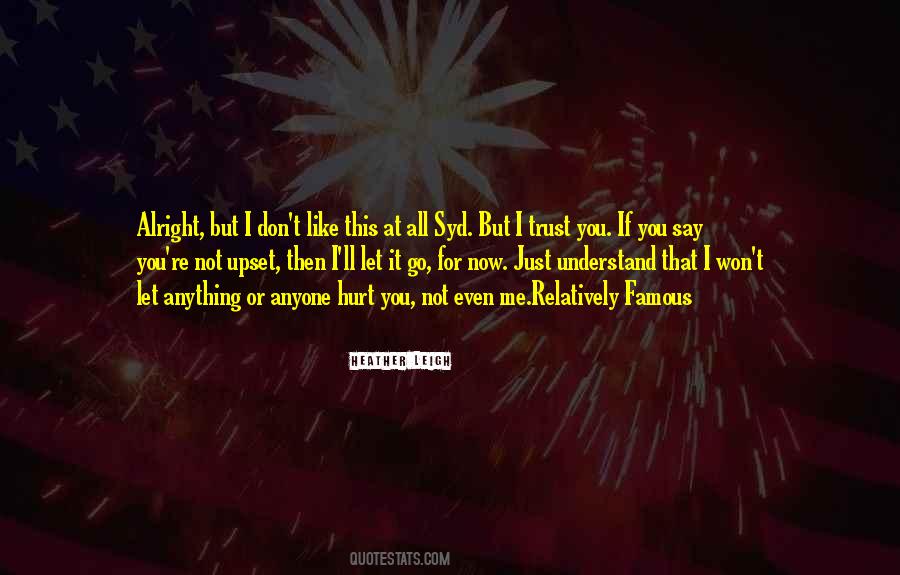 #67. When YOU Say YOU Love Me, I Don't Hear With My Ears Or Read YOUR Lips As I Already Know That By Looking In YOUR Eyes ... - Author: Muhammad Imran Hasan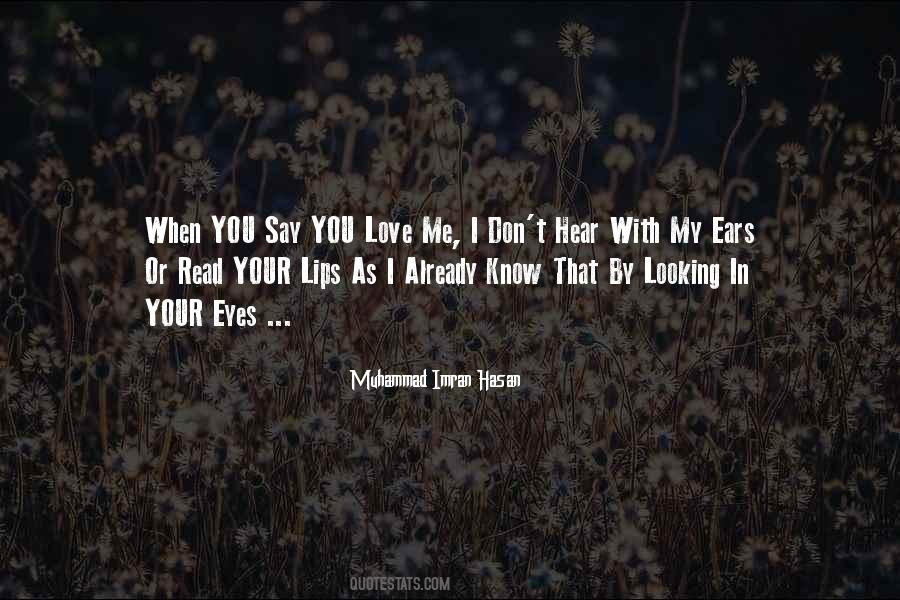 #68. You don't understand me. I'm a teenager. I've got problems! - Author: Jeffrey Eugenides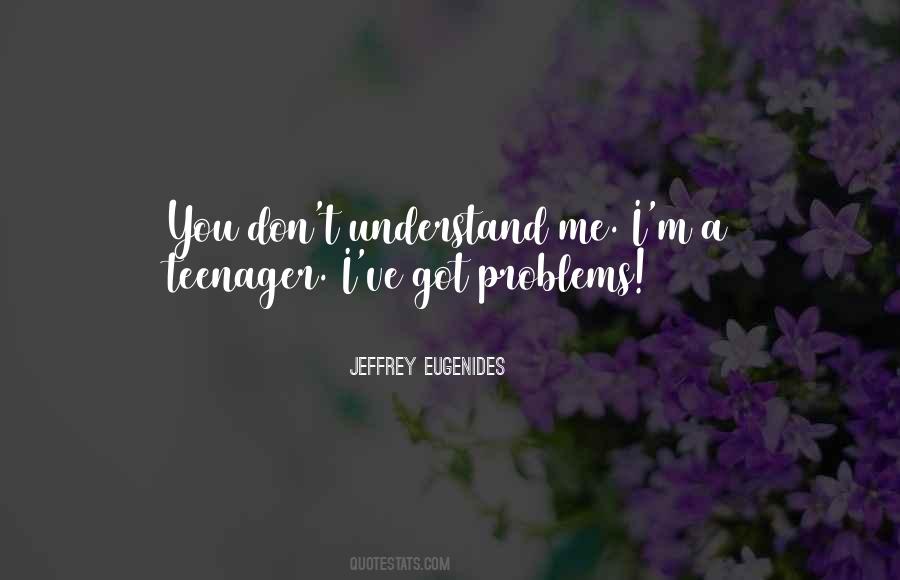 #69. You know, people ask me. They say 'Dan, three years later do you really want to be drawing cat whiskers on your face?' but they don't understand. The cat whiskers, they come from within. - Author: Dan Howell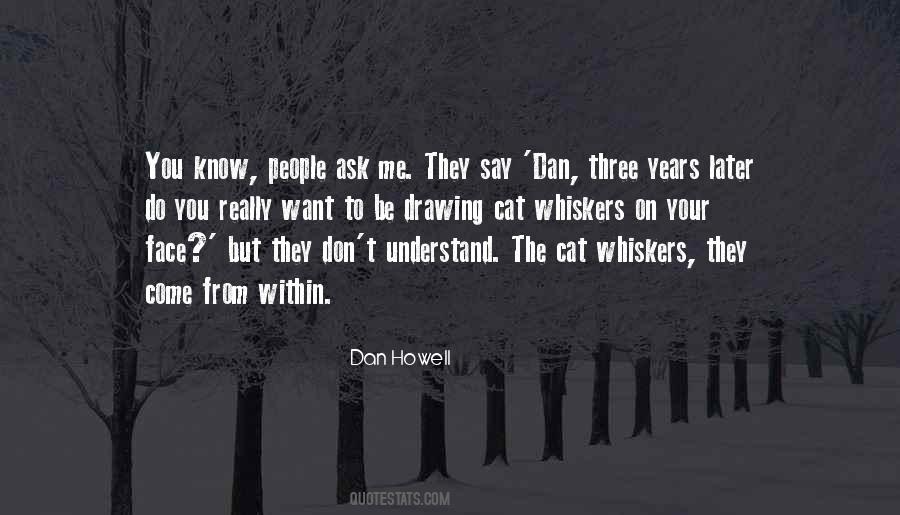 #70. I know I still affect you, and damn baby girl, you just don't understand what you still do to me. - Author: Toni Aleo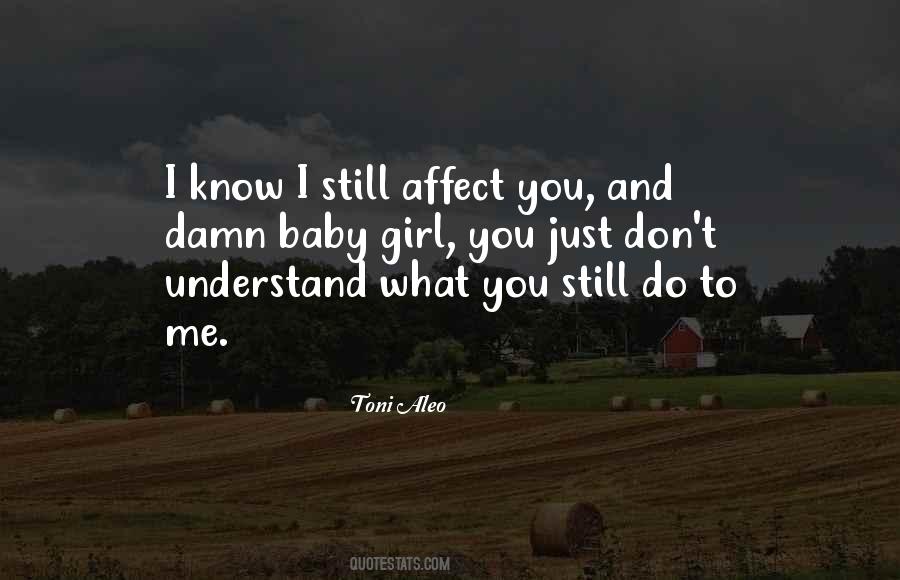 #71. Don't judge me until you understand me. You can't understand me if you've already judged me. - Author: Orson Scott Card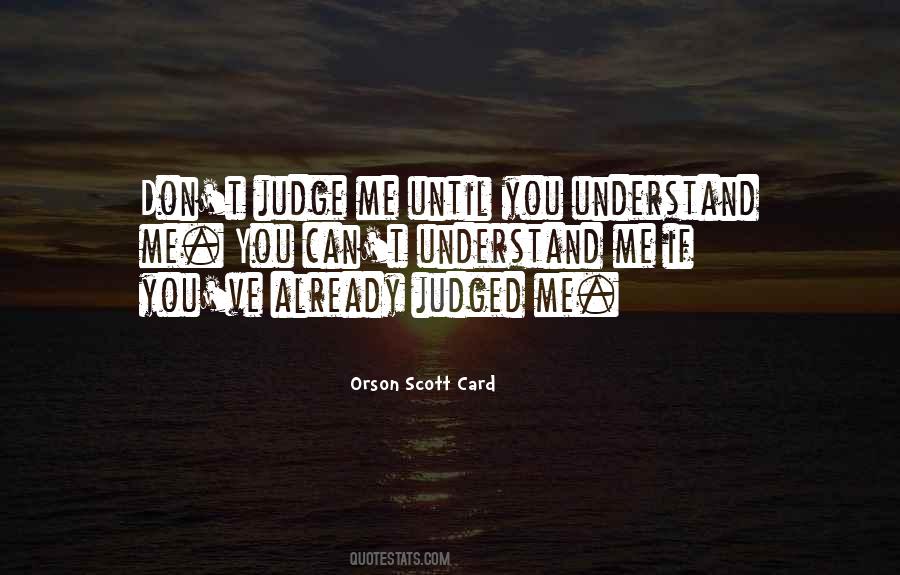 #72. You are more capable of being loved than you understand. And - Celeste, this is important - you nurture and love and protect more than anyone I have known. Or could know. Don't take that away from me. From us. - Author: Jessica Park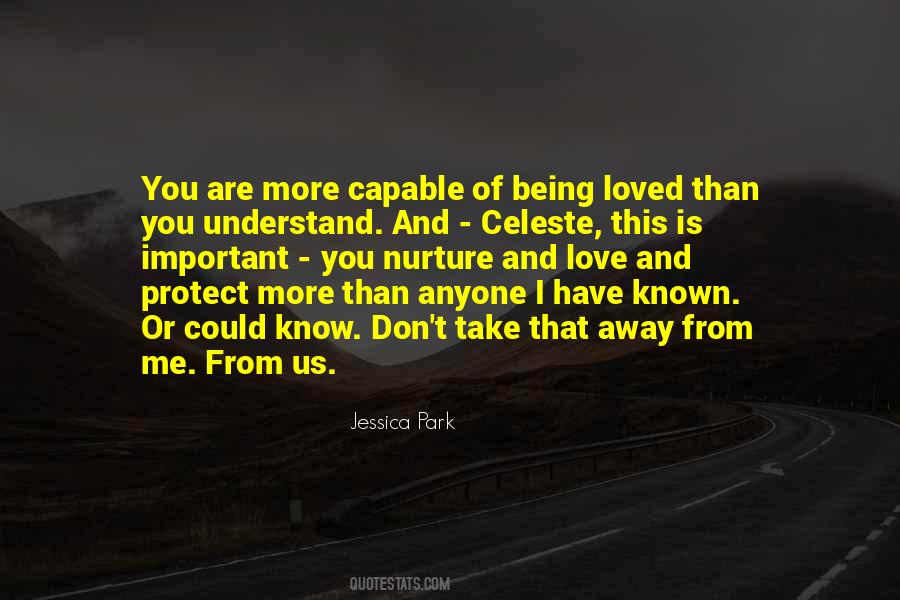 #73. I can't do this Ash. It's killing me. Having you this close and not touching you is driving me insane. You're his Ash. You're his. You made your choice and I understand why you chose him. I don't hold it against you but dammit Ash it hurts - Author: Abbi Glines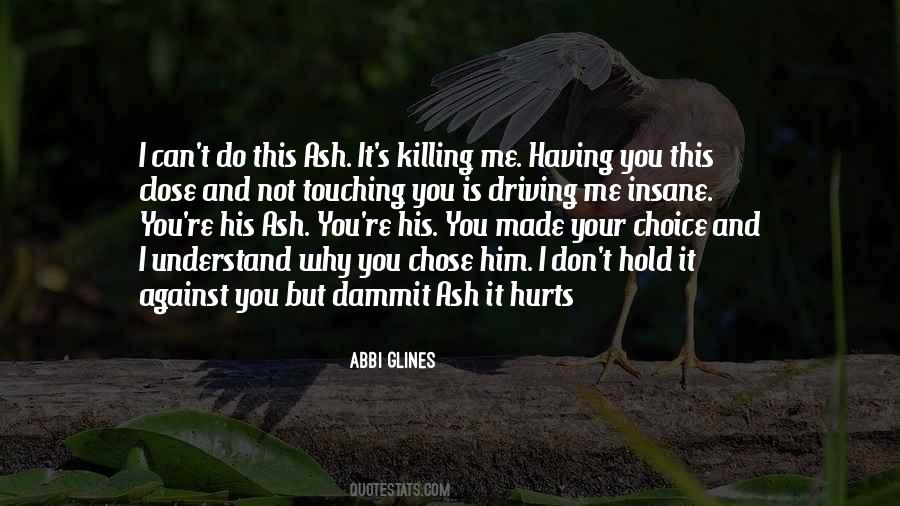 #74. I realize you don't understand you shouldn't argue with me, and so I'll explain it to you. Don't argue with me. - Author: Julie Garwood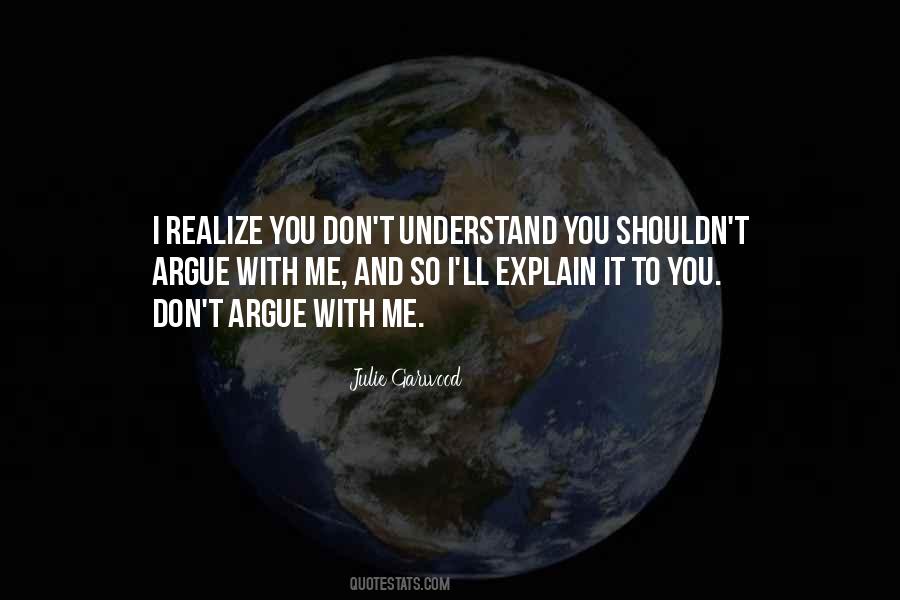 #75. Tell me that you don't like cartoons, and I think there's something wrong with you. I don't understand why people don't like cartoons. - Author: John DiMaggio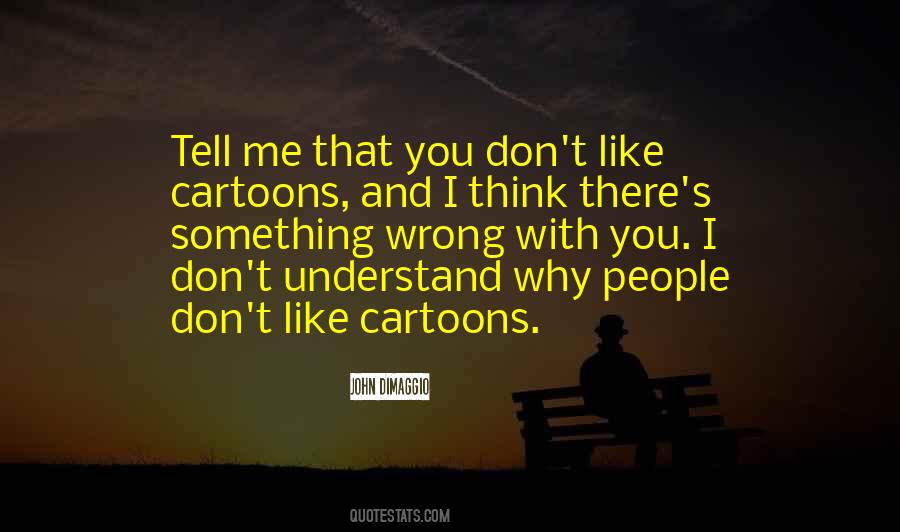 #76. Who gives fuck... does one die or one win... both in the end are in the graveyard... as for now I will focus on if you don't understand me probably is for good. - Author: Deyth Banger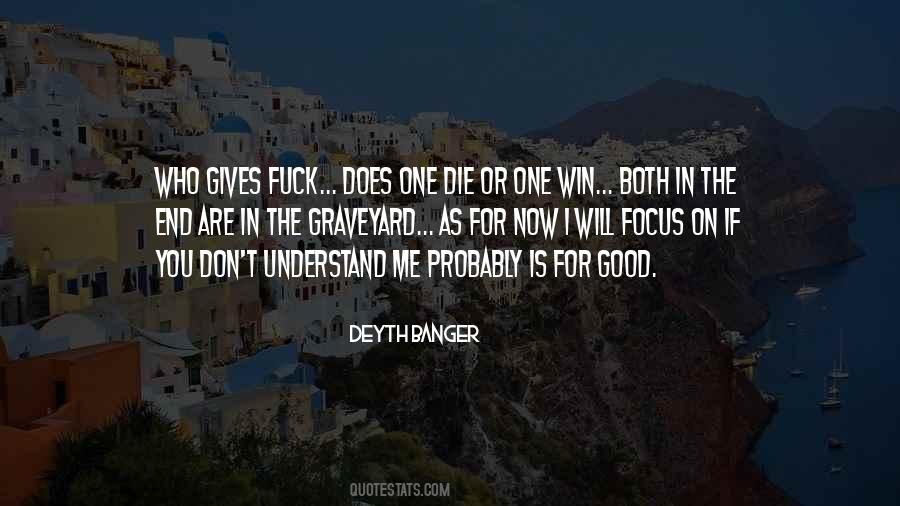 #77. Revolution ain't nothing but an extent of evolution; Evolution is a fact of nature. So when old folks tell me that they don't understand hip hop and the music is too loud, well I guess it means you're not supposed to be in there. - Author: Dick Gregory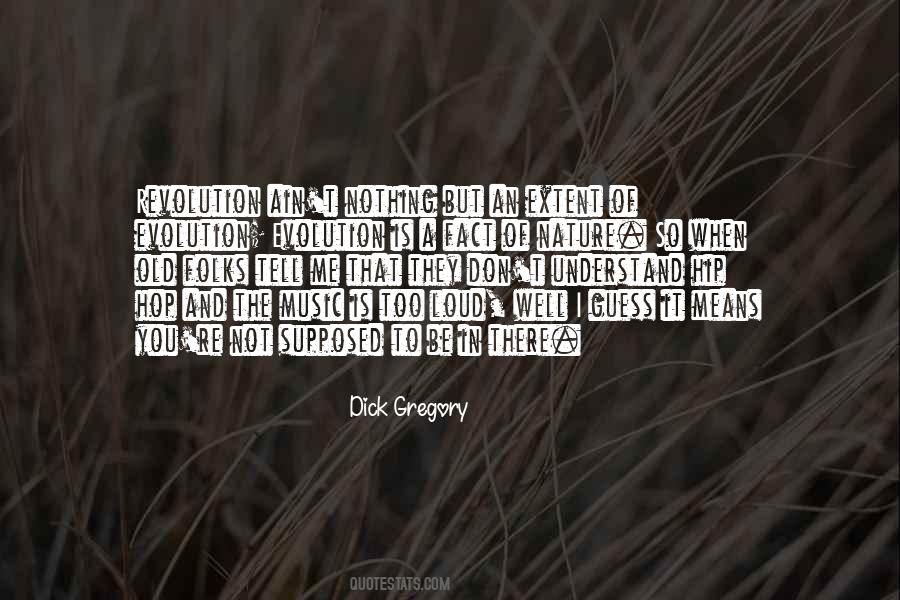 #78. I understand that you don't want to marry me," I said. "I mean, I don't know why, since I'm simply delightful to be around. But to each his own taste. - Author: Merrie Haskell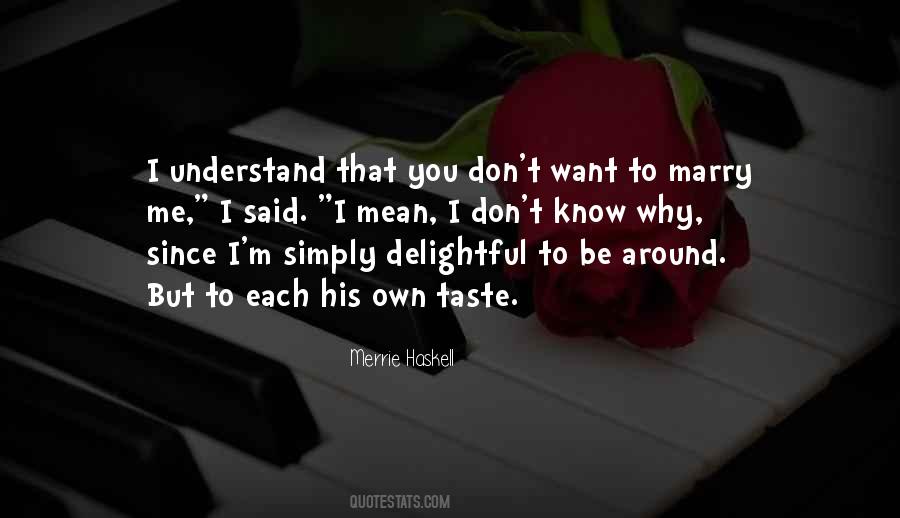 #79. This is it: somehow, in these pictures, the mystery of the accident is contained, and the explanation for Dara's subsequent behavior, for the silences and disappearances. Don't ask me how. I just do. If you don't understand that, I guess you've never had a sister - Author: Lauren Oliver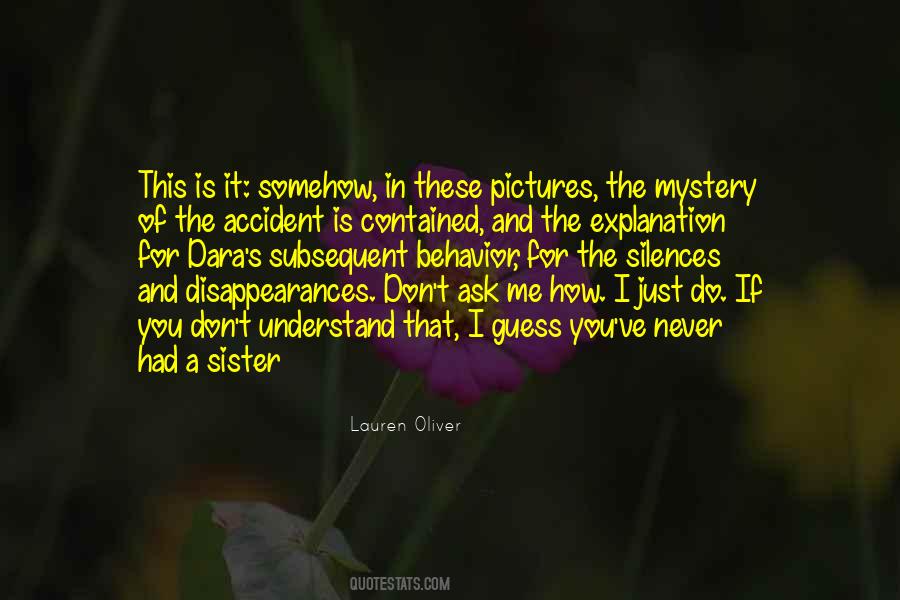 #80. Hard work makes for what I reckon you like in a man, but don't understand. As I look back over my life--an' let me say, young fellar, it's been a tough one--what I remember most an' feel best over are the hardest jobs I ever did, an' those that cost the most sweat an' blood." As - Author: Zane Grey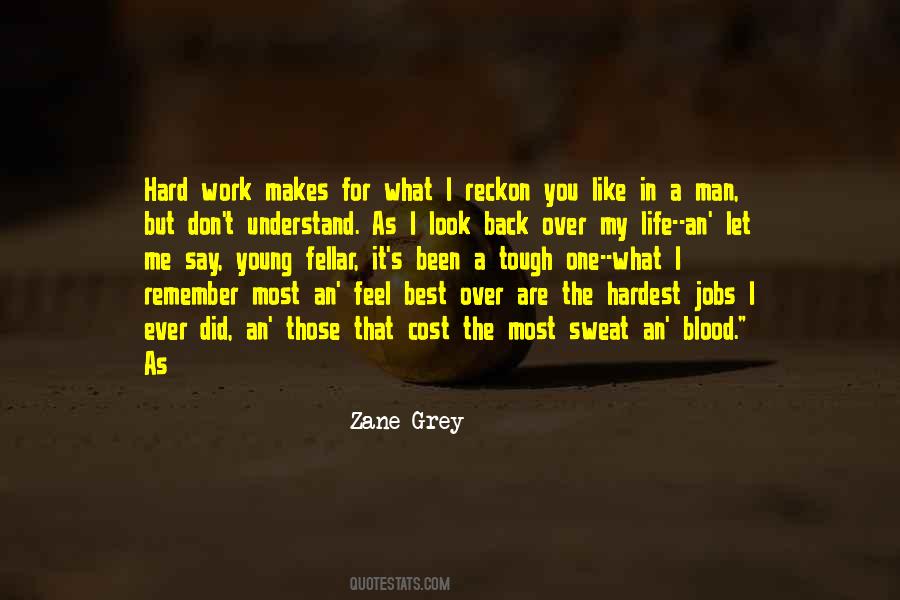 #81. I'm okay with who I am.You might not understand me. That's okay as I don't understand you.We can still be friends, we just have to accept our differences. - Author: Tina J. Richardson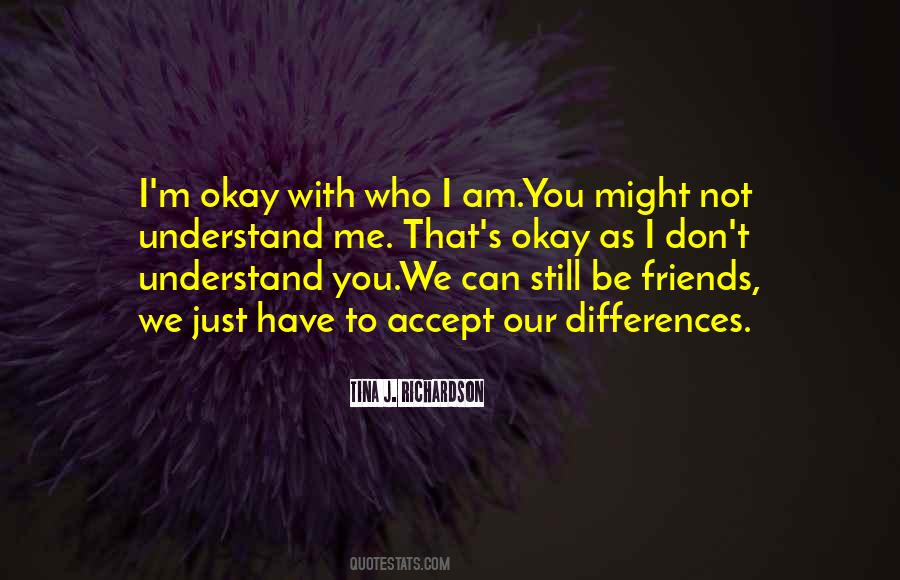 #82. I don't think people understand how much hard work innovation is. That it's not just getting an idea. You really have to cross your T's and dot your I's long before you ever start on the project. I don't think people perceive that about me. I work hard. - Author: Nolan Bushnell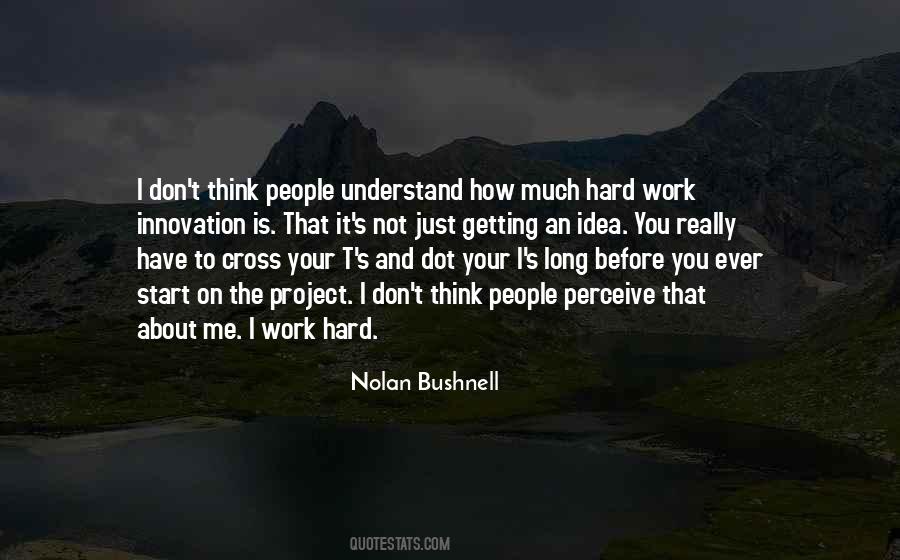 #83. It's funny, how you realize things too late. Someone once said to me the tragedy about life is that you understand it backwards. But I don't think so. I think the tragedy about life is there is no tragedy - you just don't know it till you die."
- Patty Belle Bellani - Author: Marianne Macdonald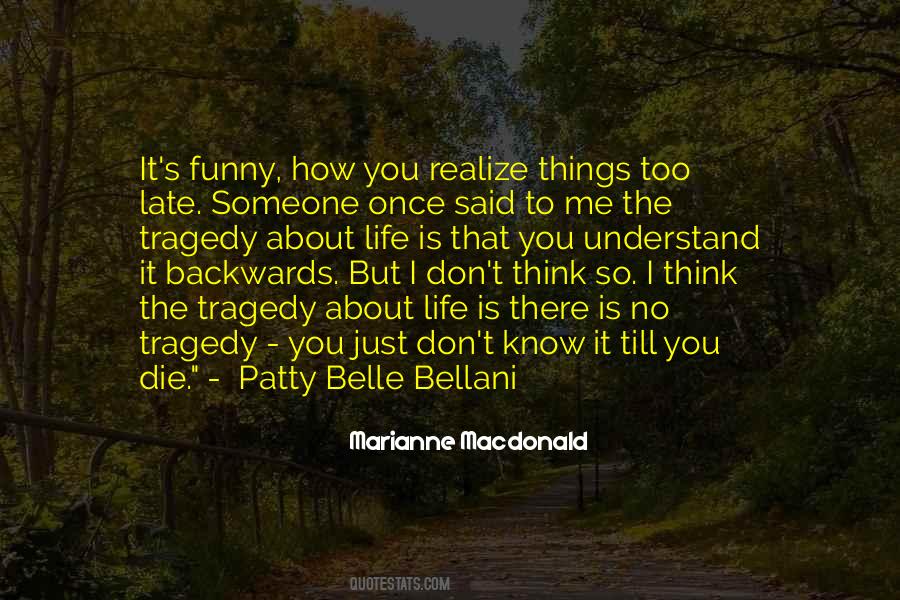 #84. I don't understand', I say,'why they care what I think, as long as I'm acting how they want me to.'
'You're acting how they want you to now', he says,'but what happens when your Abnegation-wired brain tells you to do something else, something they don't want? - Author: Veronica Roth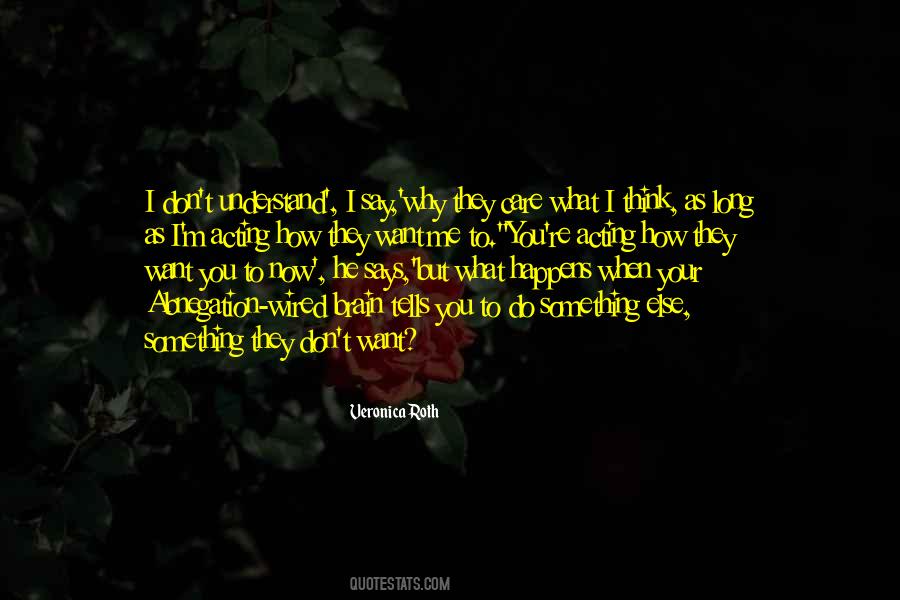 #85. You don't understand. You've never hated anybody.
No, I never have. We're allotted just so much time on earth, and I wouldn't want the Lord to see me wasting mine in any such manner. - Author: Truman Capote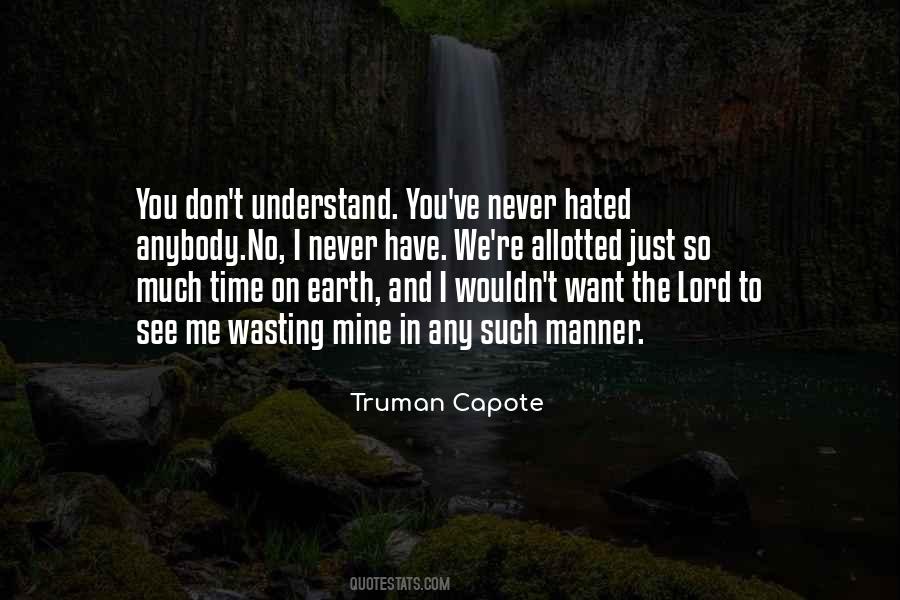 #86. You know so much about me and yet you don't understand me. To know is not to understand. We could know everything and still not understand anything. - Author: Antonio Porchia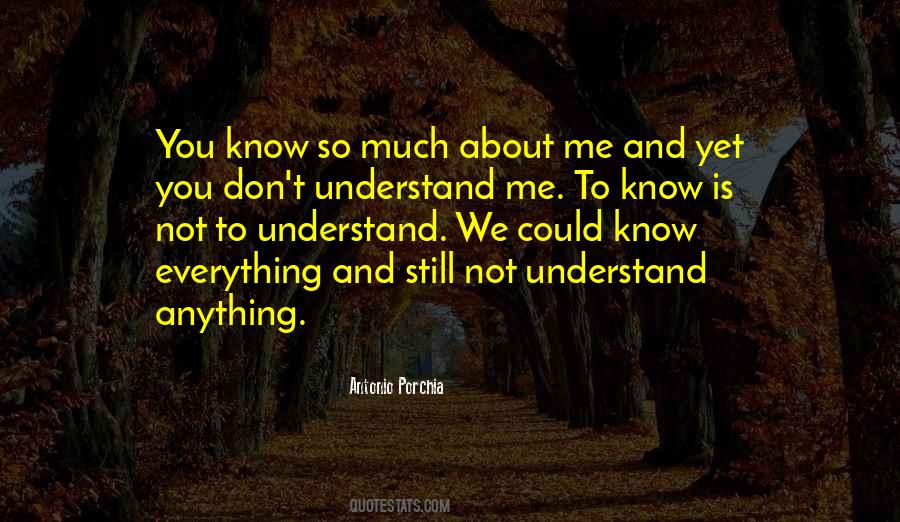 #87. Please. Don't switch off my mind by attempting to straighten me out. Listen and understand, and when you feel contempt don't express it, at least not verbally, at least not to me. - Author: Sarah Kane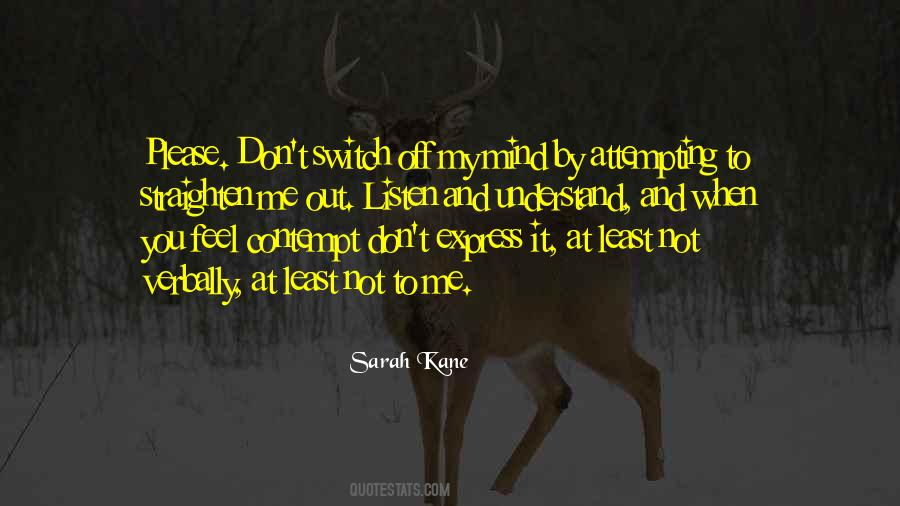 #88. I don't understand the hatred and fear of gays and bisexuals and lesbians ...
it's a concept I honestly cannot grasp. To me, it's not who you love ...
a man, a woman, what have you ...
it's the fact that you love. That is all that truly matters. - Author: Al Pacino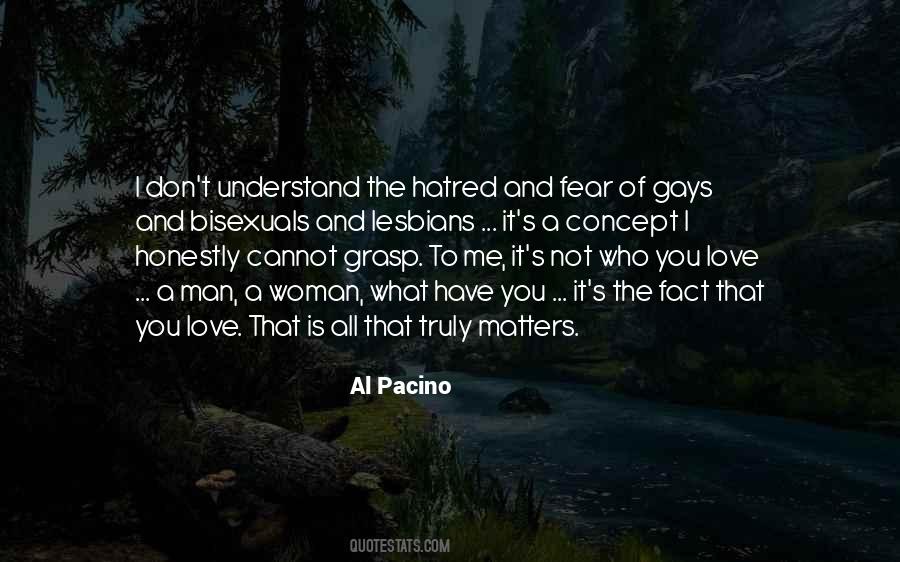 #89. They amaze me most of those remixes. Some of them are crap. But every time I complain, someone comes up and says they are for a different market that you don't understand. Some of the New Order ones are really great, though. - Author: Peter Hook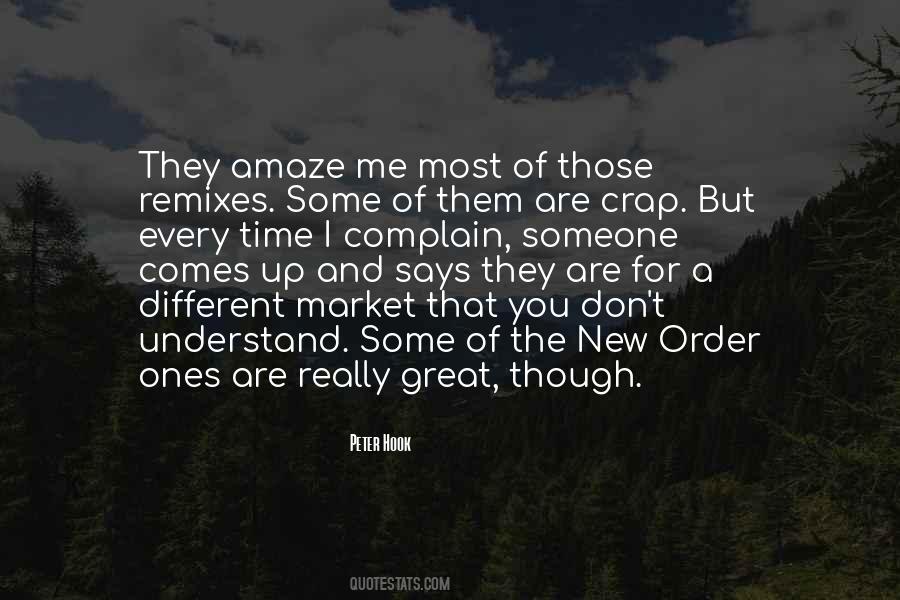 #90. You wouldn't dare!"
I cocked my head at him and thought about it.
"Why do people say that?" I asked. "I don't understand it. It's like demanding whatever it is actually be done. It's tantamount to daring me to do it. - Author: Garon Whited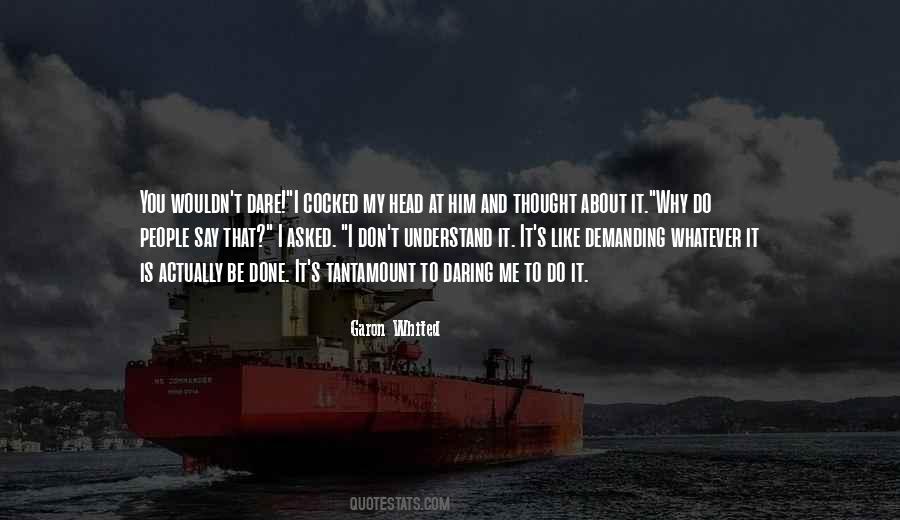 #91. I don't understand, Jem. I don't understand why you'd leave me. Why would you that? - Author: Rachel Ward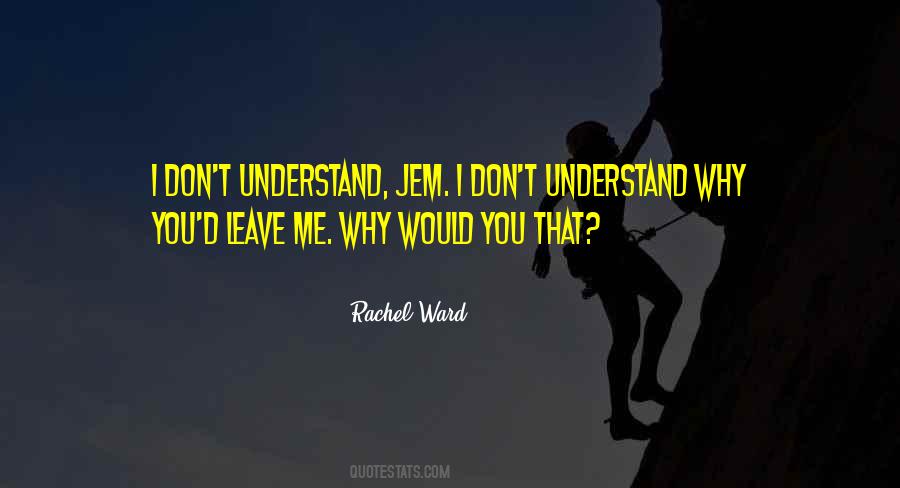 #92. We all have too many wheels, screws and valves to judge each other on first impressions or one or two pointers. I don't understand you, you don't understand me and we don't understand ourselves. - Author: Anton Chekhov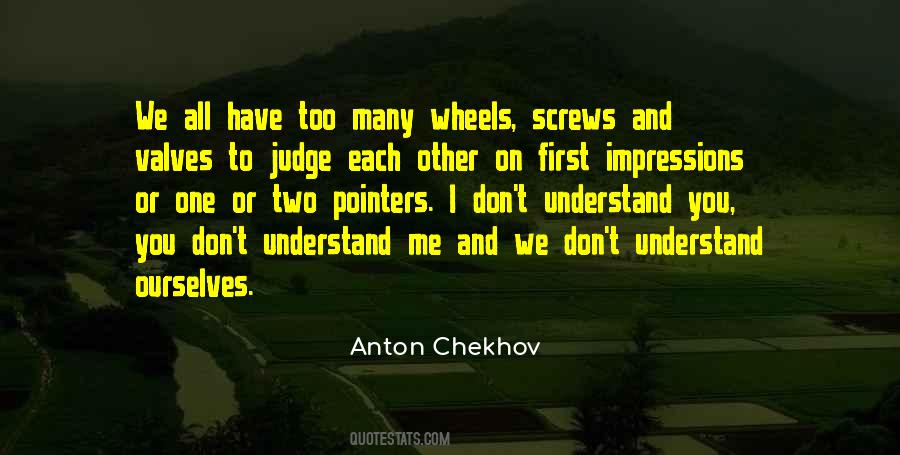 #93. I truly don't understand any of this,' I confessed.
She stayed standing, facing me.
'I wish I could help you there,' she told me. 'But I can't. - Author: David Levithan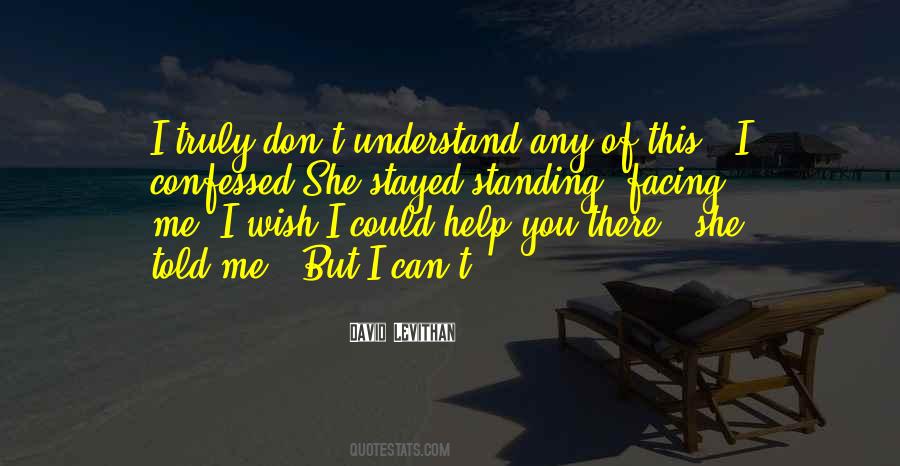 #94. All that he has ever asked of us, of me, and Spinnock Durav, and so many others, he has given us in return. Each and every time. This ... this is his secret. Don't you understand, High Priestess? We served the one who served us. - Author: Steven Erikson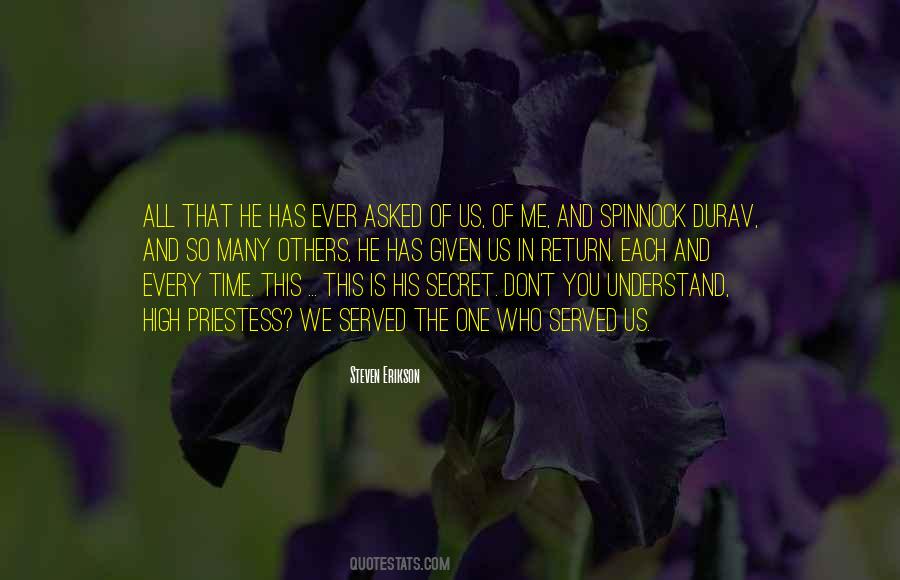 #95. She frowned. "I don't understand"
"You can't love me. No one does" The sincerity in his voice and expression was heart-wrenching. He truly couldn't fathom anyone caring about him. Not even her. - Author: Sherrilyn Kenyon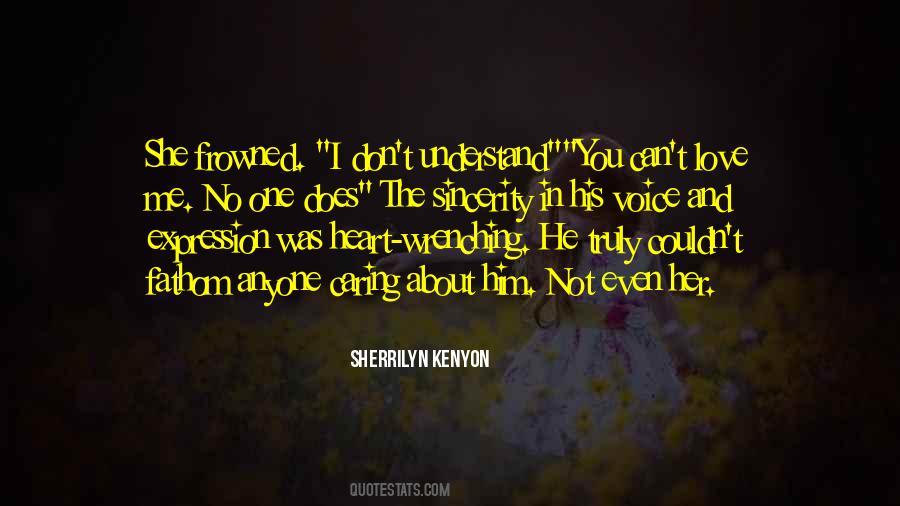 #96. I understand the horrors of having no insurance, but, believe me, eight hours of sleep and good meals are NOT going to prevent you from getting sick. Don't gamble with your life; it's a stupid bet. - Author: Michael Specter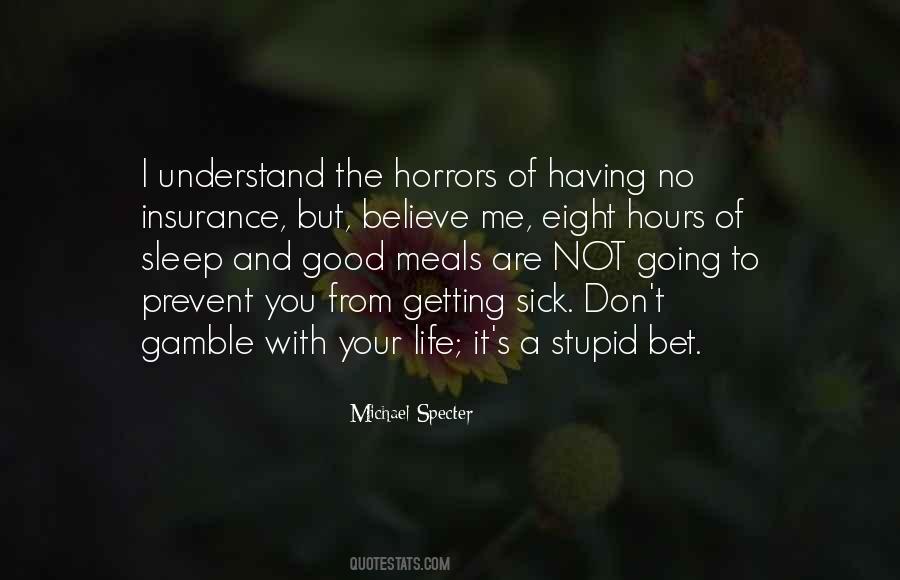 #97. I'd go onstage doing this thing, trying to fill this arena that I can't fill because I don't understand what this is. It's like you're given a job that's beyond you. And it's taken me years to realize what works in those big situations. - Author: Thom Yorke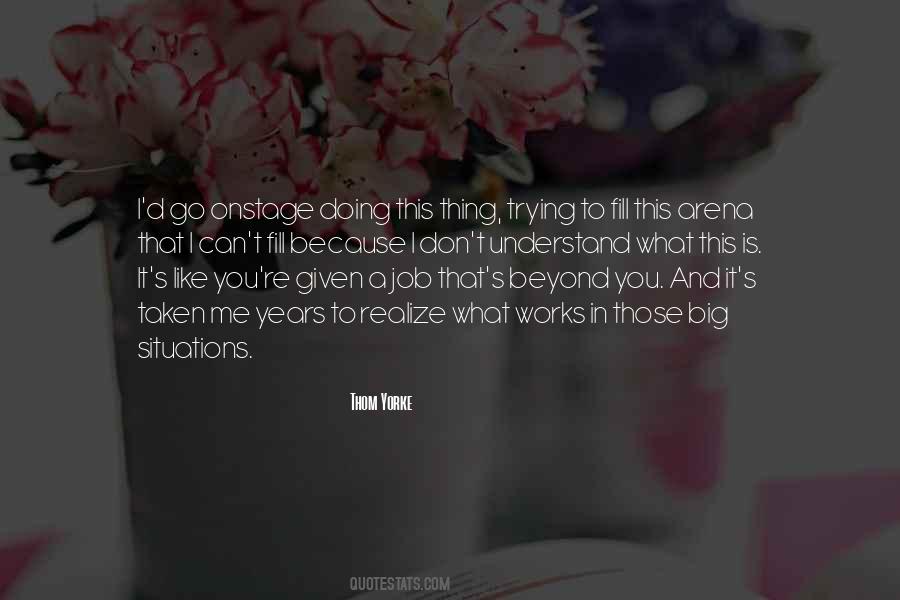 #98. People can portray me anyway they want because I don't give a damn ... But don't you analyze me and don't you tell me what I am until you get close enough to understand what I am. Then you can make an analysis of me. But don't you dare do it until then. - Author: Lyle Alzado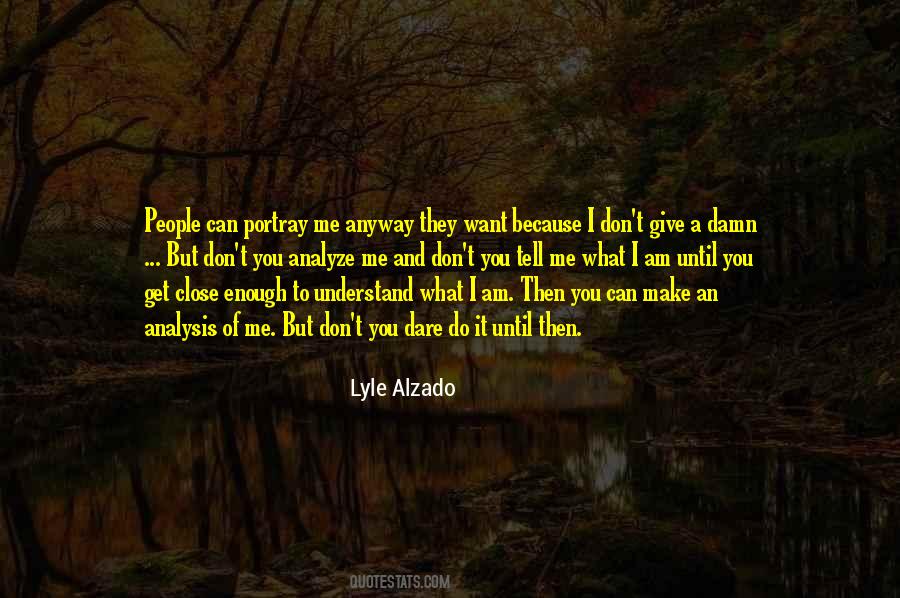 #99. Please understand. Please forgive me.
I prayed every day for you to be alive, until hope became painful.
Don't hate me.
I still love you. - Author: Lauren Oliver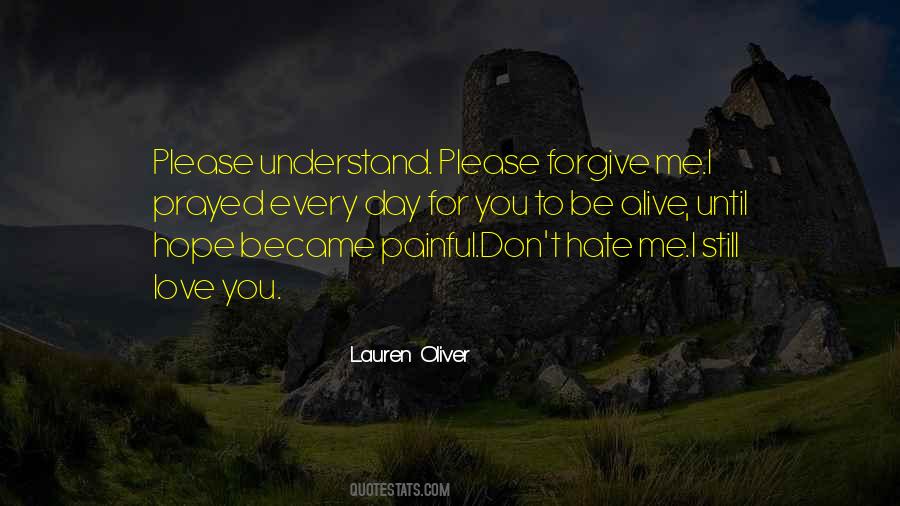 #100. Maybe one of you can enlighten me, but I just don't understand why it is so hard to be kind to one another? - Author: Patricia Polacco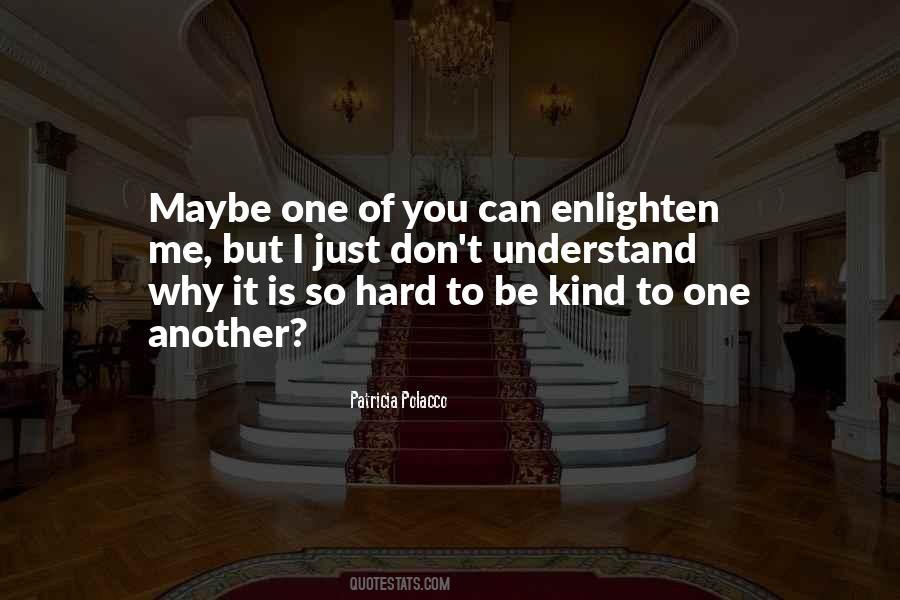 Famous Authors
Popular Topics