Too Fat Famous Quotes & Sayings
List of top 100 famous quotes and sayings about too fat to read and share with friends on your Facebook, Twitter, blogs.
Top 100 Too Fat Sayings
#1. Sure I was glad to see John Wayne win the Oscar I'm always glad to see the fat lady win the Cadillac on TV, too. - Author: Robert Mitchum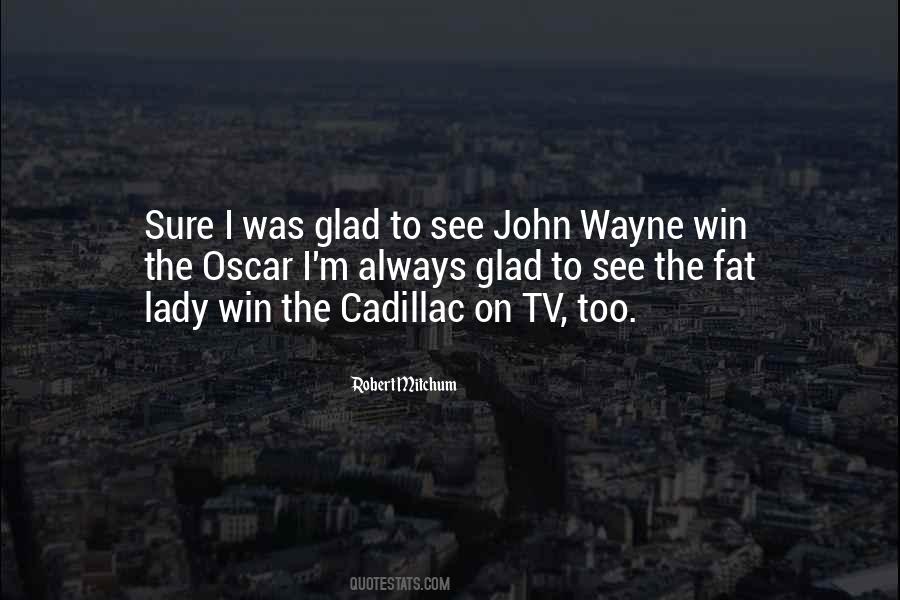 #2. For the record, someone will ALWAYS say that you are too big, too thin, too lean, too fat, too whatever. In my opinion, they are too conceited to think that their opinion is going to change our behavior. A person with confidence won't be deterred! Keep after it! - Author: Jamie Eason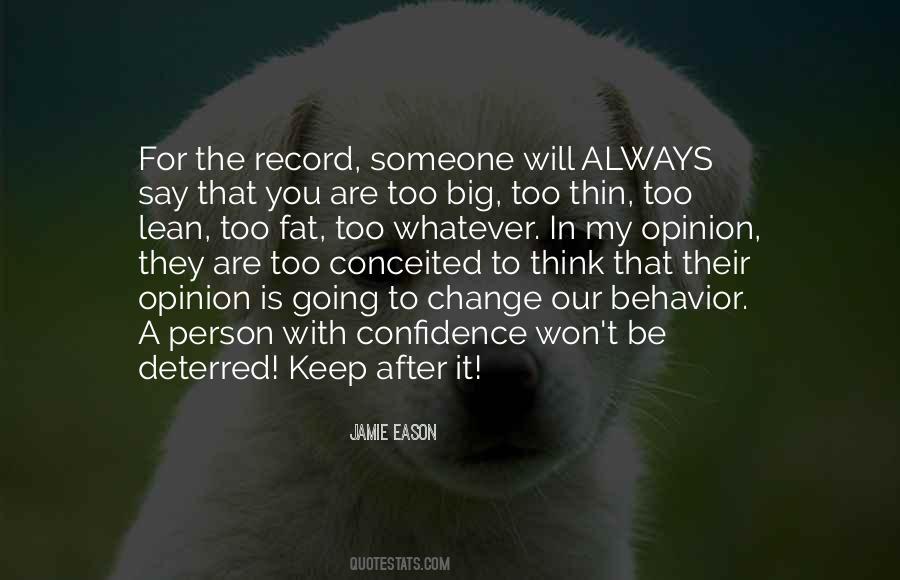 #3. What I really, really want to do is pre-packaged meals. Fabulous versions that are delicious, healthy, not too expensive and very low in fat. So, that's my big dream, because there's a massive hole in the market for that. - Author: Elizabeth Hurley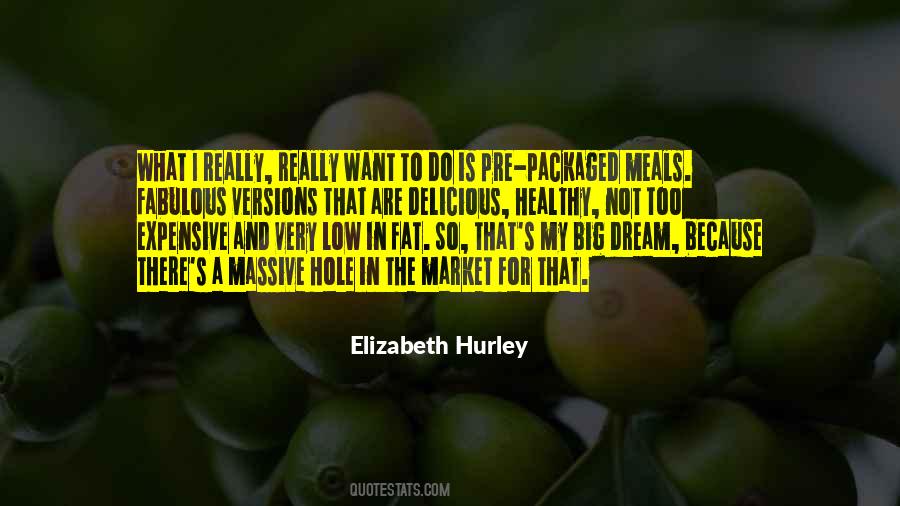 #4. Brunch is such an odd thing. It was created by fat, lazy people who were too lazy to wake up at a reasonable hour and too fat to wait until the next proper time for dining. - Author: Brian South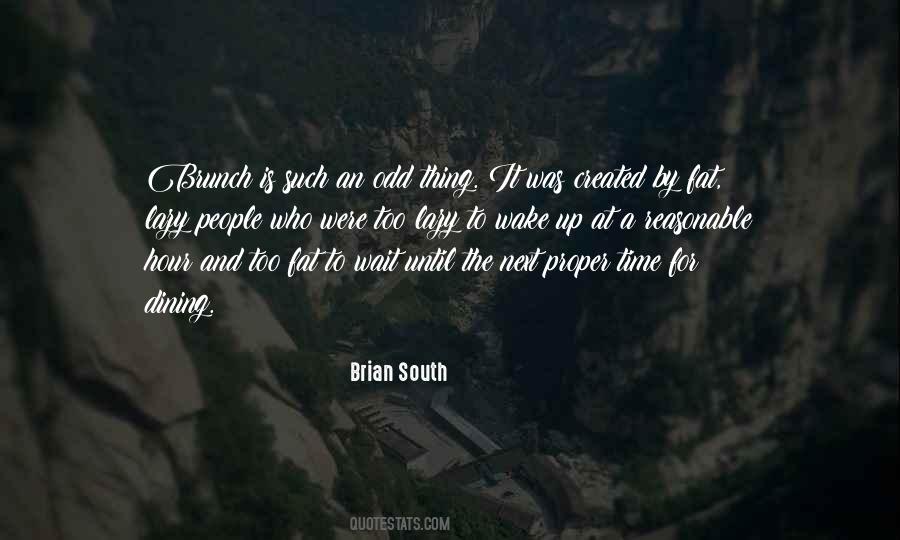 #5. Where the environment is too soft and luxurious and no strife is required for survival, not only are weak strains and individuals allowed to survive and encouraged to breed but the strong types also grow fat mentally and physically. - Author: Madison Grant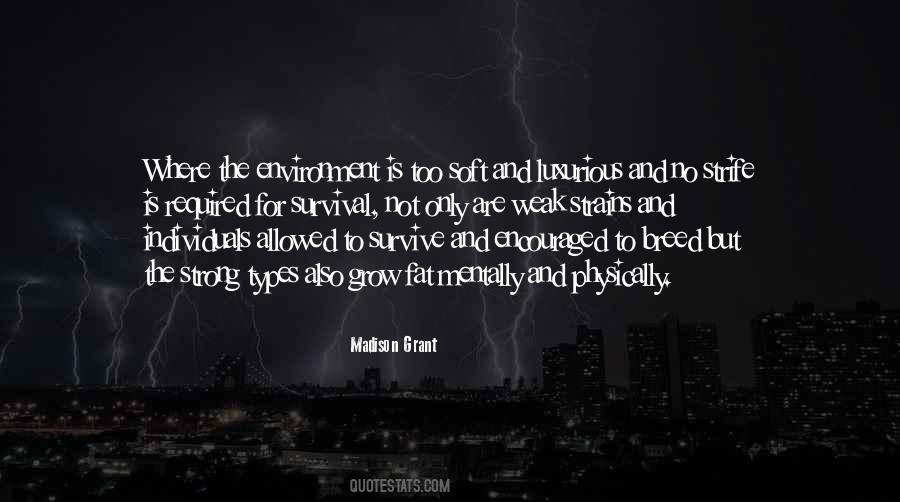 #6. Especially with me working in the entertainment industry, I think my kids are aware of weight and fat much earlier than other kids. It was important to me from the beginning to make sure they understand things like why too much sugar is bad for you, etc. - Author: Alison Sweeney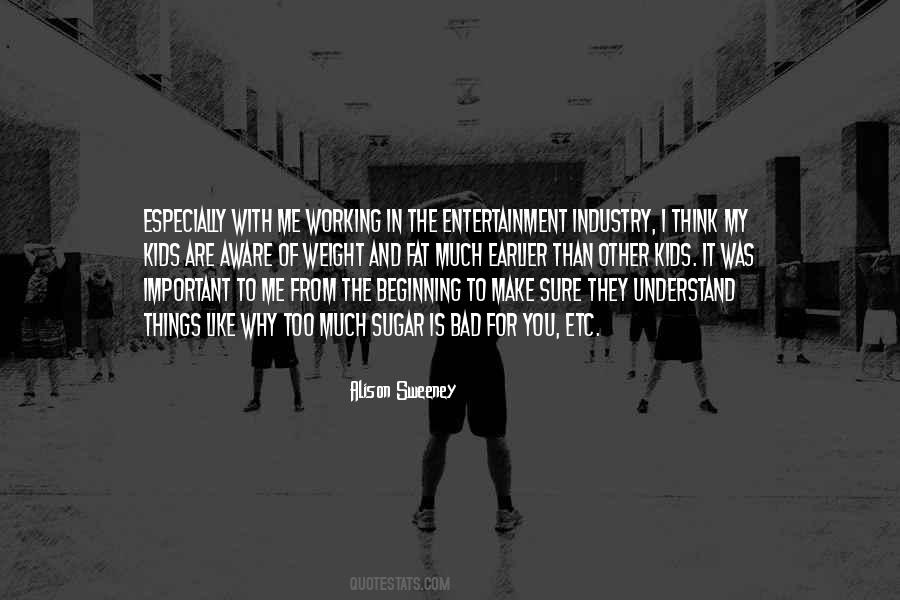 #7. She IS too fat," said Lavinia. "And Sara is too thin. - Author: Frances Hodgson Burnett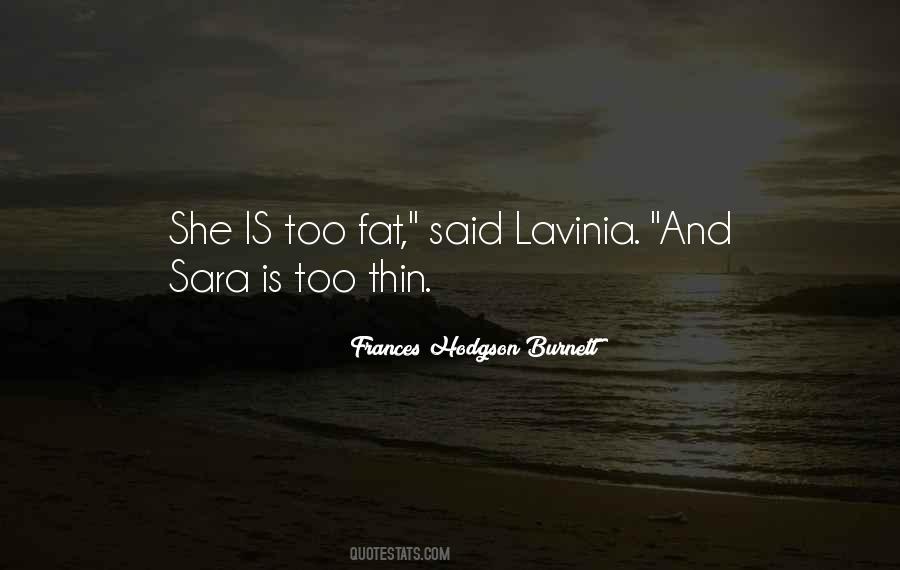 #8. Because of the person I am I won't be knocked down - ever. They can say I'm fat, I'm thin, I'm whatever, and I'll never stop. I just won't. I've got too much to do. I've too much to be happy about. - Author: Kate Winslet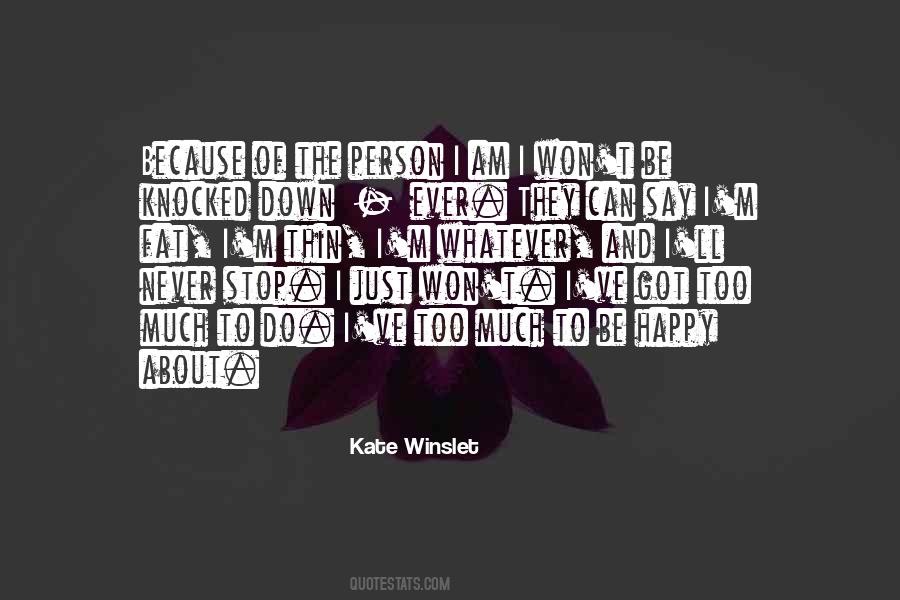 #9. When I was younger I was fat. I was never conscious of it and was content with who I was because I was so loved. My mother never told me to lose weight and my father doted on me, but my agent told me. I tried, but I loved Indian food too much. - Author: Archie Panjabi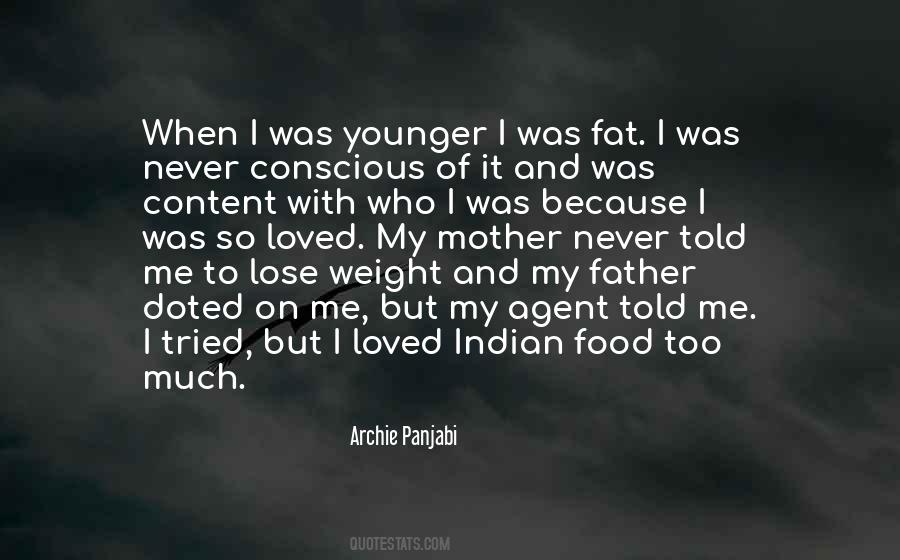 #10. I'm beginning to think that you aren't with child. You've simply become fat after reading too many recipes. - Author: Meljean Brook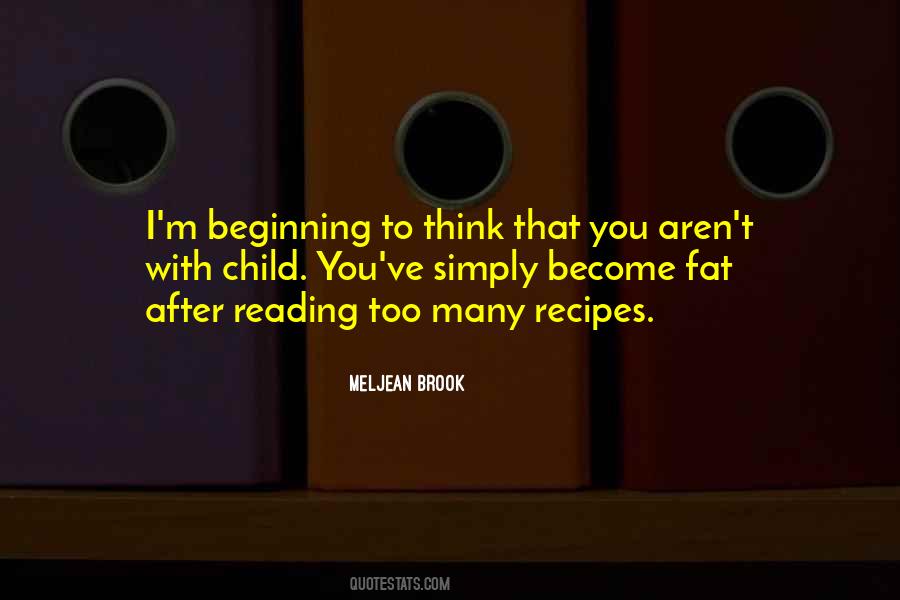 #11. She was to my ego what Rasputin was to morality, whittling away at my self-image with menaces and put downs viewed as compliments until I realised I was too old, too fat, too tall, too dull, too everything to ever find love. - Author: Tyne O'Connell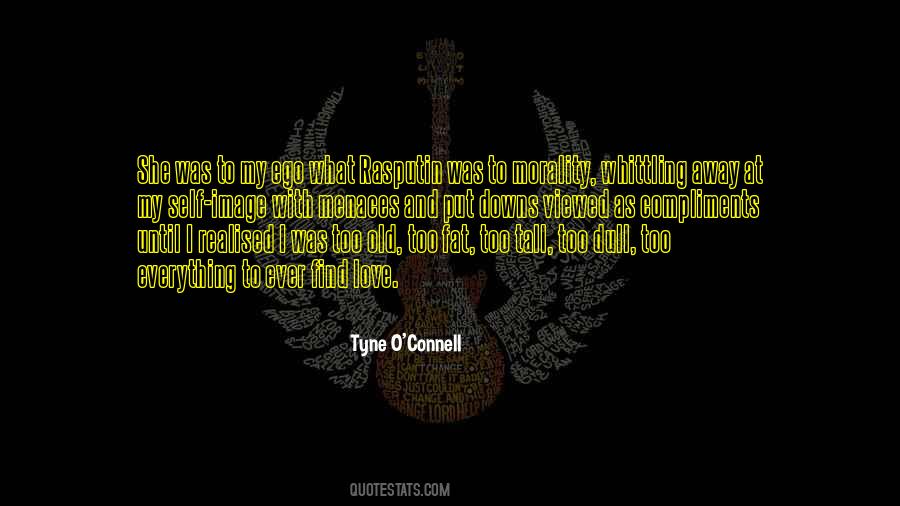 #12. I don't own a scale, and Tao banned the word 'fat' from our house. If we eat too much, we say, 'I feel clogged up.' - Author: Olivia Wilde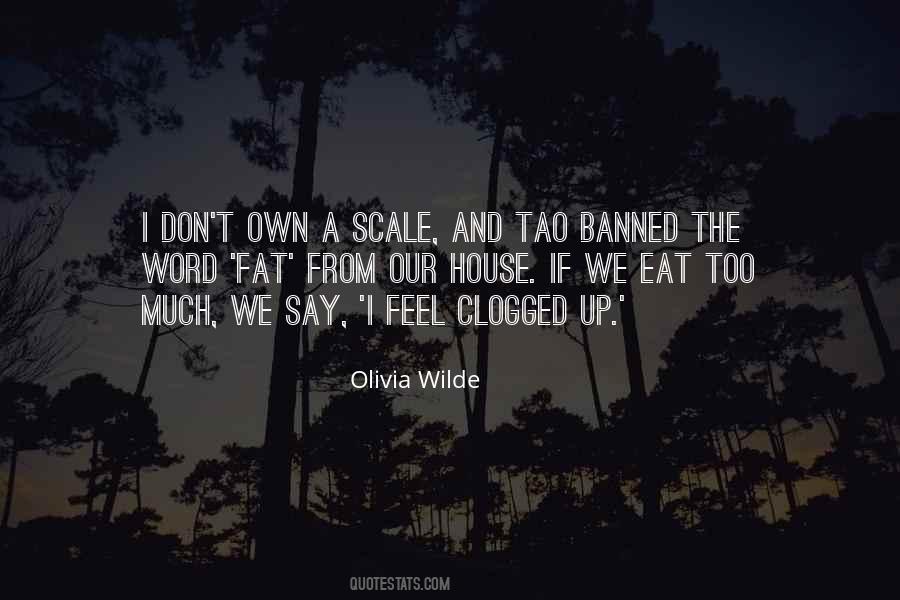 #13. You must be one of the few people with a copy of that. I don't think they printed too many. - Author: Chow Yun-Fat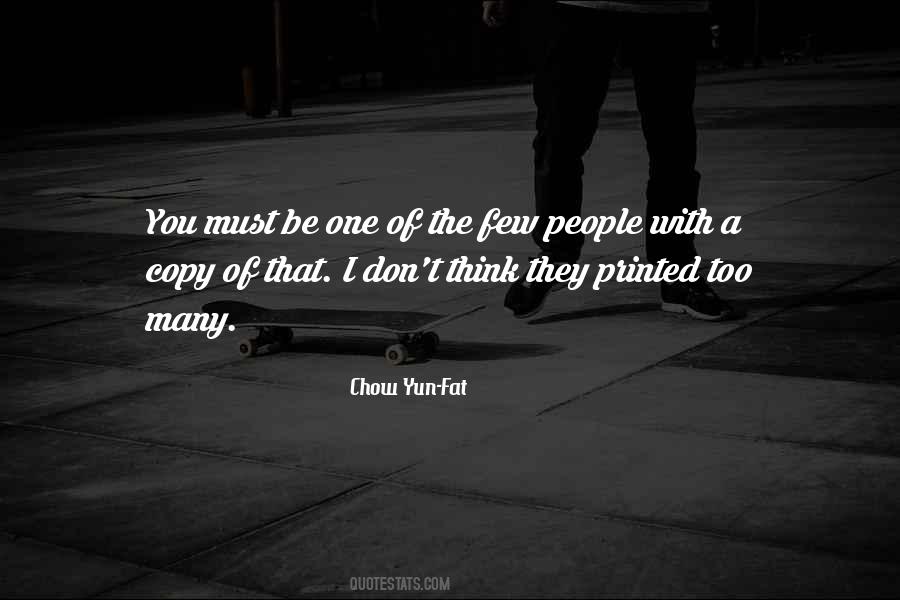 #14. She made it plain that her fondest wish was to have a grandbaby. Whenever fat Irene would pick up the baby, which was not too often, Mrs. Hoge would declare, "Irene, you don't know how becoming that looks." As if someone ought to have a kid because it looked good on them. - Author: Barbara Kingsolver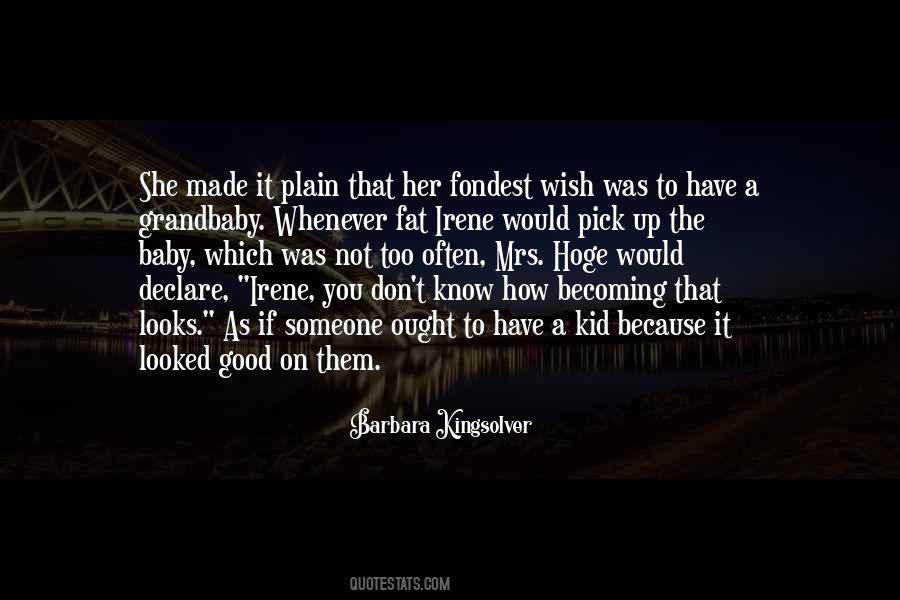 #15. I'm Teoish," Sarene said, successfully spearing something that looked like a
marinated piece of shrimp. "We're all this tall."
"Father's Teoish too, Kaise," Daorn said. "And you know how tall he is."
"But father's fat," Kaise pointed out. "Why aren't you fat too, Sarene? - Author: Brandon Sanderson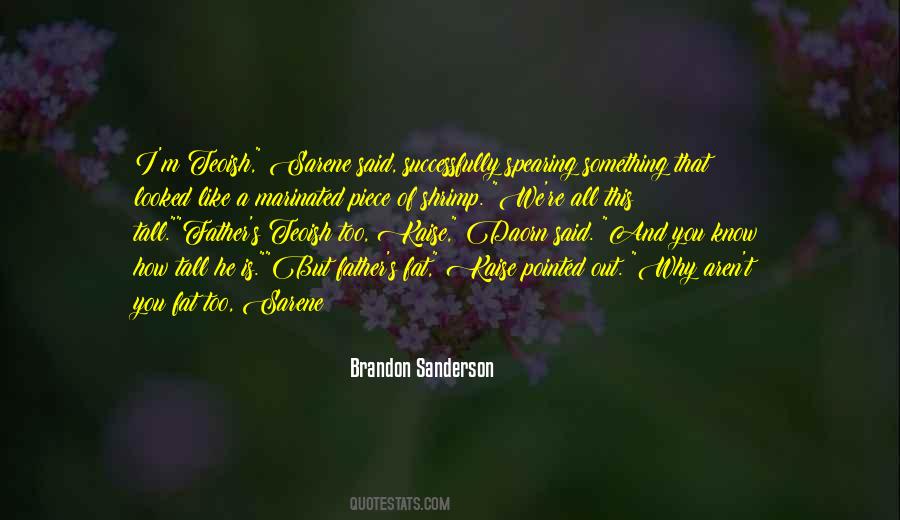 #16. I was muscular - I was never overweight. But tell a girl that she has to lose 15 pounds when she's not fat, and that has destroyed a lot of who I am over the years, even still. In my mind I'm thinking, 'I'm always too heavy. I should be a skinny thing.' - Author: Kim Alexis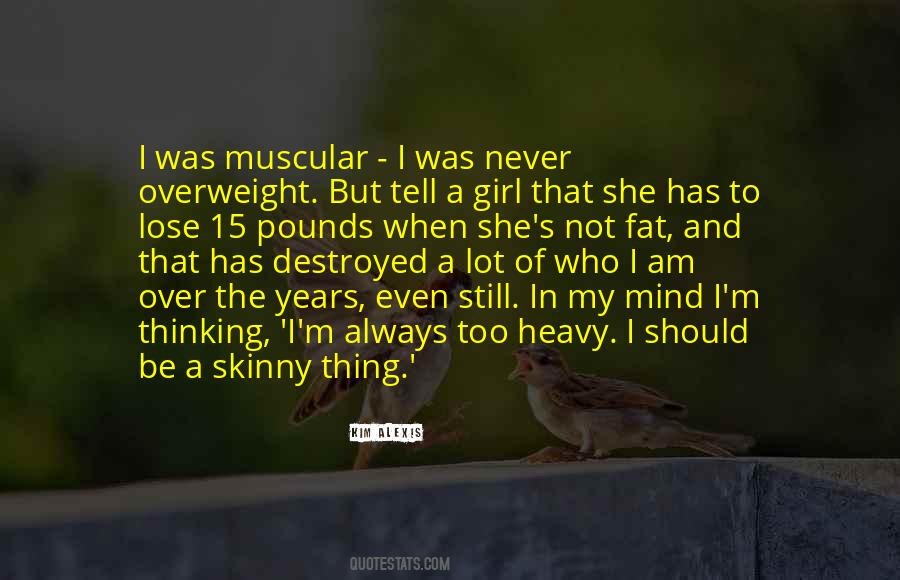 #17. FAT CHARLIE WASN'T CERTAIN THAT HE LIKED FREEDOM. THERE was too much open air involved. - Author: Neil Gaiman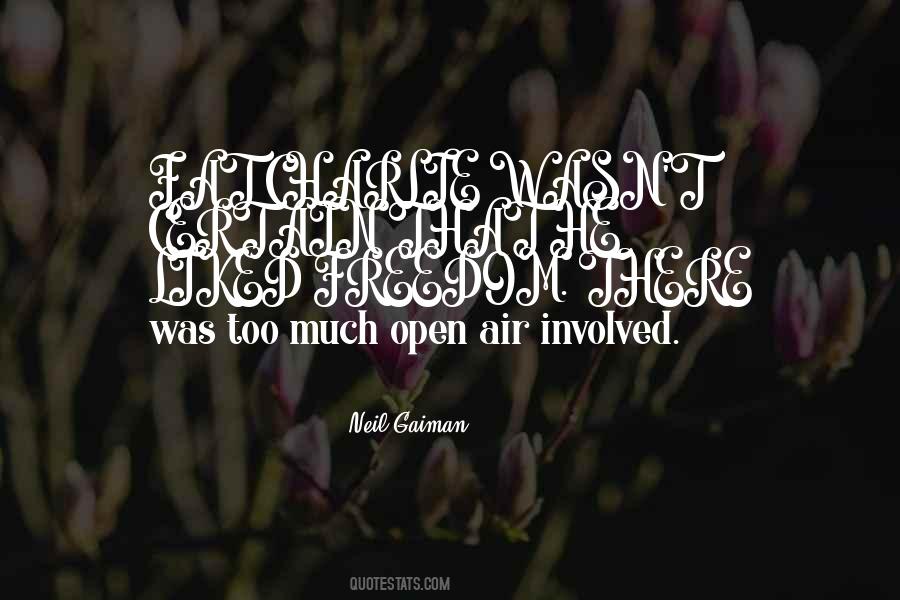 #18. She was not curvy or big-boned; she was fat, it was the only word that felt true. And she had ignored, too, the cement in her soul. - Author: Chimamanda Ngozi Adichie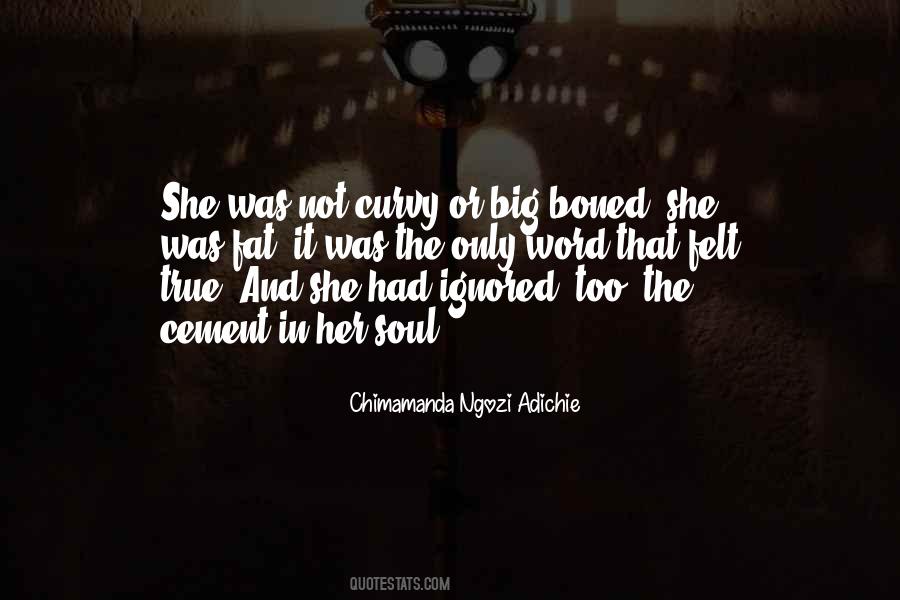 #19. I have an amazing metabolism. I'm sure that'll be gone one day. But I like to exercise, too, so I don't think I'll ever get really fat. - Author: Aziz Ansari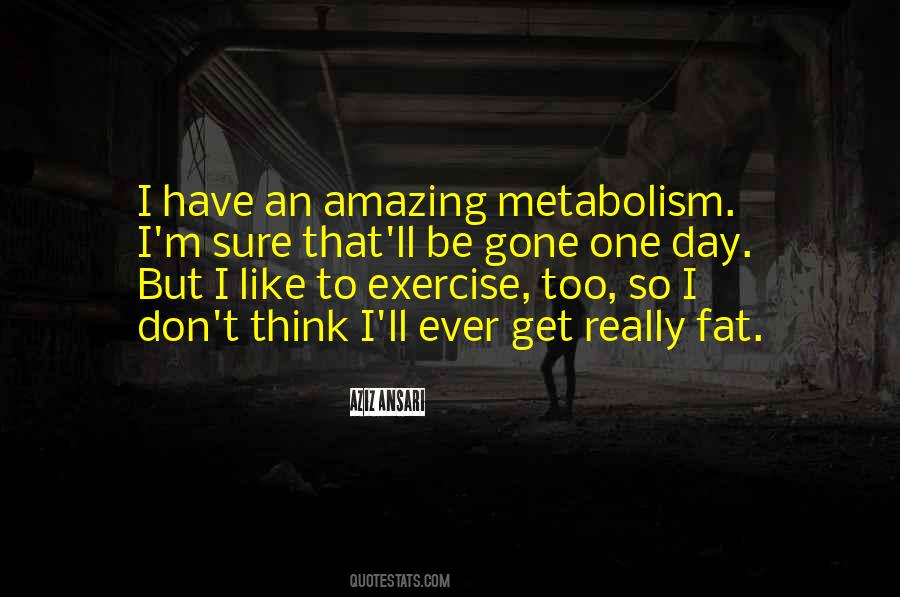 #20. Nobody's too fat - they're just too short. - Author: Sam Ewing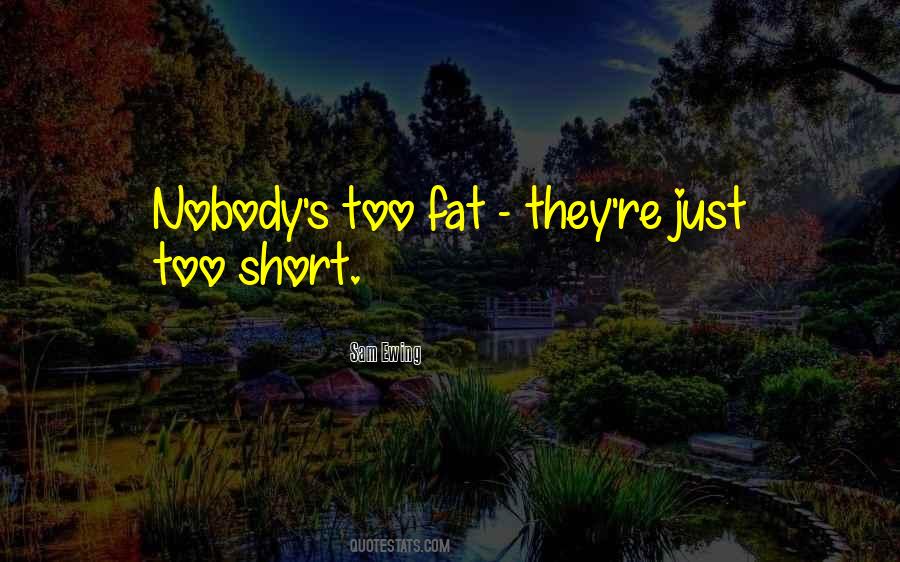 #21. They will often tell me they can't love themselves because they are so fat, or as one girl put it, 'too round at the edges.' I explain that they are fat because they don't love themselves. When we begin to love and approve of ourselves, it's amazing how weight just disappears from our bodies. - Author: Louise Hay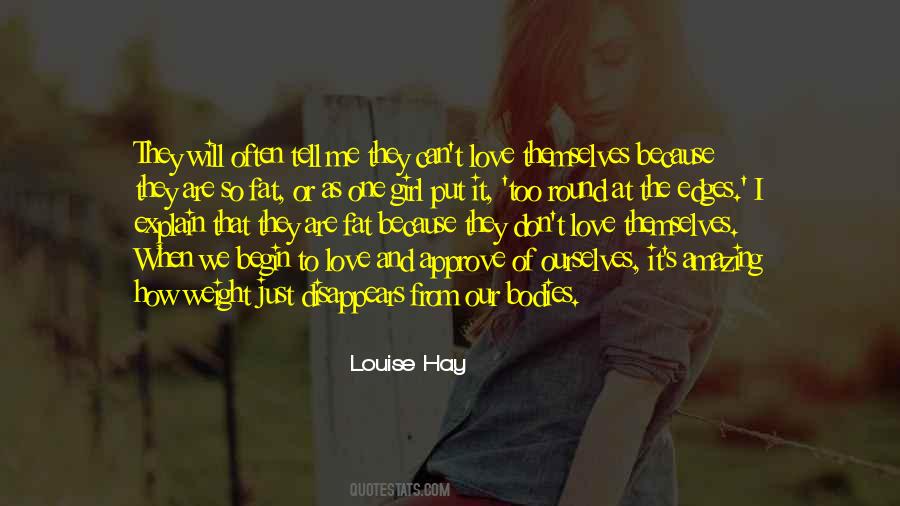 #22. Everyone needs to be skinny, but not too skinny. You need to be thick, but not fat. We're pretty much the pits, and I can't help but judge us, because nothing weight-related comes with anything but scorn. - Author: Luvvie Ajayi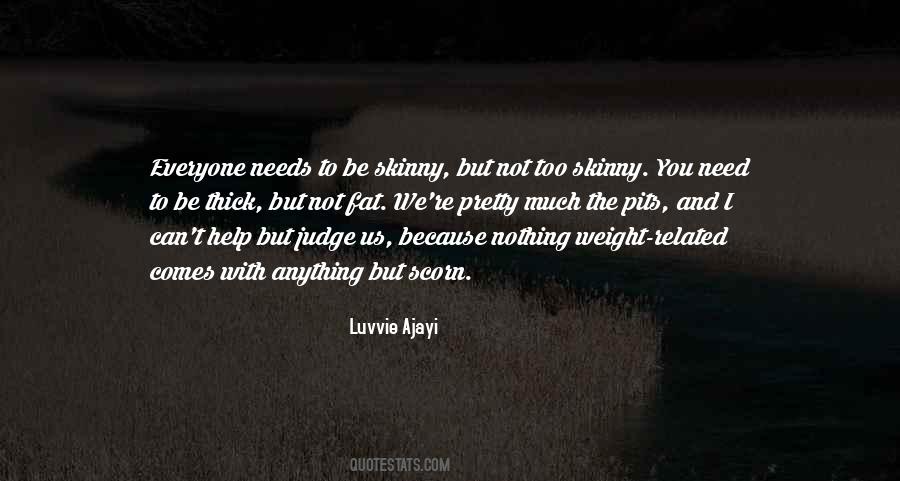 #23. To clarify, the issue isn't that I'm too fat, it's that I'm too phat. Can I get a WHAT-WHAT! - Author: Casey Wilson
#24. An actor's life is all about rejection. It's you they don't want; it's you who's too tall or too short or too fat. With stand-up, it doesn't matter what you look like. - Author: Mark Billingham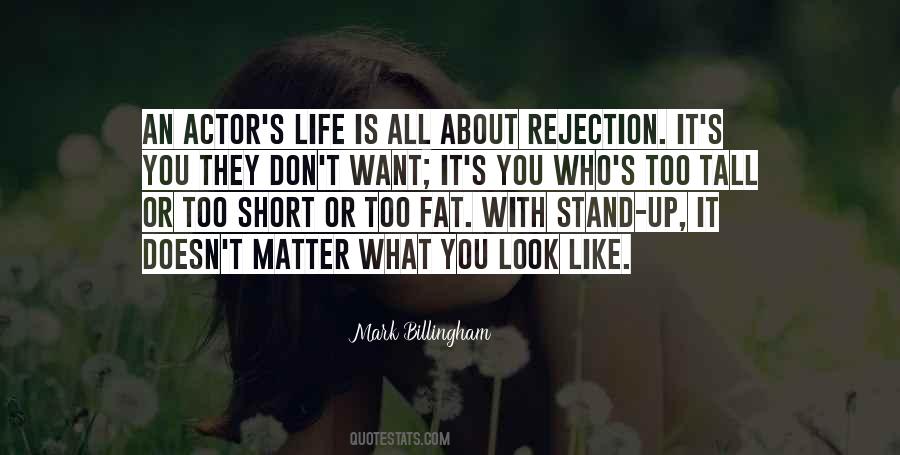 #25. One important measurement issue concerns the fat tails problem that I mentioned earlier. VAR is concerned with extreme outcomes. If the tails of the probability distributions we are using are too thin, our VAR measures are likely to be too low. - Author: John Hull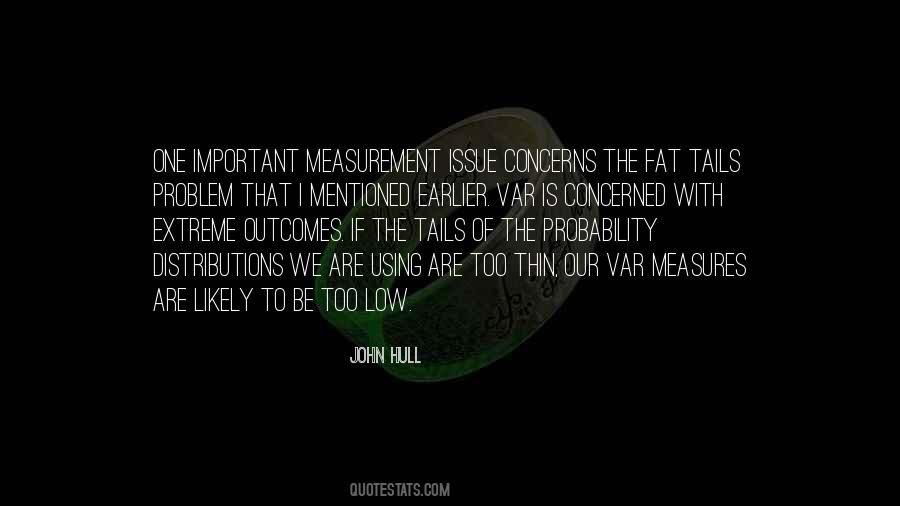 #26. A fat stomach sticks out too far. It prevents you from looking down and seeing what is going on around you. - Author: Norman Reilly Raine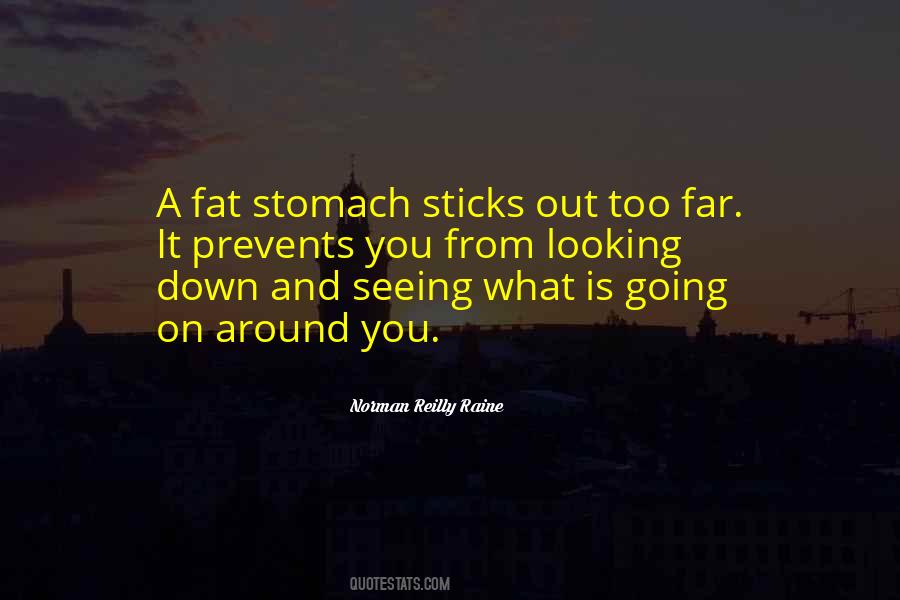 #27. You're FAT - and don't try to sugarcoat it, because you'll just eat that, too. - Author: Phillip C. McGraw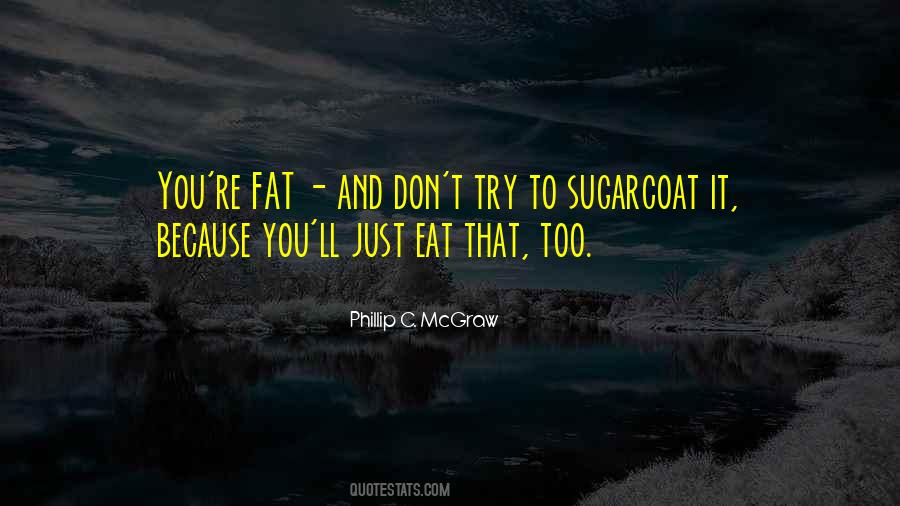 #28. He doesn't appear much, does he - one frightened old fat man too weak to support his own flesh without the help of suspensors." It - Author: Frank Herbert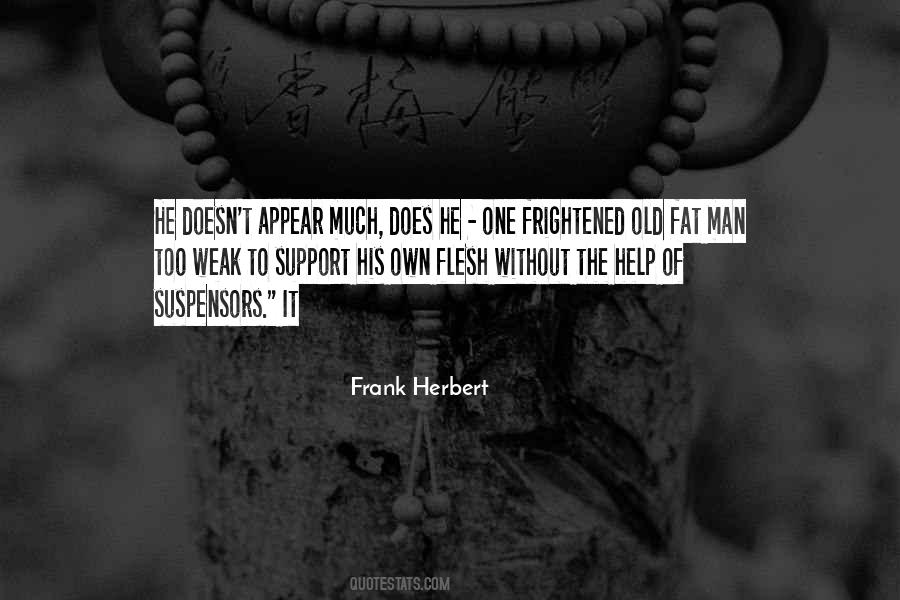 #29. What people don't understand is that calling someone too skinny is the same as calling someone too fat; it's not a nice feeling. - Author: Kendall Jenner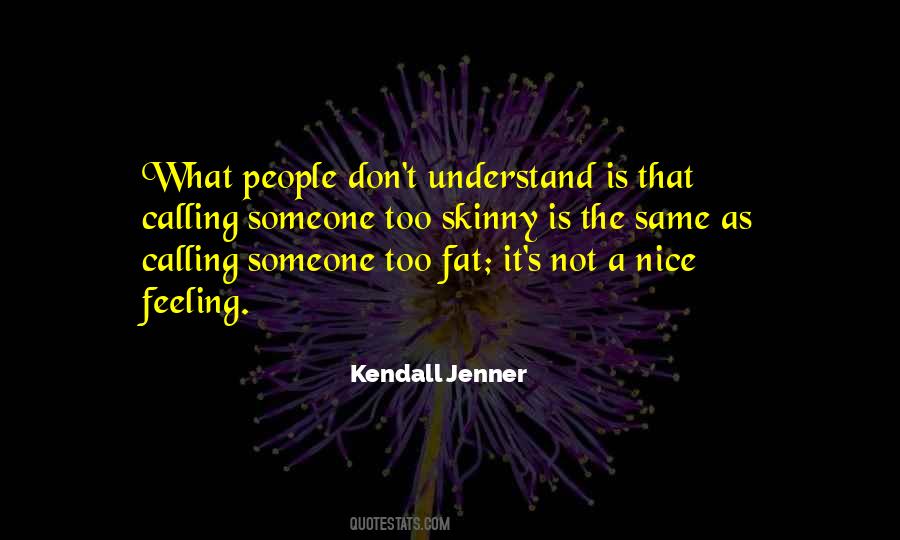 #30. Eleanor knew that she was fat, but she didn't feel that fat. She could feel her bones and muscles just underneath all the chub, and they were big, too. Park's mom could wear Eleanor's rib cage like a roomy vest. - Author: Rainbow Rowell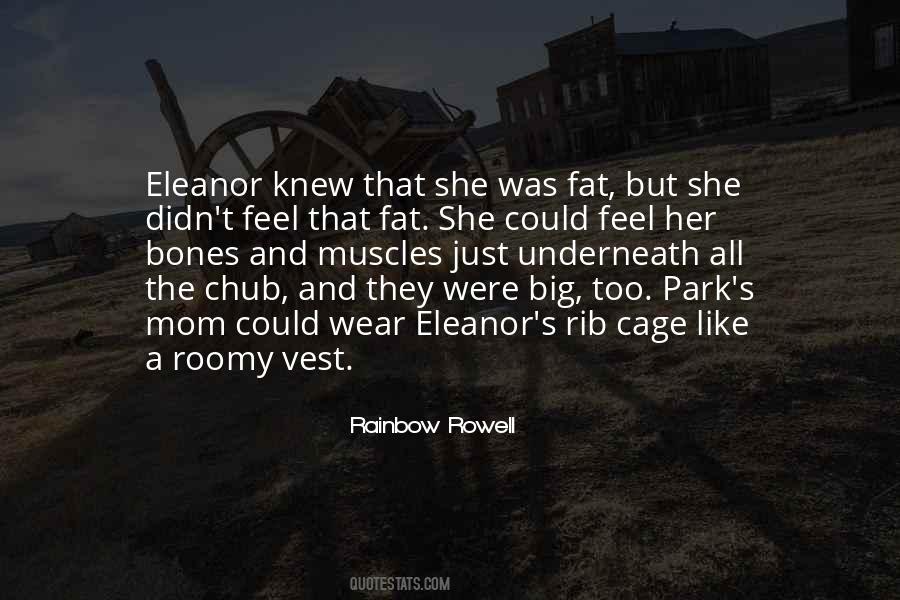 #31. One popular new plastic surgery technique is called lip grafting, or 'fat recycling,' wherein fat cells are removed from one part of your body that is too large, such as your buttocks, and injected into your lips. People will then be literally kissing ass. - Author: Dave Barry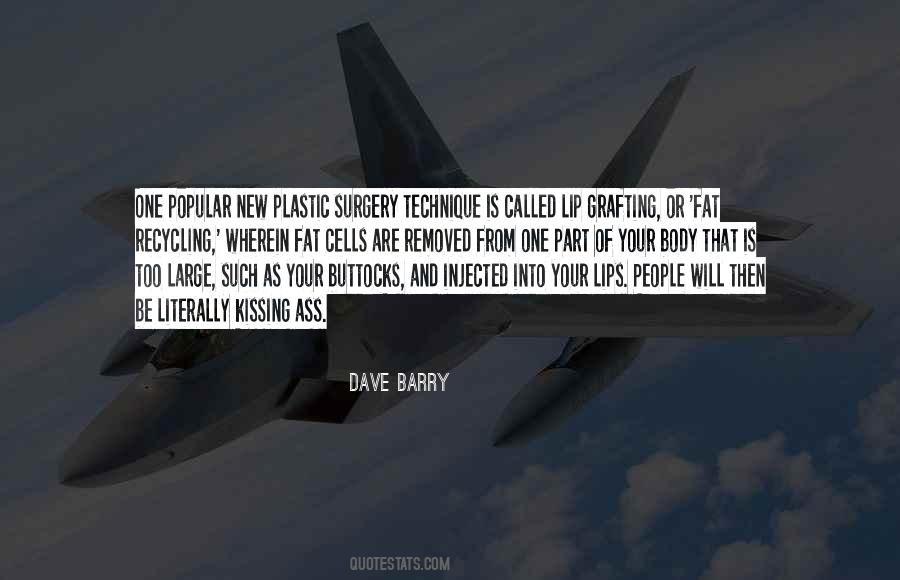 #32. Think of a flabby person covered with layers of fat. That is what your mind can become - flabby, covered with layers of fat till it becomes too dull and lazy to think, to observe, to explore, to discover ... not wanting to be disturbed or questioned into wakefulness. - Author: Anthony De Mello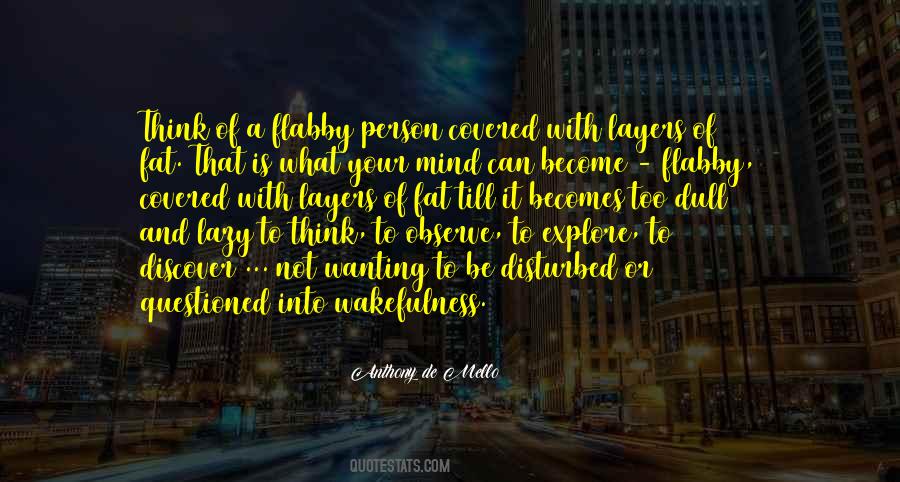 #33. You're never too fat for a new purse. - Author: Nia Vardalos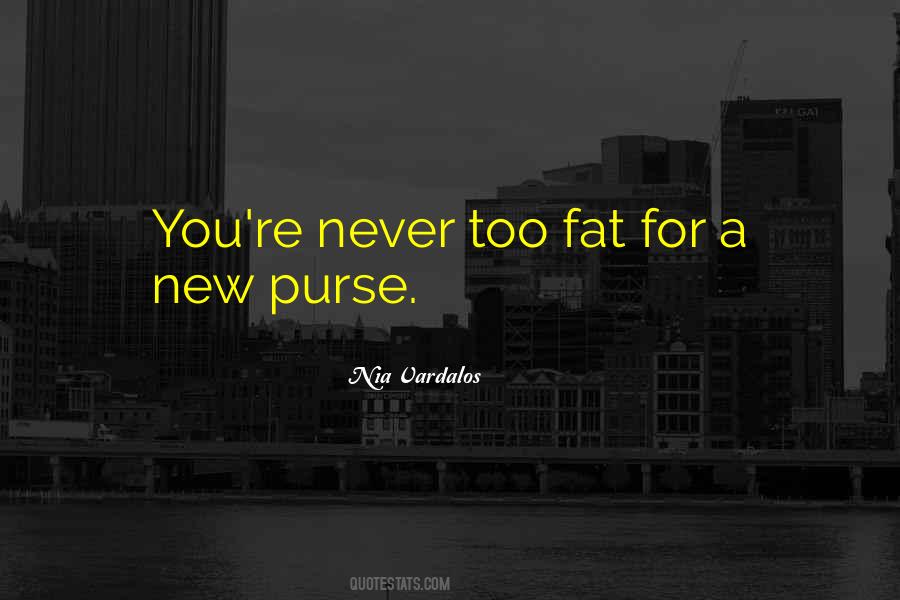 #34. I have big friends who won't go swimming because they're too embarrassed about it. I feel that's such a shame, because actually people should be encouraging fat people who are exercising to do it, not pointing and laughing. - Author: Jo Brand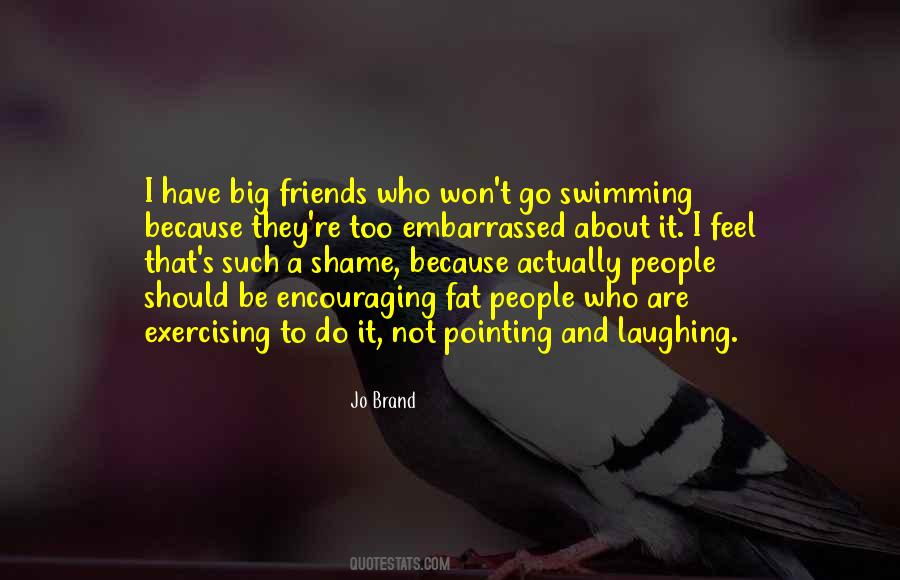 #35. You size up someone physically in less than one second - too tall, too short, too fat, too thin, too old, too young, too stuffy, too scruffy. - Author: Helen Fisher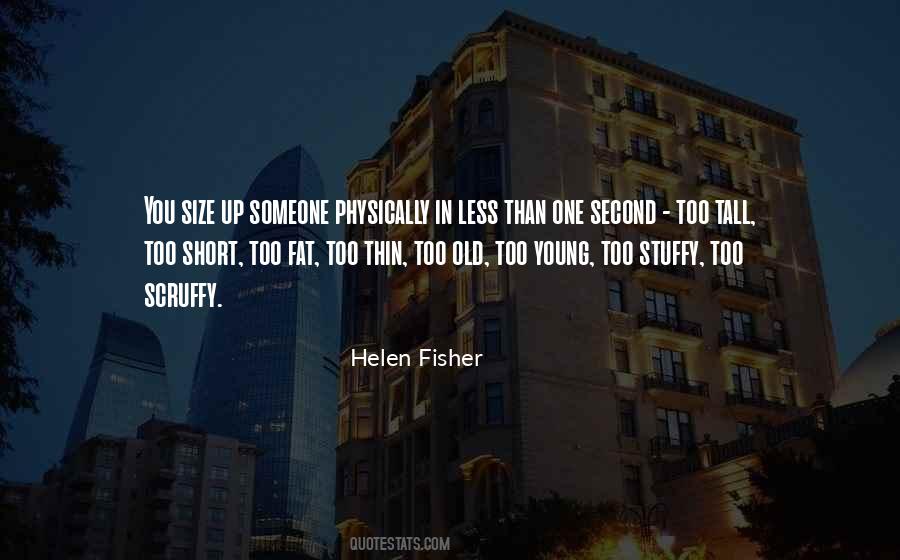 #36. What no woman or man needs is anyone telling them they are 'too fat' or 'too skinny.' That just adds to the many stereotypes out there about a person's weight. - Author: LeAnn Rimes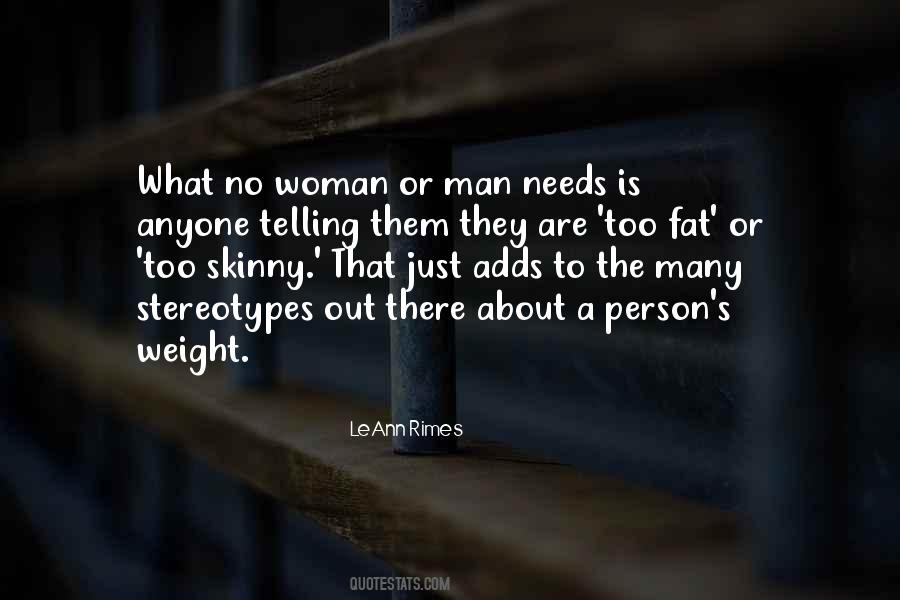 #37. We're always too skinny, or too fat. Too tall, or too short. We're shaming each other, and we're shaming ourselves, and it sucks. - Author: Emma Stone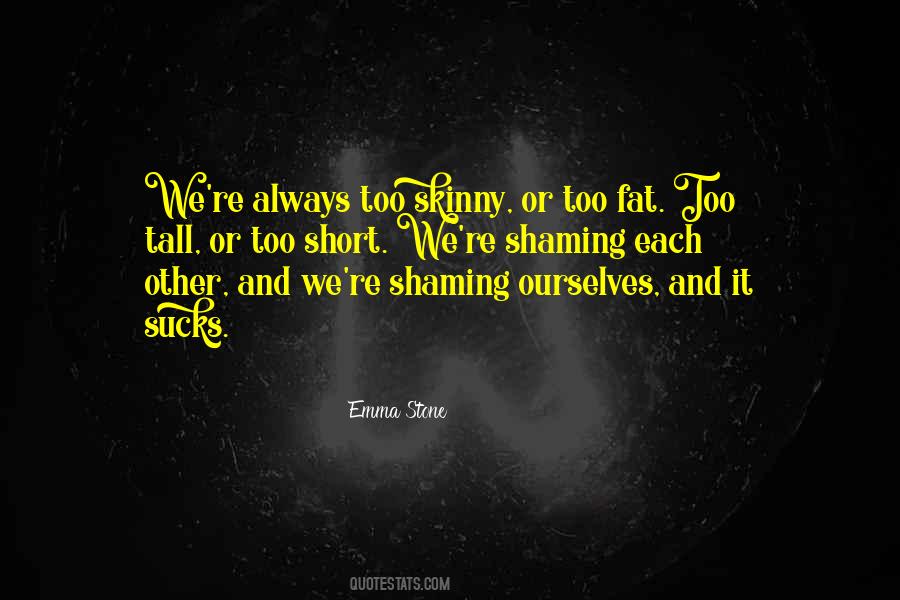 #38. Too many people are confusing charisma with autocrat, fat cat. So I think we have to be a little more sophisticated when we hold up or tear down these stereotypes. Whether we call it charisma or not, a leader cannot be self-effacing to the point of being wimpy. - Author: Noel Tichy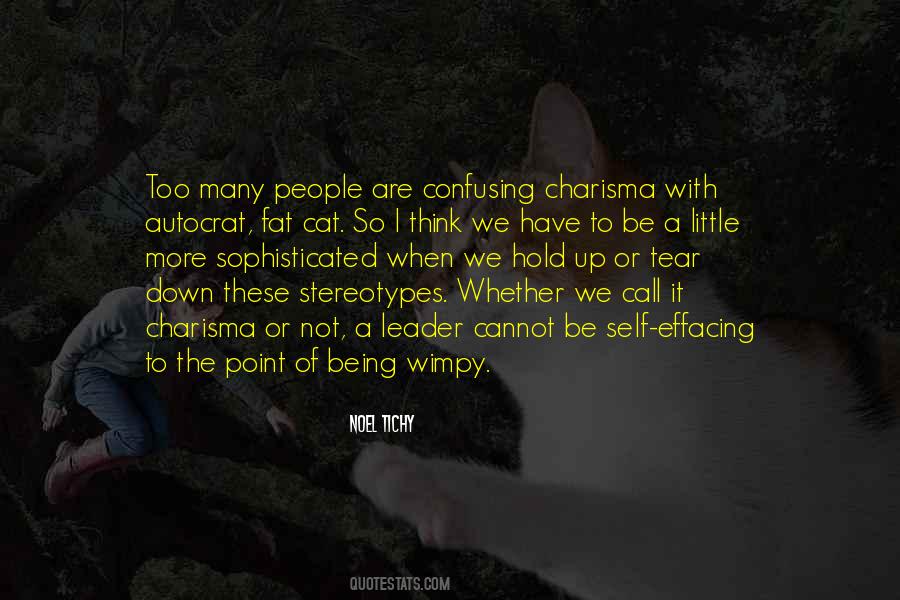 #39. Whenever I see fat people, they're eating," I ruminated safely out of the diner's earshot. "Don't give me this it's glands or genes or a slow metabolism rubbish. It's food. They're fat because they eat the wrong food, too much of it, and all the time. - Author: Lionel Shriver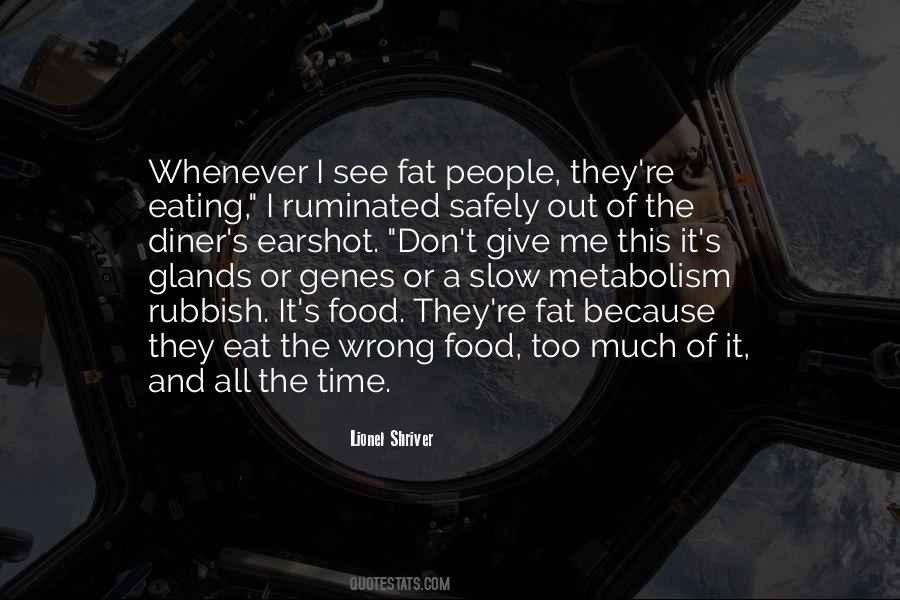 #40. I can't stand makeup commercials. 'Do you need a lipstick that keeps your lips kissable?' No, I need a lipstick that gets me equal pay for equal work. How about an eye shadow that makes me stop thinking I'm too fat? - Author: Maria Bamford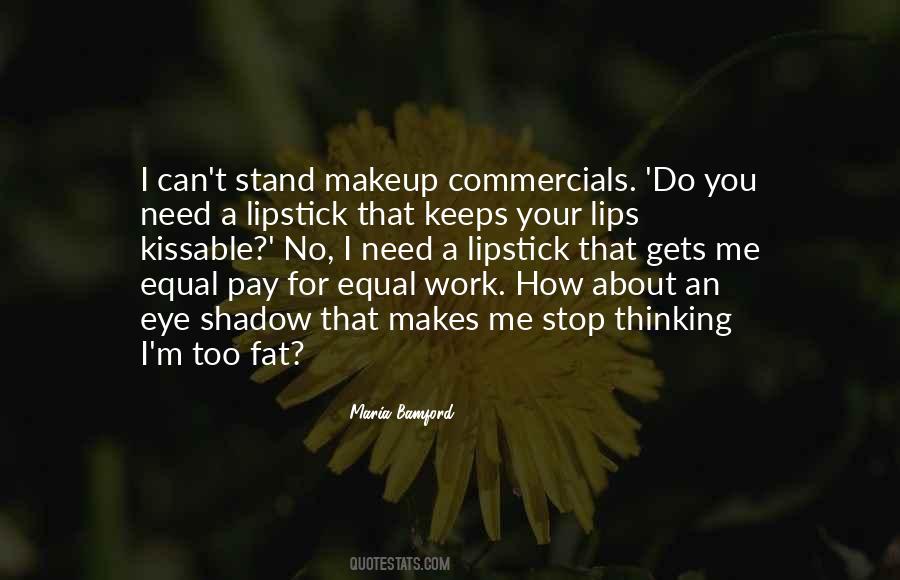 #41. Muggles have garden gnomes, too, you know," Harry told Ron as they crossed the lawn.
"Yeah, I've seen those things they think are gnomes," said Ron, bent double with his head in a peony bush, "like fat little Santa Clauses with fishing rods ... - Author: J.K. Rowling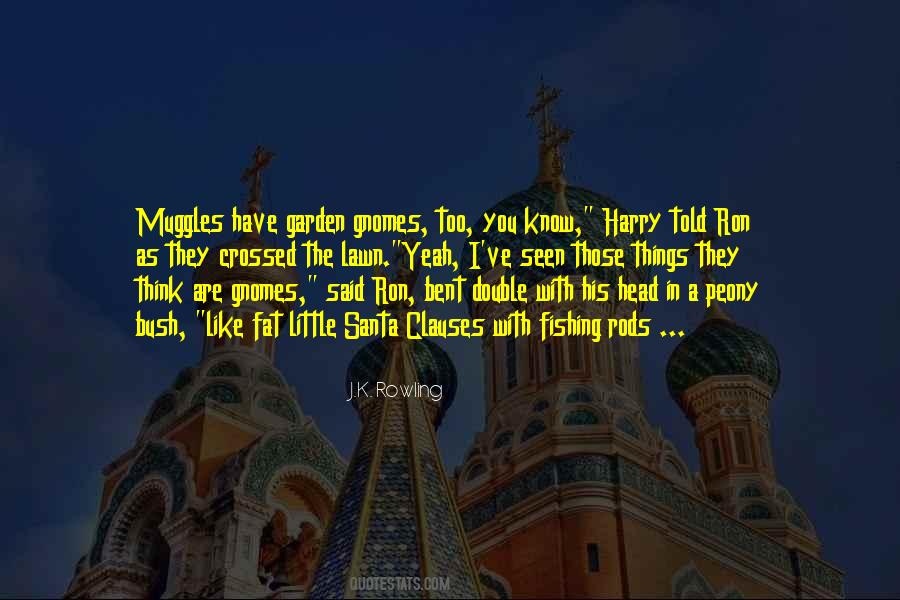 #42. There was something else, too, and I don't know why nobody talks about it. Marriage asks you to let go of a big chunk of who you were before, and that loss must be grieved. A choice for something and someone is a choice against absolutely everything else, and that's one big fat good-bye. - Author: Kristin Kimball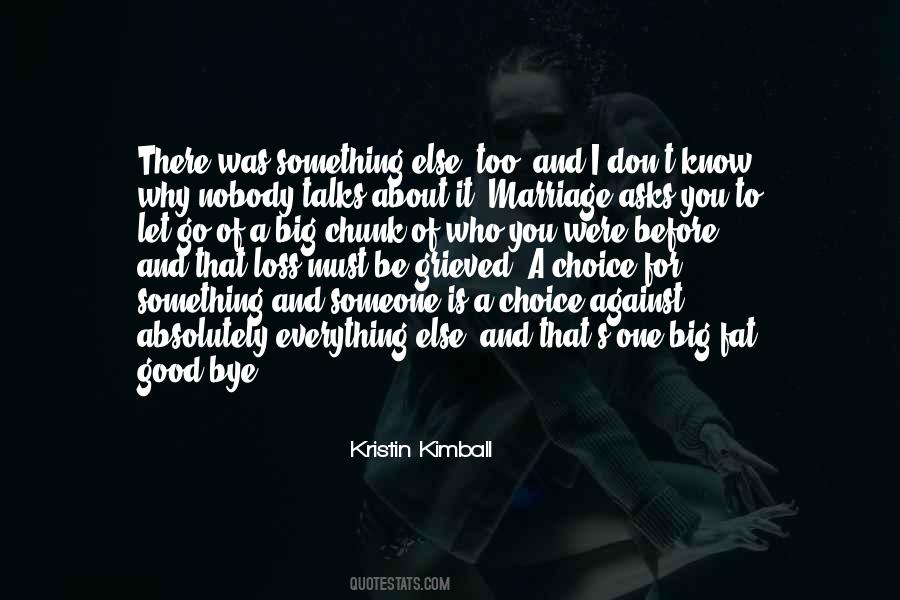 #43. Well, it is. One of her 'pretends' is that she is a princess. She plays it all the time - even in school. She says it makes her learn her lessons better. She wants Ermengarde to be one, too, but Ermengarde says she is too fat. - Author: Frances Hodgson Burnett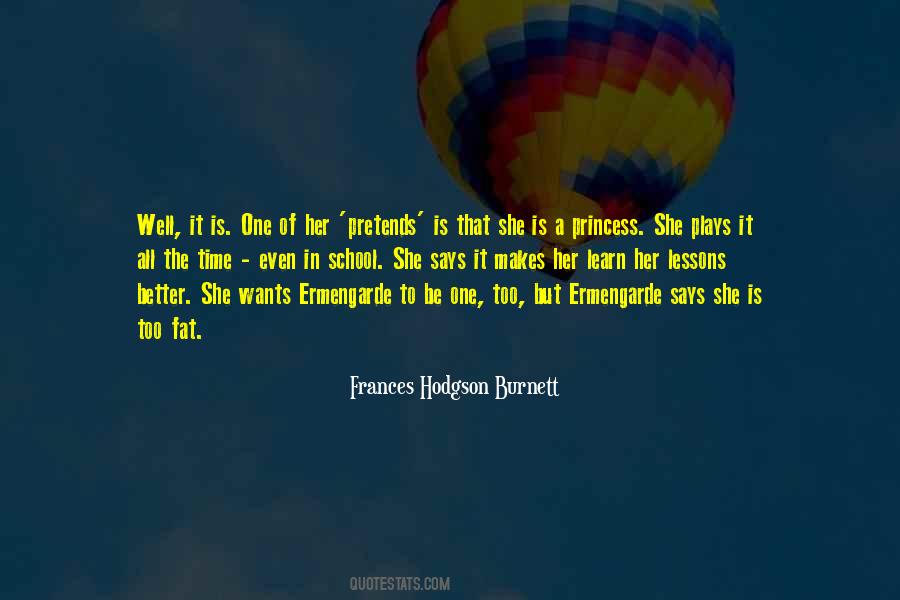 #44. I sometimes get hassled for using the term "fat" but I also use the term "crazy" to describe myself and I'm fine with that because I'm taking those words back. I'm also taking "sexy" back because, frankly, Justin Timberlake has had it too long and he doesn't even need it. - Author: Jenny Lawson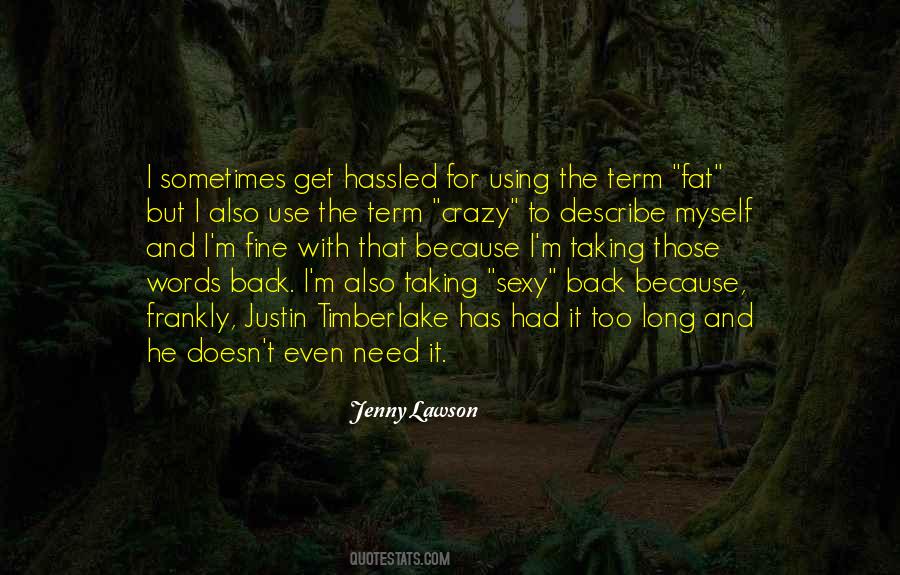 #45. This veridic nose arrives everywhere a quarter of an hour before its master. Ten shoemakers, good round fat ones too, go and sit down to work under it out of the rain. - Author: Cyrano De Bergerac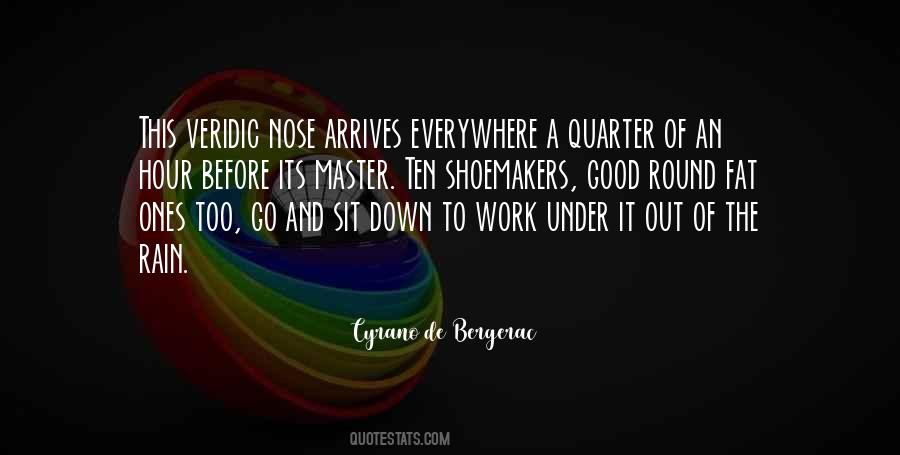 #46. E ate so much that he became too fat to see to eat his vittels. - Author: Anthony Trollope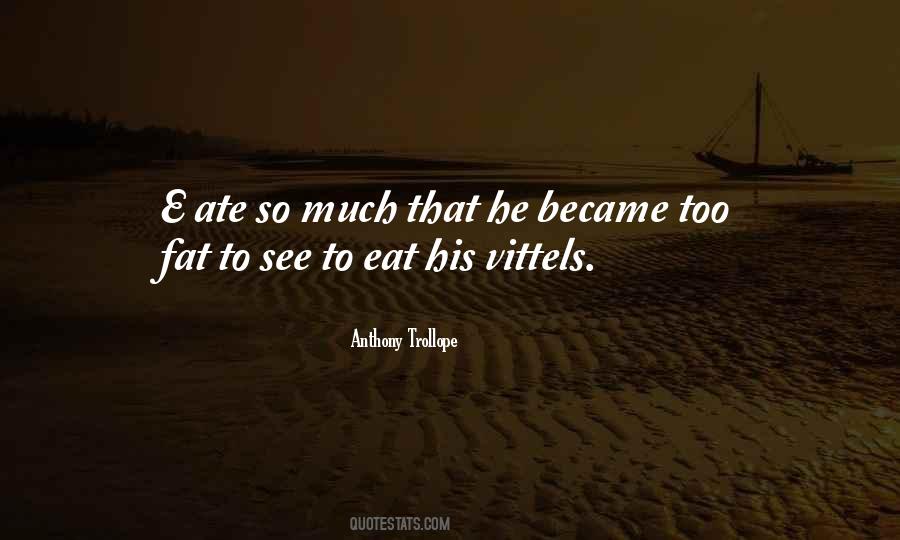 #47. You're either too fat or too thin. You just can't win. - Author: Natalie Imbruglia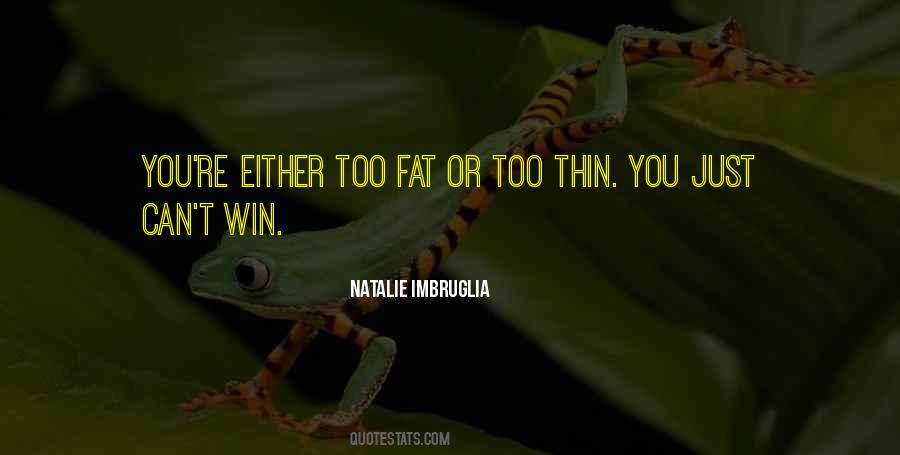 #48. You're too sympathetic, the General said. You didn't see the danger in the major because he was fat and you took pity on him for that. Now the evidence shows that you've been willfully blind to the fact that Sonny is not only a left-wing radical but potentially a communist sleeper agent. - Author: Viet Thanh Nguyen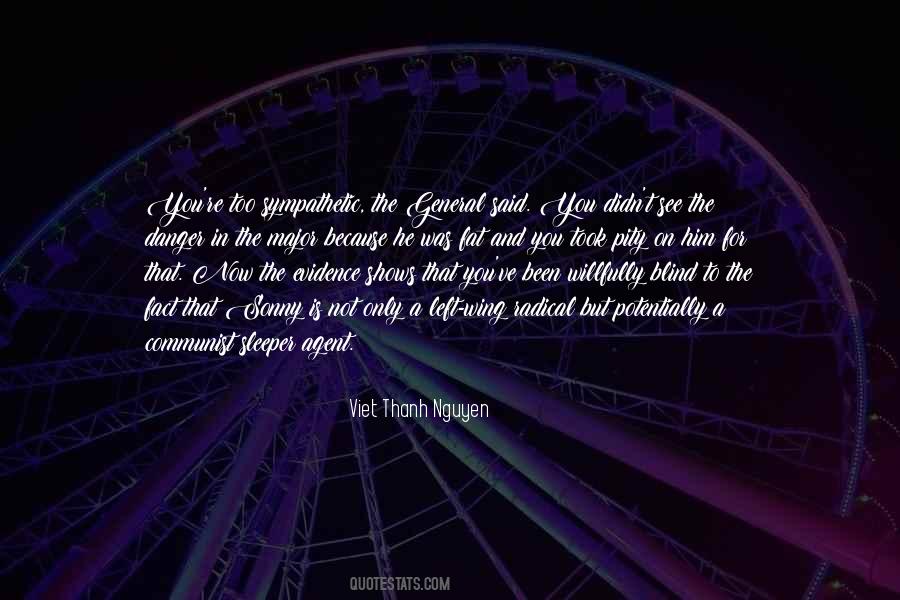 #49. It's too bad we're not all teddy bears. More stuffing would only make us cuter and cuddlier. - Author: Richelle E. Goodrich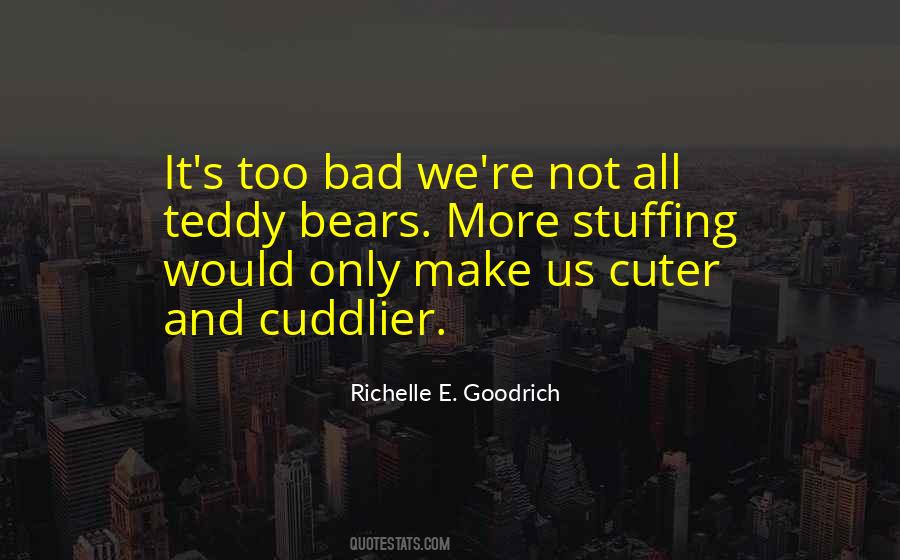 #50. I'm always too fat. And I always look terrible. But I love the theater of the red carpet. - Author: Margaret Cho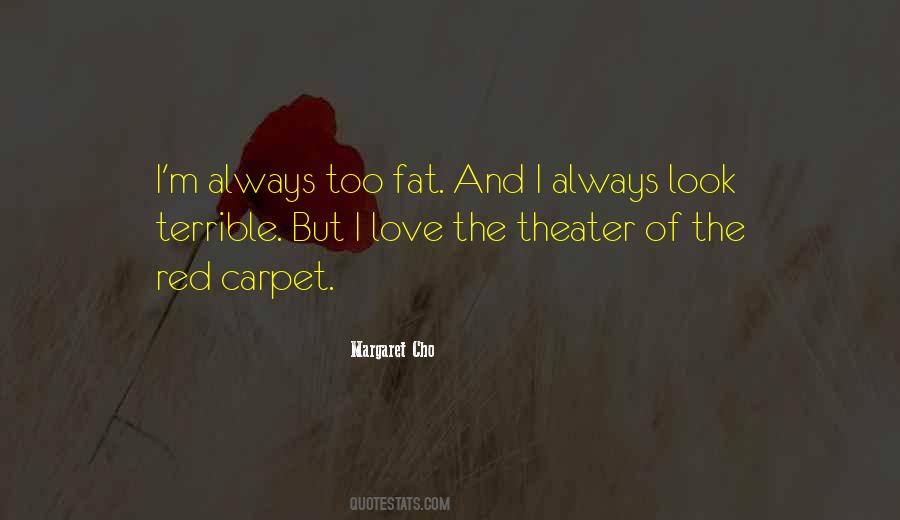 #51. Babies like fat. Like to bury they face up in you armpit and go to sleep. They like big fat legs too. That I know. - Author: Kathryn Stockett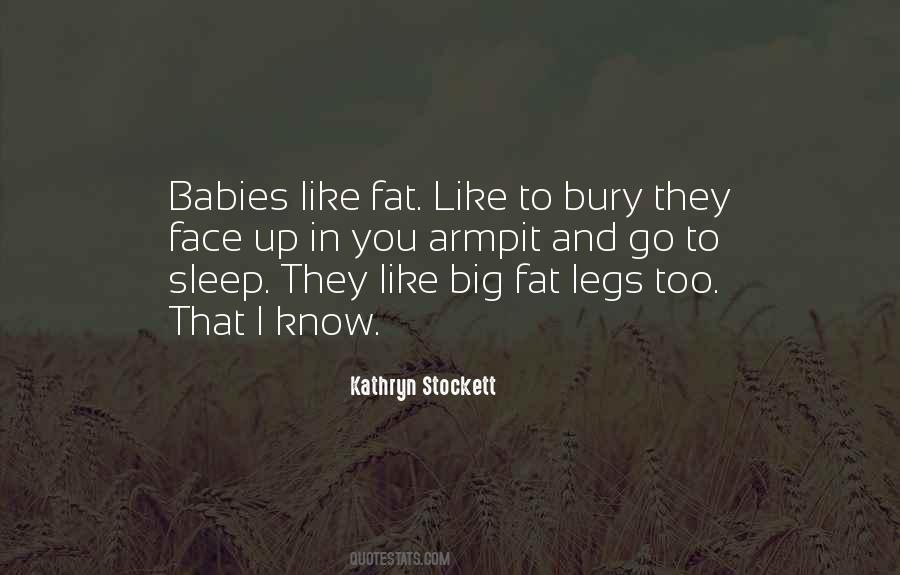 #52. Does your friend ever say anything?' the fat man asked. Aloom set down the piece of bread he had just rolled round several chunks of meat and gave an exasperated sigh.
'I heard him say oops! once, when he cut the ears off someone who was asking too many questions. - Author: John Flanagan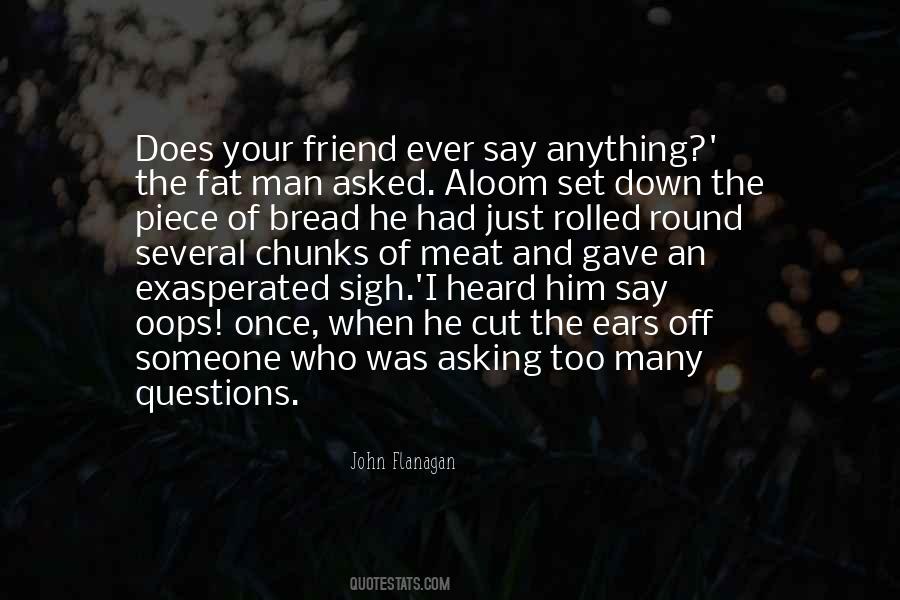 #53. Beer makes all jokes funny. Beer makes ugly and fat women attractive, which is something ugly women can't do for themselves, because they're too busy getting fat. Beer is also refreshing and a good listener. - Author: Dick Masterson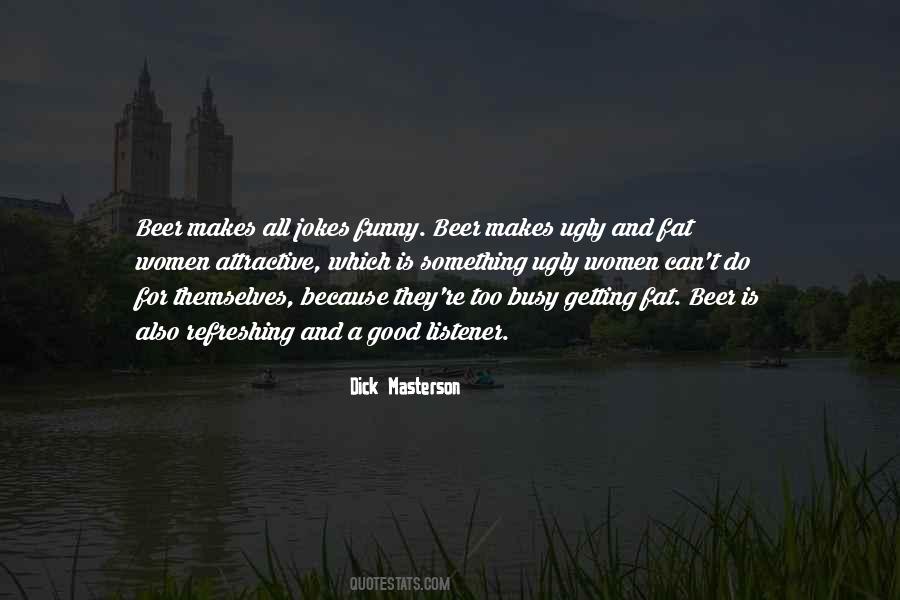 #54. They float, they all float ... and when you're down here with me, fat boy, you'll float too. - Author: Stephen King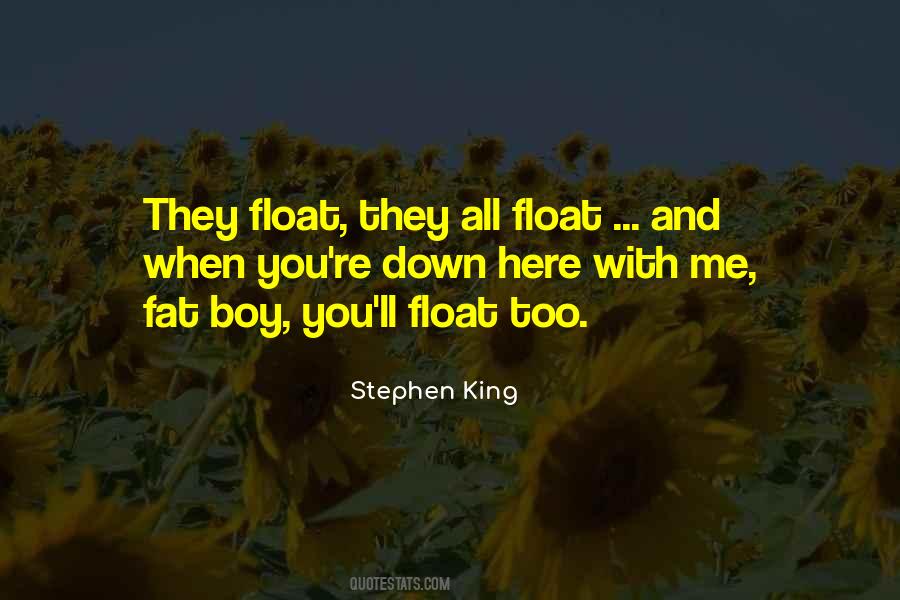 #55. The Greatest Generation gets too much credit. Those World War II guys, if they had all the shit we have today, they'd be assholes too. It's just circumstantial. It's what you're called on to do that makes you great. We haven't been called on to do anything but buy shit and get fat. - Author: Louis C.K.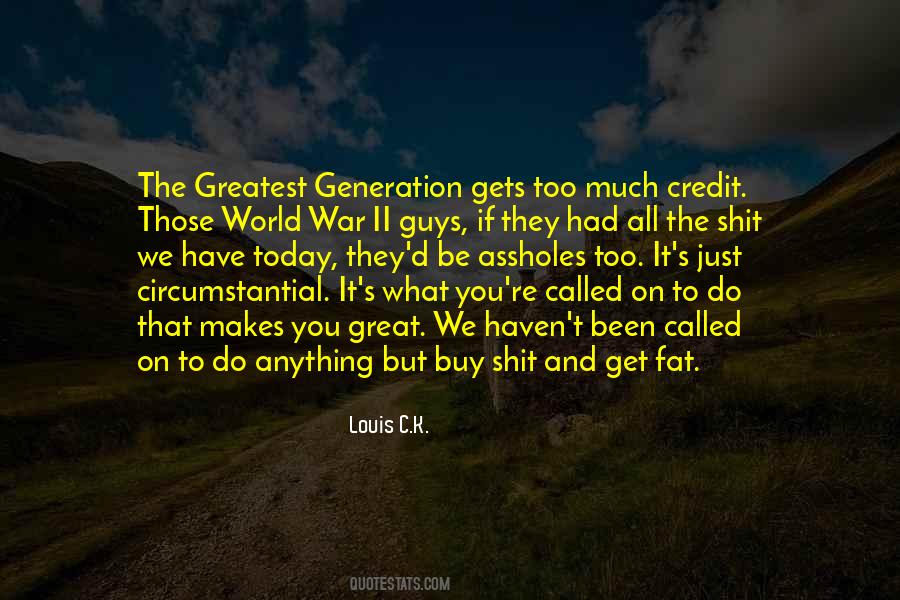 #56. On cheap tippers:"Don't take it personally; they were deprived somehow as children.
On low-fat entrees: "They sell well enough, but nobody's too happy after the meal. - Author: Joan Bauer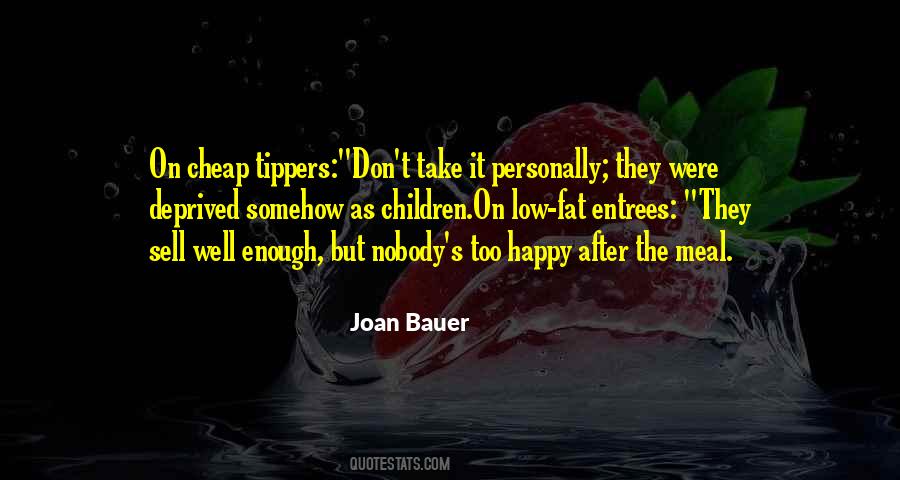 #57. She wanted to have him hold her and tell her all the demons were pretend, that there was no monster in her closet, that everything would be okay. But that was a lie. The demon was in her head, telling her she was too fat. She had to get the demon out. But she couldn't do it by herself. - Author: Jackie Morse Kessler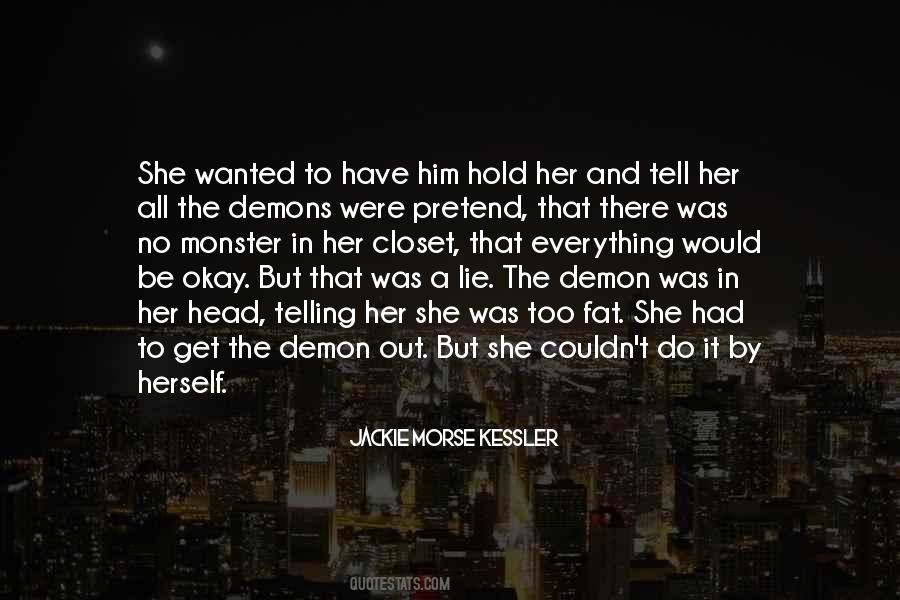 #58. And if your daughter came to you, crying with hunger, would you tell her no? Would you tell her she is too fat, she wants too much, she must shrink into society? No.
Then why would you tell yourself the exact same thing? You are somebody's daughter. - Author: Michelle K.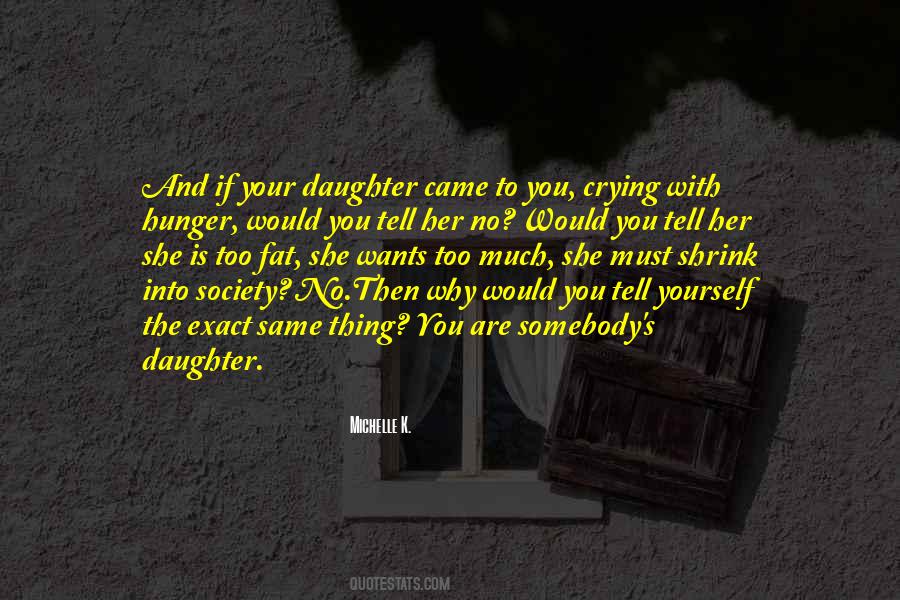 #59. I was one in a million. I wasn't bright enough to realize the circus fat lady is, too - Author: Stephen King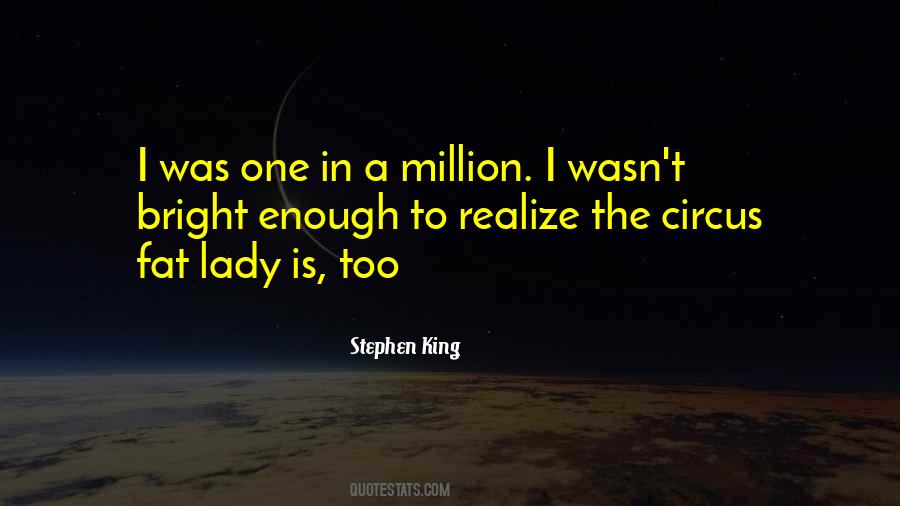 #60. When well executed, description is unobtrusive and lends substance to a novel. It is the body fat of prose: too much is unhealthy, but without any, you no longer have the thing - you have its skeleton. - Author: Howard Mittelmark
#61. Who would have thought that the girl who was forced to go to the hospital because she's so skinny would one day be called too fat? - Author: Tyra Banks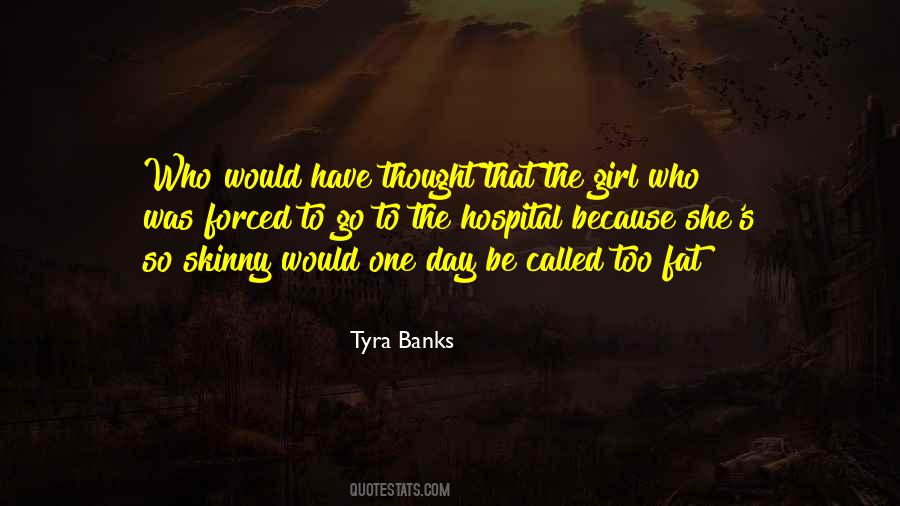 #62. You're not too fat; you're just in the wrong country. - Author: Erica Jong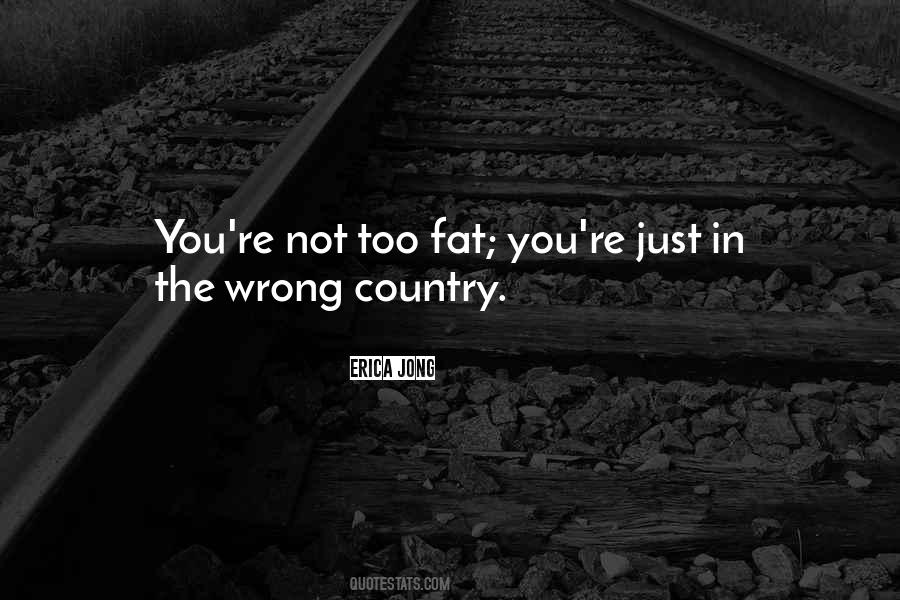 #63. I turned my head to find Claire glaring at us from across the room. She hated me, and it ran deep and ugly inside of her. She was a problem I needed to fix before I got too fat to do so. - Author: Amelia Hutchins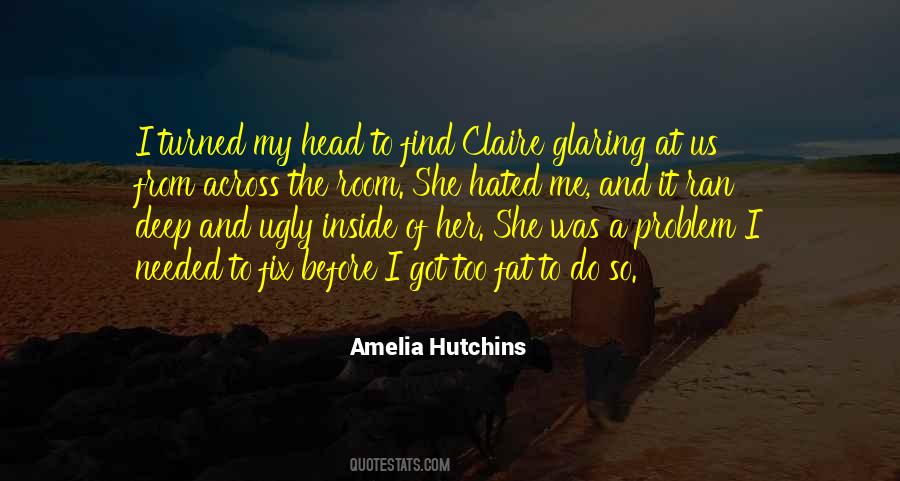 #64. You can't be fat and fast, too; so lift, run, diet and work. - Author: Hank Stram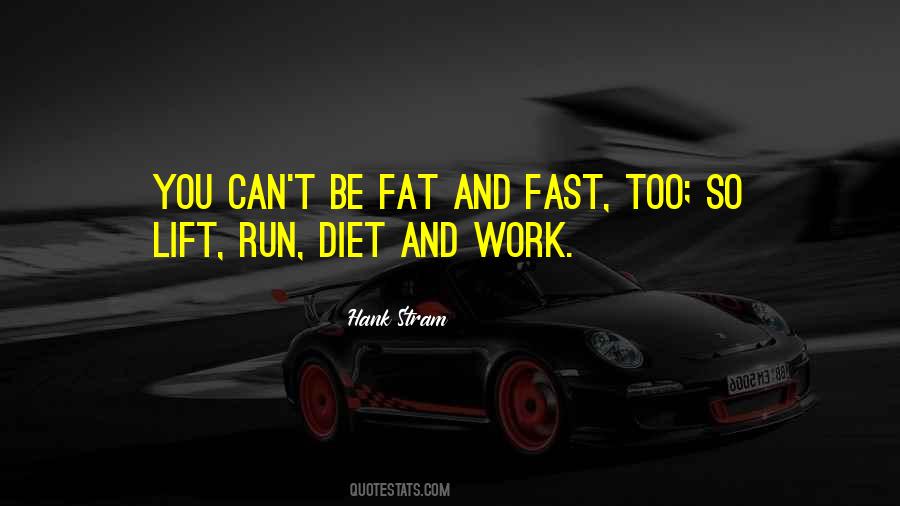 #65. It's definitely part of my job description not to be too fat. - Author: Elizabeth Hurley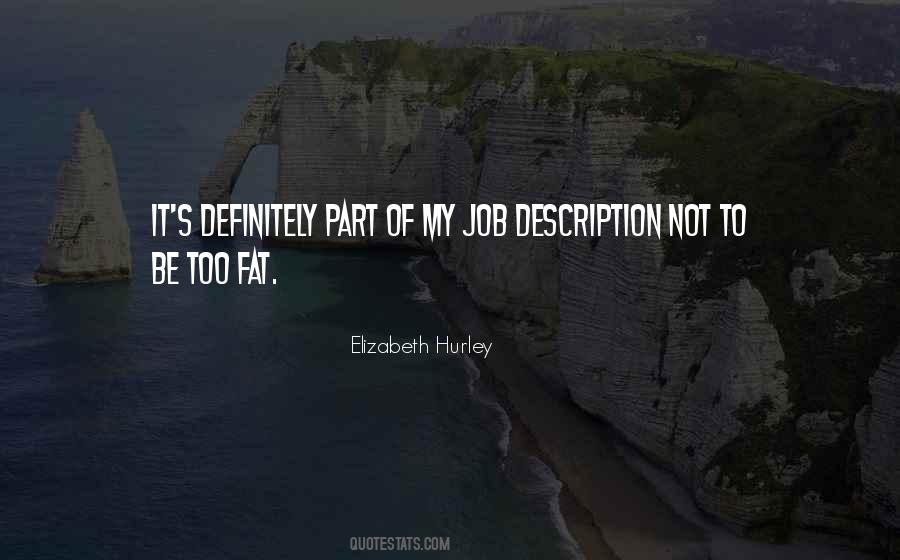 #66. There are too many steps in this castle, and it seems to me they add a few every night, just to vex me
- Maester Cressen - Author: George R R Martin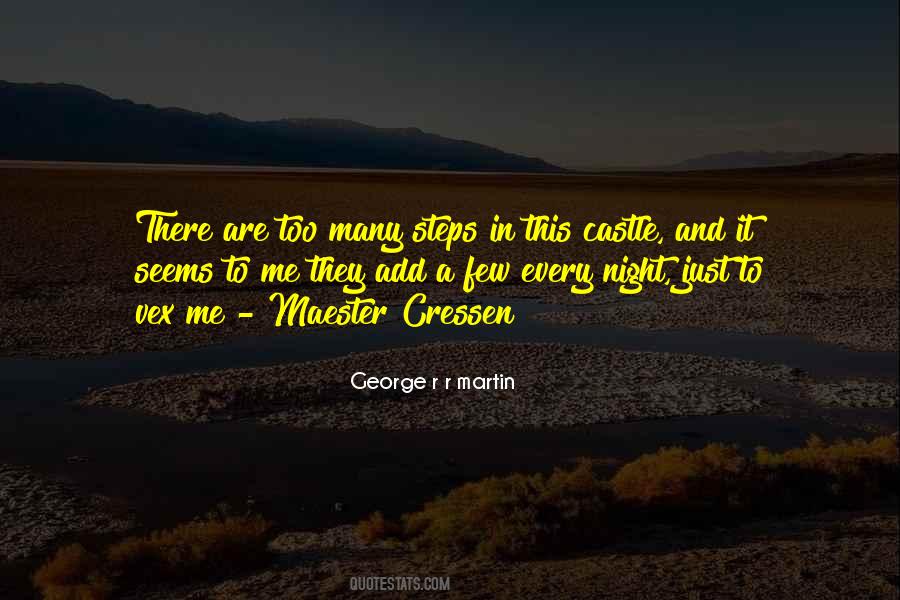 #67. I have felt some twinges recently, about parts I wanted to play that I may be getting too old and fat to do. 'Hamlet,' for example - maybe that's gone. I would love to play Richard II. - Author: Matthew Macfadyen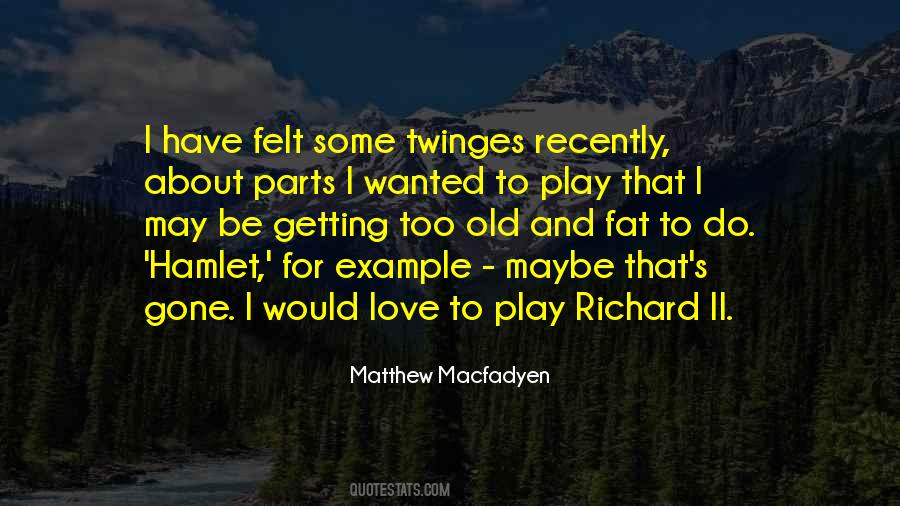 #68. There is a constant amount of weight in the world. If one person loses weight, another must gain it. If somebody dies, an appropriate number of babies are born. Do not stand too close to a person who is losing weight. That fat is just looming, looking for a person to inhabit. - Author: Robin M. Helm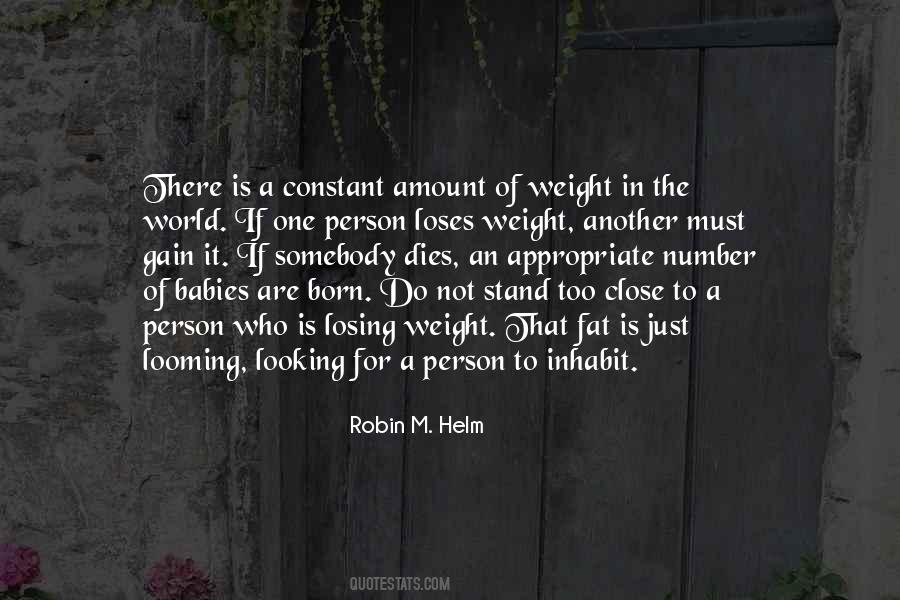 #69. I don't concern myself too much about calories and fat. - Author: Hannah Marks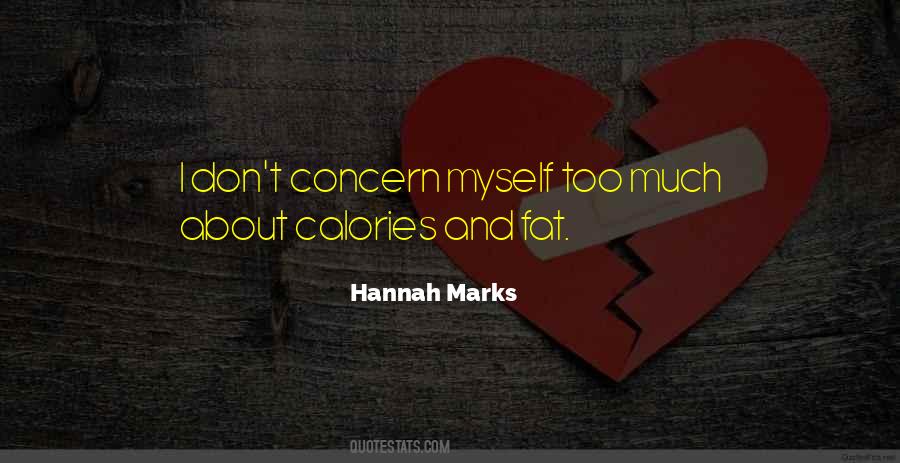 #70. When women are stressed, they either eat too much and get fat, or they eat not so much and get thin, and the latter is what happens to me. - Author: Shirley Eaton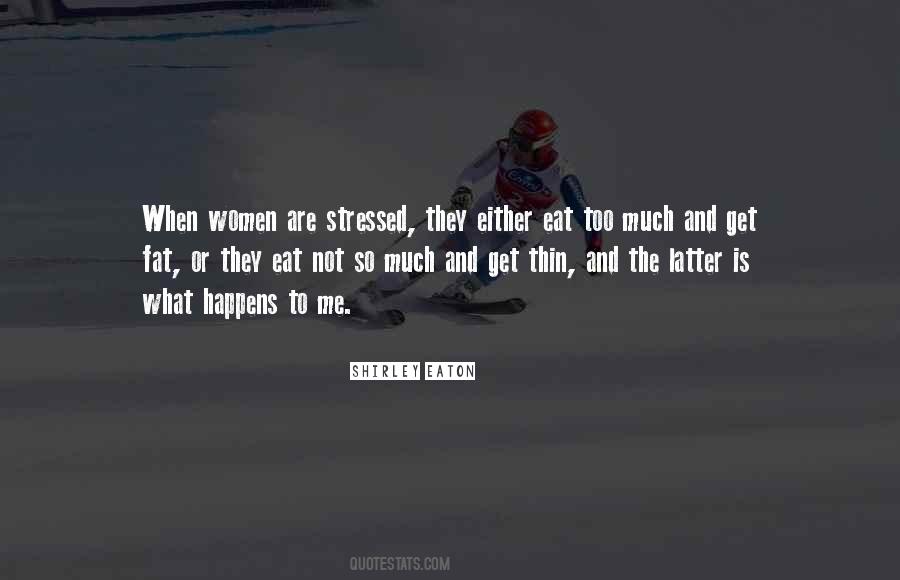 #71. Diabetics are commonly obese because excess carbohydrates get stored as fat, not because they eat too much fat. - Author: Ankit Pandey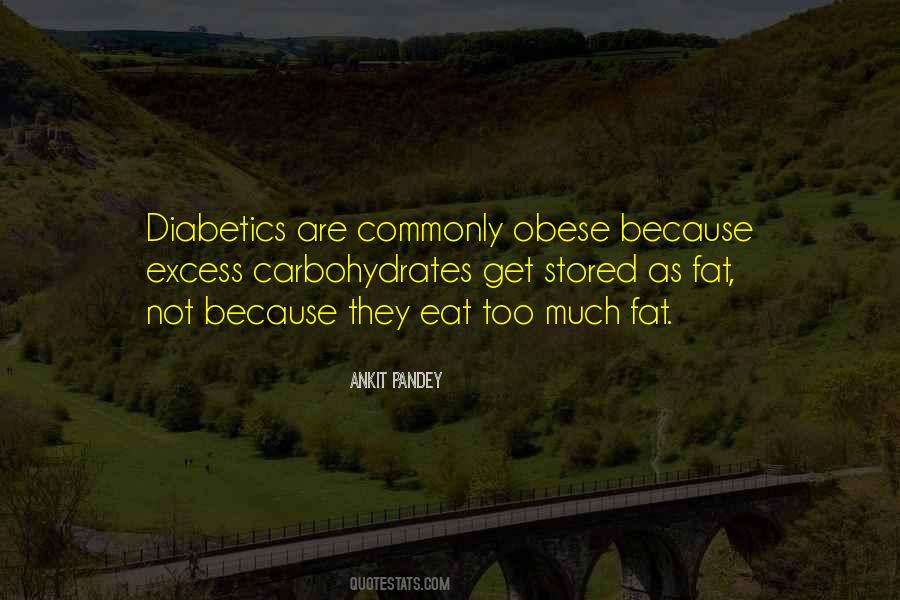 #72. She's dead. So is your fat pansy. You can be dead, too, if you want. - Author: Richard Stark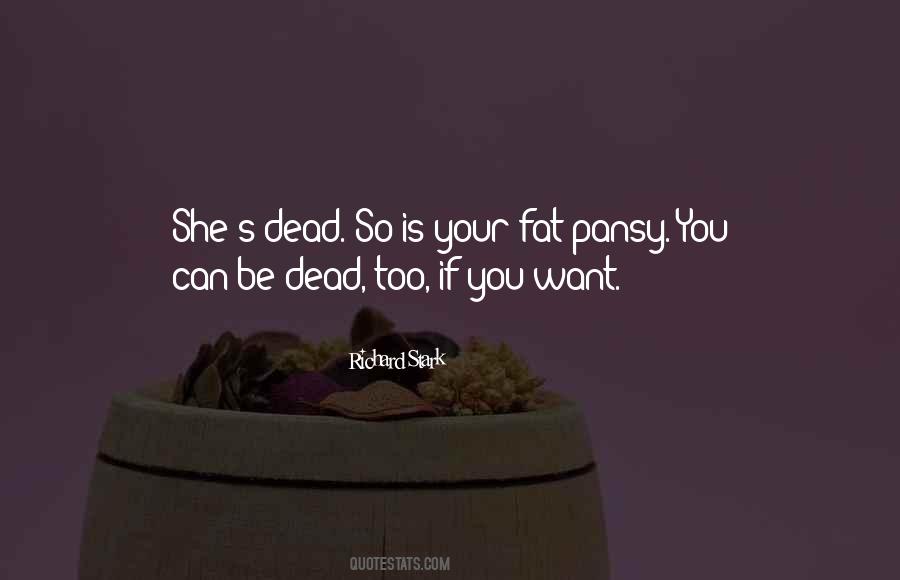 #73. I do not think you are in any danger of starving," Maximus said. "The surgeon said only two weeks ago that you are too fat."
"The devil!" Berkley said indignantly, sitting up; and Maximus snorted in amusement at having provoked him. - Author: Naomi Novik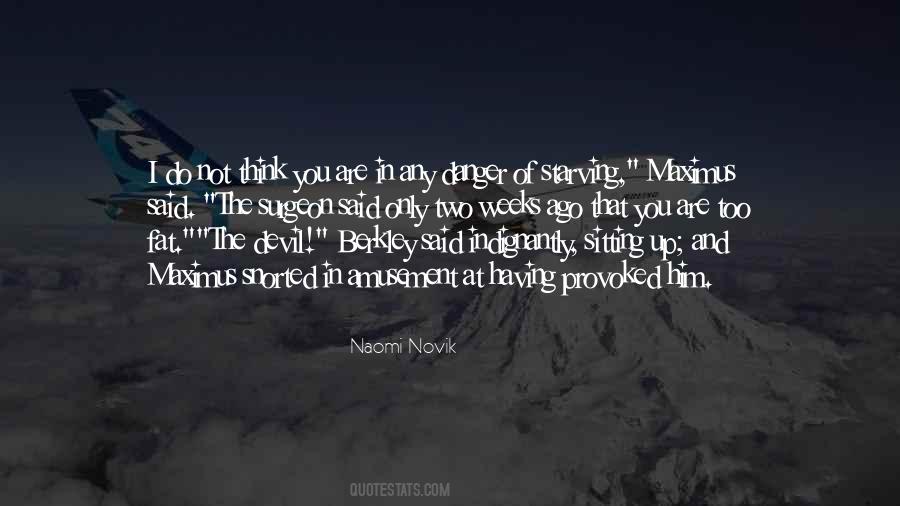 #74. Most of us are either too think to enjoy eating, or too fat to enjoy walking. - Author: E.W. Howe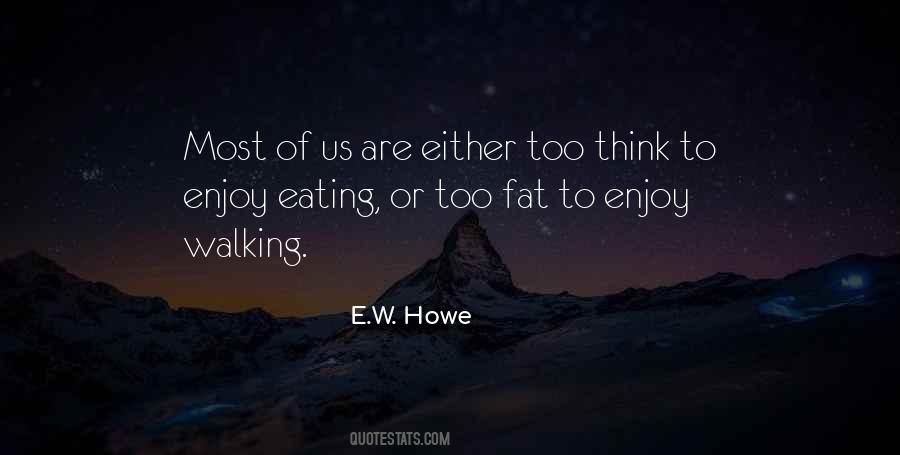 #75. No one ever complained about a fat brain. No one ever accused their brain of being too short or too tall, too wide or too narrow. Or ugly. It either worked or it didn't, and mine worked just fine. - Author: Lissa Price
#76. I don't exercise. I'm skinny-fat. I worry about being too skinny. - Author: Kristen Stewart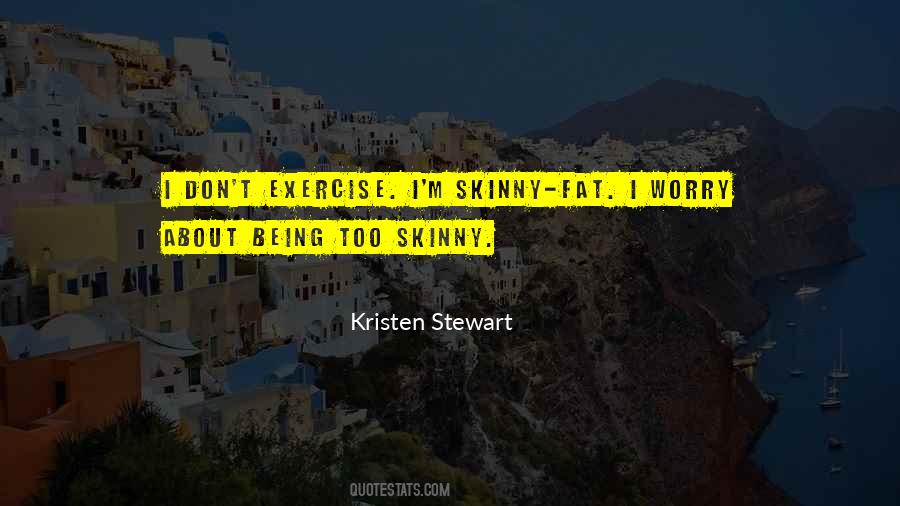 #77. Let me have men about me that are fat ... Yond Cassius has a lean and hungry look. He thinks too much: such men are dangerous. - Author: William Shakespeare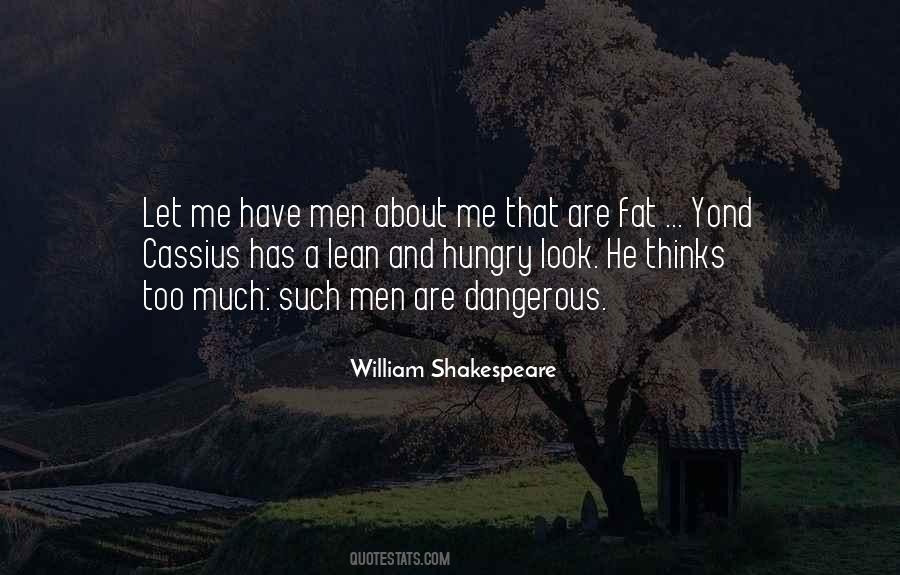 #78. I notice if I'm too fat or if I'm too ugly or there's skin hanging or whatever. When my clothes start not fitting, I get really self-conscious about what I eat. - Author: Marina Abramovic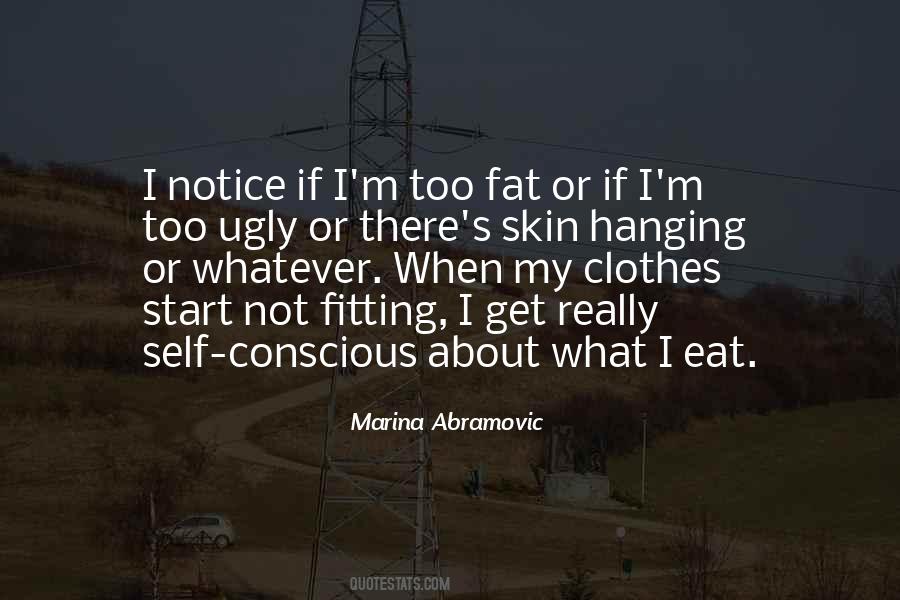 #79. The FDA is now warning people not to eat raw cookie dough this holiday season. Is that how fat we're getting in this country? Our ovens are too slow now? - Author: Jay Leno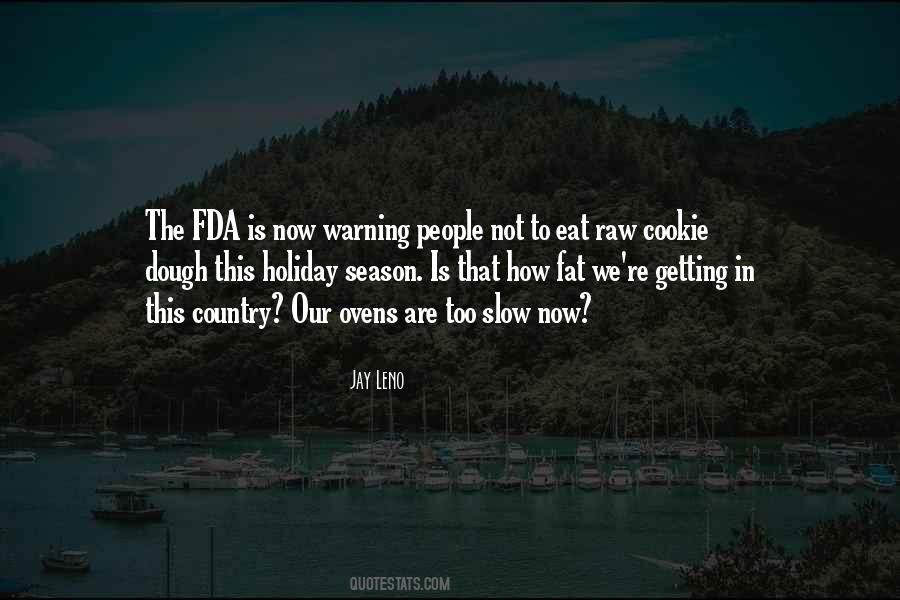 #80. I like fat girls. A woman can never be too poor or too fat. I'd take a poor fat girl over a rich thin girl like Kate Moss. - Author: Sebastian Horsley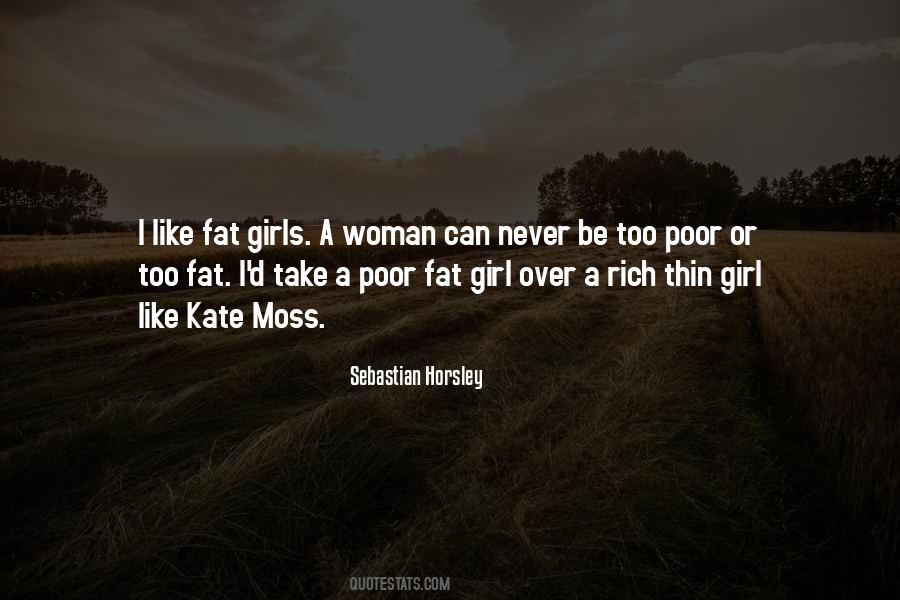 #81. Like all girls, when I was growing up, I always worried about this bit of me being too fat or that bit. But I look back at pictures of me when I was young, and I was thin and gorgeous. - Author: Jennifer Saunders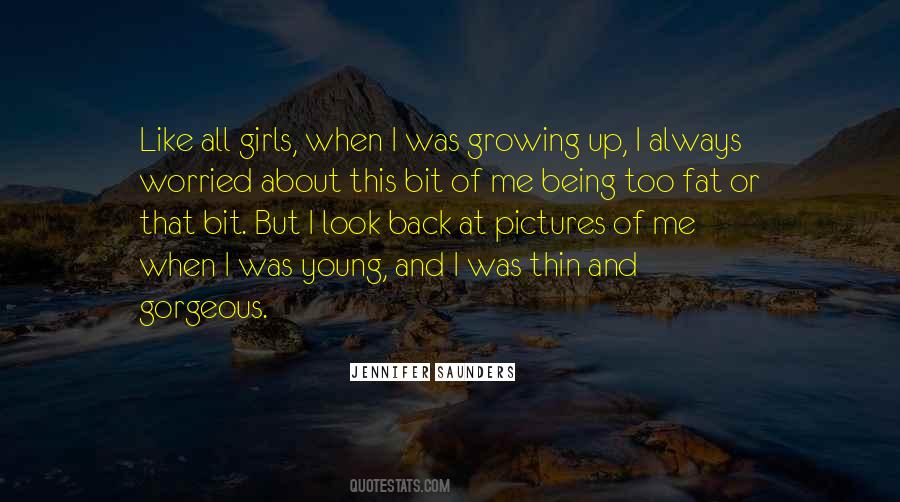 #82. We make her bear and raise our children
And then we leave her flat for being a fat old mother hen
We tell her, home is the only place she should be
Then we complain that she's too
unworldly to be our friend - Author: John Lennon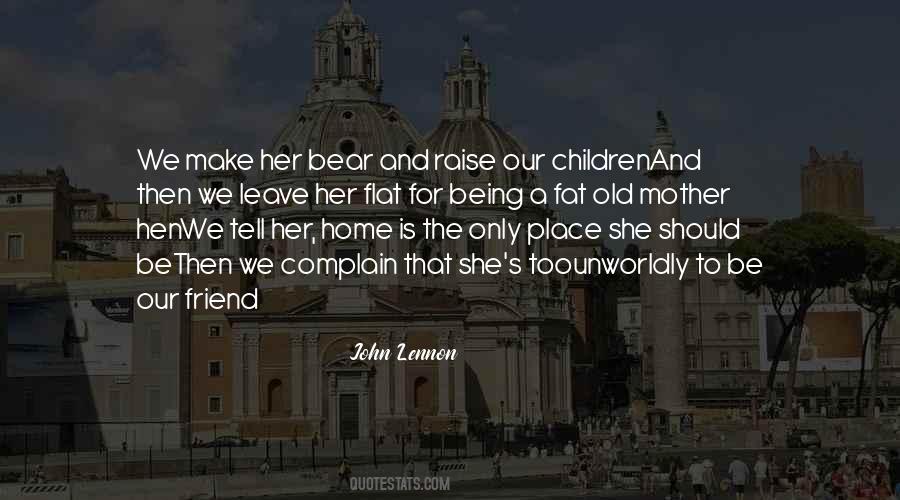 #83. As Lily Cavenaugh says in The Talisman (and it was Peter Straub's line, not mine), "You can never be too thin or too rich." And if you don't believe it, you were never really fat or really poor. - Author: Stephen King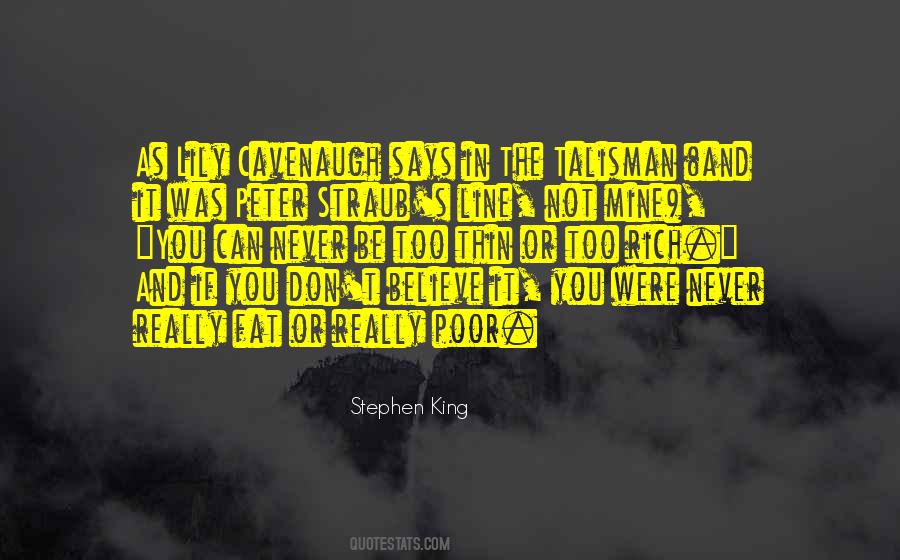 #84. The blues are because you're getting fat or maybe it's been raining too long. You're sad, that's all. But the mean reds are horrible. You're afraid and you sweat like hell, but you don't know what you're afraid of. Except something bad is going to happen, only you don't know what it is. - Author: Truman Capote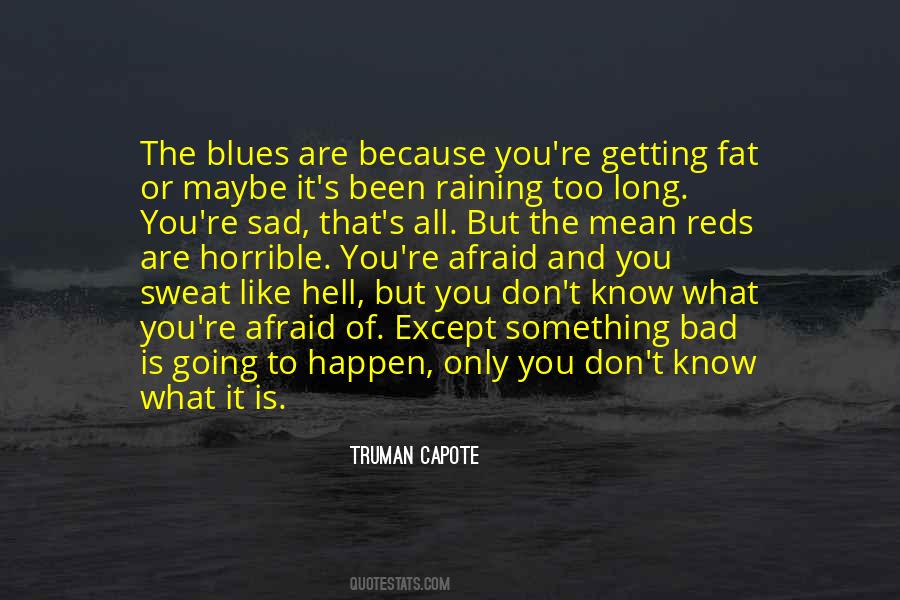 #85. That's crazy. Are Witches the one who help the big fat man get down the chimney too?"
"You know it, girl. - Author: Brandy Nacole
#86. It wasn't exactly that Lula was fat. It was more that she was too short for her weight. - Stephanie Plum - Author: Janet Evanovich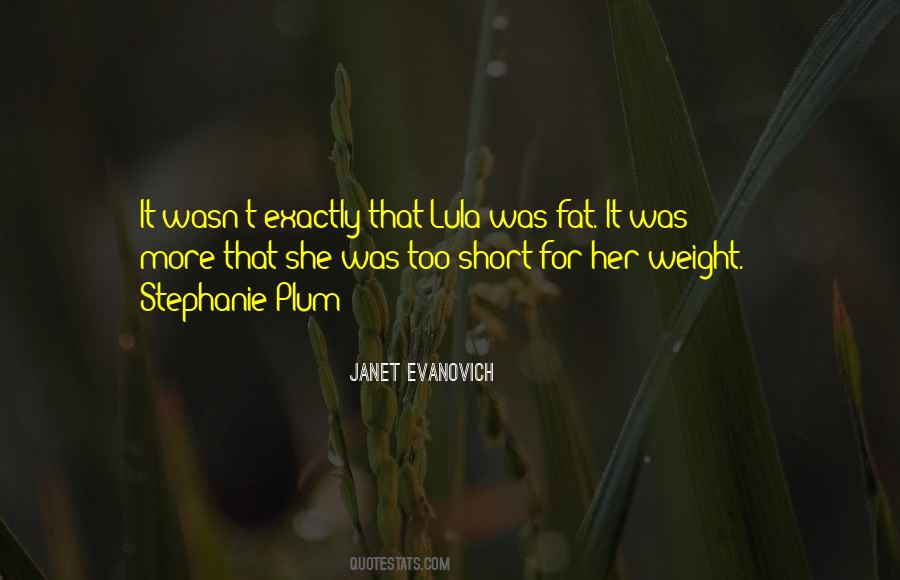 #87. In the soil too fat and happy, the praying mantises too pious and too plentiful, - Author: Laura Ruby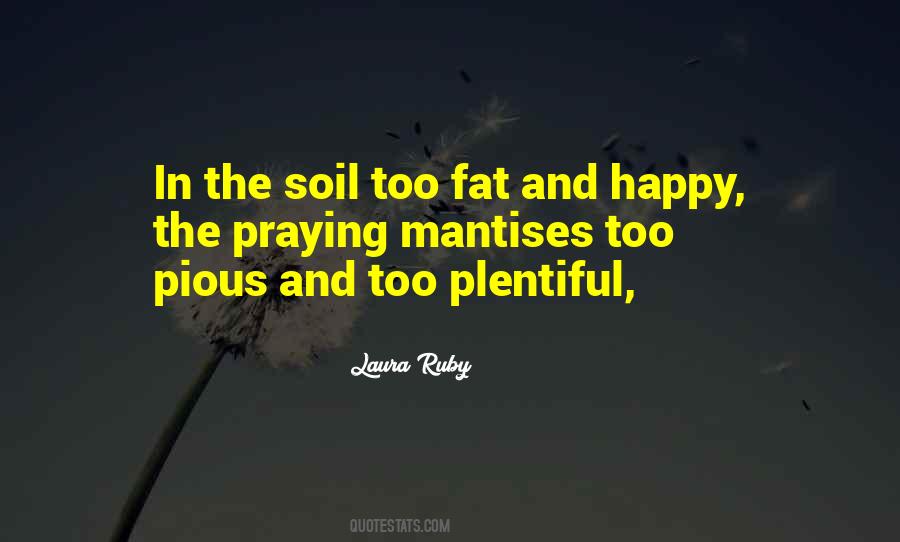 #88. You know, either I'm too fat or I'm flavour of the month. I don't feel either, but maybe I'm both, who knows? - Author: Beth Ditto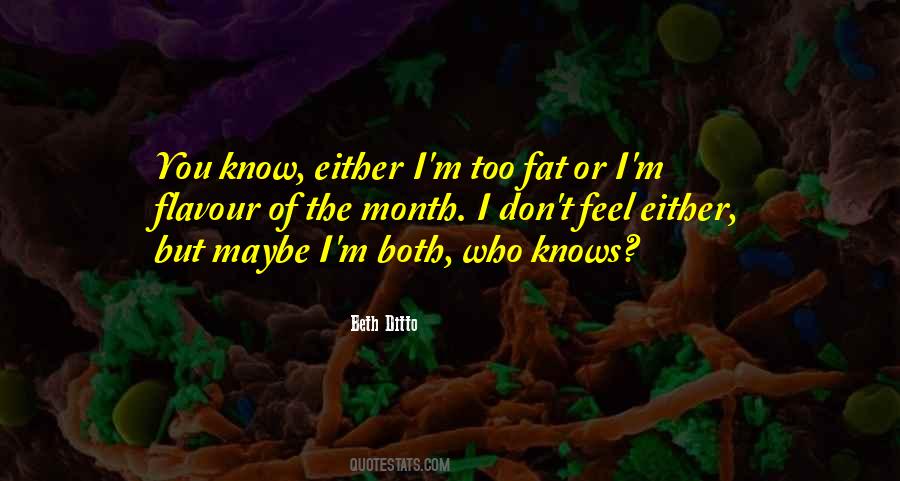 #89. Years ago when a man began to notice that if he stood up on the subway he was immediately replaced by two people, he figured he was getting too fat. - Author: Jean Kerr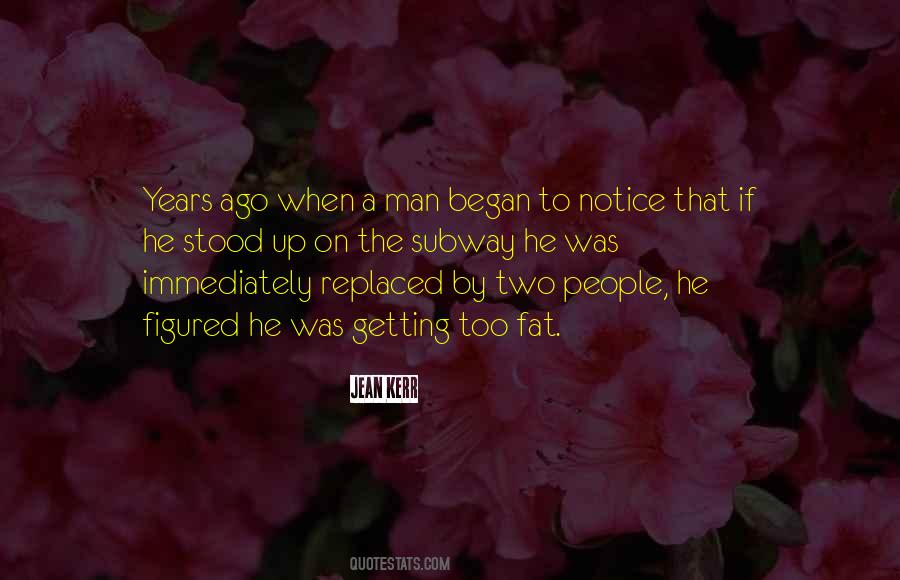 #90. An anatomy lab is as choosy as a pedigreed woman seeking love: You can't be too fat or too tall or have any communicable diseases. - Author: Mary Roach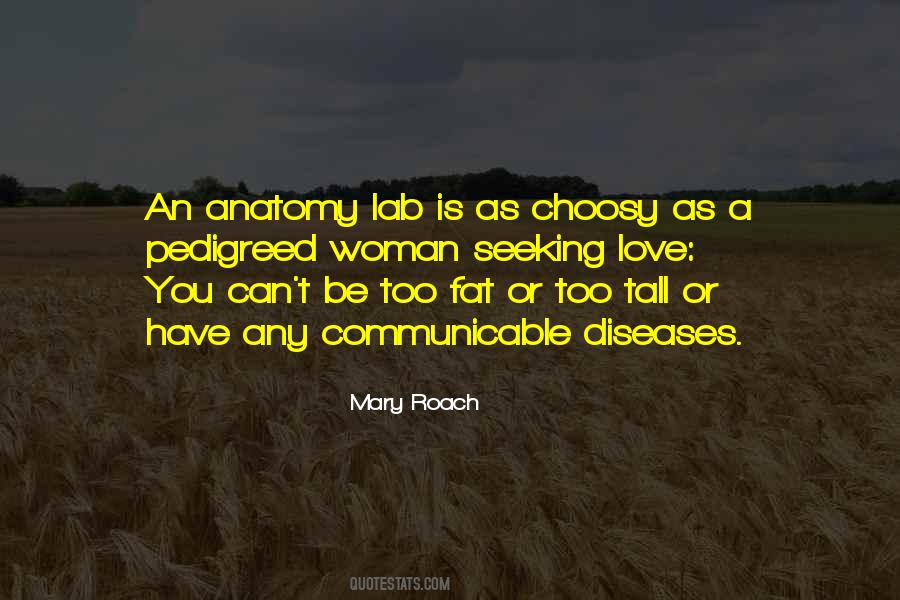 #91. He is fat and pink. On the United Elevator Co. advertisements, they airbrush away the pocks in his cheeks, the red slivers in his nose. In person he is too flesh, a handful of raw meat. Dogs have been known to follow him, optimistic. - Author: Colson Whitehead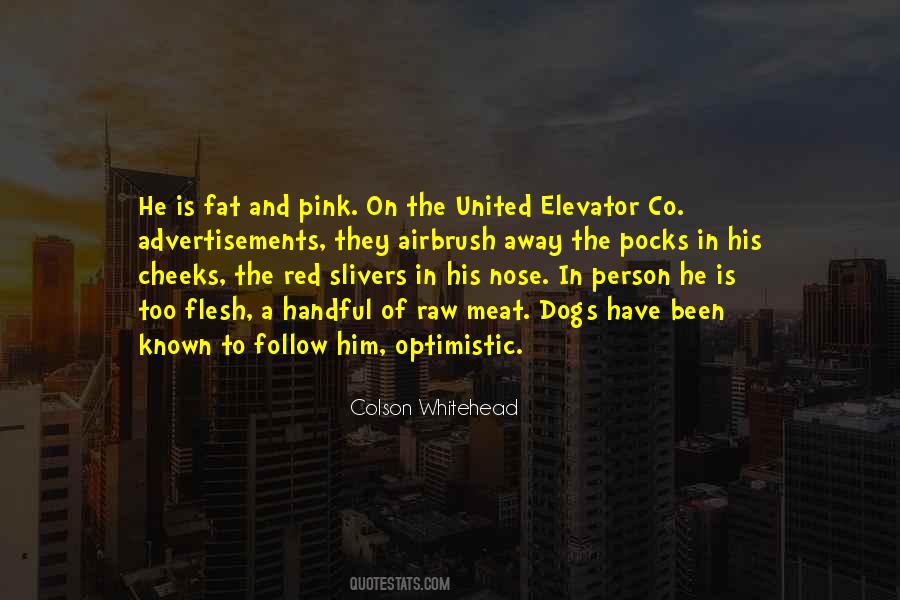 #92. I don't like muscles too much. Flexibility and a relaxed look are more important. - Author: Chow Yun-Fat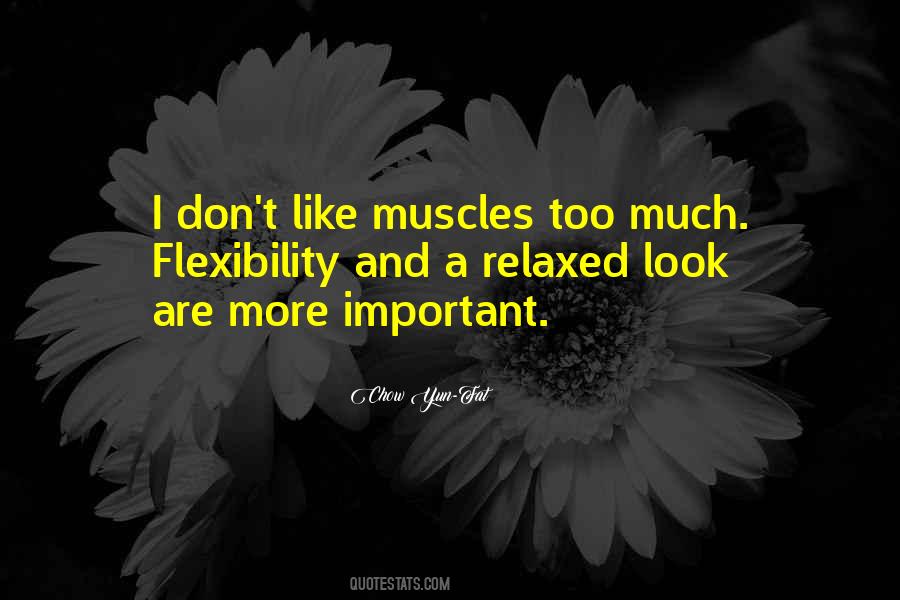 #93. Faces swirled about him, a kaleidoscope of girls, ugly, ugly as sin- too fat, too lean, yet floating upon this autumn air as upon their own warm passionate breaths poured out into the night. Here, for all their vulgarity, he thought, they were faintly and subtly mysterious. - Author: F Scott Fitzgerald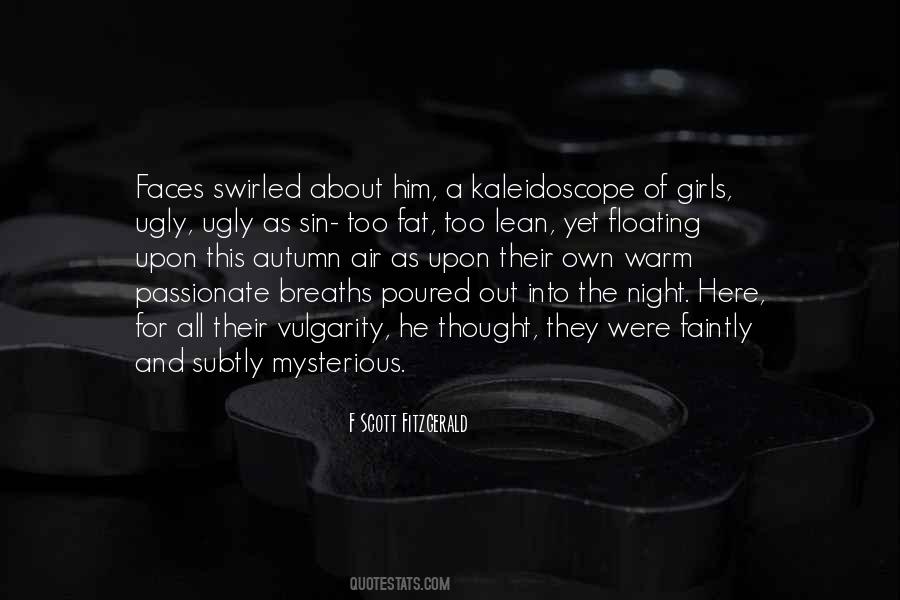 #94. The shrill voices of those who give orders
Are full of fear like the squeakings of
Piglets awaiting the butcher's knife, as their fat arses
Sweat with anxiety in their office chairs ...
Fear rules not only those who are ruled, but
The rulers too. - Author: Bertolt Brecht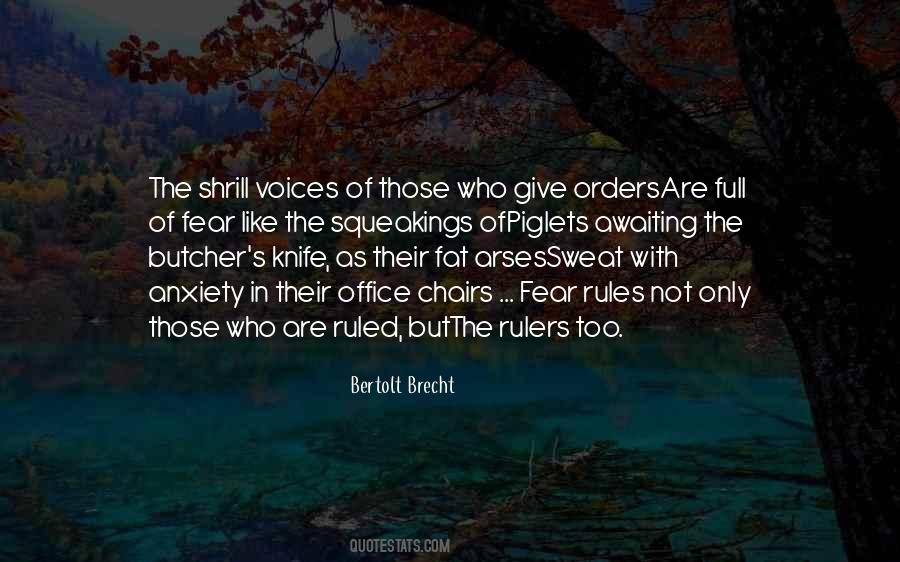 #95. When I was 16 years old, my brother Frank said, 'You'd better become a catcher, because you're too big and fat to do anything else.' Well, I took his advice. It was a quick way to get to the big leagues, and I've never regretted it. - Author: Joe Torre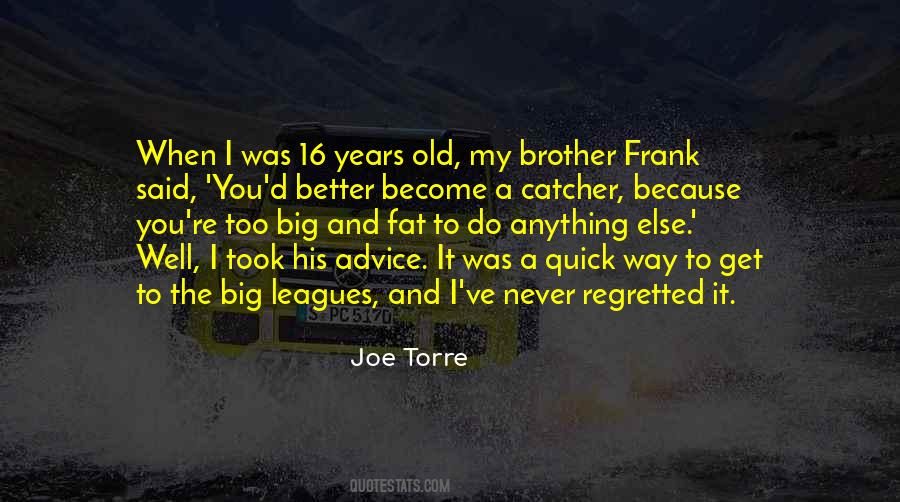 #96. Seventy-five percent of women think they are too fat, despite being in what is considered to be a healthy weight range. - Author: Rachel Oakes-Ash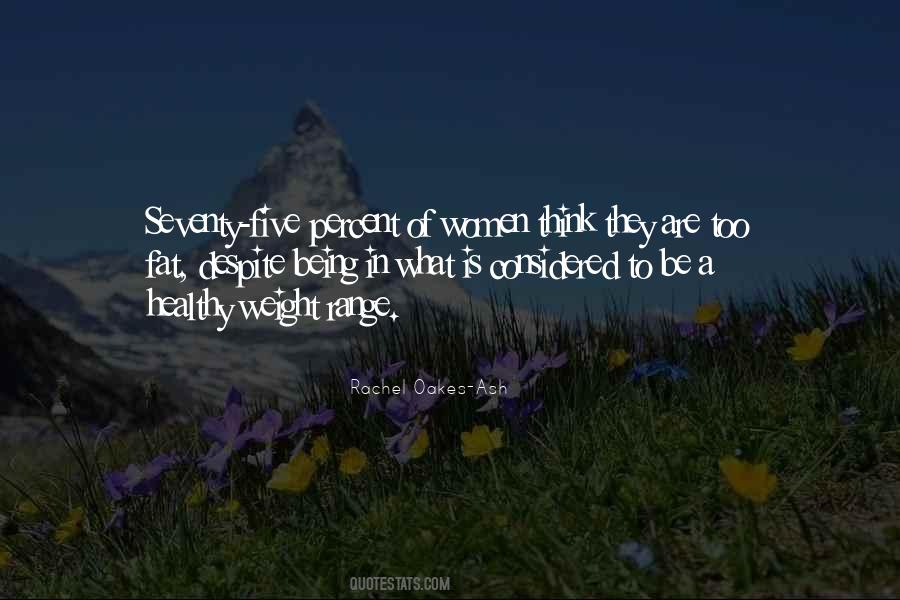 #97. I love food too much - not because I'm fat but because it's so consumptionistic, etc. - Author: Rachel Zucker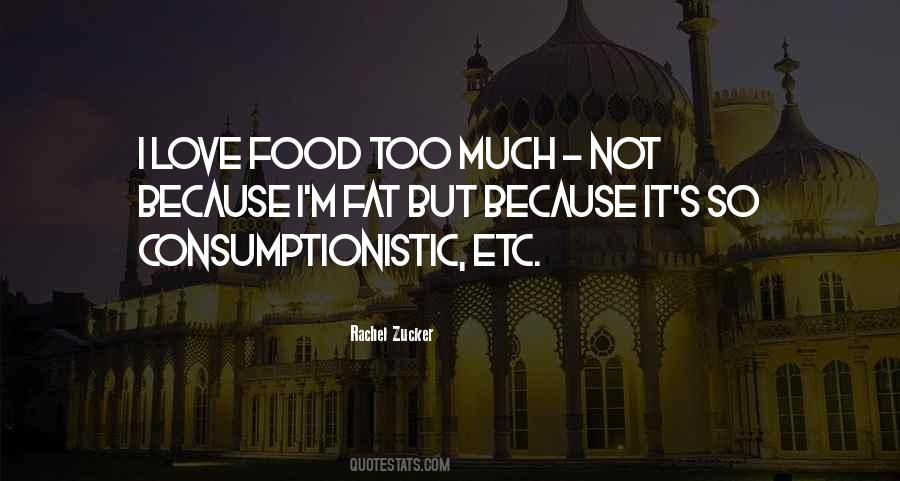 #98. When I began as a model, everybody tried to remold me: I was too fat, too little, they tried to re-shape my teeth - I am very proud that I have stayed as I was. - Author: Laetitia Casta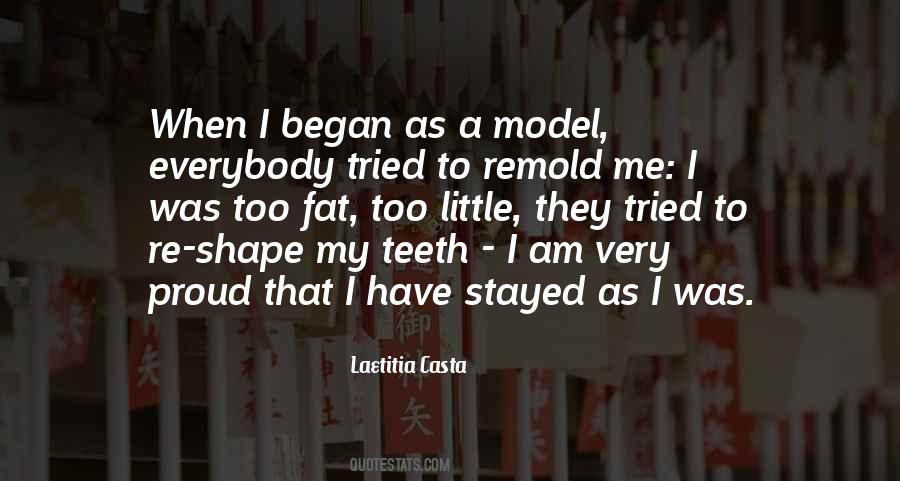 #99. A conservative is a man who is too cowardly to fight and too fat to run. - Author: Elbert Hubbard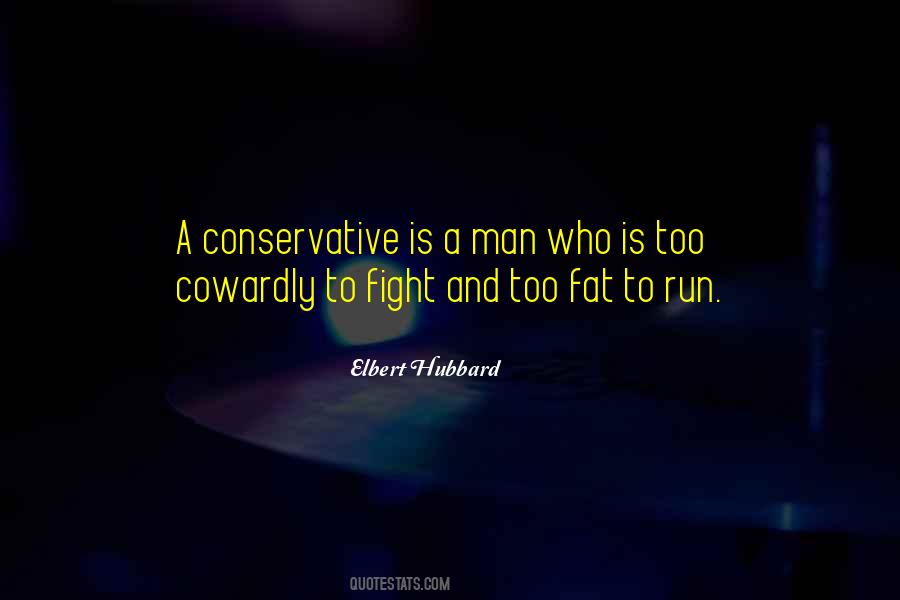 #100. People who have to fight for their living and are not afraid to die for it are higher persons than those who, stationed high, are too fat to dare to die. - Author: Laozi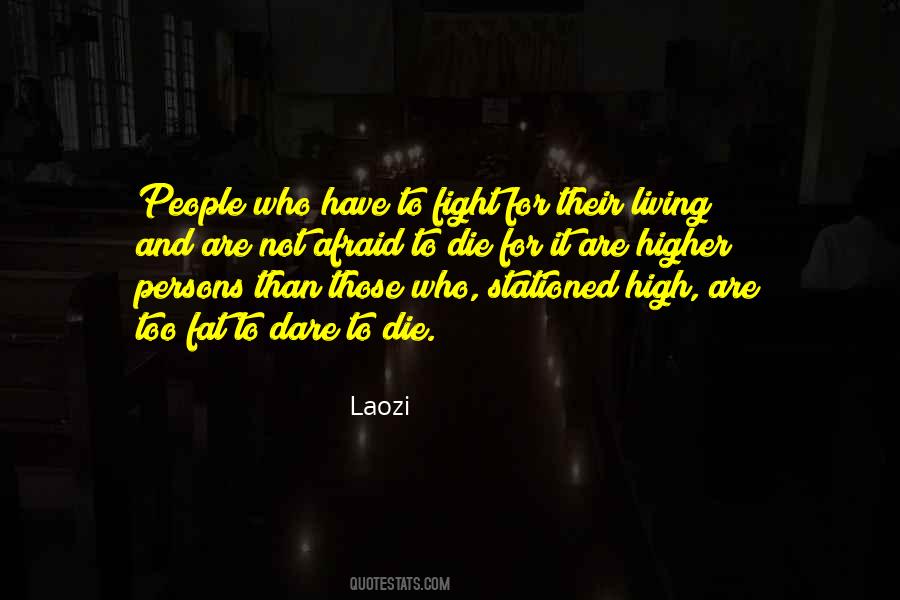 Famous Authors
Popular Topics