List of top 100 famous quotes and sayings about that was awesome to read and share with friends on your Facebook, Twitter, blogs.
Top 100 That Was Awesome Quotes
#1. In a broadcast society, there were these gatekeepers, the editors, and they controlled the flows of information. Along came the Internet and it swept them out of the way, and it allowed all of us to connect together, and it was awesome. But that's not actually what's happening right now.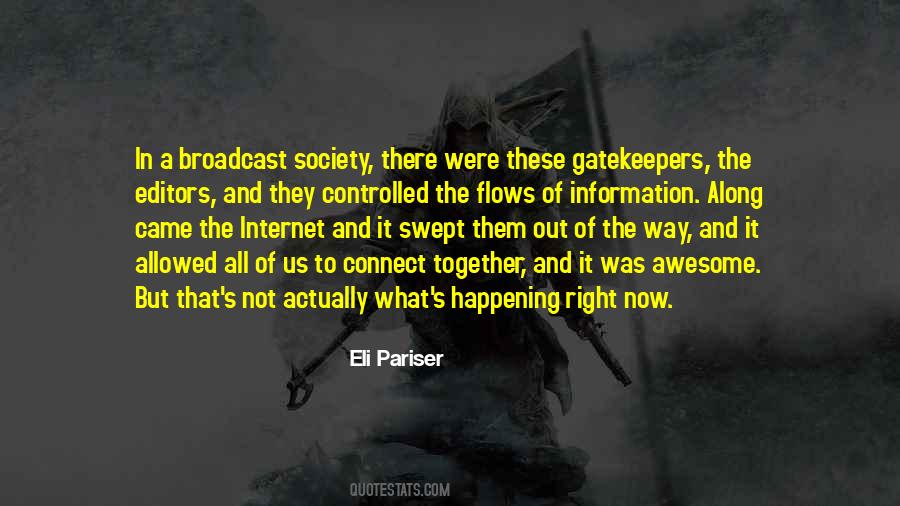 #2. When I was going on auditions, it was nerve-racking. I'd always say to my mom that it would be awesome if I could get a series. When Modern Family came along, I said, 'You know what, Mom? I believe I'm going to get this role.'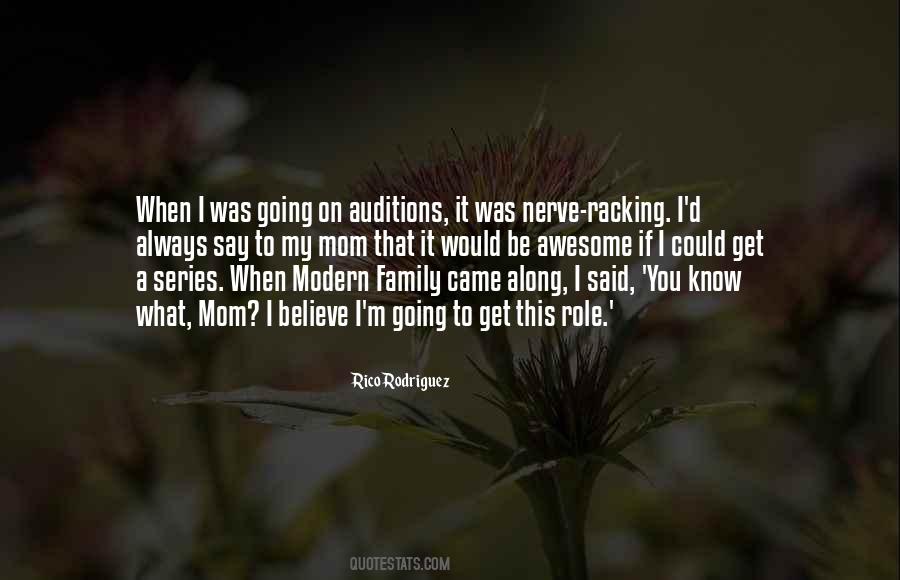 #3. I'm talking about doing something good for mankind. Imagine how awesome everyone would feel if they knew all that holy stuff was real." -Gregori
"Stuff? Four years of giving sermons, and that what I get back? Holy stuff?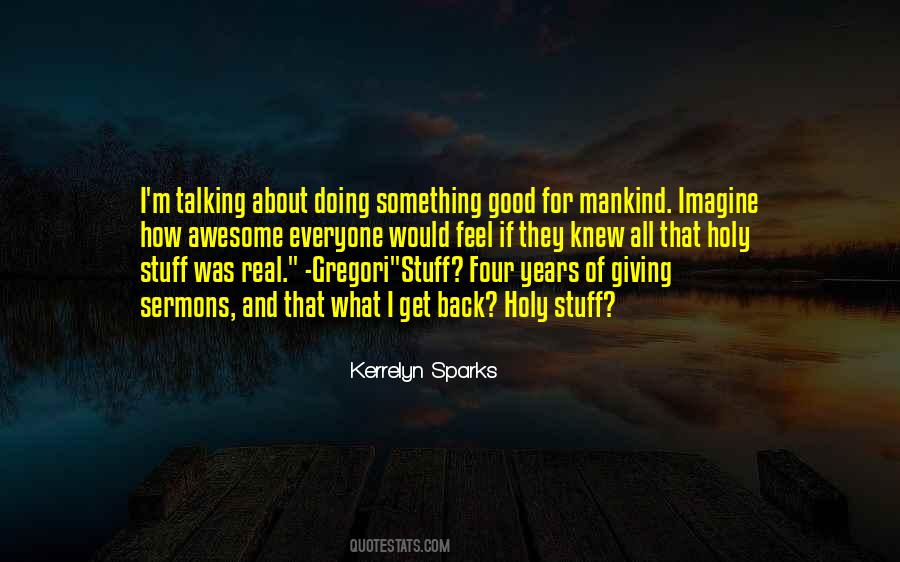 #4. I'm sorry about the dinner."
"Best date ever. Well, until people died and vampires showed up. But before that it was awesome.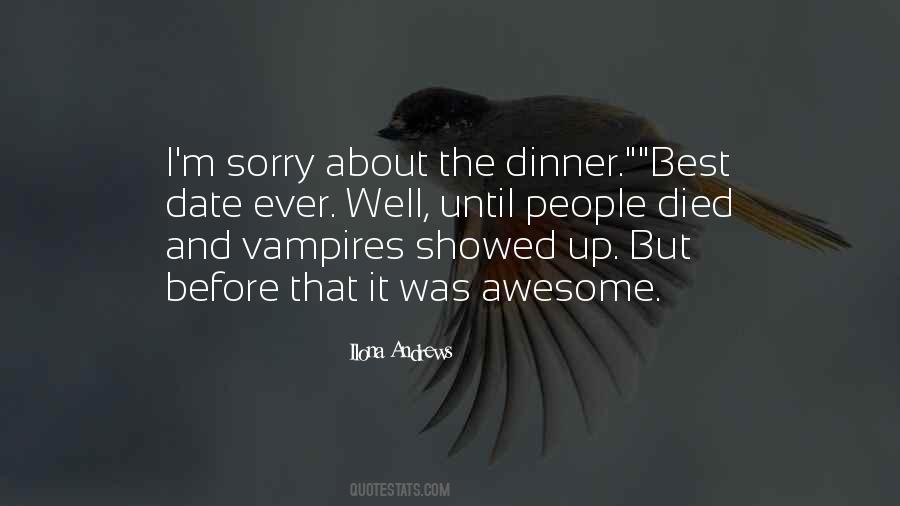 #5. Eventual, as Pug used to say. When he wanted to say something was really good, he's never say it was awesome, like most people do; he'd say it was eventual. How funny is that? The old Pugmeister. I wonder how he's doing.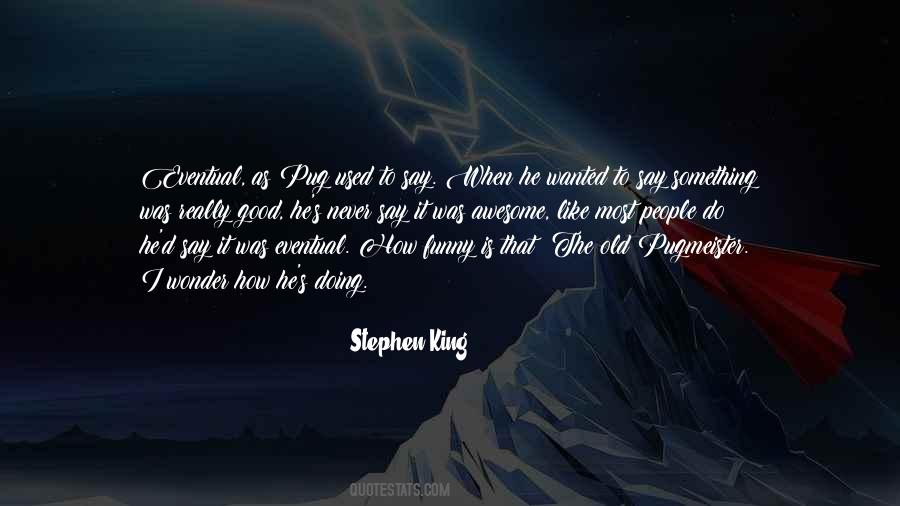 #6. I just wanted to be good at this. And competent. And tough. And, ultimately, just: anybody but me. I was tired of being a disaster. I was tired of being a trampled-on flower. I wanted to be awesome. That wasn't too much, was it?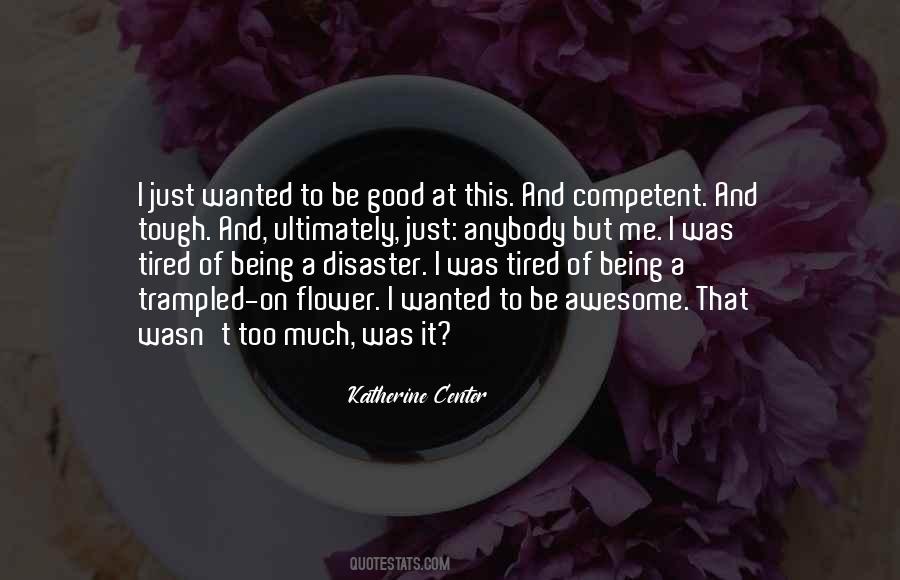 #7. I love 'Safe Men.' Now it's getting all this culty kind of - it just came out on DVD. That was awesome. I read that script, I never laughed so hard in my life.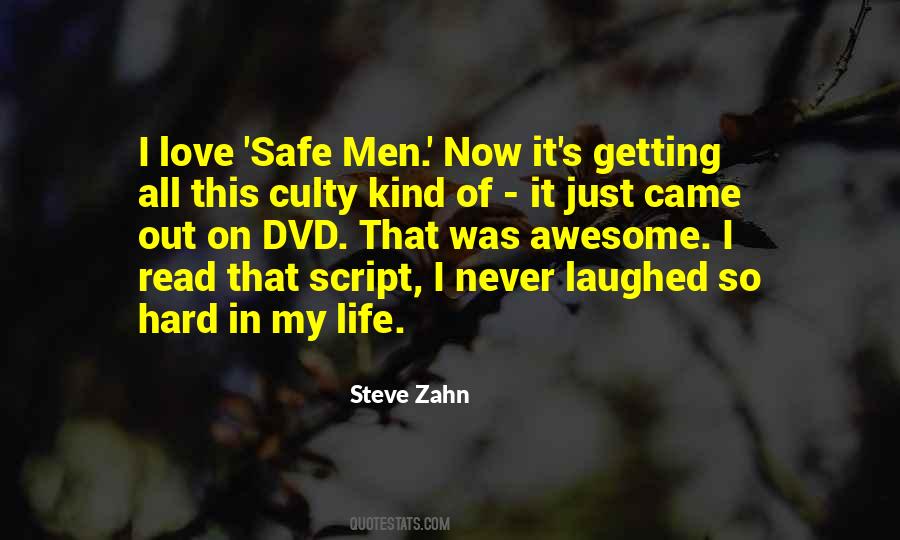 #8. The first record I bought was a Carl Perkins record, because I saw him at The Festival at Sandpoint, Idaho. I loved Elvis and I found out that he wrote 'Blue Suede Shoes' ... so connecting that experience of going to see him play was pretty awesome. That's when I realised I wanted to play guitar.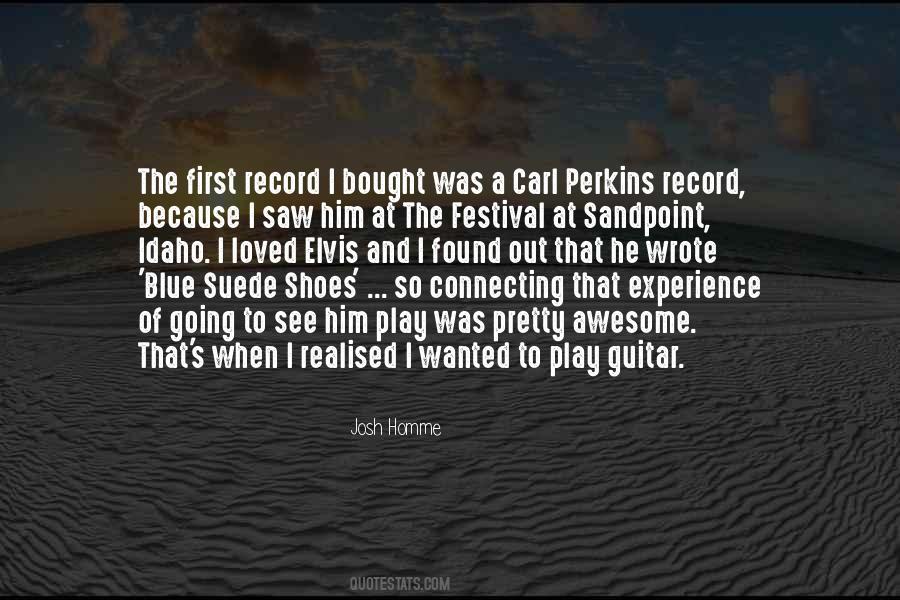 #9. I love Chicago. It was an awesome place to grow up. It's a big city but it doesn't feel like one. I can't imagine that if I had kids I would raise them anywhere else besides Chicago.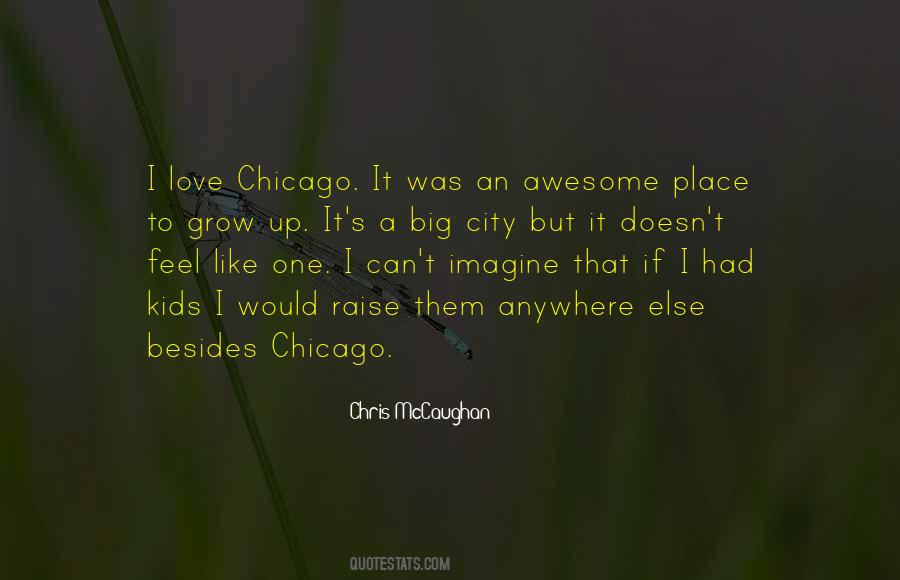 #10. 'Victorious' for me was a chance to write a song exactly how I was feeling - I was feeling triumphant, I was feeling like I could do anything as long as I've got the people that I love by my side. We're gonna go out and conquer it, and party, and just be awesome.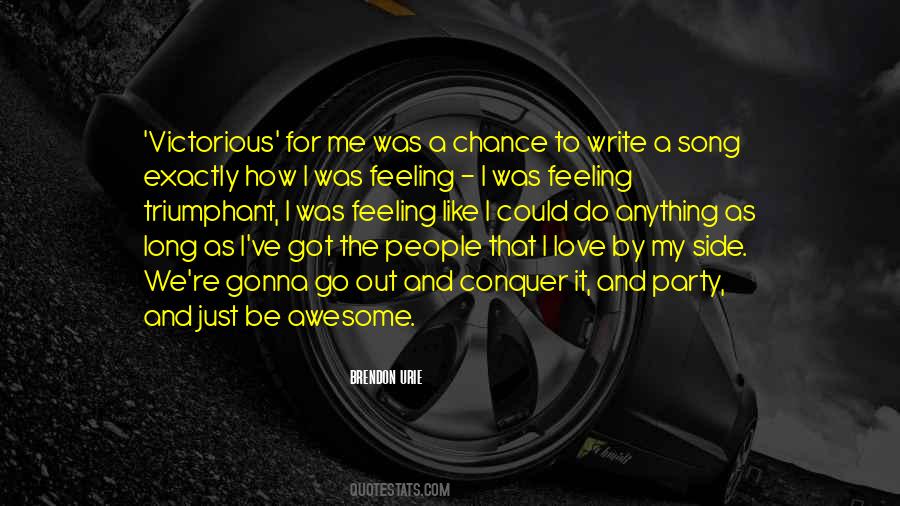 #11. We had a kid. The kid was awesome. She didn't fall asleep easily. We complained about it. We got frustrated. But we didn't look for an out. We just accepted that this was part of parenting.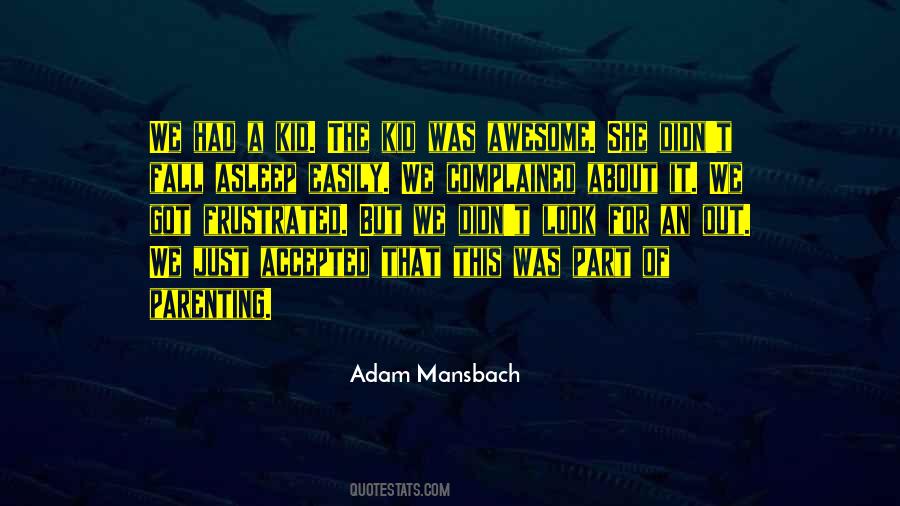 #12. Pigpen is in his late twenties and thinks he's all handsome with his blonde hair and big muscles. Because he was a Navy SEAL or Army Ranger or something outrageous like that, he also thinks he's awesome, but he doesn't impress.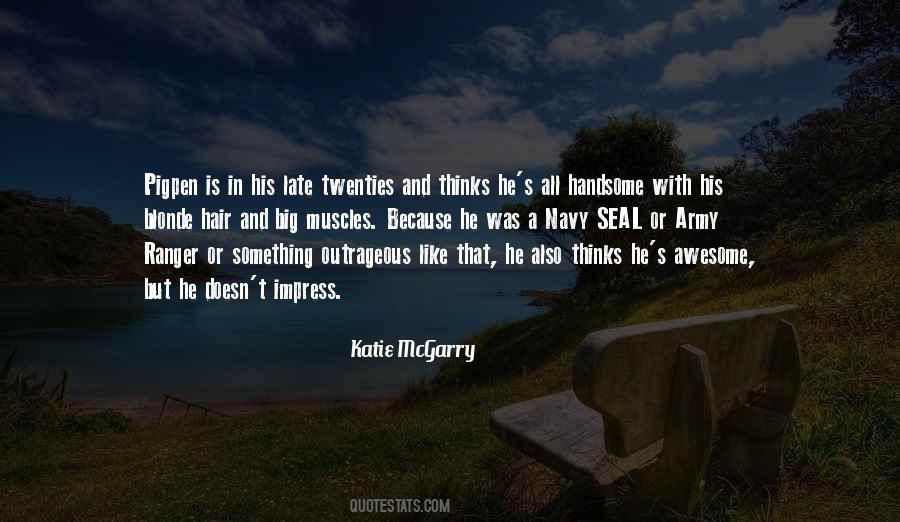 #13. I don't listen to my own music, so to me it's awesome that people really like it. I was afraid that it wouldn't connect with everyone. I'm more appreciative than anything.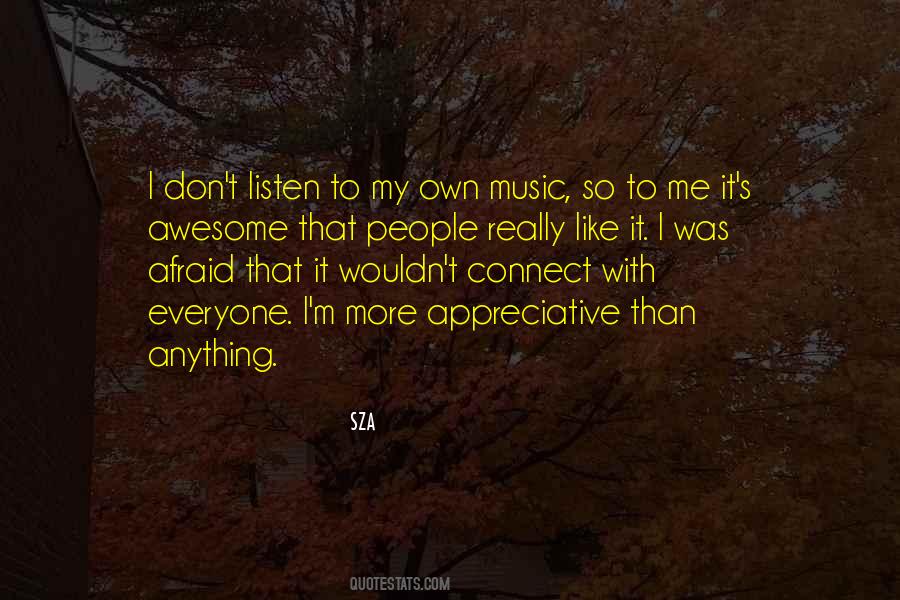 #14. Dick Clark was a really great influence in my career; he helped me a lot with his whole organization, and they were awesome to me at all different points - but one thing that I really disagreed with him on was when he said that what I do, pop music, is a disposable art form.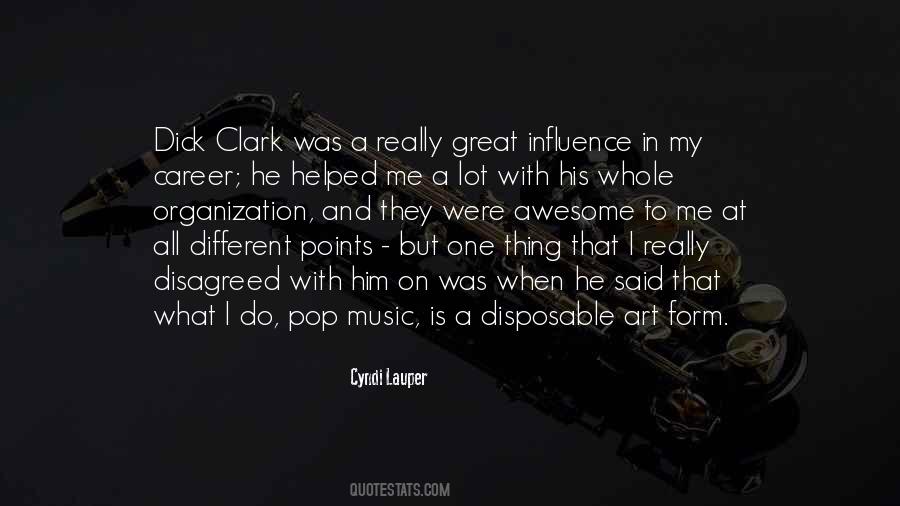 #15. In this business, we have to travel so far away from our families. We have two children, so if we can work together, that's awesome. Before I met Lisa Bonet , it was a dream to work with her.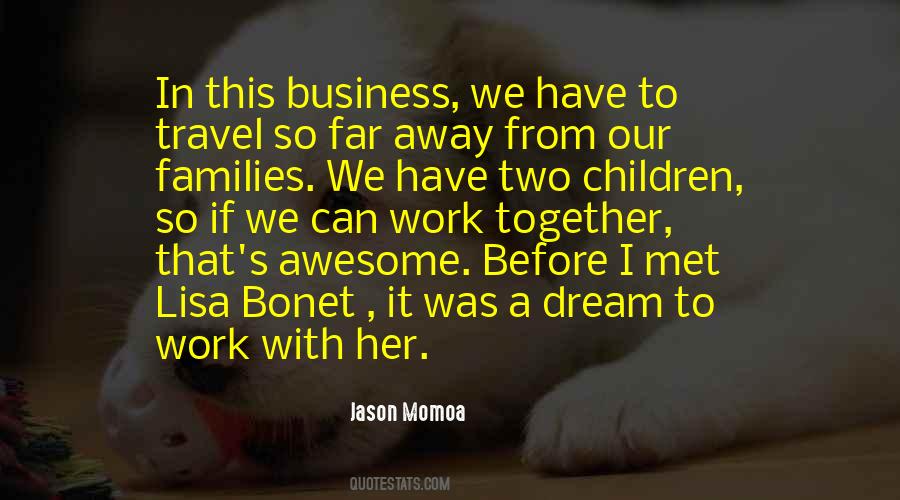 #16. I think it's important to be able to say that you did live a normal life and struggled to make ends meet. It all has to do with work ethic and how I apply myself to my awesome job now. I've always been used to working because I've been working since I was four.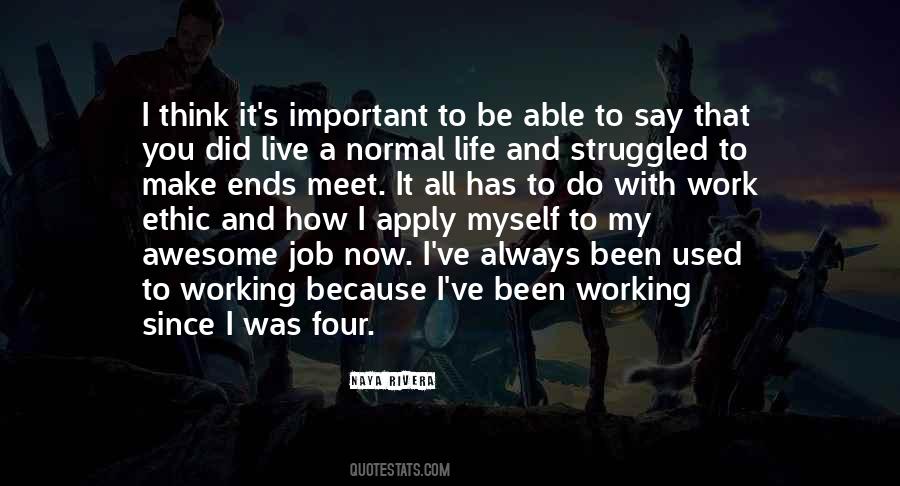 #17. I'm an old school guy and love the guys in the monster suits and JAWS; even though everyone makes fun of the shark I think it's awesome. You know it's fake, but with my generation that was part of the charm.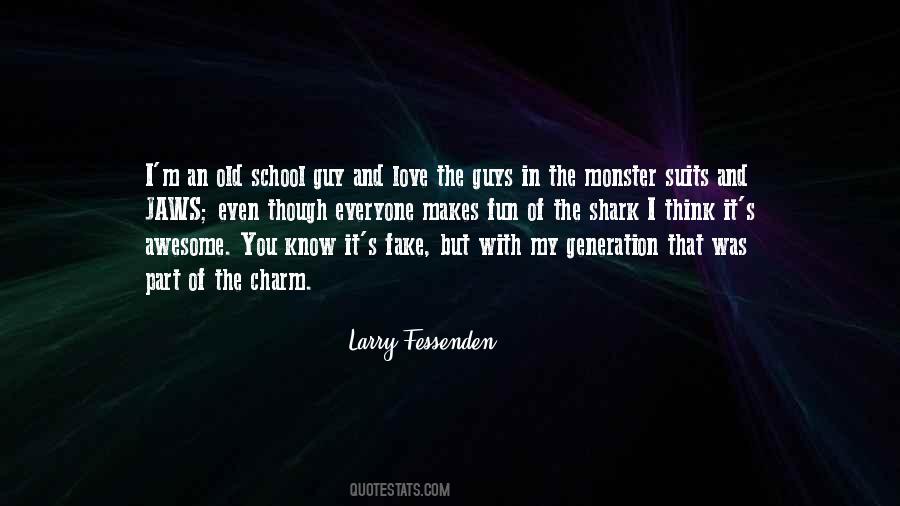 #18. Even reading my first bad review was an awesome experience. It was cool because you make something and not everybody's going to like it. I felt like that kind of grew me up a little bit into a professional. I was a student filmmaker, and no one writes reviews about student films.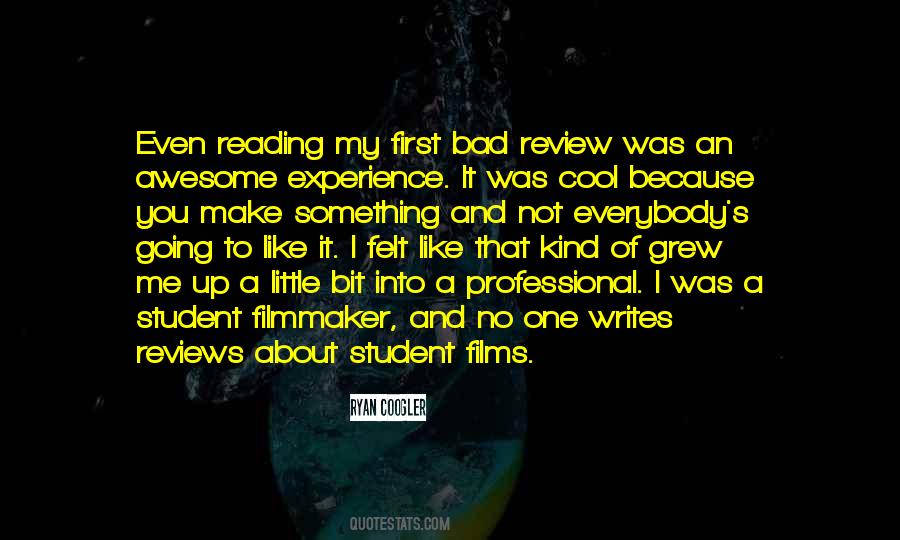 #19. I thought Charlize Theron was awesome in 'Mad Max,' and that was a very masculine kind of hero.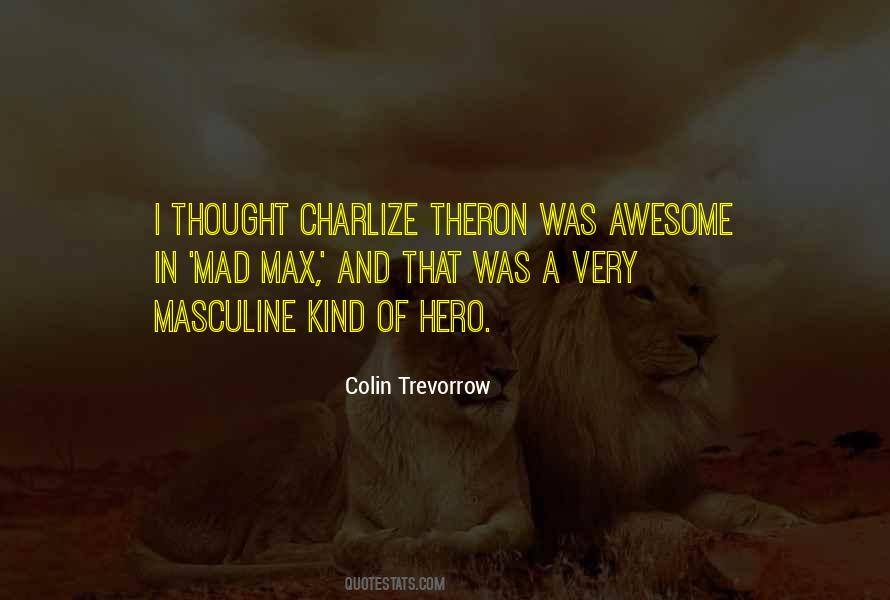 #20. Am I higher or lower than she? It was always the vital question for Anna: who was superior, and how she could position herself so that she would be perceived as superior?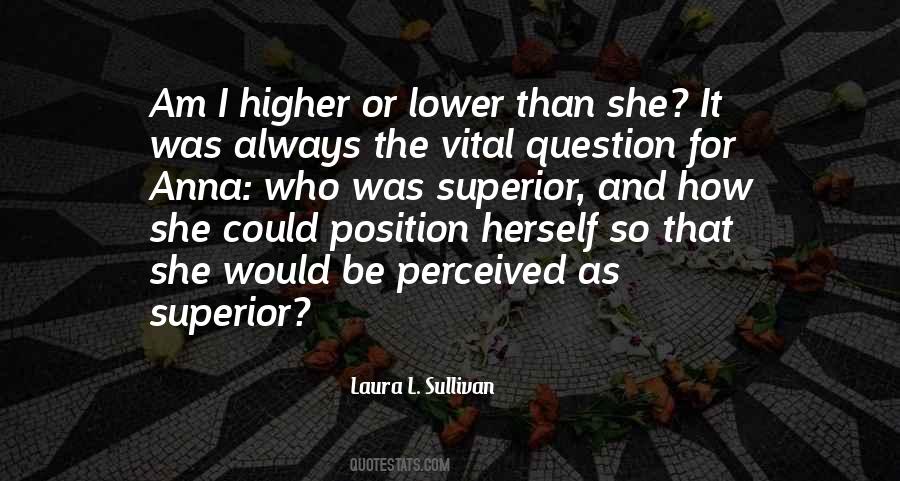 #21. Corey's face loomed near mine, the grin was broad. "Marc told us about the boat crash. That was awesome. I wish I'd seen it.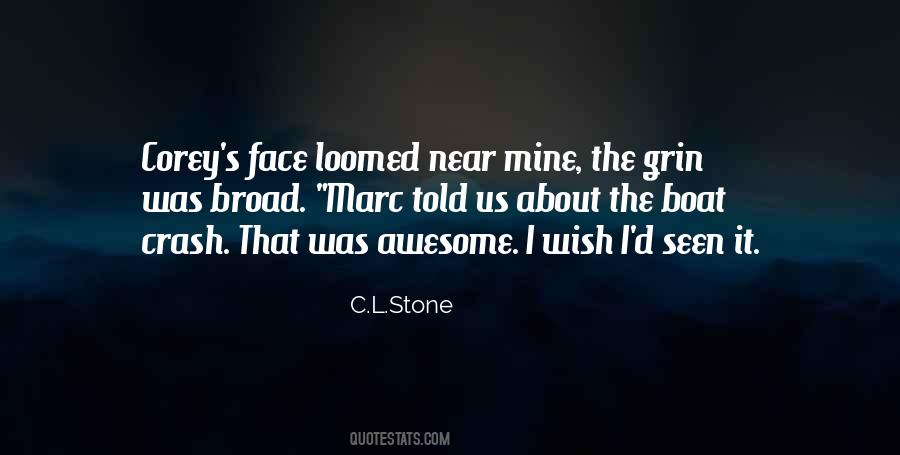 #22. Hayden's gaze fell to my lips.
My heart did a stupid little jump that made me all warm and fuzzy. He liked me - really liked me. Even after seeing my scars. It was like hitting the jackpot of awesome guys.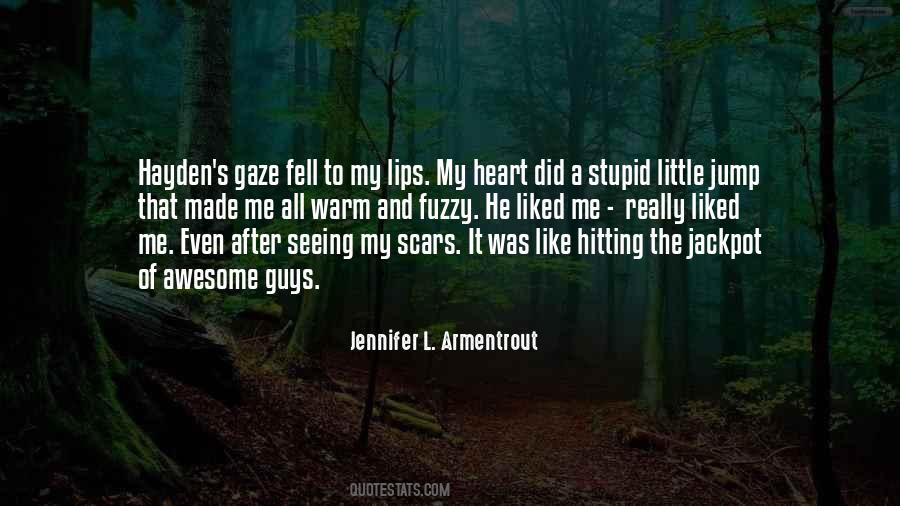 #23. I'm a huge fan of movies, and I watch DVDs all day, and I like to be able to watch DVDs that are different from what was in theaters. Whether that's uncut or a director's cut. I think it's an awesome way to rediscover the movie.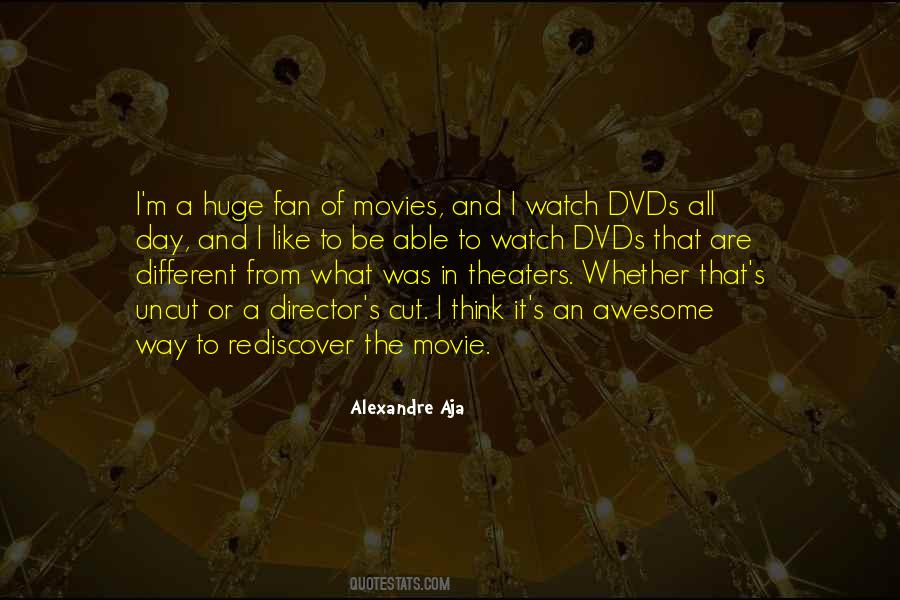 #24. They ate dinner in silence. Her husband did not look at her. her face annoyed him, he did not know why. She could be good-looking but there were times when she was not. Her face was like a series of photographs, some of which ought to have been thrown away. Tonight it was like that.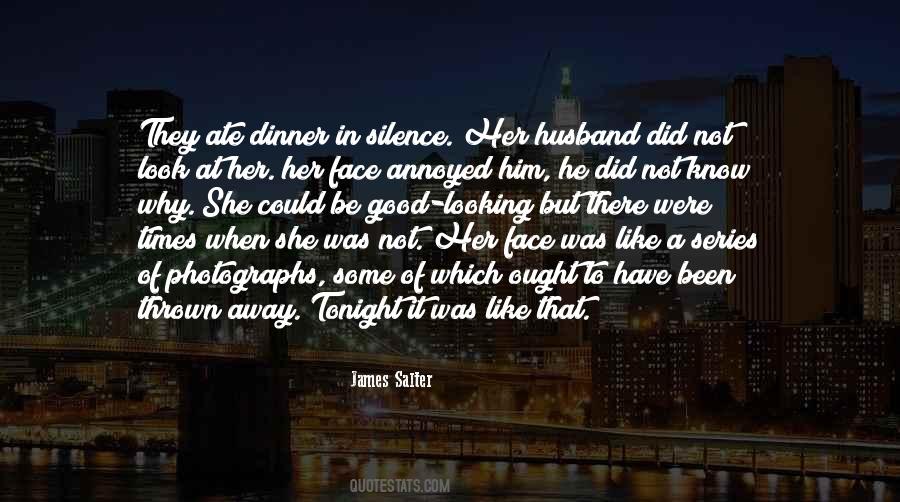 #25. So what. He was made of awesome. Anyone who couldn't see that wasn't smart enough to be with him, anyway.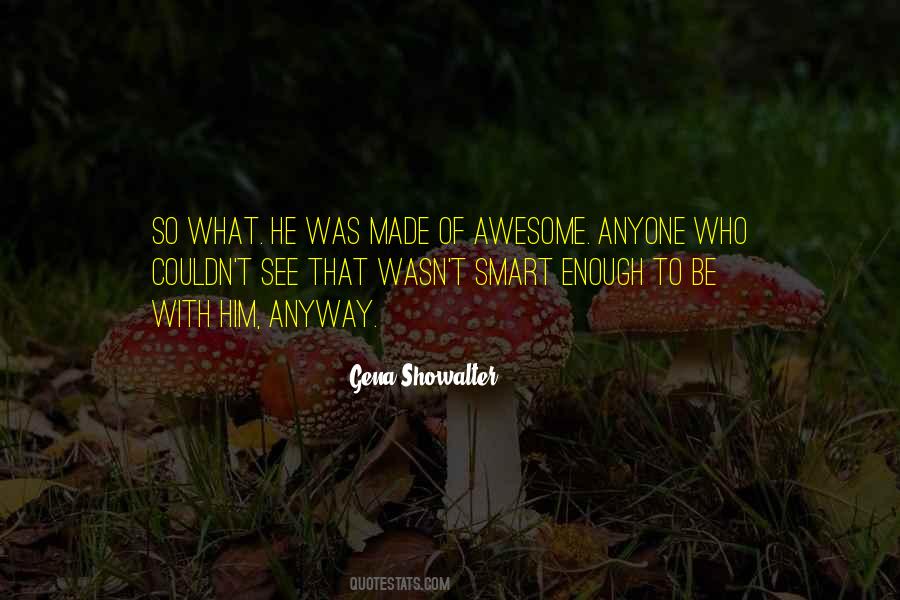 #26. (Don Fey had a large rubber stamp that said "bullshit," which was and is awesome.)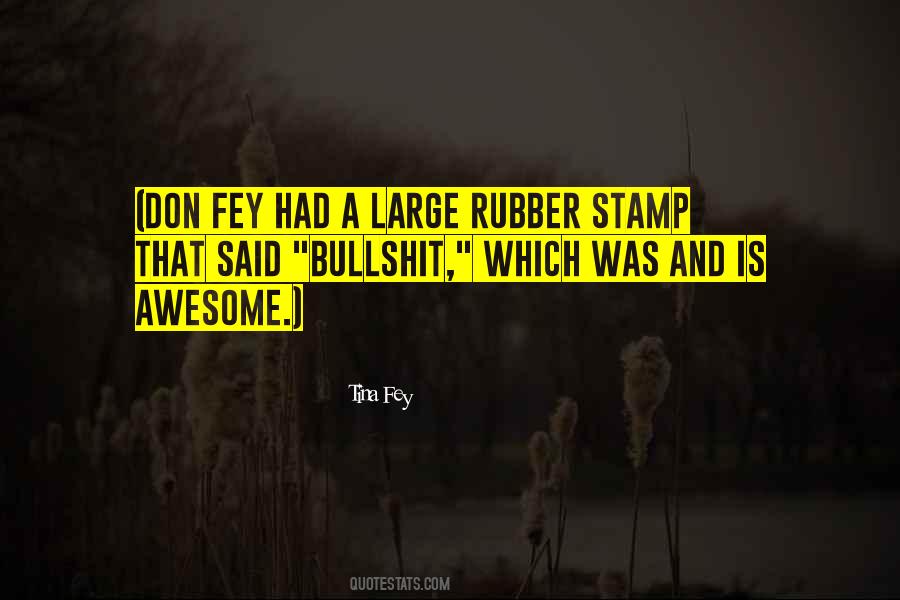 #27. A really hard time writing about it. I hate Hera. While Hercules was growing up as a cowherd in Thebes, his cousin Eurystheus grew up as the high king of Mycenae. That may sound awesome,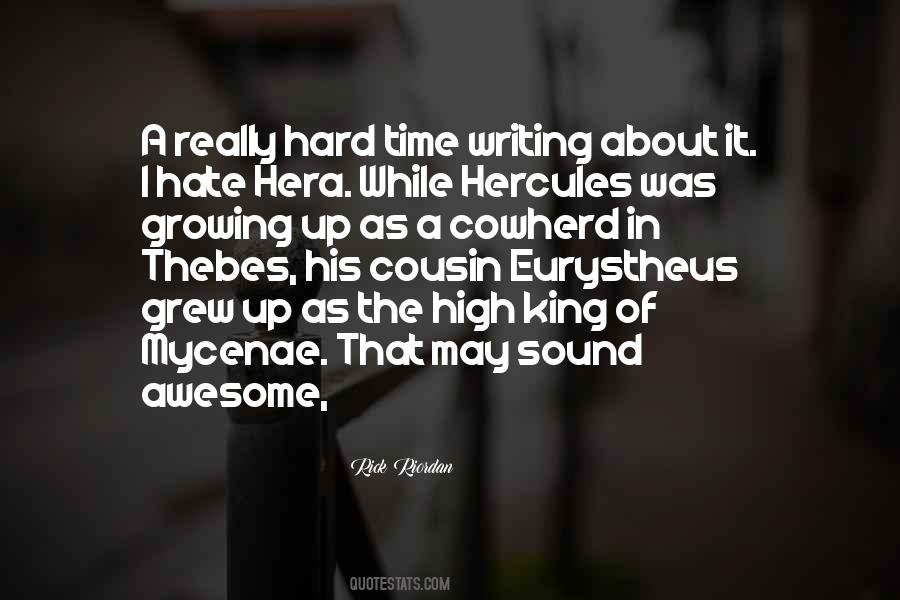 #28. Vampires smiled for many reasons, but when a vampire male smiled at you from this distance with that kind of look in his eyes it was done for one purpose only: to impress. Look at my big teeth. I'm an apex predator. My genetic material is awesome.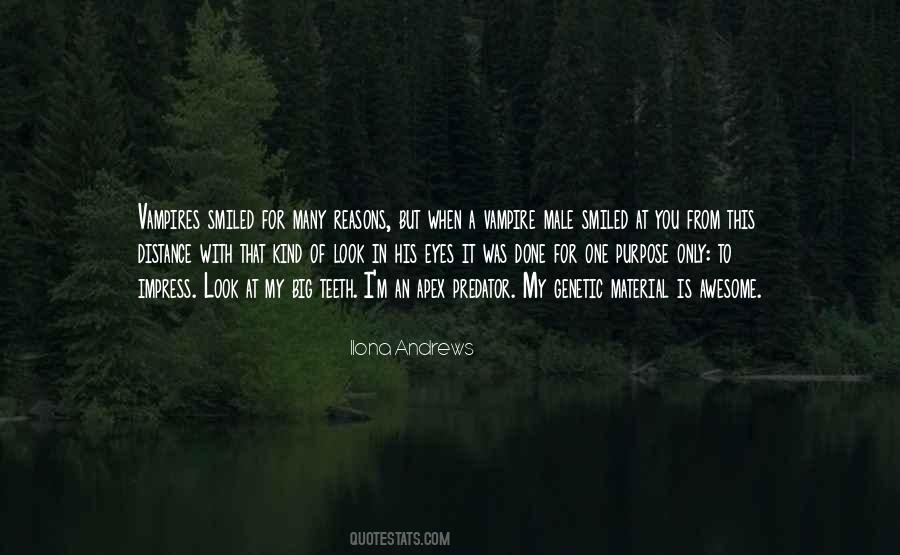 #29. Nico di Angelo ran up to me with a big grin on his face.
"Percy, this is awesome!" His blue-feathered bronze helmet was falling in his eyes, and his breastplate was about six sizes too big. I wondered if there was any way I'd looked that ridiculous when I'd first arrived.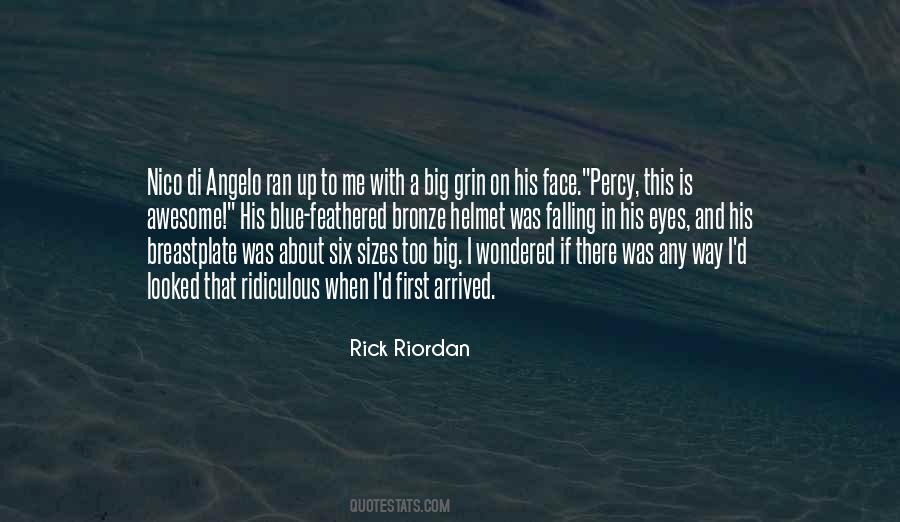 #30. And I meant to tell you: that was a one-in-a-thousand shot."
She raised her hand. "Don't."
"It was awesome," George confirmed.
"It really was," Jack said. "His head exploded.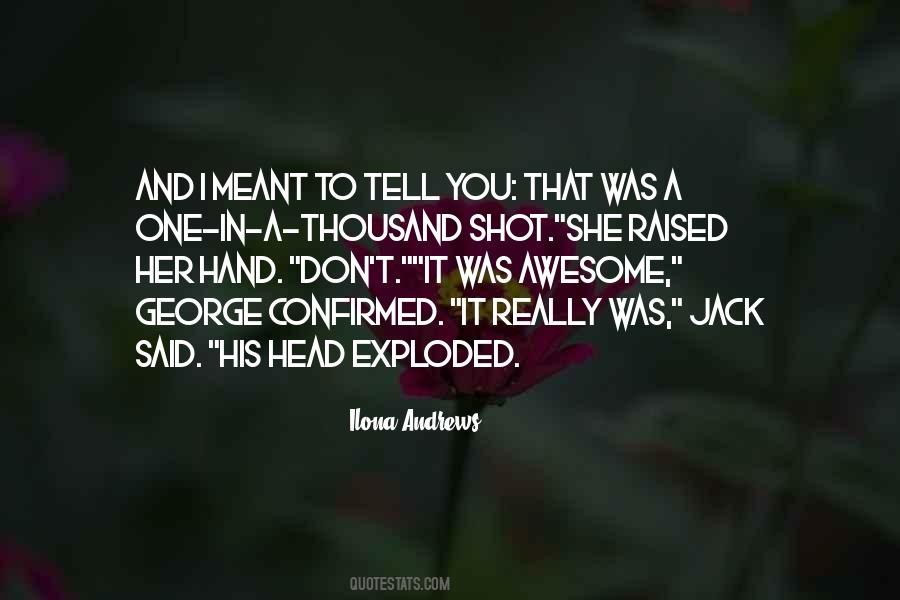 #31. When watching movies, I was always inspired by the performances of the cast. Of course, the story and the direction and all that intrigued me. But what actors would propel themselves to do, and be, was awesome. It was like, how could these people give so much?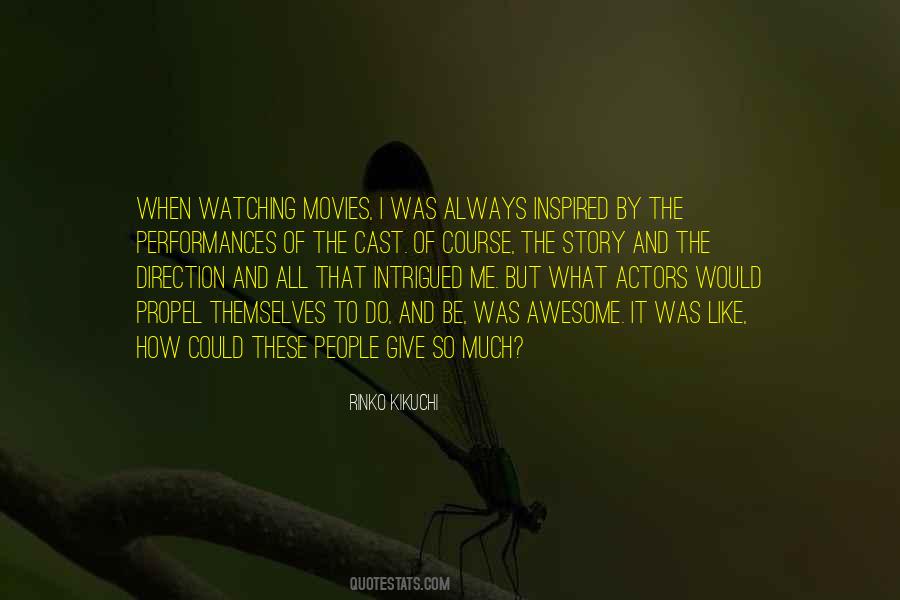 #32. The more she thought of it, the more that luck seemed the opposite of being awesome. One was something you did; the other was something that happened to you no matter what you did. Course,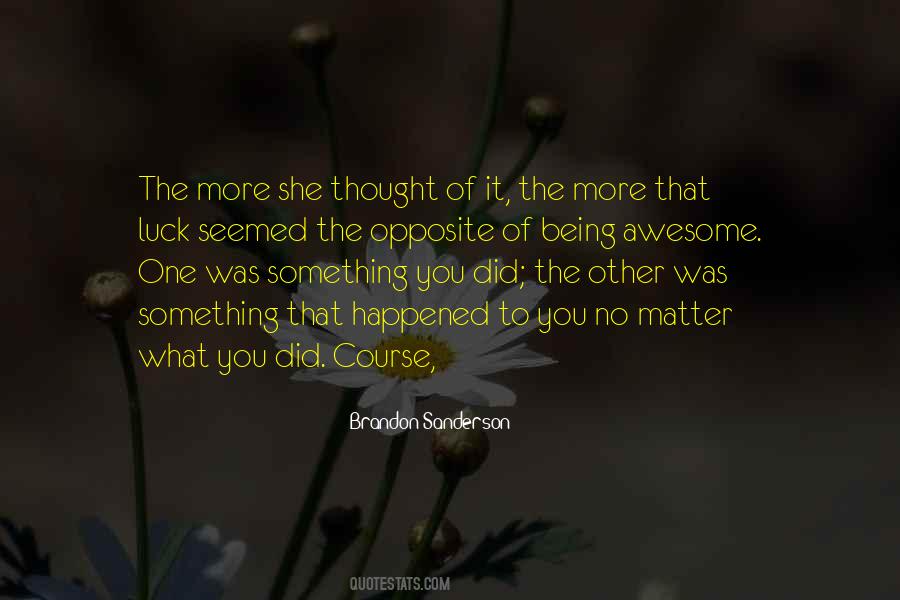 #33. Metal has its own code of cool, but it's not really trying to be cool. And that was very refreshing to me, that metal is very much about expressing something that seems awesome to you even if, at the time, much of the world was going to mock and reject it.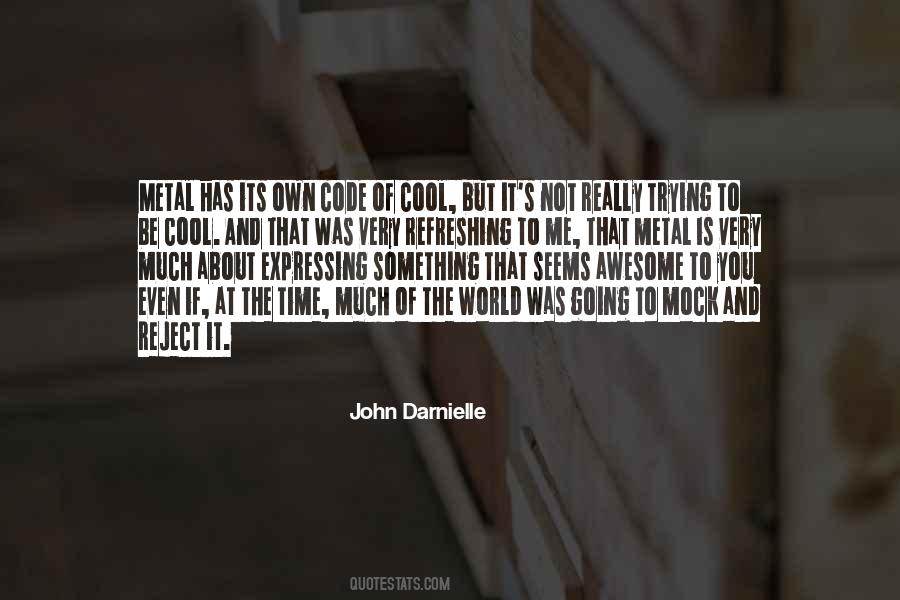 #34. Nine lies on his back, groaning. His chest is shredded from where Eight slashed him, he's got a fresh black eye, and I think I notice a trickle of blood from where I struck him with his staff. Suddenly, his groans turn to laughter. "That was awesome!" Nine hollers.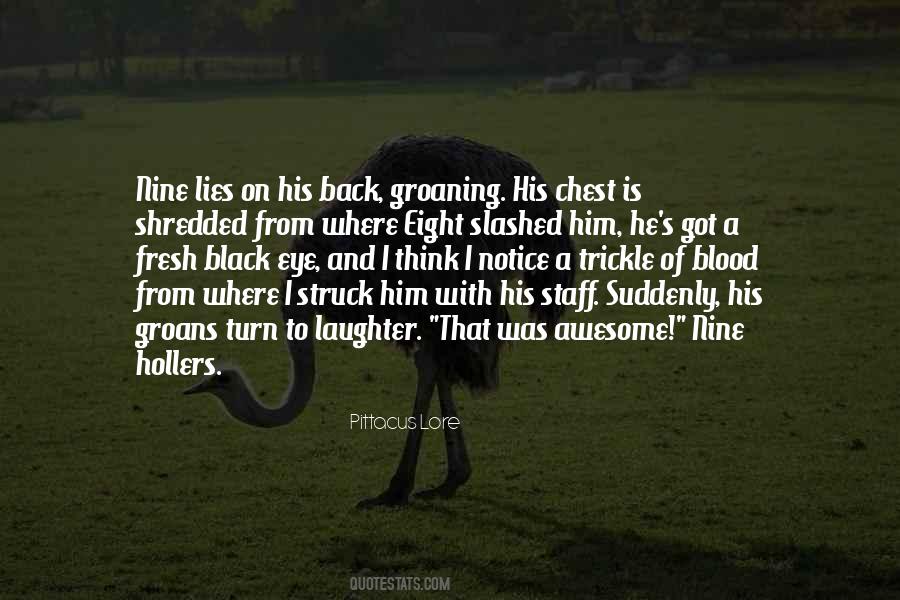 #35. If I thought Fridays were awesome when I was a full-time student, they're downright euphoric now that I'm part of the regular workforce.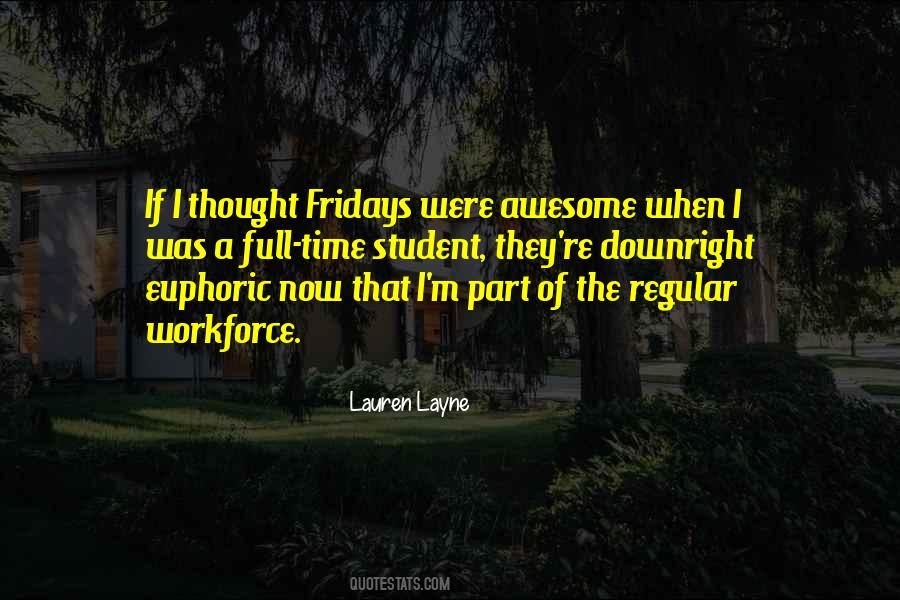 #36. Wasn't that awesome?" Seth asked.
Warren cocked his head, his expression mildly embarrassed. "I'm sorry, Kendra
it was pretty cool."
"All boys belong in insane asylums," Kendra said.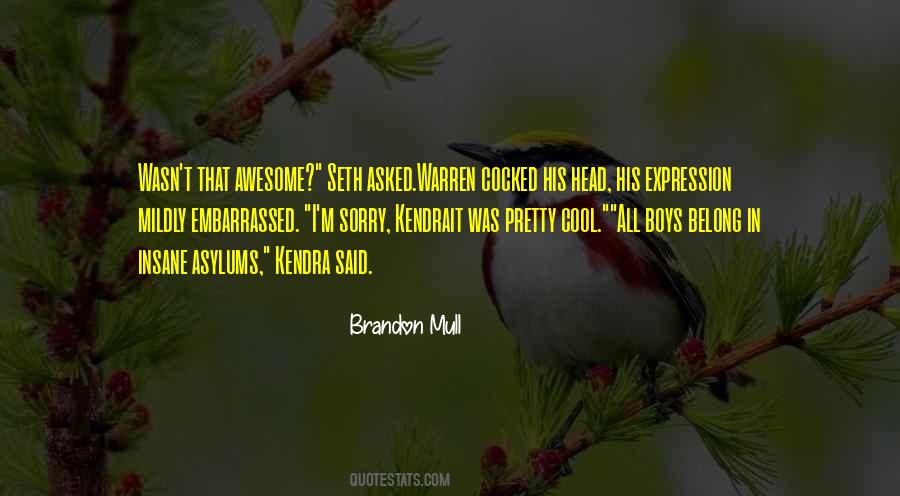 #37. I was used to being the smartest guy in the room, and then God dropped me in a place that was well beyond me. It was painfully awesome.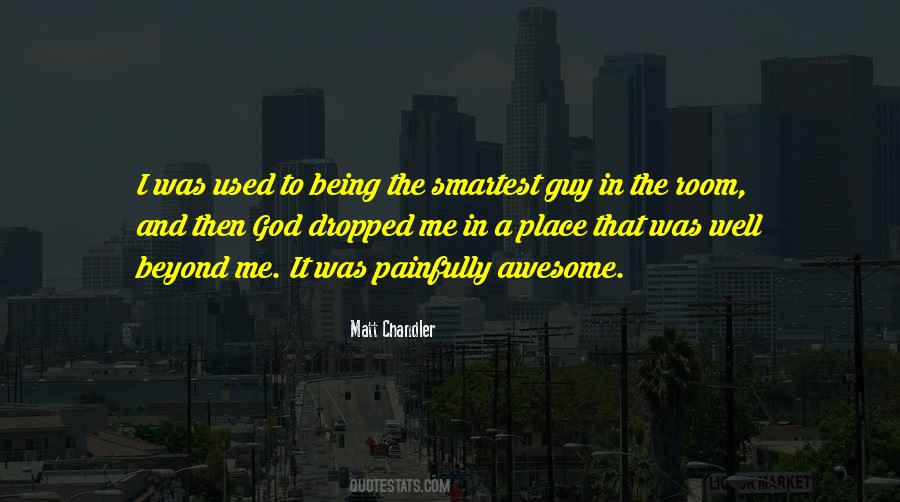 #38. I did 'Narnia' because it was a good opportunity and all that, but really? I wanted to play Mr. Tumnus because he's my favourite children's character. That was awesome.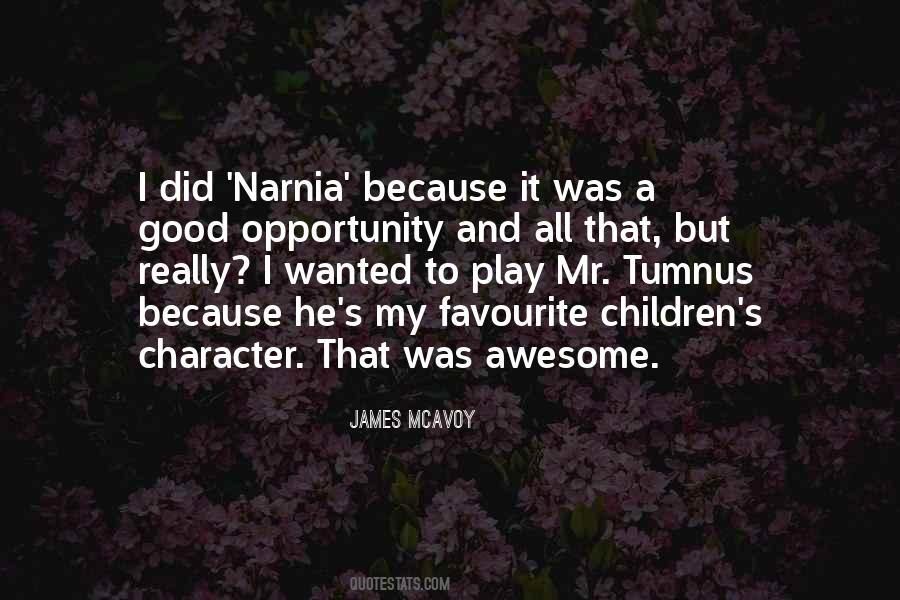 #39. So, wait. That's it? We make out and it was awesome and you make me feel things I never have with any other girl, and then you run? I gotta say, I'm feeling a little slutty here. -Nick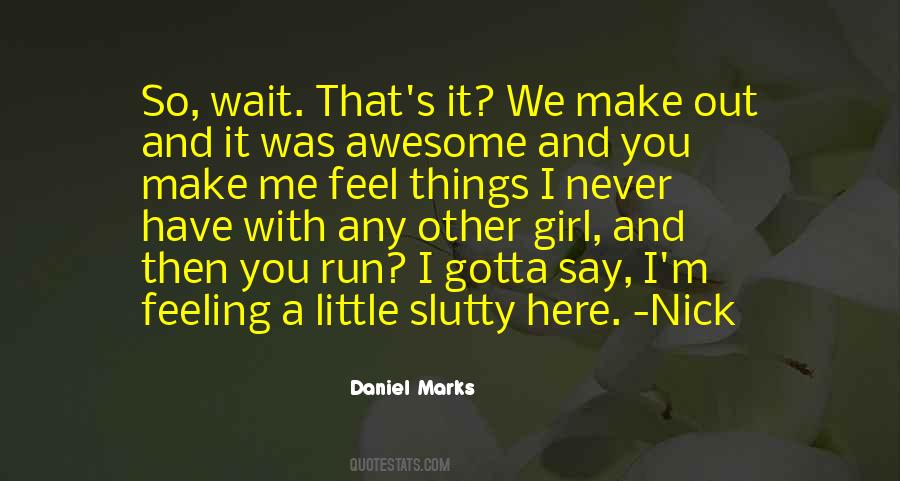 #40. Her eyes, however, were every bit as hard and shiny as the varnish on Dad's desk.
"Sophie, there you are! Where have you been the past few days? We've hardly seen you."
"A-around?" I stuttered, inwardly cringing. Oh,that was an awesome alibi.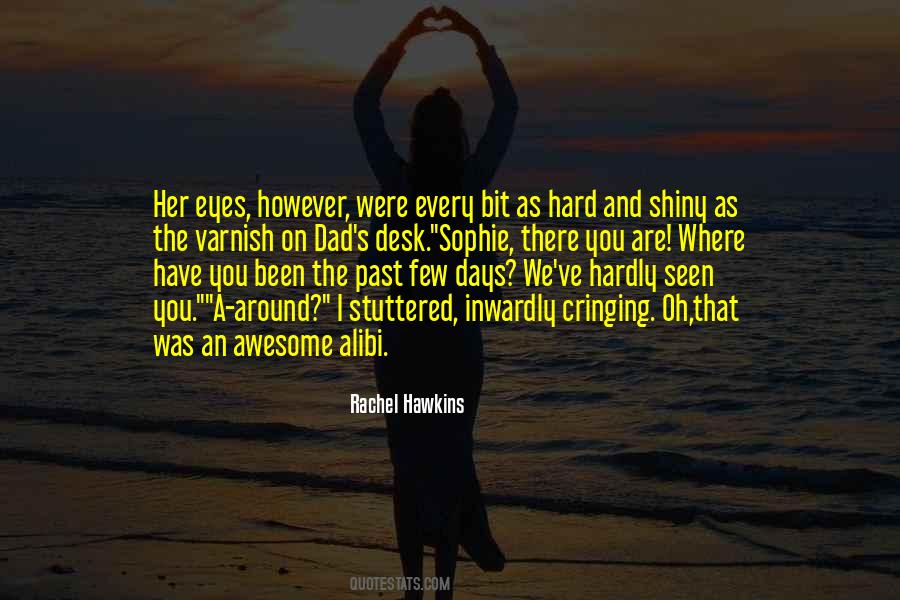 #41. As far I'm concerned, being an adult is way more fun than being a kid. But then I was a kid who wanted to be an adult. I'd watch shows like 'Bewitched' and see Darren come home and mix a martini and I'd go, 'That looks awesome! I want to do that!'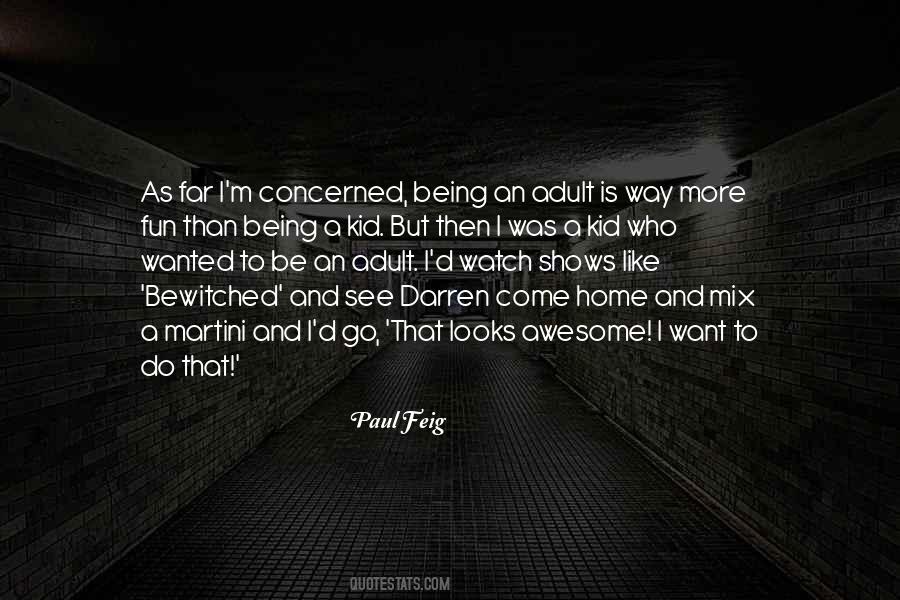 #42. I guess Johnny Depp has a pretty good career. I love a lot of parts that actors have played, so I love pieces of their career, but it's pretty hard to look at an actor's whole career and go, 'That was awesome!' Usually it either ends on a crappy show or with no work at all.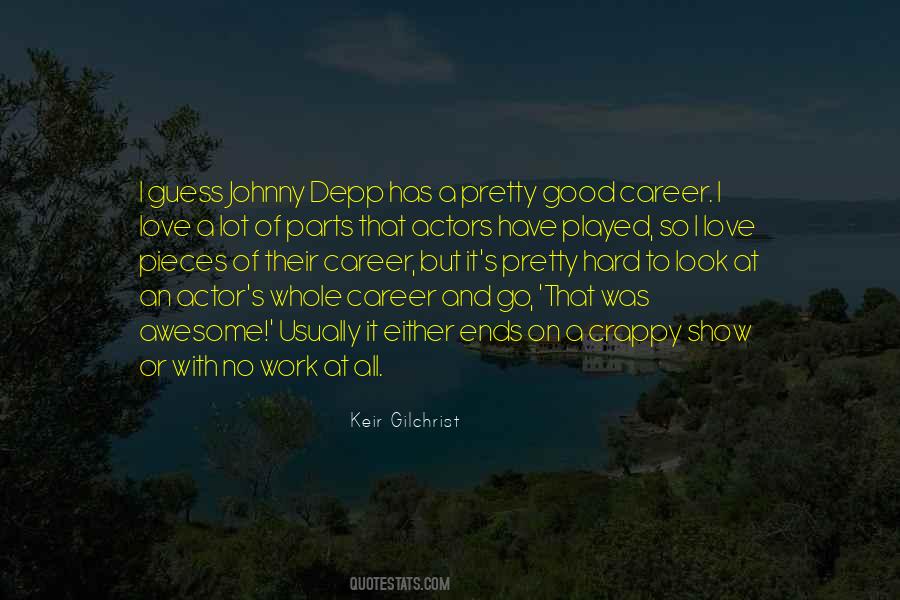 #43. Joss was lonely kid who thought that if he could just crack the code, people would understand what an awesome person he was and love him for it. As Buffy executive producer and Angel cocreator David Greenwalt said, 'If JossWhedon had had one good day in high school, we wouldn't be here'.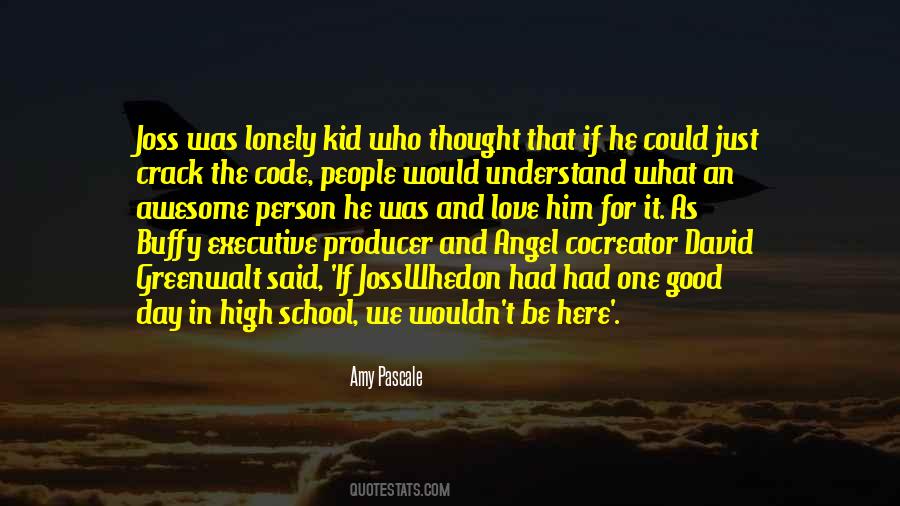 #44. I knew I wanted to be a father; I didn't know it was going to be this awesome or that my kid would come out so beautiful and lovely.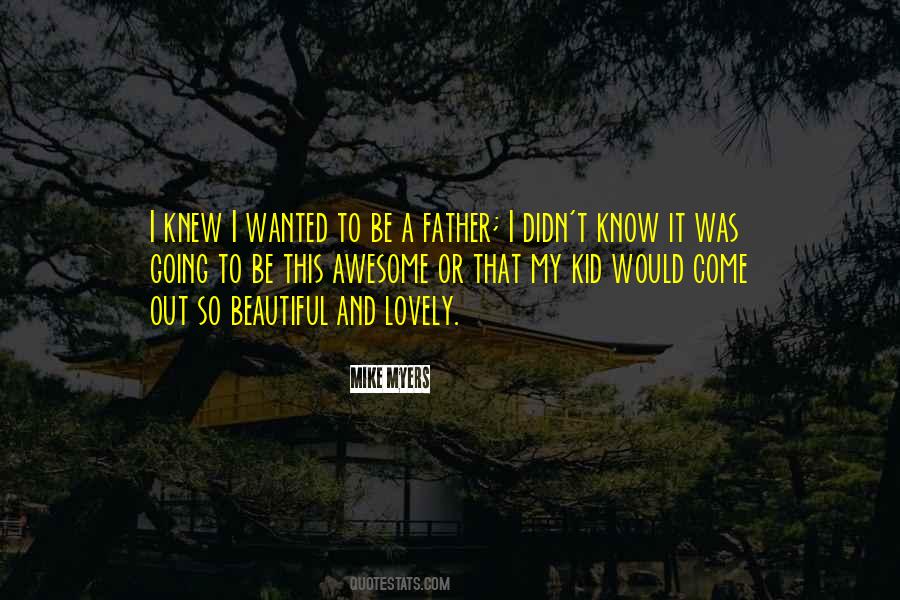 #45. This idea that you can watch a show like 'True Detective,' and it was awesome, but is it really ruined for you if the finale is not your favorite episode of it? It's just odd to me.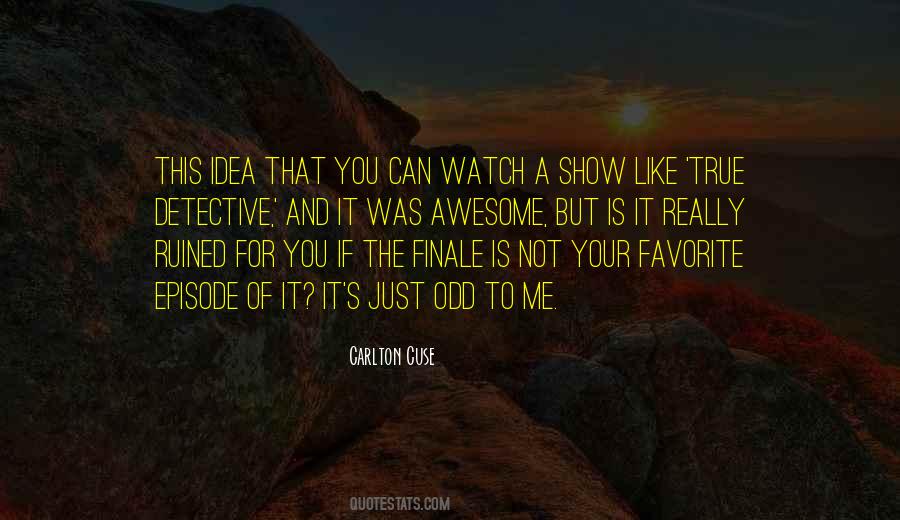 #46. The theatre at my school was awesome. It was a 1,400-seat auditorium, so, being in that auditorium at 17, and having, like, 1,400 people cheer for you was, like, one of the most amazing feelings that I've ever felt, energy-wise. It just felt right.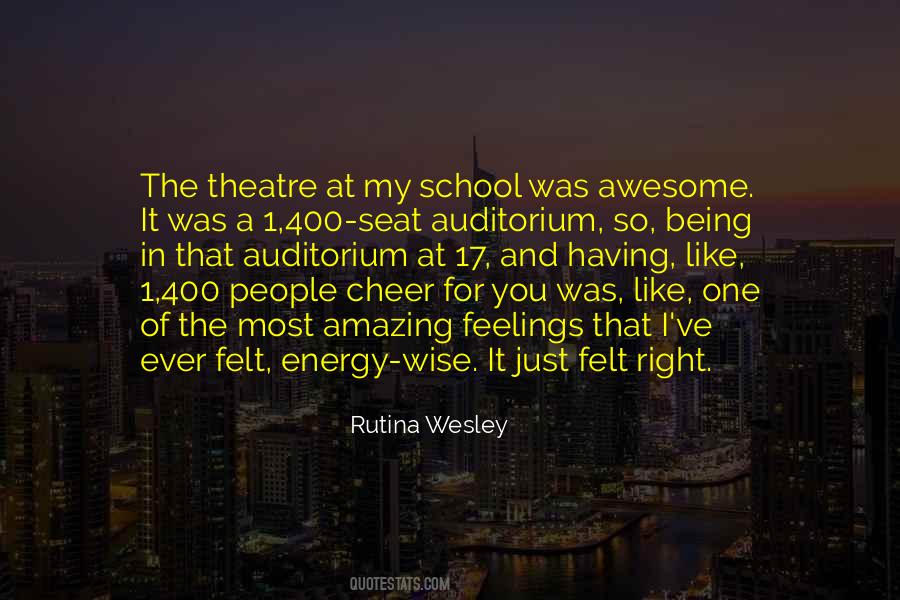 #47. Until this moment, she'd kept Park in a place in her head that she thought Richie couldn't get to. Completely separate from this house and everything that happened here. (It was a pretty awesome place. Like the only part of her head fit for praying.)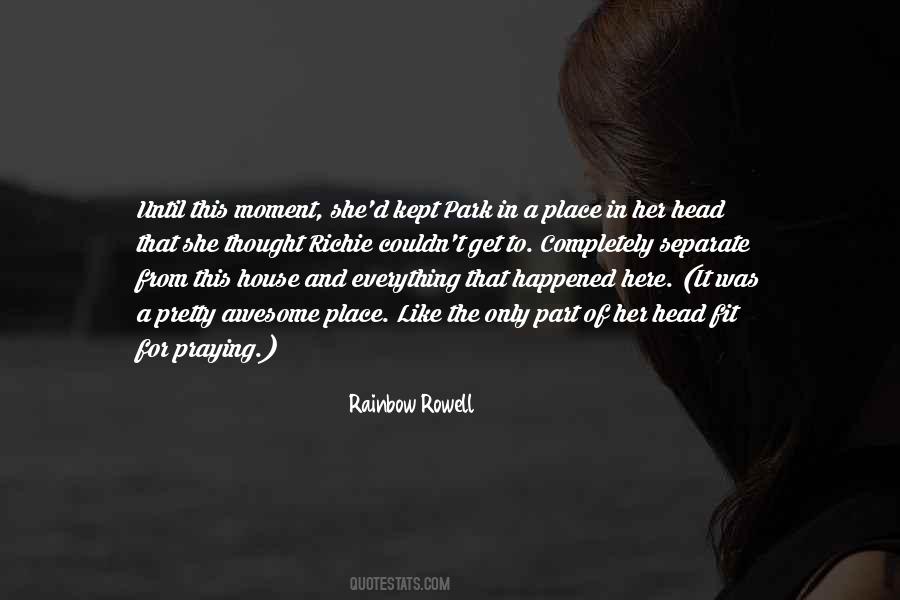 #48. I'm sure you gathered this by now: I just do what I want. Have I made out with chicks? Hell yeah. Did I think it was awesome? Hell yeah. I wouldn't call myself bi. Like, if I didn't eat meat for a week, it doesn't make me a vegetarian. So I like people, and that's just it. I like people.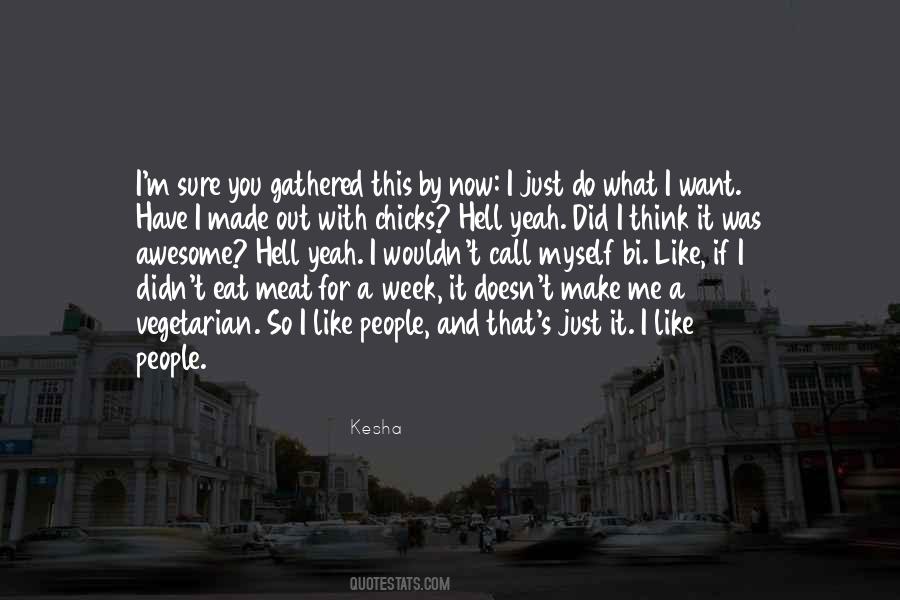 #49. I distinctly remember watching Daniel Day Lewis in 'My Left Foot,' and my parents were discussing the fact that he's an actor. To me, it was a foreign concept. I was like, 'Someone is pretending to do that? That's so awesome!' After that, it just stayed in the back of my mind.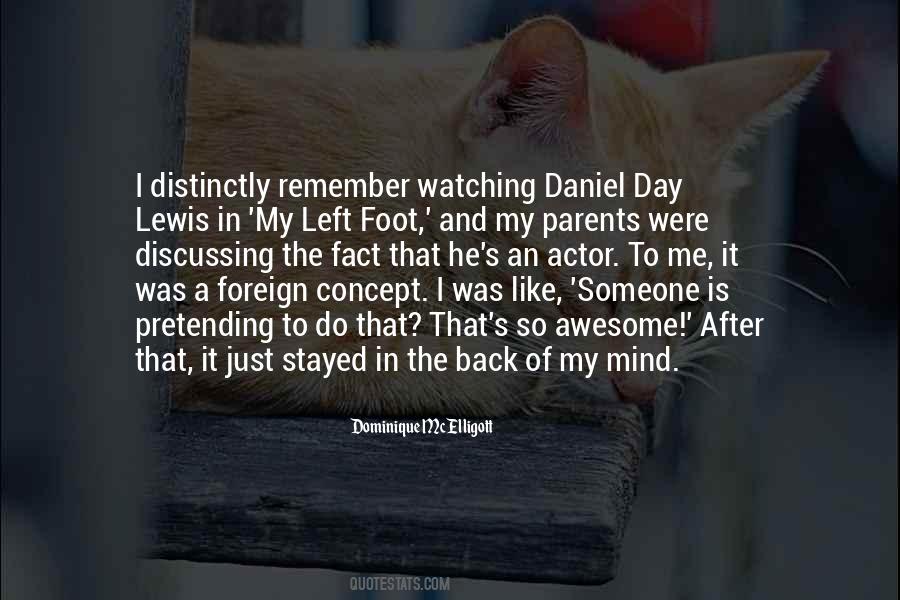 #50. First of all, let me say, 1:15 in the morning, for 20,000 people to still be here, I wasn't the winner, tennis was. That's awesome. I don't know if I've ever felt so good here before.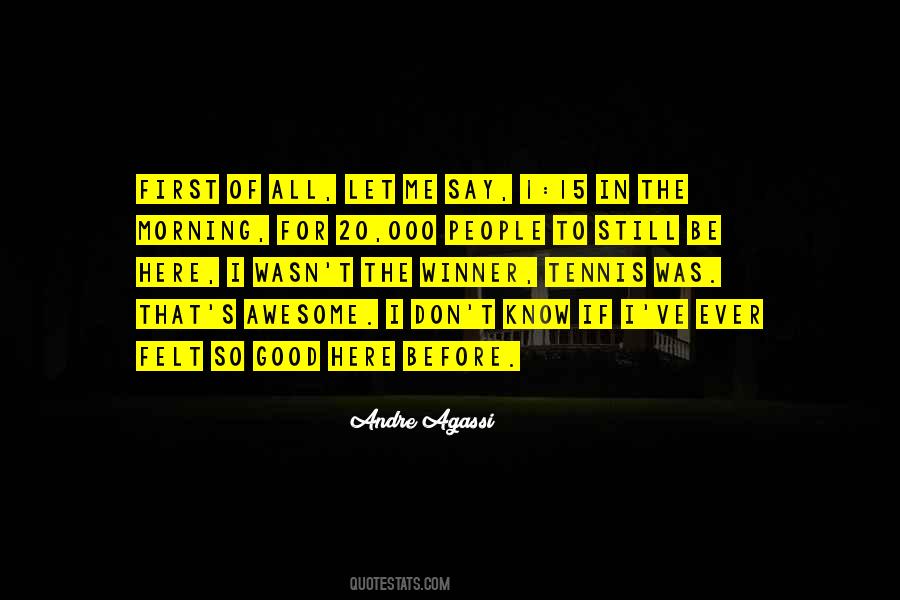 #51. Maybe Park had paralyzed her with his ninja magic, his Vulcan handhold, and now he was going to eat her.
That would be awesome.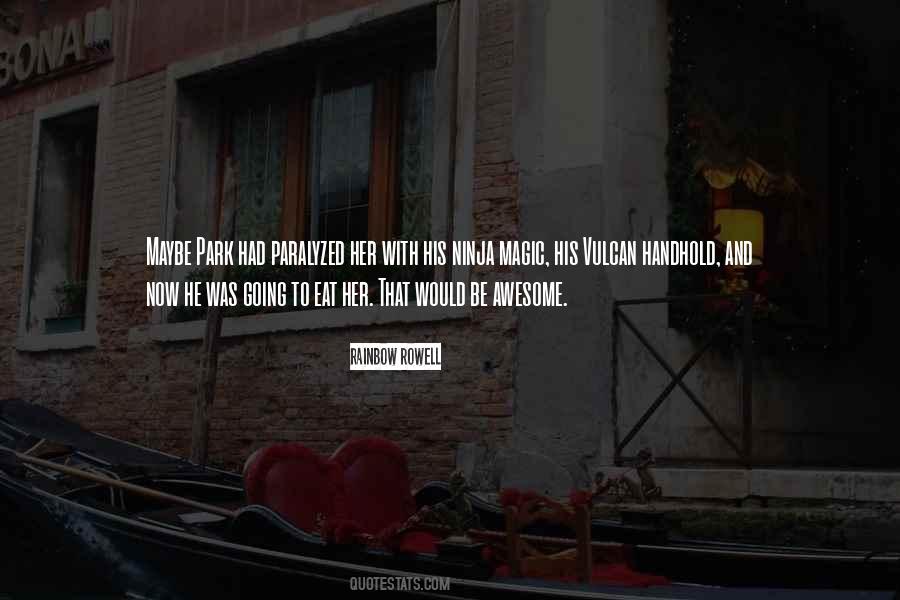 #52. So I started home schooling. I was a little freaked out about that, because I' m such a social person, involved in everything. It was awesome. I loved it and I loved being home.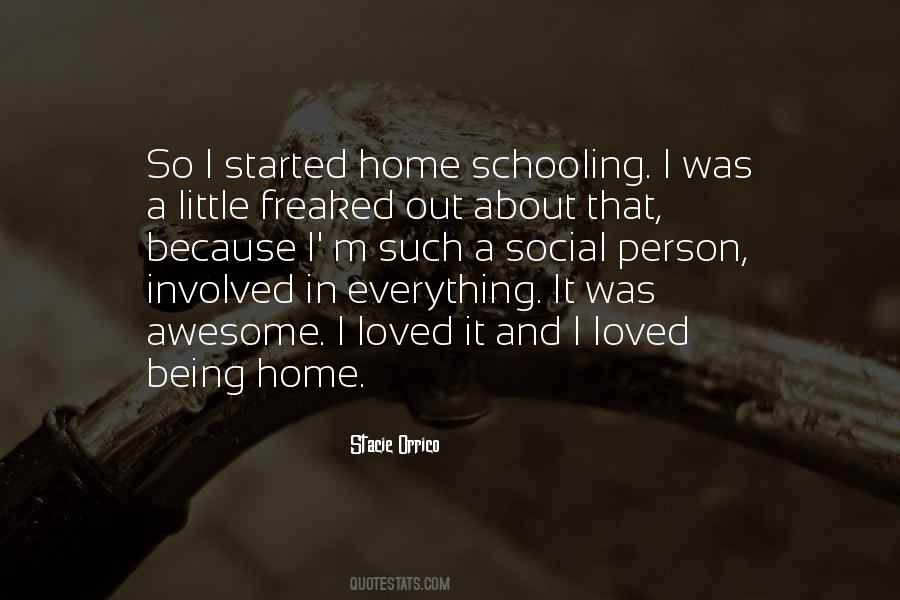 #53. I pretty much thought everything about Mike was awesome but this new side to Mike was beyond awesome. I didn't even know what that was and I was too turned on to try to figure it out.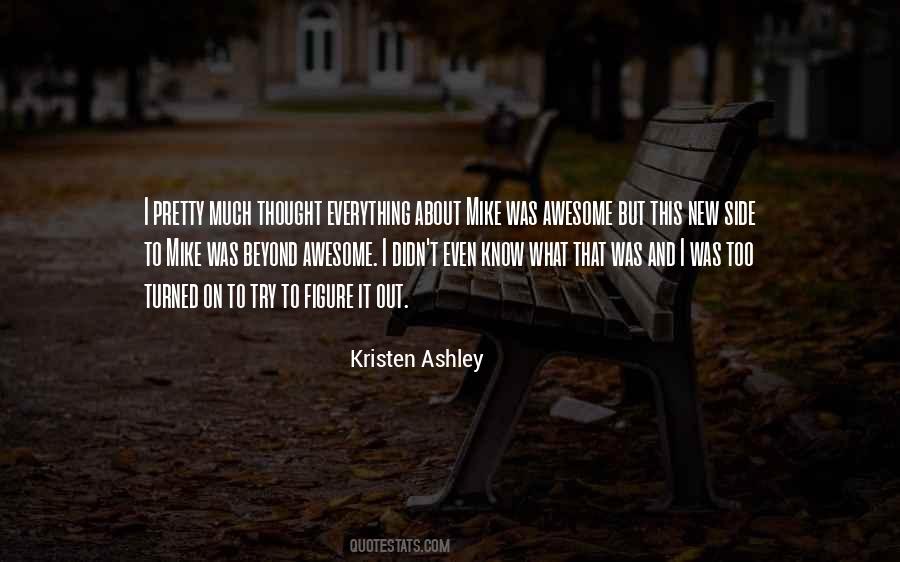 #54. Having so many close calls in my career, it was such an awesome feeling to get that first world title.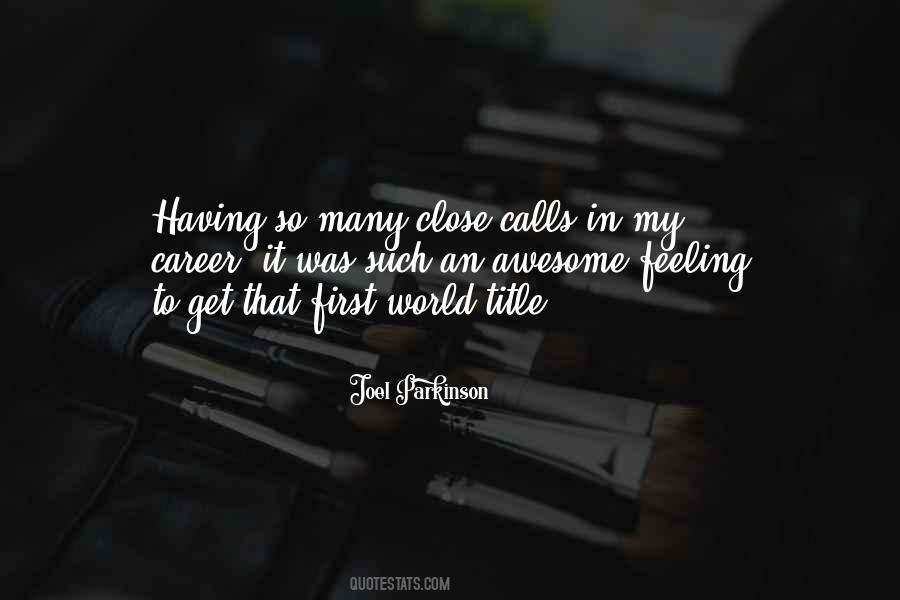 #55. I wish I had the luxury of time to read and write like grad students do. That sounds pretty awesome. When I was writing my first book one of my friends was going to grad school at the same time and I heard a lot of stories about drinking, too. I feel like everyone was having affairs.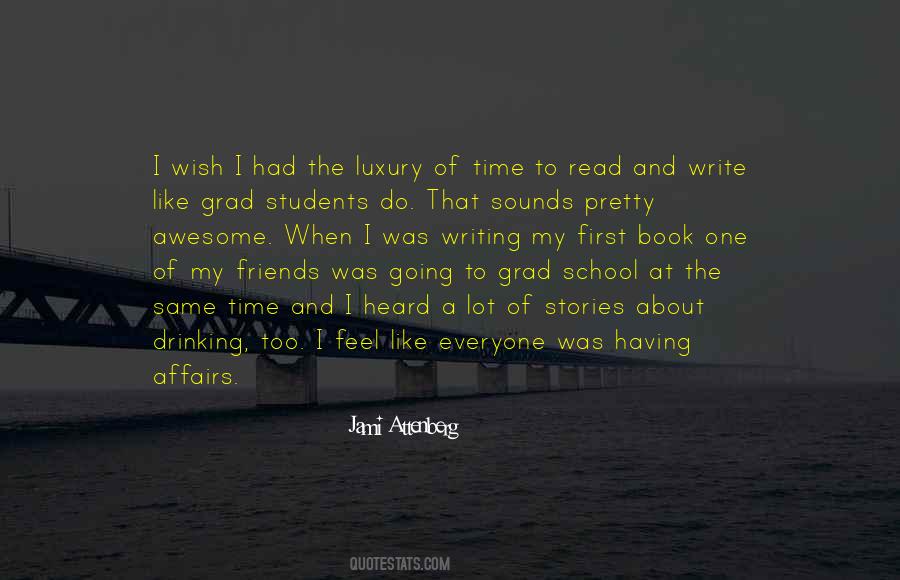 #56. I think it's really cool, but Jimmy Eat World and Gin Blossoms did it better than anyone. People don't realize just how awesome the Arizona history is, especially for alternative music. Growing up, that's all I ever wanted to be was those two bands.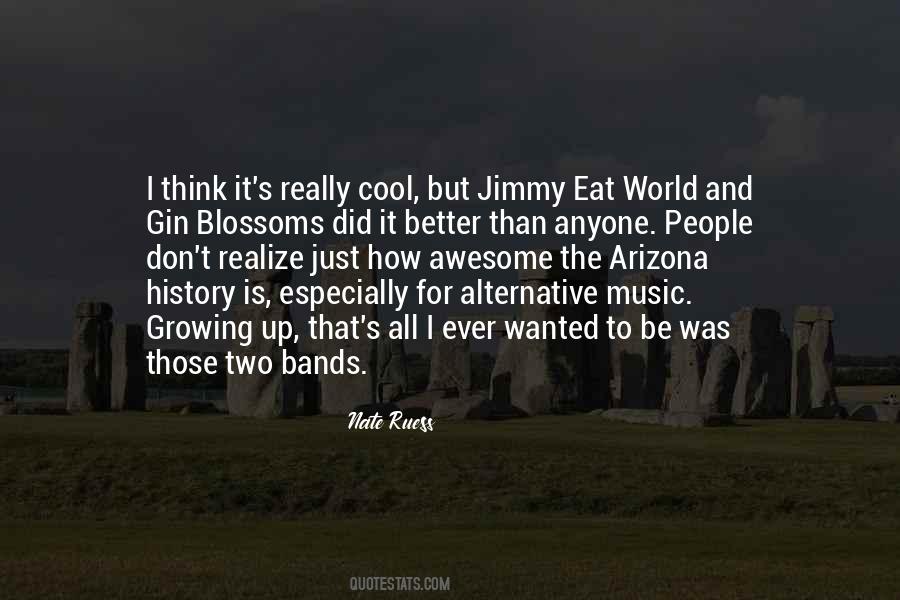 #57. And now it appeared that there was a mysterious Queen clothed by rumour with dread and wonderful attributes, and commonly known by the impersonal but, to my mind, rather awesome title of She.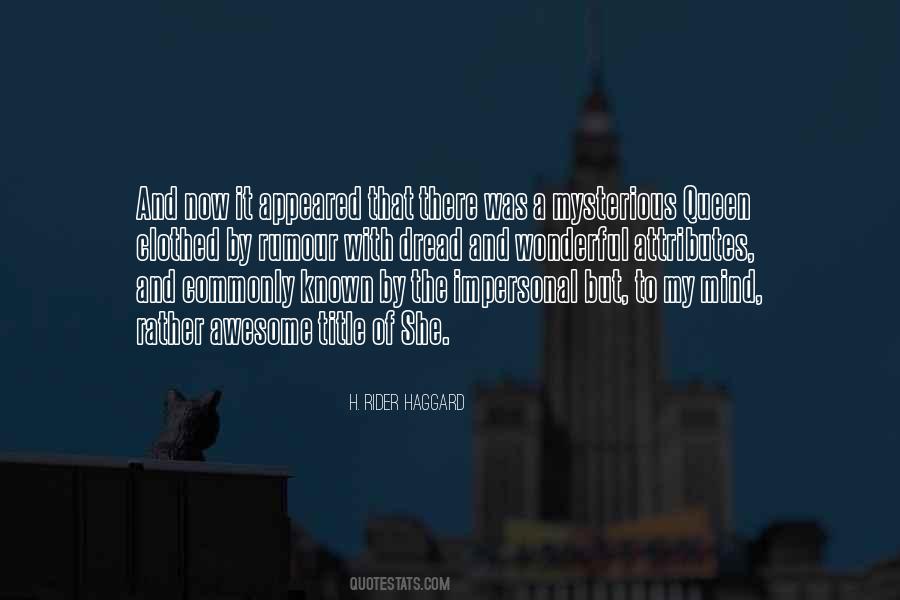 #58. I didn't know what was going to happen with 'Teen Wolf.' I was only scheduled to do four episodes for them, but they kept me on, and I was like, 'Sweet! I'm still employed! That's awesome!' And then, they let me know that they were considering having me for the second half of the season.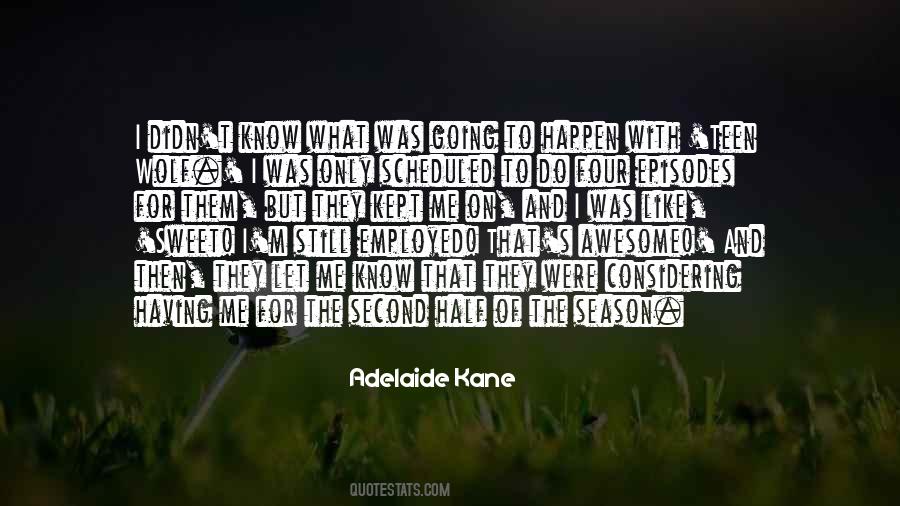 #59. In high school, I used to think it was like sooooo cool if a guy had an awesome car. Now none of that matters. These days I look for character and honesty and trust.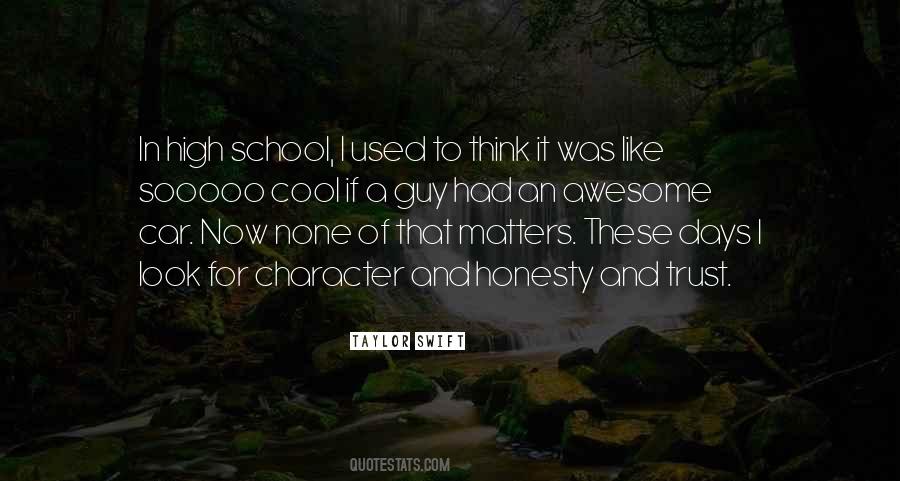 #60. He realized, even if she didn't, that John possessed great
wisdom as well as great power. Sometimes, making a real human connection was more effective than the power of persuasion and the threats of a sociopath put together. And that was totally awesome.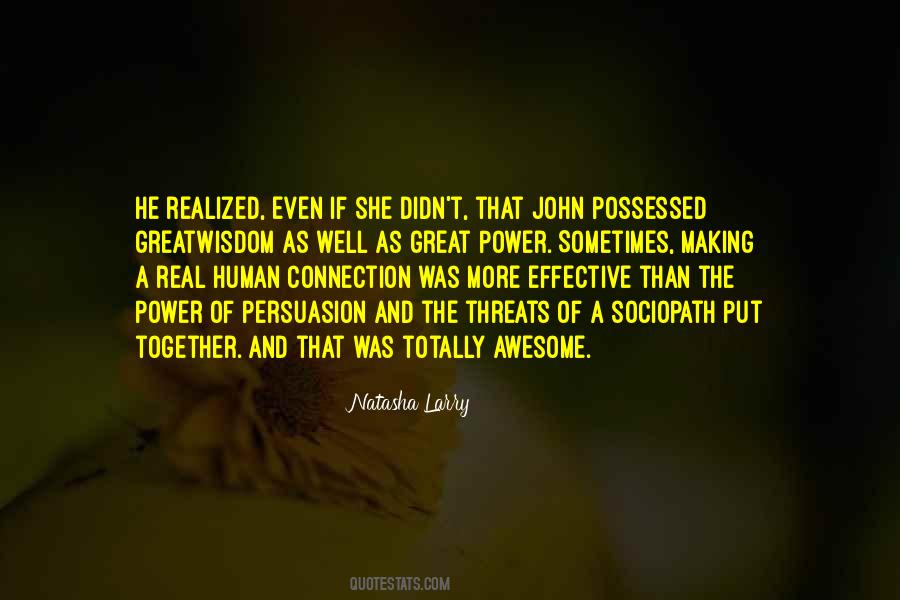 #61. He did look like the Monopoly man, but it was smooth. I thought he was going to pull a monocle out. That would have been awesome. And did you see the pocket watch? That was incredible.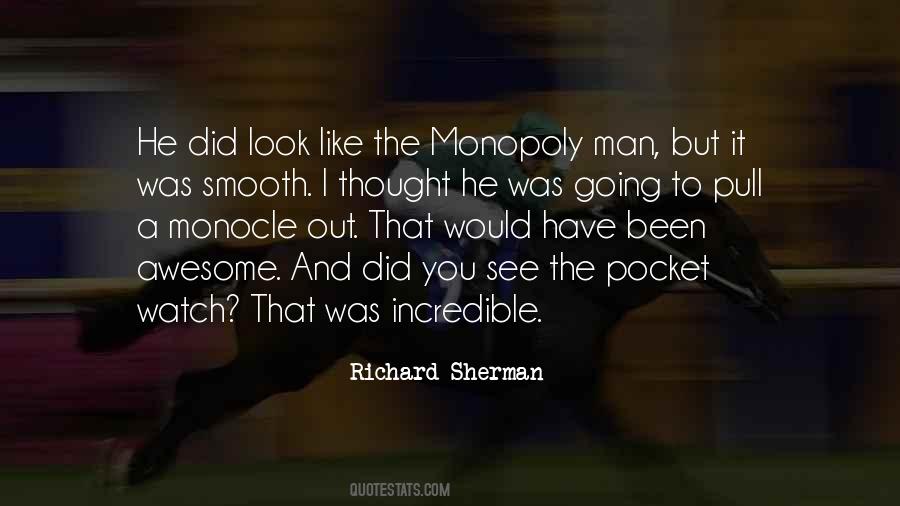 #62. You kidnapped a girl. That's awesome but illegal, Davie. You're probably going to have to give her back." My hair was lifted and Mal appeared, crouched beside me. "Hey there, child bride. Where's my hello kiss?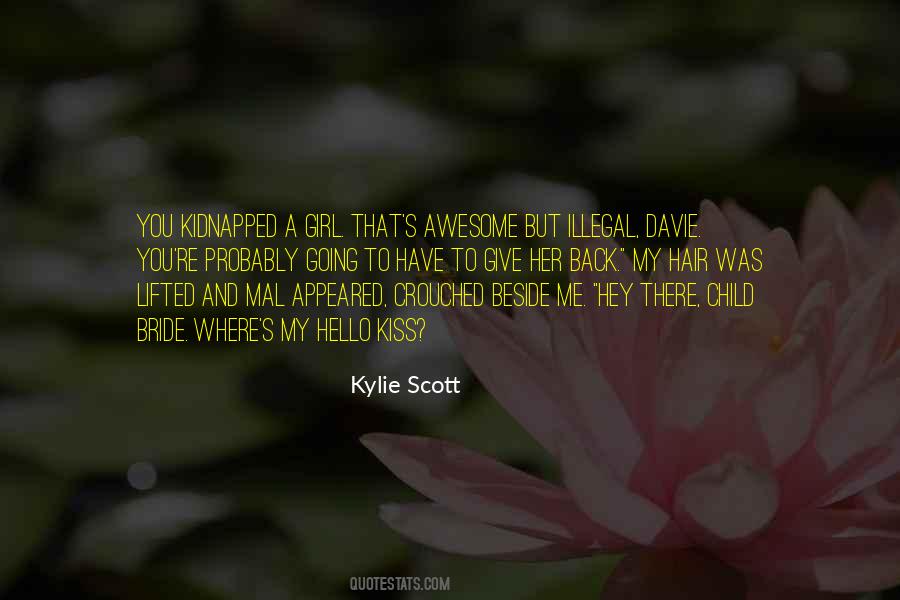 #63. I threw away everything that might make me happy. It's what I did. It's what I was good at. Not being happy. I was fucking awesome at being miserable.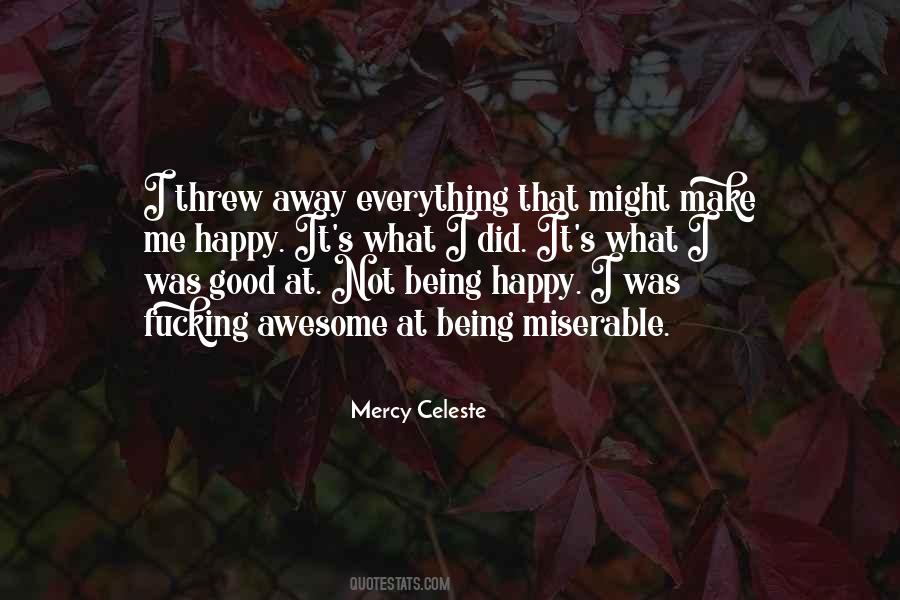 #64. When I moved to Seattle in fourth grade, I joined the Seattle Girls' Choir. It's a world-class choir, and we competed, toured Europe, and went and sang at the Vatican, so it was a really awesome experience to have that young.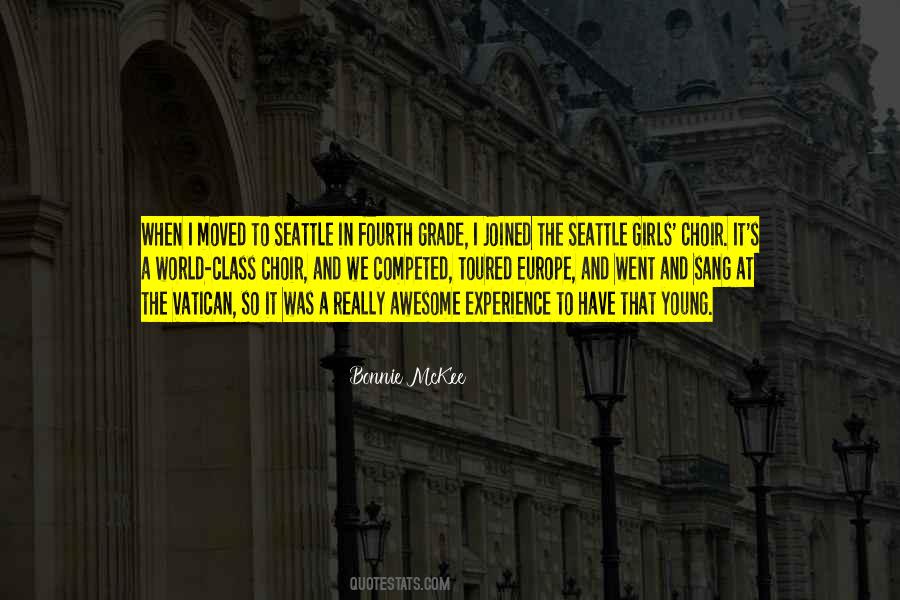 #65. Mr. Garrison glanced at Daemon, frowning. "It's the fact that the energy was so strong it disrupted a satellite's signal and they weren't able to snap any pictures of the event. Nothing like that has ever happened before."
Daemon kept his expression blank. "I guess I'm just that awesome.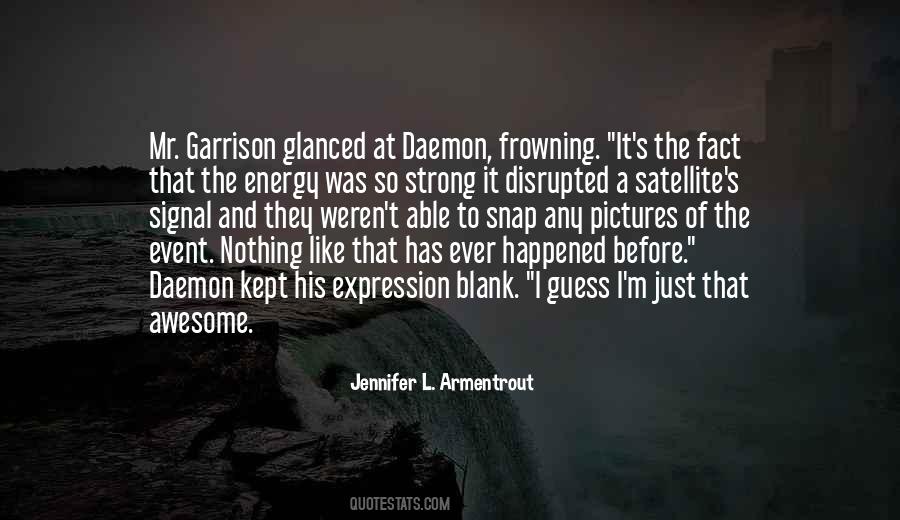 #66. For an age we stood there like that, me holding him by the collar of his jacket and kissing him for all I was worth, him standing there, hands up like I was frisking him with no idea what to do about it.
It. Was. Awesome.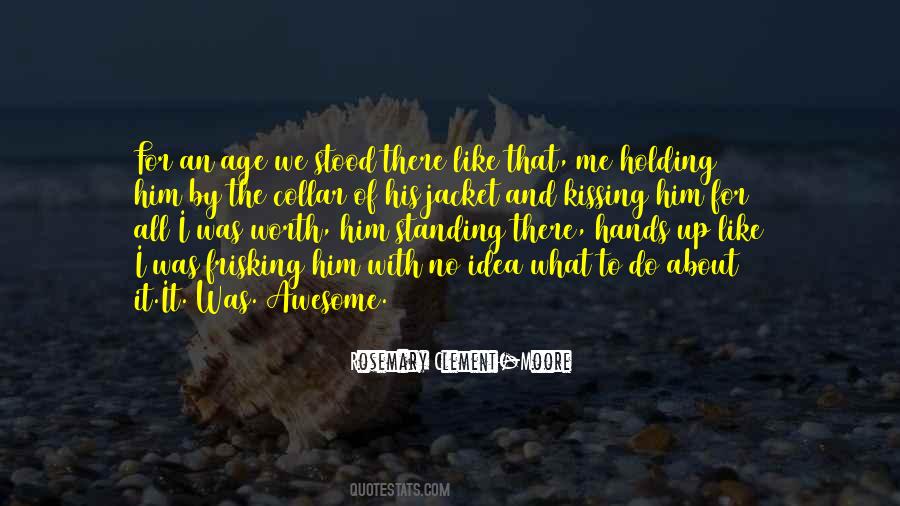 #67. The Lord of the Rings trilogy restored the balance in the Force after the Star Wars prequels ruined everything that was awesome about being a nerd at the movies.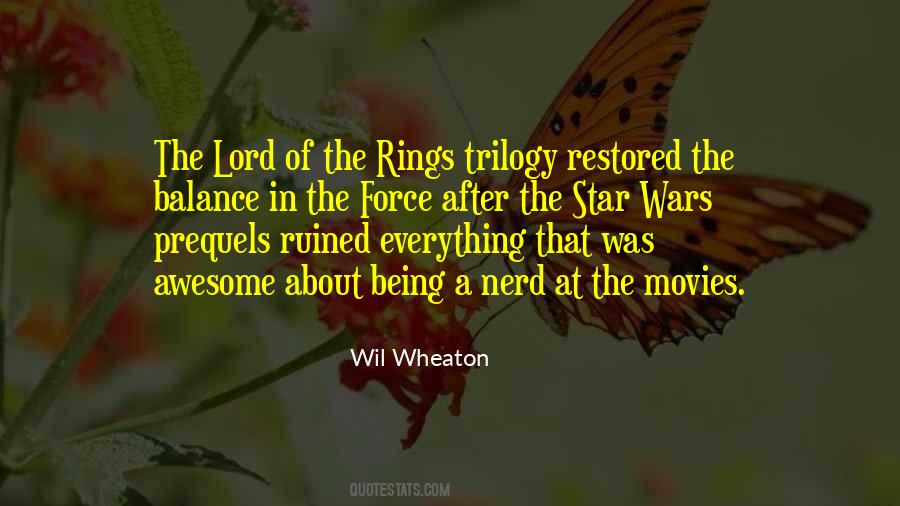 #68. I may not have believed in lady luck, but I believed in her fucking sister, irony. That bitch was out to nail me to wall." ~ Caleb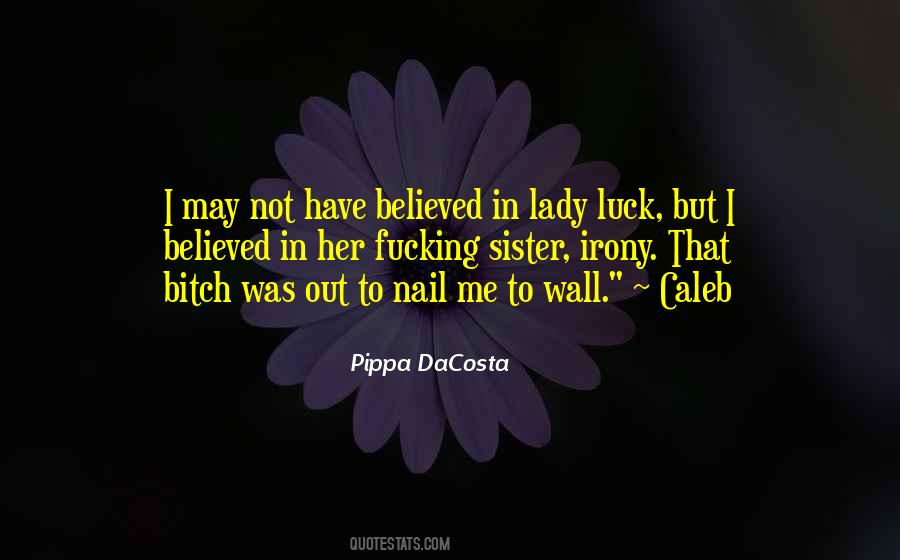 #69. I love the Coen brothers. They're so brilliant, and they always surprise you in one way or another. 'A Serious Man' was awesome. I like stuff like that, that kind of throws you for a loop. It takes you on a journey that is unexpected.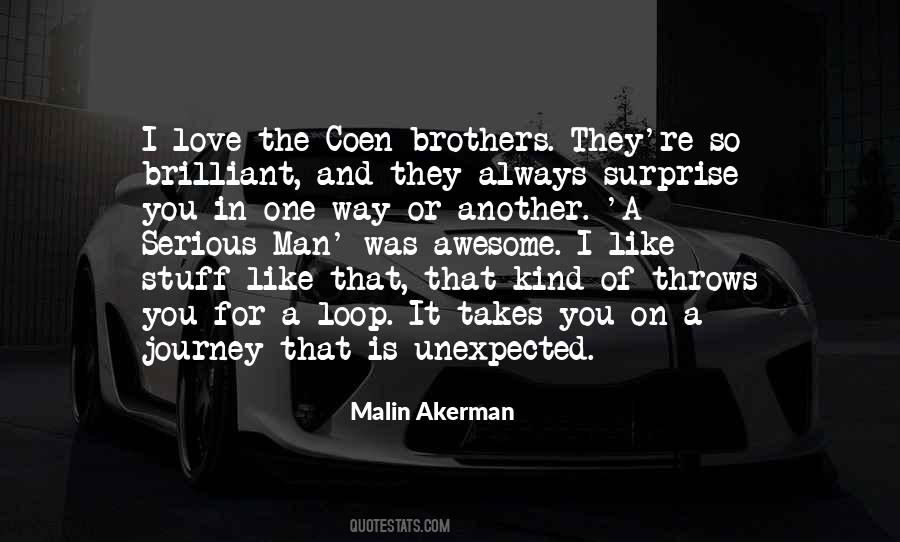 #70. How can you go wrong with playing around on a superhero show? Just the way that they do things and watching them do their thing was amazing to me. Also, superheroes are awesome!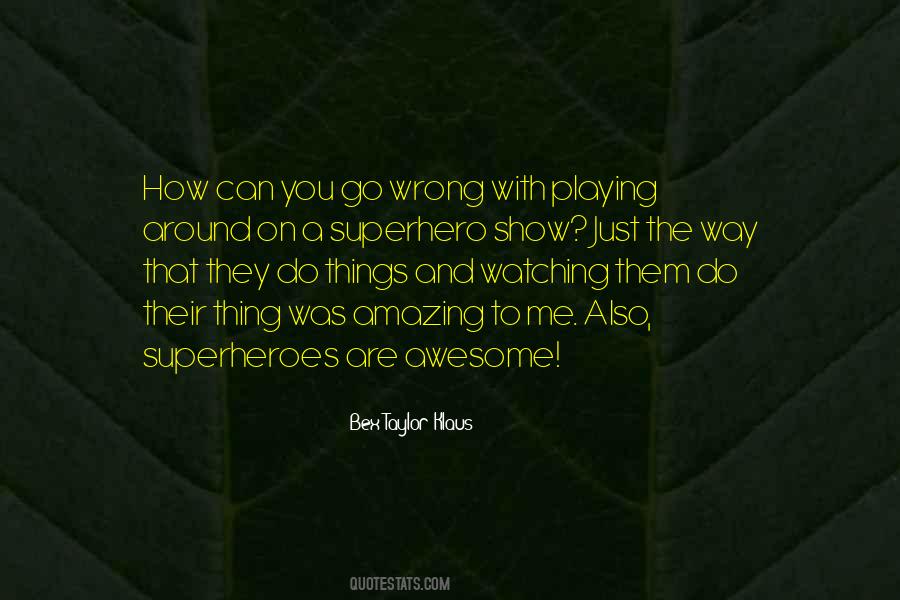 #71. For so long, I was searching for something to be proud of. But at a certain point, I realized, 'Wait, I'm doing what I want to be doing. I'm not wanting to do it; I'm doing it.' And that's awesome.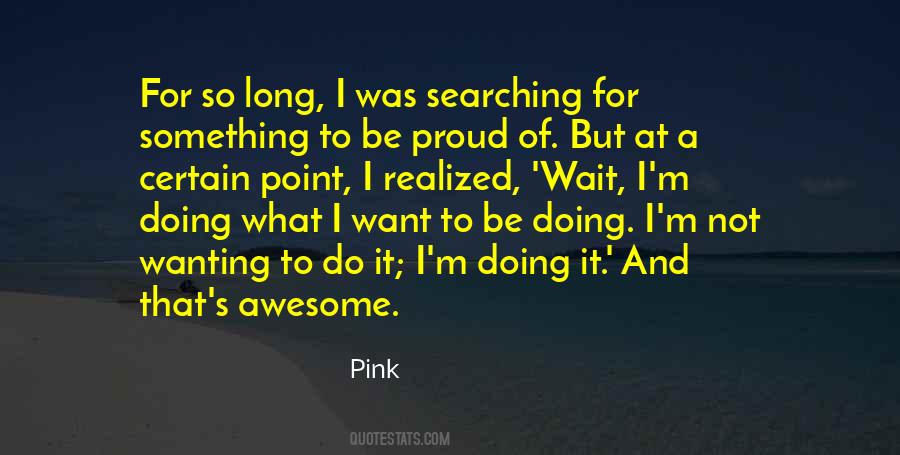 #72. Oh, my mama was awesome. Very strict, overreligious, loved the Lord, loved rules. But she had to be that way because of where we were growing up, the neighborhood I was from.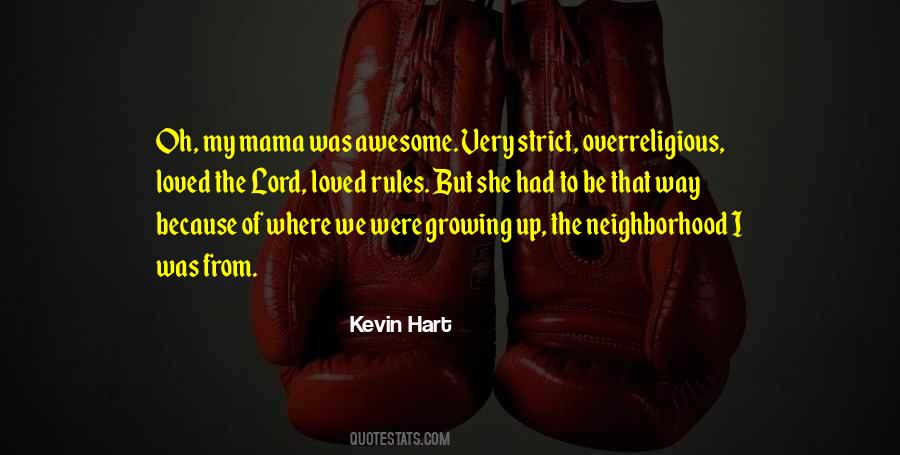 #73. I don't know anybody who said, 'I love that teacher, he or she gave a really good homework set,' or 'Boy, that was the best class I ever took because those exams were awesome.' That's not what people want to talk about. It's not what influences people in one profession or another.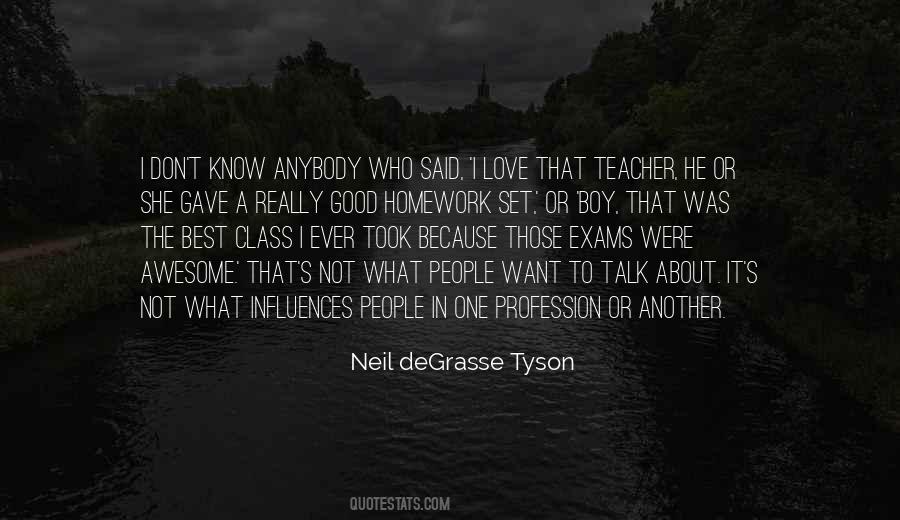 #74. I'm a big fan of the whip ... That snake whip was awesome!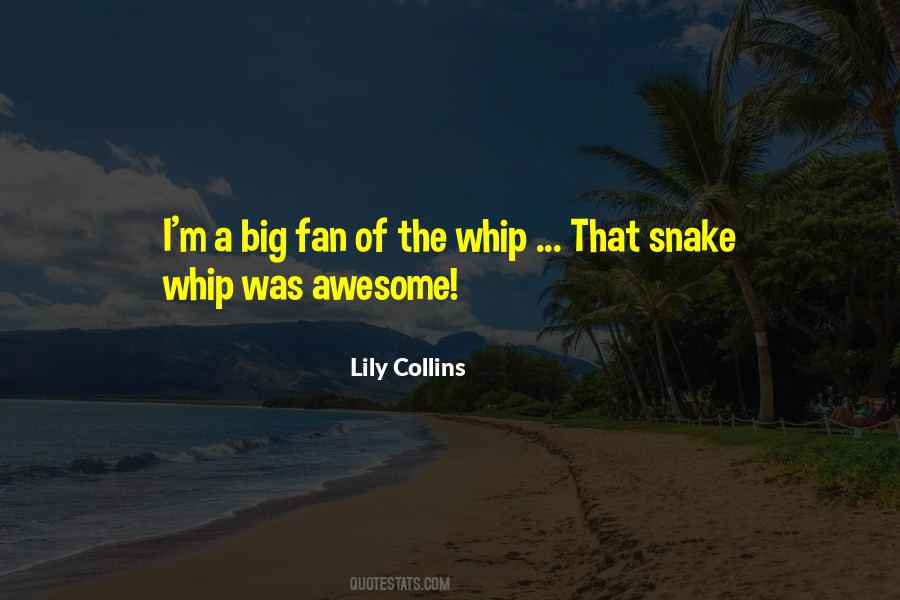 #75. I was using Twitter a lot on my phone, and was realising there was a massive gap between the link on the tweet and the full story. If you could come up with a summary layer to show in Twitter, that would be awesome.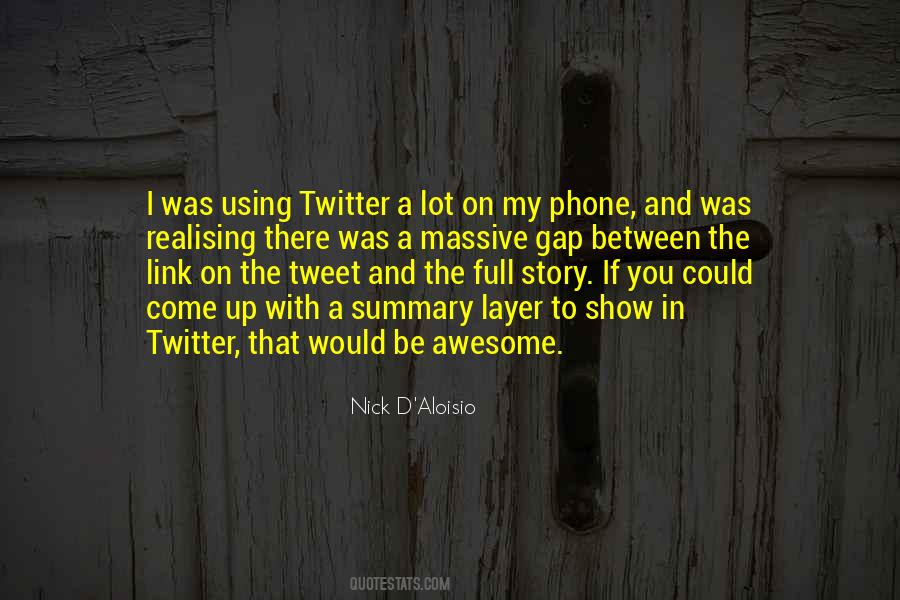 #76. When I was 5 years old, hanging out with my friends who were all older than me, like 8 or 9, I was joking around like, 'Yeah, when I'm 20 that's a perfect age to go pro.' That's what I had in my head. Then I turn pro at 13. It's all been a mystery and its all been awesome.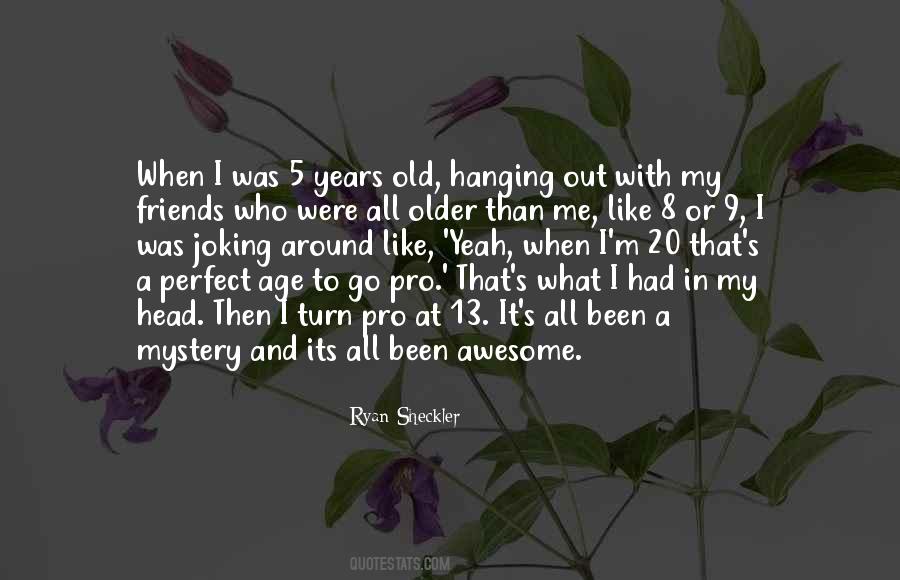 #77. My brothers were tremendous shack builders. My shacks were horrible. My brothers once built a two-story shack from the ground up that was awesome!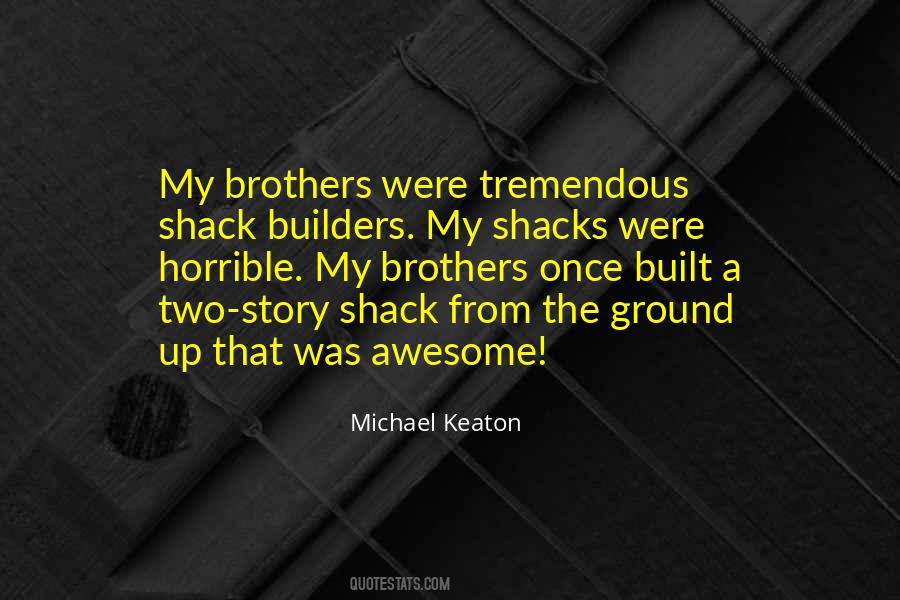 #78. I never thought then I'd be doing what I'm doing now. At my high school, being on the girls soccer team was the cool thing to do, but that was definitely never going to happen for me, so I played music. Not because everyone thought it was awesome, but for the love of it.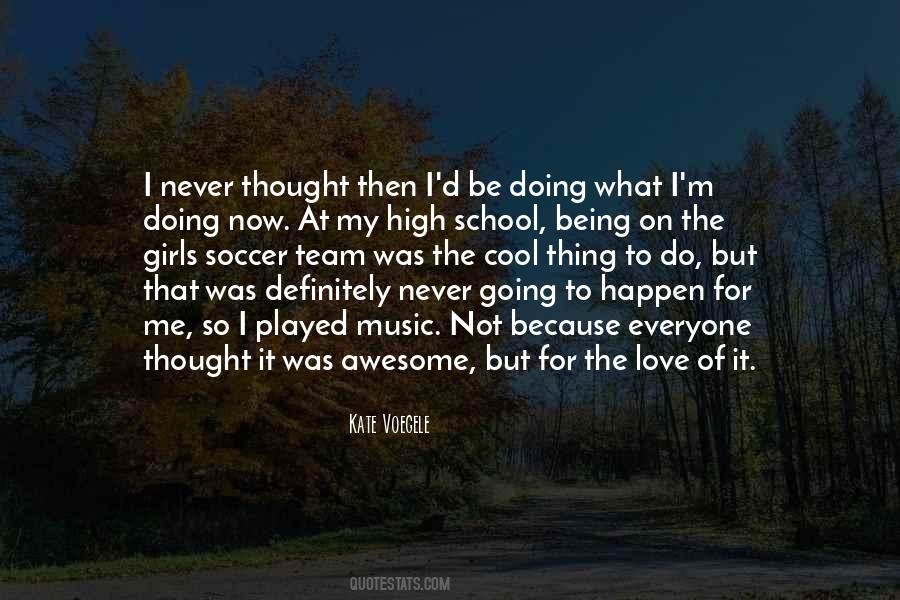 #79. She glanced at the minotaur horn in my hands, then back at me. I imagined she was going to say, You killed a minotaur! or Wow, you're so awesome! or something like that.
Instead she said, You drool when you sleep.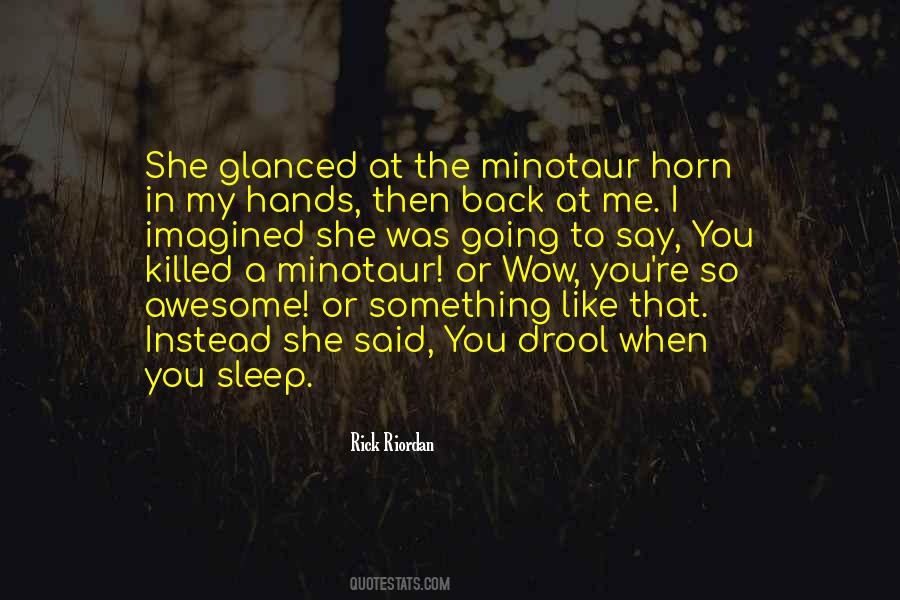 #80. When I did 'The Social Network', David Fincher told me that I managed to make a thankless character pretty awesome. I thought that was really cool because I think he's really cool.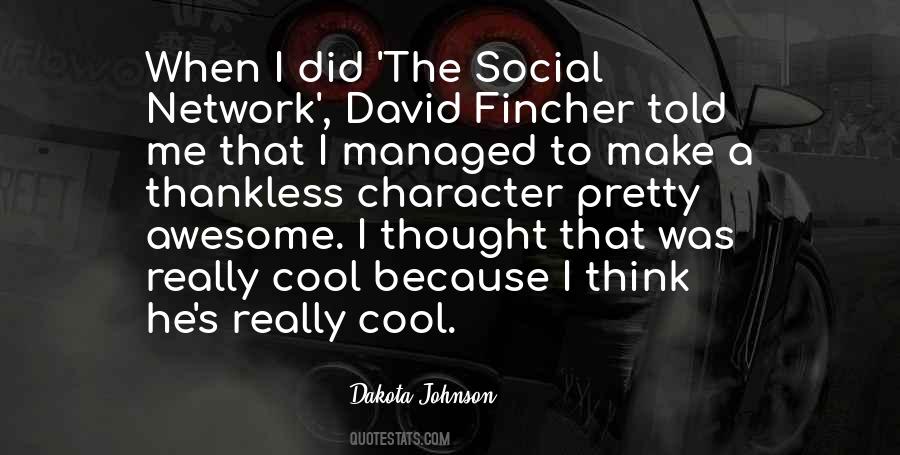 #81. When Moses was alive, these pyramids were a thousand years old. Here began the history of architecture. Here people learned to measure time by a calendar, to plot the stars by astronomy and chart the earth by geometry. And here they developed that most awesome of all ideas - the idea of eternity.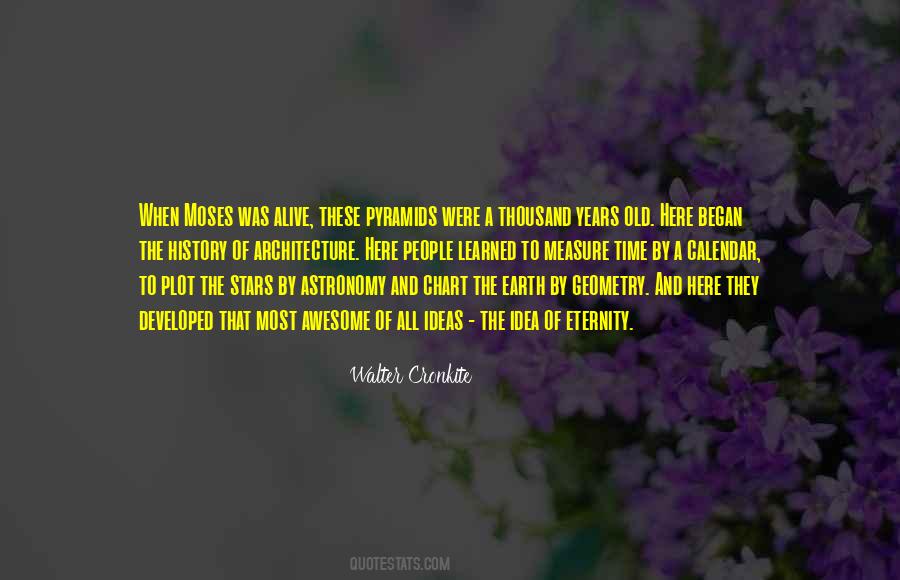 #82. It would be awesome to stay popular, but if I was only an underground artist, I would be okay with that.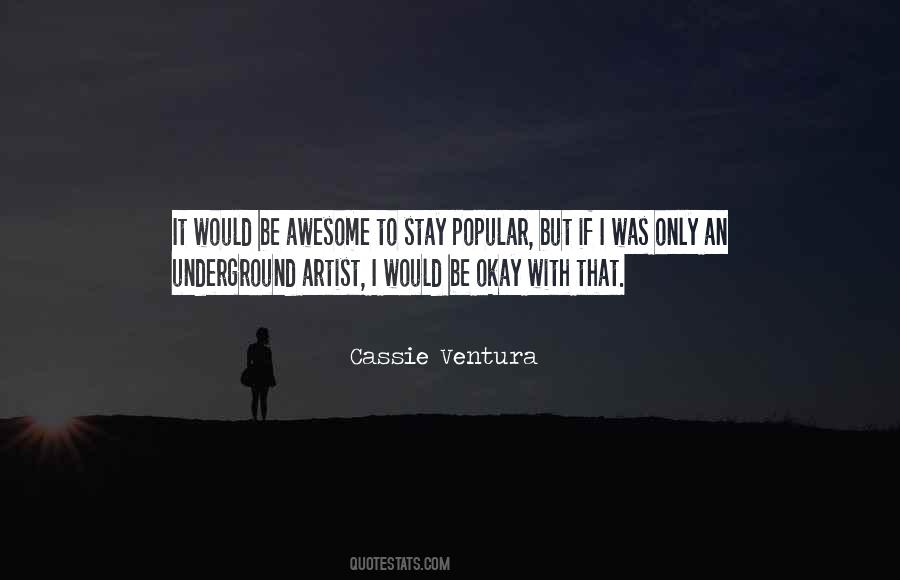 #83. Watching a dog try to chew a large piece of toffee is a pastime fit for gods. Mr. Fusspot's mixed ancestry had given him a dexterity of jaw that was truly awesome. He somersaulted happily around the floor, making faces like a rubber gargoyle in a washing machine.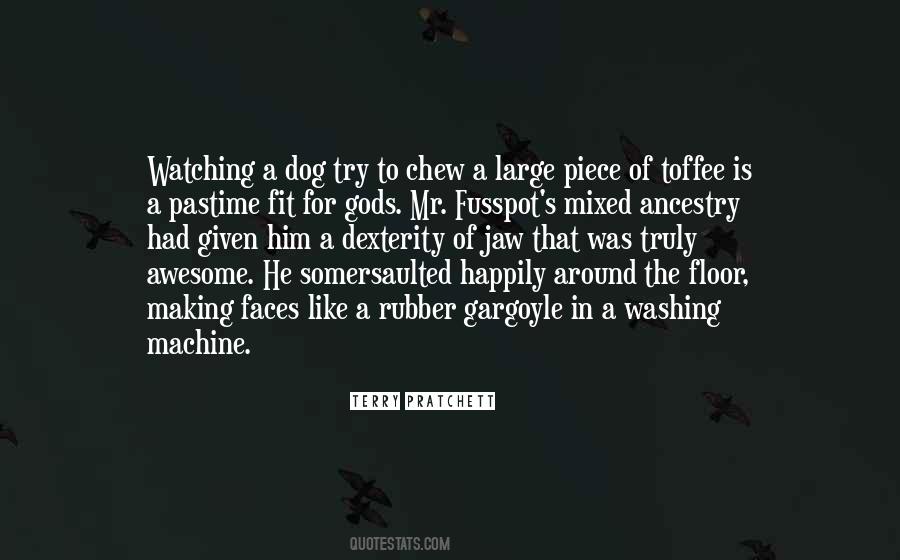 #84. I was signed when I was 19 years old, in 1980. I went to Germany and France. Seeing the world at that time was just an awesome experience for a teenager.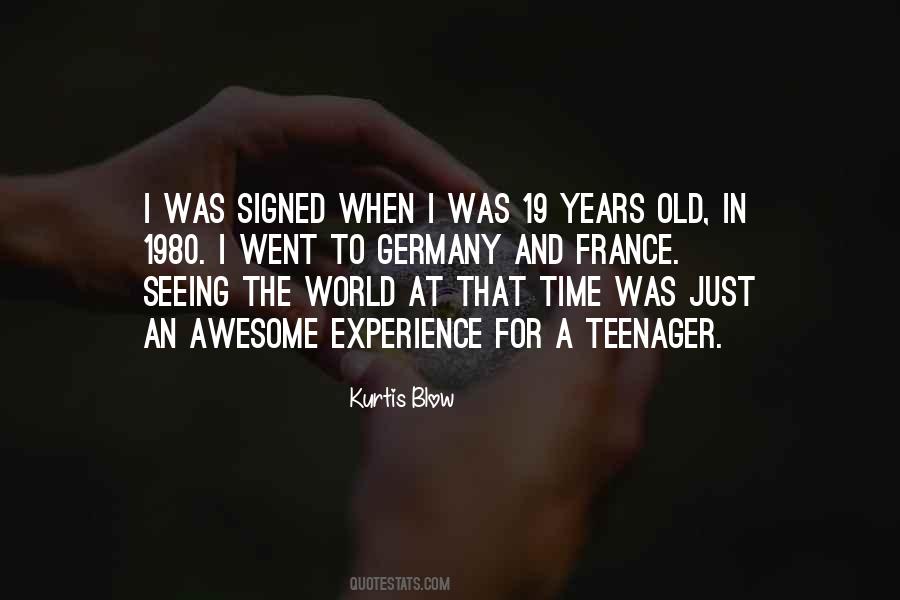 #85. Every kid's dream is to play for their hometown team, watching when you're younger and stuff like that. It's awesome to be able to be from Miami and play for the Marlins because I was at the stadium as a little kid watching the game.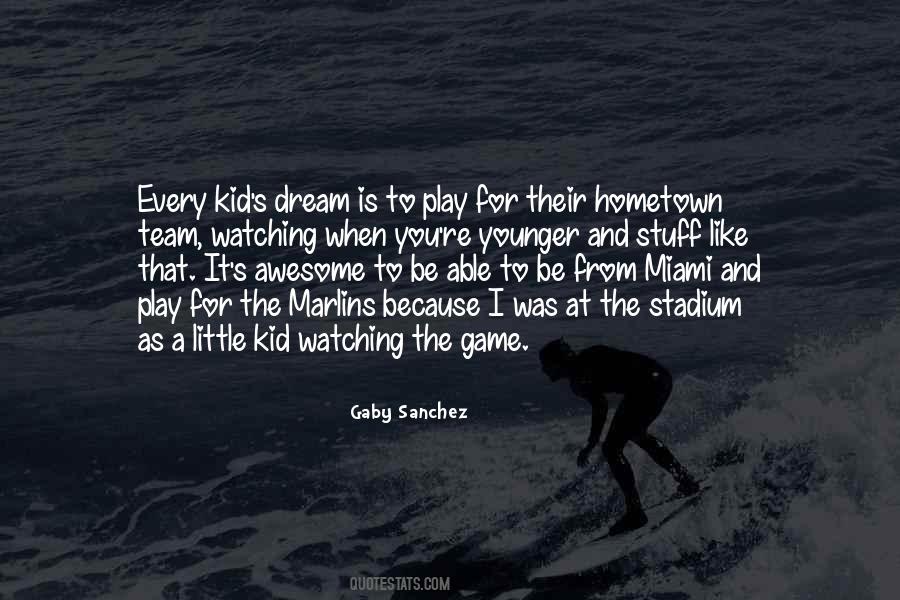 #86. That was fucking awesome," Boyd enthused with a huge grin.
"It's pretty amazing," Kassian agreed, taking off his own helmet. "I had a feeling you'd appreciate it considering your taste in cars and men. Fast, powerful and dangerous and all that stuff, right?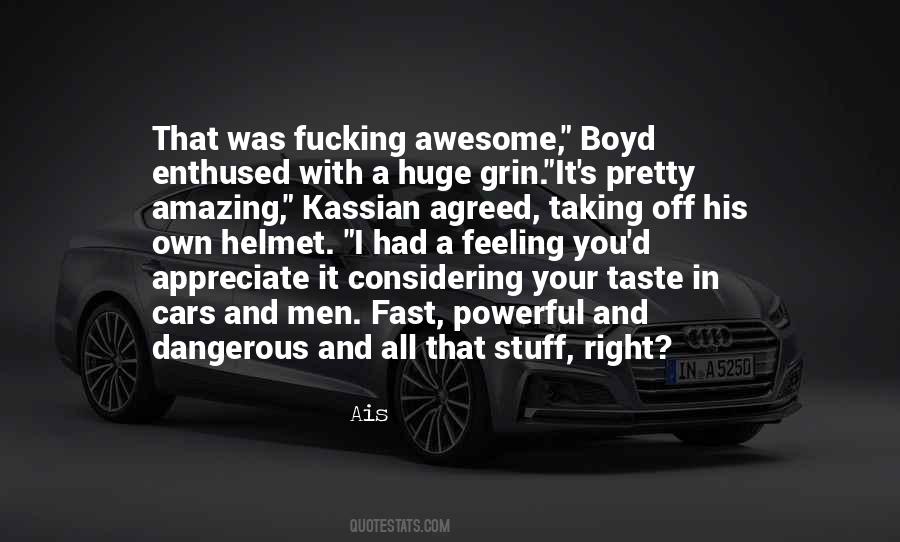 #87. My 21st birthday was awesome. I was in L.A., and it was great. I had a bunch of friends that came out. The night ended up in a completely different direction than we thought it was going to go.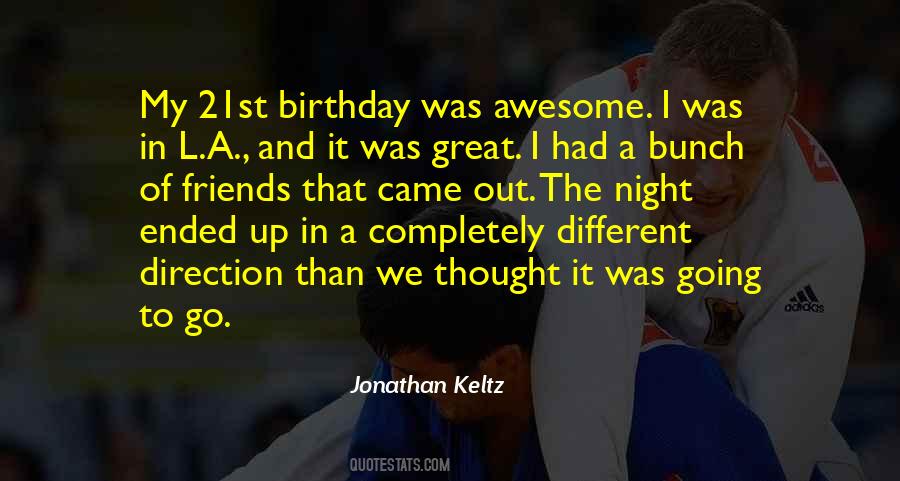 #88. That was awesome. I wasn't expecting it and when I got the call I got nervous for a second. But I was just really excited.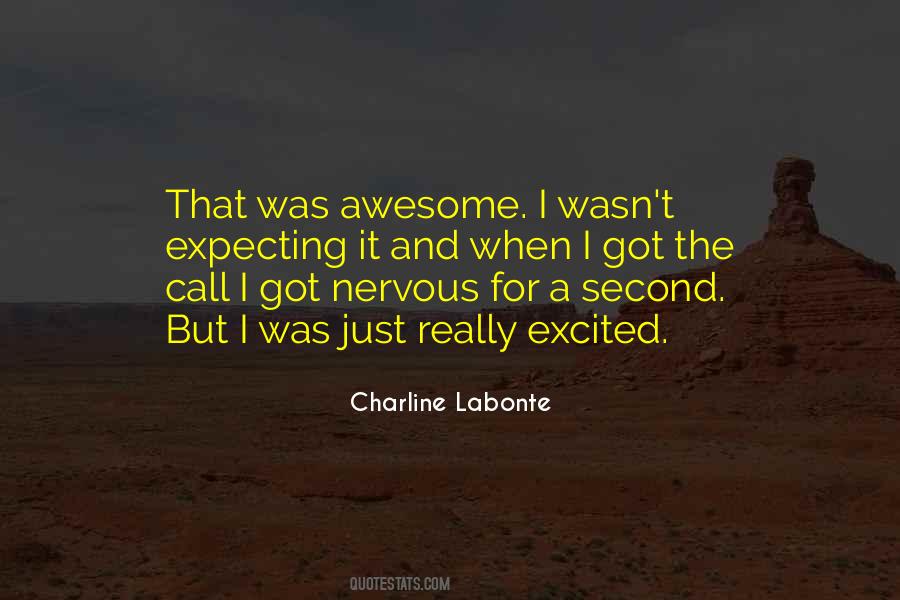 #89. We went to see Lenny Kravitz last summer in Austin and he was awesome. His show was just awesome. I mean, like, when you see some of these great bands, you sit there and think, man, if only we were that tight, you know?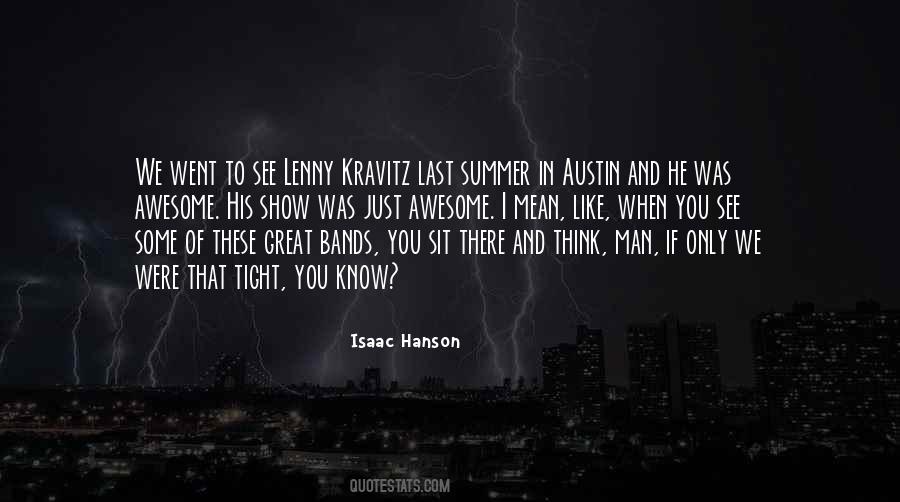 #90. I want everyone to look back and think that I was awesome.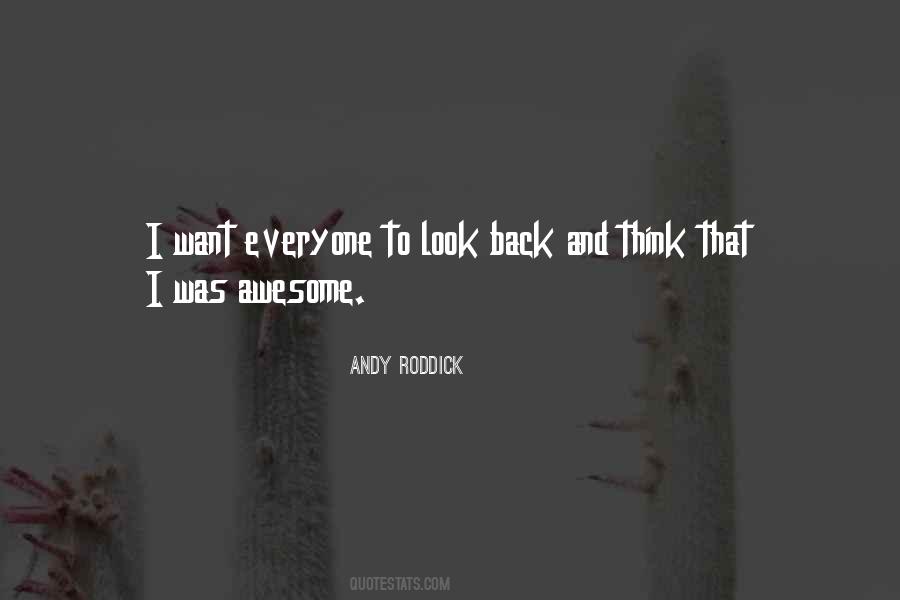 #91. It is amazing how much more amazing sleep is in the morning. You wake up and you're like, "I stayed up to do what?! Watch Growing Pains? What was I thinking!?" But at night you're like, "La La La La La, Hey! Growing Pains, awesome! And I've seen this episode. That Kirk Cameron's always in trouble."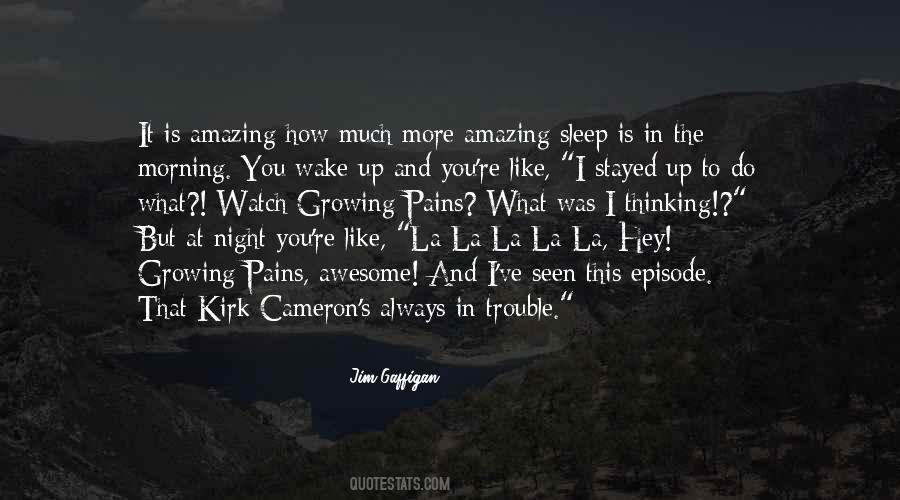 #92. I was thinking about how snakes shed their skin every year, and how awesome it would be if people did that too. In lots of ways, that's what I was trying to do. As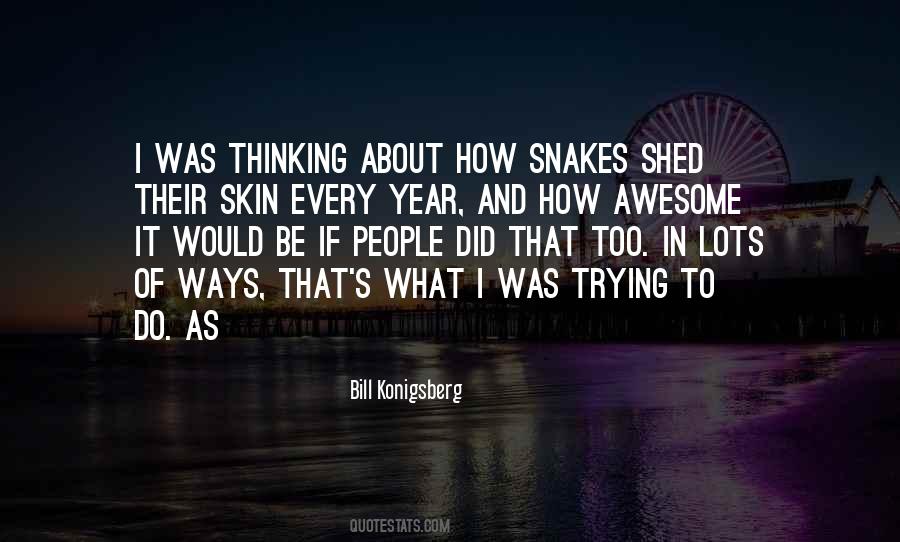 #93. The plot of the movie seemed stupid to them: Aguirre and everyone were searching for a city that it said right at the beginning did not exist. They didn't understand that that was the whole point. They didn't get that it was awesome because it was so insanely meaningless.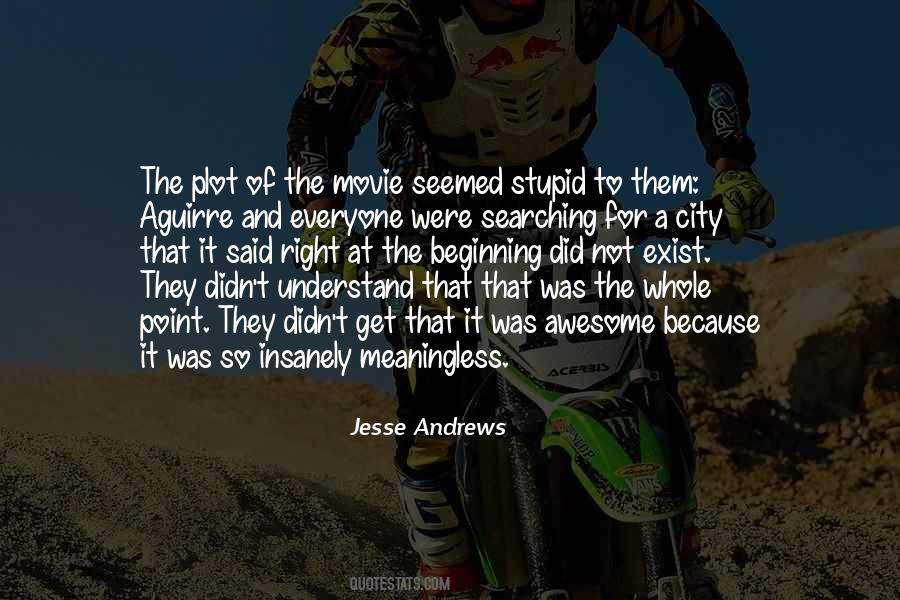 #94. When France resolved, along with England, to lend assistance in the legitimate defense of Poland, the realization burst on us that a conflict of awesome proportions was inevitable.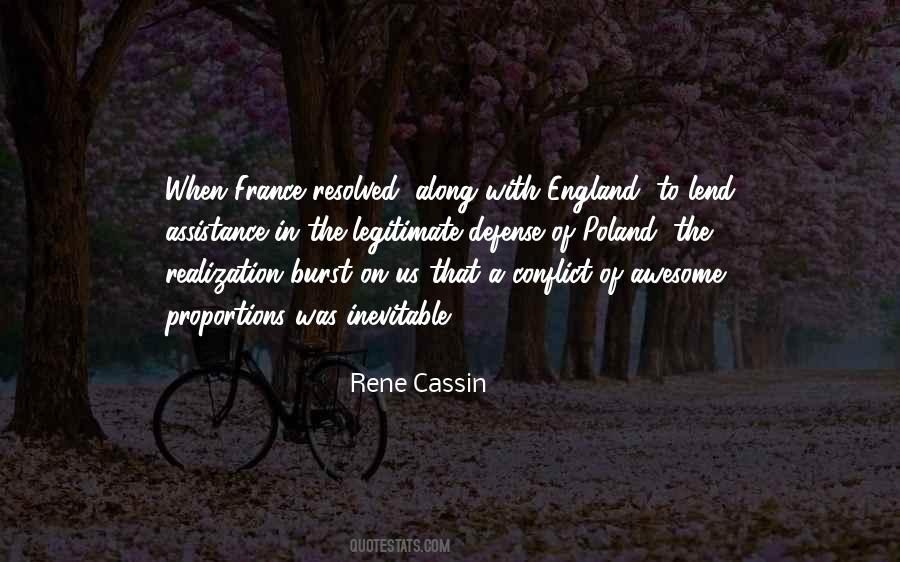 #95. So now you've met my mother,' I say to Jase that night, leaning back on the roof.
'I sure have. That was awesome. And completely uncomfortable.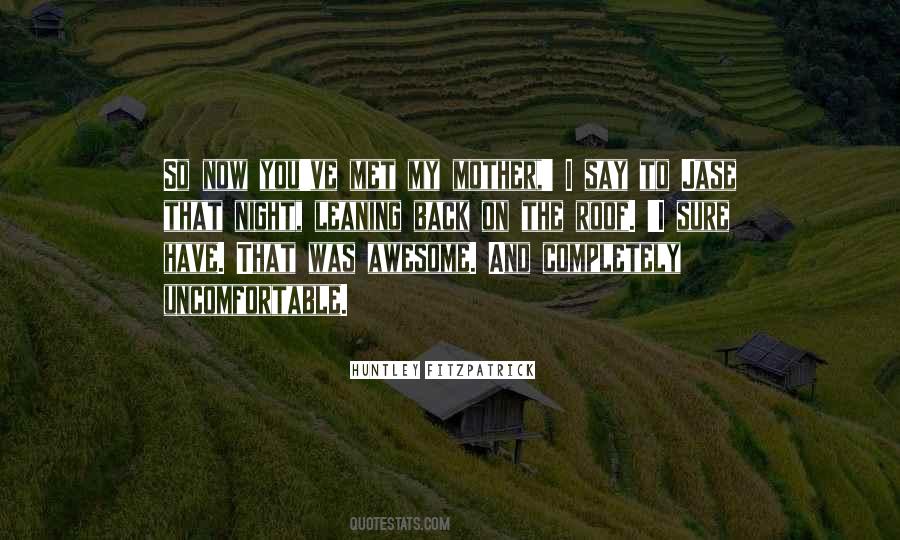 #96. And then you get some jerk for a boss. And you think, 'I wish God was my boss. That would be awesome. He wouldn't care about my sales sheet. He would care about my soul sheet.' Then you feel a little embarrassed because that was such a low-quality joke.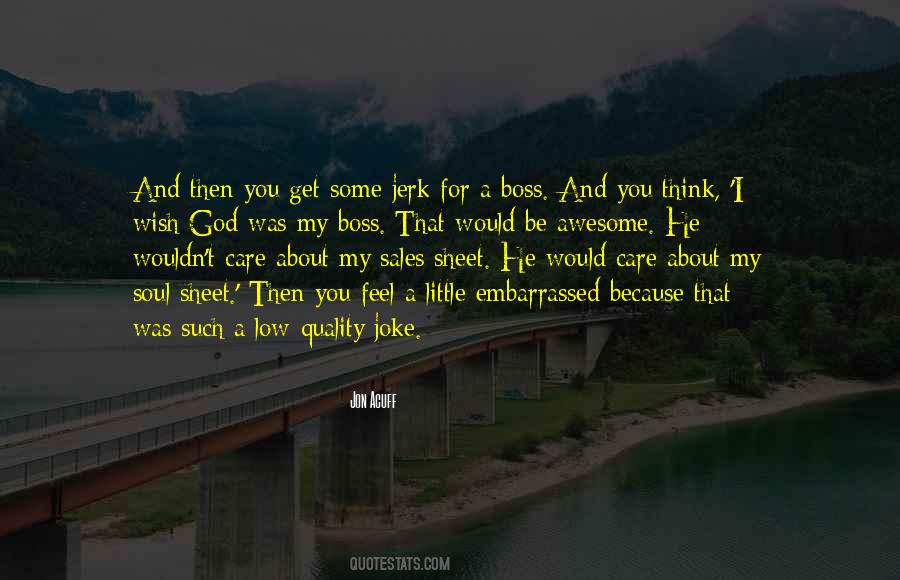 #97. When Holden pointed out that the Roci was already capable of accelerating fast enough to kill her crew and asked why they'd need to upgrade her, Amos had replied, "Because this shit is awesome." Holden had just nodded and smiled and paid the bill. Even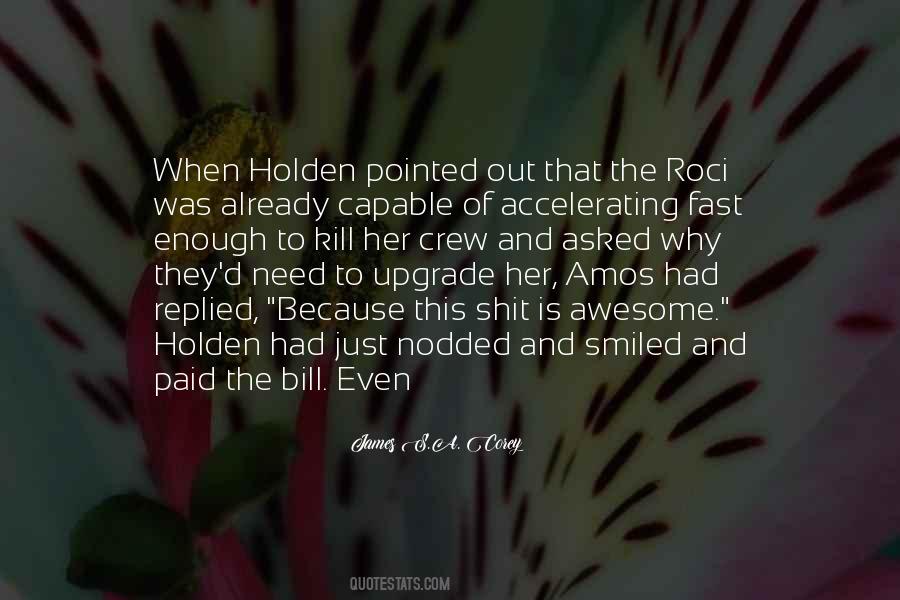 #98. Oo!" Nico raised his hand. "What about Dr. Thorn? That was awesome how you shot him
with arrows! Is he dead?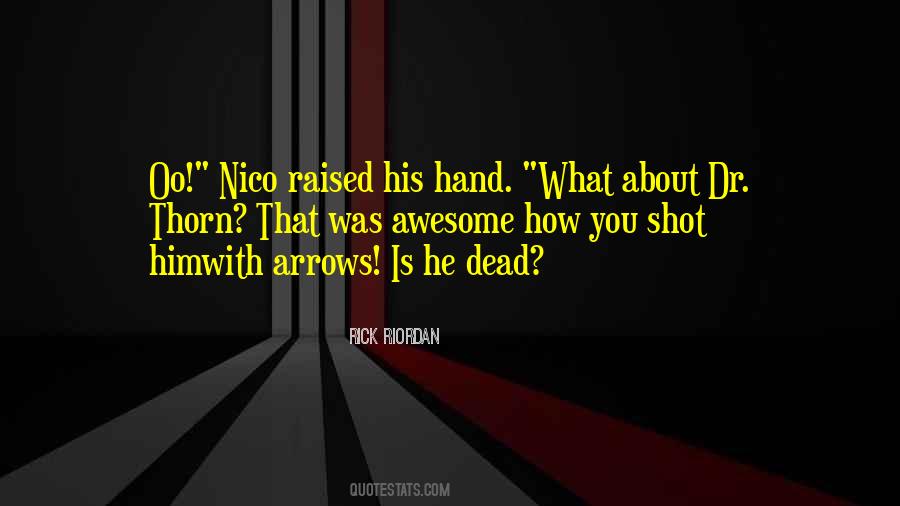 #99. That was so Resident Evil," Luke said, his eyes wide. "Awesome"
I cracked a grin, a little breathless. "It was kind of Alice awesome, wasn't it?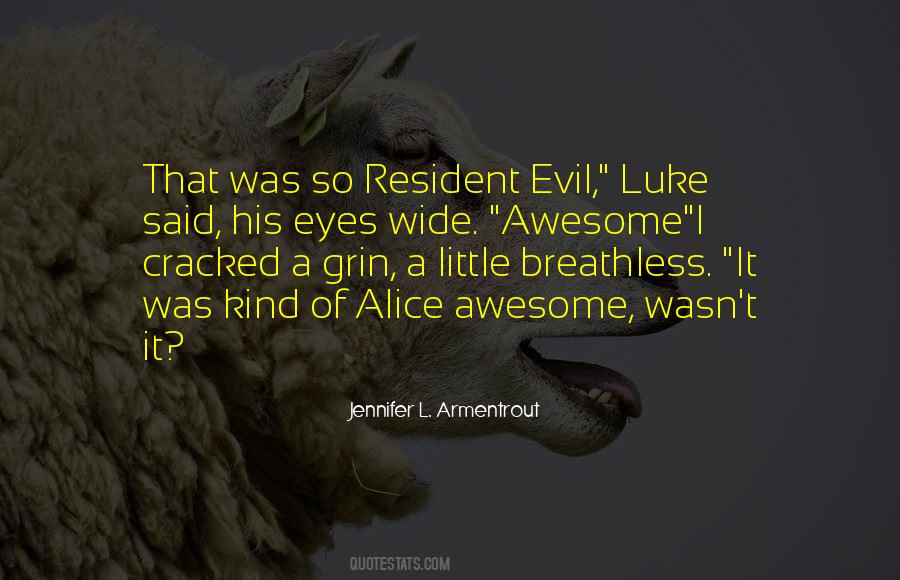 #100. It was a mind-blowing experience, it really was-absolutely an awesome thing ... As I got to the top I released a bag of M&Ms in the cockpit. It was amazing ... Looking out that window, seeing the white clouds in the LA Basin, it looked like snow on the ground.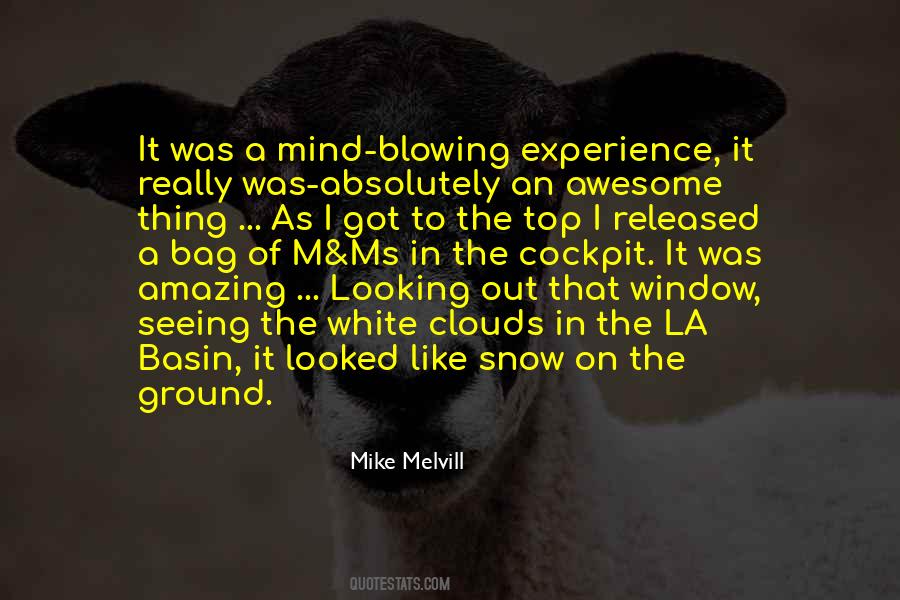 Famous Authors
Popular Topics