List of top 100 famous quotes and sayings about course of action to read and share with friends on your Facebook, Twitter, blogs.
Top 100 Quotes On Course Of Action
#1. He burst into the house and ate Grandma, an entirely valid course of action for a carnivore such as himself.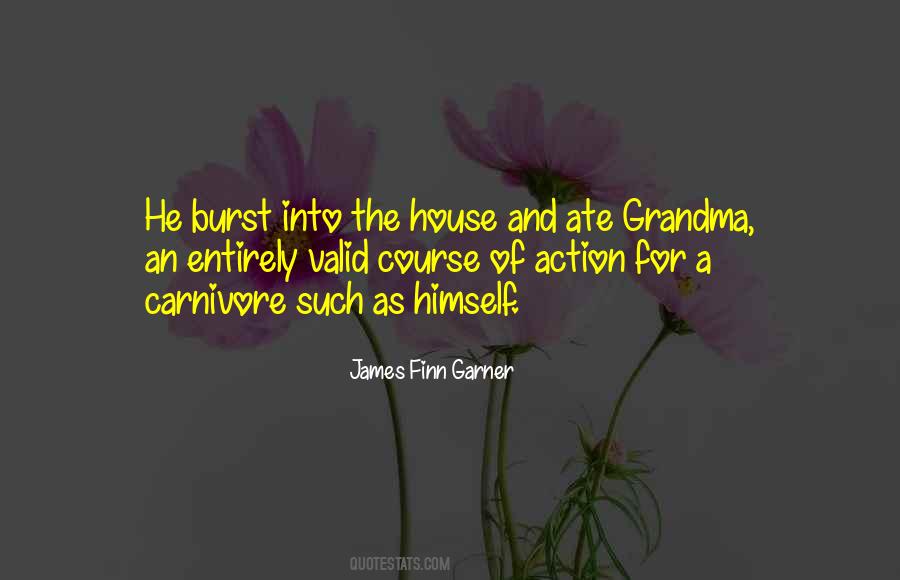 #2. Every event, or appearance, or accident, which seems to deviate from the ordinary course of nature has been rashly ascribed to the immediate action of the Deity.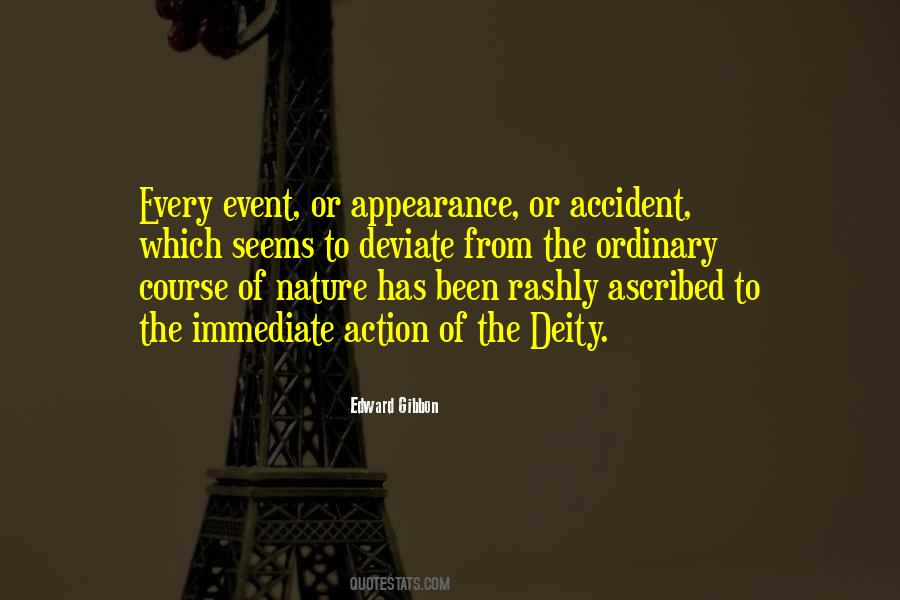 #3. It is hard enough for anyone to map out a course of action and stick to it, particularly in the face of the desires of one's friends; but it is doubly hard for an aviator to stay on the ground waiting for just the right moment to go into the air.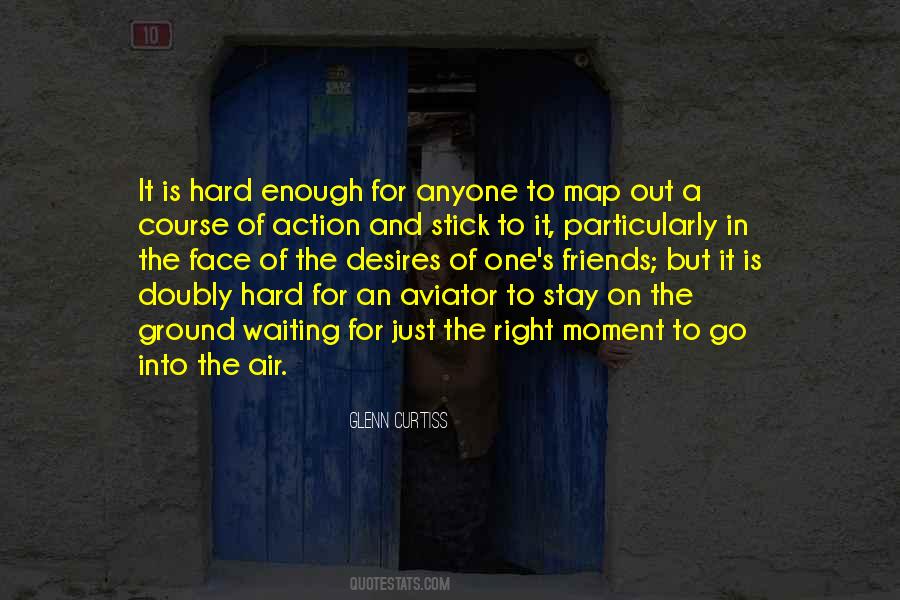 #4. Remember that by saying "yes" - to projects, a course of action, or whatever - you are implicitly saying "no" to something else.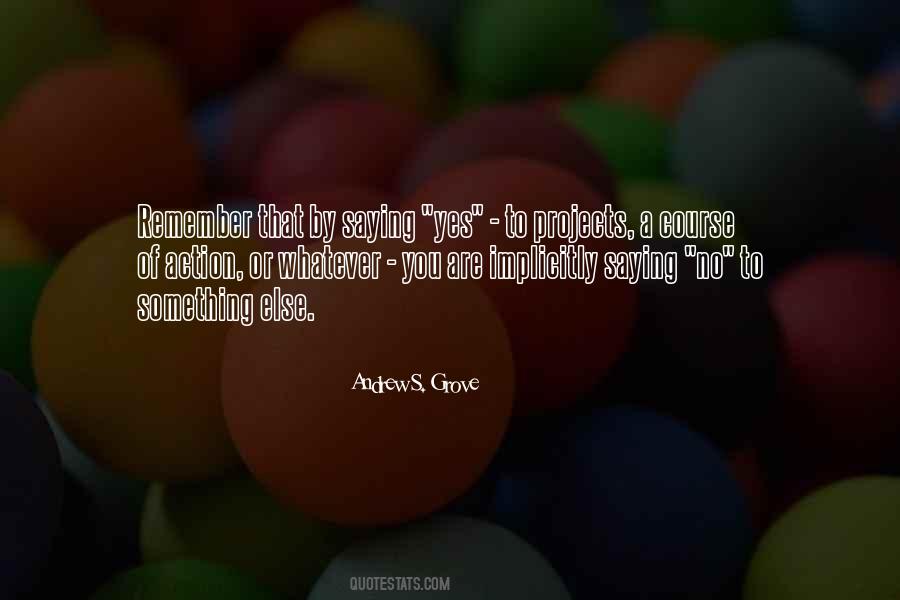 #5. If you have a clear goal and a plan to achieve it, your focus is fixed on a set course of action. Instead of becoming sidetracked by distractions and diversions, your time is focused on a straight line from start to finish.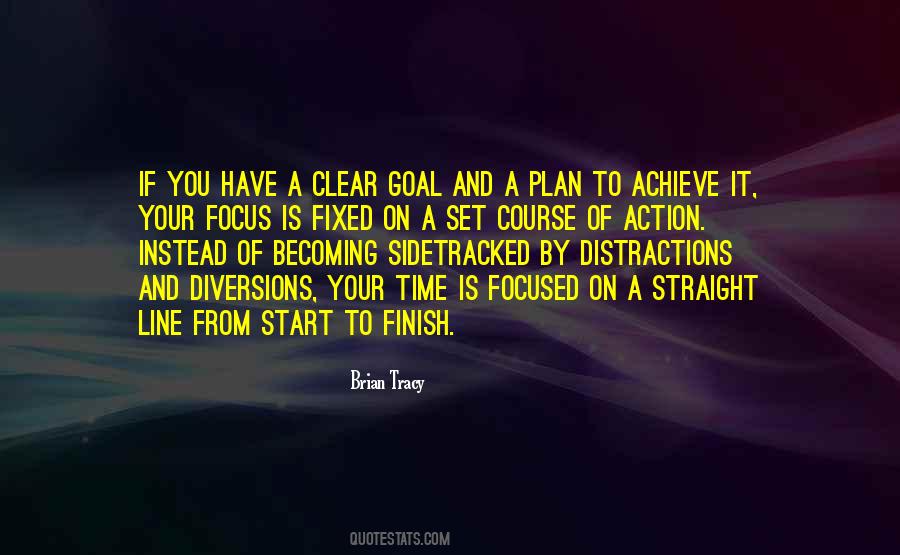 #6. There are cases when I can make myself better off by restricting my future choices and commit myself to a specific course of action.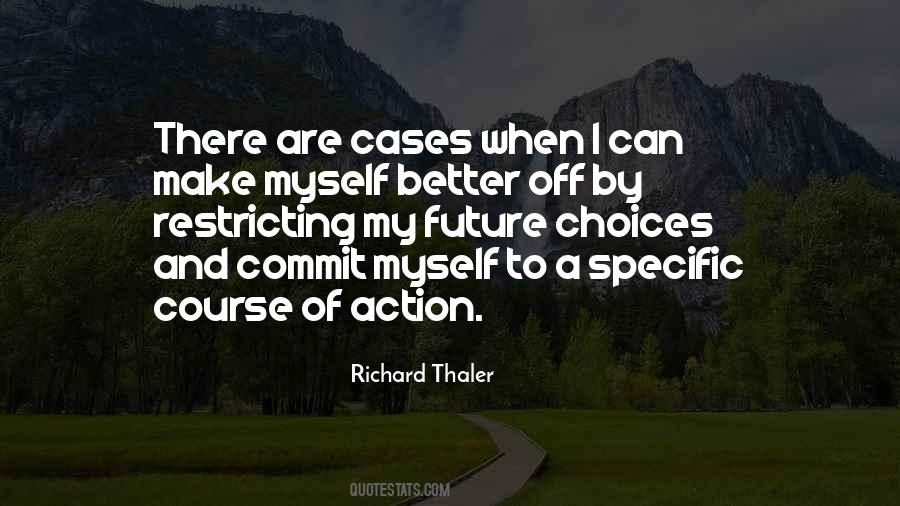 #7. Why does my action strike them as so horrible? Is it because it was a crime? What is meant by crime? My conscience is at rest. Of course, it was a legal crime, of course, the letter of the law was broken and blood was shed. Well, punish me for the letter of the law ... and that's enough.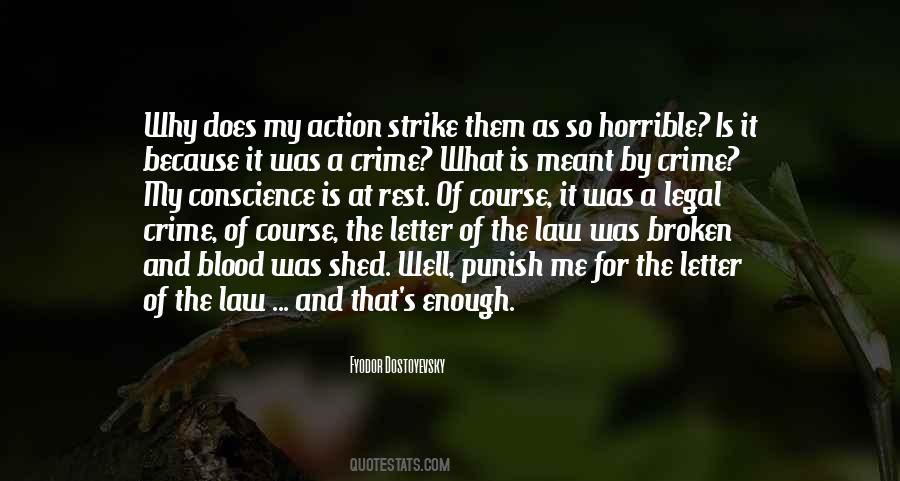 #8. A world where players have enough power to block everyone else's initiatives but no one has the power to impose its preferred course of action is a world where decisions are not taken, taken too late, or watered down to the point of ineffectiveness. Without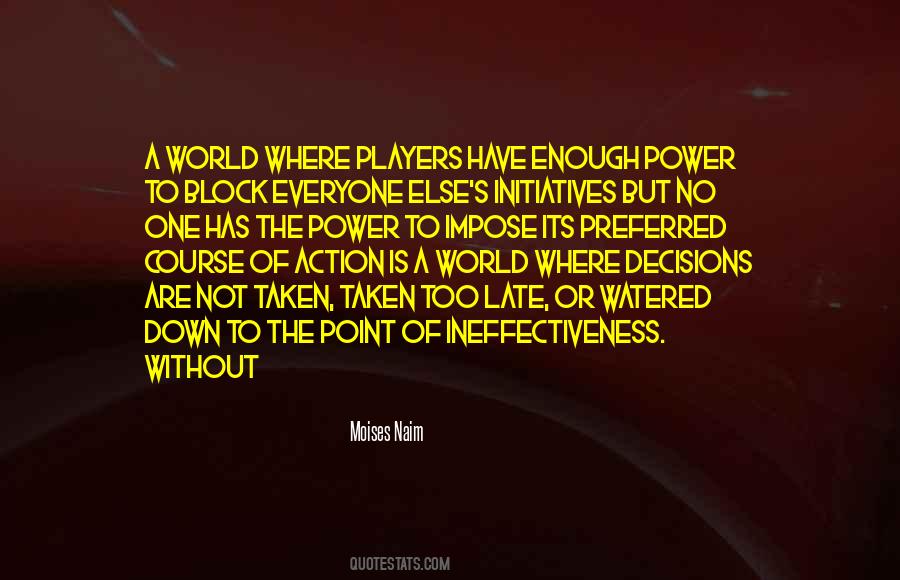 #9. He had a simple maxim for all competitive or adversarial situations: work out what the other party least wants you to do, and then do it. Relieving your feelings was fun, but the best course of action was to make things as difficult as possible for the person trying to make things difficult for you.
#10. Of course, when you remember your life, you never remember anything in a chronological way. You always have pieces of memories, and some of these memories are full of details and very colorful. Some of them you just see the action and it's completely blank.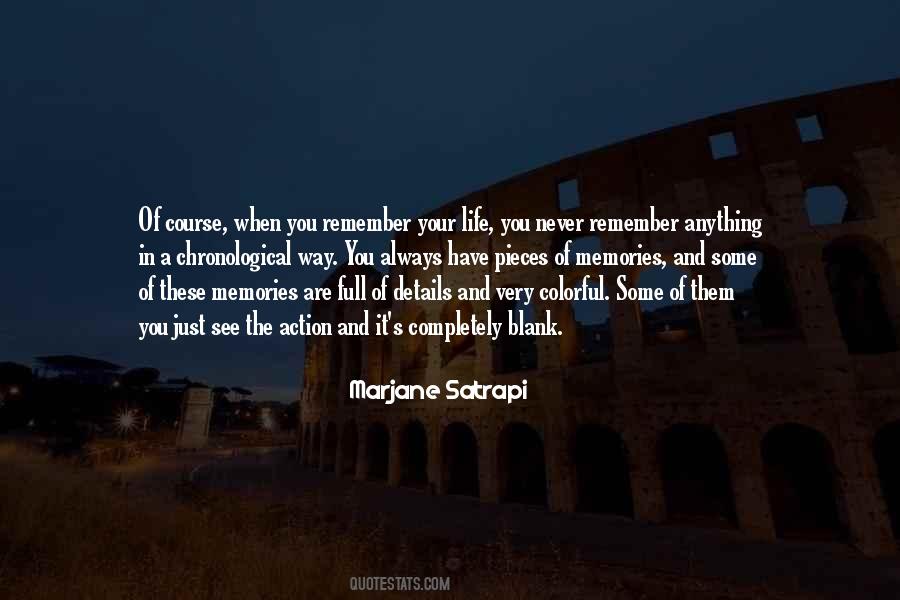 #11. We cannot foresee what the Lord has in mind for us. Our only course of action is to be prepared and worthy for whatever he requires. We must govern our actions every day with our future in mind.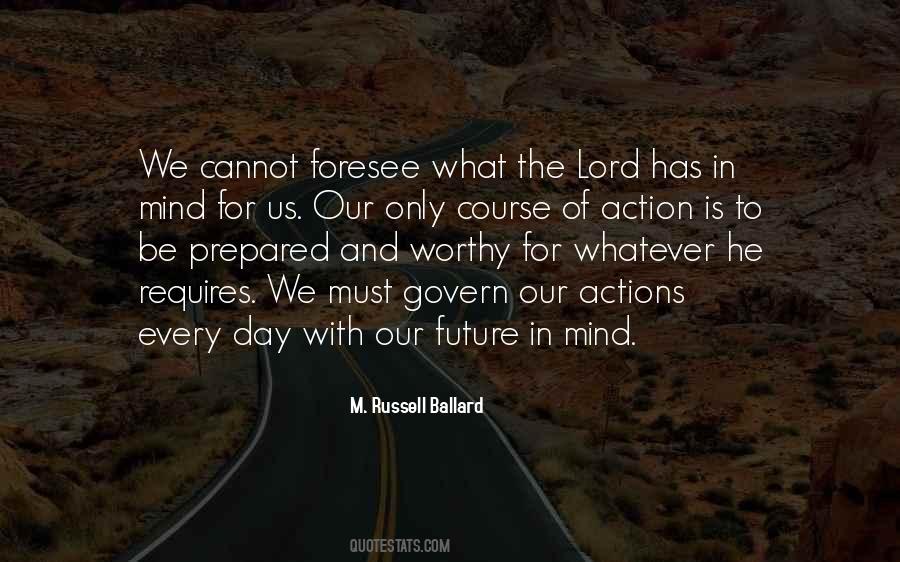 #12. Thoughts that most frequently occupy the mind determine a man's course of action.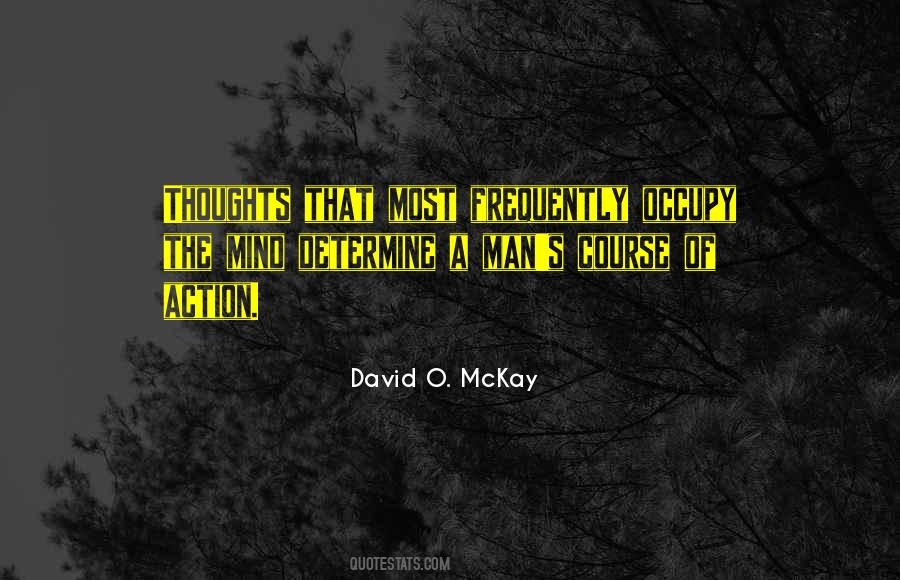 #13. Mma Ramotswe reflected on how easy it was to find oneself committed to a course of action simply because one lacked the courage to say no.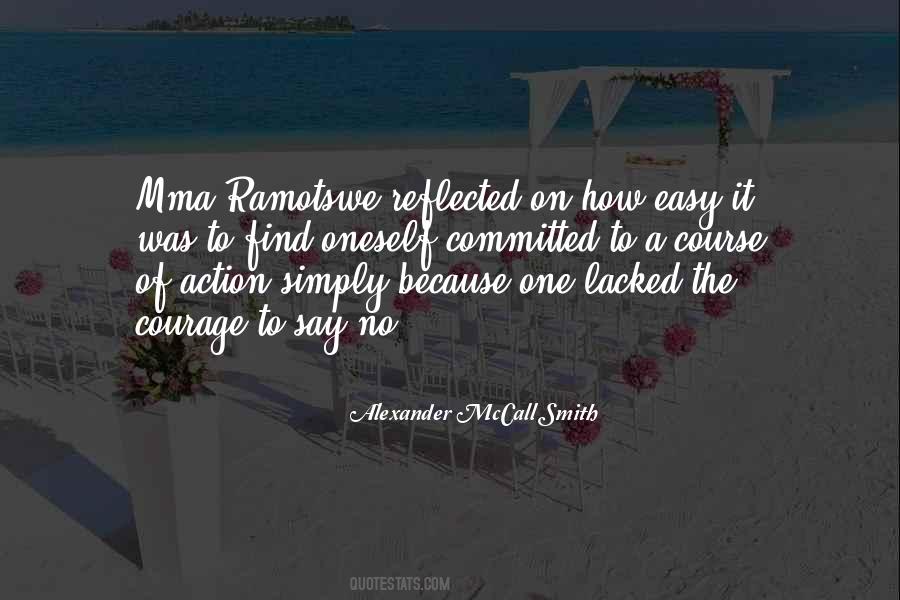 #14. We asked the captain what course
of action he proposed to take toward
a beast so large, terrifying, and
unpredictable. He hesitated to
answer, and then said judiciously:
"I think I shall praise it."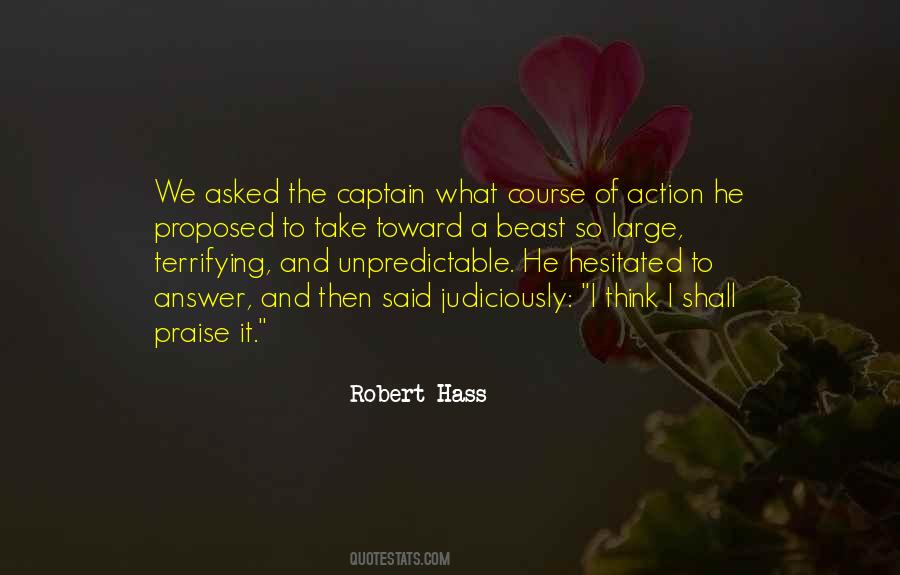 #15. The trouble is that you won't get the scientists to agree on a course of action. It is almost instinctive in science to accept contrary views, because disagreeing gives you guidance to experimental tests of ideas - your own and those offered by others ... .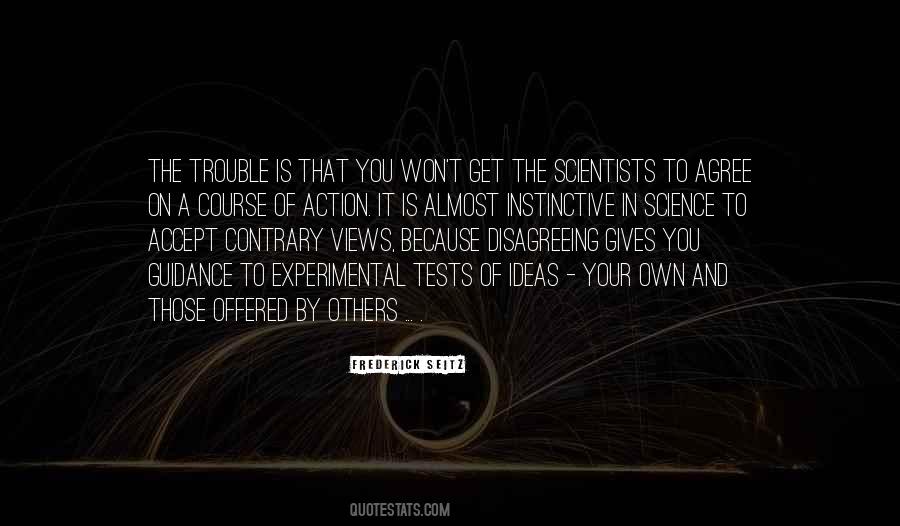 #16. I mean that if you are not absolutely sure of a thing, it is so difficult to commit yourself to a definite course of action.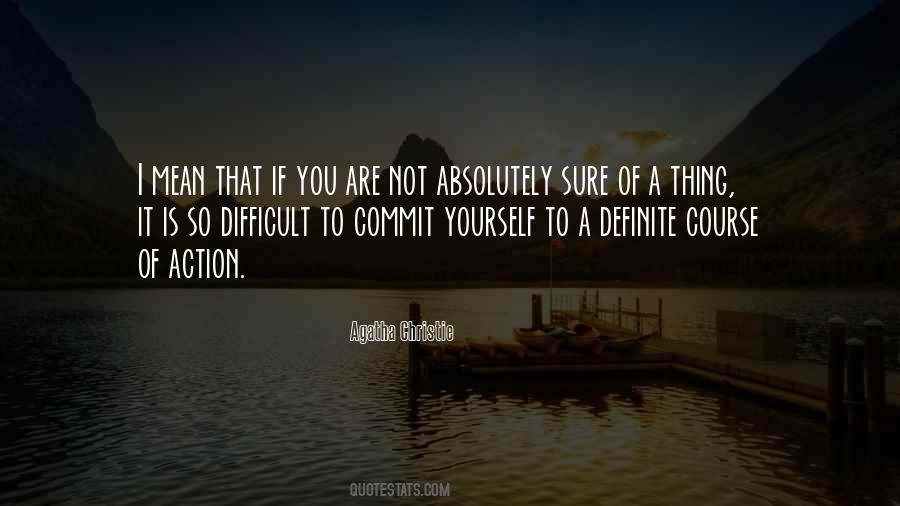 #17. Your colleague, Captain Grimes, has been convicted before me on evidence that leaves no possibility of his innocence - of a crime (I might almost call it a course of action) which I can neither understand nor excuse. I dare say I need not particularise.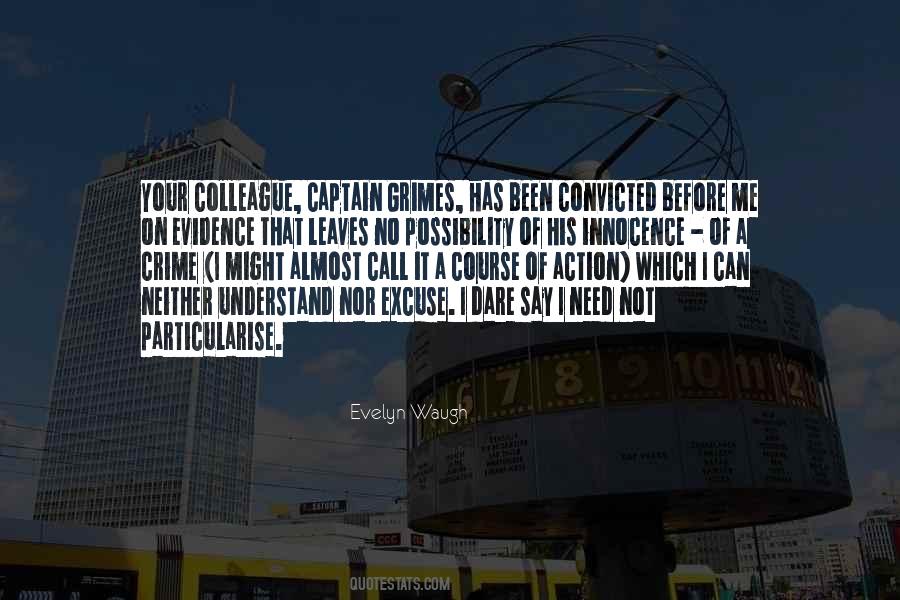 #18. Hopefully, at some point, people will at least credit the Republicans with carrying out their oversight responsibilities and with pursuing a principled course of action even in the face of everyone's short-attention spans.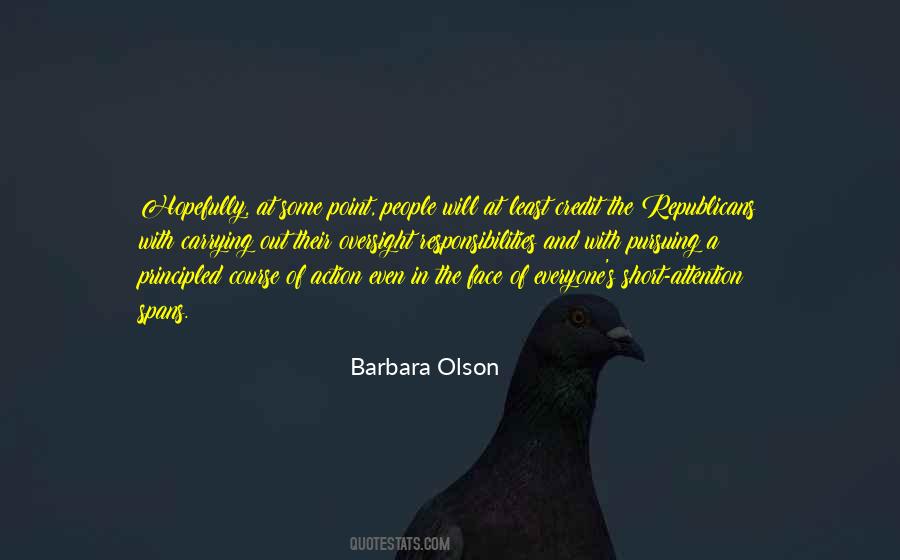 #19. Whereas experts spend more time diagnosing the situation and less time choosing a course of action, novices are inclined to focus on possible actions at the expense of situation assessment.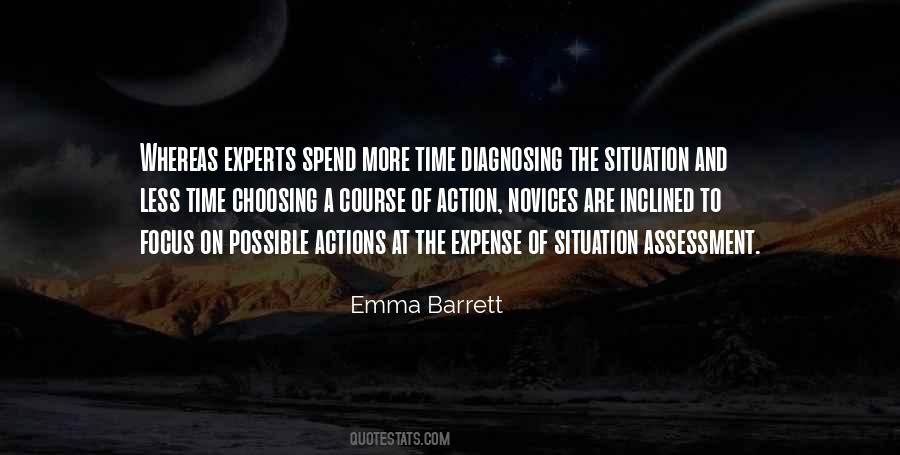 #20. Set your expectations high; find men and women whose integrity and values you respect; get their agreement on a course of action; and give them your ultimate trust.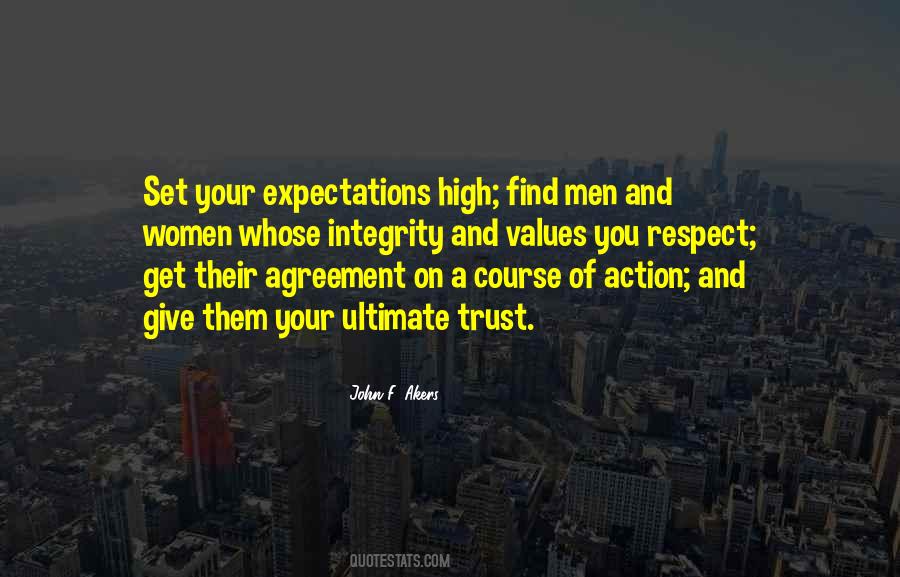 #21. When the course of events shall have removed you to distant scenes of action where laurels not nurtured with the blood of my country may be gathered, I shall urge sincere prayers for your obtaining every honor and preferment which may gladden the heart of a soldier.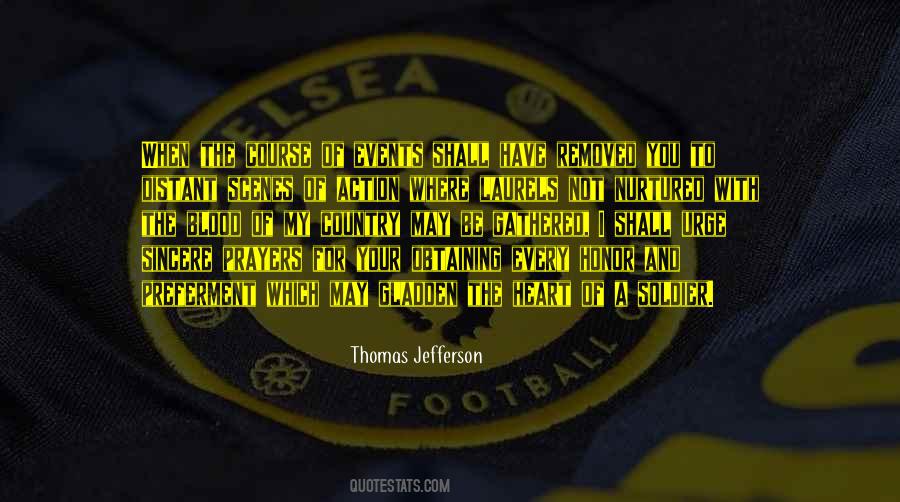 #22. If I have done wrong to another person, the correct course of action is to apologize and make amends to that person and not blow it all off and hope that some God is going to forgive me and make it all go away. That sort of mentality is what allows people to not treat others in a way that is good.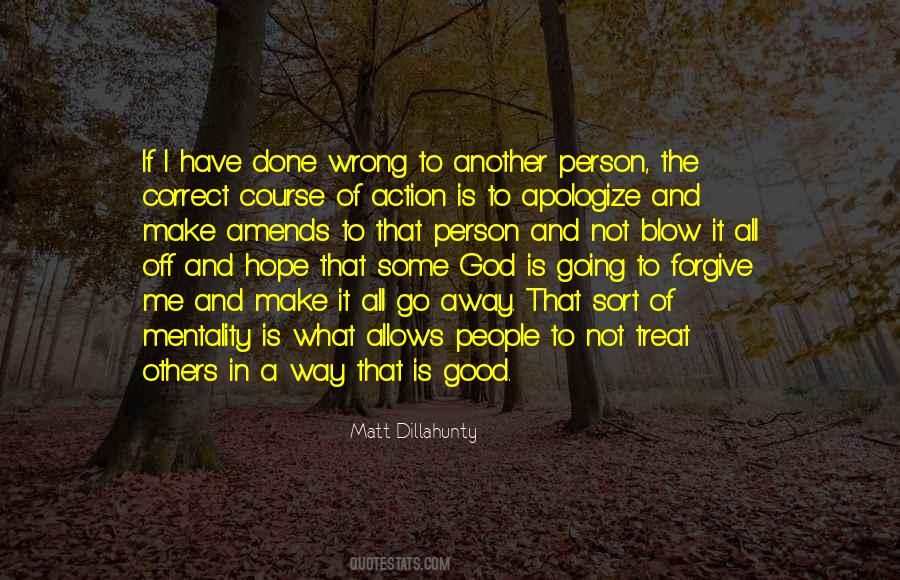 #23. The Jews are known for their perseverance and this is what helps them achieve their goals. Perseverance means continuous persistence in a course of action, a purpose, in spite of difficulties, obstacles, or discouragement.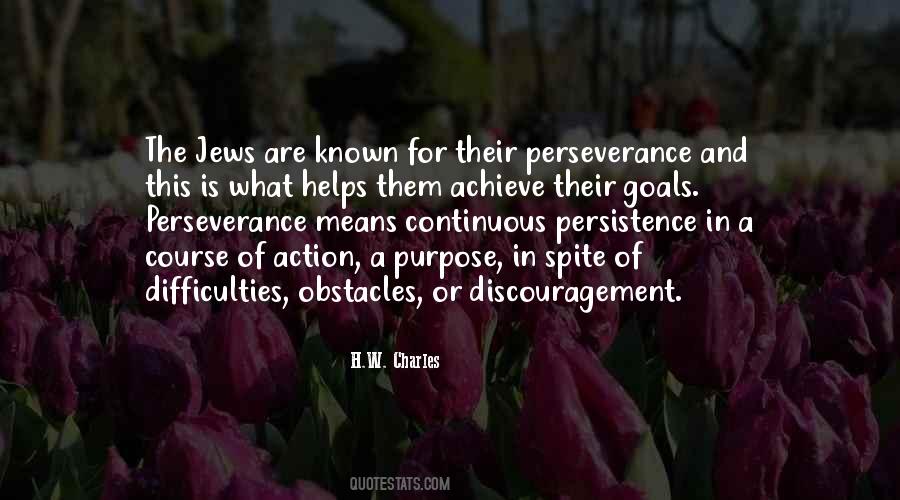 #24. You've always got to have a plan B. You've got to be able to shift gears and find a new course of action.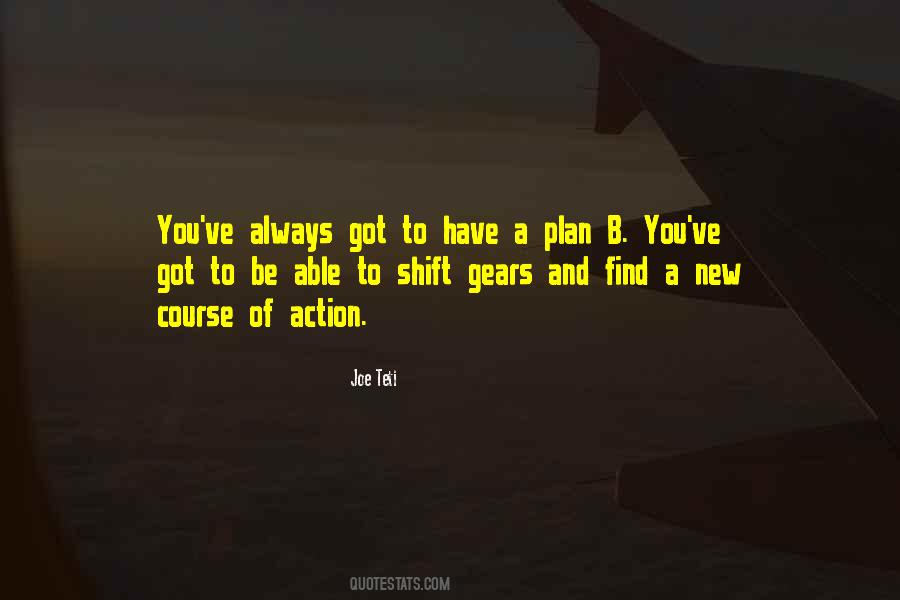 #25. To his great relief she recommended no course of action. She listened. She didn't believe in giving advice, even when asked.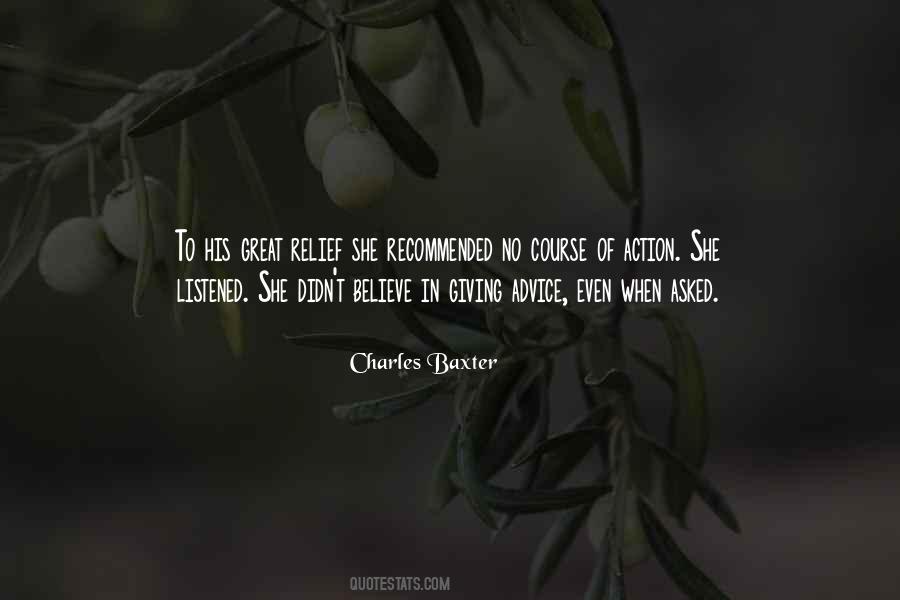 #26. A child is like a ship. One can never be too young to be steered to the right course.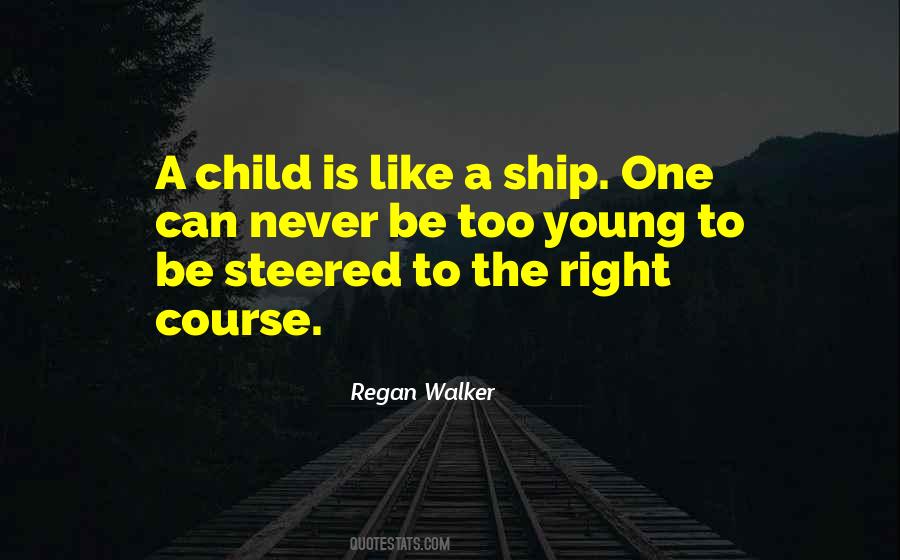 #27. If after two weeks you still can't write your middle-eight, the best course of action is to see a psychiatrist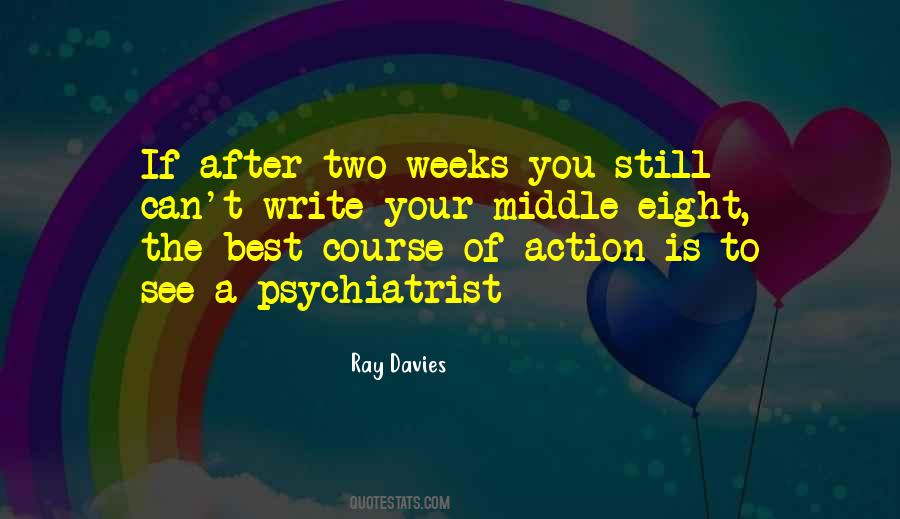 #28. I was never able to convince myself that there was a cost-free alternative course, as from 1961, or that any of the different strategies since proposed, especially those involving stronger military action, would have made sense.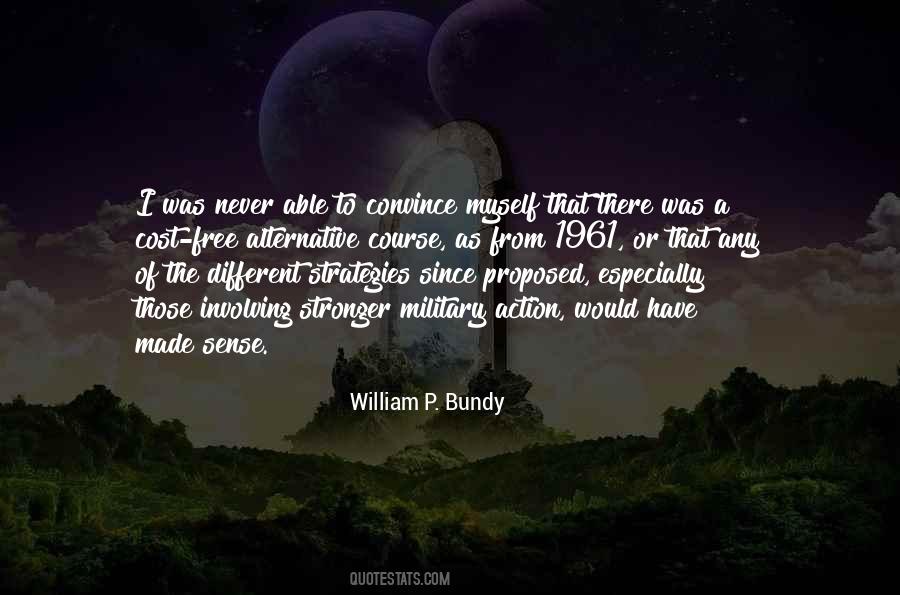 #29. The vigorous man industriously striving for the improvement of his condition acts neither more nor less than the lethargic man who sluggishly takes things as they come. For to do nothing and to be idle are also action, they too determine the course of events.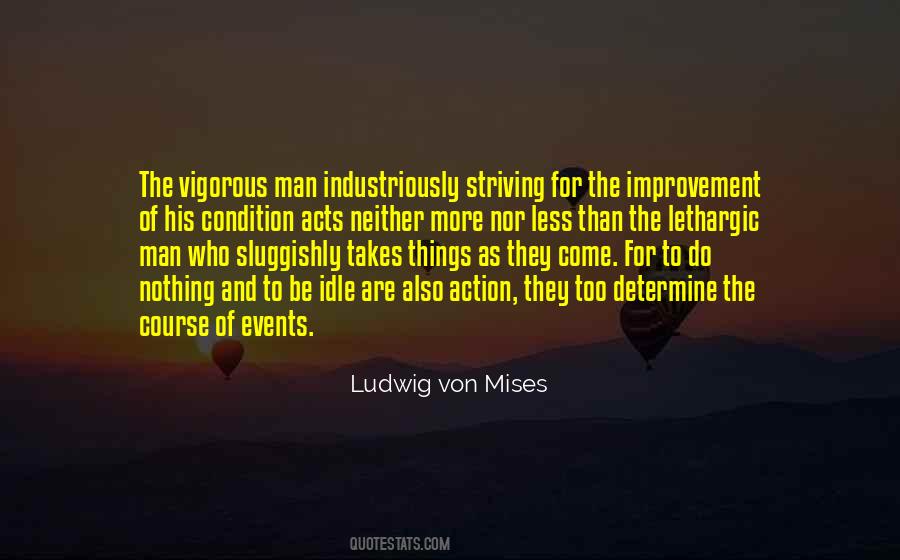 #30. One of my colleagues in Birmingham University, where I come from,' said Trevair, 'is a moral philosopher. He taught me that one of the ways to judge a course of action is to consider what company it puts one in. I doubt if that's very good philosophy, but I find it a good rule of thumb.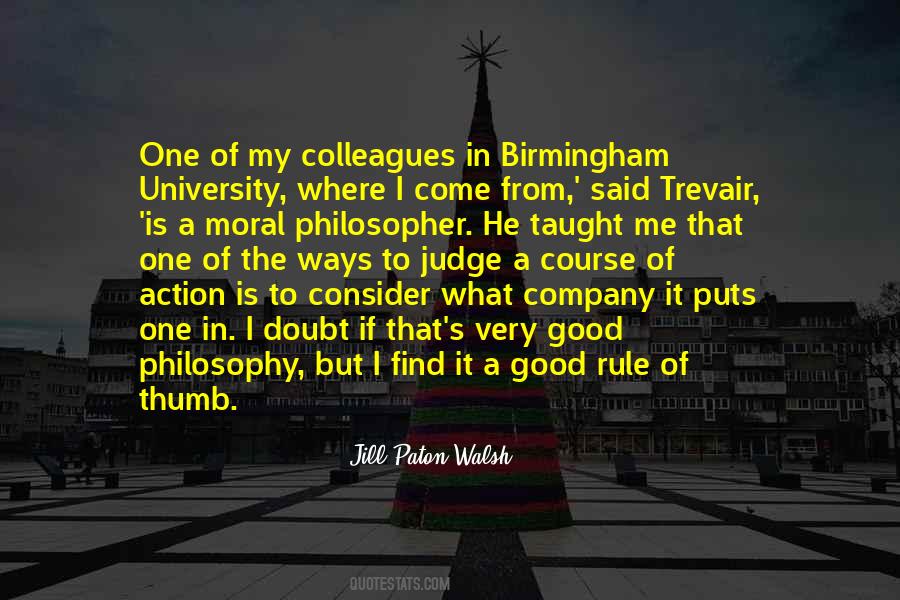 #31. Sometimes knowing what's right isn't a rational decision, or even what works on paper. Sometimes leaving is the best course of action after all.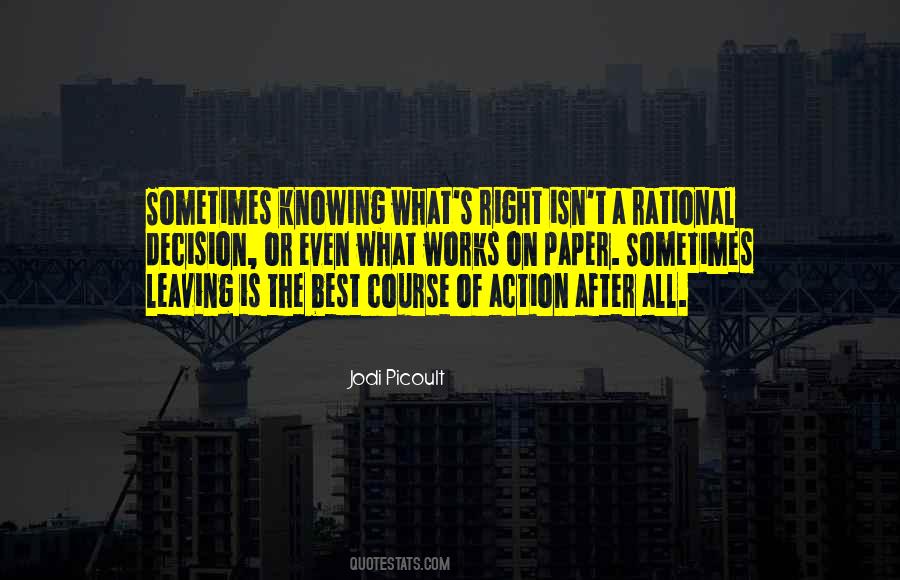 #32. My first husband would never make up his mind in less than five years, so I used to get him to think that whatever course of action needed to be taken was his idea. Then he'd go right ahead.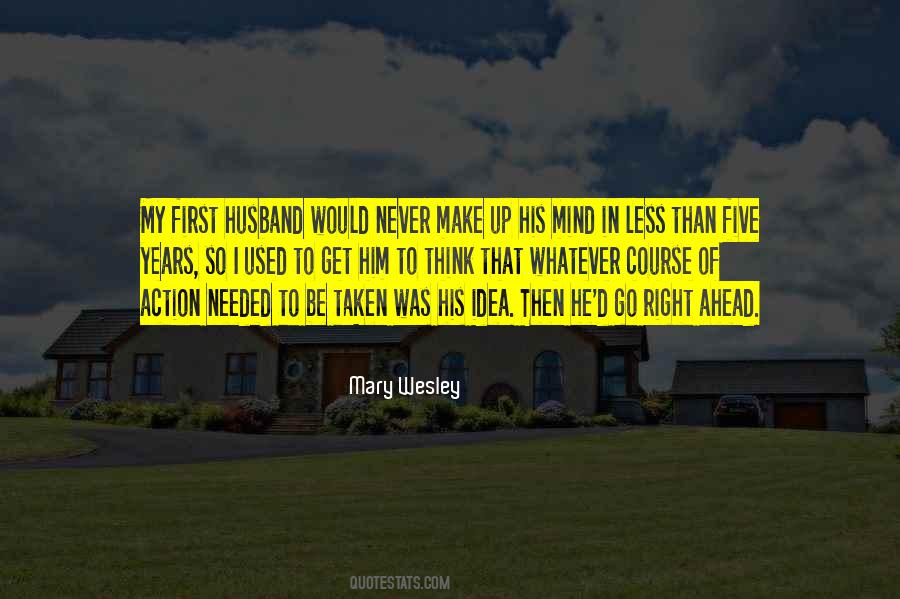 #33. When we did Cubist paintings, our intention was not to produce Cubist paintings but to express what was within us. No one laid down a course of action for us, and our friends the poets followed our endeavour attentively but they never dictated it to us.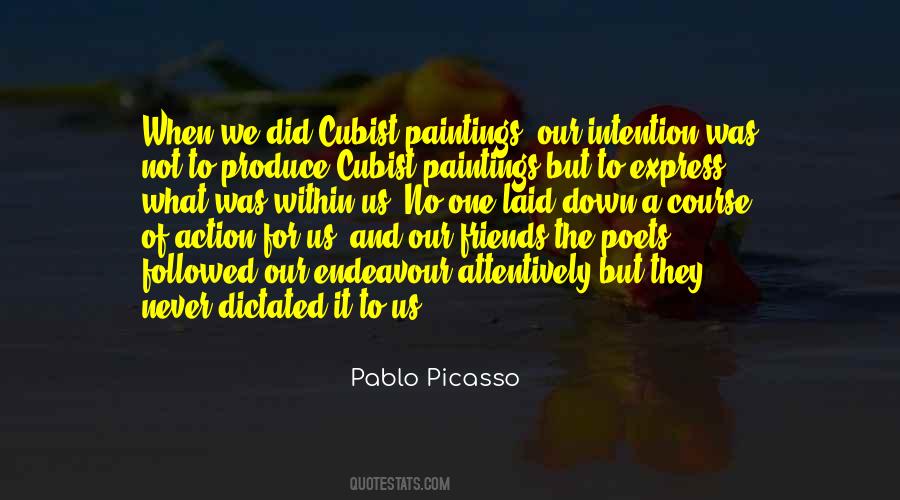 #34. Since life requires a specific course of action, any other course will destroy it. A being who does not hold his own life as the motive and goal of his actions, is acting on the motive and standard of death.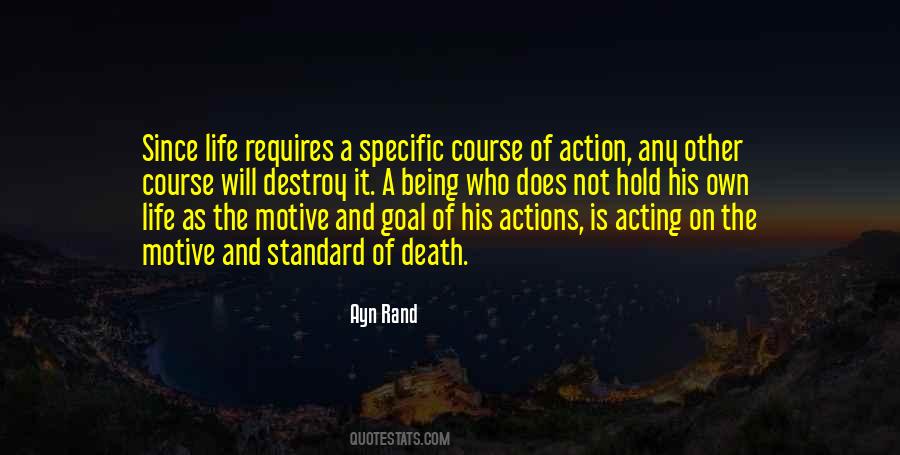 #35. What is your understanding of the situation and its potential outcomes? What are your fears and what are your hopes? What are the trade-offs you are willing to make and not willing to make? And what is the course of action that best serves this understanding? The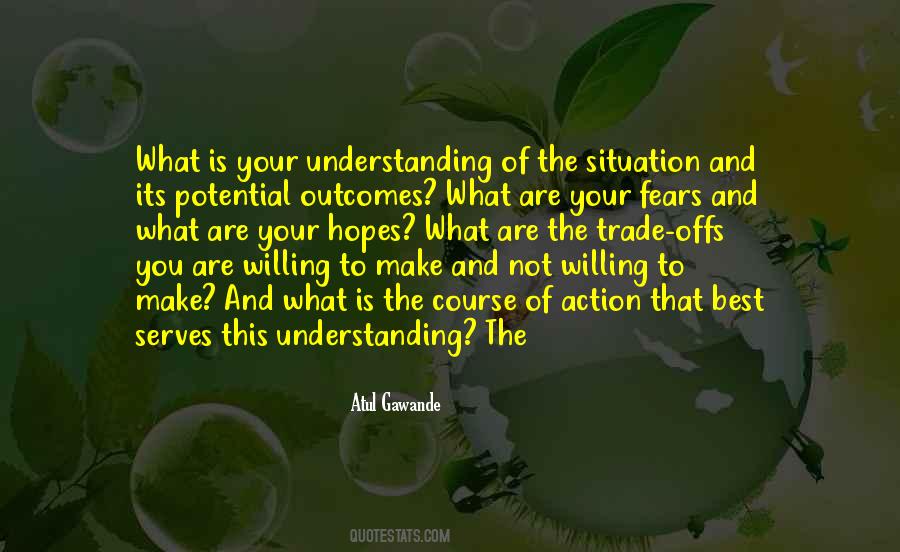 #36. Throughout his life, whenever he became convinced that a course of action was right, the desire to follow it had come automatically.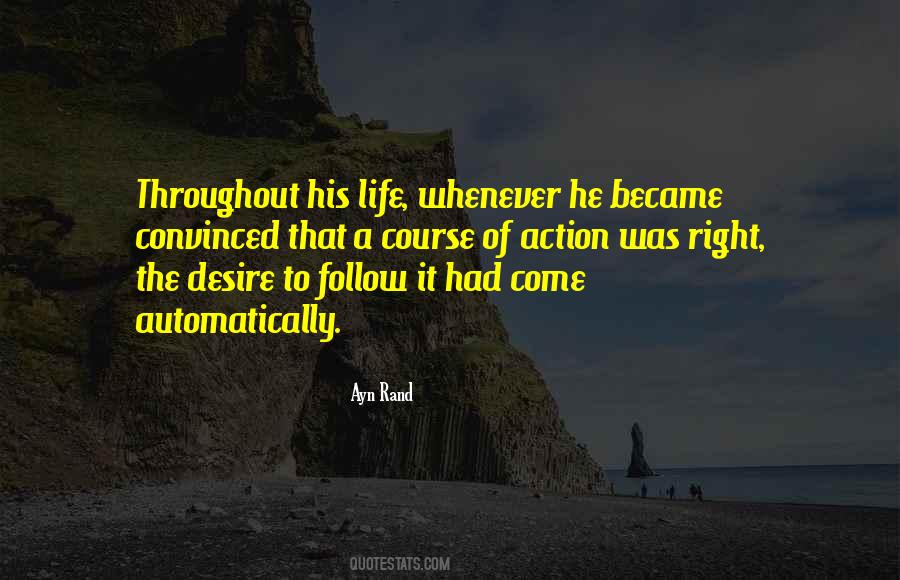 #37. Written history may, in the course of its narrative, use some of the laws established by the various sciences, but its own task remains that of relating the essential sequence of historical action and, qua history, to tell what happened, not why.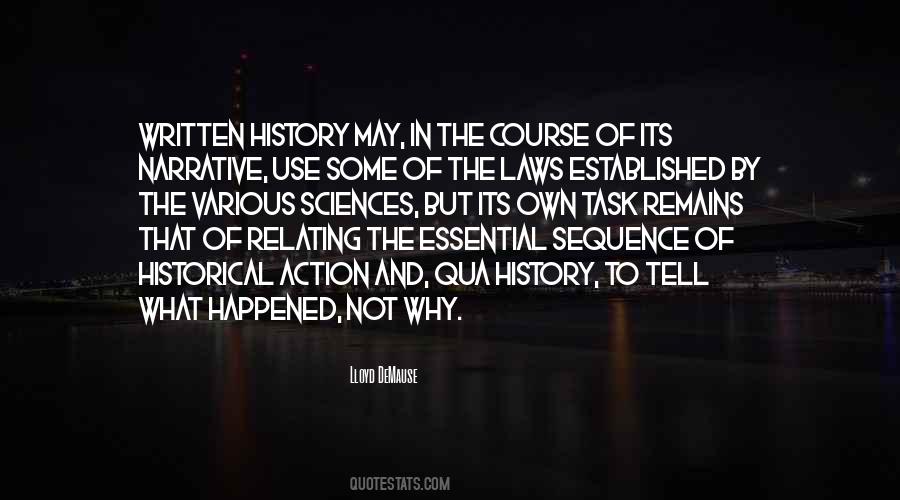 #38. I've always believed it right for young people to drink. Not to be alcoholic of course, that is a passive state of being, not a positive action. But it is good to drink to excess.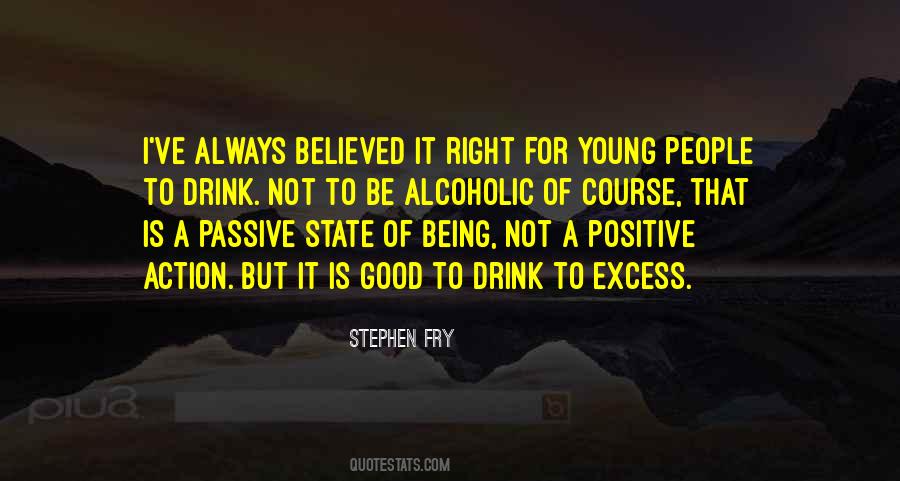 #39. We are not responsible for our feelings, as we are for our principles and actions ... Our care, then, should be to look to our principles, and to avoid all anxiety about our emotions. Their nature can never be wrong where our course of action is right, and for their degree we are not responsible.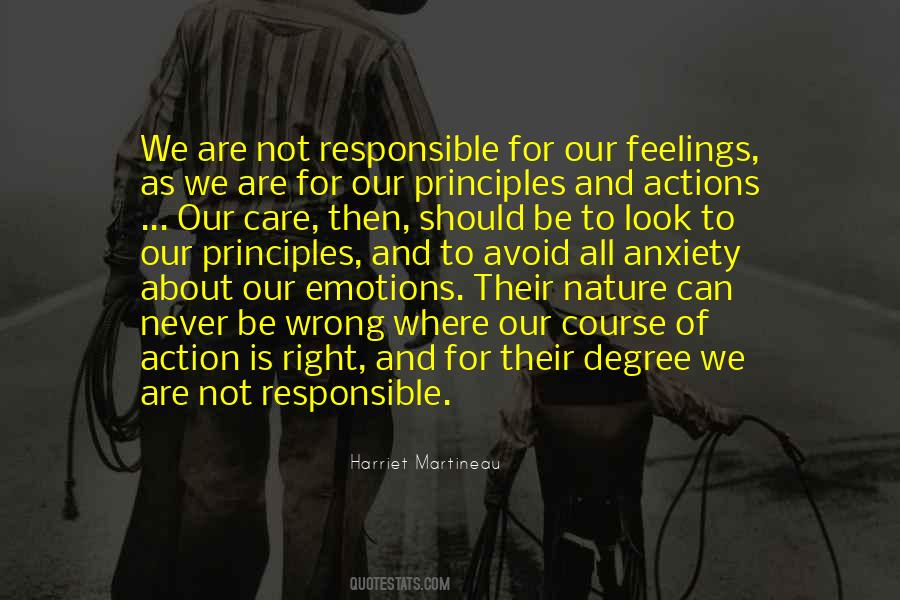 #40. A military mindset is objectively analyzing a planned course of action and anticipating the likely consequences before you take that action.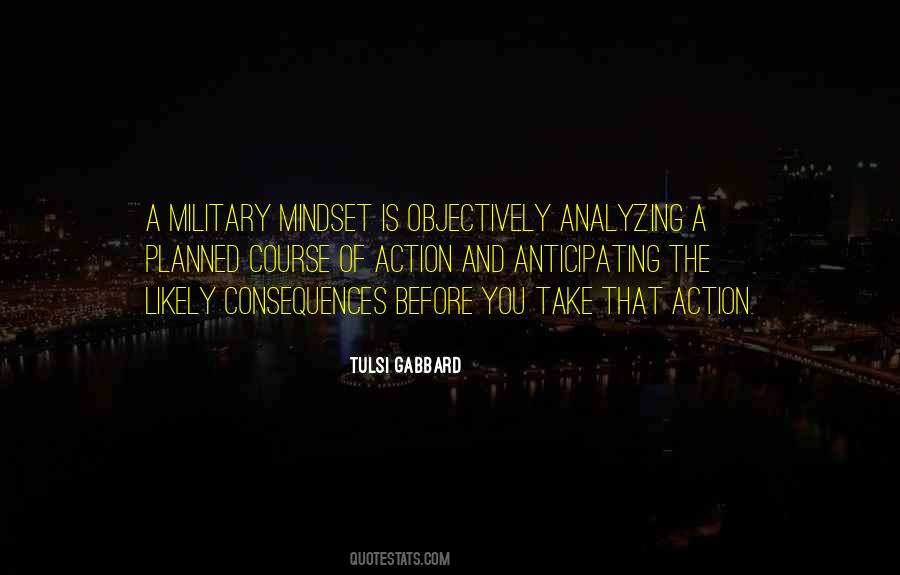 #41. Men and women who are lonely create. Those who are gregarious rarely do ... Any poet would rather bed with a girl than write a poem about her. All art is the result of frustration. Art is energy deflected from its normal course in action.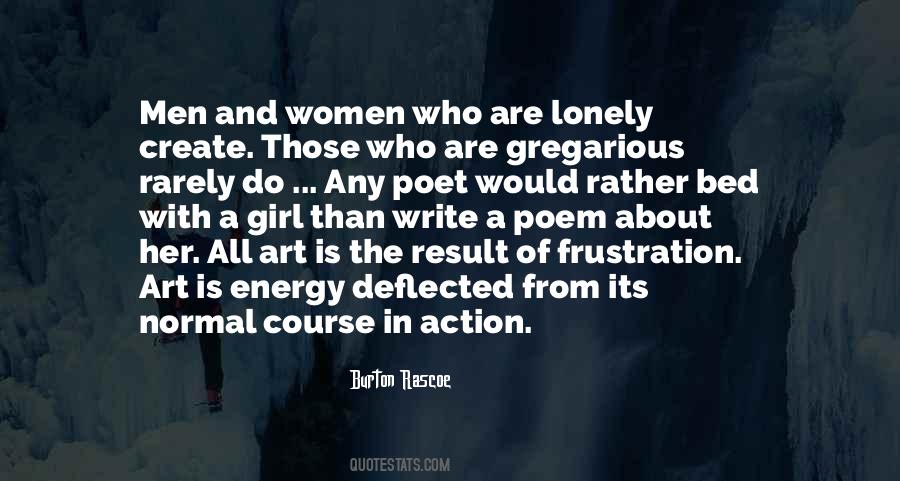 #42. Man must cast out of himself everything which separates him from God. He must will to live the divine life, and he must rise above all moral temptations; he must forsake every course of action that is not in accord with his highest ideals.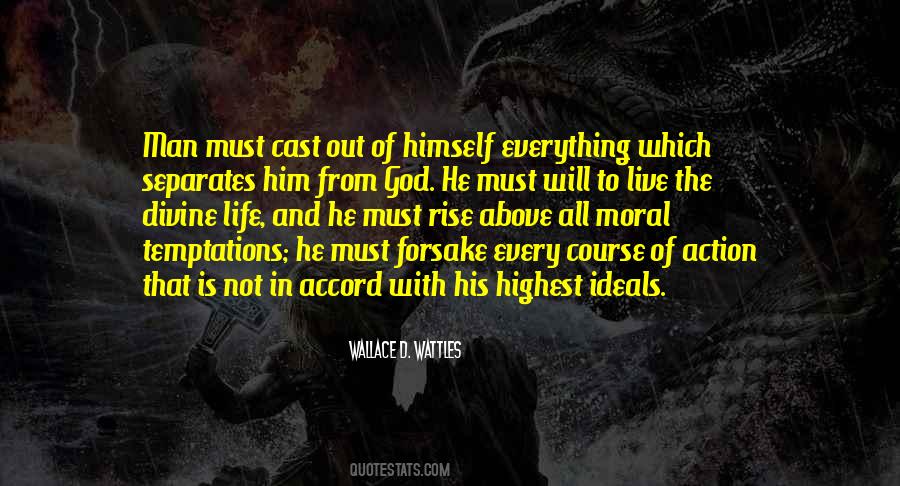 #43. Here is a definition which correctly reflects the course of thought and action of a grandmaster: - The plan in a game of chess is the sum total of successive strategical operations which are each carried out according to separate ideas arising from the demands of the position.
#44. Do as little as necessary to appear to be doing something without actually committing to a cause or course of action.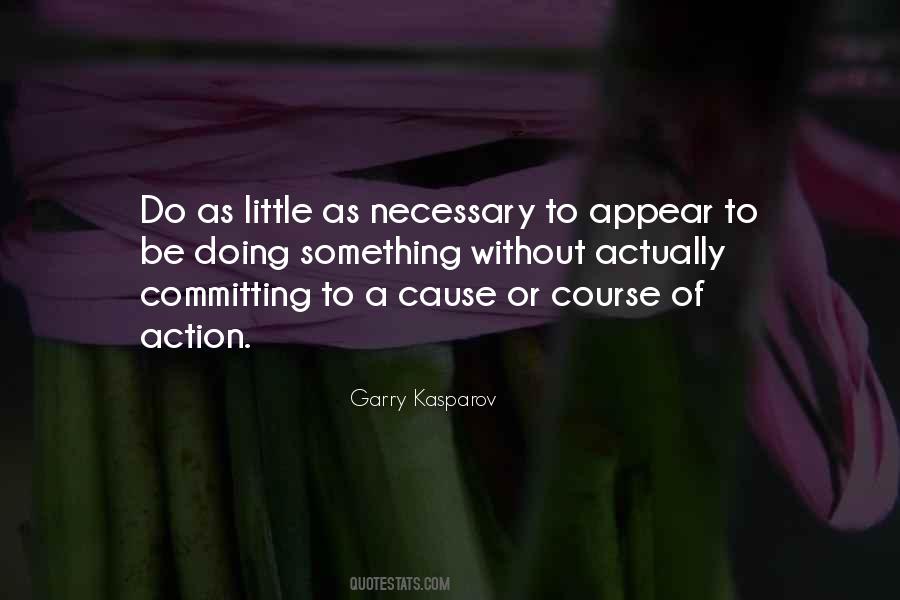 #45. I was miserable, of course, for I was seventeen, and so I swung into action and wrote a poem, and it was miserable, for that's how I thought poetry worked: you digested experience and shat literature. [from "Mingus at the Showplace"]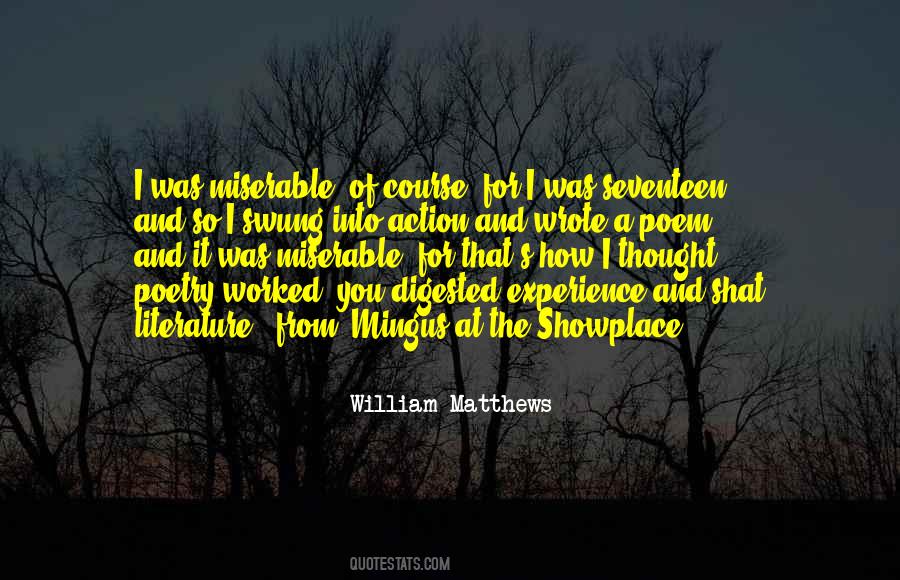 #46. He said that he was sure you would be amendable to this course of action." April paused, eyes widening, before she said indignantly, "I believe he may have lied to me!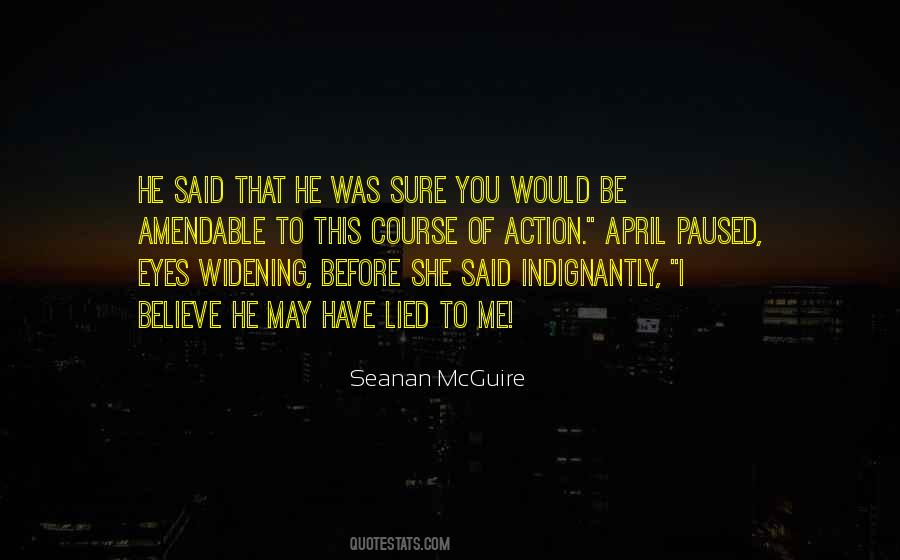 #47. If British troops are committed to action, then the nation will, of course, support them. Their courage and skill is not in doubt.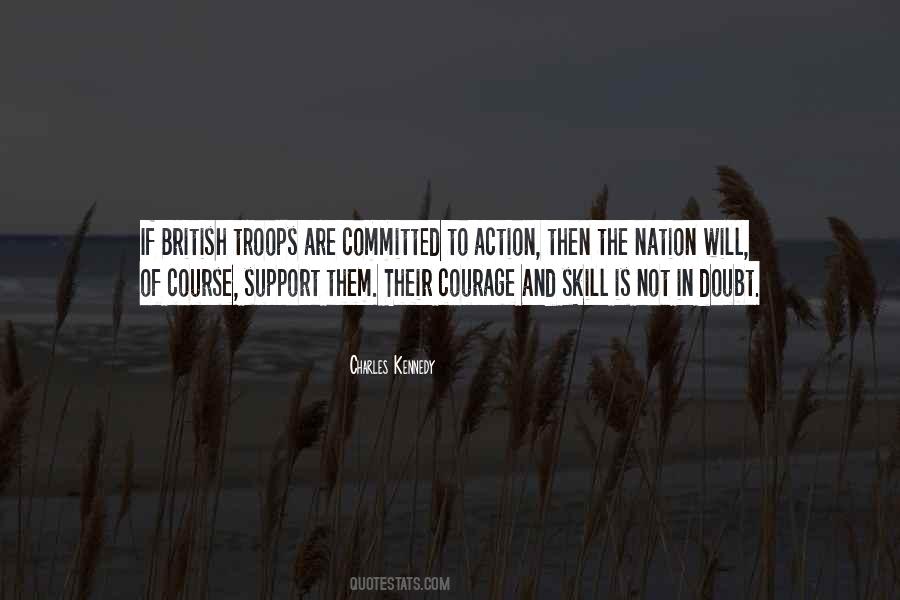 #48. Whereas economic man maximises, selects the best alternative from among all those available to him, his cousin, administrative man, satisfices, looks for a course of action that is satisfactory or 'good enough'.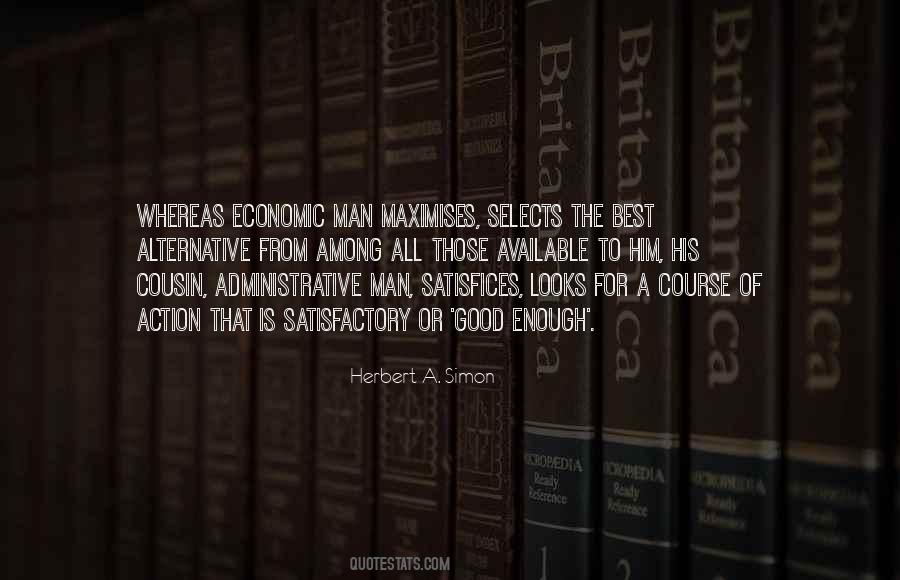 #49. One of Harvey's guiding lights in terms of strategies was simplicity; all things being equal, Harvey preferred the course of action that let him get into the middle of things and then just buckle down.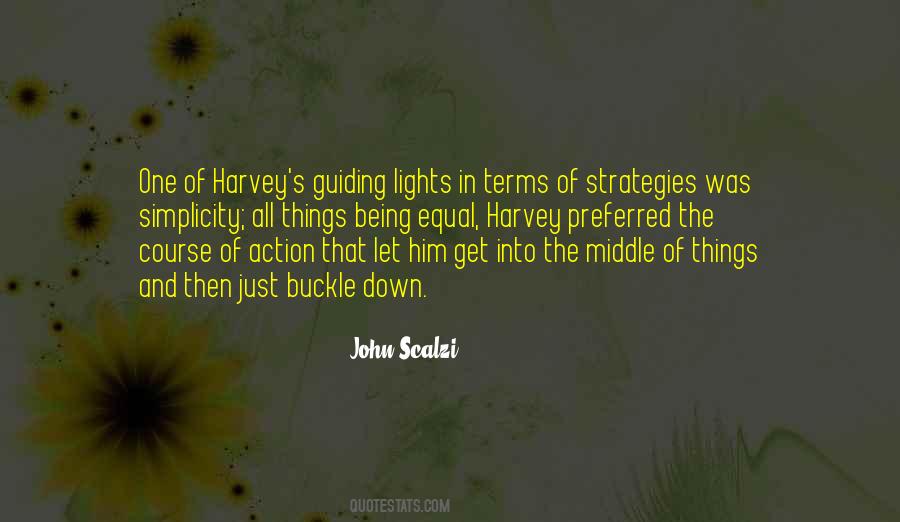 #50. Sometimes the situation is only a problem because it is looked at in a certain way. Looked at in another way, the right course of action may be so obvious that the problem no longer exists.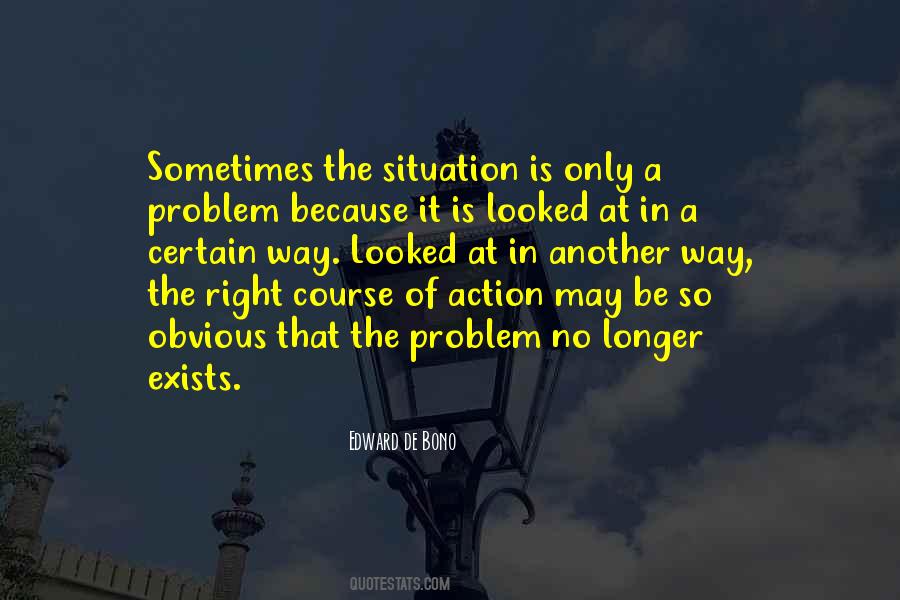 #51. Knowing the difference between right and wrong sometimes did not serve to clarify much of anything. Just because a man is able to draw his line in the sand, it doesn't mean he'll know what to do when his only course of action requires crossing it.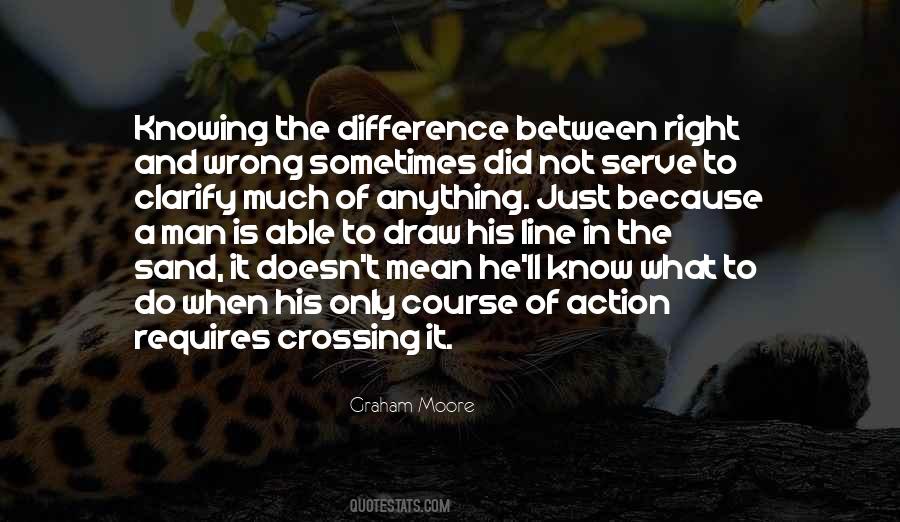 #52. The true mark of a leader is the willingness to stick with a bold course of action - an unconventional business strategy, a unique product-development roadmap, a controversial marketing campaign - even as the rest of the world wonders why you're not marching in step with the status quo.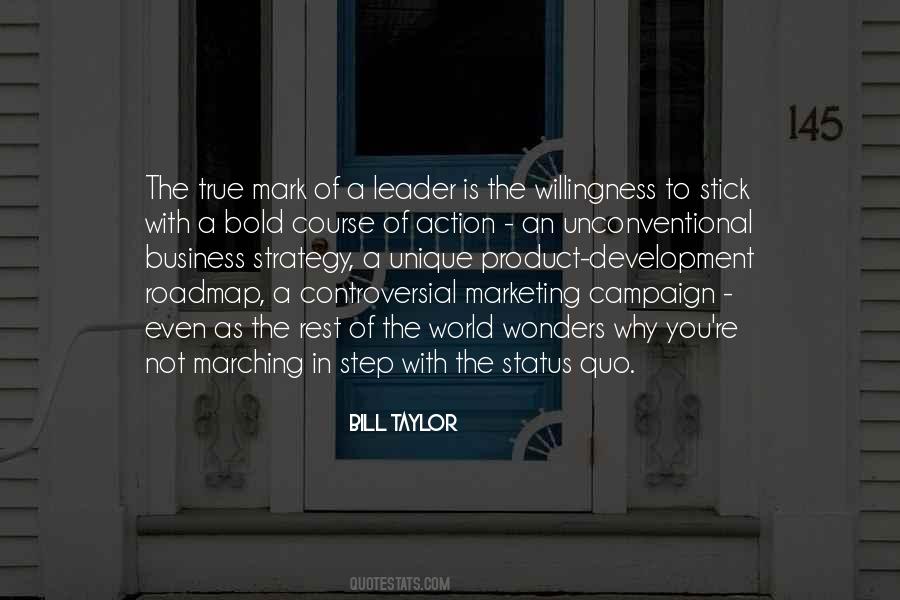 #53. I shall endeavor to marshal British opinion against a course of action which would bring in my opinion the greatest evils upon the people of India, upon the people of Great Britain and upon the British Empire itself.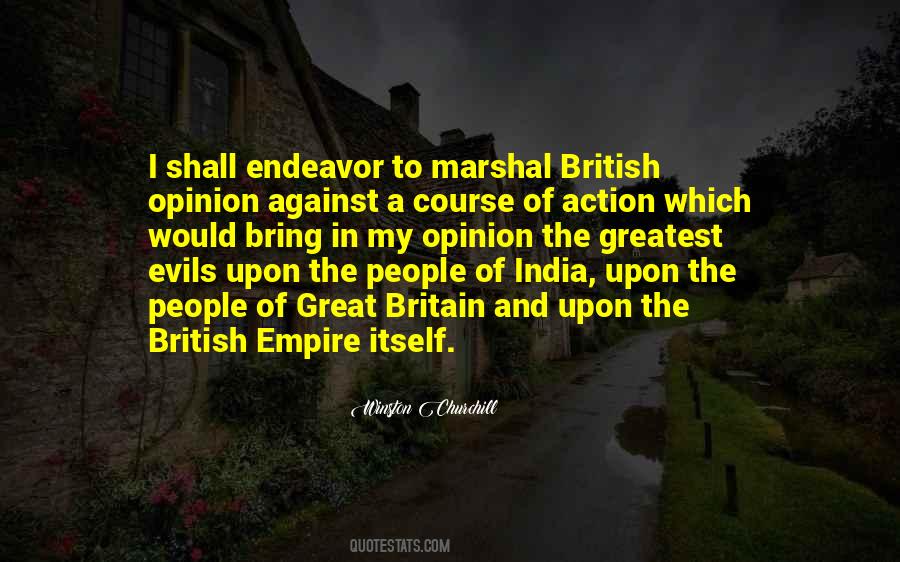 #54. We have found that companies need to speak a common language because some of the suggested ways to harness disruptive innovation are seemingly counterintuitive. If companies don't have that common language, it is hard for them to come to consensus on a counterintuitive course of action.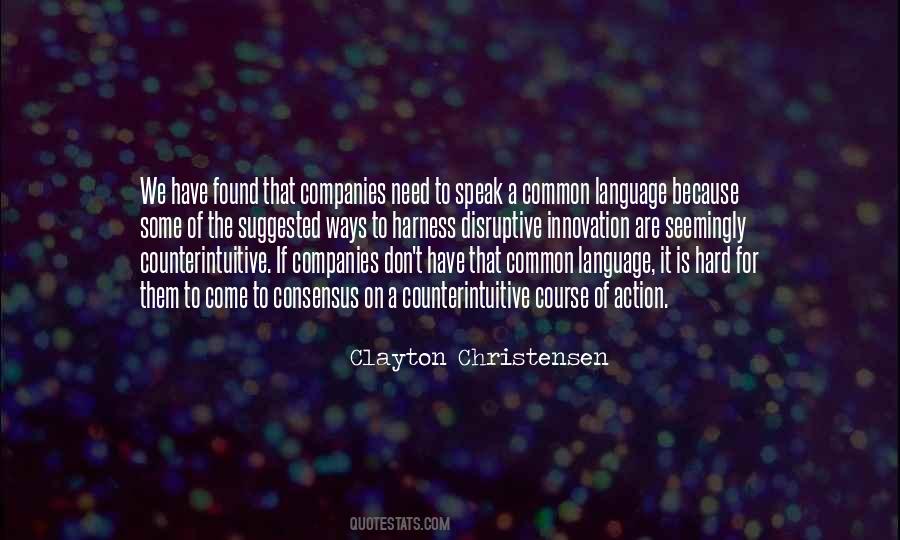 #55. The people I distrust most are those who want to improve our lives but have only one course of action.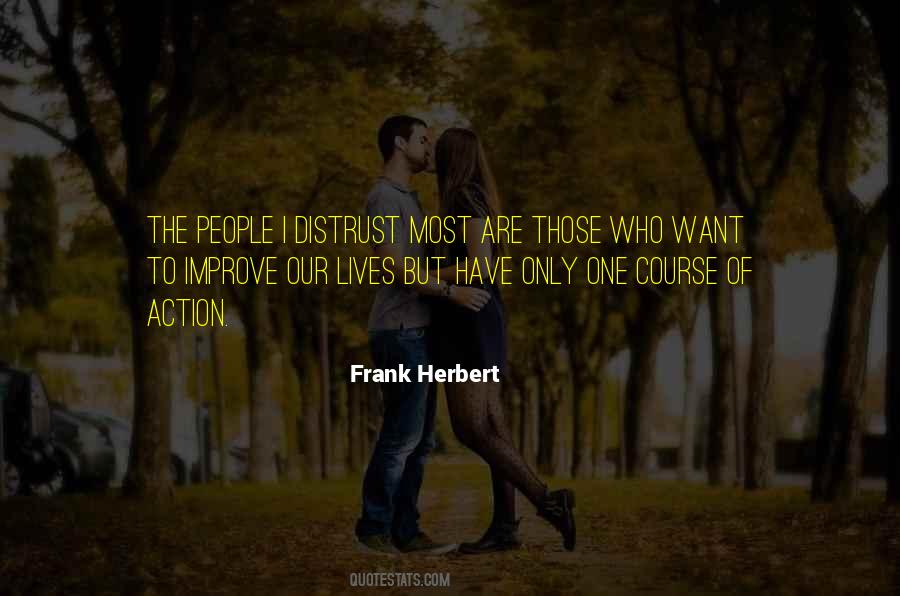 #56. What makes the vault so spectacular is because it's a very athletic type of event, where it needs a lot of speed, a lot of explosive action and, of course, great coordination.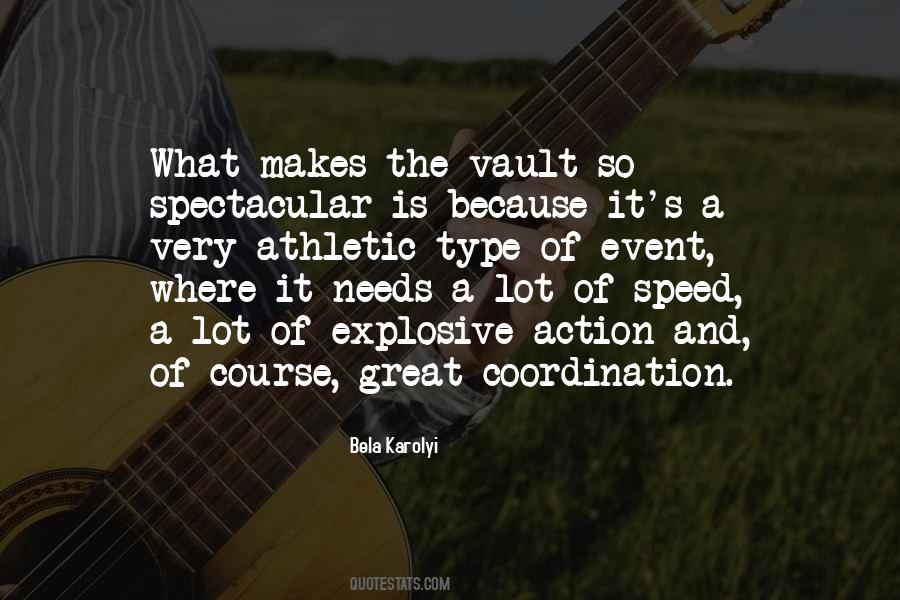 #57. There are times in all of our lives when a reliance on gut or intuition just seems more appropriate - when a particular course of action just feels right.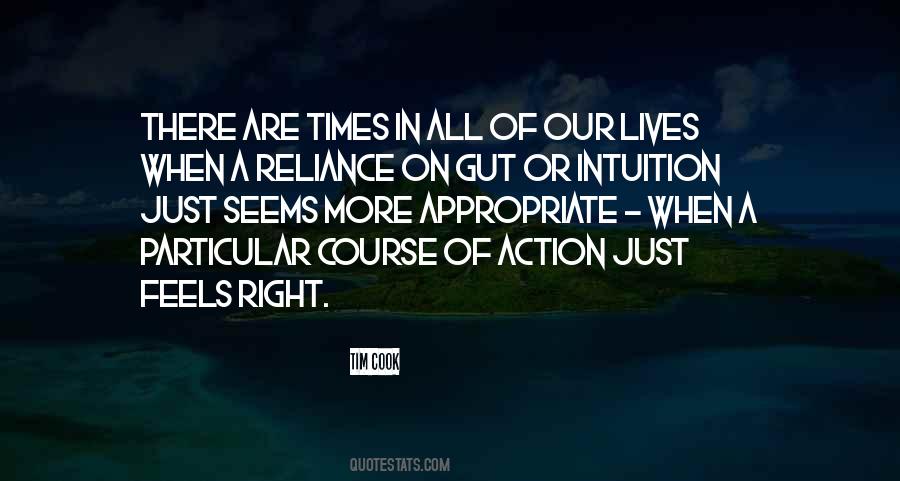 #58. When under attack, it is necessary to evaluate the situation and to decide instantly upon a proper course of action, to be carried out immediately with all the force you can bring to bear. He who hesitates is indeed lost. Do not soliloquize. Do not delay. Be decisive.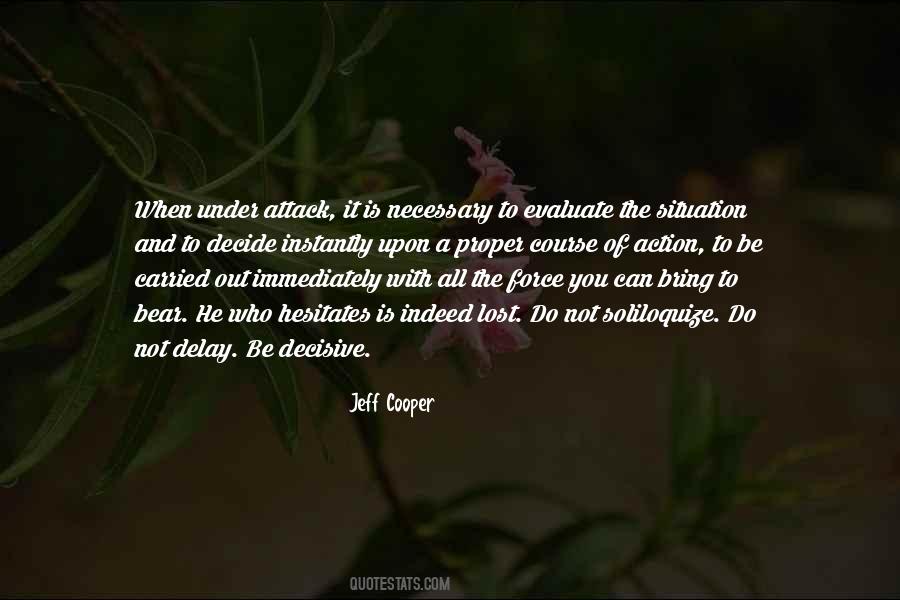 #59. Sometimes you have to take the harder course of action.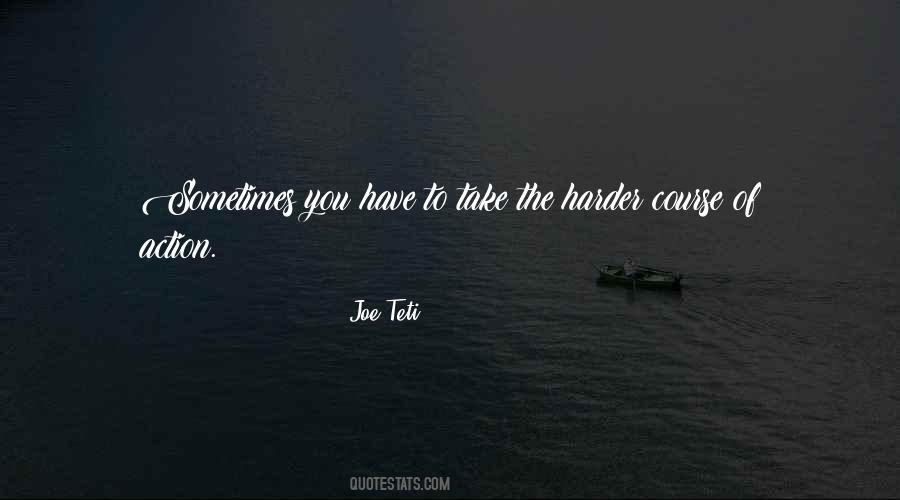 #60. The one who has suffered has the right to decide the course of action ...
Punishment or Let Go is purely the call of the sufferer.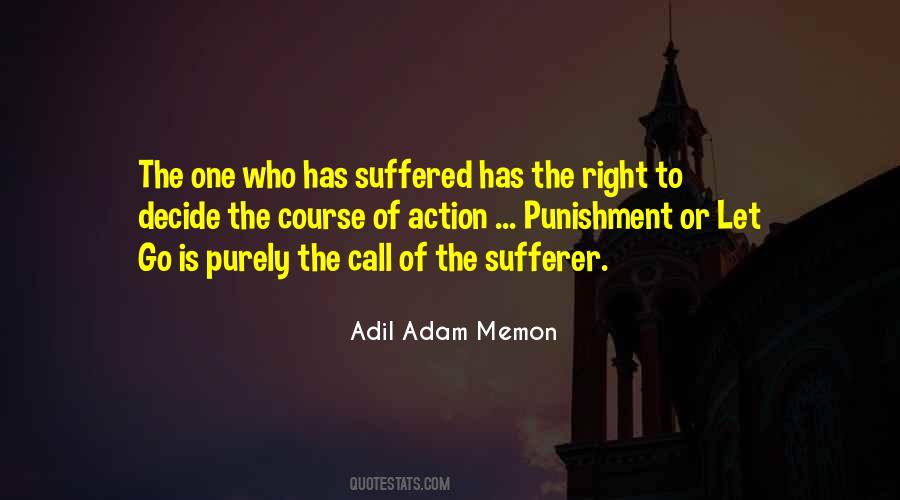 #61. You know, bud, I don't know you from Adam, but that's my baby sister you're hanging on to. So I'm thinking the wisest course of action for you is to let her go and introduce yourself. Pronto. (Rain)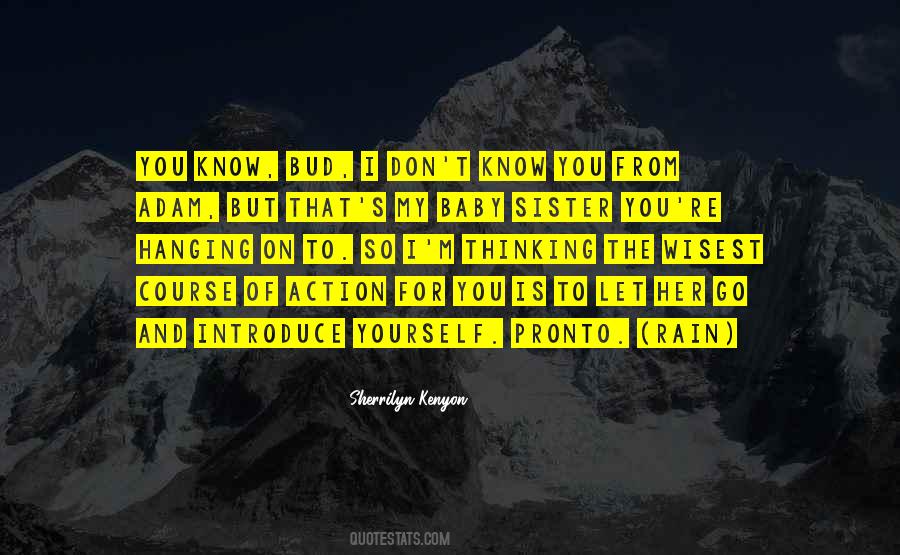 #62. What we did in Iraq was exactly the right thing to do. If I had it to recommend all over again, I would recommend exactly the same course of action.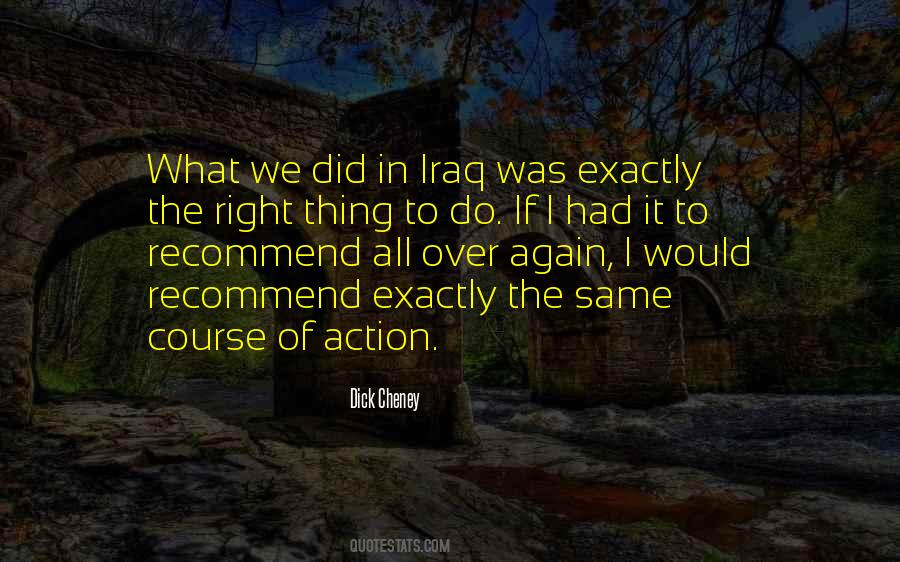 #63. Simple logic tells you that if somebody wants you dead you have one course of action: To get them deader sooner.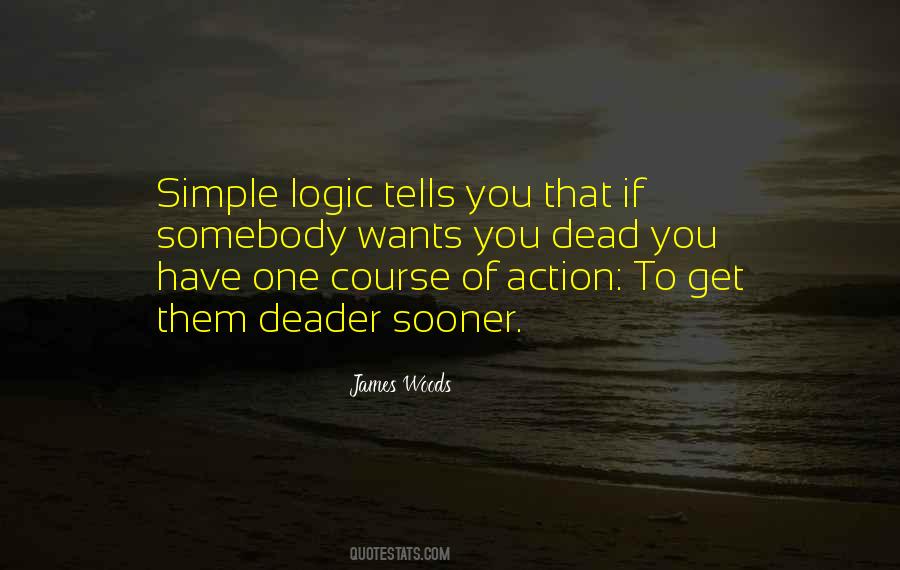 #64. Consult: To seek approval for a course of action already decided upon.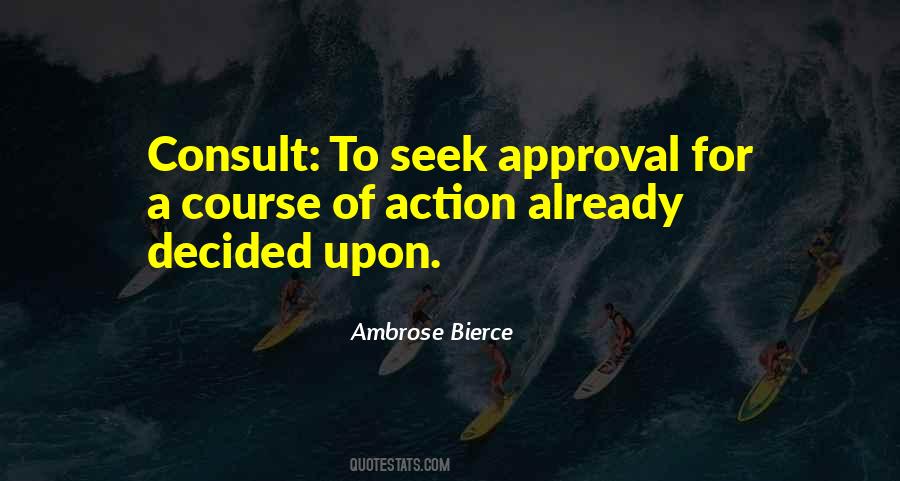 #65. Oh, he'll try, I'm sure ... The usual empty words, the usual slithering out of action ... oh, on the Dark Lord's orders, of course!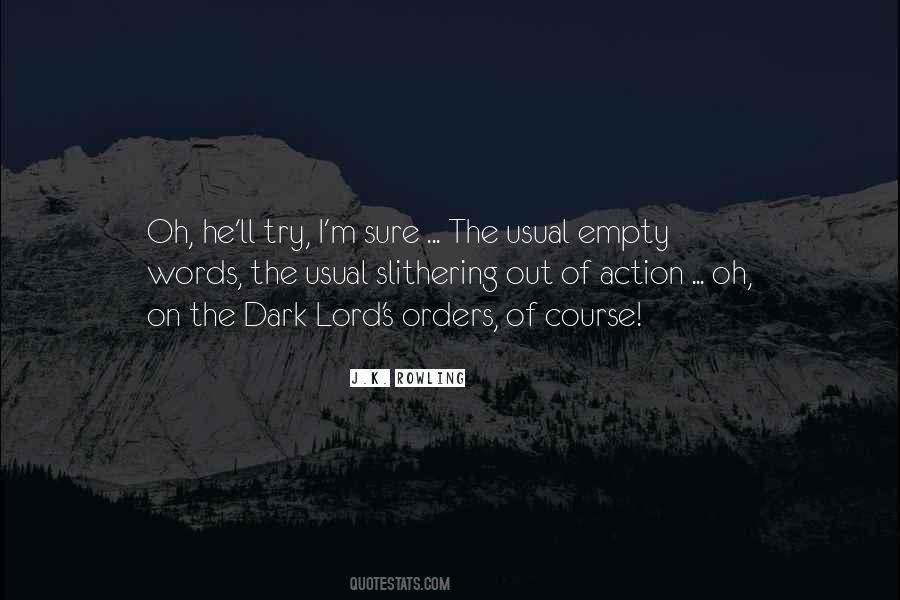 #66. The wisest course of action is to take your best shot with a prototype, immediately get it to market, and iterate quickly. If you wait for ideal circumstances in which you have all the information you need (which is impossible), the market will pass you by.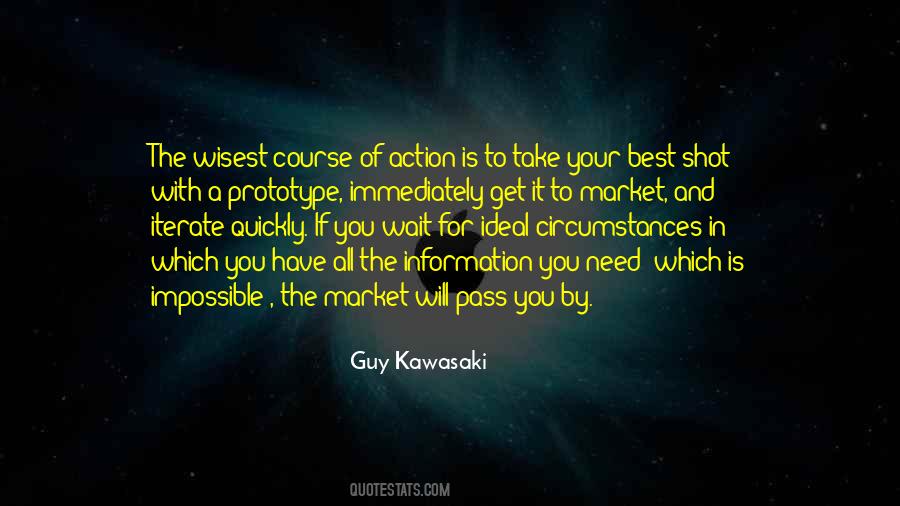 #67. I was a huge fan of the Bruce Timm animated series and, of course, the live action 'Lois & Clark' series. I watched that when I was in college.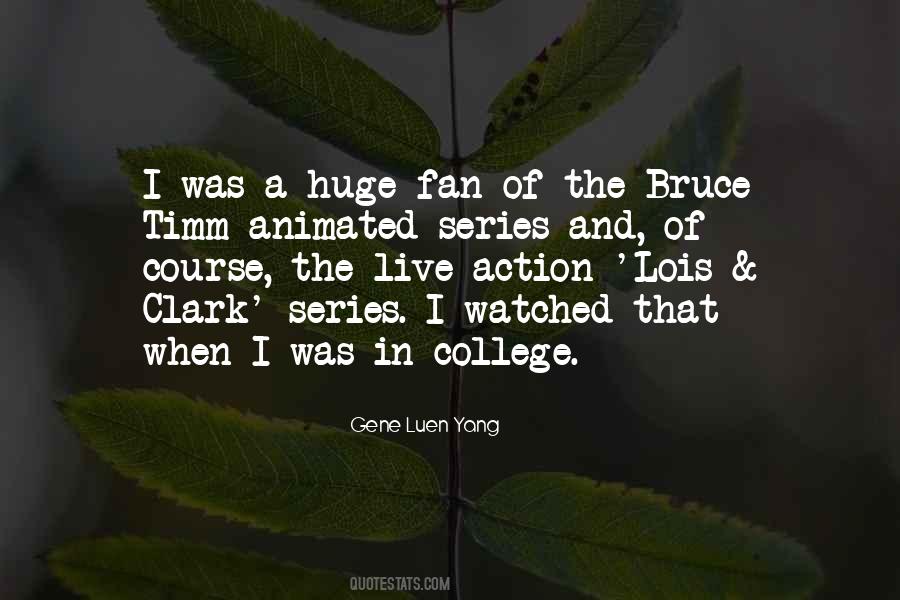 #68. By spiritually I merely mean that I feel I have good in my soul and am inclined to follow the correct course of action given a prescribed set of circumstances.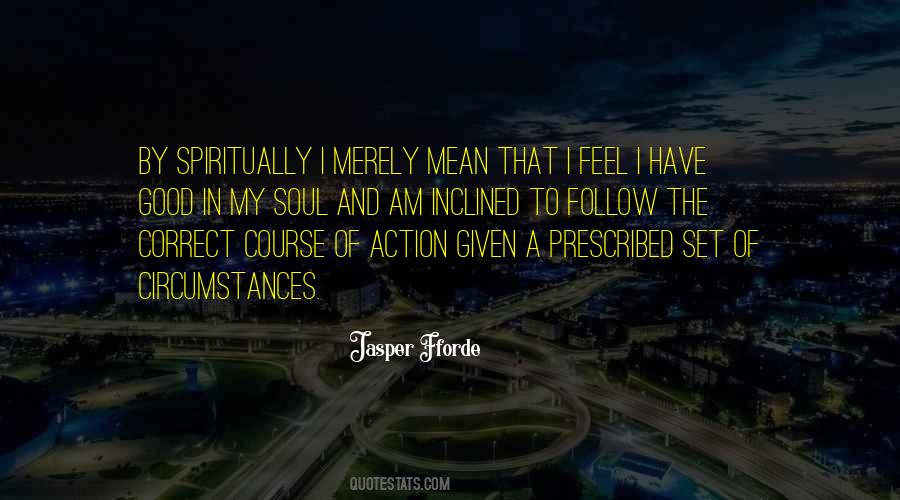 #69. While 'Buddhism' suggests another belief system, 'dharma practice' suggests a course of action. The four ennobling truths are not propositions to believe; they are challenges to act.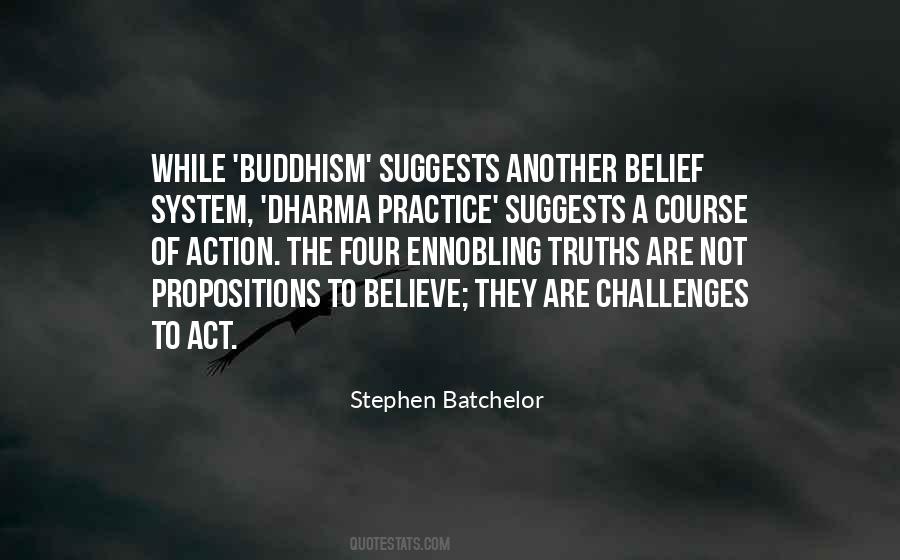 #70. When war becomes the most profitable course of action, we can certainly expect more of it.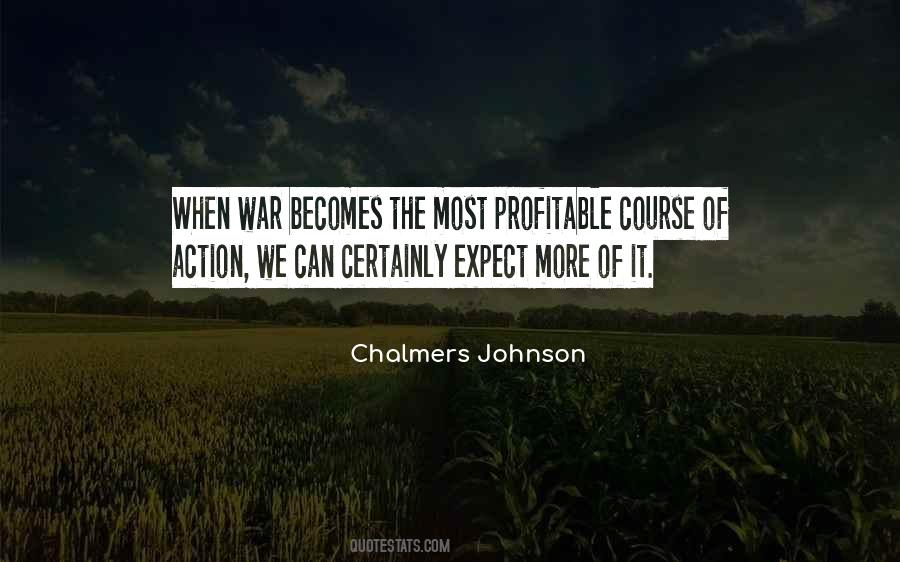 #71. Whatever actions you take, keep in mind that over the course of life, you will fail far more from timidity, procrastination, and carefulness than you will from just stepping up to the plate and, as we say in Australia, giving it a bloody go!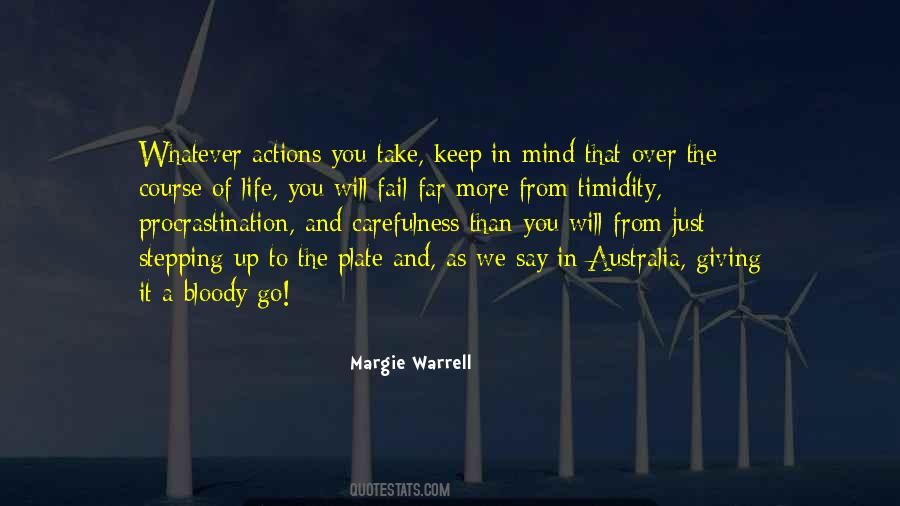 #72. Nobody else is wearing anything even remotely like it.'
Magnus cast a disparaging look around at all the fashion-challenged sailors. 'I feel sorry for them, of course, but I do not see why that observation should alter my current extremely stylish course of action.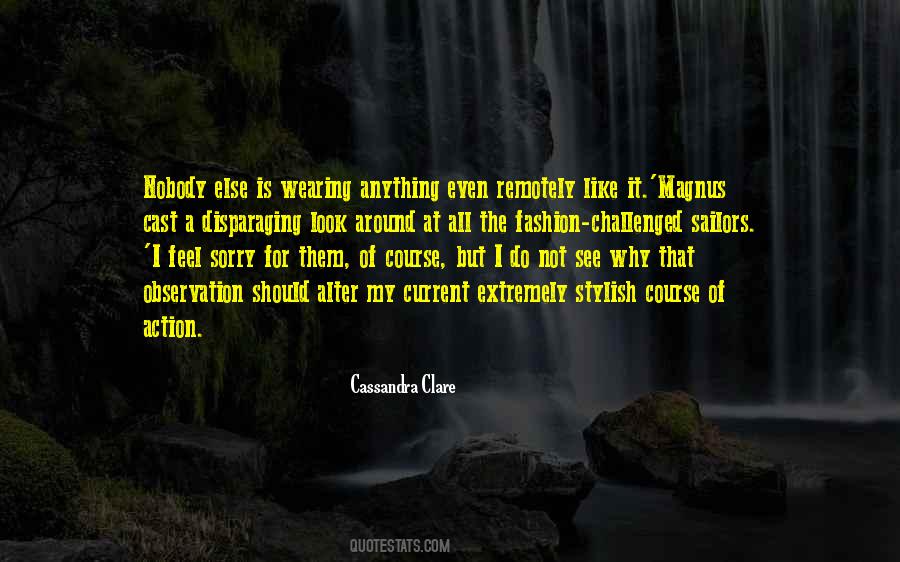 #73. Sometimes, even the very best course of action fails.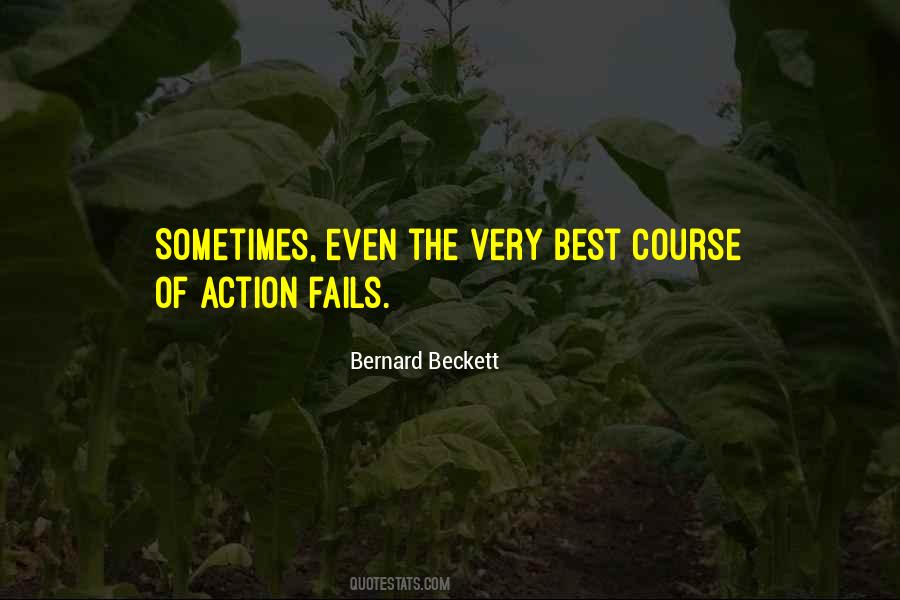 #74. It is always wise with a course of action to consider the likely consequences before going ahead with it.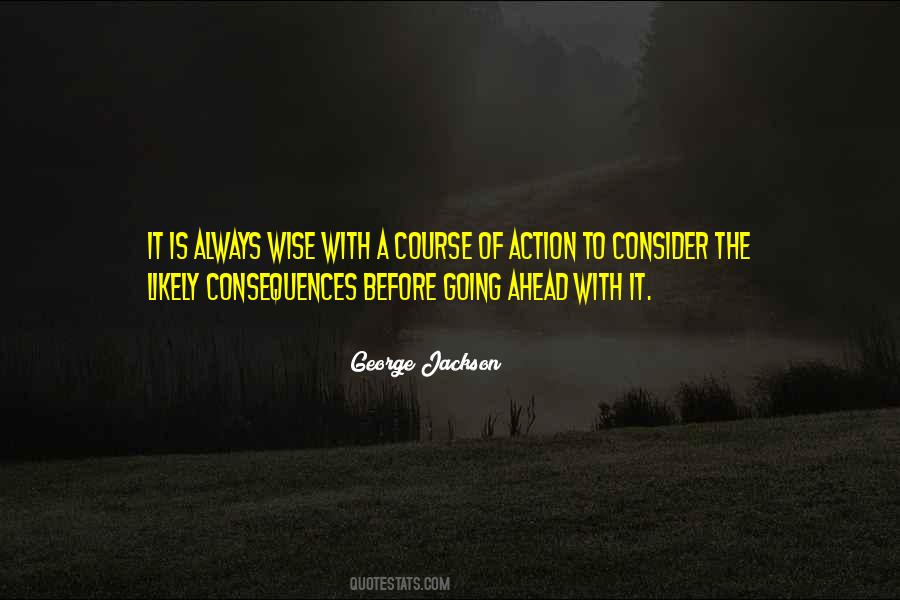 #75. Thinking is free, planning is also free, but action taking is not free; you have a price to pay. Success is not luck; it demands work ... hard work of course!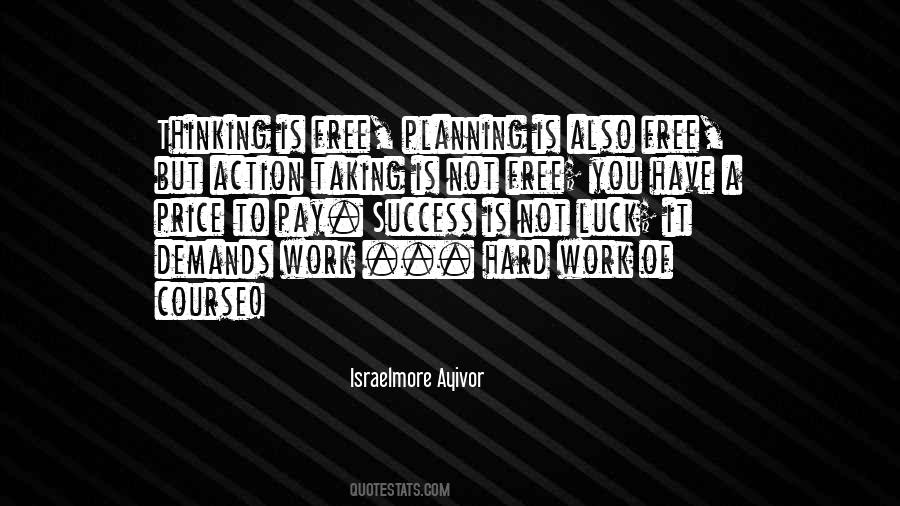 #76. Viewed abstractly, systems analysis implies rigorous thinking, hopefully quantitative, regarding the gains and the resource-expenditures involved in a particular course of action -- to insure that scarce resources are employed productively rather than wastefully.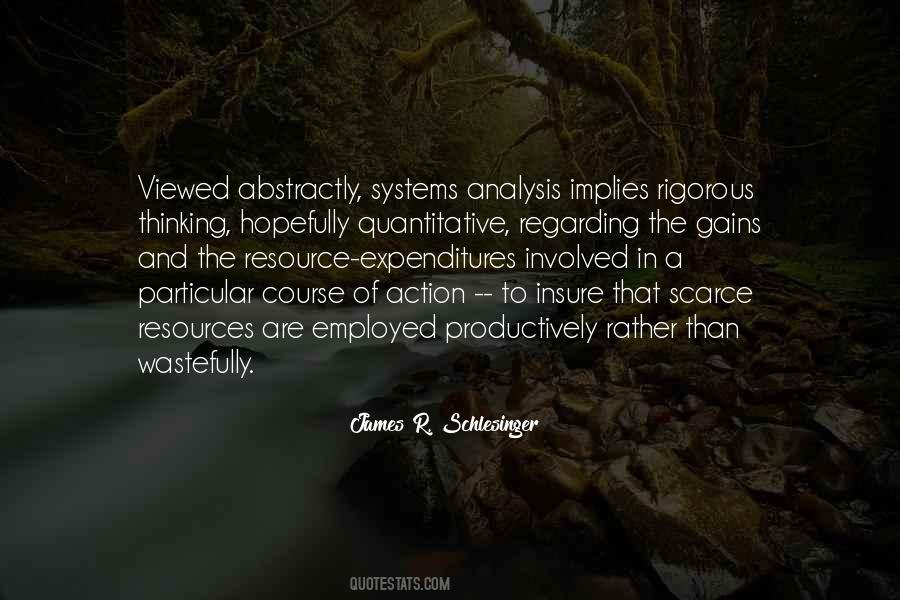 #77. The most amazing mechanism in the known universe is the human brain; it takes in information all the time then uses it, all of which is happening, of course, without human knowledge. Typical ...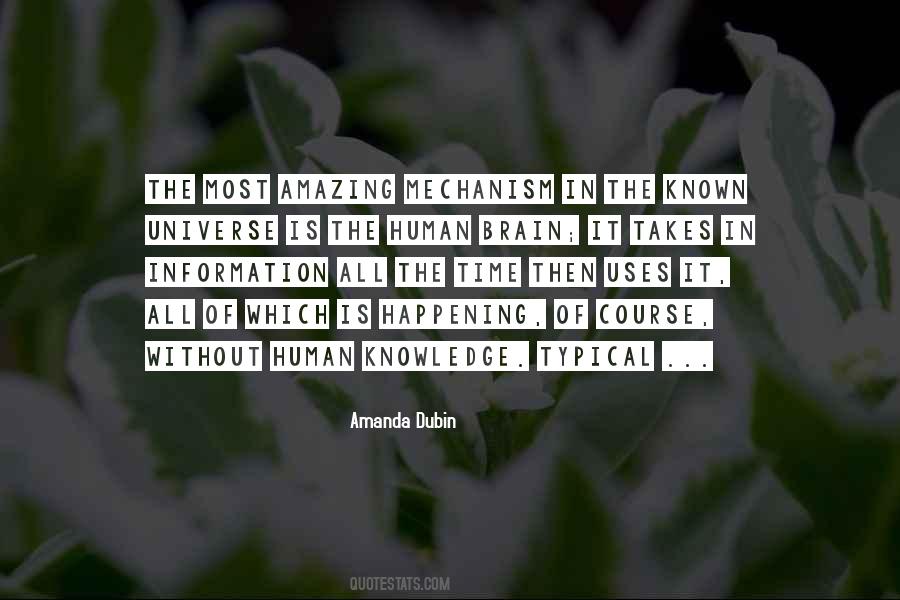 #78. The secret of a leader lies in the tests he has faced over the whole course of his life and the habit of action he develops in meeting those tests.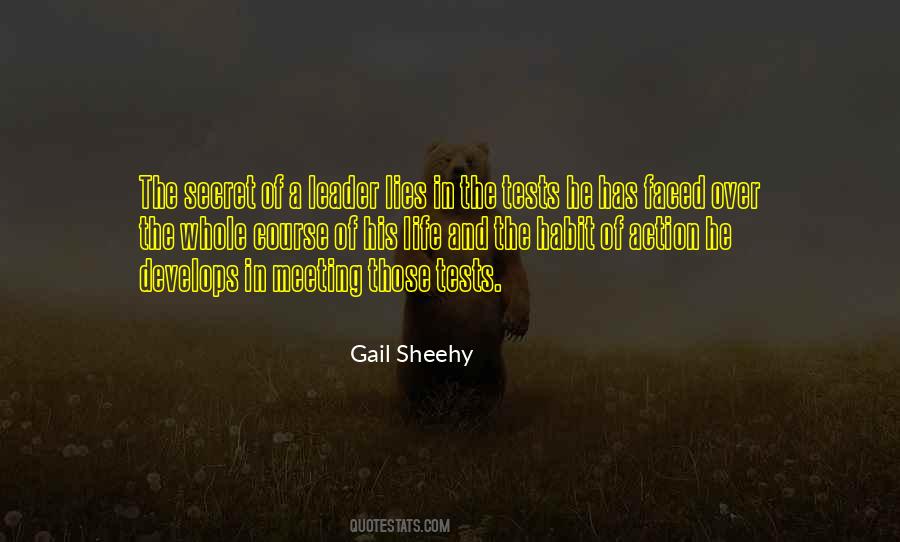 #79. But then books, as I'm sure you know, seldom prompt a course of action. Books generally just confirm you in what you have, perhaps unwittingly, decided to do already. You go to a book to have your convictions corroborated. A book, as it were, closes the book.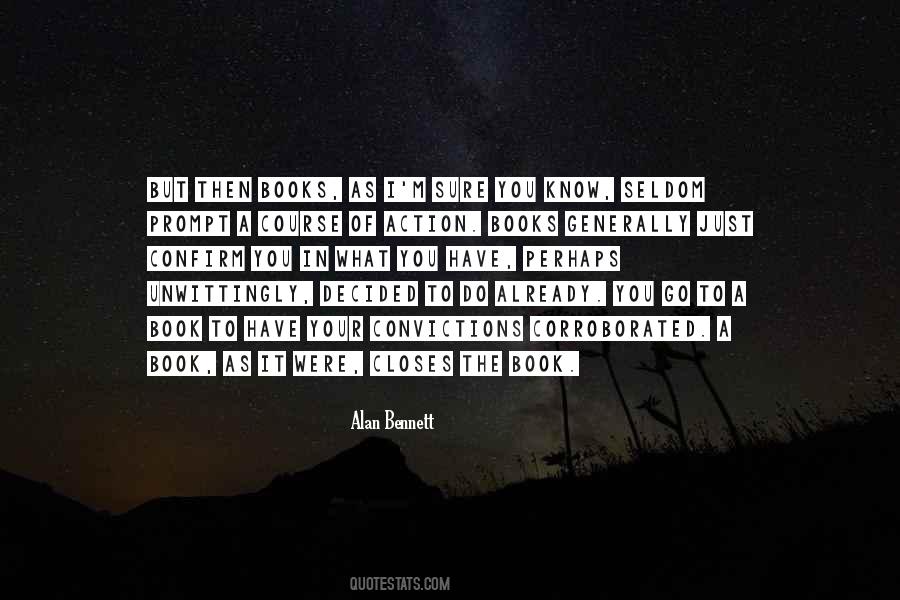 #80. For a long time, rich countries have promised to reduce poverty but have failed to match their words with adequate action. Of course, some important progress has been made and millions of lives have been saved, but millions more could be saved.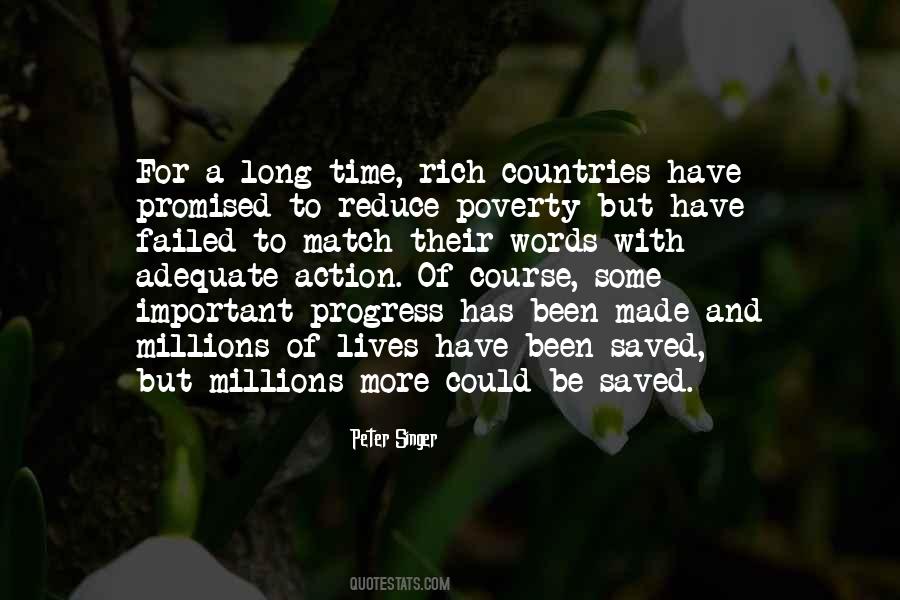 #81. The Demon curled its lips back, revealing a double row of needle-sharp teeth.
I considered changing my chosen course of action; I considered fainting.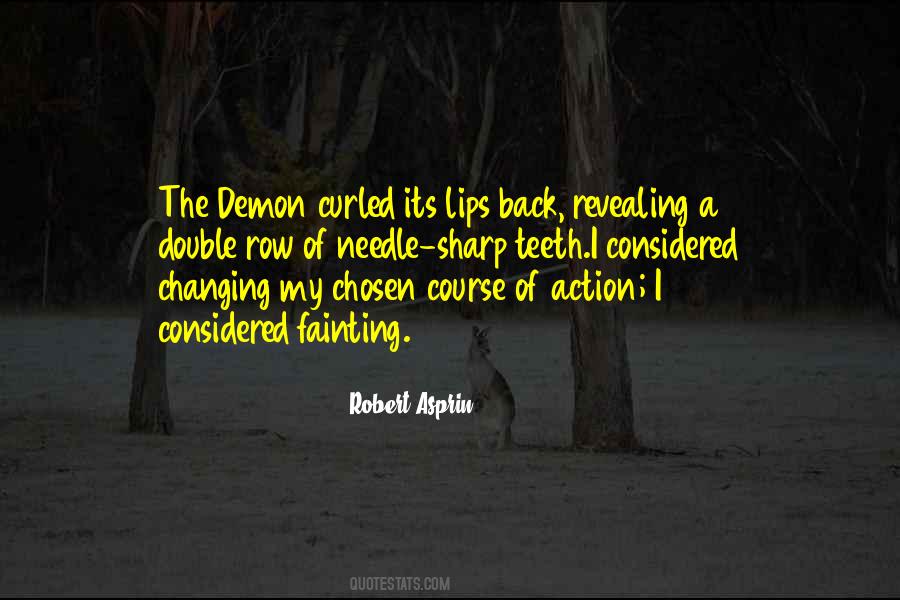 #82. There are very real obstacles and challenges to any course of action. And there's no need to add to them, by making up obstacles of your own. Unchain yourself from the bondage of your own thinking.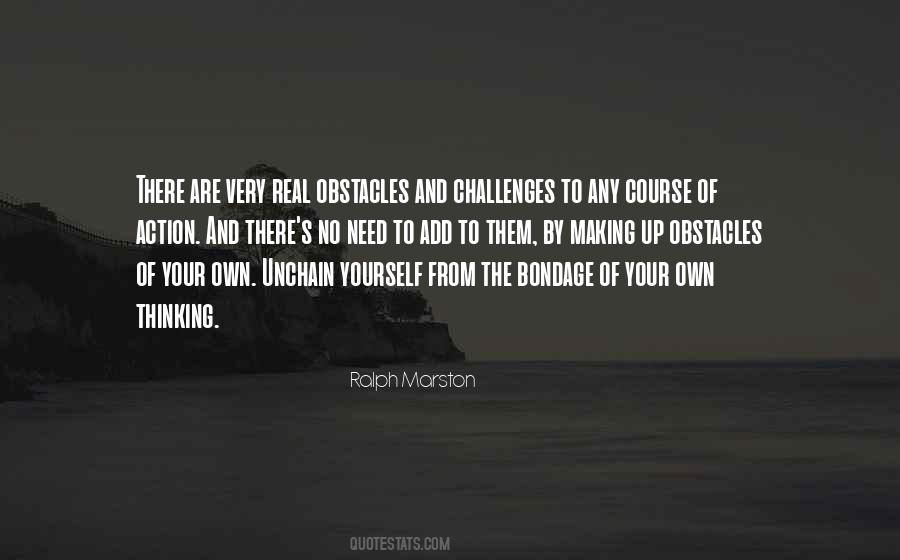 #83. In Kosovo, the U.S. has chosen a course of action that escalates atrocities and violence. It is also a course of action that strikes a blow against the regime of international order, but which offers the weak at least some protection from predatory states.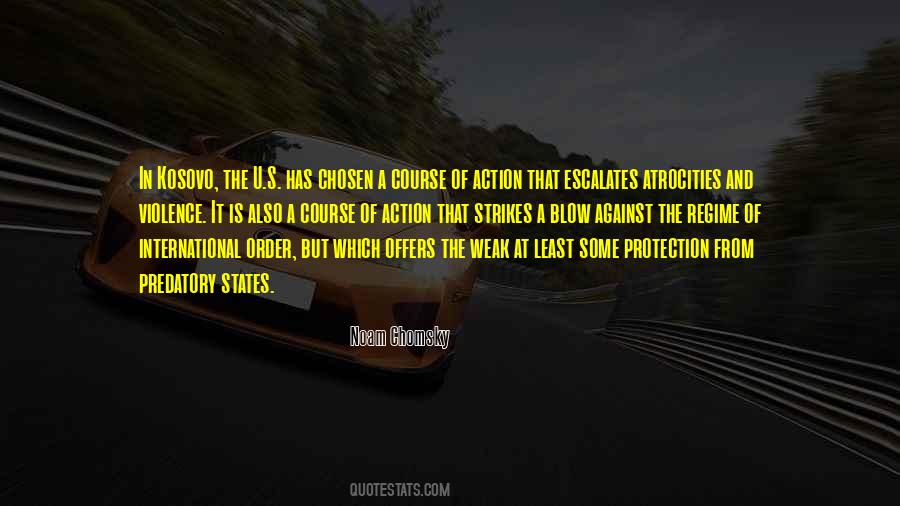 #84. To avoid a repeat of this near disaster, the Council of Genres took the only course of action open to them to ensure TGC would be too inefficient and unimaginative to pose a threat. They appointed a committee to run it.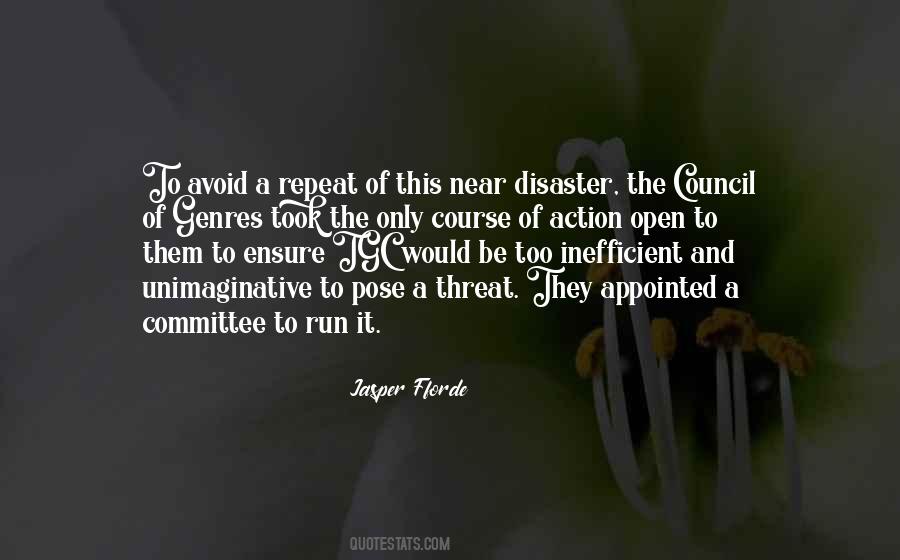 #85. There are actors who spend 20 years working and still don't achieve what I've achieved so quickly. So I think my only course of action is to work as hard as I can, not just for the sake of the film, but also to prove to these people that I do have talent.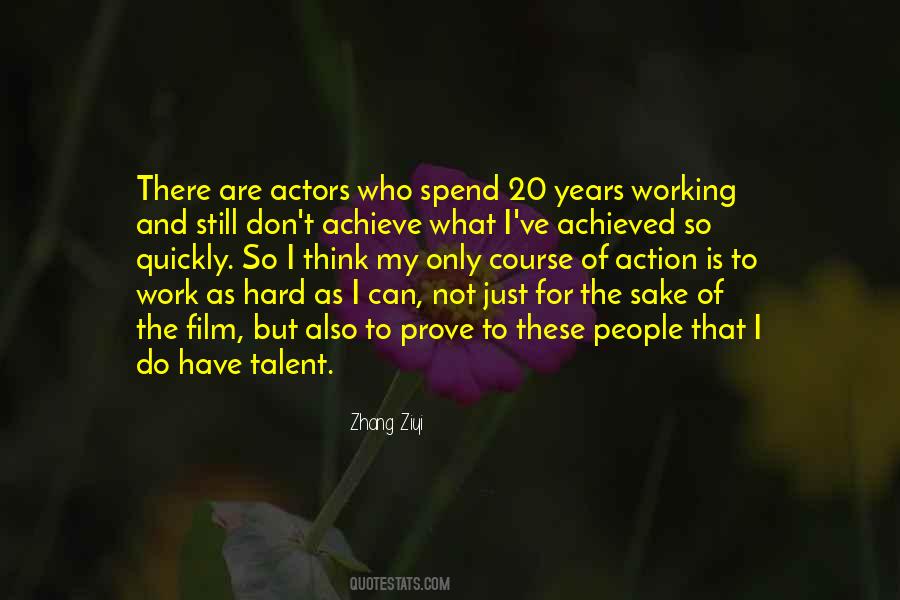 #86. What is morally wrong can never be advantageous, even when it enables you to make some gain that you believe to be to your advantage. The mere act of believing that some wrongful course of action constitutes an advantage is pernicious.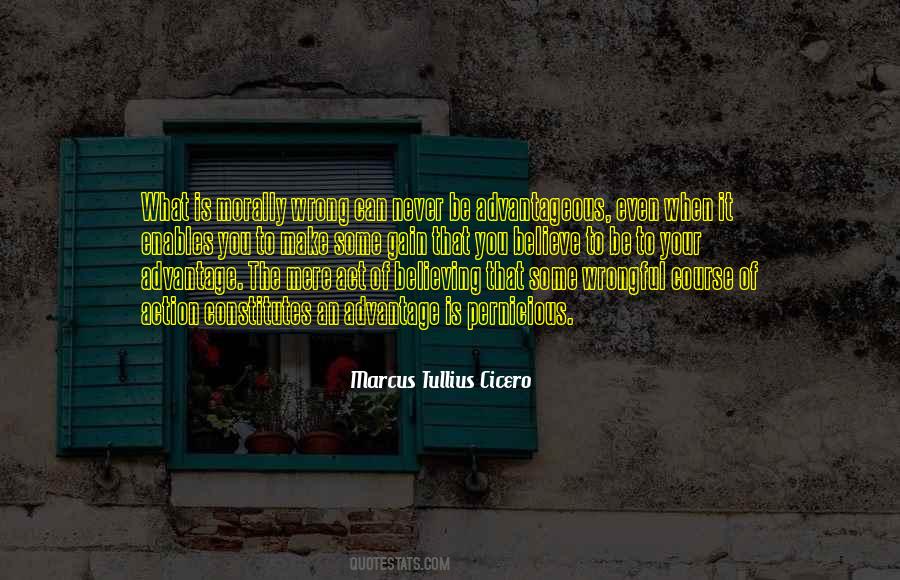 #87. I love the opportunity to help my patients, to work with them to find the best course of action to get them healthy and to give them the information they need to stay healthy.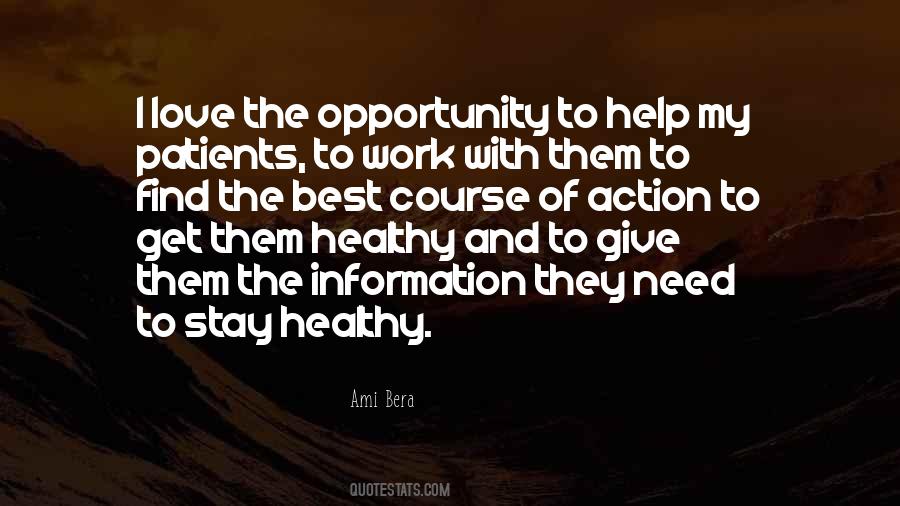 #88. Resistance, his all-encompassing term for what Freud called the Death Wish - that destructive force inside human nature that rises whenever we consider a tough, long-term course of action that might do for us or others something that's actually good.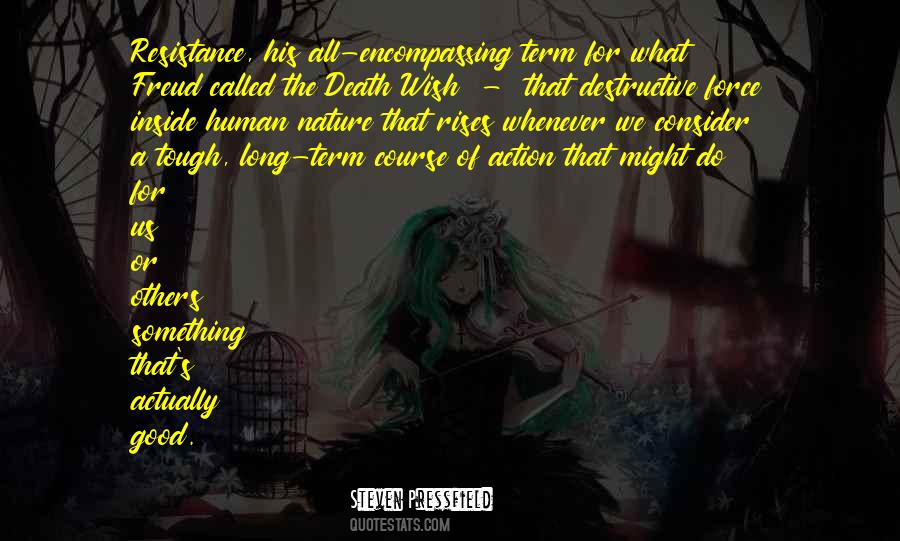 #89. To do just the opposite is also a form of imitation.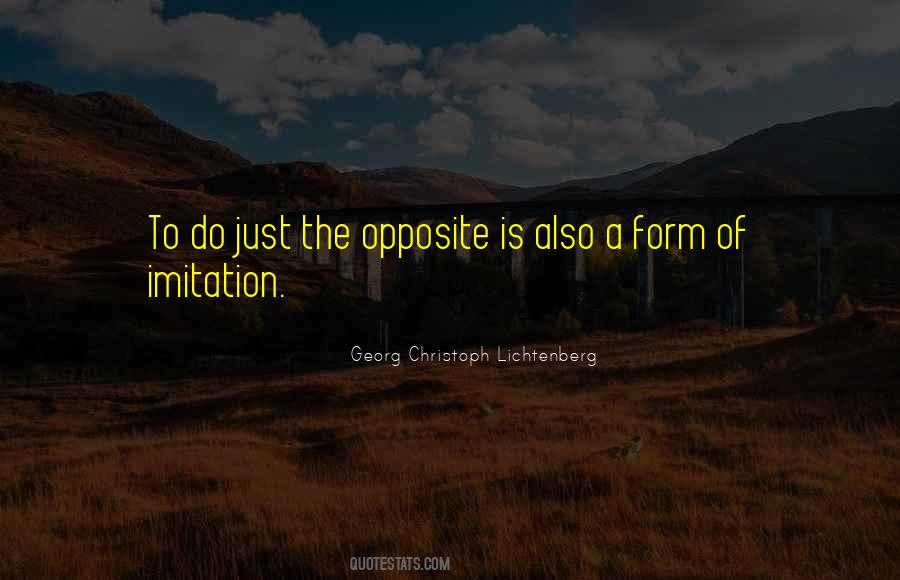 #90. Requiring accountability while also extending your compassion is not the easiest course of action, but it is the most humane, and, ultimately, the safest for the community.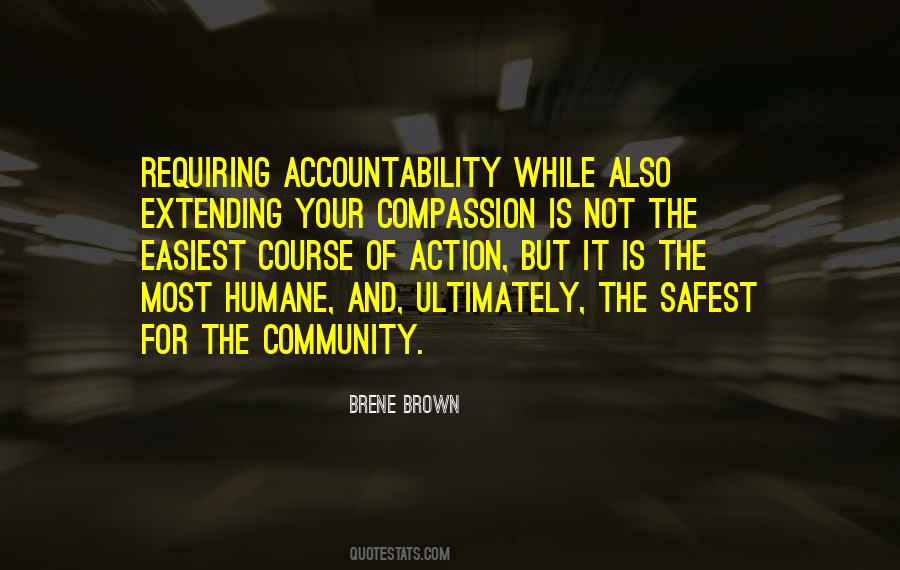 #91. Good heavens." Wolfe pushed back his chair, not of course with violence, but with determination. "Archie. Understand this. As a man of action you are tolerable, you are even competent. But I will not for one moment put up with you as a psychologist. I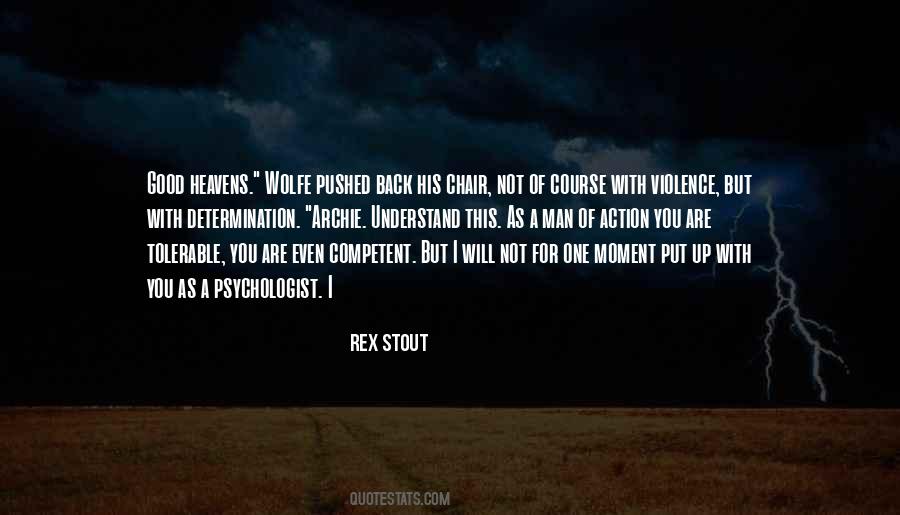 #92. I think that feeling that if one believed absolutely in any cause, then one must have the confidence, the self-certainty, to go through with that particular course of action.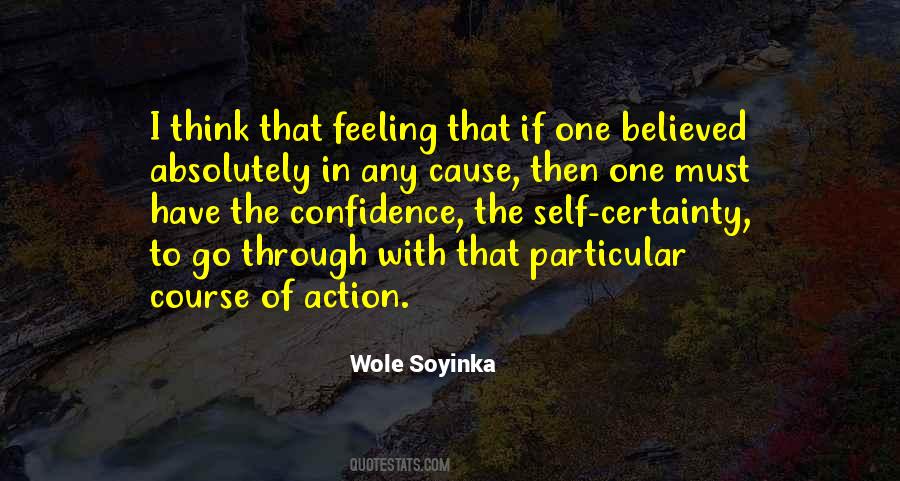 #93. But once you allow yourself to recognize necessity, you find two things: One you find your options so restricted that the only course of action is obvious, and, two, that a great sense of freedom comes with the decision.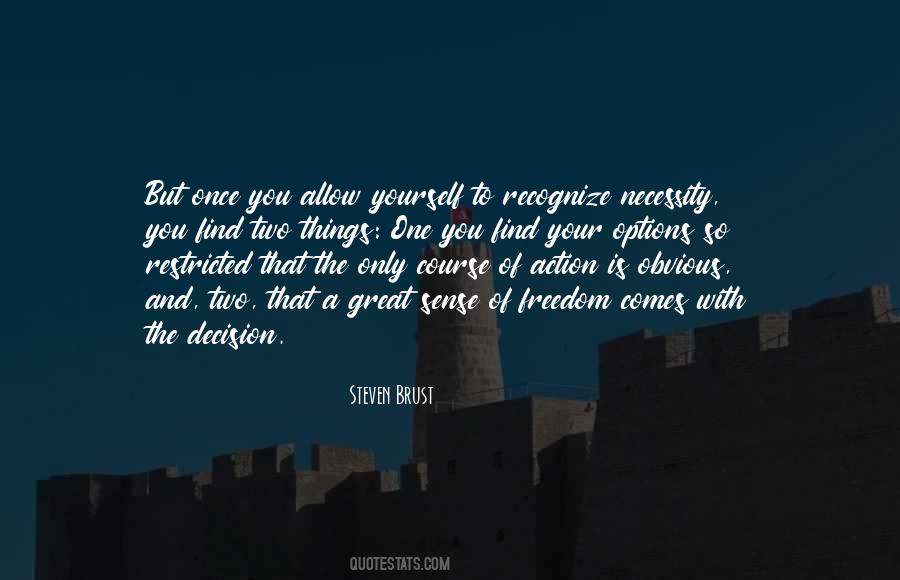 #94. If you take action, you will be judged. There's no way around it. The alternative, of course, is much safer. To be ignored. Up to you.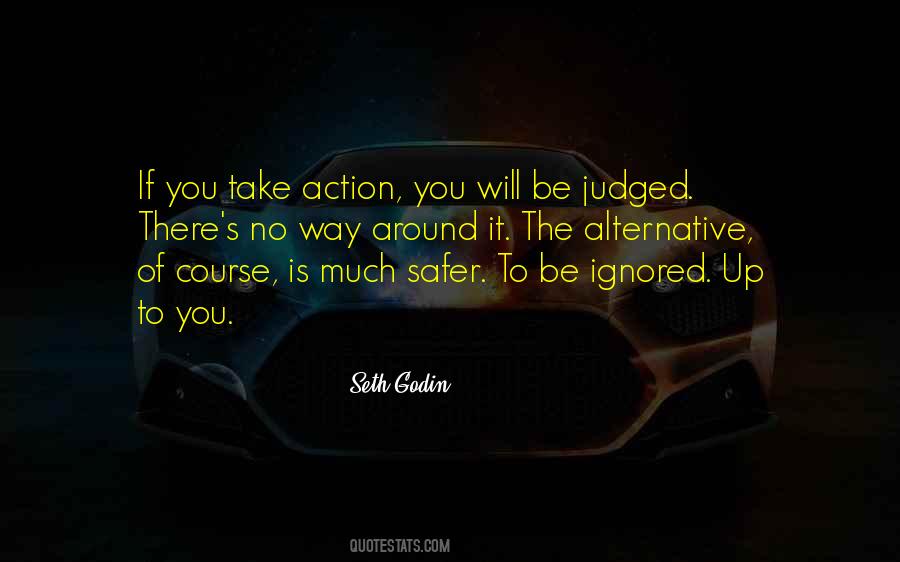 #95. The instrumentalization of action and the degradation of politics into a means for something else has of course never really succeeded in eliminating action, in preventing its being one of the decisive human experiences, or in destroying the realm of human affairs altogether.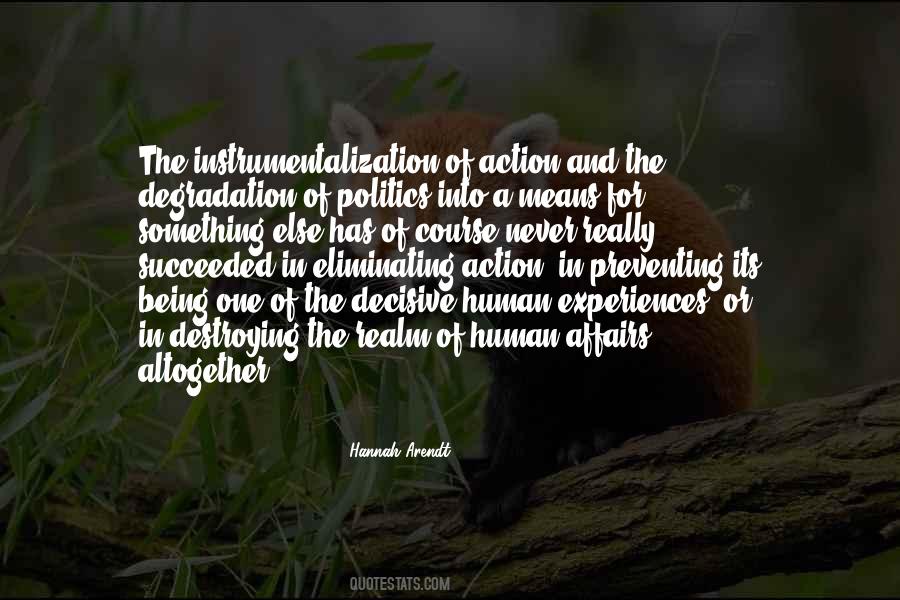 #96. The worst thing you can do for your loved one caught in alcoholism or addiction is to help the person continue in the deception that he or she is OK. Your best course of action is to speak the truth in love (see Eph. 4:15) and don't allow him or her to escape the consequences of wrong behavior.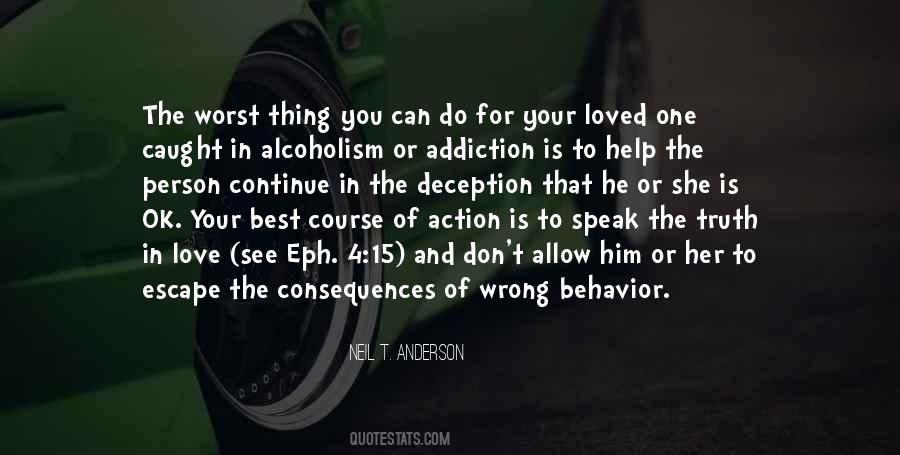 #97. You feel as if you're not living a full life. Which, of course, is why it's my theory about why so many people who are heavily into computers are also into extreme sports and S&M. It's because their bodies are crying out for some kind of action.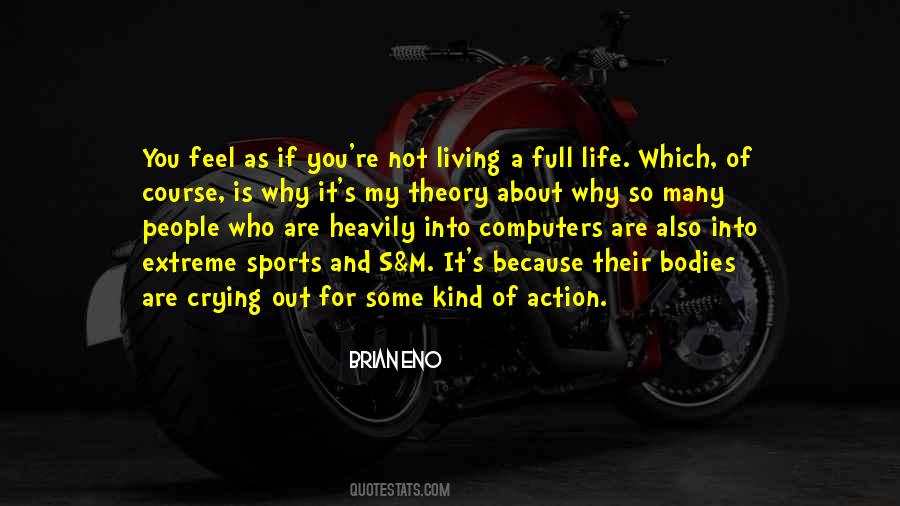 #98. There is no reality of consciousness independent of the effects of various vehicles of content on subsequent action (and hence, of course, on memory).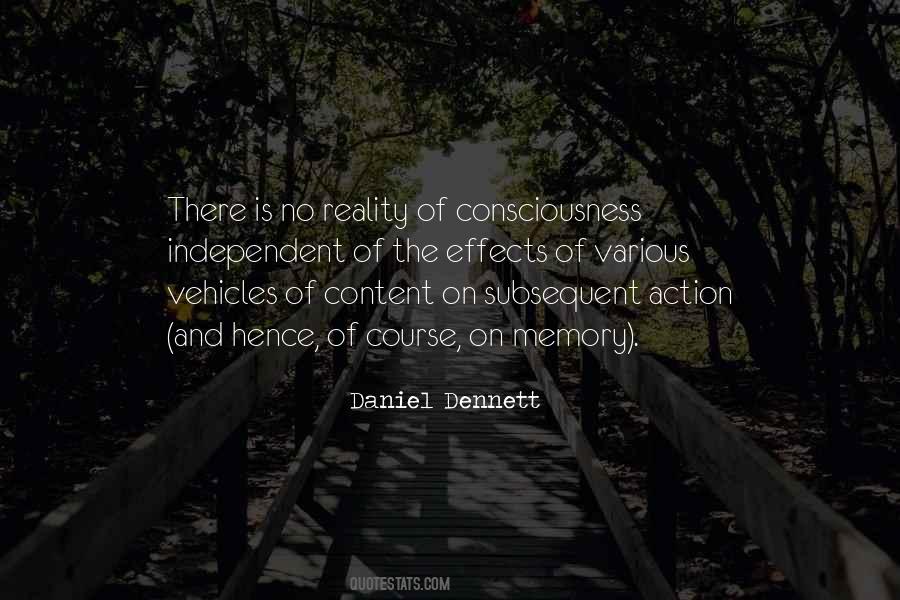 #99. I encourage active skepticism - when people are being skeptical because they're trying to identify the best course of action. They're trying to identify the next step for themselves or other people.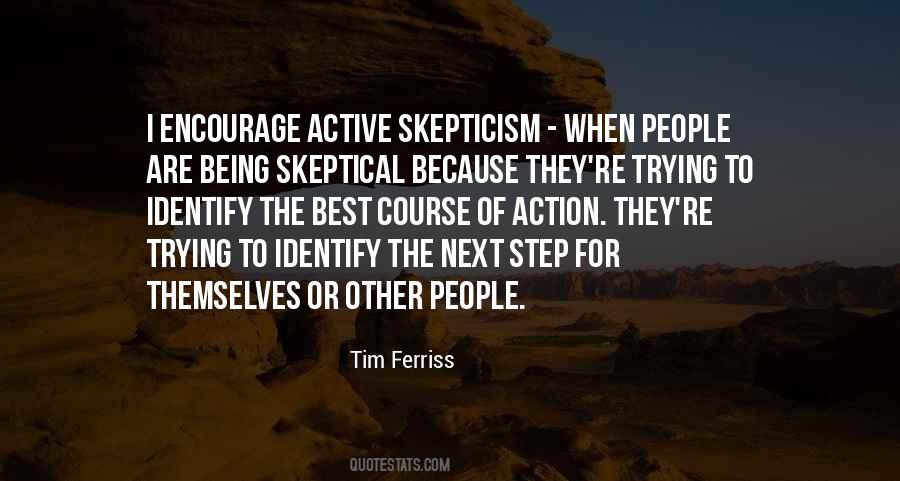 #100. For me painting is a dramatic action in the course of which reality finds itself split apart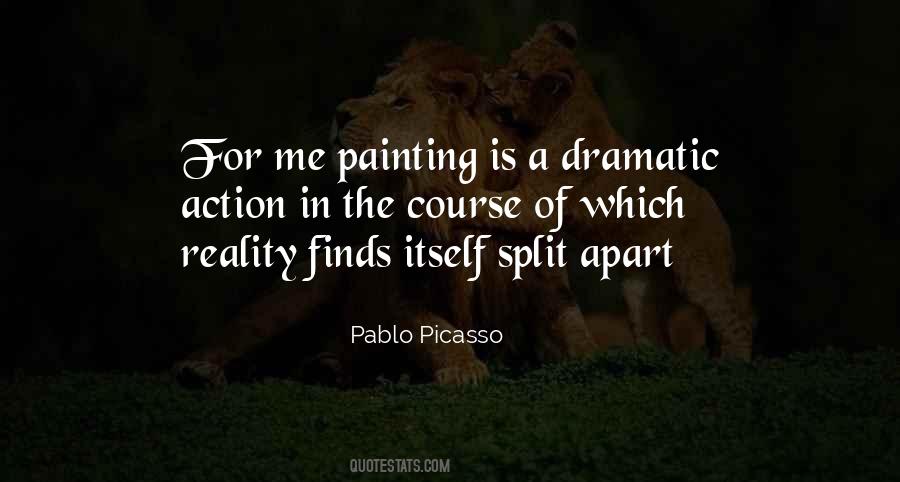 Famous Authors
Popular Topics