Who You Spend Time With Famous Quotes & Sayings
List of top 72 famous quotes and sayings about who you spend time with to read and share with friends on your Facebook, Twitter, blogs.
Top 72 Quotes About Who You Spend Time With
#1. There will always be people for and against you, and its pointless wasting time trying to win over some of the people who are against you. Spend time with people who are for you. Those realtionships are worth it. - Author: Cathy Hopkins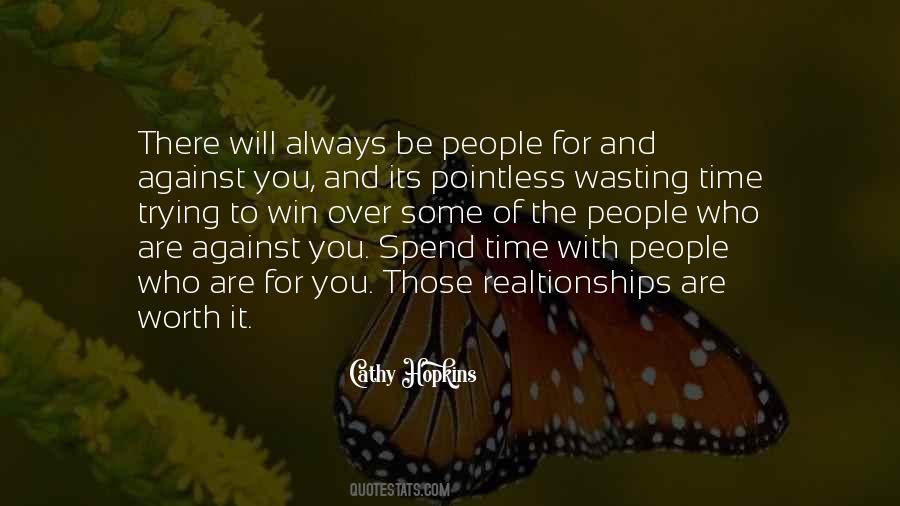 #2. There are those who say that life is like a book, with chapters for each event in your life and a limited number of pages on which you can spend your time. But I prefer to think that a book is like a life, particularly a good one, which is well to worth staying up all night to finish. - Author: Daniel Handler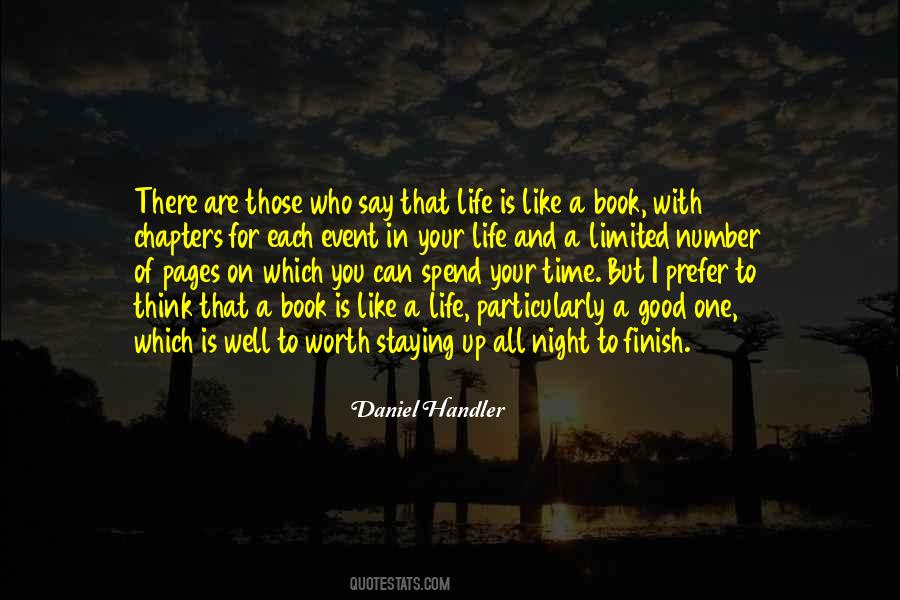 #3. I am not good at first or second impressions, and you have to spend some time with me to know me. Also, I don't want to put my best foot forward and prove something, as that is not me. I would rather be me and have you like me for who I am, instead of being someone else. - Author: Emraan Hashmi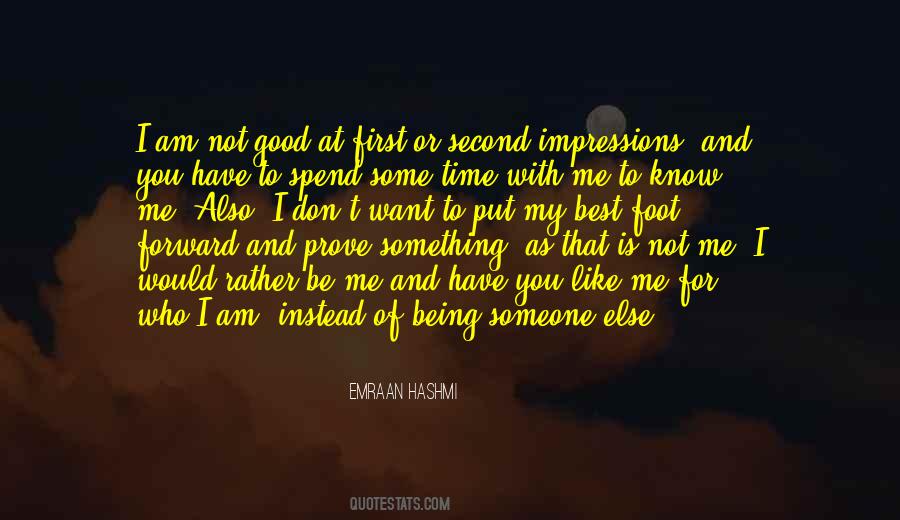 #4. The starting point of discovering who you are, your gifts, your talents, your dreams, is being comfortable with yourself. Spend time alone. Write in a journal. Take long walks in the woods. - Author: Robin S. Sharma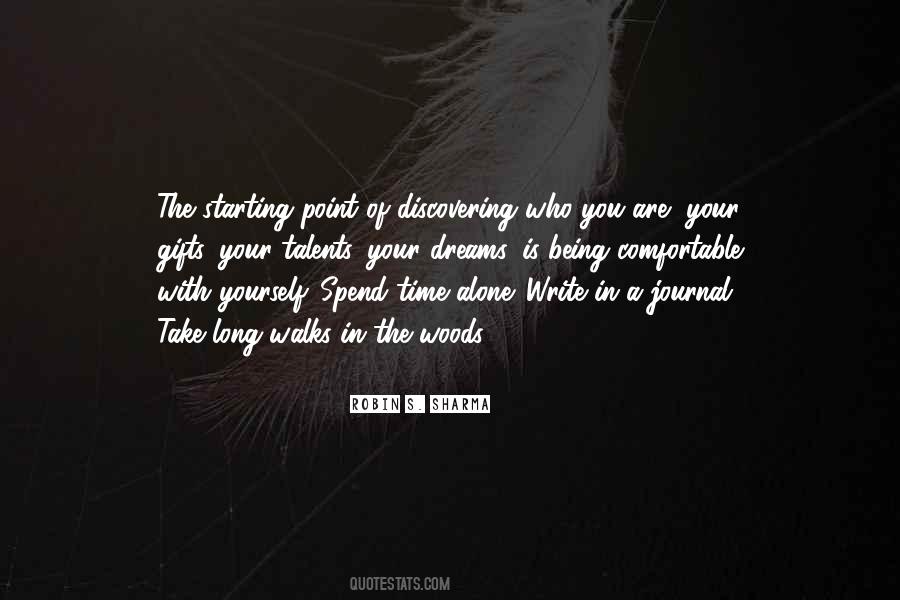 #5. Opportunity cost is a huge filter in life. If you've got two suitors who are really eager to have you and one is way the hell better than the other, you do not have to spend much time with the other. And that's the way we filter out buying opportunities. - Author: Charlie Munger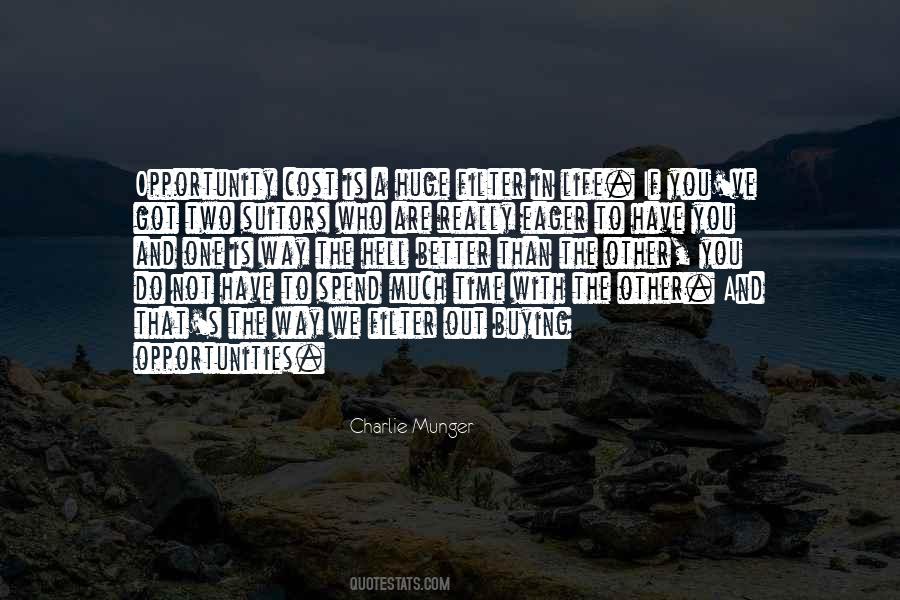 #6. For those of us who aren't great with people, we figure that silence is always the safest bet. If you're an introvert, you spend so much of your time wishing that other people would just shut the hell up that you figure you're doing everyone a favor. - Author: David Wong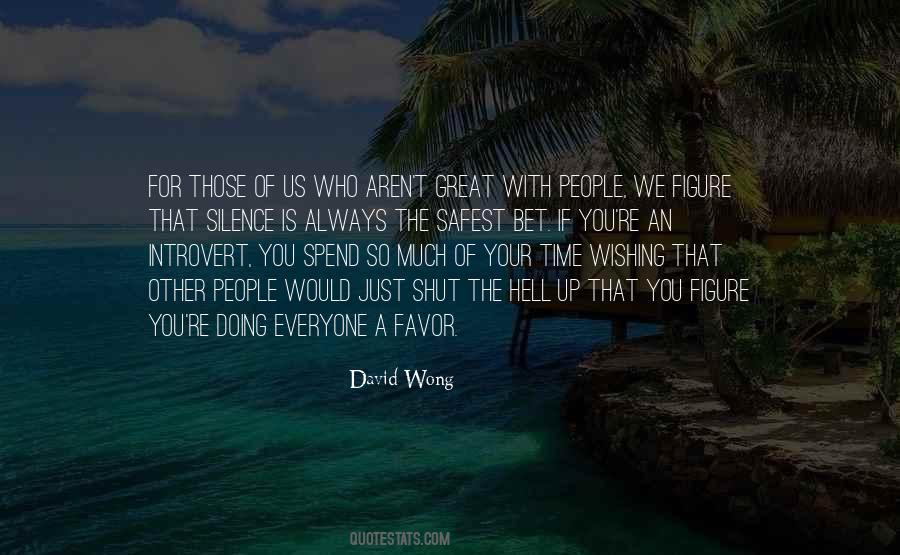 #7. After my touring life, I'd love to be more involved with charity. It gives me a lot of fulfillment, you know? I would love to get people who are into my music more active in charity work. In the future, when I have more time, I'd love to do spend more time on that. - Author: Tiesto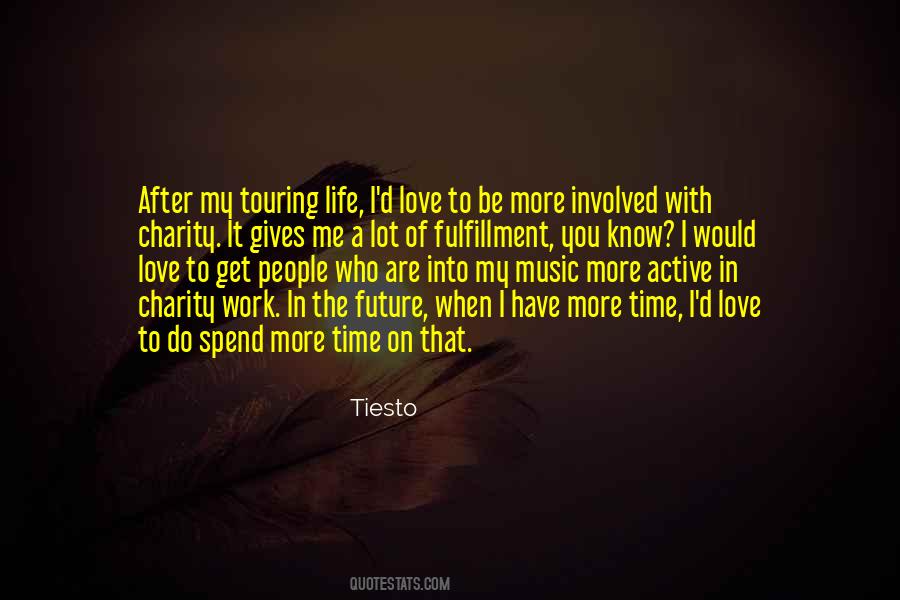 #8. I was starting to understand the true meaning of soul mates. They weren't necessarily people who you are supposed to spend forever with. No, they are people who know you, and who you'll always be connected with, no matter what time passes and where you are in the world. - Author: Angela Richardson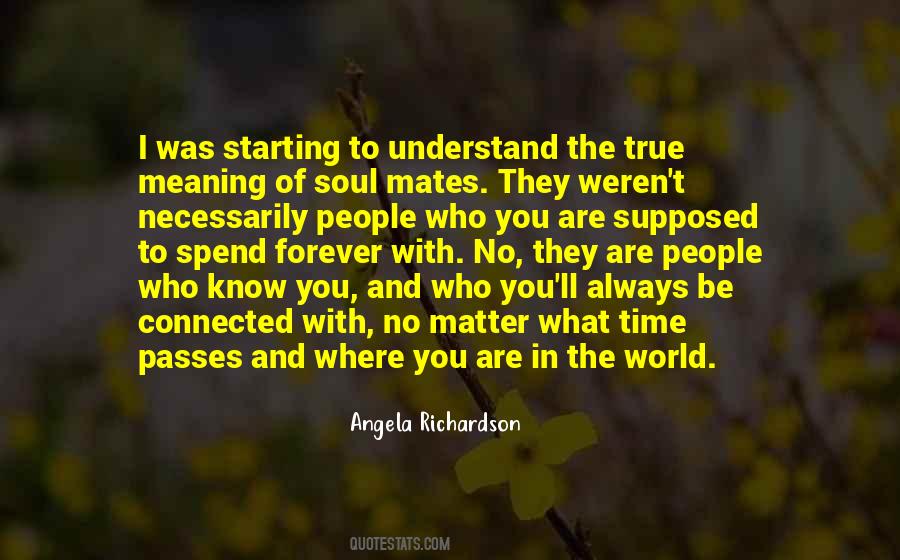 #9. Do not, for one more minute, spend your precious time and energy on or surround yourself with people who are less than you deserve. - Author: Tanya Masse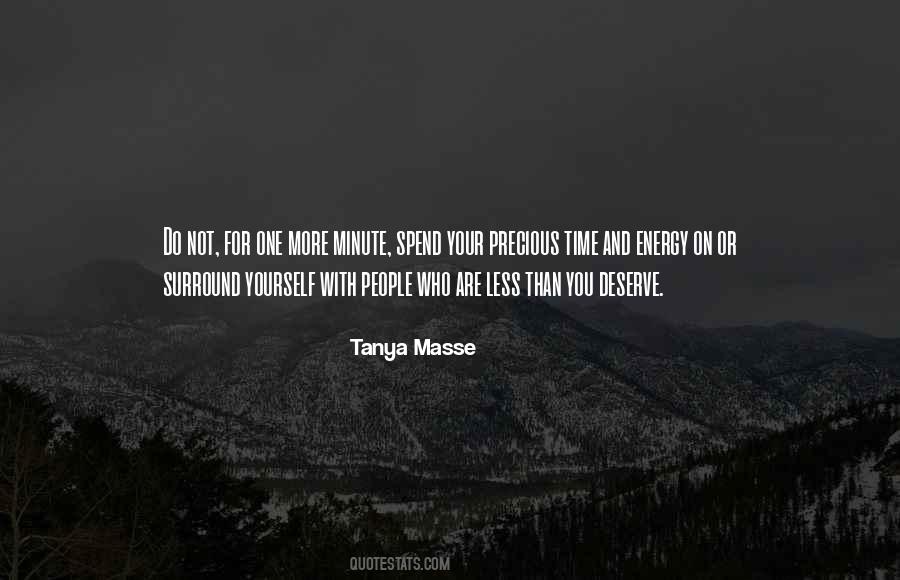 #10. Being single used to mean that nobody wanted you. Now it means you're pretty sexy and you're taking your time deciding how you want your life to be and who you want to spend it with. - Author: Sarah Jessica Parker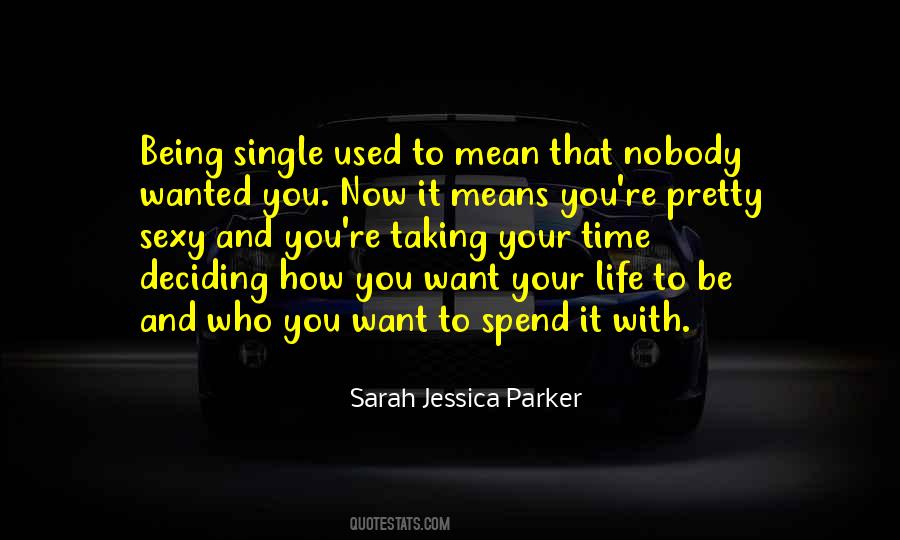 #11. The person who completes your life is not so much the person who shares all the years of your existence, but rather the person who made your life worth living, no matter how long or short a time you were given to spend with them. - Author: Susan Meissner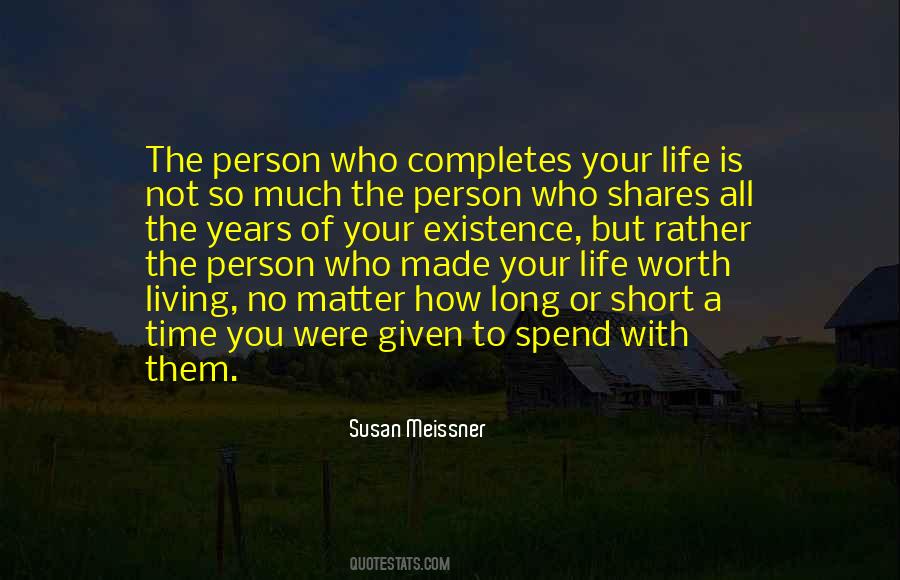 #12. If you know exactly what you want to be, you need to spend as much time as possible with people who are actually that already ... - Author: Gary Vaynerchuk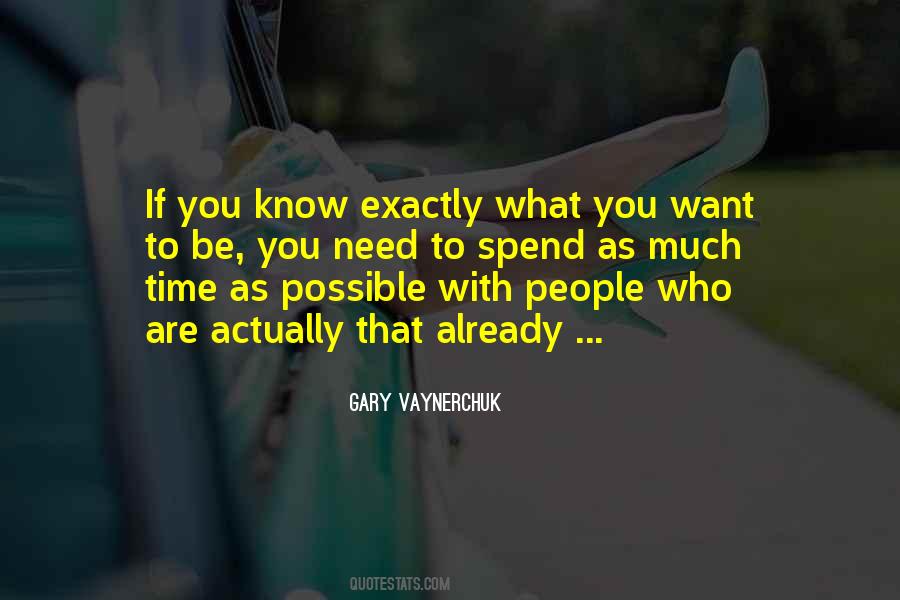 #13. Prayer was talking and listening and being excited to spend time with someone who loves you. - Author: Chris Fabry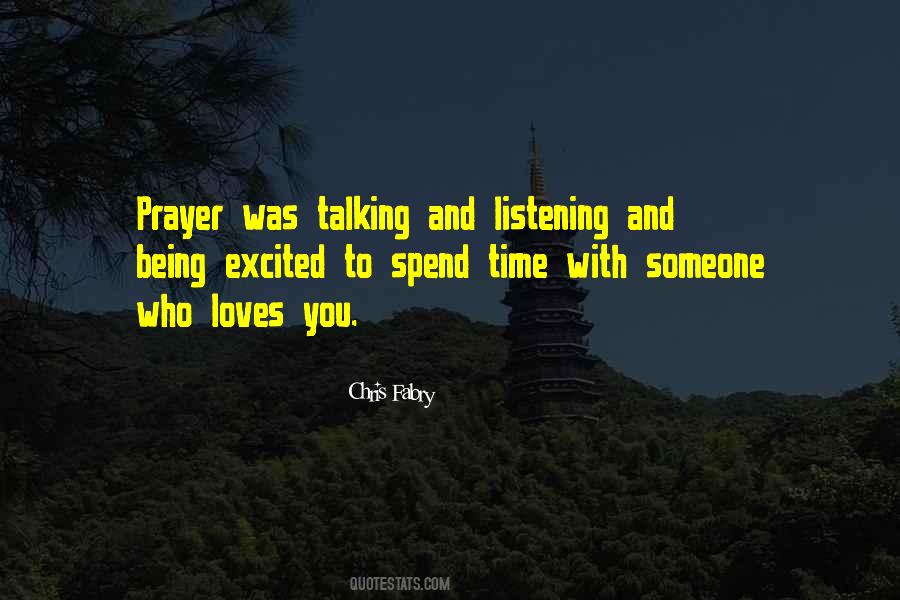 #14. Bless them. But don't spend too much time with them. Draw close to people who honor your no, who cheer you on for telling the truth, who value your growth more than they value their own needs getting met or their own pathologies celebrated. Our - Author: Shauna Niequist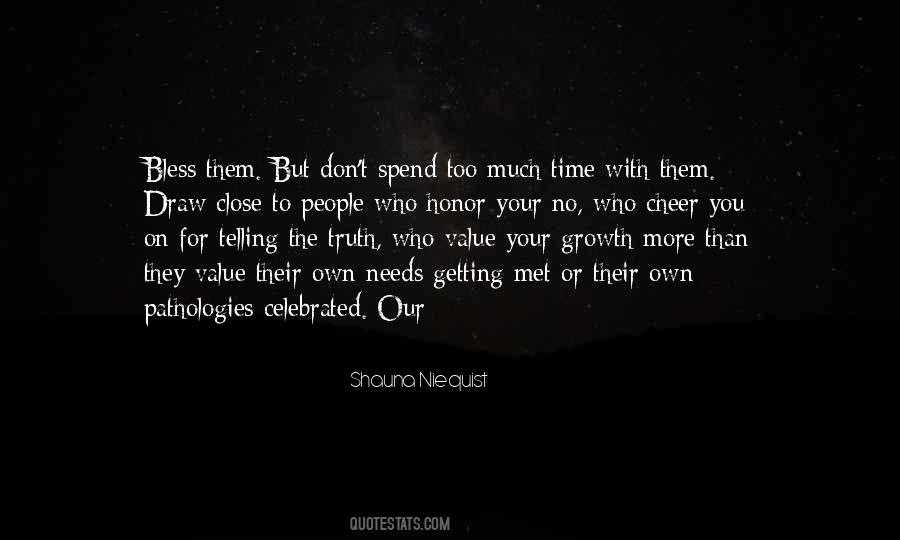 #15. Last, in restaurants you spend a lot of time dealing with people who are very unhappy. Soup has been spilled on their laps, they've waited 10 minutes to get their check so they can leave, and you learn how to listen, I think, in a much more proactive way than government does. - Author: John Hickenlooper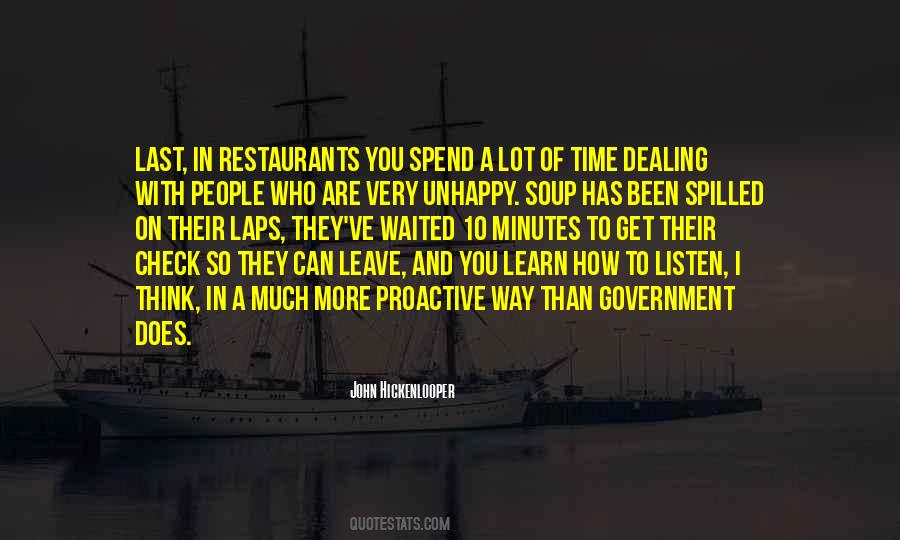 #16. You are probably the only girl on the planet that would spend so much time with Dylan Porter, who might just be the single most hottest guy on the planet, and try to get him to date other women," Clara laughed and shook her head in disbelief. - Author: Nicole R. Locker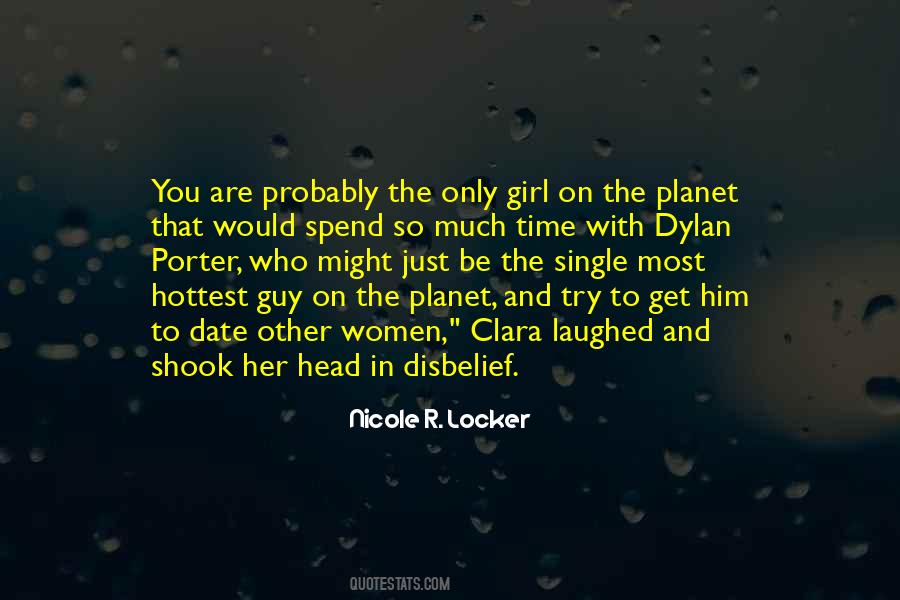 #17. What you want in a mentor is someone who truly cares for you and who will look after your interests and not just their own. When you do come across the right person to mentor you, start by showing them that the time they spend with you is worthwhile. - Author: Vivek Wadhwa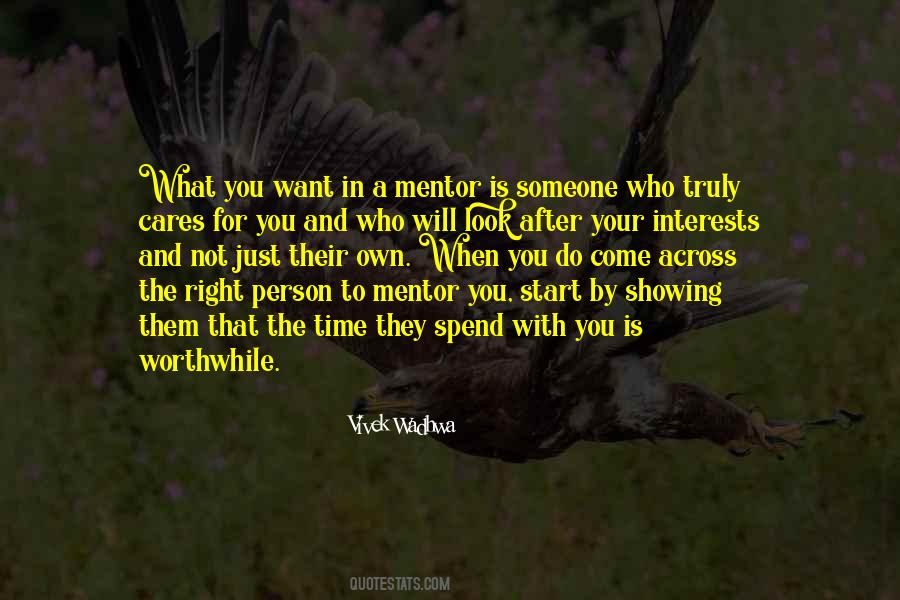 #18. As you navigate through the rest of your life, be open to collaboration. Other people and other people's ideas are often better than your own. Find a group of people who challenge and inspire you, spend a lot of time with them, and it will change your life. - Author: Amy Poehler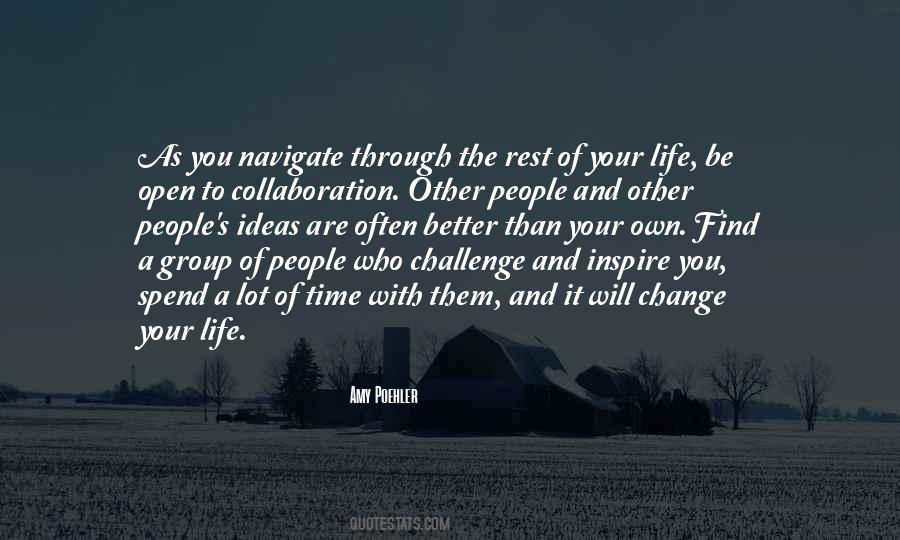 #19. Be a sponge. Spend as much time as possible with people who truly know their craft and be a great listener. That is how you learn. - Author: Jerry Colangelo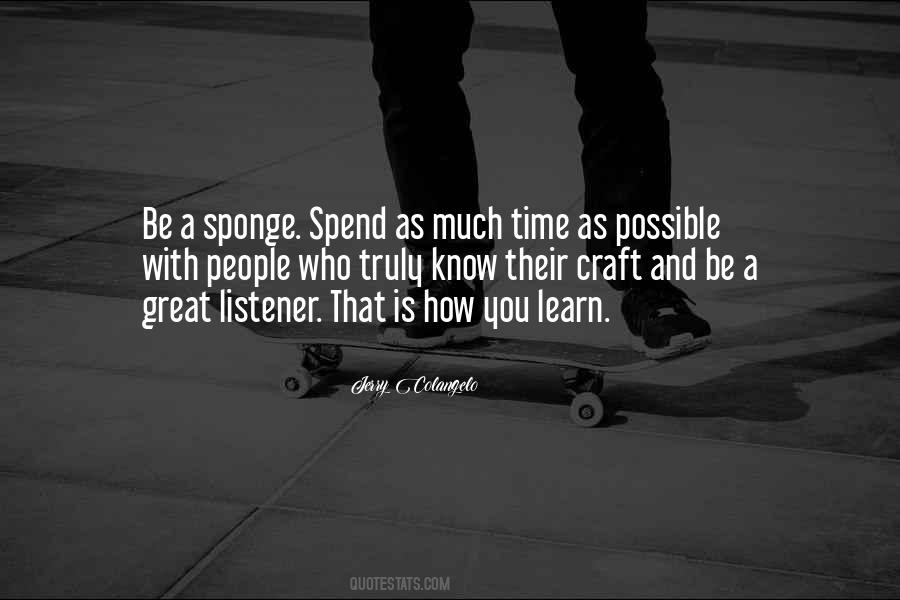 #20. Spend time with the people who bring out your true flavors but don't overpower you. - Author: Grace Helbig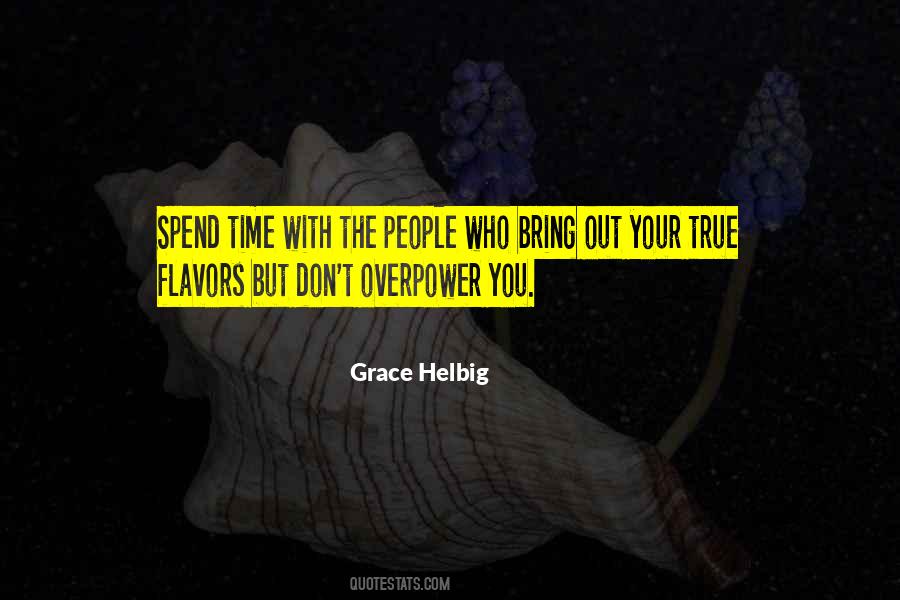 #21. Our time is so precious. You're holding out for someone who you really want to spend all your time with. Otherwise, there's no point to it. - Author: Liz Tuccillo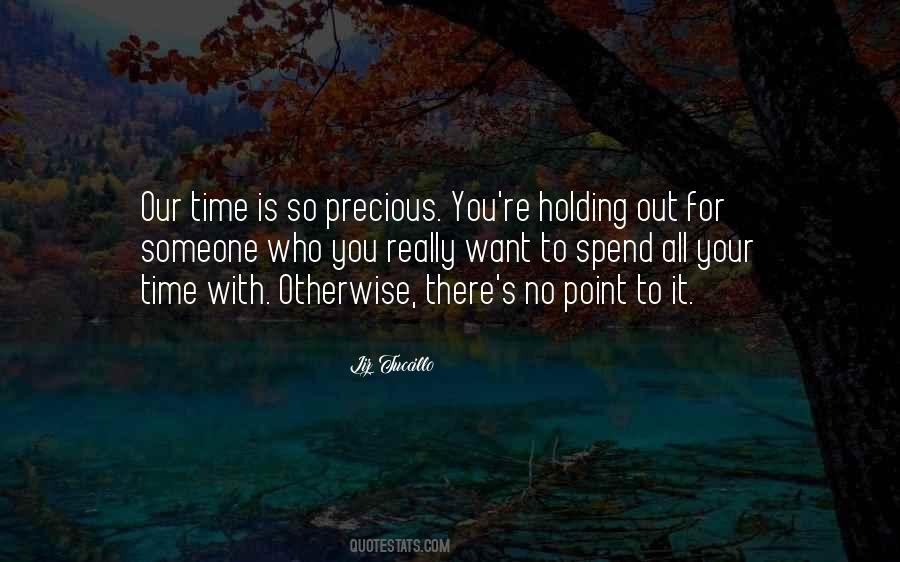 #22. With all of the choices we have in this world, why would you ever spend your time running behind one that is not even willing to walk towards you. Stop wasting time with those who have other priorities, you too have options. -AHCIII - Author: A.H. Carlisle III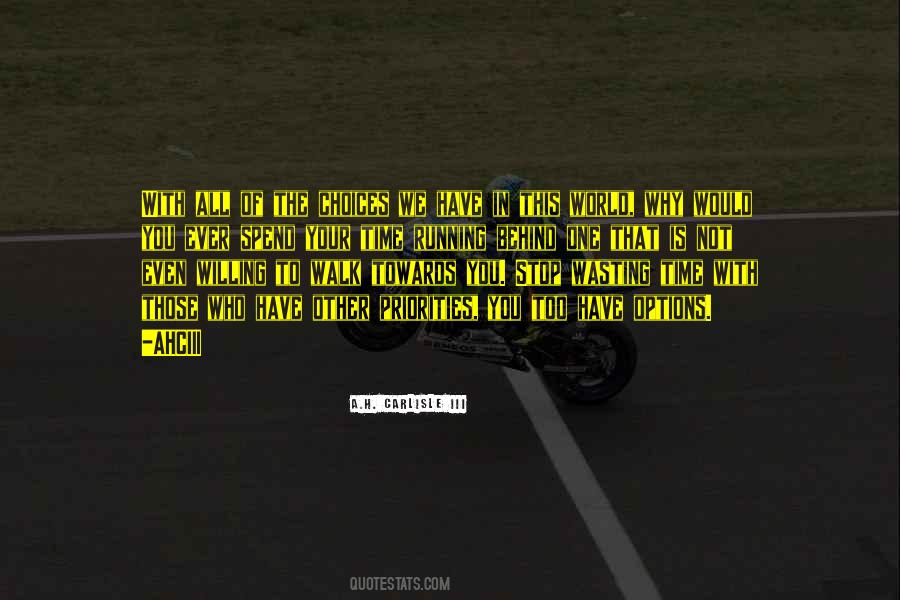 #23. To me, the beauty of a quilt or a dress lies within the stitches and the thought of the person who made them. When you spend time making something with your two hands, you impart love in a way that buying never can. - Author: Natalie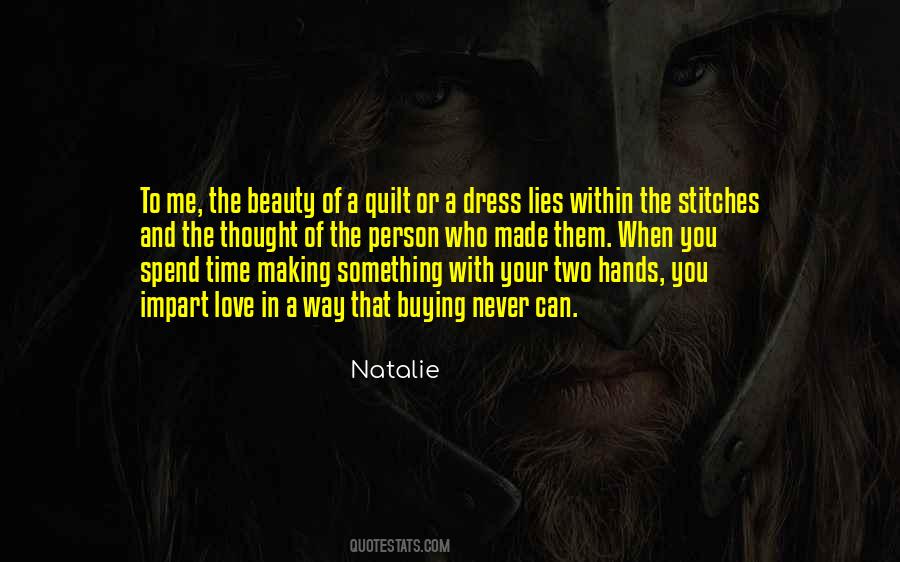 #24. I spend 90% of my time with people who don't report to me, which also allows for serendipity, since I'm walking around the office all the time. You don't have to schedule serendipity. It just happens. - Author: Jack Dorsey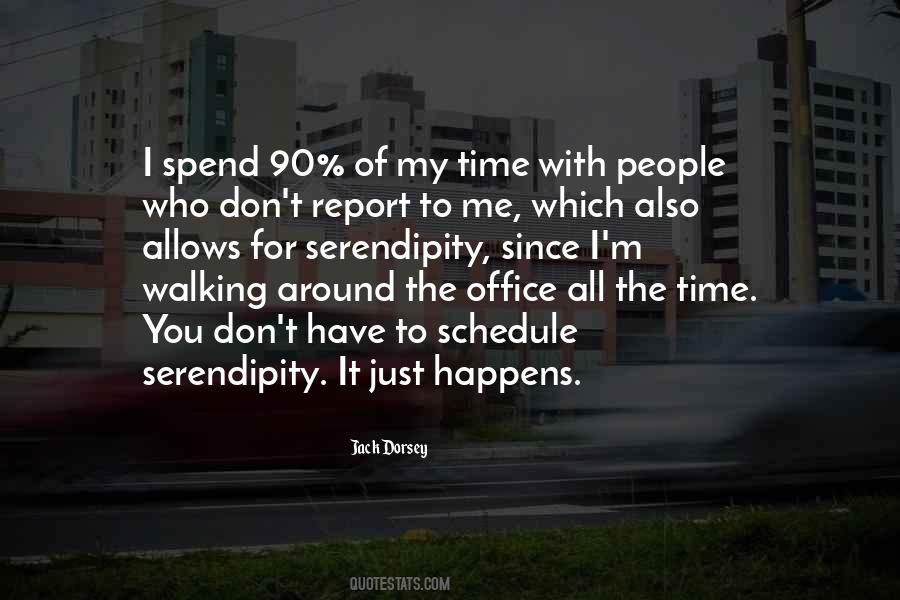 #25. You're trying to figure out a way to go back in time and spend more time with your father. Who wouldn't want to do that? - Author: Jeremy Piven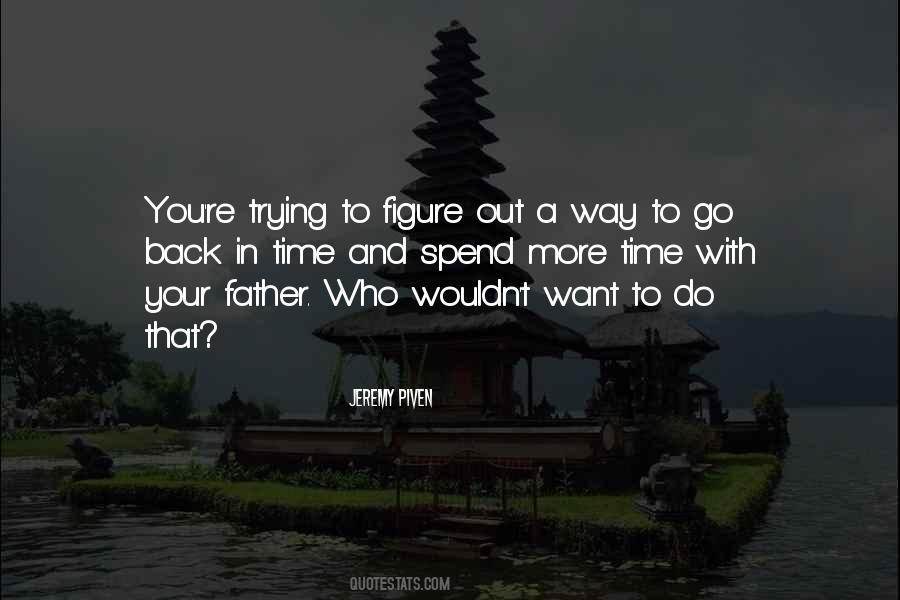 #26. Jesus is by nature a communicator. He wants to speak to you and wants you to talk to Him. People who spend time with Christ daily are noticeably different. They have a winsomeness about them. You can tell when a person knows the face of Christ. - Author: Doug Sherman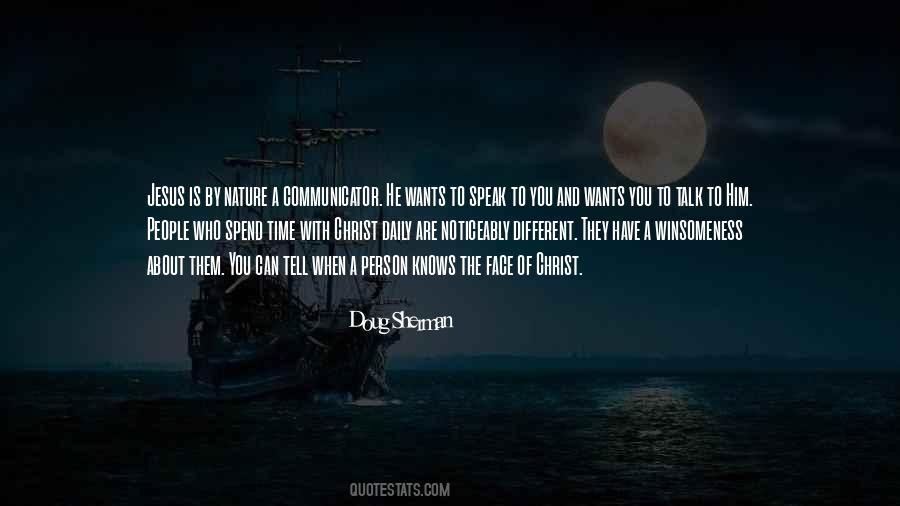 #27. If, at the office or in different exchanges in daily living, you have to spend time with people who are at lower power levels, then you have to be aware of that and keep your awareness very much within. - Author: Frederick Lenz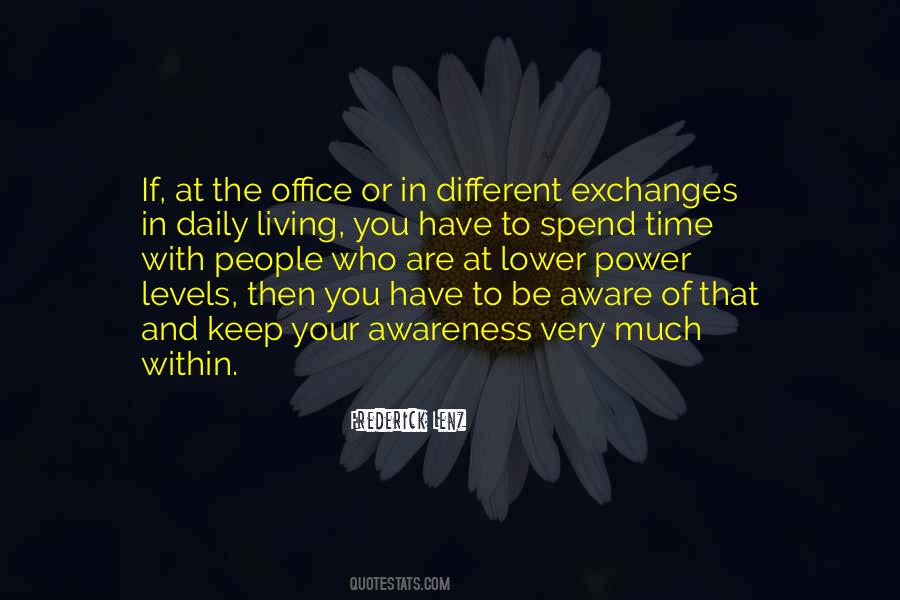 #28. Tell me with whom you consort and I will tell you who you are; if I know how you spend your time, then I know what might become of you. - Author: Johann Wolfgang Von Goethe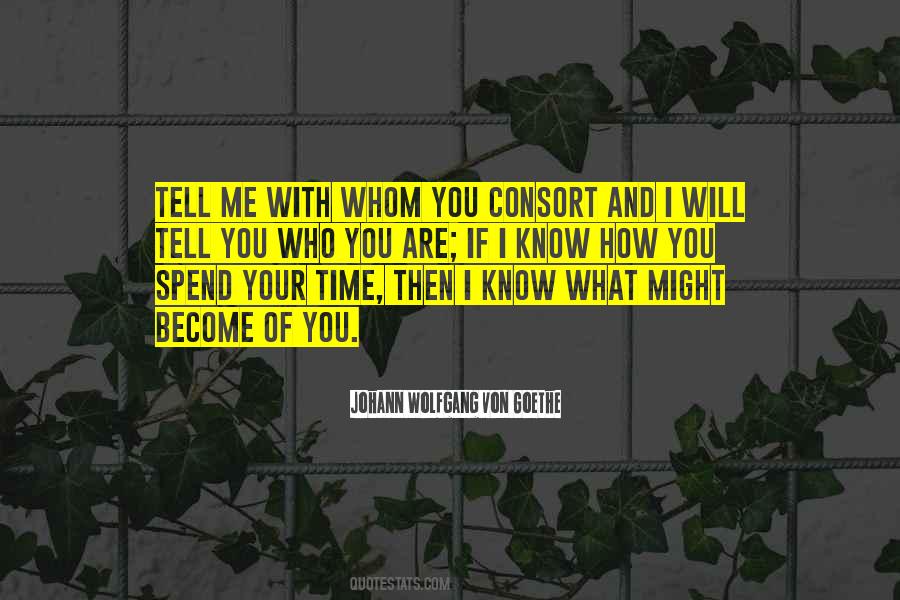 #29. If you've just left a place of difficulty, don't then move into the shadows, alone with your thoughts. Spend your time with friends, or even just people who care about you. It might feel more self-protective to isolate yourself, but the reality is that you need to let the light in. - Author: Sally Hanan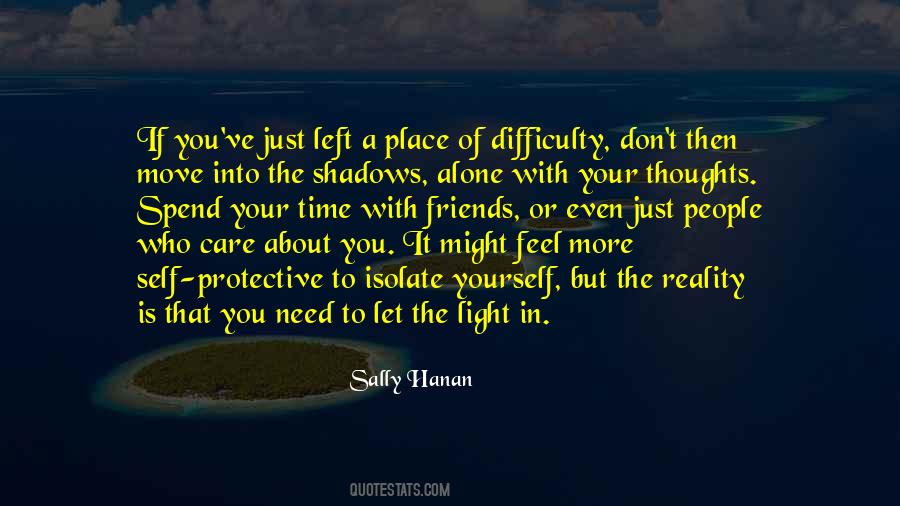 #30. It's good to be bored in the car, I always tell him. Spend some time with just yourself and your thoughts and nothing to do. How else will you learn who you are? - Author: Lauren Graham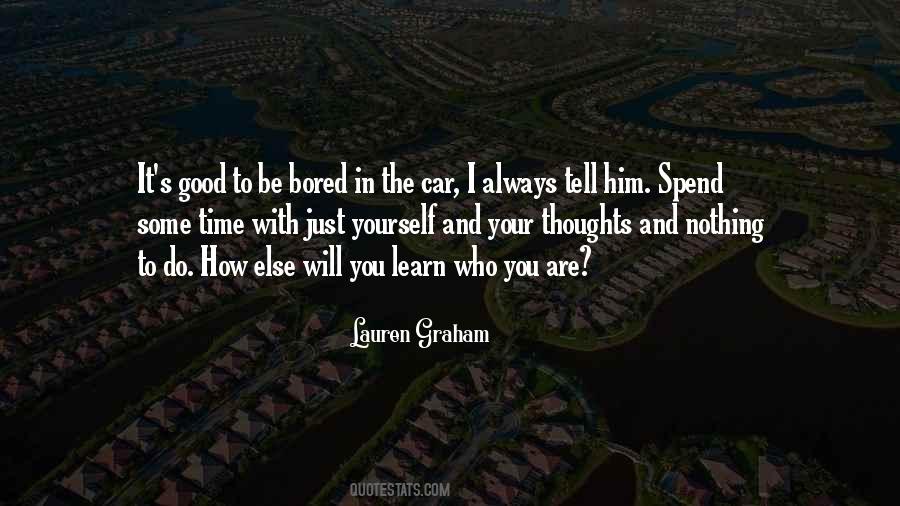 #31. Your kids don't need more things. They need you. And they want you. The more time that you can spend with them, the more they are going to want to be like you and know the Heavenly Father who made you such a great dad. That's how you lead your kids to Christ. - Author: Steve Farrar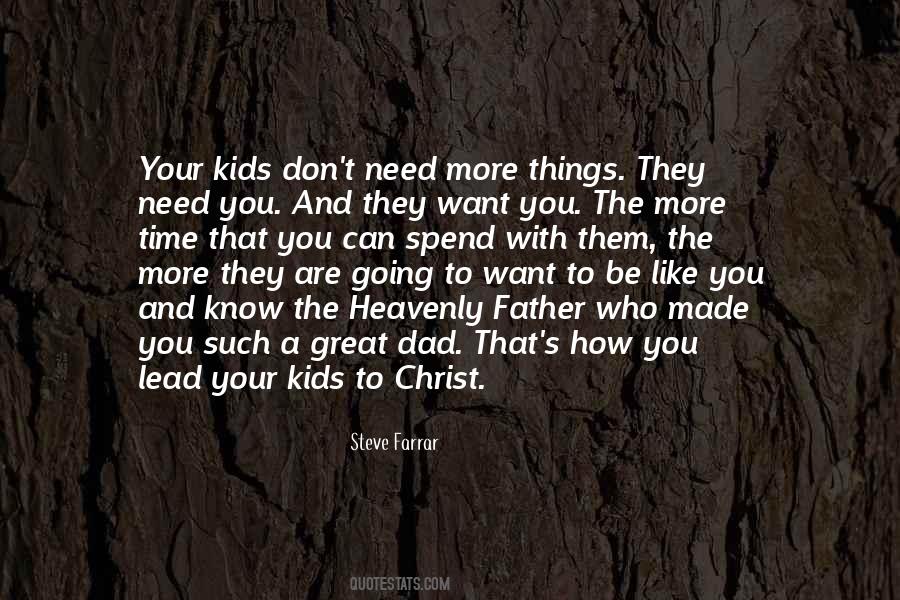 #32. Spend time understanding who you are, after all the only person your ever going to truly live with; is yourself. - Author: Nikki Rowe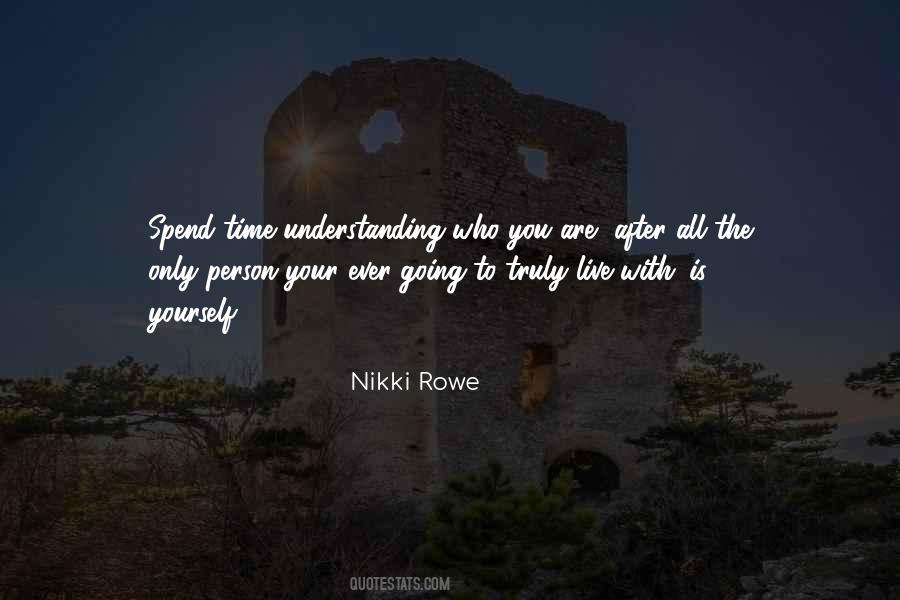 #33. I mean, it's fun for us to talk about issues. You know, there's no one issue we spend a lot of time on probably, because he gets to do that all day with somebody else who's a lot more expert at issues than I am. - Author: Laura Bush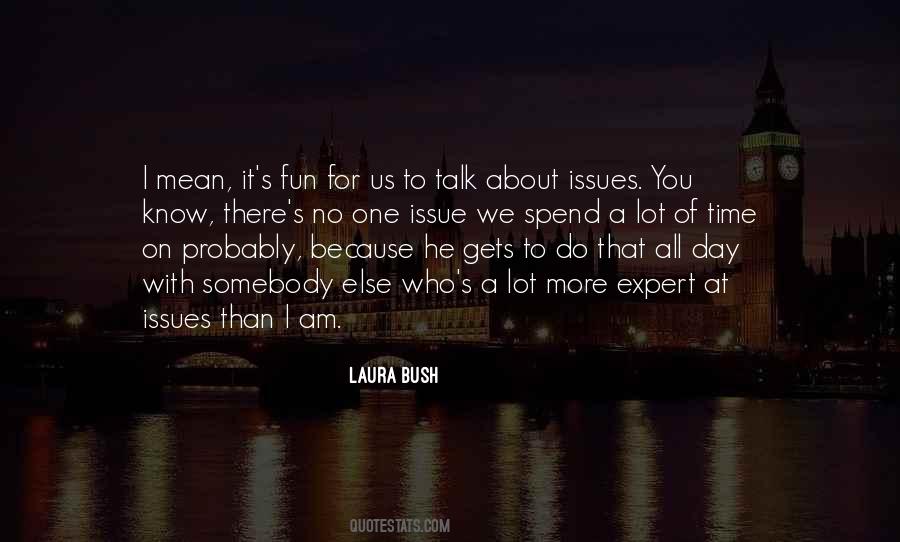 #34. You're going to spend more time with yourself than with anyone else in your life. You want to spend that whole time fighting who you are? - Author: Alex Sanchez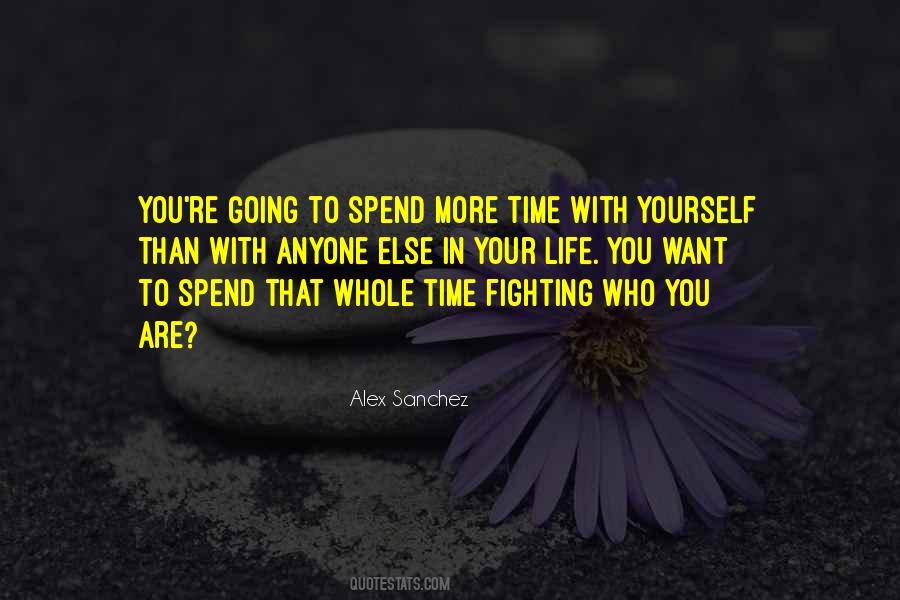 #35. You should spend more time with your families; write that novel you've always wanted to write. You know, the one about the fearless reporter who stands up to the administration. You know - fiction. - Author: Stephen Colbert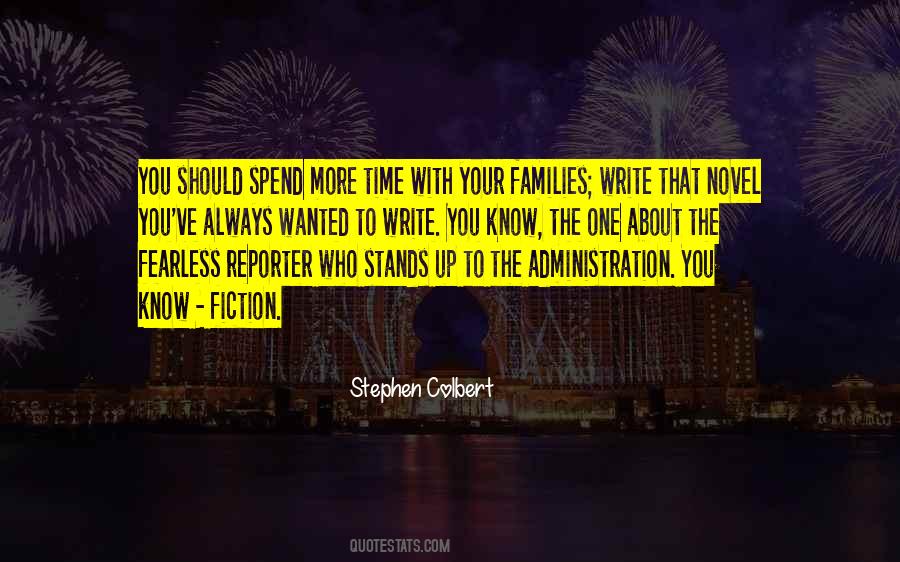 #36. Spend time with people who know how to use their days well. Just as iron sharpens iron, positive people will inspire you to be positive. - Author: Rihanna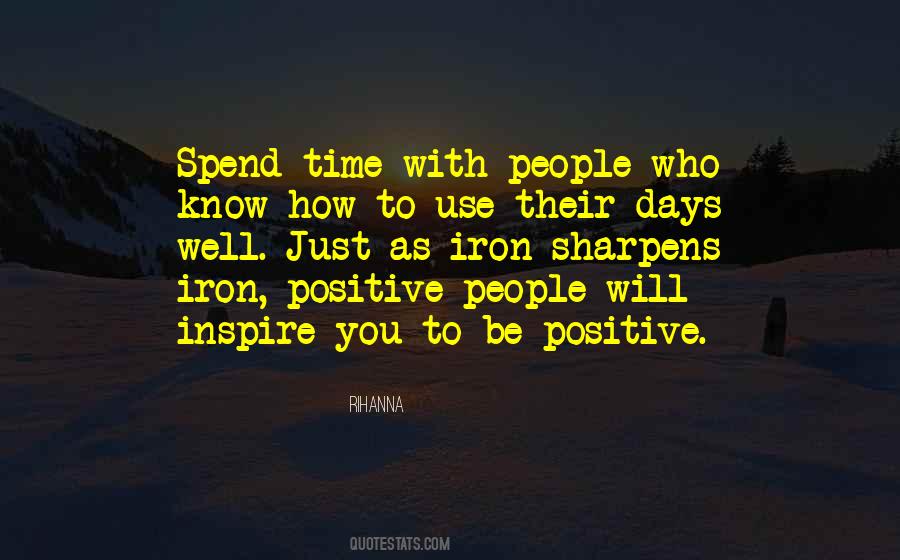 #37. Spend as much time as you can with the people you love, and put yourself in as many situations as possible with those people who enable you to look back and say, "Man, remember that time we . . .; I can't believe that actually happened! - Author: Steve Kamb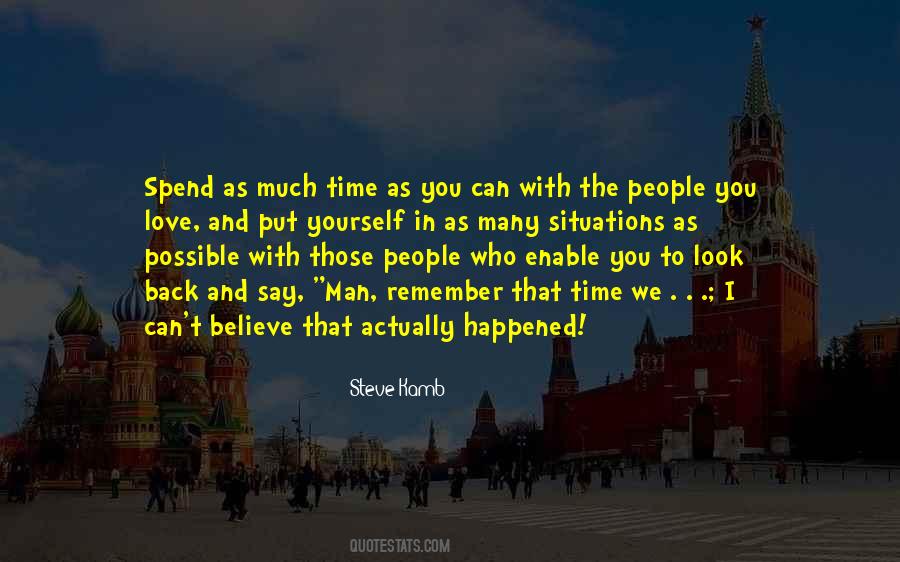 #38. You can NOT be a leader unless you like people! You've got to spend time with them, so you know them. You've got to be interested in who they are, what they do away from the job, and how they think. - Author: Bo Schembechler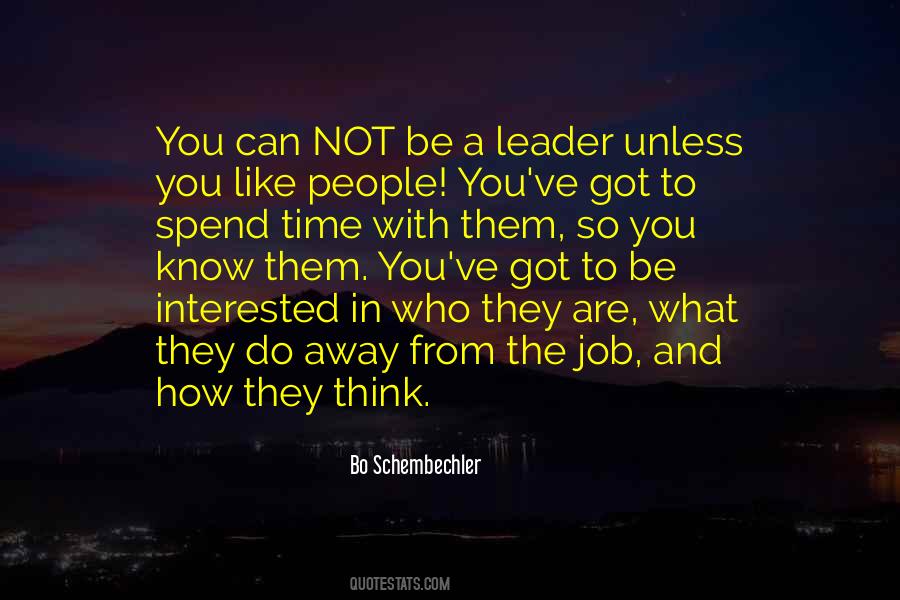 #39. WHAT CAN YOU SPEND BUT YOU CAN NEVER GET BACK????
TIME!
CHOOSE HOW YOU SPEND YOUR TIME AND WHO YOU SPEND IT WITH WISELY. - Author: Qwana M. BabyGirl Reynolds-Frasier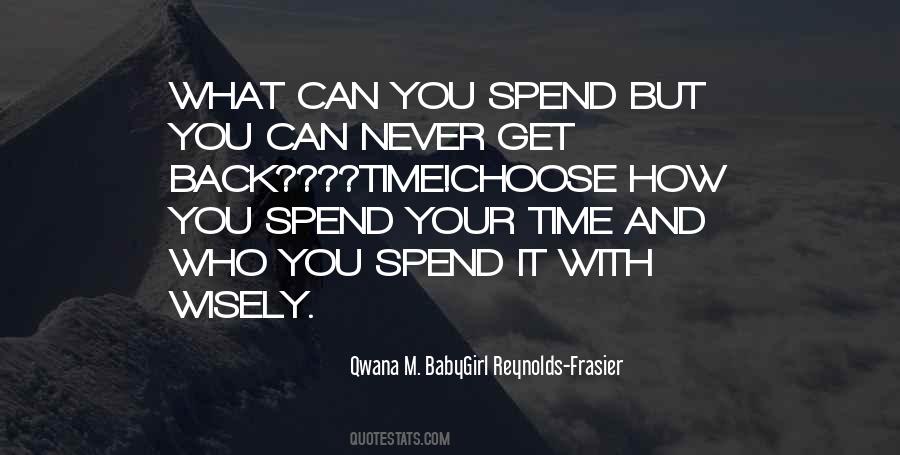 #40. I think it's important to find somebody who you trust, who has the same vision. If I were to do that myself, and not trust anybody to do it for me or with me, I would have to spend as much time as I have learning to make music on making music videos. - Author: Tove Styrke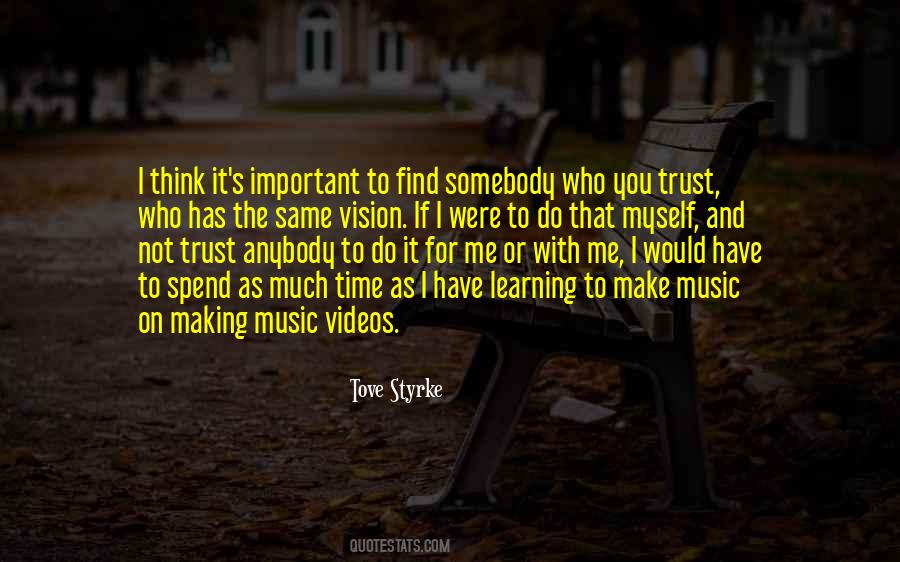 #41. This is where I tell you that I admire you. I admire people who give a damn. The world needs more adults willing to spend time with kids, particularly teenagers. - Author: John A. Heldt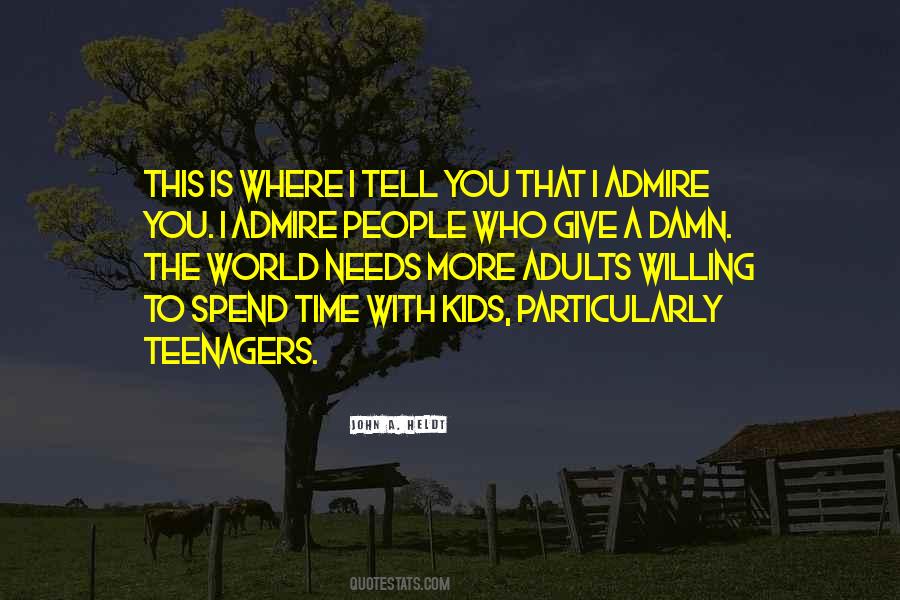 #42. Once you spend time with [the afflicted], you start recognizing them as individuals, as opposed to lumping them in with everybody else who might have those symptoms. - Author: Joseph Gordon-Levitt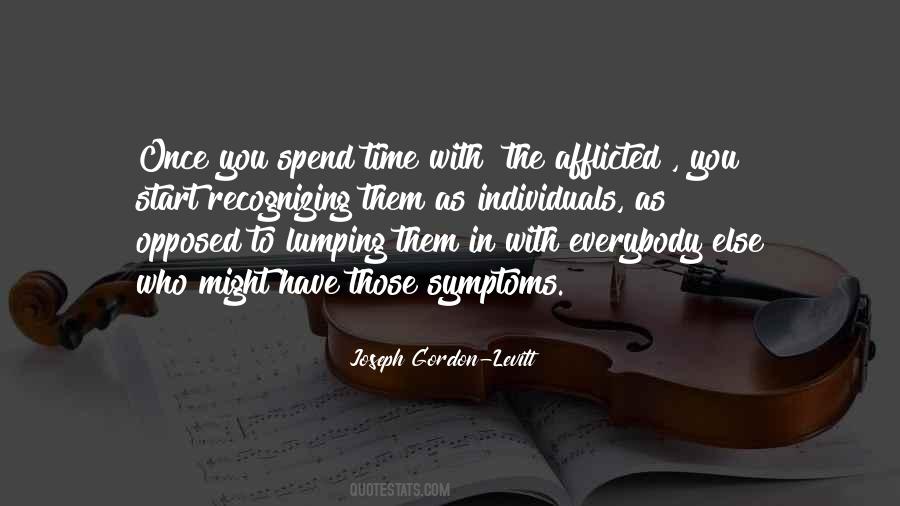 #43. I think if you socialize, dine with, spend time with known terrorists that are on the list of those who want to do harm to America, you put yourself in peril. I don't dine, socialize or spend time with people who are on the terrorist lists. - Author: Harold Ford Jr.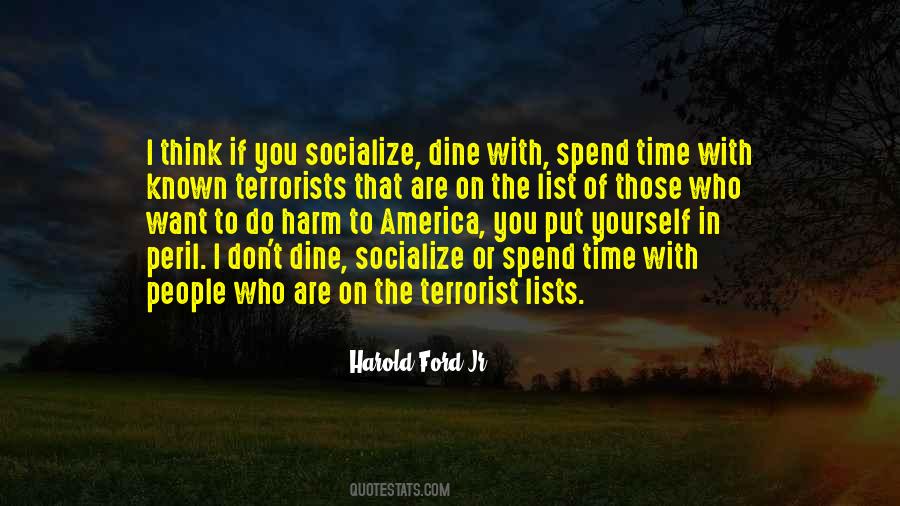 #44. Spend your valuable time with those who love you unconditionally, don't waste it on those people who love you in some condition. - Author: Pranab Dutta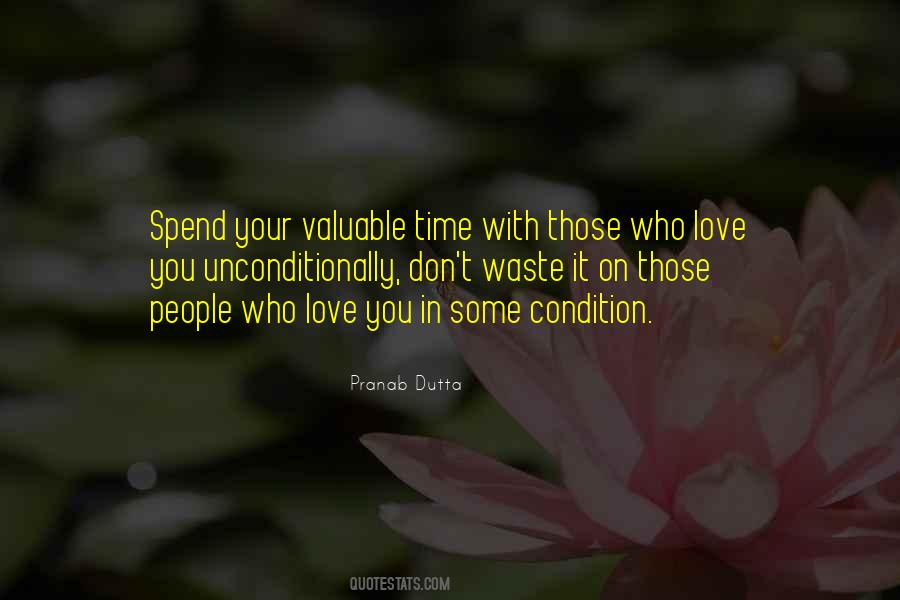 #45. To lose weight, spend time at the gym. To appear like you've lost weight, spend time with people who are bigger than you. - Author: Mokokoma Mokhonoana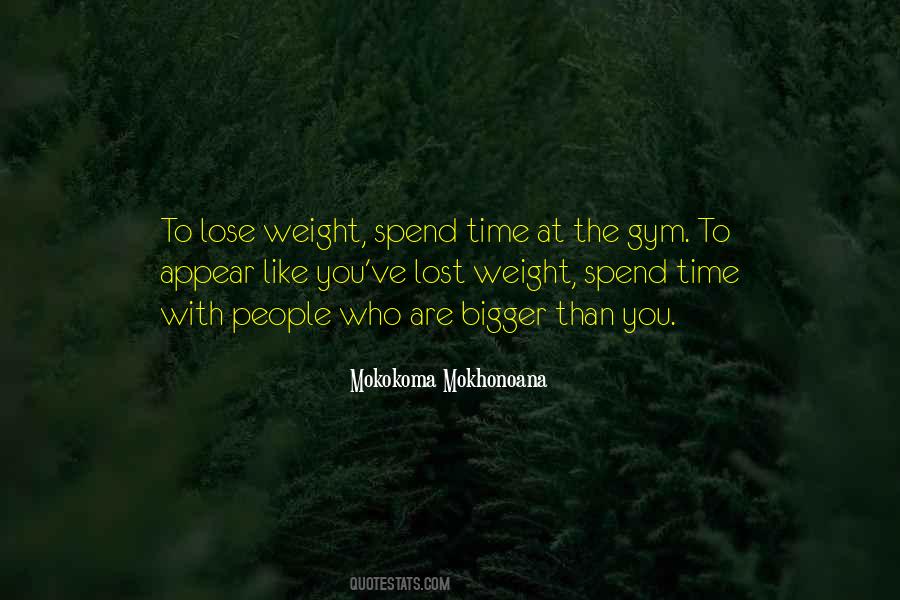 #46. I moved to New York for love, and it was a disaster, in 2000. And then I had American friends who had lived in South Africa, and they were in Chicago. They said, 'Come and spend some time with us, and we'll help you get over it.' - Author: Lauren Beukes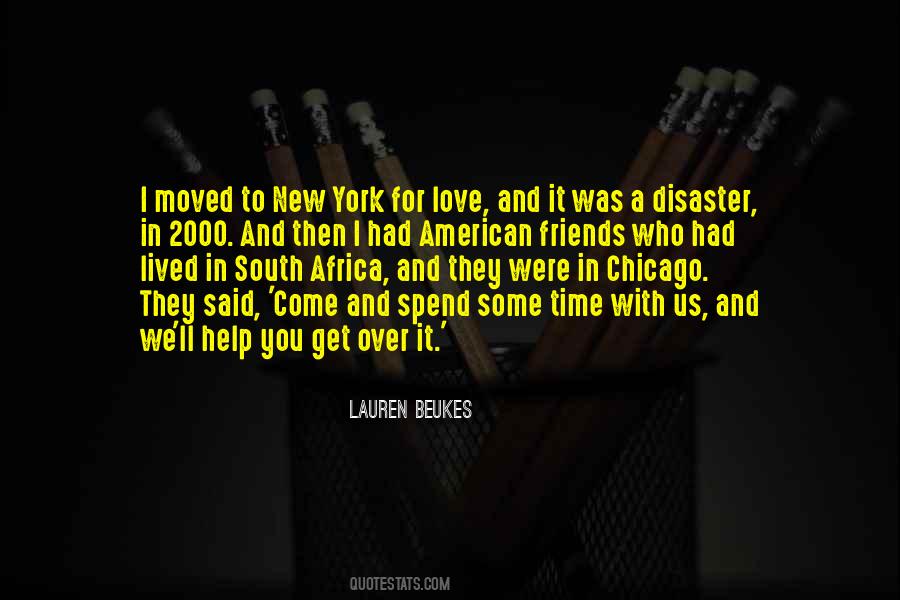 #47. If you want to be rich, be friends with people who have the same mindset as you, or who at least won't try to change your mindset to be more like theirs. Life is too short to spend time with people who don't help you move forward. - Author: Robert Kiyosaki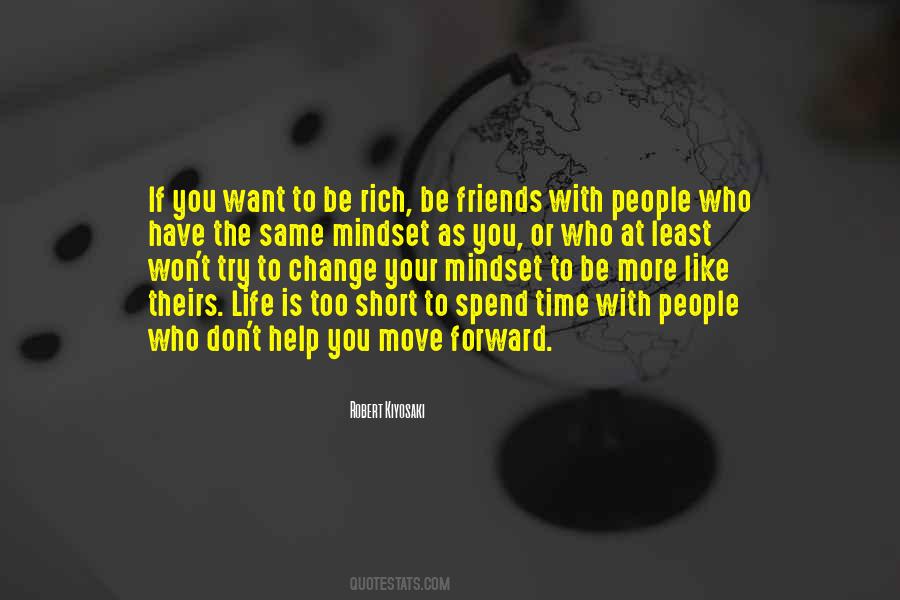 #48. Parents needs to spend more time with who they're trusting their kids with. That's one of the nuggets going forward. Find out who these coaches are. Figure out their environment and what kind of problems they have, and see if you want your child involved with that. - Author: Ray Lewis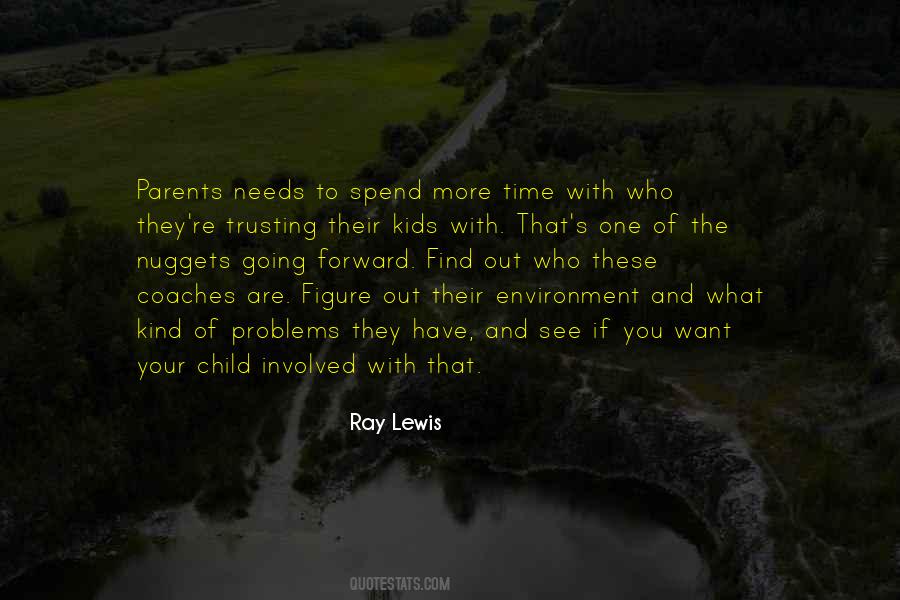 #49. I'm so jealous of people who have crushes on people they go to school with or work with. That's such a blessing. You actually get to see them all the time and spend time with them. - Author: Aziz Ansari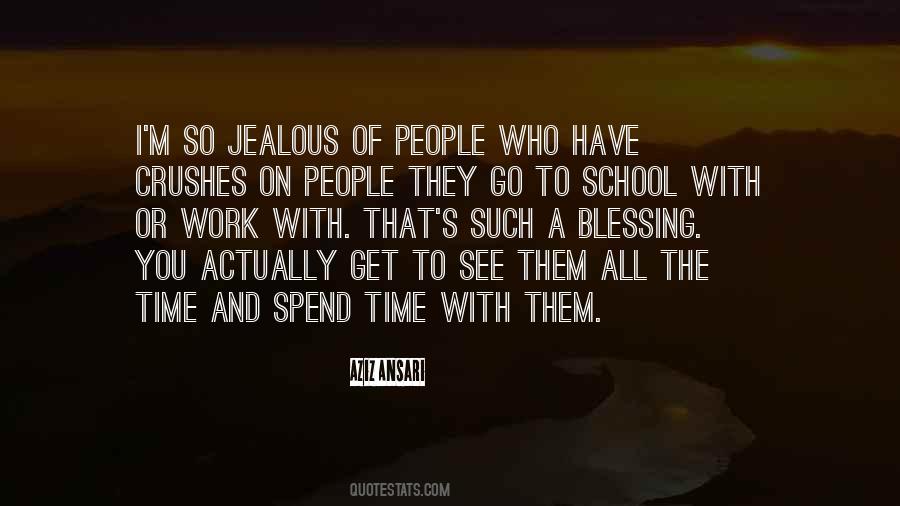 #50. Who you spend your time with is who you are, or who you will soon become. - Author: Bryant McGill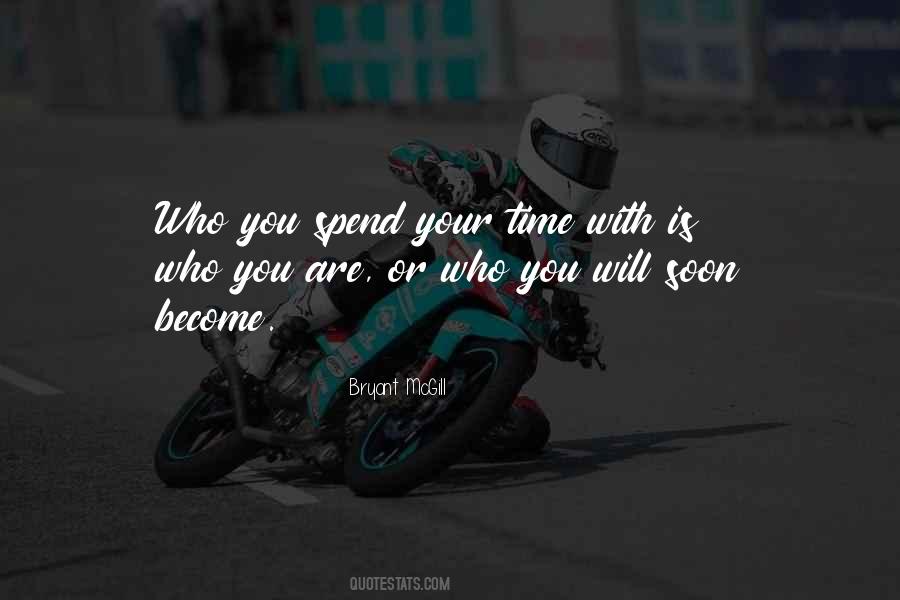 #51. If you spend all your time arguing with people who are nuts, you'll be exhausted and the nuts will still be nuts. - Author: Scott Adams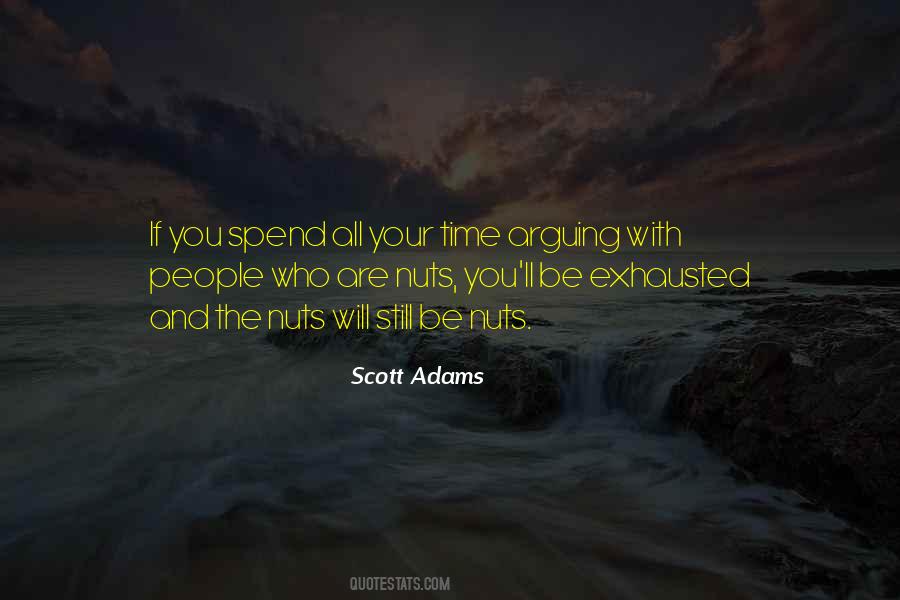 #52. Spend a long time alone, especially if you're someone who's never been that social to begin with, and you find yourself craving solitude. - Author: Ron Rash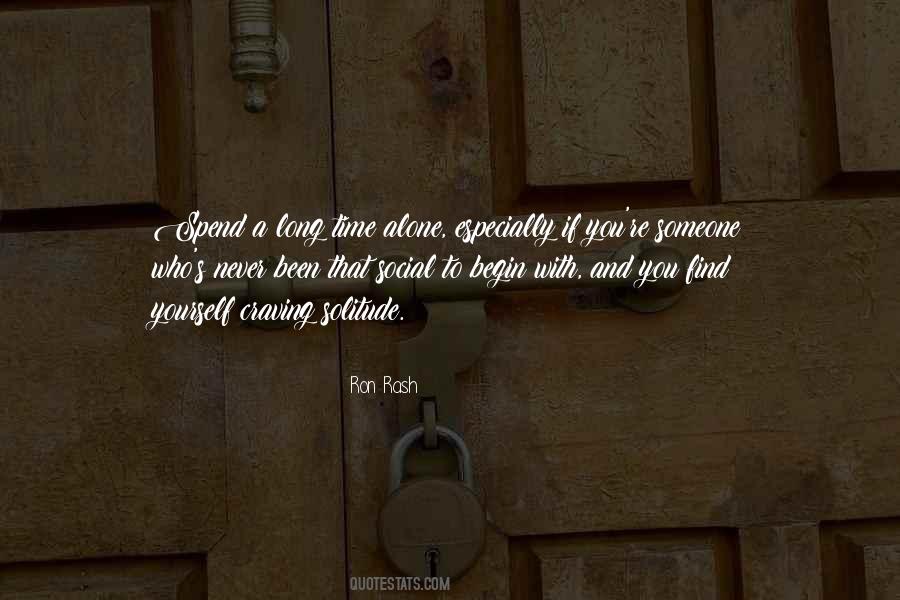 #53. You spend so much time wondering who you are, don't you think? You flounder about, searching for your identity, when most of the time it is plain as the nose on your face. You struggle with questions of purpose and need, and forget that the answers are found mostly inside yourselves. - Author: Terry Brooks
#54. Let your characters talk to each other and do things. Spend time with them - they'll tell you who they are and what they're up to. - Author: Greta Gerwig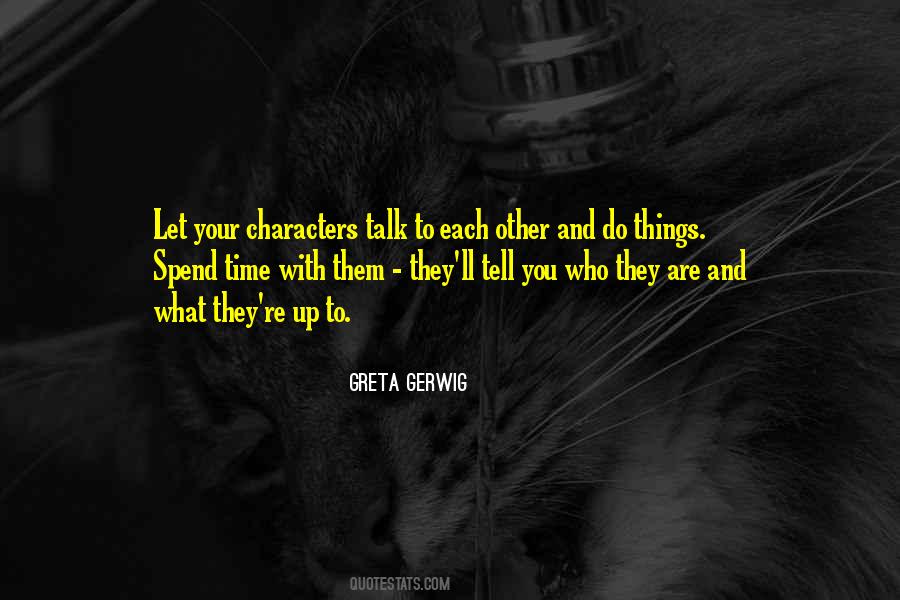 #55. If you spend a lot of time with activists, as I have, they're just ordinary people who instead of Netflix are getting together in church basements and making posters or making phone calls doing organizing work. It really is about finding a community of other people. - Author: Avi Lewis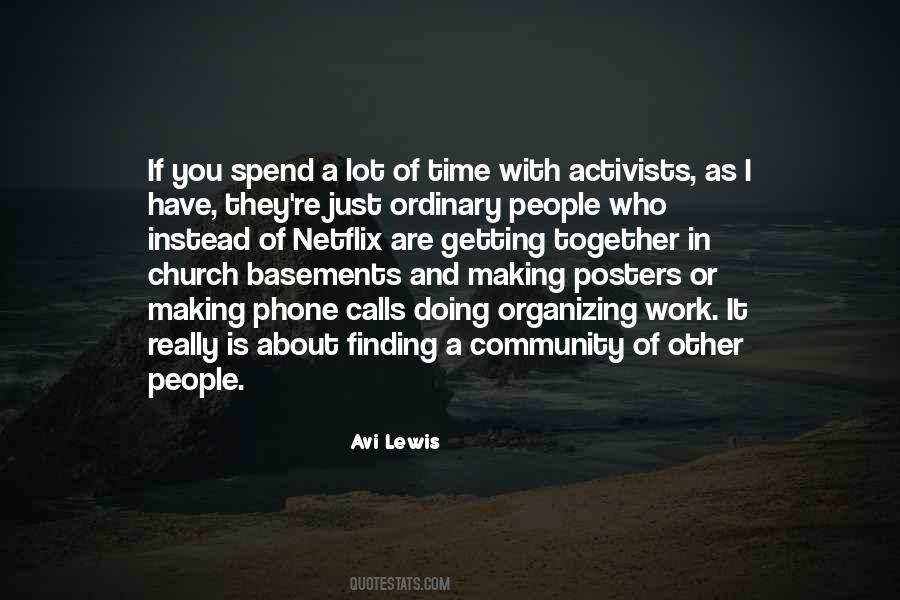 #56. If you want to know someone, just look at who they choose to spend their time with. - Author: Amy Chan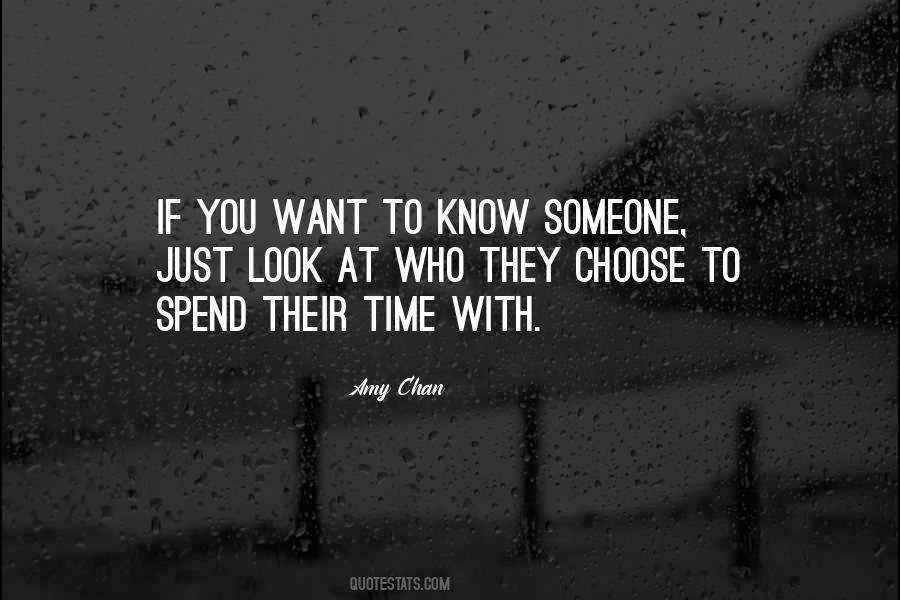 #57. Don't feel obligated to spend time with people who pull you off the path of your life purpose. - Author: Doreen Virtue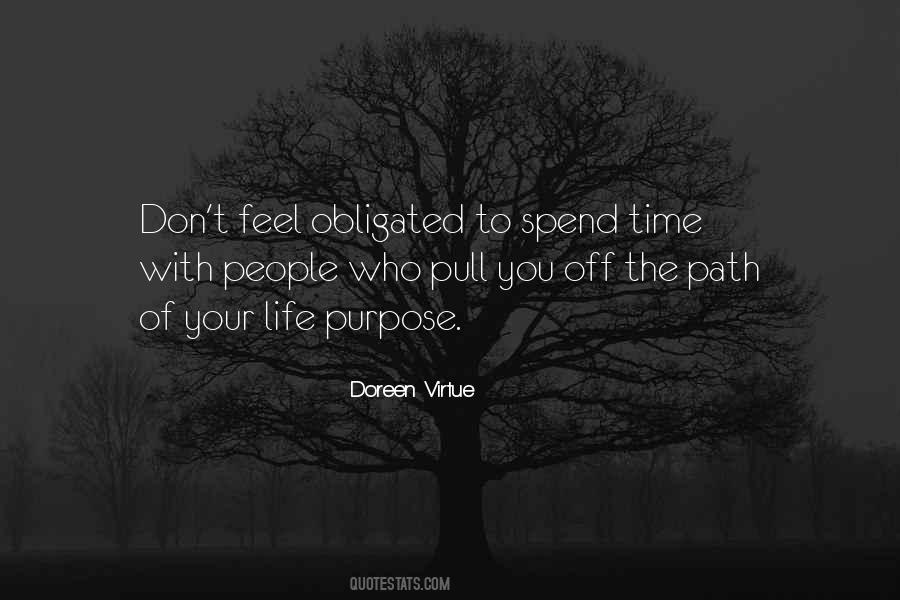 #58. A basic rule of life for reporters is that you should spend your time talking with and learning about people who are not sending you press releases, rather than those who are. - Author: James Fallows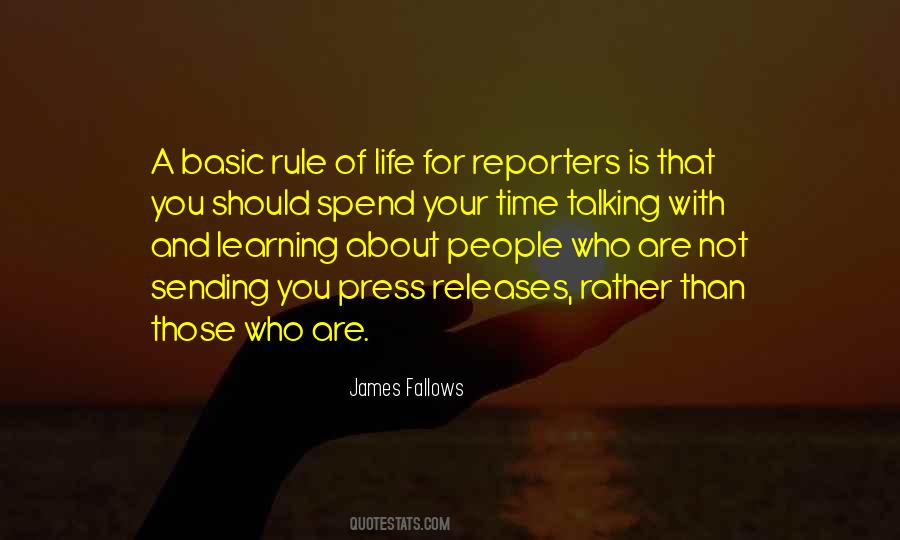 #59. Who do you spend time with? Criticizers or encouragers? Surround yourself with those who believe in you. Your life is too important for anything less. - Author: Steve Goodier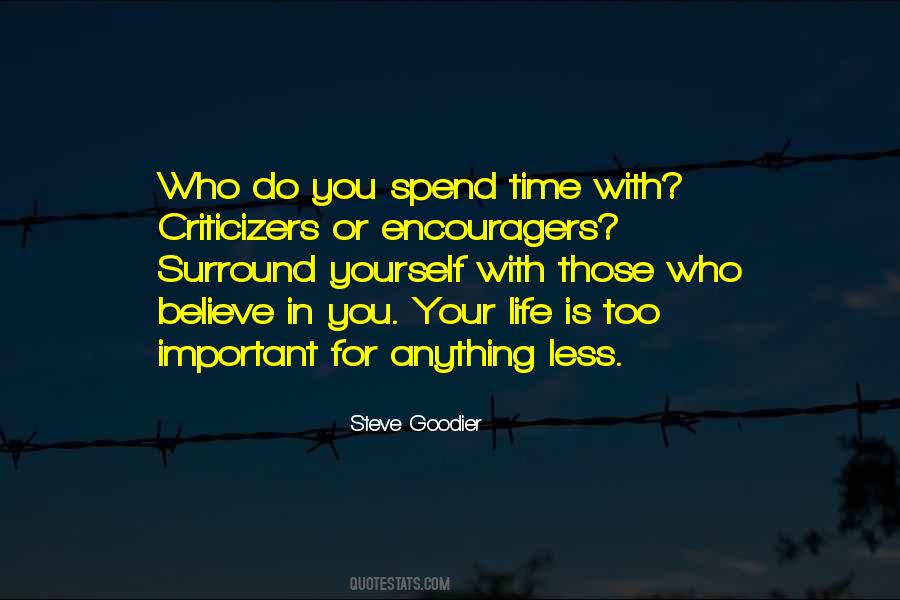 #60. The crew are the faces you see every morning and last at night before you go home. I spend more time with those people than I do with my friends and family, so they're forever a part of you and who you become as an actor so I hope I see them again. - Author: Claudia Black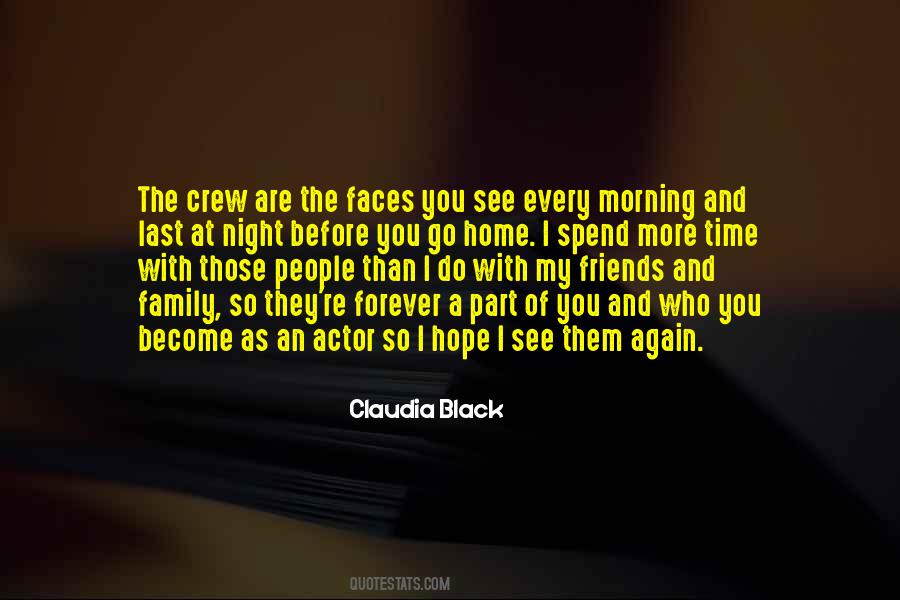 #61. Of course, nobody's tearing my door down. If you're successful you're going to intimidate and scare off the people you'd like to spend time with. They're not going to approach you. And the ones who do are often there because you are a celebrity. - Author: Betty White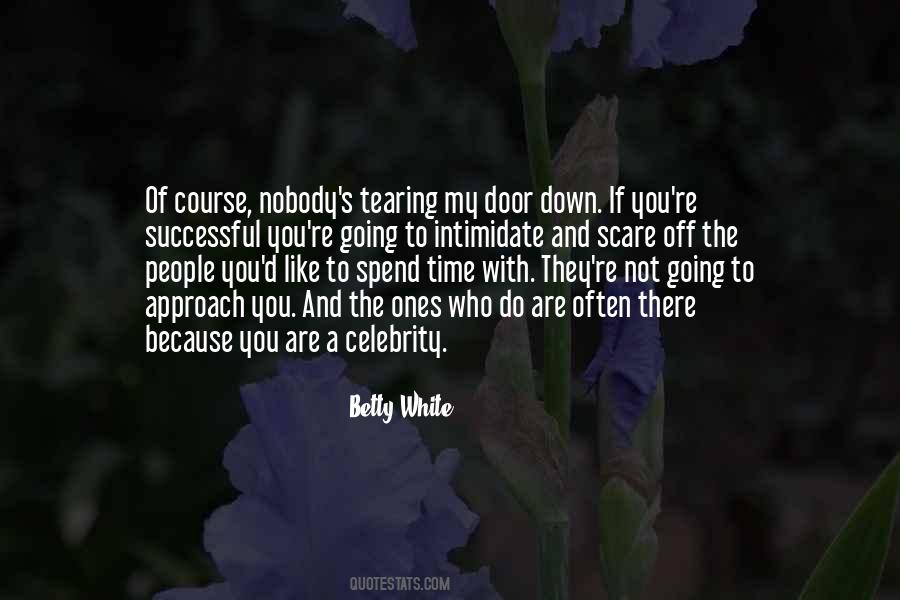 #62. Life is too short to spend your precious time trying to convince a person who wants to live in gloom and doom otherwise. Give lifting that person your best shot, but don't hang around long enough for his/her bad attitude to pull you down. Instead, surround yourself with optimistic people. - Author: Zig Ziglar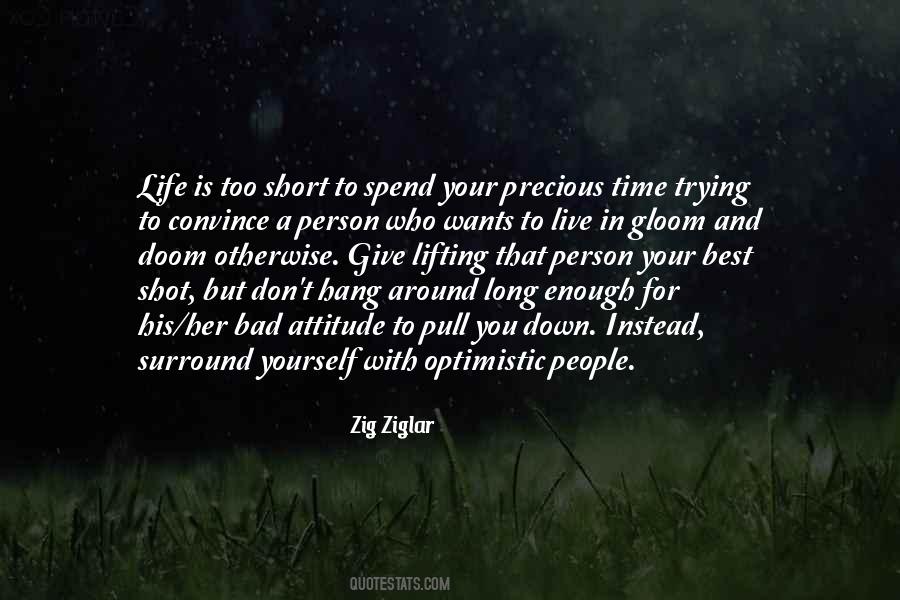 #63. A soulmate is someone who you could spend a great deal of time with just sitting on a sofa and feel happy. You don't need fanfare. You don't need to go out to expensive restaurants. - Author: Karen Salmansohn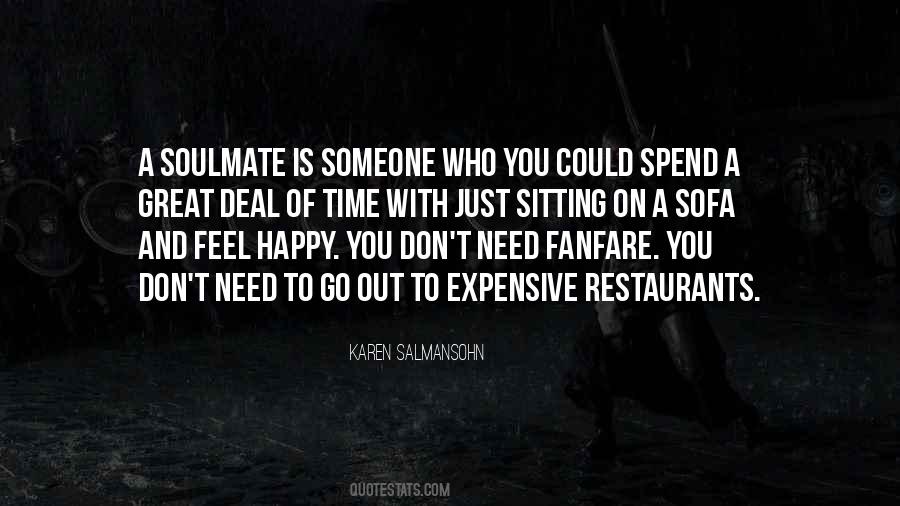 #64. Spend more time with people who bring out the best in you. - Author: Abhishek Ratna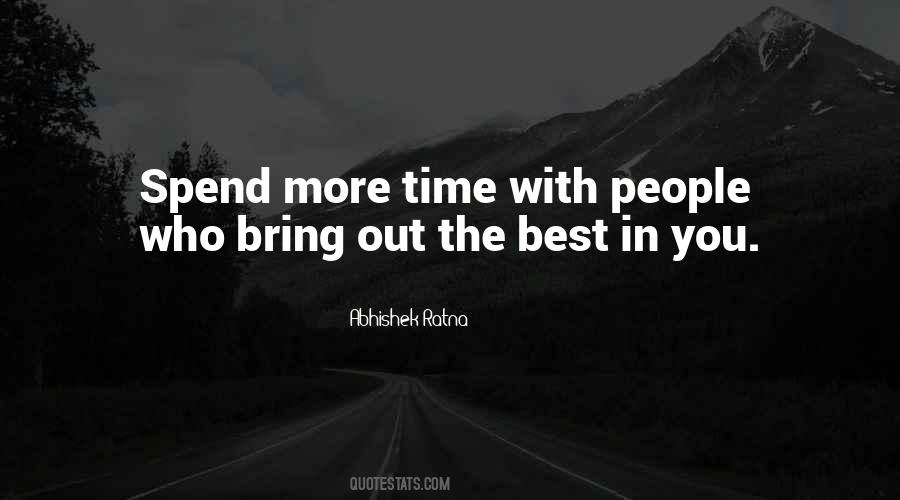 #65. Spend your time with those who love you unconditionally, not with those who only love you under certain conditions. - Author: Suzy Kassem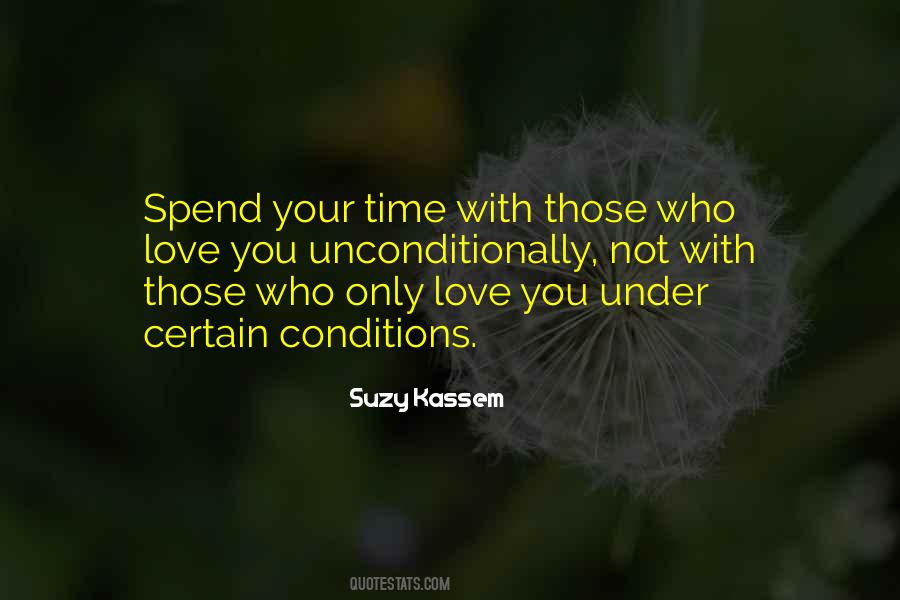 #66. A person with money who chooses to spend it on you, takes little effort and is meaningless. However, a person with no time who manages to spend what little they have on you ... this means everything and should appreciated. - Author: Mark W. Boyer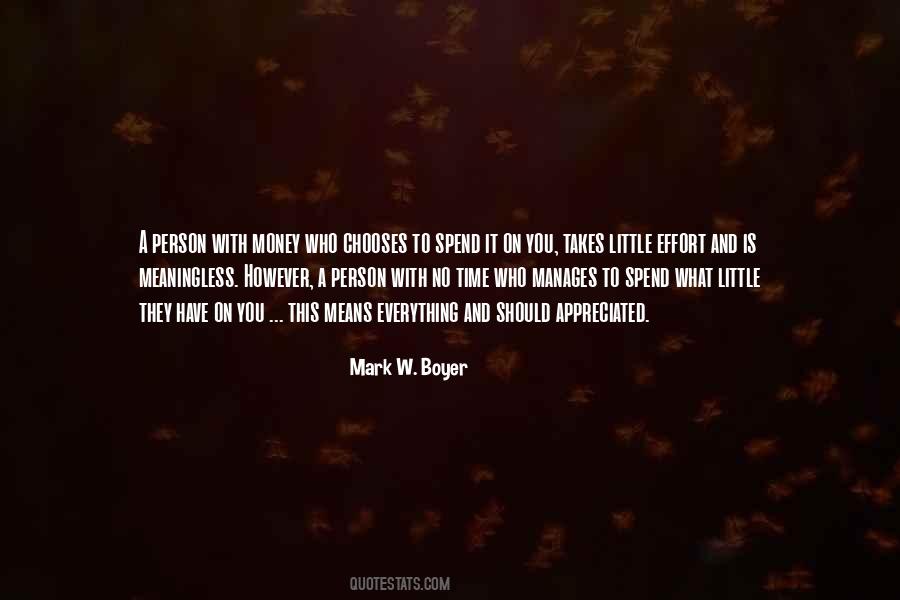 #67. Seth rolled his eyes. "Because you're such a ladies man."
"I can be. I just have standards, is all. I'm very selective about who I choose to spend time with, whereas you'll fuck anything that moves. And several things that don't. - Author: Elle Parker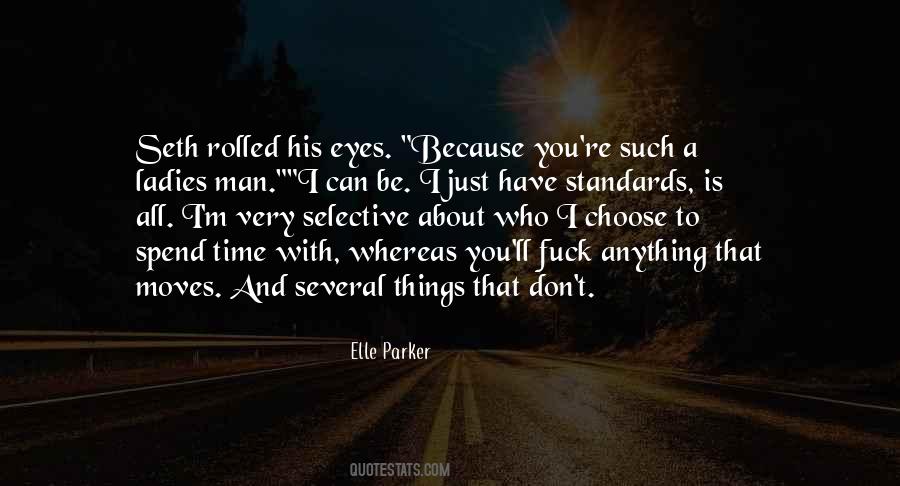 #68. What you do off the job plays a major role in how far you go on the job. How many good books, do you read each year? How often do you attend workshops? Who do you spend must of your time with? - Author: Zig Ziglar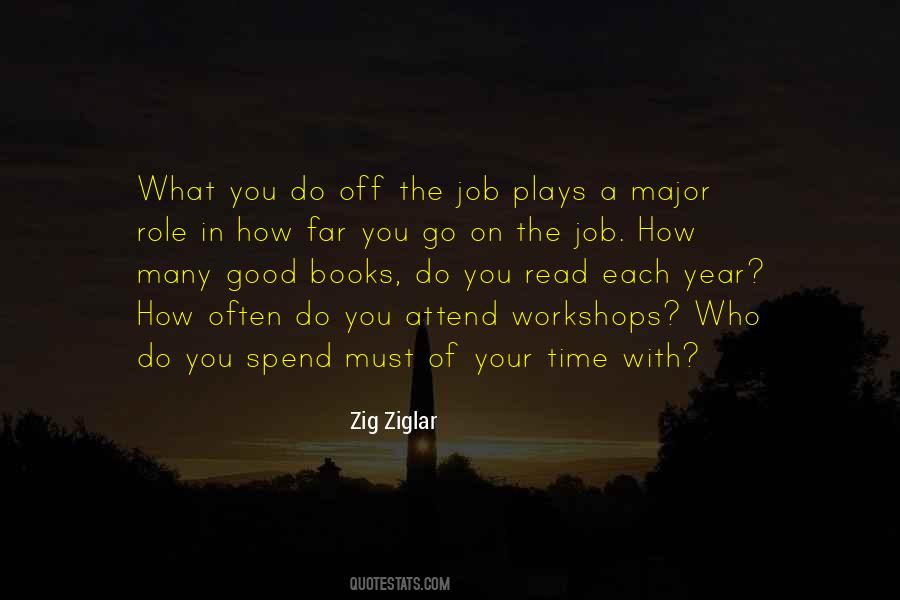 #69. Who you spend time with is who you become! Change your life by consciously choosing to surround yourself with people with higher standards! - Author: Tony Robbins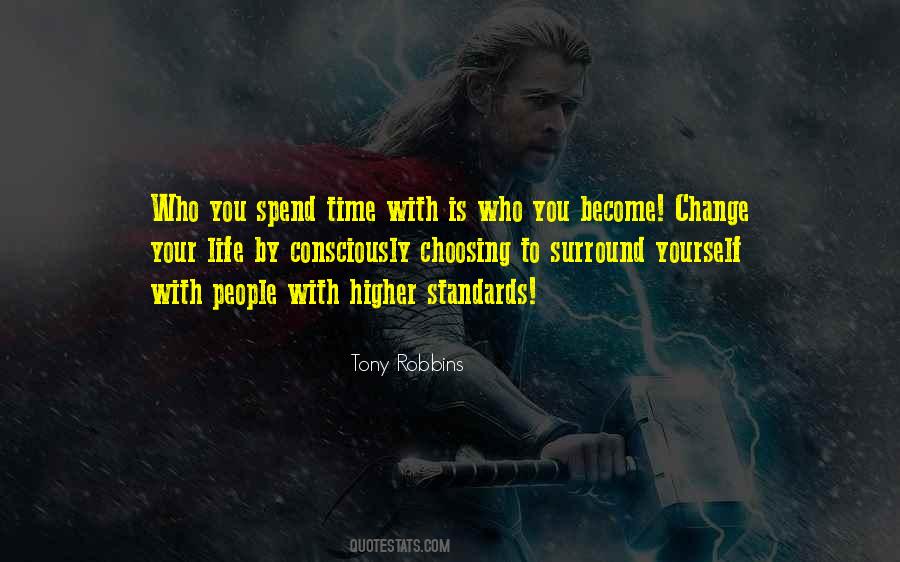 #70. I think that if journalists, reporters who spend a lot of time on a story, are honest with themselves, we all have feelings about our subjects - I mean, unless you're a robot. - Author: Sarah Koenig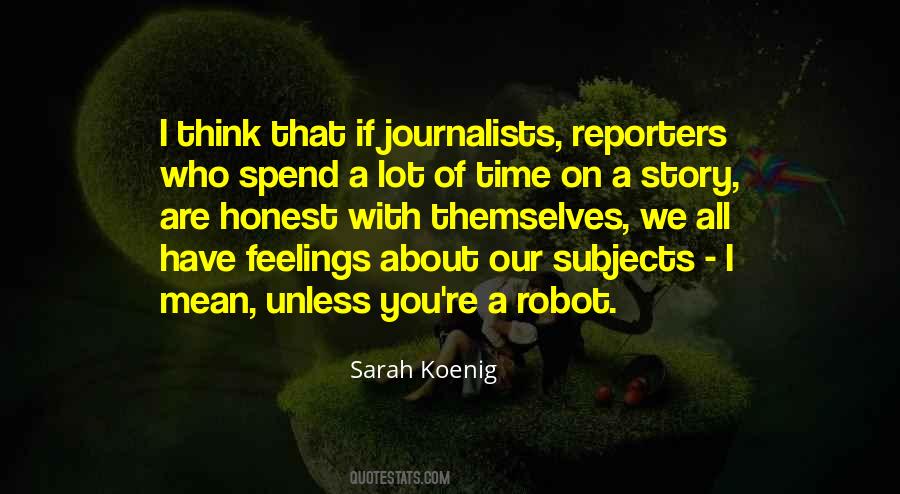 #71. I just think Valentine's Day is a day to really appreciate the person you love, no matter who it is, and to spend time with them. I don't think it's all about fancy presents or whatever. I think it's about spending that quality time with that special person. - Author: Prince Royce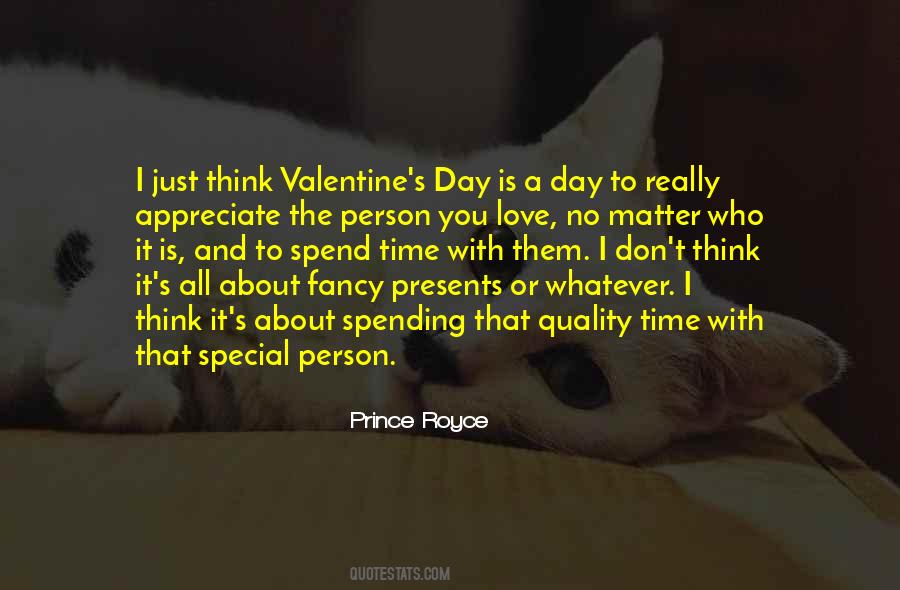 #72. I've noticed in my life that as you work on more things with more people, you spend less time hanging out with other people who are artists, creative people who give you a sense of family. - Author: Aaron Rose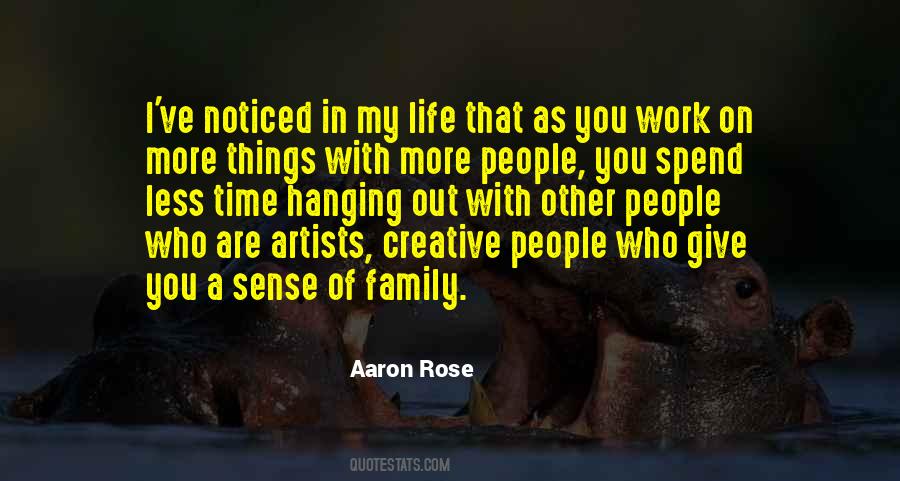 Famous Authors
Popular Topics