List of top 100 famous quotes and sayings about sweep to read and share with friends on your Facebook, Twitter, blogs.
Top 100 Quotes About Sweep
#1. She was carried along by events, not reflecting on them, just letting them sweep over her.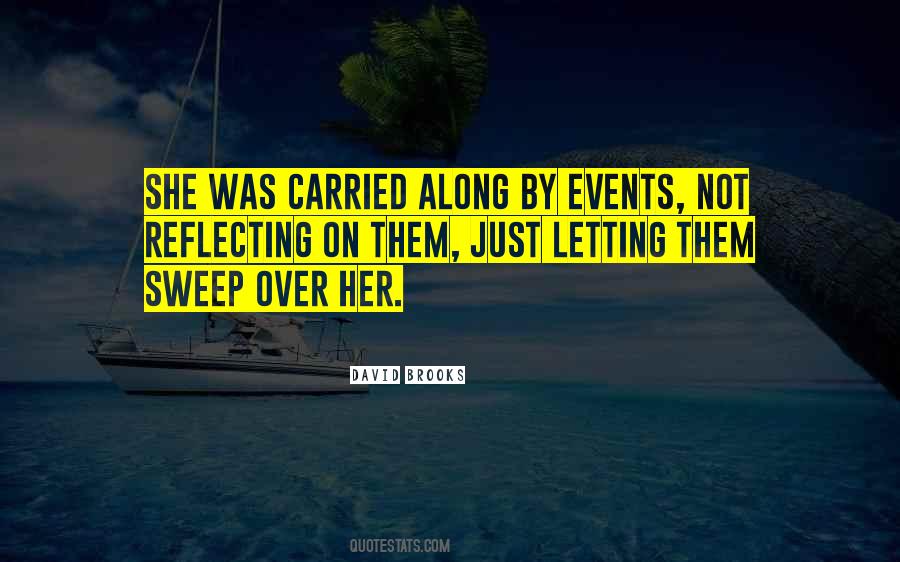 #2. I was in one of the most grand attitudes I ever struck, with my arm stretched up pointing to the sun. It was a noble effect. You could see the shudder sweep the mass like a wave.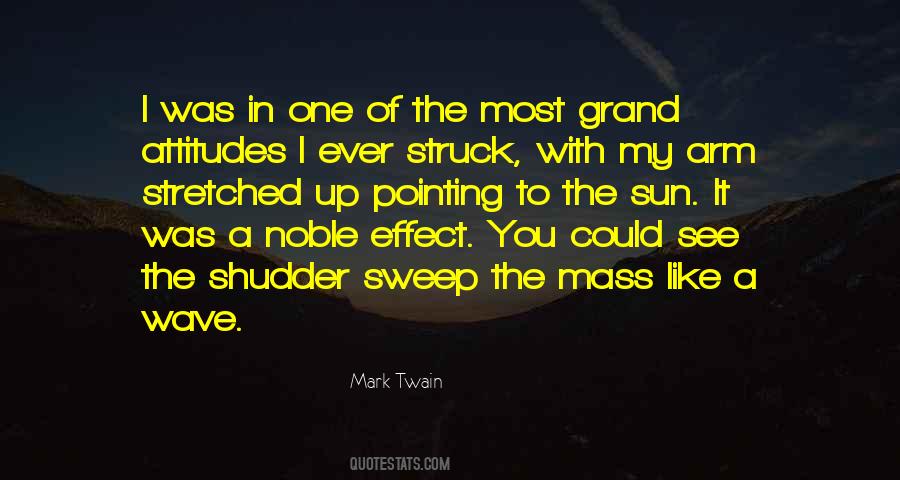 #3. High in the air rises the forest of oaks, high over the oaks soar the eagle, high over the eagle sweep the clouds, high over the clouds gleam the stars ... high over the stars sweep the angels ...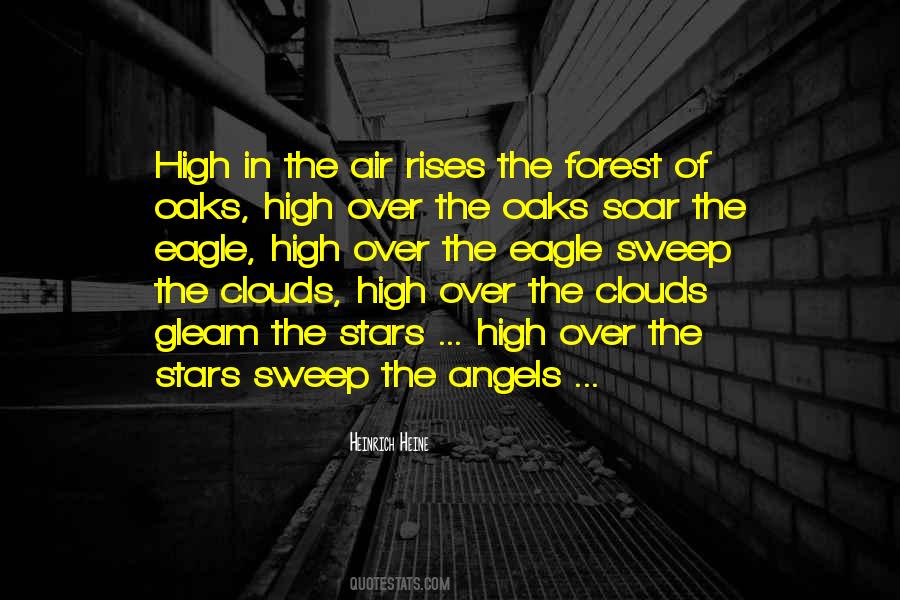 #4. As anger is a passing storm, so it comes not gradually and with signs, but like a sudden sweep of wind or black squall.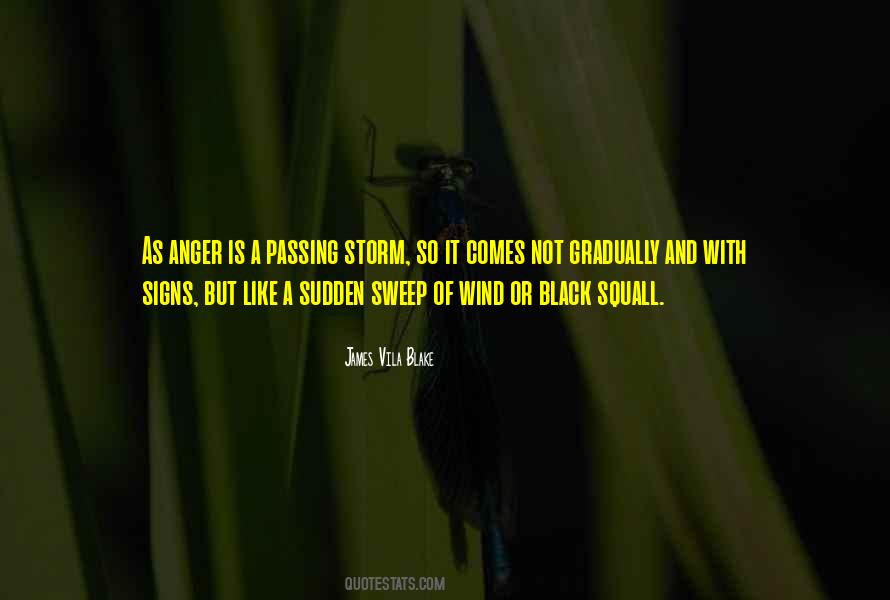 #5. However small your garden, you must provide for two of the serious gardener's necessities, a tool shed and a compost heap. A wire bin takes up negligible space and can be concealed by shrubs, or you can make a small pit into which you sweep leaves and clippings, but try not to fall into it.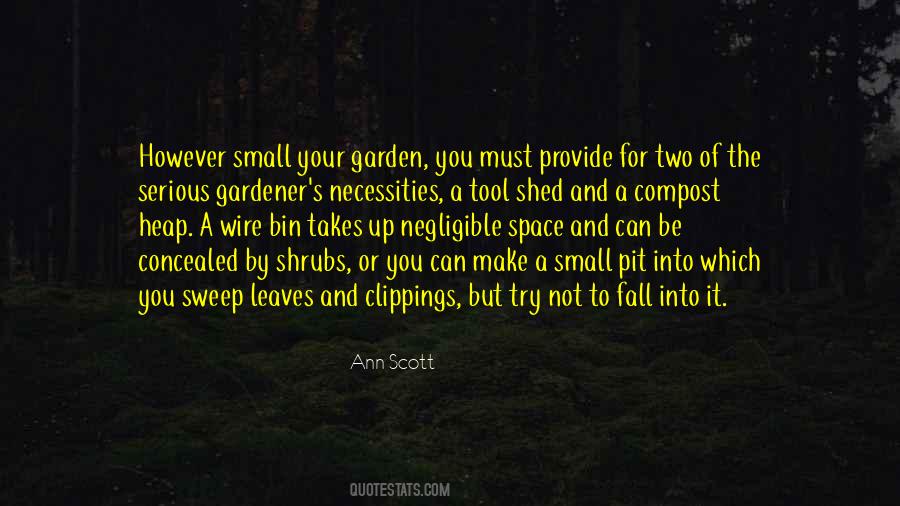 #6. The world is filled with moralizers who forget to sweep in front of their own doors.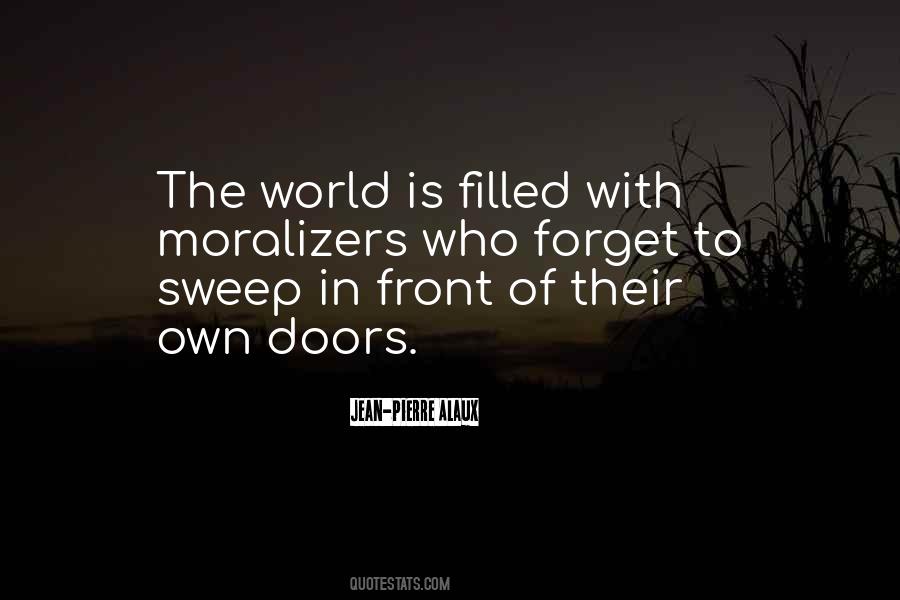 #7. There is humor in the specter of the worst disaster in our nation's history. All I have to do is sweep away the debris of shock to find it.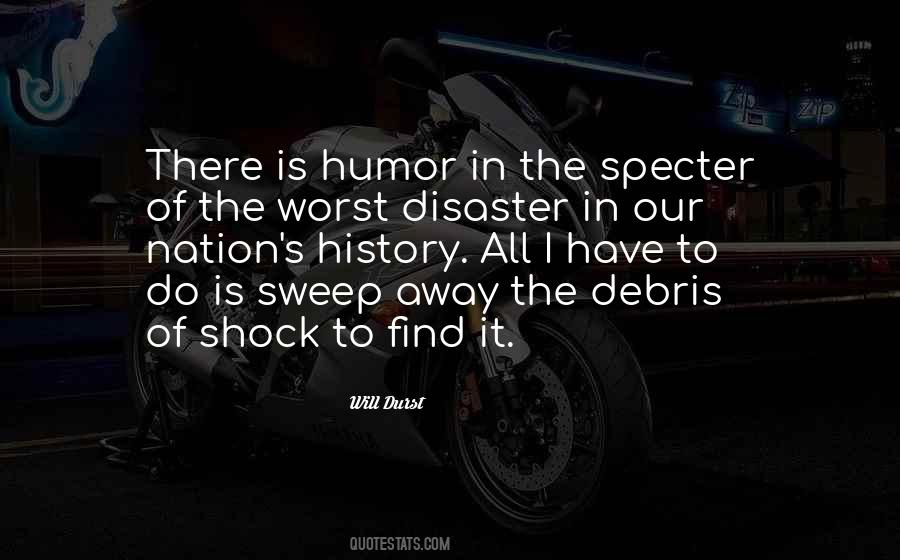 #8. You've only talked like that since you became a horrid what's-his-name. You know what I mean. What do you call a man who wants to embrace the chimney-sweep?" "A saint," said Father Brown. "I think," said Sir Leopold, with a supercilious smile, "that Ruby means a Socialist.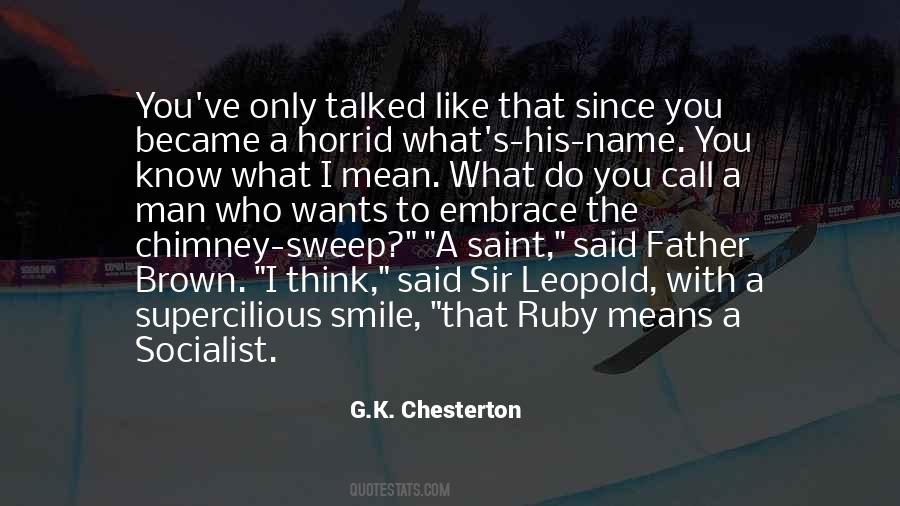 #9. Come, let us make love deathless, thou and I,
Seeing that our footing on the Earth is brief-
Seeing that her multitudes sweep out to die
Mocking at all that passes their belief.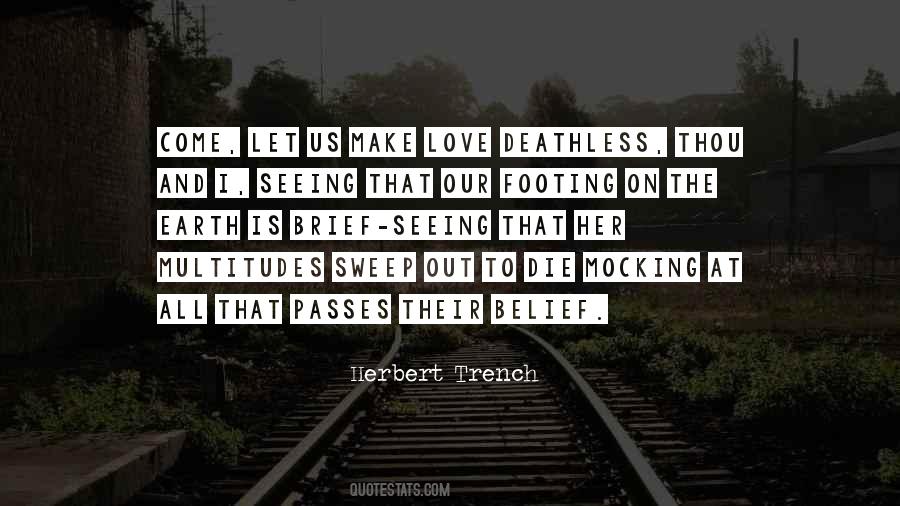 #10. Such heaps of broken glass to sweep away / You'd think the inner dome of heaven had fallen.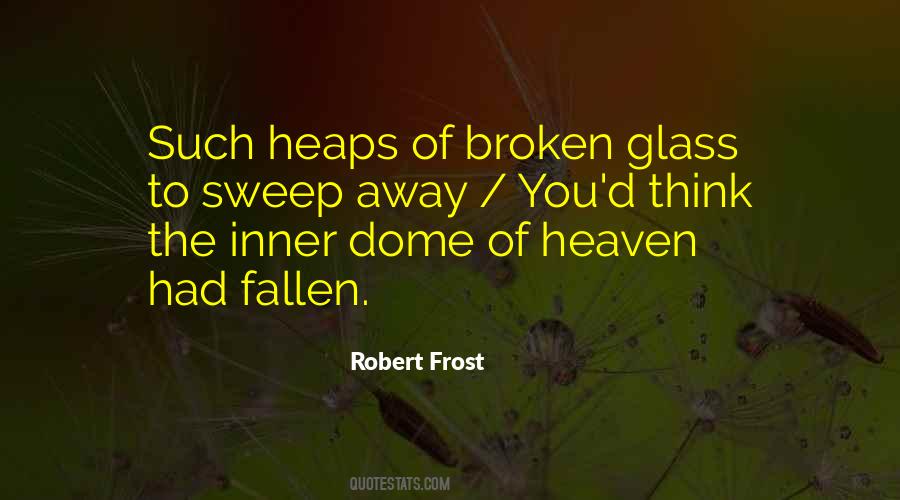 #11. In the sweep of its appeal, its ability to touch every corner of humanity, football is the only game that needed to be invented.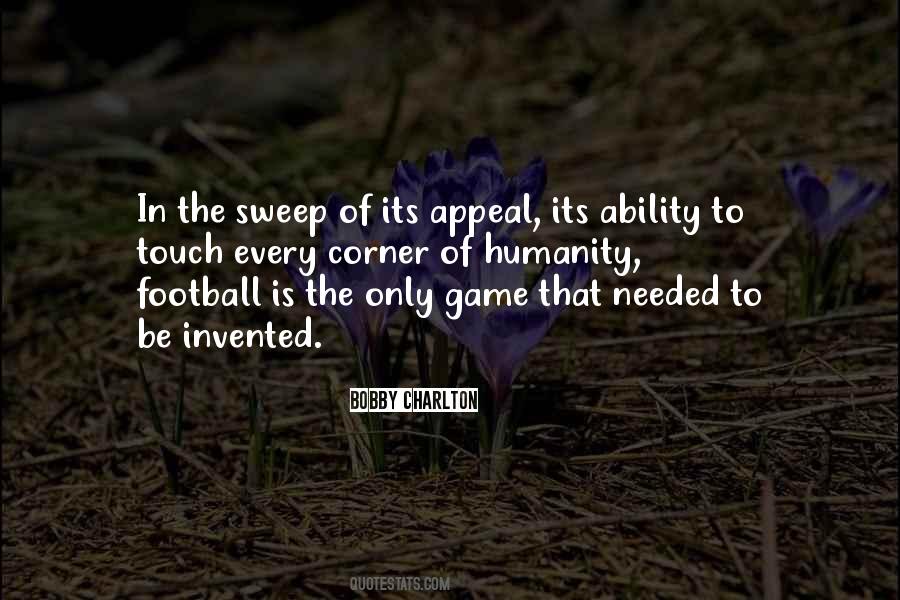 #12. Me, sweep him off his feet? I know. The laws of the jungle and romance novels would have it the other way around, but I'm not going to wait one more second for that.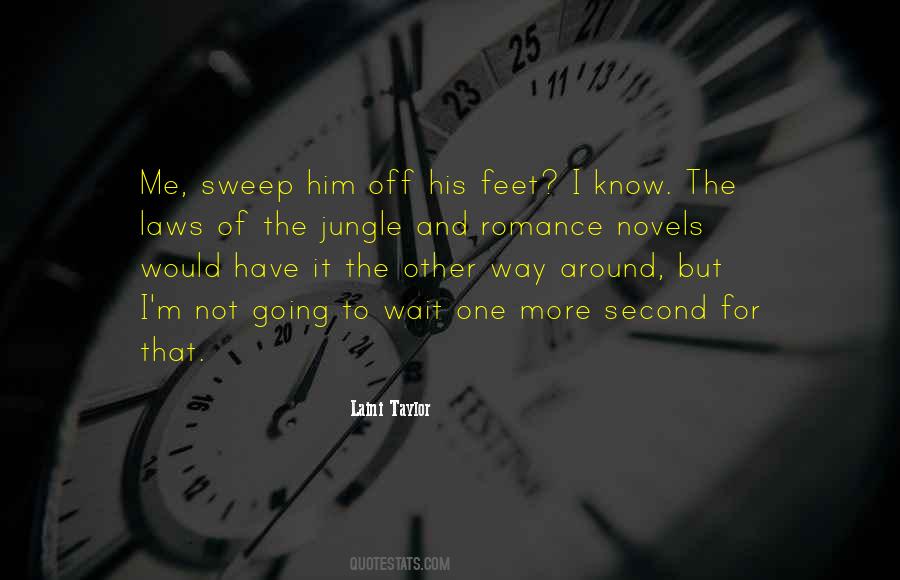 #13. In the treatment of the child the world foreshadows its own future and faith. All words and all thinking lead to the child, - to that vast immortality and wide sweep of infinite possibility which the child represents.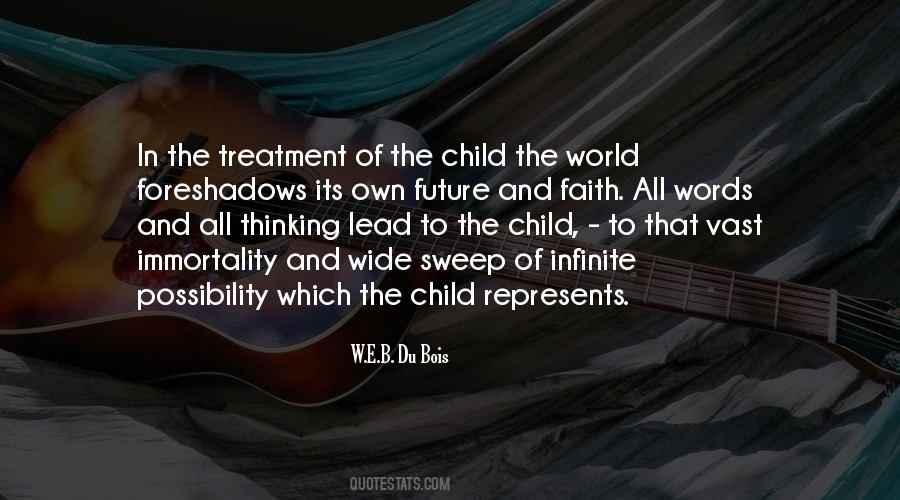 #14. Without 'tis autumn, the wind beats on the pane
With heavy drops, the leaves high upwards sweep.
You take old letters from a crumpled heap,
And in one hour have lived your life again.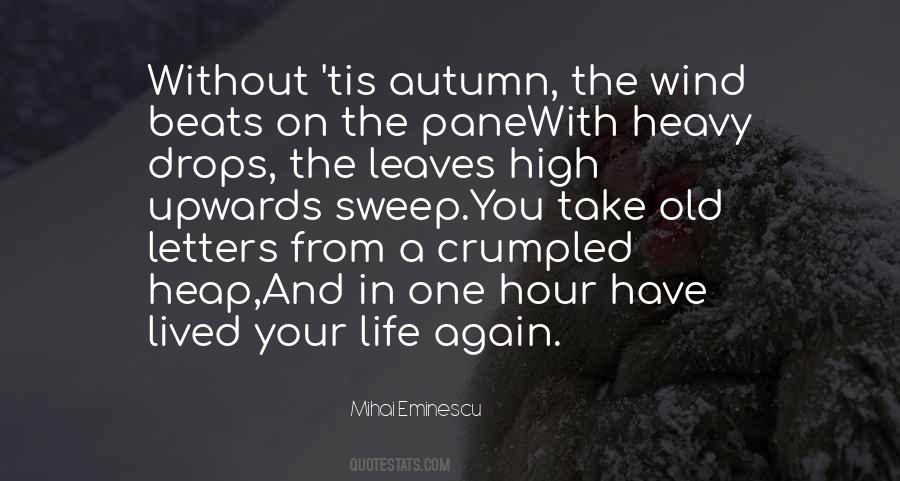 #15. It seemed to travel with her, to sweep her aloft in the power of song, so that she was moving in glory among the stars, and for a moment she, too, felt that the words Darkness and Light had no meaning, and only this melody was real.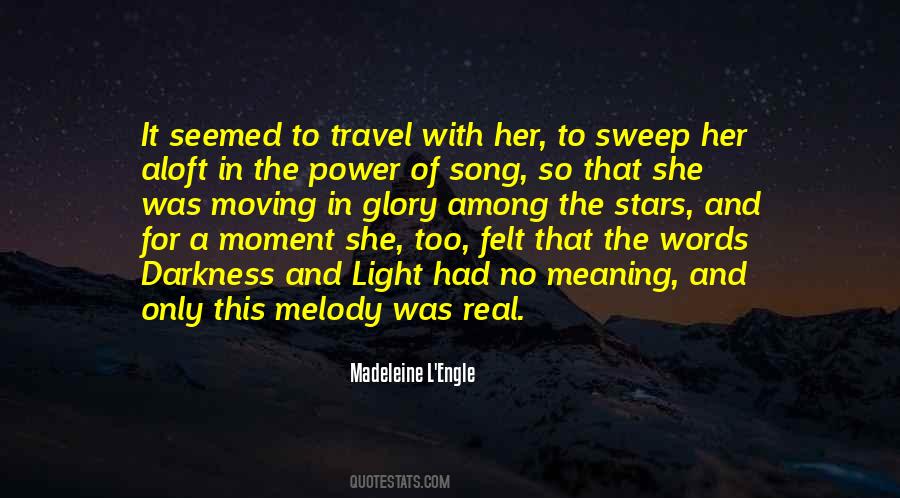 #16. Nothing but stars, scattered across the blackness as though the Creator had smashed the windscreen of his car and hadn't bothered to stop to sweep up the pieces.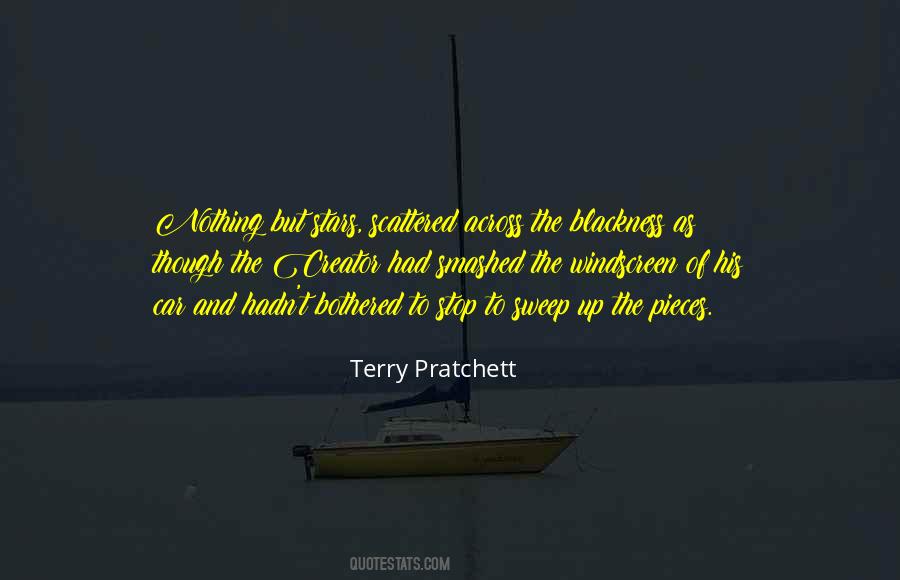 #17. So sweep away the sand an' dry the ocean, an' just pack the moon an' stars up in a cardboard box. And stop the clouds from chimin', block the sun from shinin',an' paint the sky a deeper shade of blue, 'cause my world's over without you.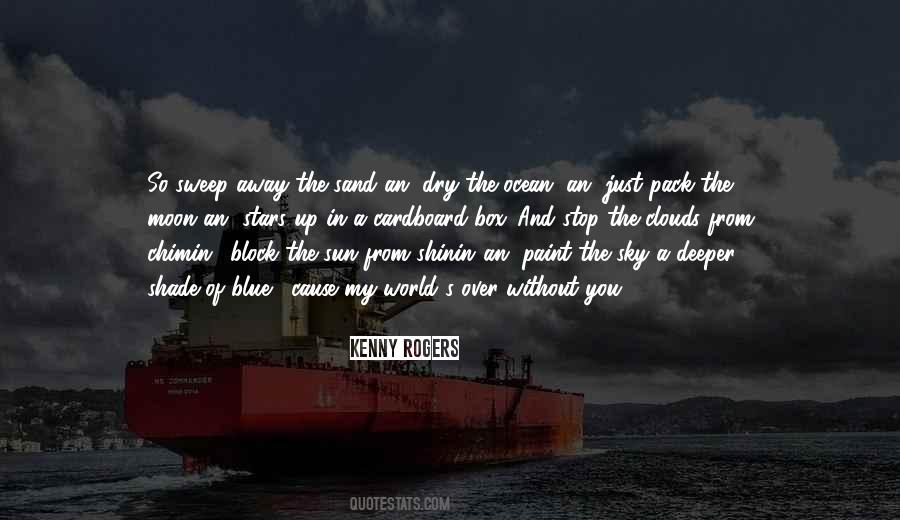 #18. One day, my sweet girl, some lucky man will come and help you understand the very meaning of love. He will sweep you off your feet and show you what it is to place your heart in someone else's care to willingly offer them the gift of your soul.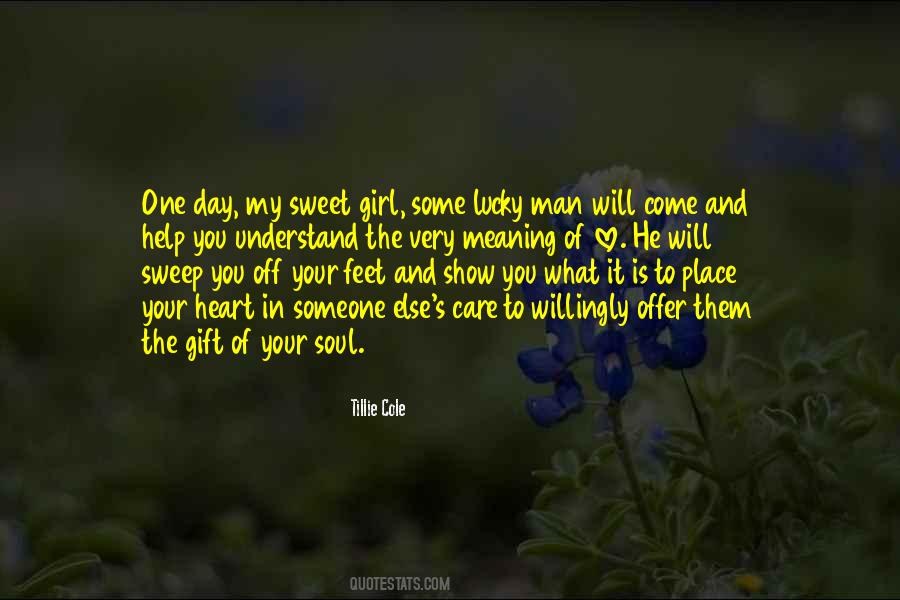 #19. This circulating medium has a natural tendency to lessen by degrees the value and the use of money, and finally to render it powerless; and consequently to sweep away all the crushing masses of fraud, iniquity, cruelty, corruption and imposition that are built upon it.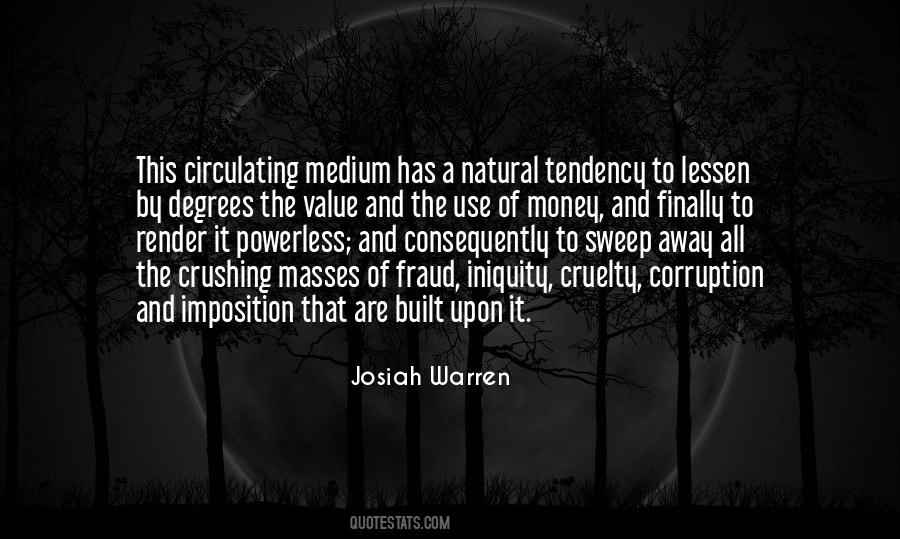 #20. I do have a very strong sense that most of the terrible things in life happen suddenly and unpredictably, and certainly can sweep you off in different directions, and that is always of interest to a novelist.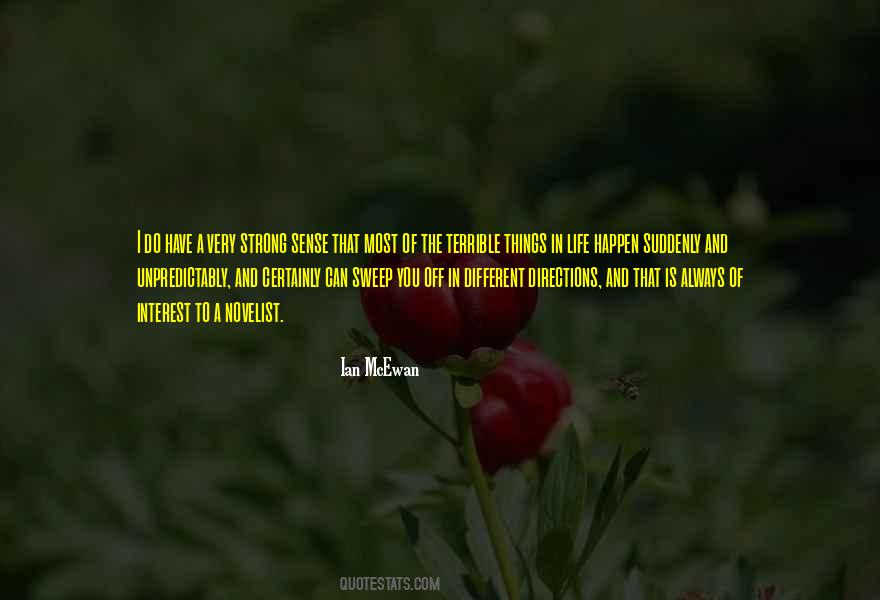 #21. Everyone thinks at some time or other that in a hundred years no one now alive will be on earth - the overwhelming force will sweep the place clean.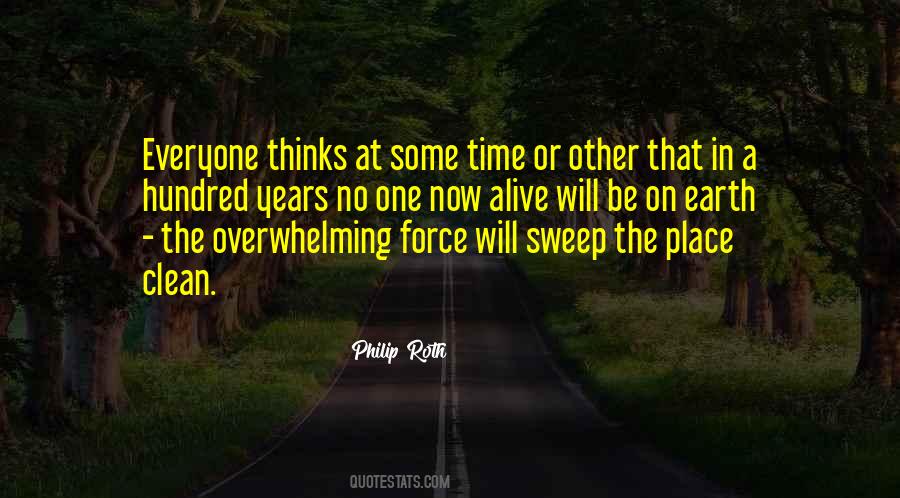 #22. She thinks we were all killed when they made the Great Sweep, but I escaped in the mud.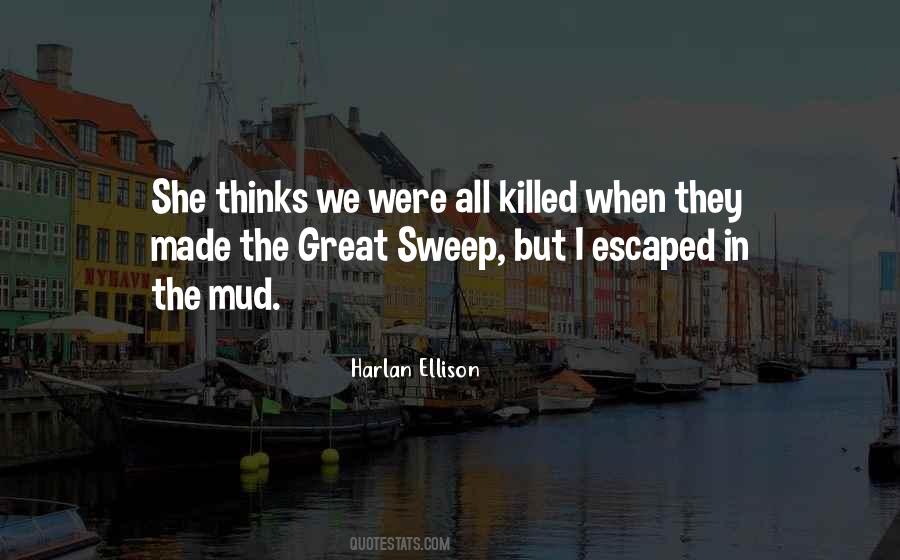 #23. The Chinese say that water is the most powerful element, because it is perfectly nonresistant. It can wear away a rock, and sweep all before it.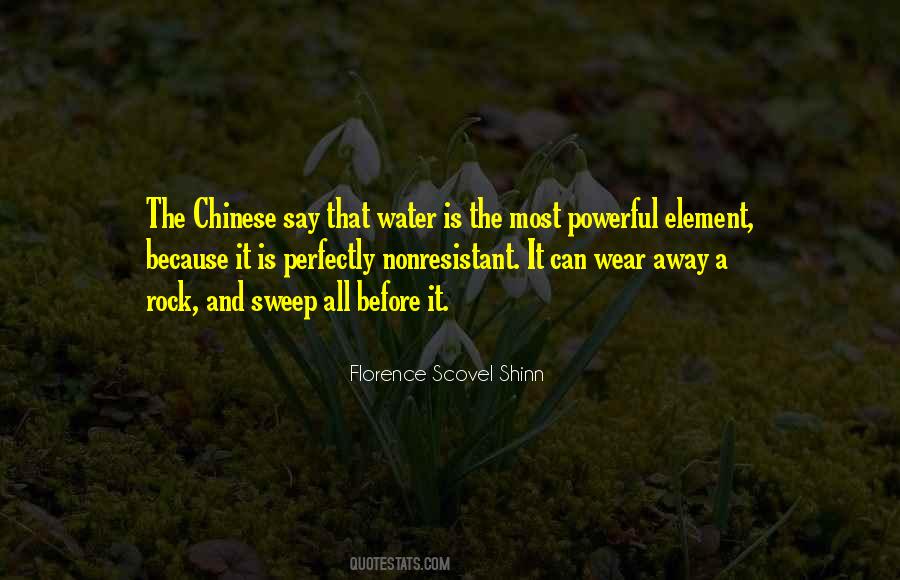 #24. That gate," said the under-gardener, turning with great deliberation towards the south, and embracing the whole of that part of England with one comprehensive sweep of his arm. "Curious,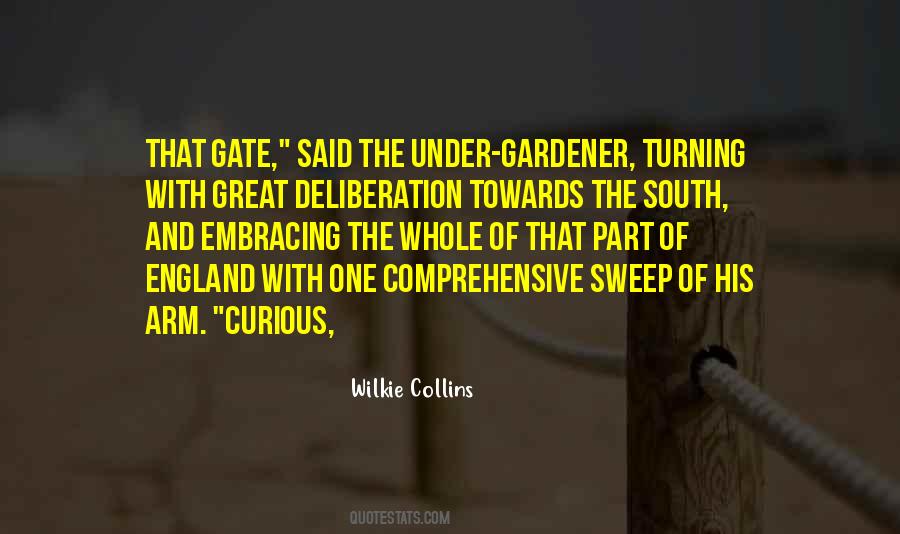 #25. Leave a chimney-sweep alone when you see him, Chiltern. Should he run against you, then remember that it is one of the necessary penalties of clean linen that it is apt to be soiled.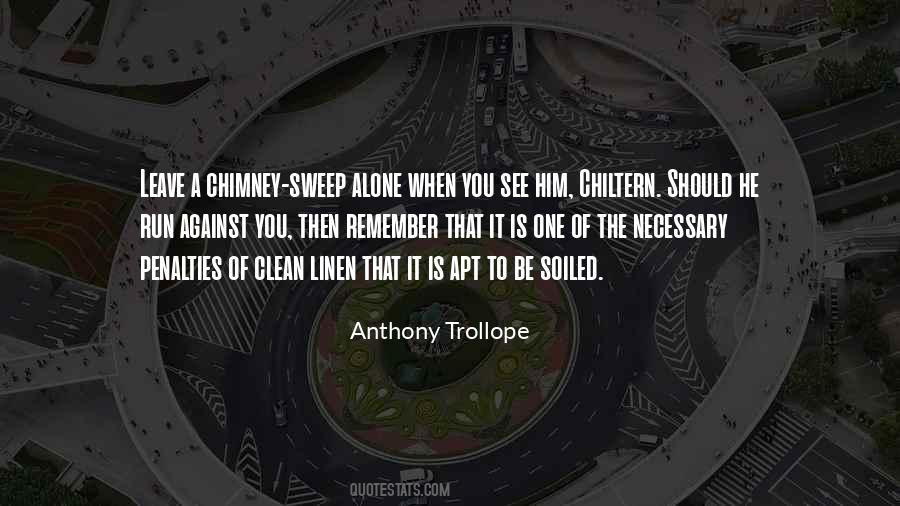 #26. The second kind you make yourself. Most people, most of their lives, most of their problems, they simply invite into their lives, sweep out a guestroom for each pain, and give it free lodging and board.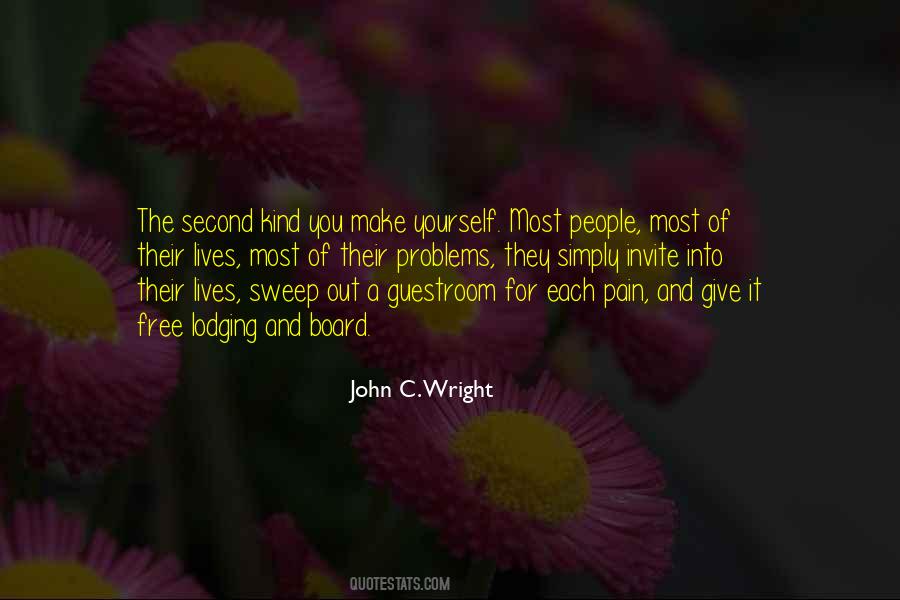 #27. Do you want to know the cause of war? It is capitalism, greed, the dirty hunger for dollars. Take away the capitalist, and you will sweep war from the earth.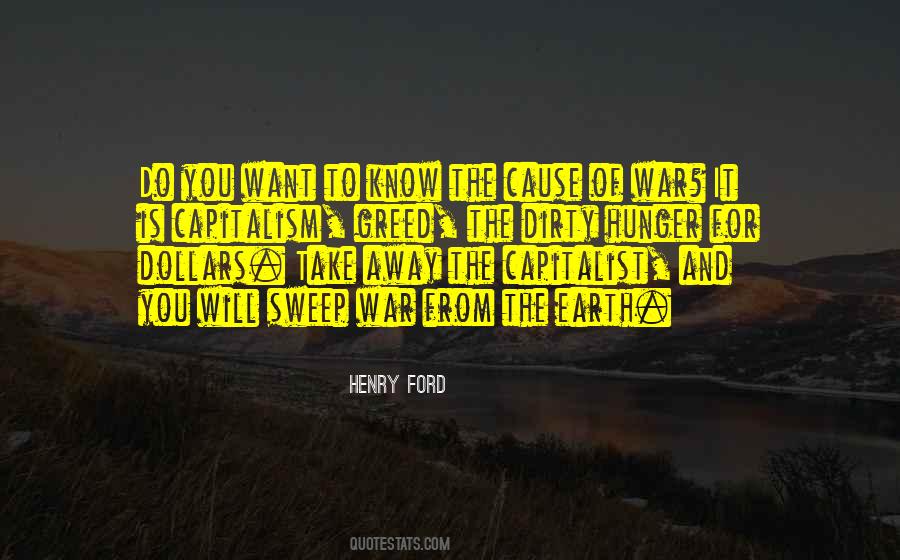 #28. There was no wind in all that sweep of sky.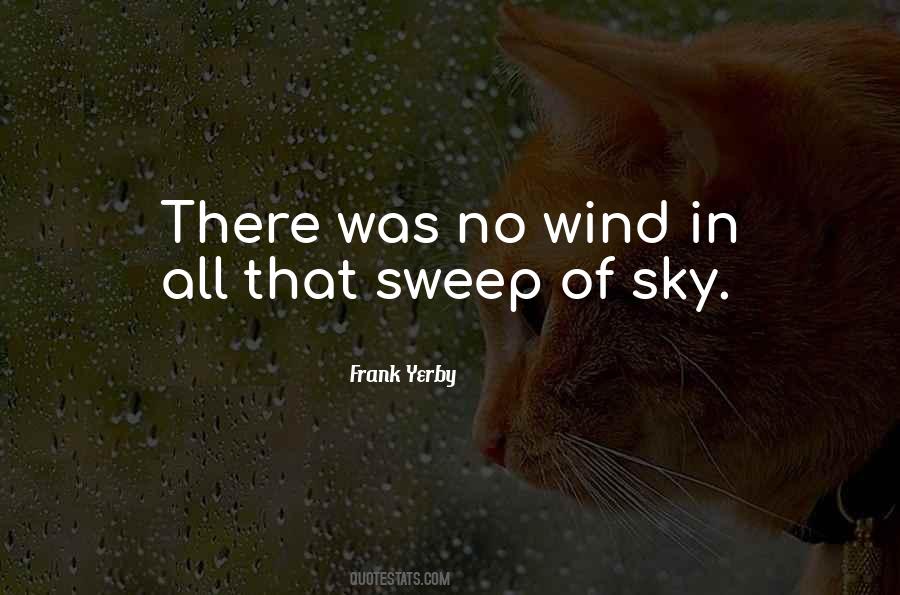 #29. I understood the word 'swoon'. It felt that way, like 'sweep' and 'moon' and 'woo', all those words smashed together in one word that stood for that feeling, right then.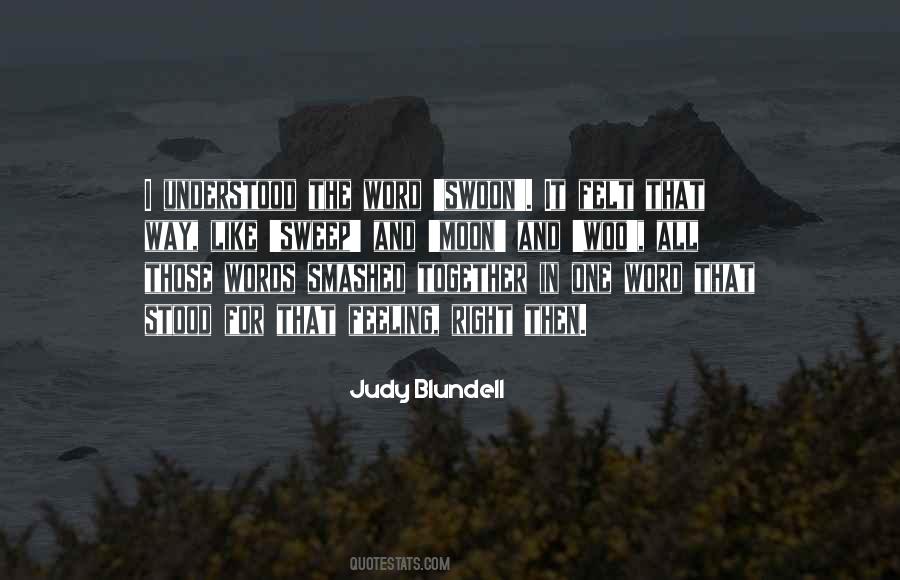 #30. Your father is a piece of work," her mother said. "Every time, he breaks your hearts. And every time, he expects me to pick up the pieces." Pick up, sweep aside - same difference in her mom's world. Eleanor didn't argue.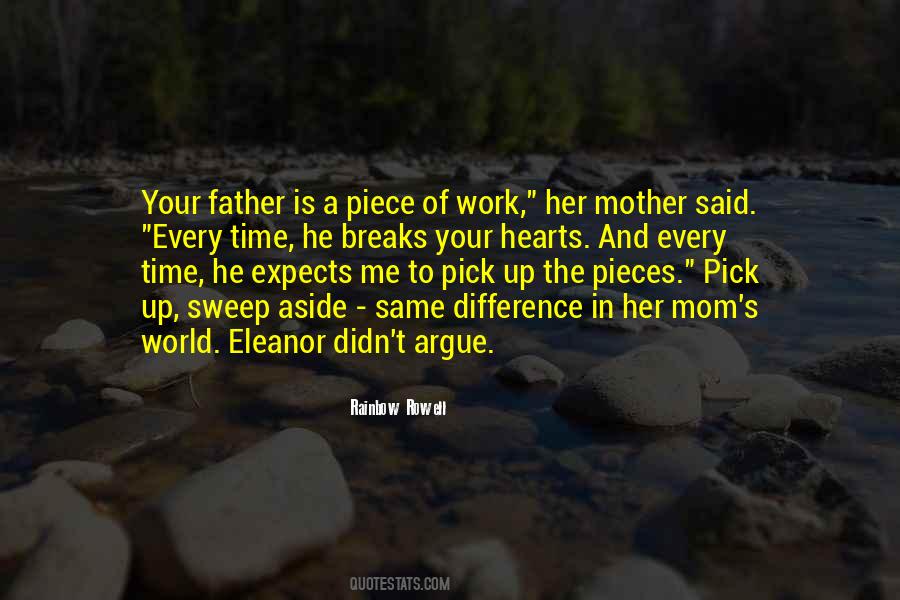 #31. Teddy laughed, heard the sound of it carry off on the sweep of night air and dissolve in the distant surf, as if it had never been, as if the island and the sea and the salt took what you thought you had and ...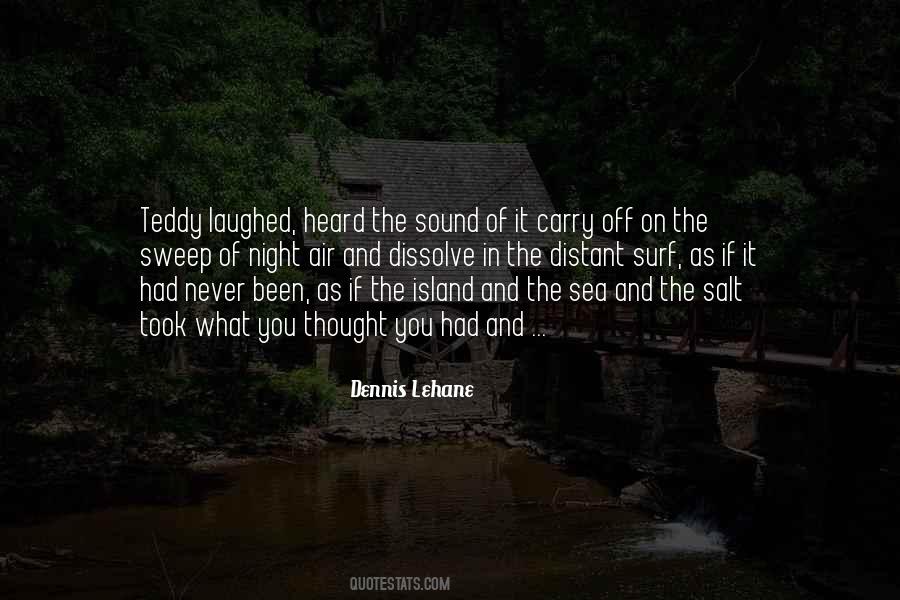 #32. Her kiss didn't sweep away the dark anguish he felt in his heart. Instead, it embraced it. It acknowledged it.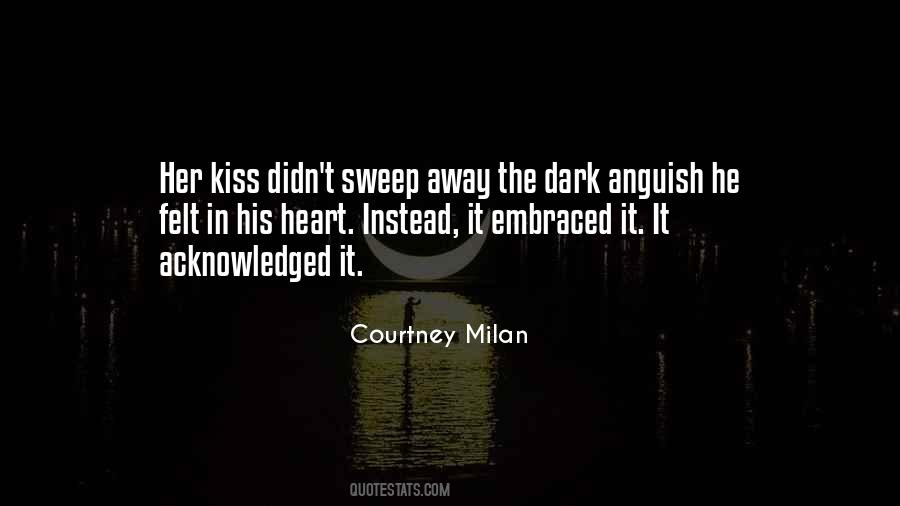 #33. Winds sweep the passages of time
Forever more
Taking, leaving
Memories.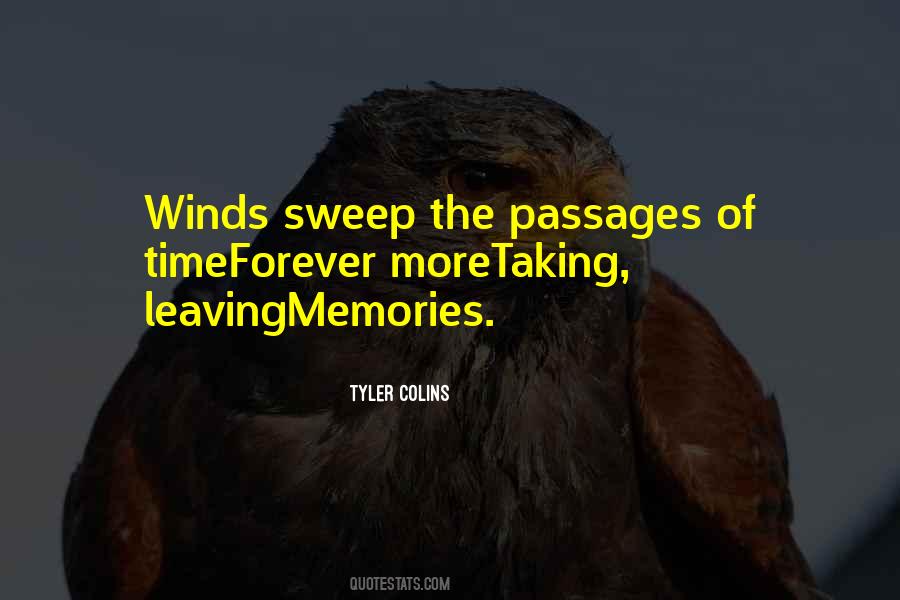 #34. The wall clock and her wristwatch had stopped, their sweep hands no longer wiping away the seconds, and the digital clock on the microwave had gone dark, as if something that lived outside of time had stepped into this world and brought its clockless ambiance with it.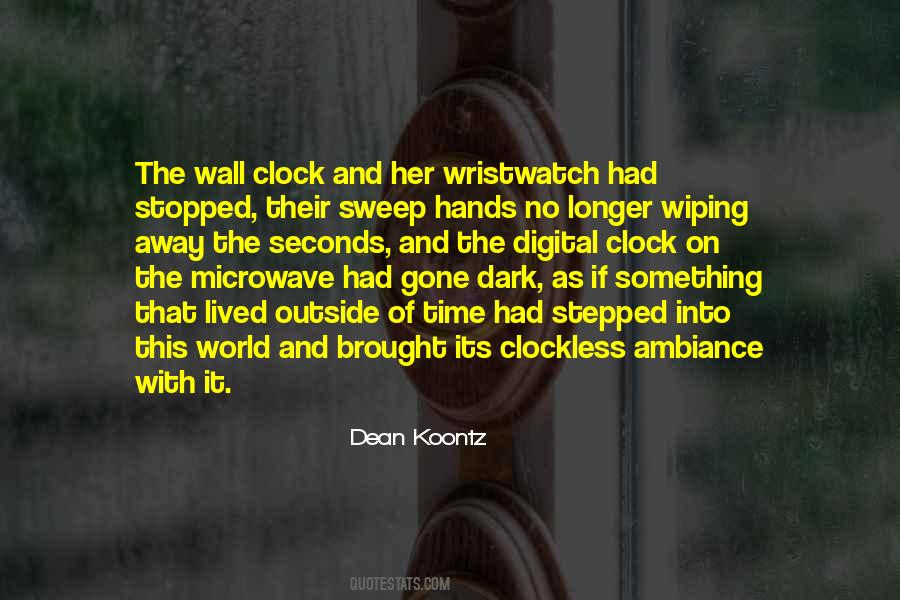 #35. Part of the magic of the experience lay in the sheer beauty of the setting: the breathtaking sight of the high mountains, the sweep of the sky, the panorama of the great valley. The beauty drives you out of the self for a moment - so that for this time, the self is not.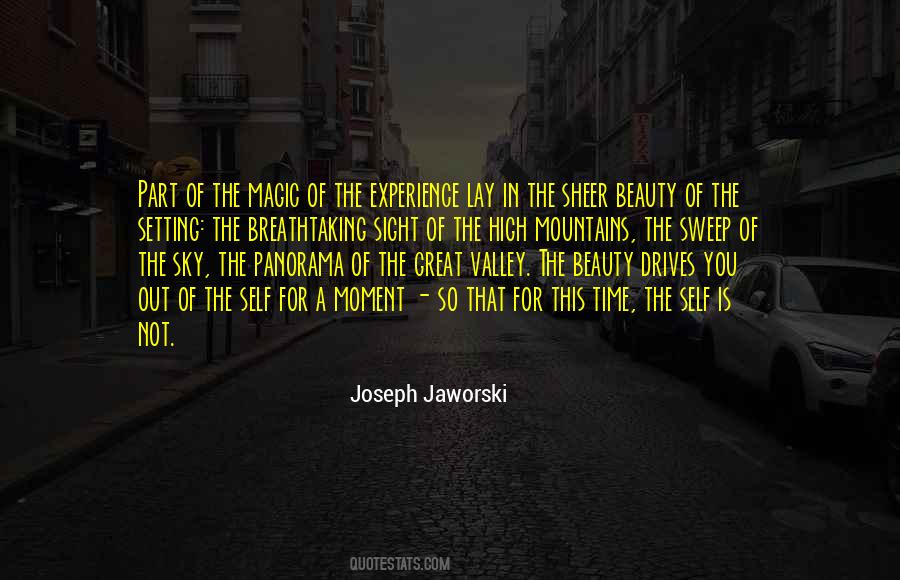 #36. O sleepless as the river under thee, / Vaulting the sea, the prairies' dreaming sod, / Onto us lowliest sometime sweep, descend / And of the curveship lend a myth to God.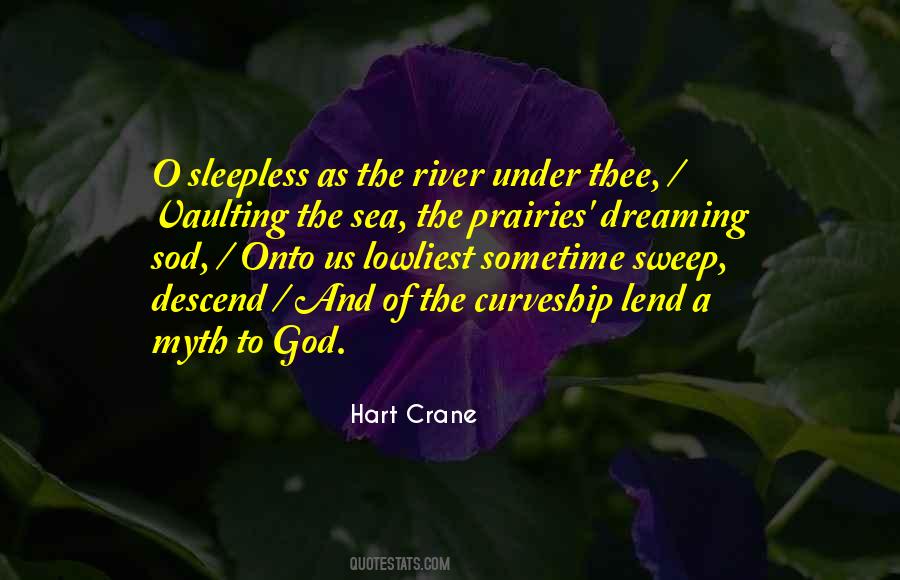 #37. Heaven is not to sweep our truths away, but only to turn them till we see their glory, to open them till we see their truth, and to unveil our eyes till for the first time we shall really see them.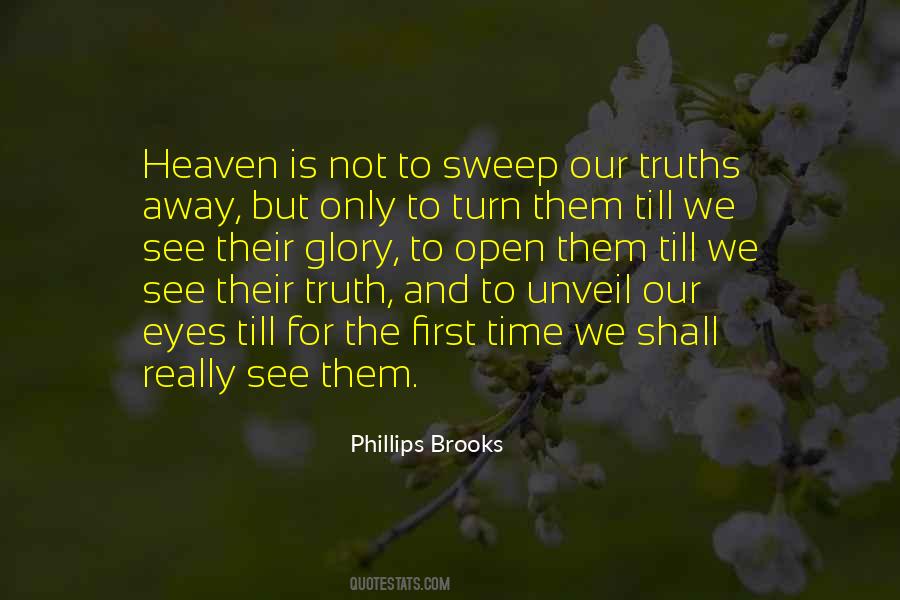 #38. The birds that wake the morning, and those that love the shade; The winds that sweep the mountain or lull the drowsy glade; The Sun that from his amber bower rejoiceth on his way, The Moon and Stars, their Master's name in silent pomp display.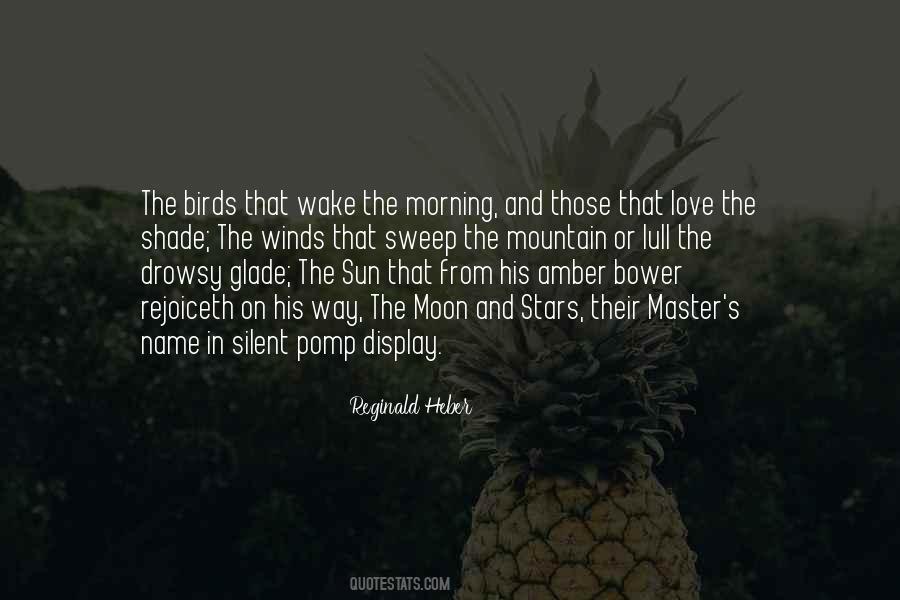 #39. The truest art I would strive for in any work would be to give the page the same qualities as earth: weather would land on it harshly; light would elucidate the most difficult truths; wind would sweep away obtuse padding.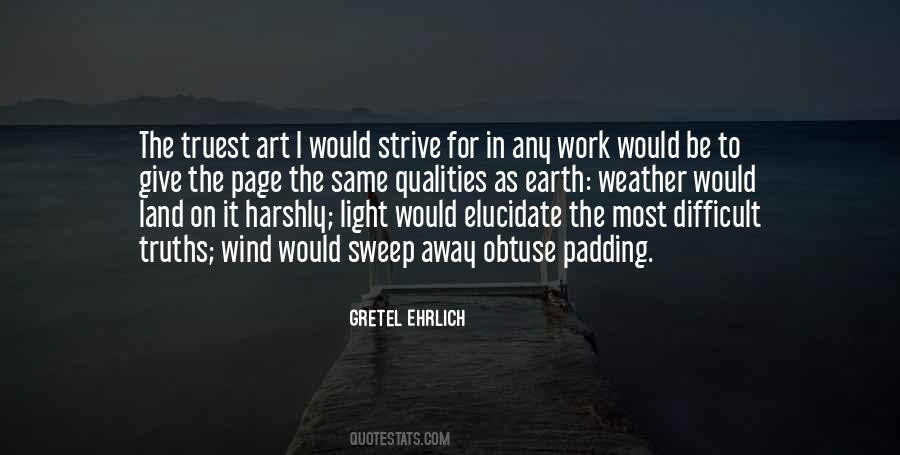 #40. this heart yearns...
for the salt of unsmelt air
unswept thunderstorms...
unknown adventures.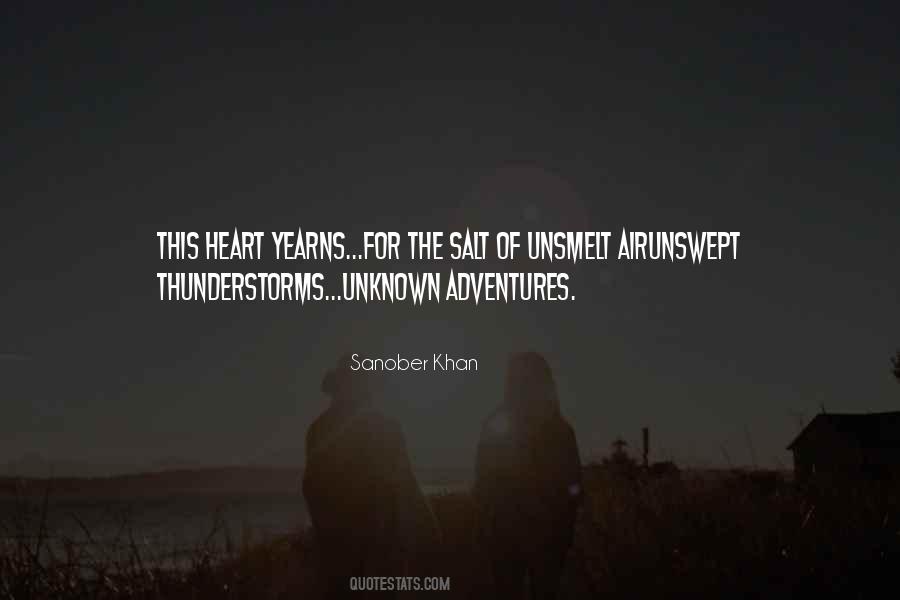 #41. I don't care if the streets of Heaven are gold or not as long as they're clean and I don't have to sweep them.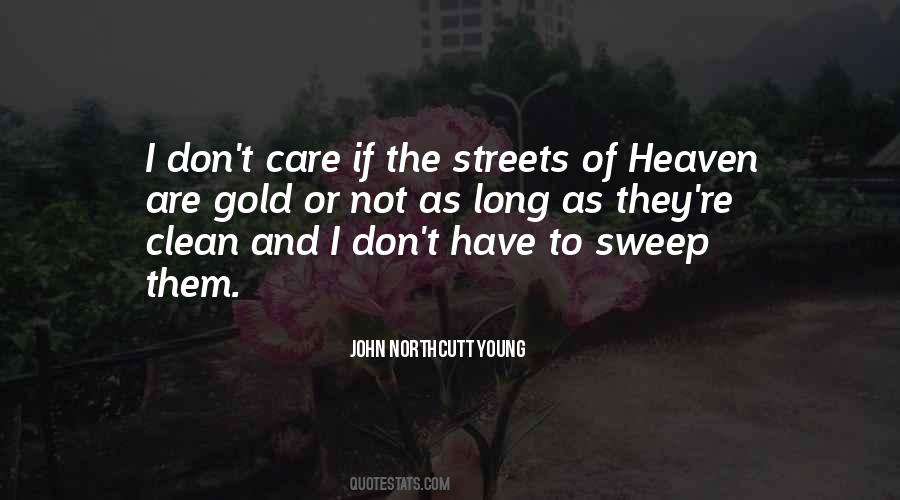 #42. The lights drifted farther away the faster he ran and his feet moved numbly as if they carried him nowhere. The tide of darkness seemed to sweep him back to her, postponing from moment to moment his entry into the world of guilt and sorr.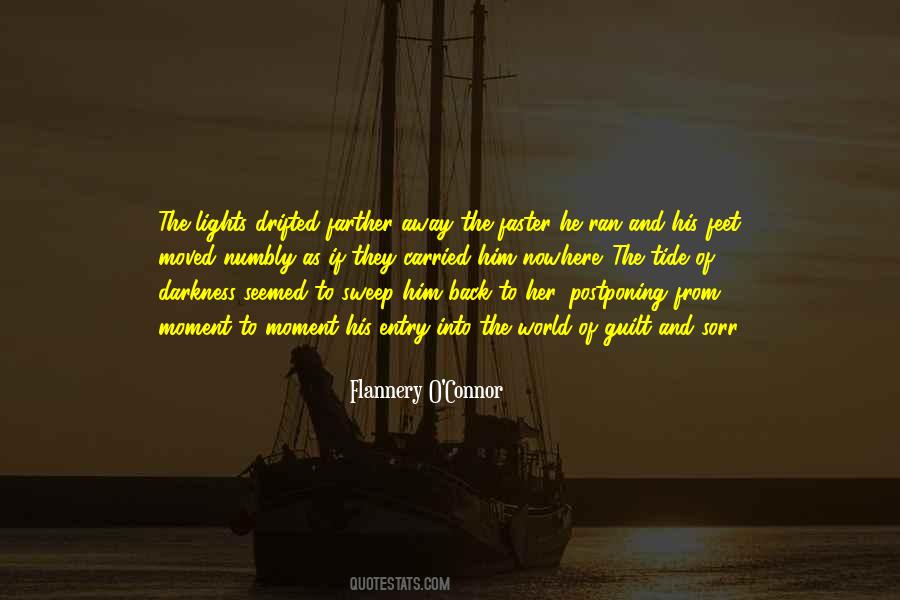 #43. Listen, Harr,y can I have a go on it? Can I?"
"I don't think anyone should ride that broom just yet!" said Hermoine shrilly.
Harry and Ron looked at her.
"What d'you think Harry's going to do with it - sweep the floor?" said Ron.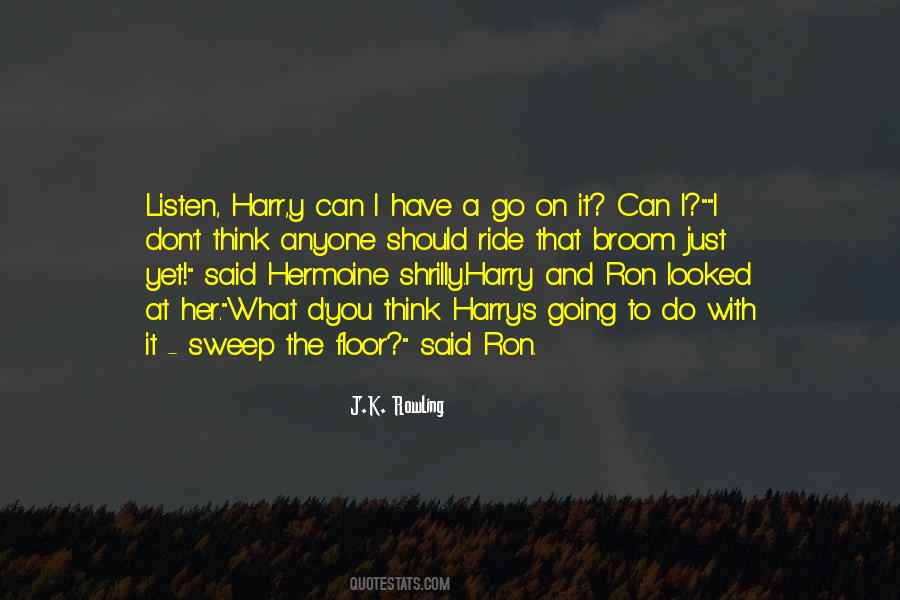 #44. If everyone would sweep their own doorstep, the whole world will be clean.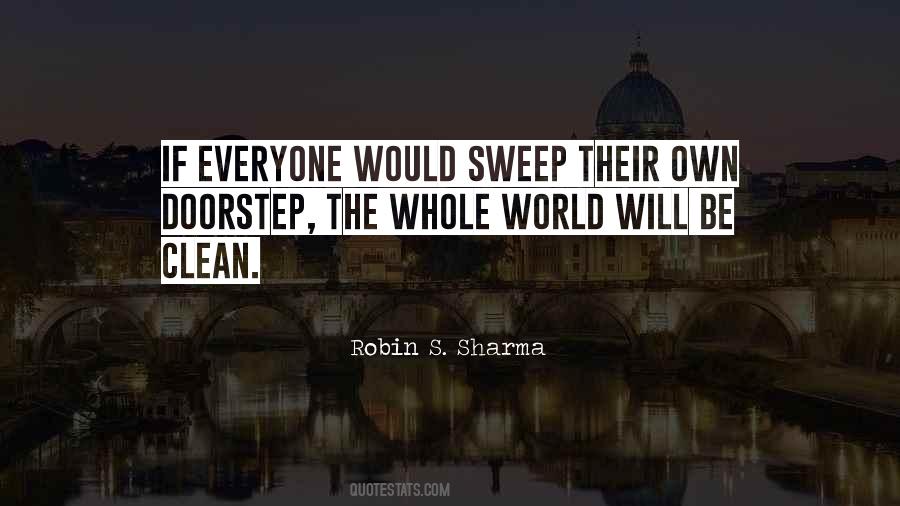 #45. ... books are a very recent means of expression in the broad sweep of history, capable of changing the world and toppling tyrants.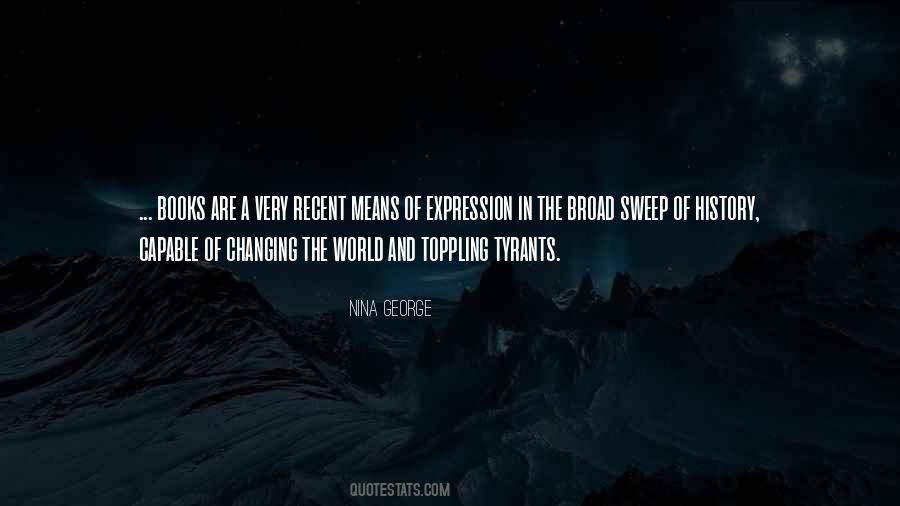 #46. I have never had other kids in the house ... I had a huge collection of marbles, and they all had names, which I think concerned my parents. I used to go and sweep outside and talk to myself, and my mum's friends would be over and say, 'Do you realise she is talking to herself?'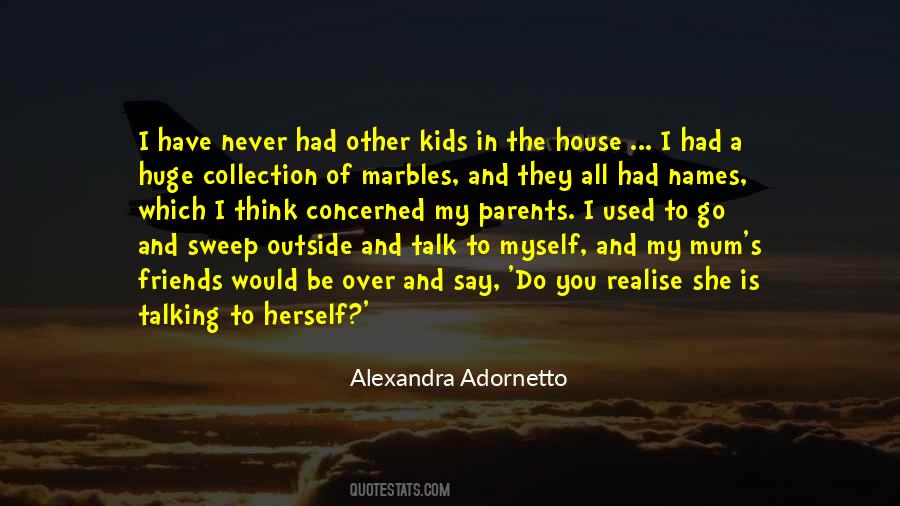 #47. If you don't want love to sweep into your life, the easiest way to block it is to live a fear-based life.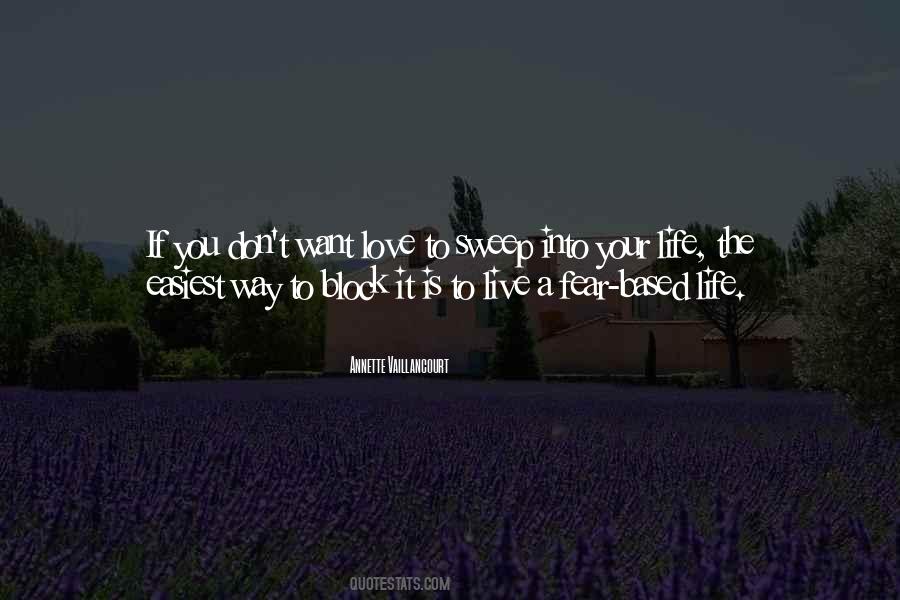 #48. Prayer is so mighty an instrument that no one ever thoroughly mastered all its keys. They sweep along the infinite scale of man's wants and God's goodness.
#49. Man, if I made one million dollars I would come in at six in the morning, sweep the stands, wash the uniforms, clean out the office, manage the team and play the games.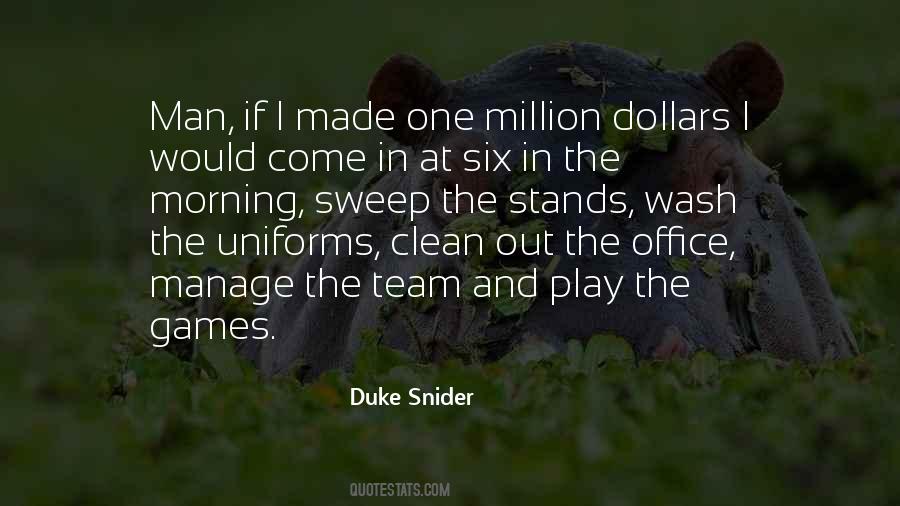 #50. We're not dictated by the calendar, nor does the calendar sweep the obstructions from our lives when the second hand reaches midnight in the wee and fleeting hours of December. We can choose to move toward something new at any time.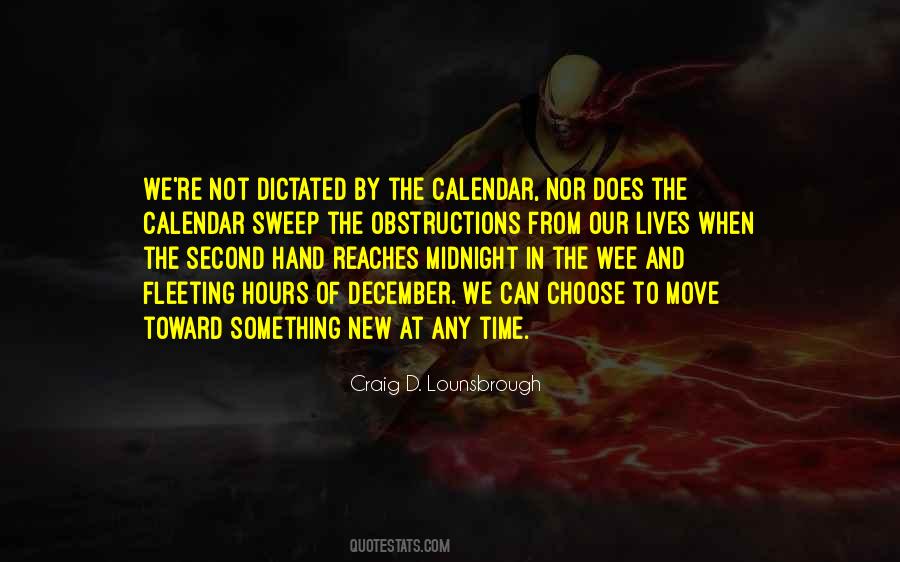 #51. That's why I need a man who can sweep away the mess I made.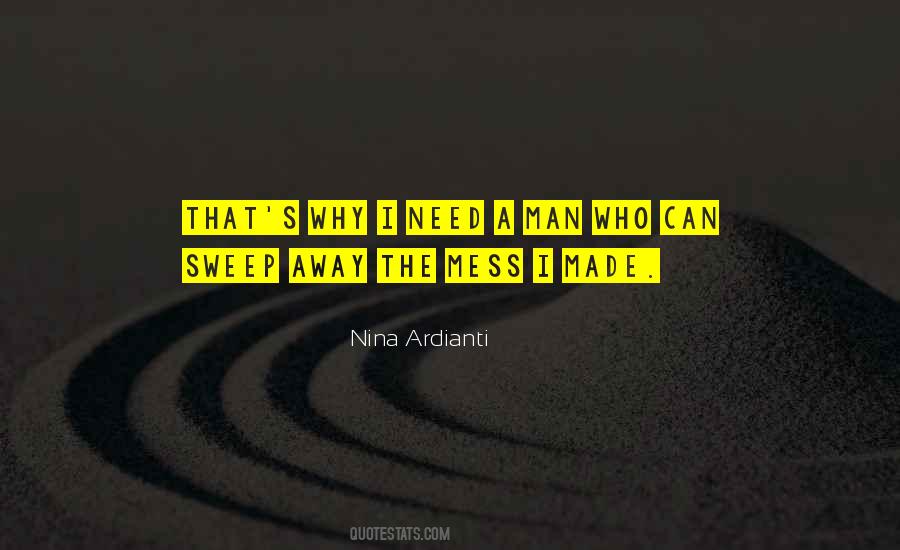 #52. If you live in a yard sale kind of neighborhood - in good weather, most neighborhoods are crawling with them on weekends - do a sweep to see what the competition is charging. No one is going to buy your $7 book if they can get it down the block for $1.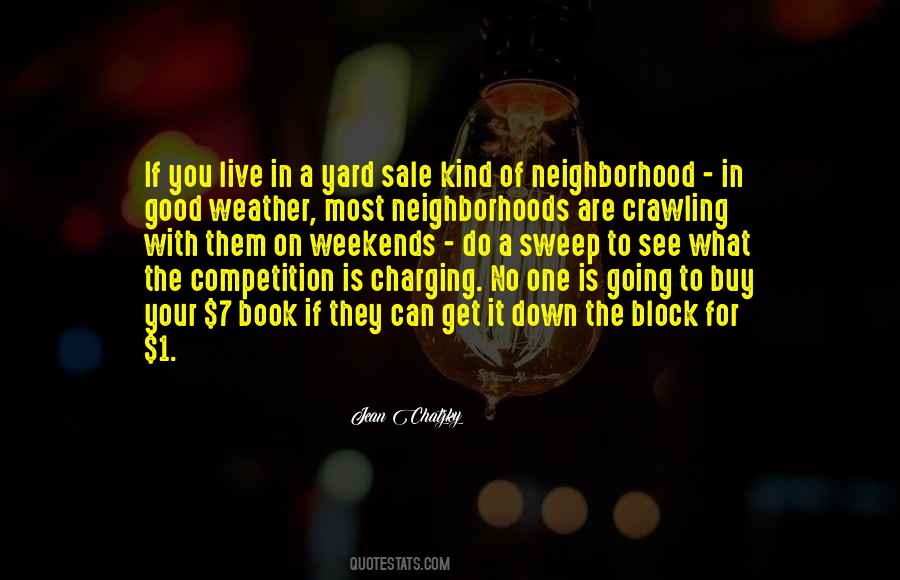 #53. He kissed her, and knew he was trying to tell her the depth of how he felt. Even as he lost himself in her, felt her hair sweep across his face, his chest, her lips meet his skin, her fingers, he understood that there were people for whom one other was their missing part.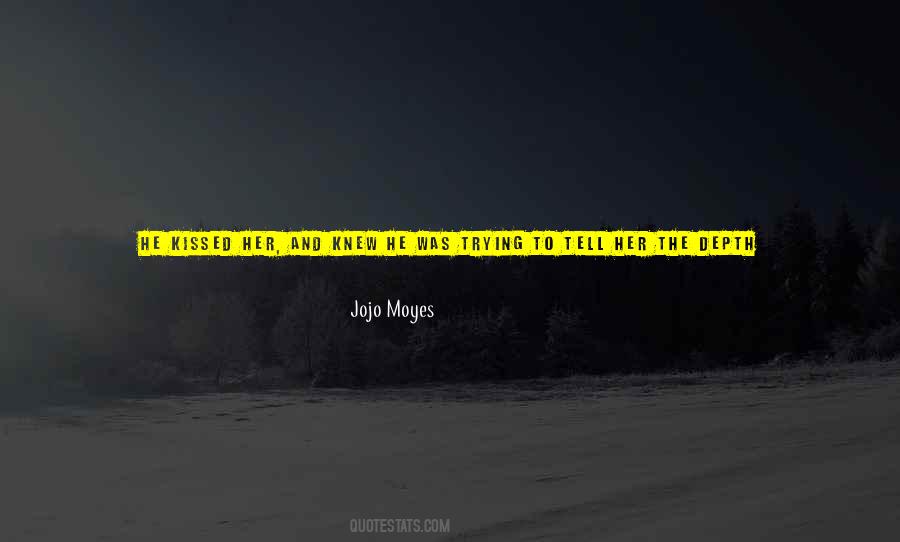 #54. Sweep to my side, please don't delay. Share your warmth as you swirl and sway.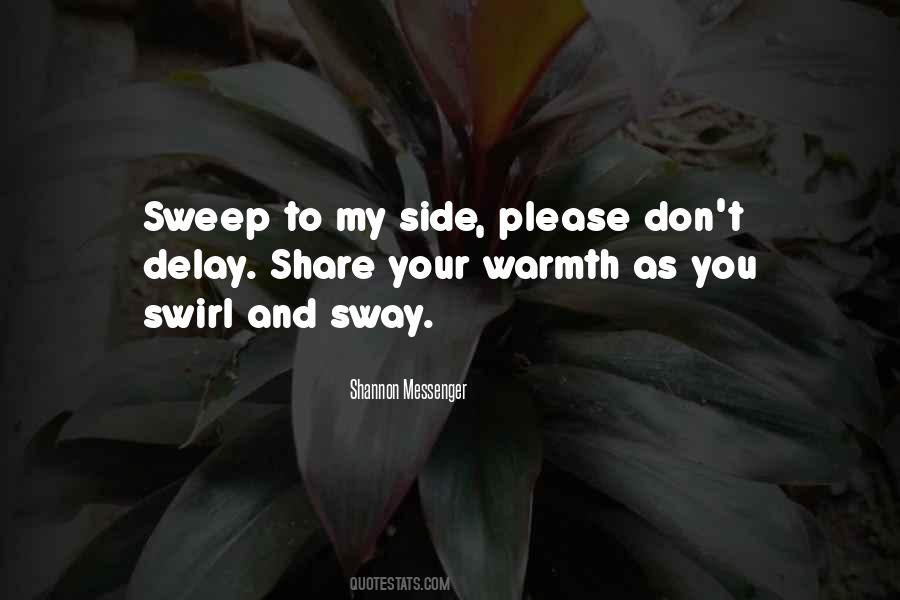 #55. Here was the worst curse: he managed to force the dream from his conscious mind often enough that when it returned to him (opening the pantry door, say, recalling the sweep of floodwater), the experience of it became fresh and bleeding once more.
#56. If you can't please yourself some of the time, how do you expect to please people all the time? Not everyone is going to appreciate you for your efforts and deeds.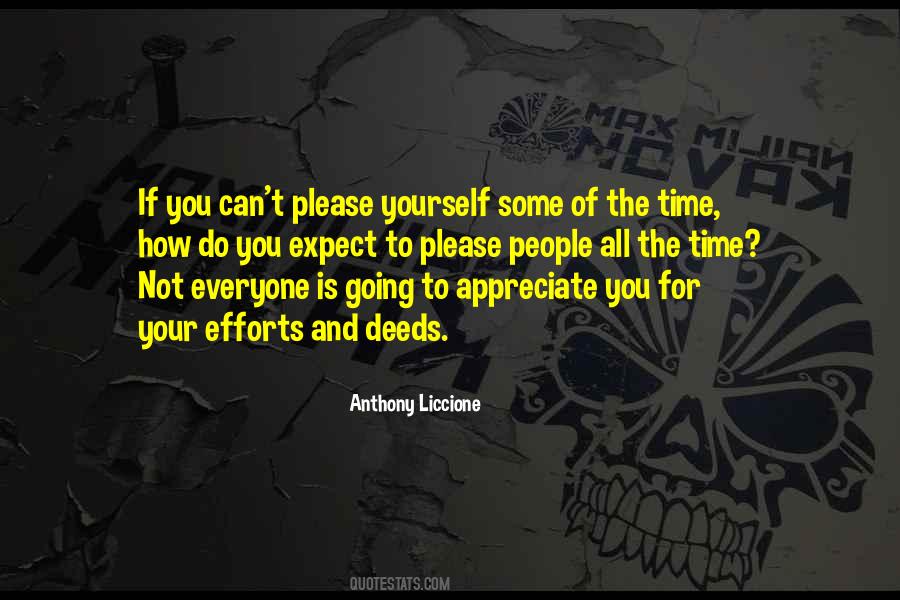 #57. Reflect often upon the rapidity with which all existing things, or things coming into existence, sweep past us and are carried away.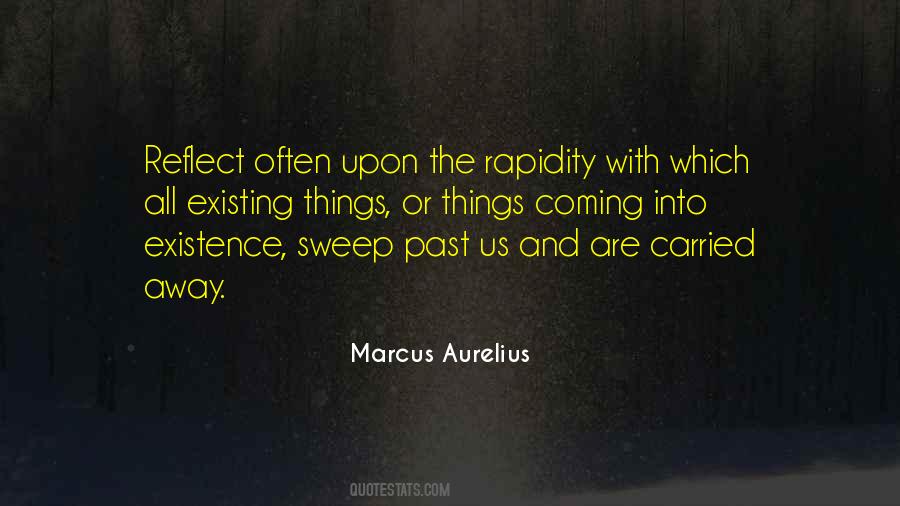 #58. I enjoy 'Supermarket Sweep' because of its adlib demands in following the fast action.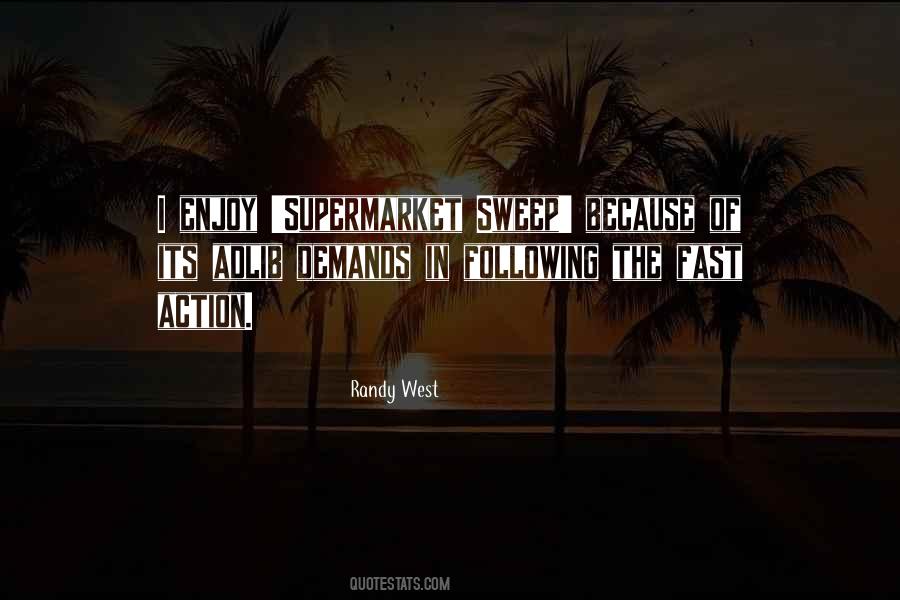 #59. Dragnets that indiscriminately sweep up personal data fall squarely into the gray area between what is legal and what is socially acceptable.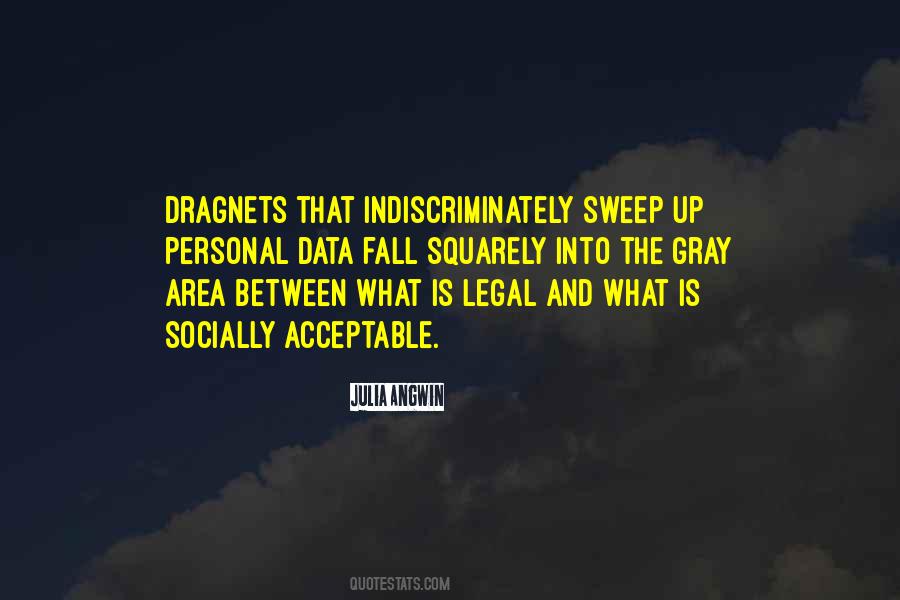 #60. Go out there! Sweep a pavement, plant a tree, feed a stray dog. Do something, anything; rather than just using your fingers to tap three keys and destroy 600 people's brain cells in one shot. 11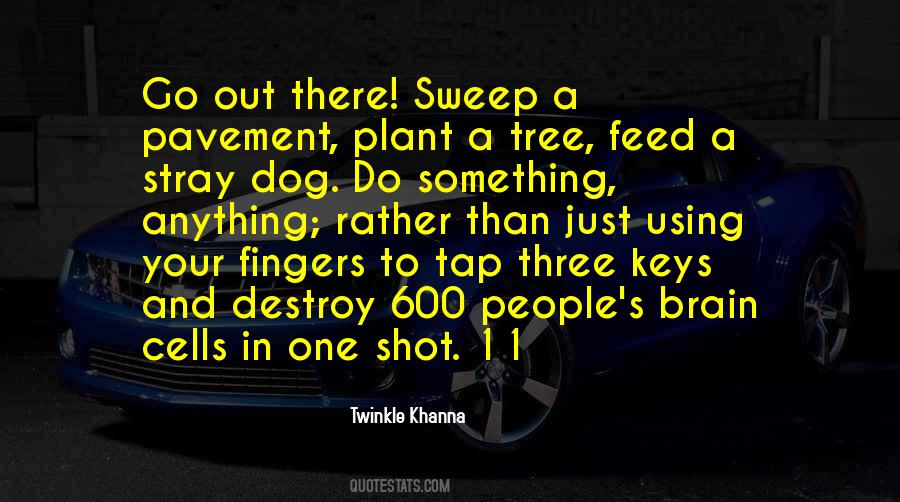 #61. Instead of clinging to the only Lifeboat that can save, we have tossed overboard biblical truths in the name of [compromise], living on the edge of life, like the man who rides the parameter of a hurricane, daring it to sweep him away.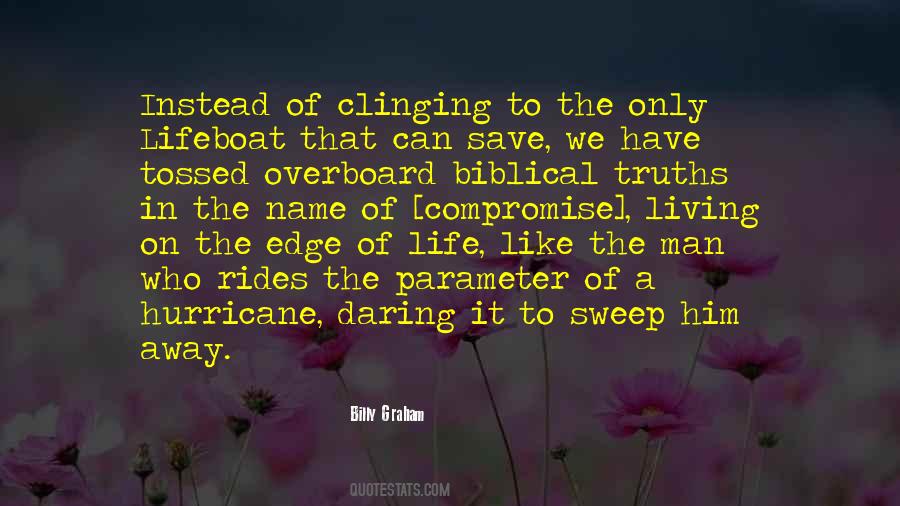 #62. That's life for you. All the happiness you gather to yourself, it will sweep away like it's nothing. If you ask me I don't think there are any such things as curses. I think there is only life. That's enough.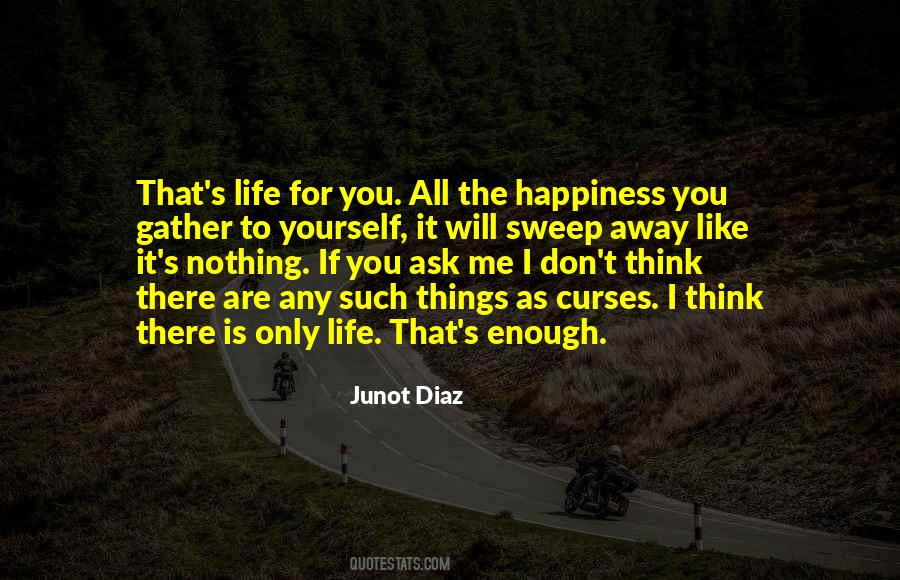 #63. You need to recognize and sweep aside certain weaknesses which stand between you and your goals. Your persistence develops into a respected, proved, progressive power.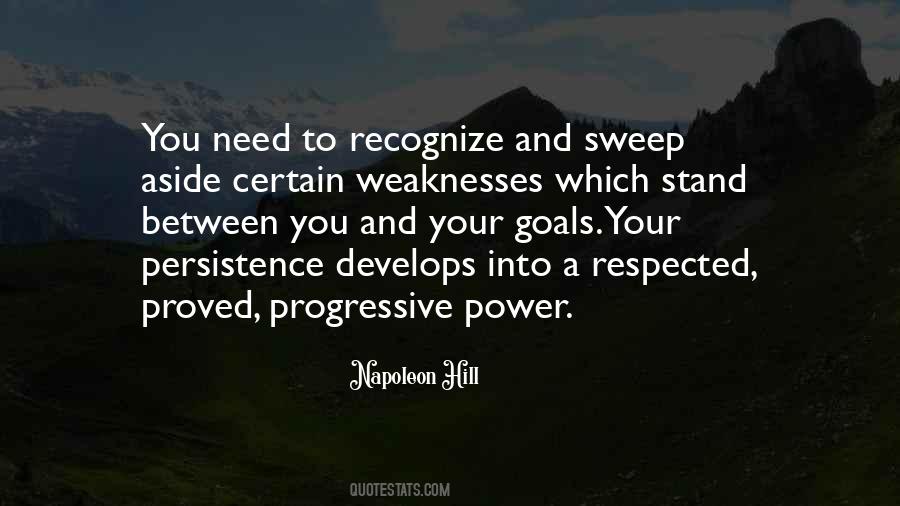 #64. Apparently, he uses disguises sometimes in the course of his investigations. In his liaison with Mariah, he used them for discretion. He came to her once dressed as a chimney sweep. Quite invigorating, don't you think?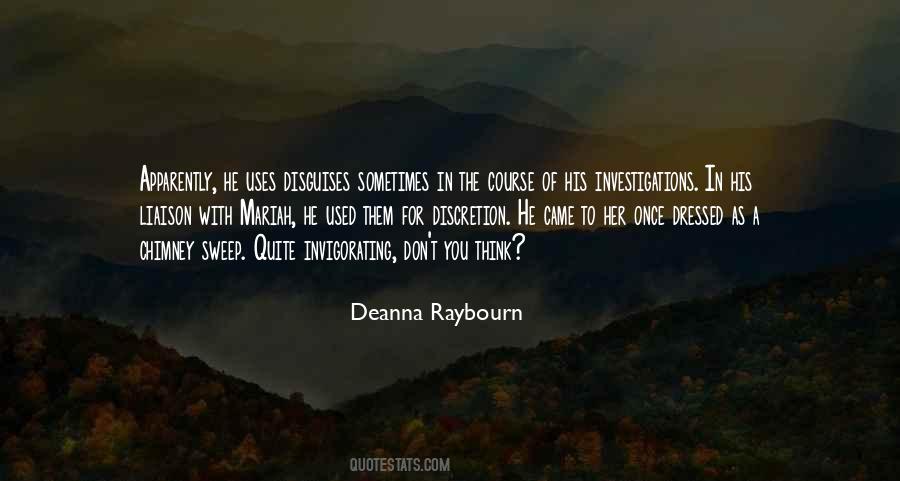 #65. Nick, fetch my car, fetch my clothes, sweep the chimney, make my bed, watch my psychopath, fetch my slippers.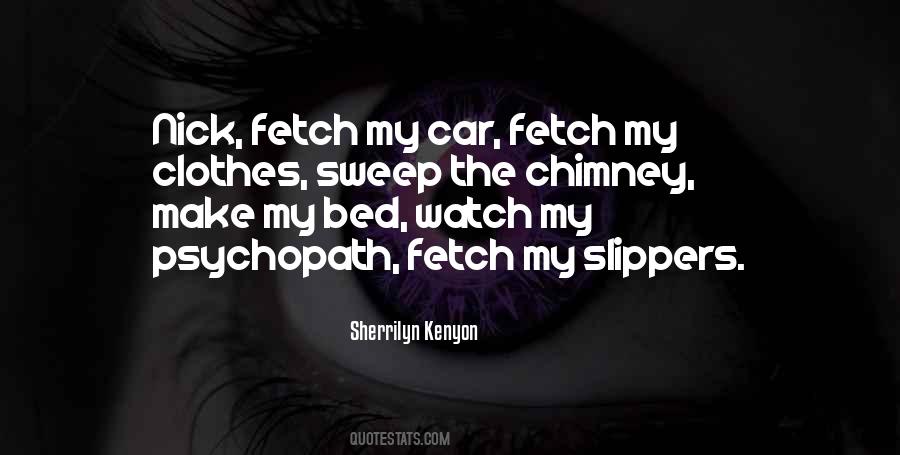 #66. The CIA could not face up to the American people and admit that its former employees had conspired to assassinate the President; so from the moment Kennedy's heart stopped beating, the Agency attempted to sweep the whole conspiracy under the rug.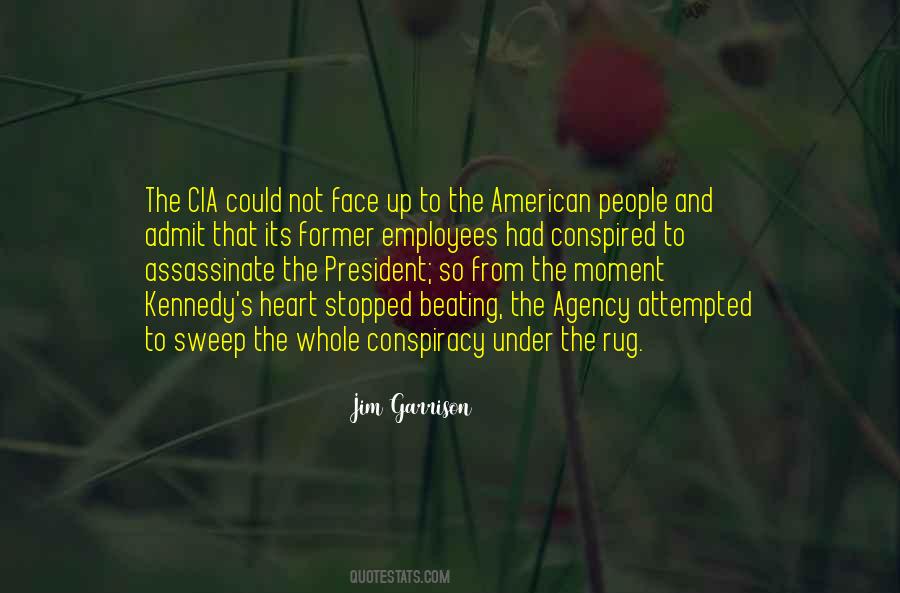 #67. They would sweep their poverty under the carpet if only they had one.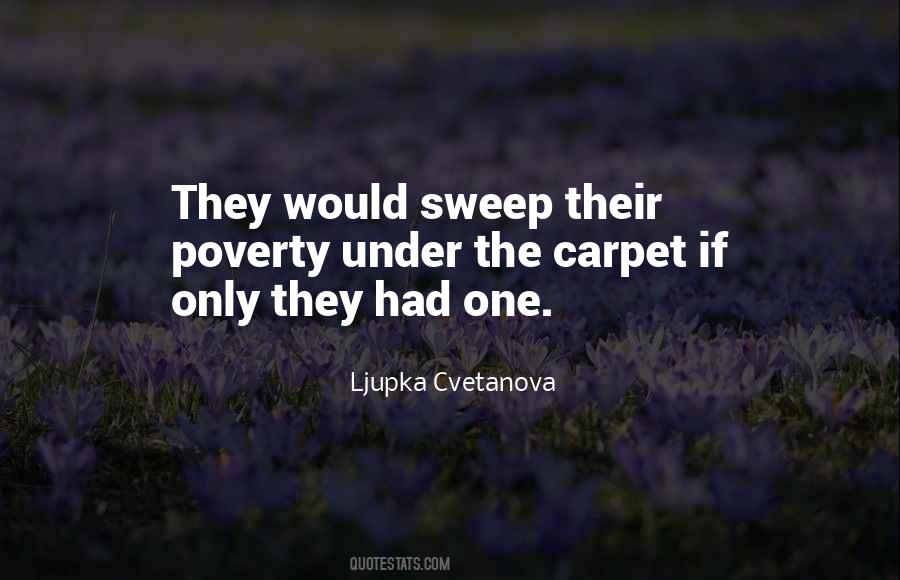 #68. We are here for what amounts to a few/hours,/a day at most./We feel around making sense of the terrain,/our own new limbs,/Bumping up against a herd of bodies/until one becomes home./Moments sweep past. The grass bends/then learns again to stand.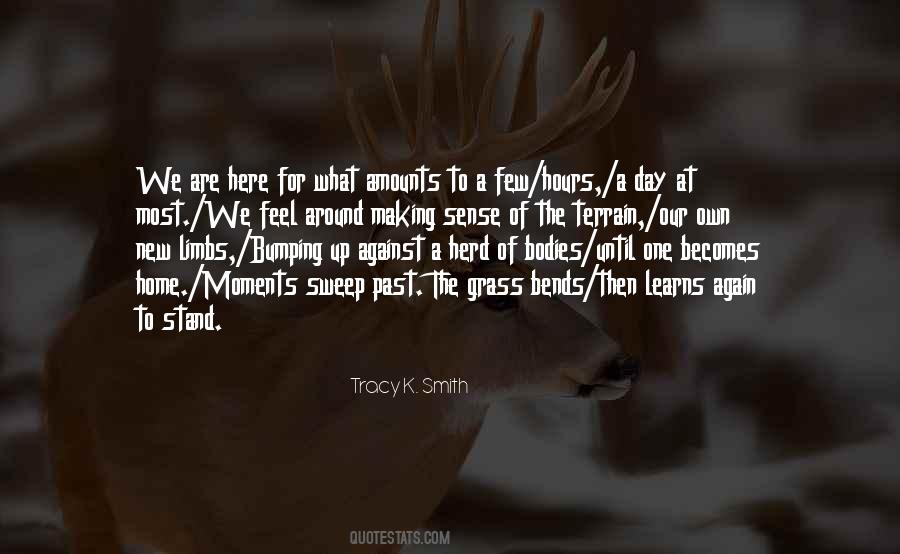 #69. The machine demanded access codes. As he entered the first, a faint whispering sound startled him, causing him to snatch up the sweep laser. All was silent again. It had sounded like metal on metal. Could he have imagined it? He listened intently.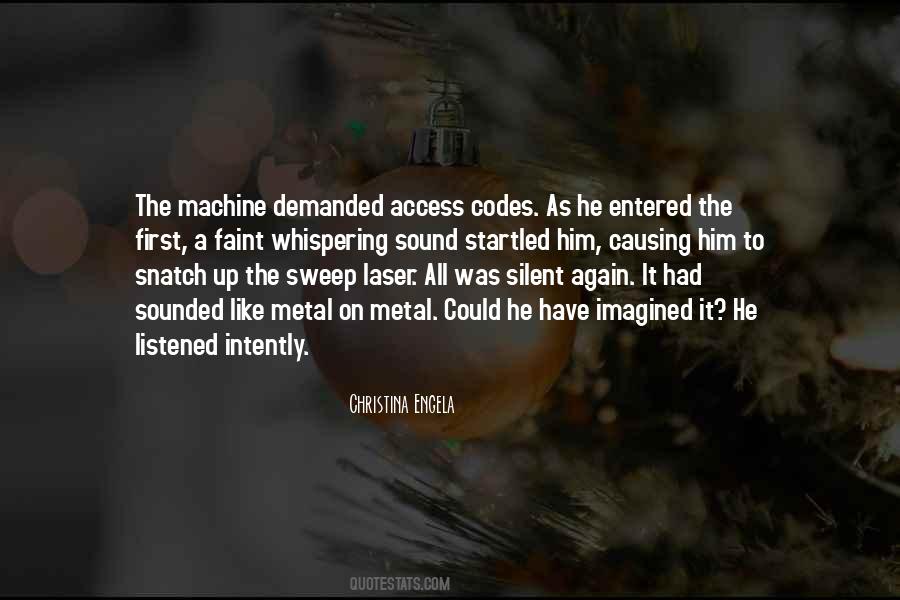 #70. There are ... many ... names for winds derived from localities or from the squalls which sweep from rivers or down mountains.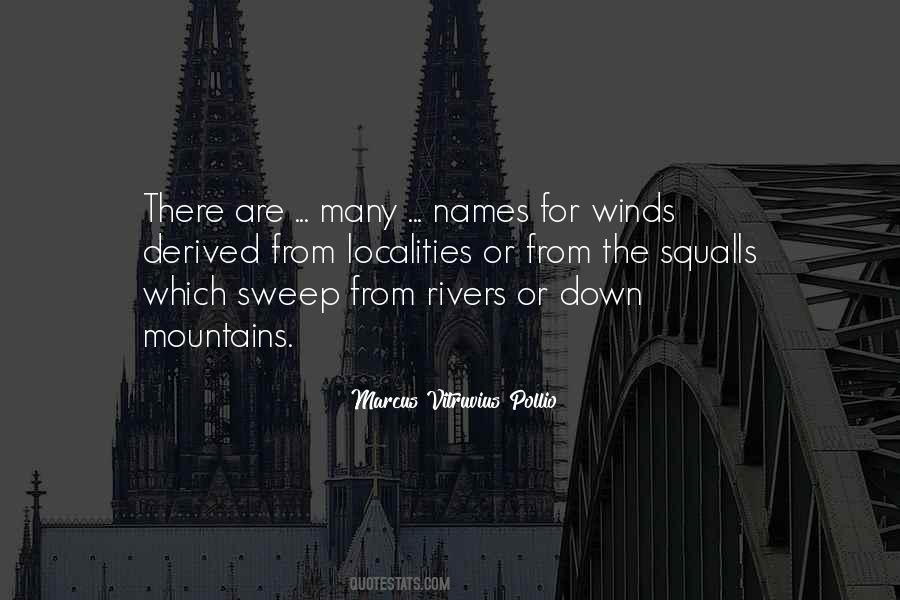 #71. International exchanges are not a great tide to sweep away all differences, but they will slowly wear away at the obstacles to peace as surely as water wears away a hard stone.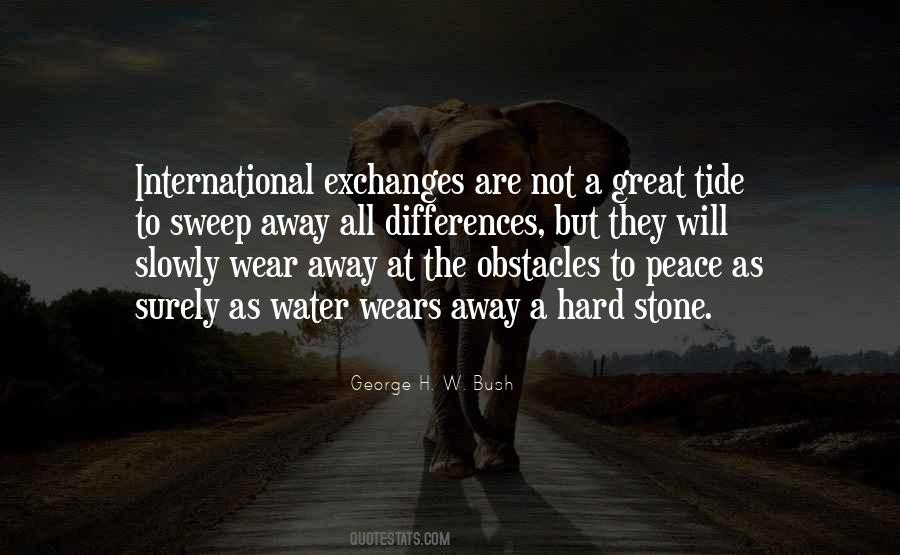 #72. He will sweep it up - everything you left behind when you woke. And then he will burn it, to leave the stage fresh for your dreams tomorrow.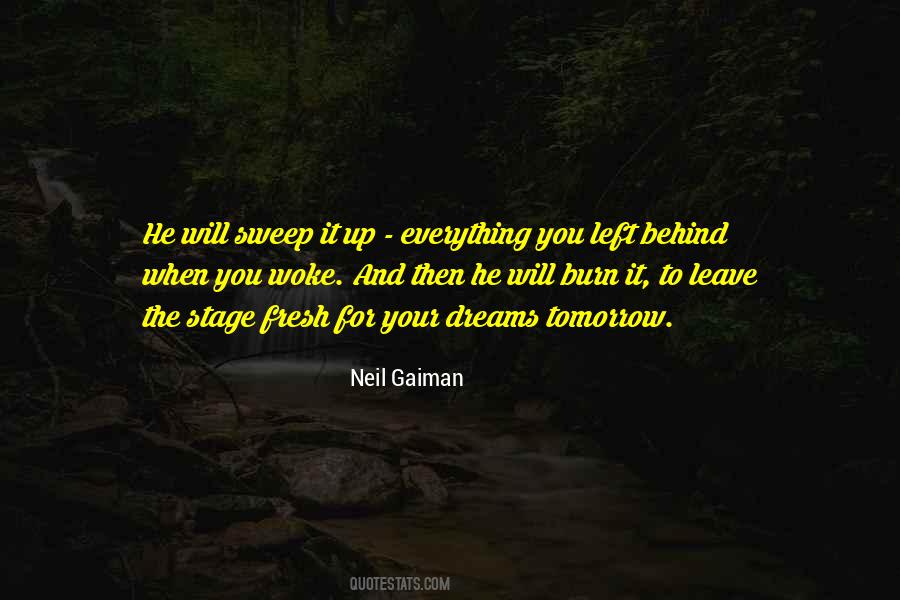 #73. I think we are all frightened a little bit when a new broom starts to sweep.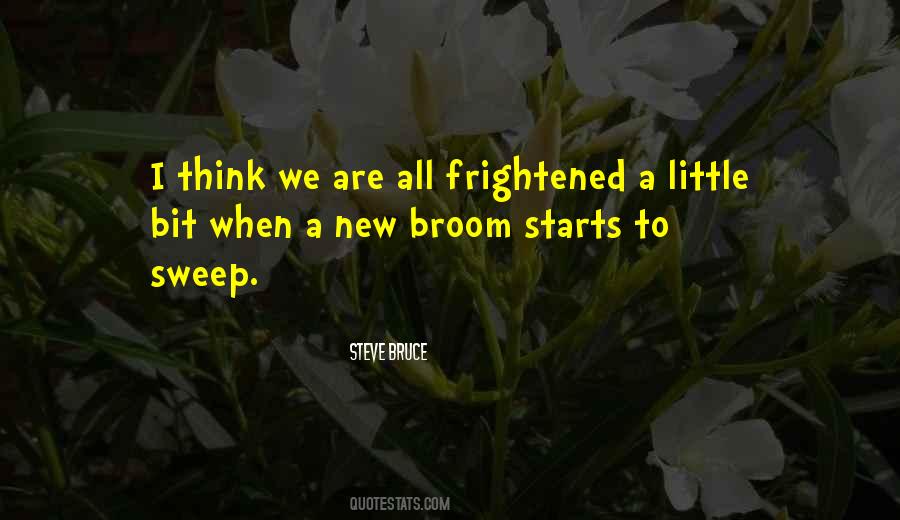 #74. When you sweep the universe, nothing changes, only the things change their places; when the universe sweeps you, nothing changes, only the things change their places!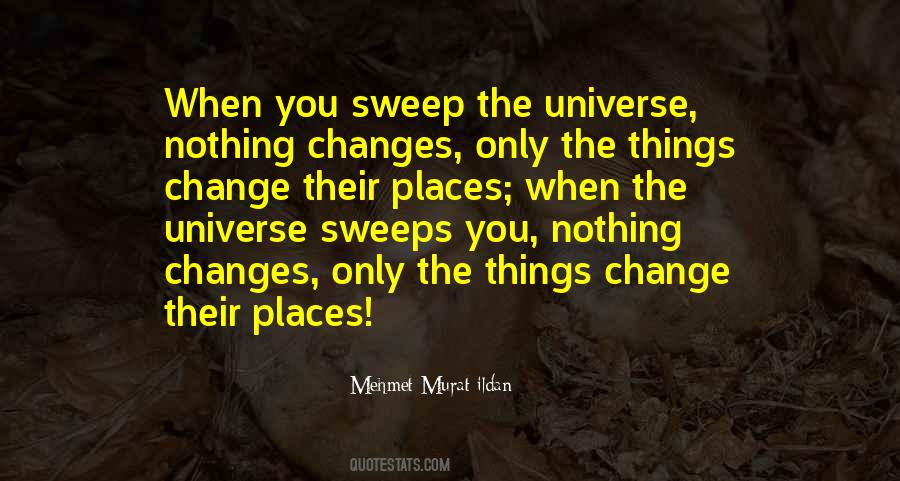 #75. Hey girl," he said, wiggling his eyebrows. "You must be the riptide, 'cause you sweep me off my feet."
He'd be practicing that pickup line for years. He was glad he finally got yo use it.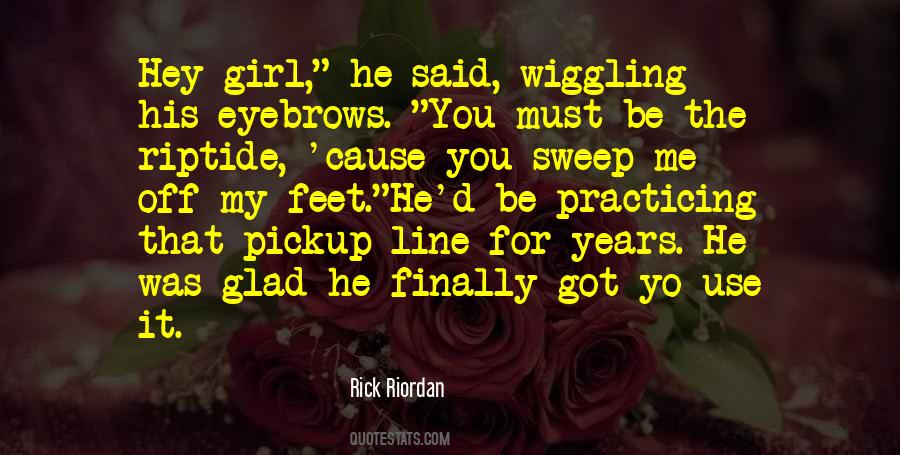 #76. Sweep up the debris of decaying faith;
Sweep down the cobwebs of worn-out out beliefs,
And throw your soul wide open to the light of reason and of knowledge.
Be not afraid
To thrust aside half-truths and grasp the whole.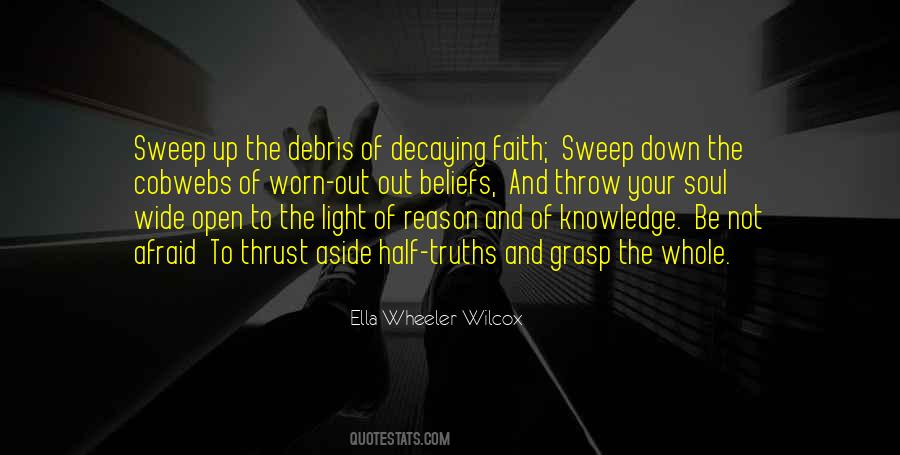 #77. Nature, with equal mind, Sees all her sons at play, Sees man control the wind, The wind sweep man away.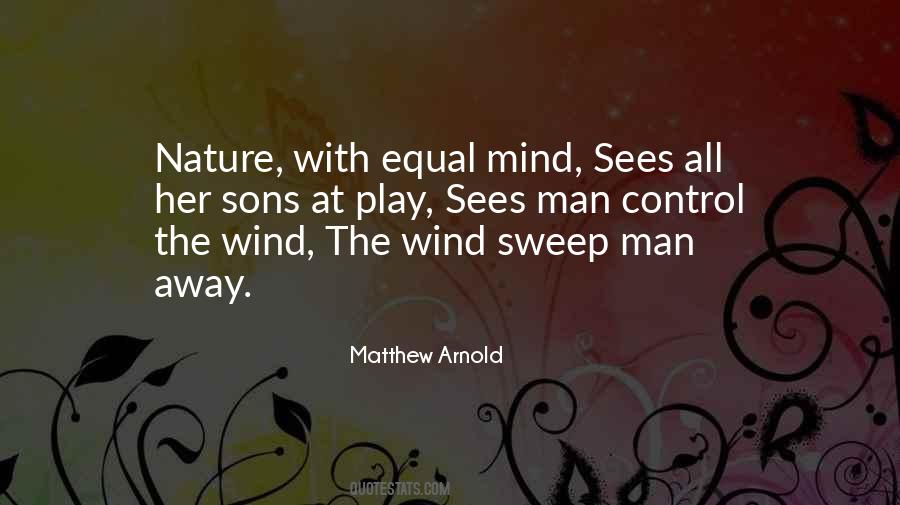 #78. Several of them were discussing this in low tones as they waited for Halt to arrive - until they realized that he was already among them. They weren't used to this. Kings were supposed to sweep into a room majestically - not suddenly appear without anyone seeing their arrival.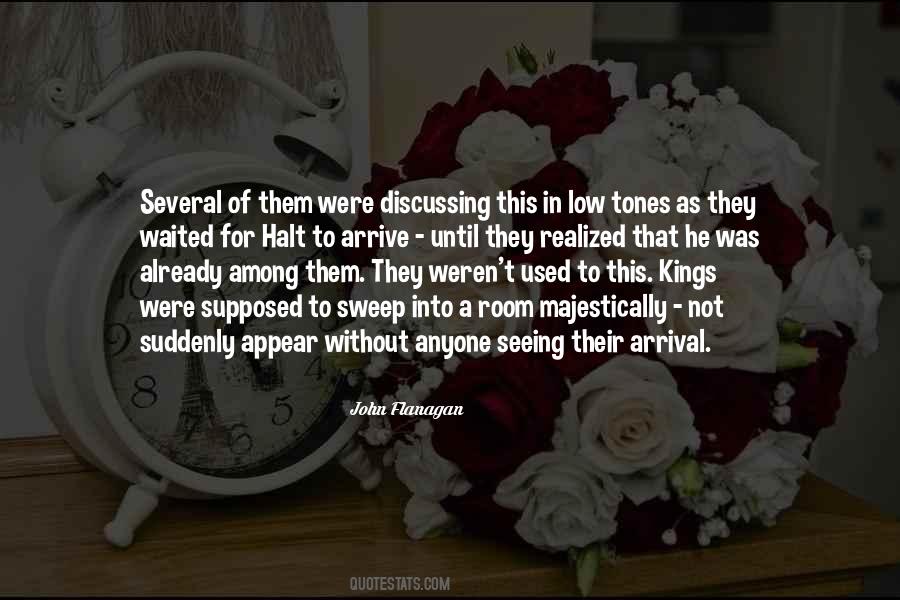 #79. I took the broom and made a wild sweep along the workbench, and an edge of the unwieldy head sent a tray of tools flying. Patrick picked up a chipped chisel and looked at me as if I had attacked his son.
Have you never used a broom before?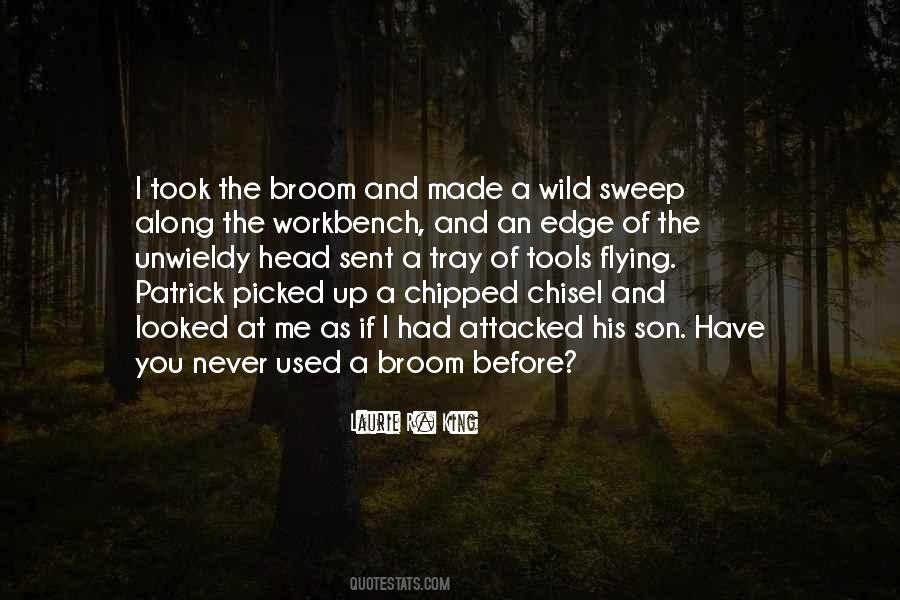 #80. Opposite to where she sat the water was a boggy brown, but not too far along it was a dark violet colour, always changing, the way the sweep of the current changed, but as she saw it, her own life did not change at all - the same routine, the same longing and the same loneliness.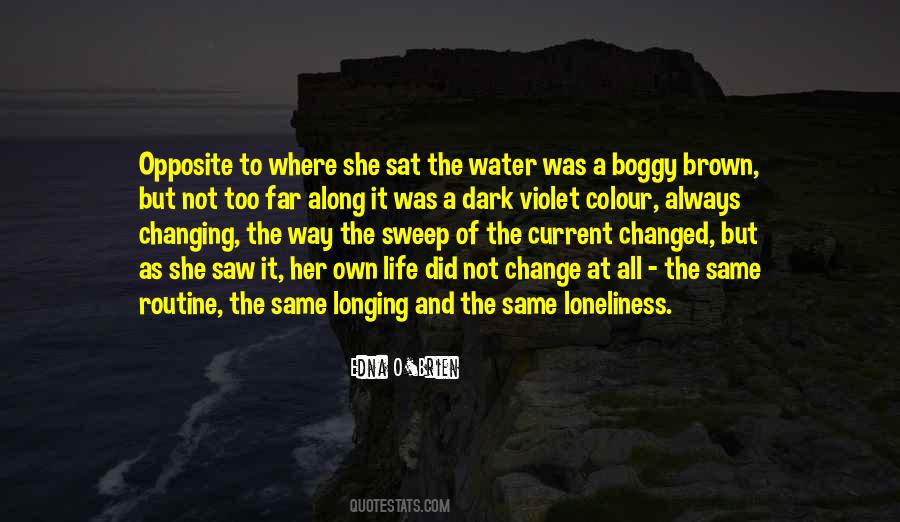 #81. Enzo enters with a sweep of dark robes, bringing with him the scent of wind, night, and death.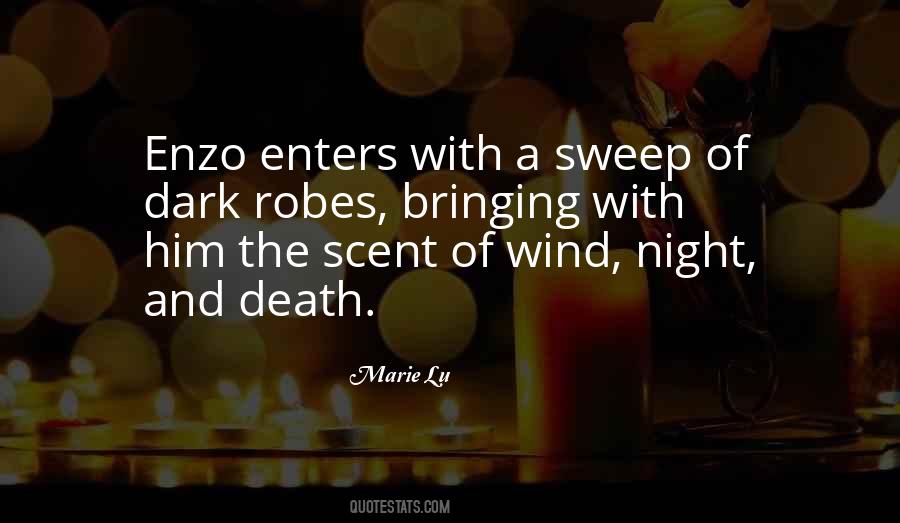 #82. Giving more to women will, to some extent, come at the expense of men. People sometimes try to sweep that under the rug by saying you will create so much additional resources that everyone will be better off. I don't think that's true.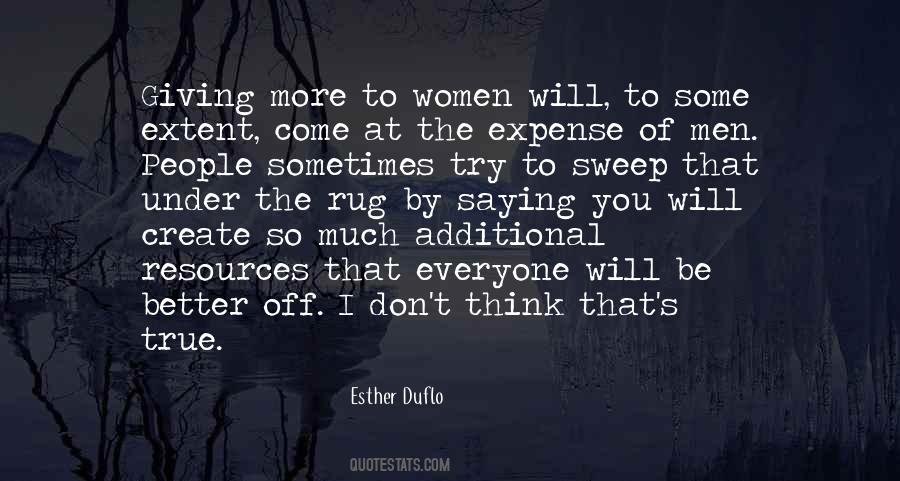 #83. Do you want to be great? Pick up a broom and sweep the floor.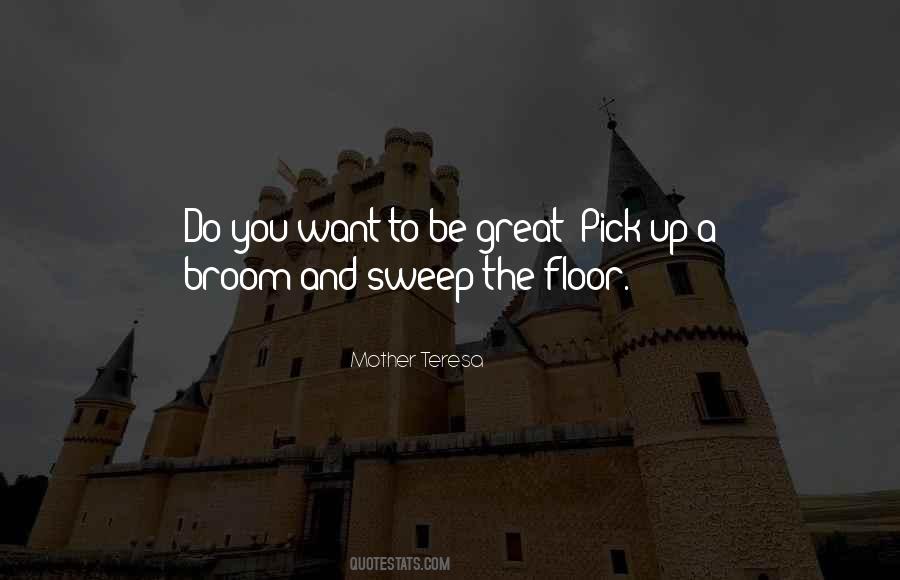 #84. Waiting for the winds of change to sweep the clouds away. Waiting for the rainbow's end to cast its gold your way ... You don't get something for nothing. You can't have freedom for free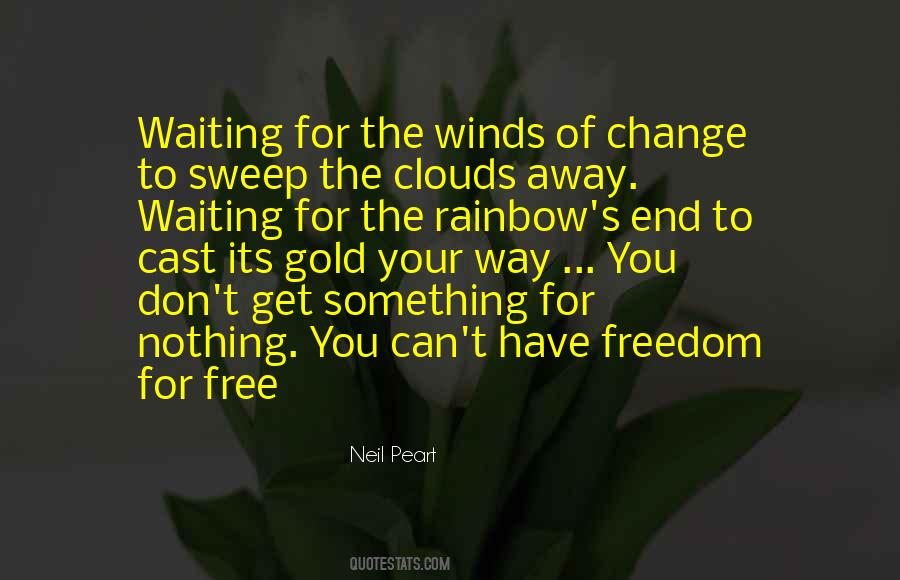 #85. She wished she could give Isabel a shield, like the ones riot police held, to protect her from male attention, that feeling of being scored each time you walked down a street, the demeaning comments yelled out of cars, that casual sweep of the eyes.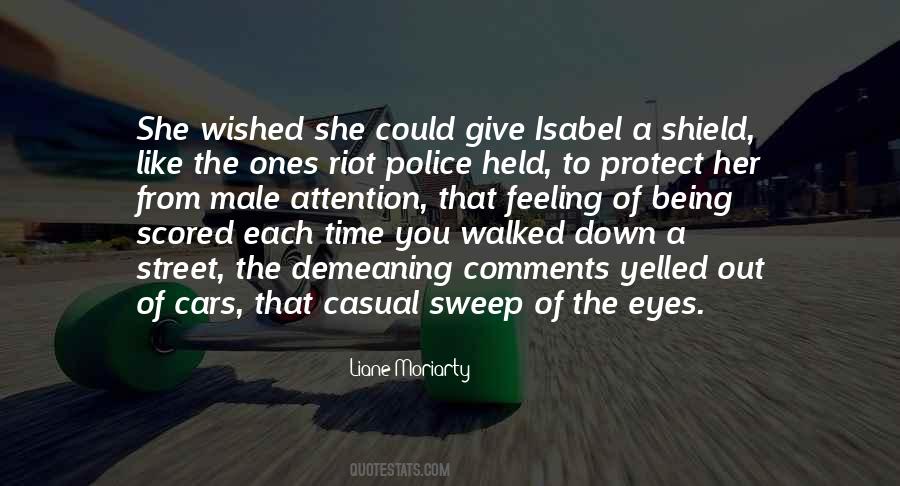 #86. The repose of sleep refreshes only the body. It rarely sets the soul at rest. The repose of the night does not belong to us. It is not the possession of our being. Sleep opens within us an inn for phantoms. In the morning we must sweep out the shadows.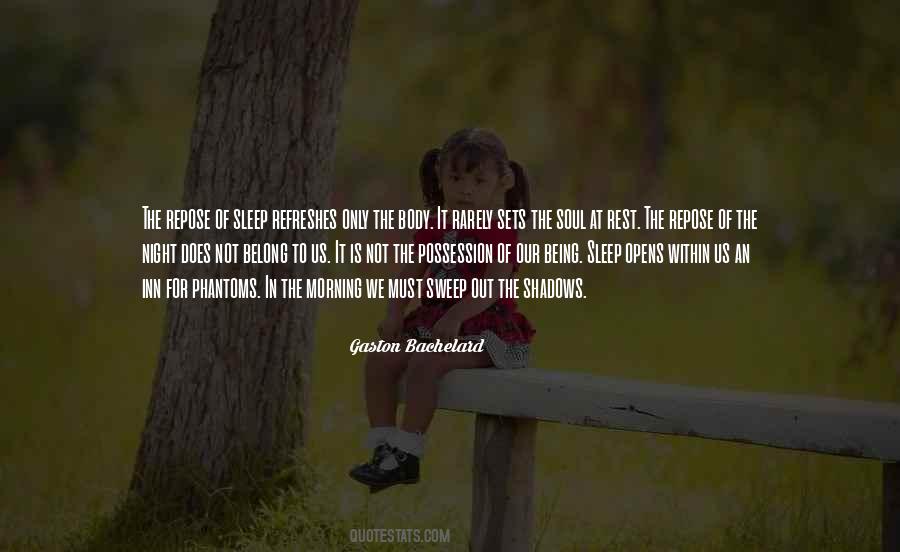 #87. It's remarkable how quickly a good and favorable wind can sweep away the maddening frustrations of shore living.
#88. Tape allows for a clean sweep of data that simply doesn't need to be on any form of disk but still needs to be kept. The cost and capacity of tape makes these 'just in case' copies very affordable.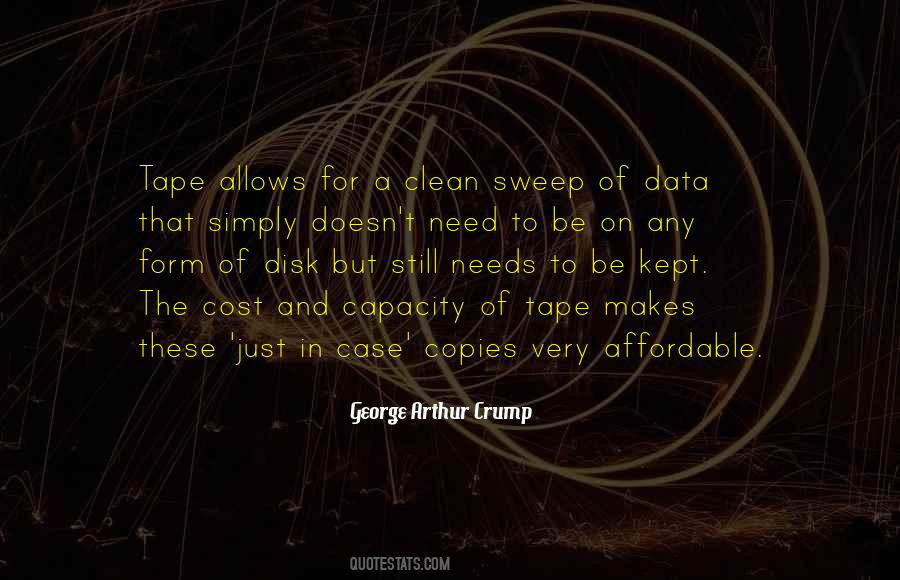 #89. If you sweep a house, and tend its fires and fill its stove, and there is love in you all the years you are doing this, then you and that house are married, that house is yours.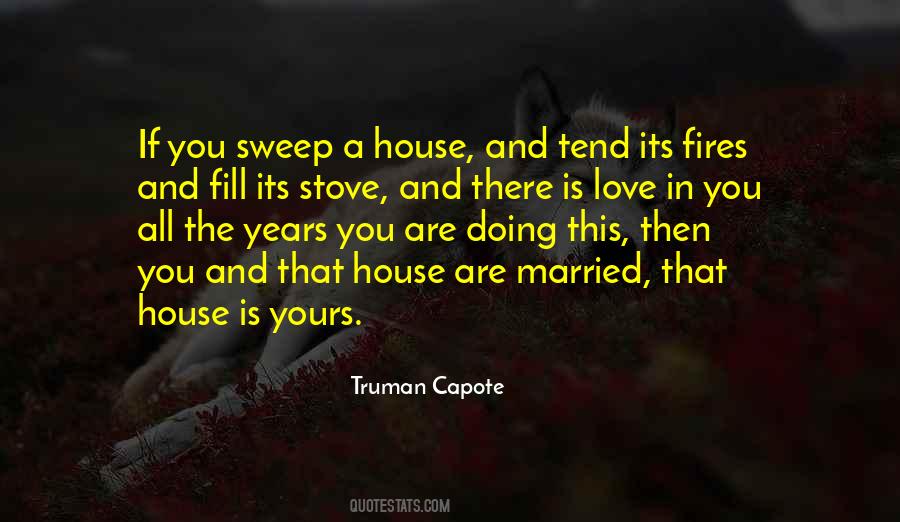 #90. Real men don't do pickup lines just to sweep off every girls' feet. They do and trust their own instincts knowing what the girls' wants and needs. Vying to win their hearts.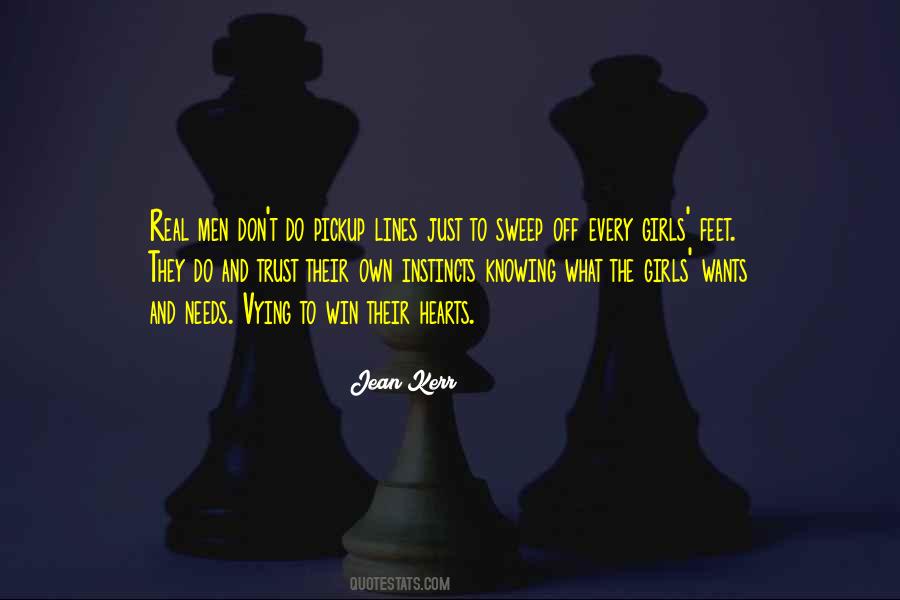 #91. I wish the air were pure oxygen, and then as it says in our chemistry book, our life would sweep through its fevered burning course in a few hours and we would live in a perfect delirium of excitement and would die vibrating with passion, for anything would be better than this lazy sluggish life.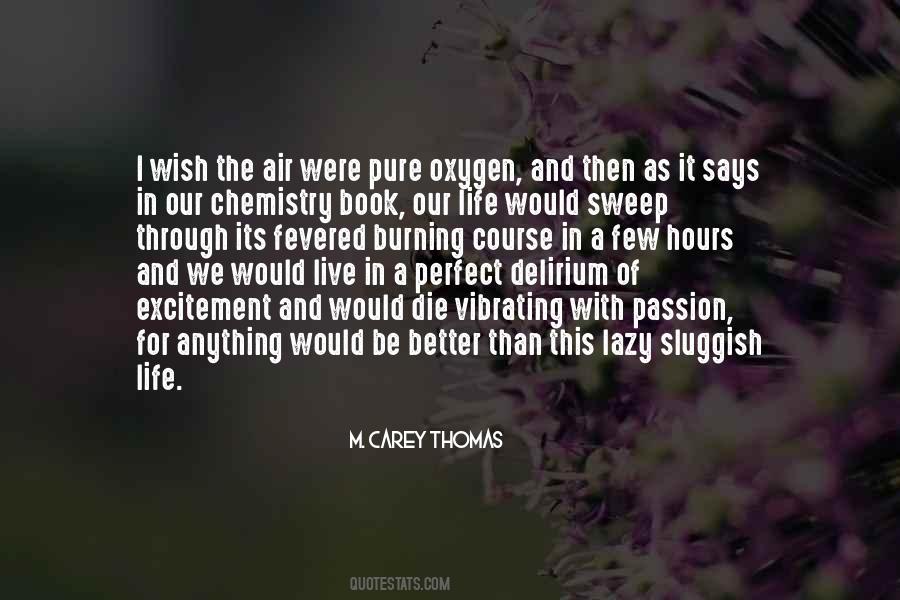 #92. A beach is not only a sweep of sand, but shells of sea creatures, the sea glass, the seaweed, the incongruous objects washed up by the ocean.
#93. As generations come and go, Their arts, their customs, ebb and flow; Fate, fortune, sweep strong powers away, And feeble, of themselves, decay.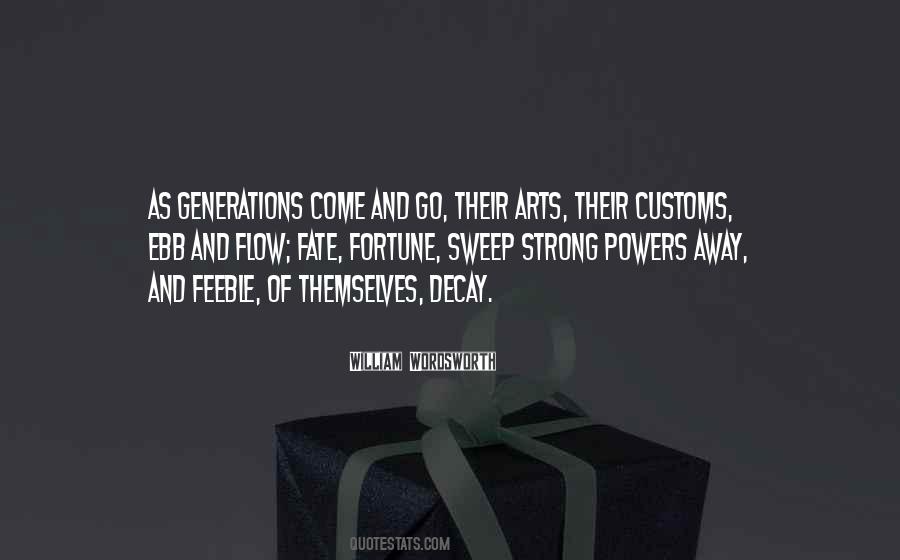 #94. I make no secret of the fact that I would rather lie on a sofa than sweep beneath it.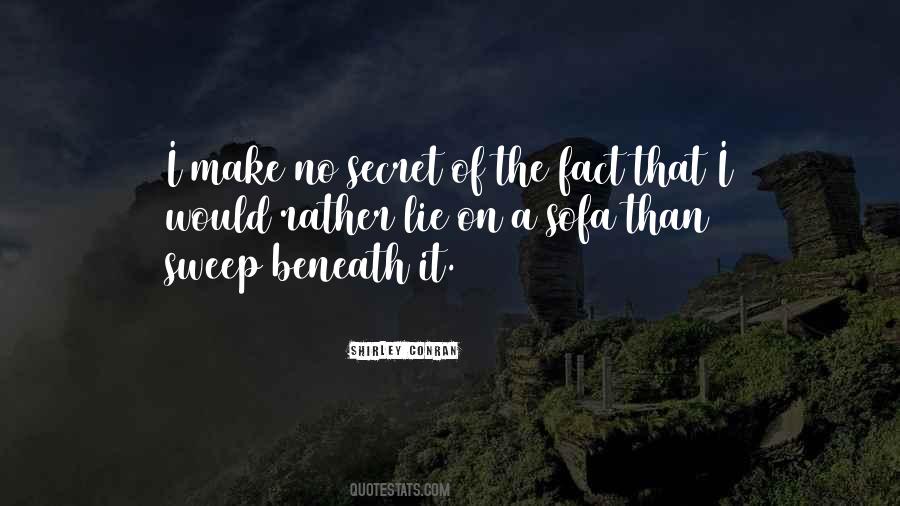 #95. We can make a little order where we are, and then the big sweep of history on which we can have no effect doesn't overwhelm us. We do it with colors, with a garden, with the furnishings of a room, or with sounds and words. We make a little form, and we gain composure.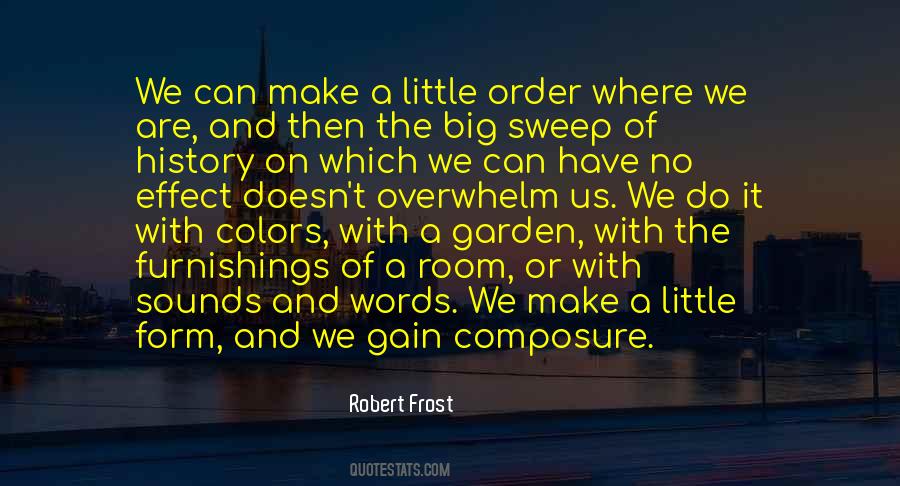 #96. Bare heights of loneliness ... a wilderness whose burning winds sweep over glowing sands, what are they to HIM? Even there He can refresh us, even there He can renew us.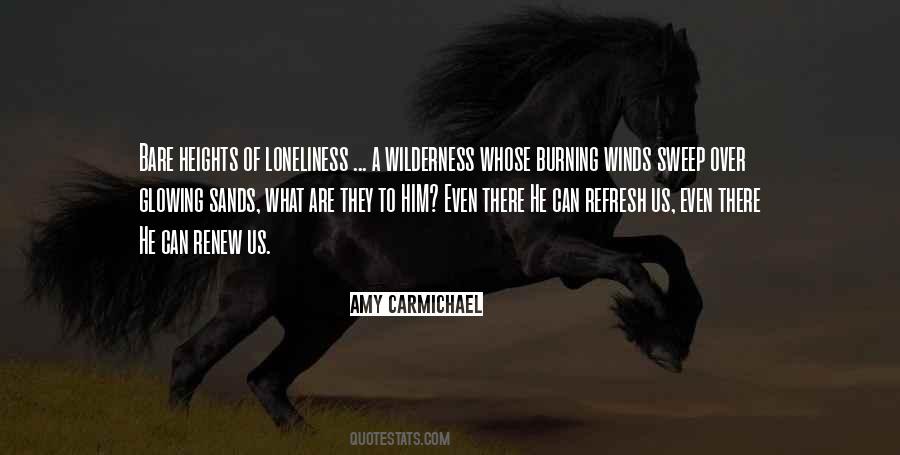 #97. He watched her leave in a sweep of midnight and dawn, her wings unlike any other, and he knew he'd damn his own honor and take vengeance on the world should anyone dare lay a finger on her.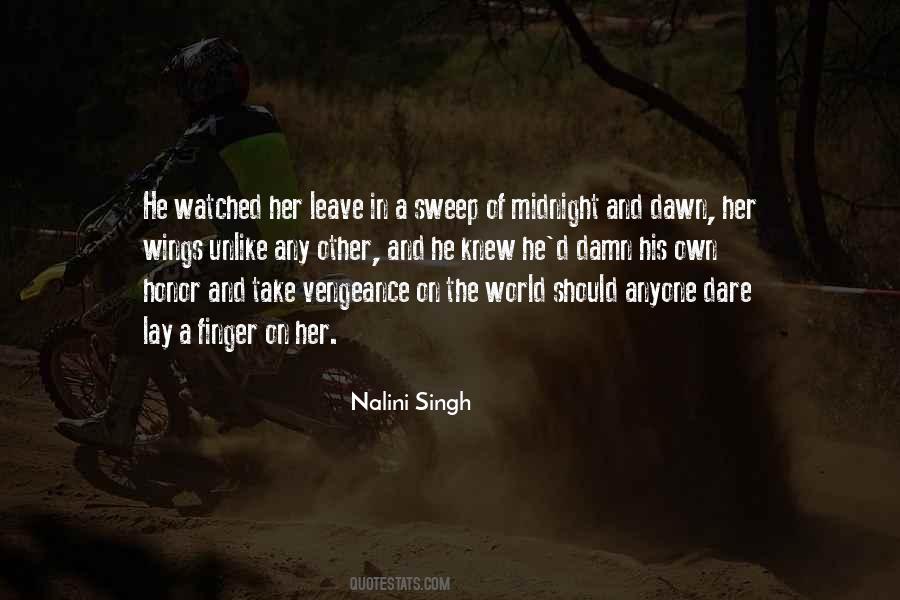 #98. While an open network ensures the equal treatment of all data - something undoubtedly essential for a democratic networked society - it does not sweep away all the problems of the old-media model, failing to adequately address the commercialization and consolidation of the digital sphere.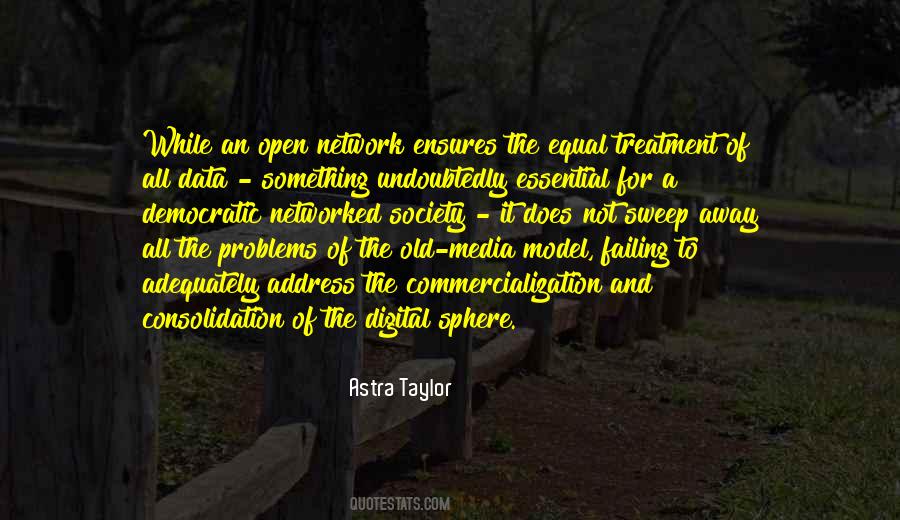 #99. He had walked on the beach and wished for icy winds to sweep away everything that sounded like mere linguistic habit, a malicious kind of habit that prevented thinking by producing the illusion that it had already taken place and found its conclusion in the hollow words.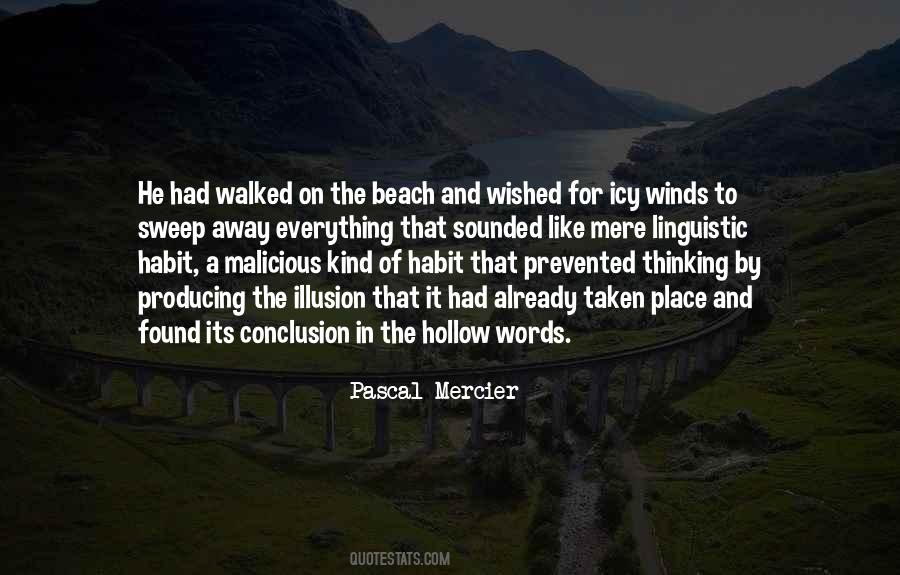 #100. Go sweep out the chamber of your heart.
Make it ready to be the dwelling place of the Beloved.
When you depart out, He will enter it.
In you, void of yourself, will He display His beauties.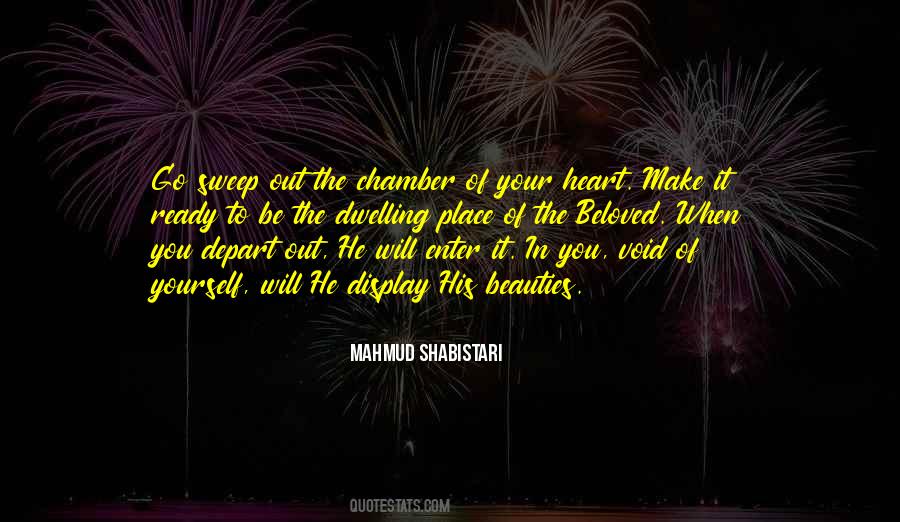 Famous Authors
Popular Topics