List of top 69 famous quotes and sayings about skinny people to read and share with friends on your Facebook, Twitter, blogs.
Top 69 Quotes About Skinny People
#1. A lot of people work out to be skinny. That's so boring, and it seems like a depressing goal for a modern woman.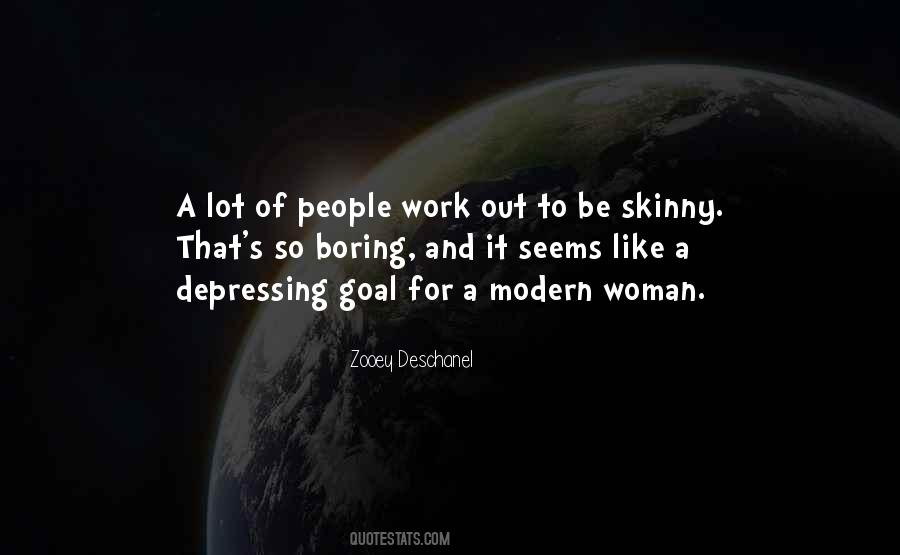 #2. I'm not nearly as big as I was, but I attribute that to eating healthy. I'm just not a skinny girl, and I just want to give more opportunities to people like me.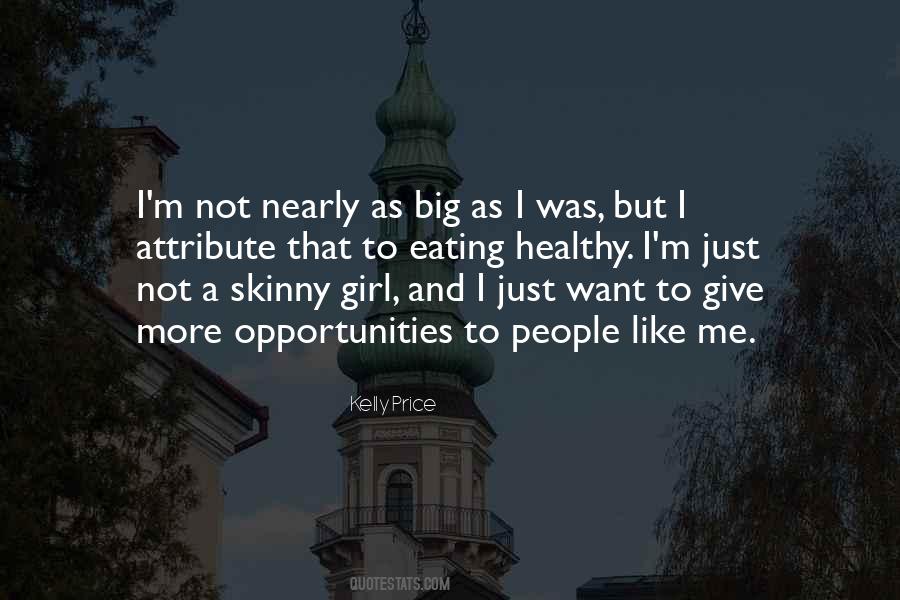 #3. I'm very happy to say goodbye to the three-button suits. I hate three-button suits. Some people can pull them off, but they're legitimately really, really skinny. Unfortunately, the only people who actually wear them are, like, Mr. Monopoly, and people like that.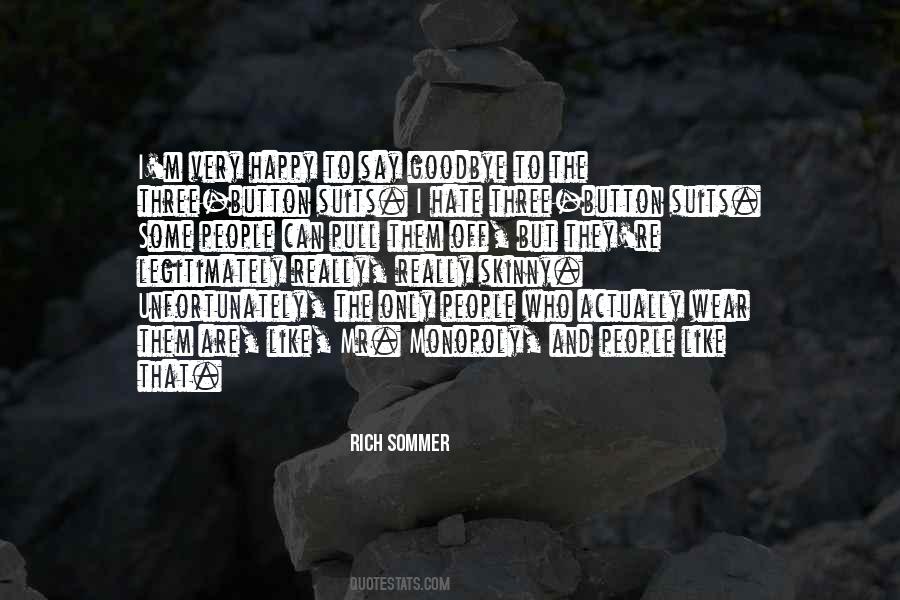 #4. We should leave people alone about their weight. Being skinny for a while (provided you actually eat food and don't take pills or smoke to get there) is a perfectly fine pastime. Everyone should try it once, like a super-short haircut or dating a white guy.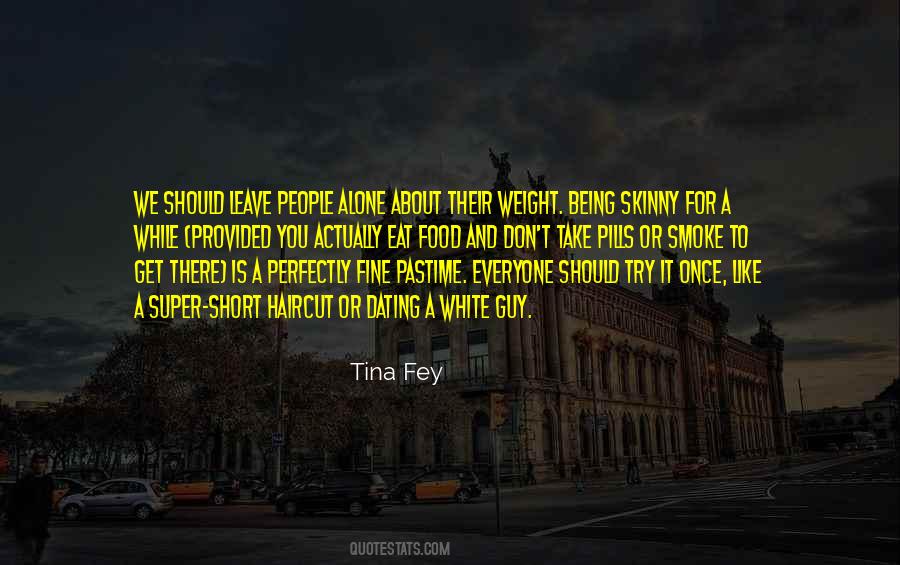 #5. Some people are born skinny, and that's just the way it is. You can't point a finger at them and say they're ill or anorexic. It isn't fair to people born that way.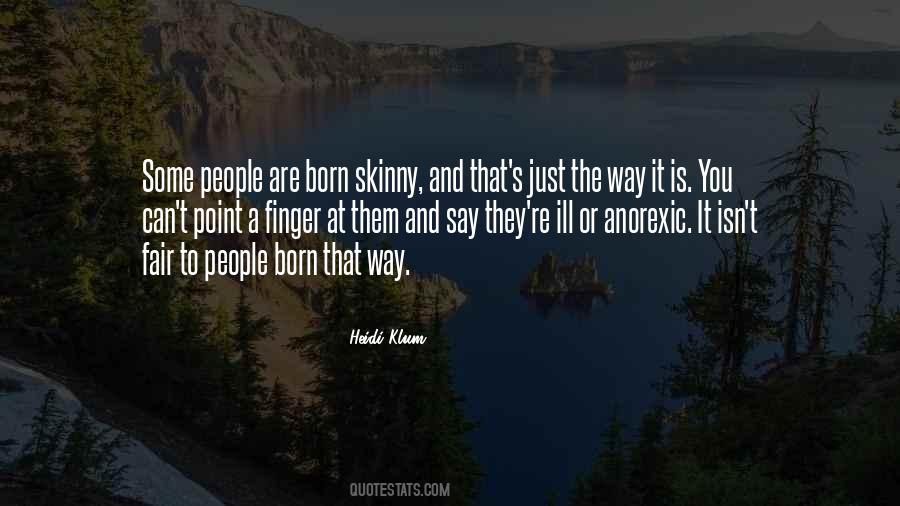 #6. Some people say I'm really ugly and anorexic; some say the only reason I'm on TV is because I'm pretty. I say to them: Get your slander straight. You are what you are, whether you're small or skinny or smart or dumb. Just do what you do.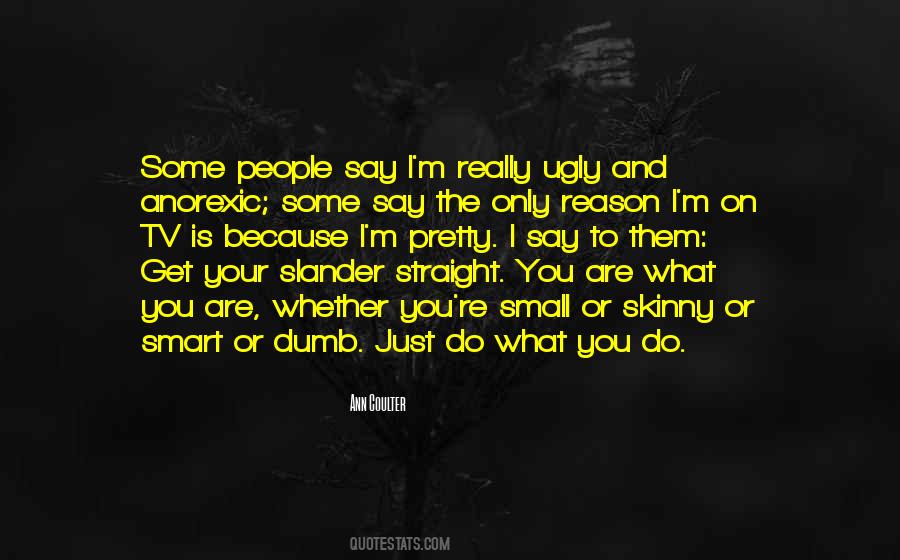 #7. Really, I don't care if people think I'm too skinny. This is my body. If they don't like it, screw it.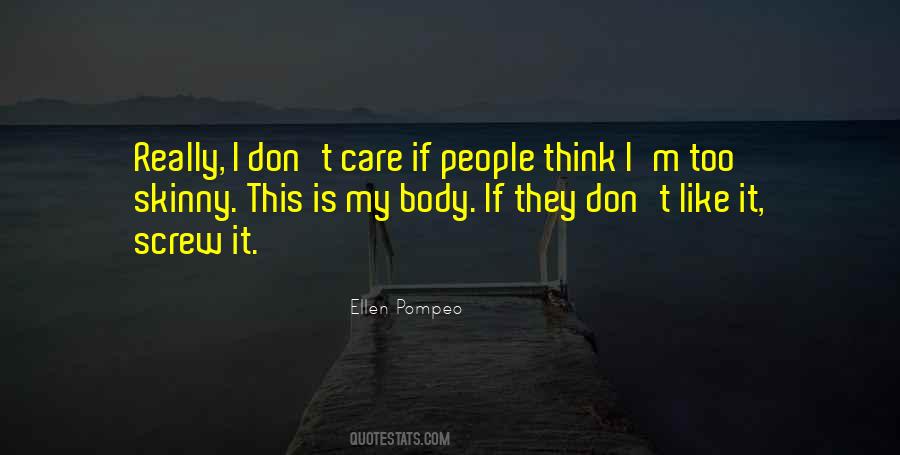 #8. I feel sorry ... for people who've had skinny privilege and then have it taken away from them. I have had a lifetime to adjust to seeing how people treat women who aren't their idea of beautiful and therefore aren't their idea of useful, and I had to find ways to become useful to myself.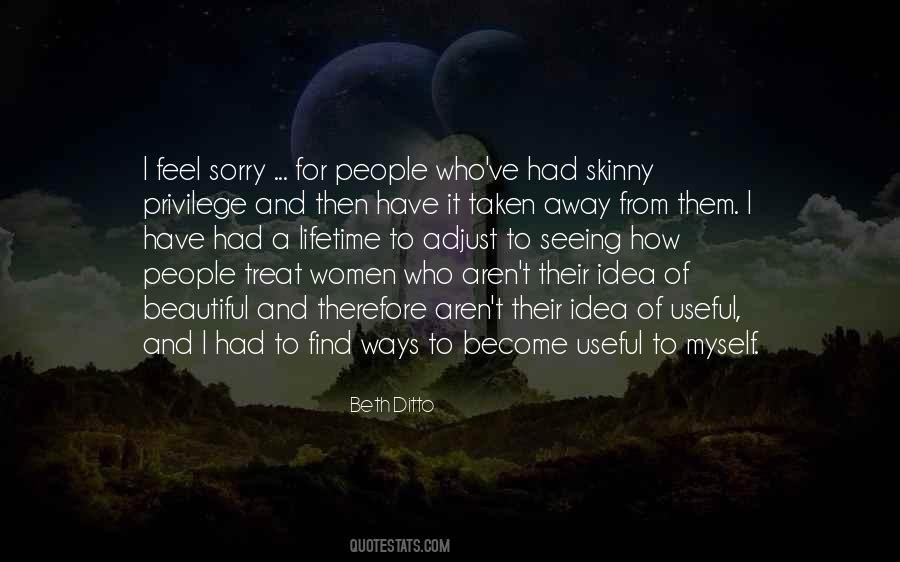 #9. People made fun of my skinny legs.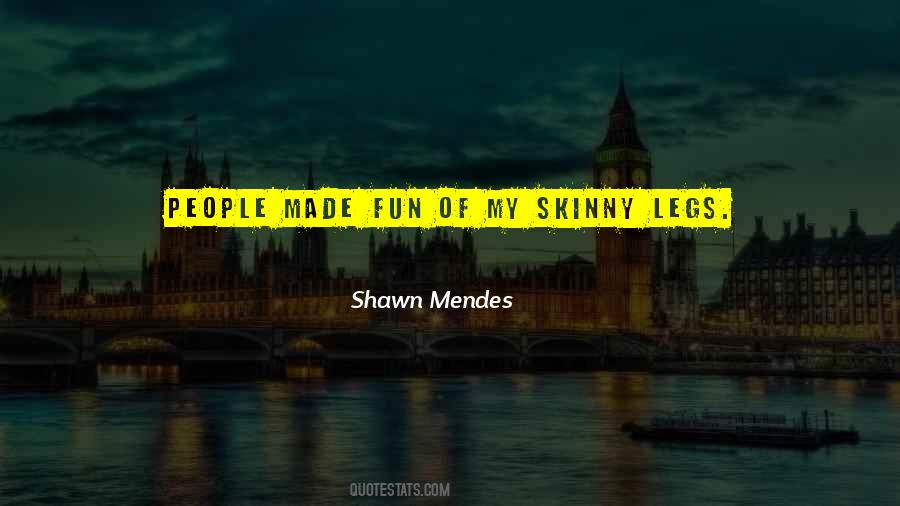 #10. I lost 30 pounds to play my character in 'The Mexican', but people don't take to skinny mafia men, and I don't feel right when I'm thin.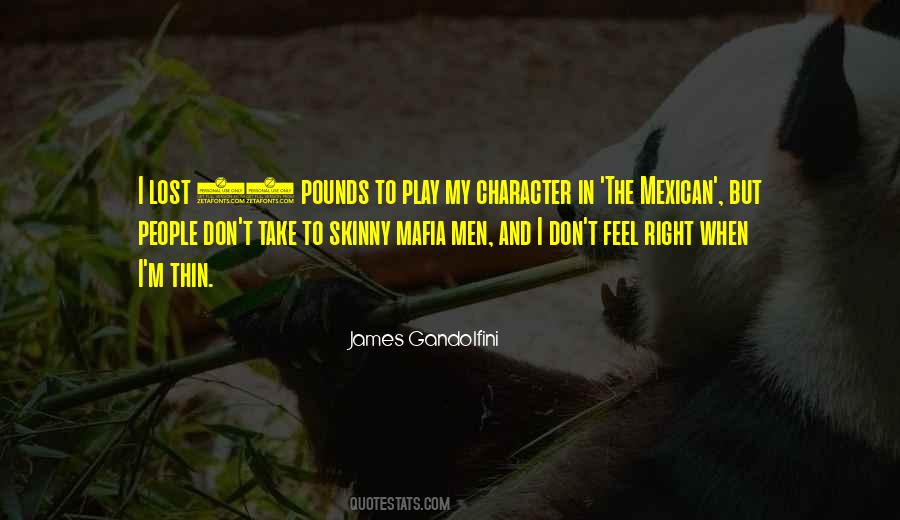 #11. Just because people are calling you skinny doesn't mean I'm like, 'Yay!' No! You're telling me I don't look right. This is me, this is my body - I have accepted it.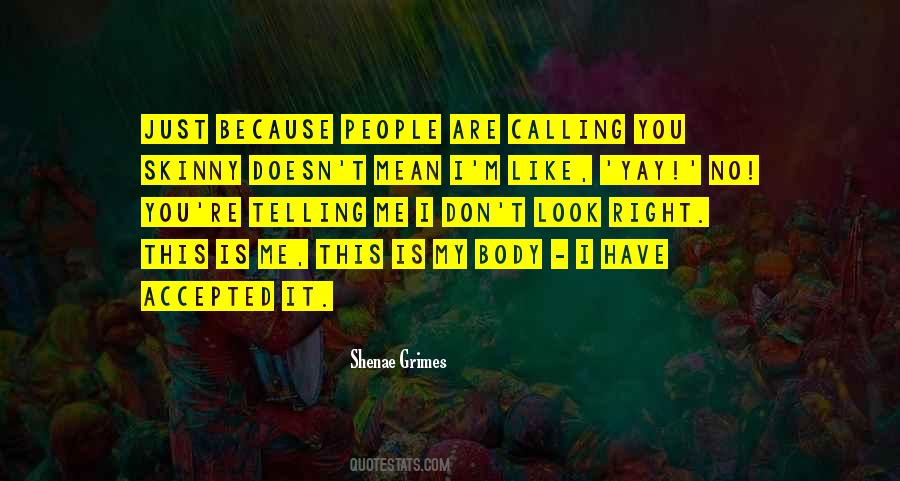 #12. My eyes are too big, my nose is too flat, my ears stick out, my mouth is too big and my face is too small ... my body is thin as a clarinet and my ankles are so skinny that I wear two pairs of bobby socks because I don't want people to see how thin they are.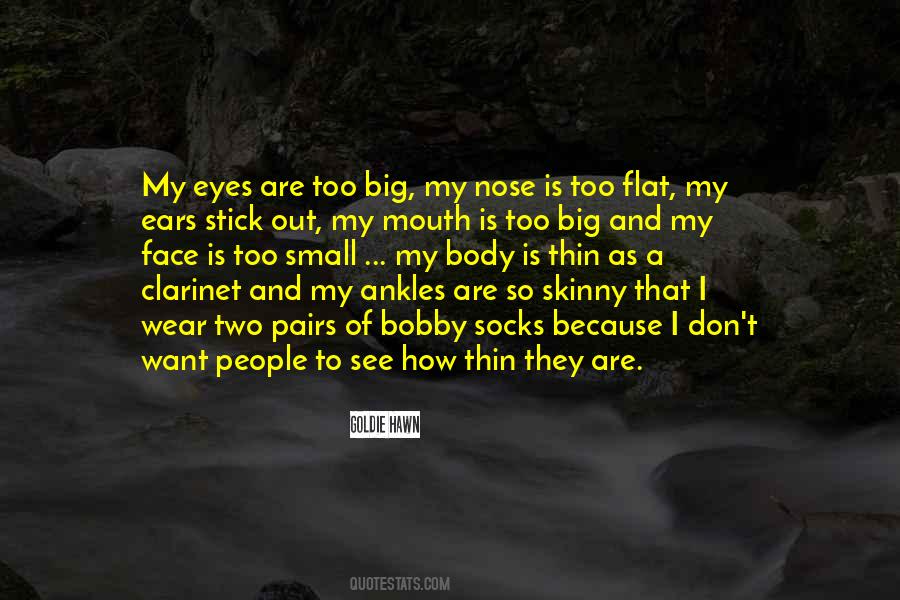 #13. People came up: 'I thought you were 6 ft tall.' I'm average height - 5 ft 8 ins, skinny blonde. One guy says to me 'So, where's the fox from Mystic Pizza?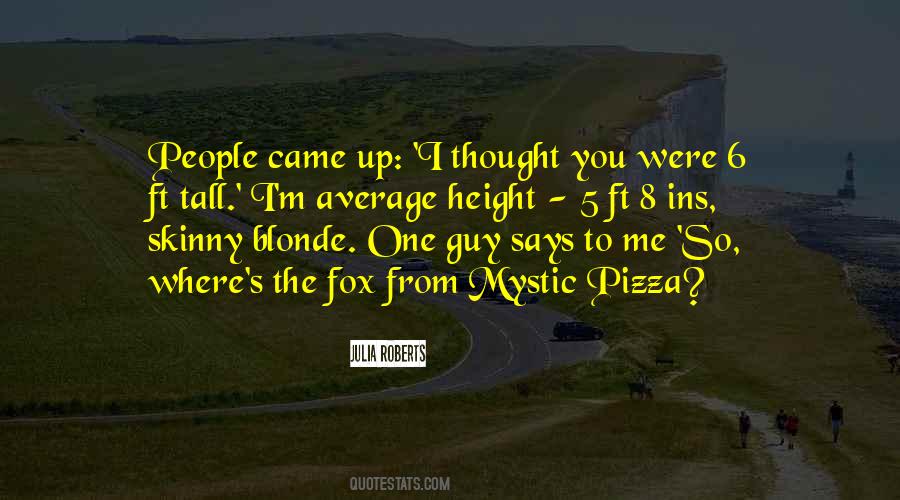 #14. Little world, full of little people
shouting for recognition, screaming for love,
Rolling world, teeming with millions,
carousel of the hungry,
Is there food enough? Wheat and corn will not do.
The fat are the hungriest of all, the skinny the most silent.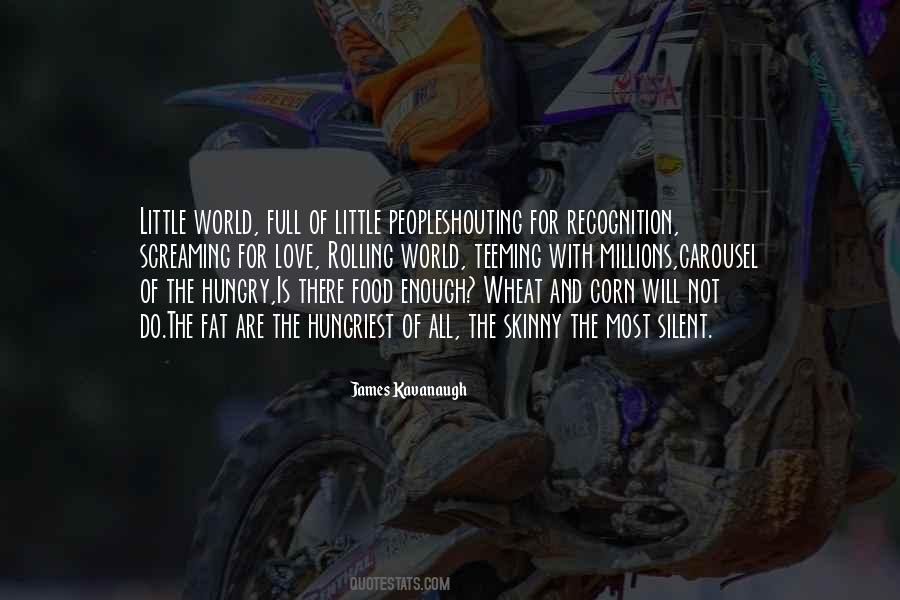 #15. It is frustrating when in an interview people say: 'Give us your make-up tips' and 'How do you stay skinny?' I think: 'Do you ask a guy that?'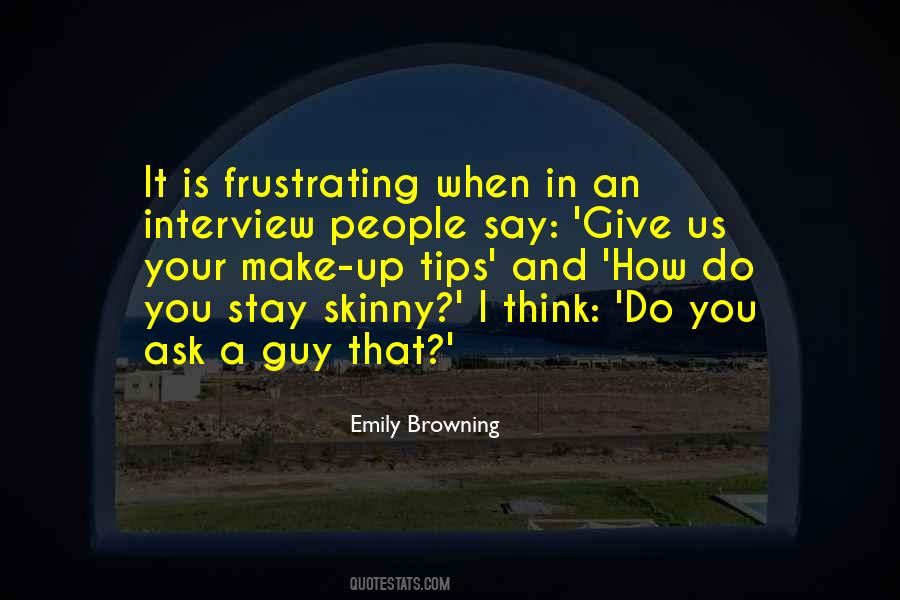 #16. Lots of stupid people were skinny, and yet I couldn't do this incredibly simple thing they could do with seeming ease.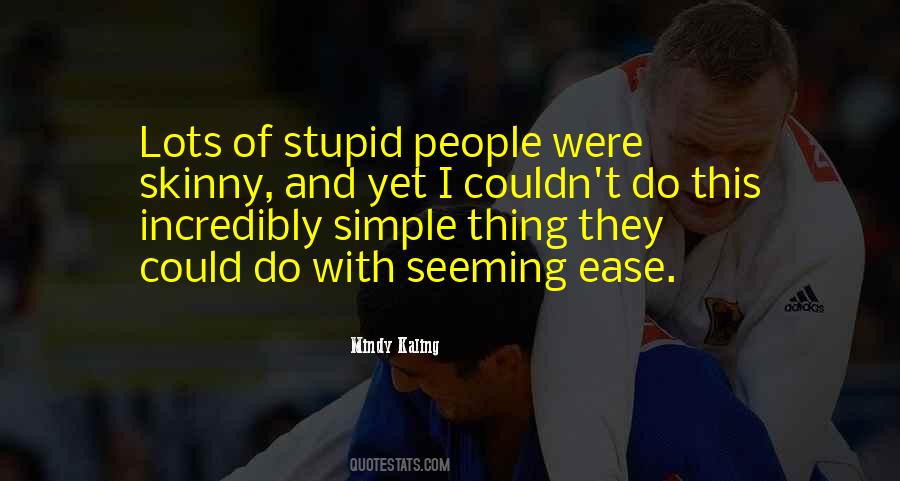 #17. My biggest complaint with tights is that they do not accommodate skinny-ankled people like myself.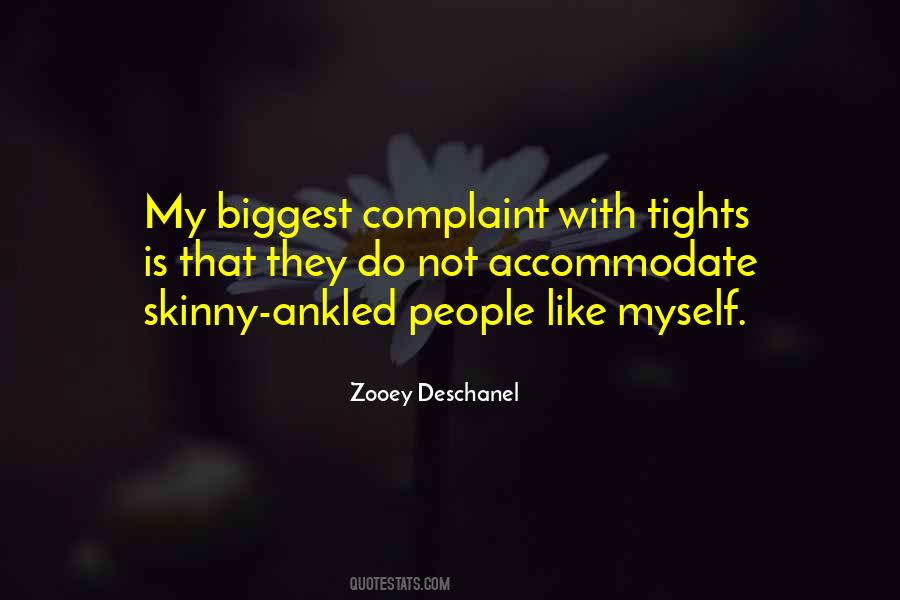 #18. When people refer to me as a 'regular' girl ... it's code word for 'fat' in Hollywood ... But ... my body has chosen its shape. I'd rather be strong than skinny.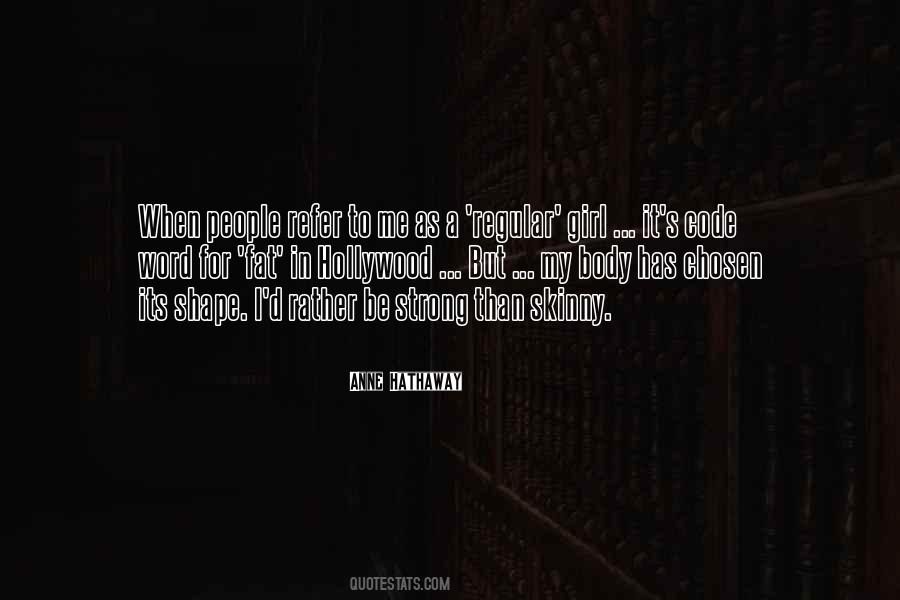 #19. I don't see myself as beautiful, because I can see a lot of flaws. People have really odd opinions. They tell me I'm skinny, as if that's supposed to make me happy.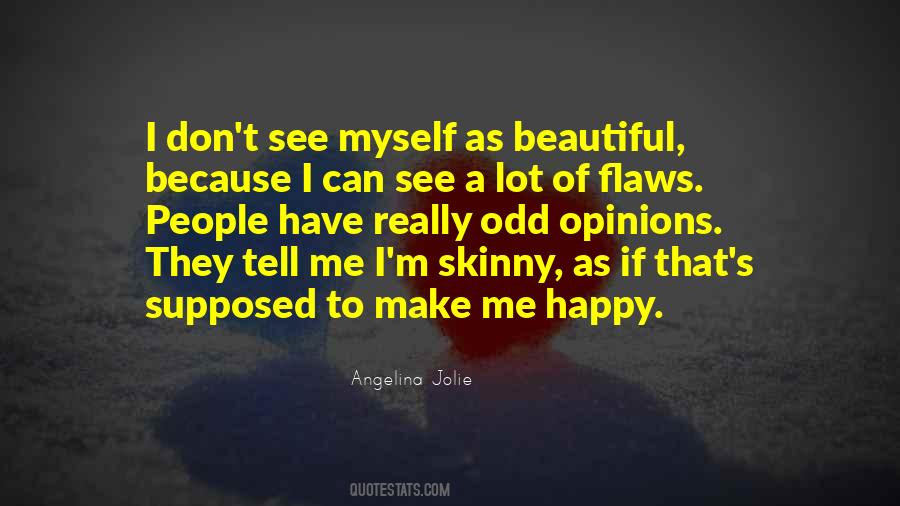 #20. She was plain and far from skinny or petite. As for parties ... she'd rather be alone in a corner somewhere reading. She hated being nice to people she didn't like because her father wanted contributions. She hated being fake. All she wanted was to be herself.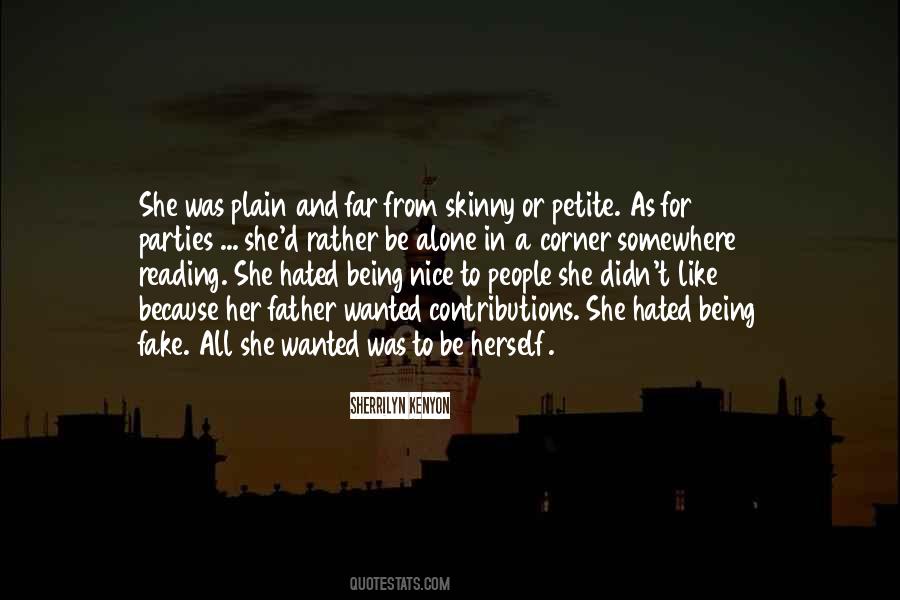 #21. When I was really little, I was skinny and people laughed at me for being skinny, so, we all pay our dues for the bodies we're in one way or another. But thank god I haven't needed to alter it to feel good about myself.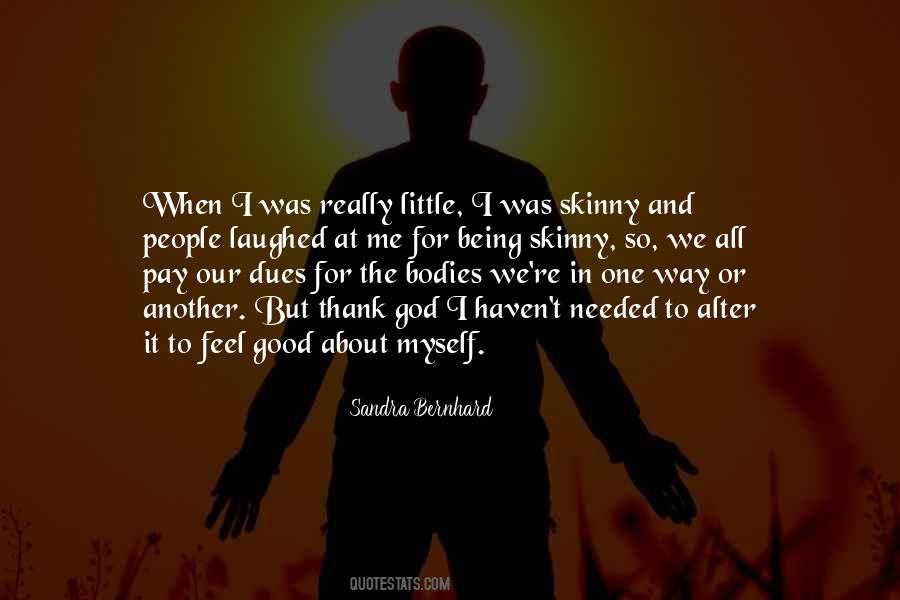 #22. At sixteen, I was a funny, skinny little thing, all eyelashes and legs. And then, suddenly people told me it was gorgeous. I thought they had gone mad.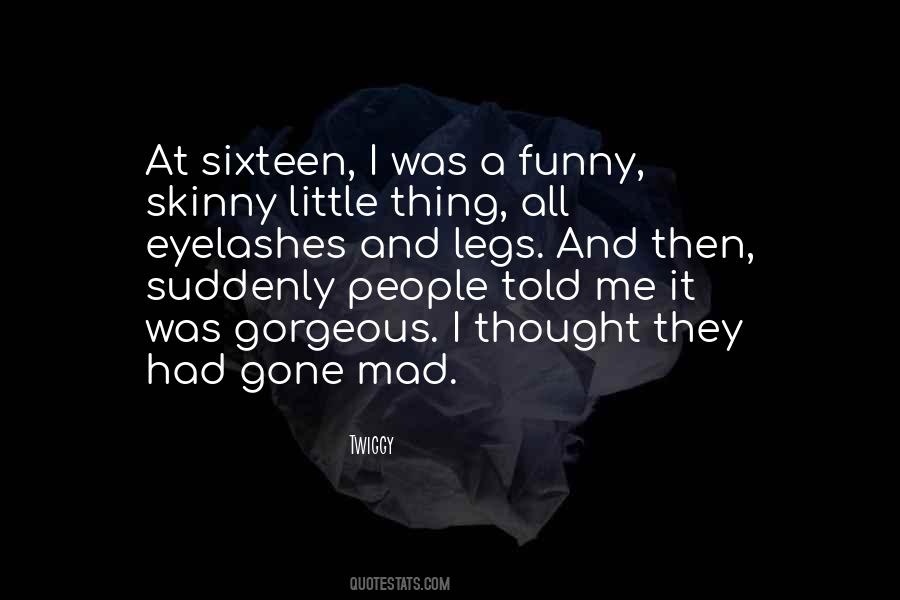 #23. Some people who meet me might think I starve myself, because there's such an assumption that being thin involves putting yourself through torture and punishing your body, but I'm just naturally skinny - you should watch me demolish a ploughman's lunch.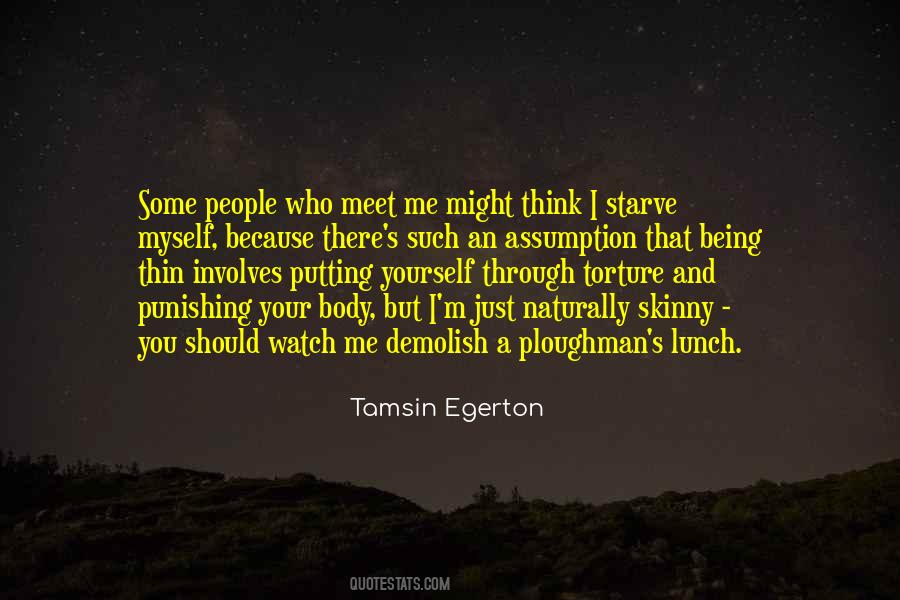 #24. Maybe something is wrong with me, but I just think I'm normal. I'm not super-skinny but I'm not super-fat. But I don't really care about what other people say.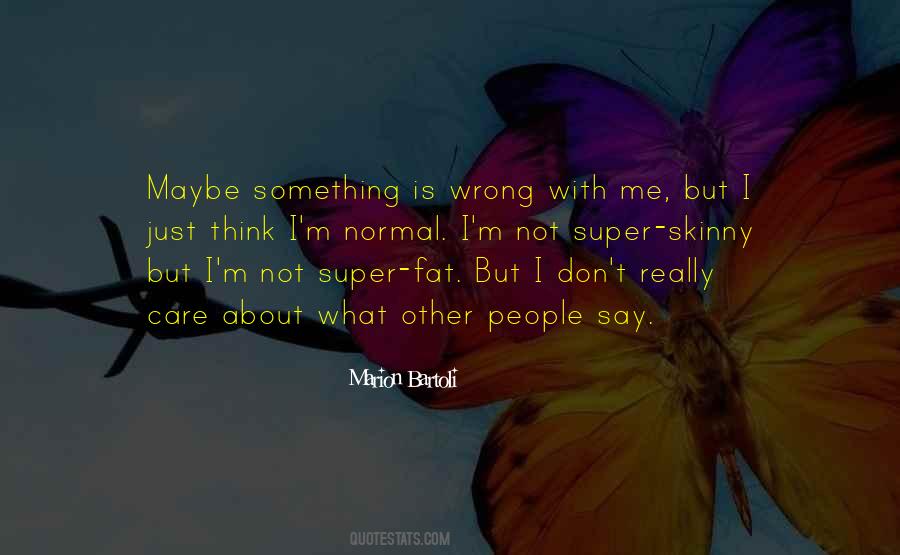 #25. Yoga is the most boring exercise. It's for people who are too lazy to get on the elliptical. Bikram, where they heat up the room to mimic India's climate, is especially stupid. People in India are not skinny because they're doing yoga in 105-degree rooms; they're skinny because there's no food.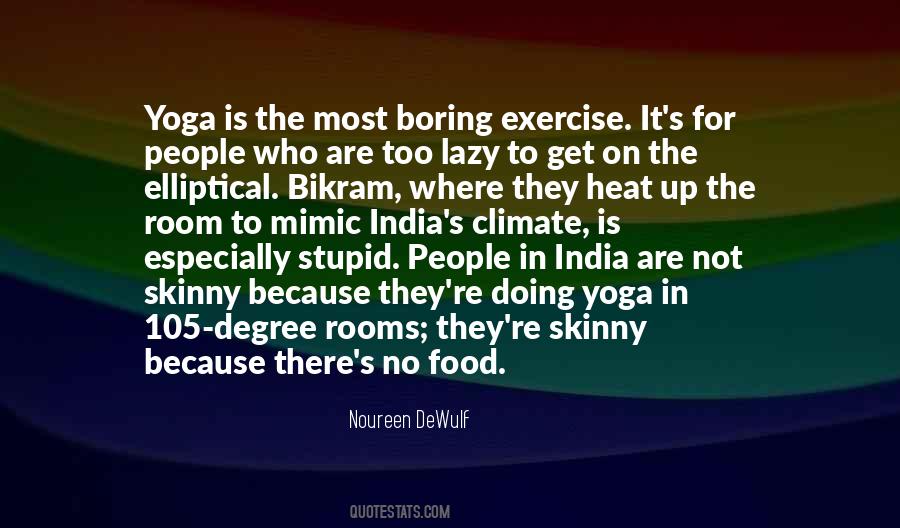 #26. I know I don't look like the skinny slender model. I know I look a little different but people like to watch me for some reason. It feels good and I'm humbled by it.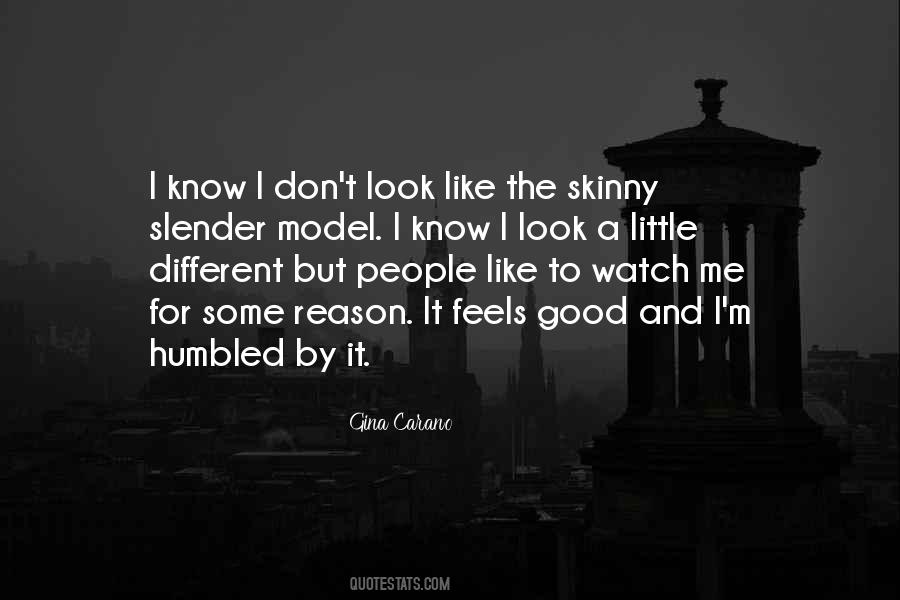 #27. A lot of women don't like when they're sort of fat, but a fat foot is as beautiful as a skinny foot. Think of Greek statues. Look how many people love the foot of the baby! There is something super-charming about the baby foot.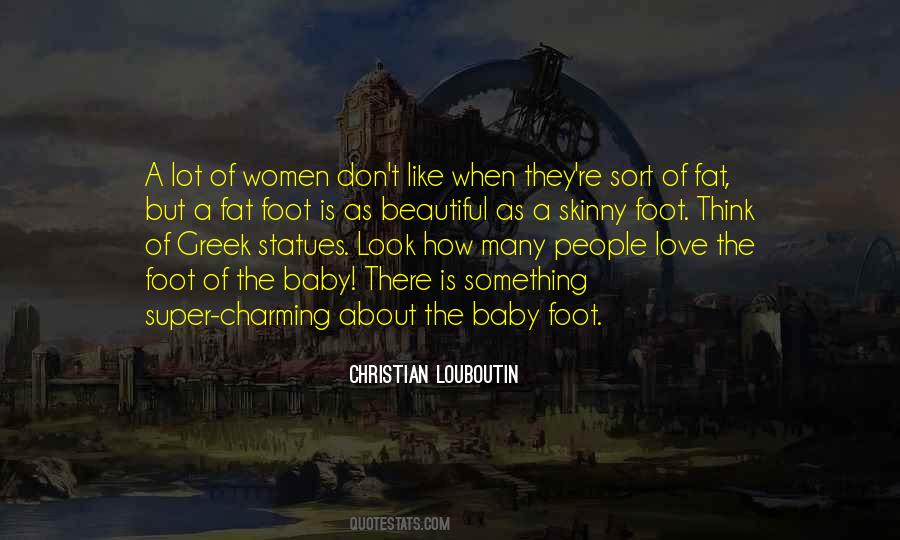 #28. We are skinny; this is our work. There are lots of overweight people working in offices, but I'm not going to say, 'This girl is fat; she can't work in an office.'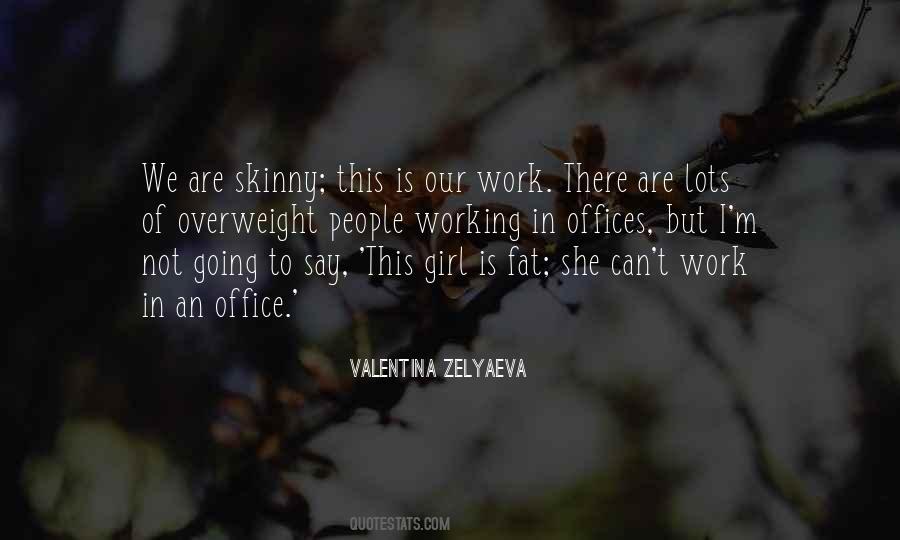 #29. How much time have I wasted on diets and what I look like? People are saying 'We love you and love what you do' and you're sitting there thinking 'I'm not skinny enough or pretty enough.' It's taken a lot of work to get over that.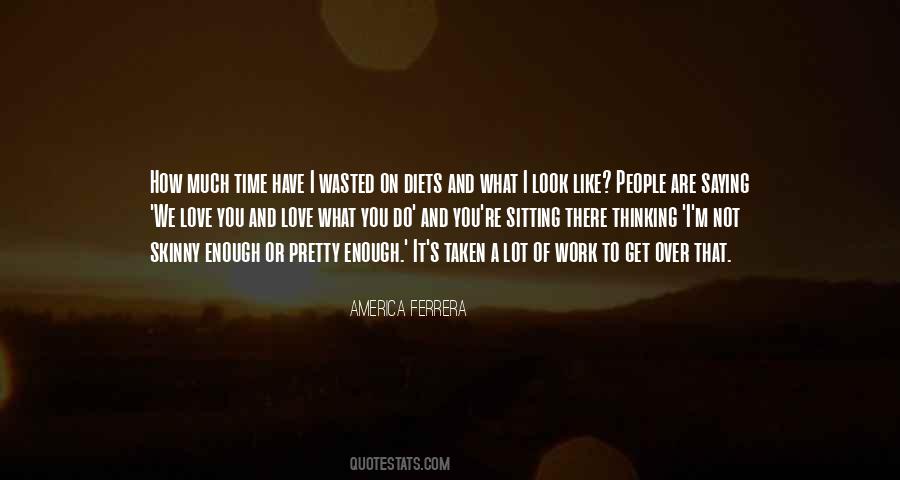 #30. If you're soft and fuzzy, like our little characters, you become the skinny kid on the beach, and people in this business don't mind kicking sand in your face.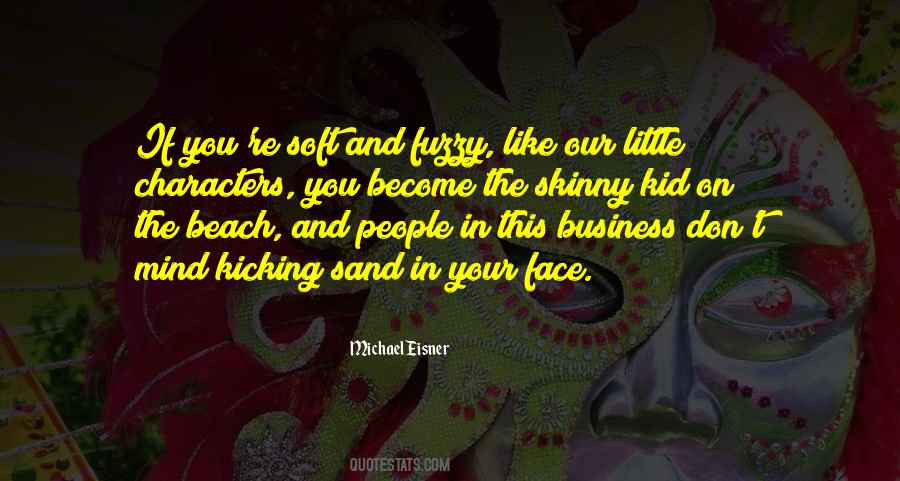 #31. Yes, some people say to me you're too skinny, but never a skinny person says that to me, only people who could lose a few pounds say that.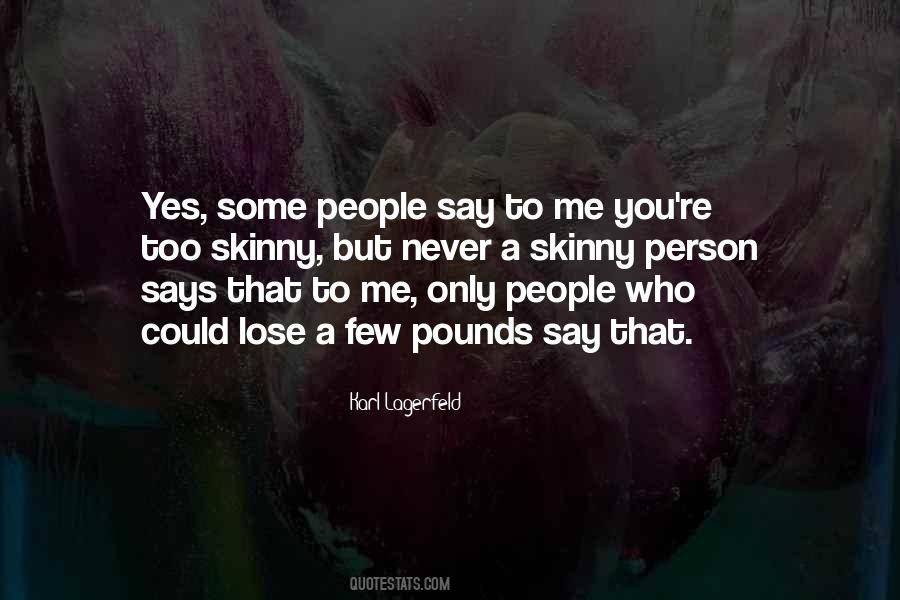 #32. Also, chubby people can never truly pull off ethereal the same way skinny people can never be jolly.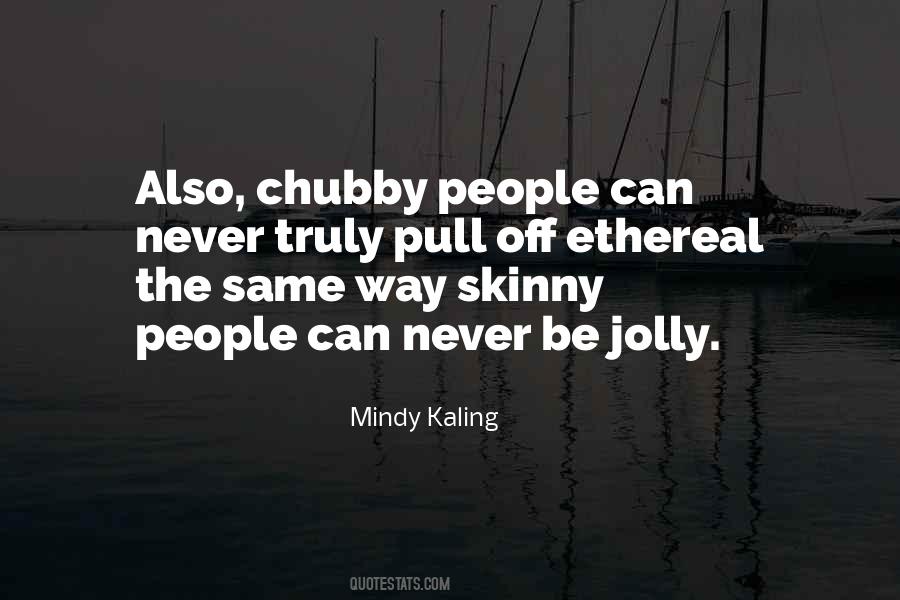 #33. Nothing changed the fact that she was a lost, skinny child in another foreign place, with more foreign people. Alone.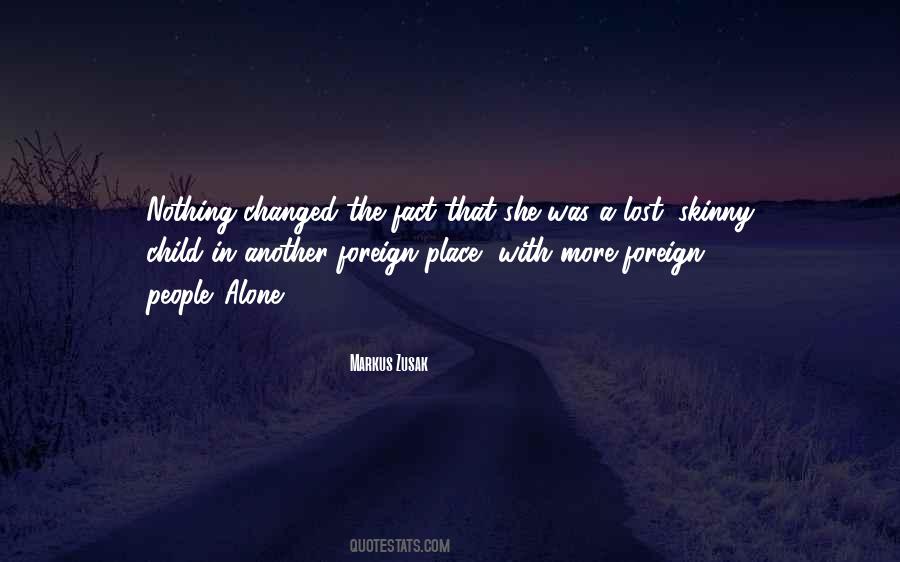 #34. There is a lot of focus on TV, in magazines ... about being skinny and rich. I don't think those are that important. It's much more important for us to be good, honest people that try to help others and live the best life we can. That's where you get your satisfaction ultimately.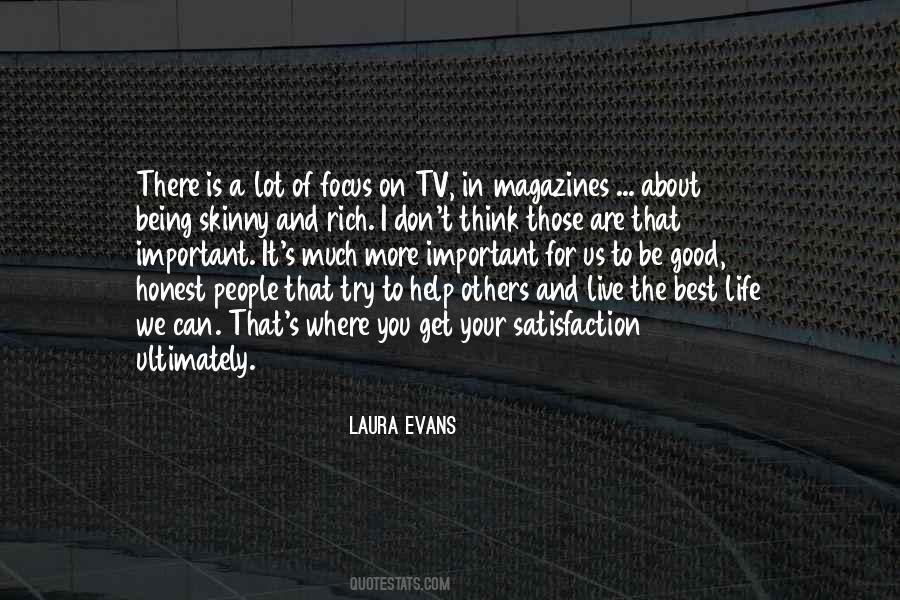 #35. A lot of people don't belong in our clothes, and they can't belong. Are we exclusionary? Absolutely. Those companies that are in trouble are trying to target everybody: young, old, fat, skinny. But then you become totally vanilla. You don't alienate anybody, but you don't excite anybody, either.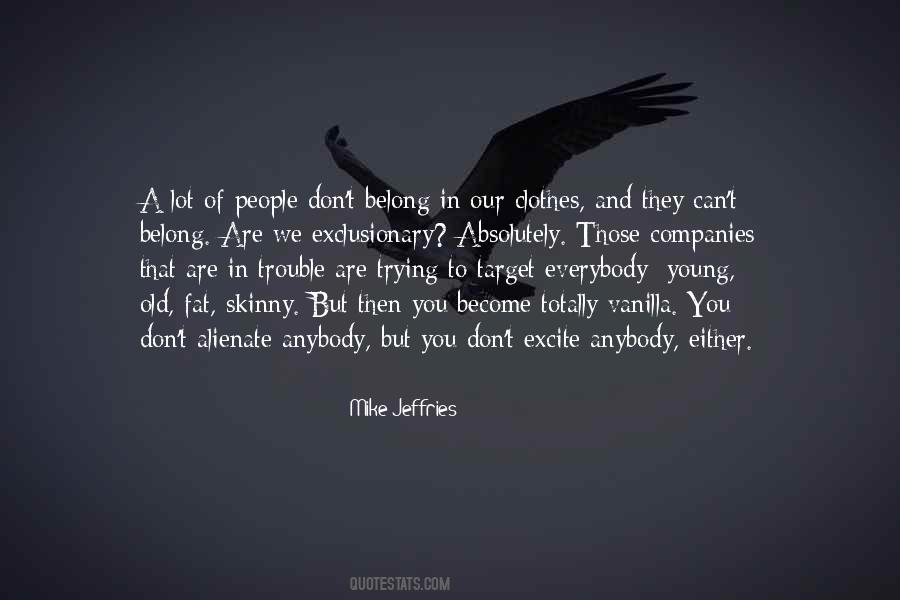 #36. People don't mind insulting the tall. We're supposed to be fine with being awkward and skinny. I'm very easy to psychoanalyse. I was a gangly, awkward teenager who could make people laugh and thought that was a way to be socially more comfortable.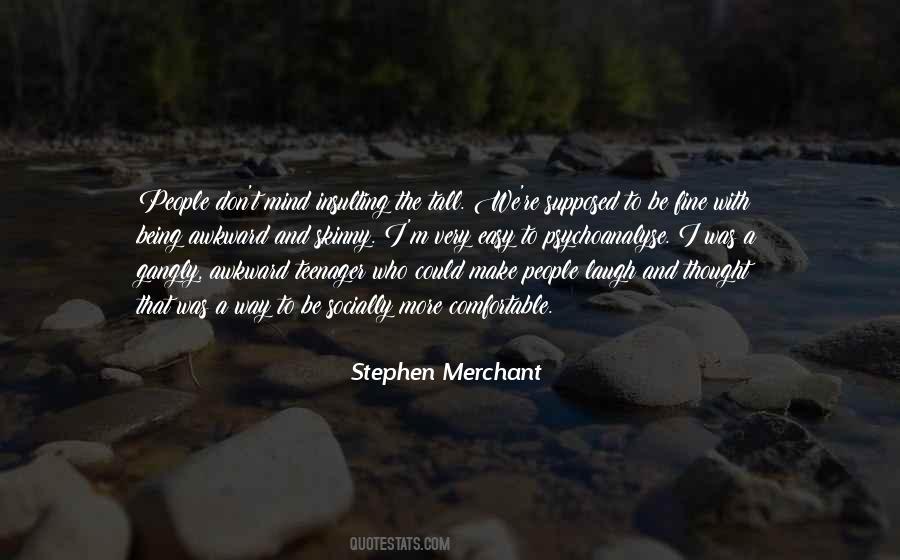 #37. Things go in cycles. It's like fashion, like flares go out then skinny jeans come in, people want something fresh. It's the strongest ever urban scene at the moment and I hope it can progress and keep getting stronger and be the base for something larger.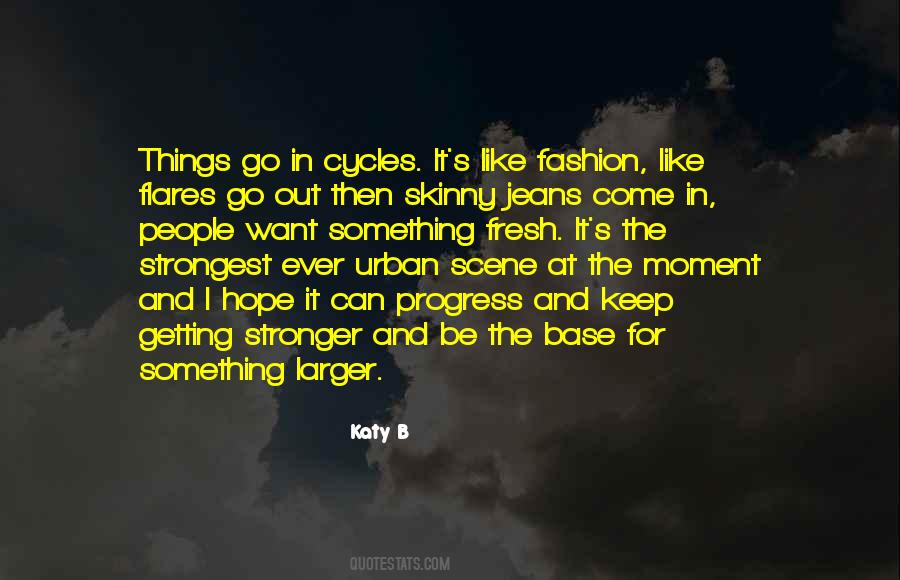 #38. The craziest thing about fashion people in general, not just designers, is that it's always, "Oh my God, you lost weight! I love your hair!" Or "Oh, you're so tan!" Or, "You're so skinny! I love your shoes!" These are fashion icebreakers. Everyone's always looking at each other.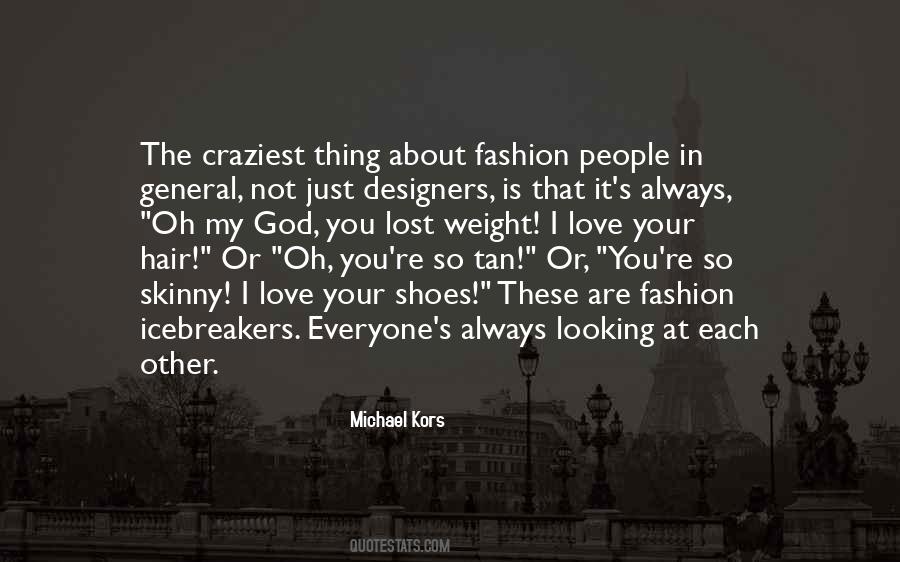 #39. Did you ever see the customers in health - food stores? They are pale, skinny people who look half - dead. In a steak house, you see robust, ruddy people. They're dying, of course, but they look terrific.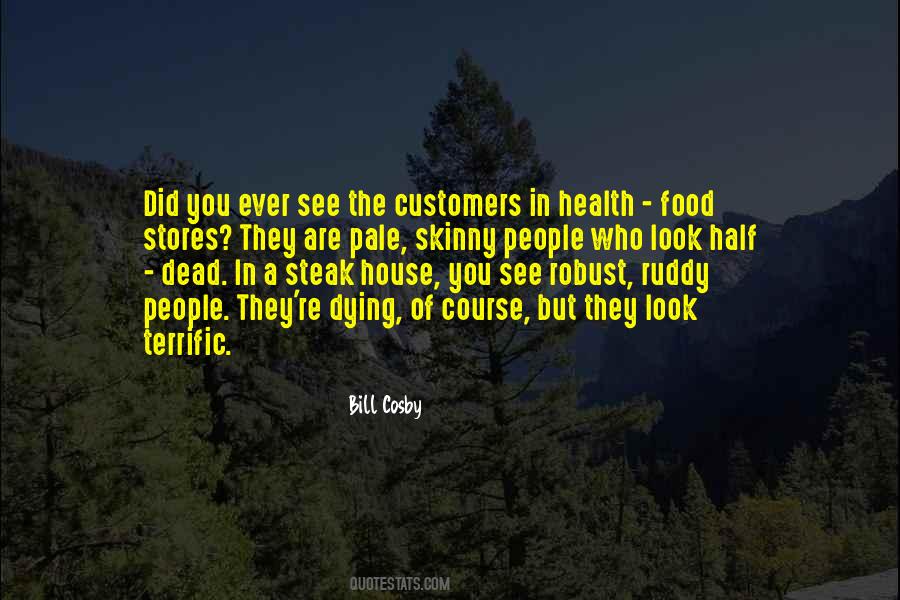 #40. It's not about how skinny you are or how much money or how many diamonds you have - that's the fluff that people sometimes look at as being the main thing. It's about understanding that the things that make you fabulous are all inside of you.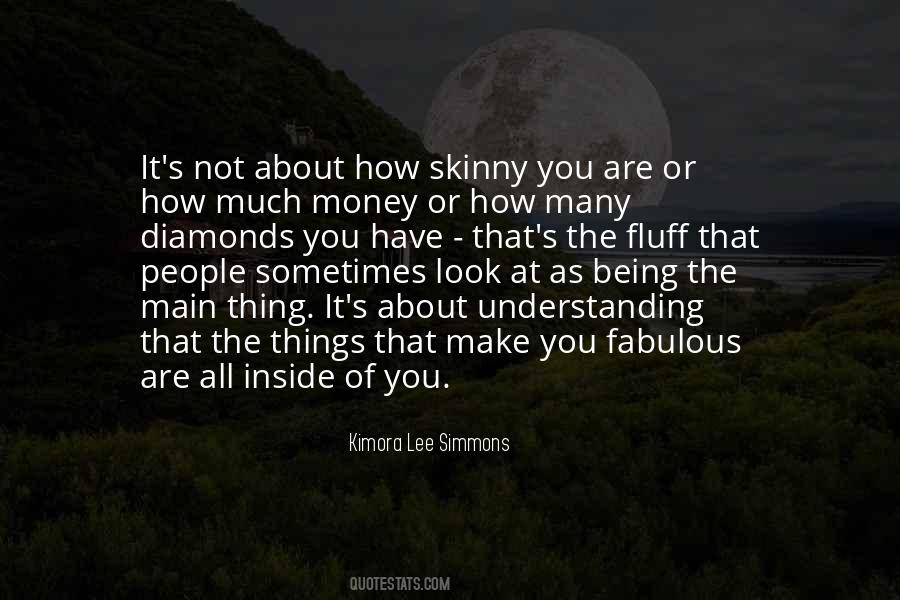 #41. If you want to be skinny do what skinny people do.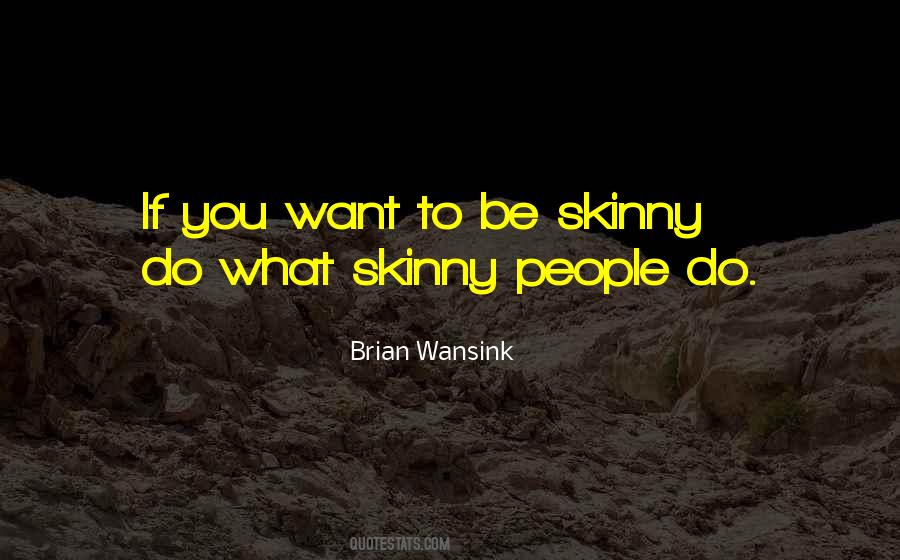 #42. What people don't understand is that calling someone too skinny is the same as calling someone too fat; it's not a nice feeling.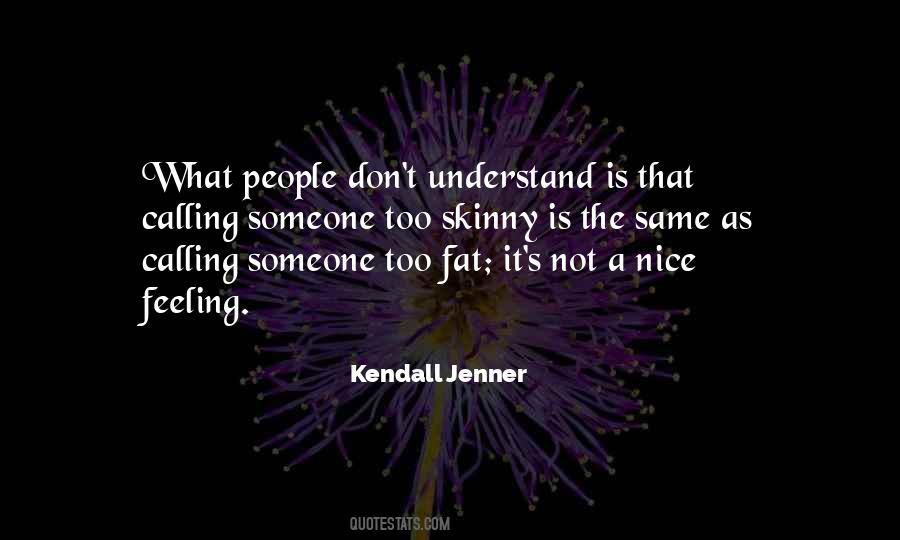 #43. We won with the military. We won with highly educated, pretty well educated and poorly educated. But we won with everything, tall people, short people, fat people, skinny people just won.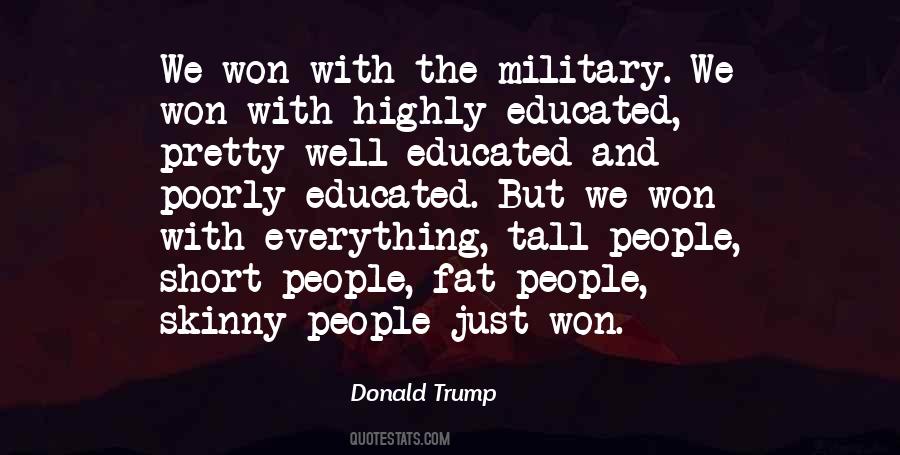 #44. Their bodies are tall and skinny, but their legs are huge. Their knees allow them to walk backward. We call them the backward-walking people. They have strange heads. When they are walking, their heads flip backward so they can see where they are going.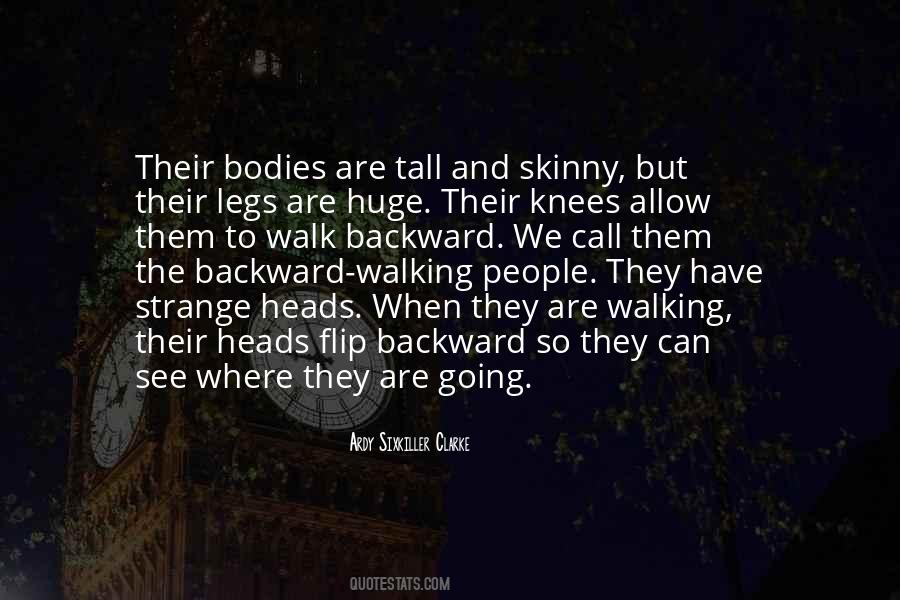 #45. If the fat people just gave the skinny people more food, we could all just eat ... We could solve obesity and hunger at the same time.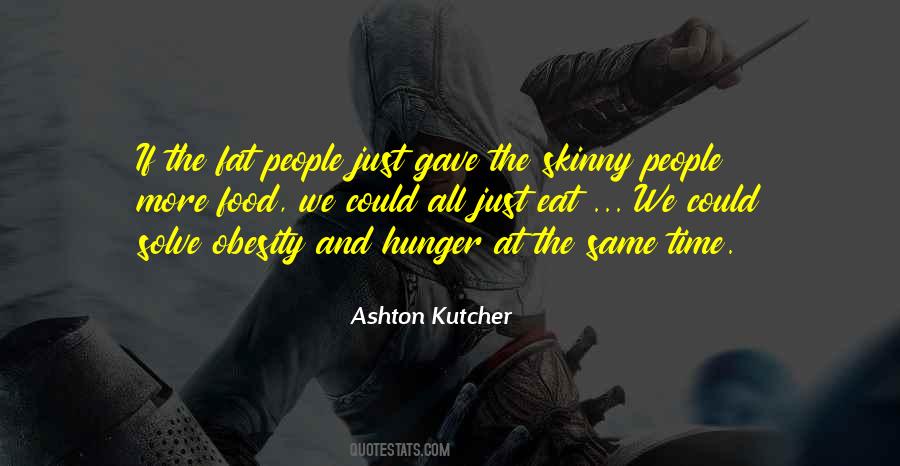 #46. I guess people would categorize hipster rap just by how people look, skinny jeans and fashion rap. I was never that. In my music I never put the emphasis on clothes.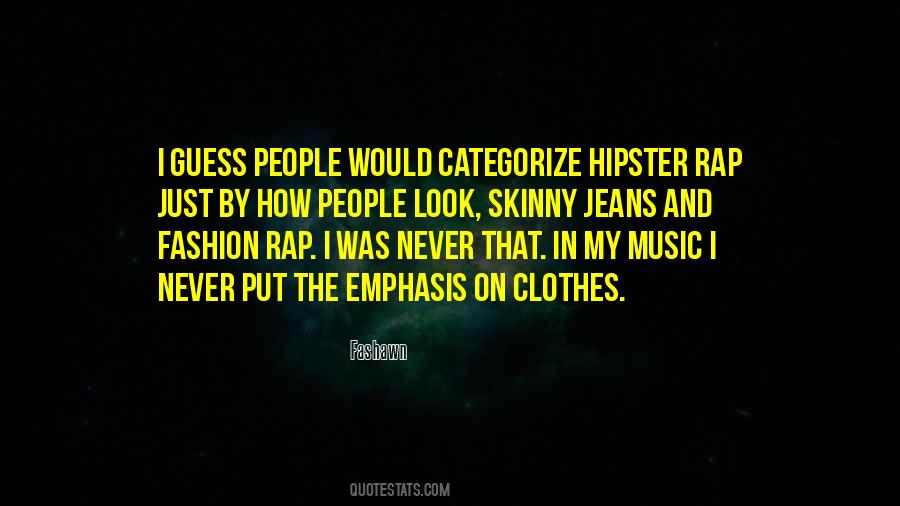 #47. The reason most people get eating disorders is because they want to be skinny, but they do it stupidly, and they stop eating completely - nobody knows anything about nutrition or exercise. I think it should be a separate subject in school.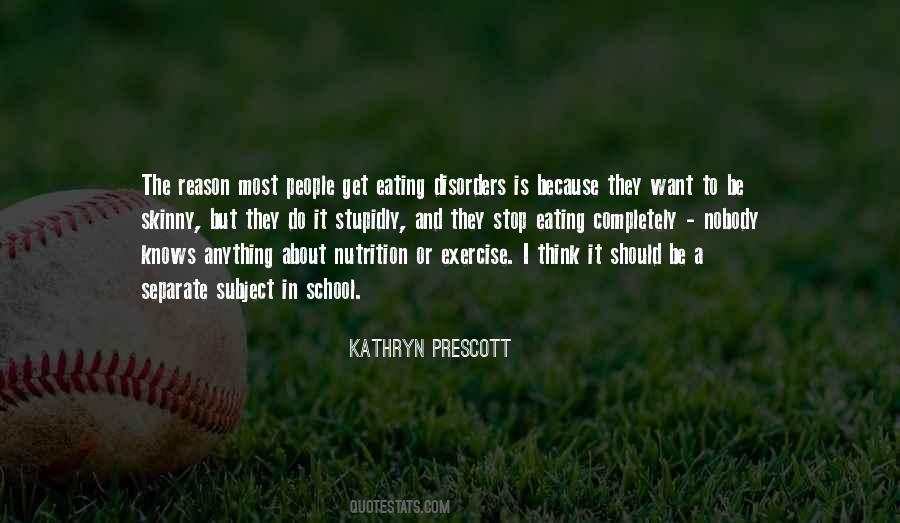 #48. People are branded as either 'fat' or 'skinny' from an early age. You sort of never shake it, even if you end up losing weight.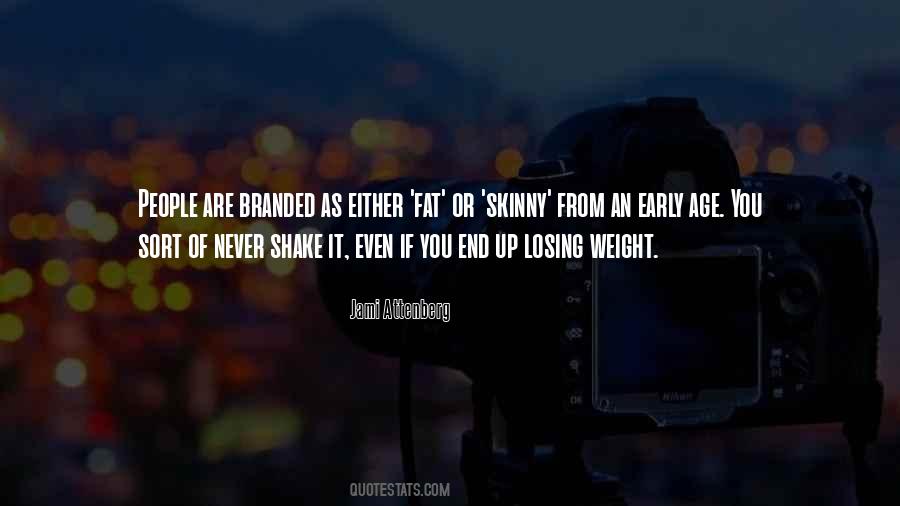 #49. I like to have curves and feel like a woman. I hope that people see that in my photos and know that healthy is better than skinny.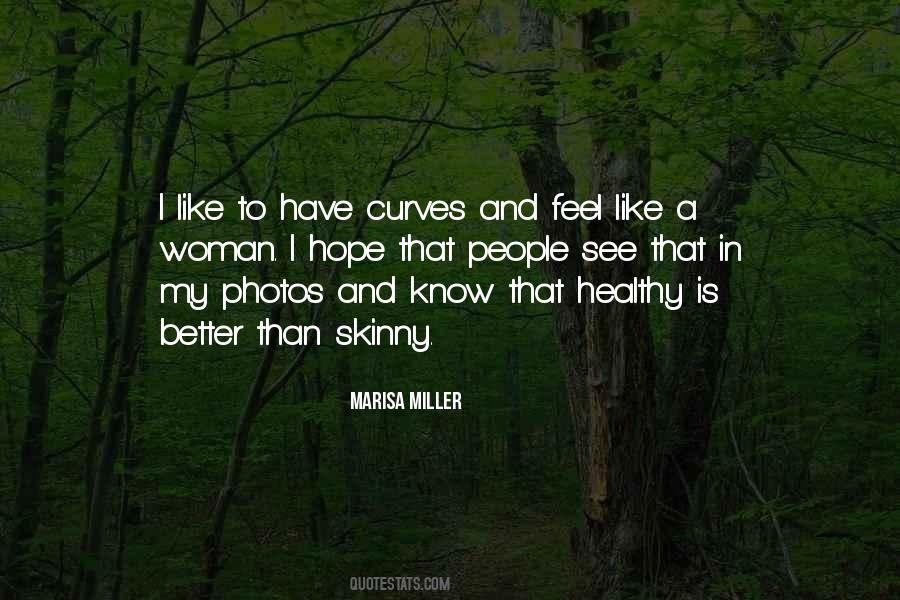 #50. I always get because people remember me as a really small, skinny kid. And then when they meet me, I'm just kind of towering over them. I'm 6'2. I'm not a giant, but compared to what a lot of people remember me as, it's a little bigger.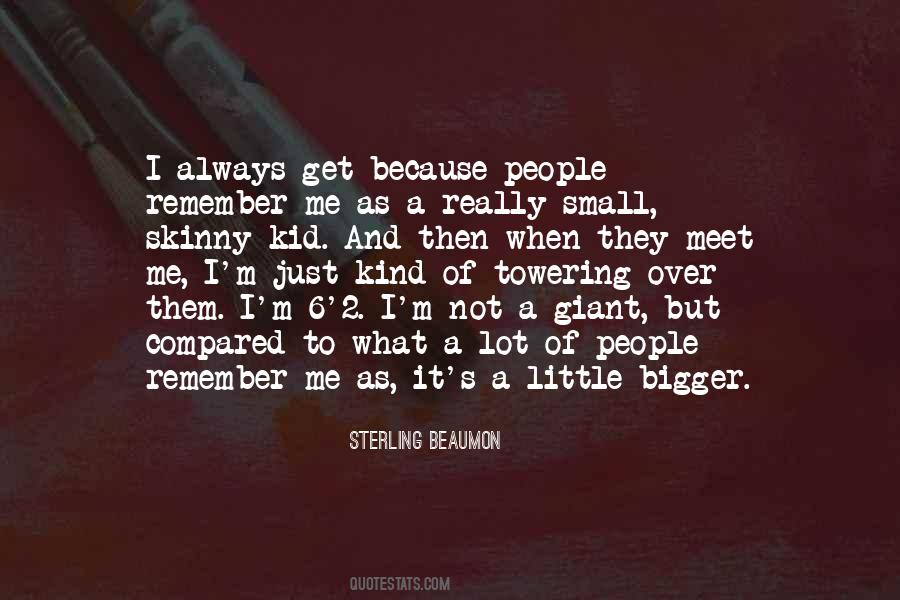 #51. When you model, there's no way you can't notice yourself. Do you know what I mean? Because you're constantly surrounded by people saying, 'Oh, she's too short, she's too skinny, she's this, she's whatever.' And you're right there. They're talking about you, and you're right there.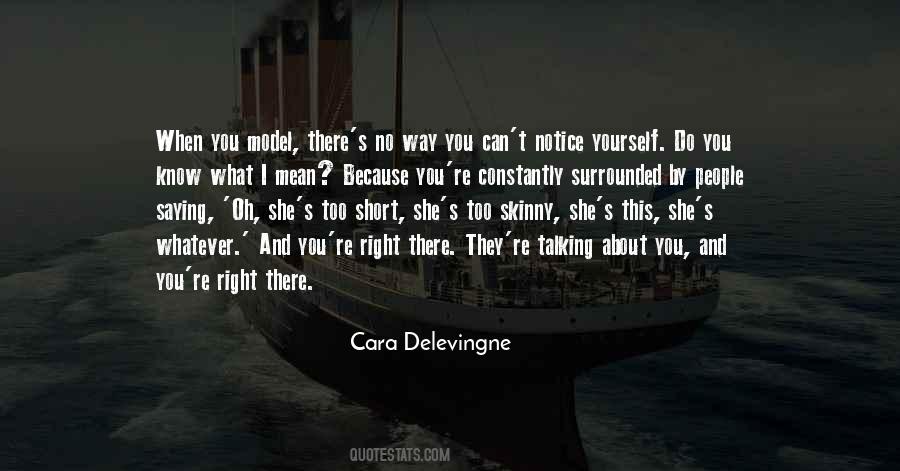 #52. I didn't like to stop playing for a second to bother with eating or going to the bathroom. I was a really skinny kid, and I remember my mother always telling people, 'I don't know how she's alive. I think she gets all of her nutrients from air pollution.'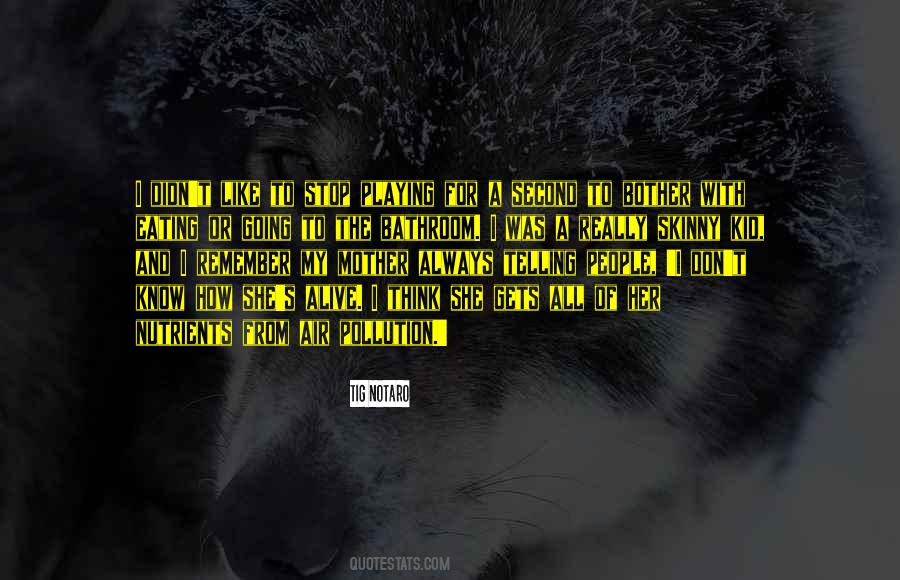 #53. I do absolutely nothing, actually, believe it or not. People will probably hate me for saying that, but I guess I'm one of those lucky horrible people who, no matter what I eat, I don't gain a pound. My whole family is just like that. They're all skinny and tall, and I guess, so am I.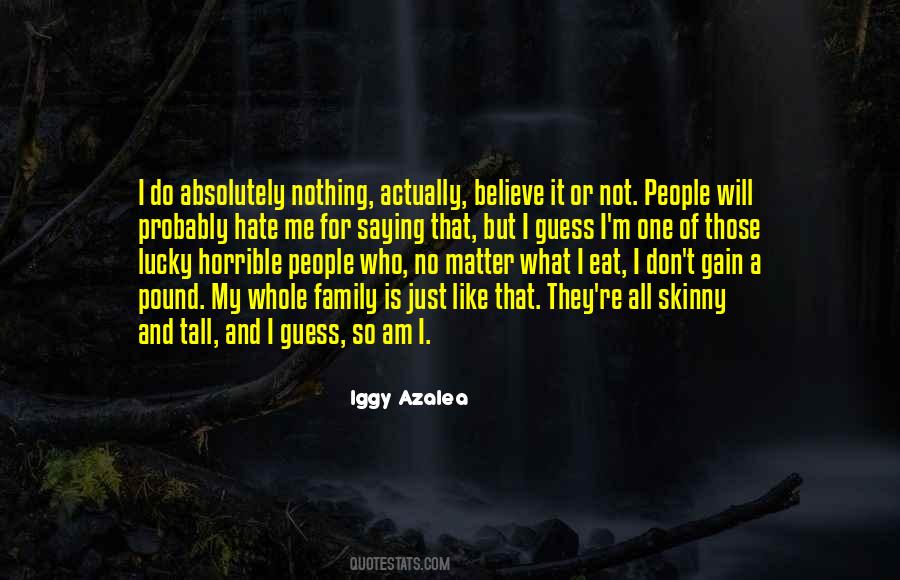 #54. All my life people have made fun of me because I was so skinny. They kind of made me feel bad about it sometimes. I worried that maybe people will think I am really anorexic.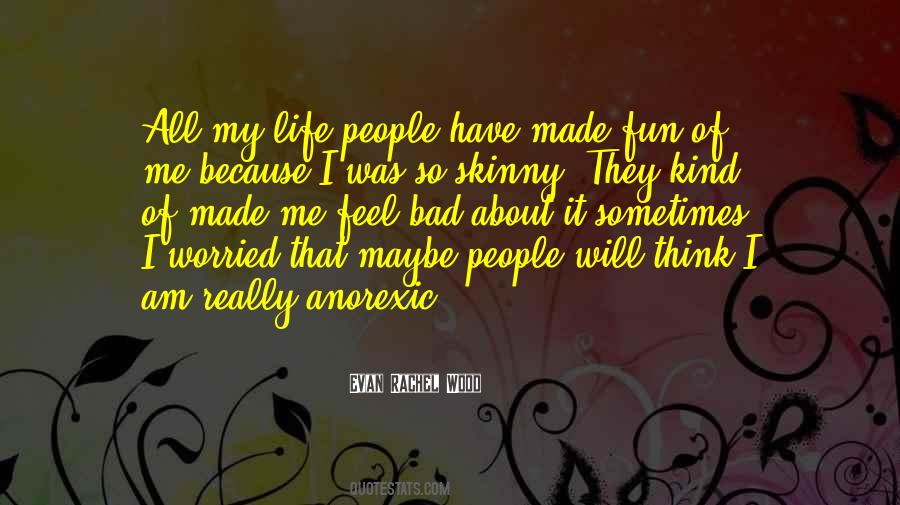 #55. I am Ecuadorian but people felt so safe passing me off as a skinny, blue-eyed white girl.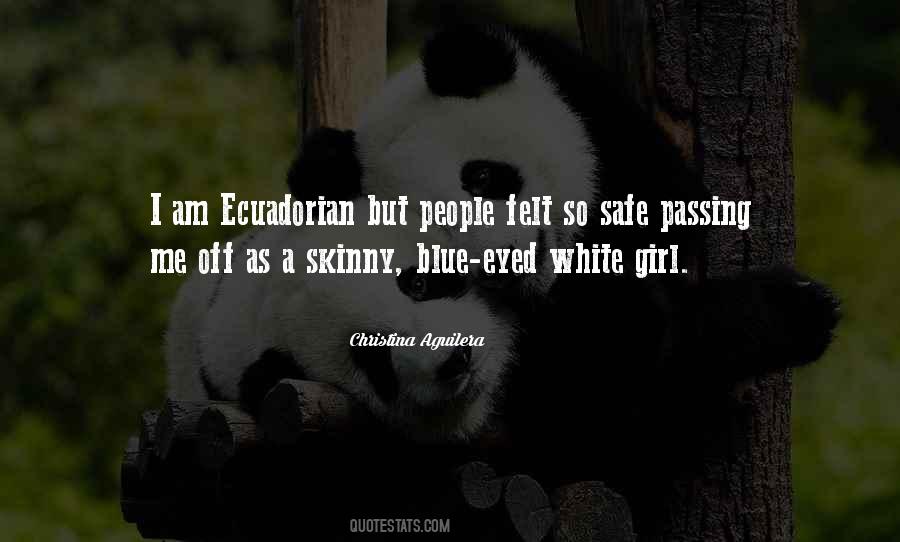 #56. A lot of people, black, white, mexican, young or old, fat or skinny have a problem being true to they self. They have a problem looking in the mirror and looking directly into their own souls. Only reason I am who I am today is because I can look directly into my face and find my soul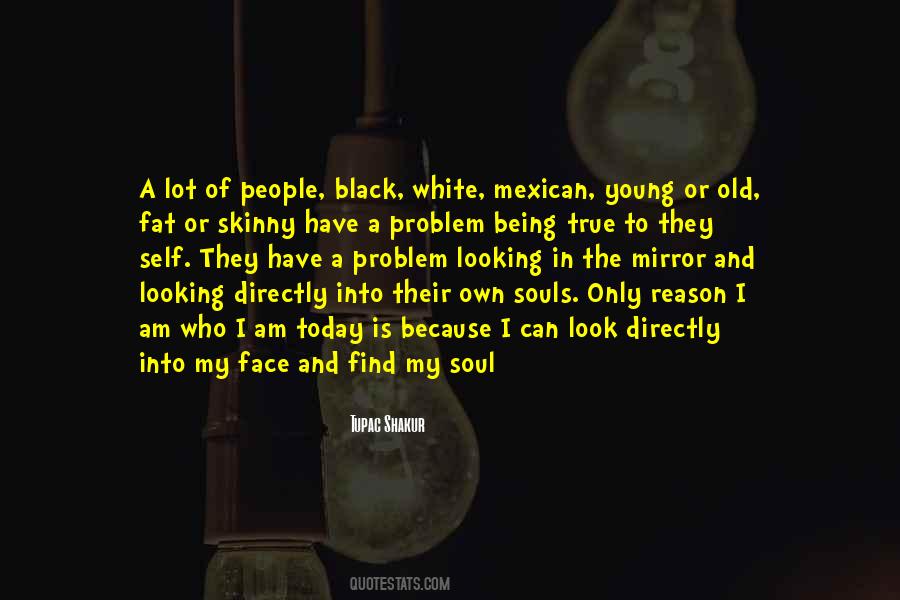 #57. Gary laughed. Yeah, but then people meet you and you're all skinny and adorable, and they're all like whaaaa?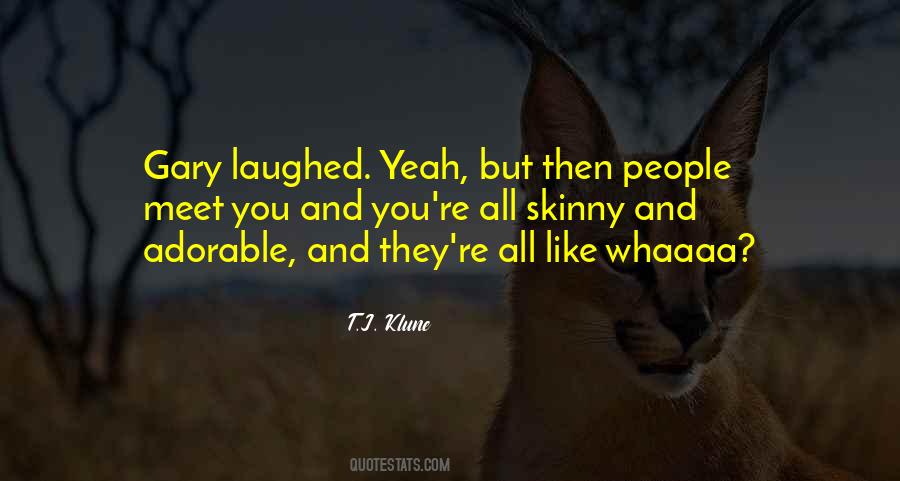 #58. I was always told that I was too small, too skinny, too slow, not tough enough, and I never ever believed what people told me.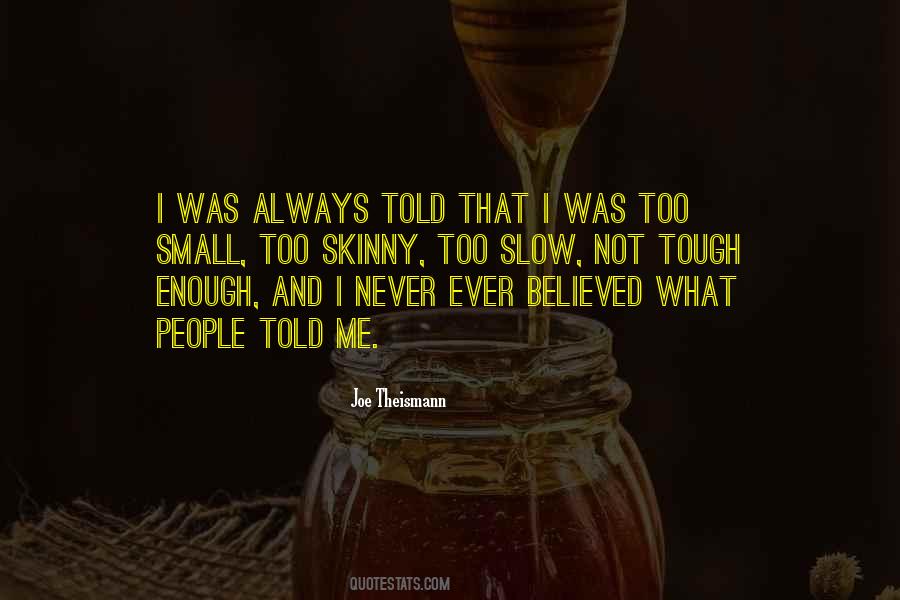 #59. If people are talking about my weight cut all the time and are telling me how skinny I like, you have to respect the audience. You also have to respect all of the fighters who do this.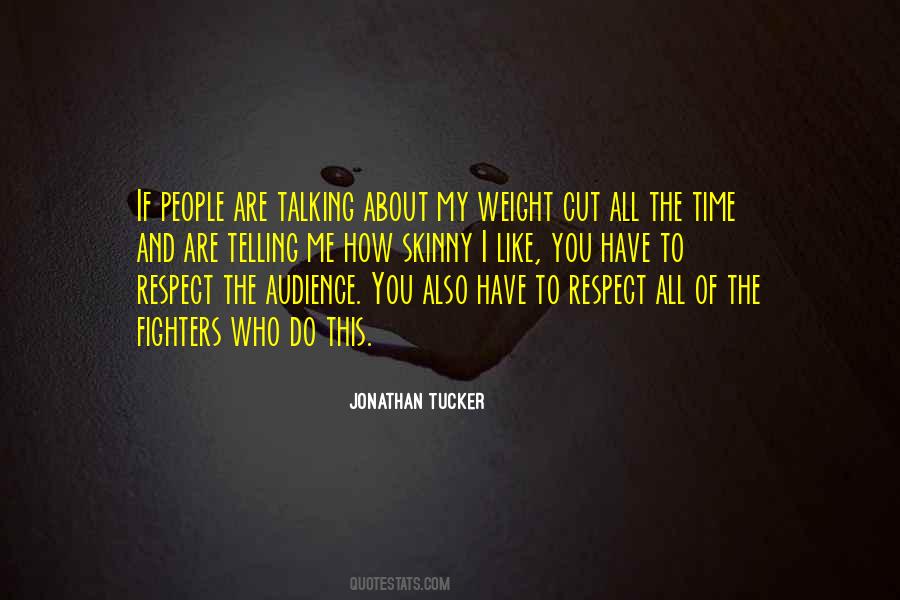 #60. For a long time, I refused to wear jeans. I liked high-waisted pants, but jeans made me feel like I wasn't being unique. Even now, I won't wear the skinny-jeans style, because most people wear those - they have to be baggier, boyfriend-looking, or sort of like a mom jean. I'm real funny that way.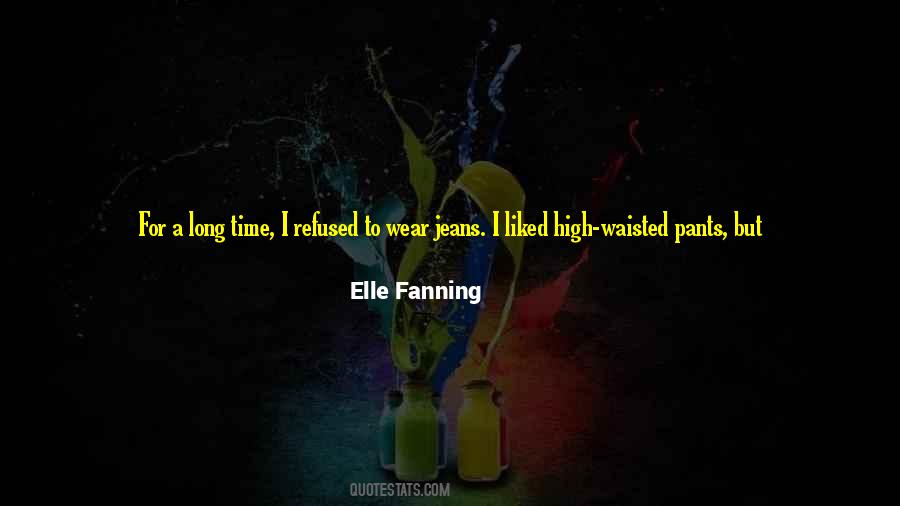 #61. People might not agree with me, but I think a woman should have a feminine shape, something you can get your hands on. You, on the other hand, look like you might be partial to the skinny type, a point of view I fully respect, don't misunderstand me.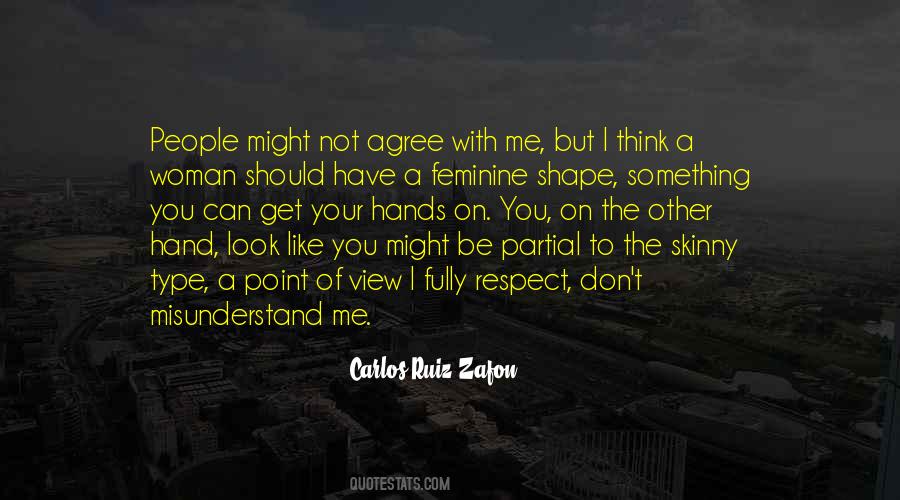 #62. I don't know any skinny people who bully fat people. I just know skinny people who use fat people for rides.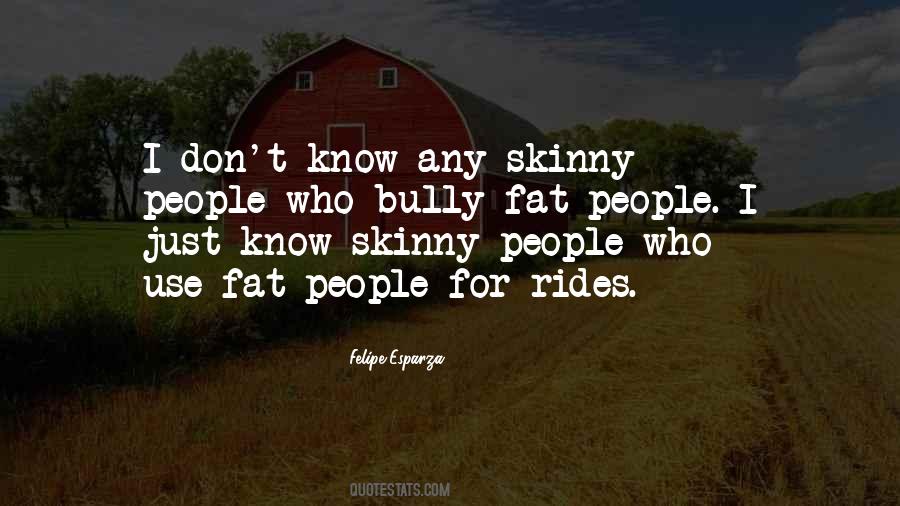 #63. There are an awful lot of skinny people in the cemetery.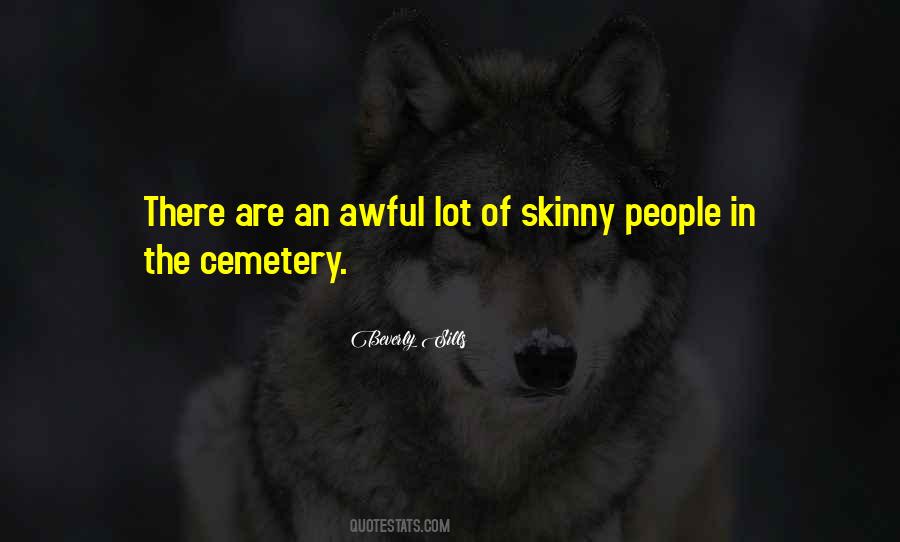 #64. I love round people, I love skinny people. I love people in general; we've got to get past labels and stop being so critical about everything.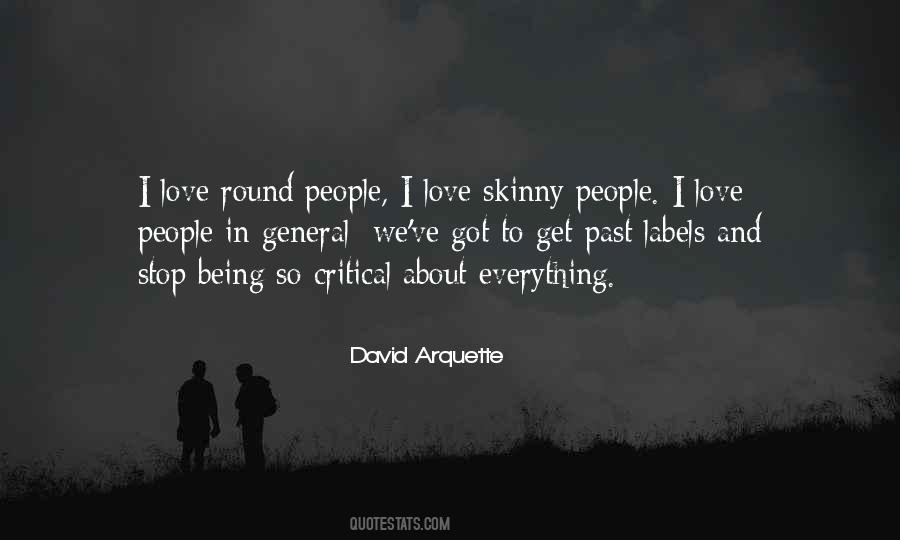 #65. It's not good to put in a magazine what I weigh because it's too little. People freak out when they hear what I weigh. They think, 'Oh, you're too skinny.'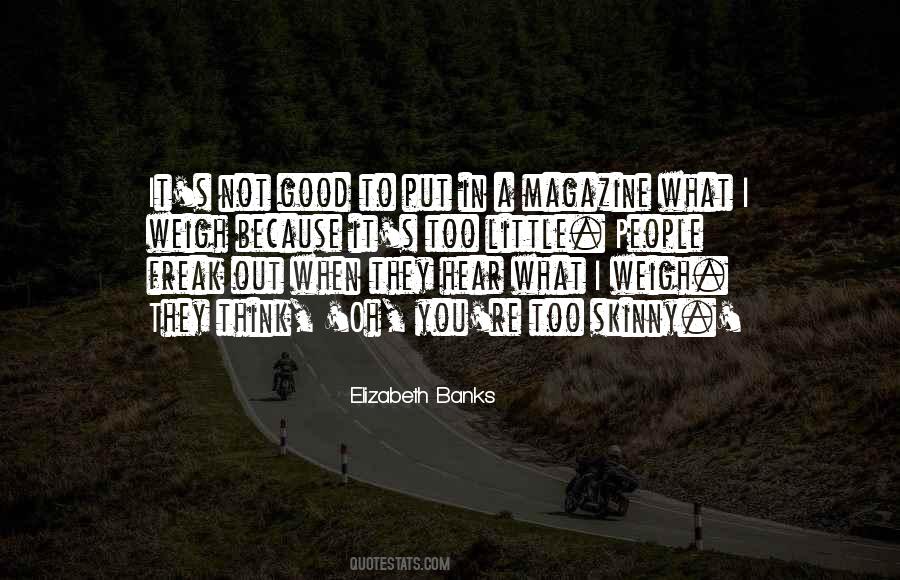 #66. I don't want to be some skinny mini with my tits out. I really don't want to do it and I don't want people confusing what it is that I'm about.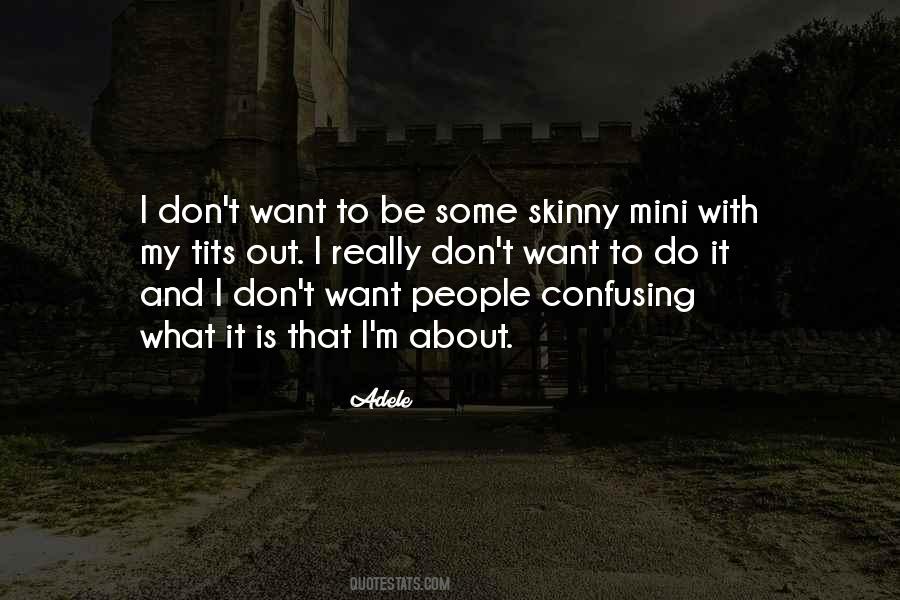 #67. In France there are, I think, less than one per cent of people who are too skinny.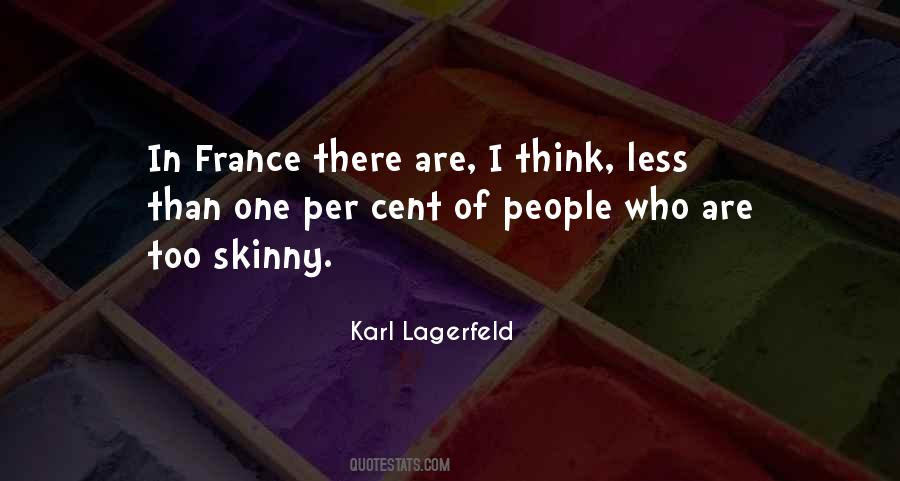 #68. Headbangers' are people who like heavy-metal music, which is performed by skinny men with huge hair who stomp around the stage, striking their instruments and shrieking angrily, apparently because somebody has stolen all their shirts.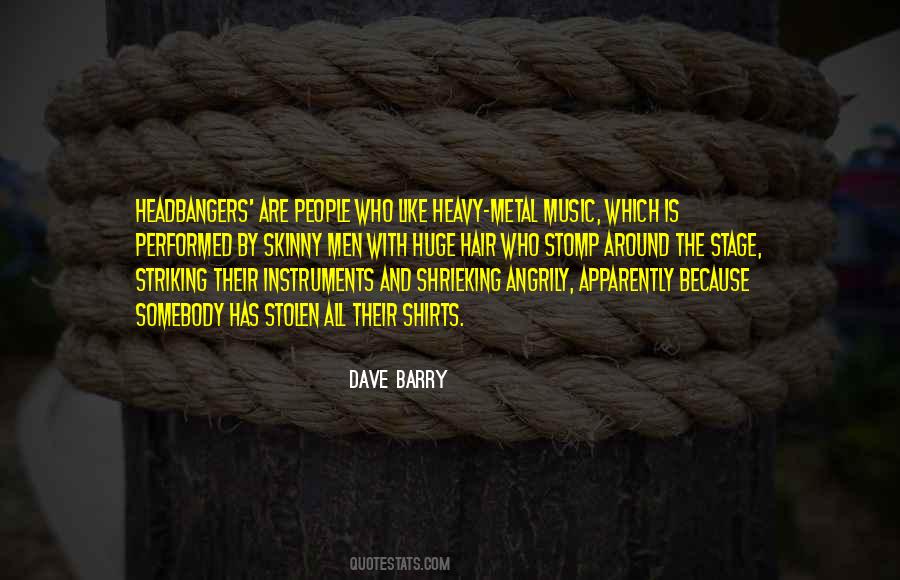 #69. In junior high, I was picked on for being the small skinny kid who enjoyed being in drama. All the drama kids, we were looked at like we were aliens, and people would call us names and say, you know, 'It's stupid to be in drama.' They would say a lot worse things, to be honest.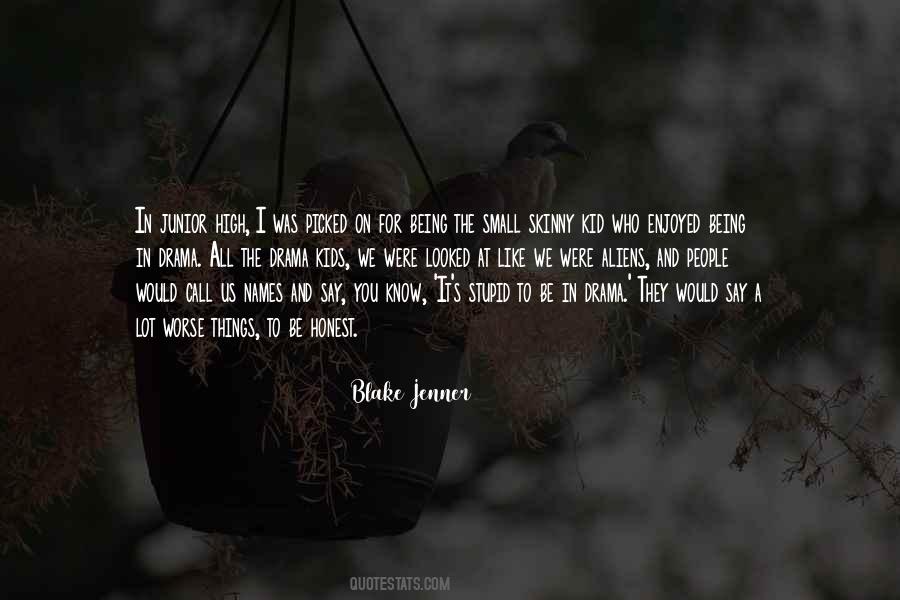 Famous Authors
Popular Topics