Life And How To Live It Famous Quotes & Sayings
List of top 100 famous quotes and sayings about life and how to live it to read and share with friends on your Facebook, Twitter, blogs.
Top 100 Quotes About Life And How To Live It
#1. You control your own destiny. Never let anyone put you in a box and say 'This is your space'; You have the whole world to choose from. If you have something to say, say it. Live your life as you want to live it, not how others perceive your life to be lived. Take control. Today. - Author: Michelle Geaney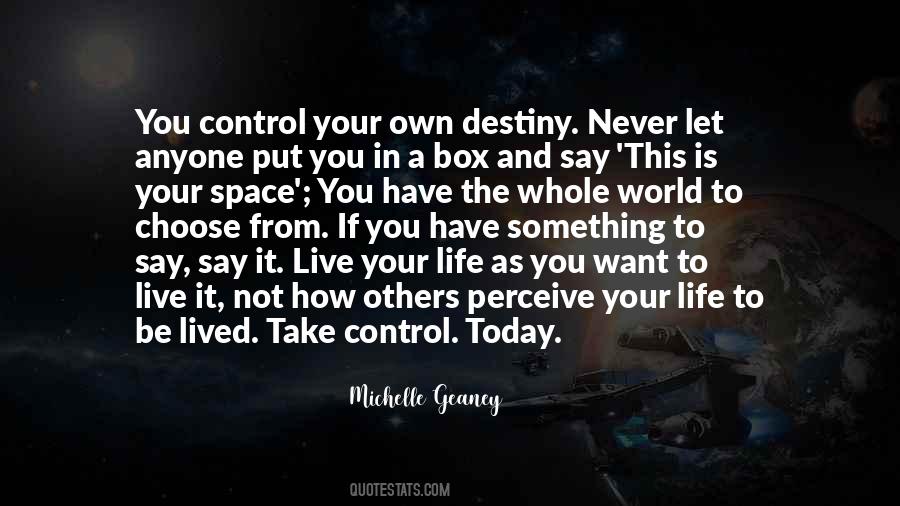 #2. You can't tell young people what to do. You can't tell 'em because they'll look at you and say, 'Well, how can you tell me not to do that when you were there doing it yourself?' Or supposedly were doing it yourself. I think you must let everyone live their life the way they have to. - Author: Ronnie James Dio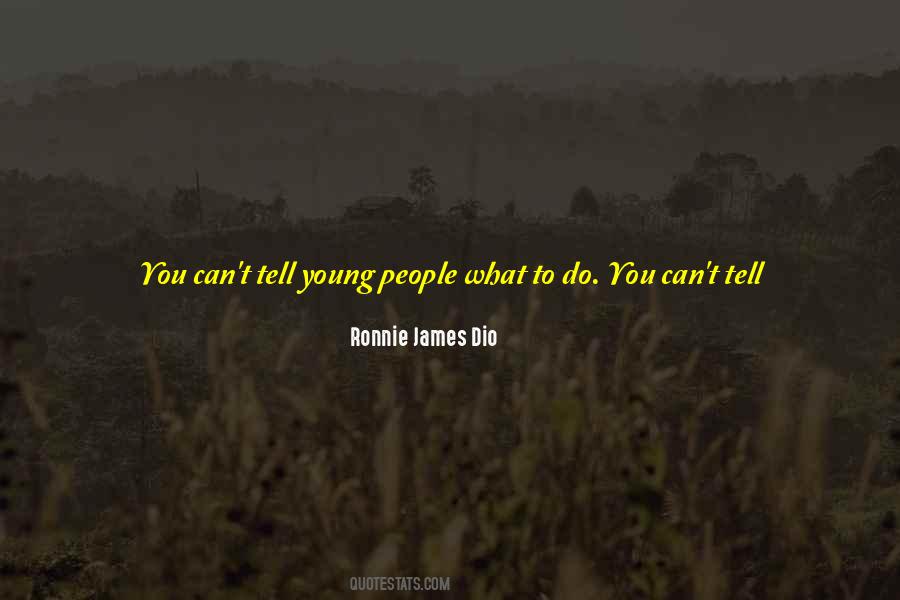 #3. How you live your life is up to you. You have to go out and grab the world by the horns. Rope it before it ties you down and decides for you. - Author: Sarah Reijonen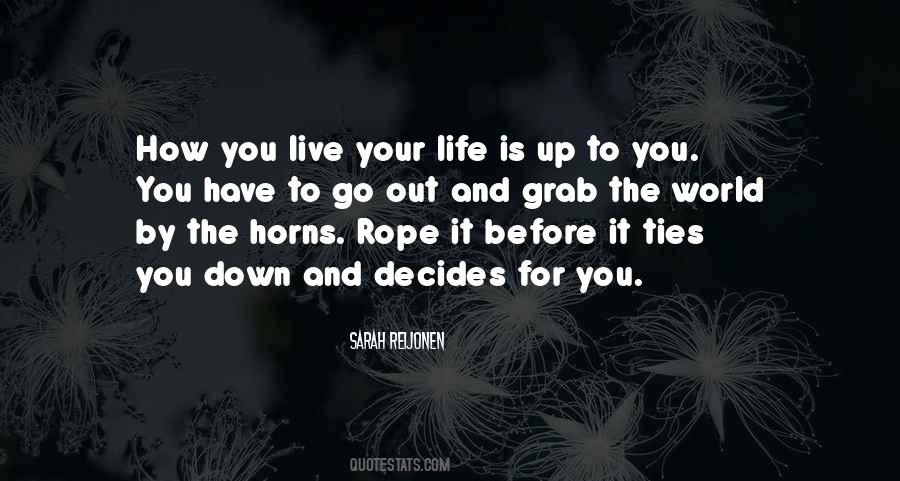 #4. Life works in mysterious ways, Ember, and the secret is to not think too hard on the why or how of it, and to not mourn what is no longer, but live: live hard and love hard. - Author: L.A. Fiore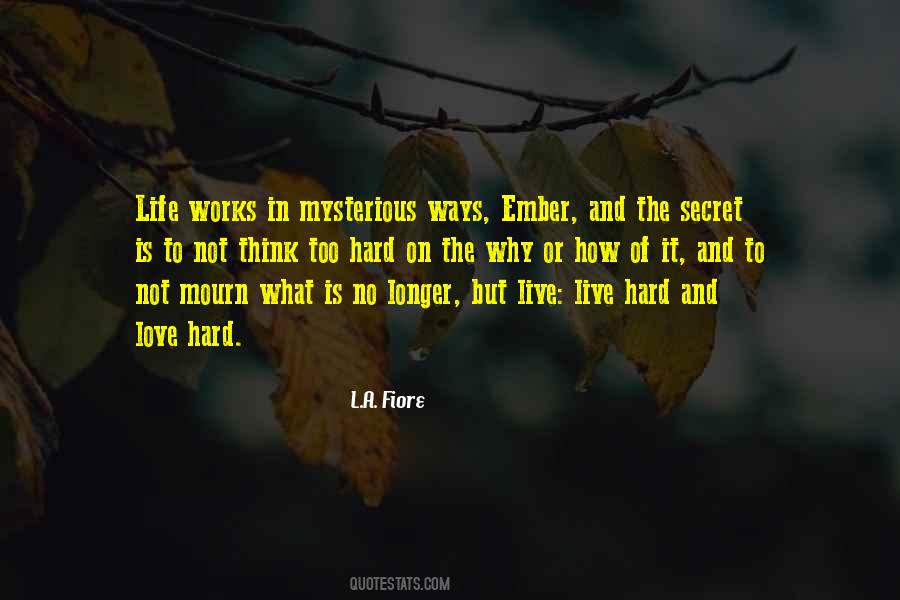 #5. Life is not about how long you live or how much you experience. Life is about how you choose to live it and what you experience. - Author: Marlene Hansen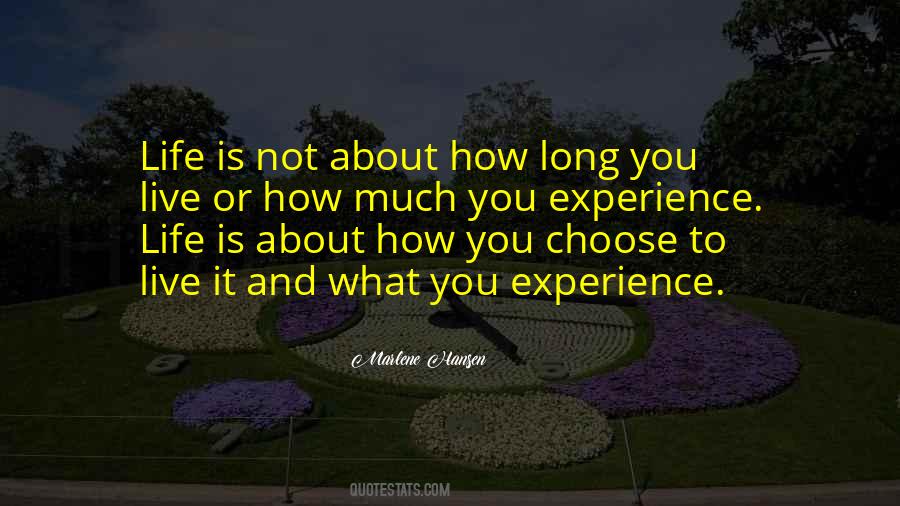 #6. How terrible it must be to give up your life when you've never taken the chance to live it. How cheated you must feel, like losing a coin before spending it. To what can you hang on to and feel pride? Nothing. - Mauvin on lack of Nobility - Author: Michael J. Sullivan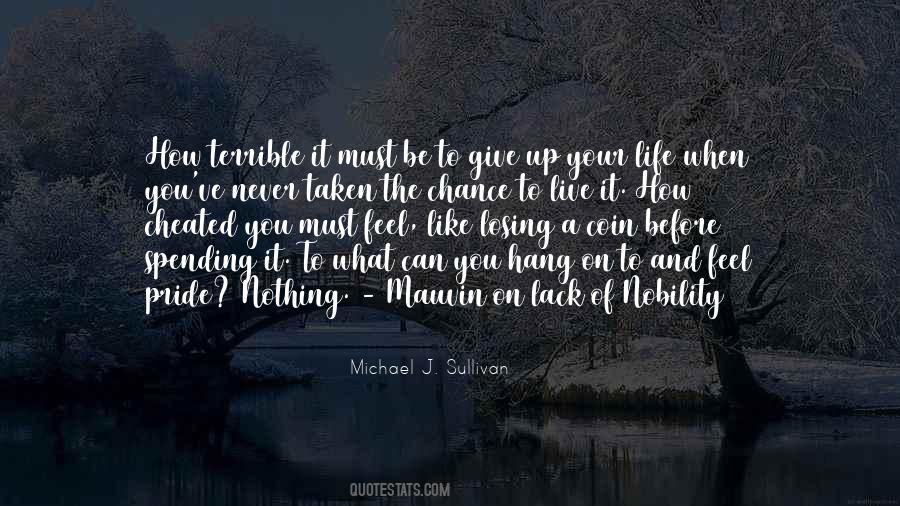 #7. The success of Yoga does not lie in the ability to perform postures but in how it positively changes the way we live our life and our relationships. - Author: T. K. V. Desikachar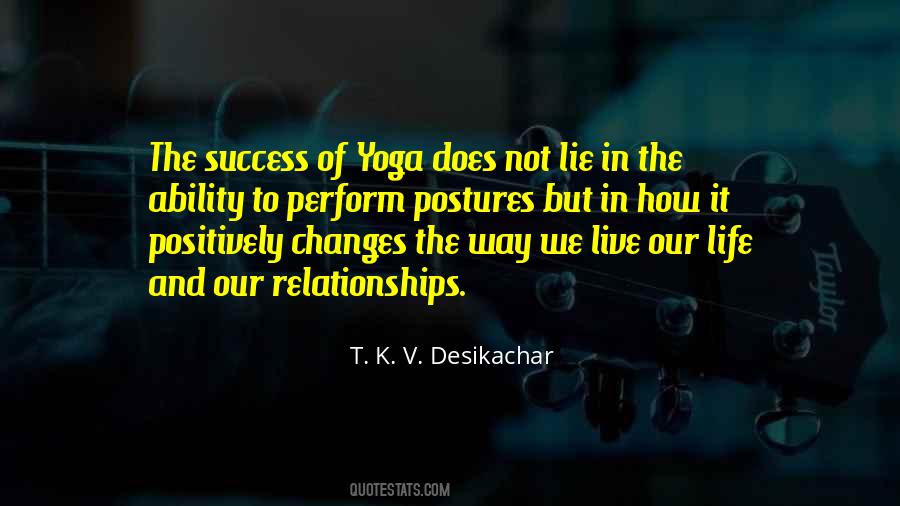 #8. The point I'm trying to make is that you go to church on Sunday. But the real Christ is out there in your life every day, whether it be the guy you help on the street, how you live your life, and your countenance that makes people want to be you. - Author: Jim Caviezel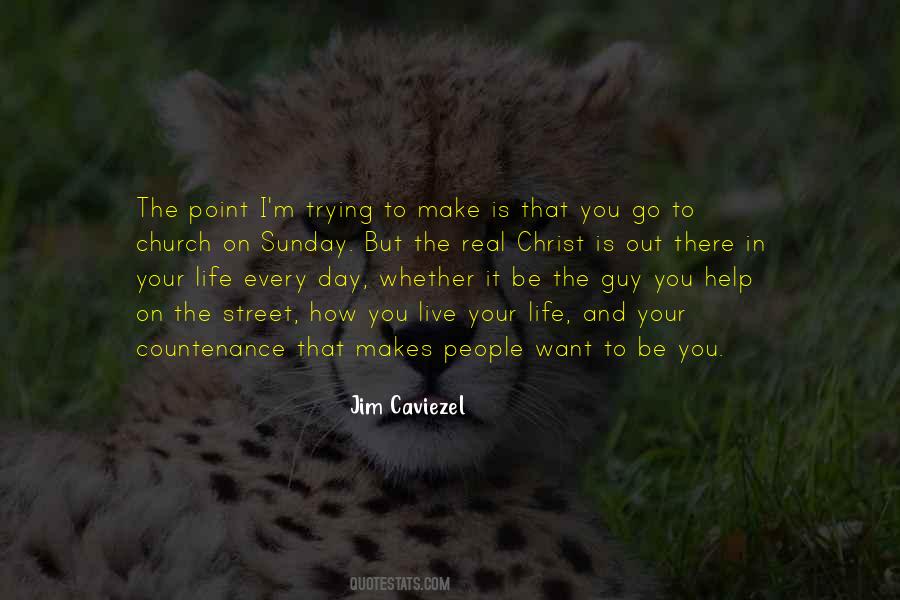 #9. He thought how silly it was that he believed in something so arbitrary. He foolishly believed he had a purpose, that he was destined for something better.
Now he had to live with the fact that he was just a lonely boy with no identity at all.
And he had made a lot of terrible mistakes. - Author: Kris Noel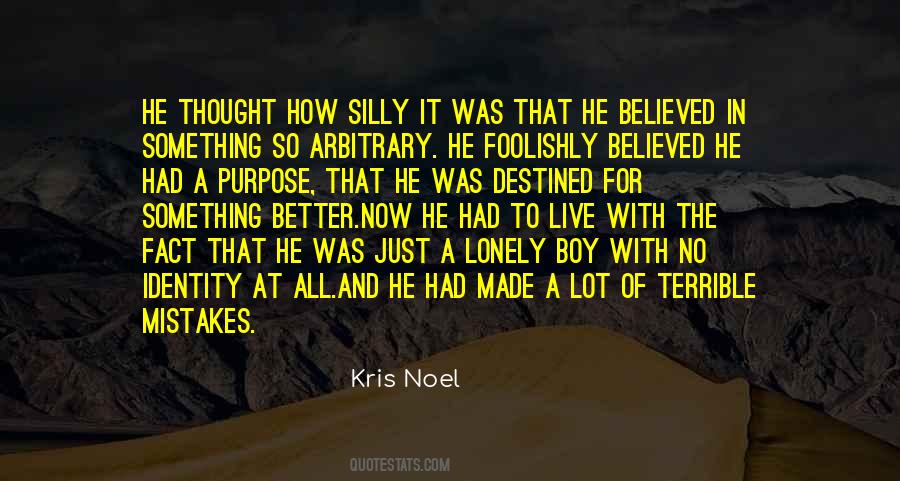 #10. Do you know what it means to be a survivor? It means that not only do you have to live through things, you have to live with them as well. The second part is much harder and sometimes it takes the rest of your life to learn how to do it. But at least you have the rest of your life ... - Author: Josephine Angelini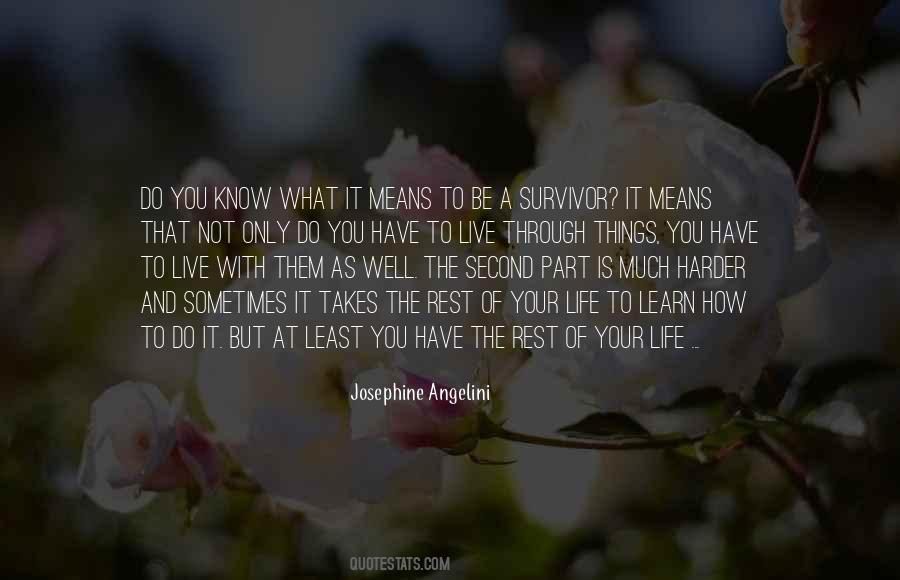 #11. Help one another, was a favorite Plumfield motto, and Nat learned how much sweetness is added to life by trying to live up to it. - Author: Louisa May Alcott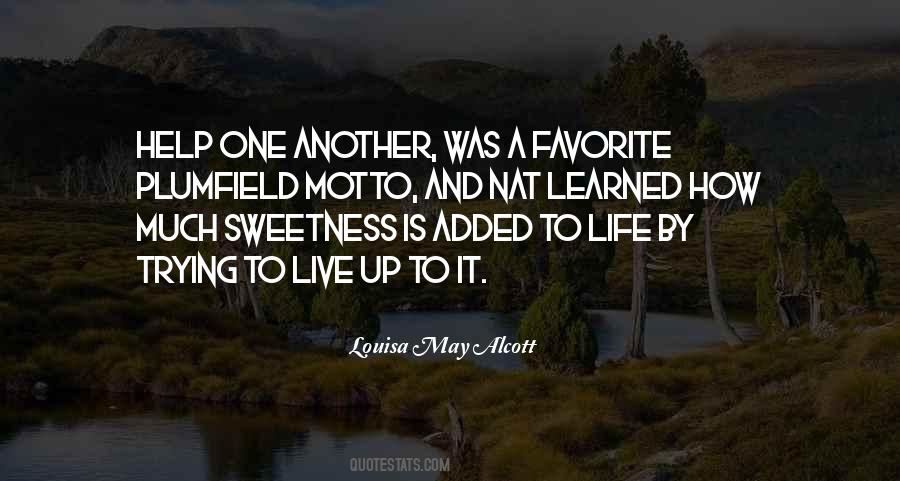 #12. Whenever she did, she gave it her all, Lord would take care of the rest. That's how she wanted us to live, too. To work hard, to preserve, to have faith, to serve and to love each others. - Author: Lee Myung-bak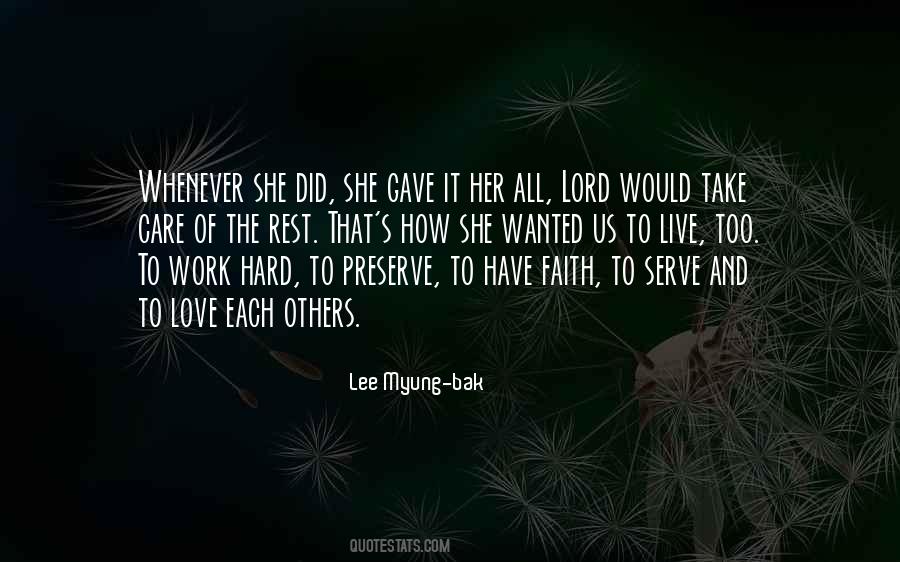 #13. One of the most important decisions you'll ever make is choosing the kind of universe you exist in: is it helpful and supportive or hostile and unsupportive? Your answer to this question will make all the difference in terms of how you live your life and what kind of Divine assistance you attract. - Author: Wayne Dyer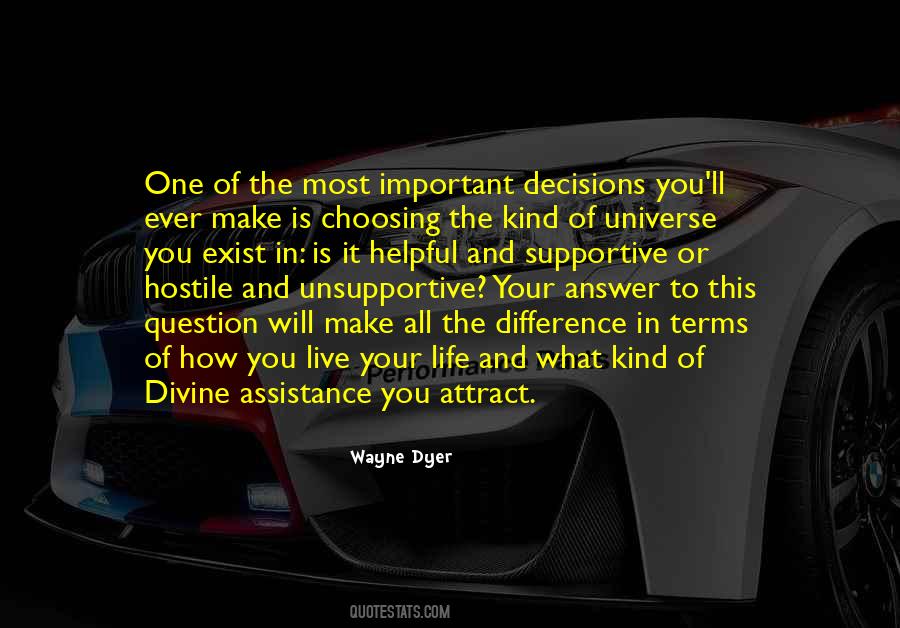 #14. The name fuse followed me from the book to the screenplay, and now I have to live with the name, which I chose in 30 seconds with no thought about how it might sound or what it might imply. It was just a funny thing. - Author: Diablo Cody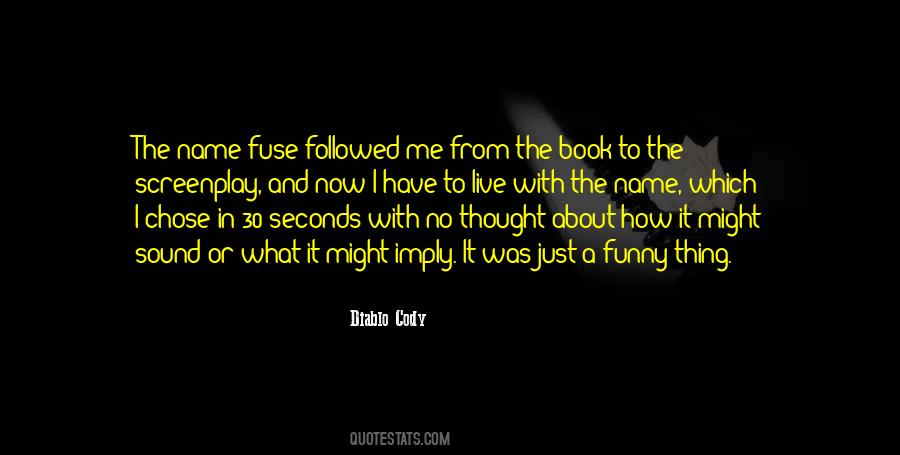 #15. I swallowed hard. It was my life. And it was my choice how I decided to live it. - Author: Heather Brewer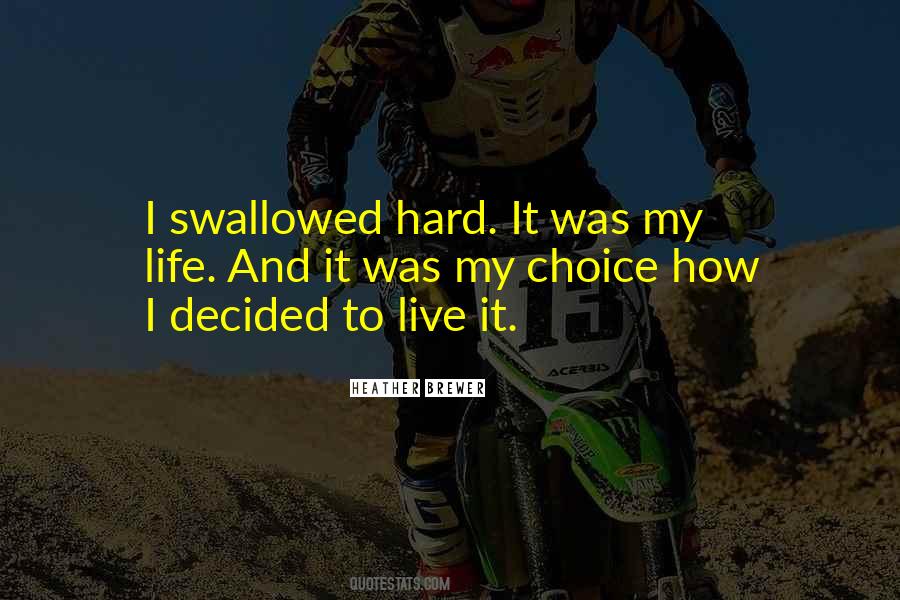 #16. You are defined by how you live your life, not whom you live it with, and certainly not by what you gave up to be with that person. - Author: Greg Behrendt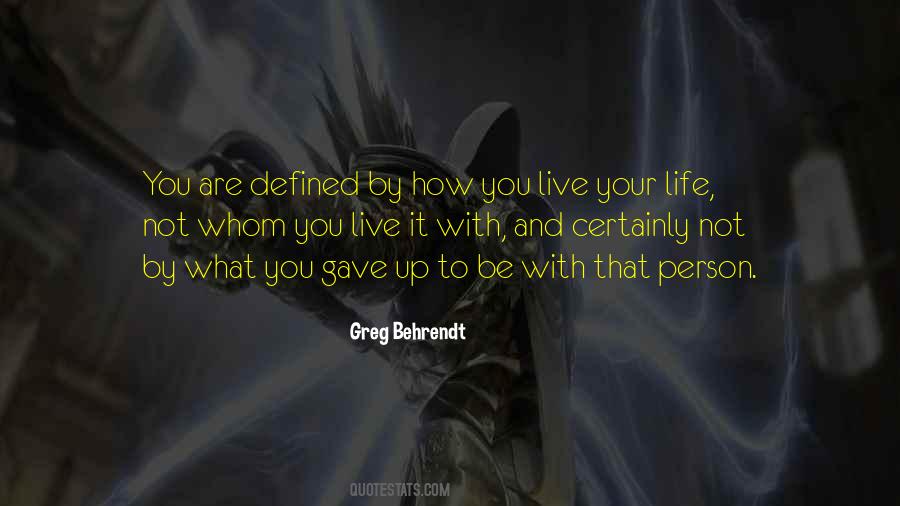 #17. Maturity is about how you live your life. It is possible to be theologically astute and be very immature. It is possible to be biblically literate and be in need of significant spiritual growth. - Author: Paul David Tripp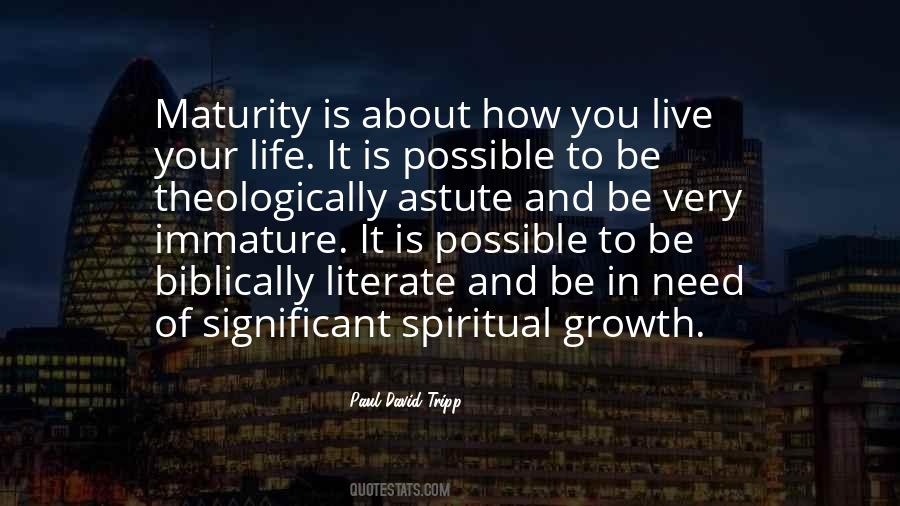 #18. When you live life and you are living the experience, you tend not to appreciate them as you are living them. It's only when you look back and realize how special they were. - Author: Priscilla Presley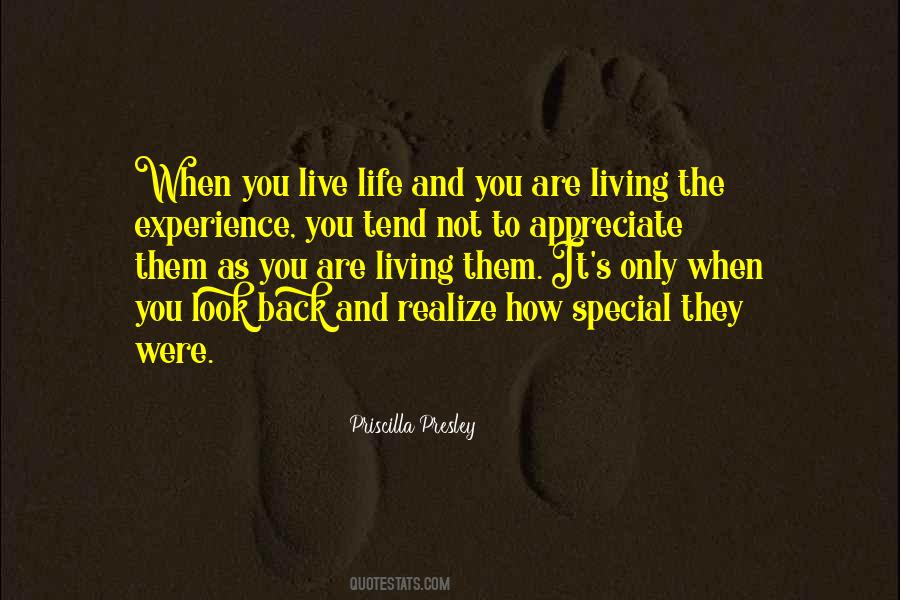 #19. Deke: 'You know what I'm wonderin'?'
Malachi: 'No, and to tell the truth, I don't care'
Deke: 'I'm wonderin' how you've managed to live to the ripe old age of 36, when it's a known fact that you've been brain-dead since birth'

'Strength of will', was the flat reply - Author: Lynn Turner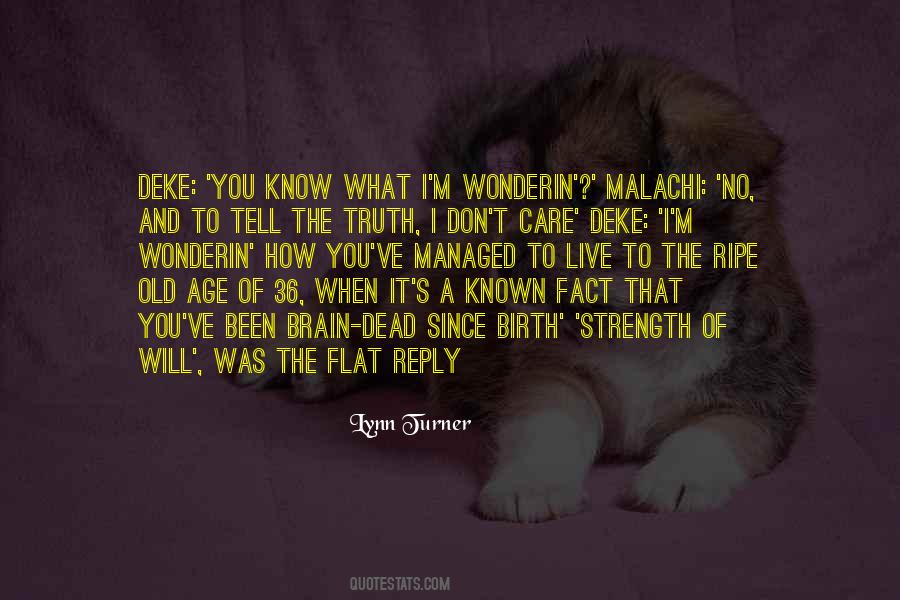 #20. In a basic sense, 'A Little Life' is a homage to how my friends and I live our lives. I wanted to push past the definitions of how we typically define friendship. It's a different version of adulthood, but it's no less important and no less legitimate than anyone else's. - Author: Hanya Yanagihara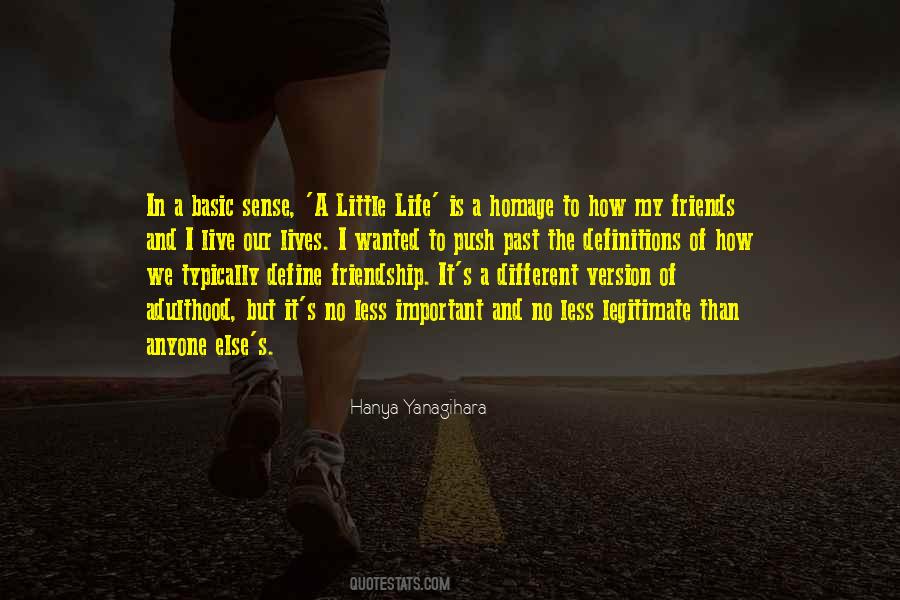 #21. Do you really want to look back on your life and see how wonderful it could have been had you not been afraid to live it? - Author: Caroline Myss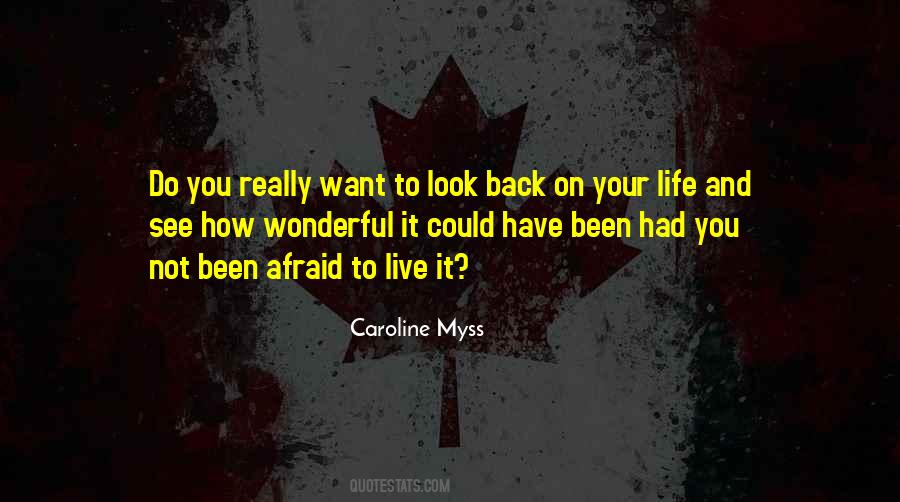 #22. For me, everything that you're passionate about always comes with a little pain. That's how life is, and that's how I want to live it. I don't want it to be balanced and ordinary. - Author: Tove Lo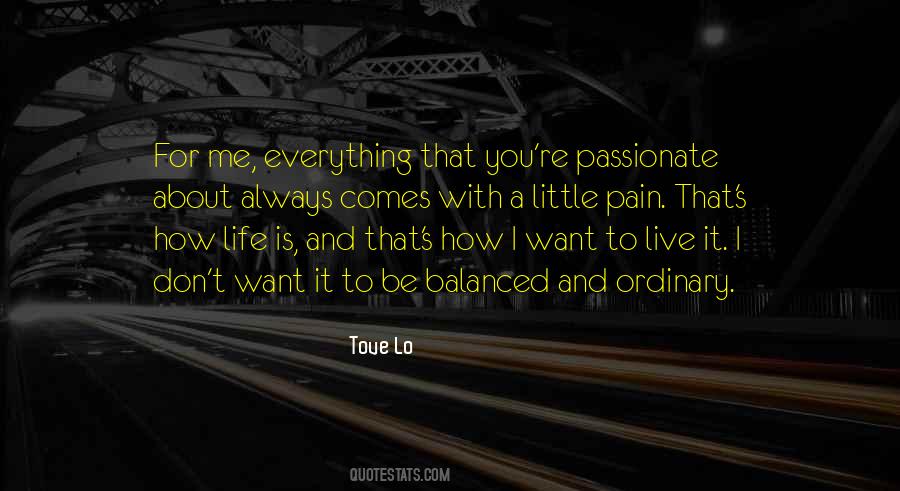 #23. People spend a lifetime thinking about how they would really like to live. I asked my friends and no one seems to know very clearly. To me it's very clear now. I wish my life could have been like the years when I was writing 'Love in the Time of Cholera.' - Author: Gabriel Garcia Marquez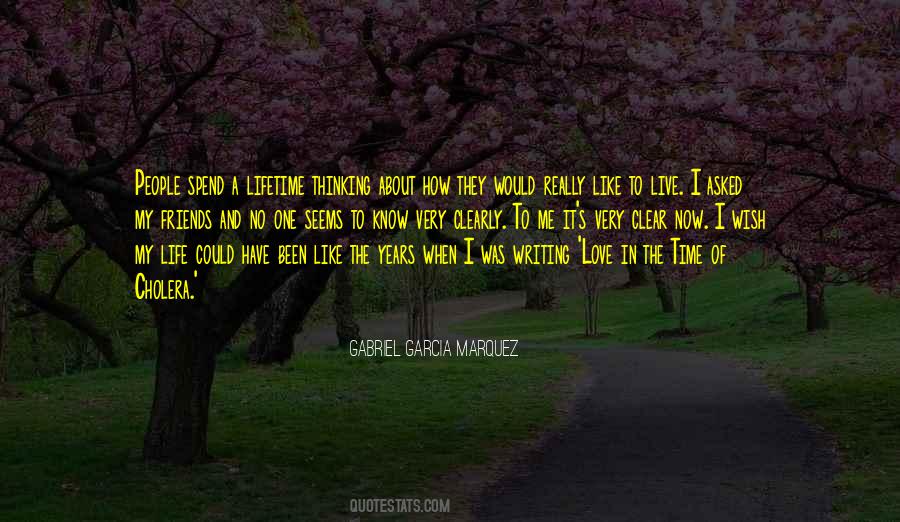 #24. Ask yourself this: How much deprivation, how much self-effacement must you suffer through before you act on your desire for meaning and fulfillment? Before it's your turn to thrive in your life, instead of barely surviving it? Some people live their dreams. Why not you? - Author: Jillian Michaels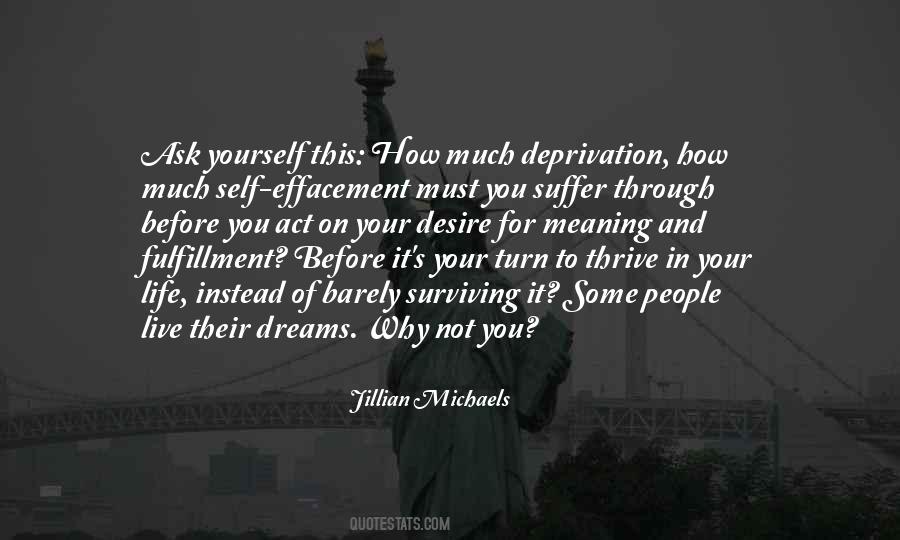 #25. Education is not a thing apart from life - not a "system," nor a philosophy; it is direct teaching how to live and how to work. - Author: Booker T. Washington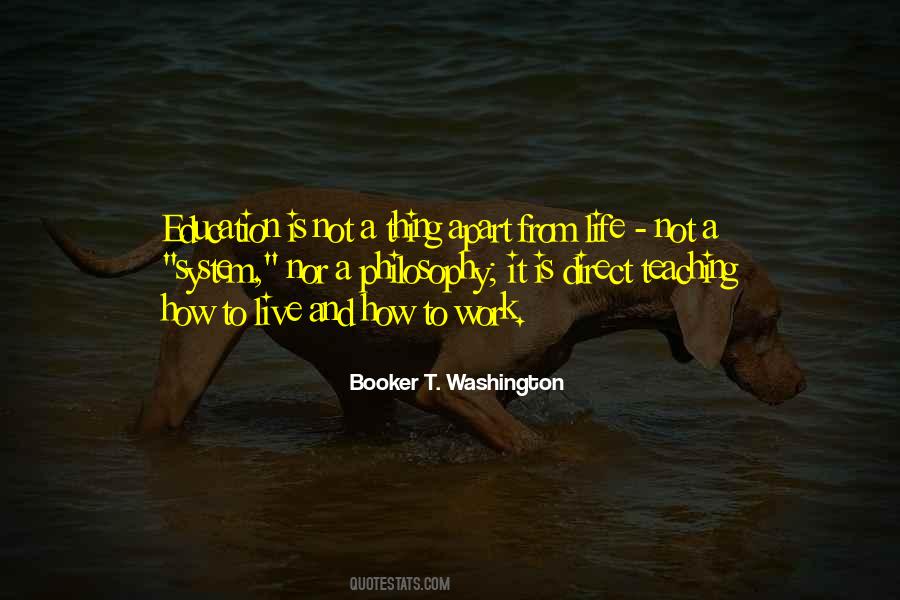 #26. You know? Ain't it ironic how we live our entire lives without the luxury of time, only to spend an eternity in death. - Author: Jason Medina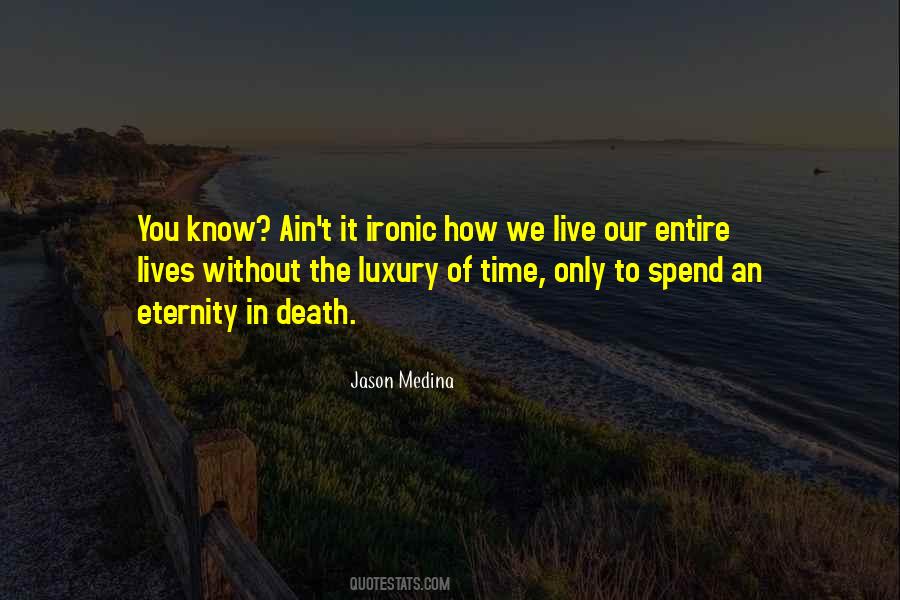 #27. Live with energy
Energy is the essence of life. Every day you decide how you're going to use it by knowing what you want and what it takes to reach that goal, and by maintaining focus. - Author: Oprah Winfrey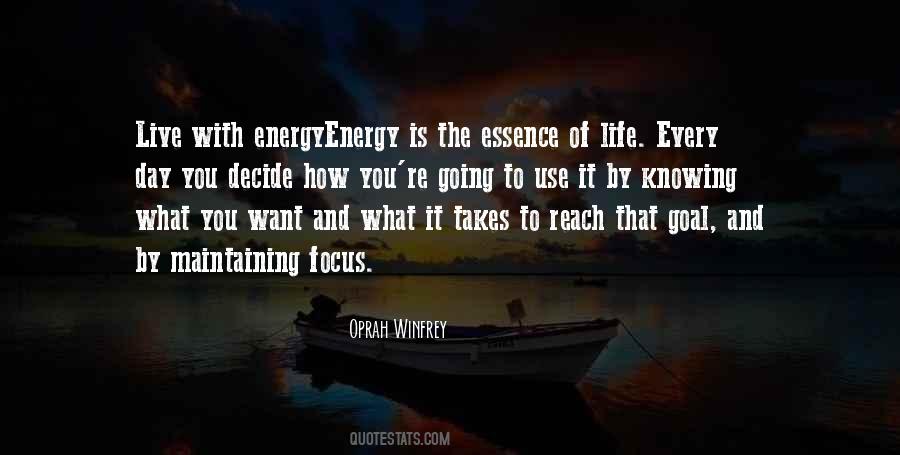 #28. So my dad - he told me that instead of living life by time and dates, to live them by moments. And instead of trying to remember how old I was or what day it was, try to remember how I felt during those moments. - Author: Jay McLean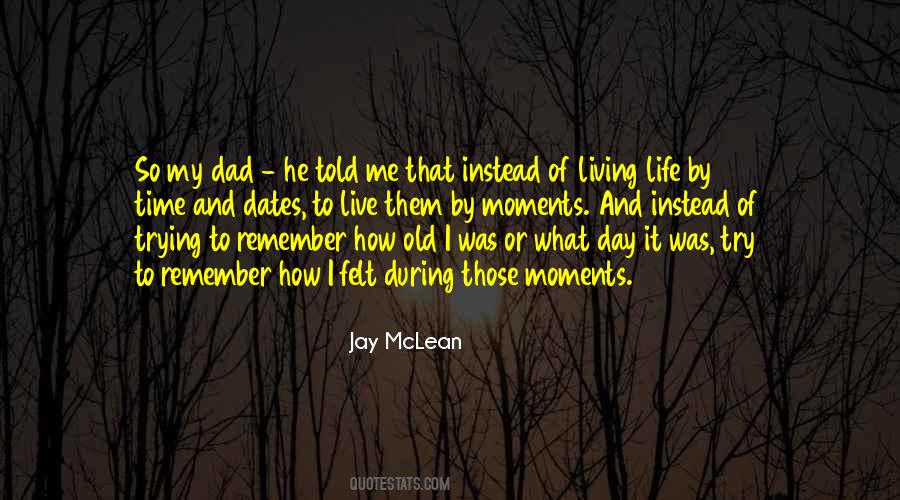 #29. the path your life is stuck on and be free

It's a dark whisper calling to me.

But I'm not brave enough to listen. I'm old enough to know I don't have any special talents. So no matter how depressing... I have to suck it up... And live the life I have. - Author: Inio Asano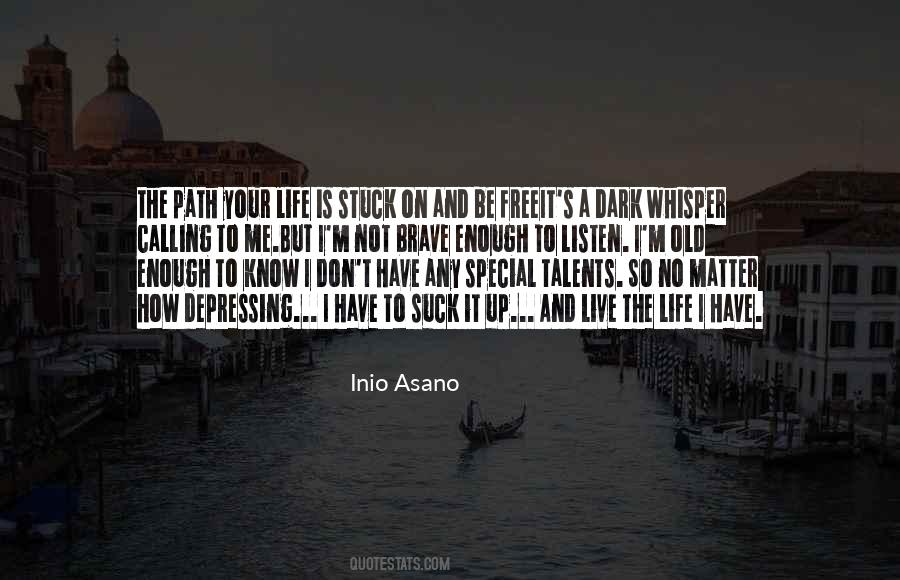 #30. But in the daytime it was all right. And when you'd had a drink you knew it was the best way to live in the world because anything might happen. I don't know how people live when they know exactly what's going to happen to them each day. - Author: Jean Rhys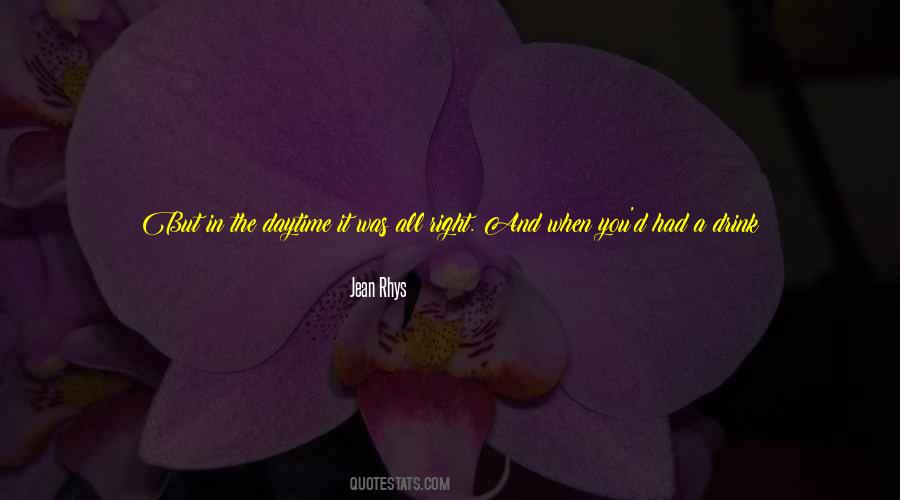 #31. My mum was crazy. And her mum was crazy. And her mum's mum was crazy. Is it my turn? Am I going to live the rest of my life giggling at raindrops, wearing paper slippers? When I go to dinner with friends should I not use a fork 'cause I just might snap? Hey, you guys look great. How's the baby? - Author: Christopher Titus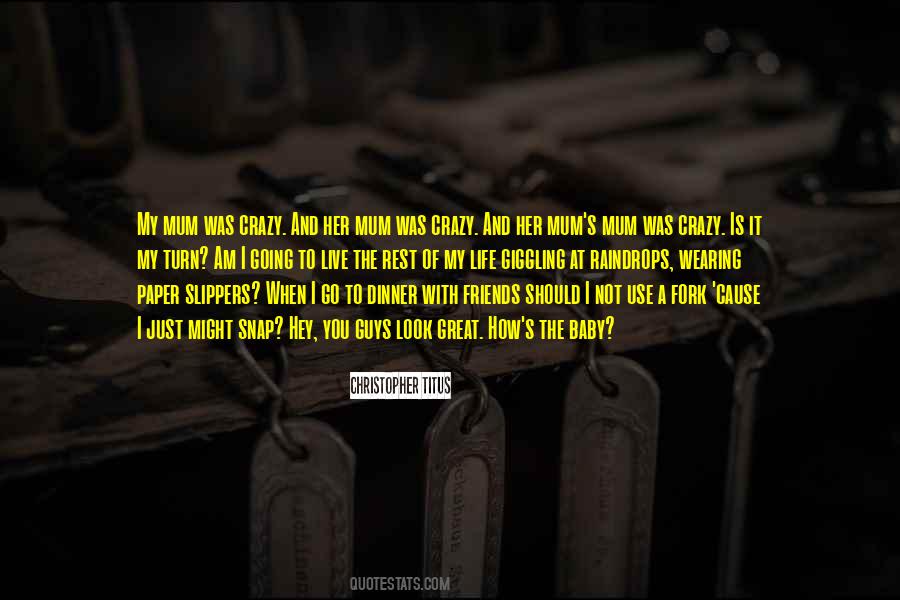 #32. My job, my whole life, I've always had that kind of doubter, people have always doubted me. And I don't know how I would succeed without it. So I welcome it, and it gives me a challenge, and I will see if I can live up to my challenge. - Author: Dwyane Wade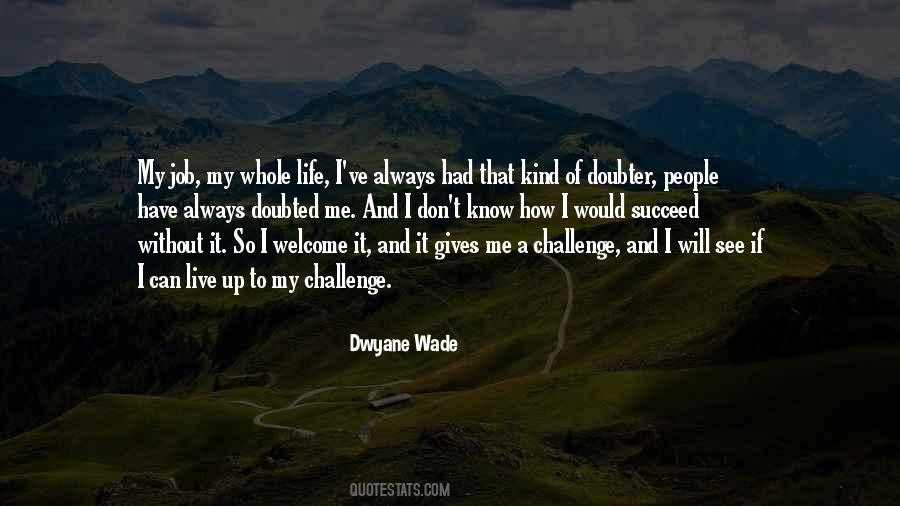 #33. I tried. I tried to burn that memory of my regret. But I wasn't dead yet, I was just on my way to dying, and it's harder to burn memories when you've still got life left. When you're alive you have to learn how to live with things like regret. - Author: Christopher Barzak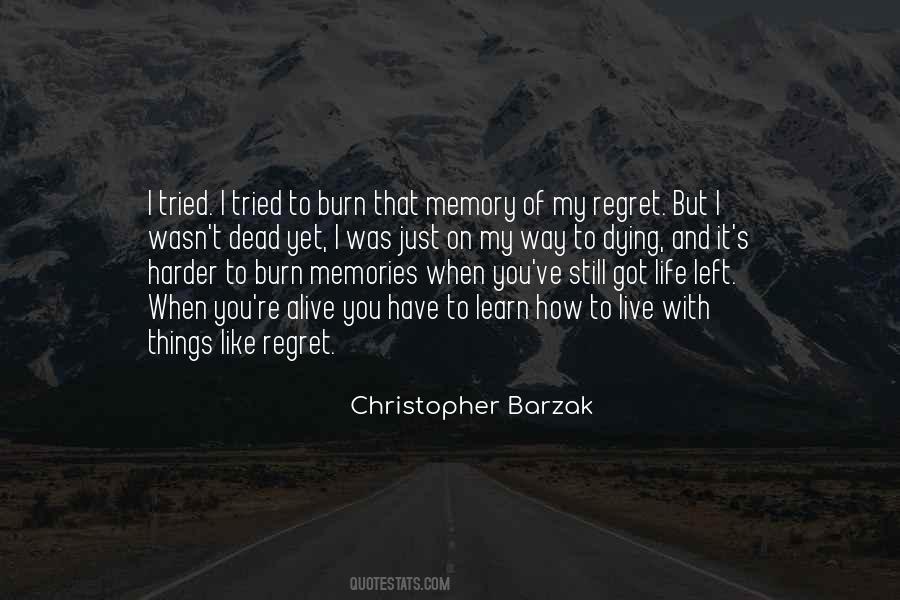 #34. I think the themes in my songs are very similar from the first album to the newest one. It's all about the human condition and how we are all trying to learn to live with each other and survive love and life. - Author: Deana Carter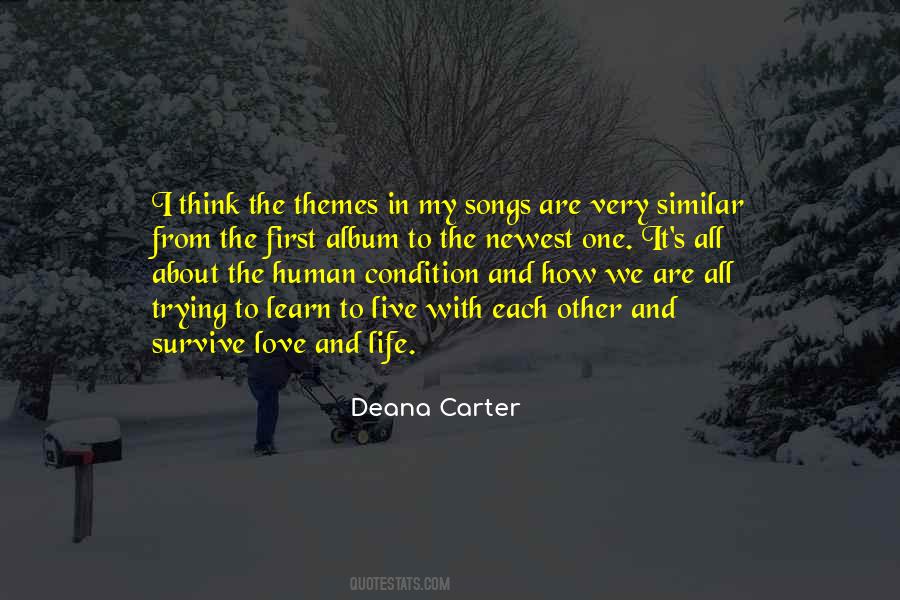 #35. In a magazine, one can get - from cover to cover - 15 to 20 different ideas about life and how to live it. - Author: Maya Angelou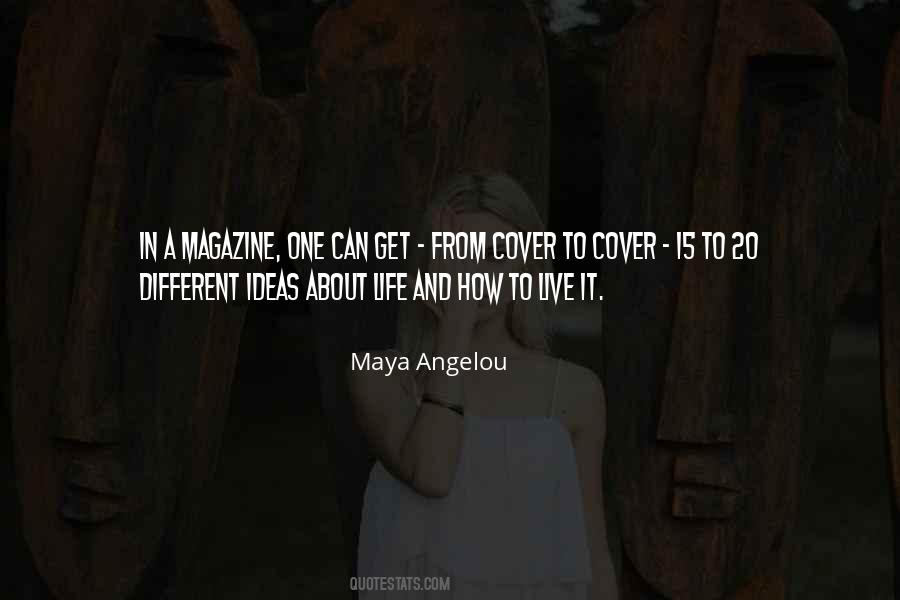 #36. To be a great artist, you need to know yourself as best as you possibly can. I live my life and delve into my own psyche. It's more about exploring how I feel rather than making pale imitations of something that came before. We are unique beings, and the way we look at things is our own. - Author: Bat For Lashes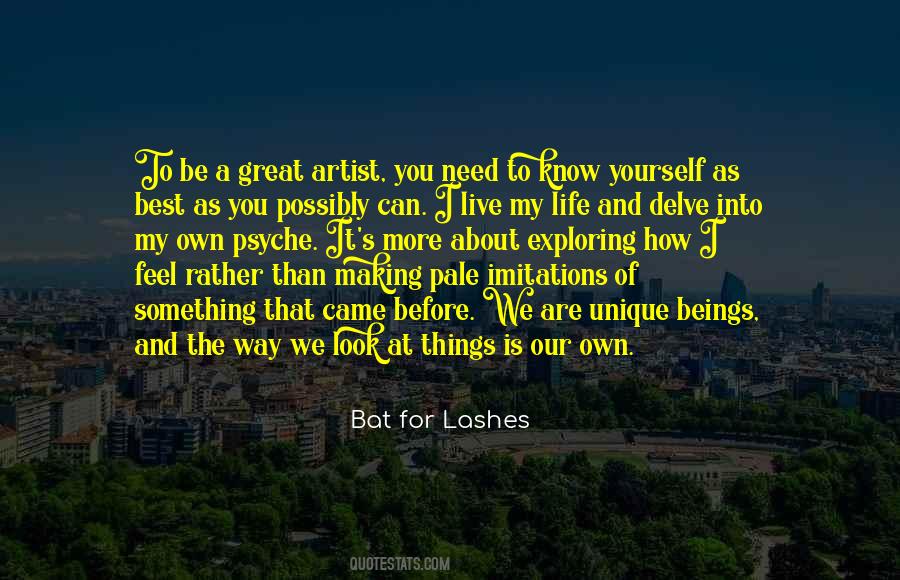 #37. Mark how fleeting and paltry is the estate of man-yesterday in embryo, tomorrow a mummy or ashes. So for the hairsbreadth of time assigned to thee, live rationally, and part with life cheerfully, as drops the ripe olive, extolling the season that bore it and the tree that matured it. - Author: Marcus Aurelius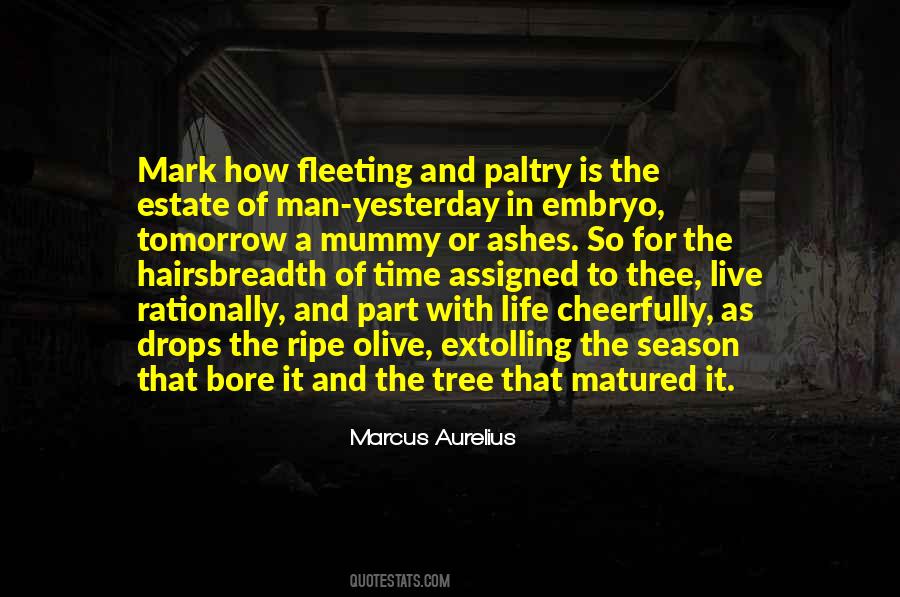 #38. I had never really stopped thinking of how the smartest person I knew had, after much thought, decided that life was not worth it - that she'd be better off not living - and how was I supposed to live after that? - Author: Catherine Lacey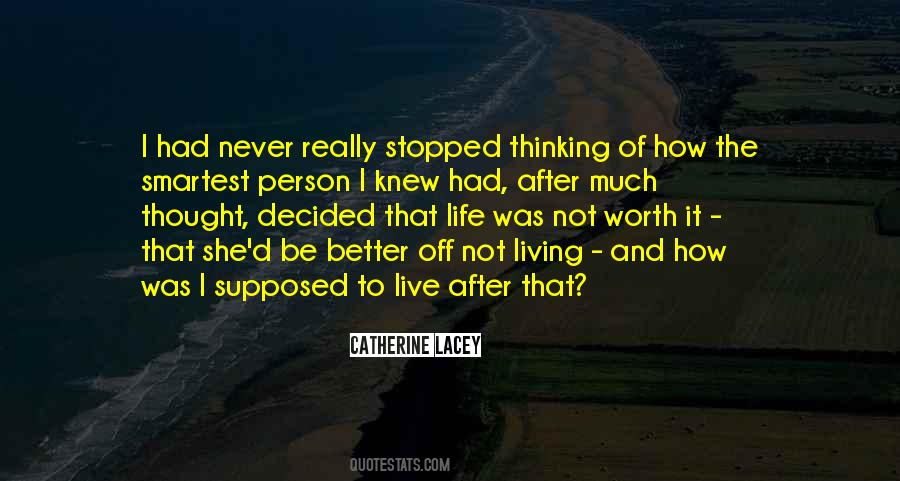 #39. You can take all the precautions in the world and worry yourself like crazy, but each individual comes to this world with a life to live, no matter how long or how good or how scary it might be. - Author: Barbara Freethy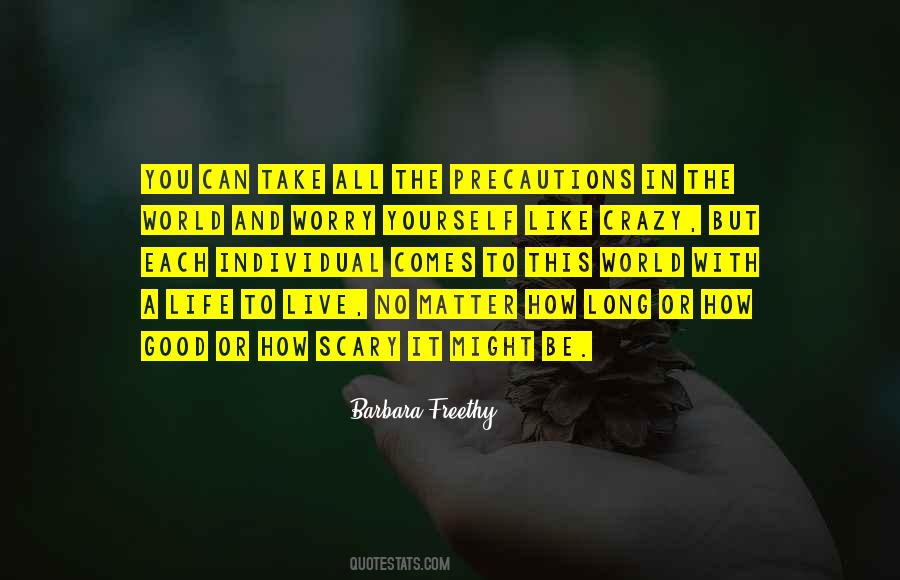 #40. What lasting impact will I make on the world and those around me? What will I live my life for? How will I be remembered? I want to leave the world a better place than it was when I got here. I want to experience as much as I can in this very short life that we have. - Author: Theo Rossi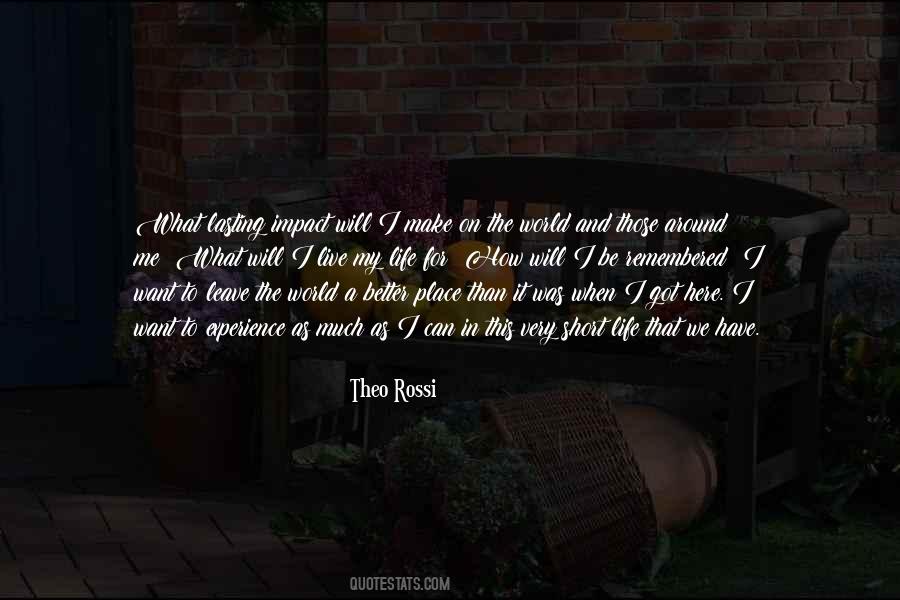 #41. Reminding me how fragile this life is and how easily it can be lost. Compelling me to live and to live well, while I still can.
Because sooner or later, we must all face eternity. - Author: Jessica Khoury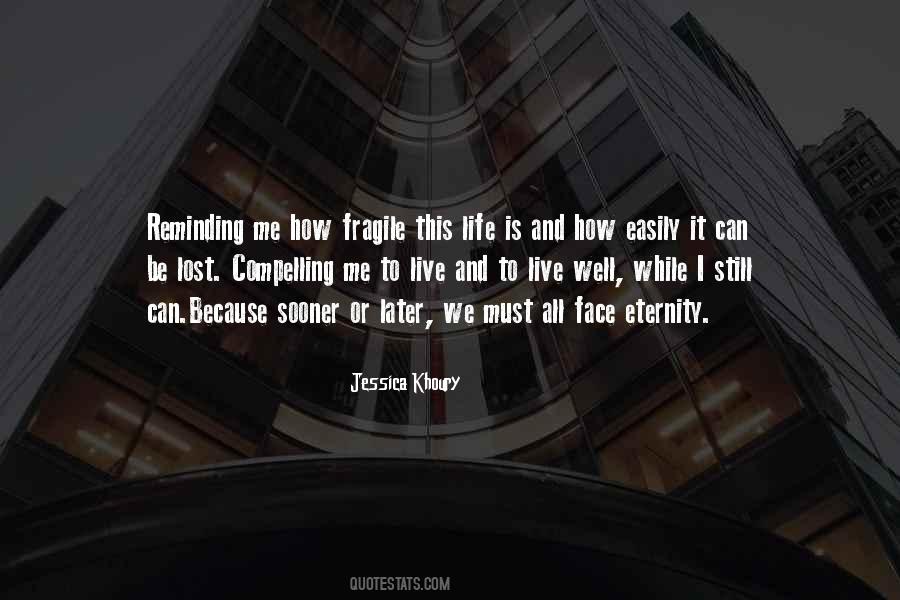 #42. You have the other half of my heart and I can't live without it." He gripped my shoulders, his forehead to mine. "You are the other half of me. Tell me how to fight for you, baby. Tell me what to do. I'll do whatever you want. Don't take my life away from me. Forgive me. - Author: Kate Stewart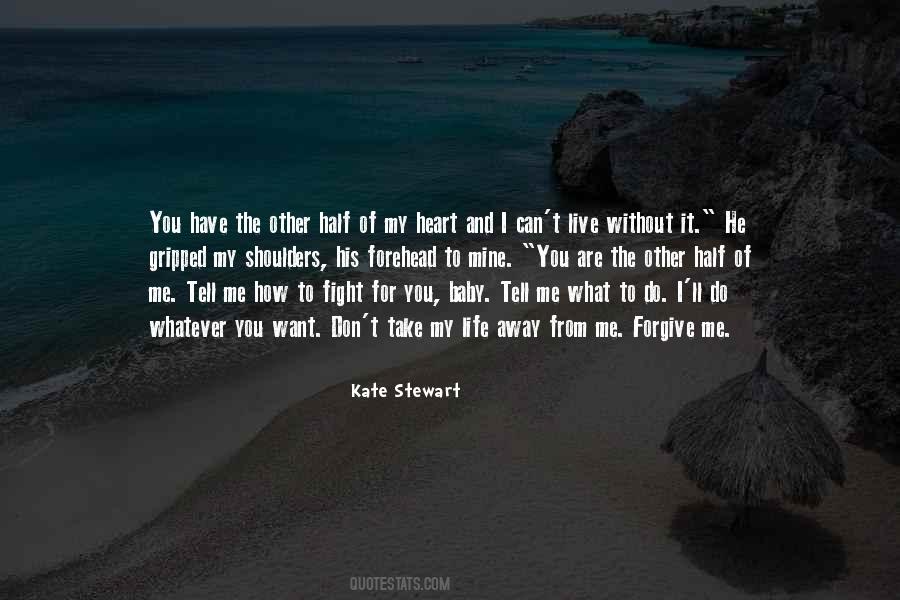 #43. This is Rome. Treachery and opportunism and backstabbing run in her veins like lifeblood, and if you've never had to live your life constantly looking over your shoulder, then you have no idea how dangerous it can be. - Author: Lesley Livingston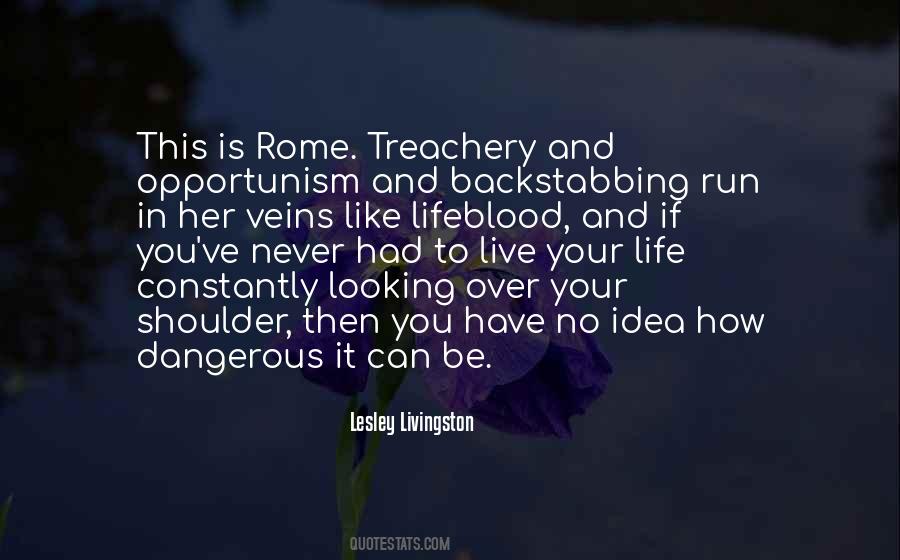 #44. It takes the whole of life to learn how to live, and
what will perhaps make you wonder more
it takes the whole of life to learn how to die. - Author: Seneca.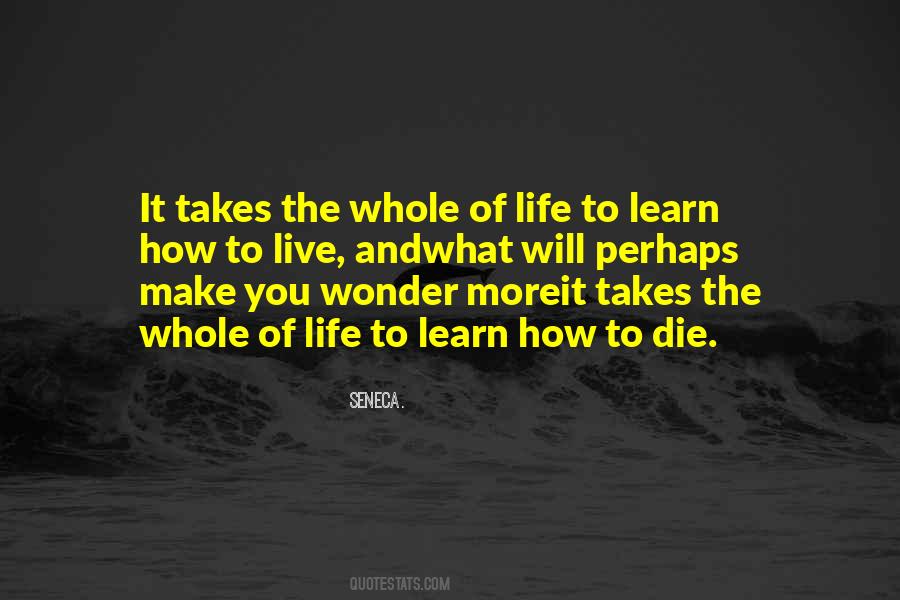 #45. I didn't know how to live my life, and suddenly I was thrust into it and had no choice but to live it. - Author: Paullina Simons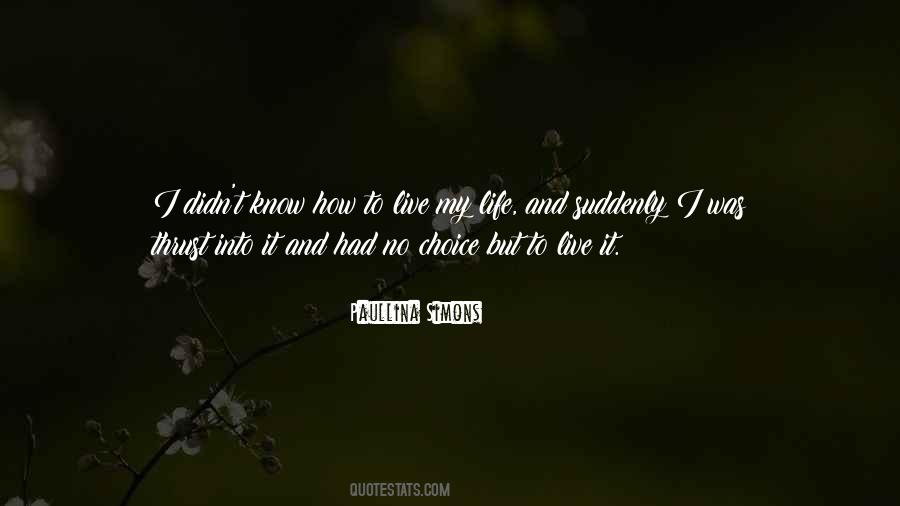 #46. Jesus modeled a purpose-driven life, and he taught others how to live it, too. That was the 'work' that brought glory to God. - Author: Rick Warren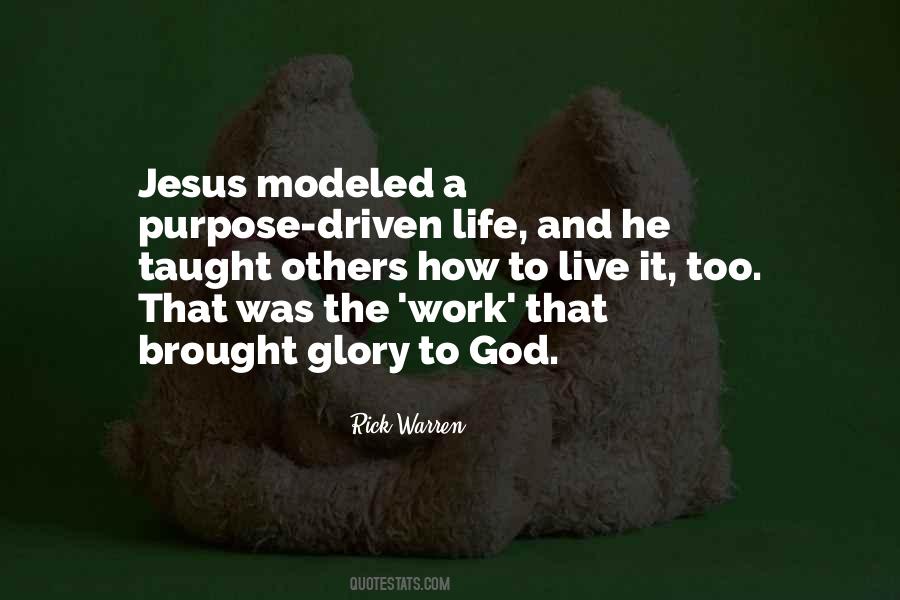 #47. In the kitchen, Chub clung to the wall, made no sound whatsoever, but his mouth opened and closed, opened and closed, as he told himself, kept telling himself, that life was material, everything was material - you just had to live long enough to see how to use it. - Author: William Goldman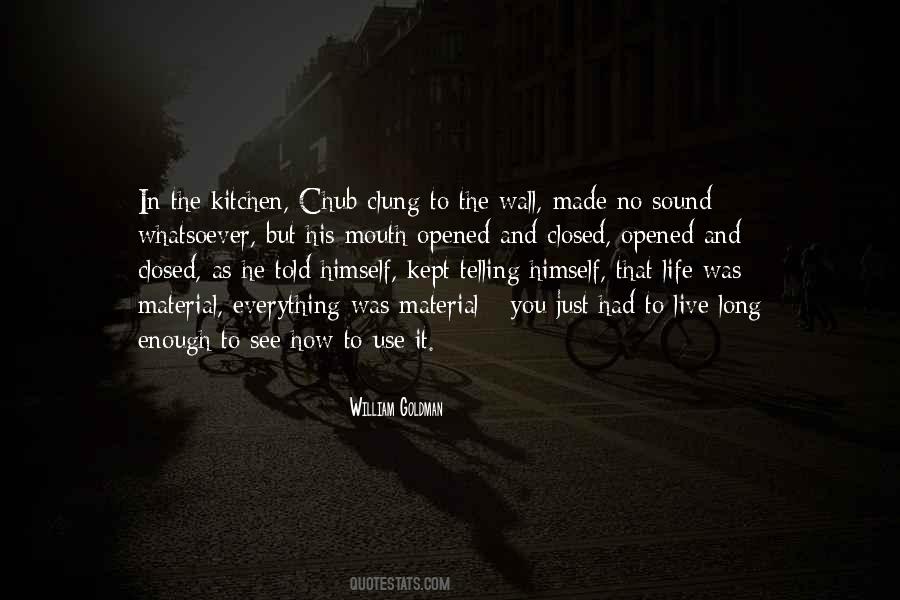 #48. If we were to live here always, with no other care than how to feed, clothe, and house ourselves, life would be a very sorry business. It is immeasurably heightened by the solemnity of death. - Author: Alexander Smith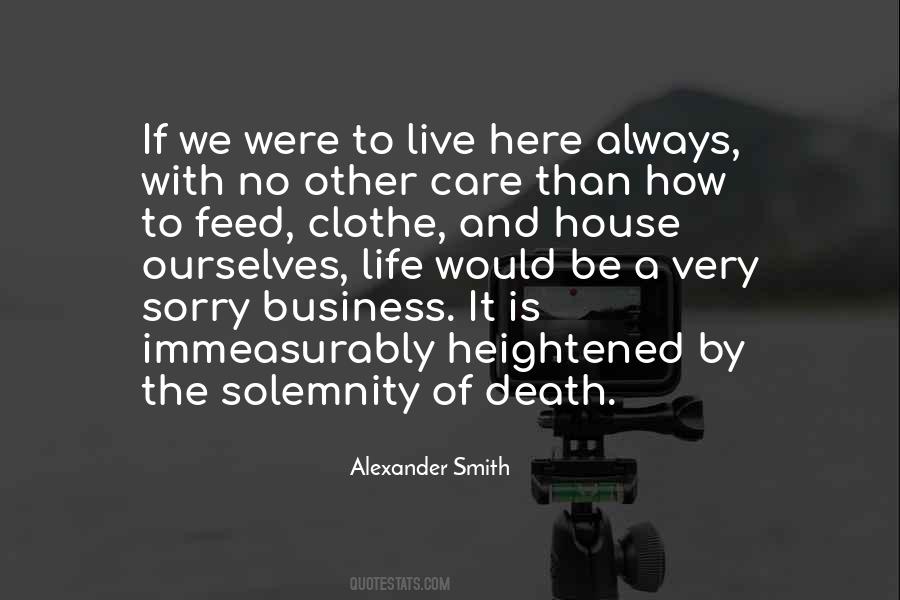 #49. Nothing is easy, and life can be extremely tough, but there's always a yin to the yang, so to speak. It's up to you to seek it out, embrace it, and live happily ever after. No matter how bad the hand you've been dealt may seem, there's always a way to play it. - Author: Alex Gaskarth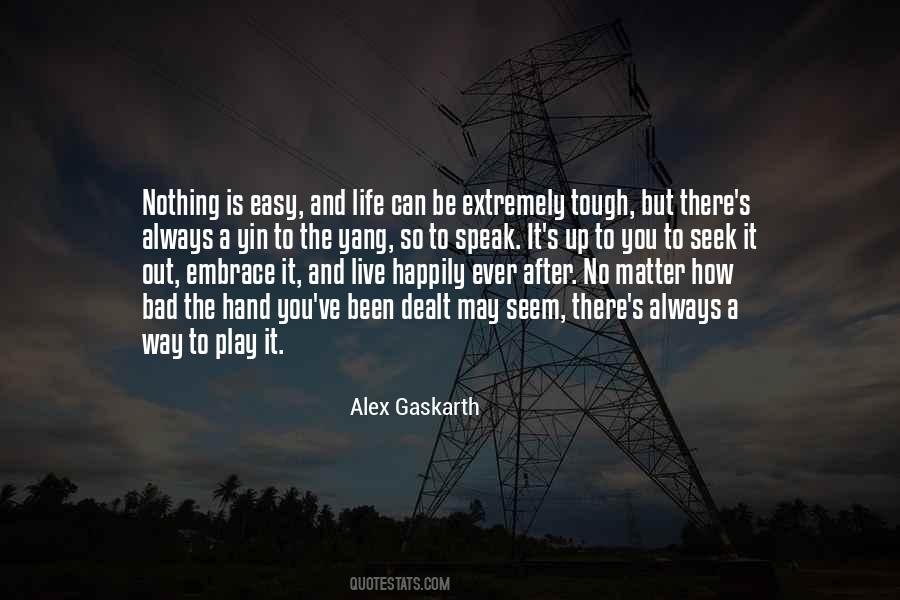 #50. Most people live life on the path we set for them. Too afraid to explore any other. But once in a while people like you come along and knock down all the obstacles we put in your way. People who realize free will is a gift, you'll never know how to use until you fight for it. - Author: The Adjustment Bureau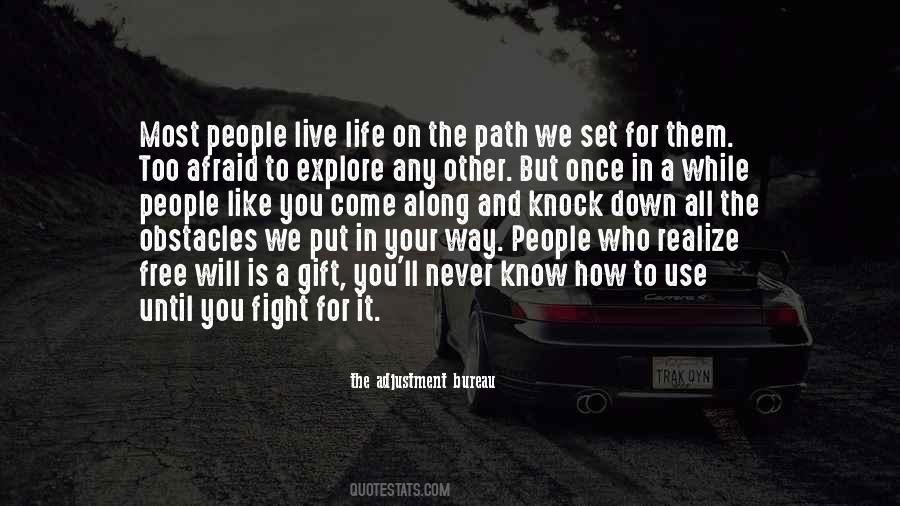 #51. Life's like a book: What matters is the hook.
Be it short or long, just live it strong.
Whether it's five stars, or how near or far, just soar! - Author: Ana Claudia Antunes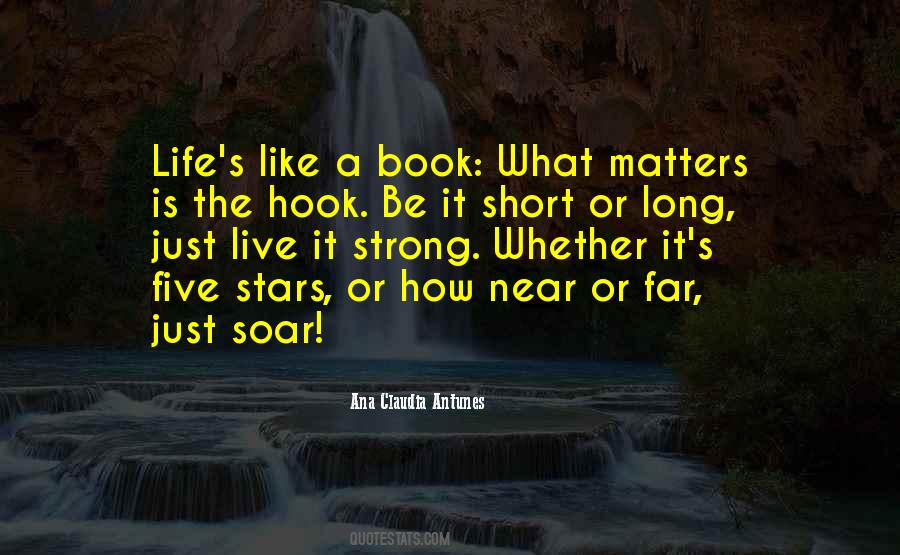 #52. But I can say that life is good to me. Has been and is good. So I think my task is to be good to it. So how do you be good to life? You live it. - Author: Morgan Freeman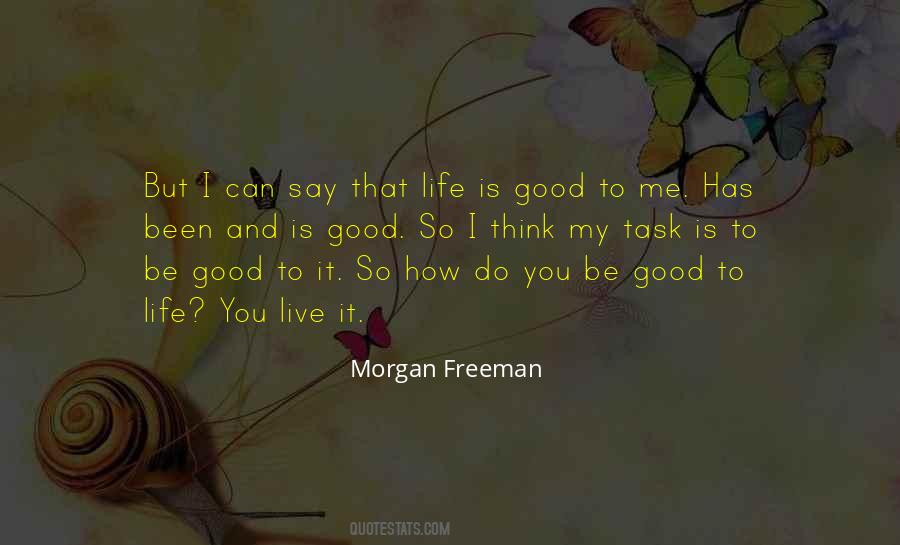 #53. You said the other day life was long,' I shot back. 'Which is it?'
'It's both,' she said, shrugging. 'It all depends on how you choose to live it. It's like forever, always changing.'
Kristy and Macy; p.135 - Author: Sarah Dessen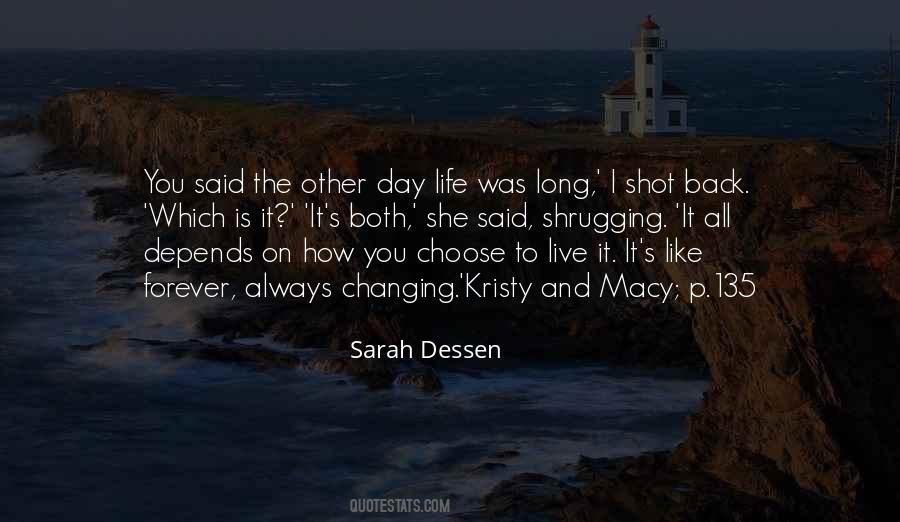 #54. Why even live? If that's your goal, if you're just clamoring your way to the top, I mean, why even have a life? Somebody was telling me the other day about the lives of investment bankers who work ninety hours a week and how it affects their patterns of consumption. - Author: Larkin Grimm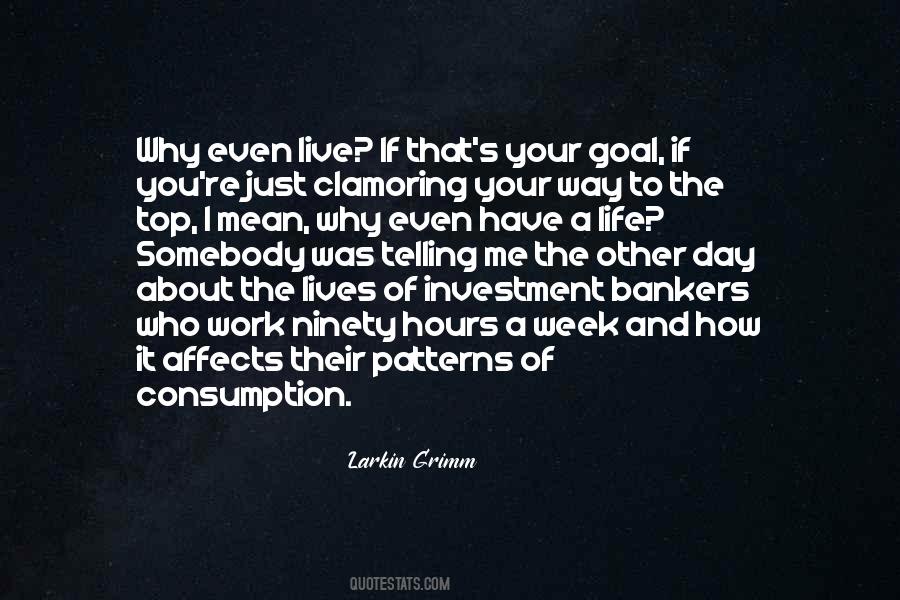 #55. It is important to know that what I do is not artistic. I am just a film-maker. I live how I live and I do what I do, which is recording moments of my life as I move ahead. And I do it because I am compelled to. Necessity, not artistry, is the true line you can follow in my life and work. - Author: Jonas Mekas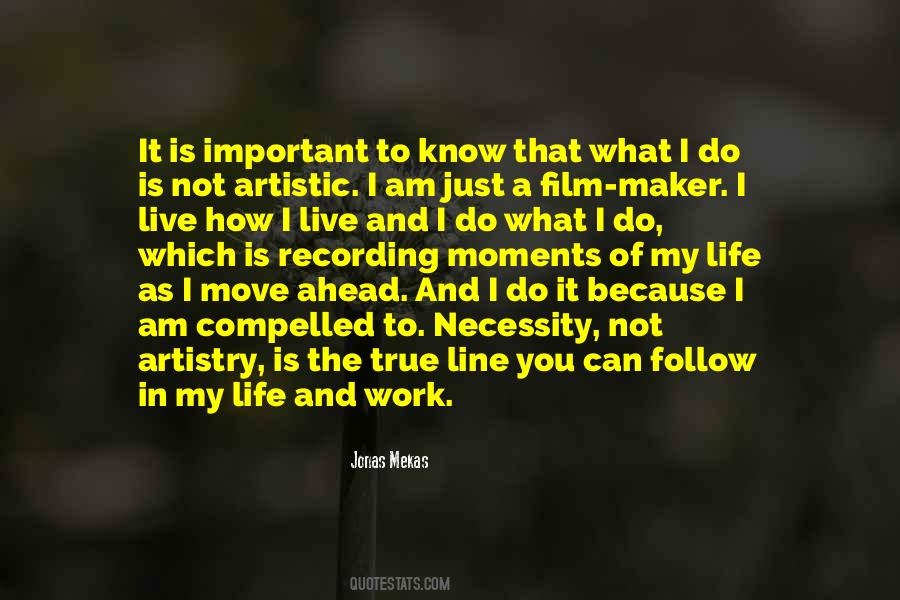 #56. I knew when I got into this business I couldn't have it both ways: I could live the playboy lifestyle, which is not a bad thing to do, or have a traditional family life, which is how I grew up. And that was more important to me. - Author: Chris O'Donnell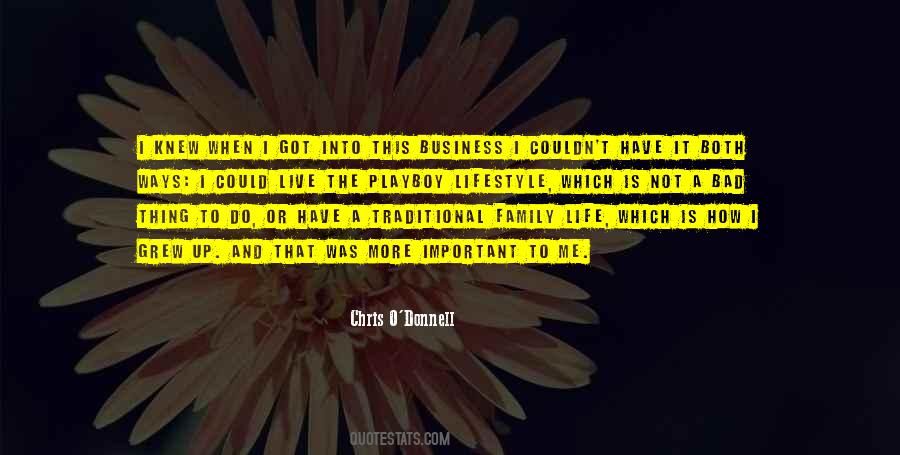 #57. Life is a process, and you just take it a day at a time, and you can't live in tomorrow, and you can't reach back and be in yesterday. No matter how much you want to, you just have what's right there in front of you. - Author: Amy Grant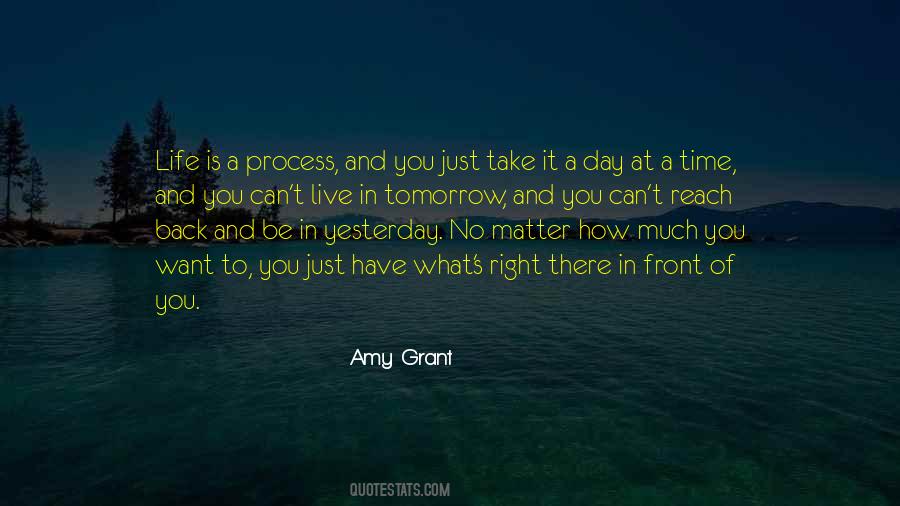 #58. People need to be made more aware of the need to work at learning how to live because life is so quick and sometimes it goes away too quickly. - Author: Andy Warhol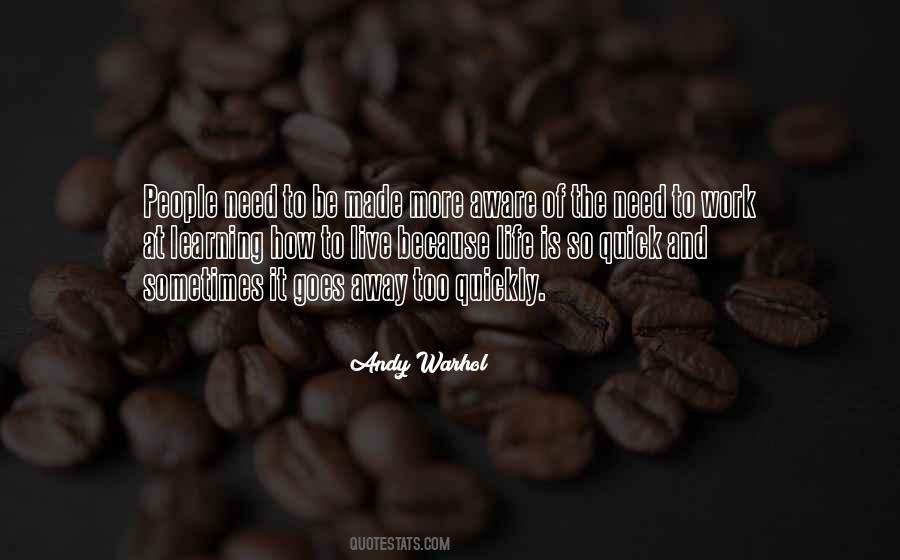 #59. Not to decide is to decide. Letting something go until it 'decides itself' is Life by Default. You don't want to live that way. So choose. Choose right now. Stop worrying about what you can 'lose' or how you can 'win' and just follow your joy. Where does your joy say you should go? - Author: Neale Donald Walsch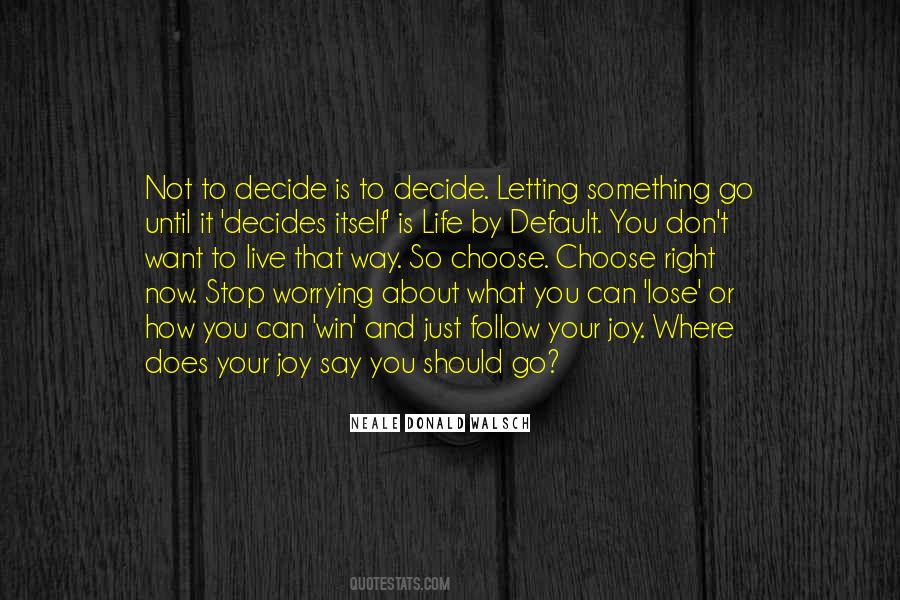 #60. The word, and the concept of feminism, was a gift because it gave me a sense of identity and a way of defining how I wished to live my life. - Author: Betty Buckley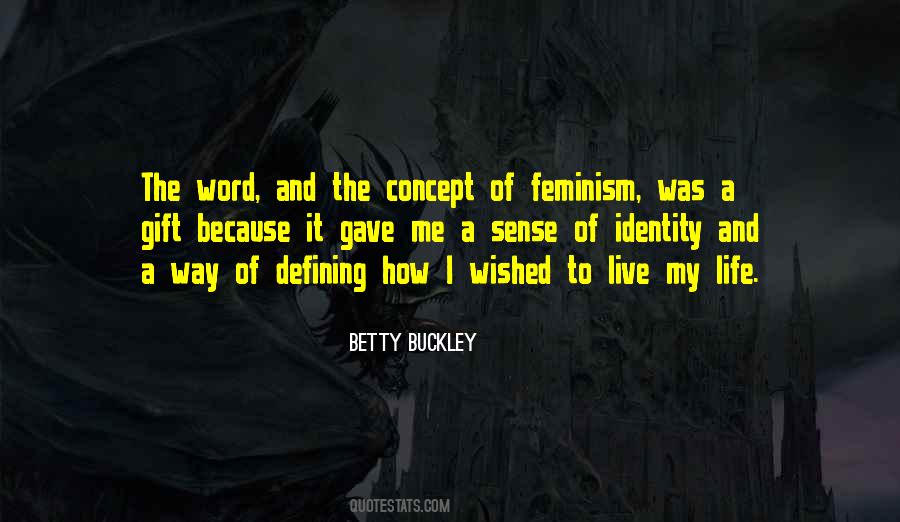 #61. Life is hard, kid. you gotta be harder. you gotta take it on and fight for it and be a fucking man about how you live it. if you're too much of a pussy to do that, then maybe you should leave, 'cause you're dead already - Author: James Frey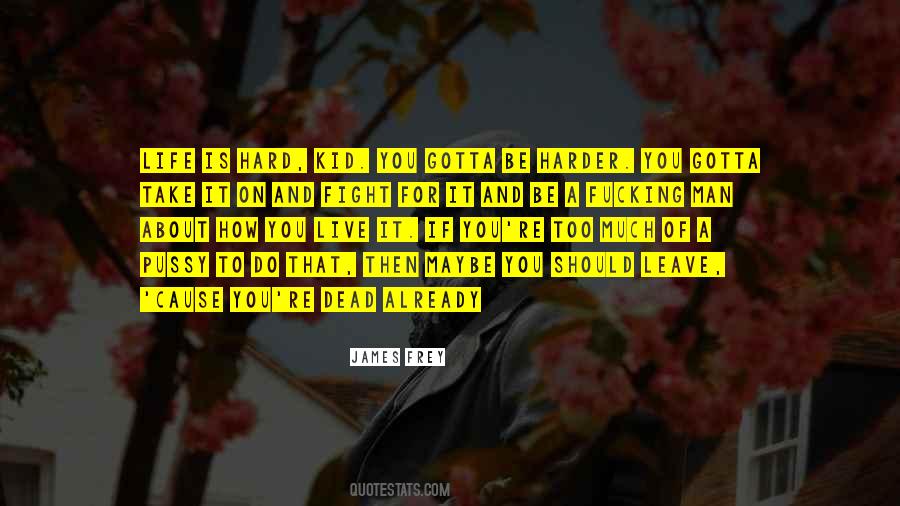 #62. Some people say it is hard to live in such a way, being completely one with the present moment. Of course, it is not hard. The opposite is hard. Not being one with life is hard, and that is how most people live. - Author: Eckhart Tolle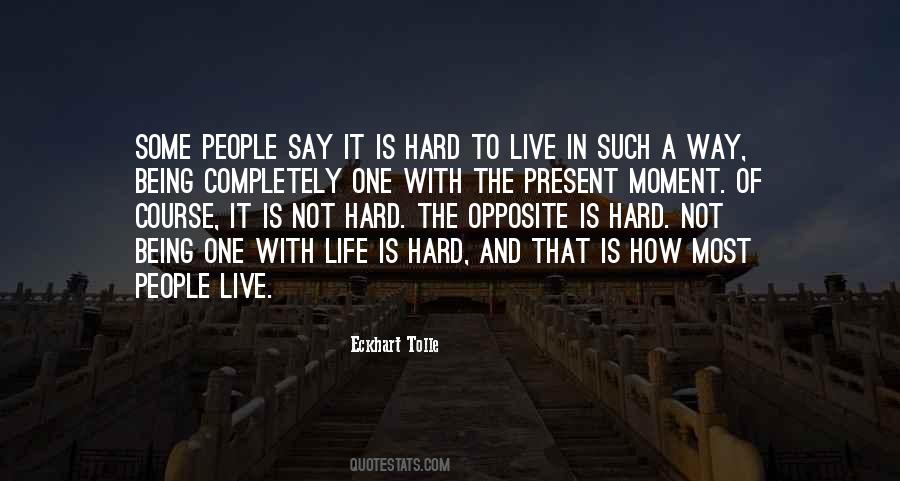 #63. I think it's important to be able to say that you did live a normal life and struggled to make ends meet. It all has to do with work ethic and how I apply myself to my awesome job now. I've always been used to working because I've been working since I was four. - Author: Naya Rivera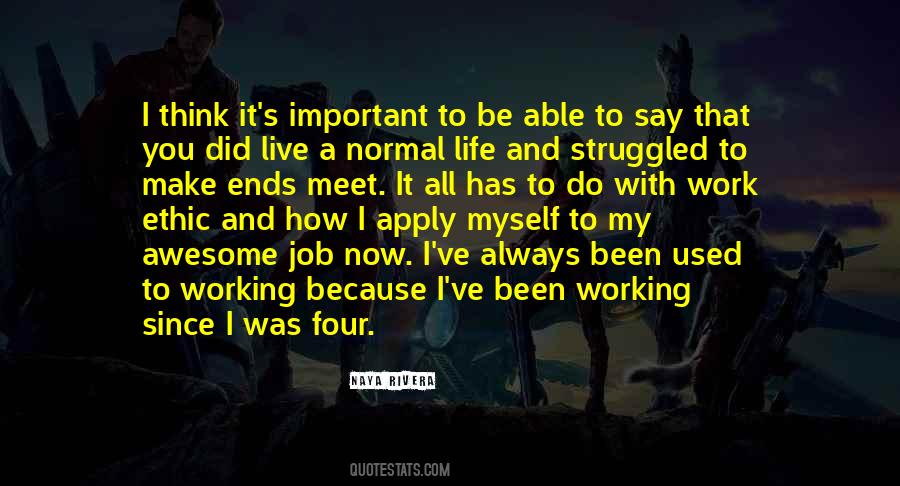 #64. It's better to live a life full of regrets than not live at all." He lowers his voice and adds huskily, "Let me show you how it's done. - Author: Mia Asher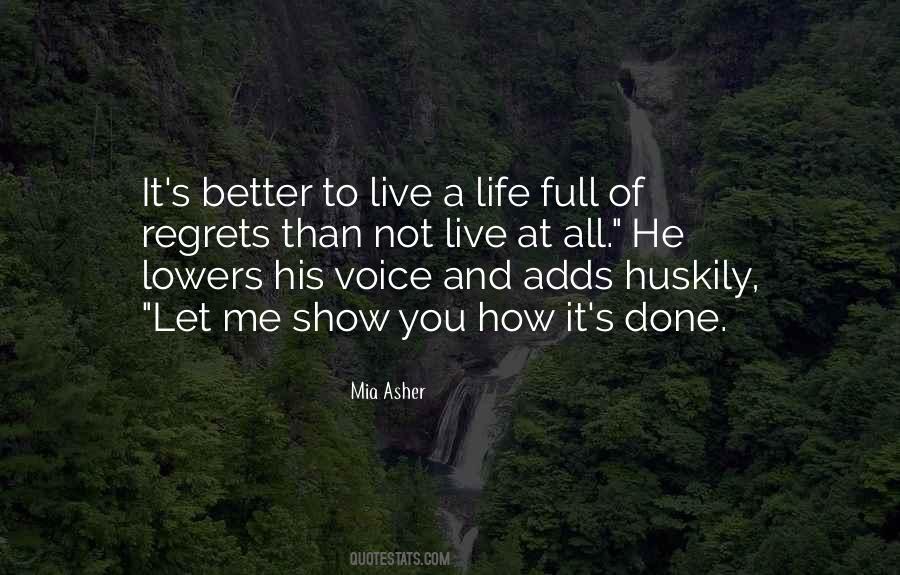 #65. The lesson Arendt drew was that a beautiful soul is not enough, for "it was precisely the soul for which life showed no consideration." To live fully and securely, every human being needs what Arendt calls "specificity," the social and political status that comes with full membership in a community. - Author: Adam Kirsch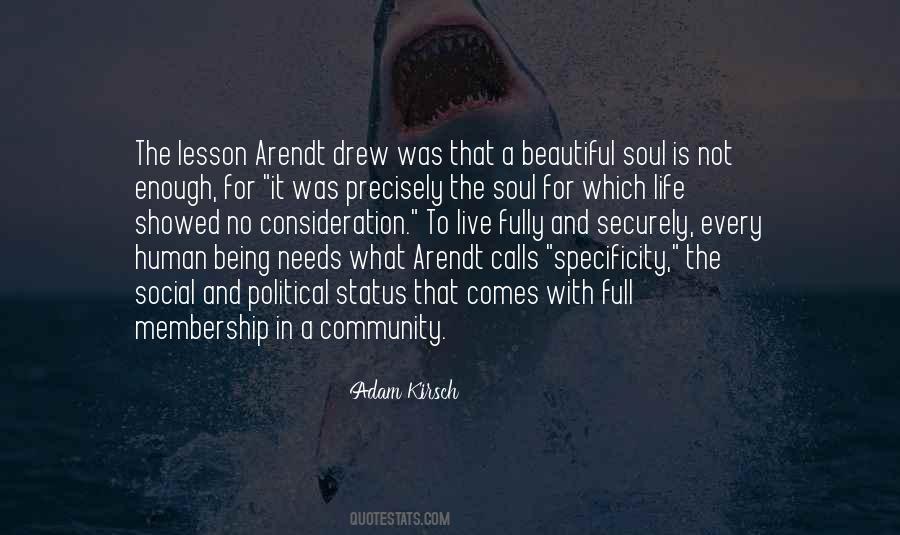 #66. the best use of one's life is to spend it for something that will outlast it. Life's value is not its duration but its donation - not how long we live but how fully and how well.1 - Author: J. Oswald Sanders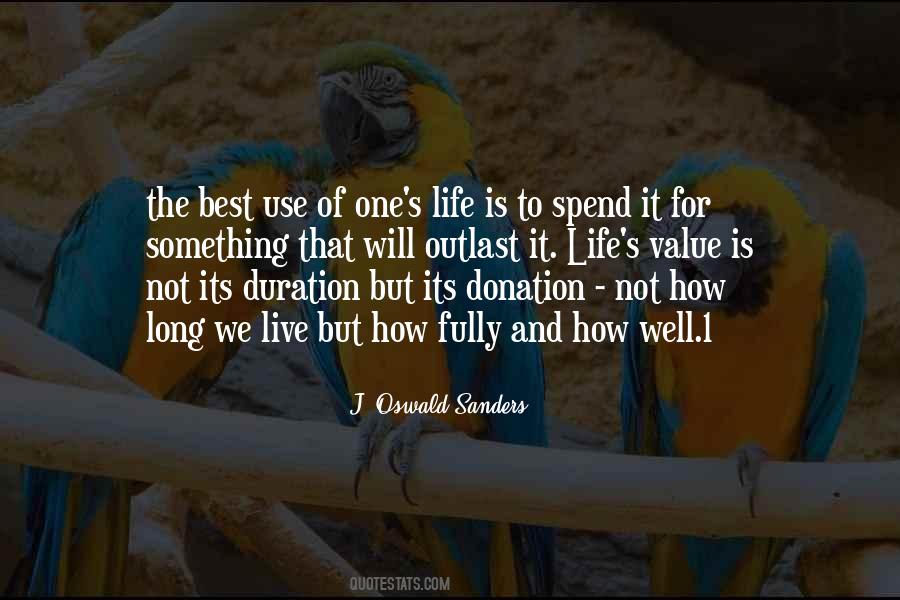 #67. Since death is an inevitablility and life an uncertainty, it all comes down to how we live the precious moments of our lives. When all is said and done, when you are ready to slip peacefully from this world into the next, how do you want to be remembered? - Author: S. Cameron Roach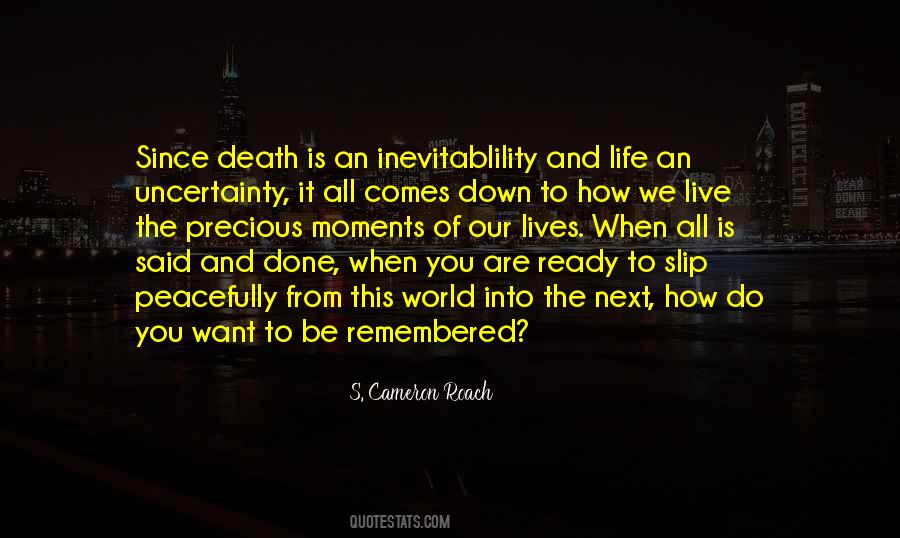 #68. You can't live your life for someone else, and you can't let someone else tell you how to live your life. People spend so much time judging the shit out of each other - it's a waste of energy. - Author: Dannika Dark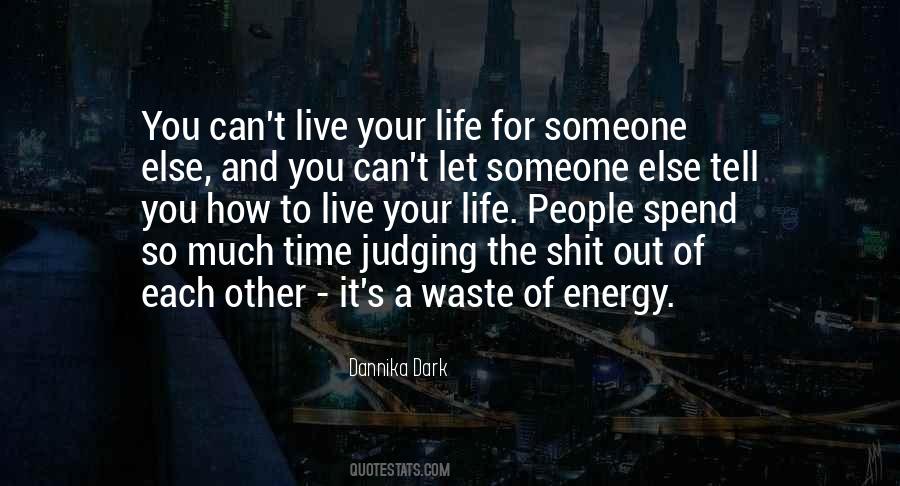 #69. I live my life day by day, and that's how I continue to live it. - Author: Naomi Campbell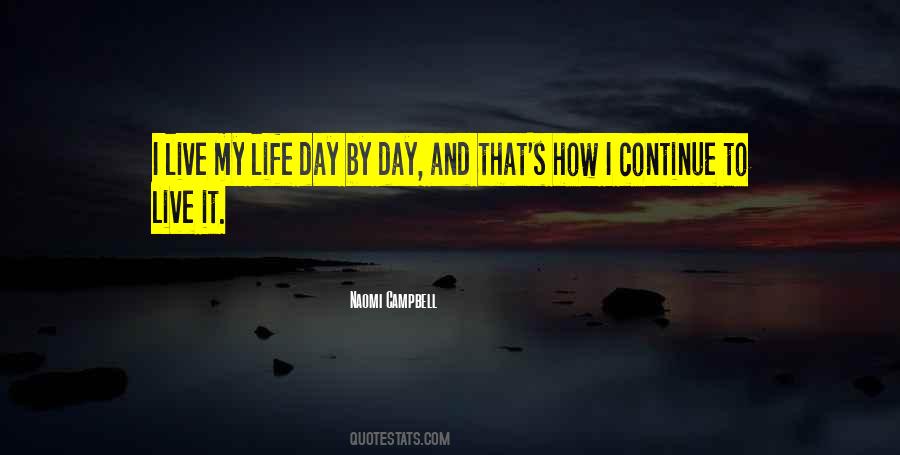 #70. So when you look at Jesus and it appears that he's flying he really is...flying. But what you are actually seeing is me my life in him. That's how he lives and acts as a true human how every human is designed to live-out of my life. - Author: William Paul Young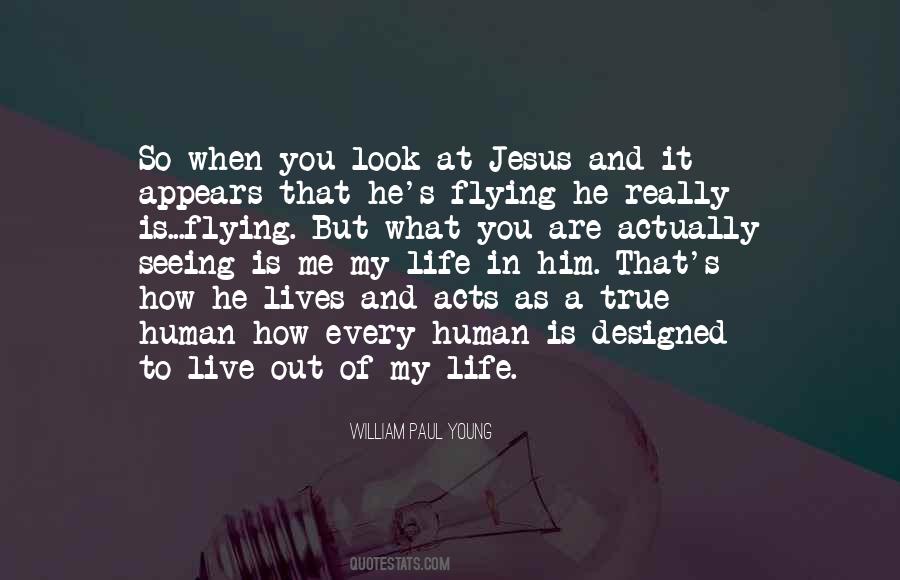 #71. Mel rolled her eyes. "You can't live your life based on 'what-ifs,' Liv. And change is inevitable. It's the one thing you can always count on. Stop worrying about what might or not happen and follow your heart. How can you expect to ever be happy if you don't? - Author: Alicia Kobishop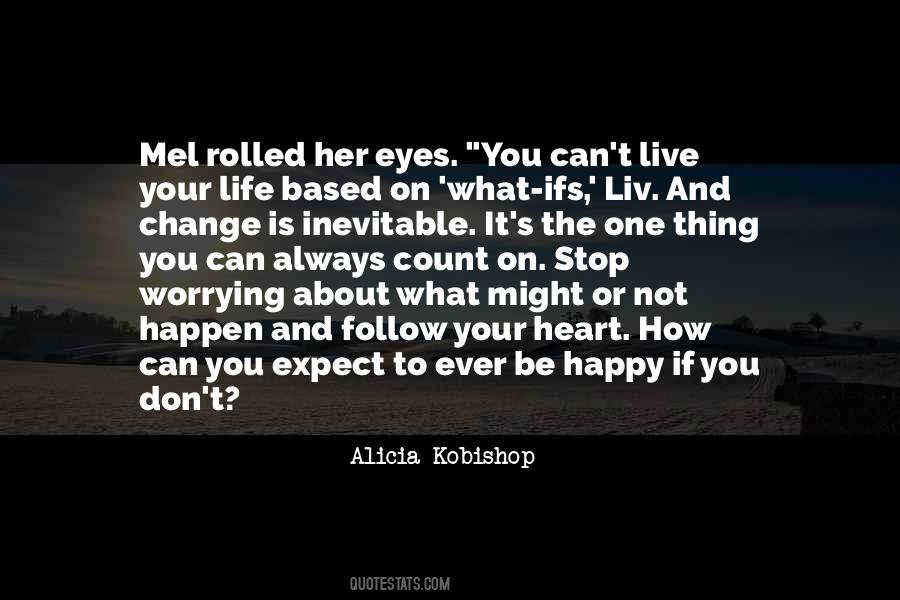 #72. Science may explain how humans came into being, but it has no answer to the slippery question of how humans should live. Only literature makes it possible to pose such questions in the first place. And if there is no answer, only literature can point to the impossibility of ever finding one. - Author: Minae Mizumura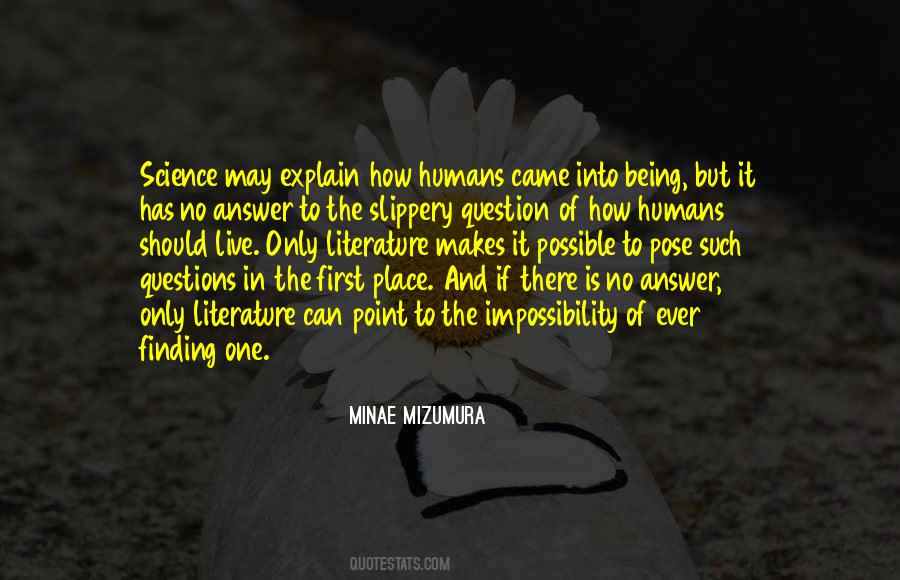 #73. Your faith provides you focus and vision for your life. It is your true north compass and GPS of self-awareness and self-management. Your faith is your lens to focus on how your talents, skills, gifts, and abilities will allow you to live on purpose - Author: Thomas Narofsky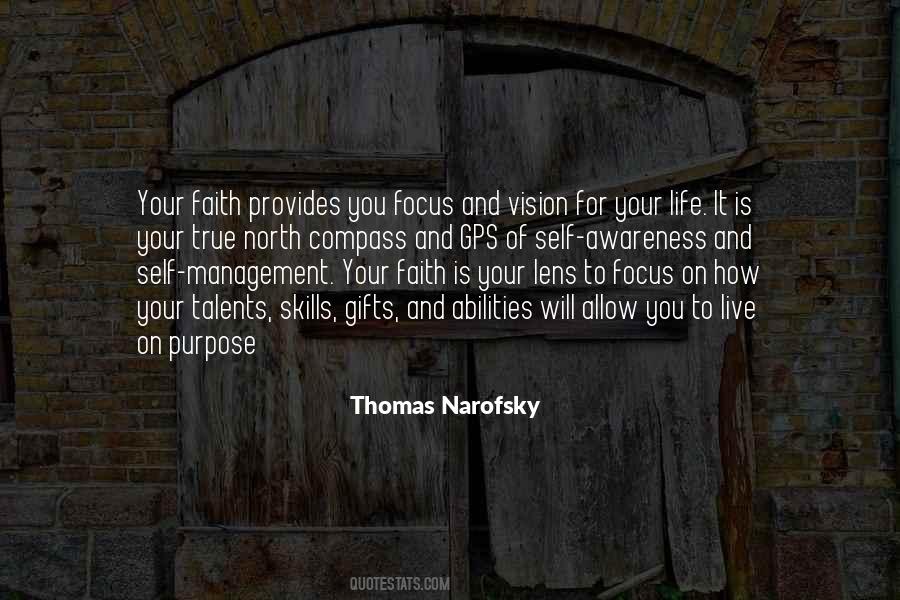 #74. Jews read the books of Moses not just as history but as divine command. The question to which they are an answer is not, 'What happened?' but rather, 'How then shall I live?' And it's only with the exodus that the life of the commands really begins. - Author: Jonathan Sacks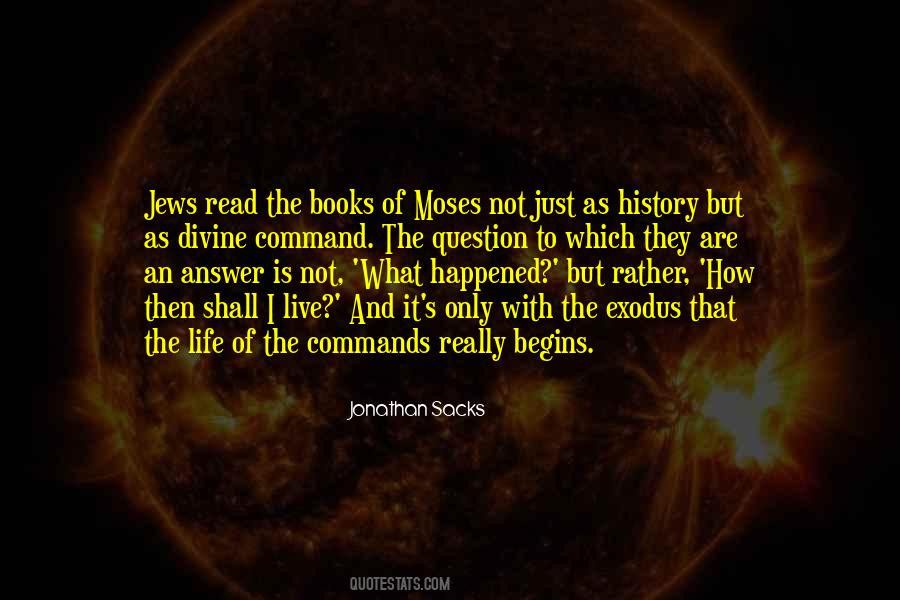 #75. How would it feel to live a full life and have no one remember it, to have no one remember the extraordinary things you accomplished, even if it was just waking up every day and finding the courage to get out of bed? - Author: T.J. Klune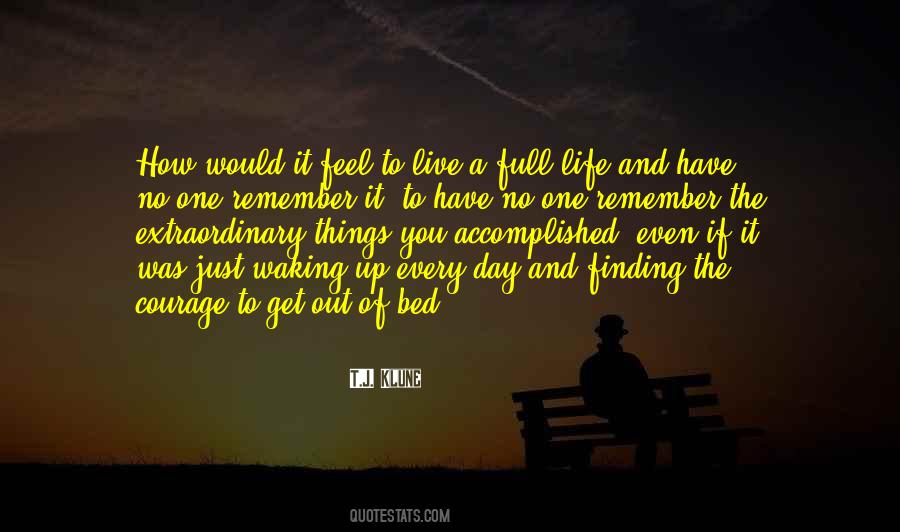 #76. People live their lives bound by what they accept as correct and true. That's how they define Reality. But what does it mean to be "correct" or "true"? Merely vague concepts ... Their Reality may all be a mirage. Can we consider them to simply be living in their own world, shaped by their beliefs? - Author: Masashi Kishimoto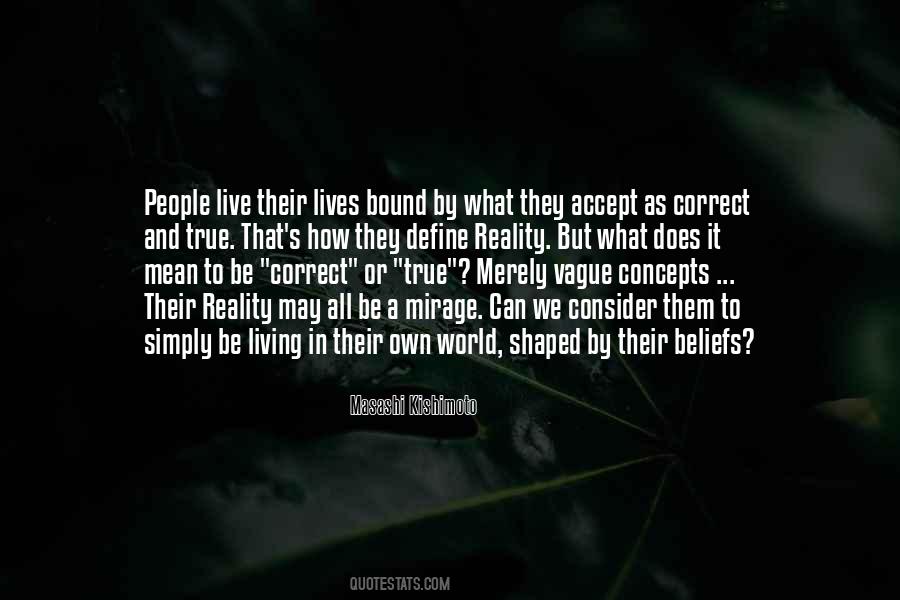 #77. But learning how to live takes a whole life, and, which may surprise you more, it takes a whole life to learn how to die. So many of the finest men have put aside all - Author: Seneca.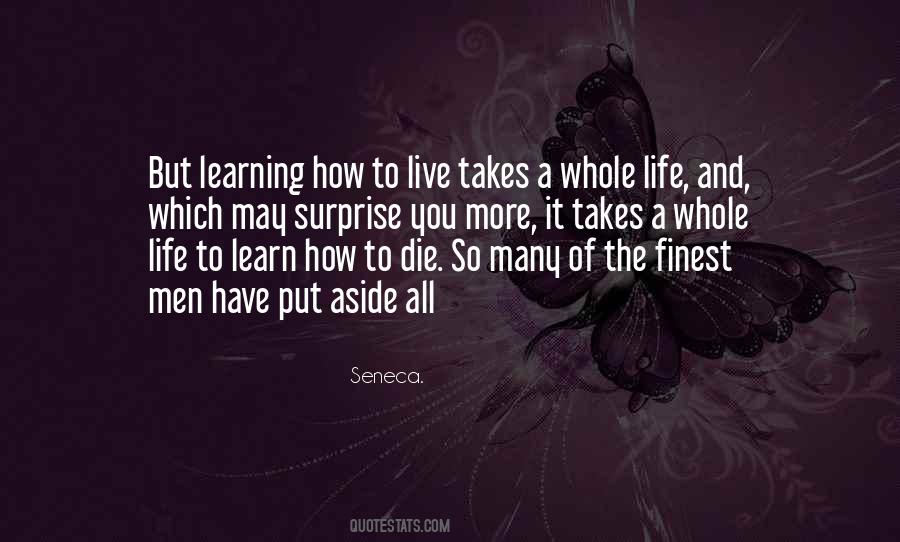 #78. I think what I have done is claimed the space and pushed it forward as much as I can in relationship to who I am and how I live my life. - Author: Mickalene Thomas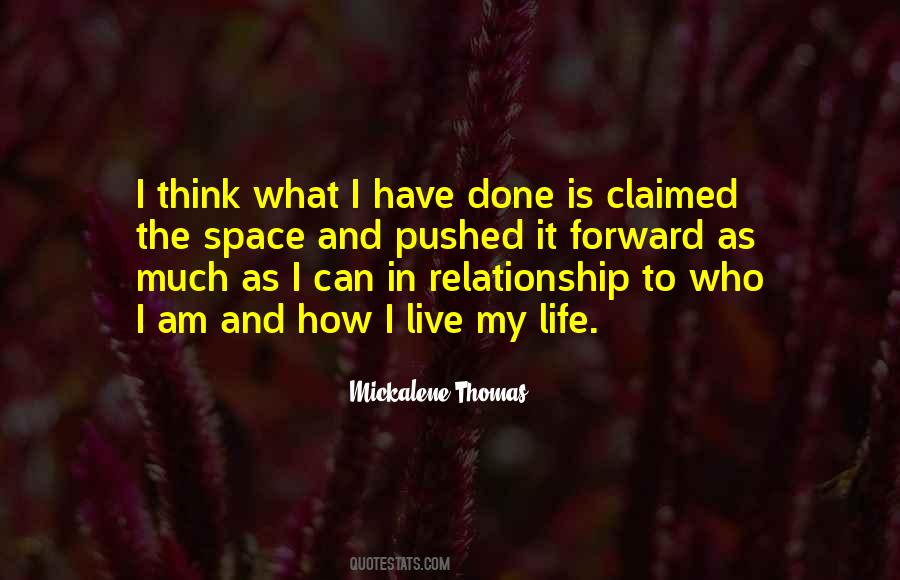 #79. They say live it how you want to
Or else someone else will.
This is my life, and I will
Live it. - Author: Innocent Mwatsikesimbe
#80. I've never once thought about how I was going to die," she said. "I can't think about it. I don't even know how I'm going to live. - Author: Haruki Murakami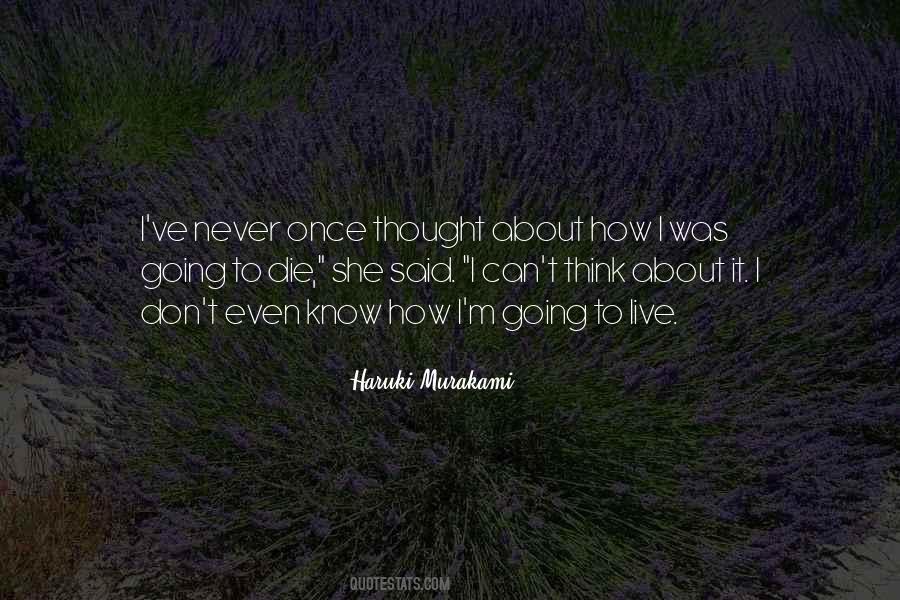 #81. In life you get the choice, it depends on what you choose and how you live with the consequences to whether you win or lose! - Author: Adam Johnston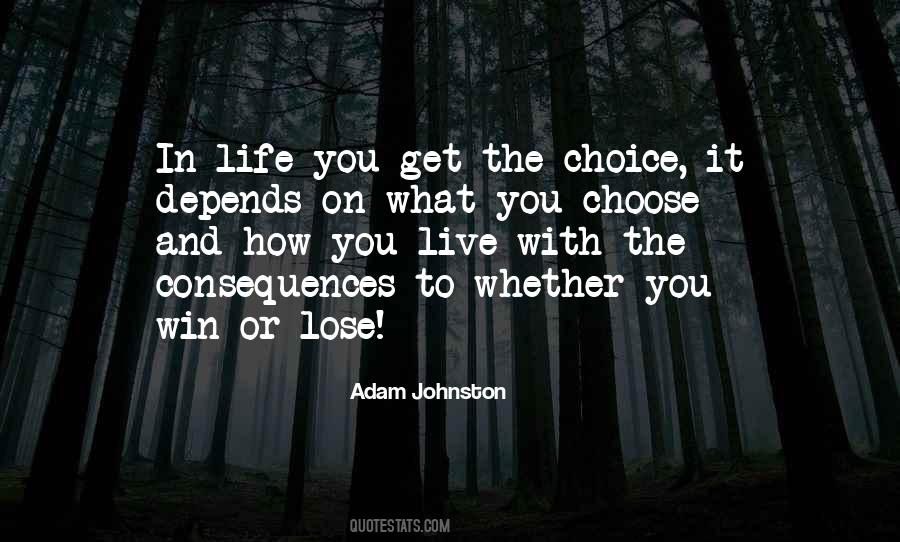 #82. The point is, life has to be endured, and lived. But how to live it is the problem. - Author: Daphne Du Maurier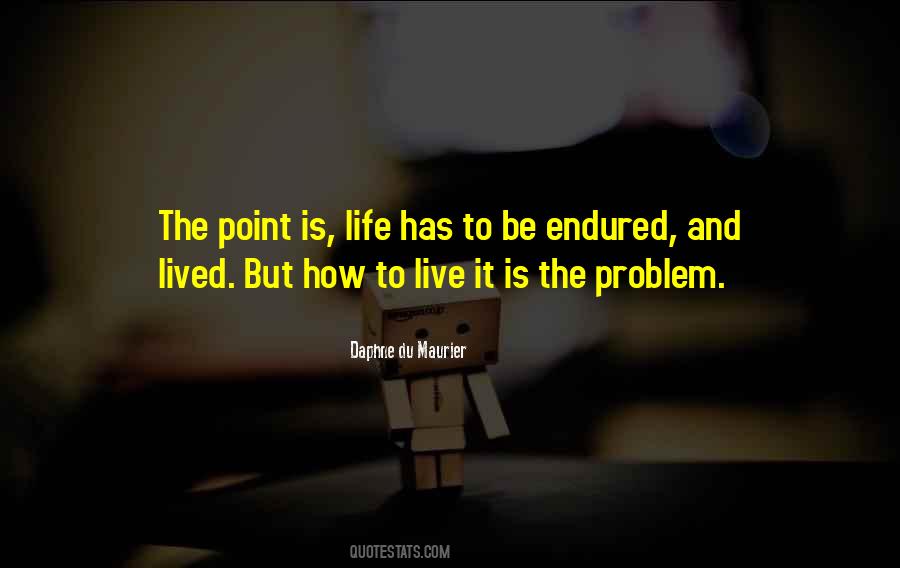 #83. Live for others and love unconditionally to prove it.
People will never forget how you touch their heart with your love. - Author: Debasish Mridha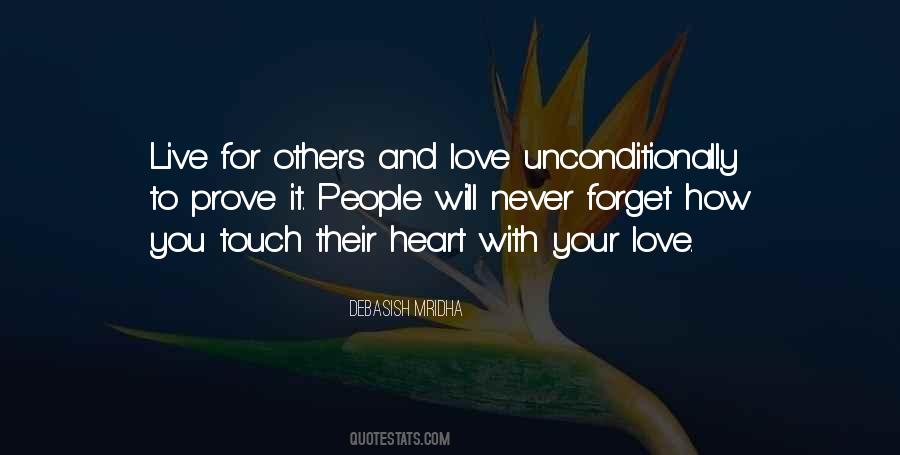 #84. You don't get it, Clary. You don't understand what it's like to live always at war, to grow up with battle and sacrifice. I guess it's not your fault. It's just how you were brought up- - Author: Cassandra Clare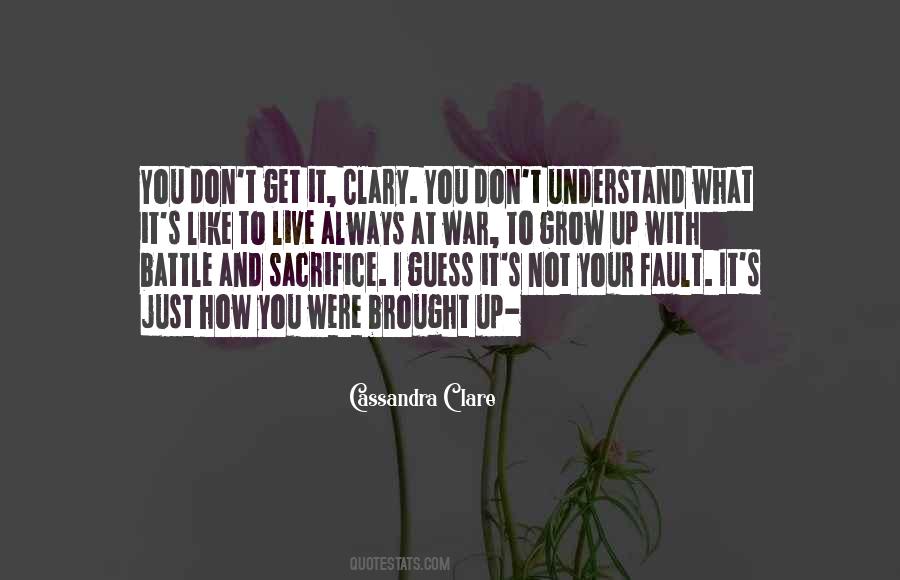 #85. The quality of life depends upon the ability of society to teach it's members how to live in harmony with their environment-def ined first as family, then the community, then the world and its resources. - Author: Ellen Swallow Richards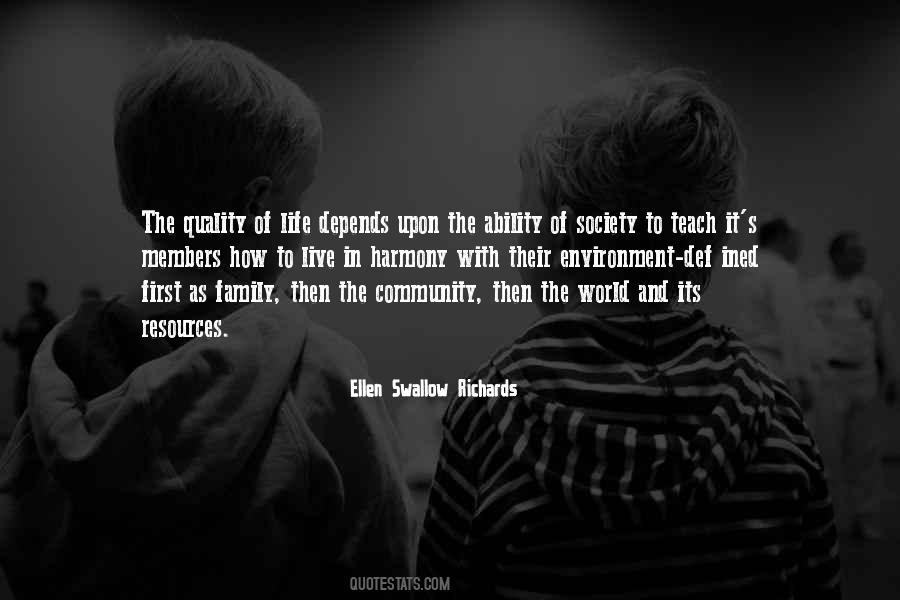 #86. To live a very long time ... is supposed to be the desired object of all human life. But it is not. The main thing is to ride the flood tide ... How glorious it is to create! For those few moments of a lifetime when the stream is running full and deep: those are the justification for everything. - Author: James Dickey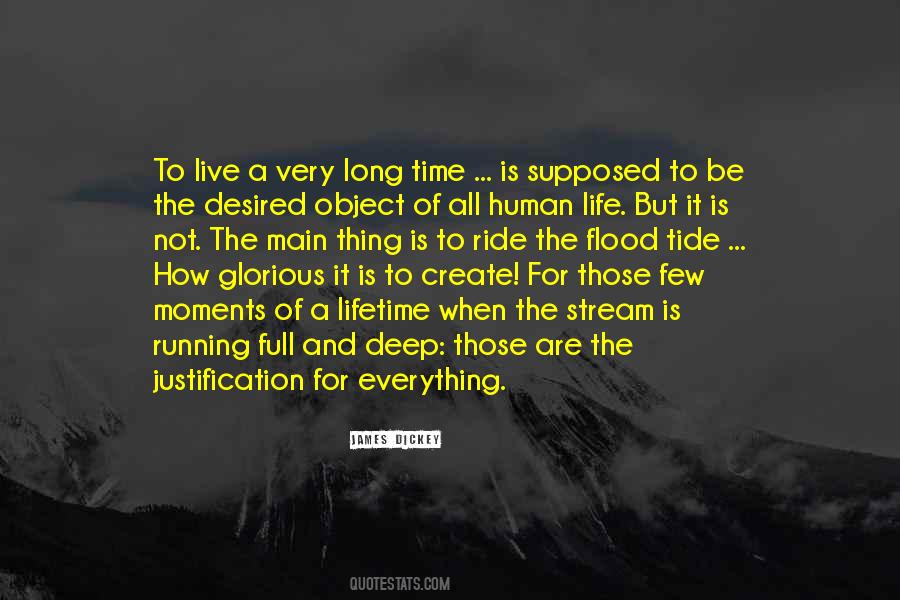 #87. I'm so sorry, Brody. I won't bullshit you and feed you a line about how it will get easier, because I know it won't. You don't get over losing someone you love. You just learn to live through the pain every day as you try to have some kind of normalcy in your life. - Author: Danielle Jamie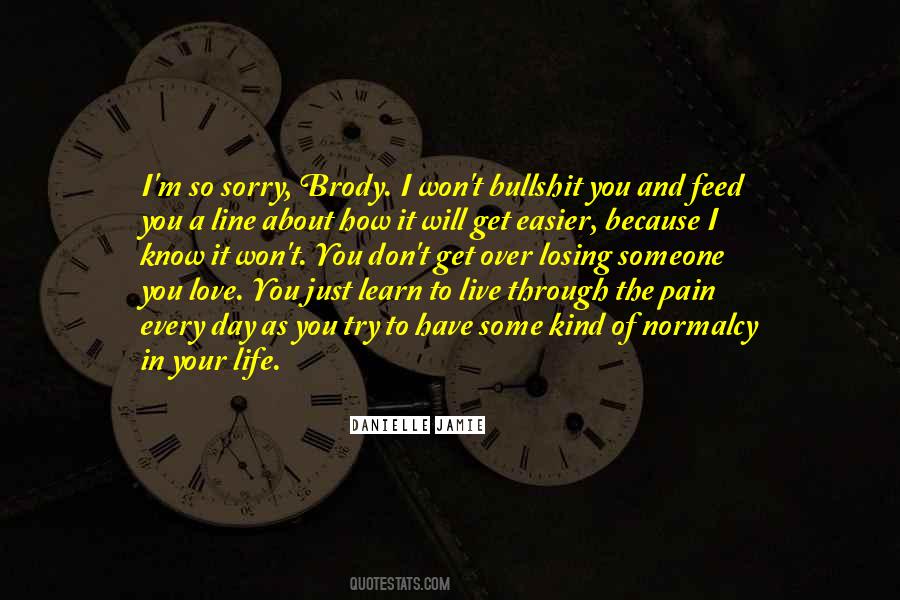 #88. Life, she insisted, is how you live it and who you live it with, not what you do to make a living. - Author: Kristen Callihan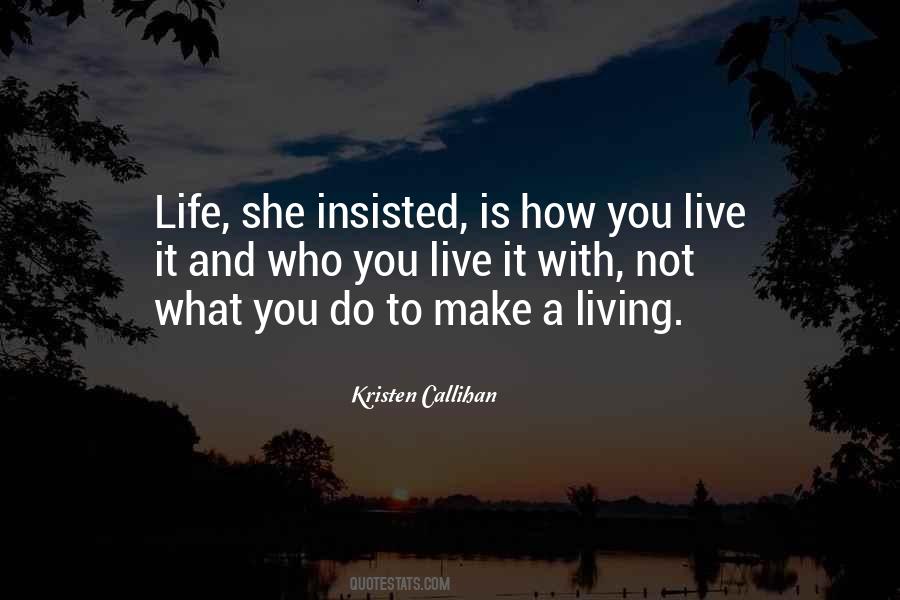 #89. And when they start talking, and they always do, you find that each of them has a story they want to tell. Everyone, no matter how old or young, has some lesson they want to teach. And I sit there and listen and learn all about life from people who have no idea how to live it. - Author: Paul Neilan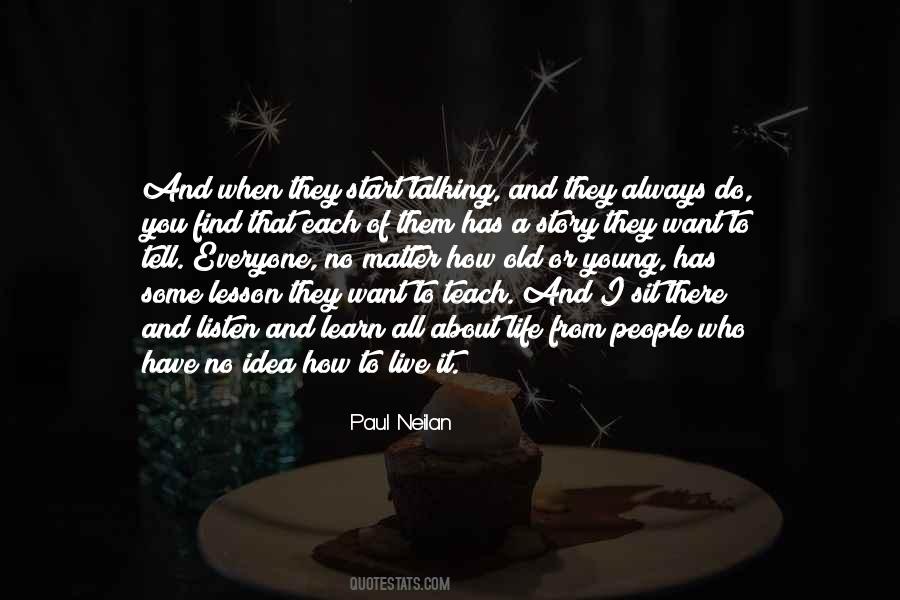 #90. There are really only three important things to remember in life: To care, to share, and to be fair. This is not a new idea at all, and yet, observing how most people live their lives, you might think it was. - Author: Frederick Lenz
#91. How often do you cave in to the pressures of the crowd, seeking the approval of others instead of the approval of God? We all like to be liked - but that can be a very dangerous thing. Make it your goal to live for Christ and be faithful to Him, regardless of what the crowd demands. - Author: Billy Graham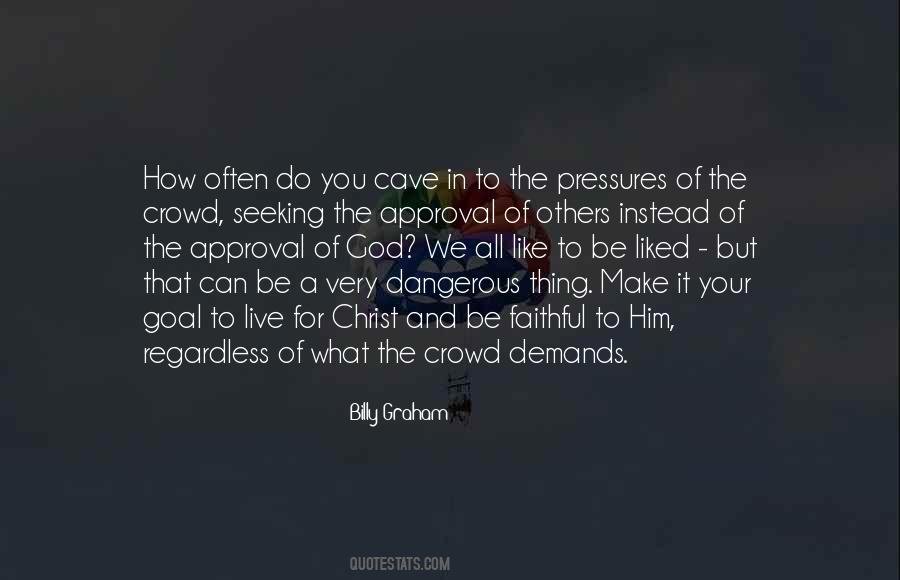 #92. Choosing life is always messy.

But it is there in the messiness, in the conflicted and often confused ways we live our lives, that we can learn how much mercy matters to us all. - Author: Mathew N. Schmalz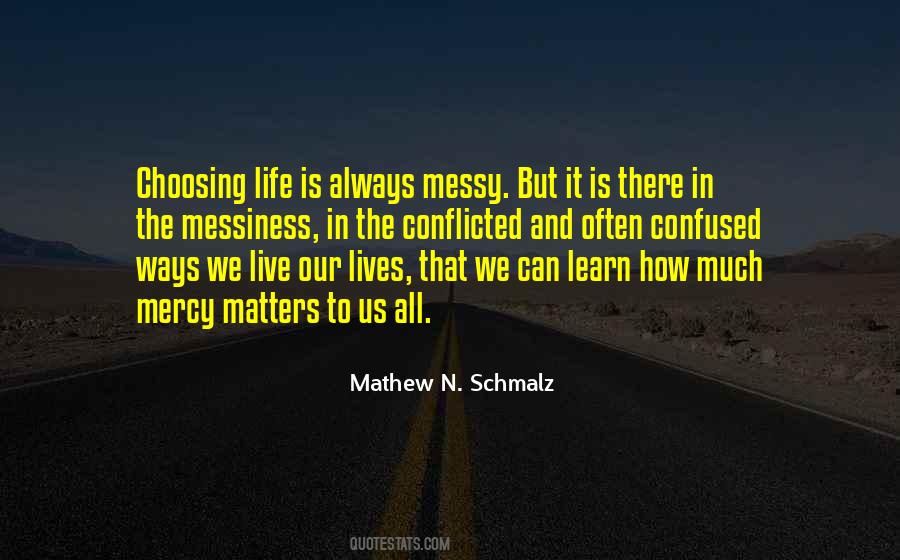 #93. Fiction may amuse us, but reality instills lessons to be imbibed through experience; to 'live' this stark reality called 'life' as a blessing, whereas some foolishly waste it by following fiction and fictitious characters. - Author: Henrietta Newton Martin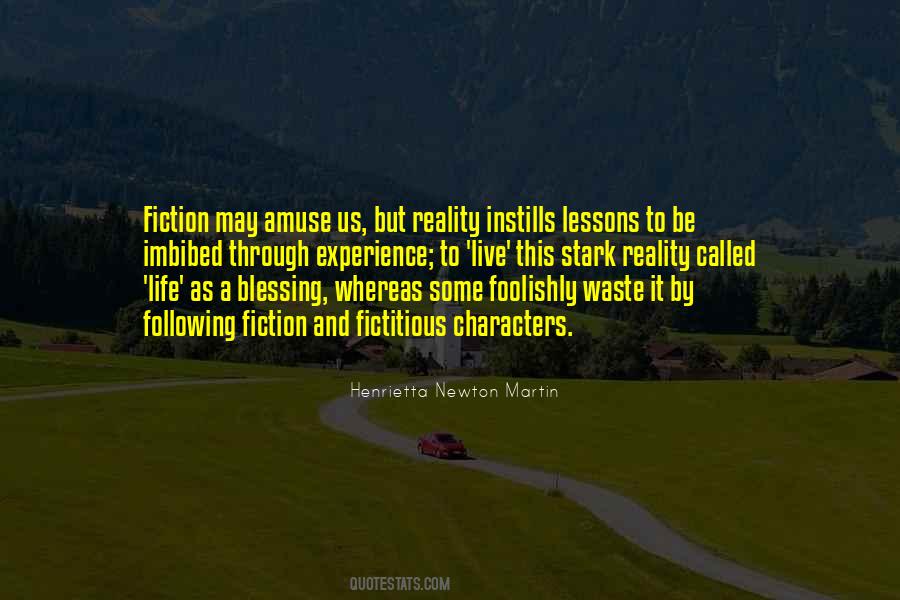 #94. James says that you deceive yourself if you only hear the Word but do not do it. How many people live in this deception their whole life-hearing and hearing, but never even trying to do what they hear! - Author: Johan Oscar Smith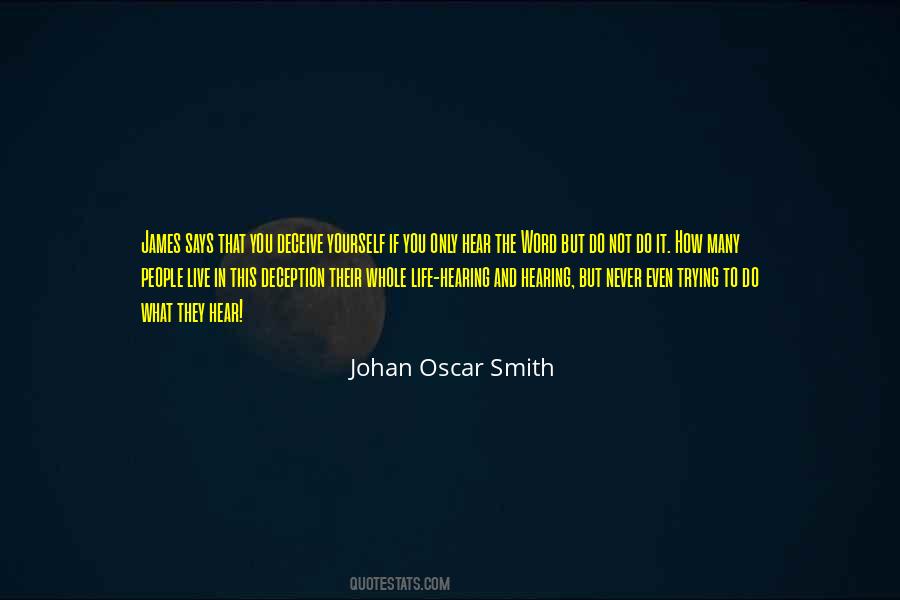 #95. Life can be less mysterious than we make it out to be when we try to think about how it would be on other planets. And if we remove the mystery of life, then I think it is a little bit easier for us to think about how we live, and how perhaps we're not as special as we always think we are. - Author: Chris Adami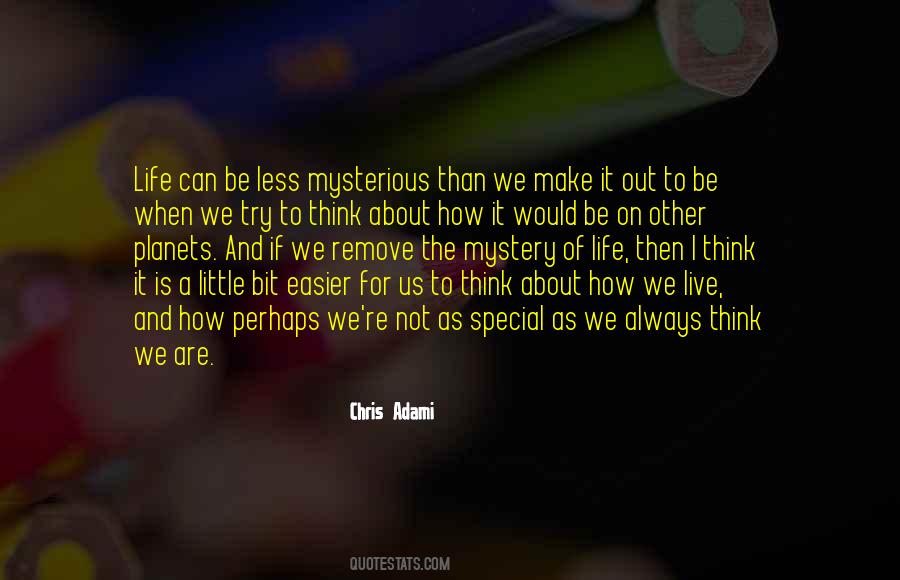 #96. All novelists I speak to about how they started usually say it was by pulling up their roots and going to live somewhere else. You see the shape of your life at a distance. - Author: Deborah Moggach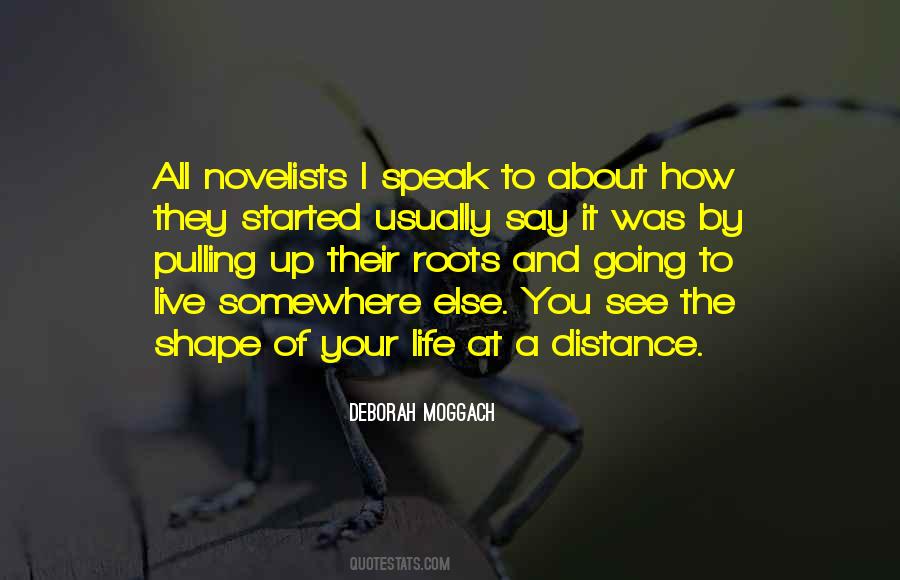 #97. Ultimately, I am responsible for how I live my life now, and what I make out of it. In fact, I am actually grateful for what I've gone through and wouldn't change a thing-although I admit I wouldn't want to live it over again either. Once was enough. - Author: Shania Twain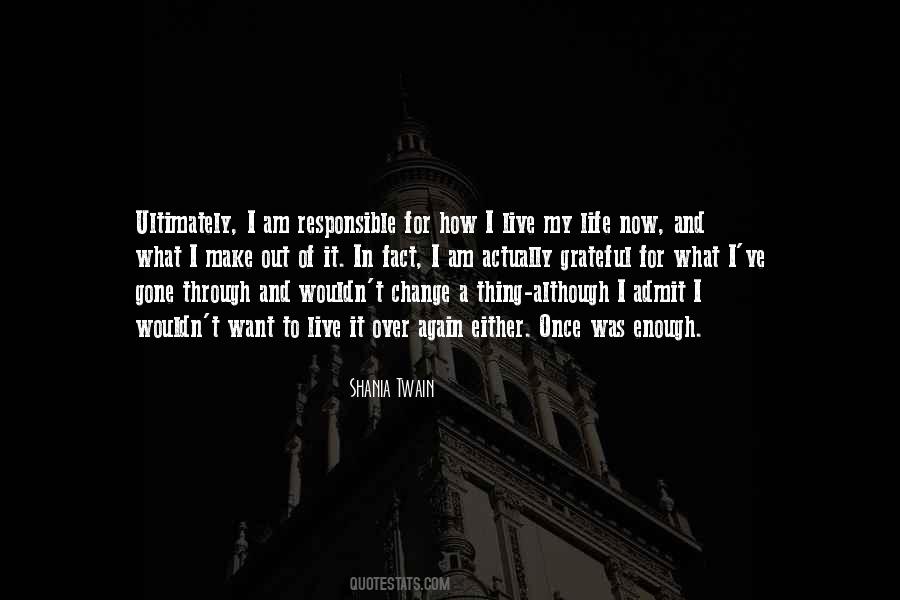 #98. That's how life feels to me. Everyone is doing it; everyone knows how. To live and be who they are and find a place, find a moment. I'm still waiting. - Author: Sara Zarr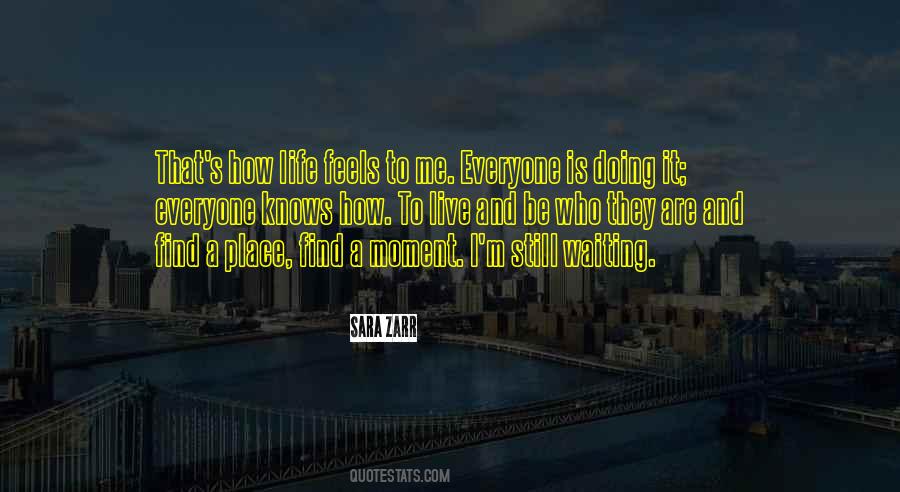 #99. Every day in my consultancy, I meet men and women who are out of their minds. That is, they have not the slightest idea who they really are or what it is that matters to them. The question 'How shall I live?' is not one I can answer on prescription. - Author: Jeanette Winterson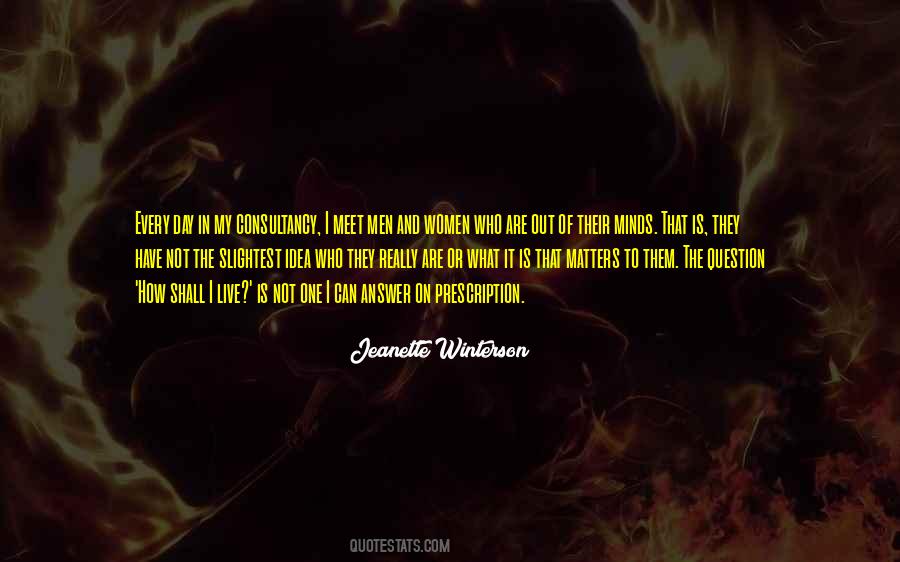 #100. How is it possible to live like a machine and bear fruit like a tree? - Author: Douglas Wilson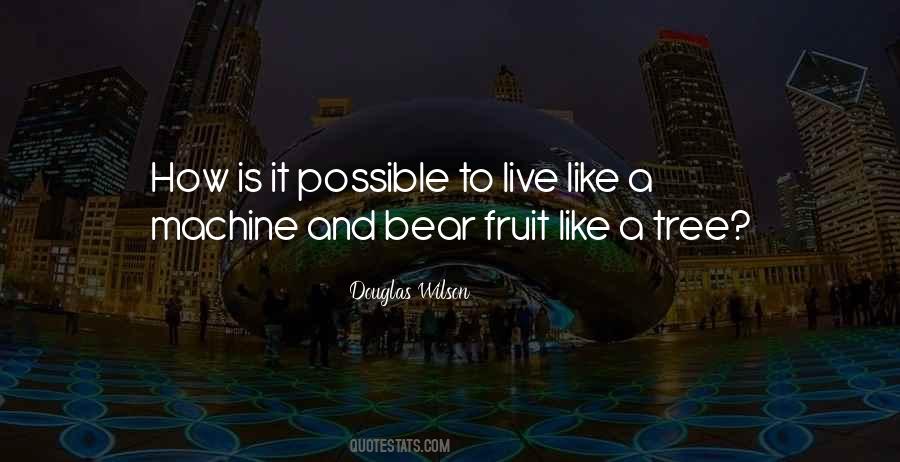 Famous Authors
Popular Topics