Laughing And Love Famous Quotes & Sayings
List of top 100 famous quotes and sayings about laughing and love to read and share with friends on your Facebook, Twitter, blogs.
Top 100 Quotes About Laughing And Love
#1. Ah, let us kiss each other's eyes,/And laugh our love away. - Author: William Butler Yeats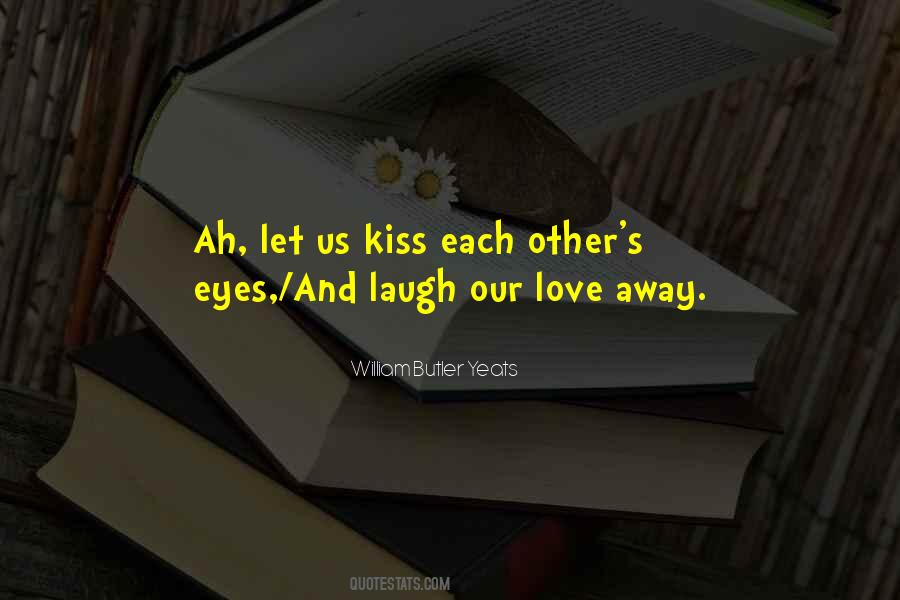 #2. I love that you can be laughing one minute and crying the next, and then be shocked the next. I like things that provoke emotions to such extremes. - Author: Courteney Cox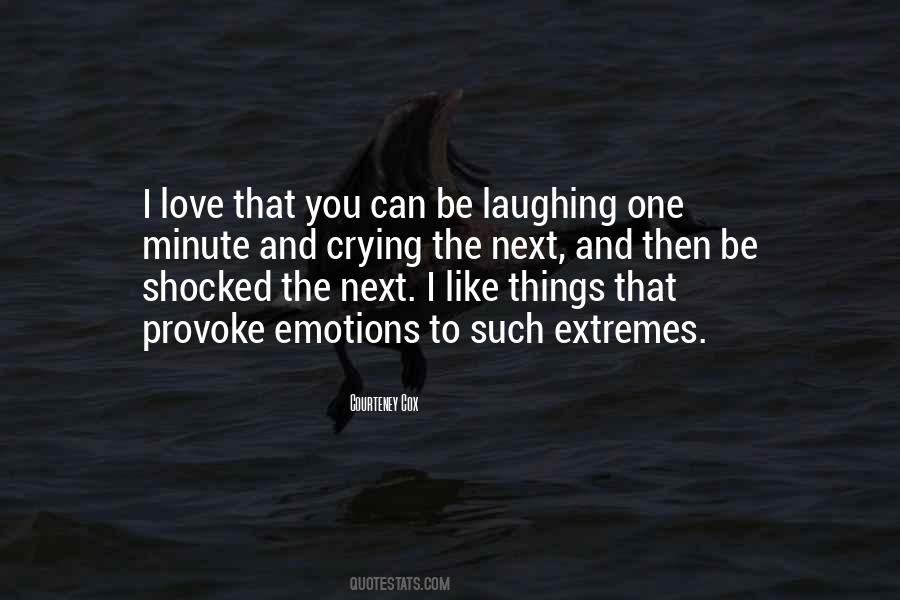 #3. Time to write and sing, to laugh, to listen, to discover, to cry,
to love music. - Author: Jeff Buckley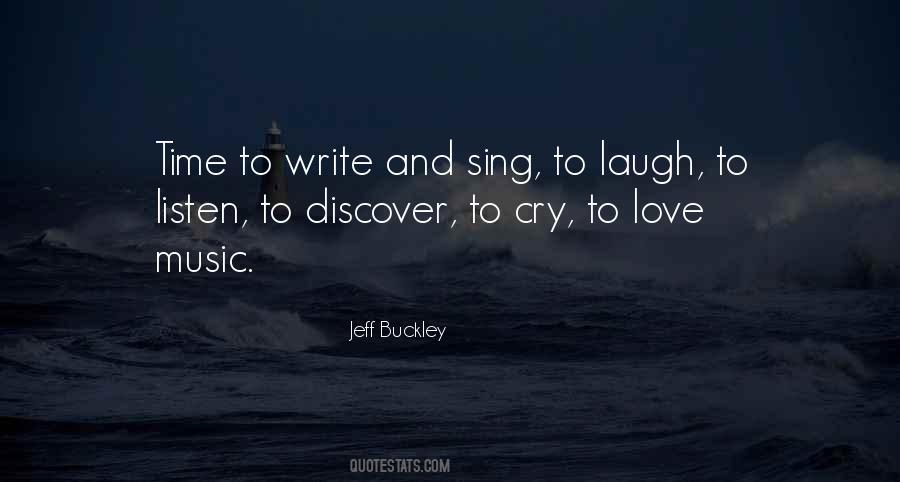 #4. Remember," he called. "Just be yourself, and everyone will love you!"
Nick rolled his eyes and made a rude gesture, and Alan drove the car away laughing. - Author: Sarah Rees Brennan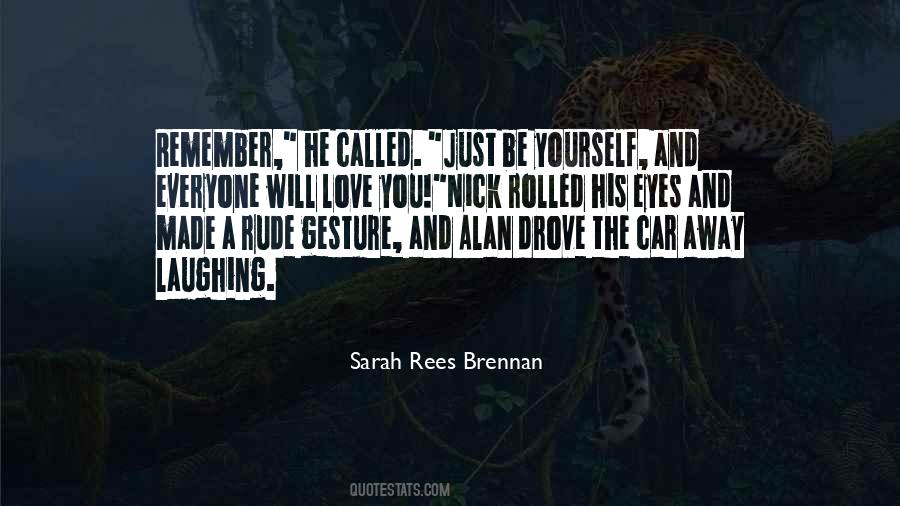 #5. I love waking up to the sound of babies laughing. Unless it is at 1 am and you live alone... - Author: Youtube Video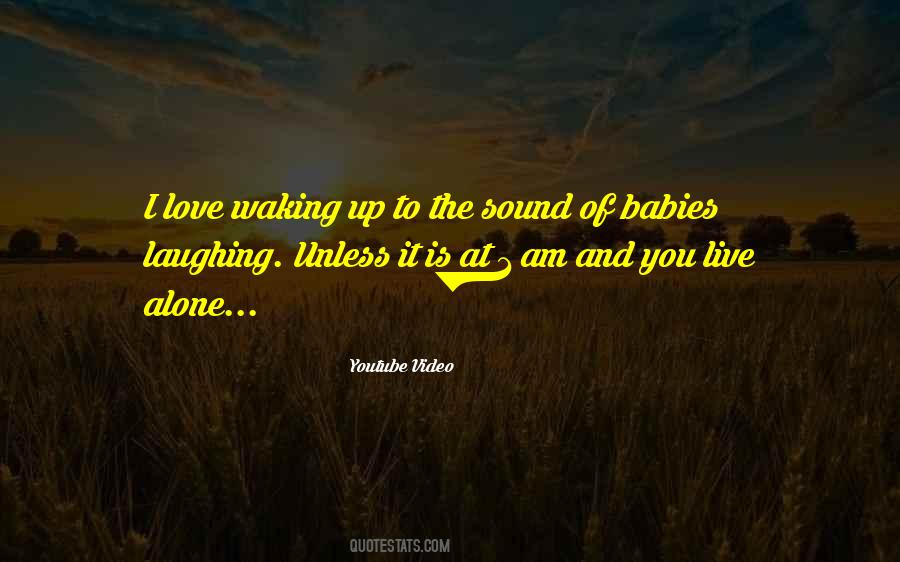 #6. I love having made a film and watching it when it affects audiences in a positive way. It was always fun for me to hide in the back of a theater and watch Tootsie with an audience and hear them laugh. And it's gratifying 20 years later to imagine that they still can find it amusing. - Author: Sydney Pollack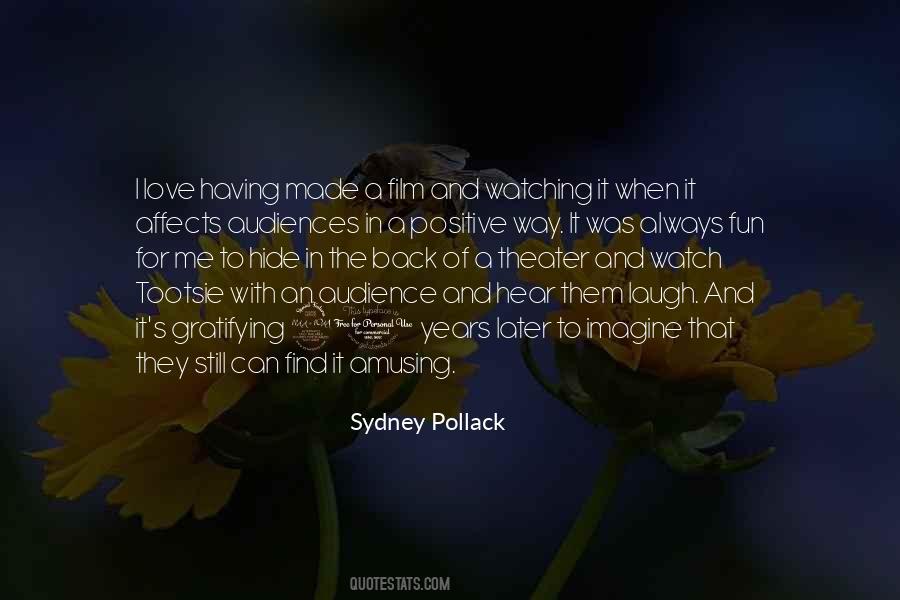 #7. Nobody who is afraid of laughing, and heartily too, at his friend, can be said to have a true and thorough love for him. - Author: Augustus William Hare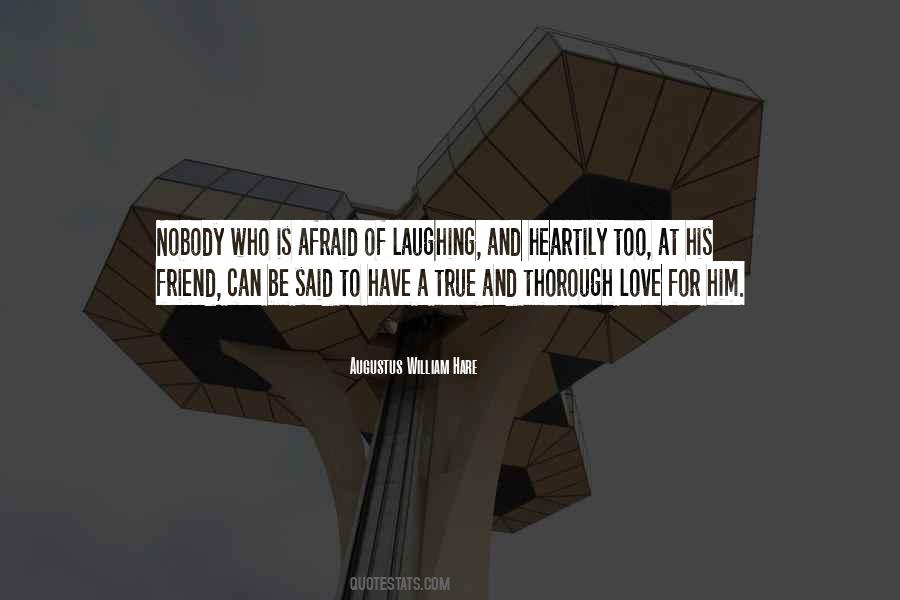 #8. I do consider myself a clown and a court jester, and I do love to make people laugh, whether they're laughing with me or at me. - Author: Richard Simmons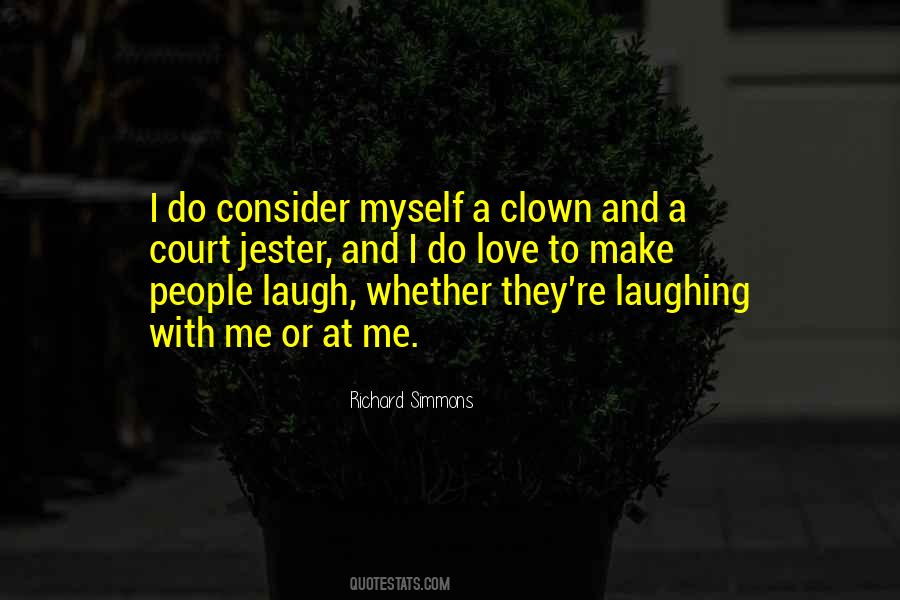 #9. I always laugh at people who say "I've never met a rich technician" I love that! Its such an arrogant, nonsensical response. I used fundamentals for 9 years and got rich as a technician - Author: Martin S. Schwartz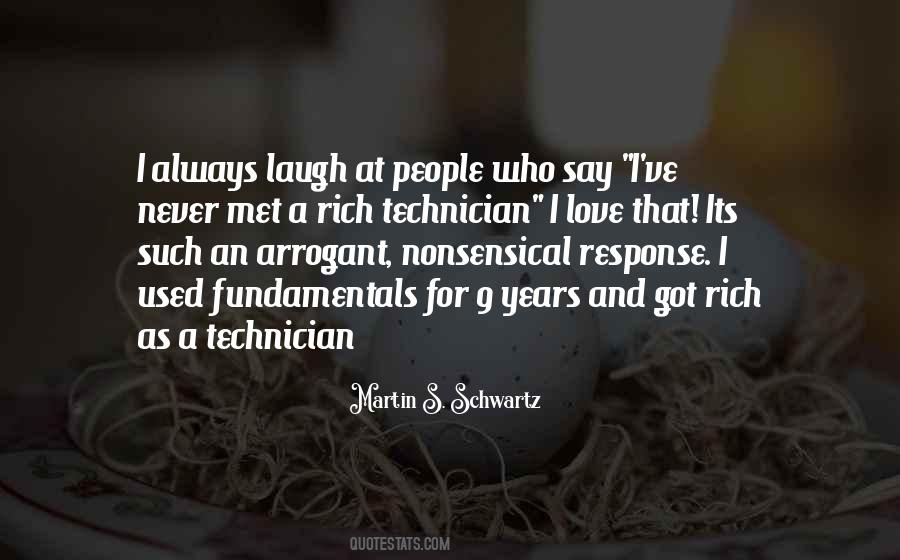 #10. MC is a funny girl and always makes me laugh no matter what. I love her! - Author: Missy Elliot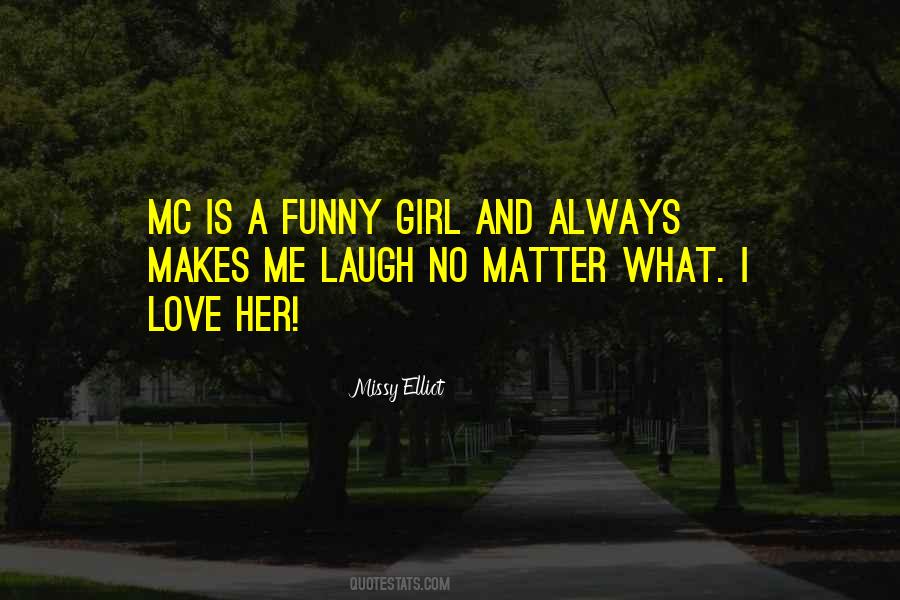 #11. Somewhere between the smiles, the laughing, the fights about nothing, and all our jokes, I fell in love. - Author: Dawn Williams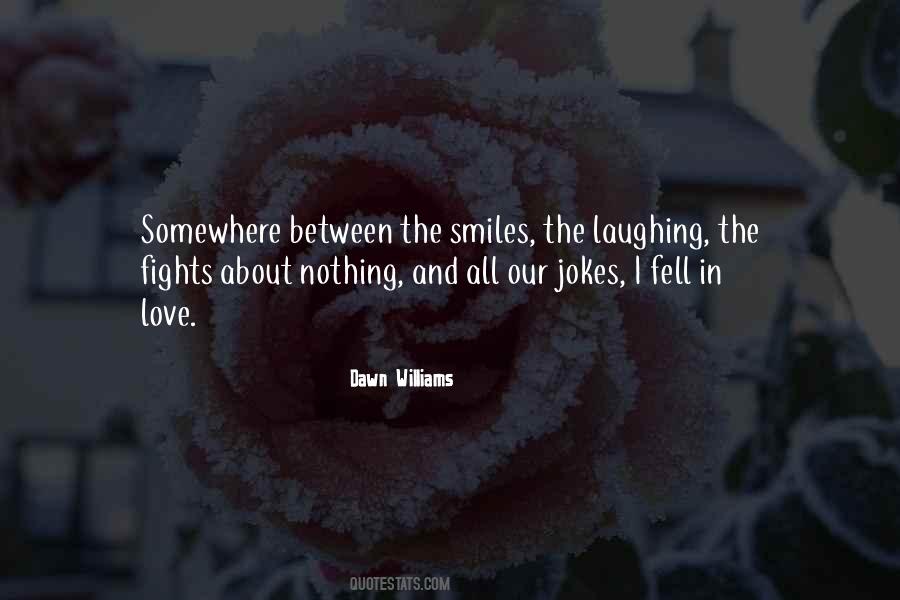 #12. She stares at me for a moment, and then she bursts out laughing. "You haven't seen his perfect little wife and his perfect little girls. Believe me, Oliver, I'm not the great love of his life, the one he'll never forget."
"You are to me," I say. - Author: Jodi Picoult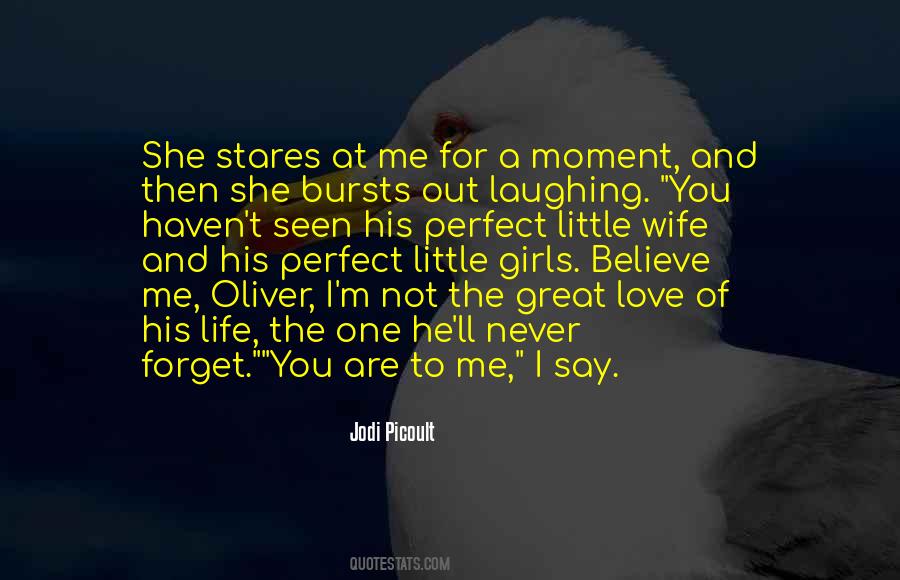 #13. If more people recognized the difference between friendship and mere attraction, or how love must partake of both to prosper, I expect there'd be more happy people."
"And a lot fewer poems and plays," I said, laughing as I splashed about in the scented water. - Author: Sherwood Smith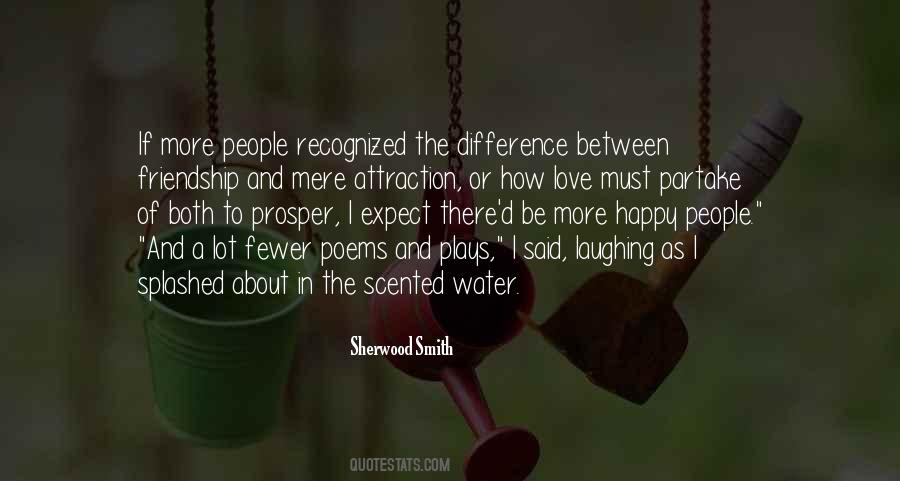 #14. My dad's contentment is all that matters to me. When he's laughing, I'm laughing. When he's happy, I'm happy. I would give up my soul for him. To me, nothing else but his happiness matters. - Author: Rebecah McManus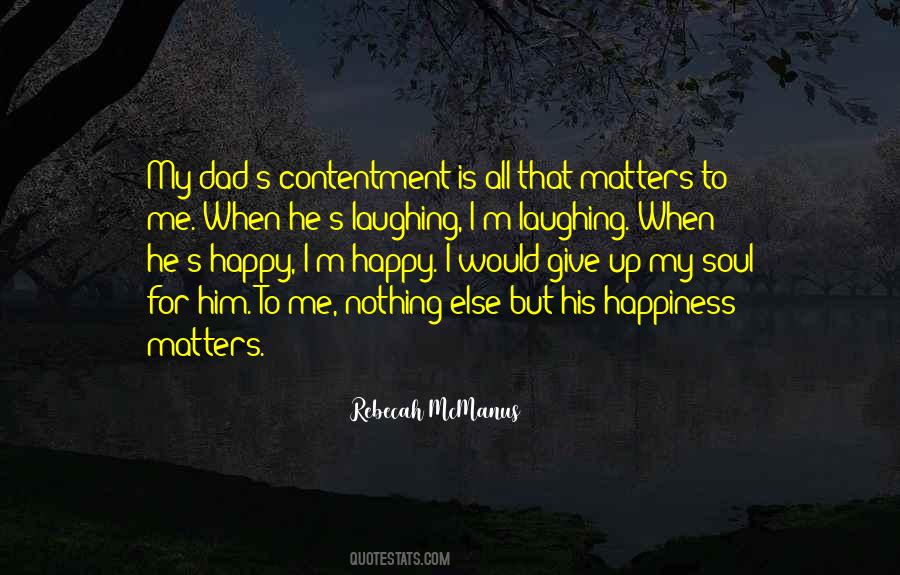 #15. Laughing and Love. They are both drugs. - Author: James Frey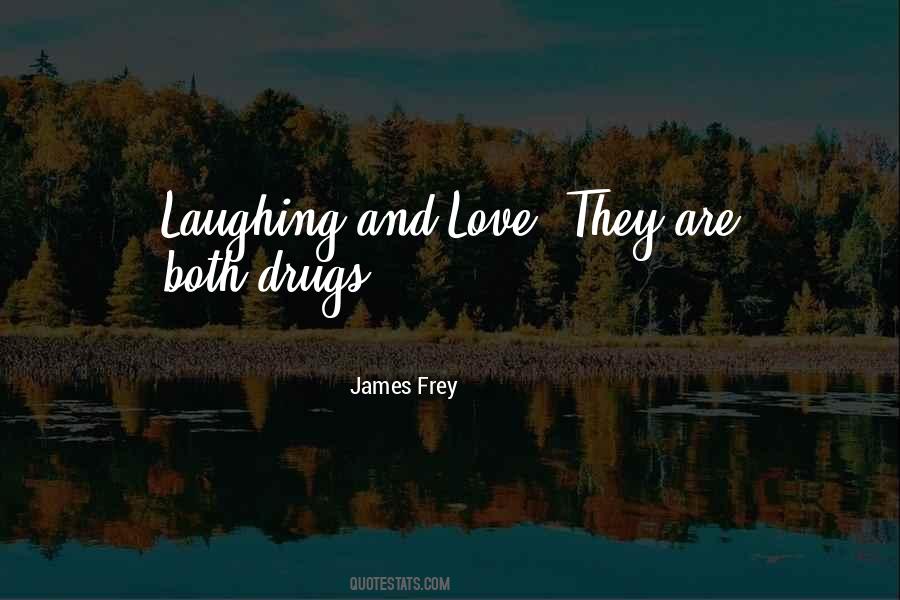 #16. Even when I was doing theater it was more comedic. Don't get me wrong, I love doing the dramatic and heavy stuff, but I just want to have fun. I want to make people laugh. - Author: Megan Hilty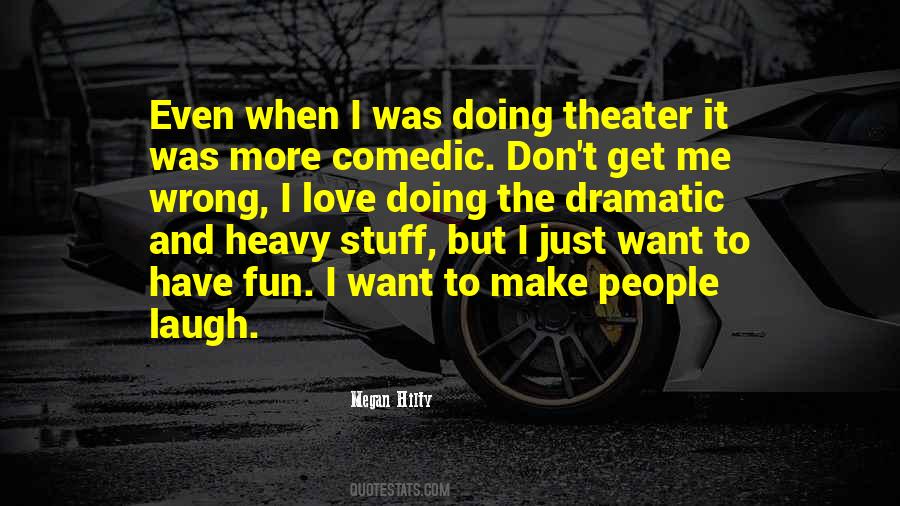 #17. Successful people live well, laugh often, and love much. They've filled a niche and accomplished tasks so as to leave the world better than they found it, while looking for the best in others, and giving the best they have. - Author: Ralph Waldo Emerson
#18. I'm a sponge. I'm obsessed with comedy. I'm obsessed with the idea that you can make somebody laugh, and I love to be around people who can make other people laugh. - Author: Rashida Jones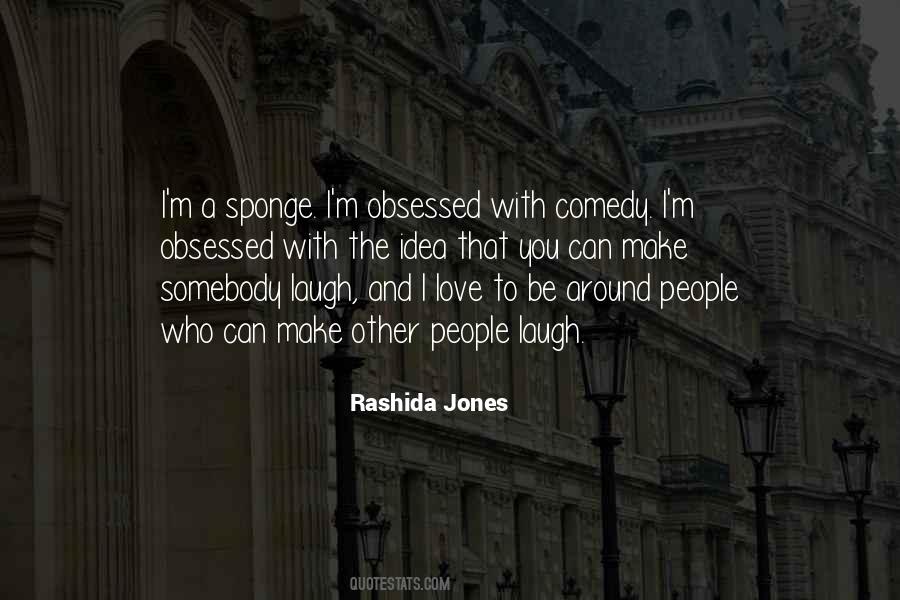 #19. If it were possible to meet the Beloved while laughing and in a state of comfort, why should one suffer the anguish of separation? - Author: Kabir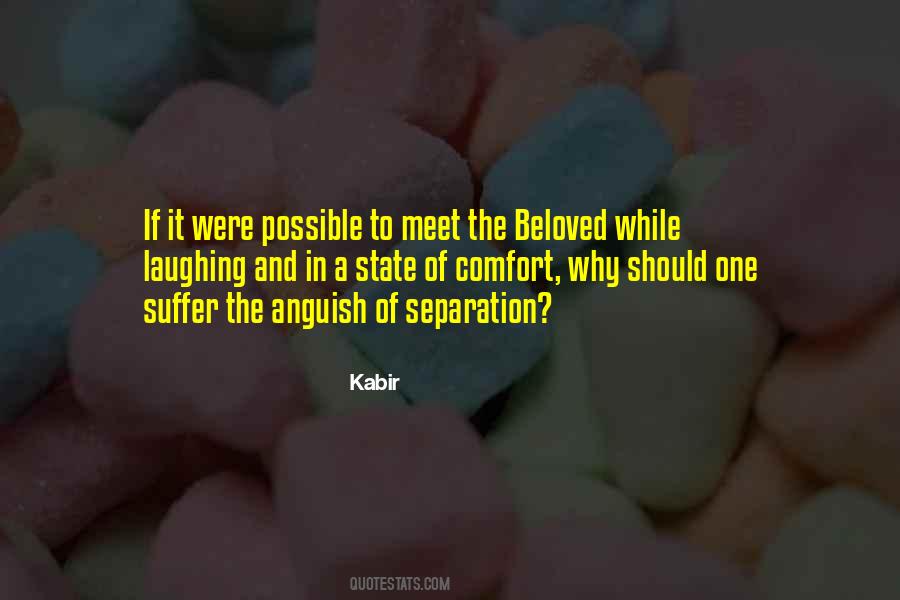 #20. I love making people laugh. And I love laughing. - Author: Kevin Hart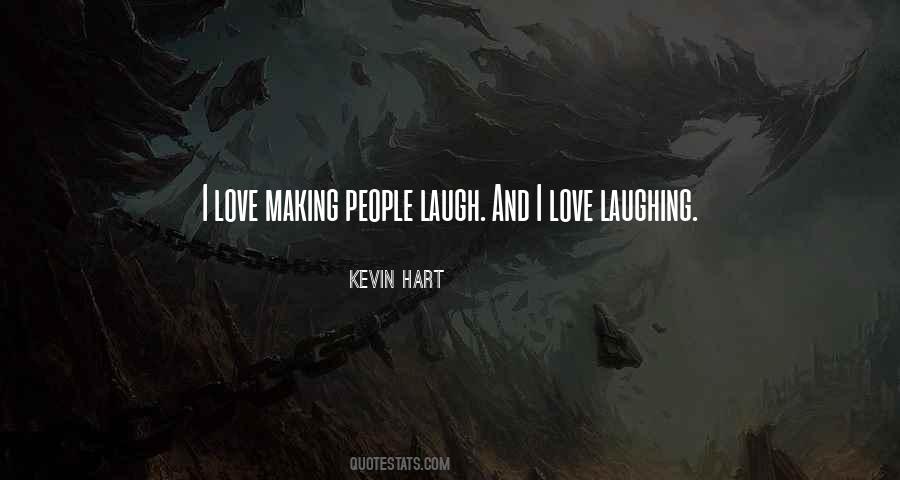 #21. I love [Nikolai] Gogol's great eye for idiot behavior. Gogol said that life is so tragic, so stupendously sad that we'd better laugh a lot and enjoy ourselves. You either get a sense of humor going or you go under. - Author: Mel Brooks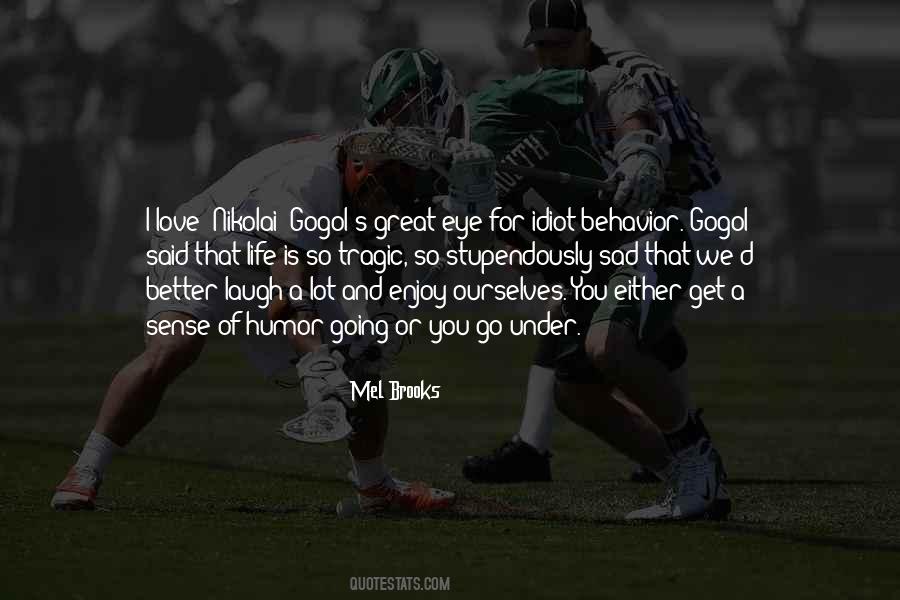 #22. He [Riptide] sighed. "I said, 'What are you doing all the way out here?' and you said, 'Hey, sparkling teeth, I totally love three of your claws but not the others, and I wish your nose was a herrig so I could eat it, and also your wings sound like sharks snoring.'"
Tsunami burst out laughing. - Author: Tui T. Sutherland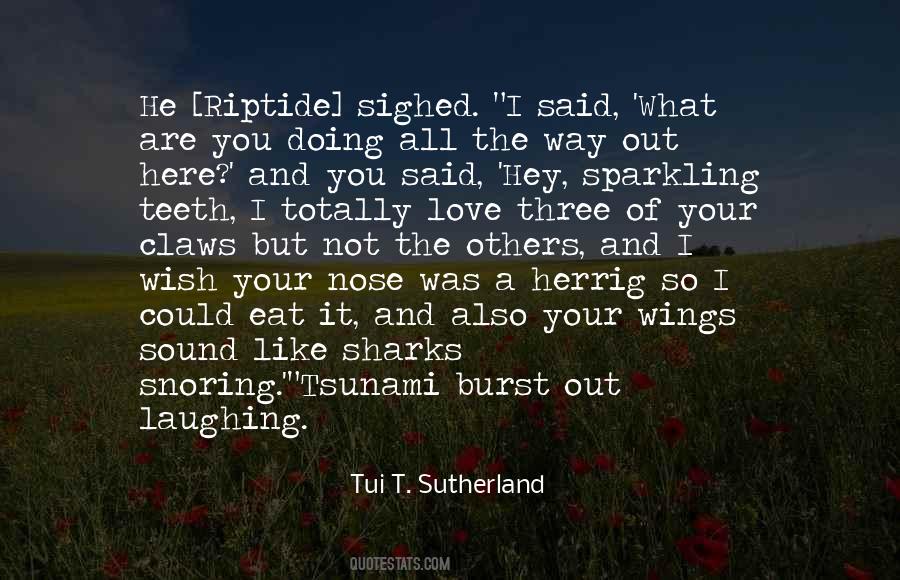 #23. She's laughing at me. "What's funny, Gidget?" "You love me." I laugh back. "I do, and I'm going to show you just how much every chance I get. - Author: J.A. Huss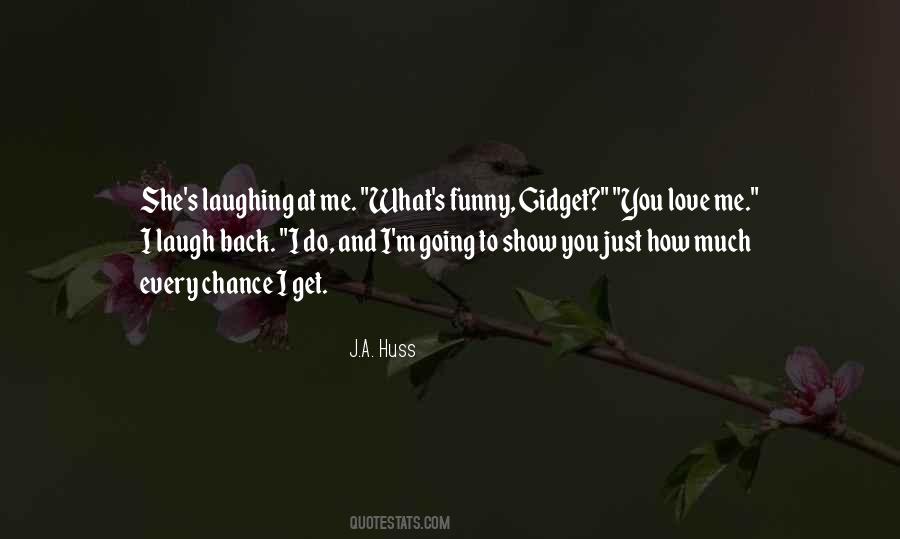 #24. I was dead, then alive. Weeping, then laughing. The power of love came into me, and I became fierce like a lion, then tender like the evening star. - Author: Rumi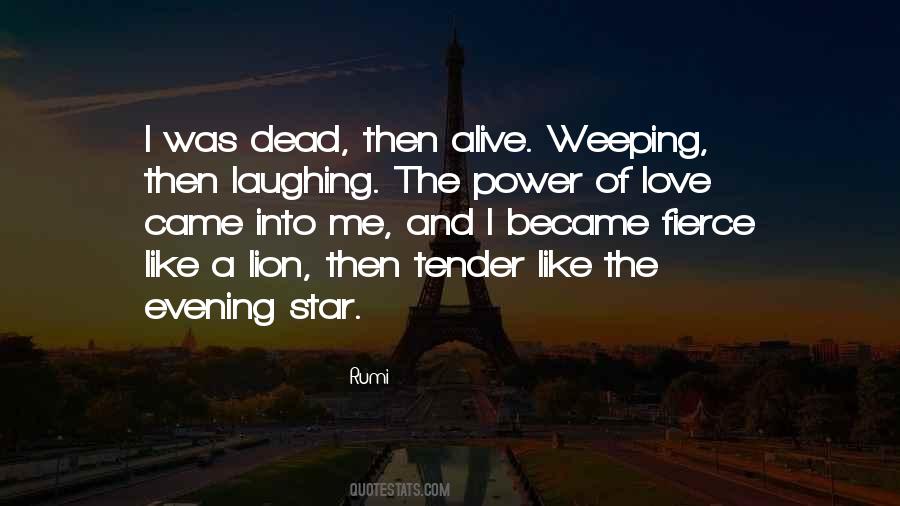 #25. We are the same. There is no difference anywhere in the world. People are people. They laugh, cry, feel, and love, and music seems to be the commons denomination that brings us all together. Music cuts through all boundaries and goes right to the soul. - Author: Willie Nelson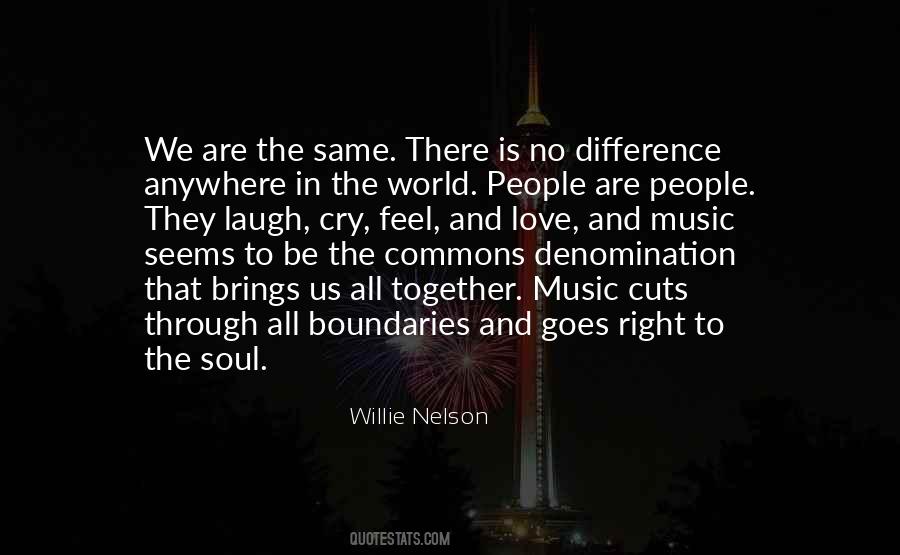 #26. Together they made love among the mimeographed pages of their zine and the ink stained their bodies with letters and strange hieroglyph tattoos which they examined together in the moonlight drifting through the window, laughing. - Author: Sunil Yapa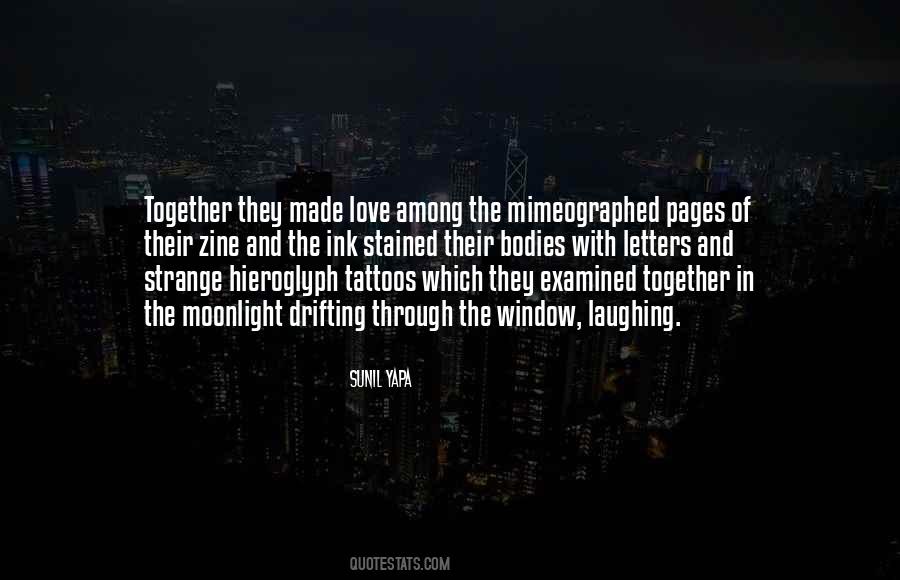 #27. The pre-shoot days are so relaxed and fun and the writers are laughing. I love the rehearsal process. - Author: Allison Janney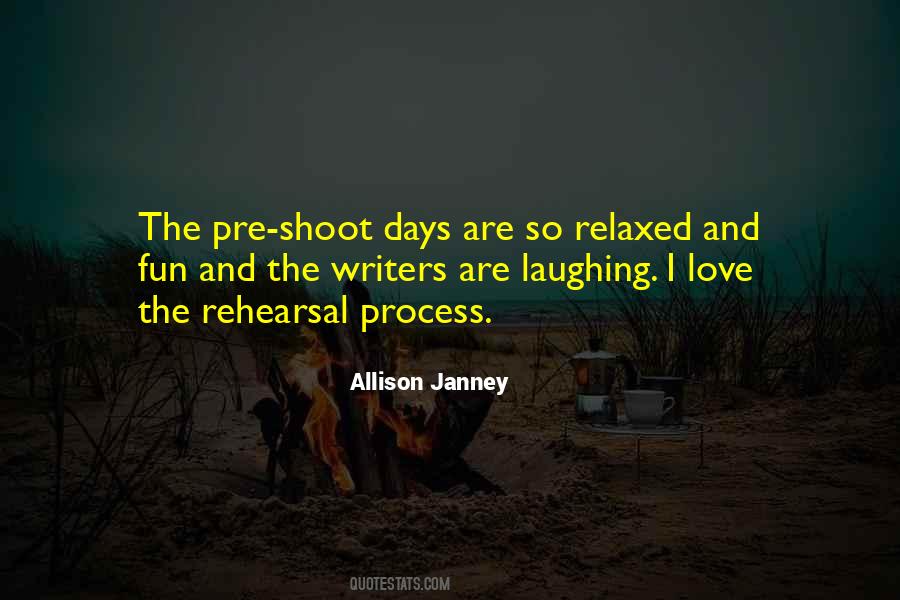 #28. It seems to me at this moment that laughing is a serious thing, that it connects us with truth and love and God. - Author: Martha Beck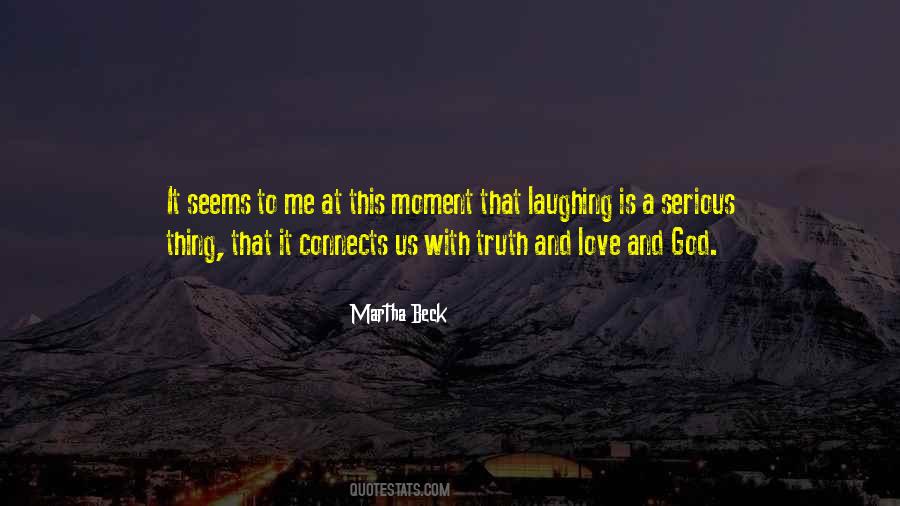 #29. I just love having little vocal snippets like laughs and coughs, not necessarily stuff that has huge significance, just little human qualities. - Author: Ryan Hemsworth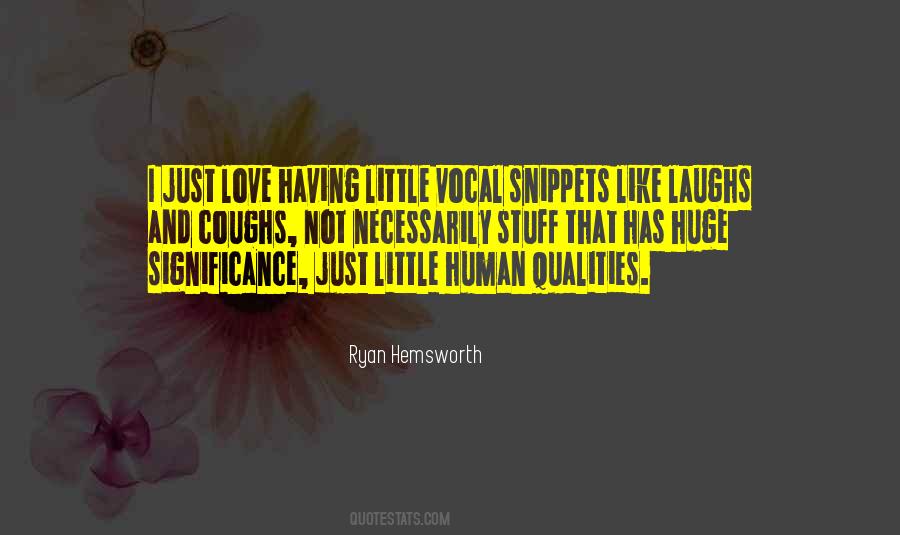 #30. I guess it can't be too often that two people can laugh and make love, too, make love because they are laughing, laugh because they're making love. The love and the laughter come from the same place: but not many people go there - Author: James Baldwin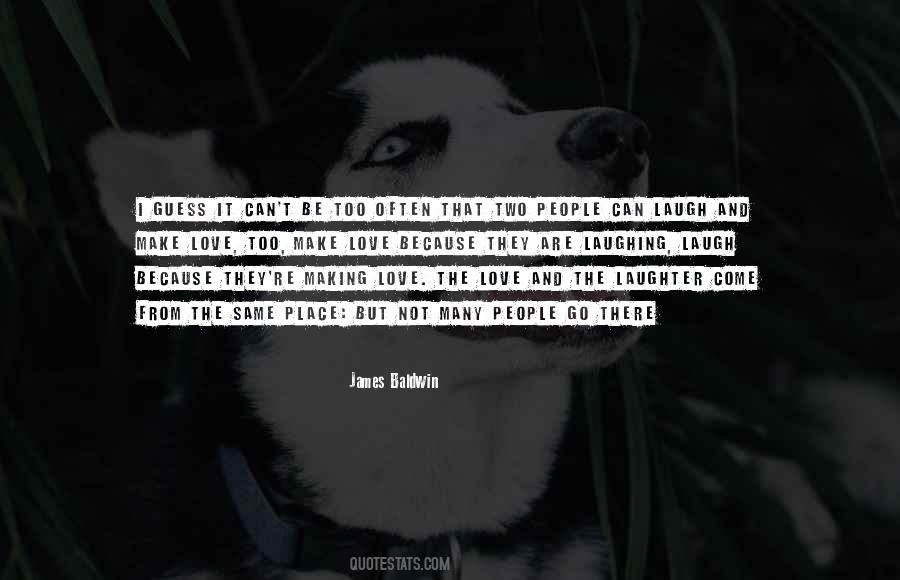 #31. There's no easy way to do this. So do it right: weep, laugh, watch, pray, love, live, give thanks and praise; comfort, mend, honor, and remember. - Author: Thomas Lynch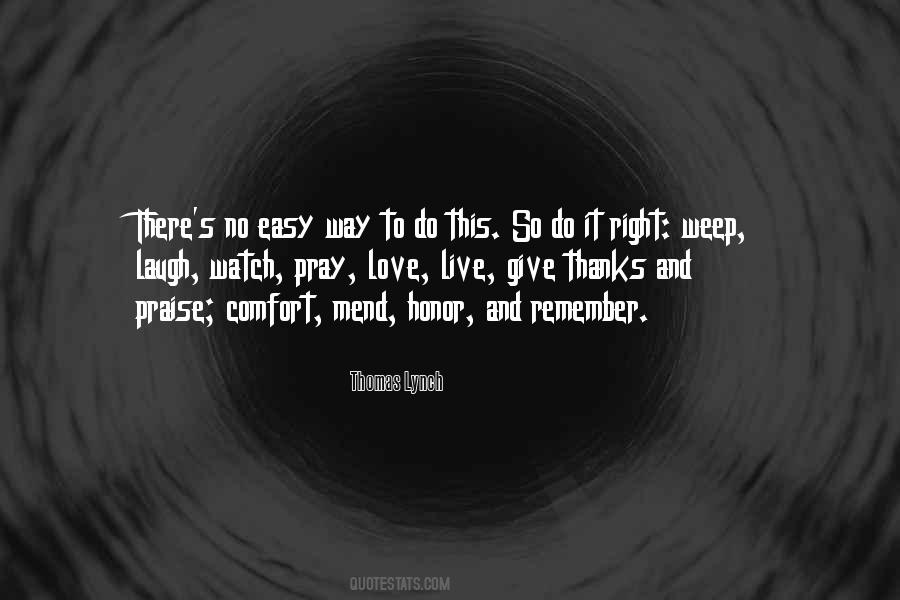 #32. He loves to sit and hear me sing, Then, laughing, sports and plays with me; Then stretches out my golden wing, And mocks my loss of liberty. - Author: William Blake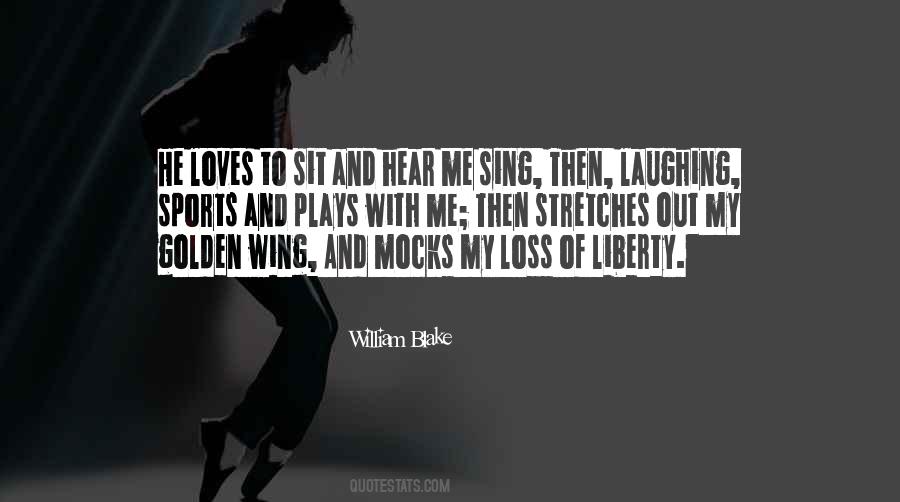 #33. They finished laughing and caught their breaths, and looked at each other, and Ani thought Geric looked at her too long, as though he forgot he was looking, as though he did not wish to do anything else. She looked back. Her took heart took its time quieting down. - Author: Shannon Hale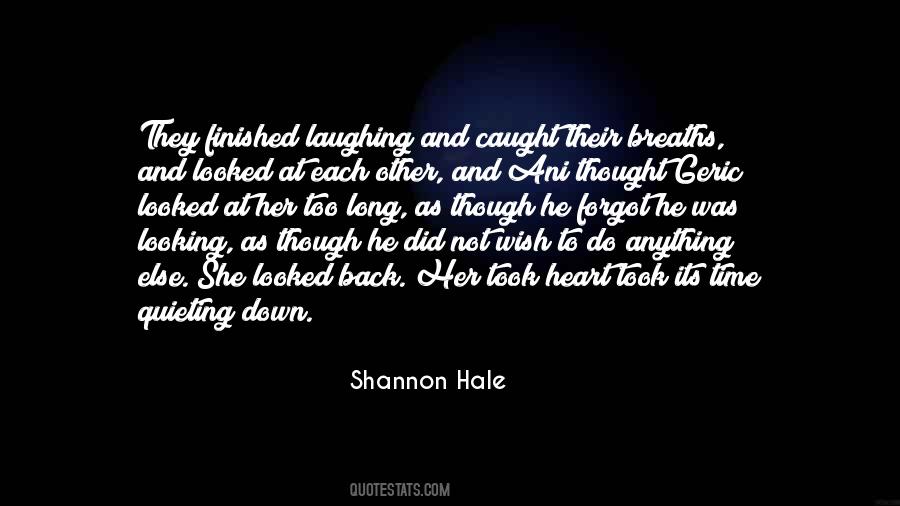 #34. I laugh, I love, I hope, I try I hurt, I need, I fear, I cry.
And I know you do the same things too,
So we're really not that different, me and you. - Author: Collin Raye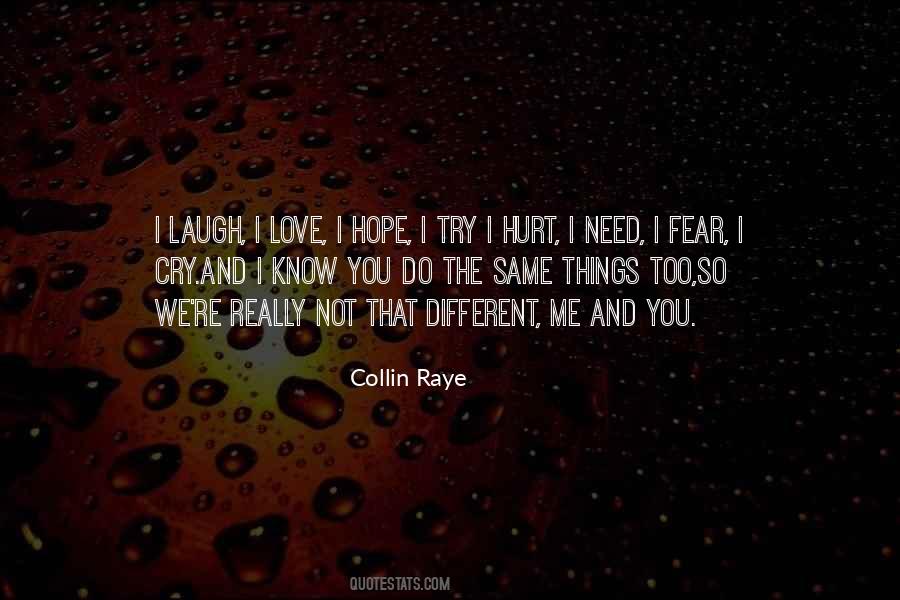 #35. Quit worrying so much about the boards and nails of your life. Focus on the stuff that lasts. He glanced through the window toward the glowing light of the kitchen where Meg and my mom were laughing about something. - Author: Laura Anderson Kurk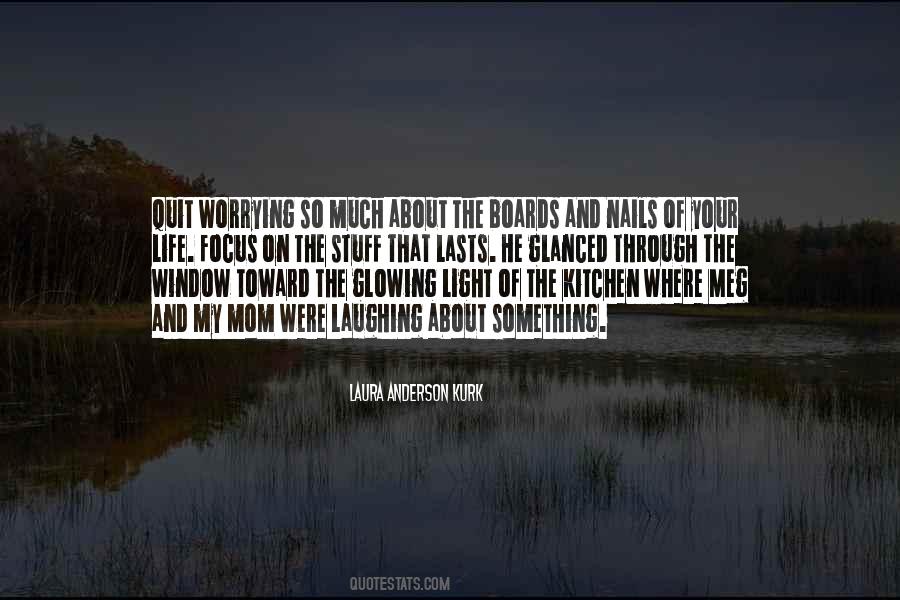 #36. I will spend my life traveling, laughing, drinking all kinds of tea, meeting new people, reading good books, growing things, creating beauty, eating chocolate, doing magic, making love and occasionally I will write something worth reading. - Author: Brooke Hampton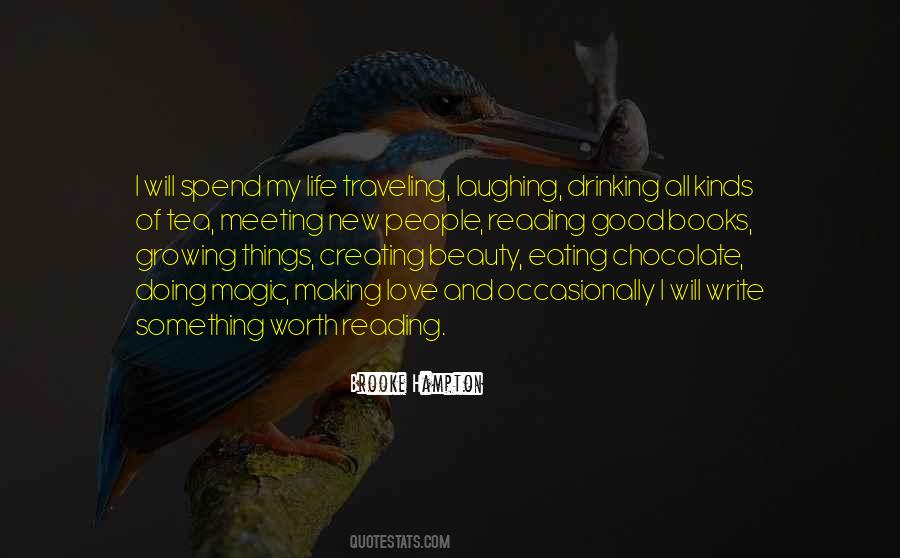 #37. I'm addicted to laughing. I go to see a lot of comedy shows. I'm addicted to playing really loud and obnoxious rock music in my car. I'm addicted to beautiful clothes and shoes. I just love gorgeous stuff and work hard to acquire pretty things, shiny things. I'm addicted to shiny things! - Author: Nadia Giosia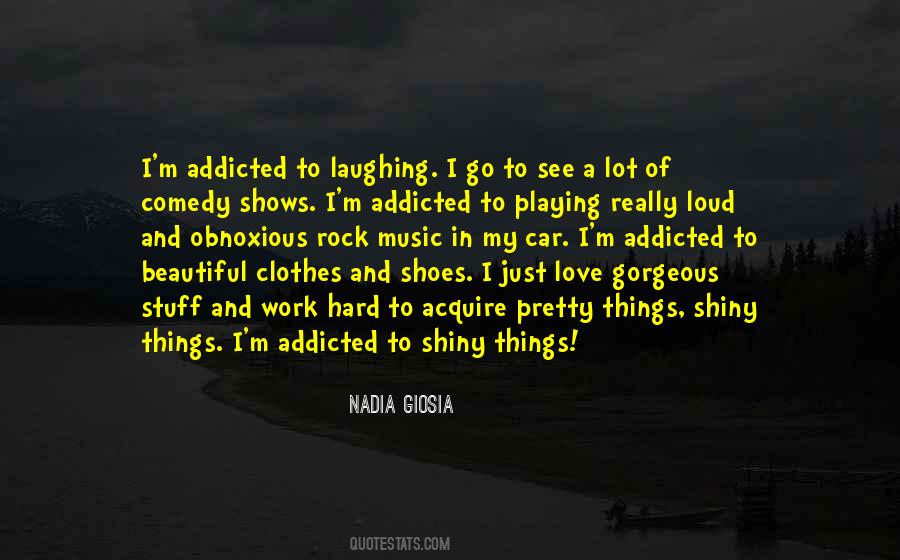 #38. I love the fact that I have a show where you can run over a kid and everyone busts out laughing. - Author: Dave Chappelle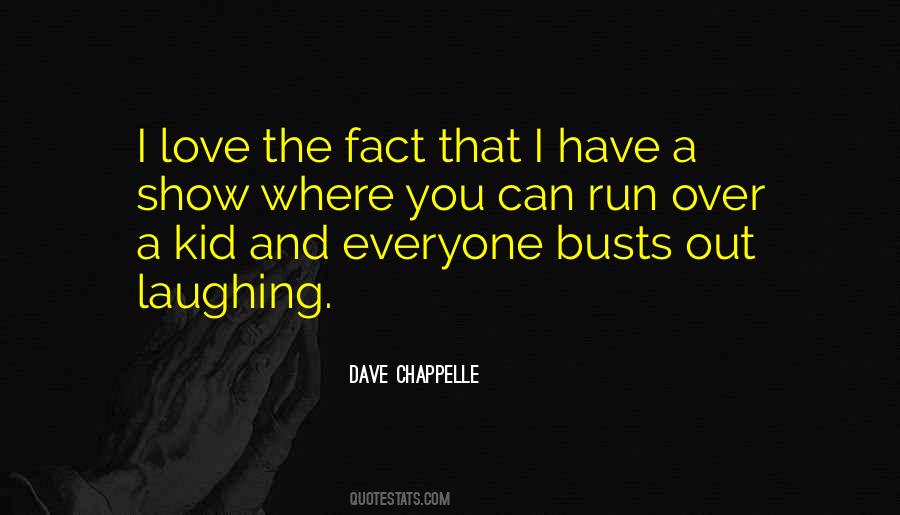 #39. Lean down a minute first," he says. "Need to tell you something." I lean over and put my good ear to his lips, which tickle as he whispers. "Remember, we're madly in love, so it's all right to kiss me anytime you feel like it." I jerk my head back but end up laughing. "Thanks, I'll keep it in mind. - Author: Suzanne Collins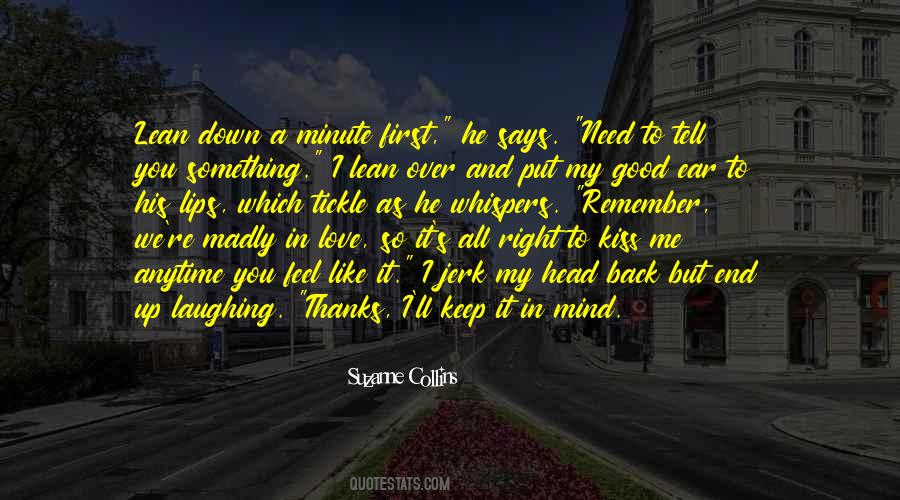 #40. We break off obsession by laughing at ourselves, by learning to be funny, by just seeing the joy in life and by having a terrific love for this world. - Author: Frederick Lenz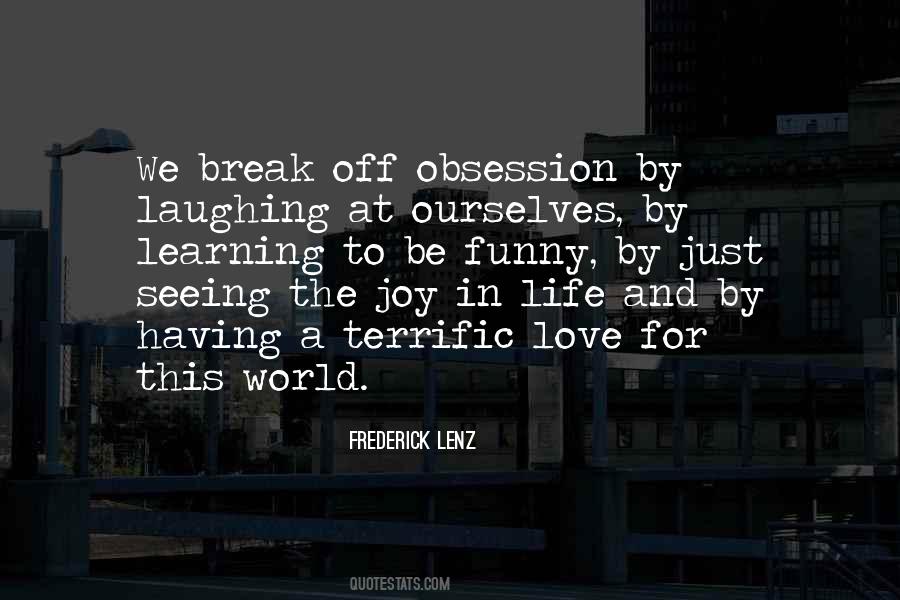 #41. I seemed to have spent the whole time either reading, which I loved, or laughing, which I love, or fooling about, which I loved. There was the usual teenage angst: "Nobody understands me" and "I'm the only genius in the world" and all that stuff. But that didn't get very deep. - Author: Philip Pullman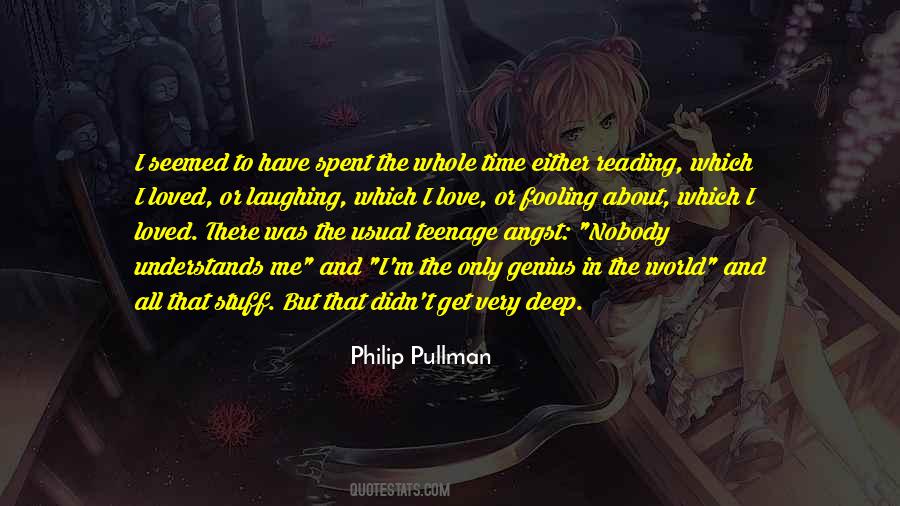 #42. I love a confident guy and a guy that makes me laugh and who is a little hard to get. Don't be too easy. - Author: Nina Agdal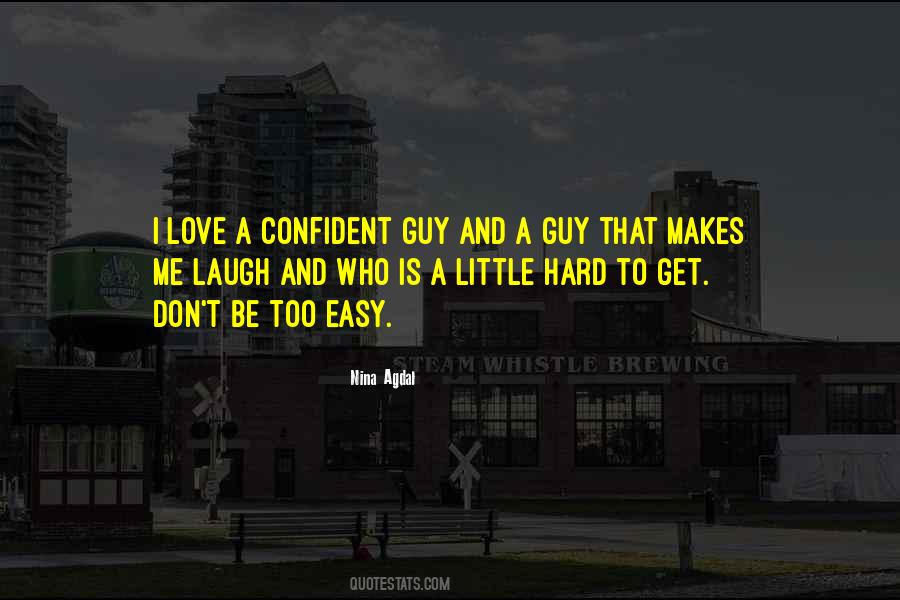 #43. Fool, not to know that love endures no tie,
And Jove but laughs at lovers' perjury. - Author: John Dryden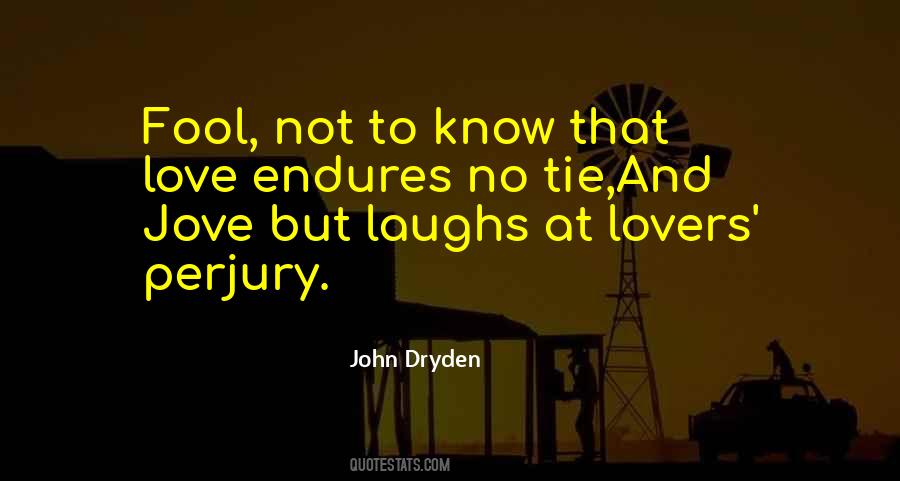 #44. I just want to give people something to dance to, and something to cry to, and laugh to and fall in love to. - Author: Bonnie McKee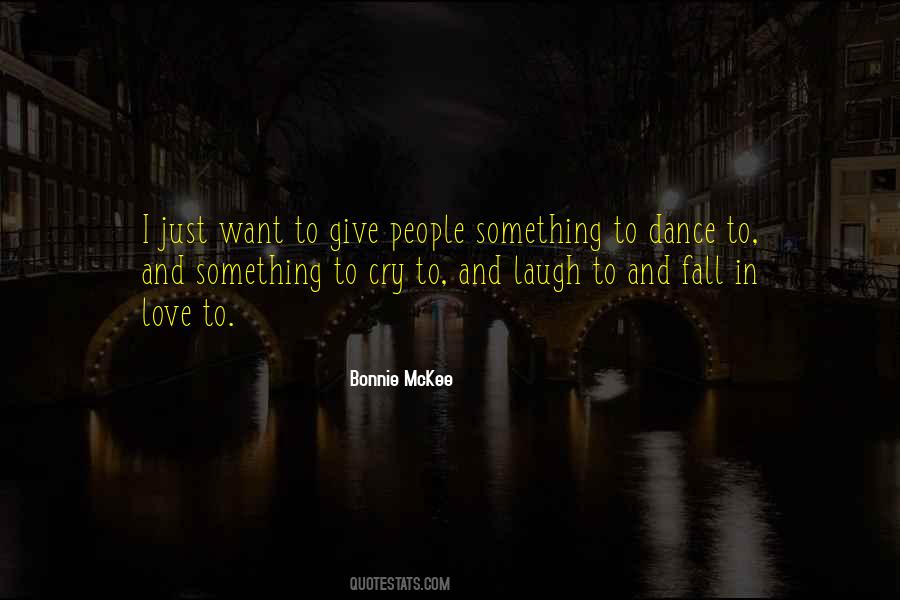 #45. One must laugh and weep, love, work, enjoy and suffer, in short vibrate as much as possible in all his being. - Author: Gustave Flaubert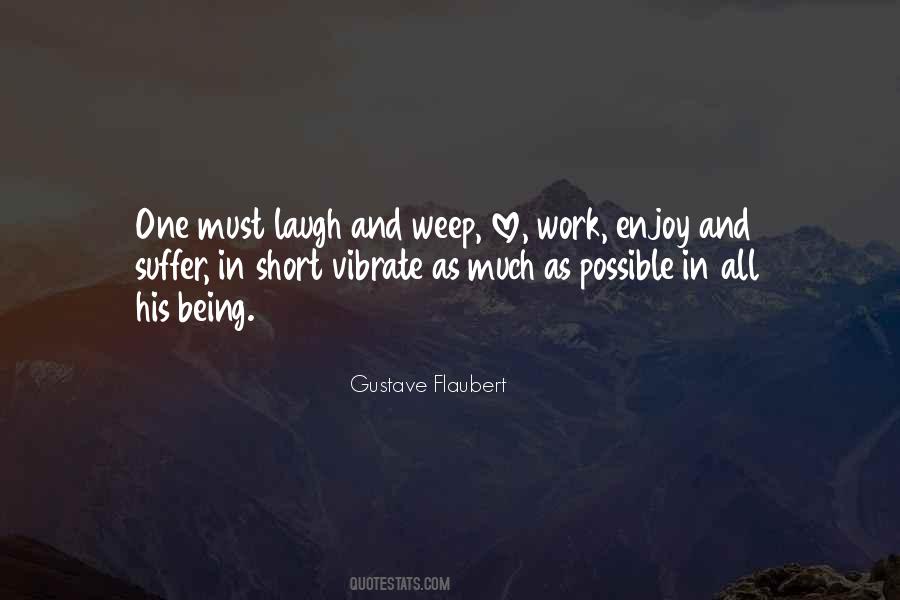 #46. Simmon pushed his hair out of his eyes, laughing boyishly. You can't argue your way out of this one! She's obviously stupid for you. And you're just plain stupid, so it's a great match. - Author: Patrick Rothfuss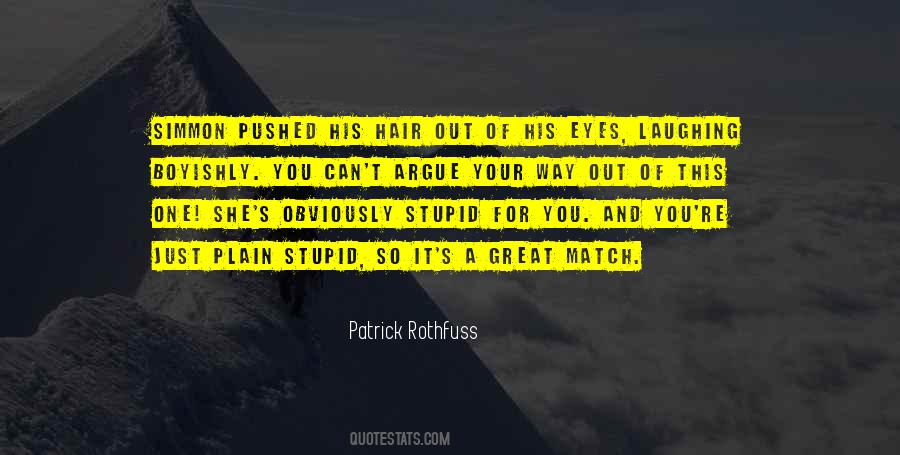 #47. And suddenly that we were laughing out loud, laughing as if there were no power left in us save laughter. - Author: Ayn Rand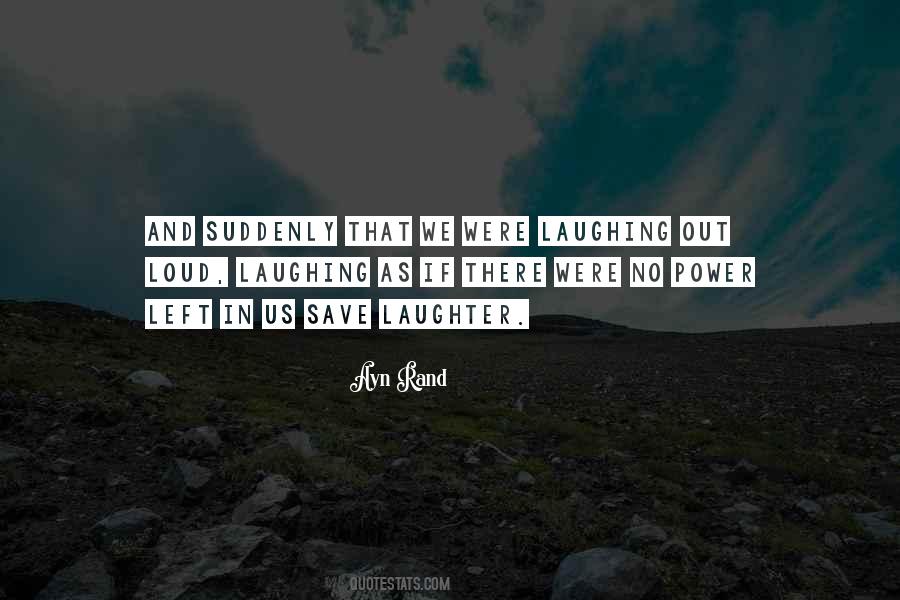 #48. When my muffin top makes an appearance after a dedicated weekend of pizza indulging, when I feel too tired to write and all my words sound boring, when my students aren't laughing at my jokes, I am still enough. - Author: Michelle Elaine Kennedy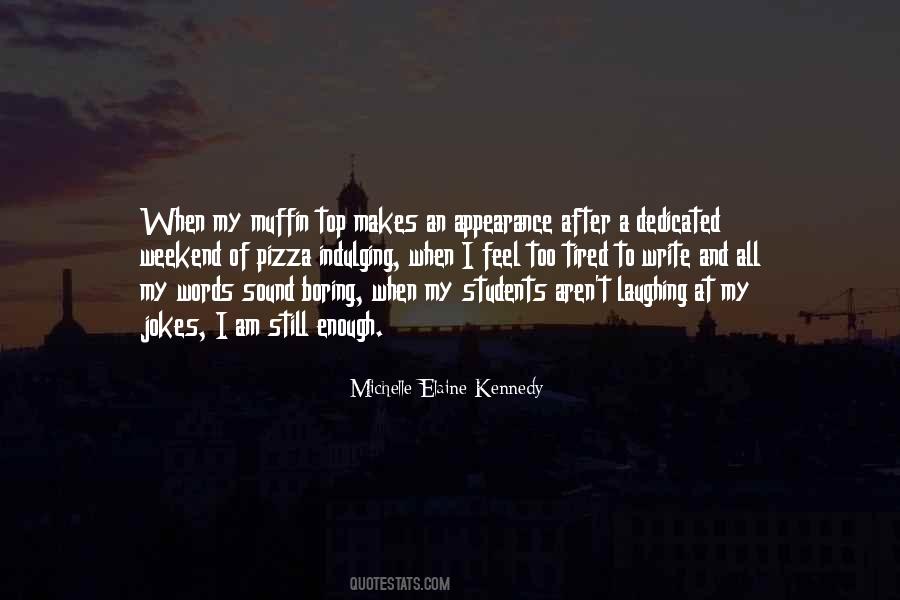 #49. Know that it is a corpse who loves you and adores you and will never, never leave you! ... Look, I am not laughing now, crying, crying for you, Christine, who have torn off my mask and who therefore can never leave me again! ... Oh, mad Christine, who wanted to see me! - Author: Gaston Leroux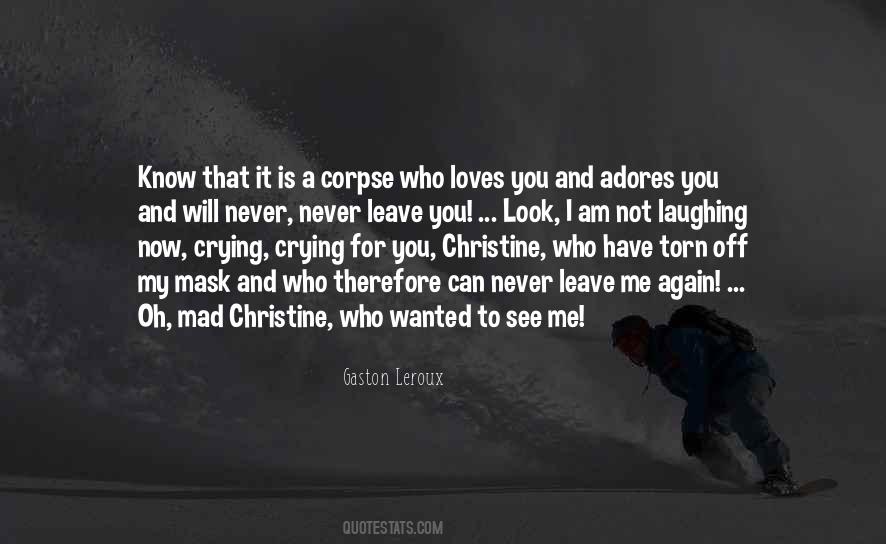 #50. I love truthful songs that tell a story and talk about people and their lives. If a song calls for a tear, then we will cry. If a song calls for a smile, then we will laugh. That is what I like to do. - Author: Gene Watson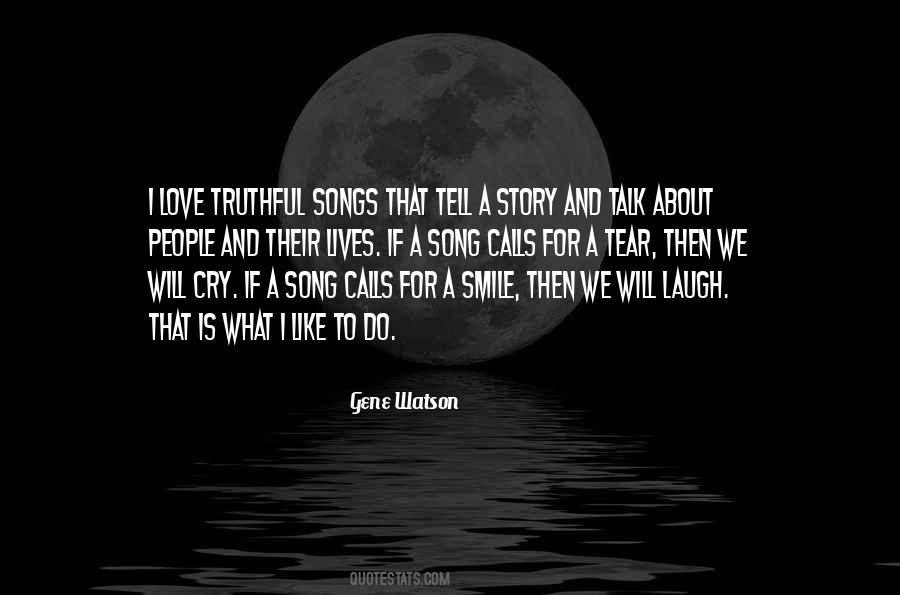 #51. We all have sinned so far in our lives and might continue too but still we all love talking about others sins, Elaborating, exaggerating, laughing, commenting, cursing ... And we all enjoy it hahaha - Author: Honeya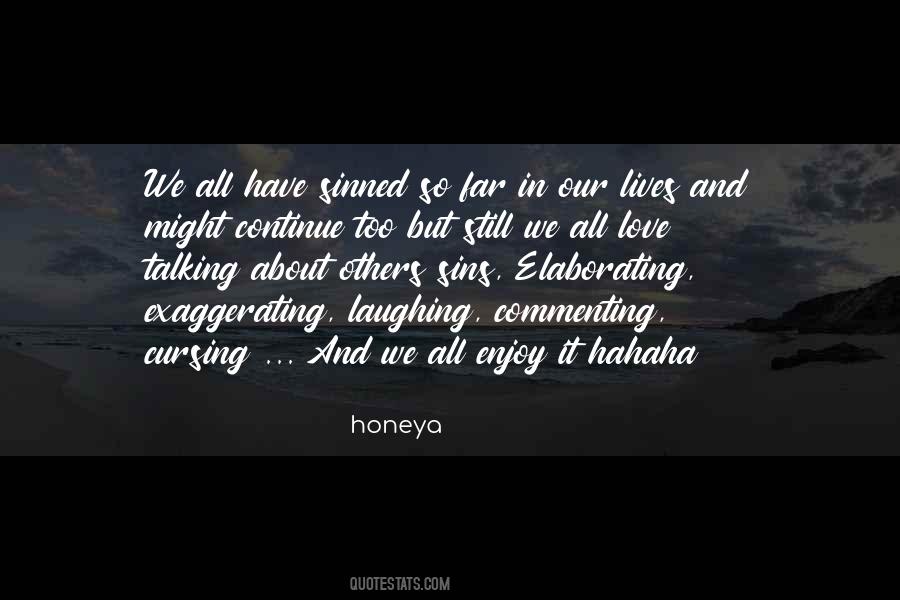 #52. Hers was the perfect love that dwells on the other's happiness, and not on its own. She knew that, though for the time being he would find bliss and oblivion in her arms, he would soon repine in inactivity whilst others fought for that which he held sublime. - Author: Emmuska Orczy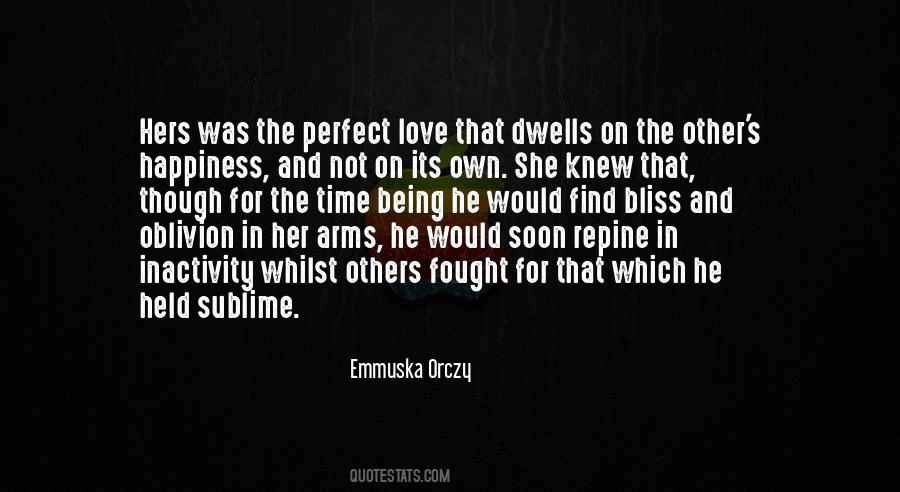 #53. An American religion: Work, play, breathe, bathe, study, live, laugh, and love. - Author: Elbert Hubbard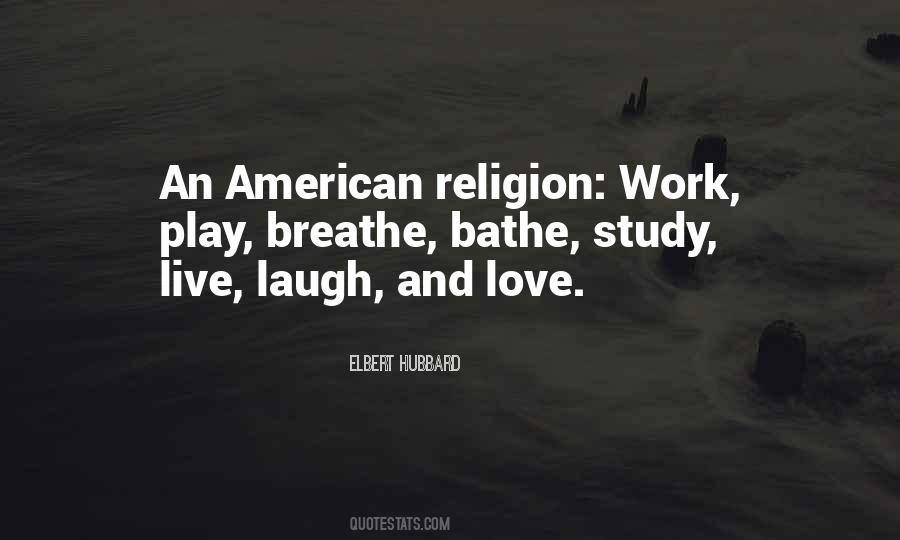 #54. I love the fact that I'm having an opportunity to make people laugh and you actually get to hear it. - Author: Sam Elliott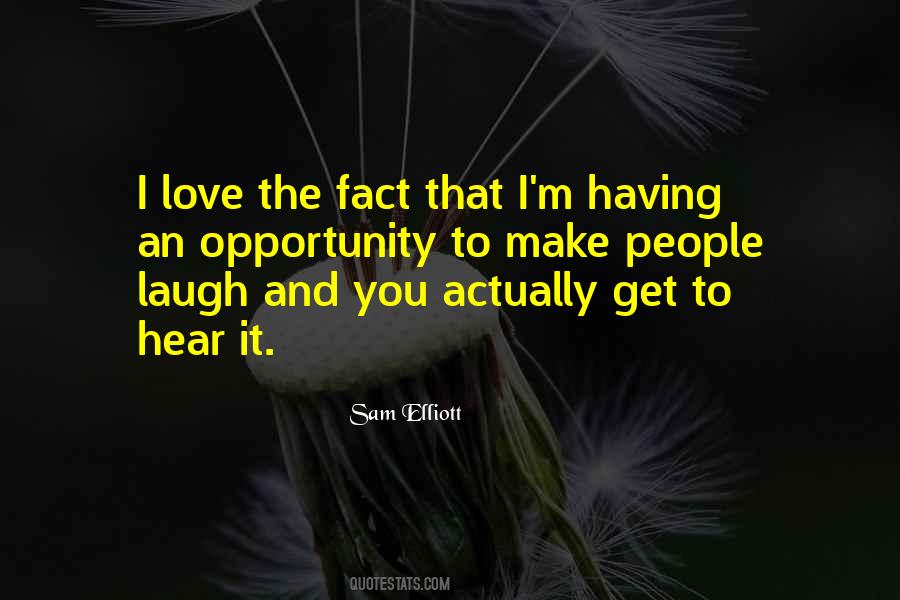 #55. ('Eraserhead') may seem like a dark film, but my father and I watch it, and all we do is laugh. It was Disneyland everyday on the set. That's when I fell in love with film. - Author: Jennifer Lynch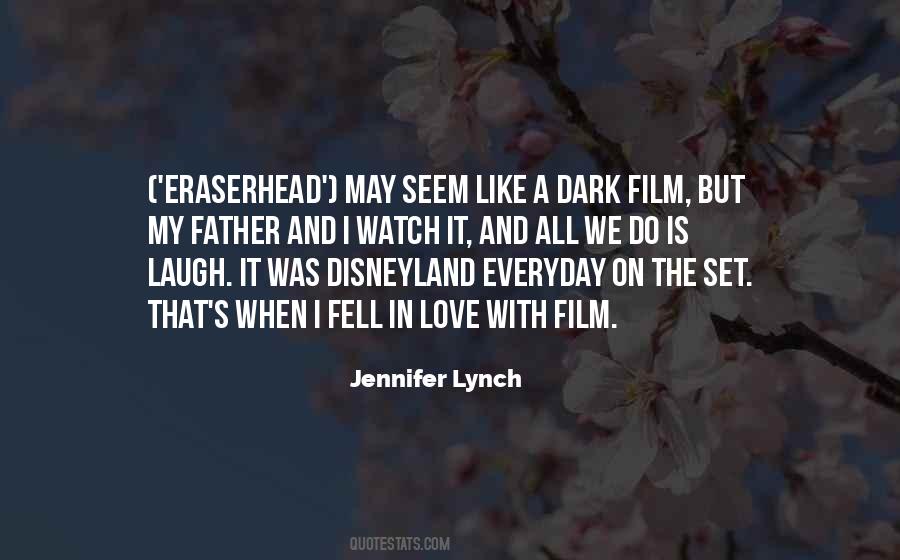 #56. Enjoy life. Have fun. Be kind. Have worth. Have friends. Be honest. Laugh. Die with dignity. Make the most of it. It's all we've got. - Author: Ricky Gervais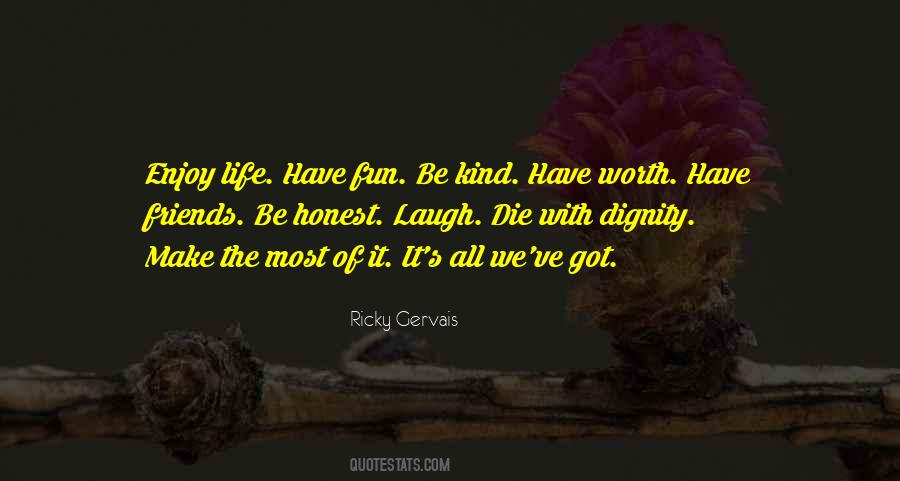 #57. I'm such a comedy fan that I just love laughing and so admire comedians who have brought me joy. - Author: Miranda Hart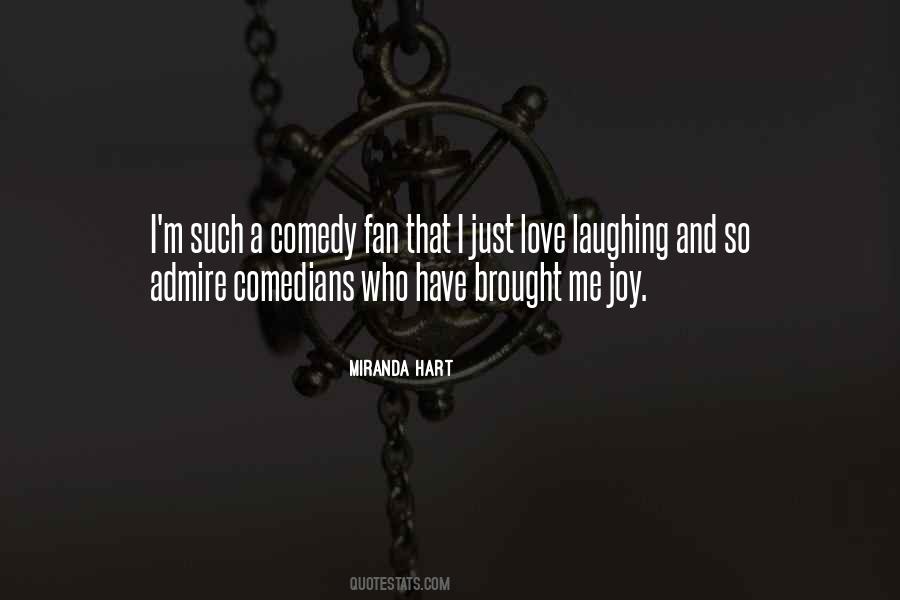 #58. True love is singing karaoke 'under pressure' and letting the other person sing the Freddie Mercury part. - Author: Mindy Kaling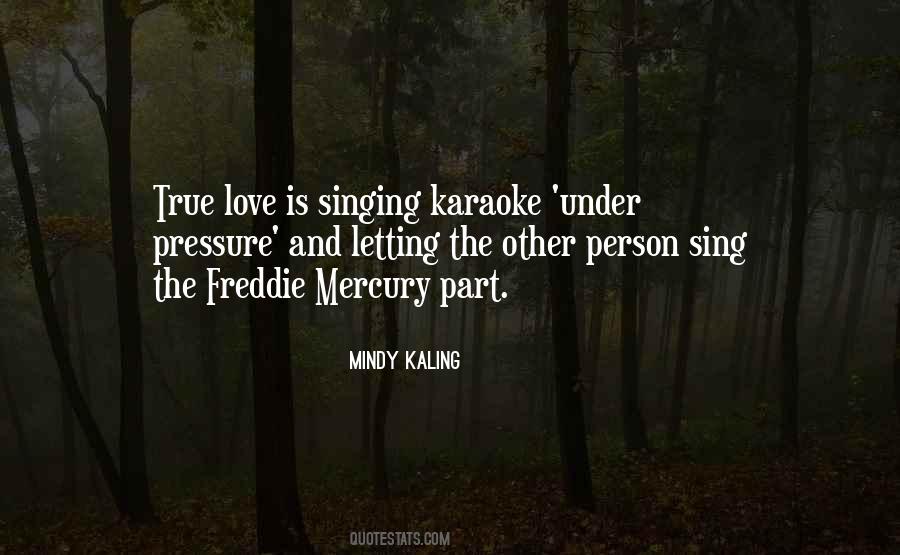 #59. The stranger might laugh and seem to enjoy the writing, but you hug to yourself the thought that they didn't quite understand its force and quality the way you do - just as your friends (thank heavens) don't also fall in love with the person you are going on and on about to them. - Author: Stephen Fry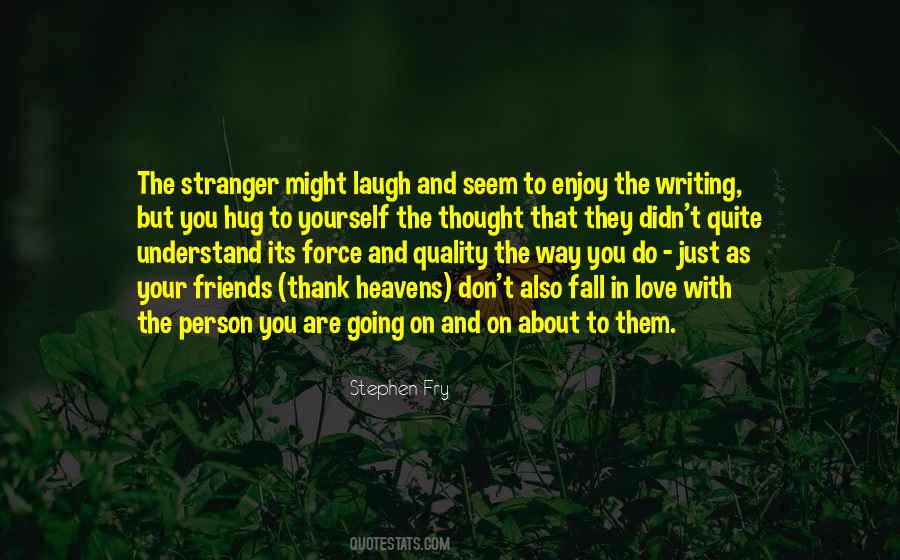 #60. We've got to learn hard things in our lifetime, but it's love that gives you the strength. It's being nice to people and having a lot of fun and laughing harder than anything, hopefully every single day of your life. - Author: Dag Hammarskjold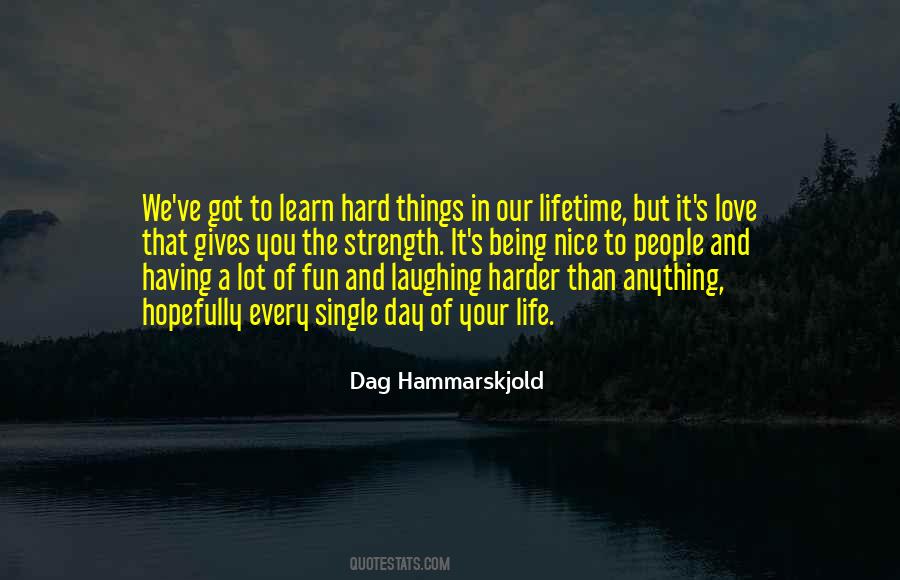 #61. Laugh and dare to try to love somebody, starting with yourself. You must love yourself first, of course, and you must protect yourself so that nobody overrides you, overrules you, or steps on you. Just say, 'Just a minute. I'm worth everything, dear.' - Author: Maya Angelou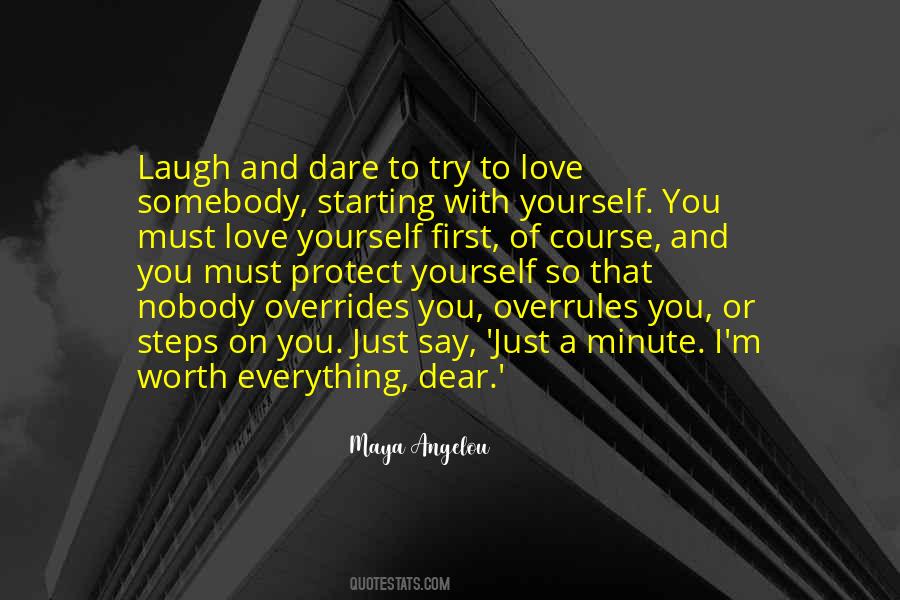 #62. Young love is wild and outrageous, laughing at moderation and blinding us to common sense. - Author: H. Jackson Brown Jr.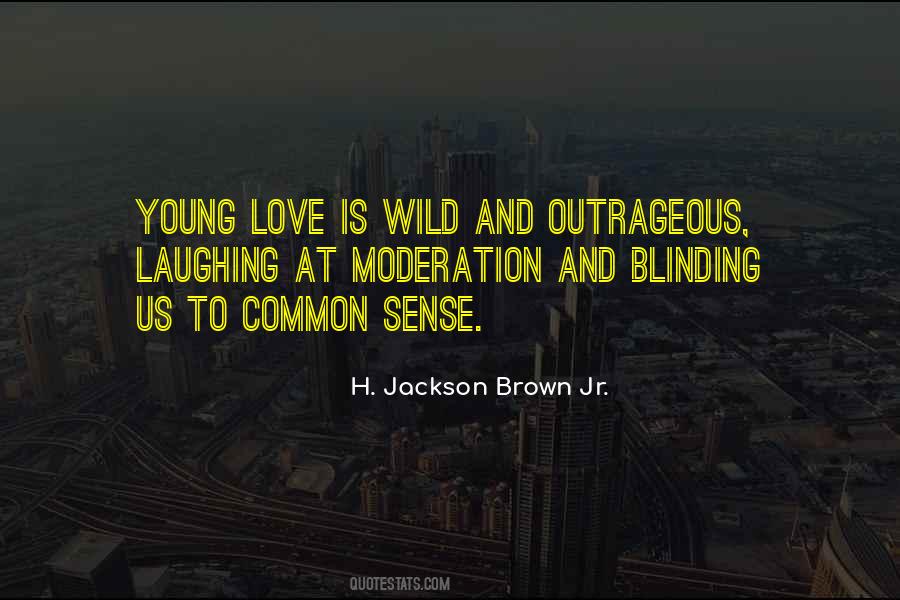 #63. All of a sudden you see reading in bed and waffles on Sunday and laughing at nothing and his mouth on yours. And it's so far beyond fine that you know you can never go back to fine. - Author: Gillian Flynn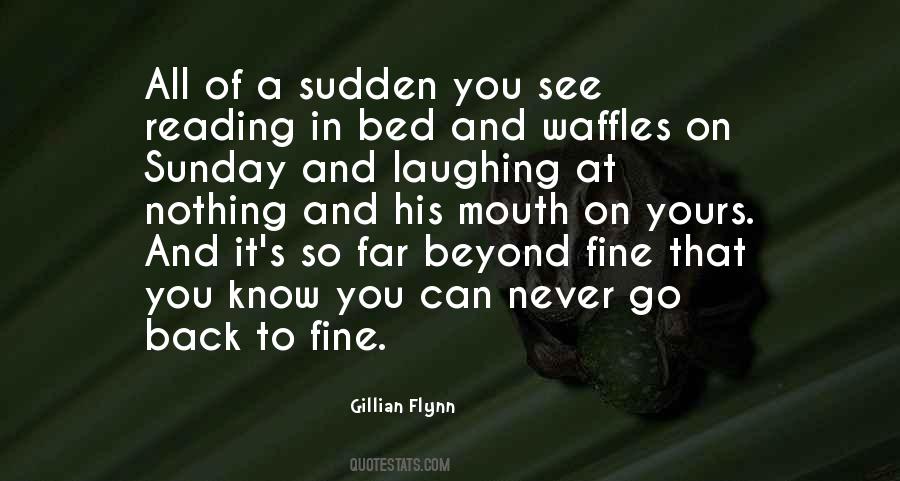 #64. Even as a kid, I'd have a recorder, and I'd lean it up against a TV and record 'I Love Lucy.' I loved hearing the audience laughing. It was really exciting to me. - Author: Randall Park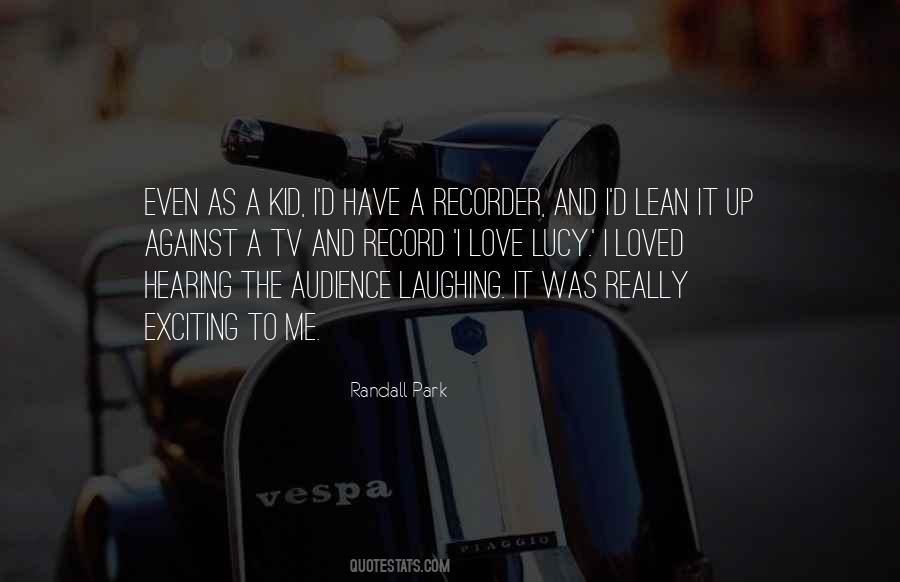 #65. Live well laugh often and love much. - Author: Bessie Anderson Stanley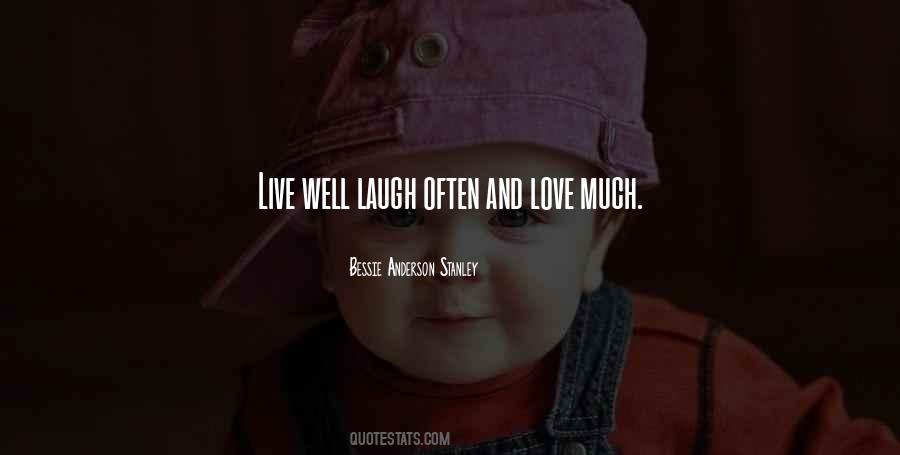 #66. I love to laugh, I love the joy of life, and I love sharing it. - Author: Chita Rivera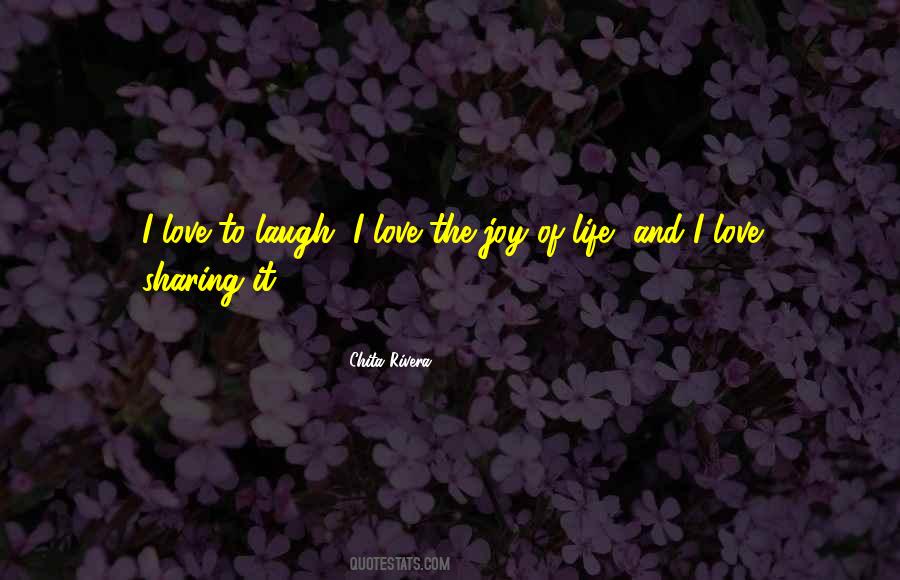 #67. I can't help it, Kate. And I'm laughing at me. I feel like one of those sappy men who run around with a big grin on his face all the time. I feel like grinning all the time around you, and it's so idiotic. - Author: Christine Feehan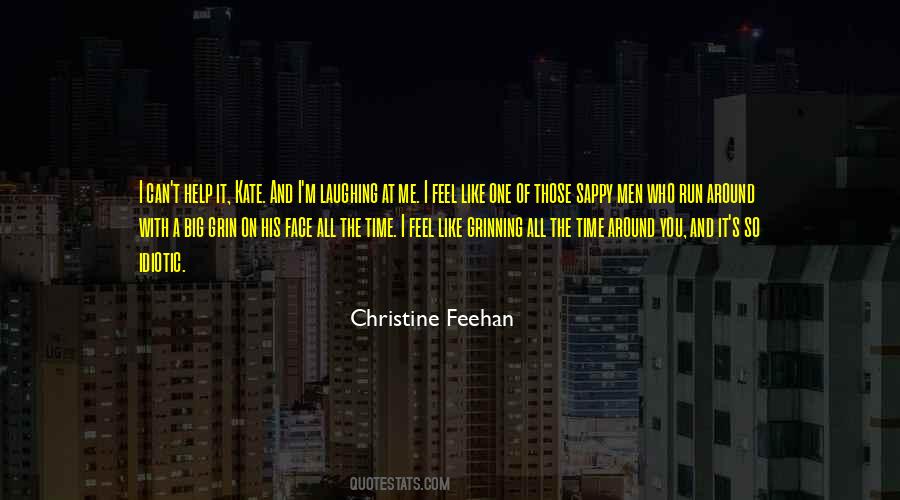 #68. Comedy is the only profession where love from a stranger is better than love from a family member. You need to perform for strangers to see if you're really funny. If they laugh and cheer, it's the greatest thing in the world. - Author: Jay Leno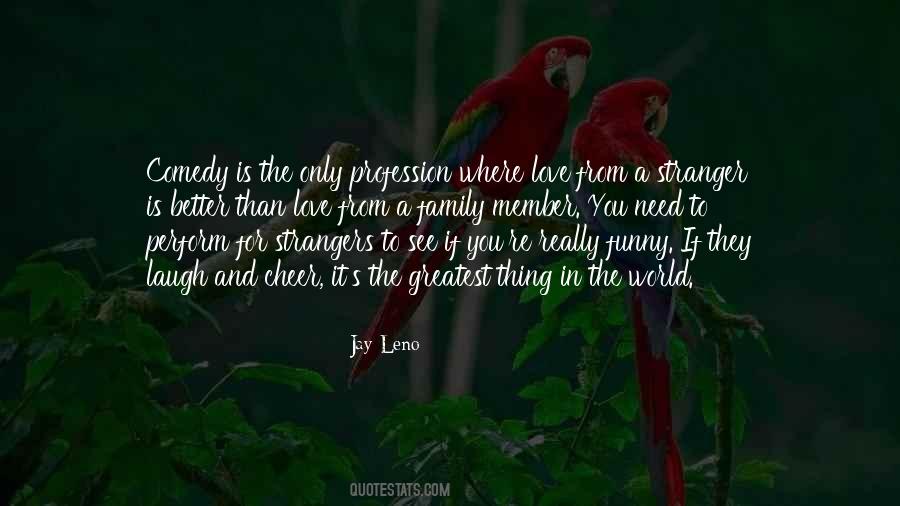 #69. What makes a good family? Well, I suppose obviously love. Love lubricated often I think by humor. I think a family that can laugh at each other and tease themselves and who are able to be jolly with each other I think is the key. - Author: Stephen Fry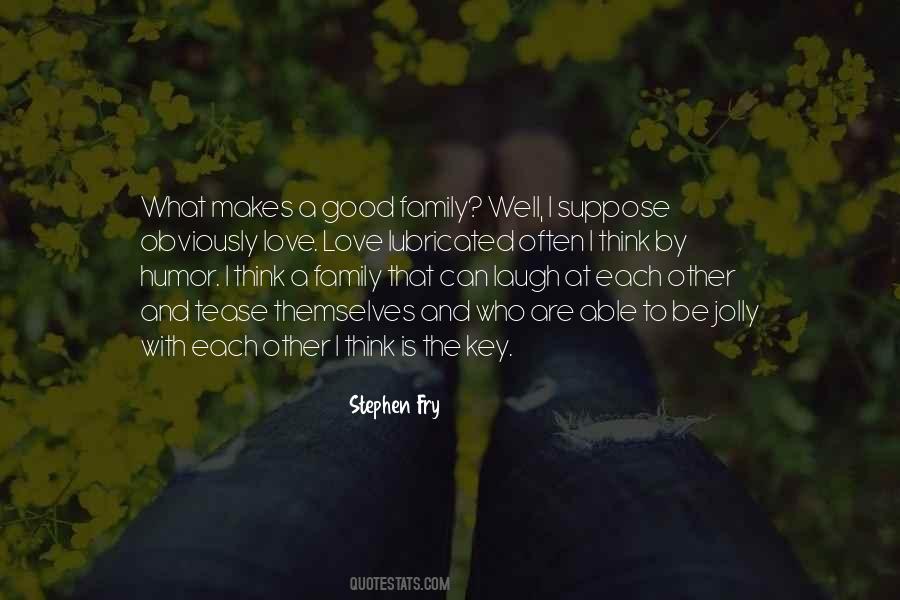 #70. A moment passed, perhaps half a second when their faces said what they felt, and then Emma was smiling, laughing, her arms around his neck. - Author: David Nicholls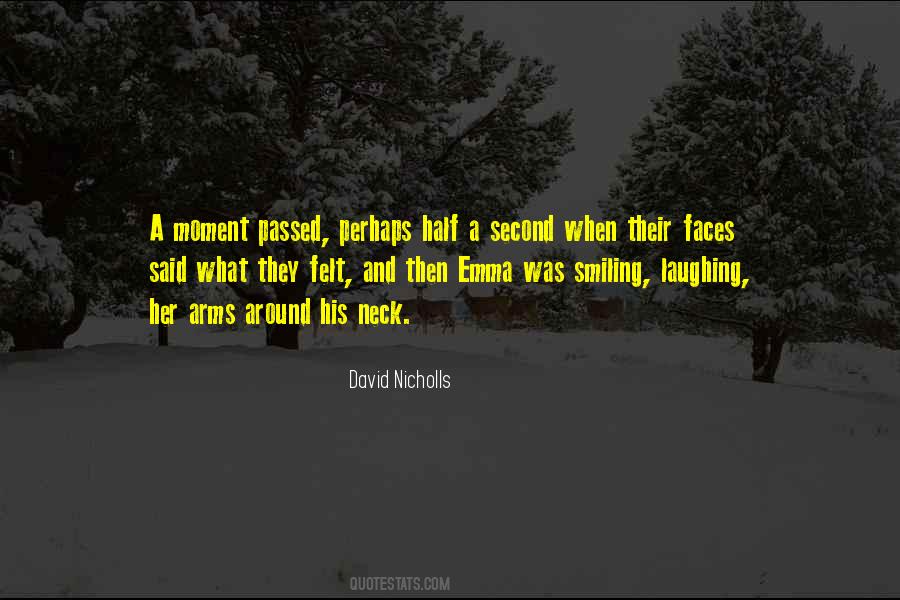 #71. If I was in Sydney, I love the beach. Even though I'm incredibly pale, I put on these terribly long unattractive rashies, and people laugh at me. My kids laugh at me. But that's what I would do. - Author: Nicole Kidman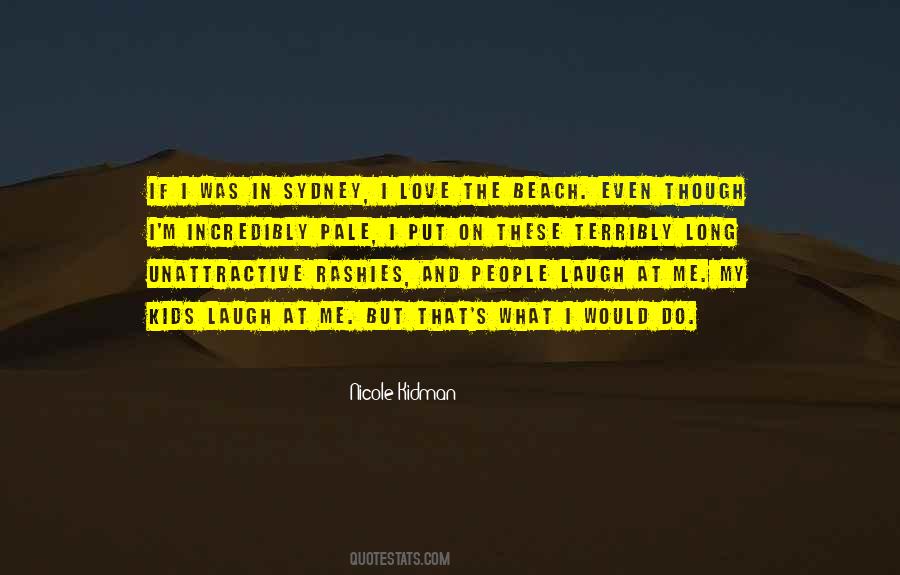 #72. I might appear confident and chatty, but I spend most of my time laughing at jokes I don't find funny, saying things I don't really mean - because at the end of the day that's what we're all trying to do: fit in, one way or another, desperately trying to pretend we're all the same. - Author: Tabitha Suzuma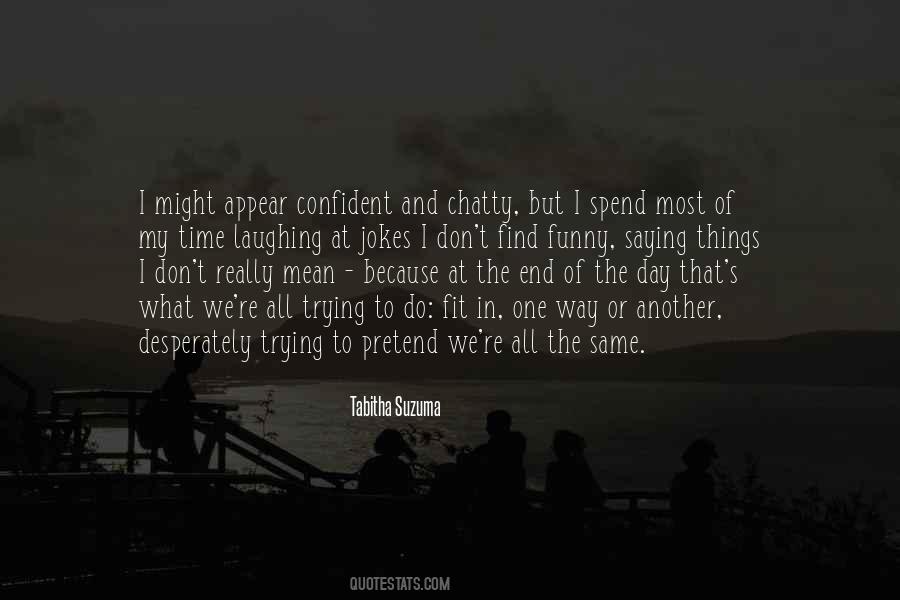 #73. Love is when you can completely trust one another, you feel like you can conquer the world together, you know that person will be there for you, and most importantly, you make each other laugh. - Author: Chelsea Krost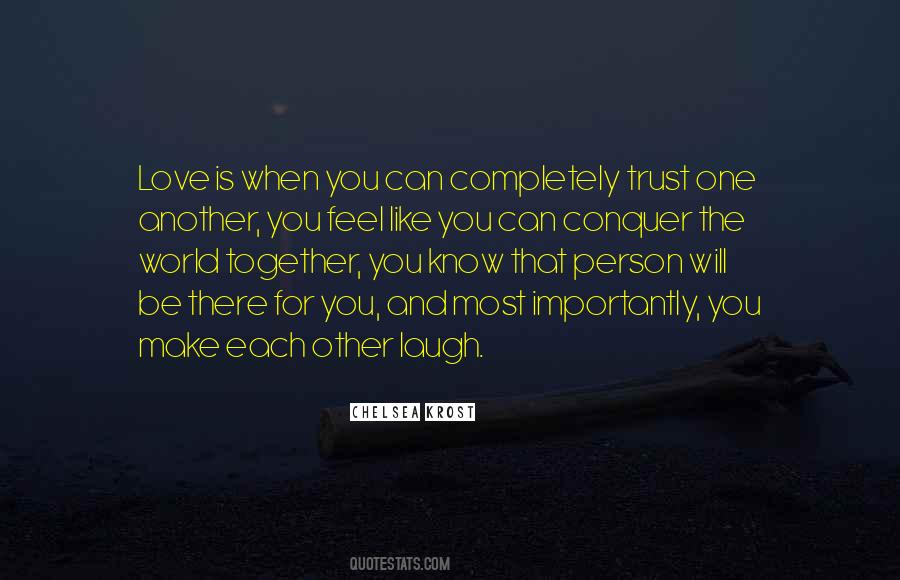 #74. At last they settled down to their long watch - squatting round the fire, and laughing for sheer love of adventure as good campaigners should; for were there not marching towards them some eight dark hours equipped with who could say what curious weapons from the rich arsenal of night and day? - Author: Hope Mirrlees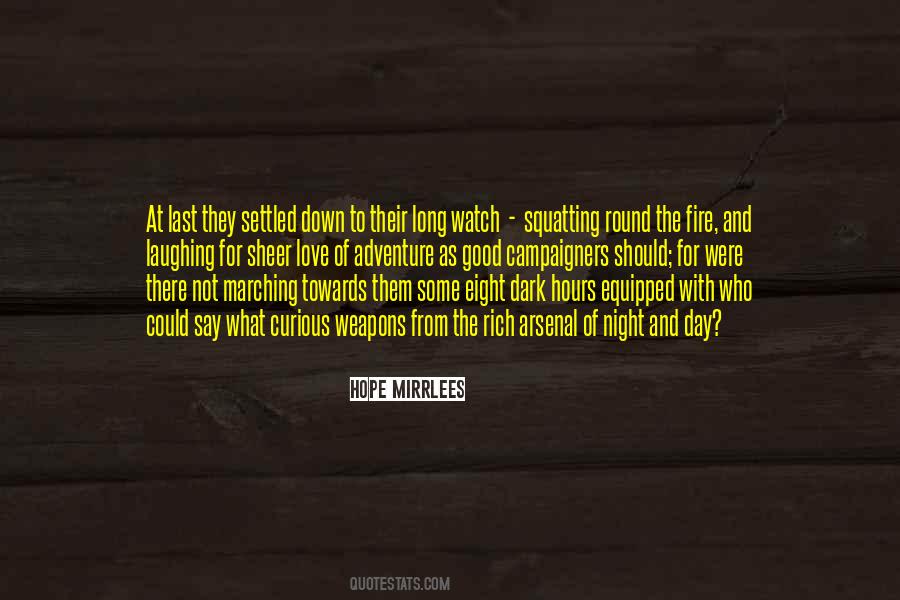 #75. Are you guys, like, in love? Brian asked in a girl voice.
Alexis and Jason locked stares because even though everyone had started laughing at Brian's jibe, the word was there, hanging between the two of them, waiting to be grabbed for their personal use. - Author: Lindsay Chamberlin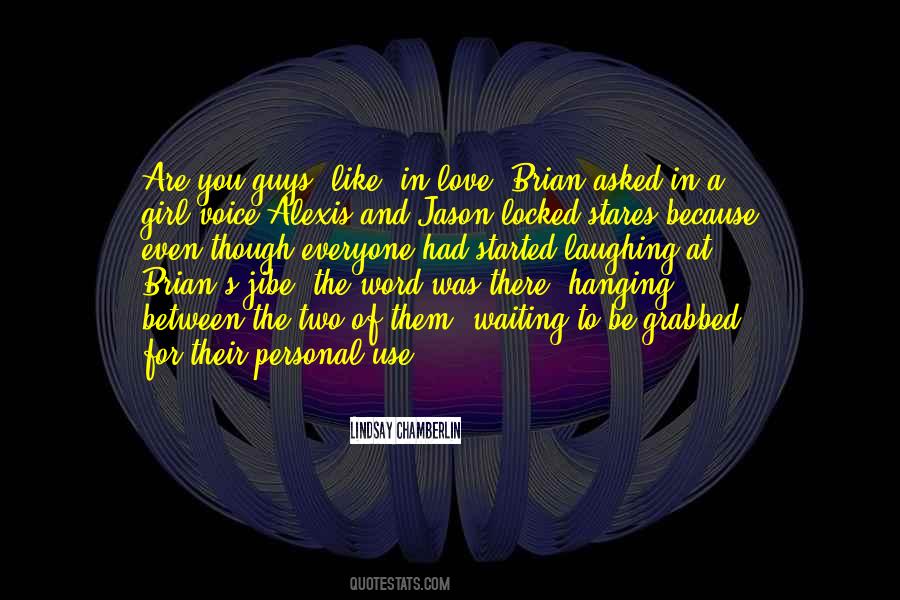 #76. Love who you are and what you are and what you do. Laugh at yourself and at life and nothing can touch you. - Author: Louise Hay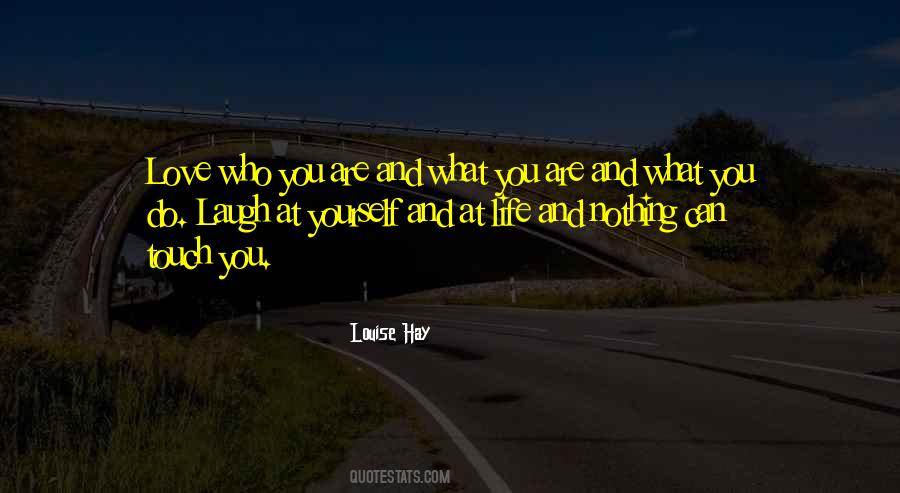 #77. Please is frail like a dewdrop, while it laughs it dies. But sorrow is strong and abiding. Let sorrowful love wake in your eyes. - Author: Rabindranath Tagore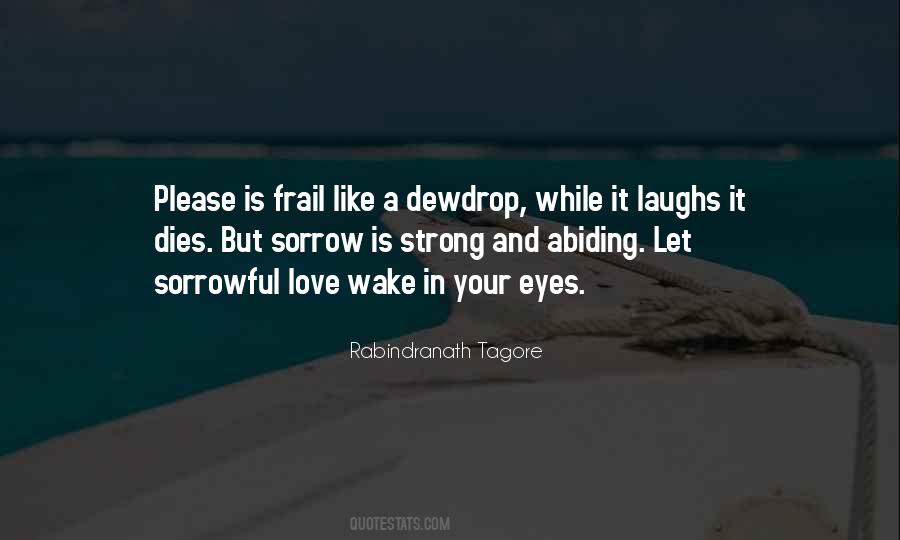 #78. If you come from a place of love, and you're not saying, 'I'm better than you,' that's one thing that allows you to talk about different ethnicities. It's almost like laughing with each other. - Author: Maz Jobrani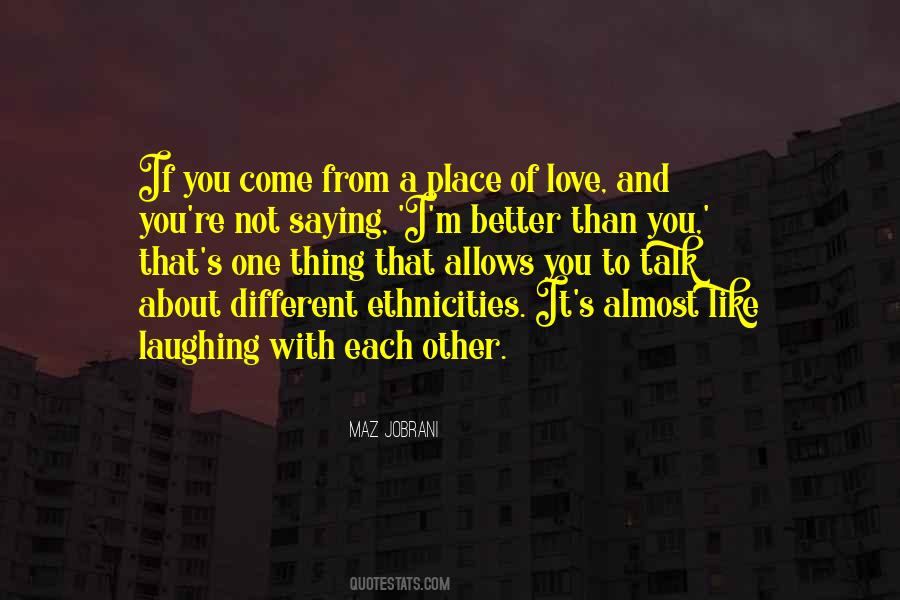 #79. The only kind of love worth having is the kind that goes on living and laughing and fighting and loving. - Author: Dalton Trumbo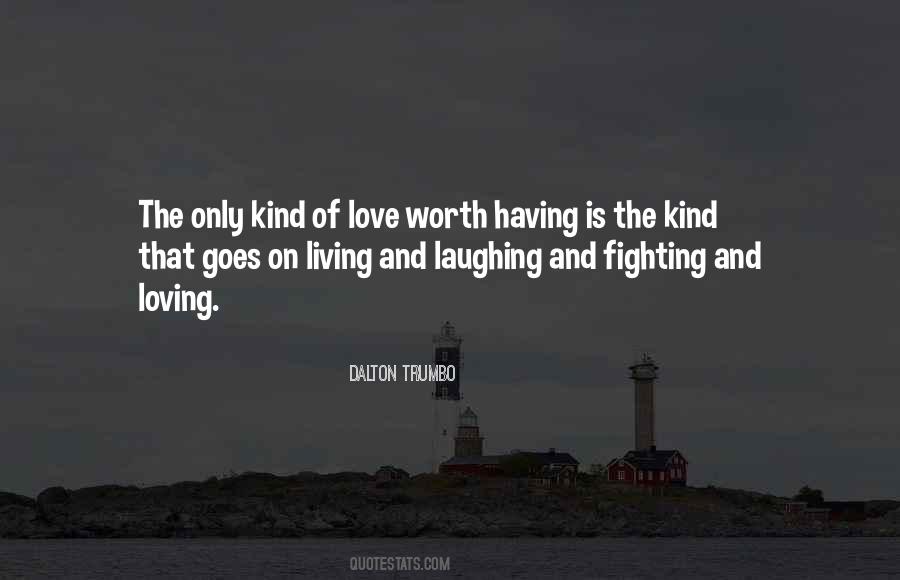 #80. But Hyacinth Bridgerton, who at ten should have known the least about kisses of anyone, just blinked thoughtfully, and said, I think it's nice. If they're laughing now, they'll probably be laughing forever. - Author: Julia Quinn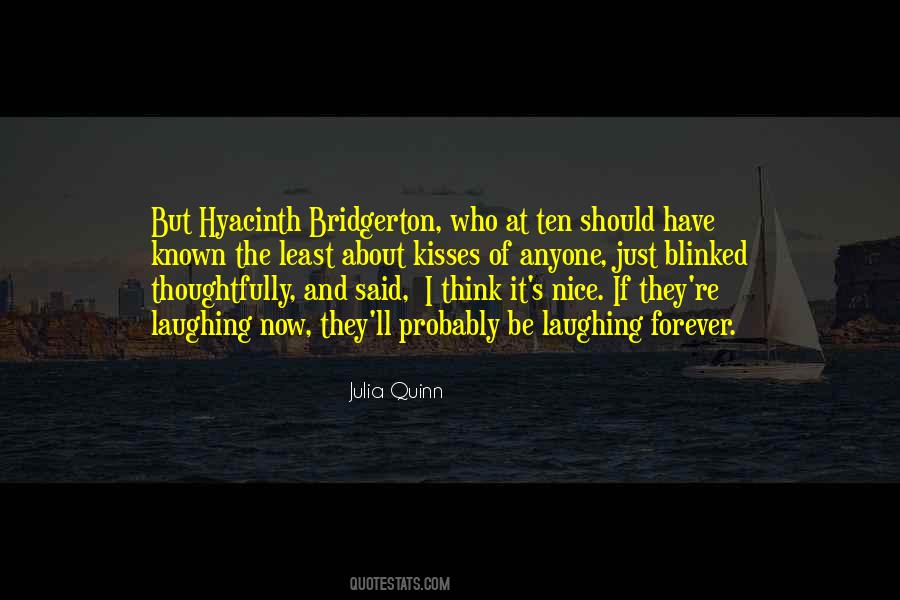 #81. I love you, Morgan," Drew whispered to my lips.
"I hope so, we've been married for eight years," I teased.
He wasn't laughing. "I mean it, Morgan. I love you more than I ever thought possible, and no matter what happens, I'm telling you now, how sorry I am while you love me too. - Author: Jettie Woodruff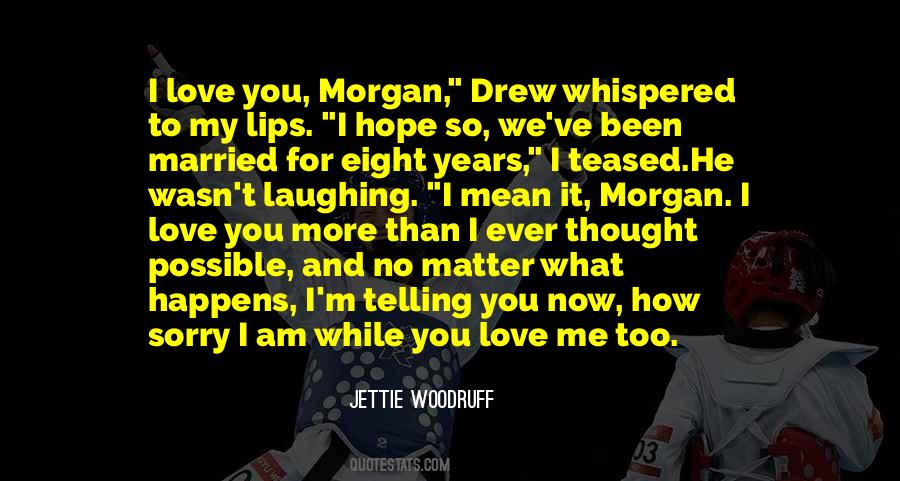 #82. But there, in that remarkable room, surrounded by a laughing, rollicking, unseeing collection of London's brightest and wickedest, Pippa's knowledge of anatomy expanded.
It seemed there was such a thing as a broken heart. - Author: Sarah MacLean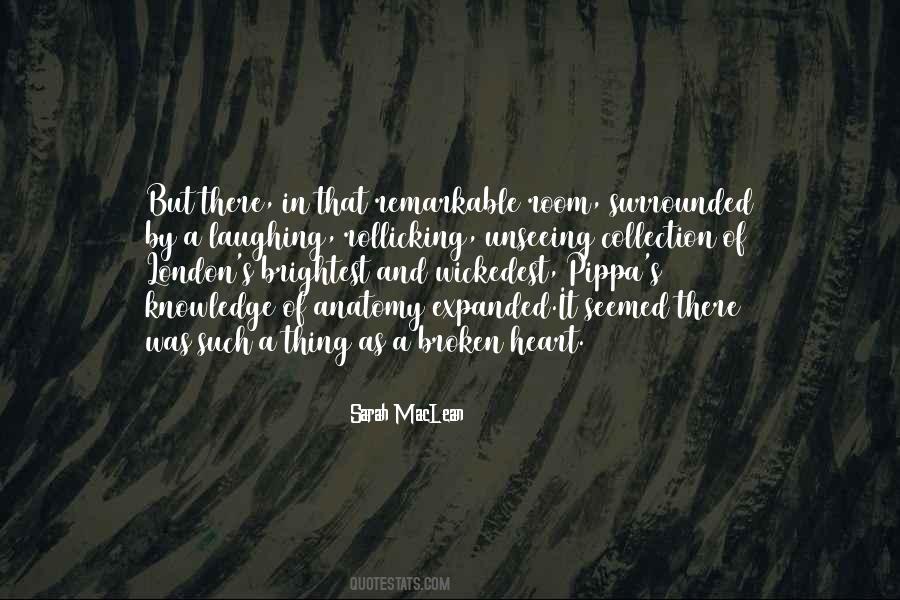 #83. Love thou, and if thy love be deep as mine,
Thou wilt not laugh at poets. - Author: Edward Bulwer-Lytton, 1st Baron Lytton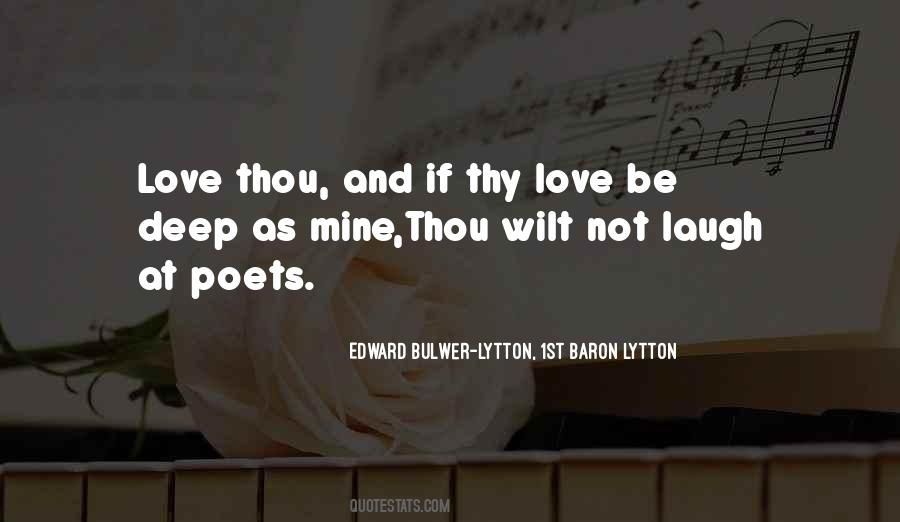 #84. There's a darkness under 'The Hangover' because ultimately there's a missing person and it's not really that funny. There's a sort of darkness under it that I love, and still people are laughing as hard if not harder than they did in 'Old School.' - Author: Todd Phillips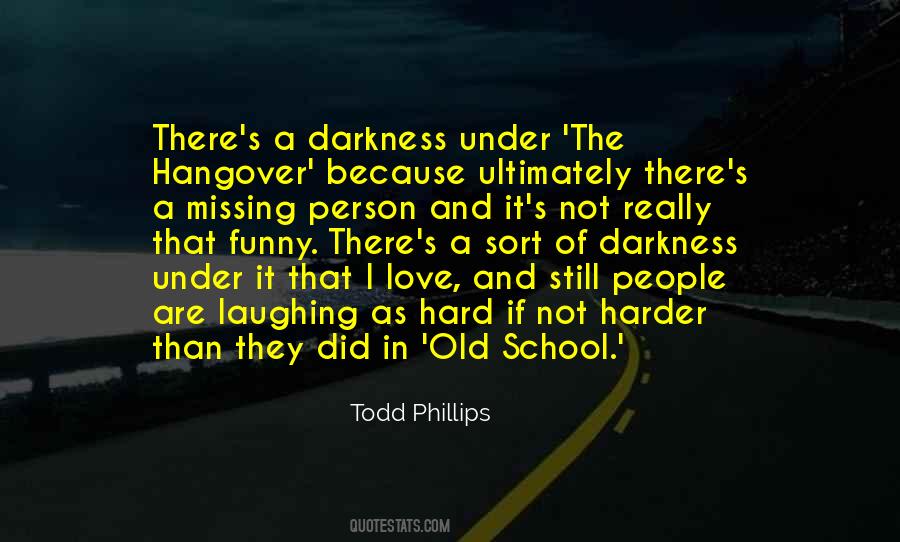 #85. When people see the laughing face, even if they're jealous of it, their burden is lightened. But do it first for yourself. Laugh and dare to try to love somebody, starting with yourself. - Author: Maya Angelou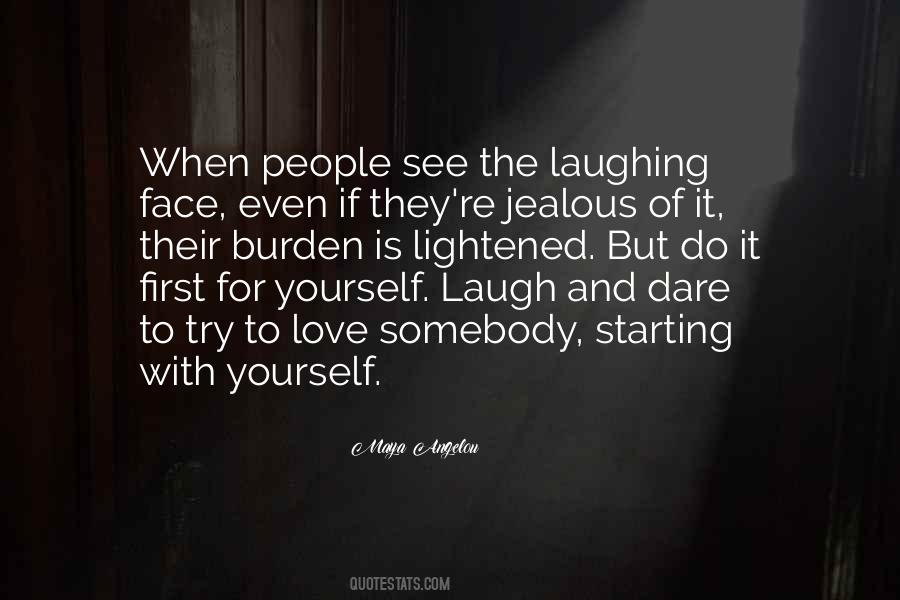 #86. That's why I love improvisational theater so much - you do it [scene] once and then it's done. You don't get bogged down with a lot of preplanning and repetition. If I do something and it gets a laugh, I don't want to do it again. Why bother? I'm just repeating myself. It's boring. - Author: Amy Sedaris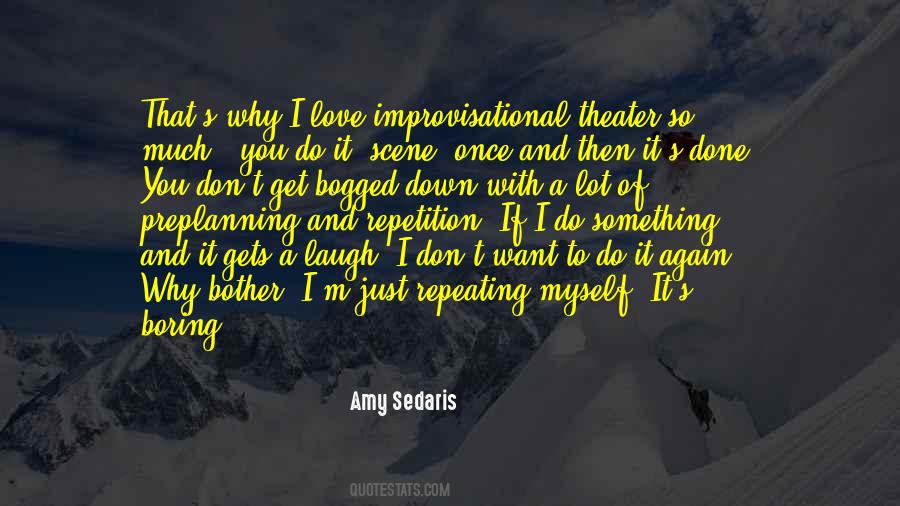 #87. And Annie showed me how ailanthus trees grow under subway and sewer gratings, stretching toward the sun, making shelter in the summer, she said, laughing, for the small dragons that live under the streets. - Author: Nancy Garden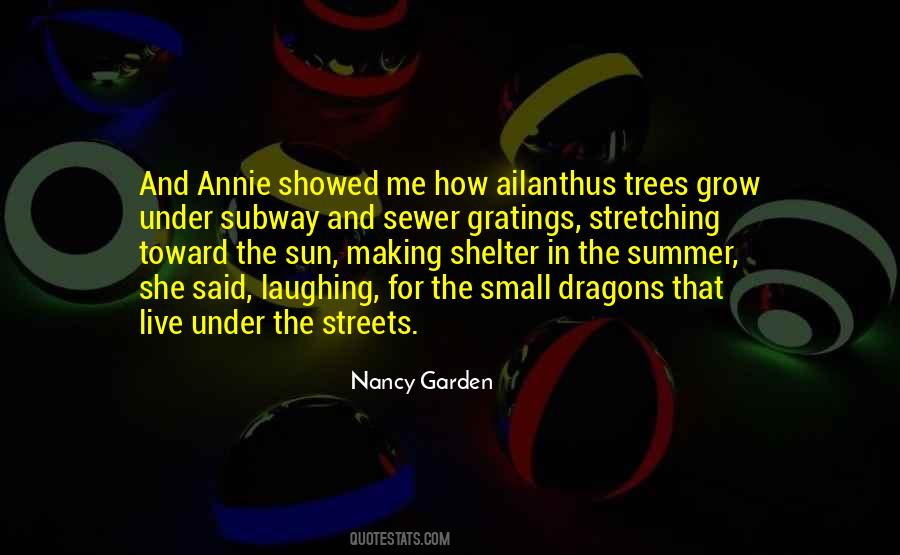 #88. I love myself when I am laughing ... and then again when I am looking mean and impressive. - Author: Zora Neale Hurston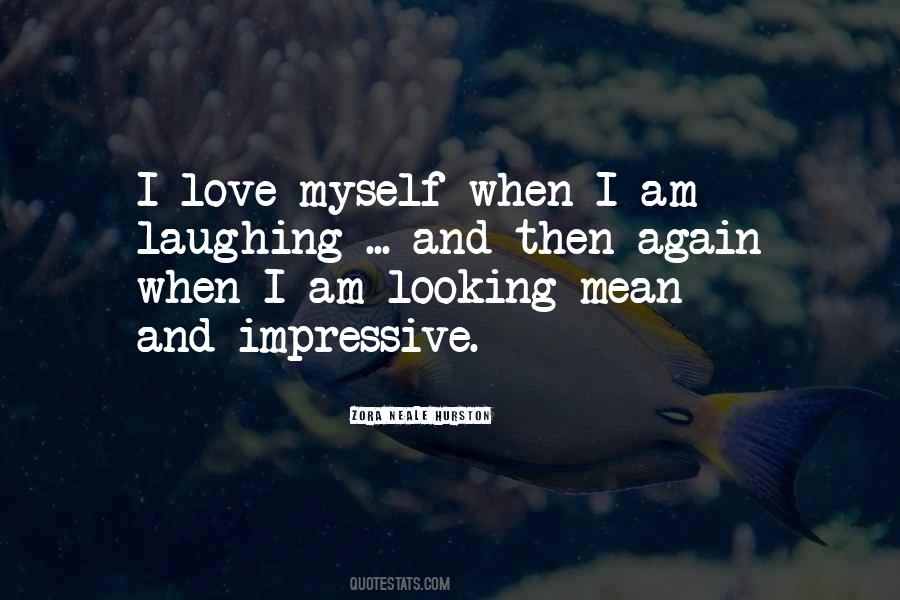 #89. I grew up hiking and horseback riding in Tennessee, so I love being outside. I will joyfully run 12 miles, but I'm not very good at boot camps. When they start yelling, I start laughing. - Author: Rachel Boston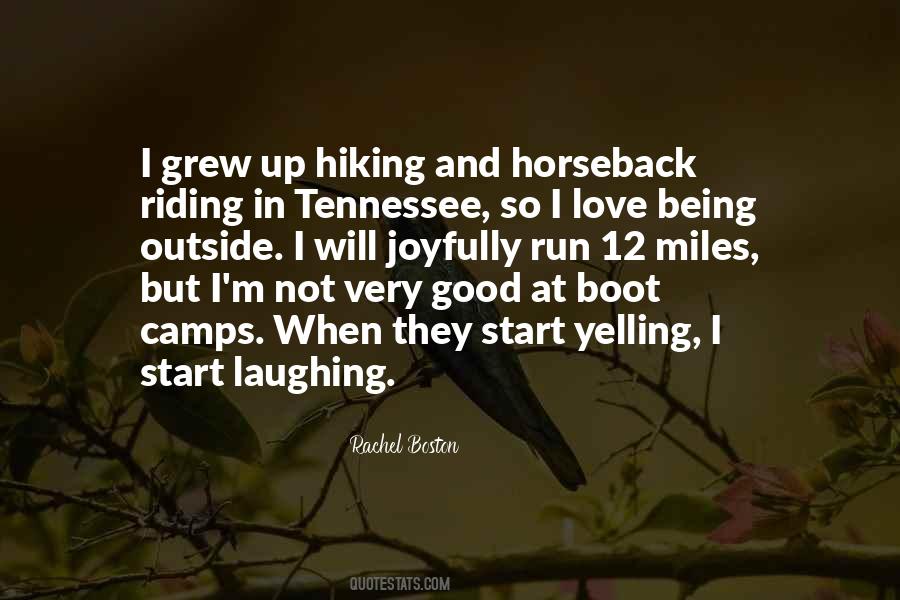 #90. I've always tried to be funny, or stupid, or whatever. I love making people laugh and I think it comes quite naturally to me. - Author: Brian Littrell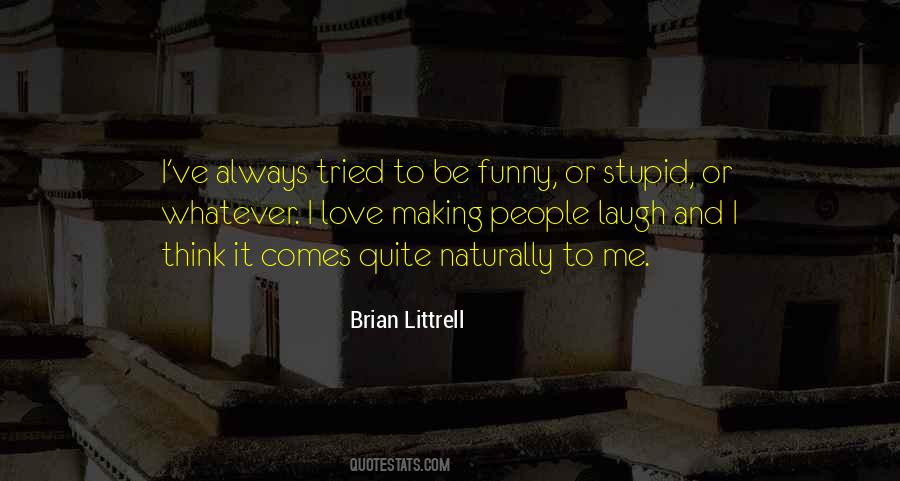 #91. Live, laugh, and love!! Blessings!! - Author: Trai Byers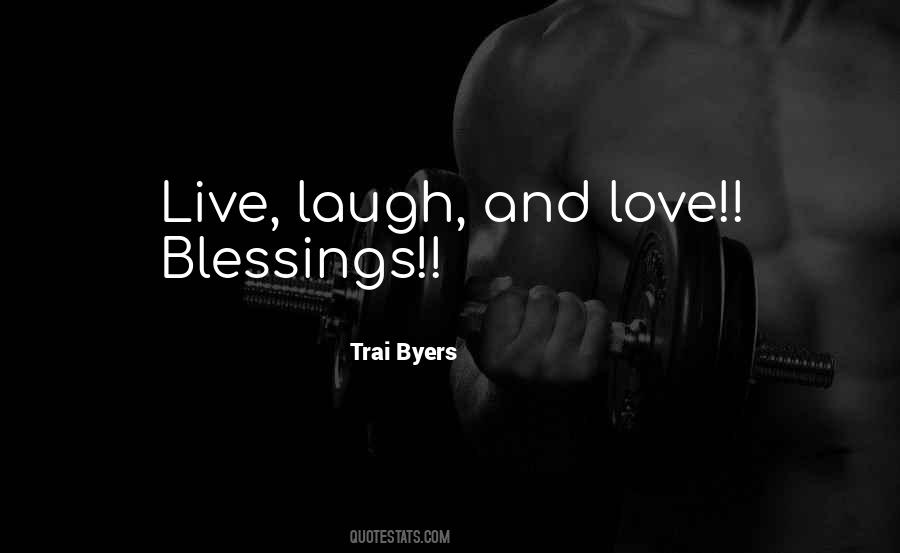 #92. She had been born with a different name, to a woman with laughing eyes and warmly whispered words of love who'd died degraded and afraid on a misty Irish morning. - Author: C.S. Harris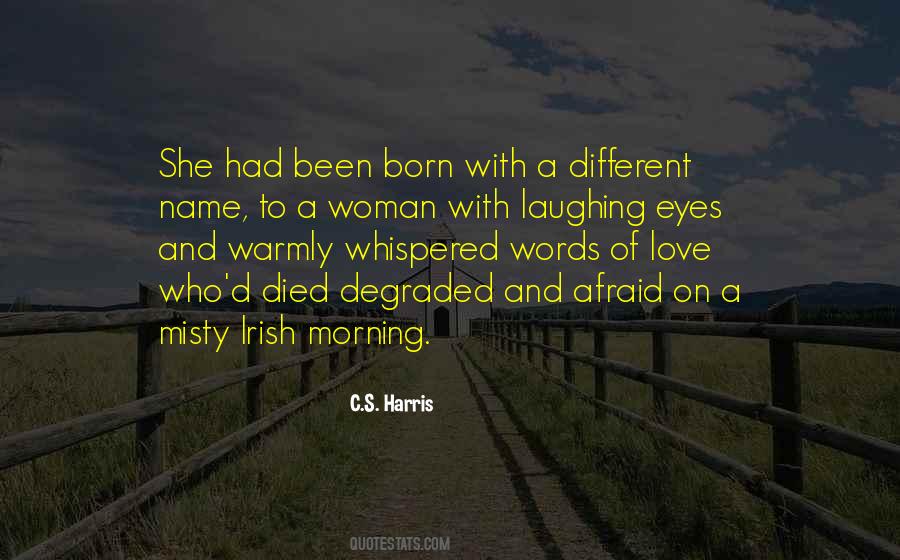 #93. Really, really obscene hip-hop. I love it so much. It makes me laugh and then it makes me want to dance. - Author: Natalie Portman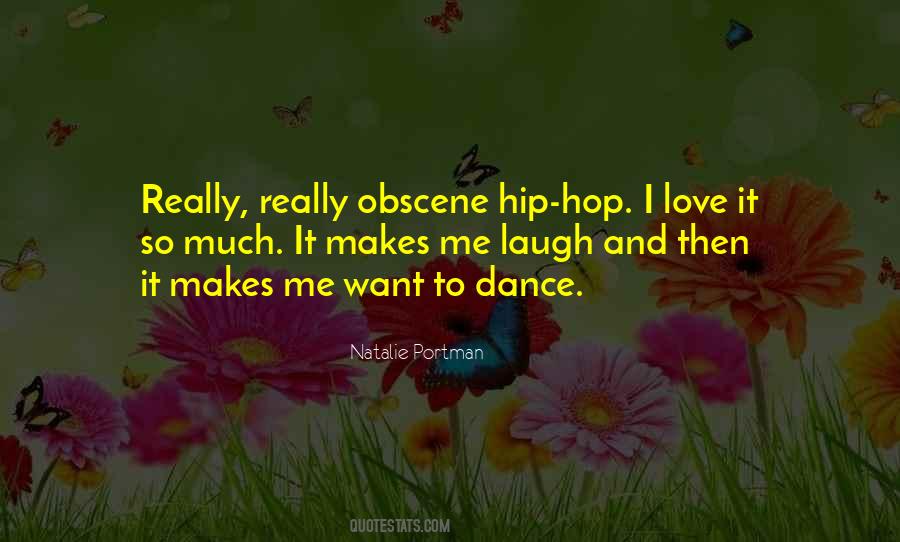 #94. Don't become a grumpy old dater! Life ids for living, laughing and loving!Stop searching, start finding! - Author: Siggy Buckley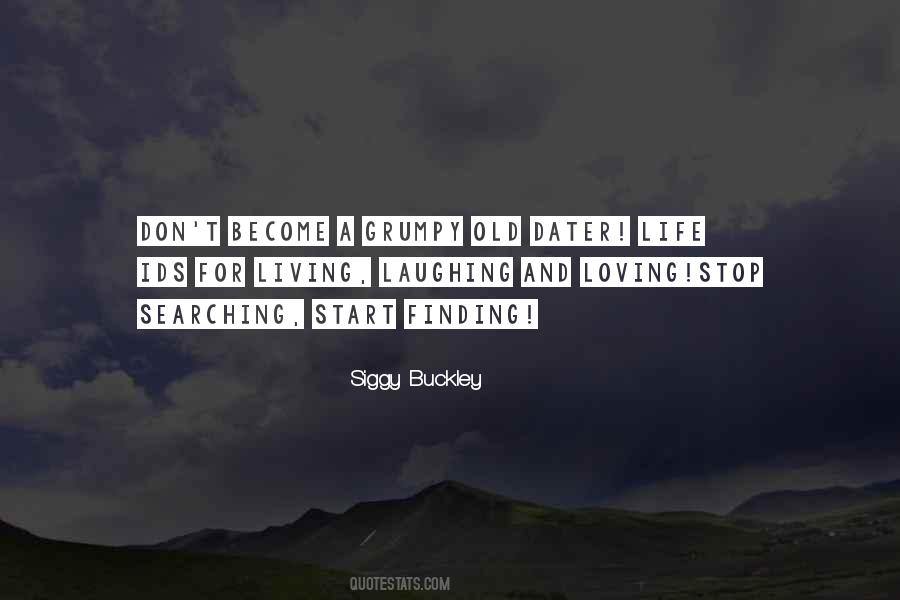 #95. Love is messy. It means arguing and making up and laughing and crying and struggling and sometimes it doesn't seem worth it. But it is. And at the end when you're in love, no matter what happens, you forgive each other. - Author: Anon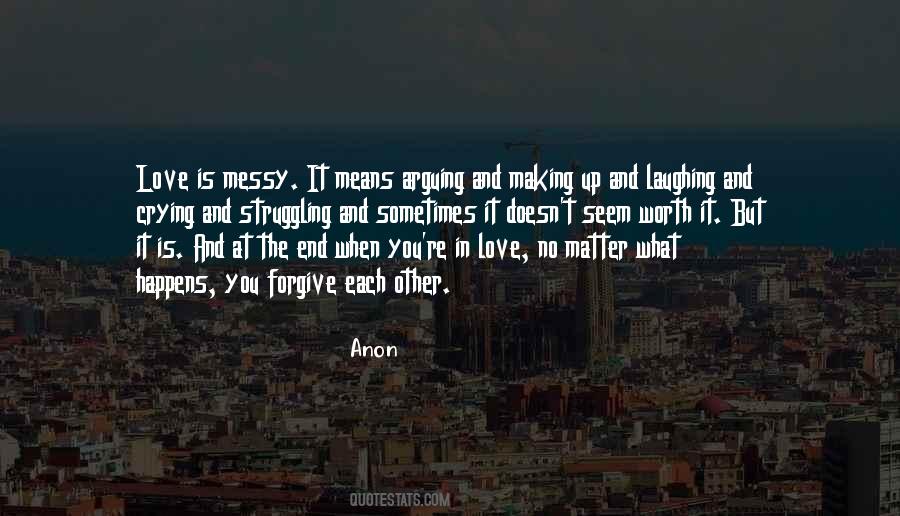 #96. Marry for love, stay married, and raise happy children who are quick to laugh and slow to judge. - Author: Christopher Moore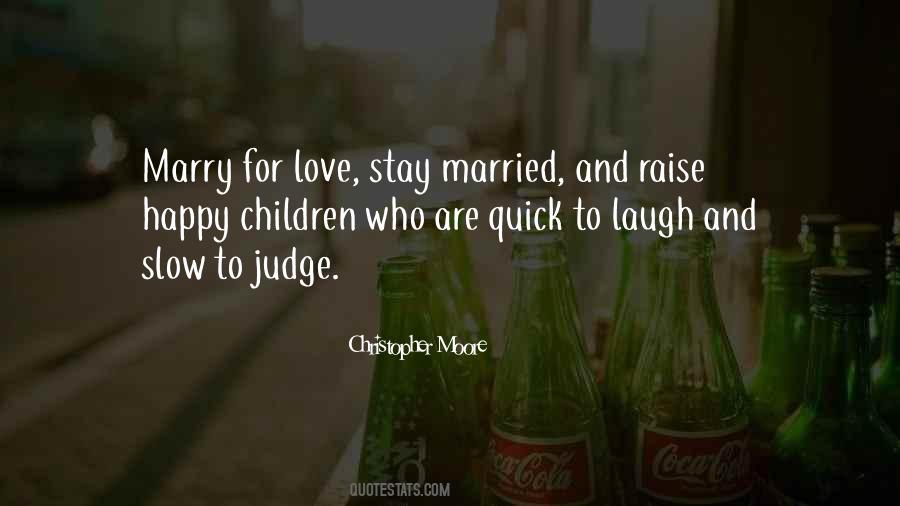 #97. We fear passion and laugh at too much love and those who love too much. And still we long to feel. - Author: Jeanette Winterson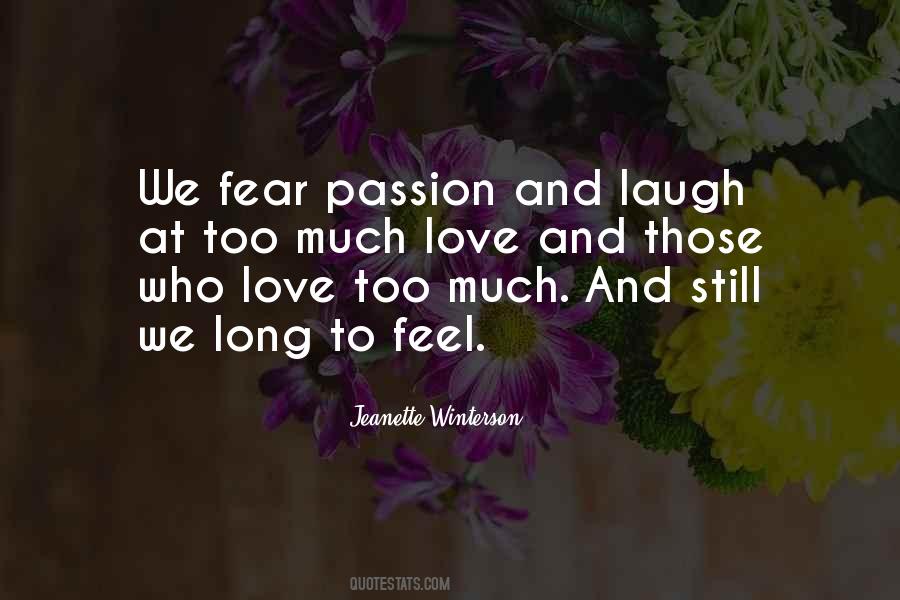 #98. Oh, womanly sympathy, love AND food?" I said, laughing. "Don't want a lot, do you? - Author: Diana Gabaldon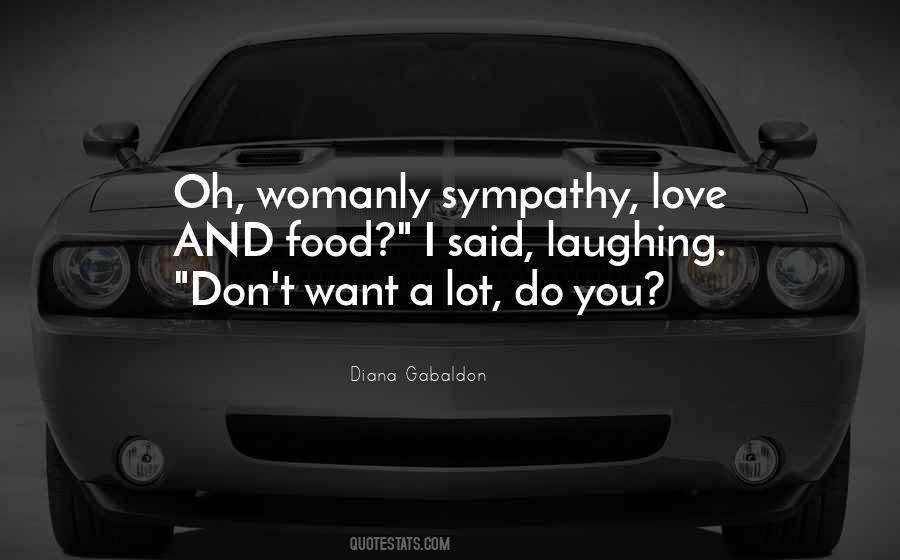 #99. Even now, I feel your arms around me
My breath is your breath and yours mine
Even now, I hear you laughing like bells ...
You sing to me and I sing to you
Dear child of my womb, my love,
Time has left us, left us forever together. - Author: Victor Robert Lee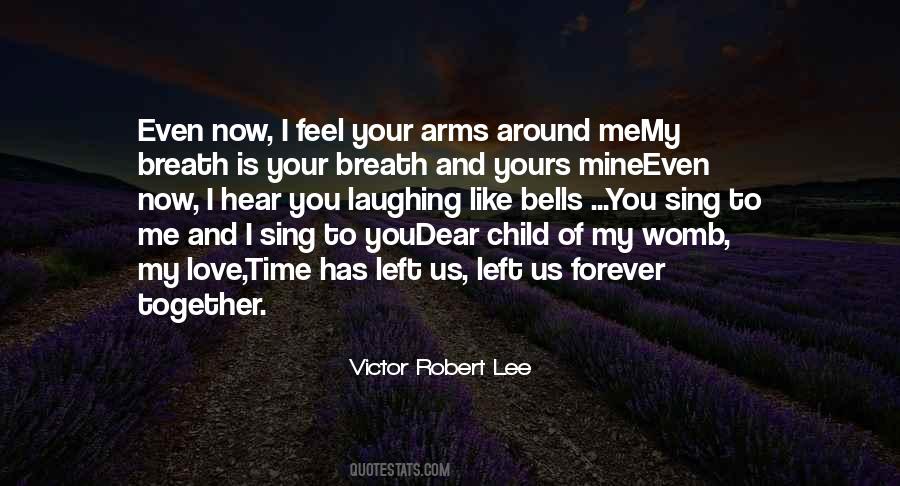 #100. Like most writers I know, I love being on stage. I've sublimated the dramatic urge by teaching and by making people laugh. - Author: Francine Du Plessix Gray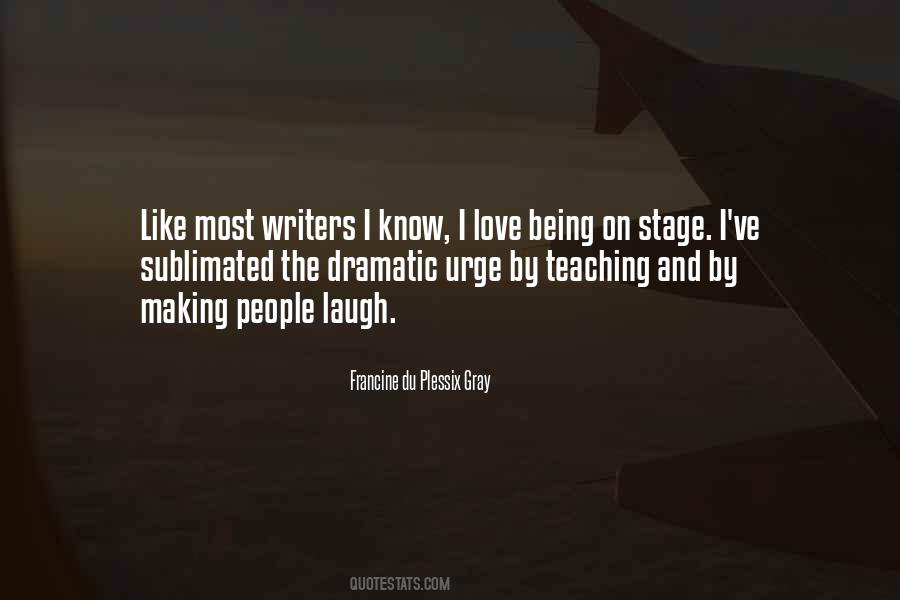 Famous Authors
Popular Topics