Doing It Yourself Famous Quotes & Sayings
List of top 100 famous quotes and sayings about doing it yourself to read and share with friends on your Facebook, Twitter, blogs.
Top 100 Quotes About Doing It Yourself
#1. When you finish a series like 'Ugly Betty,' there are so many voices around you telling you what you should be doing next and what would be good for your future, sometimes you can't hear yourself. I've gotten pretty good at tuning everyone else out. Now it's just me; what pleases me creatively. - Author: America Ferrera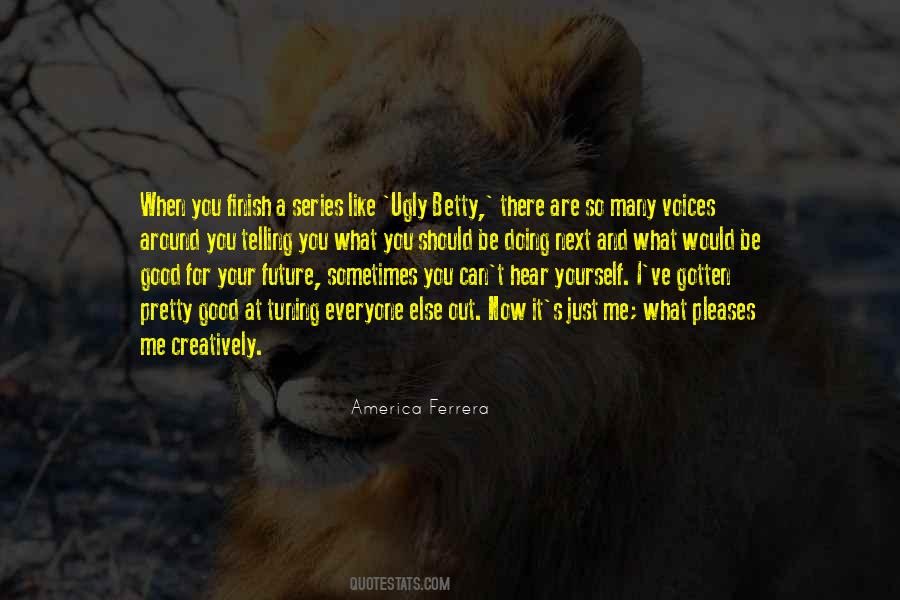 #2. At first you're doing it for yourself, it's about what sounds good to you. It's about expressing yourself. Then you get comfortable as an artist and you find yourself and people get familiar. - Author: Mac Miller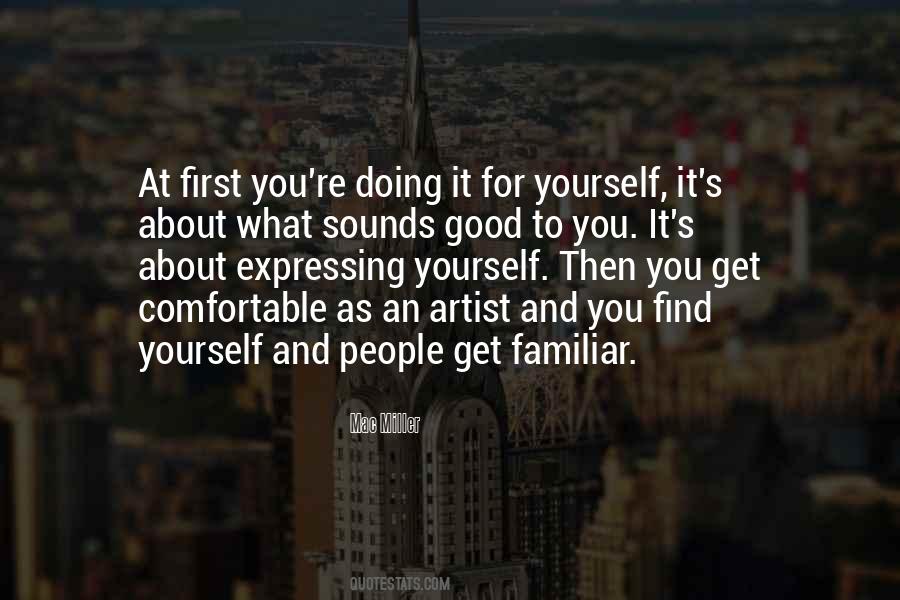 #3. That's what is really cool about this whole new wave of makeup artistry and people on Instagram and YouTube: It's about doing it for yourself and experimenting. People don't wear makeup to impress people or because they'll be seen in public. It's more of a hobby now, just because it's fun. - Author: Zendaya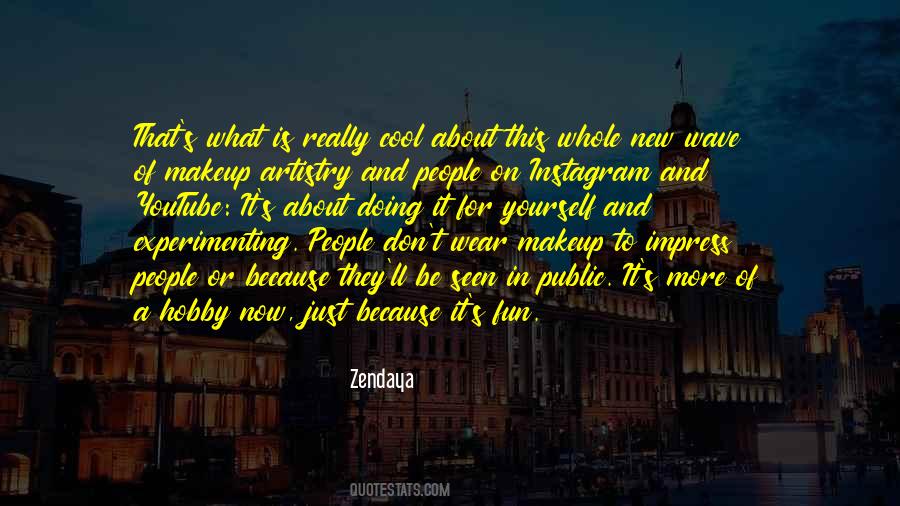 #4. Stop. Breathe. Allow yourself the luxury of doing nothing for a moment, or an hour, or even a day. It is in emptiness that inspiration will appear. - Author: Carole Katchen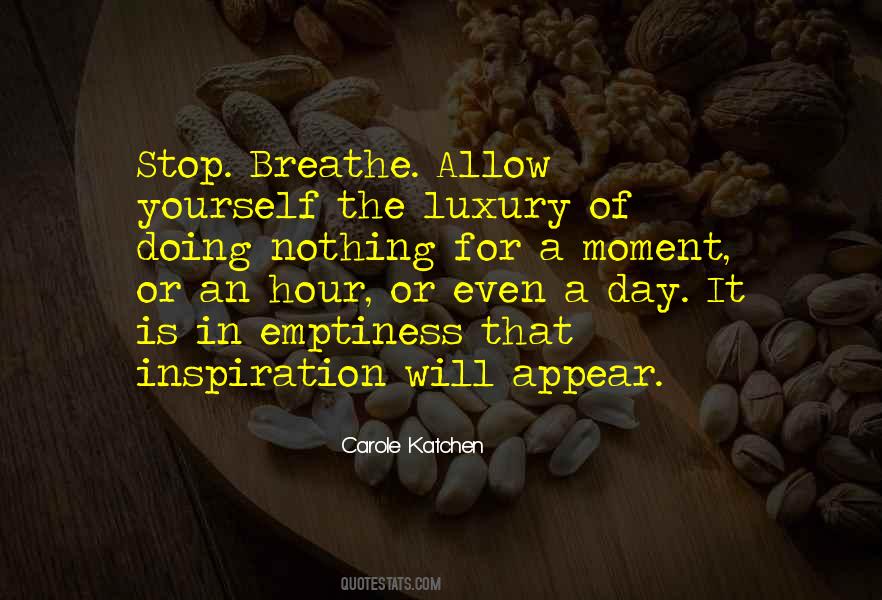 #5. And even if you cared what they had to say, would you act upon their opinions and create your life from it? No. Than stop replaying their toxic words in your head, it's no good for your being and start doing the things that once made you, you. - Author: Nikki Rowe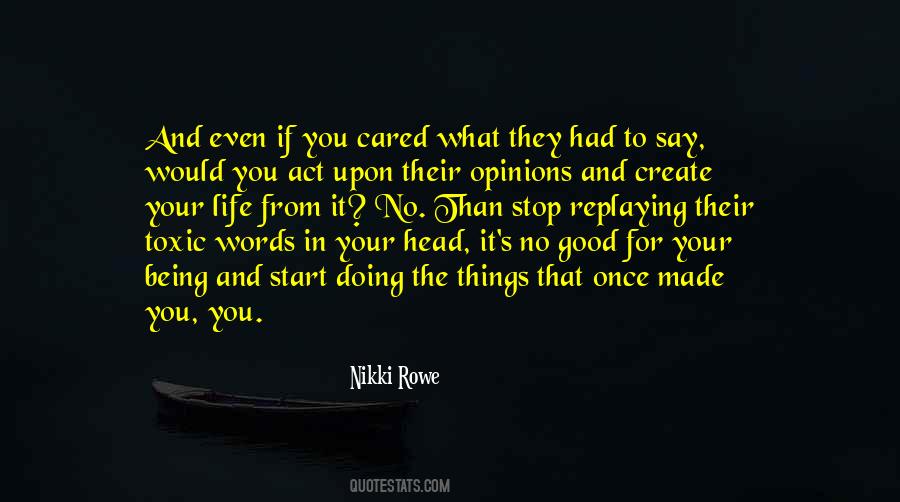 #6. I love the game. I think it's a great game because you find out a lot about yourself. You test your mettle every week. There's no grey area, there's instant gratification and there are no quarterly reports. We're not just doing a little bit better. You know every Sunday what happened. - Author: Bill Parcells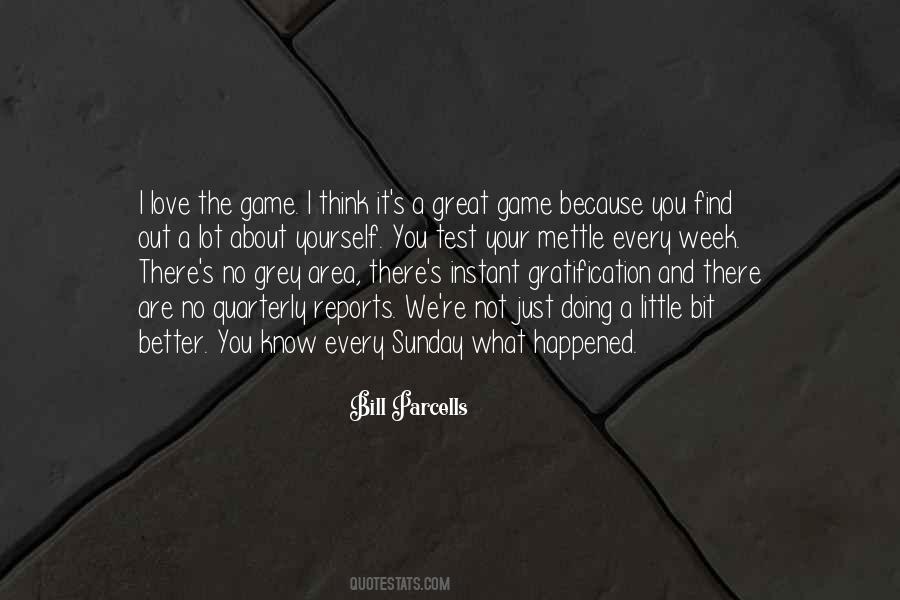 #7. I want you to believe in yourself, and take chances, even if it is scary and even if you don't know what you are doing yet. - Author: Auliq Ice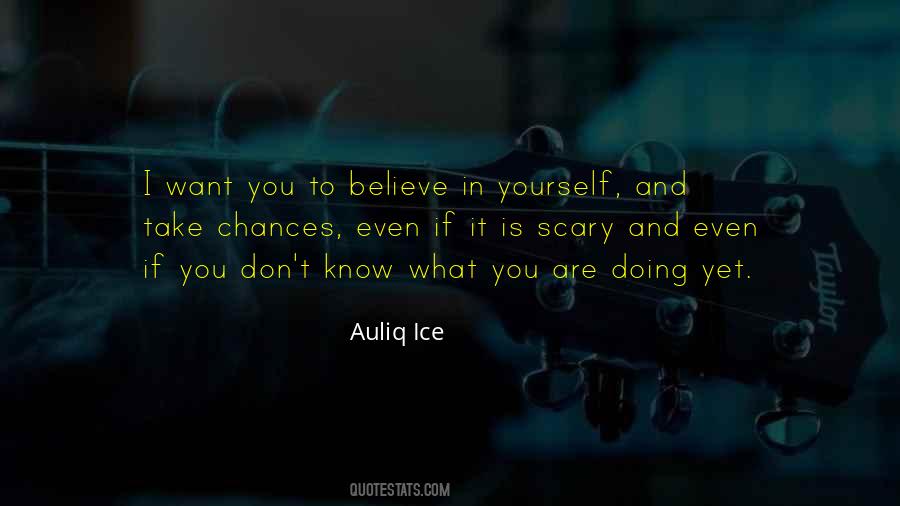 #8. My God ... how magnificent of a man do you have to be to go through what you went through, doing it alone, nobody to ease the way, the pain, no mother, no brother no sister, all by yourself enduring that and fight your way to becoming all that you are. It isn't amazing. It's a darned miracle. - Author: Kristen Ashley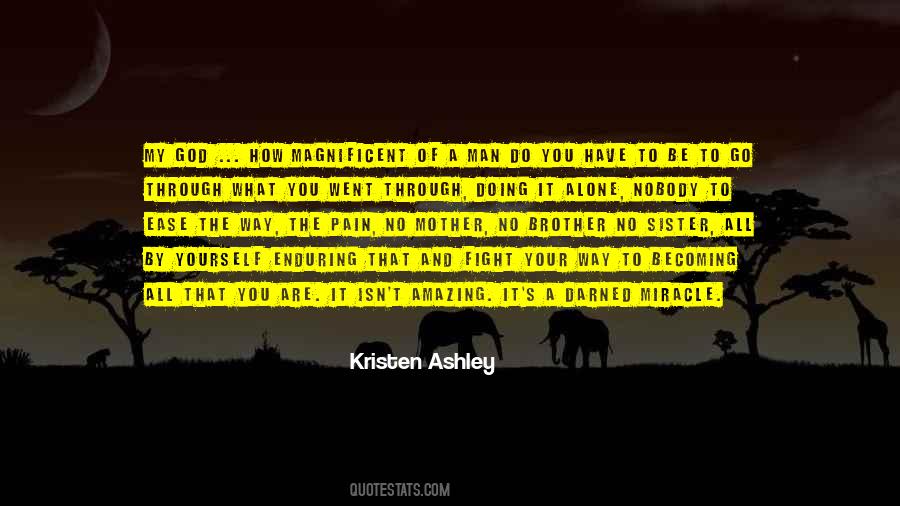 #9. A good question to ask yourself before doing anything you think you fear is, "If I do this, am I going to die?" If the answer is no, then your fear is made up, grossly overdramatic, and it should have no power over you. - Author: Darren Hardy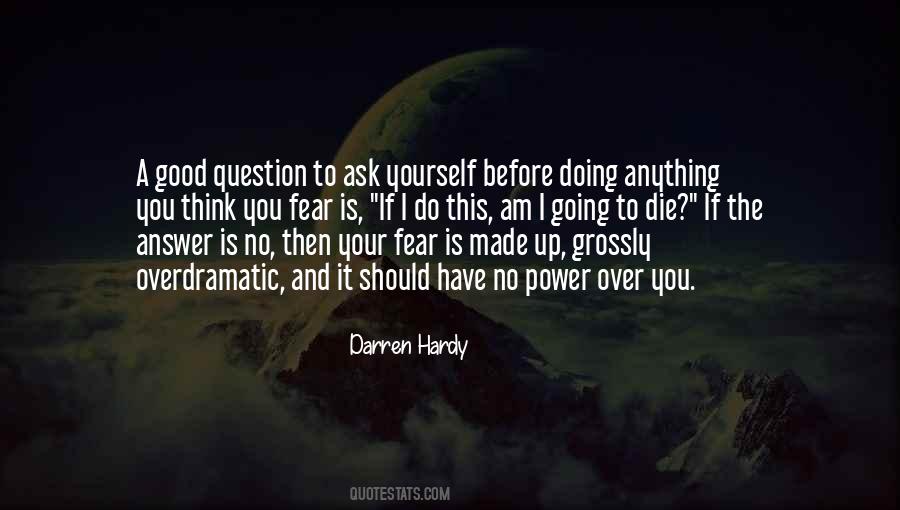 #10. Believing in yourself and what you do is so important. It took me a long time to find that confidence. If you're an artist and you're taking risks, then you're doing something right if some people don't get it. - Author: Kate Voegele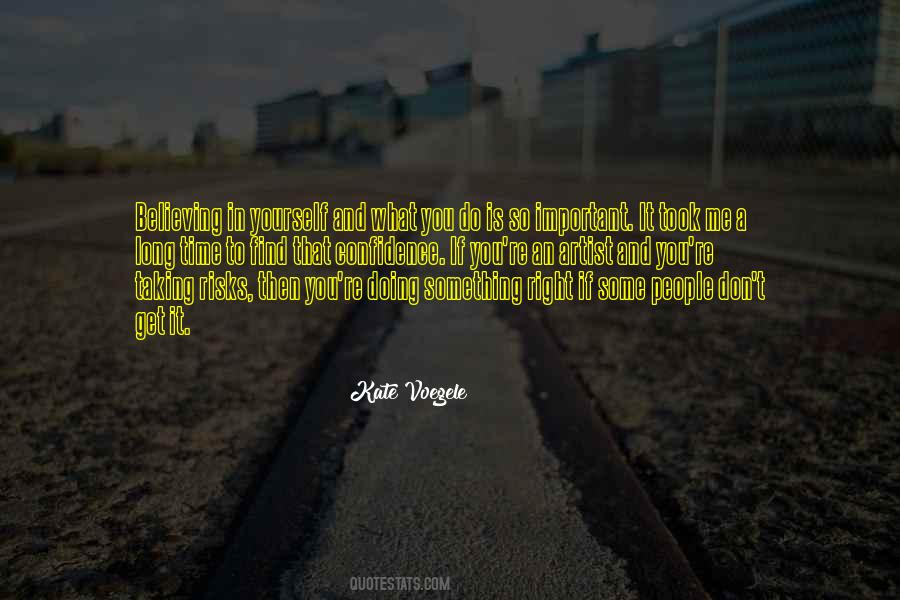 #11. To get the best out of life here ... Good grief. There's plenty of it about, so indulge. Give yourself some thing to remember. Fall in love. Fall out of love. Gamble. Get drunk. See how long you can stay awake. Go for long walks at night. Discover what you're afraid of doing, and then do it. - Author: Philip Pullman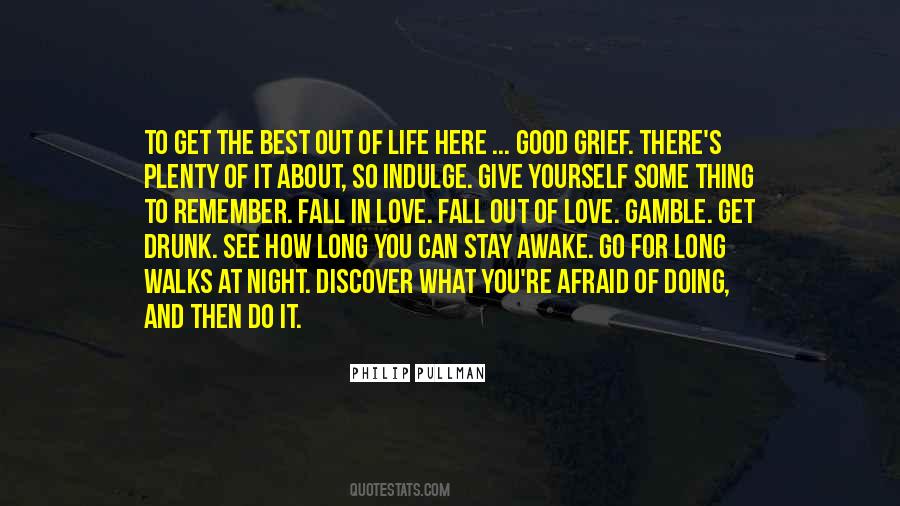 #12. When you're on camera, even though you try to lose yourself in the character, you are aware that there is a camera there capturing every moment of it visually. With doing a voiceover job, you are worried about the sound of it, and you have to make all those visual colors come out with your sound. - Author: Doug Jones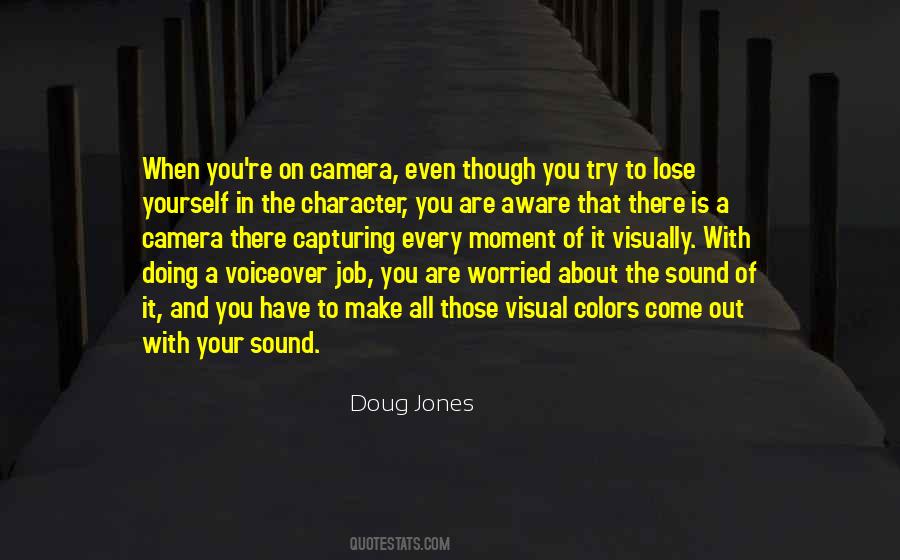 #13. There's a reason why relationships don't work out. It's usually better to take a few steps back if you have any doubts before it gets complicated and you find yourself in a tangled web, not of your doing, but somehow you end up paying the price. - Author: E.R. Wade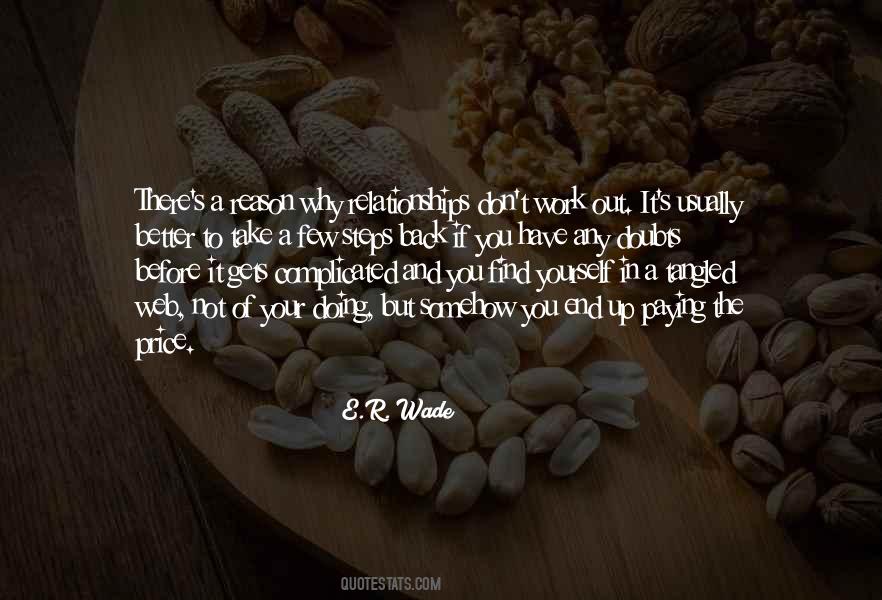 #14. You know that thing where you repeat a word over and over until it just sounds like utter gibberish? That's what doing a day of press on a film is like. Ten interviews in a row, all asking pretty much the same questions until you find yourself giving pretty much the same answers. - Author: John Niven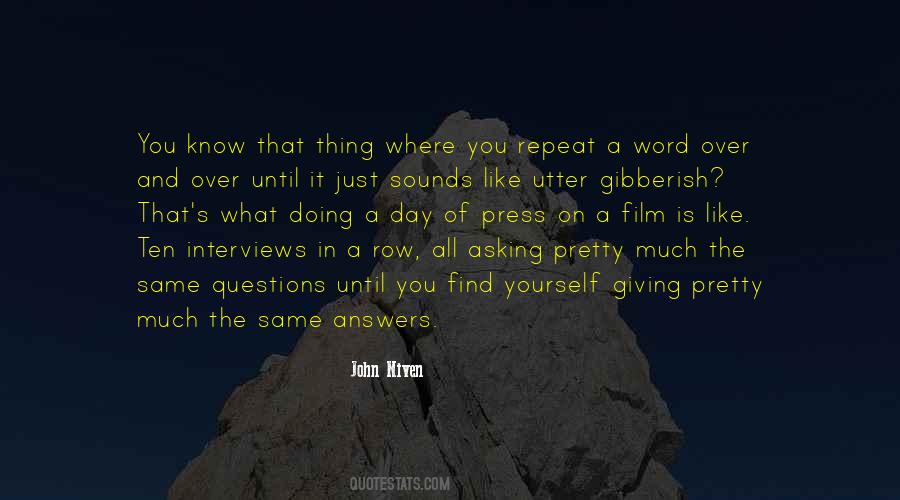 #15. I think everyone's afraid of public speaking. There have been times where I've come out of my own show and been like, 'Oh, God, what am I doing?' ... You have to remind yourself that 'OK, I'm kind of a badass. I can handle it.' - Author: Chelsea Handler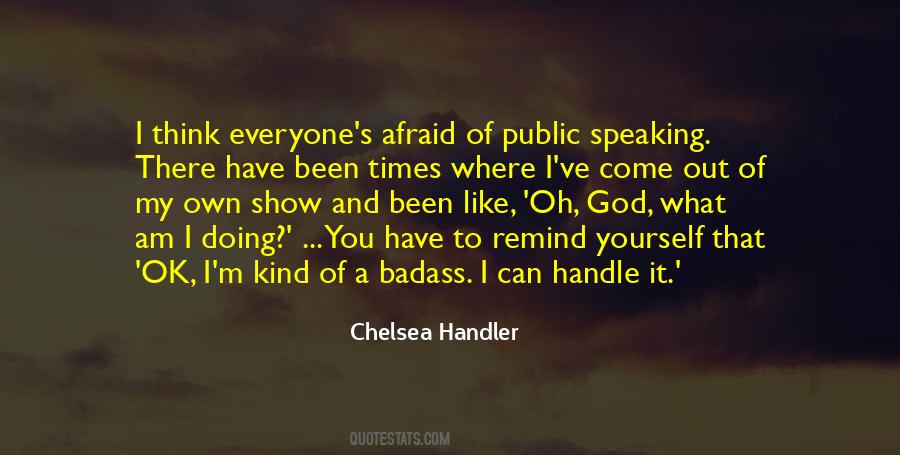 #16. You read about poor people having Botox go wrong and you think: 'Well, what the bloody hell were you doing?' Why would you inject yourself with poison? And why are we spending so much time looking at ourselves? I just don't get it. - Author: Imelda Staunton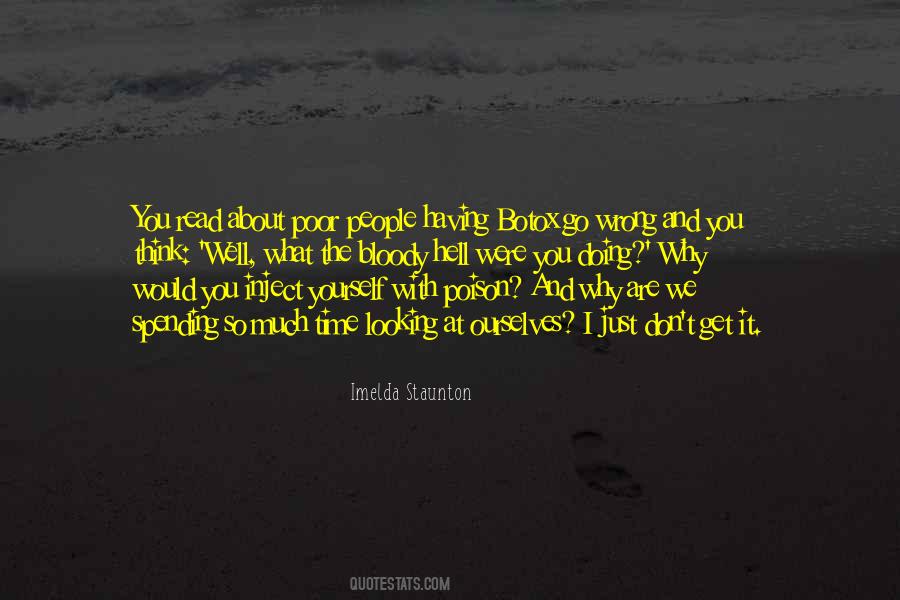 #17. If you want to play something that you can't, you need to see and hear yourself doing it in your minds eye. It will start to happen - Author: Steve Vai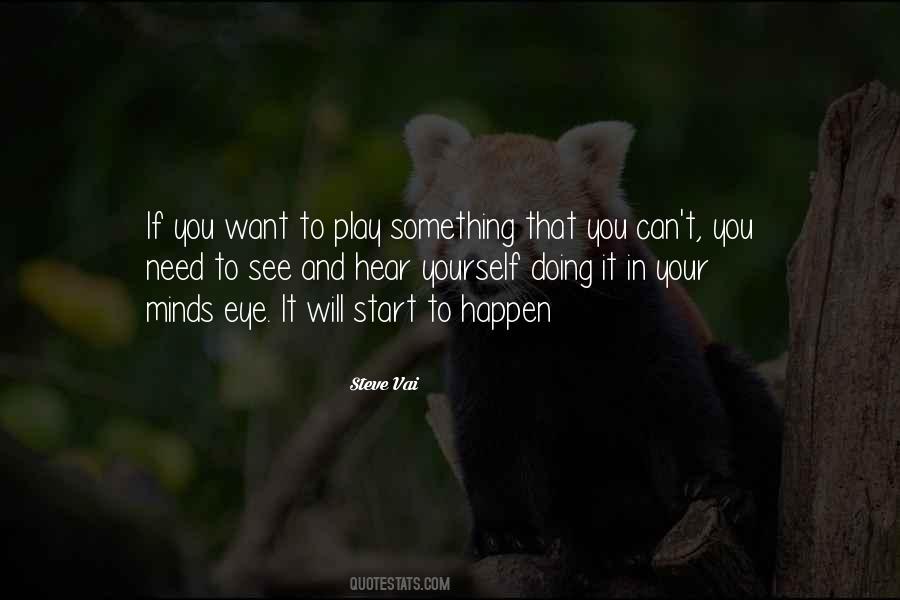 #18. I got very famous for a minute and then it just all went away, you know? And for the last 20 years - you've got to pick yourself up and dust yourself off and then go on your merry way and start again, in a sense, and that's what I've been doing. - Author: Colin Hay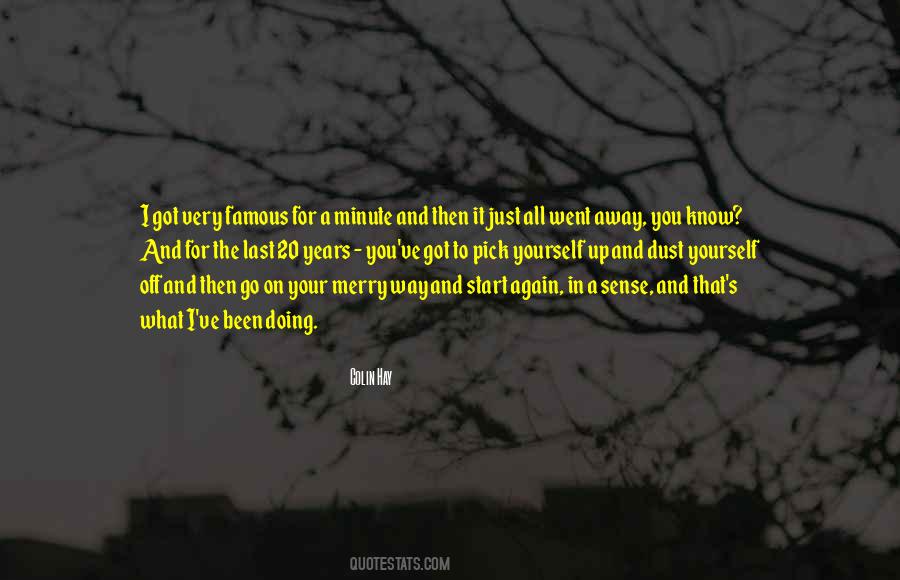 #19. The only way not to worry about the race problem is to be doing something about it yourself. When you are, natural human vanity makes you feel that now the thing is in good hands. - Author: Margaret Halsey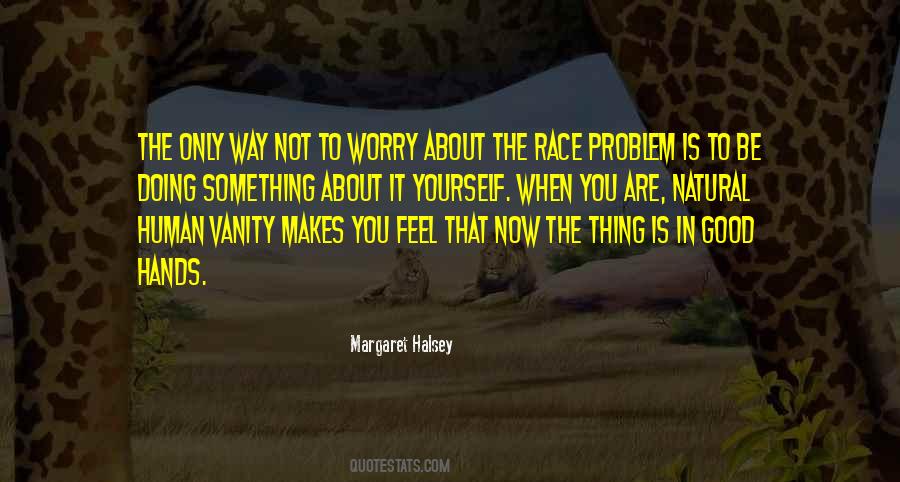 #20. If you have to push yourself to do it, should you be doing it in the first place? That was a question I never dared to asked myself. - Author: John Duover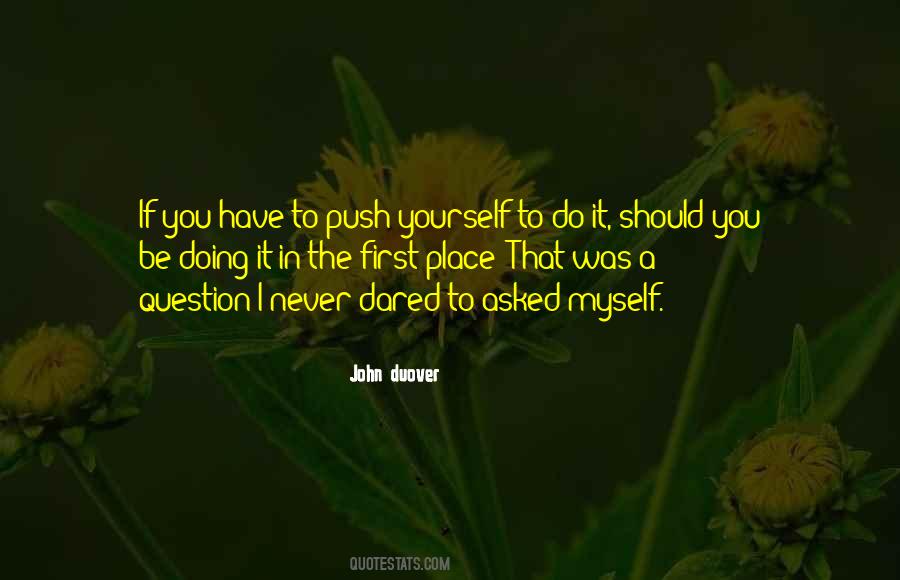 #21. I'm compelled to paint nearly every day. I just felt like making a painting, went out and bought paints and a canvas. Now it fulfills me creatively when I'm not doing music: it's something you can do by yourself and it's totally yours. It's a great adjunct to my life. - Author: David Johansen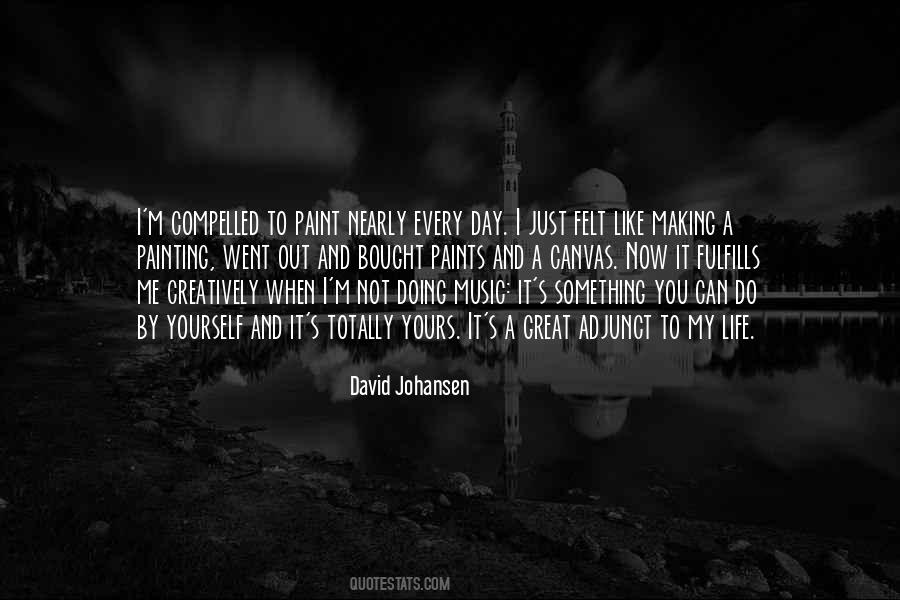 #22. Your own exploration therefore has to be personalized; you're doing it for yourself, increasing your own store of particular knowledge, walking your own eccentric version of the city. - Author: Geoff Nicholson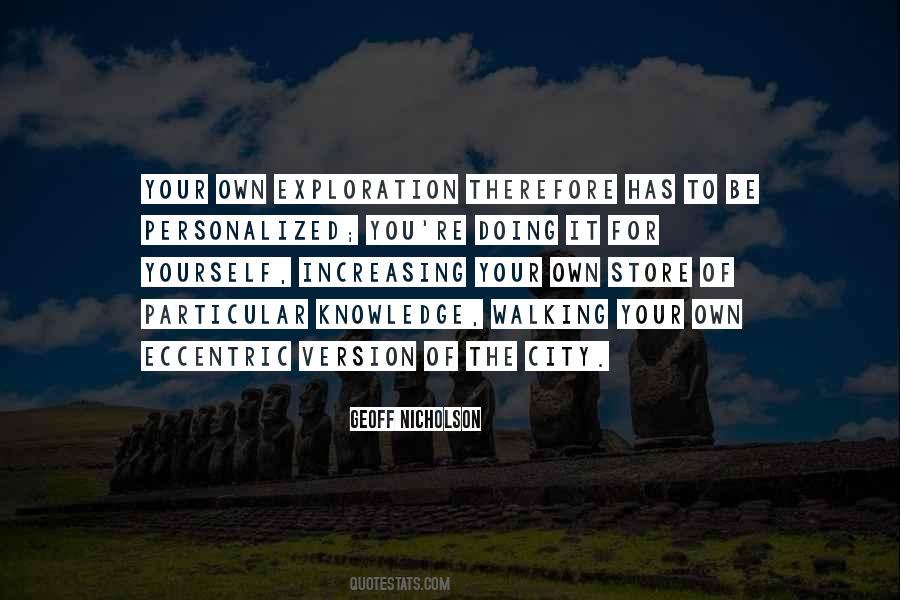 #23. Books can inspire you to love yourself more, but by listening to, writing out, or verbally expressing your feelings you are actually doing it. - Author: John N. Gray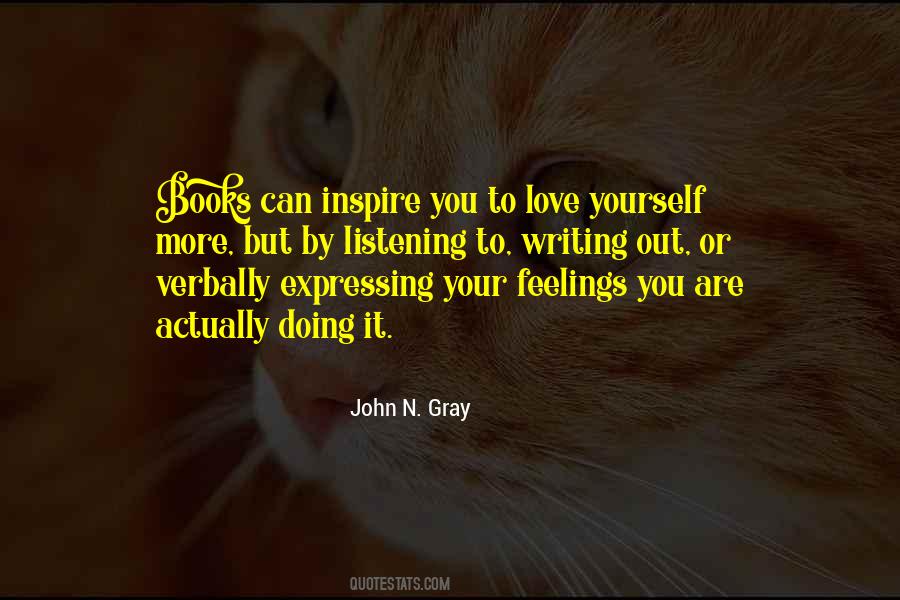 #24. It is said that I'm distant and cold. I'm just someone who's very shy. I'm not comfortable doing interviews because I have to talk about myself. To talk about yourself, you have to know yourself pretty well and I feel like there are still some shades in me that I don't know about. - Author: Kristen Stewart
#25. I've spent twenty-eight years doing what everyone around me expected me to do ... being what everyone around me has expected me to be. And it's horrid to be someone else's vision of yourself. - Author: Sarah MacLean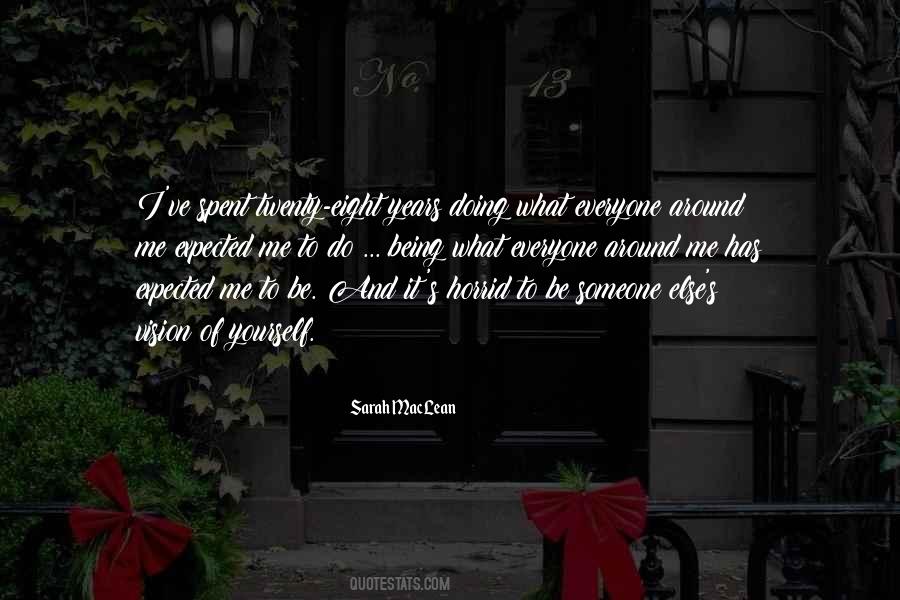 #26. I think when you've had success, publishers and reviewers and readers are willing to let you try something new if you've already proven yourself. They're excited about what you're doing, you have people interested in it, and actually waiting for it. It's empowering. - Author: Lois Lowry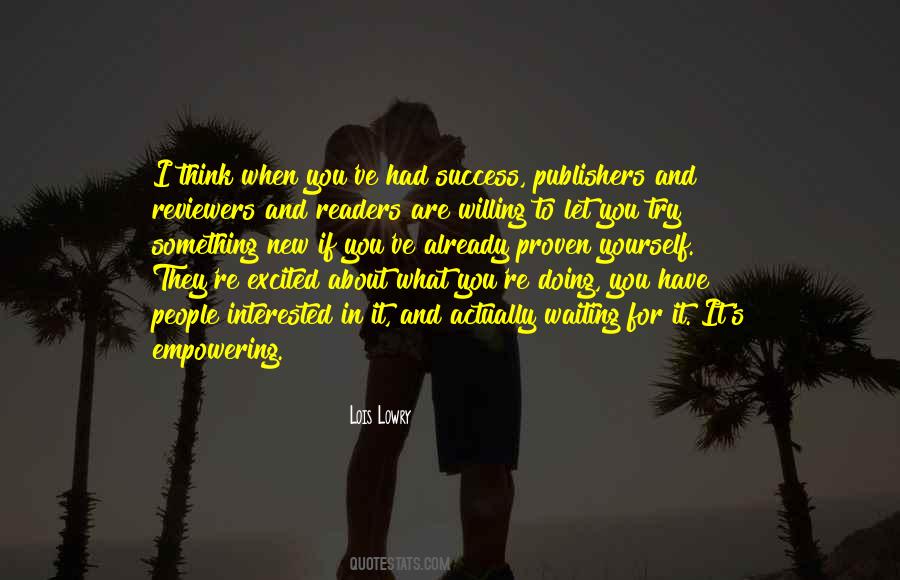 #27. I just believe that the way that young people's minds develop is fascinating. If you are doing something for a grade or salary or a reward, it doesn't have as much meaning as creating something for yourself and your own life. - Author: Steve Wozniak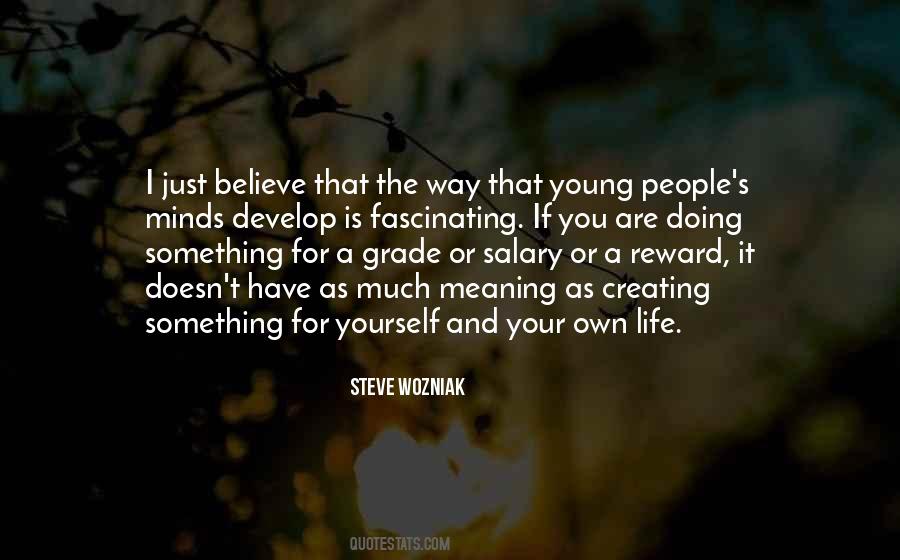 #28. To move ahead ... you must grab the bull by the horns and start living your life. Stop living and doing everything for others and live it for yourself! - Author: Timothy Pina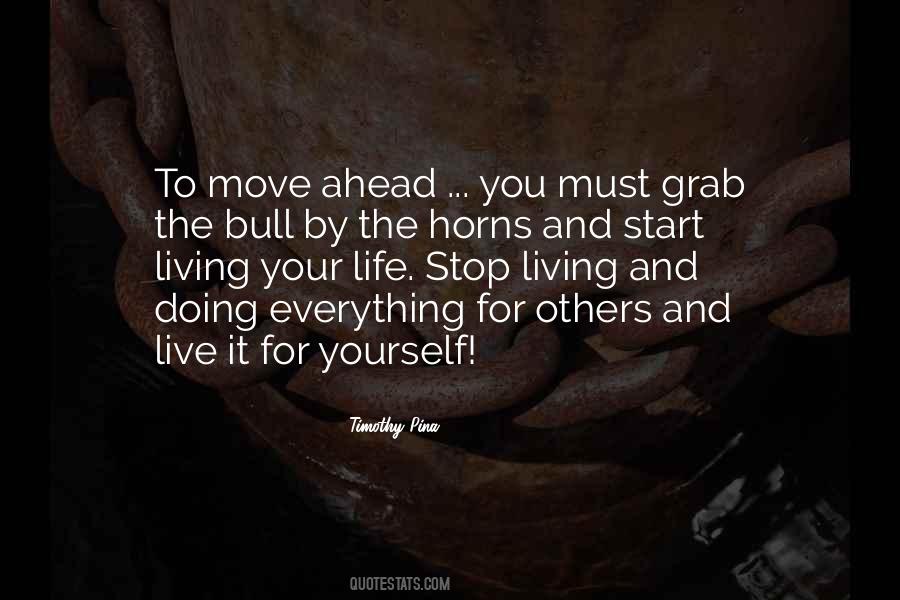 #29. To truly live without regrets, pay attention. Ask yourself hard questions and see where they lead. Do I really want this job? Is this relationship right for me? If I could do anything, would it be what I'm doing today ... or something different? - Author: Chris Guillebeau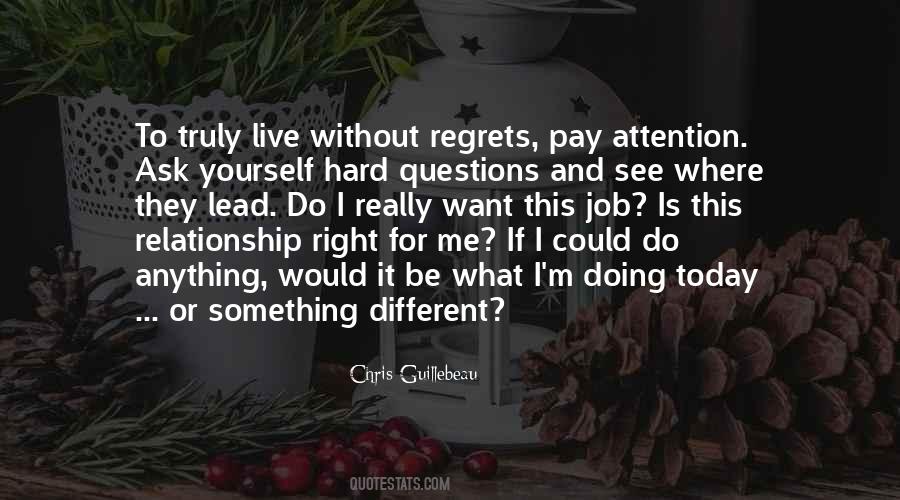 #30. You only get hurt that badly when you're doing something that matters.Something impossible.Taking a risk.Investing yourself.And ball's worth it,the rush you get, the exhilaration... - Author: Allison Parr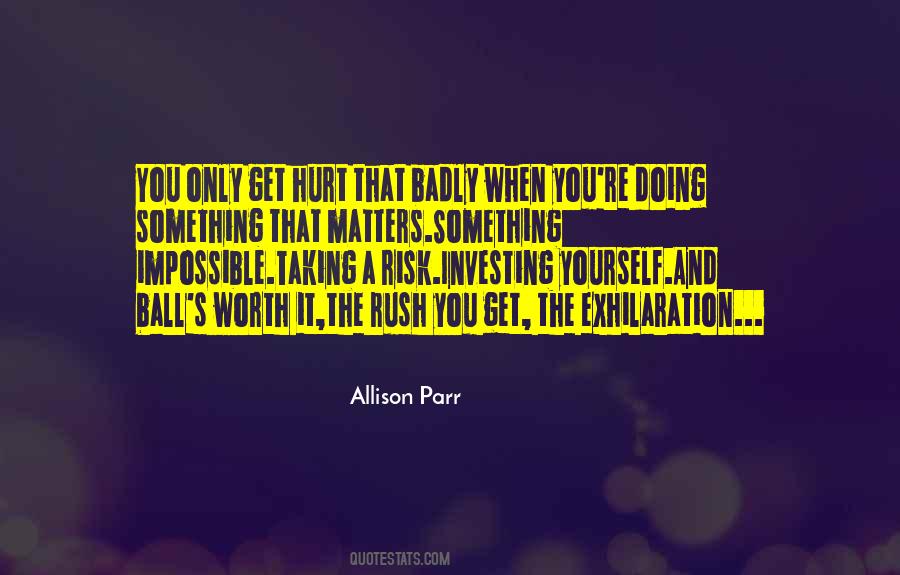 #31. I think most producers and MCs are constantly in this competition, but it's usually with yourself. It's usually wanting to be innovative: wanting to catch yourself when you're doing the same thing or throwing out the same art you've already done. - Author: Ryan Lewis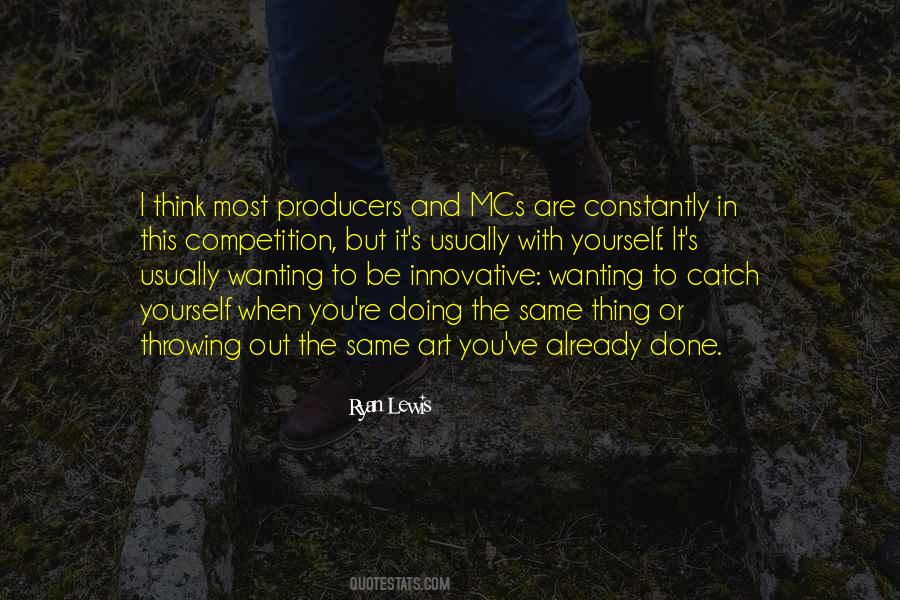 #32. Whatever vocation you decide on, track down the best people in the world at doing it and surround yourself with them. - Author: Scott Weiss
#33. Sometimes there's a sense of closing yourself off on a shoot, and I try not to do that. Sometimes you have to, like when you're in a studio and you're doing fashion shooting, but I don't even do it then. - Author: Bruce Weber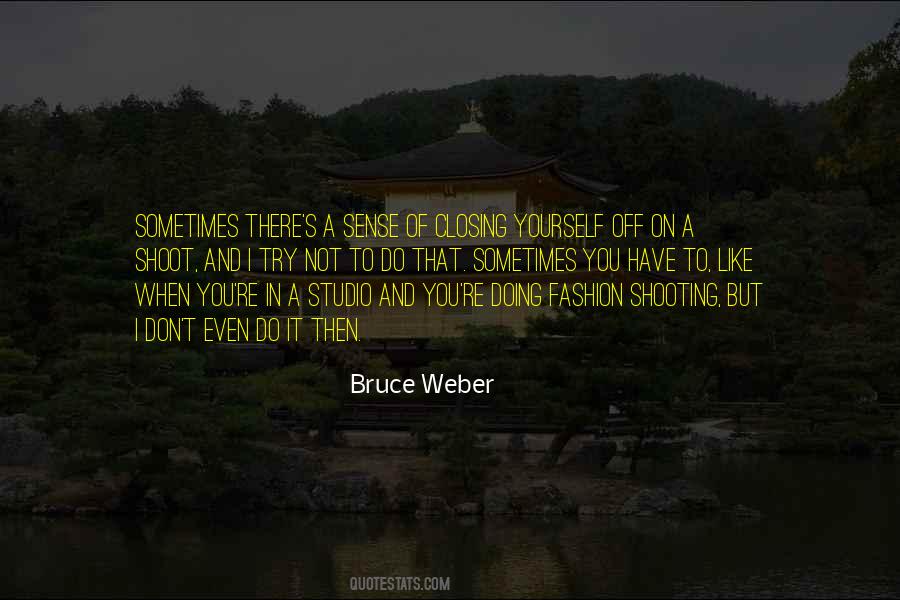 #34. Sometimes, you can hurt another person by being true to yourself, but in the longterm you are doing both of you a favour. You can also hurt them by just being a selfish bitch and there is no excuse for that. Sometimes it is quite difficult to tell the two situations apart. - Author: Kate Kerrigan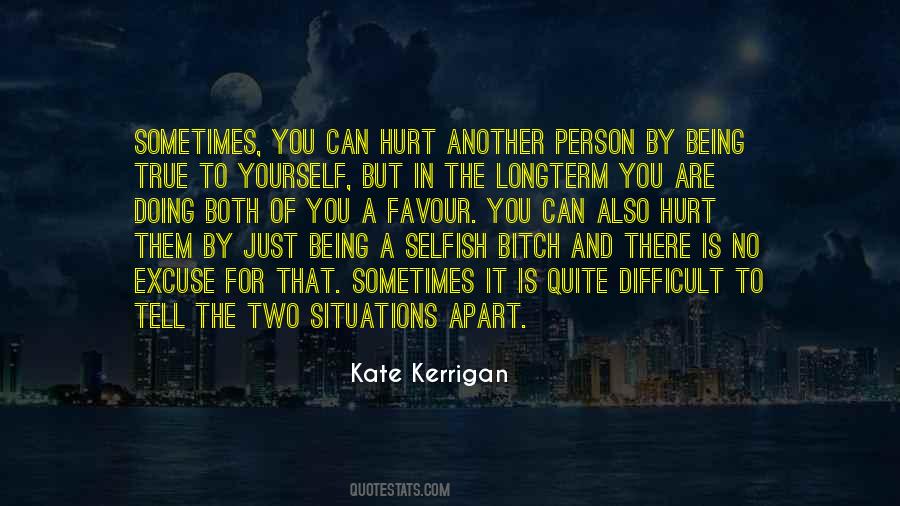 #35. It's jarring to go from one amazing experience to another that feels ordinary. I don't quite know how to explain it. You see the uniqueness of what you've been doing, and disassociating yourself from it and going back to the 'normal' life is tough. - Author: Nat Wolff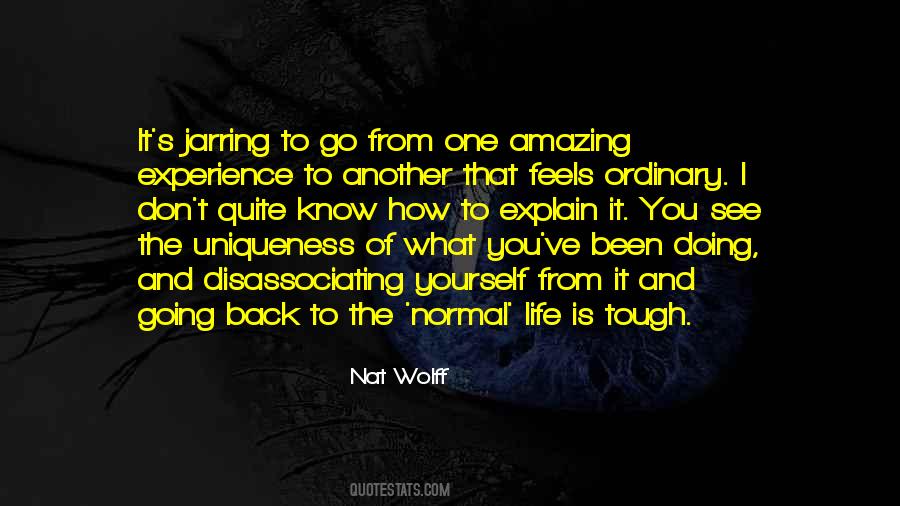 #36. Every time somebody ever told you that you weren't gonna amount to anything, you know, that's your time to shine, you know? You can show everybody and prove to yourself what you're doing is real and that it counts and that it makes a difference. - Author: Frank Iero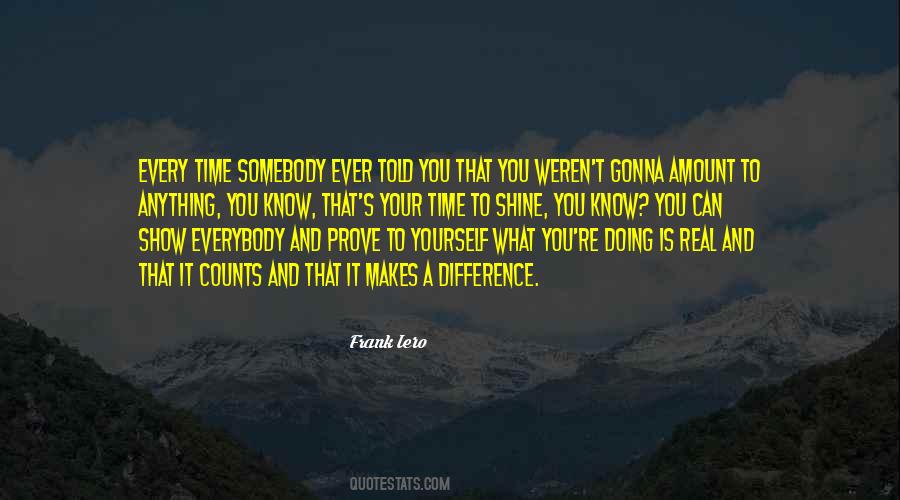 #37. You should not remain in your comfort zone; if you want to make it big, you must challenge yourself, get out of your comfort zone, and succeed in doing well outside of your comfort areas. - Author: Rohit Sharma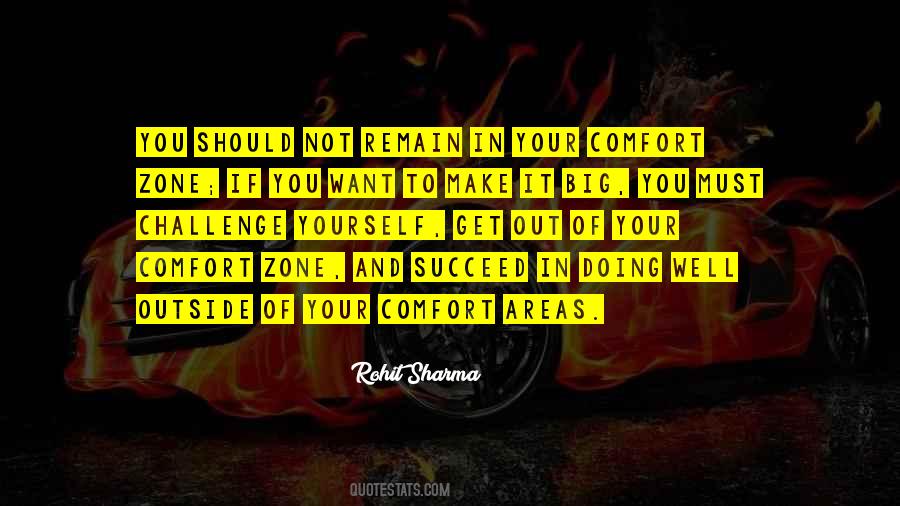 #38. Sometimes, I get in a mindset where I don't like my own music. I hate yourself and my music because I'm doing it every day. I feel like a clown. - Author: Nicolas Jaar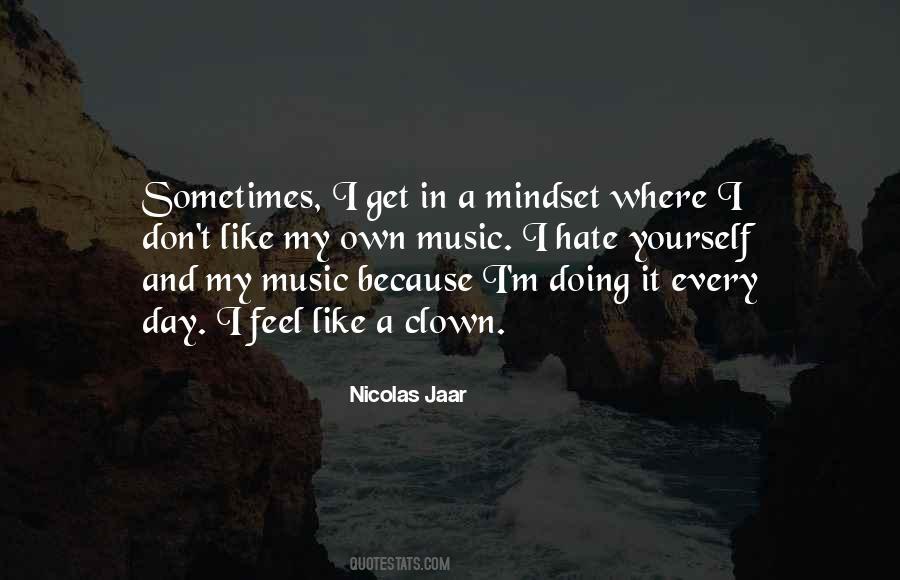 #39. You can be surrounded by people all the time, but you feel so alone. I think that's when you can lose perspective and lose control of what you're doing. It's almost as if you have no fear and you don't really care about what happens to yourself. - Author: Ladyhawke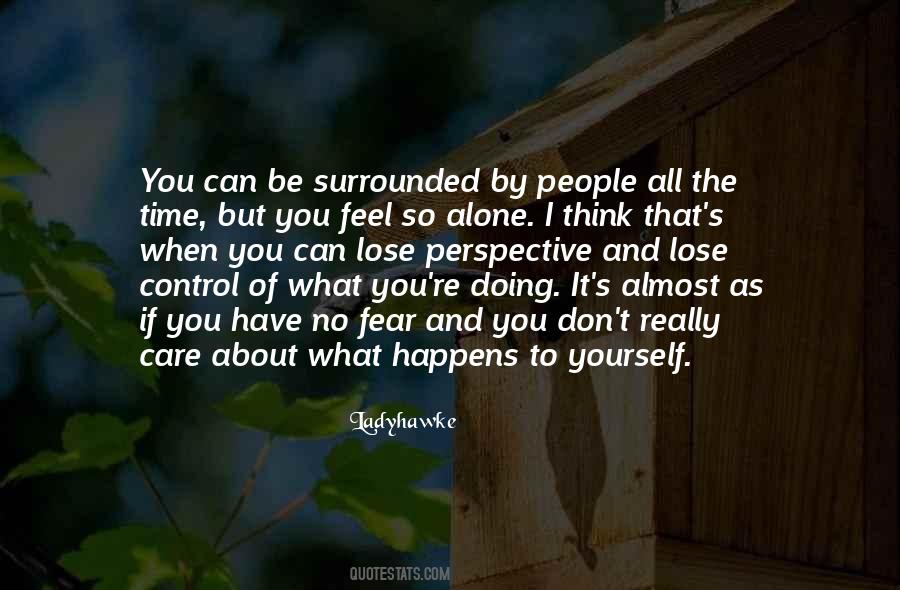 #40. belief in yourself that you can do it, and the ambitious dedication to doing what needs to be done to do it. - Author: Ervin DeCastro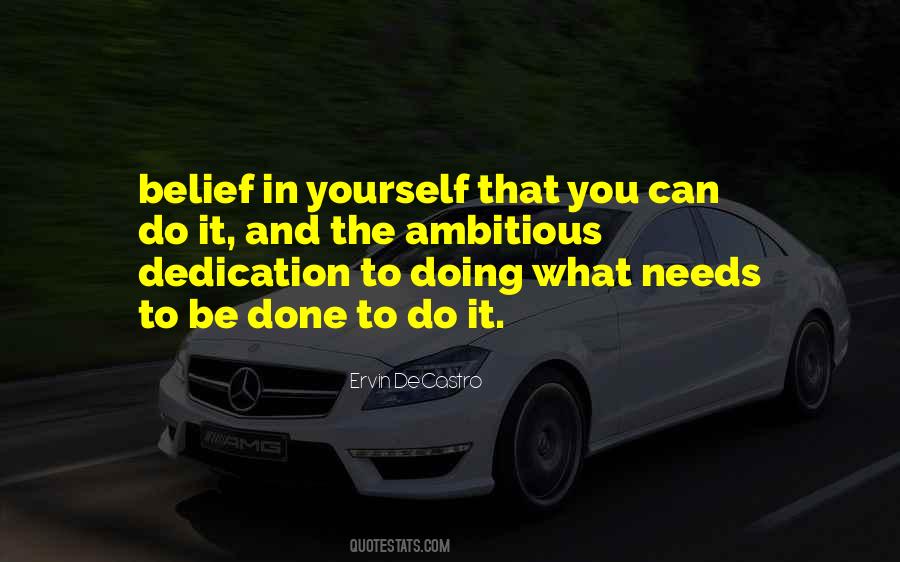 #41. Accustom yourself to unreasonableness and injustice. Abide in peace in the presence of God Who sees all these evils more clearly than you do, and Who permits them. Be content with doing with calmness the little which depends upon yourself, and let all else be to you as if it were naught. - Author: Francois Fenelon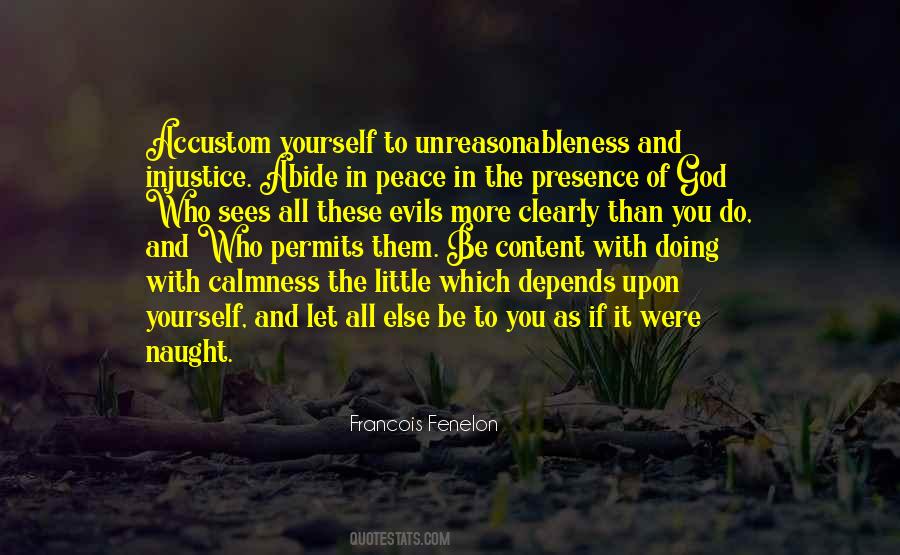 #42. If you're a writer, you know there are ways in which we don't know what we're doing at all. We're working out mysteries in a sort of poetic realm, and hoping that if a story is honest, if you're dragging the deep truth out of yourself, then something good and profound might come out of it. - Author: Colum McCann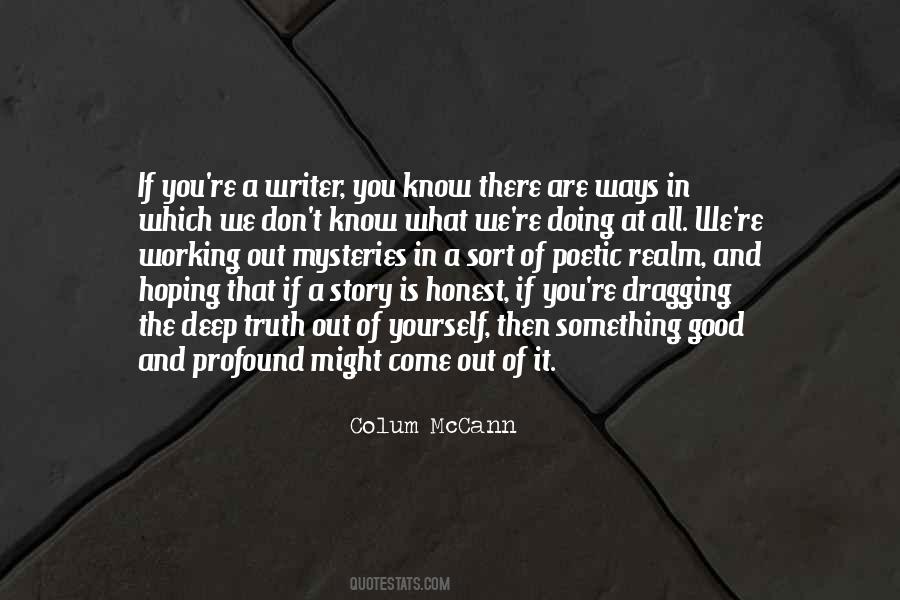 #43. Dreaming's shit, but dying's worse; and watching someone die, that comes somewhere between the two, I guess. It ain't good, but it's got to be better than the other thing, better than doing it yourself. Hasn't it? - Author: Chaz Brenchley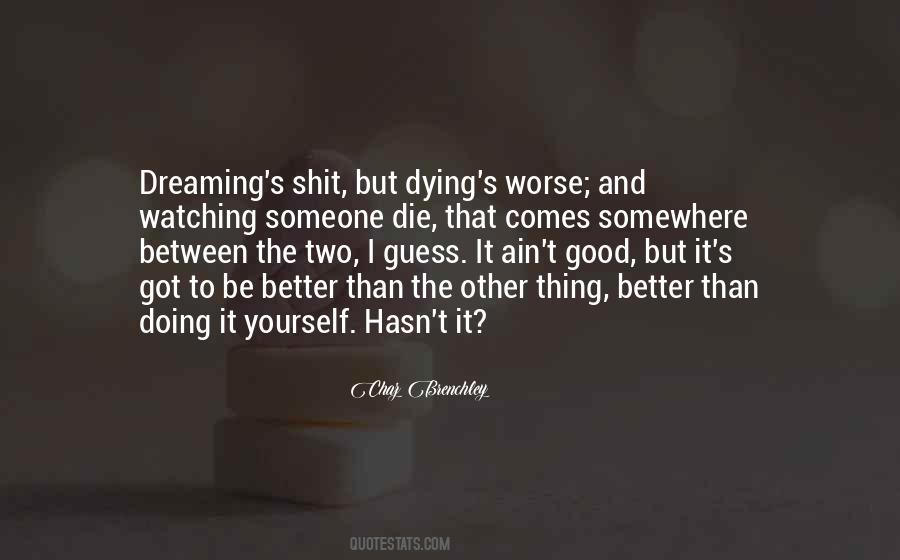 #44. It is the satisfaction of doing it for yourself and motivating others to work with you in bringing it about. It is about the fun, innovation, creativity with the rewards being far greater than purely financial. - Author: Richard Branson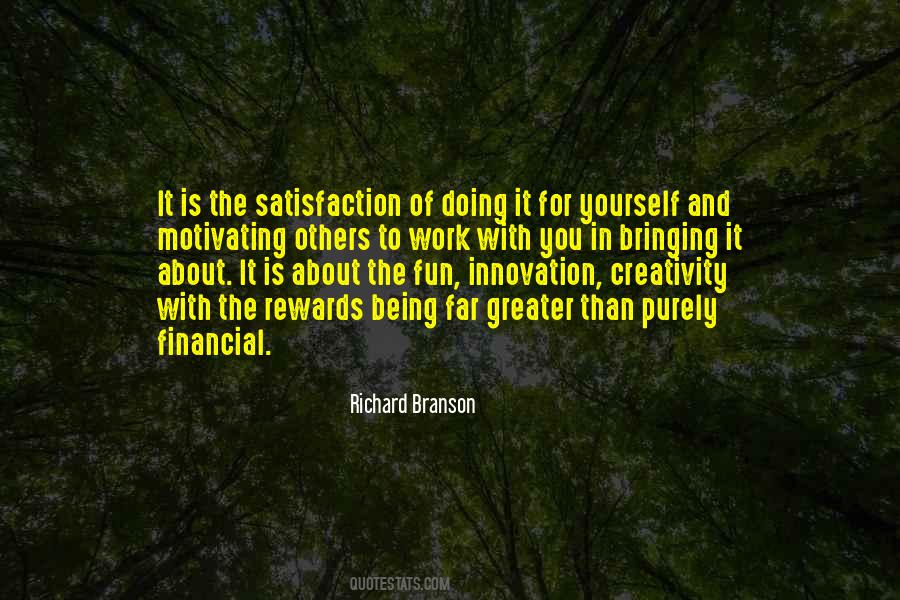 #45. Everything in the world that happens to you may be someone else's doing; I'll grant you that. But what you do with it, how you react to it, what you make of yourself in the midst of it all - that's totally you. - Author: Richelle E. Goodrich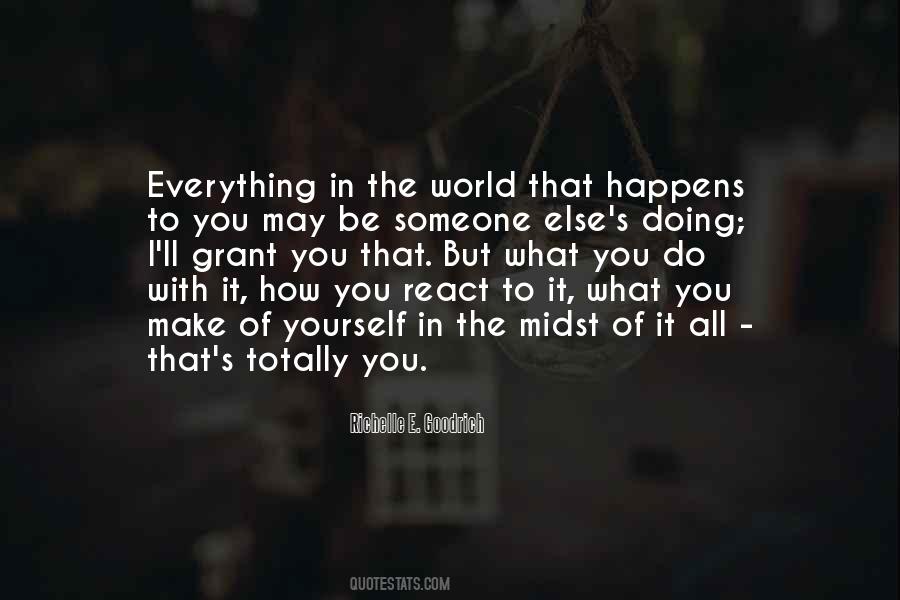 #46. it sometimes happened that you would, in the middle of your exertions, be discouraged by the absurdity of what you were in the process of doing: athletic exertion was vanity. You engaged in it less for the joy of the act than in order to exhaust yourself. - Author: Edouard Leve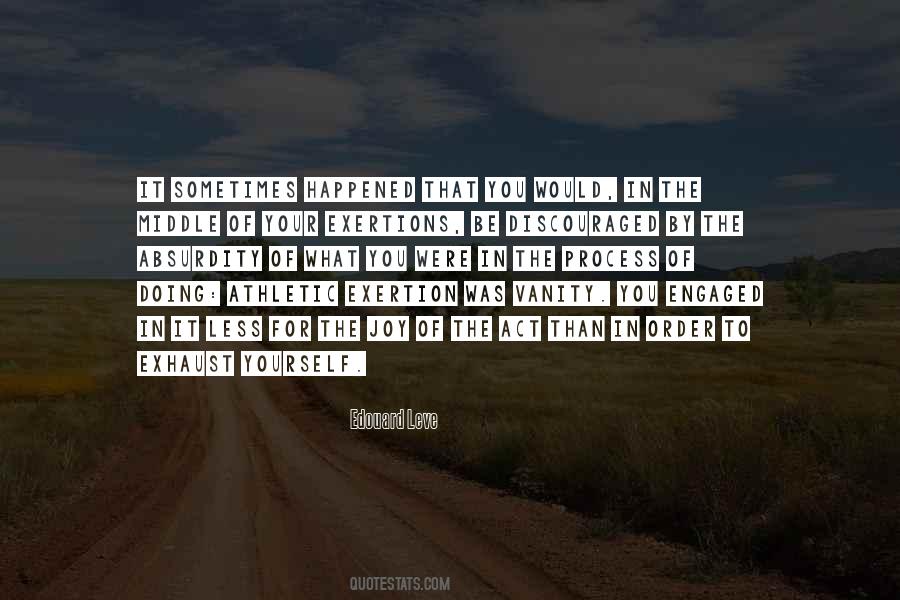 #47. Ask yourself the following question: "Is this person in between me and what I want to do?" If the answer is no, ignore it and move on. Your energy is better used doing work and outpacing people that way. - Author: Tina Fey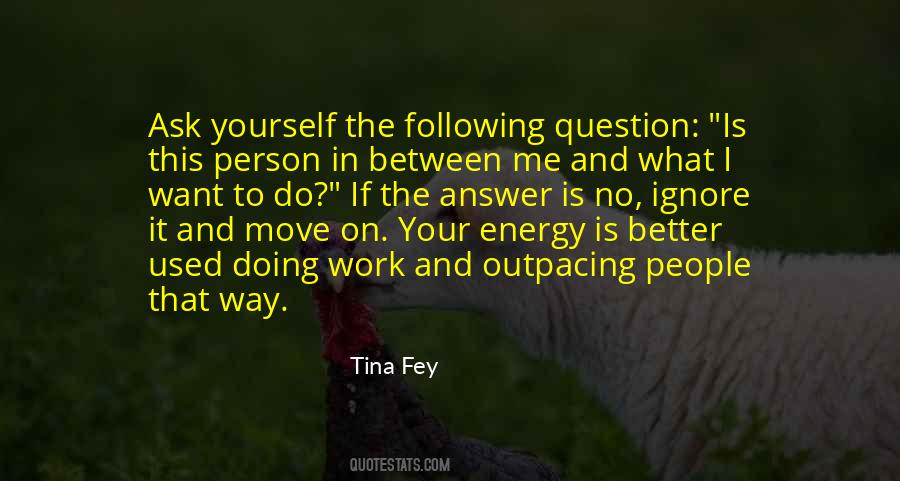 #48. You can not do what you want to do unless you know the correct technique. The only other way you can learn how to do it is by doing it yourself, which would take twice as long than if you went to school. - Author: Boris Vallejo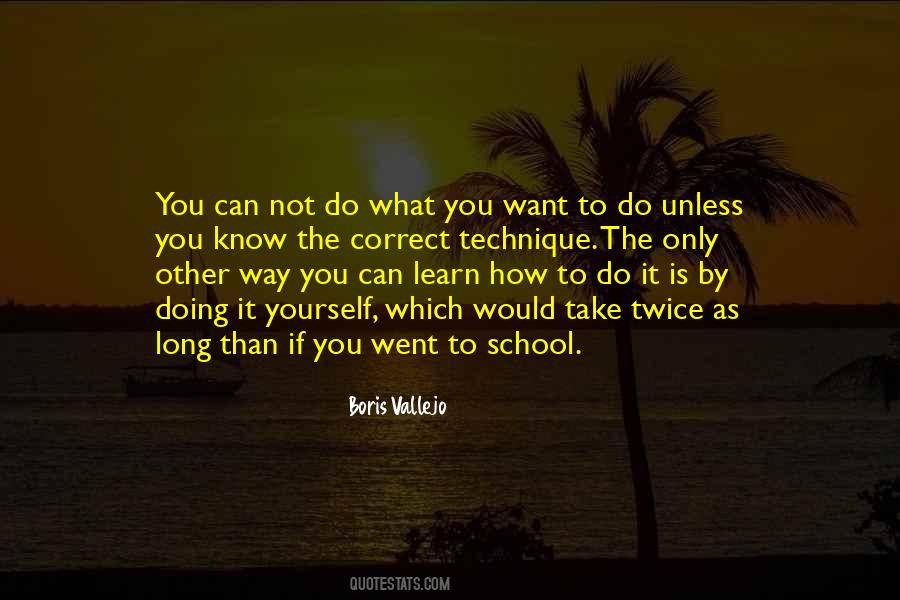 #49. I've been doing makeovers on TV for years and years and years. It's something I really know how to do. I also know personally what it's like to not feel good about yourself. - Author: Carson Kressley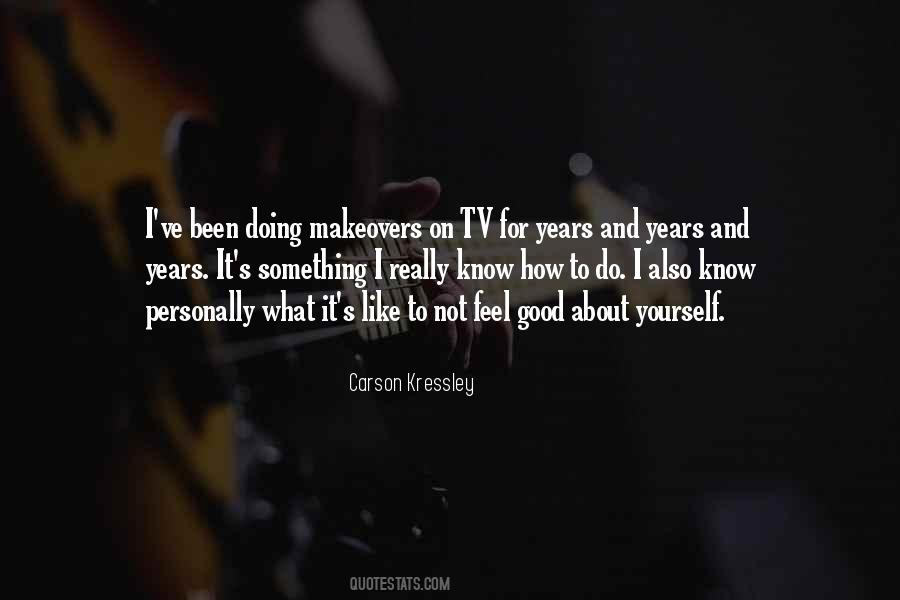 #50. Gratefulness is not just saying "thank you." It's acting. It is being yourself. A mother is grateful, shows gratefulness by mothering, a scientist by doing science. - Author: David Steindl-Rast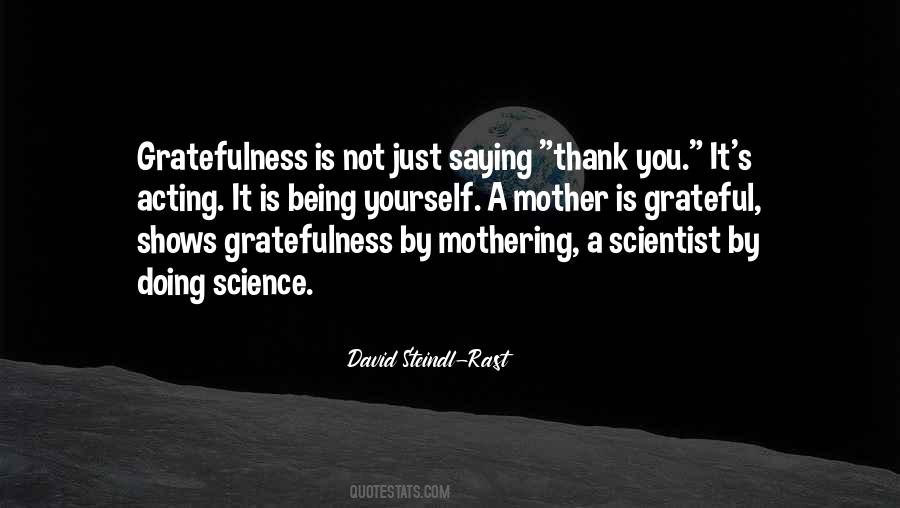 #51. When you do something moral and upright and wander off by yourself, well, everyone doesn't always follow you, do they, right? You pat yourself on your sanctimonious back but it doesn't mean the crowd rewards you for doing what you think is right. - Author: Amity Shlaes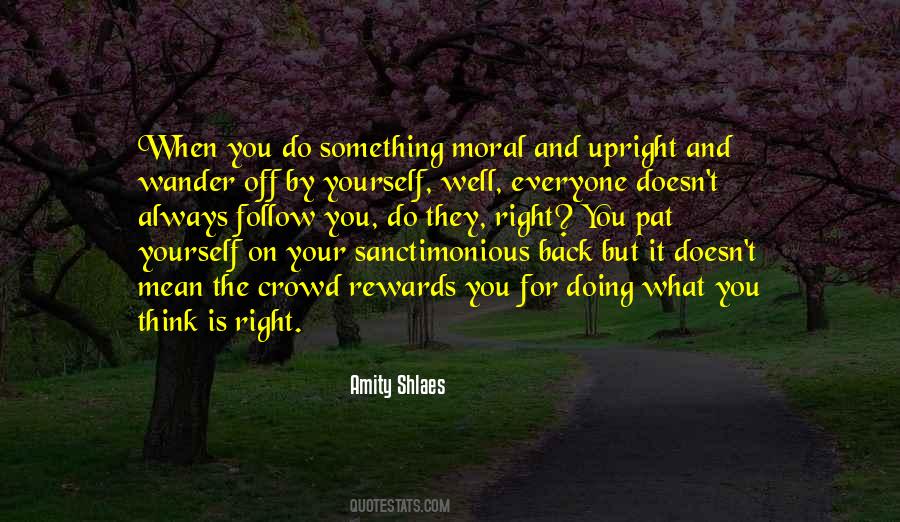 #52. The best good that you can possibly achieve is not good enough if you have to strain yourself all the time to reach it. A thing is only worth doing, and doing again and again, if you can do it rather easily, and get some joy out of it. - Author: Don Marquis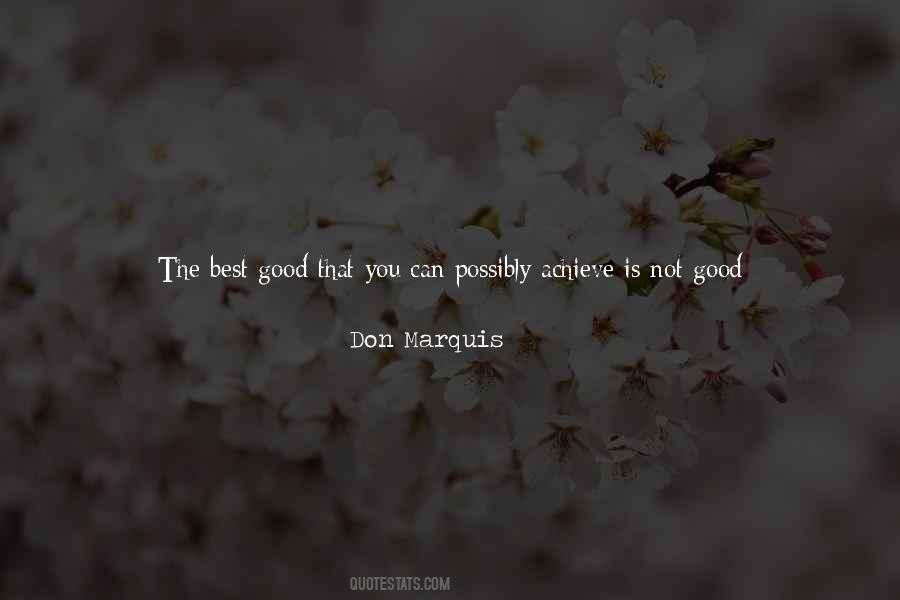 #53. If what you want to do is make artwork for bands, you have to love doing it because there is almost no money in it. In order to start doing it, you just have to put yourself out there, work for bands you love and for as little as possible to start, if not free, that's what I did for years. - Author: John Dyer Baizley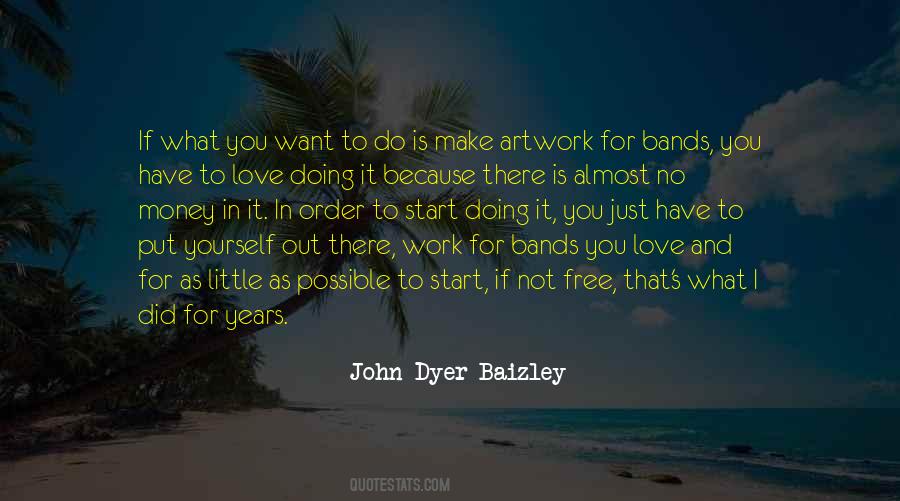 #54. Find something that you're really interested in doing in your life. Pursue it, set goals, and commit yourself to excellence. Do the best you can. - Author: Chris Evert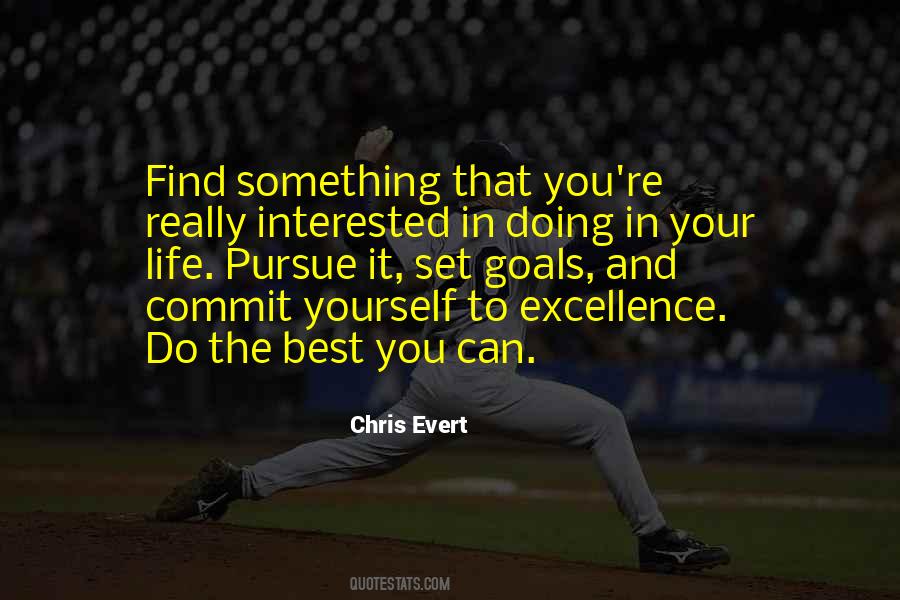 #55. When you're young artist, it's really important to like pay attention to what you're doing and be honest with yourself and in the creative proccess. - Author: Chester Bennington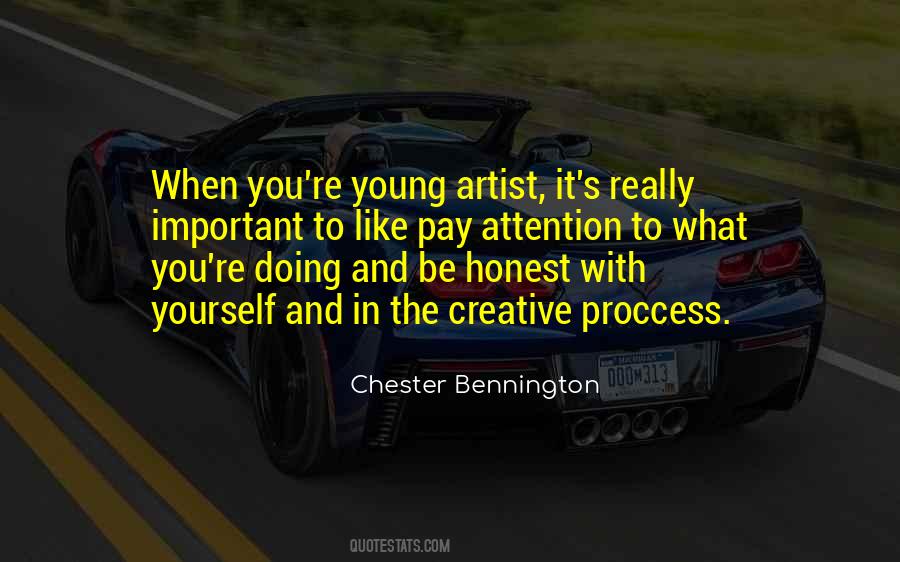 #56. Ask yourself what you would do even if you were never paid. That's a clue to what you should be doing and of course finding a way to be paid for it. - Author: Joe Vitale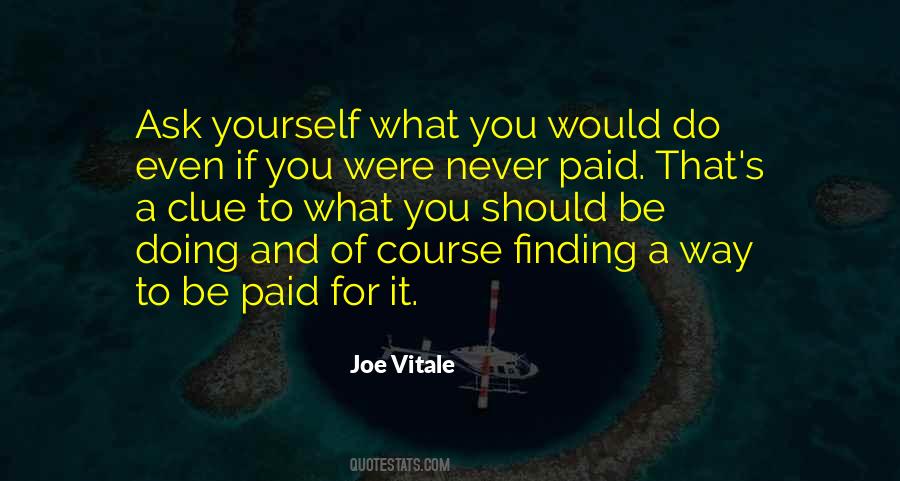 #57. Don't you dare take the lazy way. It's too easy to excuse yourself because of your ancestry. Don't let me catch you doing it! Now
look close at me so you will remember. Whatever you do, it will be you who do. - Author: John Steinbeck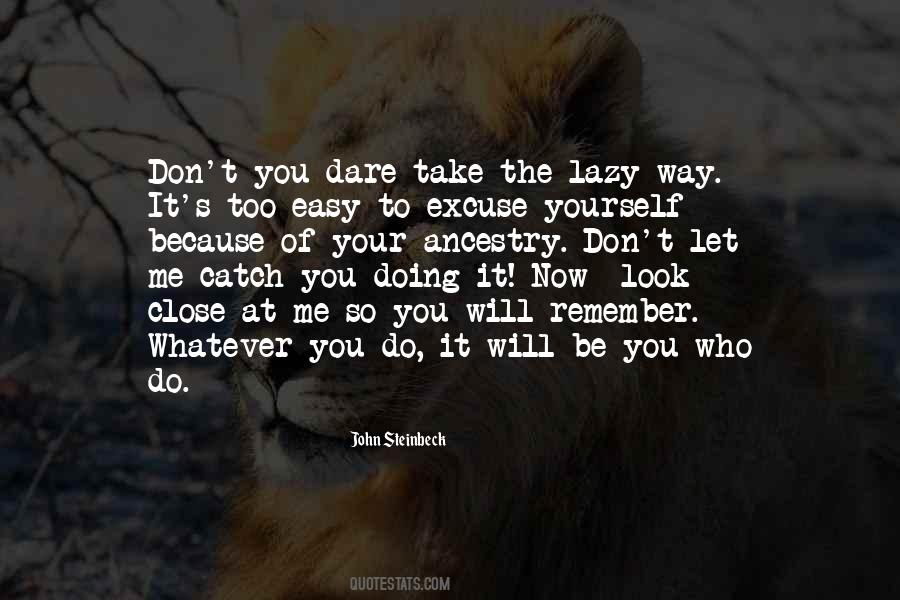 #58. If your mother did not know how to love herself, or your father did not know how to love himself, then it would be impossible for them to teach you to love yourself. They were doing the best they could with what they had been taught as children. - Author: Louise L. Hay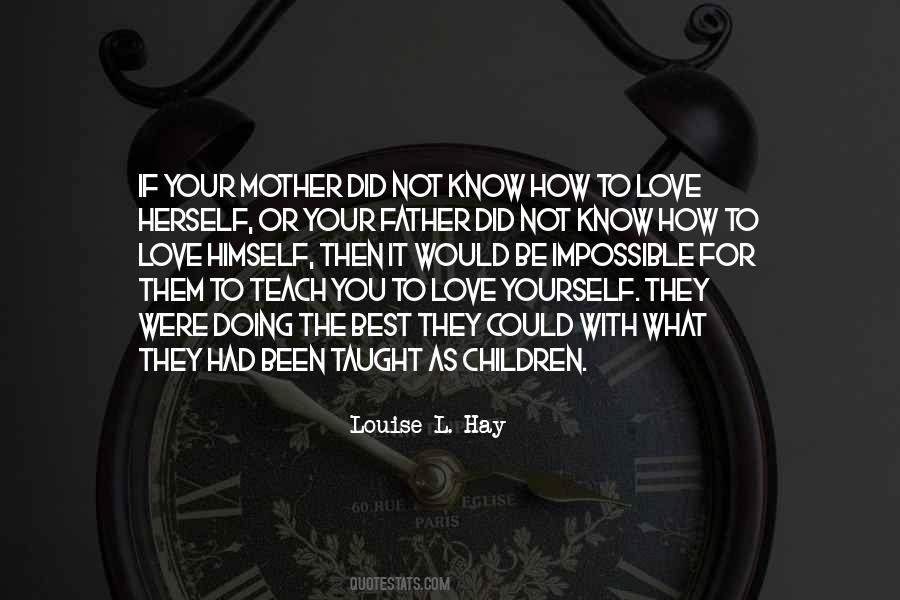 #59. If you want to be happy, set yourself a goal that commands your thoughts, liberates your energy and inspires your hopes. Happiness is within you. It comes from doing some certain thing into which you can put all your thought and energy. If you want to be happy, get enthusiastic about something. - Author: Dale Carnegie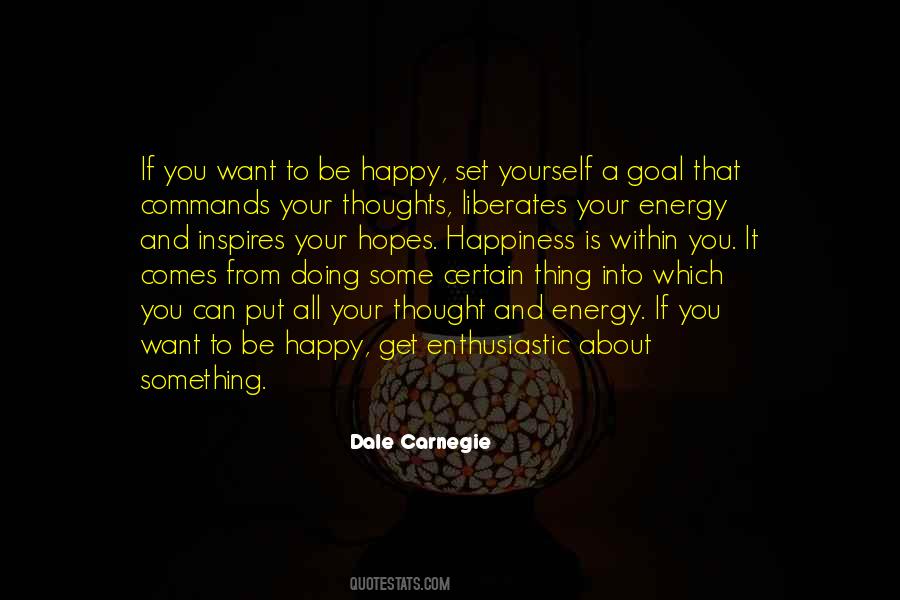 #60. It's amazing that for actors mostly, it's a risk to attach yourself to a film that you don't know whether or not it's going to even be made and if you sign on, in doing so, who else is going to be in the movie with you. - Author: Elisha Cuthbert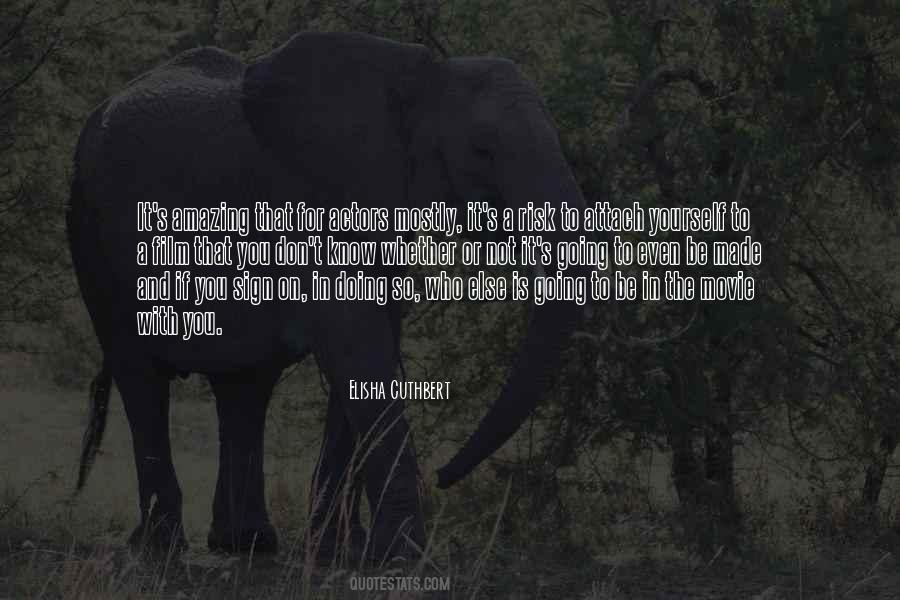 #61. When you make a film it is like asking yourself a question. When it is finished, you know the answer. Ultimately with all of cinema, we are just trying to learn about ourselves. I have always used the opportunity to make a film to learn more about myself, which I am still doing. - Author: Francis Ford Coppola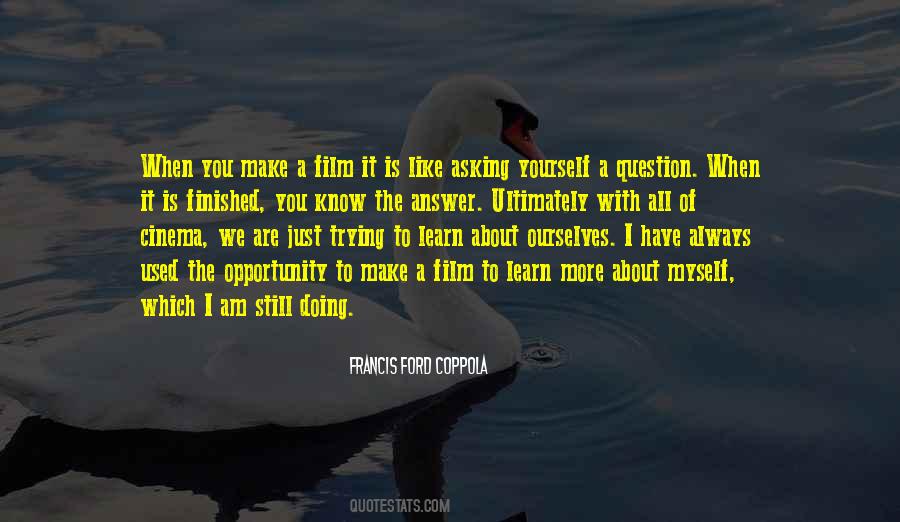 #62. There's no real outlet for making Hip-Hop in Alabama. You need to travel to get heard. You really need to be working though. You need to be going at it every day and getting yourself seen, getting yourself out there on the road, doing shows, making music. It's all about being on your grind. - Author: Yelawolf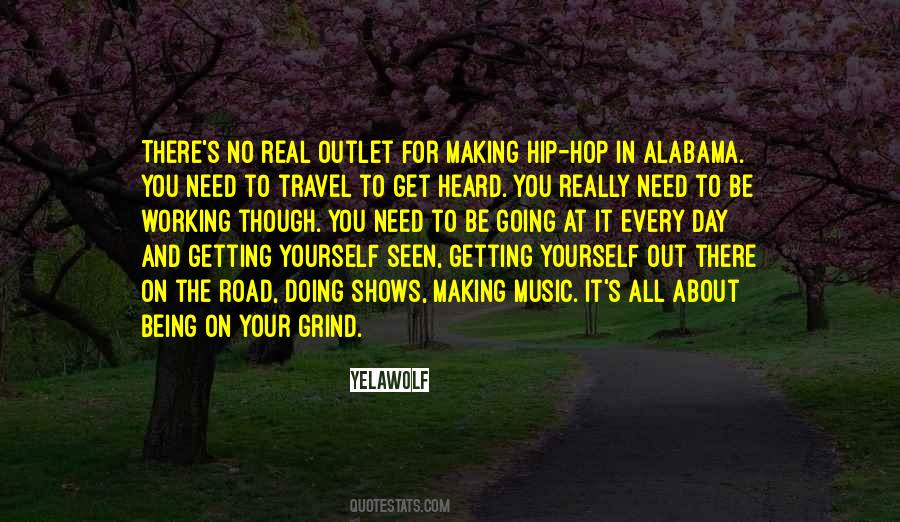 #63. You can trick yourself into doing things by doing it one step at a time and never letting yourself see the overall picture. - Author: Robyn Davidson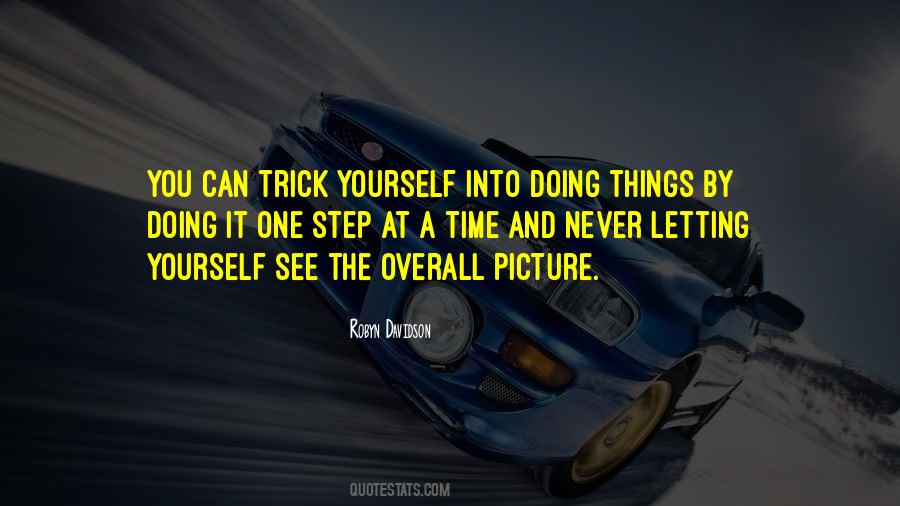 #64. There's no reason to stereotype yourself. Doing math is like going to the gym - it's a workout for your brain and it makes you smarter. - Author: Danica McKellar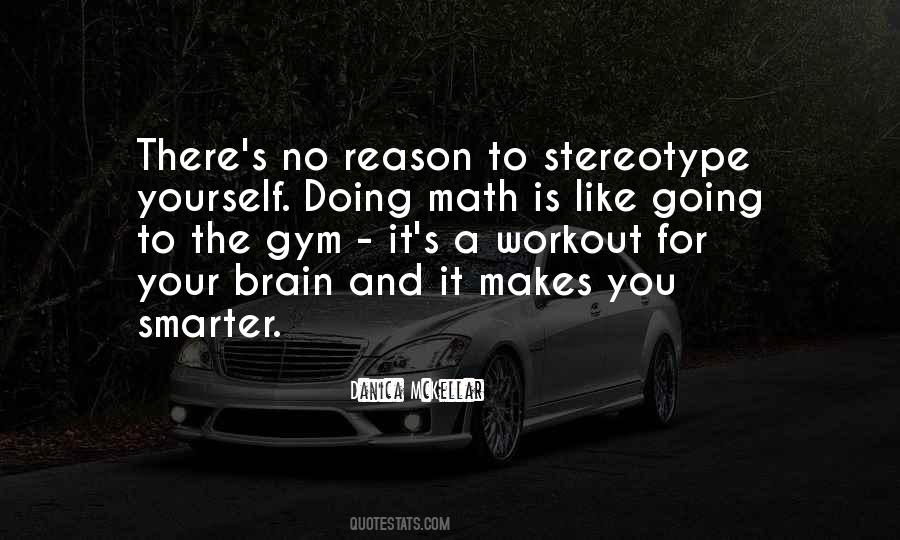 #65. Why bother inflicting enormous pain on yourself when sooner or later Life would certainly get around to doing it for you? - Author: Jeff Lindsay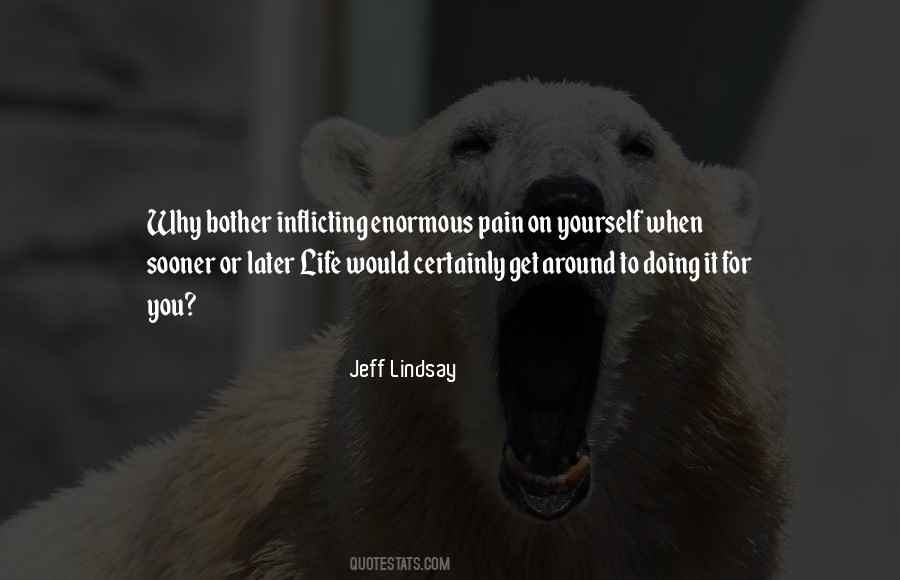 #66. Dogs are animals that poop in public and you're supposed to pick it up. After a week of doing this, you've got to ask yourself, "Who's the real master in this relationship?" - Author: Anthony Griffin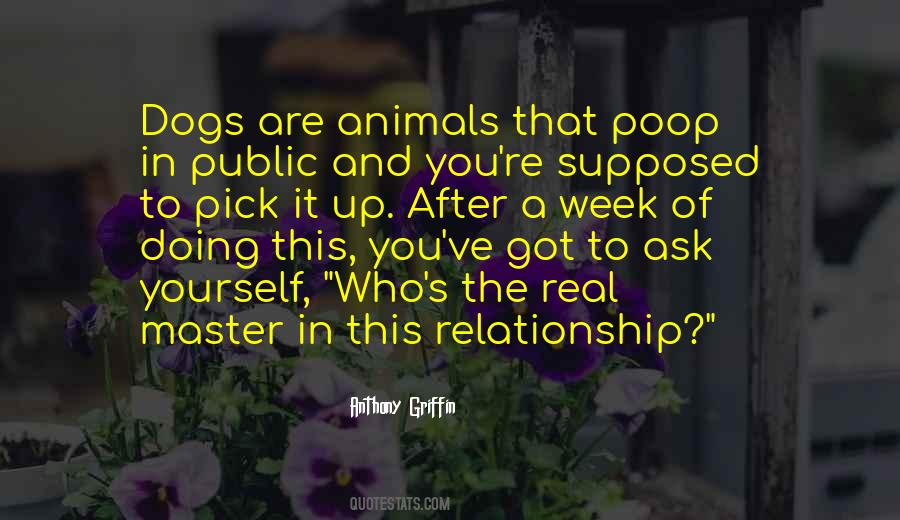 #67. You won't see how to do it until you see yourself doing it. - Author: David Allen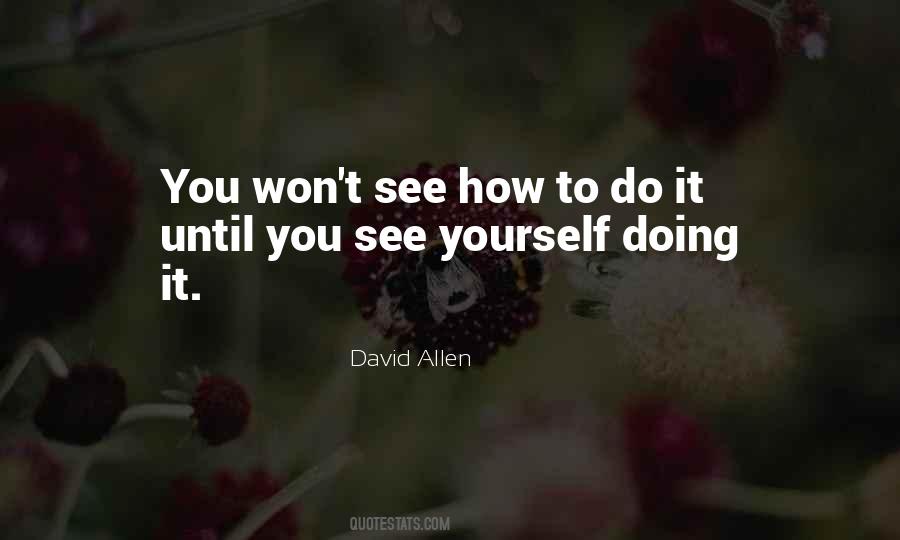 #68. Being an entrepreneur is a mental job...
It takes patients! YOU are doing more motivation to yourself than anyone on this planet. - Author: Dee Williams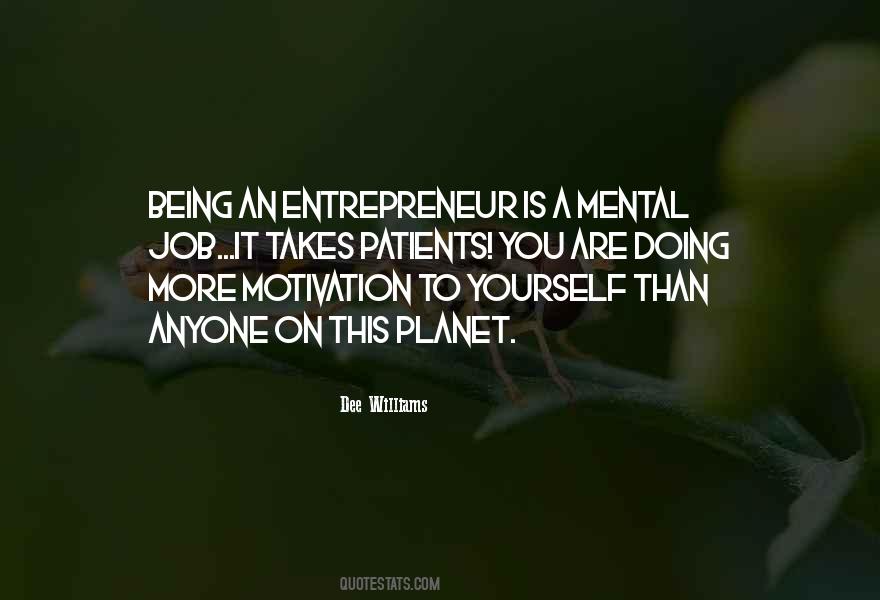 #69. When I'm feeling sad, or lonely, and I don't know what I'm doing and I don't know where I'm going, I imagine the Cool Awesome Future Version of Myself just telling my present self, "It's okay. You just gotta grab that giraffe by the ears and ride it on out." - Author: Jenna Marbles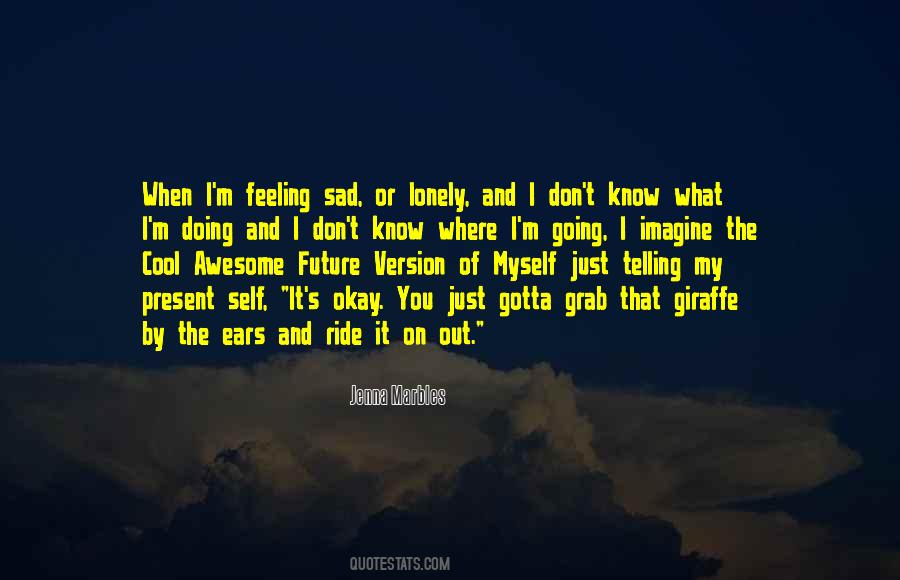 #70. You can make a lot of money. You can rule kingdoms or run huge businesses or control vast terrain. But if you're just doing it for yourself, you're not really a success. - Author: Tony Robbins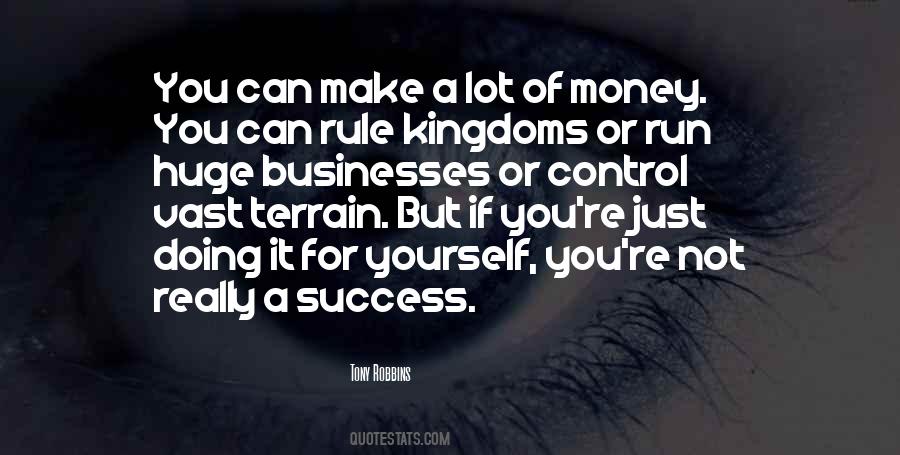 #71. Maybe you should've let God do the planning, rather than doing it yourself. - Author: C.B. Cook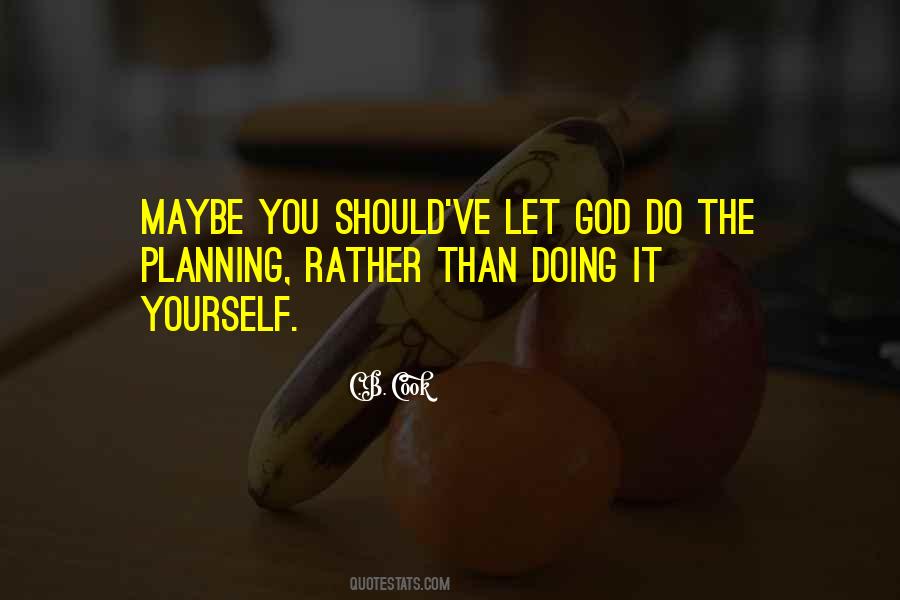 #72. I know what it's like to be distracted. To seek out distractions. To exhaust yourself doing every other little thing rather than face a blank page - Author: Rainbow Rowell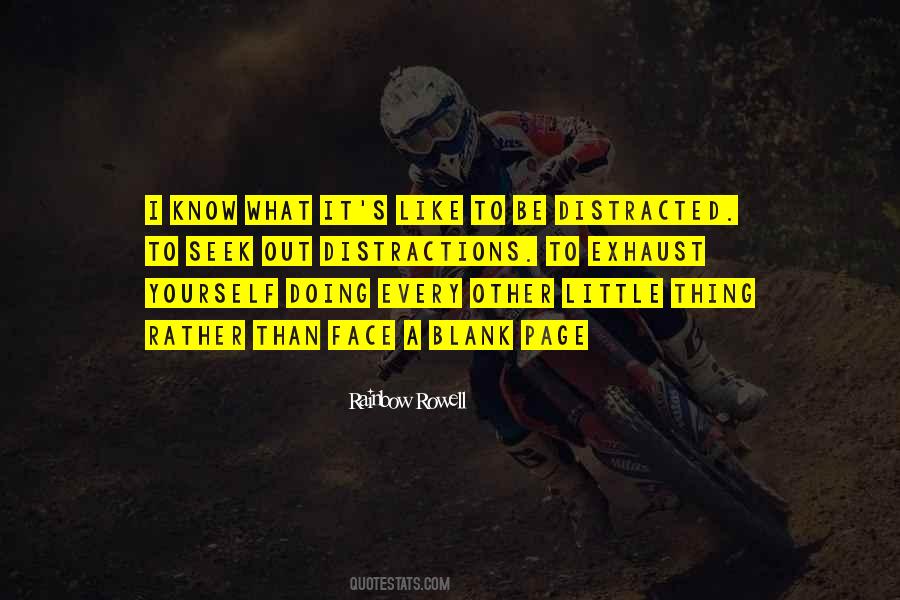 #73. You are to make your own way prosperous ... Even God cannot do it for you; you will have to do it yourself by doing the right things; taking right decisions, talking right, thinking right, being at the right place with the right-kind of people and by reading the right materials. - Author: Jaachynma N.E. Agu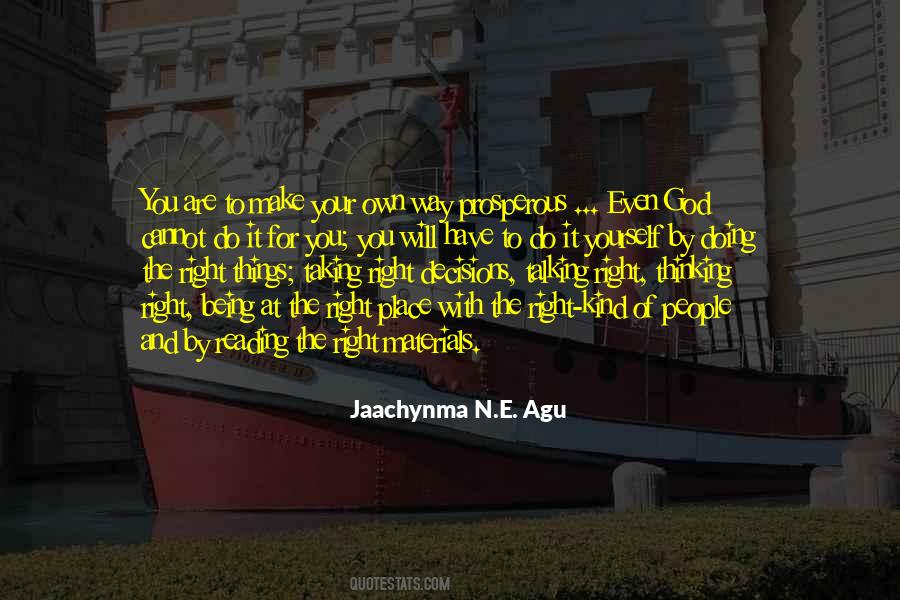 #74. If you wait till you're very sure, then you'll find yourself doing it, and when you do there'll be an ease. - Author: Frederick Lenz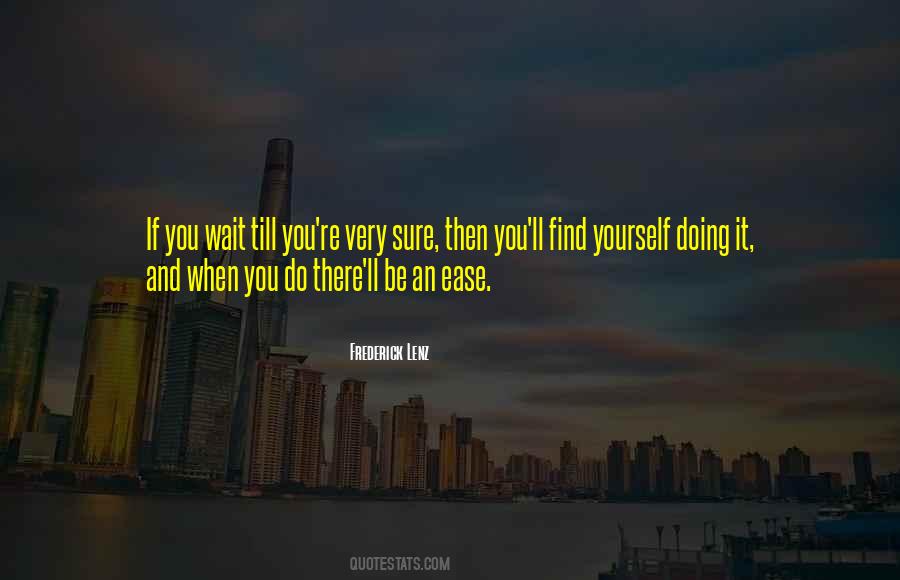 #75. What I've found - and the older I get, the more I understand this and stand behind it - is, my whole life has been an exploration of telling the truth. It's scary to be truthful, and it's scary to reveal yourself, and I'm very attracted to doing things that scare me. - Author: Jane Wiedlin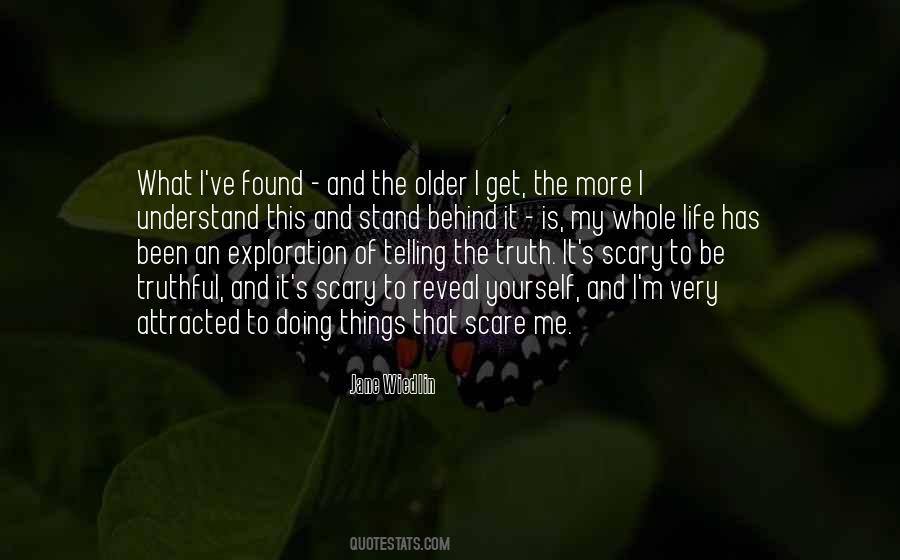 #76. There is a challenge of doing something new. Sometimes you have to suspend whether you believe in yourself doing it and just give yourself over to the idea that they believe in you. - Author: Josh Peck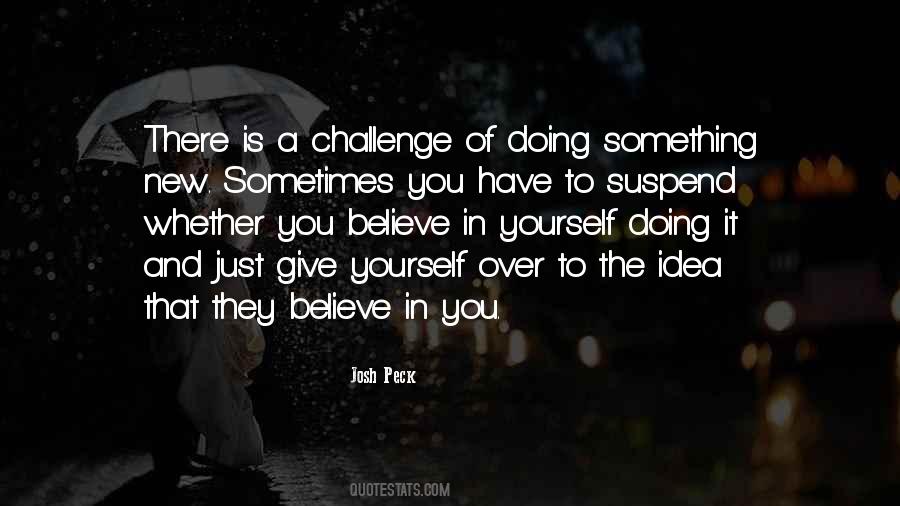 #77. Acting is reacting ... there's a magic when you're working with another actor. With voice acting, you're doing it alone, all in your head. So, you have to re-create that essence by yourself. It's not necessarily more difficult. It's just a different set of skills. - Author: Josh Keaton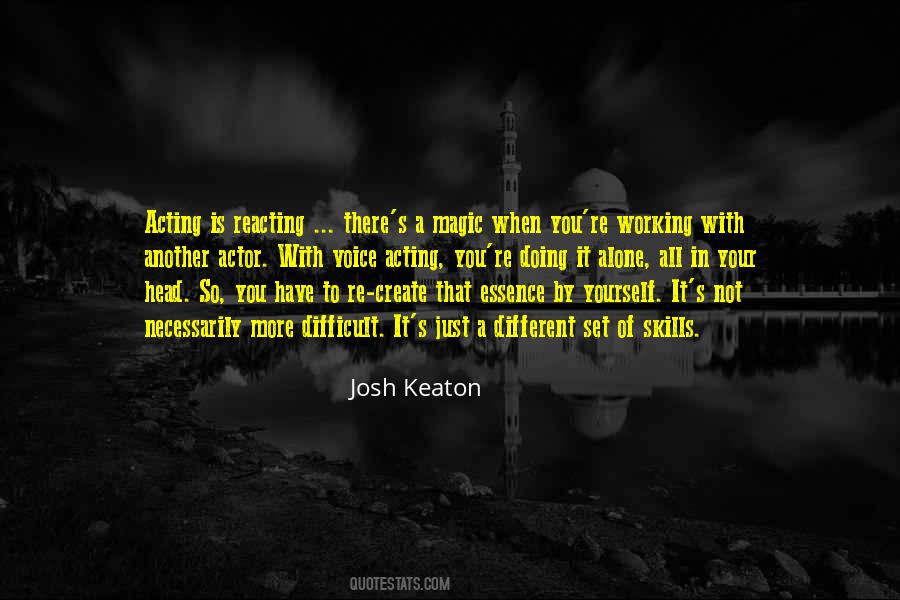 #78. So I don't really focus too much on that, and I think it's dangerous if your goal in life is to get the other guy, then you're not going to be doing a really quality job yourself. - Author: Katie Couric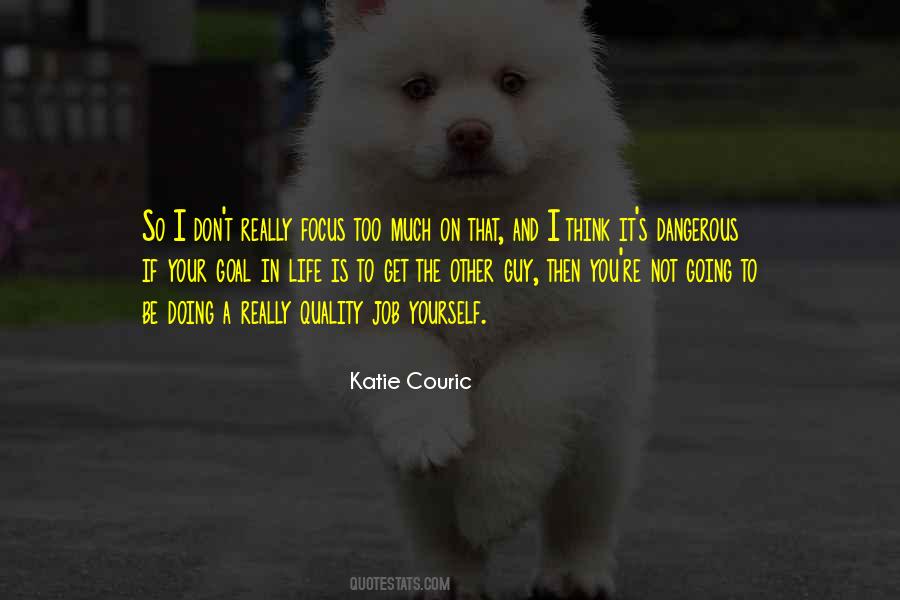 #79. It was one of those youthful promises that you make to yourself and keep long after you stop recognizing what you are doing, or how it is distorting your life. - Author: Adam Haslett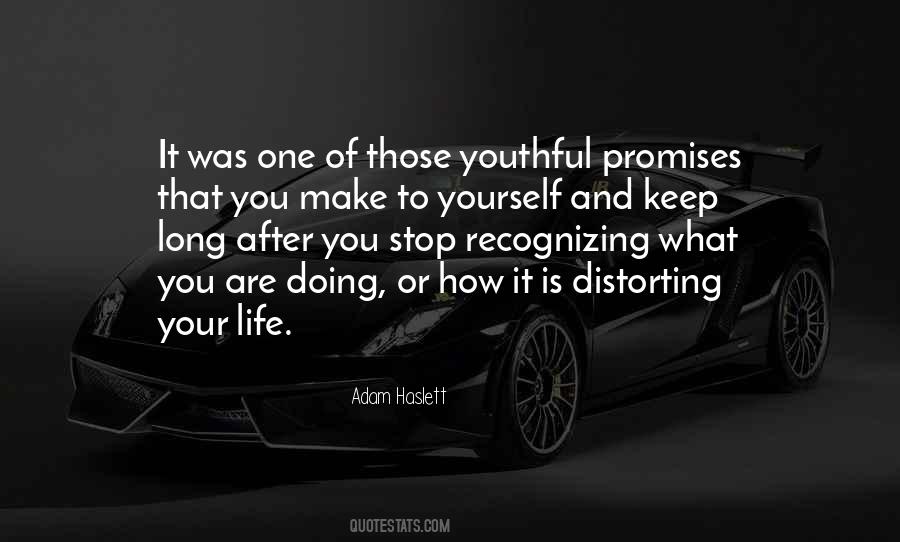 #80. Once in high school, I completely over plucked my left eyebrow all the way up to where you're not supposed to. I had no idea what I was doing and it looked terrible! My mom was like 'What did you do to yourself?' I was so embarrassed. - Author: Ashley Tisdale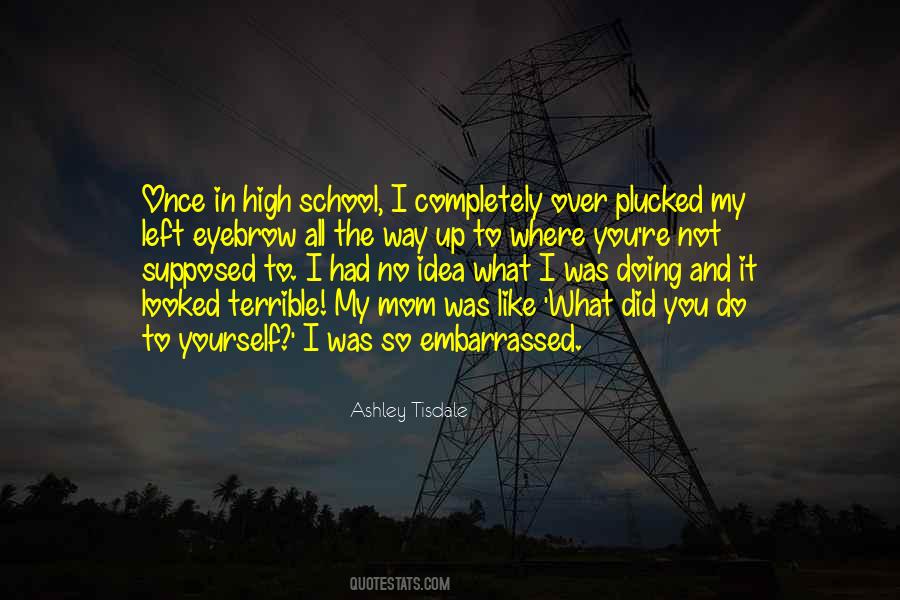 #81. What I like doing these days is spending more time with coaches because I think it's important to work on yourself. - Author: Ed Speleers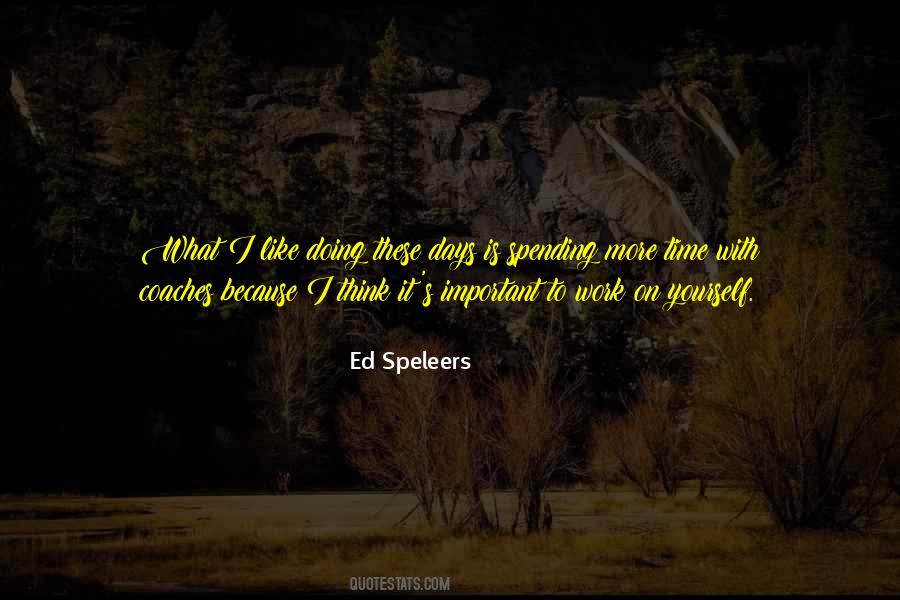 #82. For a person who is not aware that he is doing anything wrong has no desire to be put right. You have to catch yourself doing it before you can reform. - Author: Seneca.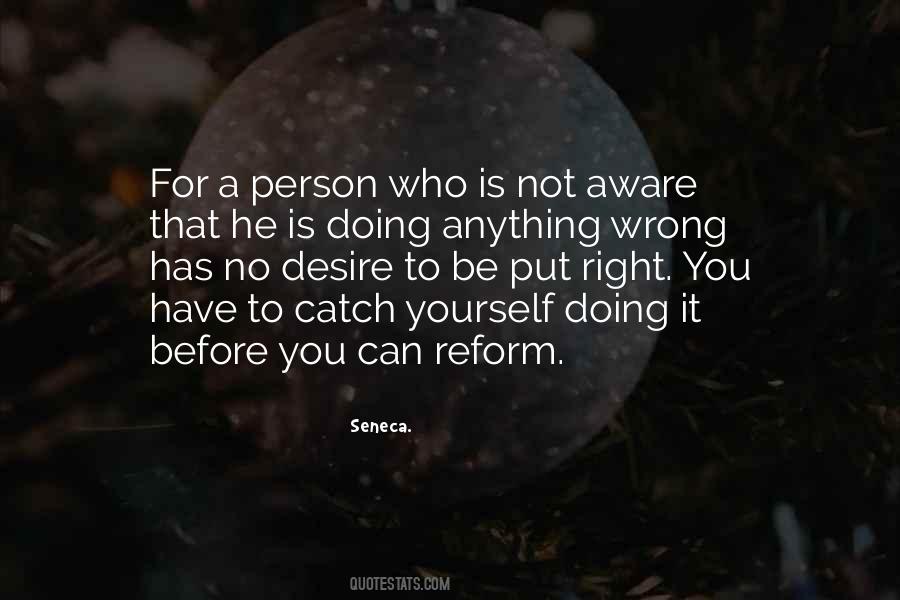 #83. I think it's important to evolve and grow and take risks creatively, instead of repeating yourself and doing the same thing over and over. - Author: G-Eazy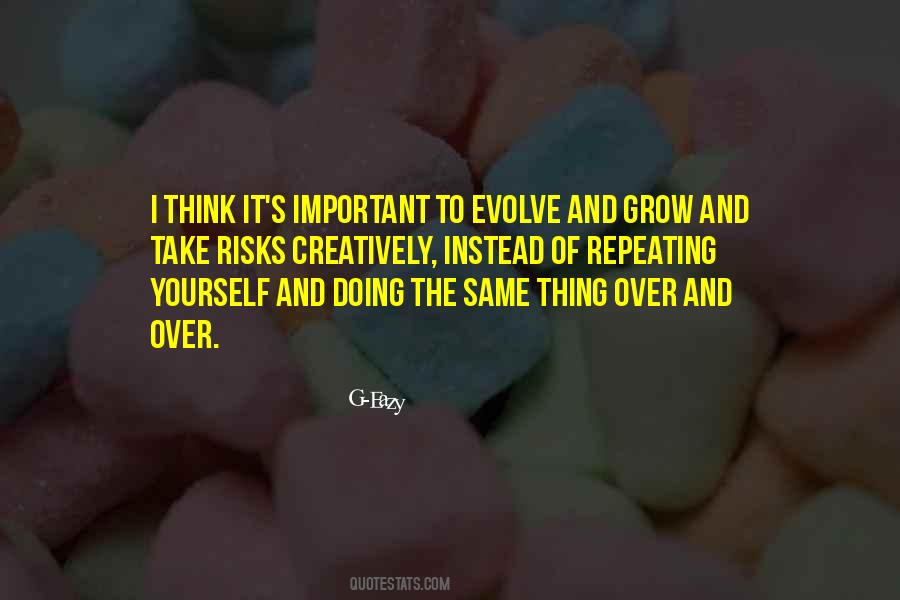 #84. But doing something good or remarkable isn't easy. It's much easier to condemn people who do the wrong thing than it is to do the right thing yourself. - Author: Kanae Minato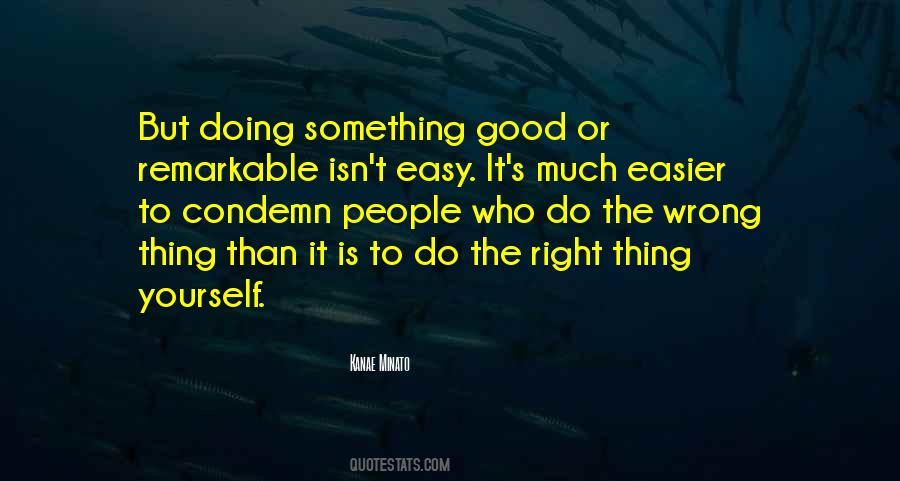 #85. I'm a fan of Tom's of Maine natural oral care line for those very reasons; they deliver on both healthy and environmental goodness. The beauty of it is you'll feel even more empowered knowing you're doing something good for yourself and the environmental footprint of your beauty routine. - Author: Sophie Heyman Uliano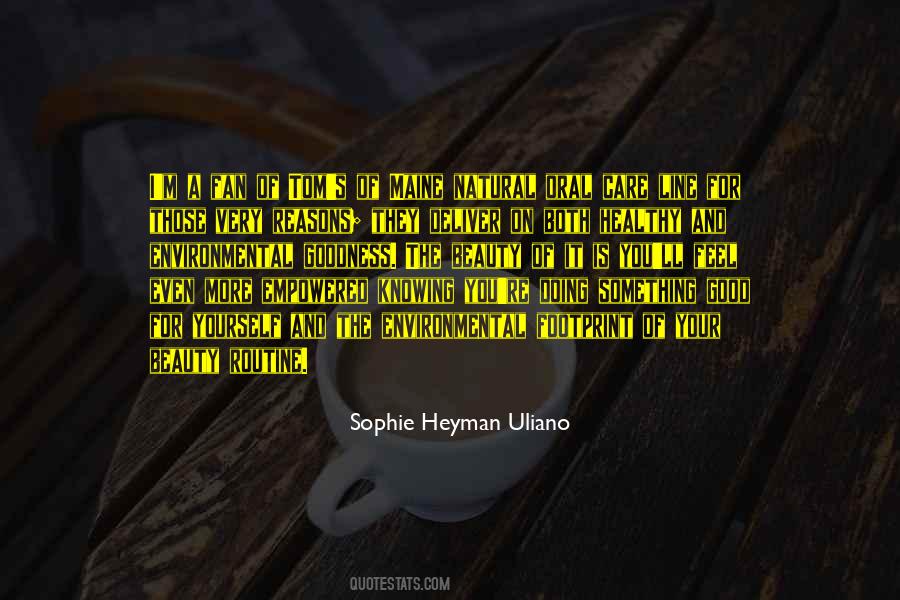 #86. If you can see yourself doing something, you can do it. If you can't see yourself doing it, usually you can't achieve it. - Author: David Goggins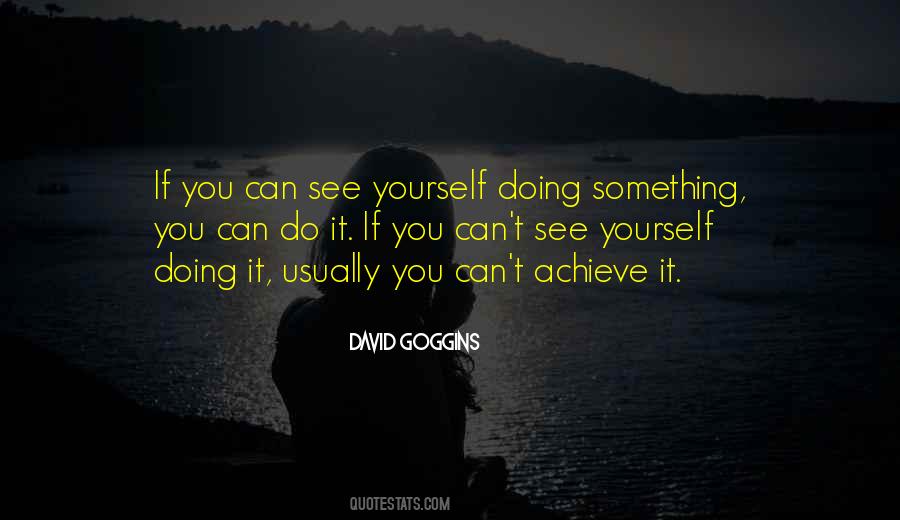 #87. Don't be afraid to imagine yourself doing something bigger than you have the resources to do right now. Dreaming is free. It costs nothing, but your time. - Author: Daniela Gabrielle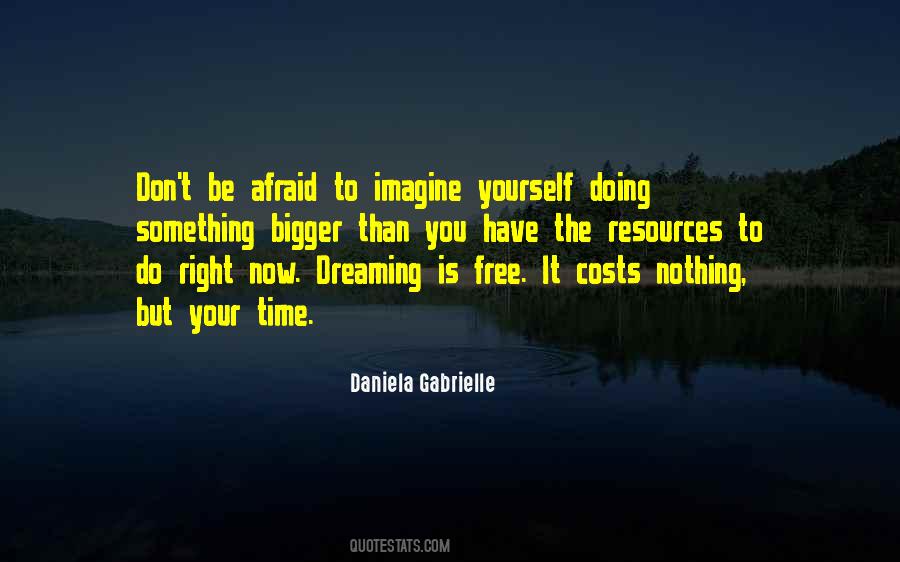 #88. It was easier than I expected, maybe because I was too angry and too afraid to really pay attention to what I was doing. Things are always easy when you refuse to let yourself remember how dangerous they are. - Author: Seanan McGuire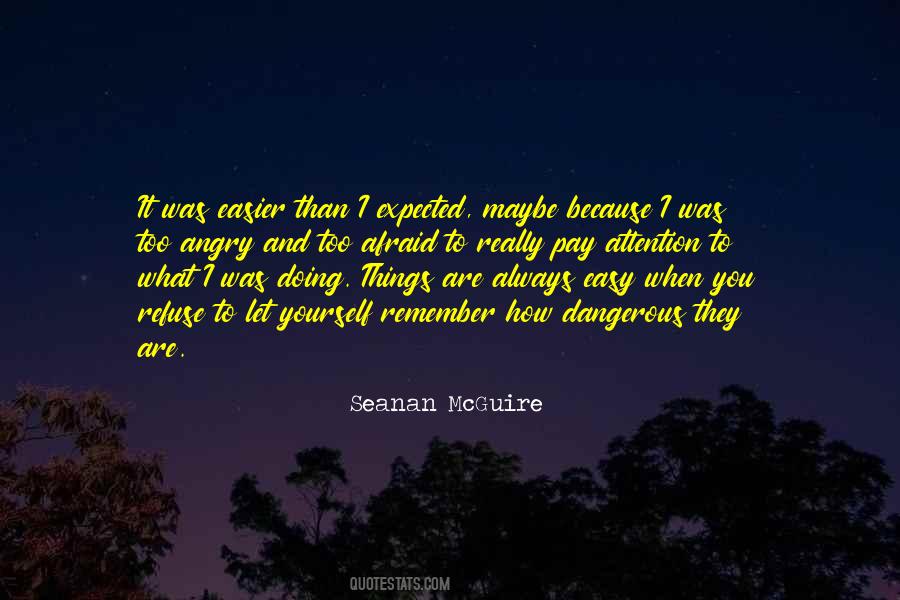 #89. You keep doing that, and you'll find yourself mated quick enough."
"It's no' for me. I'm perfectly content just as I am."
Ryder made a face. "Are you insane? why say something like that and temp the cosmos?"
Laith watch him walk away, wondering if he had just drawn the interest of fate. - Author: Donna Grant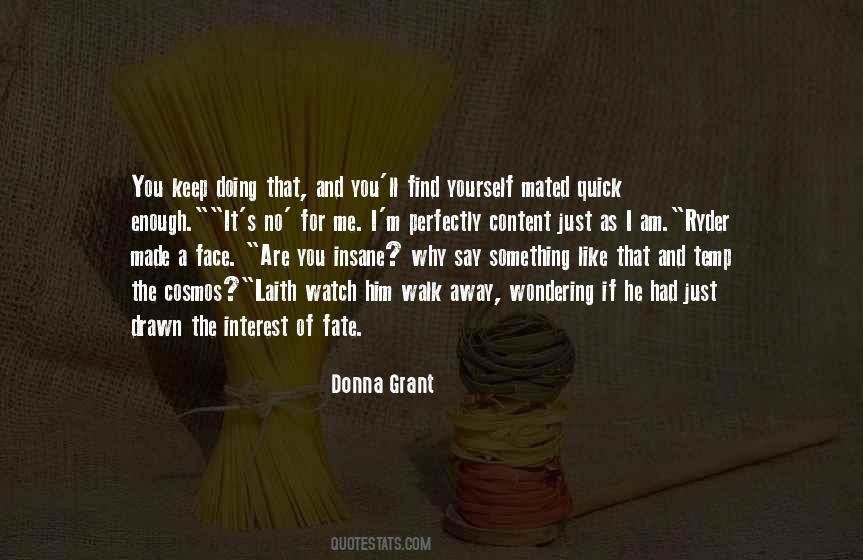 #90. The great thing about writing is that you always put yourself in the shoes of the character. If you're doing it right, you can see into the heart of all your characters. Usually, when there's a writing problem, it's because you aren't doing that. - Author: Peter Gould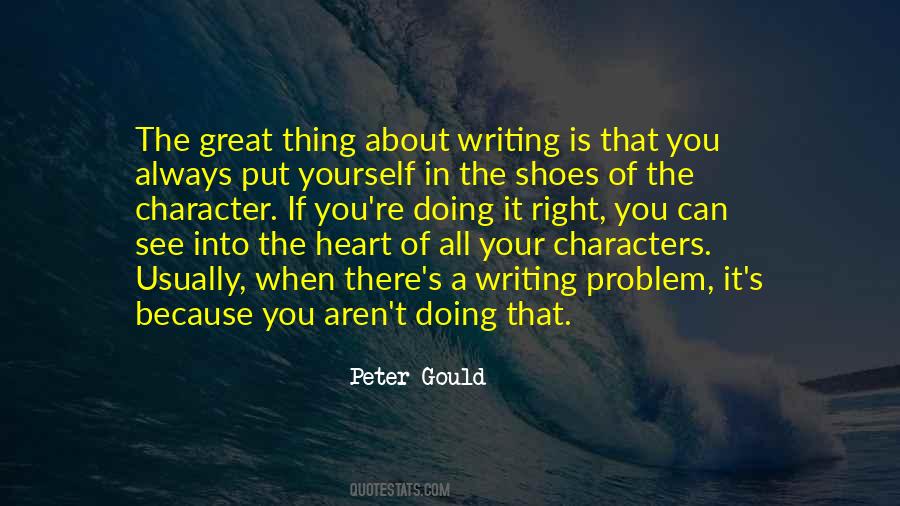 #91. There will be times when it seems that it would be best to just call him and see how he's doing. Don't deceive yourself, you don't care about how he's doing, you're just craving him, don't do it. You'll only hurt yourself. - Author: Osayi Emokpae Lasisi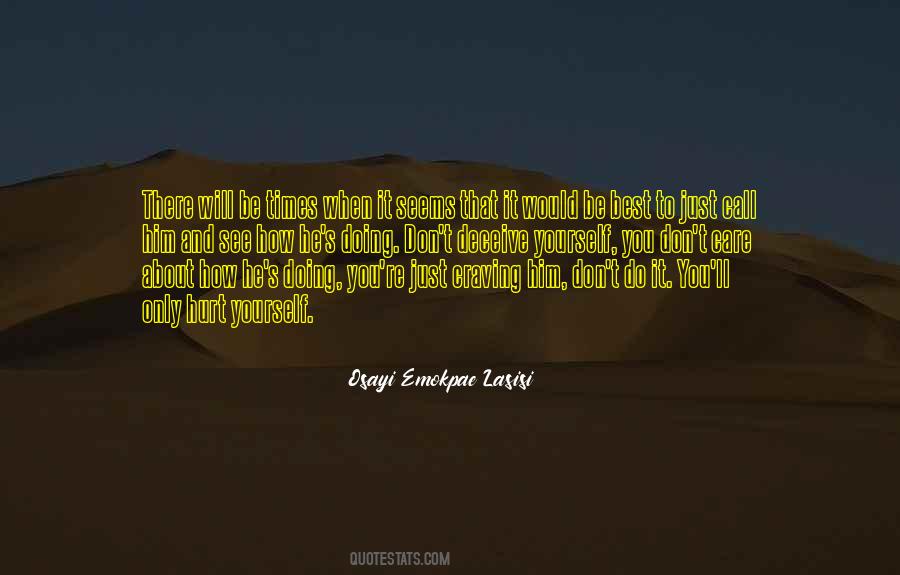 #92. Be kind today ... to yourself, remember to be a good friend to yourself, accept that you're doing your best, love your perfect imperfections, be mindful of what you need and give it to yourself, and surround yourself with people who honor, love and cherish you for who you are. - Author: Ian Lawton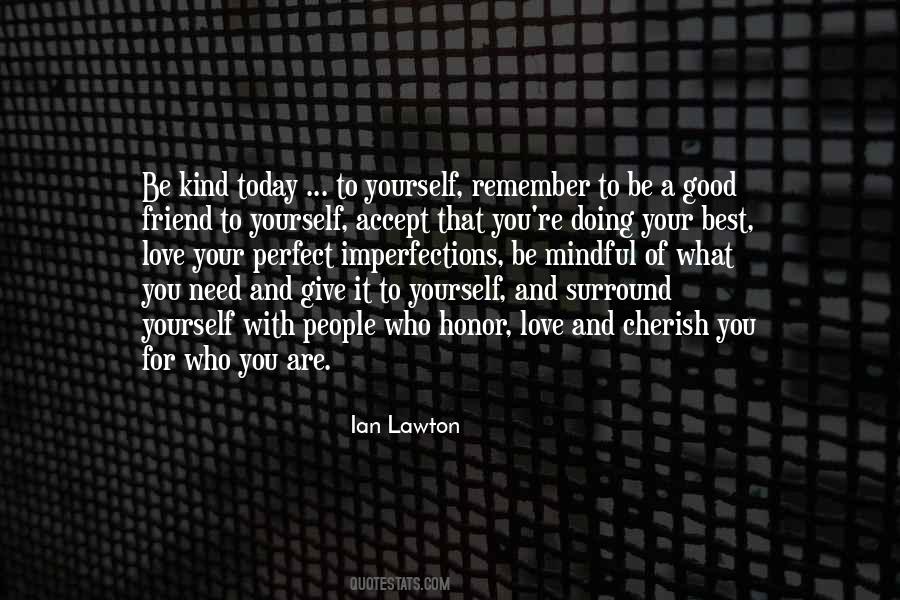 #93. In difficult moments it's sometimes a good idea to ask yourself what it is you most want to be doing and consider how it can be achieved. If it can't, move on to the second best thing. - Author: Ian McEwan
#94. And eventually your loss normalizes - it integrates into part of your everyday life and you find yourself three or five years later doing okay, changed but . . . but still able to hear your friends' voices, still telling stories about them, still thinking of them every day. - Author: Gayle Forman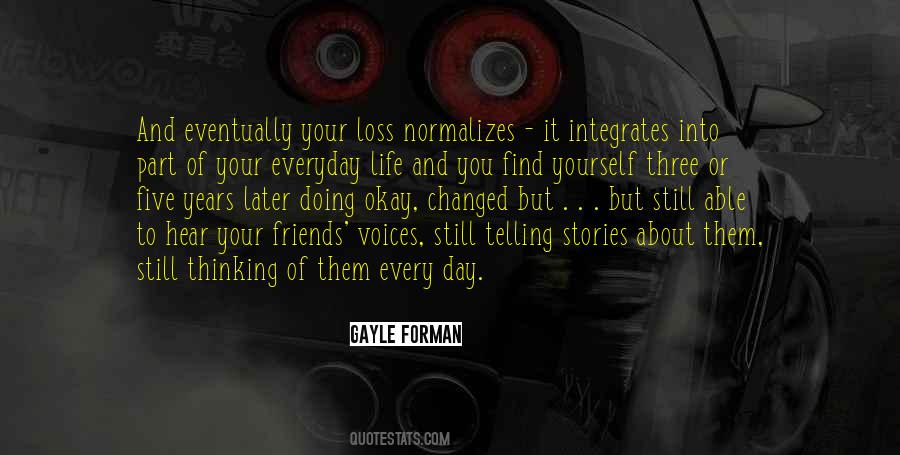 #95. If you find yourself imitating another writer, that doesn't have to be a bad thing, especially if you are a young or a new writer. However, you should be conscious of exactly how you are imitating him - word choice, sentence structure, motifs? - and think about why you're doing it. - Author: Poppy Z. Brite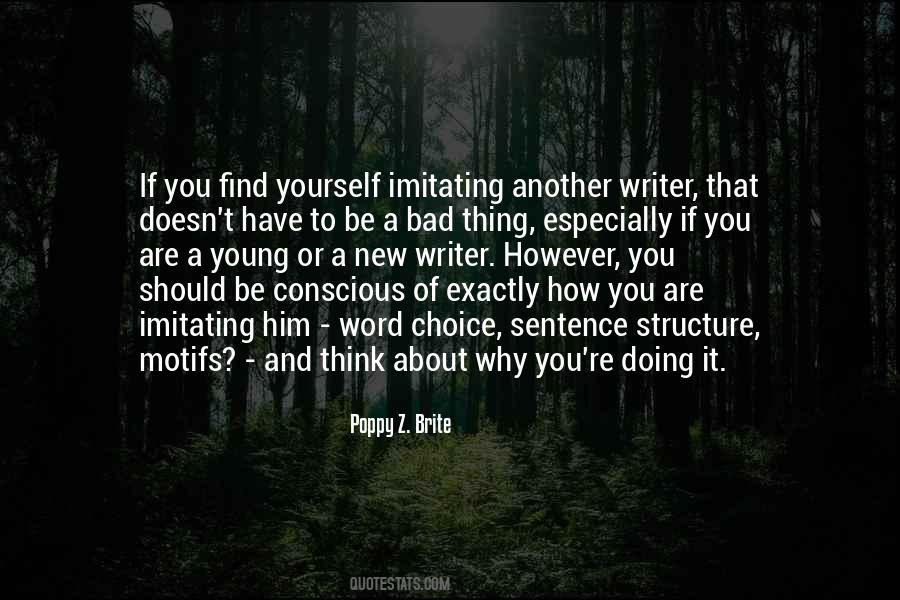 #96. Why do you read all the details of divorce cases in the newspapers? ... you are enjoying it. You would not dream of doing these things yourself, but you are doing them by proxy. - Author: D. Martyn Lloyd-Jones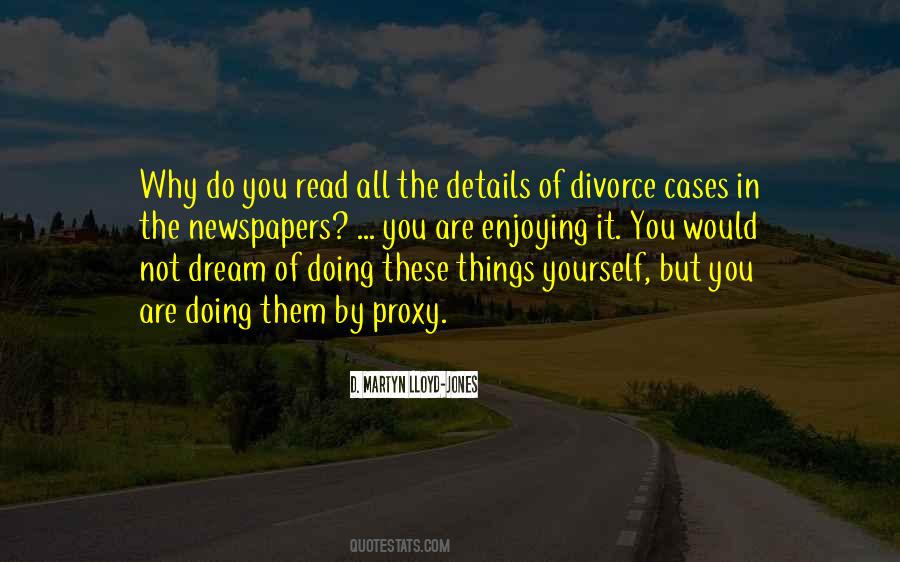 #97. If you chase the art, you really can't fail because you'll always be able to look at yourself in the mirror. And that's not about making angry decisions, either, it's about always doing the right thing for you, your fans and your art. - Author: Gerard Way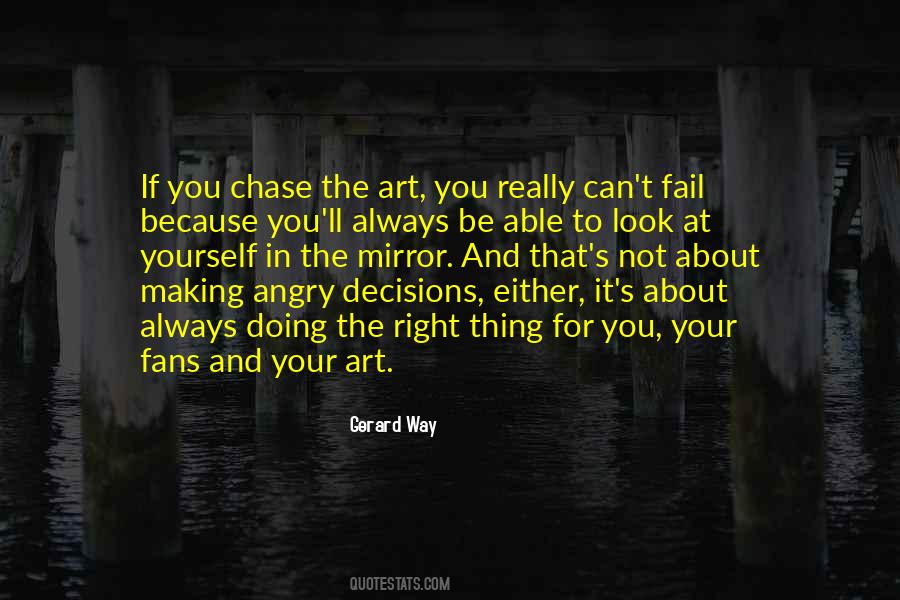 #98. I should have known you were no better than the rest of them. You are only a man, you do not have the ability to control yourself, but she," Lady Catherine nodded sagely, "she knew exactly what she was doing. Fluffing her feathers and shaking her tail for you! It was disgraceful! - Author: Elizabeth Adams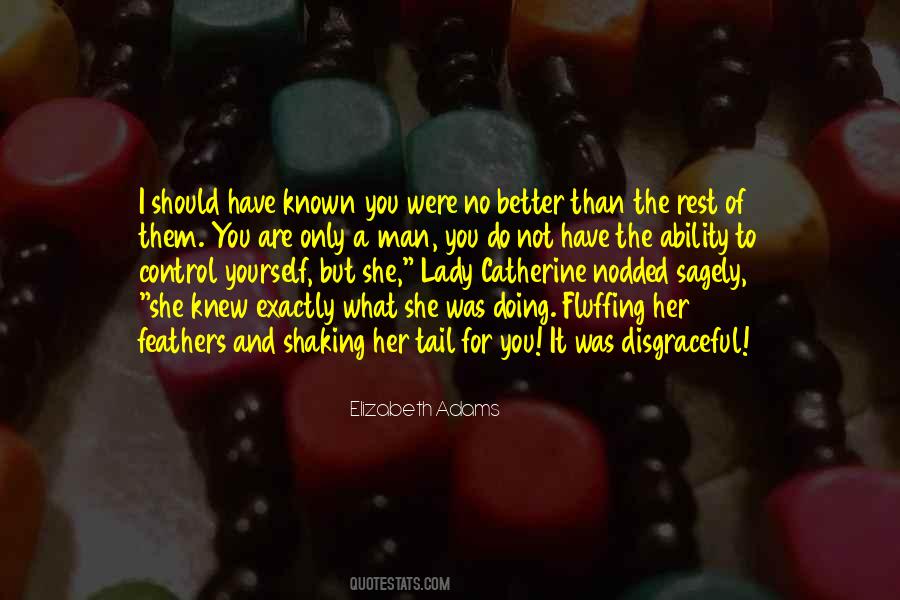 #99. You've got to be able to take a hit and learn from it and get back up on your bike again, or get back doing whatever you do, and try even harder next time. It's all about learning from your mistakes and using it the next time so you don't put yourself in the same situation. - Author: Magnus Backstedt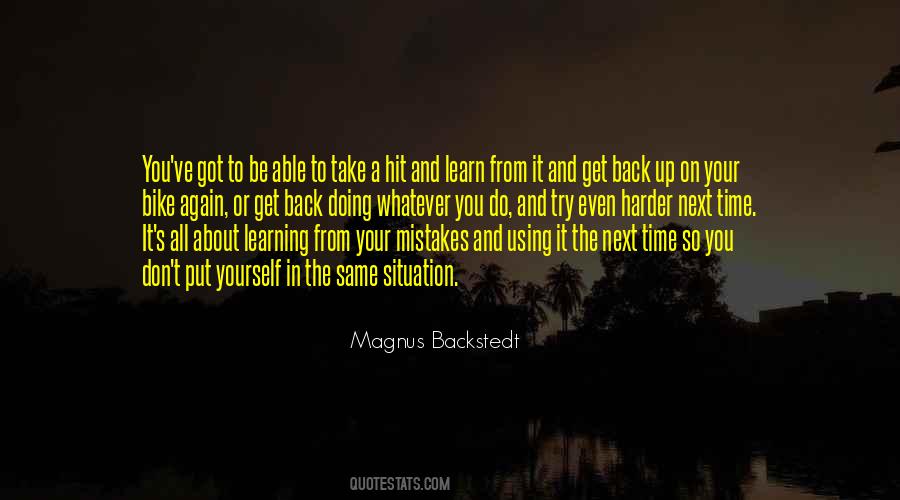 #100. When you start at the beginning of your career [that] was really focused on your own needs and obstacles, and ultimately you realize you're not really doing it for yourself. - Author: Luis Valdez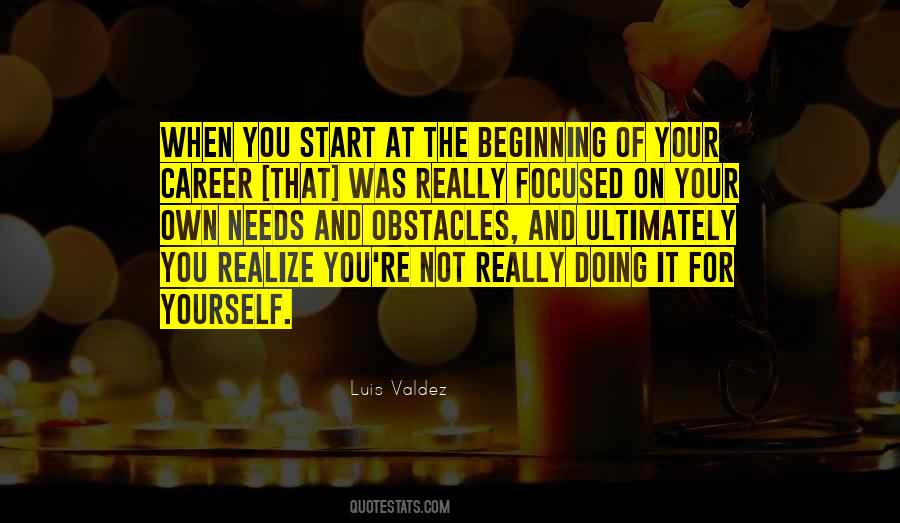 Famous Authors
Popular Topics