Cool Life Famous Quotes & Sayings
List of top 100 famous quotes and sayings about cool life to read and share with friends on your Facebook, Twitter, blogs.
Top 100 Quotes About Cool Life
#1. Picking a best friend who stands up for what she believes in, is true to herself and allows you to be yourself without judgement of how 'cool' you are? Well, now you're picking a friend for life. - Author: Renee Olstead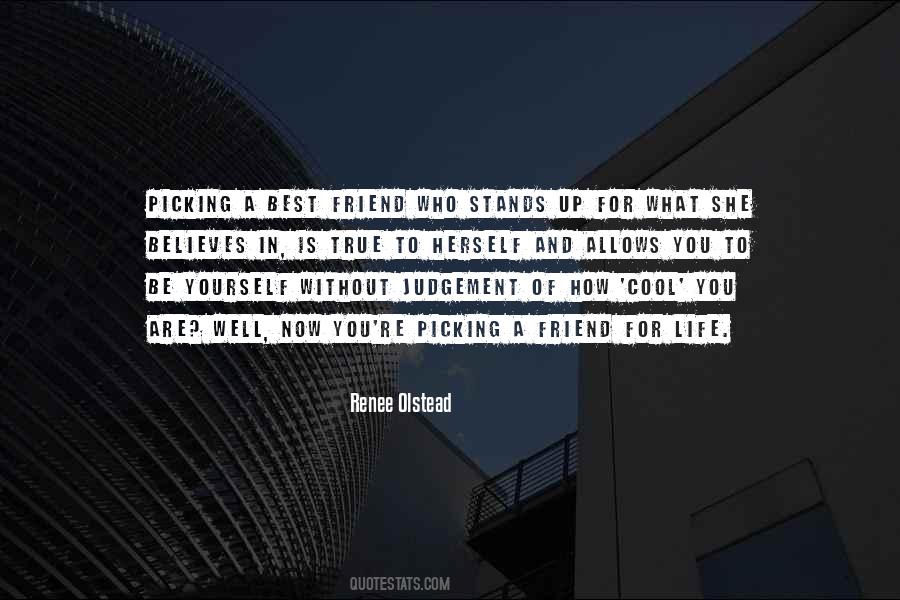 #2. Everyone knows almost everything about me. I make it very clear that I'm cool with people knowing all my personal life through my songs. - Author: Ed Sheeran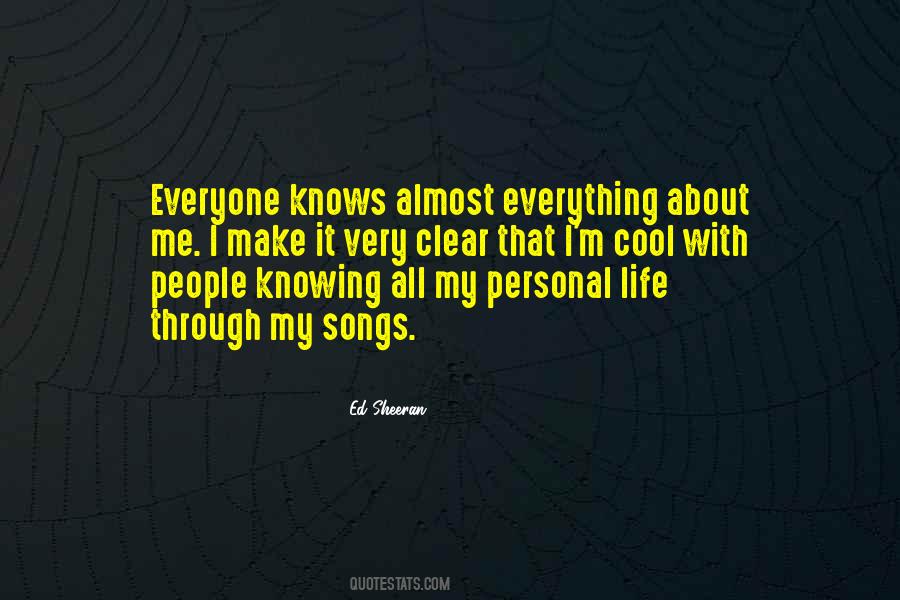 #3. I definitely play roles that are close to my persona. I was dying to be an actor, my whole life. I just always wanted to be someone else. Then, once I decided that I really thought I was pretty cool, I wanted to see myself. - Author: Drea De Matteo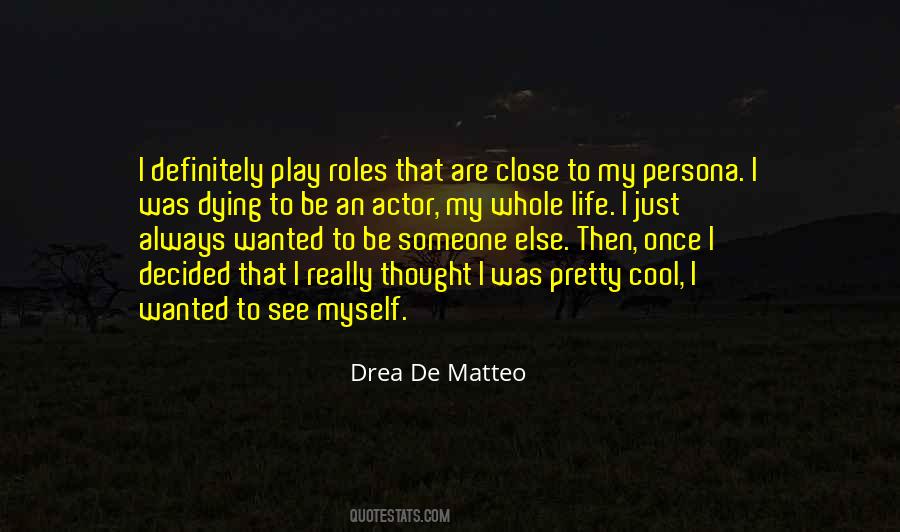 #4. Remember, cool is not a way of life; it's a state of being. Like your height. I can't help being 6'3, and I can't help being cool. - Author: Stephen King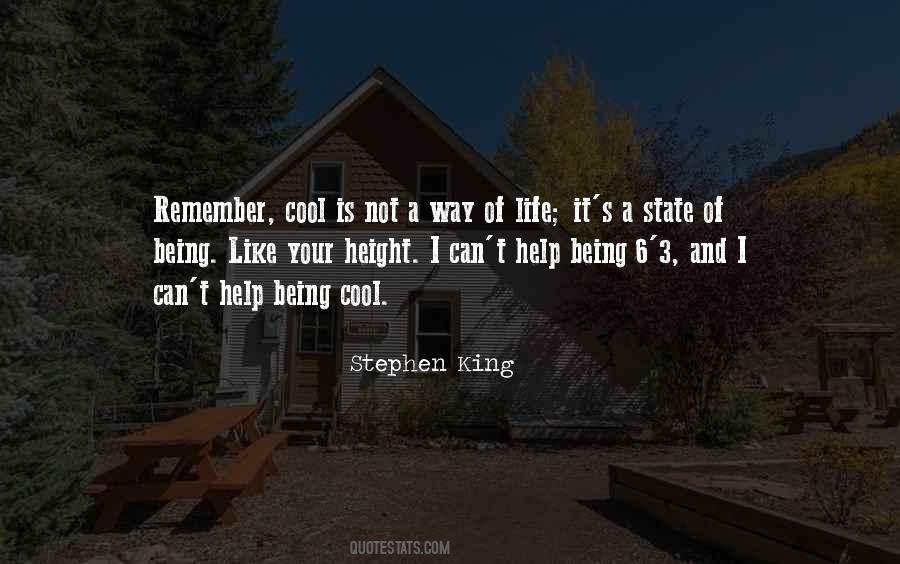 #5. S'cool. I've lived most of my life under threat of "one of these days" for one reason or another. Superheroes do. - Author: Karen Marie Moning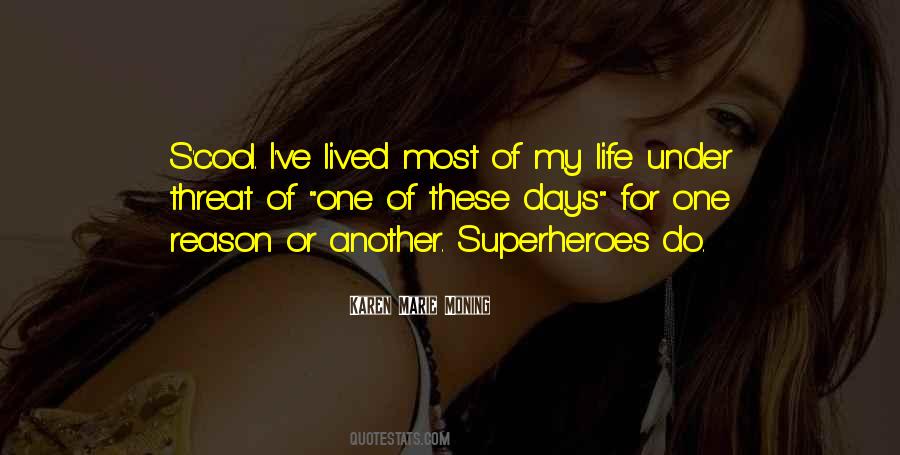 #6. I've won some pretty cool things in my life and I have a lot of great titles. - Author: Heather O'Reilly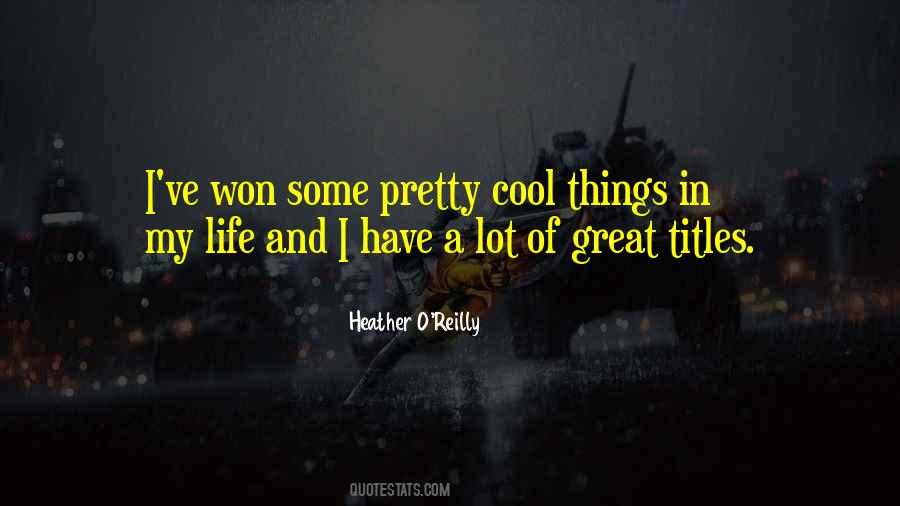 #7. I'm not a guy who curses very much in my personal life. When I curse it sounds like a kid trying to be cool. But I think there are quite a few people, my father being one of them, who use curse words rather eloquently. - Author: Justin Halpern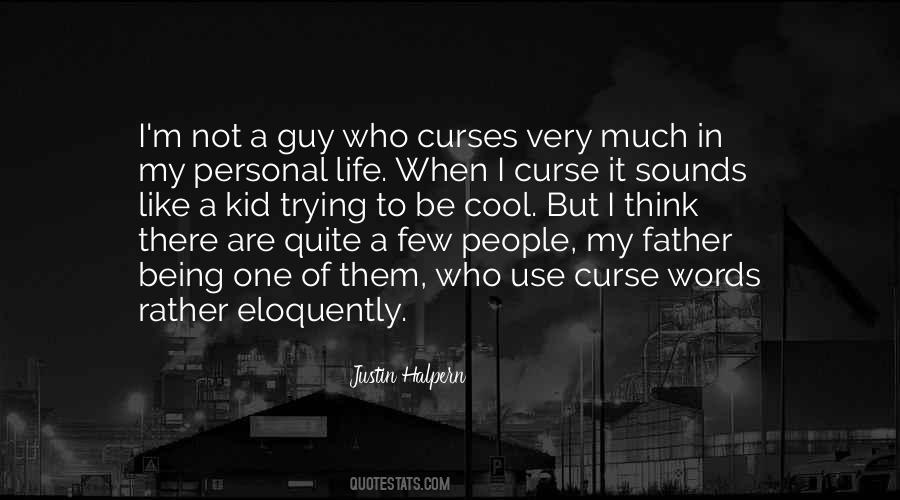 #8. The passage is free for those who think you are not good enough for them: at your level, I think the best option is to sit back, relax and listen to a cool music, while watching them pack out of your life, and that's when you feel the intense release from the pit of hell. - Author: Michael Bassey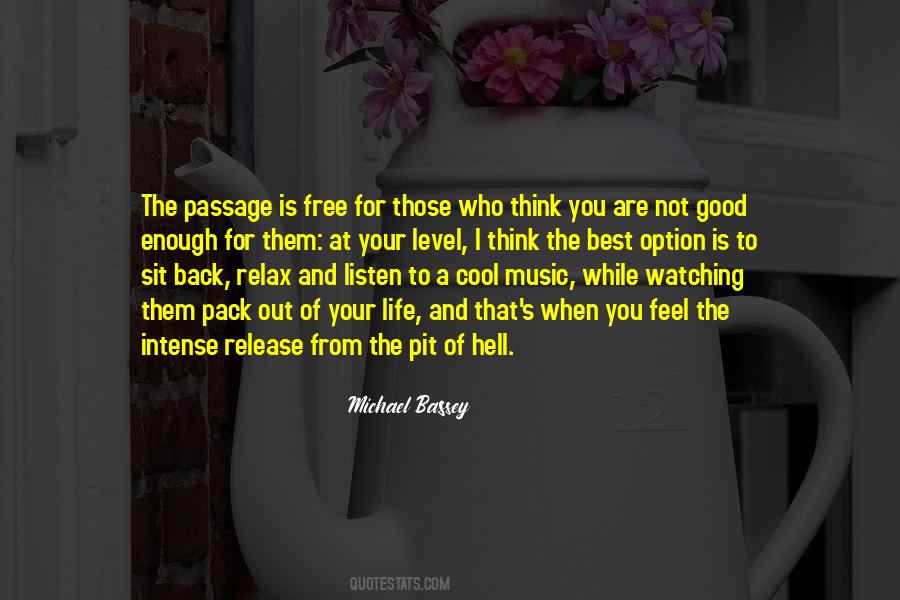 #9. When we get out of the glass bottle of our ego and when we escape like the squirrels in the cage of our personality and get into the forest again, we shall shiver with cold and fright. But things will happen to us so that we don't know ourselves. Cool, unlying life will rush in. - Author: D.H. Lawrence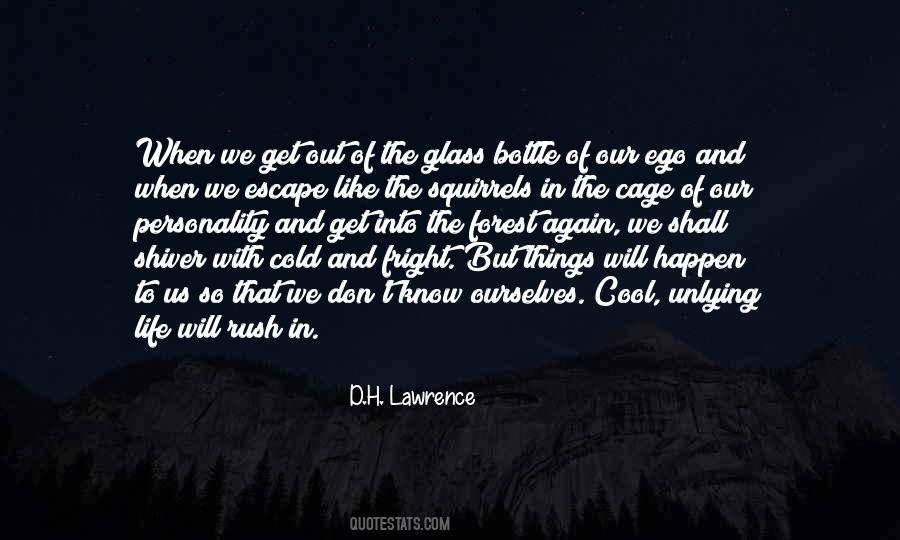 #10. Everybody in my neighborhood in the '40s, they played pianos. That's how people partied. They didn't try the TV, the radio was OK, records was cool, but when people wanted to party, they got around a piano. My mother played piano, my sister played. I've been around a lot of piano all my life. - Author: Dr. John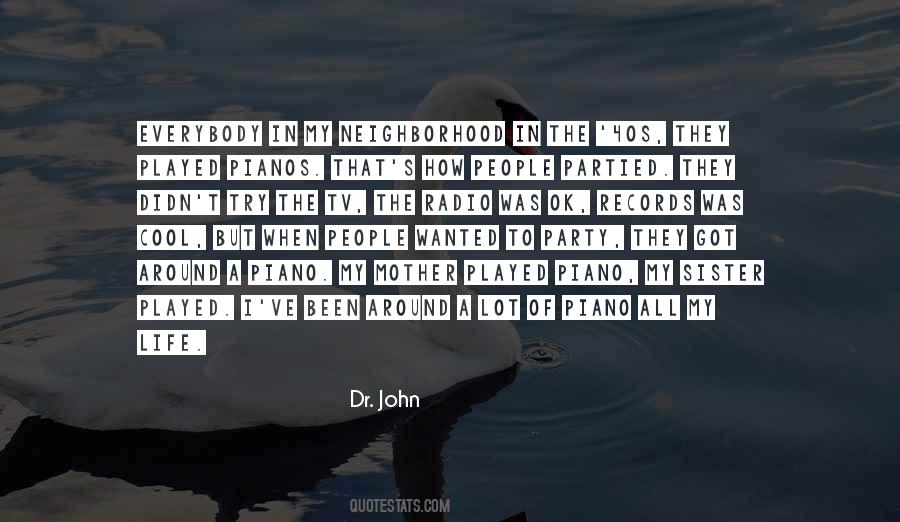 #11. So, it's cool that, yes, Hal Jordan is a superhero, but my character is a real-world hero in her own life. - Author: Blake Lively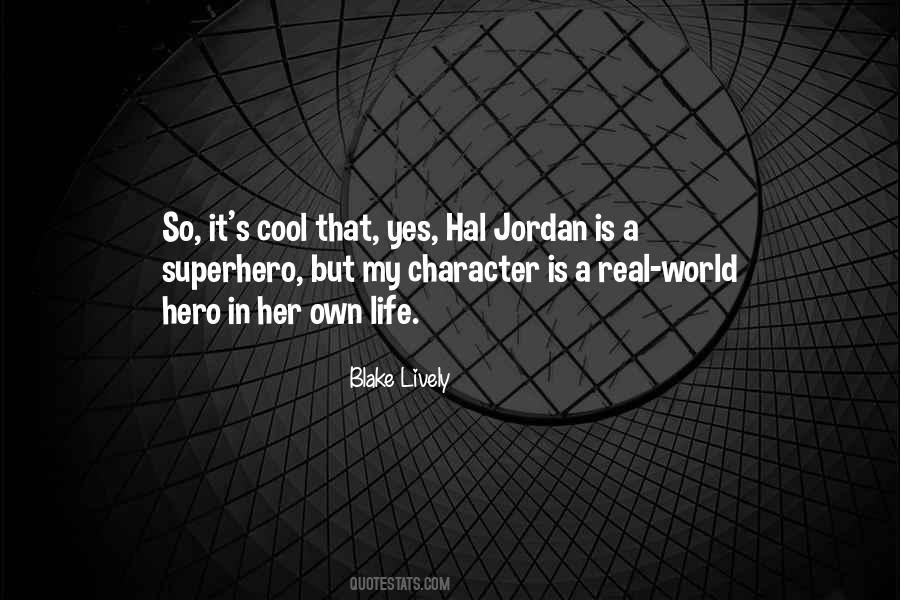 #12. She decided she wanted a cool, starchy independent life, with ruffles of humor like window curtains. - Author: Mary McCarthy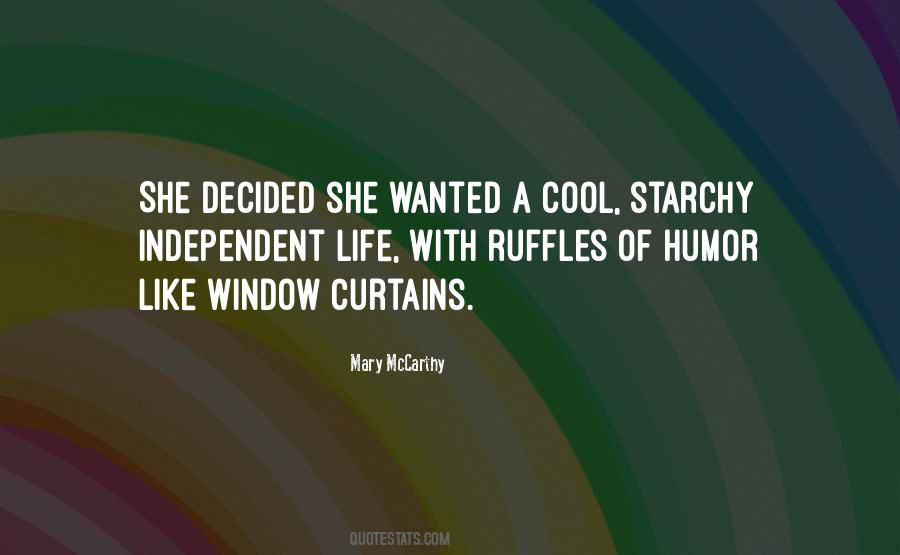 #13. Me And Ocean -- Two Deep Dreams Of God - Author: Prince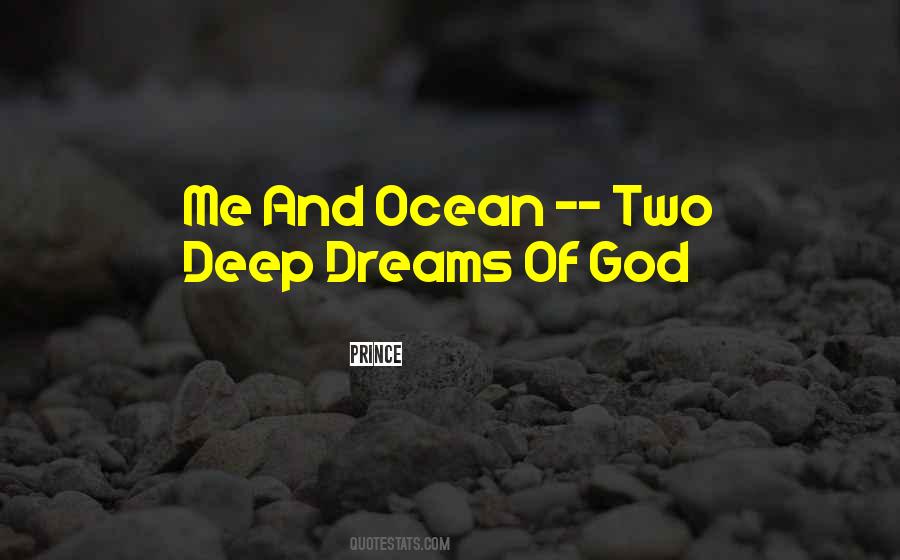 #14. I was regarded as sort of cool; preventing the destruction of your school and capturing the agent responsible does great things for your social life. - Author: Stuart Gibbs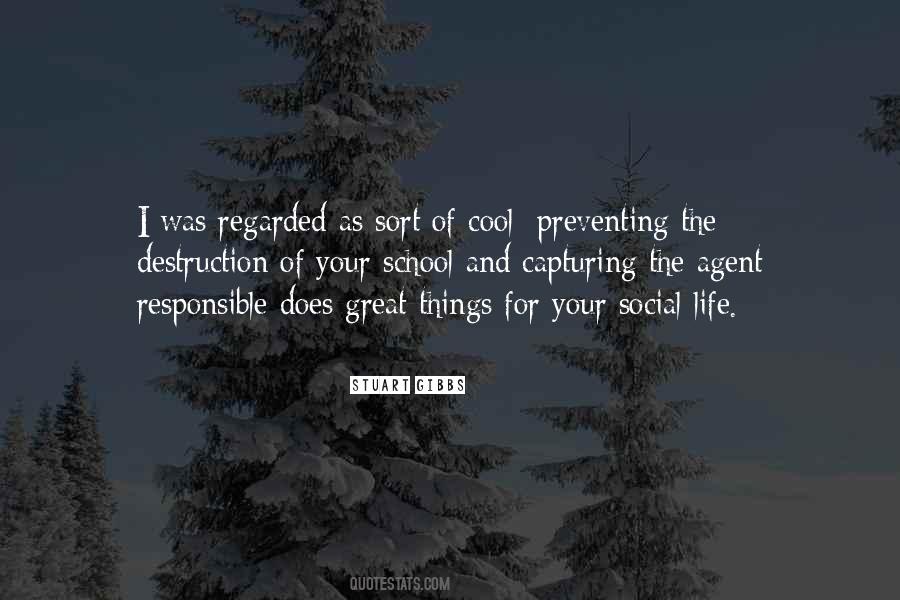 #15. Your life's short, don't ever question the length / It's cool to cry, don't ever question your strength. - Author: Mac Miller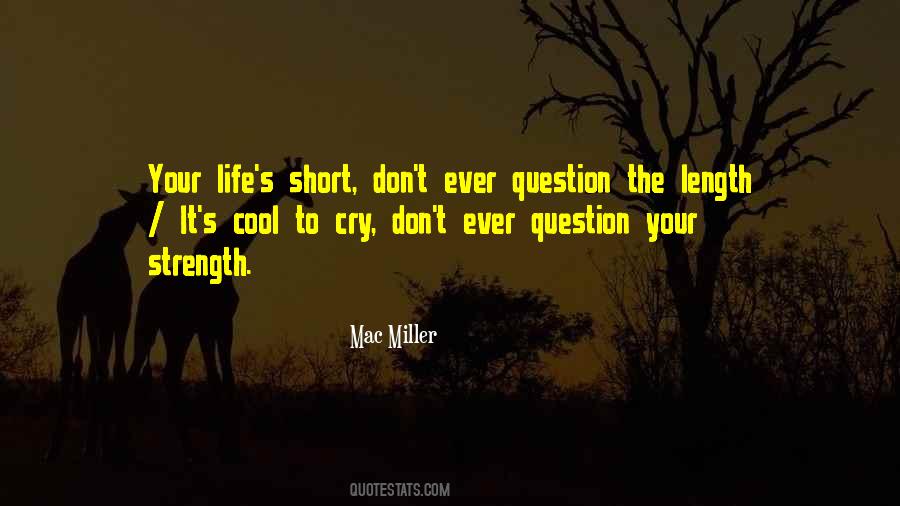 #16. I'm enjoying where I'm at in my life and I feel like I'm learning a lot on a daily basis. I'm learning without having to be behind a desk, so it's a pretty cool place to be. - Author: Zac Efron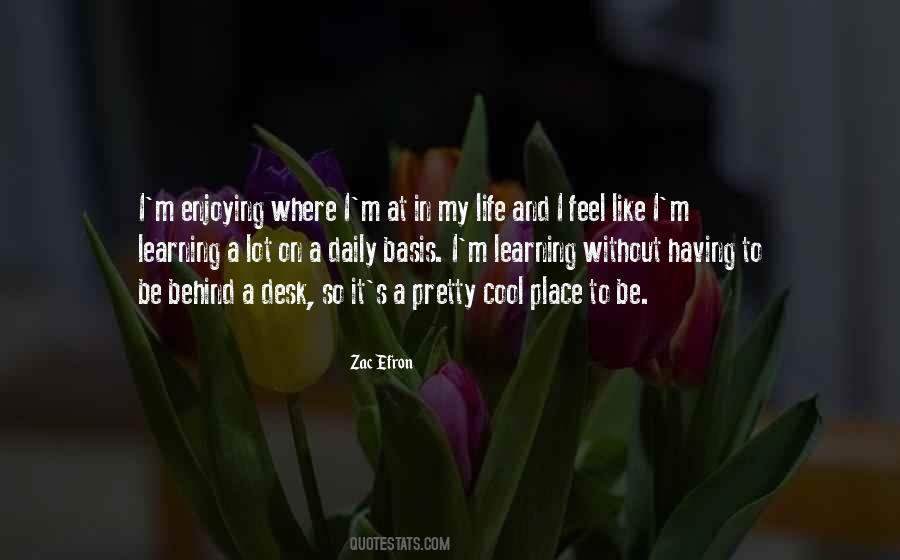 #17. That's cool." Hale nodded, unfazed. "But just so you know, that"
he pointed to the piece of metal peeking out from behind the stage
"is a Hurst 5,000 PSI hydraulic spreader-cutter, more commonly know as the Jaws of Life."
"So?"
"So I'm not a normal boy. - Author: Ally Carter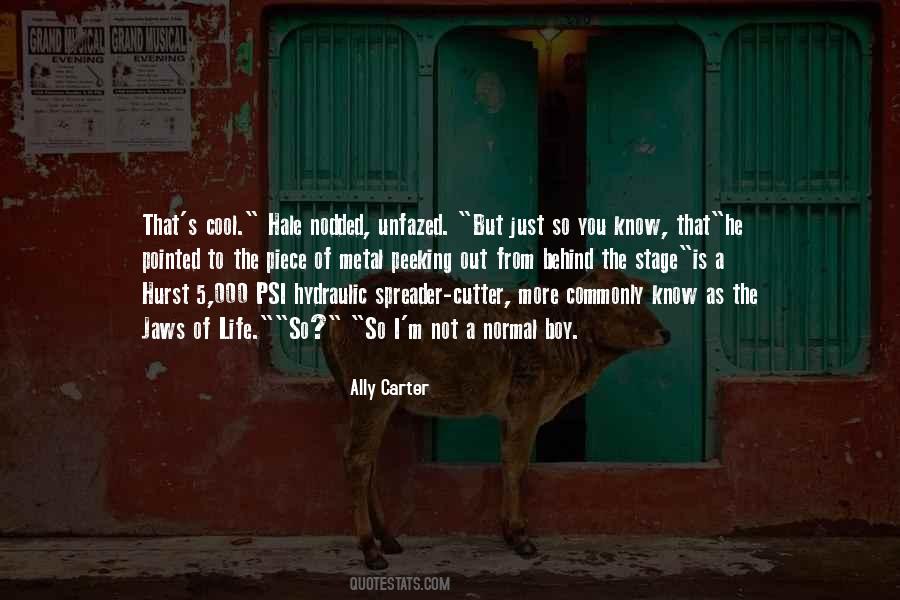 #18. Life isn't about the cherished moments it is also about the hard ones. Just knowing each day that you will arise with the bright shining sun in your eyes. And end with the cool breeze upon your face as you slowly reflect the day that passed by. - Author: Mother Teresa
#19. If I wasn't even famous or had any success, I would still wake up and put tons of make-up on, and put on a cool outfit. That's always been who I've been my whole life, so that's never gonna change. I love fashion. I love getting dressed up. I love Halloween, too. - Author: Gwen Stefani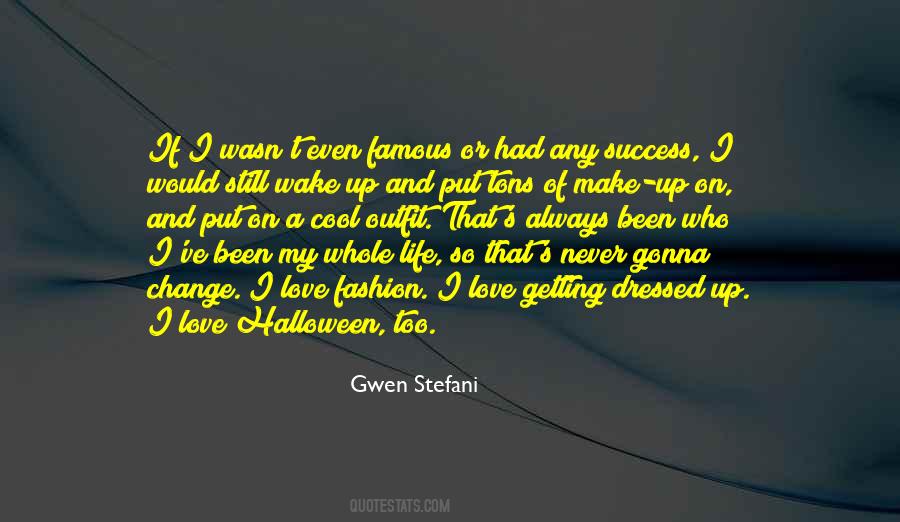 #20. I've done four other films since 'Submarine,' so that's quite cool. It's just good to have people respect your work; I've never had that before. Yeah, my life has changed crazy. I'm a kid from a small town in south Wales, I play my Xbox usually and all that sort of stuff, and it's a whole new world. - Author: Craig Roberts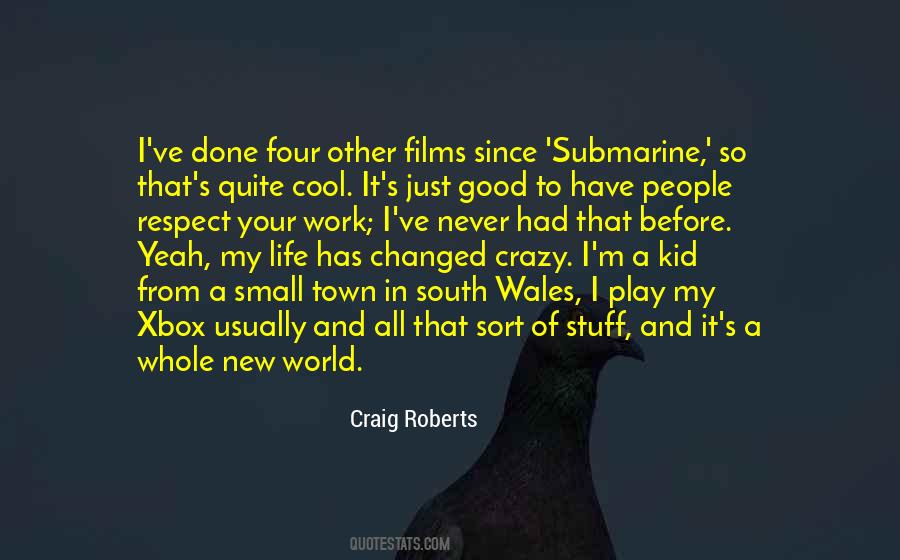 #21. I would love to have kids one day. In fact, I'm pretty good with them. I grew up with five half-siblings, the youngest of whom is 11 years younger than me, so I think I learned some pretty cool parenting skills quite early on in life. - Author: Matthew Perry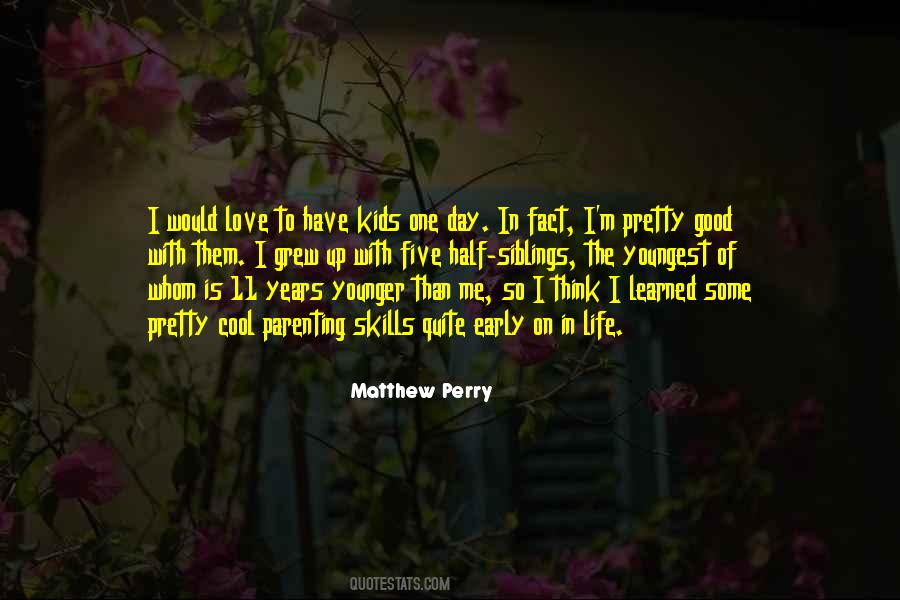 #22. Playing Xbox for 23 hours straight is cool and all, but I'm going to teach you how to spend time on things in your life that will get you the following two things: paid and laid. - Author: Chris Hardwick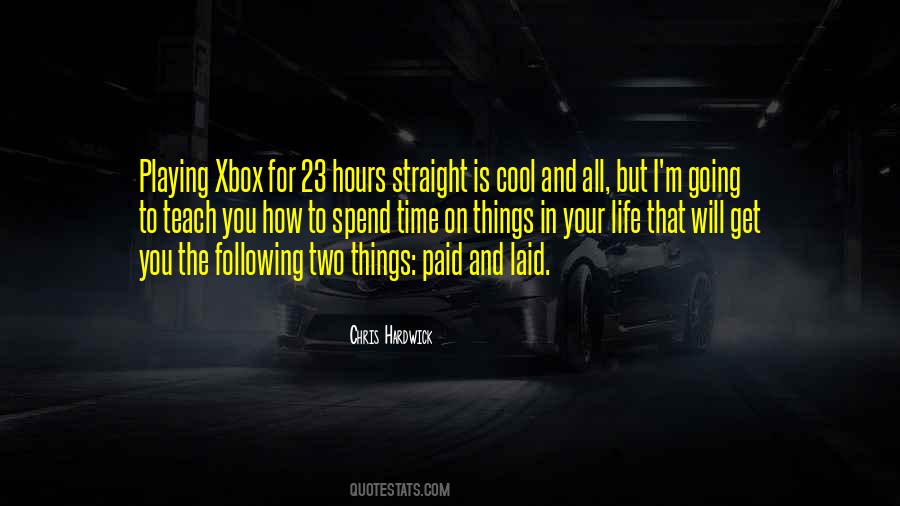 #23. I don't think it's the most important thing in life to fit it. I think it's the most important thing in life to dance to the beat of your own drum and to look like you're having more fun than the people who look cool like they fit in. - Author: Taylor Swift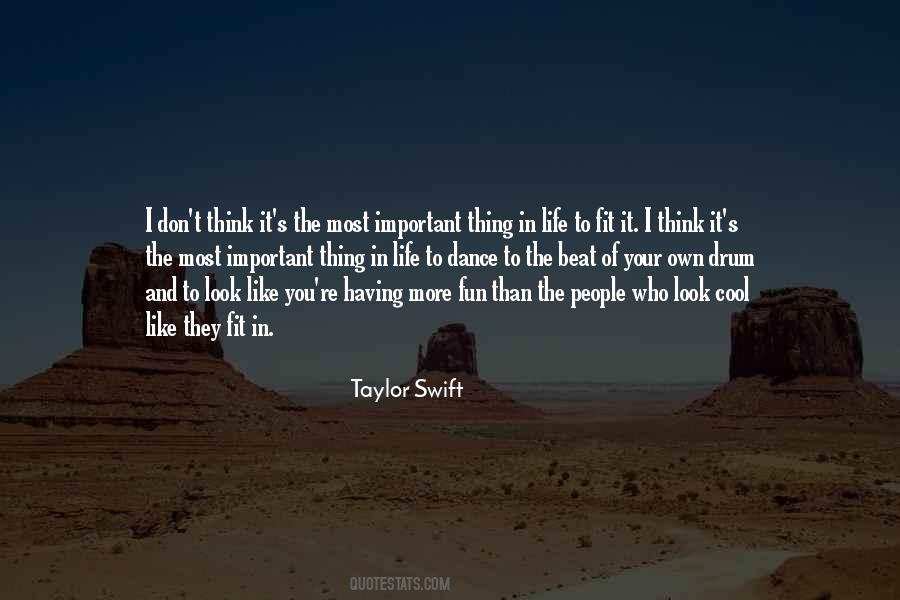 #24. Oh, man, if in real life I was as cool and suave as Coach Taylor and had all the answers, things would be easier. - Author: Kyle Chandler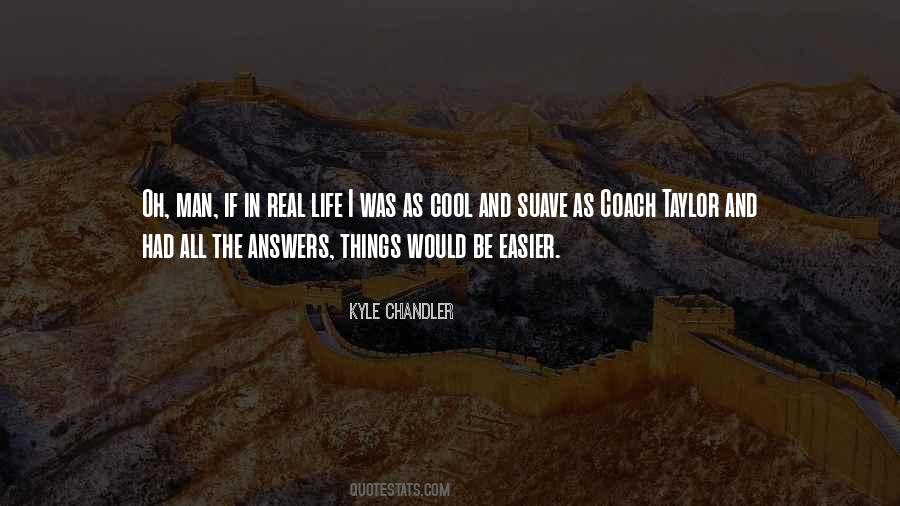 #25. The cool thing about the universe is that it can format itself into tiny little manifestations that are not entirely aware of all aspects of life. - Author: Frederick Lenz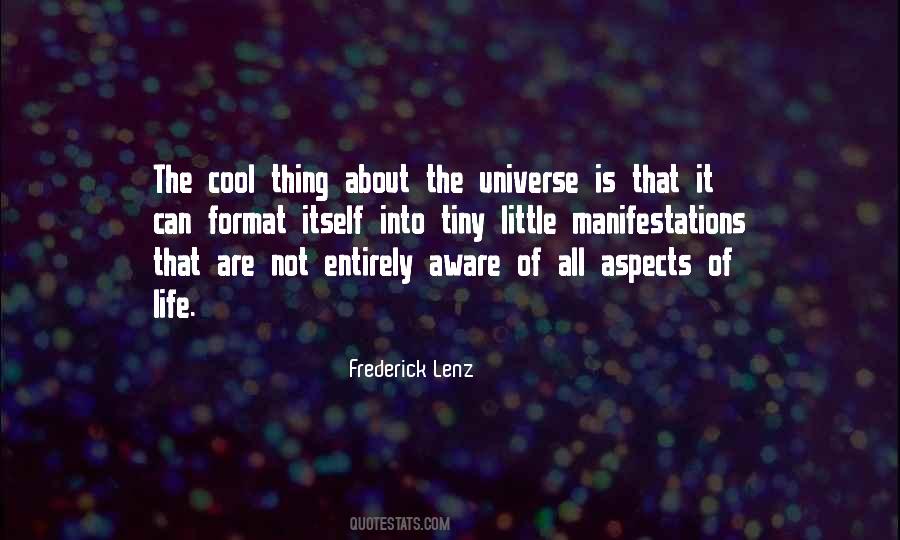 #26. . . . what matters in combat is adaptability, boldness and maintaining A cool exterior, whilst penetrating your enemy's soul with An icy cold stare
- Diary of A Combat Fiend - Author: Soke Behzad Ahmadi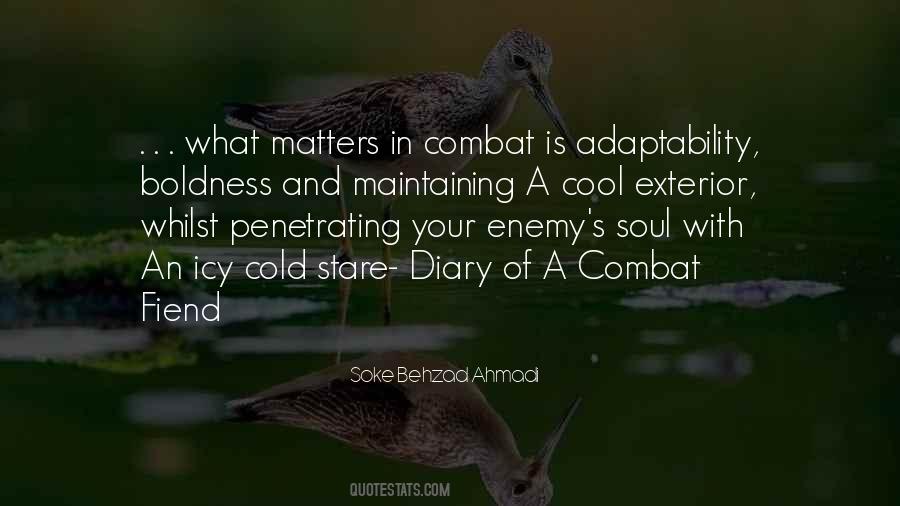 #27. As for super-stardom, I can say that I'm ready for anything. I feel like I've mastered so many stages in my life and the cool thing is, I don't see that energy changing anything. - Author: Aeriel Miranda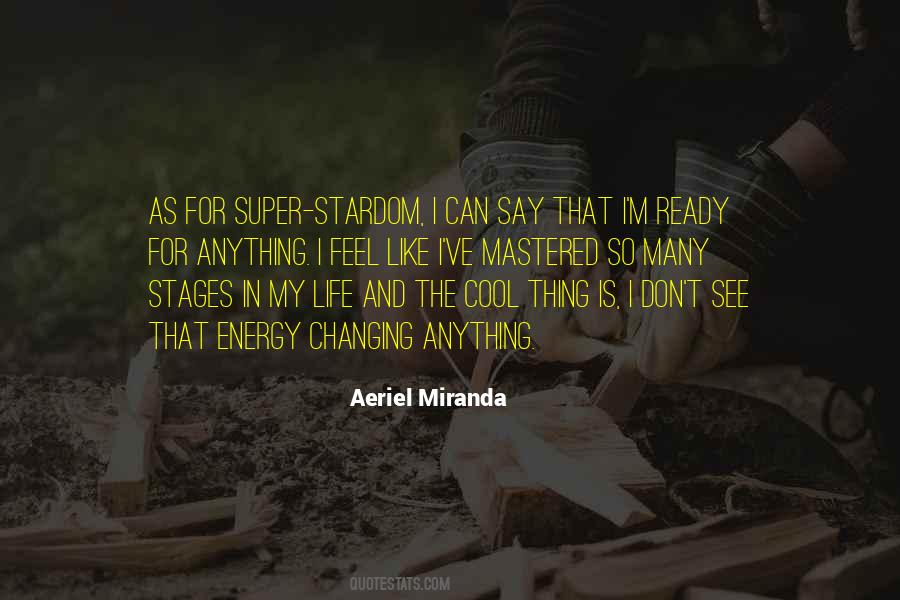 #28. Life is a hot day, perhaps death is a cool night. Life is a shallow bay, perhaps death is a clear, deep sea. - Author: Mika.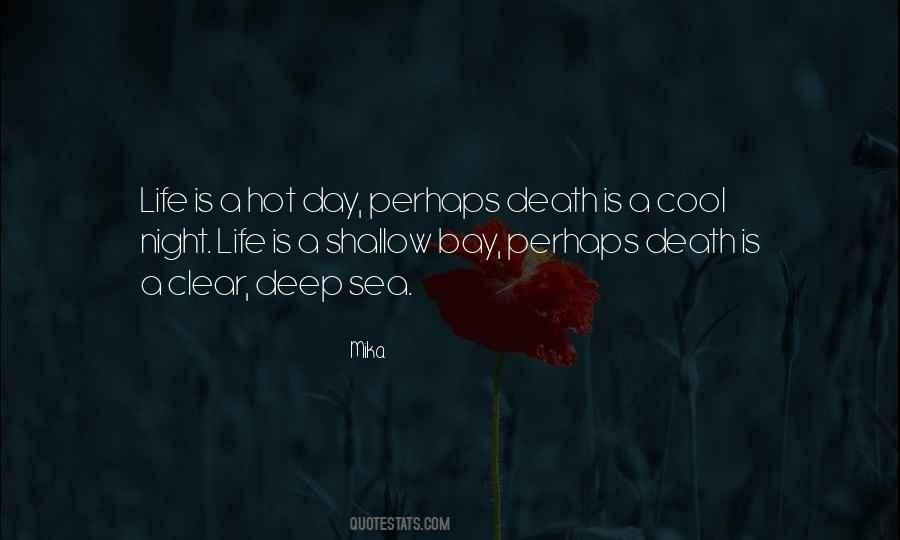 #29. Living independent might come as appalling as the word to anyone but me. The one who thinks it's a cool idea and worth it, has sure forgotten that independence comes with a price. If one doesn't still agree, you gotta try staying at a hostel. - Author: Parul Wadhwa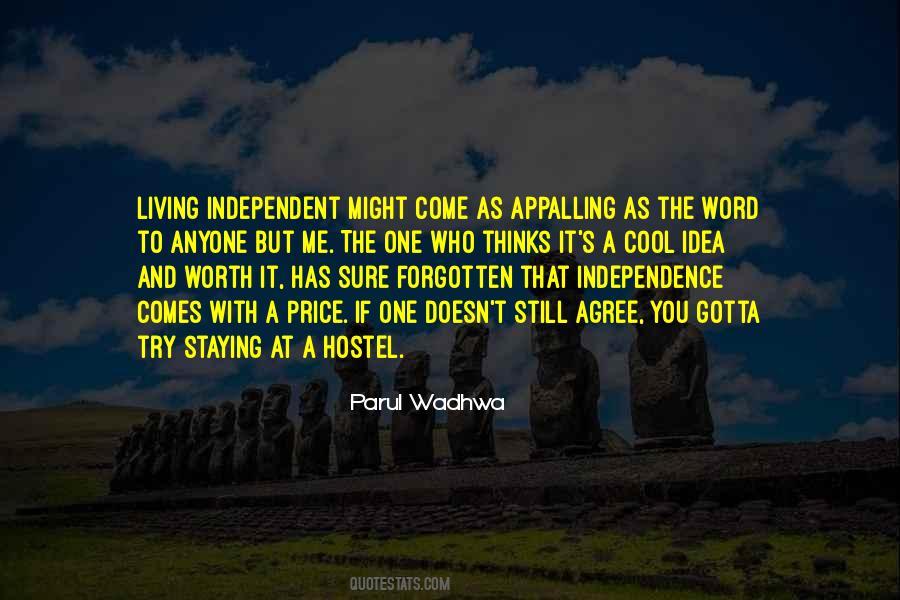 #30. In his former life though, as the cool guy, he would never have picked up a book, especially one with poems in it. - Author: Shaun Meeks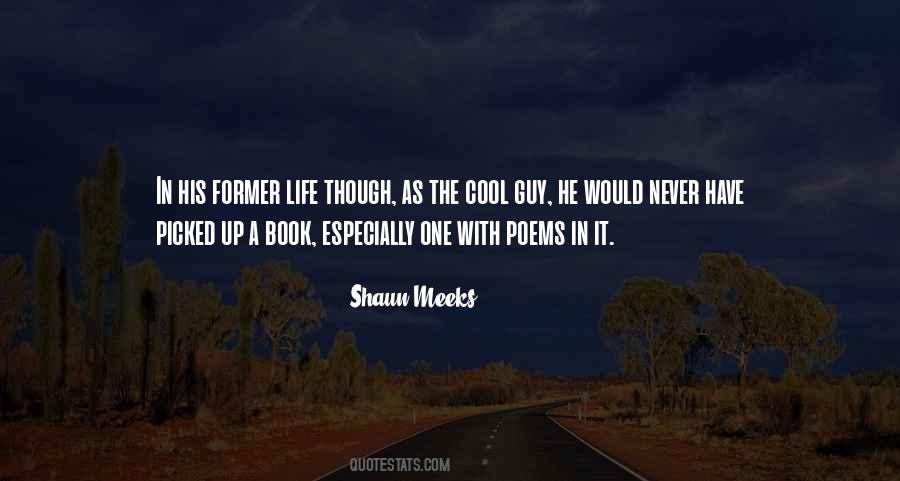 #31. I live a very nice life. I have a wonderful time. But it's not lived drawing on a full level. I'm relaxed, cool, and enjoying it. - Author: Marianne Faithfull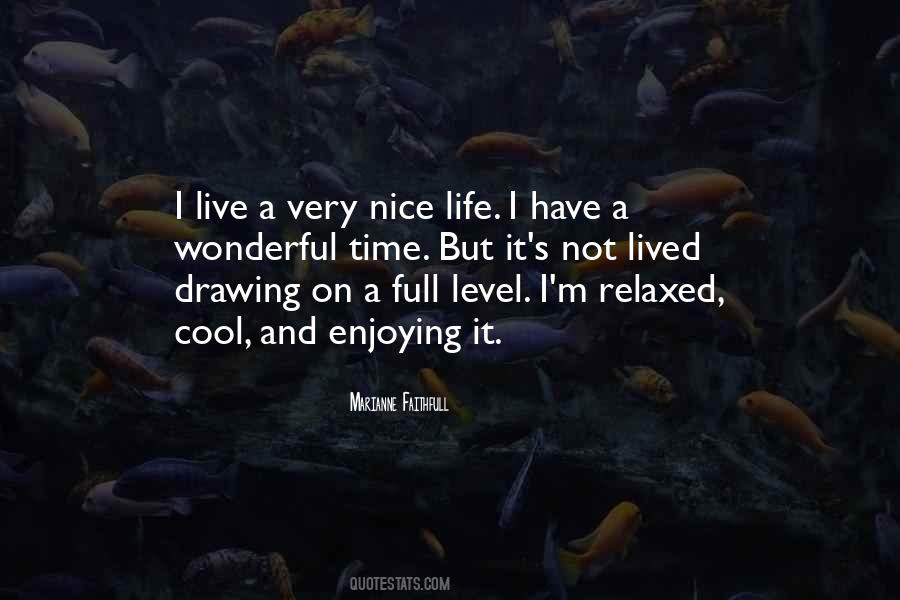 #32. Back in the day, I had this plan for the off chance that I was around for the whole end-of-the-world thing. It involved climbing up on my roof and blasting R.E.M.'s "It's the End of the World as We Know It (And I Feel Fine)" as loud as humanly possible, but real life rarely turns out that cool. - Author: Jennifer L. Armentrout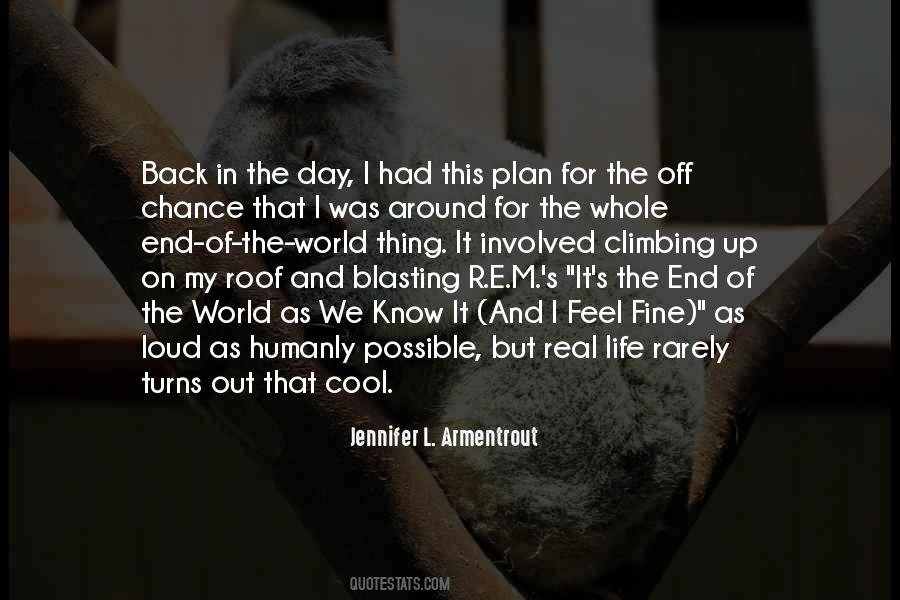 #33. I went to engineering school, which I thought was what I wanted to do, for about two weeks. We had an orientation class and we met this guy where he worked and stuff and it was cool, but I was like, 'There is no way this is going to be my life.' - Author: Evan Glodell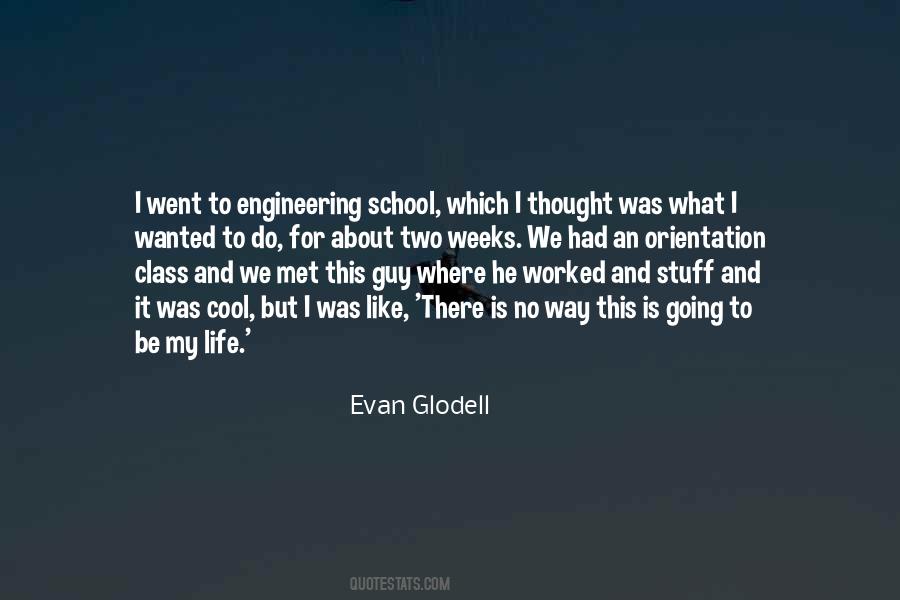 #34. It's not healthy to live life as a succession of isolated little cool moments. - Author: Douglas Coupland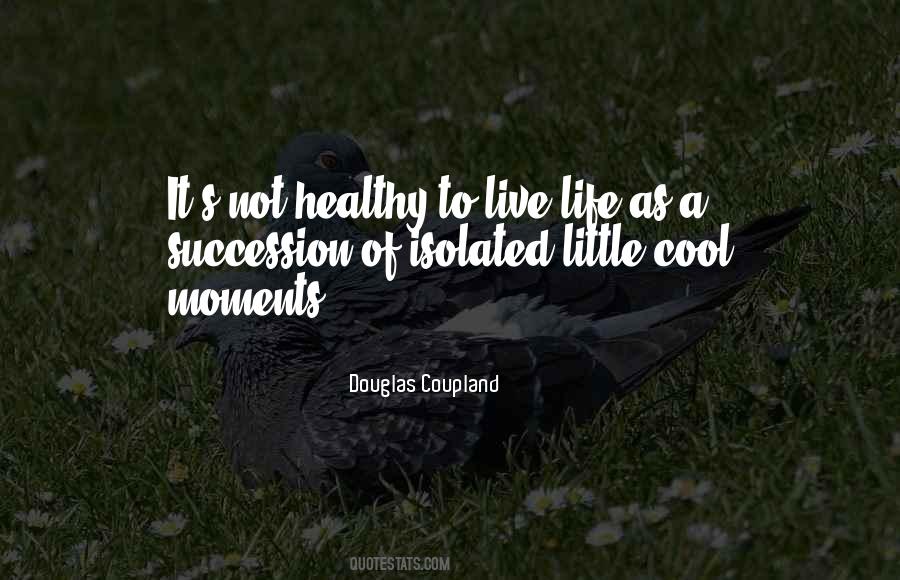 #35. Of course, they're not clowning around trying to make me laugh. They're doing their best to live very serious lives, and they just happen to fall down sometimes. I think that's cool. - Author: Haruki Murakami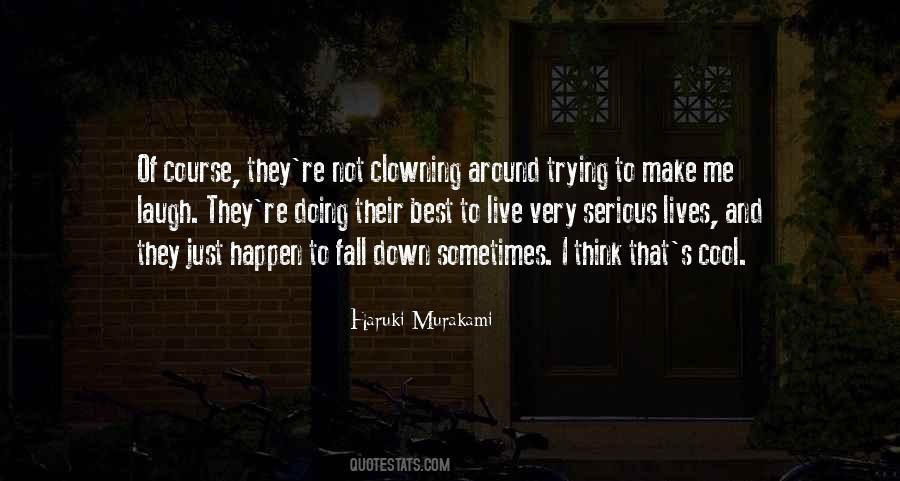 #36. I'd rather have a smaller following of really cool people who get it, who will grow with us as we grow and are fans for life, than people that have us in their five-disc changer with Reba McEntire and Toby Keith. We don't want those kinds of fans. They limit what you can do. - Author: Martie Maguire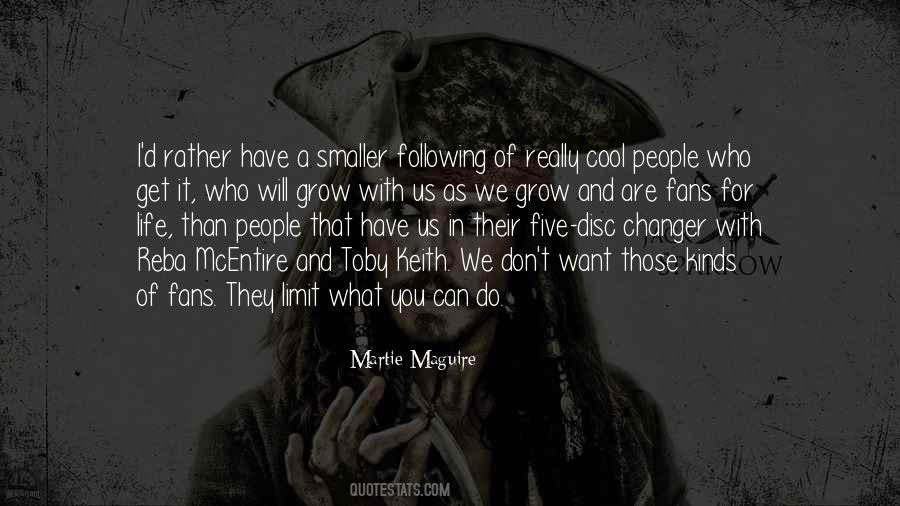 #37. 'In Search of Excellence' - even the title - is a reminder that business isn't dry, dreary, boring, or by the numbers. Life at work can be cool - and work that's cool isn't confined to Tiger Woods, Yo-Yo Ma, or Tom Hanks. It's available to all of us and any of us. - Author: Tom Peters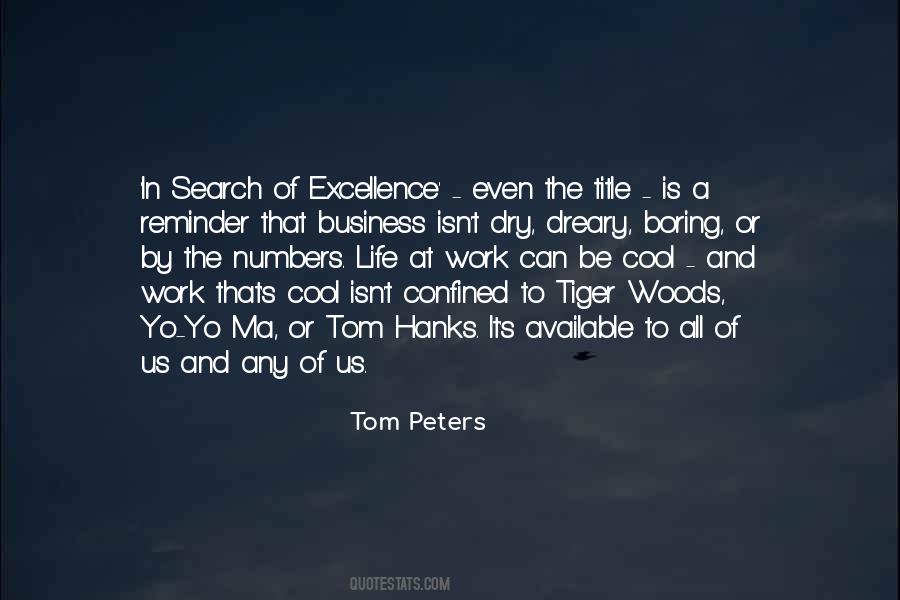 #38. For the better part of my adult life, I proudly avoided nerd/nimrod/goober status. I was always just cool enough. - Author: Steve Carell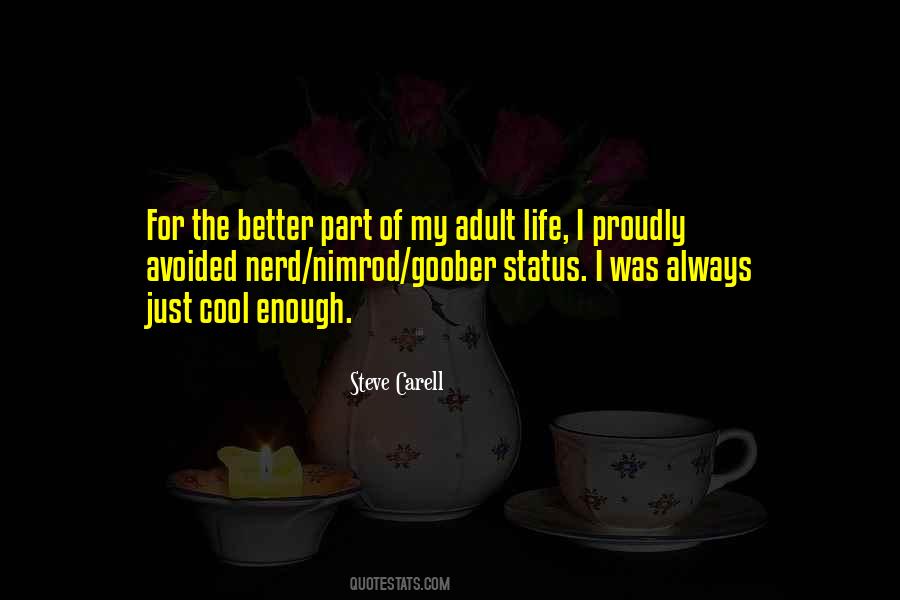 #39. I get ideas from everything. A big color, the sound of water and wind, or a flash of something cool. Playing is like life. Either you feel it or you don't. - Author: Erroll Garner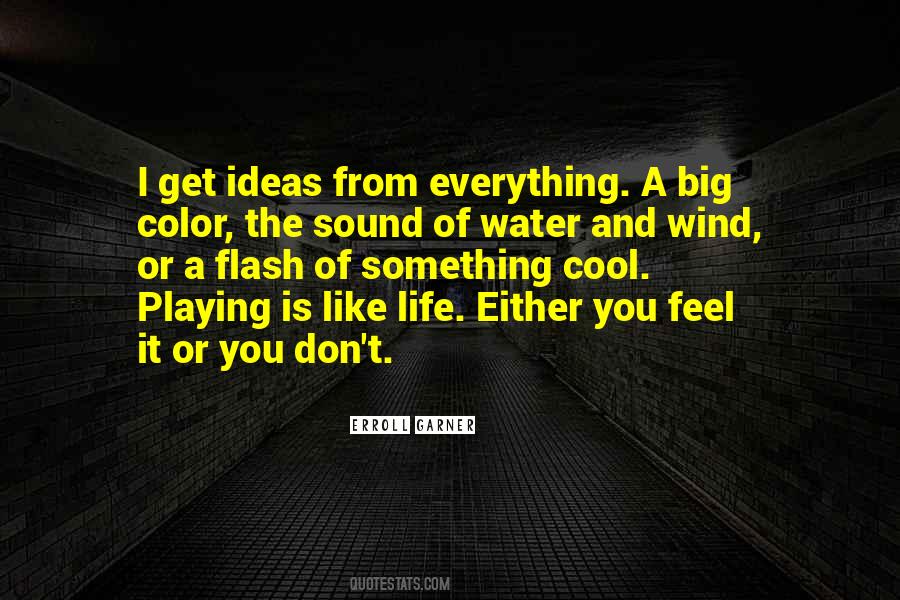 #40. She touched his face and tied his hair back for him. Her hands were cool. He had never felt anything pleasanter in all his life than the touch of her hands. He reached out for her hand. She was not there, she had gone. - Author: Ursula K. Le Guin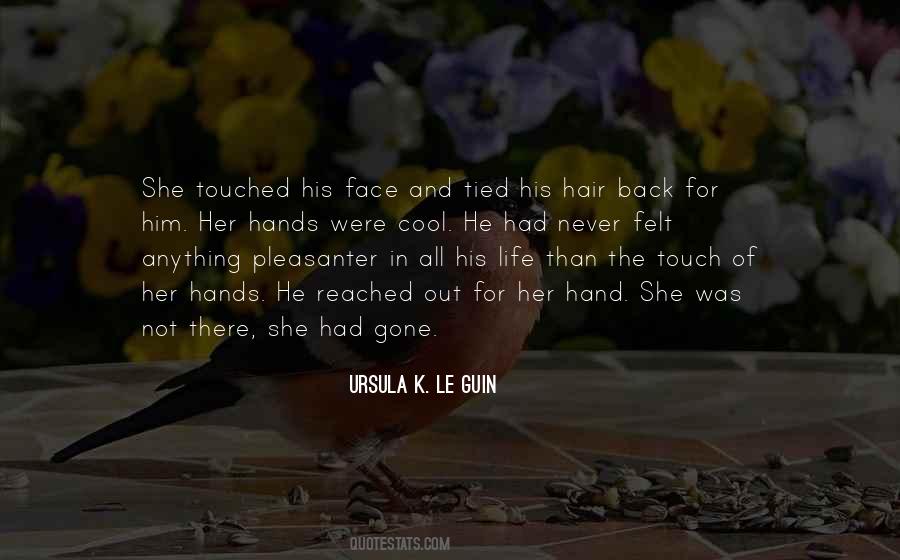 #41. I think sometimes in life we rush and only later look back and say, 'Wow, that was something pretty cool that I did,' and we realize we should have been more aware while it was happening. - Author: Holly Holm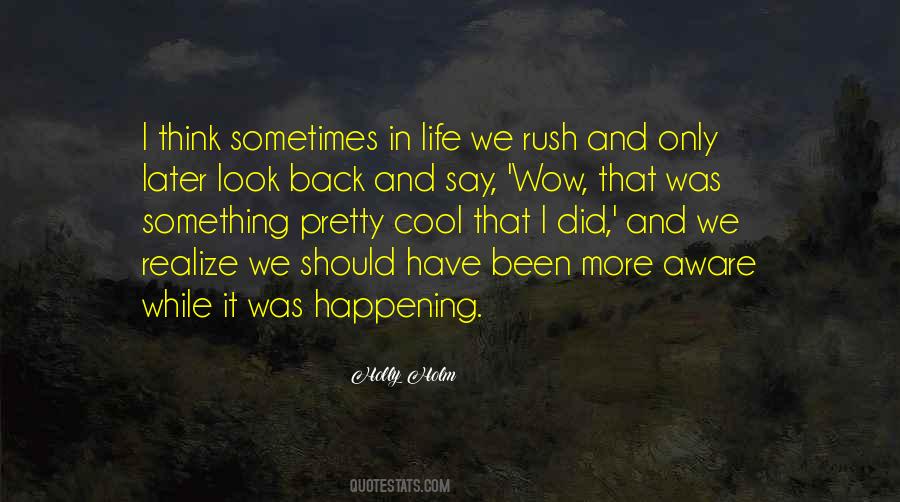 #42. I love the idea of real-life experiences finding their way into fiction. I think that's really cool. - Author: Joel Edgerton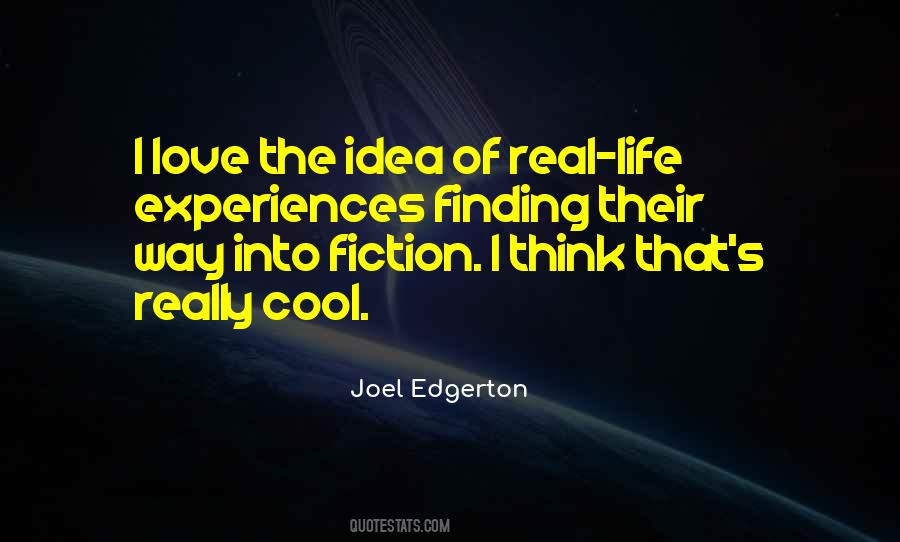 #43. LL Cool J is a huge presence. He is a music mogul. He brings that experience and that life into the room. - Author: Barrett Foa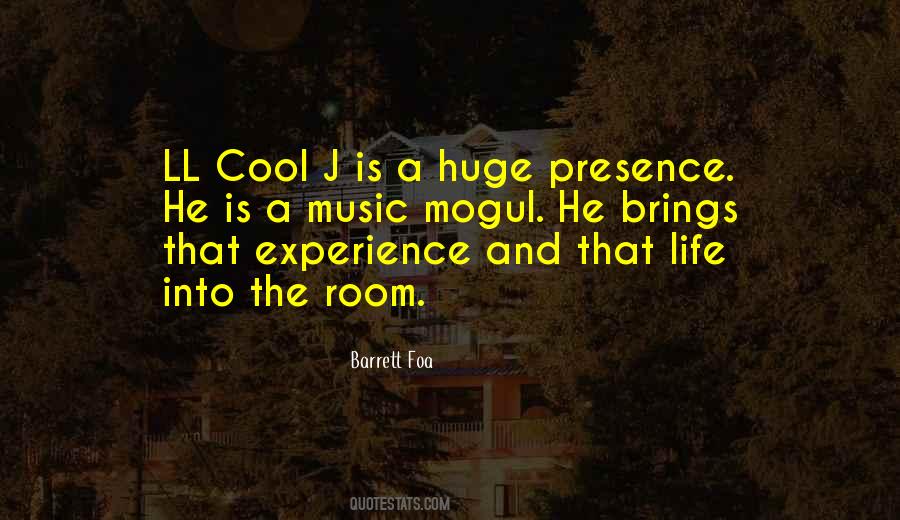 #44. People should think that being a writer is cool. Even if you're just a starving writer. Besides, most great writers were starving at one point or another. It comes with the title. - Author: Zack Love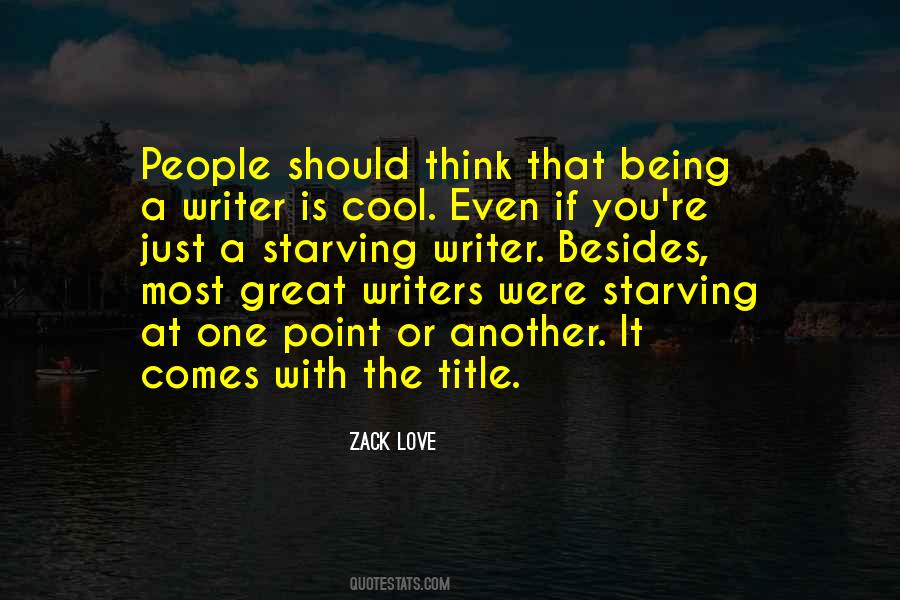 #45. The essence of all practice is to be cool. Life is not worth getting excited about because whatever you perceive is an illusion. - Author: Frederick Lenz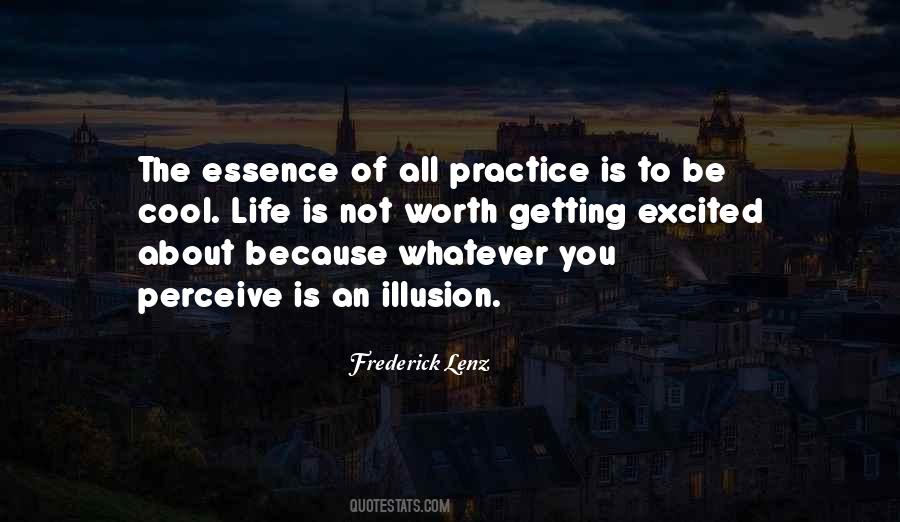 #46. How dare you ever in ya life walk past me without acknowledging their man as God. - Author: LL Cool J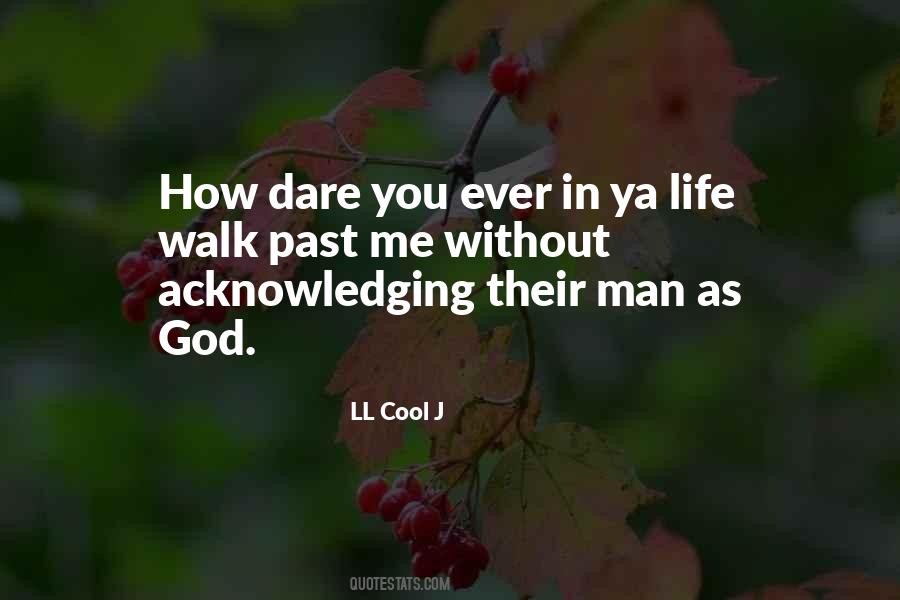 #47. I do resent that when you're in the most cool, powerful time of your life, which is your 40s, you're put out to pasture. I think women are so much cooler when they're older. So it's a drag that we're not allowed to age. - Author: Rosanna Arquette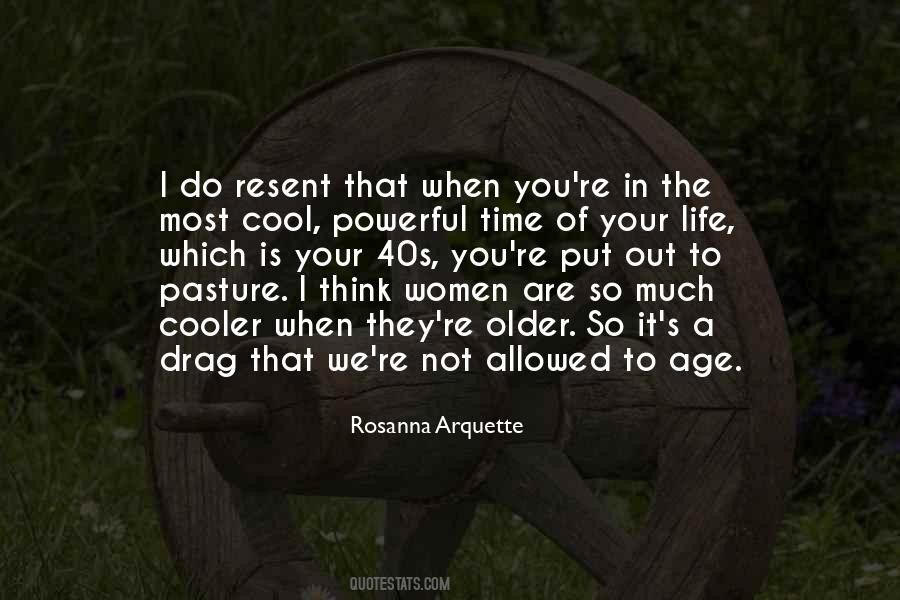 #48. I really liked the snake that breaks out of the cage in the beginning of the movie. I saw it in real life, and it was really cool. Really big and fat. The owls are cool as well, but you can't really pet them. - Author: Tom Felton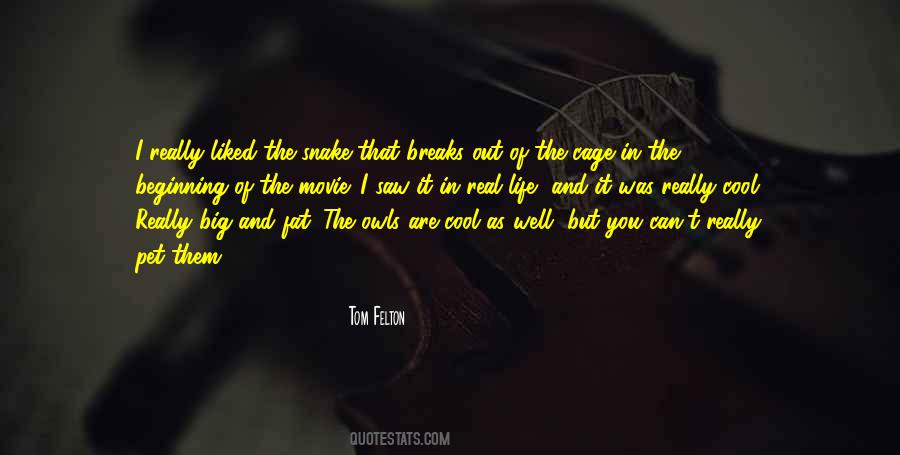 #49. An orange on the table
Your dress on the rug
And you in my bed
Sweet present of the present
Cool of night
Warmth of my life - Author: Jacques Prevert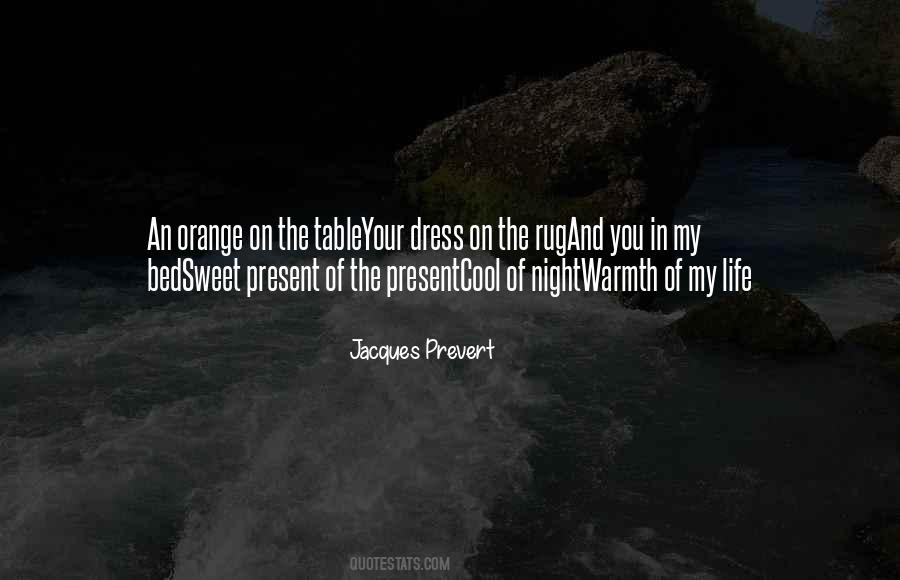 #50. My life's like a big tour. It's cool, I'm still semi-young. I'm not too old yet where it's like, "I hate the road!" As long as I'm not anywhere for too long. I like to keep moving. - Author: Pauly Shore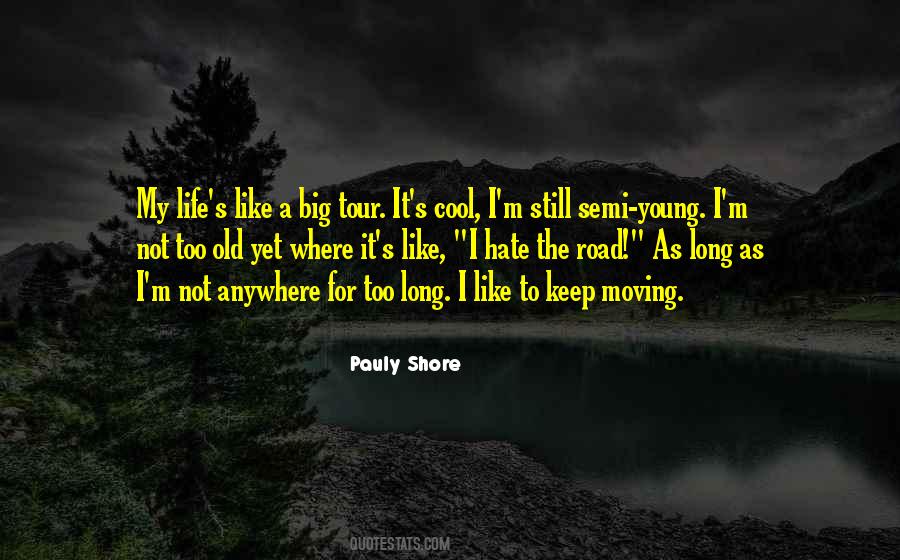 #51. Life is like breakfast: you just mix all ingredients 'cause in your stomach it will all come together. - Author: Tre Cool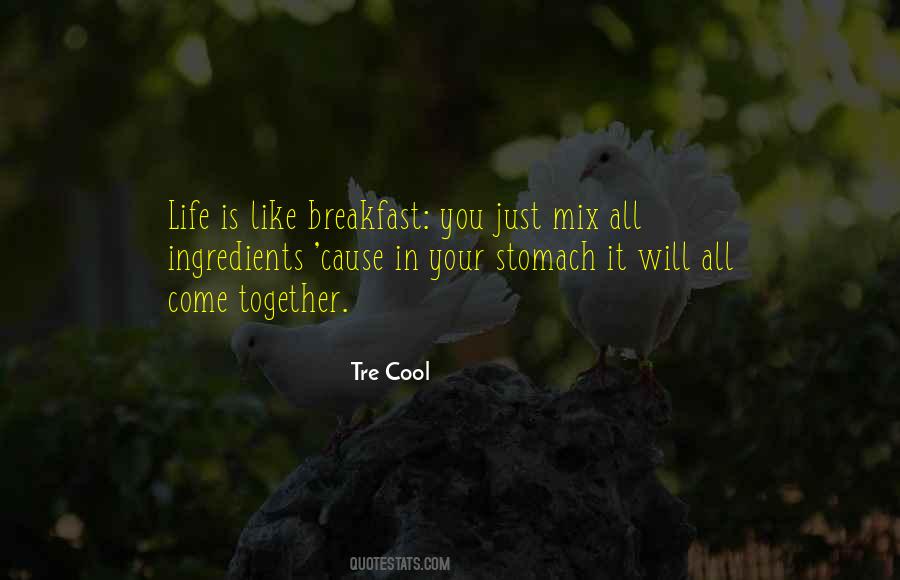 #52. When I saw the Twilight movies I thought being a Vampyre was so romantic. When my friends decided to be Vampyres it was so cool. We would do anything to be like Dwayne and Maria and the rest. I got what I wished for but I have no life to enjoy it with. - Author: Abramelin Keldor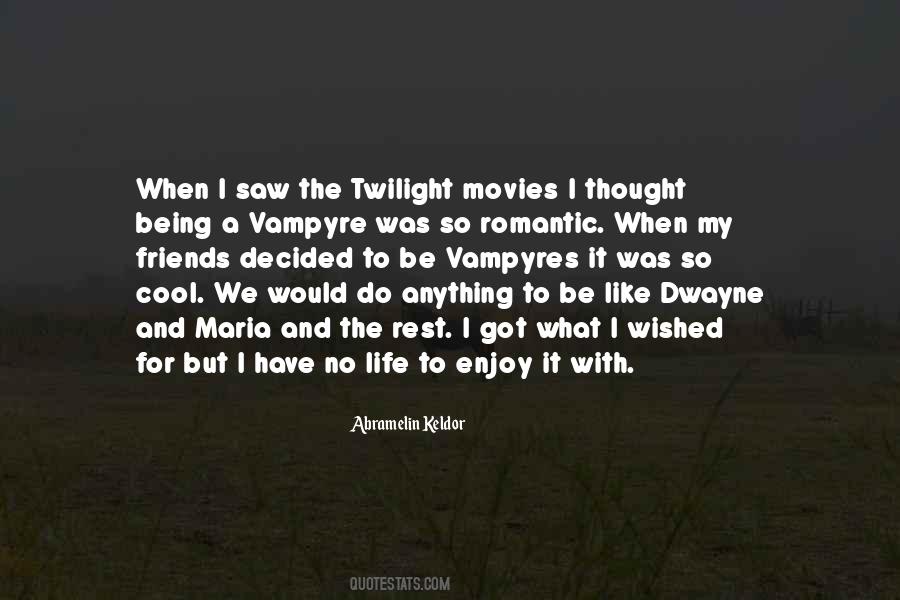 #53. My dad had such a cool job. When you're a voiceover actor, it's a whole different skill - you're bringing these huge, larger-than-life monsters and characters to life. And, also, you have to learn accents. - Author: Ashley Bell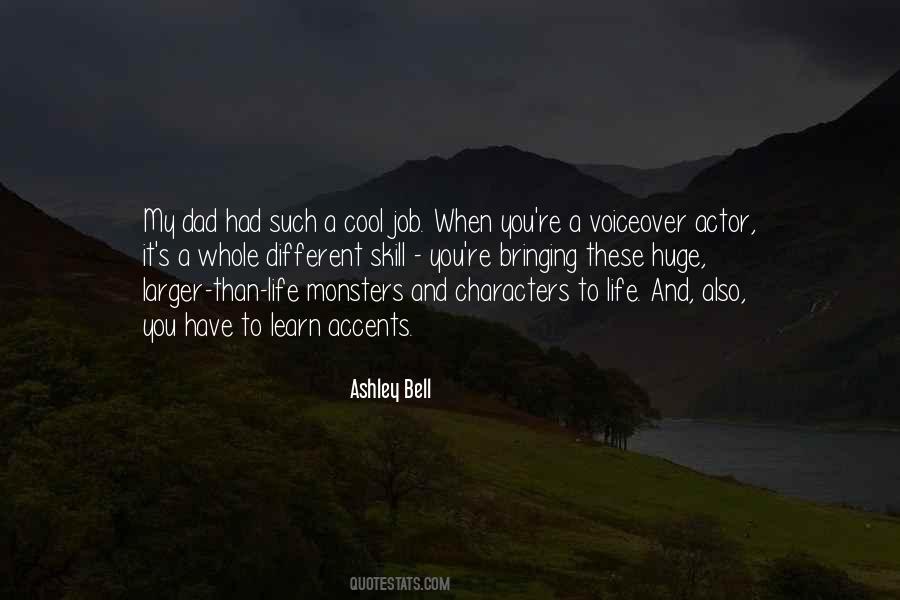 #54. Life is but a story told at one's funeral - Author: Charles Slamowitz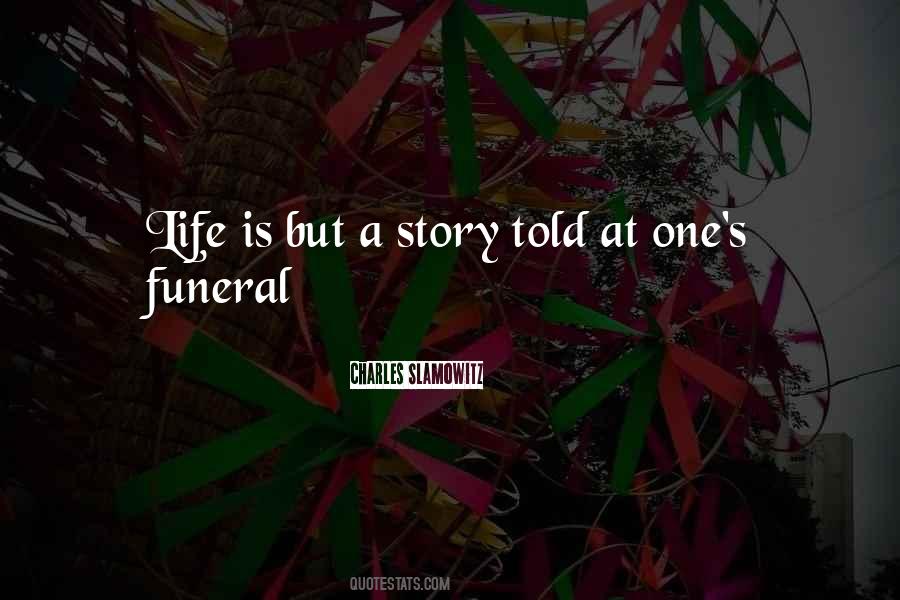 #55. I am what I am, I'm doing very well in my life, and I'm thankful to God for that. - Author: LL Cool J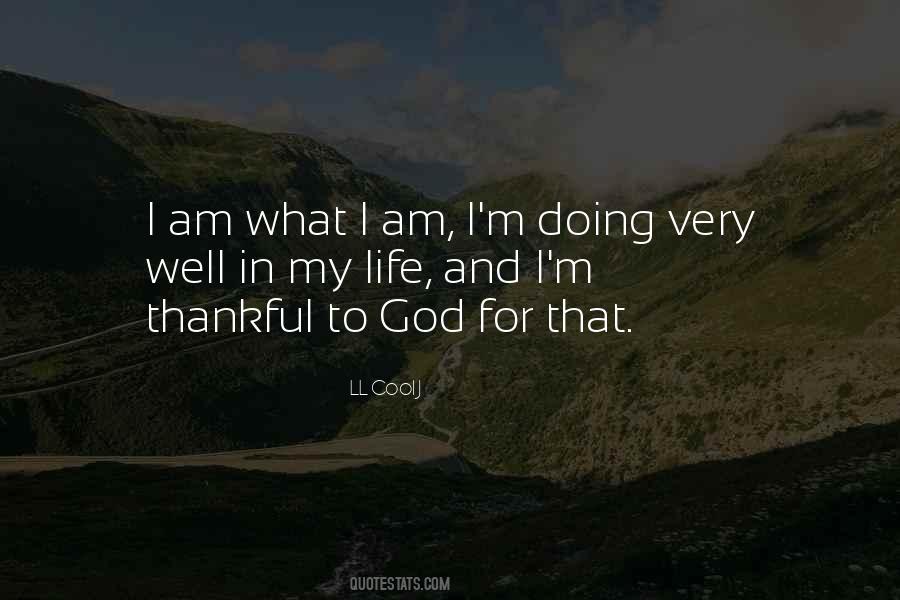 #56. Only the dead are truly smart, truly cool. Nothing touches them. While I live, however, I side with bumbling suffering crooked life, with anger rather than boredom, with sweet lust, hunger & carelessness ... against the icy avant-guard & its fashionable premonitions of the sepulcher. - Author: Hakim Bey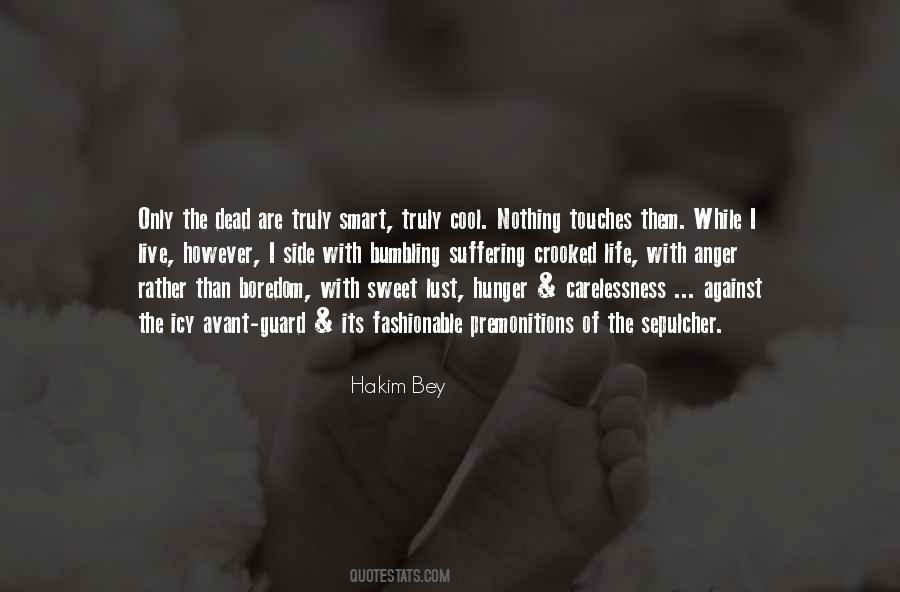 #57. Why does everyone have to be so cool all the time? And also why do white people always have to act like black people to avoid looking like dorks? - Author: Sarah Miller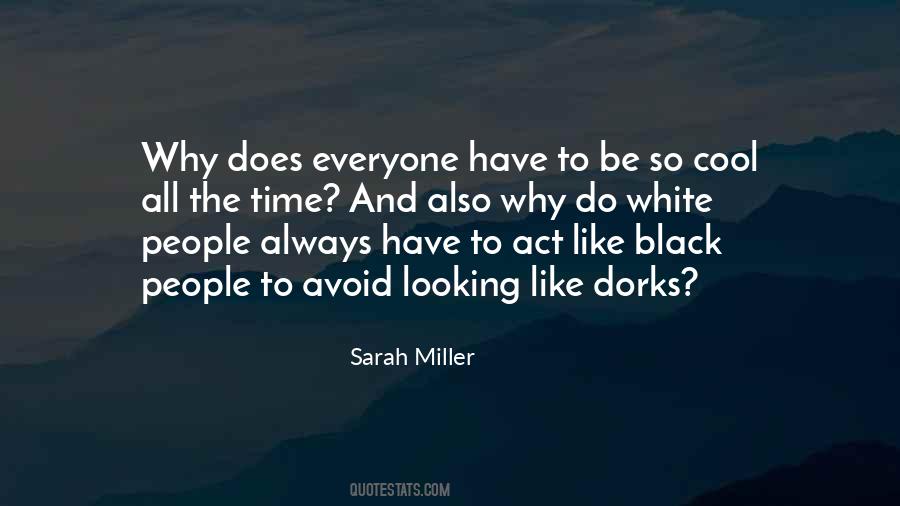 #58. The most devout moments of my life have been spent in bed at night listening to those bells. They flood over me, drawing me out of myself. I know where I am suddenly; part of this town and happy. I lean out of the window and am washed by the cool air, air it seems no one has yet breathed. - Author: James Salter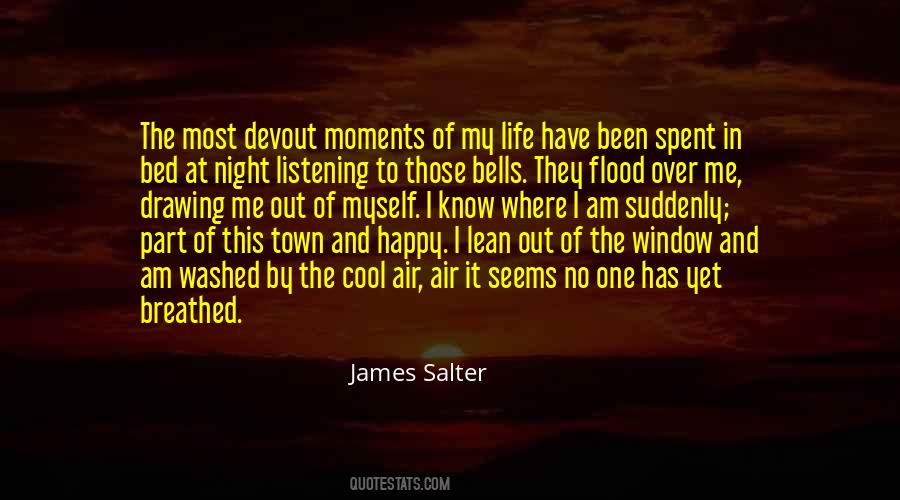 #59. 'Allen Gregory' came about because we wanted an animated show and we were just tossing around some ideas about me playing a 7-year-old. We thought that would be cool, because we couldn't do that in real life. - Author: Jonah Hill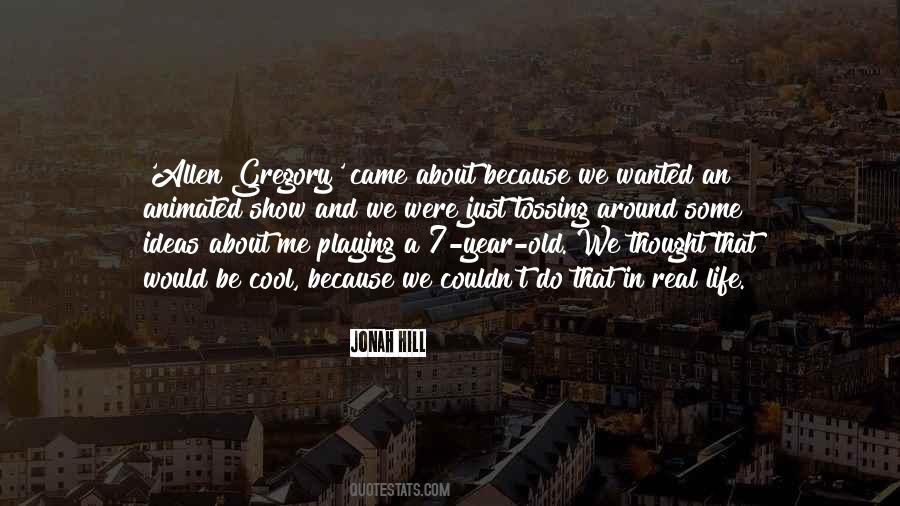 #60. Why, Yrael?" it said, as the last of the dark gave way to silver, and the shining sphere of metal sank slowly to the ground. "Why?"
"Life," said Yrael, who was more Mogget than it ever knew. "Fish and fowl, warm sun and shady trees, the field mice in the wheat, under the cool light of the moon. - Author: Garth Nix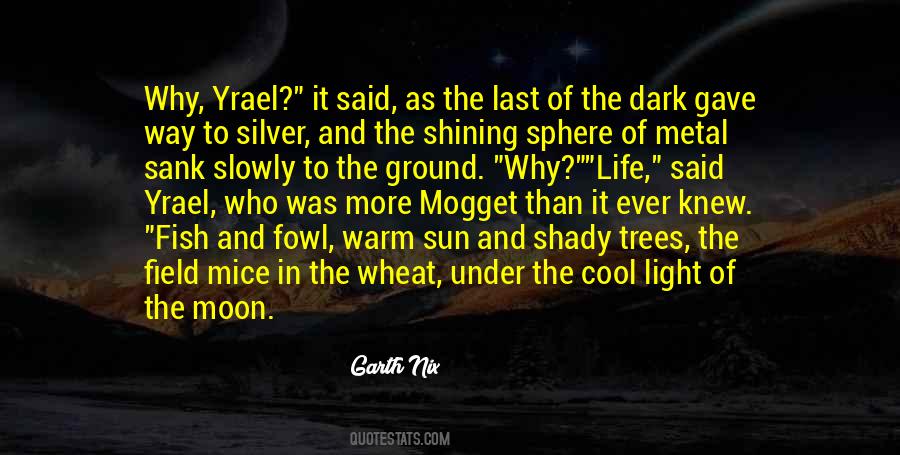 #61. ...I learned the lesson that, even after the revolution, cool, handsome and confident is always going to beat weird-looking and needy. - Author: Alexei Sayle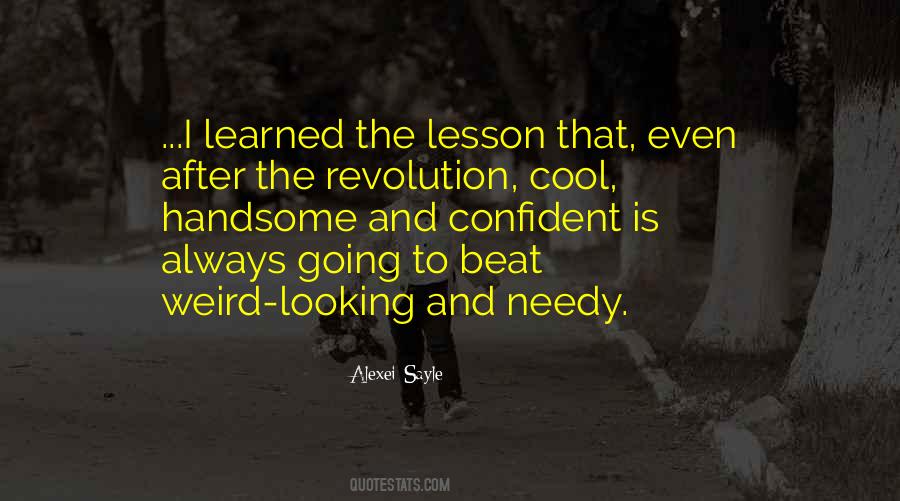 #62. I avoided reality for most of my life. But once you deal with it, it's kind of cool. - Author: Roseanne Barr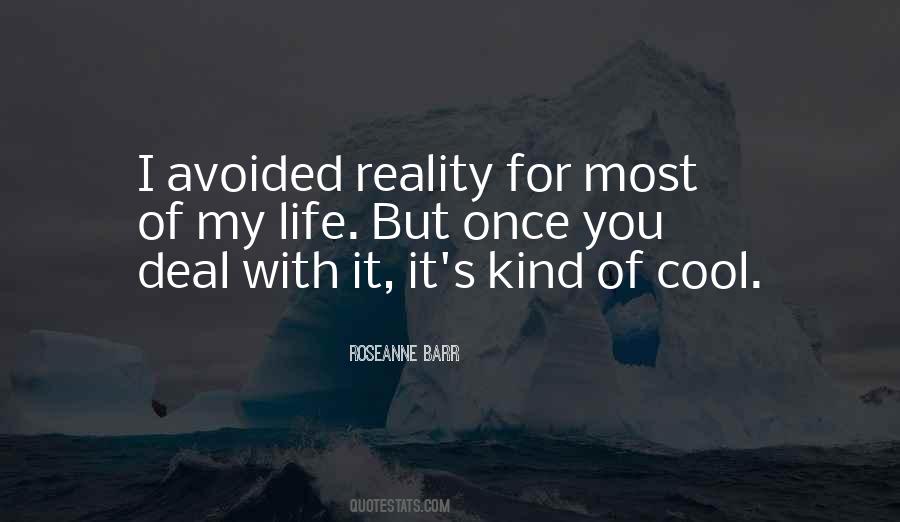 #63. I'm not the type of artist that's like, 'Let's go out and party and dance your life away!' I think those artists are so cool, but I wanted meaning in my songs and they have messages. - Author: Claudia Lee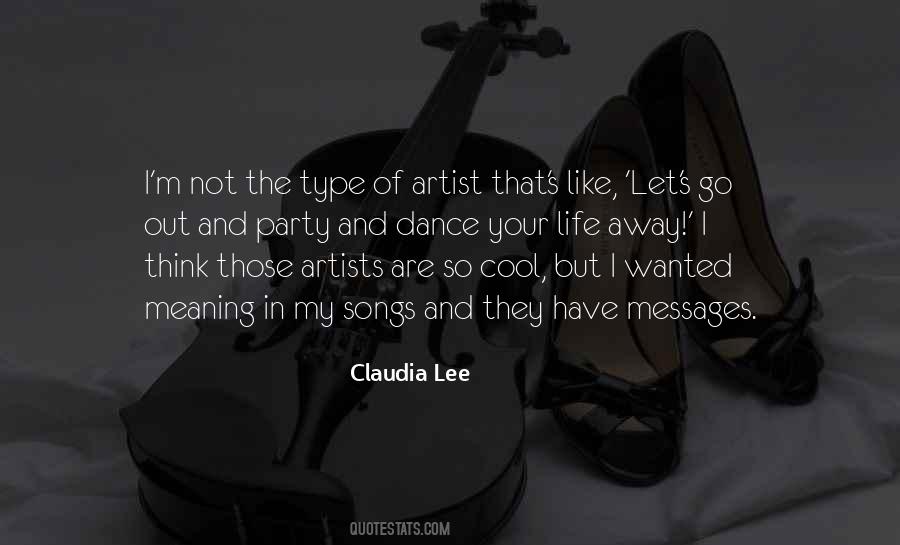 #64. I do love this physical world. I love this physical life with you. And the air and the country. The backyard, the gravel in the back alley. The grass. The cool nights. Lying in bed talking with you in the dark. - Author: Kent Haruf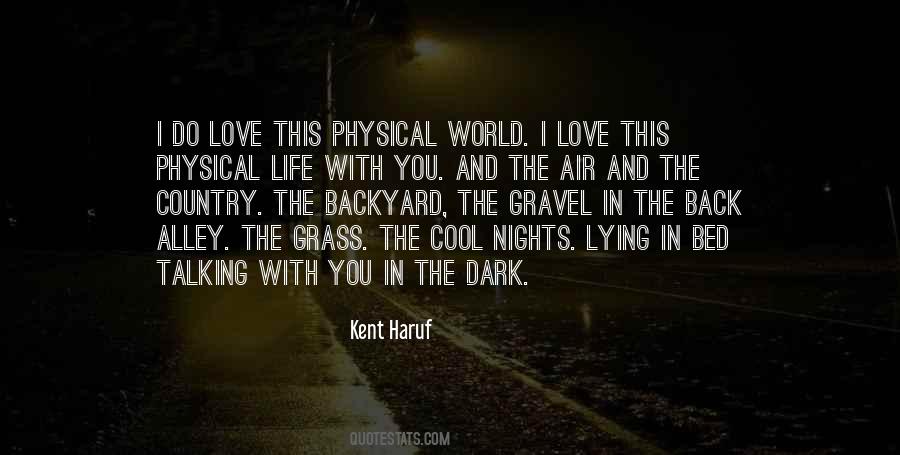 #65. There's something in life that's cool, it's relatively cheap, and fun, and populist. Even when it's elitist. - Author: Stephen Malkmus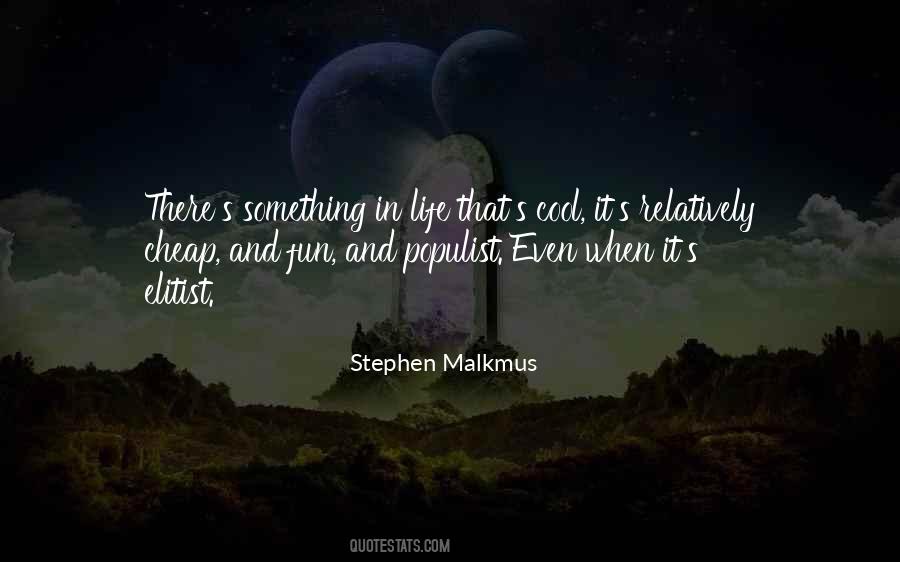 #66. It was cool to wake up knowing your day would include someone else in a way that was integral to life. - Author: Kristen Ashley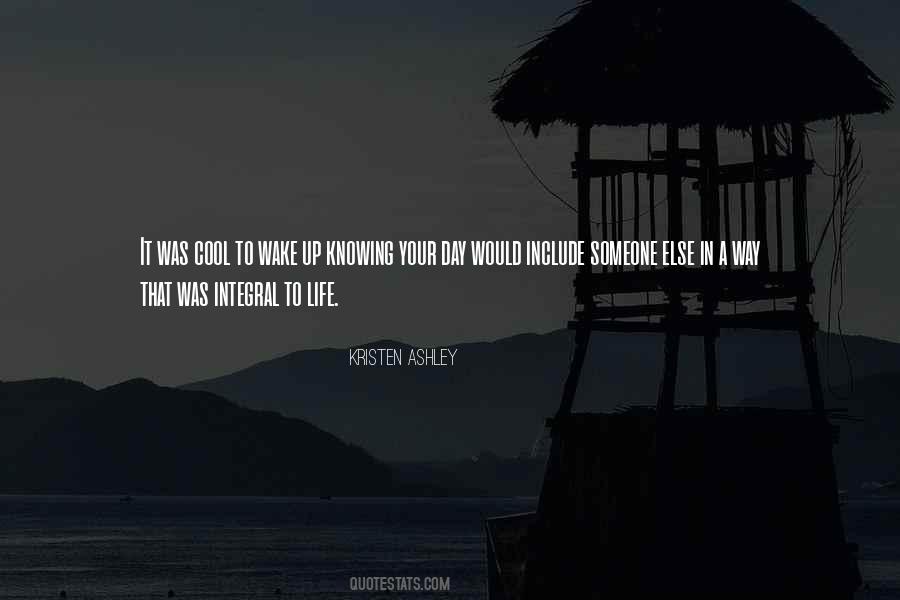 #67. Count the inspirations. The exquisite inspirations that have whispered in the night. And swum away like fish in the cool of morning. Would any of them have altered the patterns of your life? The precise arrangement of your atoms? - Author: Jay Woodman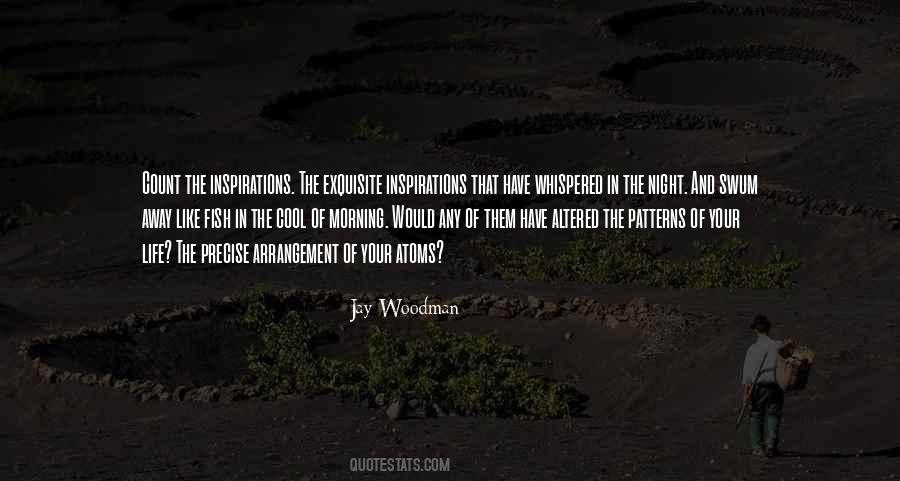 #68. I started to find that music was something that really brought a lot of joy into my life, and it was sort of cool because I discovered that I had a gift for it, too. So the stuff I would listen to I could play along, I could sing along. - Author: Corey Taylor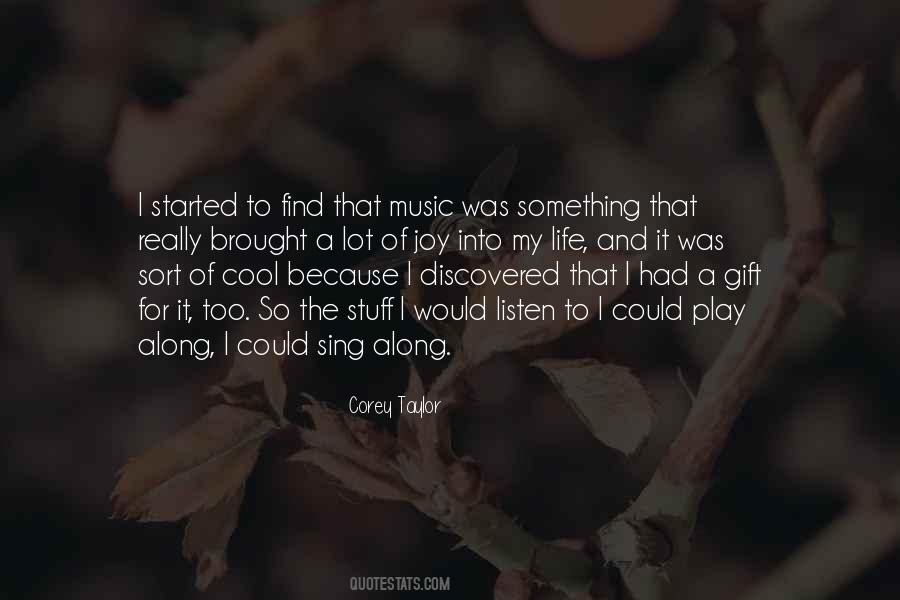 #69. I don't think a show's ever changed networks in the middle of the season before, but it was cool because they gave us those extra couple years of life that was necessary to get us to syndication. - Author: Donal Logue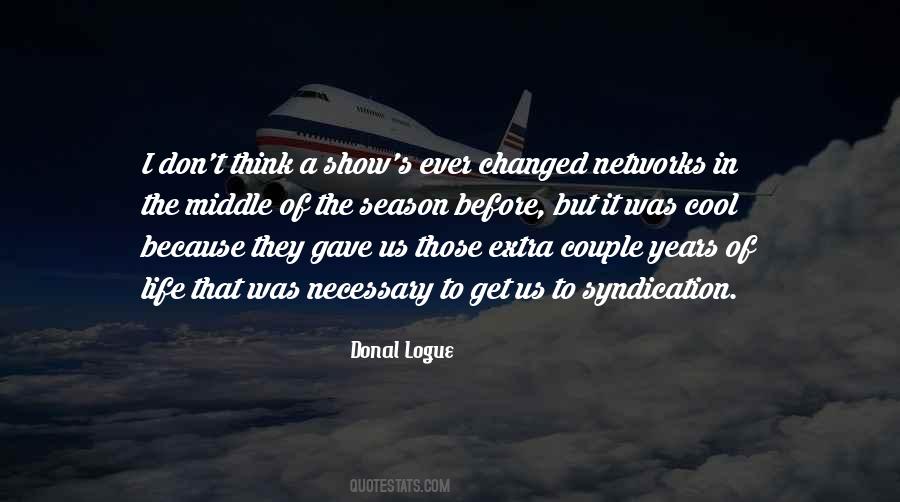 #70. Being a kid and growing up is such a cool part of life. - Author: Devon Werkheiser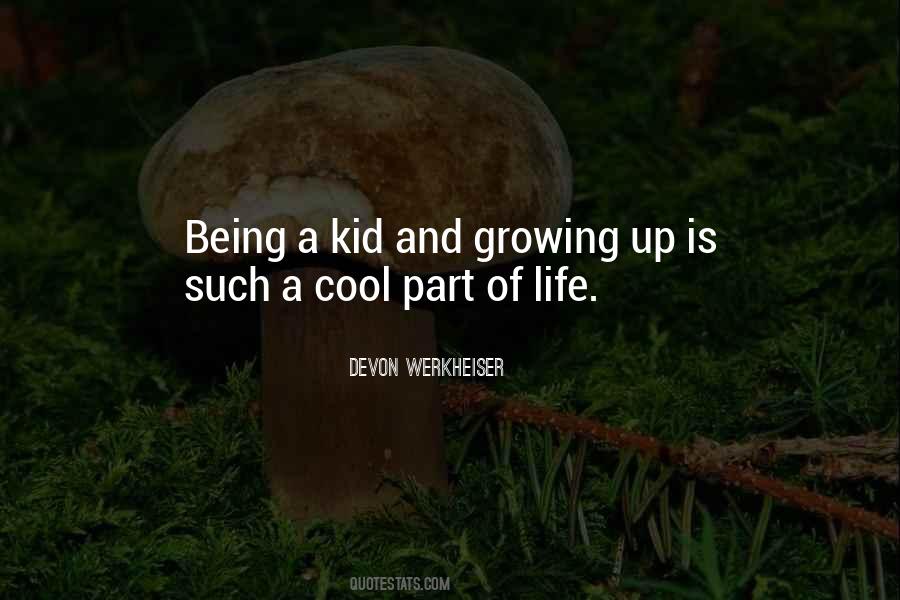 #71. I was just a big fan of tattoos always growing up, and I wanted something cool that symbolizes what I've been through in my life, and everything on my chest and my back is like a collage. - Author: Kevin Durant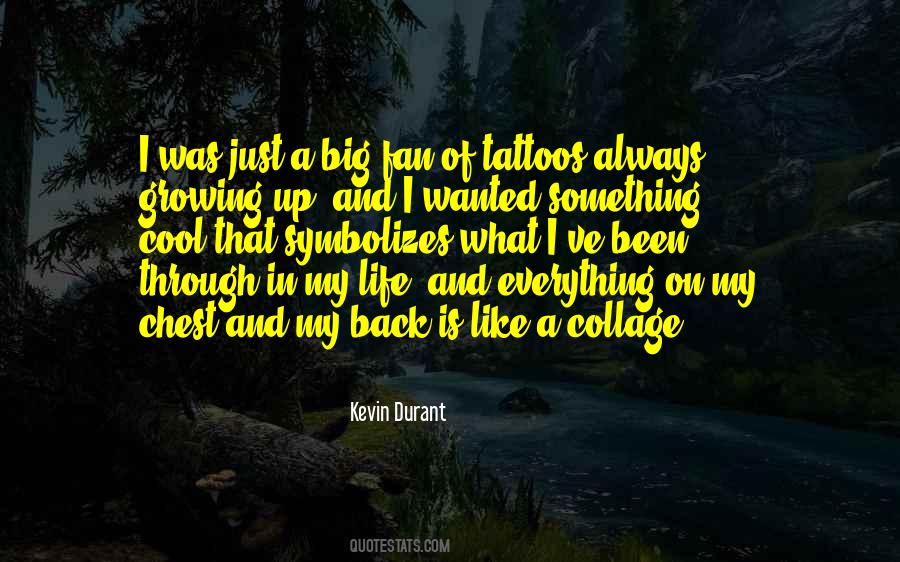 #72. Violence in real life is terrible; violence in movies can be cool. It's just another colour to work with. - Author: Quentin Tarantino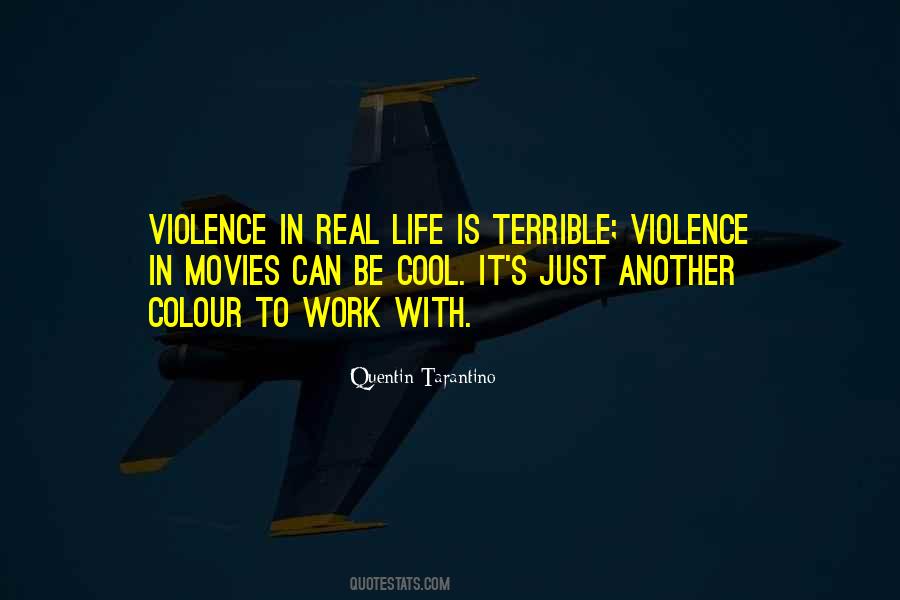 #73. I have a kind of boring personal life, to the paparazzi anyway, and I don't hang with the cool crowd. - Author: Diane Kruger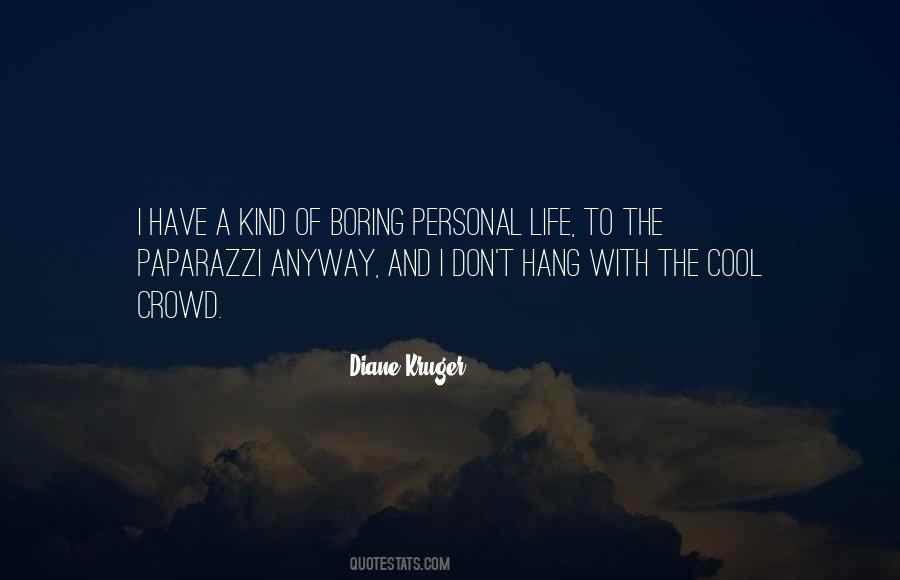 #74. Along the cool sequestered vale of life,
They kept the noiseless tenour of their way. - Author: Thomas Gray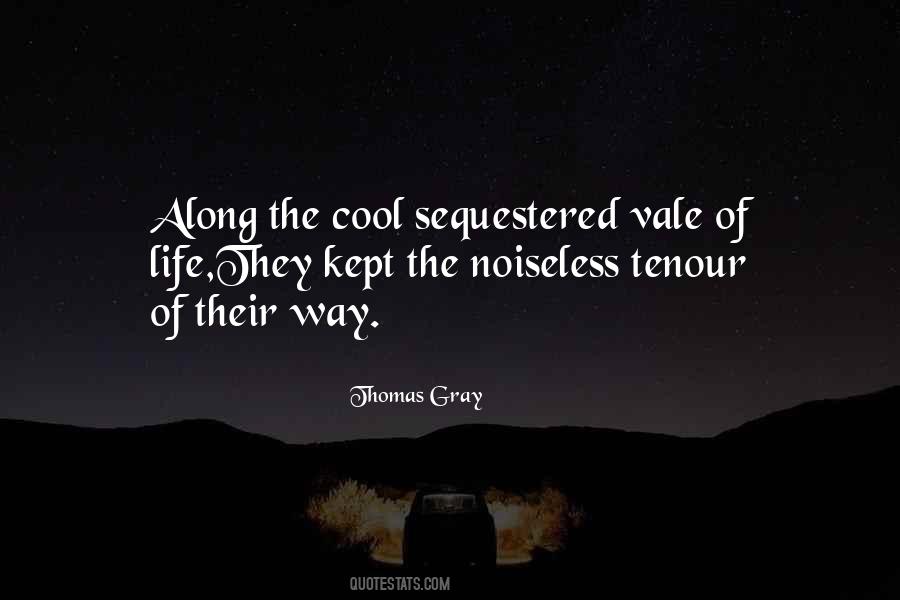 #75. If you meet someone on the street that likes something that you did or likes the way you brought this character to life, that's really rewarding. That's really cool. - Author: Elden Henson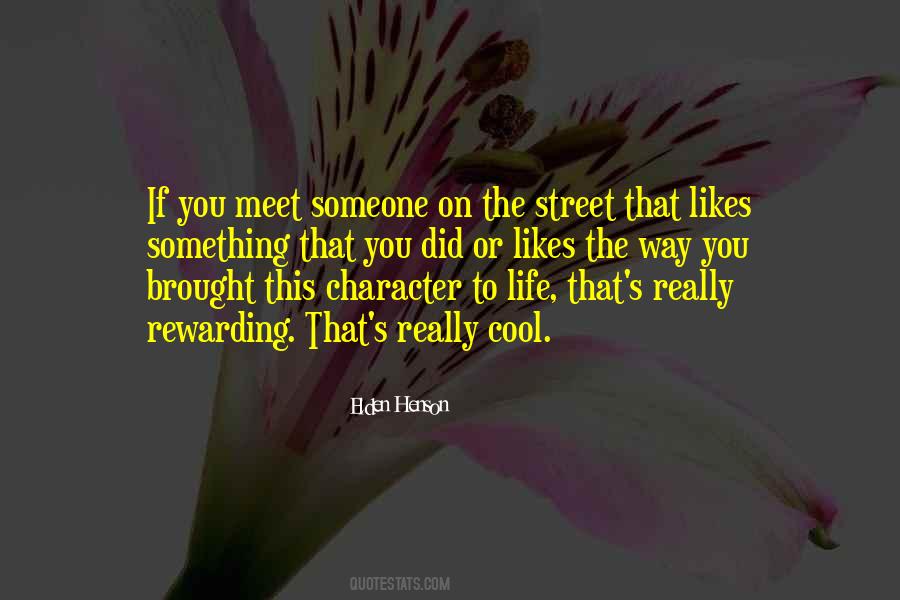 #76. And you know that anyone who at least once in his life has caught a perch or seen blackbirds migrating in the fall, when they rush in flocks over the village on clear, cool days, is no longer a townsman, and will be drawn towards freedom till his dying day. - Author: Anton Chekhov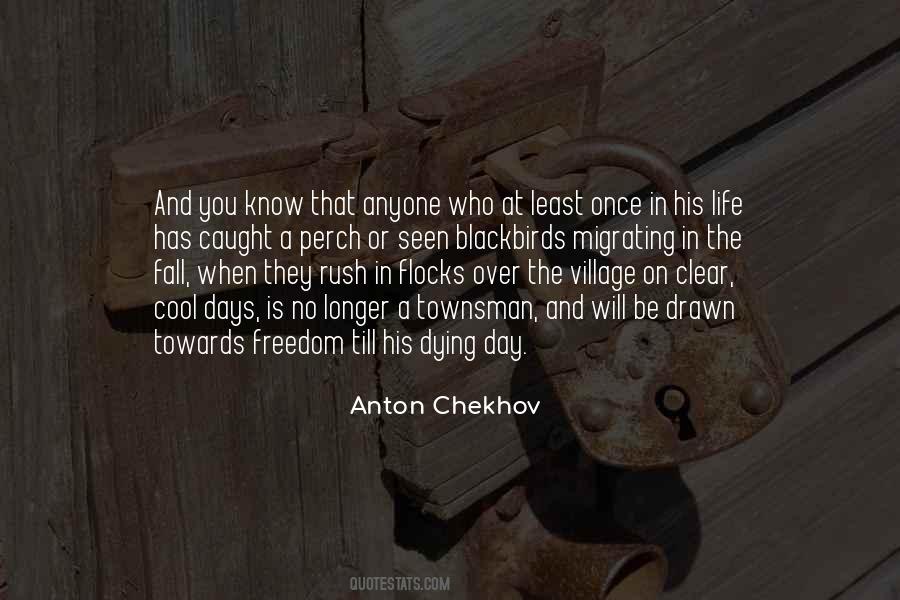 #77. Inspire your children. I promise, your kids will think you're cool if you do this. They may not tell you that now, but they'll thank you later in life. - Author: Laura Marano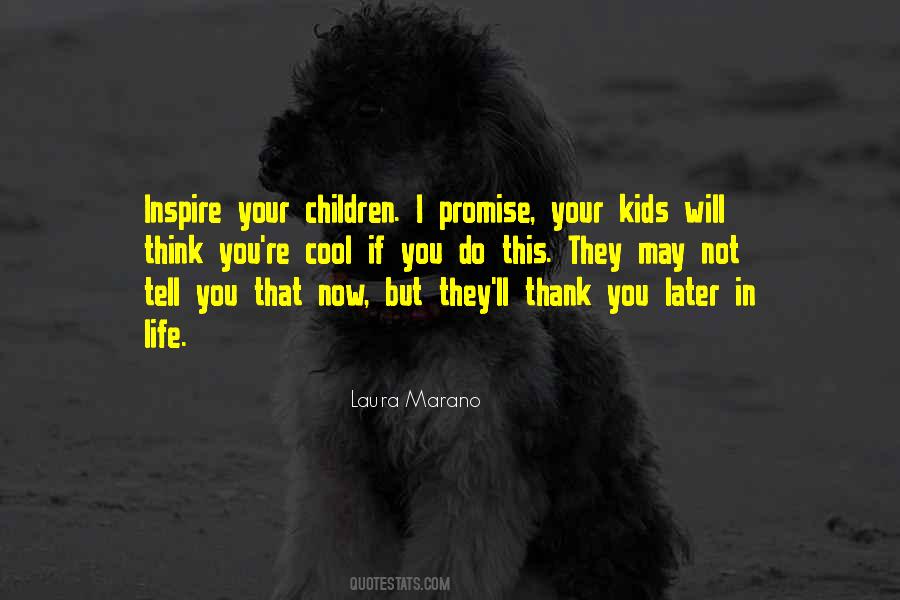 #78. Autumn brings the falling of leaves and cool days. - Author: Lailah Gifty Akita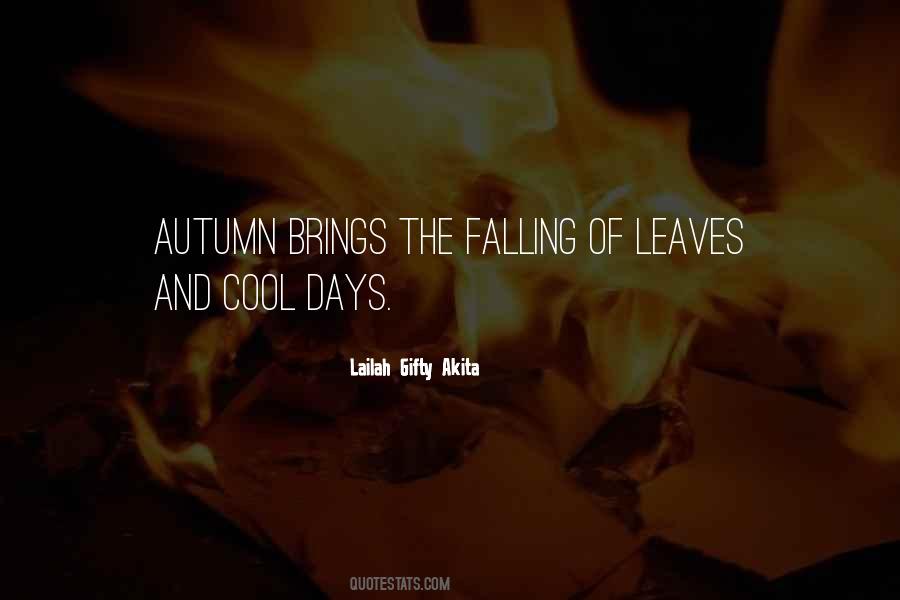 #79. I like birthdays because we celebrate life with cakes. It's so cool. Sometimes when I see a baby, I'm like that much more cake in the world. But then when someone dies, I'm like the cake streak is over ... - Author: Demetri Martin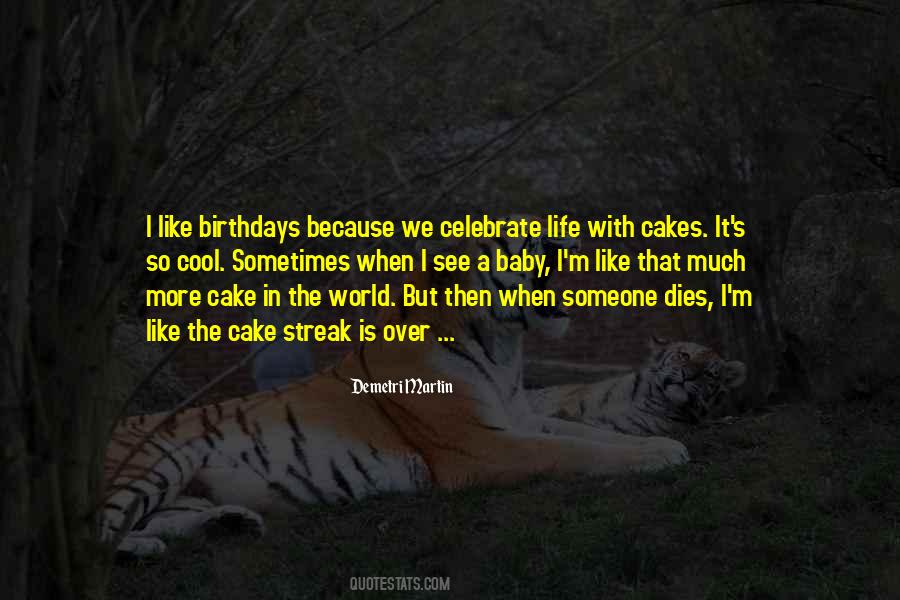 #80. Dinosaurs was a cool idea, but we just couldn't find a way to make it really fun. We've got a bunch of great game ideas that we want to bring to life over the next several years. - Author: Sid Meier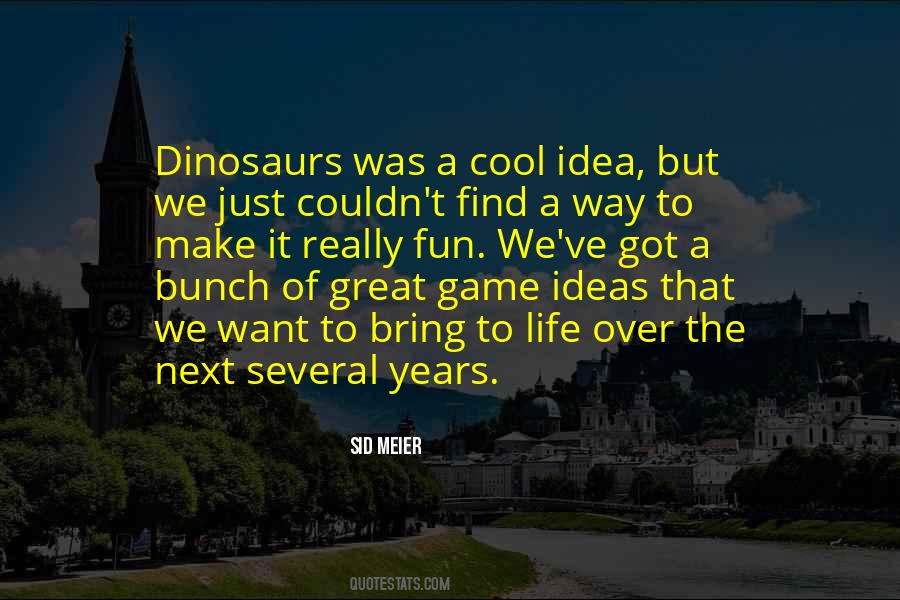 #81. As a kid I never knew,I'd have to hustle just to make it through so I found myself skippin' school 'cause the gurl don't think I'm cool - Author: Knight Mayor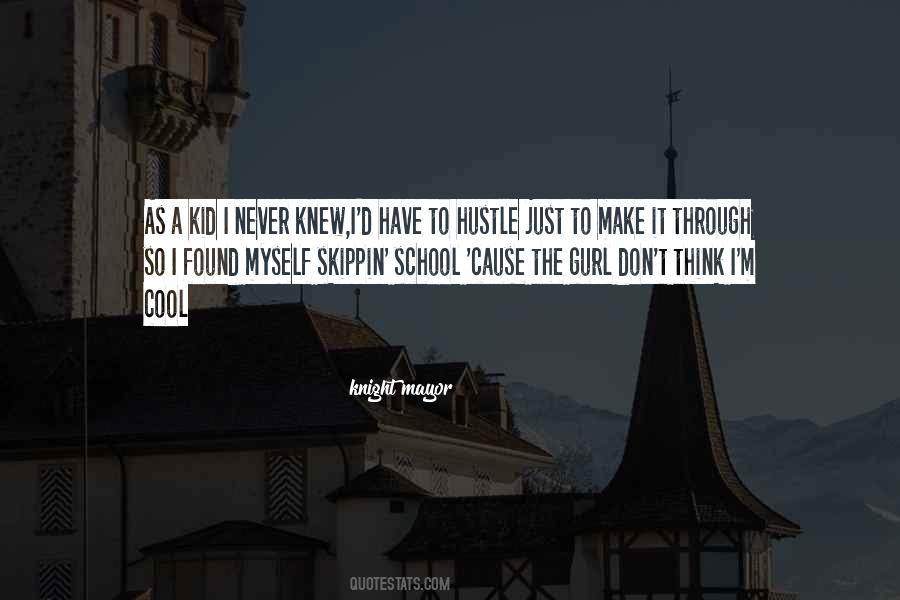 #82. I'm finding, as I get older, that I'm not much of a believer in redemption. I mean, I believe in redemption in real life - redemption does happen, and it's cool when it does - but I find myself getting leery of my desire for it in stories (especially my own). - Author: George Saunders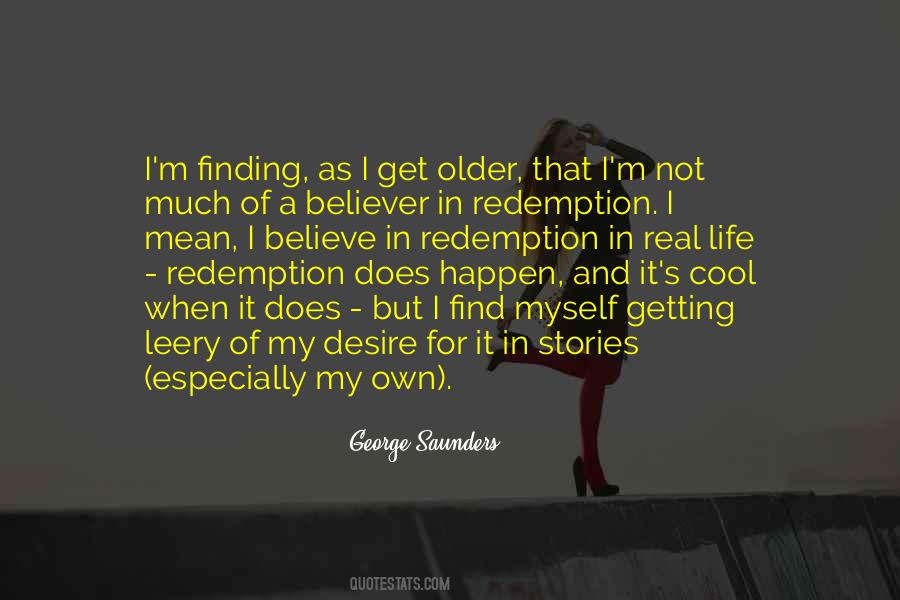 #83. You can't be happy at work every day. No matter how much you love your job, there are still going to be bad days. And that's cool - it's always OK to have a bad day at work. - Author: Alexander Kjerulf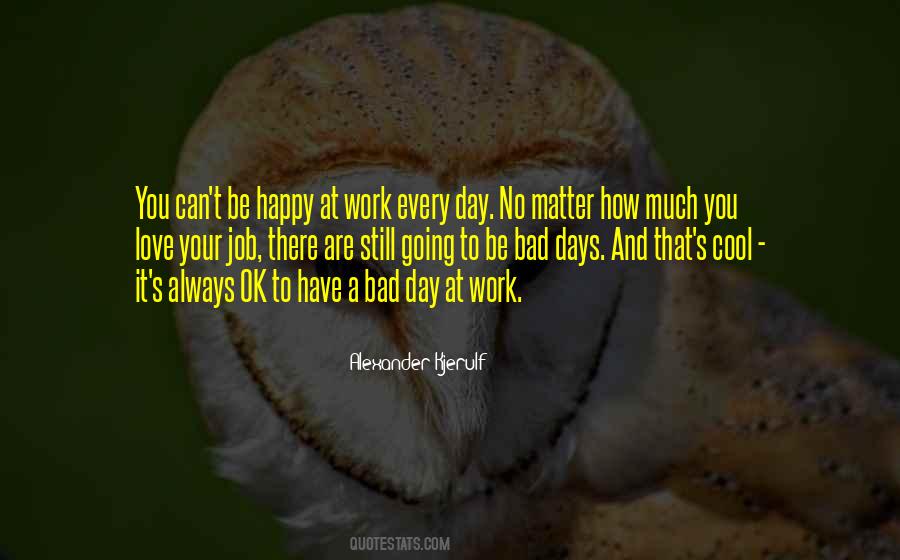 #84. 'RPM' is basically about my pace in life, and I think a lot of people can relate to that. Our video is going to involve a really nice car with some fast driving. It's going to be really cool. I'm excited for people to see it! - Author: Sasha Pieterse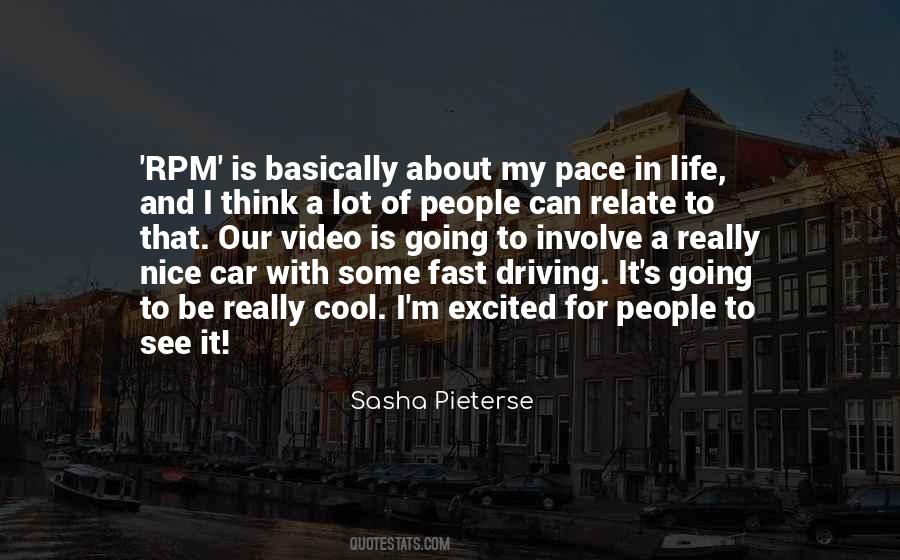 #85. Being on a television show and having so many fans is something that I've never experienced before, and it's really neat when they come up to you and are like, 'That storyline is amazing and really spoke to me in my life,' and it's really cool. I really enjoy it. - Author: Shantel VanSanten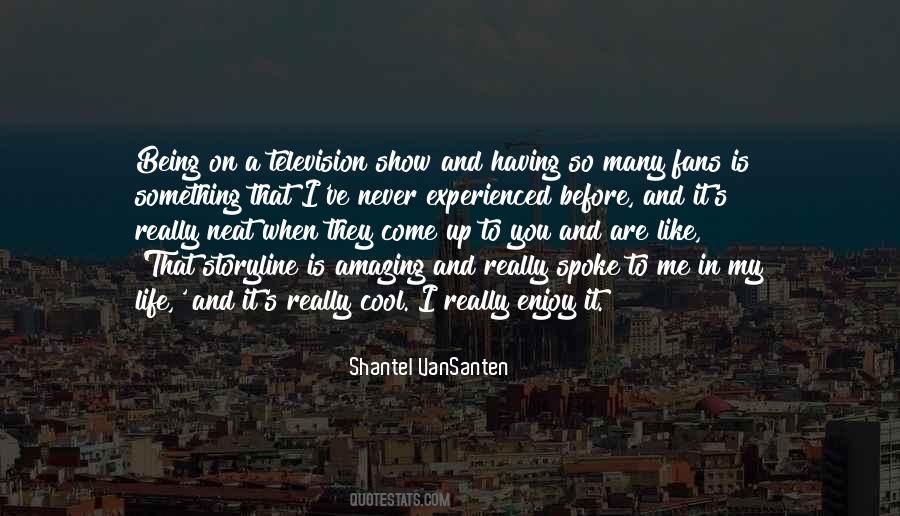 #86. There was a period in my life when I would say no, and I didn't know why I was saying no. In most cases, it was out of fear, just trying to be safe. Because 'no' will keep you safe. 'No' won't draw attention to you. But all the cool things are on the other side of 'Yes, And.' - Author: Ali Farahnakian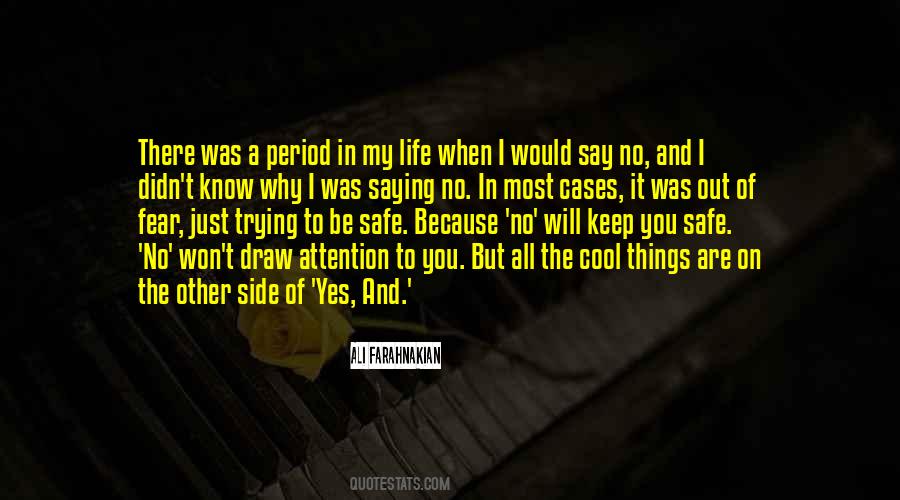 #87. Life sucks, but work is really cool! - Author: Travis Hugh Culley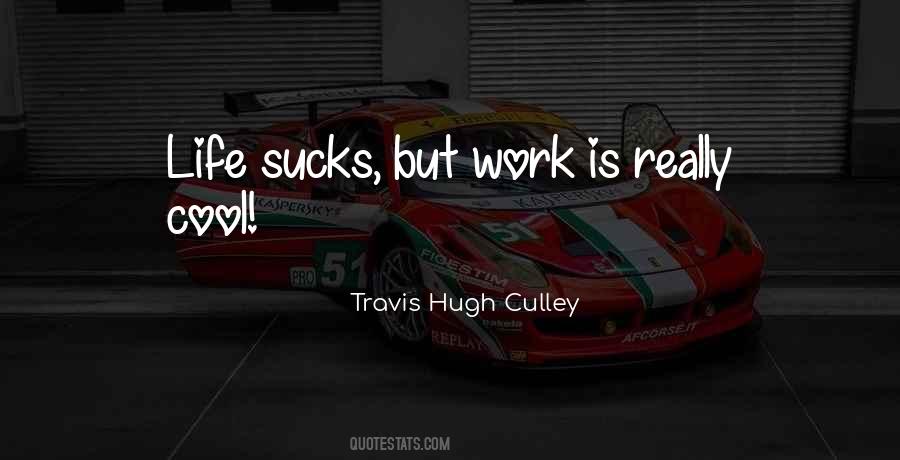 #88. In everyday life I am quiet and reserved, not the housekeeper type but cool and relaxed. I don't get up in the morning wearing false eyelashes and I don't wear fancy underwear when I'm cooking popcorn. I'm a nice little ducky. - Author: Madonna Ciccone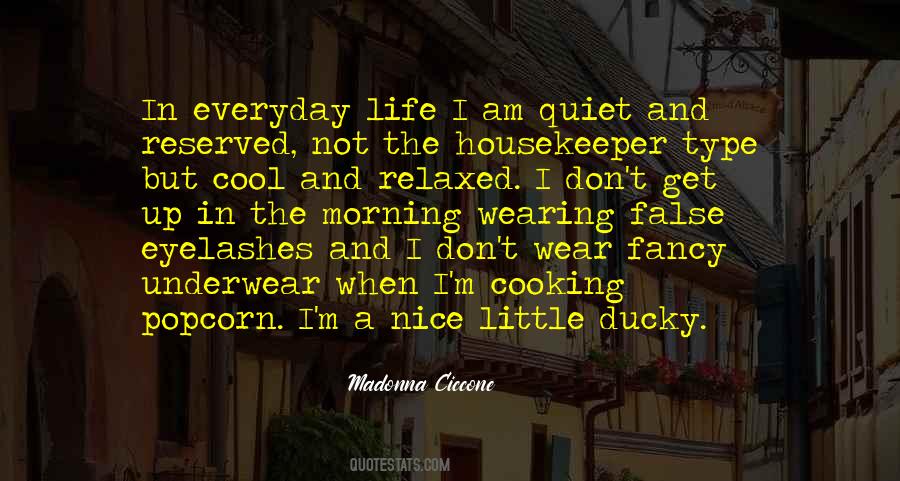 #89. The military is a very cool world to write about. I went down to Ft. Benning, Ga., for military training, and I learned a lot about soldiers and officers and why they joined up and what their life has been like. - Author: David Baldacci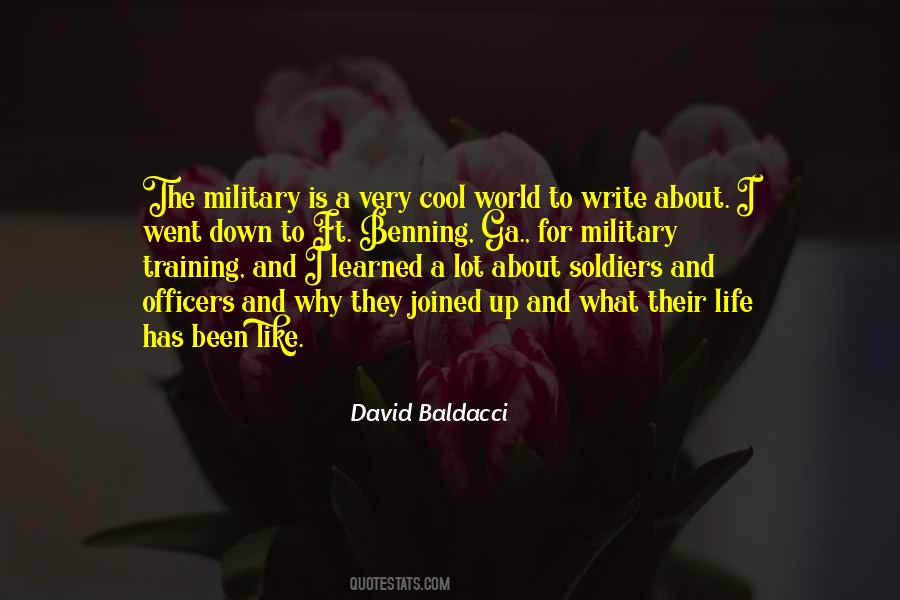 #90. It is poetic and lyrical; words that spill forth like cool waters into the dusty dry rock bed of the Soul desiring love. It has been said that I've lived in the desert all my life and do not know what it means to be wet. - Author: Sophia Rose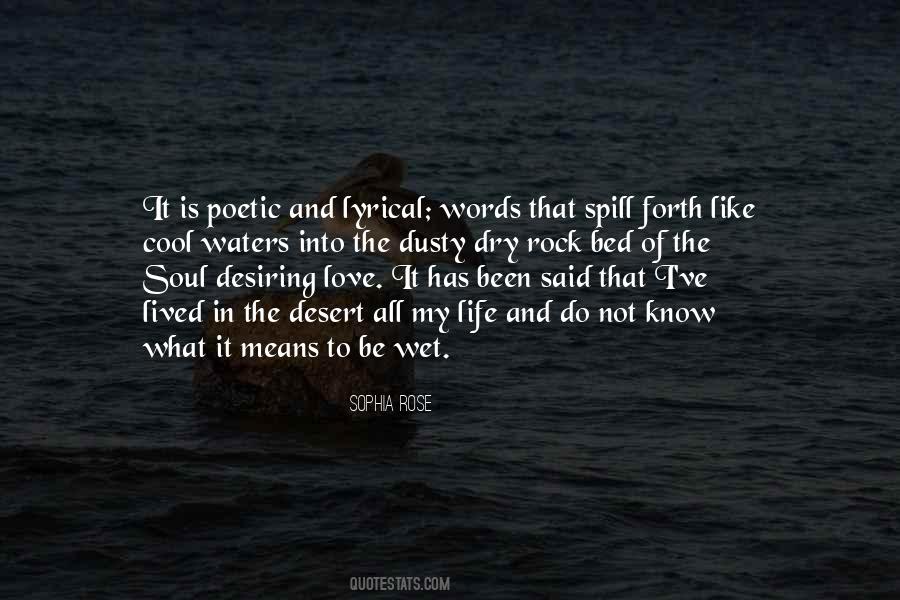 #91. my life's motto: If you're not willing to invent cool-sounding bullshit about yourself, don't expect others to. - Author: Tim Dorsey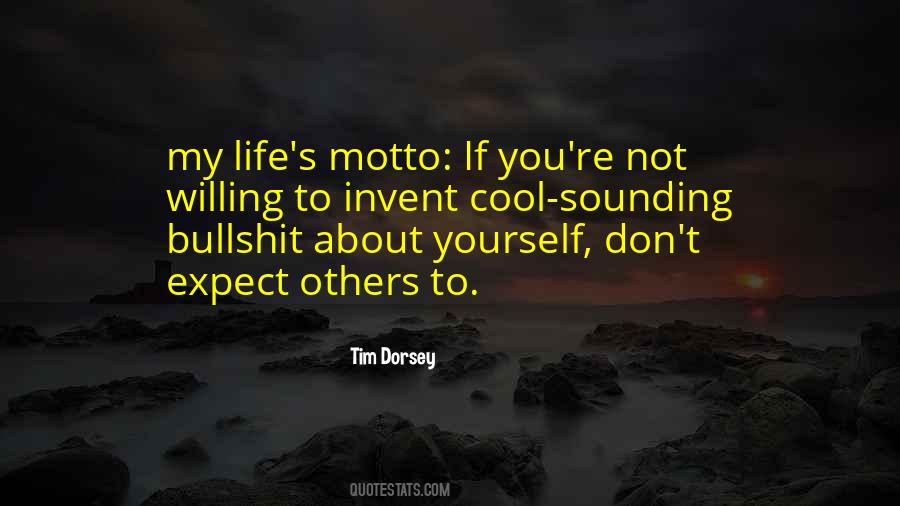 #92. My platform might be a little bigger than someone else's, but everyone has a purpose. For me, that purpose in my life right now is soccer. There's a cool, personal testimony that goes along with it. - Author: Tobin Heath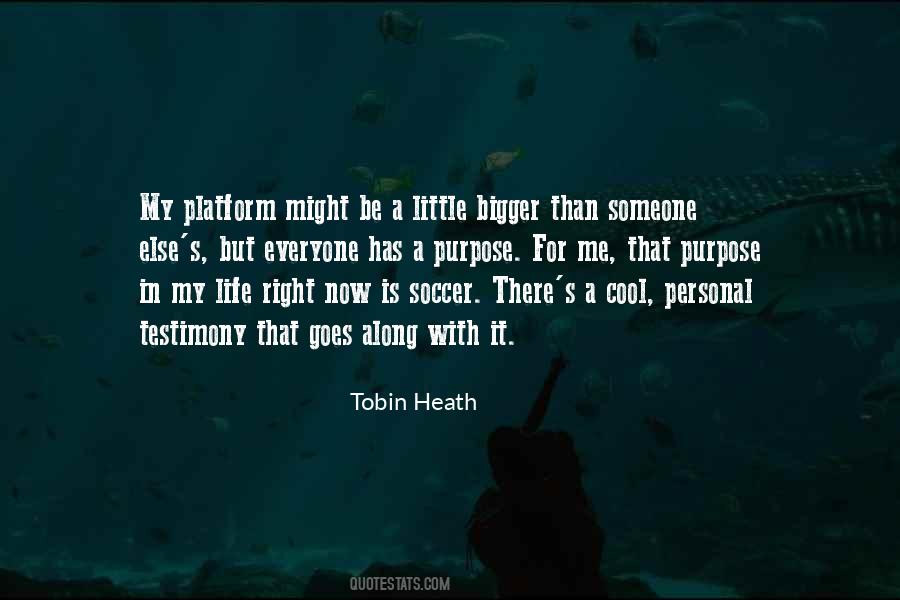 #93. Her fingers were cool, and her palms were strangely devoid of any lines, as if her life was yet to be determined. - Author: Craig Johnson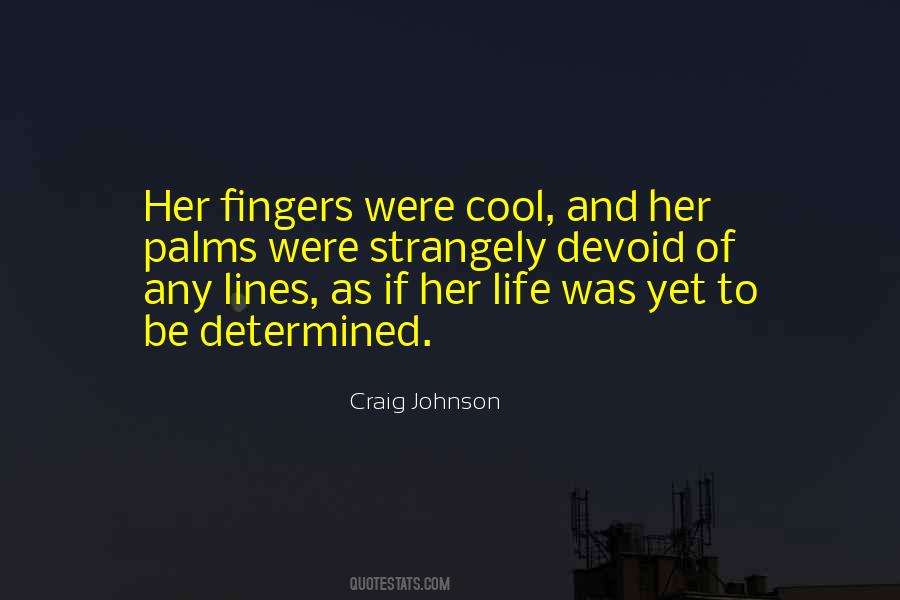 #94. VI. If I can stop one heart from breaking, I shall not live in vain; If I can ease one life the aching, Or cool one pain, Or help one fainting robin Unto his nest again, I shall not live in vain. - Author: Emily Dickinson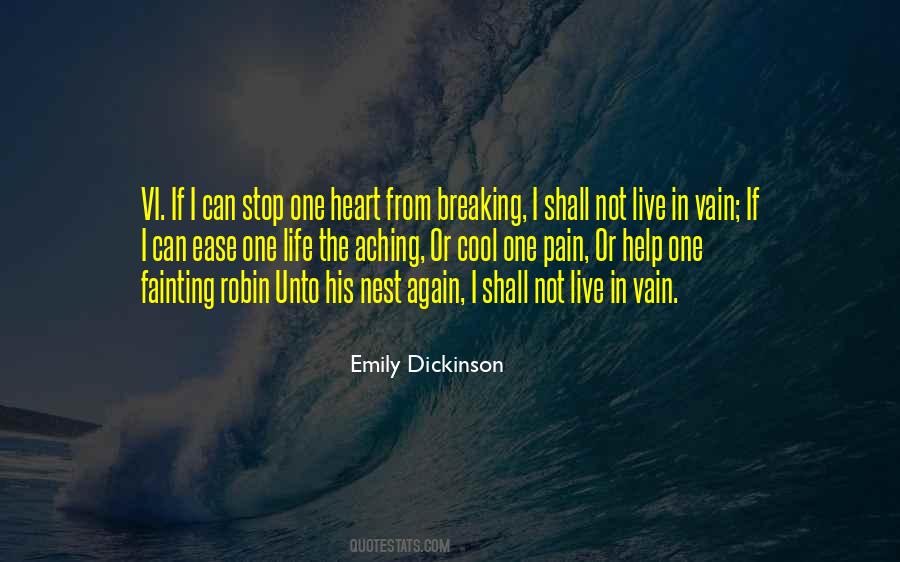 #95. When you're a kid, you see your parents reading the newspaper and you're like, 'God, why are they reading the newspaper?' When you're young, you're not reading the newspaper. But there comes a time in your life when the newspaper's cool. - Author: Fred Durst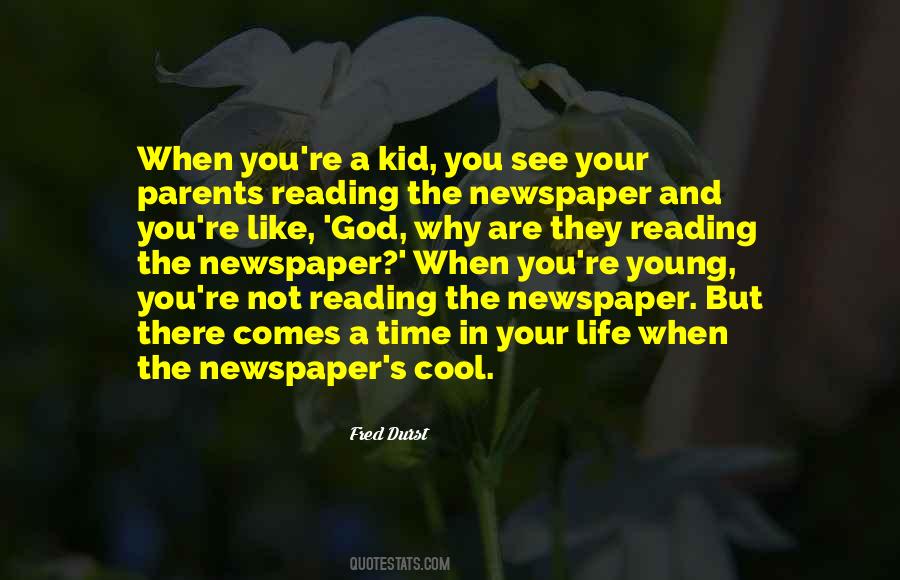 #96. I try to show the children how every lesson I teach them is going to be something they use in their real life. That's why my kids work so hard, not because I'm so cool. They're working for themselves. - Author: Rafe Esquith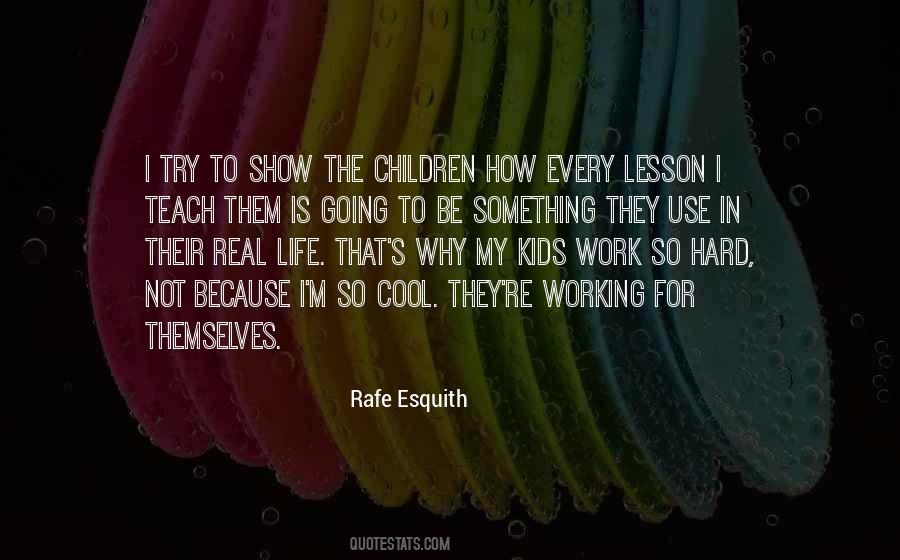 #97. It's just so cool when you meet people who are different than you are. That can give you a different perspective, a viewpoint on life, or inspire you. I mean, what would the world be like if we were all the same? I think it would be very boring. - Author: Ciara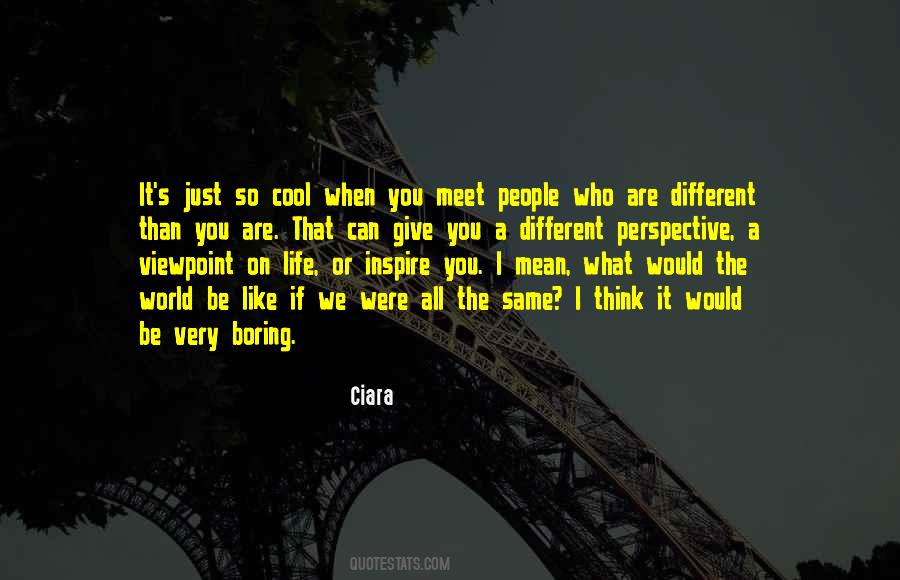 #98. Real people are actively trying to live like fake people, so real people are no less fake. Every comparison becomes impractical. This is why the impractical has become totally acceptable; impracticality almost seems cool. - Author: Chuck Klosterman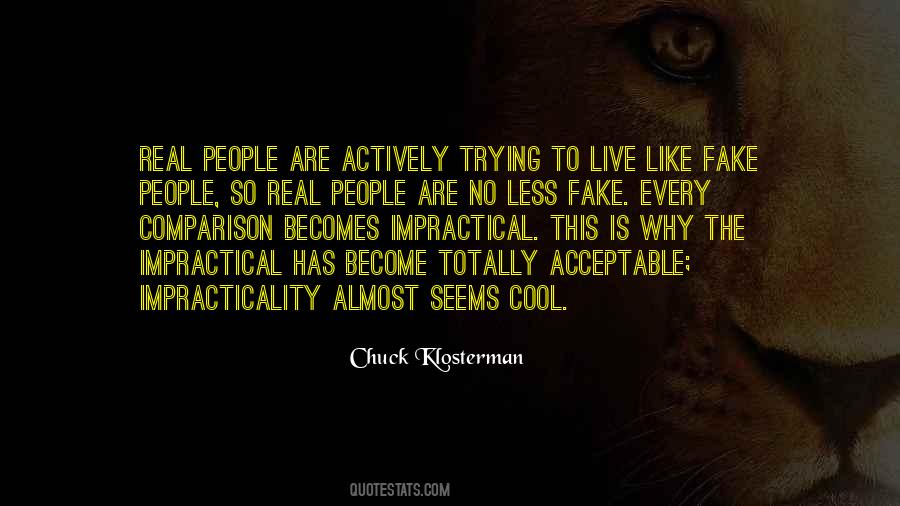 #99. The cool thing about having a book is that it takes on its own life. Once it's in the world, you can't follow it. You'd have to have a pretty fantastic surveillance system to track its migration. - Author: Cate Marvin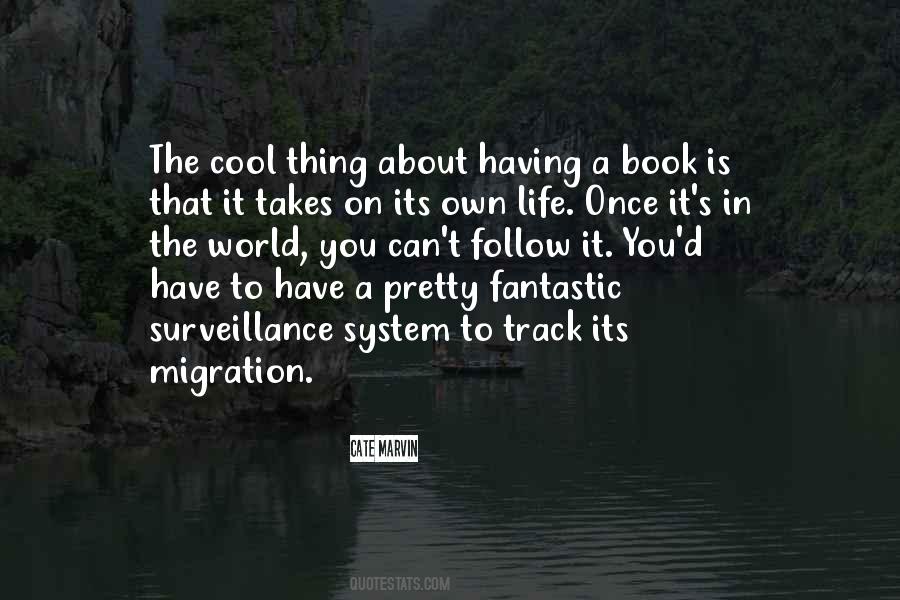 #100. O how blessed it would be never to marry, or grow old; but to spend one's life innocently and indifferently among the trees and rivers which alone can keep one cool and childlike in the midst of the troubles of the world! - Author: Virginia Woolf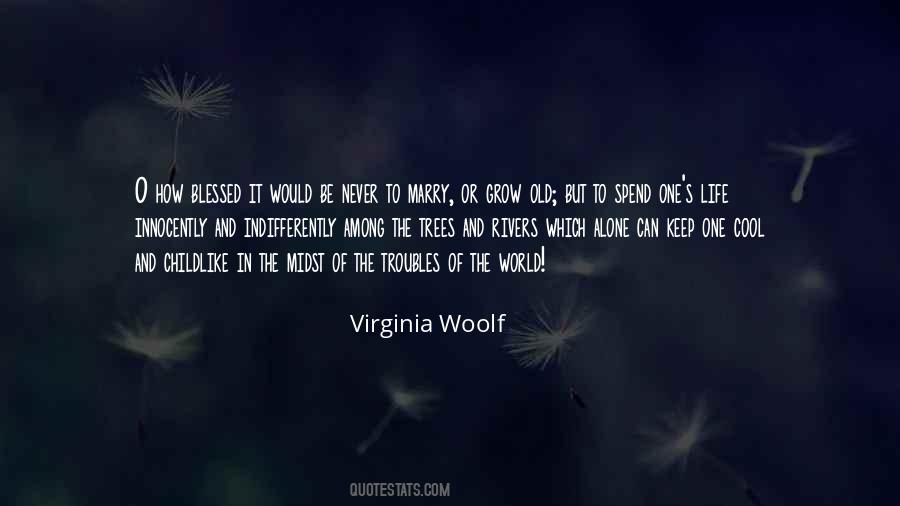 Famous Authors
Popular Topics