Browse top 100 famous quotes and sayings by Chuck Klosterman. Read & share Chuck Klosterman quotes pictures with friends. Free using on Facebook, Twitter, blogs.
Top 100 Chuck Klosterman Quotes
#1. In some ways, Halloween is much easier for women. They can just dress as sluts, and it's kind of a costume, if they never do any other time.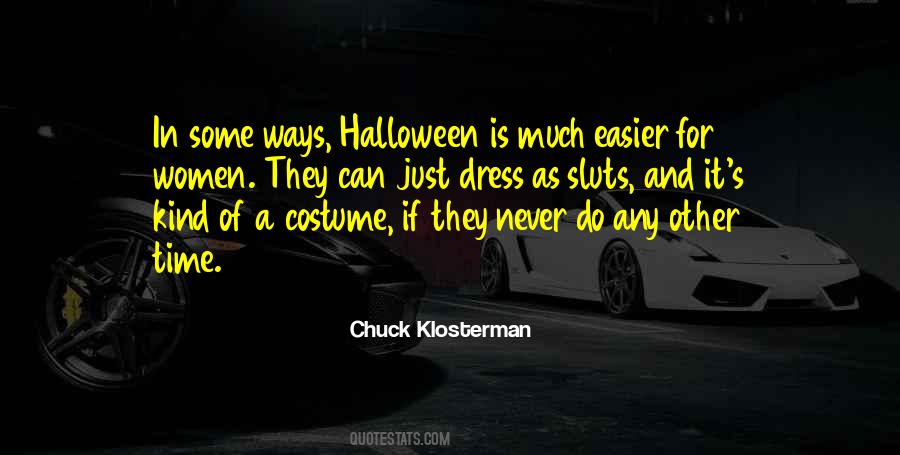 #2. A lot of people have this strategy where if they have a hard question they wait to ask it to the end of the interview because they think the person is going to walk out. But what they have to realize is, is that if the person walks out, they have a pretty successful story.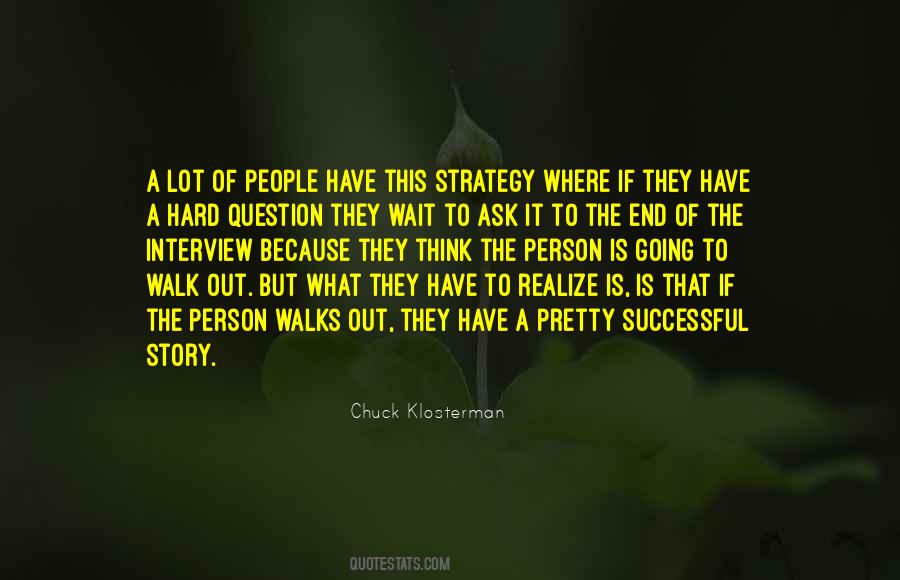 #3. Even the invisible are insecure. It's the most universal problem we have. It's so universal, it might not even count as a problem.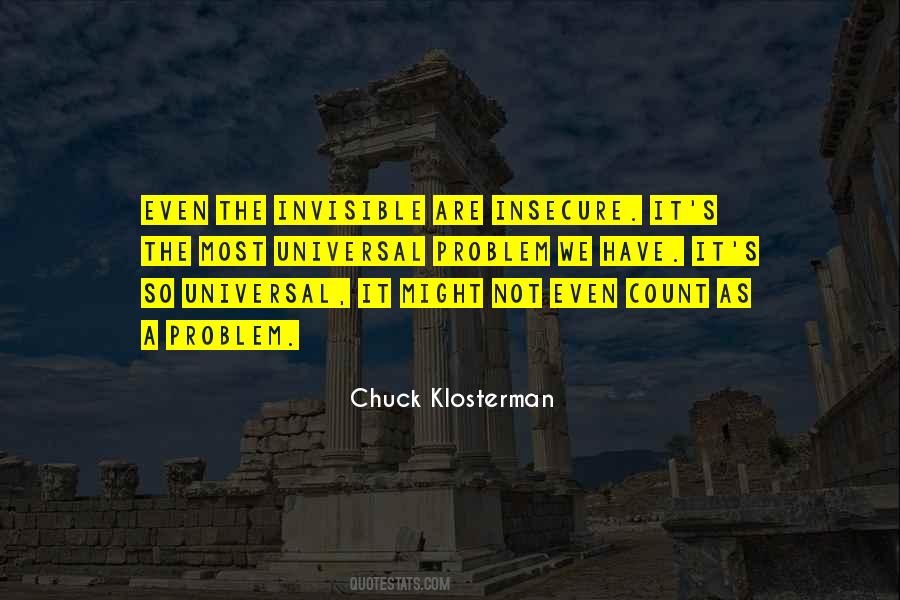 #4. I like storms. I would say I actively like stormy weather. I would not be afraid of them. I think that if I had not pursued journalism, I think storm-chasing would've been a really fun career.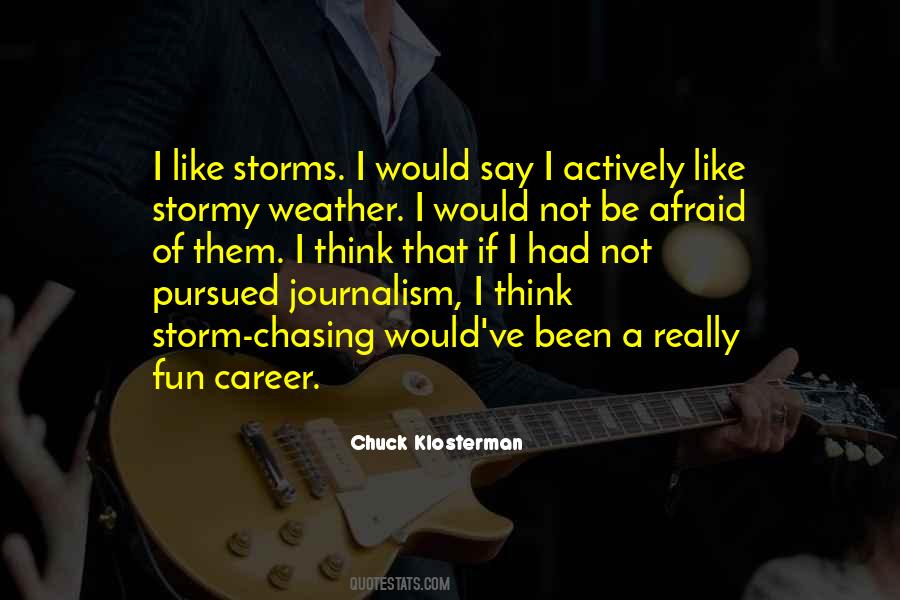 #5. I honestly believe that people of my generation despise authenticity, mostly because they're all so envious of it.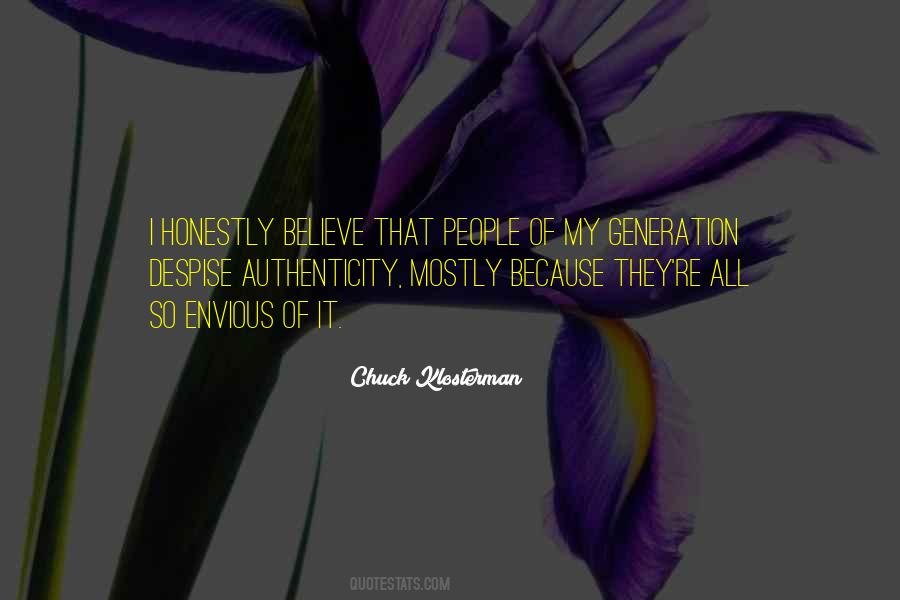 #6. I keep saying the word 'weird' over and over again, but it's the only way I can describe it.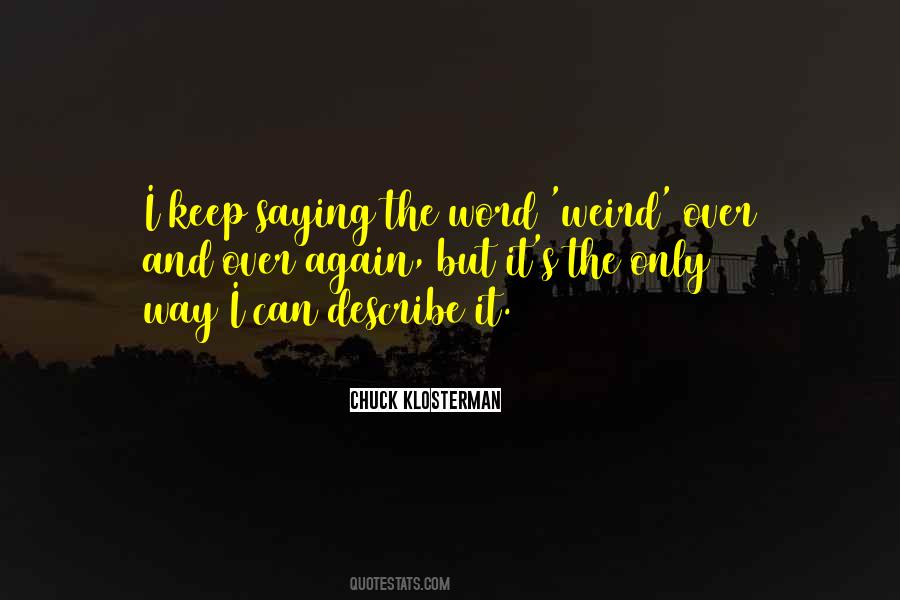 #7. Before the 1975 fight in Manila, Ali bragged about attending a Ku Klux Klan meeting; he met with the KKK's leadership because they agreed on the issue of interracial marriage (both sides saw it as an atrocity). The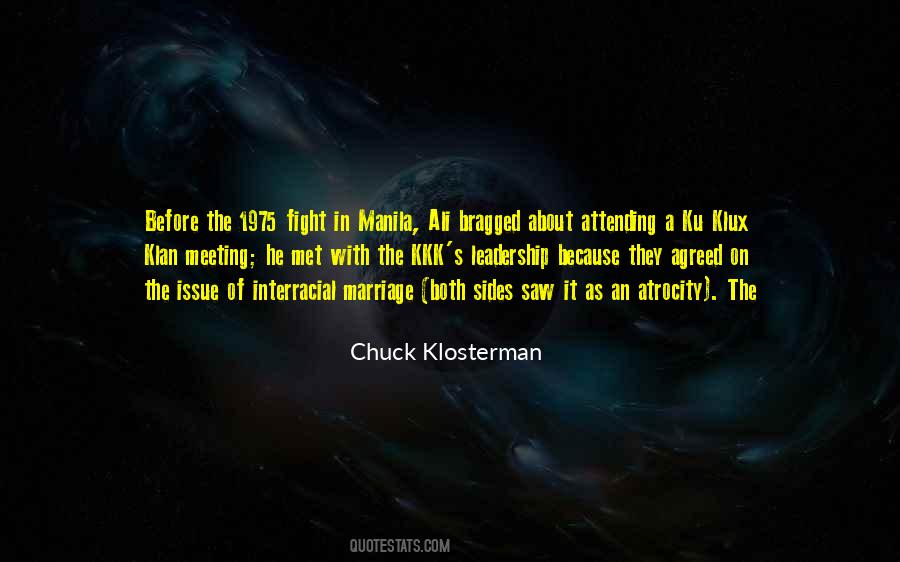 #8. My feelings about politics and literature and mathematics and the rest of life's minutiae can only be described through a labyrinthine of six-sided questions, but everything that actually matters can be explained by Lindsey fucking Buckingham and Stevie fucking Nicks in four fucking minutes.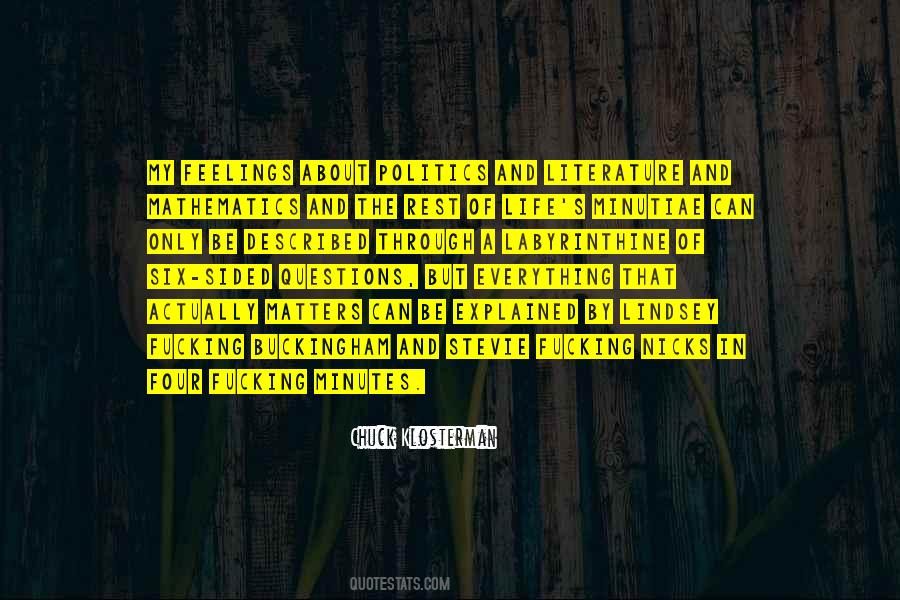 #9. We all believe that we are a certain kind of person, but we never know until we do something that proves otherwise, or until we die.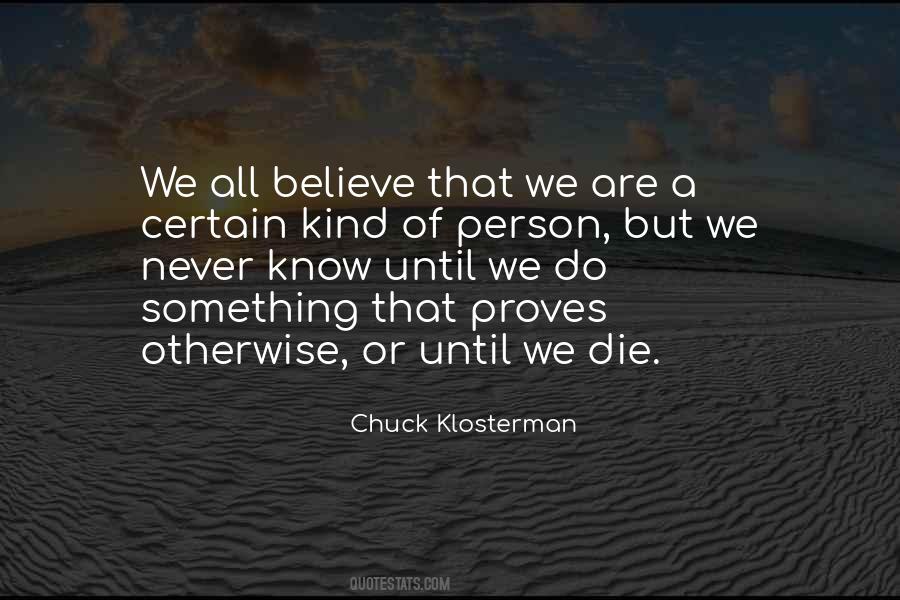 #10. If someone feels negative about the way society or culture seems to be going, what it probably suggests is that it's just moving away from the state that they are comfortable with or used to. It's understandable why someone would feel that way.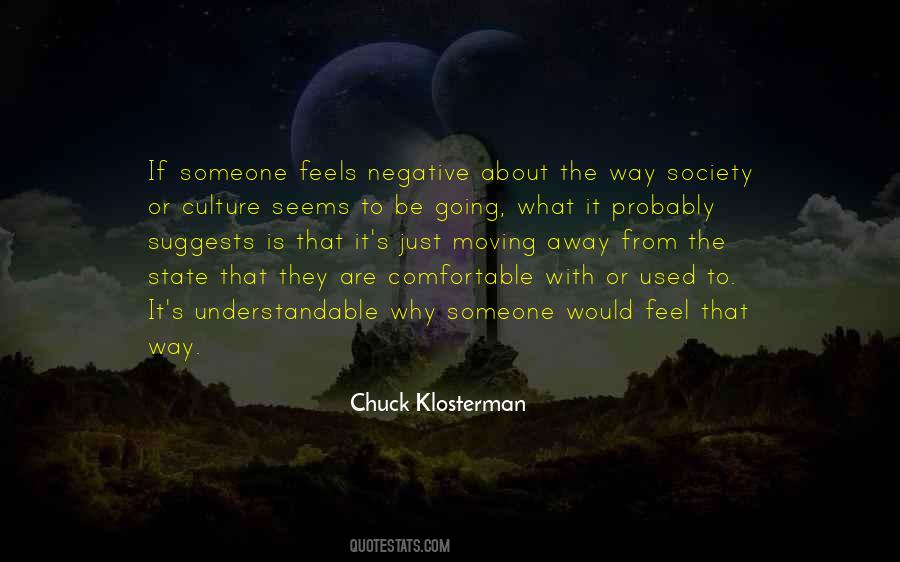 #11. In and of itself, nothing really matters. What matters is that nothing is ever in and of itself.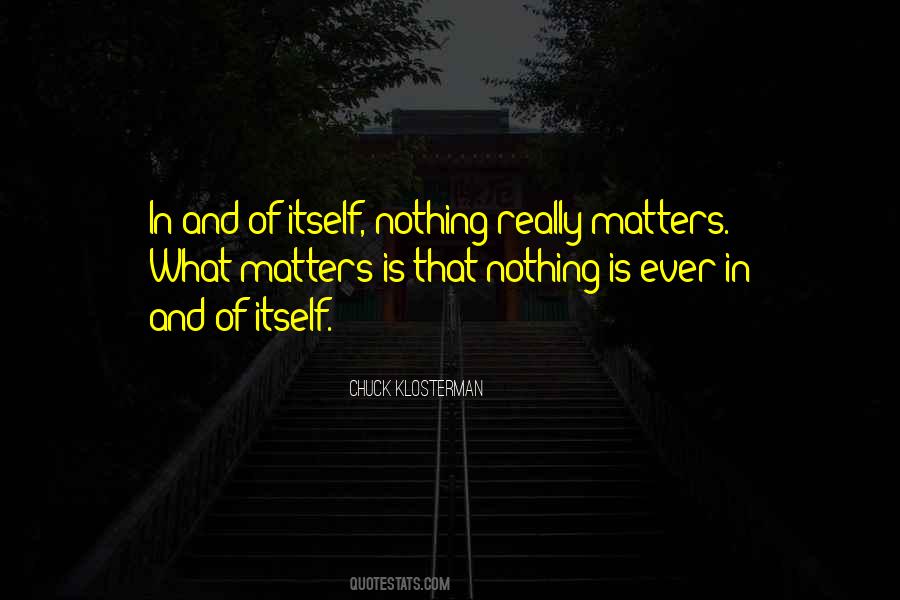 #12. I am of the opinion, and have been for a long time, that any kind of big technological move is almost always positive in the short term but inevitably somewhat negative in the long term. And I think there are many examples of this in every possible context.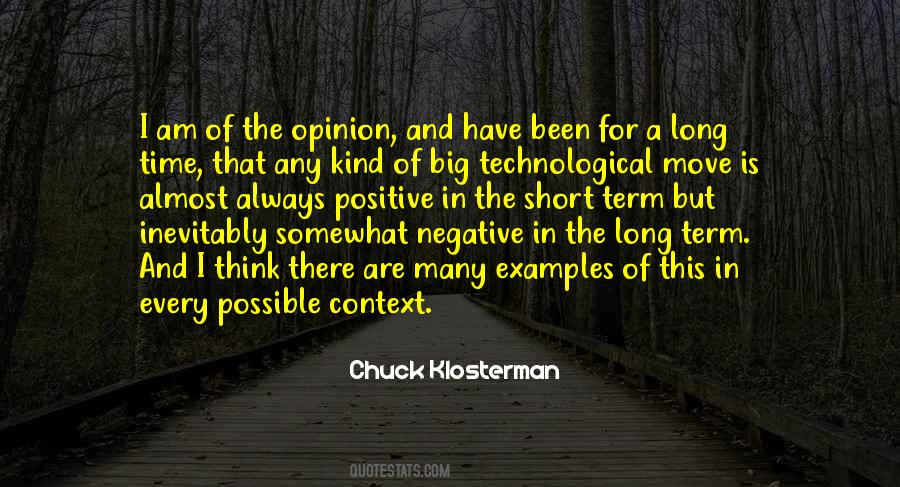 #13. The Sims is an escapist vehicle for people who want to escape to where they already are, which is why I thought this game was made precisely for me.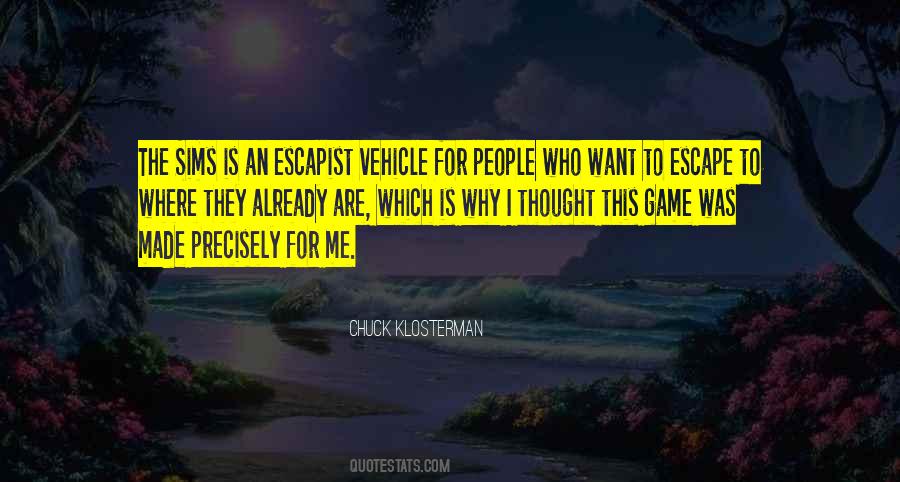 #14. Do you understand? Do you see the forest through the trees? Do you not see what I am no longer not saying to you? If so - congratulations! Prepare to have sex constantly.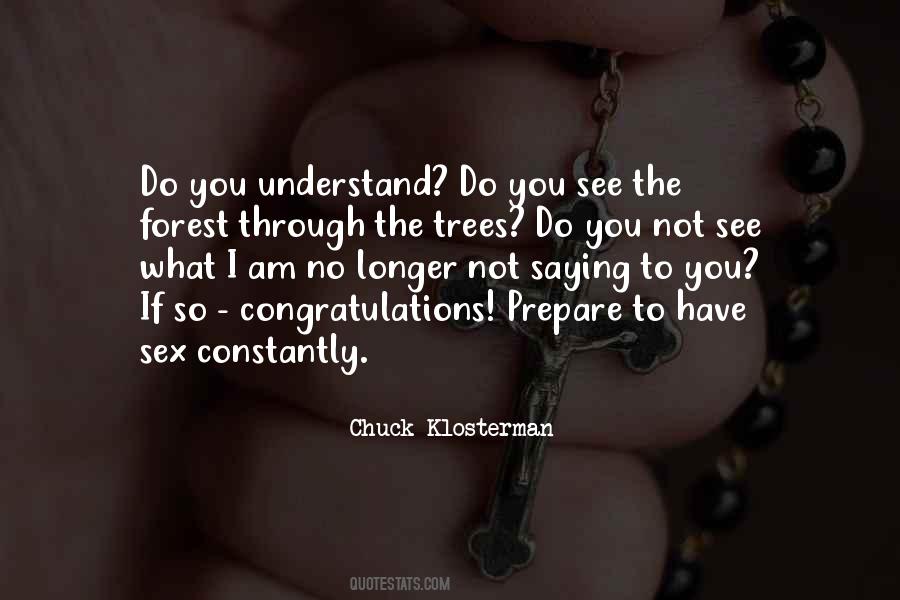 #15. I am ready to be alone.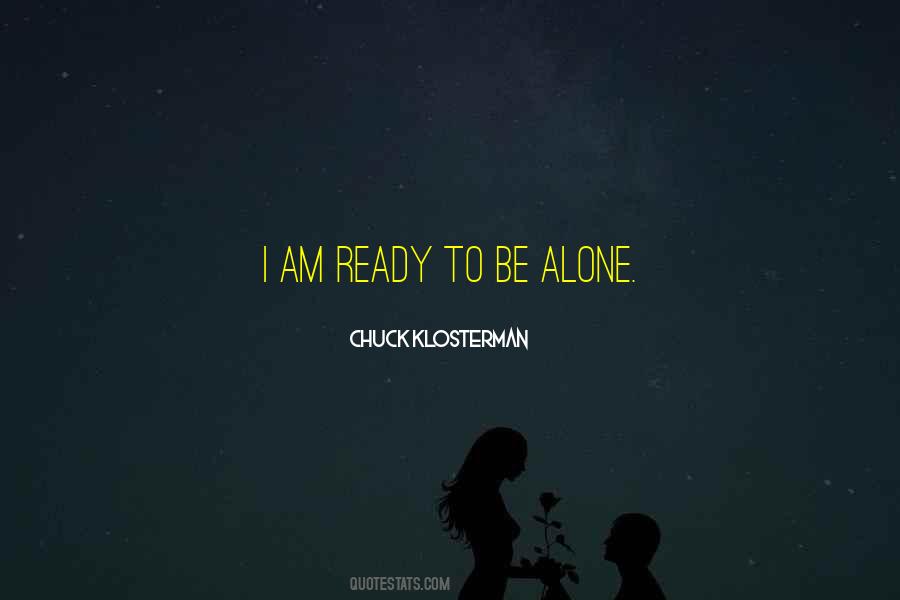 #16. Nothing can be appreciated in a vacuum.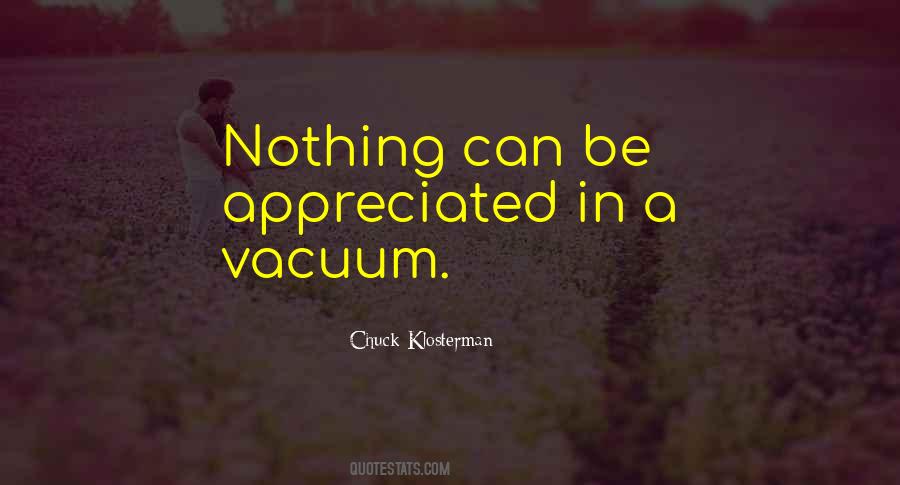 #17. Not all crazy people are brilliant, but almost all brilliant people are crazy.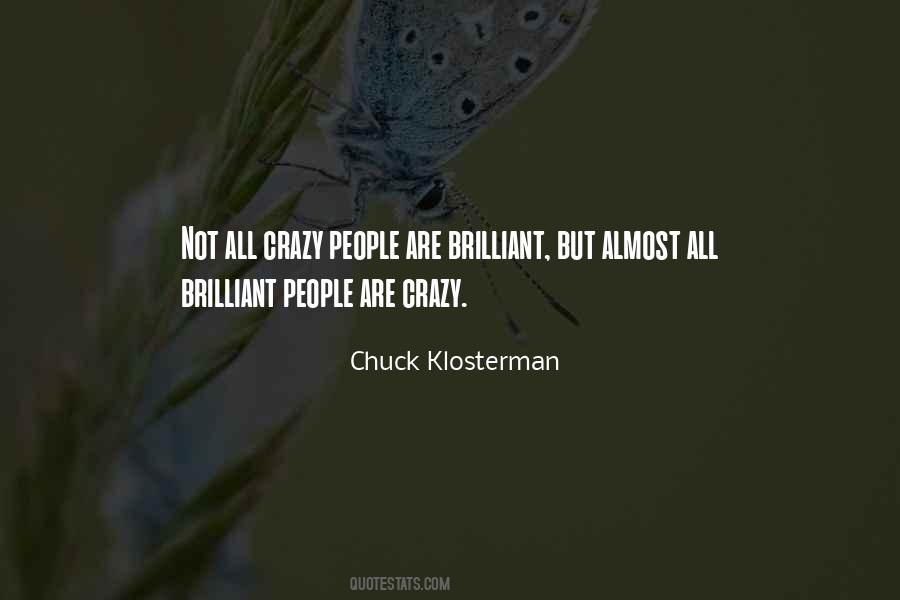 #18. The worst thing you can do to anybody trying to be creative is to demand participation in their vision.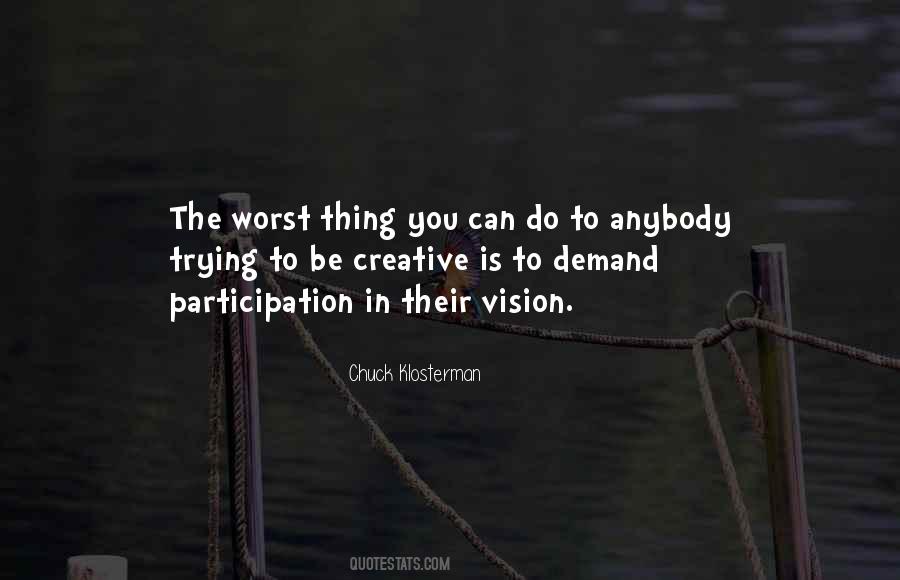 #19. The essays are very solipsistic and self-absorbed, I'm totally conscious of that. To me, book writing is fun, and I basically just write about things that are entertaining to myself.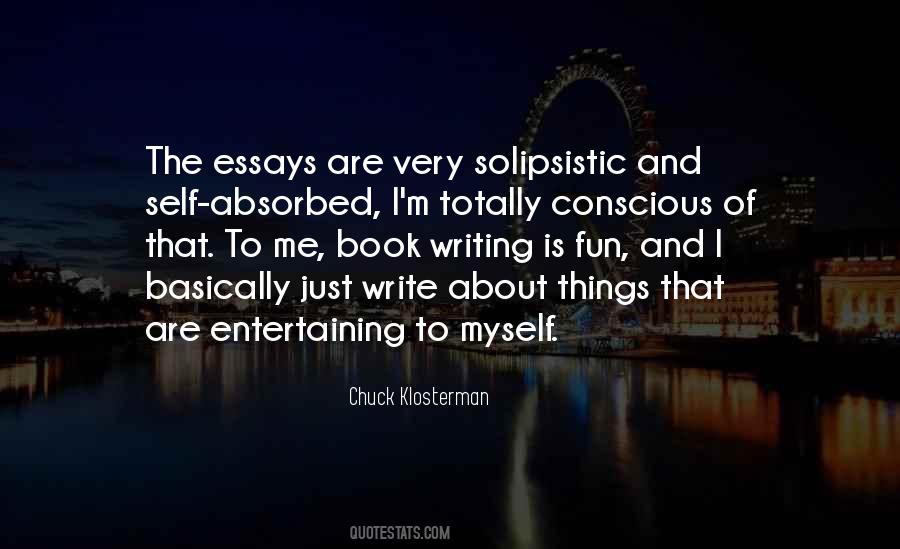 #20. If you don't have a job, you don't have a fear of losing it. You fear having to get one.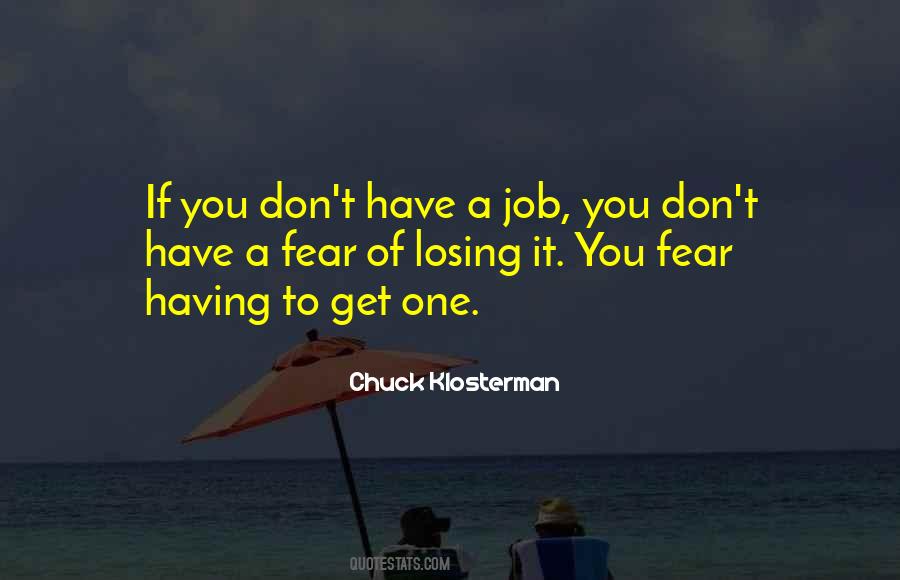 #21. Sometimes I think children are the worst people alive. And even if they're not- even if some smiling toddler is as pure as Evian- it's only a matter of time.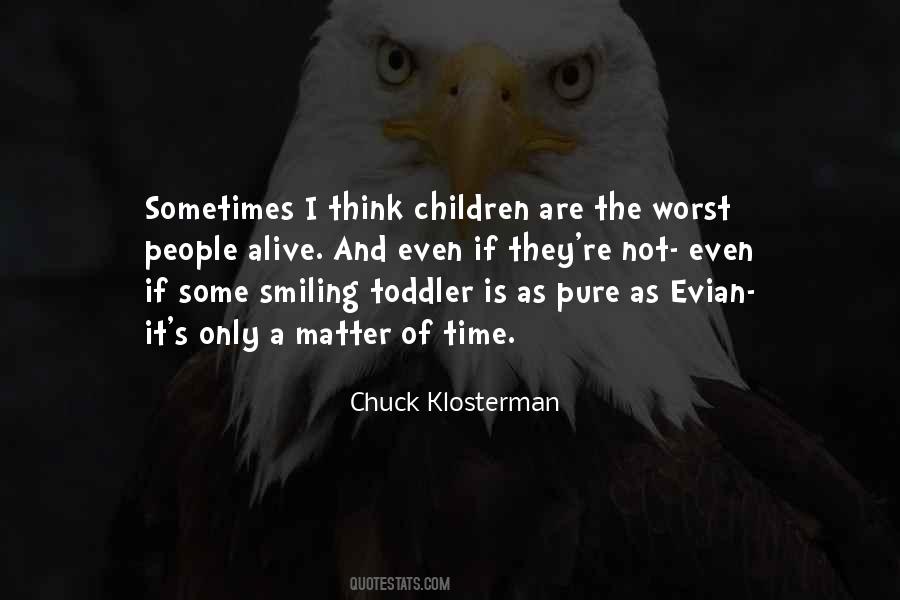 #22. Let's say Donald Trump loses but it's close. That could change the whole way the job of being a politician shifts - that to succeed in politics, you have to be a caricature of what a politician is supposed to be like.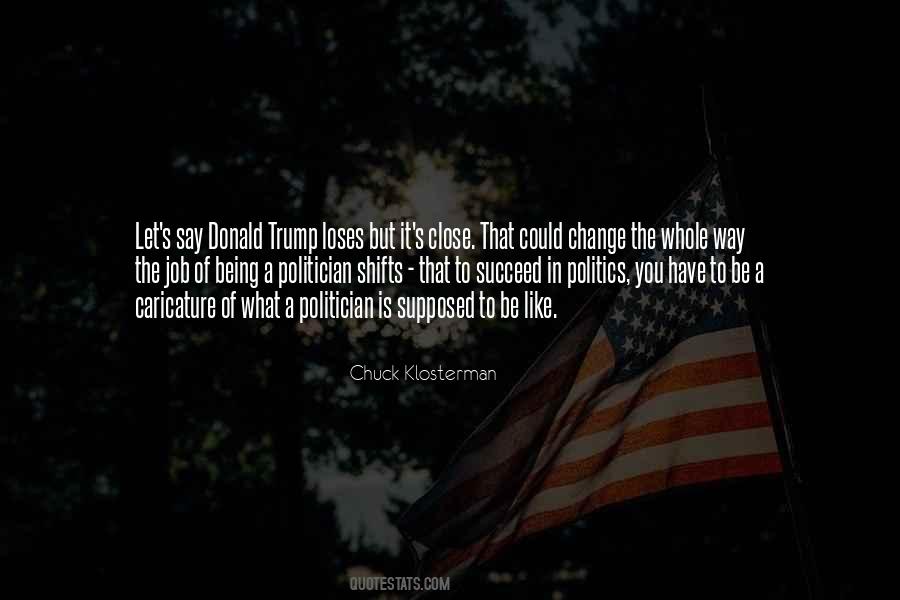 #23. Leadership is a word people use to reconcile any kind of charisma that was impossible to otherwise explain.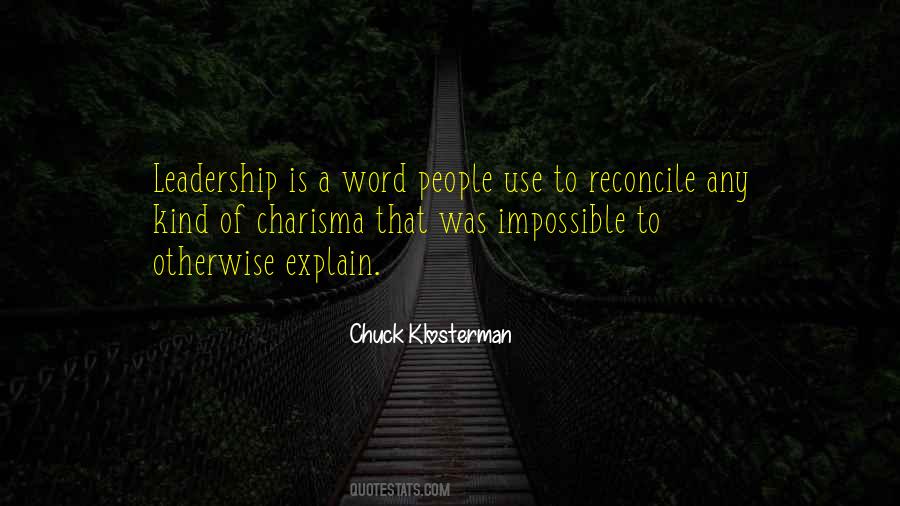 #24. Being a sexual icon is sort of like being the front man for an Orange County punk band: As soon as you can explain why you're necessary, you're over.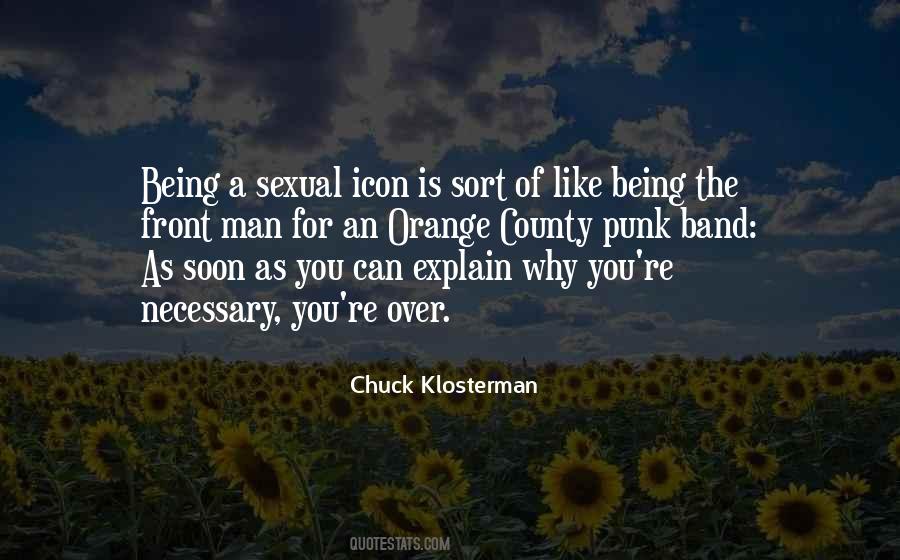 #25. An author I know once explained why writing became so much more difficult in the twenty-first century: "The biggest problem in my life," he said, "is that my work machine is also my pornography delivery machine.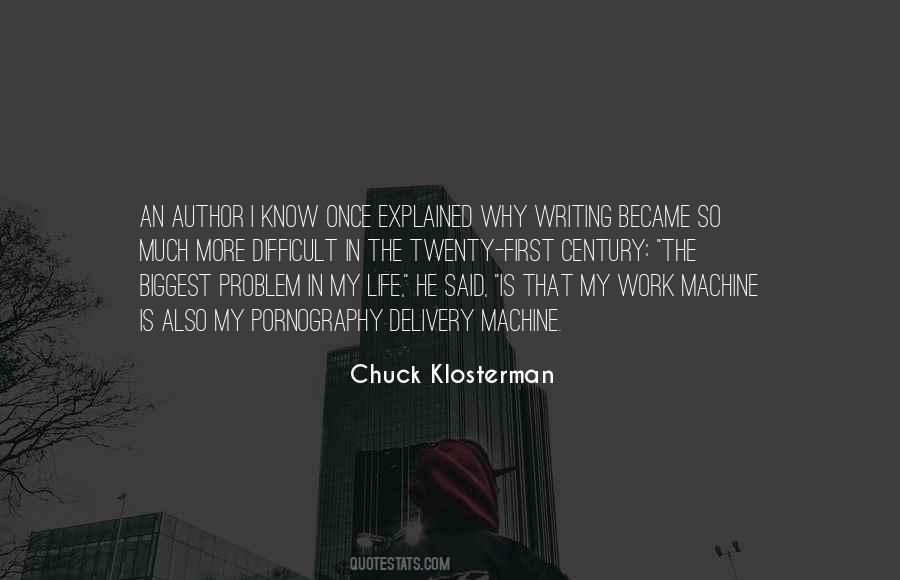 #26. That's like comparing apples with hermaphroditic ground sloths.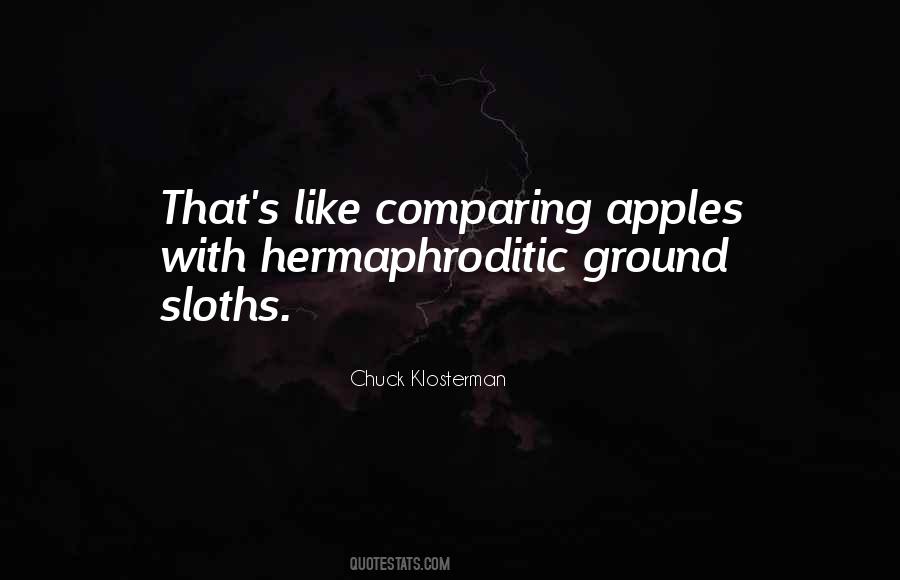 #27. The biggest hurdle to writing Fargo Rock City was that I couldn't afford a home computer - I had to get a new job so I could buy a computer. It could all change though. In five years, I could be back at some daily newspaper, which wouldn't be so bad.
#28. It didn't seem remotely possible. I had no idea how people got those jobs, I didn't know what the steps were, it never even dawned on me. It seemed so outside the realm of possibility.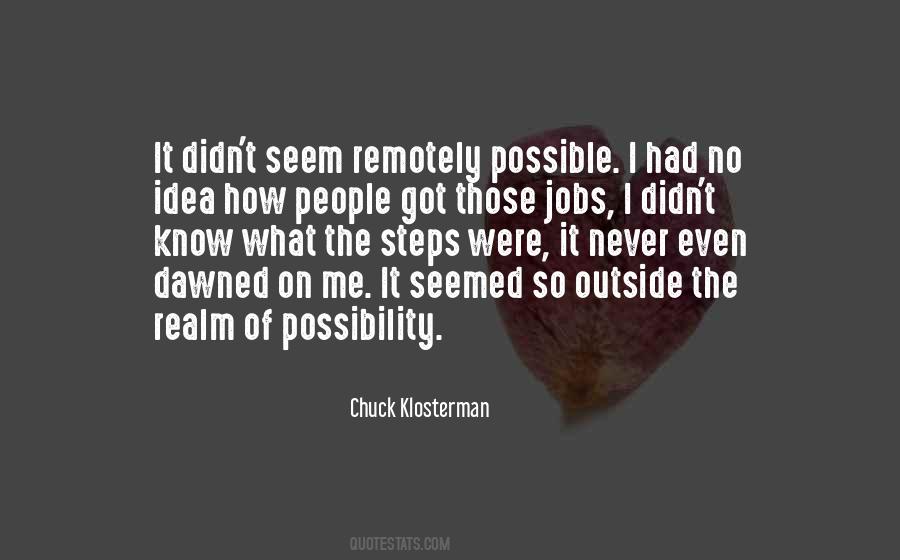 #29. I love the way music inside a car makes you feel invisible; if you plan the stereo at max volume, it's almost like the other people can't see into your vehicle. It tints your windows, somehow.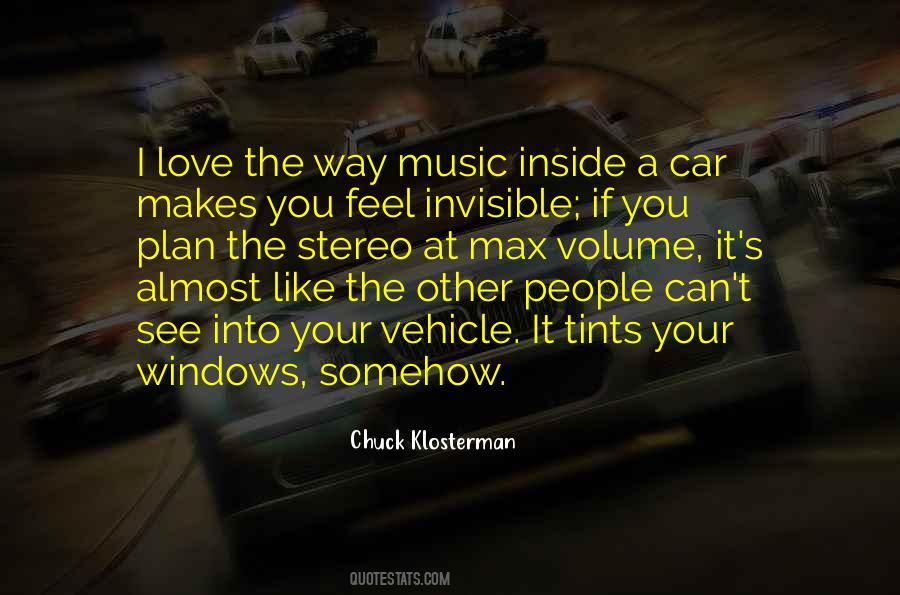 #30. Accelerated culture does not respond well to the nonobvious.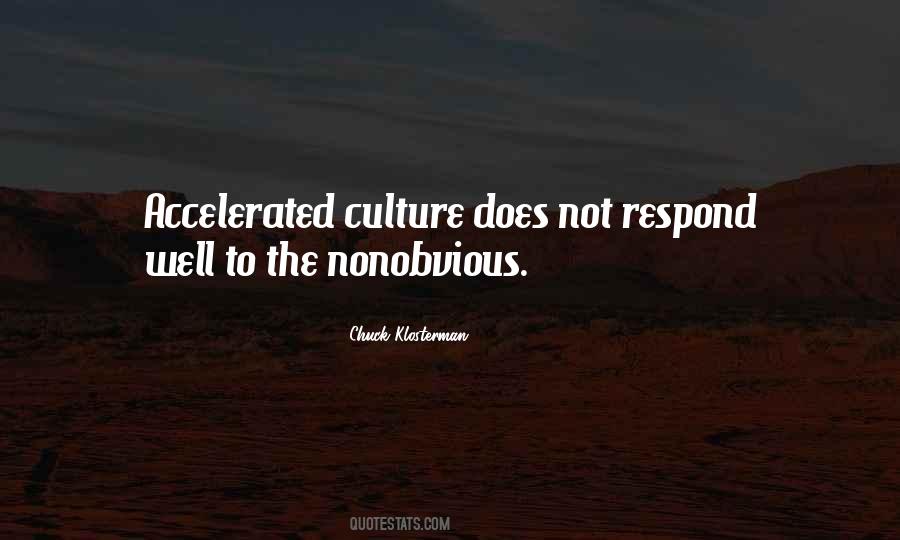 #31. But this is how popular culture works: You allow yourself to be convinced you're
sharing a reality that doesn't exist.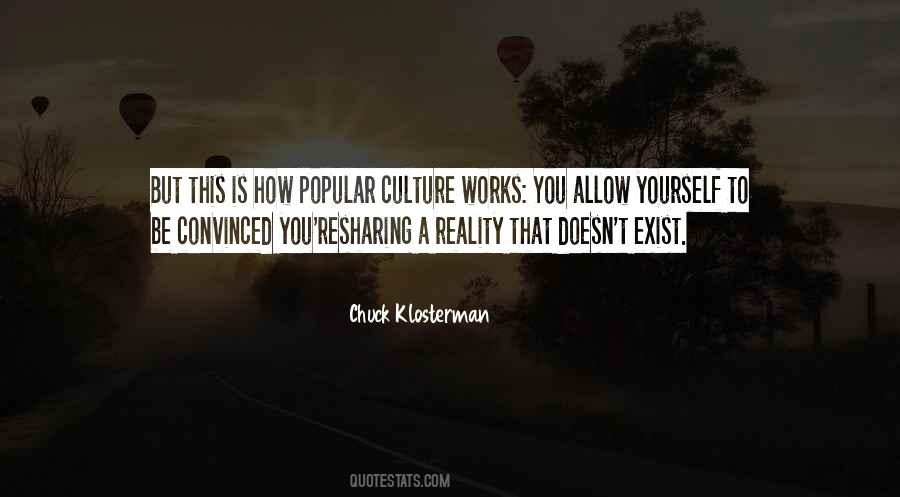 #32. Let's assume it was Christopher Columbus's "destiny" to discover the New World, and let's pretend he was consciously aware of that fact. What possible difference would that have made in his day-to-day life? He still had to build the boats.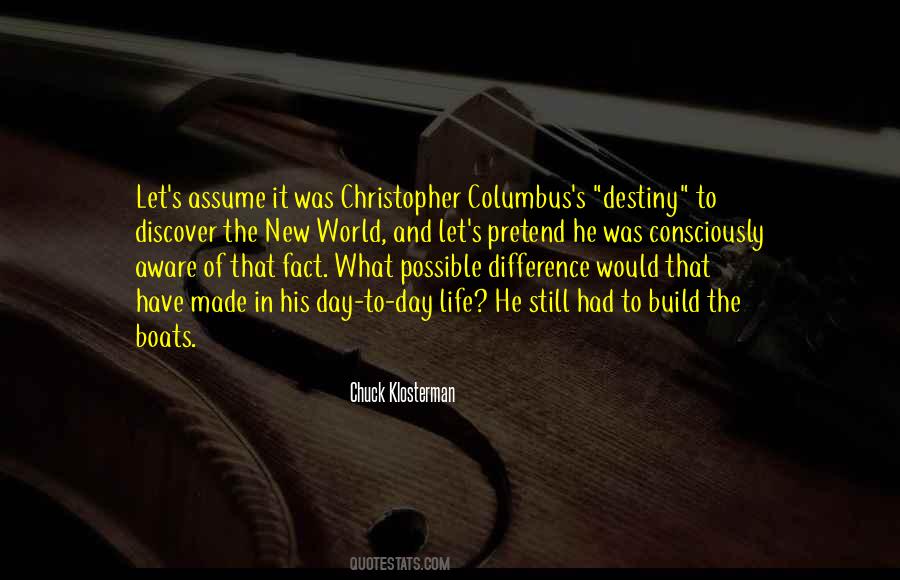 #33. What's kind of happening is the conflict over football might be a class conflict where there is a percentage of people who have no relationship to physicality and a percentage of the populace who still does.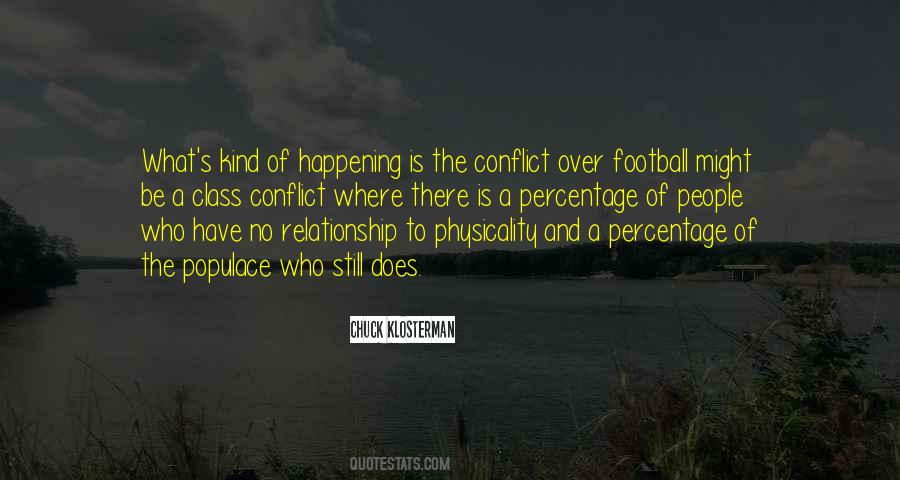 #34. If rain is God crying, I think God is drunk and his girlfriend just slept with Zeus.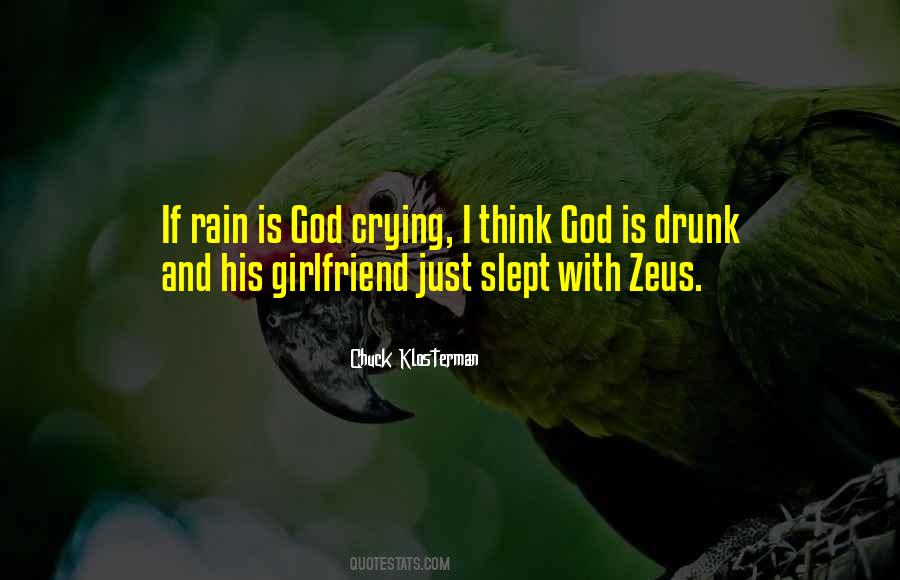 #35. It doesn't matter what you can do if you don't know why you're doing it.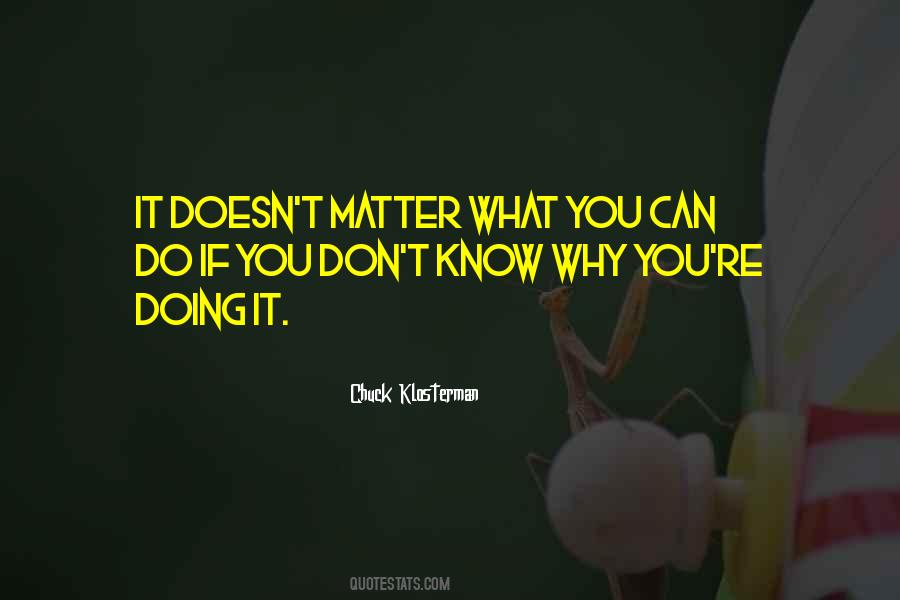 #36. The soul is a circle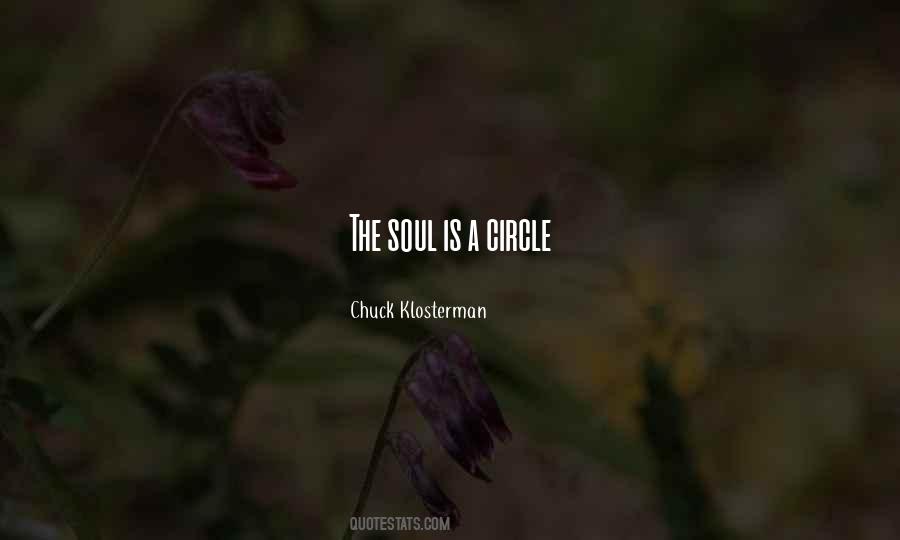 #37. The goal of being alive is to figure out what it means to be alive.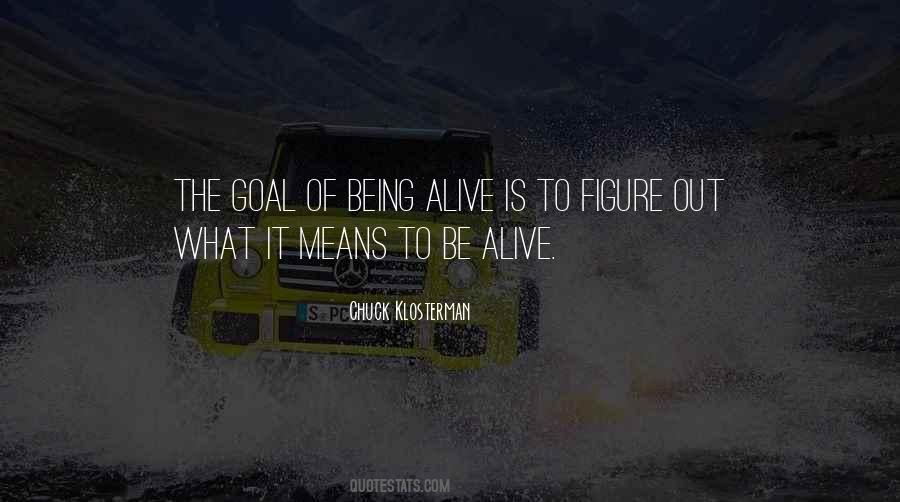 #38. The uncomfortable, omnipresent reality within any conversation about representation is that the most underrepresented subcultures are the ones that don't even enter into the conversation.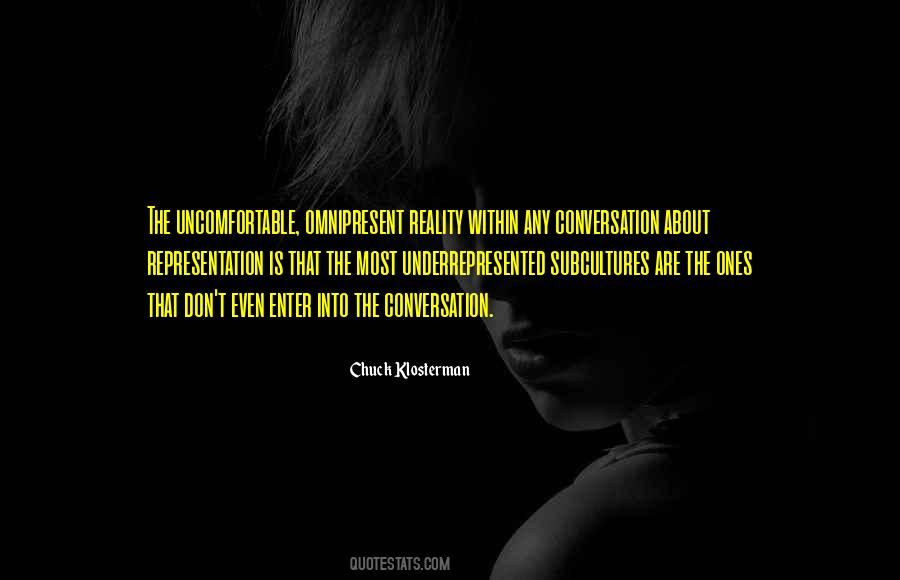 #39. The first moment someone calls for a revolution is usually the last moment I take them seriously.
#40. Who Am I? Or (Perhaps More Accurately) Who Else Could Be Me?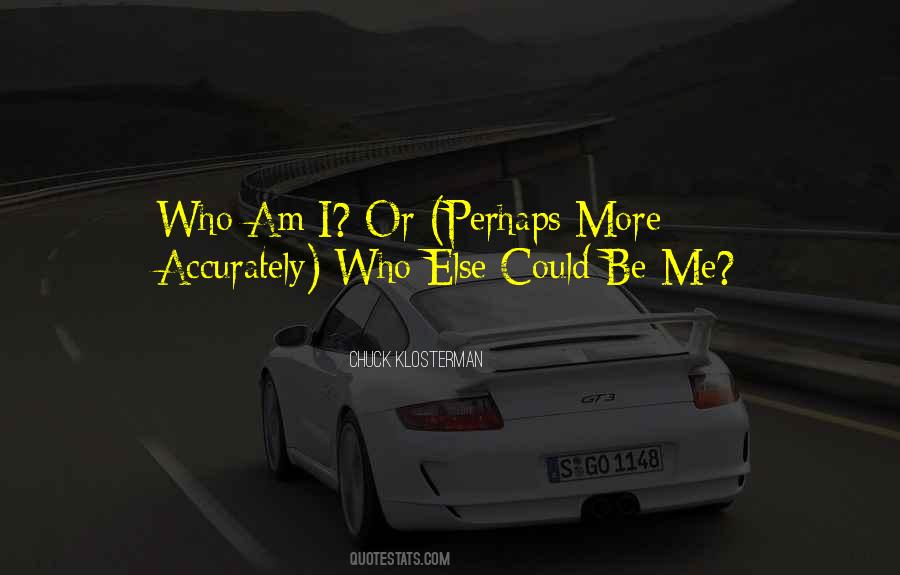 #41. I think the larger sect of liars are people who think they are telling the truth, but who really have no idea what the truth is.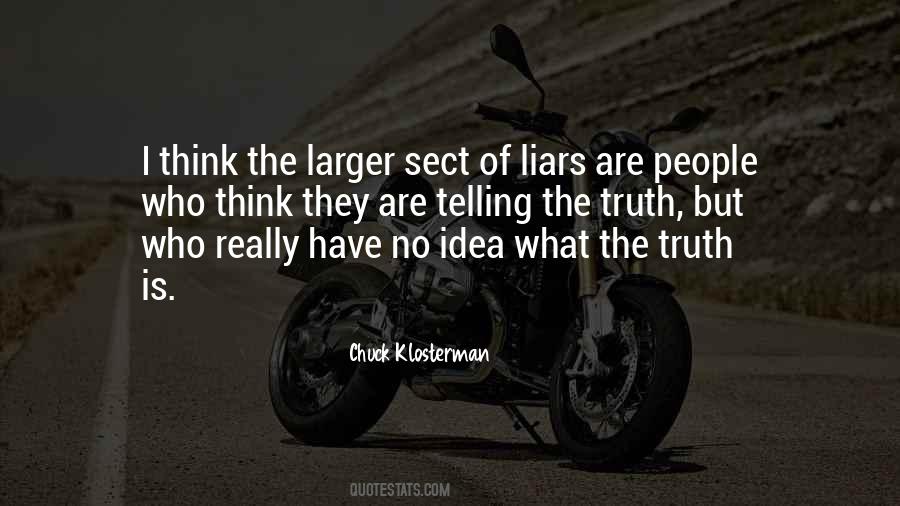 #42. Everything (N.W.A.) attempted had to possess criminal undertones. I can only assume they spent hours trying to deduce villainous ways to microwave popcorn (and if they'd succeeded, there would absolutely be a song about it, assumedly titled "Pop Goes the Corn Killa", or "45 Seconds to Bitch Snack").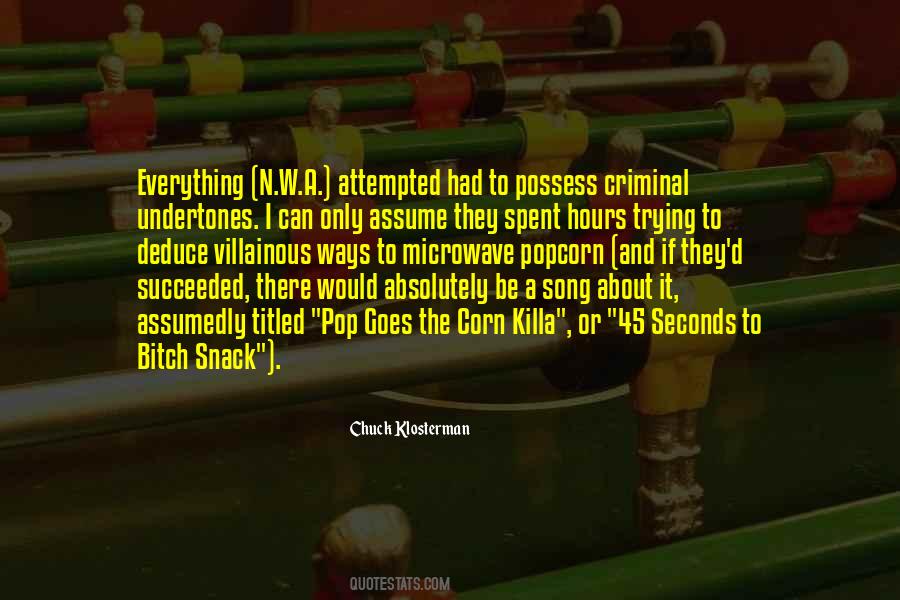 #43. There's no such thing as middle-class. The middle class does not exist. If you believe you are part of the middle class, it just means you're rich and insecure or poor and misinformed.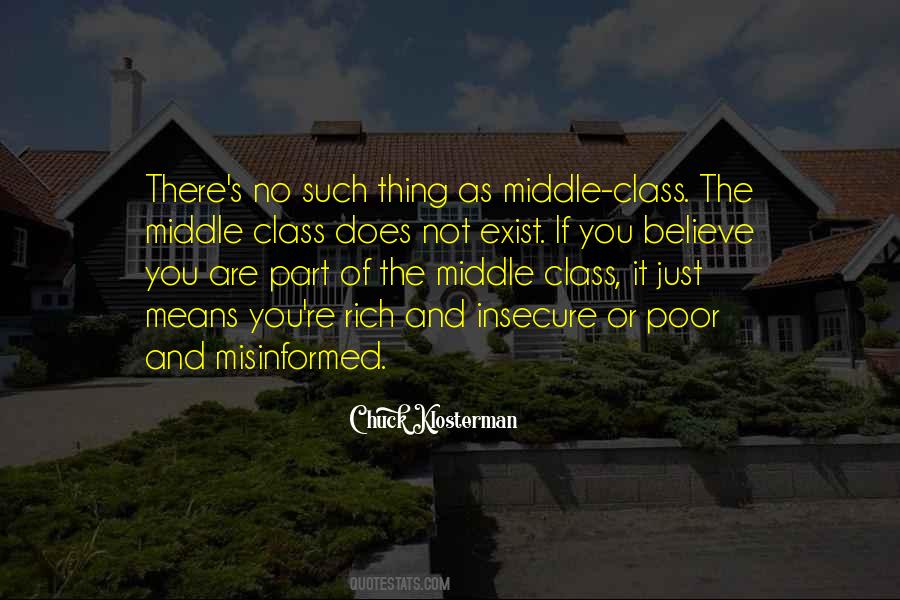 #44. I almost never get lonely. I love being alone. I'm glad I'm married, and I love my wife. But there's never been a situation in my life where my unhappiness was based on loneliness.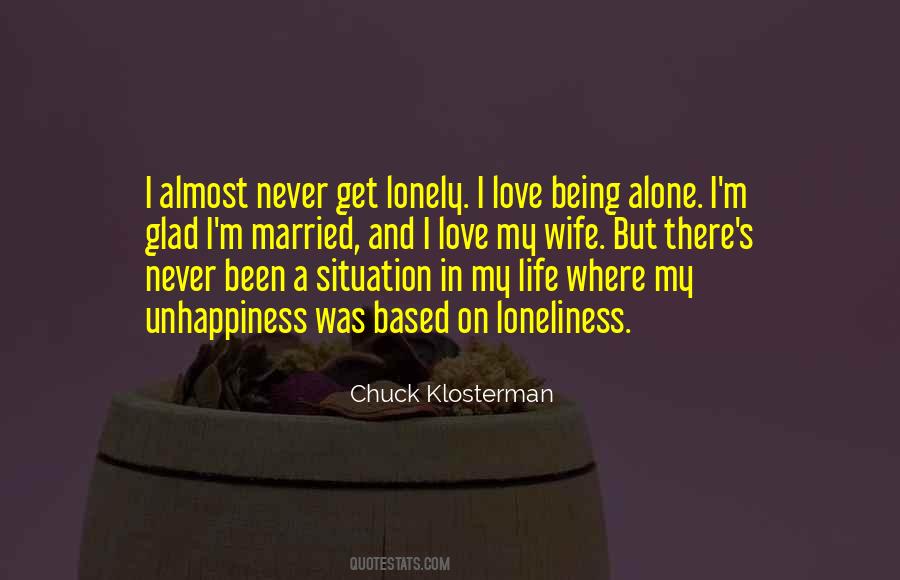 #45. I hate motorcycles. Because if I hit one, even if it's not my fault, if I've done nothing wrong, I'm not charged with manslaughter, he's gonna die, because he's on a motorcycle. So I have to live my life knowing that I killed this guy.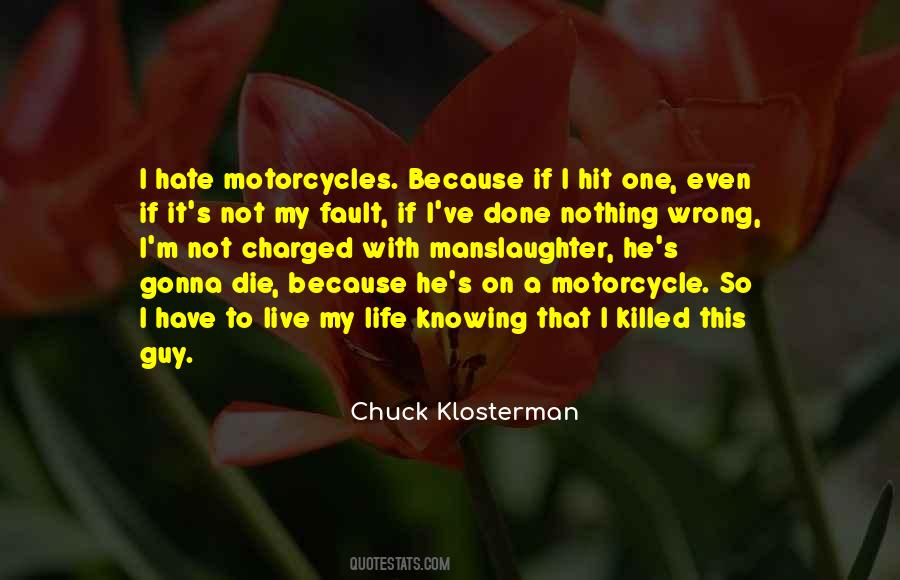 #46. When I think about the future, I'm not necessarily arguing it's going to be better or worse. I'm just saying it's going to be different.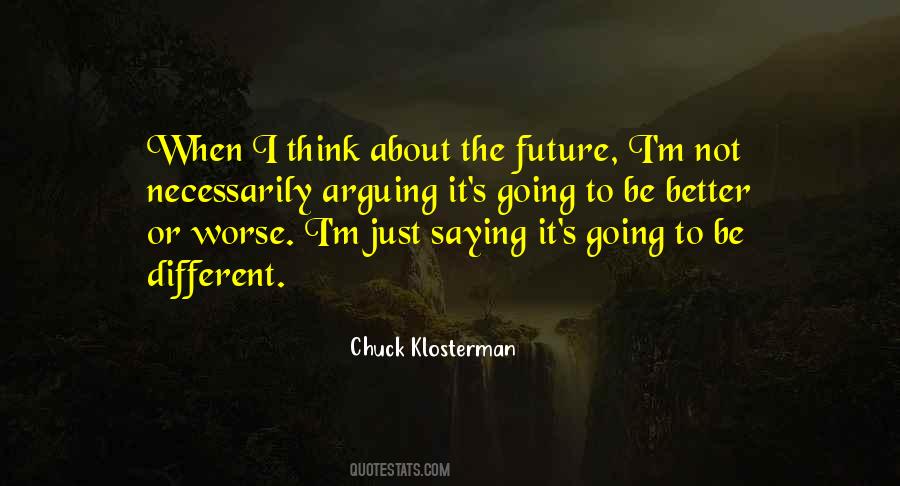 #47. You can't go into the office and be a jerk. You can't yell at your kids or your wife or your husband for no reason. That makes you a terrible person.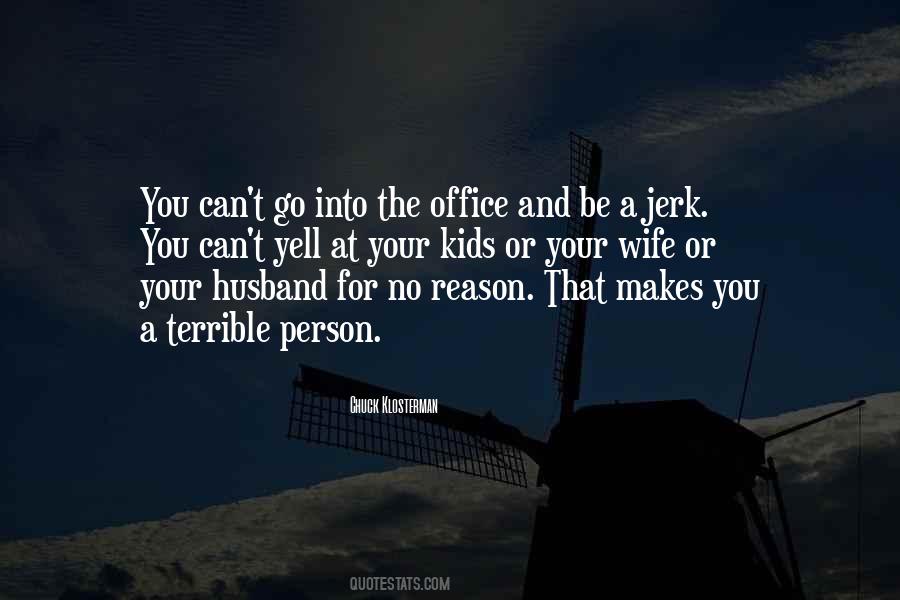 #48. The message of "The Winner Takes It All" is straightforward: It argues that the concept of relationships ending on mutual terms is an emotional fallacy. One person is inevitably okay and the other is inevitably devastated.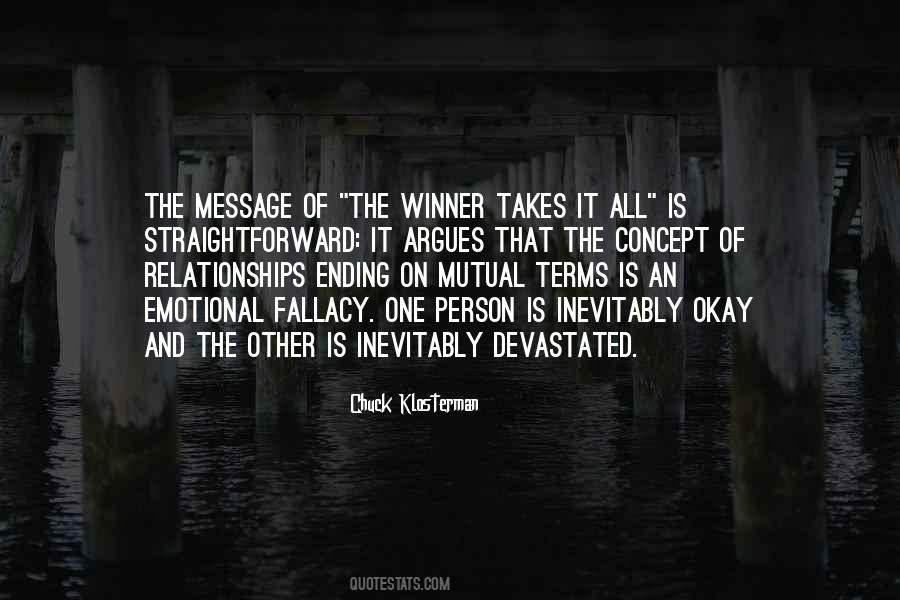 #49. People hate the feeling that technology is dragging them into the future, that they're not really following what's happening, but being forced to be involved. Even if it makes their life better, it still feels like it's happening against their will.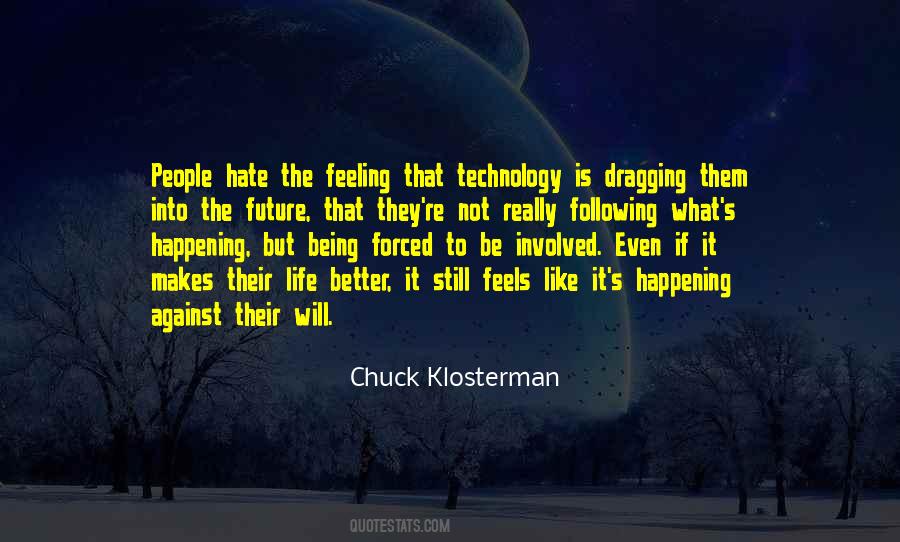 #50. The Constitution is awesome, but still overrated; it's like Pet Sounds.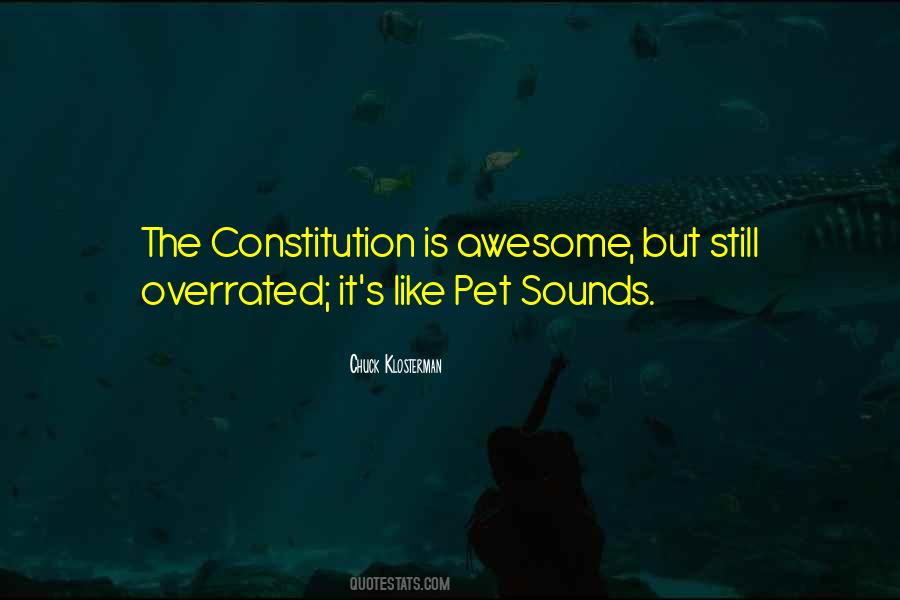 #51. This made her remember why people take up walking: It is because they no longer have anywhere to go.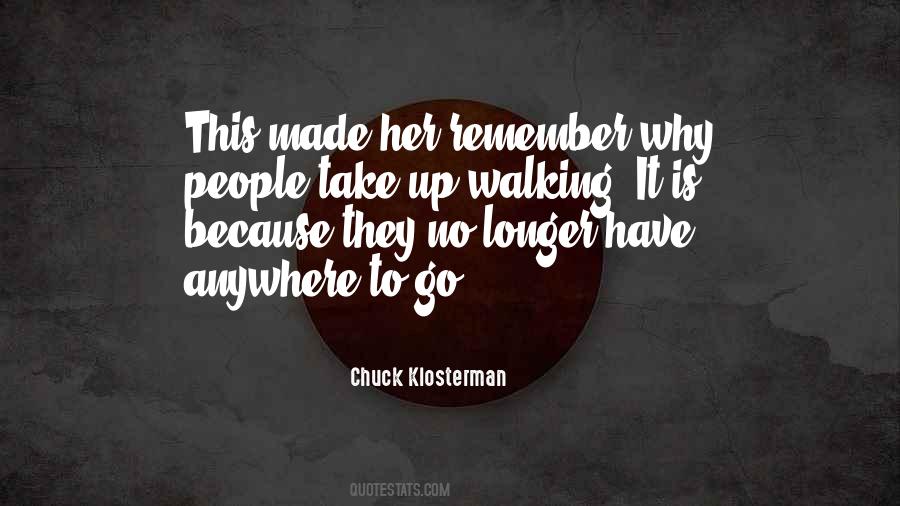 #52. Fake love is a very powerful thing.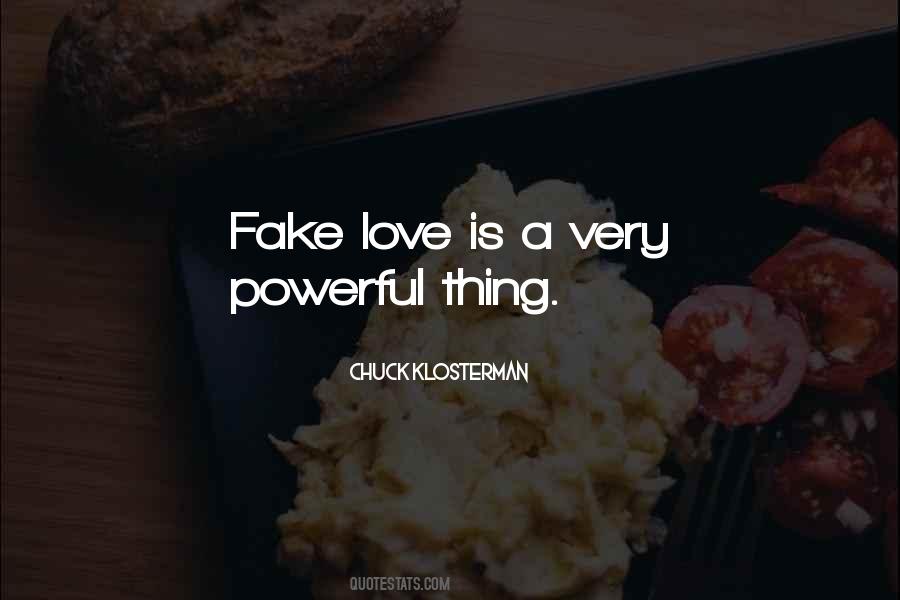 #53. Ignorance is not bliss. That platitude is totally wrong. You will not be intellectually happier if you know fewer things. Learning should be a primary goal of living. But what if ignorance feels better - not psychologically, but physically? That would explain a lot of human incongruities.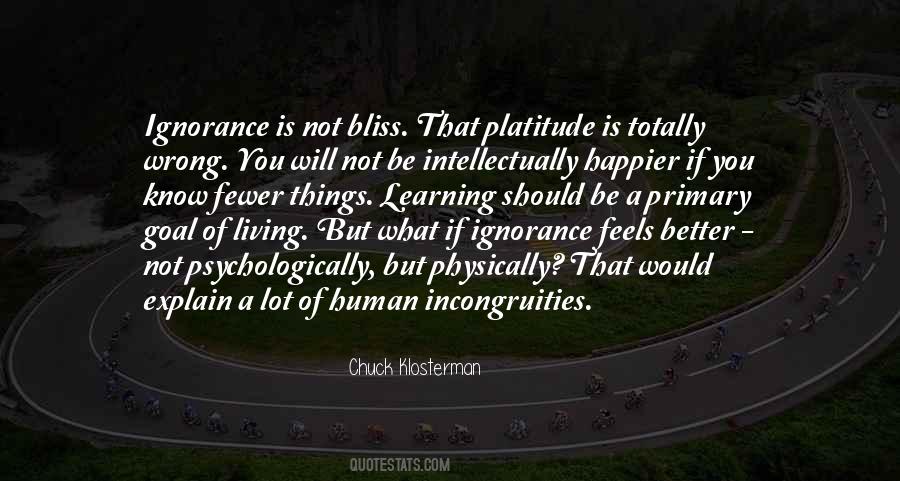 #54. The future is a teenage crackhead who makes shit up as he goes along. The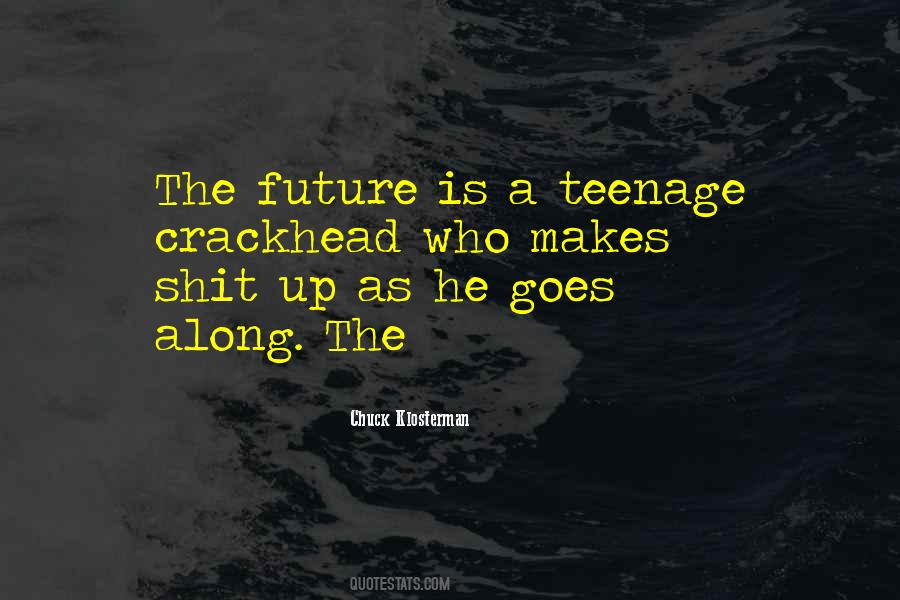 #55. I don't need to personally agree with something in order to recognize that it's true.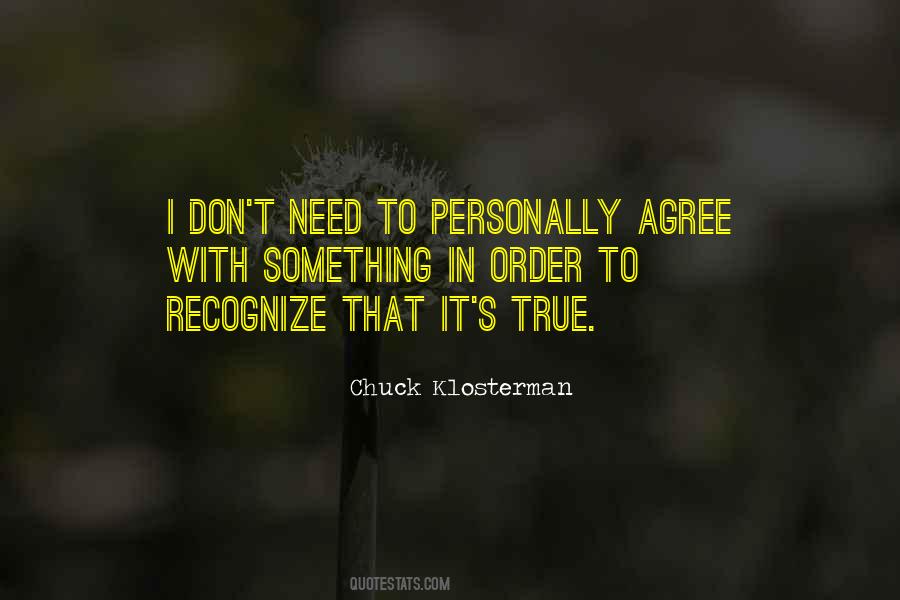 #56. If I were an adult, I would be drinking coffee; as it is, I'm drinking Mountain Dew.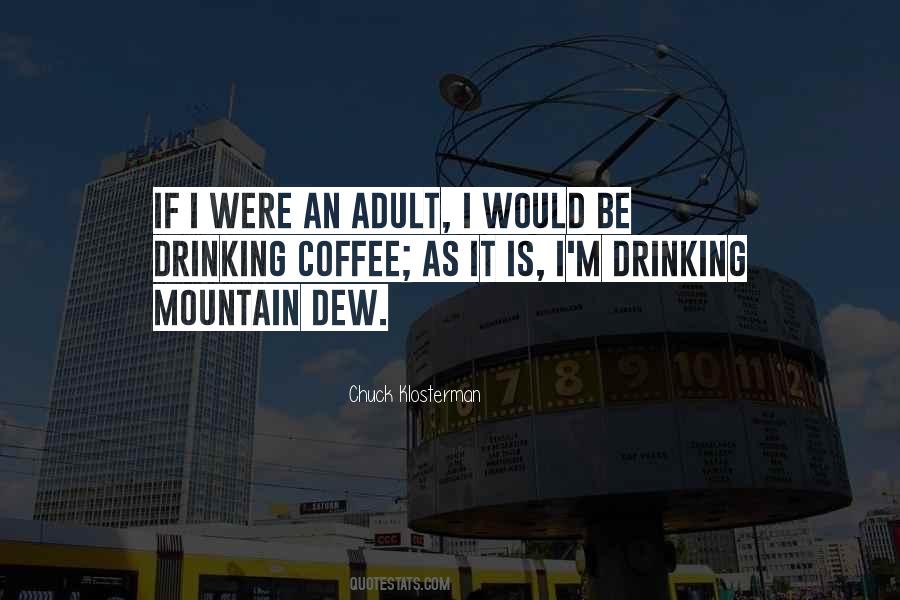 #57. The past has happened, and it can only happen the way it happened.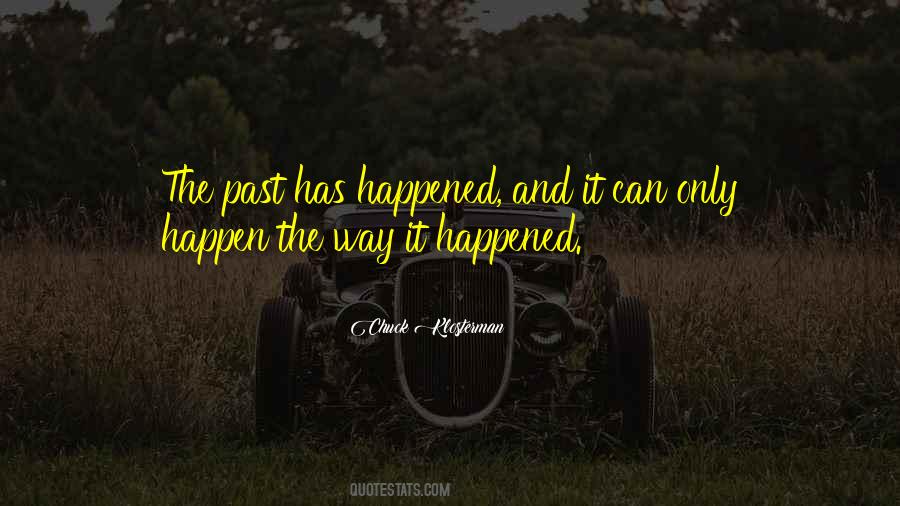 #58. If you stare long enough at anything, you will start to find similarities. The word "coincidence" exists in order to stop people from seeing meaning where none exists.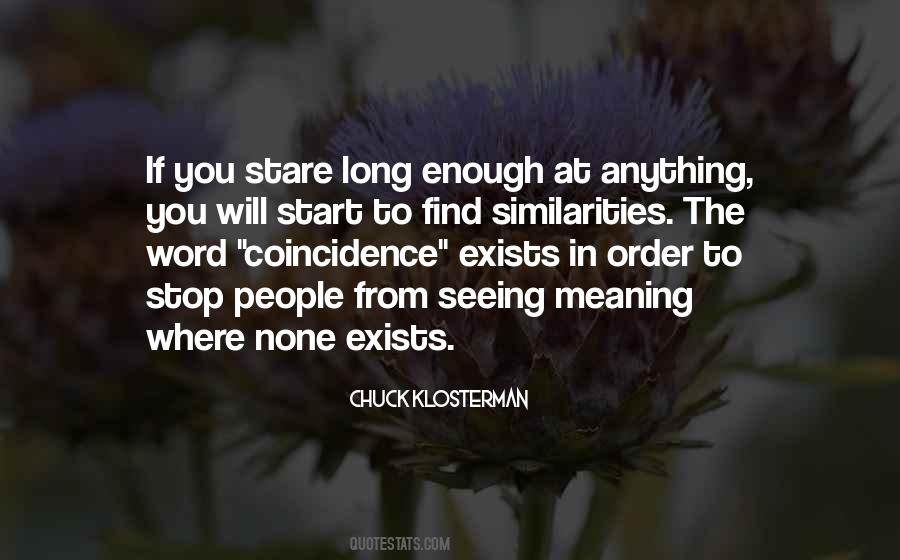 #59. Internet porn makes everything more reasonable
once you've realized there is a massive subculture of upwardly mobile people who think it's erotic to see an Asian woman giving a hand job to a javelina, nothing else in the world seems crazy.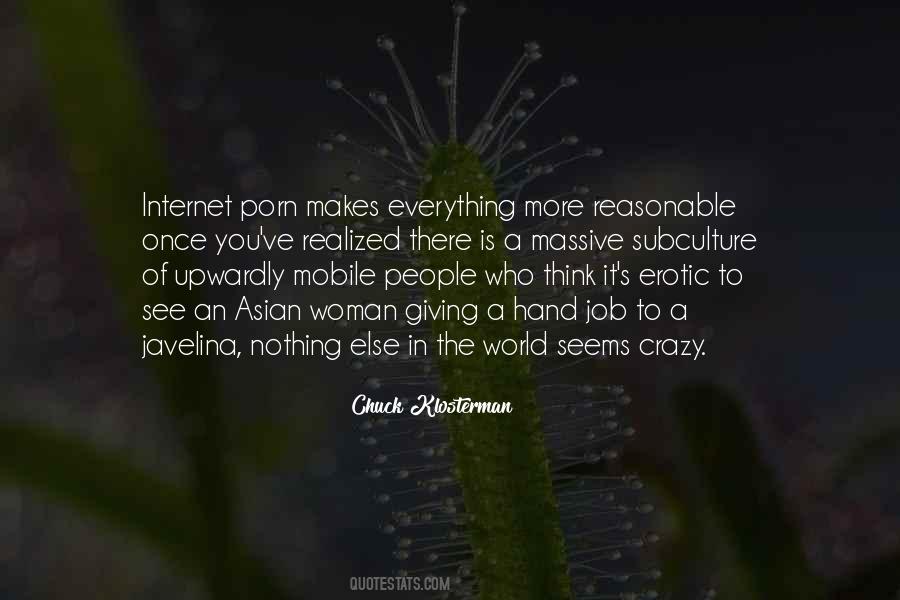 #60. Axl Rose is the ear-cutting scene from Reservoir Dogs in human form.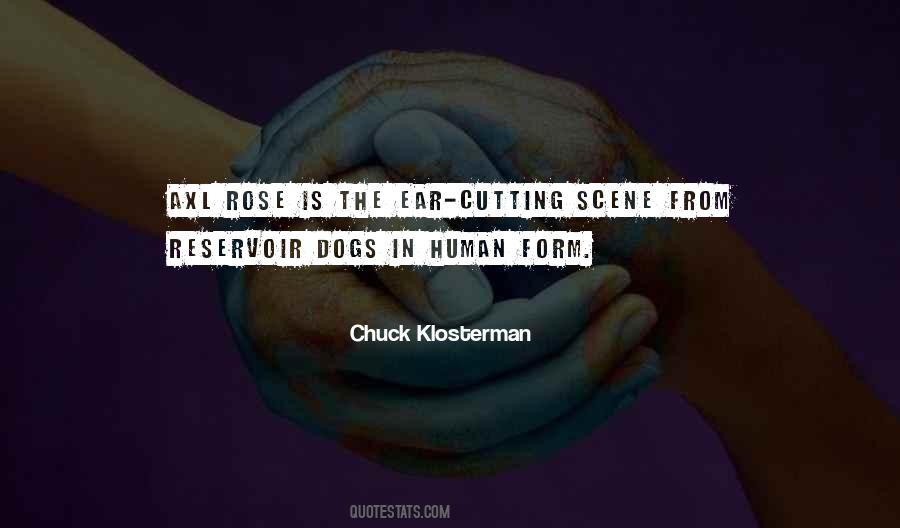 #61. I grew up on a farm, and we didn't have cable and only limited radio stations, so I wasn't inundated with culture the way people in other parts of the country were. But I was really interested in it.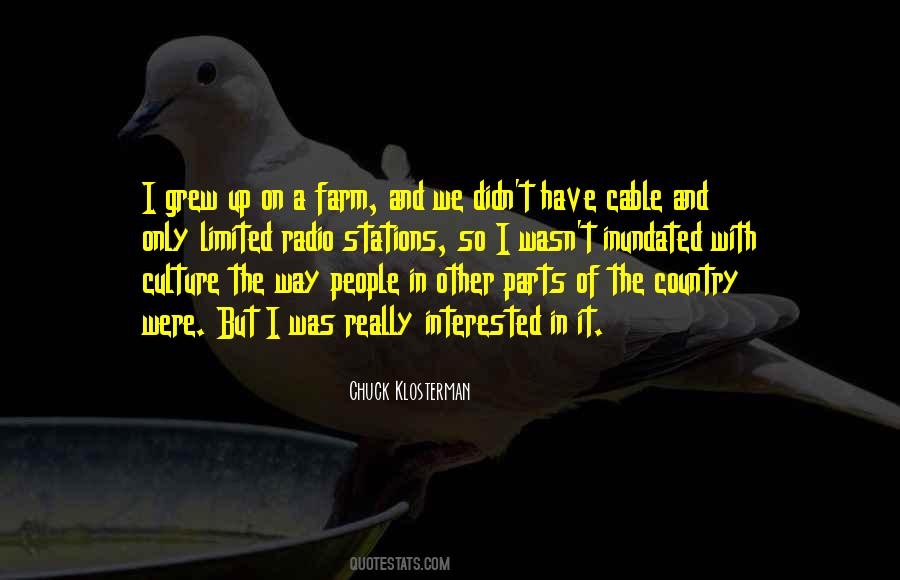 #62. To me, fear of the future means fear of technology. I have a little bit of that. I still use it, but I kind of see technology as this harmful thing that's so ingrained in my life that it sort of dictates and controls my relationship with it.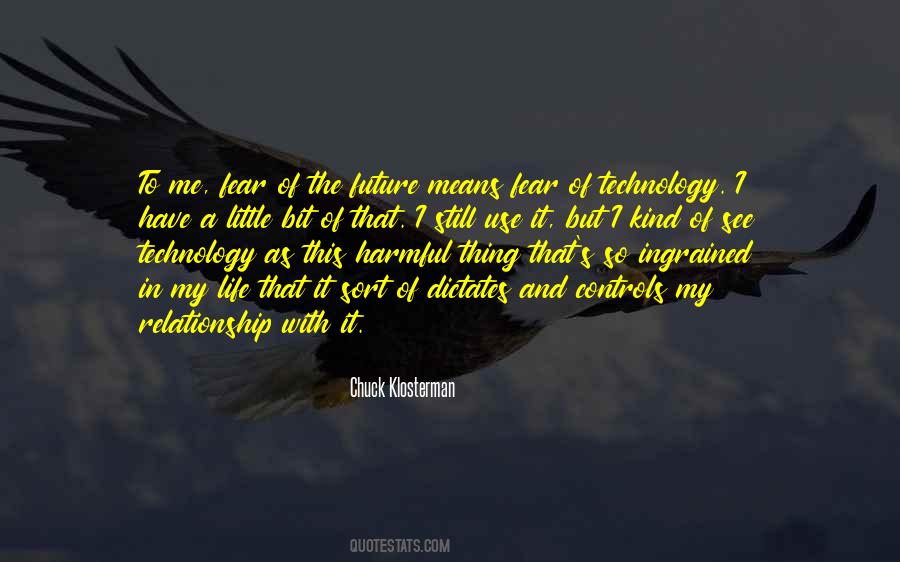 #63. Even though I wanted to experience all these things I was interested in, I couldn't get them. So I had to think critically and culturally about what was available.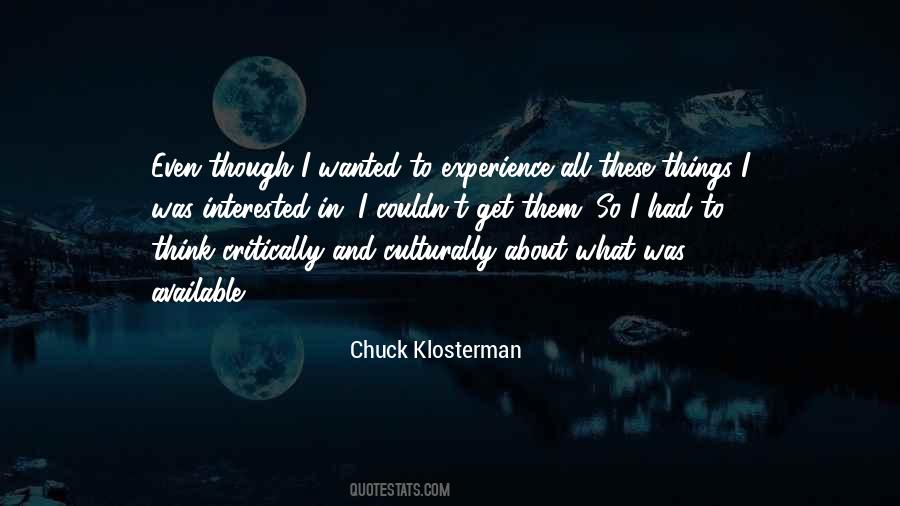 #64. I was a teenager in the '80s - and maybe I'm wrong about this - but it seemed like a bad era for movies that were scary. It was really the height of movies that were disgusting.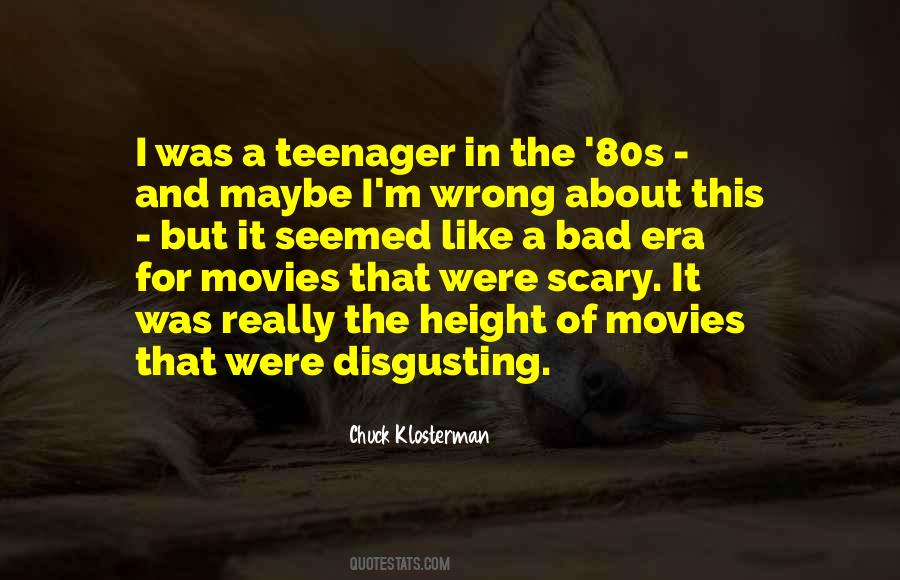 #65. one of the things they desired most desperately was freedom of religion, based on the premise that Europe wasn't religious enough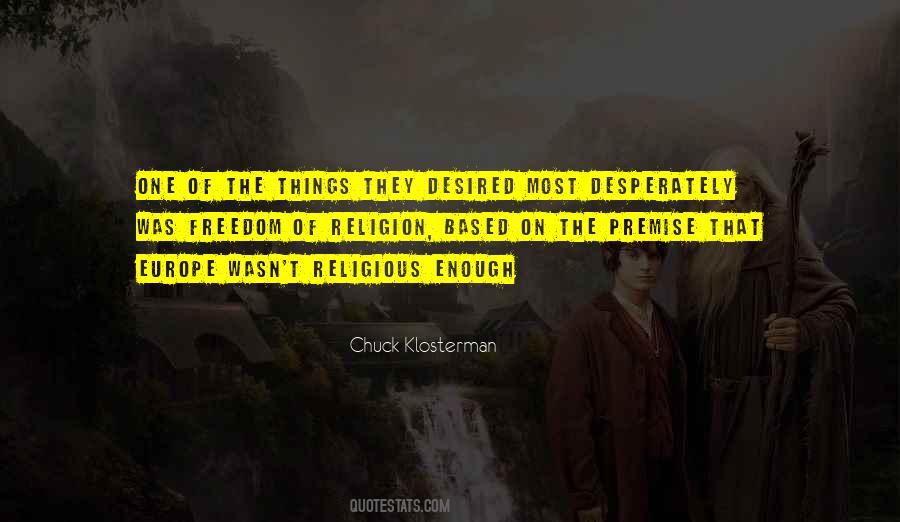 #66. Life is fucking confusing. I don't know anything, and neither do you.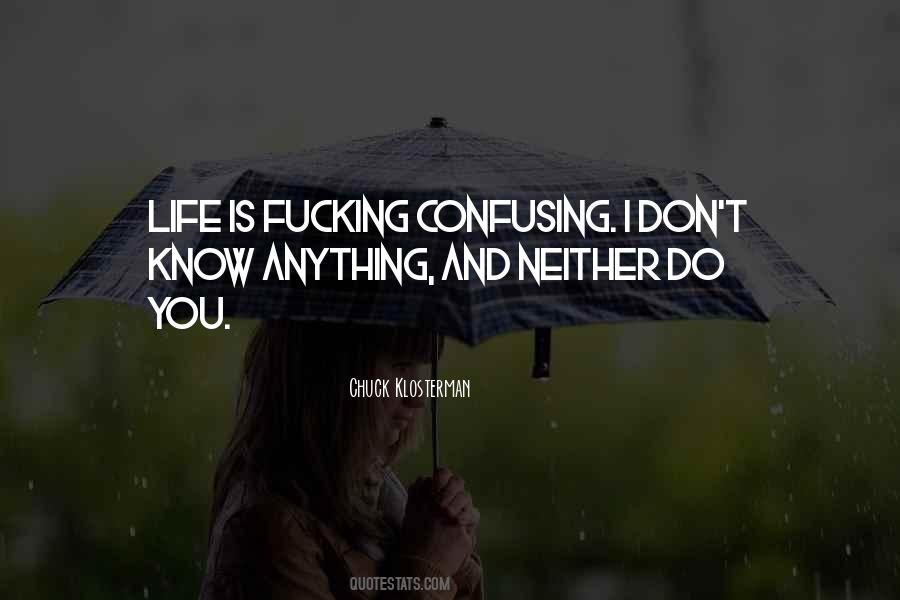 #67. Necessity used to be the mother of invention, but then we ran out of things that were necessary. The postmodern mother of invention is desire; we don't really "need" anything new, so we only create what we want.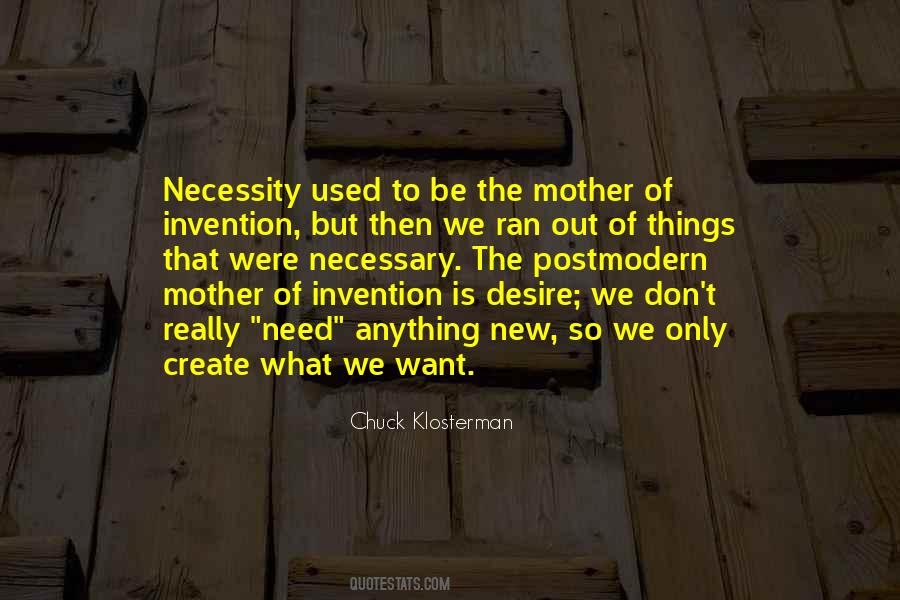 #68. Tall people are naturally confident. History has proven this - Alexander the Great, Wilt Chamberlain, Gisele.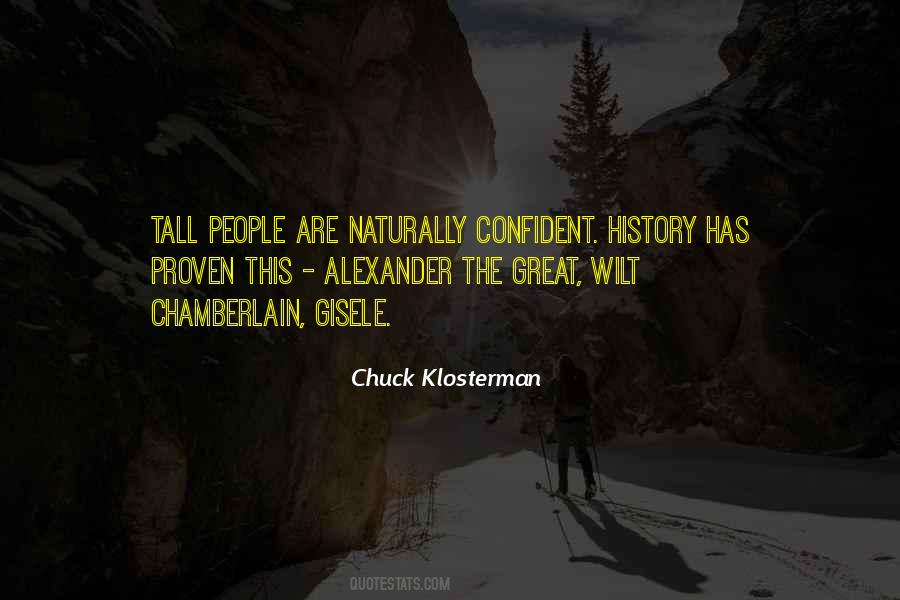 #69. The only people who think the Internet is a calamity are people whose lives have been hurt by it; the only people who insist the Internet is wonderful are those who need it to give their life meaning.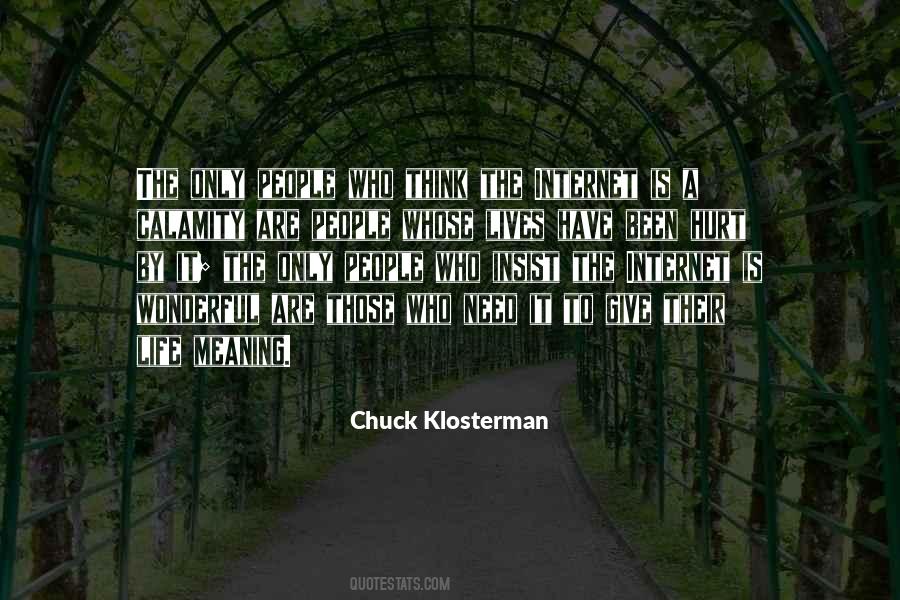 #70. I care about strangers when they're abstractions, but I feel almost nothing when they're literally in front of me.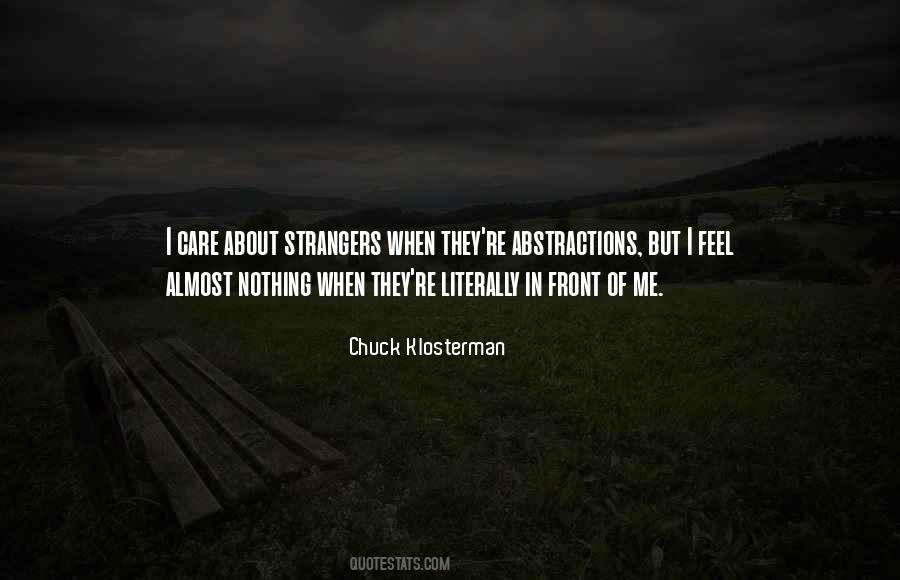 #71. Maybe I could survive in one of those resort prisons where they house white-collar criminals. I've always wanted to get better at tennis.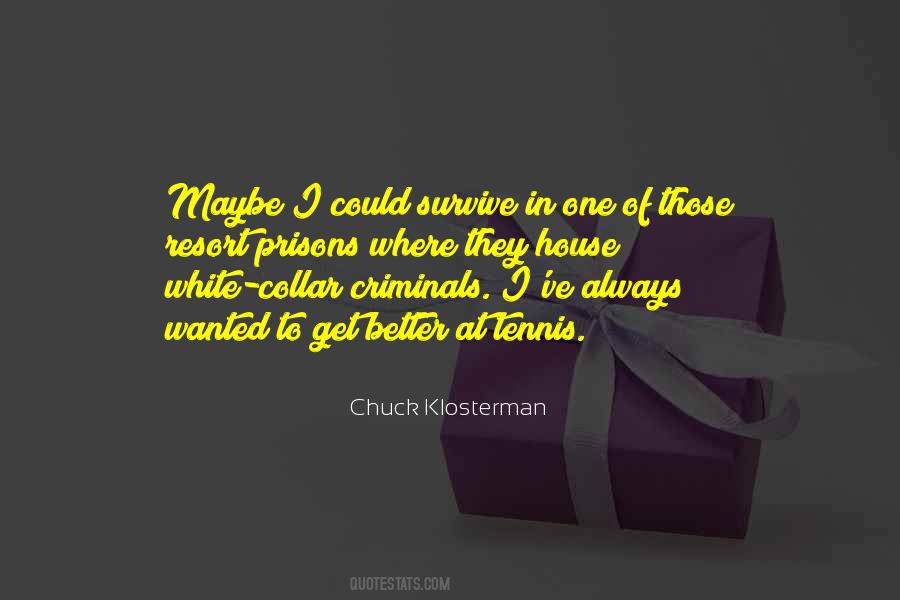 #72. If Donald Trump loses badly, it could mean the end of the GOP as one of the two significant parties.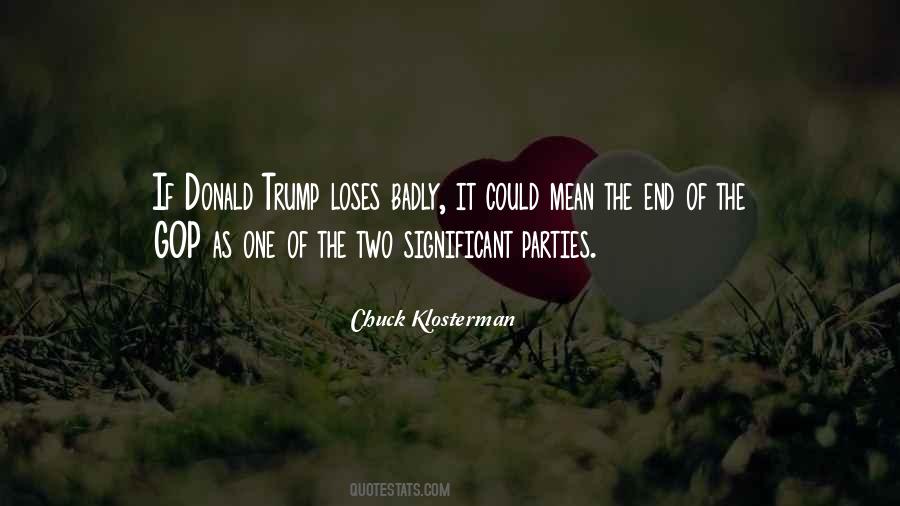 #73. The most wretched people in the world are those who tell you they like every kind of music 'except country.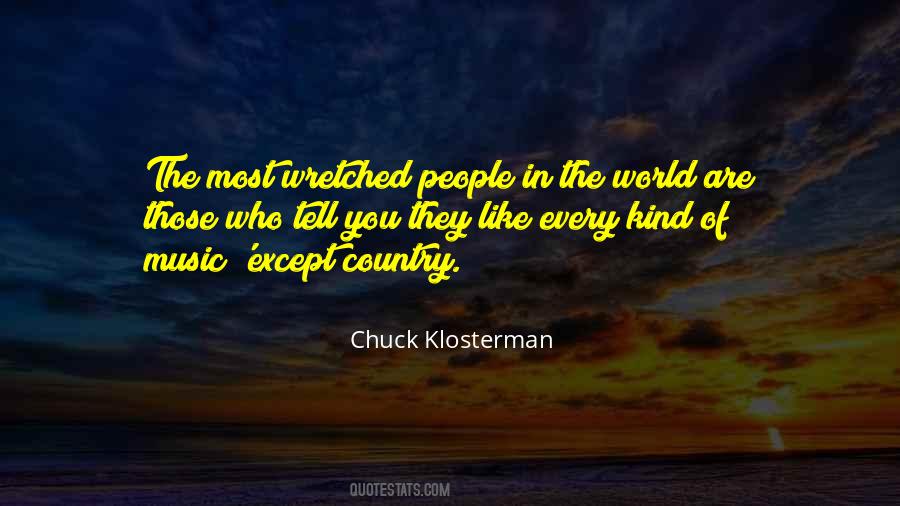 #74. The essays are different because ultimately it's things I'm interested in, and I'm really just writing about myself and using those subjects as a prism.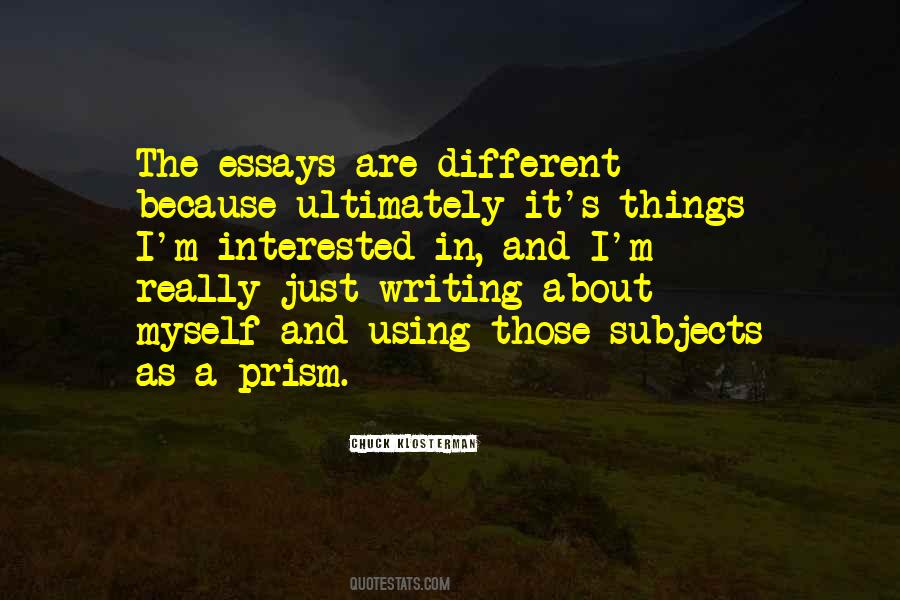 #75. Well, that's how it always seems, until it doesn't.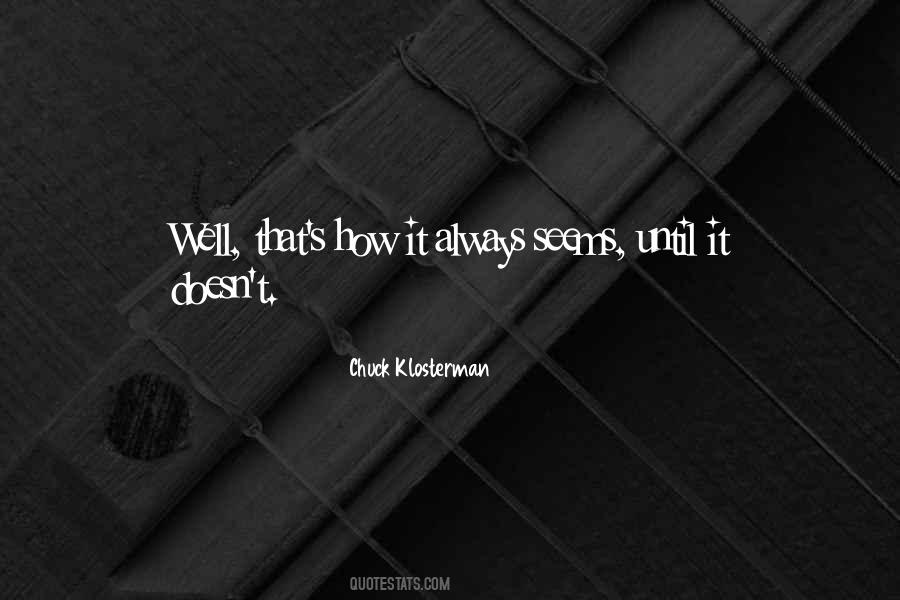 #76. Flying to me isn't scary, it's just incredibly boring. And I guess I have a fear of boredom, so in that regard, I'm afraid to fly.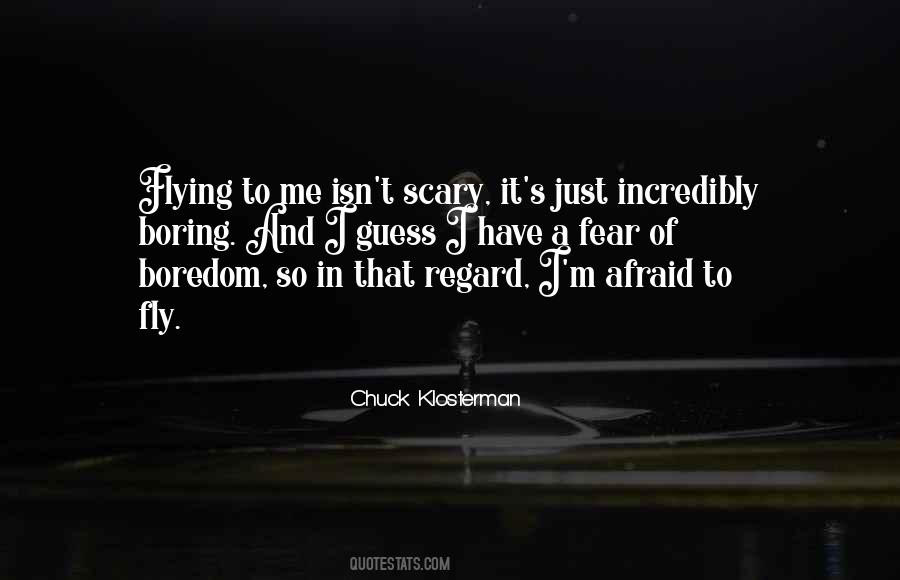 #77. And if something is only itself, it doesn't particularly matter.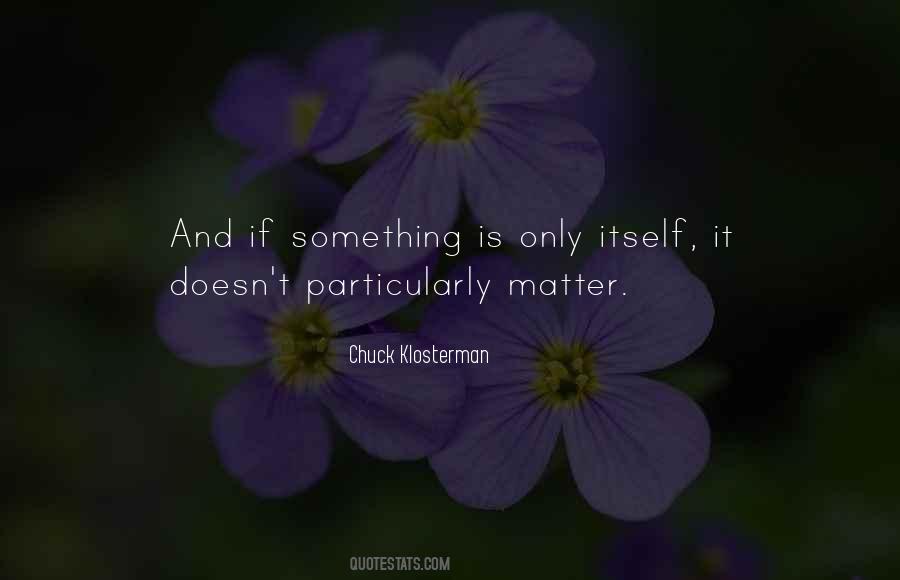 #78. The villain is the person who knows the most but cares the least.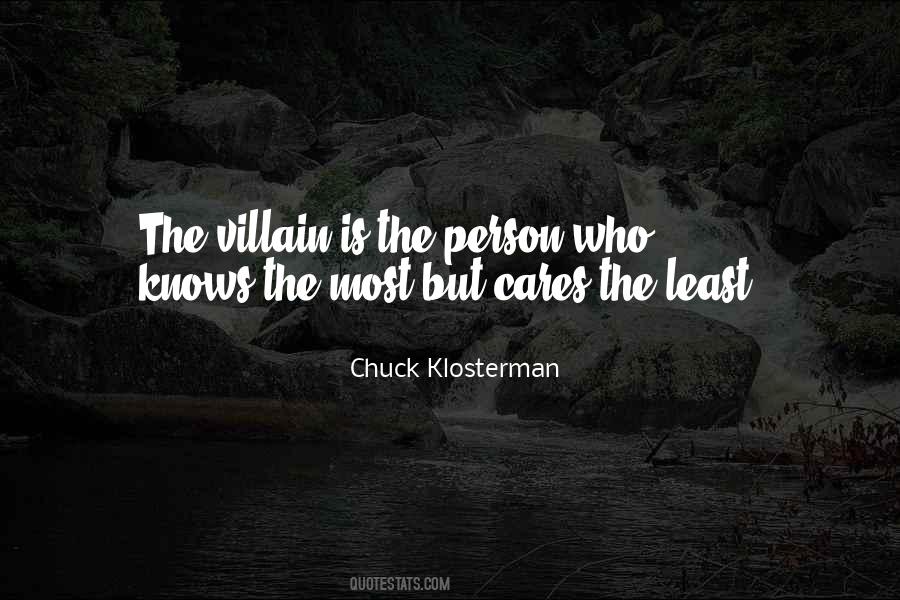 #79. When I'm walking around, I'm usually drinking pop, so I can't have a mask on. That's why I couldn't be a surgeon.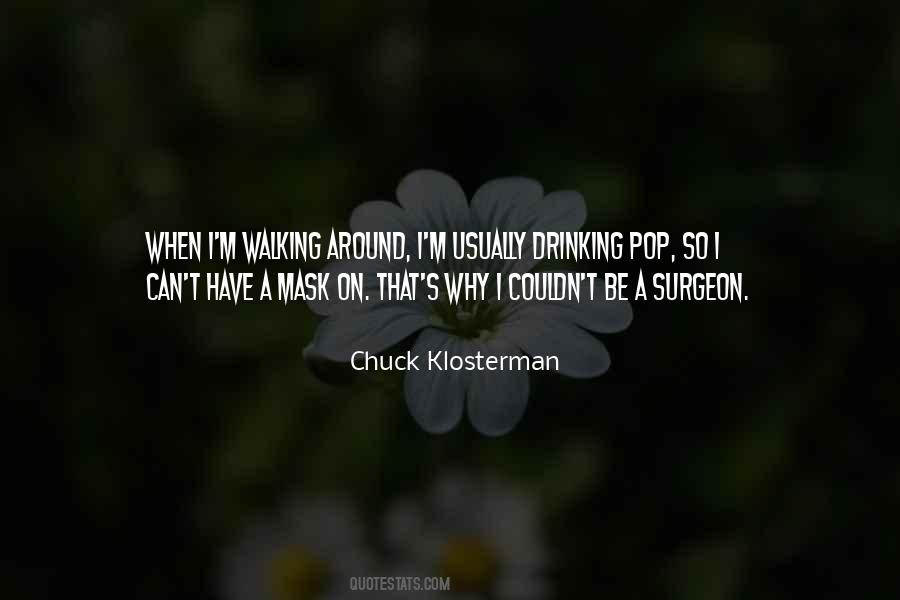 #80. Soccer is like punk rock: The product is not necessarily terrible. The problem is the fan base.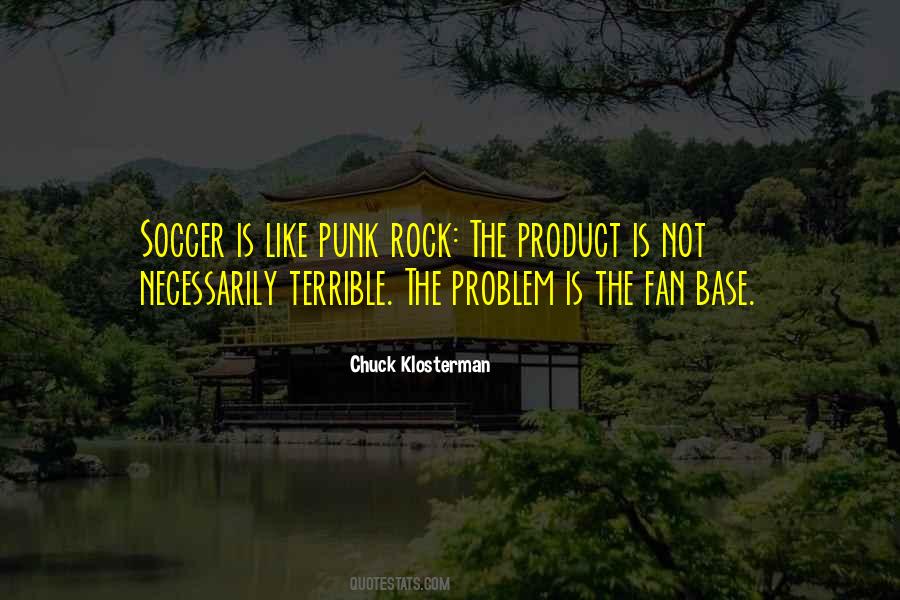 #81. I once loved a girl who almost loved me, but not as much as she loved John Cusack.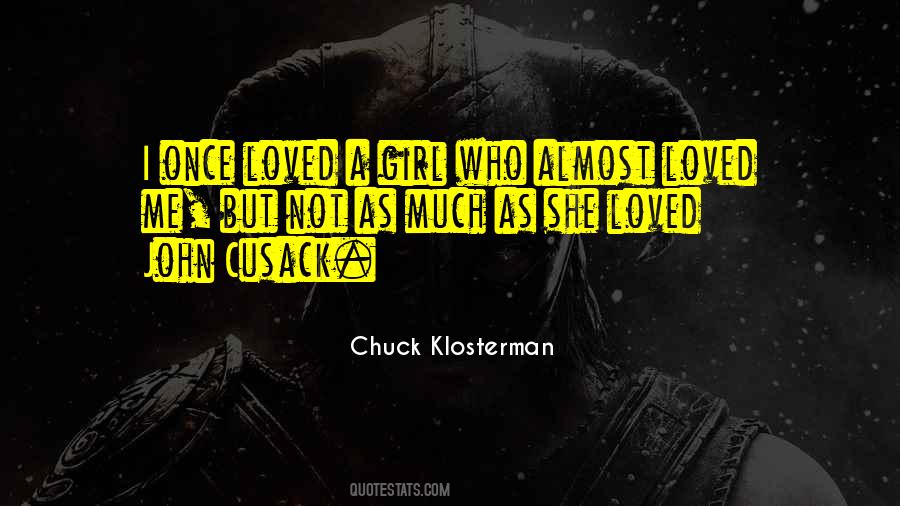 #82. Science fiction tends to be philosophy for stupid people.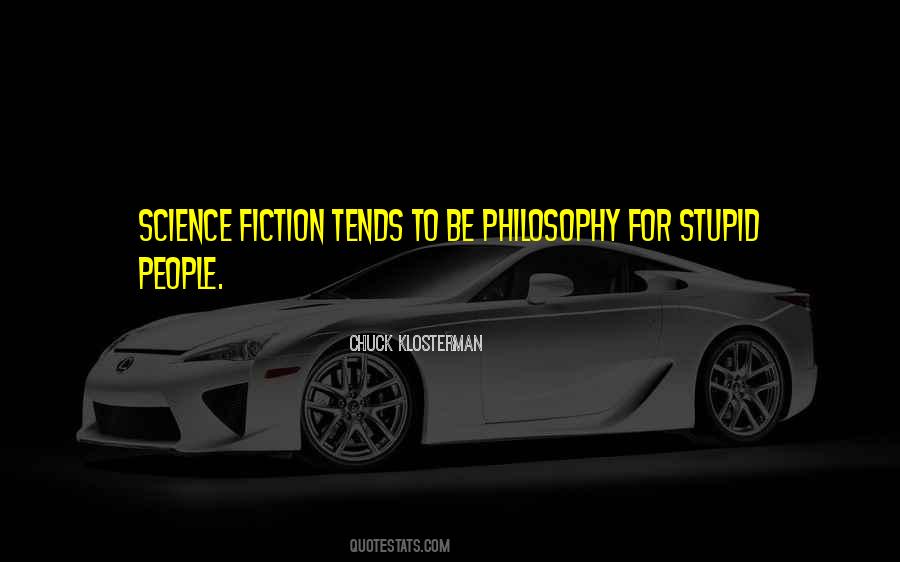 #83. According to population expert Dr. Paul Ehrlich, we should currently be experiencing a dystopian dreamscape where "survivors envy the dead," which seems true only when I look at Twitter. Yet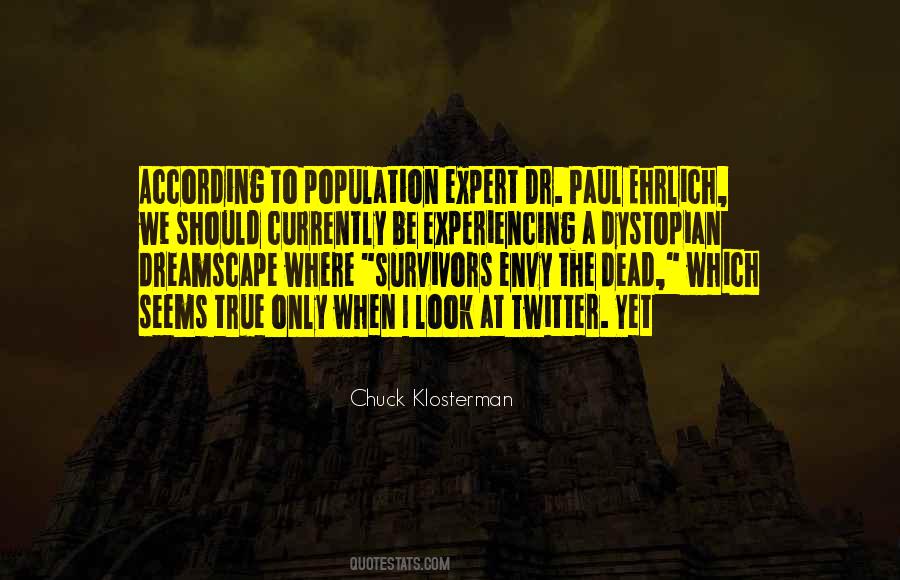 #84. As of right now, I am in love with her, and that love is the biggest problem in my life.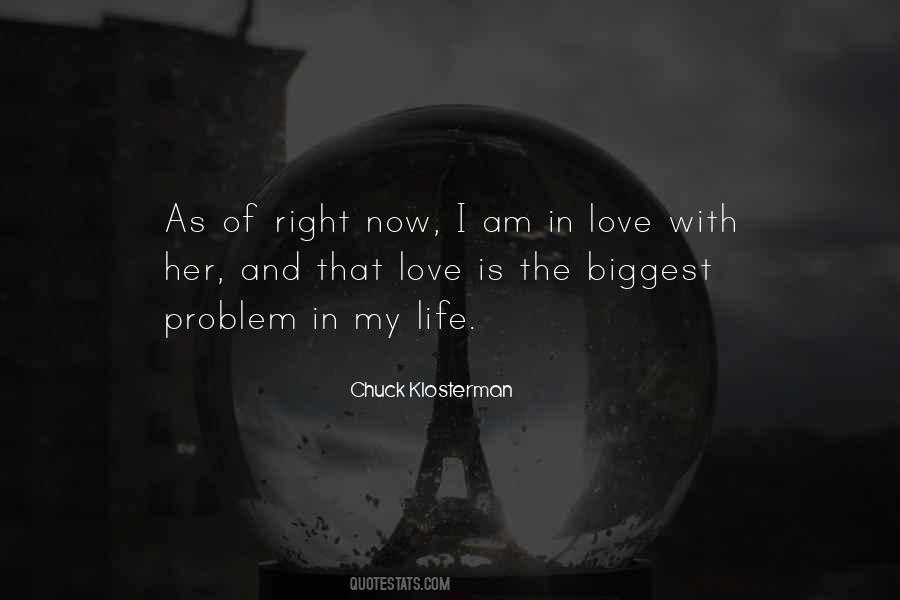 #85. The future is always impossible.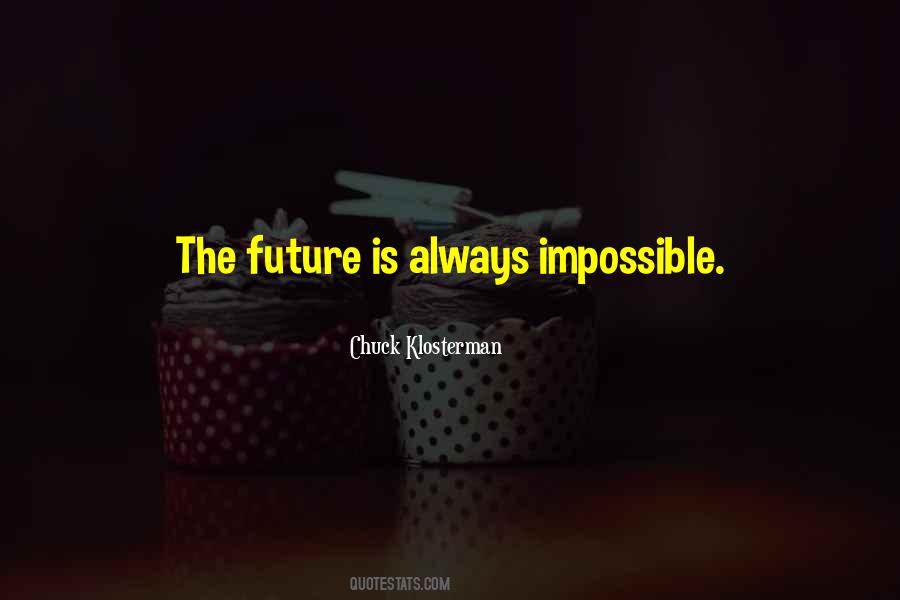 #86. It was the kind of love you can only feel toward someone you don't actually know.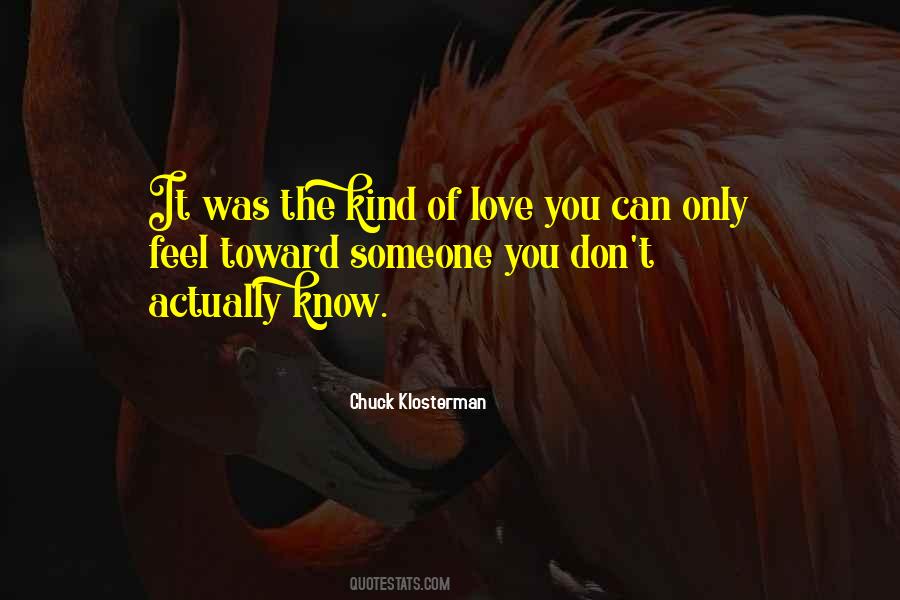 #87. Part of the reason forward-thinking media networks like Twitter succeed is because people3 want to believe that every immaterial thing they do is pertinent by default; it's interesting because it happened to them, which translates as interesting to all.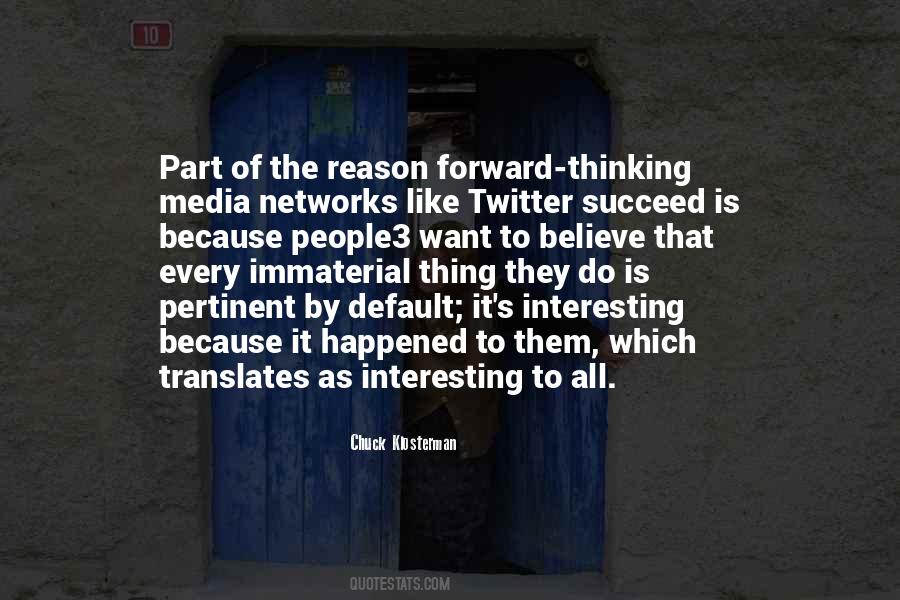 #88. No one has ever honestly said, "I hate that this joke exists, even though it's clearly hilarious." It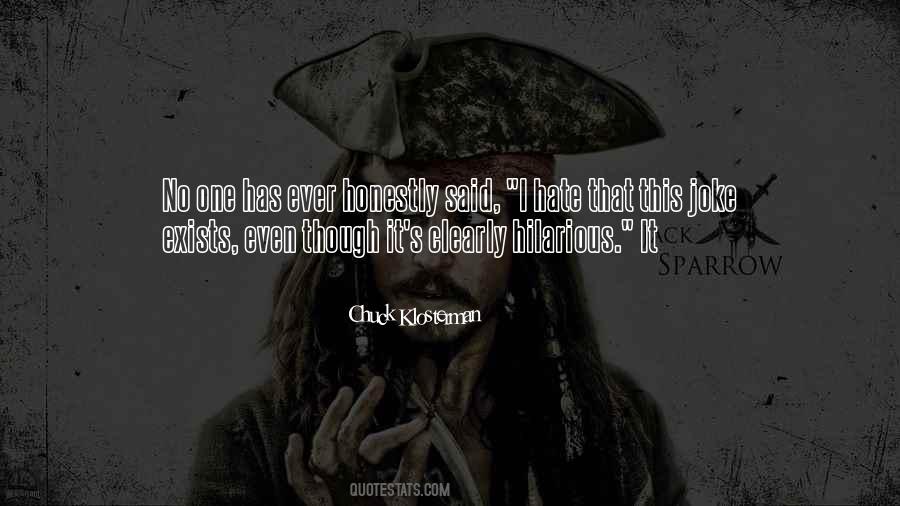 #89. Whenever someone says something that's both realistic and abhorrent, It makes me suspect everyone else is lying about everything else.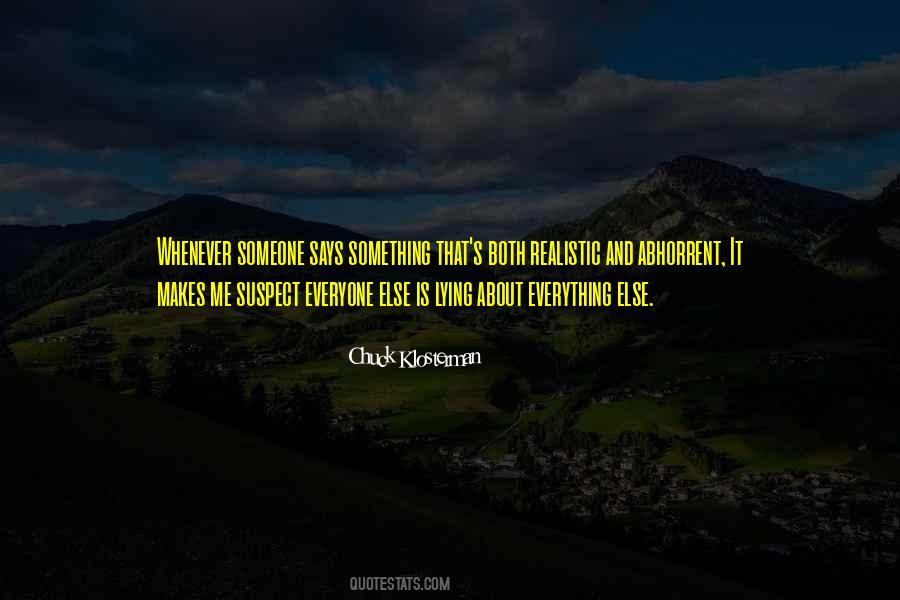 #90. Let's face it: Sadness and evil are always more believable than happiness and love. When a movie reviewer calls a film "realistic," everyone knows what that means
it means the movie has an unhappy ending.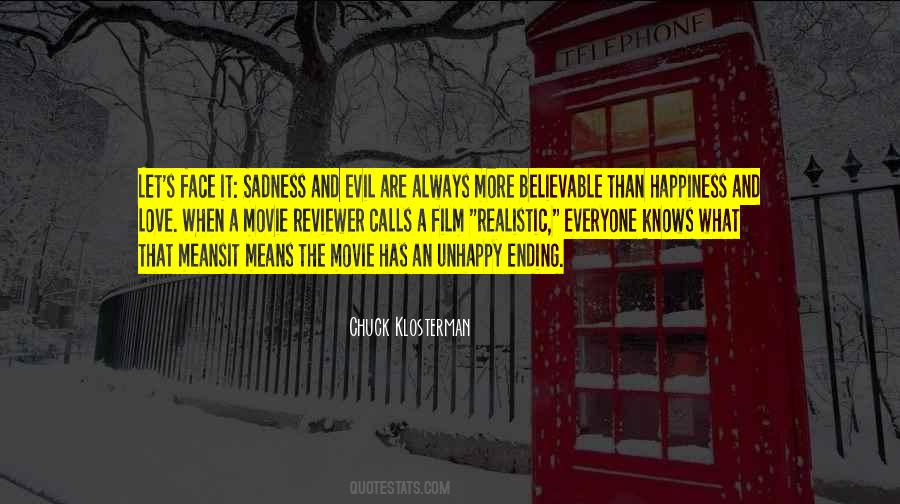 #91. And the quality all these reasonable failures share is an inability to accept that the statue quo is temporary.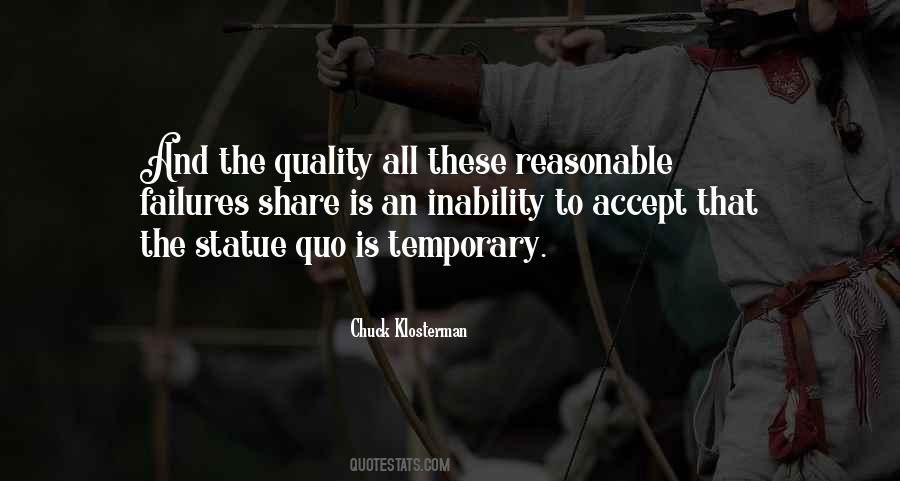 #92. I also did an Ozzy piece for him, and so I got hired. Everything happened really fast. I can't give people advice, because everything in my life changed completely in less than a year and it's still not something I am used to.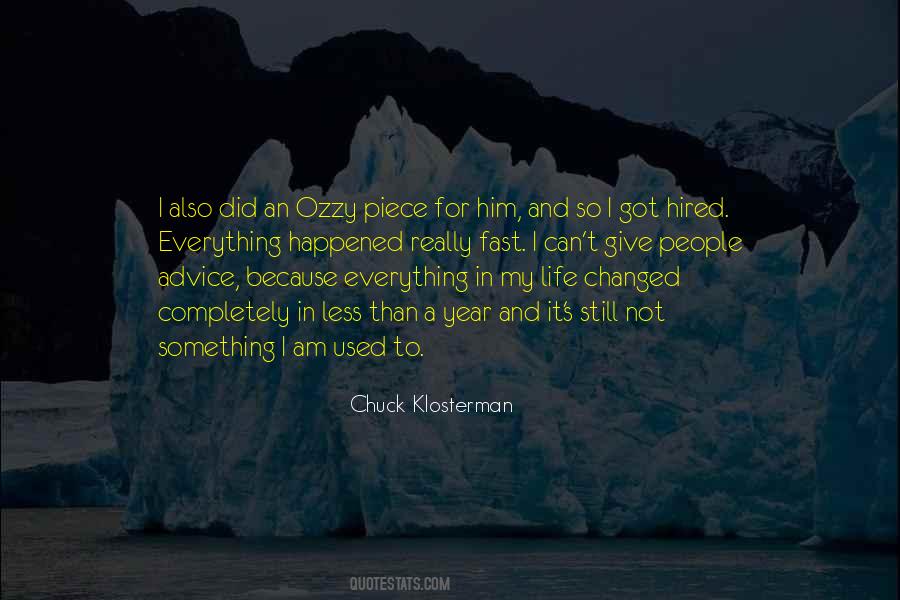 #93. My imagination has problems with plot mechanics.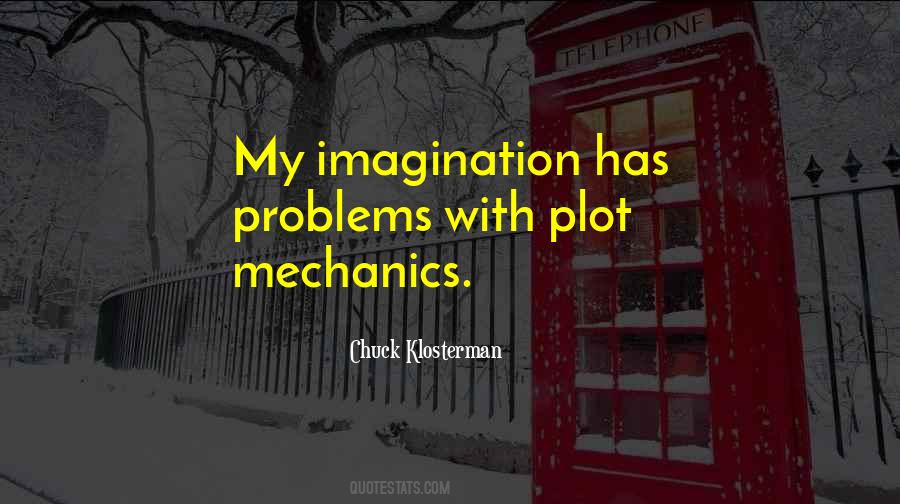 #94. If you hate everything, you're a banal asshole ... but if you don't hate anything, you're boring.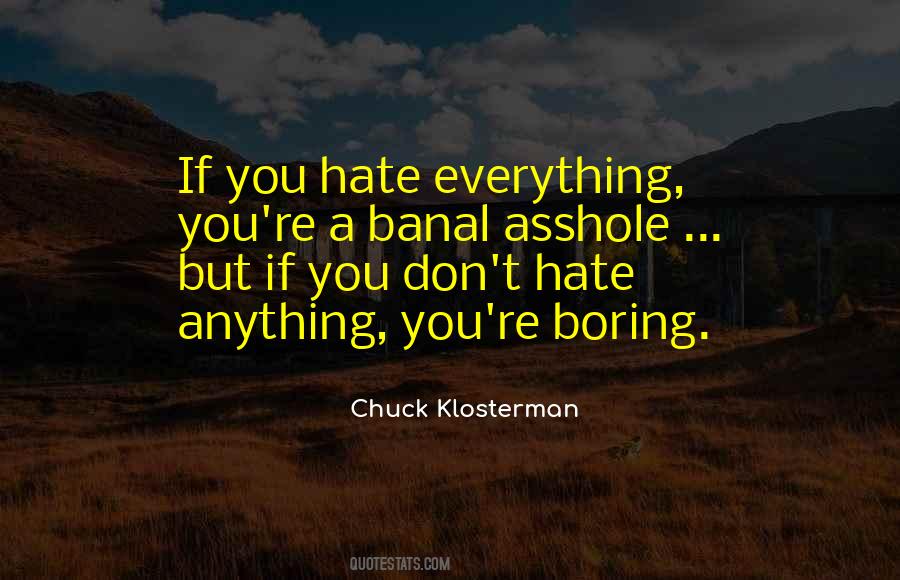 #95. You used to be able to tell the difference between hipsters and homeless people. Now, it's between hipsters and retards. I mean, either that guy in the corner in orange safety pants holding a protest sign and wearing a top hat is mentally disabled or he is the coolest fucking guy you will ever know.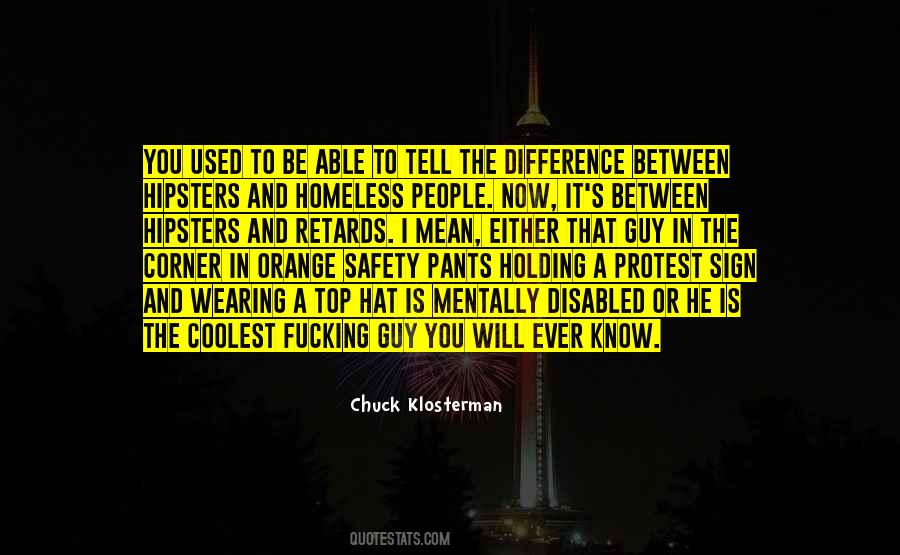 #96. When someone writes a book review, they obviously already self-identify as a writer. I mean, they are. They're writers, they're critics, and they're writing about a book about a writer who's a critic. So I think it's really hard for people to distance themselves from what they're criticizing.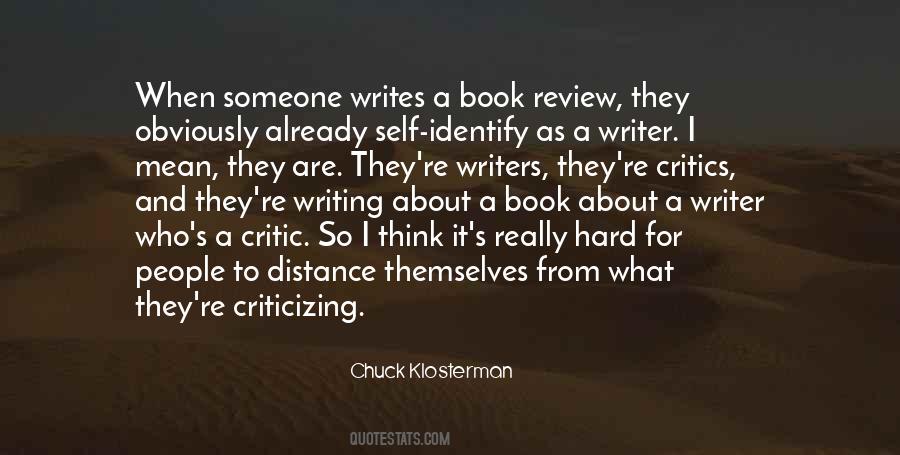 #97. Within these strangely specific conditions, everything is perfect. We are perfect.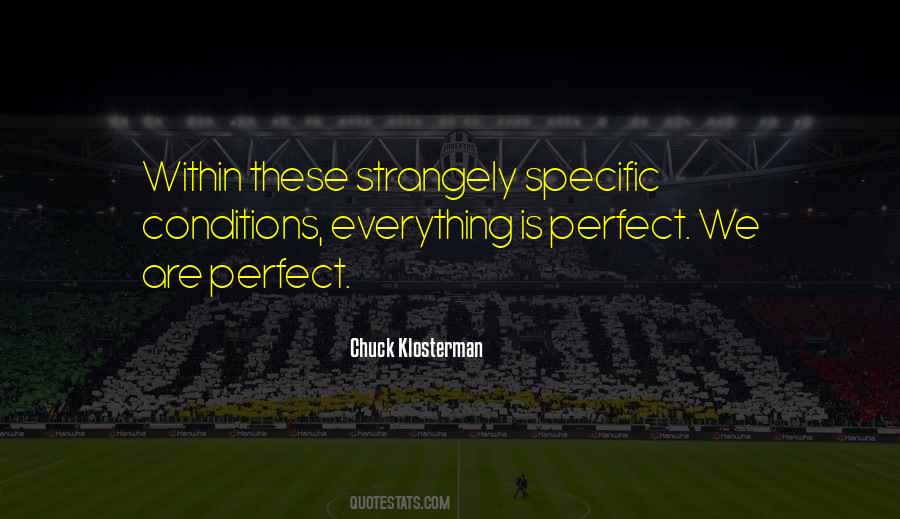 #98. I enjoy hating musicians far more than I enjoy appreciating them. As far as I'm concerned, when someone becomes a rock star, he quits being a person.
#99. I've obliterated three days trying to come up with an elegant way to write what I'm about to write, but I think the least elegant way is probably best: I like Kanye West.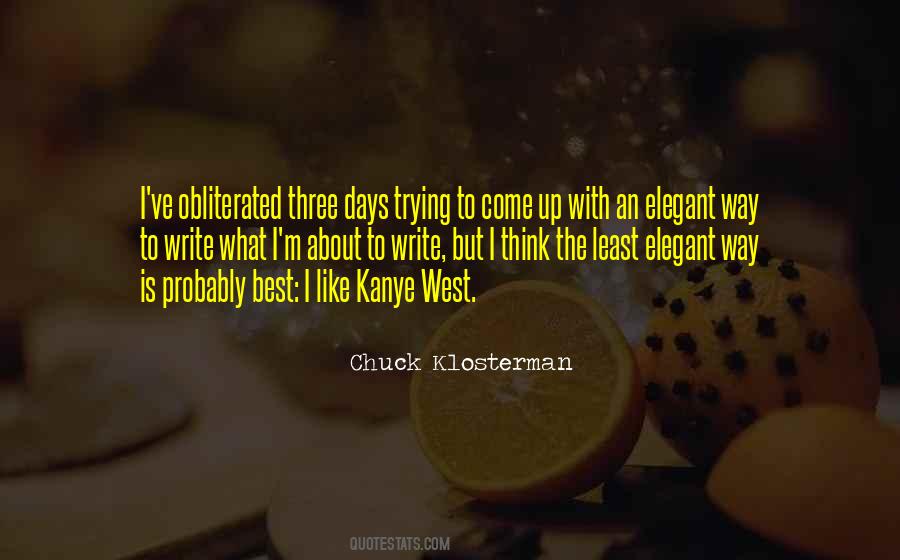 #100. (The Eagles' song "Take It Easy") is clearly a problem of a young man, as no one over thirty-five could sustain interest in seven simultaneous relationships unless they're biracial and amazing at golf.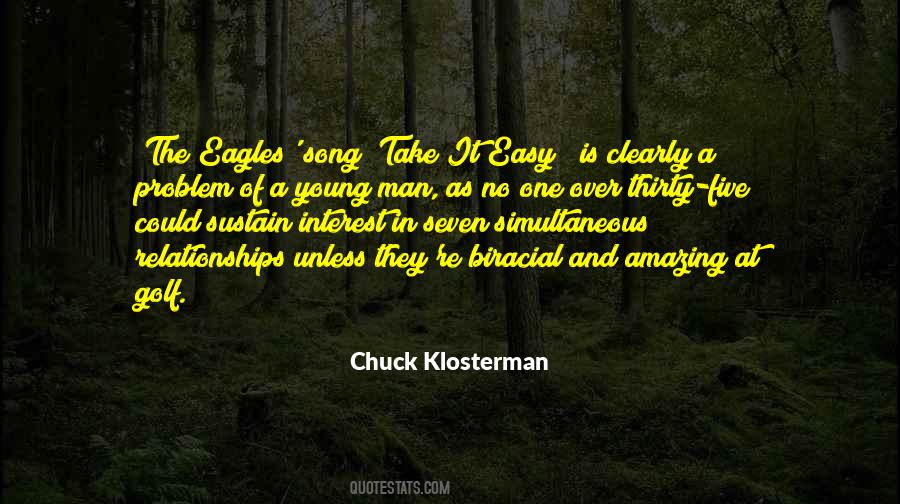 Famous Authors
Popular Topics