Bye Famous Quotes & Sayings
List of top 100 famous quotes and sayings about bye to read and share with friends on your Facebook, Twitter, blogs.
Top 100 Quotes About Bye
#1. It's morning when I go to sleep
In the distant dawn a church bell rings
Another day is coming on
A baby's born, an old man dies
Somewhere young lovers kiss good-bye
I leave my soul and just move on
And wish that I was there to sing this song - Author: Jon Bon Jovi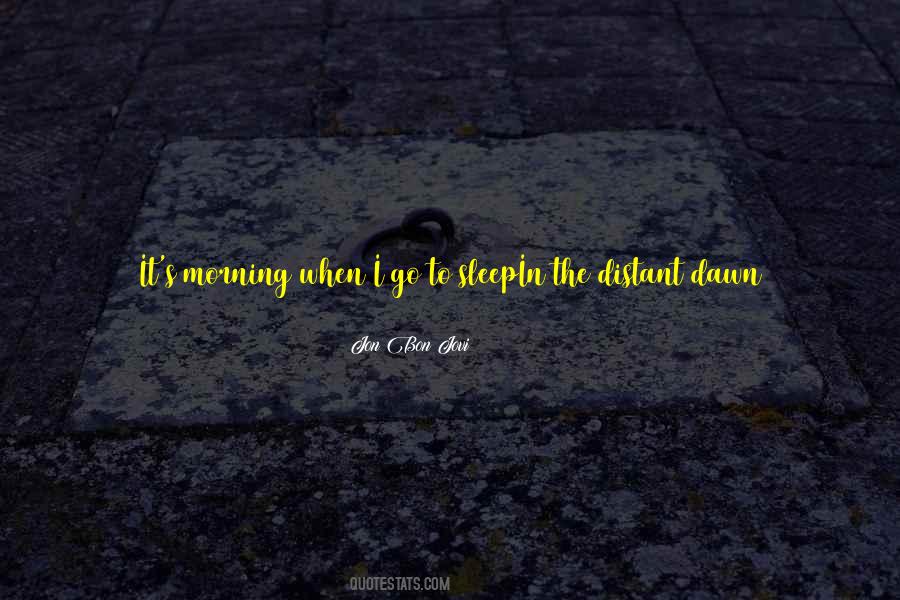 #2. Never mind. Bye, Carmen. Don't go out and get radical or anything.
THE PINATA-MAKER'S DAUGHTER - Author: Eileen Granfors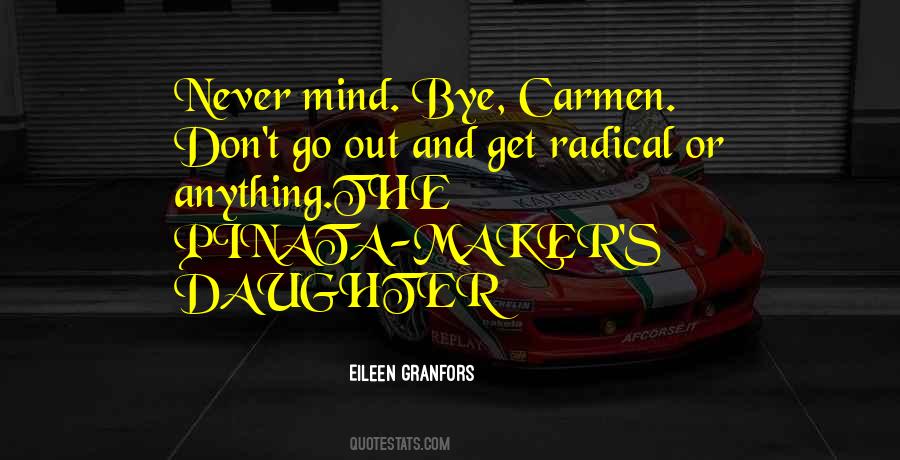 #3. Hi,Hello,Wuzzup?,cool,now.g'bye! - Author: Bill Nye The Science Guy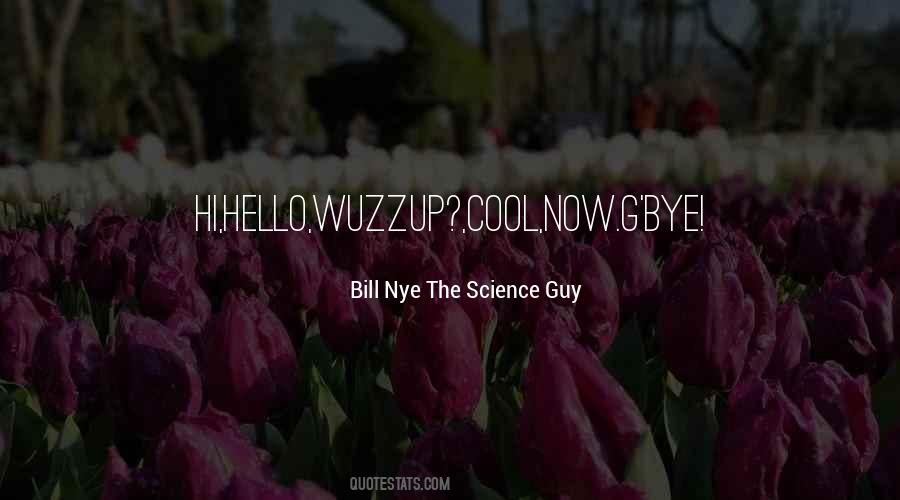 #4. Vianne knew Rachel wasn't asking how to hide in the barn; she was asking how to live after a loss like this, how to pick up one child and let the other go, how to keep breathing after you whisper "good-bye." "I can't leave her. - Author: Kristin Hannah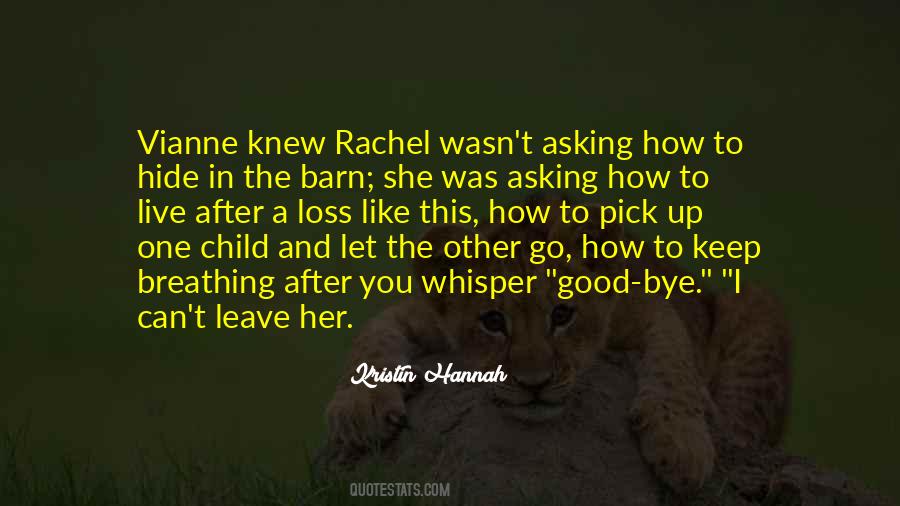 #5. I said hello unnoticed, you said good-bye too soon. - Author: Rod Stewart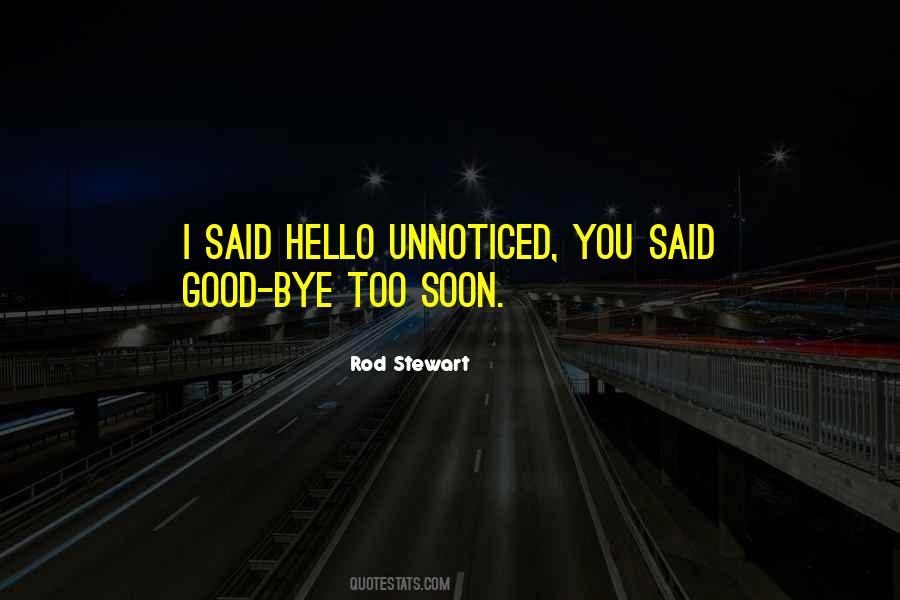 #6. You never know when it's going to be the last time you see somebody and don't want to miss your chance to say good-bye. - Author: Rainbow Rowell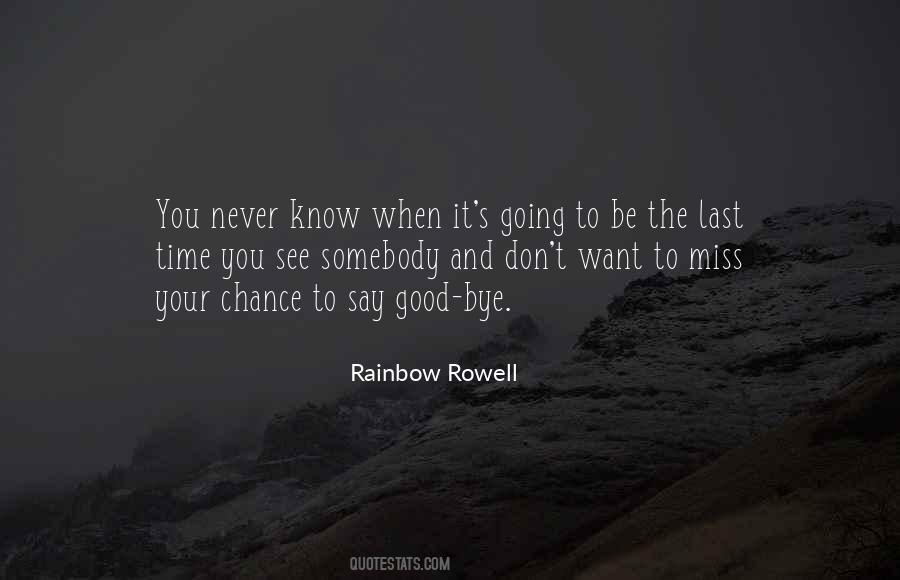 #7. The crew of the space shuttle Challenger honored us by the manner in which they lived their lives. We will never forget them, nor the last time we saw them, this morning, as they prepared for their journey and waved good-bye and 'slipped the surly bonds of earth' to 'touch the face of God. - Author: Ronald Reagan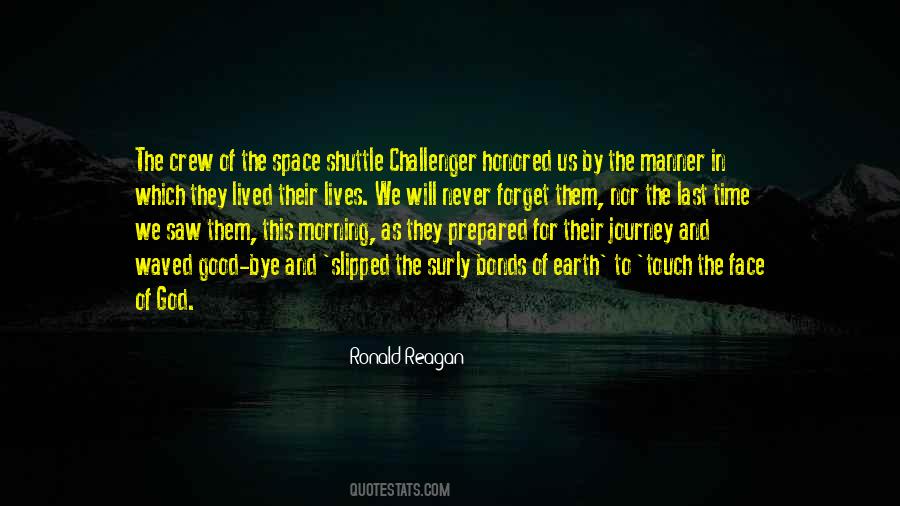 #8. Good-byes breed a sort of distaste for whomever you say good-bye to; this hurts, you feel, this must not happen again. - Author: Elizabeth Bowen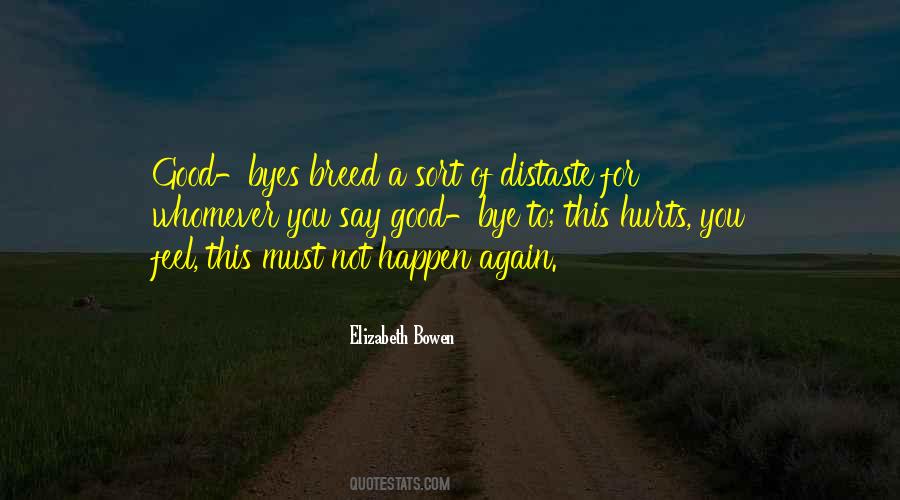 #9. Said good-bye to my corner. - What will happen to the tables and chairs? I asked. - Author: Patti Smith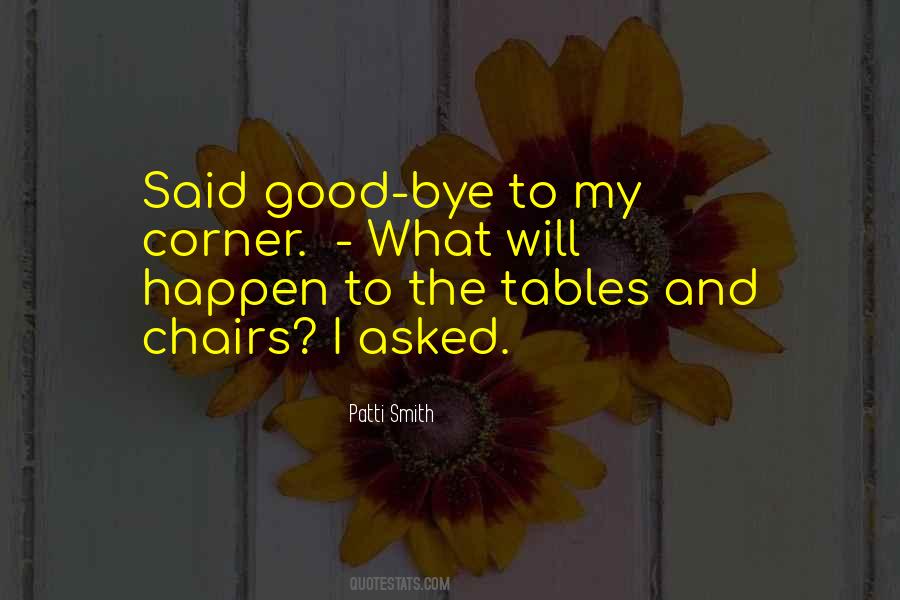 #10. I am one of those irritating people, who hang on to the door-knob after they say good-bye, and will neither come back nor go, always remembering something else which must be said ... - Author: Nellie L. McClung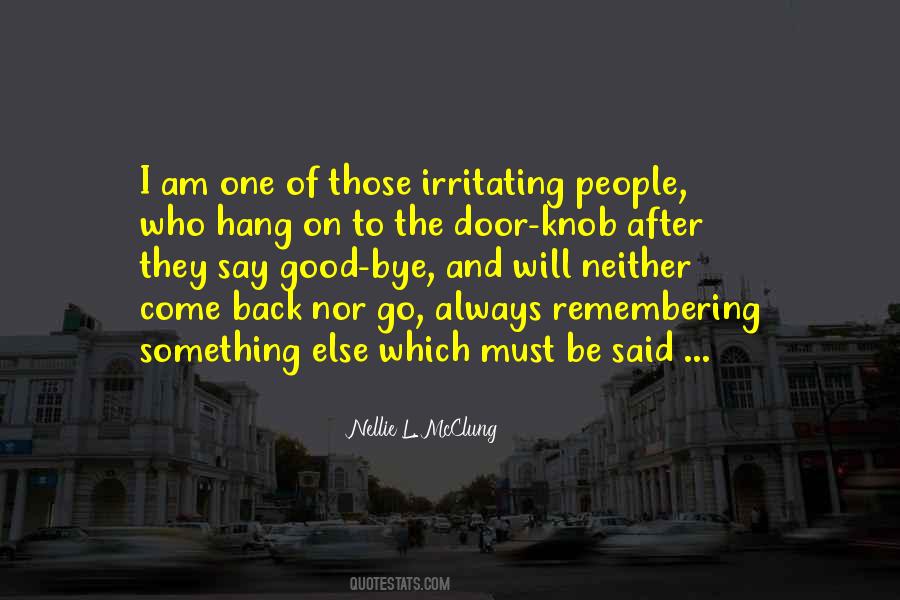 #11. Get what?" she asked, but she didn't want to hear. "That every time we kiss, it's good-bye. - Author: Kristin Hannah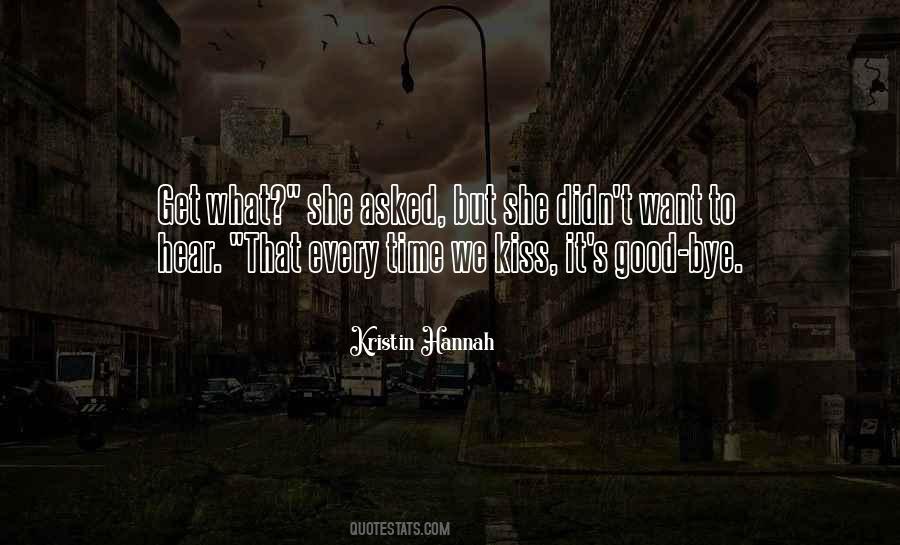 #12. The flyers lift and sigh in unison, like a thousand people waving white handkerchiefs, a thousand people waving good-bye. - Author: Lauren Oliver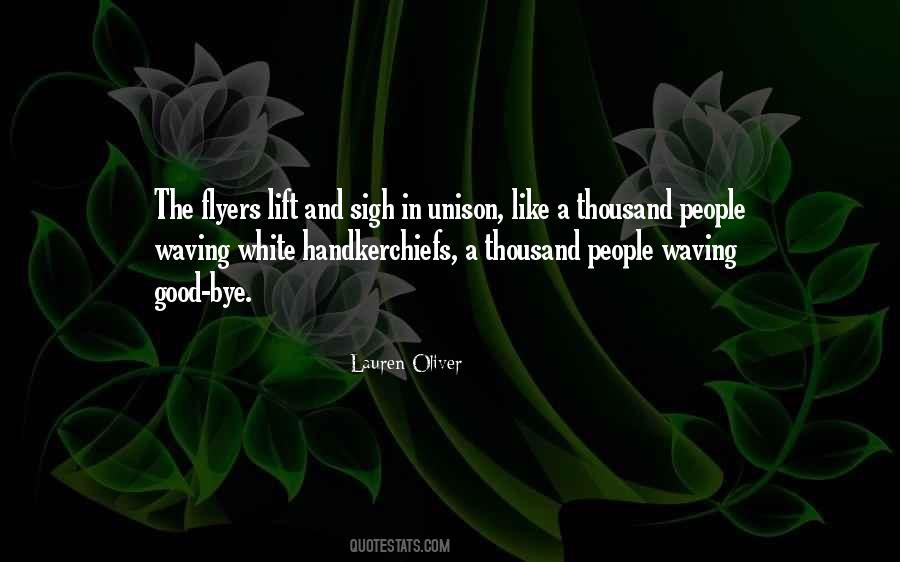 #13. It is never a mistake to say good-bye. - Author: Kurt Vonnegut Jr.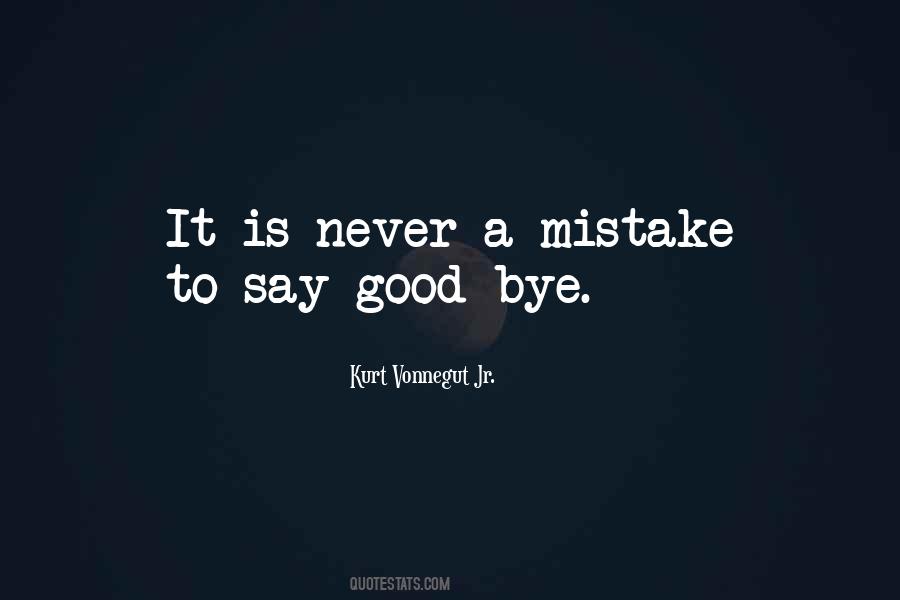 #14. Once upon a bye, before your grandfather's grandfather was born, on the edge of an unexplored wilderness called the Endless Forest, there lived a boy named Tim - Author: Stephen King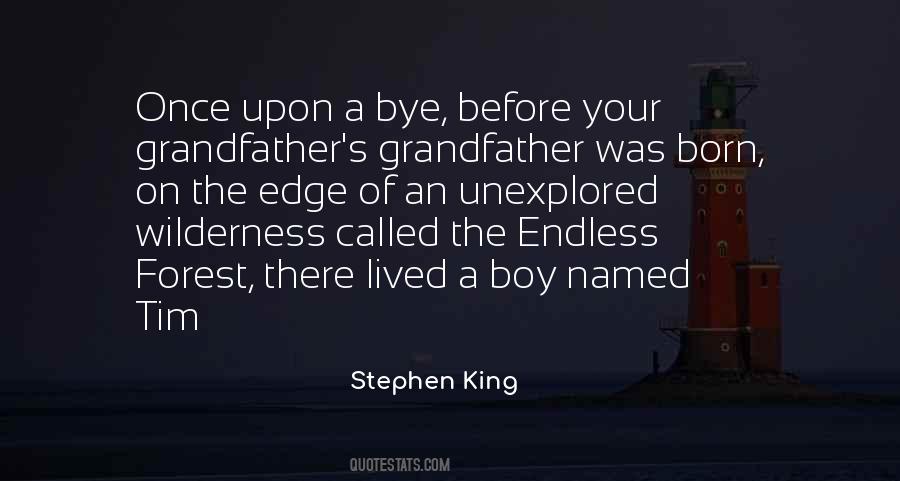 #15. The white tiger will always be your protector, Kelsey. Good-bye priyatama. - Author: Colleen Houck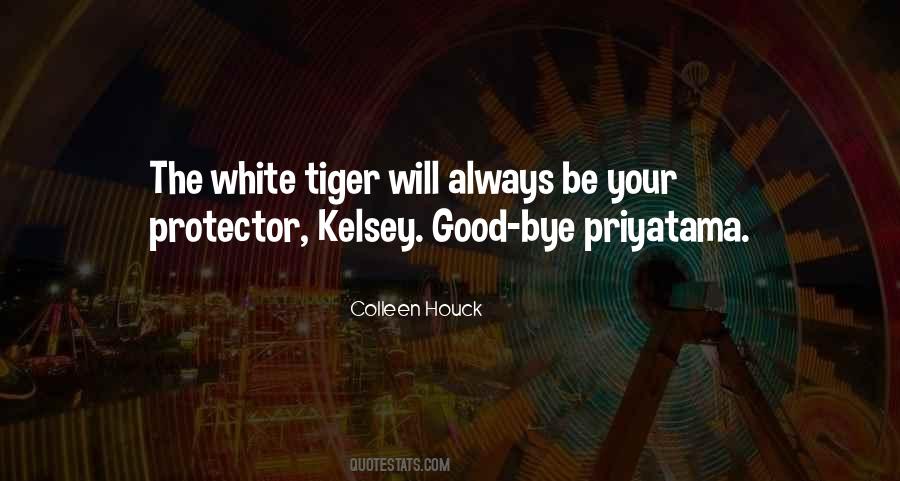 #16. Keep hoping to see the light in her eyes. Even knowing it'll mean she's saying good-bye. - Author: Karen Marie Moning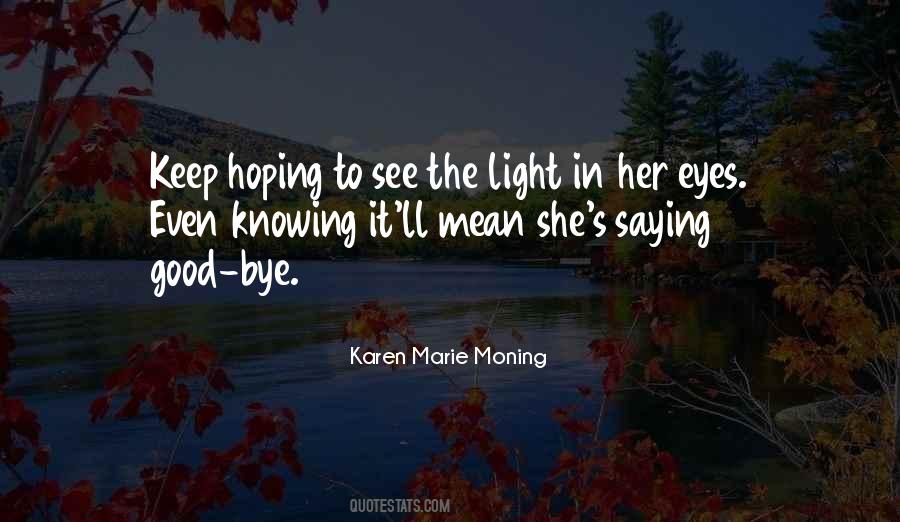 #17. It's not the parting or the absence that's sad. You love them, and that's why saying good-bye breaks your heart. - Author: Kyoichi Katayama
#18. There's nothing in the streets
Looks any different to me
And the slogans are replaced, by-the-bye
And the parting on the left
Are now parting on the right
And the beards have all grown longer overnight ... - Author: Julien Temple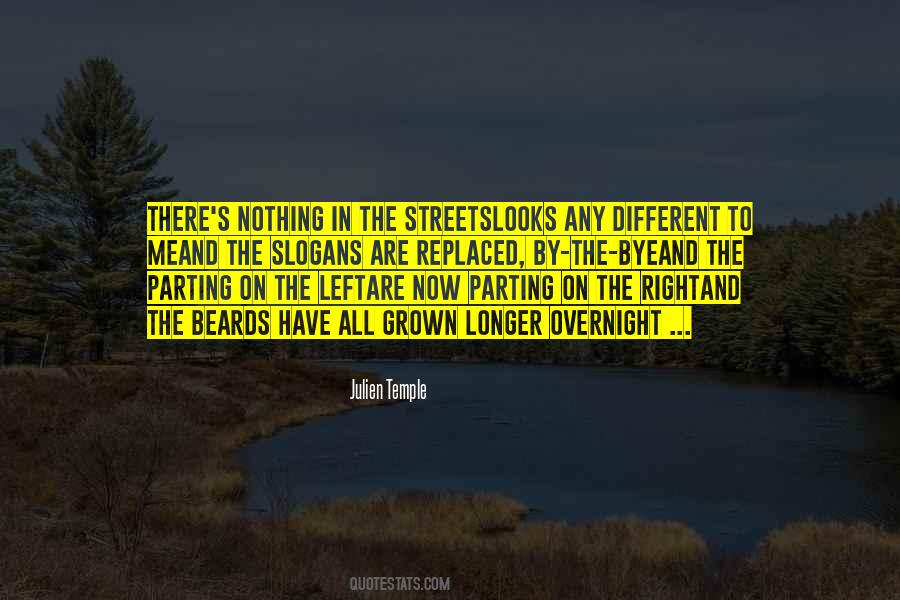 #19. Samantha, what have I told you?' demanded Mr. Green.

'That I should be seen, and not heard, until I turn eighteen. When I can say 'Good-bye, I'm returning my key' before moving out of home.' chanted Samantha. - Author: R.A. Spratt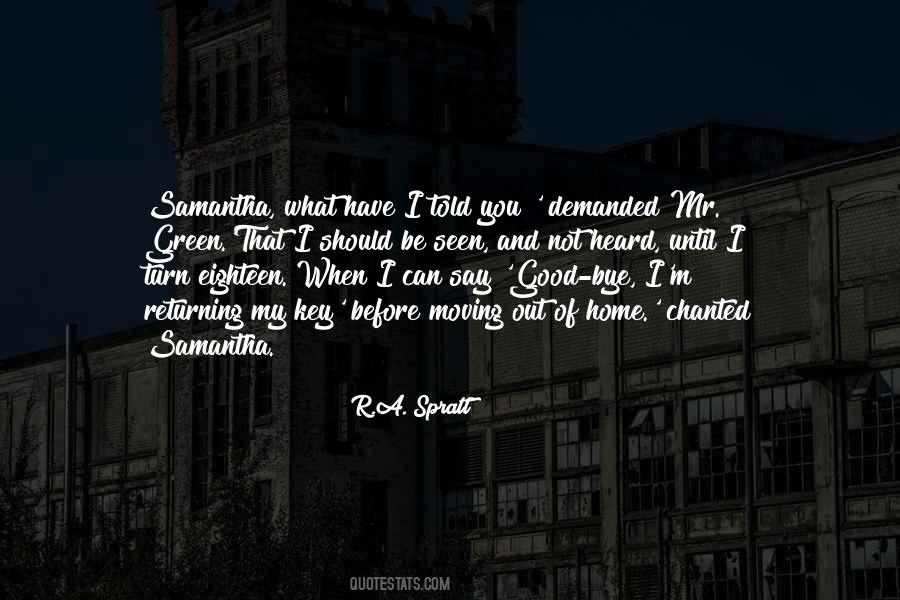 #20. I wanted to have a go at a pop career. My first single, 'Baby I Don't Care', was a hit, and the second, 'Bye Bye Boy', reached the Top 20. - Author: Jennifer Ellison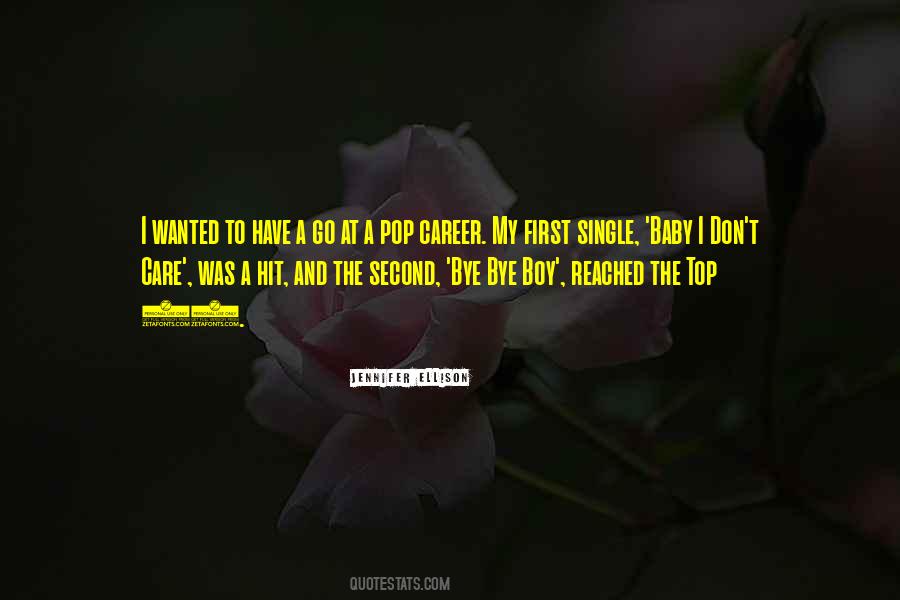 #21. Good bye AEHS. You suck. I hate you. And yet ... Somehow I'll miss you too. - Author: Meg Cabot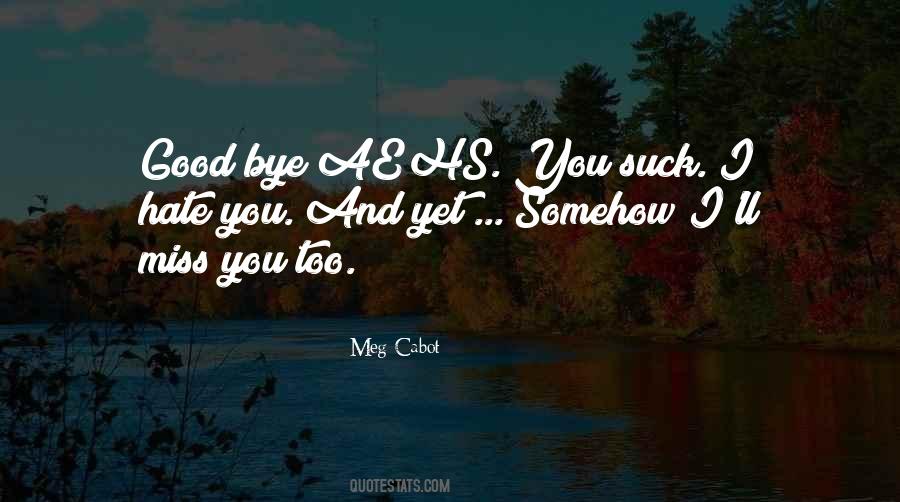 #22. Cause i really always knew that my little crime would be cold thats why i got heater for your thighs and i know i know its not your time but bye bye and word to the wise when the fire dies you think its over but its just begun - Author: Avenged Sevenfold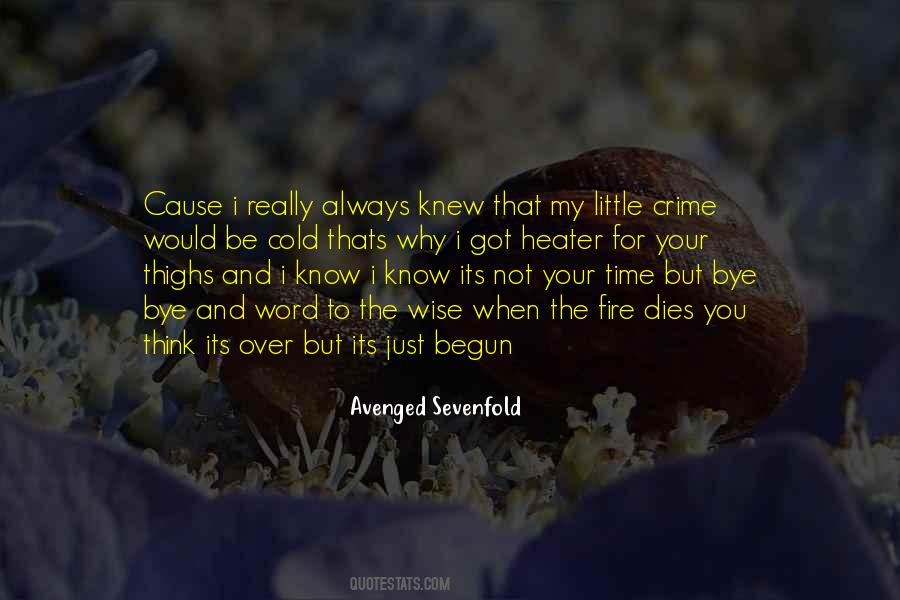 #23. The thing is, you don't get to know. It's not like you wake up with a bad feeling in your stomach. You don't see shadows where there shouldn't be any. You don't remember to tell your parents you love them or
in my case
remember to say good-bye to them at all. - Author: Lauren Oliver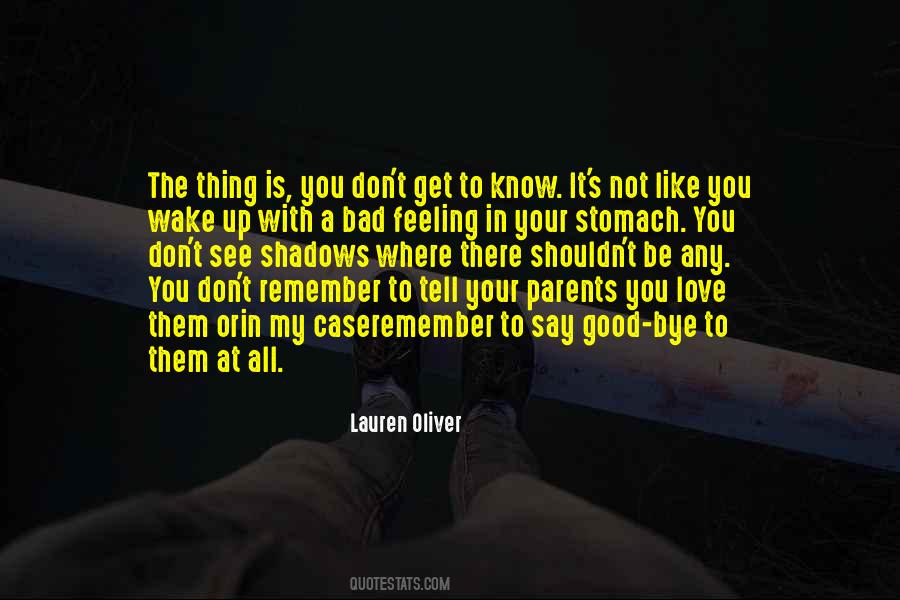 #24. I'm feeling pretty good right now, but I hope we can just win the whole thing and I can run off into the sunset and say good-bye. - Author: David Wells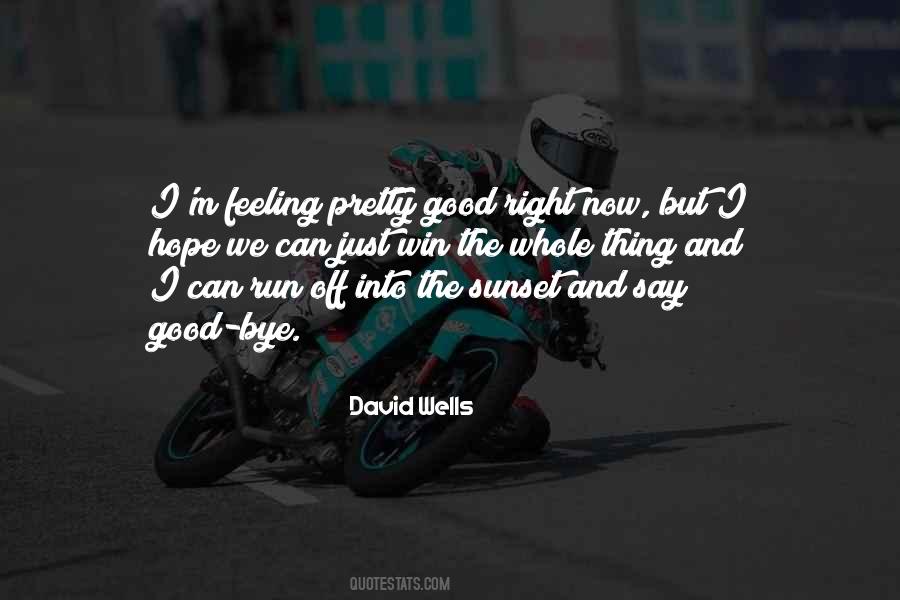 #25. Walking away from my desert companions feels like cutting off a limb. How does one say good-bye to an arm? One doesn't, I suppose. One pretends it isn't happening. - Author: Rae Carson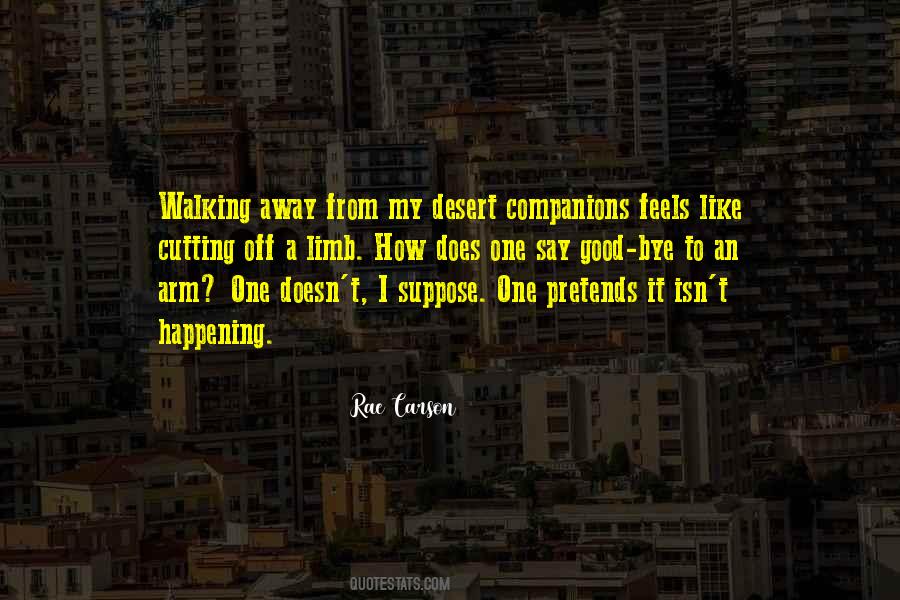 #26. There's such an awkwardness to most heterosexual male relationships. You see women who are friends, and they kiss each other good-bye, and they're just so much warmer with each other. But there's this thing with guys where, even between best friends, there's a standoffishness. - Author: Todd Phillips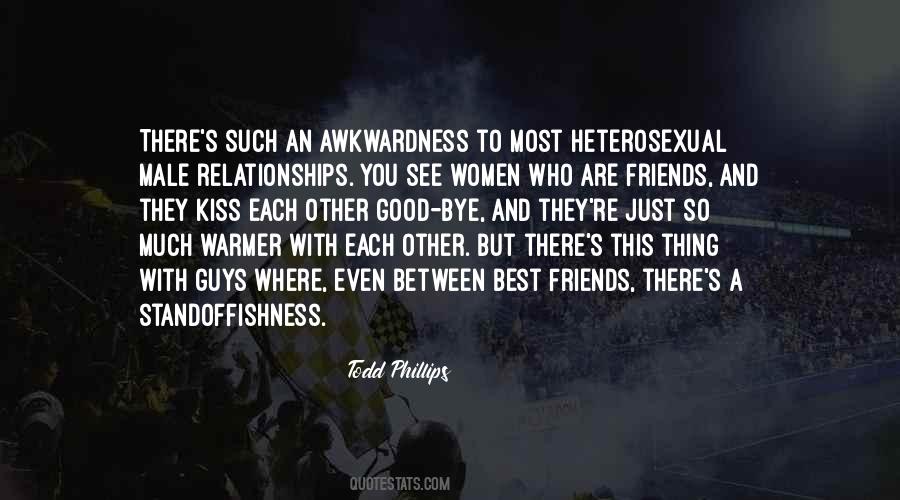 #27. Everyone might as well say good-bye to them now, these two aren't coming back. - Author: Tiffanie DeBartolo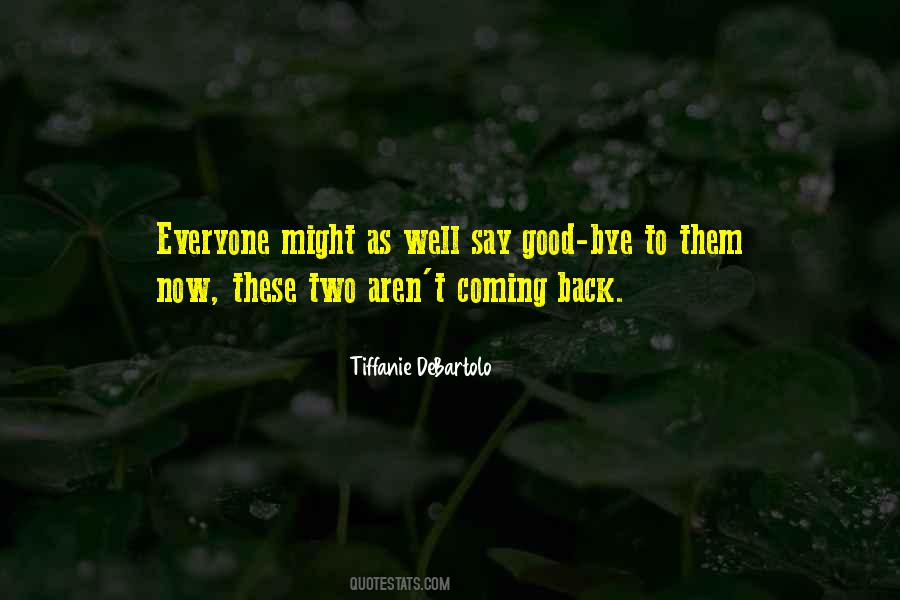 #28. And if the world went to hell in a handbasket-as it seemed to be doing-you could say good-bye to everyone and retreat to your land, hunkering down and living off it. - Author: Jeannette Walls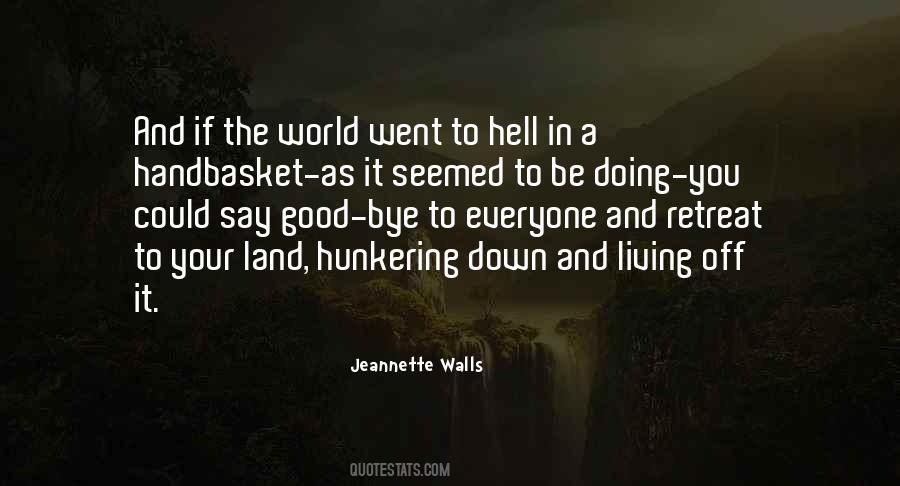 #29. Good-bye, till we meet then
I embrace you warmly, warmly, with many kisses. Yours till death, - Author: Fyodor Dostoyevsky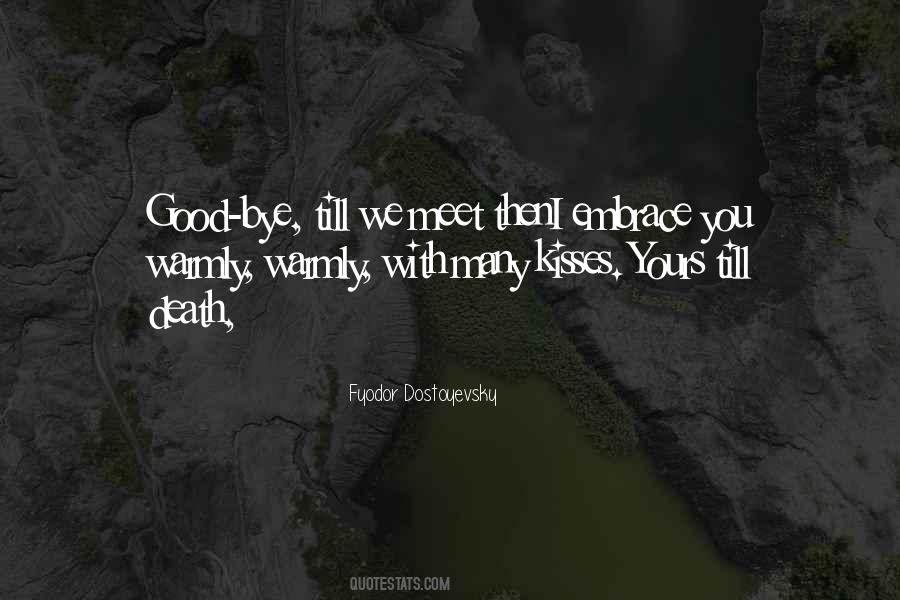 #30. Detroit's so bad this year they might lose their bye week. - Author: Dennis Miller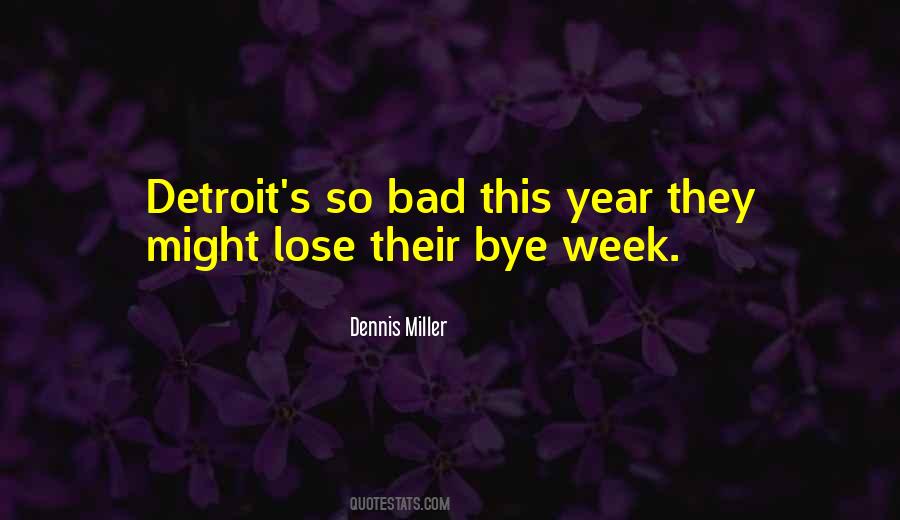 #31. Farewell,' she said. 'I hope you hear many more songs' - which was the best way she could think of to say good-bye to a butterfly. - Author: Peter S. Beagle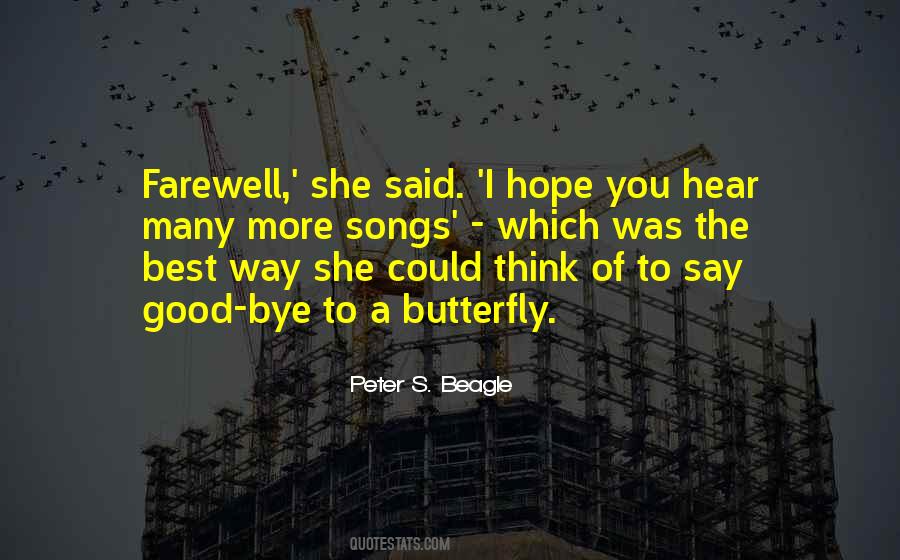 #32. I know I'm not going to say good-bye. And if these staggering refugees want to help, if they think they see something bigger here than a boy chasing a girl, then they can help, and we'll see what happens when we say yes while the rigor mortis world screams no. - Author: Isaac Marion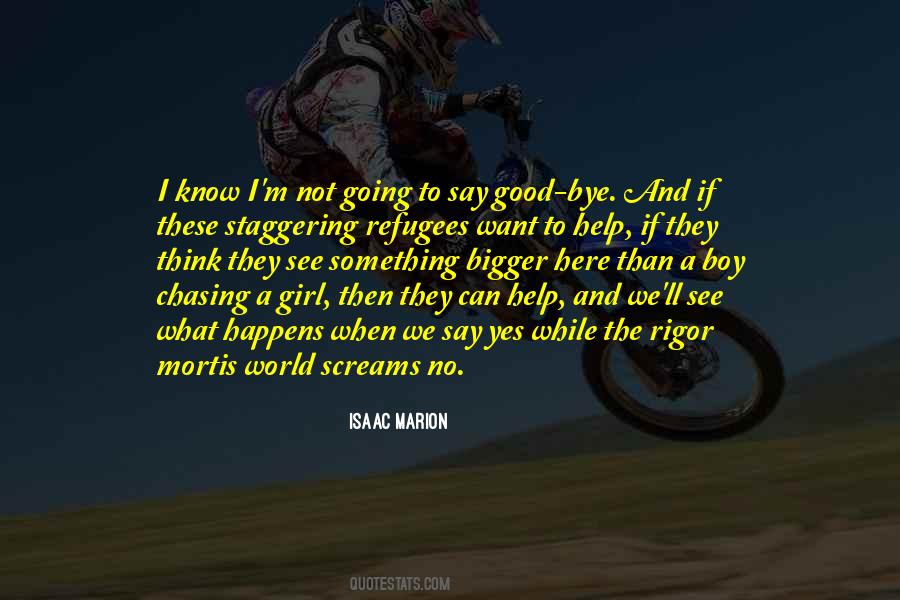 #33. Learn how to let go and say a good good-bye. - Author: Mark Deklin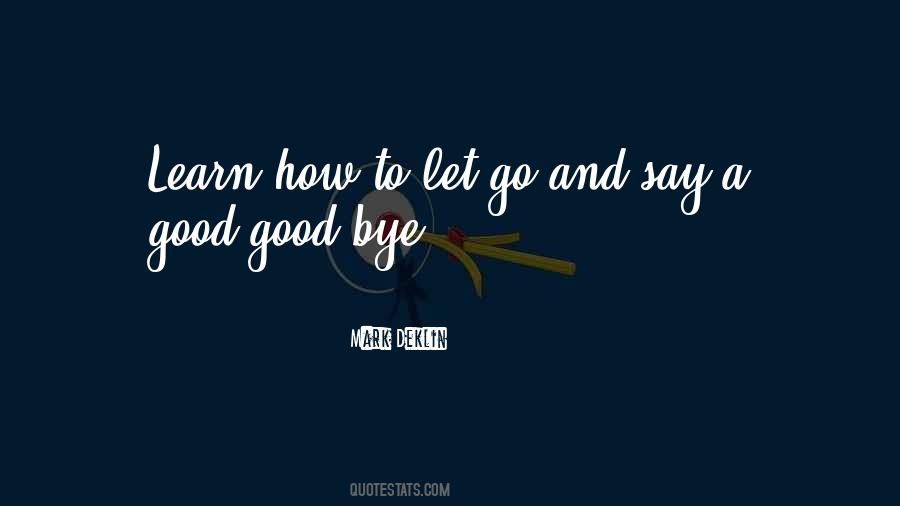 #34. Tip #4
Skinny-dip at will!

(Idea)
When single boast about finding your inner most happy place and hold on to it Odds are once married you can kiss personal space Good-Bye. - Author: Hazel Cartwright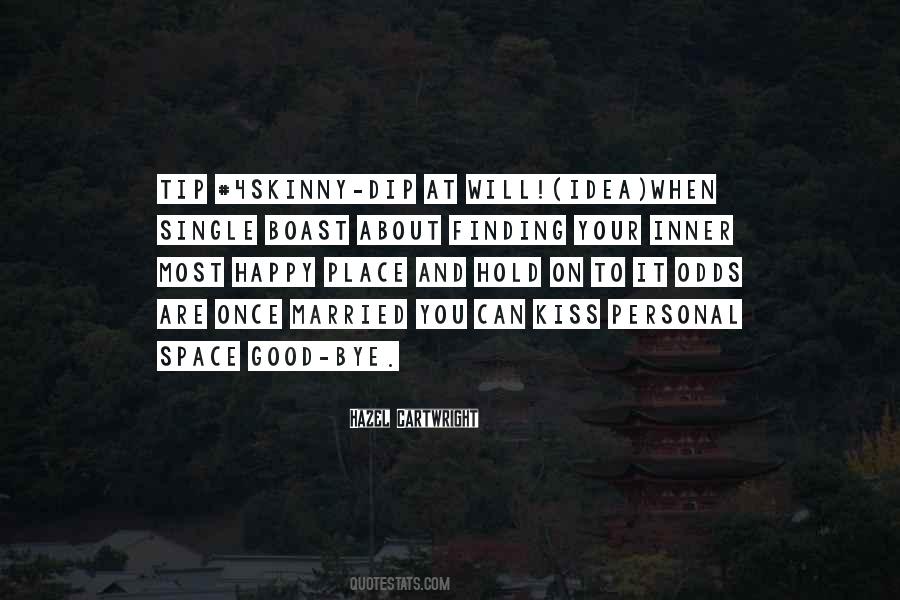 #35. We both were there, but alone. "Bye," she said and left; I was alone; again, one more time. - Author: Vikrmn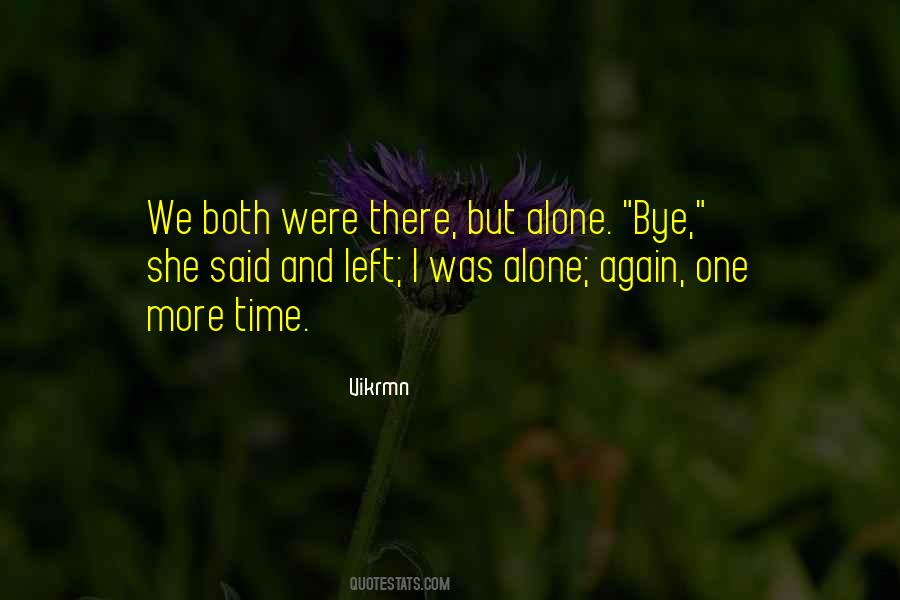 #36. Good-bye Holmes. It ... hasn't really been a pleasure. But thank you for the information. Be careful to keep out of prison. Unless you want an upgrade to your current living conditions, then I wish you the best. - Author: Zechariah Barrett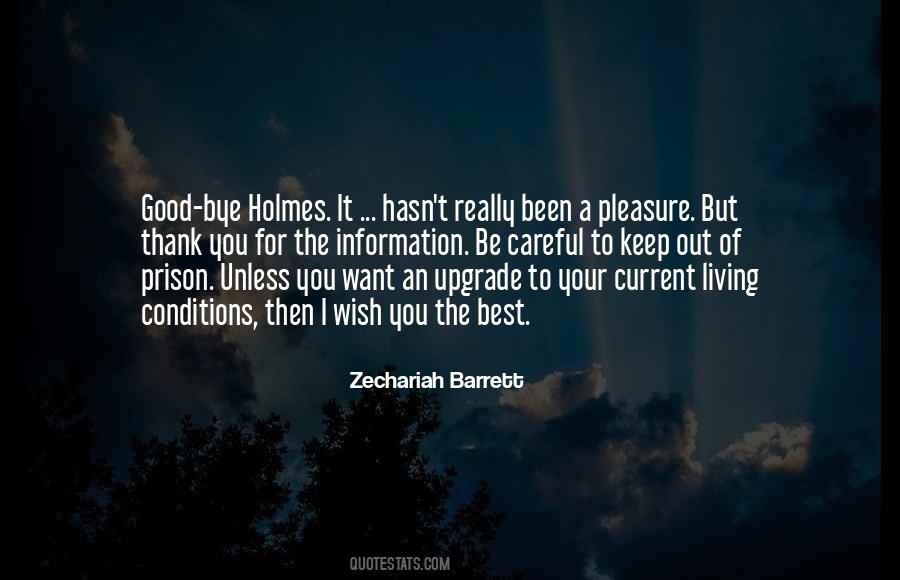 #37. You don't have to say good-bye to me ever," she said. "Just tonight. - Author: Rainbow Rowell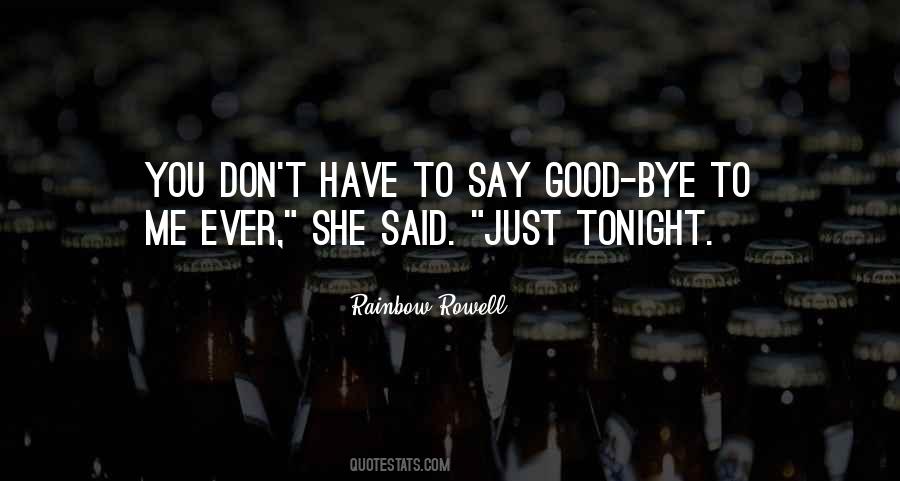 #38. We didn't ever want 'Tarzan' to feel like he was just a man. We didn't want him to stand up straight or wave good-bye. We wanted to make sure he always had that piece of gorilla in him, that he always had an animal attitude about him. - Author: Kevin Lima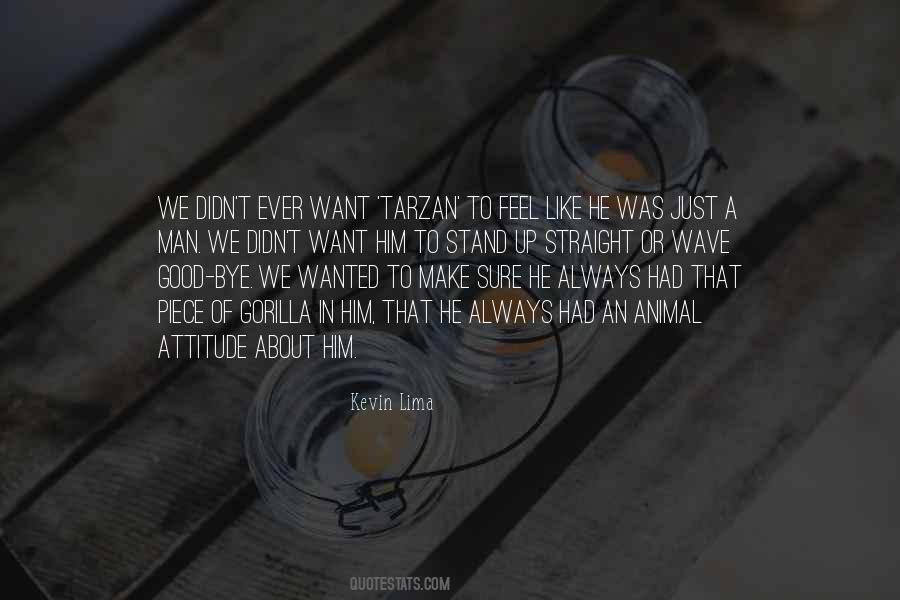 #39. Do not leave without saying good bye. - Author: Lailah Gifty Akita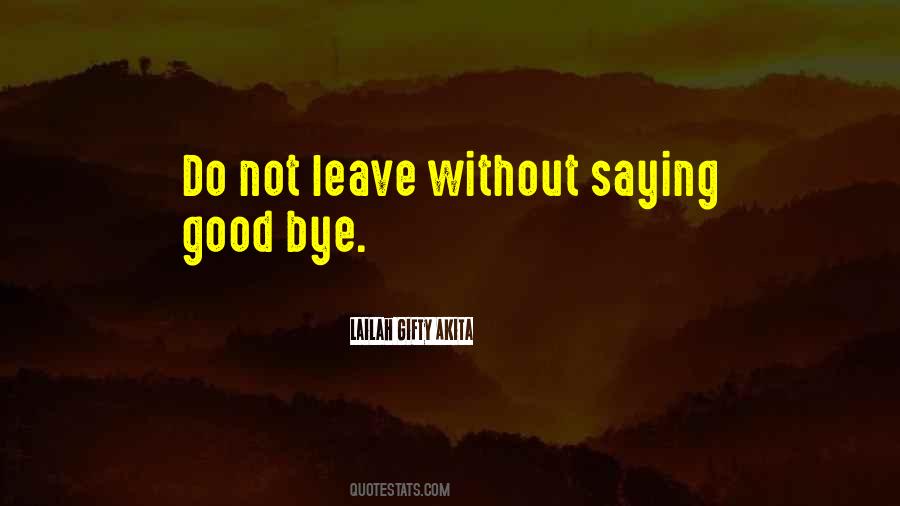 #40. It's a blessing. It's a curse. It's what you get for saying hello to people. At some point, a good-bye is coming, too. Not just to all the people you love and who love you back, but to the world as well. - Author: Eugene O'Kelly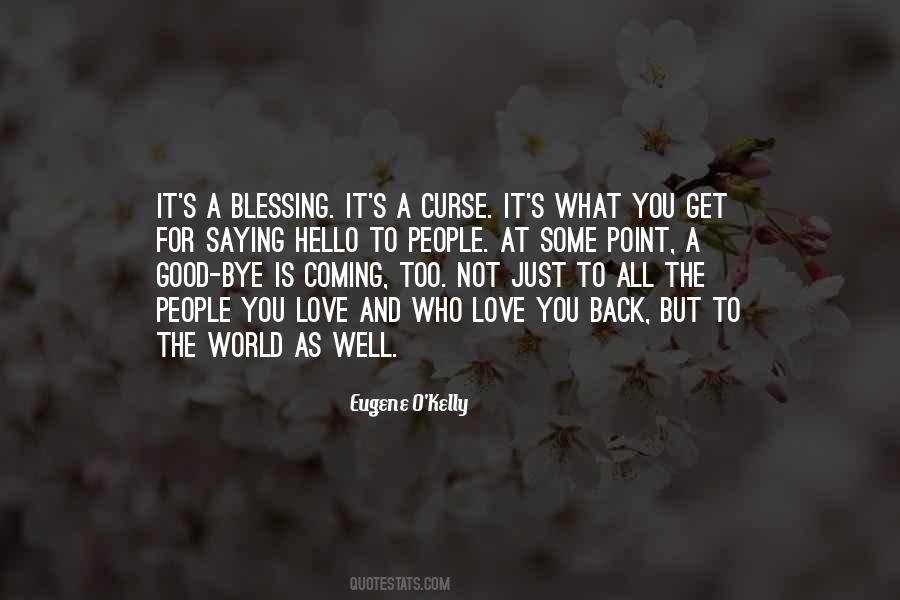 #41. Remember what I said when I led to Omar and the queen?" I bobbed my head, unable to look away from his jewel-like eyed, shining in the darkness...so much like Chorda's. "That was the lie. Good-bye, Lane," he said and then crept into the darkness. - Author: Kat Falls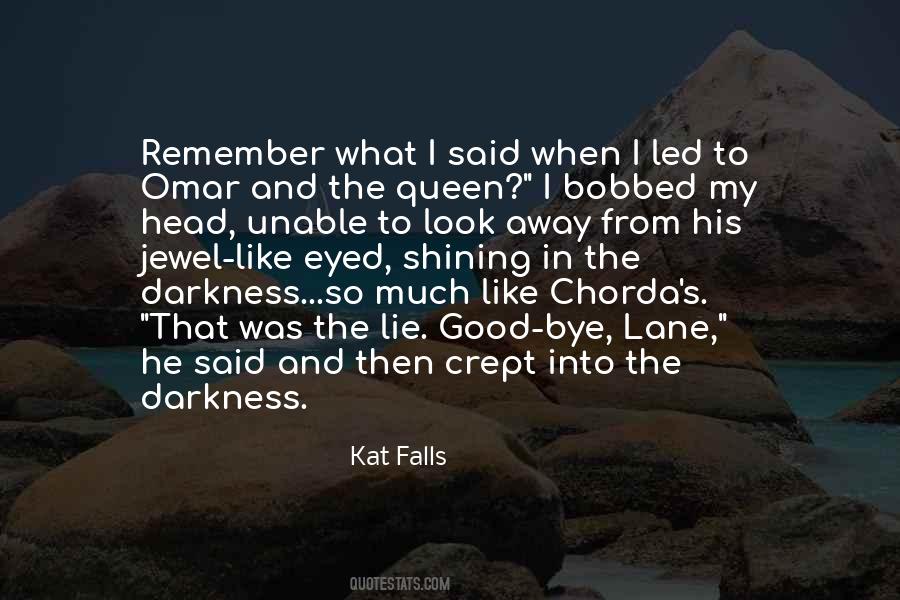 #42. Death's in the good-bye. - Author: Anne Sexton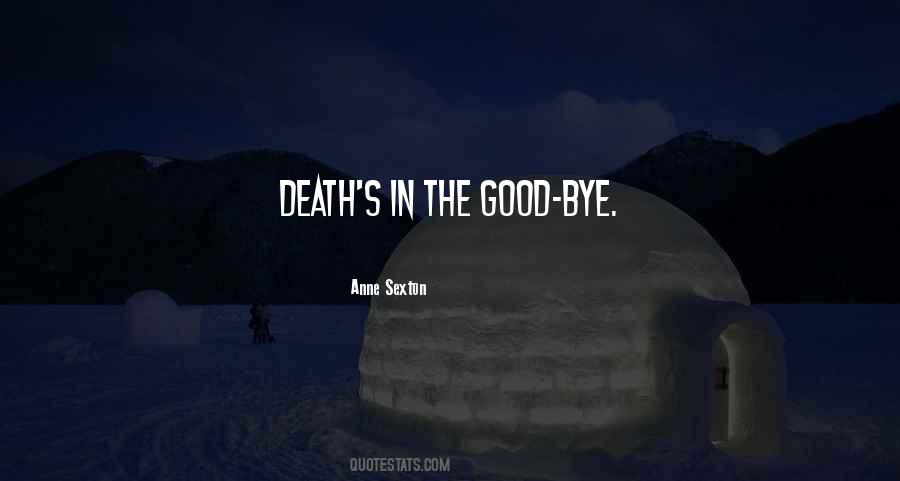 #43. The game meandered on and stories began to take over. It was getting late but going to bed meant good-bye so we pushed forward - Author: Marina Keegan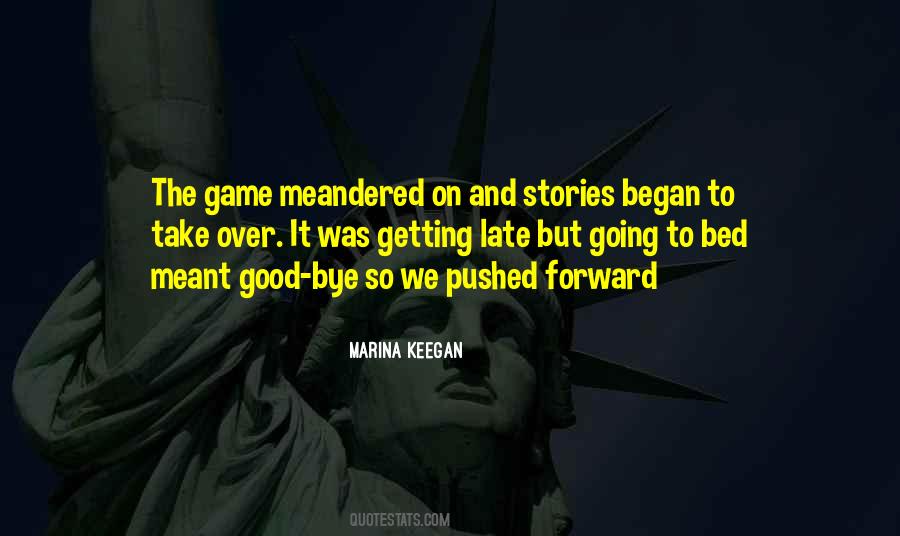 #44. Bye-bye. I'm off on a journey to the real world. 'Cause within this meta-reality what's real is this - my death. - Author: Natsuo Kirino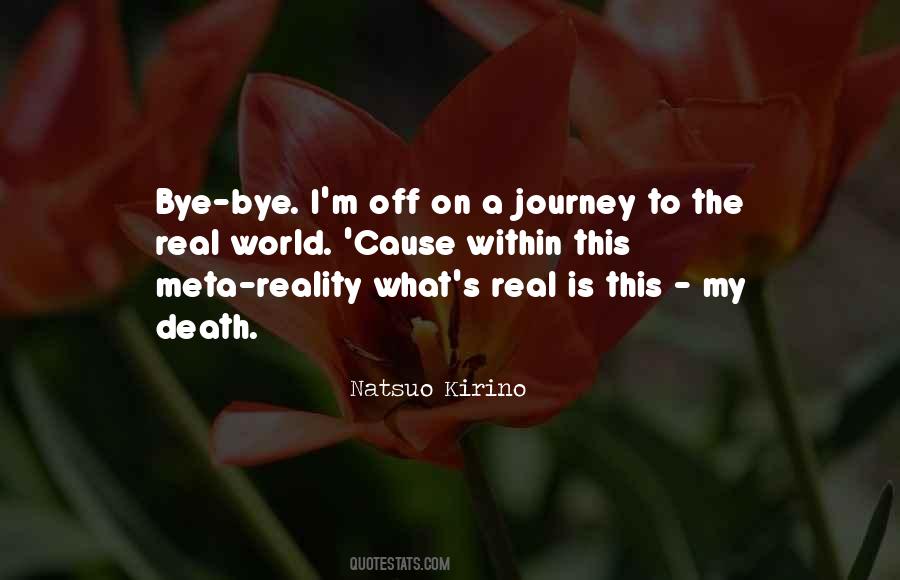 #45. I never said good-bye.'
'Such a needless word, she said, 'when you love somebody. - Author: Mitch Albom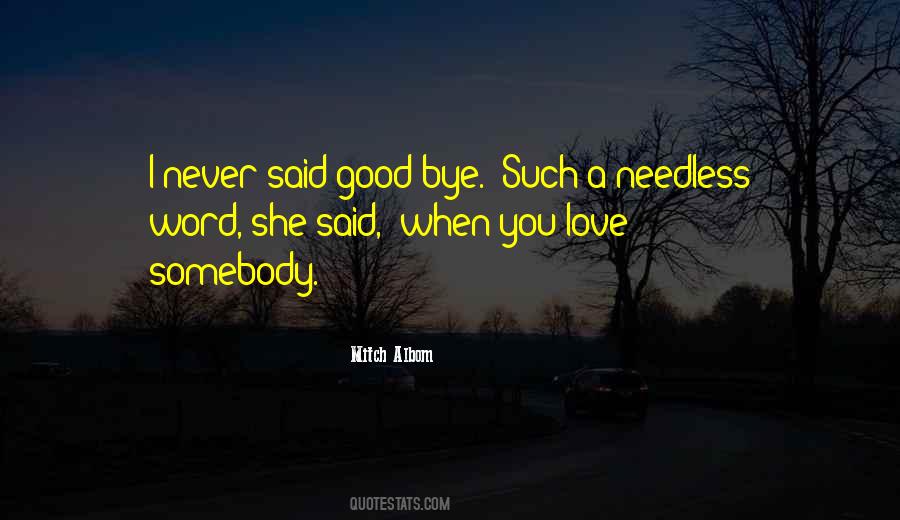 #46. On to some juicy French philosophical sex-killing murder-suicide cannibal thing. You?"
"Still the controversial Hungarian breast-cancer radioactive seed implant treatment thing. I adore you."
"Je t'adore aussi. Call me. Bye."
"Bye. - Author: David Cronenberg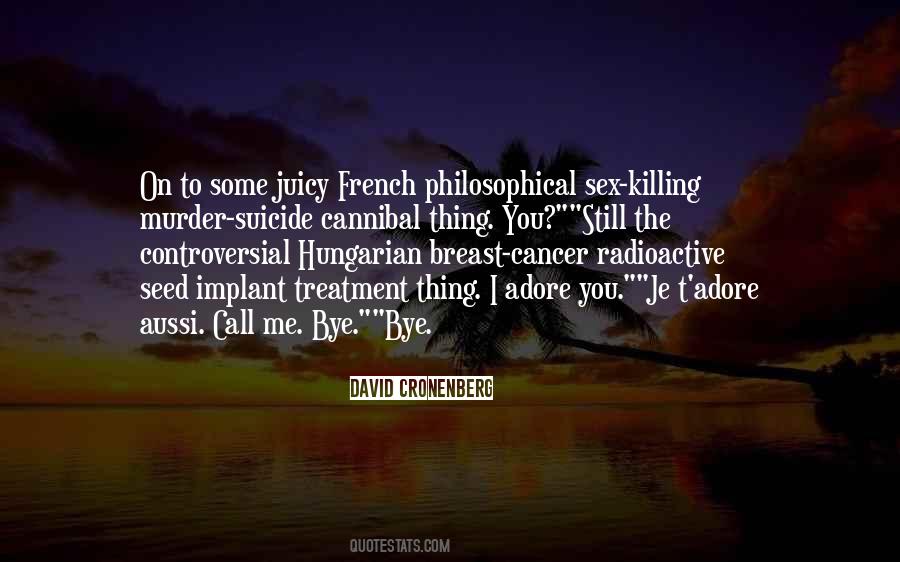 #47. Life was a series of greetings and farewells, one was always saying good-bye to something, to someone. - Author: Daphne Du Maurier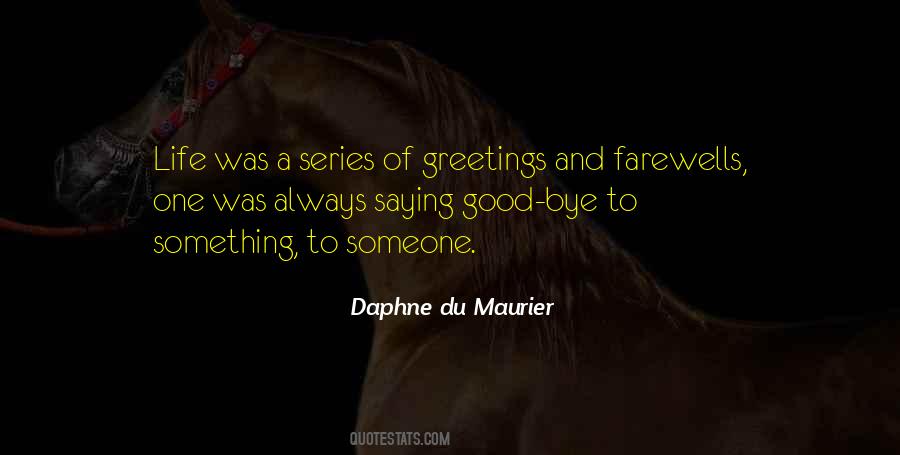 #48. Bye," he whispered to me.
"Bye."
Neither of us moved.
"Seriously? This isn't the Titanic, you'll see each other again," Bethan said to us. - Author: J.J. McAvoy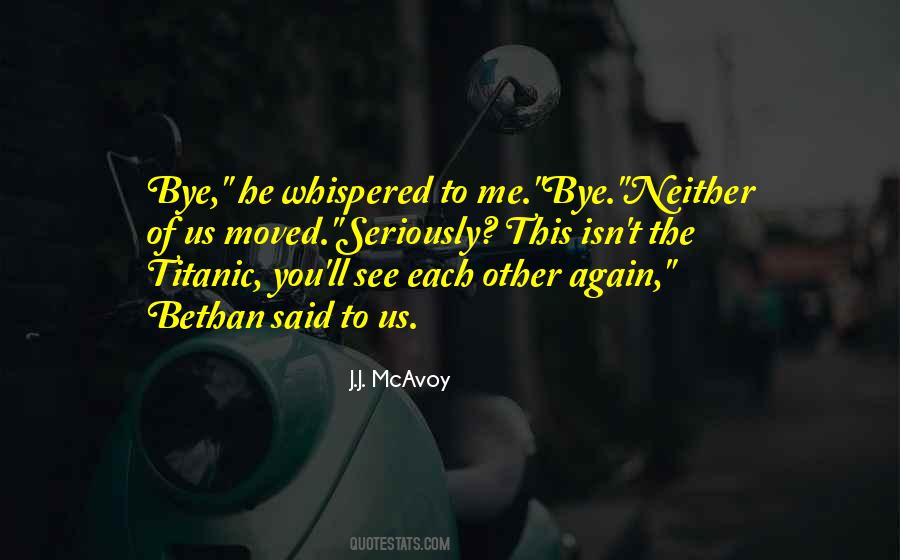 #49. Good night, sweetheart," he says. "Good bye, sweetheart," I say. And it's so casual, so innocent that he doesn't suspect a thing. - Author: Lauren DeStefano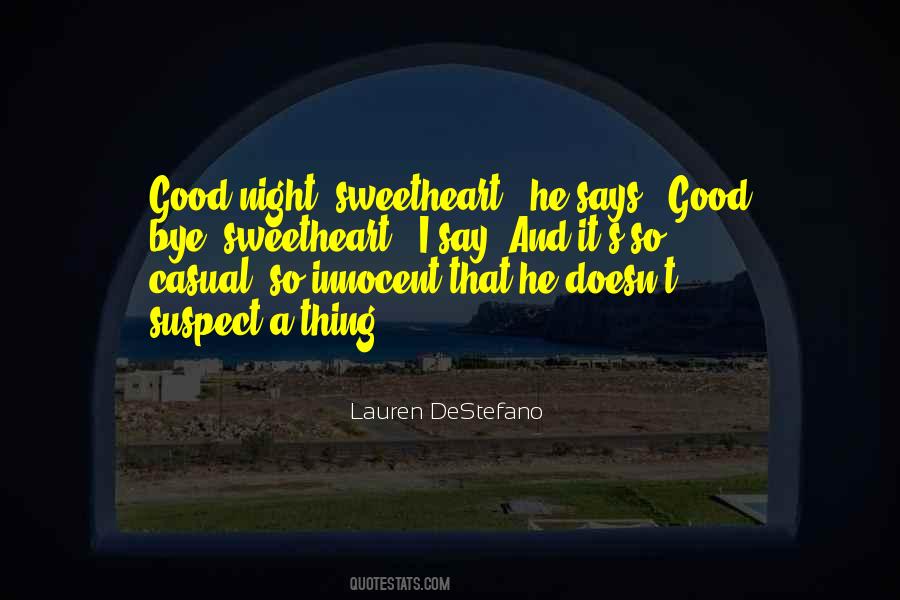 #50. I have a brief memory of his aftershave and a kiss good-bye. I - Author: James Patterson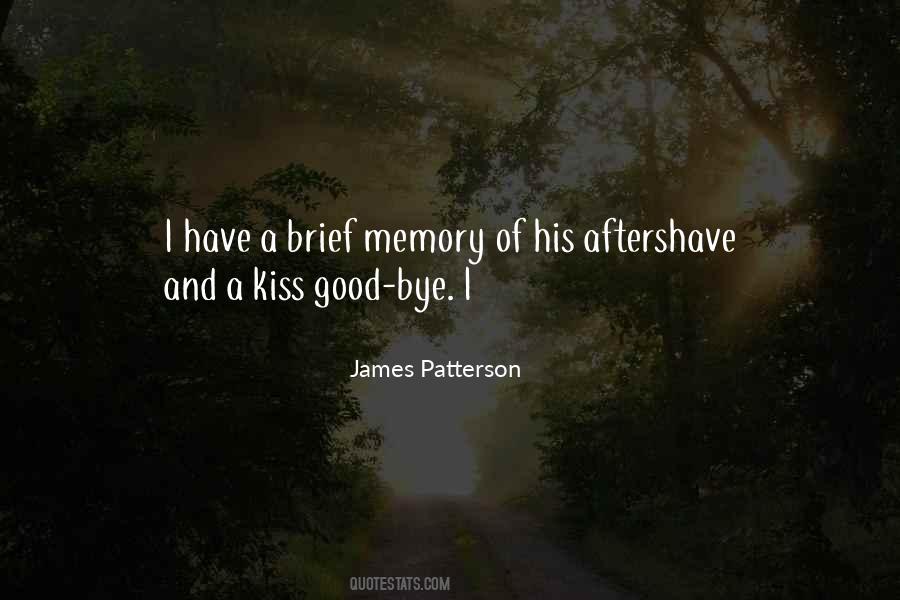 #51. Okay. Some things were made of hope. But not this thing. This thing he was doing, that was made of surrender.
He did it anyway. At least when you surrendered, you had time to kiss the people you loved good-bye. - Author: Amy Lane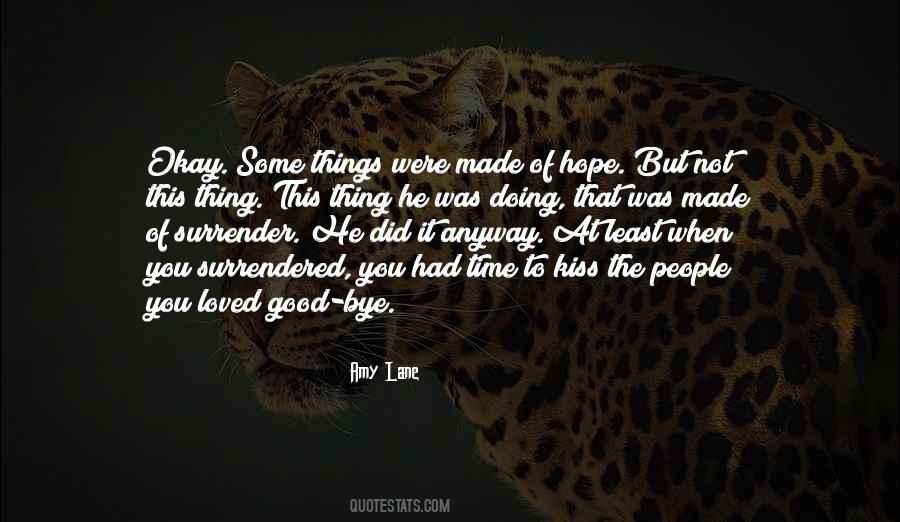 #52. I read somewhere that it's called American roulette. It was invented in America, in the goldfields. You put a single shot in the cylinder, give it a twirl, and then - bang! If you're lucky you break the bank; if not, then it's good-bye - Author: Boris Akunin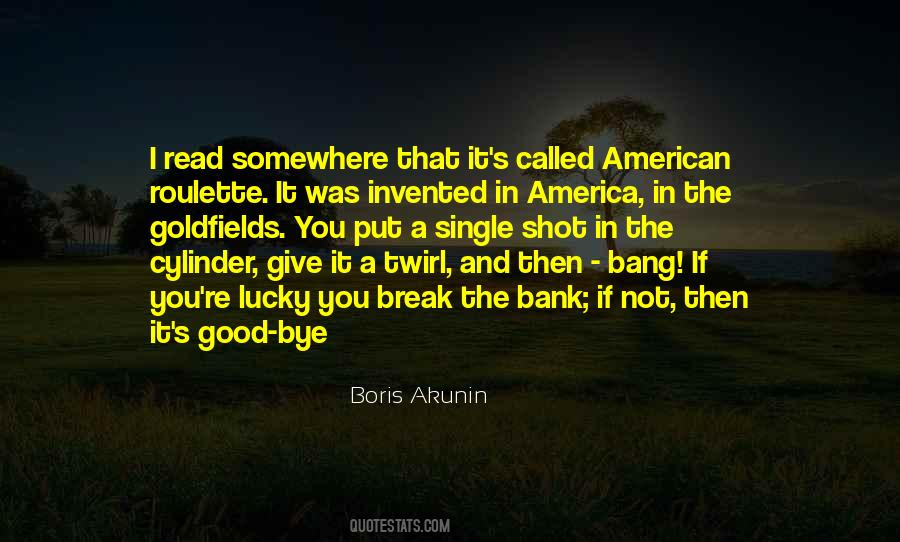 #53. Who needs luck? I have you. Bye, sweetie. - Author: Kahlen Aymes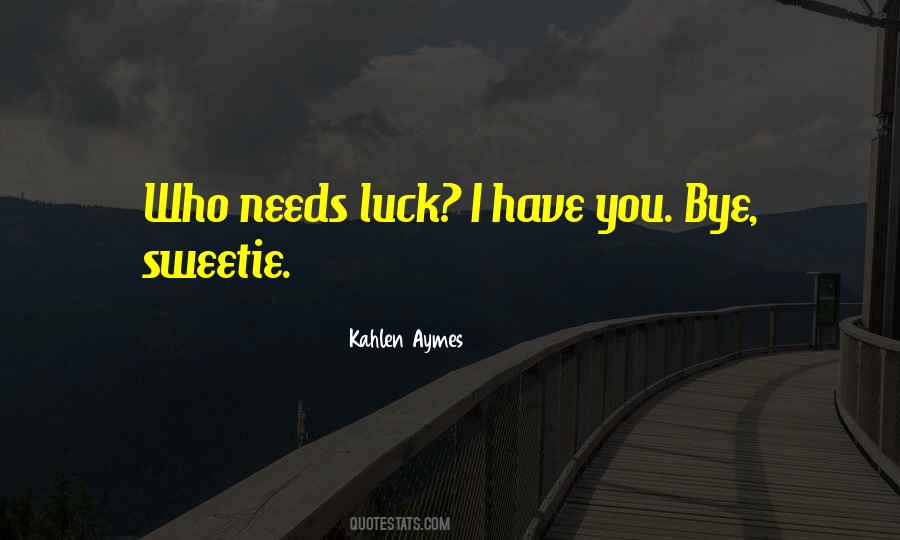 #54. I said, 'Hey', she said, 'Hi.'
I said, 'Us', she said, 'Try,'
'And if you're thinkin strictly boots, then I'll say baby, bye bye.' - Author: Dres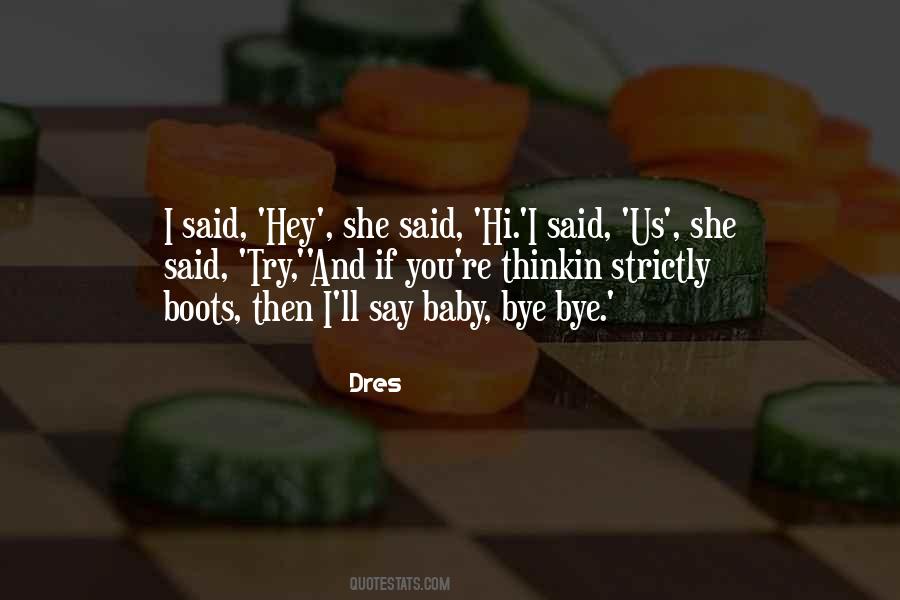 #55. So for now wave good-bye leave your hands held high - Author: Gabriel Garcia Marquez
#56. I say good-bye to hope, but I also say good-bye to hope's disappointment. - Author: David Levithan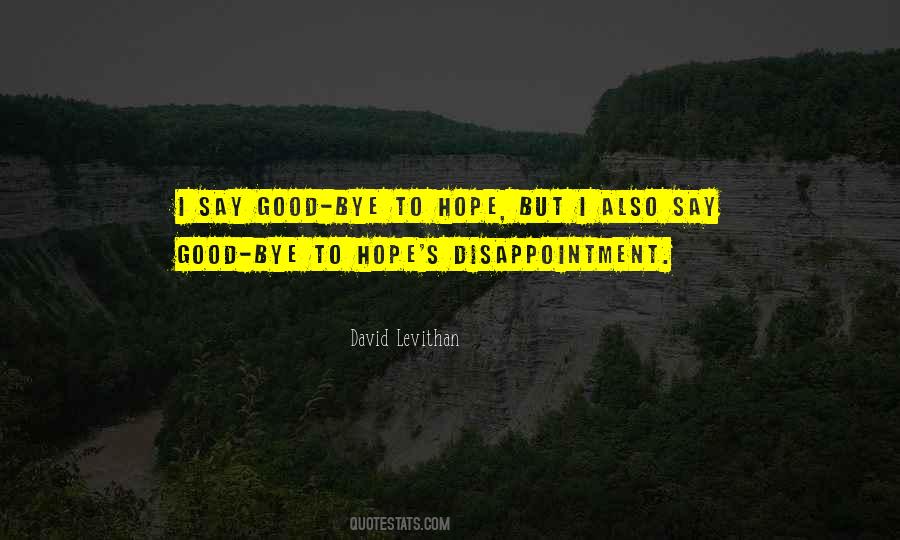 #57. We can't be sad for her," she murmured. "Only for ourselves at having to say good-bye. - Author: Dorothy Love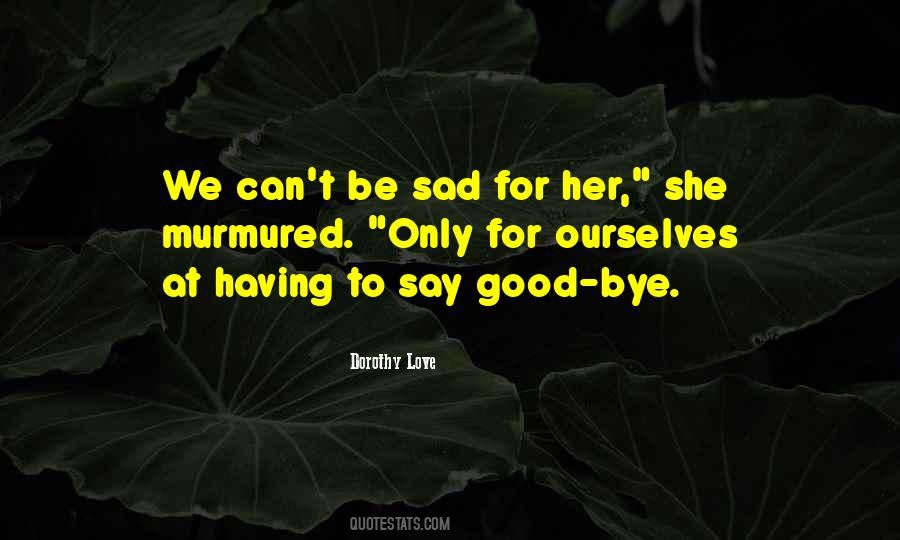 #58. Good-bye, Cadan,' I said, backing out the door.
'If I hear anything new, I'll come to you.'
'Be careful,' I warned. 'My guard dog bites.'
He grinned, and that impish gleam returned to his eyes. 'And you don't?'
'Wouldn't you like to know.'
'Don't get me excited. - Author: Courtney Allison Moulton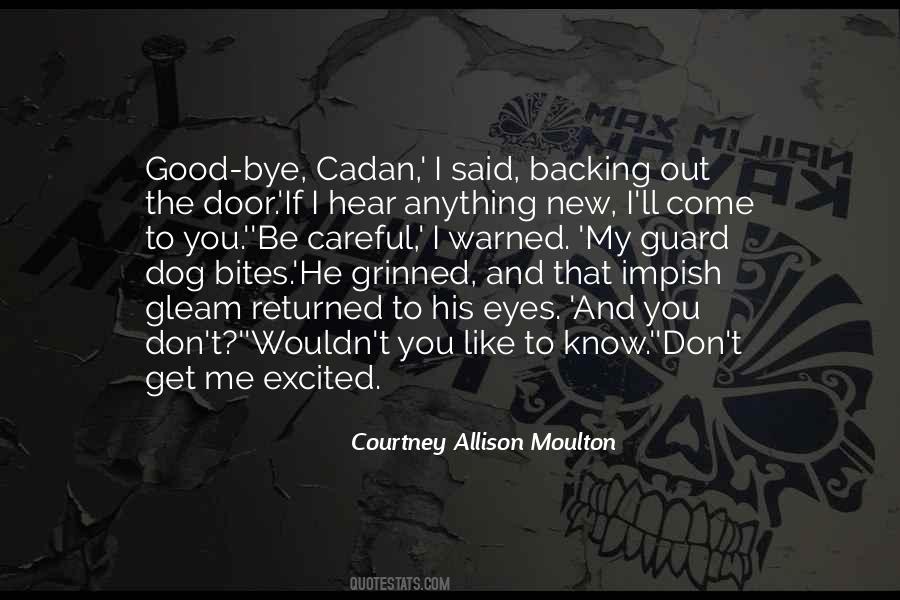 #59. Good-bye Dr. Steve,' I said, then climbed the stairs and went to the fifth floor to die. - Author: Ally Carter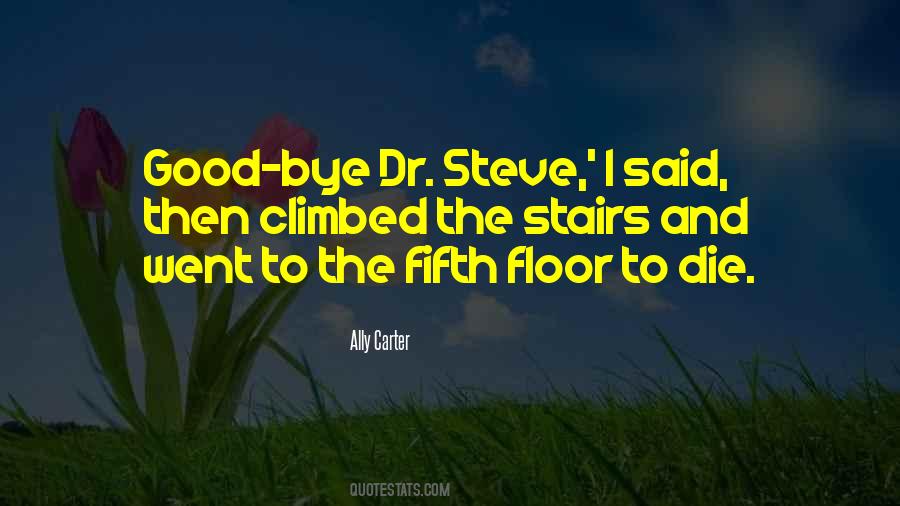 #60. Sometimes the hardest peace to find is the peace in saying good-bye and leaving the work of justice and reconciliation to Jesus. - Author: Kara Tippetts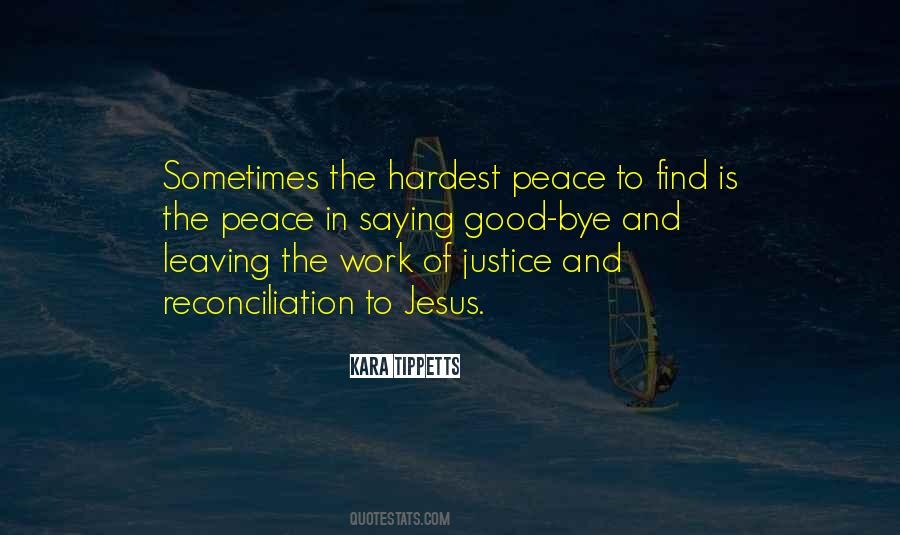 #61. Time's Flying," said Dad. He Smiled. He pointed to the air. "There it is, flying past! Catch it!" And he jumped, and caught Time in his hands, and showed it to Lizzie. She took it from him, and threw it up again.
"There it goes," she called. "Bye-bye. Bye-bye, Time! - Author: David Almond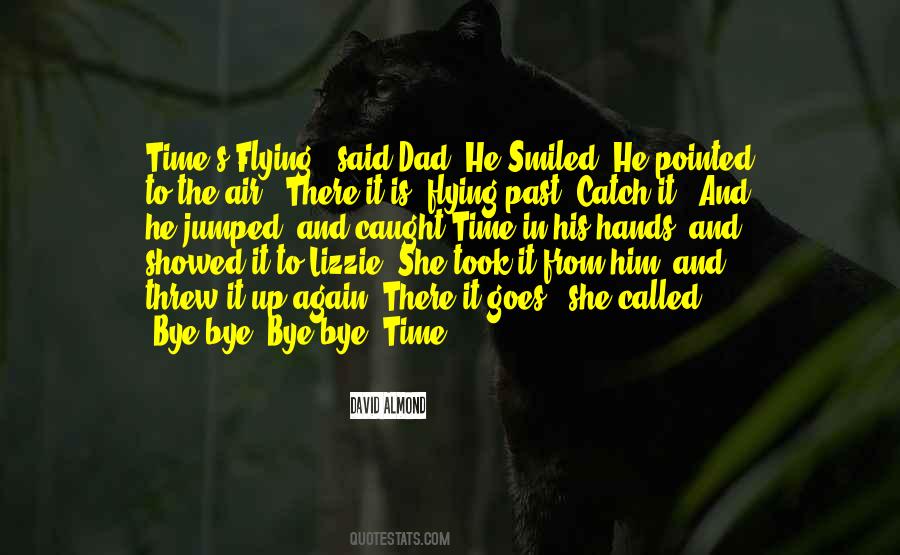 #62. I know that one of the great arts that the writer develops is the art of saying, 'No. No, I'm finished. Bye.' And leaving it alone. I will not write it into the ground. I will not write the life out of it. I won't do that. - Author: Maya Angelou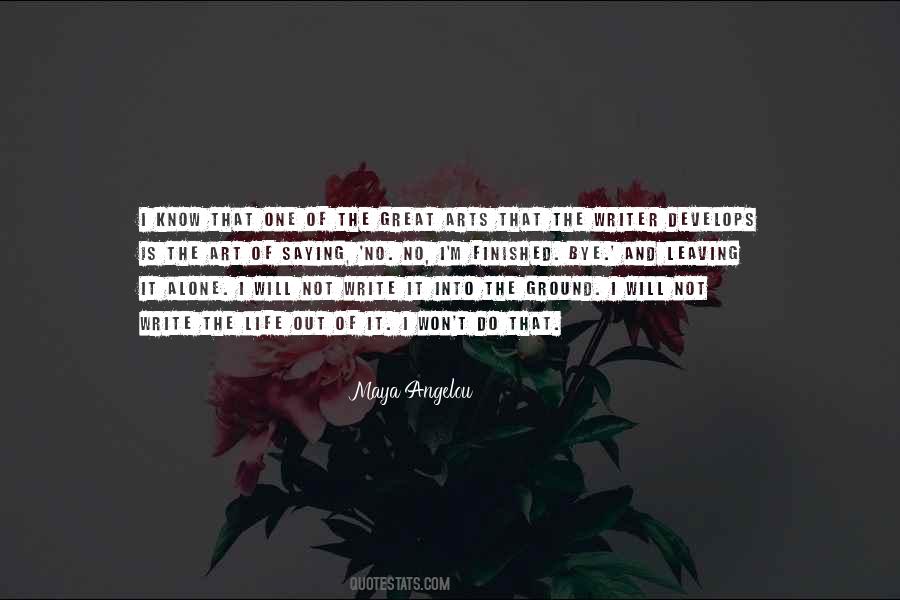 #63. Life can be a real son of a bitch sometimes, bringing things back around long after you've said good-bye. - Author: David Arnold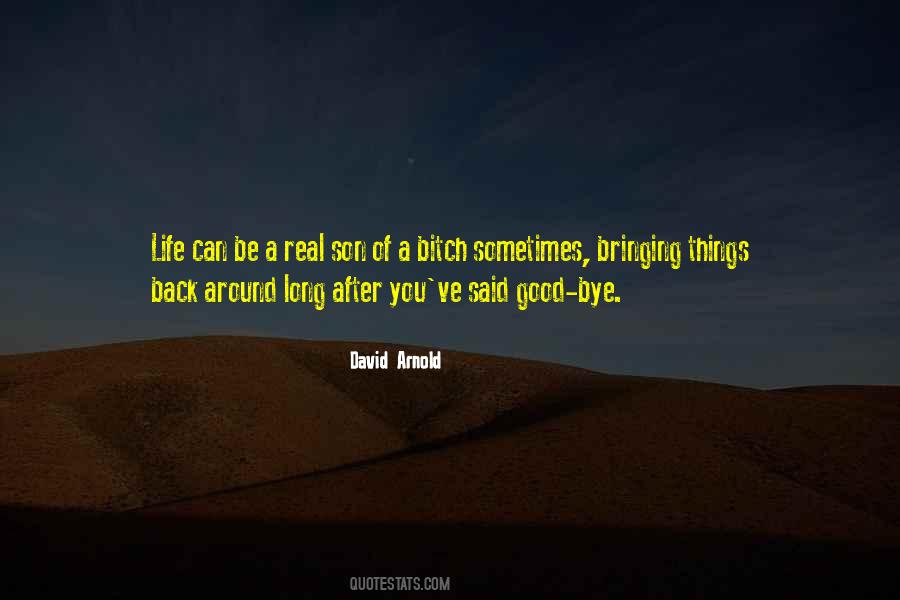 #64. Let the music keep our spirits high, let the buildings keep our children dry, let creation reveal its secrets by and bye. - Author: Jackson Browne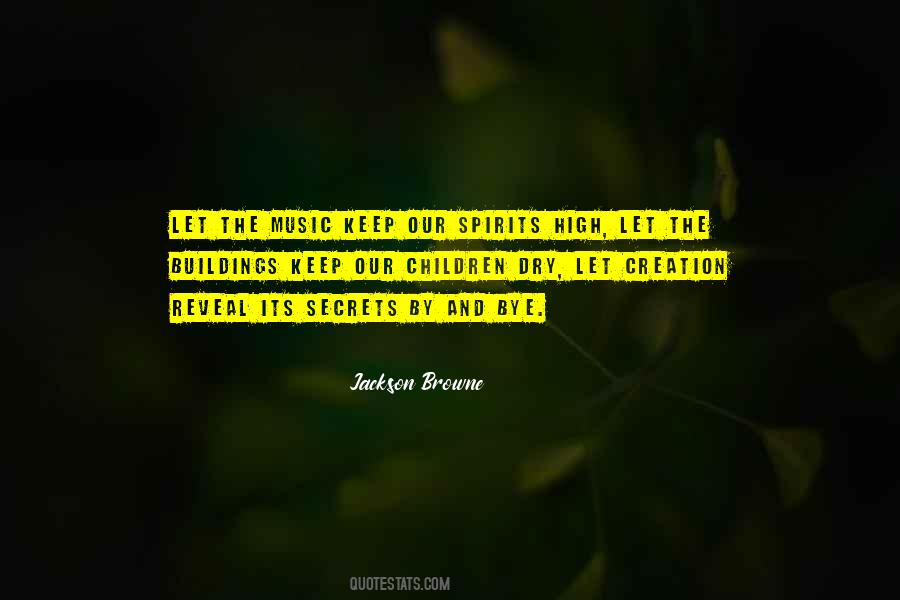 #65. One of the peculiarities of recent speculation, especially in America, is that ideas are abandoned in virtue of a mere change of feeling, without any new evidence or new arguments. We do not nowadays refute our predecessors, we pleasantly bid them good-bye. - Author: George Santayana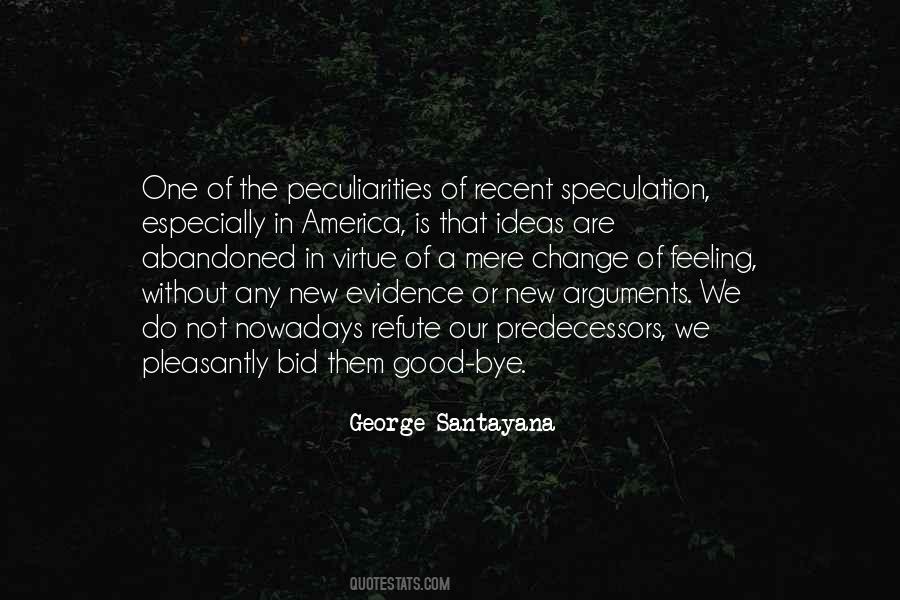 #66. Her kiss was a good-bye and a promise and a dream. - Author: Shannon A. Thompson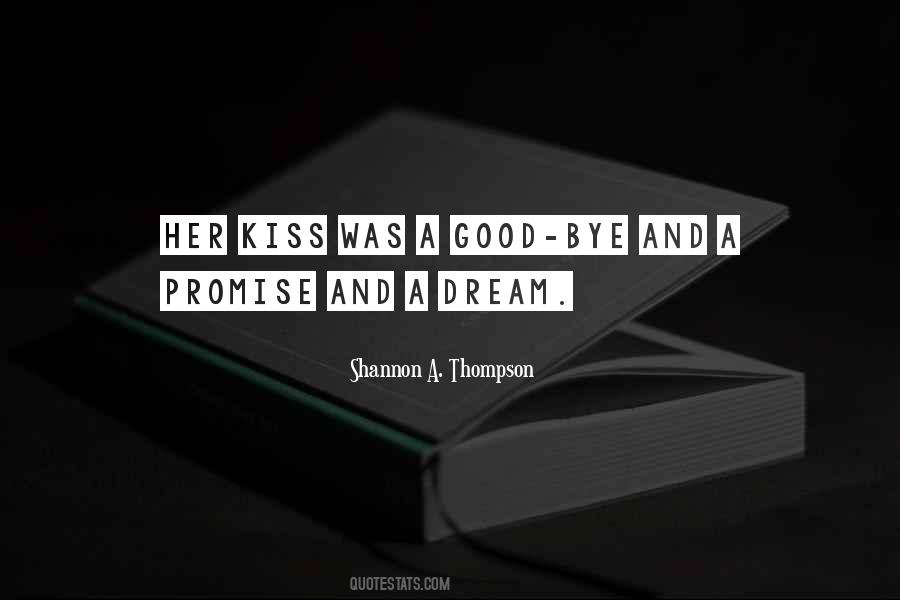 #67. Let them go, I tell myself. Say good-bye and forget them. I do my best, thinking of them one by one, releasing them like birds from the protective cages inside me, locking the doors against their return. - Author: Suzanne Collins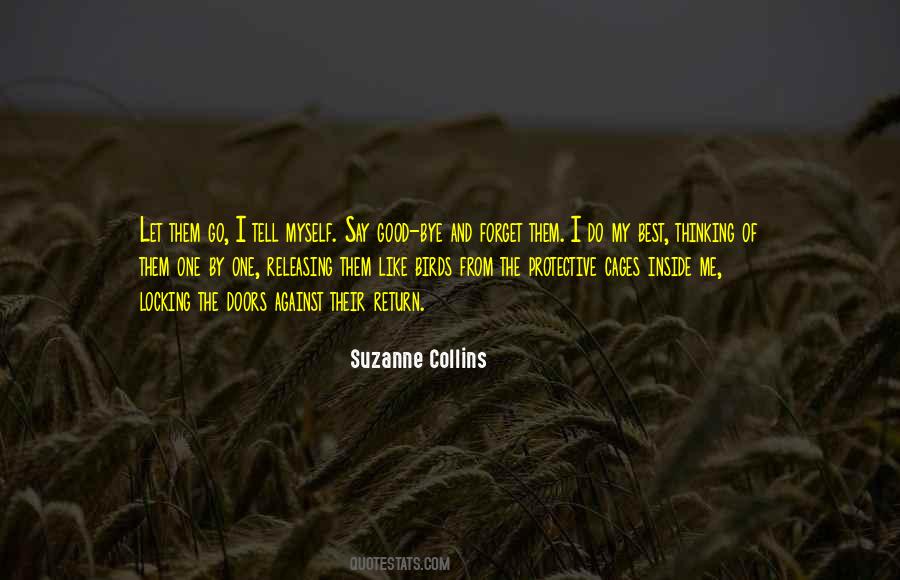 #68. Sorry! I don't want any adventures, thank you. Not Today. Good morning! But please come to tea -any time you like! Why not tomorrow? Good bye! - Author: J.R.R. Tolkien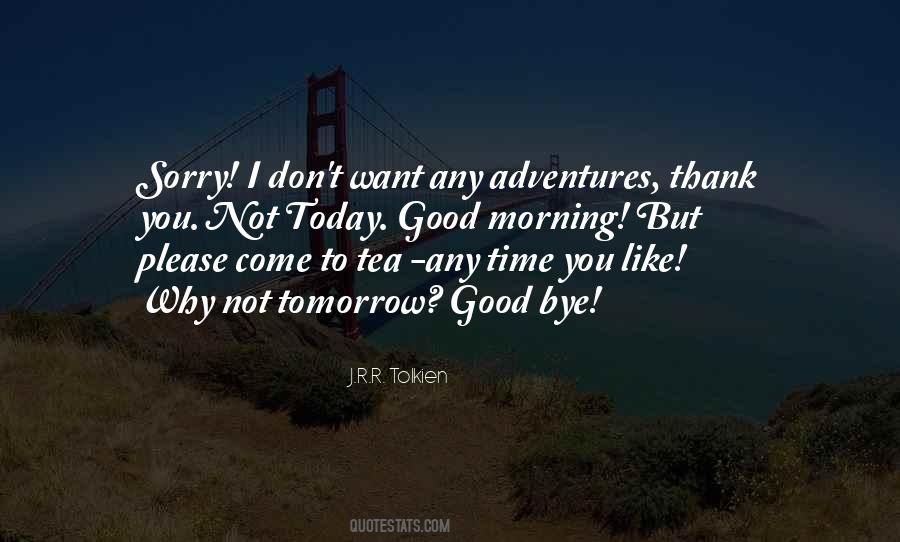 #69. ROXANE. One hundred men against one: you! - So, good bye! - We are the best of friends, are we not? CYRANO. Assuredly, we are! - Author: Edmond Rostand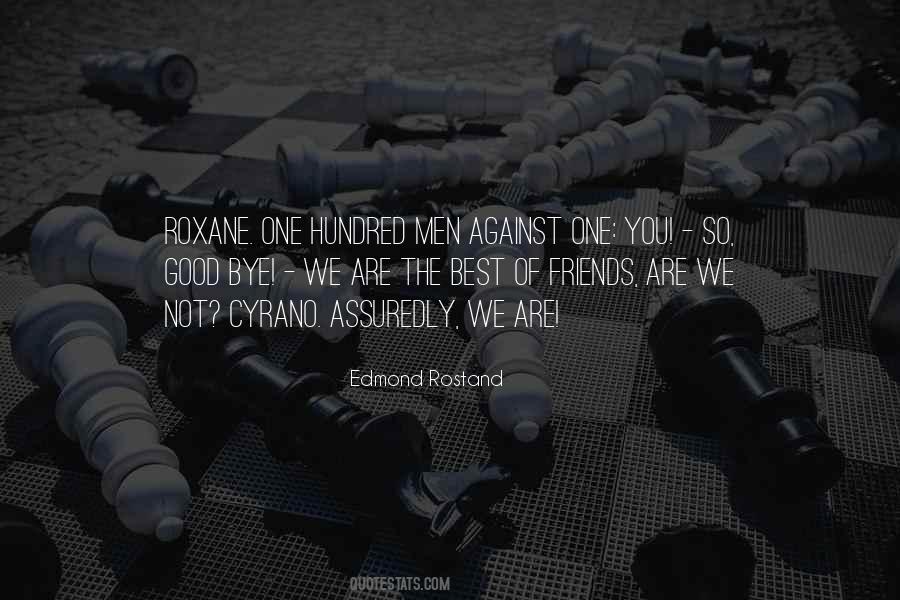 #70. You left me.
Not realizing until I've said my final good-bye and closed the door behind me, that he's not referring to the past.
He's prophesying our future. - Author: Alyson Noel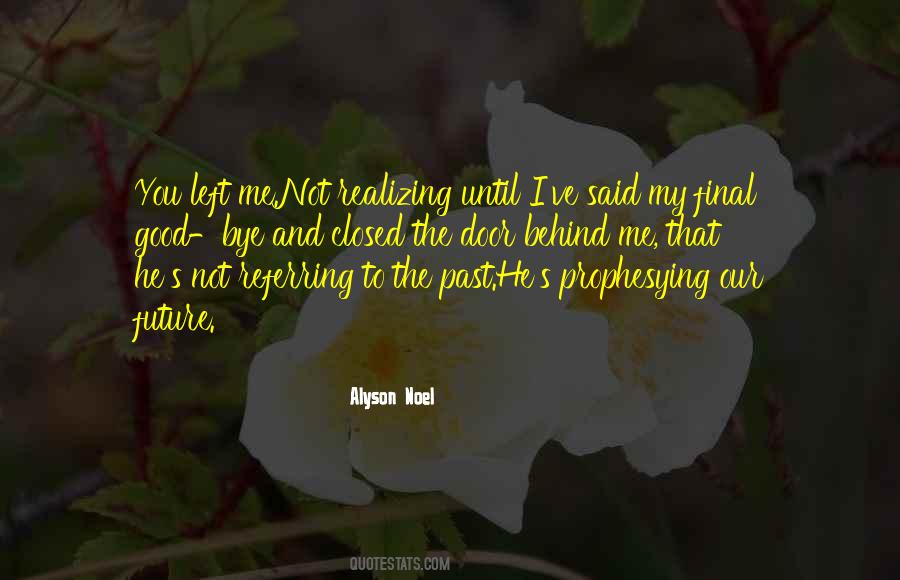 #71. Discipline yourself to be a disciple of great works and to do that excellently, you have to wave "bye-bye" to some things and then switch off your inner person not to go near them again! - Author: Israelmore Ayivor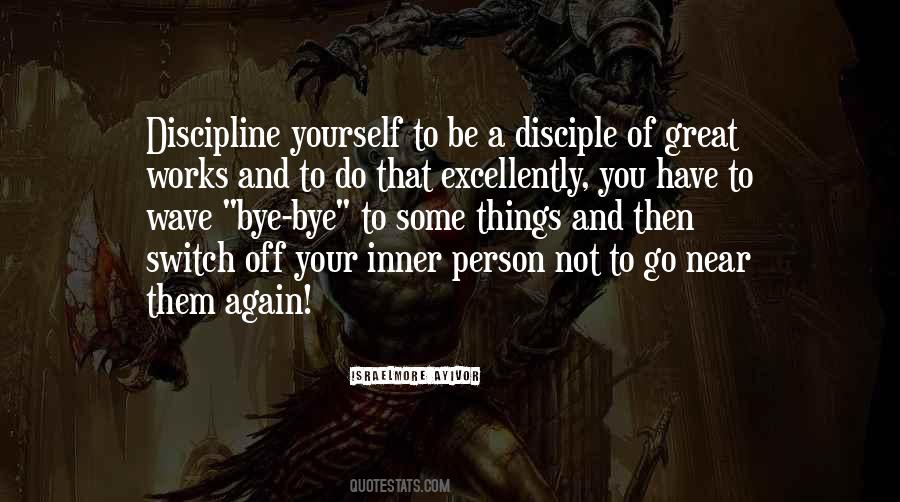 #72. Could I - could I say good-bye to him, sir? asked Hagrid. He bent his great, shaggy head over Harry and gave him what must have been a very scratchy, whiskery kiss. Then, suddenly, Hagrid let out a howl like a wounded dog. - Author: J.K. Rowling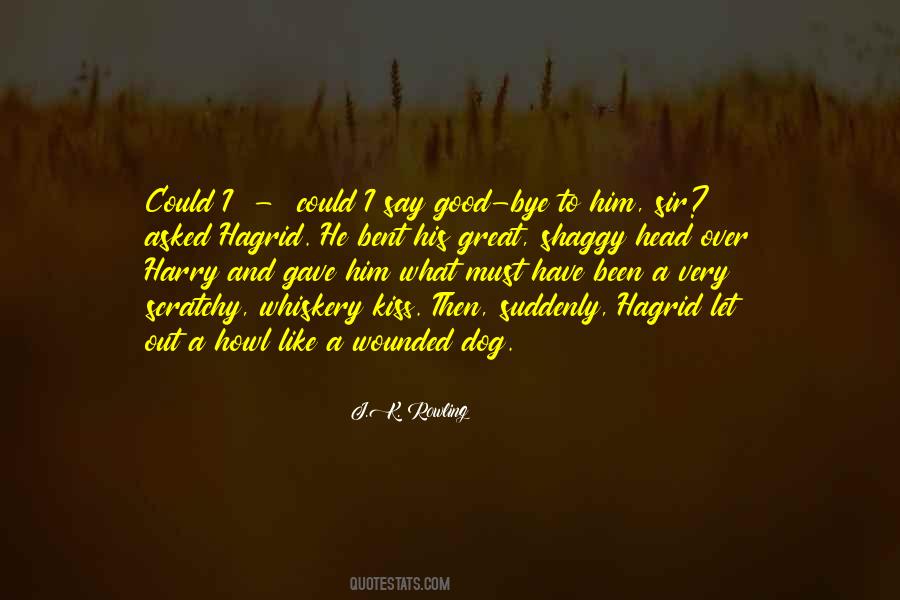 #73. Good-bye, Pen Leland. If we meet again, maybe in London next season, you'll pardon me if I don't pursue an acquaintance with you. It's hard to chat about the weather when one's heart is breaking - - Author: Marissa Doyle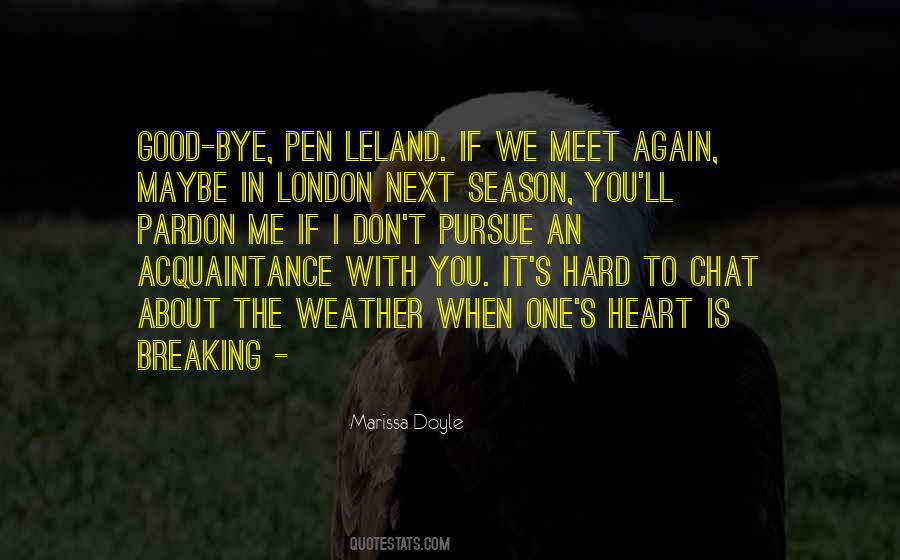 #74. You can kiss your family and friends good-bye and put miles between you, but at the same time you carry them with you in your heart, your mind, your stomach, because you do not just live in a world but a world lives in you. - Author: Frederick Buechner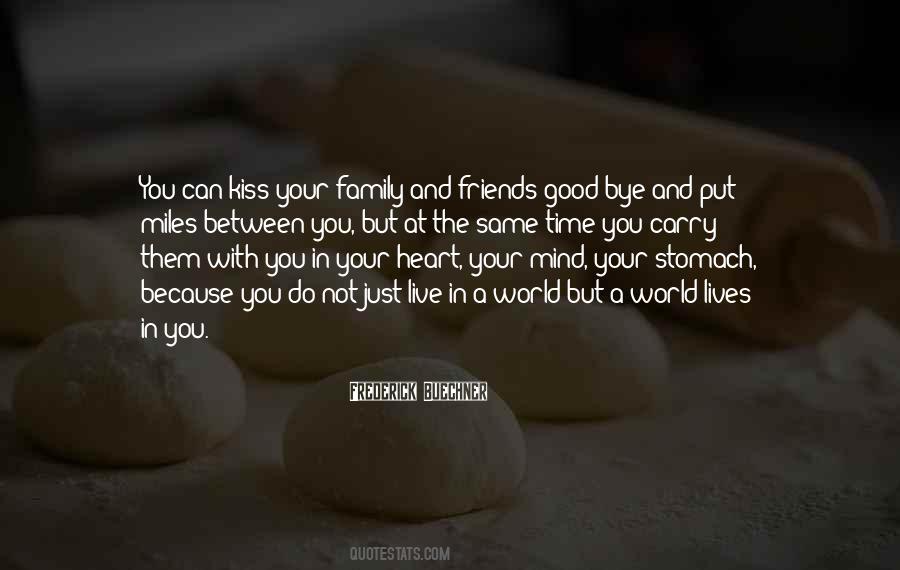 #75. You get close to people. You get farther from them. You learn how much you love them, and then you say good-bye, believing that you will be together again, someday, when your lives curve back into one another's. - Author: Nina LaCour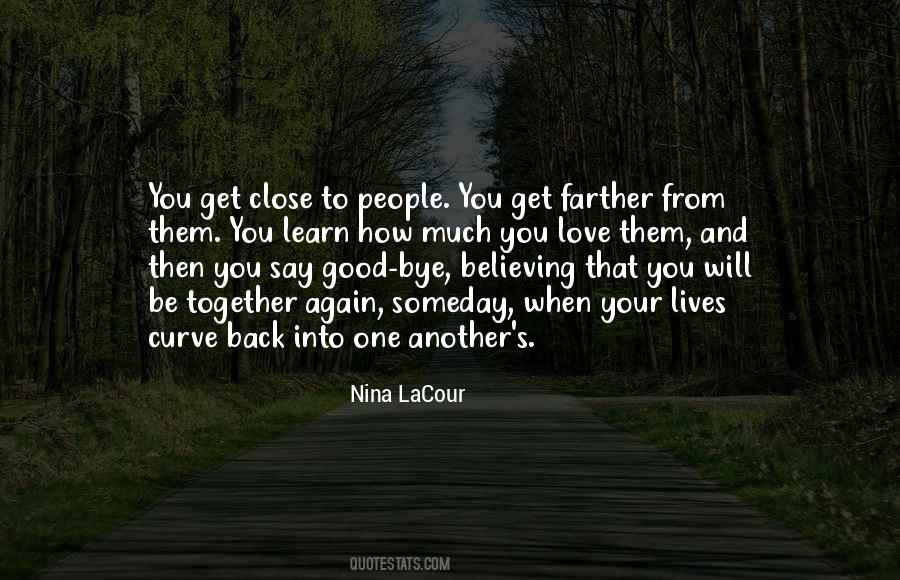 #76. cleaning lady! The gunk I got out of your carpet and kitchen counters? Grrr-oss!" Sam grinned. "We'll talk about it when I get there. Bye!" He called - Author: David Archer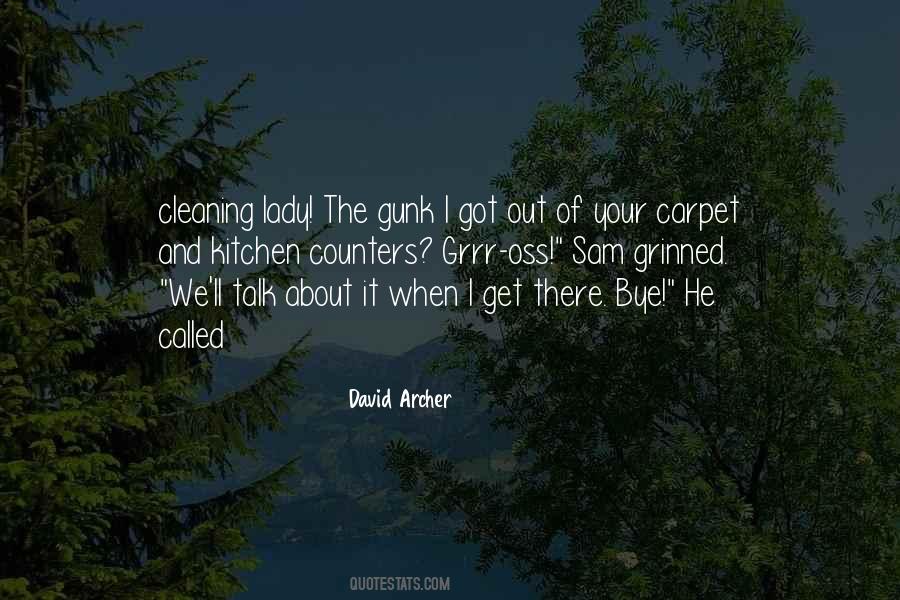 #77. Hatter, my love, we never got a chance to say good-bye.
Weaver - Author: Frank Beddor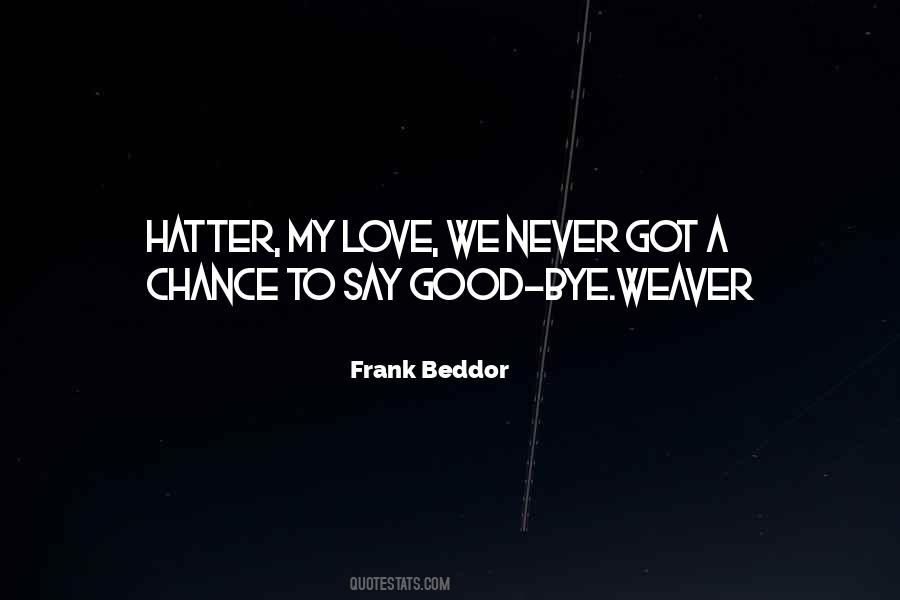 #78. I'm not going to let you walk out on me again."
"I'm not walking out on you Tucker. I'm walking out on us. - Author: R.S. Burnett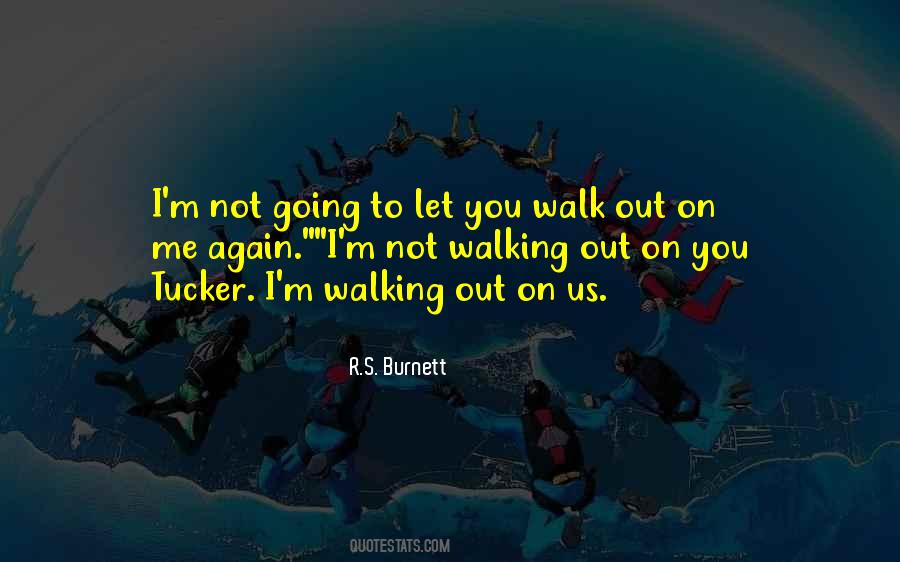 #79. I risk a grin at the thought. Because there's a part of me that likes that idea. Get out of town and never look back. - Author: Daisy Whitney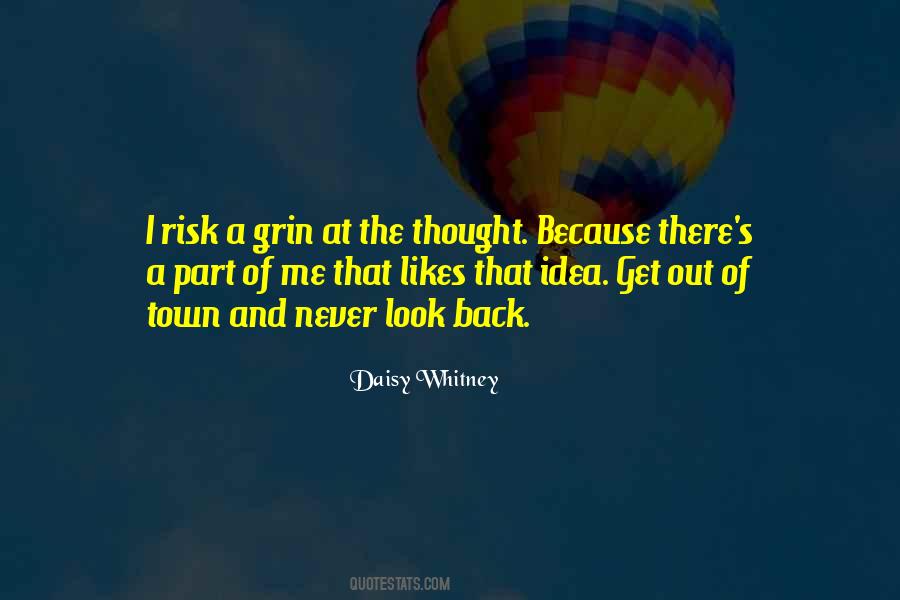 #80. Good-bye, Davita. Be discontented with the world. But be respectful at the same time. - Author: Chaim Potok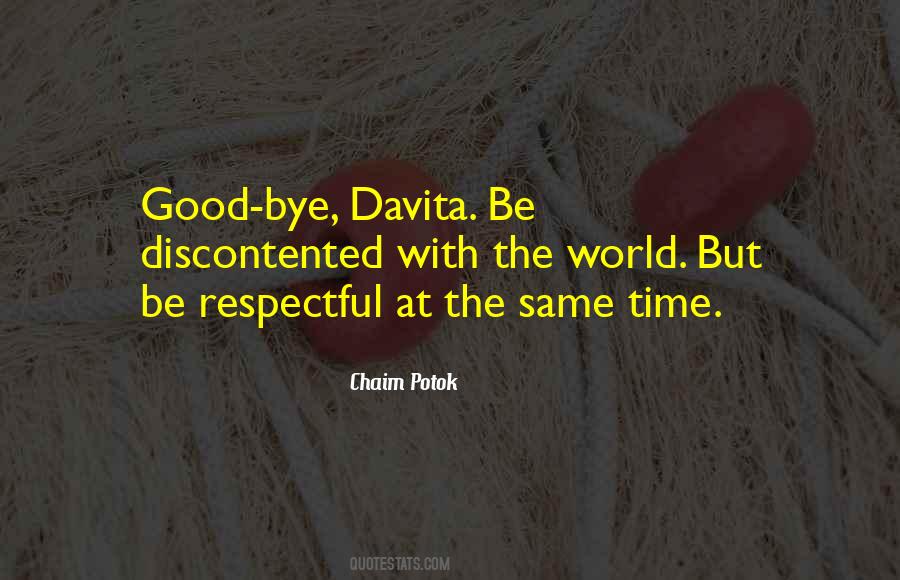 #81. Polybotes found it difficult to say good-bye, since he no longer had a head. - Author: Rick Riordan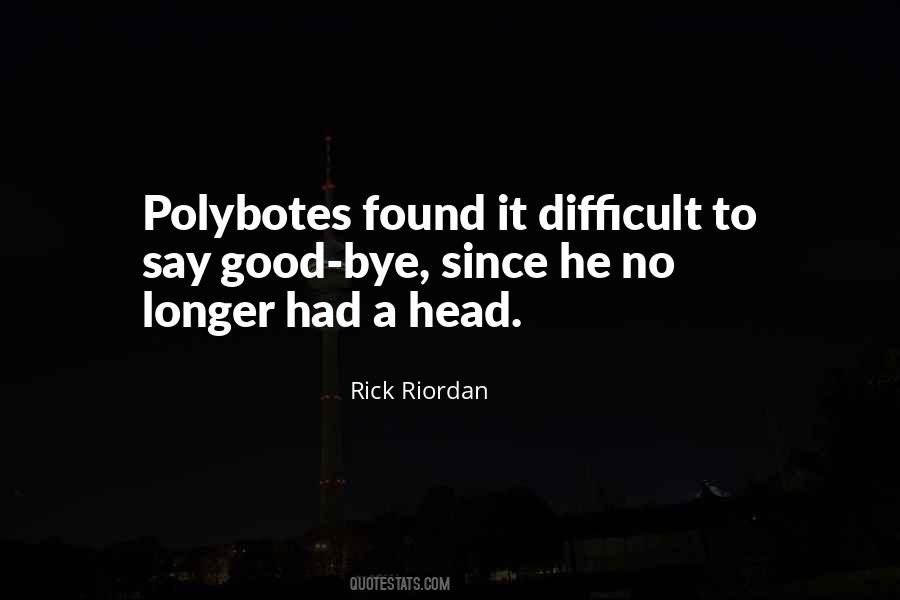 #82. That's not to say we were totally innocent of any public displays of affection; there was some hand-holding and the occasional hurried good-bye kiss on even days, when we had different sixth periods. - Author: Robyn Schneider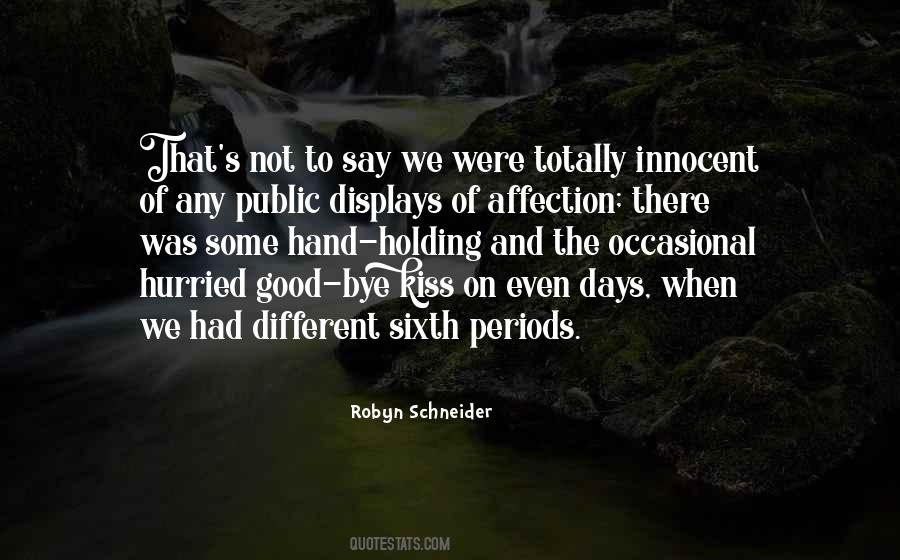 #83. Saying good-bye when you know it's for the last time is like no other sadness you will ever experience. - Author: Allison DuBois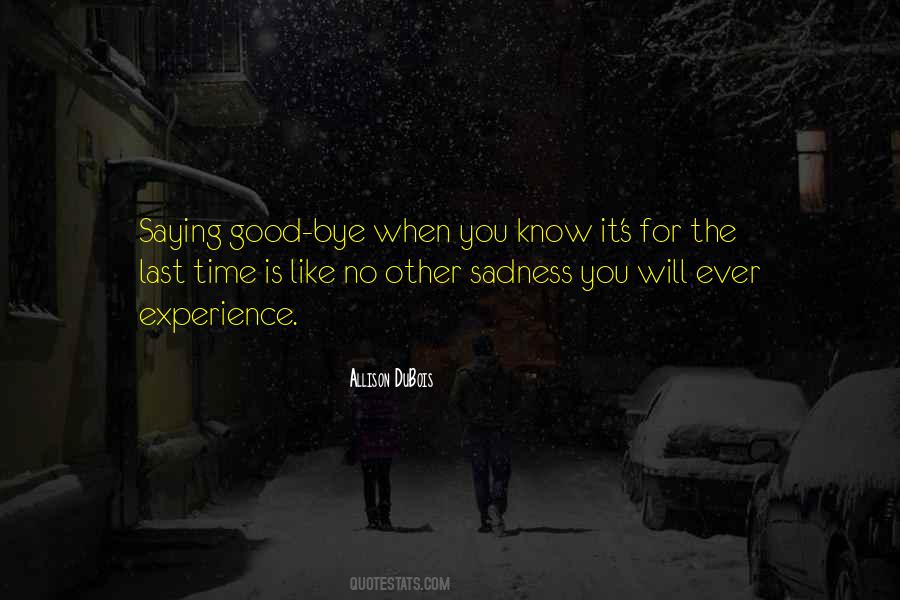 #84. I am there for the best interests of the fighters, I want them to win. If they don't accept that, bye bye. - Author: Bas Rutten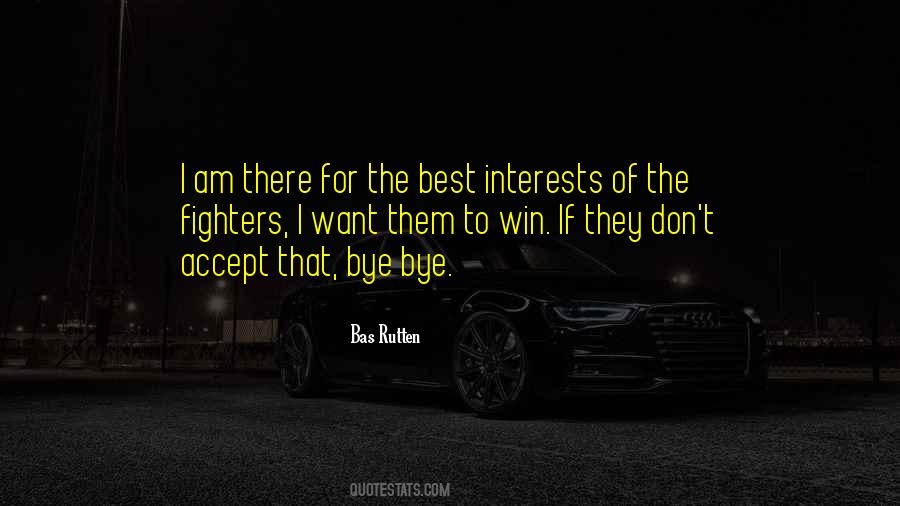 #85. How do you say good-bye?
That night, there were meteor showers. It seemed to me that even the sky was weeping - Author: Jodi Picoult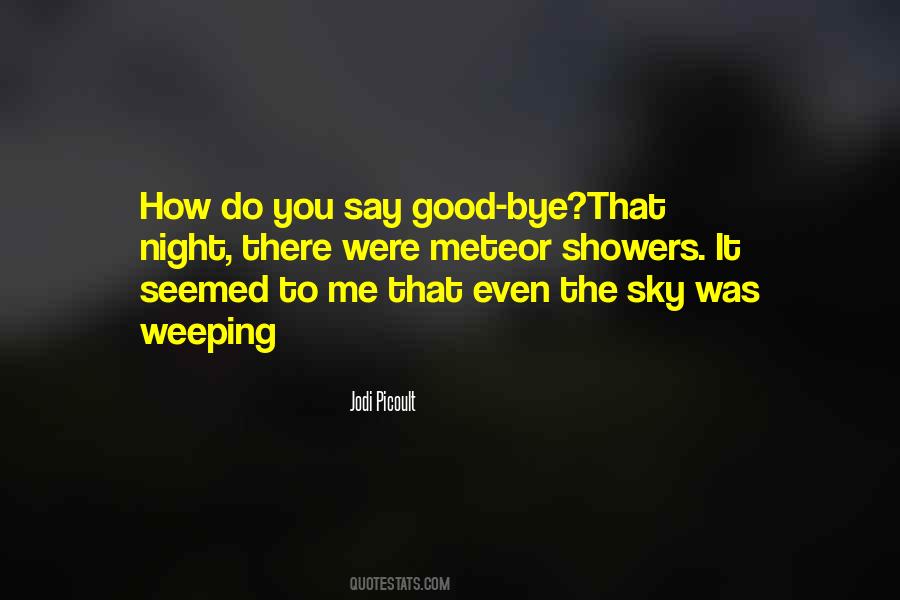 #86. If that happens to us," she whispered, unable to wrap her mind around the idea of a life so long and so full of tragedy, "if we feel ourselves, who we are together, becoming lost in time, I don't want to Sleep. I want to say good-bye when I'm still me and you're still you. - Author: Nalini Singh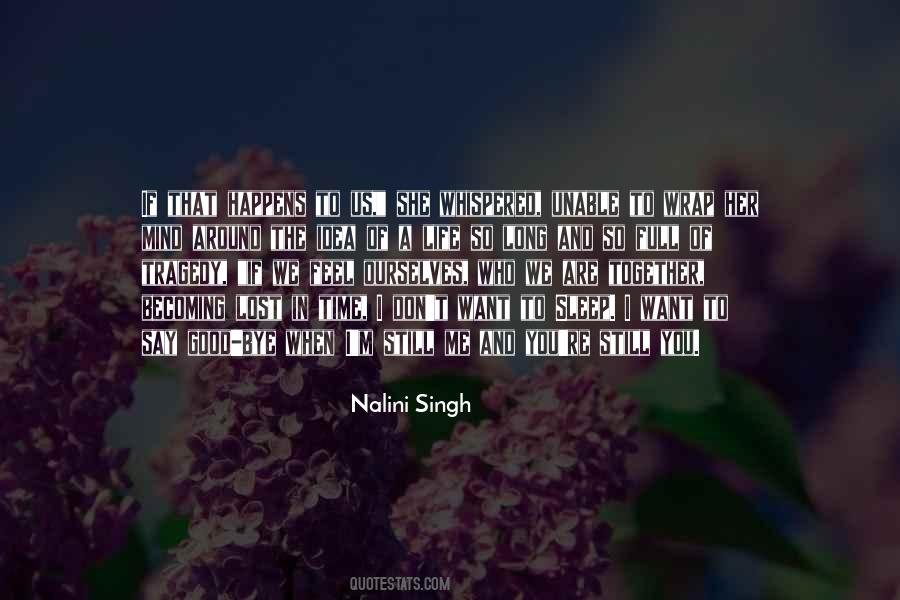 #87. Why is it so hard to say good-bye to something even when you know it's a slow-growing cancer? - Author: Koren Zailckas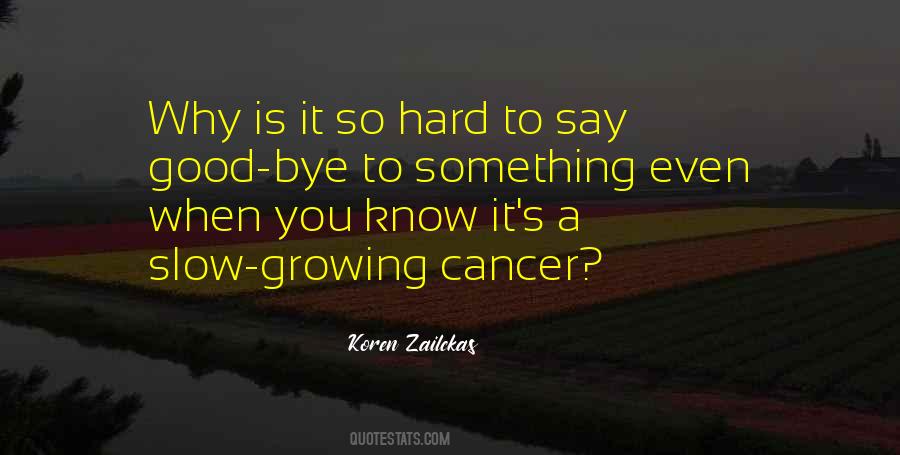 #88. She was a shrewd woman, and knew that the art of life is to know when to stop talking. What words have accomplished, too many words can undo. "Good-bye. - Author: P.G. Wodehouse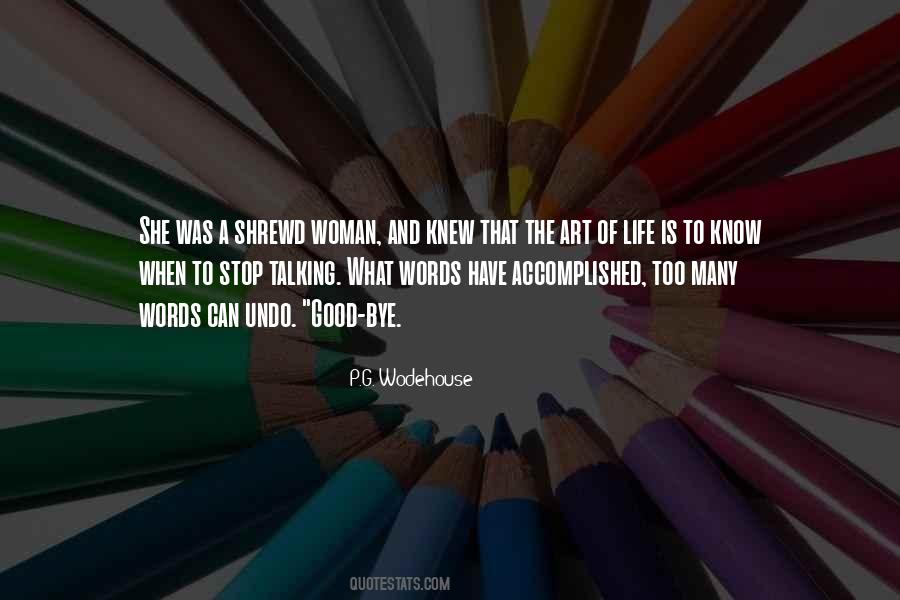 #89. Why can't we get all the people together in the world that we really like and then just stay together? I guess that wouldn't work. Someone would leave. Someone always leaves. Then we would have to say good-bye. I hate good-byes. I know what I need. I need more hellos. - Author: Charles M. Schulz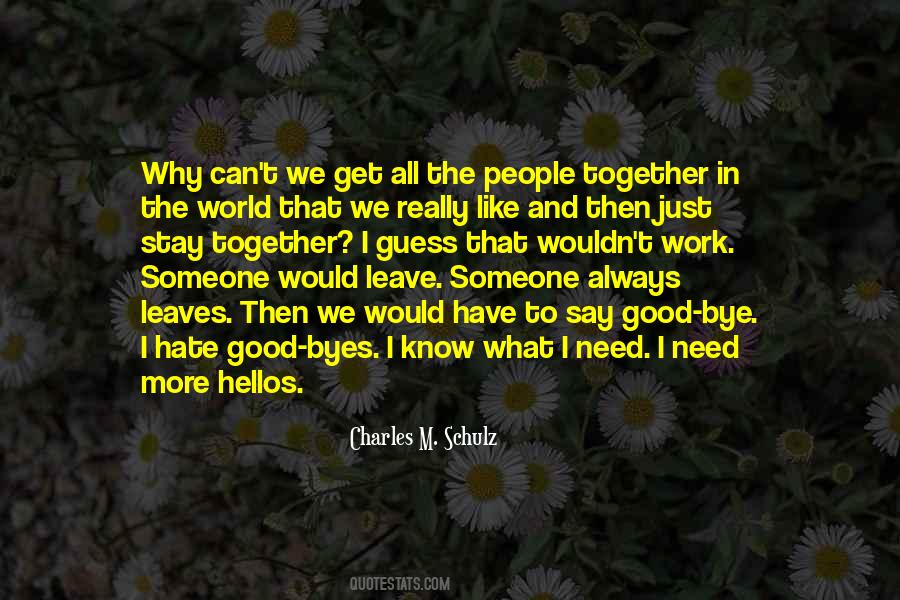 #90. I always say a little prayer when I put cakes in the oven," remarked Eve, as she stopped to kiss Rose good-bye.
"What do you say?"
"I say, 'Please, God, don't let me forget I've put that cake in the oven. - Author: Hilary McKay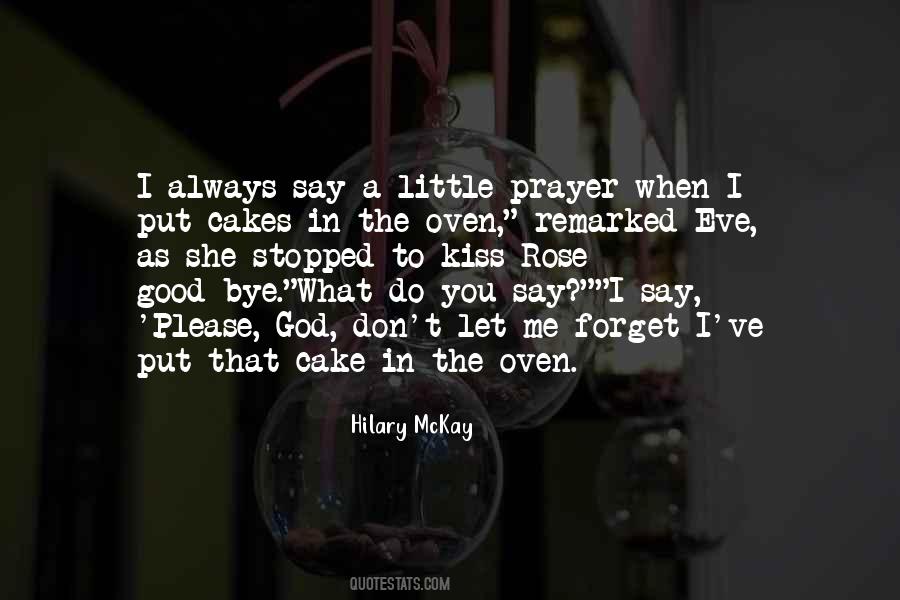 #91. years.' She kissed him good bye on the station platform, a long and passionate kiss. Now she was a civilian it did not matter if anyone saw them. - Author: A.R. Davey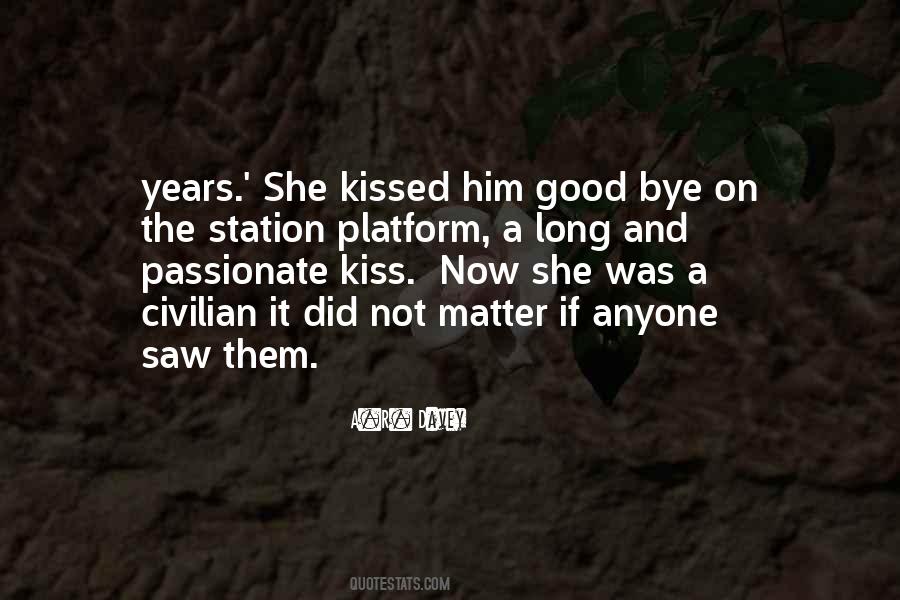 #92. Don't say hello, Simon. Because then we'll have to say good-bye, and I can't stand good-byes. - Author: Rainbow Rowell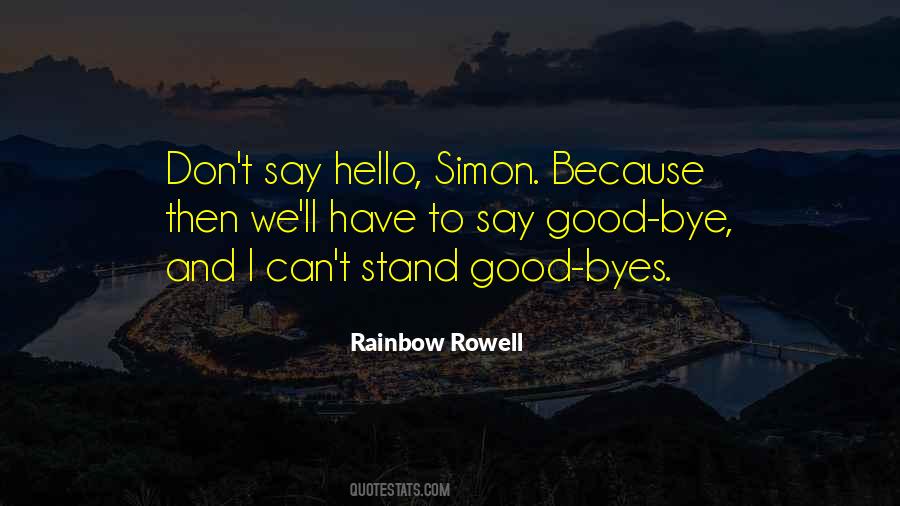 #93. Farewell! God knows when we shall meet again. - Author: William Shakespeare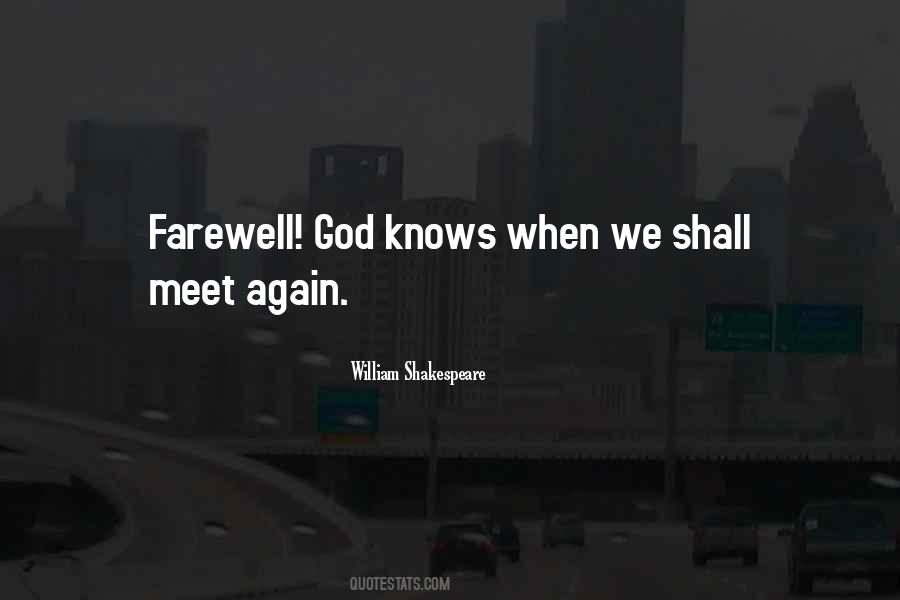 #94. I couldn't loose somebody else like that, without even the chance to say good-bye. Not again. Not her. - Author: Stacey Kade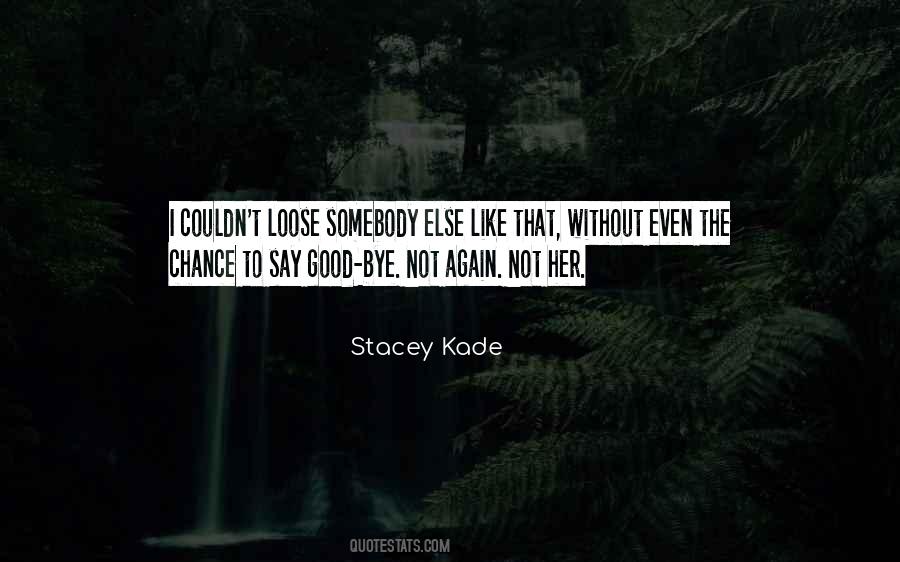 #95. Roll of thunder hear my cry Over the water bye and bye Ole man comin' down the line Whip in hand to beat me down But I ain't gonna let him Turn me 'round - Author: Mildred D. Taylor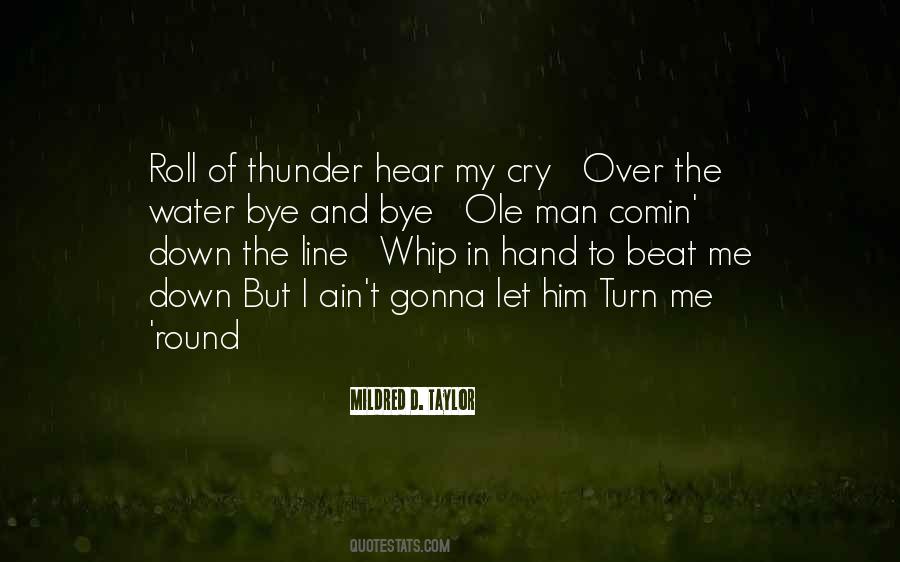 #96. Carl was just saying good-bye," Mom said.
"Really," I said. "He must speak in tongues. - Author: Neal Shusterman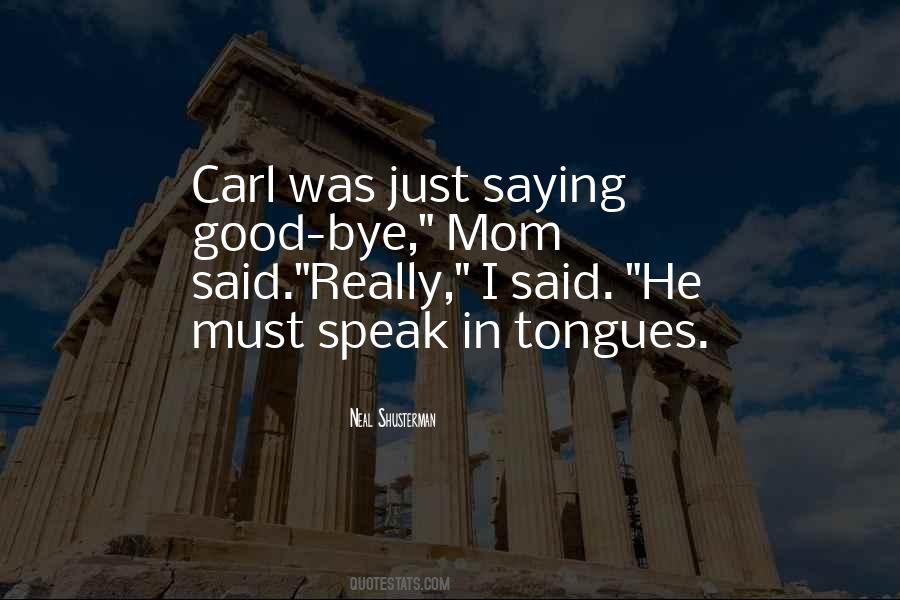 #97. I didn't want to kiss you good-bye - that was the trouble - I wanted to kiss you good night - and there's a lot of difference. - ERNEST HEMINGWAY Draw your chair up close to the edge of the precipice and I'll tell you a story. - F. SCOTT FITZGERALD - Author: Robyn Schneider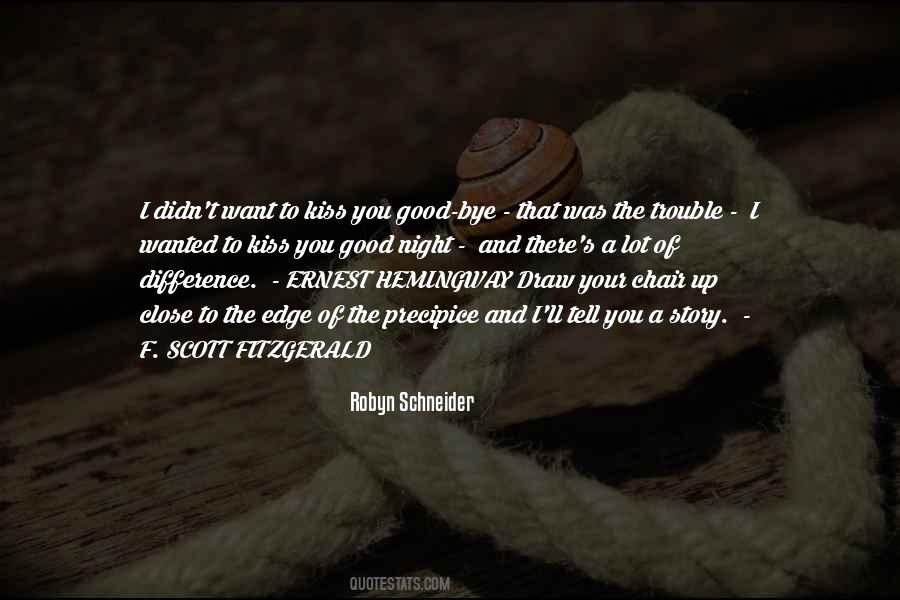 #98. Two homes on either side of the road saw
Two women waving a good bye to their men

One was a newly married husband
Other was a proud son of a widow - Author: Bhavik Sarkhedi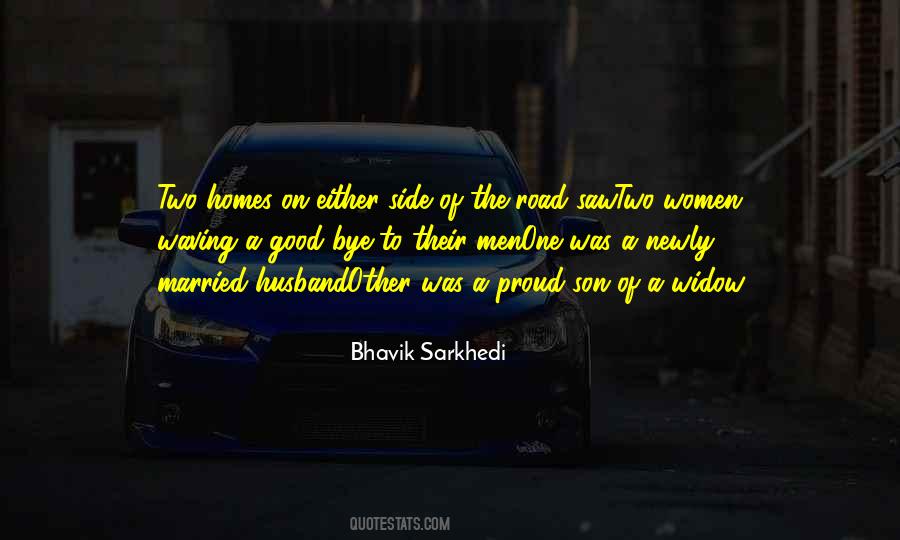 #99. I have fooled life and life has fooled me. We are quits. I say good-bye. Think sometimes in the hour of happiness of your poor, comical fool who loved you truly and so well. - Author: Richard Von Krafft-Ebing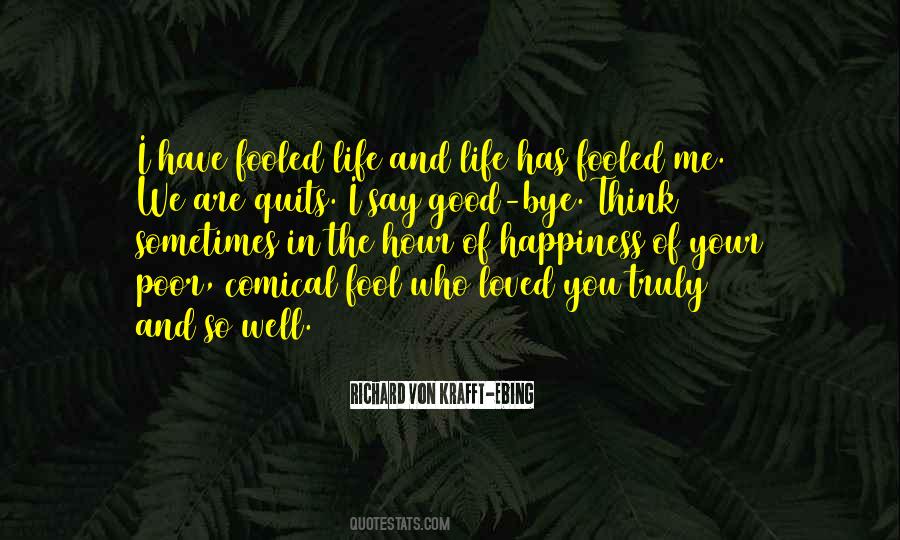 #100. Saying hello to something new means saying good-bye to something old and loved. - Author: Phyllis Reynolds Naylor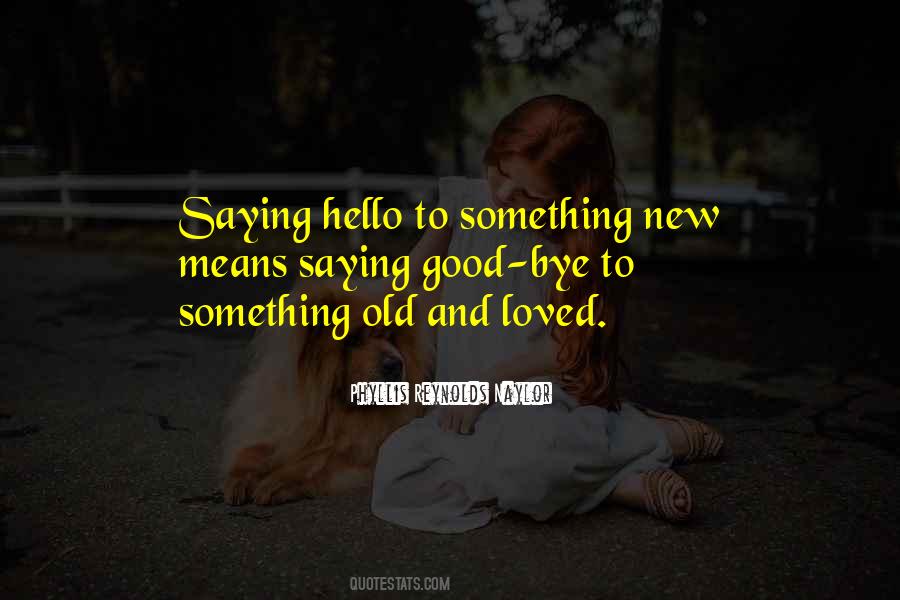 Famous Authors
Popular Topics