Believe It Or Not Famous Quotes & Sayings
List of top 100 famous quotes and sayings about believe it or not to read and share with friends on your Facebook, Twitter, blogs.
Top 100 Quotes About Believe It Or Not
#1. It is no ipso facto escape from dogma to assert (knowingly or not) non-dogmatism dogmatically.
It is no ipso facto escape from credulity to believe in one's own scepticism. - Author: Nanamoli Thera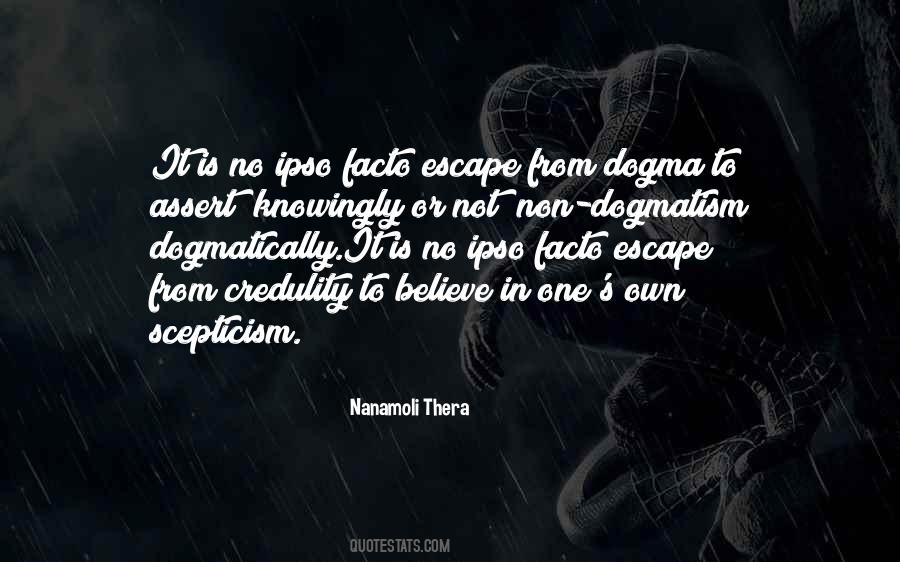 #2. The person who does not believe in miracles surely makes it certain that he or she will never take part in one. - Author: William Blake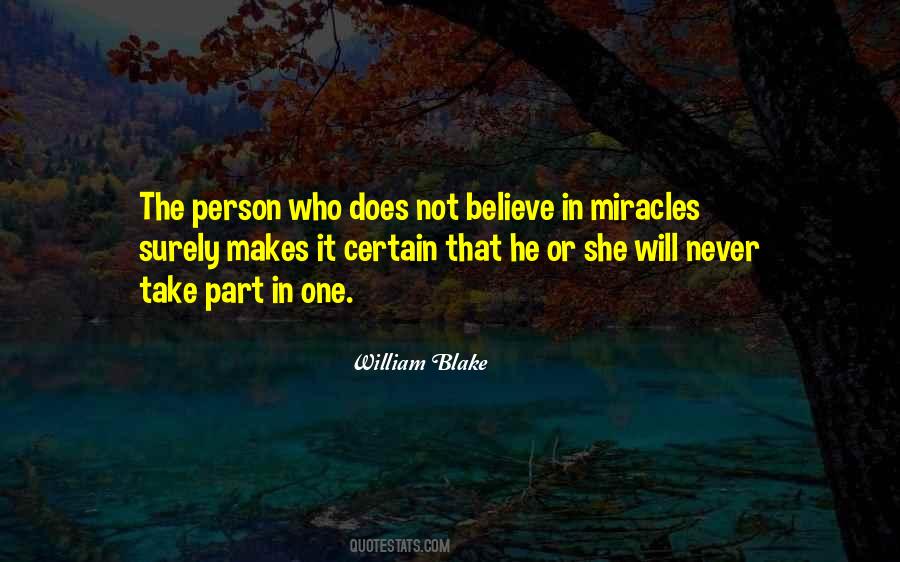 #3. There's no "should" or "should not" when it comes to having feelings. They're part of who we are and their origins are beyond our control. When we can believe that, we may find it easier to make constructive choices about what to do with those feelings. - Author: Fred Rogers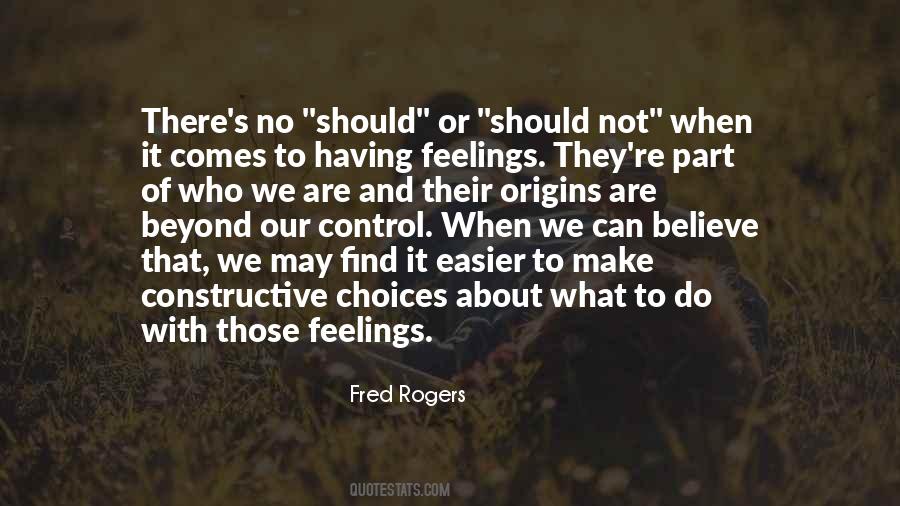 #4. I just did something on a show on UPN called 'Girlfriends' that will be on television in February. I am actually a much better actor today than I was in 1996, believe it or not. - Author: Christopher Darden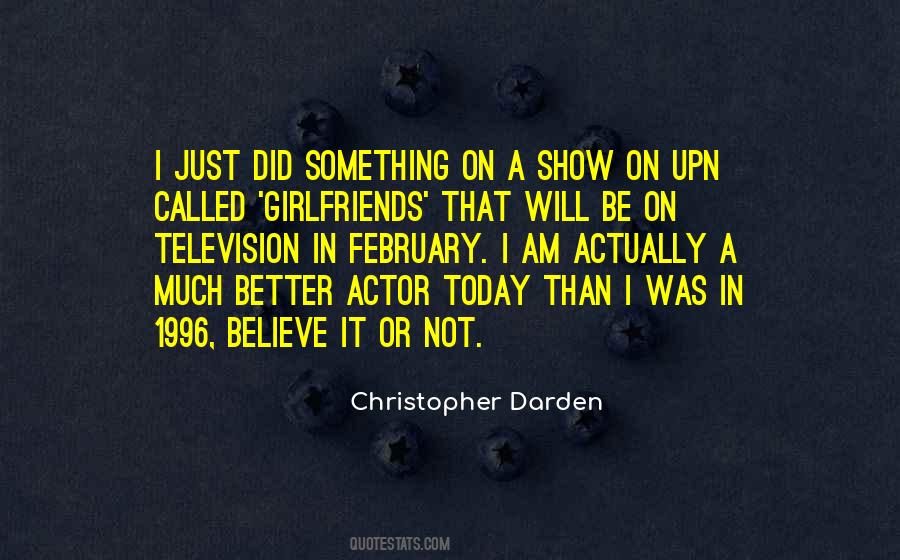 #5. Instead of asking yourself whether you believe or not, ask yourself whether you have, this day, done one thing because He said, Do it! or once abstained because He said, Do not do it! It is simply absurd to say you believe, or even want to believe, in Him, if you do not do anything He tells you. - Author: George MacDonald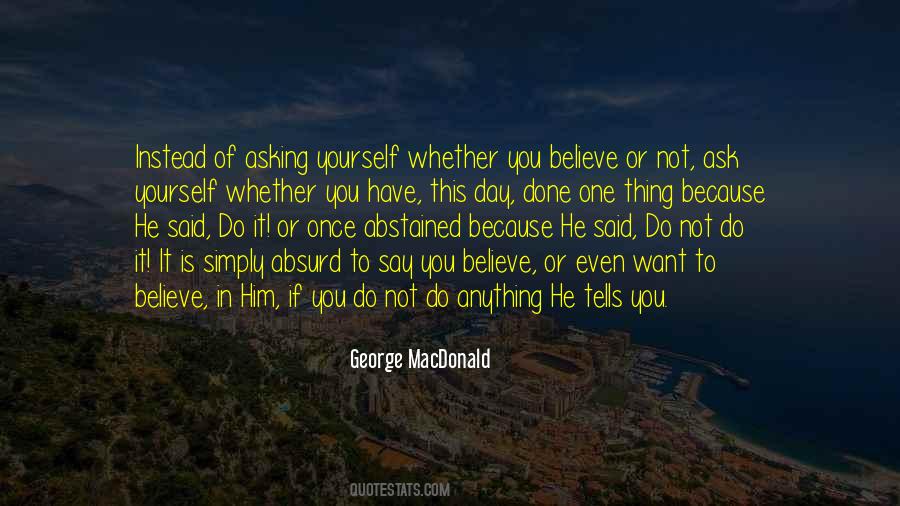 #6. He believed in mission. But . . . he did not believe in it as an intellectual imperative, or even as a professional standard. Mission . . . was an abstract notion that took meaning in concrete situations. - Author: Tim O'Brien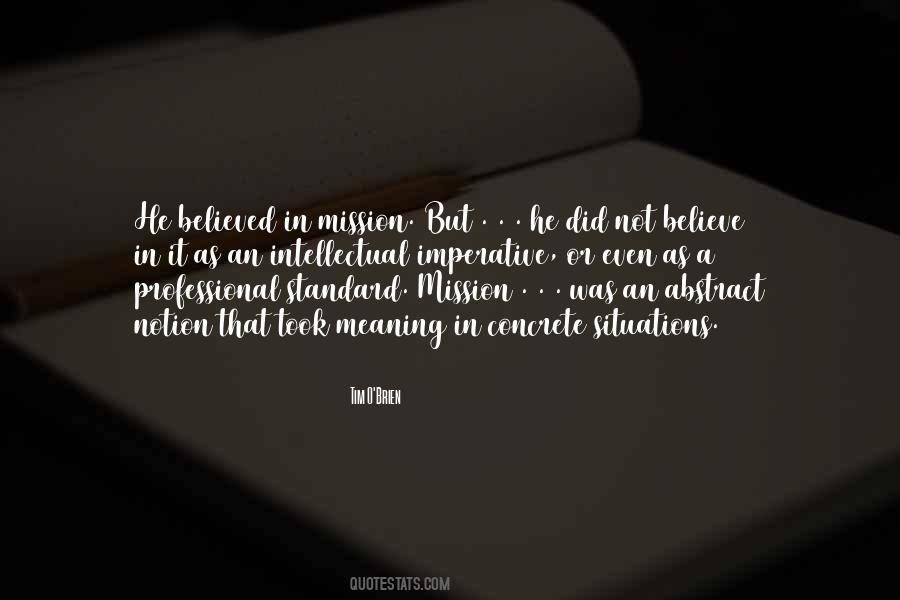 #7. I don't believe that there is a human creature in his senses, arrived to maturity, that at some time or other has not been carried away by this passion (sc. envy) in good earnest; yet I never met with any one who dared own he was guilty of it but in jest. - Author: Bernard De Mandeville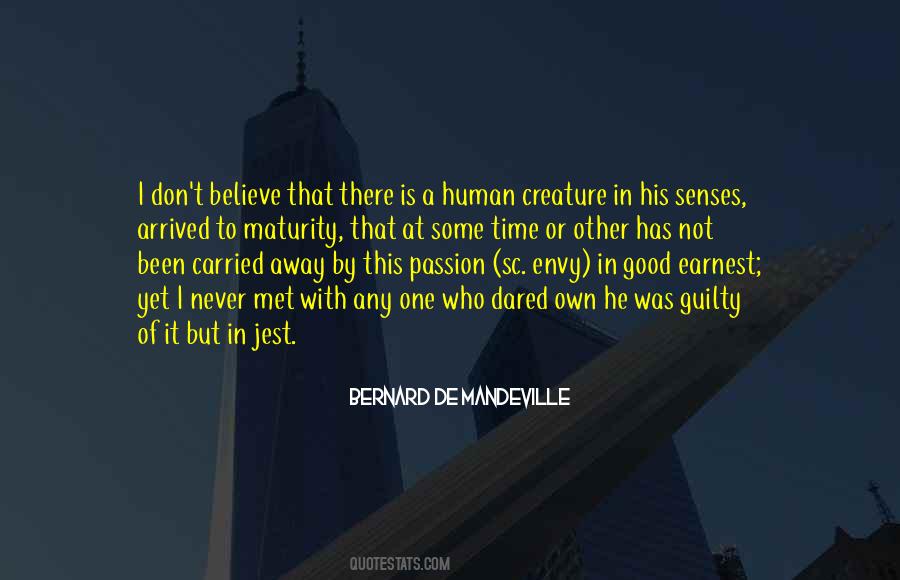 #8. The NYPD must stop acting like the only thing black people do is run from them and shoot at them. Believe it or not there are some black New Yorkers who won't run and can't shoot
they're called the # Knicks . - Author: Bill Maher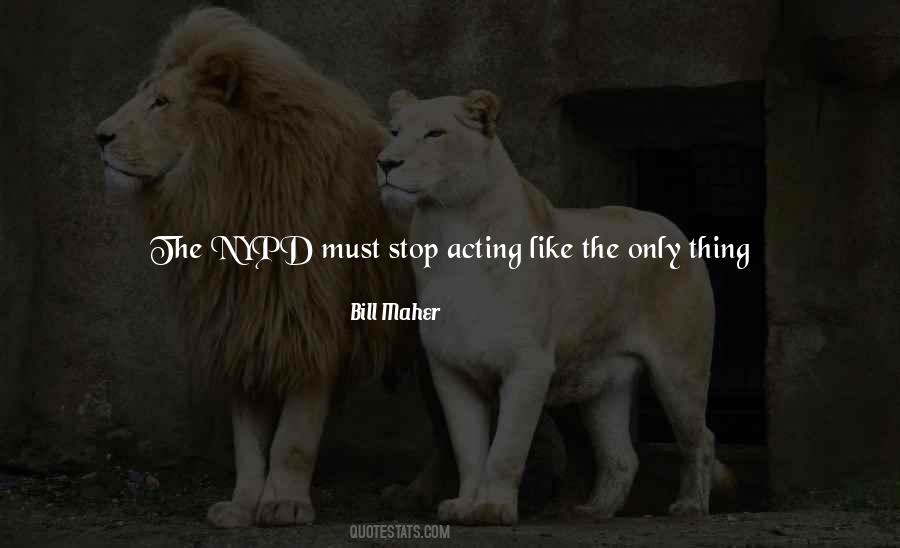 #9. In fact, I believe that theological interpretation runs the risk of jeopardizing what it means to be a responsible biblical hermeneut, by attempting to overlook or negate, whether consciously or not, a biblical hermeneutic. - Author: Stanley E. Porter Jr.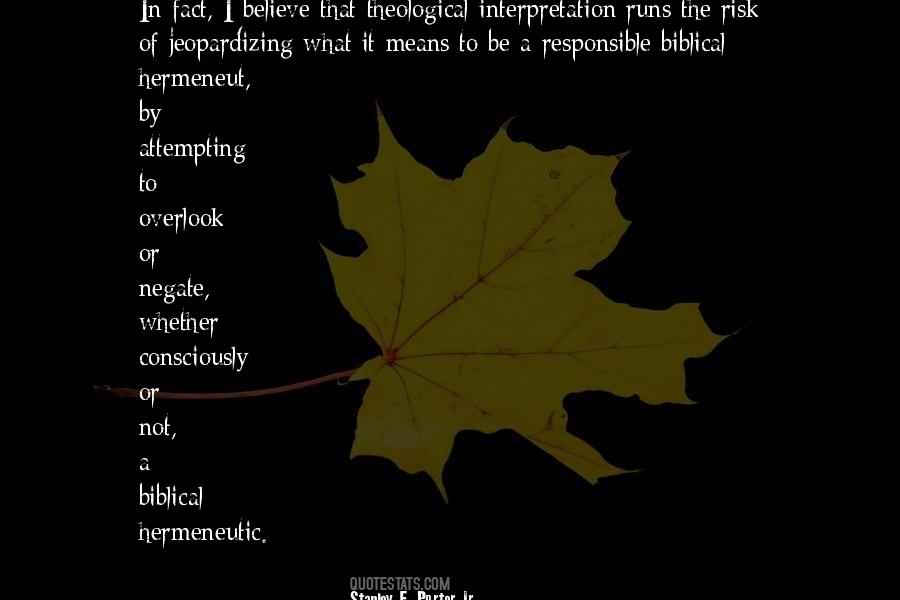 #10. You either believe in Europe at any price: in other words we have to be in Europe at any price because you can't survive without it, or you don't. If you don't it tends to suggest there is a price which you are not willing to pay. - Author: Liam Fox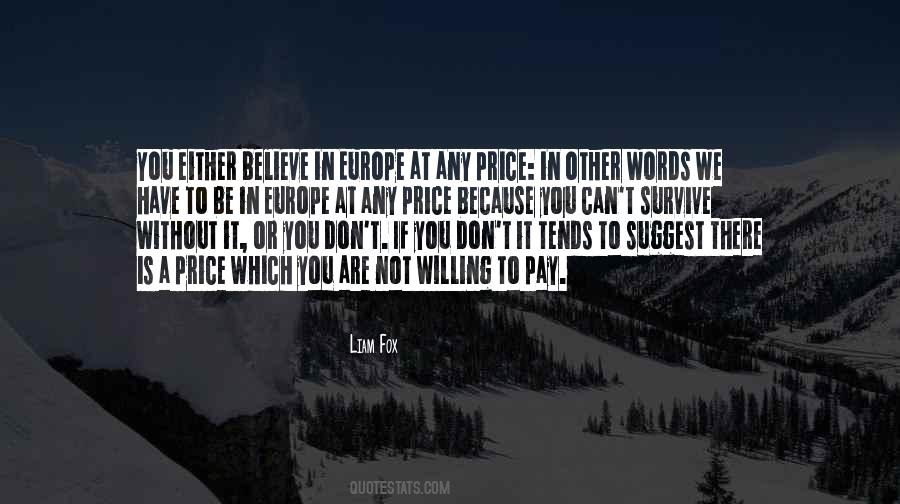 #11. Christianity is an intimate, growing relationship with the person of Jesus Christ. It is not a set of doctrines to believe, habits to practice, or sins to avoid. Every activity God commands is intended to enhance His love relationship with His people. - Author: Henry T. Blackaby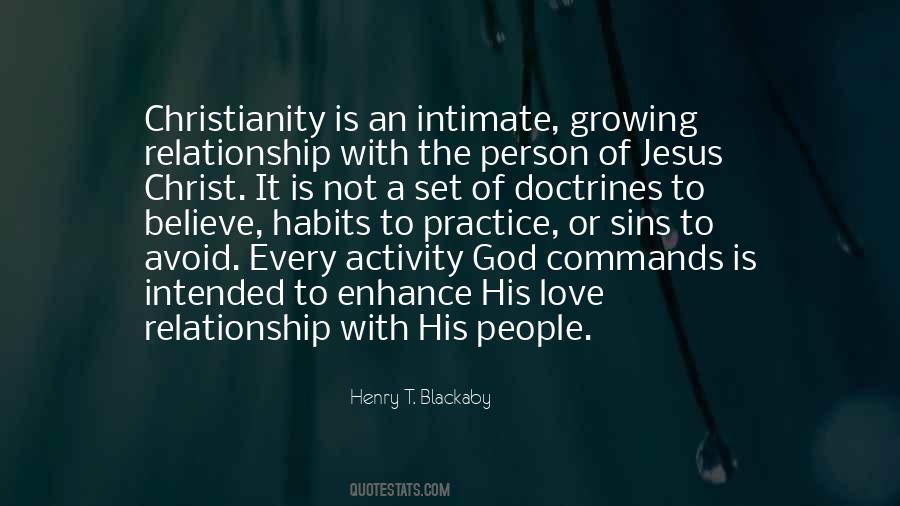 #12. I was never a villain on the stage. I always played strong, sympathetic types. My first stage role with a speaking part, believe it or not, was as a priest. It wasn't until I began acting in films that the producers and directors saw me primarily as a bizarre villain. - Author: Conrad Veidt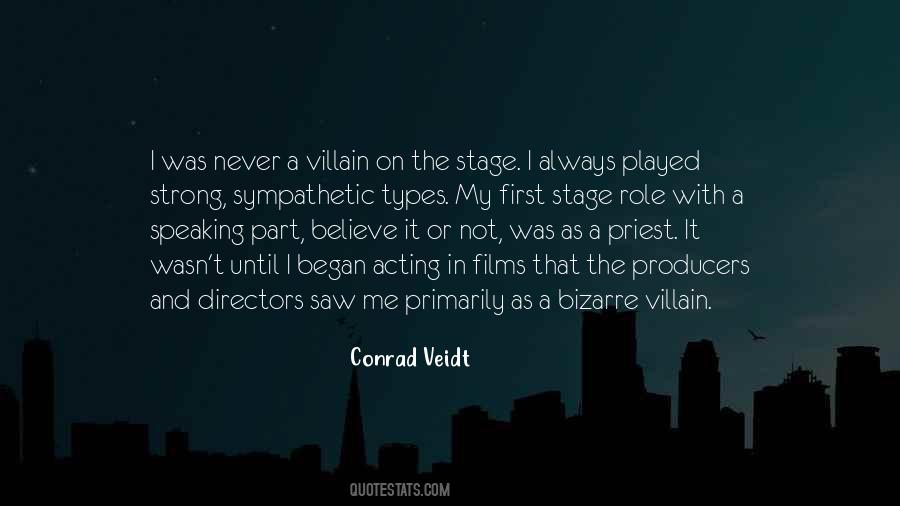 #13. Let no one believe that he has received the divine kiss, if he knows the truth without loving it or loves it without understanding it. But blessed is that kiss whereby not only is God recognized but also the Father is loved; for there is never full knowledge without perfect love. - Author: Bernard Of Clairvaux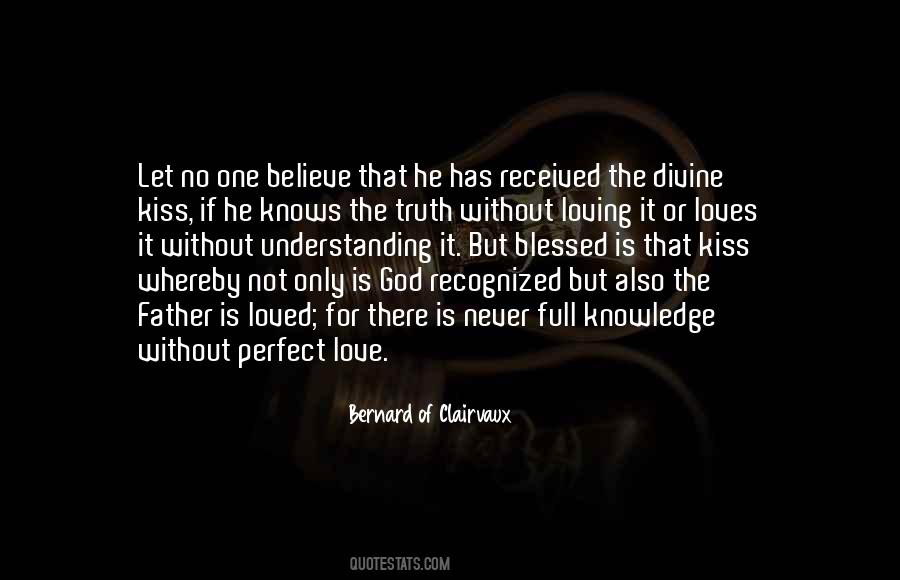 #14. Believe it or not, there were very few books on art, years ago. - Author: James Rosenquist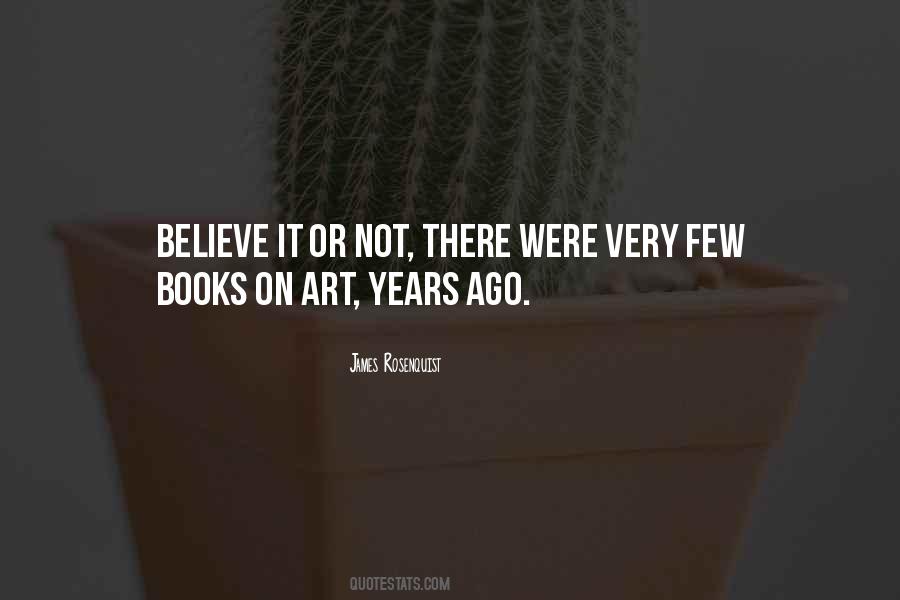 #15. Believe it or not, this simple phrase, "Yes! And . . ." is the secret of improv. - Author: Amy Lisewski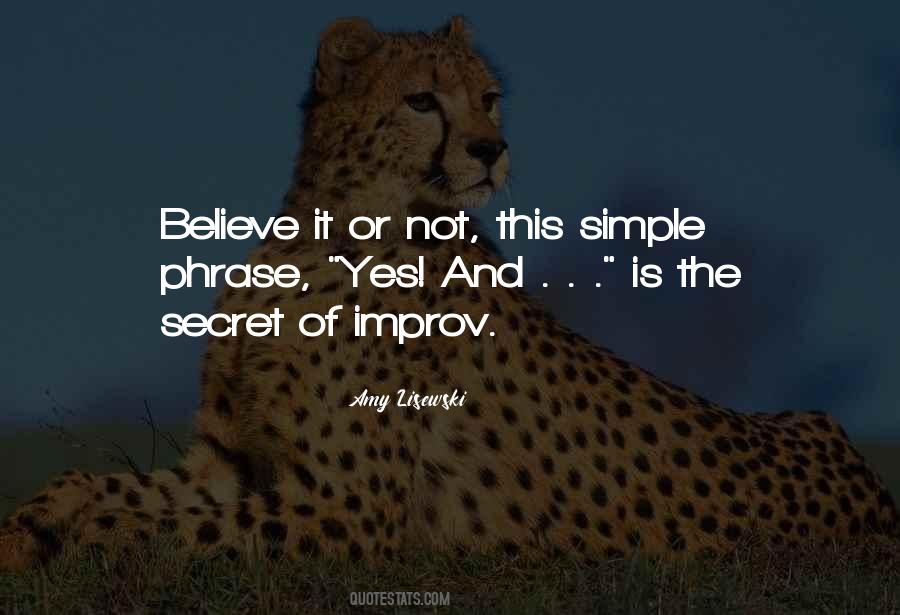 #16. But, it is hard too, because I want to do another action film. Believe it or not, it was fun. - Author: Shane West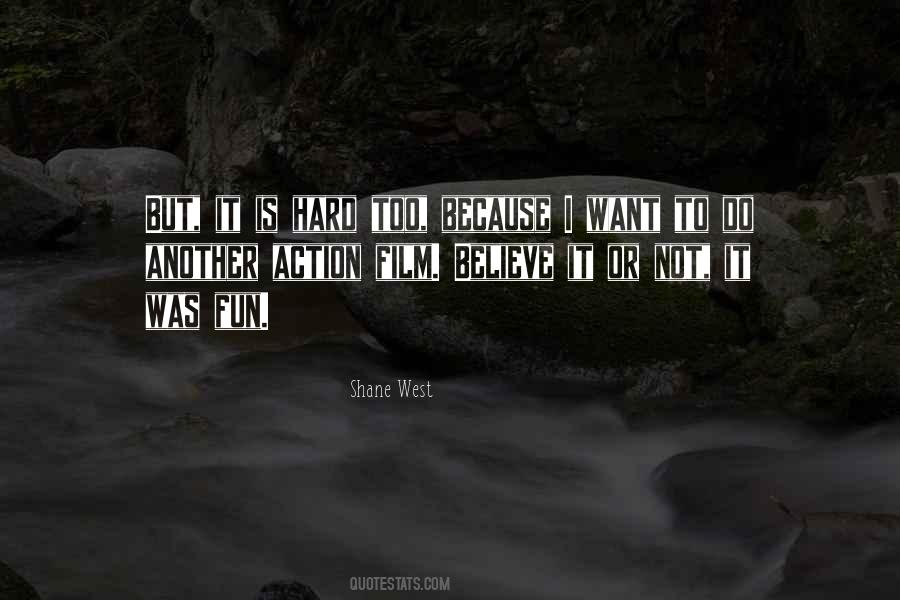 #17. I think there are lots of ways of leading very good lives and growing spiritually. This process of growth goes on whether we believe it or not. - Author: Jim Henson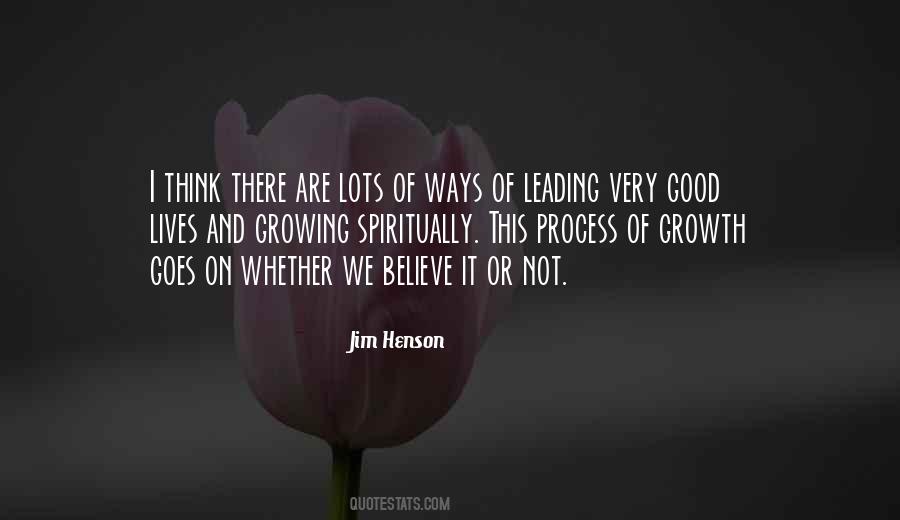 #18. If a fact does not modify your logic on being known, either you don't believe the fact or it is not a fact. - Author: Raheel Farooq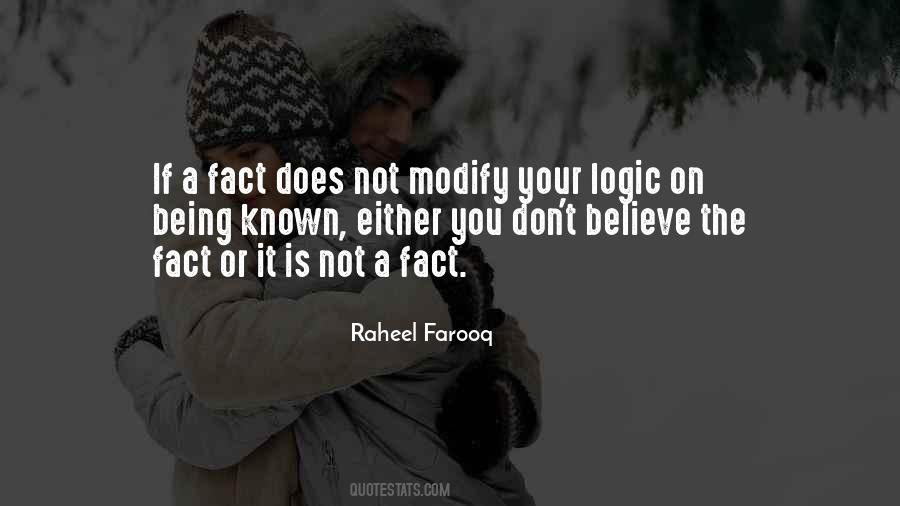 #19. I don't believe in love" -Natasha
"It's not a religion. It exists whether you believe in it or not" -Daniel - Author: Nicola Yoon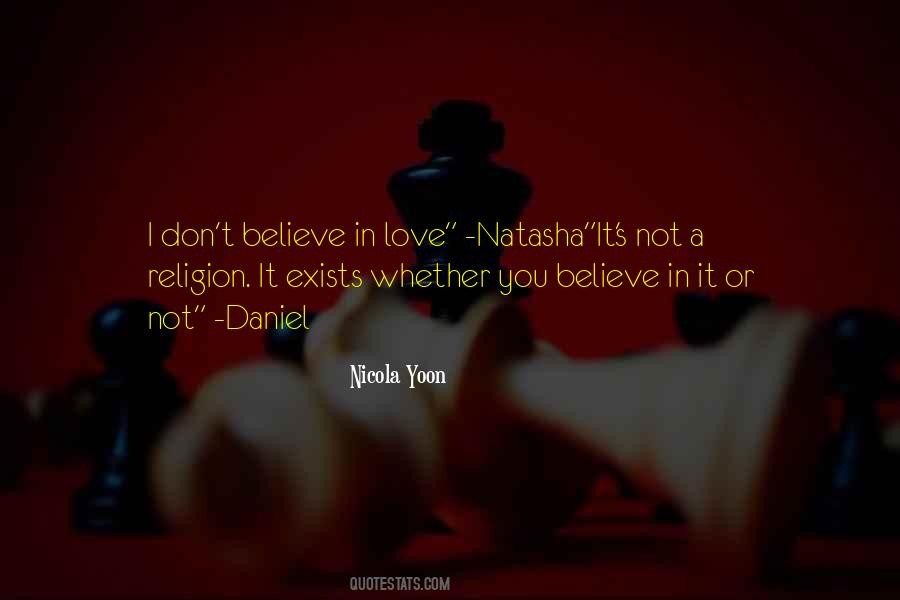 #20. Not to sound egomaniac or anything, but just to get under people's skin like that, and for them to believe in you and believe strongly enough to write ... it's flattering and it helps you during the day. - Author: Glenn Quinn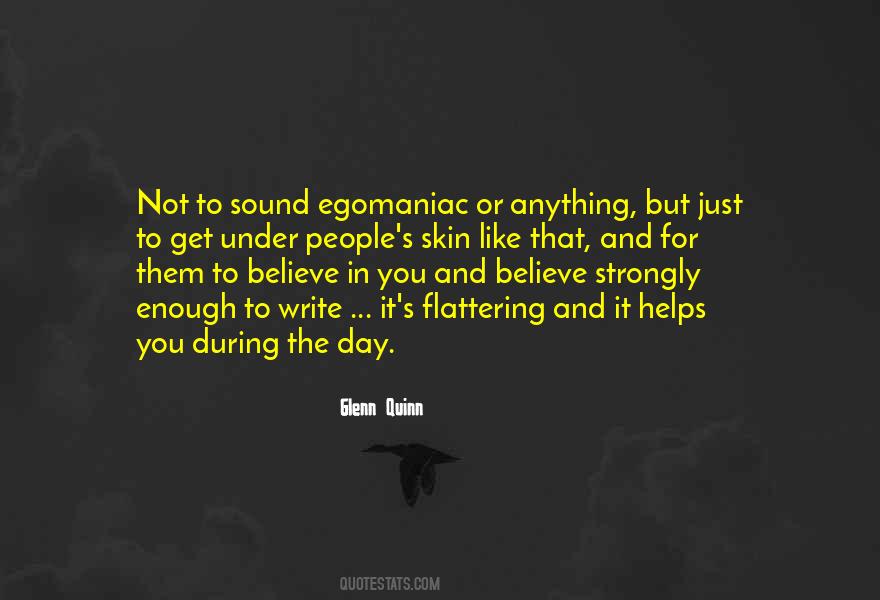 #21. Some believe that the FBI has these phenomenal capabilities to access any information at any time - that we can get what we want, when we want it, by flipping some sort of switch. It may be true in the movies or on TV. It is simply not the case in real life. - Author: James Comey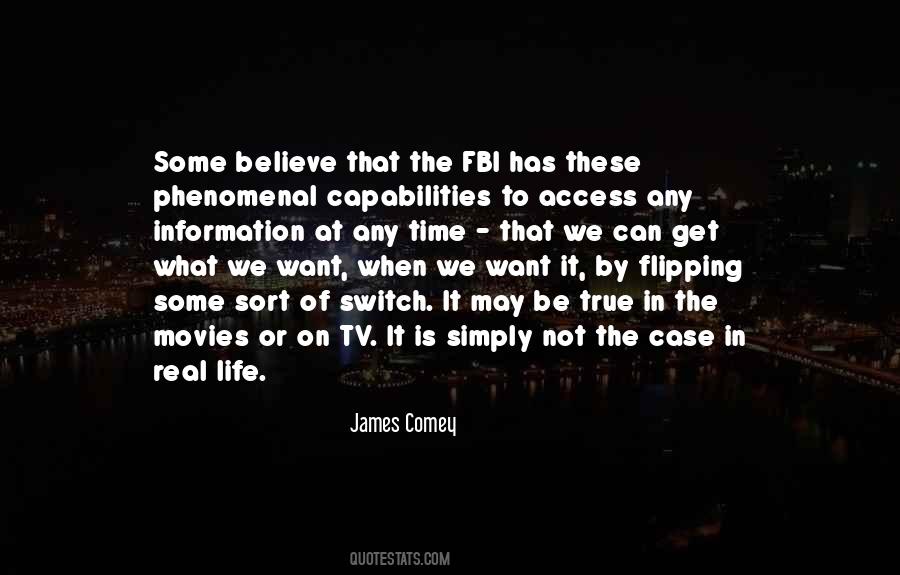 #22. As your bodybuilding aims become higher, obviously you have to work harder, until, believe it or not, you are performing from 20-30 sets of both biceps and triceps three workouts per week. - Author: Reg Park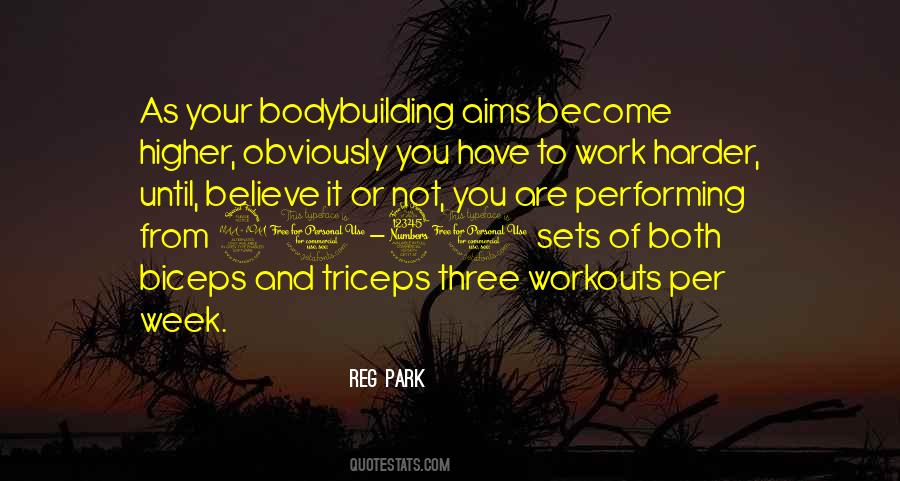 #23. I mean, I do believe that when you walk on the stage, or onto the screen, that's your character - not you. So it's an interesting challenge, an interesting line to walk. - Author: Cody Horn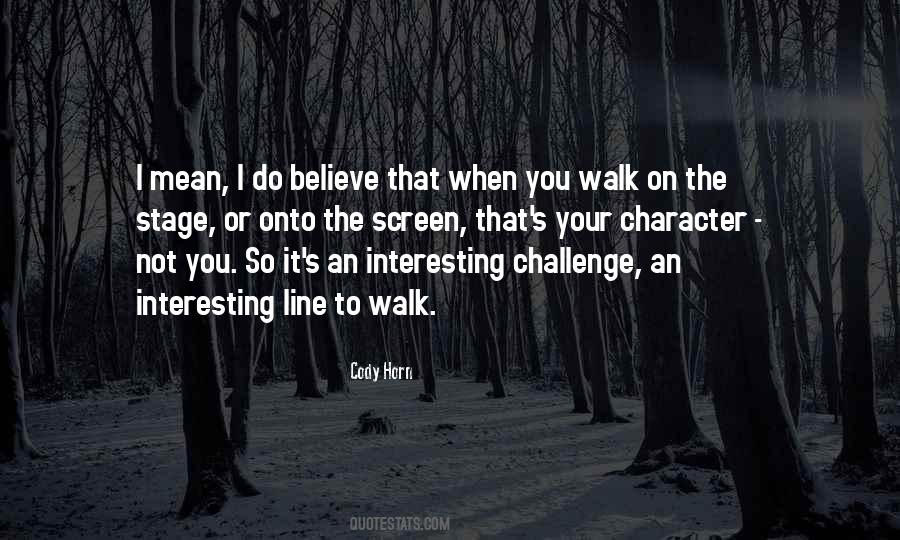 #24. Whether you believe in the Bible or not; you're still living it. - Author: Okisha Jackson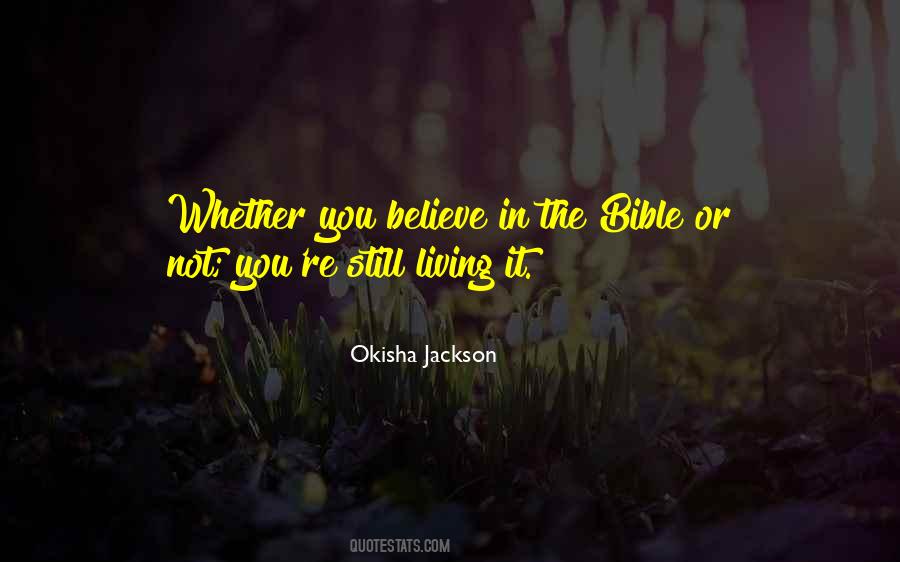 #25. It's my husband. I think - I think he's a zombie."
I smiled. "Believe it or not, I get this one a lot. Can you describe his behavior? Why do you think he's a zombie?"
She huffed. "He doesn't do anything! He sits on the sofa all day watching TV and that's it. - Author: Carrie Vaughn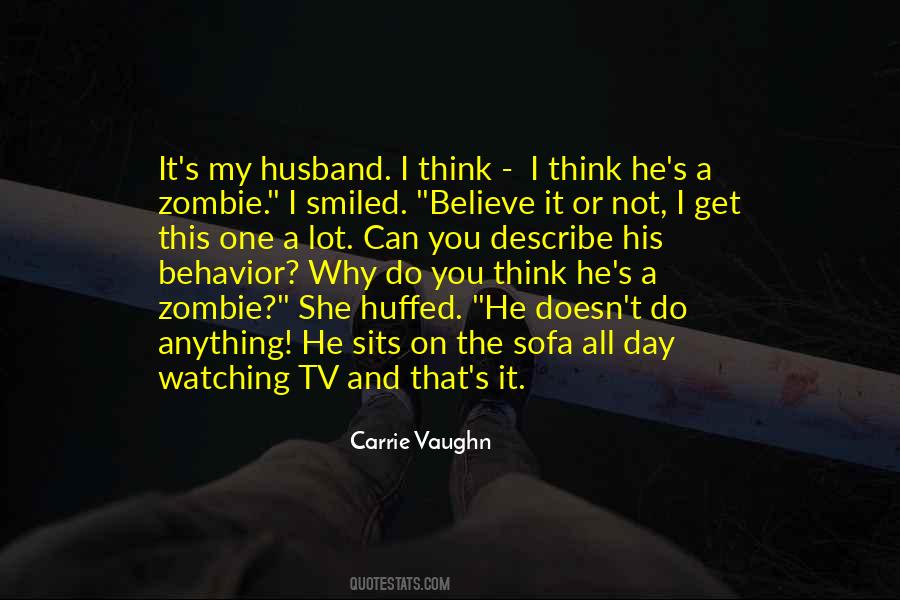 #26. Mathematicians need proofs to keep them honest. All technical areas of human activity need reality checks. It is not enough to believe that something works, that it is a good way to proceed, or even that it is true. We need to know why it's true. Otherwise, we won't know anything at all. - Author: Ian Stewart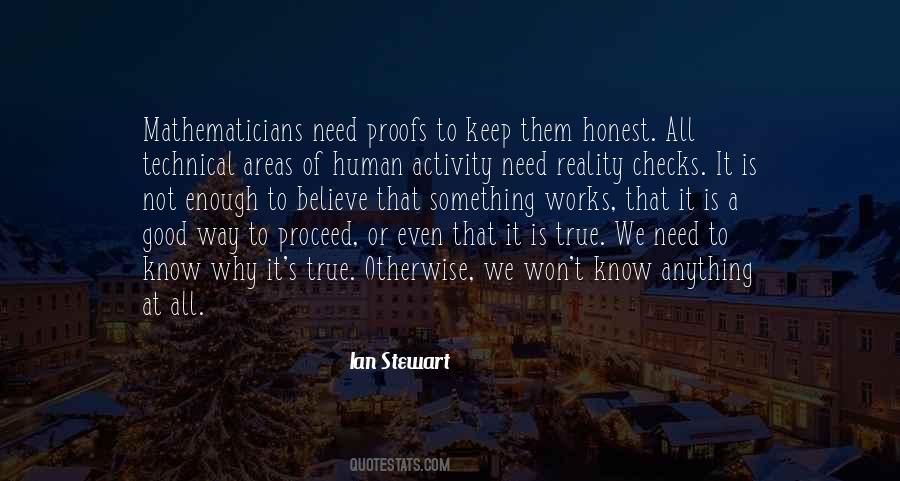 #27. Even if it doesn't alter or change the end result even in the slightest... making decisions based on convictions that you believe in... and walking your own path... has it's own merit and worth. There's something to be said for not having... even on regret. - Author: Tite Kubo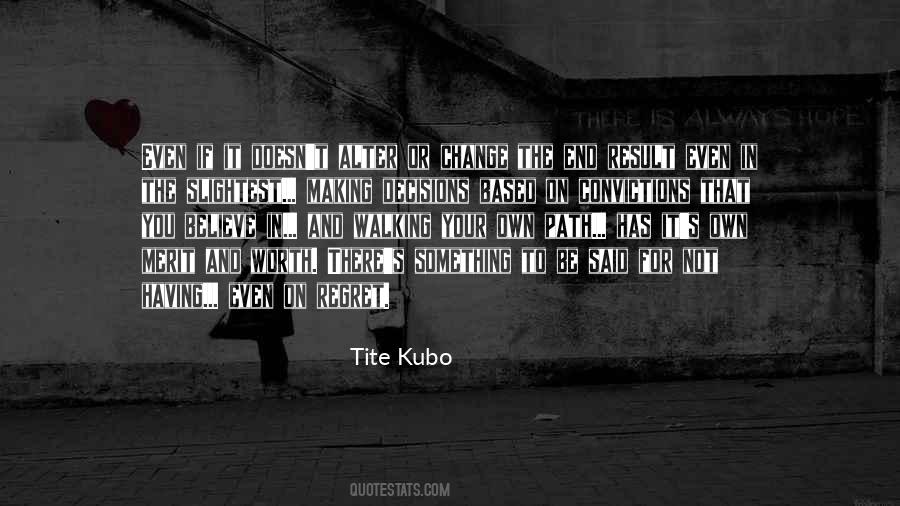 #28. Does a man of sense run after every silly tale of hobgoblins or fairies, and canvass particularly the evidence? I never knew anyone, that examined and deliberated about nonsense who did not believe it before the end of his enquiries. - Author: David Hume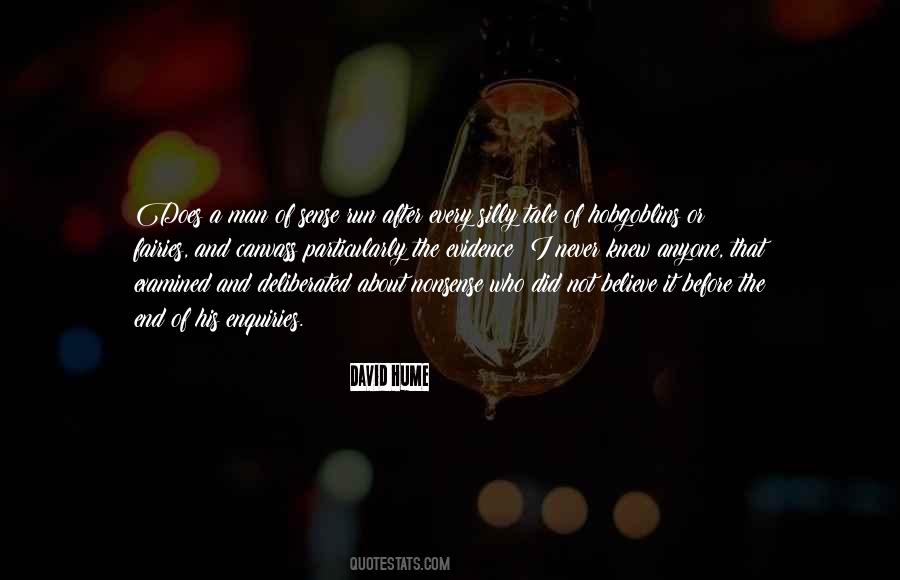 #29. I believe it makes us all even closer believe it or not. We were all pretty close to begin with but I think it's done even more for us. It truly is a brotherhood and I'm glad to be a part of it. - Author: Kathy Valentine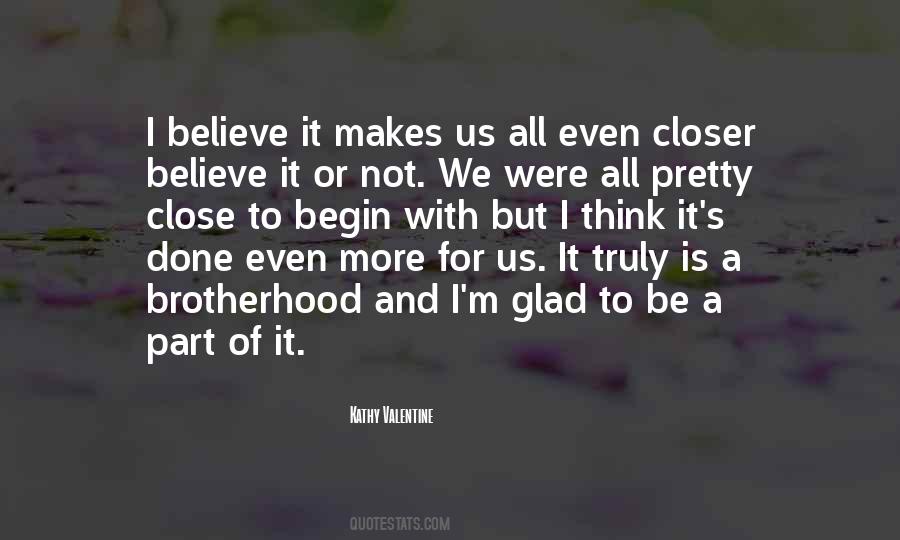 #30. Sometimes belief is the reason for liberation; other times, our own conviction prevents our escape. It depends on whether or not you believe God is listening, if you can cling to hope in the gravest of times. Hope is a precious life force within us. - Author: Christopher Hawke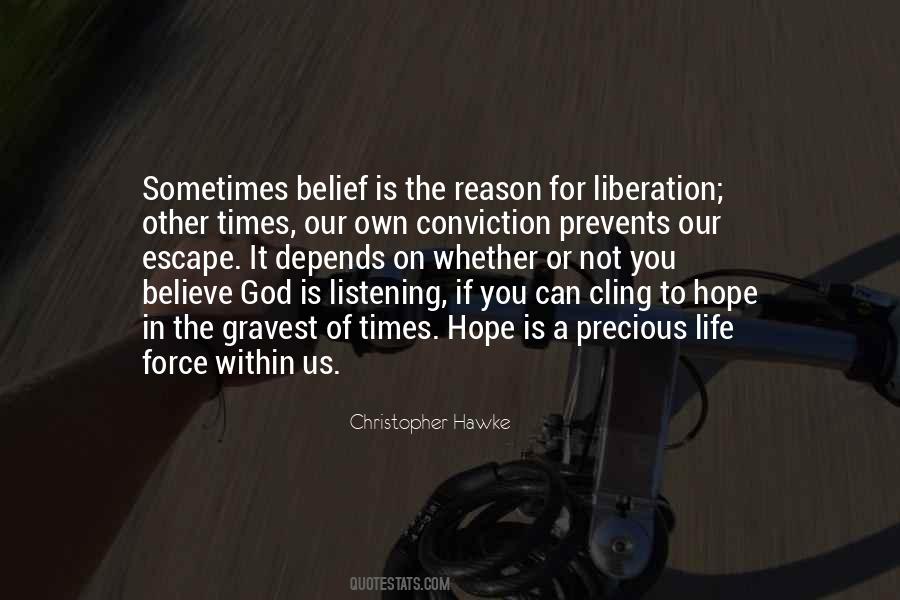 #31. Believe it or not, I thank my mom for how she raised me in a neighborhood daily to jump and chase me. It only made me what I am today. - Author: Eminem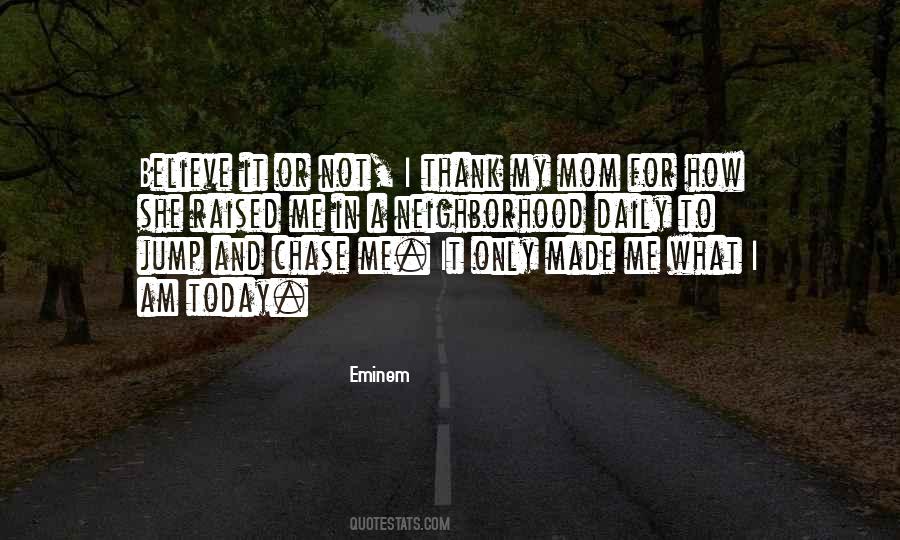 #32. People tell stories and it's up to those who listen whether to believe or not."
"Shouldn't the storyteller believe it."
"The storyteller should tell it. - Author: Cecelia Ahern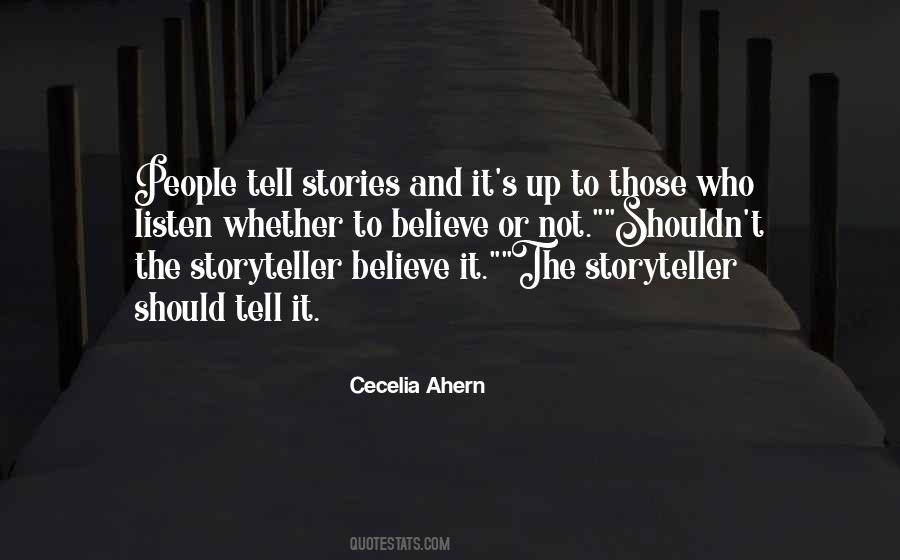 #33. Then it's not a waste of time. Believe me, Rose, God hears you. It's just that sometimes the answer doesn't come right away. Or sometimes the answer is simply no."
"It is?"
"Yes. No one gets everything they want. - Author: Alexis Harrington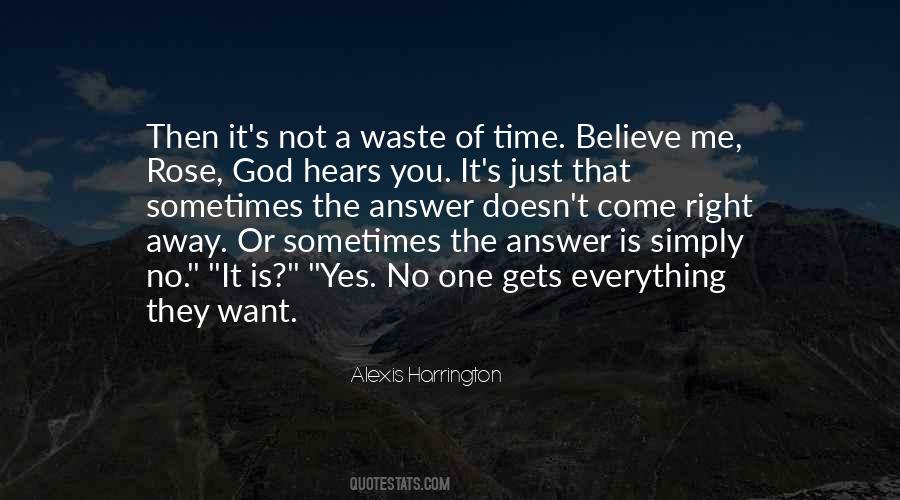 #34. Society wants to believe it can identify evil people, or bad or harmful people, but it's not practical. There are no stereotypes. - Author: Ted Bundy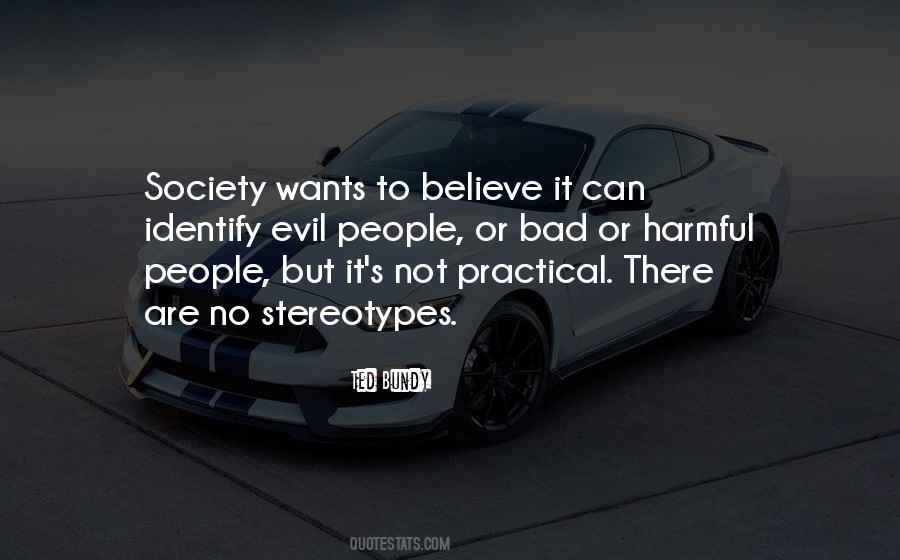 #35. In closing, I hope everything helps show that I wouldn't be a fade-out or a person who turns to think to drink or dope when things get tough. I believe that anything is possible if you have the combination of love for what you're doing and the will to sit down and not get up until it's done ... . - Author: Kaye Gibbons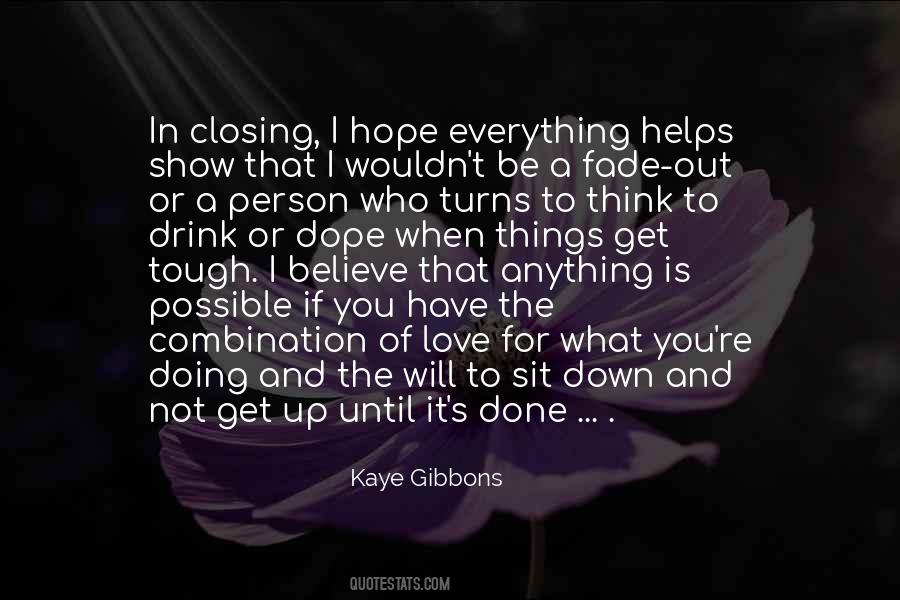 #36. Believe me, National Socialism would not be worth anything if it were to be confined to Germany and did not secure the rule of the superior race over the whole world for at least one or two thousand years. - Author: Adolf Hitler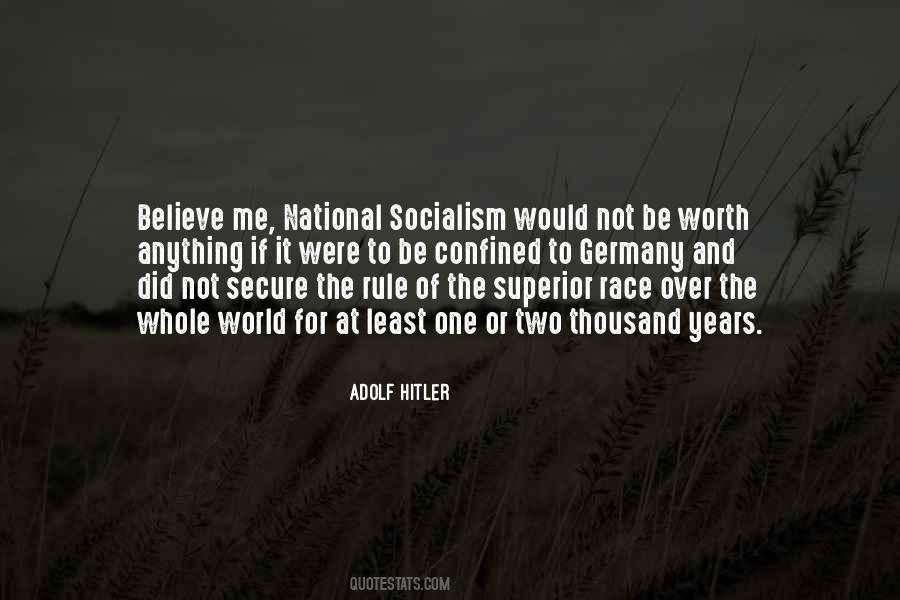 #37. It's very hard to turn writers against each other, believe it or not. - Author: Matthew Weiner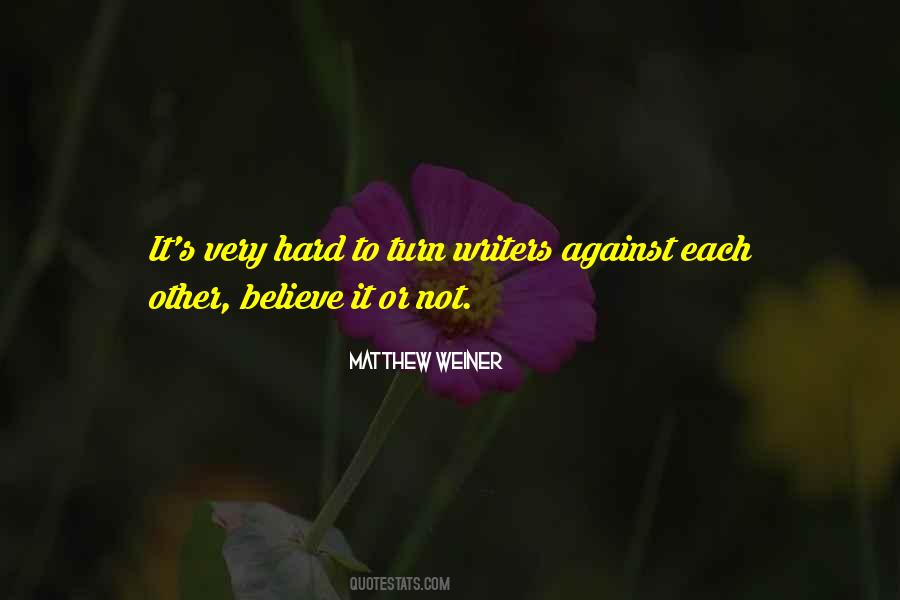 #38. Such a big majority of book critics and authors have begun to teach, whether they really believe it or not, that no book is TRUE TO LIFE unless it is true to the WORST IN LIFE, that the idea has infected even the women. - Author: Gene Stratton-Porter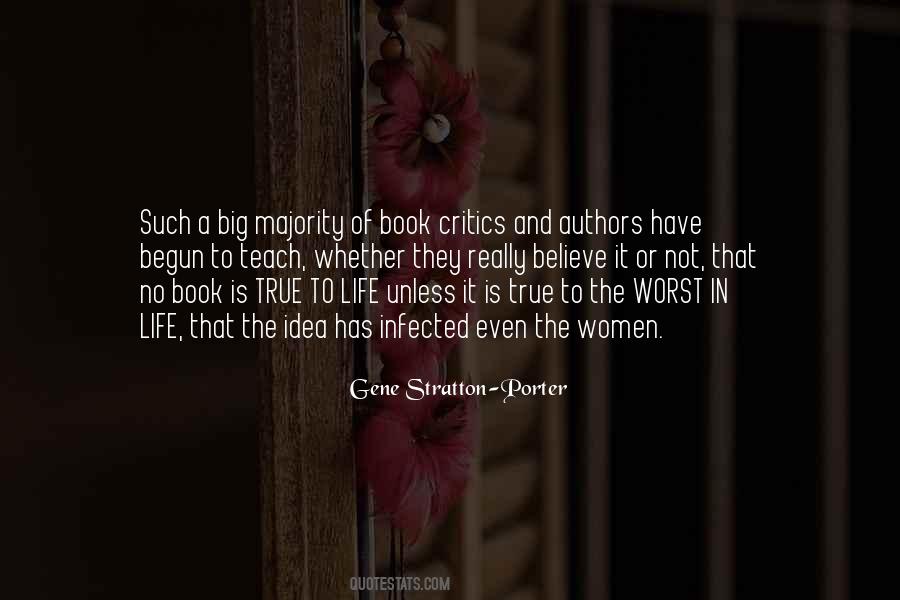 #39. Believe it or not, I loved acid rock in college - and I still do. - Author: Condoleezza Rice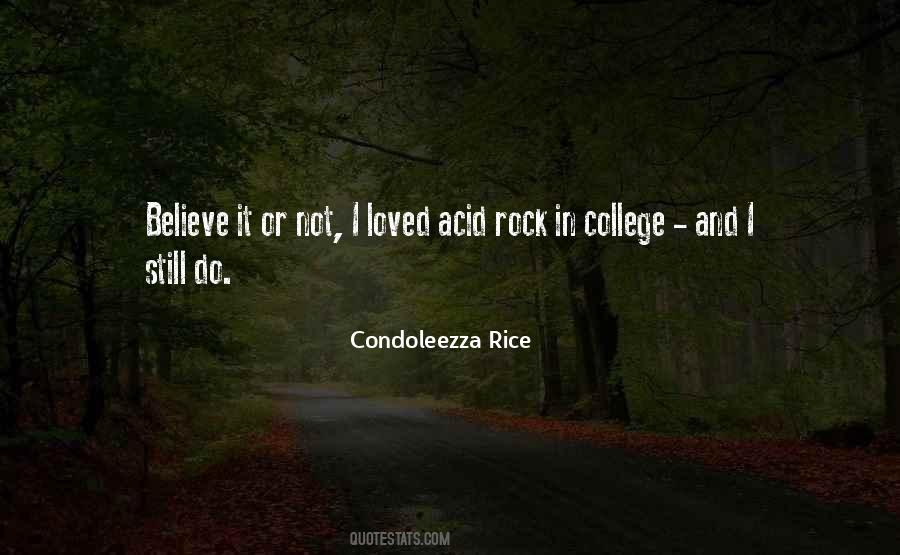 #40. We leave our home," she pointed upwards, "and come here. When we're done down here in the swamp of humanity, whatever you want to call it, we go home. To our real home. We all do. No choice. Whether you believe it or not. - Author: Jonas Saul
#41. What does it mean to write a story of your own life in your head? We all do that whether we are writers or not. We all have a story about who we are: what gender we are, what experiences we have . . . all sorts of stories and narratives we allow ourselves to believe in and create as we go along. - Author: Cyril Wong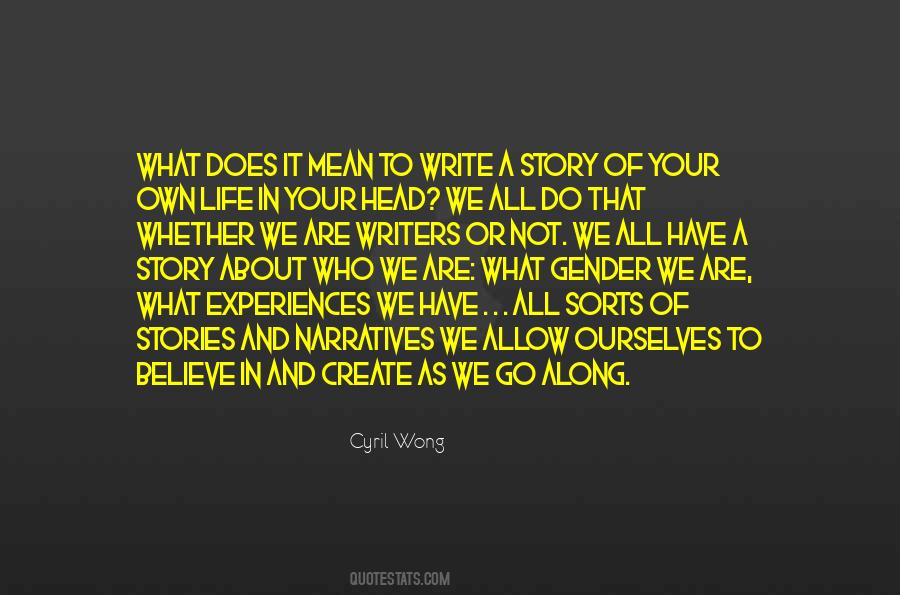 #42. I believe that we have been doing this not primarily to achieve riches or even honour, but rather because we were interested in the work, enjoyed doing it and felt very strongly that it was worthwhile. - Author: Frederick Sanger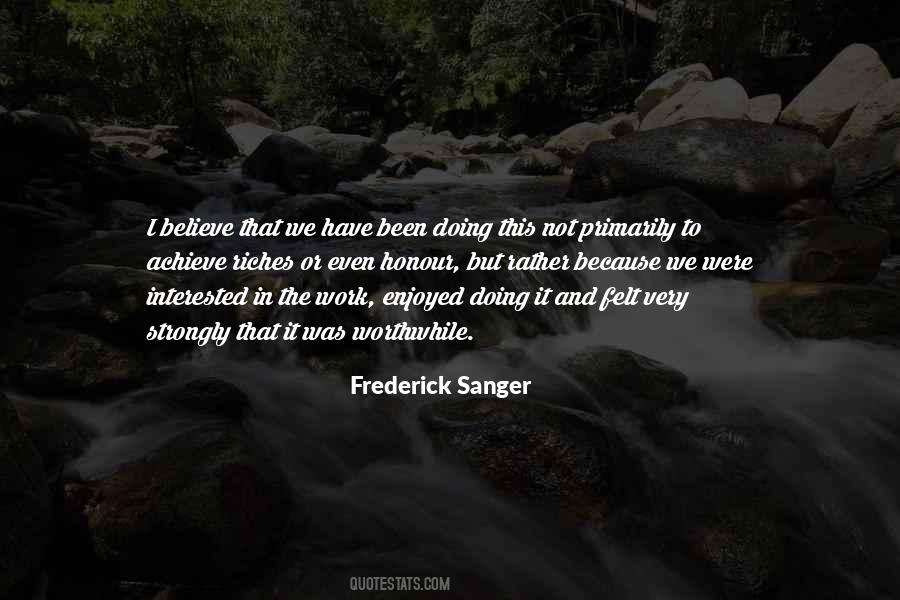 #43. Truth is irrelevant. What is relevant is whether or not they believe it."
The logic in the words grated. "The first rule of scoundrels? - Author: Sarah MacLean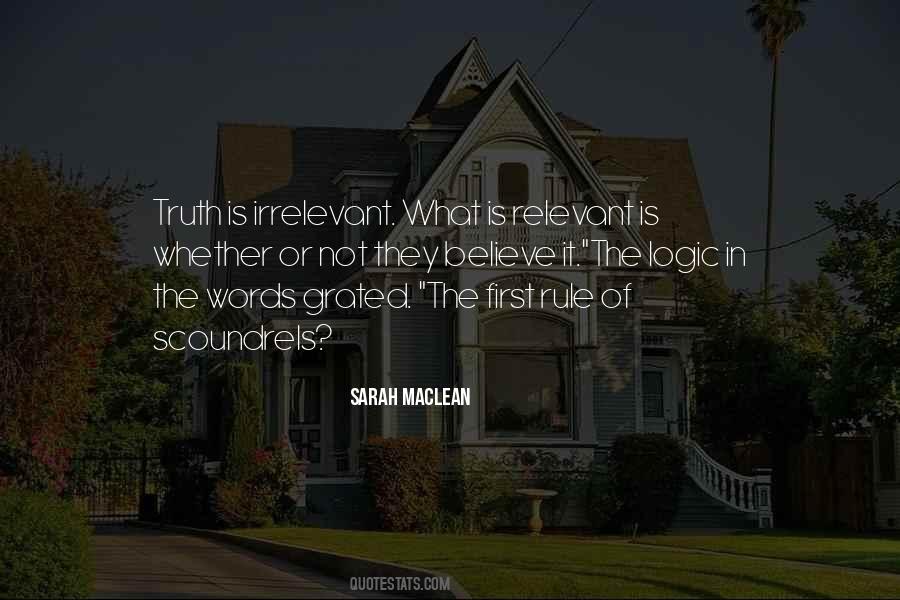 #44. Never tell. Not if you love your wife ... In fact, if your old lady walks in on you deny it. Yeah. Just flat out and she'll believe it: "I'm tellin' ya. This chick came downstairs with a sign around her neck 'Lay On Top Of Me Or I'll Die.' " I didn't know what I was goin' to do ... - Author: Lenny Bruce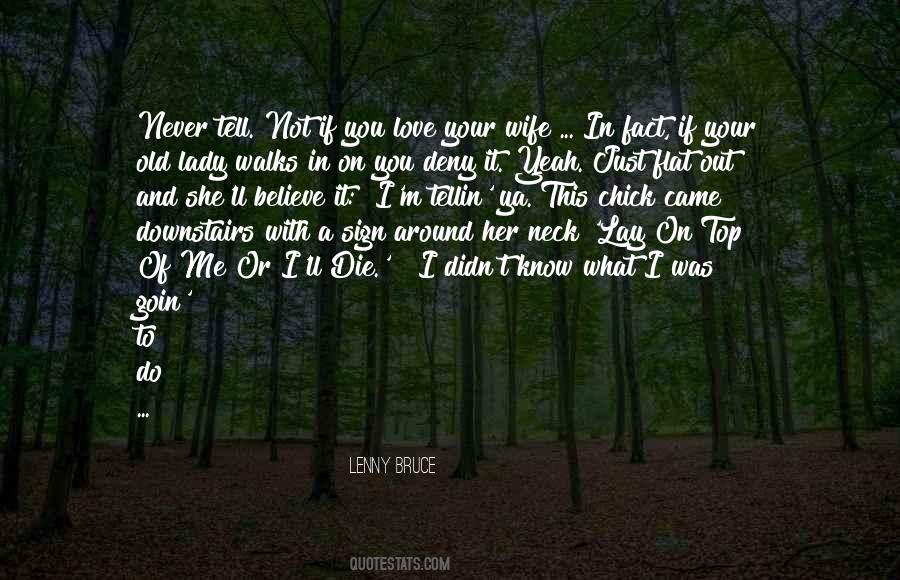 #45. I do not believe that any of us would exchange places with any other people or any other generation. The energy, the faith, the devotion which we bring to this endeavor will light our country and all who serve it - and the glow from that fire can truly light the world. - Author: Robert Greene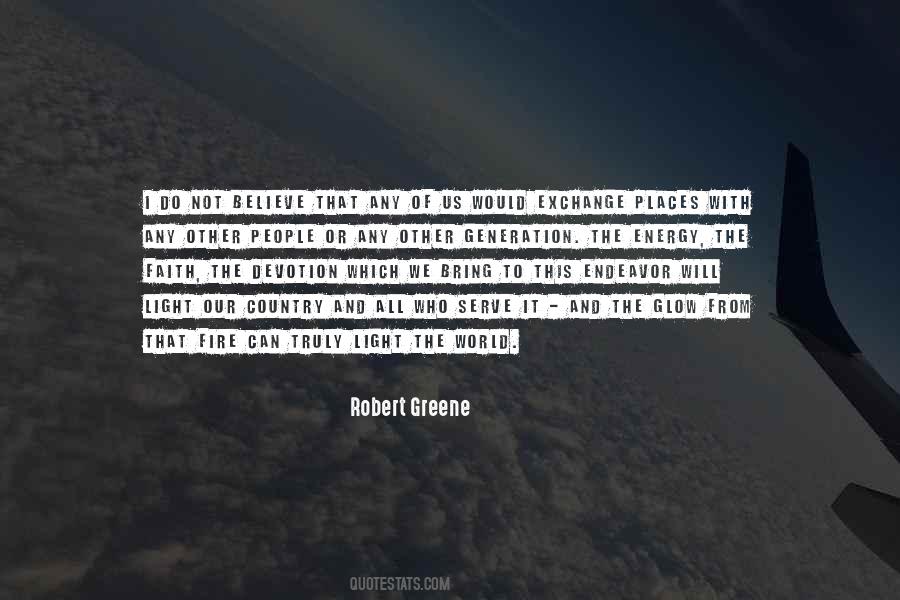 #46. I do sort of believe that in life all manifestations of evil usually come from an emotional place. They come from some kind of emotional heartbreak or some psychological damage. I'm not a psychologist and that's probably for the best but I am interested in it. - Author: Tom Hiddleston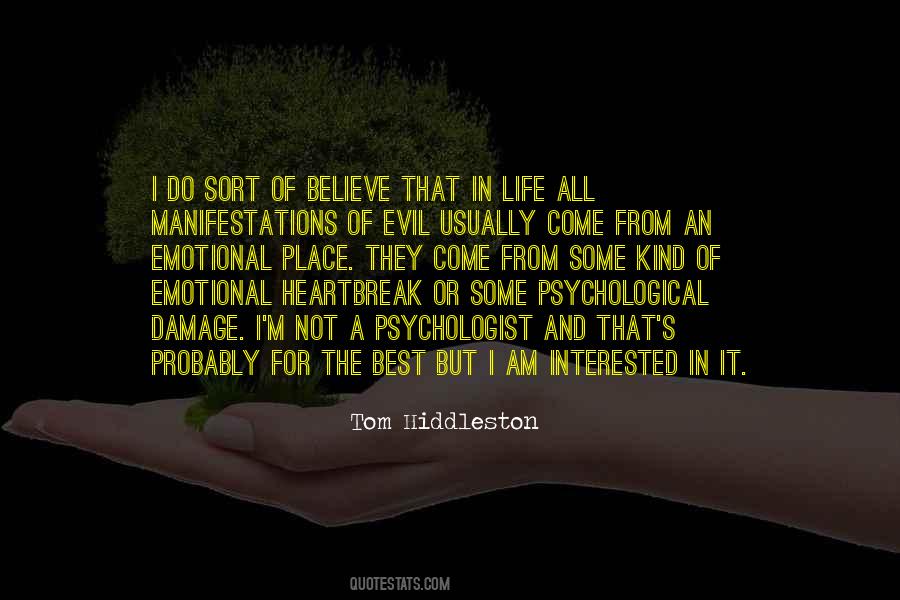 #47. Passion is the soul of intensity. The speaker who truly loves God may or may not lead others to believe it, but the speaker who doesn't is only a philosopher whose ideas are too bland to be important. - Author: Calvin Miller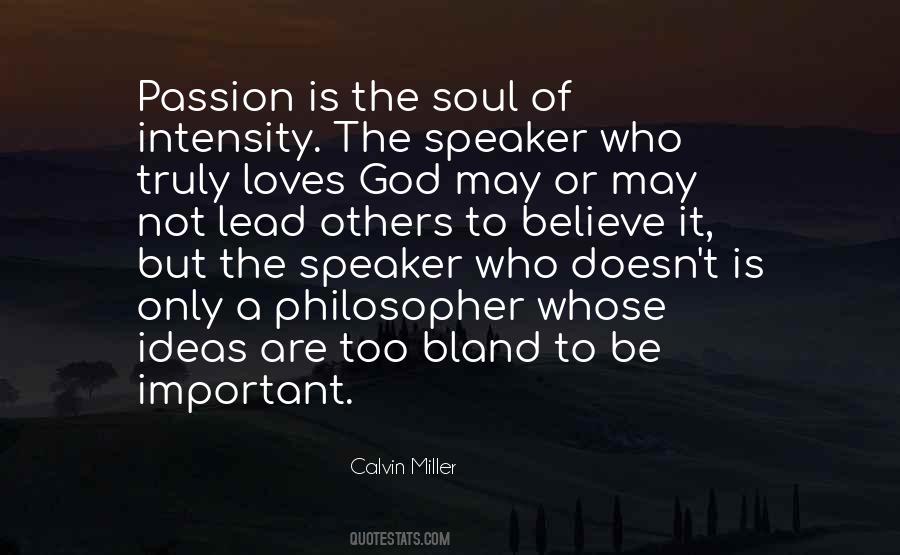 #48. The world tempts us either by attaching us to it in prosperity, or by filling us with fear of adversity. But faith overcomes this in that we believe in a life to come better than this one, and hence we despise the riches of this world and we are not terrified in the face of adversity. - Author: Thomas Aquinas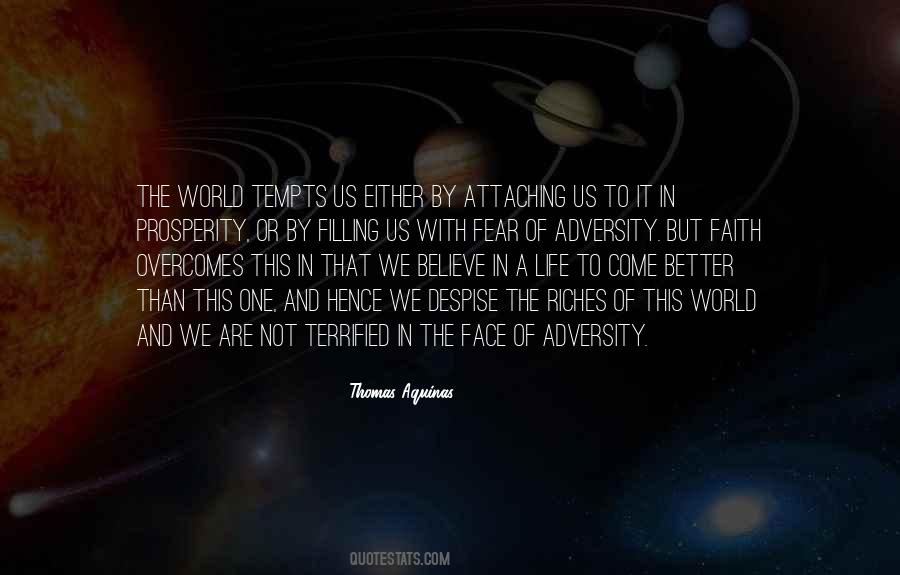 #49. Success is not necessarily about connections, or cutting corners, or chamba - the three Cs of bad business. Call it trite, but believe me: success can be achieved through hard work, frugality, integrity, responsiveness to change, and most of all, boldness to dream. - Author: John Gokongwei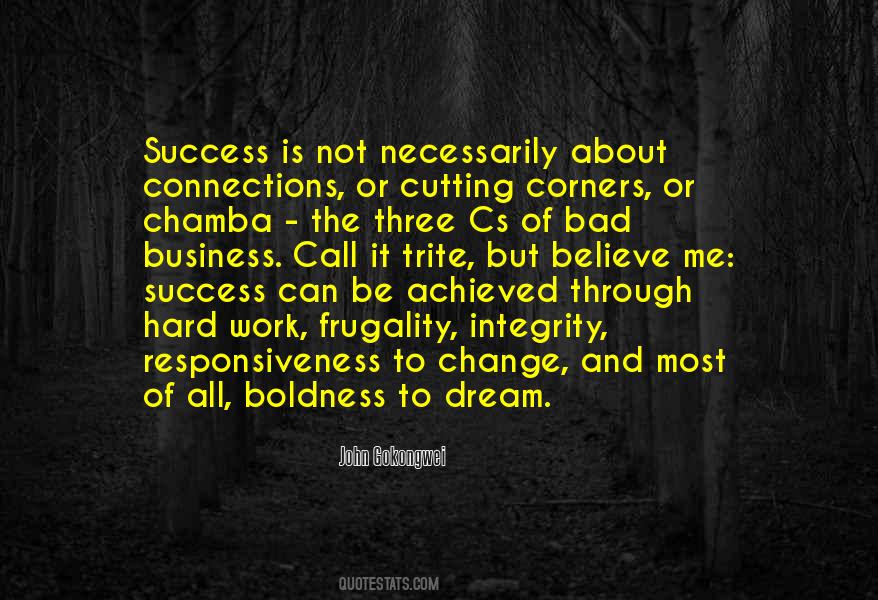 #50. I do believe that men can be emasculated by successful women. I don't think I'm emasculating. But I have seen the dynamic with men who either don't make money or make less money. It's just not good for them. - Author: Teri Hatcher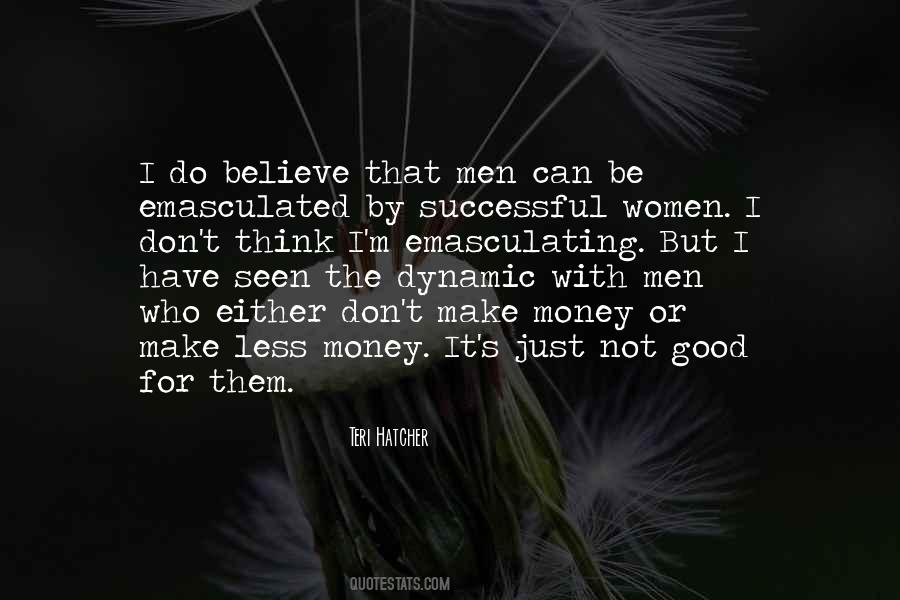 #51. I firmly believe that life is an 'and' proposition and not an 'or' one. If you really love something, you just have to try it. The worse that can happen is that you'll be told 'no.' - Author: Bryan Batt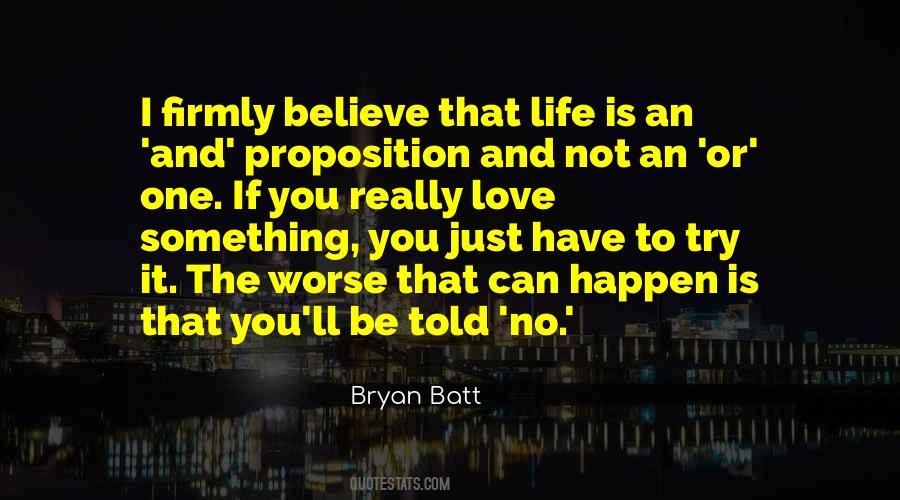 #52. My schedule, it always looks like it's really steady, but believe it or not, I tend to work a bunch and then take a year off. - Author: Julianne Moore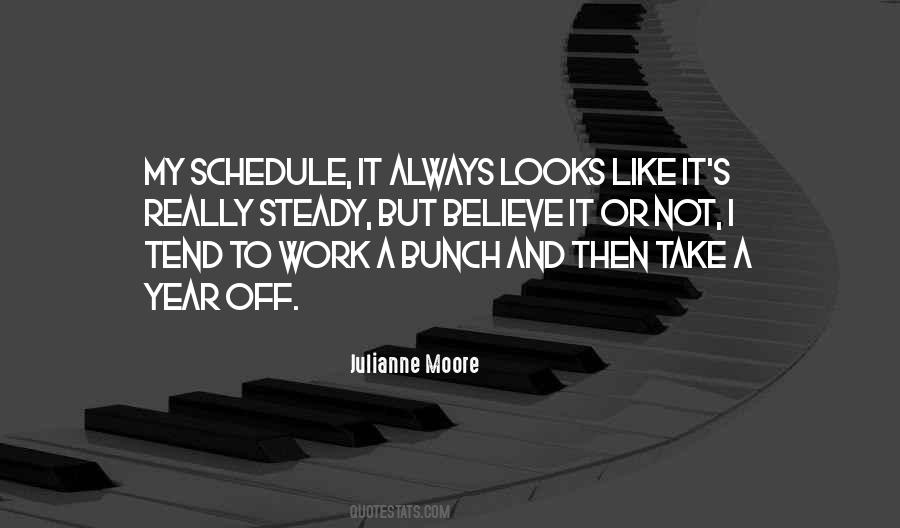 #53. At the day of Doom men shall be judged according to their fruits. It will not be said then, did you believe? But, were you doers or talkers only? - Author: John Bunyan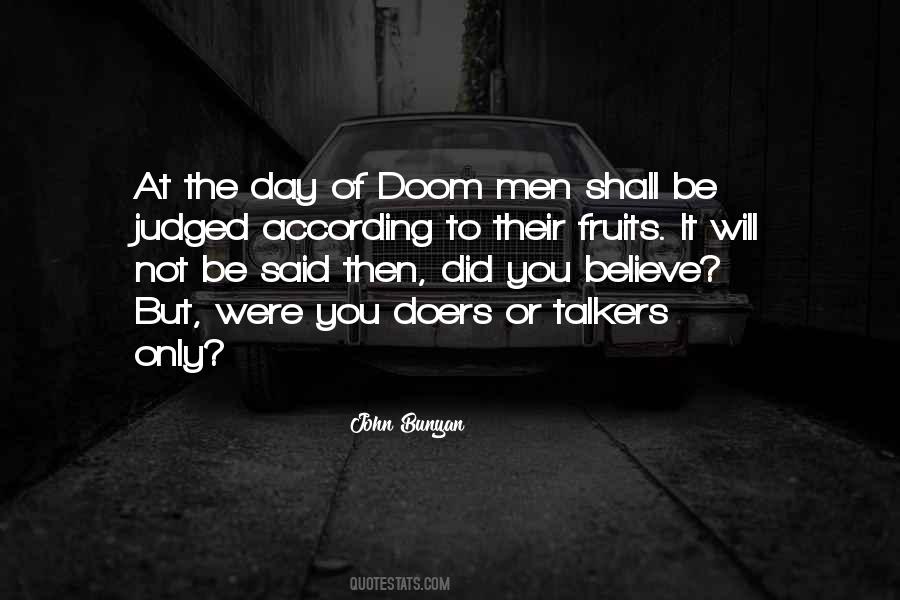 #54. I love Cecily", "whether or not you believe it. Not in the same way I loved Rose, or you. But what should that matter? I've loved all my wives differently. - Author: Lauren DeStefano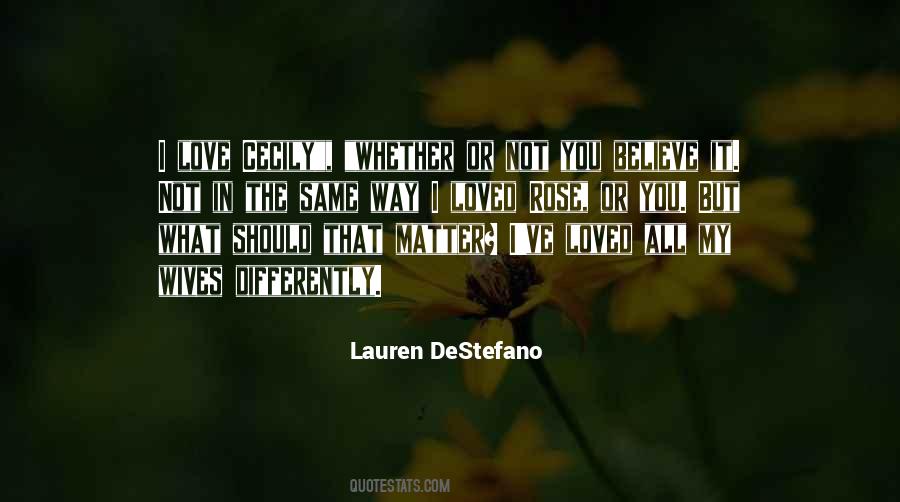 #55. I never take on anything that is just for the money or just for, you know. I always have to connect with it in a very personal way because I believe the audience will sense whether I'm into it or not, so I don't take on projects that I'm not really passionate about. - Author: Deborah Cox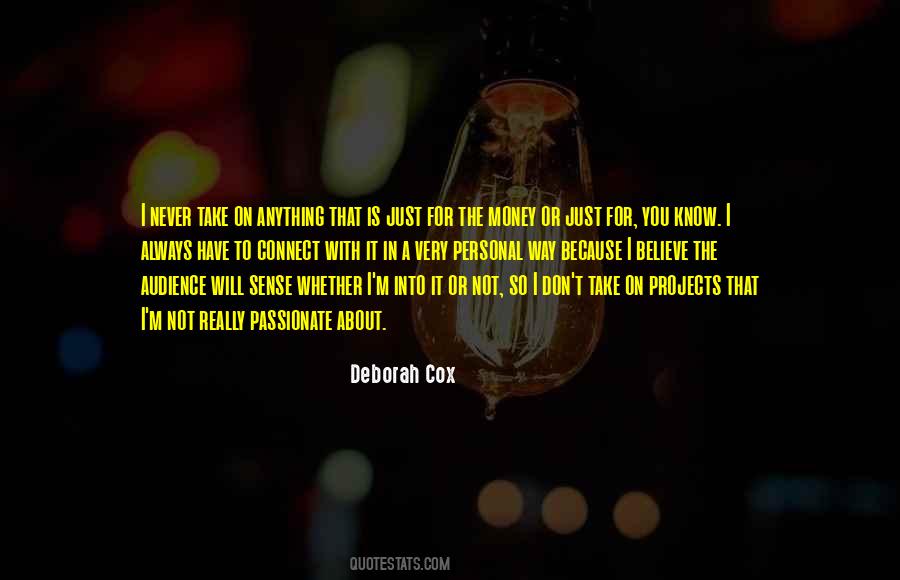 #56. I see myself as a man who is searching for meaning in life. This is rather different from being a staunch believer in something. A believer is someone who senses a consciousness or a direction and believes in it. The one who searches for meaning has not found the direction yet. - Author: Aharon Appelfeld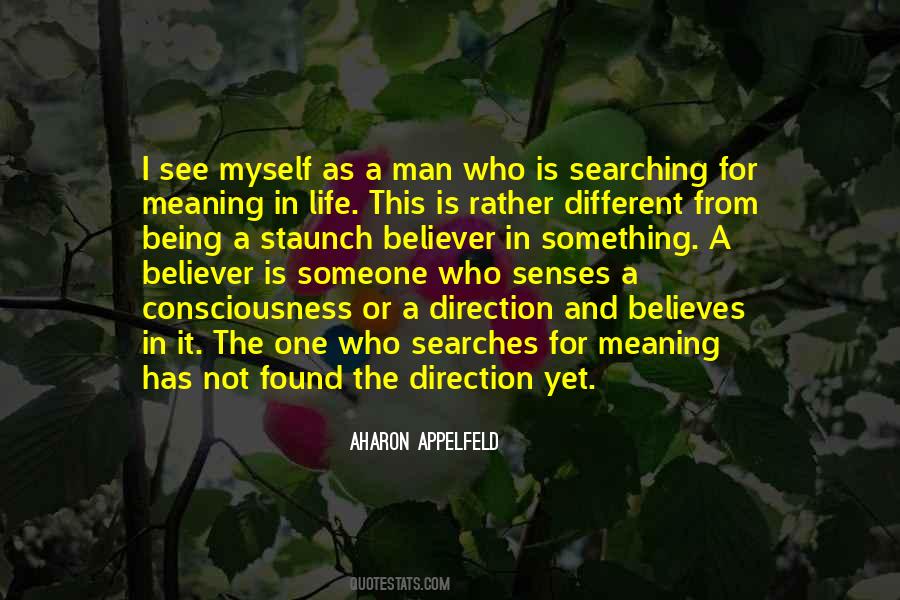 #57. Many Lexington natives believe they live in a special place, one impossible to leave. I'm not so sure about that - or it's more accurate to say I think a more general truth exists beneath it: the place you first call home stays with you always, whether you remain or go. - Author: Kim Edwards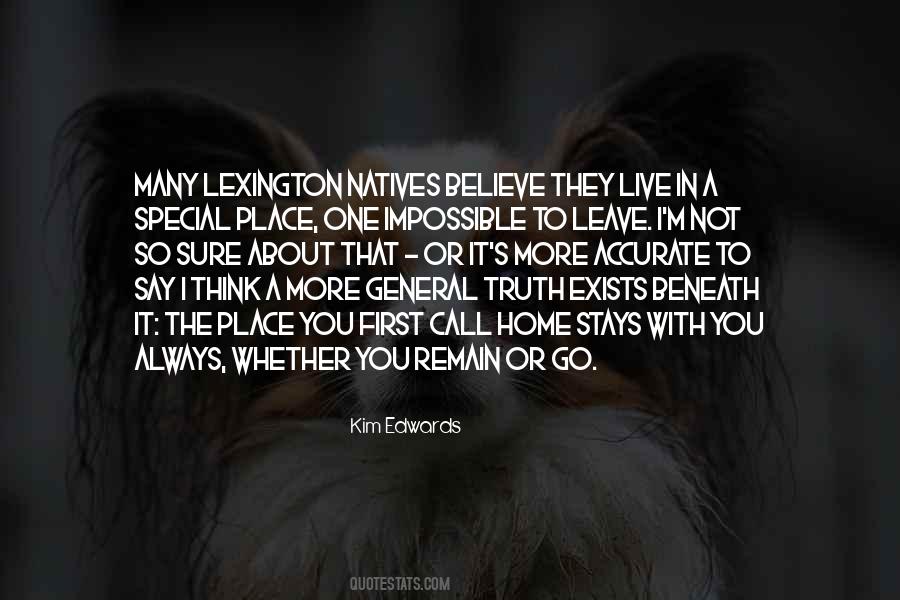 #58. My father's nephew was the blues musician, Lowell Fulson. Every time he came around, he had a pretty car, a beautiful woman and a slick sharkskin suit. Believe it or not, that's how I decided I wanted to get into music. - Author: Charlie Wilson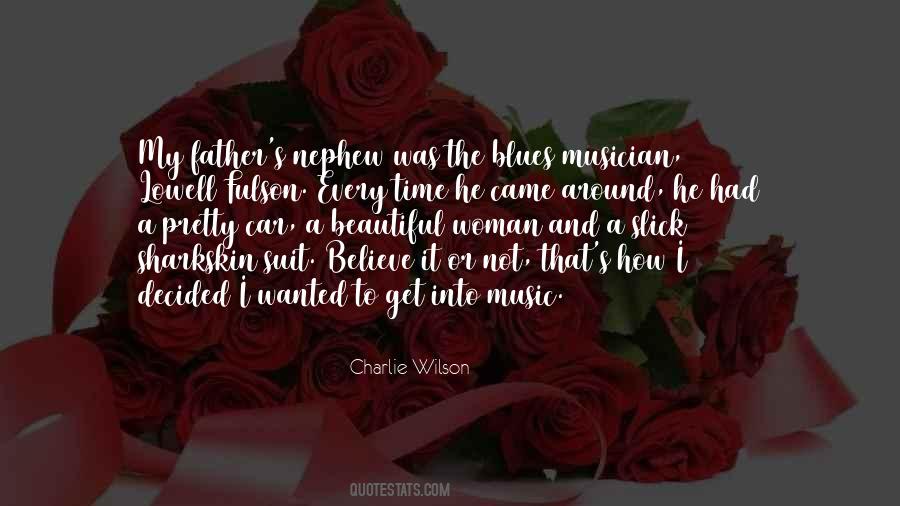 #59. The only way Father is going to be upset in this case, is with the way the two of you are behaving toward one another. We are family, whether you believe it or not. Your lack of faith in Lucifer is what will do the damage in the long run. It has nothing at all to do with the time I spend with him. - Author: Melyssa Winchester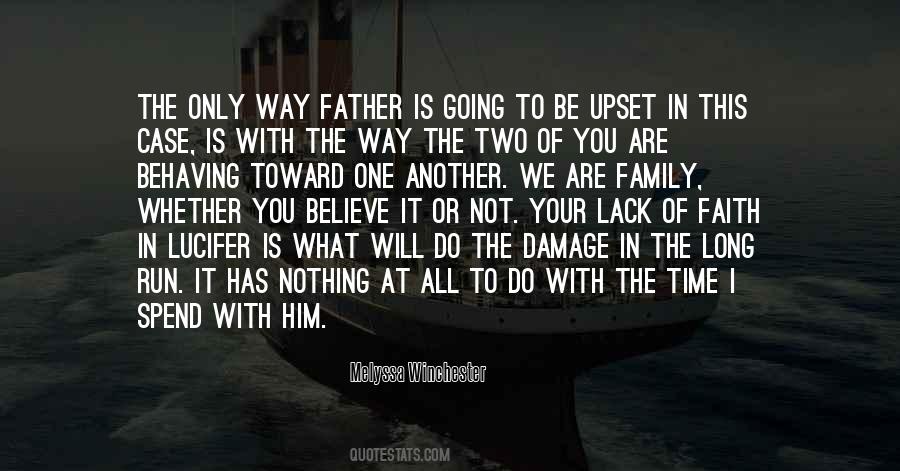 #60. Upon graduation, believe it or not, I had no job. I had no interviews. I had no prospects. I had no worries. What I did have, I had passion. I had enormous passion. I had passion for financial markets. I had fallen in love with financial markets. - Author: Gary Cohn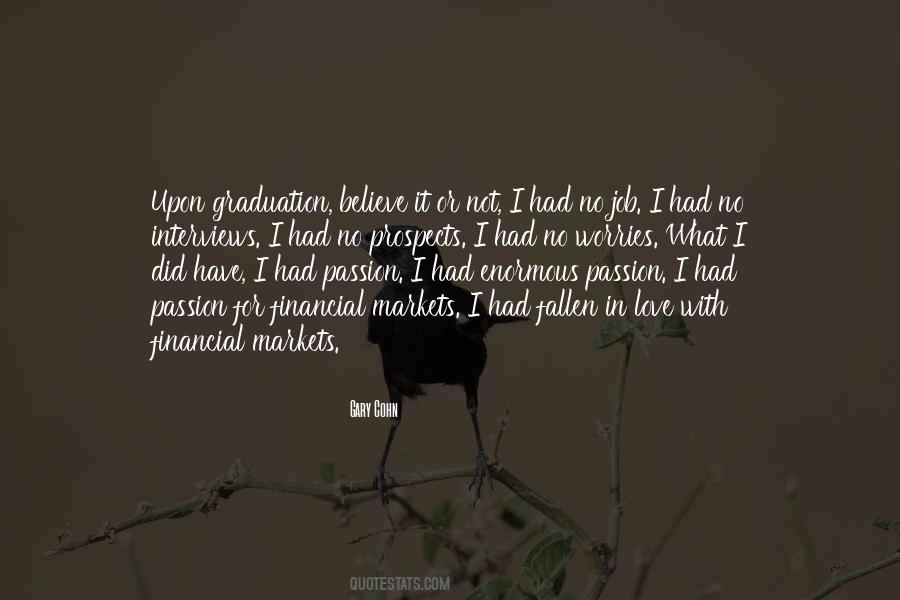 #61. As an experimental psychologist, I have been trained not to believe anything unless it can be demonstrated in the laboratory on rats or sophomores. - Author: Steven Pinker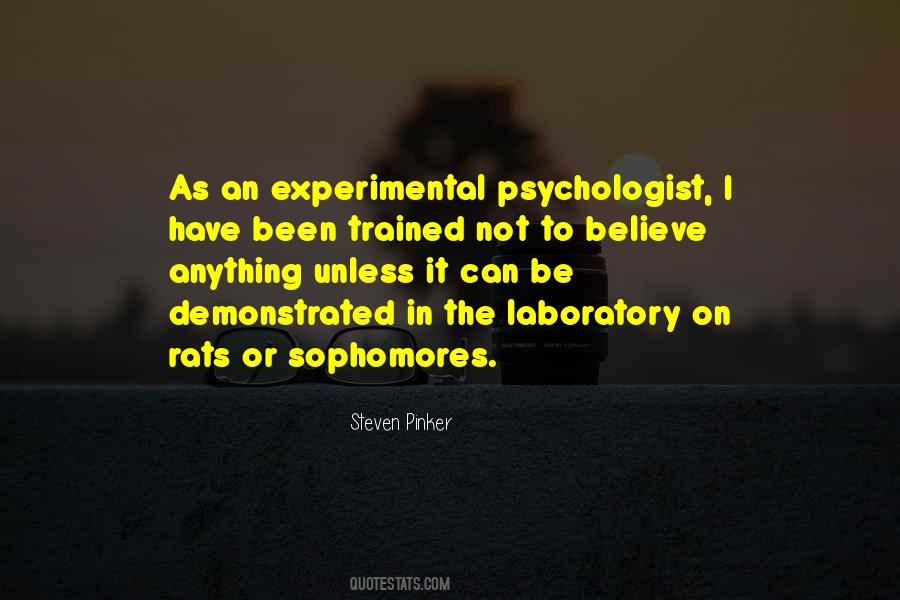 #62. Magnus held up a warning finger. "Don't overstep yourself, biscuit," he said, and moved past them, disappearing into the crowd around the portal.
"Biscuit?" said Simon.
"Believe it or not, he's called me that before," Clary said. - Author: Cassandra Clare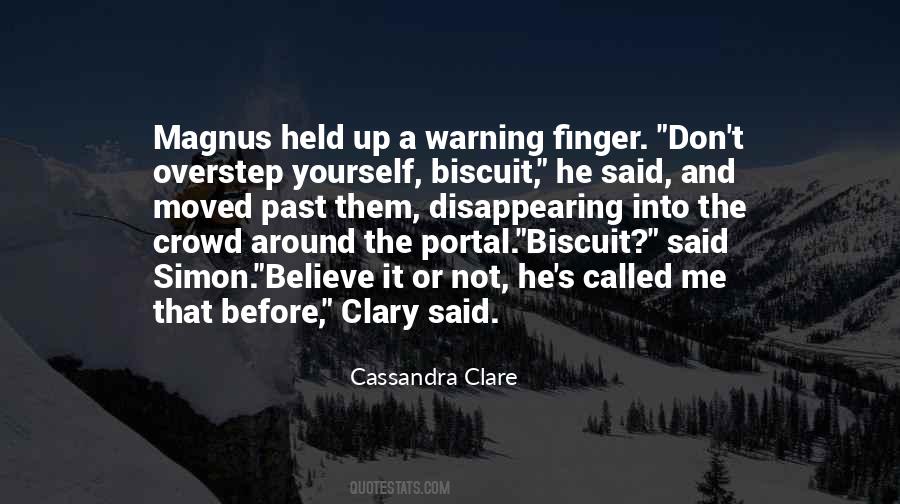 #63. My concern with religion is that it allows us by the millions to believe what only lunatics or idiots could believe on their own. That's not to say that all religious people are lunatics or idiots. It's anything but that. - Author: Sam Harris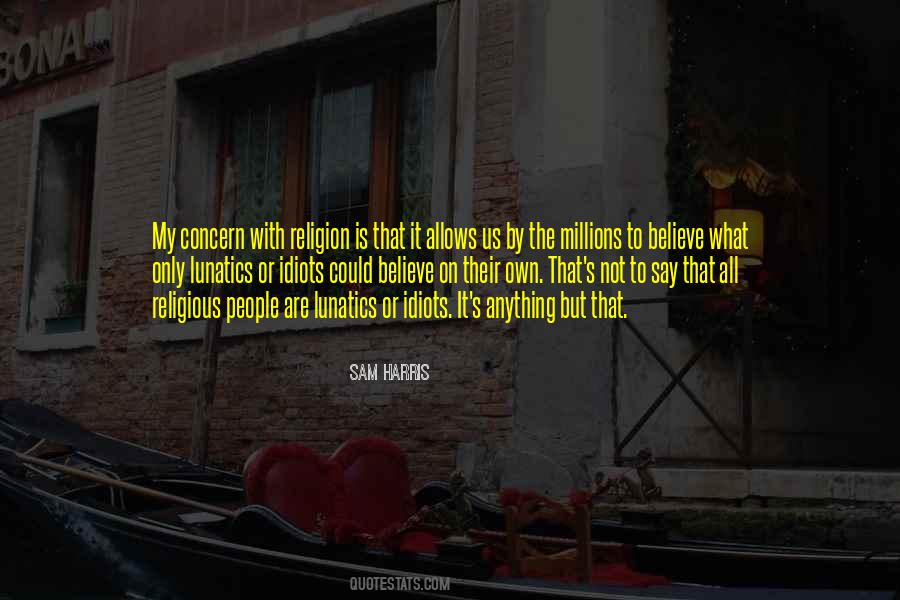 #64. And if I have a strong point, it's that I like to believe it's not cheap or schmaltzy sentimentality. - Author: Toots Thielemans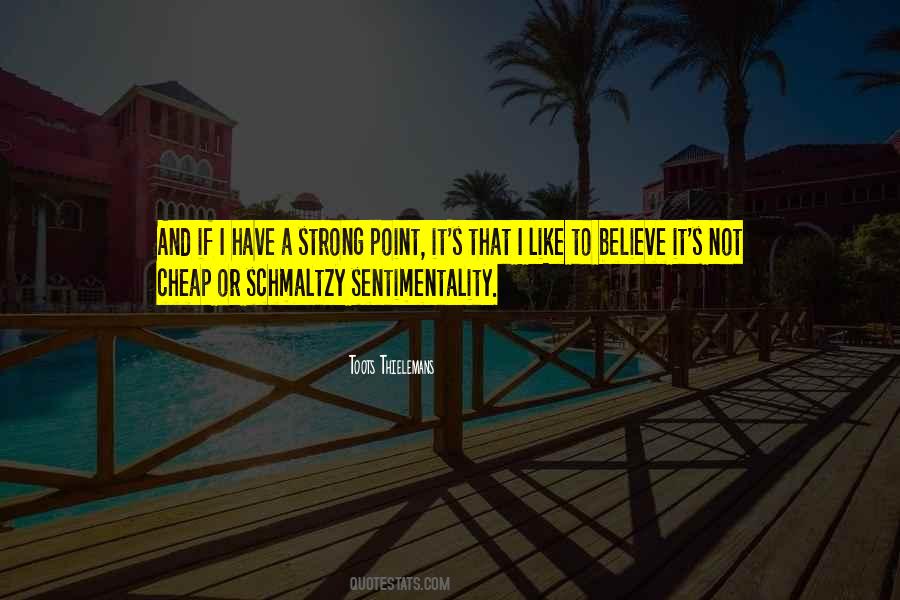 #65. A meaningful life is not a popularity contest. Do what in your heart you believe to be the right thing, and you may or may not get immediate approval from the world. Do it anyway. - Author: Marianne Williamson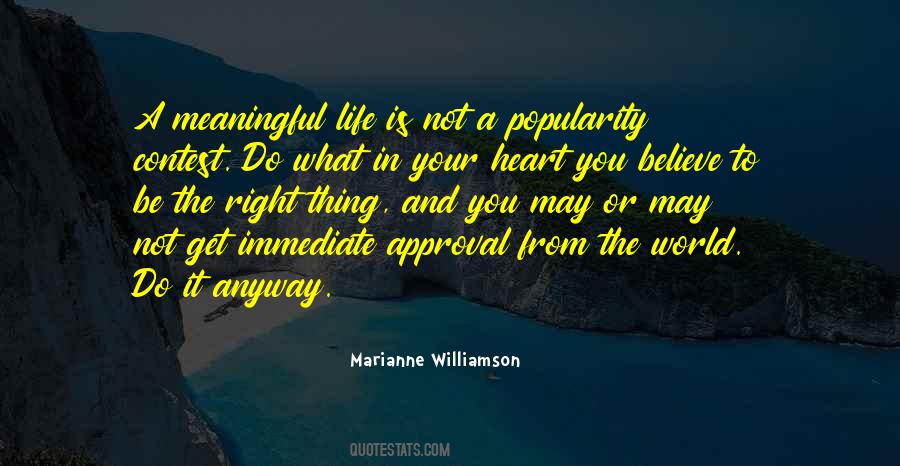 #66. Believe it or not, we will actually be better and happier workers if we are allowed to be better parents. We might even rediscover our capacity for fun. - Author: Anne-Marie Slaughter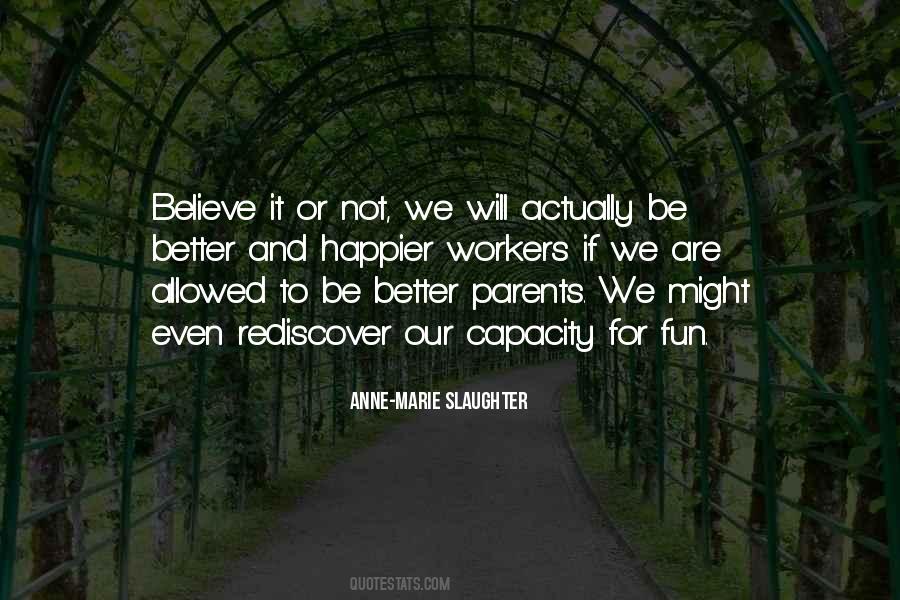 #67. Neither the good nor the true is self-realizing, so it is not generally a sufficient explanation of why people believe that X that X is true, or of why people do Y that Y is good. - Author: Raymond Geuss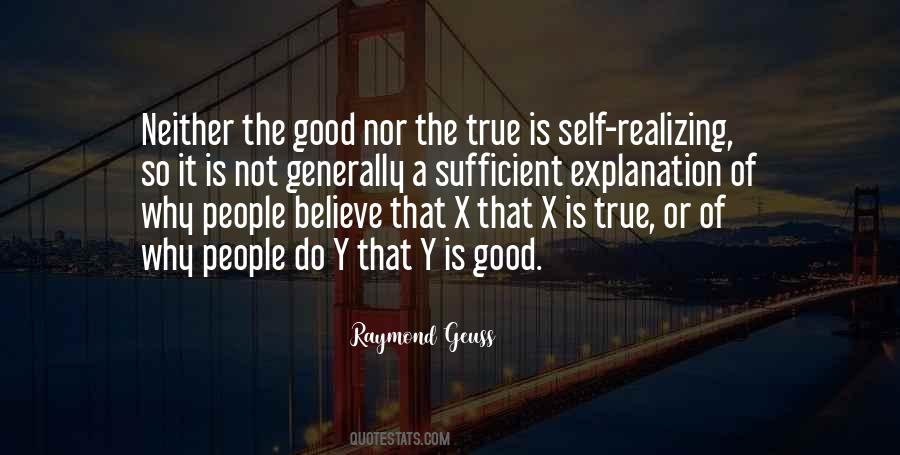 #68. It was the Sephardi Jews who brought fish and chips to Britain, actually, believe it or not, from the Mediterranean world. Apart from actually eating and selling fish and chips, they were kind of debt enforcers. - Author: Simon Schama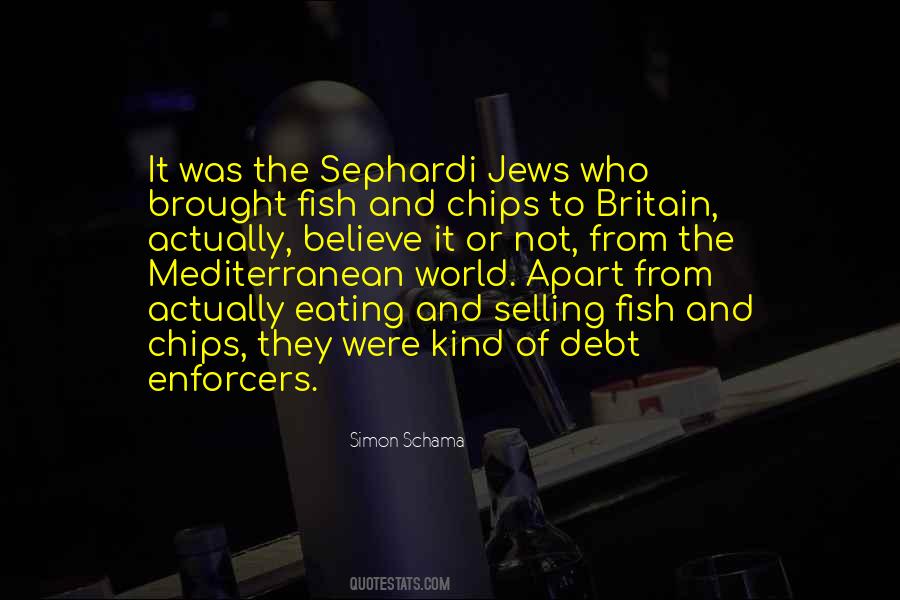 #69. My parents are my inspiration. Believe it or not, they're my personal coaches. After every game I still call them and get their take on how I played. - Author: Vince Carter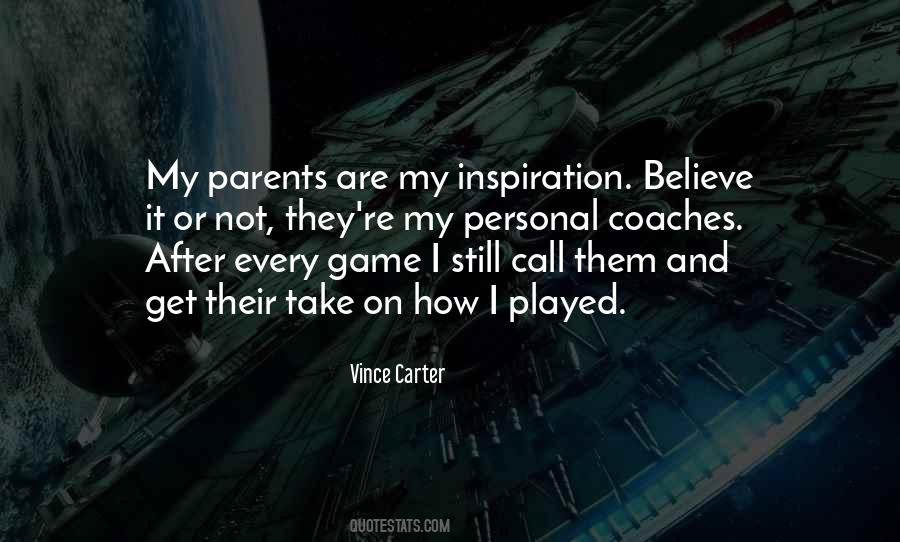 #70. The belief in God, is not a matter of common sense or logic or argument, but of feeling. it is as impossible to prove the existence of God as to disprove it. I do not believe in God. I see no need of such an idea . - Author: W. Somerset Maugham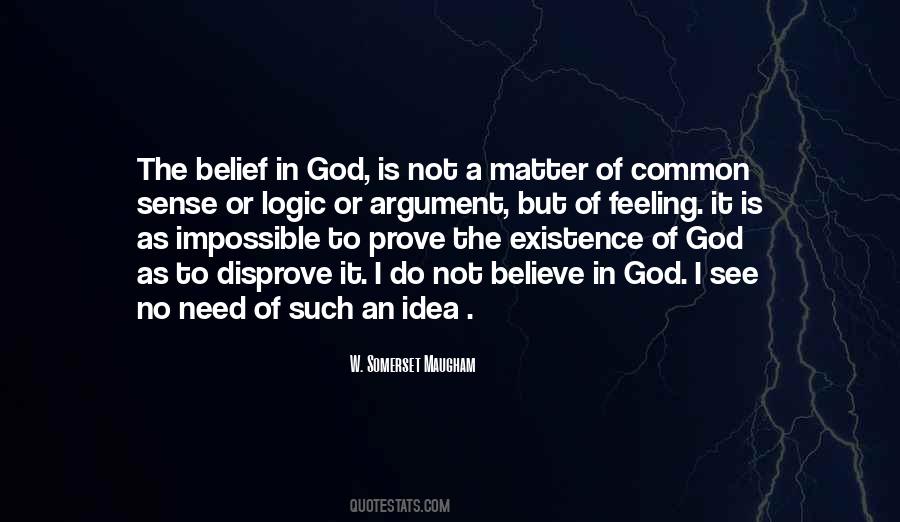 #71. The biggest segment of our audience is 18 to 34, and, believe it or not, they still speak Spanish, and they still watch novellas and soccer games and news. - Author: Randy Falco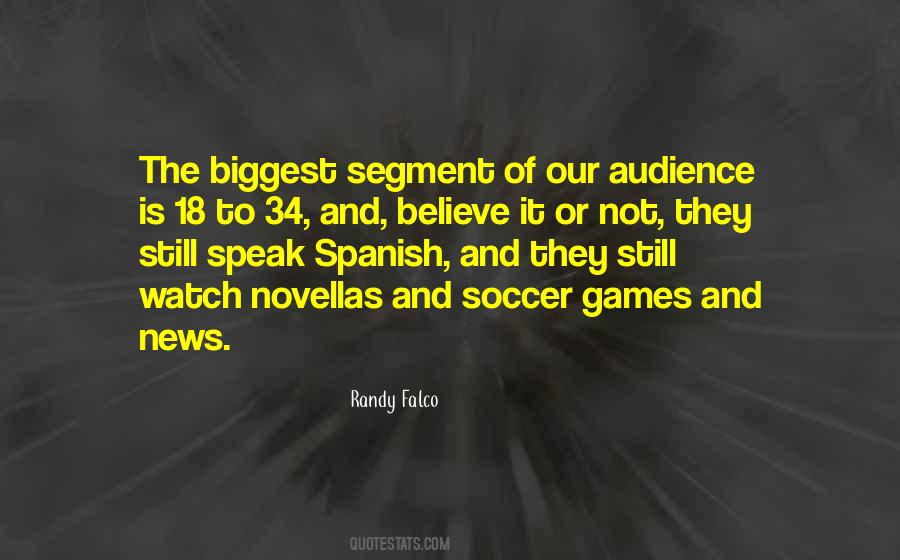 #72. You think that because I want to do what's right, because I want to make things better, I'm weak," Claire said. "Or that I'm stupid. But I'm not. It takes a lot more strength to know how bad the world is and not want to be part of that, give in to it. And I do know, Kim. Believe me. - Author: Rachel Caine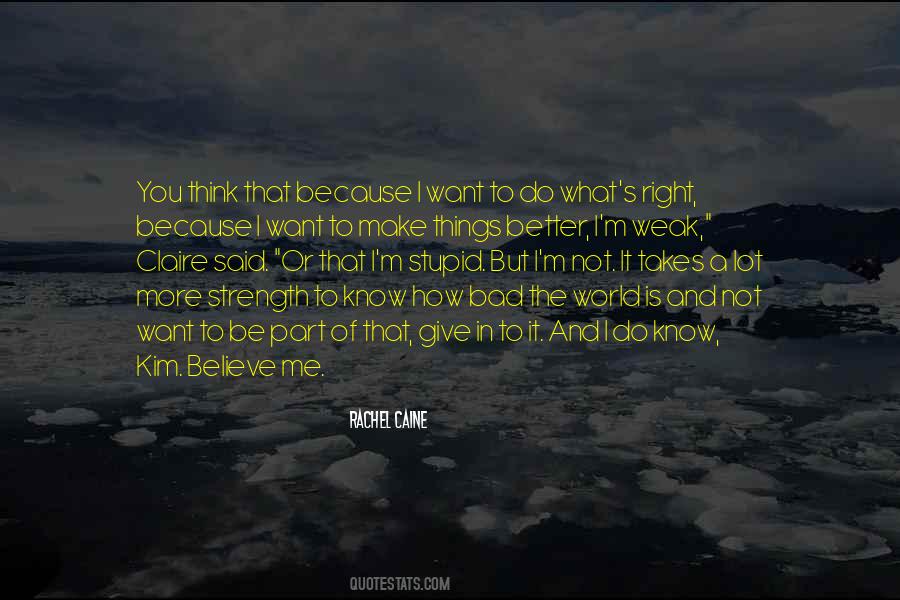 #73. A lot of progressives really believe that if we can turn out one more white paper with bullet points about how to fix Problem X, we can fix it. But that's not primarily the way you reach people or move them. You reach the heart first. - Author: Robert Greenwald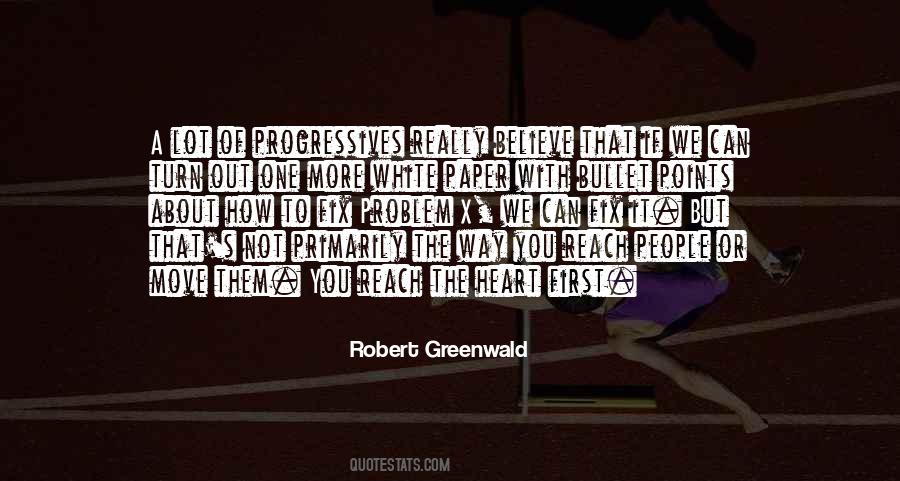 #74. Religion is realization; not talk, nor doctrine, nor theories however beautiful they may be. It is being and becoming, not hearing, or acknowledging; it is the whole soul becoming what it believes. - Author: Swami Vivekananda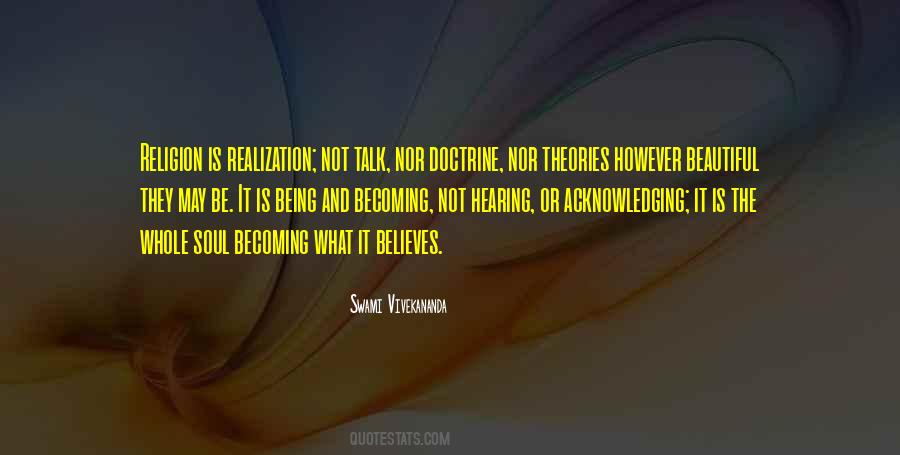 #75. I believe faith is a journey, not something that we fix when it goes wrong or that we have to follow in a set required way, but something that is always opening up in front of us with the people me meet and the things we do, becoming more meaningful along the way. - Author: Phil Mitchell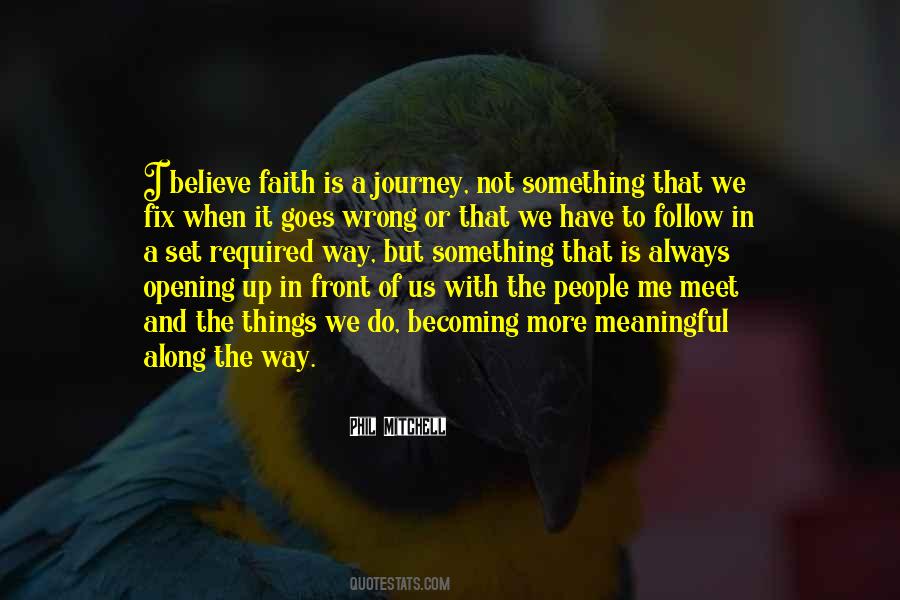 #76. The Greeks described her eyes as 'oxlike'. Believe it or not, that was a compliment. It meant she had large, soft brown eyes that you could get lost in. I guess the Greeks spent a lot of time staring at oxen. - Author: Rick Riordan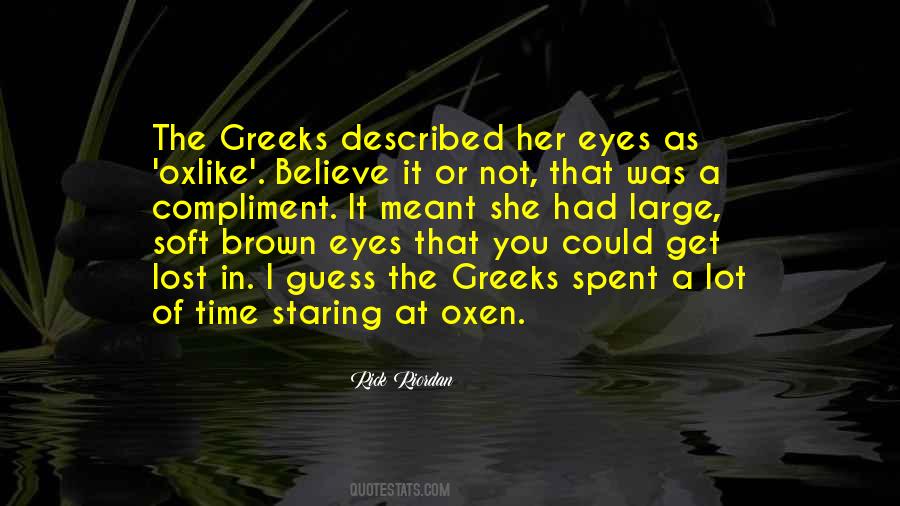 #77. Believe it or not, I'm not really thinking about anything when I putt ... It's hard to teach. I let my instincts take over. I like to see which way the break is going and use it. When I'm putting well, I feel like I can make everything. - Author: Brad Faxon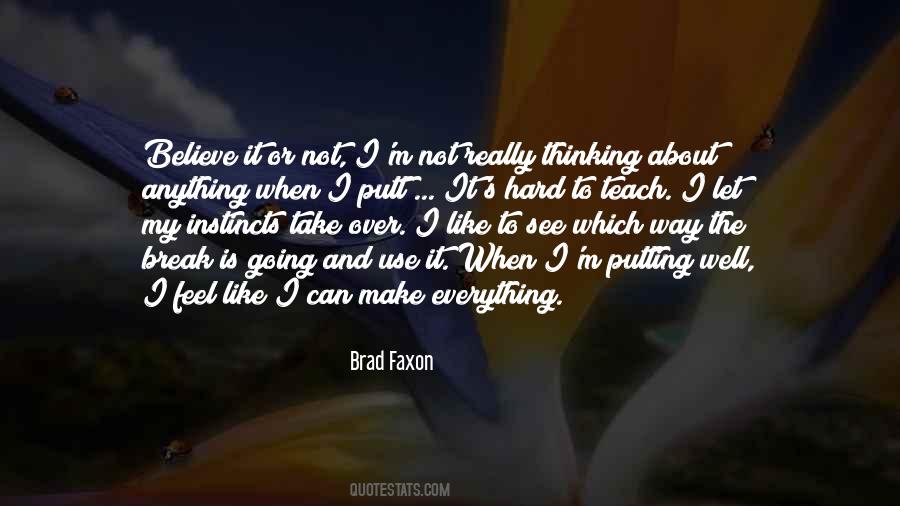 #78. It's tempting to believe that a break from life's routine will only cause chaos. But regimen does not ensure security. The only constant we can count on is change. - Author: Gina Greenlee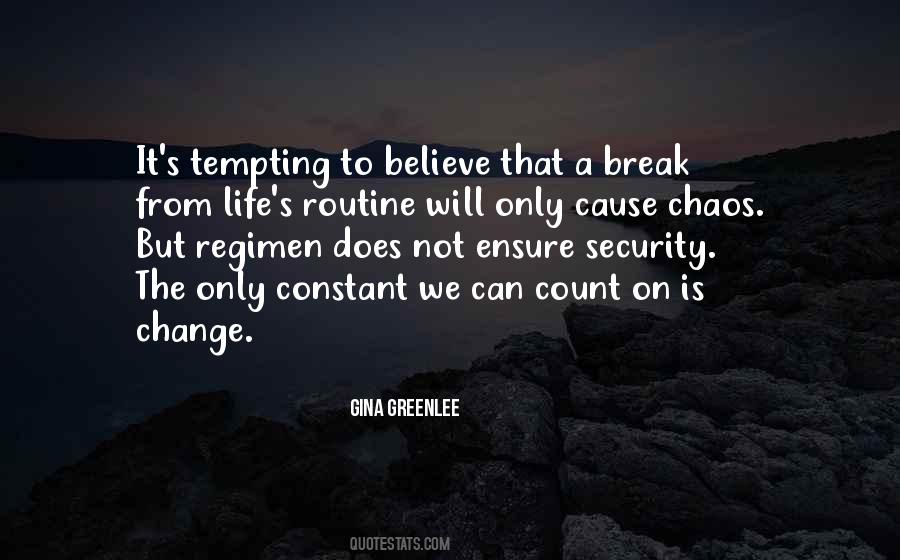 #79. I'm a dedicated father - a hopeless, dedicated father. I mean, I am dork dad. I am just - I love my children. I have kids - you know, Joey's 30-something, and then I have all the way down to 4 years old, believe it or not. At my age, five kids. - Author: Joe Piscopo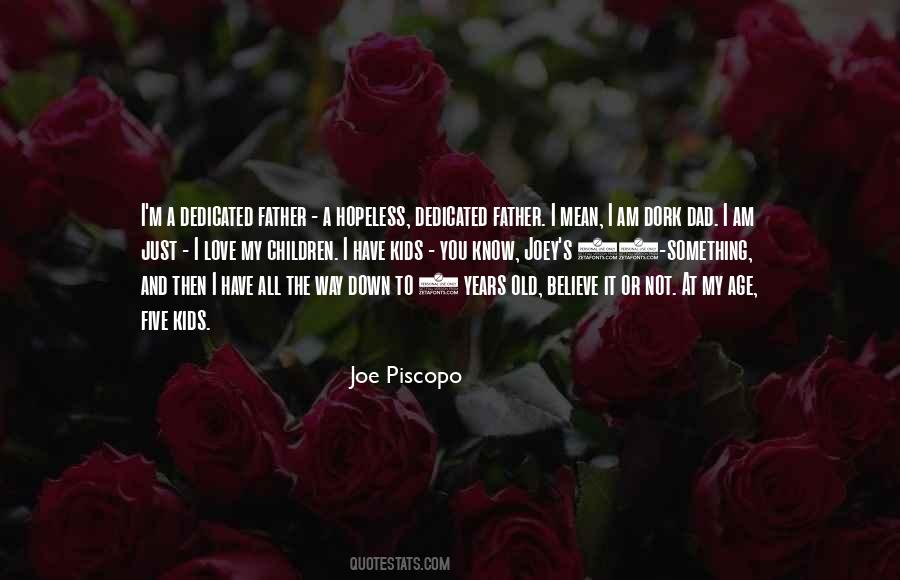 #80. God disguised as myriad things, and playing a game of tag has kissed you and said, "You're it. I mean you're really it. Now it does not matter what you believe or feel. For something wonderful, something major-league wonderful, is someday going to happen." - Author: Hafez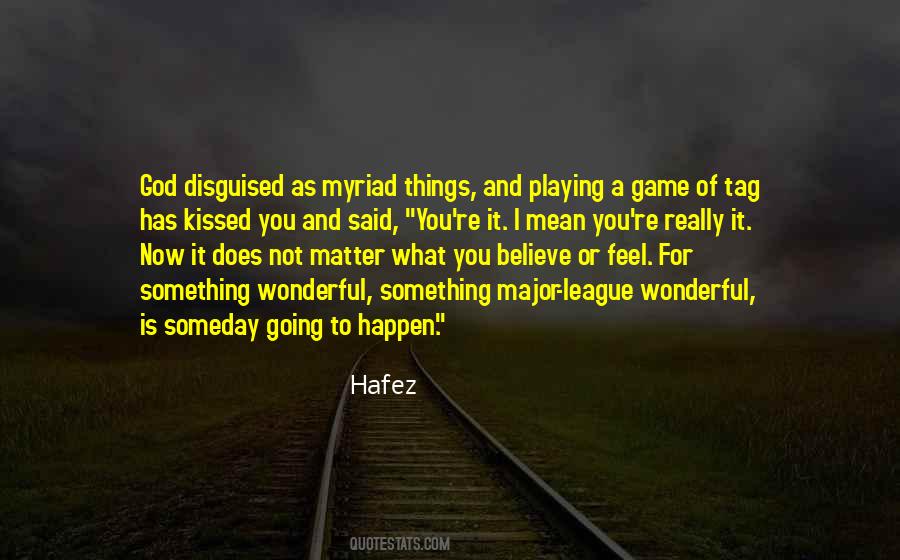 #81. After all, none of us came here to live an ordinary life. Whether we believe it or not, we are all destined for greatness. - Author: Thea Euryphaessa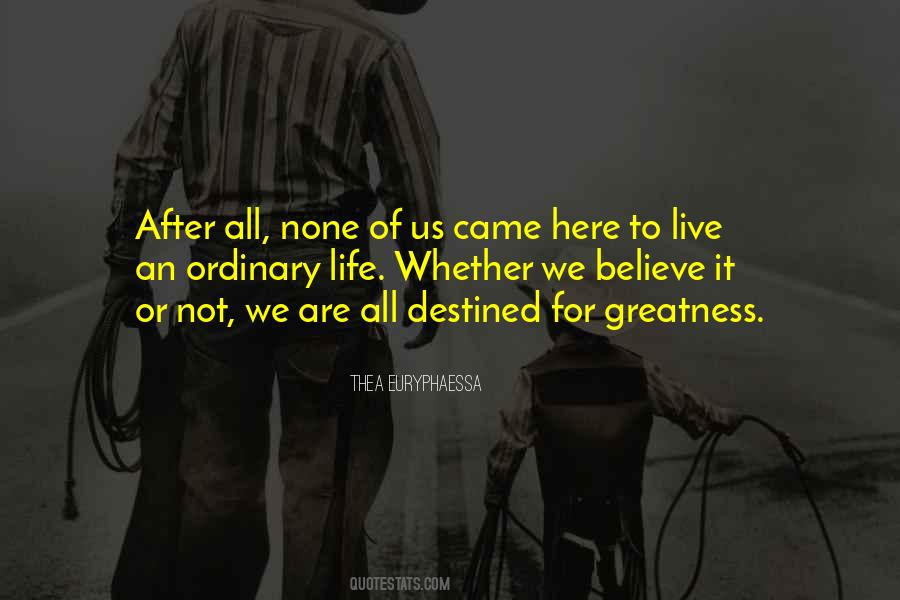 #82. Believe it or not, I was a pretty shy youngster growing up. - Author: John McEnroe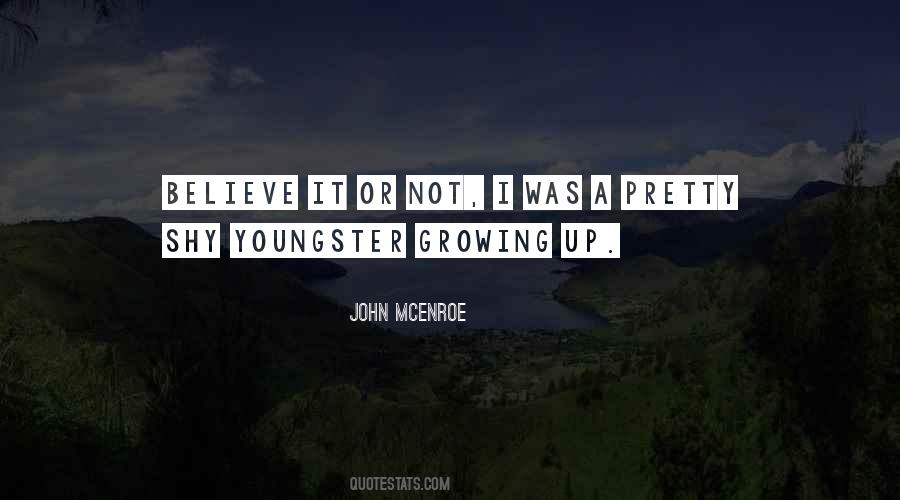 #83. We all pretend for a while or for a lifetime. But pretending is not living ... I believe that God meant for life to take our breath away, sometimes because of the sheer joy of it all and sometimes because of the severe pain. To choose living over pretending means that we will know both. - Author: Angela Thomas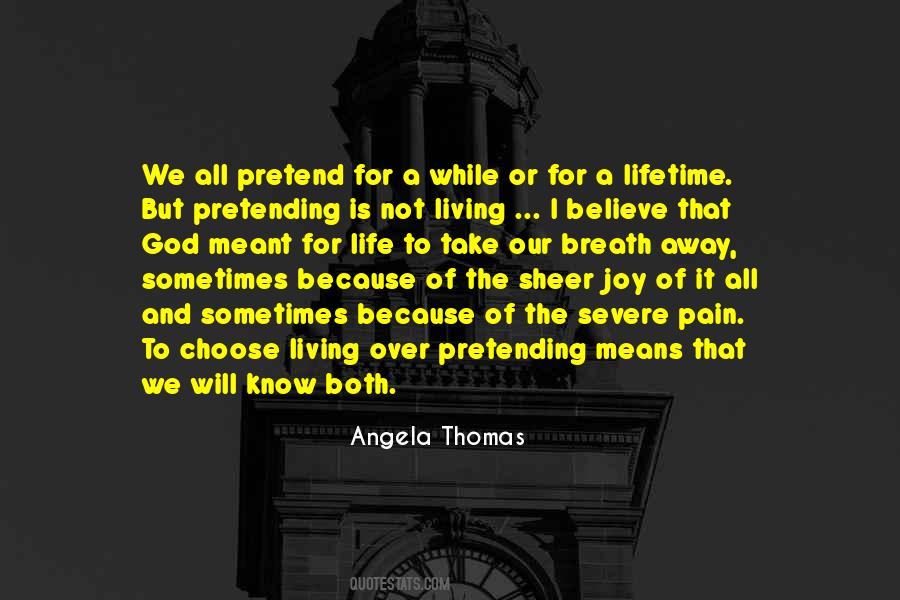 #84. They said I looked like a foreign devil; they said I spoke like a foreign devil. I made mistakes in manners, and I didn't know delicacies that had grown up since my father left. They wouldn't have me. You can believe it or not - I'm less foreign here than I was in China. - Author: John Steinbeck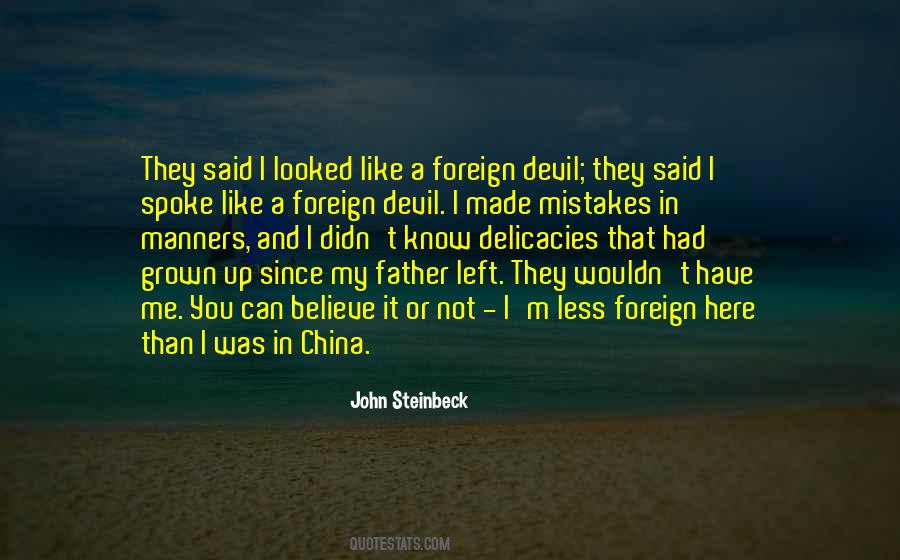 #85. I don't have anything to hide. And for the record, I am not against plastic surgery. I believe that any woman that wants to do anything or fix anything that bothers her - if she's doing it for herself - I'm all for it. - Author: NeNe Leakes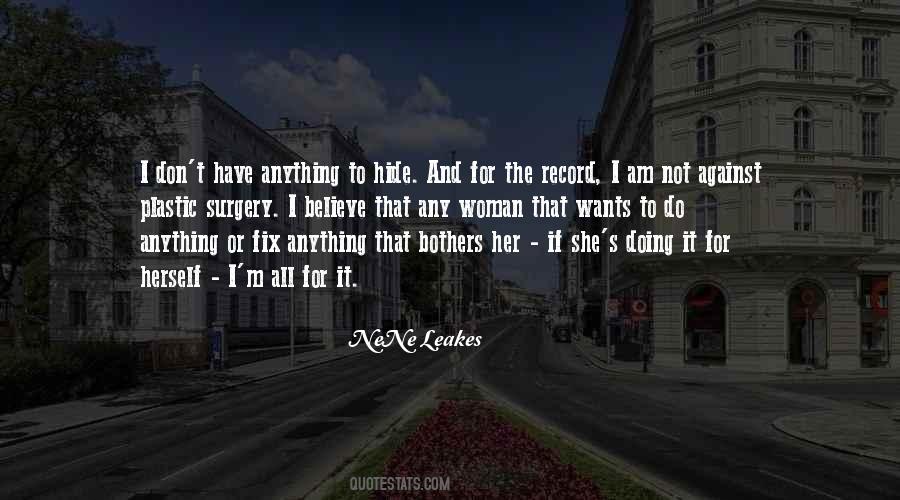 #86. I'm going to put out something that I believe in, or I'm not going to do it." I'm really scared of putting out a product that people will say, "Oh, that's not as good as the other thing." - Author: Eric Kripke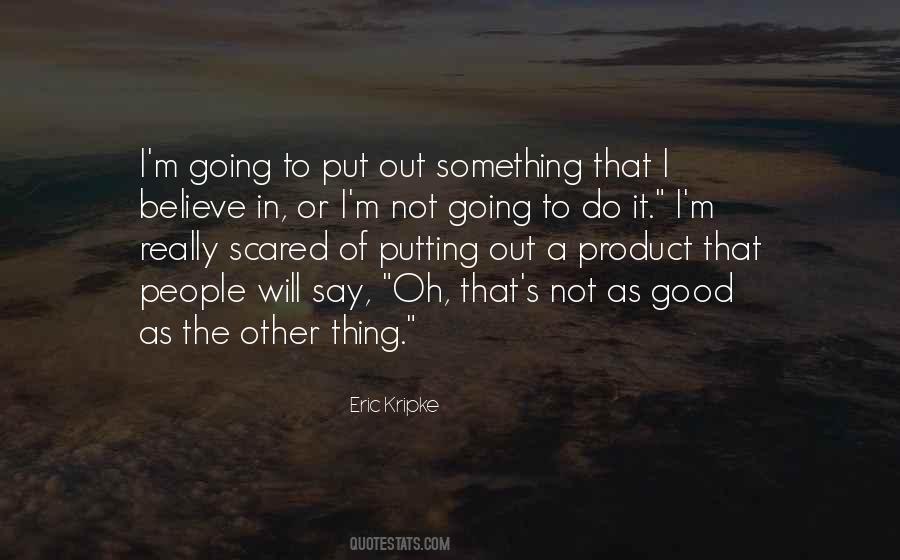 #87. Thus rhetoric, it seems, is a producer of persuasion for belief, not for instruction in the matter of right and wrong ... And so the rhetorician's business is not to instruct a law court or a public meeting in matters of right and wrong, but only to make them believe. - Author: Plato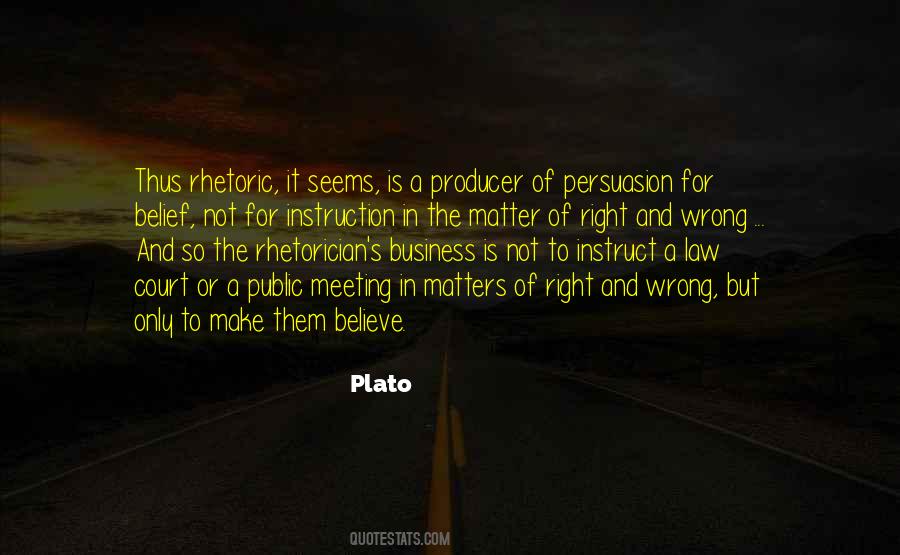 #88. It's an illusion to believe that you can be happy when no one else is. Or that other people will not be affected by your unhappiness. - Author: John Brockman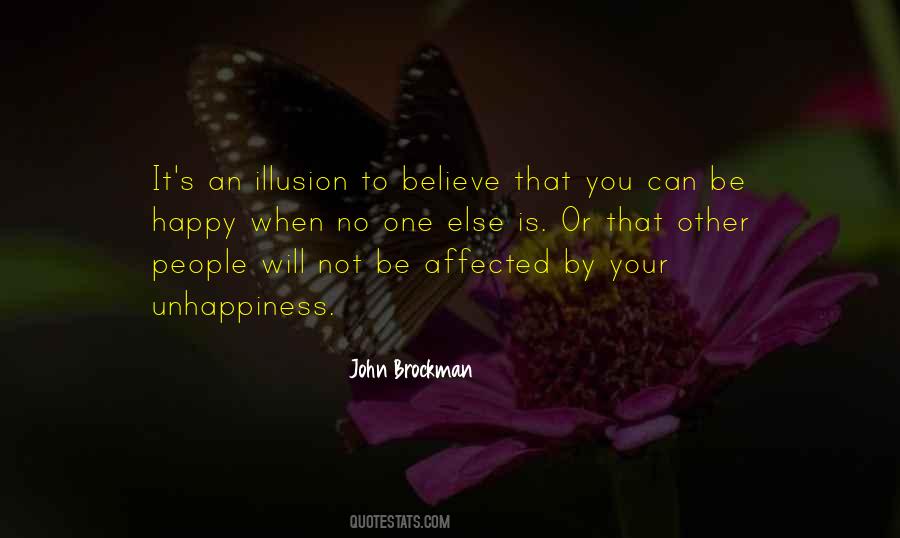 #89. Guys like him ruin it for everybody else. It's just embarrassing. Or maybe he's not embarrassed because he probably believes he's not doing it-that's how liars are. - Author: Chris Chelios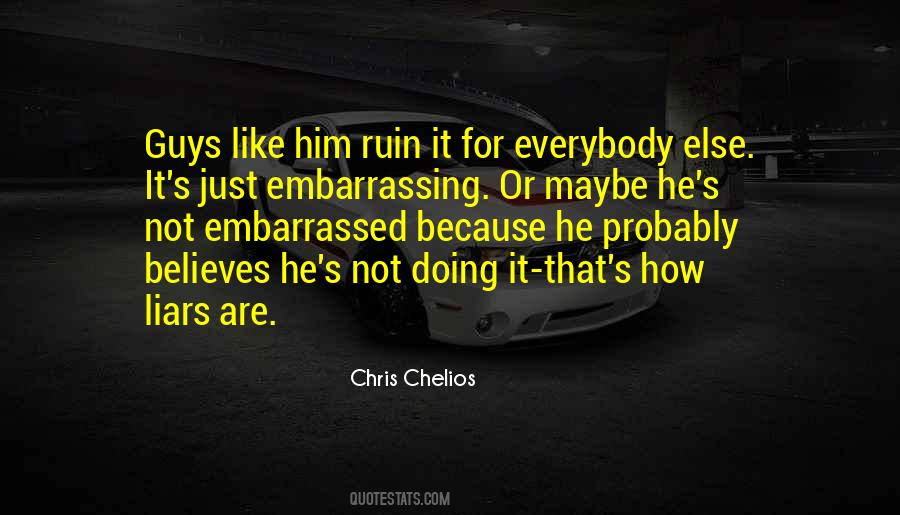 #90. You are enough exactly as you are, whether you believe it or not. - Author: Pooja Ruprell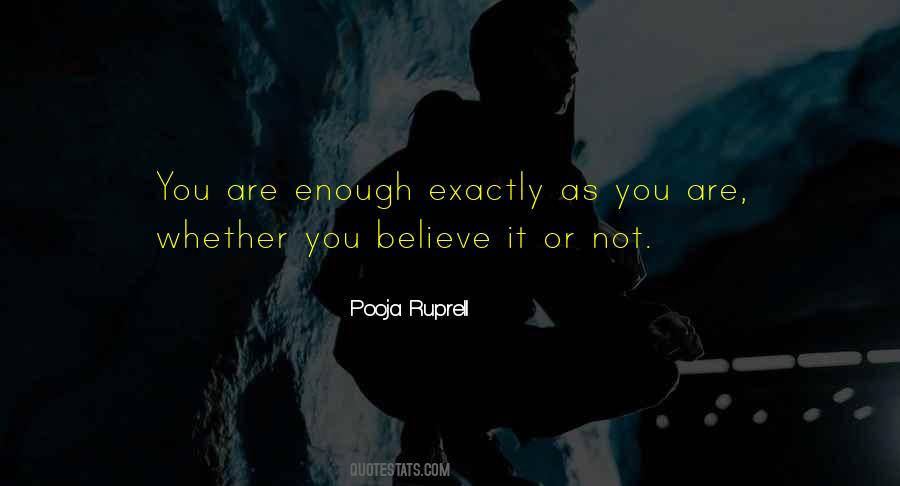 #91. I know it's very idealistic and utopian, but I believe we need to just let everyone not be judged in terms of religion, groups or nations or region. - Author: Shah Rukh Khan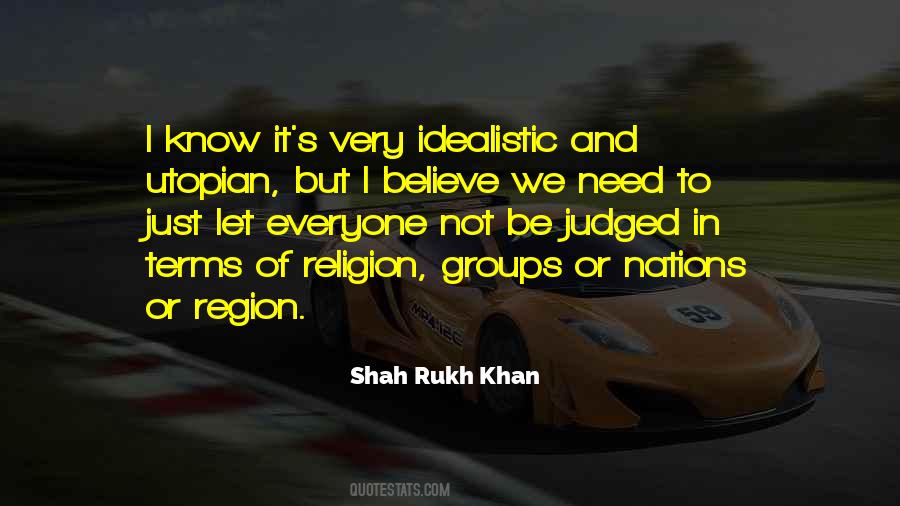 #92. Repeat, over and over again, in case anyone forgets it or believes the contrary, that we do not live in the best of all possible worlds. - Author: Luis Bunuel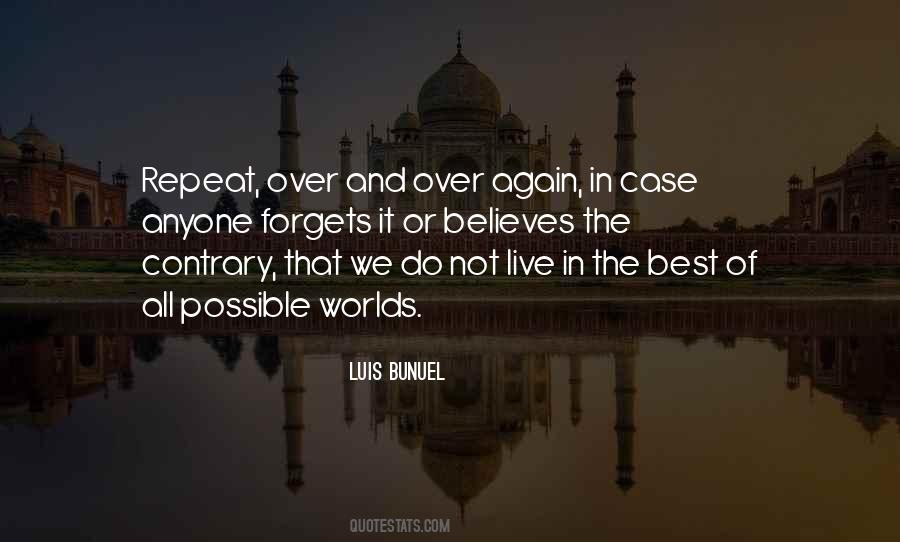 #93. It's not about going around trying to stir up trouble. As long as you're honest and you articulate what you believe to be true, somebody somewhere will become your enemy whether you like it or not. - Author: Criss Jami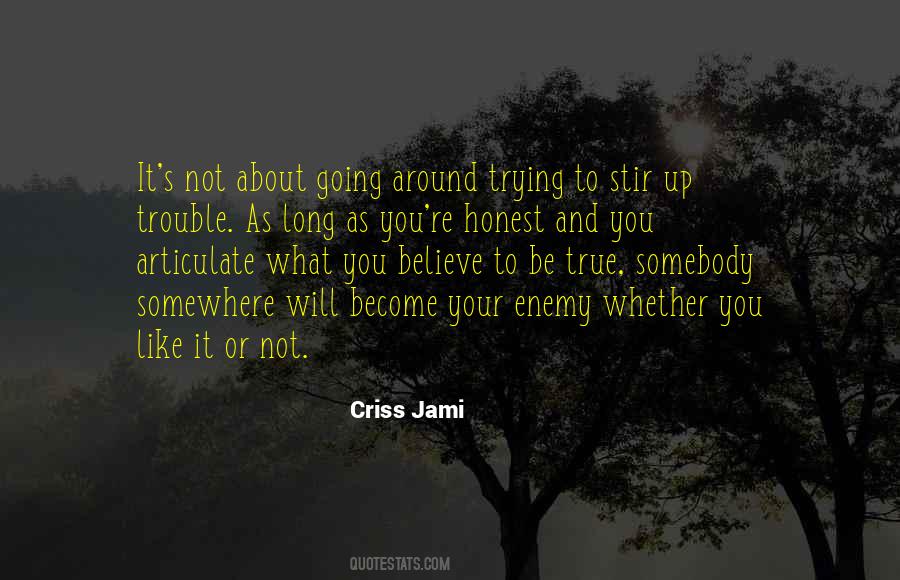 #94. And believe it or not, a new record from Philly's greatest, the Roots. It's kind of bitter sweet, to be honest. Well, maybe not so bitter. It's called "Rising Down." - Author: Mike Pesca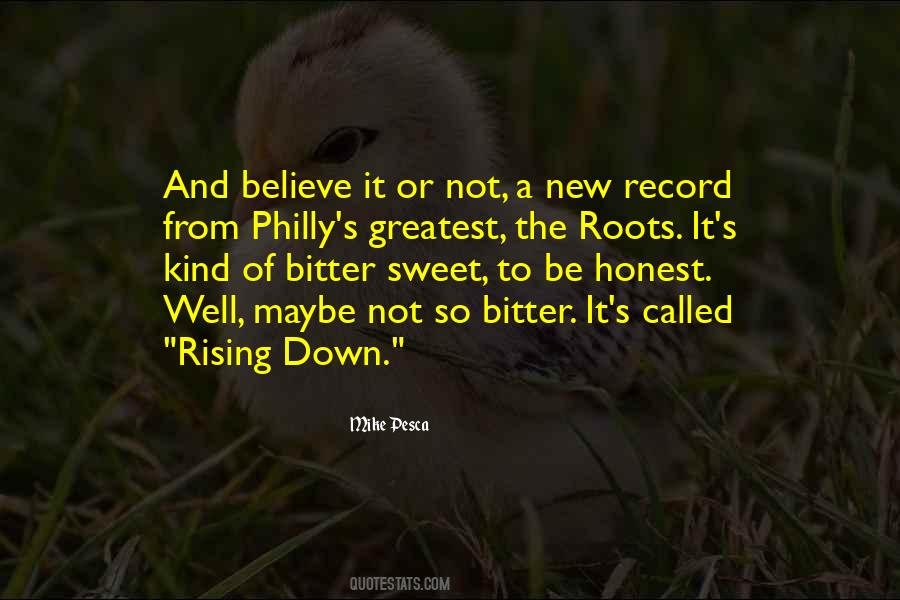 #95. But I believe in true love, you know? I don't believe that everybody gets to keep their eyes or not get sick or whatever, but everybody should have true love, and it should last at least as long as your life does. - Author: John Green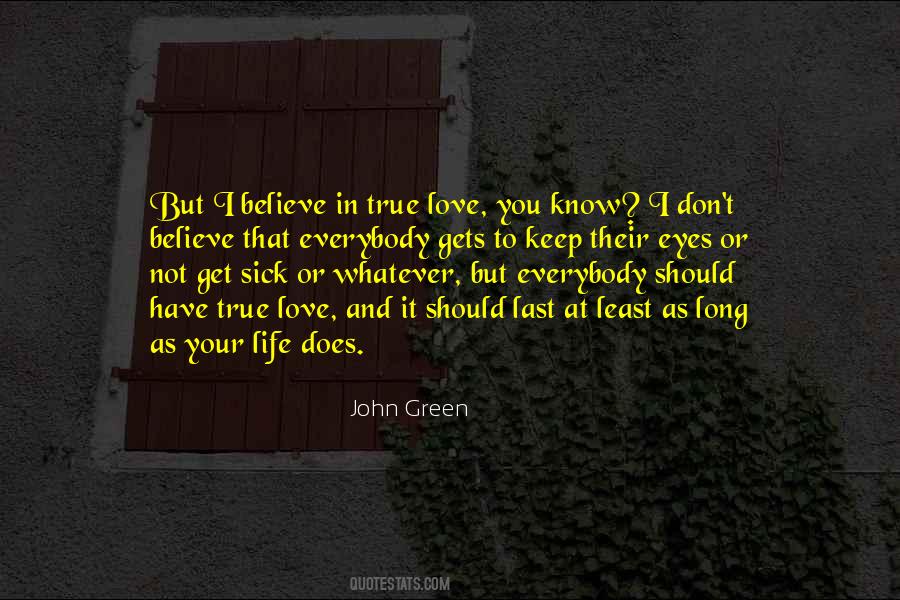 #96. Many musicians will say they don't care about the money yet they must commit themselves to appear at given times and places, and to produce what sells, whether they believe in it or not. It depends on contracts. - Author: Lynette Fromme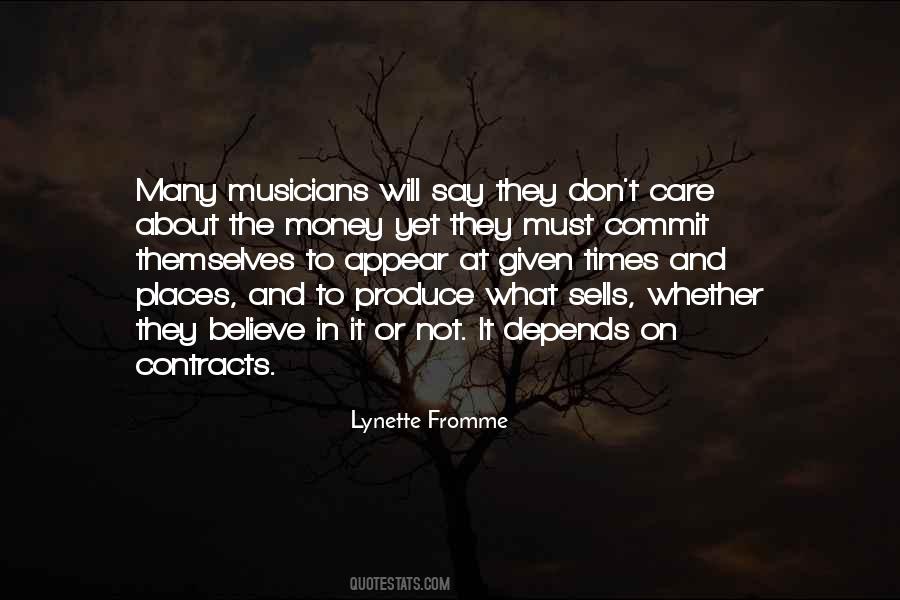 #97. Today's students can put dope in their veins or hope in their brains. If they can conceive it and believe it, they can achieve it. They must know it is not their aptitude but their attitude that will determine their altitude. - Author: Jesse Jackson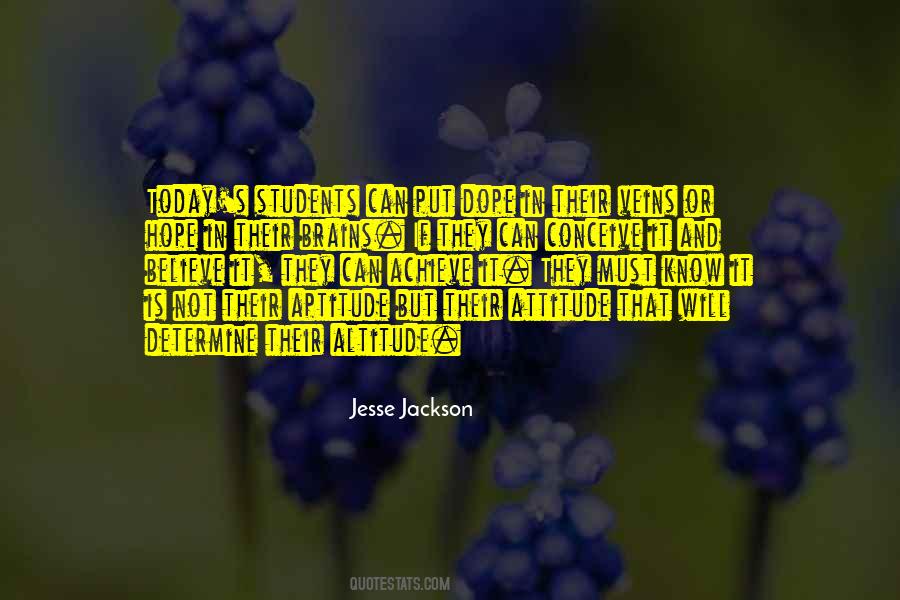 #98. I'd love to learn how to foxtrot and cha cha. Believe it or not, I have terrible dancing skills. I can do everything on the ice, but as soon as you put me on the ground, I'm that person that falls down walking off a curb. - Author: Johnny Weir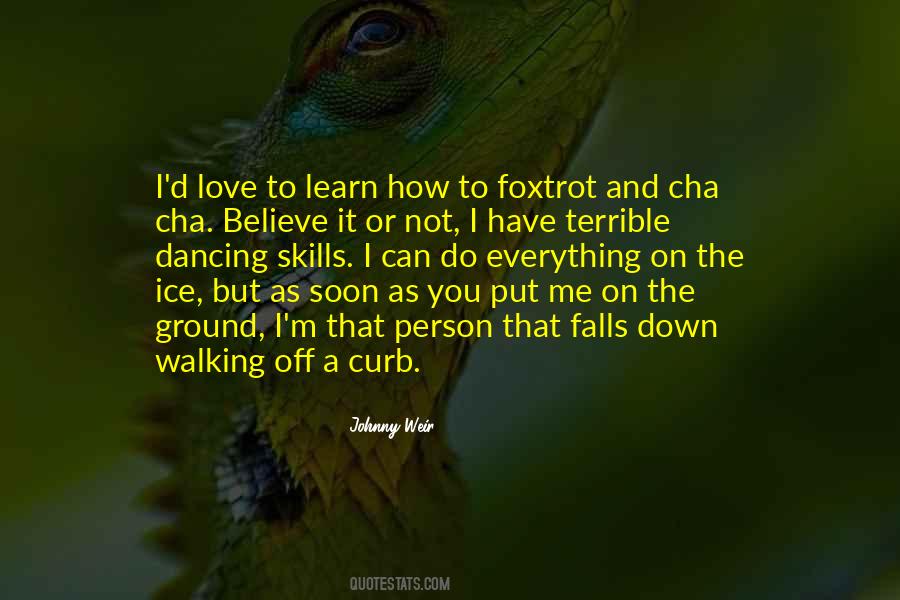 #99. I've never known before what it feels like to want someone - not to want to hook up with them or whatever, but to want them, to want them. And now I do. So maybe I do believe in epiphanies. - Author: John Green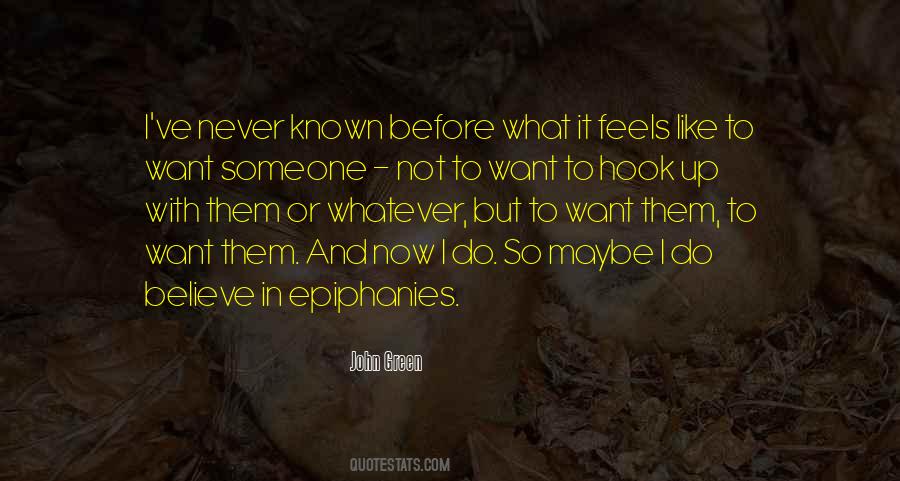 #100. Believe it or not, the number one fear in America remains public speaking. And, in some ways, I think that is a real shame because we are so blessed to live in a country where we are able to express ourselves, so we should want to do that. - Author: Dana Perino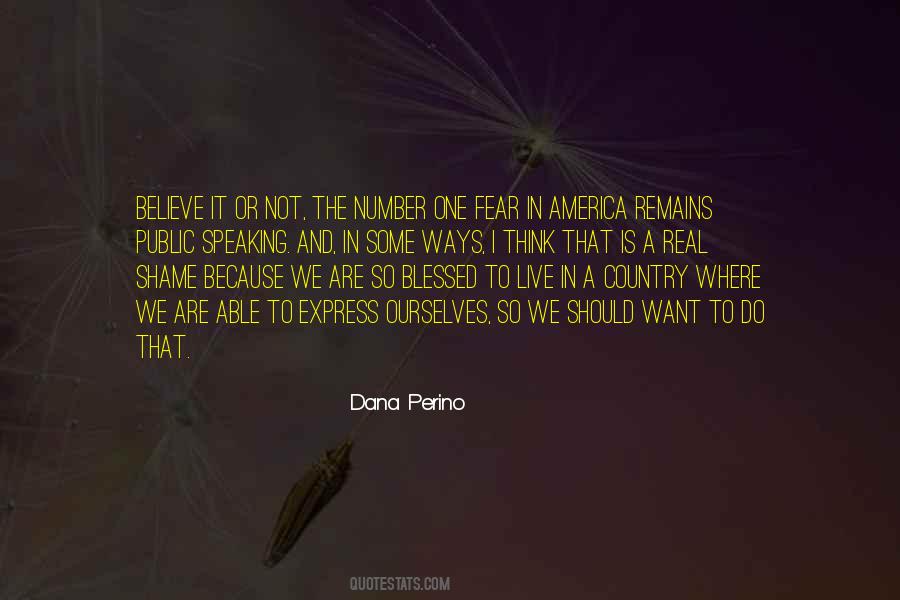 Famous Authors
Popular Topics