Like A Mom Famous Quotes & Sayings
List of top 100 famous quotes and sayings about like a mom to read and share with friends on your Facebook, Twitter, blogs.
Top 100 Like A Mom Quotes
#1. Never forget how swiftly this life will be over, like a flash of summer lightning or the wave of a hand. Now that you have the opportunity to practice dharma, do not waste a single moment on anything else. - Author: Dilgo Khyentse Rinpoche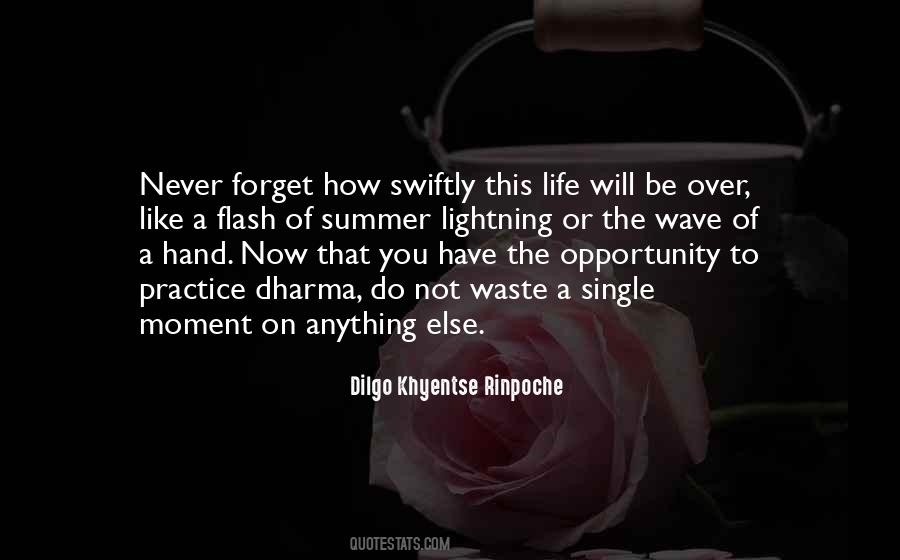 #2. Remember that a single mom is just like any other mom and that our number one priority is till our kids. Any parent does whatever it takes for their kids and a single mother is no different. - Author: Paula Miranda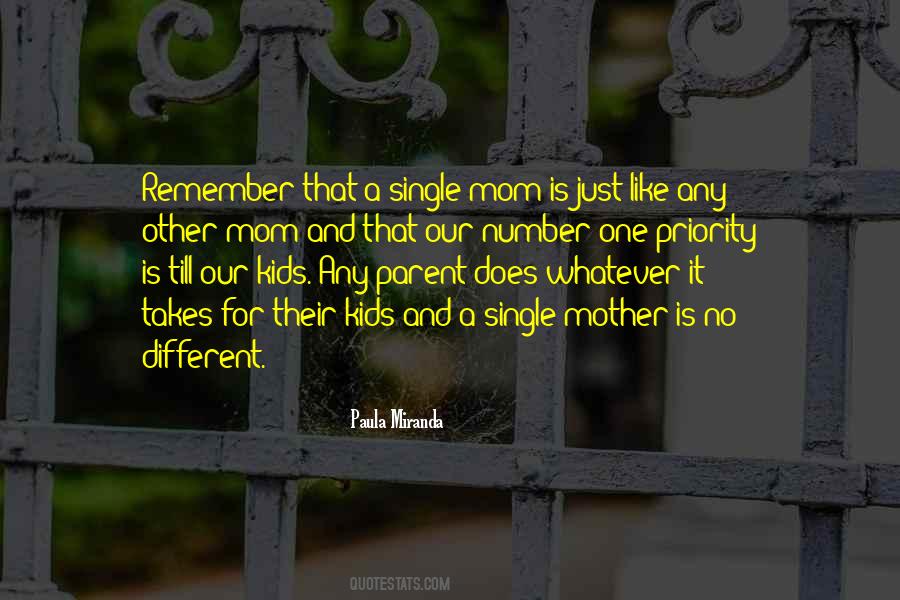 #3. One time my mom tried to send me to my room for a time-out when I was 5 or 6, and I was like, "Fine! I like my room! All my imagination and toys are in my room!" I will never forget that. And she will never forget that. - Author: Elizabeth Olsen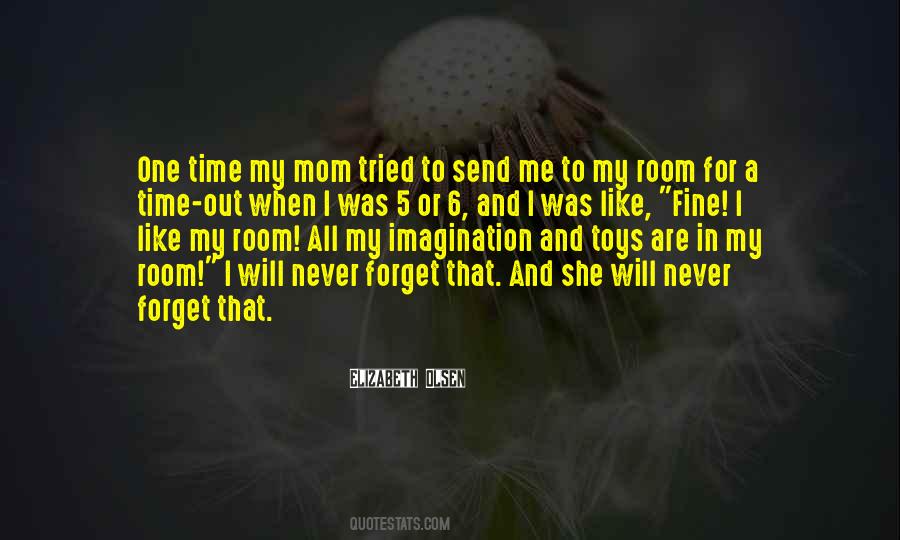 #4. When I give my jewelry as a present, I feel like I'm giving protection to someone I care about ... I've given pieces to my mom, my aunts, my friends. I've even made bracelets for my dad and my uncle. - Author: Sofia Boutella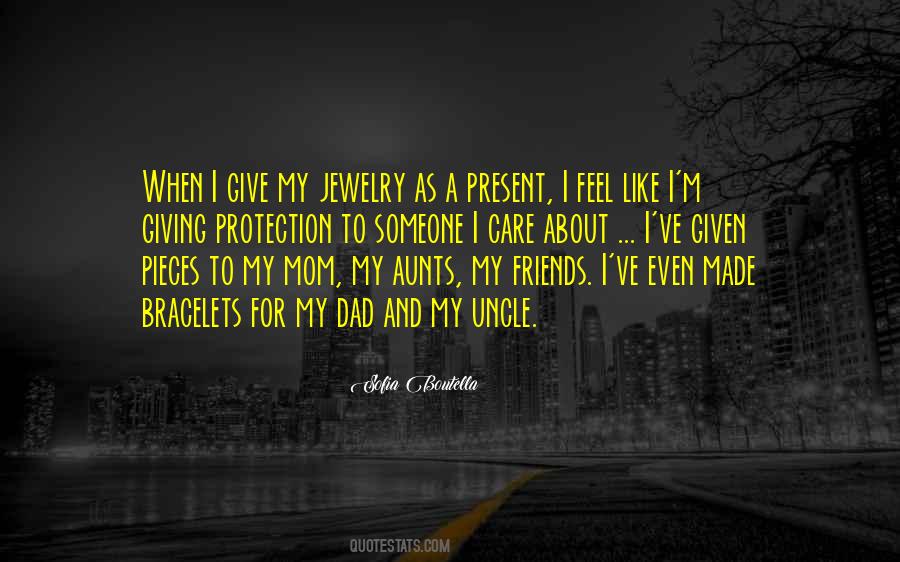 #5. Every other day I read a book. It takes me two days to finish a book. I like reading because if I'm not doing anything, then I read. If my mom tells me to go take out the trash, I'll go take out the trash, and come back and start reading again. - Author: Khleo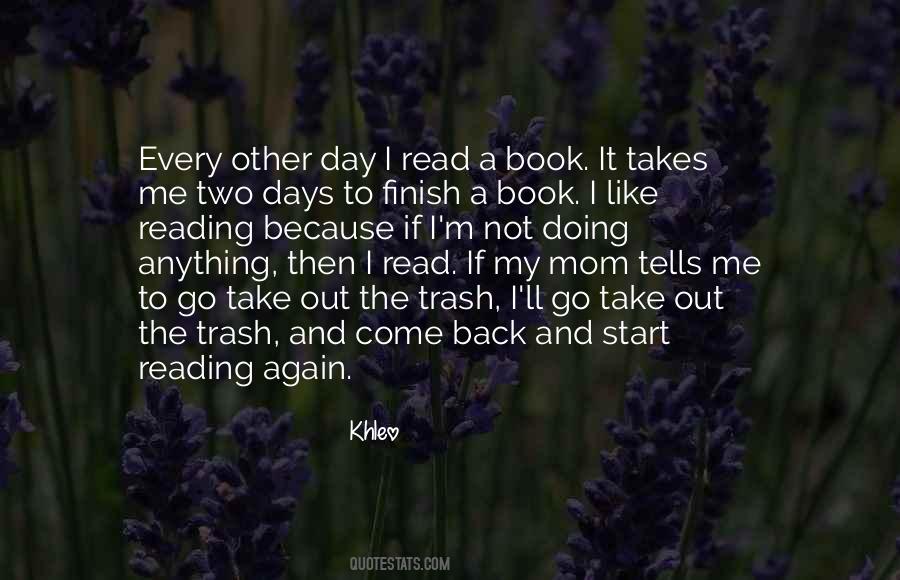 #6. I'm somebody who doesn't work with a stylist. I'll be honest with you, I'm a mom and it's just not something I want to put money toward because it's expensive to have somebody who helps dress you and I feel like I have to pay for preschool and so many things ... so I don't have a stylist. - Author: Busy Philipps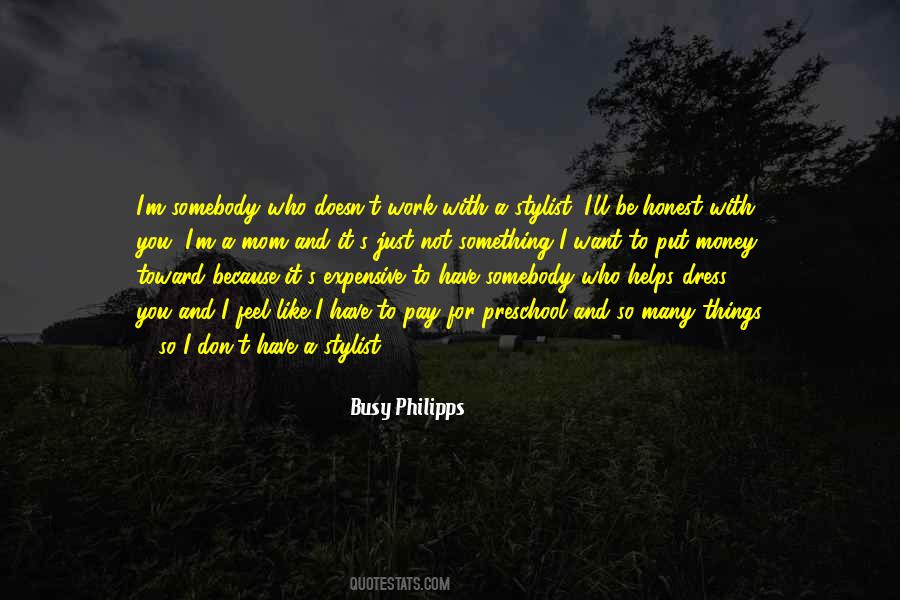 #7. I think maybe my mom thought that Katharine Hepburn would be a good role model of, like, a strong, smart, independent woman. Maybe she steered me in that direction. You know, because she was really so ahead of her time. - Author: Gillian Jacobs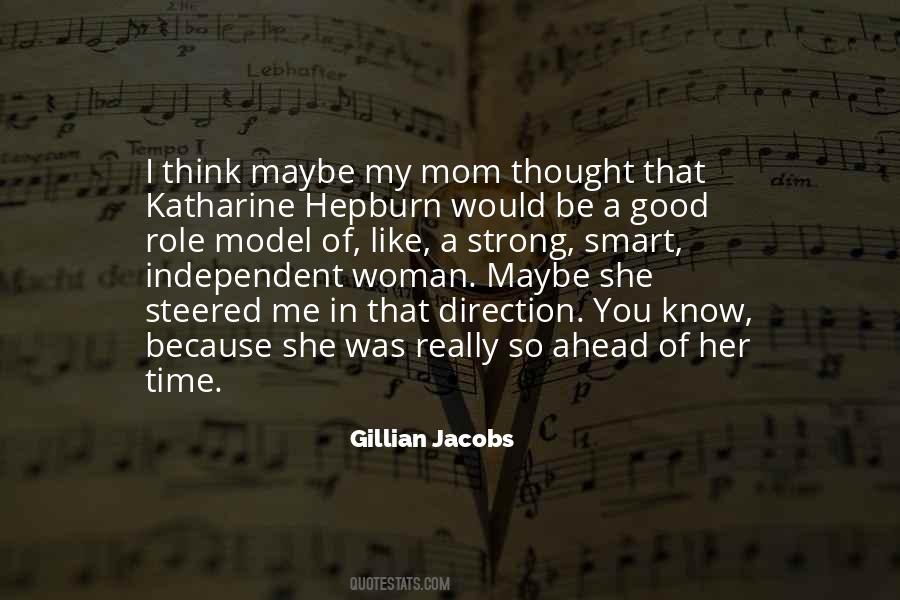 #8. The familiar sound of the kitchen knife, and the stove's smell, mom's back...
It feels like my life in Tokyo was
just
a dream. - Author: Mika Yamamori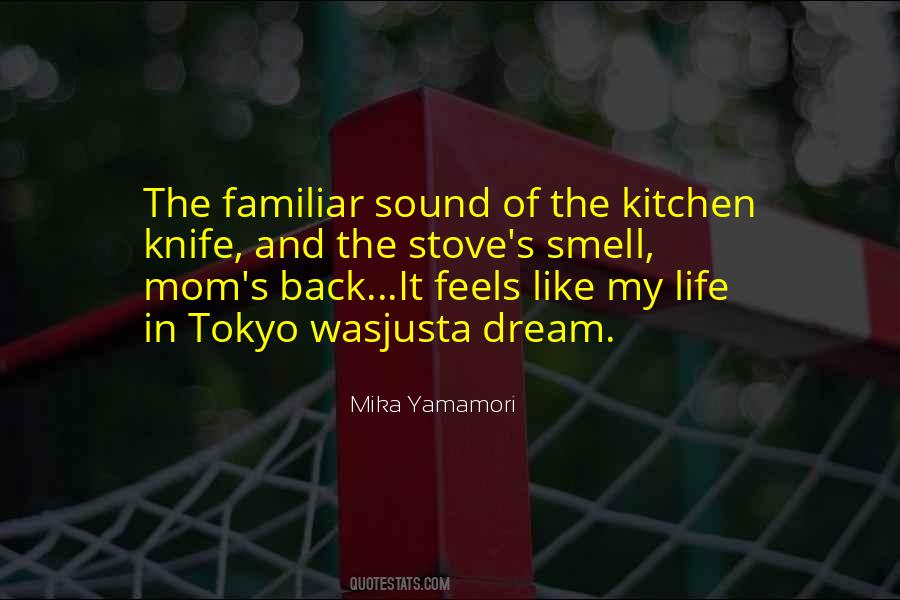 #9. I sat there for a moment and thought about my mom. It was her groans of pain that would get me the most. Sometimes they didn't even sound human. Sometimes she sounded like a cow, and for some weird reason, that made me think about hamburgers and I suddenly realized how starved I was. - Author: Adam Rapp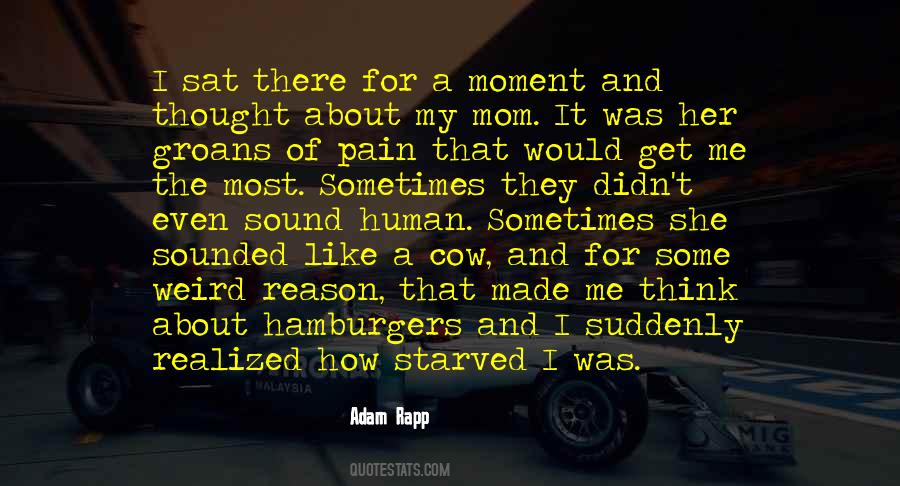 #10. My kids can't watch ('Howard the Duck'). By the time I get in bed with the duck, they are, like, 'Turn it off, mom. You in bed with a duck is just pretty much a deal breaker.' - Author: Lea Thompson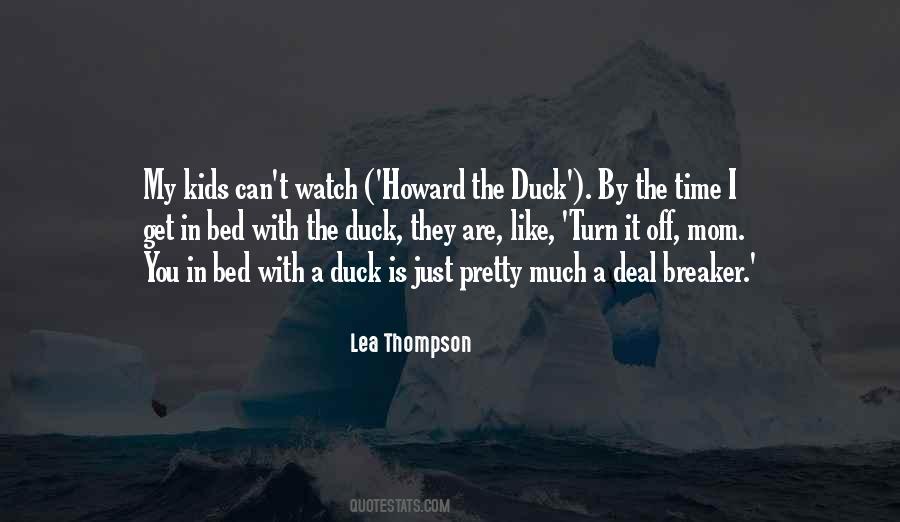 #11. Like every mom, you try to juggle, but I also want people to know that you don't have to be a superhero. I'm not a superhero; I have a team of people who help me. I have a great family support system. - Author: Kimora Lee Simmons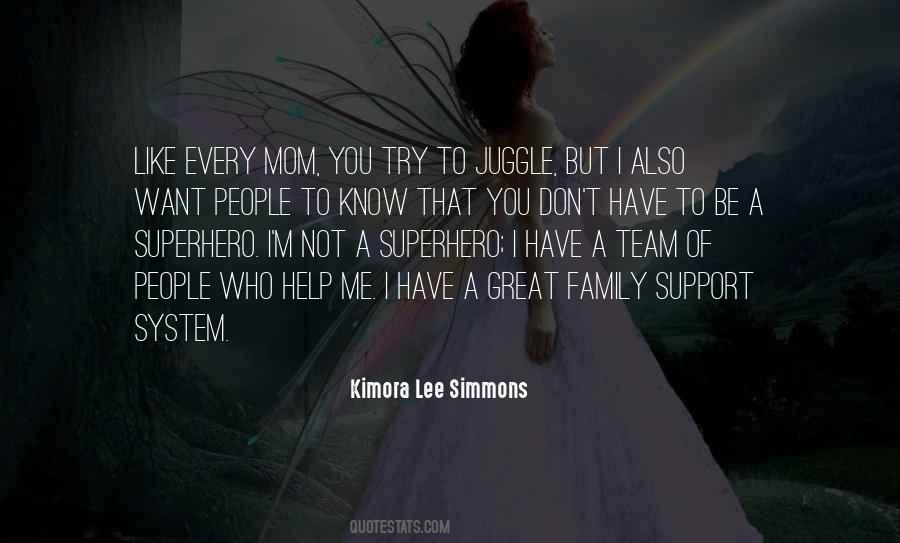 #12. I have no ties to my dad. I had no communications with him; it didn't shape who I am or anything like that. I'm actually a product of my mom. - Author: M.I.A.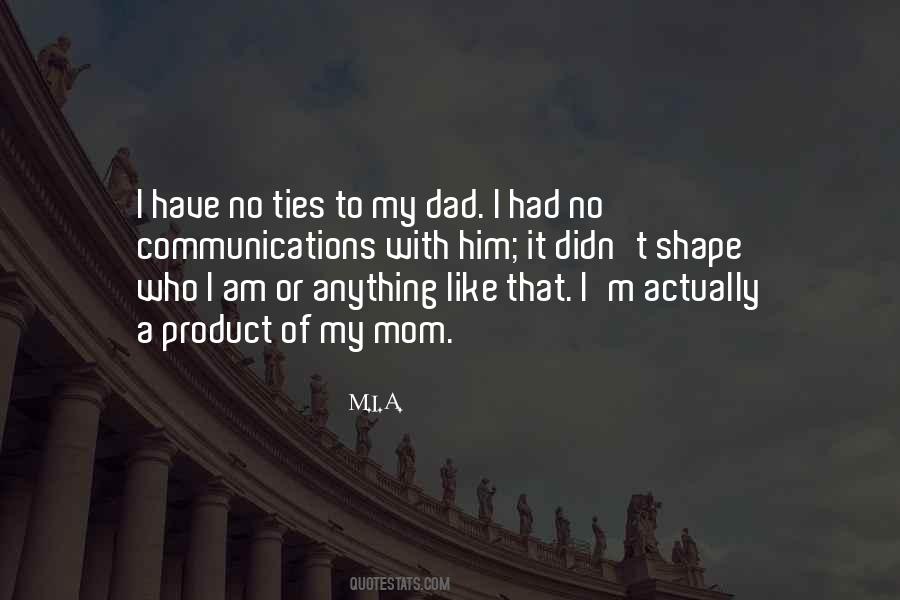 #13. I talk to my mom like any other kid talks to their mom when they live across the country. You call home and check in about what you ate for your breakfast or if I went for a run that day or if I was in a fight with my friend. It's so normal. - Author: Cassidy Gifford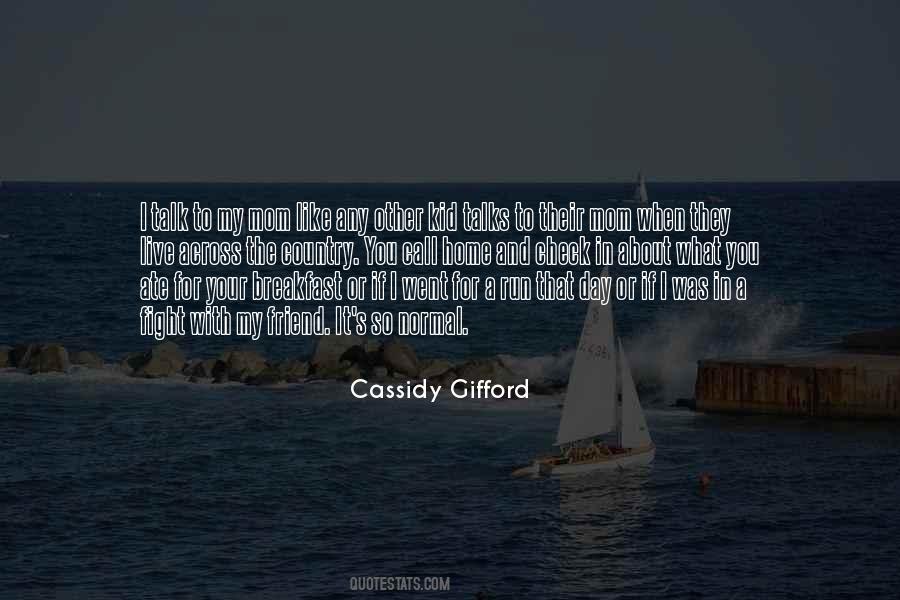 #14. Look at that skirt," my mother said when she opened the door to me. "It's no wonder we have so much crime today what with these short skirts. How can you sit in a skirt like that? Everyone can see everything."
"It's two inches above my knee. It's not that short. - Author: Janet Evanovich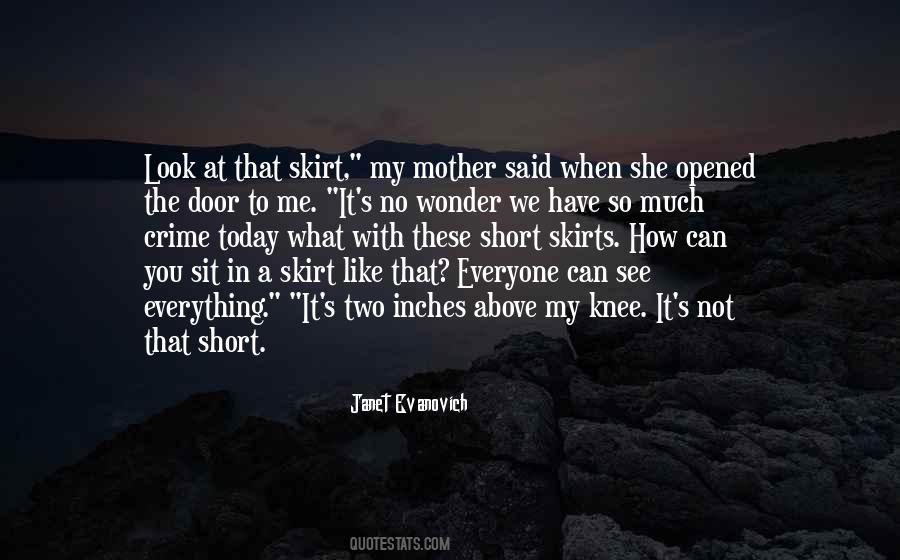 #15. I know that I'm getting the real deal with my mom. I know that she's telling it like it is. She's proud of me when I've earned it and she's disappointed in me when I've earn that. She's really my spectrum on where I am as a person. - Author: Lara Flynn Boyle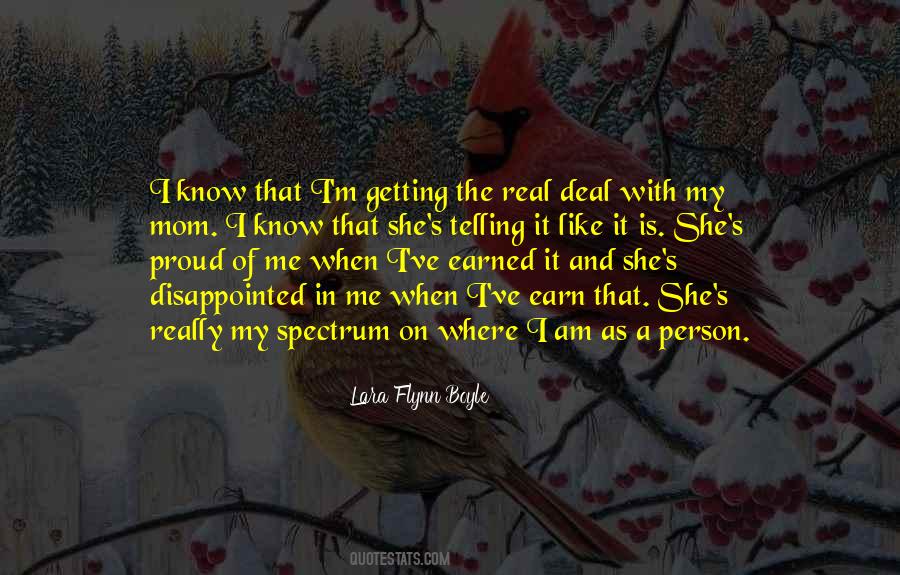 #16. A lot of times when people become successful, people don't really understand what they had to do or the sacrifices they made to do that, or they assume that they had money. This is coming from, like, a kid who was broke and lived with roaches and a single mom in Dorchester. - Author: Clinton Sparks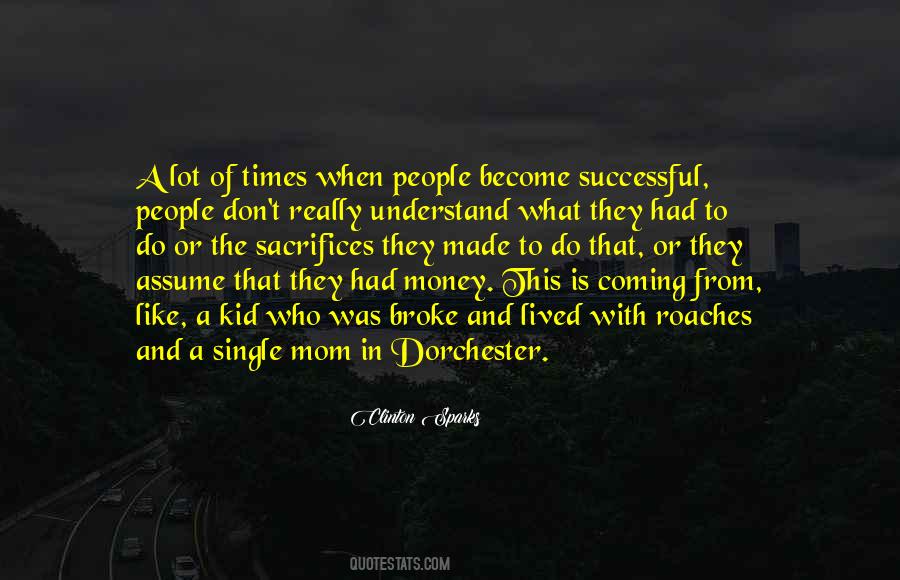 #17. My mom was always like, "If I know that my kid is having fun, she's gonna do whatever she wants. Whether that's gymnastics, learning the car, acting or just being a normal kid, she's gonna do what makes her happy." That's how I've always lived my life. - Author: Chloe Grace Moretz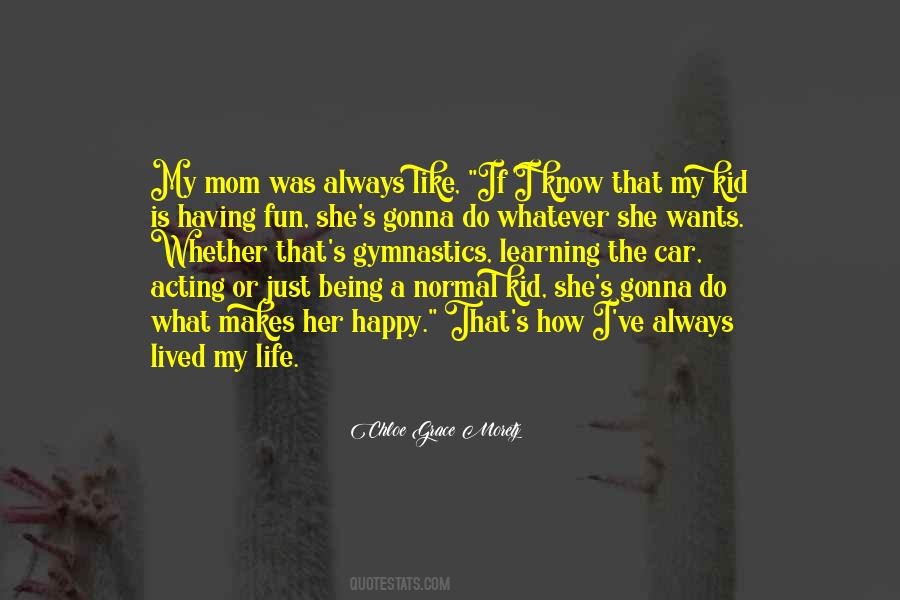 #18. My mom fed us a lot of processed food when we were kids, like chicken fingers, grilled cheese sandwiches and quesadillas. I make those treats for my family, too, but I use organic cheeses and whole wheat bread and tortillas. - Author: Kourtney Kardashian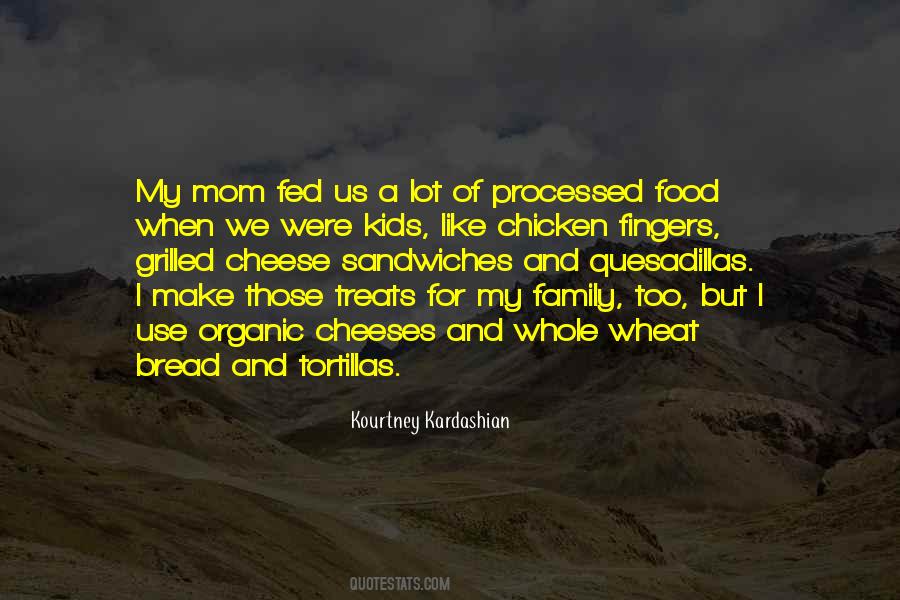 #19. Mom told us we would have to go shoplifting.
Isn't that a sin?" I asked Mom.
Not exactly," Mom said. "God doesn't mind you bending the rules a little if you have a good reason. It's sort of like justifiable homicide. This is justifiable pilfering. - Author: Jeannette Walls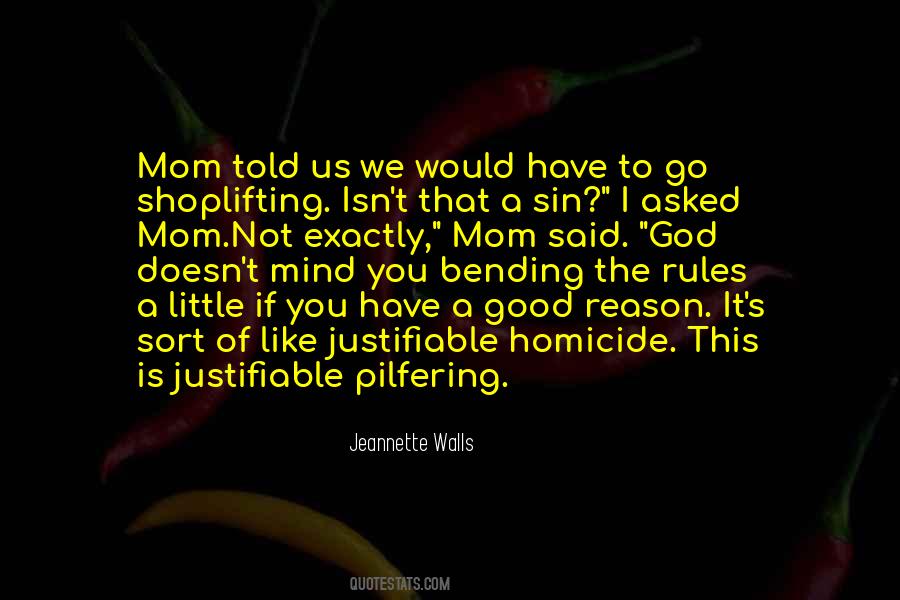 #20. I've been alone since my mom met Scott.
He sucked the nectar from her heart
like a famished butterfly. No nurture,
no nourishment left for Kristina.
A vacation is a poor substitute
for love. - Author: Ellen Hopkins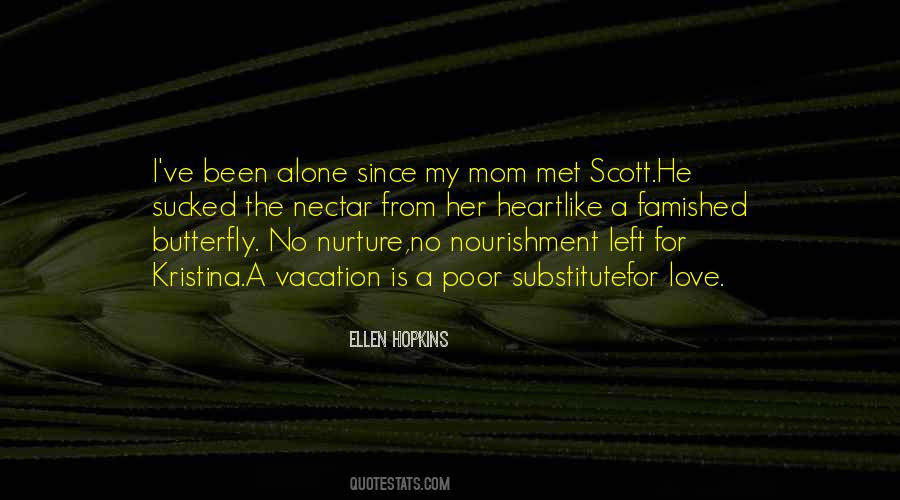 #21. I would give up, but that will teach my kids that it's okay to be a failure and I refuse to ruin their lives like that! - Author: Mignon' Talise Padilla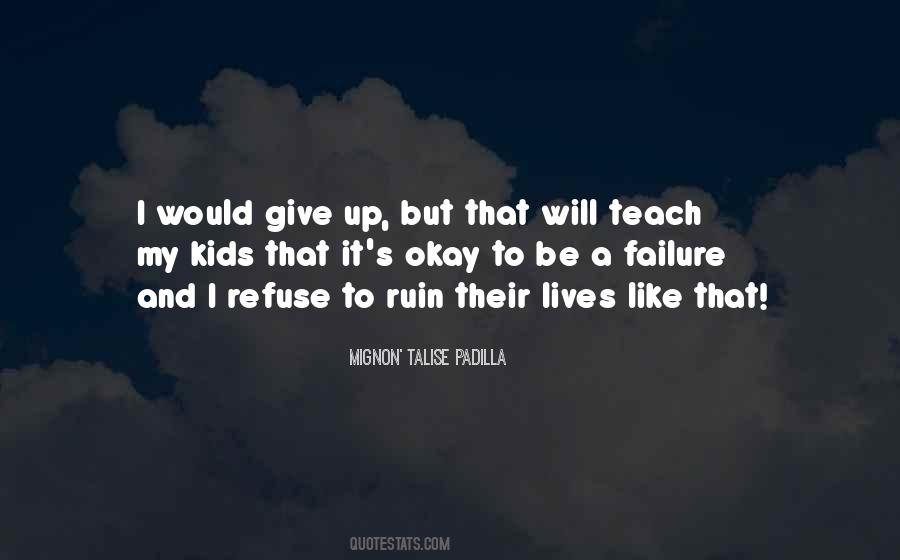 #22. My mom was concerned that us four little black girls have a really well-balanced life. She wanted us to be around people like us, but we also went to private school and traveled all the time. Now I fit in most places because I've been most places. - Author: Kelis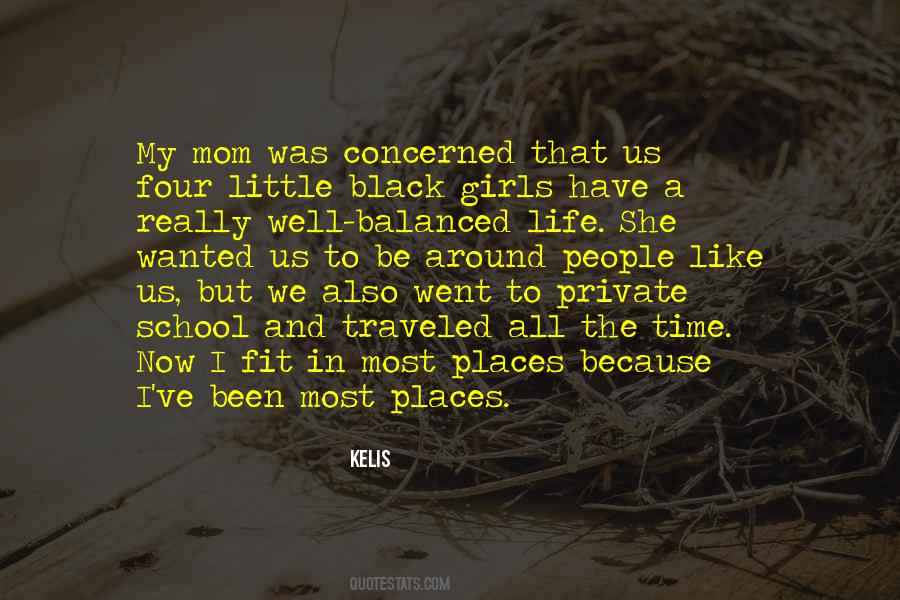 #23. I'll even let Heath help out," he really
sounded like a pompous butt.
You'll let me help out?" Heath snapped. "Your mom will let me
help out. - Author: Kristin Cast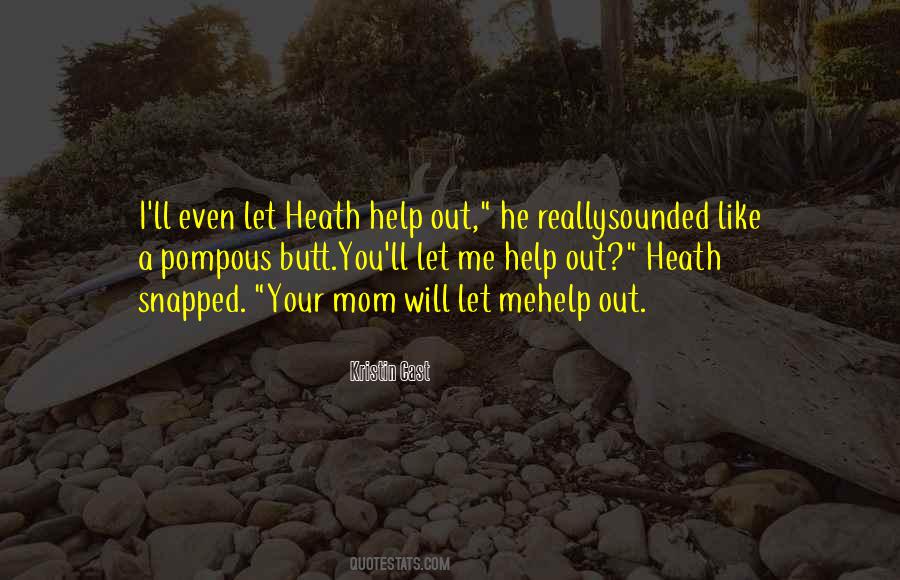 #24. I'm a substitute mom."
"You're more like a crazy aunt who only gets called when somebody needs bailing out of jail. - Author: Ilona Andrews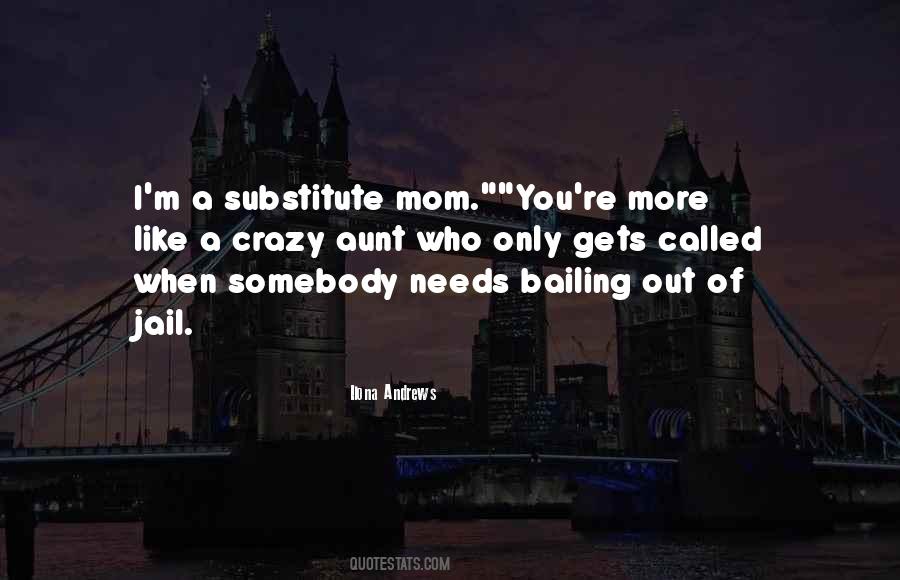 #25. No, like I said, my dad was never really part of the tennis. His involvement around what I did with the tennis and with my mom and my grandparents was really not a part of my life. - Author: Jimmy Connors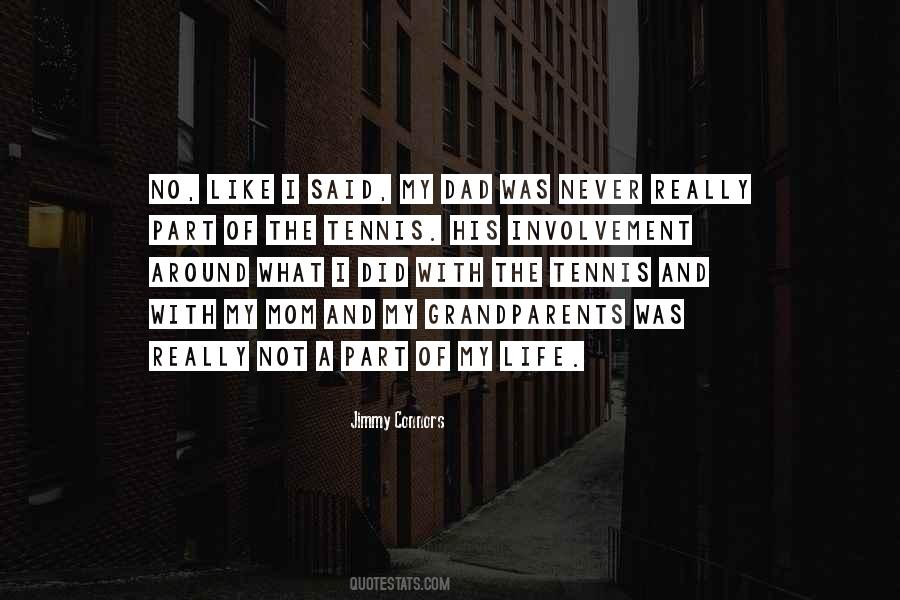 #26. I went to school, majored in theatre, and said 'Mom, I have to choose my own destiny. I want to be an actor.' A couple of weeks after I graduated college I called my mother up and said 'Can I borrow $200?' and she said 'Why don't you act like you've got $200.' - Author: Arsenio Hall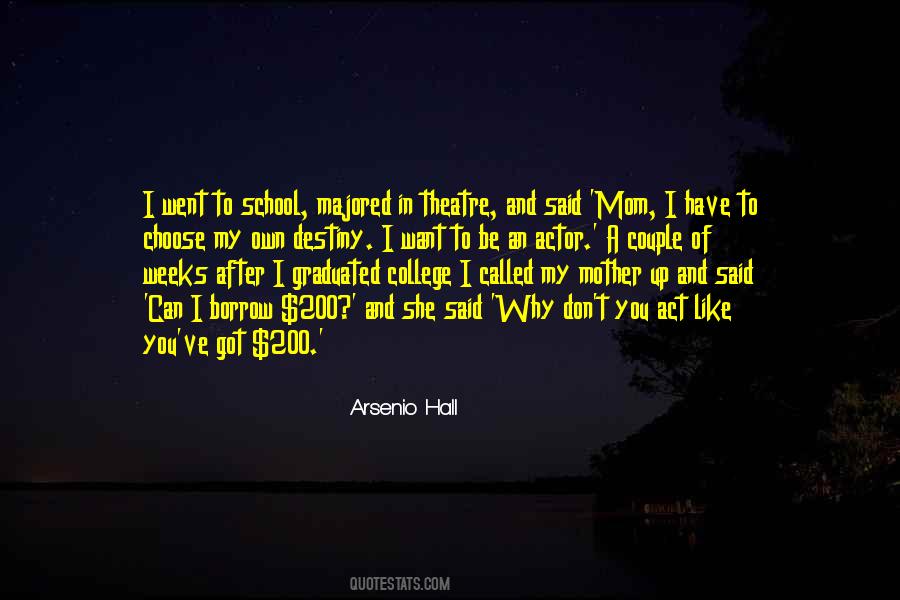 #27. My mom won't let anyone treat me like a little princess. - Author: Chloe Grace Moretz
#28. I was who I was in high school in accordance with the rules of conduct for a normal person, like obeying your mom and dad. Then I got out of high school and moved out of the house, and I just started, for lack of a better term, running free. - Author: Iggy Pop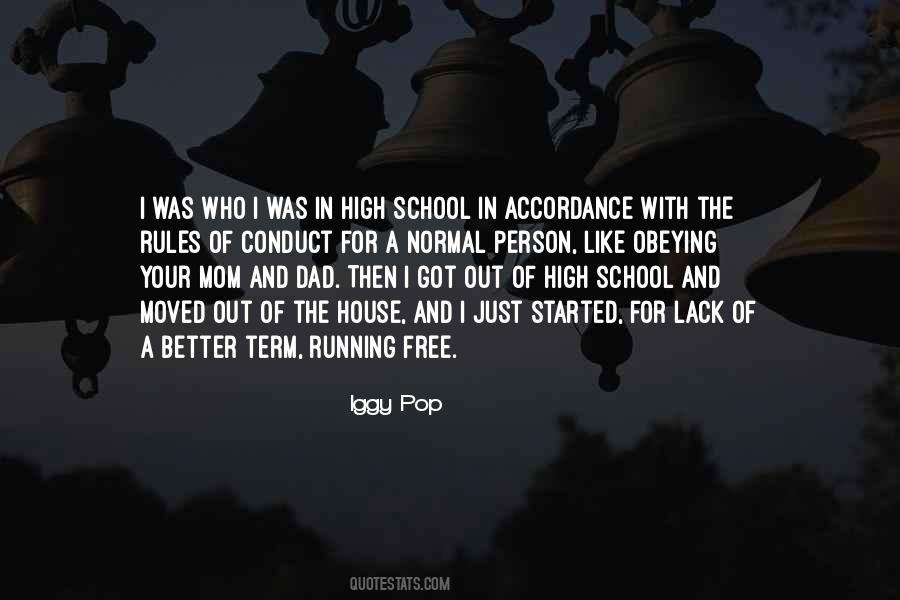 #29. In LA you can't tell the teenagers and the moms apart, which is so strange to me. And then it's like, "Who is leading who?" Are the moms emulating the daughters? In which case we're going backwards - that's not how it goes - the mothers teach the daughters how to be. It's a very strange thing to me. - Author: Laura Benanti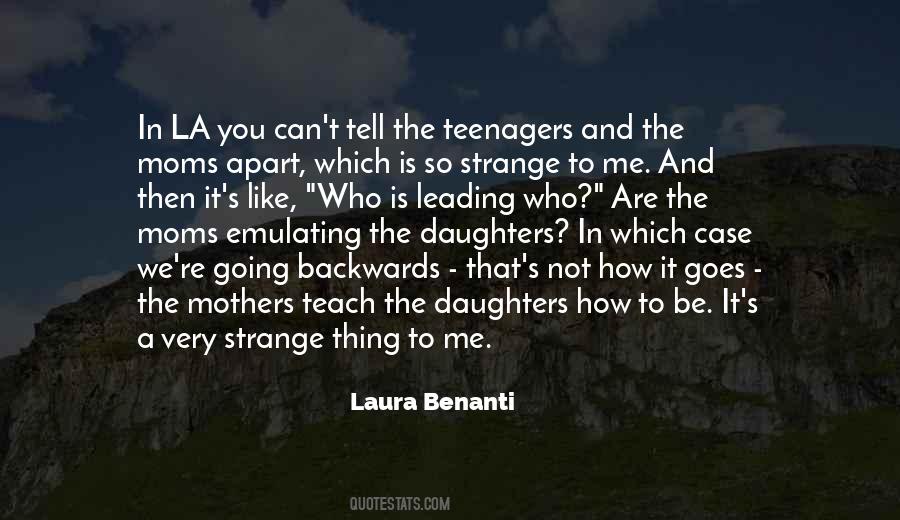 #30. Mom and Dad are truly my heroes. And I have to say, so is my little brother Robert. He's 11, and he's just the most amazing boy. He's so much like Dad sometimes, it's a bit scary. - Author: Bindi Irwin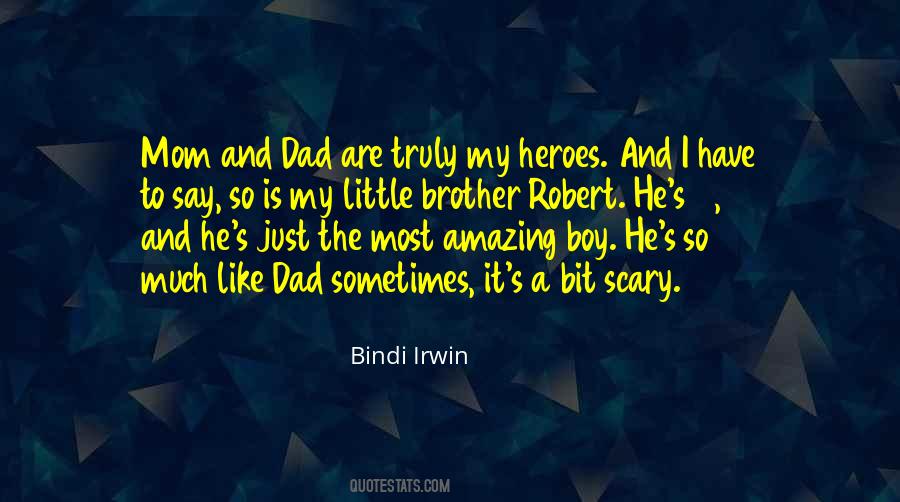 #31. My mom wasn't, like, she was reading all these historical romance novels the majority of the time. She read a feminist book and then my dad would sit down and explain it to her like she was an idiot. - Author: Kathleen Hanna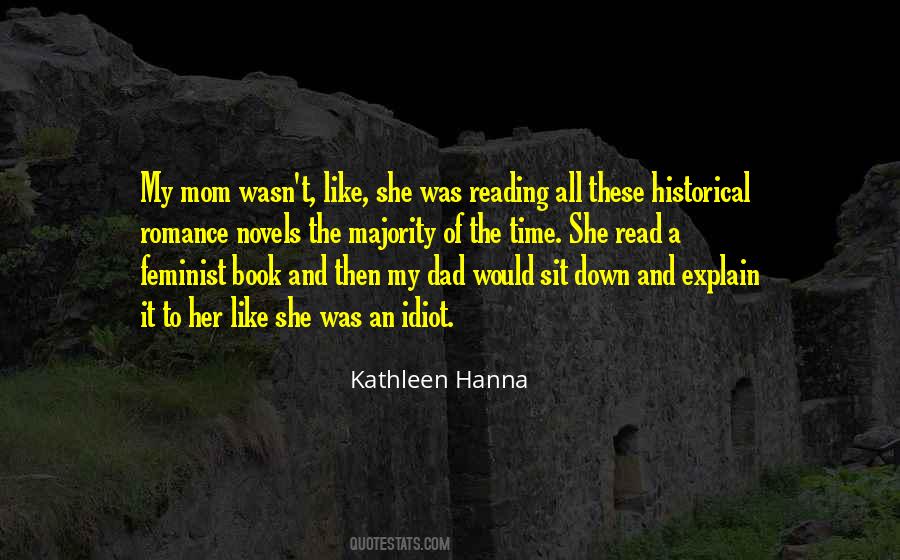 #32. I've never felt like I've exactly traded on my looks. When I was a teenager, I was an ultra late bloomer, and my mom would say it was a blessing because it means you never have to wonder if guys are only interested in you because you've got boobs. - Author: Anna Kendrick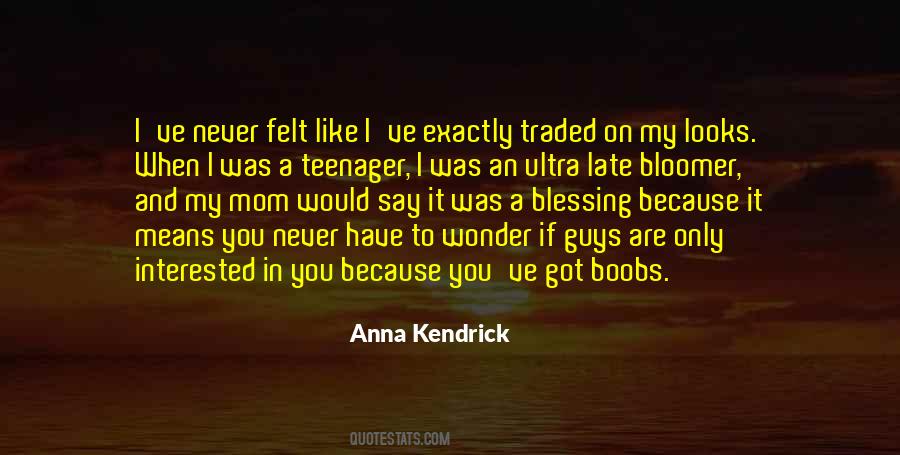 #33. There was the woman I was before my mom died and the one I was now, my old life sitting on the surface of me like a bruise. - Author: Cheryl Strayed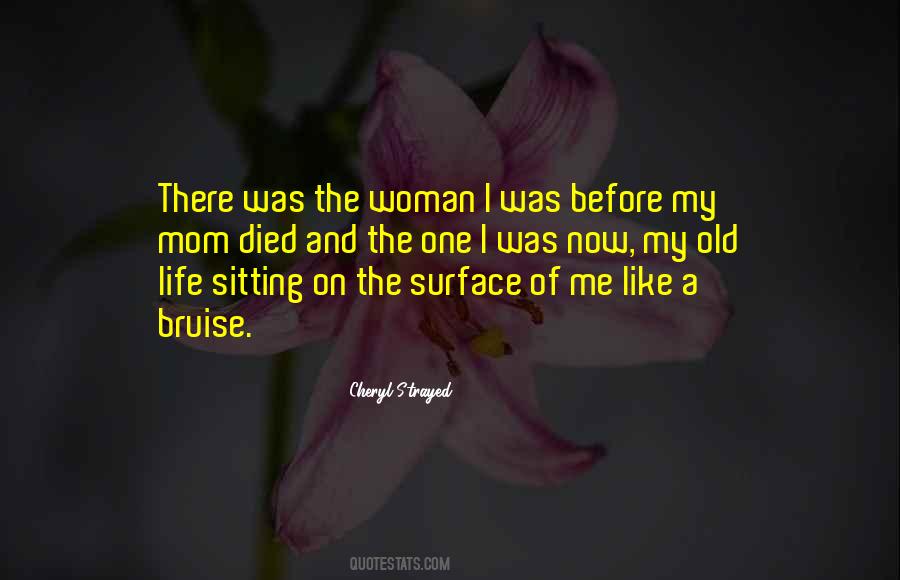 #34. Toronto is a special city, and the environment is perfect for the arts; free and alive. I'm a New Yorker, and Toronto reminds me of a much cleaner New York, so it's like coming home after your mom just cleaned your room for you; for me that's a lovely environment. - Author: Emory Cohen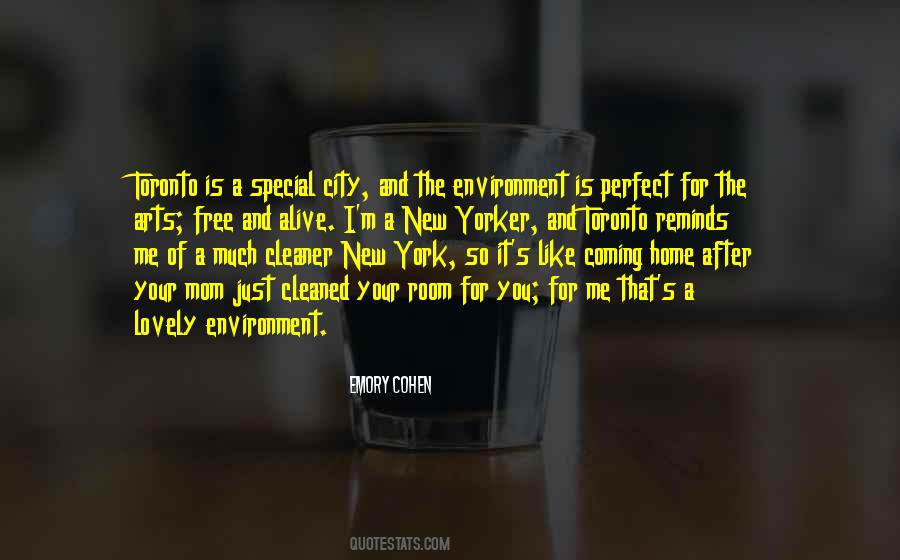 #35. Like I'm listening to a garden seashell for the echo of her take-no-prisoners affection, I lay my head against Mom's cold pillow. - Author: Rodney Ross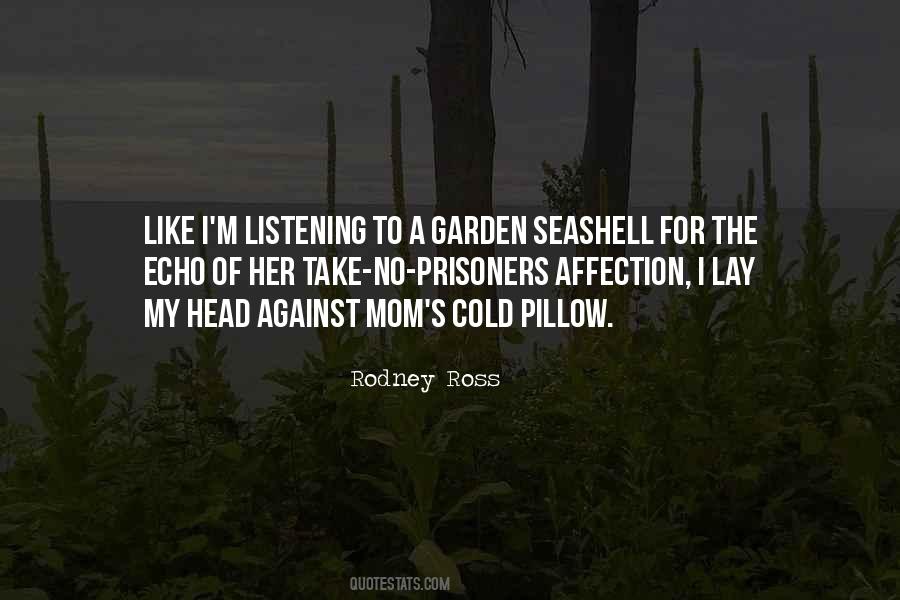 #36. I don't know where my romanticism comes from. My mom and dad would read to me a lot. 'Treasure Island,' 'Robinson Crusoe,' tales of chivalry and knights, things like that. Those are the stories I loved growing up. - Author: Daniel Radcliffe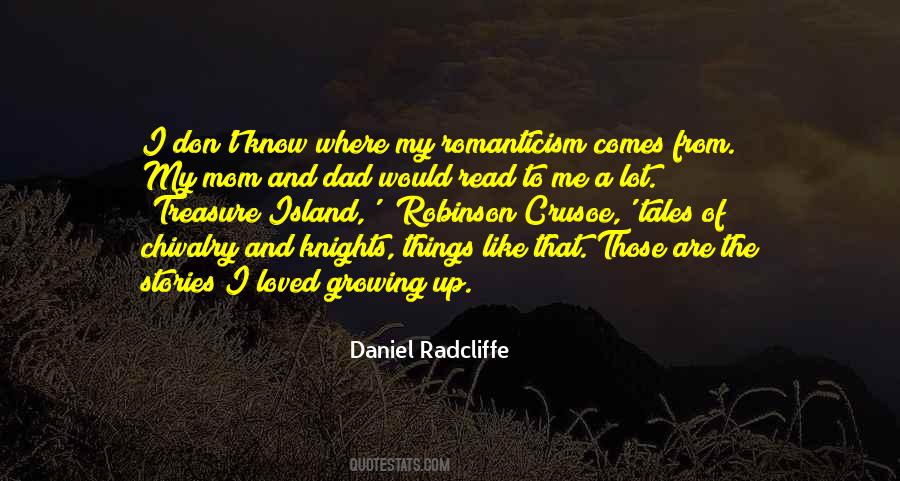 #37. Home. The word still tastes like sandpaper in my mouth. But it makes Mom smile - a tired, true smile - so it's worth it. - Author: Victoria Schwab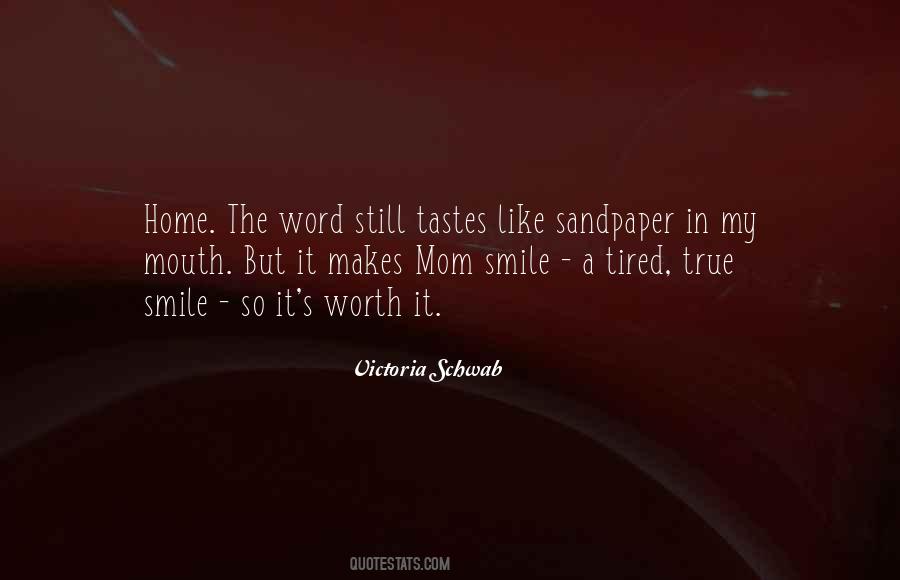 #38. I live in, literally, the same home when I was swiping my first bank card and wondering if I'd have to put back the Charmin. We still don't have a dishwasher. My mom has done all these gardens so now my house looks like the garden shack in the middle of Versailles. - Author: Rachael Ray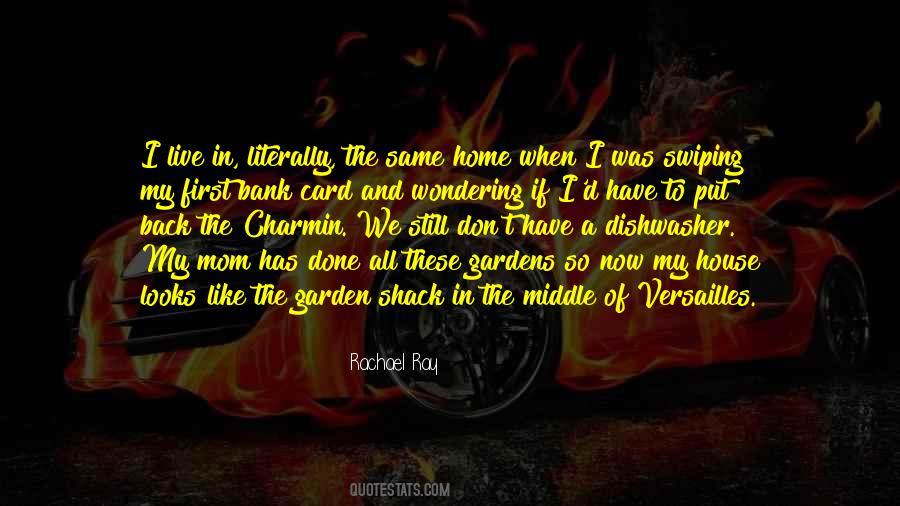 #39. We didn't have a lot of money growing up, so my mom didn't buy a lot of extras, like sweet things. - Author: Julianne Moore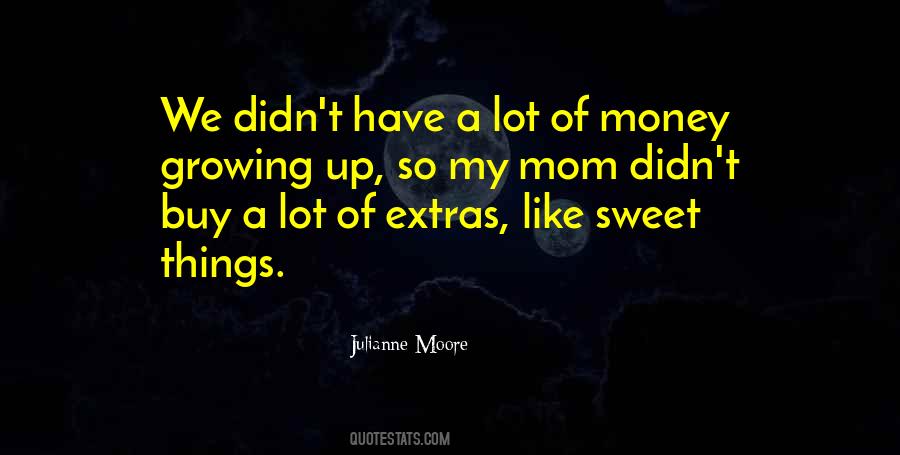 #40. My house has always been like everyone's house. You walk in, you're a part of the family, no matter who you are, what celebrity status you are, everyone is treated the same - with love from my mom. - Author: Vinny Guadagnino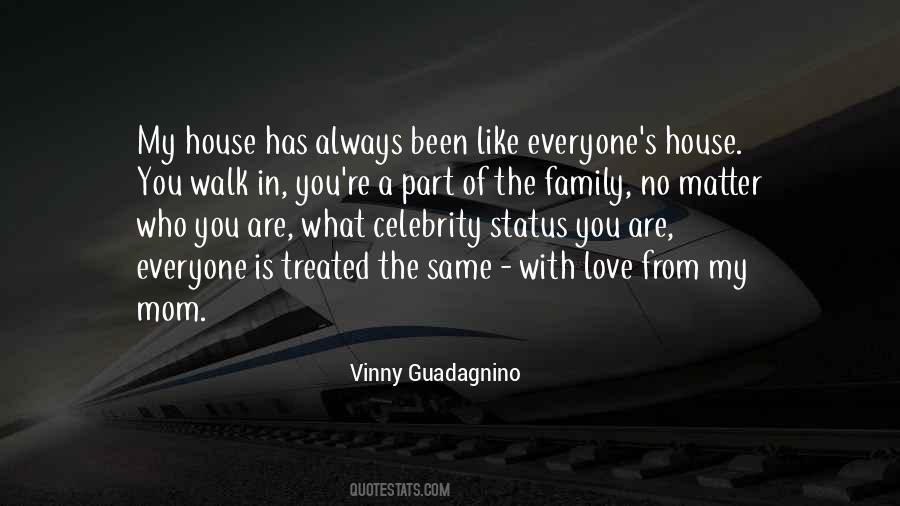 #41. My dad was in a Beatles cover band. My mom wore Candies and belly buttons. The people in our family were very glamorous. They wore pearls like Jackie O. - Author: Azita Ghanizada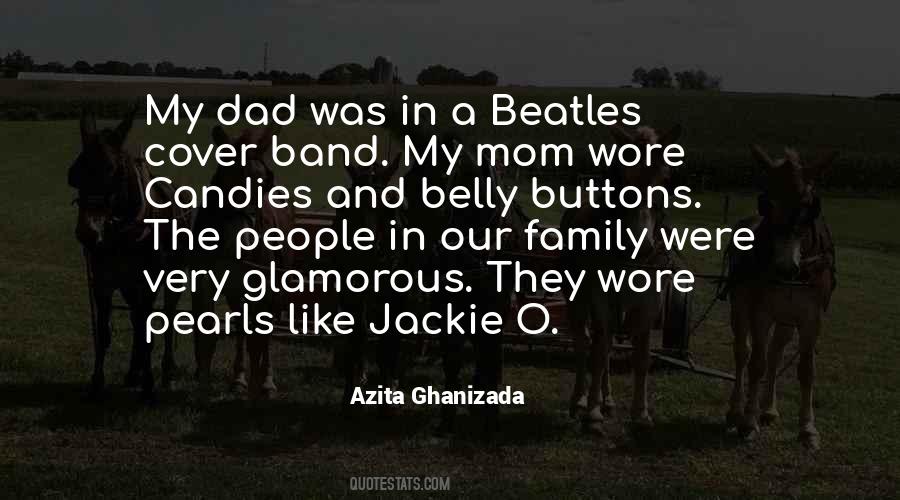 #42. If you start giving your kids anxiety about food, it's going to last a lifetime. Moms have to lead by example. Don't say, "Oh, my jeans don't fit," or "Oh, I was bad." No diets. Nothing like that. - Author: Bethenny Frankel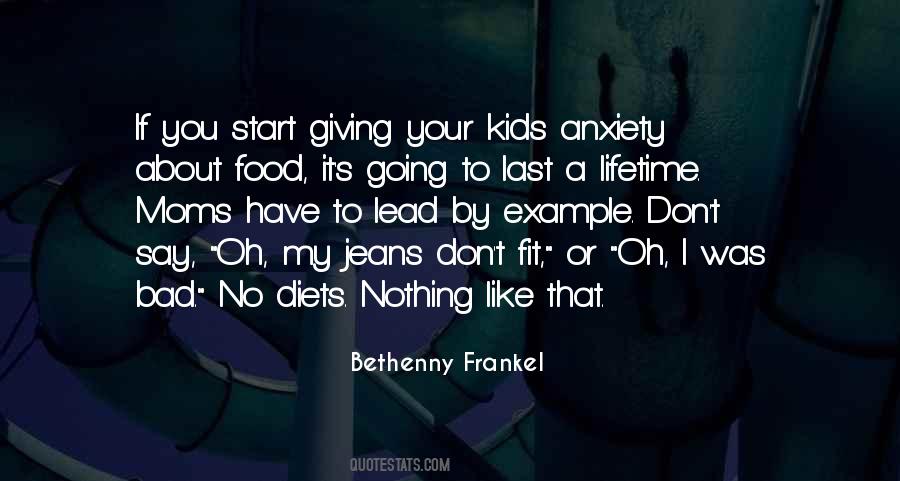 #43. I'd been on 'SVU' before and I'd been on 'Criminal Intent,' but I wasn't a follower. Like, my mom watches every episode, even before I was on it. - Author: Kelli Giddish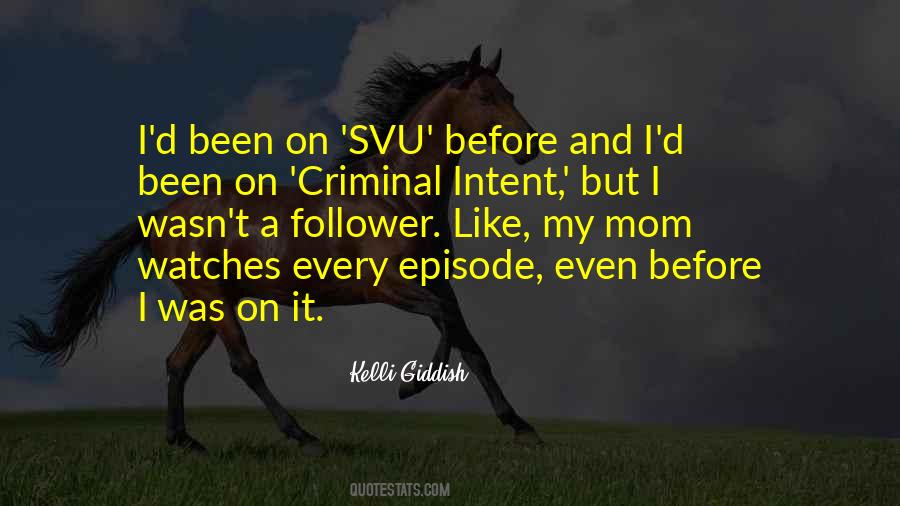 #44. I think like my dad, but I have a huge kinship with my mom. - Author: Marissa Mayer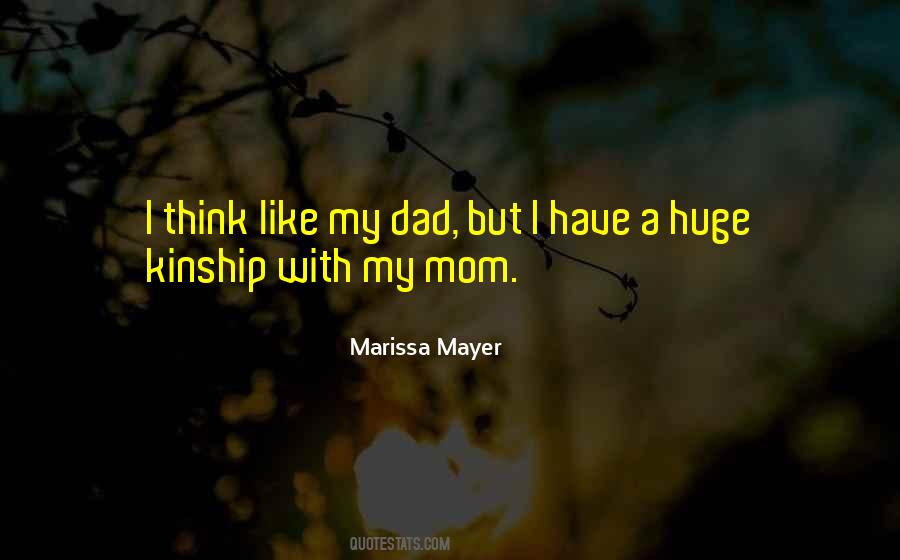 #45. All moms need confidants who are in their shoes and can relate to what they're going through. You need a night out together to be who you are, and not feel like you have to be the career woman, wife and mommy
all at once. After all, we're not superwomen. - Author: Jessica Alba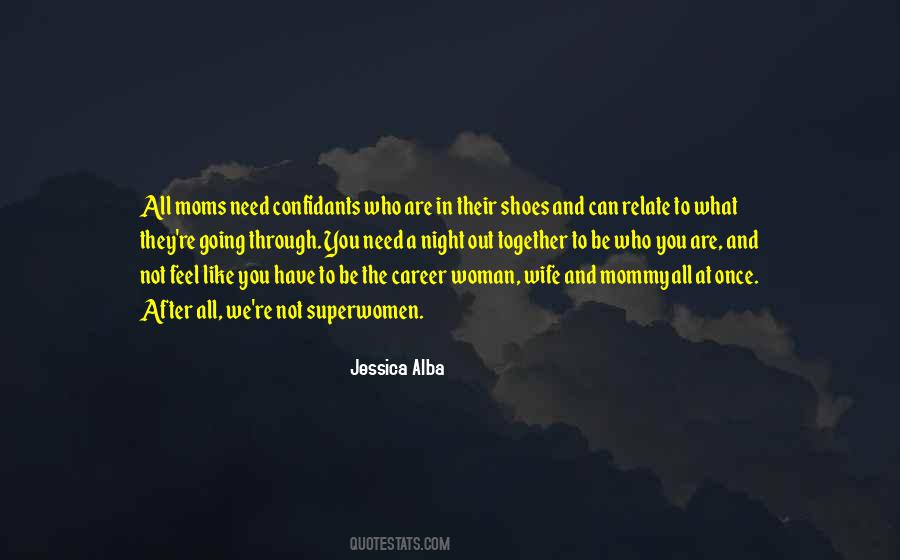 #46. You called me on the phone, saying you were alone,
But that's a lie because I heard your moms breathing on the phone.
And if you really like me, let your moms know
She should mind her business ... before I let go. - Author: K-Solo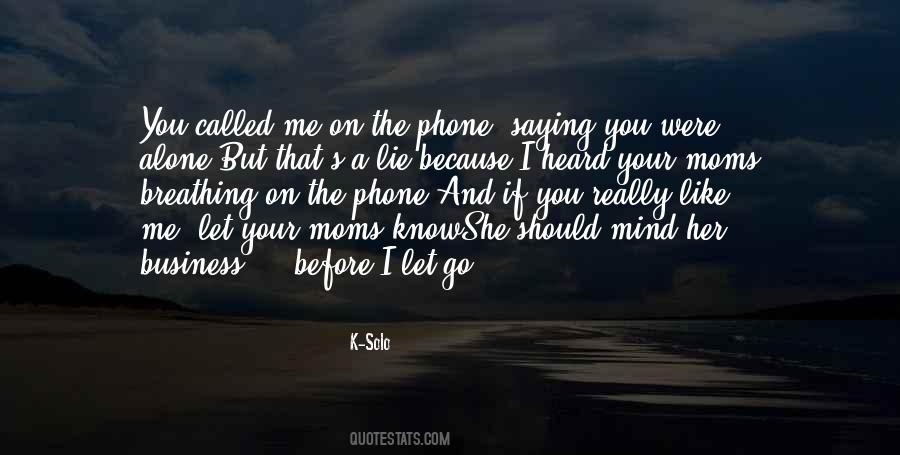 #47. The reward is in the risk. You can't stay hidden inside Grandpa's overprotective cloak forever. You've seemed like you needed to grow out of that for a while. Mom and Dad going away, and the red notebook, these things just helped. Now it's up to you to - Author: Rachel Cohn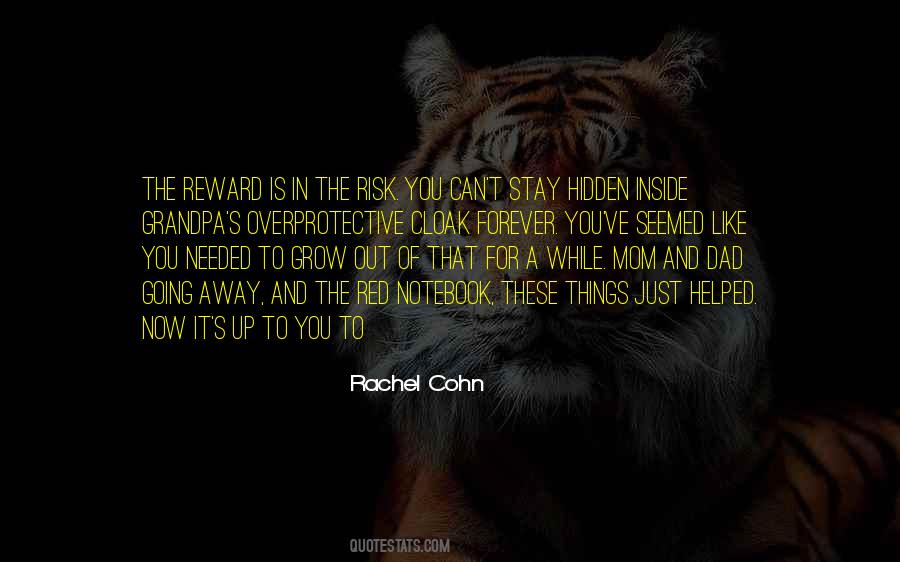 #48. Being a mom is hard, but I don't want people to feel like they always have to go straight to the TV dinner or go to the fast food because you have a busy, hectic life. - Author: Tia Mowry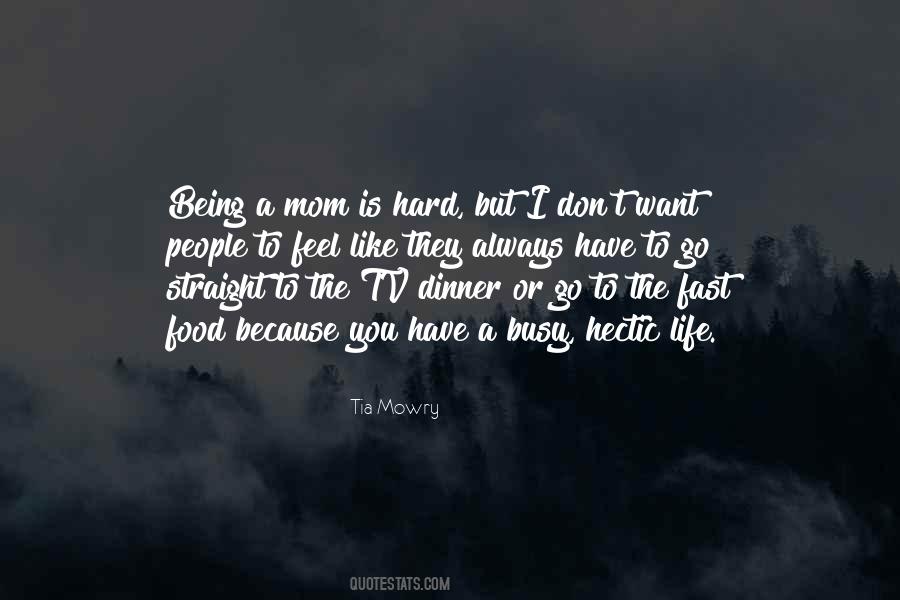 #49. To me, it felt like such a failure. I never thought my mom and I would get that low. I wasn't ready to admit defeat. - Author: Heather Demetrios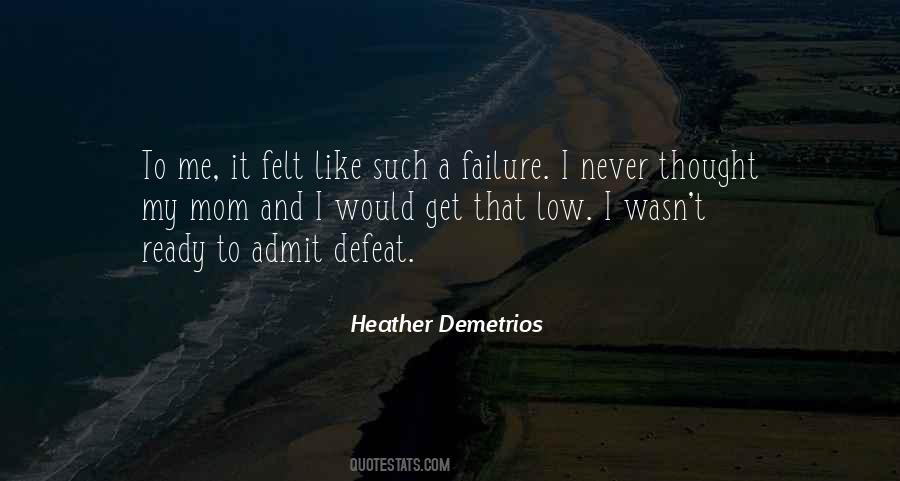 #50. Chanel No. 5 is my perfume when I'm feeling like a lady. It's old-school and warm - and it reminds me of my mom. - Author: Phoebe Tonkin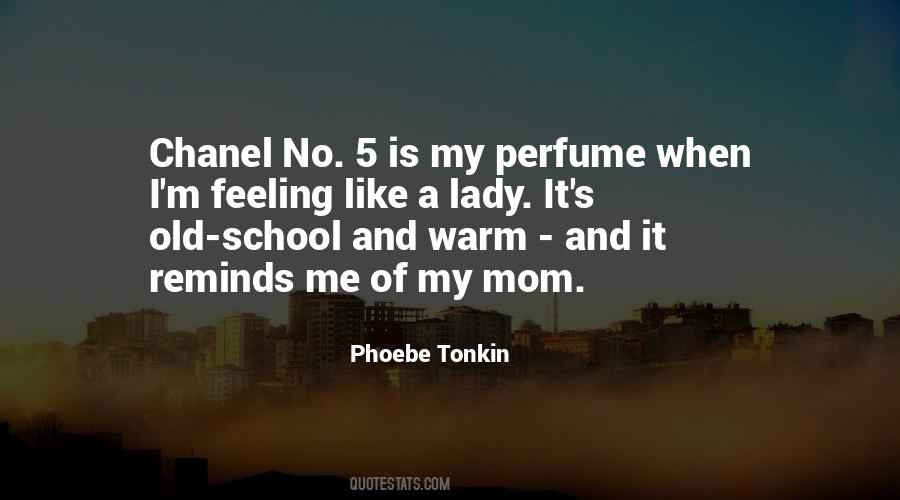 #51. Somethings you know right away to be final- when you lose your last baby tooth ... Other times, you have to work out the milestone via subtraction, a math you do to assign significance, like when I figured out that I'd just blown through my last-ever wednesday with Mom on the day after she died. - Author: Karen Russell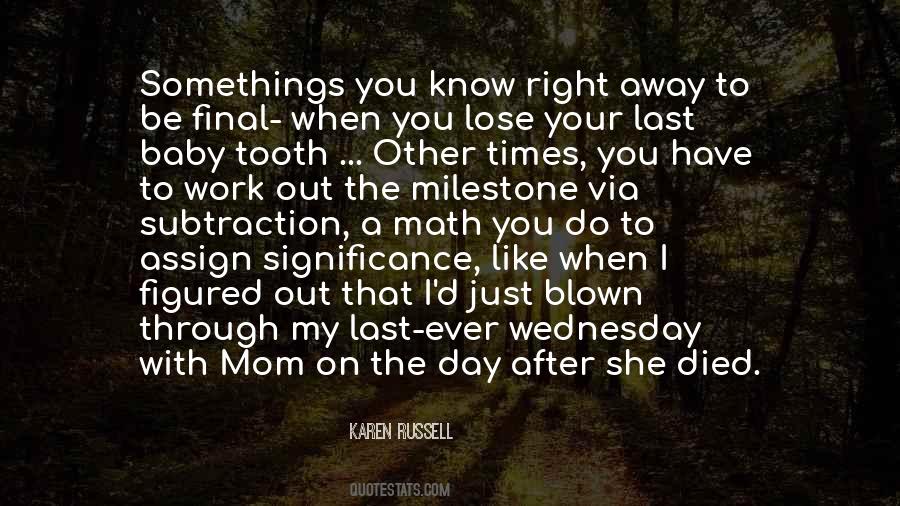 #52. Here is the door of my mom's house, well-remembered childhood portal. Here is the yard, and a set of wires that runs from the house to a wooden pole, and some fat birds sitting together on the wires, five of them lined up like beads on an abacus. - Author: Dan Chaon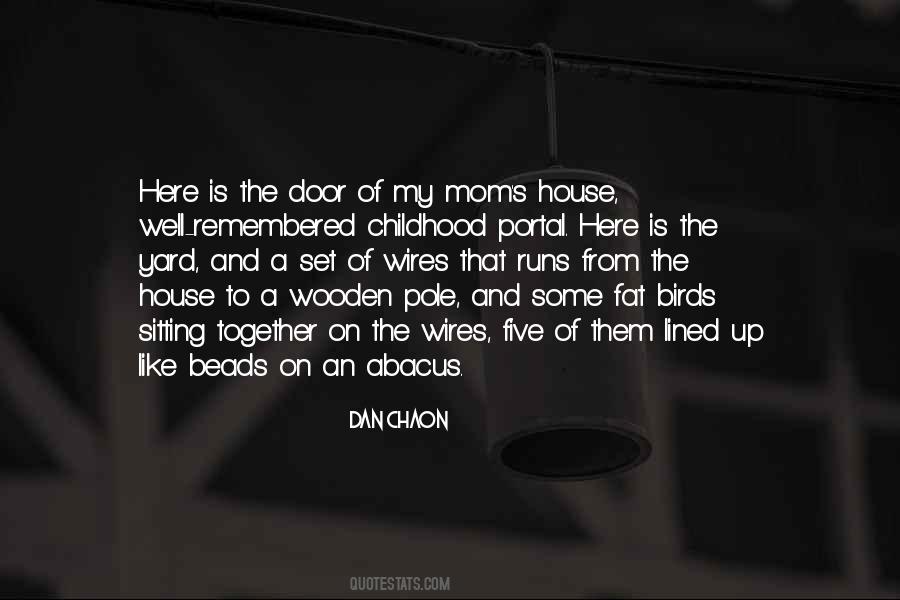 #53. Don't get me wrong. Being a mom is no picnic. Raising the kids is the mother's
responsibility. It's a thankless, solitary job, like sheriff or Pope. - Author: Stephen Colbert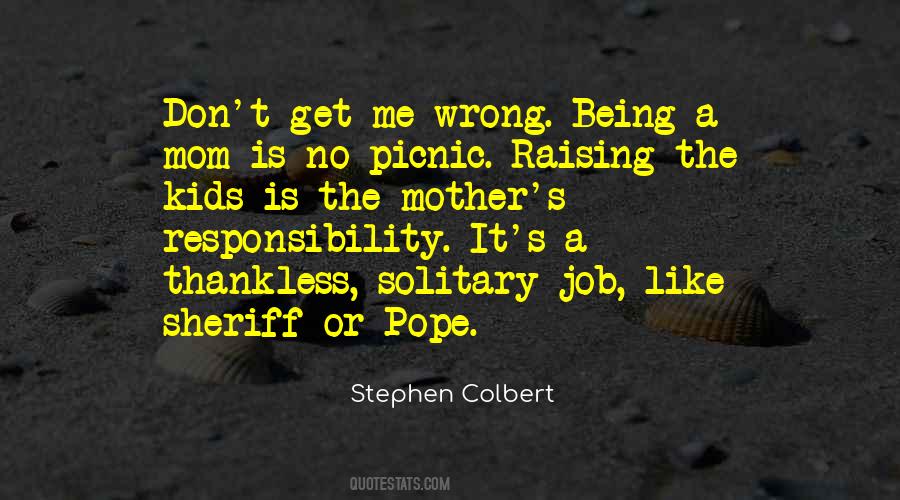 #54. I'm not actually a mom in real life, so it's fun to pretend to be one. I like to approach things the same in art as in life. You can choose to look on the positive side and enjoy whatever roles you're given. You can find the silver lining in anything. - Author: Heather Graham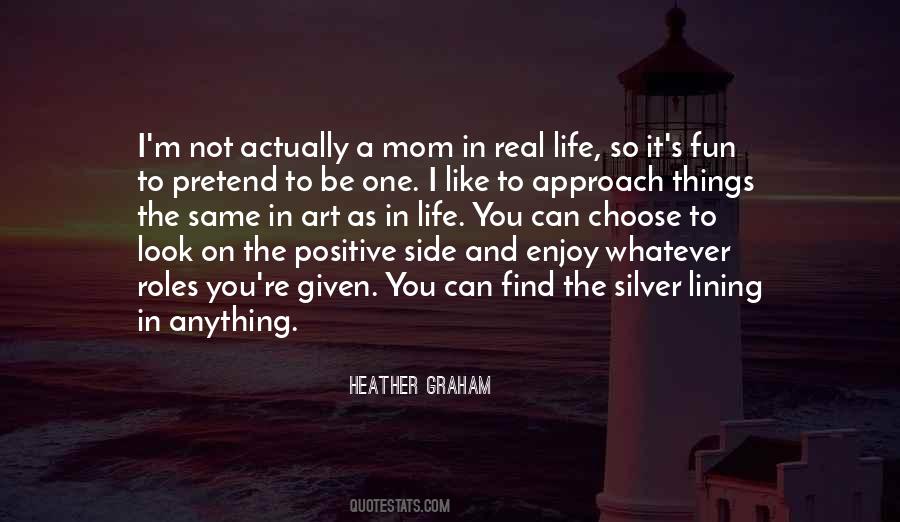 #55. This is the place where anybody - like an African American kid raised by a single mom - can be president. - Author: Jennifer Granholm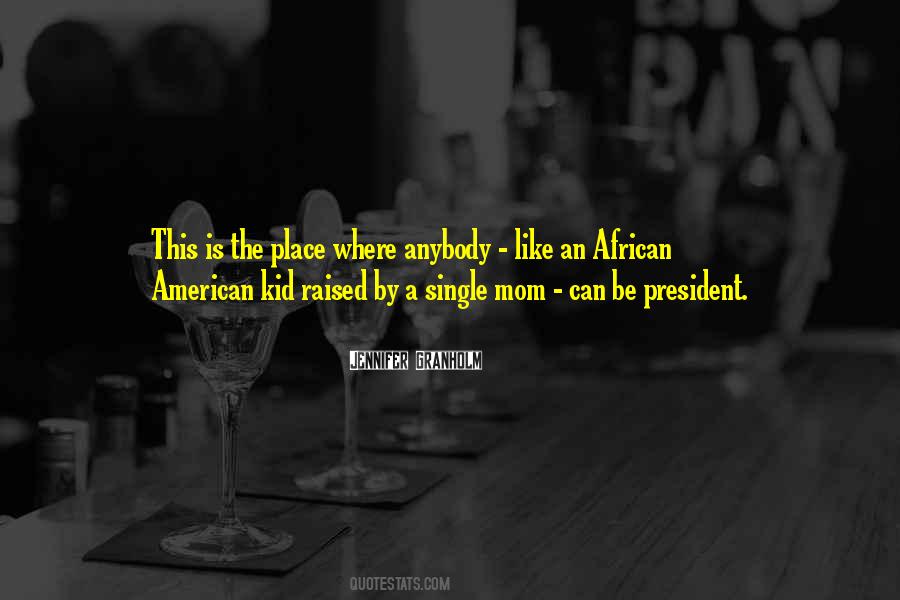 #56. What?" "You're smiling like Mom at a New Kids On The Block concert. - Author: Kelly Oram
#57. I was brought up by a single mom in a poor town in Arkansas and while some aspects of small-town life were really positive - like the fact that everyone there is really sweet and hospitable - there is also this close-minded mentality, and that naturally made me want to rebel. - Author: Beth Ditto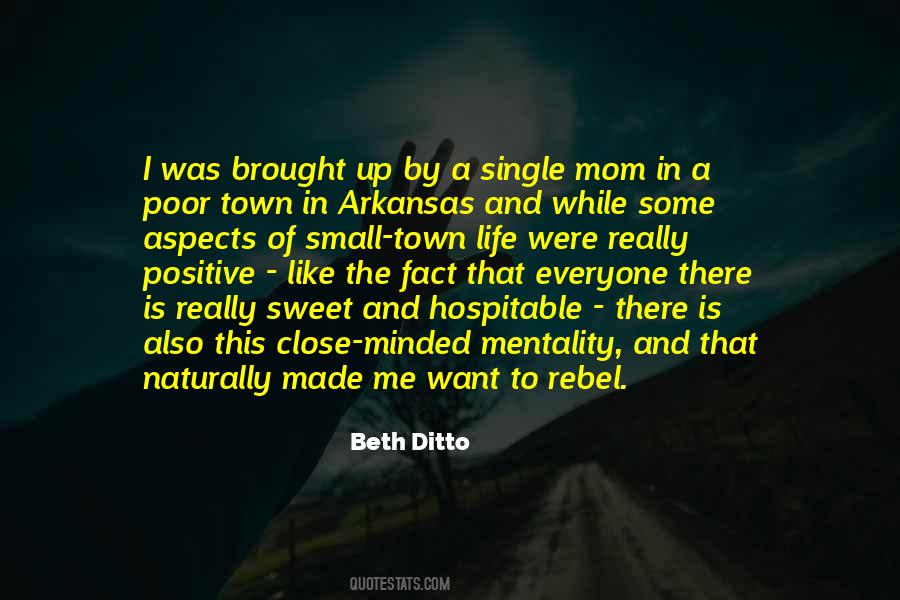 #58. It's like a telescope. My dad, no matter what he's doing, zooms right in so he can't see anything except what's right there with him at that minute. My mom, she's always on wide angle. - Author: Jodi Picoult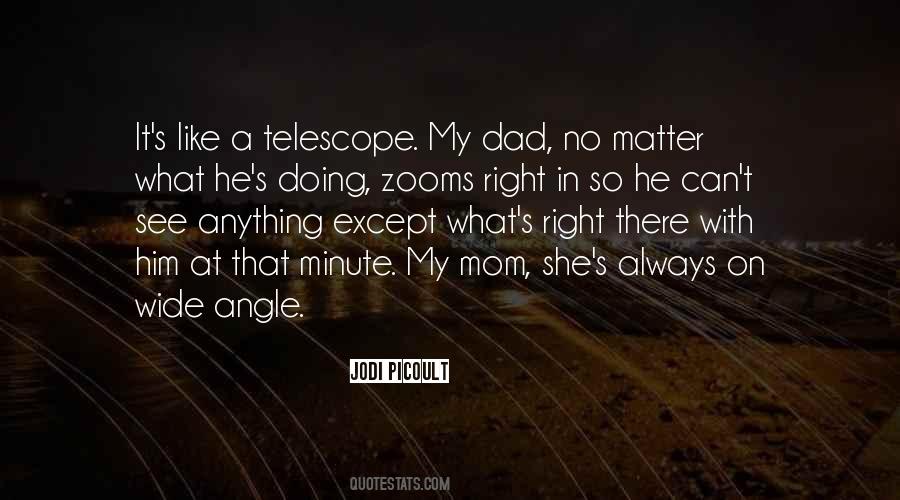 #59. My mom actually had a band called Six Pack - even though there were seven of them - who went around Chicago performing popular songs. Her voice was like Gladys Knight mixed with Aretha Franklin. - Author: R. Kelly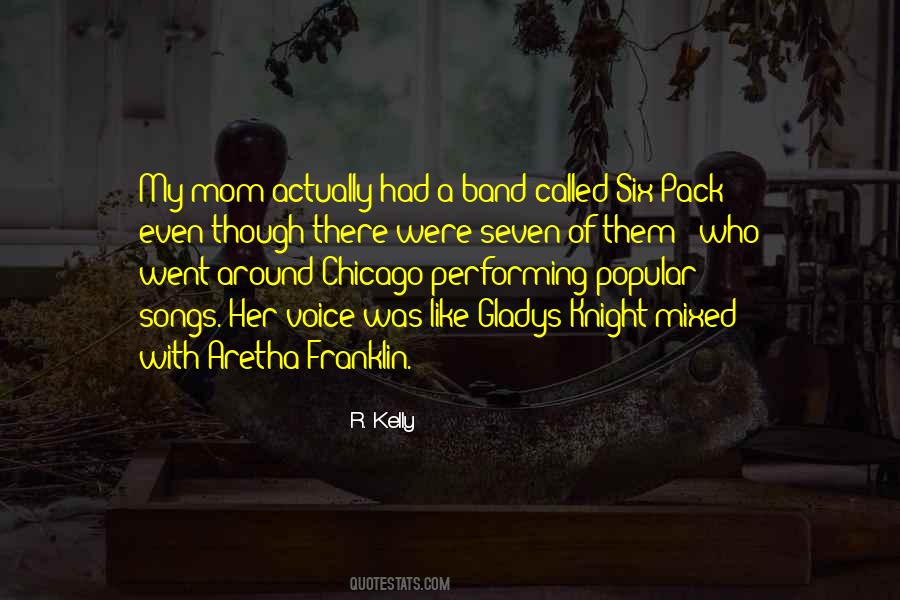 #60. You're not in a cult, are you, Mom?" "Of course not." She looks at me like I just insulted her. "Those people are all nuts. They'll regret having sold you out. I made sure of that. If Paige eats someone, it'll be someone outside their cult. It's the worst punishment they can imagine. - Author: Susan Ee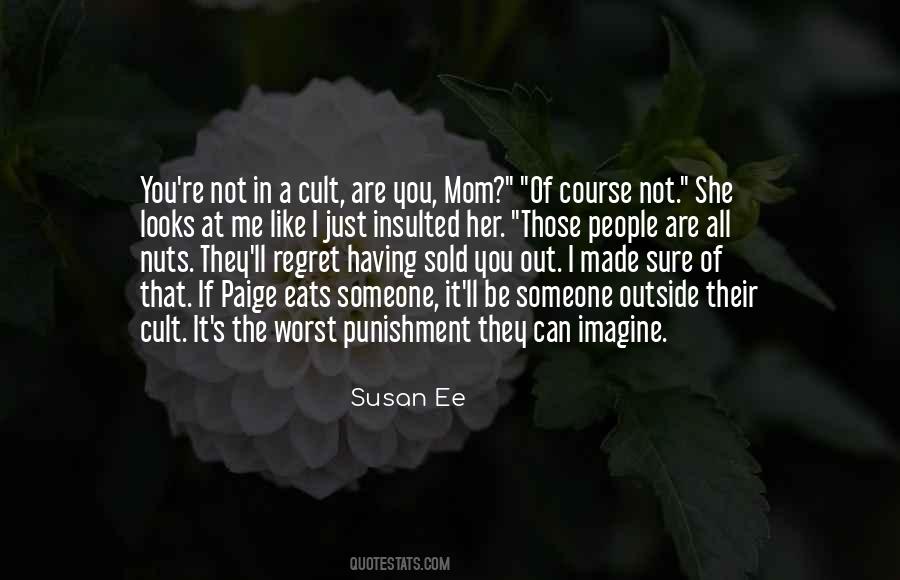 #61. I believe that parts of people like John Garfield and Moms Mabley, the parts of them that I needed to be able to do what I'm doing, came into me. There's a very nice feeling that there are many, many spirits inside of me looking after me ... - Author: Whoopi Goldberg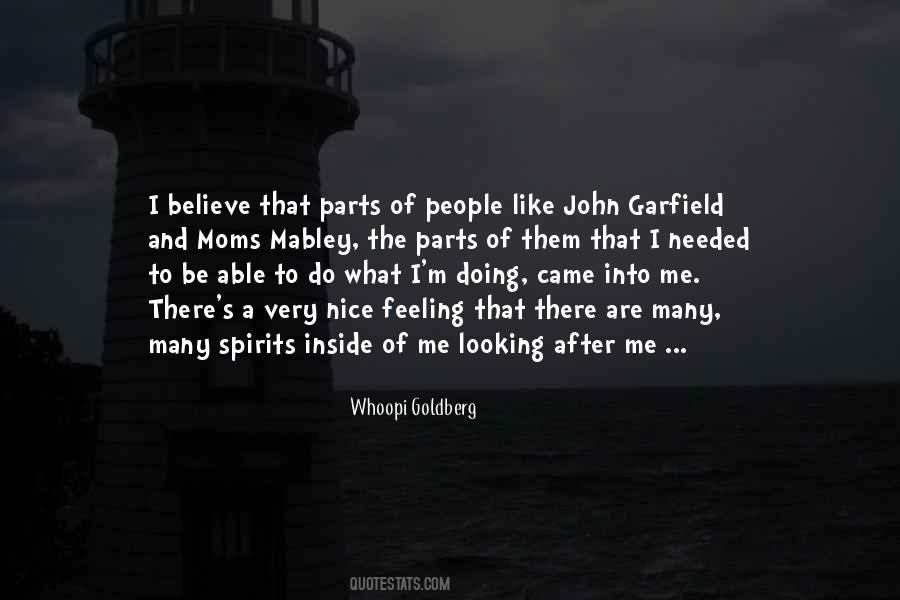 #62. I drew when I was very, very young. My mom kept stuff I drew when I was 2 and a half years old, because it looked like, you know, like a jaguar as opposed to a cheetah. - Author: Dan Povenmire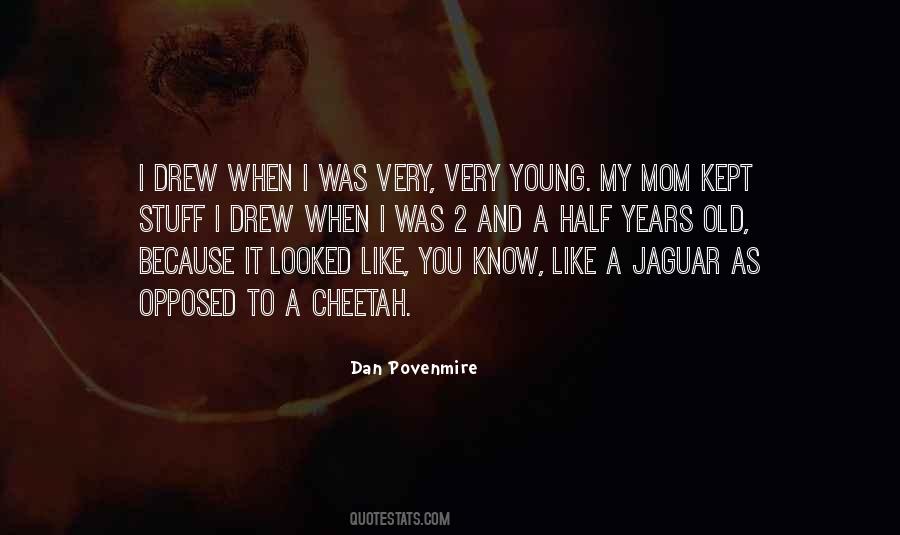 #63. My mom made me go to a Britney Spears concert when I was young. And I was like, 'No, I don't want to!' she was like, 'You're going to be a performer, you need to see other people.' - Author: Avril Lavigne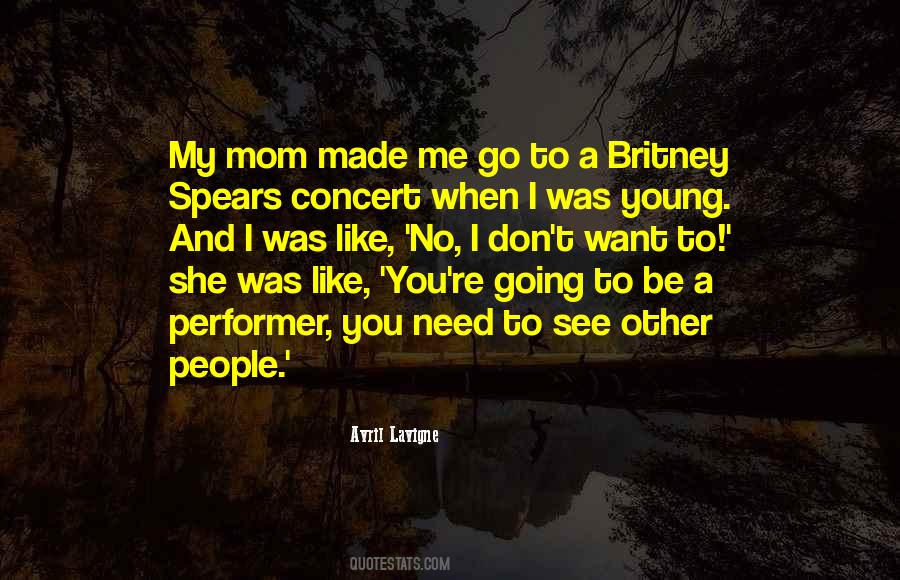 #64. I thought of what my mom had said. "You talk like a man." It was easier to talk like a man than to be one. - Author: Benjamin Alire Saenz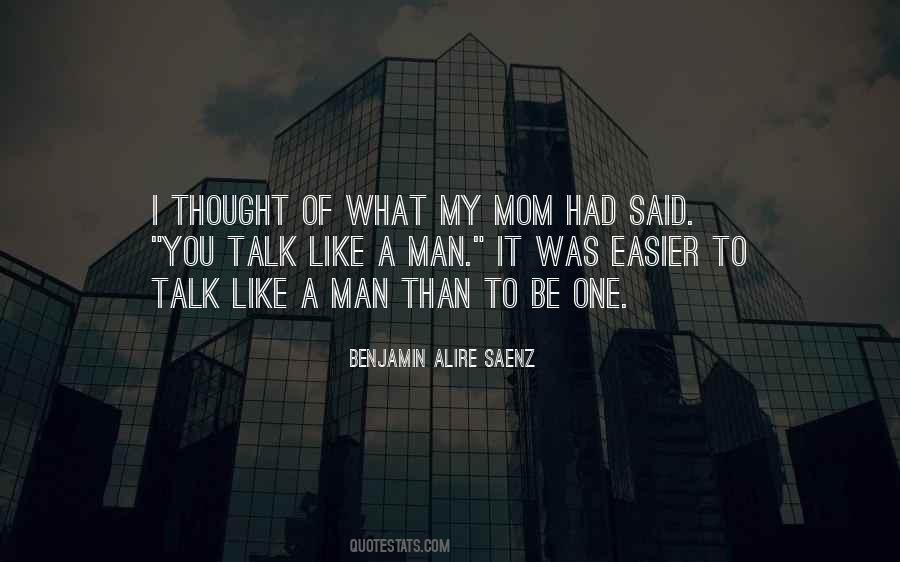 #65. My dad is like a cactus - introverted and tough. I'm a people person, like my mom, but I got my competitiveness from my dad. He came to this country from Belarus with nothing and built a real business. He's my hero for giving me that need to run a business and for having enormous confidence in me. - Author: Gary Vaynerchuk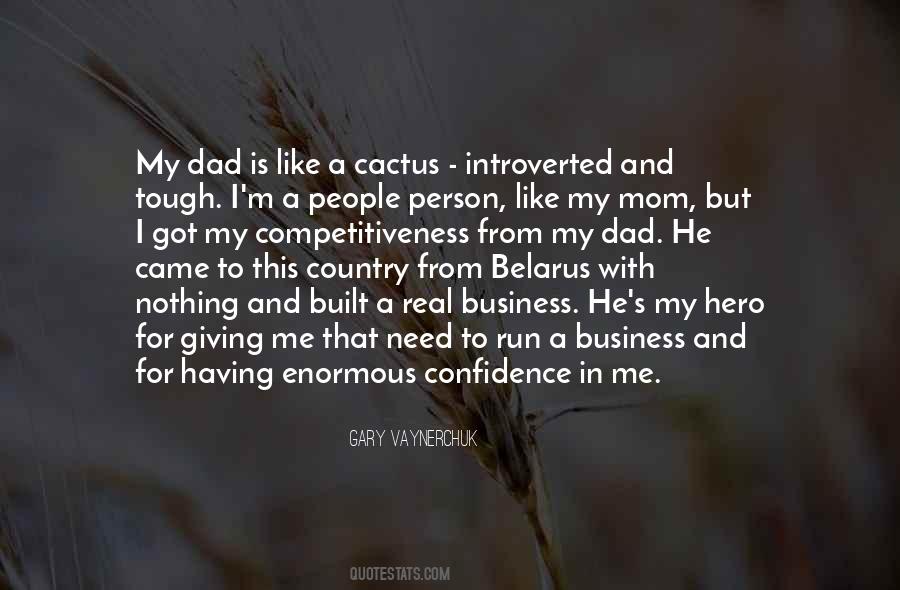 #66. Hmmm ... I think I'd like to be a stay-at-home mom with no kids. - Author: Rainbow Rowell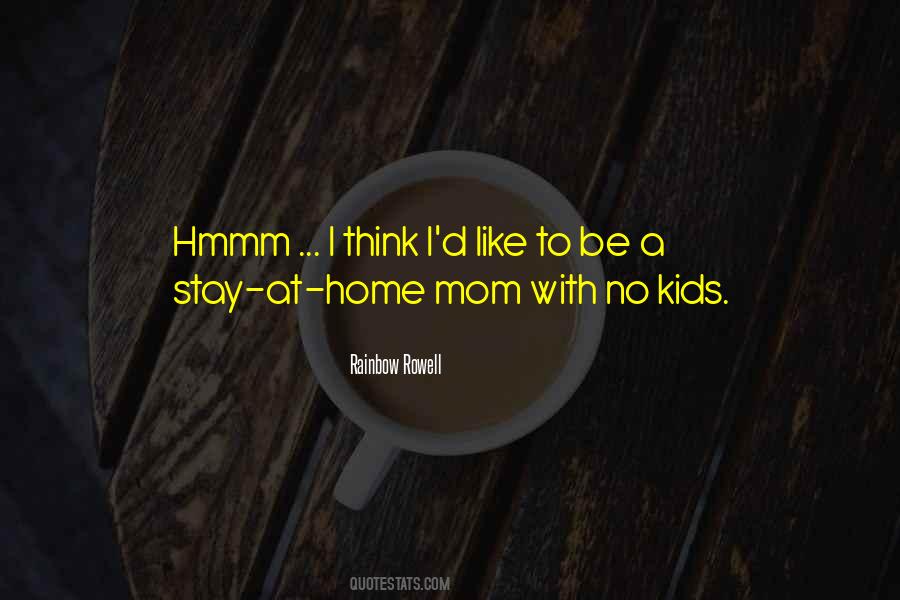 #67. My mom was kinda like a cat. She slept a lot. - Author: Chelsea Handler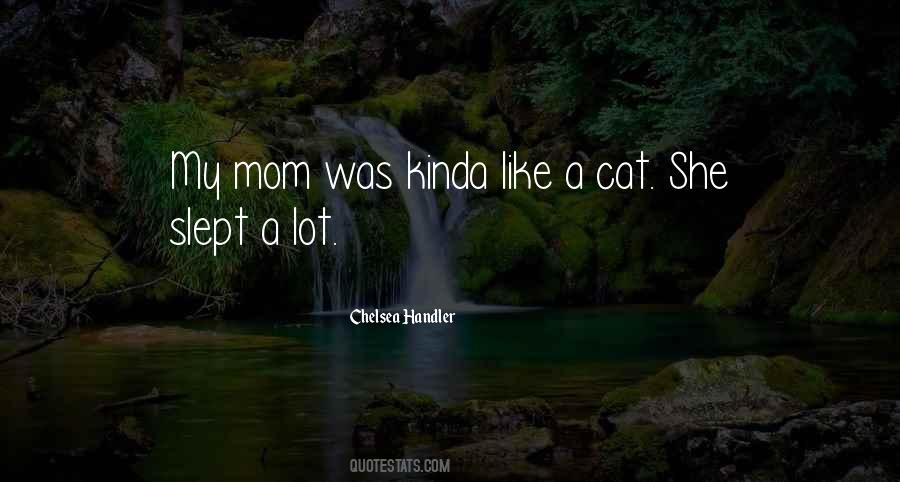 #68. There was a point - when I was a kid - where I said I wanted to be like Luke Skywalker, with blond hair and blue eyes. My mom right there told me to never be ashamed of who I am. - Author: Chaske Spencer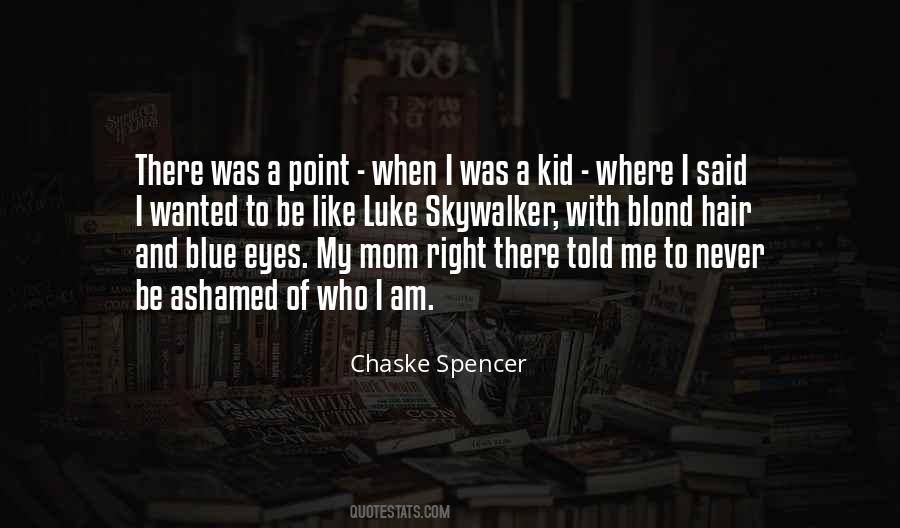 #69. When I was 11 my friend's mom made a peanut butter sandwich. I ate the sandwich and was like, 'I'm never eating anything else again.' And I still eat peanut butter every day. I would put peanut butter on a steak. - Author: Aasif Mandvi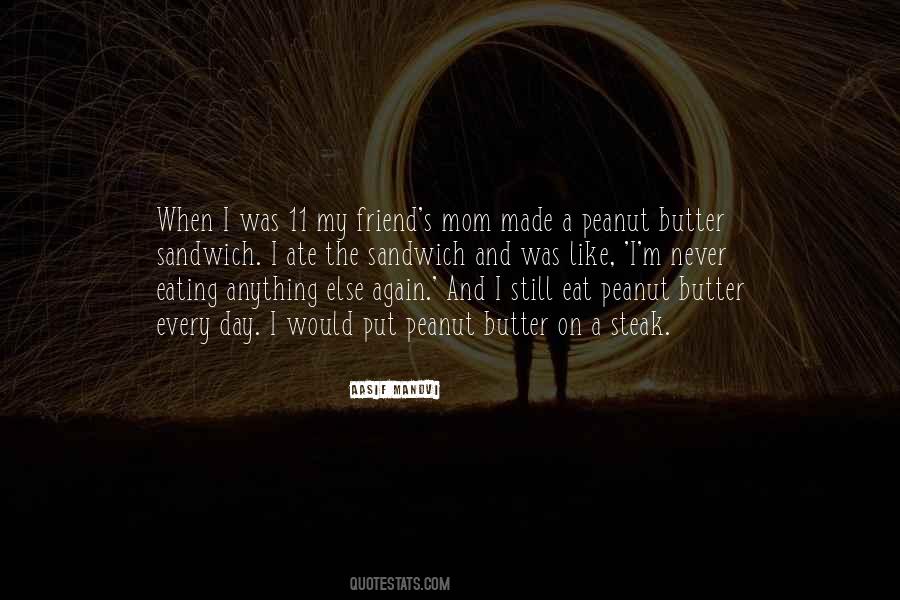 #70. Lily," Mom said, "we need to talk."
I don't think I'm ruining the surprise by pointing out that nothing good happens when someone starts a speech like that. - Author: Chloe Neill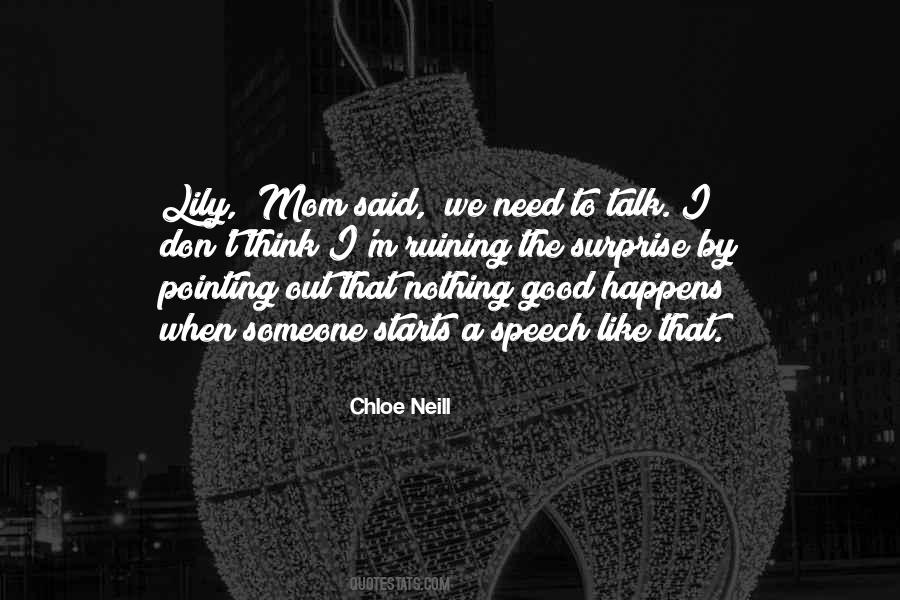 #71. I wondered what the FML post would look like.
"Today, when my father tried to shoot me, I found out he was an assassin monger who's been keeping my mom locked away in a secret facility for freaky killers. FML."
Seriously. F.M.L. - Author: Jus Accardo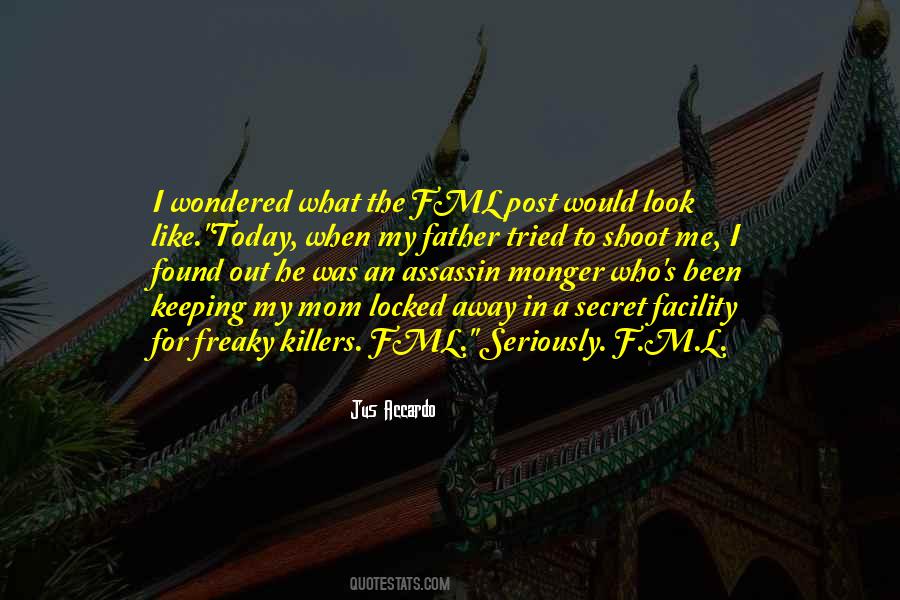 #72. I was probably 8 years old; my mom let me stay up one night. She's like, 'You have to see this movie.' It was 'A Streetcar Named Desire,' and it was on TV, and it was a big deal. And I saw Marlon Brando, and I was like, 'Oh, my God.' That's where it started. - Author: Mark Ruffalo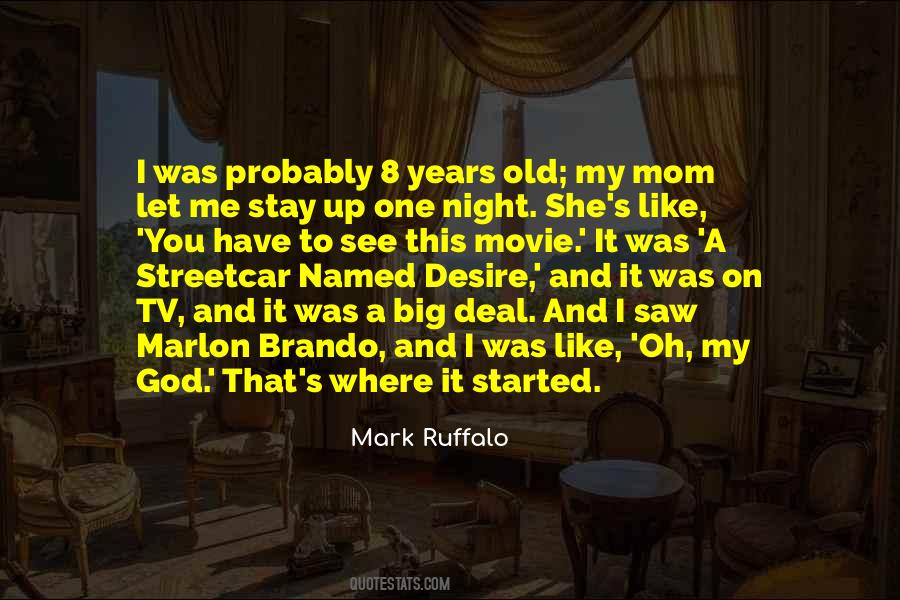 #73. I told my mom I was going to do a movie about a son who hears a story about his mom and takes her on a cross-country road trip, and I wanted to actually take the trip with my mom to see what it would be like to drive cross-country with your mom. - Author: Dan Fogelman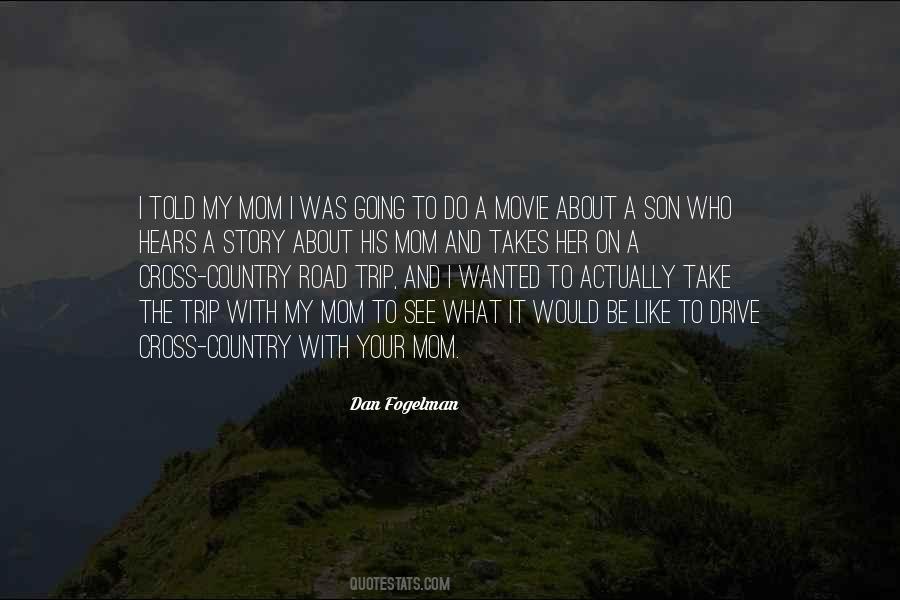 #74. My mom was such a strong character. I don't want to say she was like a man, but she was tough. - Author: Lance Armstrong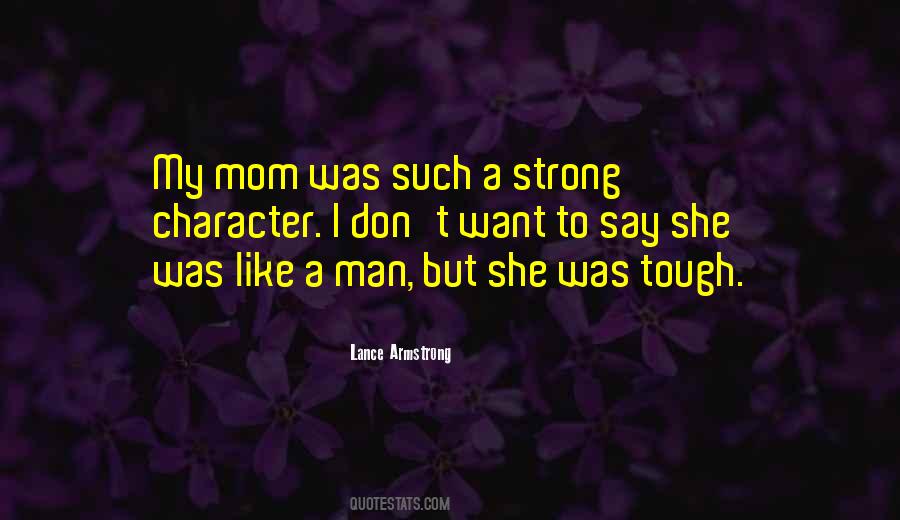 #75. Words define us,' Mom continued, as I struggled to make my clumsy marks look like her elegant script. 'We must protect our knowledge and pass it on whenever we can. If we are ever to become a society again, we must teach others how to remain human. - Author: Julie Kagawa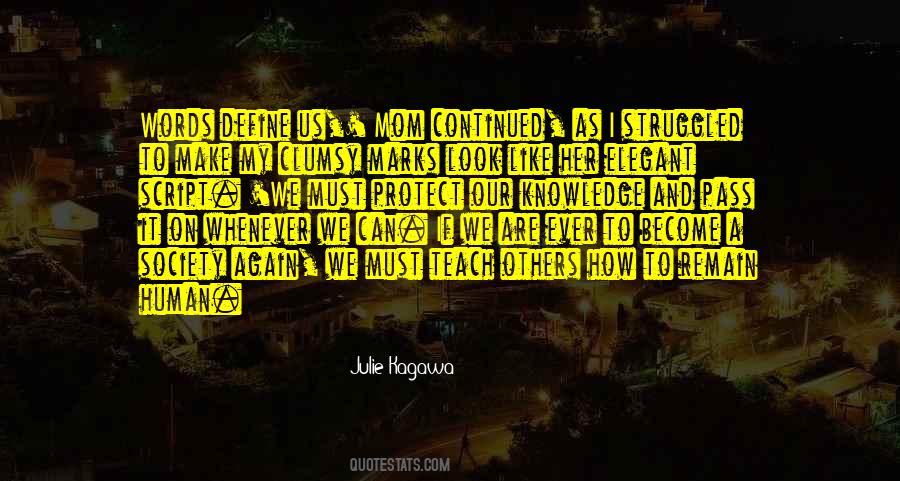 #76. We bask in the scent of cinnamon before
Mom puts a scone her plate.
'His name is Rich,' she says.
I select a scone too.
'I like a man with an adjective for a name. - Author: Kelly Bingham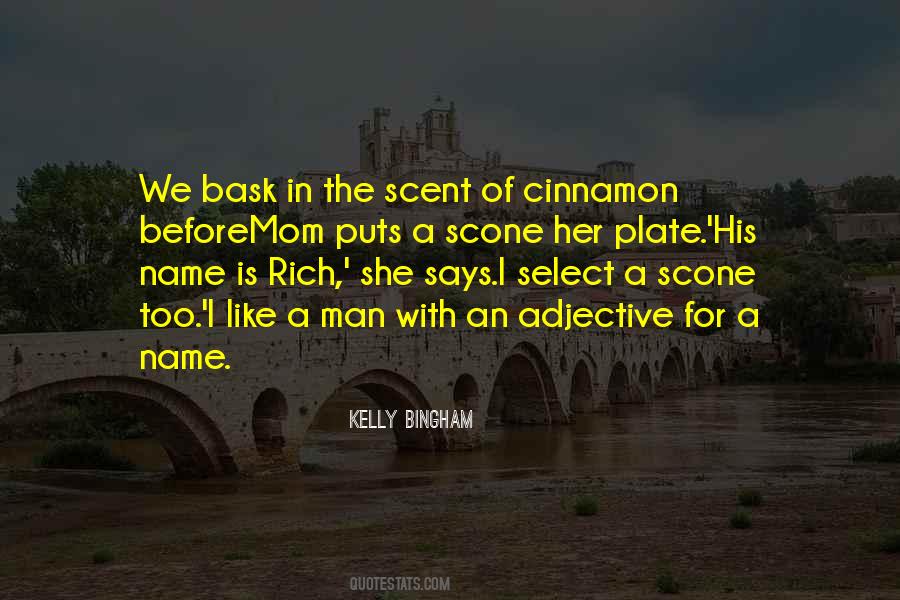 #77. I'm not a doctor or scientist. I'm just a mom. But I do think there's a genetic predisposition, and there are environmental triggers. I feel like that combination, in my child's case, is what resulted in autism. - Author: Holly Robinson Peete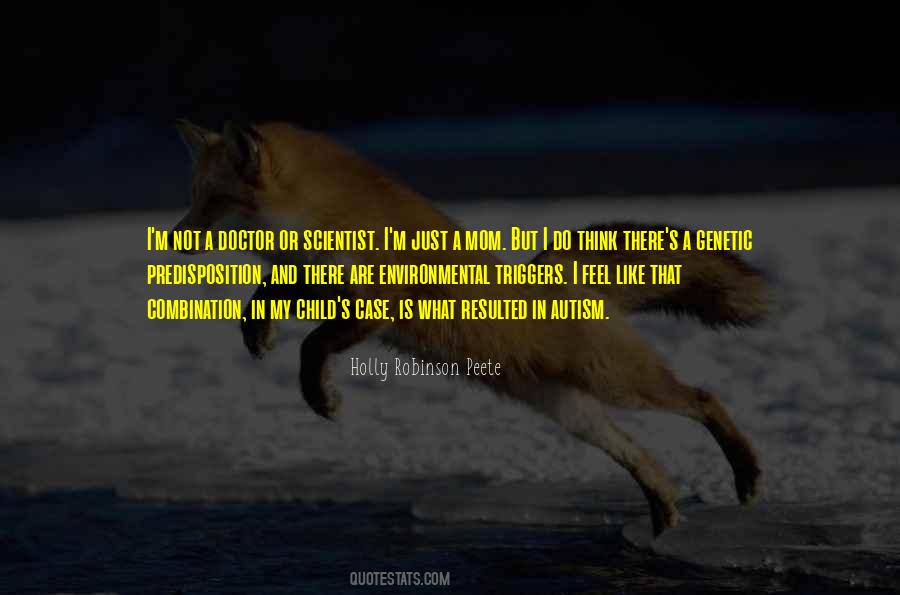 #78. I'd never really babysat. I feel like I'm Blair, or 'Gossip Girl.' A teenager, basically - and now suddenly I'm a mom? - Author: Cecily Von Ziegesar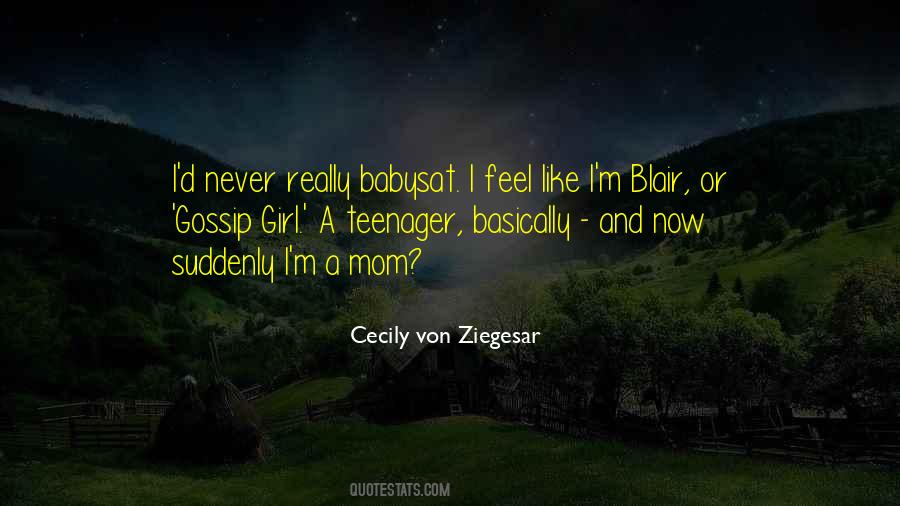 #79. Sometimes being a MOM is like a good
ol' country song! You lose your sleep, you lose your hair, you lose your patience, you lose your energy, you lose your memory AND you lose your SANITY! But you DO IT all for LOVE! - Author: Tanya Masse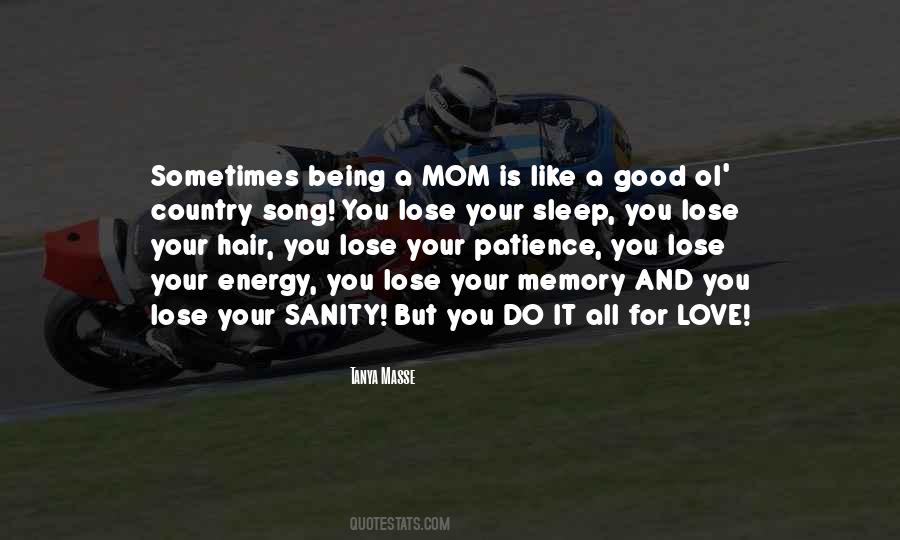 #80. I'm married to a white man, and then my daughter came out looking like the whitest white child with blonde hair and blue eyes. And I'm like, 'Omigosh, now what am I going to do?' She has my mom's features and is lighter than my husband. And my boy is browner than I am. Brown eyes and really tan. - Author: Karyn Parsons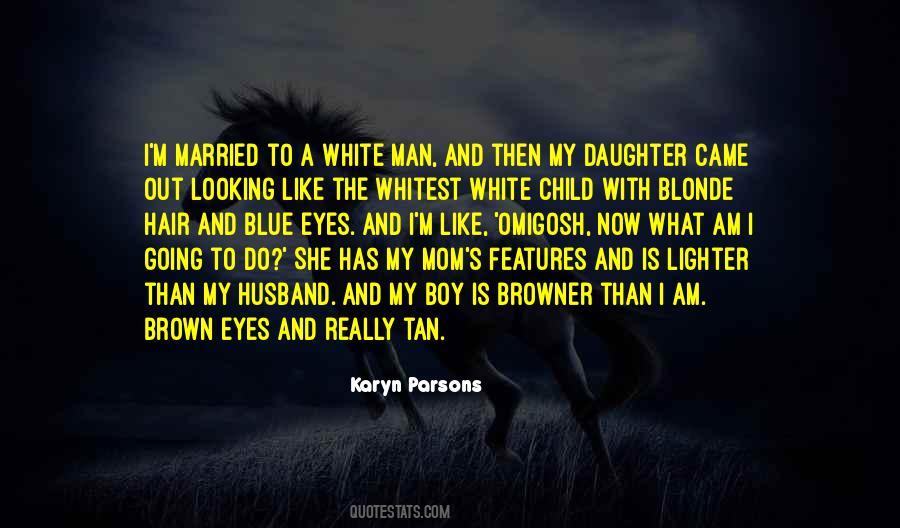 #81. I was going to be a writer. One person believed I could do it: my mom. Having her faith in me was like carrying around the Hammer of Thor. - Author: Michael Easton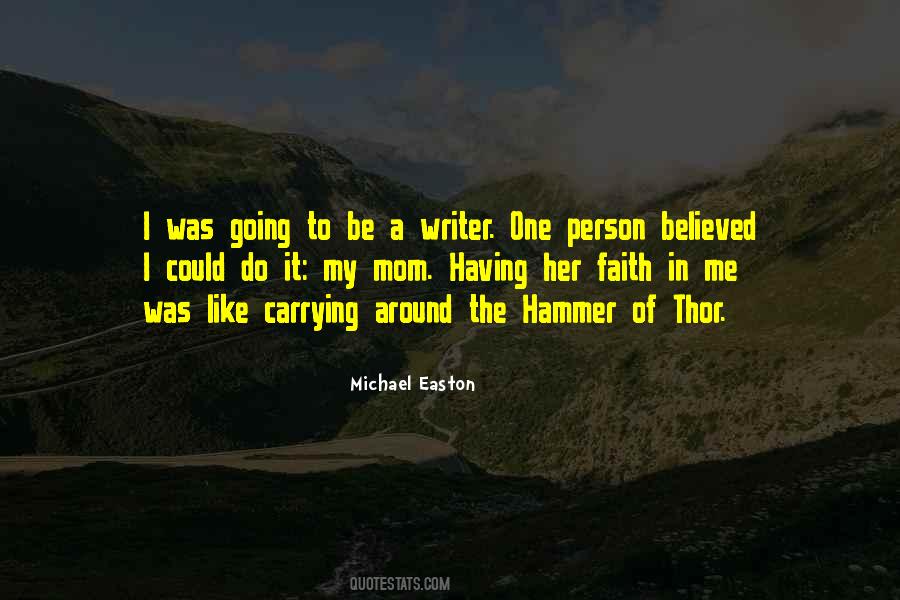 #82. We'll make it a blowout like in the olden days."
"When dinosaurs roamed the earth?" Teddy asked.
"Exactly," Dad said. "When dinosaurs roamed the earth and your mom and I were young. - Author: Gayle Forman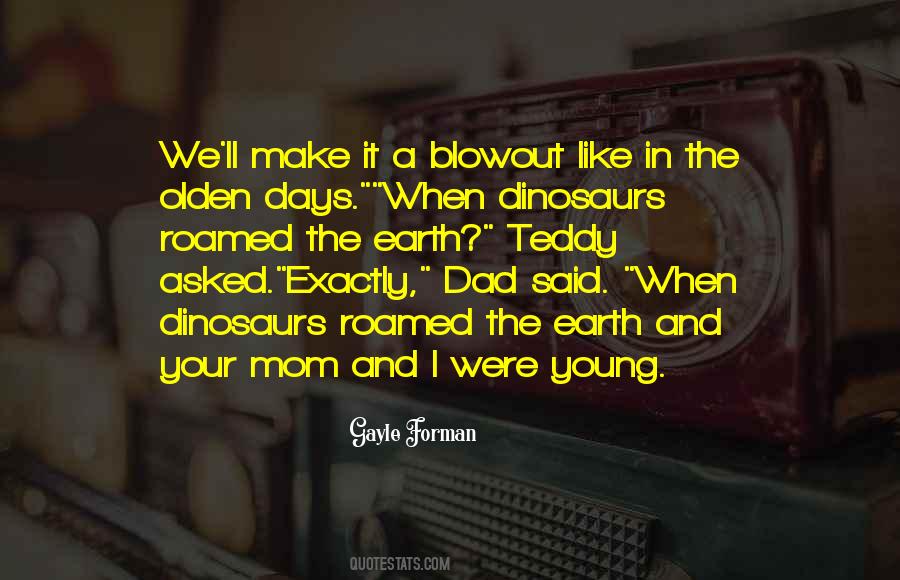 #83. I care for her about my mom like a Maggie (three Donalds per serving). - Author: Jarod Kintz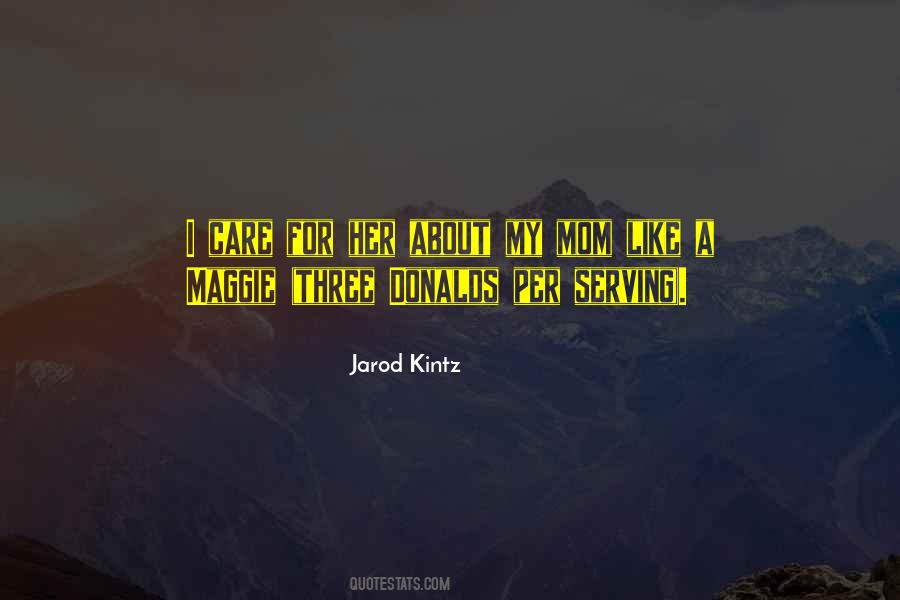 #84. A little while after we'd moved into the depot, we heard Mom and Dad talking about buying us kids real beds, and we said they shouldn't do it. We liked our boxes. They made going to bed seem like an adventure.
pg. 52 - Author: Jeannette Walls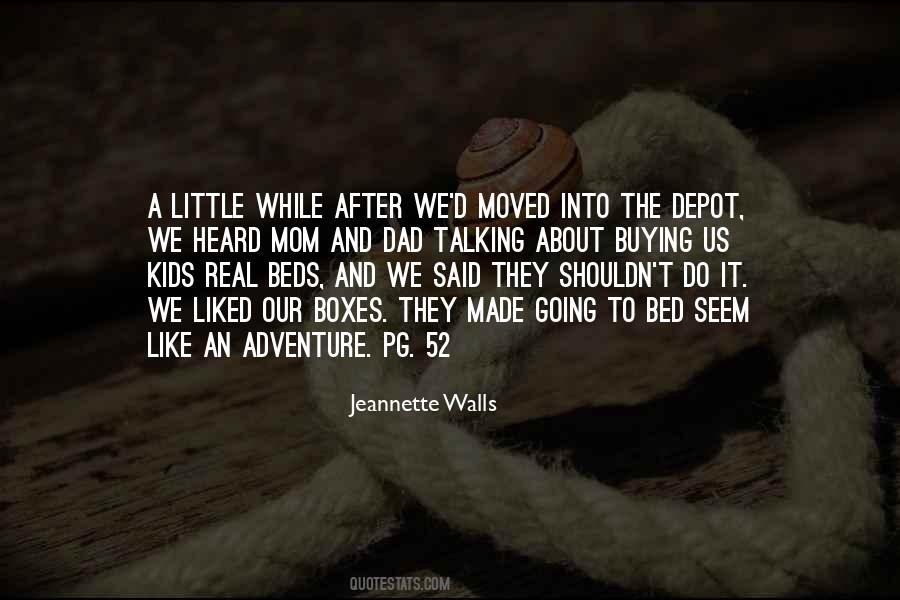 #85. I'm not really out in the world all that much. I mean, I live with no phone signal, in the hills surrounded by trees, and I have, like, a mom and two baby deer that come by all the time, and my dogs and the squirrels are in a full-on feud every morning. - Author: Brie Larson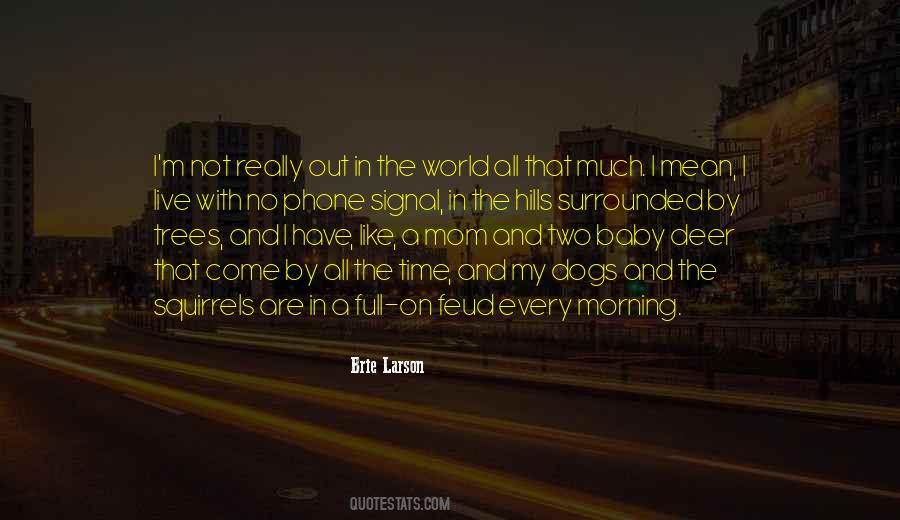 #86. My mom brought me up to be a feminist. She would always point out to my brother and me that our culture does often portray women like objects. - Author: Joseph Gordon-Levitt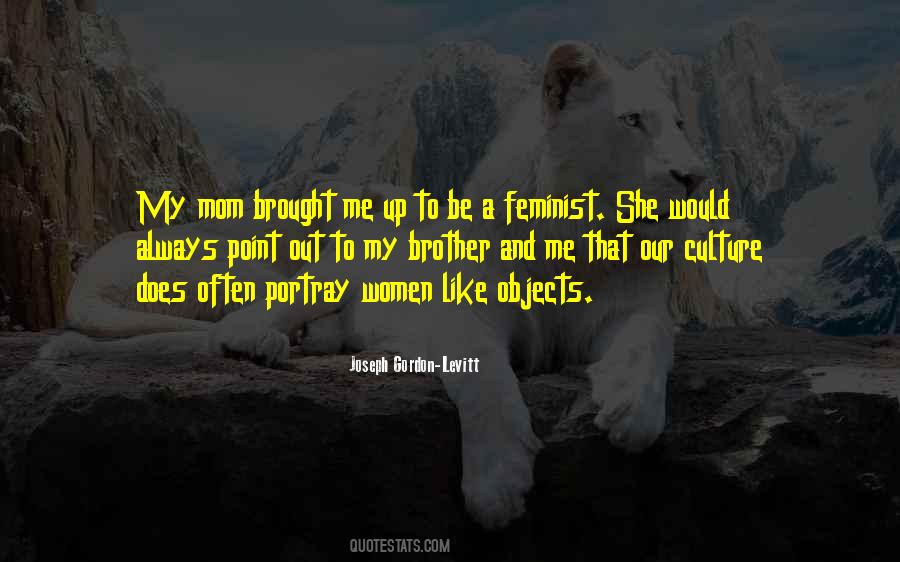 #87. Mom says good health is like buying an appliance at a garage sale. You do the best you can to make sure it's in good shape and then leave the rest to God. - Author: Dandi Daley Mackall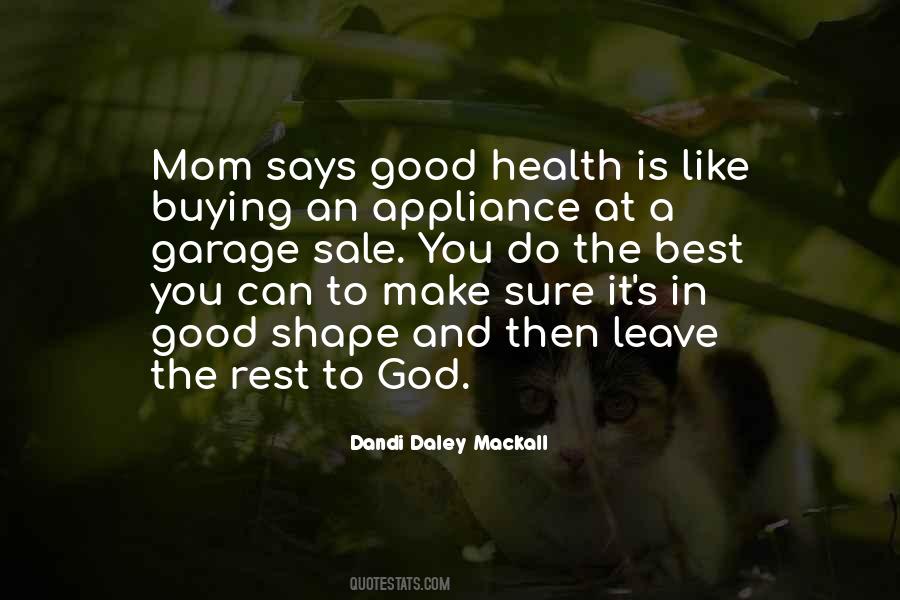 #88. If Mom was feeling ambitious, she scribbled a small list of items beneath the word, but seeing as her handwriting is virtually illegible, we won't know what's in each box until we actually open it. Like Christmas. Except we already own everything. - Author: Victoria Schwab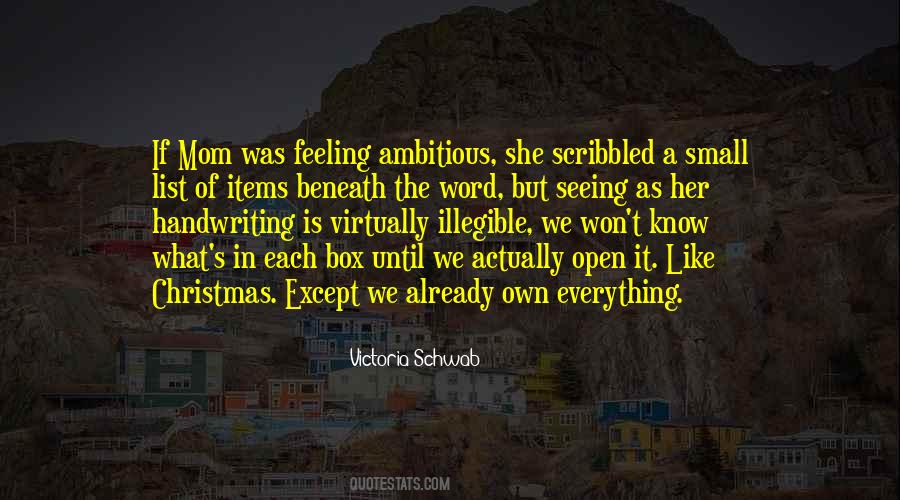 #89. Like many women, I stay active juggling many aspects of a very full life! I'm a busy mom. I also love to travel, garden, cook and volunteer at my kids school. - Author: Jane Clayson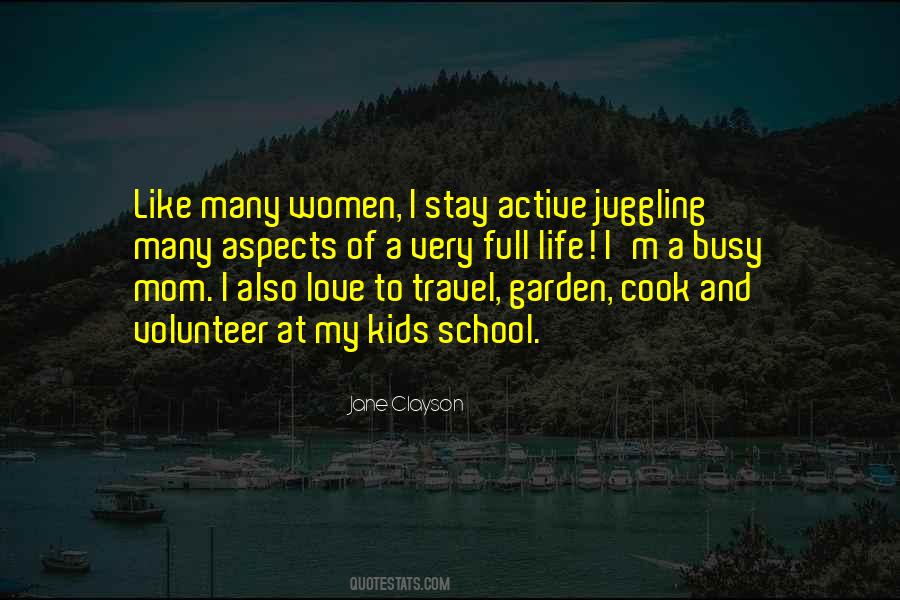 #90. Mainstream culture is like your mom: It's always a little late to catch on and gets easily confused by technology, but it means well. - Author: Chris Hardwick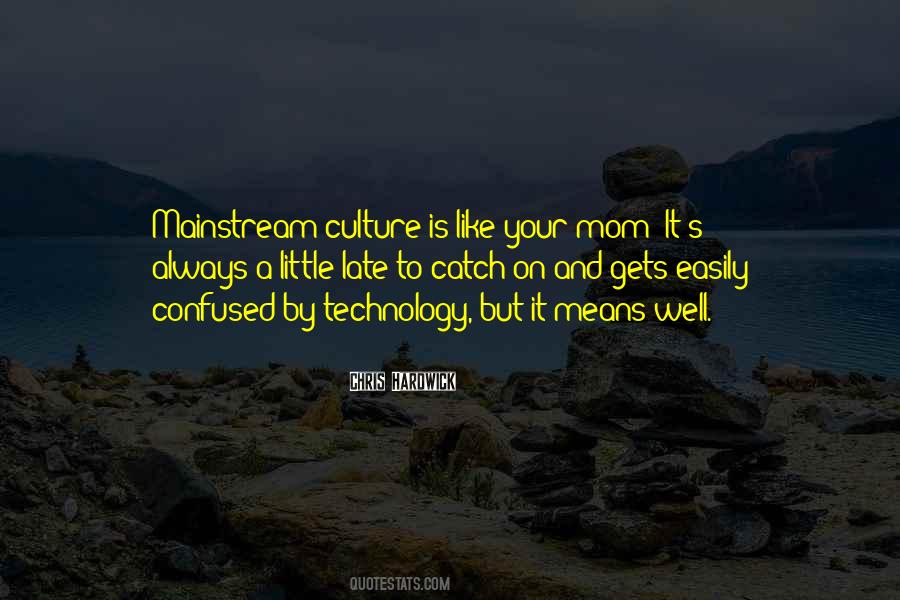 #91. But when I was a little girl, my mom always told me to be nice to everybody, no matter what they looked like or how they treated me, because I never knew who might be an angel God had sent to Earth in disguise. - Author: Jennifer Echols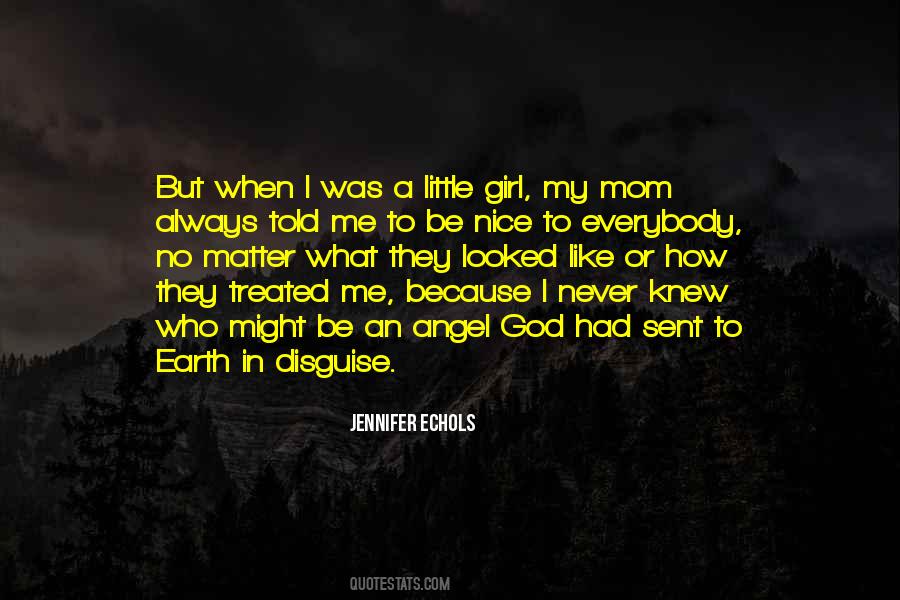 #92. I don't believe in making five-year plans. I don't want to say, "Yes, I want to have children in the next five years," because I don't know. I've always known that I'd like to be a mom, but I don't want to live by a schedule. If I [did], I wouldn't be living in the moment. - Author: Charlize Theron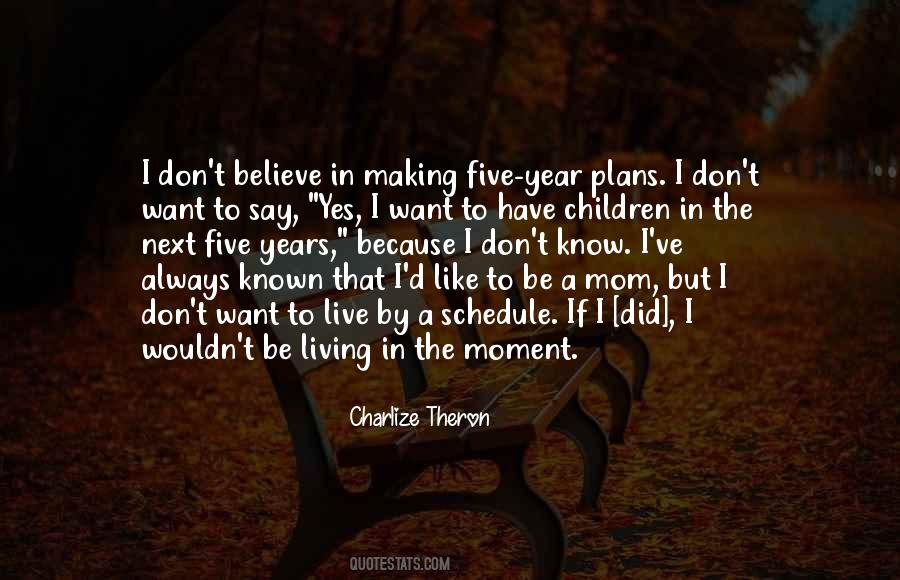 #93. That's the hardest thing about being a mom. You want to be cool, and you want them to like you all the time, but you can't always have that. You're gonna have times where you have to say no, and you won't be the most popular person in the house. - Author: Martina Mcbride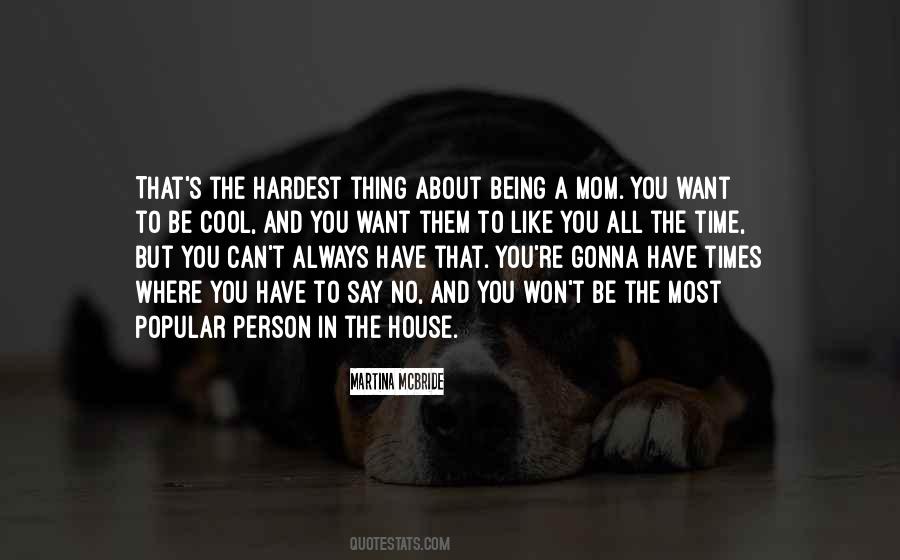 #94. There's a reason I always look nice when I go to work." I kept a scowl on my face while she hustled me upstairs.
"Because you'll get fired if you look like a slob?"
"Because, my little grouch, it makes me feel better on the inside if I like how I look on the outside. - Author: Stephie Davis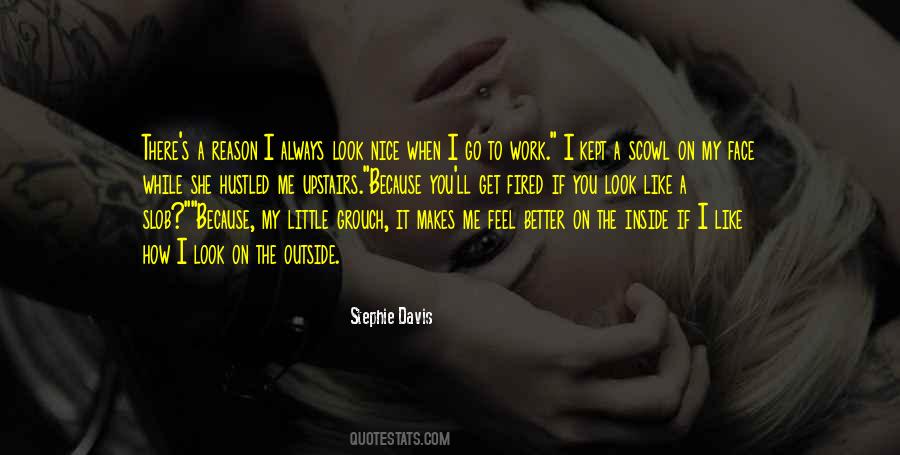 #95. It's like my characters, all my men are Dad and me in a mess; all my female characters are smart and hopeful, like Mom just trying to make the best of things. - Author: Bret Easton Ellis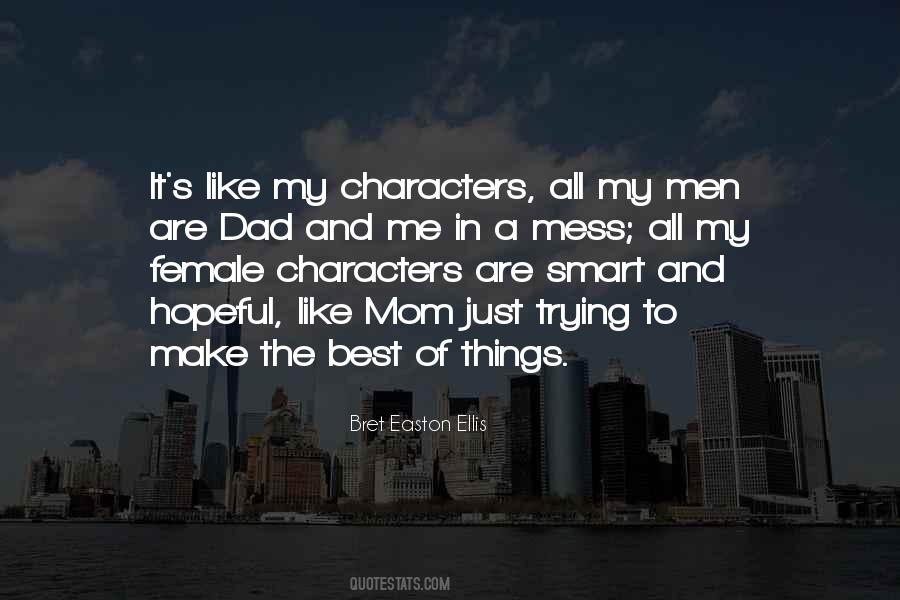 #96. My mother was a stay-at-home mom until I was about 11, when she got a job - and it was like a light came on inside her. It's not wrong to be passionate about your career. When you love what you do, you bring that stimulation back to your family. - Author: Allison Pearson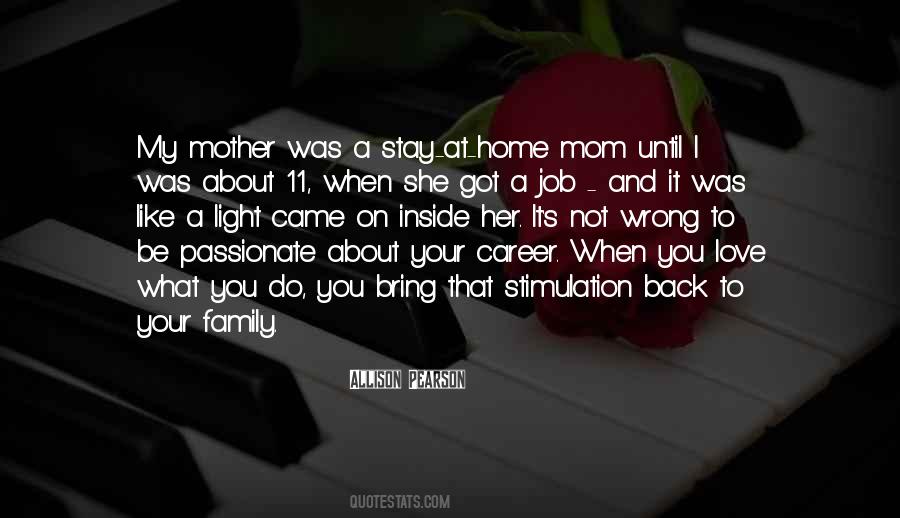 #97. I would have dismissed [the email] as spam, except for the first word: urgent. People stopped flinging that word around like confetti after the Rising. Somehow, the potential for missing the message that zombies just ate your mom made offering to give people a bigger dick seem less important. - Author: Mira Grant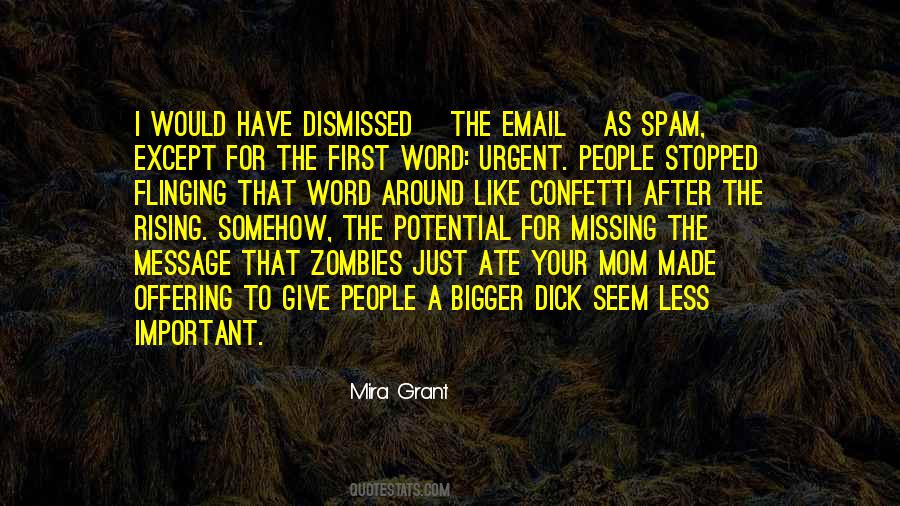 #98. Like a lot of you, I grew up in a family on the ragged edges of the middle class. My daddy sold carpeting and ended up as a maintenance man. After he had a heart attack, my mom worked the phones at Sears so we could hang on to our house. - Author: Elizabeth Warren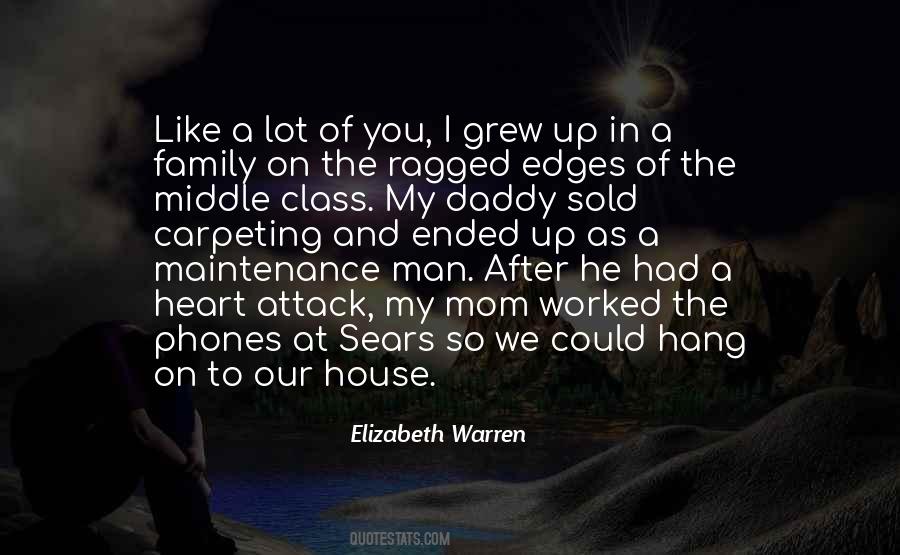 #99. What I do love is the traveling ... and getting paid for it! I like being in front of a camera ... It's an outlet. It's fun! If you look through my photo album, they are all modeling poses. My mom was a young mom, so she took tons of pictures of me. - Author: Crystal Lowe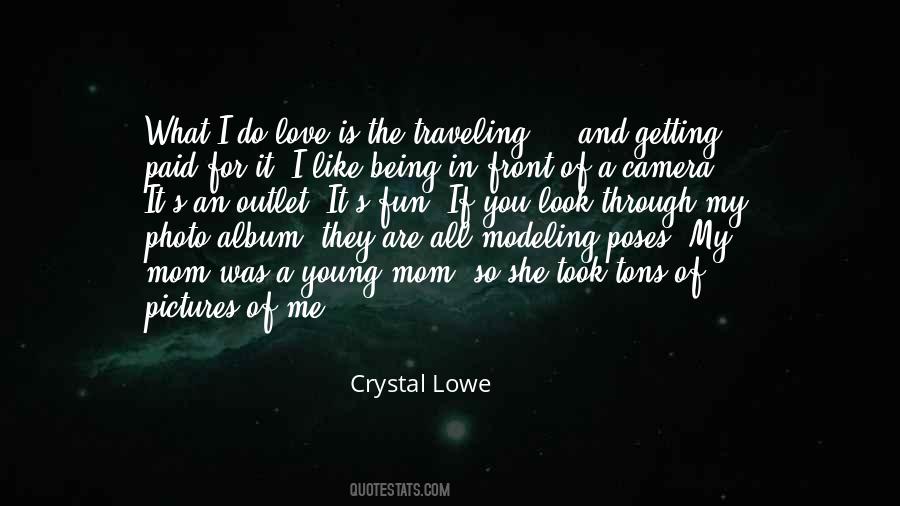 #100. I wanted to be a doctor, but my mom was like, 'It's really hard and it's going to take 10 years,' so I was like 'OK, I'll just be a lawyer'. - Author: Charice Pempengco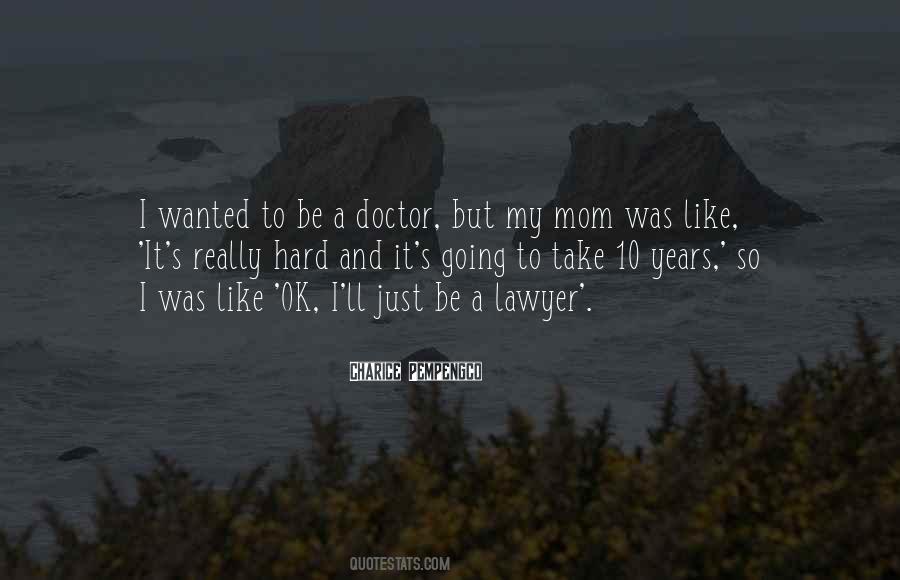 Famous Authors
Popular Topics