Hey Girl Hey Famous Quotes & Sayings
List of top 57 famous quotes and sayings about hey girl hey to read and share with friends on your Facebook, Twitter, blogs.
Top 57 Hey Girl Hey Quotes
#1. Now, why would a dead girl lie?
Hey! That sounds like a joke. Why would a dead girl lie? Answer: Because she can't stand up. - Author: Jay Asher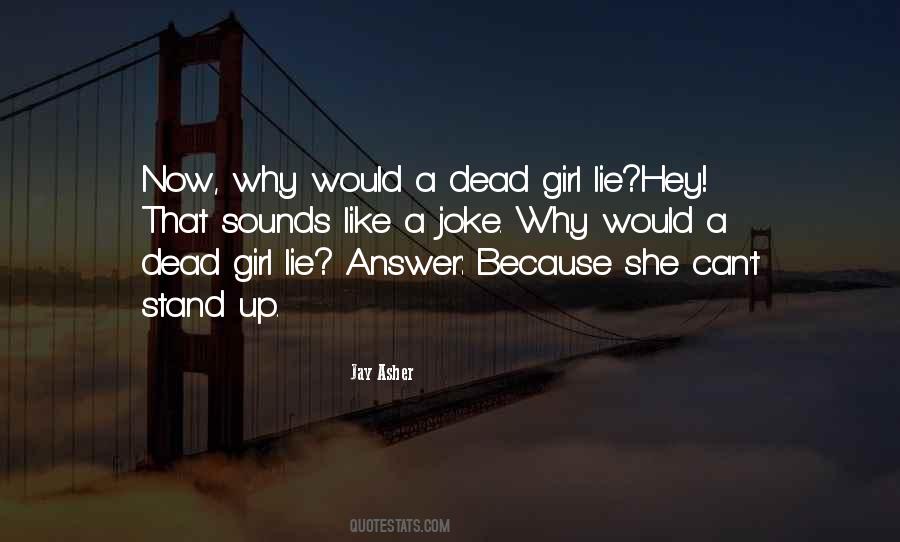 #2. Hey, sweet butt, he said. That broke the spell. Sweet butt? What the hell kind of guy called a girl he'd never met something like that? - Author: Joanna Wylde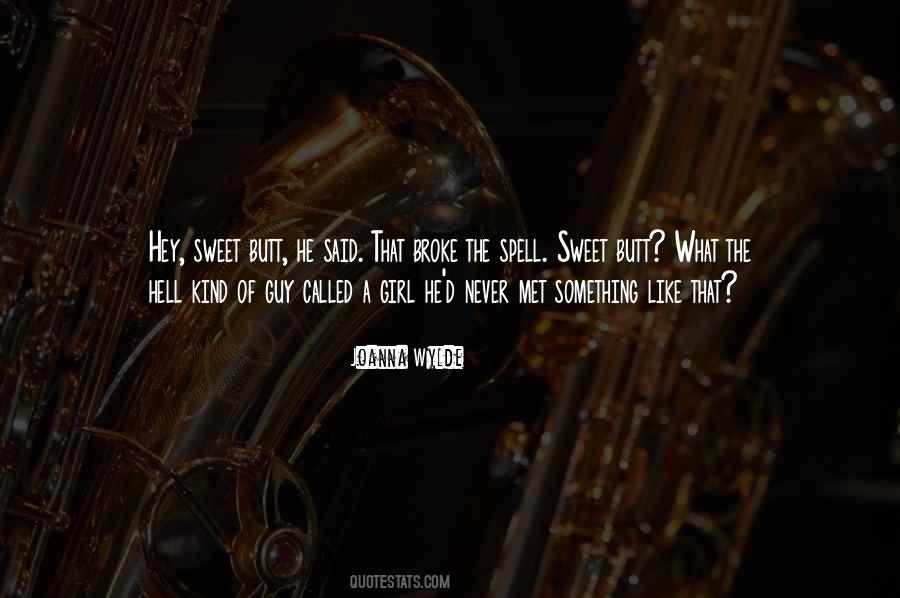 #3. Hey, man, I'm old school. Don't make me bust out the Easy-E and the N.W.A I will got straight up gangsta on your ass. No one is more hardcore than a rich, suburban white girl. - Author: Alice Clayton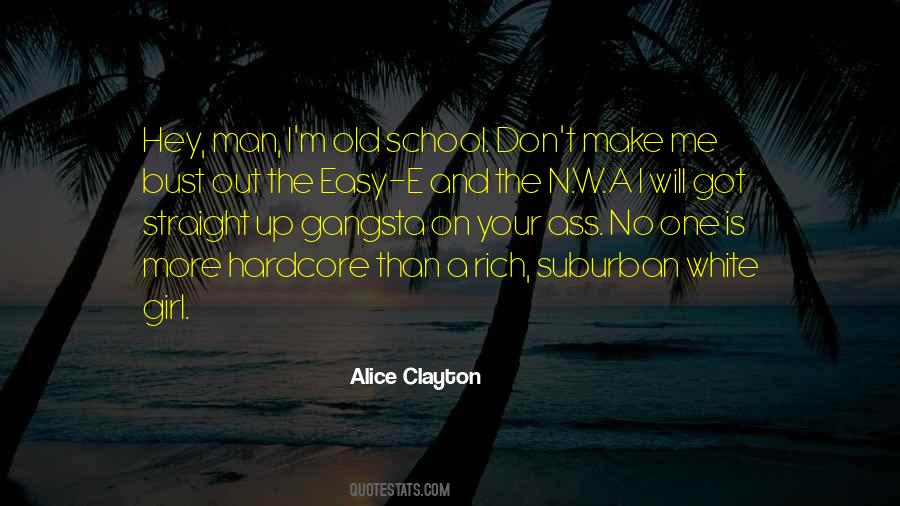 #4. Hey!" Claire called after him, as she leaned her backpack against the wall.
"No onions!"
"Your loss!"
"I meant for YOU! Not if you want to get kissed tonight!"
"Damn, girl. Harsh. - Author: Rachel Caine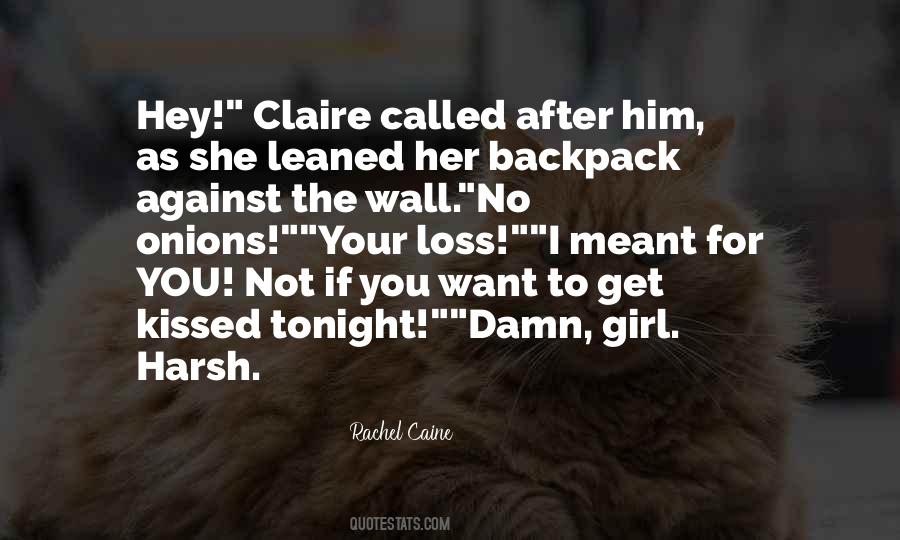 #5. Hey, I'm a girl, and we like to play dress-up. - Author: Charlize Theron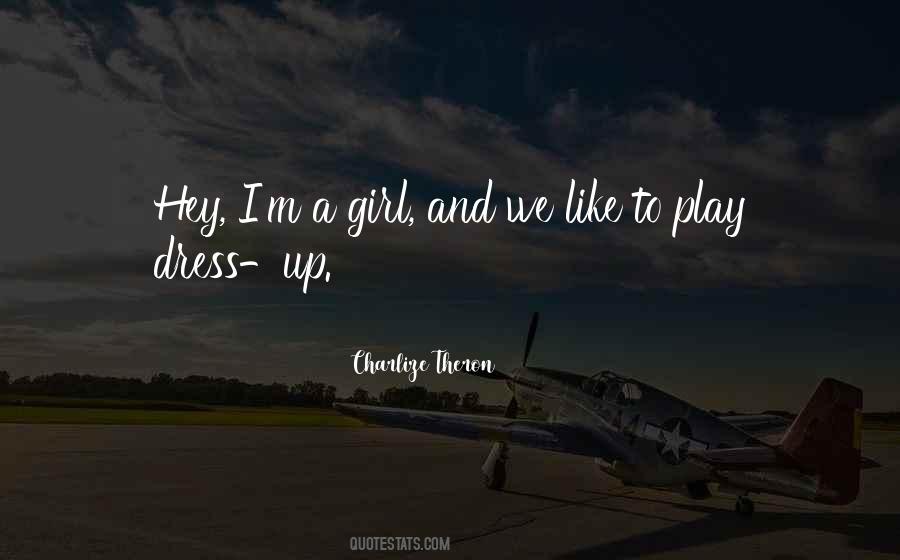 #6. Hey, girl. You awake over there?"
"Yeah, I'm awake."
Just this seems to satisfy him for a minute. Confirmation of awakeness, the fraternity of insomniacs. - Author: Alden Bell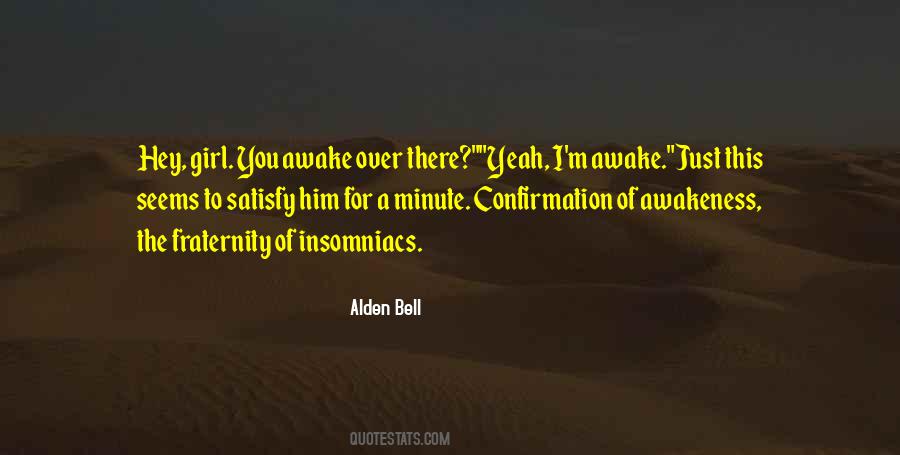 #7. I've never heard a girl say, 'hey, look at that bulge, I'm gonna put that in my rub scrub. - Author: Lina Andersson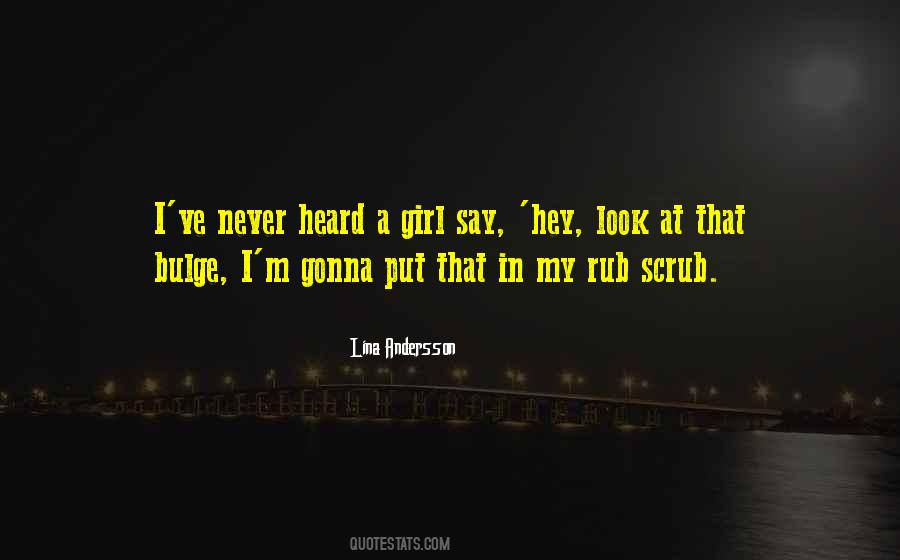 #8. The only way I could get comfortable around people was to make them laugh. I was an obedient girl, and humor was my one form of rebellion. I used comedy to deflect. Like, 'Hey, check out my zit!' - you know, making fun of yourself before someone else has a chance to. - Author: Tina Fey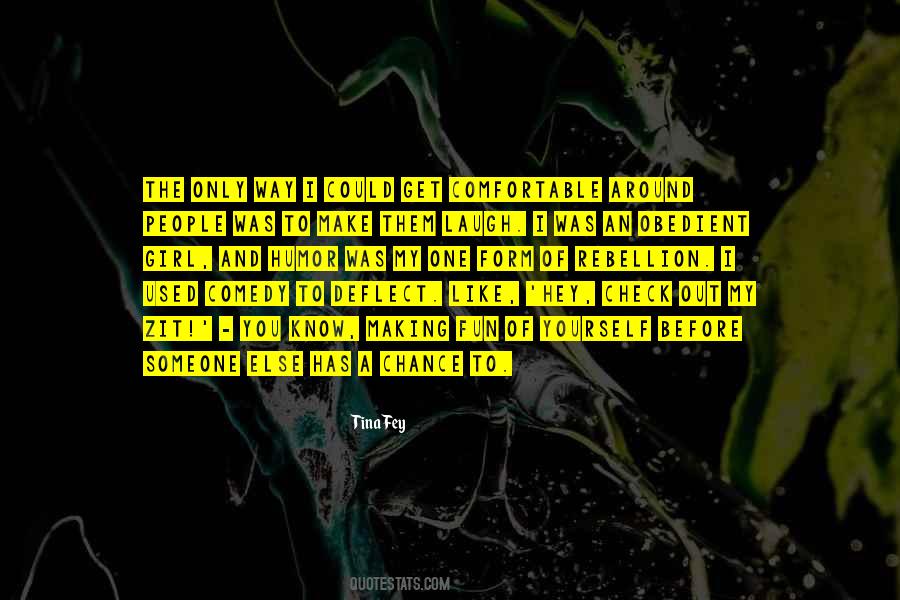 #9. Hey girls, you're beautiful. Whether you're a size 32 or a size 18. As long as you're a good person. As long as you respect others and yourself. Don't listen to those fashion magazines. Hey girls, you're beautiful - Author: Gerard Way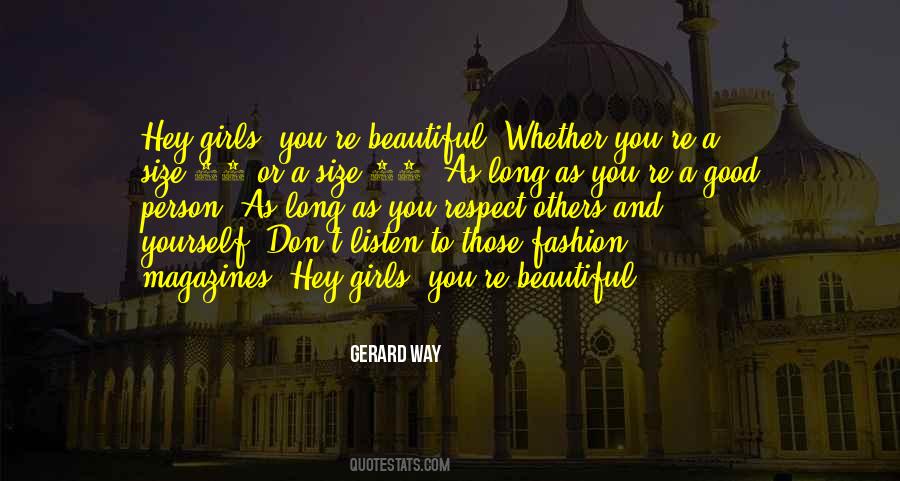 #10. I'll just go at my own pace. Nice and easy. Here we go. There, see? I'm doing it. I'm running! Hey, look at me! I'm running! I'm-
Okay, well, that's enough of that. Whew. I mean, a girl could hyperventilate from doing that. And seriously, it's my first day. Don't want to overdo it. - Author: Meg Cabot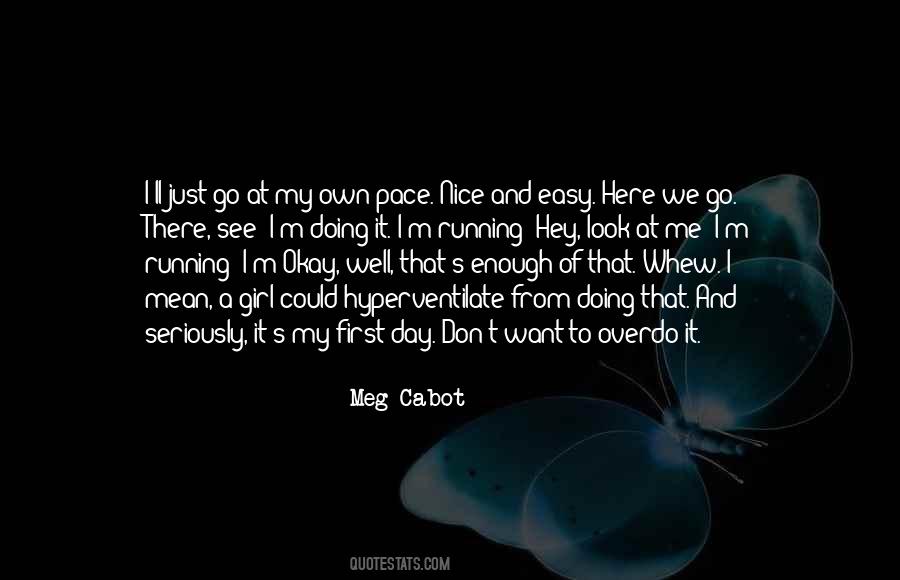 #11. Hey, thanks for stopping by," Howard said. "I'd offer you some tea and cookies, but all we have is boiled mole and artichokes. Plus, we kind of have a dead girl in the living room. - Author: Michael Grant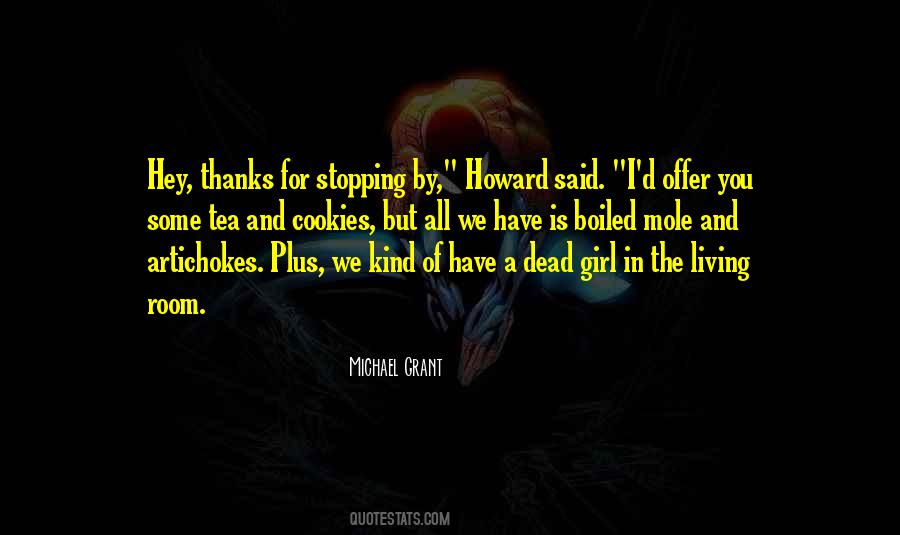 #12. Catcalling is pretty much never going to work. Like anytime a guy's like, "Hey girl! Can we friends?" It's like, I don't know you. I'm just walking by right now, and that's weird. No relationship has ever started from a catcall. - Author: Carly Aquilino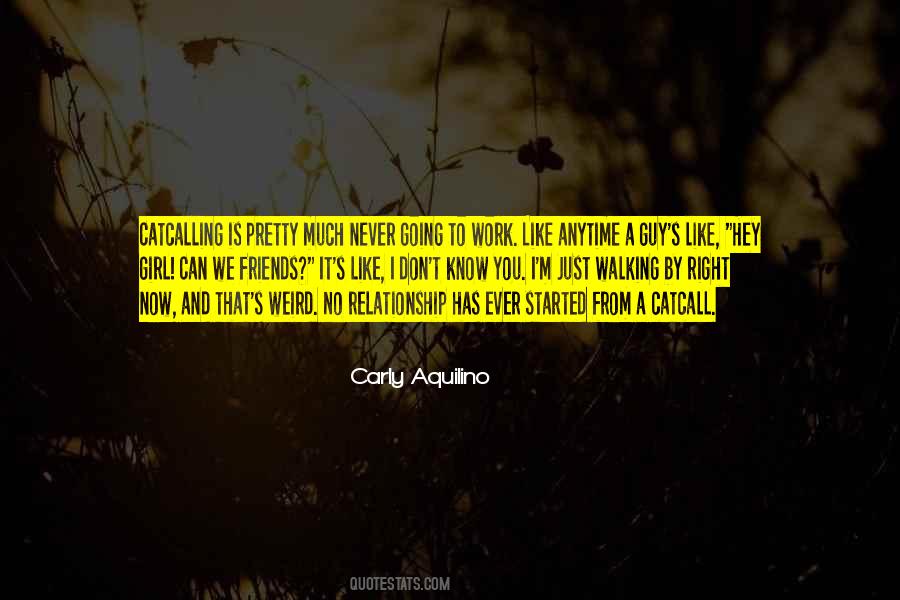 #13. Hey! Back off from the dead girl. She's Resistance property." "Yeah," says his twin brother Dum from inside the cab. "We need her for autopsies and stuff. You think girls killed by demon princes are easy to find?" As - Author: Susan Ee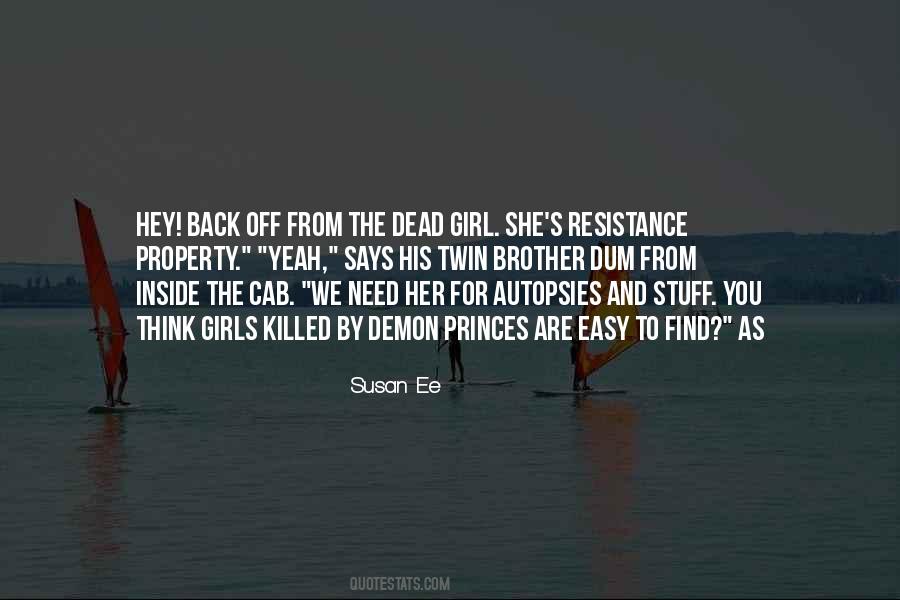 #14. Hey, bad girl," came the deep, sexy voice of The Griffin himself. "Can't believe the Pope let
you out of the Vatican. - Author: Tiffany Reisz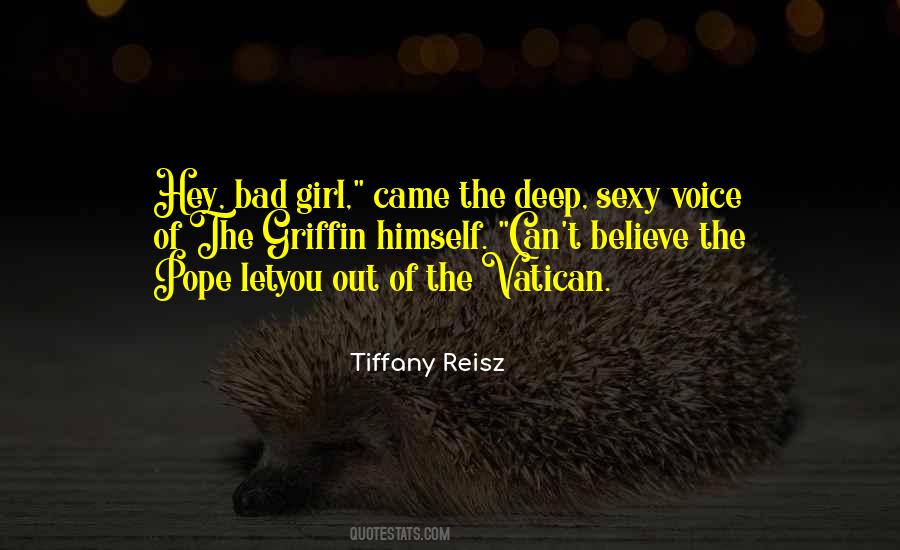 #15. If a girl breaks up with me, I want her to just die, just be dead. Not 'cause I hate her so much as it's just easier for when my friends go, 'Hey, what happened?' 'Oh, she's dead. I'd still be with her, but she's dead. What can I do? She was loving me, but she's dead.' - Author: Adam Sandler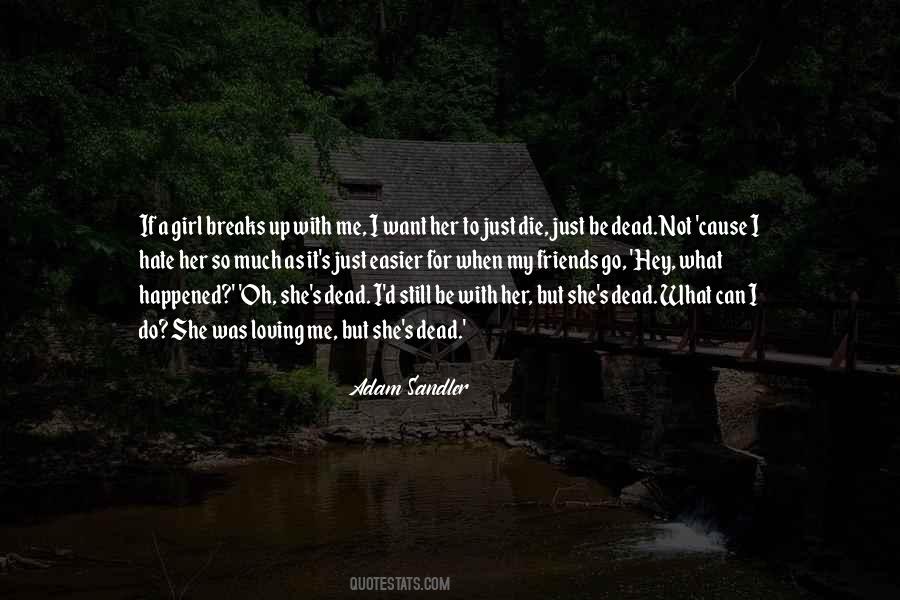 #16. Up next is Noelle.
'Hey, girl!'
'Don't you dare start calling me that. This is very nice of you to do. - Author: Ned Vizzini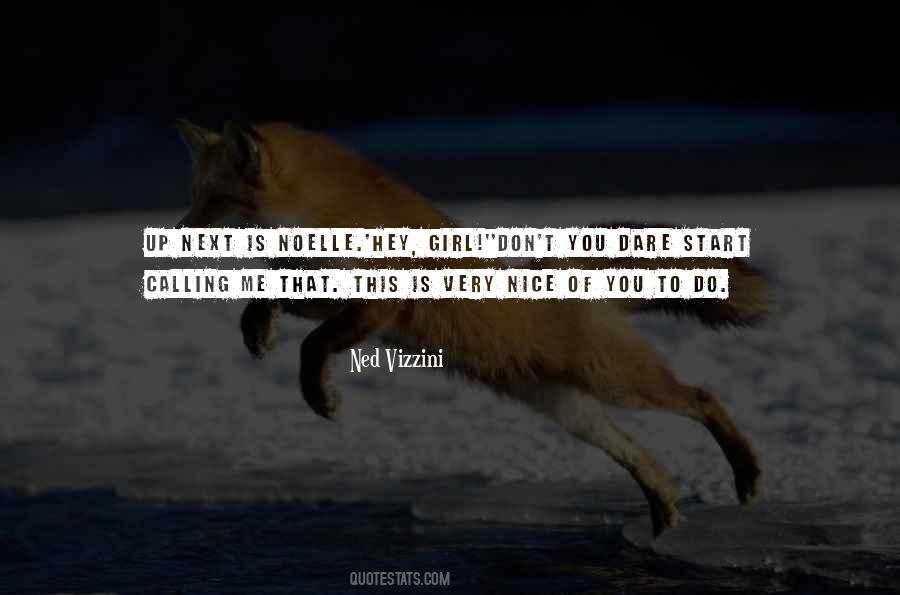 #17. Hey, once a Bond girl, always a Bond girl. It will always be a big deal - it's an exclusive club. - Author: Carey Lowell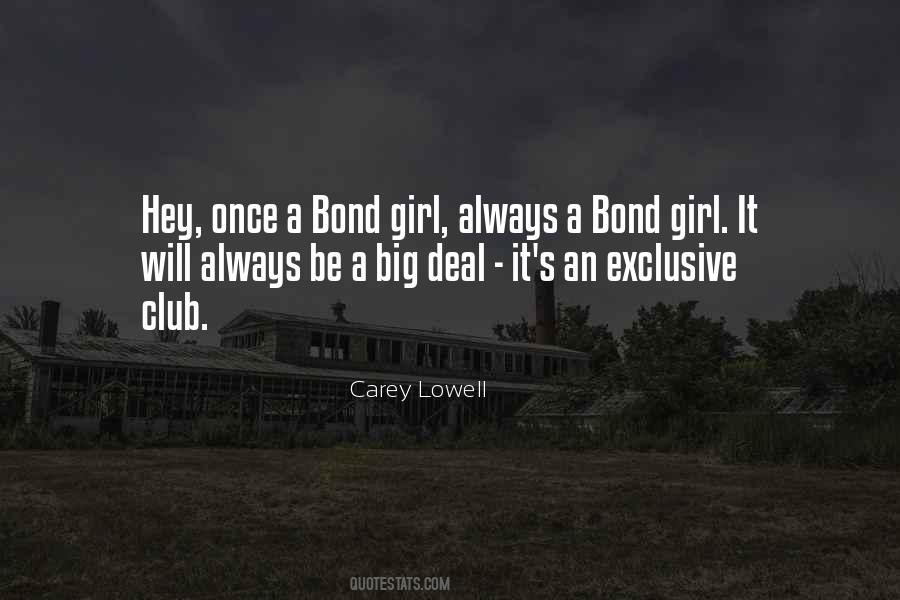 #18. The next time someone says, "Hey, you fight like a
girl!" your response is going to be, "You bet I do! - Author: Kym Rock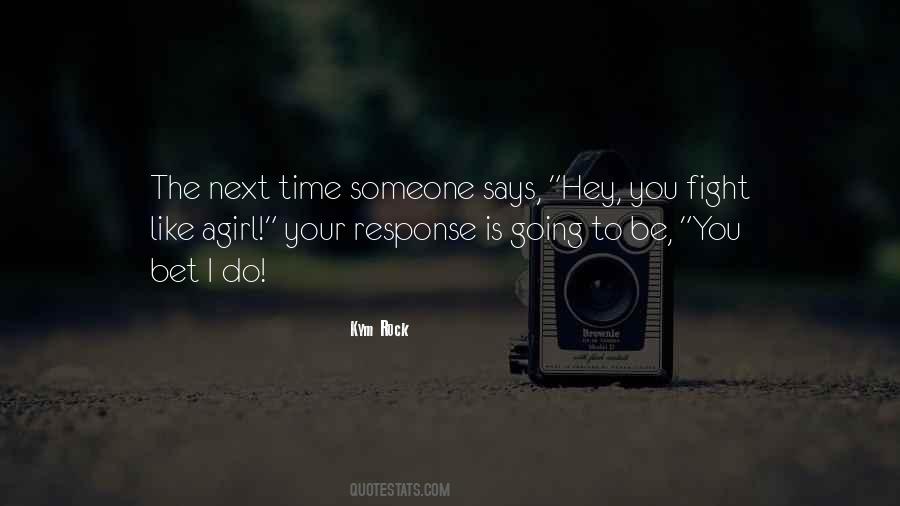 #19. Hey you know what they say you should do when life gives you lemons?"
The sudden change in topic made my head spin, "Make lemonade?" I answered weakly.
"Lemonade? Who the fuck do you hang out with, Girl Scouts? No, when life gives you lemons, you add vodka and make a lemon drop. - Author: Cardeno C.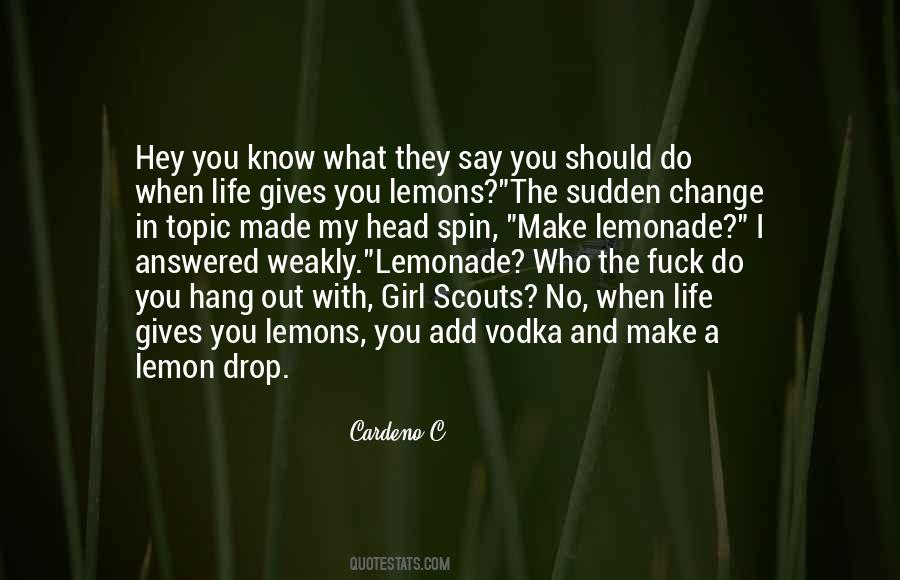 #20. I've never really been on a date, because I've been with the same girl since my early twenties, but on our first date, I showed her The Texas Chain Saw Massacre. I was like, "Hey, you've got to see this!" And we've been together ever since. - Author: Nicolas Winding Refn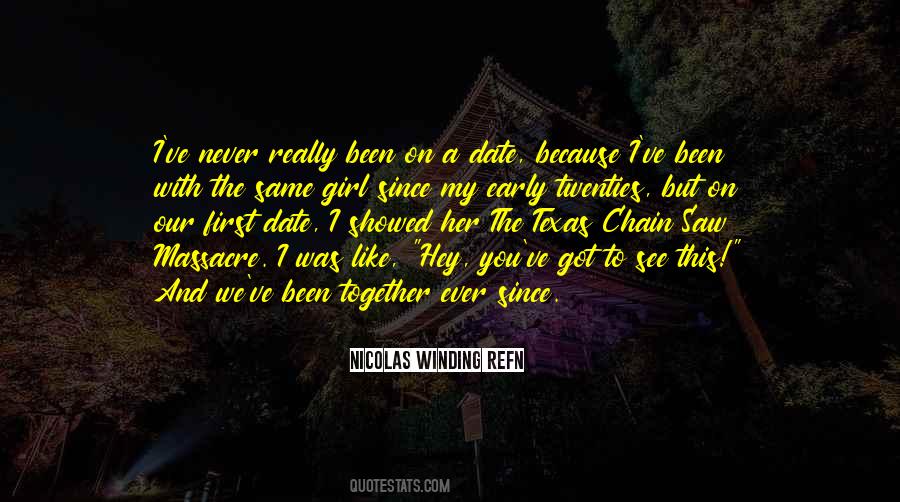 #21. Hey, new girl. You know the straw that broke the camel's back? Is that the same thing as the last straw? - Author: Stephanie Danler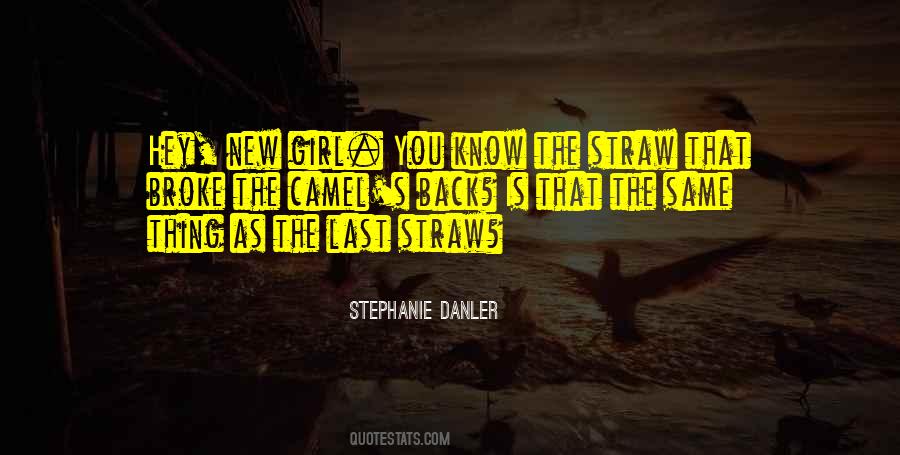 #22. Hello, my name is Lisa Jakub. But most people in a restaurant/dentist's office/yoga studio dressing room, call me 'Hey, you look like that girl from 'Mrs. Doubtfire'/'Independence Day'/'Rambling Rose.' There is a good reason for that. I am that girl. More accurately, I was that girl. - Author: Lisa Jakub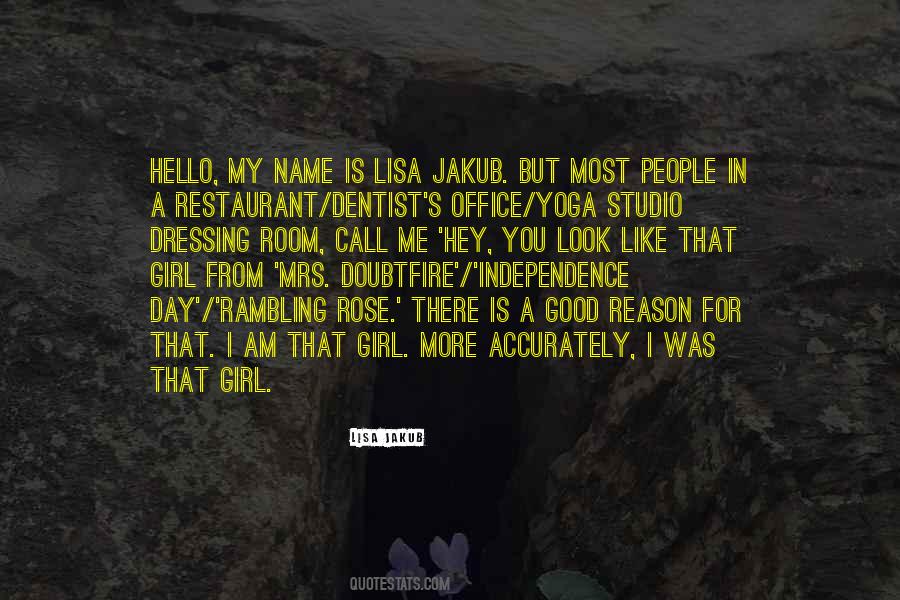 #23. Hey, wait a minute, I was a Spice Girl once! - Author: Madonna Ciccone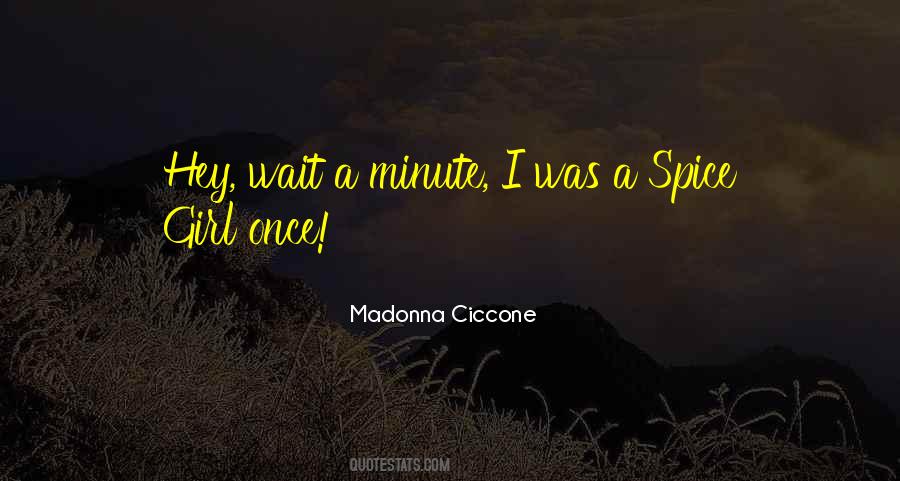 #24. hey gallagher girl - Author: Ally Carter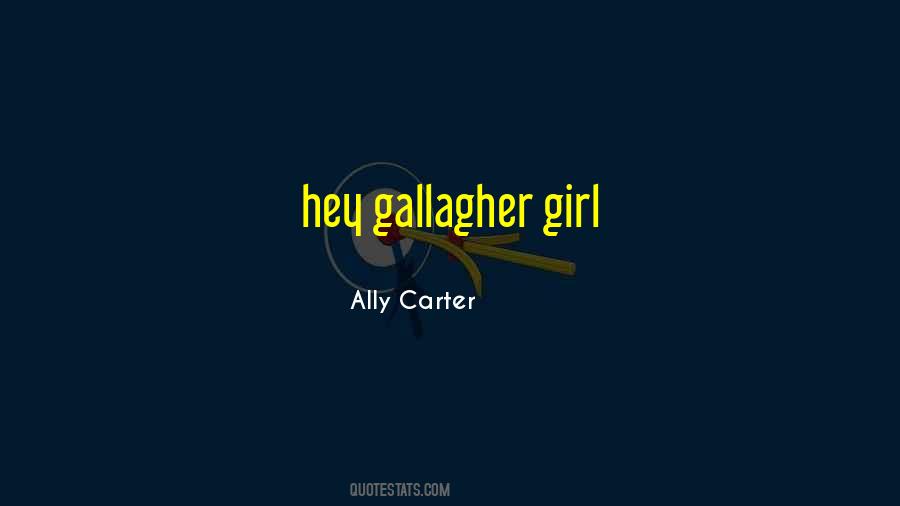 #25. I still can't believe he just left. I mean, if you sleep with a girl for the first time, you at least send her a text, right? If not an actual phone call to say, "Hey, thanks for letting me deflower you. It was rad. - Author: Leisa Rayven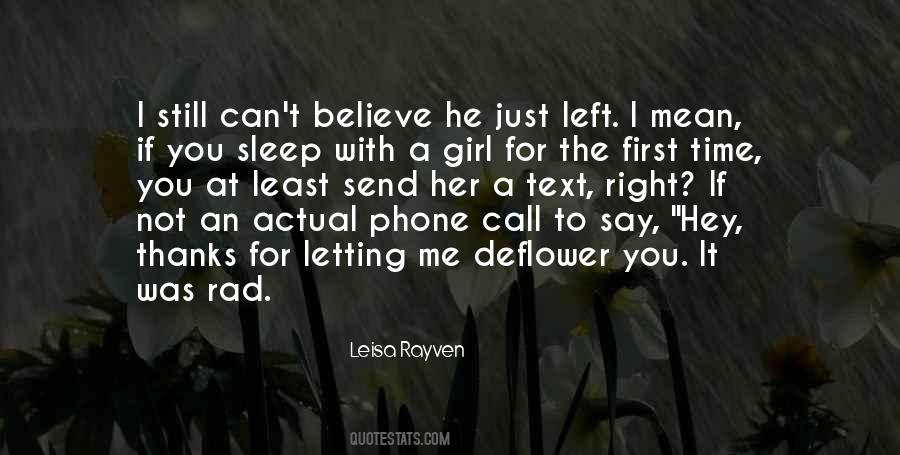 #26. I'm not being like, 'Hey, everybody, I'm pregnant!' I'm not that girl. - Author: Christina Aguilera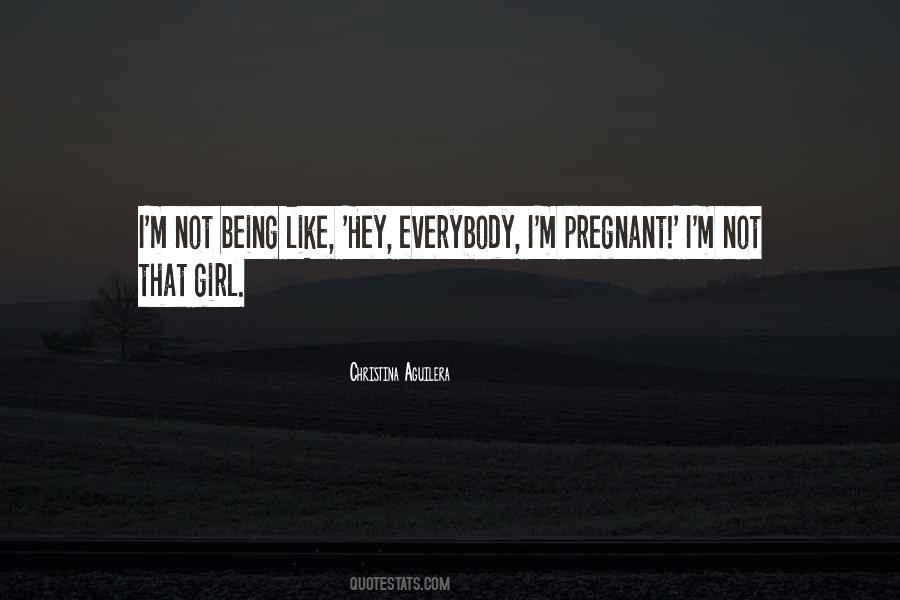 #27. Hey soda girl. You're flat. - Author: Dan Gutman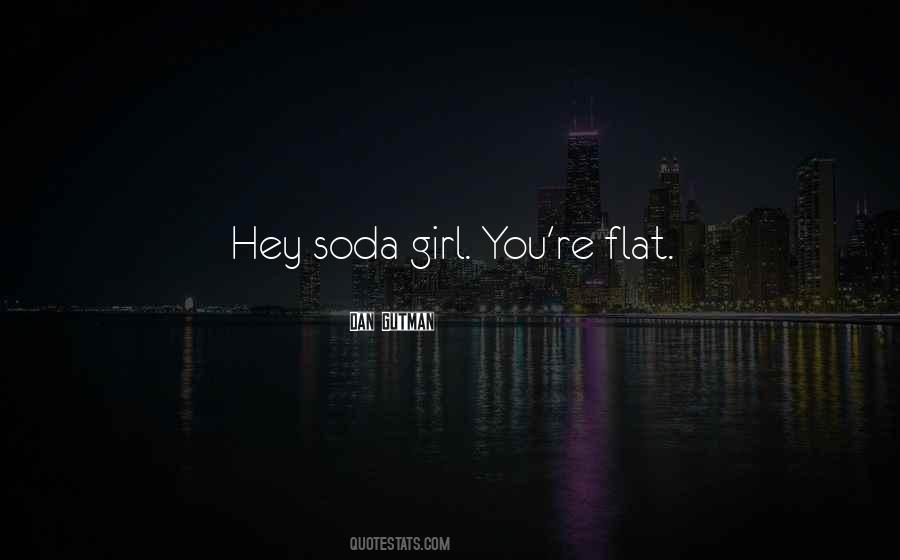 #28. But Quinn held the fuzzy handcuffs in his hands, looking them over closely, and he smiled. Oh, hey, did you want to keep these for when your invisible boyfriend returns from his fake vacation? - Author: Laura Anderson Kurk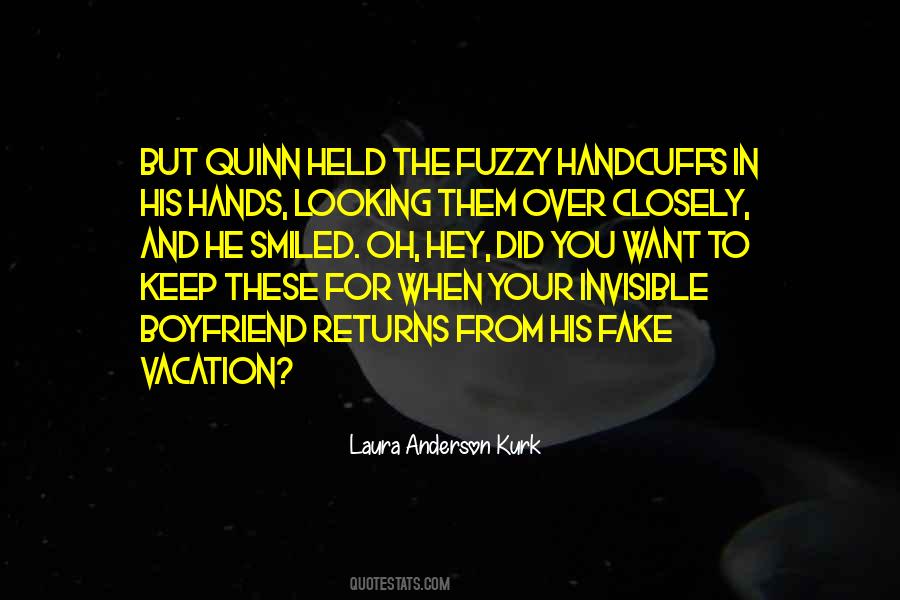 #29. The last girl I went out with blew me off. Now I call her with lame excuses to see her, "Hey, did I leave a penny over there?" - Author: David Spade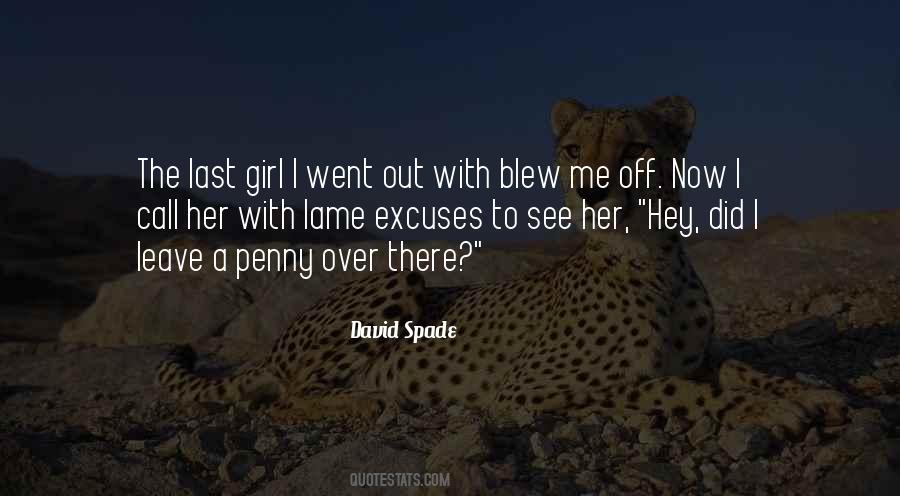 #30. Hey, McFly!" Has Biff returned?? No! It turns out that Howard, George's neighbour, is there! And he wants to sell him Girl Scout cookies! - Author: Ryan North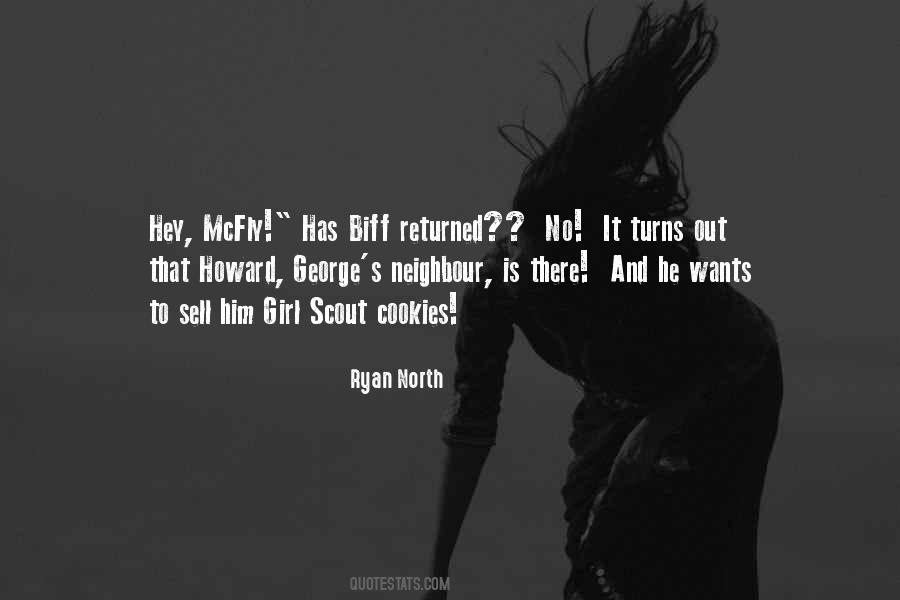 #31. He glanced over at me, a smile twisting his lips. "Hey, no advice, Ghost Girl. Guardians should be seen and not heard."
I flipped him off for the "Ghost Girl" comment but he didn't notice because Lissa was talking to him again. - Author: Richelle Mead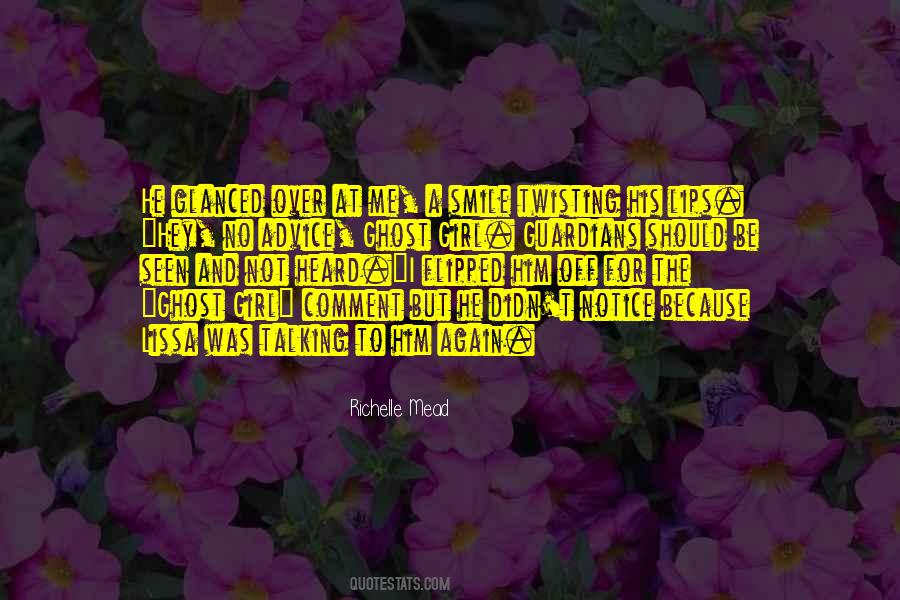 #32. Faith my homegirl. I just wanna send a shout out to Faith. Hey girl. - Author: Tupac Shakur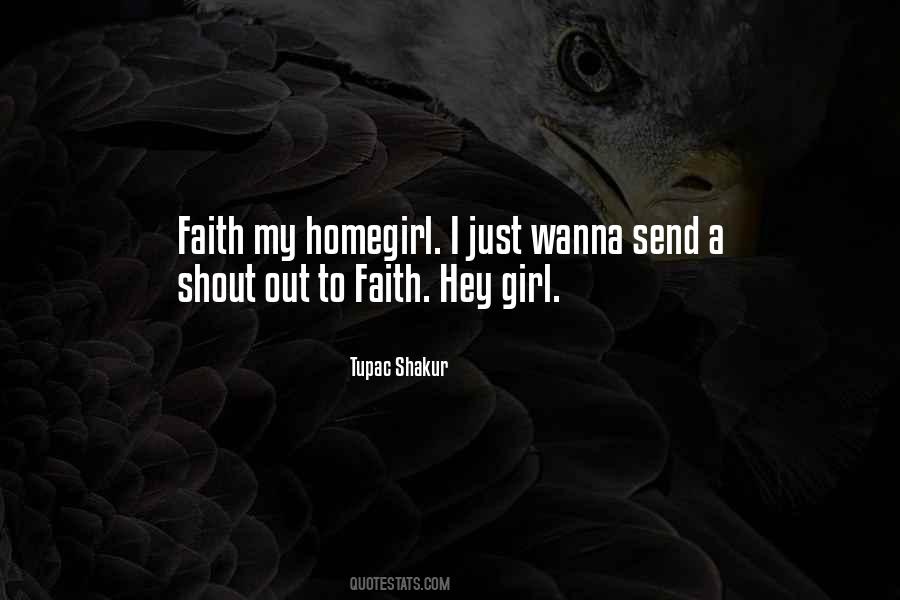 #33. Percy: "Hey, how's it going?" Annabeth: "Uh, no thanks." Percy: "Okay ... have you eaten anything today?" Annabeth: "I think Leo is on duty. Ask him." Percy: "So, my hair is on fire." Annabeth: "Okay. In a while." She got like this sometimes. It was one of the challenges of dating an Athena girl. - Author: Rick Riordan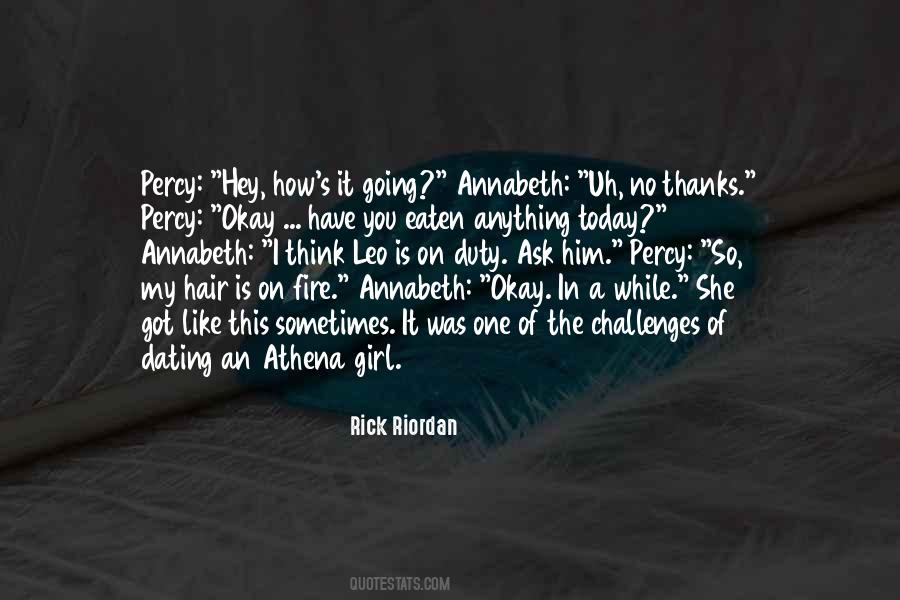 #34. Hey girl," he said, wiggling his eyebrows. "You must be the riptide, 'cause you sweep me off my feet."
He'd be practicing that pickup line for years. He was glad he finally got yo use it. - Author: Rick Riordan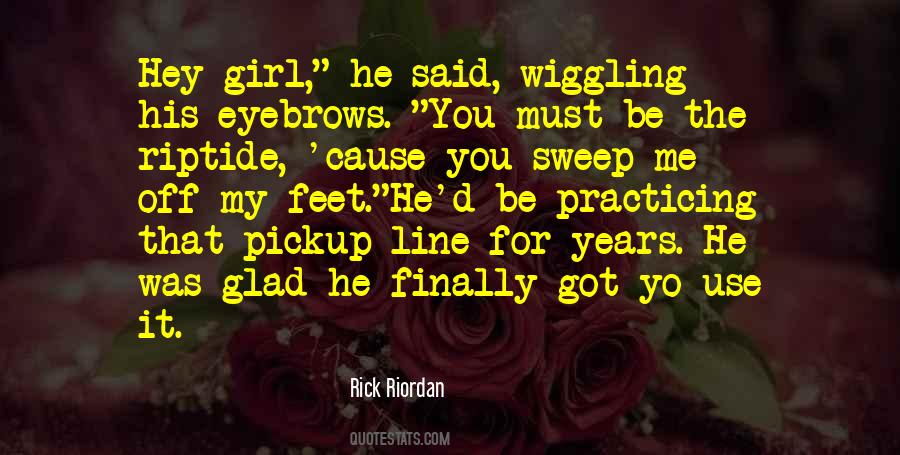 #35. One time, hey, in high school this girl told me, hey, its not you, its me.. Ofcourse its you, you dang HEFFER! - Author: Si Robertson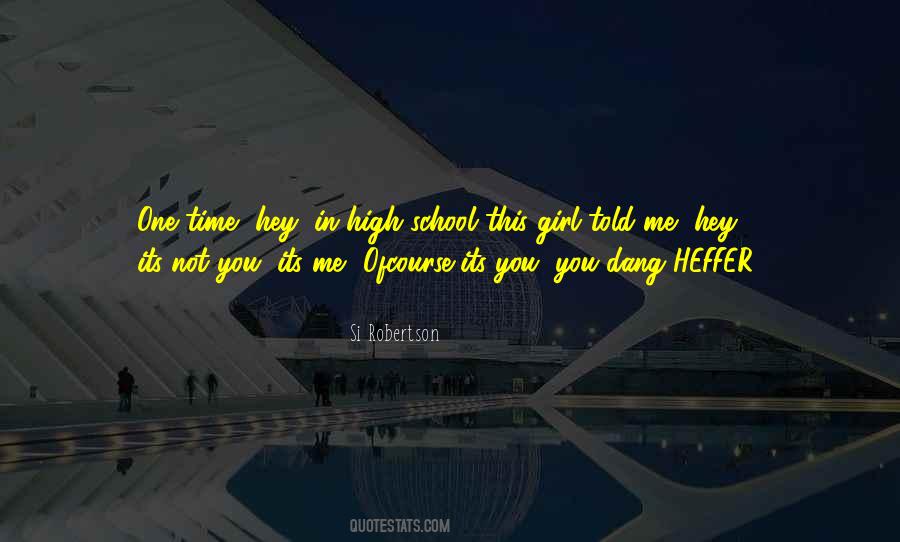 #36. When I first started, all the media I ever got was, 'Hey! There's this Indian girl. And even though she is Indian, she gets views and stuff.' - Author: Lilly Singh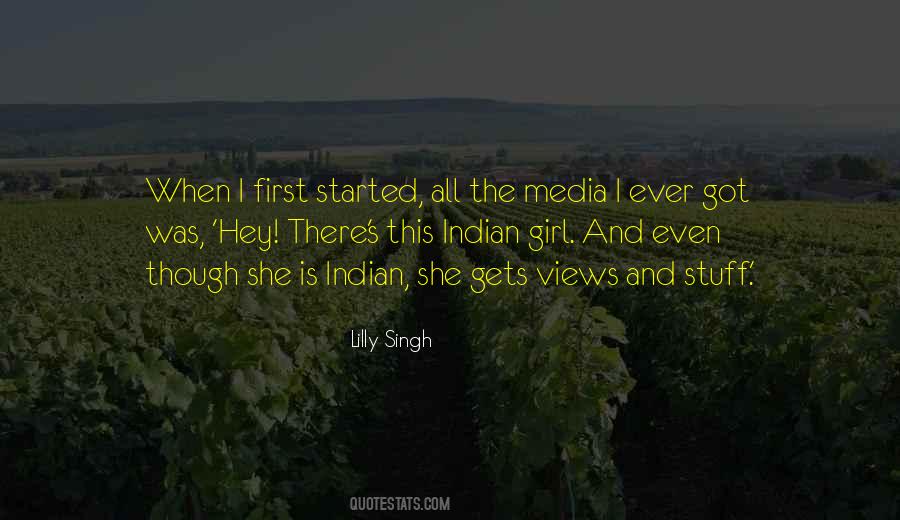 #37. Hey ya'll, you'll never believe what I just heard! Apparently some girl totally flipped out on the Ferris wheel."
I paled.
"Oh God, it was you wasn't it?" he looked at me and busted out laughing. "It figures. - Author: Micalea Smeltzer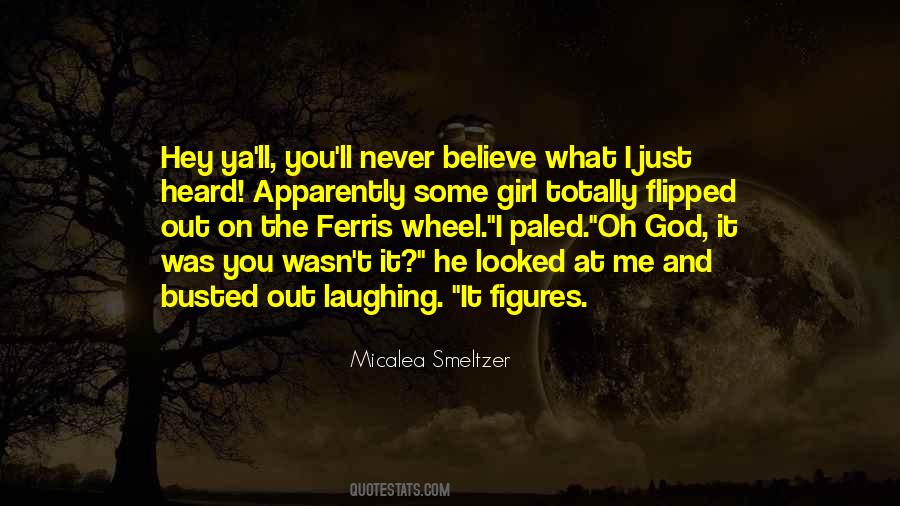 #38. I was a late bloomer. I'm not one of those girls who's like, "I love my body! Hey, everybody, come look at my body!" - Author: Lizzy Caplan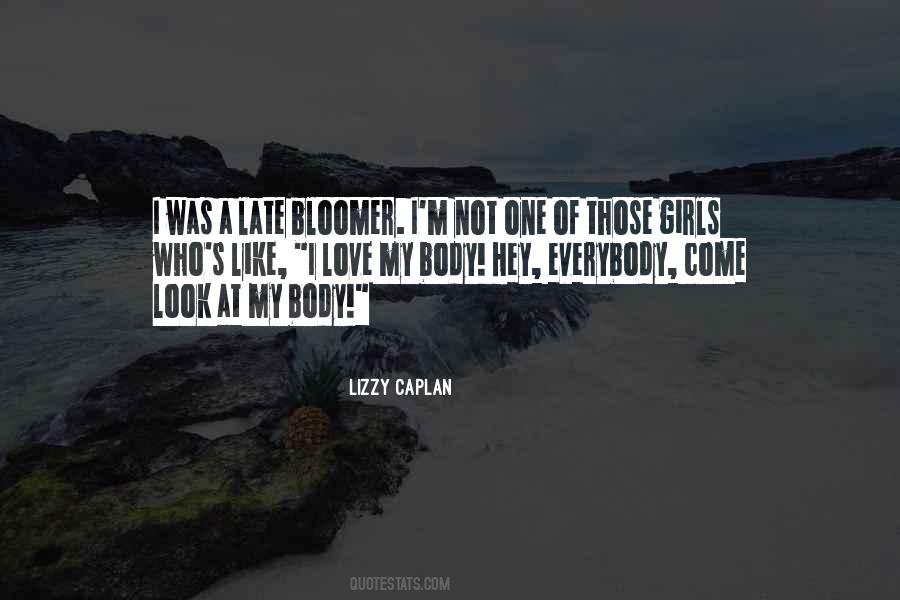 #39. Hey, you've got the girl, I've got the picture. That's fair, right? - Author: L.A. Weatherly
#40. Hey, don't knock Judy Blume. Without her, my younger self would never have been able to decode the random acts of madness perpetrated by the fascinating creature known as the teenage girl. - Author: Ken Marino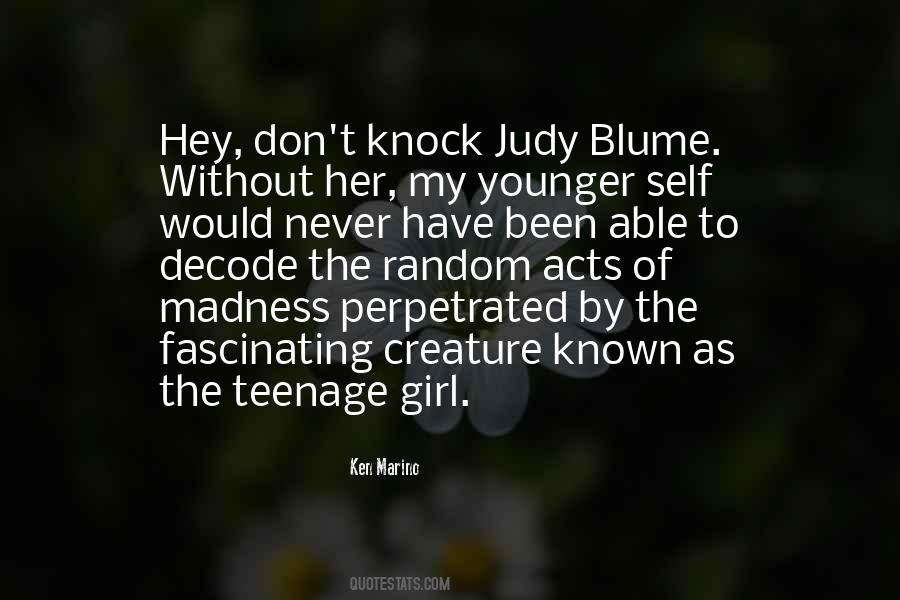 #41. You kidnapped a girl. That's awesome but illegal, Davie. You're probably going to have to give her back." My hair was lifted and Mal appeared, crouched beside me. "Hey there, child bride. Where's my hello kiss? - Author: Kylie Scott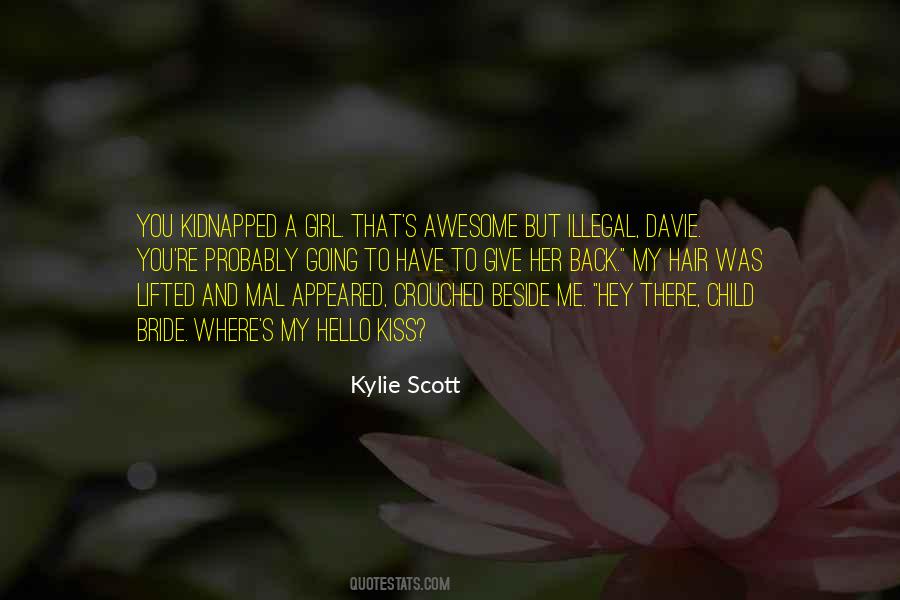 #42. If you were in a bar, would you ever go up to a guy or girl and repeat the word "hey" without getting a response? Would you ever go up to a woman you met two minutes ago and beg her to show you one of your boobs? And do you really want to bone someone who responds to this? - Author: Aziz Ansari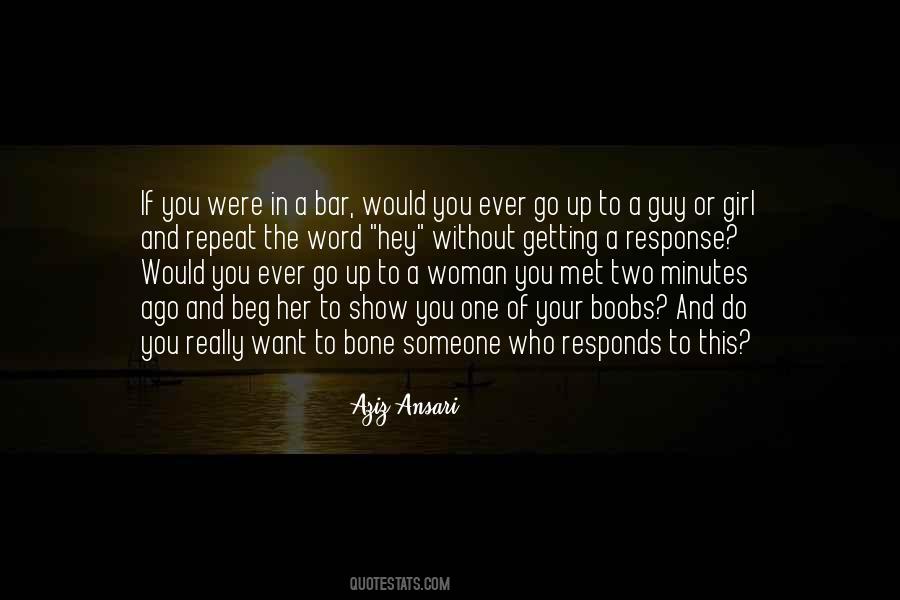 #43. I love to be scared. Not, 'Hey, I think I smell smoke ... ' scared, but creepy, paranoid, what's-that-out-there-in-the-dark, ghost story scared. It's no surprise that I was the girl who got invited to the slumber parties because I could be counted on to tell a tale to scare the bejesus out of you. - Author: Libba Bray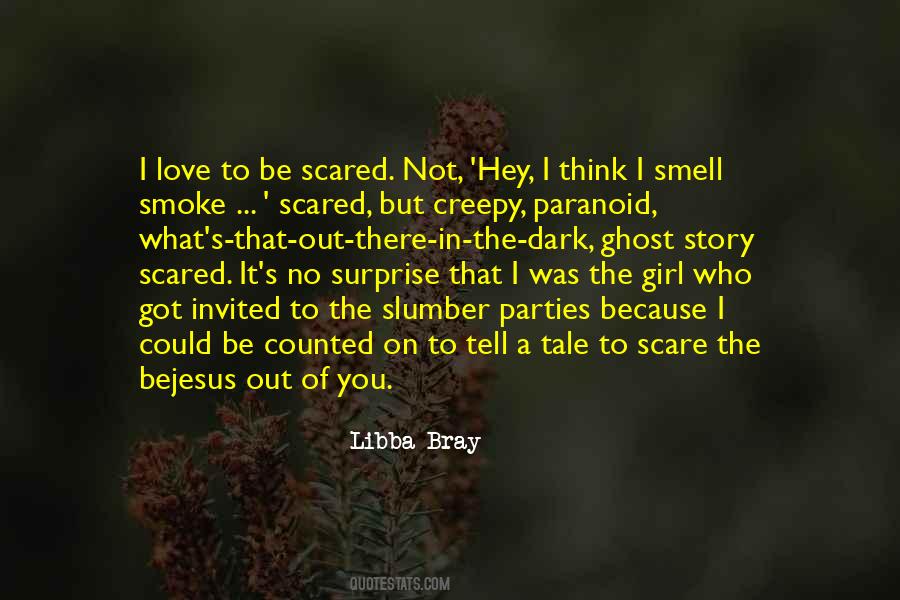 #44. Joe!' he called. 'Hey, honey, can you get the pretty girl a Coke?'
'Only if you stop calling me *honey*,' the bartender, a bearded man in his thirties, replied. 'We've had this discussion before, Harrison.'
'Aw, Joe. It's so cute that you think I listen. - Author: Kody Keplinger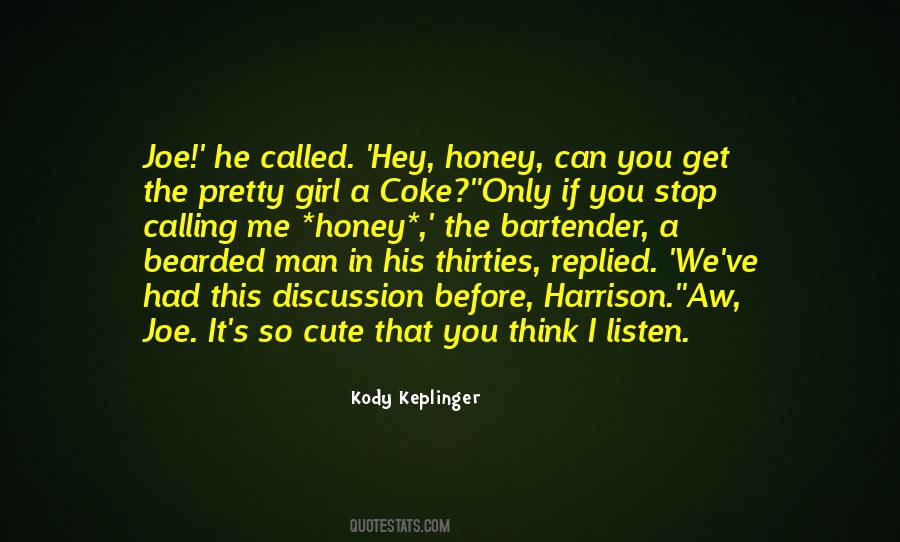 #45. What first got me involved in politics was being 14, and a youth organizer comes to my house with a van full of 14 year old girls. "Hey, you want to go to the beach with us? But first we're going to go support the cannery workers' strike in Watsonville." - Author: Boots Riley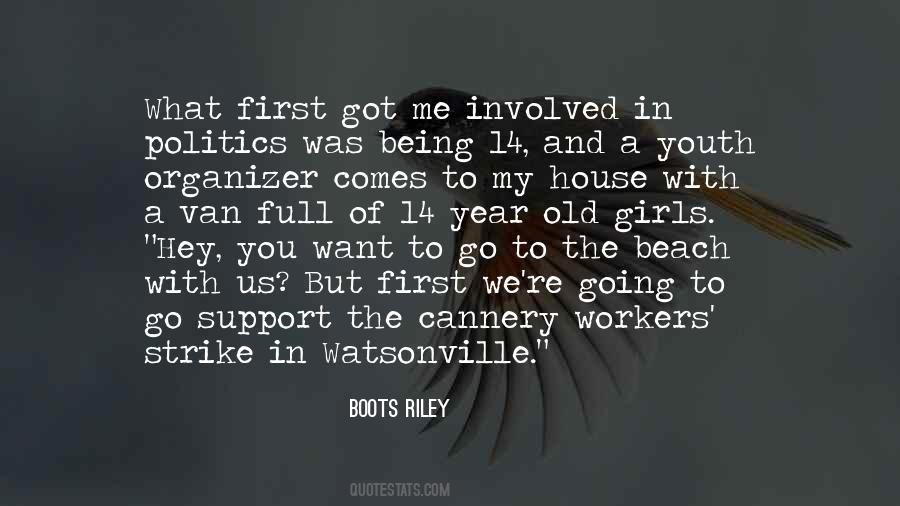 #46. Hey, you wanna drop back a few paces? Did you forget how spying works? You're supposed to at least aim for unobtrusive. The others pretty much have it down, but you're about as inconspicuous as a drag queen at a Girl Scout meeting. - Author: Rachel Vincent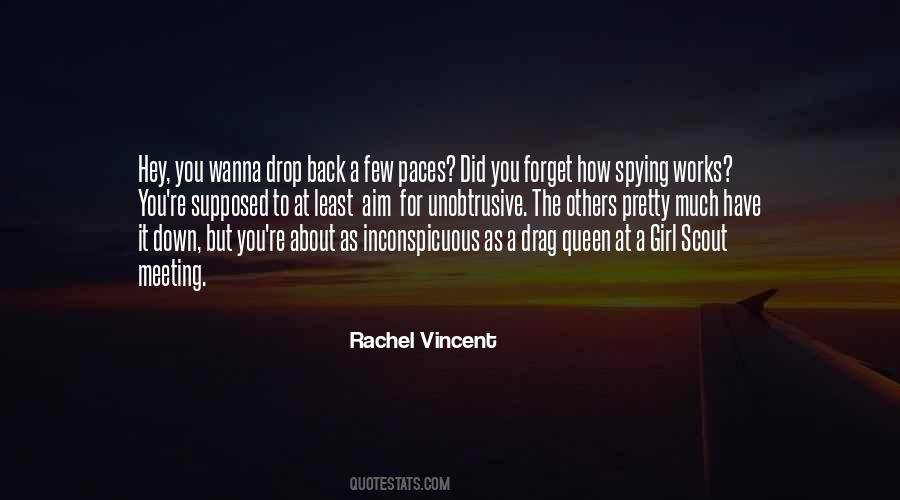 #47. Hey, maybe instead of going to college, you should drop out and I could quit my job and we can form an all-girl band with Lane, you know, like Bananarama. We could call it Tangerinarama or Banana-fana-fo-fana-rama ... or something. - Author: Daniel Palladino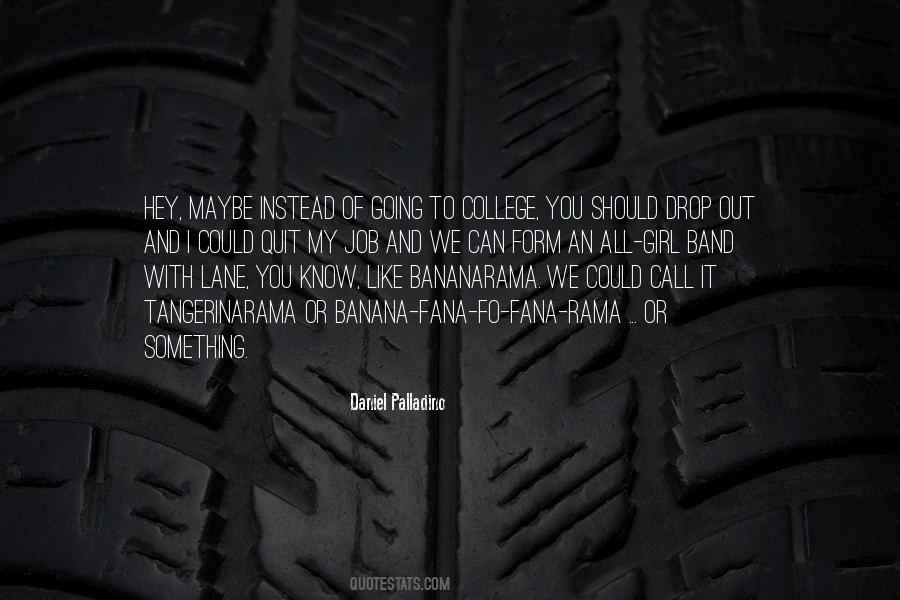 #48. Before 'Twilight,' occasionally I would get the 'Hey are you that girl from that movie?' but no one knew my first and last name. The fans of the saga are amazing, and it's very flattering. - Author: Nikki Reed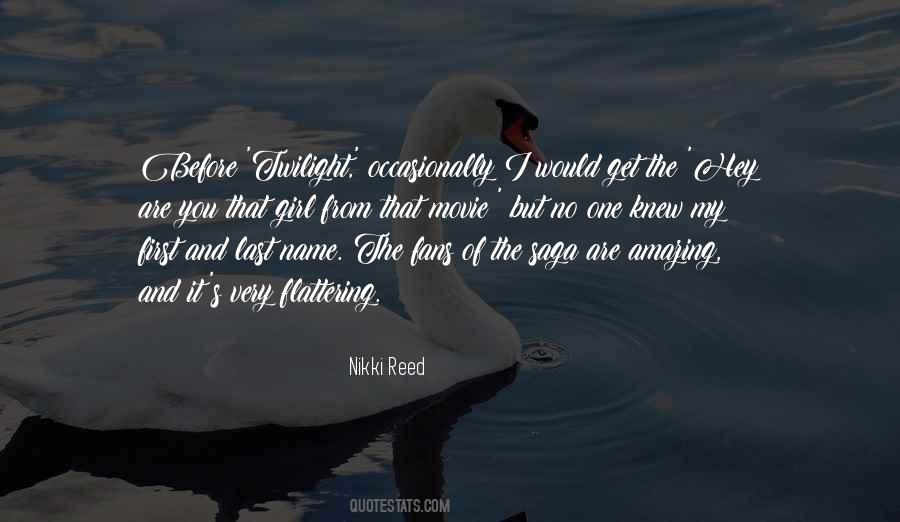 #49. White girls tell me Hey Nicki your camp rules! Is that why you get more head than shampoos? - Author: Nicki Minaj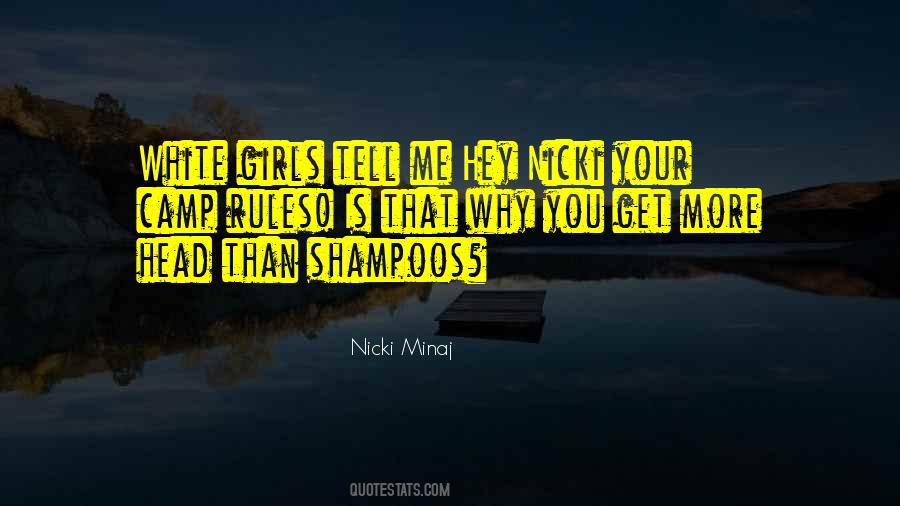 #50. Hey, Kami. I was wondering if I could get a dance with the best-looking girl in the room."
"Sure," Kami said. "Go ask Angela. Take your life in your hands. I'll miss you and all, but I'm going to give her an alibi for the murder, because that's what best friends do. - Author: Sarah Rees Brennan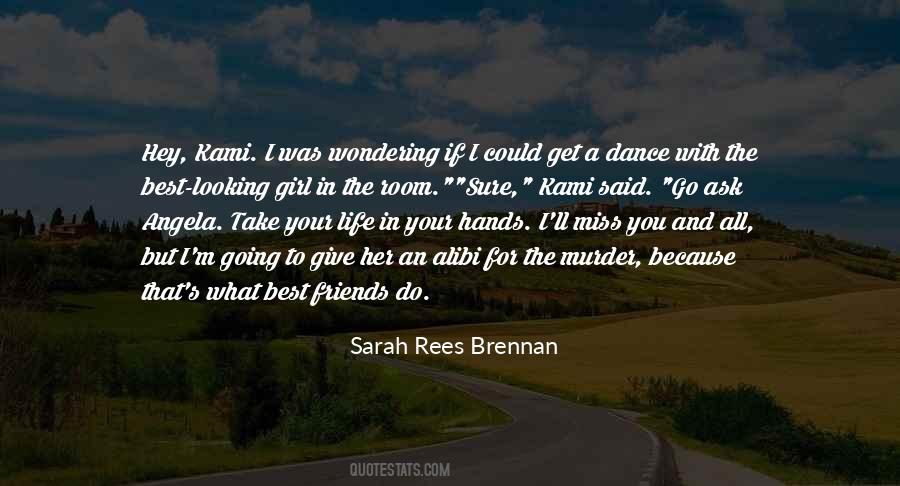 #51. I would have normally tried to ignore the display of tanned arms and glimpse of toned midriff this flailing about revealed, but, hey, I have hormones like the next girl. Some things in life are worth seeing. - Author: Joss Stirling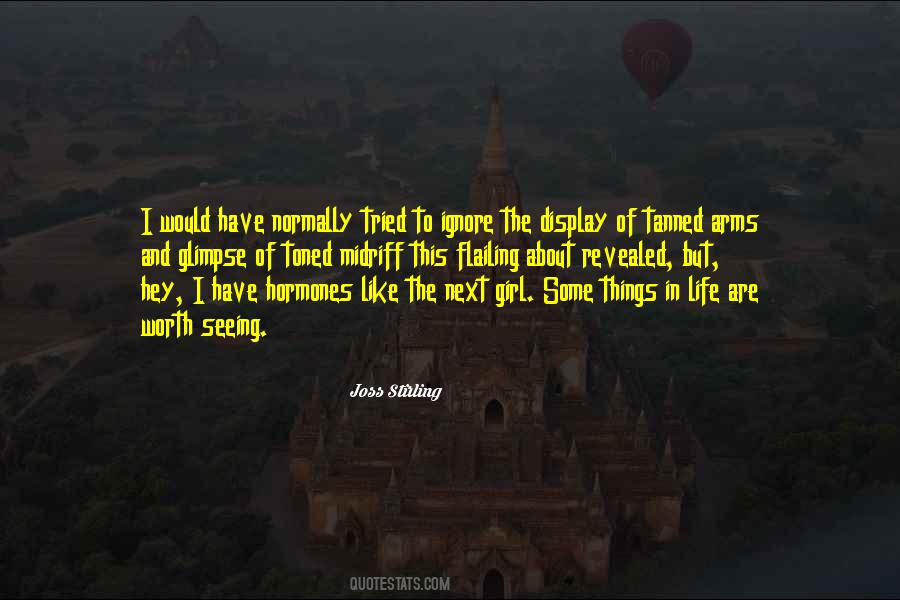 #52. Hey, look - your girlfriend is saying something.
Artemis had a vast mental reserve of scathing comebacks at his disposal, but none of them covered girlfriend insults. He wasn't even sure if it was an insult. And if it was, who was being insulted? Him or the girl? - Author: Eoin Colfer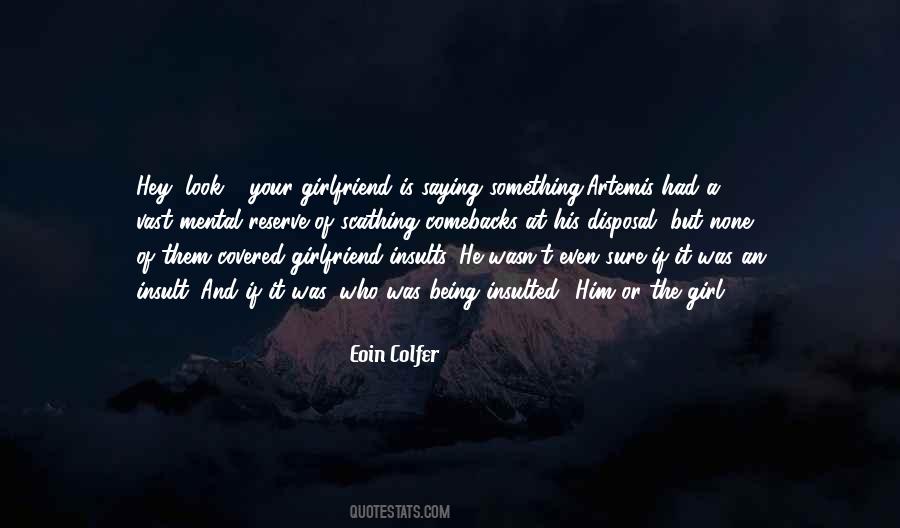 #53. Fucking gorgeous man. And the best part? The way he looked at me. Like I was the prettiest girl in the room.
"Hey, baby."
The man was a poet.
"Hey."
I was too. - Author: Alice Clayton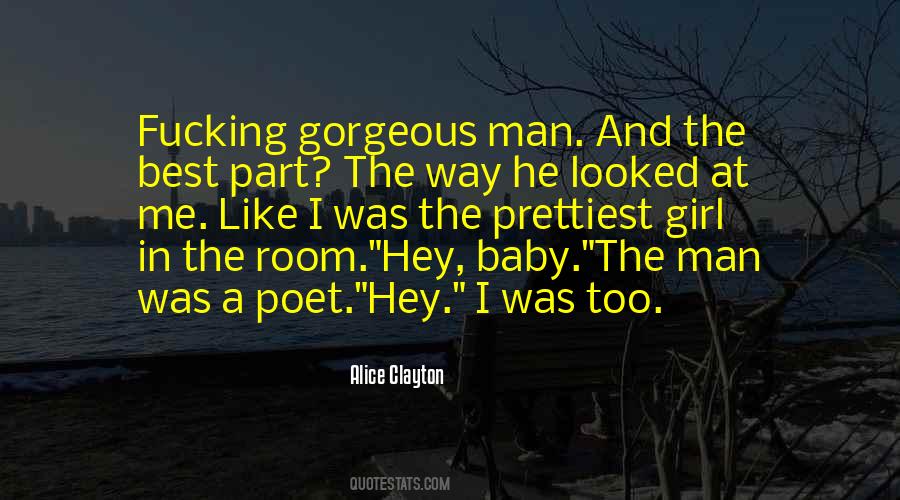 #54. I've got a girl that I love so, hey Loddy Loddy Lo. - Author: Chubby Checker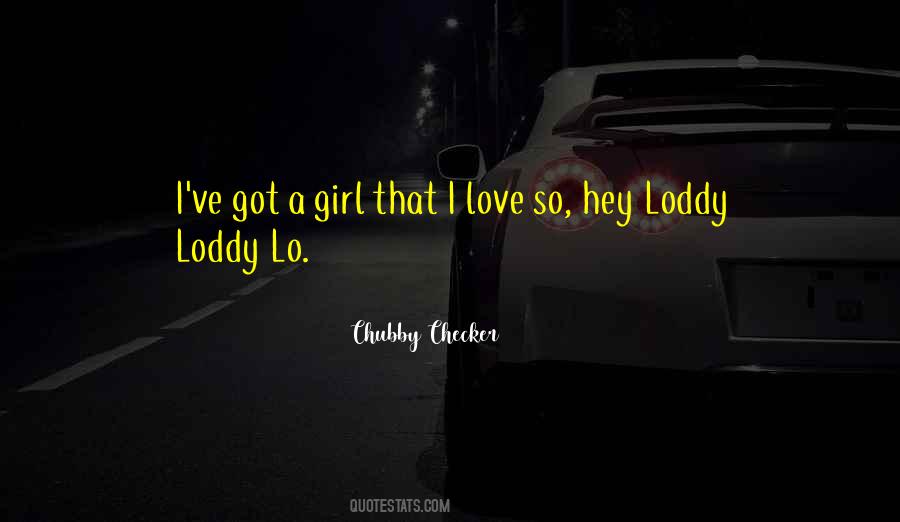 #55. It's tough now to meet a girl who wants to hang out with you because she likes your personality - who hasn't seen you on TV and is like, 'Hey!' - Author: Shaun White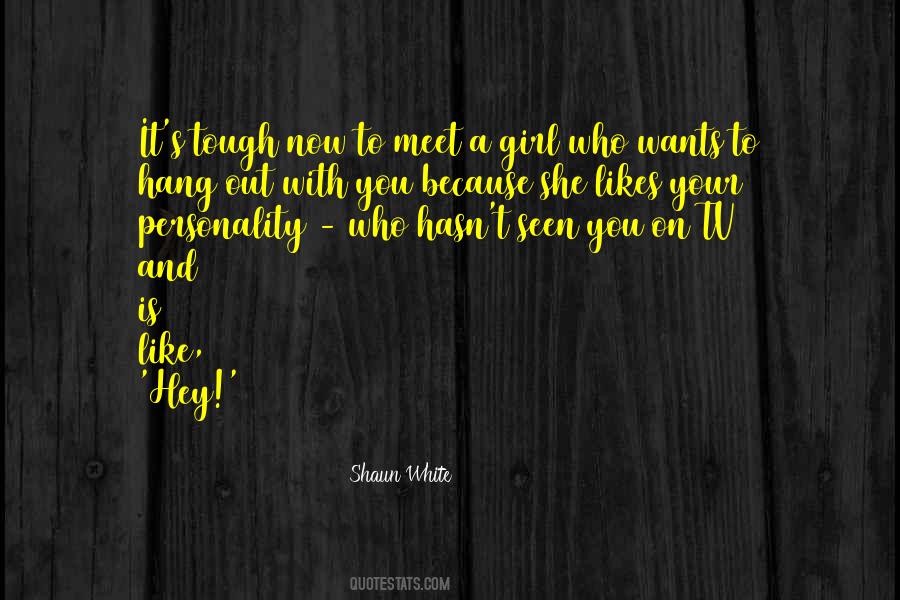 #56. Hey. It's a material world. And I'm a material girl." Nancy took another swig of rum. - Author: Roy Segal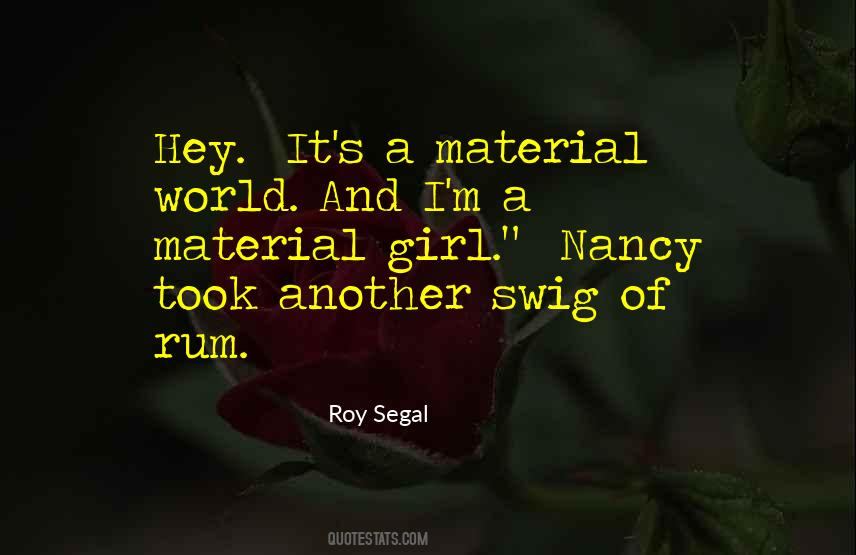 #57. The eyes and the hair were a package deal, the hair was falling across his eyes in a careless way that said Hey, girl. I've got peas on my shoes, but who cares, because I've got these eyes and this hair, and it's pretty fucking great. - Author: Alice Clayton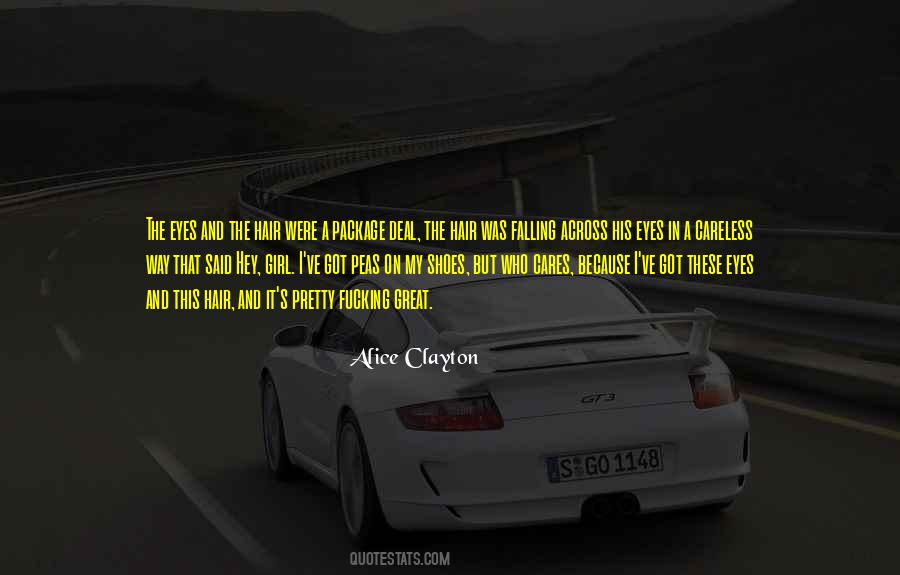 Famous Authors
Popular Topics