Good Humans Famous Quotes & Sayings
List of top 100 famous quotes and sayings about good humans to read and share with friends on your Facebook, Twitter, blogs.
Top 100 Good Humans Quotes
#1. Since humans are social animals, you're basically only as good as your reputation. - Author: A.D. Aliwat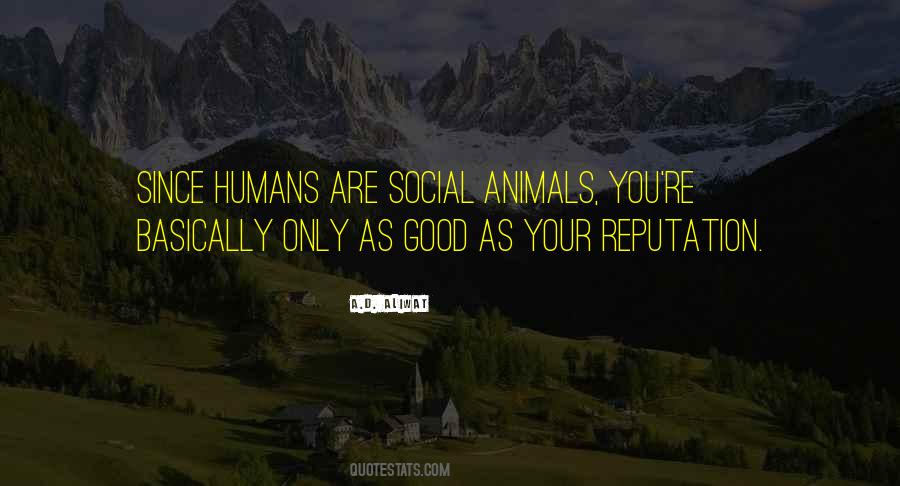 #2. On issue after issue, the counterpoints to the conservative principle of the free market are the progressive principles of human dignity and the common good. We are interested in a market that serves human values, not humans who serve a market. Take - Author: George Lakoff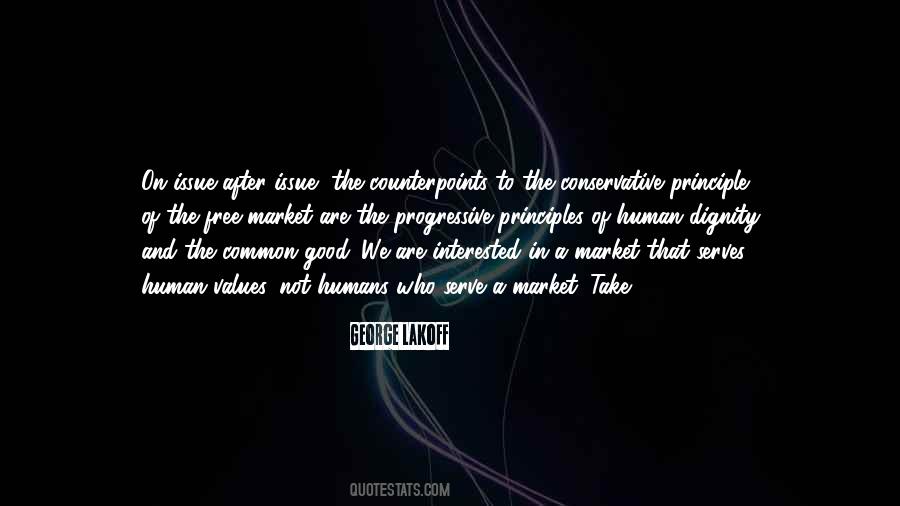 #3. What makes us humans? We are not good or bad. We are yes, no, and maybe all at once. Machines are neither good or back either. It is the people using them who make the distinction. - Author: Jennifer Megan Varnadore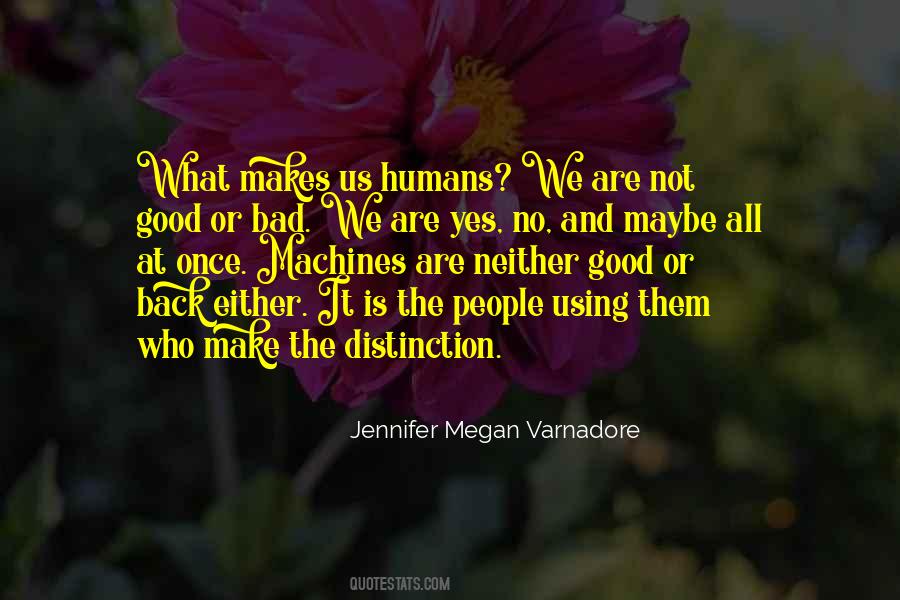 #4. A Spiritual Samaritan lives knowing that if we were to leave this world tomorrow, we were the best humans we could be and we touched the lives of as many souls as possible. We are not asked to be perfect. We are asked to make a difference. - Author: Molly Friedenfeld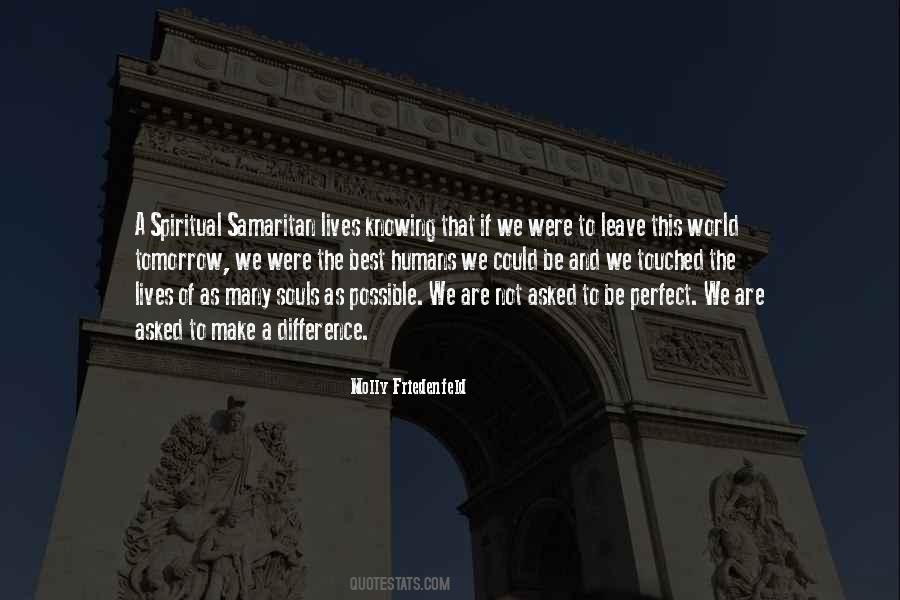 #5. Greed may not be good, but it's not so bad either. You humans think greed is just for money or power, but everyone wants something they can't have. - Author: Hiromu Arakawa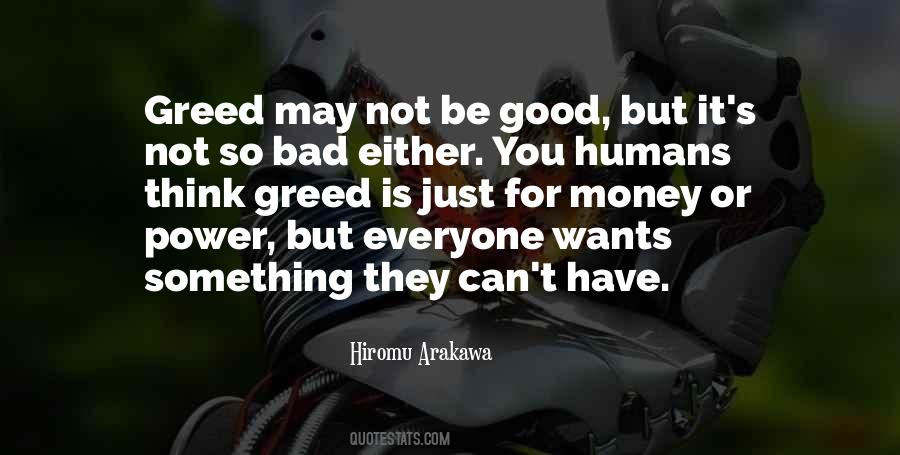 #6. It is as inhuman to be totally good as it is to be totally evil. - Author: Anthony Burgess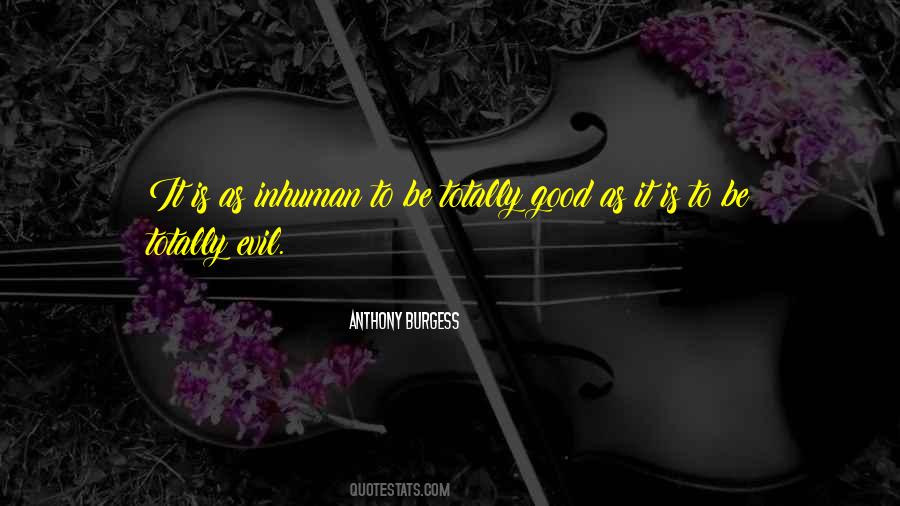 #7. Fantasy is no good unless the seed it springs from is a truth, a truth about human beings. - Author: Eudora Welty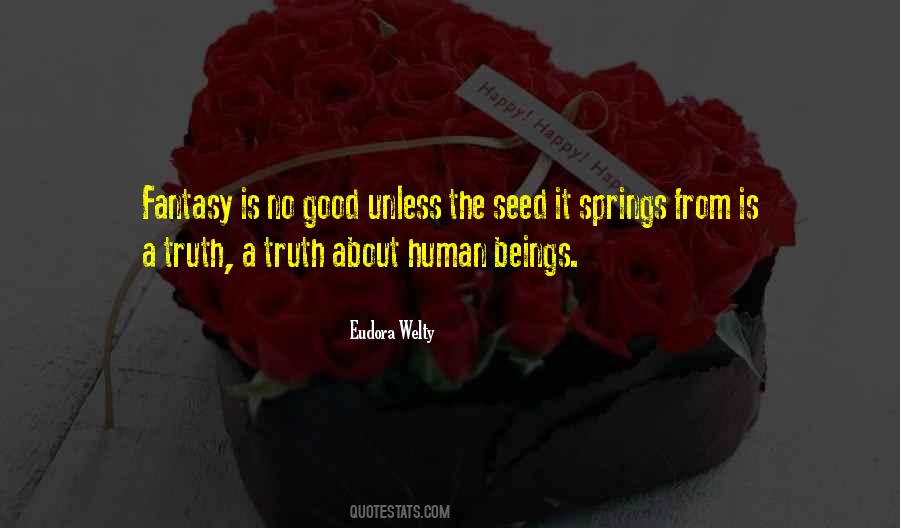 #8. We live in a culture that paces itself to the speed of machines. We are trying like good little robots to match our speed with theirs. Humans cannot move at the same rate as machines. When we attempt to, we lose contact with our own humanness. - Author: Tian Dayton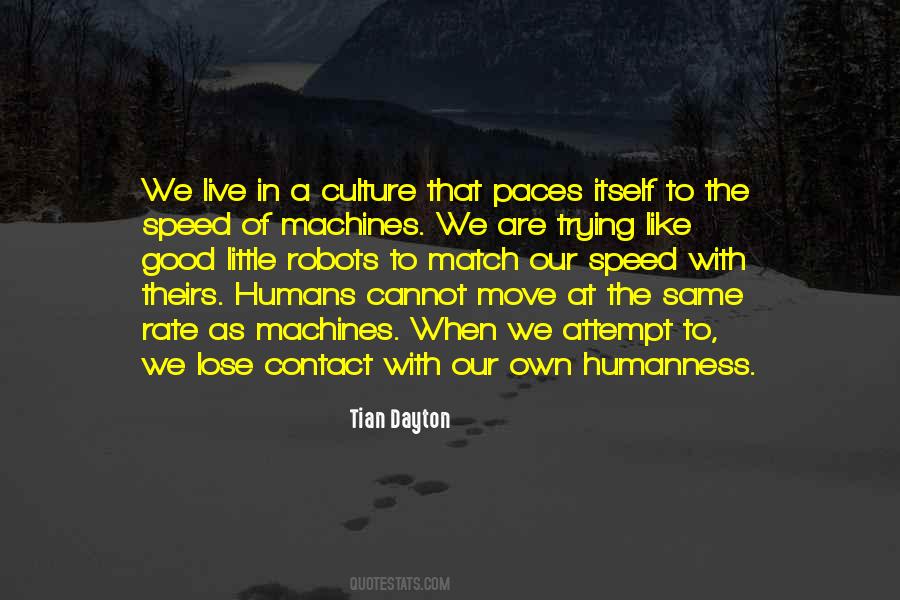 #9. There's always a theme I'm drawn to, that we humans are not good or bad. We're all a mixture of both. We can have great compassion or commit great violence. - Author: Gavin Hood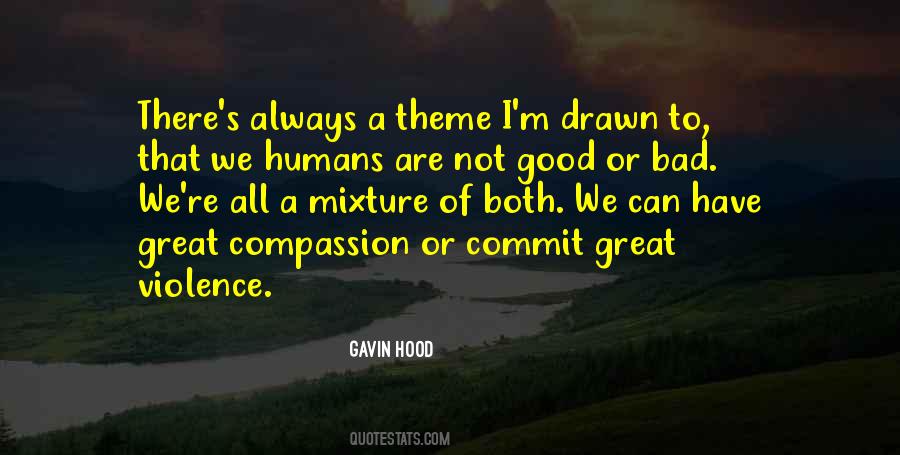 #10. Embracing our environment is a good direction, a very spiritual direction. It's too Aristotelian to separate man from the animals and man; humans from the environment. - Author: Surya Das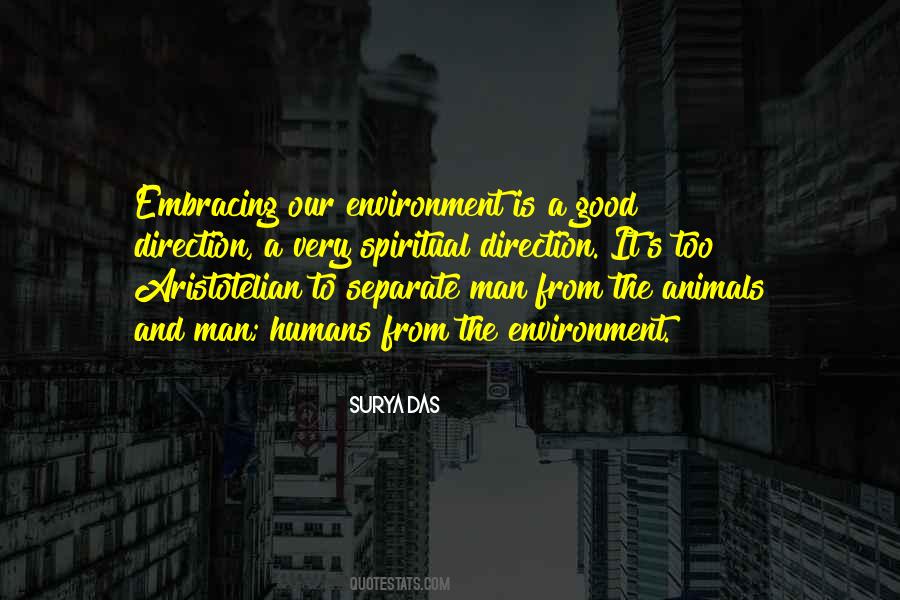 #11. It's the most charming thing about humans. You are all so sure that the lesser animals are bleeding with envy because they didn't have the good fortune to be born Homo sapiens. - Author: Orson Scott Card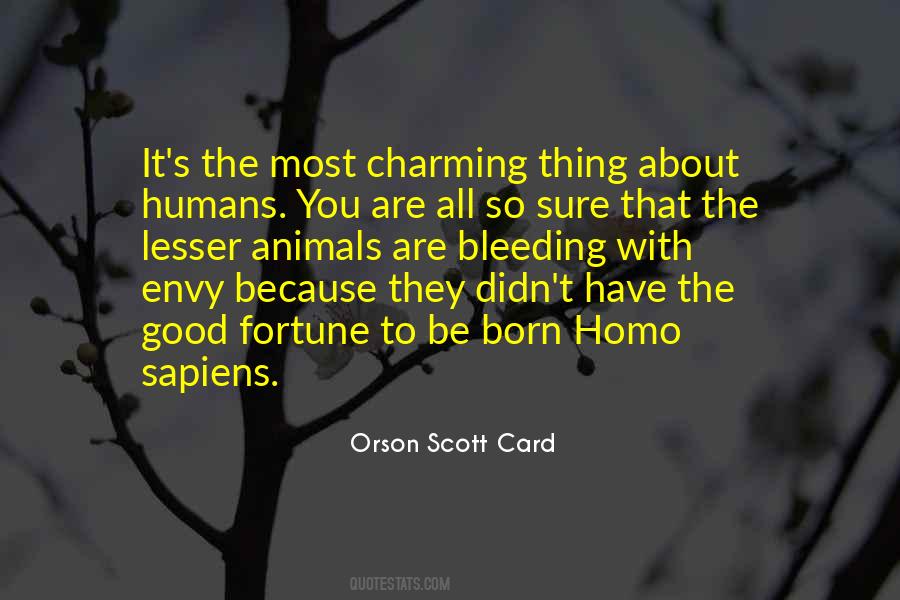 #12. Humans are insane. We kill our own people, starve our own people, sell them, work them to death, beat them, don't give them affordable/free/good healthcare, and let them live in misery, while a few of us have - we have all we want. We are evil. - Author: Faith Hunter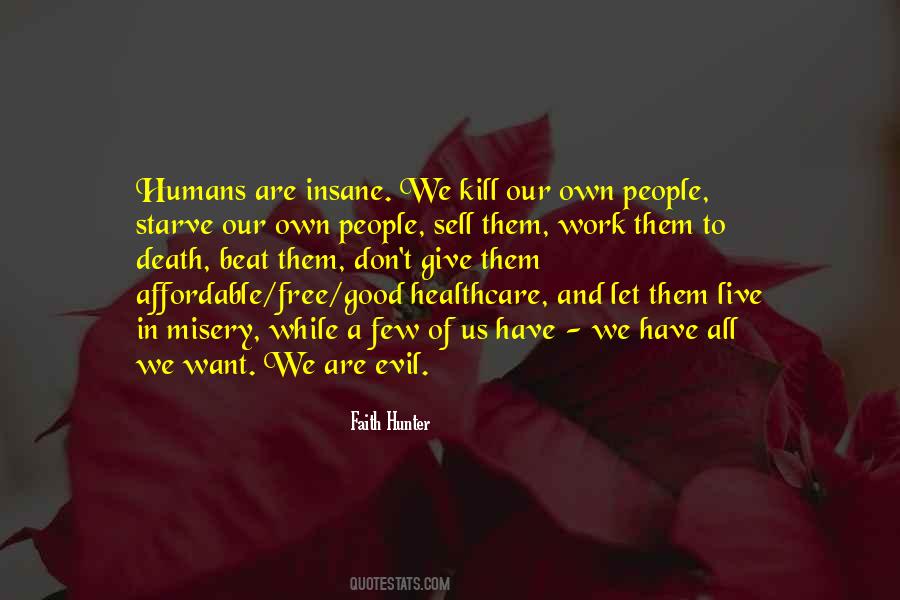 #13. Humans are so good at imagining things, they invent gods who feel so real, they then betray us by not existing. - Author: Samantha Hunt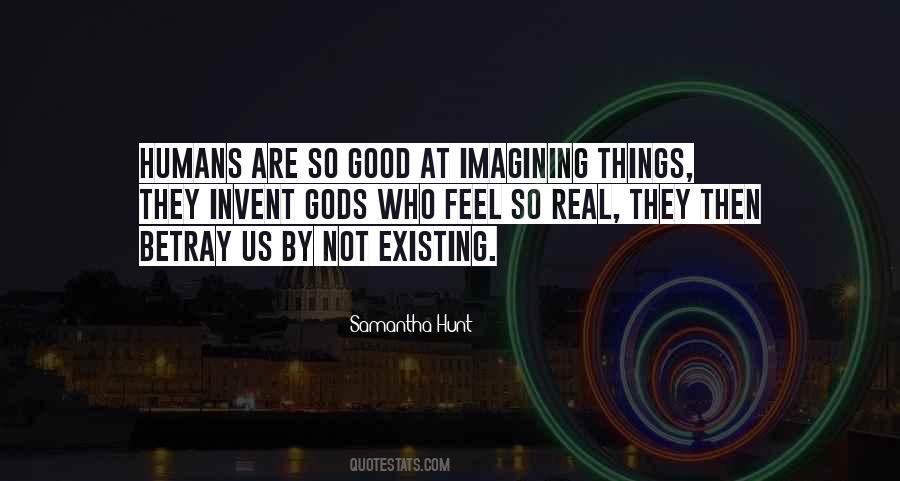 #14. There is in general good reason to suppose that in several respects the gods could all benefit from instruction by us human beings. We humans are - more humane. - Author: Friedrich Nietzsche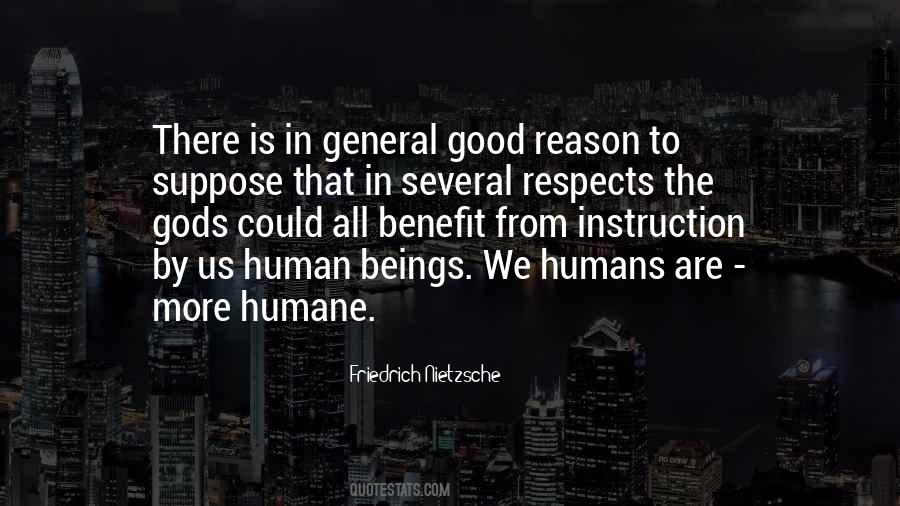 #15. It is only when the individual is good that society will progress. When the society and the nation is based on the observance of human values. - Author: Sathya Sai Baba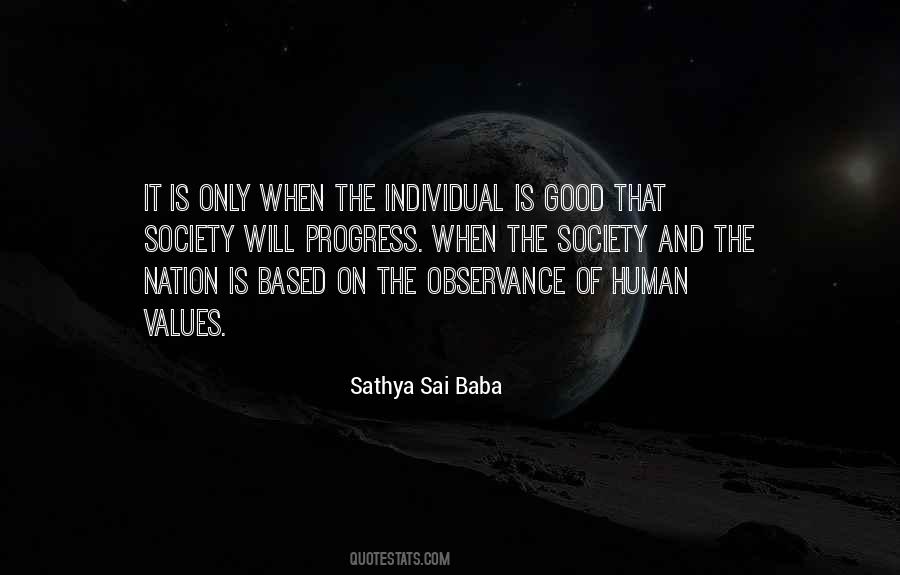 #16. The whole idea of emotions being something we can't escape as humans, but that deep suffering that comes from resisting them, we can move out of that just by not resisting anymore. But it takes a really brave warrior soul to sit there in these emotions that admittedly don't feel good in the body. - Author: Alanis Morissette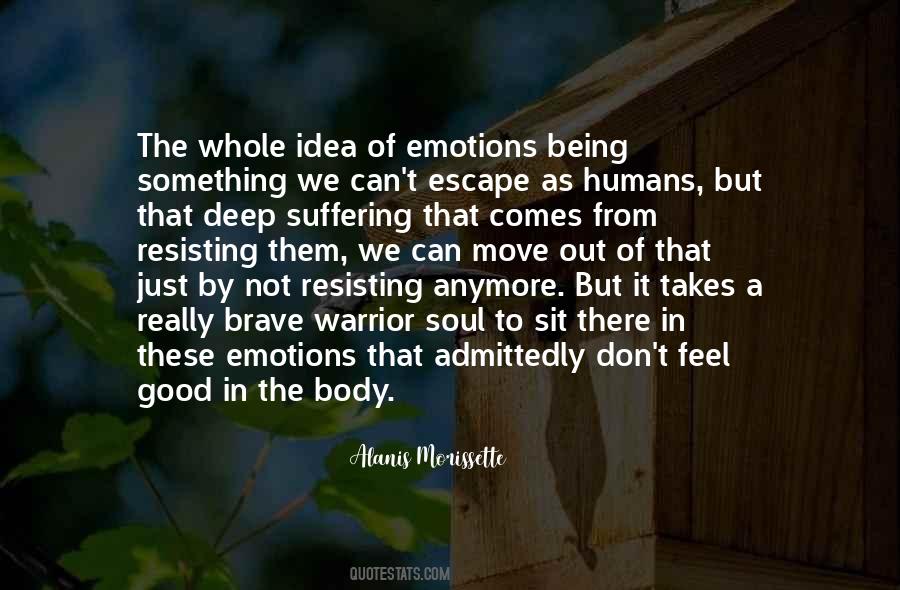 #17. Humans lack good mirrors. It's so hard for anyone to show us how we look, and so hard for us to show anyone how we feel. - Daddy Jacobsen - Author: John Green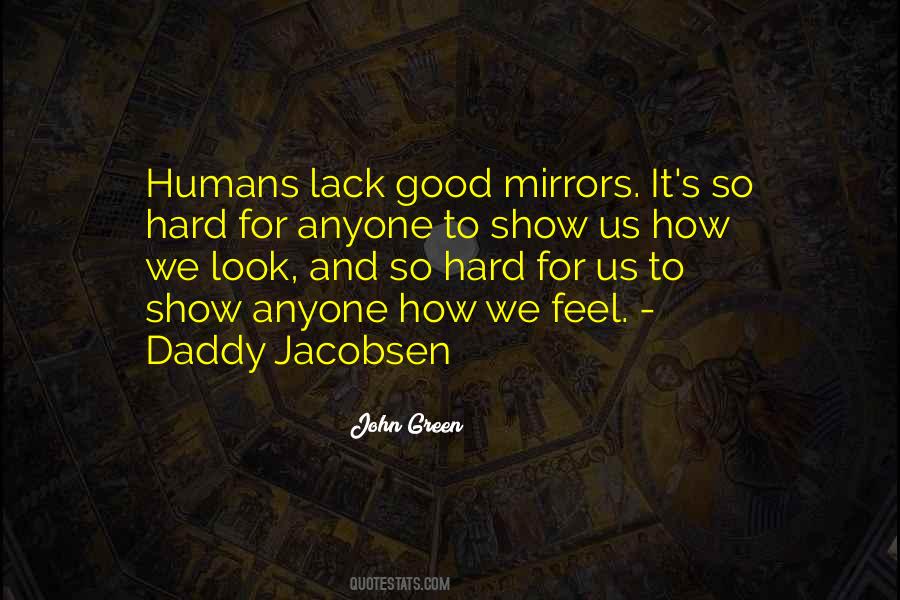 #18. A good dog deserves a good home. - Author: Jack Canfield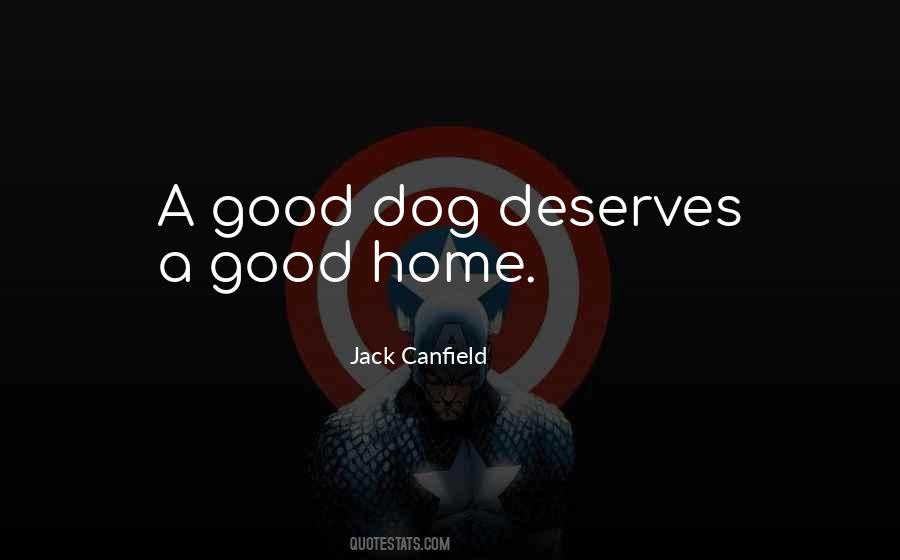 #19. Do you know the amount of evil done by well-meaning humans? Oodles. Do you know the amount done by ill-meaning devils? Infinitesimal. - Author: Thomm Quackenbush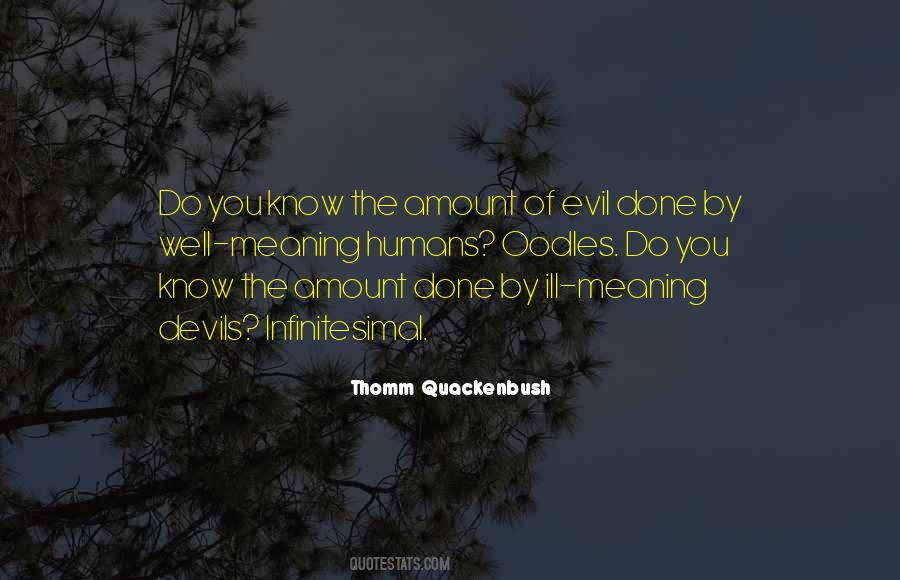 #20. Come on in, I said again, and he came on in and I hugged him. I felt his arms, warm through the linen. Suddenly there was a reason to leave the house and see other humans, because some of them were good. - Author: Daniel Handler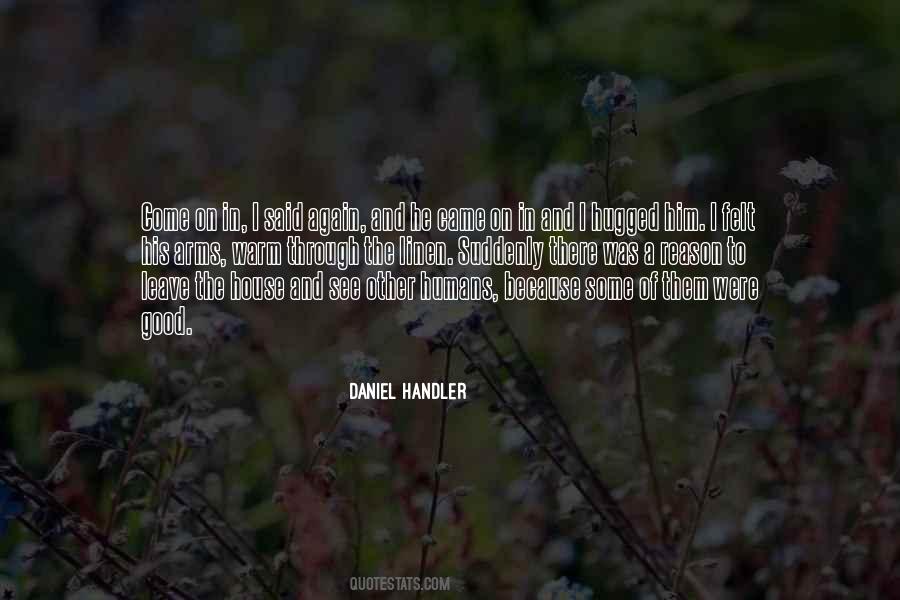 #21. Evil's a thing of the mind. We humans got the full measure of it ourselves.
Is that right? Are you evil, Sarah Mary?
I ain't good. - Author: Alden Bell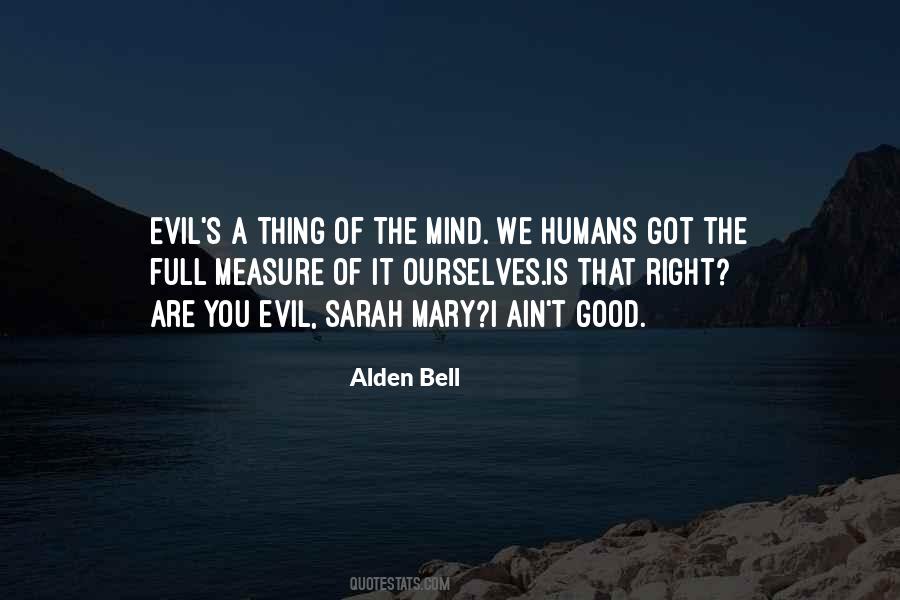 #22. If we humans are good at anything, it's thinking we've got a terrific idea and going for it without acknowledging the potential consequences or our own ignorance. - Author: David Suzuki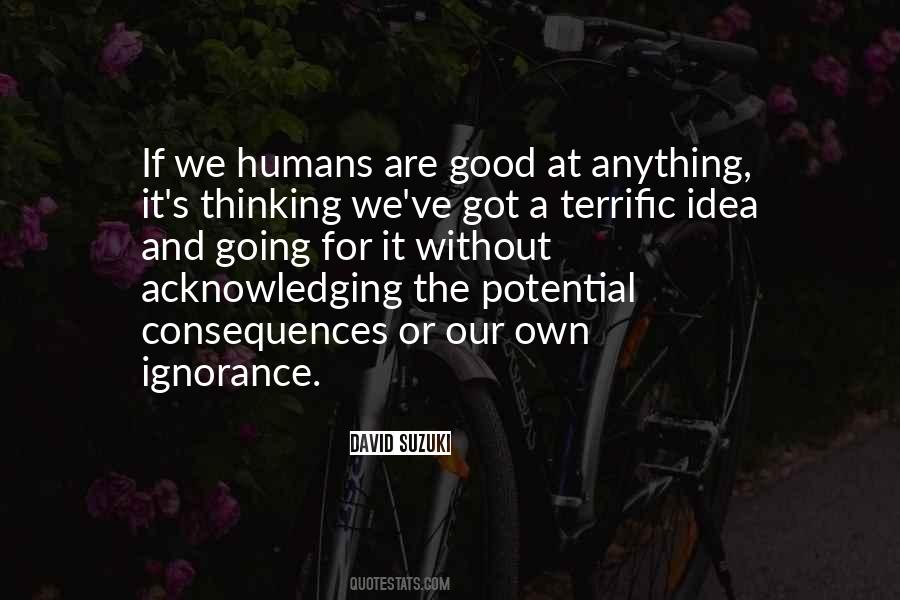 #23. Dessie's friends were good and loyal but they were human, and humans love to feel good and they hate to feel bad. - Author: John Steinbeck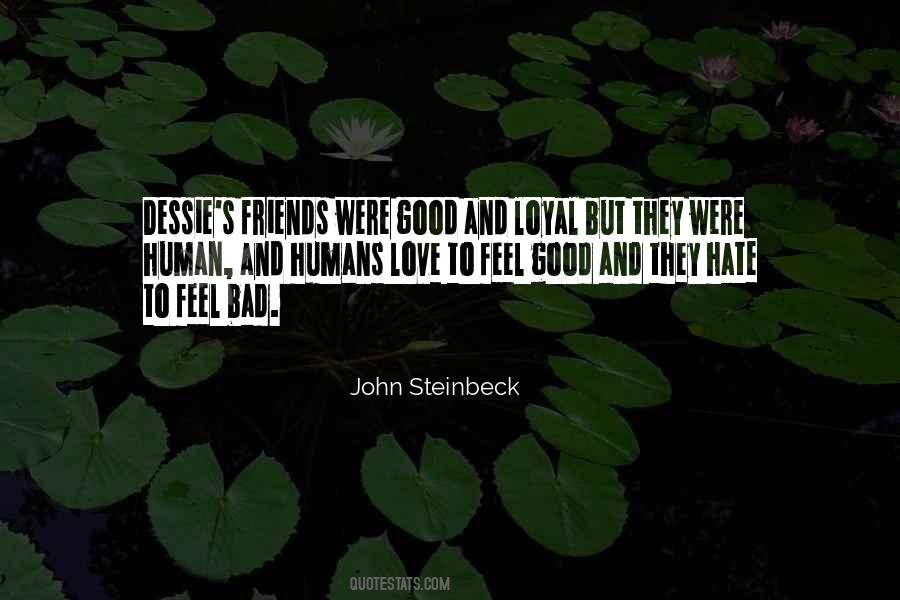 #24. Christianity is not a religion. Religion is humans trying to work their way to God through good works. Christianity is God coming to men and women through Jesus Christ. - Author: Josh McDowell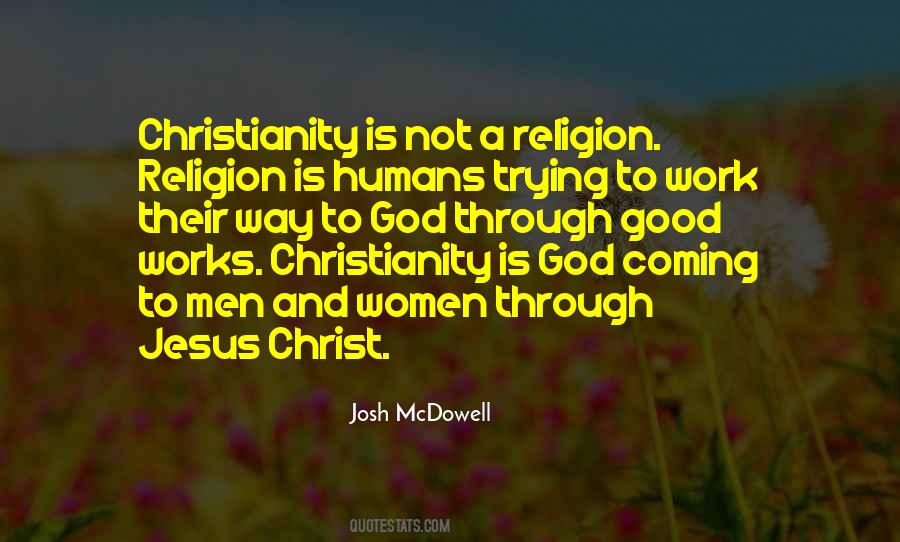 #25. Without man there would be no evil. But there was also no good, nothing moral built over the world of fact. Humans were responsible for it all. - Author: Karl Marlantes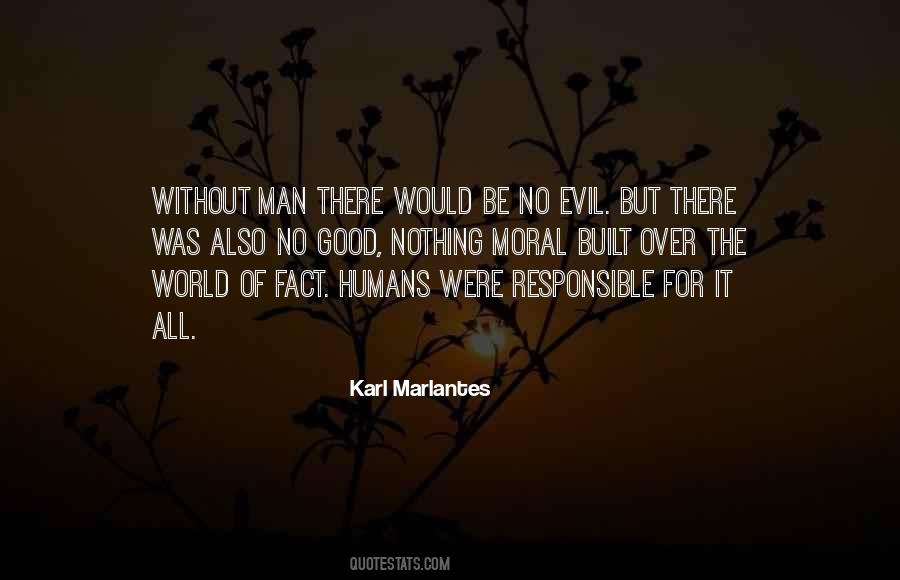 #26. It is my desire and intent to trust the multi-layered good purposes of God than in what humans fabricate out of their need and experience. I specifically ask not to know these purposes so that I might remain a child in their unfolding. - Author: William P. Young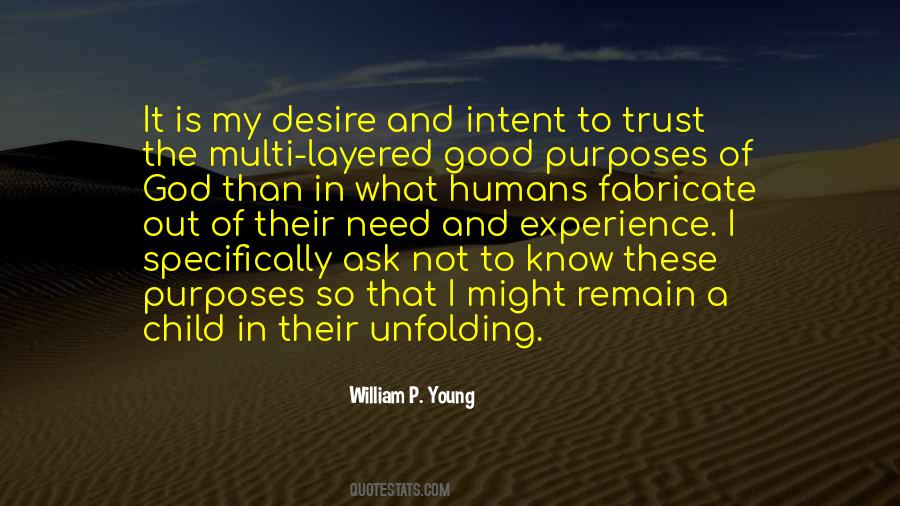 #27. No race is more adept than humans at weaving a mask of excuses, at ultimately claiming good intent. And no race is more adept at believing its own claims. How many wars have been fought, man against man, with both armies espousing that god, a goodly god, was on their side and in their hearts? But - Author: R.A. Salvatore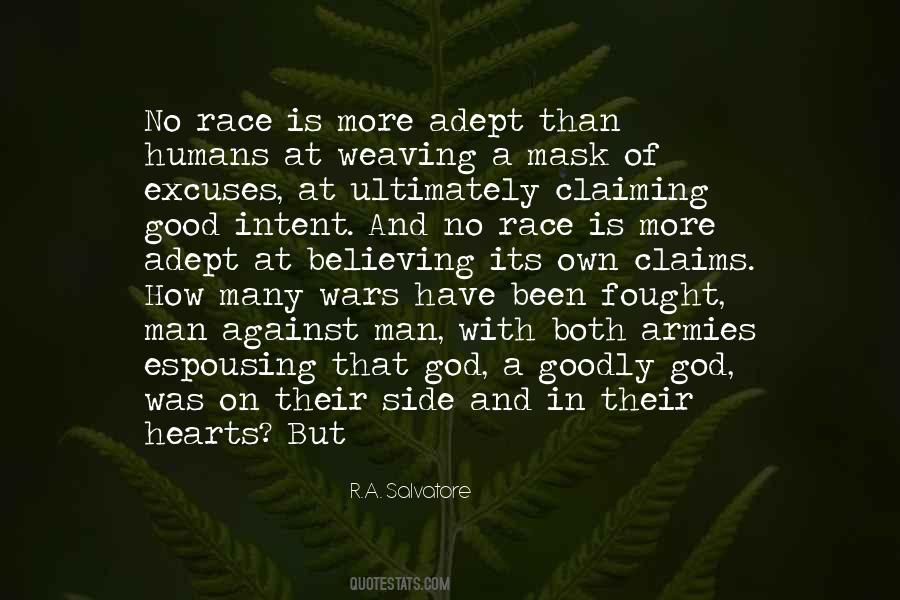 #28. I am a firm believer that the pull for human beings is towards the good, generally outweighing the bad. - Author: Neill Blomkamp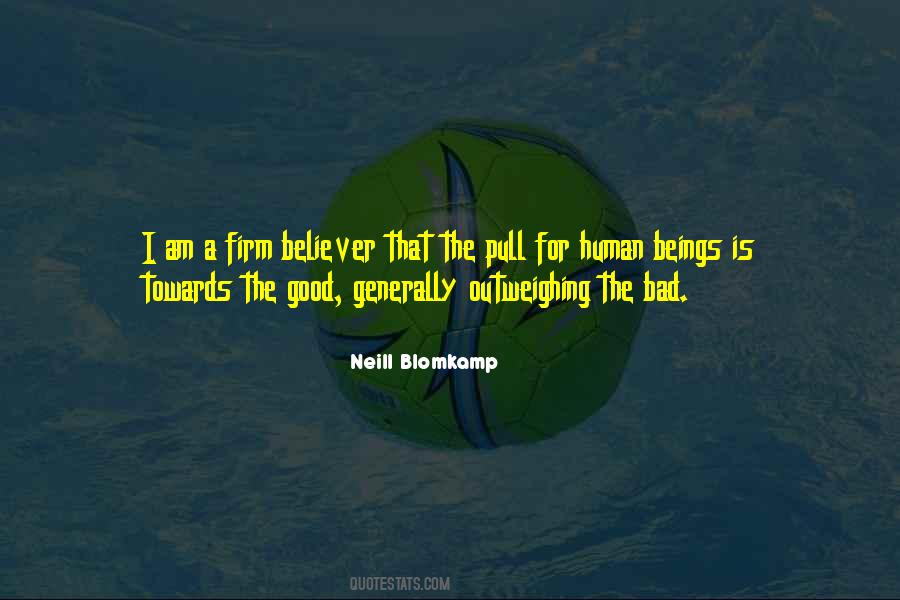 #29. Justice exists for the good of the universe. To maintain balance. It does not exist to ignite hatred among humans. - Author: Amish Tripathi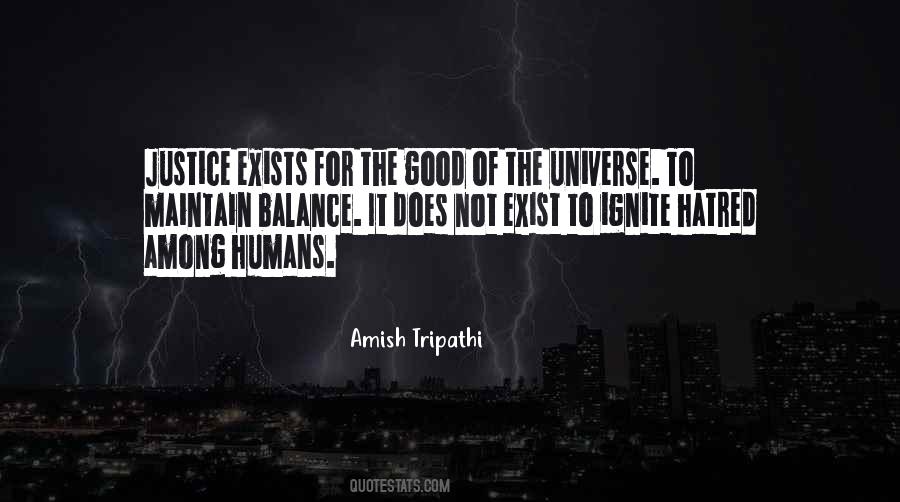 #30. But cats are good at steering people. A miaow here, a purr there, a little gentle pressure with a claw . . . and Maurice had never had to think about it before. Cats didn't have to think. They just had to know what they wanted. Humans had to do the thinking. That's what they were for. - Author: Terry Pratchett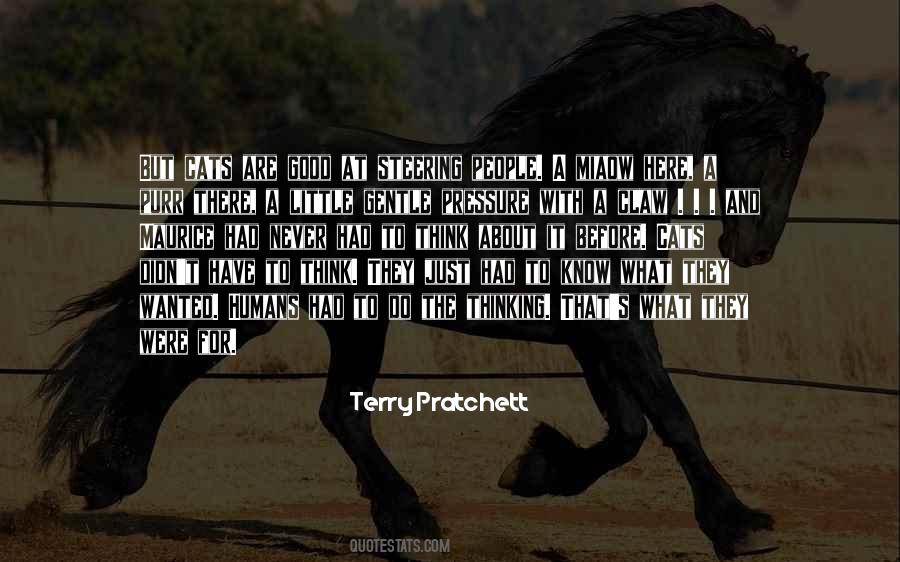 #31. Animals are good humans and humans are bad animals. - Author: Akif Pirincci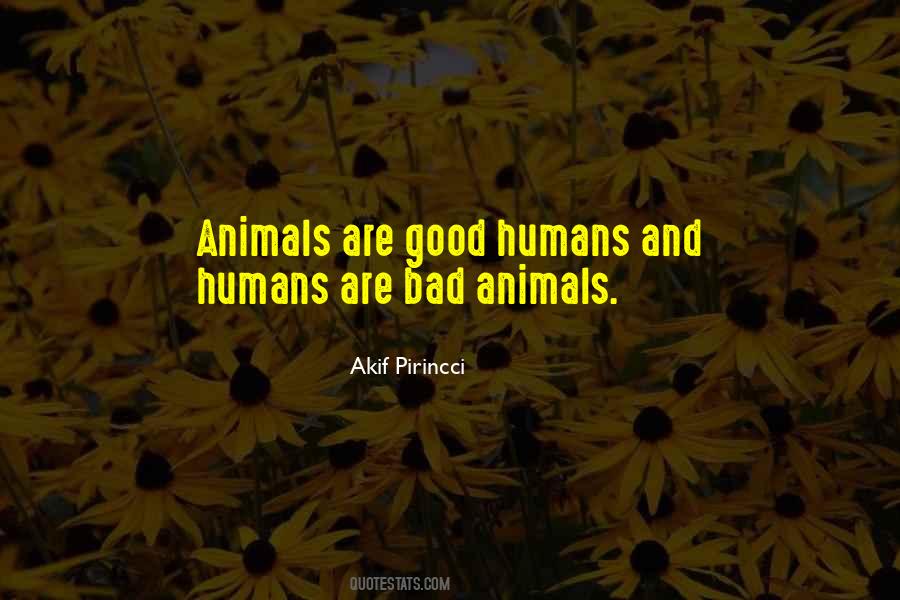 #32. I want to be a good human being. I'm doing my best, and I'm working at it. - Author: Maya Angelou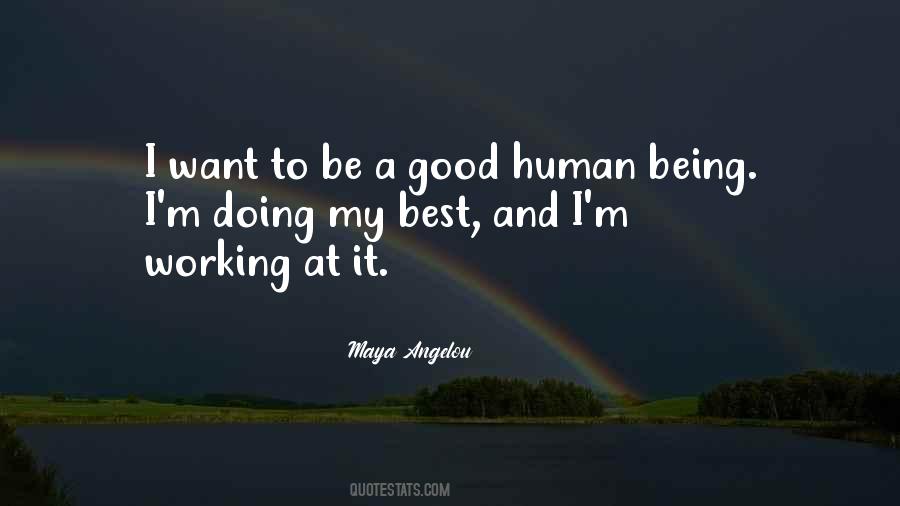 #33. Visualization is the human being's vehicle to the future - good, bad, or indifferent. It's strictly in our control. - Author: Earl Nightingale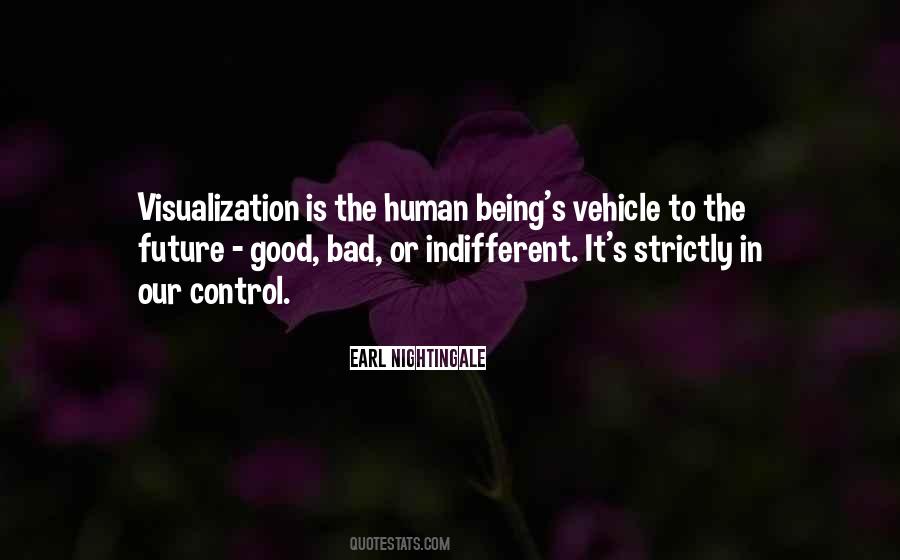 #34. The gods do not need sacrifices, so what might one do to please them? Acquire wisdom, it seems to me, and do all the good in one's power to those humans who deserve it. - Author: Apollonius Of Tyana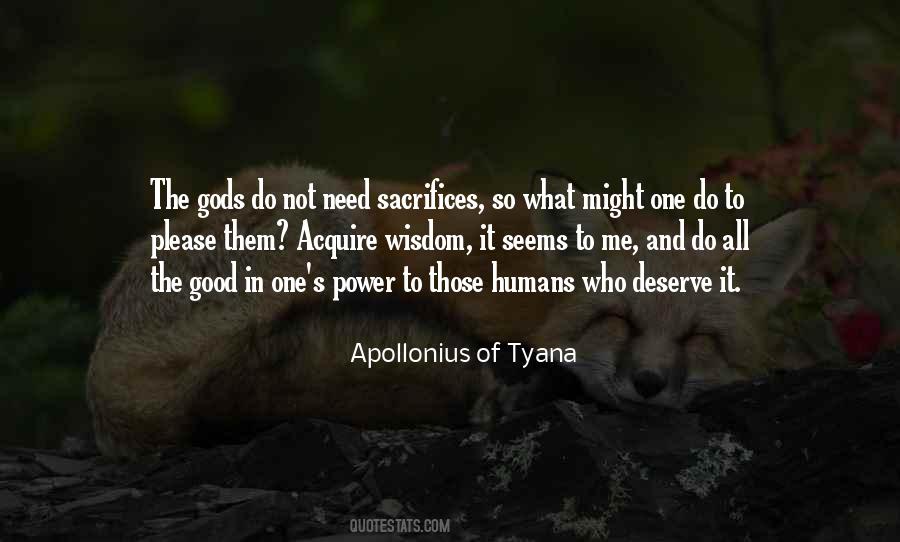 #35. I'm convinced that petting a puppy is good luck. - Author: Meg Donohue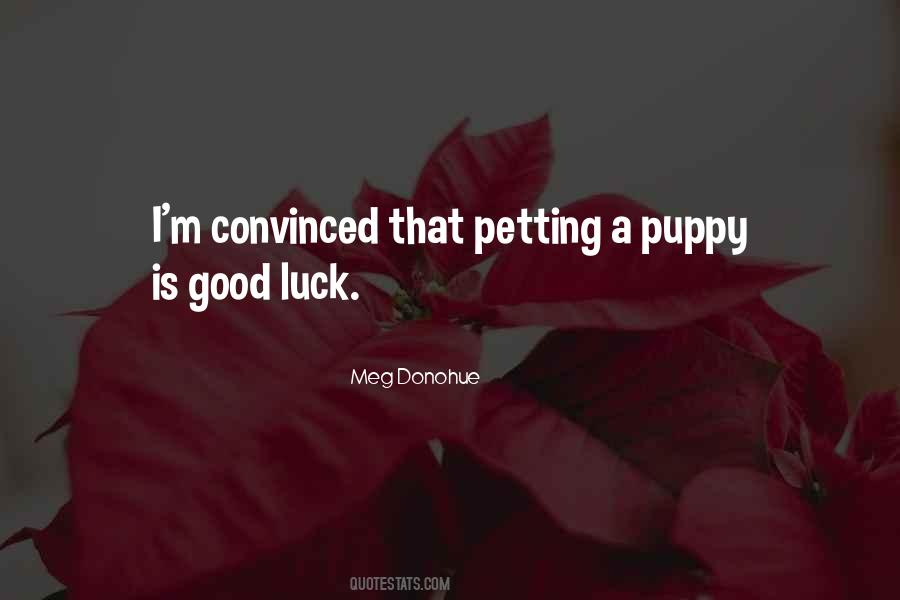 #36. If time, so fleeting, must like humans die, let it be filled with good food and good talk, and then embalmed in the perfumes of conviviality. - Author: M.F.K. Fisher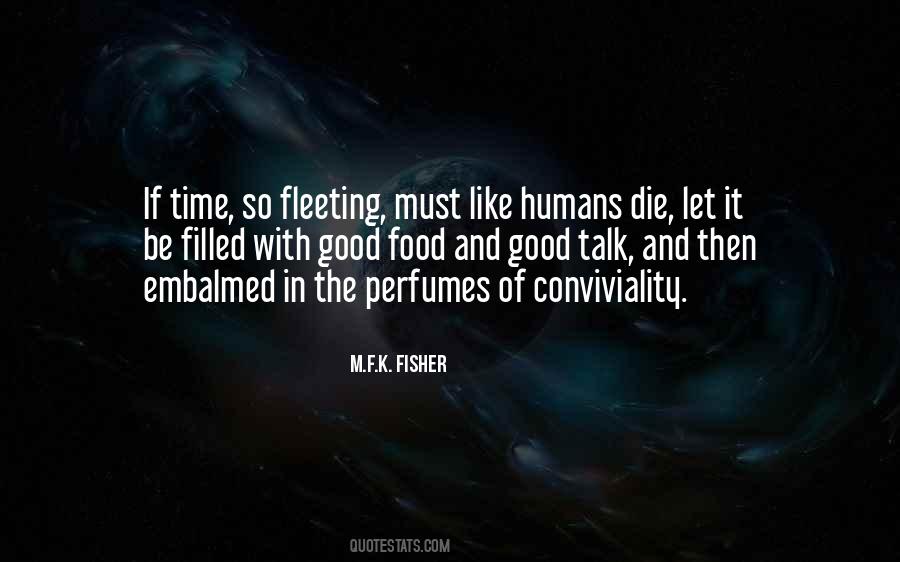 #37. She still didn't like the idea. But she wouldn't question me again. She placed the judgment of her humans ahead of her own, as a matter of courtesy and pride, even if she was always right and we were always wrong. Good dogs are like that. - Author: Catherine Ryan Hyde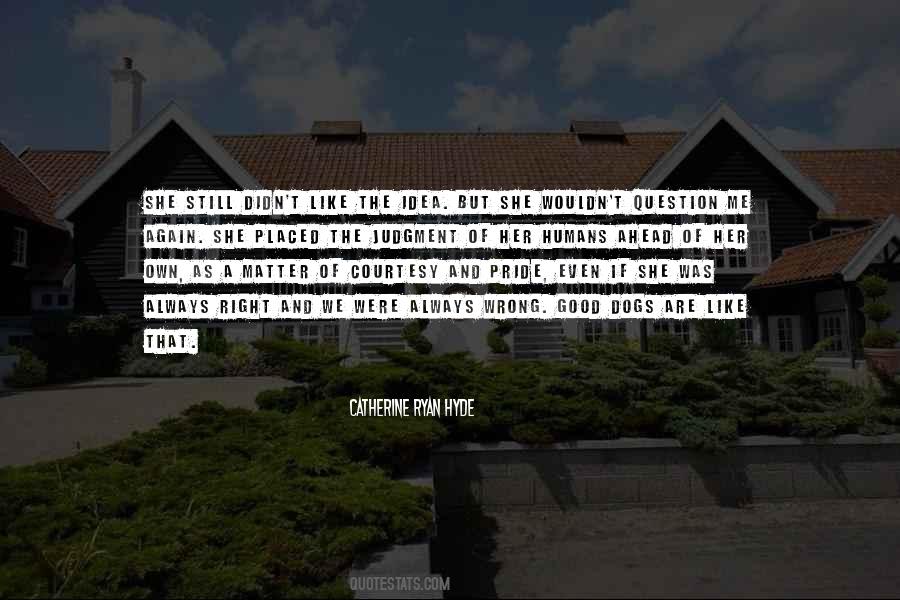 #38. Human Beings are just good enough to make democracy possible ... just bad enough to make it neccessary. - Author: Reinhold Niebuhr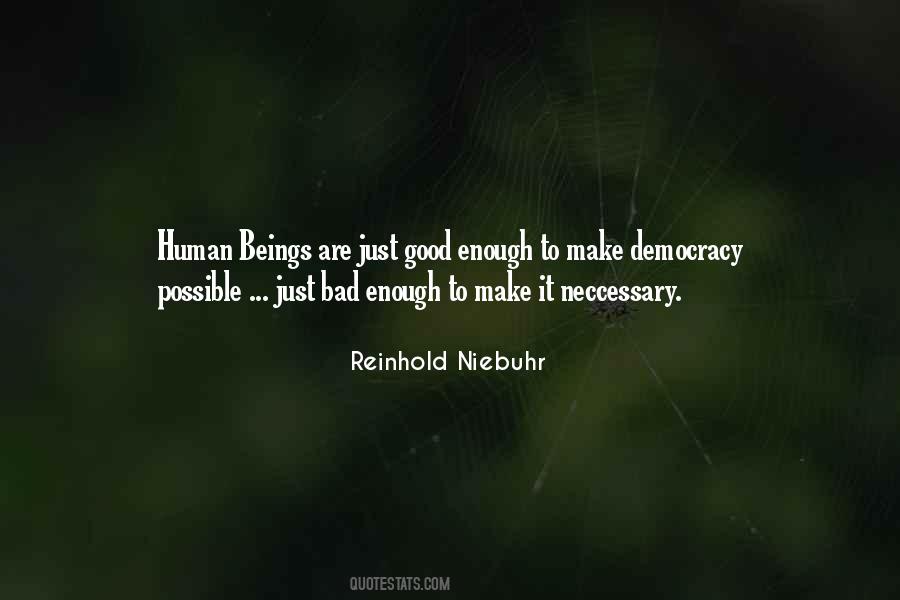 #39. To become a good dog-doctor it is necessary to love dogs, but it is also necessary to understand them - the same as with us, with the difference that it is easier to understand a dog than a man and easier to love him. - Author: Axel Munthe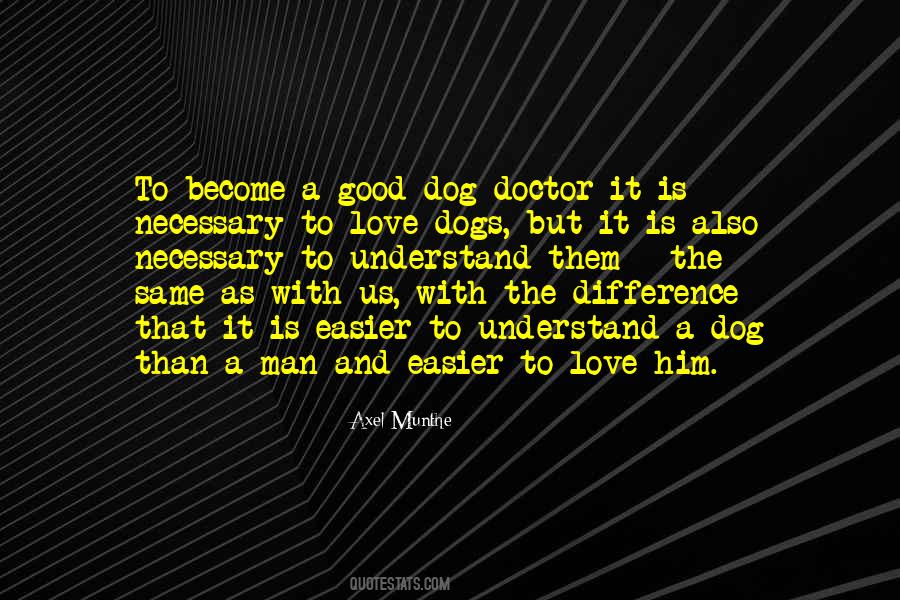 #40. Through the years I've learned to gain the trust of humans. I'm really good at gaining the trust of animals and I have developed the same ability with humans. I don't make people feel wrong, I just make people aware. I have learned to make people laugh. - Author: Cesar Millan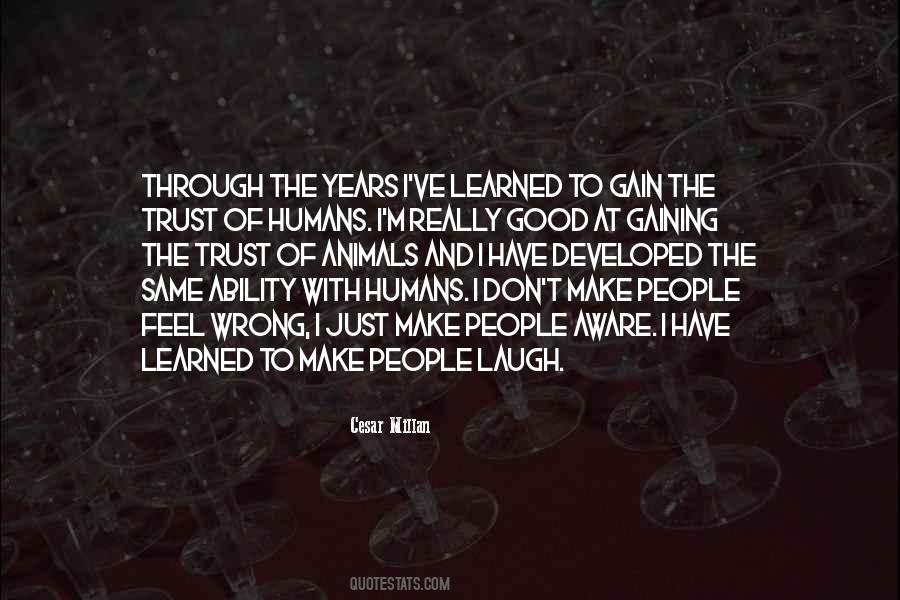 #41. As Abby finally turned and fled the frigid temperatures of the roof, she realized she still didn't know if the Fallen were good or evil. Whether they intended to kill the humans or not.
All she knew was that, at the tender age of thirteen, Abby Rhodes had just fallen head over heels in love. - Author: Rosalie Lario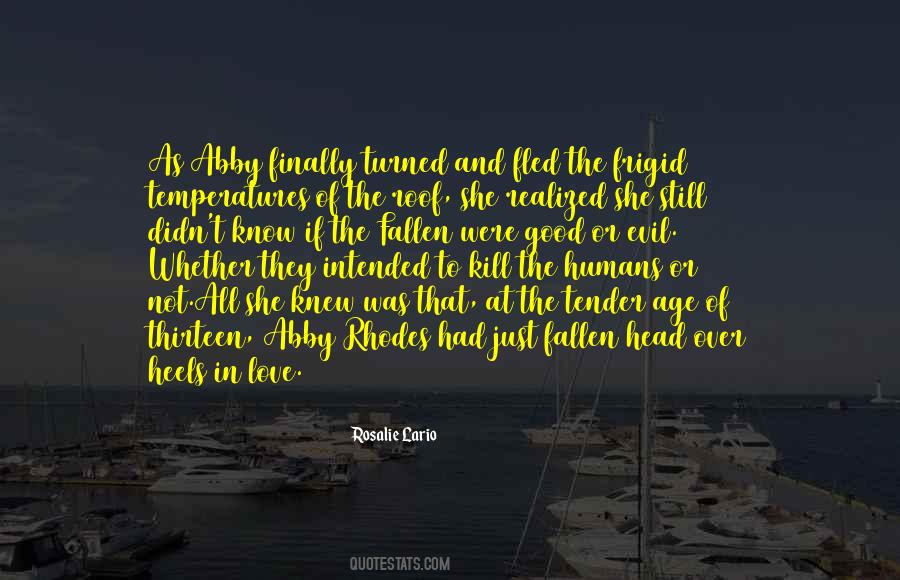 #42. Our built-in human system for mimicry explains why we humans can transfer our good and bad moods to each other - if we aren't careful! - Author: Karen Salmansohn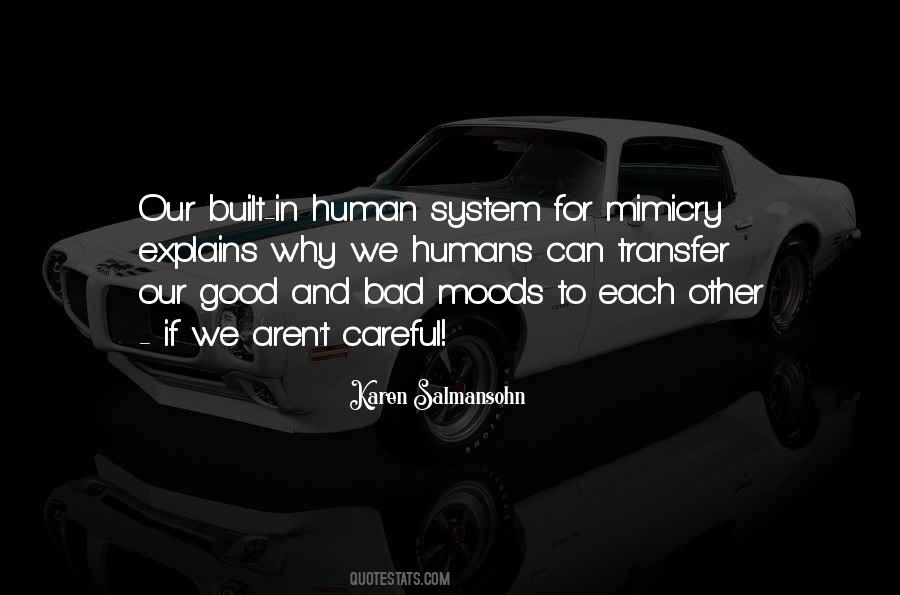 #43. I kind of feel like we're all humans; we all live on this planet. I kind of always wish there was more of a partnership - a really healthy relationship between people, working together to do things and make it good and change. - Author: Robert Coppola Schwartzman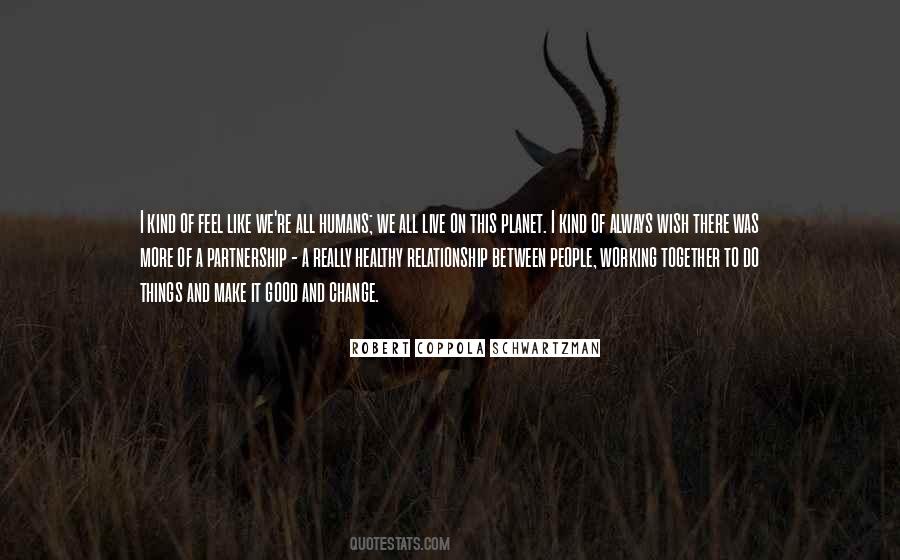 #44. I've always believed that humans are good at heart. But there's always the exception. - Author: Amy Carlson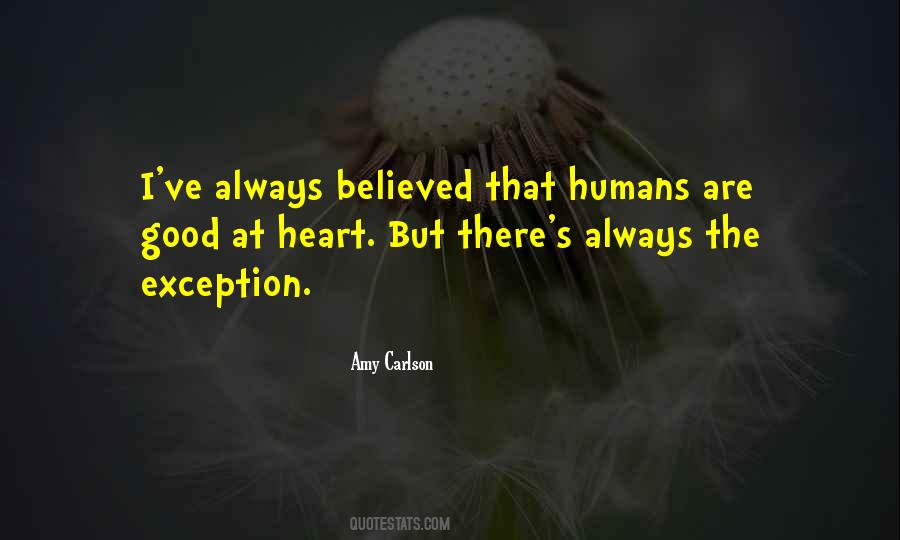 #45. How do we judge a dark landscape? Is it dark because the ones who already live there won't let humans have their piece of the world? Do we judge who is good and who is bad by the color and shape of their skin - or by what resonates in their hearts? - Author: Anne Bishop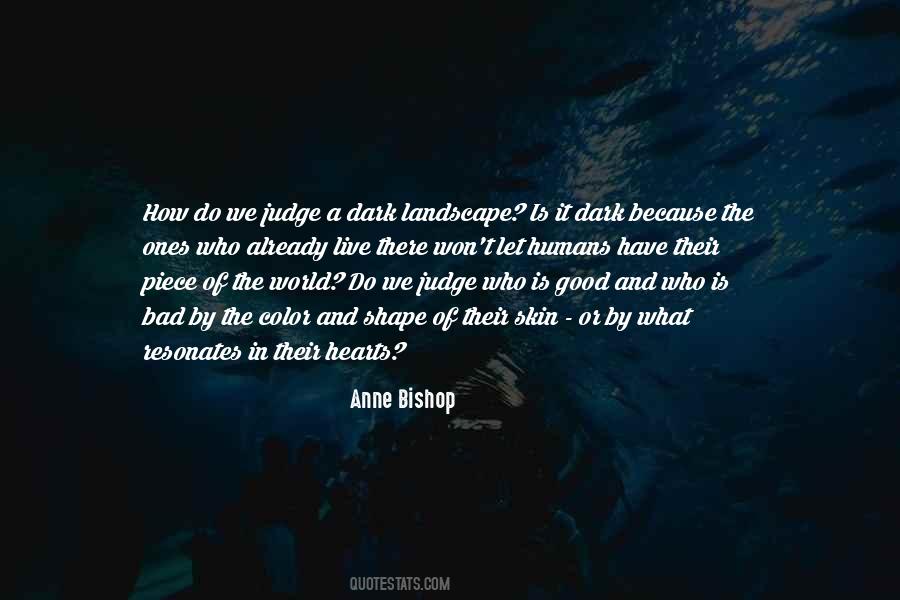 #46. The longer I do my job," he said, "the more I realize that humans lack good mirrors. It's so hard for anyone to show us how we look, and so hard for us to show anyone how we feel." "That is really lovely," my - Author: John Green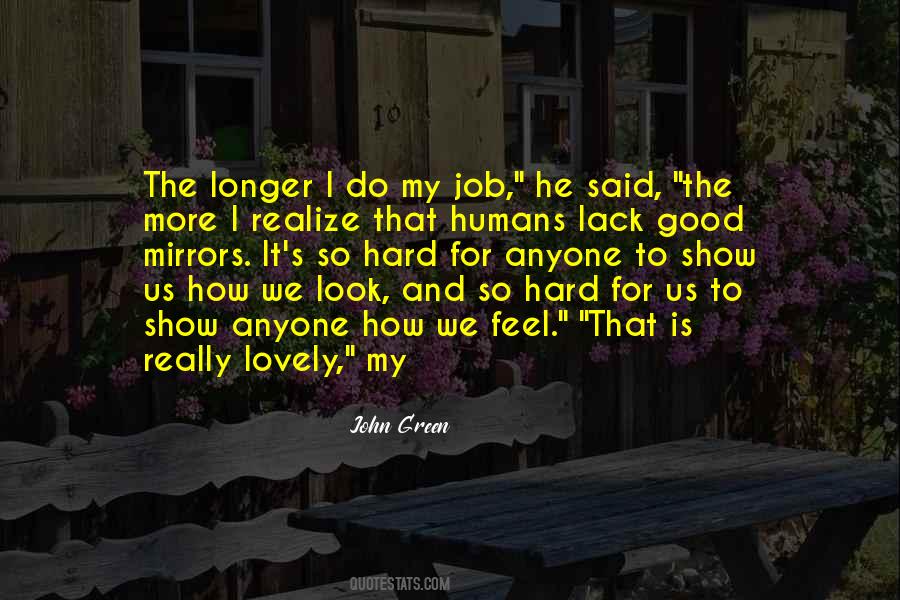 #47. But the people only talked about how ugly her face looked. No one even bothered to mention what a sweet, kindhearted girl she was. Now, don't be amazed! That is just the nature of humans, to notice the one flaw among a person's ten good qualities. - Author: Janaki Sooriyarachchi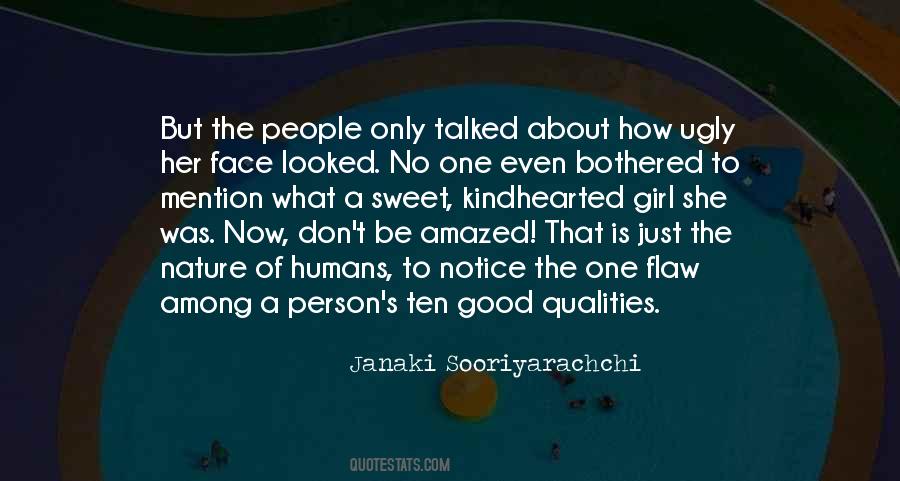 #48. You believe in a person's permanence because humans have a tendency to stick to you when life is good. I call them honey summers. I've had enough honey summers in life to know that people leave you when winter comes. - Author: Tarryn Fisher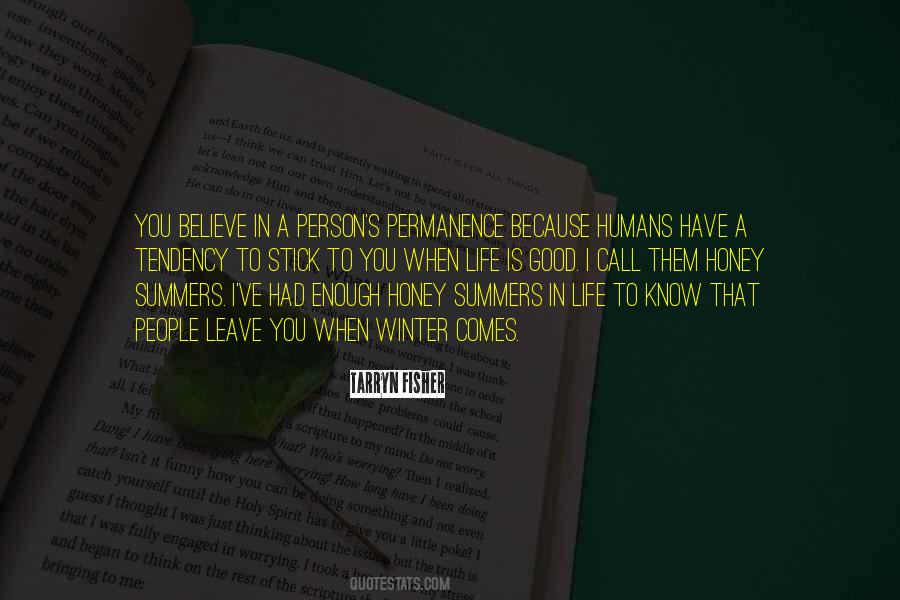 #49. Every human activity, good or bad, except mathematics, must come to an end. - Author: Paul Erdos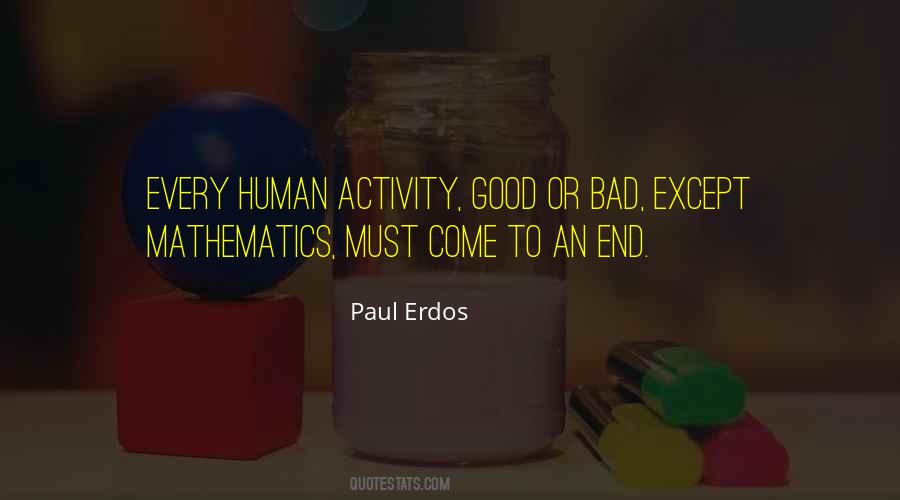 #50. Only elves and trolls had survived the coming of Man to the discworld: the elves because they were altogether too clever by half, and the trolley folk because they were at least as good as humans at being nasty, spiteful and greedy. - Author: Terry Pratchett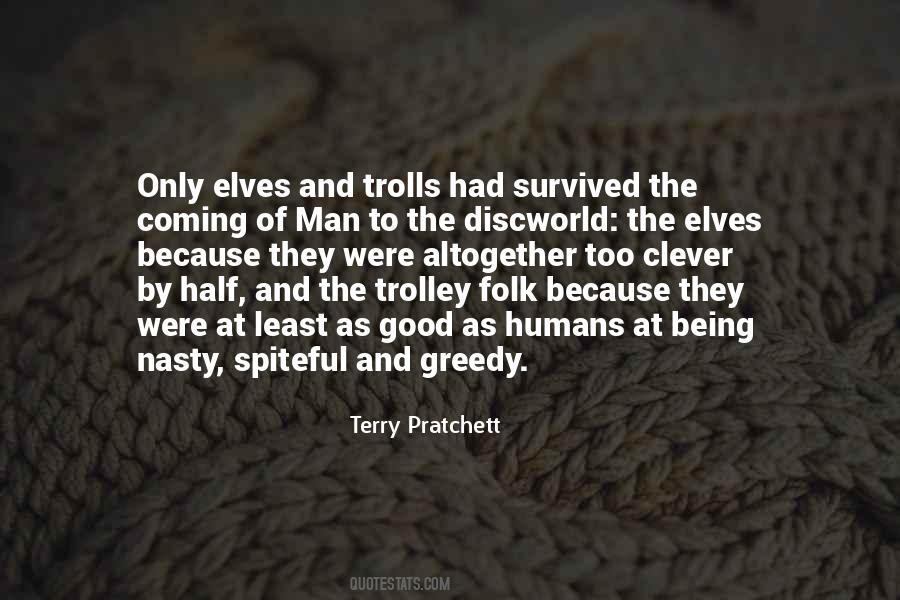 #51. How much good it would do if one could exterminate the human race. - Author: Bertrand Russell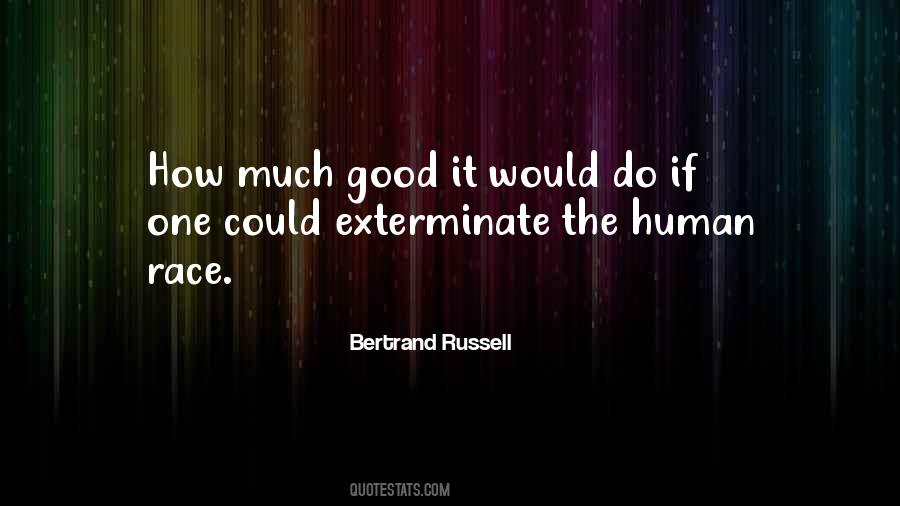 #52. It was only a wasp,' I say, 'there are plenty more where they came from.' This is not good enough for Tomomi: 'There are plenty more humans where we come from, so does that make homicide okay? - Author: David Mitchell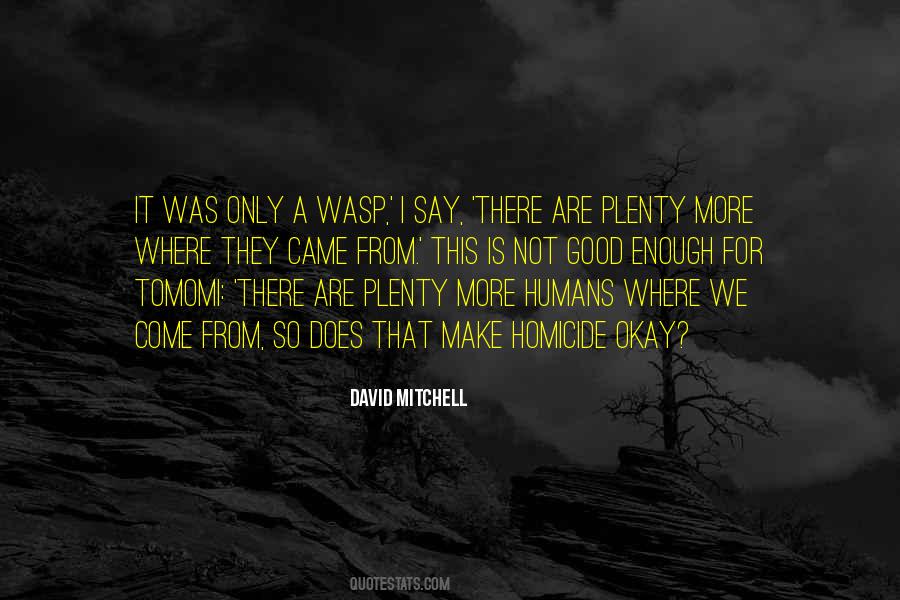 #53. Ubi boni, malum prosperat (Where good men are silent, evil prospers) - Author: F. Sionil Jose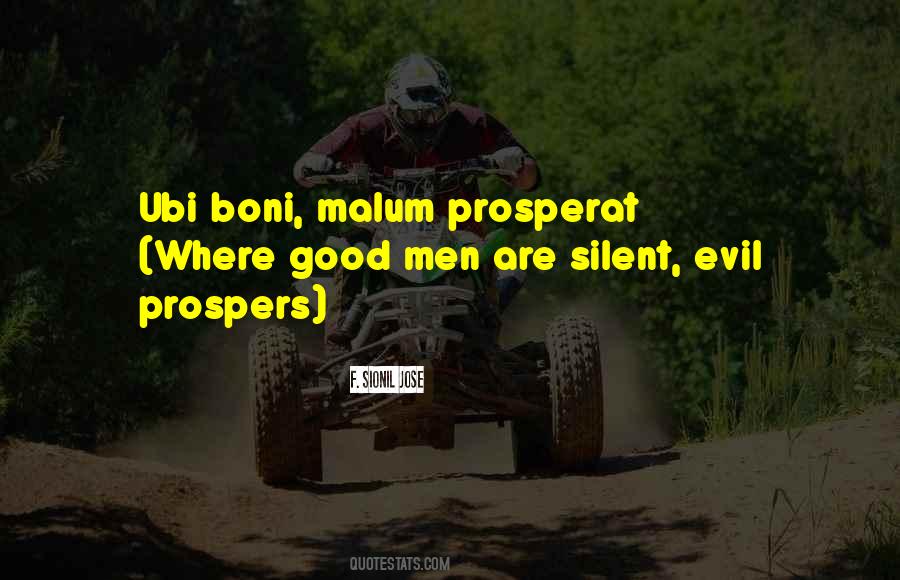 #54. Of the good in you I can speak, but not of the evil.
For what is evil but good tortured by its own hunger and thirst?
Verily when good is hungry it seeks food even in dark caves, and when it thirsts it drinks even of dead waters. - Author: Kahlil Gibran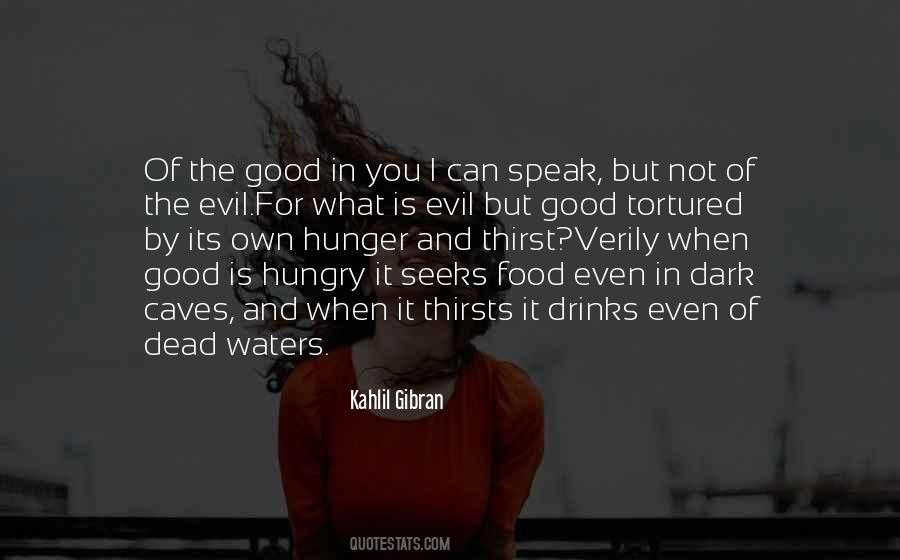 #55. Our body begins to destroy itself from the moment it is born. We are fragile. We're creatures of passage. All that is left of us are our actions, the good or the evil we do to our fellow humans - Author: Carlos Ruiz Zafon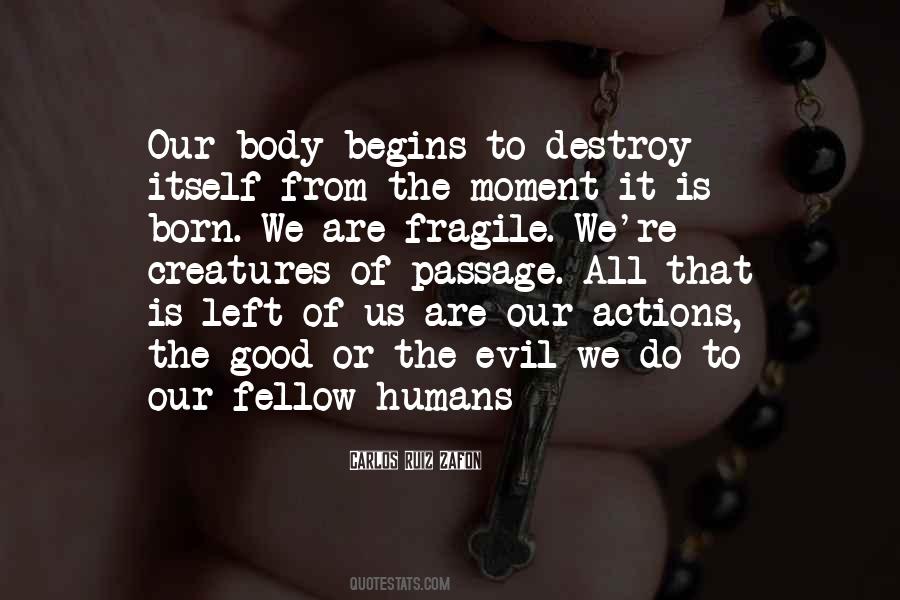 #56. There are many people like me who believe firmly, if somewhat incoherently, that pockets on this planet are filled with what humans have left behind them, both good and evil, and that any such spiritual accumulation can stay there forever, past definition of such a stern word. - Author: M.F.K. Fisher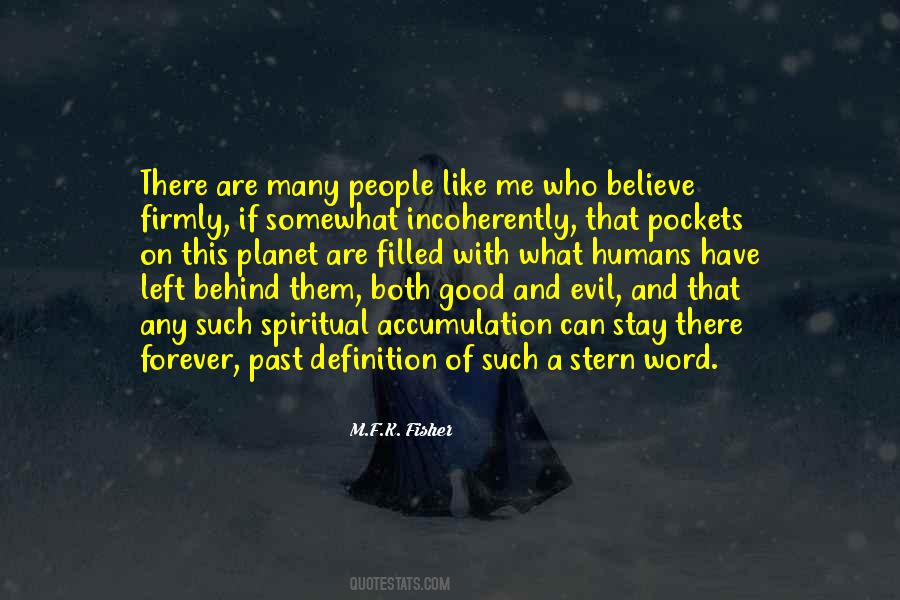 #57. Only humans think death is evil. But it is nature. Evil exist's only in life. There is much good and evil alloted to each life. - Author: Isobelle Carmody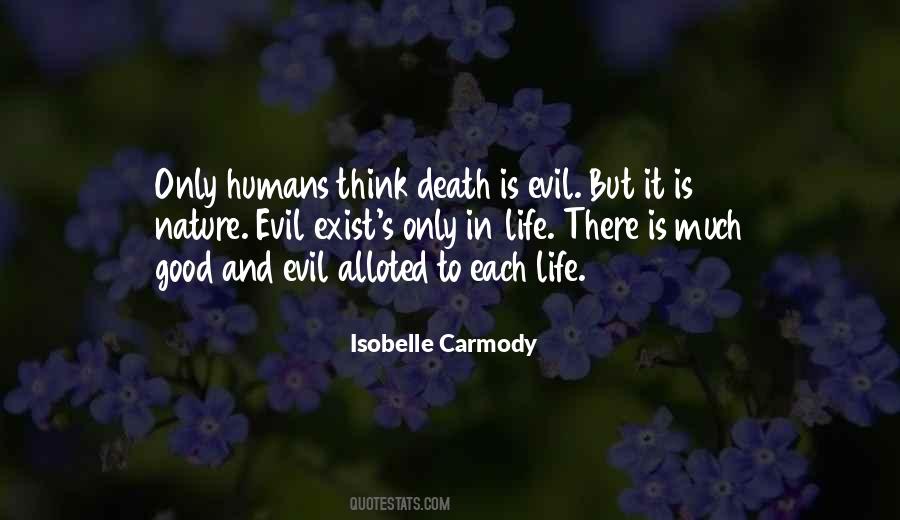 #58. Humans are born with two perfectly good lungs, into the only environment in the universe those lungs have evolved over millions of years to breathe in. - Author: Craig Stone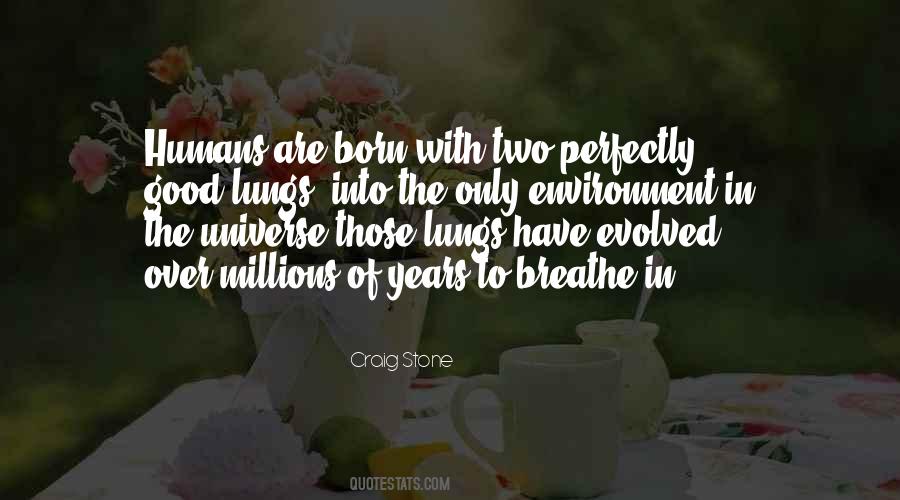 #59. It's how creativity works. Especially in humans. For every good idea, ten thousand idiotic ones must first be posed, sifted, tried out, and discarded. A mind that's afraid to toy with the ridiculous will never come up with the brilliantly original. - Author: David Brin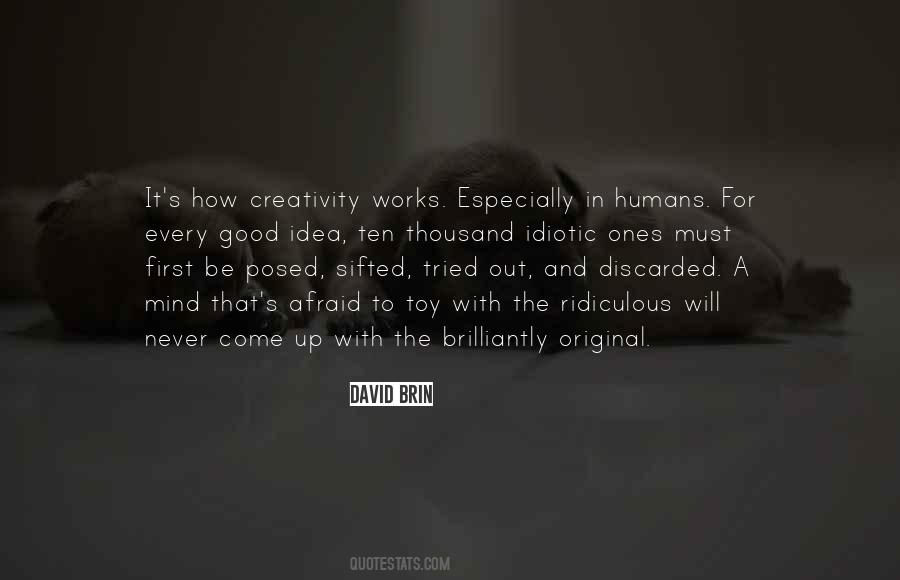 #60. Productivity is for robots. What humans are going to be really good at is asking questions, being creative, and experiences." Kevin Kelly - Author: Timothy Ferriss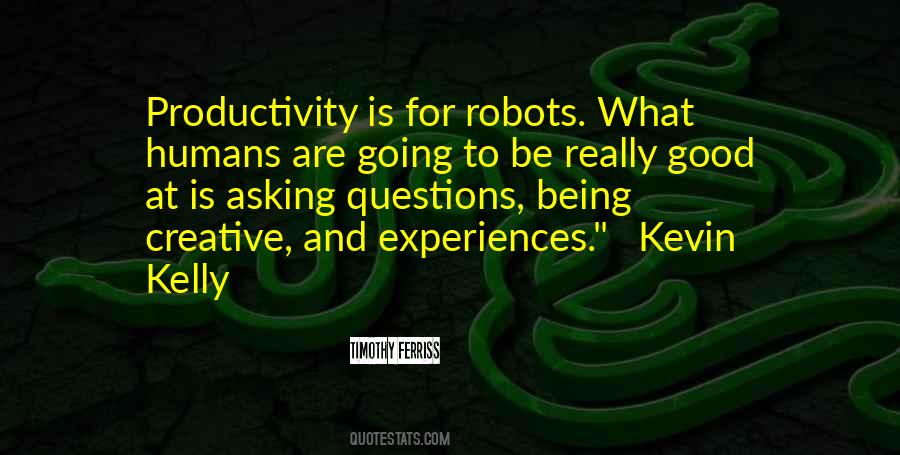 #61. Cycling keeps me lean and I need to stay in shape, especially as I still like eating chocolate and ice-cream! I like to go mountain biking too. Running is also good; it's what we were designed to do as humans, so it comes naturally. - Author: Mark Webber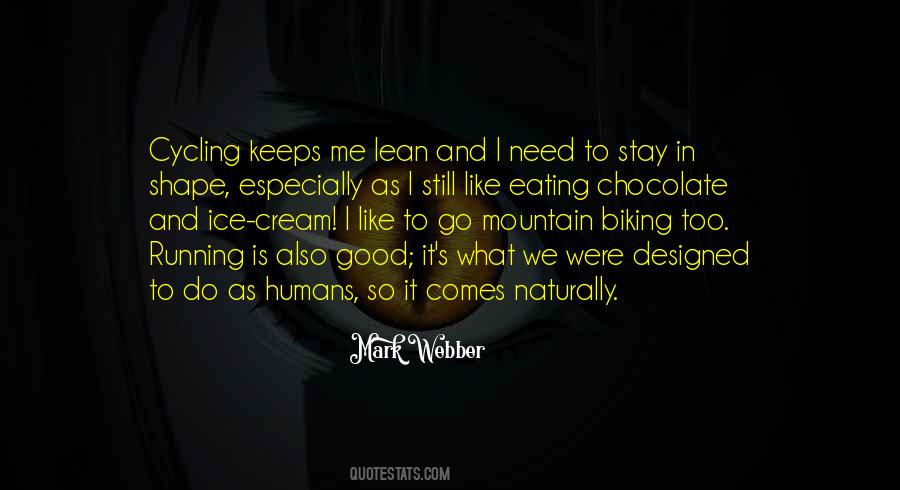 #62. There aren't a lot of humans who speak more than one dialect of Forshan. I know all four of the major ones.'

'Impressive,' Duvall Said.

'I'm good with my tongue,' Dahl said.

'Now who's being forward?' Duvall asked. - Author: John Scalzi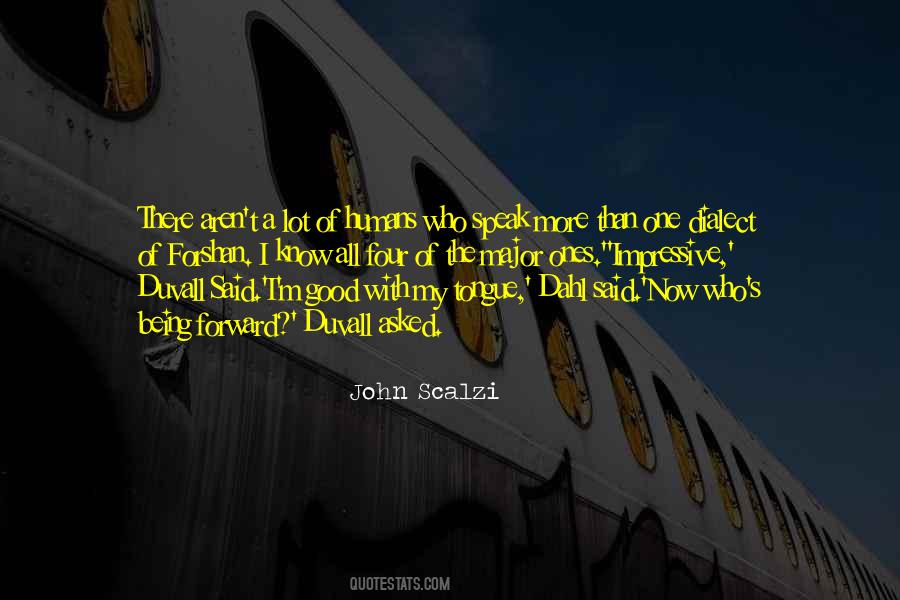 #63. The rarest of the good qualities in human beings is courage - Author: Dennis Prager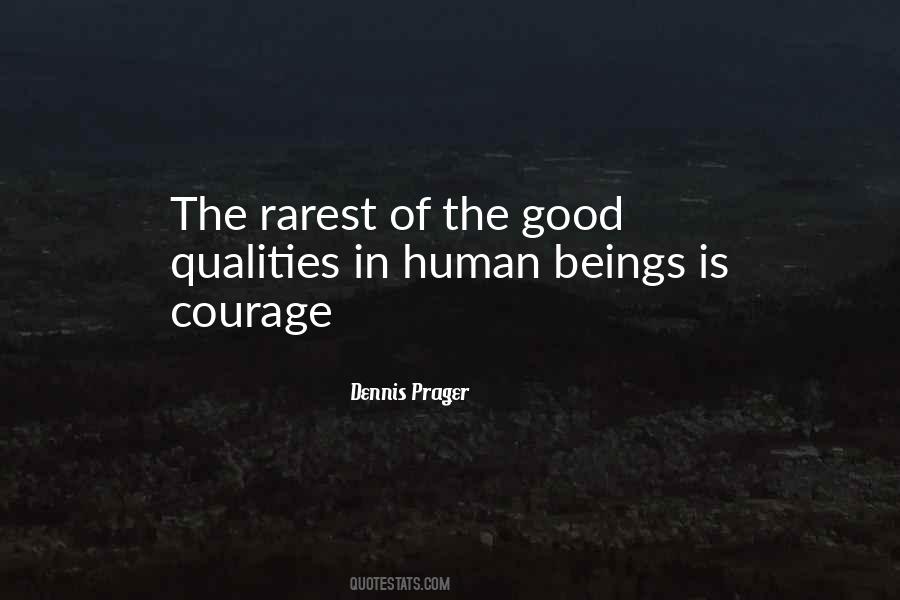 #64. It was so good to be held. If only their relationship could be distilled into simple, wordless gestures of comfort. Why had humans ever learned to talk? - Author: J.K. Rowling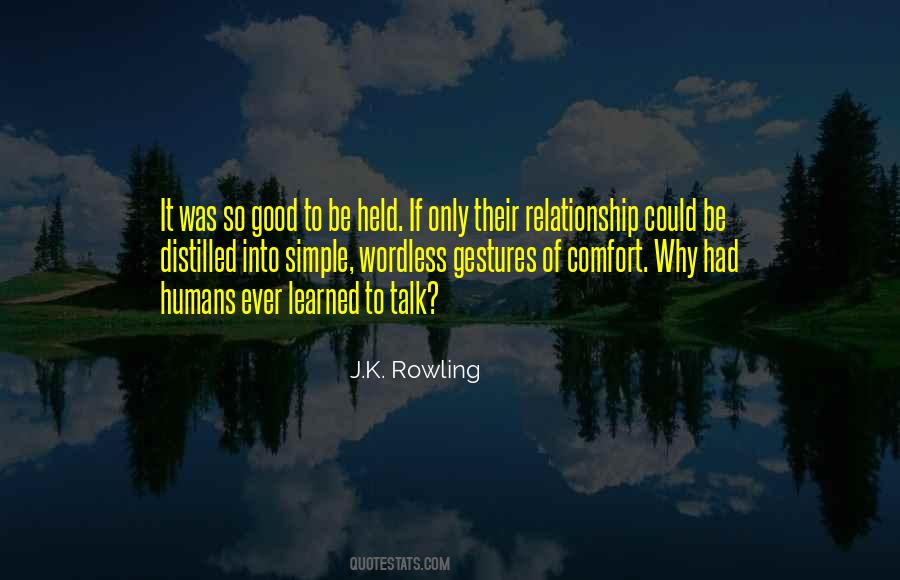 #65. Any fool can write code that a computer can understand. Good programmers write code that humans can understand. - Author: Martin Fowler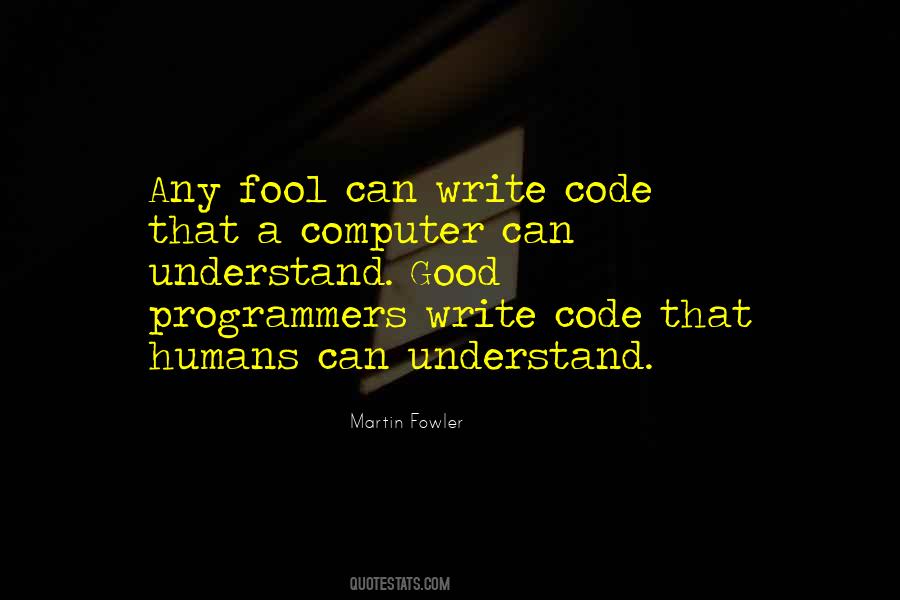 #66. The good news is that ... humans are gifted by the potential for self-awareness and intelligent choice, and knowing our circumstance is an invitation to change. - Author: William E. Rees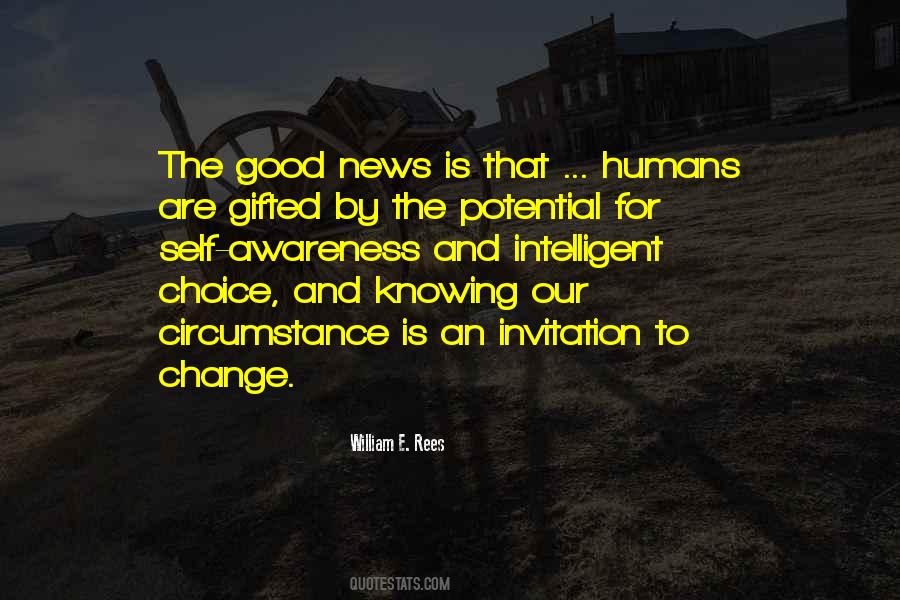 #67. Oh, my god, you moron, she's one of us. She's a Keeper! Humans don't spit bullets back out! I gotta go get Cormac. This isn't good. - Author: Donna Augustine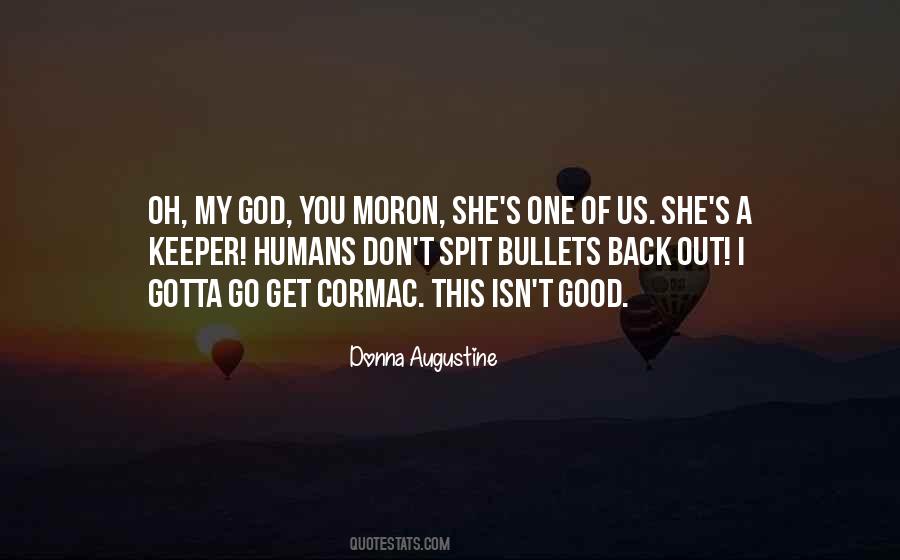 #68. Good homes are still the best source of good humans. - Author: Neal A. Maxwell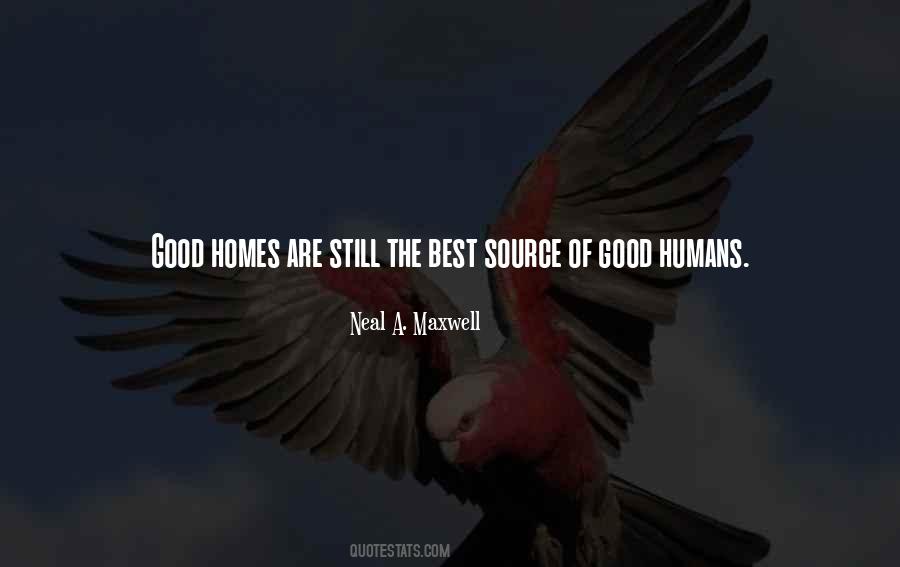 #69. A good zoo is how humans make amends. - Author: Katherine Applegate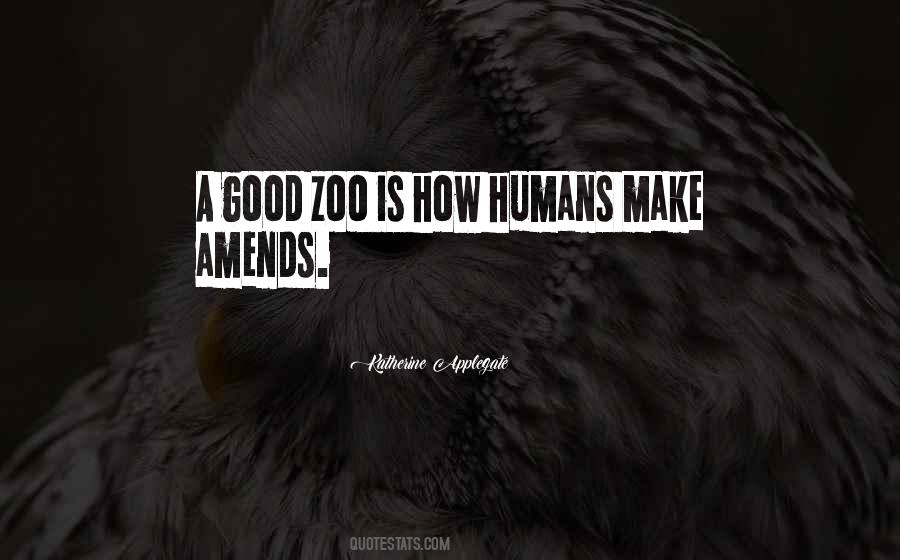 #70. For the real difference between humans and other animals is that humans alone have perception of good and evil, just and unjust, etc. It is the sharing of a common view in these matters that makes a household and a state. - Author: Aristotle.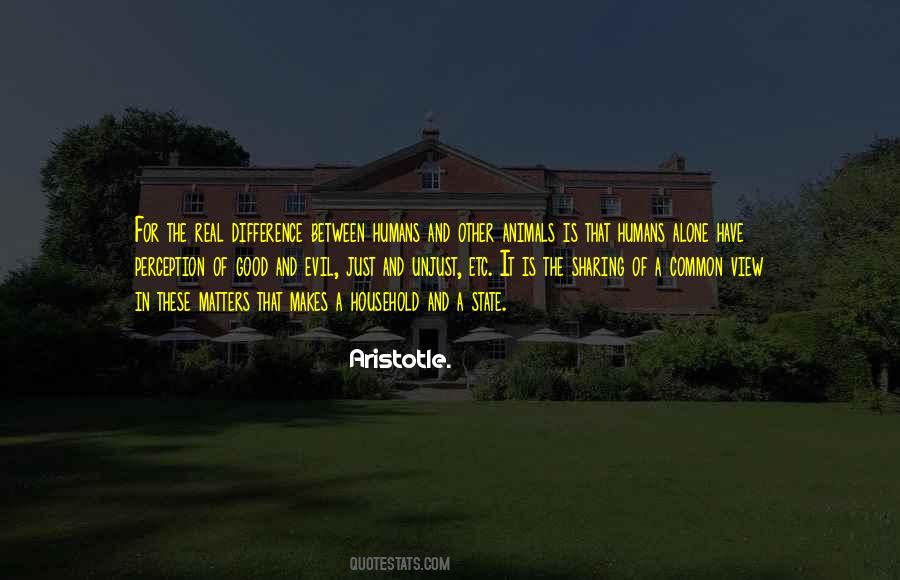 #71. I'm always in awe of and respect humans for their ability to plan, but sometimes, good intentions are lost along the way. And often the way becomes the goal. - Author: Pipilotti Rist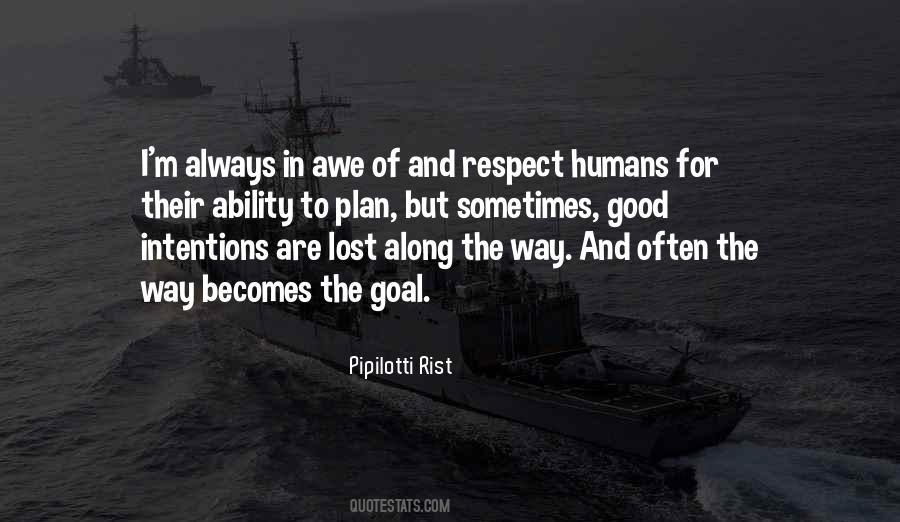 #72. Humans eat of the tree of the knowledge of good and bad. Suddenly, they start cutting reality up into bits and pieces, which is what the thinking mind does. - Author: Eckhart Tolle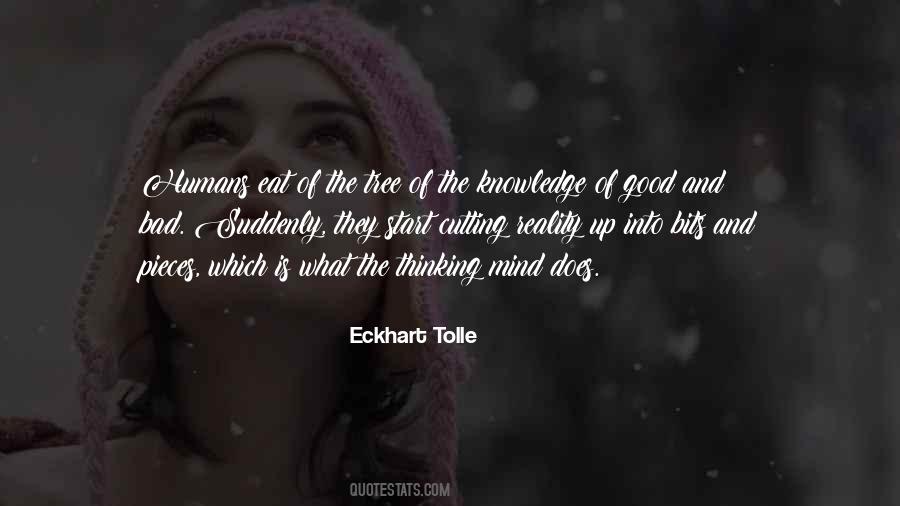 #73. And just when you'd think [humans] were more malignant than ever Hell could be, they occasionally showed more grace than Heaven ever dreamed of. - Author: Terry Pratchett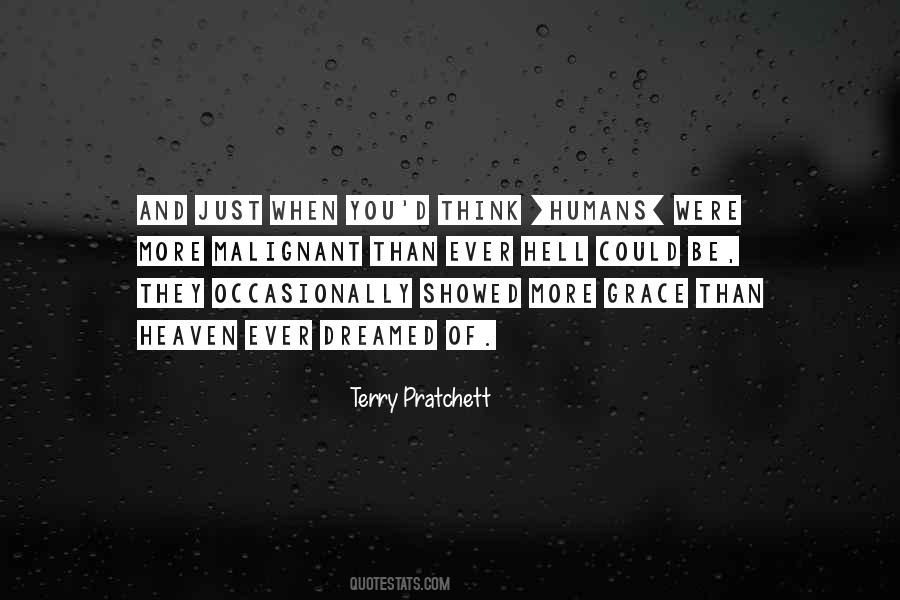 #74. Technology is fine ... , but that popular vision of the future, where you plug somebody in and leave them there and they don't get out and interact with actual flesh-and-blood humans - you know the answer before I say it - that's not good. - Author: Dennis Miller
#75. Humans had proven to be unusually good at learning to recognize visual patterns; we internalize our alphabets so well we don't even have to think about reading once we've learned how to do it. - Author: Steven Johnson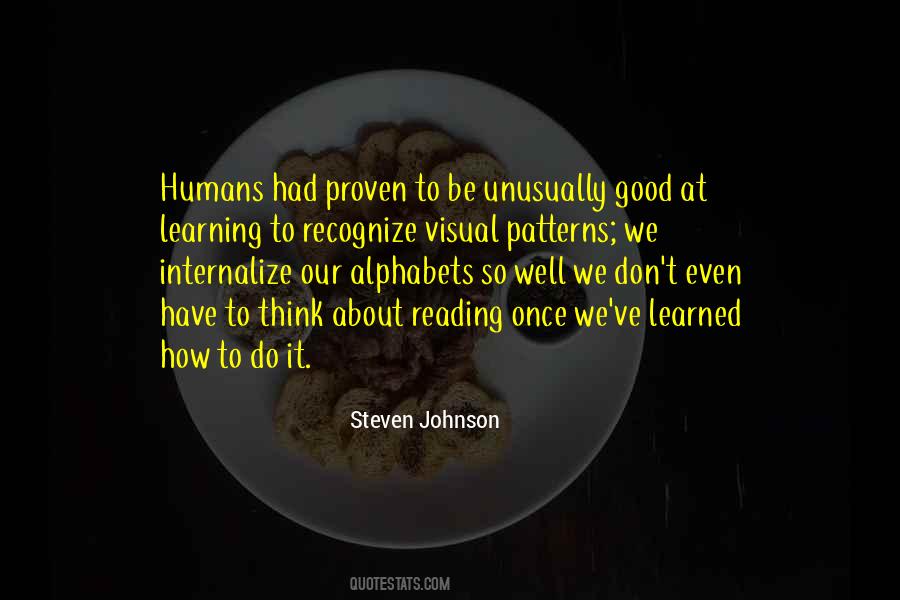 #76. Walking around nude in front of humans was not a good way to keep a low profile with the community. It was an excellent way to make new friends, though. - Author: Rachel Vincent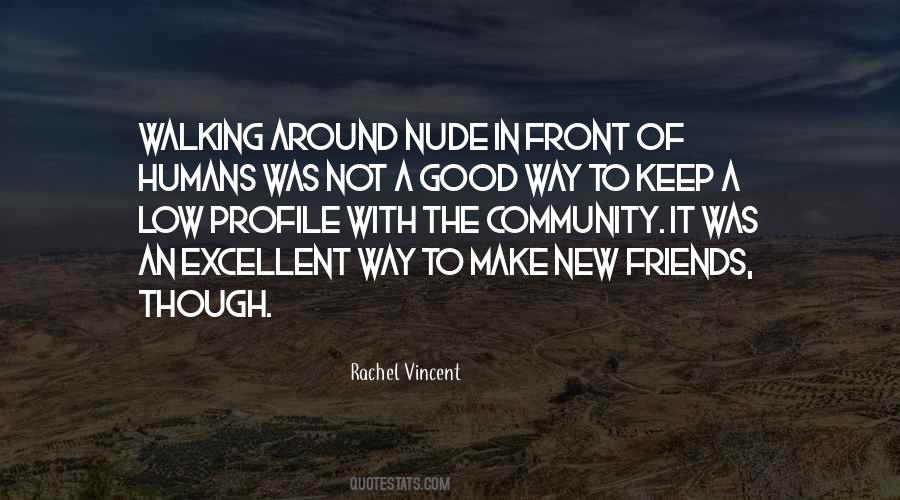 #77. To God everything is beautiful, good, and just; humans, however, think some things are unjust and others just. - Author: Heraclitus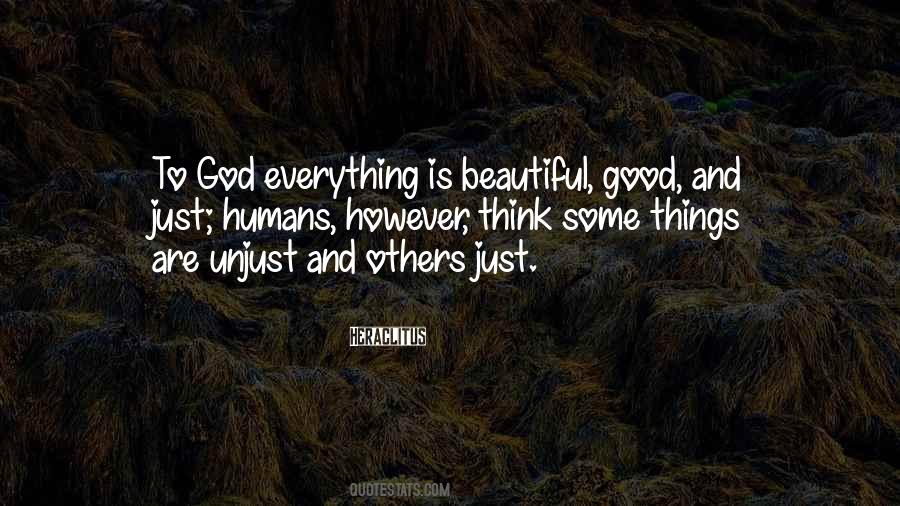 #78. Tolerance is a good cornerstone on which to build human relationships. - Author: L. Ron Hubbard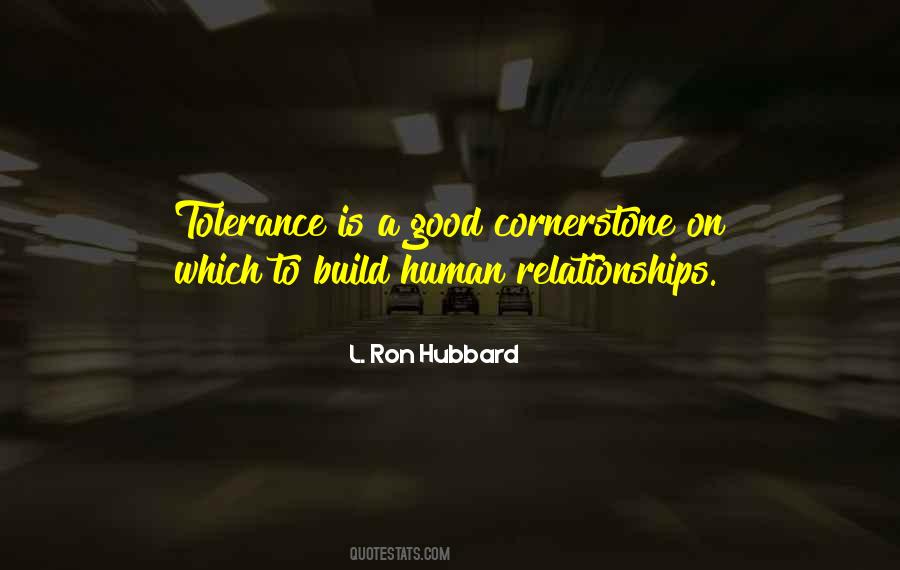 #79. We humans can spend our whole lives pondering the meaning of 'good' and 'evil,' but we will never be able to figure it out. The only thing that human beings can do is come up with a yardstick by which to measure good and evil. - Author: Soko Morinaga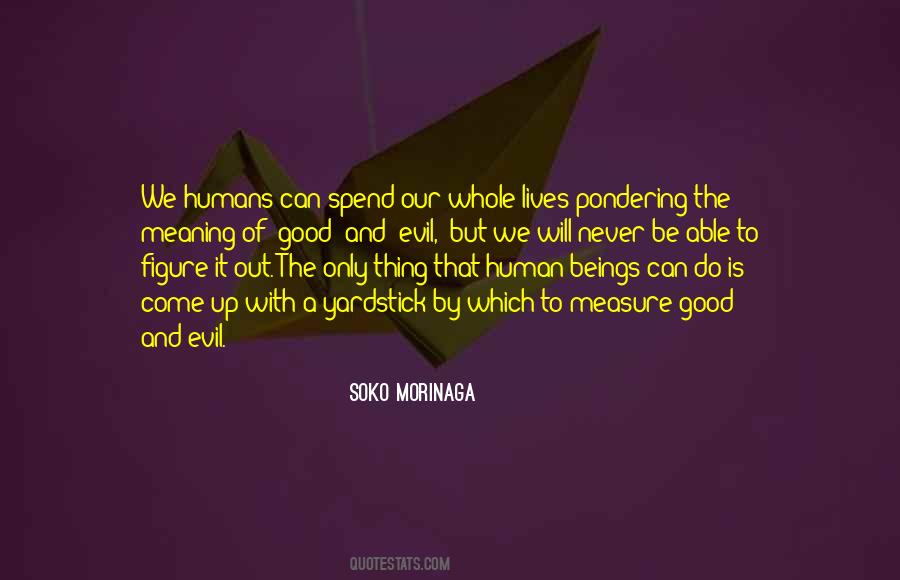 #80. Standing up here on the hill away from all humans - seeing these Wonders taking place before one's eyes - so silently ... watching the silence of Nature. No school - no church - is as good a teacher as the eye understandingly seeing what's before it. I believe this more firmly than ever. - Author: Alfred Stieglitz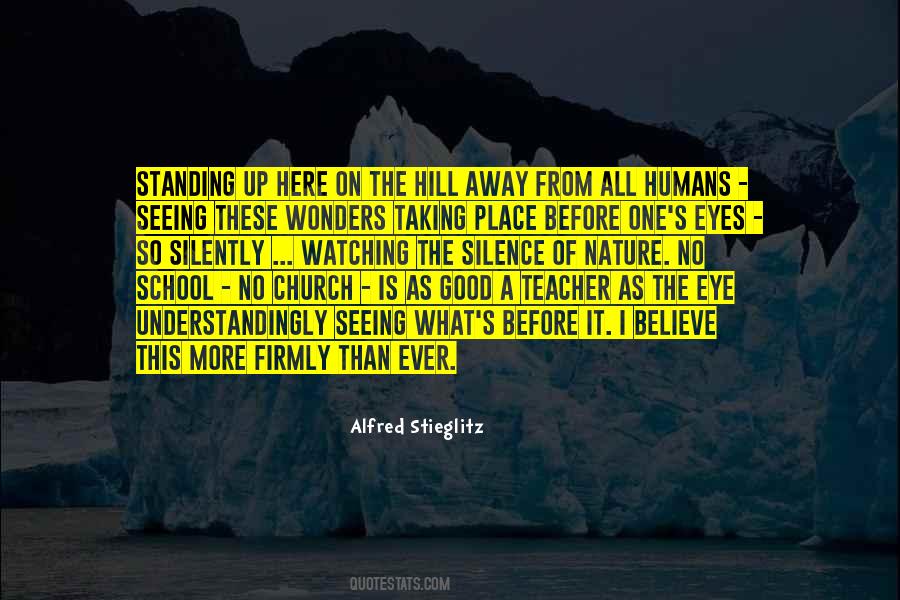 #81. I wasn't exactly sure what "nothing good" meant, but I could imagine in this world of humans, "nothing good" could mean a lot of bad things. - Author: Tamra Torero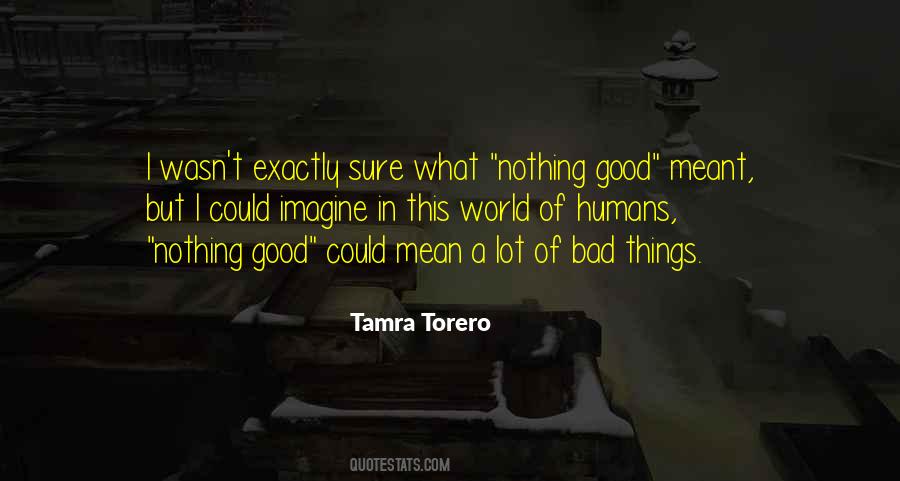 #82. We forget that we humans are animals, inextricably connected to the world and everything in it. In the rush to bring GMO food to the world because it was good for us, nobody had asked the question whether it would be good for the world. - Author: Kenneth Eade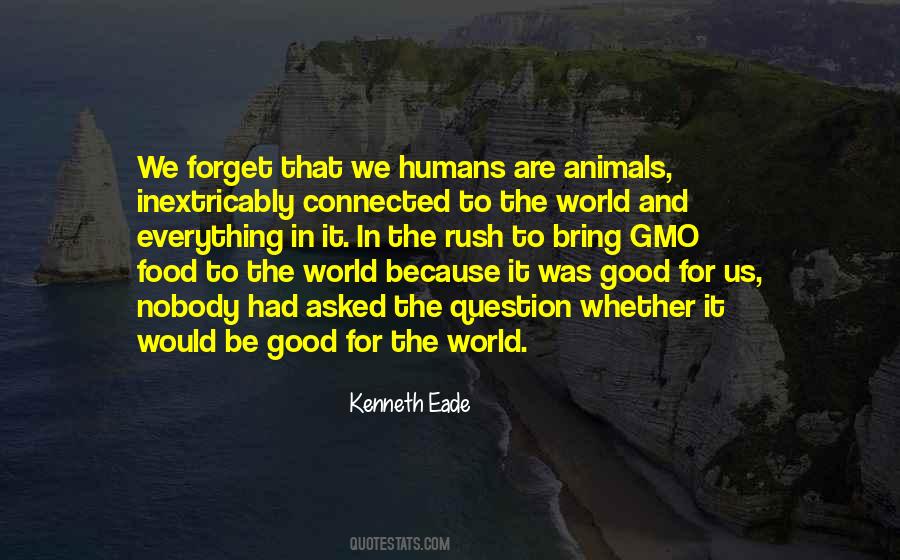 #83. We don't only want to make robots in universities; we want to create good humans. We can't shape a world only with the help of robots made out of technical know-how. We can't be useful to humankind if there are no sentiments in life. - Author: Narendra Modi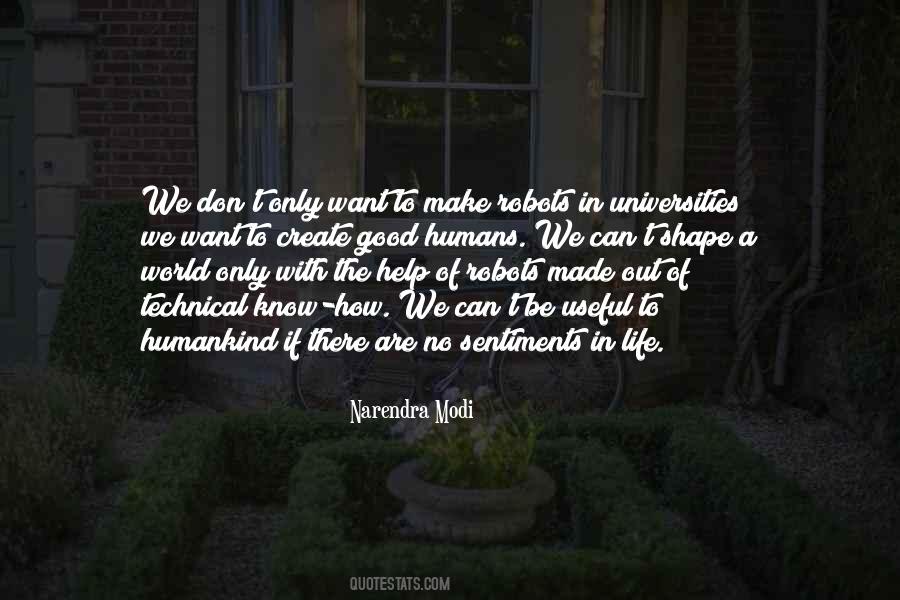 #84. If the human being is condemned and restricted to perform the same functions over and over again, he will not even be a good ant, not to mention a good human being. - Author: Norbert Wiener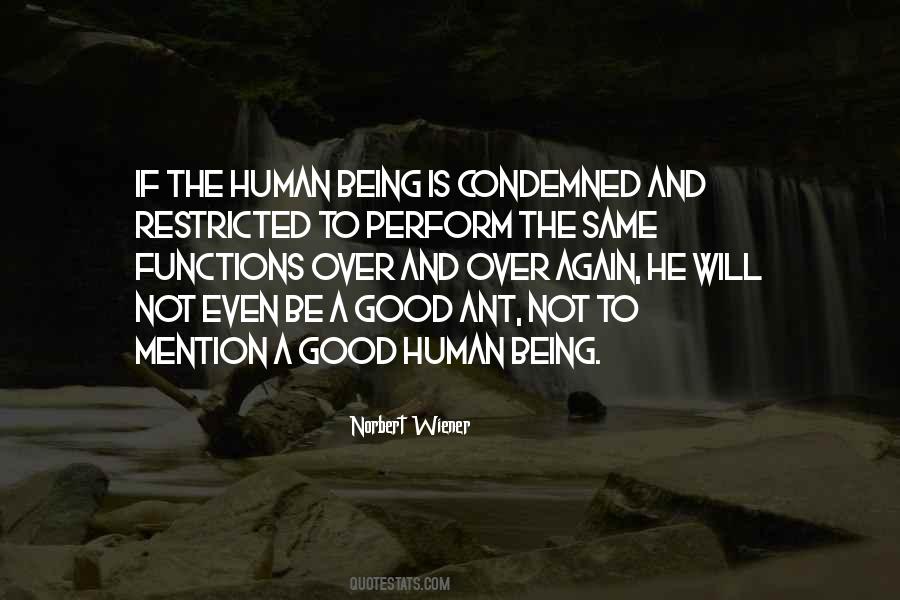 #85. The good news was, and is, that all this has happened in and through Jesus; that one day it will happen, completely and utterly, to all creation; and that we humans, every single one of us, whoever we are, can be caught up in that transformation here and now. - Author: N. T. Wright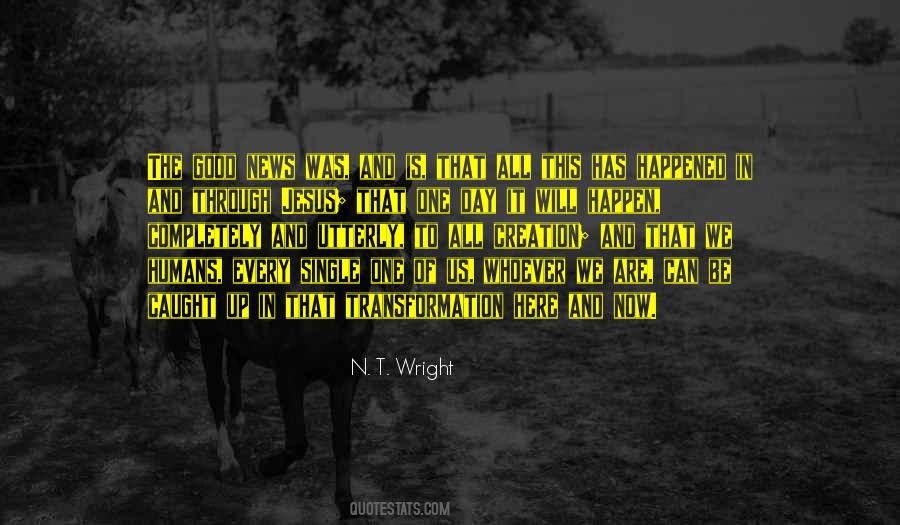 #86. Being a good human being is good business. - Author: Paul Hawken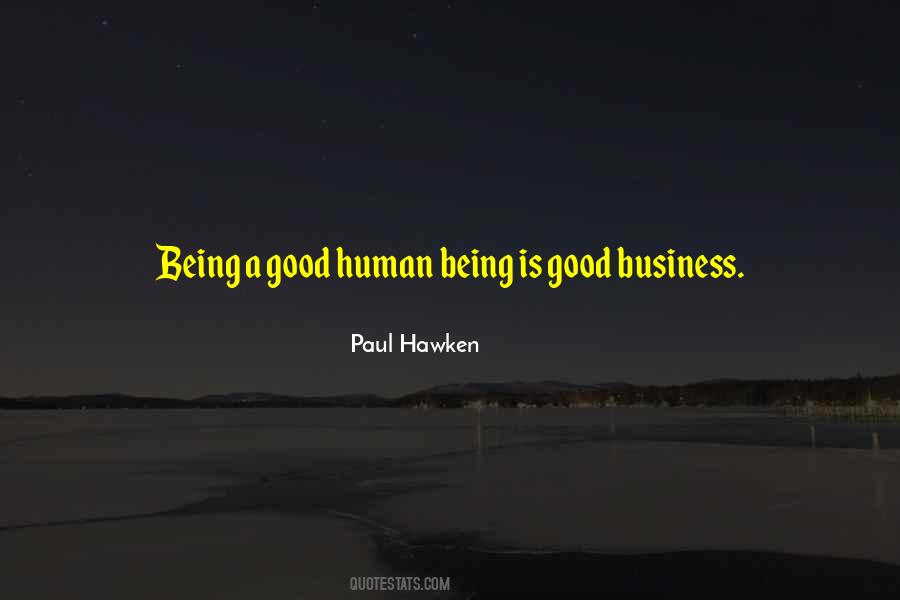 #87. All humans are dead except those who have knowledge; and all those who have knowledge are asleep, except those who do good deeds; and those who do good deeds are deceived, except those who are sincere; and those who are sincere are always in a state of worry. - Author: Al-Shafi'i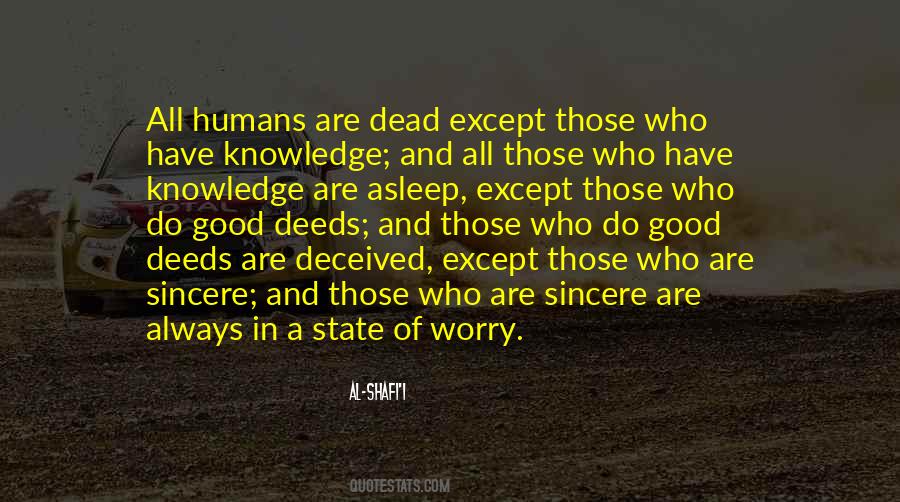 #88. But my father was also the one who told me I needed to clean up my mouth or I'd never find a man. What's very important to him is manners. Show up on time. Always send thank-you letters. He is one of the more thoughtful humans I've ever met. He's a great man and a very good dad. - Author: Zosia Mamet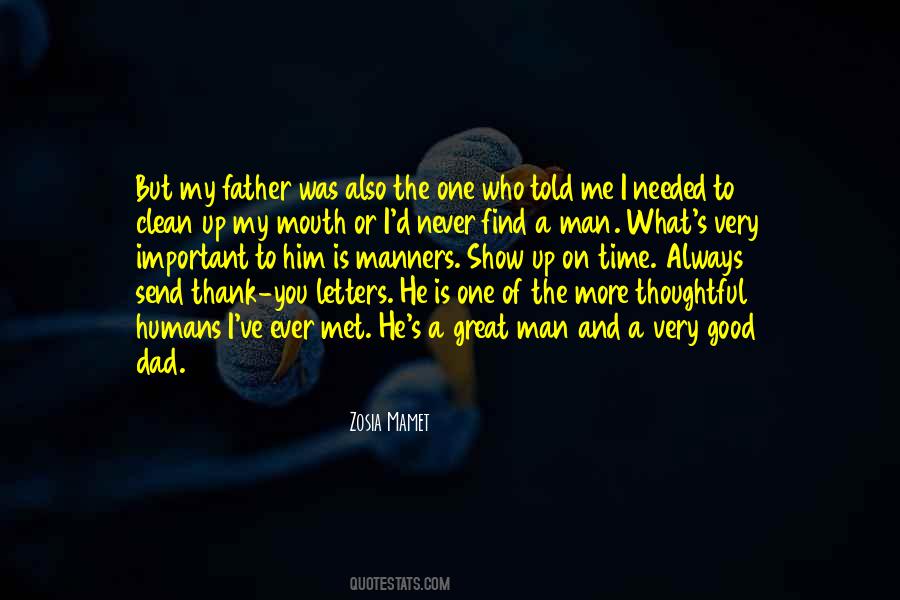 #89. If there's one thing that we're very good at as humans, it's remembering the bad stuff. For some reason, it's always the pain that gets you. - Author: Henry Cavill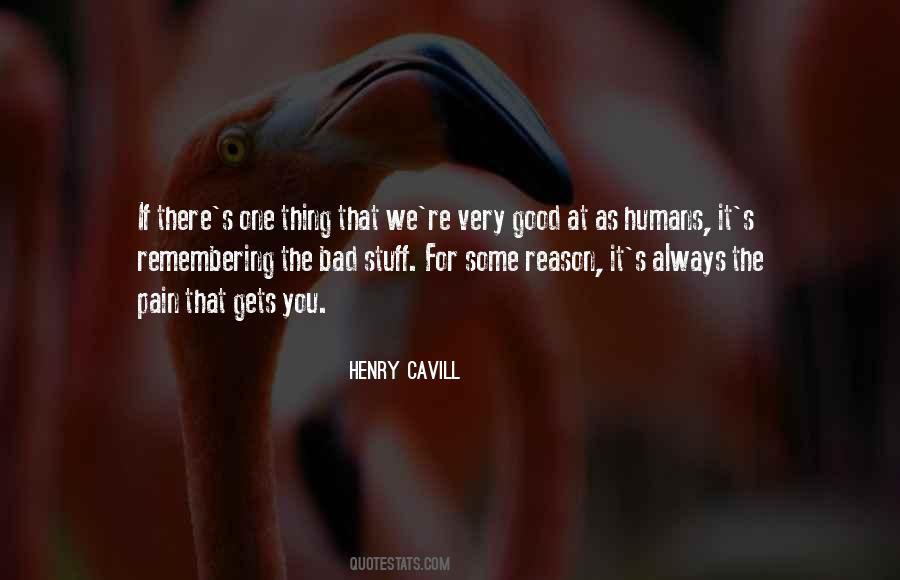 #90. Human nature is disposed to do good. - Author: Mencius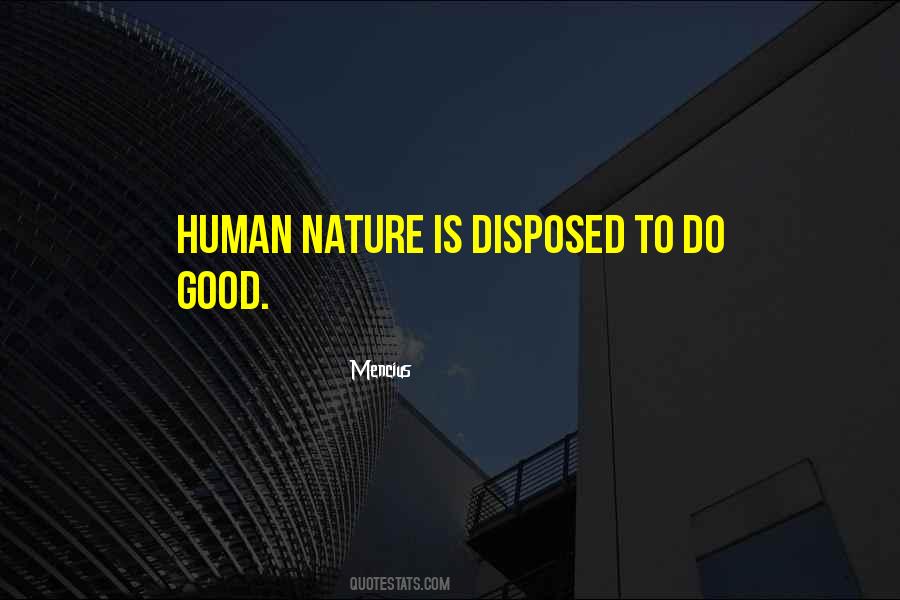 #91. All his life he tried to be a good person. Many times, however, he failed.
For after all, he was only human. He wasn't a dog. - Author: Charles M. Schulz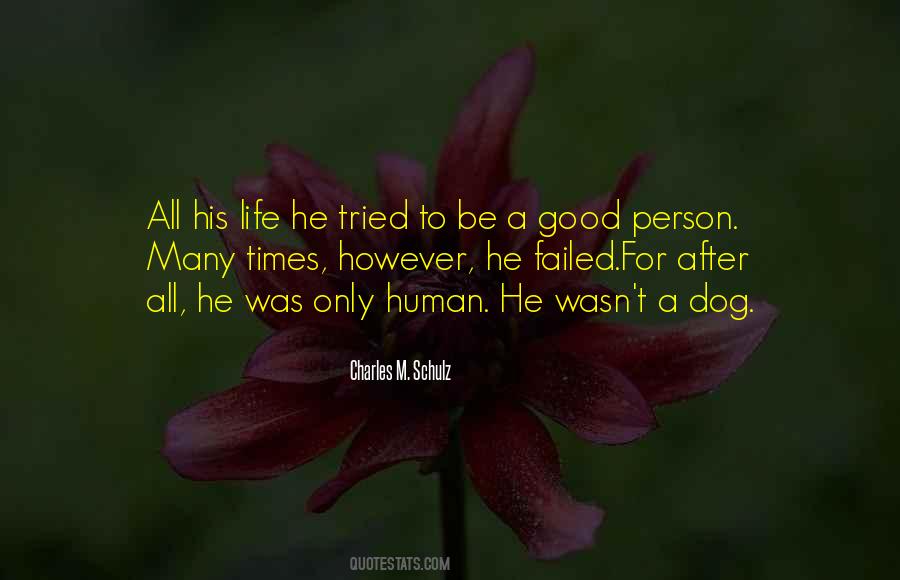 #92. Life seems sadly mishandled by humans, as if it's all too much for them - they spend so much time and energy hurting each other, making things worse, and fouling their own nest, all because they imagine things aren't good enough and should be made much better. - Author: Michael Leunig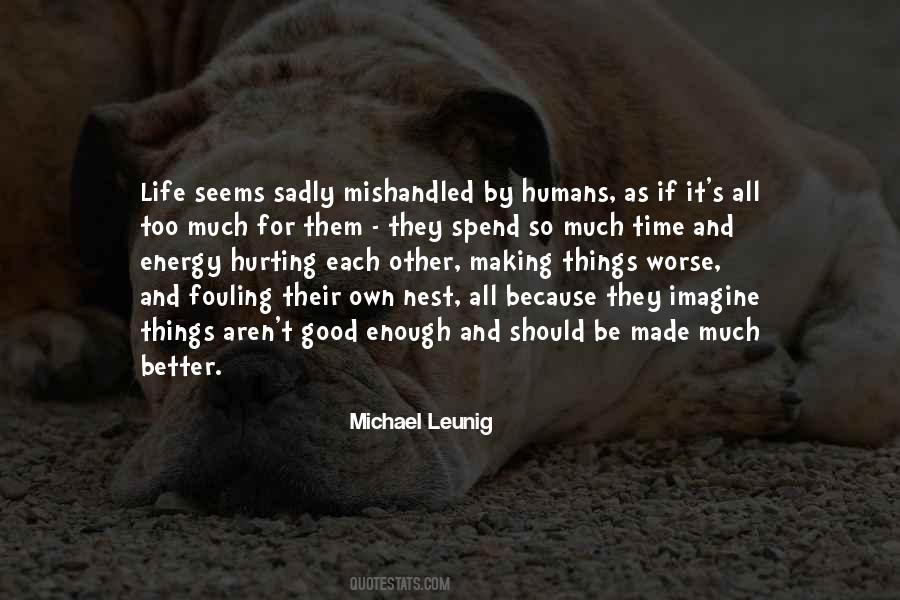 #93. The humans lack good mirrors. It's so hard for anyone to show us how we look, and so hard for us to show them how we feel. - Author: John Green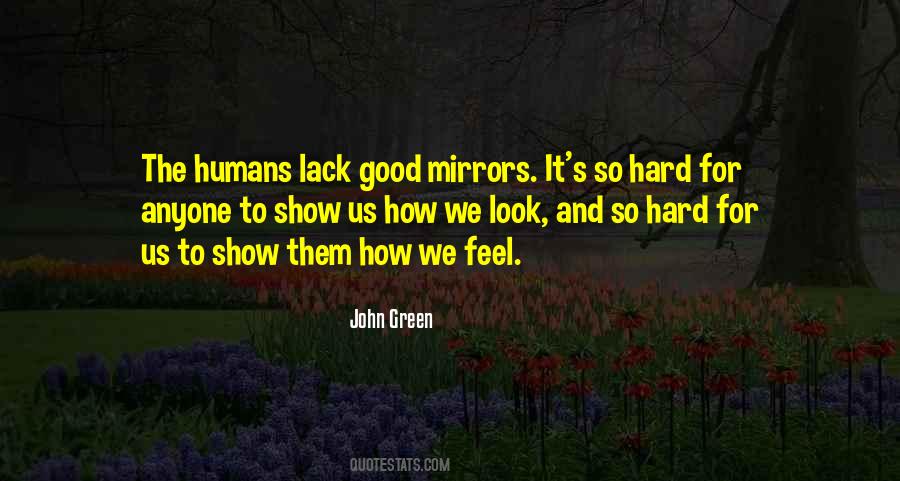 #94. She is our dog. And because she is our dog, we can pick out the tiny, almost imperceptible good qualities from the ocean of terrible qualities, and we can cling to them. Because we want to love our dog. - Author: Allie Brosh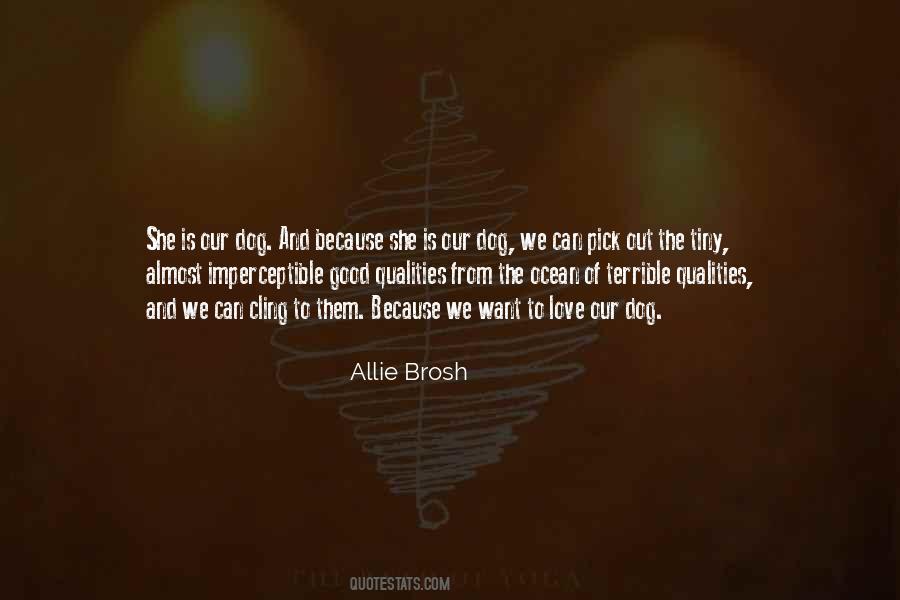 #95. Time travel would give humanity the ability to alter the past and prune the tree of all possible futures of those branches that had been infected by evil; with enough revisions humans would eventually bring about the one version of history that was fully good. - Author: Dexter Palmer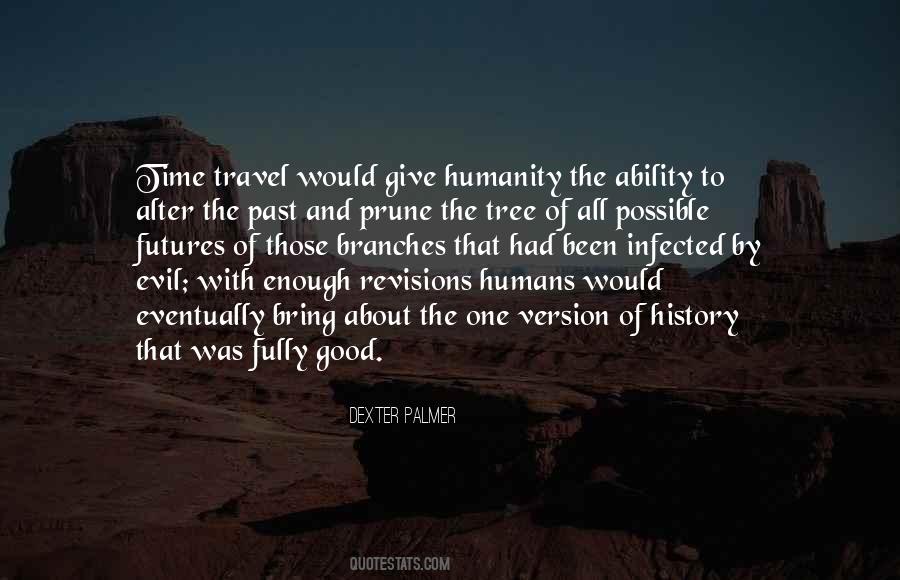 #96. It's good to have these stories in our holy books, to remind us that they were written by humans. Filthy-minded, morally ambiguous humans. - Author: Suzanne Morrison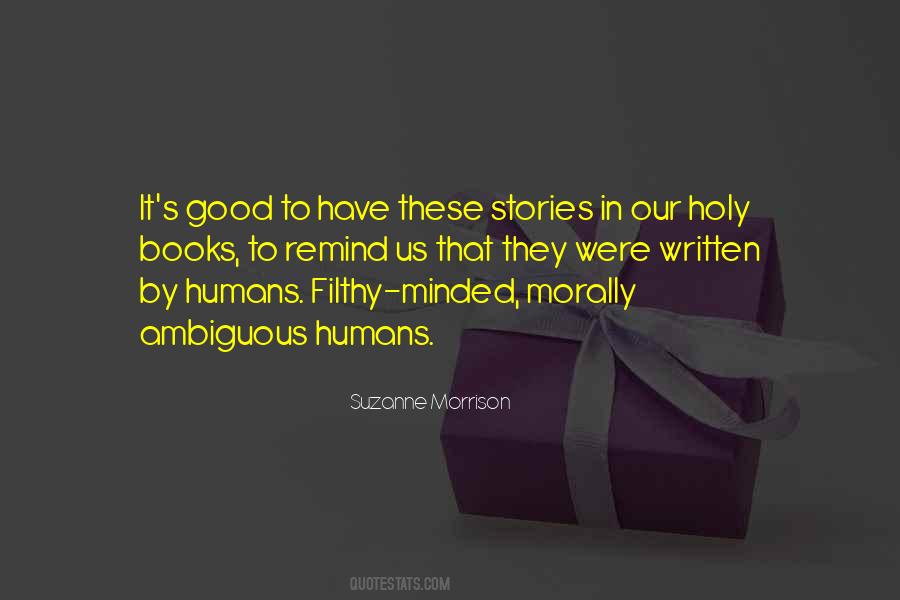 #97. What makes this danger so terrible is that humans tip the balance of your world. No other species can make such a difference, for good or ill. If humans can live in harmony with other forms of life, the world rejoices. If not, the world suffers
and may not survive. - Author: T.A. Barron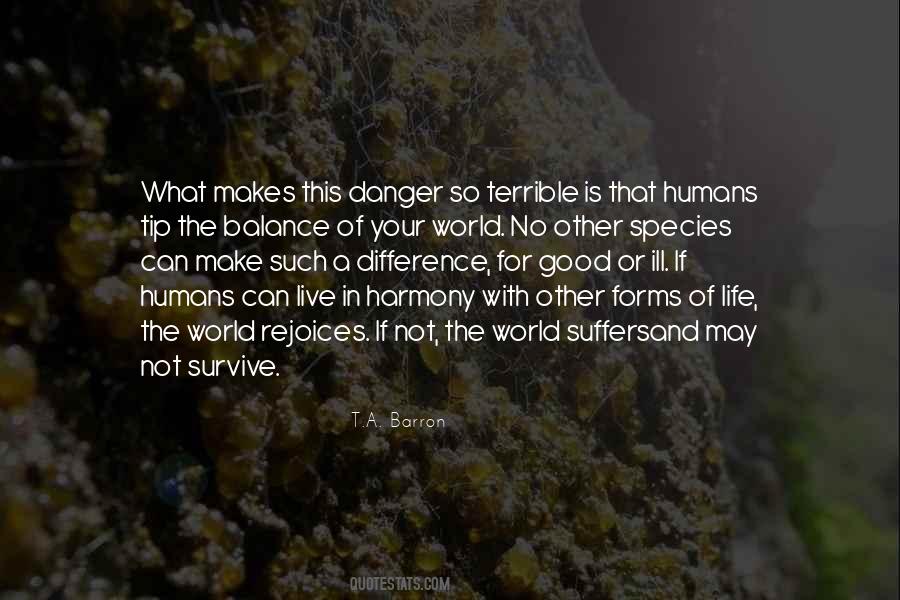 #98. Humans are very good at dreaming, although you'd never know it from your television. - Author: Carl Sagan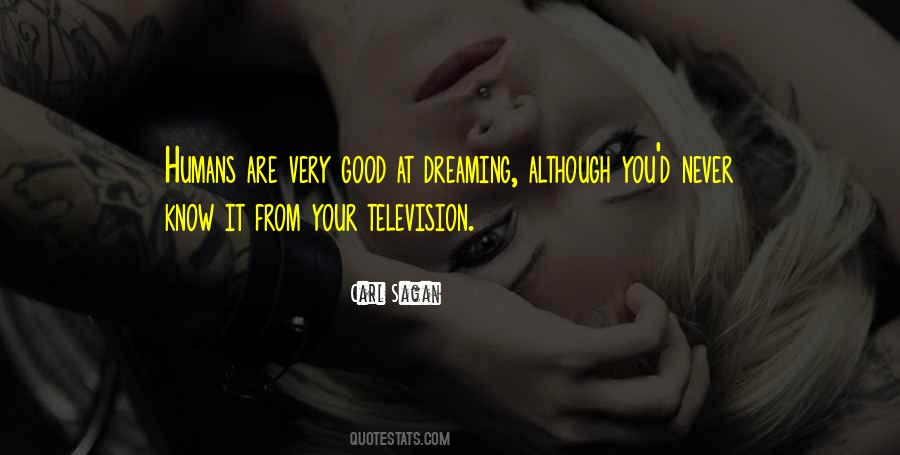 #99. Do what's good for humans, modeled on how humans already do things; ignore what's convenient for computers. - Author: Stewart Brand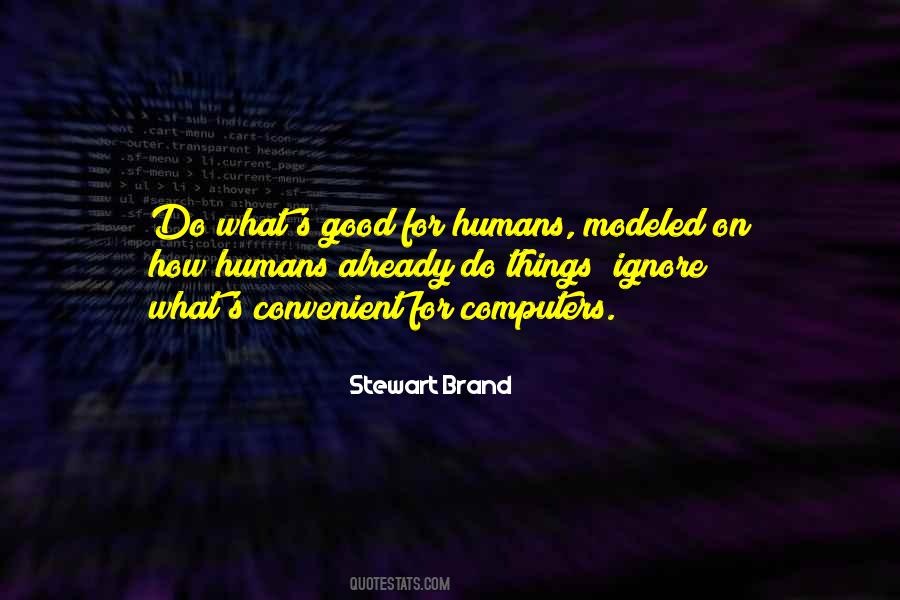 #100. Humans are born with a hard-wired morality: a sense of good and evil is bred in the bone. I know this claim might sound outlandish, but it's supported now by research in several laboratories. - Author: Paul Bloom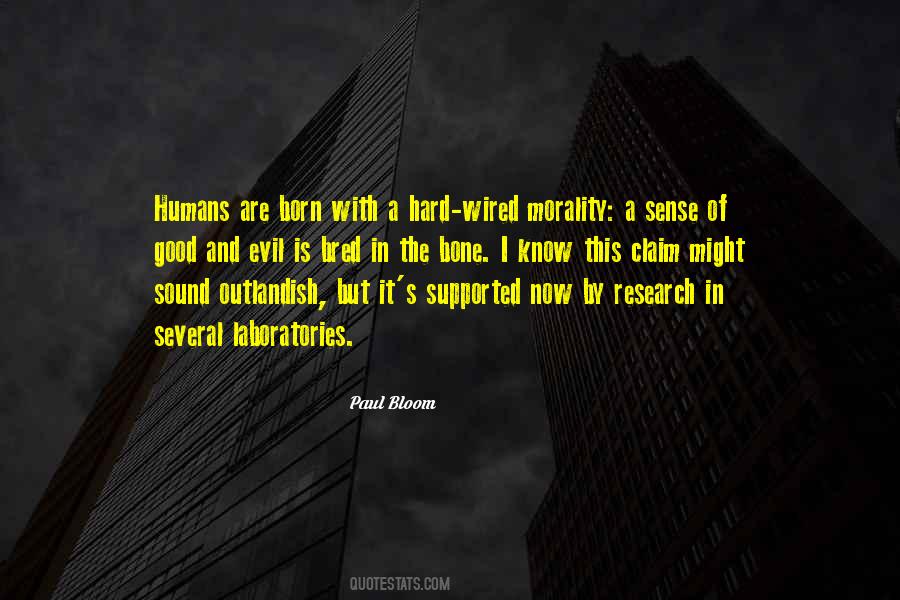 Famous Authors
Popular Topics