Be Nice To Each Other Famous Quotes & Sayings
List of top 80 famous quotes and sayings about be nice to each other to read and share with friends on your Facebook, Twitter, blogs.
Top 80 Be Nice To Each Other Quotes
#1. People should be nice to you, Leonard. You're a human being. You should expect people to be nice. - Author: Matthew Quick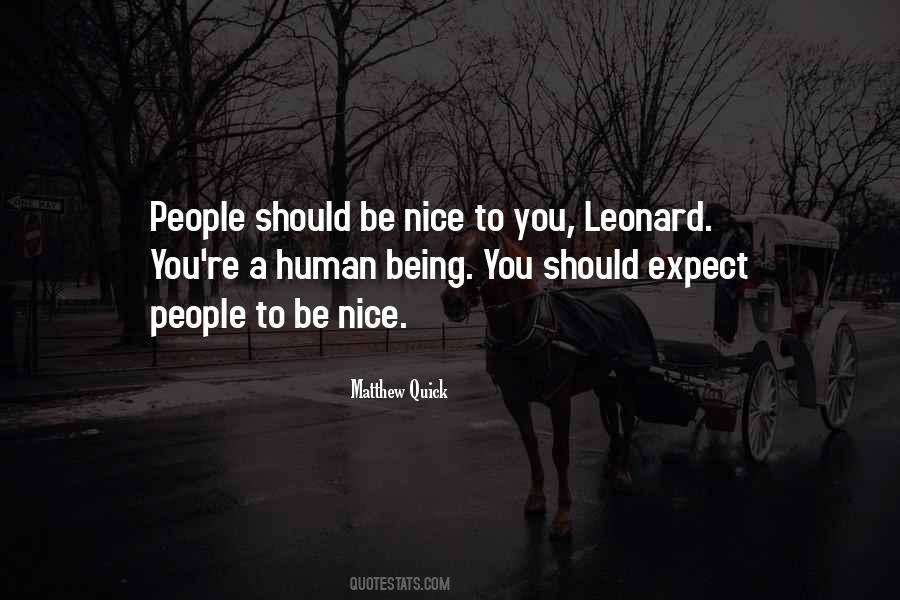 #2. I said, wouldn't it be nice, instead of having these women fight with each other over men, which seems to be more of a cliche, wouldn't it be wonderful if they were the true comrades and it took these men much more time to infiltrate their friendships. - Author: Jennifer Beals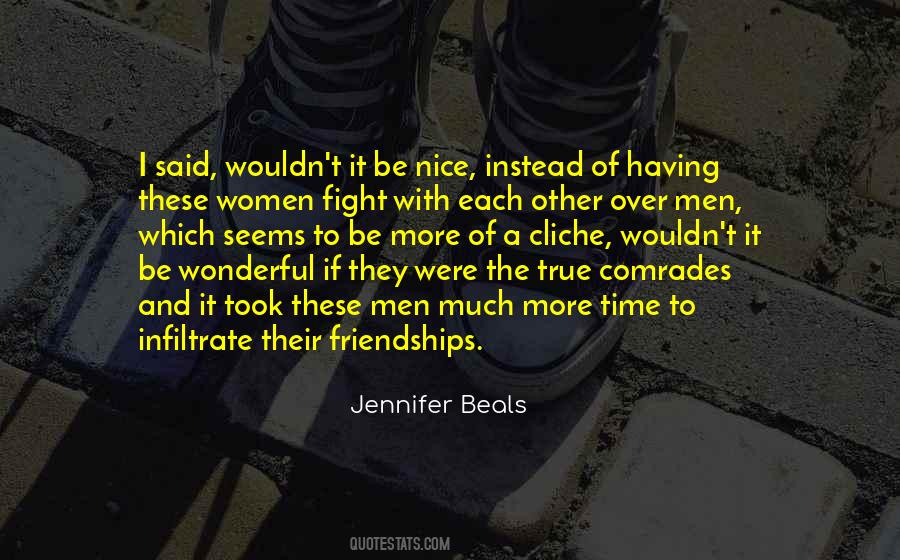 #3. After all with me & Marshall, it had never been about words or conversation, where there was too much to be risked or lost. Here, though, in the quiet pressed against each other, this felt familiar to me. And it was nice to let someone get close again, even if it was just for a little while. - Author: Sarah Dessen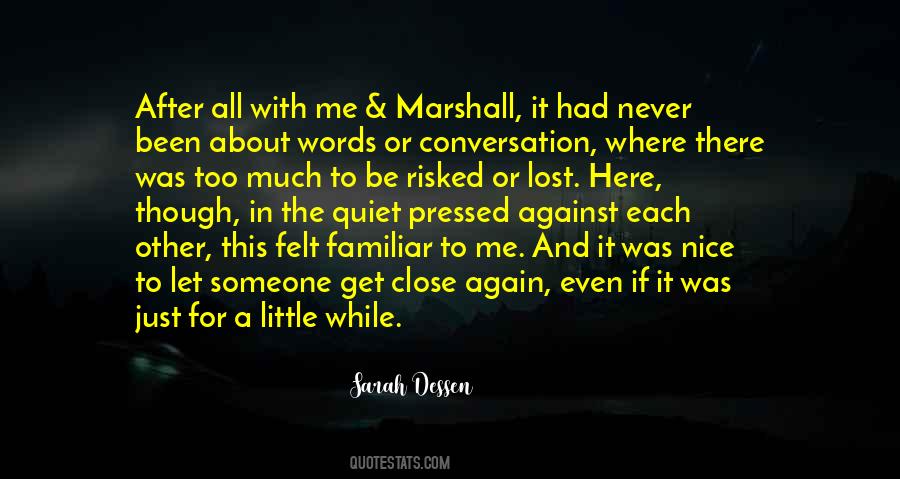 #4. Why can't people just sit and read books and be nice to each other? - Author: David Baldacci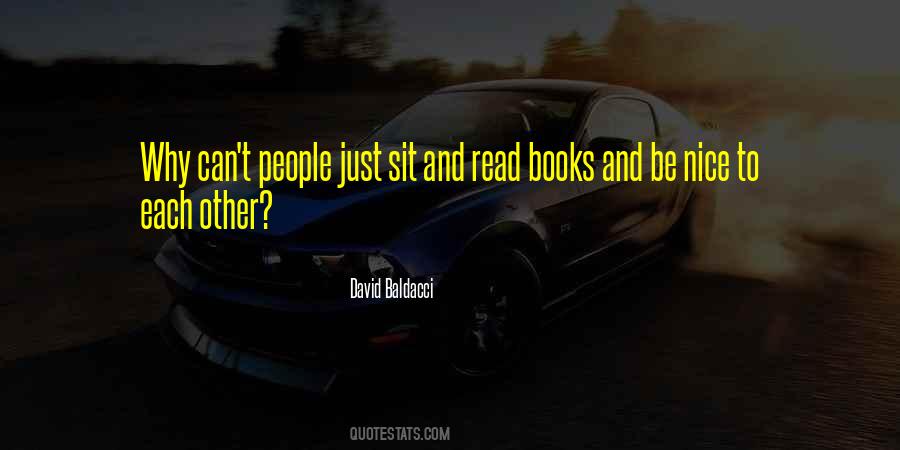 #5. People are so nice to each other on holidays ... especially at Christmas. Why don't people beat up each other at Christmas? Now that would be fun! - Author: Klaus Nomi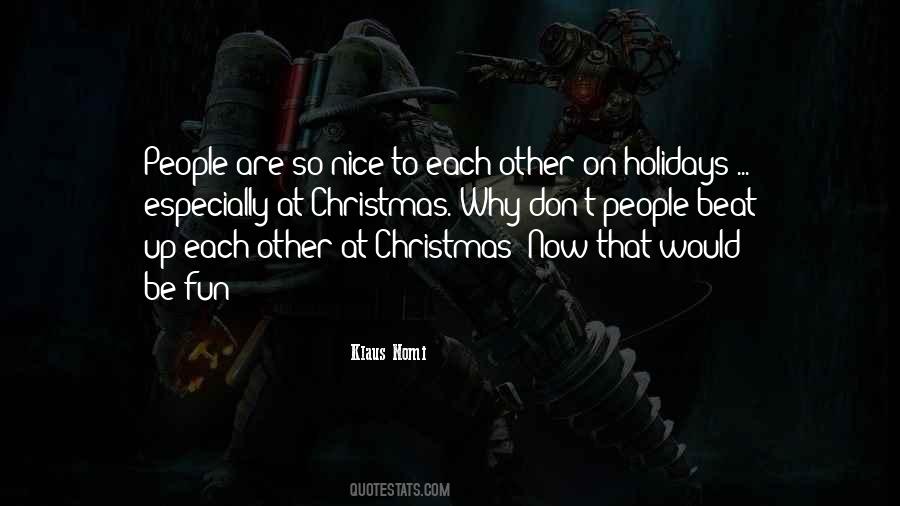 #6. Military people never seem to apologize for killing each other yet novelists feel ashamed for writing some nice inert paper book that is not certain to be read by anybody. - Author: Leonora Carrington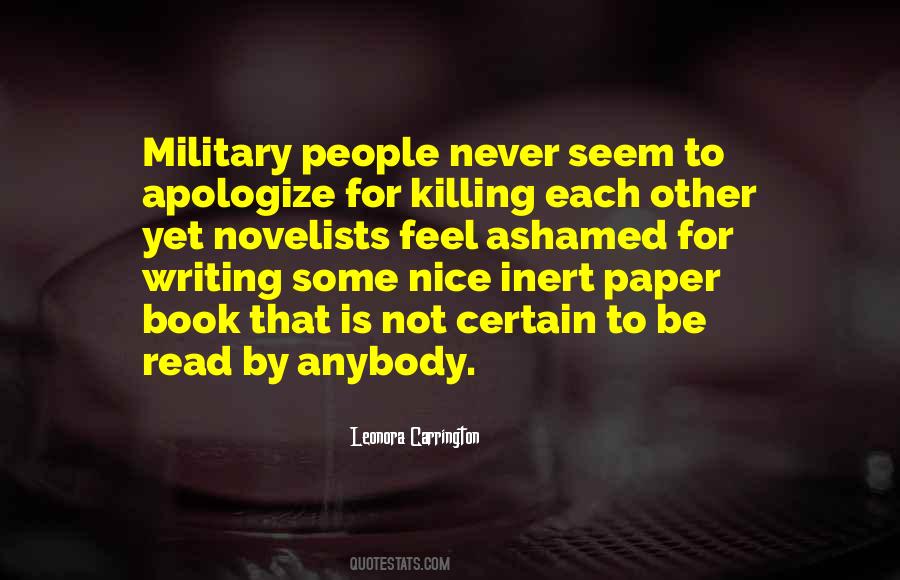 #7. Agatha's mum gives me nice clothes for Christmas, and her dad talks to me about my future like I'm not going to die in a ball of fire. - Author: Rainbow Rowell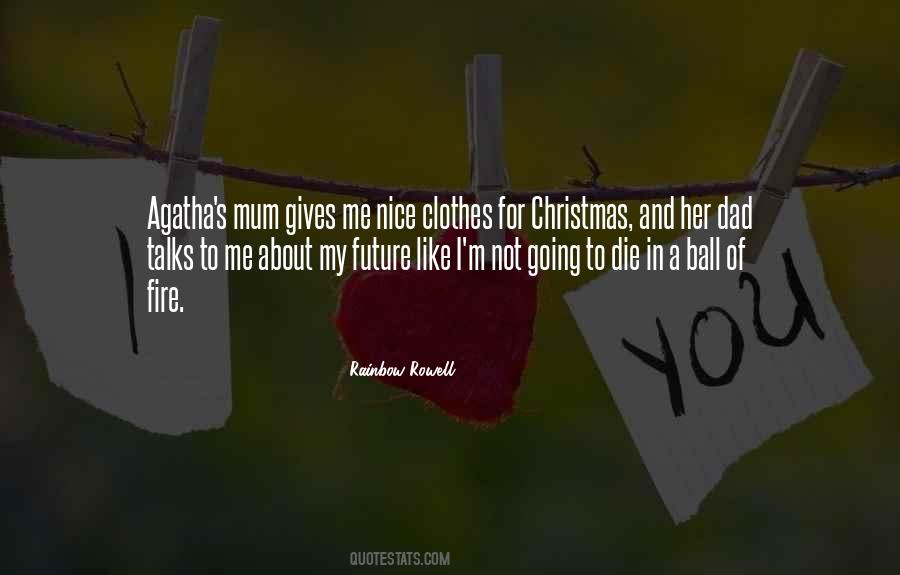 #8. I think when something becomes a comfortable genre, it's against what street art stood for in the beginning - breaking out of genres and taking art out of galleries. Now street art is in the gallery, and it's all made up into a nice, packaged concept. - Author: M.I.A.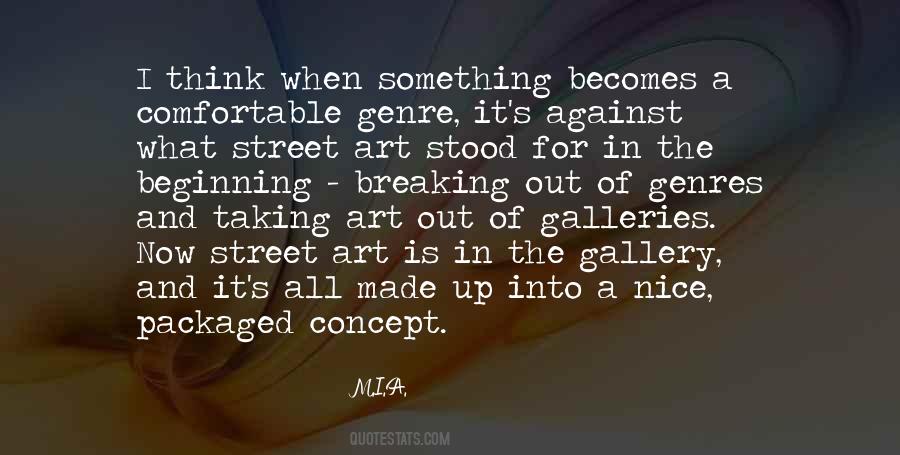 #9. What a degraded cosmos. What a case of something starting out nice and going bad. - Author: George Saunders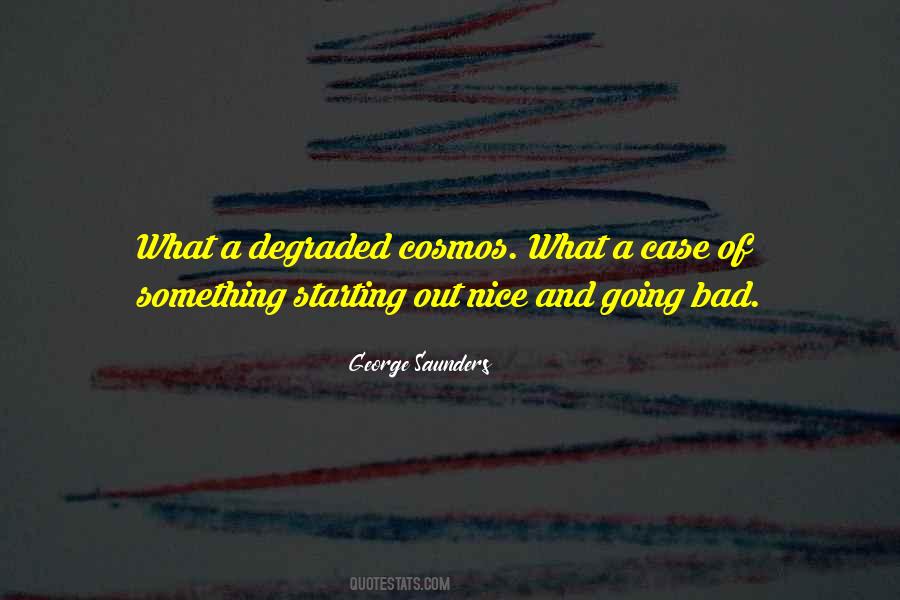 #10. You know you can't be a nice girl inside if you're a dirty slut outside - Author: George Bernard Shaw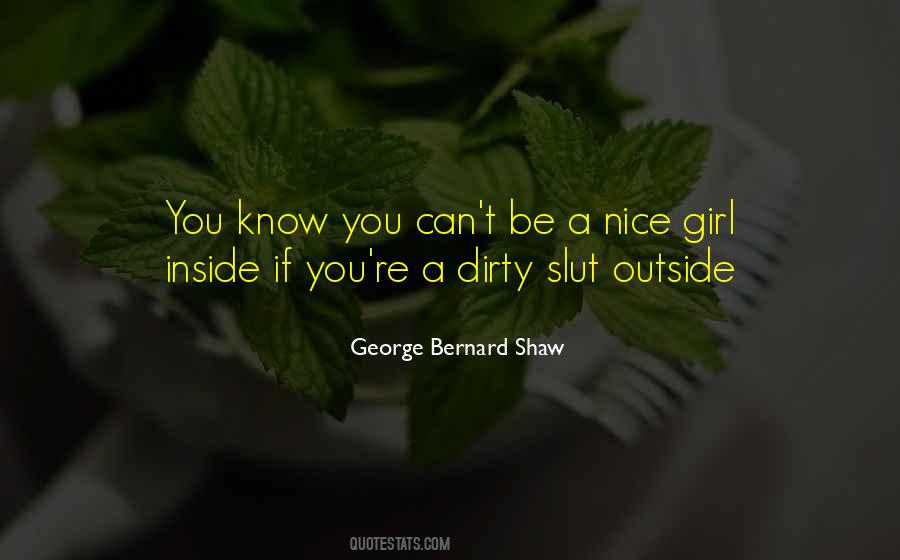 #11. The common mistake that bullies make is assuming that because someone is nice that he or she is weak. Those traits have nothing to do with each other. In fact, it takes considerable strength and character to be a good person. - Author: MaryElizabeth Williams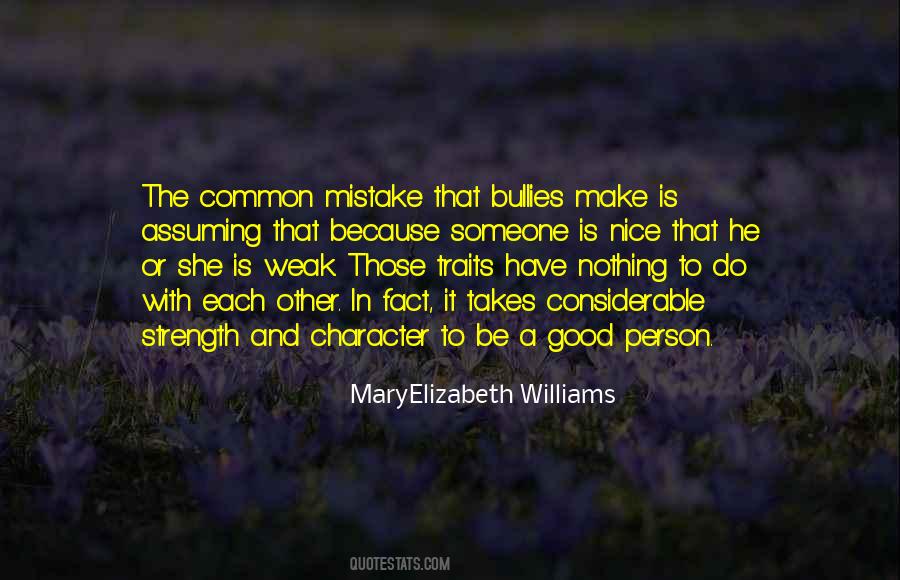 #12. I think it would be best if you came down from there before I explained that."
"I think I'll stay right where I am, thank you," I said. "And you, you stay where you are, or I'll ... I don't know what I'll do, but it will really hurt. You, I mean. - Author: Molly Harper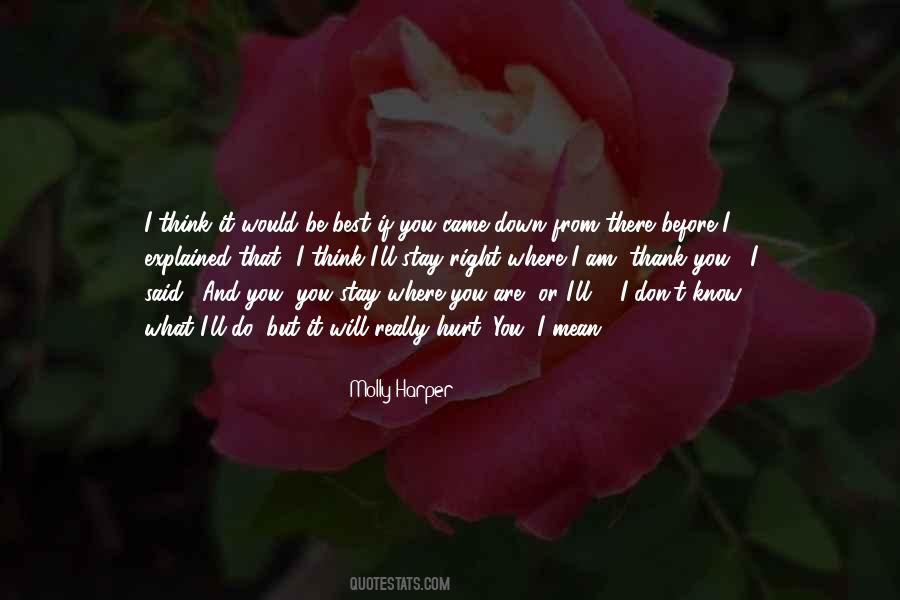 #13. Everyone's really sweet, really nice. The 'Buffy' fans always ask me to do Kendra's lines in Kendra's accent. - Author: Bianca Lawson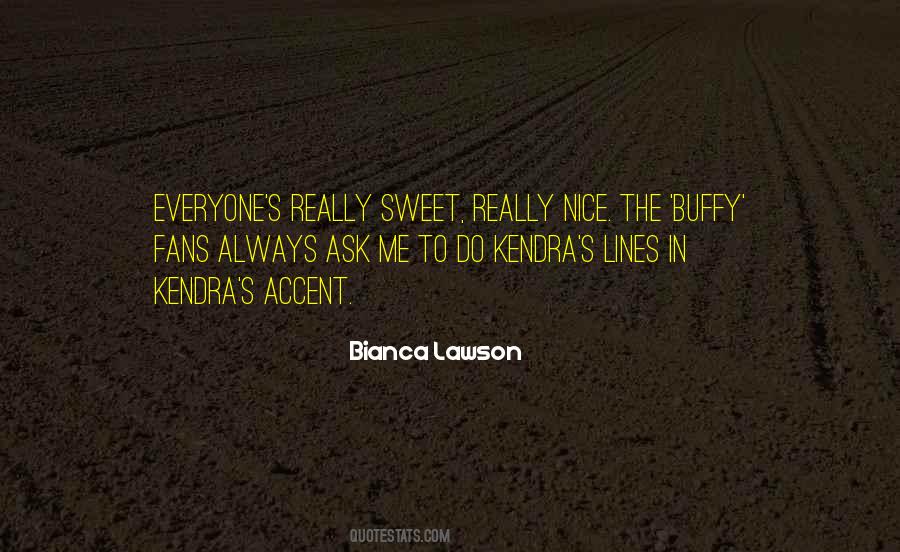 #14. Not that I've noticed." She looked down at my gun. "What a nice Glock. My sister carries a Glock, and she just loves it. I was thinking about trading in my .45, but I couldn't bring myself to do it. My dead husband gave it to me for our first anniversary. Rest his soul. - Author: Janet Evanovich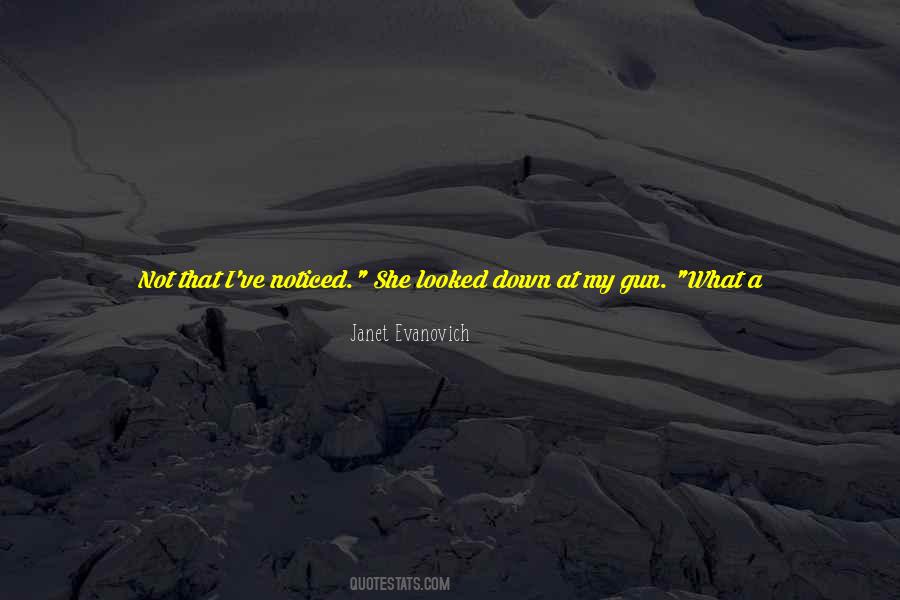 #15. Submission was such a nice mini-vacation, in that respect, a pleasure cruise through sex with heightened senses and emotions, and no thought to the outside world until. - Author: Abigail Barnette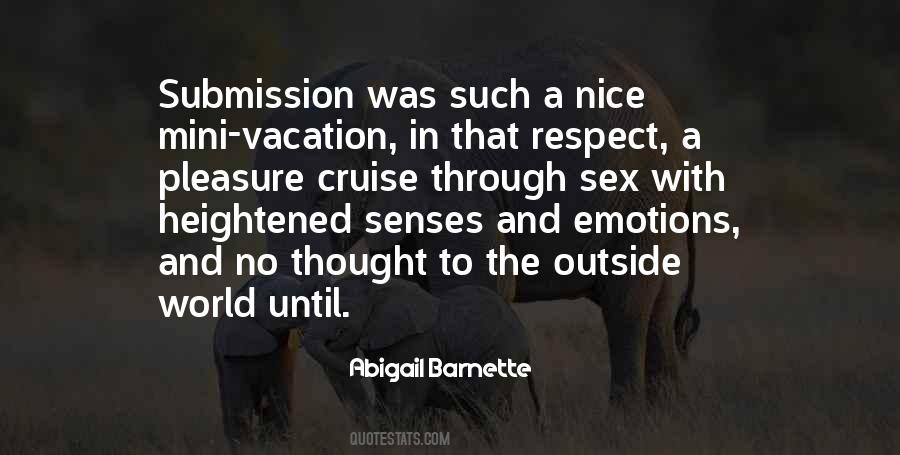 #16. There's Catholic guilt about things, then there's the guilt of being the youngest of 10, so when nice things happen to you, you're not really allowed to enjoy them. - Author: Jack White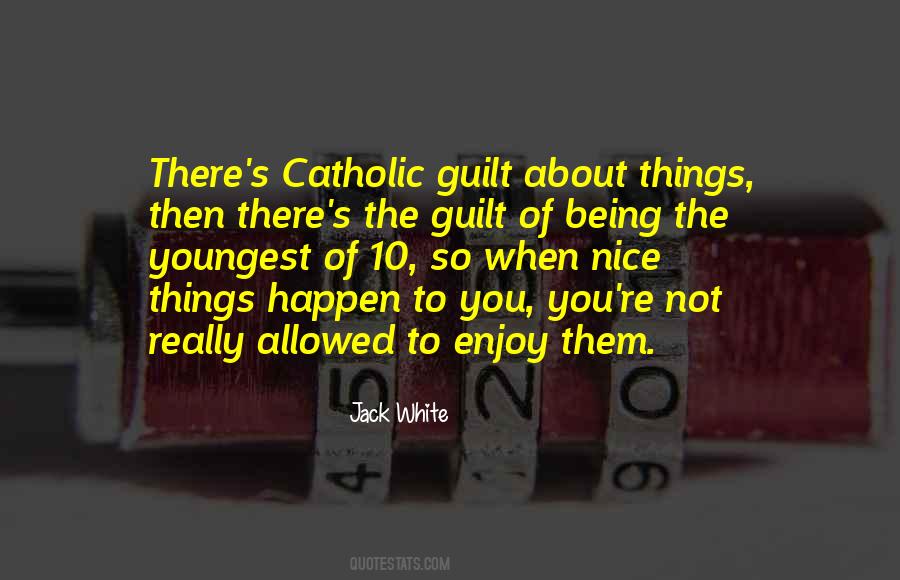 #17. I like writing for movies. It's nice to be alone working on fiction in your room, and then it's nice to be in a room with a bunch of people working on a movie. - Author: Daniel Handler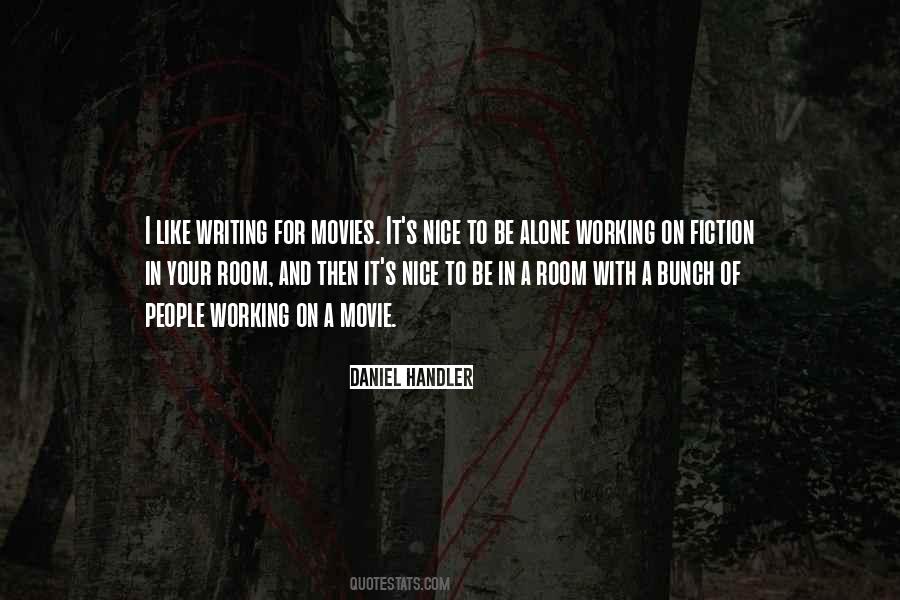 #18. It's only after the fact that we trace the lines, join dots between things, skip over anything that doesn't fit. We make stories to account for everything that's happened. It's nice to think the world makes sense. It's nice to think that you make sense. But sometimes things just happen. - Author: Kirsty Logan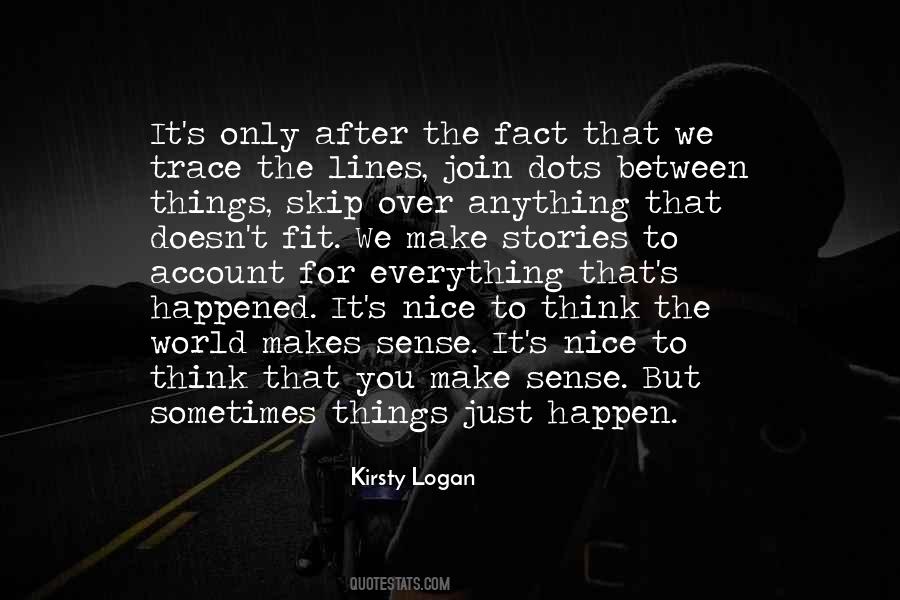 #19. The leaders who we admire who have been able to bring great change in the past - Gandhi, Martin Luther King, Nelson Mandela - they're all inspirational religious leaders and smart tacticians. It would be nice to find the Muslim Gandhi, wouldn't it? - Author: Dennis C. Blair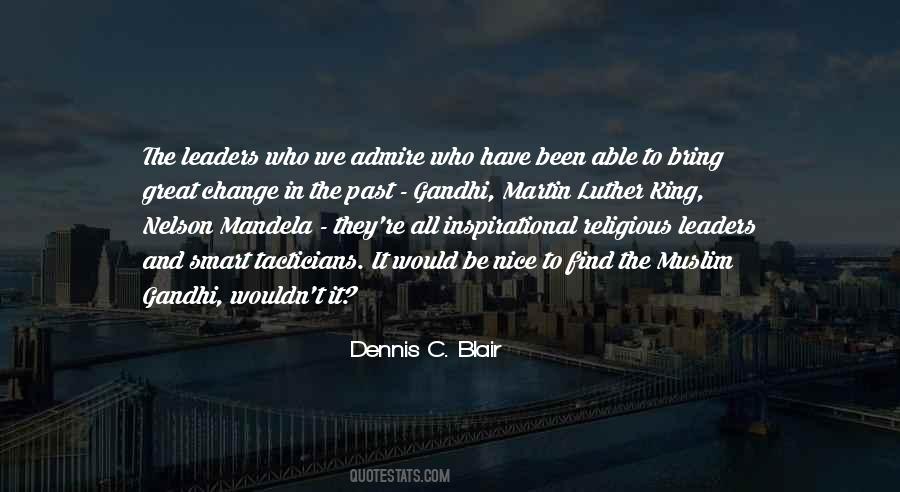 #20. It's nice to be short, because people expect less from you. - Author: Amy Poehler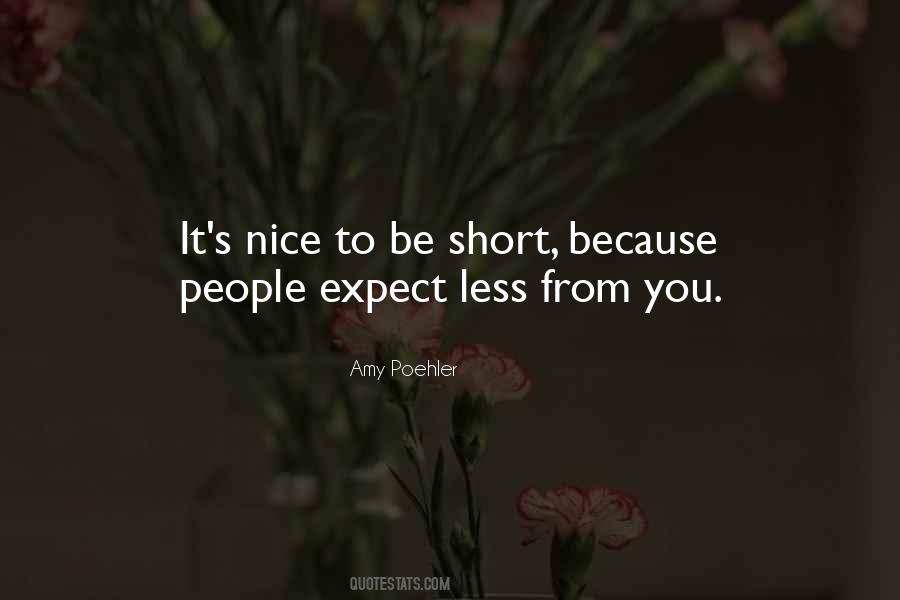 #21. We say that a lot to each other. You and me. It's always I'm sorry. I'm tired of being sorry. Why can't we just be nice to each other so we don't have to say it all the time? he asked and I was struck mute by his statement. Because he was right. - Author: A Meredith Walters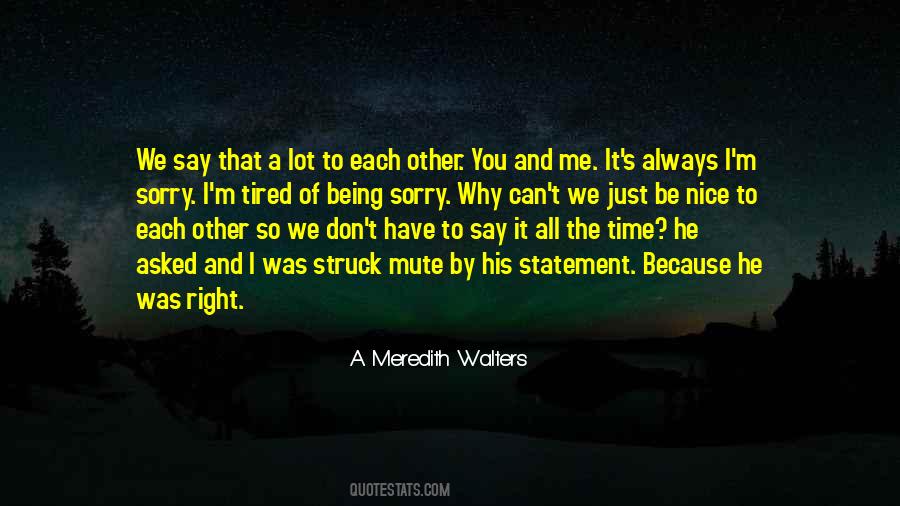 #22. There is a real fear around shifting from our existing economic system because people believe it gives us social organisation, a sense of freedom, and the ability to be nice to each other. Growth is seen as a social lubricant that allows us to be socially responsible. - Author: Tim Jackson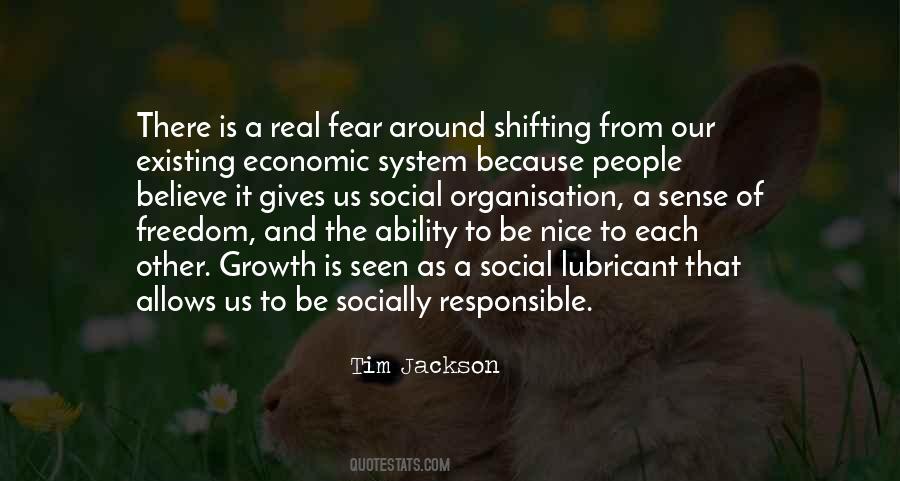 #23. One of the things that I miss about Canada is that even the strangers, you have an immediate rapport, there's just an understanding that we're all good people, let's be nice to each other. And Kiwis have that. I find the Kiwis have that. - Author: Evangeline Lilly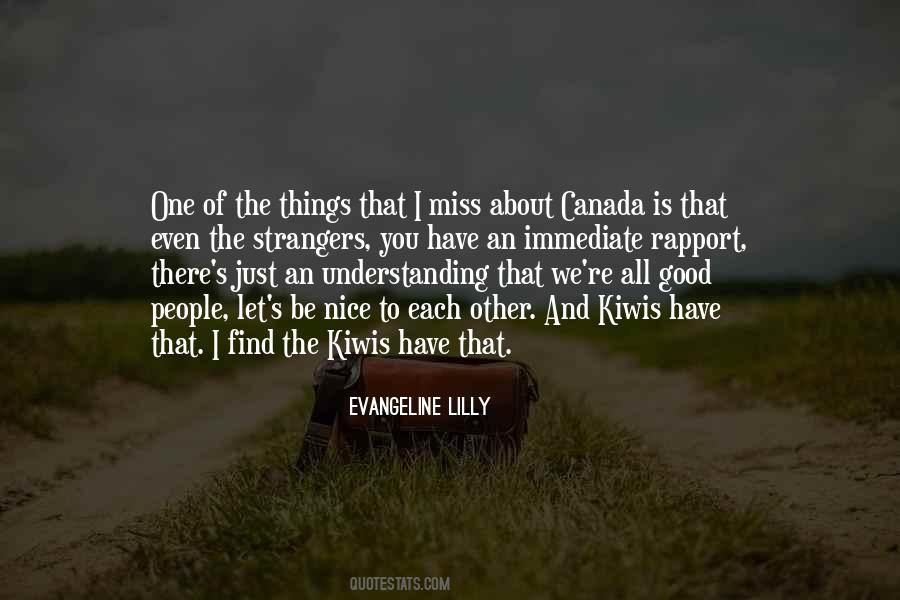 #24. Young men are all very well in their place, but it doesn't do to drag them into everything, does it? Diana and I are thinking seriously of promising each other that we will never marry but be nice old maids and live together forever - Author: L.M. Montgomery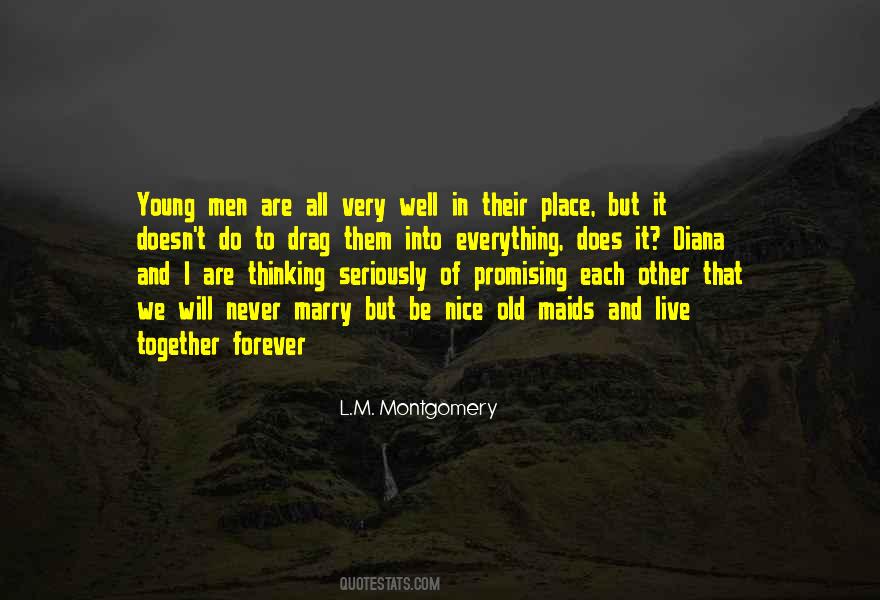 #25. I think that it'd be nice for other Asians to support other Asian artists and help each other instead of pull each other down. - Author: Justin Chon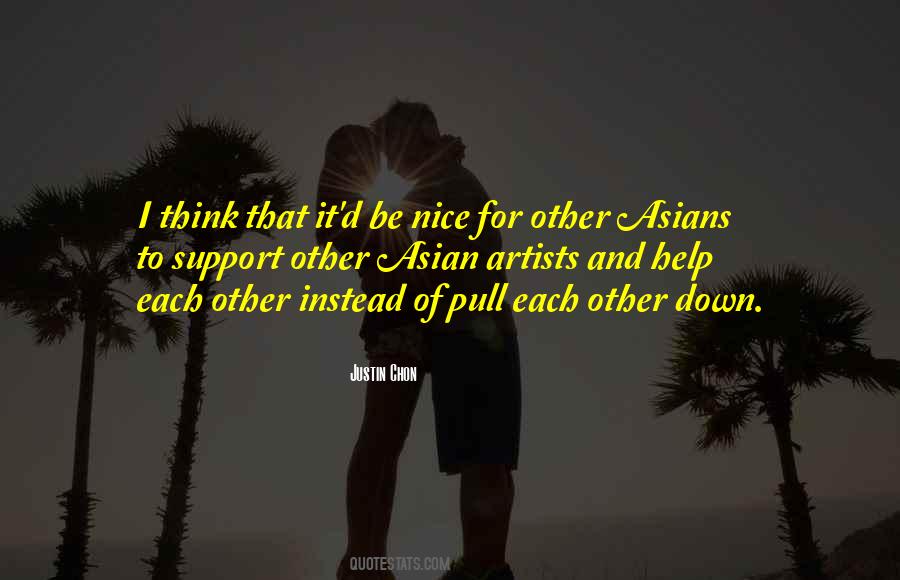 #26. Wouldn't it be nice if all the people who are lonesome could live in one big dormitory, sleep in beds next to each other, talk, laugh, and keep the lights on as long as they want to? - Author: Lenny Bruce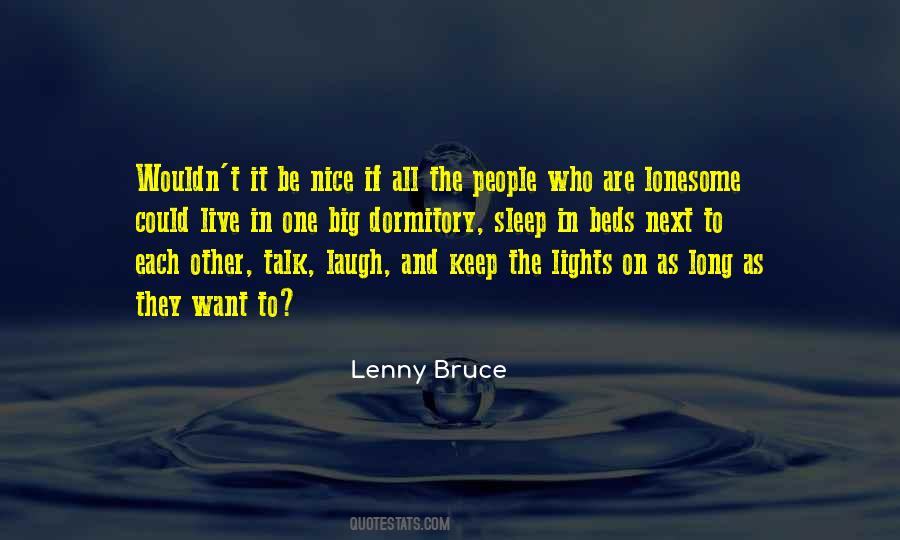 #27. These are really terribly rough times, and we really should try to be as nice to each other as possible. - Author: Lou Reed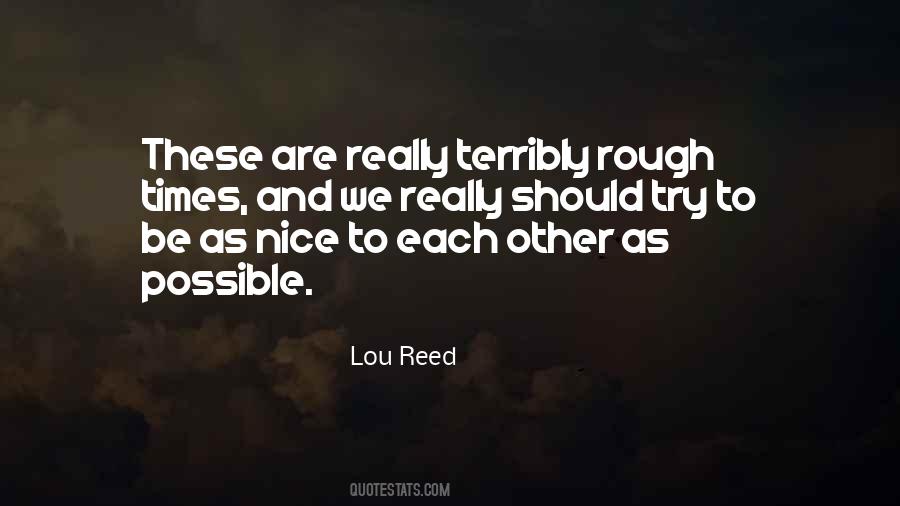 #28. Be nice to each other. You can make a whole day a different day for everybody. - Author: Richard Dawson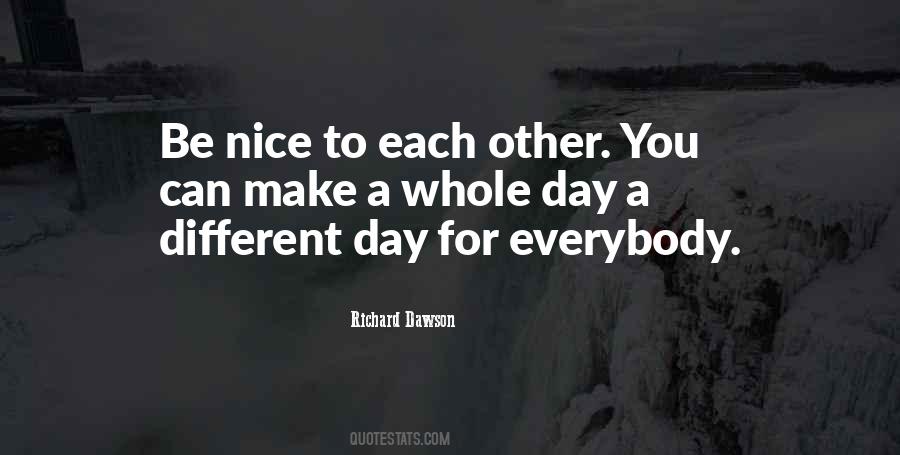 #29. 2,000 years ago one man got nailed to a tree for saying how great it would be if everyone was nice to each other for a change. - Author: Douglas Adams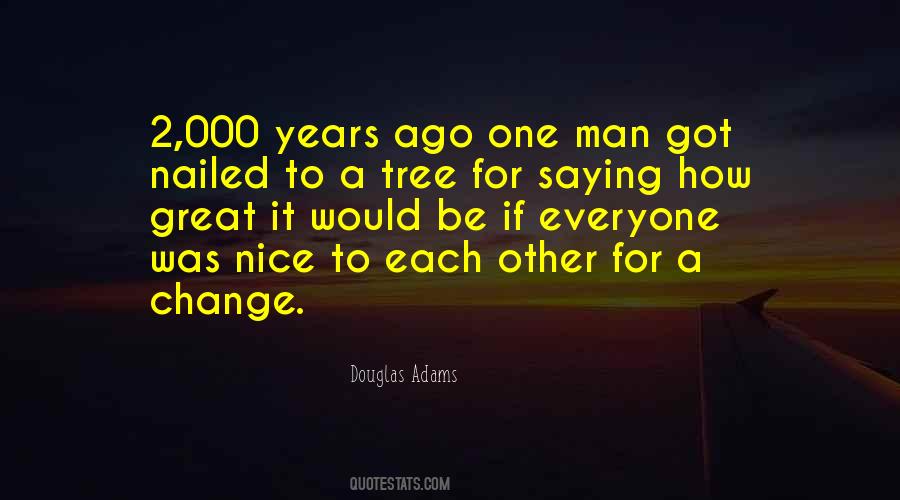 #30. Actually, I think it's the opposite. We know each other so well there isn't anything left to say. Sometimes it's nice just sitting here with you all, thinking. It's only best friends who can be comfortable with silence, wouldn't you say? - Author: Benjamin Wood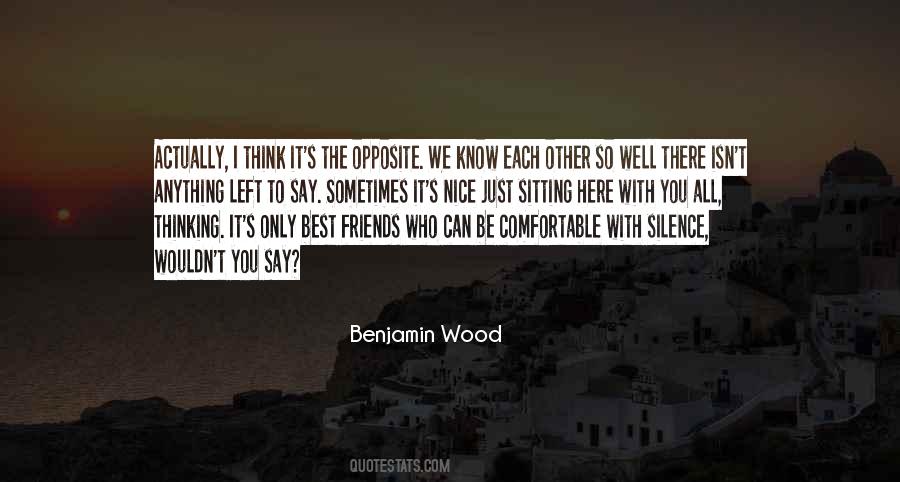 #31. The nice thing about working for a label like Domino is that there's no pressure: They've got a roster of 40 active bands, and they can bang out an album or single in a week, so it's not the end of the world to not have a Max Tundra album in 2005. - Author: Max Tundra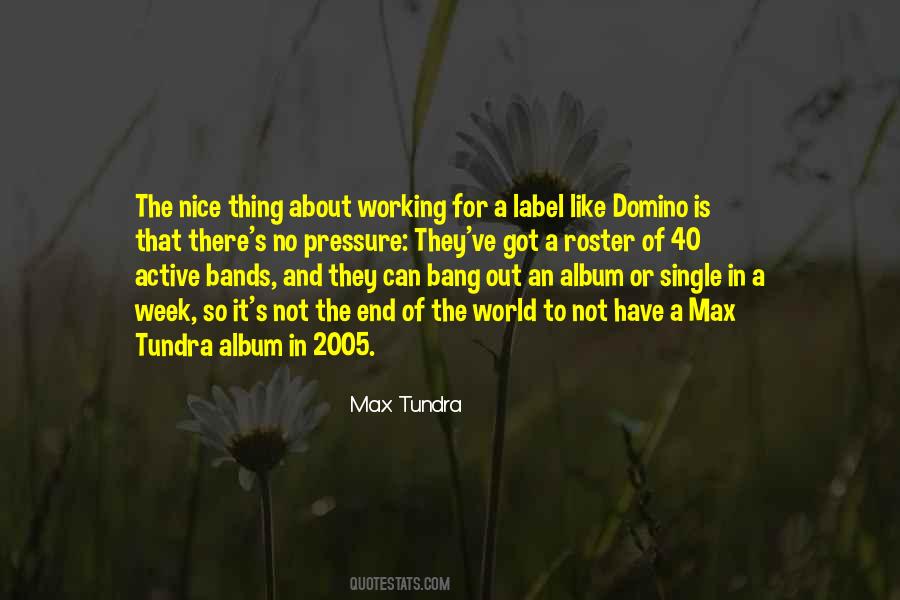 #32. The ocean," I said, "look at it out there, battering, crawling up and down. And underneath all that, the fish, the poor fish fighting each other, eating each other. We're like those fish, only we're up here. One bad move and you're finished. It's nice to be a champion. It's nice to know your moves. - Author: Charles Bukowski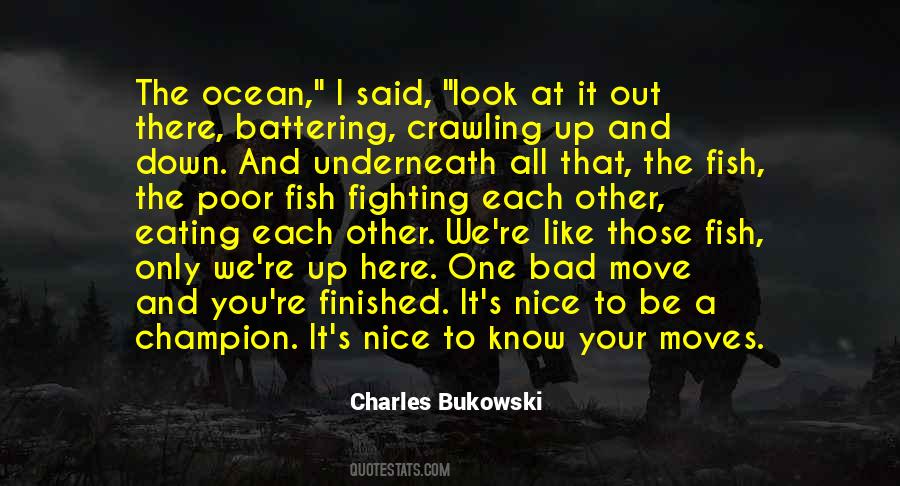 #33. Probably everybody be nice to you if they knew you were dying," he said.
"Everybody knows everybody is dying," I said. "That is why people are nice. You all die soon enough, so why not be nice to each other? - Author: Mark Harris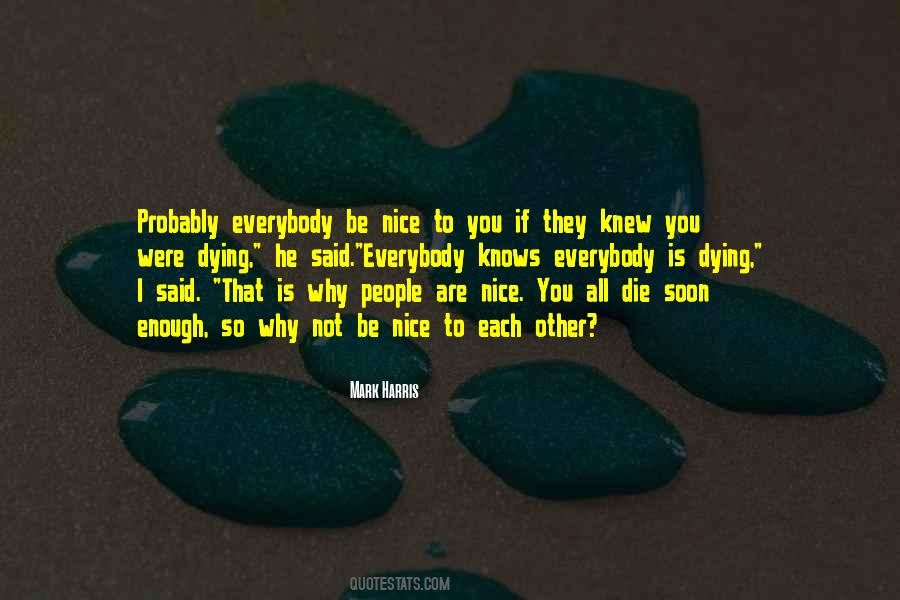 #34. Some of the 'New Women' writers will some day start an idea that men and women should be allowed to see each other asleep before proposing or accepting. But I suppose the 'New Woman' won't condescend in future to accept. She will do the proposing herself. And a nice job she will make of it too! - Author: Bram Stoker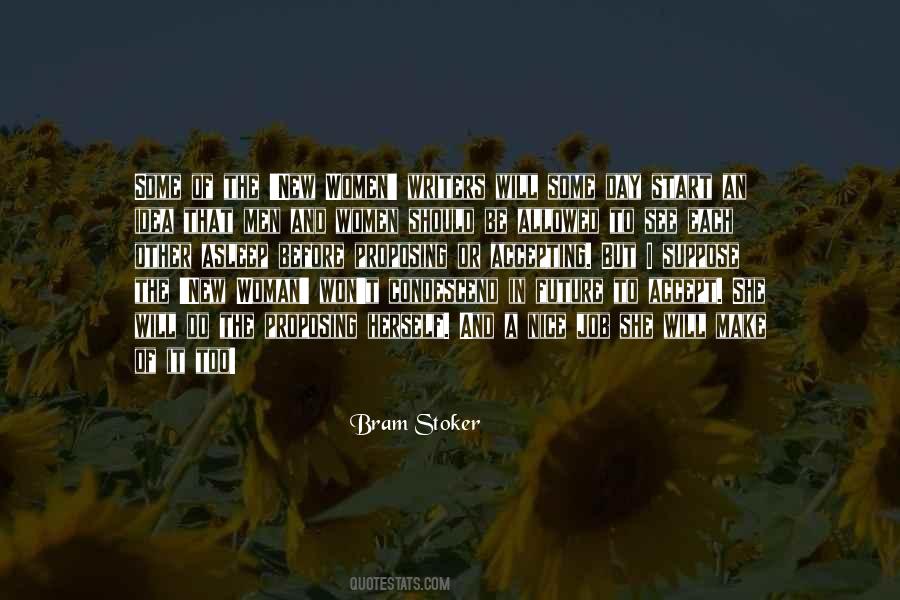 #35. Be nice to each other. Not a lot, but seems like the most obvious thing. - Author: Lenny Jacobson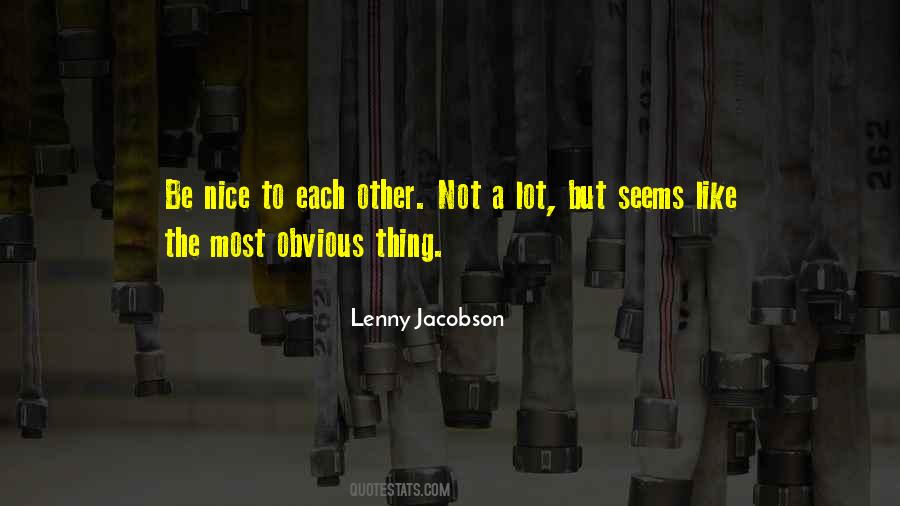 #36. I think that the basic philosophy was very good. It was just be nice to each other, and don't step on other people's toes and infringe on their freedom. - Author: Kevin Ayers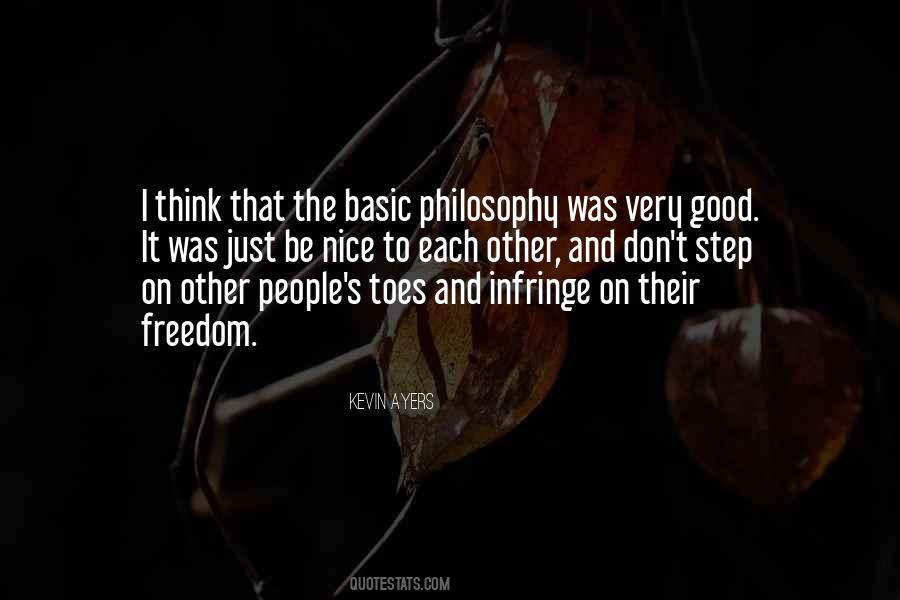 #37. The '80s have not been a gracious decade, and people are seeking ways to be nice to each other. - Author: Letitia Baldrige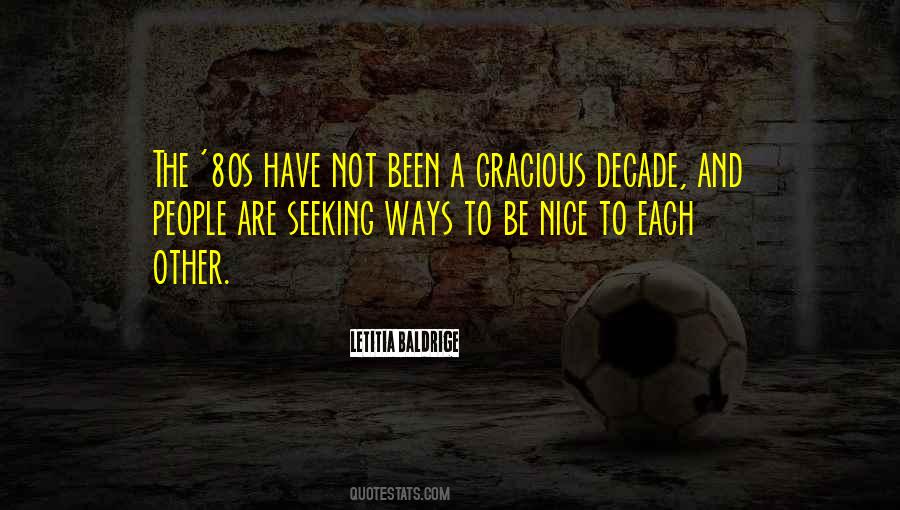 #38. I don't think there's any independent cartoonist whose stuff I don't like or respect in at least some way or another. We're all marginal laborers - we're practically medical oddities - so I don't see why we can't all be nice to each other. - Author: Chris Ware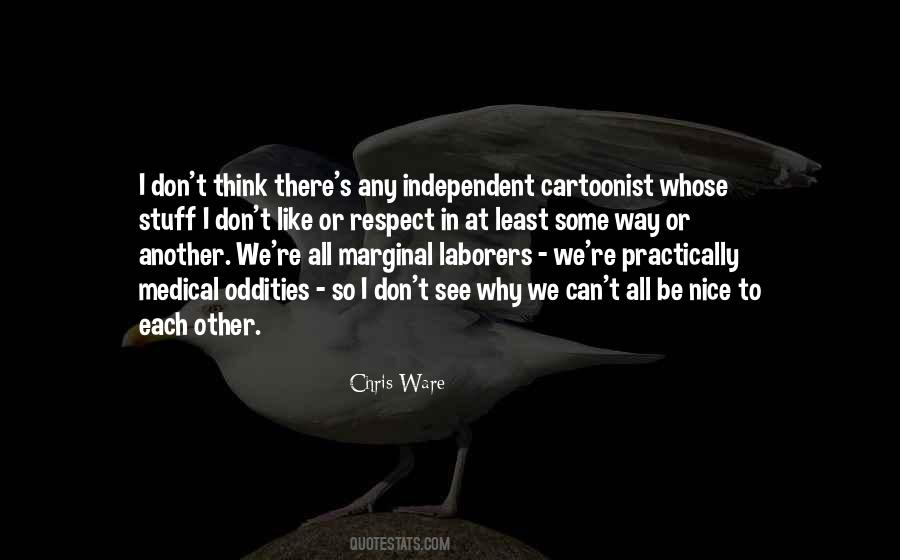 #39. Diana and I are thinking seriously of promising each other that we will never marry but be nice old maids and live together forever. Diana hasn't quite made up her mind though, because she thinks perhaps it would be nobler to marry some wild, dashing, wicked young man and reform him. - Author: L.M. Montgomery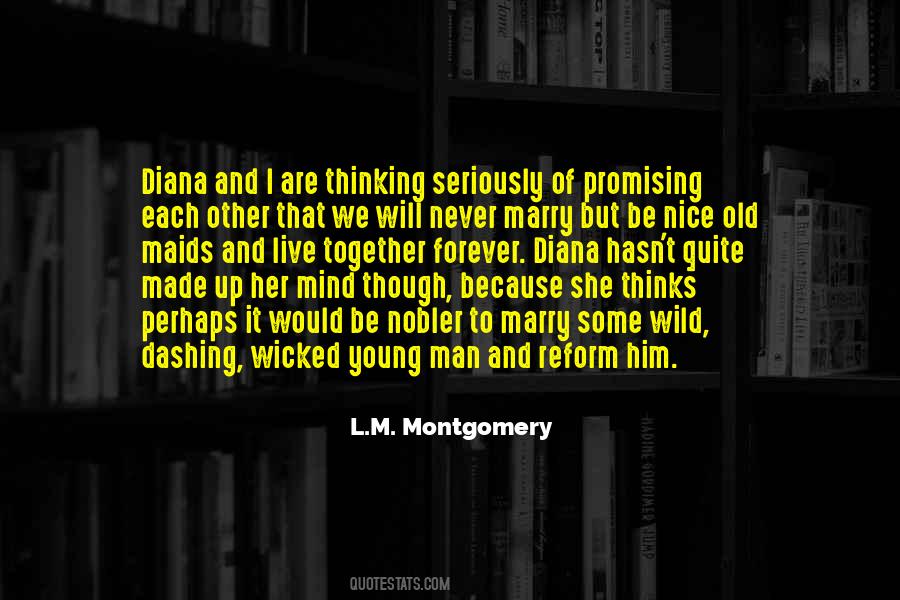 #40. I believe God put that itchy spot on our backs just exactly where we can't reach it in order to encourage us be nice to each other. - Author: Teresa Nielsen Hayden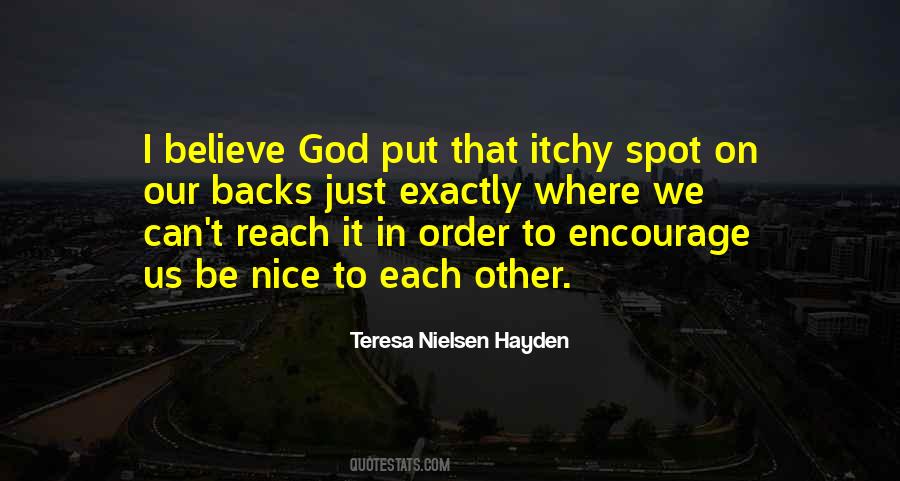 #41. You know, I consistently change in my own life so the roles I'm suitable for also change, and that's a really nice thing about this profession. - Author: Chris Klein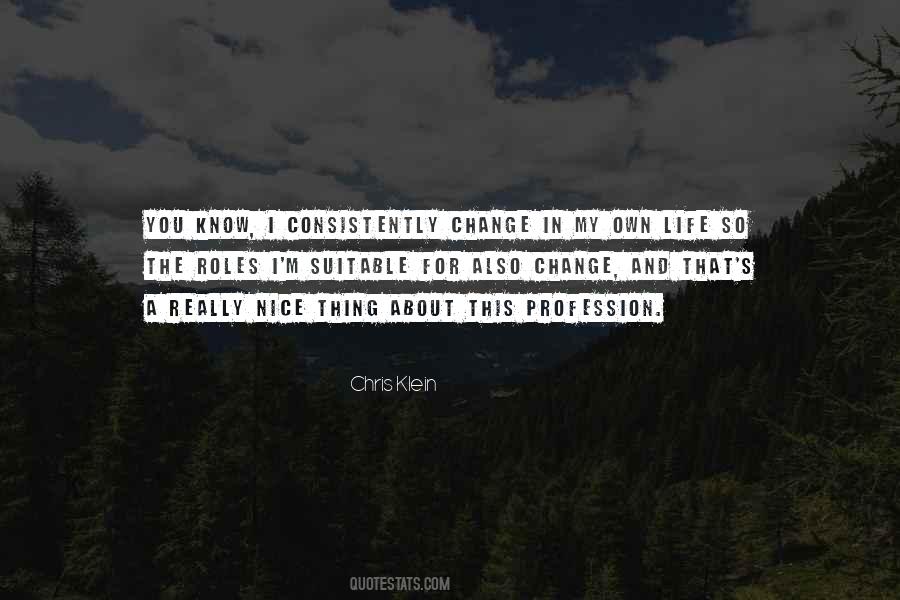 #42. It would be nice to really shed the corsets. - Author: Helena Bonham Carter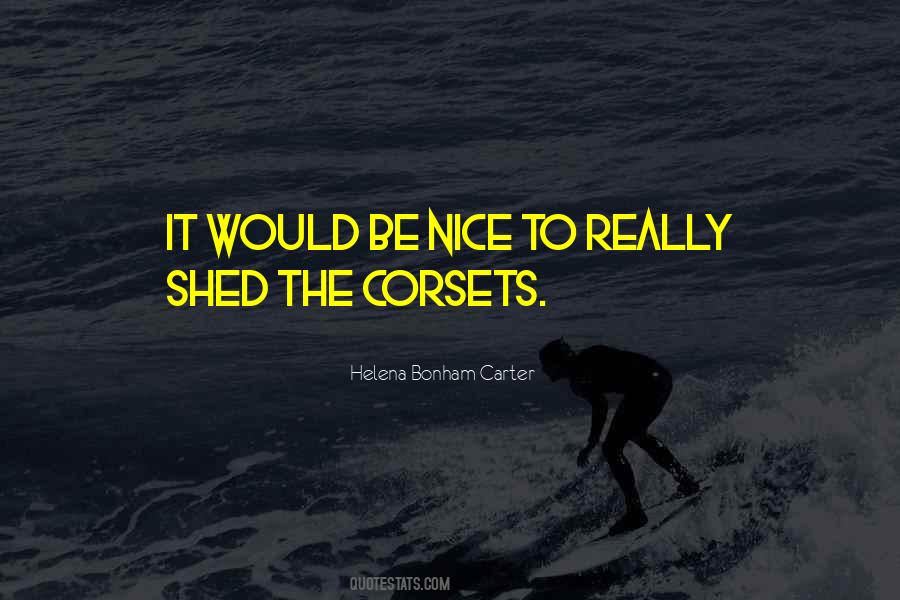 #43. There is nothing so nice as supposing. It's almost like being a fairy. If you suppose anything hard enough it seems as if it were real. - Author: Frances Hodgson Burnett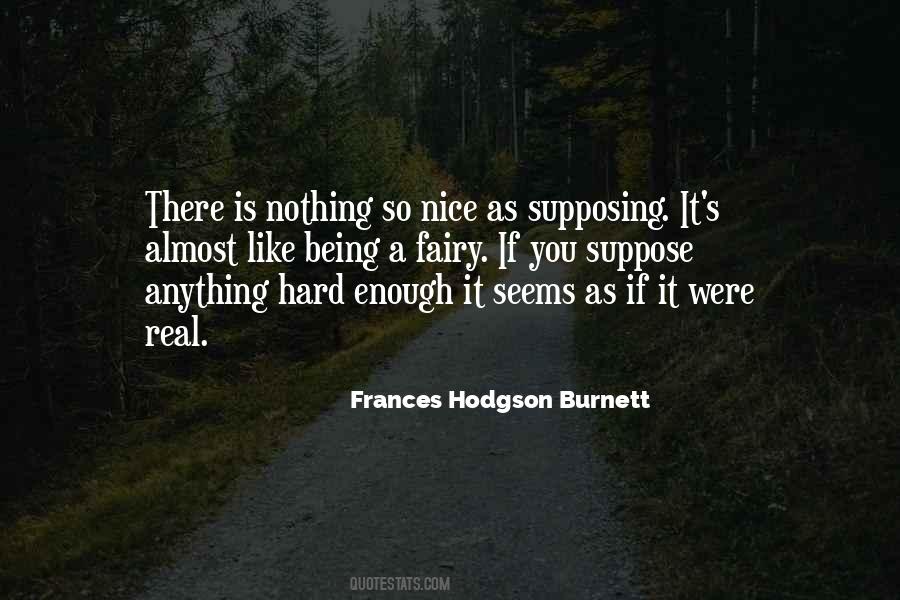 #44. It's nice sometimes to be the river rather than the rock. - Author: Jo Beverley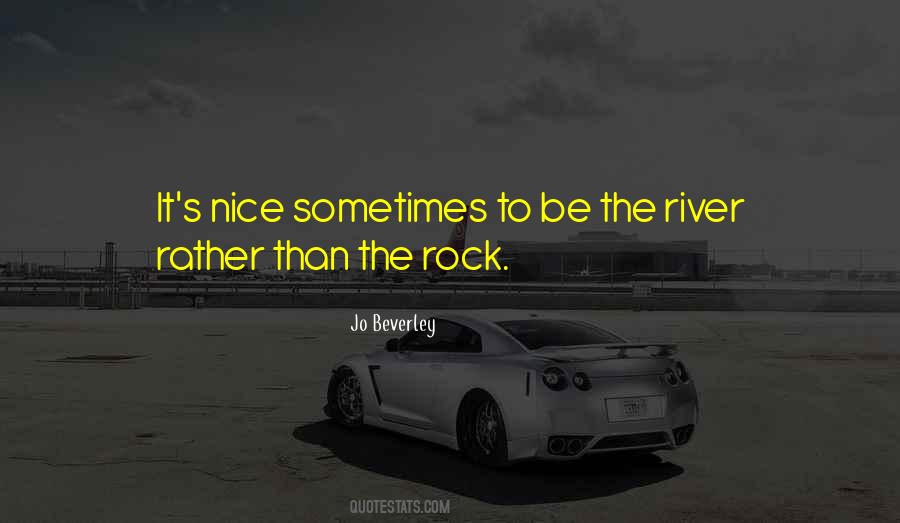 #45. It's a reflex, something that's been ingrained in me. Do no harm. Be nice. You catch more flies with honey than vinegar. - Author: Mindy McGinnis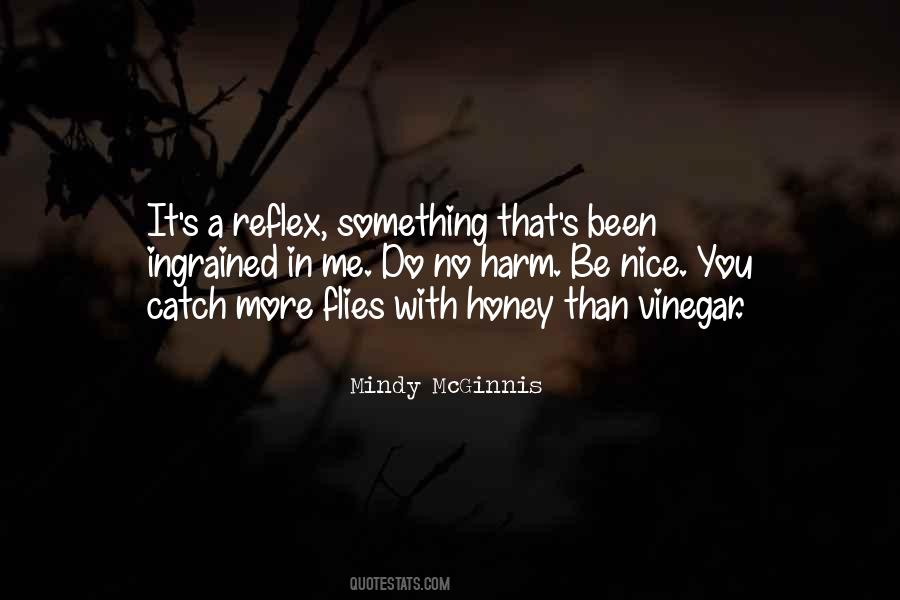 #46. I think there's nothing better than laughing in life, so that's nice, to be thought of as someone who can make someone laugh. It's 'cause I think life is hard. You know, my dad was a really silly man. A great Irish silly man. And that's fine. - Author: Joan Cusack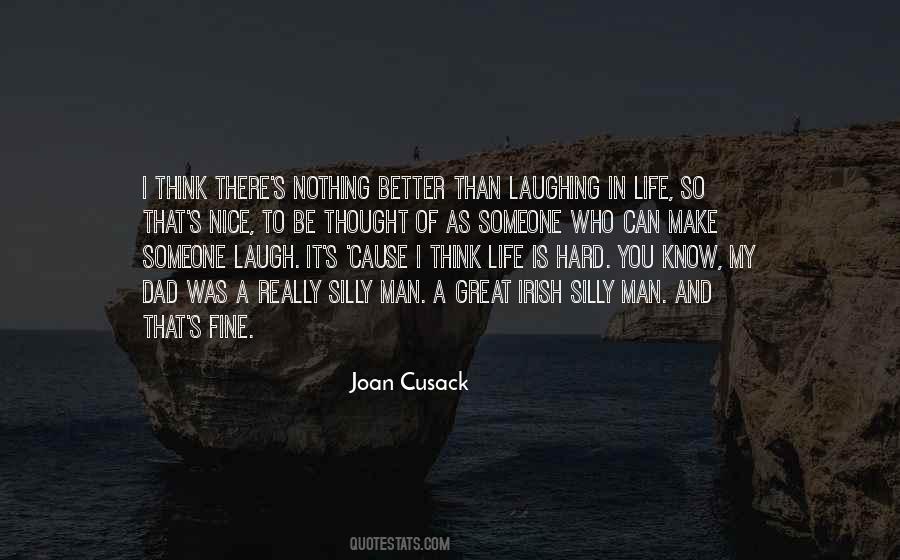 #47. It's so nice to be insane, no one asks you to explain. - Author: Helen Reddy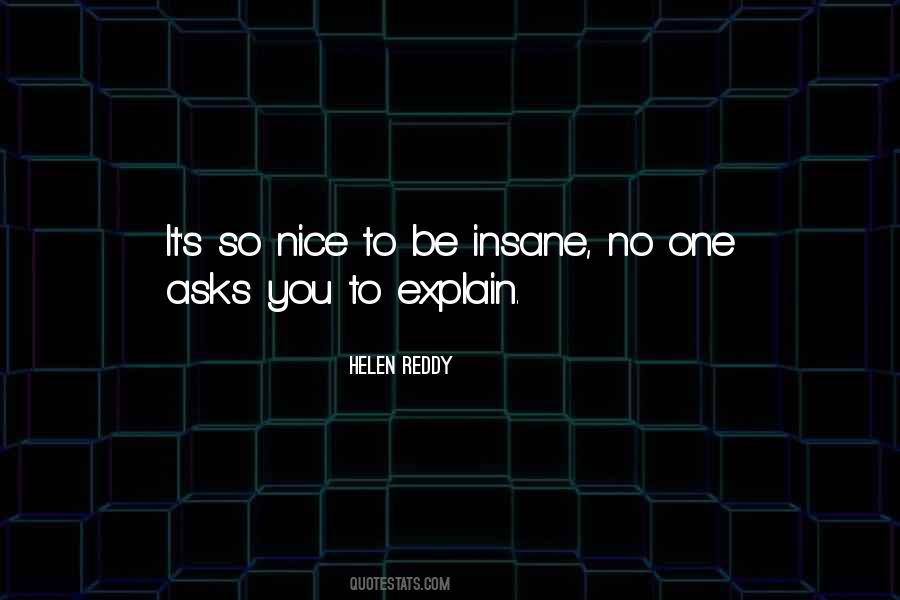 #48. Nice concept. But is it a trilogy or a tweet?" "I can't tell any more. - Author: Scott Westerfeld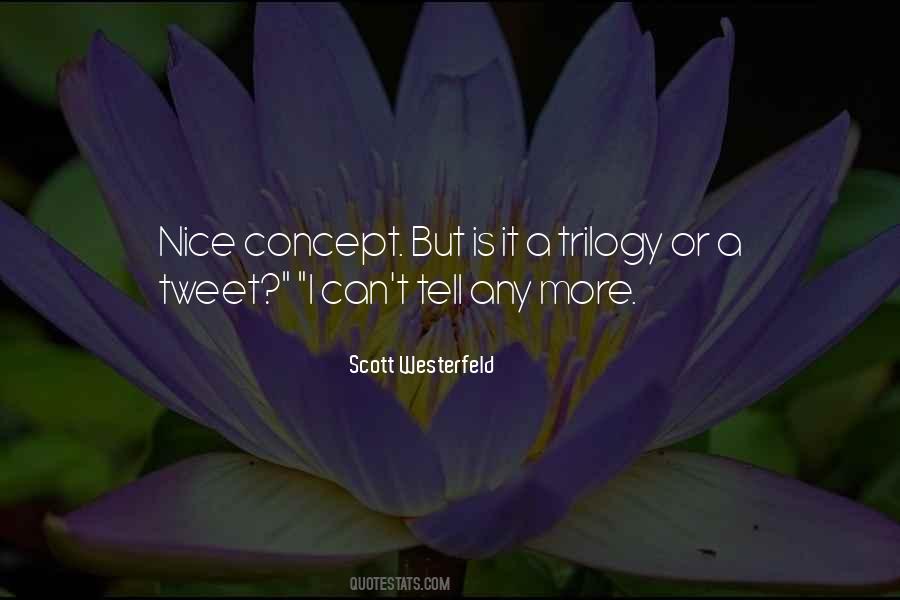 #49. I'm just an actor, but if the extra part of it is that I'm helping people or people are being helped by the virtue of what we're doing, then that's just a really nice added extra. - Author: Christopher Meloni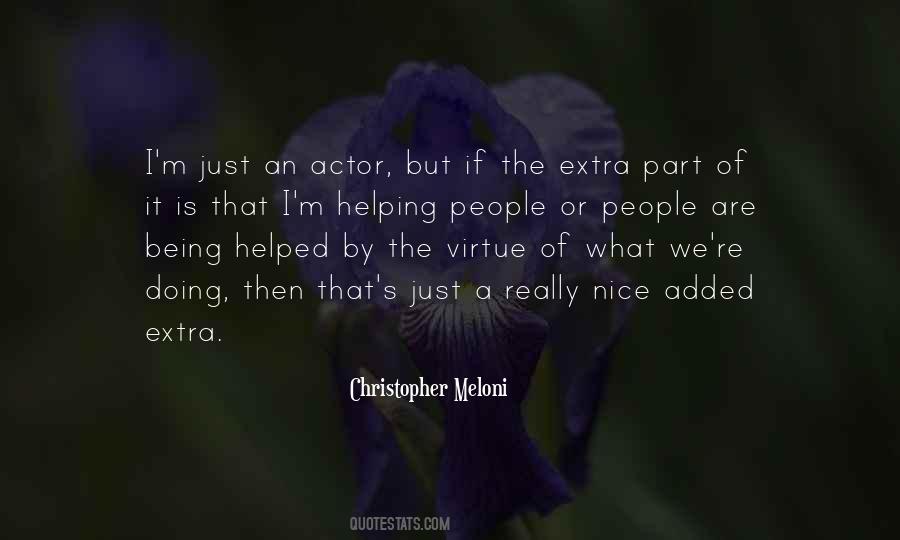 #50. We live a life that is often spent in crowds - parties, festivals and first nights - so it's nice to avoid them. - Author: Julian Fellowes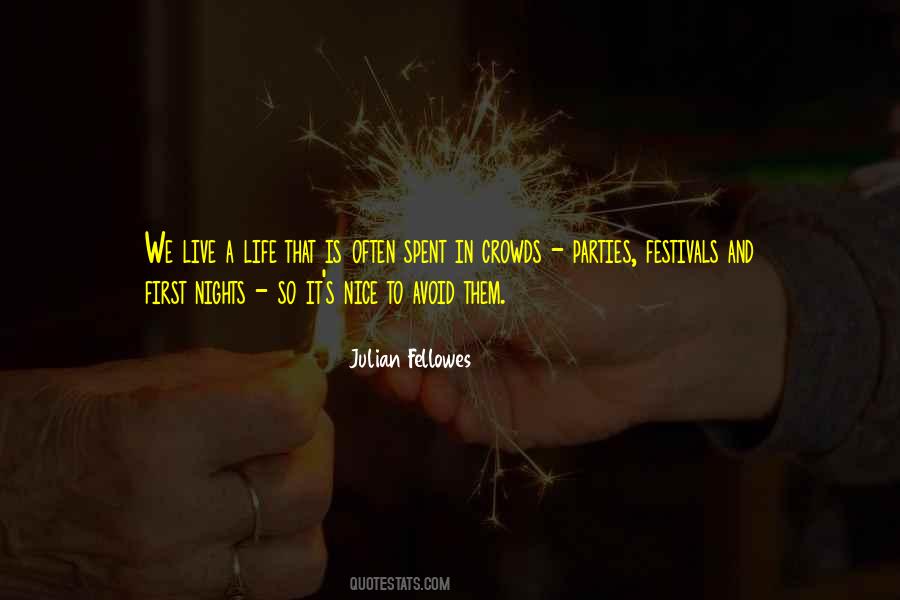 #51. I work a lot, and it's kind of like, you meet people, and you just click. It's not like I'm looking at something and thinking: 'South Park' - how do I get on that?' I just became friends with those guys first. They're nice guys. - Author: Bill Hader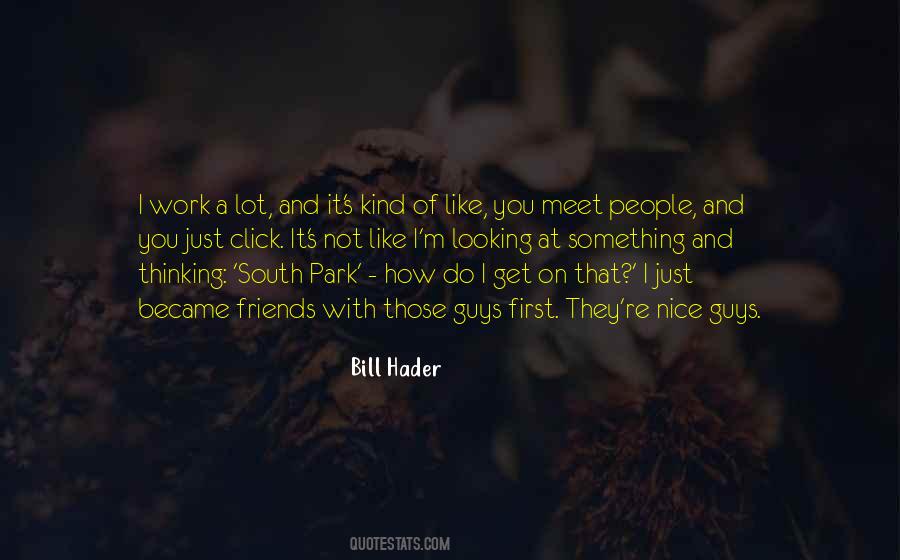 #52. Why don't you and I have a nice penetrating man-to-man conversation? - Author: Sanami Matoh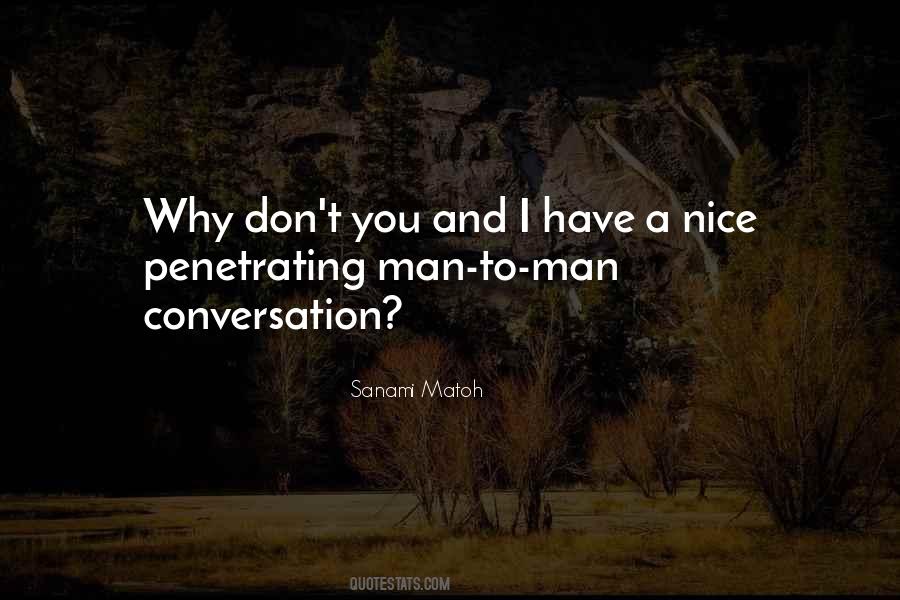 #53. The first two years I was on 'MADtv' were really, really fun. We always thought it was 'Saturday Night Live's very nice, slightly asthmatic, shorter cousin. - Author: Ike Barinholtz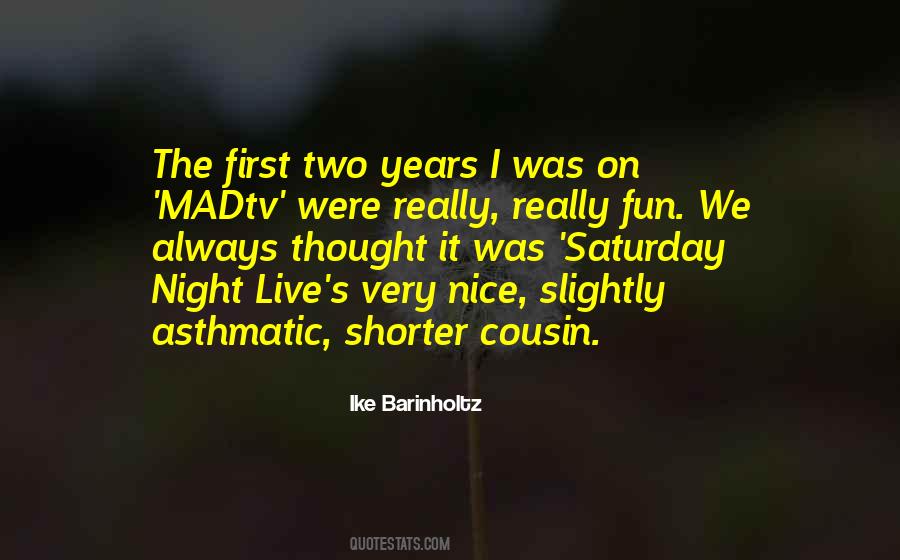 #54. I don't see it, but I'm flattered nonetheless. To look like Michelle Pfeiffer is quite nice. - Author: Calista Flockhart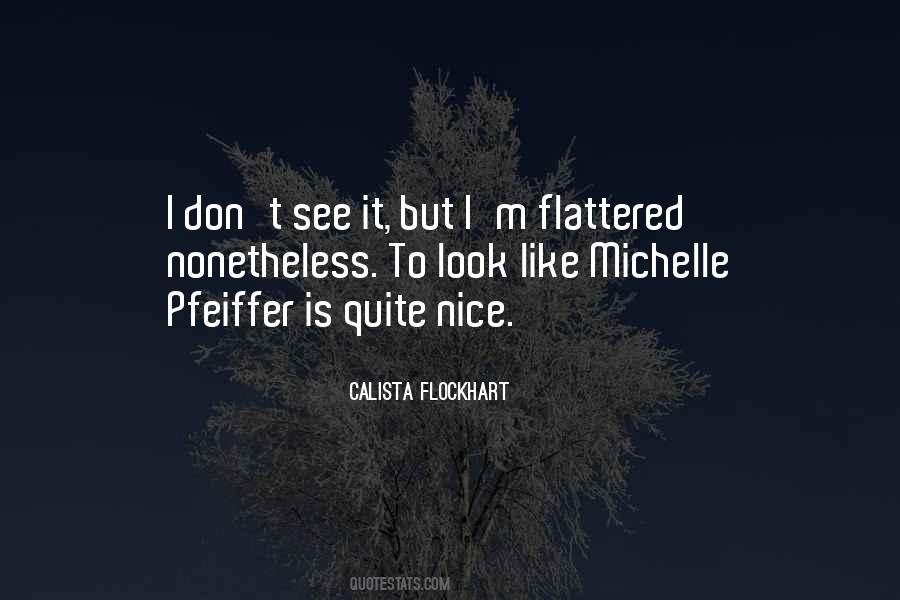 #55. It definitely seems like we are connecting with people, which is nice, because I've had a lot of music do the same for me. It's not like I don't I understand why we get the reactions we do. - Author: Jon Crosby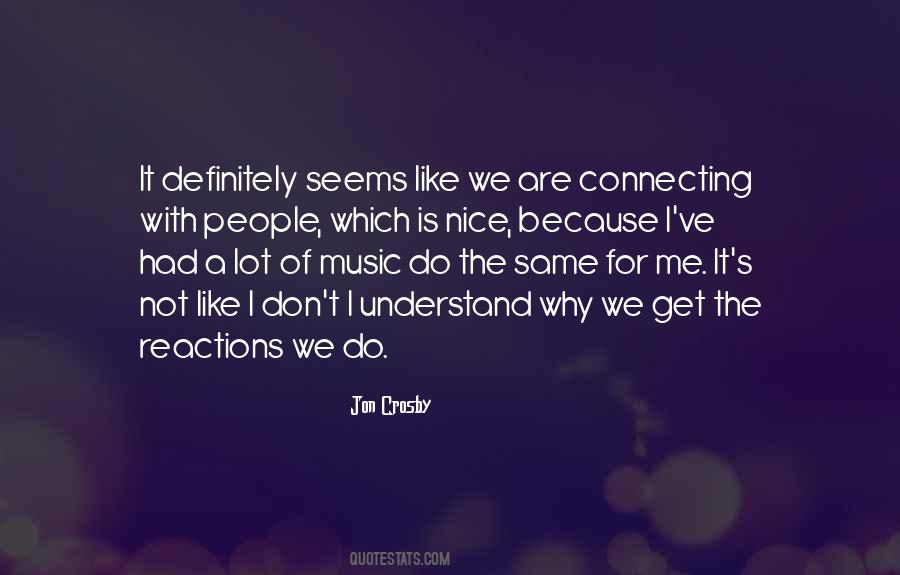 #56. Success is a nice thing because it always means you've taken a step forward and it gives you a sense of pride, which in turn gives you confidence and experience-a positive circle, so to speak. - Author: Roger Federer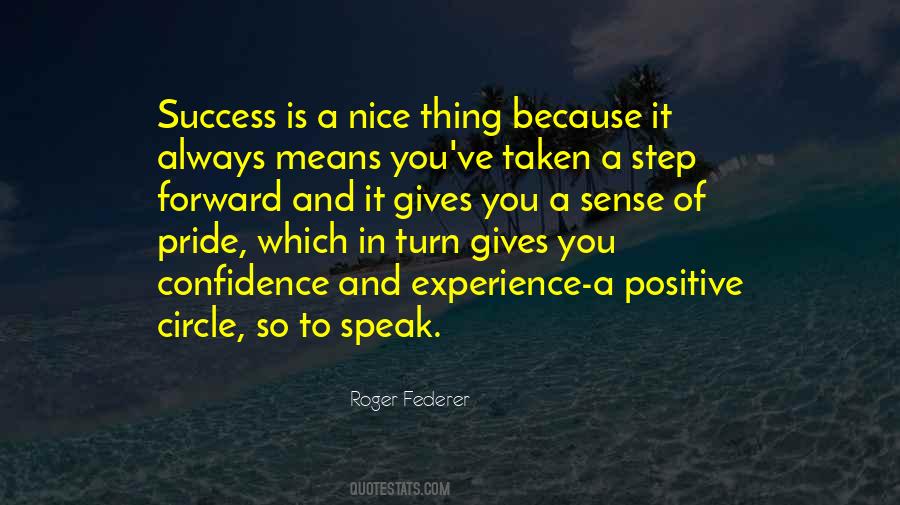 #57. It's nice that people can call me an artist and it's nice that I can refer to myself as such, but it also kind of separates me from the common man in a way that I don't wish to be, so craftsperson makes me feel a bit more connected. - Author: Matana Roberts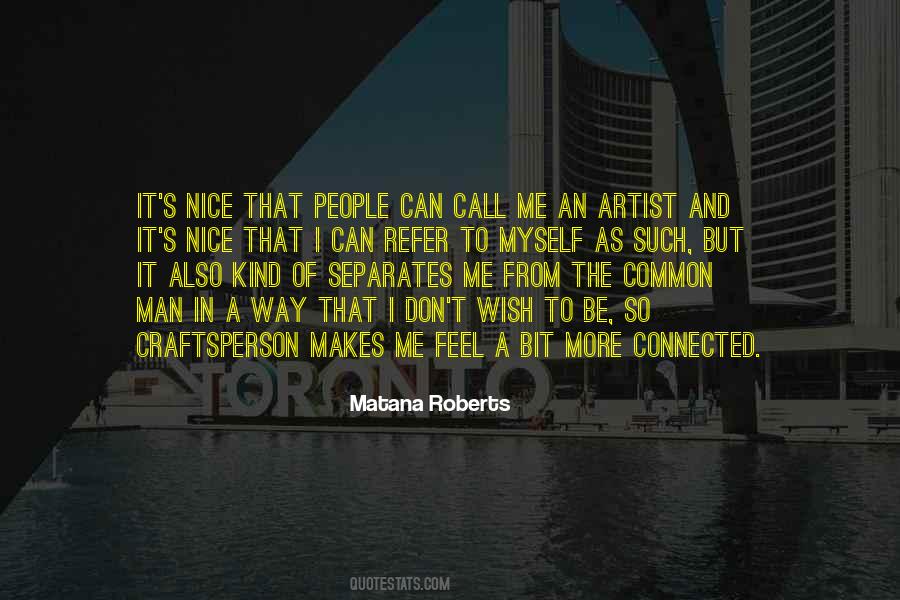 #58. People are always surprised at what a nice guy I am. - Author: Tony Parsons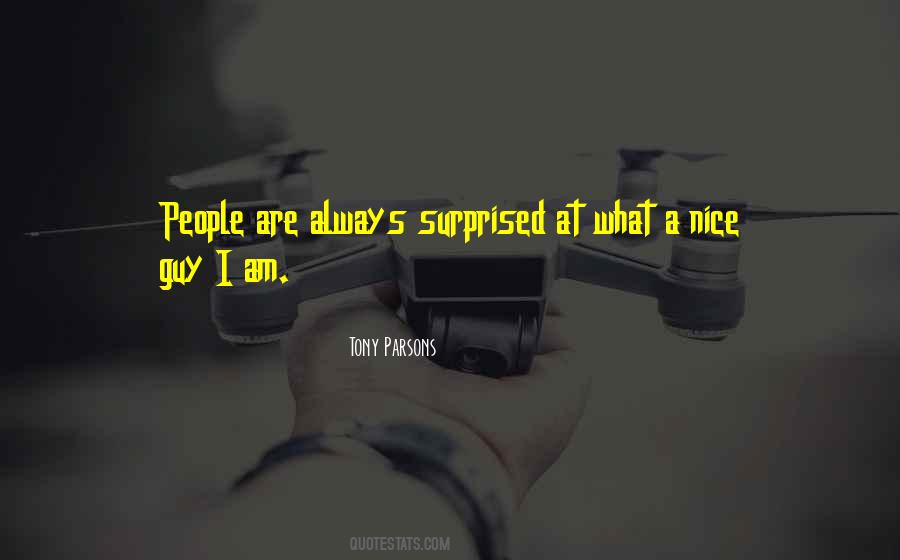 #59. You know, sometimes I envy you. It must be nice to be a wolf. Just for a while." "It has its drawbacks." Like fleas, she thought, as they locked up the museum. And the food. And the constant nagging feeling that you should be wearing three bras at once. - Author: Terry Pratchett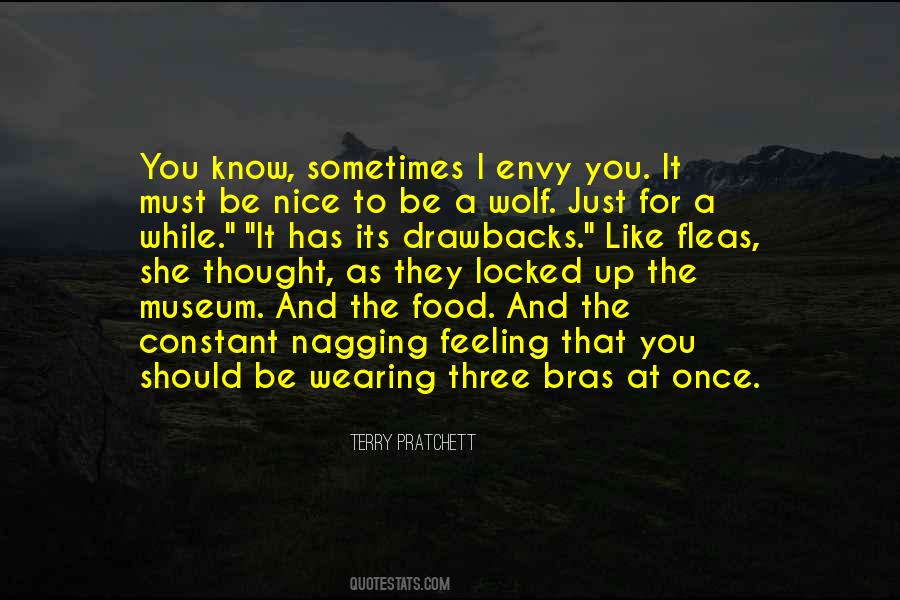 #60. I love Shakira - she is such a beautiful person. She does so many good things for the world on top of making good music. And she is an awesome mom. When you are Latina, it is all about family, and to see that she prioritizes family and her career at the same time is really nice. - Author: Becky G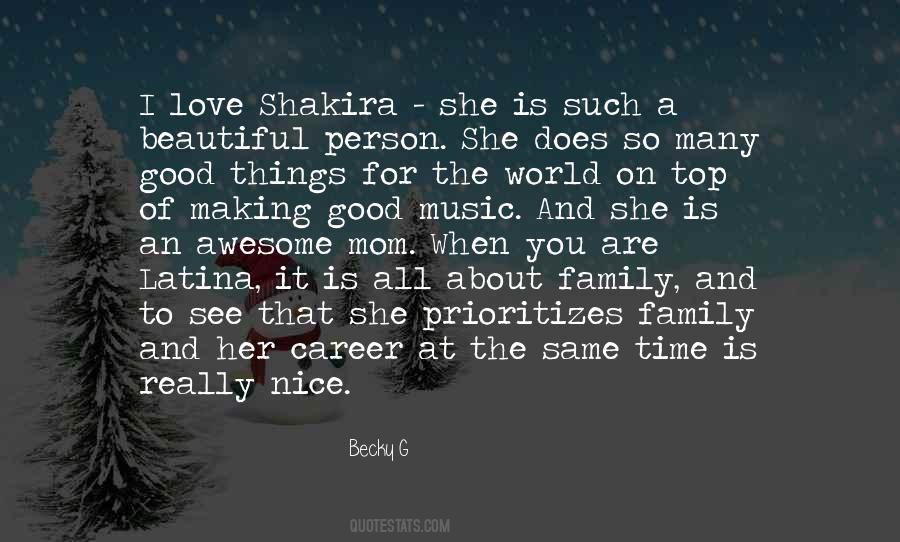 #61. I was a wild child. It's nice, though, now to have grown up and be normal and domestic. I've become very traditional. Conservative, worldly and very wise but fun. - Author: Kelly Carlson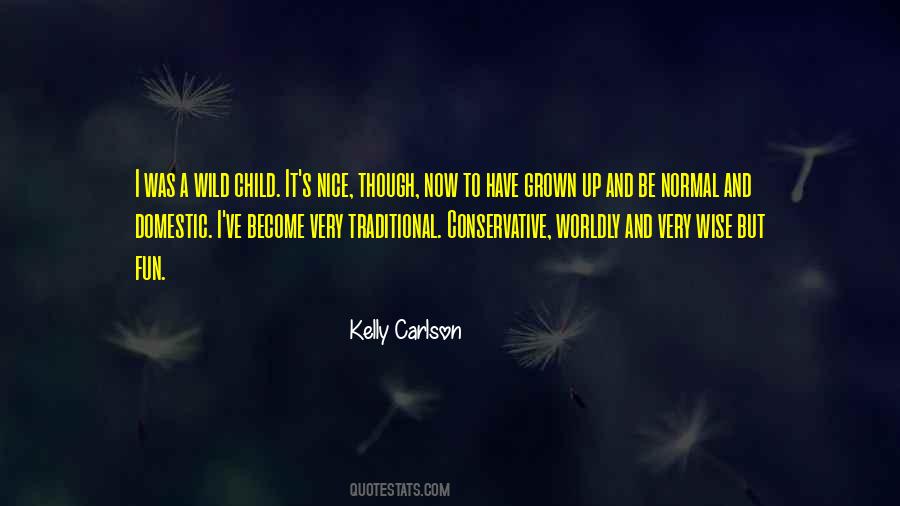 #62. I'm 40 and I just got my first beauty campaign with Clairol Nice and Easy. - Author: Teri Hatcher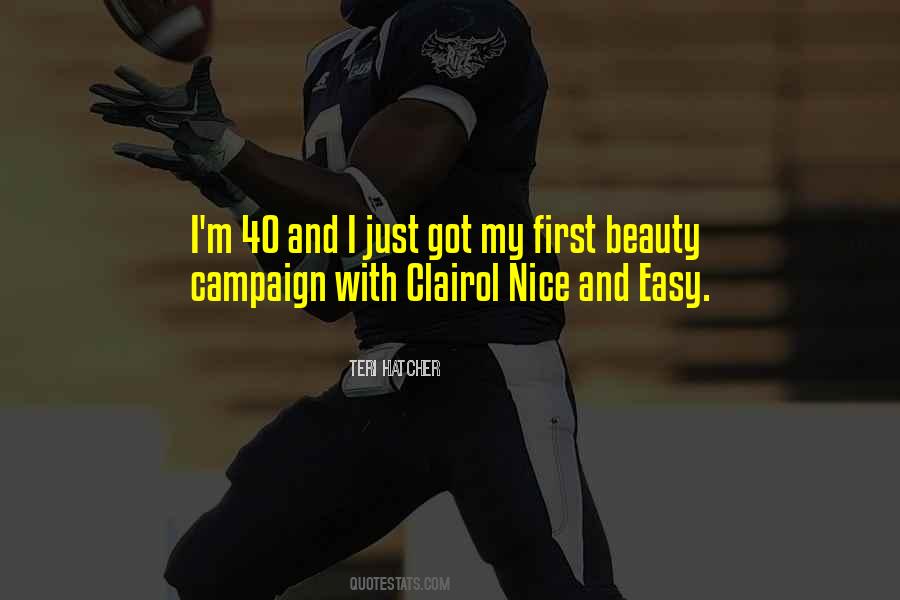 #63. How can you be so nice to me and how can you forgive me when I've been such a jerk?"
Maddy appears to think for a moment. "When you are reading a book and you finish a chapter, you don't keep re-reading the chapter you just finished. You move on to the next chapter to see what happens. - Author: Stephen Reid Andrews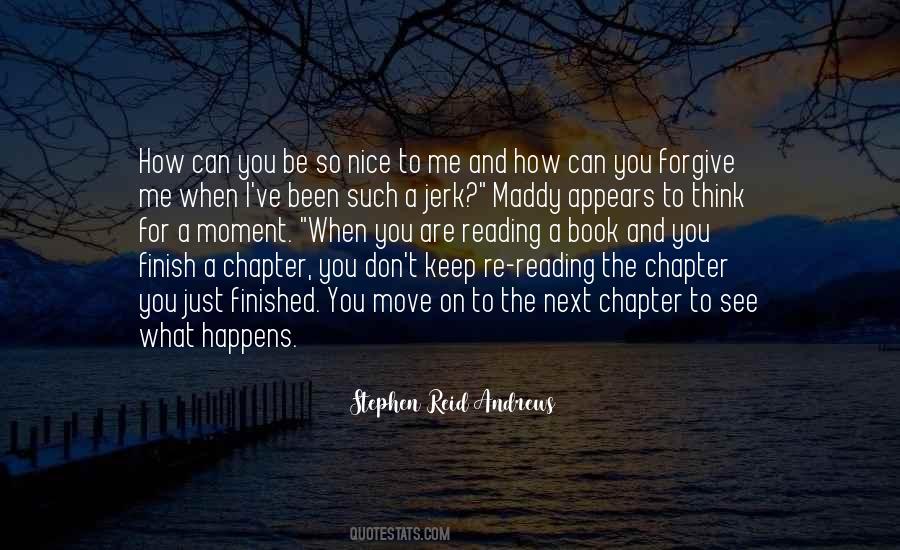 #64. I wanted to do something nice so I bought my mother-in-law a chair. Now they won't let me plug it in. - Author: Henny Youngman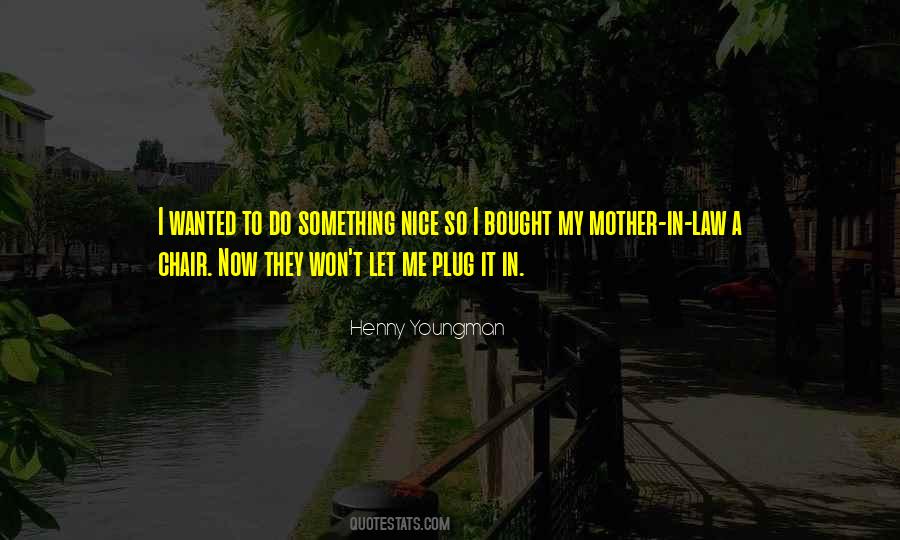 #65. Childhood was very nice. The only thing wrong was that I was so introverted, everything became a big deal ... 'Oh, no, here comes the bus. Where am I gonna sit on the bus?' - Author: Steven Wright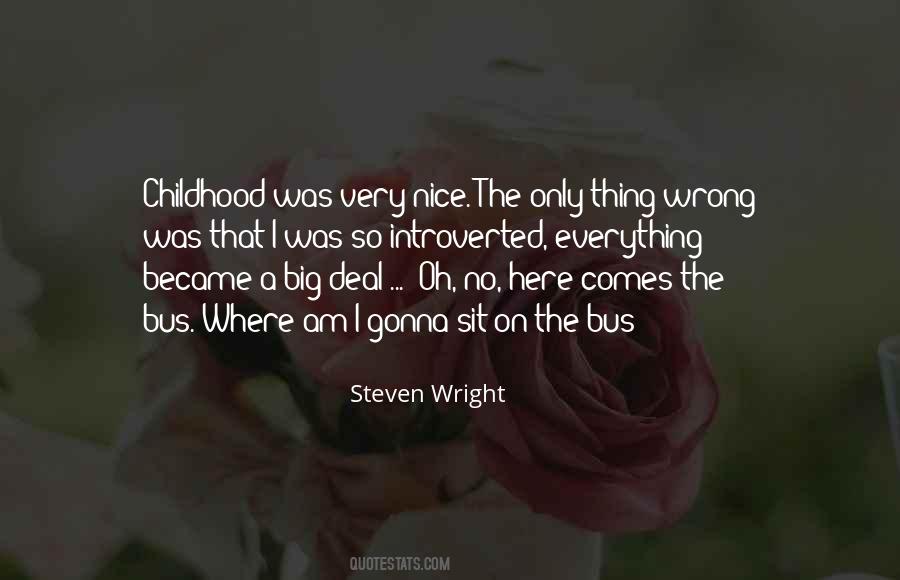 #66. I like to dress up and look nice. I'm not quite at the stage yet financially to do that too often, but it's nice to push the boat out a little bit for award ceremonies and stuff. - Author: Simon Bird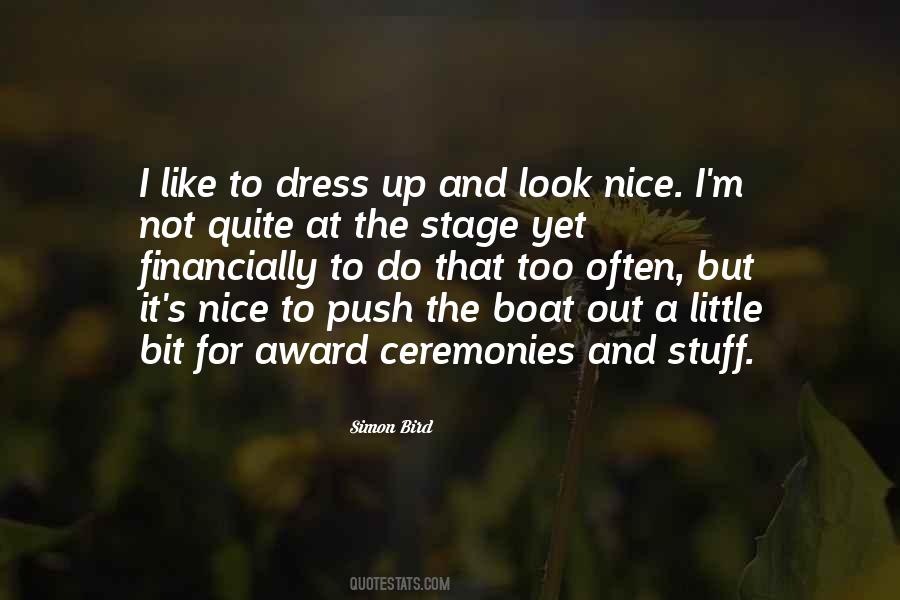 #67. By the time you are in your thirties, most of the time, you've got a job, you can pay for your rent, you can create this nice world around you. And still, you're only in your thirties - you're not that far away from your twenties, which is when you're making all of your stupid mistakes. - Author: Katie Aselton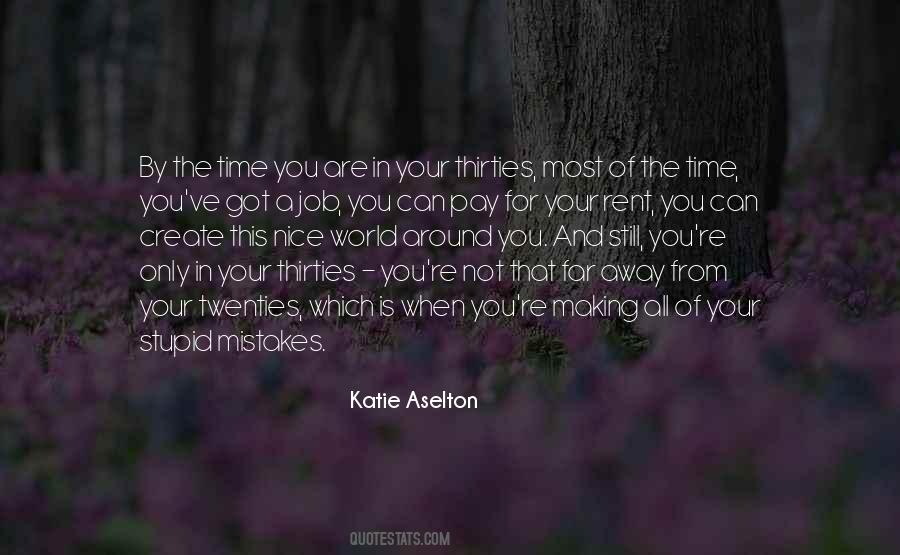 #68. I don't trust men everybody likes. Being nice isn't the same as being good. - Author: Sarah Rees Brennan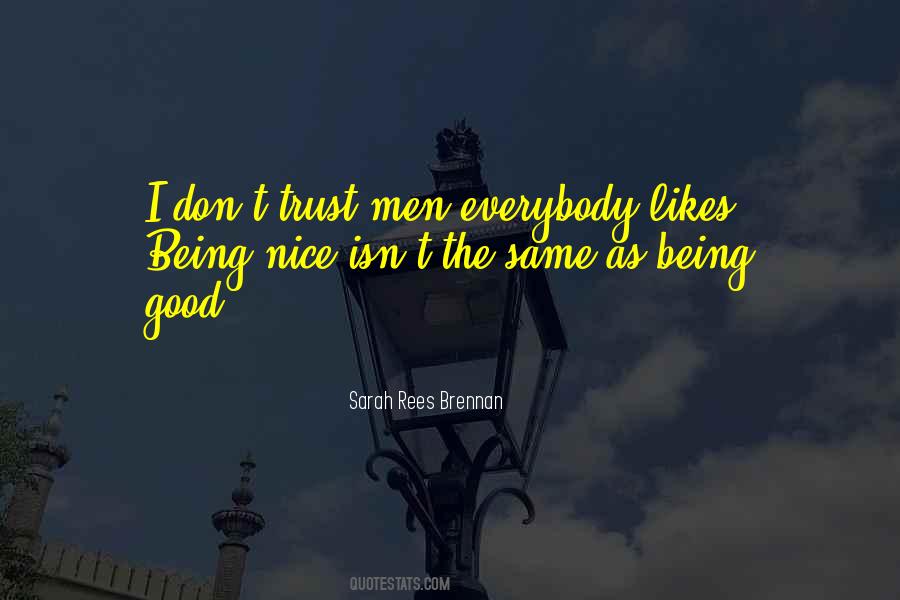 #69. Good morning, Si! I saw a rat in the bathroom, but he was taking a nice nap and we didn't bother each other. - Author: Cassandra Clare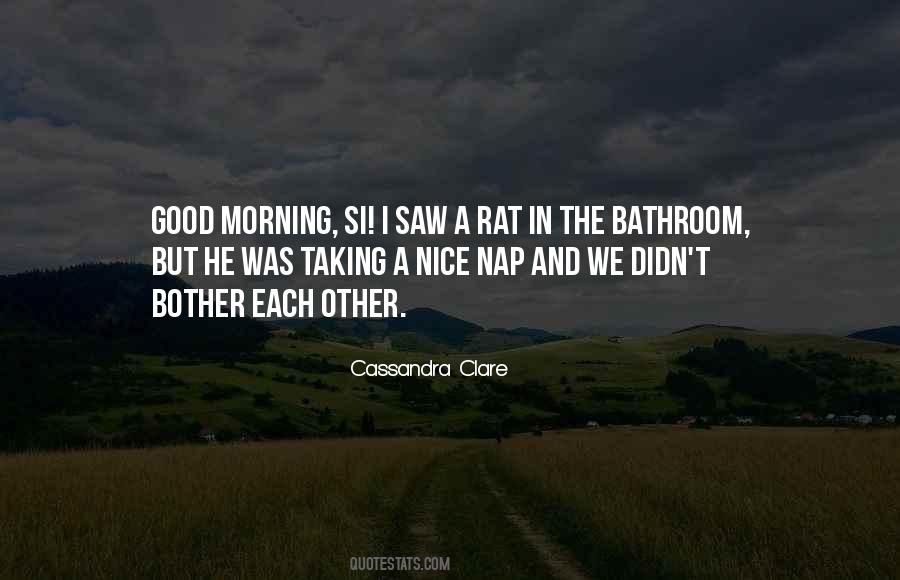 #70. My job is to provide the atmosphere and assistance to the contestants to get them to perform at their very best. And if I'm successful doing that, I will be perceived as a nice guy, and the audience will think of me as being a bit of a star. - Author: Alex Trebek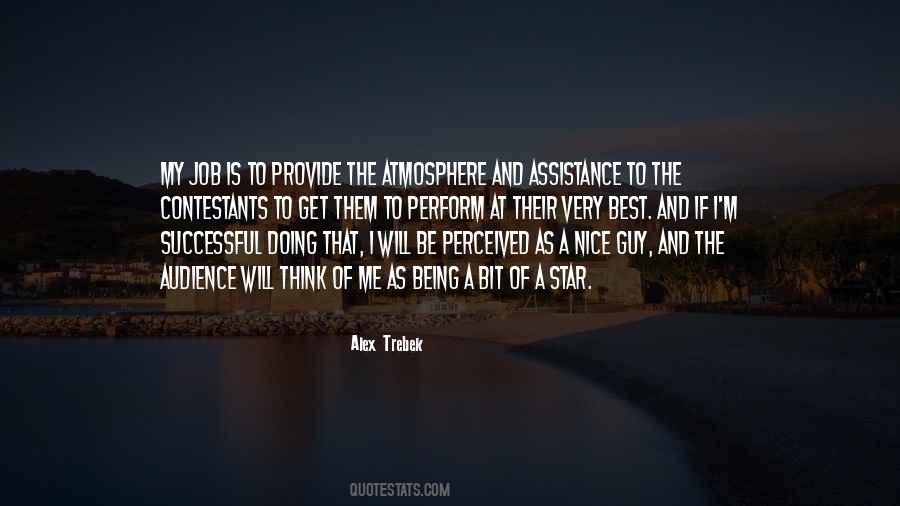 #71. One damn sure thing! - he wasn't going to let them be rough with that Smith lad. He was a nuisance, granted, but he was a nice lad and rather appealing in a helpless, half-witted way. - Author: Robert A. Heinlein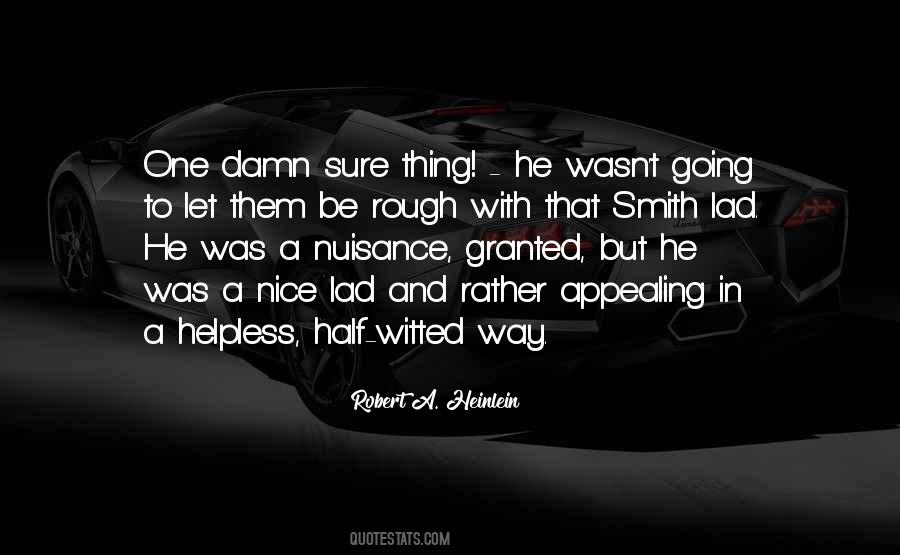 #72. Look at you lot, you're all so vacant, is it nice not being me it must be so relaxing. - Author: Benedict Cumberbatch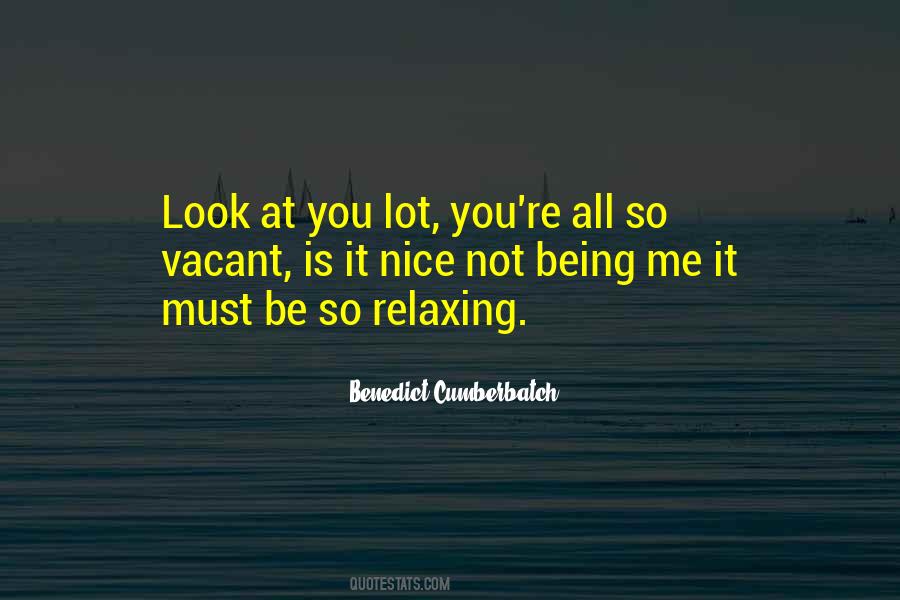 #73. As confusing, unpredictable and stressful as life may be, always remember, it is never incorrect to be kind. When lost, just do nice things. - Author: Sean Plott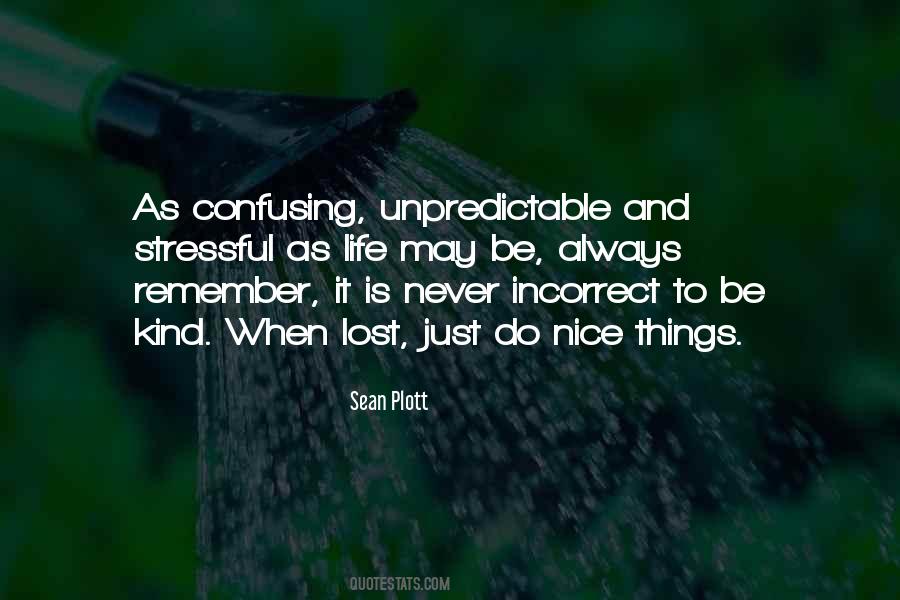 #74. My dad was a different bloke to me and not very nice to my mum, although I never judge him. If you did, you'd become one of those people who is all-consumed by a fault in their past. And I haven't got the time for it. - Author: Martin Clunes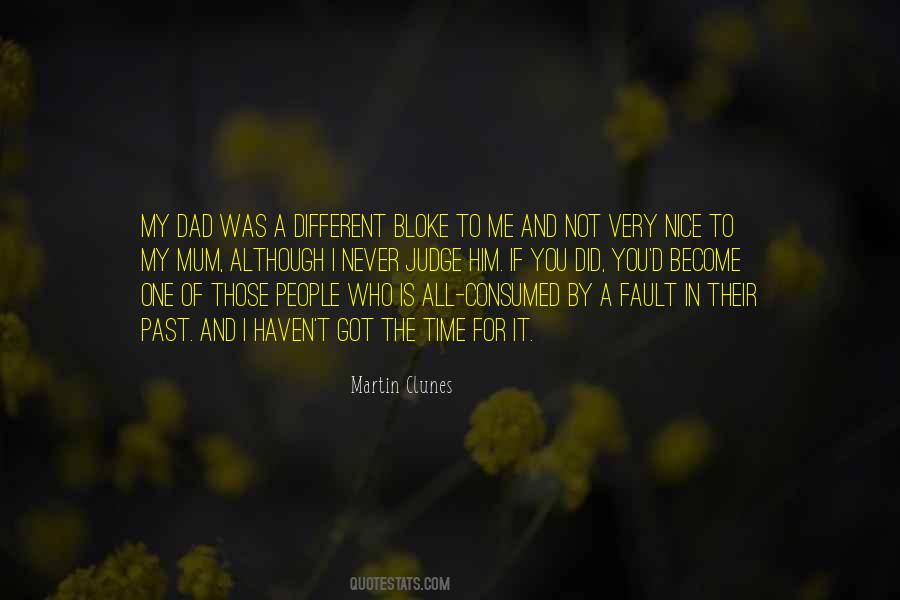 #75. Nice work,' Nico said.
Lou Ellen blushed. 'Well, it's the only pig ball I have. So don't ask for an encore. - Author: Rick Riordan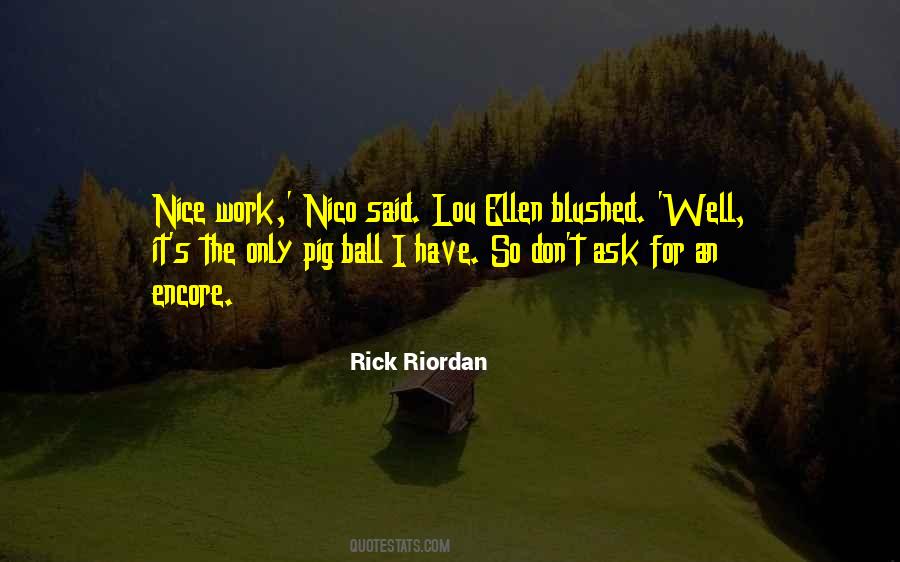 #76. What's the point of making a nice guy like me?" Georgie said. "Nice guys like everybody."
"You shouldn't have to make anybody like you, Georgie. You should want to be with somebody who can't help but like you. - Author: Rainbow Rowell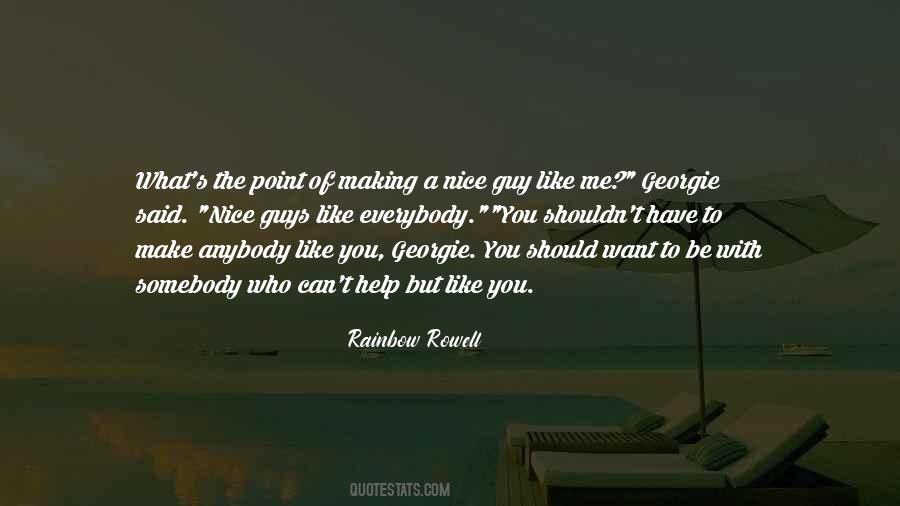 #77. I have a screened in porch, and it's nice to curl up with a book outside when it's raining, especially an old battered classic like 'Pride & Prejudice & Zombies.' - Author: Amanda Hocking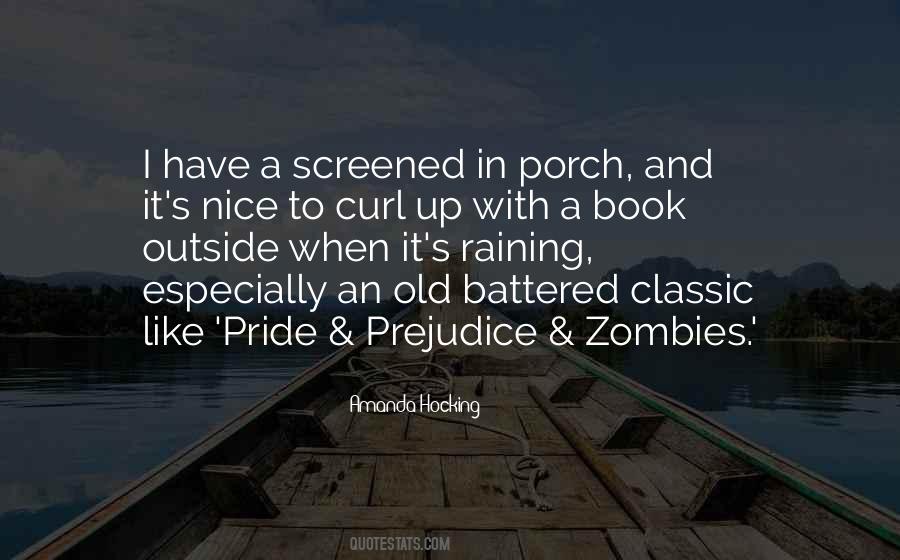 #78. It's nice to establish yourself as an actor first and a singer second. Proof is such a tremendous piece of work, and I'm incredibly lucky to be a part of it. I'm sure that the musicals will happen in the future, though. - Author: Neil Patrick Harris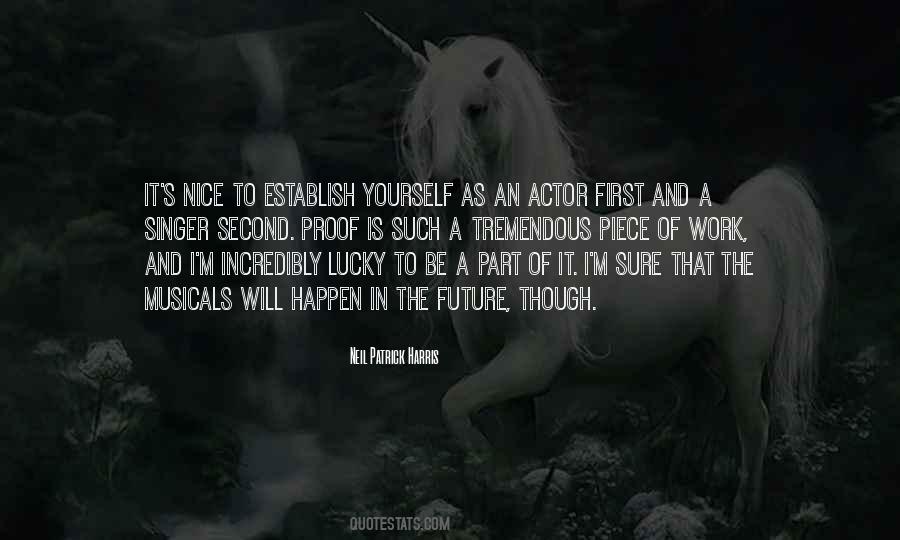 #79. Quite an impressive file you've amassed, Sophia." Clasping his hands, he added, "If Hecate offered classes in complete mayhem, I have no doubt you'd be valedictorian."
Nice to see where I got my snarkiness. - Author: Rachel Hawkins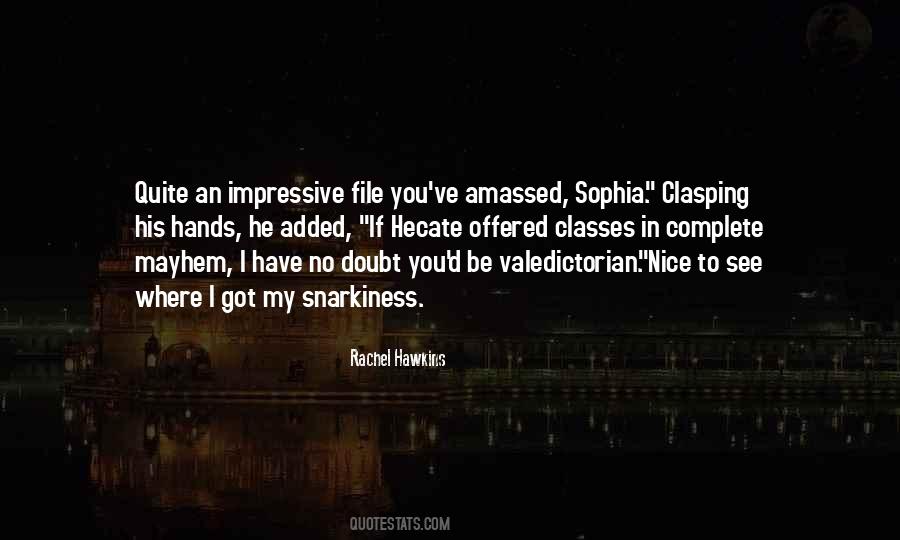 #80. Hitler was nice to dogs - Author: Steve Coogan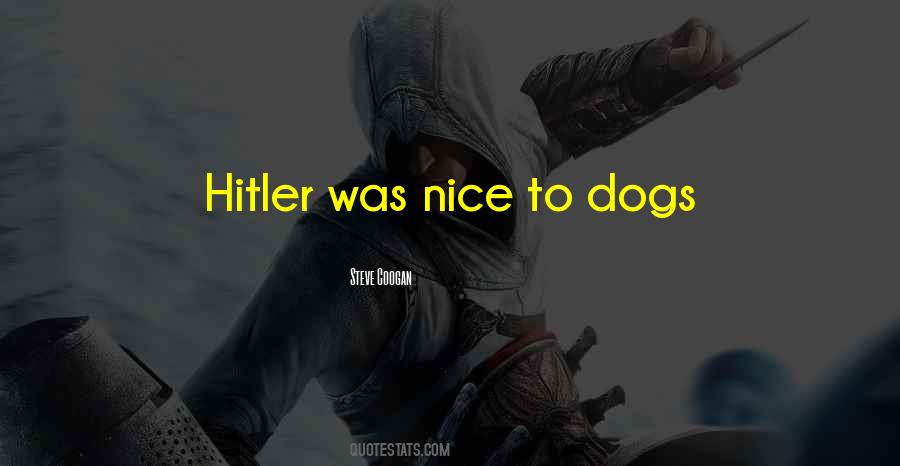 Famous Authors
Popular Topics