You Don't Even Understand Famous Quotes & Sayings
List of top 100 famous quotes and sayings about you don't even understand to read and share with friends on your Facebook, Twitter, blogs.
Top 100 You Don't Even Understand Quotes
#1. I don't know why you won't even look me in the eye. I don't understand anything you're doing or saying, and it's killing me, because I already don't undestand a single thing about me or Michael or Becky or my brother or anything on this shitty planet. - Author: Alice Oseman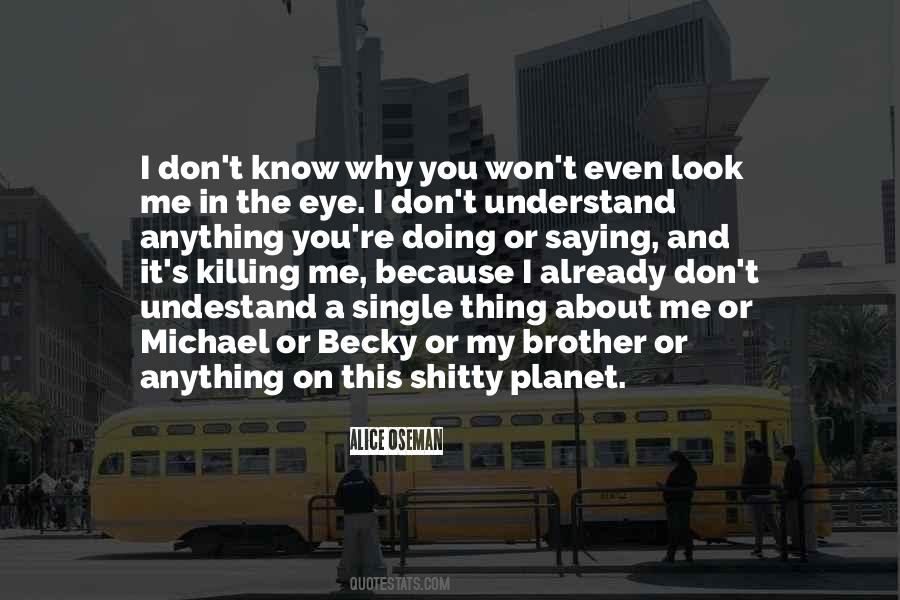 #2. My God
life! Who can understand even one little minute of it?'
'Don't try,' he said. 'Just pretend you understand.'
'That's
that's very good advice.' I went limp. - Author: Kurt Vonnegut
#3. People don't understand how hard it is to get recognized, how hard it is to get people to read your books. How hard it is to get people to even to understand what they're reading when they're talking to you about their books. - Author: Walter Mosley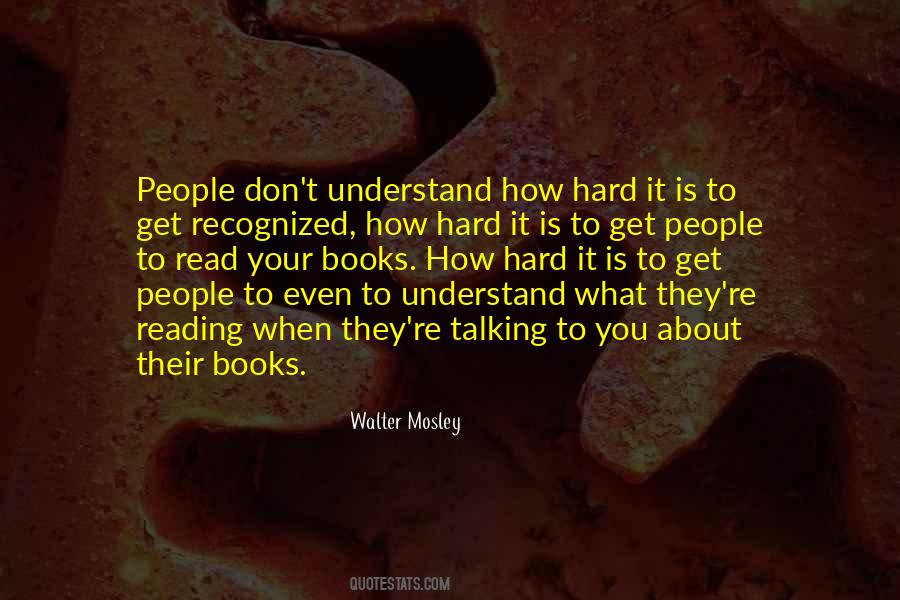 #4. Humans are mysterious creatures. There comes a time when we can clearly understand even things that we can't see. It's the same with anything. If you try your best, you can understand what it's like to "try your best". If you don't try your best, you understand what it's like to "not try your best". - Author: Sakura Tsukuba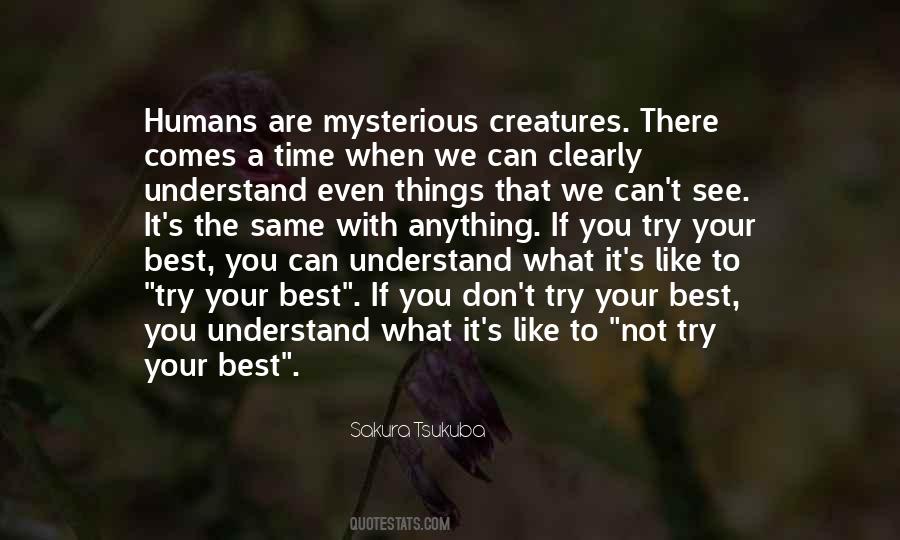 #5. One-hundred percent, even now I doubt myself. I don't understand what people hear in my voice. I can't hear it myself, if you know what I mean. - Author: Sam Smith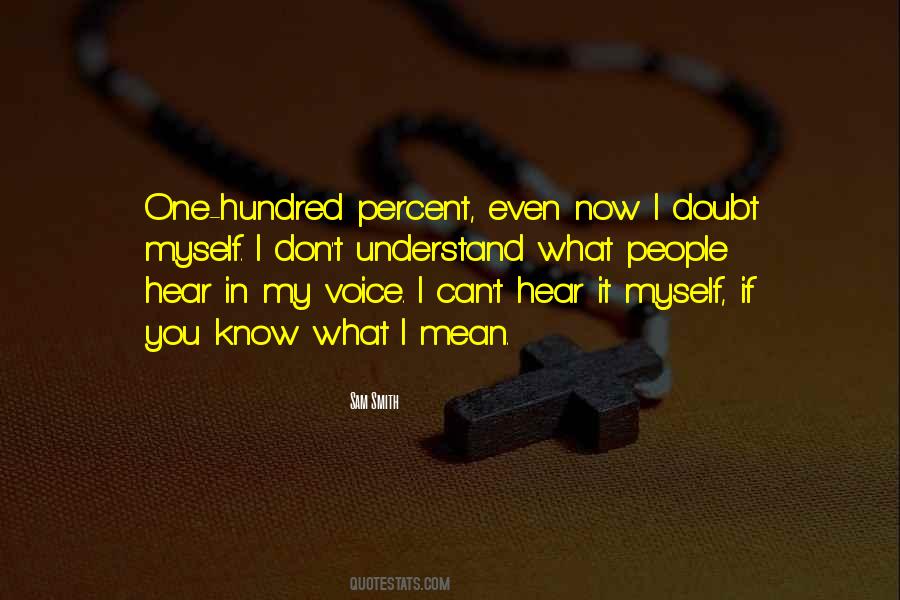 #6. Faith is all about trusting God even when you don't understand His plan. - Author: Joel Osteen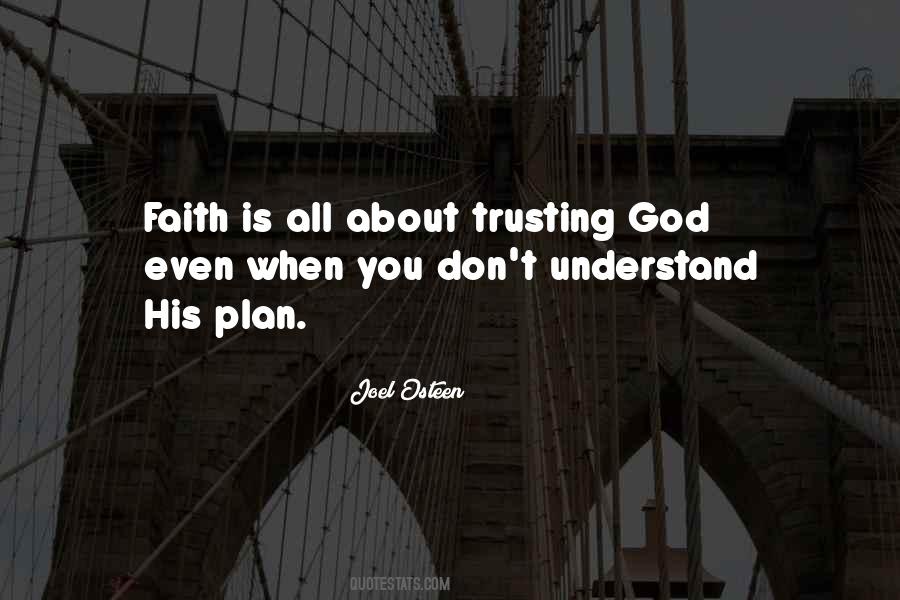 #7. I don't understand the sizes anymore. There's a size zero, which I didn't even know that they had. It must stand for: 'Ohhh my God, you're thin.' - Author: Ellen DeGeneres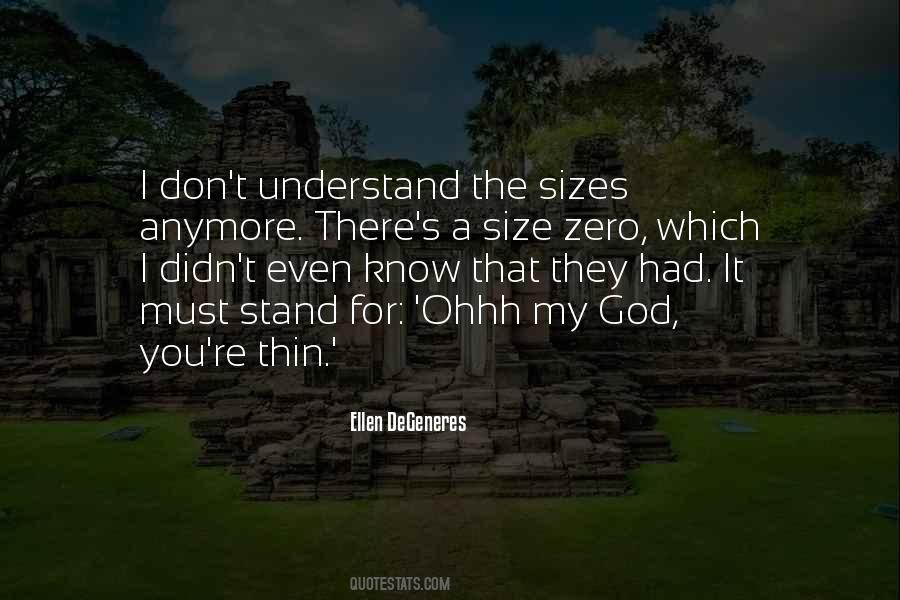 #8. The most common thing that real reporters say to me is, "I wish I could say what you say." What I don't understand is, why can't they say what I say, even in their own way? Does that mean they want to be able to name certain bald contradictions or hypocrisies that politicians have? - Author: Stephen Colbert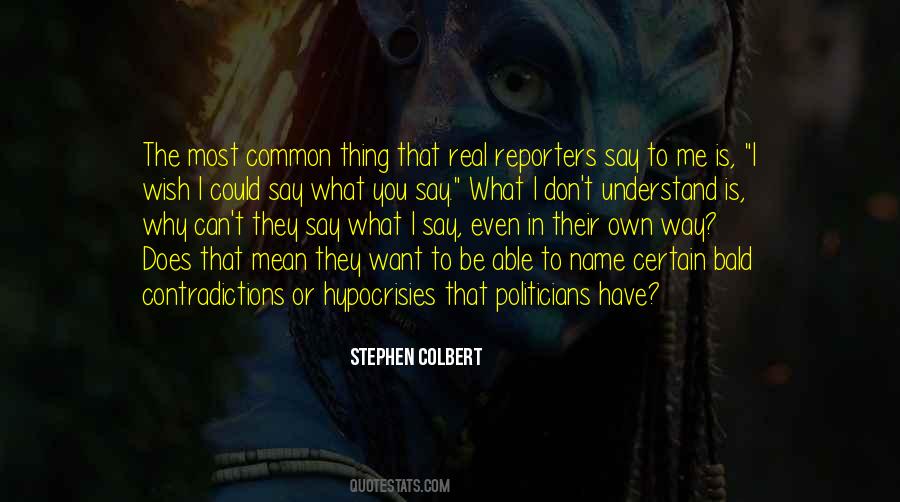 #9. There's something sad about people going to bed. You can see they don't give a damn whether they're getting what they want out of life or not, you can see they don't even try to understand what we're here for. They just don't care. - Author: Louis-Ferdinand Celine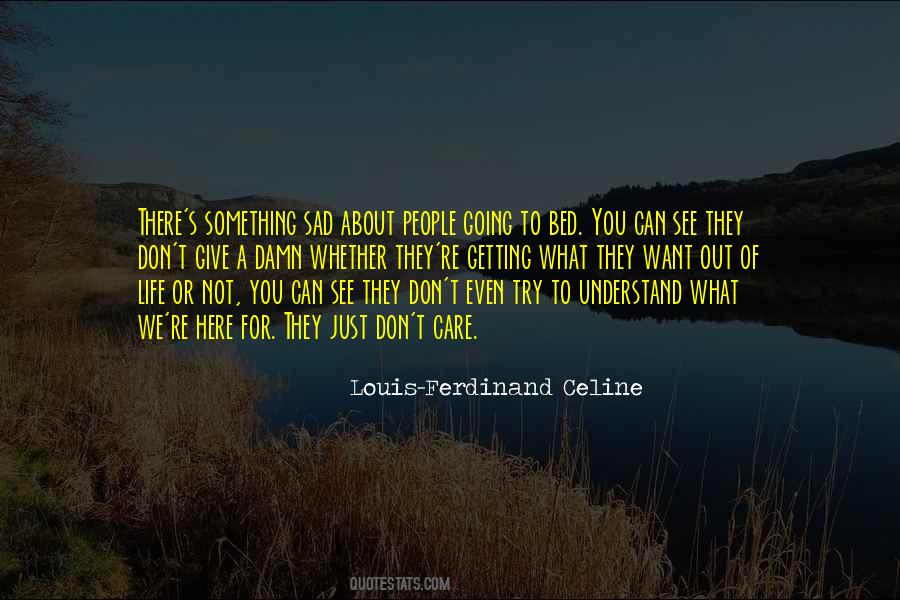 #10. In friendship, words can go unspoken yet you still understand.
That's why I'm sure that even though I don't say it, you know how special you are to me. - Author: John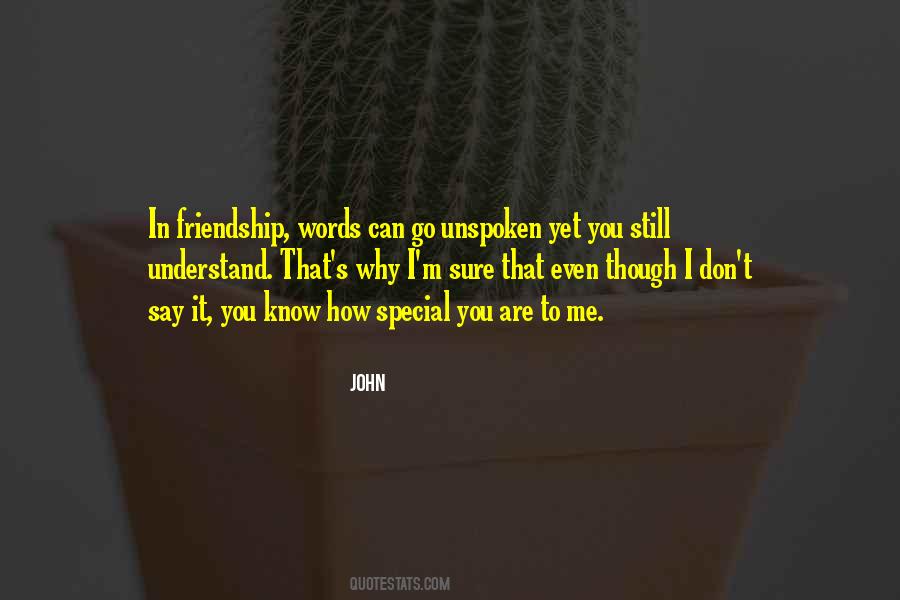 #11. You don't understand. How could you? We were in the worst sort of hell. We weren't living day to day or even hour to hour. We survived minute by excruciating minute. The next day was an eternity away and we didn't want it. Death wasn't the enemy. It was our salvation. - Author: Maya Banks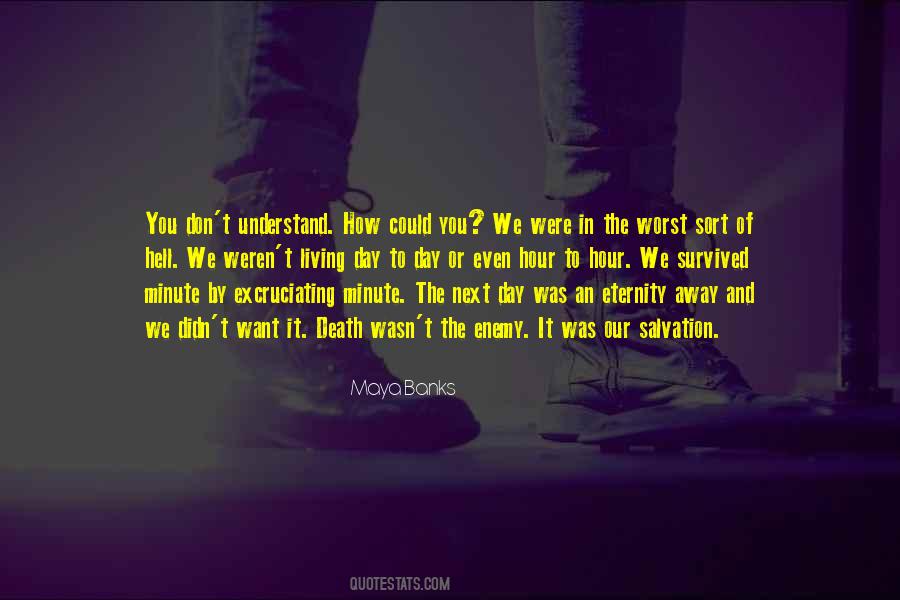 #12. That's the thing: You don't understand burnout unless you've been burned out. And it's something you can't even explain. It's just doing something you have absolutely no passion for. - Author: Elena Delle Donne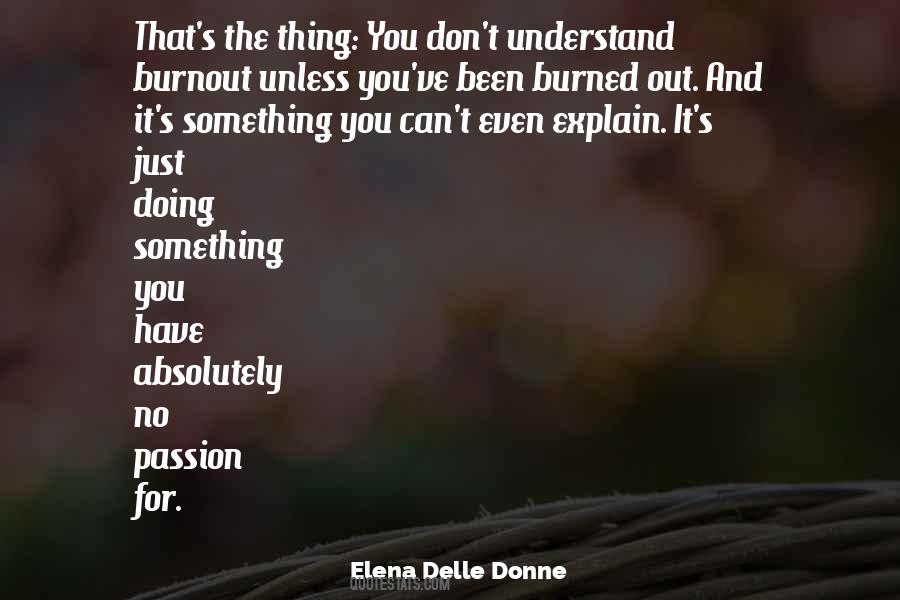 #13. Speaking of God, He's real and He's there, too. And don't ask what He looks like because you wouldn't understand even if I told you. - Author: Jodi Picoult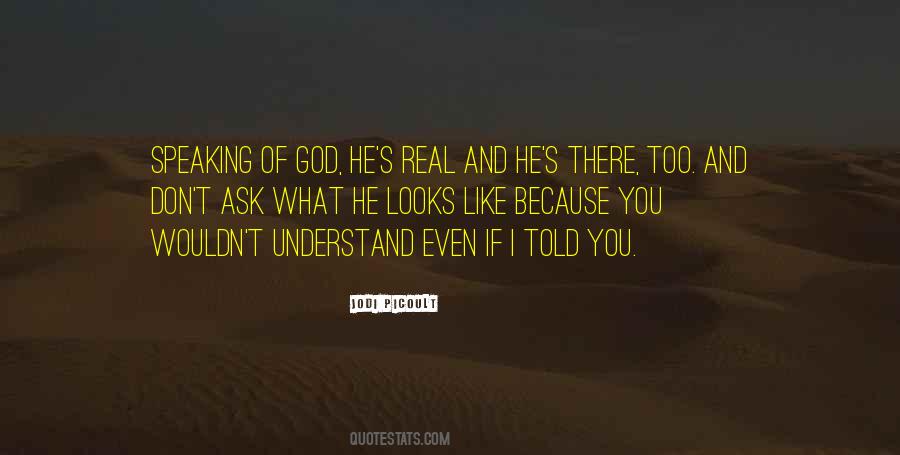 #14. It hurts a lot when you cannot really comprehend what a person is saying in a meeting, or you don't even understand what you're reading in your contract. - Author: Mary J. Blige
#15. Why? I mean, how could you know? I don't understand."

"Nothing to understand. There is no great mystery in friendship. You brought yourself here, just as I brought myself here to wait for you. I don't even mind that you've kept me waiting. - Author: Ari Berk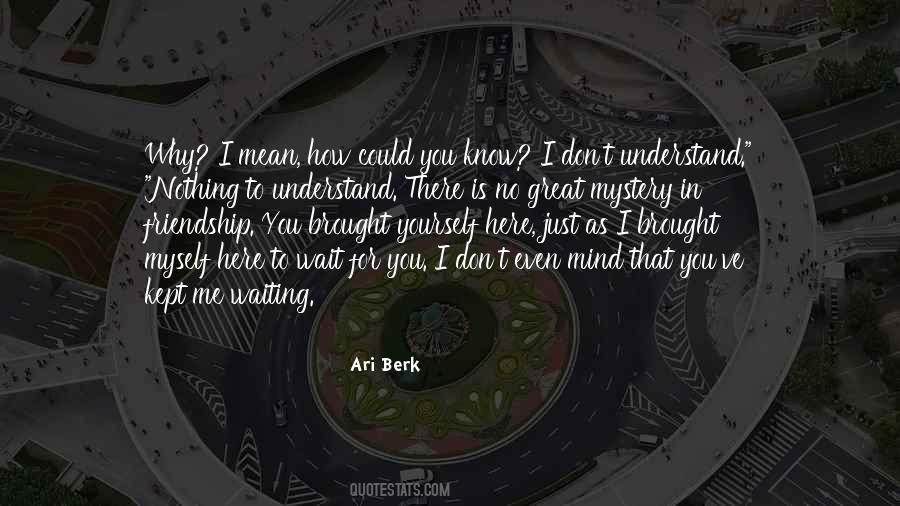 #16. I've never tried to block out the memories of the past, even though some are painful. I don't understand people who hide from their past. Everything you live through helps to make you the person you are now. - Author: Sophia Loren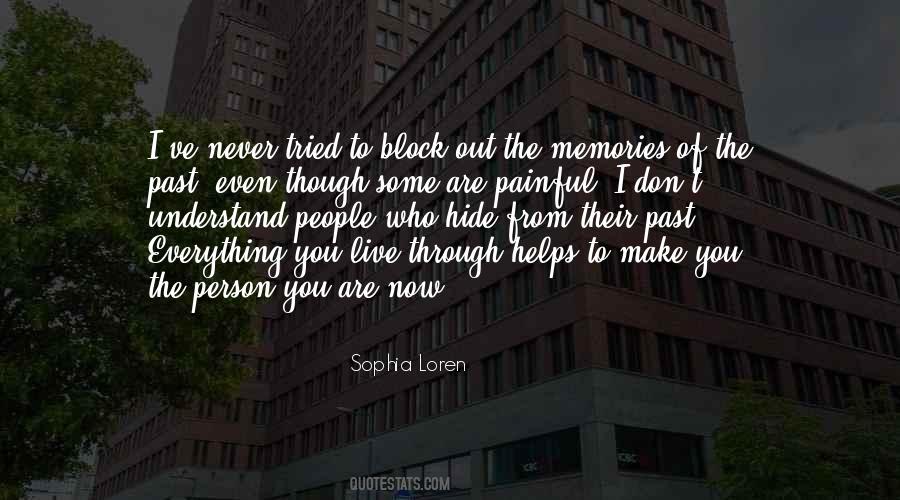 #17. The last time I was pulled over was in 2005. I was going 55 in a 35 mile per hour zone - which I don't understand because you can barely even idle at 35 miles per hour. Anyway, I was ordered to go to traffic school. It was an 8-hour class and really painful. - Author: Danica Patrick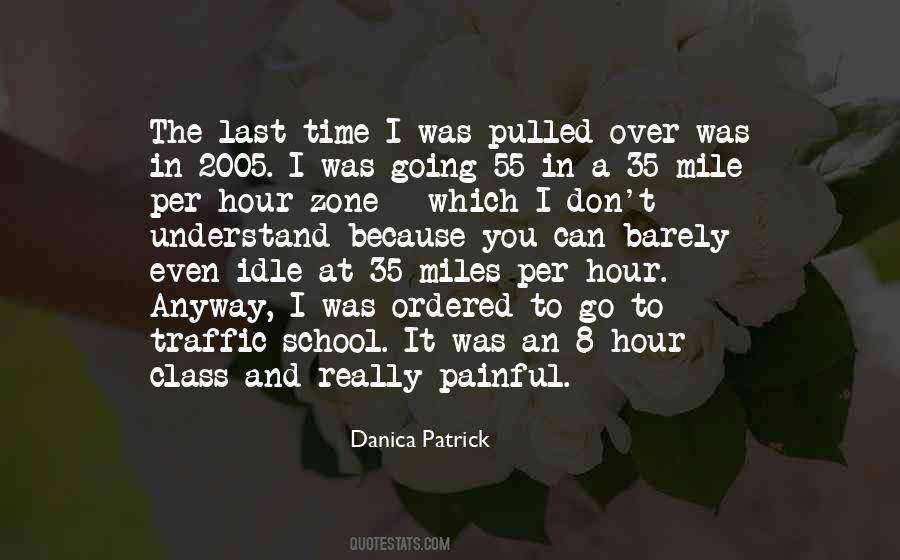 #18. I don't understand my feelings. I really don't. I don't understand how I could hate you so much after so much time. How, no matter how much I'd like to not hate you, I hate you even more. It grows. - Author: Sam Shepard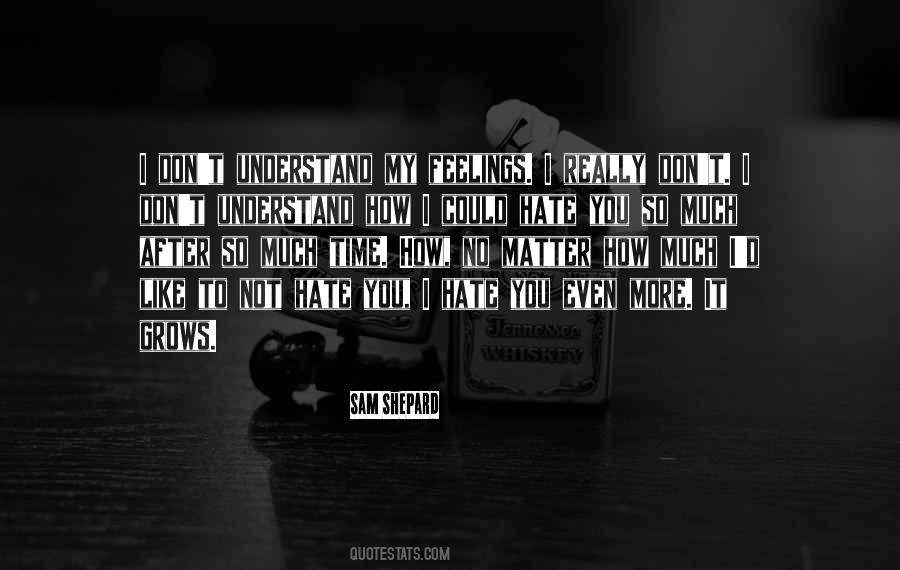 #19. Live by yourself and you bound to talk yourself and when ye commence that folks start it up that you're light in the head. But I reckon it's all right to talk to a dog since most folks do even if a dog don't understand and cain't answer if he did. - Author: Cormac McCarthy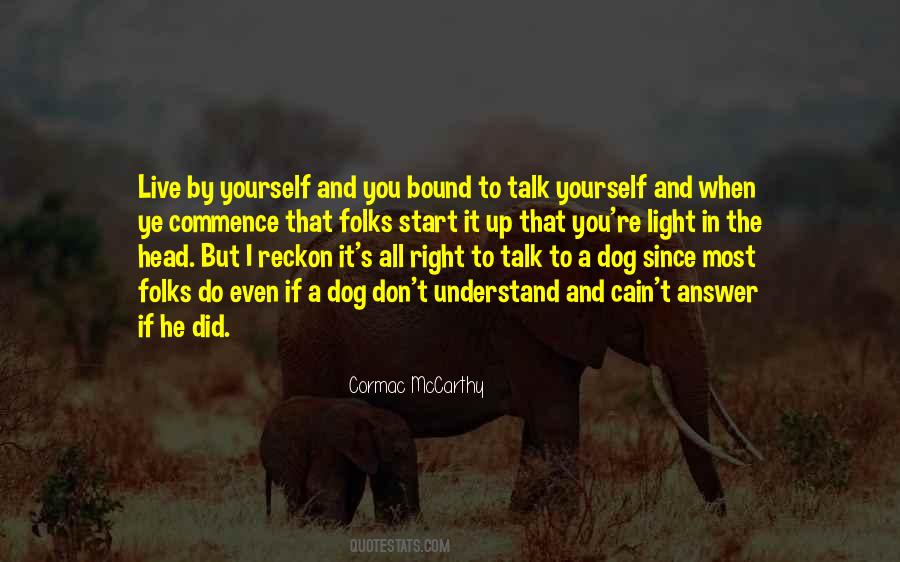 #20. The greatest compliment I ever got was when people called me an artist, and I understand that solo aspect of being an artist, when you're in there by yourself, trying to do something great, and people who don't even know you can come up and just dump on you. - Author: John McEnroe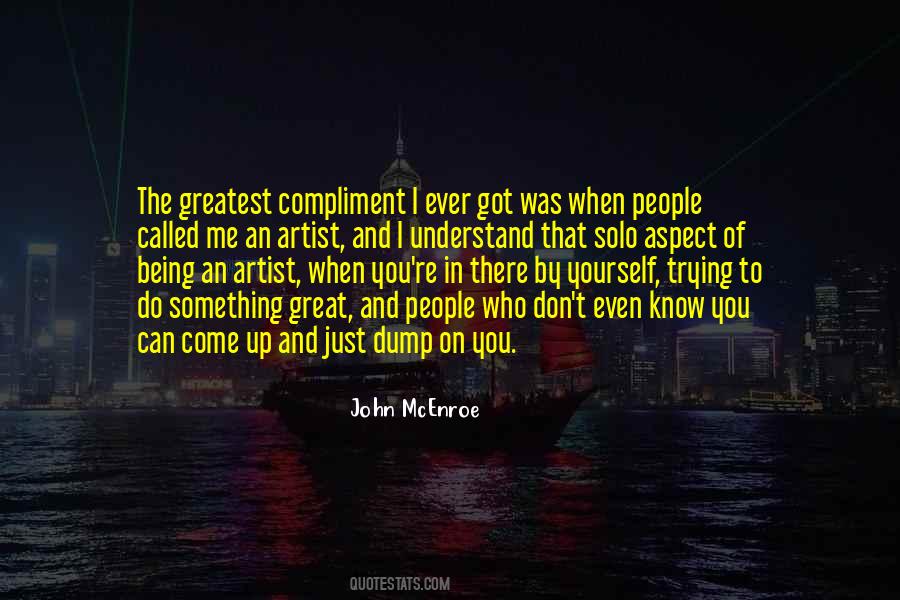 #21. You need to have honest things in the world. Even if people don't understand it, if it's coming from you, that's already important. - Author: Jillian Hervey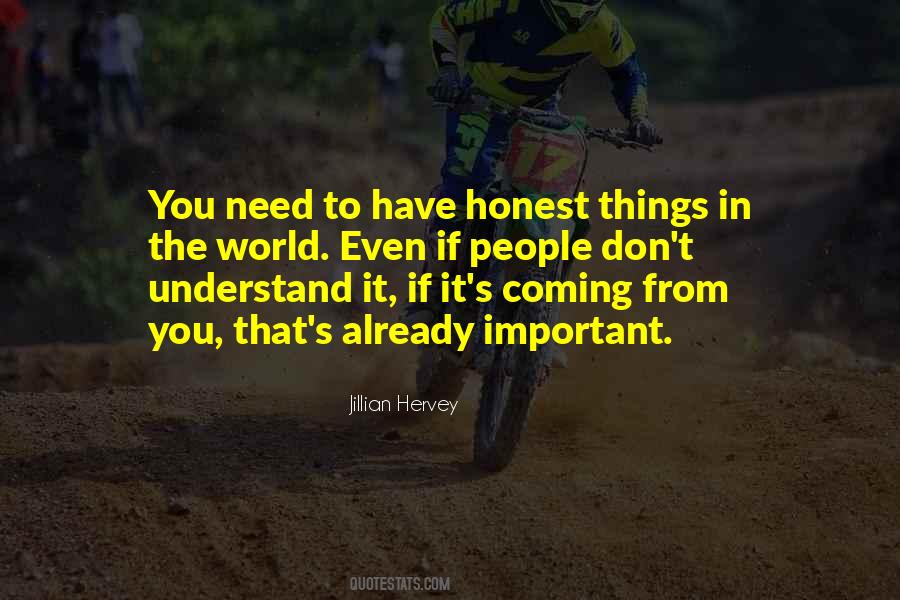 #22. I do believe that models should be older now. You tell girls to go and catwalk and be sexy, but some of these girls have never even experienced their first kiss, so they don't understand how to be like that. - Author: Shanina Shaik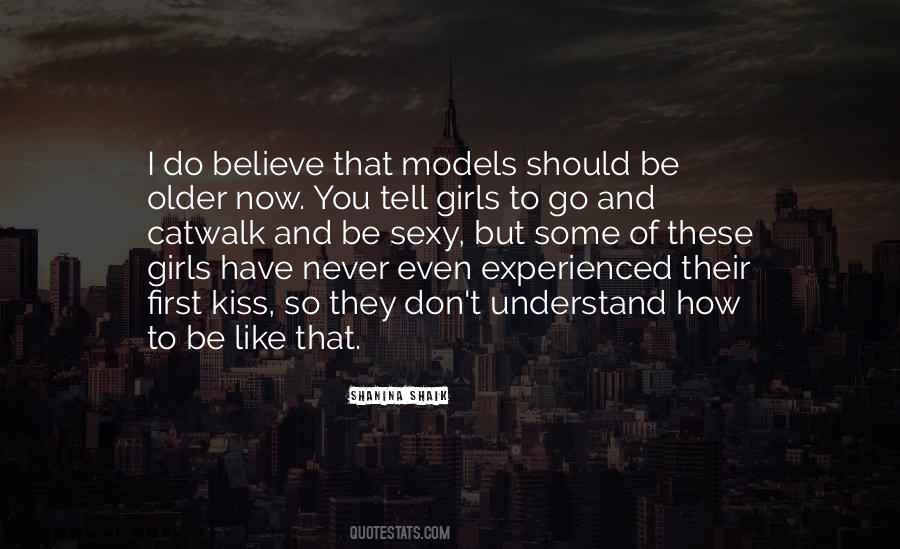 #23. You don't understand!" she exclaimed bitterly.

"That," said his lordship, with a touch of acidity, "is a foolish accusation which lacks even the saving grace of originality! Every generation, my child, has said, or thought, that the preceding one was devoid of understanding or experience. - Author: Georgette Heyer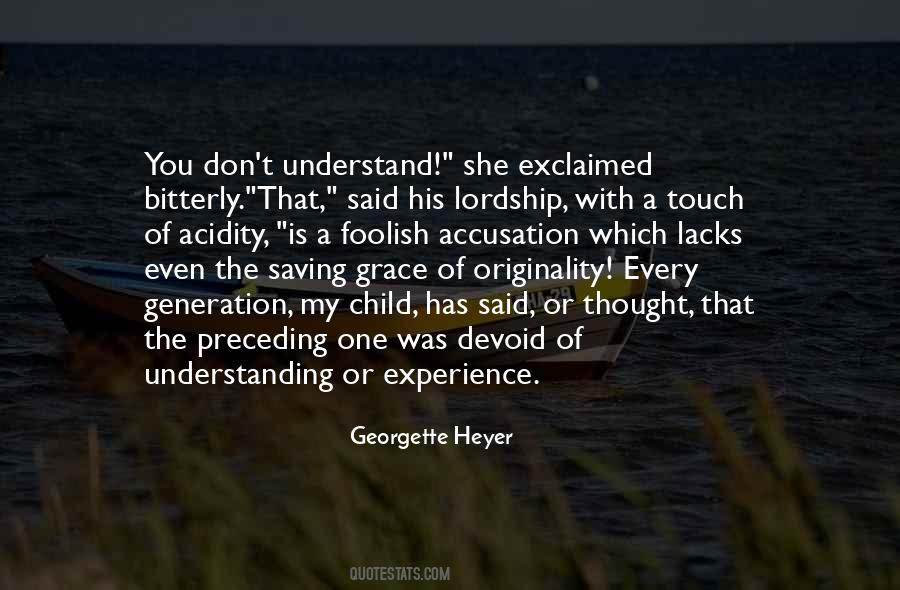 #24. People don't really understand, but having people stare, and point, and take pictures, even if it is in a positive framework, is quite isolating; there's no two ways about it. You feel a little bit, you know, freakish. - Author: Emma Watson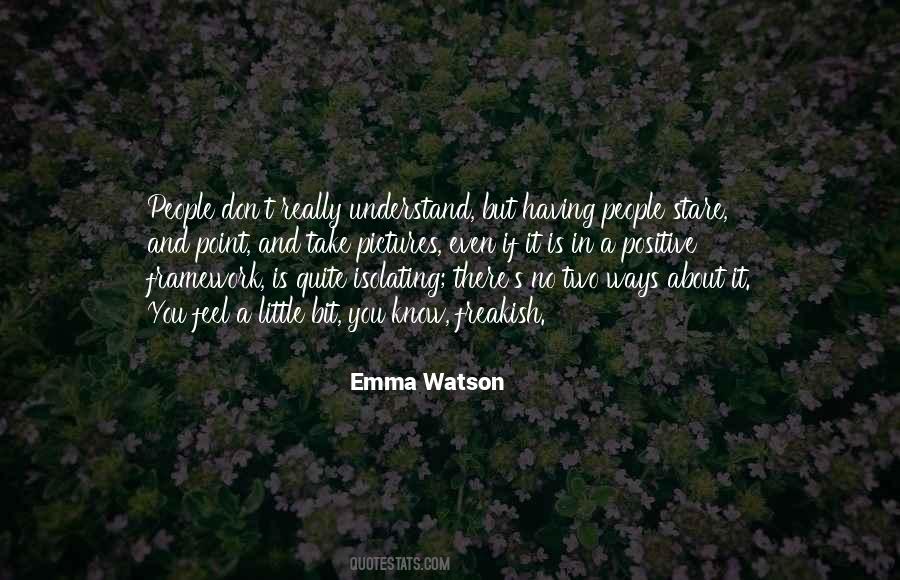 #25. I got up and went into the library to see how much I owed them.
The librarian said $32 even and you've owed it for eighteen years. I didn't deny anything. Because I don't understand how time passes. I have had those books. I have often thought of them. The library is only two blocks away. - Author: Grace Paley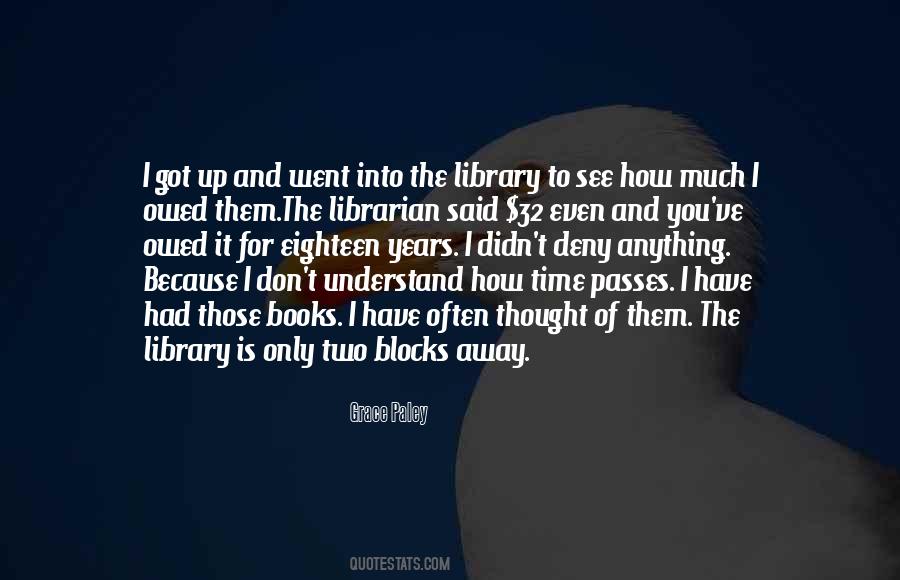 #26. I'm bored' is a useless thing to say. I mean, you live in a great, big, vast world that you've seen none percent of. Even the inside of your own mind is endless; it goes on forever, inwardly, do you understand? The fact that you're alive is amazing, so you don't get to say 'I'm bored. - Author: Louis C.K.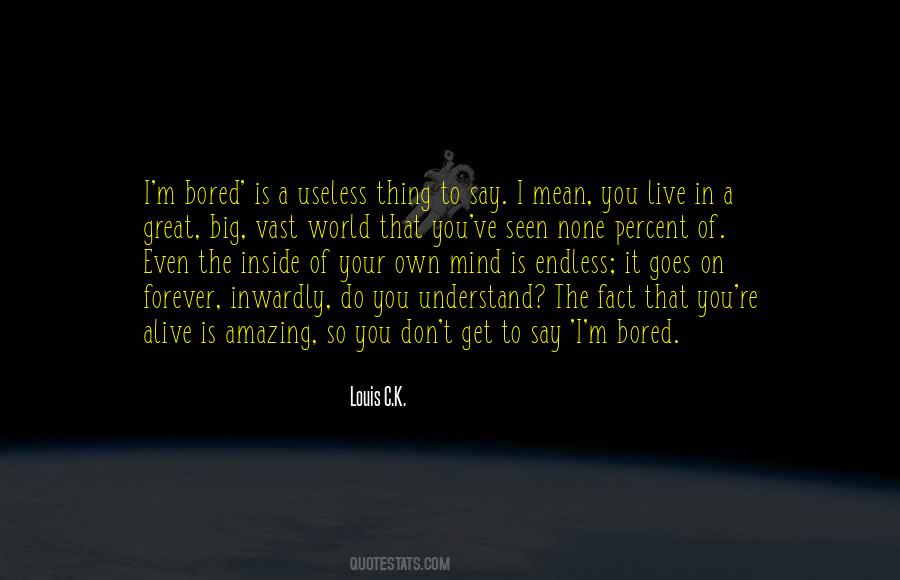 #27. Don't play games that you don't understand, even if you see lots of other people making money from them. - Author: Tony Hsieh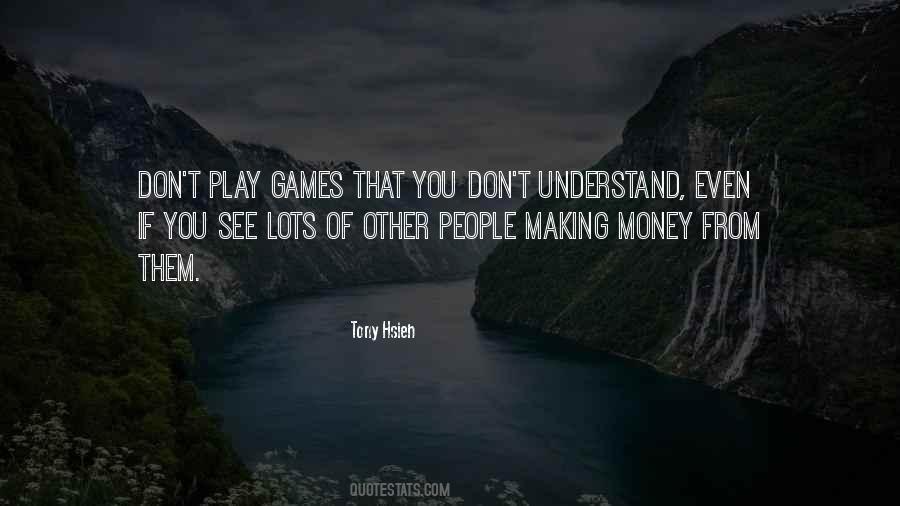 #28. One of the big failures for the big auto companies is that even the CEO and the top management often don't understand design and manufacturing. As a CEO, you have to make decisions; you need to have knowledge. - Author: Henrik Fisker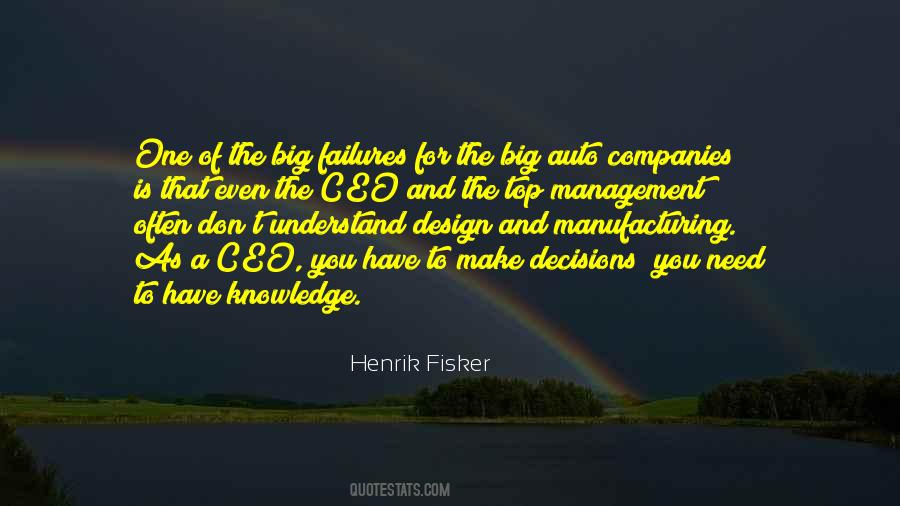 #29. Lighten up while you still can, don't even try to understand. Just find a place to make your stand, and take it easy. - Author: Jackson Browne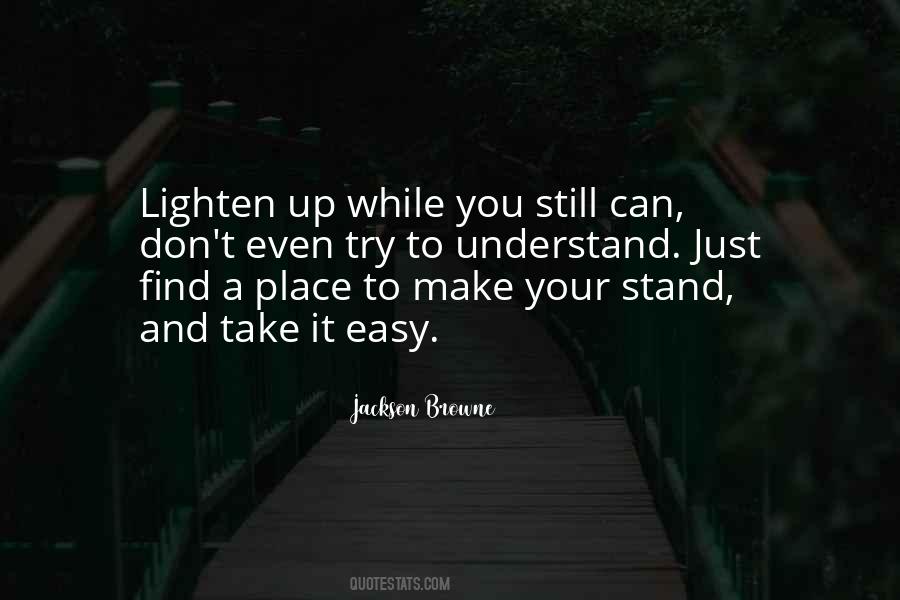 #30. Even if you don't understand the language, you can still love the music. - Author: CL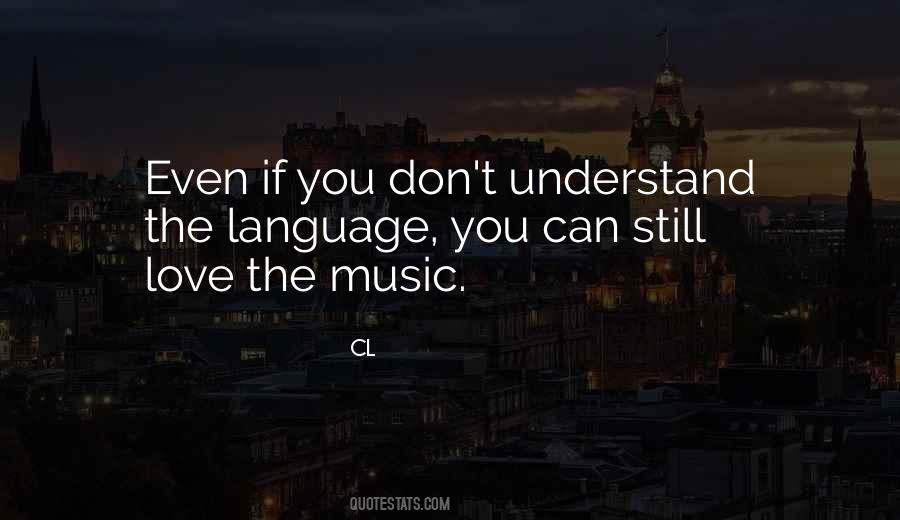 #31. I don't think you understand," he said. "I'm going to have you, at any cost. Any cost, Jenny, even if you have to suffer on the way. If I can't force you, I'll persuade you - and I can be very persuasive. - Author: L.J.Smith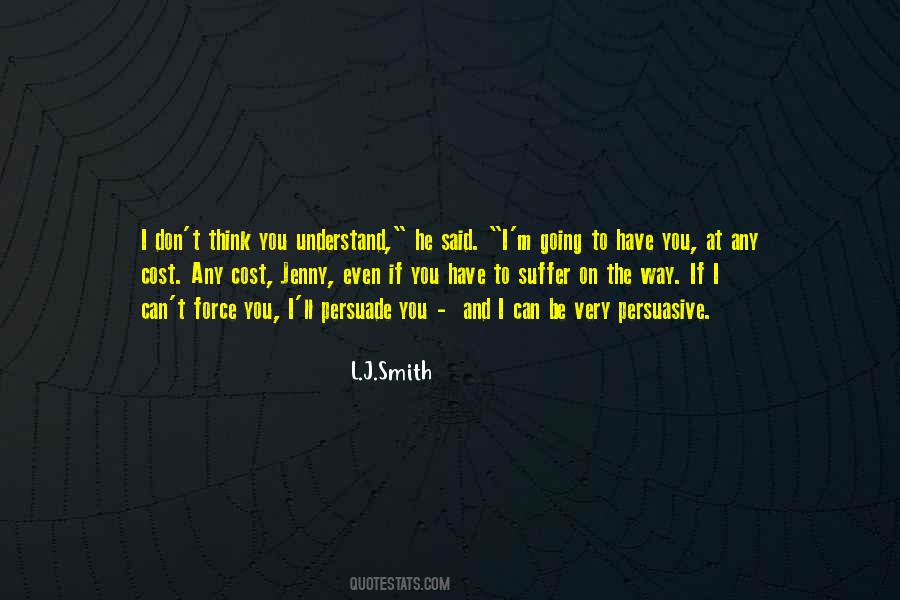 #32. I have to ask. Why do you like me?"
He shifted away from me then, his brows pulled together making him look even cuter, if that was possible. "I don't understand the question." His hands were squeezing mine tightly as he looked down at them. "You're my Lilly. You've always been my Lilly. - Author: Amber L. Johnson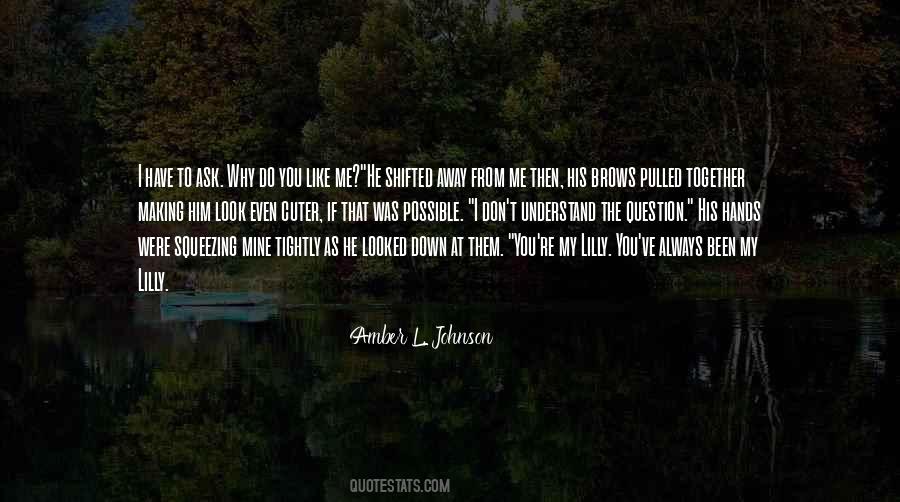 #33. You hear sounds and orchestration, it's ... the fastest way, I think, to your emotions, even if you don't understand the language of the song. - Author: Sandra Bullock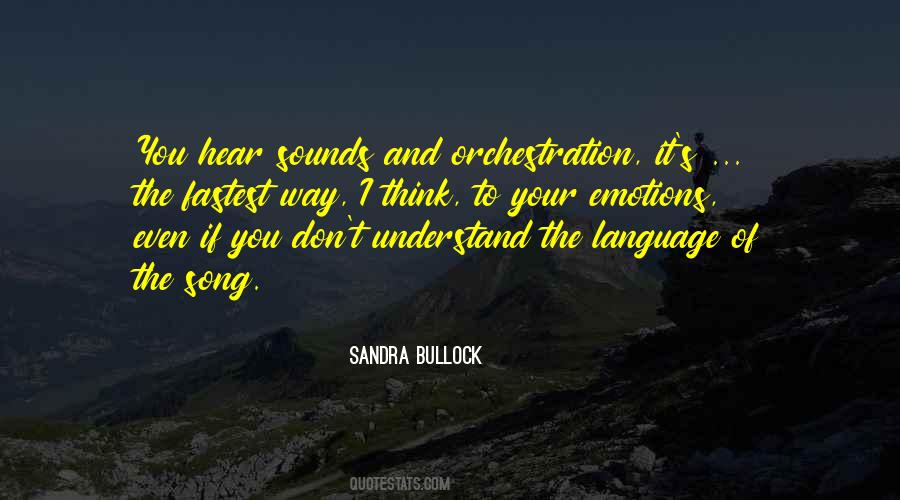 #34. The problem is that you don't always get to write your own story. You get written into some stories, and if ask why, there isn't an answer. You don't have any control, because the forces at work are too large to confront, and sometimes too large even to understand. - Author: Brendan Kiely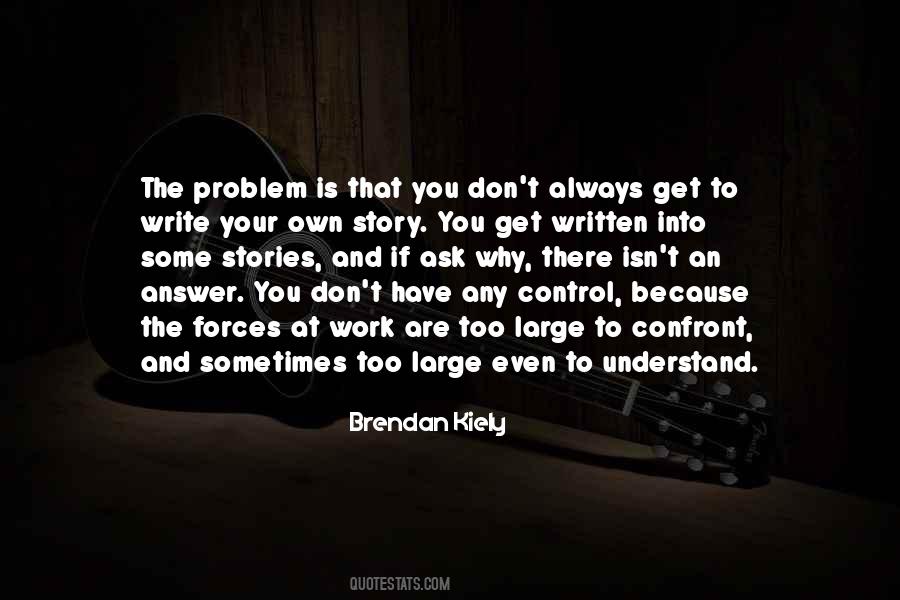 #35. I clutch my chest as I try to keep breathing. "What? I don't understand. You ... you said we couldn't get married. You ... you broke my heart." "It was the biggest mistake of my life. I could see it then and I can see it even more now. Letting you go was the single stupidest thing I've ever done. - Author: Cassia Leo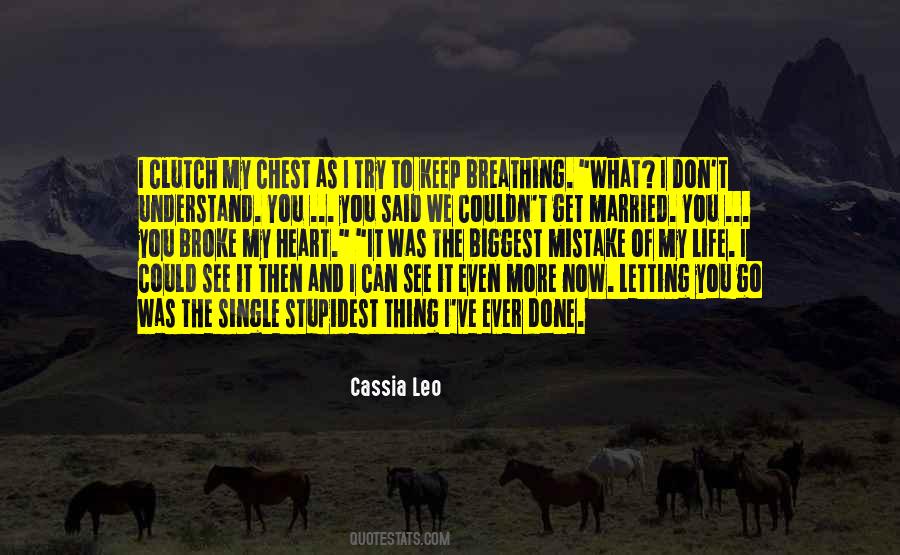 #36. Writing for nobody? Impossible. You fumble, you stop. I don't even take the trouble of expressing myself so that when I reread myself I can understand whatever it was I was trying to say. Gilles will figure it out, he'll work it through. - Author: Felix Guattari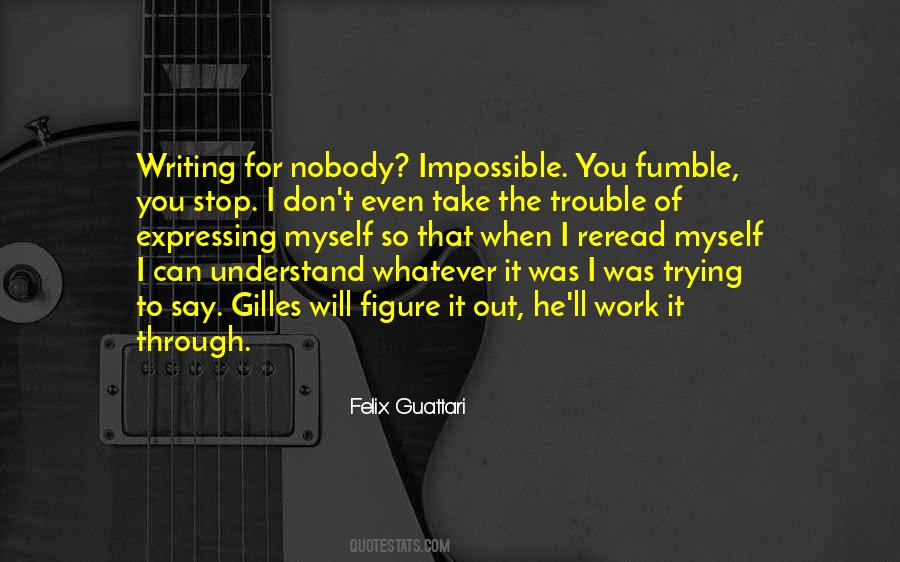 #37. You killed someone you were supposed to love and I killed someone I was supposed to love, and we both understand the pain and the fear and the sadness and the guilt and the hundred other feelings that don't even have a name in all of the English language. - Author: Annabel Pitcher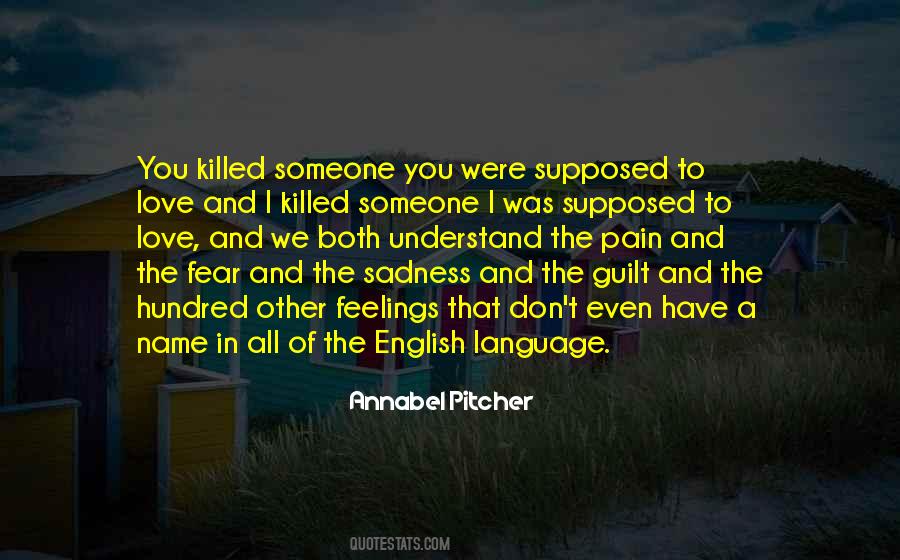 #38. Stories give you a way to see things. A way to understand the events of your life. Even if you don't realize it while you are hearing the tale. - Author: Matthew Kirby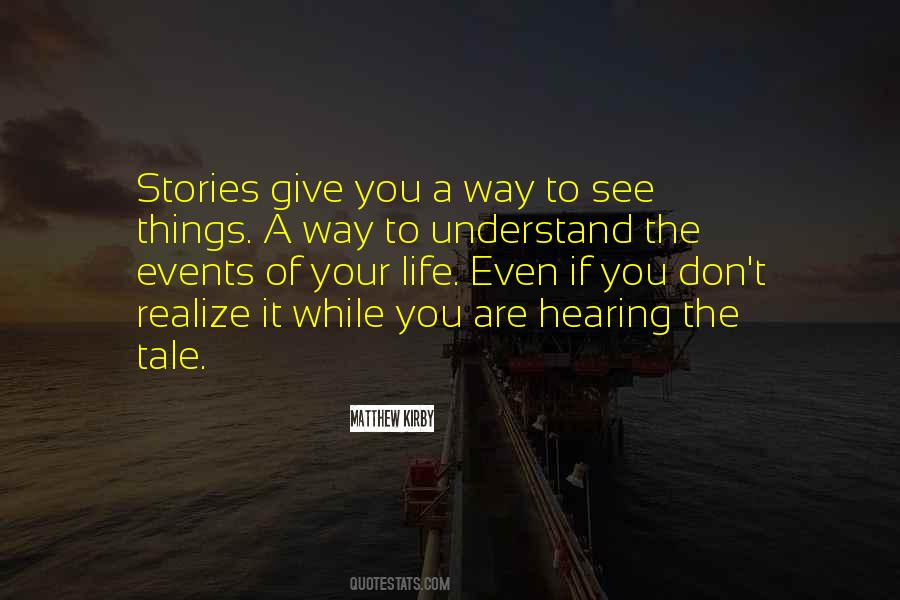 #39. It's my experience that a weakness understood is no weakness. If you know you have it, even if you can't control it, you can make allowances for it. It is those who ignore or don't understand their weaknesses who are wasted by them. - Author: Kristen Ashley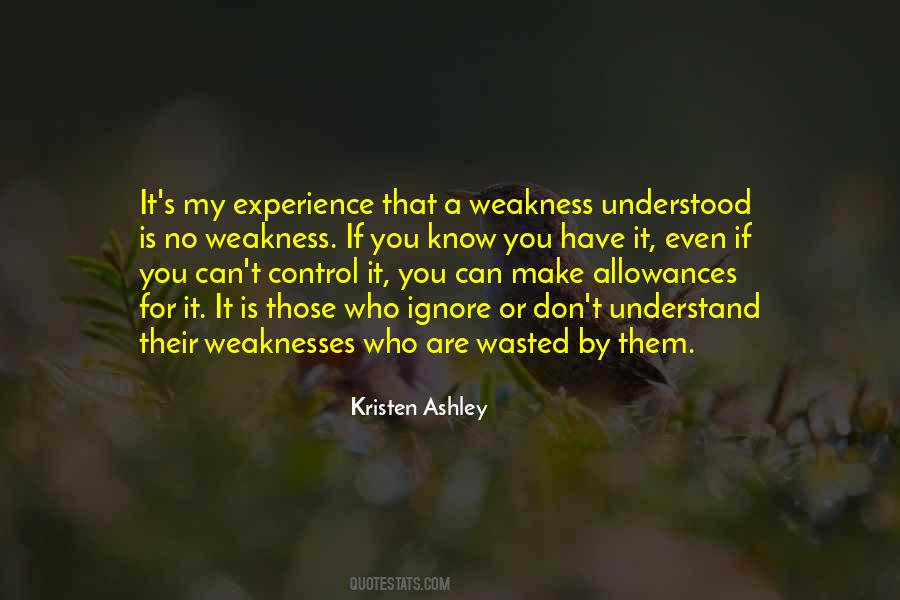 #40. of course you understand why he can't forgive you because you can't forgive yourself. You don't even believe God forgave you...if you did you'd shove off that shame. Jesus forgave you. Why can't you? Why can't Jack? - Author: Sarah Sundin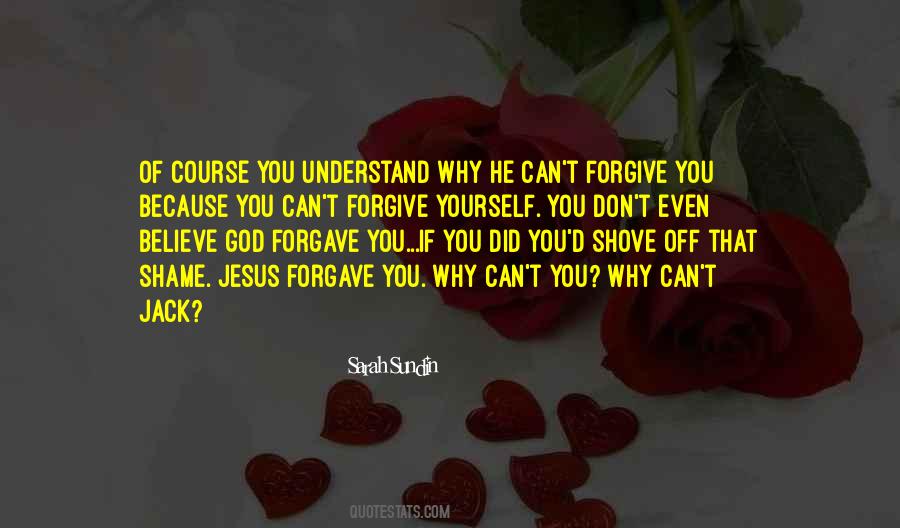 #41. Because sometimes listening to something will connect to a feeling, it will allow you to emote subconsciously, and you don't even understand why you're in it. - Author: Aldis Hodge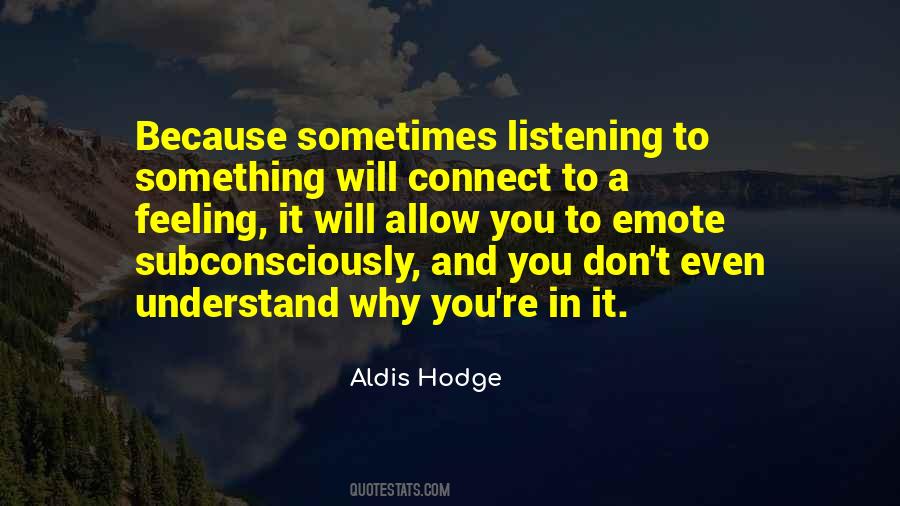 #42. Don't look at Jason or even in his direction again because if you do, and it pisses of Dominic and results in Jason gettin' hurt again, I'll kill you. Understand, fatso?" she asked and kicked me again. "Yeah," I rasped. "Good." She spat on me then turned and walked off with her friends. - Author: L.A. Casey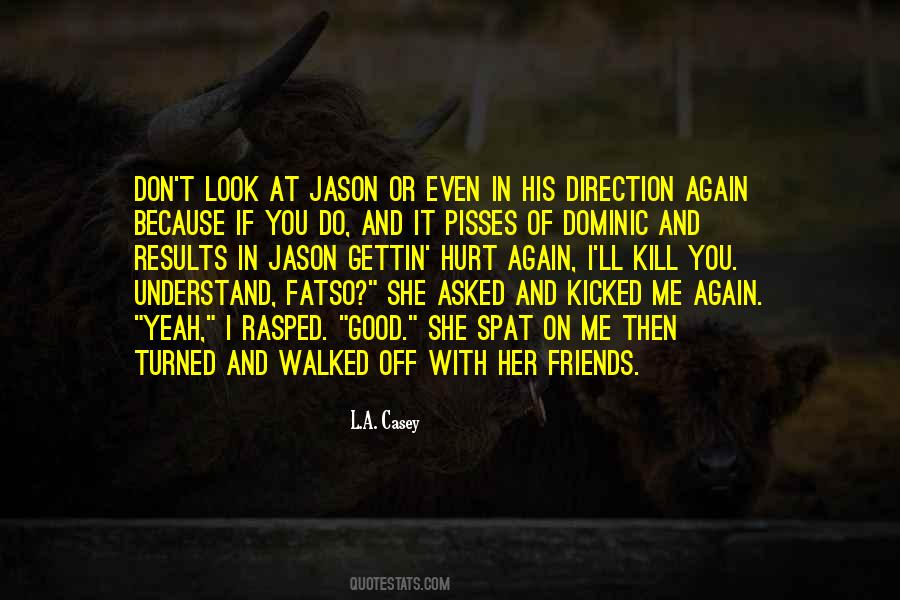 #43. There's a lot of American people who like K-Pop for some reason. I don't know why, you know? But they like it even if they can't understand it because it has that style, that appeal. - Author: Tablo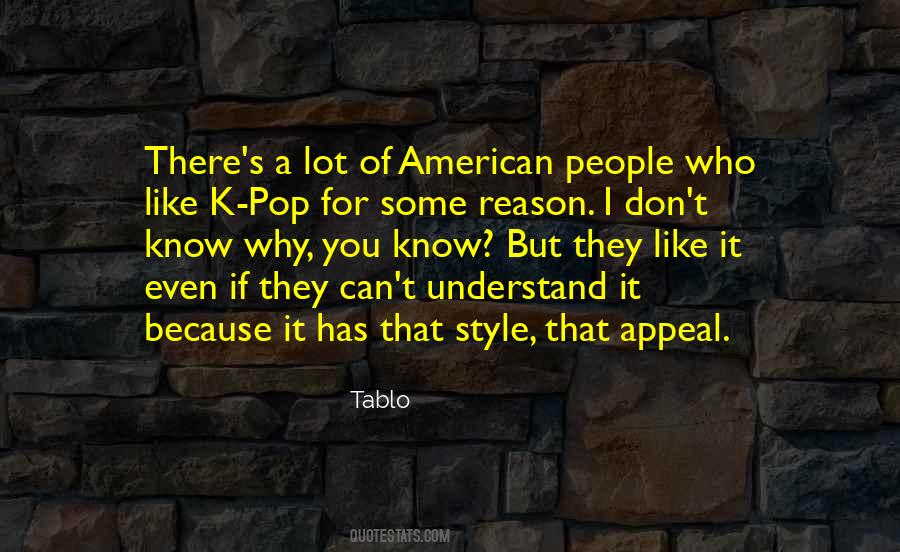 #44. I don't understand why some people would even try to categorize you. After watching "Duck Dynasty", who would have thunk? - Author: Shannon L. Alder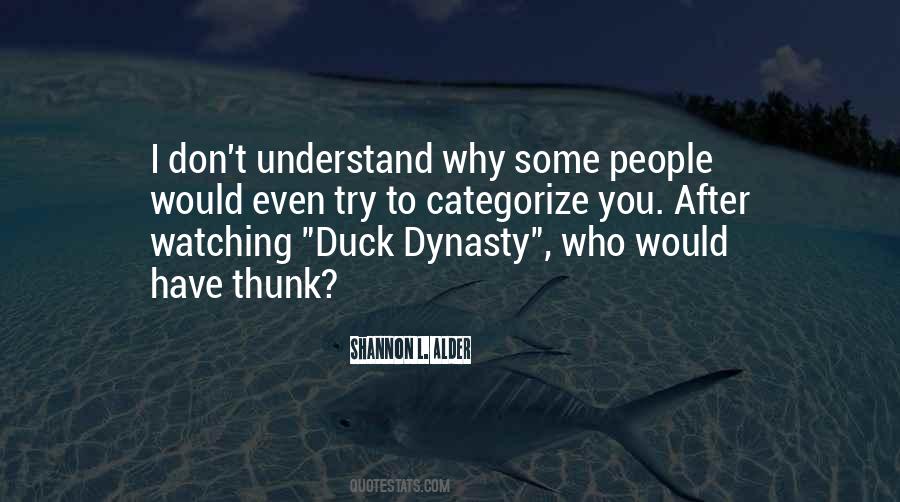 #45. I don't understand why women get upset when you compare them to one of the monkeys from Planet of the Apes, even one of the heroic ones, like Dr. Zera. - Author: David James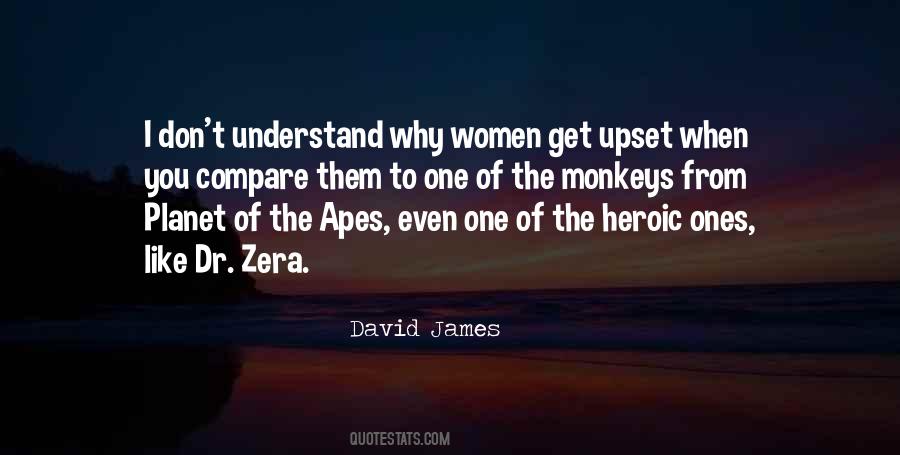 #46. I don't understand
how everything moves so quickly.
They say time flies when you're having fun,
but I wasn't always having fun.
Even when I was mad or sad,
time was always on the run. - Author: Amanda Leigh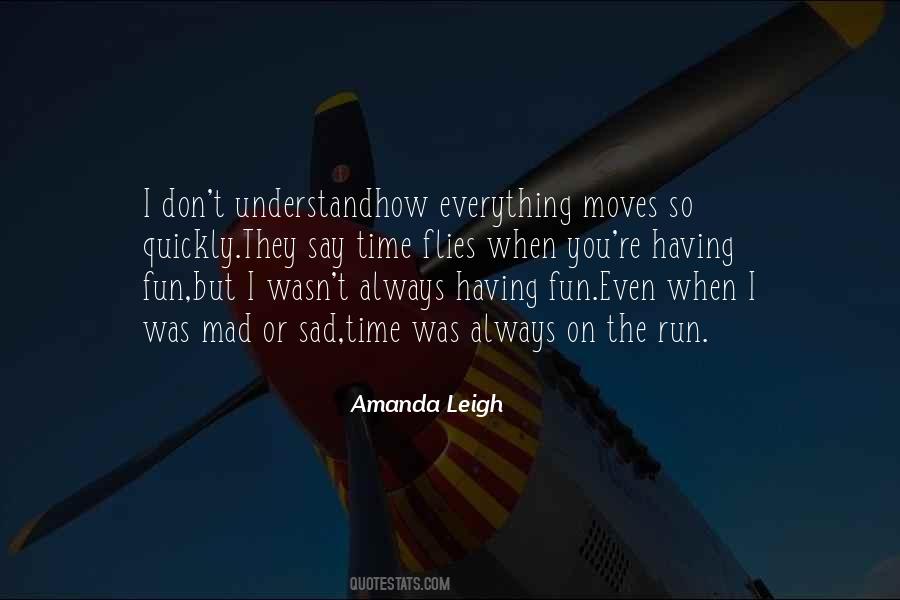 #47. I whirled, fighting a wave of dizziness as I pointed at Sylvester and snapped, "Don't you 'October' me. He is my family . Even if you couldn't respect that, I don't understand how the hell you got Quentin to go along with you."
- Toby to Sylvester in reference to Tybalt. - Author: Seanan McGuire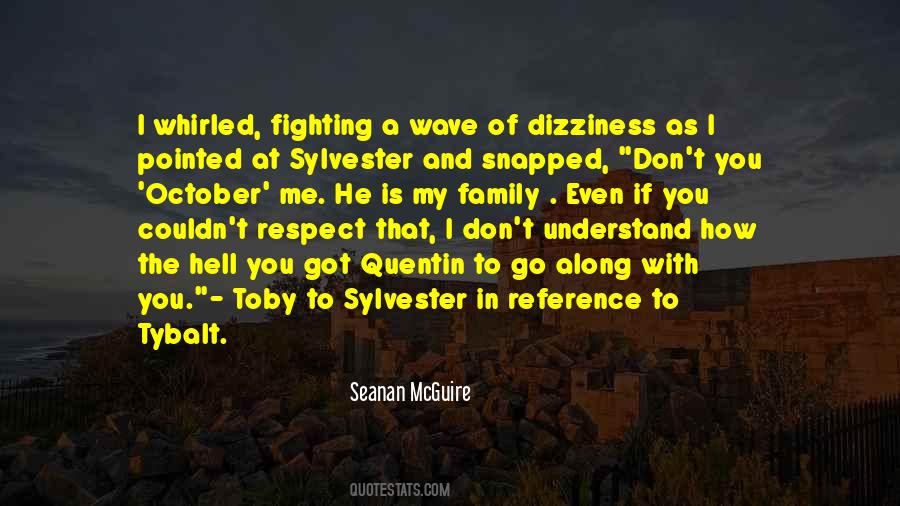 #48. Praise God even when you don't understand what He is doing. - Author: Henry Jacobsen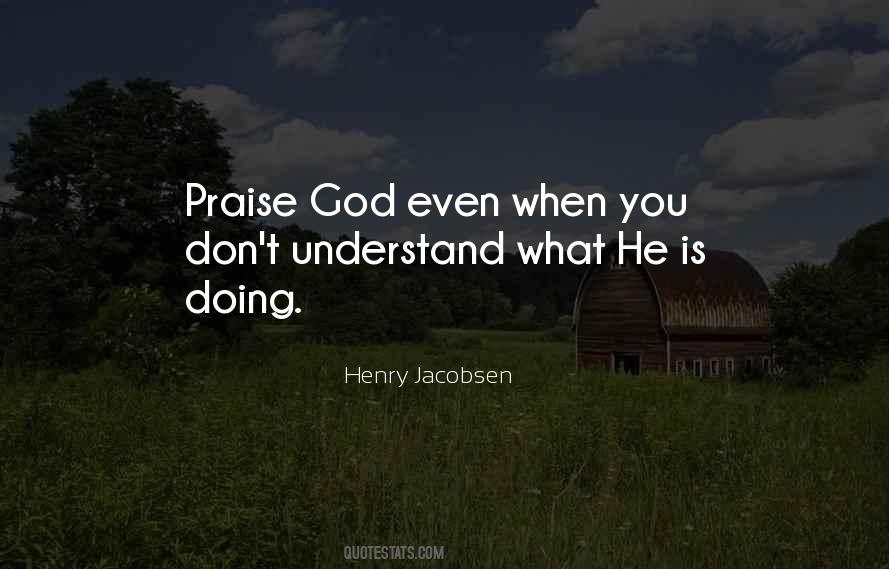 #49. To do the right thing you must sometimes defend people who don't understand you, or who fear you, or who are angry at you. There are times when you have to operate purely on faith and continue to trust human decency even when it is no longer visible. - Author: G. Willow Wilson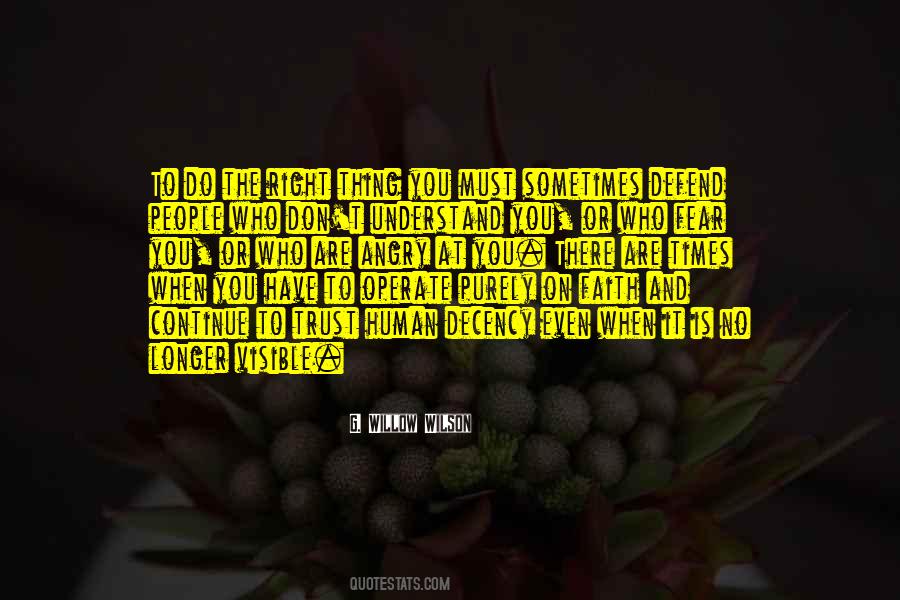 #50. You don't have to understand why anything that has happened nor do you even have to understand what it is that has happened. You have only to live with the remains. - Author: Joyce Carol Oates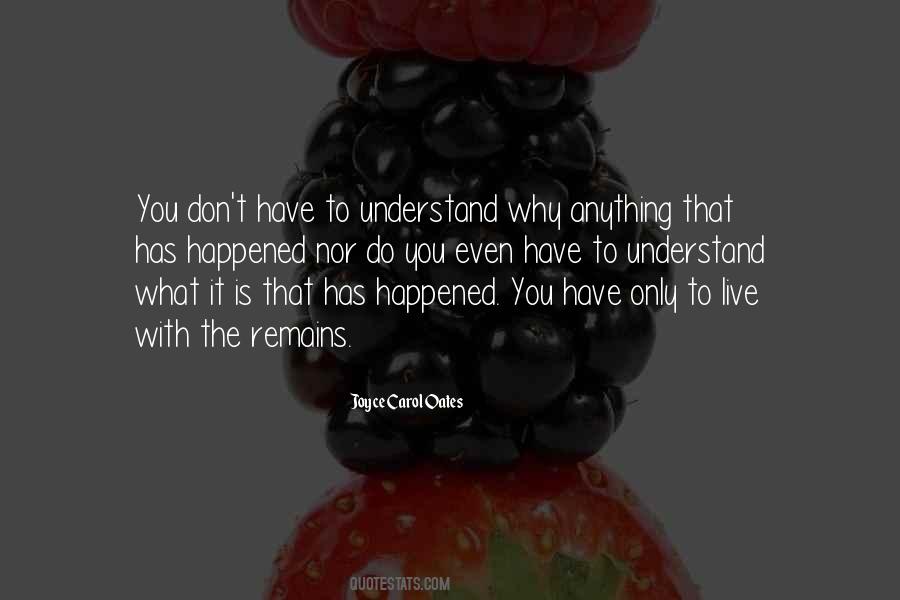 #51. I find it sad that too many do not understand themselves, or their potential. They don't even take the time to get to know their unconsciousness. You can truly learn so much, by simply getting to know the "you" that is behind the reality of yourself. - Author: Lionel Suggs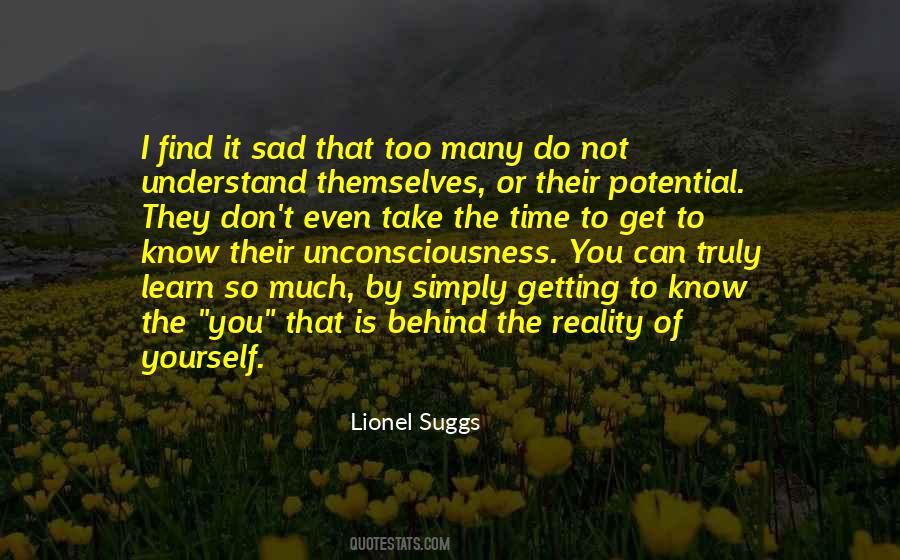 #52. But if you don't understand that story is character and not just idea, you will not be able to breathe life into even the most intriguing flash of inspiration. - Author: Elizabeth George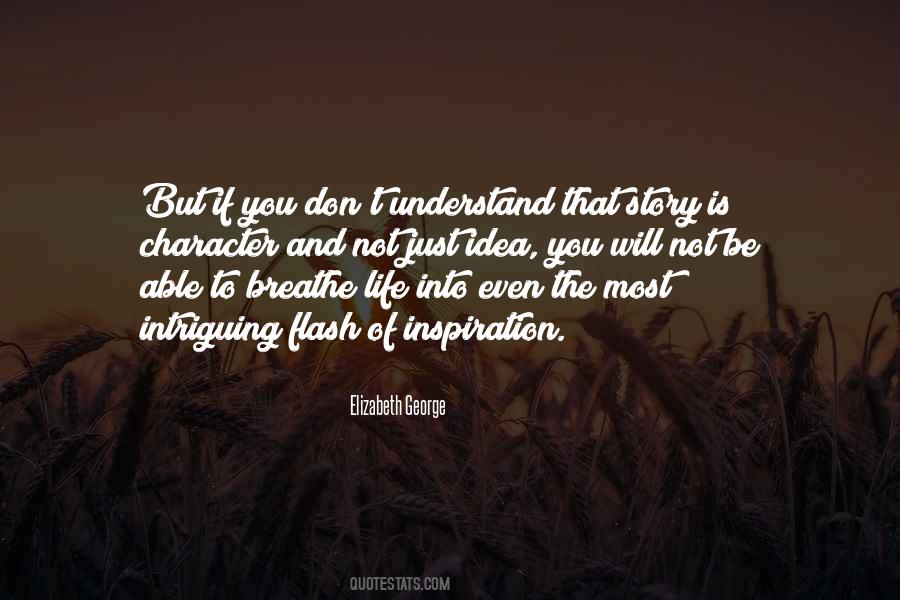 #53. Even if you didn't lose your job, if you're one of the two-thirds of Ontarians who don't have a pension, you lost savings. Even if you've earned most of that back now, you are a changed person. You are less secure, less confident. And I understand that. - Author: Dalton McGuinty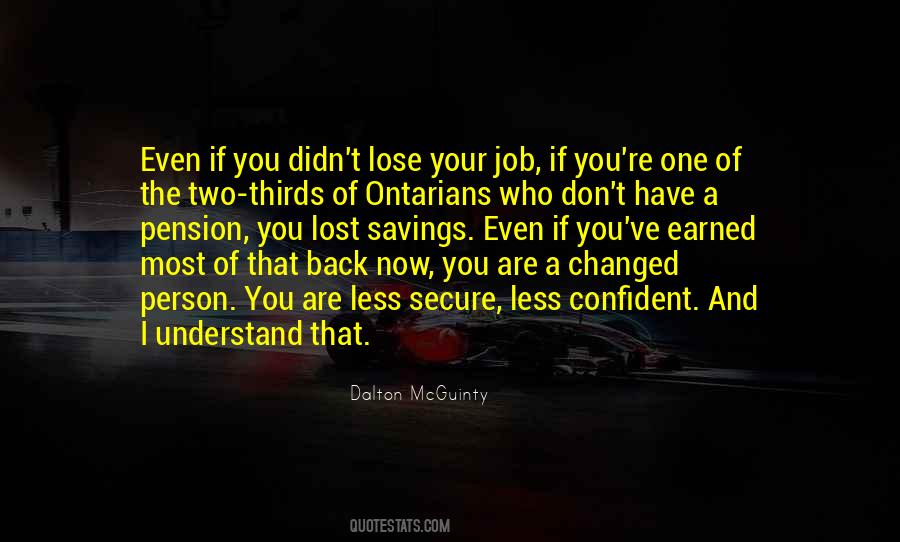 #54. It is one of those weird social things. Even as parents we say, oh, don't be sad. You know, come here, we'll distract you with some ice cream or something. And I don't know if that's always the best thing. But it's certainly - you understand why people do it. - Author: Pete Docter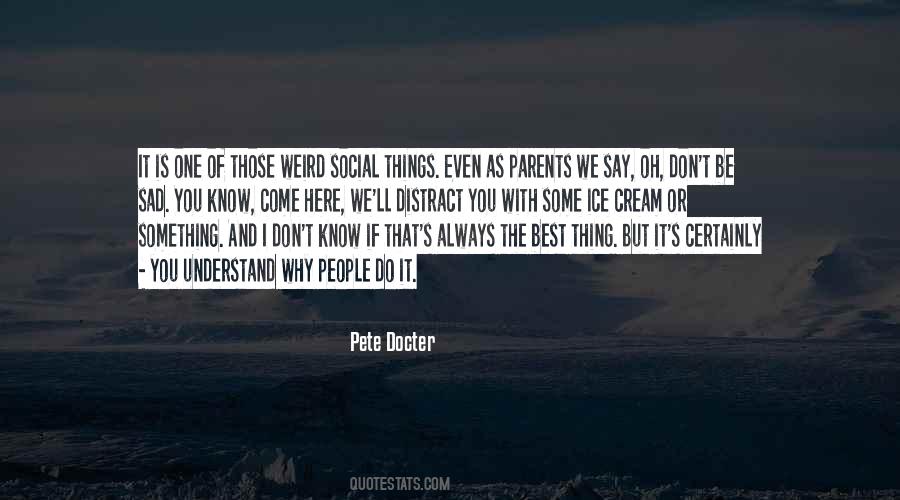 #55. But how can they just decide that we're animals? They don't even know us," I said.
"We know us," said Mother. "They're wrong. And don't ever allow them to convince you otherwise. Do you understand? - Author: Ruta Sepetys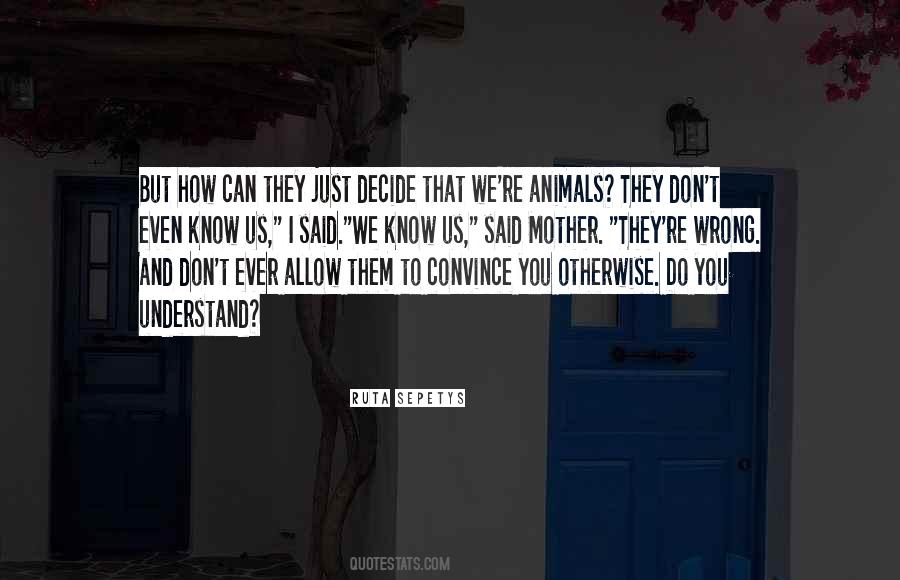 #56. Communication feels like it should be the simplest thing, but it's not. Sometimes you don't even understand what you're feeling. You don't know how to put that into words, so how are you suppose to tell the person you love that you're upset. - Author: Taissa Farmiga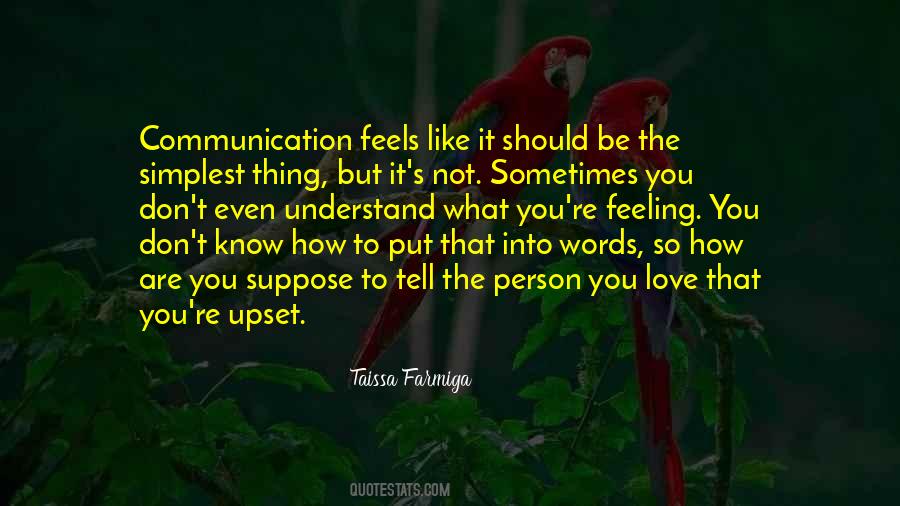 #57. She frowned. "I don't understand"
"You can't love me. No one does" The sincerity in his voice and expression was heart-wrenching. He truly couldn't fathom anyone caring about him. Not even her. - Author: Sherrilyn Kenyon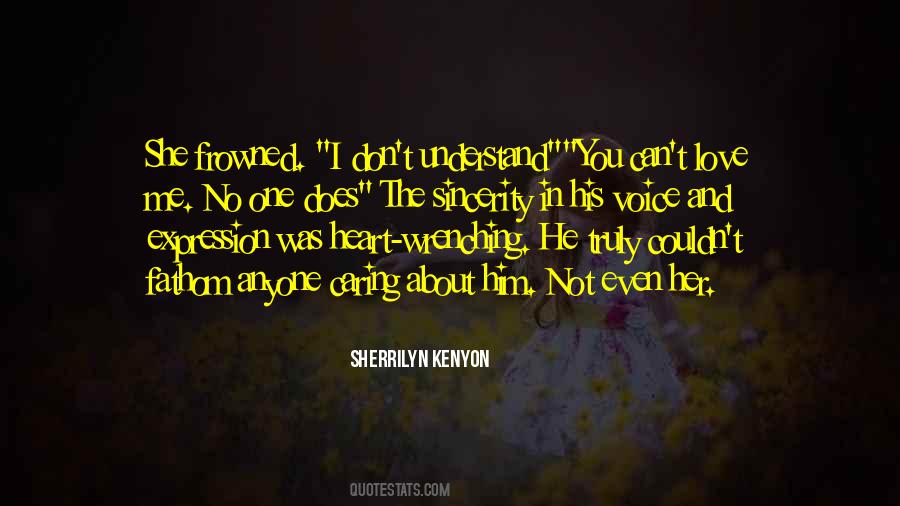 #58. I'm just tired of being disappointed by guys. I don't understand it. A breakup via text??!!" "I know. He's not playing the game of life on the same level as you. He's not even in the same sport. And it's better to know it now. - Author: Sheri Fink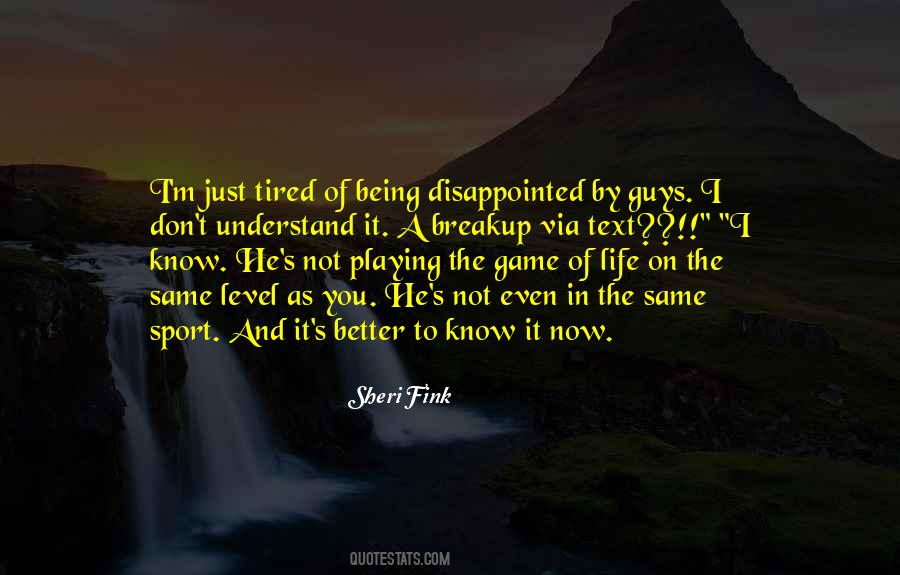 #59. You have no idea how damaged I am and honestly, I don't even understand why you are still here. - Author: Daniele Lanzarotta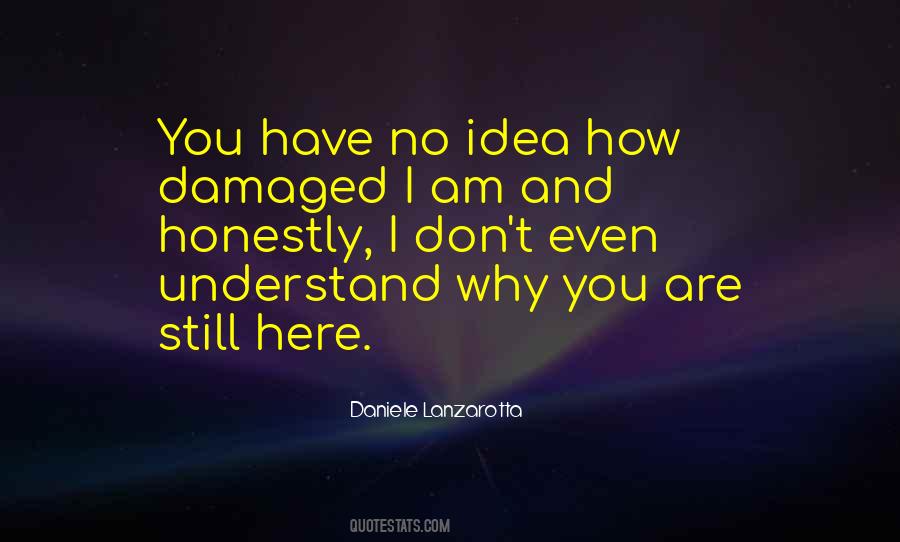 #60. Knowing the only way out is education, even if you don't have parents that are extraordinarily wealthy. I understand that I have to be an active participant in [my daughter's] education in order for her to thrive in the world. - Author: Viola Davis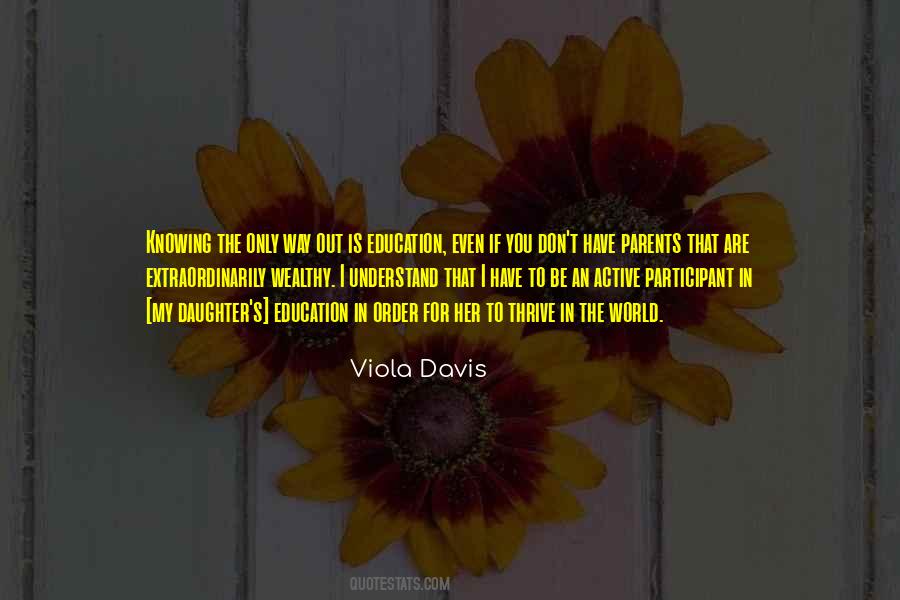 #61. Sweetheart, you don't even know the half of it.I envy you more than you could possibly understand. - Author: J.M. Darhower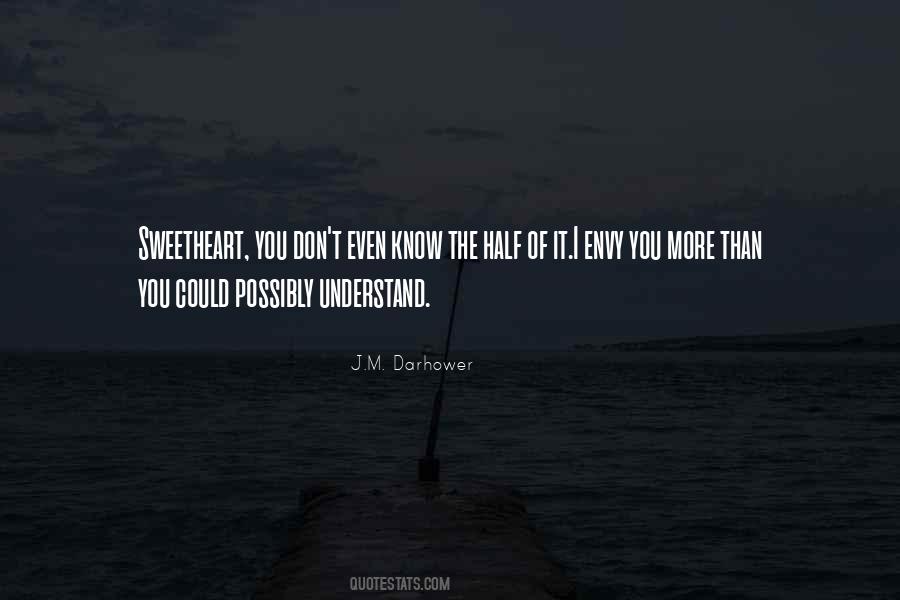 #62. Sometimes, you really don't understand why something is important to you until you get halfway through the movie - or maybe even all the way through. - Author: Jodie Foster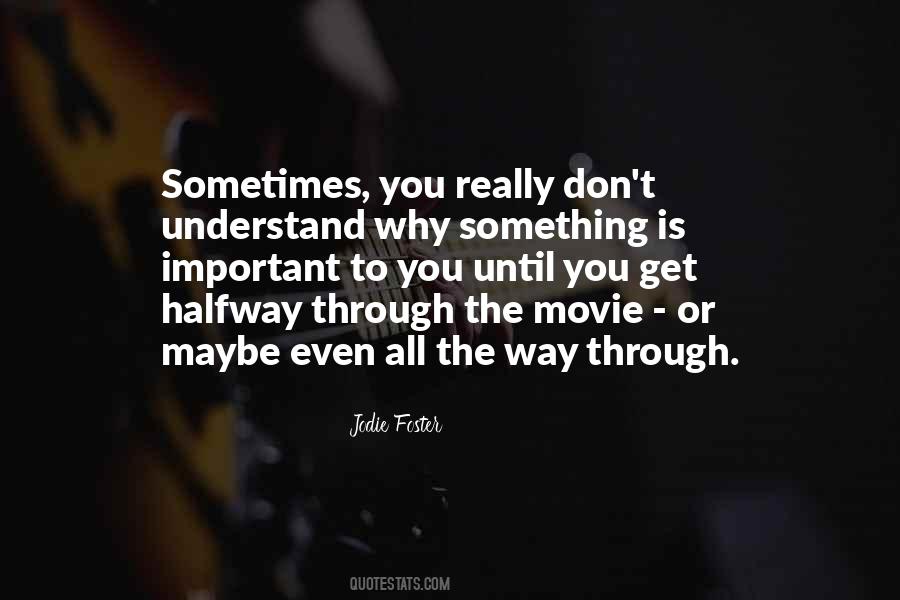 #63. People always mean well, but they don't understand that when you're seriously depressed, suicidal ideation can be the only thing that keeps you alive. Just knowing there's an out - even if it's bloody, even if it's permanent - makes the pain almost bearable for one more day. - Author: Terri Cheney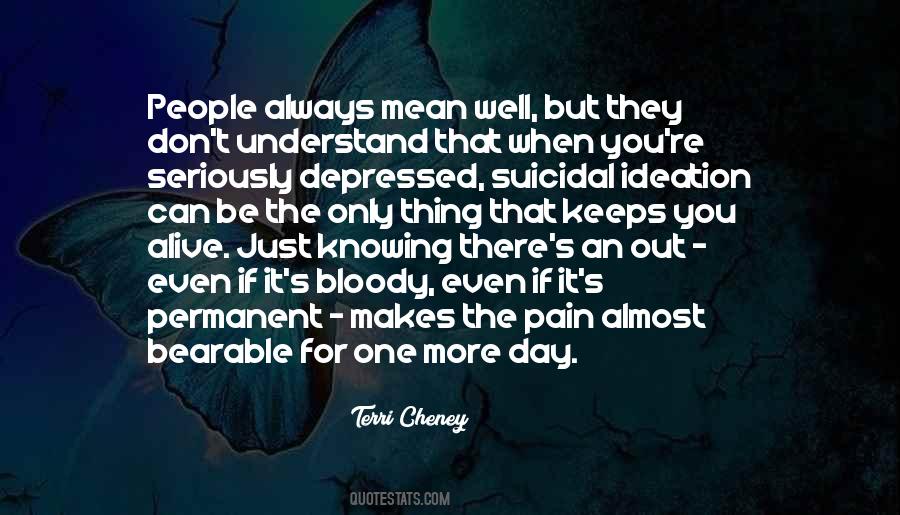 #64. When you travel, you experience, in a very practical way, the act of rebirth. You confront completely new situations, the day passes more slowly, and on most journeys you don't even understand the language the people speak. - Author: Paulo Coelho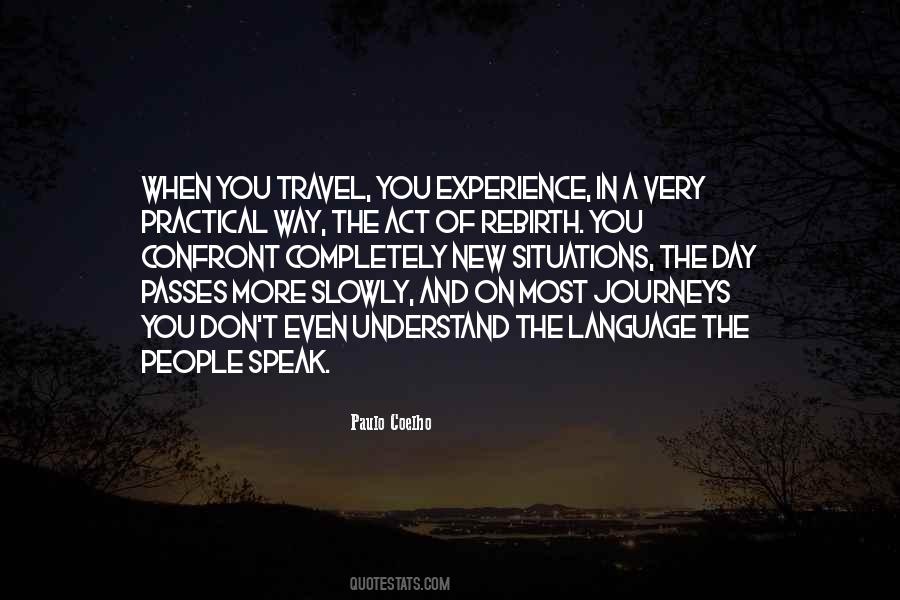 #65. Let's face it. You don't even understand you. The difference between us is that I happen to love you. - Author: C.D. Reiss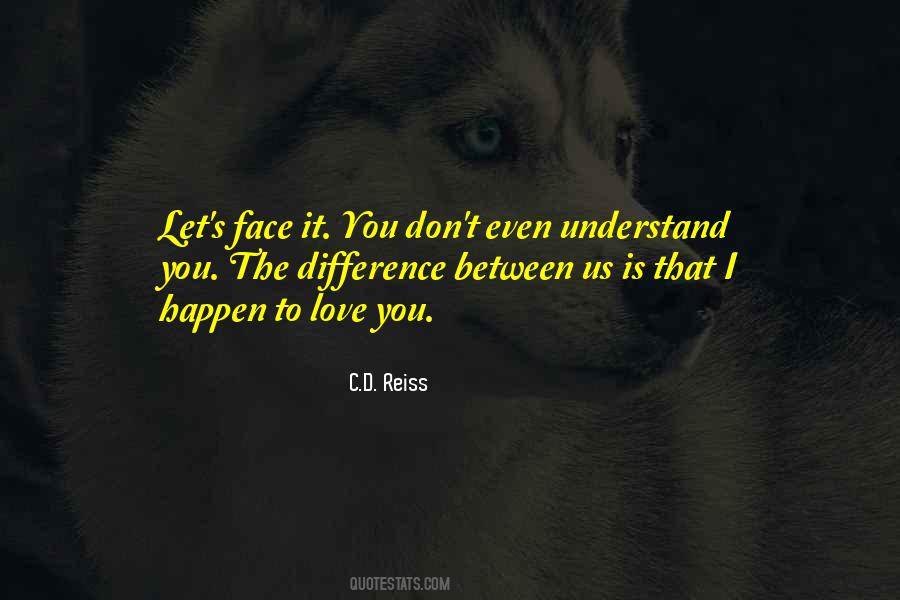 #66. I get this this is intense because I'm intense, that's the whole fuckin' deal. I get it'll take you a while to get used to it. But you want it. Fuck, you even like it. You just don't understand it yet. But you will. - Author: Kristen Ashley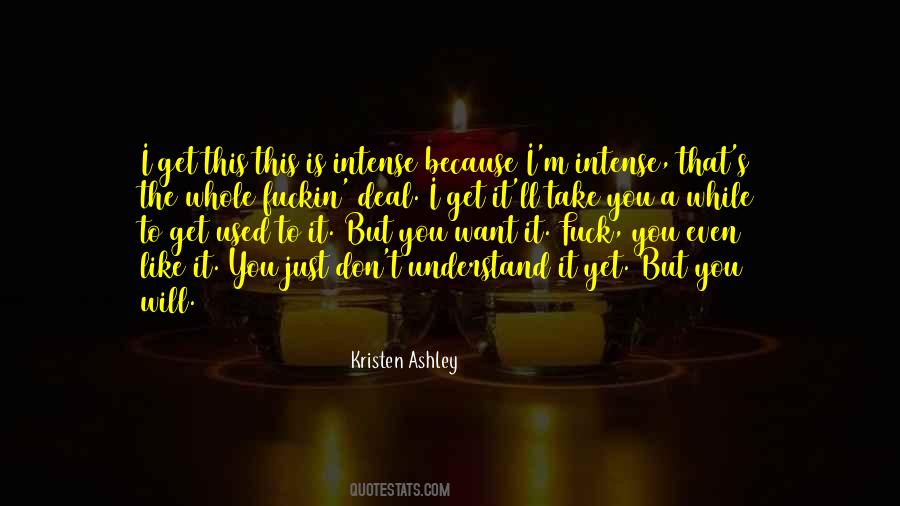 #67. World is full of people so troubled they don't even understand themselves. You could offer them a thousand dollars to explain their motivations, but they can't tell you what they don't know. - Author: Catherine Ryan Hyde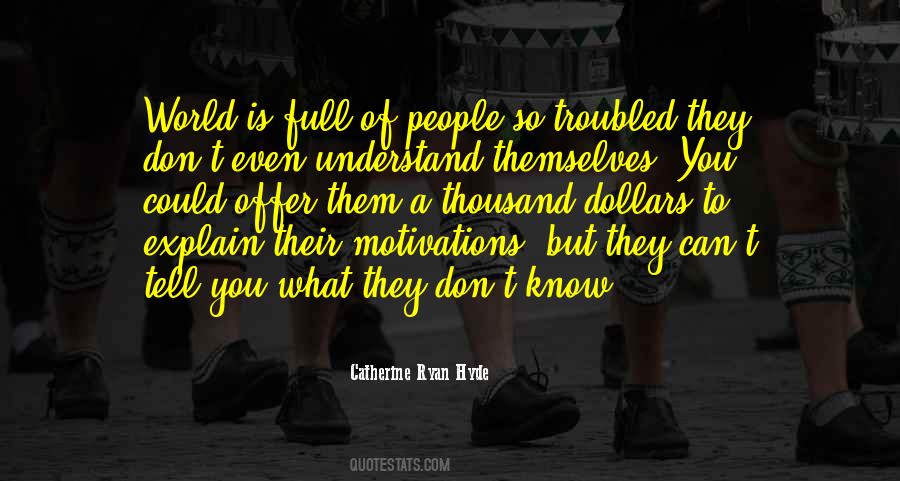 #68. Every pore of you is crying and you don't even understand why or what. I actually kind of died and got born again as a result of taking the meds and having a chance to, you know, build a life. - Author: Sinead O'Connor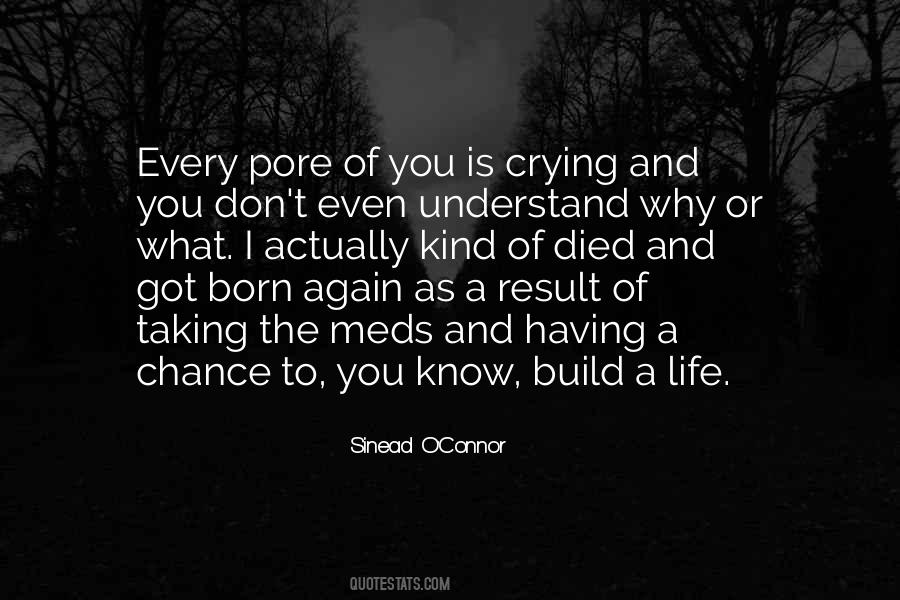 #69. I feel like I'm losing my damn mind, like your face has been carved into my heart, and I don't remember when, and I don't understand why, but the scar is there, and I can't get it to heal. It won't go. I can't make it fade. And you won't even look at me. - Author: Alexandra Bracken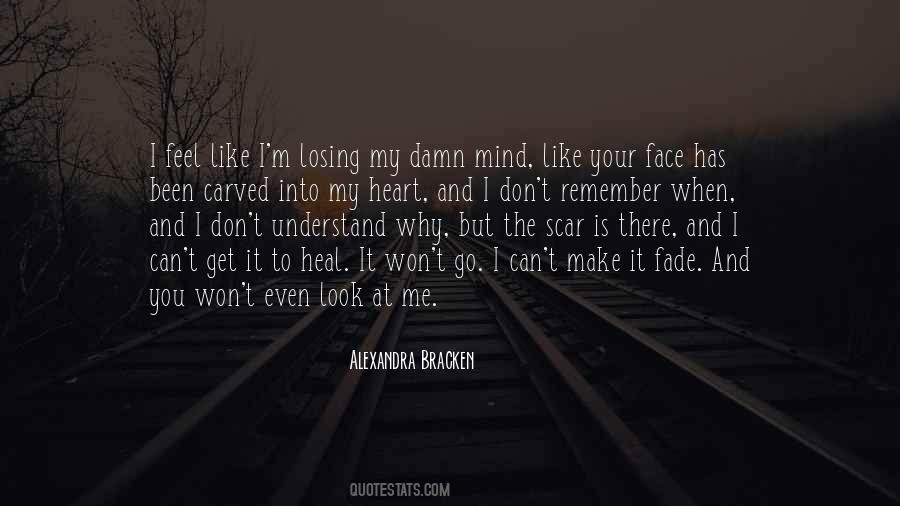 #70. A lot of students just don't understand what's out there," she told me, shaking her head. "You have the kids who plan on being baseball players but don't even play on the high school team because the coach is mean to them. - Author: J.D. Vance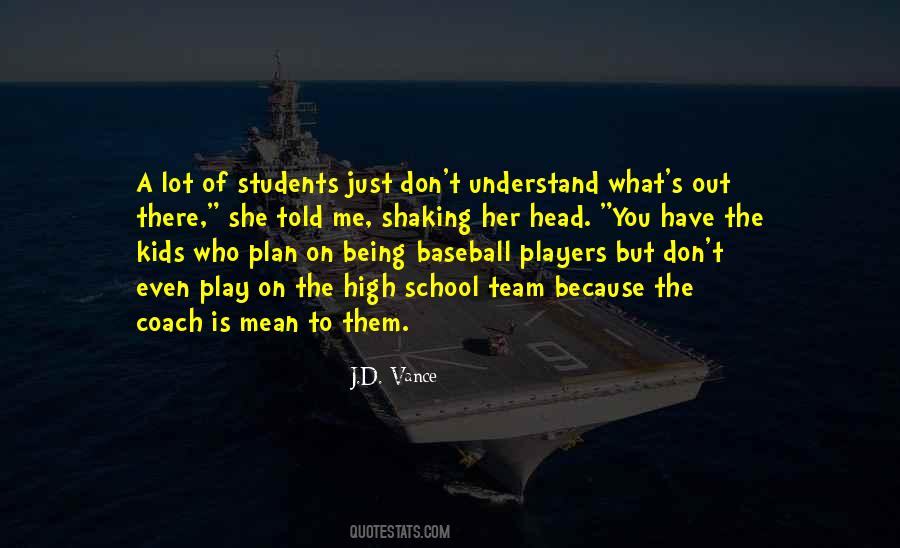 #71. I don't think you understand what it means when a demon falls in love, Layla. It doesn't go away. It doesn't fade, even if we want to. We love until death. That's not just something we say. We love and we love once and it's forever. - Author: Jennifer L. Armentrout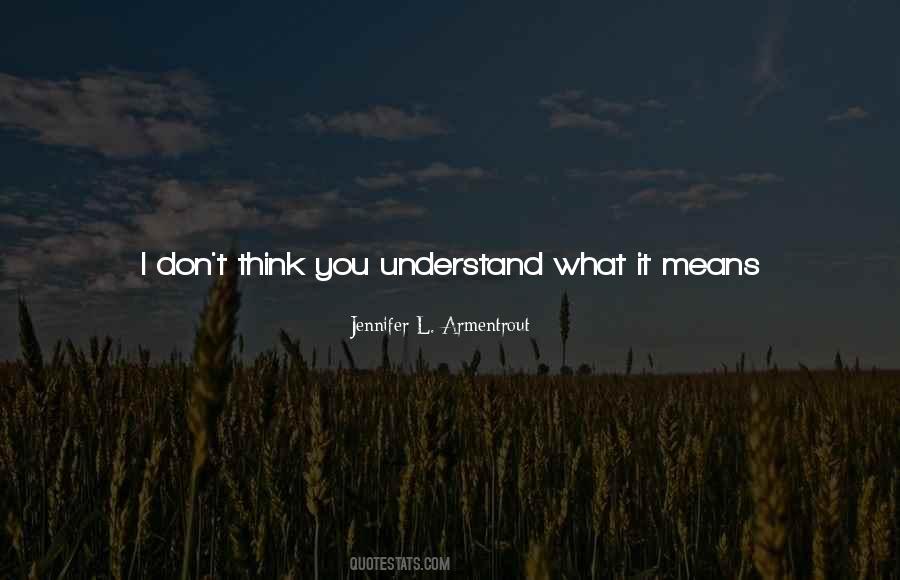 #72. Alright, but I don't like this at all Syd. But I trust you. If you say you're not upset, then I'll let it go, for now. Just understand that I won't let anything or anyone hurt you, not even me.

Relatively Famous - Author: Heather Leigh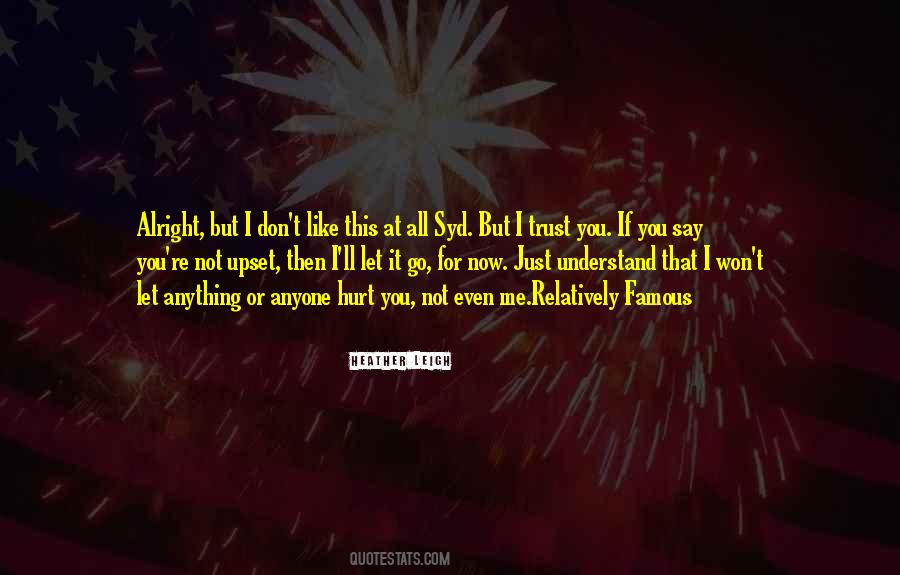 #73. I don't even understand why I have 1.7 million Twitter followers. Every day, I want to remind them and say, "Do you realize I'm an astrophysicist? Do you know what you're doing here?" - Author: Neil DeGrasse Tyson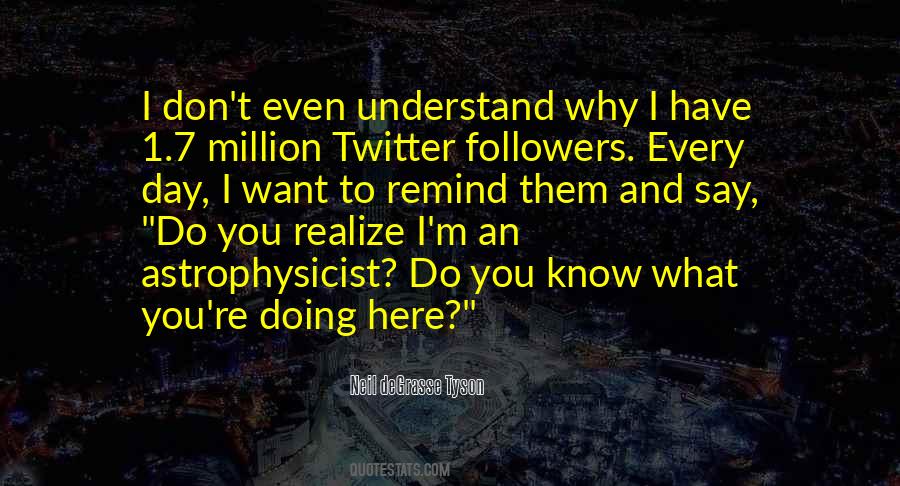 #74. Directing non-actors is difficult. Directing actors in a foreign language is even more difficult. Directing non-actors in a language that you yourself don't understand is the craziest thing you can possibly think of. - Author: Alejandro Gonzalez Inarritu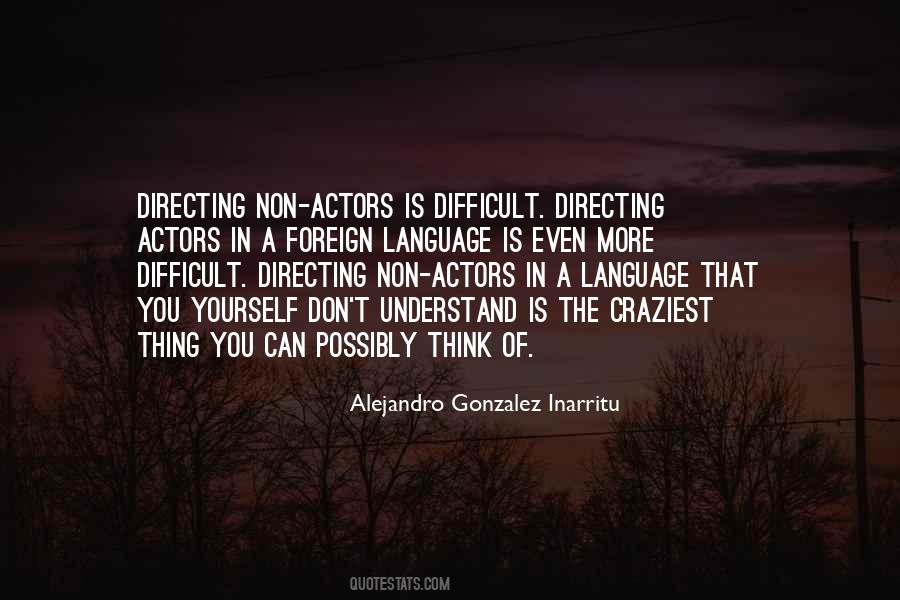 #75. [...] it seems you don't understand that words are the labels we stick on things, not the things themselves, you'll never know what the things are really like, nor even what their real names are, because the names you gave them are just that, the names you gave them [...] - Author: Jose Saramago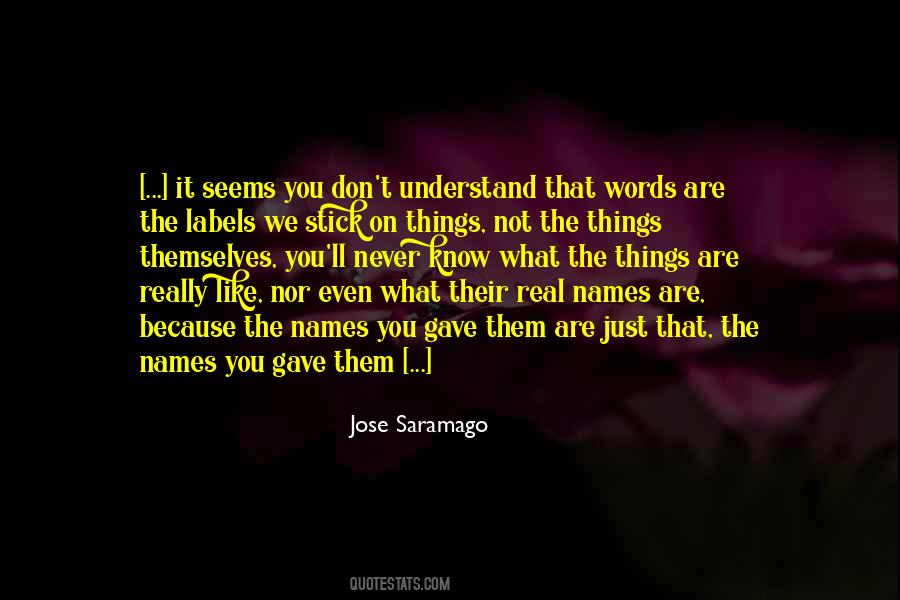 #76. Nothing's changed. You'll go home. You'll be bored. You'll be ignored. No one will listen to you, really listen to you. You're too clever and too quiet for them to understand. They don't even get your name right. - Author: Neil Gaiman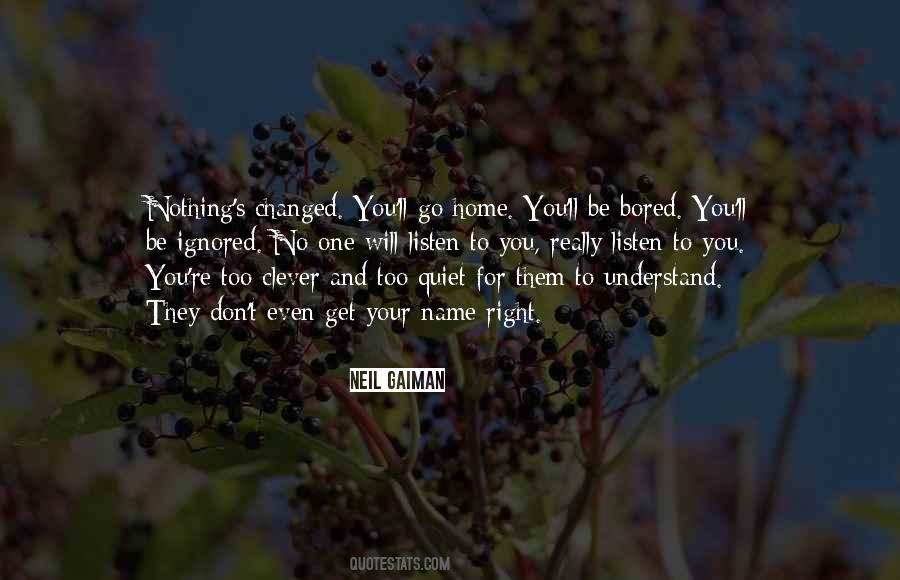 #77. But of course when you've got it bad for somebody, you aren't really sane. You're a stalker and a groupie combined, and you do things even you don't want to try and understand. - Author: Kirsty Eagar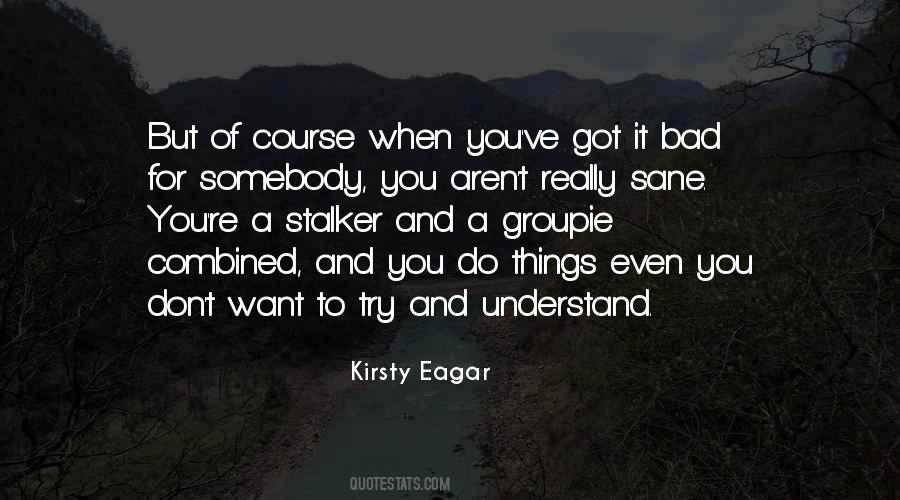 #78. I find that by putting things in writing I can understand them and see them a little more objectively ... For words are merely tools and if you use the right ones you can actually put even your life in order, if you don't lie to yourself and use the wrong words. - Author: Hunter S. Thompson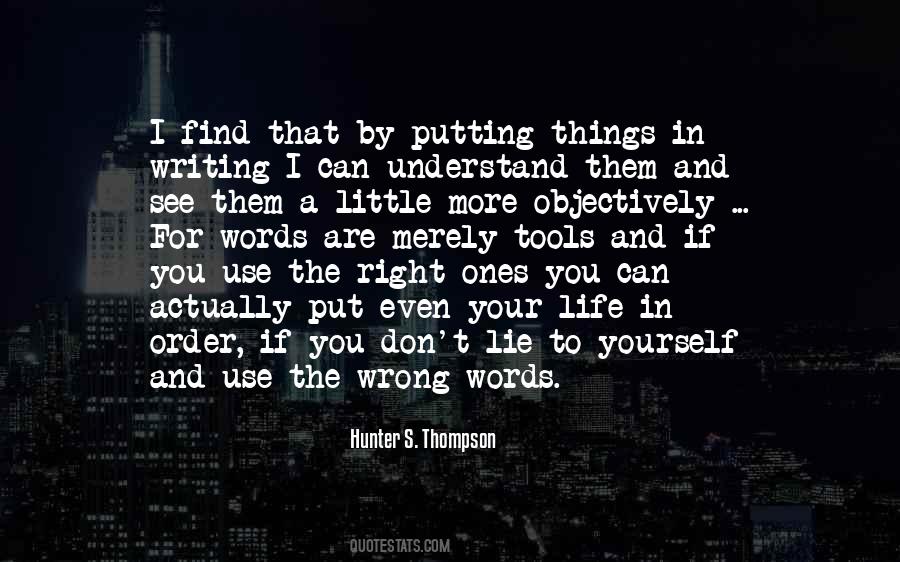 #79. The idea that in the system, if you manage it in an optimum way, all of the constituent parts of the system also win, flourish, and benefit, is intrinsic to business and even to capitalism itself, properly understood. But people don't understand it because we're not taught to think that way. - Author: John Mackey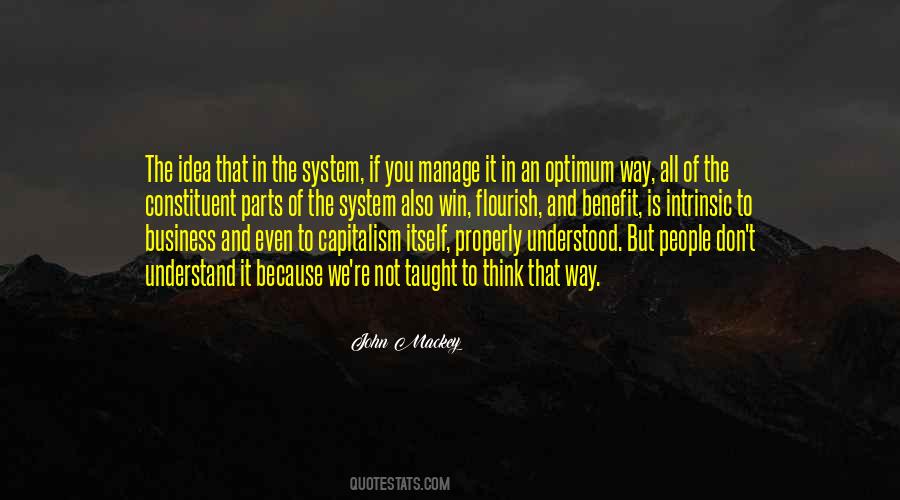 #80. Your demons are always with you," Skale answered. His voice seemed even raspier than the day before. "Don't you understand that by now? Always with you, impossible to escape. But you never can guess how they might manifest themselves. - Author: James Dashner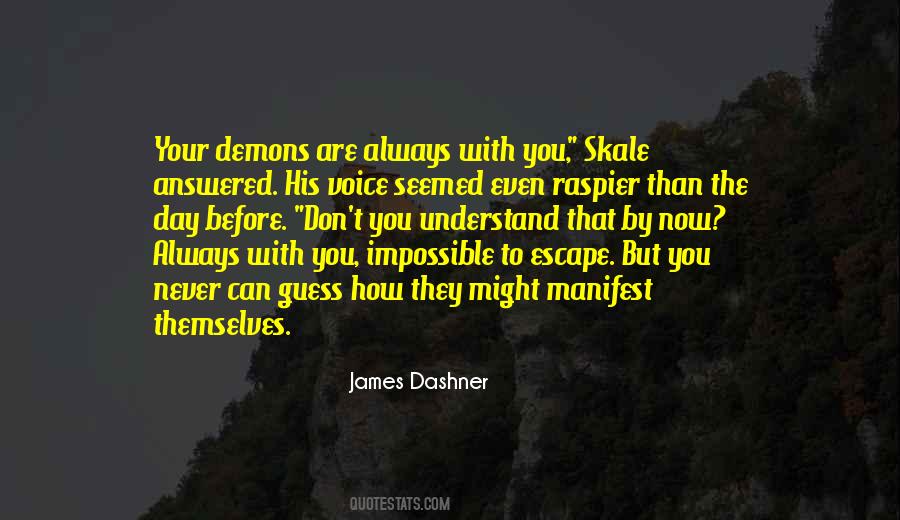 #81. I feel a hotness behind my eyes. I have no idea why. I don't know why I suddenly feel affected. I want to type I admire you, but I can't bring myself to. Not even by text. Instead, after a moment's hesitation, I type:
I understand you. - Author: Sophie Kinsella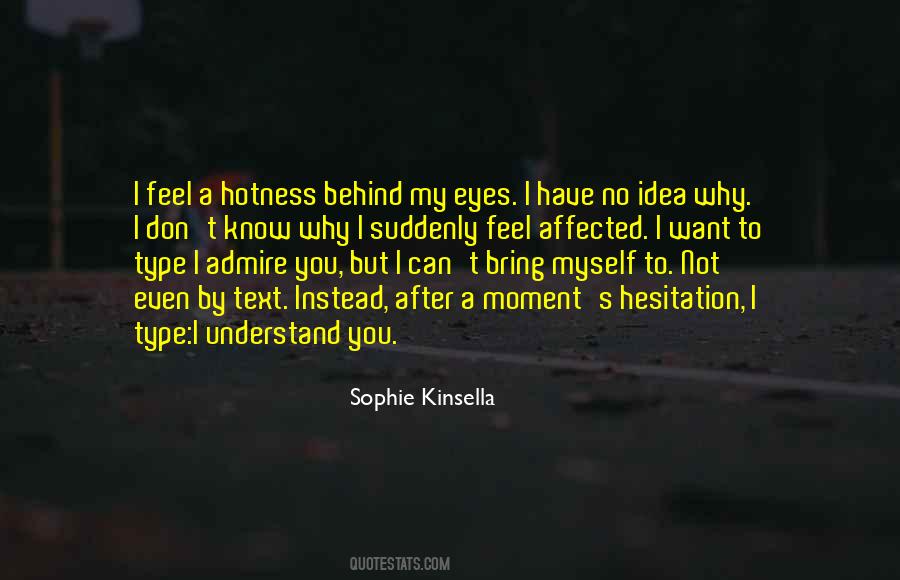 #82. YOUR job for a REAL LIVING LIFE is to be Responsible for your actions and your feelings. If people "don't understand you", don't worry, most people don't even know themselves enough to understand themselves, not to mind understanding You!! - Author: A. Antares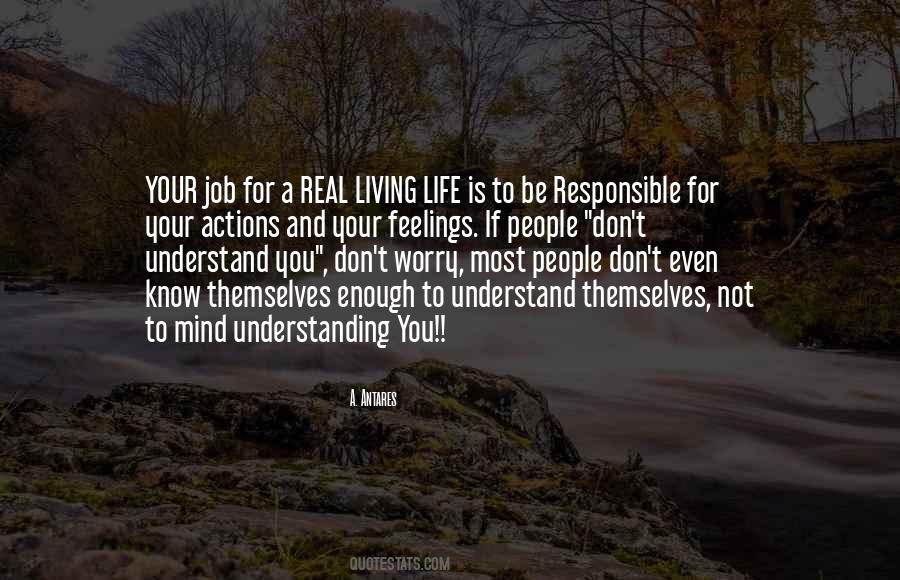 #83. Damn it, Cora, we could have been exposed! You can't take joyrides like that. What if someone saw you?" Nessa lectured.
"And you, Noah; stop it with the dirty thoughts. She just lost her boyfriend so don't even think about it. Do we understand each other? - Author: Andrea Heltsley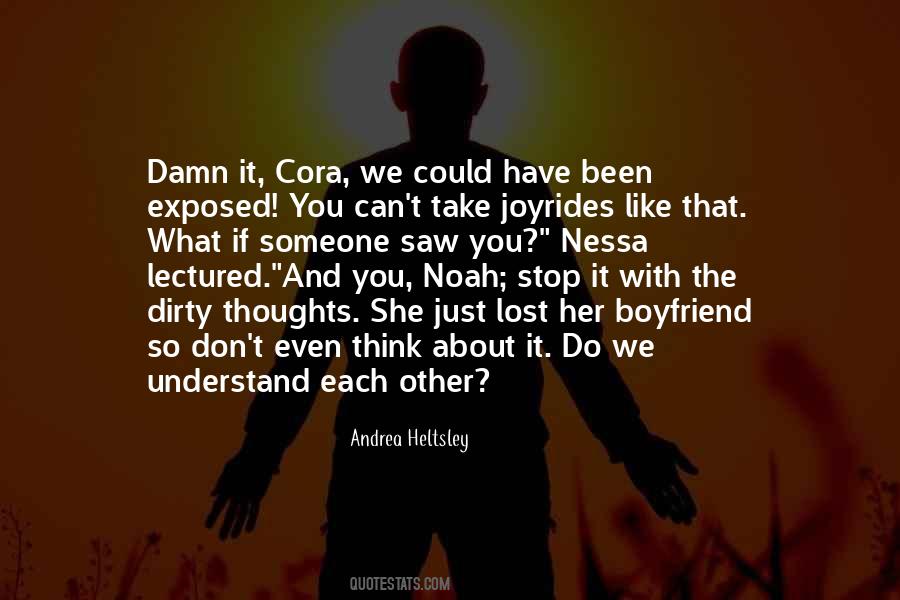 #84. The horror genre is an extremely delicate thing. You can talk to filmmakers and even psychologists who've studied the genre, and even they don't understand what works or what doesn't work. More importantly, they don't understand why it works when it works. - Author: Stephen King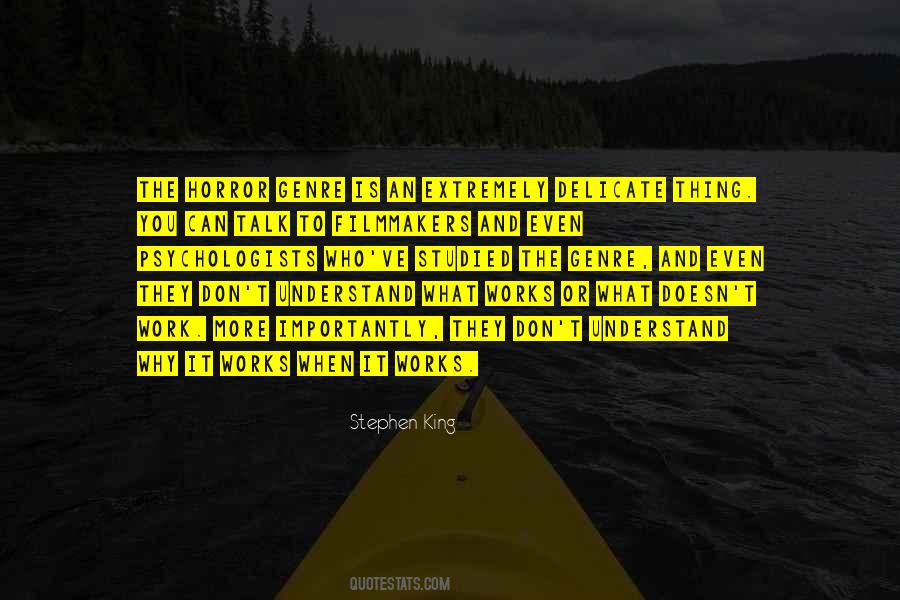 #85. I know you!' She insisted. 'No you don't. But that's all right, because I don't know me either, let alone you. We never understand anybody, not even ourselves. - Author: Orson Scott Card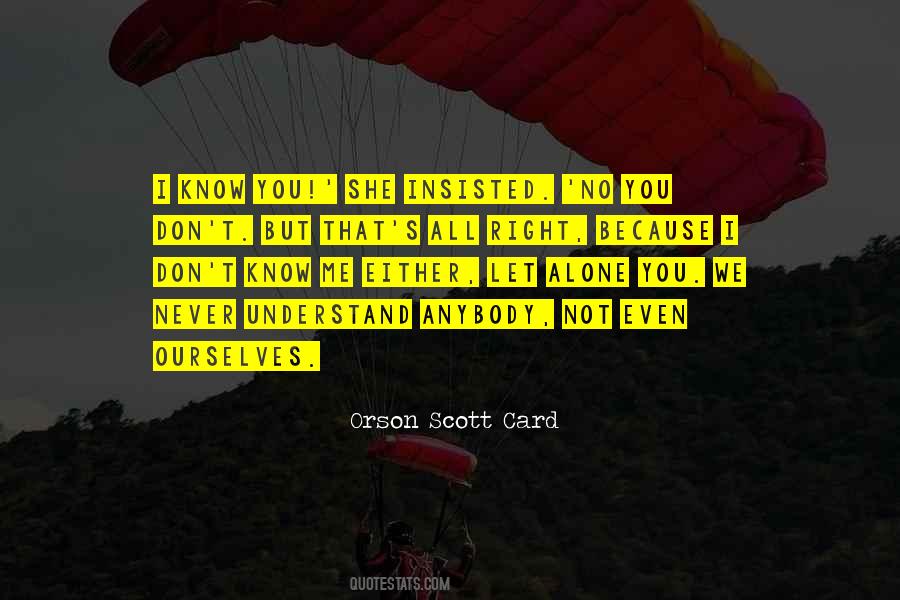 #86. You're not a man. You're their lackey. I don't care about you, or your brother, or your ridiculous organization. From now on, I shall do exactly as I wish and you cannot stop me. Do not follow. Do not watch. Do not even attempt to contact me or you'll be sorry indeed. Do you understand? - Author: Libba Bray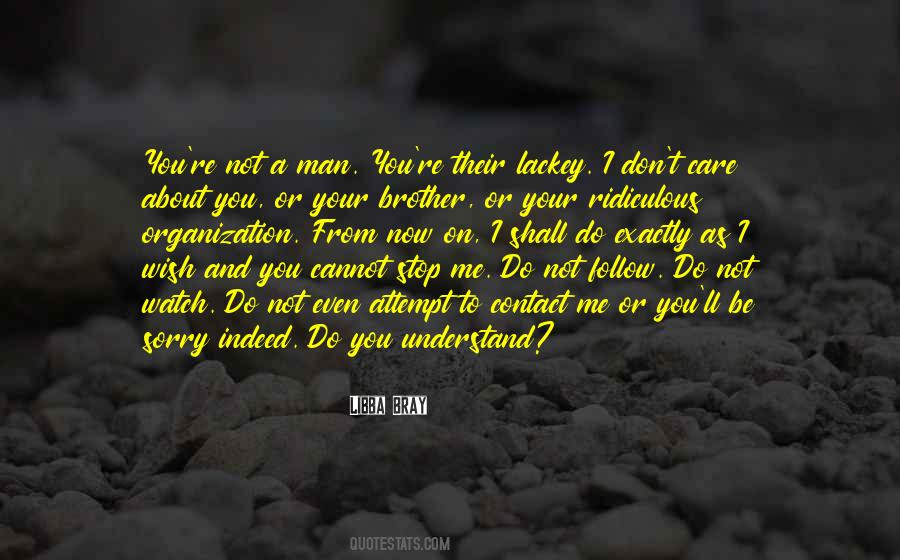 #87. You'll find that being a friend is to like a person for who they are, even the parts you don't understand. The reasons you like them makes the things you don't understand unimportant. You don't have to understand, or do the same, or live their lives for them. - Author: Terry Goodkind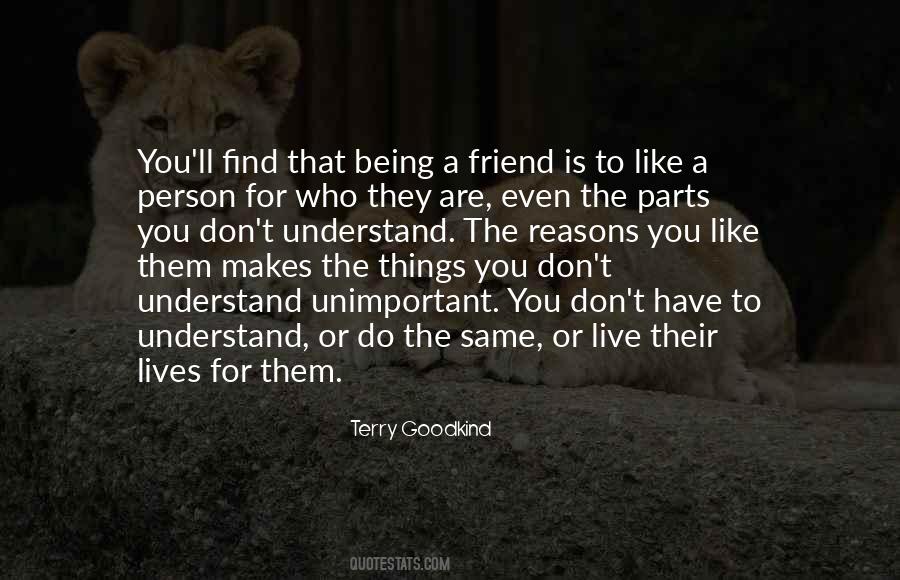 #88. He studied her upturned face for a minute. "Please forgive me. I don't want you to hope. If there were any way - " "I know." She got to her feet. "I even understand." She walked briskly to the door. "I came down to get something for Rebecca. She must be wondering what happened to me. - Author: Elizabeth Hoyt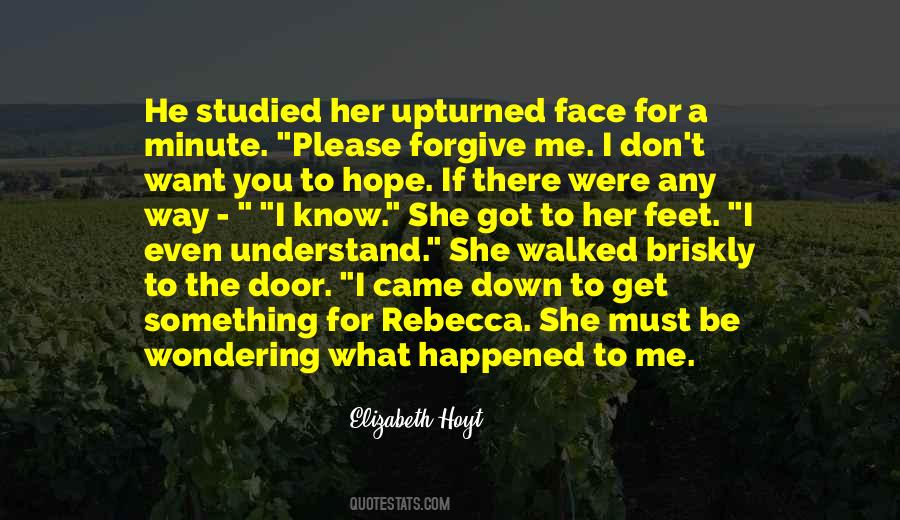 #89. What you pretend to be is so complicated that I don't even bother to try to understand it. - Author: Miguel Ruiz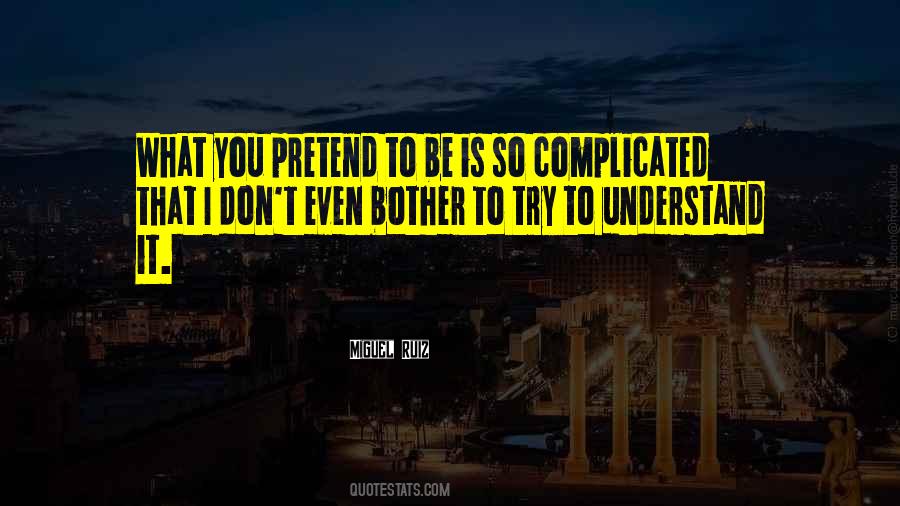 #90. I don't understand - why won't you talk to me?
You sit in the corner all day and write in your book and look at everything but my face. You have so much to say to a piece of paper but I'm standing right here and you don't even acknowledge me. Juliette, please - - Author: Tahereh Mafi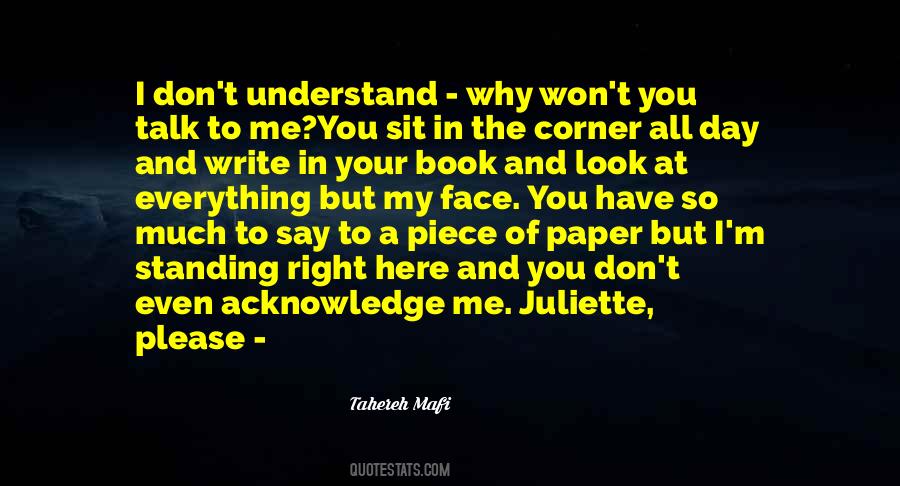 #91. I don't want to part in any ill-humor. But can't you understand? I've grown used to seeing you, to having you with me all the time, and your action seems unfriendly, even unkind. You don't even offer an excuse for it. Why, I was planning to be together. - Author: Kate Chopin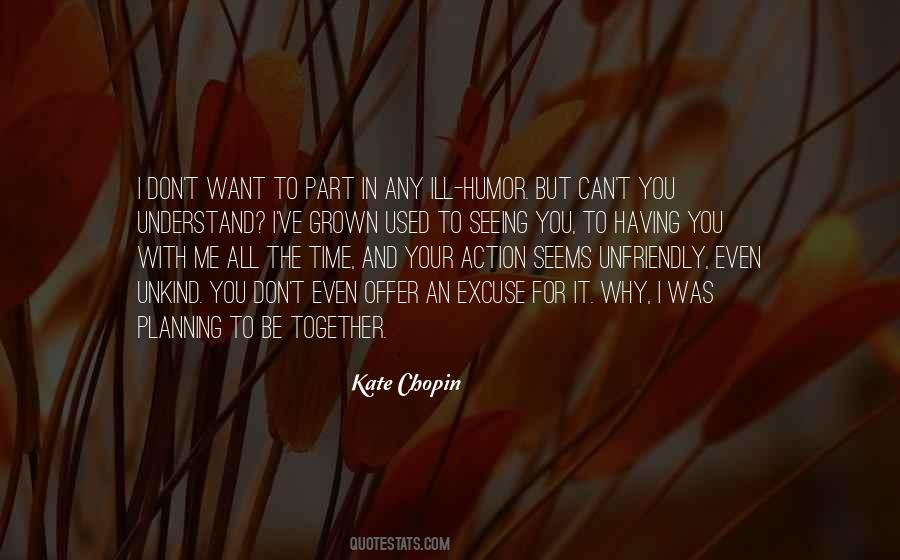 #92. I know a lot of stuff, not only about you, about me (of course) and many other people.... "So how I don't know??" you ask yourself??
You never asked me and even you asked me you never understood me. You just said "Okay"... and that's all. - Author: Deyth Banger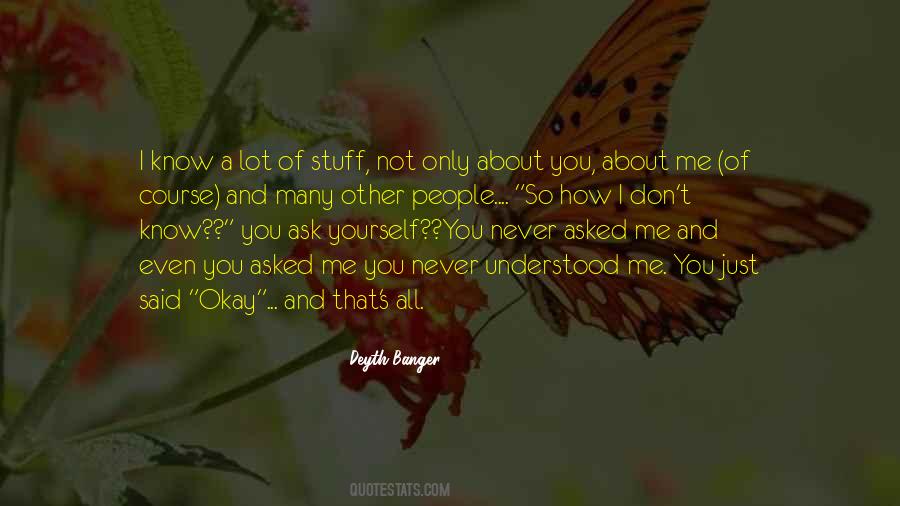 #93. Let me get this straight. First you decide I'm a demon because of a power I didn't ask for and don't even understand. Then when that falls through you label me a fallen sybil and a ho. Am I missing something or do you just not like me - Author: Karen Chance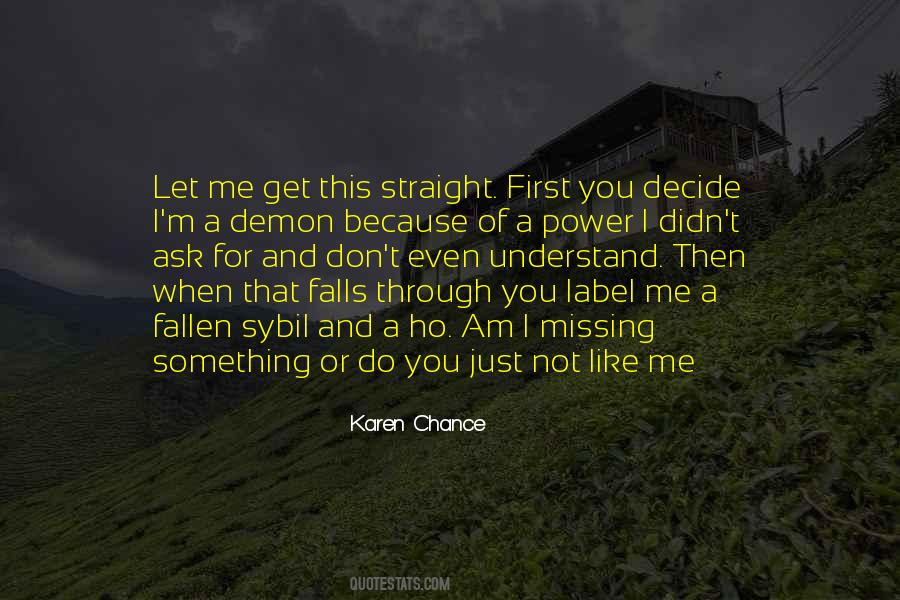 #94. Being in all of my relationships, I'm even more confused than I've ever been, I don't know if you ever really understand relationships. - Author: Jamie Kennedy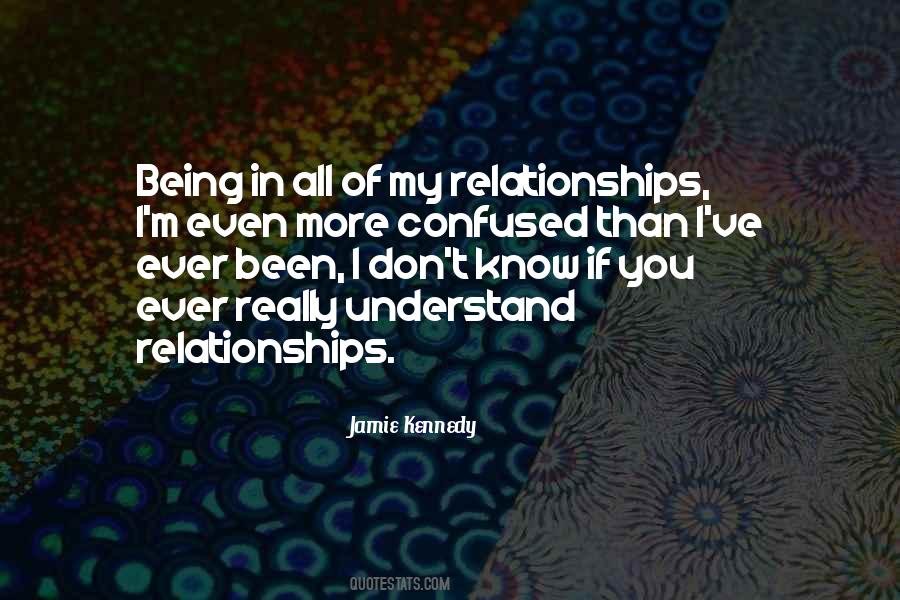 #95. Reality is overrated and impossible to understand with any degree of certainty. What you do know for sure is that some ways of looking at the world work better than others. Pick the way that works, even if you don't know why. - Author: Scott Adams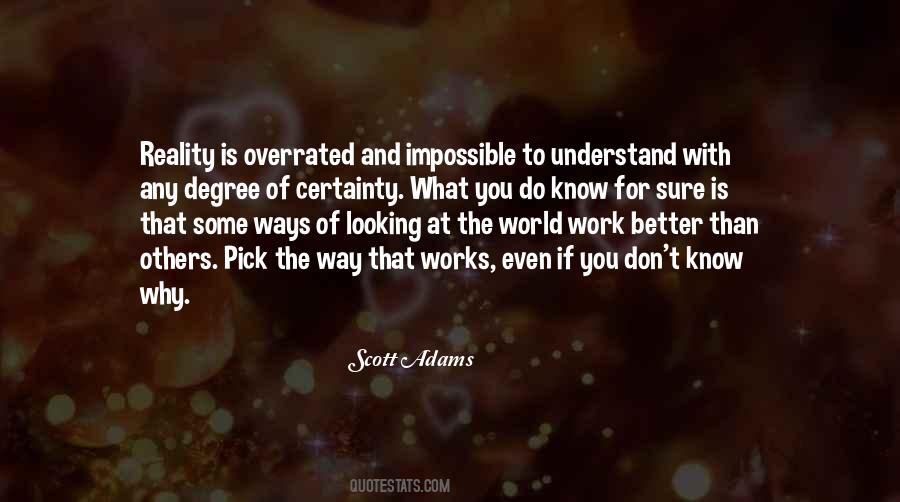 #96. Everyone said, 'Yeah, you can do it, you can qualify.' But it wasn't something that I actually believed I could do. Even now, I definitely understand and know I'm going to the Olympics, but I don't think it will fully sink in until I'm actually there and experiencing it. - Author: Gwen Jorgensen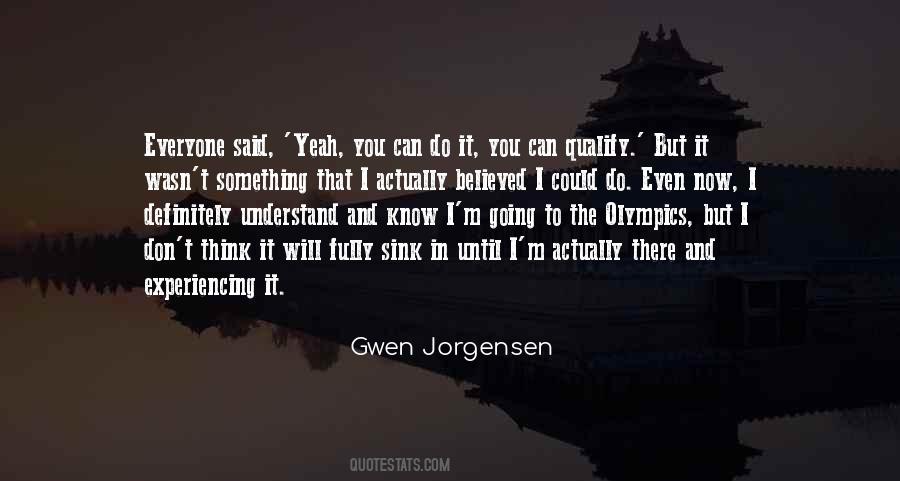 #97. That's all I'm doing, choosing to trust Jesus even if I don't understand what or why something is happening. Jesus wants you to choose to trust Him again. He won't take that trust you place in Him lightly. - Author: Dee Henderson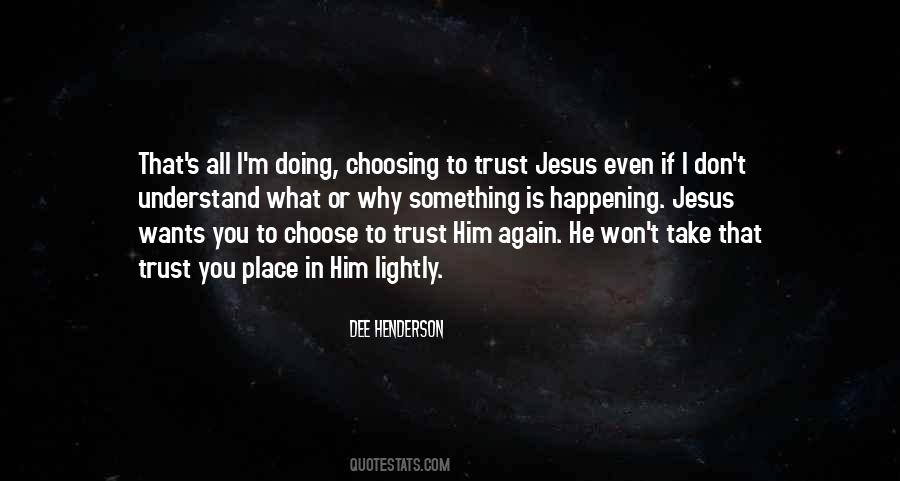 #98. I don't think you will ever fully understand how you've touched my life and made me who I am. I don't think you could ever know just how truly special you are that even on the darkest nights you are my brightest star - Author: Erica Jong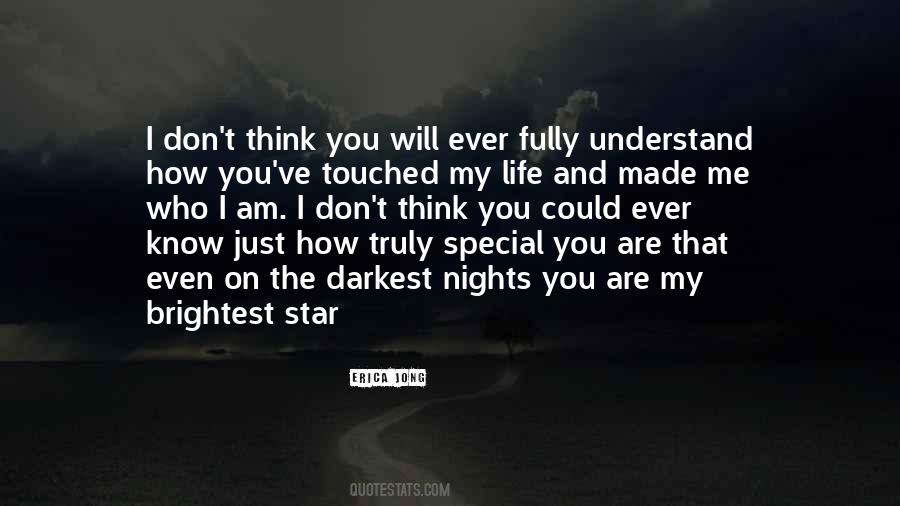 #99. Don't you understand how much even one day of loving each other is worth? Some people are separated by distances they can never cross. All they can do is dream about each other for a lifetime, never having what they want most. How foolish, how wasteful to have love within your reach and not take it! - Author: Lisa Kleypas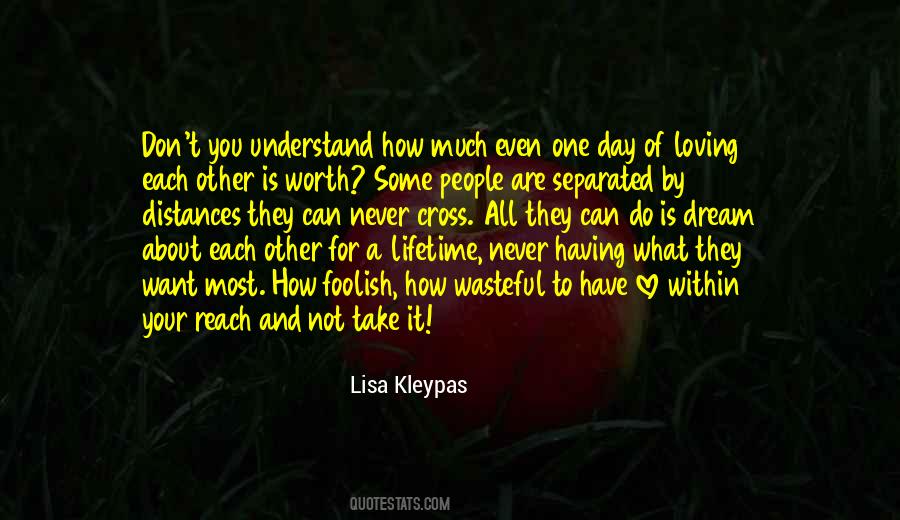 #100. More people are watching your life and ... are gaining strength in their own lives and in their own challenges because of what you're going through. I promise you: your life matters, your life is significant, and things are happening that you don't even fully understand yourself. - Author: Jeff Goins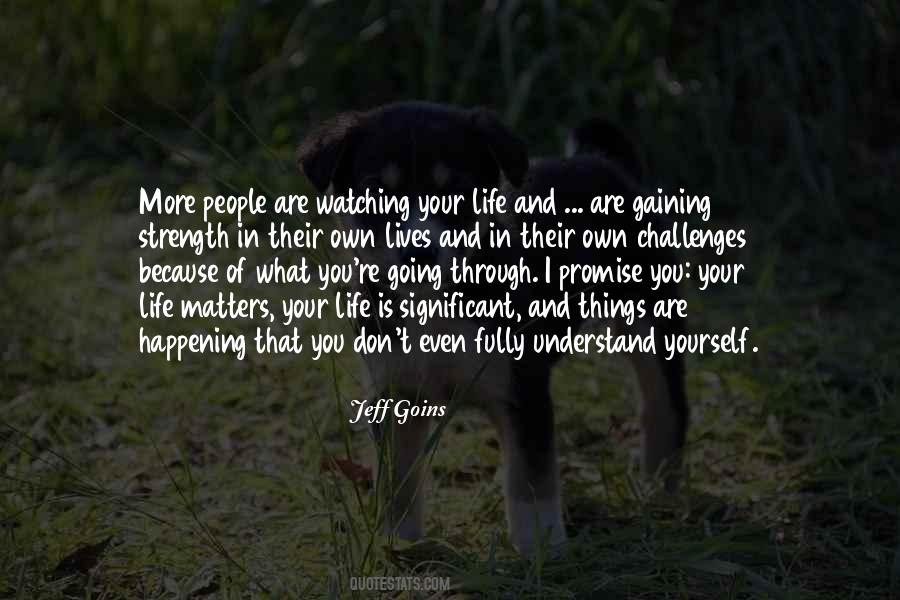 Famous Authors
Popular Topics