The Bad Days Famous Quotes & Sayings
List of top 100 famous quotes and sayings about the bad days to read and share with friends on your Facebook, Twitter, blogs.
Top 100 The Bad Days Quotes
#1. There are days when the result is so bad that no fewer than five revisions are required. In contrast, when I'm greatly inspired, only four revisions are needed. - Author: John Kenneth Galbraith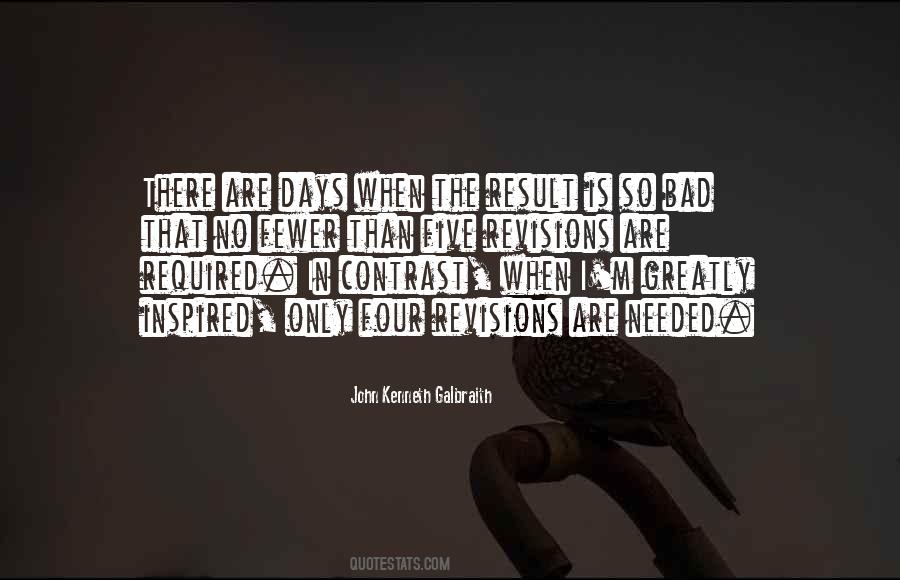 #2. Being uncertain and scared and riddled with doubt some days isn't a sign of bad things to come. It's actually quite the opposite. After all, if great things weren't on the horizon, I don't think the enemy would be so bent on attacking us. - Author: Lysa TerKeurst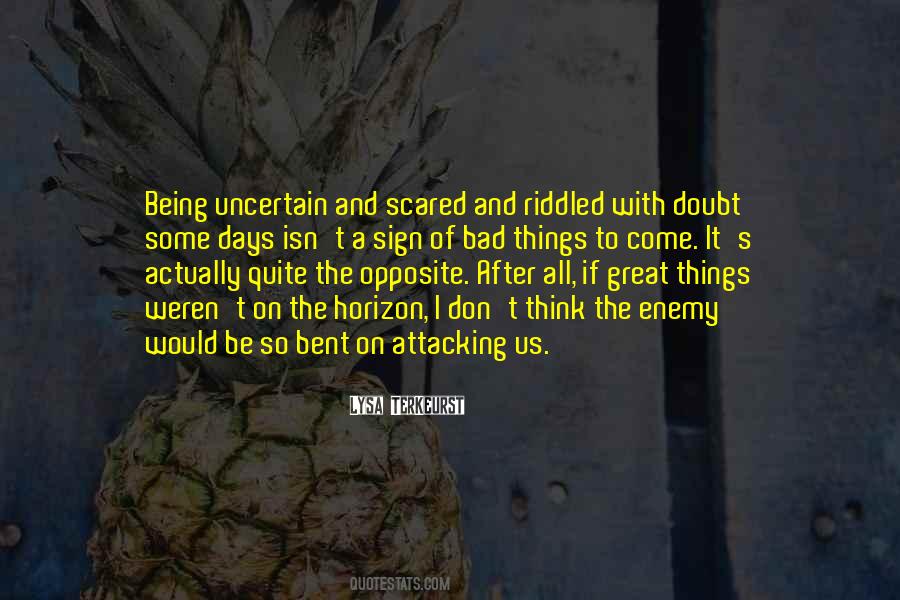 #3. Your worst days are never so bad that you are beyond the reach of His grace. And your best days are never so good that you are beyond the need of God's grace. Every day should be a day of relating to God on the basis of His grace alone. - JERRY BRIDGES - Author: Mark Batterson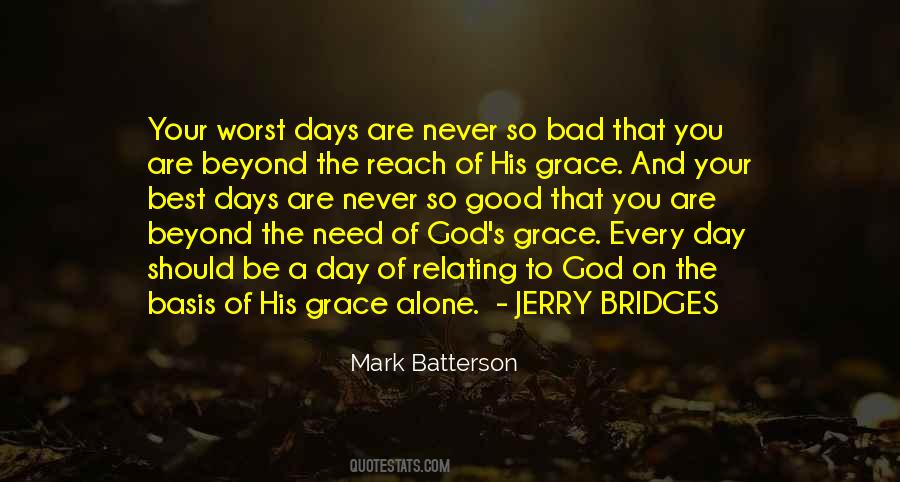 #4. When you're having a bad day at work, a lot of times it's your head. When you're having good days, a lot of times it's the absence of the mind. - Author: Curt Schilling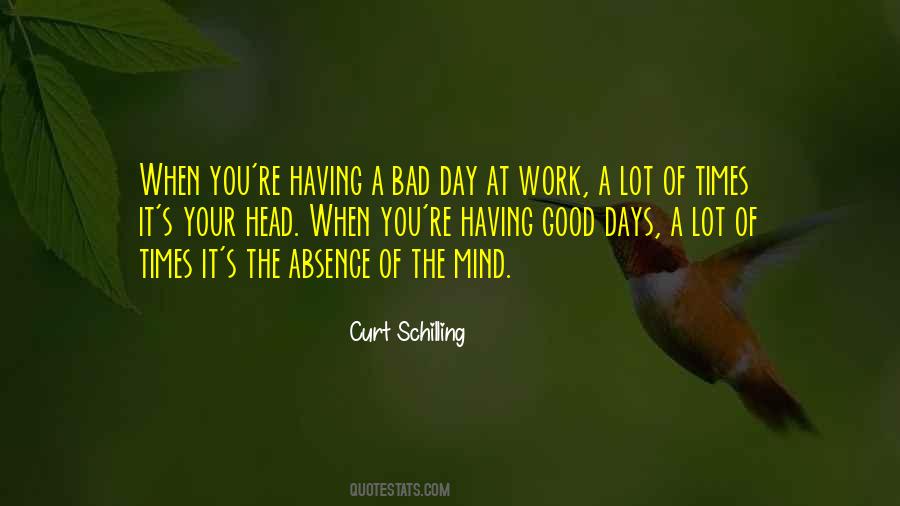 #5. The good days are when you perform; the slow days are when you learn to perform better. The only bad days as a writer are the ones when you are too cowardly or too lazy to sit down at the keyboard and give it everything you have. - Author: Chris Cleave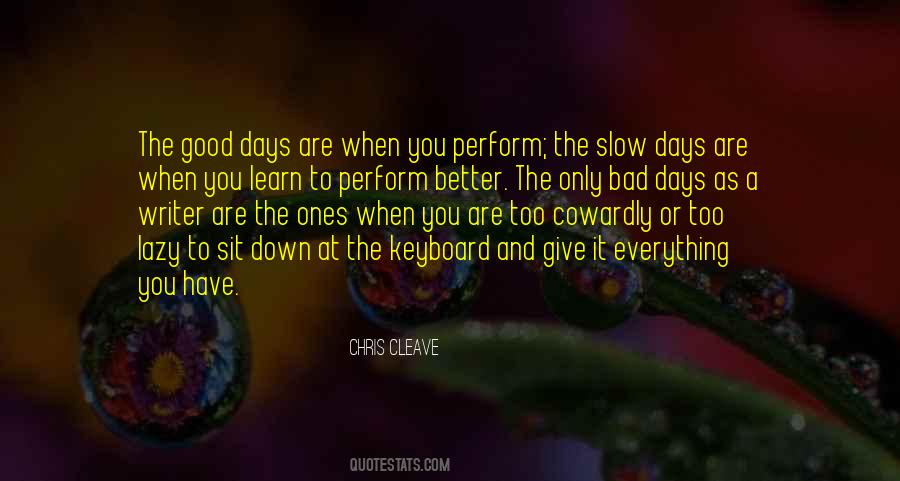 #6. White pages are not bad news. They're just part of the process. What's a sea voyage without long weary days spent crossing the blank bits of the map? It's how you get to the other side. - Author: John Dyson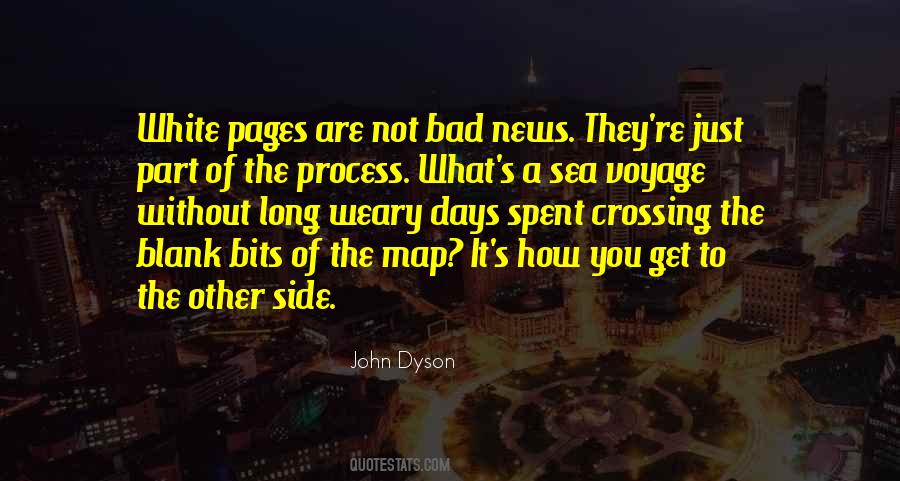 #7. If I give myself a chore, for instance, when I was writing the songs for Shameless, I said to myself, Now, every day for 90 days you have to write a song; good, bad or indifferent. So that was really helpful. - Author: Judy Collins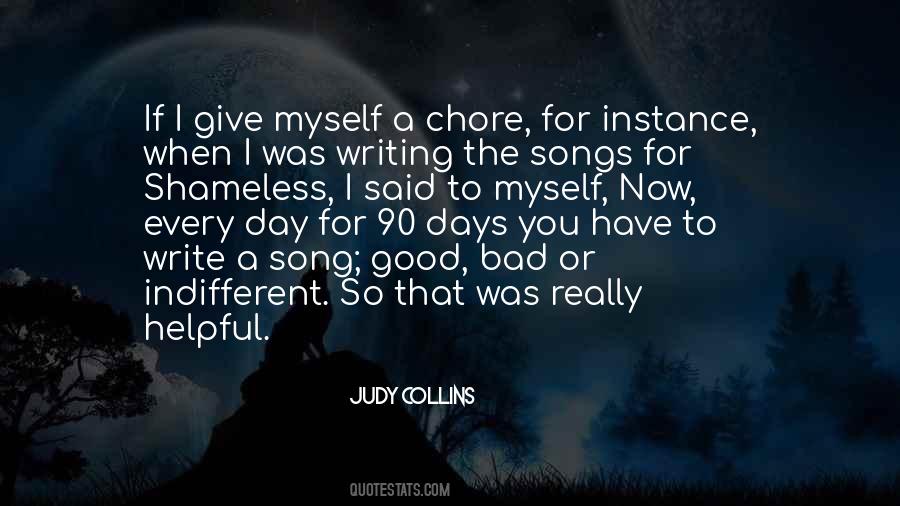 #8. I do not have bad days. I don't wake up in the morning and think that I'm going to get AIDS. I don't dream bad dreams about it. If I did, I'd be giving in to the negativity. - Author: Magic Johnson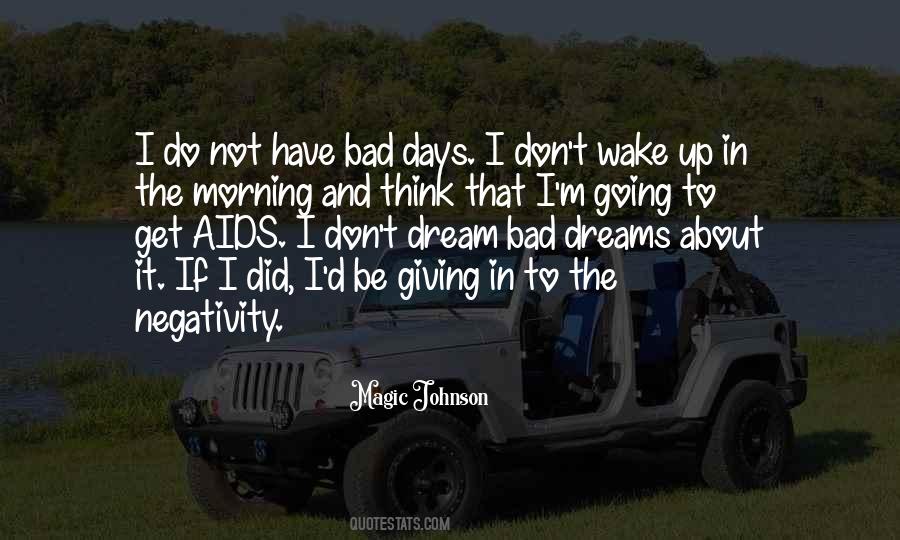 #9. When people said schooldays were the best days of your life, I remember thinking: 'Tell me it's not true. This cannot be it.' I don't think my life has ever been that bad again. It hasn't always been easy but at least I have been free. - Author: Anna Chancellor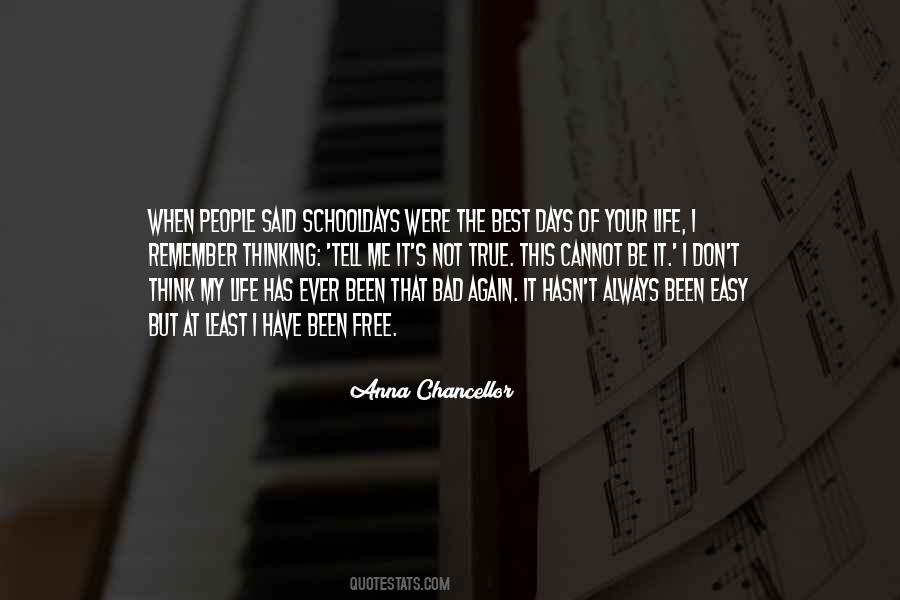 #10. You don't have to be good all the times. It's okay to be hurt sometimes. It's okay to feel lost like you're wandering around in the dark. It's the bad days that make the good ones so much better. - Author: Brittainy C. Cherry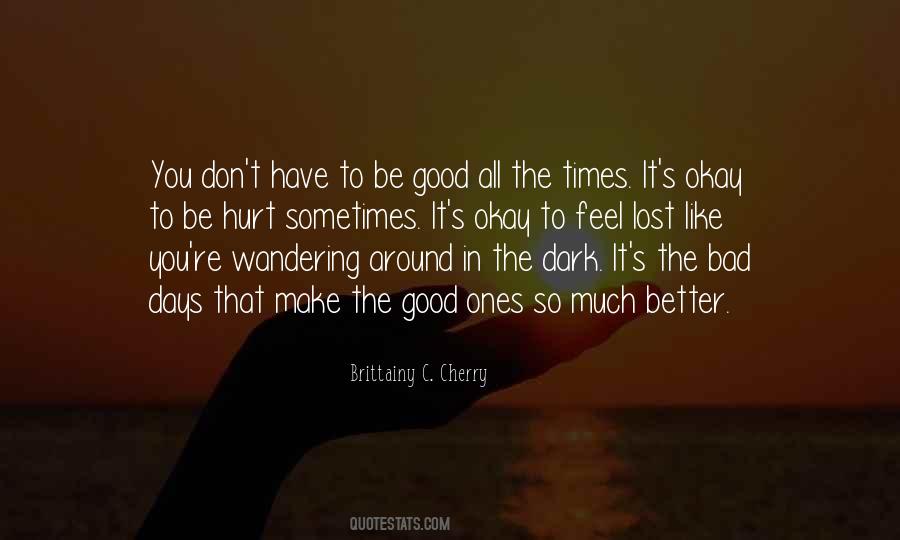 #11. It is right that he too should have his little chronicle, his memories, his reason, and be able to recognize the good in the bad, the bad in the worst, and so grow gently old down all the unchanging days, and die one day like any other day, only shorter. - Author: Samuel Beckett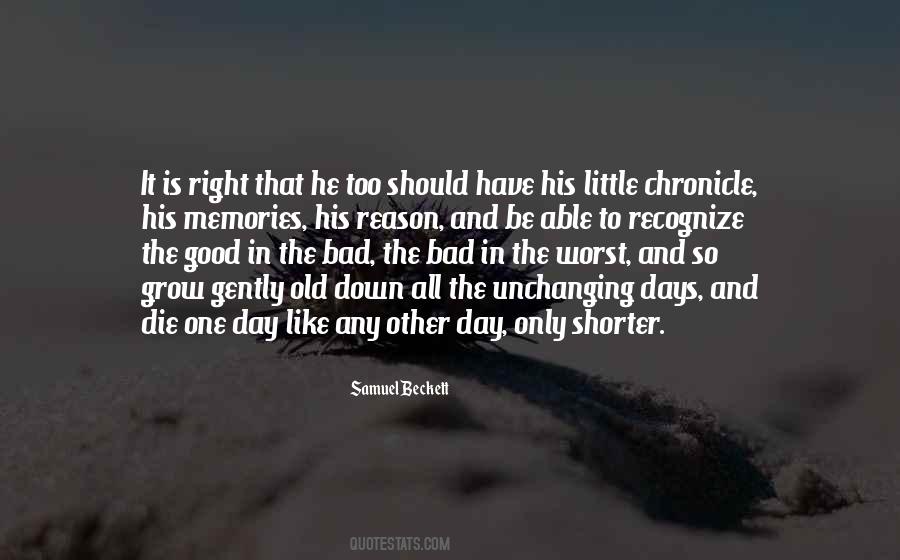 #12. When I have bad days, I just eat lots of chocolate ice cream and dance to the 'Lion King' soundtrack. It's really odd, but it's true. - Author: Blake Lively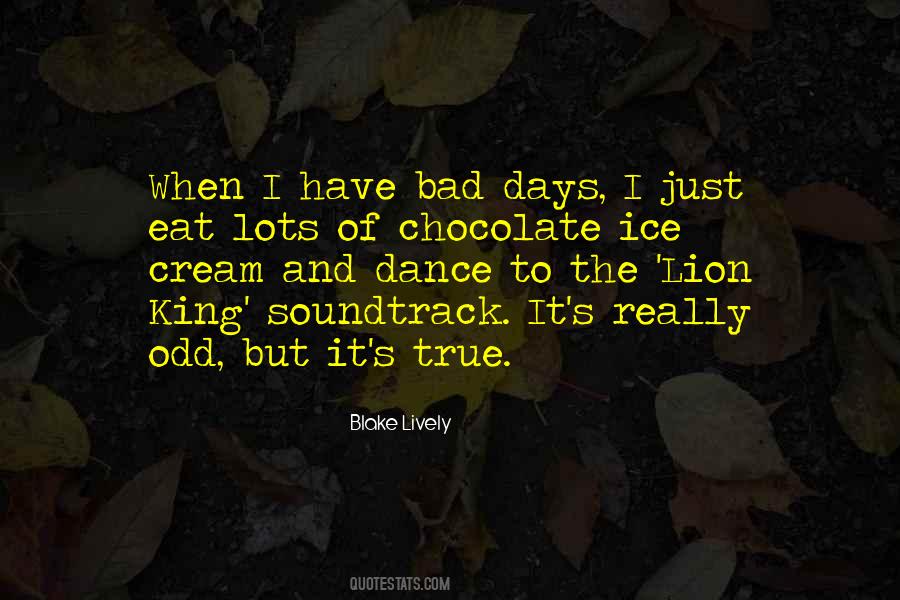 #13. Seven of those days were pretty good. The eighth day was the bad one. - Author: Dennis Hopper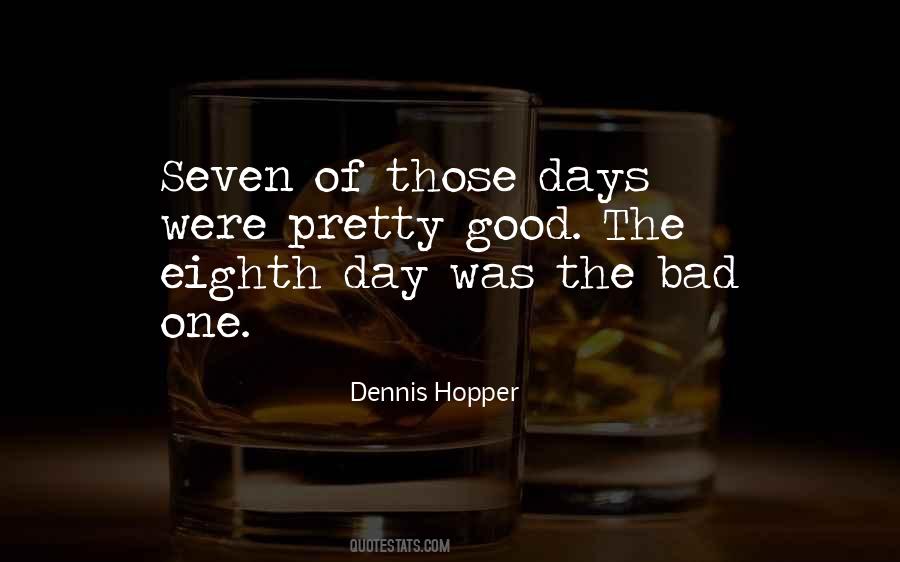 #14. Some days are just born bad. You know the type. The kind you want to sweep into your palm like spilled salt and toss over your left shoulder, hoping that if you don't look back nothing worse will happen. - Author: Marie Rutkoski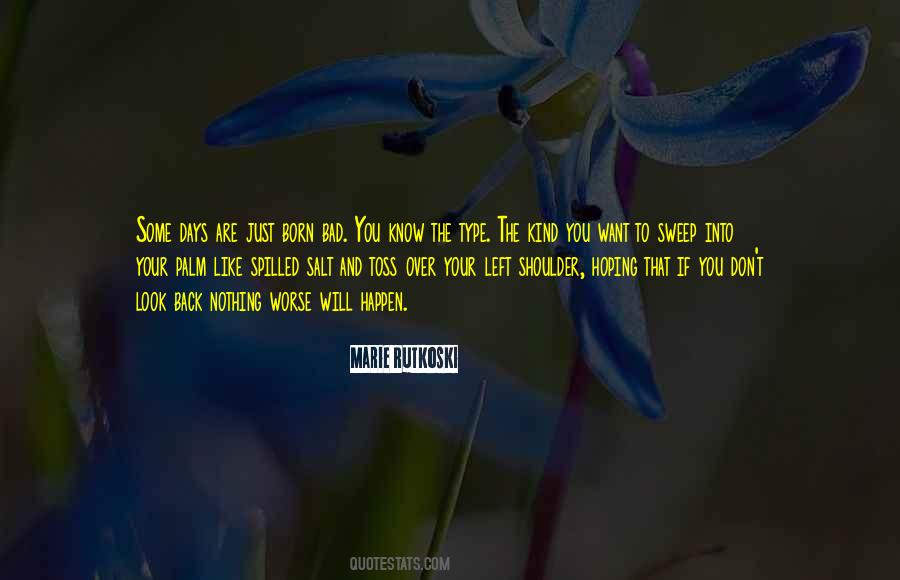 #15. These are bad days for all of us who remember always that when real world forces come into conflict, the final result is never as dark as we mortals guess it in very difficult days. - Author: Franklin D. Roosevelt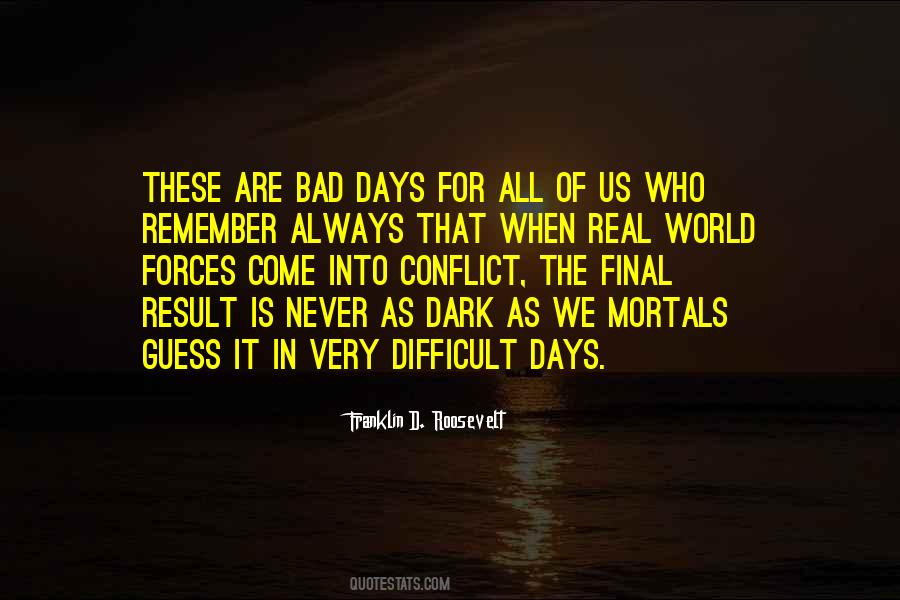 #16. I still have my bad days when I think I'm not getting everything I deserve. But those pass quickly once my Mother gets on the phone and says, 'listen, we used to eat rocks and walk 80 miles a day to school. - Author: Bonnie Hunt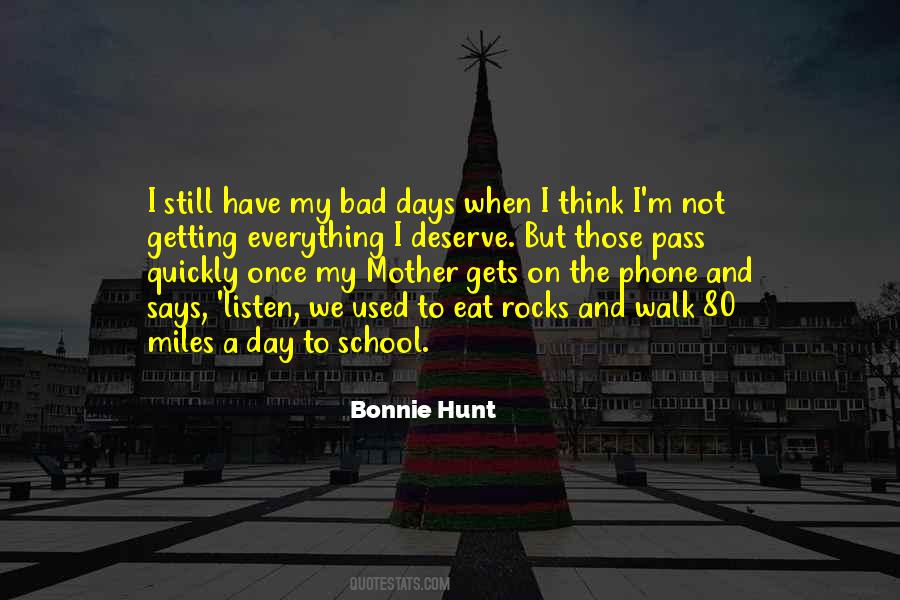 #17. Remember that the bad days are not forever, and the trouble which seems so terrible at last. - Author: George Orwell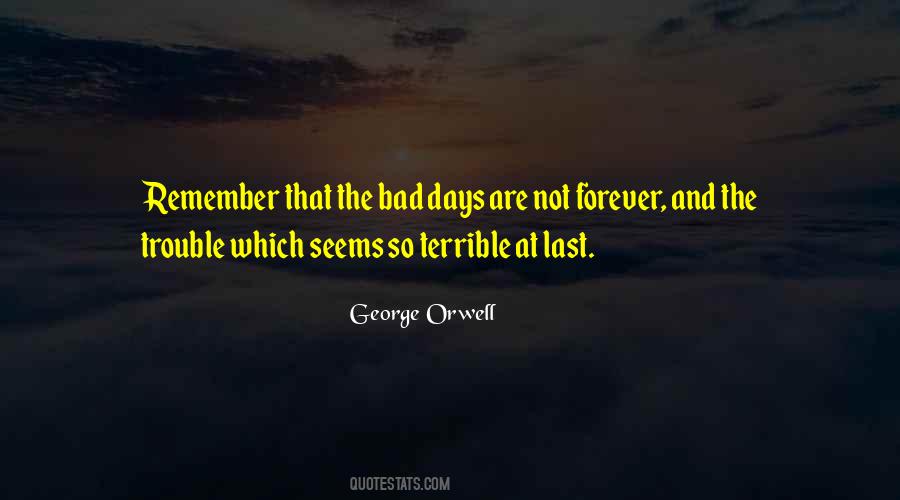 #18. There is a calming aura at the ocean's edge, despite the frothing foam, crashing waves and roaring white noise. The ocean looks the same on your good days and your bad days. Nice to know on the worse of days that there are few things you can utterly count on. P. 107 - Author: Susan Meissner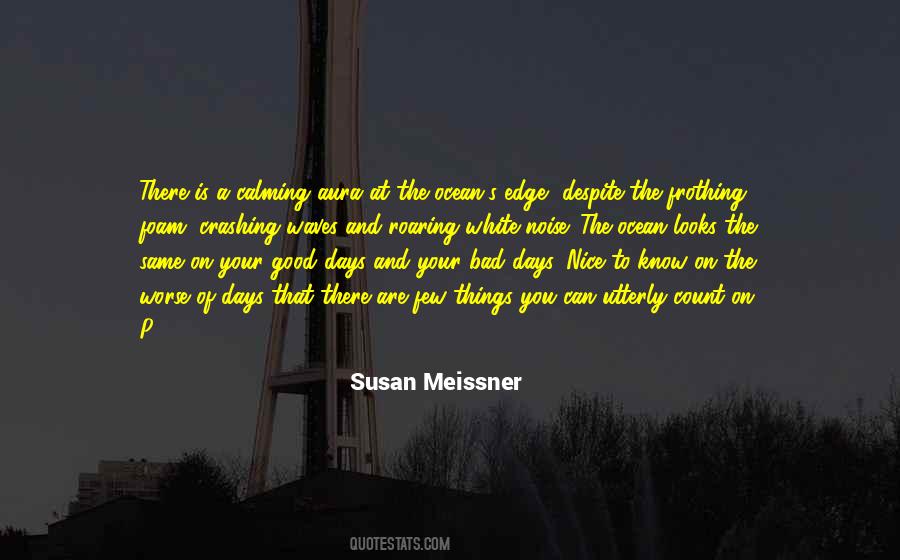 #19. I have starved and it isn't nearly as bad as is generally supposed. Four days and a half was my longest stretch. Maybe there are pains that come later. Personally I think terror is the painful part of starvation. - Author: John Steinbeck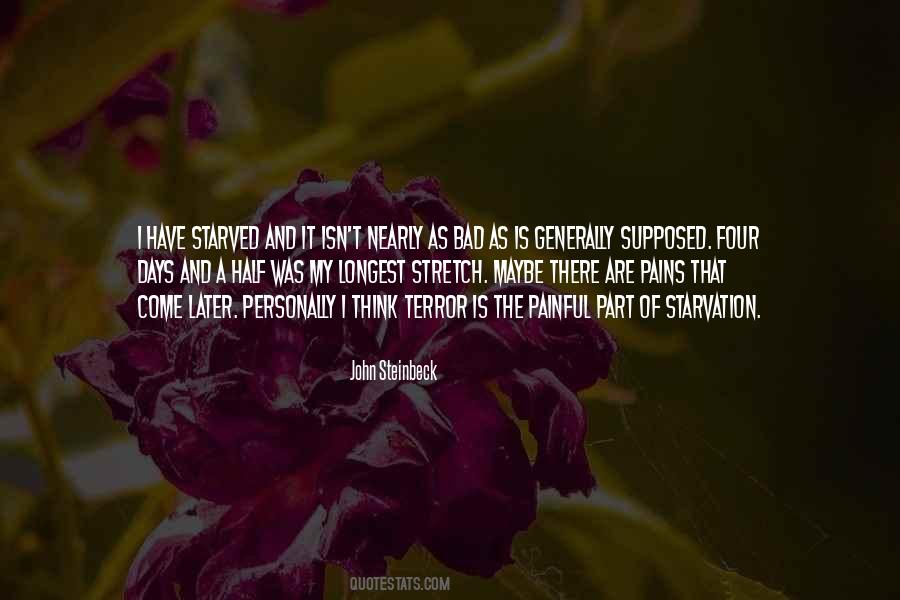 #20. That no journey out of grief was straightforward. There would be good days and bad days. Today was just a bad day, a kink in the road, to be traversed and survived. - Author: Jojo Moyes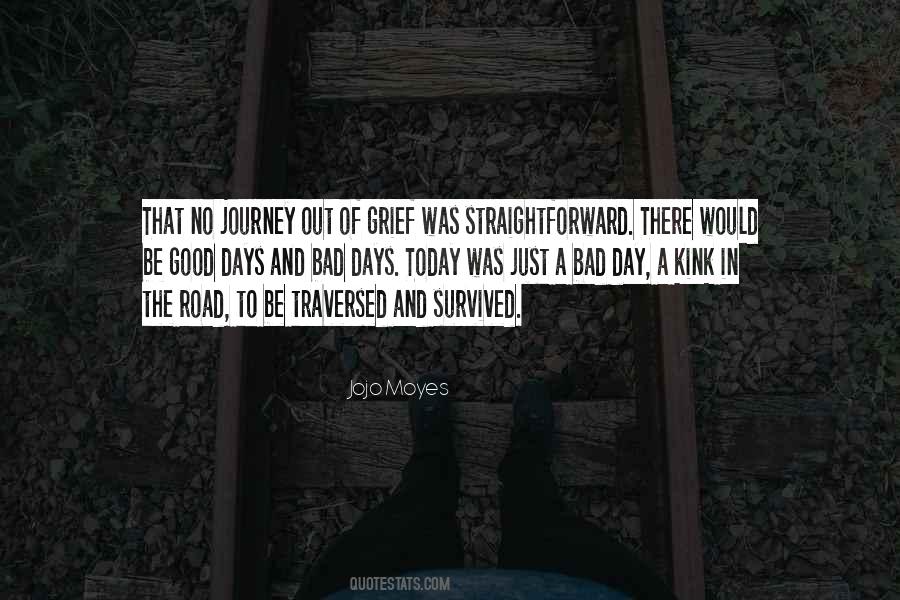 #21. I chose me, and it might not be perfect, it might not be a dream or fairytale, but my good days outweigh the bad. That's all we can hope for in life, isn't it? - Author: J.J. McAvoy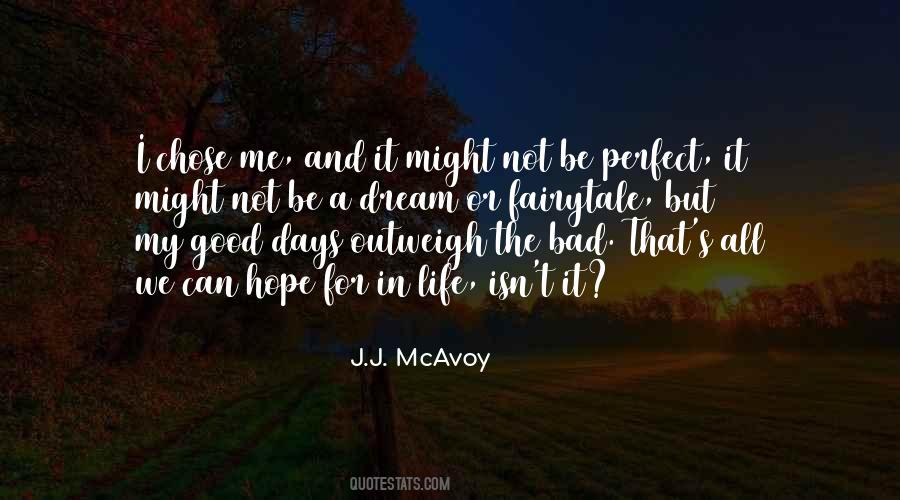 #22. These days, the phone only carries bad news. It's all "your student loan is past due" and "your uncle Chris is in the hospital." If it's anything fun or exciting, like an invitation to a party or a secret project in the works, it will come through the internet. - Author: Robin Sloan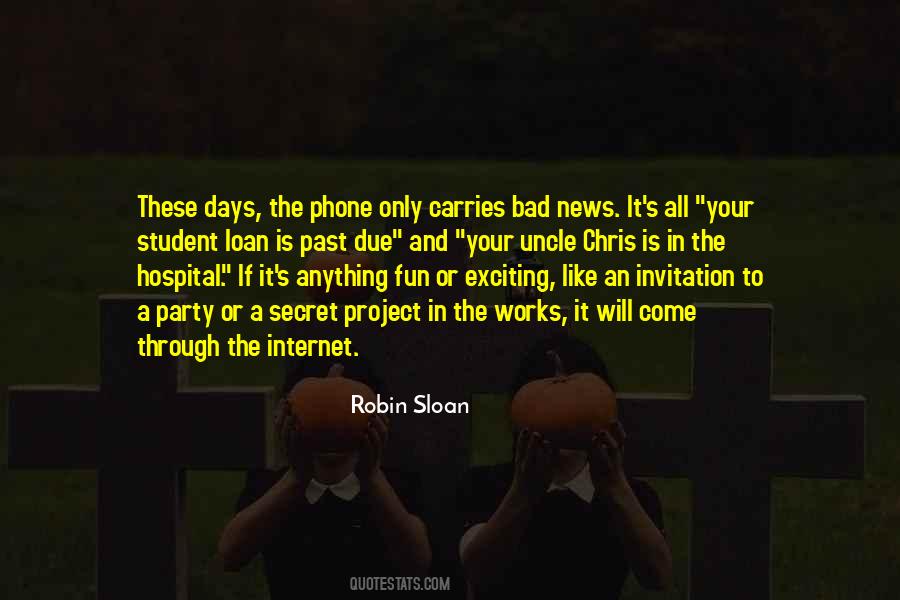 #23. Bad days will come for each one of us, and the more we've thought these things through ahead of time, the better prepared we'll be when tragedy strikes or struggles emerge. - Author: Terri Blackstock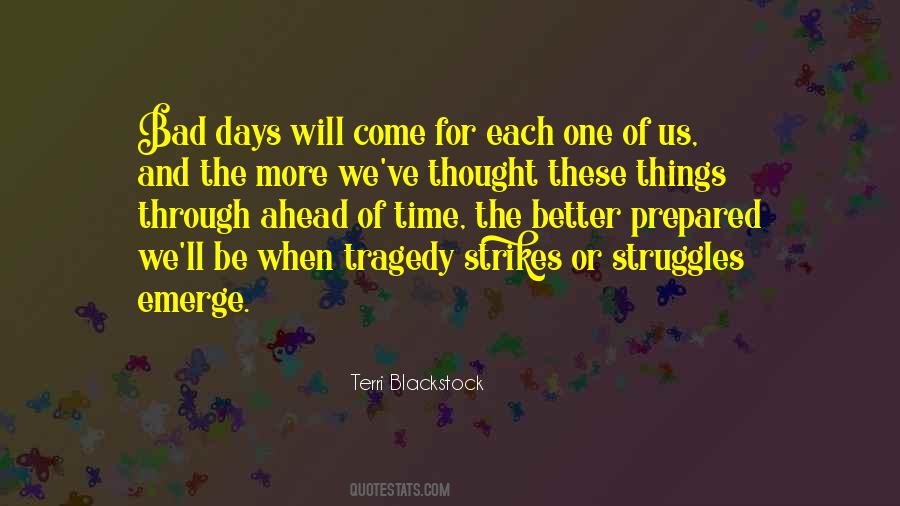 #24. Nothing a recovering addict likes more than a tale of how bad it had been in the old days, and how low a fellow addict had sunk. Let the one-downsmanship begin. - Author: Lev Grossman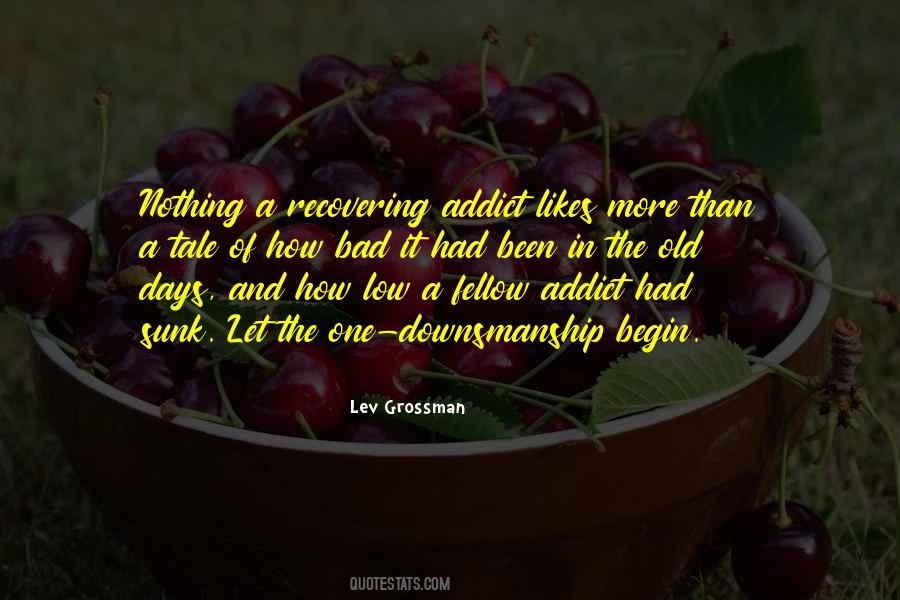 #25. I'm active even on bad days; it's tough to pin me down. People ask me if I'm a morning or night person. I'm an all-the-time person. I like drinking coffee, but I do it with lots of milk because my energy levels are high even without caffeine. You could call me Obelix, except I don't have a belly. - Author: Bipasha Basu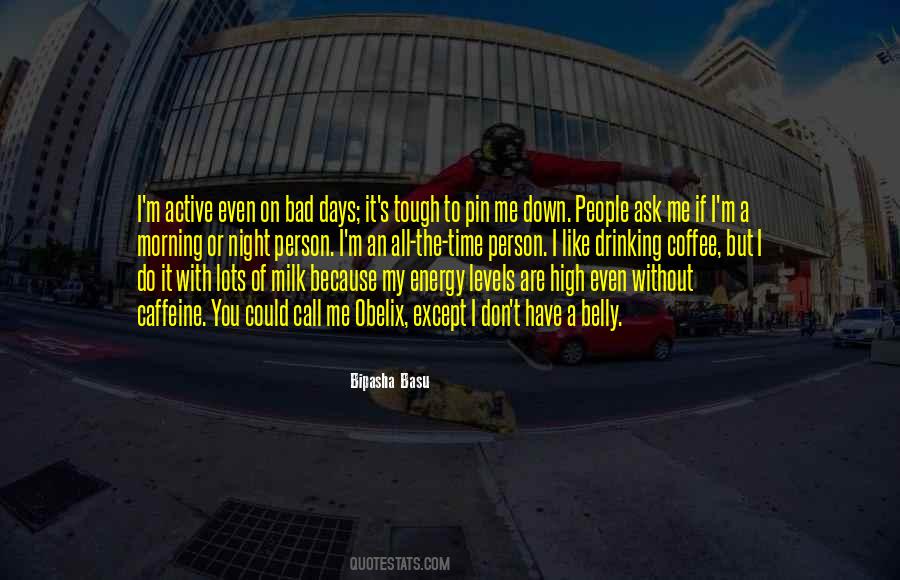 #26. It hurt me to be away from him. Some days I went crazy wondering what he was doing. And when I couldn't handle it, I practiced music. I really had Aspen to thank for me being the musician that I was. He drove me to distraction.
And that was bad. - Author: Kiera Cass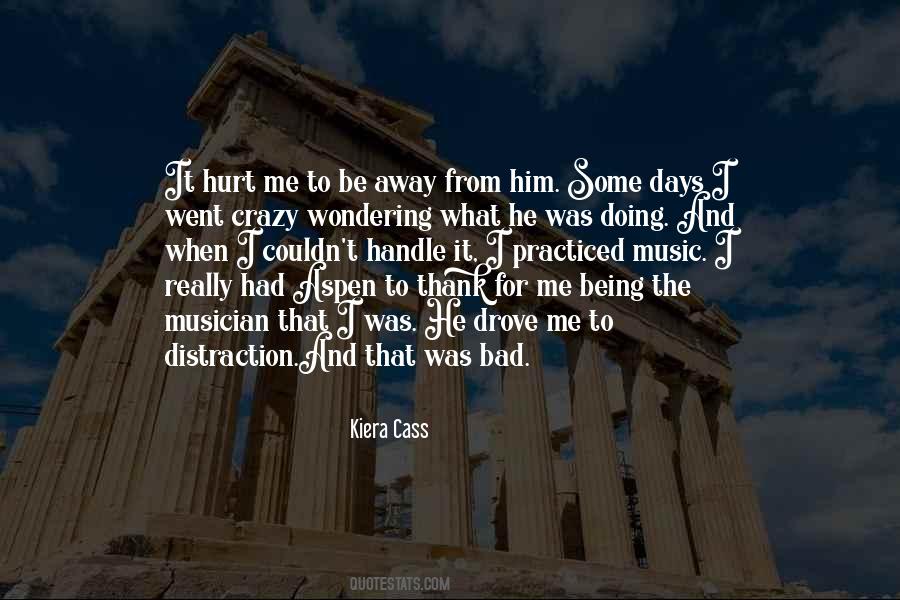 #27. Were you here in the bad old days? ... That's why you can't read and write then! - Author: Prince Philip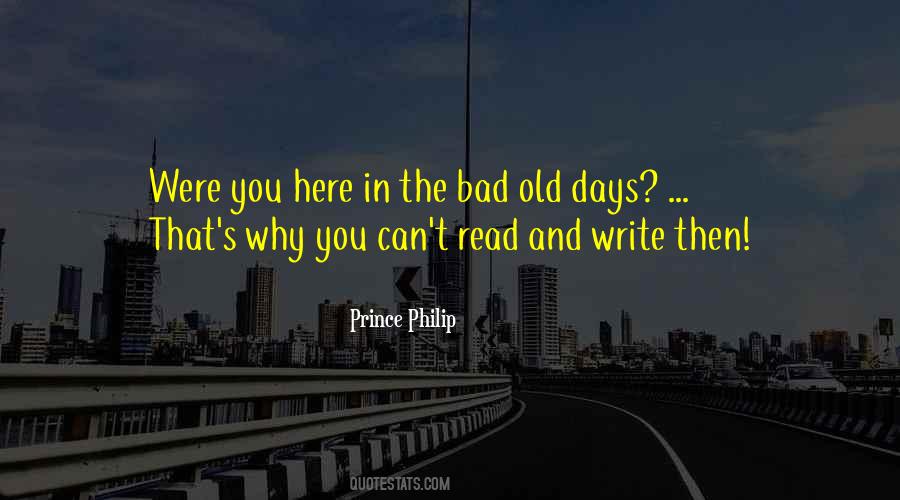 #28. I have my good days and my bad days, but I don't have as much energy as I used to back when I was young and foolish and didn't count the cost - and it takes a lot - to write. - Author: Anne McCaffrey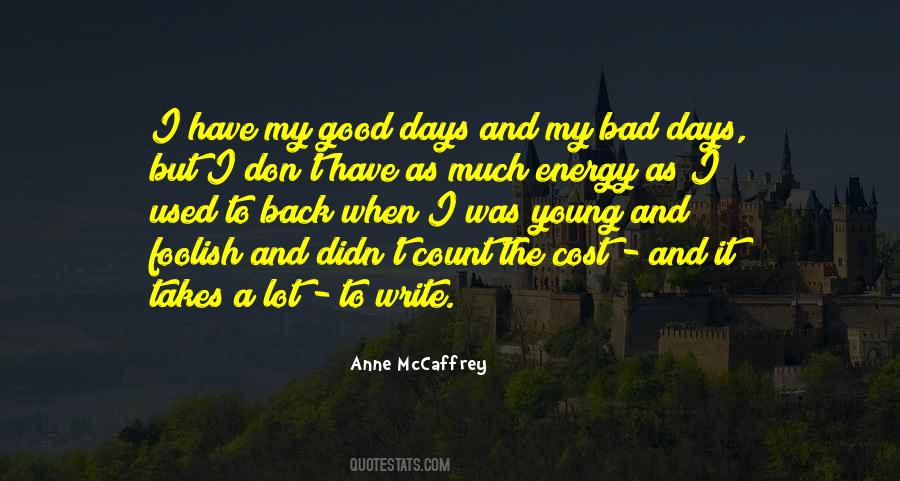 #29. On bad days you wonder, 'Why not just back off from the war and lead a quiet metalife? - Author: David Mitchell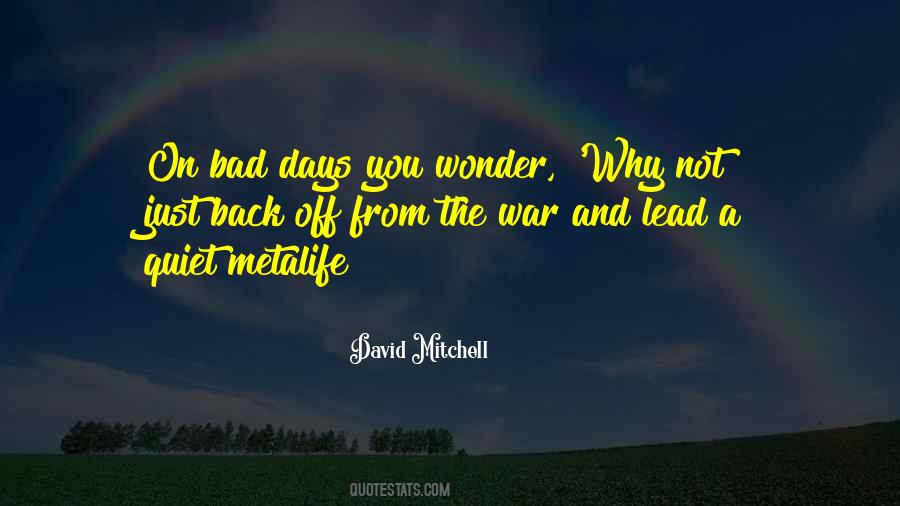 #30. There are no bad days in the market. When the market is down, you've got bargains, and it's lovely to think of what you are buying at low prices. When the market is up, the bargains have gone, but you're rich. - Author: Bruce Greenwald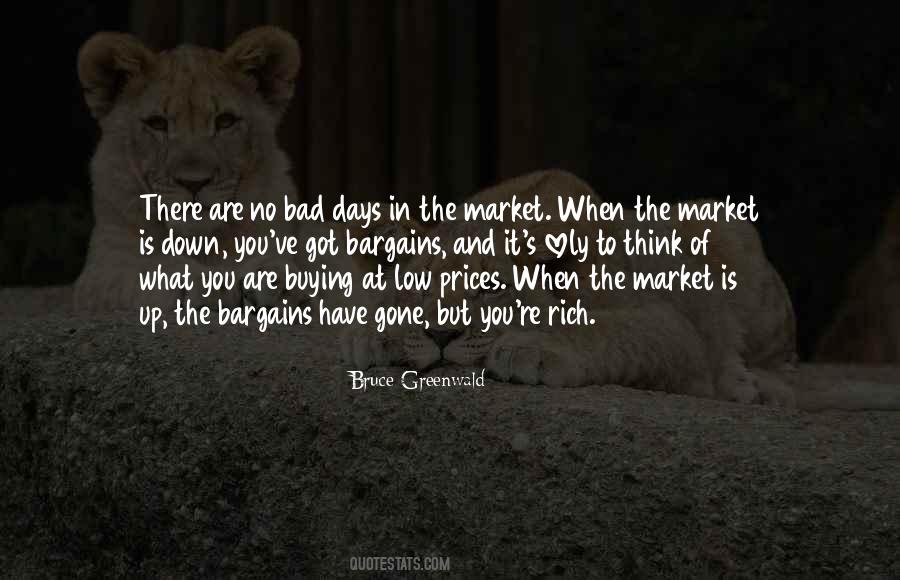 #31. You don't have to primp for God. He thinks you're gorgeous, even on the bad hair days. - Author: Janice Thompson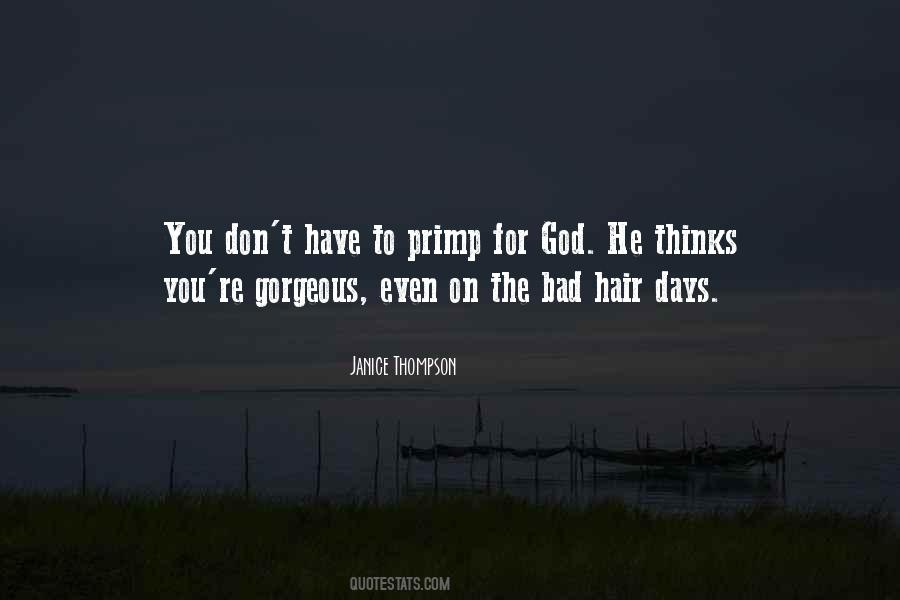 #32. I wish my dead days would quit bothering me and leave me alone. The bad stuff keeps coming back, and it's the worst rhythm there is. The repetition of a man's bad self, that's the worst suffering that's ever been known. - Author: Saul Bellow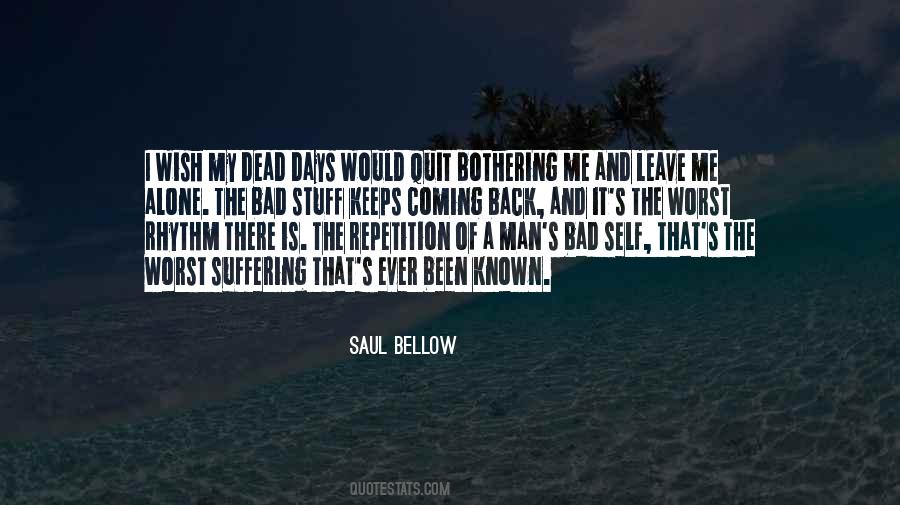 #33. These "sometimey" feelings are welcomed to stay ... reminiscent of ying and yang: they need eachother to help me get through the good & bad days - Author: Alexandra Elle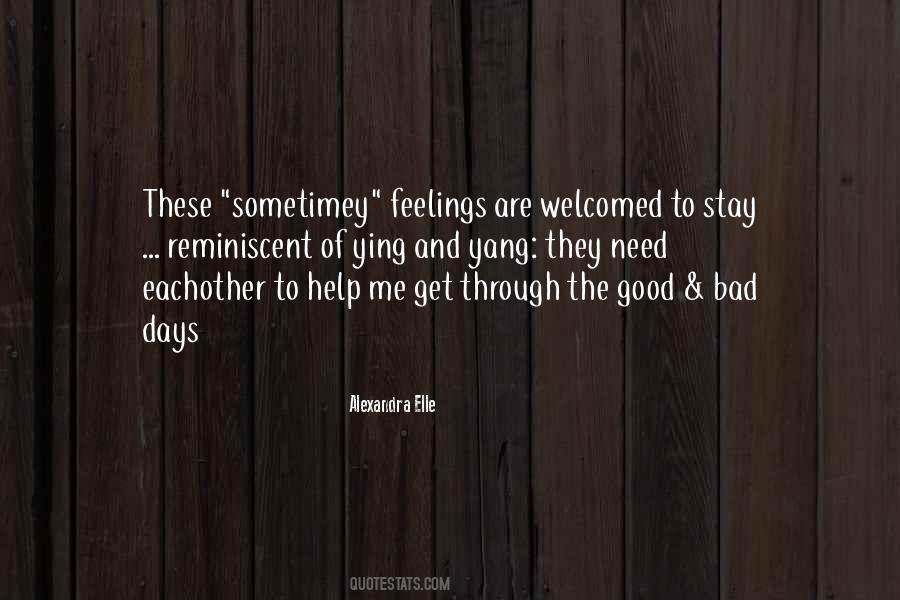 #34. We imply, and often believe, that habitual vices are exceptional single acts, and make the opposite mistake about our virtues - like the bad tennis player who calls his normal form his 'bad days' and mistakes his rare successes for his normal. I - Author: C.S. Lewis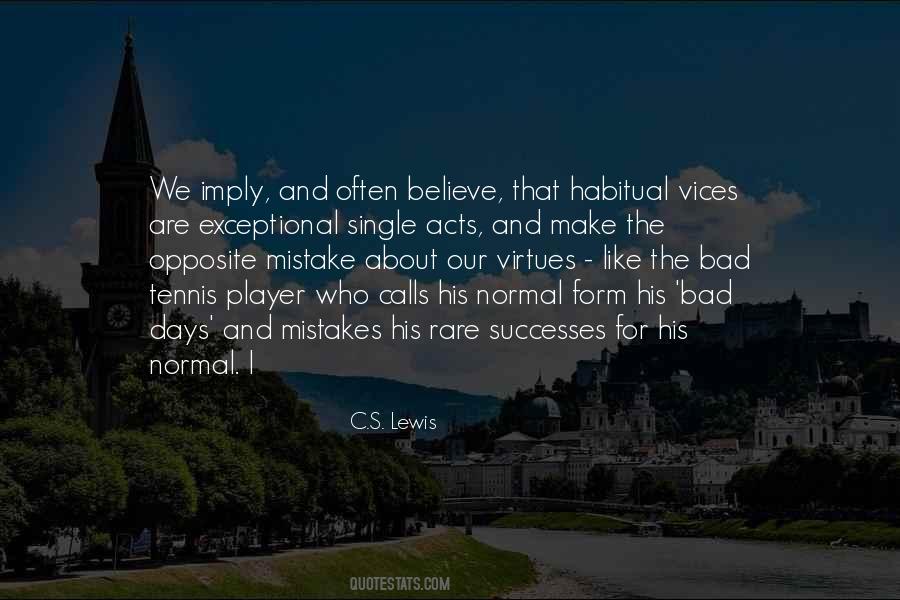 #35. The eyes healed in a matter of a few days, as eyes heal quickly, mine just heal faster than anybody else. I was back in the strip club hours later rehabbing my eyes. - Author: Don Frye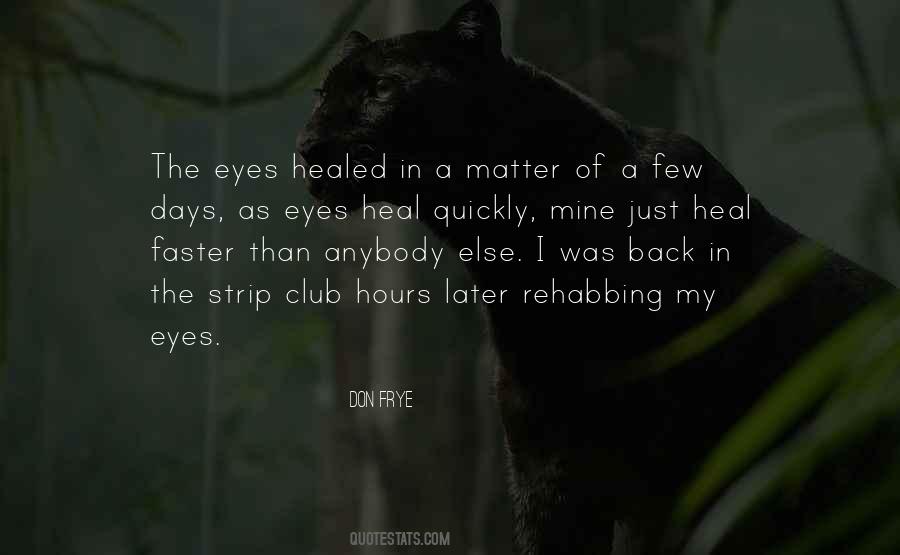 #36. It's just that I get distracted, and I get Lost kind of easily, and sometimes I have really bad days ...
... When, you know, I just want to Hide or Scream or Bleed or something, and ... All that ... - Author: Neil Gaiman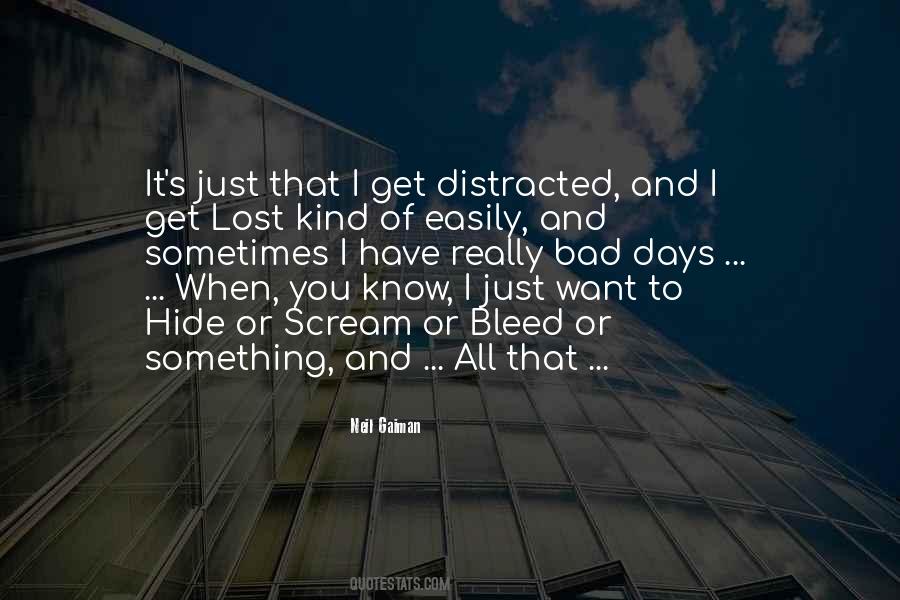 #37. I turned to the novel, an artistic form which had in former days been neglected and had thus acquired a bad reputation, but which during the nineteenth century had developed and elevated itself to the ranks occupied by drama and the ancient epic. - Author: Henrik Pontoppidan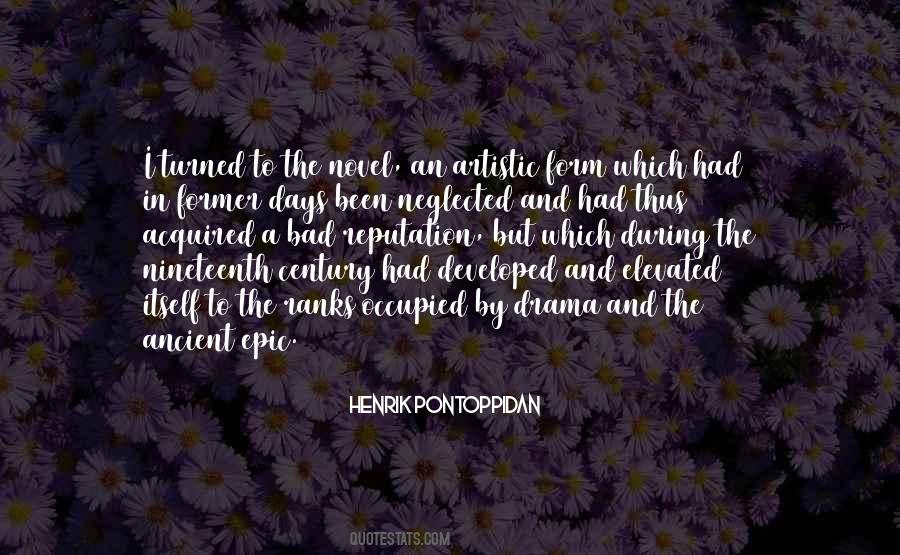 #38. I work too much to be an appropriate parent. I feel like a bad mom to my dog some days because I'm just not here enough. I just feel like I would do a bad job if I took the time to literally give birth to a kid right now and try and juggle everything I'm doing. - Author: Rachael Ray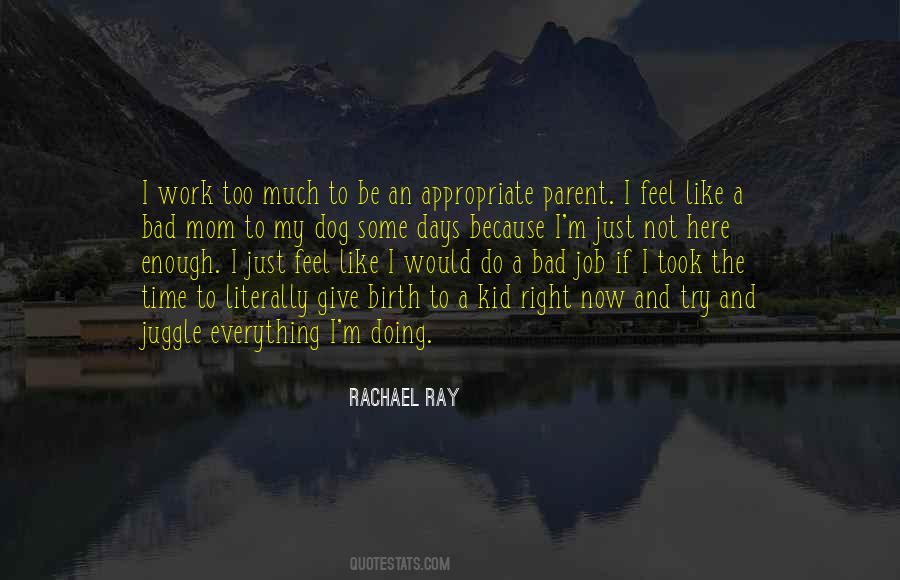 #39. You've always got to have that inner confidence in you. That's where it all starts. You're gong to have good days, you're going to have bad days. You've got to have the same desire and try to get better each day. - Author: Scott Tolzien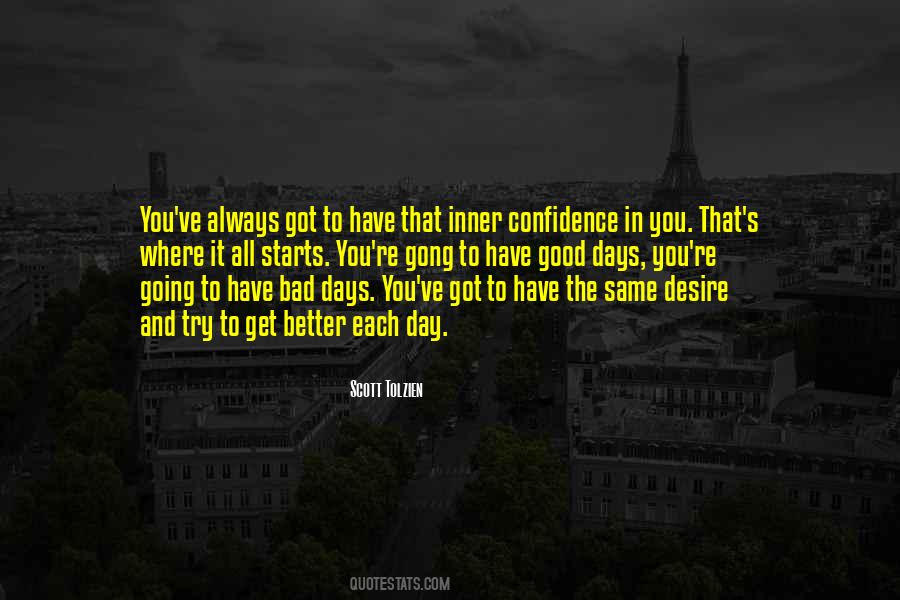 #40. You have good days, you have bad days. But the main thing is to grow mentally. - Author: Floyd Mayweather Jr.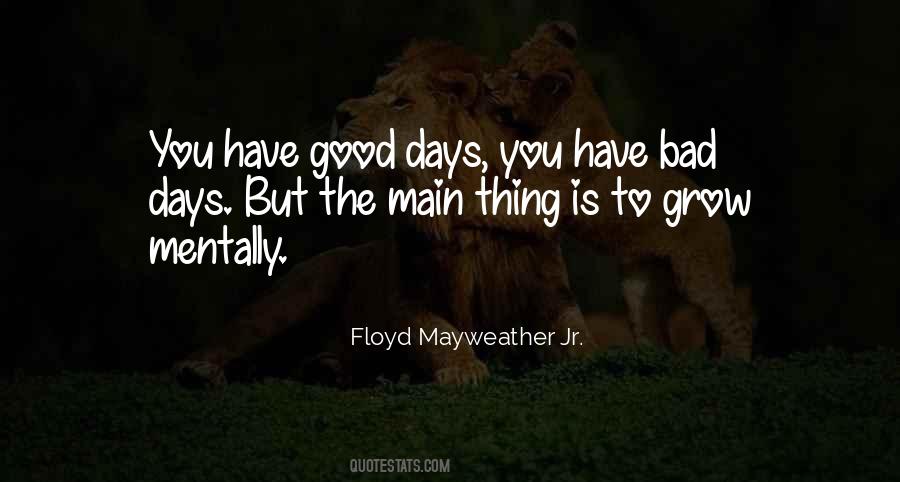 #41. We all have bad days, but one thing is true; no cloud is so dark that the sun can't shine through. - Author: Miranda Kerr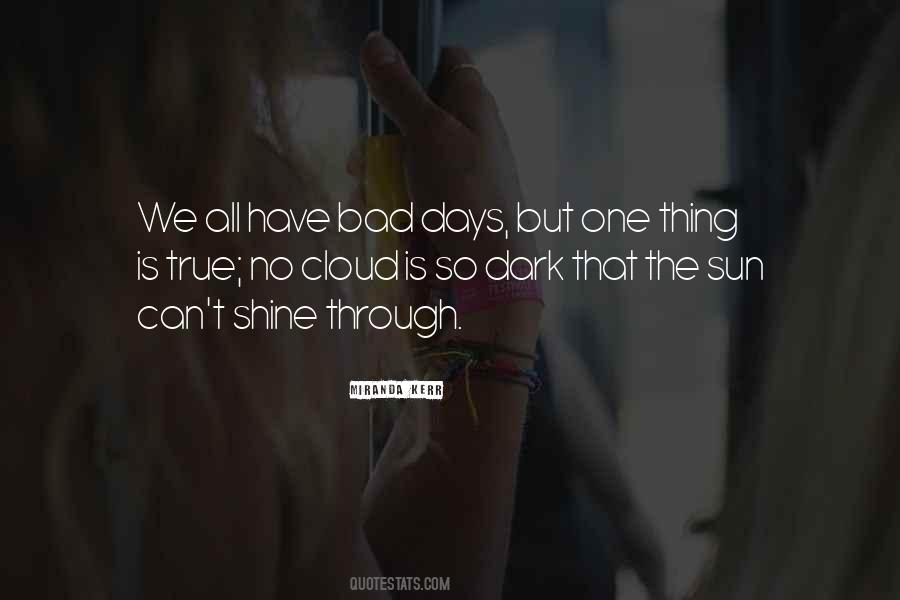 #42. I come from a background of 40 pages a day. The other side of the coin is quality can suffer a bit on those shows and you can get into some bad habits but thanks to those days, I can do memorization in my sleep. - Author: Sherri Saum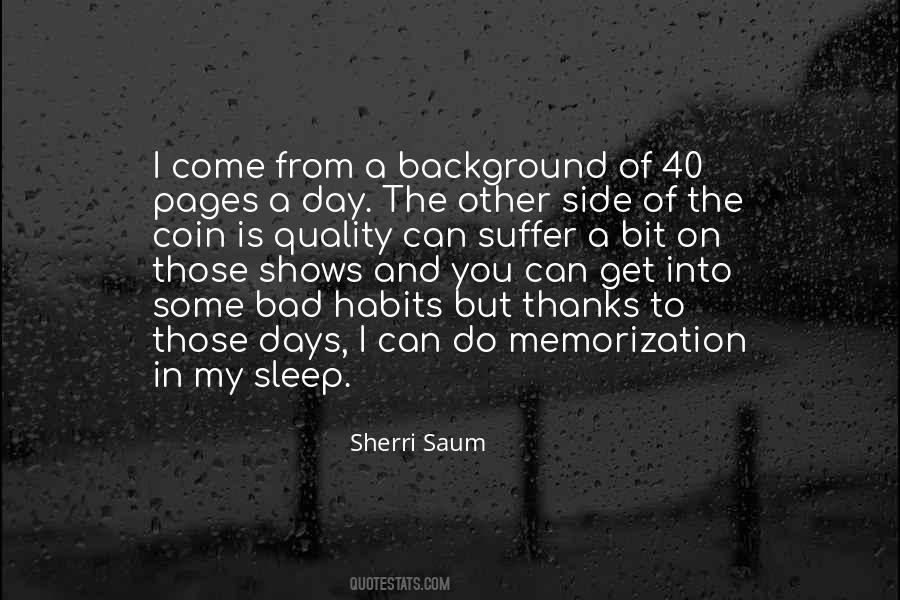 #43. It was probably easier in the old days when the bad guys rode into town wearing black capes or whatever bad guys wore and the milk cows were ownded by honest people. Right off the bat, you'd know who you were dealing with. Now everybody dresses alike. - Author: Joan Bauer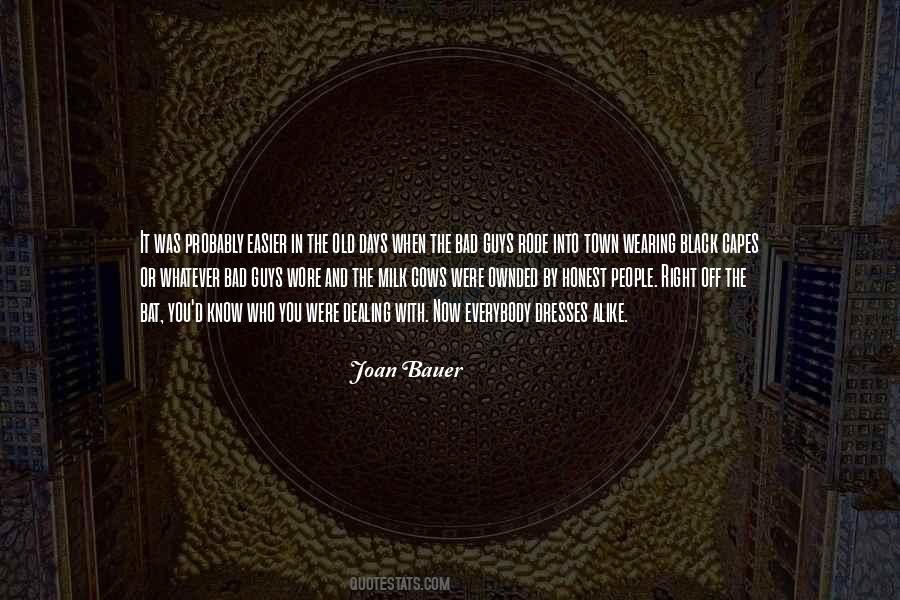 #44. The expression 'there is nothing like the good old days' does not mean that fewer bad things happened before, but fortunately, that people tend to forget about them. - Author: Ernesto Sabato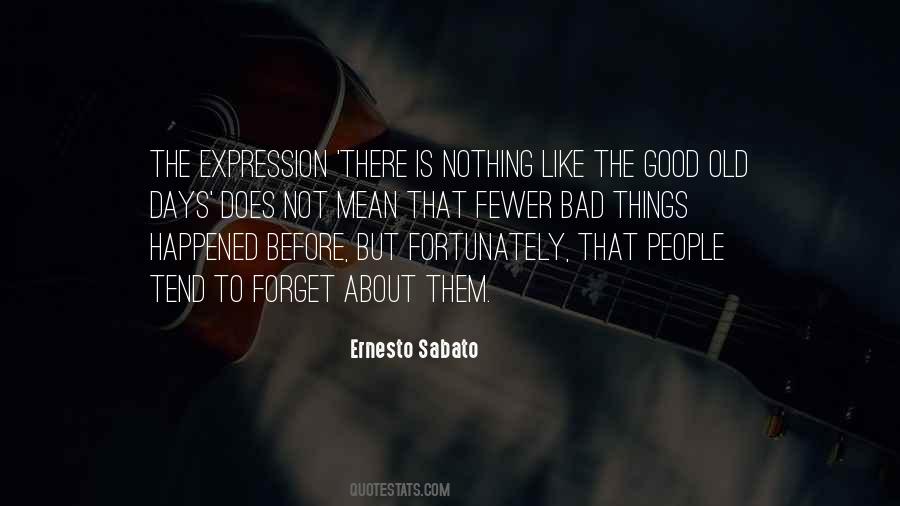 #45. I love 'Breaking Bad.' I'd watch Bryan Cranston read the phone book, for days. - Author: Joel Kinnaman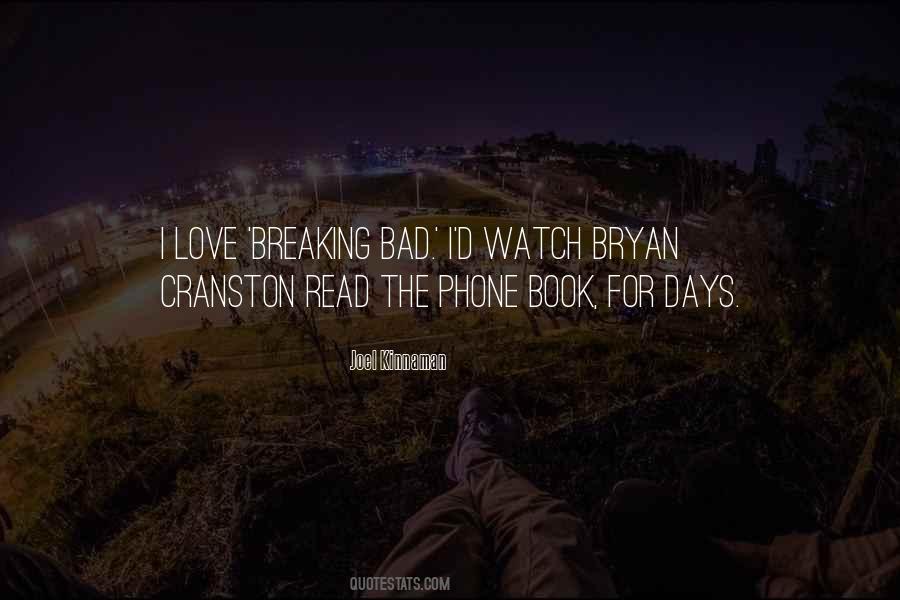 #46. The good ole days weren't always good, and tomorrow ain't as bad as it seems. - Author: Billy Joel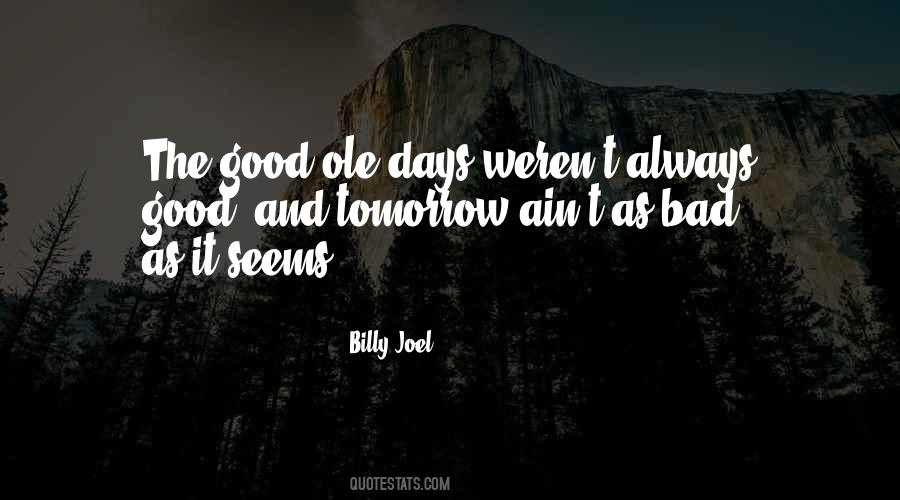 #47. When you love life passionately, a cloud of beauty floats above, adding an array of wonders to even the worse of days. - Author: Avra Amar Filion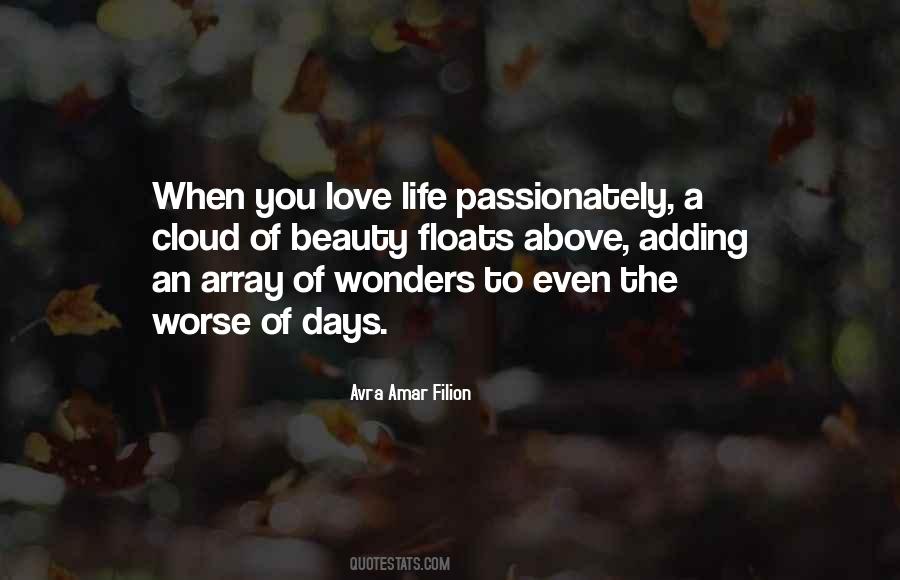 #48. I cannot forget two things in my whole life; the bad days I have suffered and good days I have enjoyed - Author: M.F. Moonzajer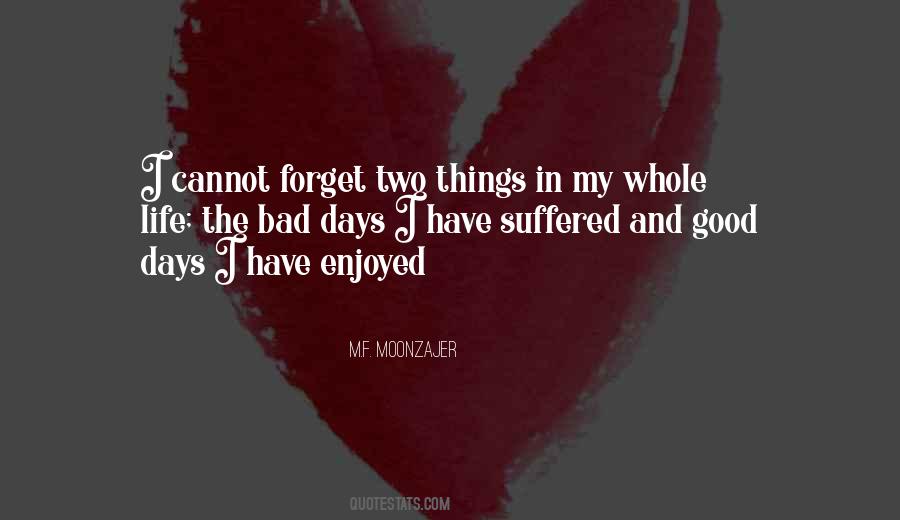 #49. If I had created myself, I would be taller, blond, and more well endowed, financially. I would have cast out spiders and bad-hair days. Therefore, and hence, I believe strongly in a Creator who not only gave me the gift, but the free will to create my own journey through life. - Author: Audrey Conn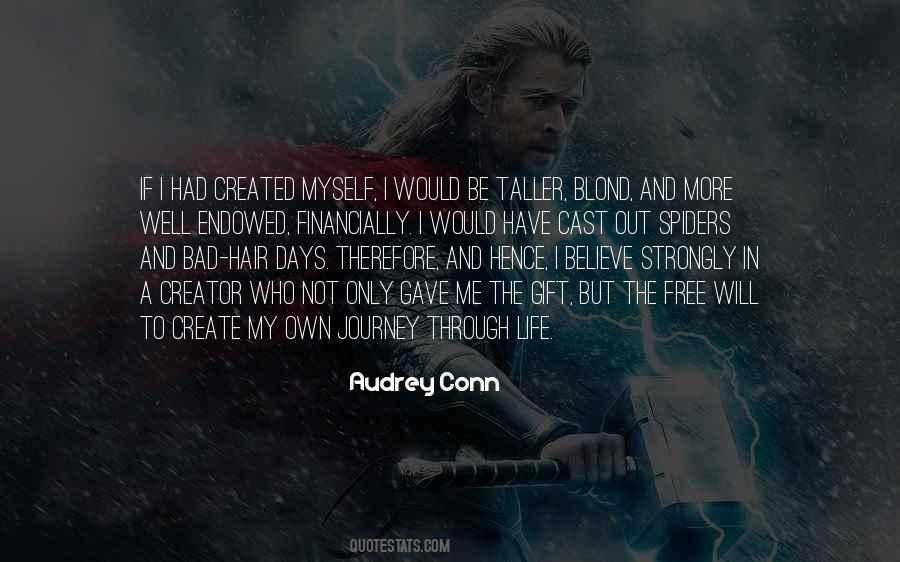 #50. I think the thing I miss most in our age is our manners. It sounds so old-fashioned in a way. But even bad people had good manners in the old days, and manners hold a community together, and manners hold a family together; in a way, they hold the world together. - Author: Nancy Friday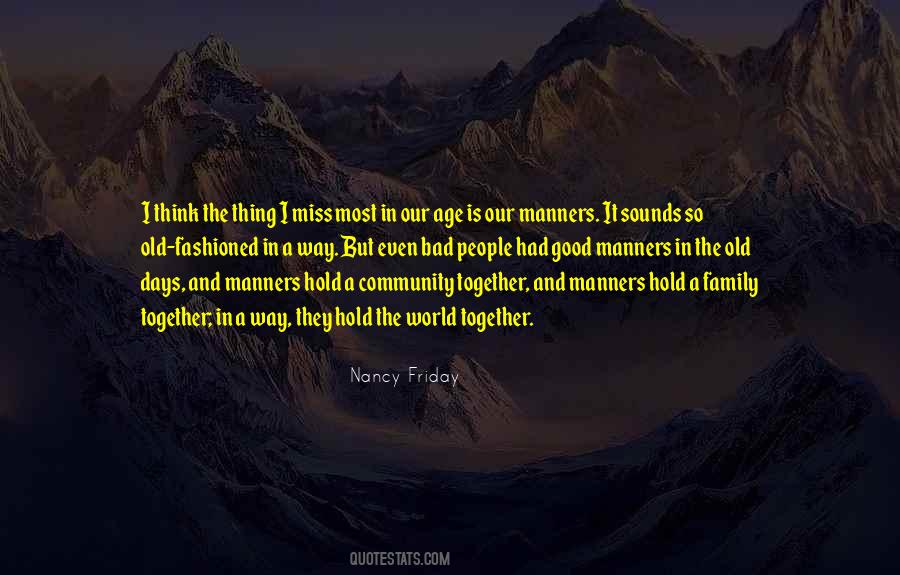 #51. Despite a few really bad days we had quite a lot of fun making Low, especially when all the radical ideas were making sense and things were starting to click. - Author: Tony Visconti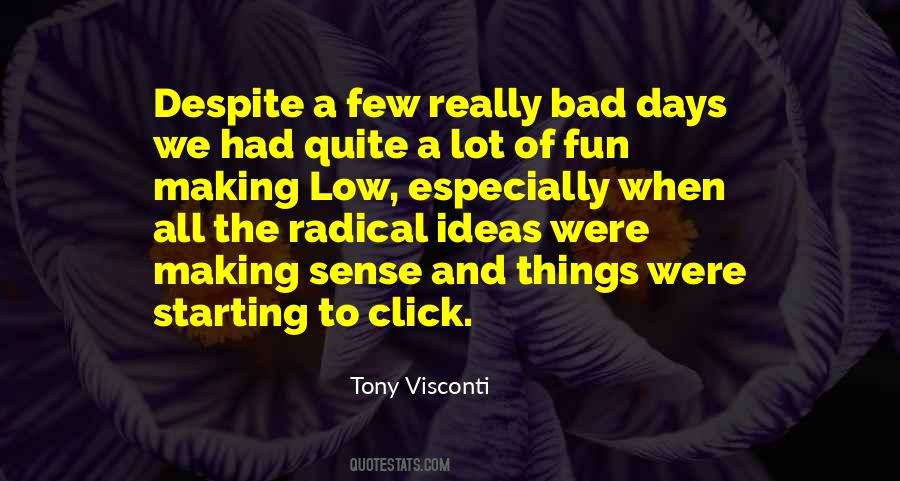 #52. I never considered myself a supermodel or anything like that. I mean, I don't think I'm ugly. I have good days and bad days, and I like when I'm fit and lean and all of those things that any woman likes, but it's not the eye of the hurricane for me. - Author: Chelsea Handler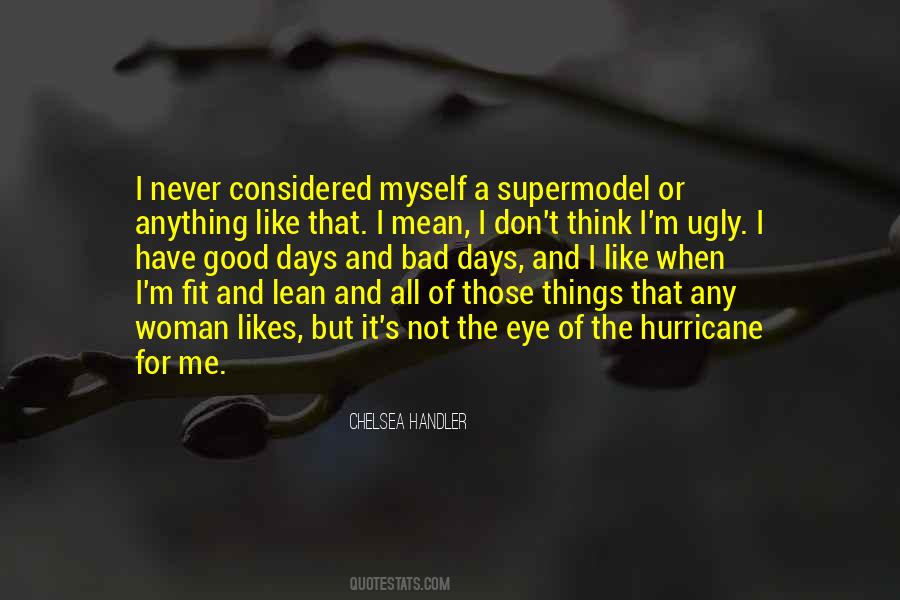 #53. Mostly what you lose with time, in memory, is the specificity of things, their exact sequence. It all runs together, becomes a watery soup. Portmanteau days, imploded years. Like a bad actor, memory always goes for effect, abjuring motivation, consistency, good sense. - Author: James Sallis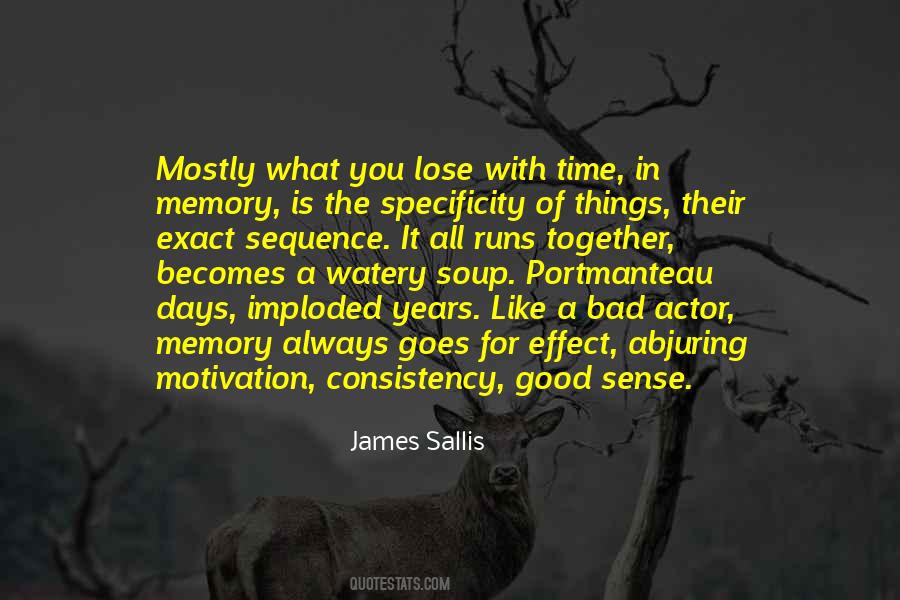 #54. As Christians, we're going to have bad days, but they aren't typically a result of our lack of love for Jesus. The fact is we live in a sinful world. Heartache is bound to come. - Author: Will Davis Jr.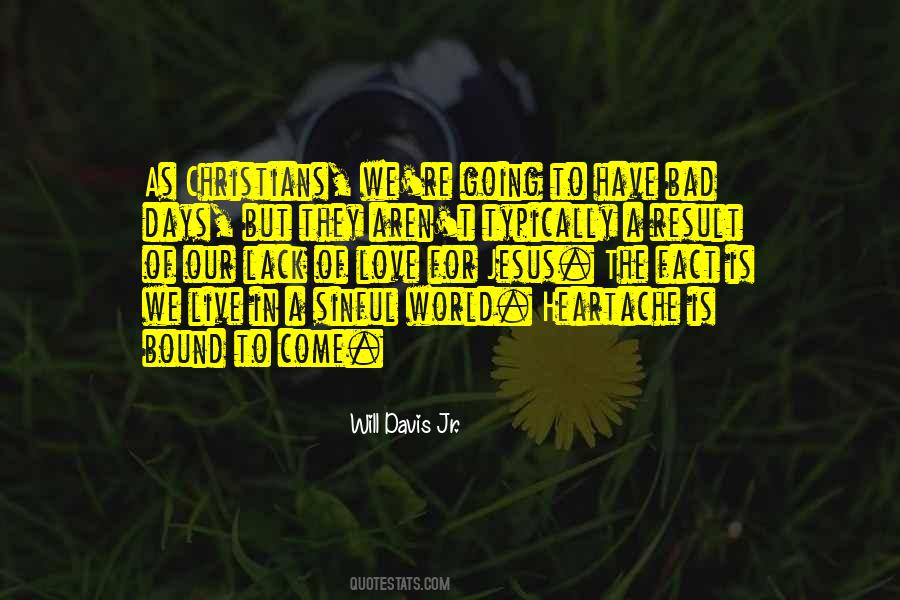 #55. I'm constantly saying that I have bad hair days when I'm in New York. It's so hard. I've been lucky enough to jump immediately into a car, head straight to the location, and stay in the air-conditioning. - Author: Christina Hendricks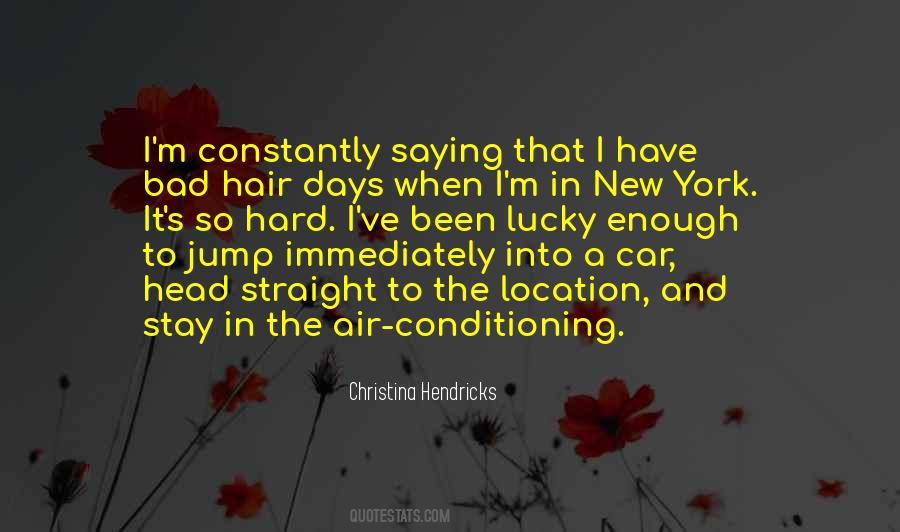 #56. Think 'Game of Thrones.' In the old days, this sort of show might be considered bad writing. It doesn't really seem to be moving toward a crisis or climax, it has no true protagonist, and it's structured less like a TV show or a movie than a soap opera. - Author: Douglas Rushkoff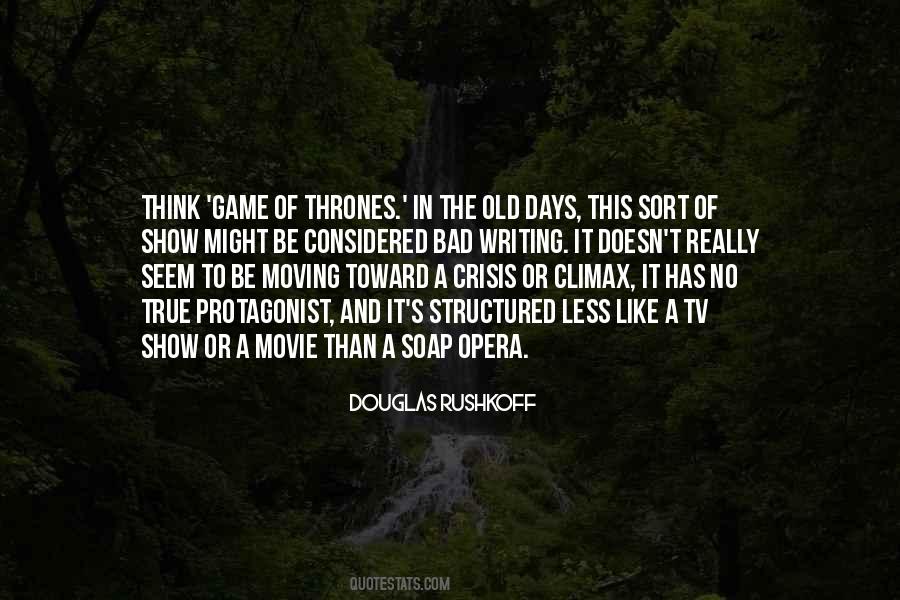 #57. And on the bad days I'm not even sure that I exist anymore. Today is a bad day. - Author: Autumn Doughton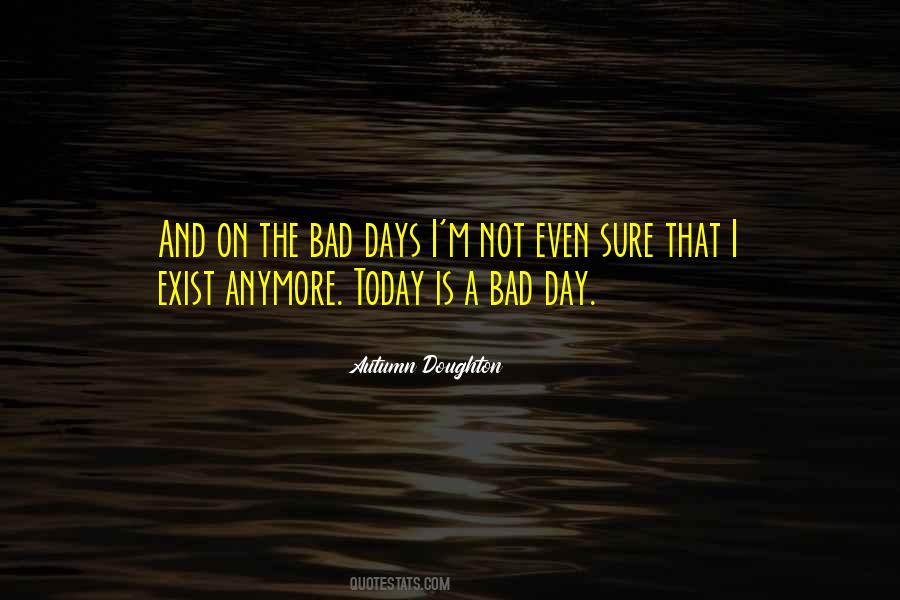 #58. Assess your days and reconcile the differences. Repeat steps to success and dispose bad habits. - Author: Bianca McCormick-Johnson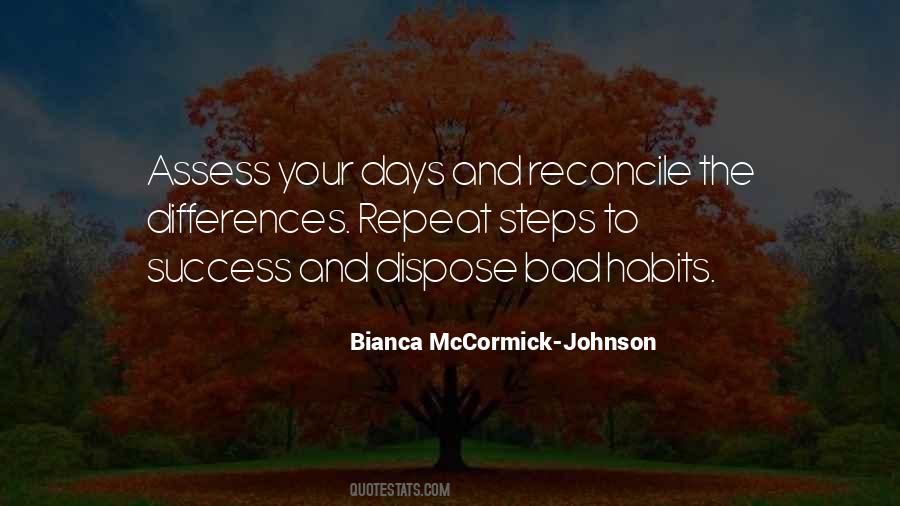 #59. The spring in Boston is like being in love: bad days slip in among the good ones, and the whole world is at a standstill, then the sun shines, the tears dry up, and we forget that yesterday was stormy. - Author: Louise Closser Hale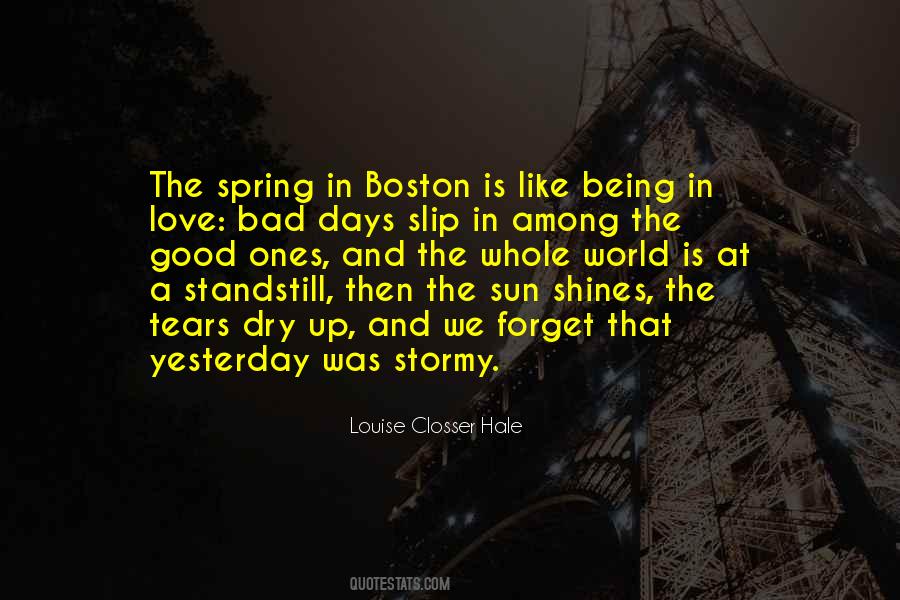 #60. In recent generations, women's sports have been a blessing. Some of us can remember the bad old days in the '50s, when we would discover in casual schoolyard play that a girl could outrun most of us or hold her own in basketball or hit a softball - but there were no teams, no coaches, for girls. - Author: George Vecsey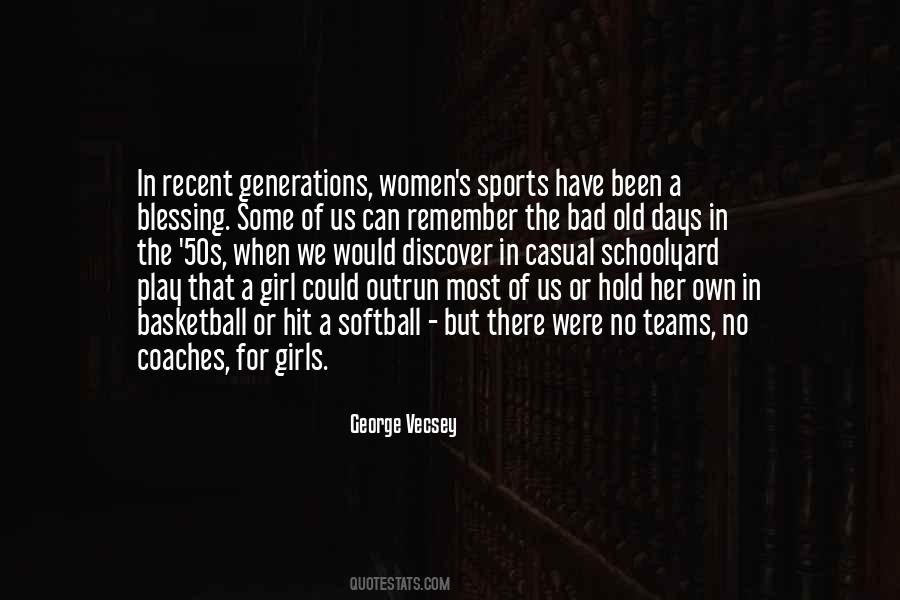 #61. It's one of those dumb days where nothing's really wrong but nothing's really right either and the sky can't even choose to be white or gray. - Author: Andrea Portes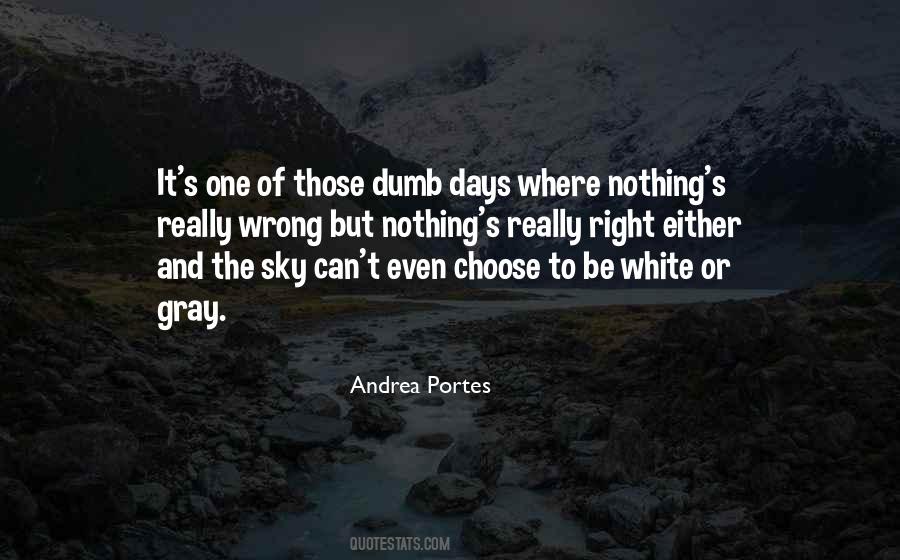 #62. If the restrictions on the work of my party and on me personally are not removed in the very, very near future - that is in a matter of days - I think the United States should start thinking seriously of sanctions. This is really about as bad as it has ever been. - Author: Aung San Suu Kyi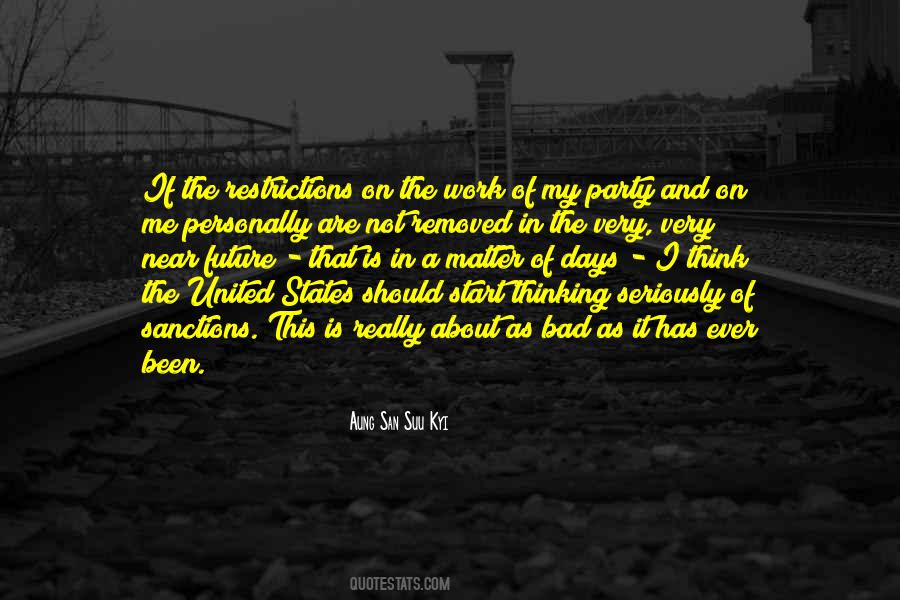 #63. I like the challenge of getting players to rise to certain levels, but that's the easy part. The biggest challenge is to get them to believe in what we're doing. They have to understand that it's O.K. to have good days and bad days. - Author: Dawn Staley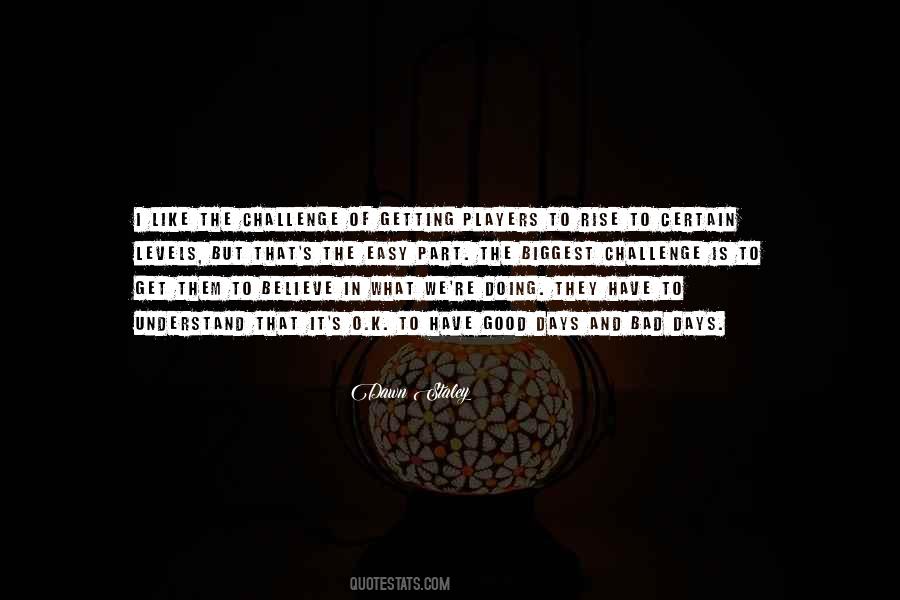 #64. My elementary school days were miserable. After Star Search, the jealousy got really bad that our neighbors slashed our tires. - Author: Christina Aguilera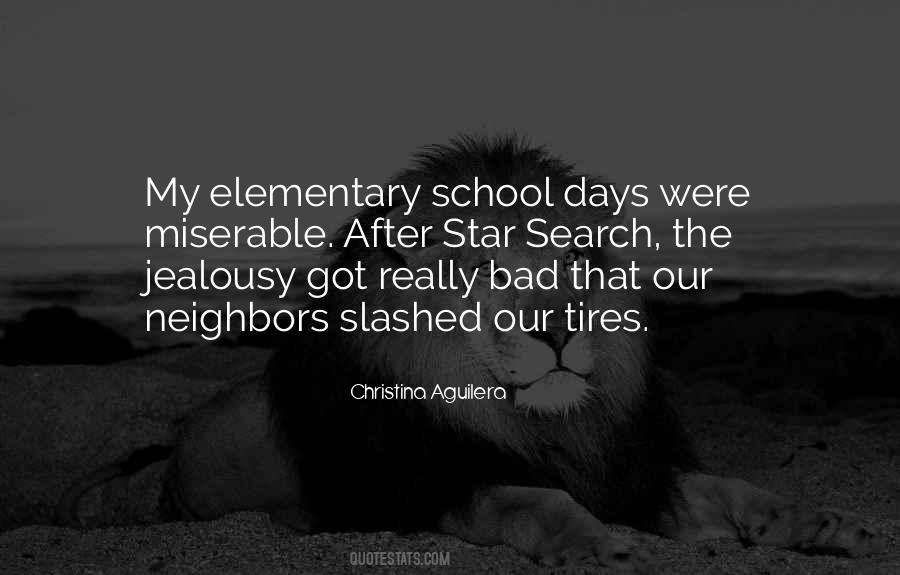 #65. It is a curious fact that in bad days we can very vividly recall the good time that is now no more; but that in good days, we have only a very cold and imperfect memory of the bad. - Author: Arthur Schopenhauer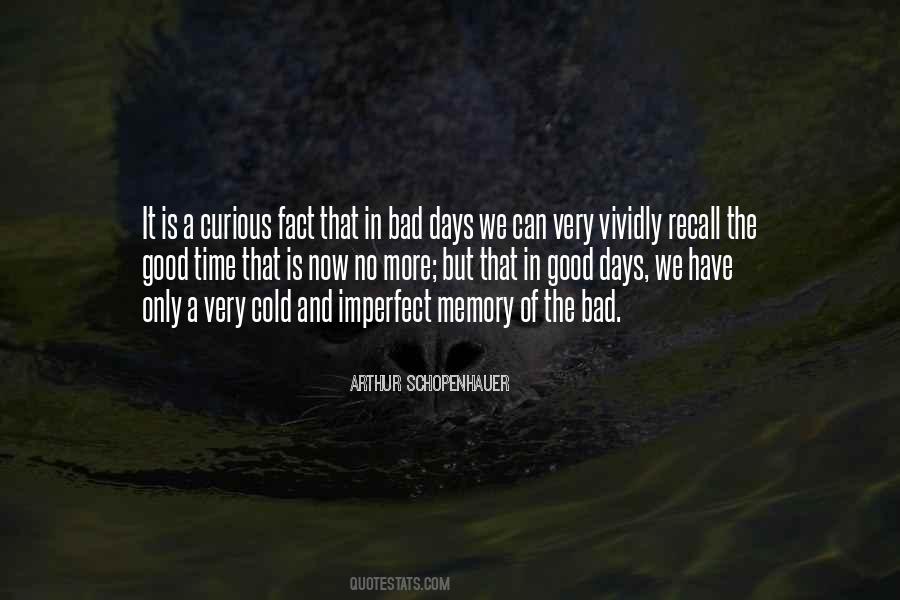 #66. The other day Nan said, 'Nothing can ever be quite the same for any of us again.' It made me feel rebellious. Why shouldn't things be the same again - when everything is over and Jem and Jerry are back? We'll all be happy and jolly again and these days will seem just like a bad dream. - Author: L.M. Montgomery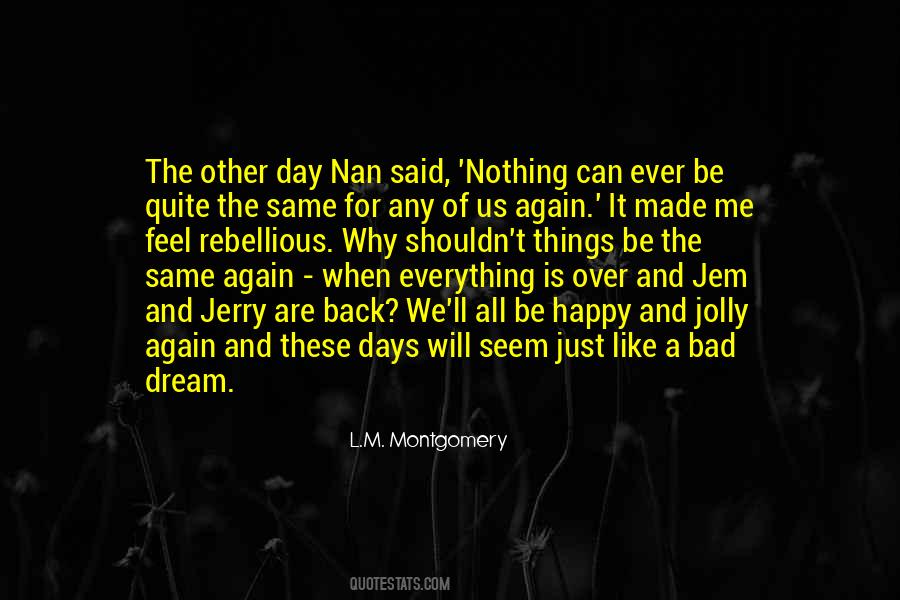 #67. As she walks through her problems, miseries and bad days, she couldn't help but notice how her gait has become more poised and elegant. Earlier - she tripped over at the sight of a problem. Now - she keeps her head high and wins over them.
Her problems made a woman out of a girl! - Author: Saru Singhal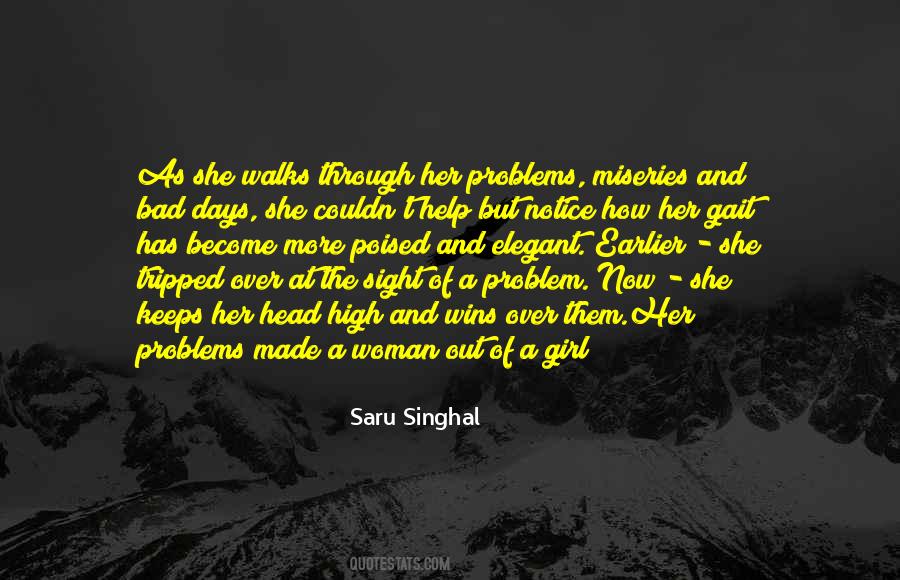 #68. Some days I'll have good starts, and some days I'll have bad starts. I'm really focusing on having more good starts than bad starts, and I traditionally do. But I would hate to make it all the way to the Olympics and have a bad starting day. - Author: Nate Holland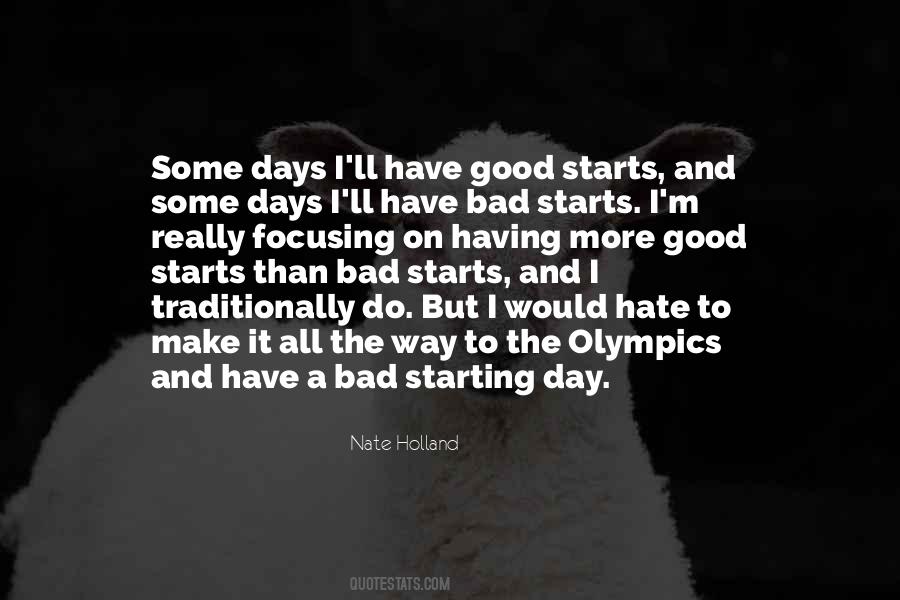 #69. There are days that I get neurotic with the violin. Every little adjustment will change the balance for good or for bad. It's kind of a miracle, the way the whole thing works as an acoustical whole, so perfectly balanced. - Author: Joshua Bell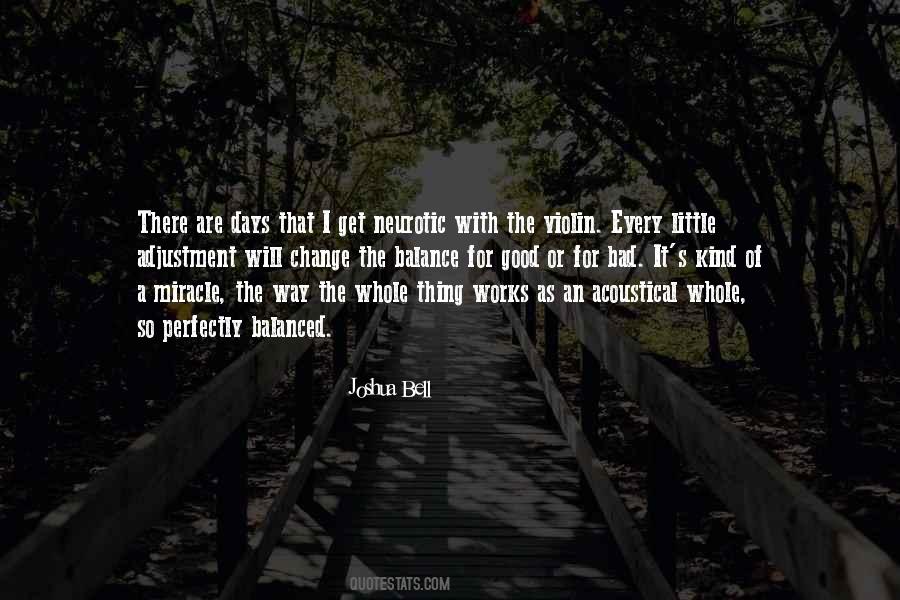 #70. I had bad days on the field. But I didn't take them home with me. I left them in a bar along the way home. - Author: Bob Lemon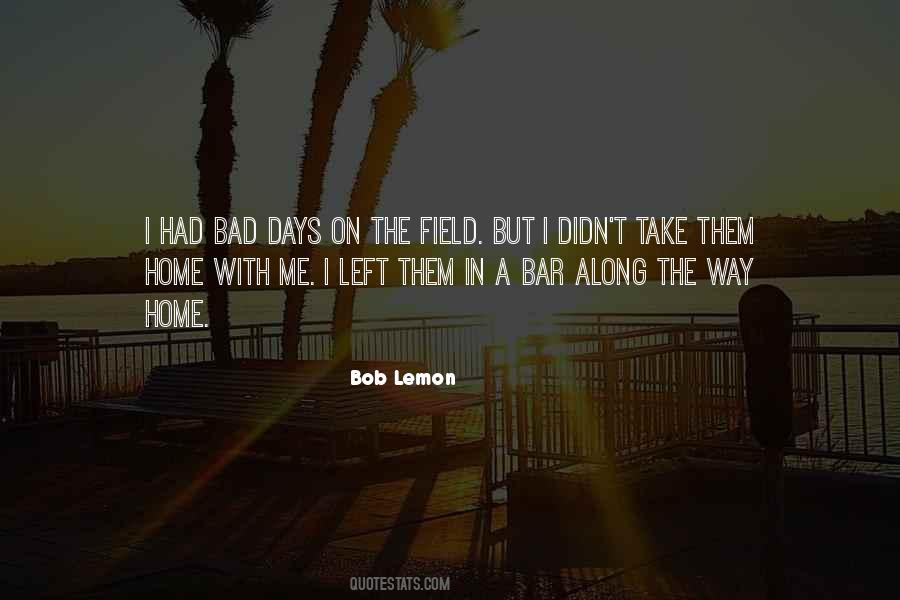 #71. The thing that I like about the way characters are written on the show these days is that nobody's perfect. Everyone has made a lot of mistakes and bad choices. - Author: Crystal Chappell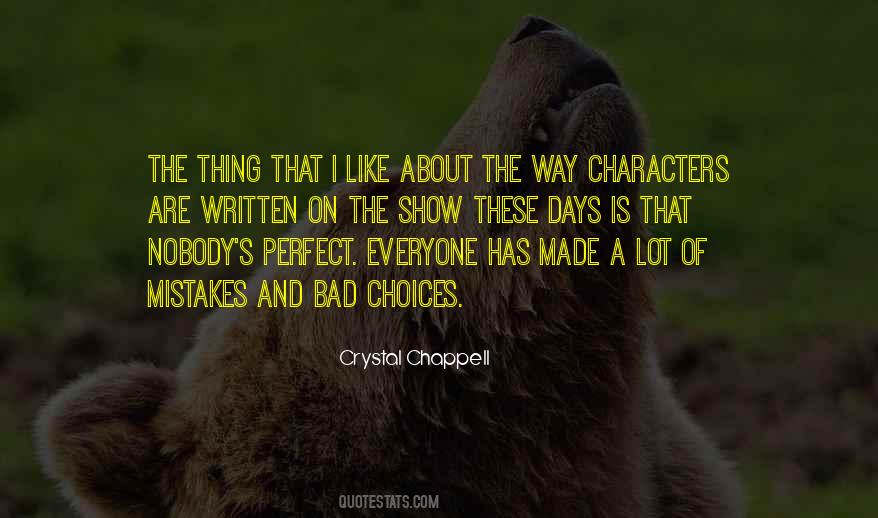 #72. I am in between. Trying to write to be understood by those who matter to me, yet also trying to push my mind with ideas beyond the everyday. It is another borderland I inhabit. Not quite here nor there. On good days I feel I am a bridge. On bad days I just feel alone. - Author: Sergio Troncoso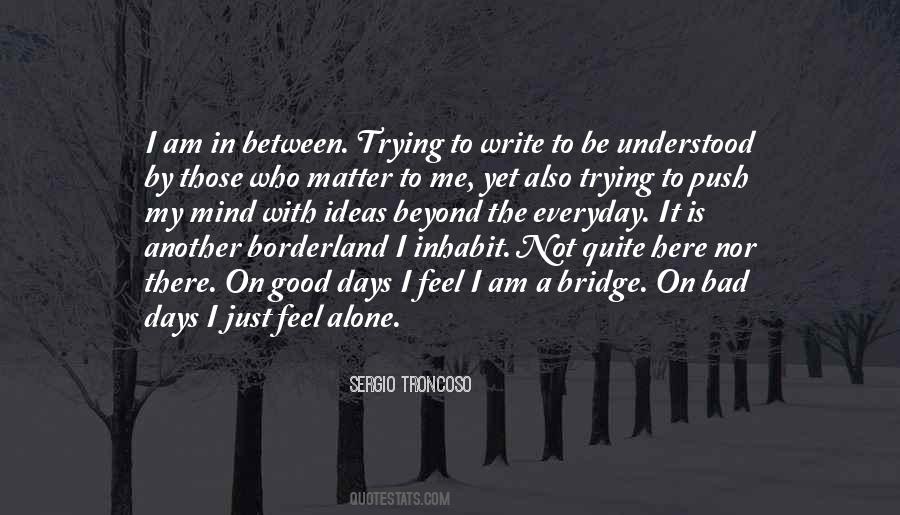 #73. People think I'm all gloom and doom all the time. I'm not. I also have bad days where I'm pessimistic. - Author: Jarod Kintz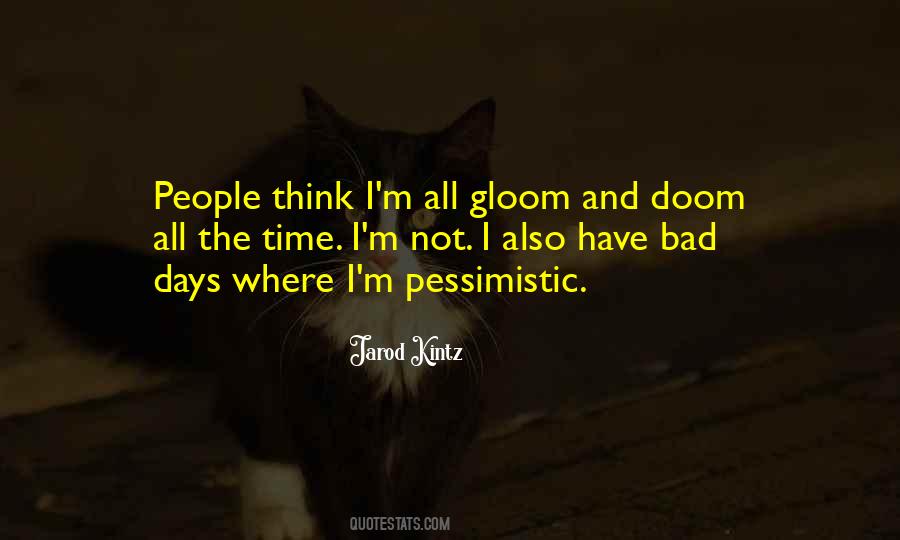 #74. He knows bad days. Bad days take him completely by surprise. They make him not trust the good days because it's likely something is lurking twenty-four hours away. - Author: Melina Marchetta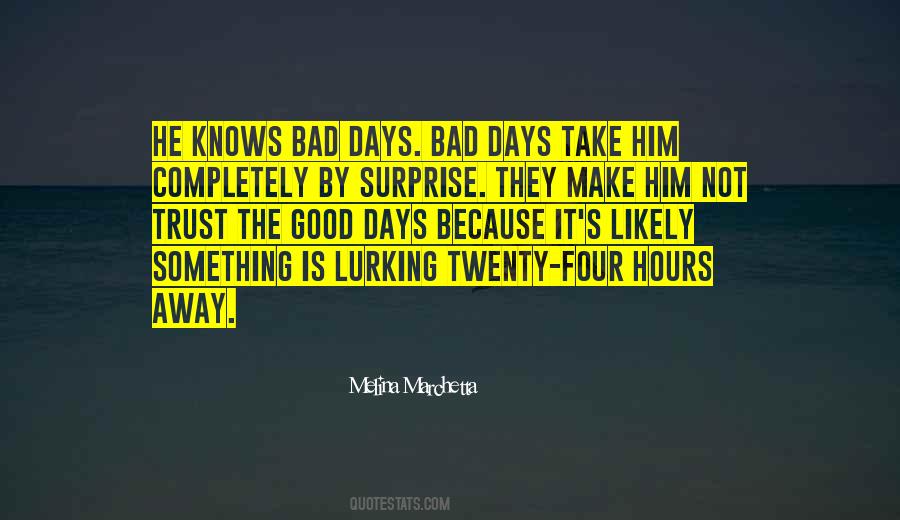 #75. William Kowalski is the kind of storyteller you don't see quite enough these days. The yarn spinner with a generous soul. The Hundred Hearts is a moving, humane adventure about the price of personal connections and the costs of sacrifice. I tore through this bad boy in two short nights. - Author: Victor LaValle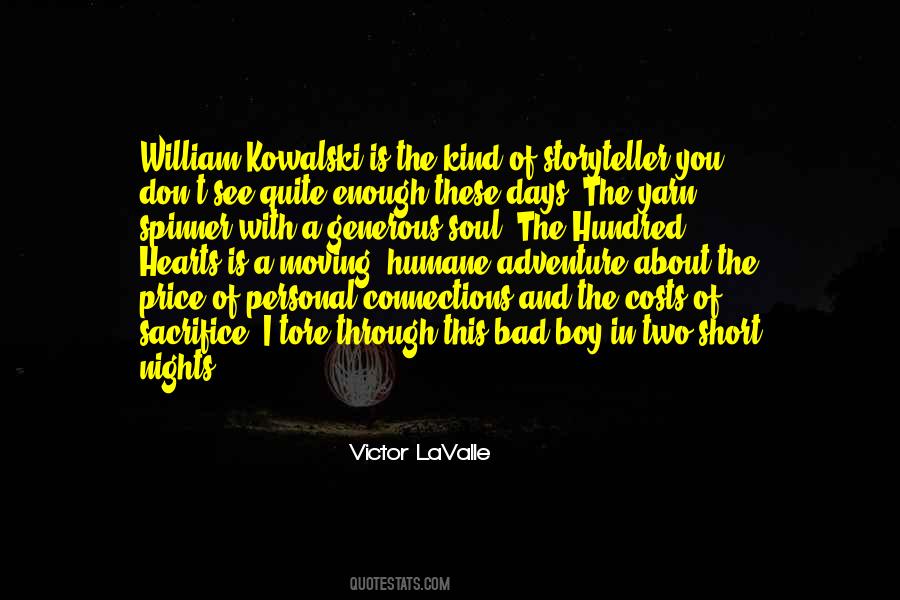 #76. There are some days I take my violin out and it feels dreadful, like nothing is responding, and I want to sell it and get rid of it. And the next day suddenly the skies open up and the sound is glorious again. So it's like a relationship: There are good days and bad days. - Author: Joshua Bell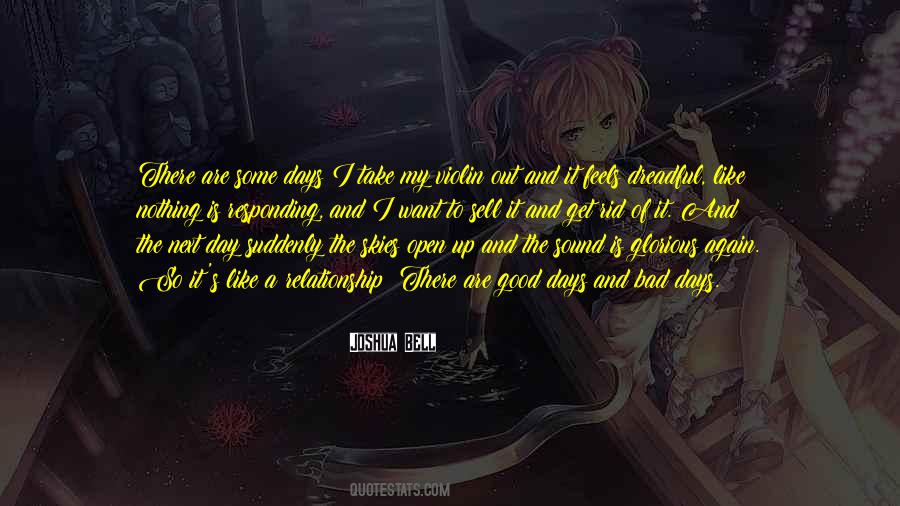 #77. Some days are just bad days, that's all. You have to experience sadness to know happiness, and I remind myself that not every day is going to be a good day, that's just the way it is! - Author: Dita Von Teese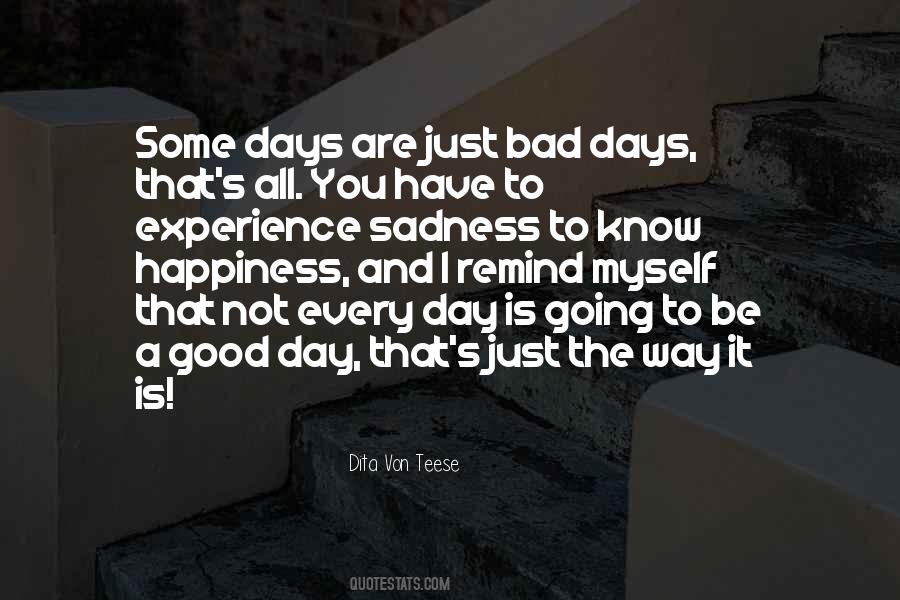 #78. Who you are as a person is more special than trying to be someone you're not. Don't get me wrong - I have bad days, everyone does, but I know if I'm feeling insecure today, I'll move on tomorrow. I'd tell girls to realise it's OK to have bad days to get to the good ones. - Author: Hayley Hasselhoff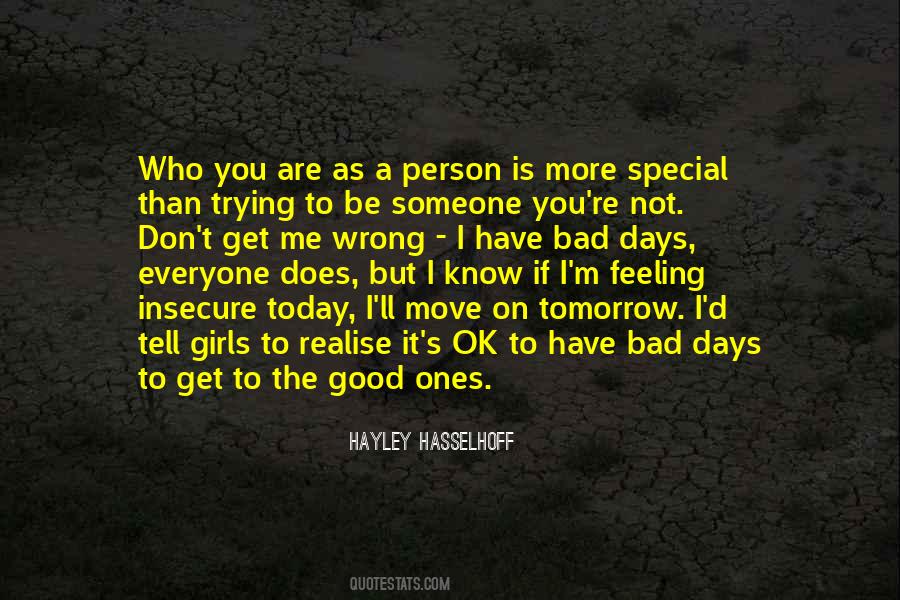 #79. The last days before graduation are bad enough, God knows
out of the womb you go, ready or not. The halls rang with the laughter of the girls who were going to be brides in the next week (and widows shortly after) ... - Author: Elizabeth Savage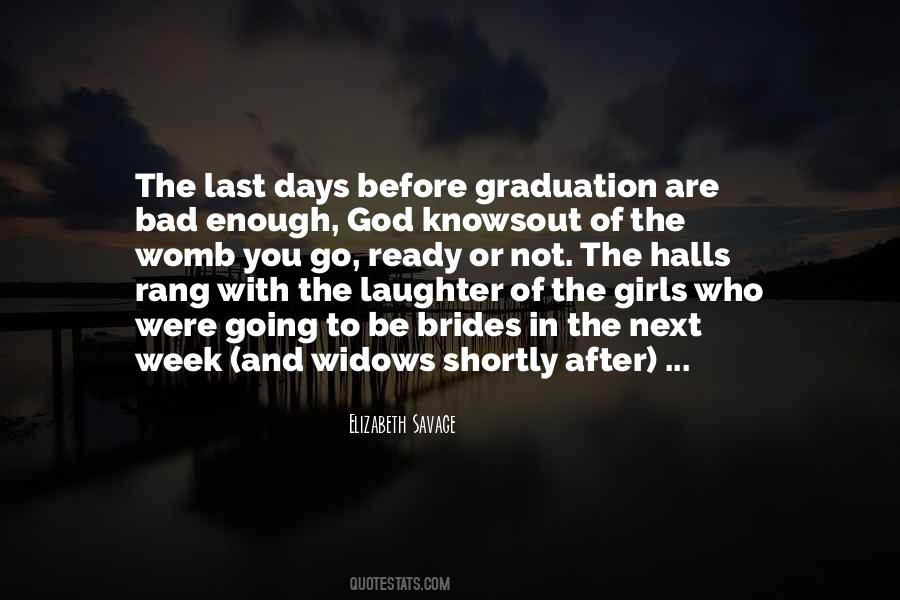 #80. In my life I've had good days and bad days. Miserable days. Painful days. And no matter how bad the bad ones get, there's a mercy in them. Every single one of them ends. - Author: Jael McHenry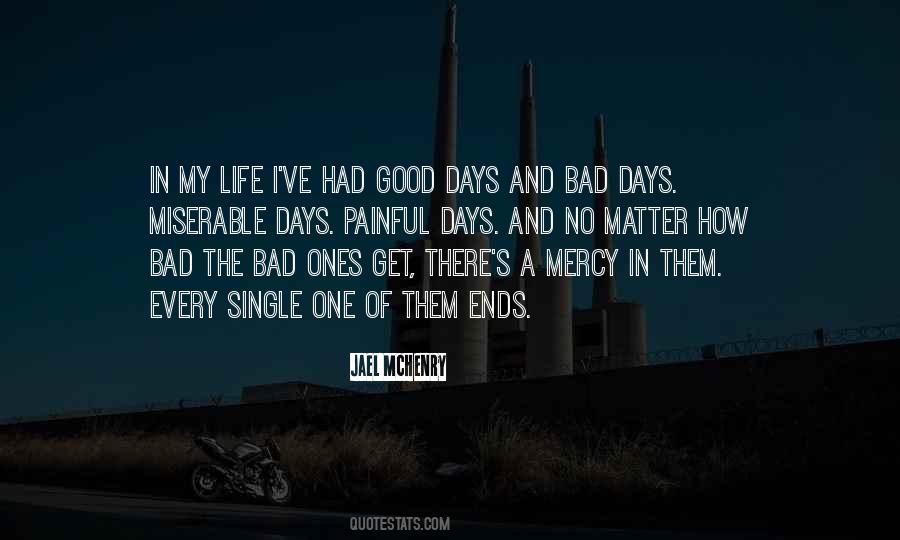 #81. I feel like I've joined an enormous club, something like the Veterans of Foreign Wars. We are weary with battle fatigue and sometimes even gripped by nostalgia for the good old, bad old days, but our numbers are large. - Author: Theo Pauline Nestor
#82. People don't want drama 365 days a year. I'm a sense of relief; it's my job to take your mind off what's bad for that brief second you're in the room with me, regardless of shape, race, colour or anything. It brings people together, and it makes me feel good about what I'm doing. - Author: Kevin Hart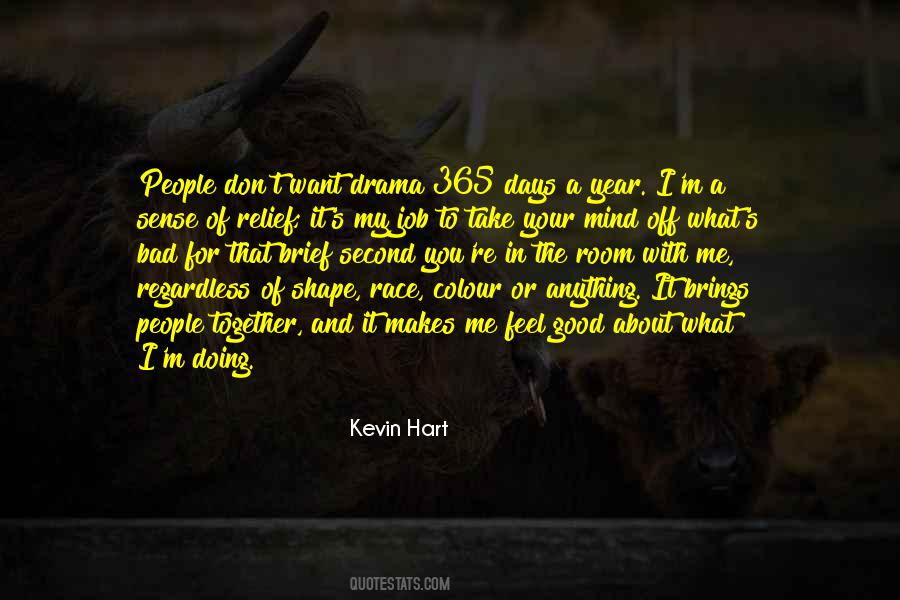 #83. I am fussy, about my diet and straining my voice. I know, sounds a bit over the top. But I'm not as bad as I used to be. These days I don't drink alcohol for five days before a show - very dehydrating for the vocal cords, and all that acid reflux. I used to ban it for a fortnight. Nightmare. - Author: Katherine Jenkins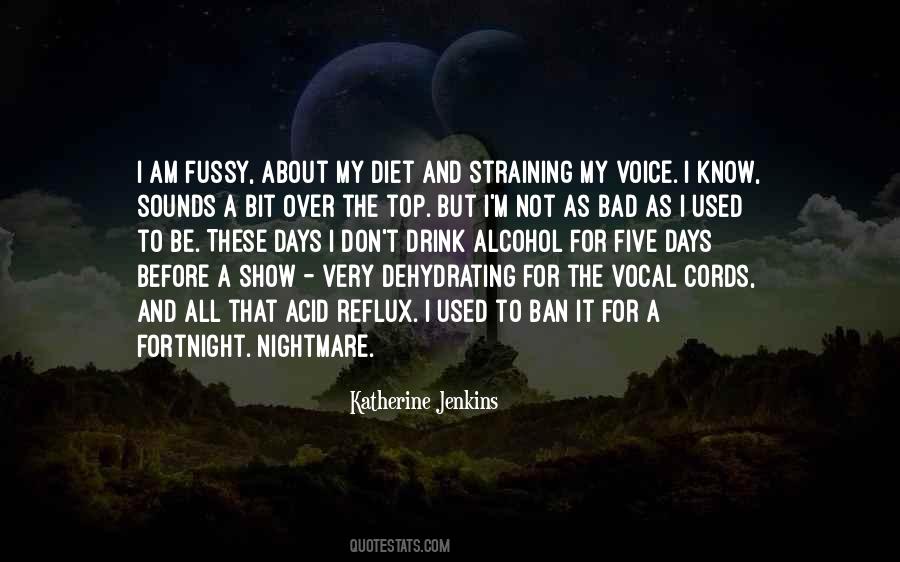 #84. In February 2000, hedge-fund manager James J. Cramer proclaimed that Internet-related companies "are the only ones worth owning right now." These "winners of the new world," as he called them, "are the only ones that are going higher consistently in good days and bad. - Author: Benjamin Graham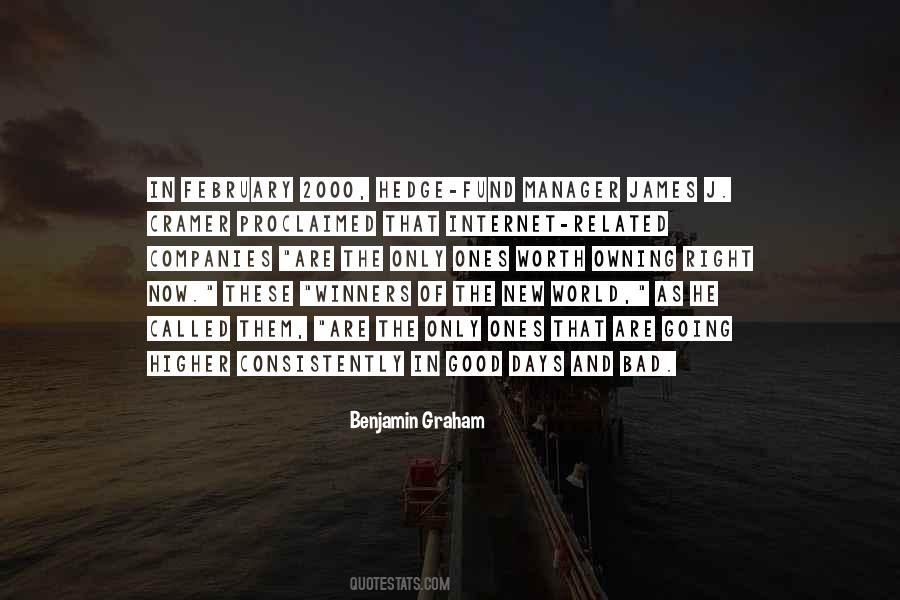 #85. The 'Aladdin' thing - that's not work; that's just fun. Three days in the recording studio going mad, then the animators do all the work. Not a bad way to cash a large check, my friend. - Author: Robin Williams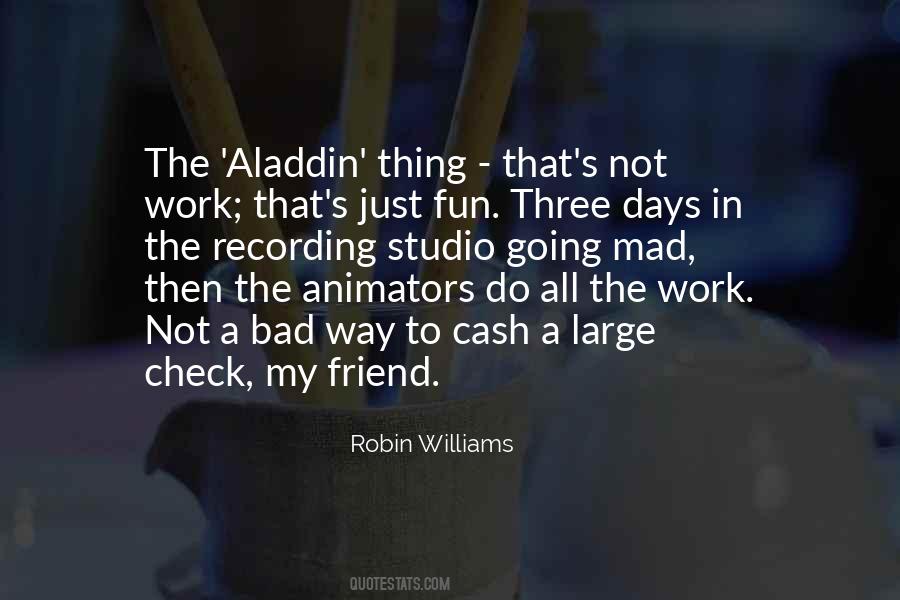 #86. When I first came up to the majors and I'd have a bad day, I'd punish myself. I would do something like not eat dinner. Now I've come to appreciate that we play 162 games a year, and you're going to have bad days. And not eating dinner hurts, it doesn't help. - Author: Todd Helton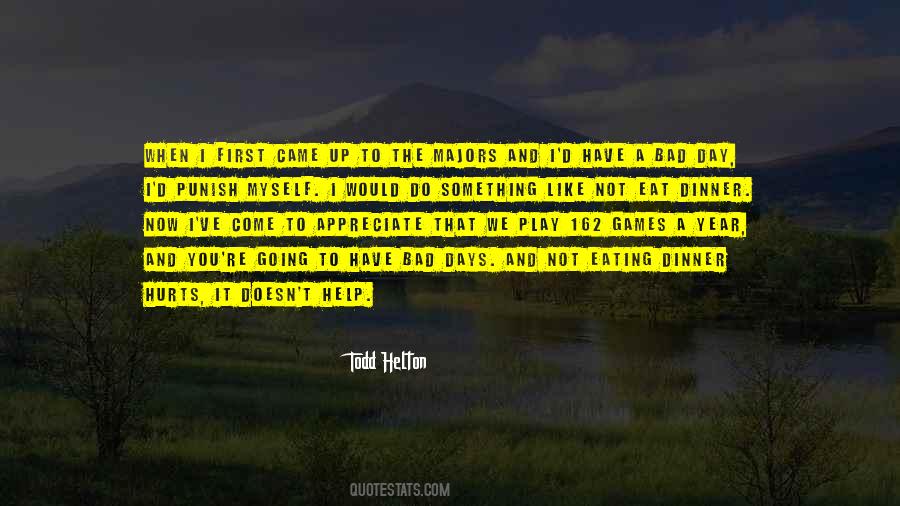 #87. Everybody has that point in their life where you hit a crossroads and you've had a bunch of bad days and there's different ways you can deal with it and the way I dealt with it was I just turned completely to music. - Author: Taylor Swift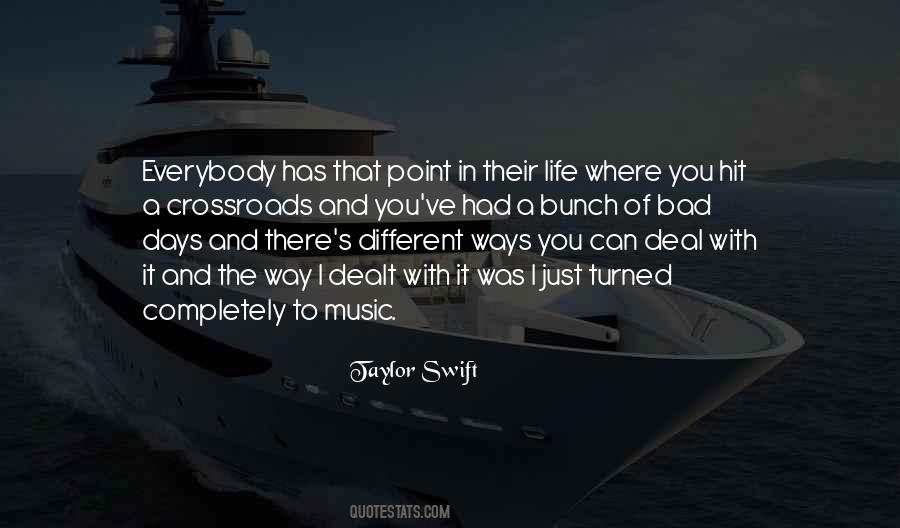 #88. Days like today should come with a warning label, I muse. Today's Going to Suck! Skip the Coffee and Go Straight for the Alcohol. - Author: Laura Kreitzer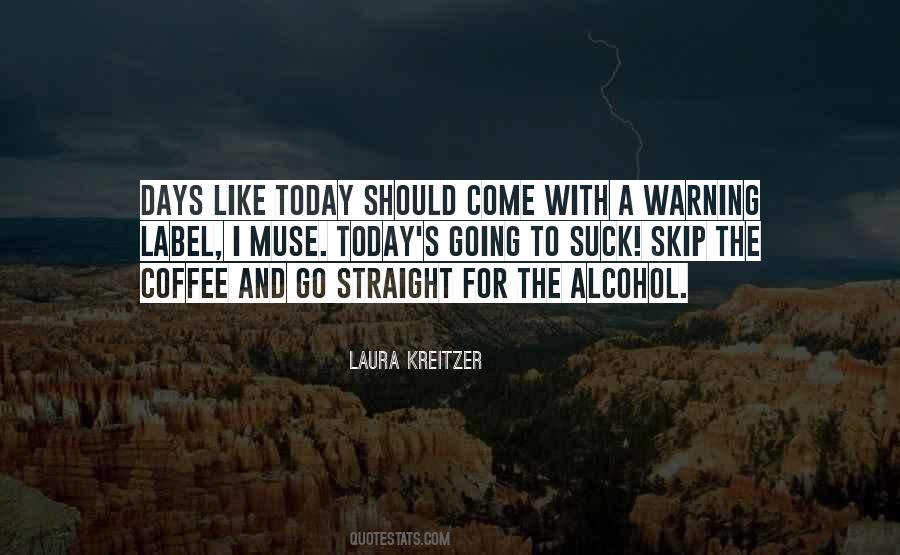 #89. That we should obey laws whether good or bad is a new-fangled notion. There was no such thing in former days. The people disregarded those laws they did not like and suffered the penalties for their breach. - Author: Mahatma Gandhi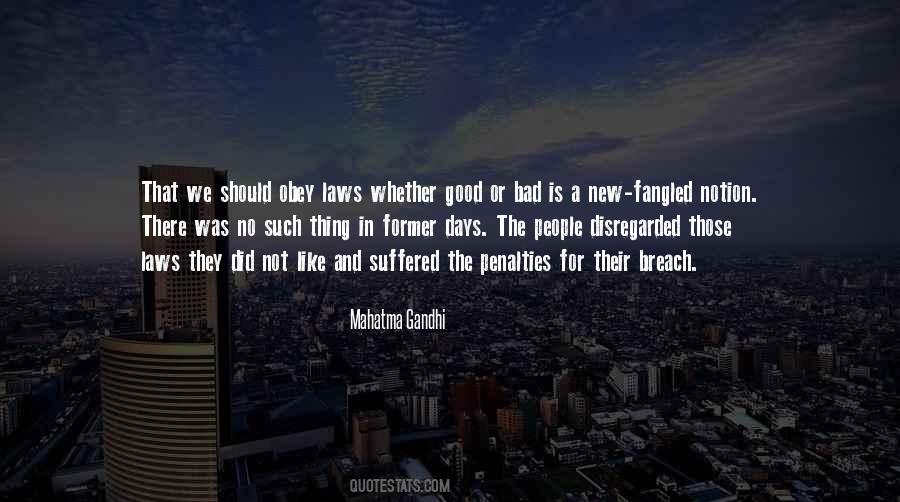 #90. I often think to myself, at the end of an interesting life it's maybe not such a bad thing to spend your last days with your friends sitting by the blue, blue ocean reliving the story of your life while sitting in the dangerous sun. - Author: Baz Luhrmann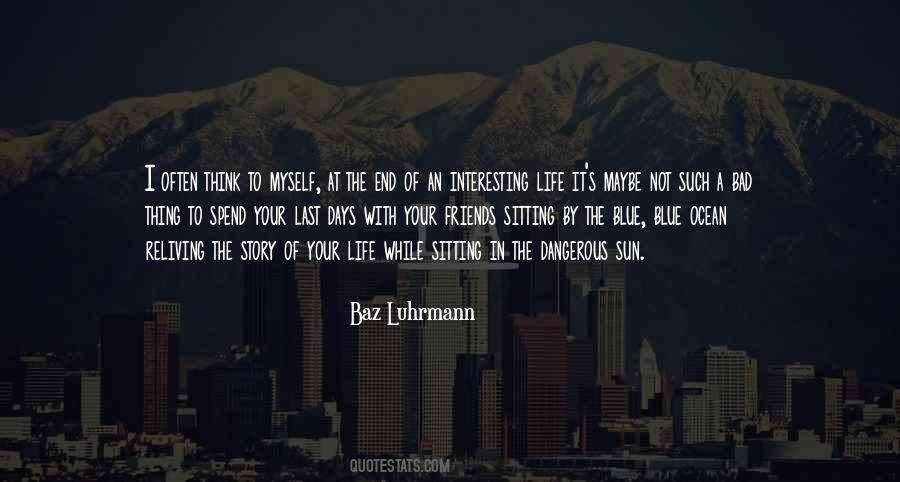 #91. If a friend had a coronary scare and finally started exercising three days a week, who would hound him about the other four days? It's the worst of bad manners - and self-protection, I think, in a nervously cynical society - to ridicule the small gesture. - Author: Barbara Kingsolver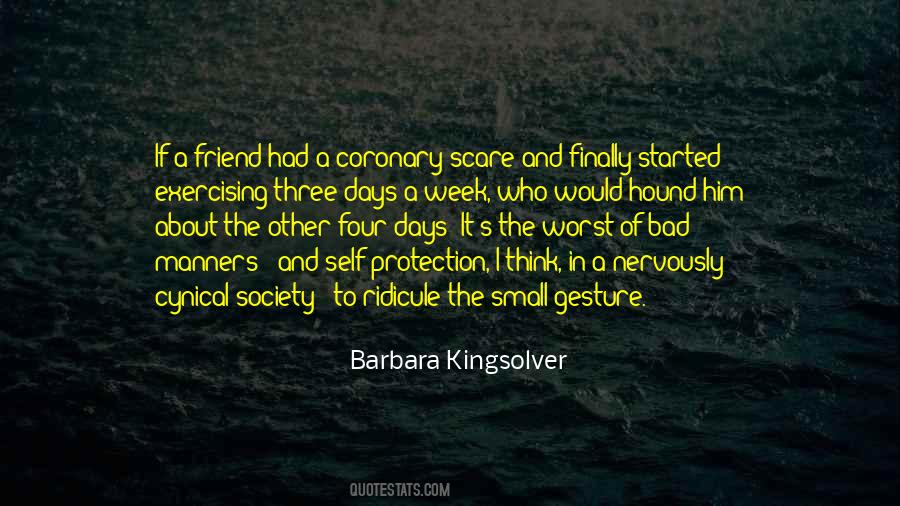 #92. The good television of today is probably better than the best television of the old days. The bad television of today is worse. It is not only bad, it is damaging, meretricious, seedy and cynical. - Author: John Humphrys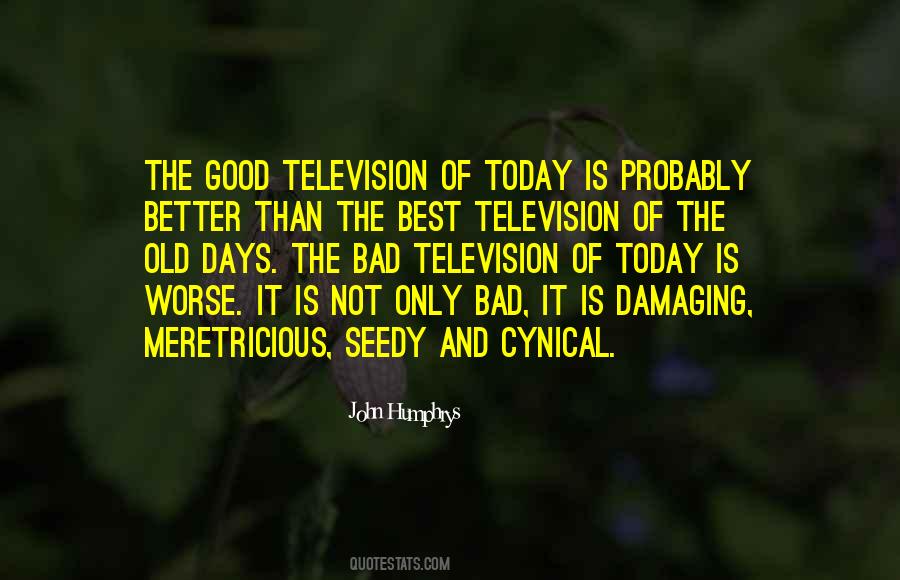 #93. Even in my really bad, drugged-out days, I didn't go away. I still toured, still did interviews. I never gave up the fight. That's why I'm who I am today, because I didn't leave. And I think I made the right choice. - Author: Stevie Nicks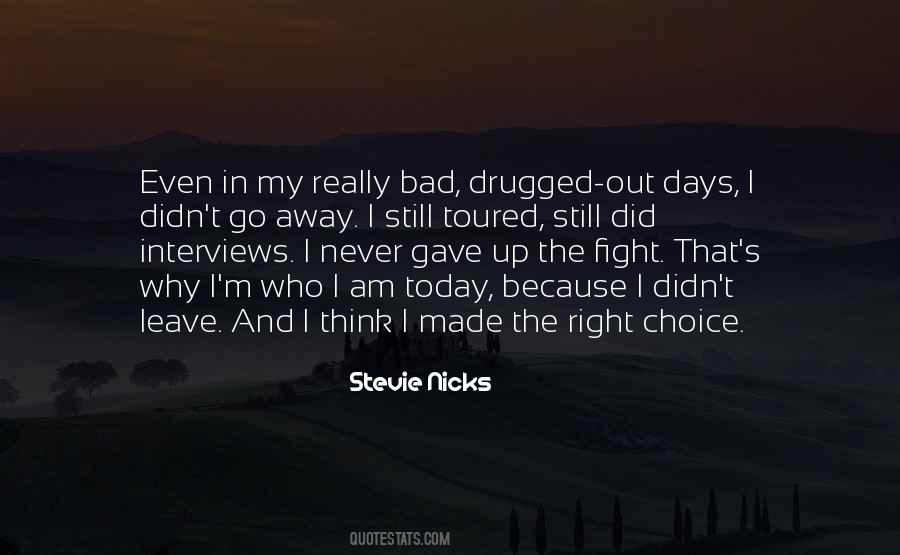 #94. Apparently, now, though, we writers and artists are not allowed to give offence. We must not question, criticise or insult the other, for fear of being hounded and murdered. These days a writer without bodyguards can hardly be considered serious. A bad review is the least of our problems. - Author: Hanif Kureishi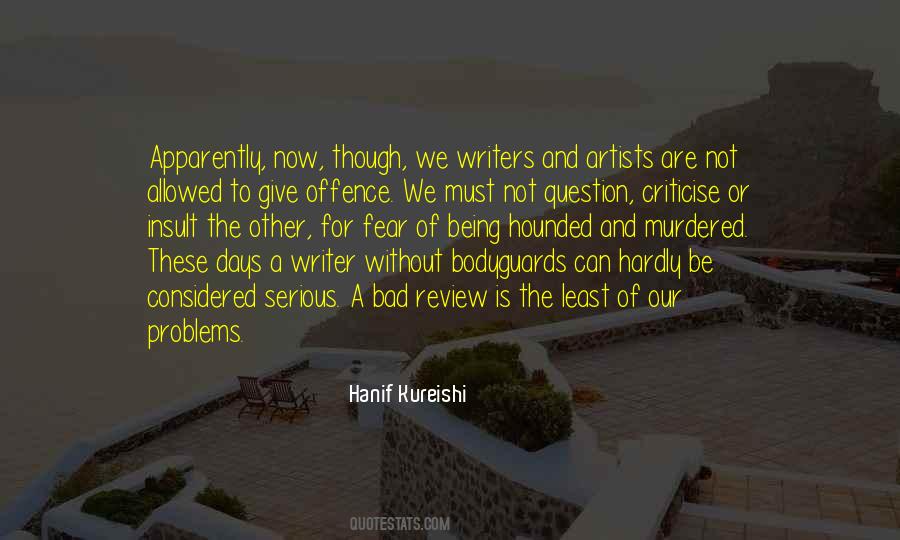 #95. In the periods of my life when I've had least contact with the Church, I've always assumed a belief in God is a solid thing, but clearly it's a relationship; it has good days and bad days. - Author: Tom Hollander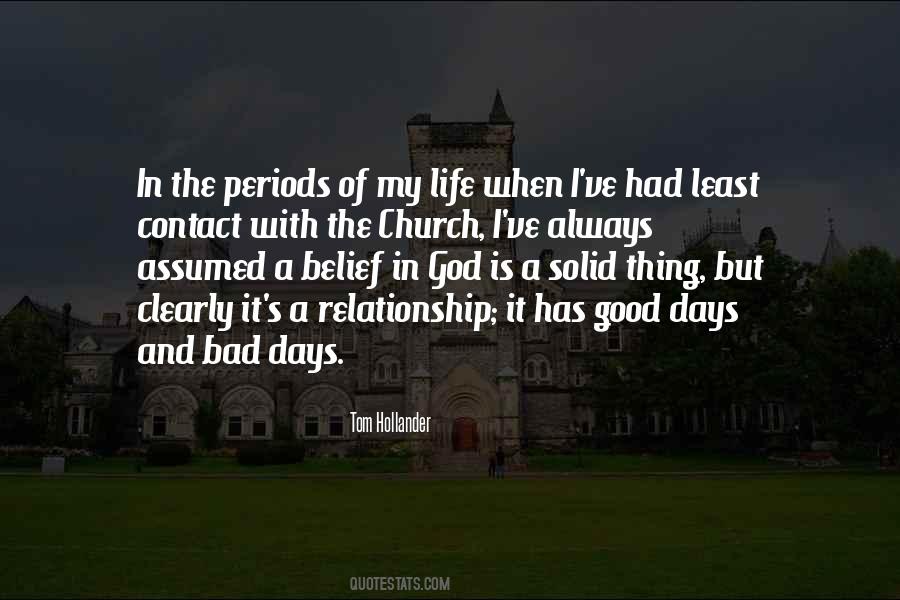 #96. Some days are good, and some days are bad, and some days are the days you get a dead dog in the mail. They can't all be winners. - Author: Jenny Lawson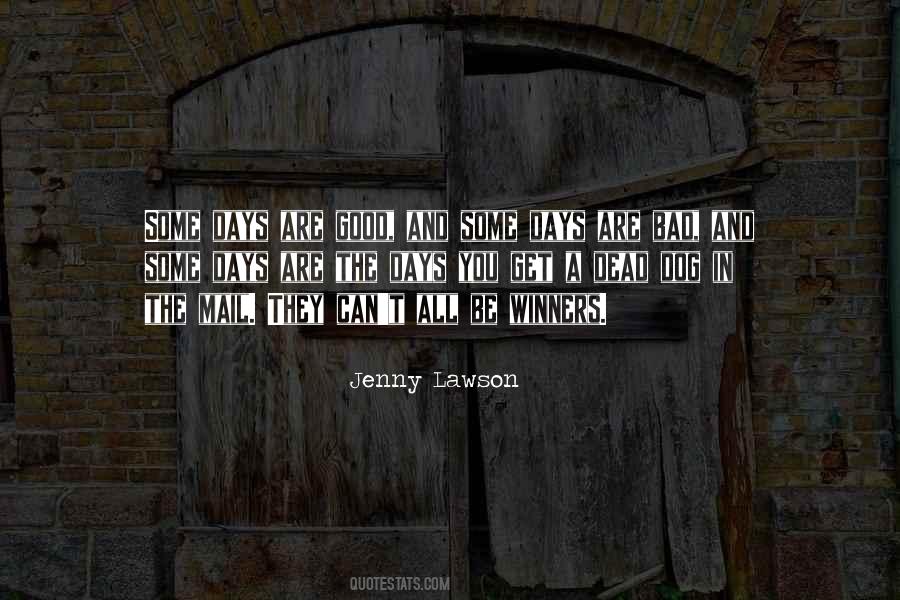 #97. The only thing bad about winning the pennant is that you have to manage the All-Star Game the next year. I'd rather go fishing for three days. - Author: Whitey Herzog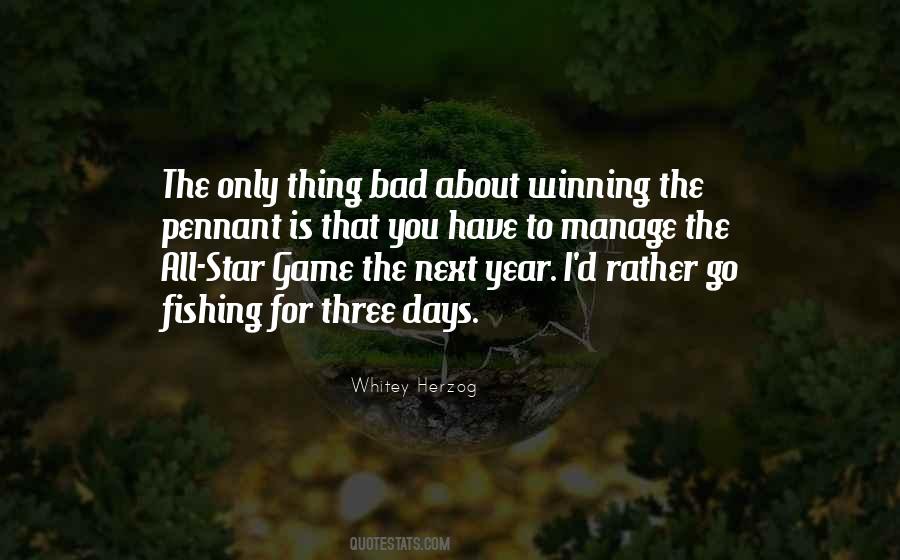 #98. In the bad old days, men kept women from choosing to work. In the bad new days, women keep women from choosing to stay home. - Author: Jennifer Crusie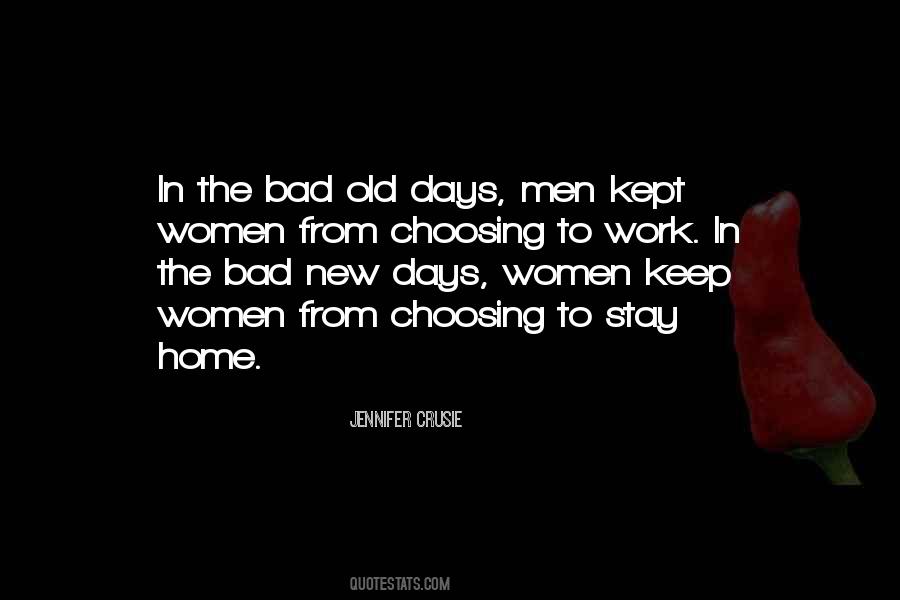 #99. These days I have to be extra nice in stores. It never fails that whenever I look as bad as I can possibly look or I am sort of cranky because the store is out of something, that is precisely the time when someone one will recognize me and say: 'I really like your show.' - Author: Lauren Graham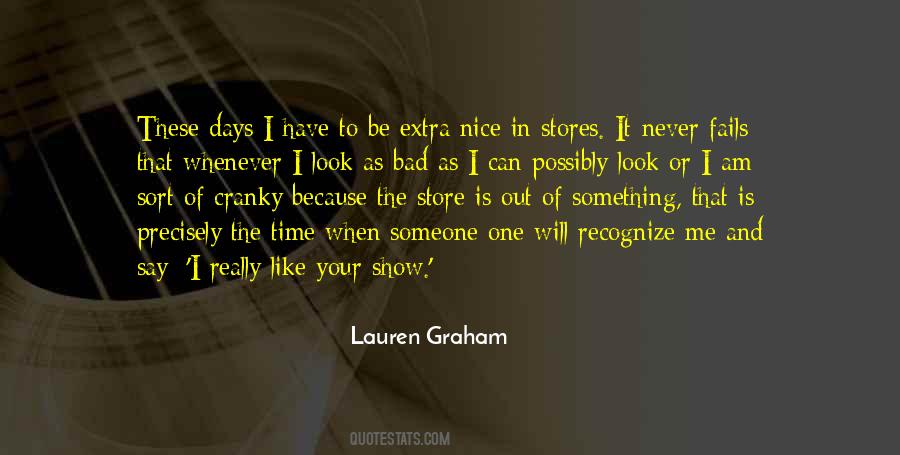 #100. You can have a similar experience in your own life. You can change, even if you consider yourself a "night person" ... Almost any habit-good or bad-can be set in about twenty-one days. With firm resolve, we can make the needed changes in our lives. - Author: Joe J. Christensen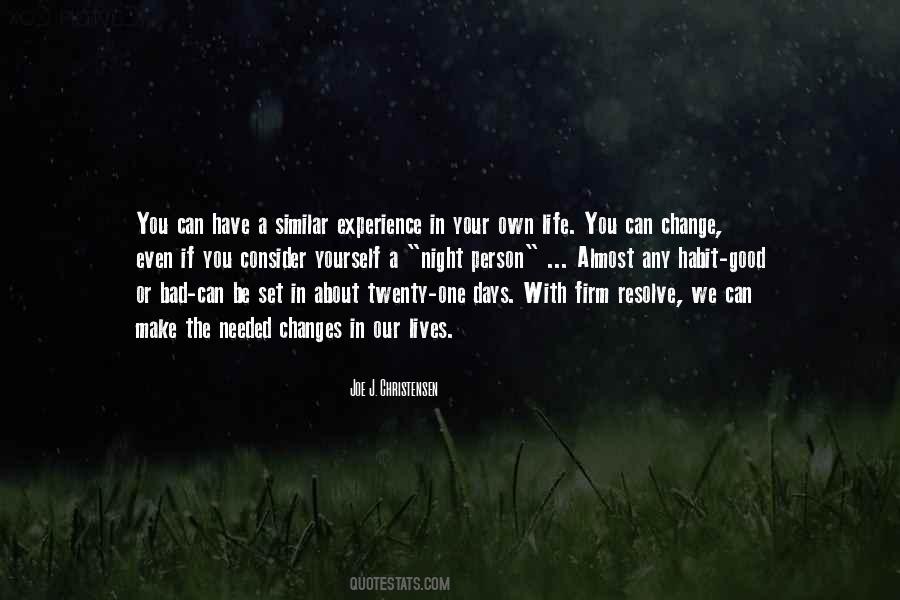 Famous Authors
Popular Topics