List of top 73 famous quotes and sayings about respect yourself love to read and share with friends on your Facebook, Twitter, blogs.
Top 73 Respect Yourself Love Quotes
#1. Respect yourself is you would have others respect you.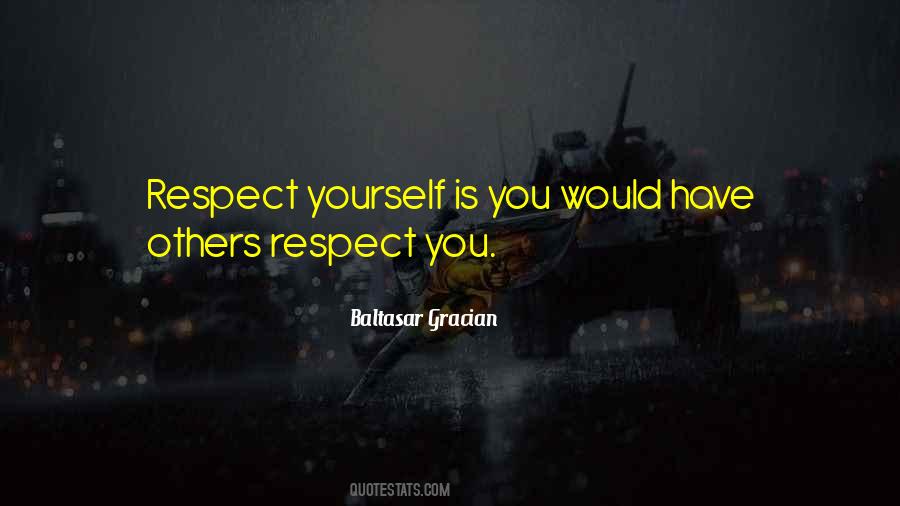 #2. Give yourself permission to change your world and others around you, in a positive way, with love and respect.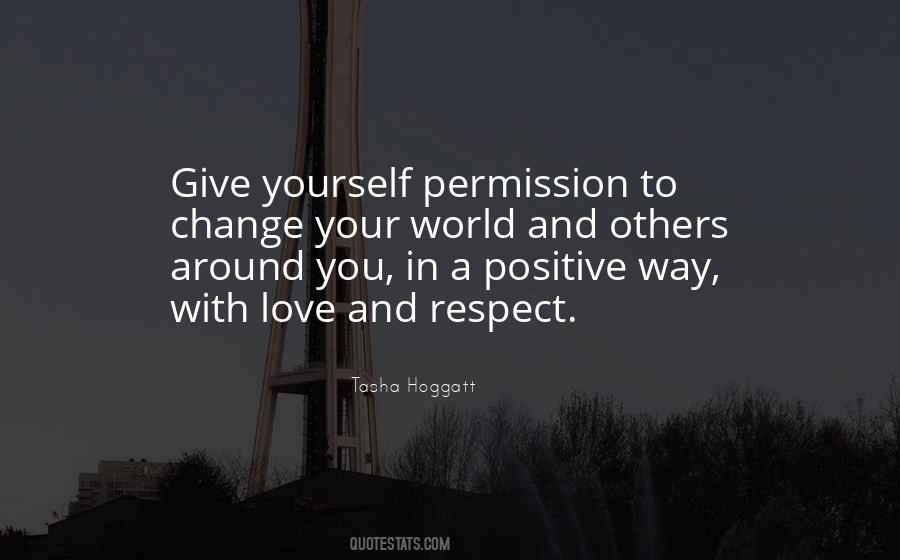 #3. When you express "purity" which is the truth about yourself, you feel a love for yourself that is expressed by self-respect, self-esteem, and self-confidence!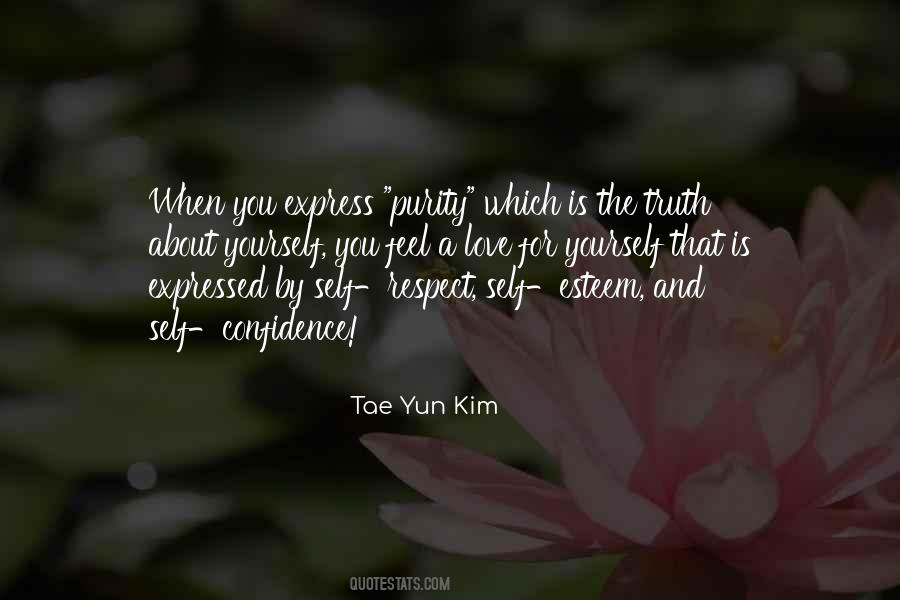 #4. You must learn to love, respect and believe in yourself. To accomplish this, begin by restructuring your current self-programming.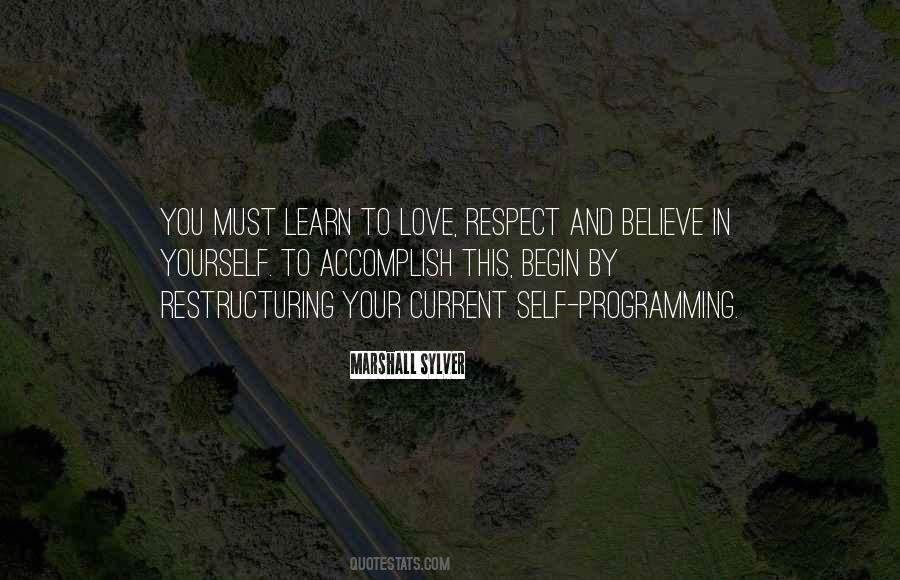 #5. Respect you love one enough to know thay can handle your truth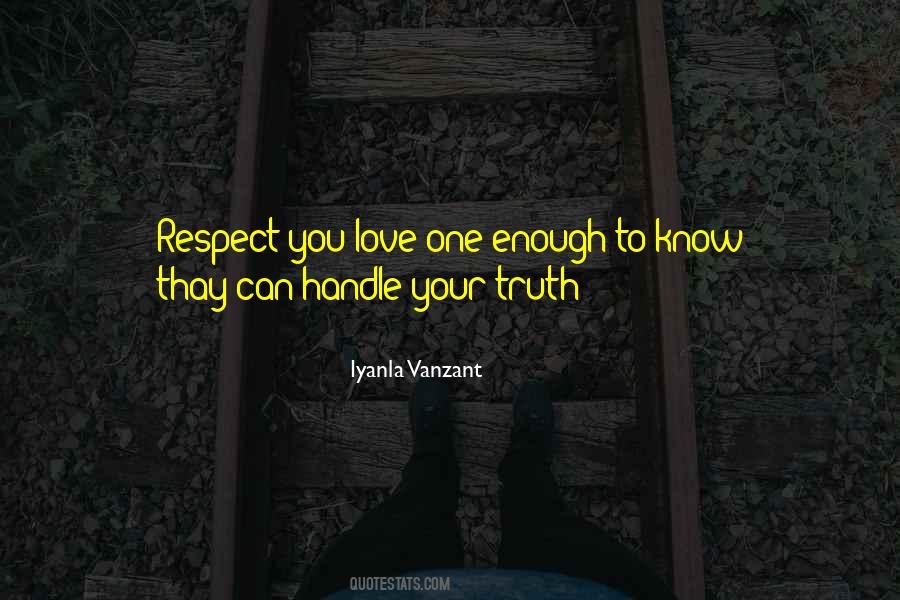 #6. Embrace your weirdness. Some will adore you. Others won't. But who cares? Worry about loving yourself, not loving the idea of other people loving you.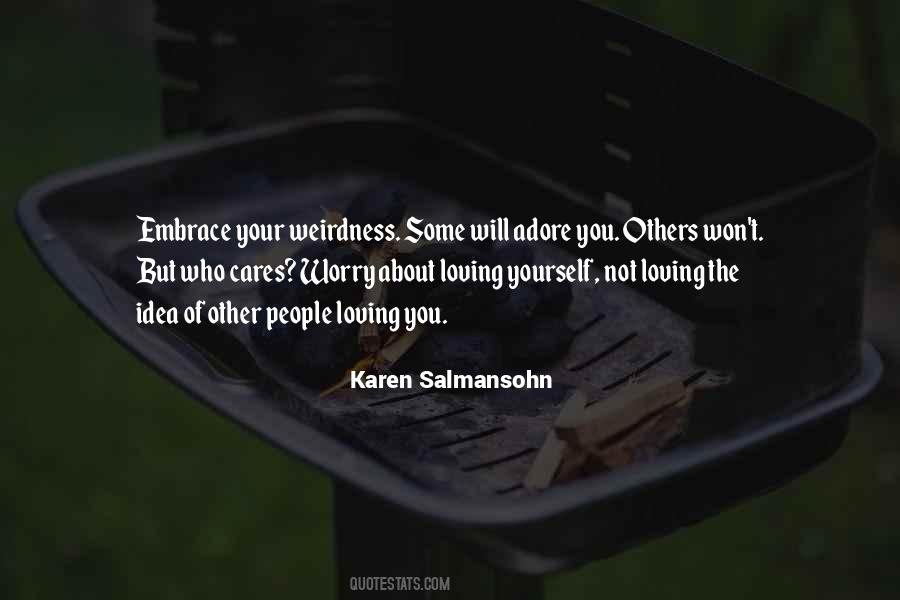 #7. Don't yell at people. Stand up for what's right. Put yourself in the other persons place. Respect women. Don't take no for an answer. Laugh at yourself. Don't believe what you are told. Fall in love.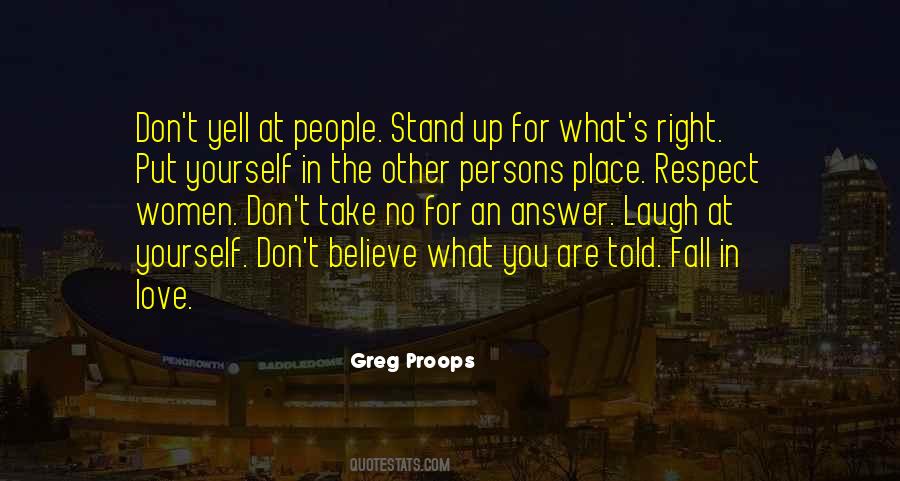 #8. Have a big enough heart to love unconditionally, and a broad enough mind to embrace the differences that make each of us unique.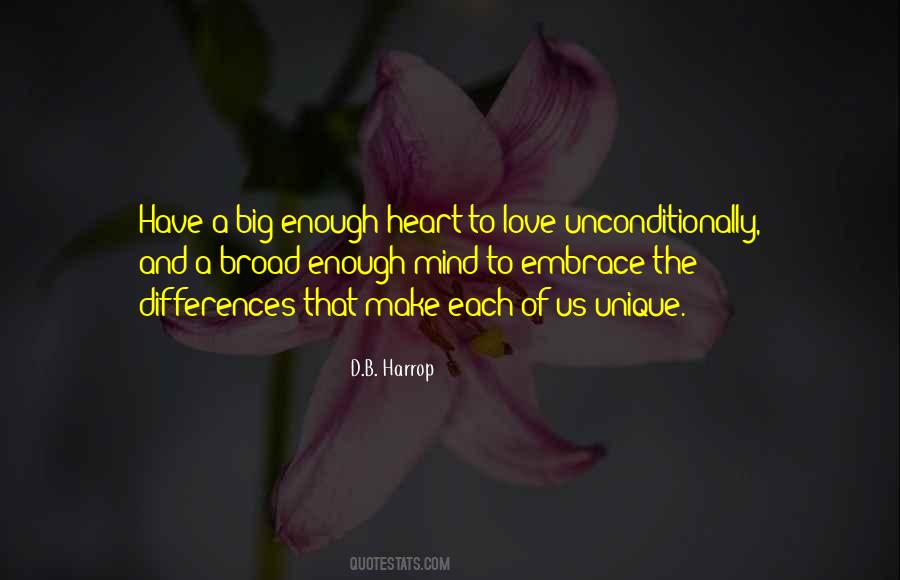 #9. Your ideal life is your real life. Be true to yourself and honor your preferences.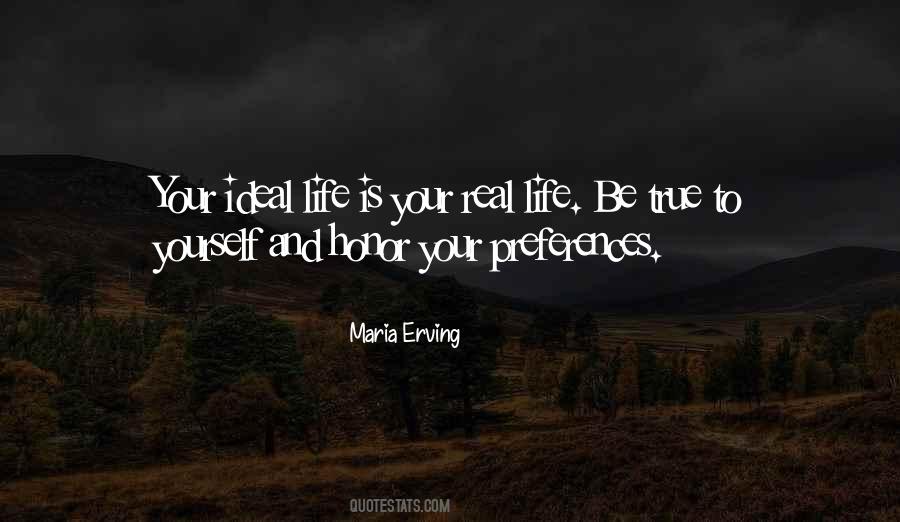 #10. You can still make today the day you change yourself, love yourself, forgive yourself, respect yourself, honor yourself, cherish yourself, admire yourself, express yourself, be true to yourself ... It's never too late!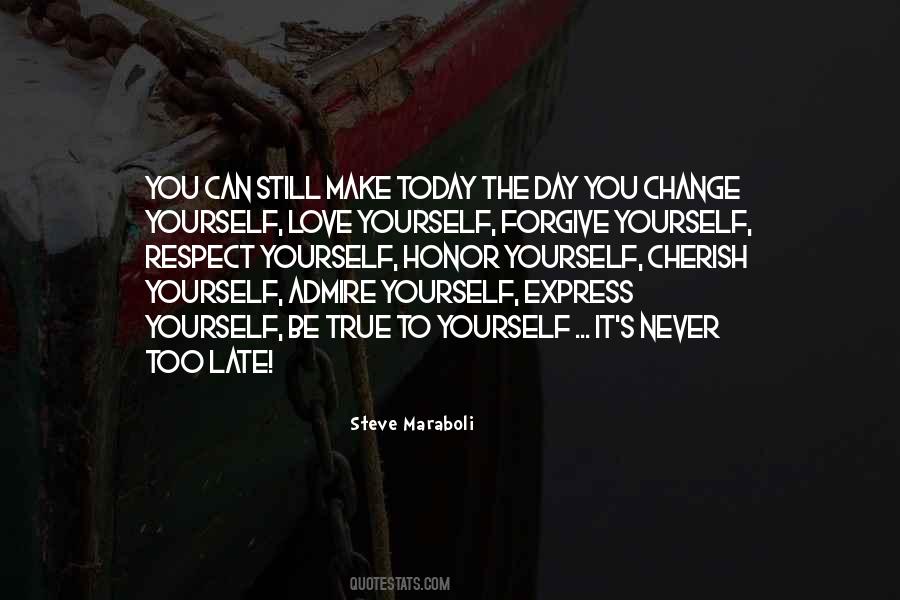 #11. Set the standard! Stop expecting others to show you love, acceptance, commitment, & respect when you don't even show that to yourself.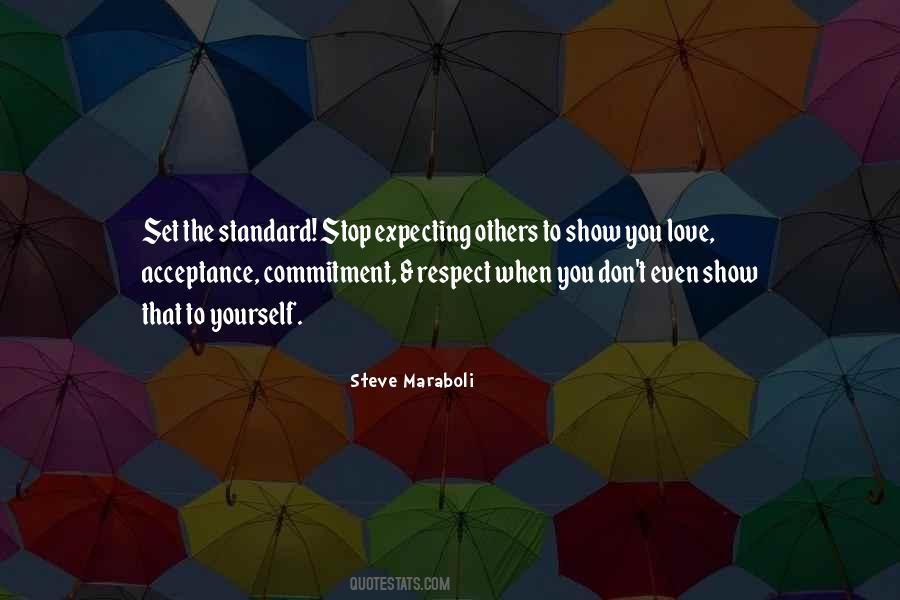 #12. You have to love and respect yourself enough to not let people use and abuse you. You have to set boundaries and keep them, let people clearly know how you won't tolerate to be treated, and let them know how you expect to be treated.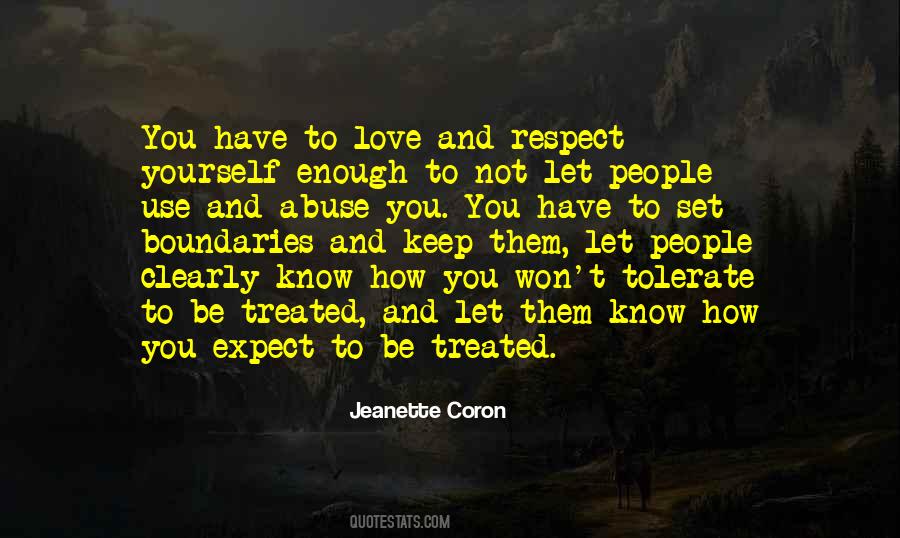 #13. Worth is not something you can buy for $39.99, nor something you can lose with 10 extra pounds. Self-judging people make good consumers. Start a revolution. Love yourself.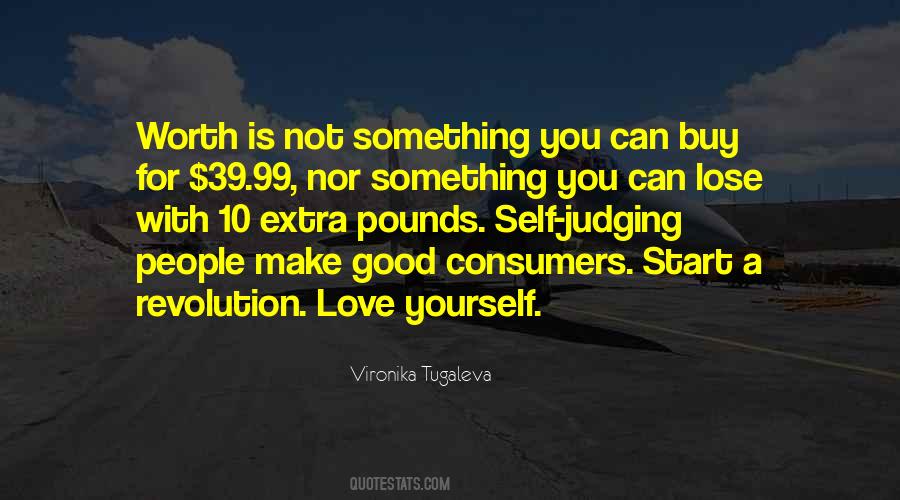 #14. A literary expert friend once told me that the way to teach your child to love and respect reading is not to read to them, but rather to refuse to allow yourself to be interrupted while you're reading.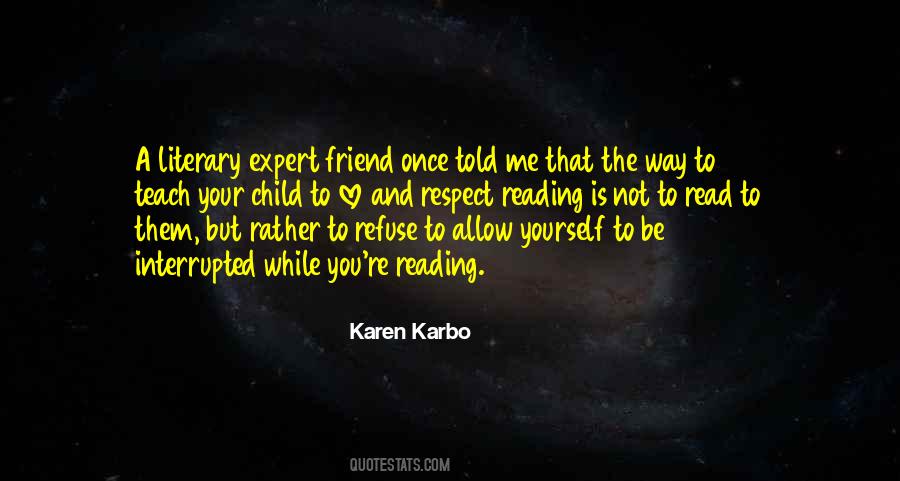 #15. Stop rejecting that unique pathway that was designed exclusively for you. Embrace your destiny, respect yourself and love others.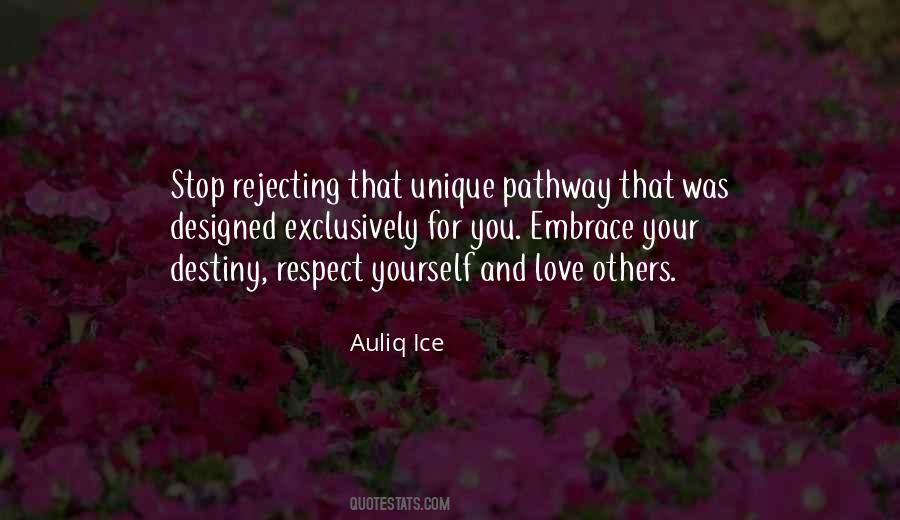 #16. Respect yourself..you may not be able to get someone to respect you but you can chose not to be disrespected.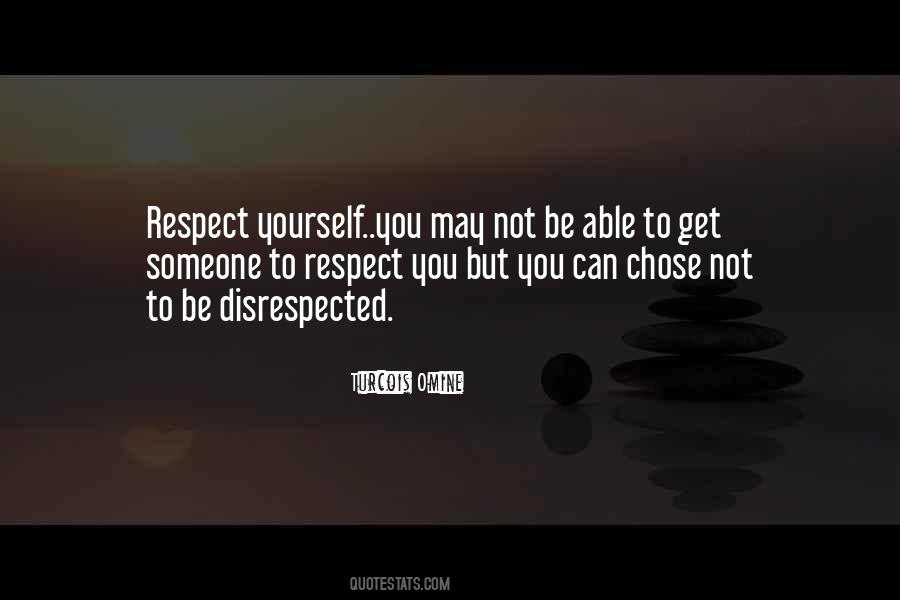 #17. The prerequisite to loving others is to love yourself. If you don't have a healthy respect for who you are, and if you don't learn to accept yourself faults and all, you will never be able to properly love other people.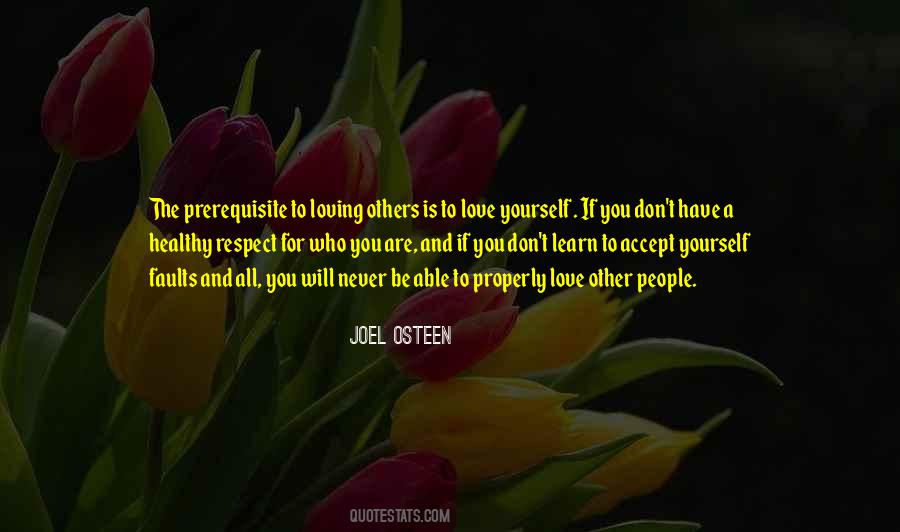 #18. A lot of the powerful religious leaders, from Jesus to Buddha to Tibetan monks, they're really talking about the same things: love and acceptable, and the value of friendship, and respecting yourself so you can respect others.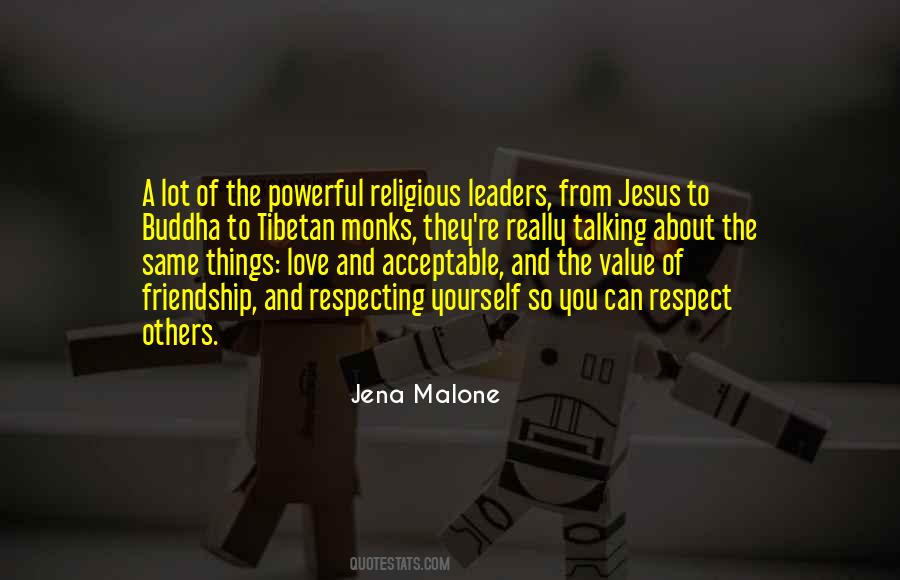 #19. If nothing else in this long and short life, let me be true to my conscience, to the dignity of my own heart. Let me act in a way that says, I have honored my spirit as truly as I have honored others'. Let me stand tall and rooted as a mountain in the face of a quaking world.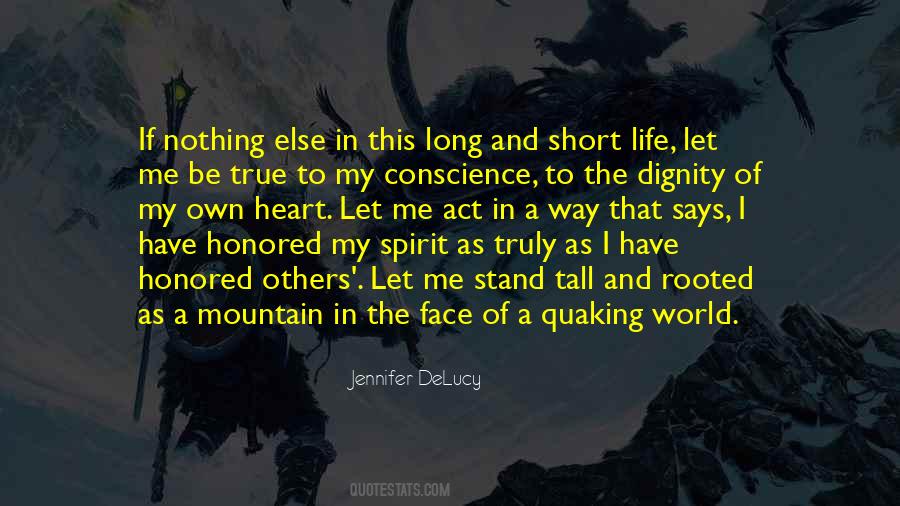 #20. You will be loved and respected only if you love and respect yourself.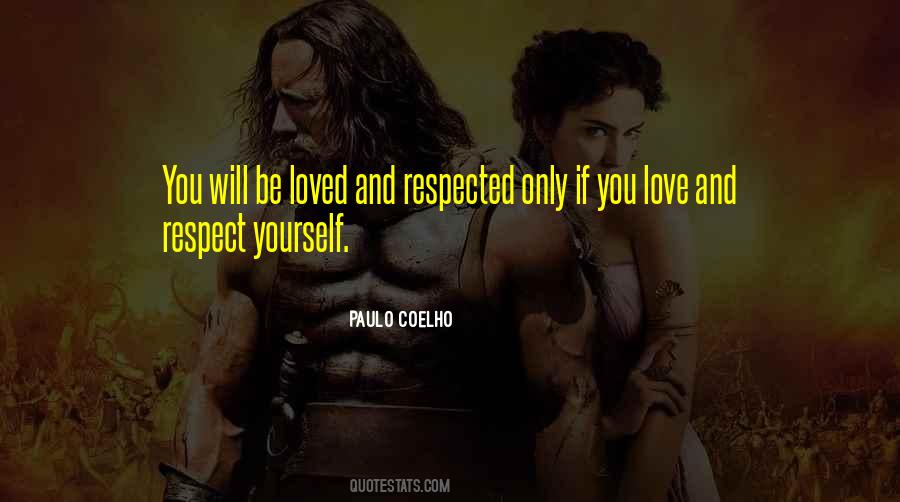 #21. Love advice is like life advice, so there are so many elements of that. I think humor, patience, admiration are really important love elements. Love and respect. You have to respect the person that you're going to love, and you have to be confident in yourself and love yourself.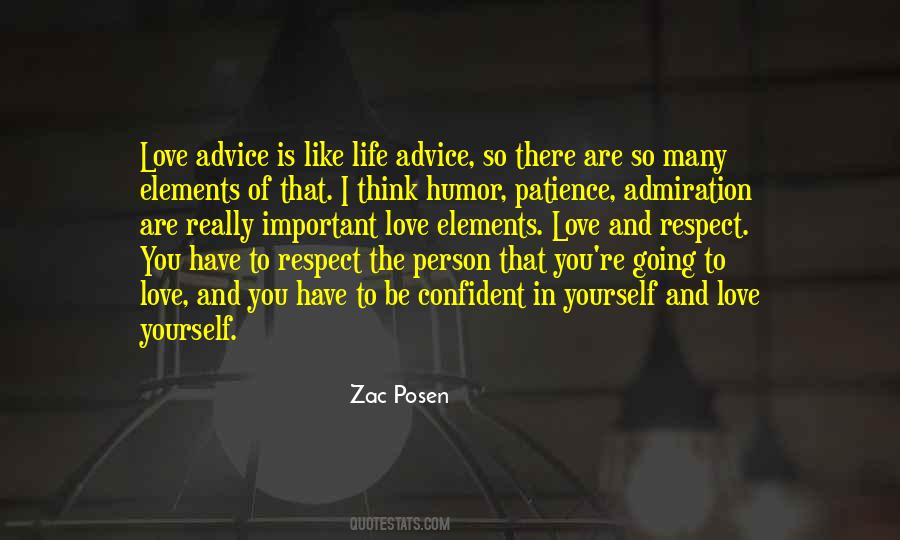 #22. Courage is an act of grace when it is not required; it originates from an inner necessity to honor, love, and cherish people, and respect oneself.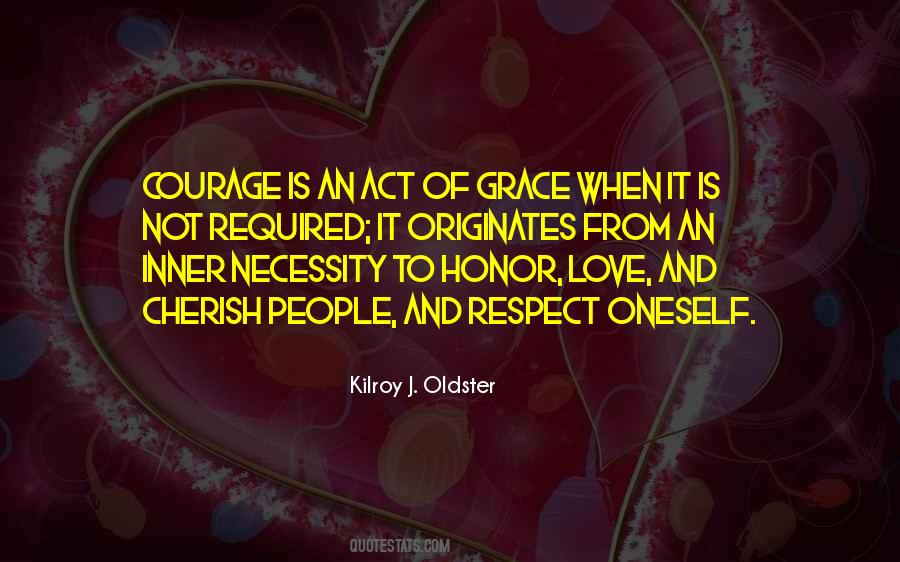 #23. I think the reward for conformity is that everyone likes you except yourself.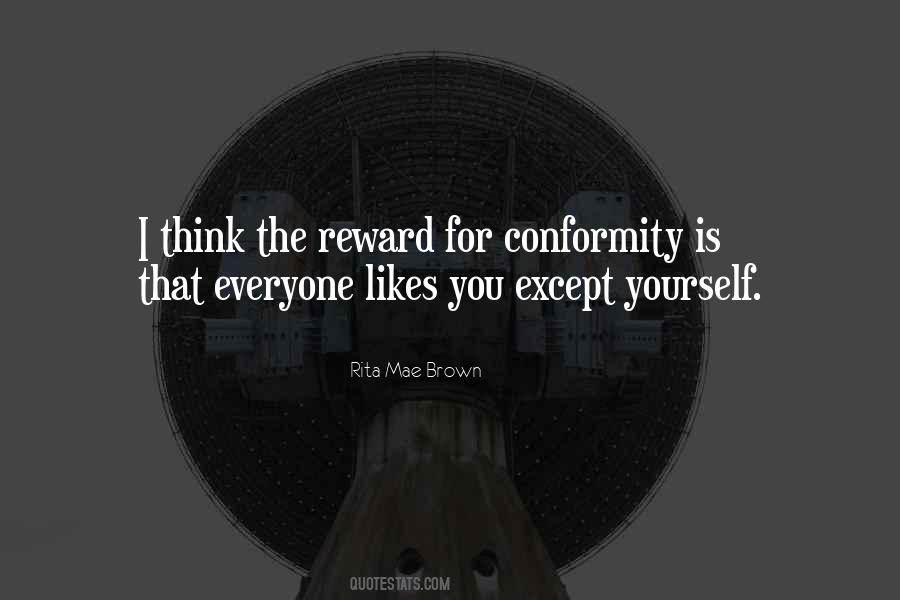 #24. Start a daily routine of looking at yourself in the mirror through a lens of unconditional love, appreciation, admiration and respect....Connect with the soul behind the image of you in the mirror. Look upon yourself with complete adoration, acceptance and non- judgement.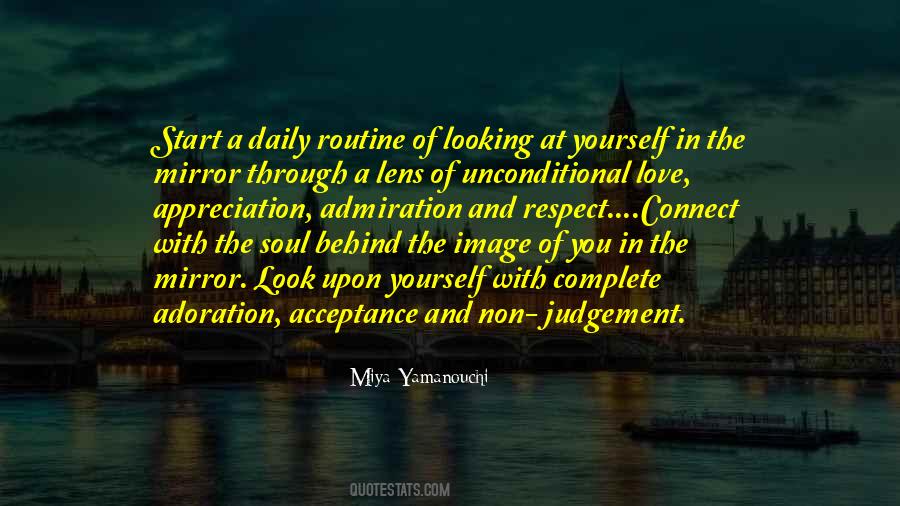 #25. You will only be loved and respected if you love and respect yourself. Never try to please everyone; if you do, you will be respected by no one.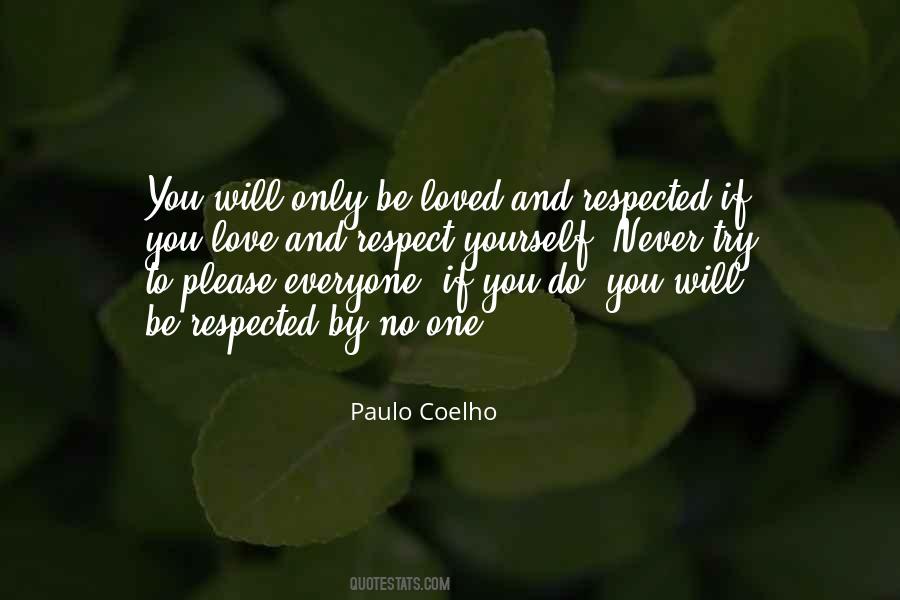 #26. Find someone you care enough about to help you control your drinking. Preferably yourself.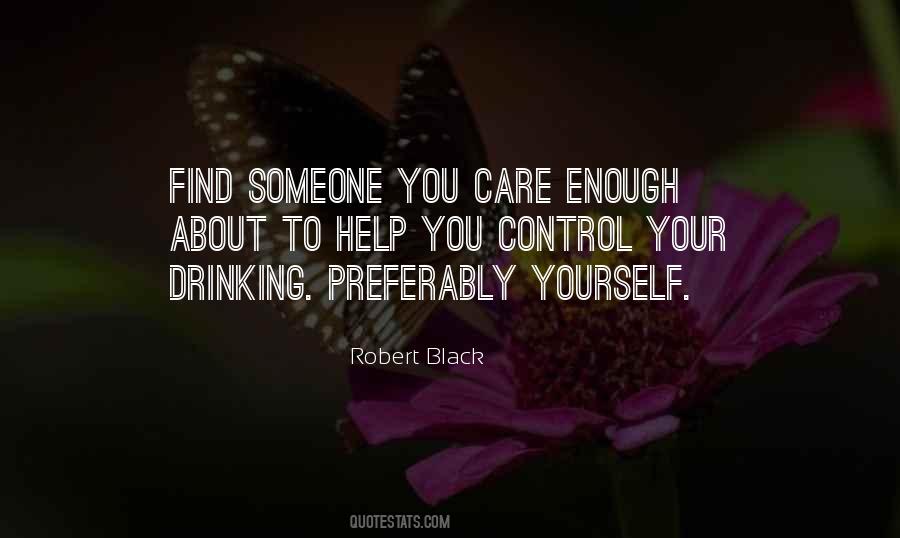 #27. Have a healthy respect and love for yourself, but don't be taken out by your ego.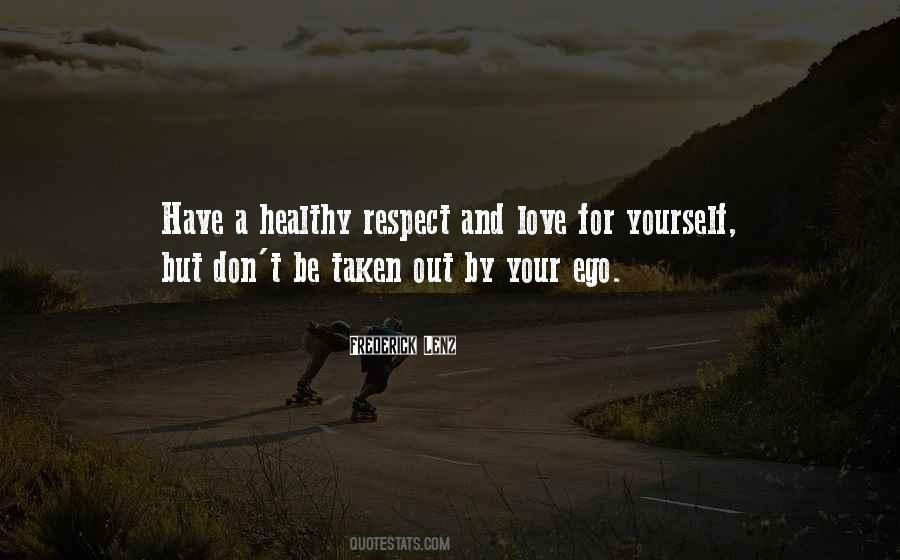 #28. You must love and respect yourself enough to never be a victim under any circumstance.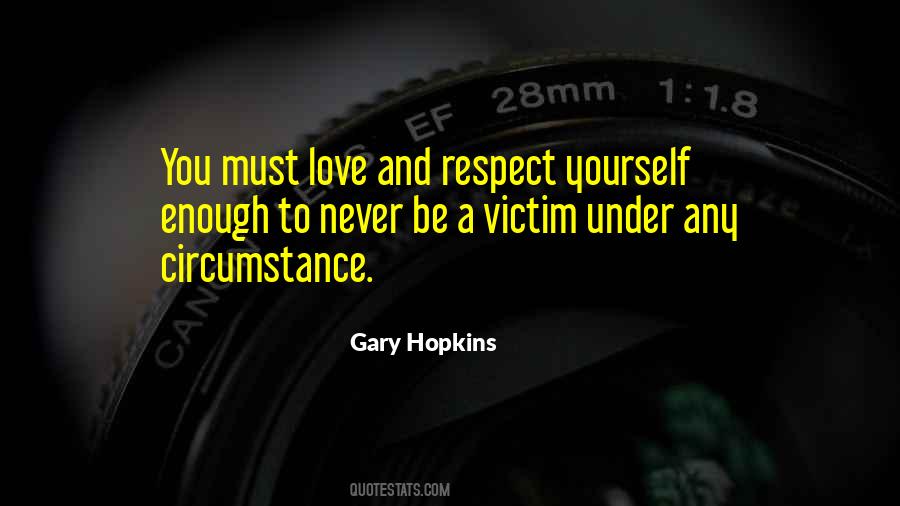 #29. Above all, don't lie to yourself. The man who lies to himself and listens to his own lie comes to a point that he cannot distinguish the truth within him, or around him, and so loses all respect for himself and for others. And having no respect he ceases to love.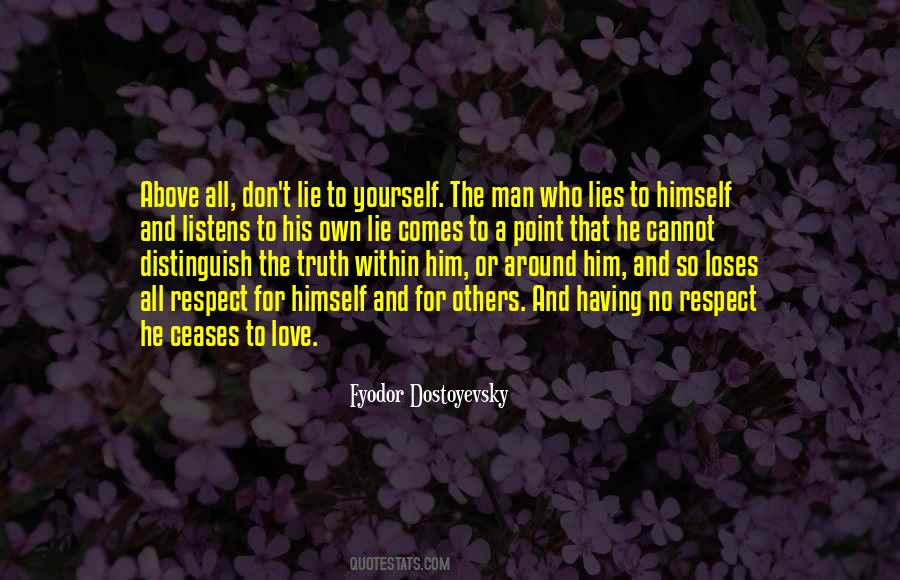 #30. Consult your friend on all things, especially on those which respect yourself. His counsel may then be useful where your own self-love might impair your judgment.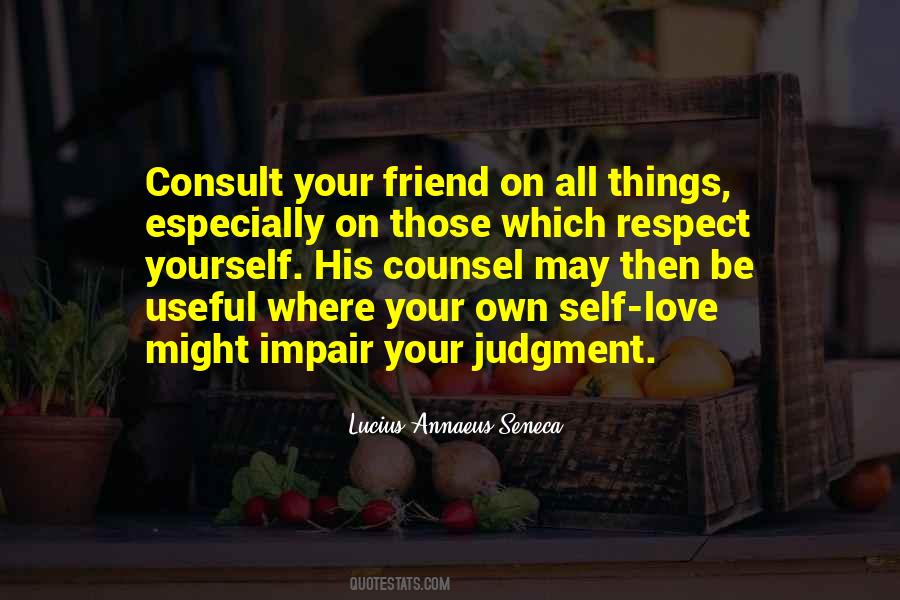 #31. The more you stay with and/or complain about a toxic person, the more you're merely delaying doing the important inner work you need to do - to heal your wounds, expand your limiting beliefs, and show yourself far more love and respect.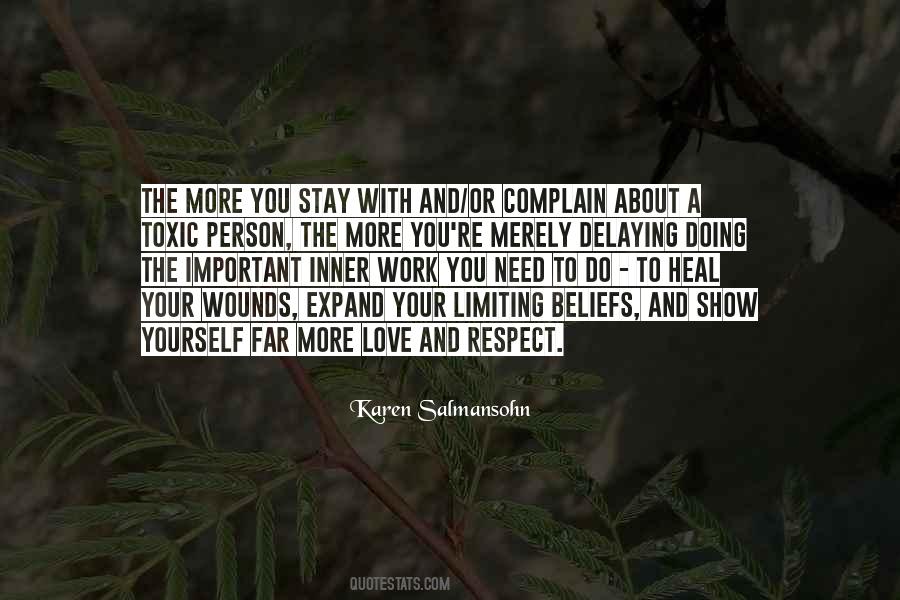 #32. Go beyond yourself and reach out to other people with a sincere love, respect, caring, and understanding of their needs.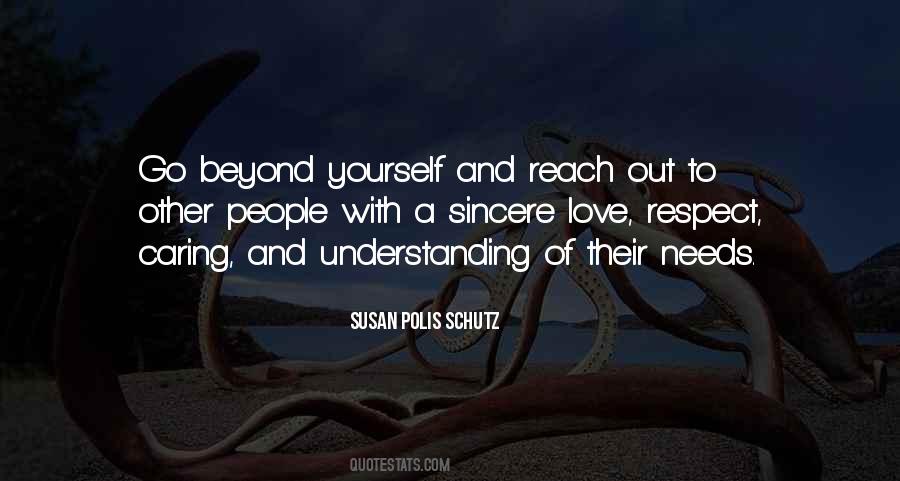 #33. Unless you love yourself, it's difficult to respect anyone else who holds that high an opinion of you.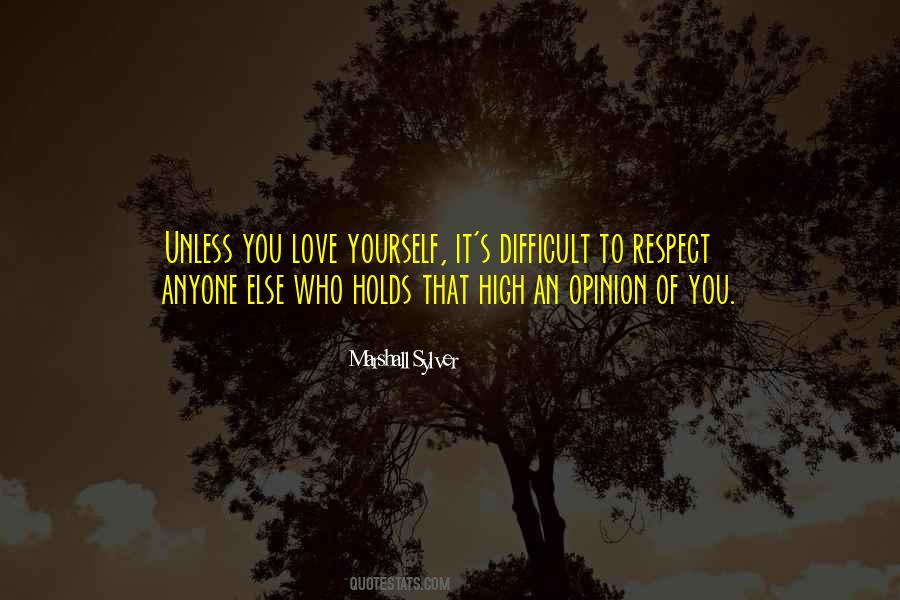 #34. My Dear Friend,
Don't ever allow yourself to forget how incredibly special you are, even for a single second. Without you, the world would not be as magnificent. Let yourself remember to love again, starting with you loving you.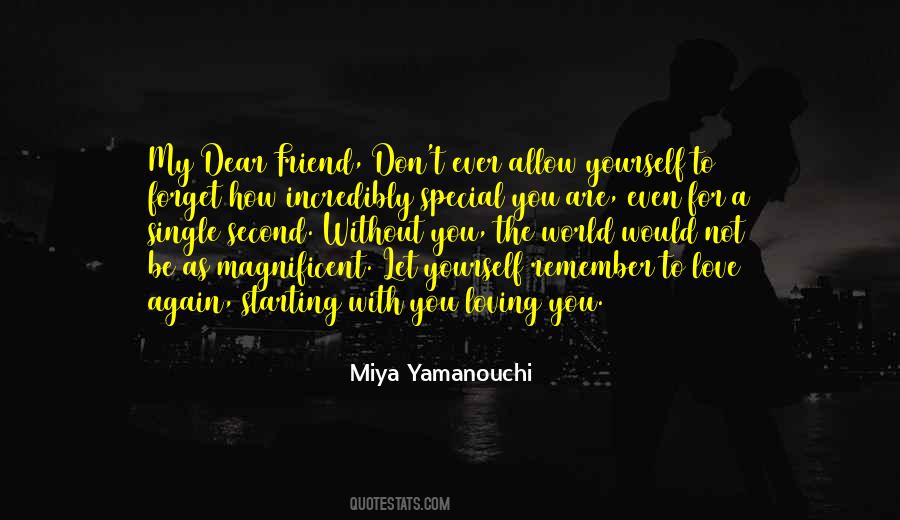 #35. Know yourself. Feel yourself. Love yourself. Respect yourself. Take good care of yourself. You are your most precious possession on Earth.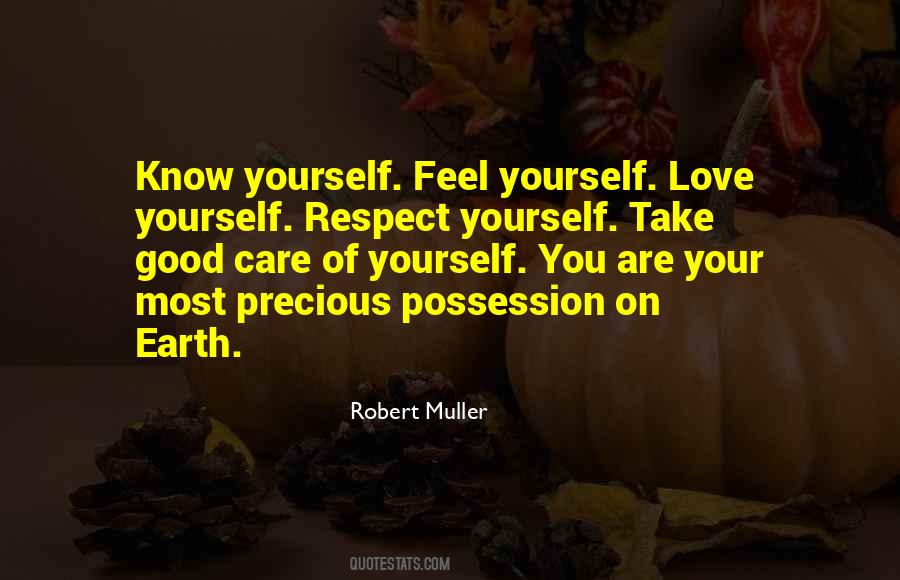 #36. Love Yourself and Care Others,
People Will Respect You Automatically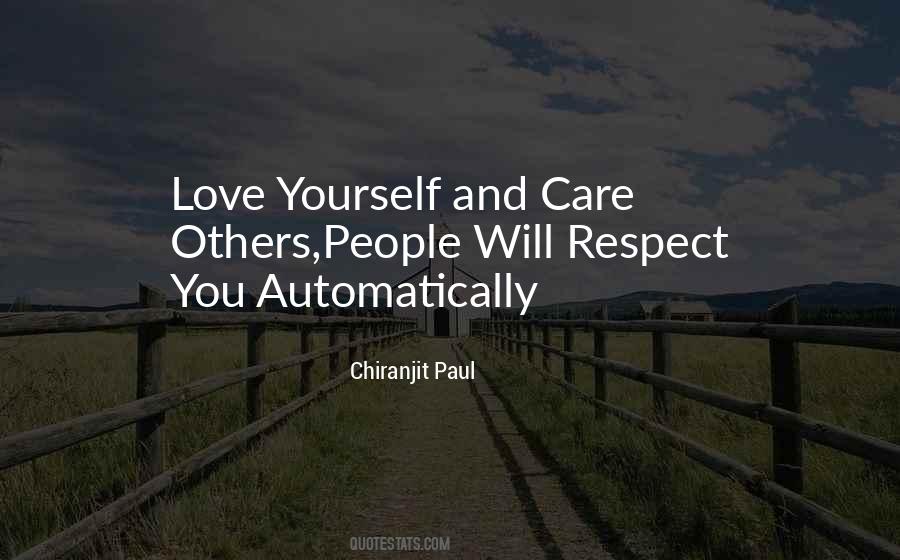 #37. Self love, self respect.
Love yourself,love your uniqueness.
You are the only person can be true to yourself.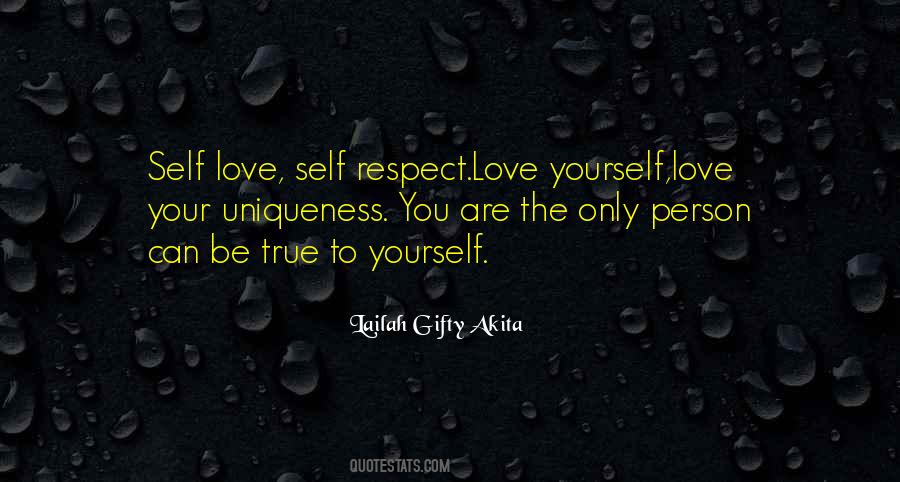 #38. Stop setting yourself on fire for people who just stand to watch you burn.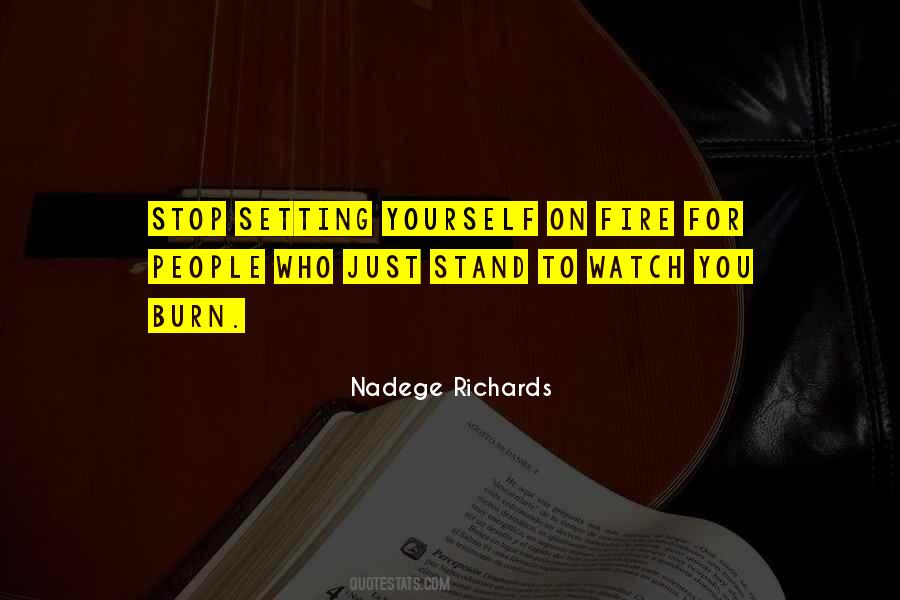 #39. Any of the girl never ever commit when her intention is to cheat You. So, I cannot compromise my respect for your love. You can keep your love, I will keep my respect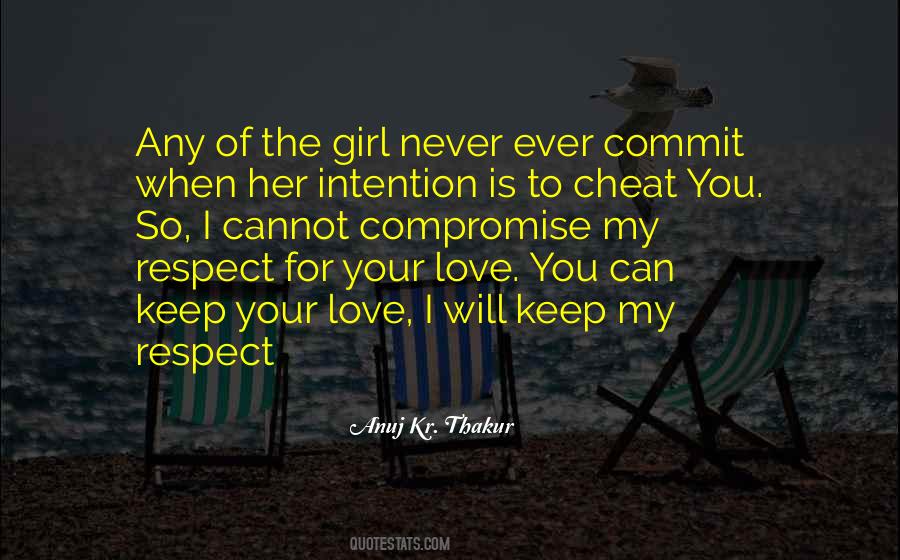 #40. A role model can teach you to love and respect yourself.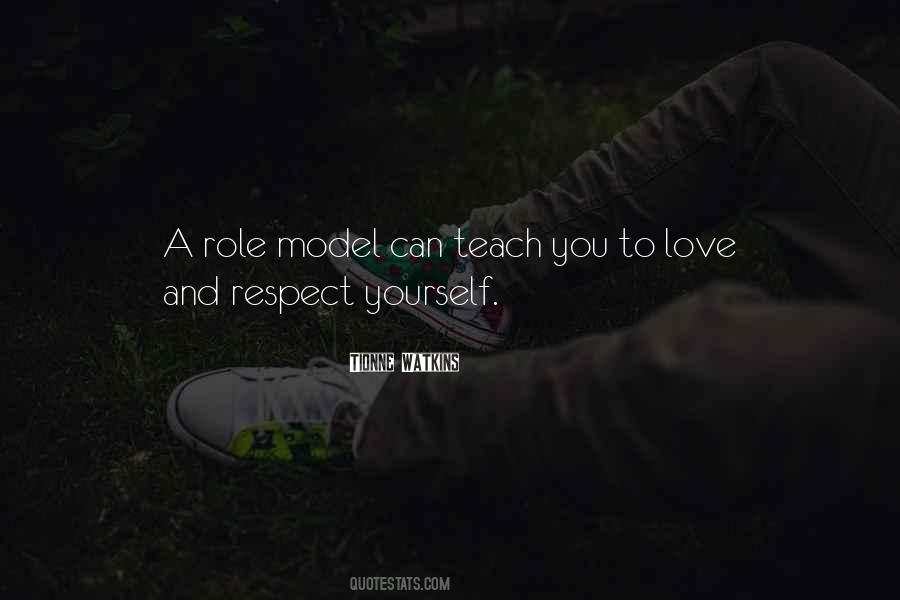 #41. Treat yourself with love and respect, and you will attract people who show you love and respect.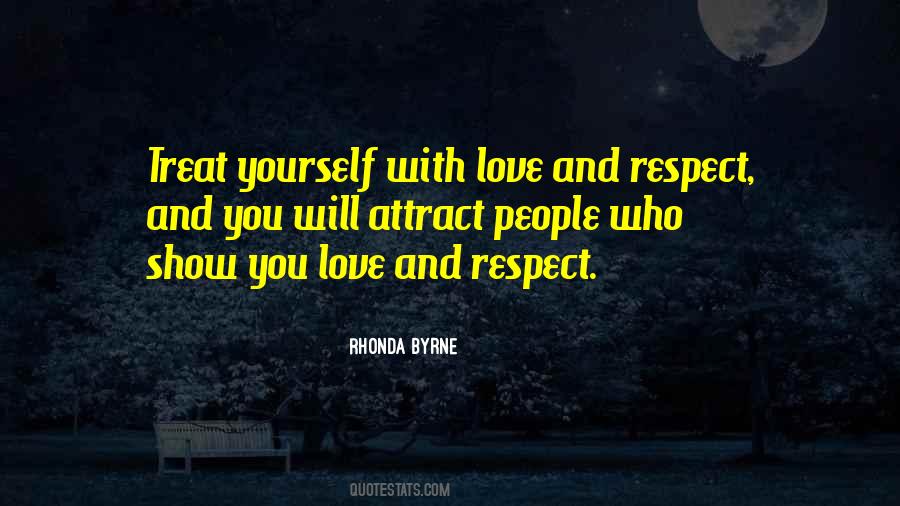 #42. Imagine the feeling of catching yourself loving yourself without trying. It's like catching a sunset out of the corner of your eye. It will stop you.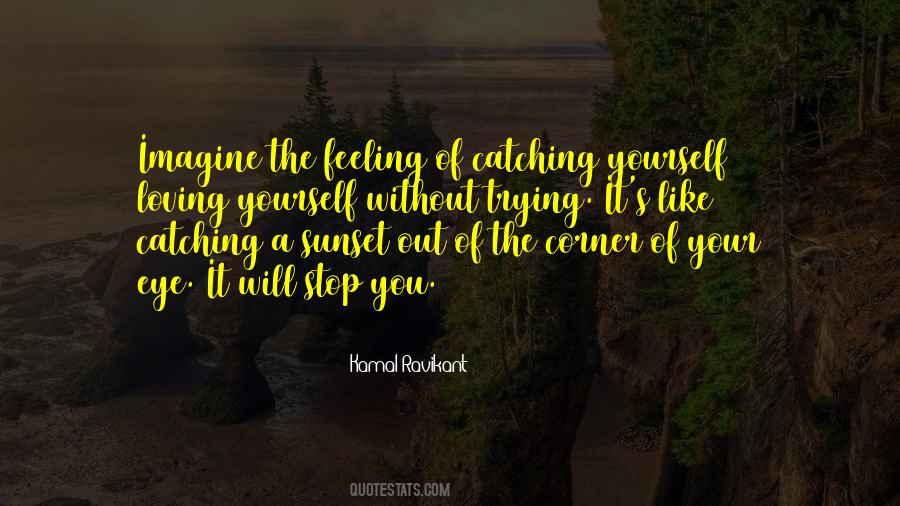 #43. Unless and until you introspect you cannot even respect yourself. You cannot even love yourself. If you love yourself you will introspect and find out what's wrong.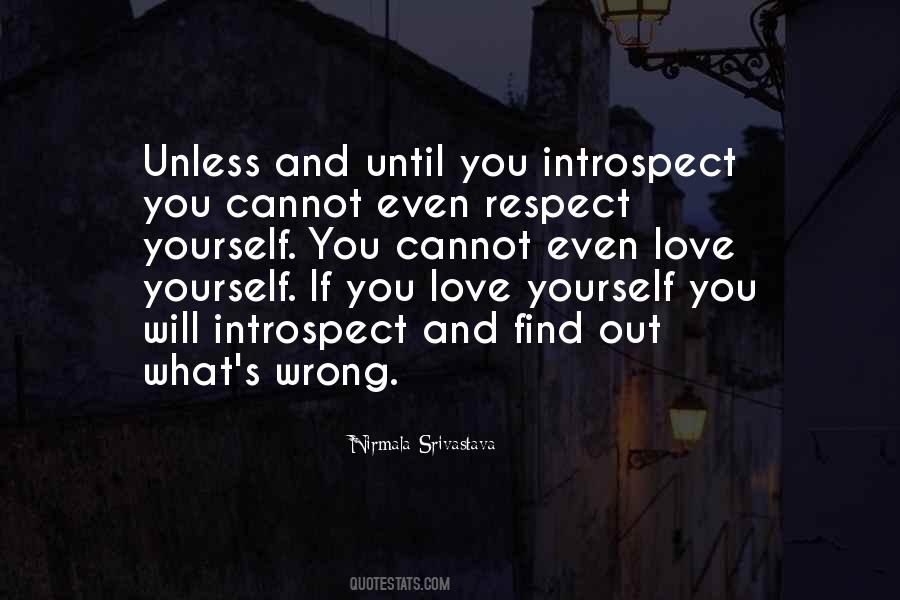 #44. Have the self-confidence to say no when it is necessary and the strength to stand alone. Give yourself the approval to love and respect everything that you are and will become.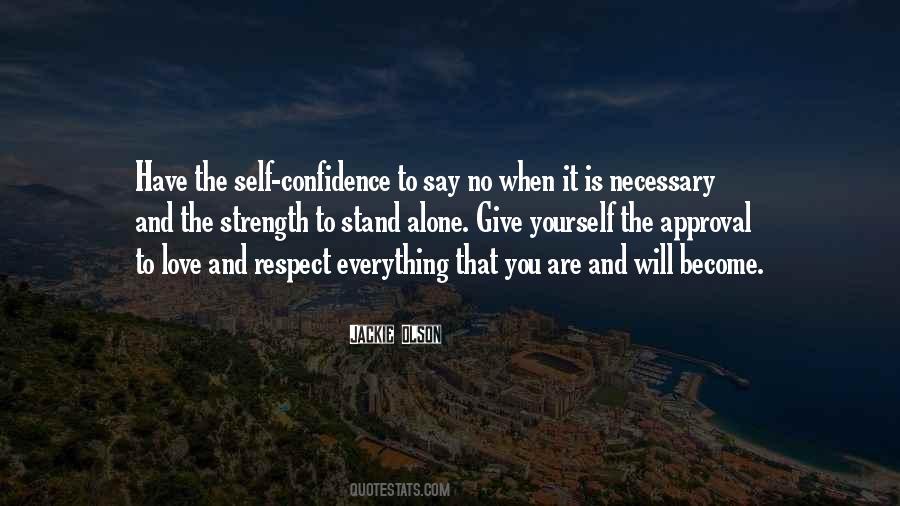 #45. Every time you make a commitment to your own self-care, self-love and self-respect and then follow through, you build trust in yourself.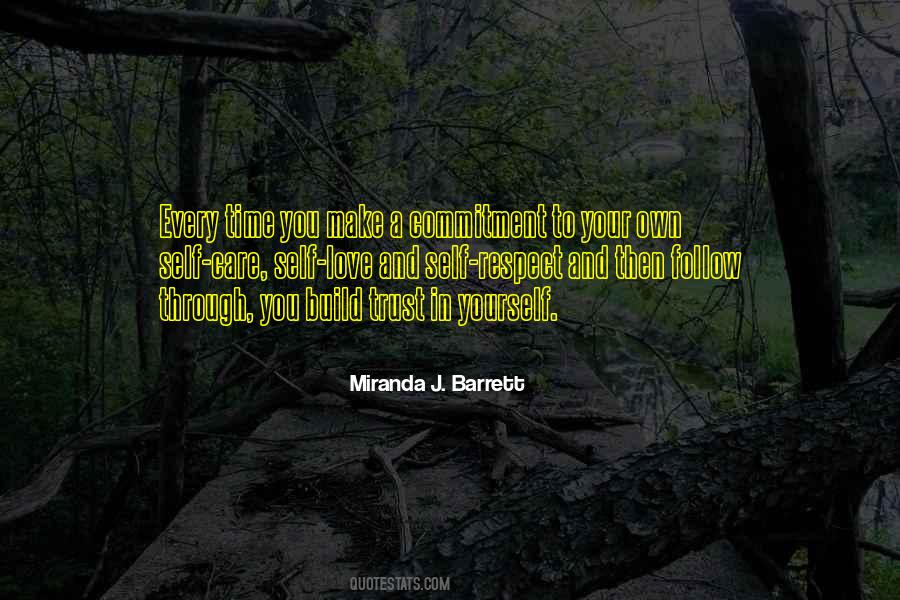 #46. While it is best to believe in oneself, a little more from others can be a great blessing, a thing to be thankful for.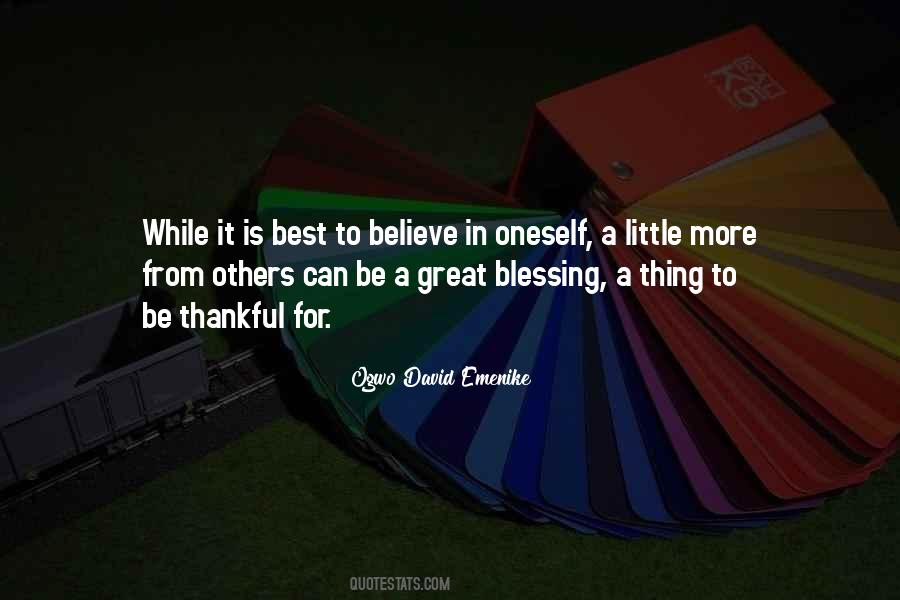 #47. Take the time out to have a look at yourself, it might help you to appreciate yourself better.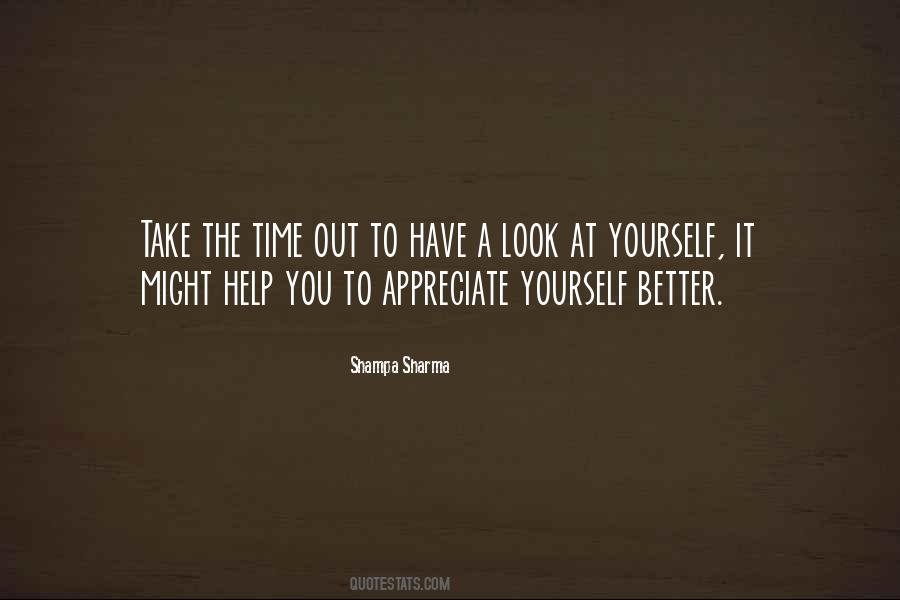 #48. Love yourself. Respect yourself. Never sell yourself short. Believe in yourself regardless of what people think. You can accomplish anything, absolutely anything, if you set your mind to it.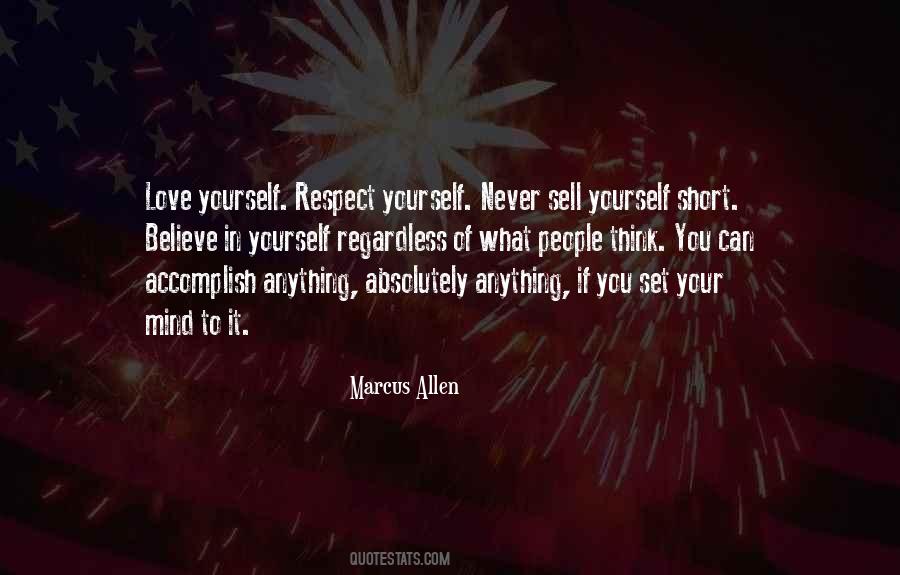 #49. Your life changes, when you focus on self-love, self-esteem, and self-confidence. Only your opinions of self love matter. Respect yourself.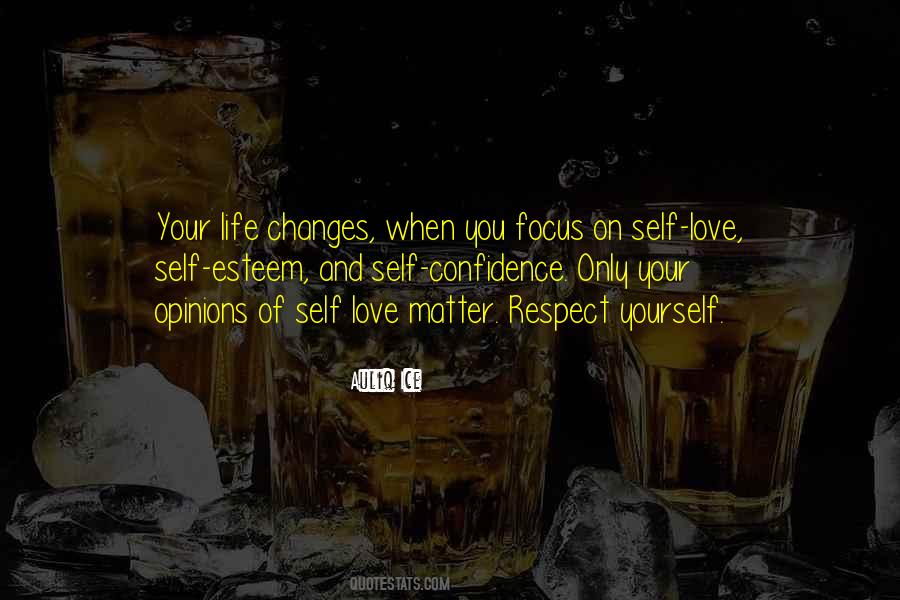 #50. When you love yourself you will never need closure from any man. That doesn't mean you didn't love him, it simply means you love yourself enough to realize God has a better plan for you that doesn't involve one more conversation that will remind you of that person's lack of respect for you.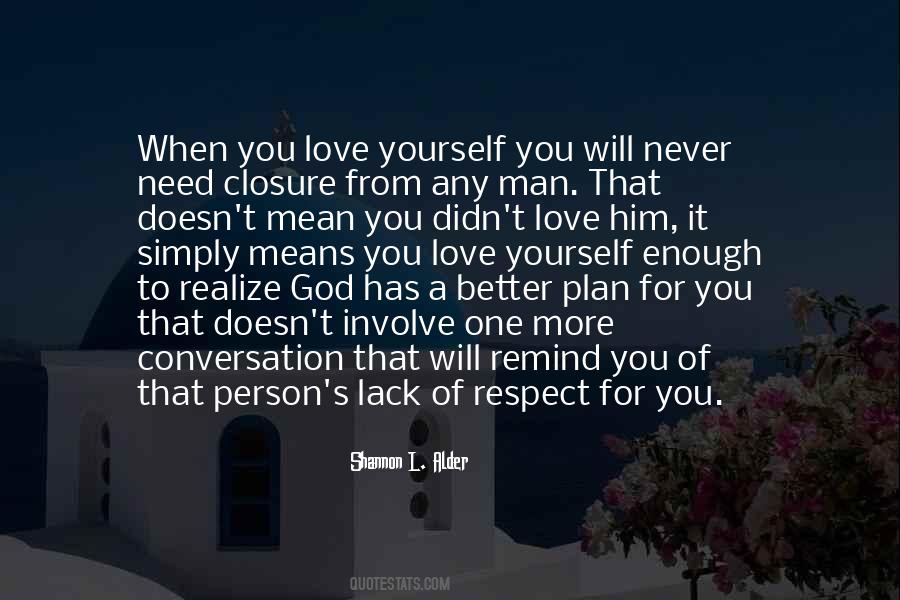 #51. If you can't remember when you last basked in your own glow, it means you're overdue.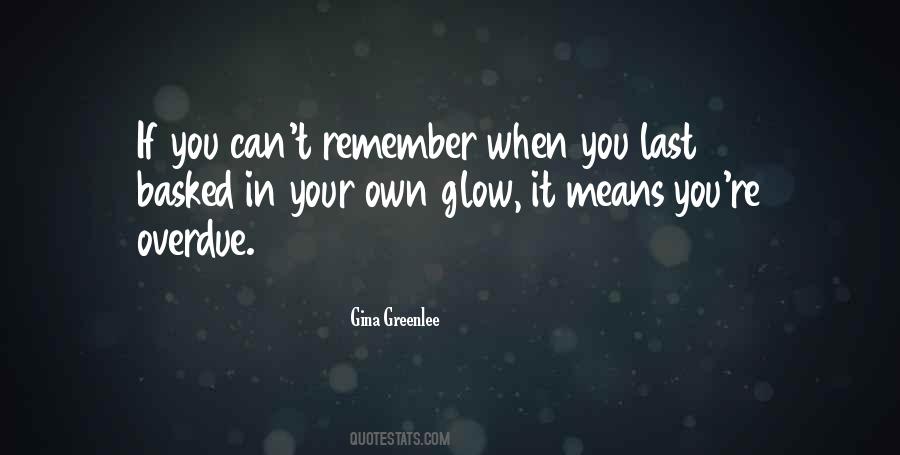 #52. The only reason you continue to love someone who treats you poorly is because you don't value yourself enough.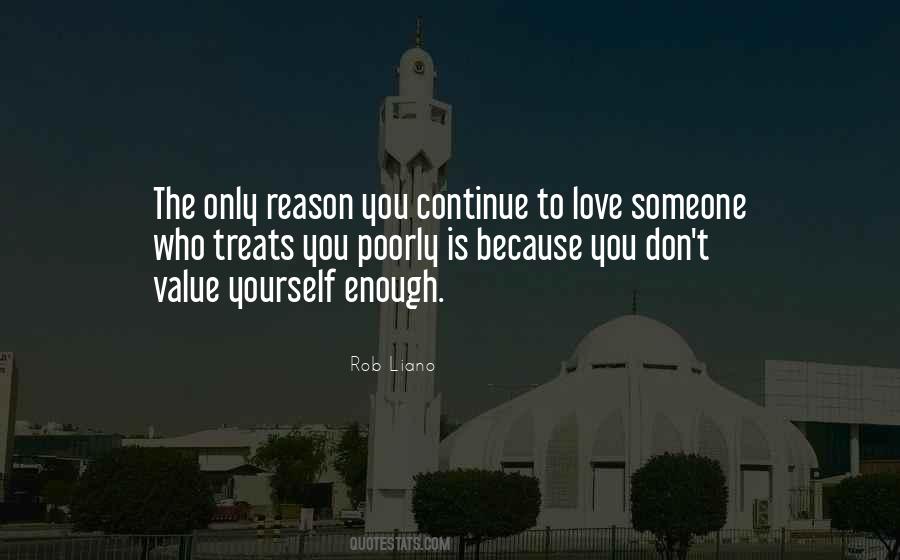 #53. Love is a prayer, begin it with self. If you can worship yourself without shame or guilt, you will be able to respect others.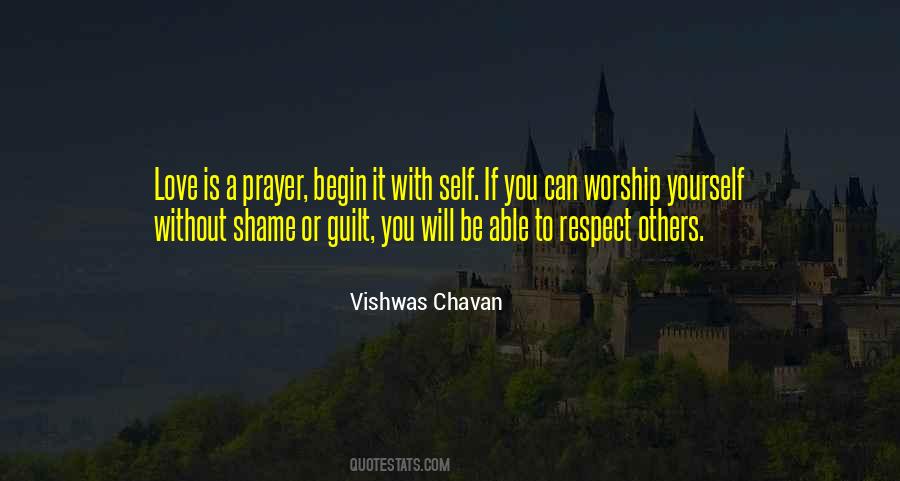 #54. To love yourself, truly love yourself, is to finally discover the essence of personal courage, self-respect, integrity, and self-esteem. These are the qualities of grace that come directly from a soul with stamina.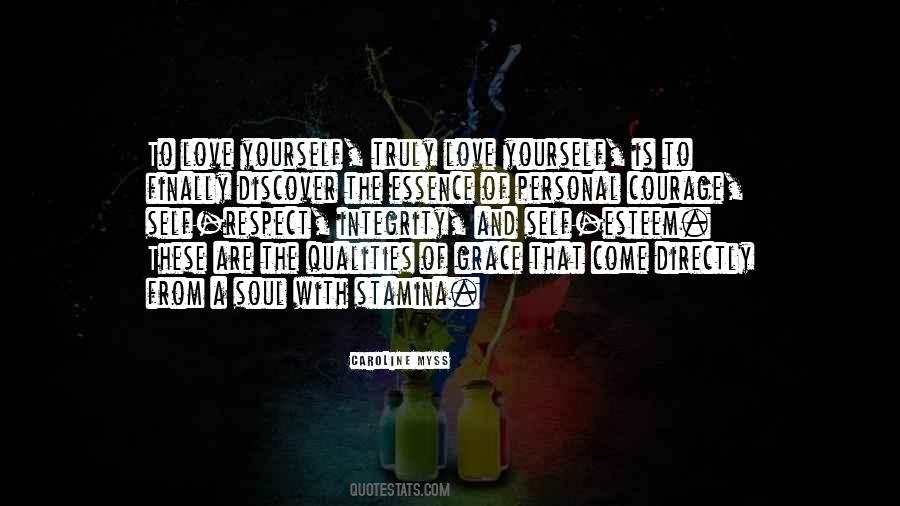 #55. Be real. Be authentic. Be yourself, whatever the emotional cost. Pain goes away, while regret over a life lived trying to be a plastic version of yourself does not.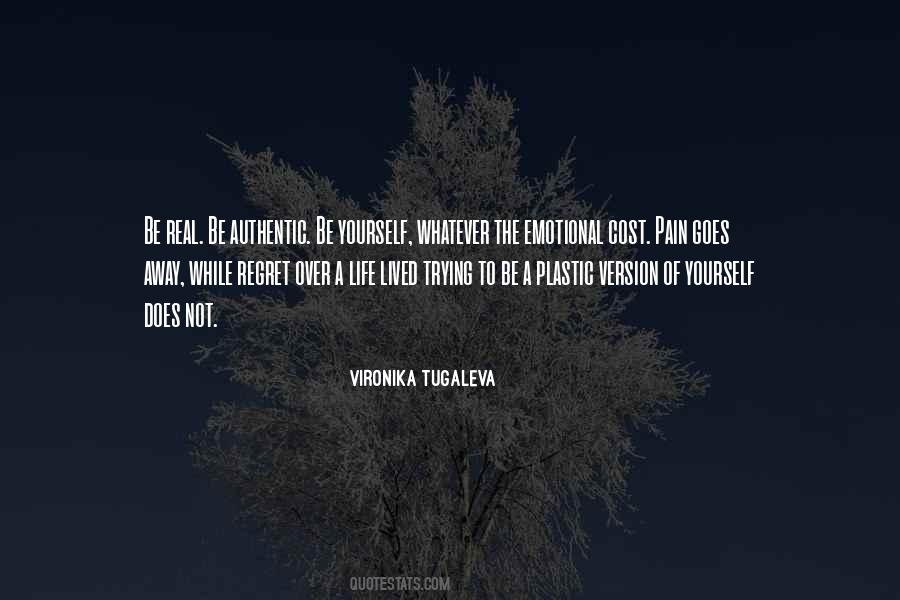 #56. Sometimes, though, we let ourselves get so used to being 'fine' that we lose track of how 'not fine' we are.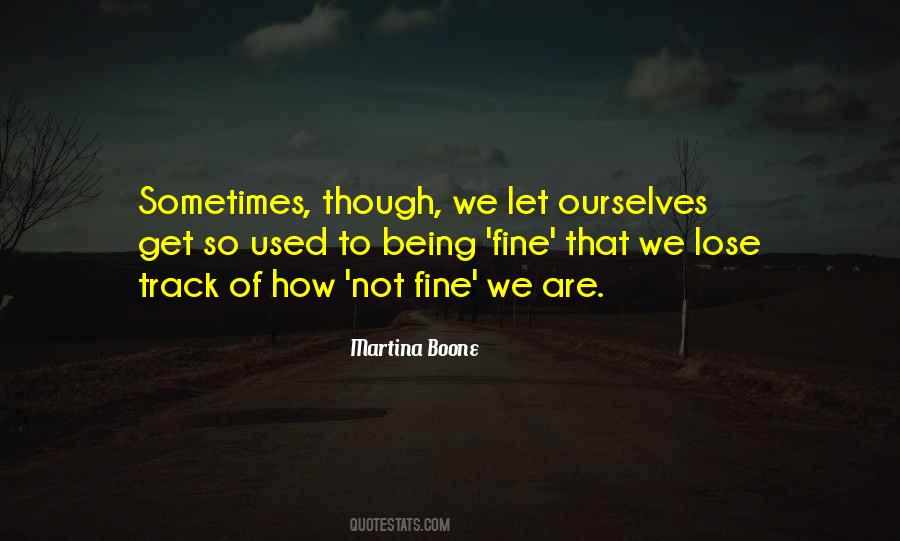 #57. Many people make the mistake of expecting others to treat them in a more loving and respectful way than they treat themselves. If you don't love yourself, stop expecting others to. If you don't respect yourself, stop expecting others to.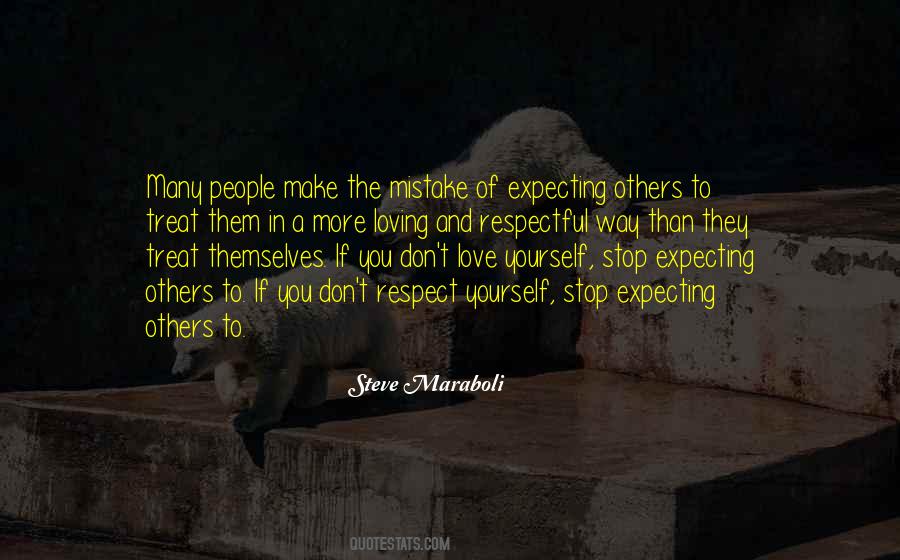 #58. If your self-respect's for sale, don't complain when someone tries to bargain.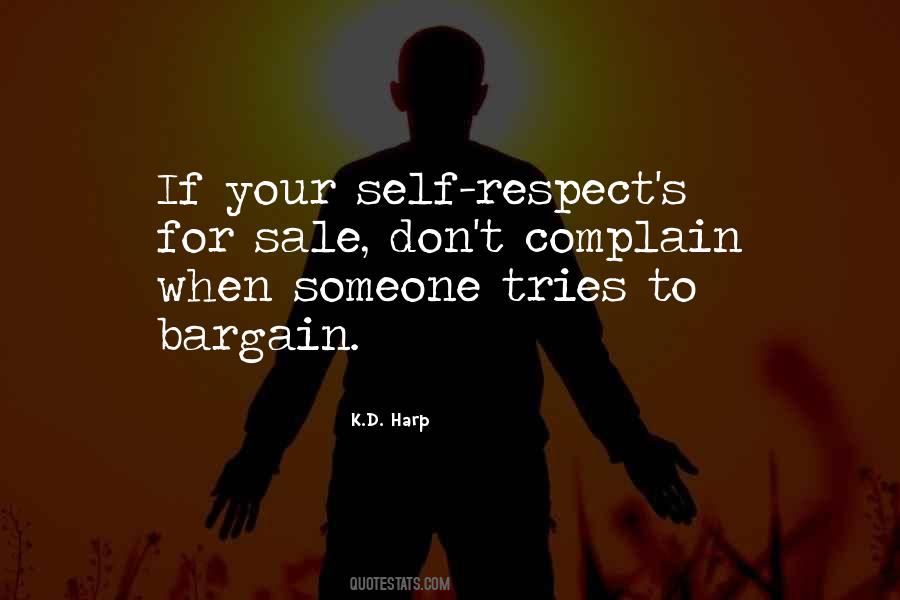 #59. Friends, show me a man who hates himself, and I'll show you a man who hates his neighbors more! He'd have to
you'd not grant anyone else something you can't have for yourself
no love, no kindness, no respect!
#60. Respect and love yourself first. Others will love you with trust.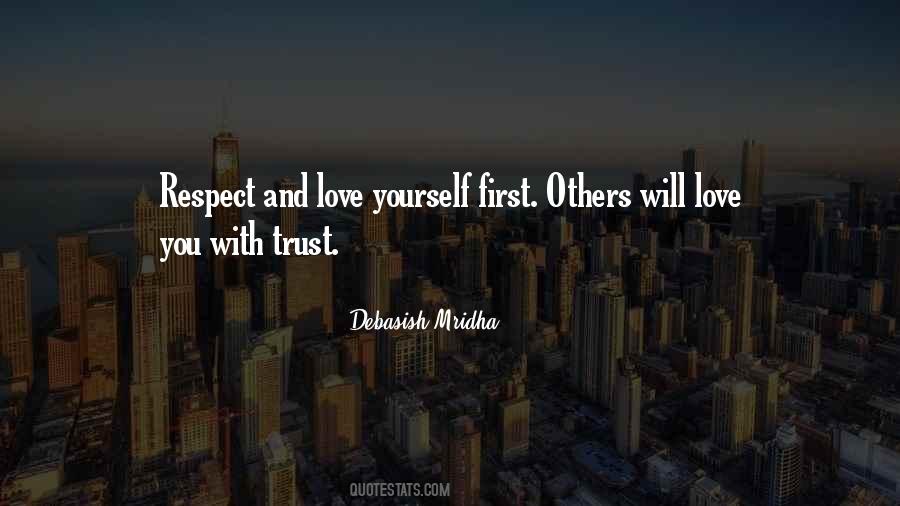 #61. Having confidence in your obedience, offers yourself confidence and love.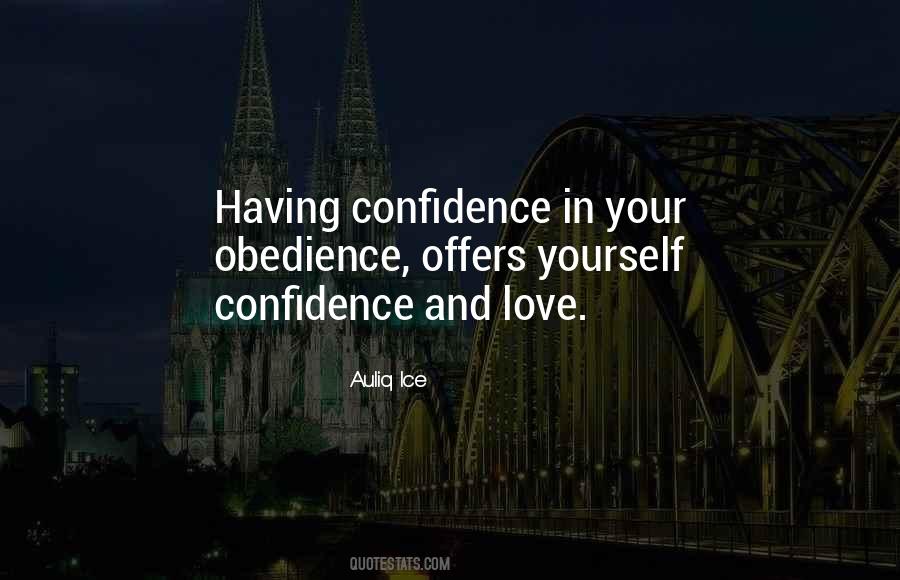 #62. When admiring other people's gardens, don't forget to tend to your own flowers.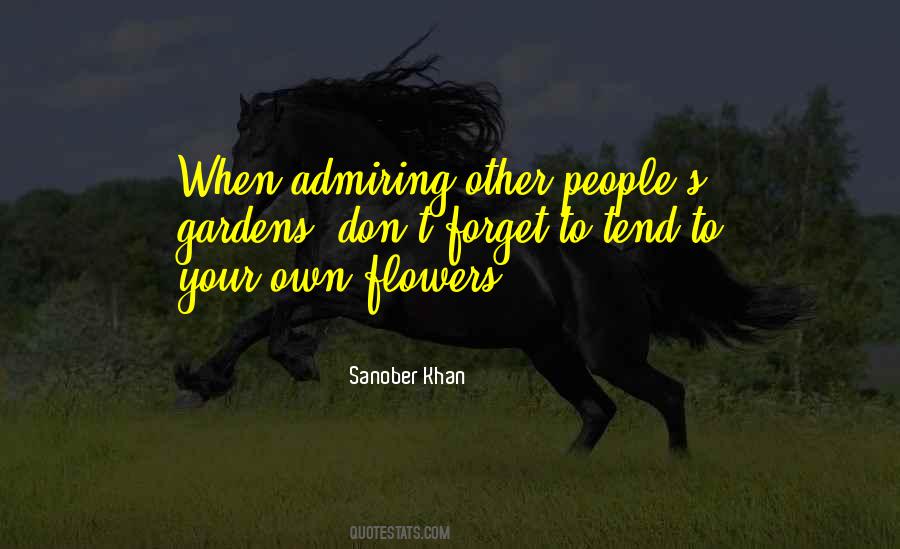 #63. To earn respect, you must earn your own self respect before you can expect others, to respect you.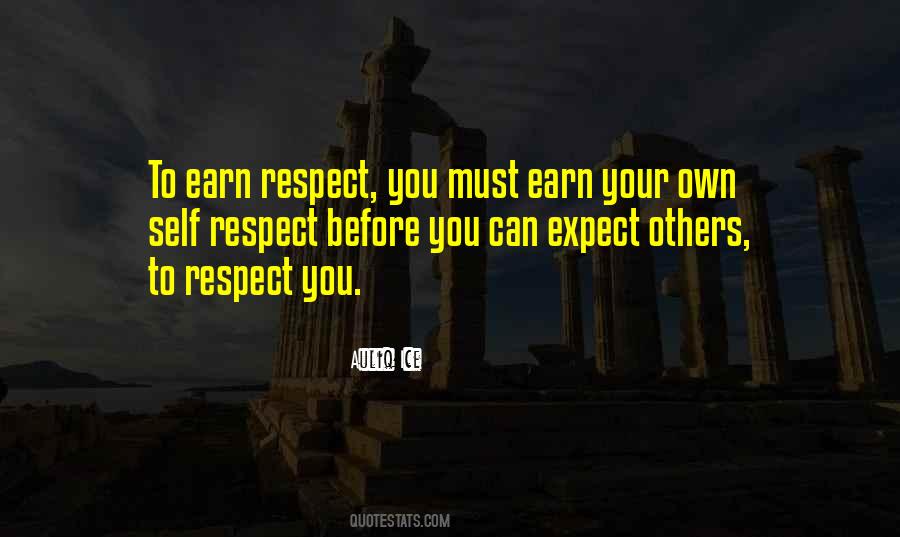 #64. Love and respect yourself and never compromise for anything. And then you will be surprised how much growth starts happening of its own accord.. as if rocks have been removed and the river has started flowing.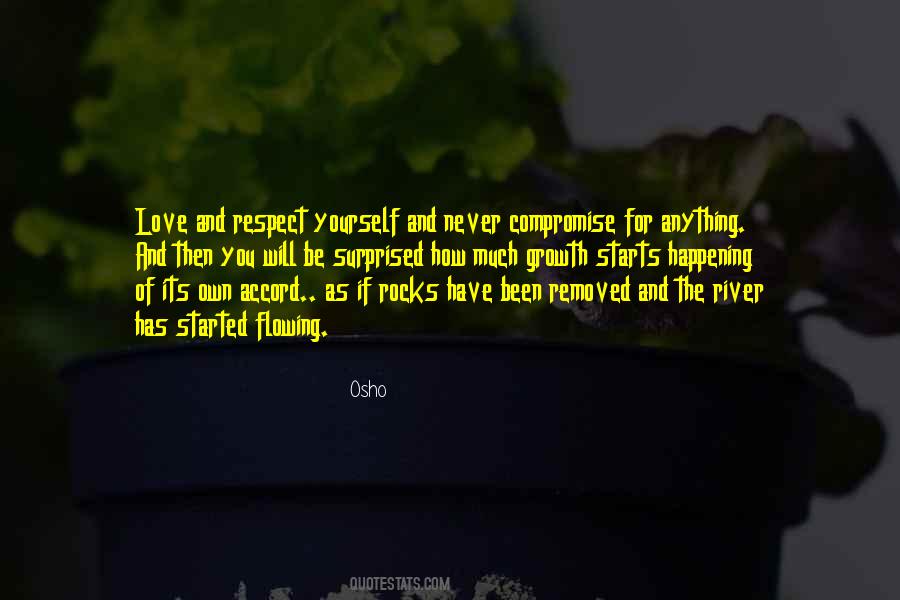 #65. Where's your self-respect? Why don't you get yourself in control? Life cannot hang on the love of one other person; you have got to hang your life on yourself.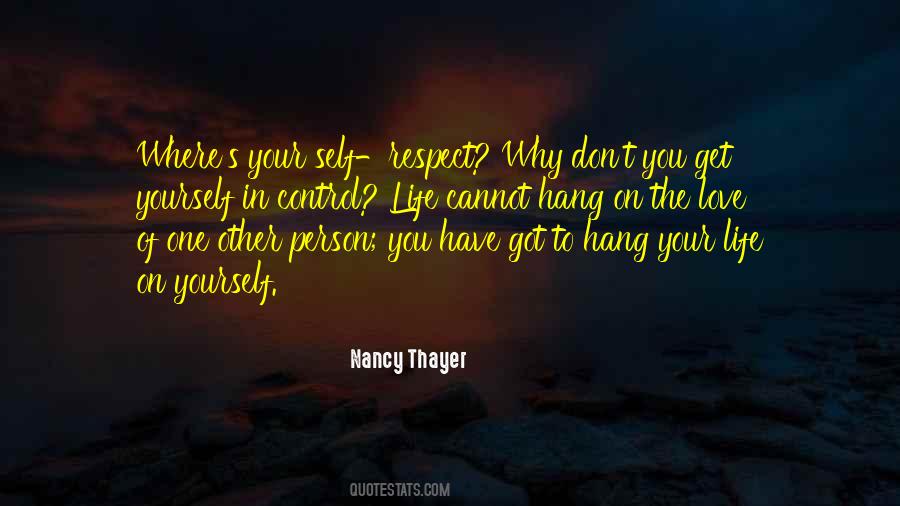 #66. Self respect, self worth and self love, all start with self. Stop looking outside of yourself for your value.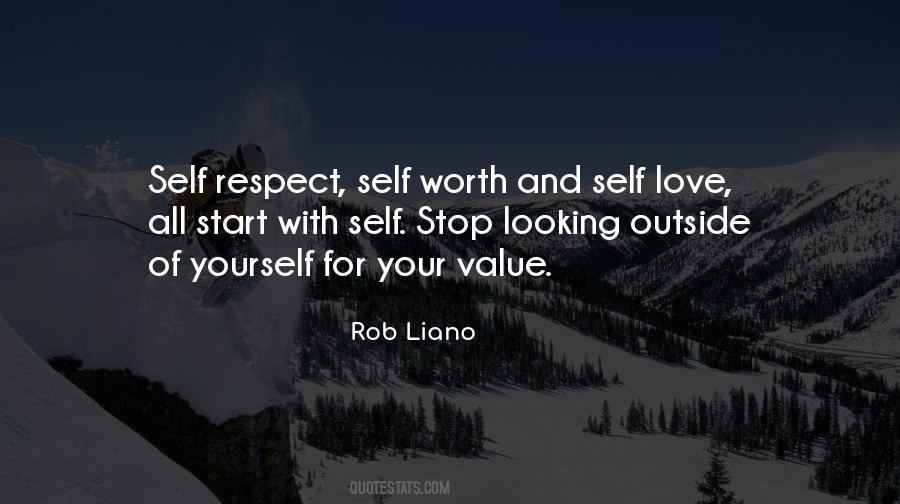 #67. When you start really respecting yourself, those you love, and your money, the result is that you start having control over your money. What follows from that is control over your life.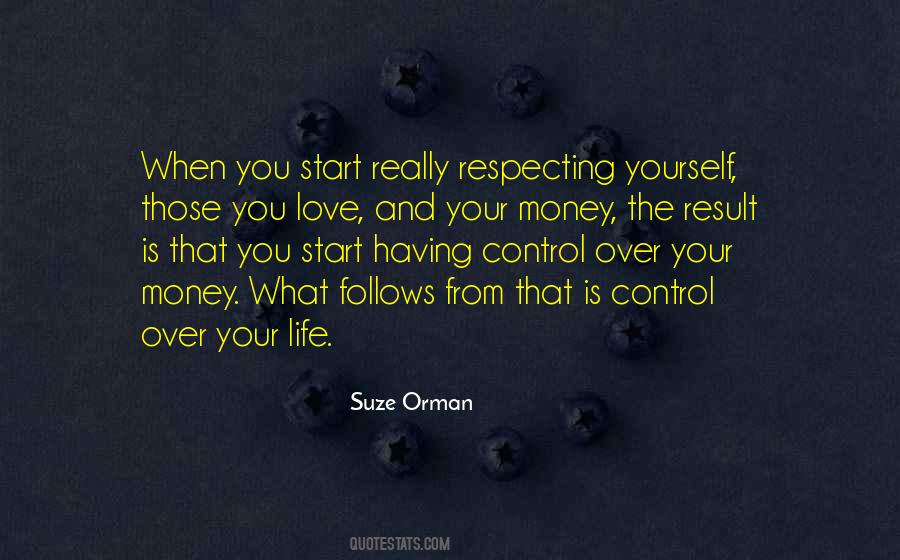 #68. Loving yourself ... does not mean being self-absorbed or narcissistic, or disregarding others. Rather it means welcoming yourself as the most honored guest in your own heart, a guest worthy of respect, a lovable companion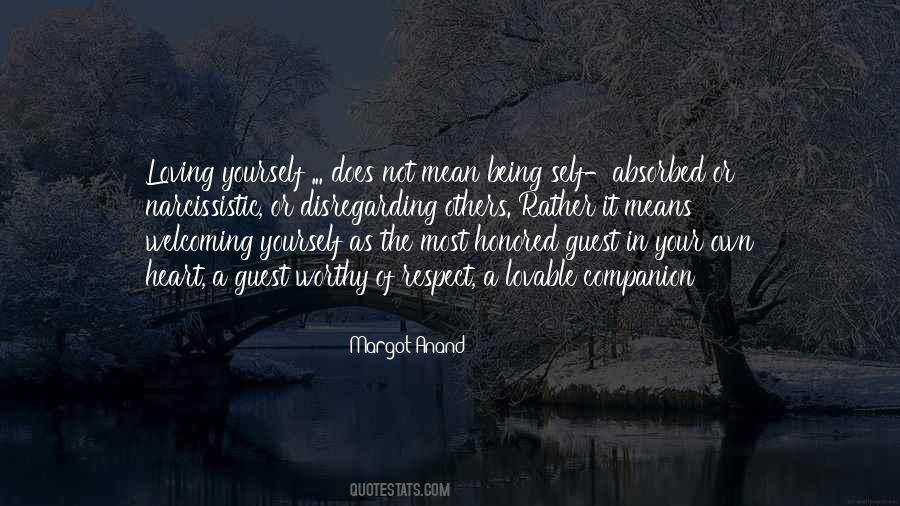 #69. If you don't love yourself it's tough to love anything about your life. Appreciating who you are is essential to your happiness.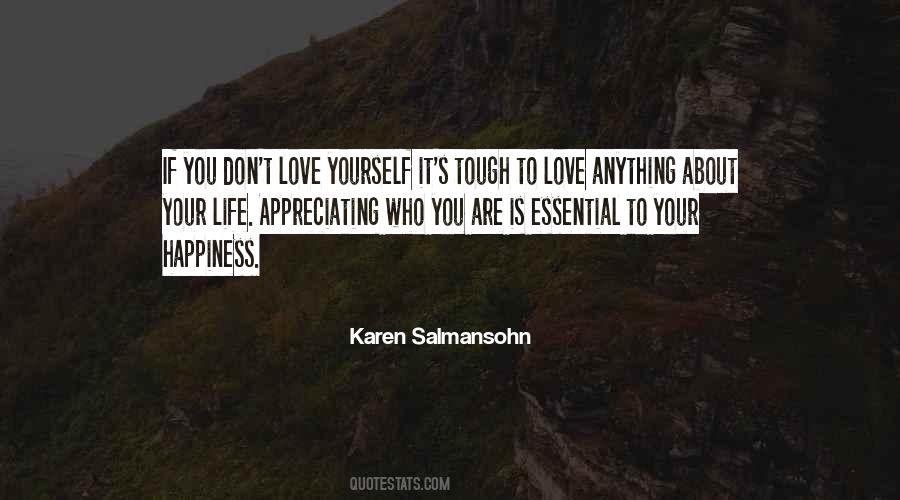 #70. Remember that people come and go, and of all the people in your life, you are the one who is there to stay. You are the one who can choose to love yourself, choose to respect yourself, and promise with all your heart and soul that you will never leave you.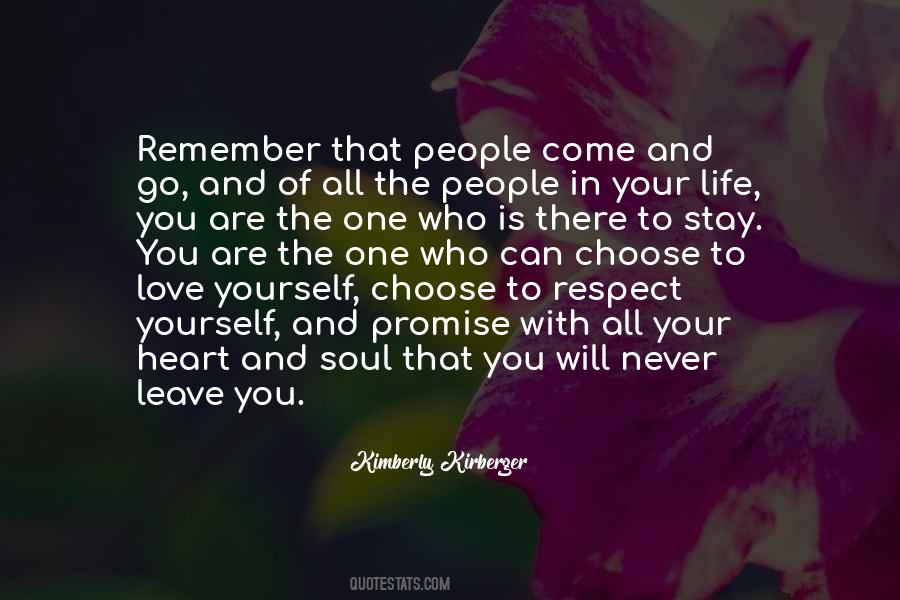 #71. No one will give a damn about you and your excellence unless you give a damn about yourself.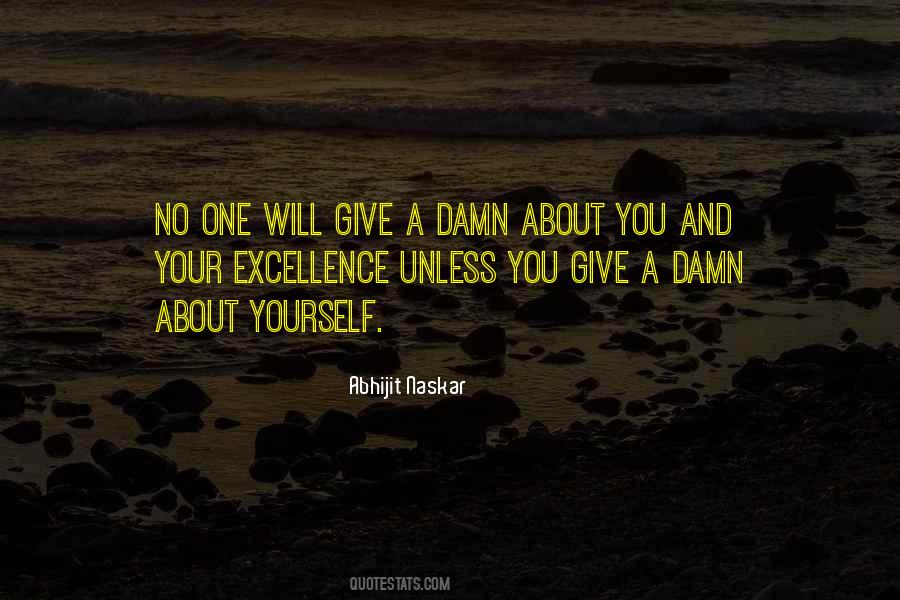 #72. Love yourself, appreciate yourself, see the good in you ... and respect yourself.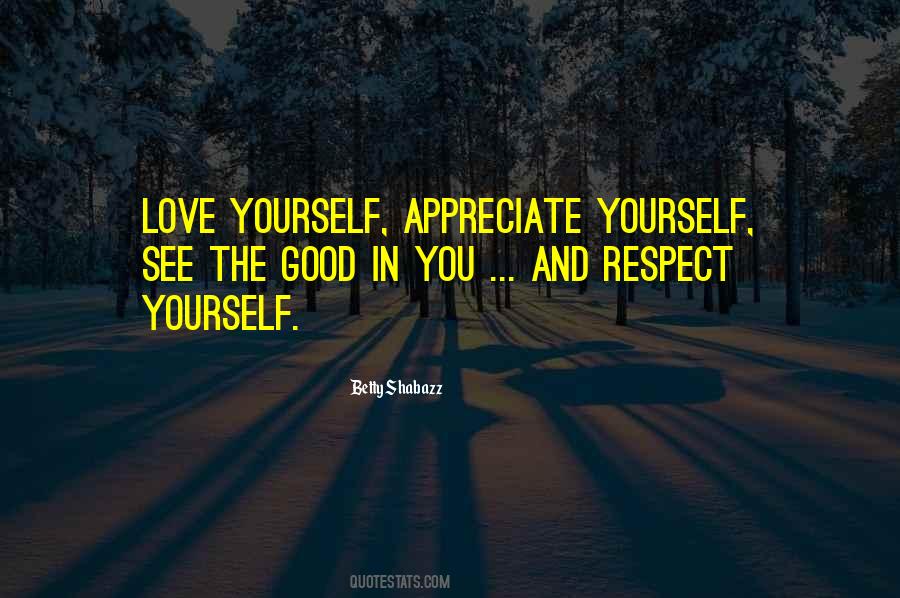 #73. If you respect yourself and you love yourself, that's the only way anybody else is going to.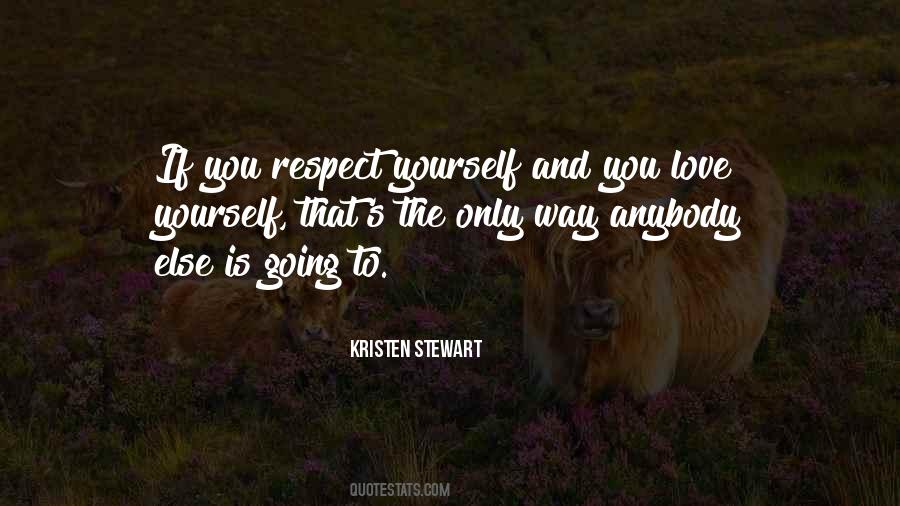 Famous Authors
Popular Topics