Race And Life Famous Quotes & Sayings
List of top 100 famous quotes and sayings about race and life to read and share with friends on your Facebook, Twitter, blogs.
Top 100 Race And Life Quotes
#1. My life is parallel to a horse race. They have blinders on to keep them from being distracted in the race and keep them focused on winning the race. That's kind of like my life. Focus on the goal, not the things coming at me from the side. - Author: Reggie Bush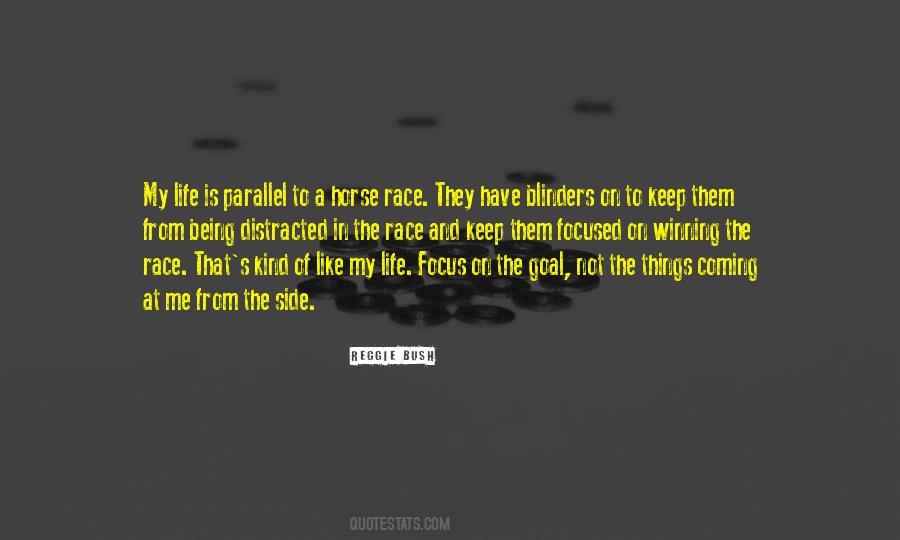 #2. The frailest woman will become a heroine when the life of her own child is at stake. And only the will to save the race and native land or the State, which offers protection to the race, has in all ages been the urge which has forced men to face the weapons of their enemies. - Author: Adolf Hitler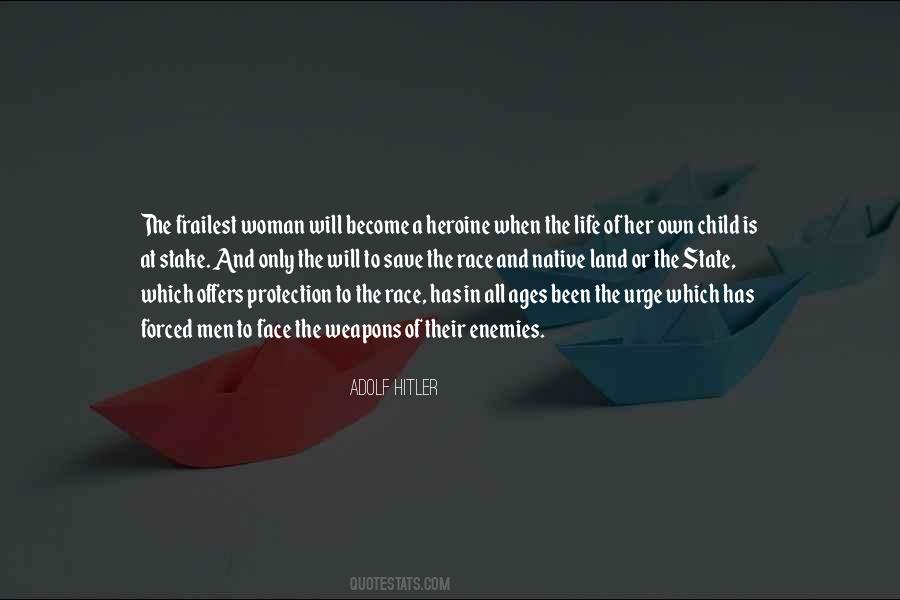 #3. I turned 54 this year and I find myself feeling like I'm in a bit of a race to get down on paper the way I really feel about life - or the way it has presented to me. And because it has presented to me very beautifully, this is hard. It is technically very hard to show positive manifestations. - Author: George Saunders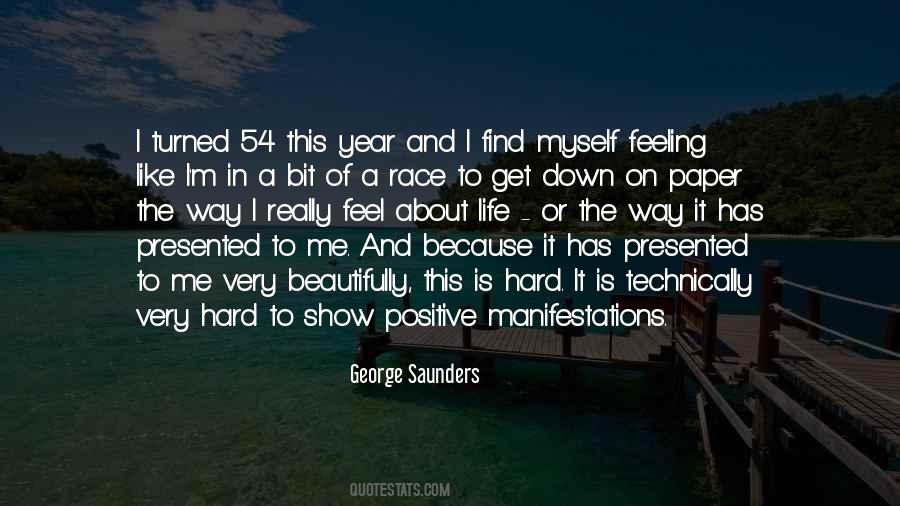 #4. Character produces endurance and persistence when the going gets tough, and life truly is an endurance race, not a sprint. - Author: Zig Ziglar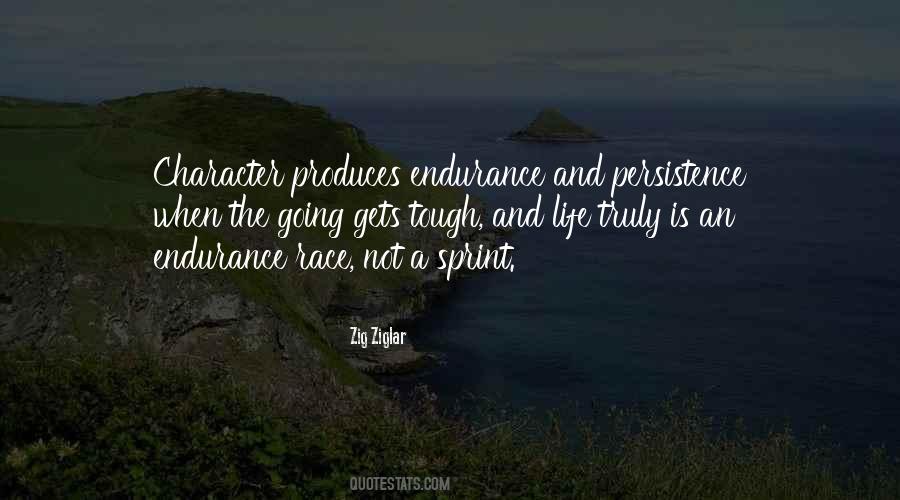 #5. Jesus doesn't participate in the rat race. He's into the slower rhythms of life, like abiding, delighting, and dwelling - all words that require us to trust Him with our place and our pace. Words used to describe us being with Him. - Author: Lysa TerKeurst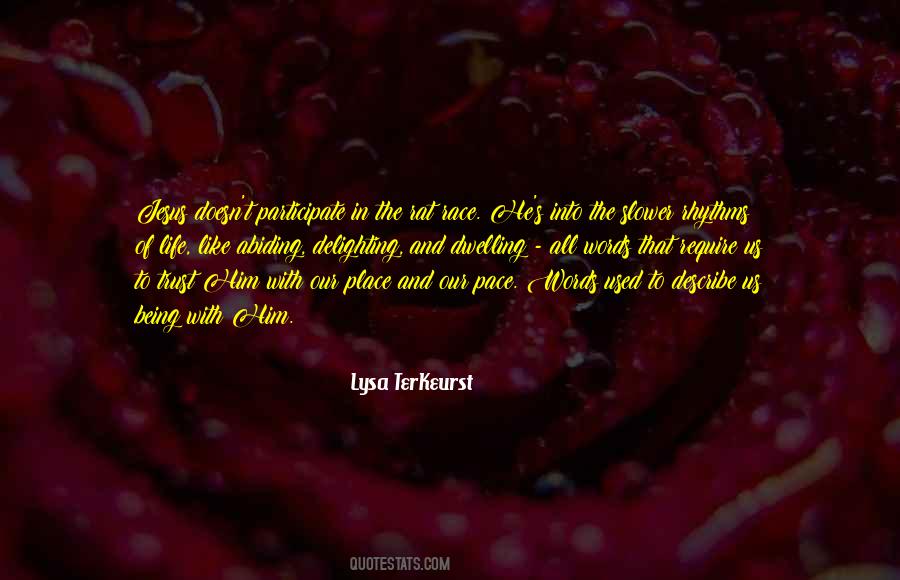 #6. Life is not about winning the race. Life is about finishing the race, and how many people we can all help finish this race. How we can start being kinder to each other - Author: Marc Mero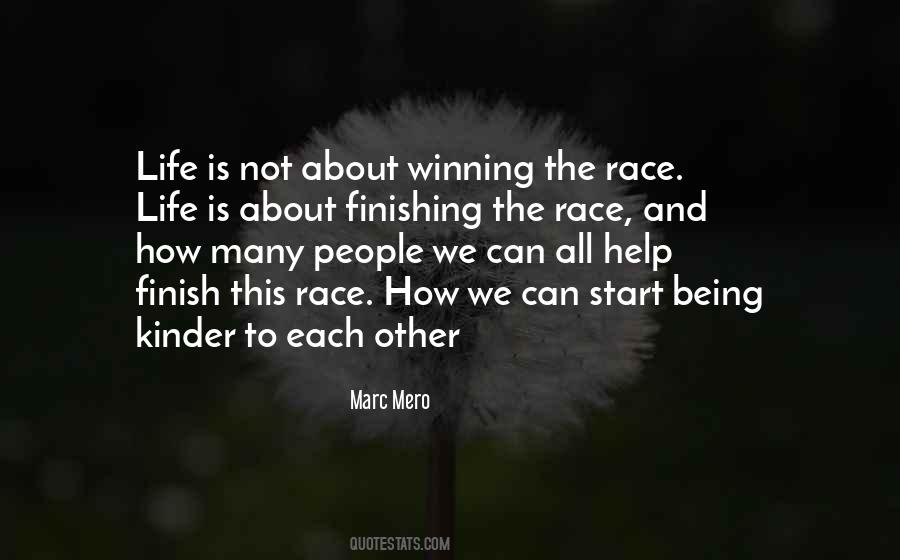 #7. Ralph Ellison is a classic work of erudition, grace, and elegance. Rampersad offers us an Ellison whose gifts and warts orbit the same universe of creative genius. Like Ellison's work, Rampersad's text wrestles eloquently with difficult truths about race, politics, and American life. - Author: Michael Eric Dyson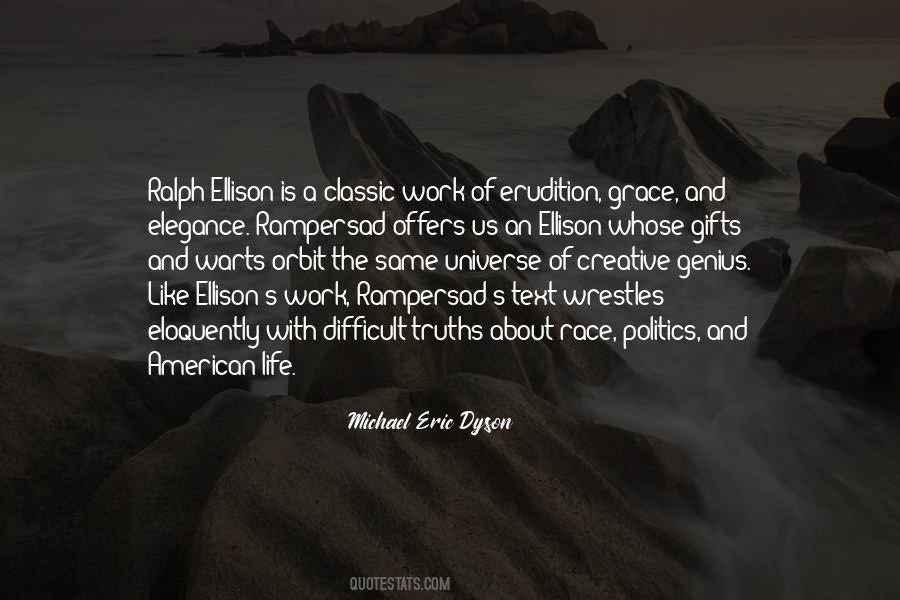 #8. Bran had heard his brother's mate Fia call Keelin one of the great beauties of the dragon race and it was true. Dressed in what he considered battle gear, Keelin was a wet dream come to life. - Author: Katie Reus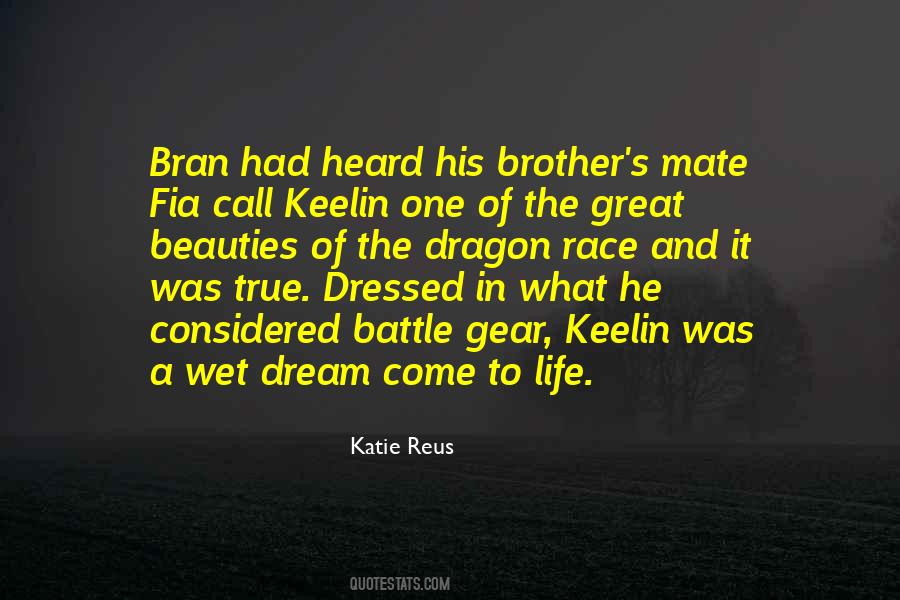 #9. If you don't discover God's dreams, you'll either waste your life running in wrong races and crossing wrong finish lines or, like many people, have no finish line at all. - Author: Dutch Sheets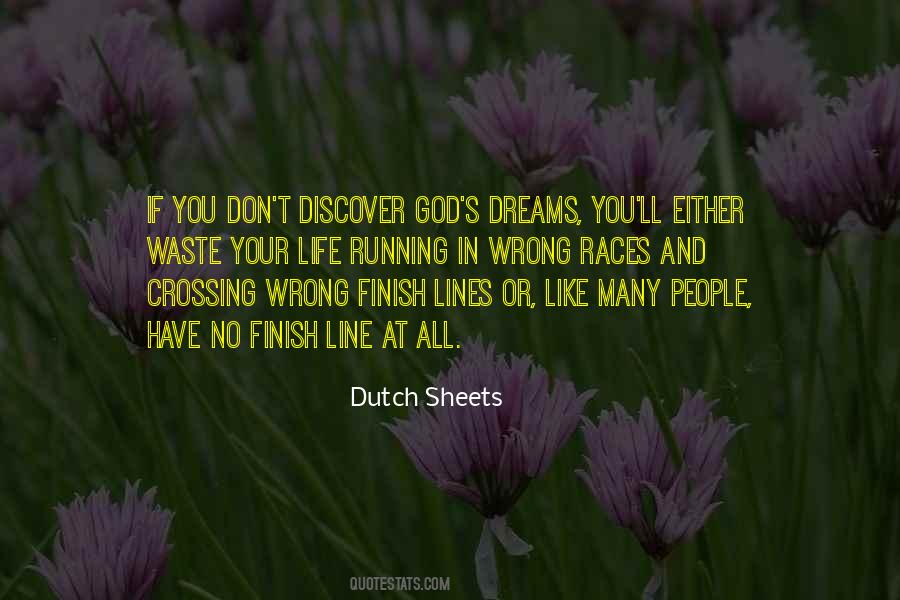 #10. This mortal life decays apace How soon the bubble's broke Adam and all his numerous race Are Vanity and Smoke. - Author: Nathaniel Philbrick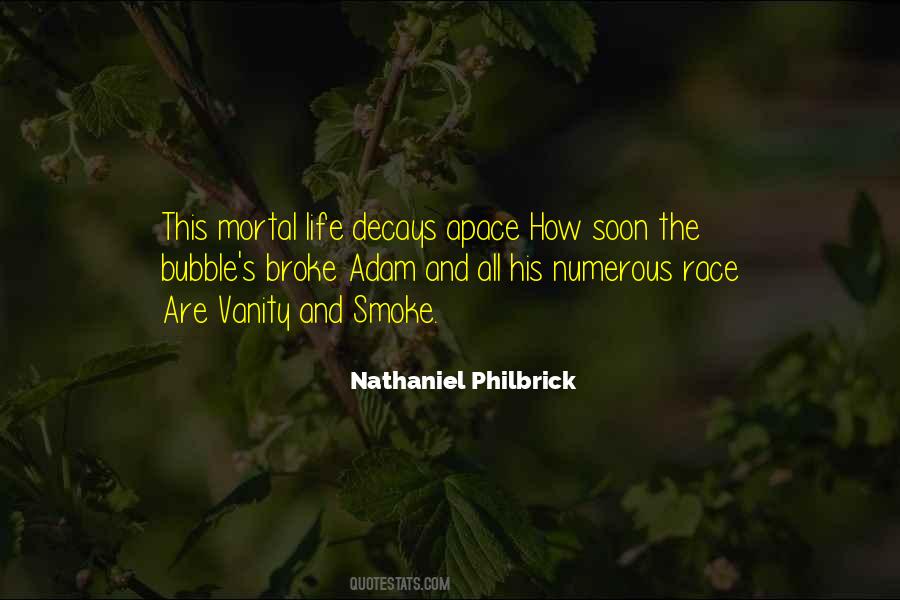 #11. of the race, untrammelled by the necessity of rigid adherence to the fact. The myths record the earliest attempt at an explanation of the world and its life; the fairy tale records the free and joyful - Author: Hamilton Wright Mabie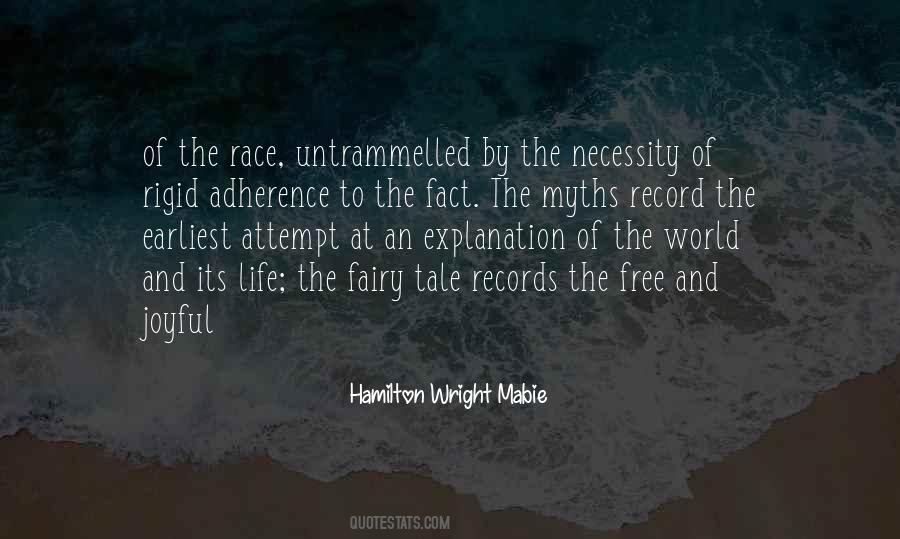 #12. Every age is fed on illusions, lest men should renounce life early and the human race come to an end. - Author: Joseph Conrad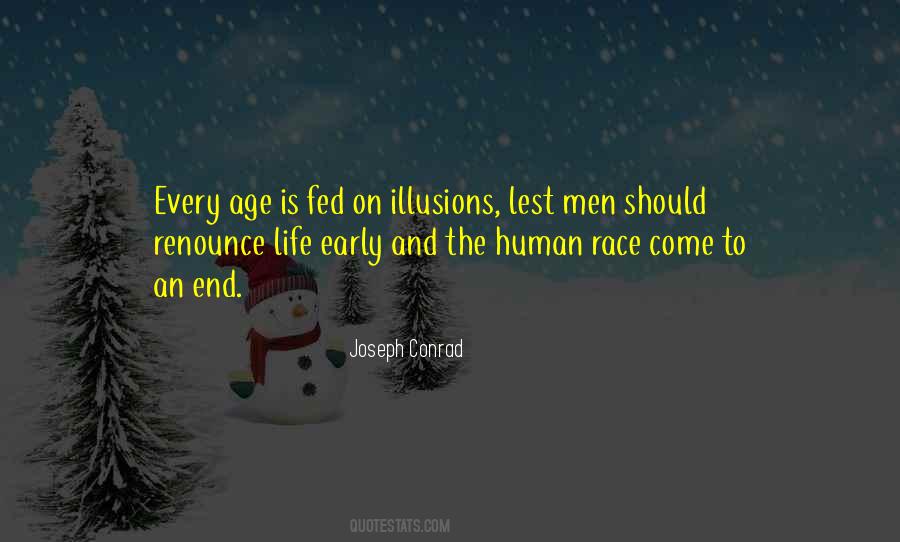 #13. Man's feeble race what ills await!
Labour, and Penury, the racks of Pain,
Disease, and Sorrow's weeping train,
And Death, sad refuge from the storms of Fate! - Author: Thomas Gray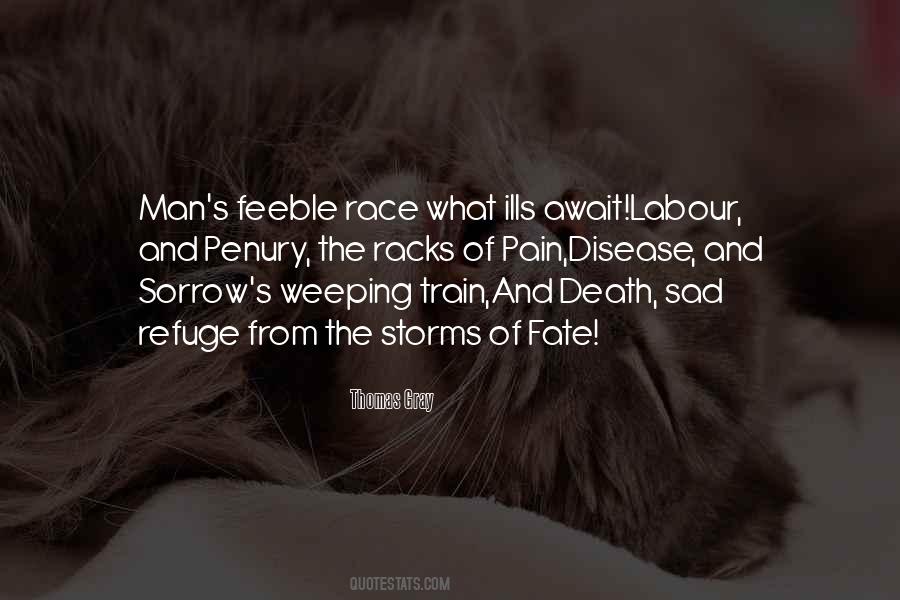 #14. The human race is a monotonous affair. Most people spend the greatest part of their time working in order to live, and what little freedom remains so fills them with fear that they seek out any and every means to be rid of it. - Author: Johann Wolfgang Von Goethe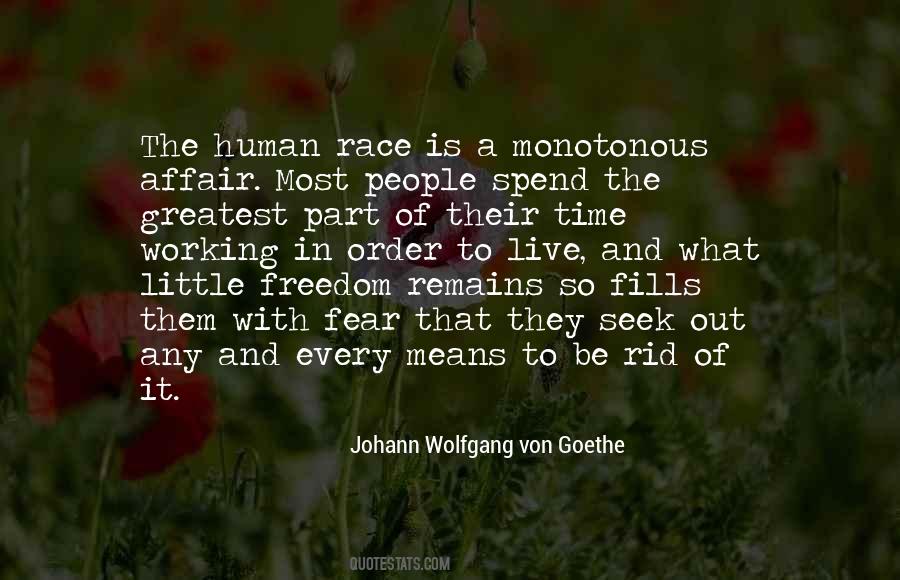 #15. In yonder nether world where shall I seek
His bright appearances or footstep trace?
For though I fled him angry, yet recalled
To life prolonged and promised race I now
Gladly behold though but His utmost skirts
Of glory, and far off His steps adore. - Author: John Milton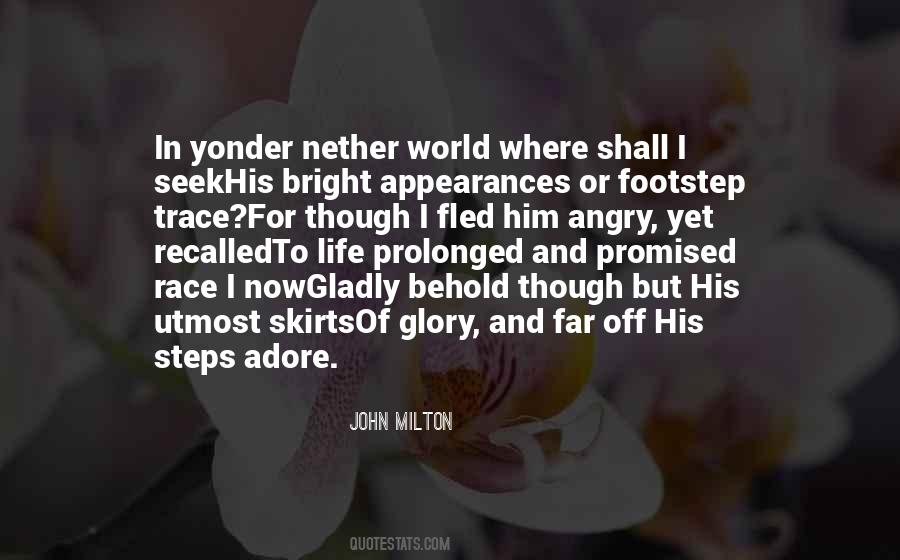 #16. Remember where you have been and know where you are going. Life is not a race, but a journey to be savored each step of the way. - Author: Nikita Koloff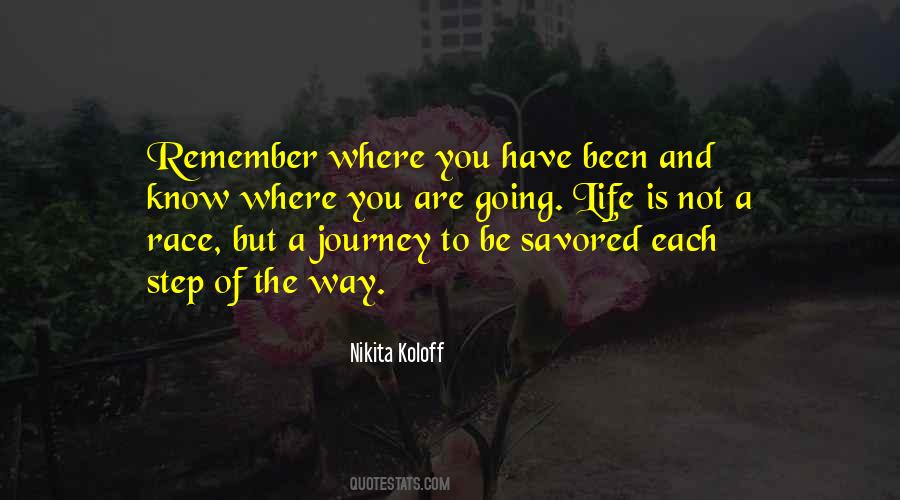 #17. Marriage is the truest goal for ninety-nine per cent of the human race, and they will live the happiest life as soon as they have learnt and are ready to abide by the eternal lesson - that we are bound to bear and forbear and that life to every one must be a compromise. - Author: Swami Vivekananda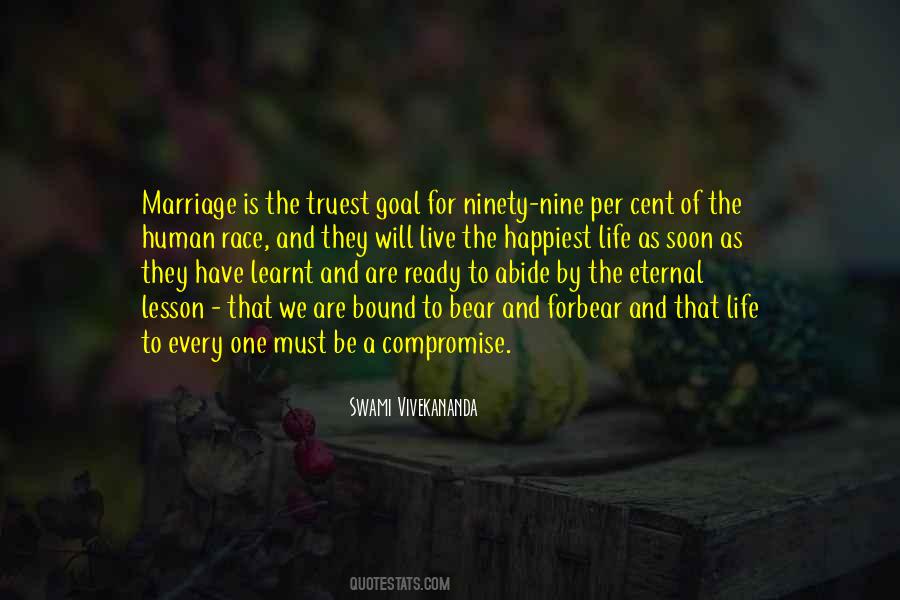 #18. In the Shadow of Slavery covers two and a half centuries of black life in New York City, and skillfully interweaves the categories of race and class as they affected the formation of African American identity. Leslie Harris has made a major contribution to our understanding of the black experience. - Author: Eric Foner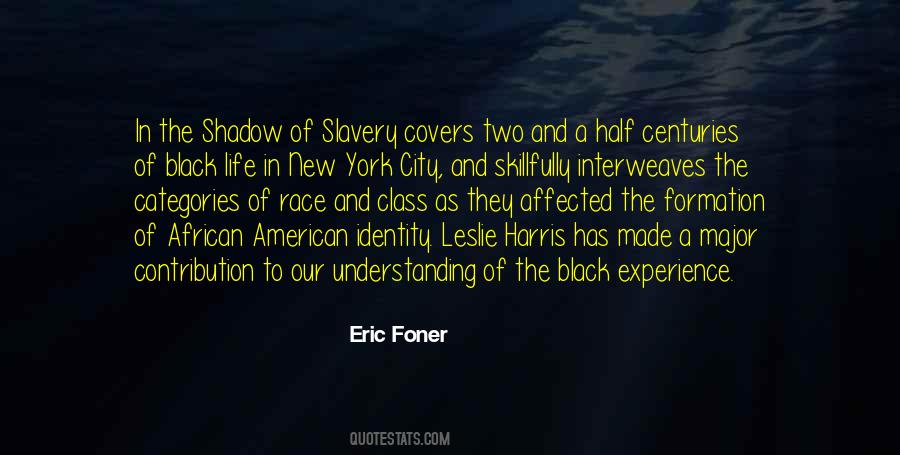 #19. Read different to think differently; world is already into rat race. - Author: Aman Jassal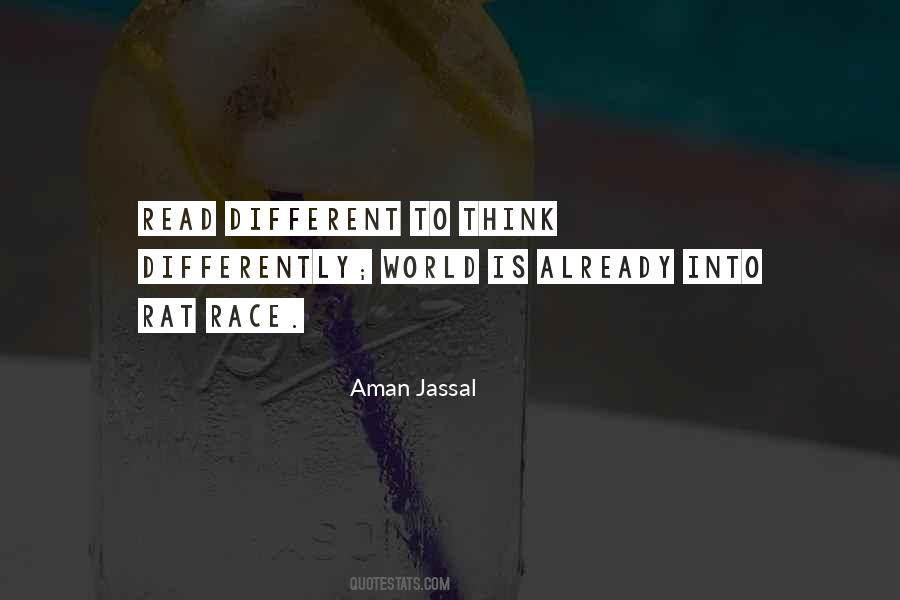 #20. Welcome, O life! I go to encounter for the millionth time the reality of experience and to forge in the smithy of my soul the uncreated conscience of my race. - Author: James Joyce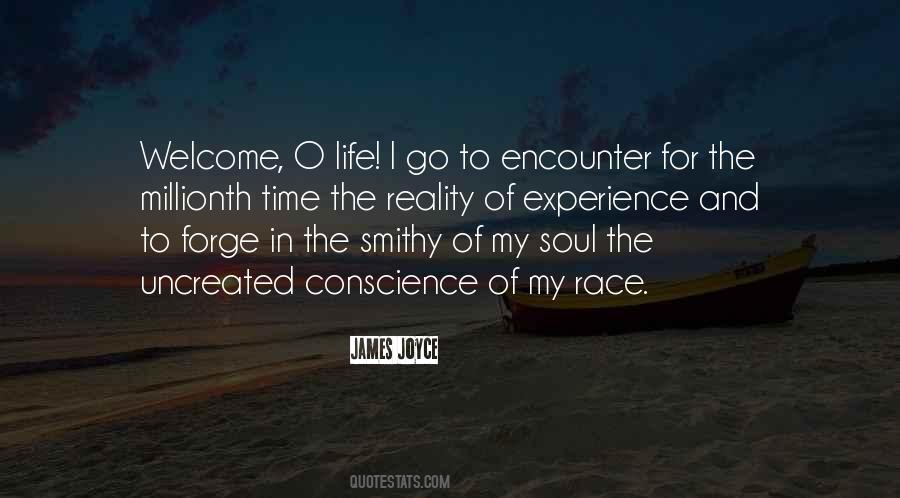 #21. Let us unite, not in spite of our differences, but through them. For differences can never be wiped away, and life would be so much the poorer without them. Let all human races keep their own personalities, and yet come together, not in a uniformity that is dead, but in a unity that is living. - Author: Rabindranath Tagore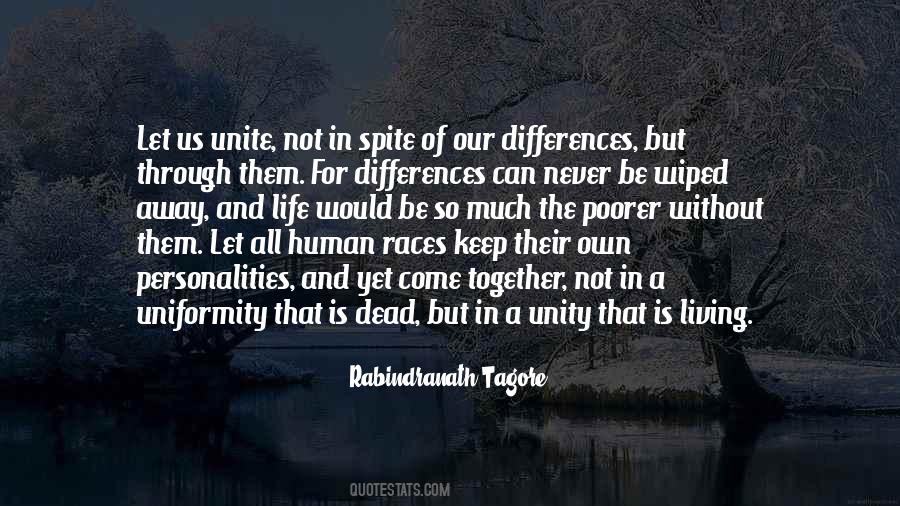 #22. Without free speech no search for truth is possible ... no discovery of truth is useful ... Better a thousandfold abuse of free speech than denial of free speech. The abuse dies in a day, but the denial slays the life of the people, and entombs the hope of the race. - Author: Charles Bradlaugh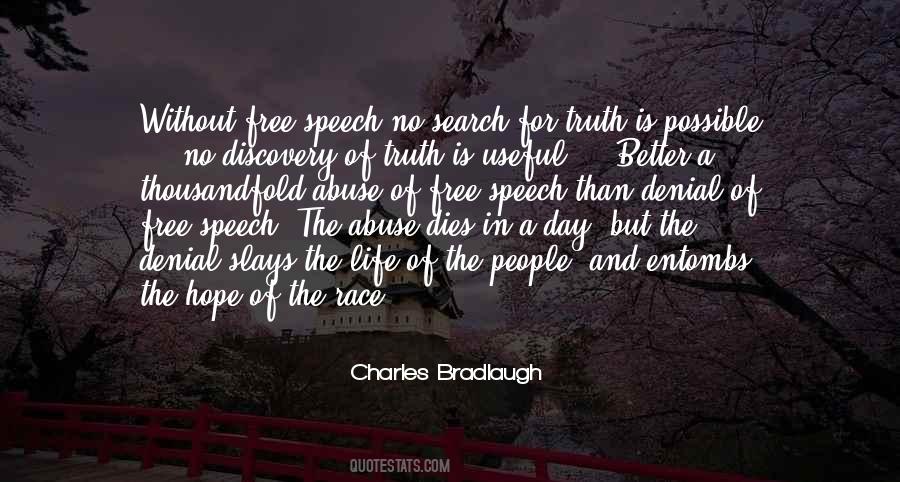 #23. I hate most people. And I don't want to, it's an awful way to be. But the human race gives me no comfort. I find myself turning to books and films for comfort still. It's repulsive, because one's life consists of people, not things. - Author: Morrissey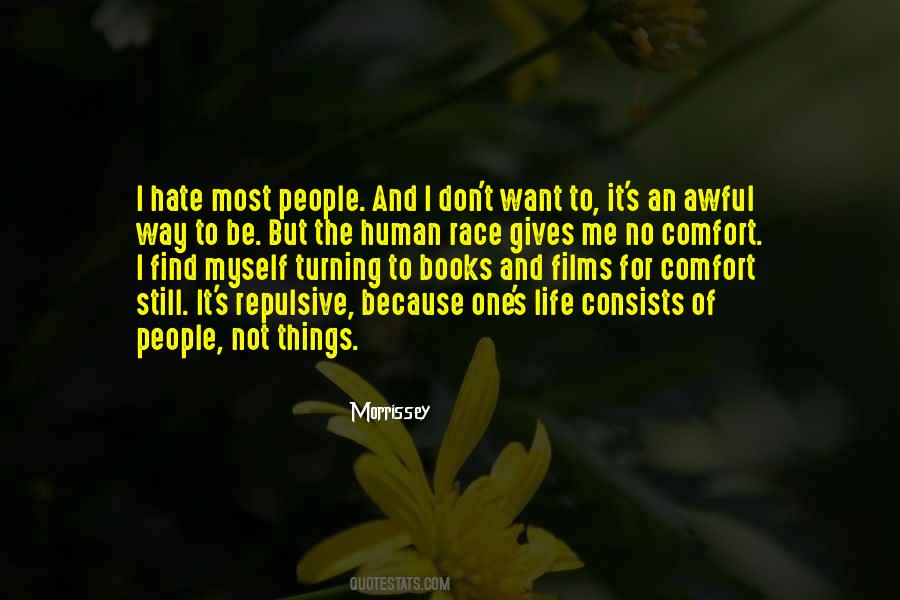 #24. As I moved to less and less diverse places in my life, I realized that white people don't talk about race amongst themselves! - Author: Rainbow Rowell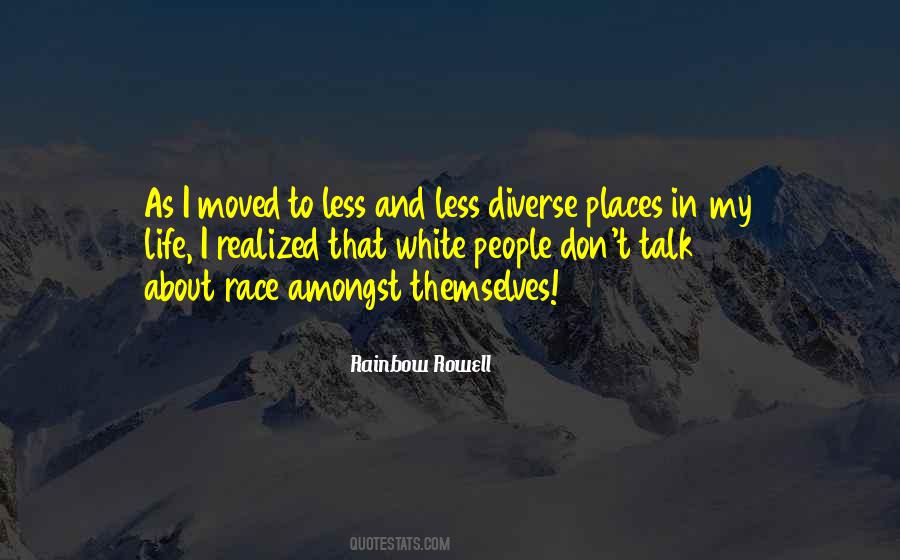 #25. I think there was a point in the past when I felt that my options as an artist were either to make race a nonissue and deny its impact on life and just say, "Don't think of me as an Asian cartoonist. Just think of me as a cartoonist." - Author: Adrian Tomine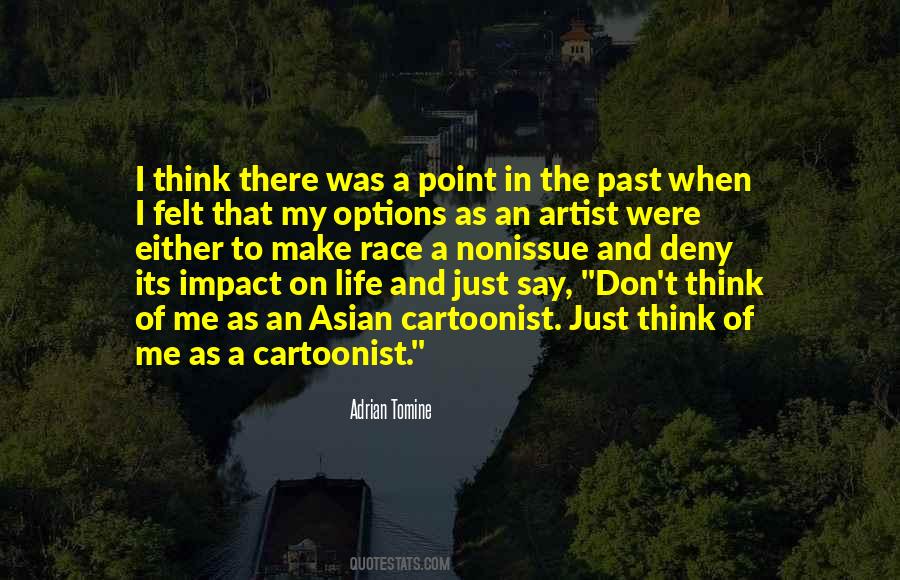 #26. We're all so busy. We race and race. Life is a sprint. We want to get 'there' so badly. But I wonder if we even know what to do when we actually get 'there'. - Author: Billy Graham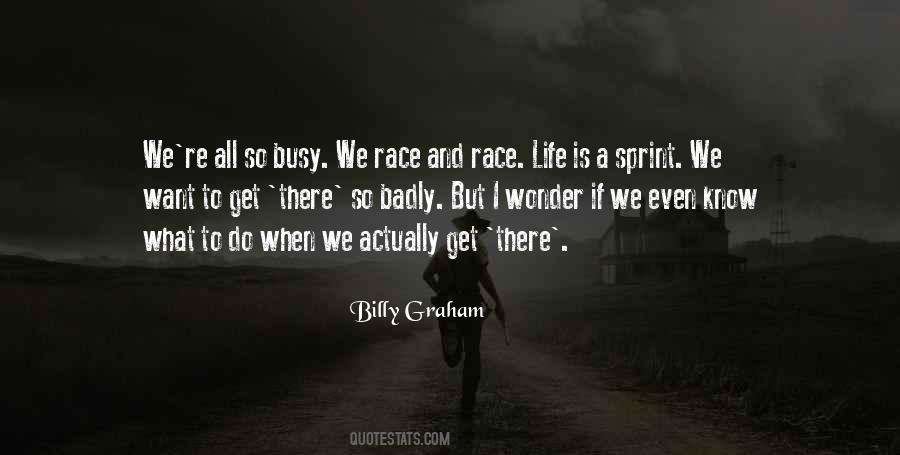 #27. Human race should have a common goal and that is to establish infinite peace in this world which we call home. - Author: Debasish Mridha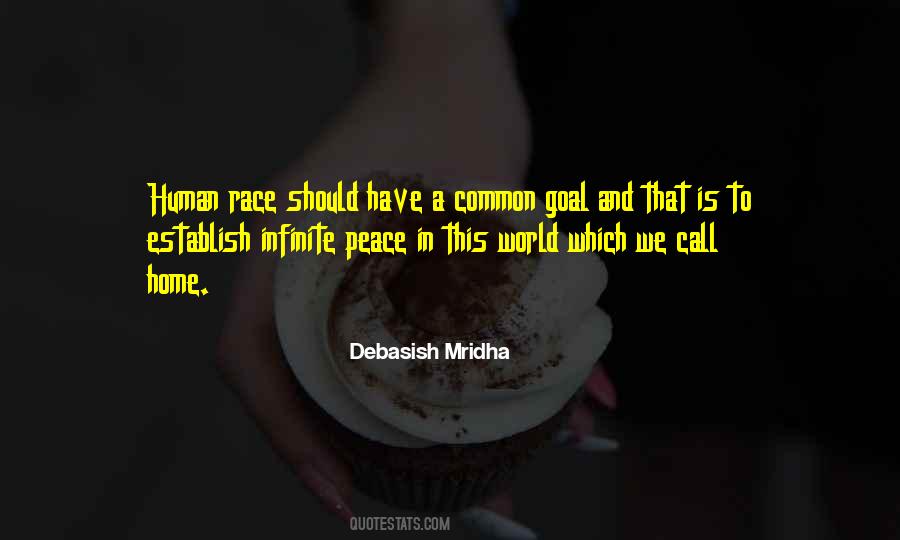 #28. The attacks in Jordan, just like those before it in Indonesia, Egypt, Spain and the United States, demonstrate that terrorism does not discriminate by race, ethnicity or region. Instead, terrorists indiscriminately target those seeking to live a peaceful, loving and free life. - Author: Allyson Schwartz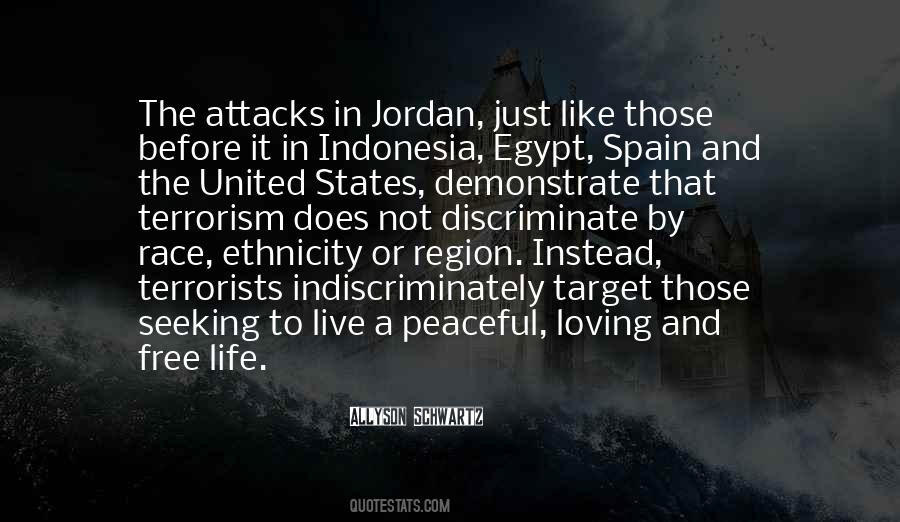 #29. We all may be living in different countries, geographical areas, and time zones but one thing which unites us all is that we all belong to one race which is humanity! - Author: Avijeet Das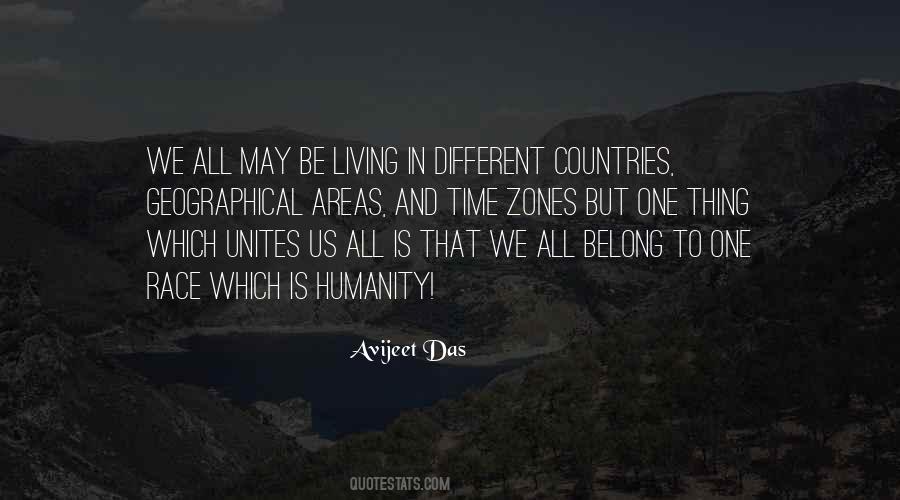 #30. Every person, every race, every nation, has its own particular keynote which it brings to the general chord of life and of humanity. - Author: Annie Besant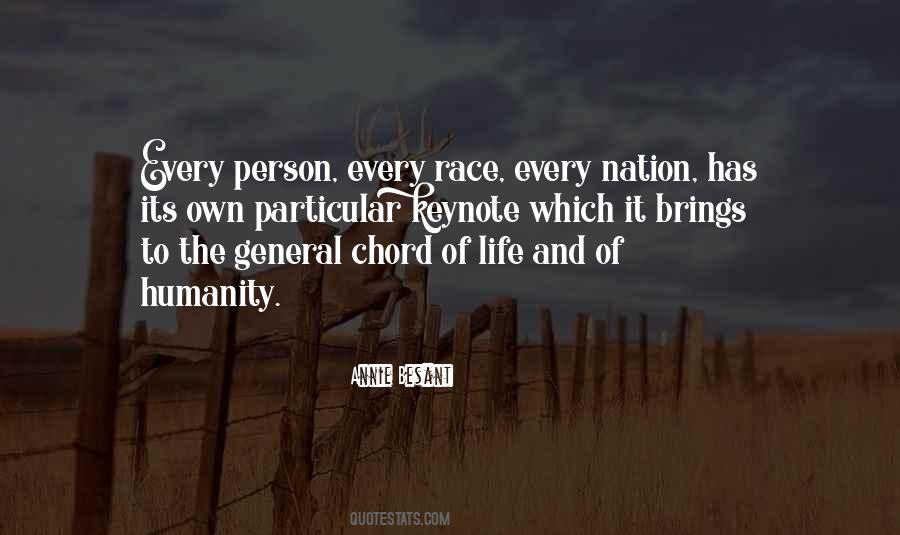 #31. I am convinced that the jealous, the angry, the bitter and the egotistical are the first to race to the top of mountains. A confident person enjoys the journey, the people they meet along the way and sees life not as a competition. - Author: Shannon L. Alder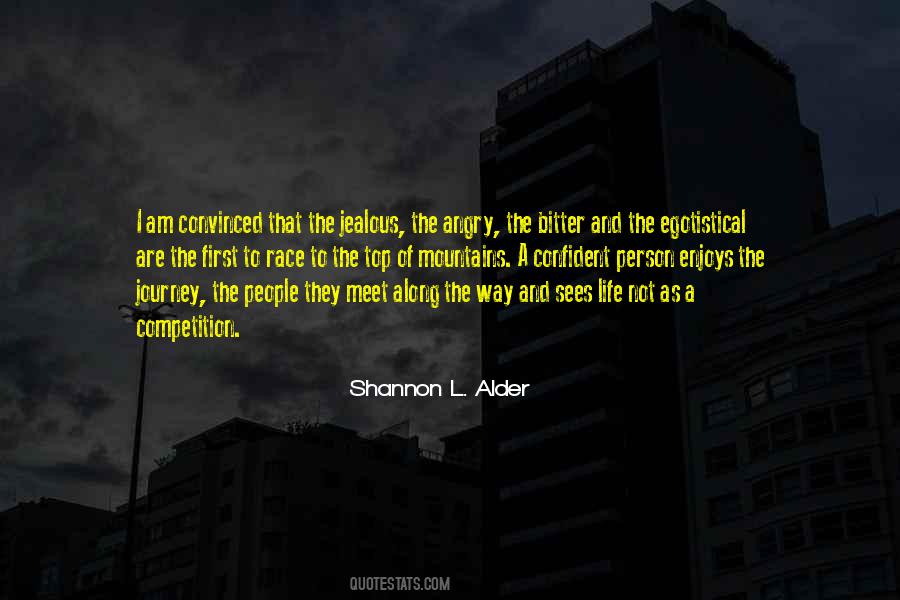 #32. In rowing as in life, there are competitors and there are racers. The competitor works hard and rows to his limit. The racer does not think of limits, only the race. - Author: Jim Dietz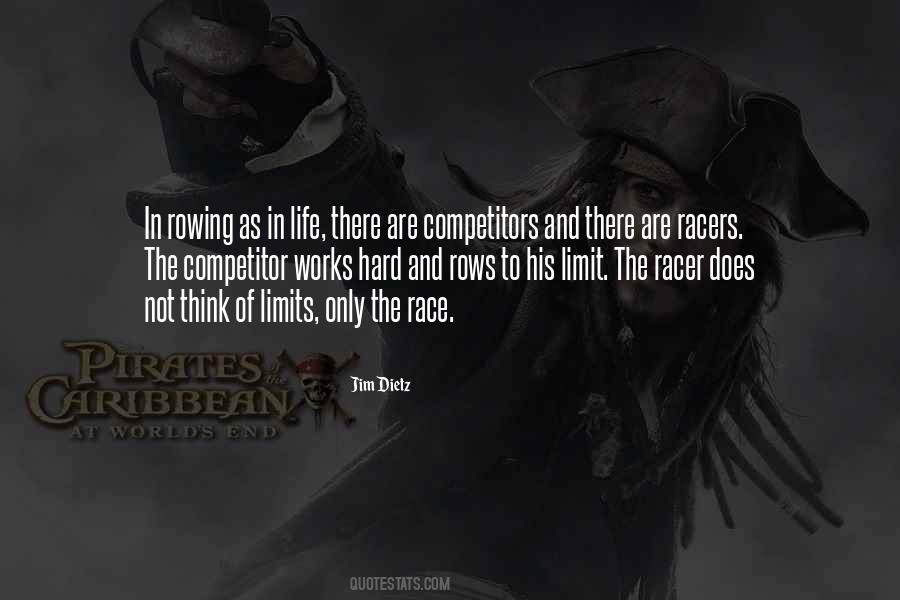 #33. When I think of my past life, and the bitter trials I have endured, I can scarcely believe I live, and yet I do; and, with the help of Him who notes the sparrow's fall, I mean to fight for my down-trodden race while life lasts. - Author: Sarah Winnemucca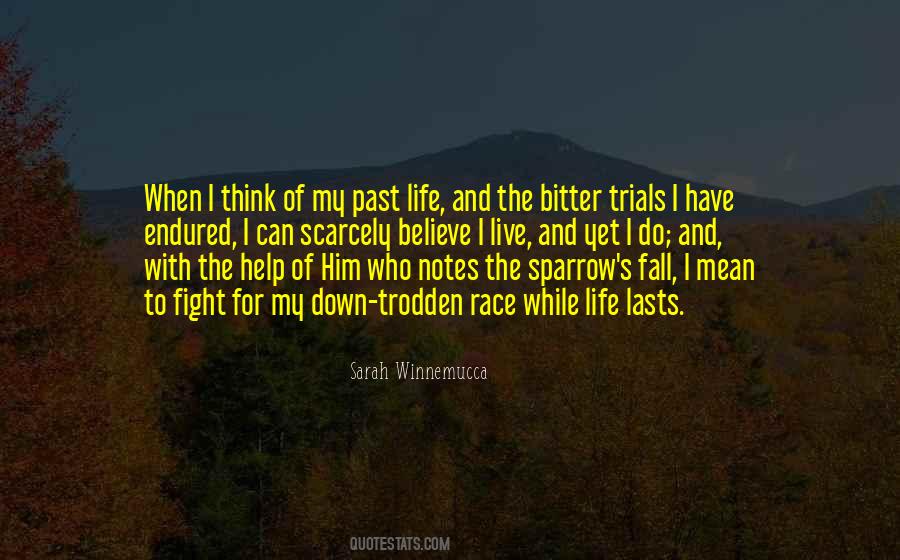 #34. In the 21st century, I believe the mission of the United Nations will be defined by a new, more profound awareness of the sanctity and dignity of every human life, regardless of race or religion. - Author: Kofi Annan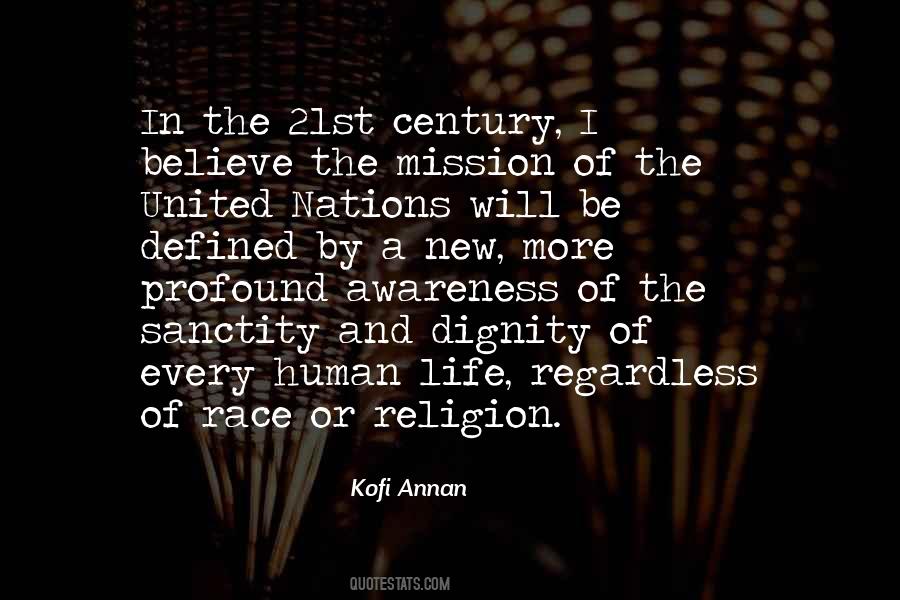 #35. There are so many things in life that divide us, that separate us and tear us apart, be it race, religion, creed, socioeconomic level, nationality or any variety of other factors. But running is something that we all share in common. - Author: Dean Karnazes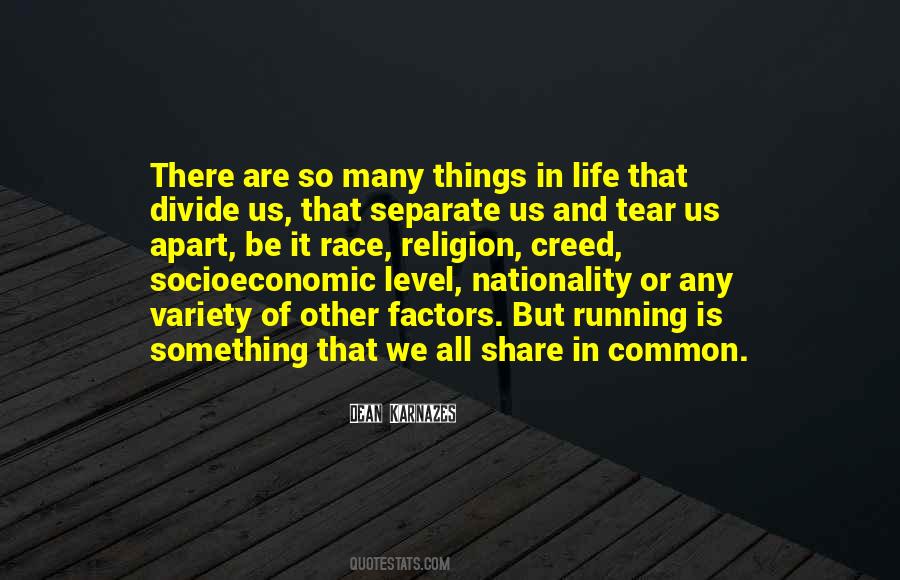 #36. I'm an off-road racecar driver. And I think every woman in my life has told me that's not a sensible hobby. But when I was growing, even more than I wanted to be funny, I wanted to be a racecar driver. That's all I thought about. I worked for a race team when I was 15 and I traveled with them. - Author: Dax Shepard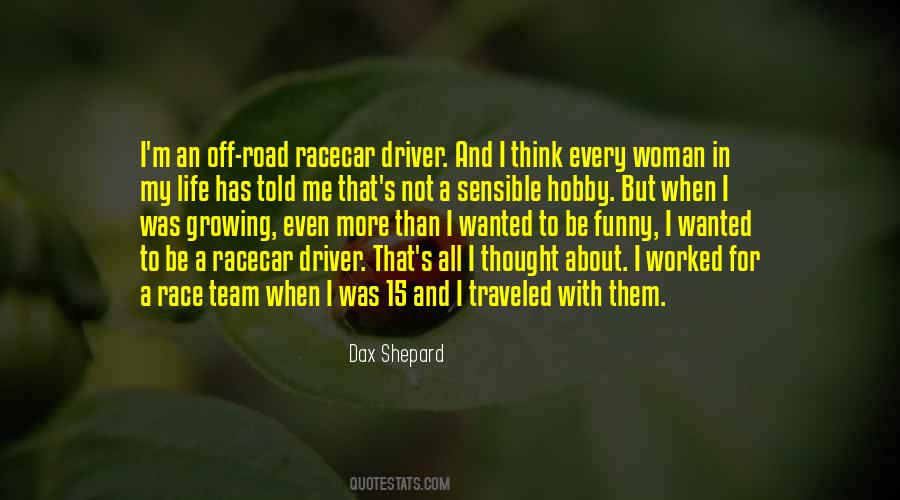 #37. We all share the same Earth Mother, regardless of race or country of origin, so let us learn the ways of love, peace and harmony, and seek the good paths in life. It is good to have spoken. SUN BEAR - Author: Sun Bear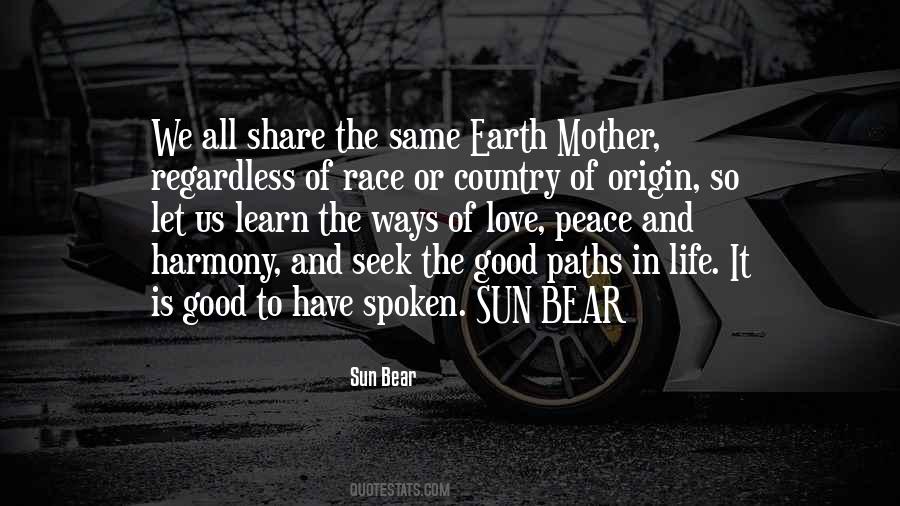 #38. I can think of no better way to die than as a martyr for my race and my way of life," Smyrt said. "And if the Colonial Union dies with us, then I will welcome its diluted population as our honor guard into hell. - Author: John Scalzi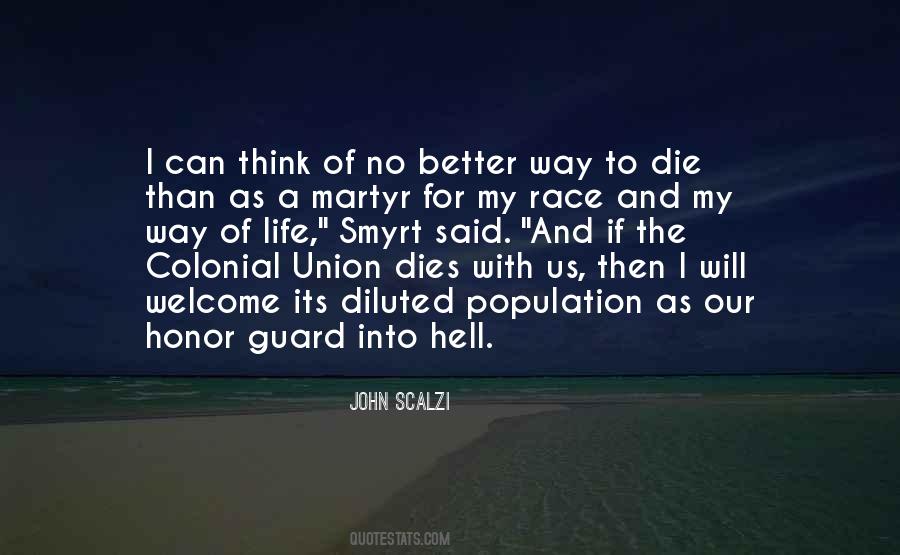 #39. Human beings have evolved so fast, relative to other life on Earth, and this has never been properly explained, but now there are signs that the human race has burned out in evolutionary terms, and perhaps it is our time to devolve. - Author: Robert Black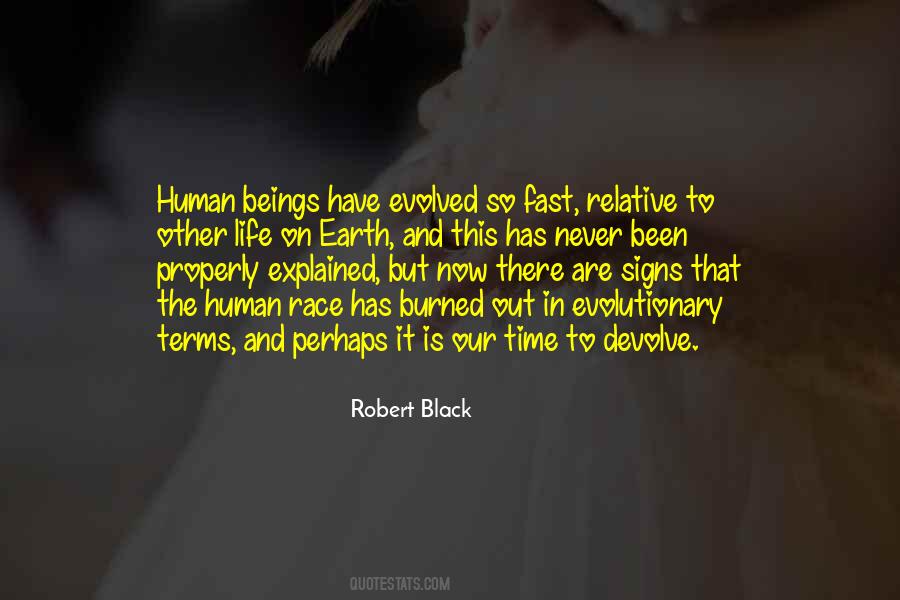 #40. And if the best toys do end up in the hands of those who've never forgotten that life itself is an act of war against intelligent opponents, what does that say about a race whose machines travel between the stars? - Author: Peter Watts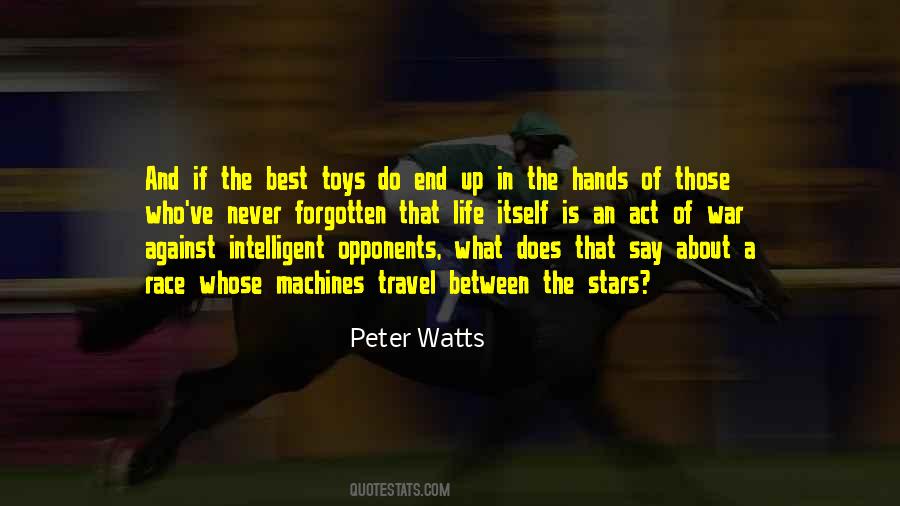 #41. Race is a constant factor in American life. Yet reacting to every incident,real or imagined, is crippling, tiring, and ultimately counterproductive. - Author: Condoleezza Rice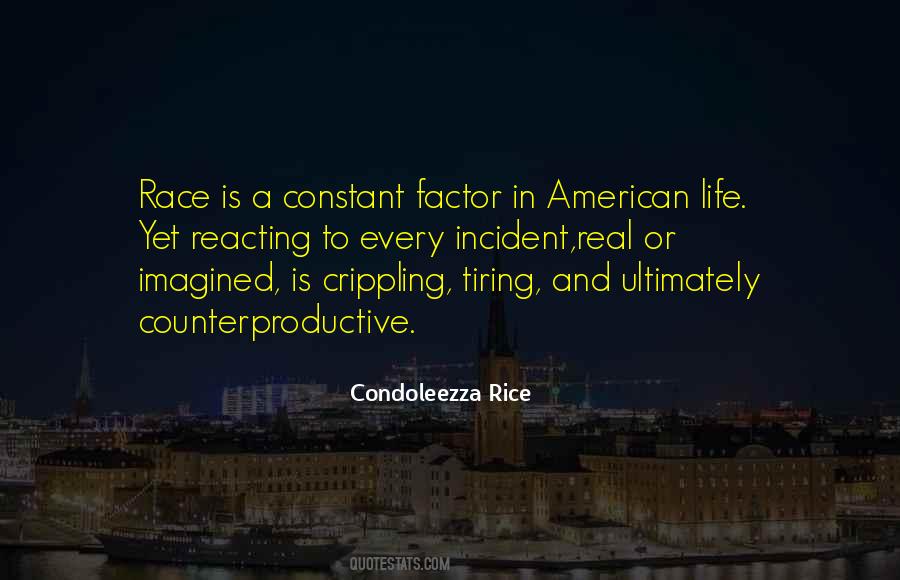 #42. I don't feel I need to come and drive the race of Lewis Hamilton's life. I think I've driven pretty well this year and I plan to drive Lewis Hamilton's best this weekend. - Author: Lewis Hamilton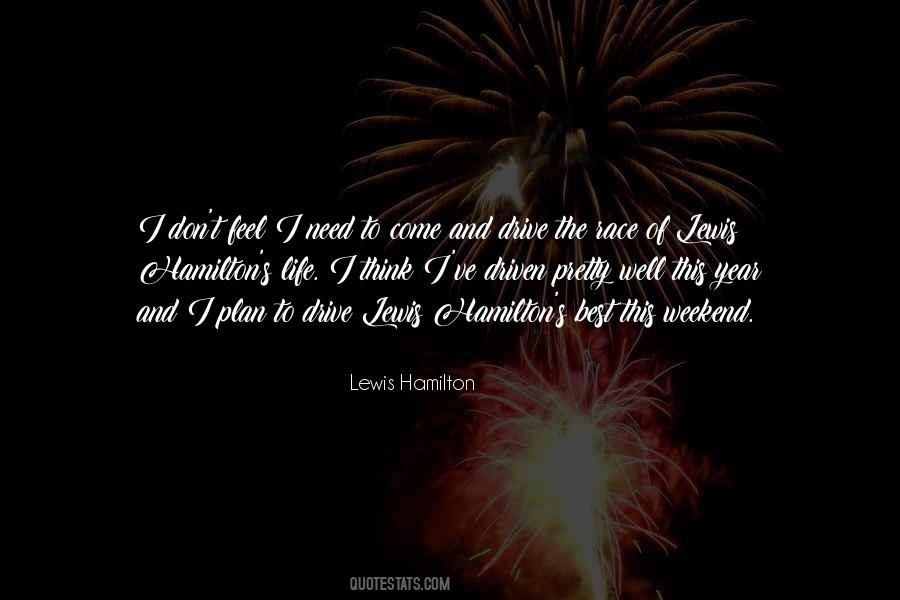 #43. I will not join the rat race because I'm not a rat. And I will not blindly follow a specific faith because I'm not a bat. The only race I'll take part in is for humans being humane. It's called the human race, and sadly it's got the least participants. - Author: Suzy Kassem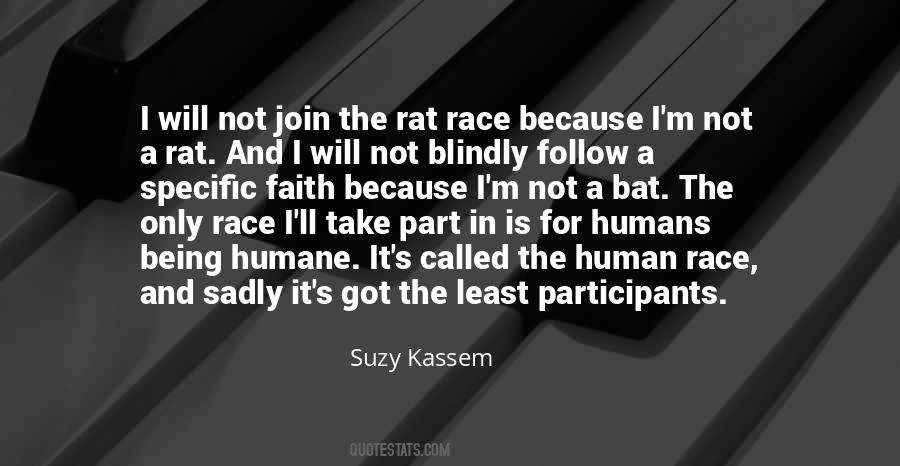 #44. Dear Heavenly Father, sometimes I feel like I'm not going to make it. Thank You for friends that come alongside me and cheer me on when I feel like I'm about to go under. Most of all, thank You for always being with me and cheering me on in the great race of life. I love You! - Author: Sharon Jaynes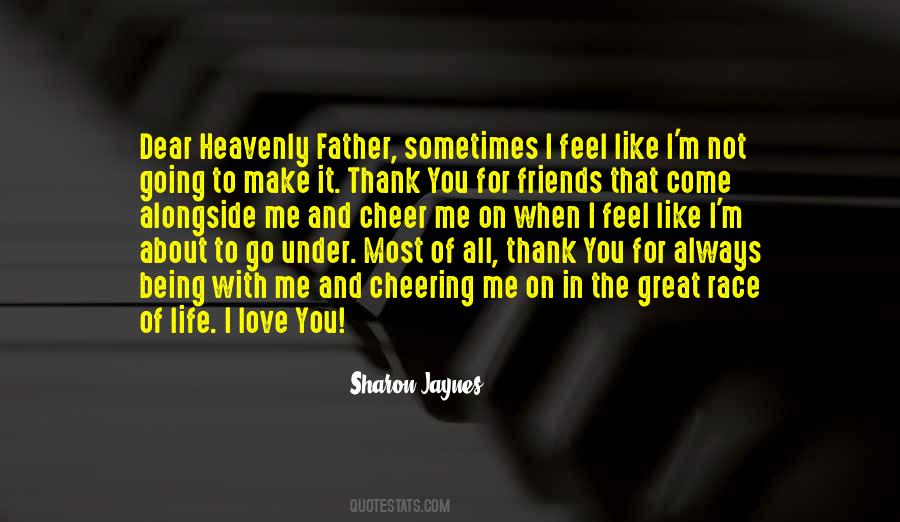 #45. The Rosa and Raymond Parks Institute accepts people of any race. We don't discriminate against anyone. We teach people to reach their highest potential. I set examples by the way I lead my life. - Author: Rosa Parks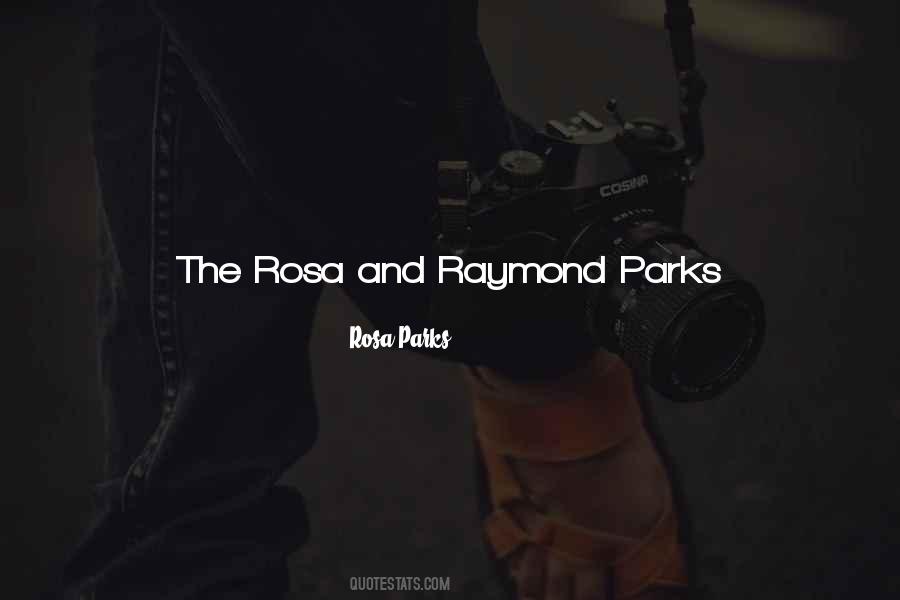 #46. Life has been compared to a race, but the allusion improves by observing, that the most swift are usually the least manageable and the most likely to stray from the course. Great abilities have always been less serviceable to the possessors than moderate ones. - Author: Oliver Goldsmith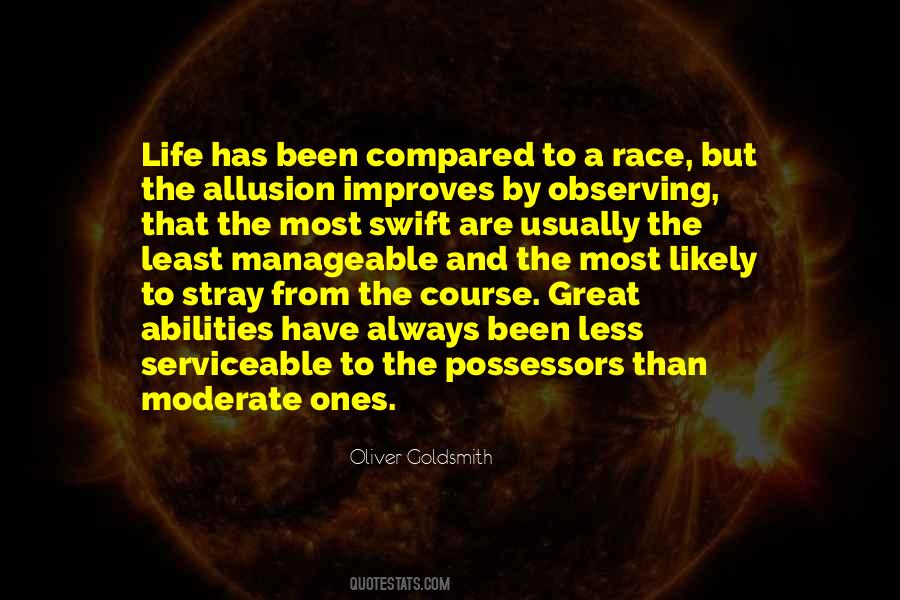 #47. For as long as life breathes in us, we must continue to hope, to believe, to trust, to run our race, and to finish it with flying colors. - Author: Kcat Yarza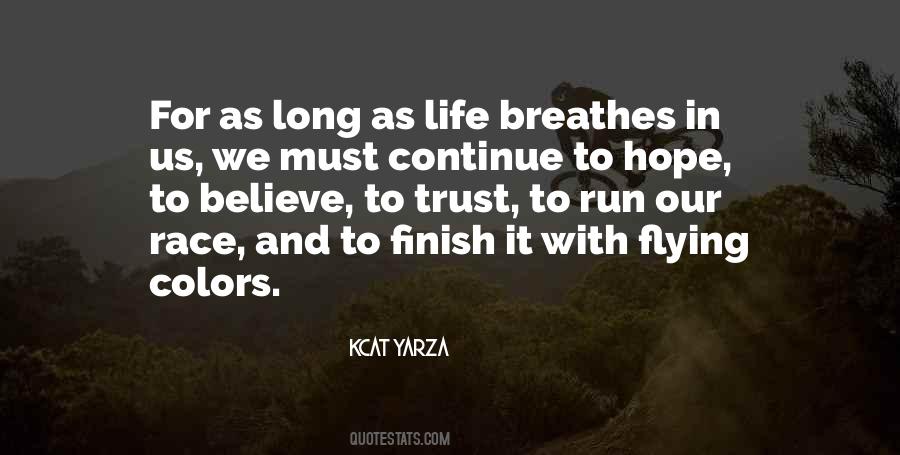 #48. Many politicians and preachers defended slavery, citing the Bible's approval of the practice, the inferiority of the African race, the value of preserving the southern way of life, and a paternalistic concern that freed slaves could not survive on their own. - Author: Steven Pinker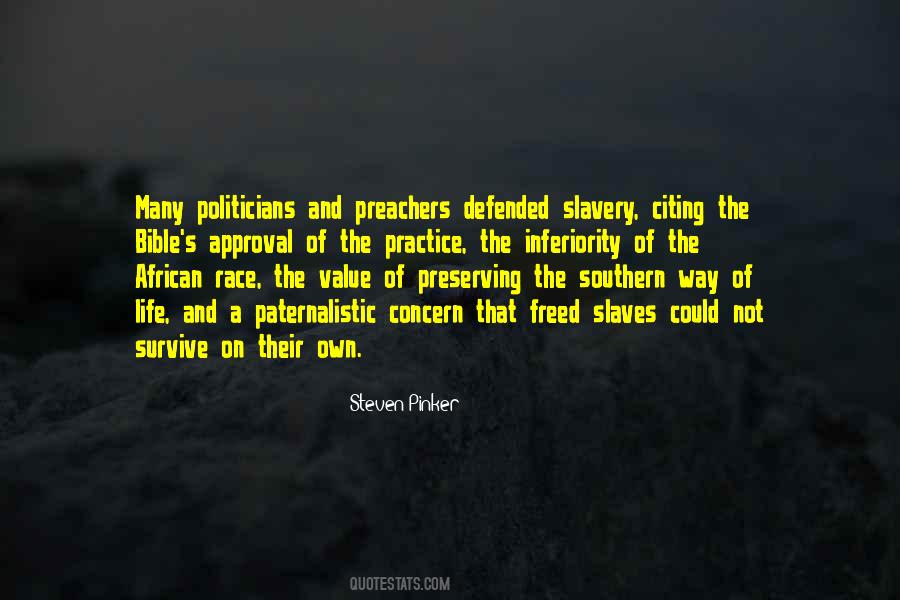 #49. Ease up on yourselves. Have some compassion for yourself as well as for others. There's no such thing as perfection, and life is not a race. - Author: Doug Marlette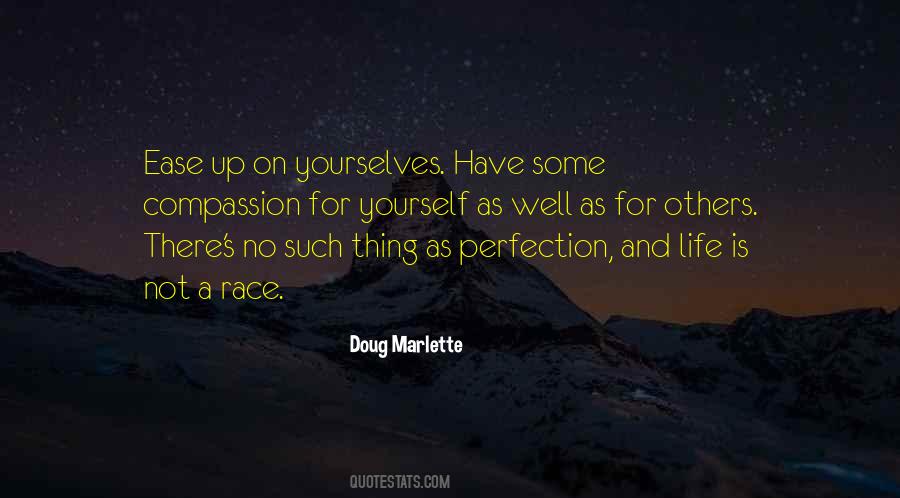 #50. And so now, under a Colorado sky so blue it hurt my eyes, we arrived at the terrible truth. You can plot your escape, you can ditch your life and your family, and you can race down a two-lane highway in a stolen car. But there are things you can never out run - Author: James Patterson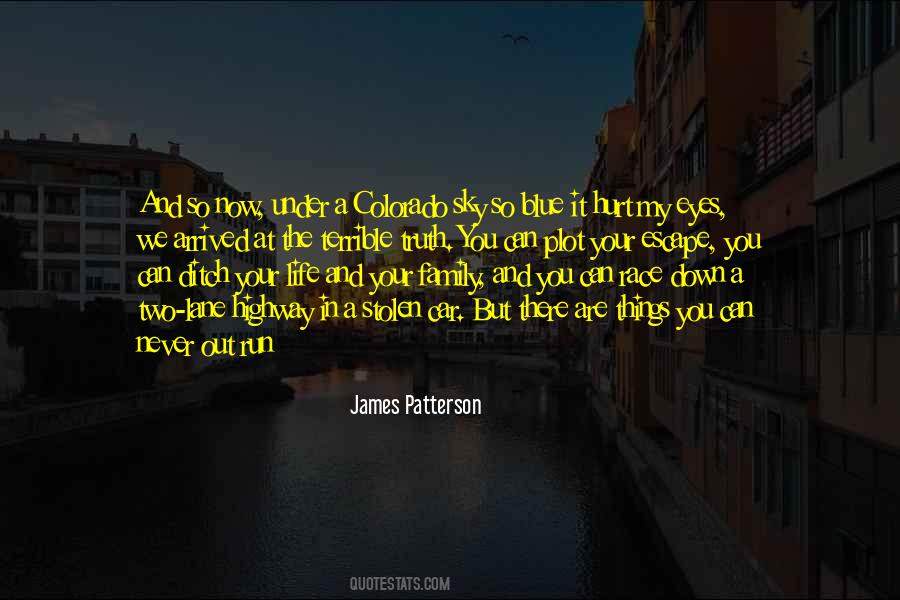 #51. Maybe when all was said and done, the imagination was the most powerful of all weapons. It was the imagination of the human race that had allowed it to dream of a life beyond cold caves and of a possible future in the stars. - Author: Dean Koontz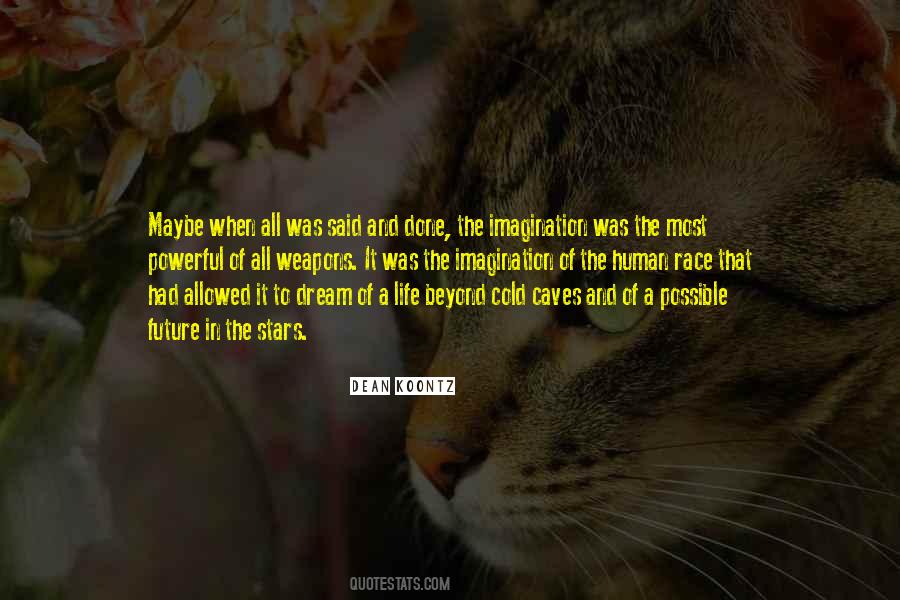 #52. Go forth, little book, to destroy fear, prejudice and superstition, and help to install Reason in the minds of the human race to be its guide in the affairs of life and its living. - Author: Joseph Lewis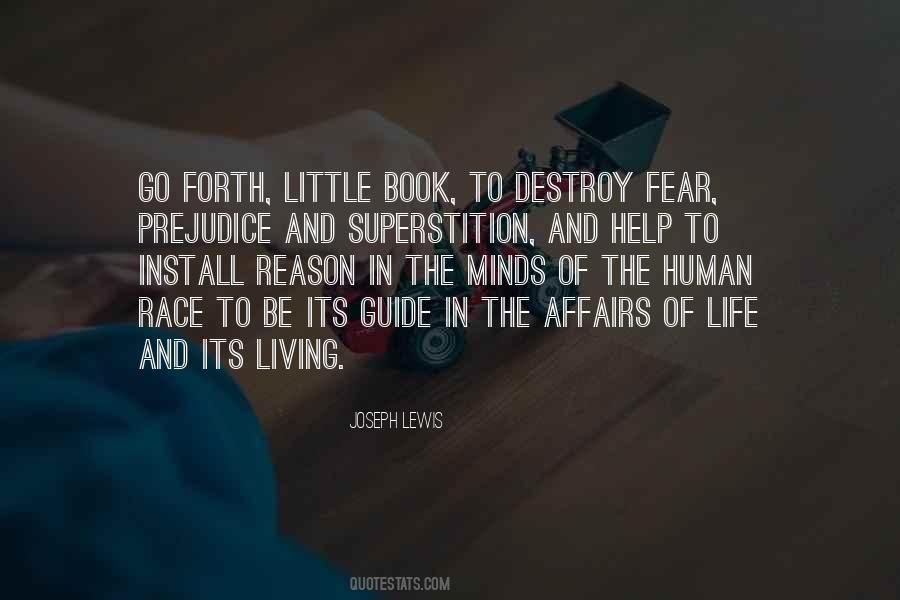 #53. If we love each other without creating a race war, people wouldn't get hurt that much, and feelings too. - Author: Werley Nortreus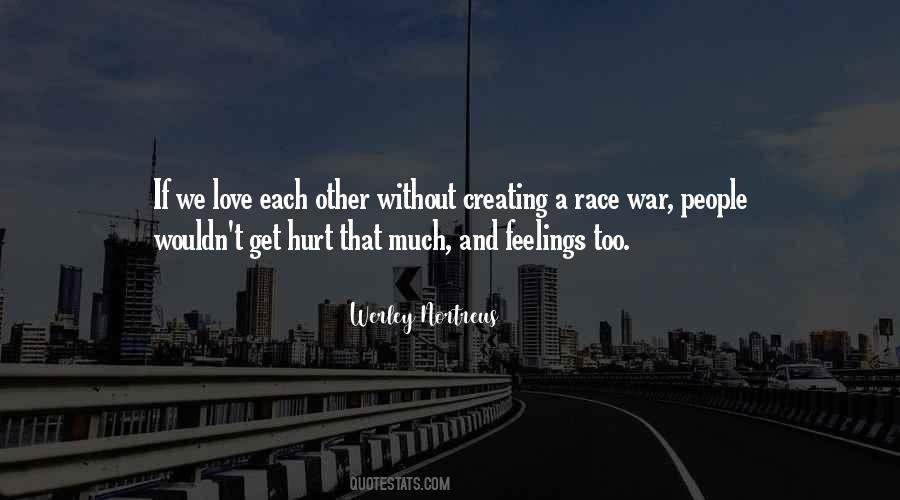 #54. Though he had both esteem and admiration for the sensibility of the human race, he had little respect for their intelligence: man has always found it easier to sacrifice his life than to learn the multiplication table.
[Mr Harrington's washing] - Author: W. Somerset Maugham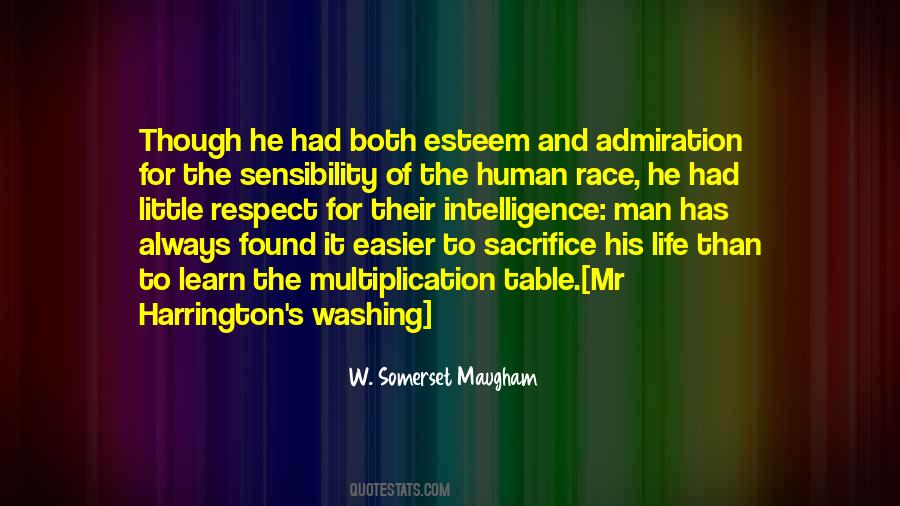 #55. Don't keep running the race of life with the same heavy load of mistakes and indecisiveness! You may grow weary and weary! Mistakes lead to discovery, but not all the time! Mind your mind, and for a moment, realize where you have reach, and drop your loads! - Author: Ernest Agyemang Yeboah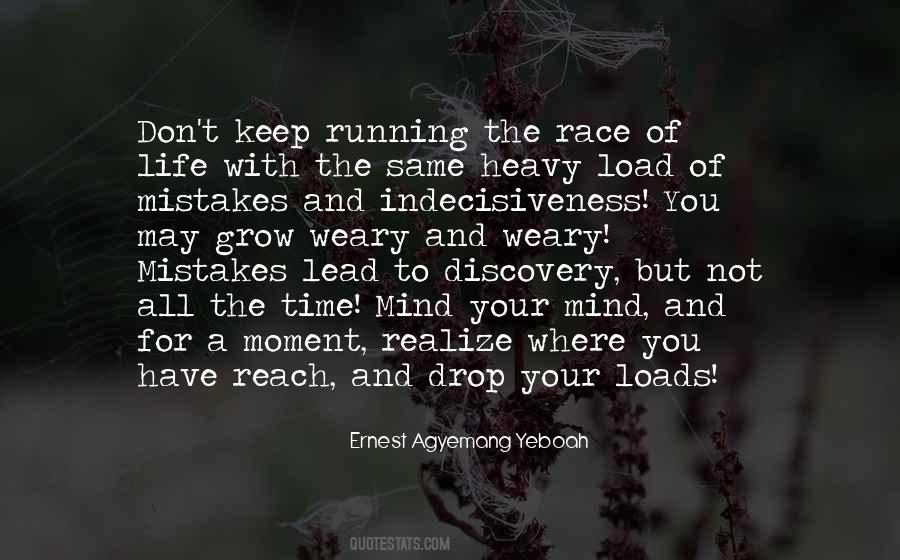 #56. I have stood in a bar in Lambourn and been offered, in the space of five minutes, a poached salmon, a leg of a horse, a free trip to Chantilly, marriage, a large unsolicited loan, ten tips for a ten-horse race, two second-hand cars, a fight, and the copyright to a dying jockey's life story. - Author: Jeffrey Bernard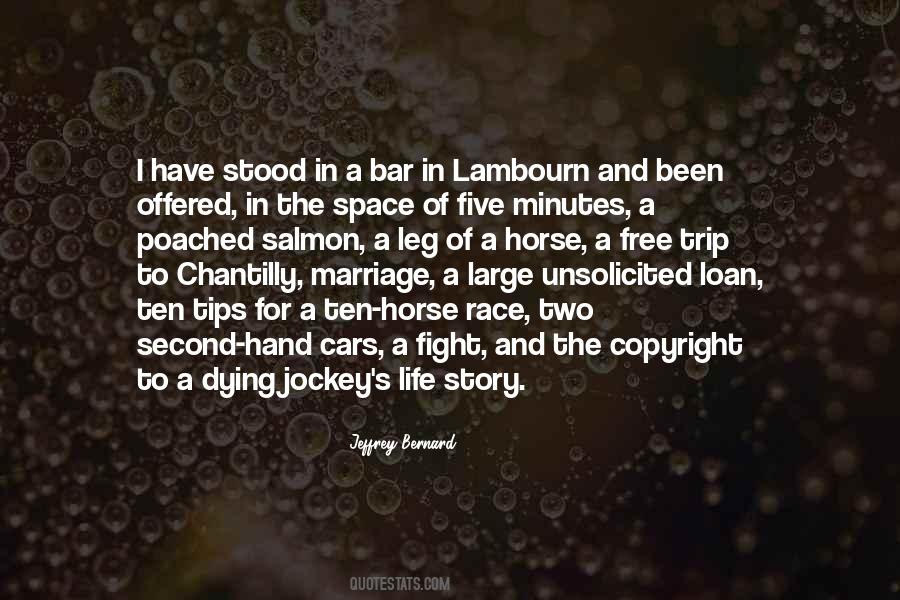 #57. My extensive career, with its victories and defeats, championships, etc., has been well documented. My entire life has been focused on being the best race car driver I can be. - Author: Scott Pruett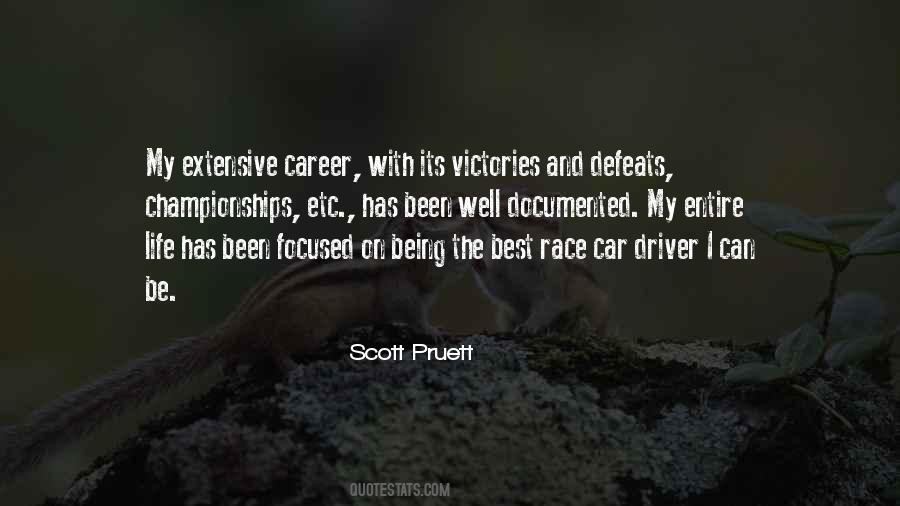 #58. Many times man lives and dies
Betweeen his two eternities,
That of race and that of soul,
And ancient Ireland knew it all.
Whether man die in his bed
Or the rifle knocks him dead - Author: William Butler Yeats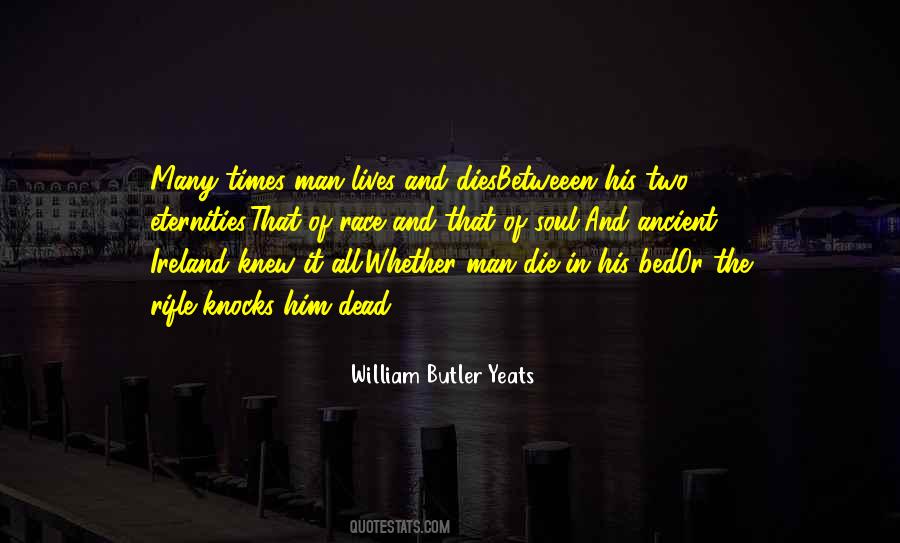 #59. The weal of the race, and the cause of humanity, here and now, are enough To give life meaning and death as well. - Author: Edgar Lee Masters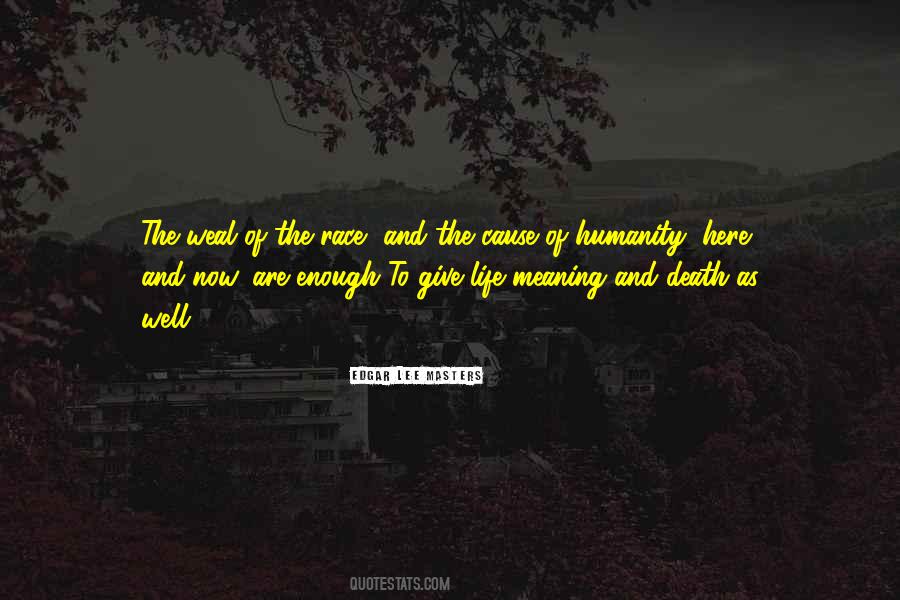 #60. The seeds of the life of fishes are everywhere disseminated, whether the winds waft them, or the waters float them, or the deep earth holds them; wherever a pond is dug, straightway it is stocked with this vivacious race. They have a lease of nature, and it is not yet out. - Author: Henry David Thoreau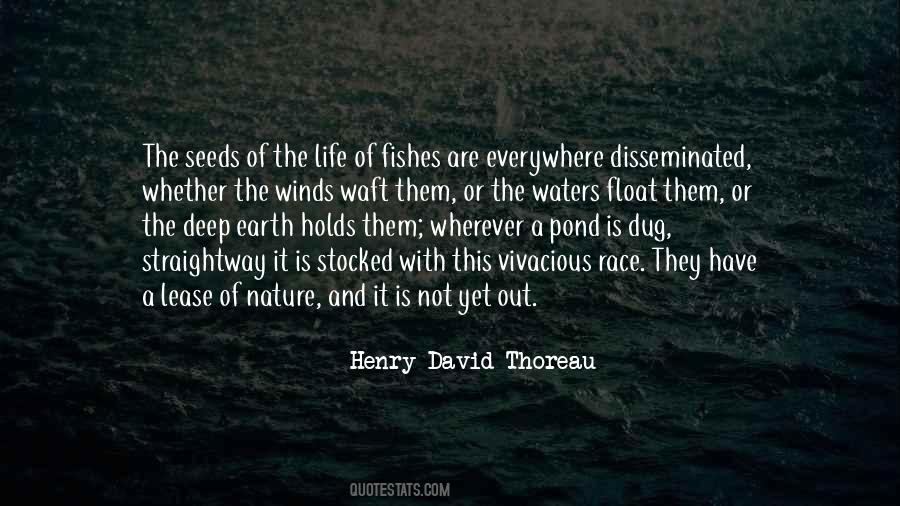 #61. There in the midst of German life is an alien and isolated race of men. Loud and self-conscious in their dress, hot-blooded and restless in their manner. An Asiatic horde on the sandy plains of Prussia. Forming among themselves a close corporation, rigorously shut off from the rest of the world. - Author: Walther Rathenau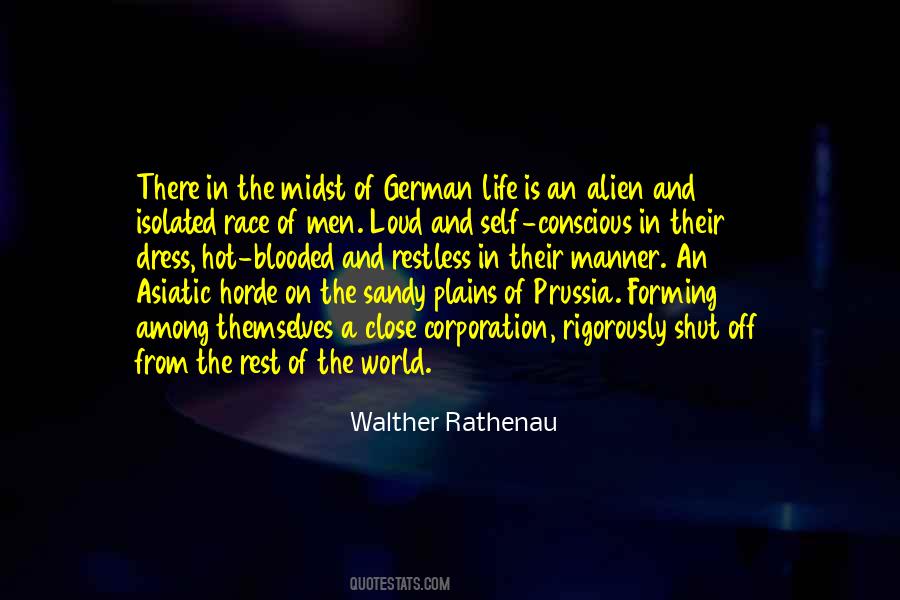 #62. Older forms of indentured servanthood and the bond-service of biblical times had often been harsh, but Christian abolitionists concluded that race-based, life-long chattel slavery, established through kidnapping, could not be squared with biblical teaching either in the Old Testament or the New. - Author: Timothy Keller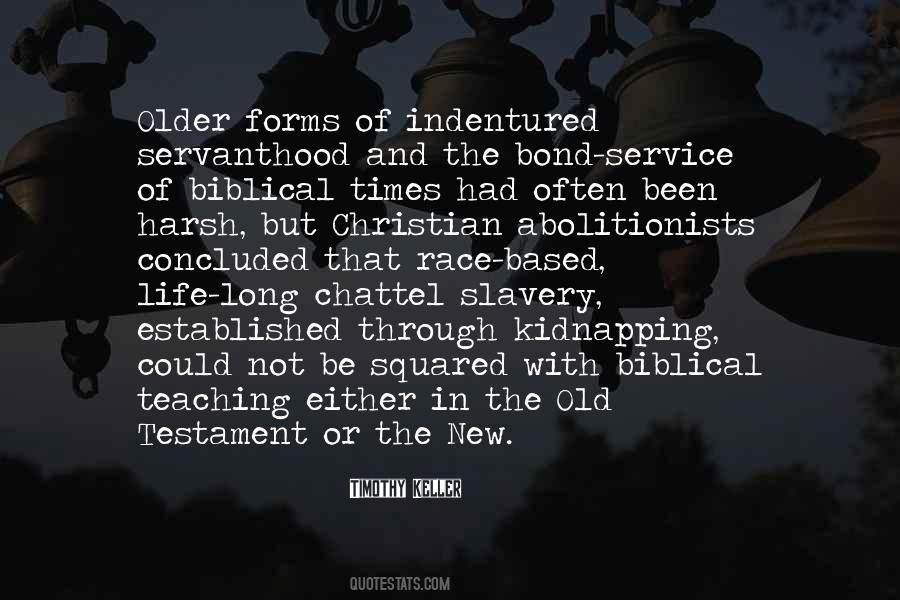 #63. For the life of her, she couldn't understand how such an obstinate, boneheaded chauvinist could make her pulse race and her insides turn to jelly. - Author: Joanne Fluke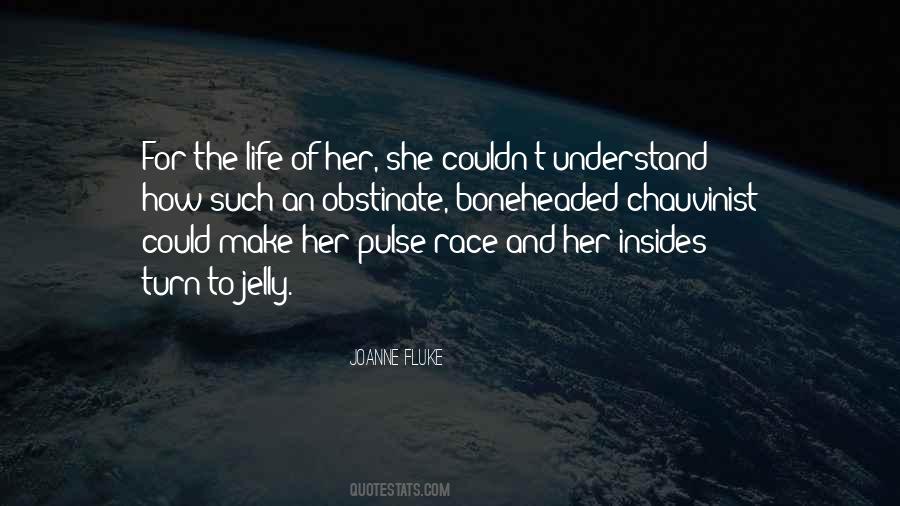 #64. There is one person who fits so perfectly in my life, someone I love unconditionally - someone who makes me laugh until I cry, and someone who I'm so attracted to that my blood will race through my veins at his every touch. - Author: Ellie Wade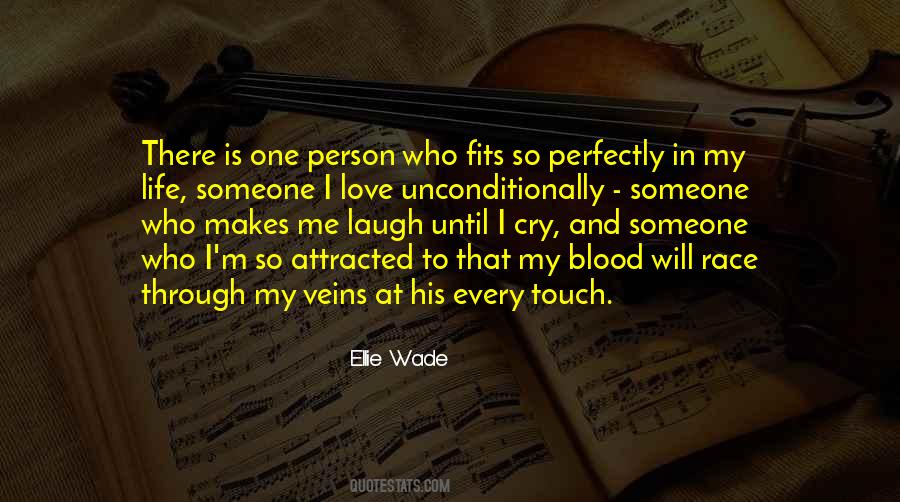 #65. Perhaps naively I thought people understand what humor was, that it was invented by the human race to cope with the dark areas of life, problems and terrors. - Author: Bill Forsyth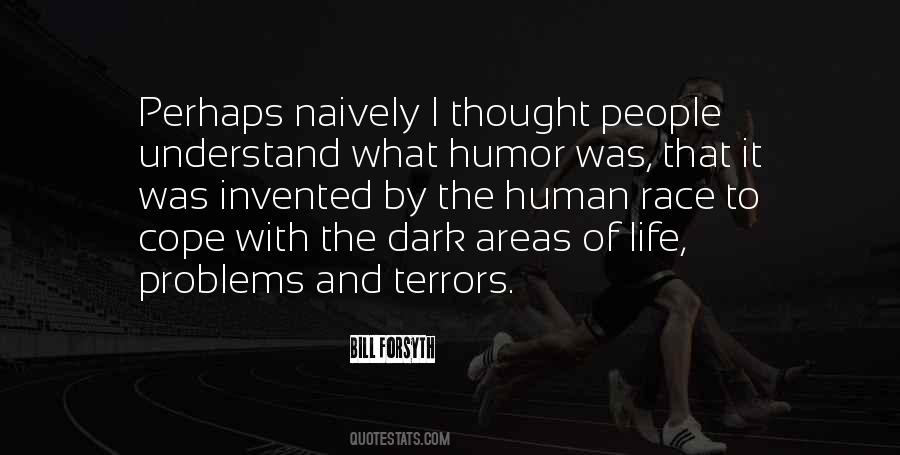 #66. To own a bit of ground, to scratch it with a hoe, to plant seeds, and watch the renewal of life - this is the commonest delight of the race, the most satisfactory thing a man can do. - Author: Charles Dudley Warner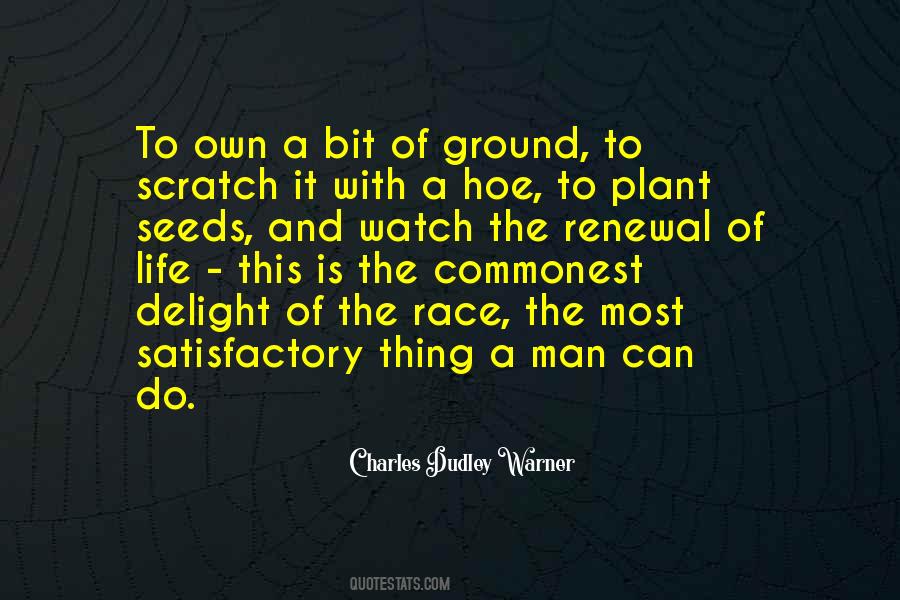 #67. If life were like a competitive race, some people would be given a flying start and others would line up with weights tied to their ankles. - Author: Mardy Grothe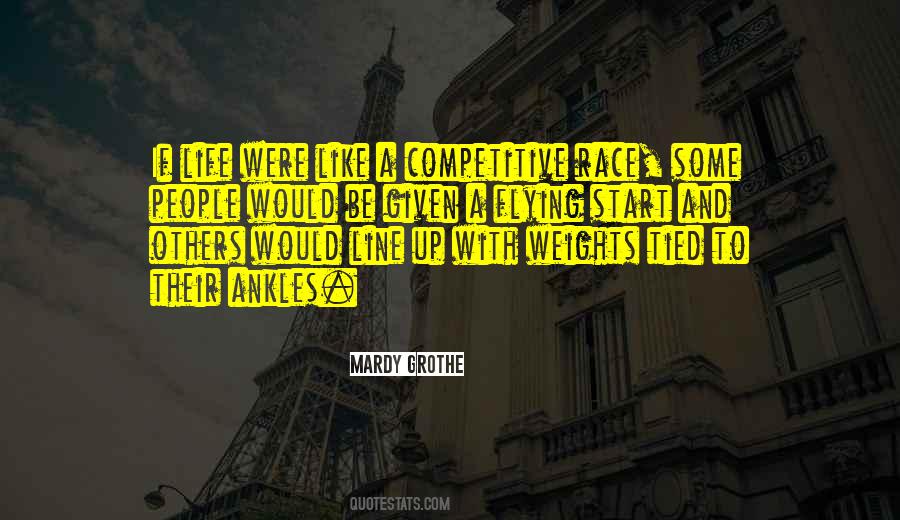 #68. This race and this country and this life produced me, he said I shall express myself as I am. - Author: James Joyce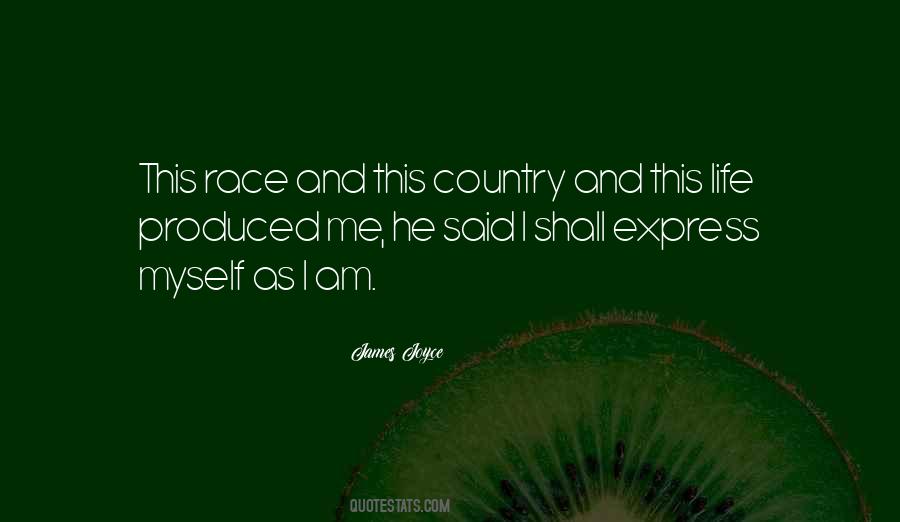 #69. Part of me thinks that your very vulnerability brings you closer to the meaning of life, just as for others, the quest to believe oneself white divides them from it. - Author: Ta-Nehisi Coates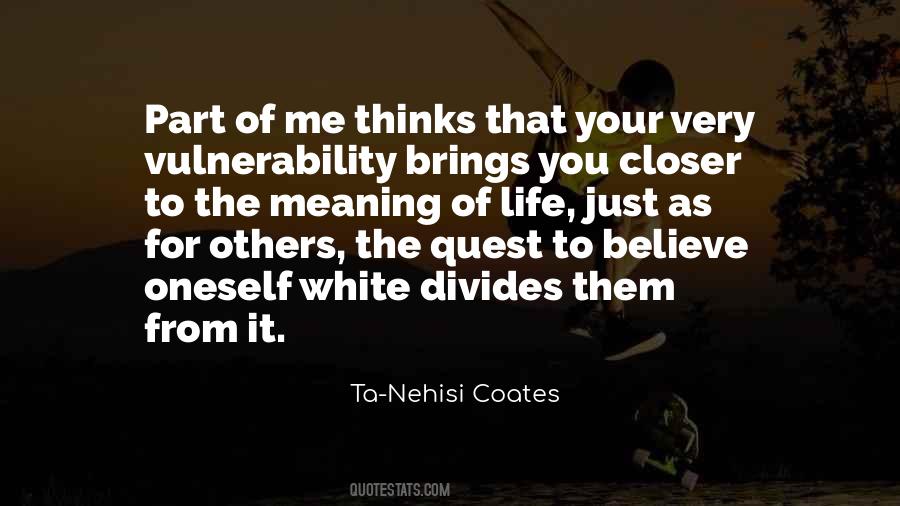 #70. Music overwhelmed me, soaked into my skin like water. I didn't have words for the squiggles and dashes across the pages, or the way his fingers stretched across the keys to make my heart race. If I could hear only one thing for the rest of my life, this was what I wanted. - Author: Jodi Meadows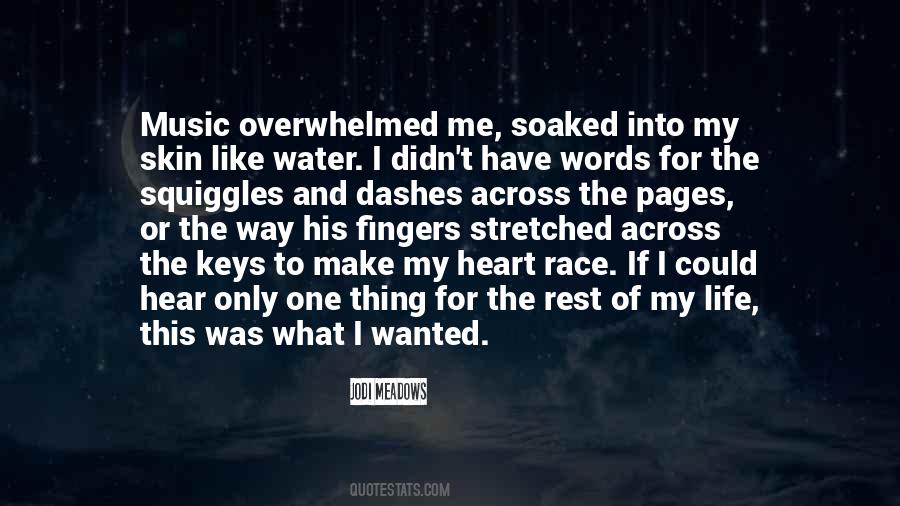 #71. If you are relaxing and subconsciously thinking about your coming race, you are going to perform at just about 100 percent efficiency. - Author: Mark Spitz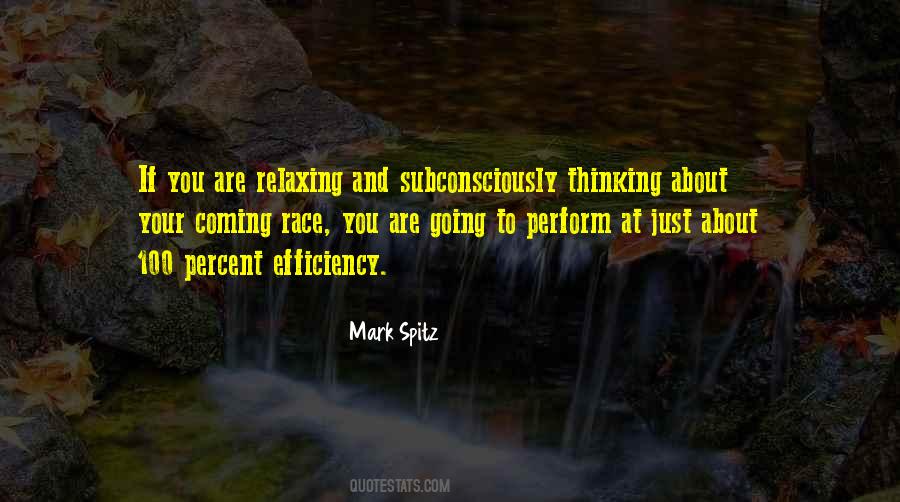 #72. I believe that the long-term future of the human race must be space and that it represents an important life insurance for our future survival, as it could prevent the disappearance of humanity by colonizing other planets, - Author: Stephen Hawking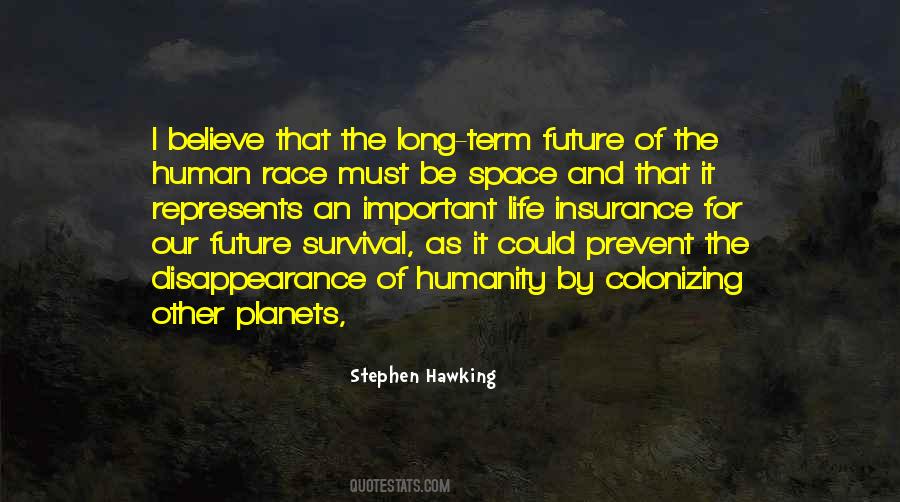 #73. It is right in principle that those should be the best loved who have contributed most to the elevation of the human race and human life. - Author: Albert Einstein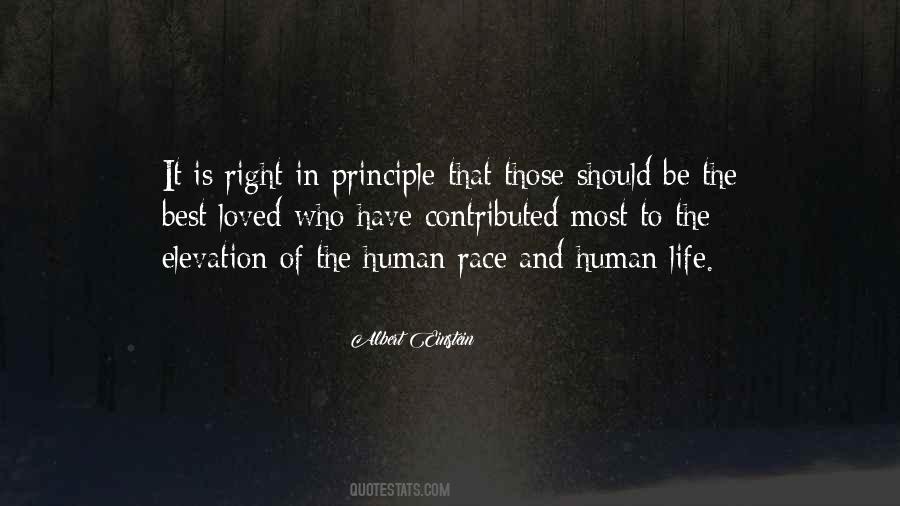 #74. Every man is his own Pygmalion, and spends his life fashioning himself. And in fashioning himself, for good or ill, he fashions the human race and its future. - Author: I. F. Stone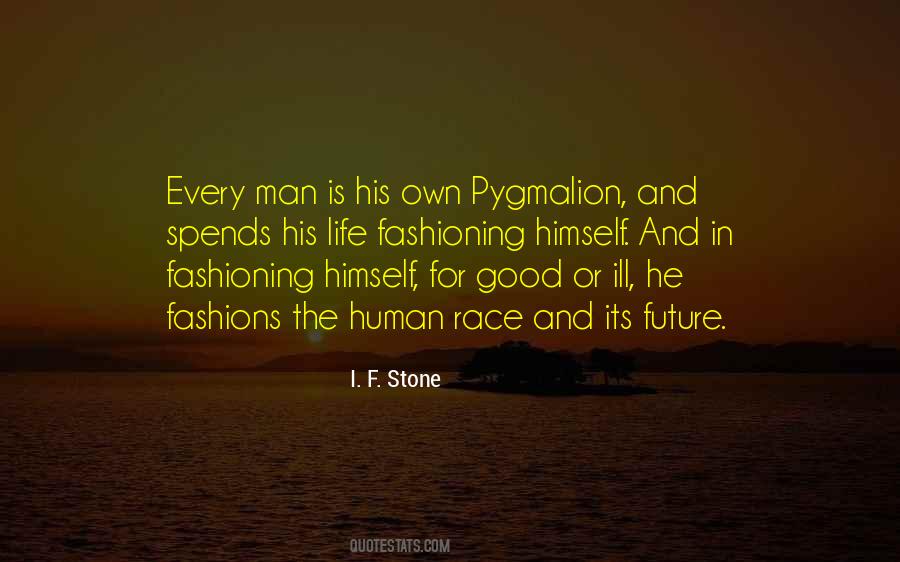 #75. Life of Ages, richly poured,
Love of God unspent and free,
Flowing in the Prophet's word
And the People's liberty!
Never was to chosen race
That unstinted tide confined;
Thine is every time and place,
Fountain sweet of heart and mind! - Author: Samuel Johnson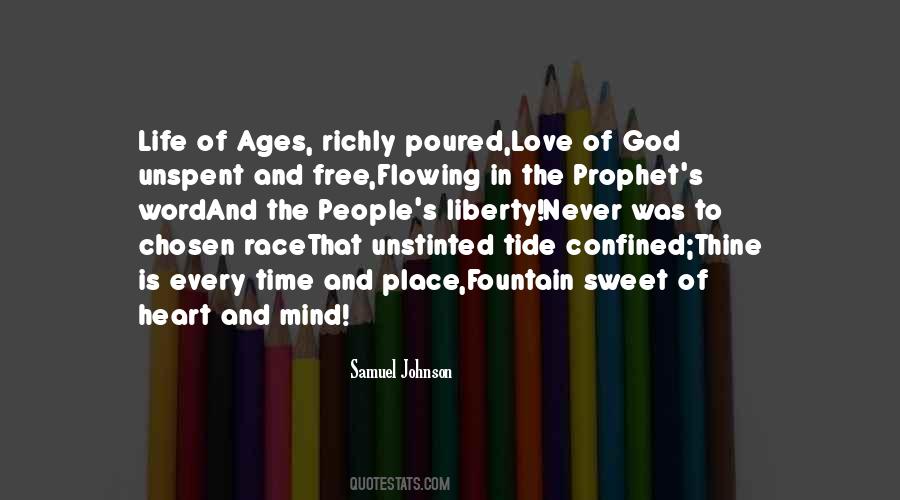 #76. There's only one person in this race who will be there, who's always been there for you, and that's Hillary Clinton's life story. - Author: Joe Biden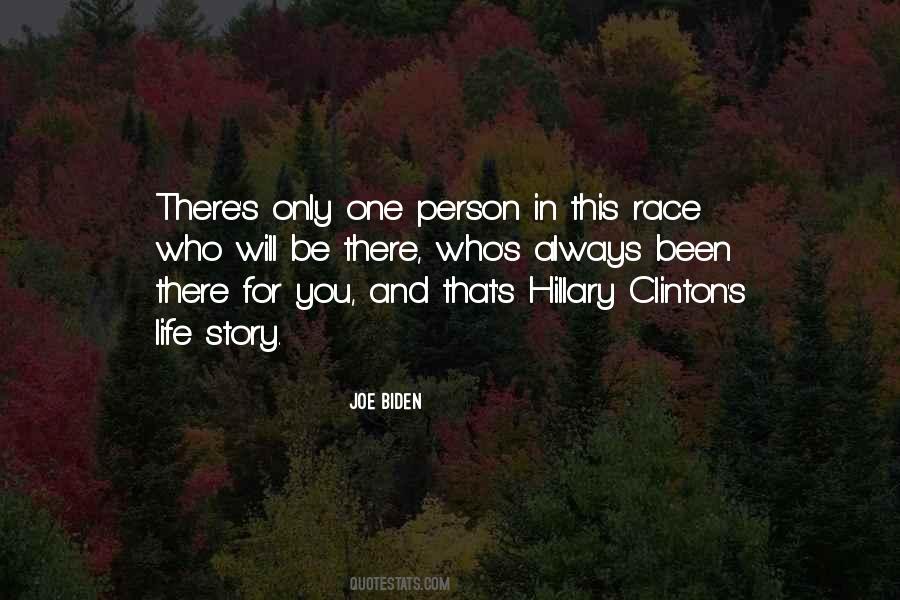 #77. In the race of life, some win and some loose those who win think they are busy and those who loose remain free. - Author: Santosh Kalwar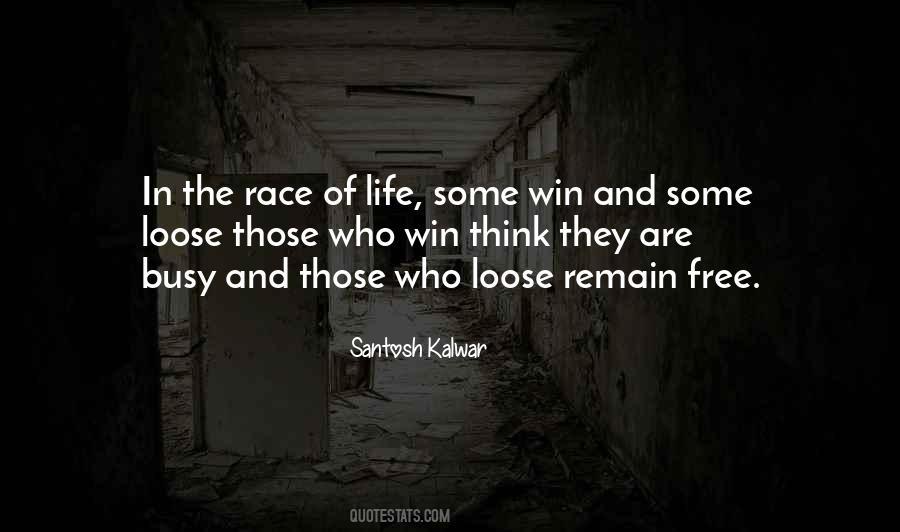 #78. Life is about survival of the fittest, and Jersey is producing the master race. - Author: Janet Evanovich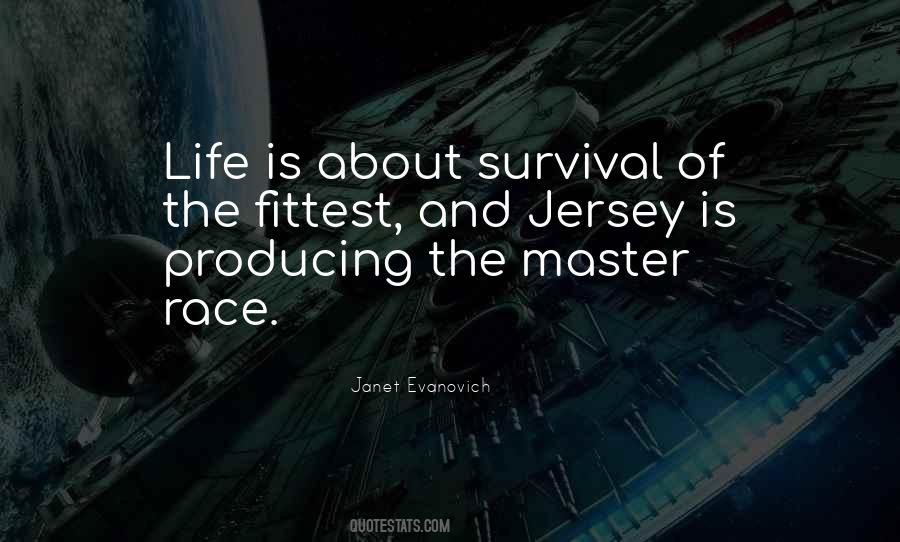 #79. To survive in the race of life, you must have the strength and agility to stand the test of time". - Author: Abdulazeez Henry Musa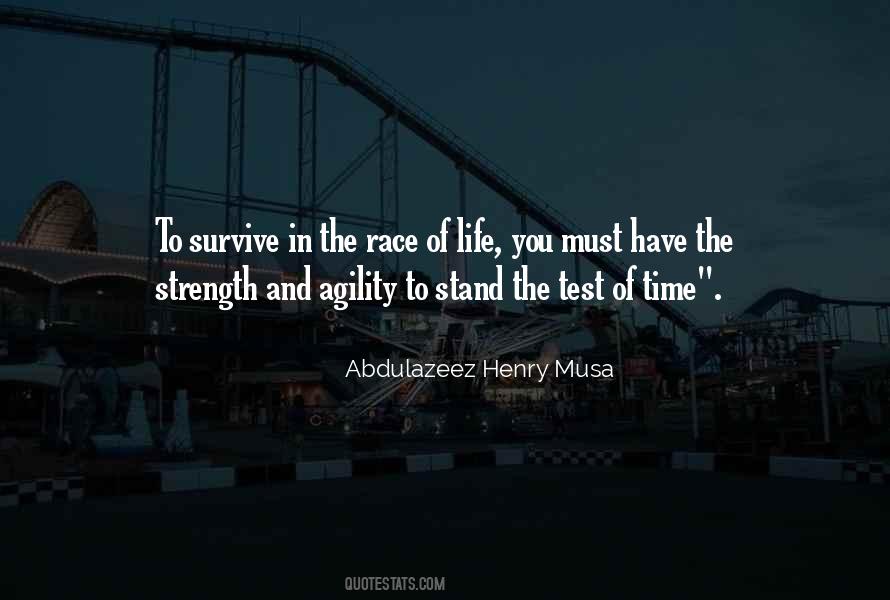 #80. Liberty in thought and action is the only condition of life, growth and well-being: Where it does not exist, the man, the race, and the nation must go down. - Author: Swami Vivekananda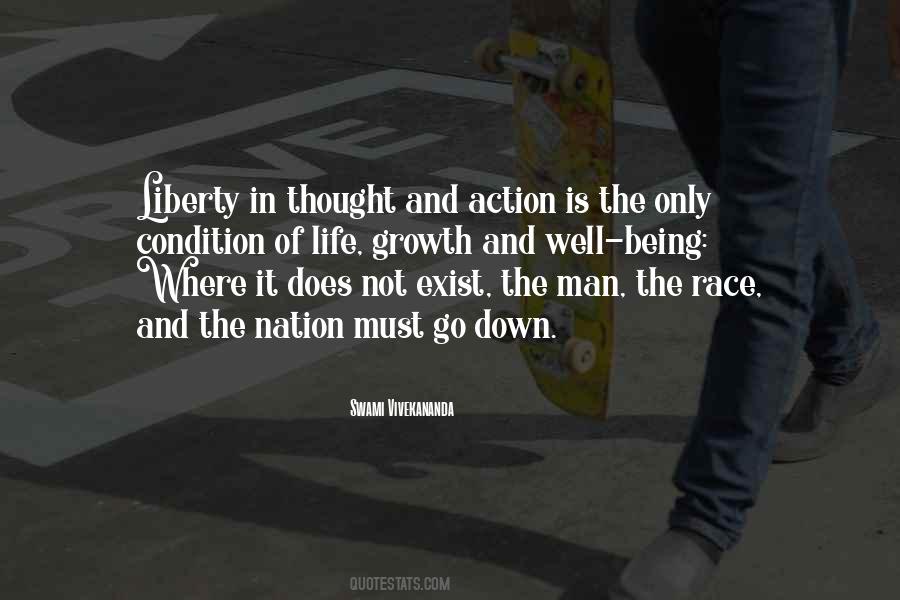 #81. You have been cast into a race in which the wind is always at your face and the hounds are always at your heels. And to varying degrees this is true of all life. The difference is that you do not have the privilege of living in ignorance of this essential fact. - Author: Ta-Nehisi Coates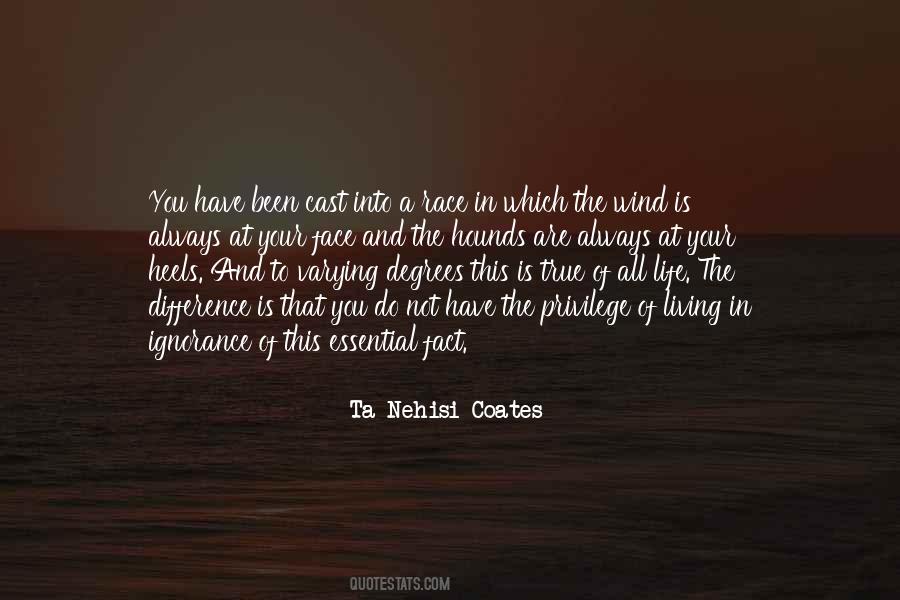 #82. The eye cannot see it; the mind cannot grasp it. The deathless Self (the Supreme Soul or God) has neither caste nor race, Neither eyes, nor ears, nor hands, nor feet, Sages, this Self is infinite, present in the great and in the small, Everlasting and changeless, the source of life. - Author: Eknath Easwaran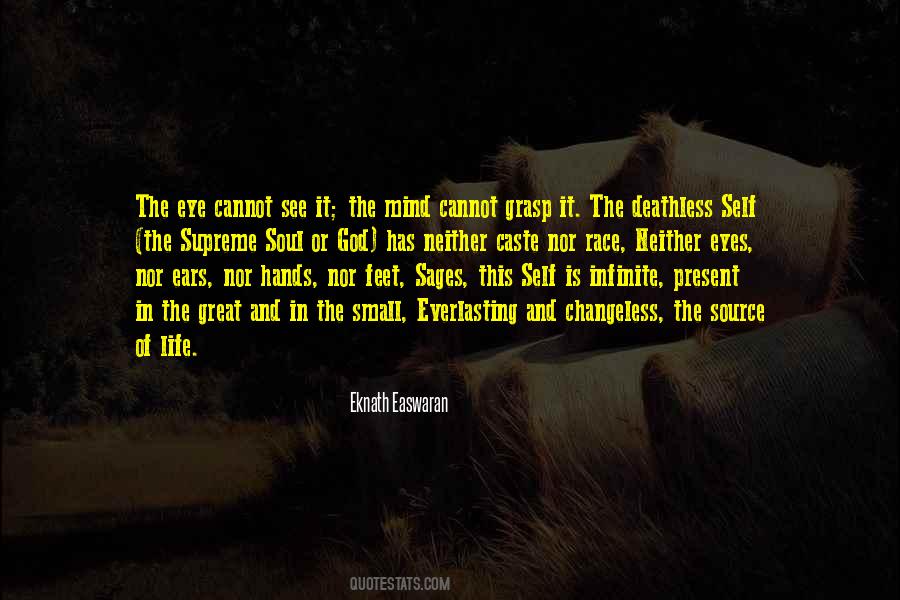 #83. Books are the immortality of the race, the father and mother of most that is worth while cherishing in our hearts. To spread good books about, to sow them on fertile minds, to propagate understanding and a carefulness of life and beauty, isn't that high enough mission for a man? - Author: Christopher Morley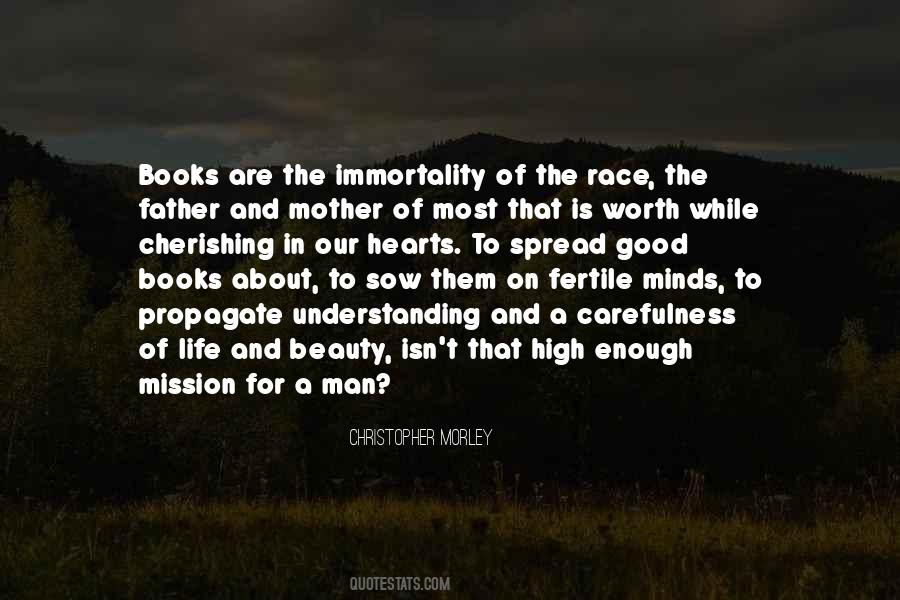 #84. In the race of life I would rather to be around the best and sink than to be around mediocrity and swim. - Author: Xela Ffonrims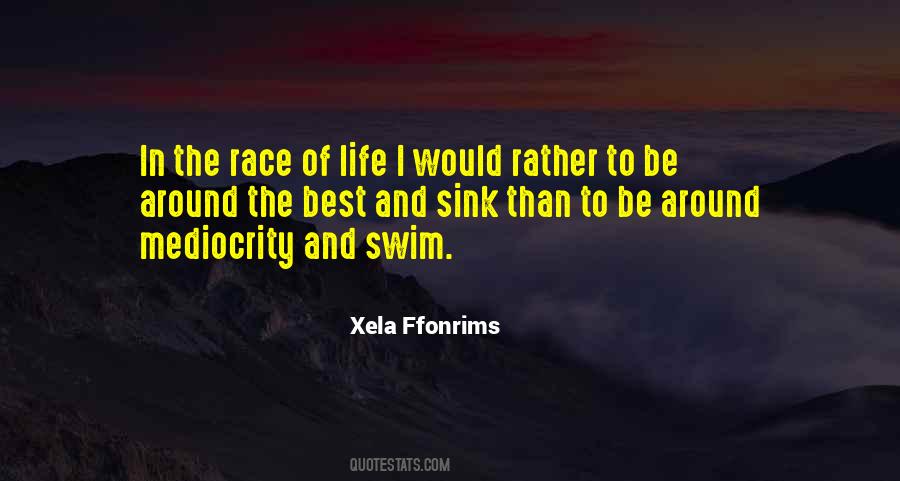 #85. The first time I fired up a car, felt the engine shudder and the wheel come to life in my hands, I was hooked. It was a feeling I can't describe. I still get it every time I get into a race car. - Author: Mario Andretti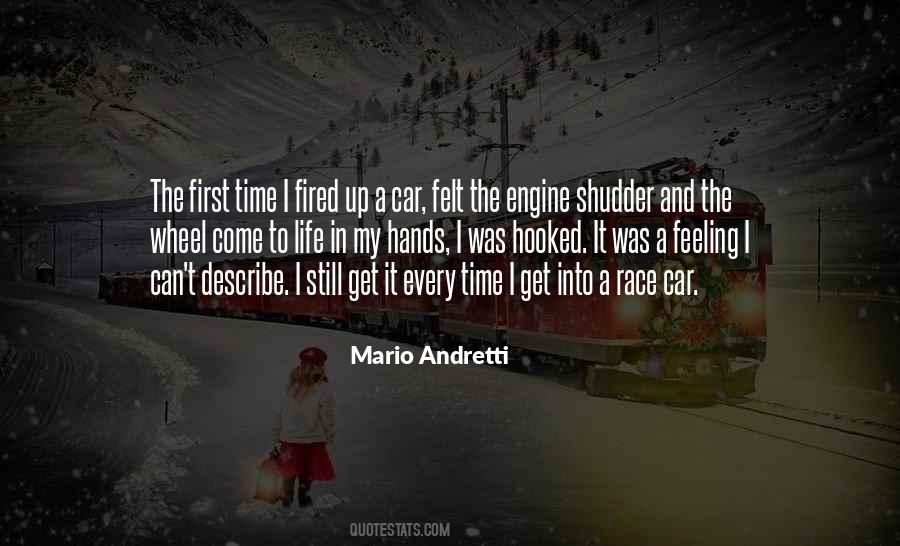 #86. The white race is the cancer of human history, it is the white race, and it aloneits ideologies and inventionswhich eradicates autonomous civilizations wherever it spreads, which has upset the ecological balance of the planet, which now threatens the very existence of life itself. - Author: Susan Sontag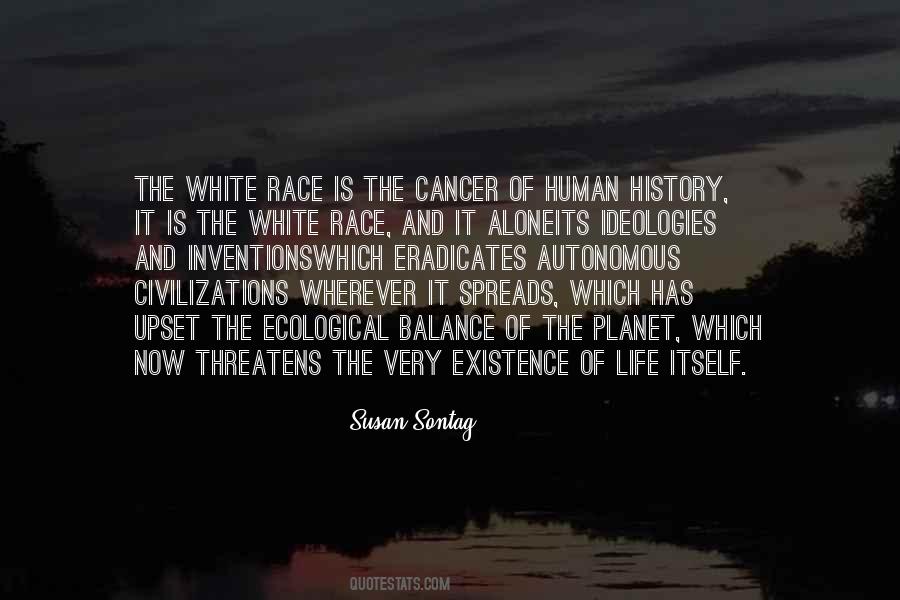 #87. From today onwards, take complete control of your life. Decide, once and for all, to be the master of your fate. Run your own race. Discover your calling and you will start to experience the ecstasy of an inspired life. - Author: Robin S. Sharma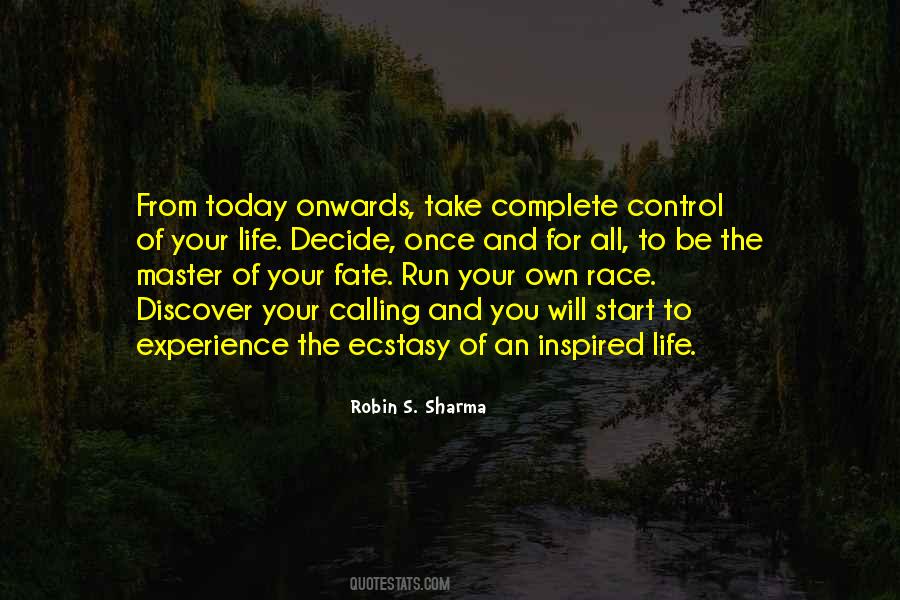 #88. If you want to improve your life and live with all that you deserve, you must run your own race. It doesn't matter what other people say about you. What is important is what you say to yourself, being comfortable in your own skin. Be true to you. That's a key source of happiness. - Author: Robin S. Sharma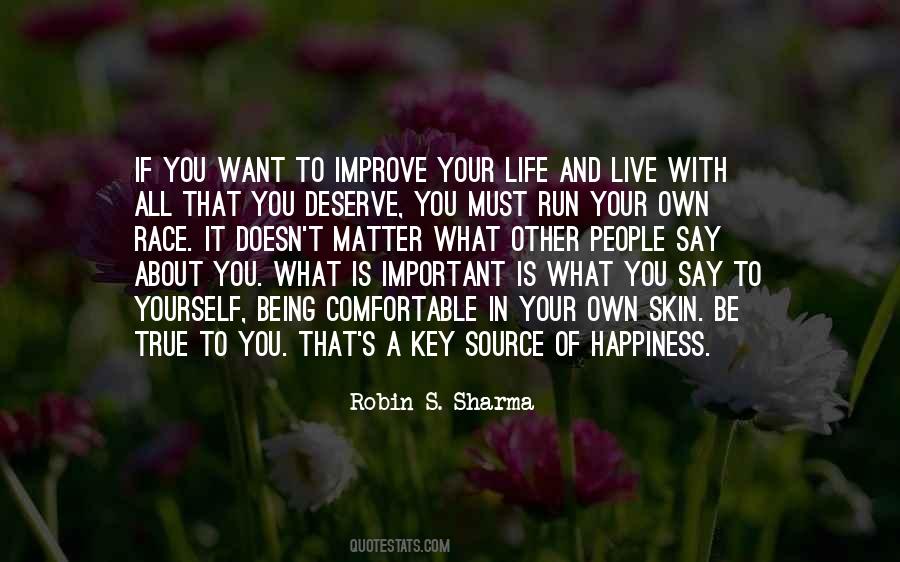 #89. Is it possible for white America to really understand blacks' distrust of the legal system, their fears of racial profiling and the police, without understanding how cheap a black life was for so long a time in our nation's history? - Author: Philip Dray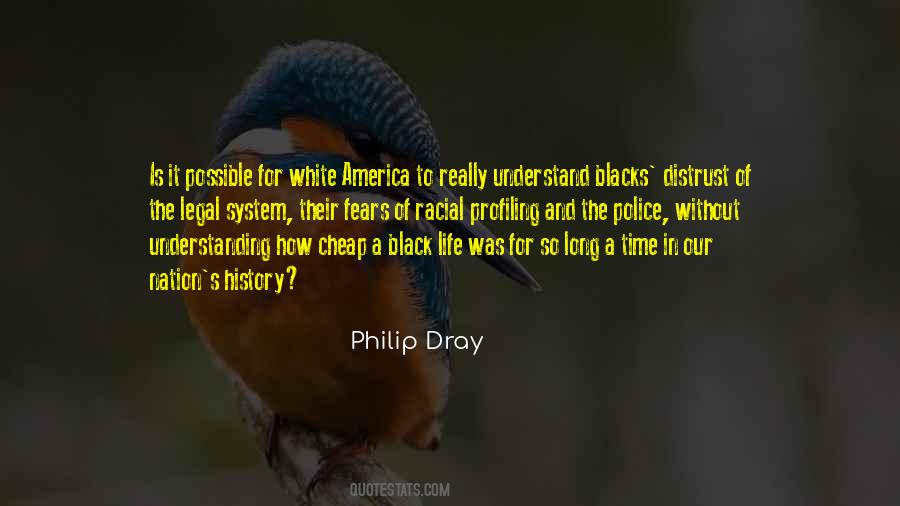 #90. As you shift and change your own experience, the experience of the whole human race begins to shift and change as well. So this is important work you are doing, this business of changing your life. - Author: Neale Donald Walsch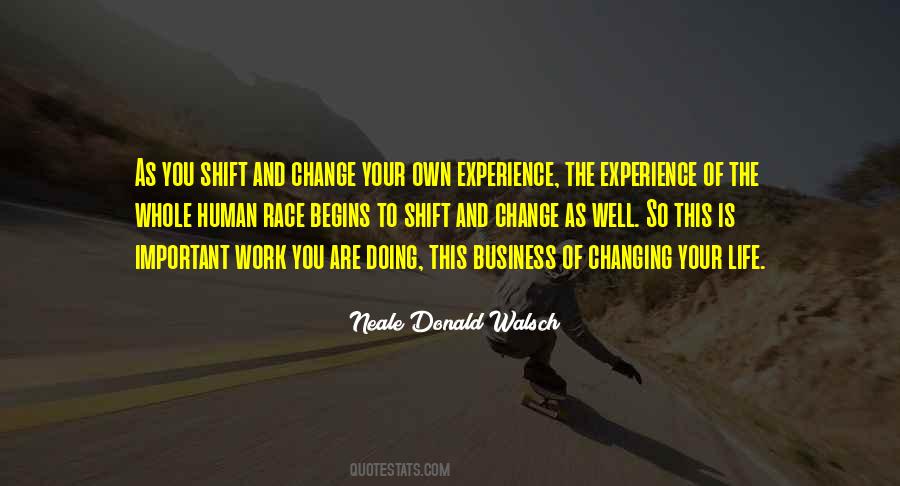 #91. The road to the heart is not a long, linear path, but this turning. There is no race or competition, just me and God going deeper, carving a canyon to the soul. - Author: Anna White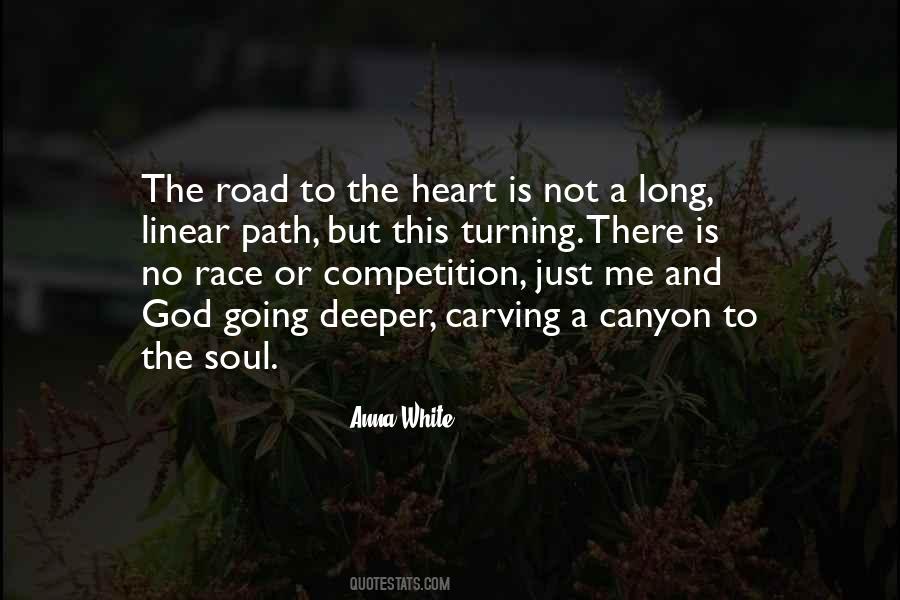 #92. We do two things in life: We race the clock and everything is a struggle. One way or not, it's a metaphorical battle all of the time. - Author: Sylvester Stallone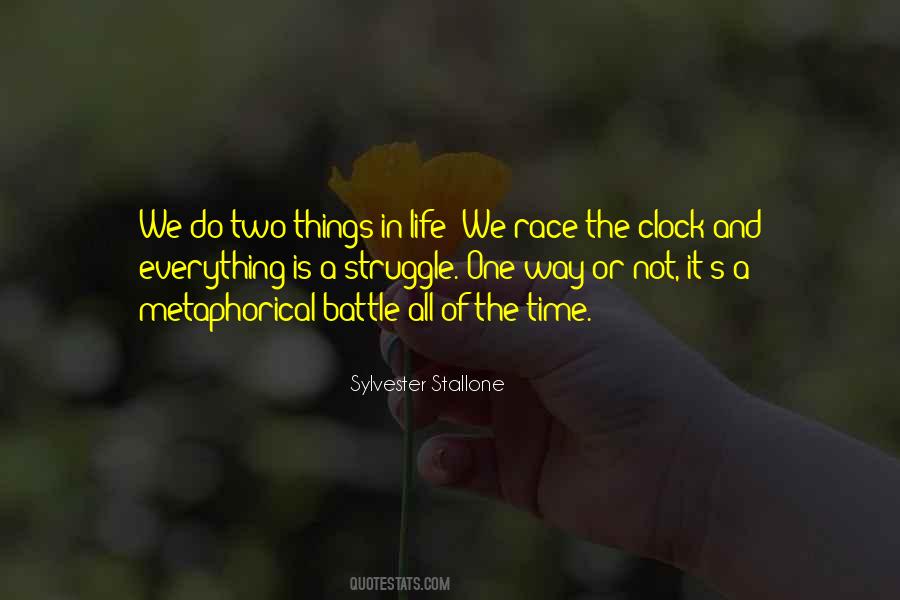 #93. I've never tried to run away from my race. I was born a black man. You know that in your bones as soon as you are able to understand this country ... My approach to life about race is, I don't see the difference between black people and white people. - Author: Edward Brooke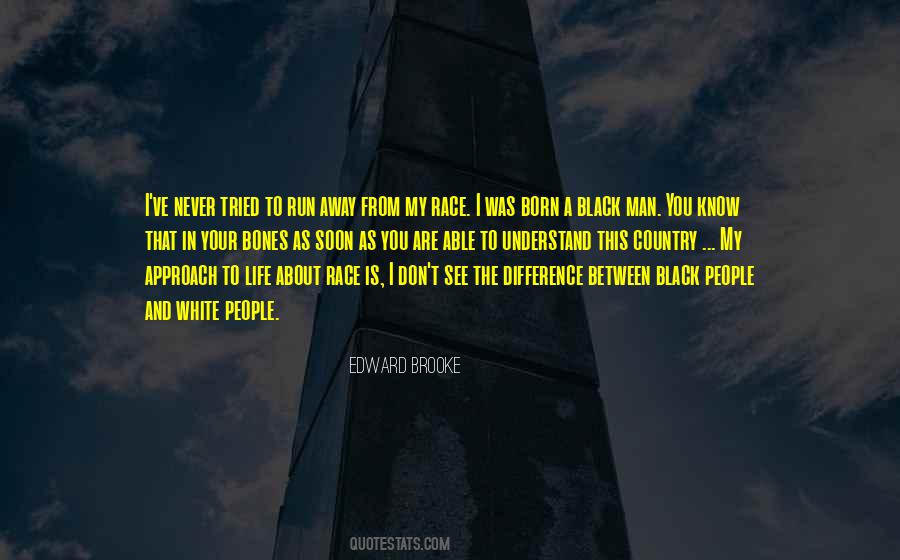 #94. Leaving the rat race is easy. All you have to do is quit your job, sell your house, and go and live in a tent in the middle of nowhere. It's staying out of the rat race that's tricky. - Author: Fennel Hudson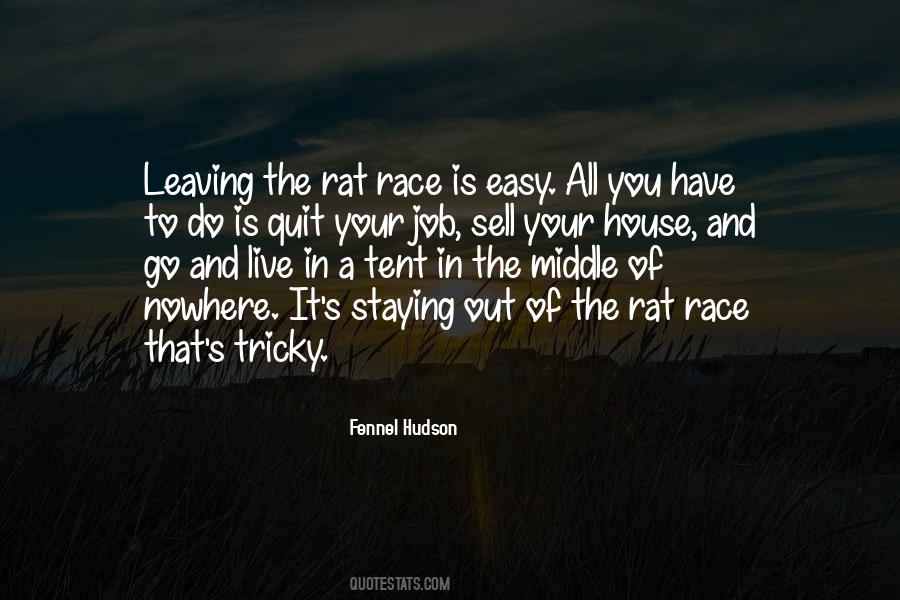 #95. I'm going to cure RM." Marcus laughed. "I wondered when someone would finally get around to that. It's been on my to-do list for ages, but you know how things are: Life gets so busy, and saving the human race is such an inconvenience. - Author: Dan Wells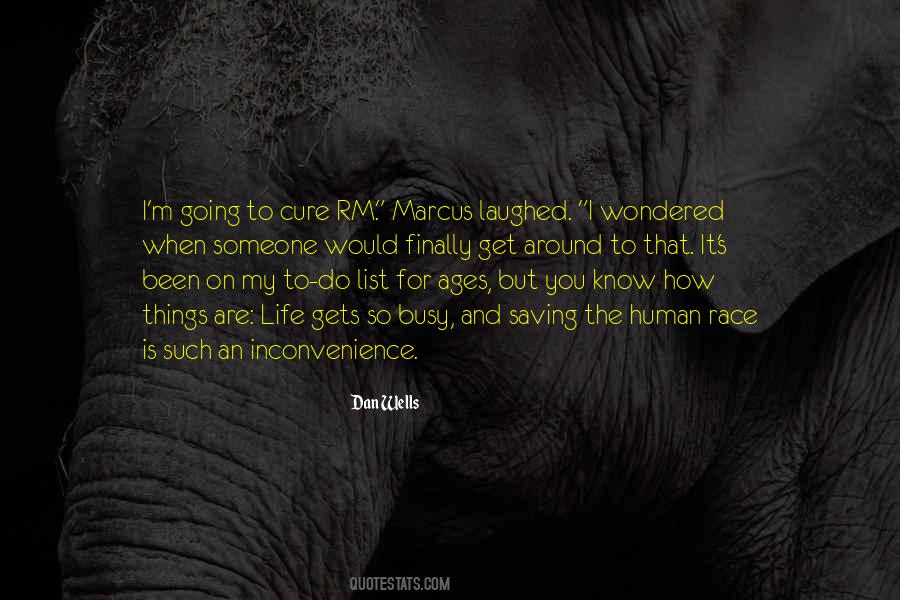 #96. So the life of a philosopher extends widely: he is not confined by the same boundary as are others. He alone is free from the laws that limit the human race, and all ages serve him as though he were a god. - Author: Seneca.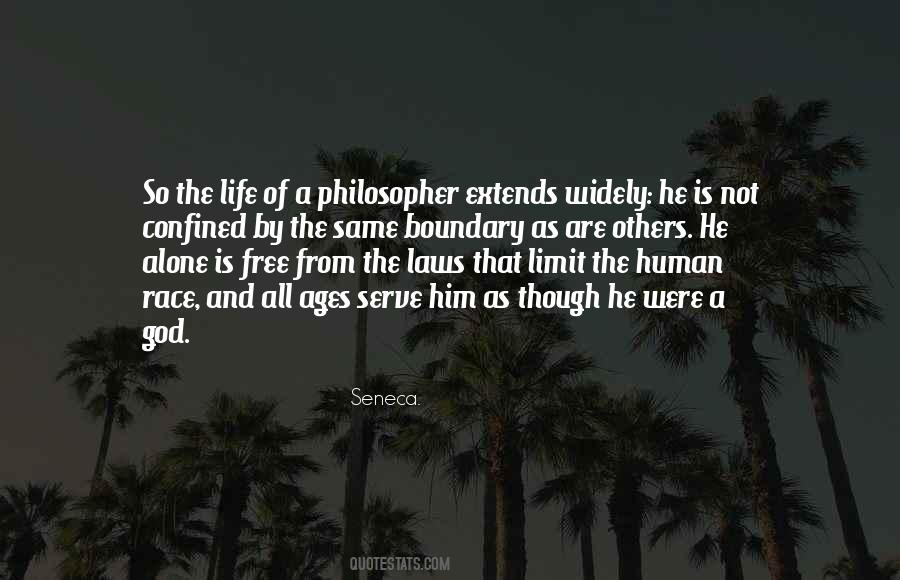 #97. Mundane humans create distinctions between themselves, distinctions that seem ridiculous to any Shadowhunter. Their distinctions are based on race, religion, national identity, any of a dozen minor and irrelevant markers. ~ Valentine - Author: Cassandra Clare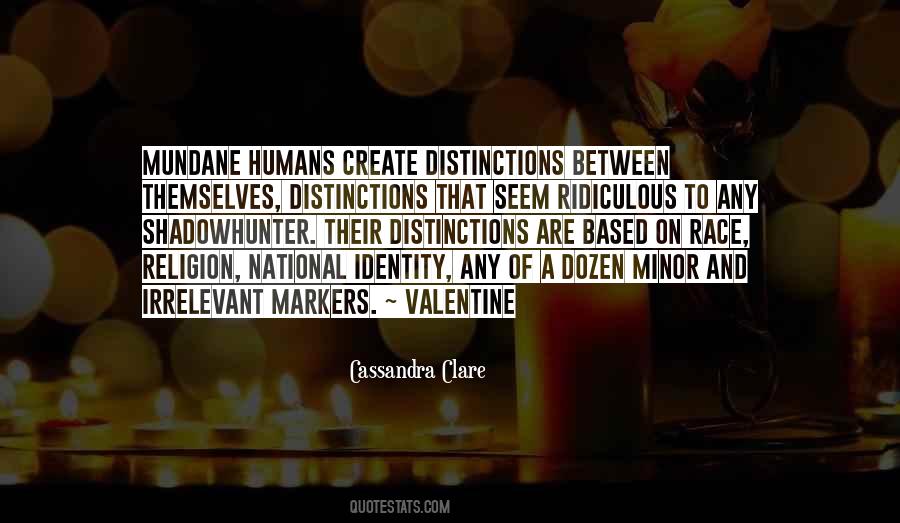 #98. Remember, we really grew up separately; our life experience was very different because of segregation. So I think comedy is a good space to work those things out and educate everyone about the different experiences and different race groups in South Africa. - Author: Riaad Moosa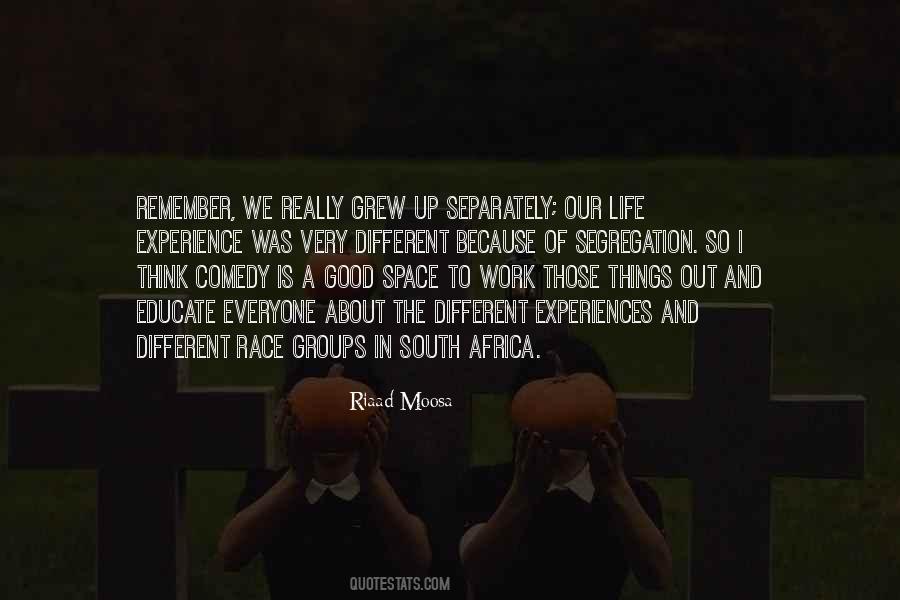 #99. As hope and fear alternate chase
Our course through life's uncertain race. - Author: Walter Scott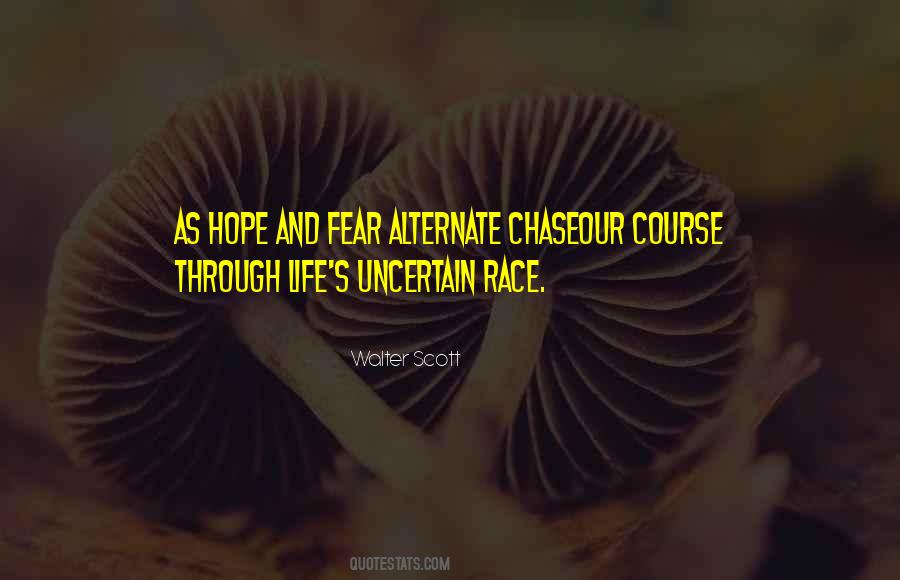 #100. O cowardly amd tyrannous race of monks, persecutors of the bard, and the gleemen, haters of life and joy! O race that does not draw the sword and tell the truth! O race that melts the bones of the people with cowardice and with deceit! ("The Crucifixion Of The Outcast") - Author: W.B.Yeats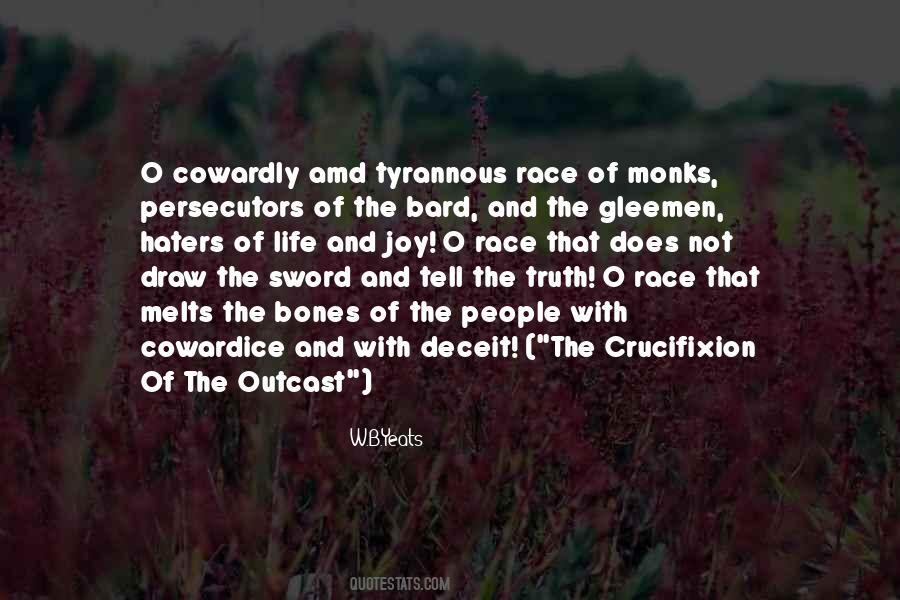 Famous Authors
Popular Topics